Turks & Caicos On A Whim
EXTRA PERKS AVAILABLE
Enjoy breakfast, upgrades, & more
Want to take advantage of Marriott STARS benefits, including a space available room upgrade, complimentary breakfast, a hotel credit, and more? Contact Ford ([email protected]) for more details. He may even be able to help if you already have a stay booked. This is valid for paid stays at BVLGARI, EDITION, Ritz-Carlton, Ritz-Carlton Reserve, and St. Regis.
We spent five nights at the 147-room Ritz-Carlton Turks & Caicos, which I've been curious to check out, given that it only opened in 2021. The initial reviews of the hotel online are pretty harsh, so what's my take?
There's a lot to love about this hotel, like the location on Grace Bay, the amazing views, the dining options, and the friendly service. Furthermore, it's awesome to have a Marriott Bonvoy property in Turks & Caicos, as this is a great option for earning and redeeming points.
That being said, the Ritz-Carlton also has some downsides. It's clear that corners were cut on some of the hotel finishes, particularly in the rooms. Furthermore, the hotel simply lacks a sense of place, from the design, to the on-property restaurants (even if the food was good). Anyway, let's get into a more detailed review.
Redeeming points at the Ritz-Carlton Turks & Caicos
I redeemed points for our stay at the Ritz-Carlton. Marriott Bonvoy will soon be introducing dynamic award pricing, which will likely be a huge devaluation for aspirational redemptions. As a result, I'm trying to redeem as many of my Bonvoy points as possible right now.
The Ritz-Carlton Turks & Caicos is a Category 8 Marriott Bonvoy property, meaning that a free night redemption currently costs anywhere from 70,000 to 100,000 points per night, depending on whether you're staying during an off-peak, standard, or peak period.
Our dates were over the "standard" period, so a redemption cost 85,000 Bonvoy points per night, with the opportunity to get a fifth night free. In other words, five nights cost 340,000 Bonvoy points, or an average of 68,000 Bonvoy points per night.

As a point of comparison, paid nightly rates for our dates were $1,200+ including taxes and fees. Of course it's worth keeping in mind that at the moment luxury hotel pricing is through the roof, given the pent up demand for travel.
Book Ritz-Carlton Turks & Caicos with Marriott STARS
If you're booking a paid stay at the Ritz-Carlton Turks & Caicos, I'd highly recommend booking through a travel advisor affiliated with the Marriott STARS program. You'll pay the same as the flexible cash rate available on Marriott's website, and you'll receive the following additional perks:
Complimentary full or continental breakfast daily for up to two people per room
Hotel credit valued at 100USD once per stay
Room upgrade, subject to availability at check-in
Complimentary Wi-Fi daily
In-person welcome
Personalized welcome amenity and note
Note that Marriott STARS upgrades are prioritized ahead of upgrades through other programs, like Amex Fine Hotels & Resorts, which is why I'd recommend booking through STARS. You can earn Bonvoy points when booking a Marriott STARS rate, and can also take advantage of any elite benefits, should you have status.
If you want help with a Marriott STARS booking at the Ritz-Carlton Turks & Caicos, Ford is happy to help, and can be reached at [email protected].
Ritz-Carlton Turks & Caicos location
The Ritz-Carlton Turks & Caicos is located in Providenciales, right on Grace Bay. This is arguably the biggest selling point of the property — Grace Bay is regarded as one of the world's most beautiful beaches, so to have direct access to that is awesome.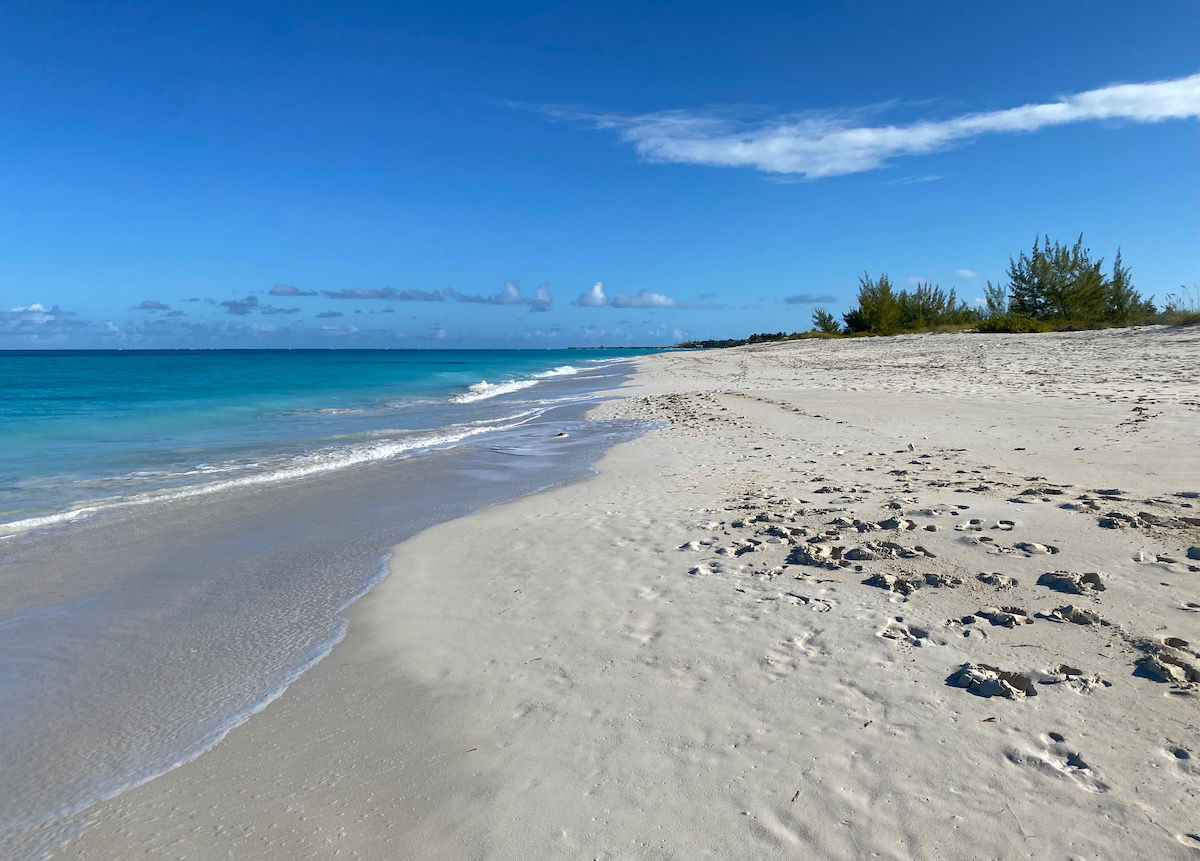 The Ritz-Carlton is a roughly 15 minute drive from Providenciales International Airport (PLS). Note that when you arrive at the airport, the only options for transfers are shared, so for $34 per couple you can get a shuttle to the hotel, though it may stop at other places along the way (this added around 15 minutes to the travel time for us).
Alternatively you can arrange a private transfer in advance, though that'll be much more costly.
Ritz-Carlton Turks & Caicos check-in & lobby
As you pull up to the Ritz-Carlton there's a gate you have to pass through. The hotel no doubt sticks out in the area, given that it's 10 floors, and most other things on Grace Bay are at most a few floors high. This has been unpopular with many locals, who feel like this takes away from the charm of the Grace Bay area, and I can appreciate why.
From the rear the hotel looks a bit odd, but that's just because all of the rooms face the beach and ocean, so on this side of the hotel there are only hallways.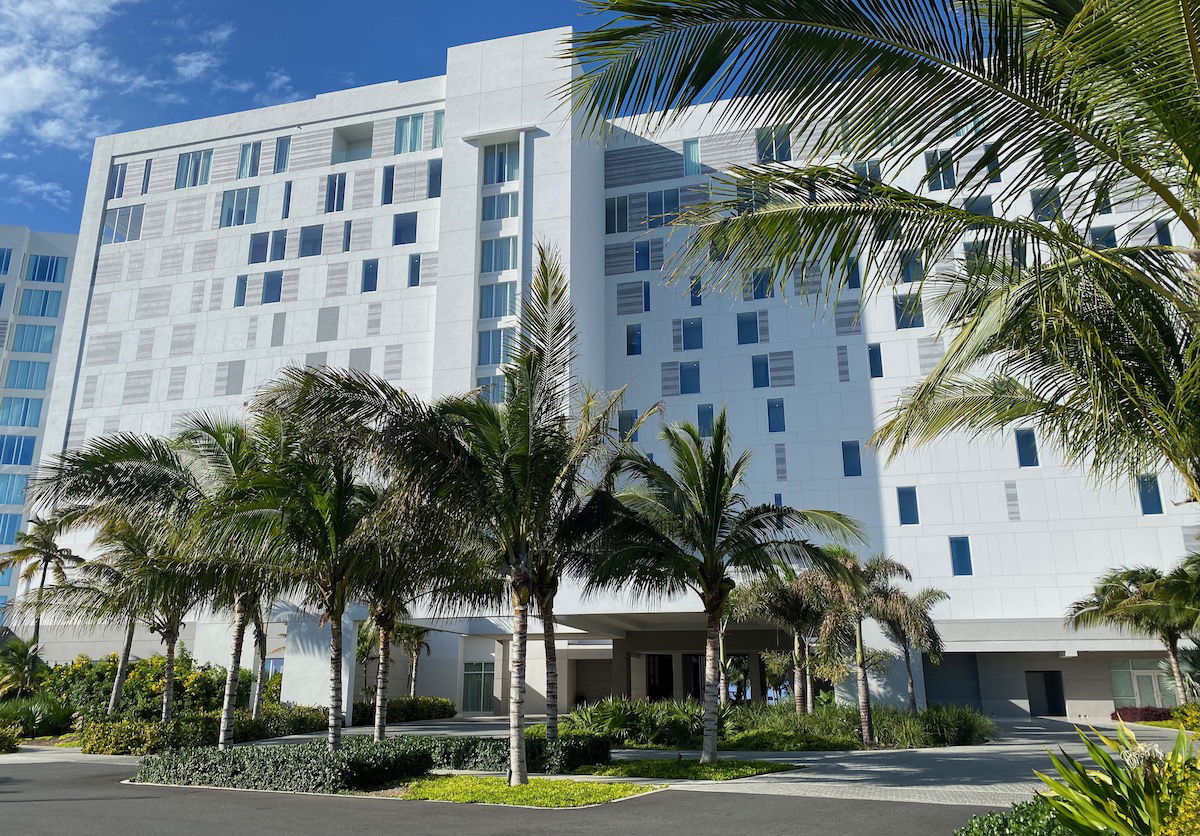 From the other side the hotel looks a bit more like what you'd expect.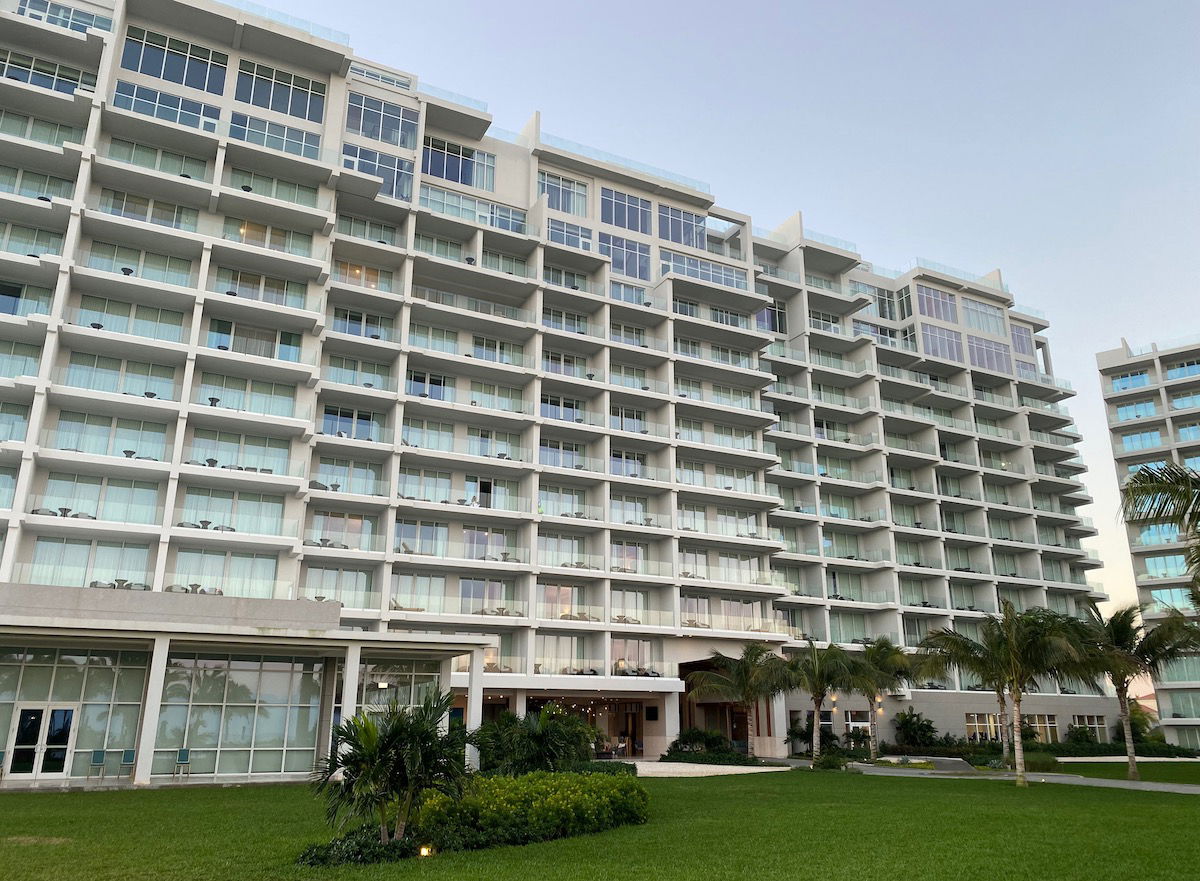 The Ritz-Carlton has a beautiful open air lobby, which I always enjoy at a beach resort. There was a bit of lobby seating, and then a lobby bar there as well, which I'll cover in more detail a bit later.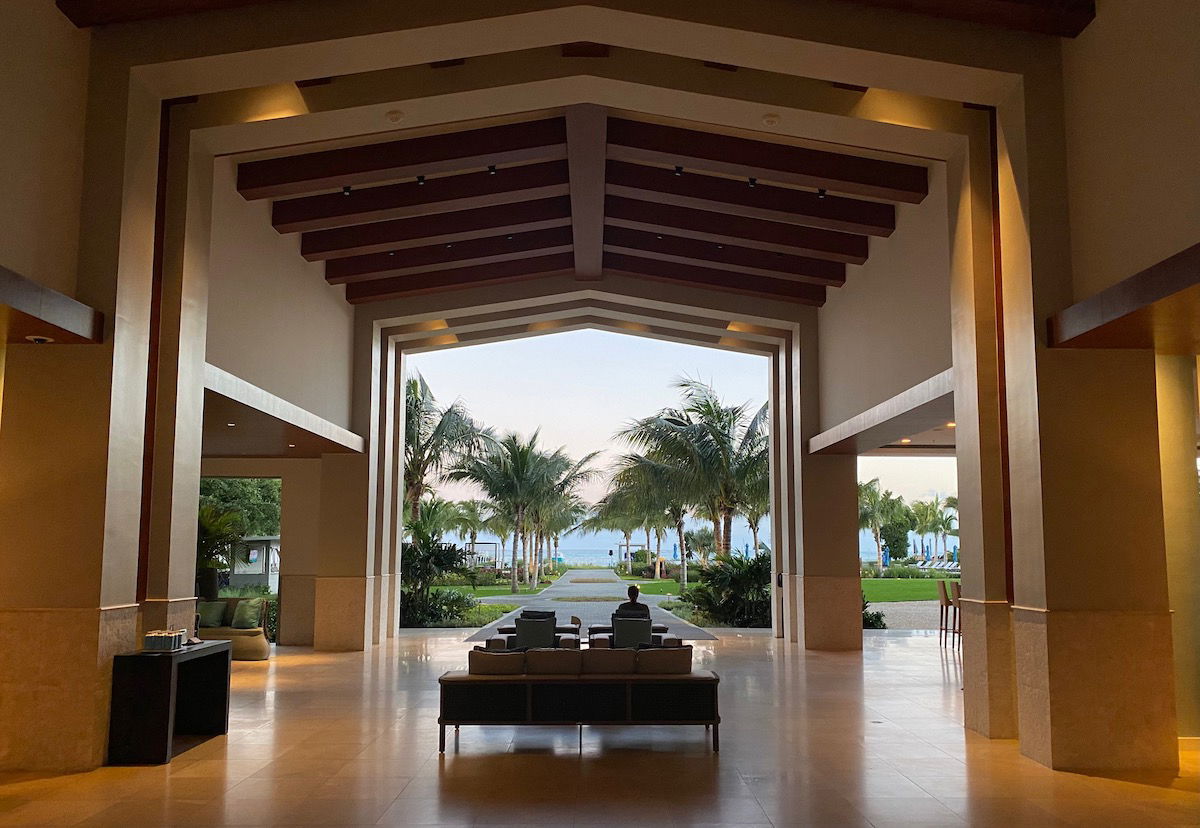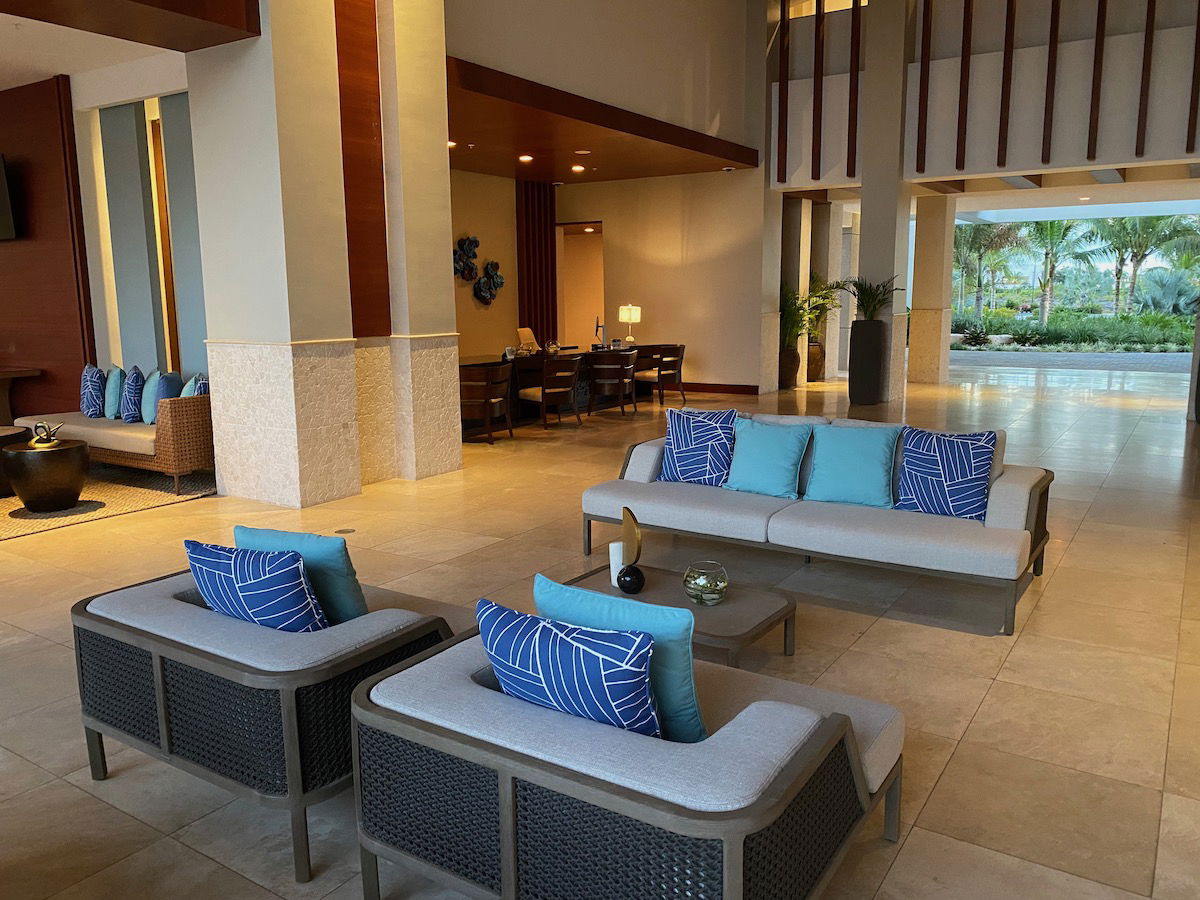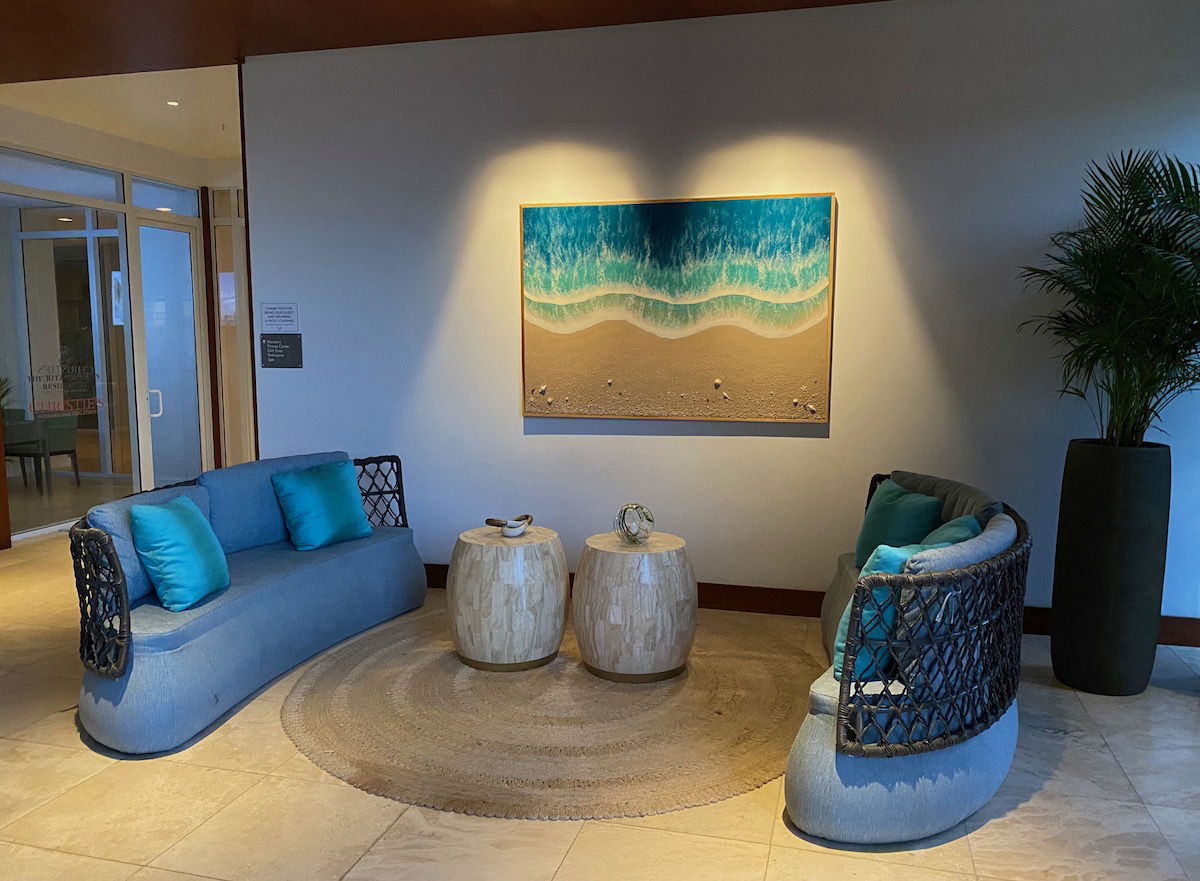 Reception was located just inside the lobby and to the right. There were two separate desks, so that guests could sit down while checking in.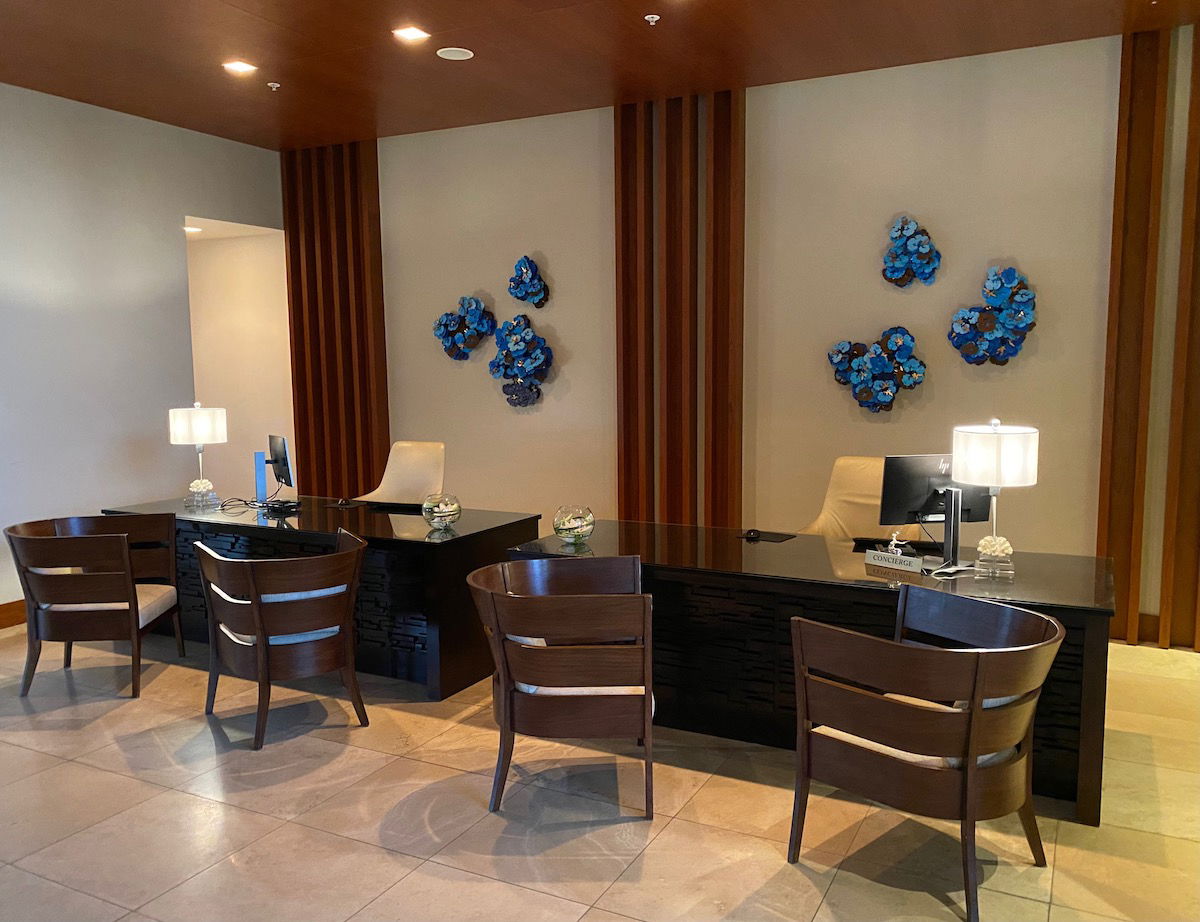 Our check-in process was friendly and efficient, and we were even offered a glass of sparkling wine.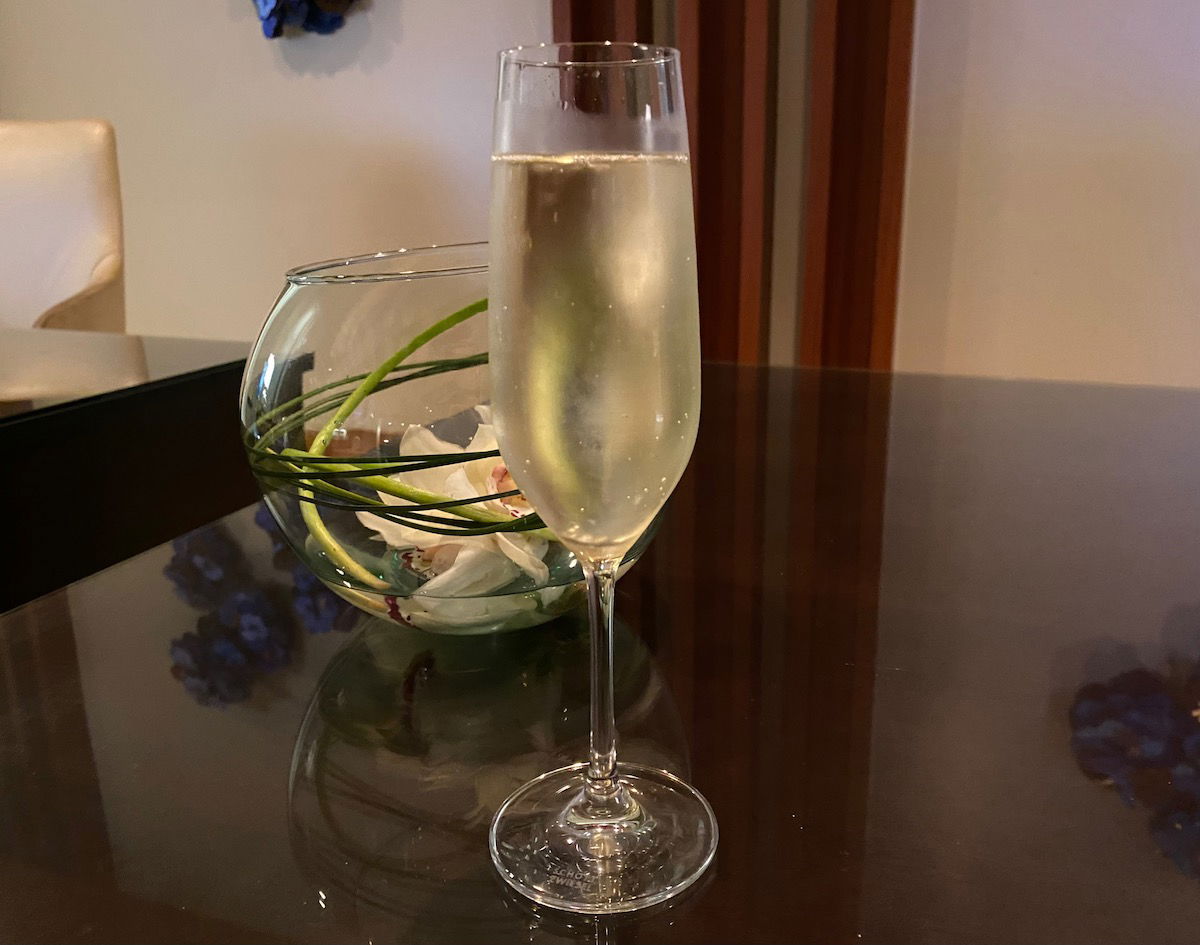 We were informed that we had been upgraded to an oceanfront room. All rooms here have views of the ocean (which is awesome), so the upgrade from an oceanview room to an oceanfront room represented a one category upgrade.
We were asked if we wanted to be escorted to our room (which we declined). We easily found the elevators, which were located inside the building across from reception.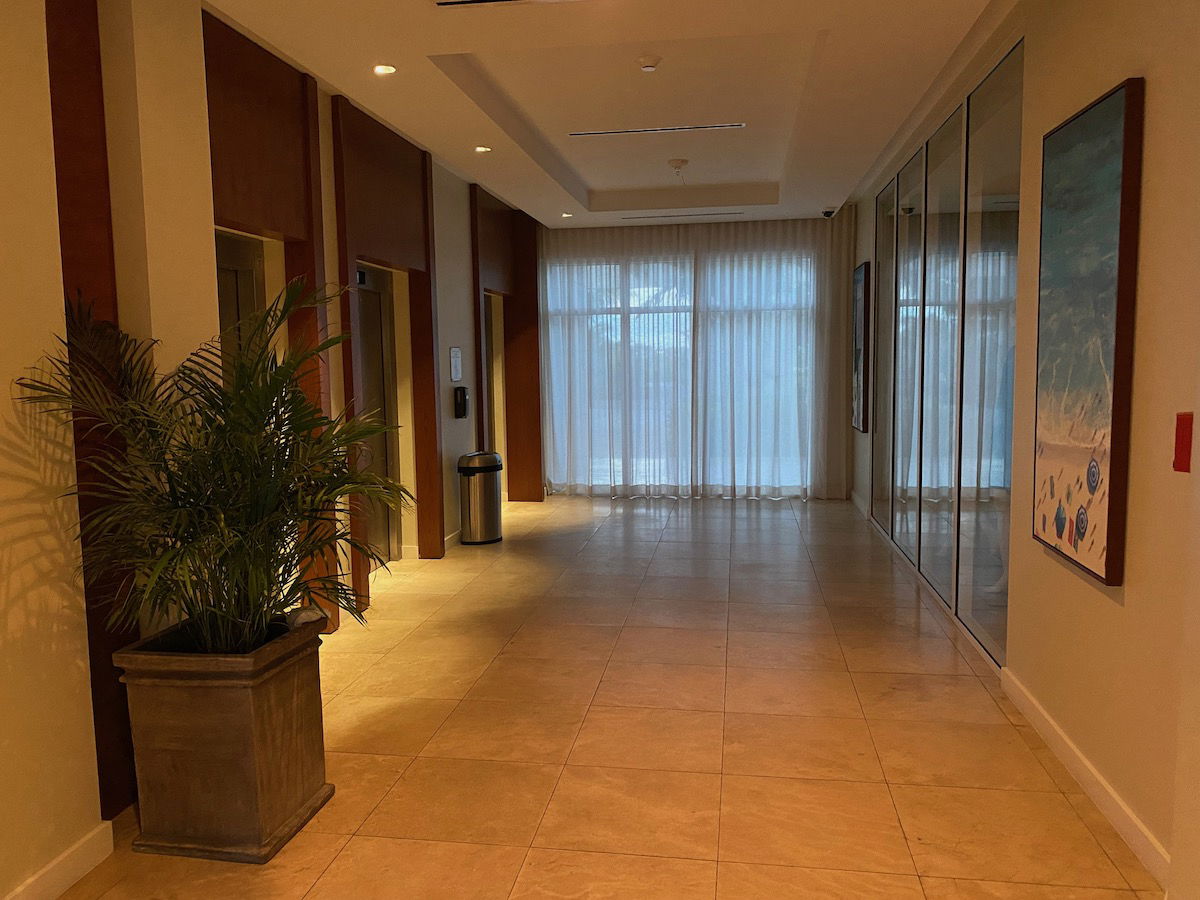 Ritz-Carlton Turks & Caicos oceanfront room
I'd say the biggest drawback of the Ritz-Carlton Turks & Caicos is the indoor spaces, and that starts with the elevators. The elevators had a mind of their own, and weren't very responsive. It was almost a running joke for guests who got in the elevator together, as it's a mystery where you'll actually end up.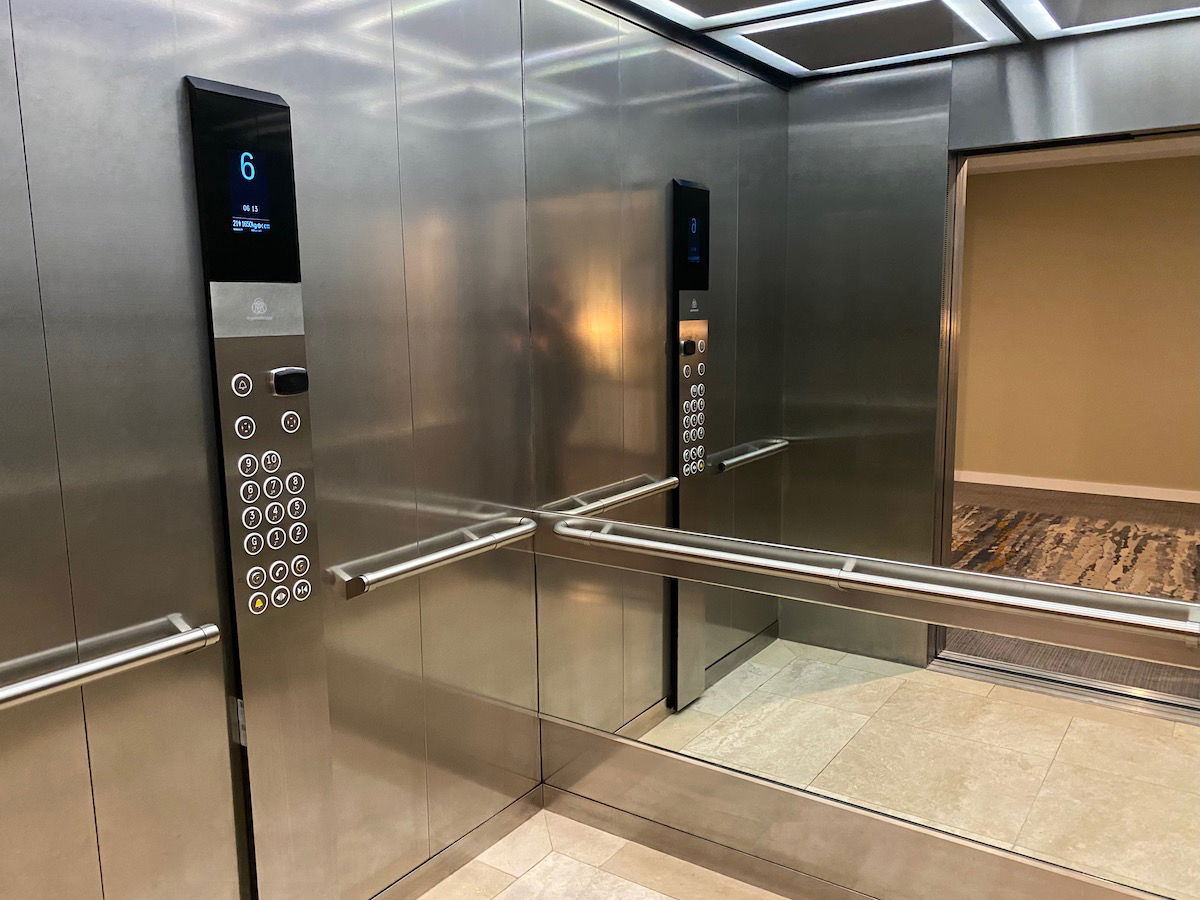 The hotel has 10 floors, and we were assigned room 3605, located on the sixth floor (there are two separate buildings with residences, so I guess the "3" at the front refers to the building we were in, and then 605 is the actual room number).
Do the hallways really look like what you'd expect at a new Ritz-Carlton? Seriously, there's no art in them or proper wall treatments, and it feels more like your average apartment building than a luxury hotel.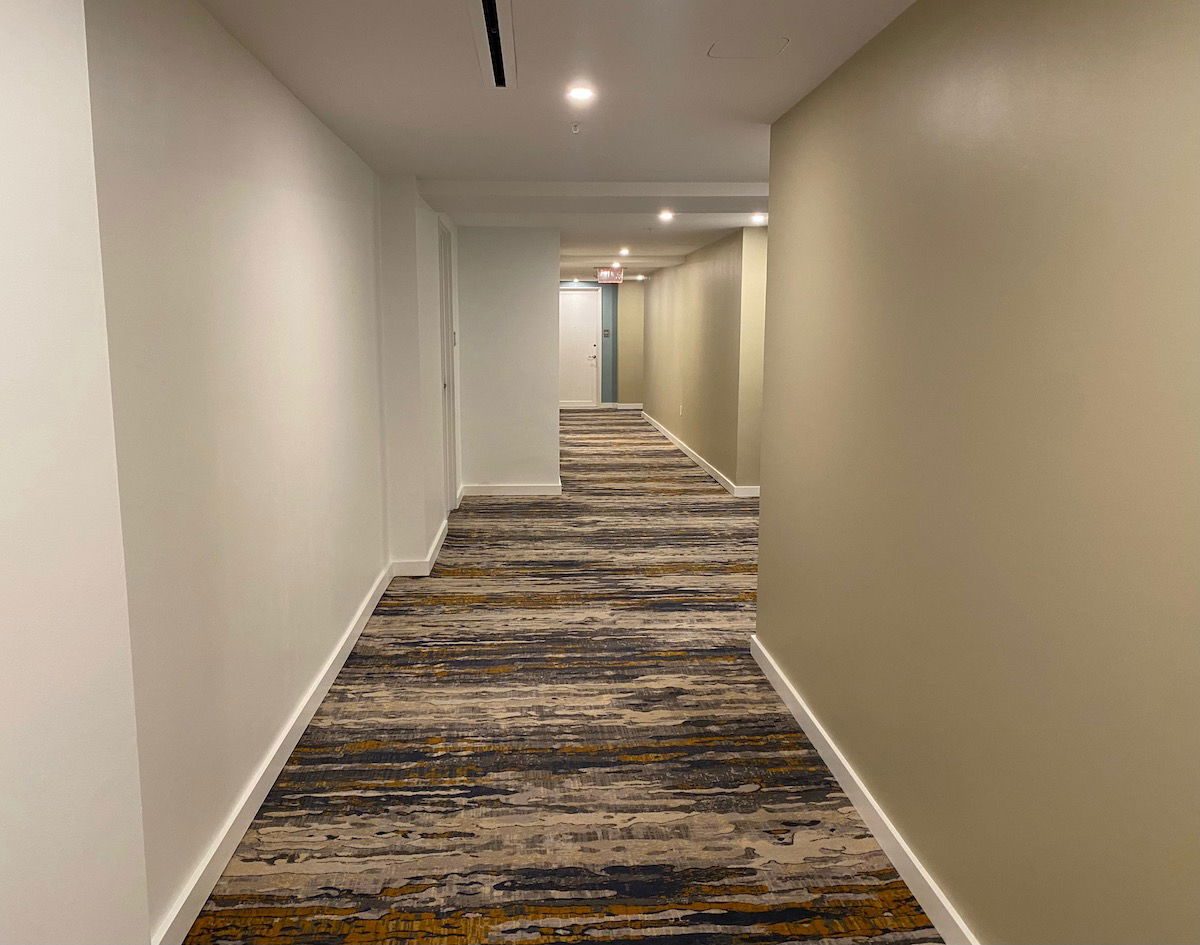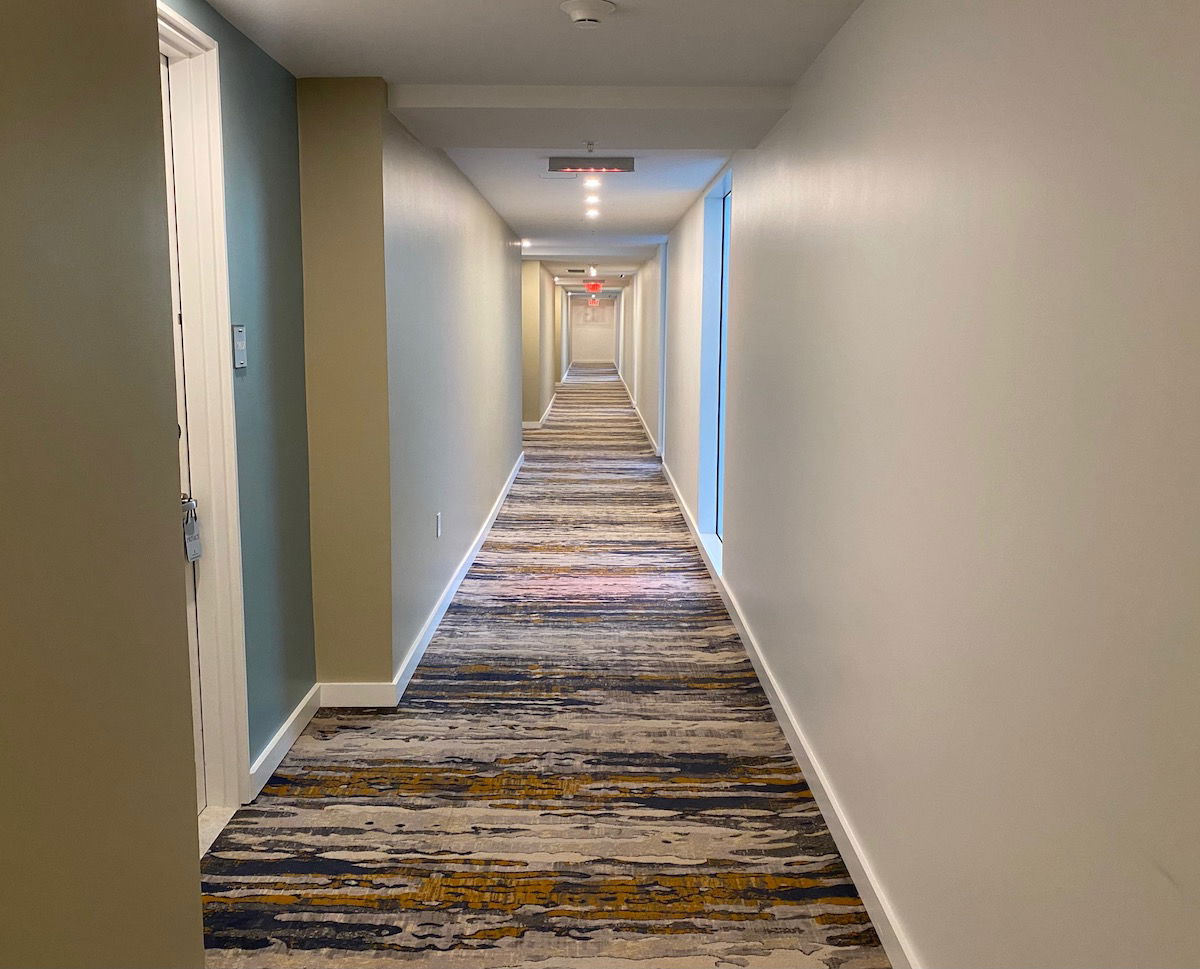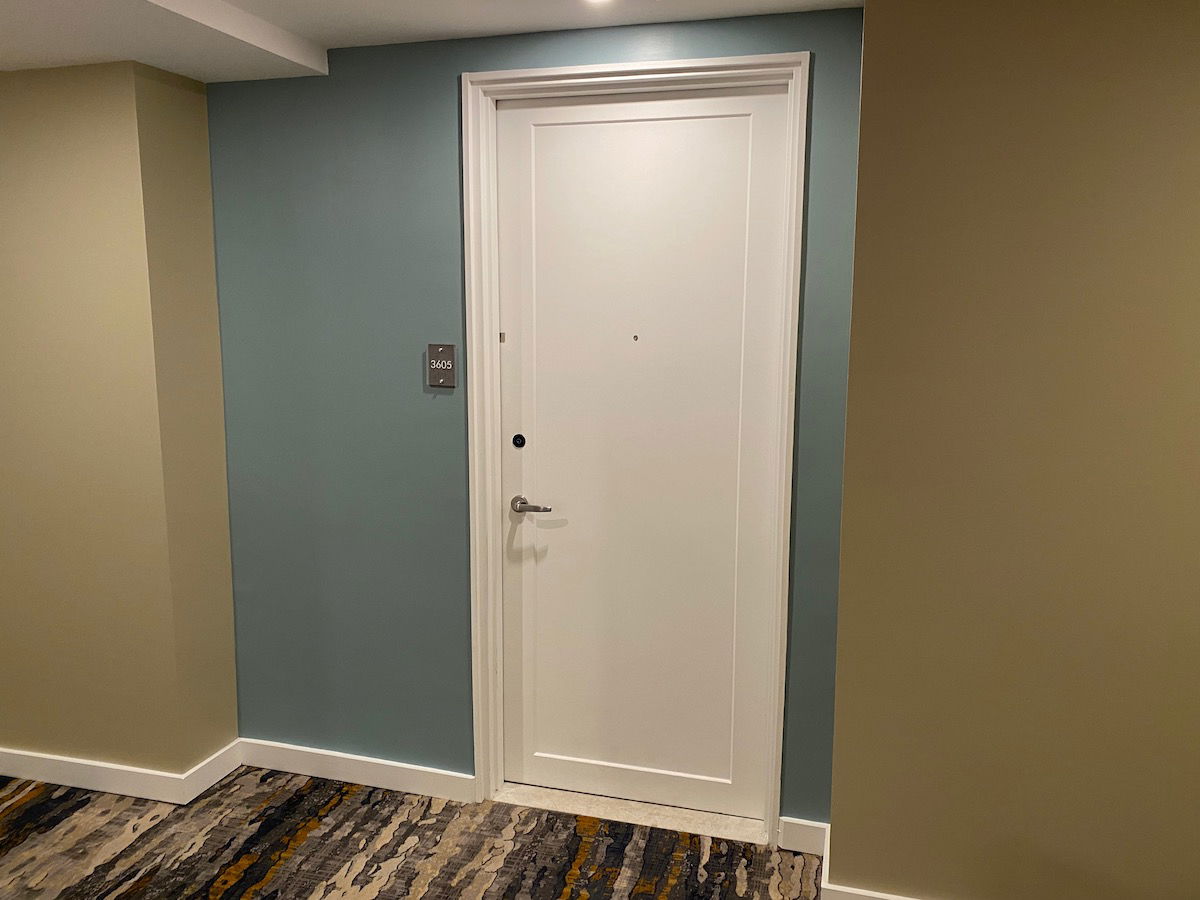 The good news about the rooms is that they're quite large, at 442 square feet. The bad news is that they also don't feel particularly luxurious. Our room featured a long entryway with a closet to the left and the bathroom to the right.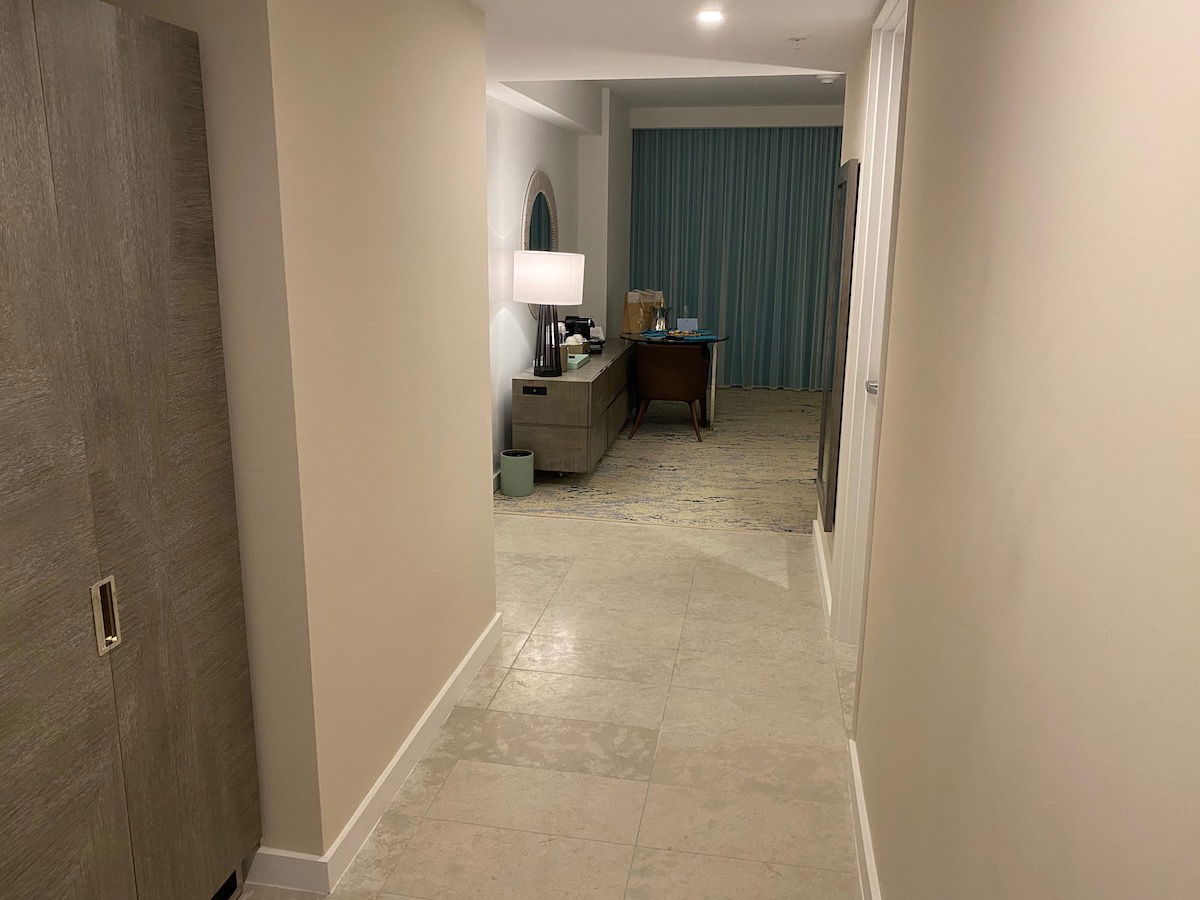 There was tile in the entrance hallway, and then the rest of the room was carpeted.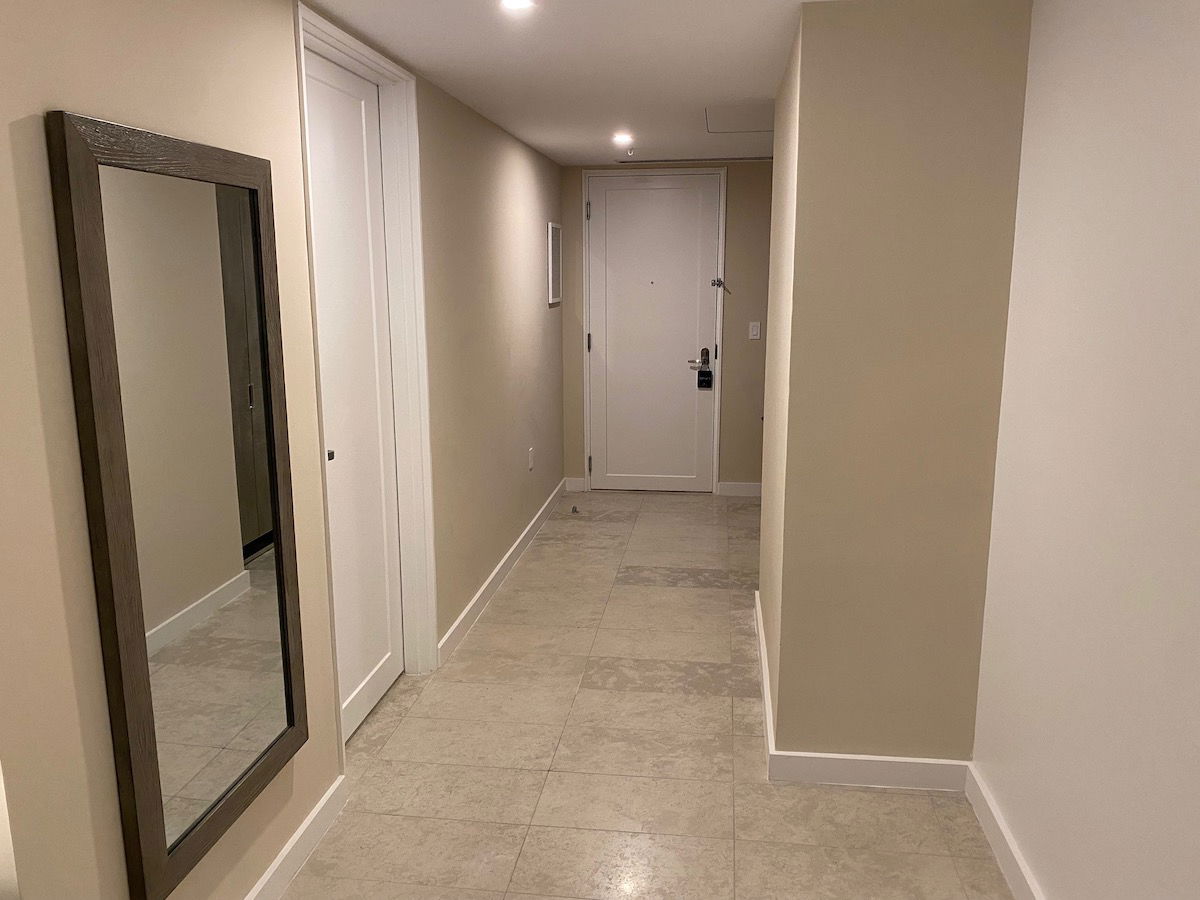 The room had a comfortable king size bed, and a daybed at the foot of the bed. Ritz-Carltons consistently have comfortable beds, and this hotel was no exception.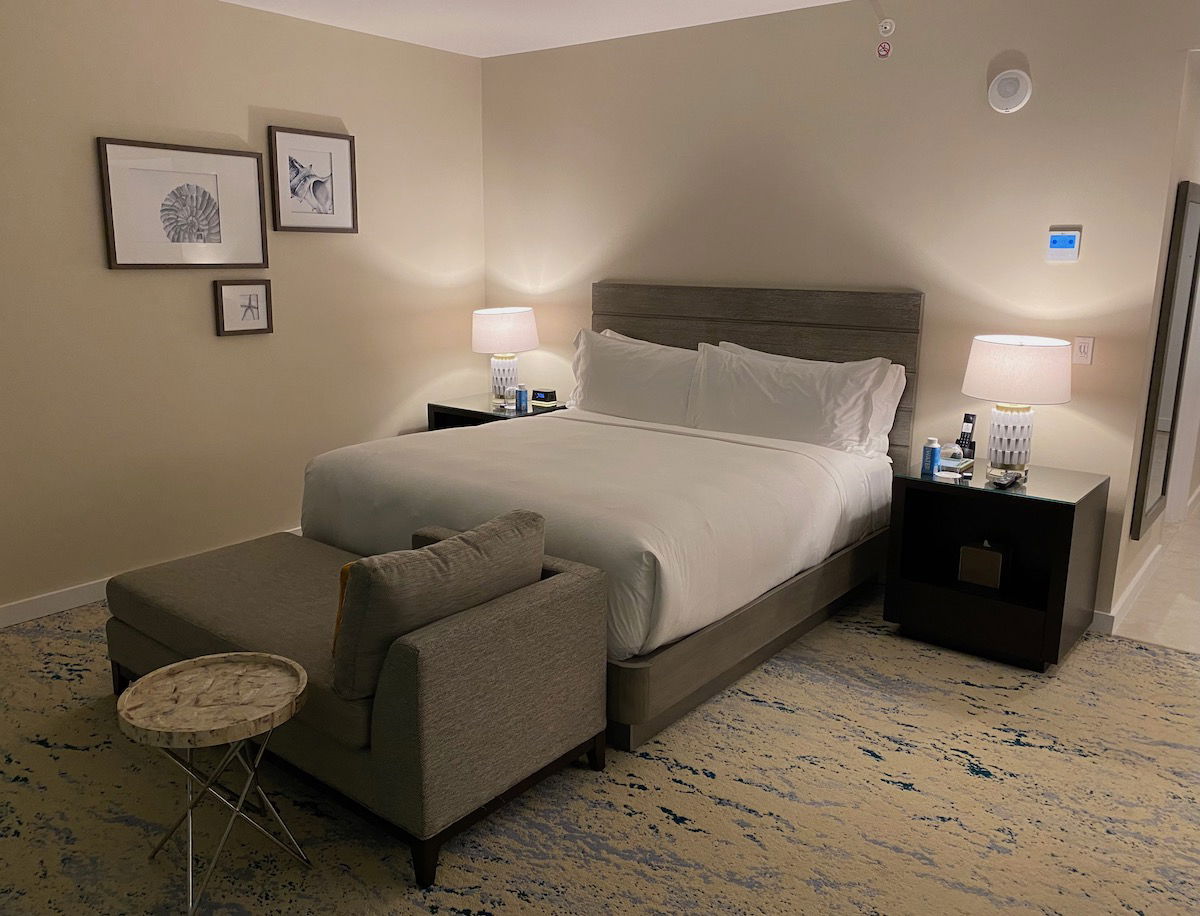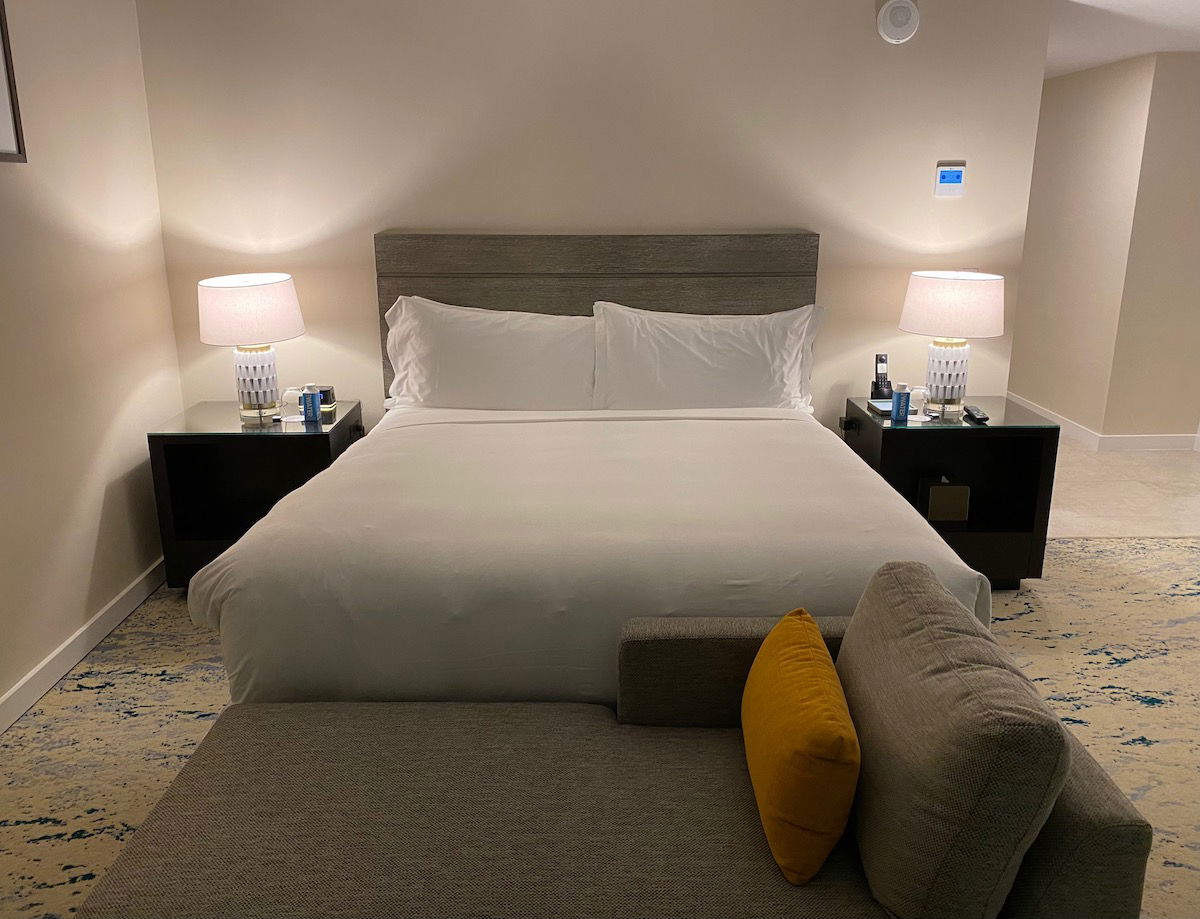 There was a wall-mounted TV near the window, a ceiling fan, and at least some art on the far wall.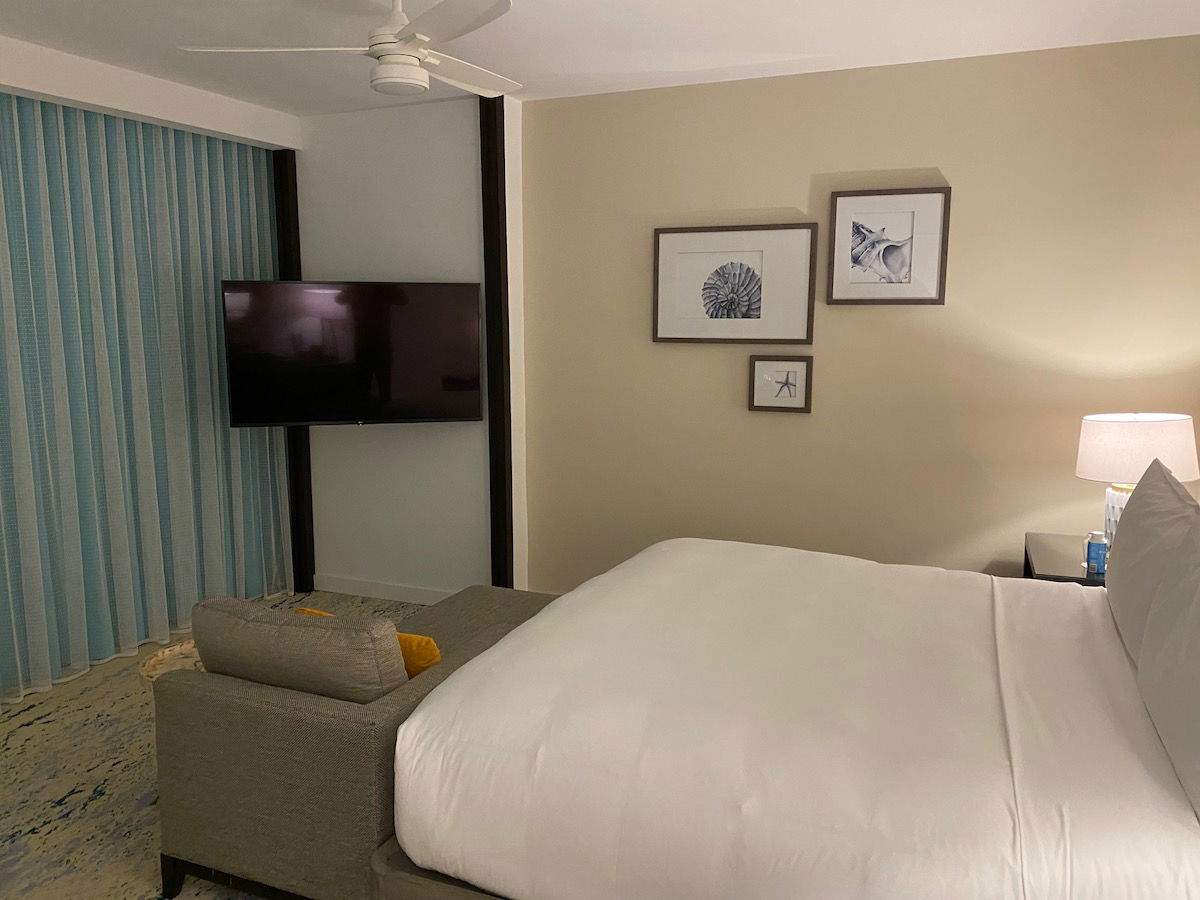 The curtains to the balcony were manual, and at least added a splash of color to the otherwise dull room.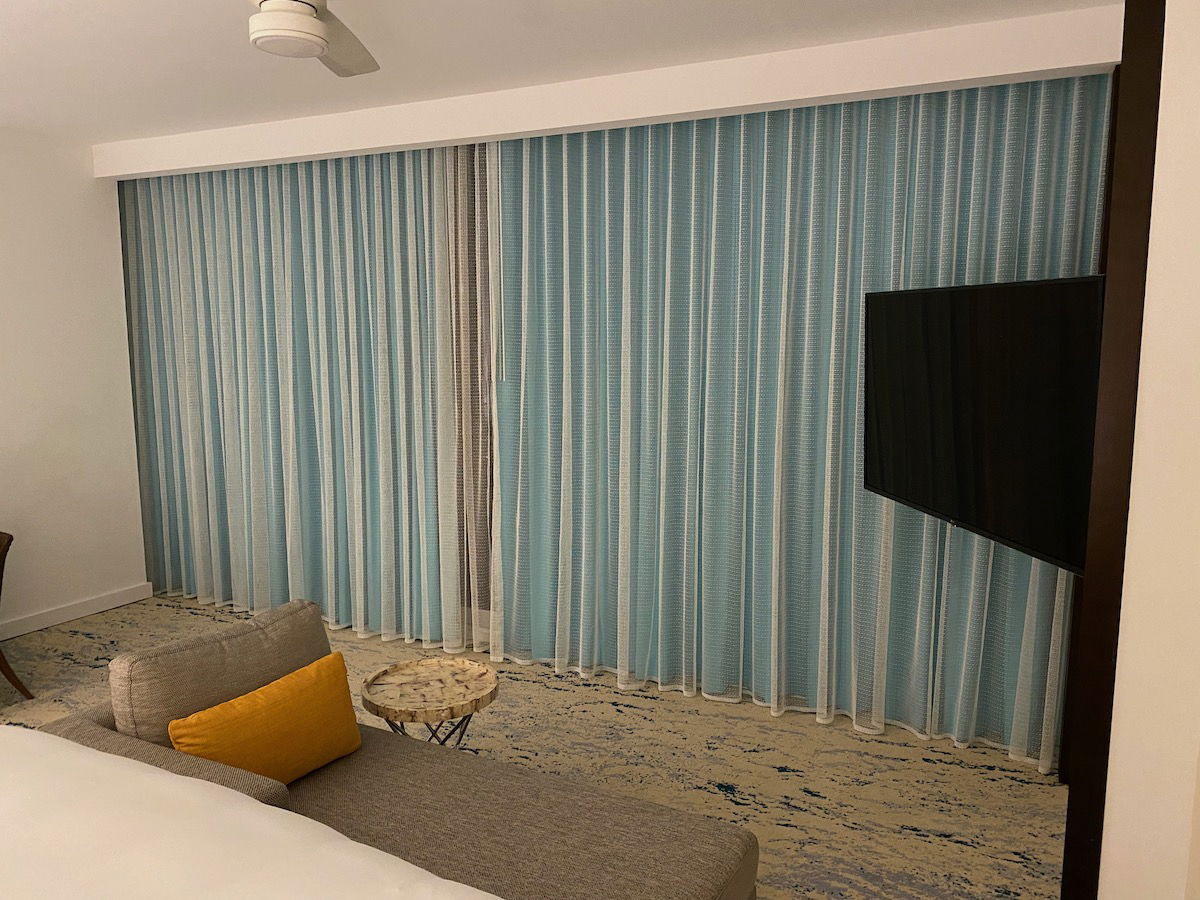 Along the wall closest to the entrance was a dresser and then a small glass table with two chairs, which also contained a welcome amenity consisting of sparkling wine and some sweets, which was a nice touch.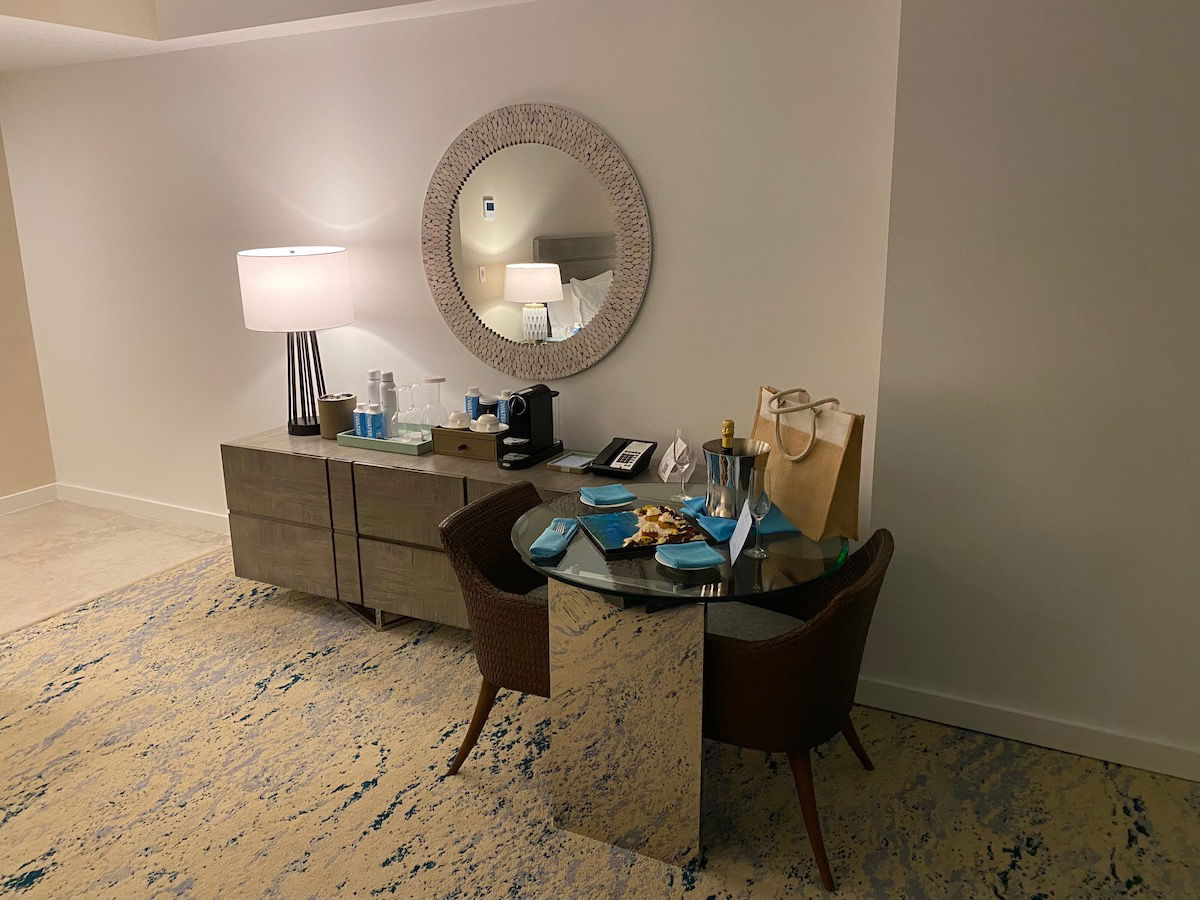 There was also a Nespresso machine, some water, and some reusable Ritz-Carlton water bottles.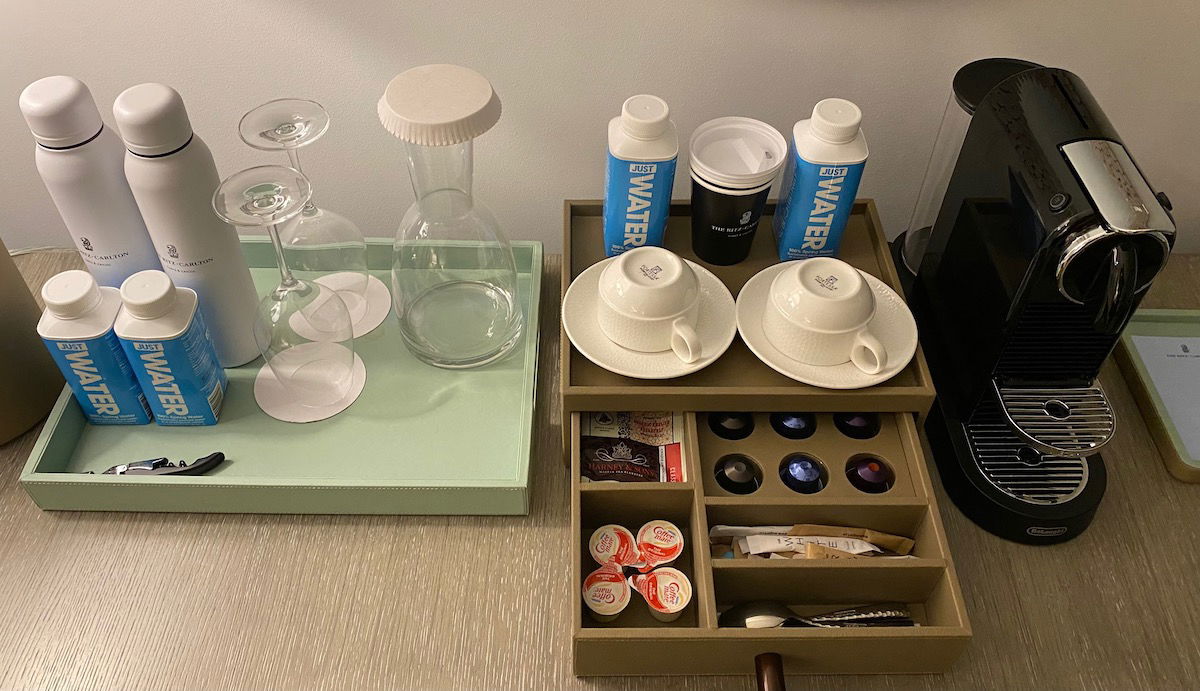 There was no minibar, but rather just an empty mini-fridge.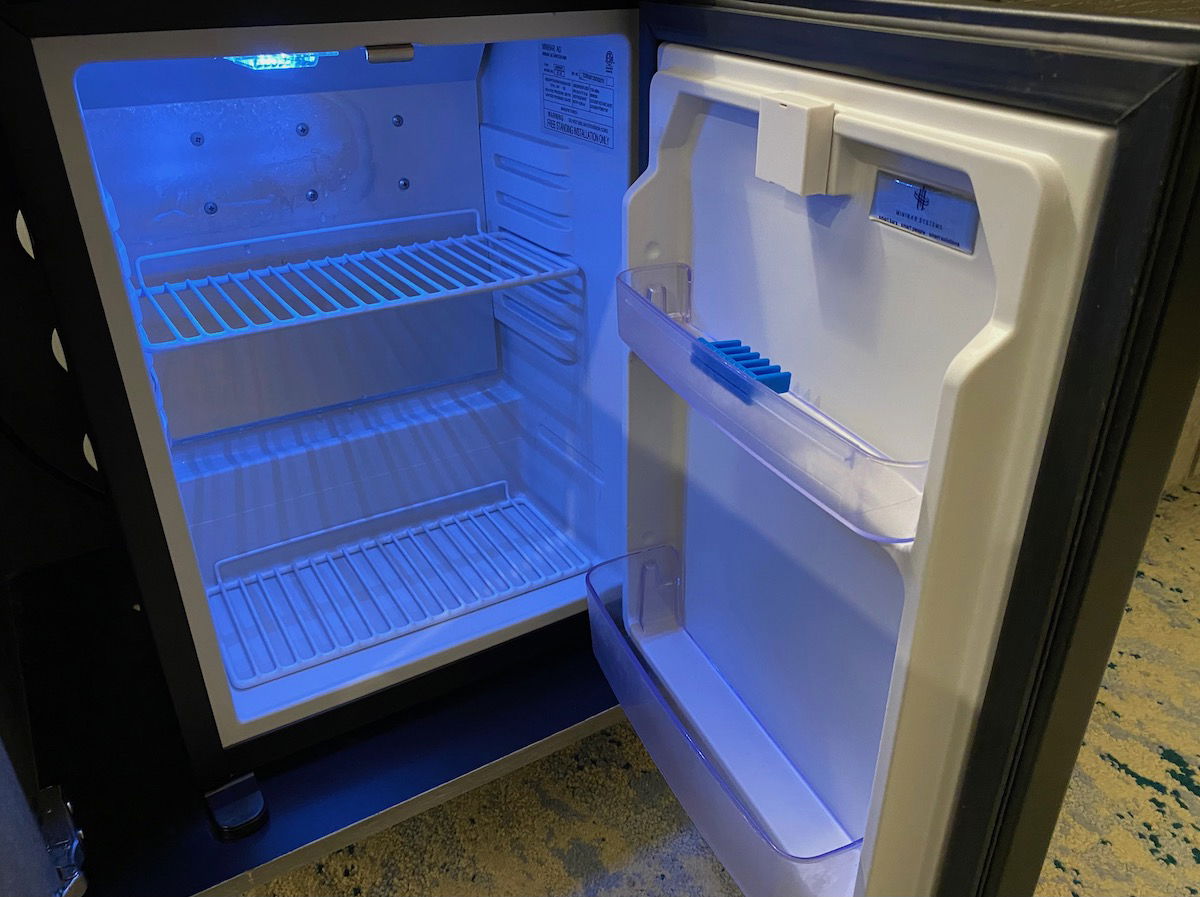 The bathroom was large, and had double sinks, a soaking tub, a walk-in shower with three different shower head options (which was awesome), and a partitioned off toilet.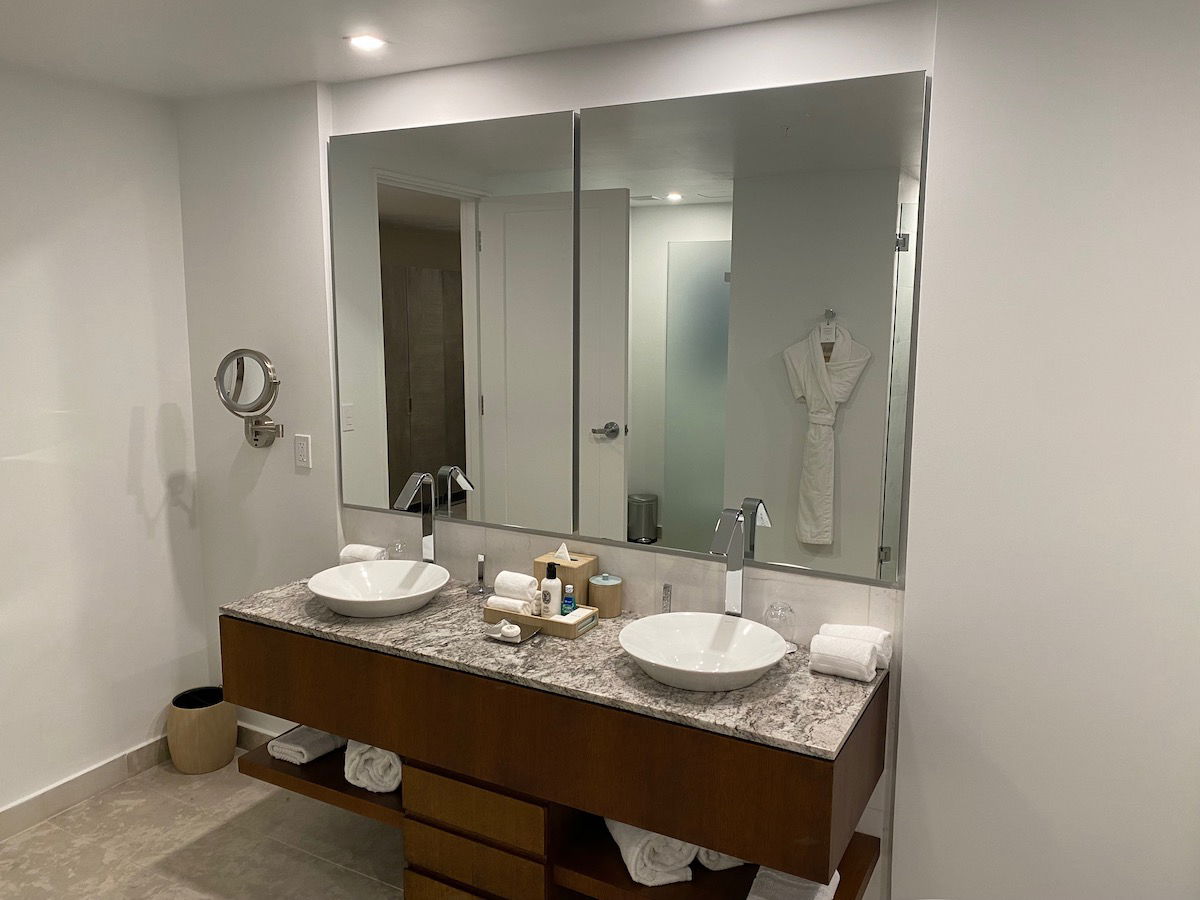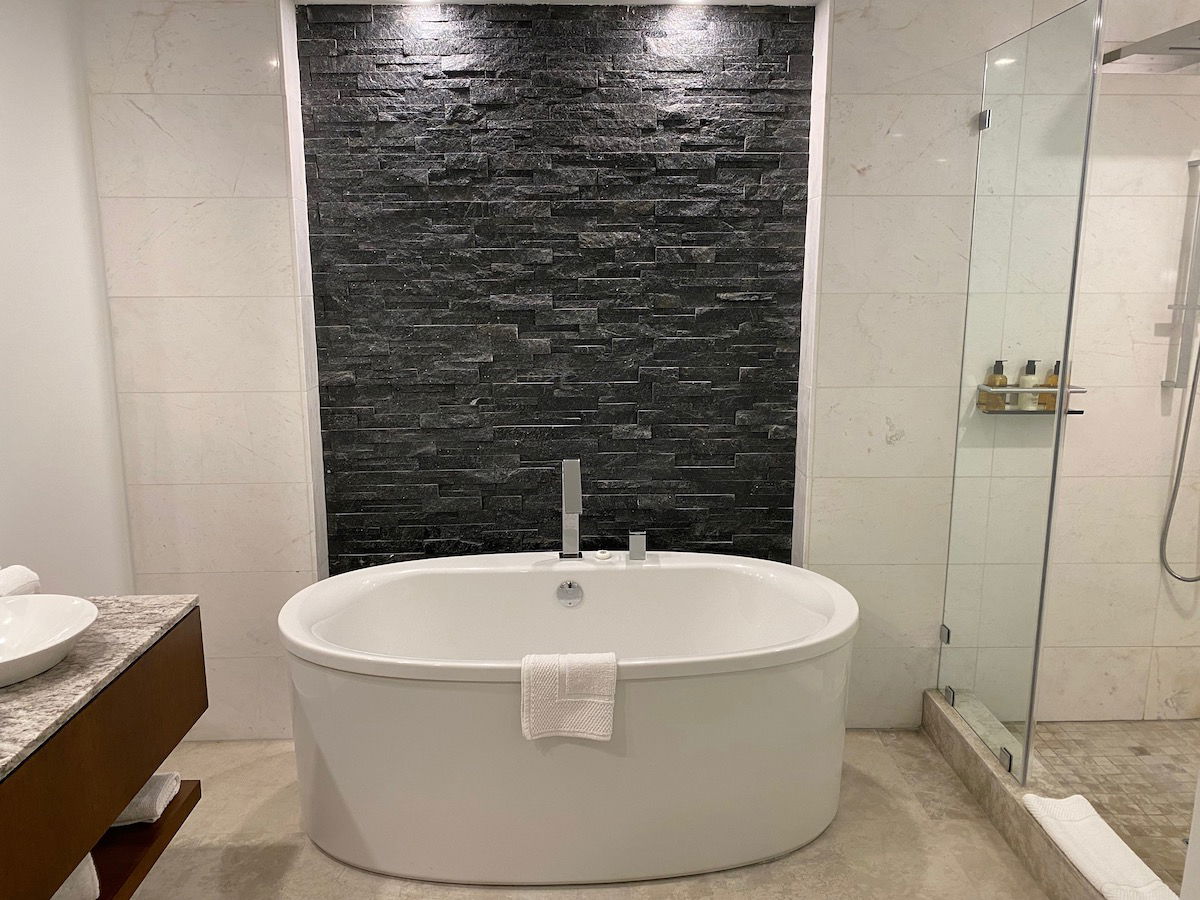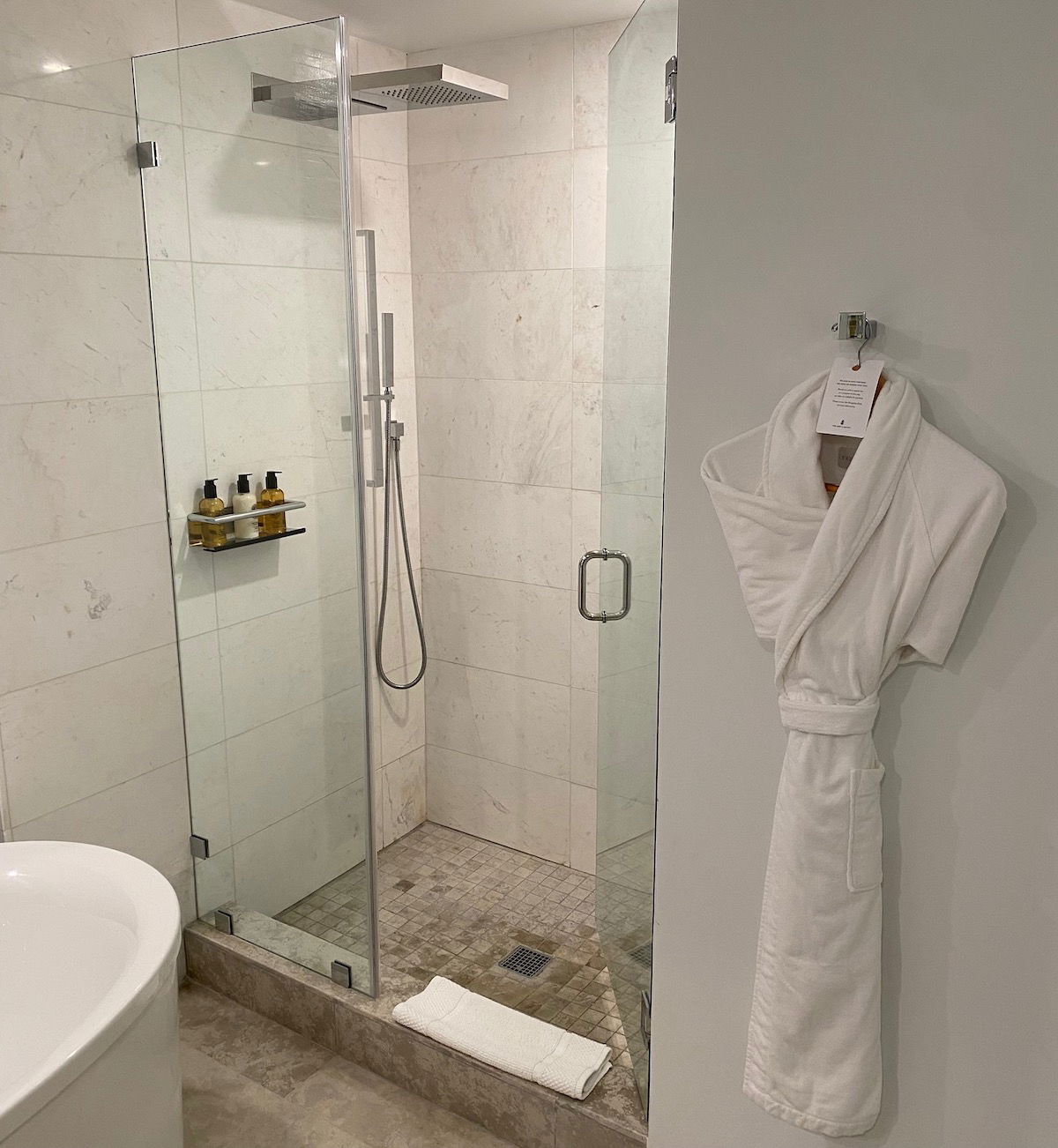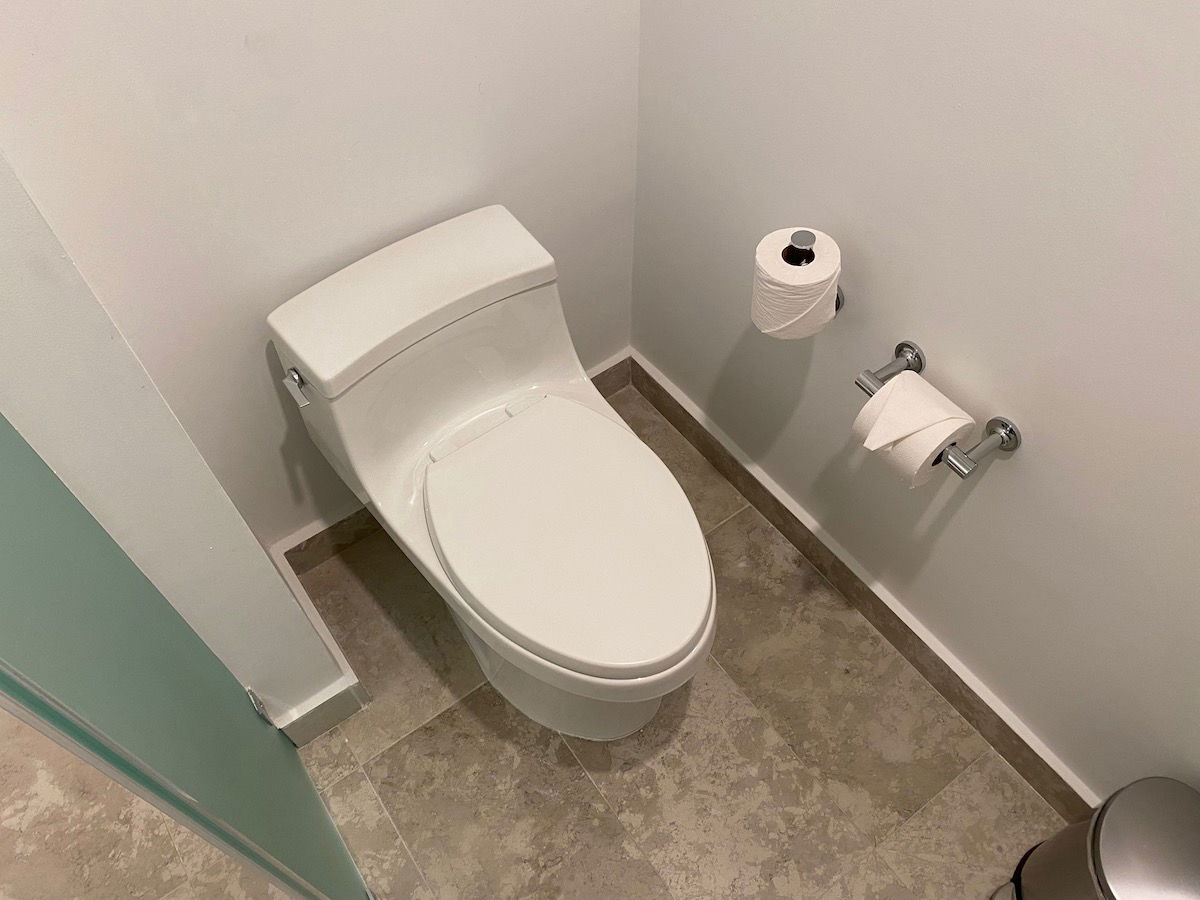 Toiletries were from Diptyque, which was awesome. These toiletries were in reusable bottles, which I don't mind, except it was really hard to actually pump out the liquids.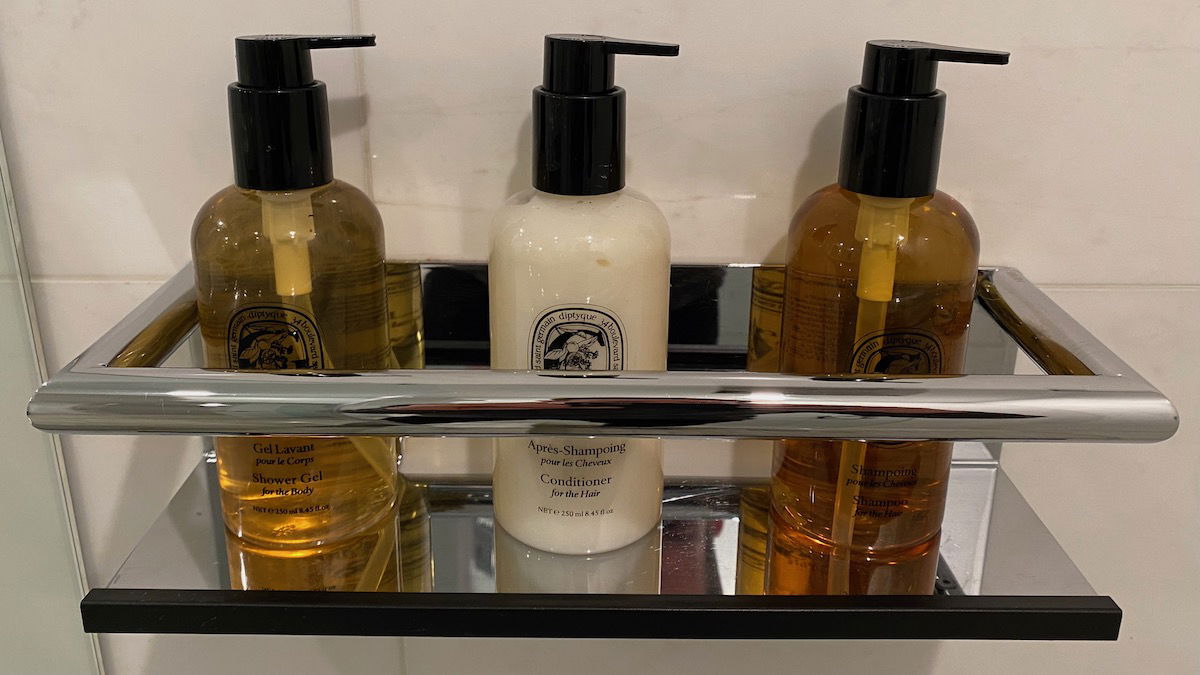 The highlight of the room was the outdoor space. There was a large patio with two chairs. While it faced the two residences buildings on one side, it also had breathtaking, direct views of Grace Bay.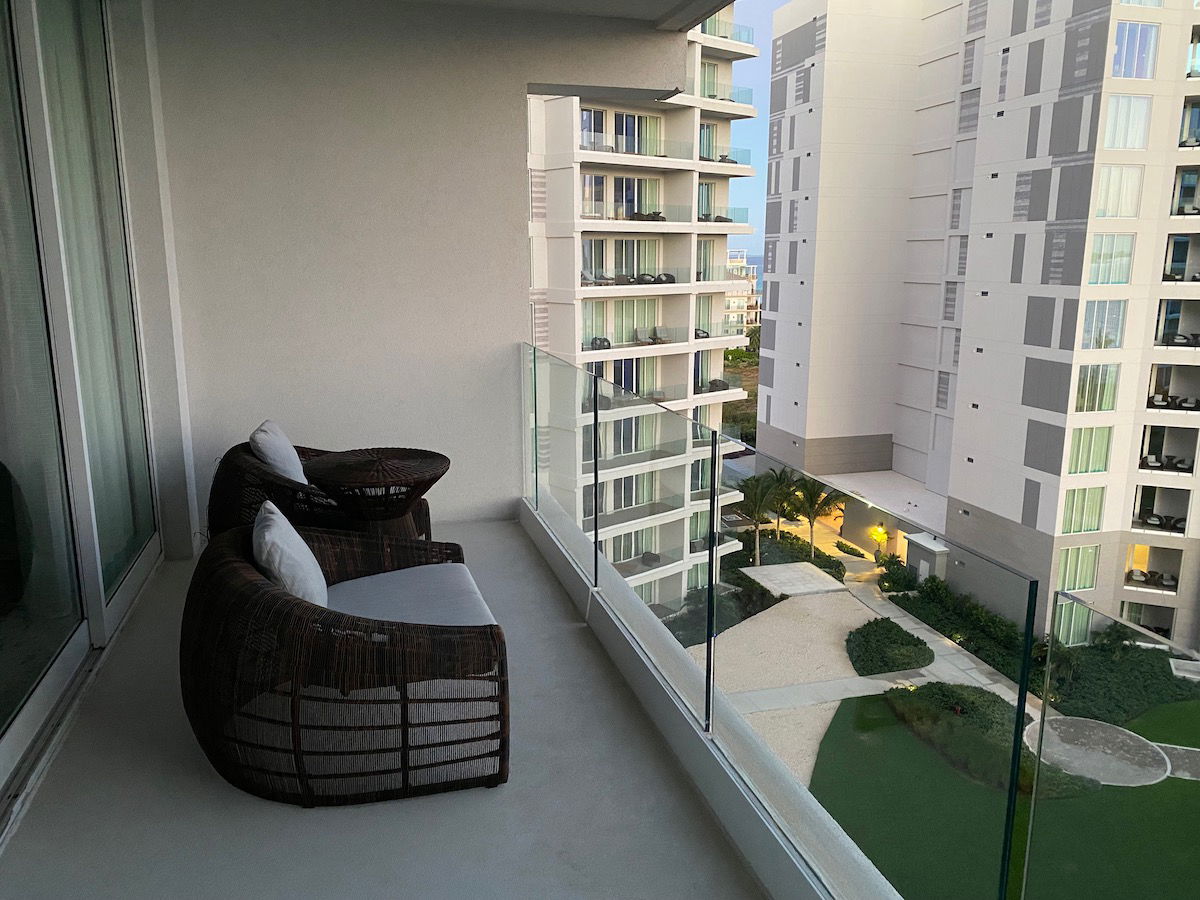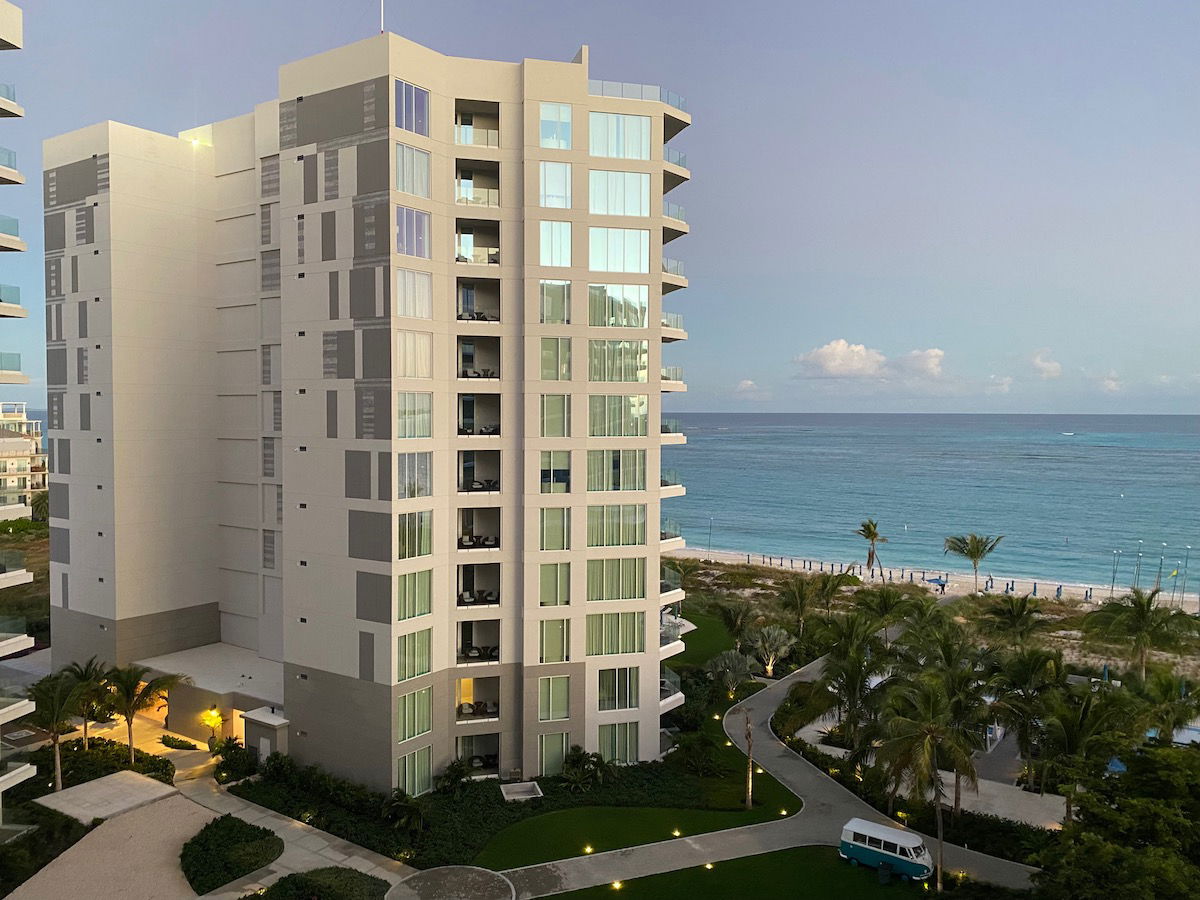 I loved being able to sit out here, and simply can't say enough good things about the view and being so close to the ocean. Opening the door in the morning and hearing the sound of waves crashing is just magical.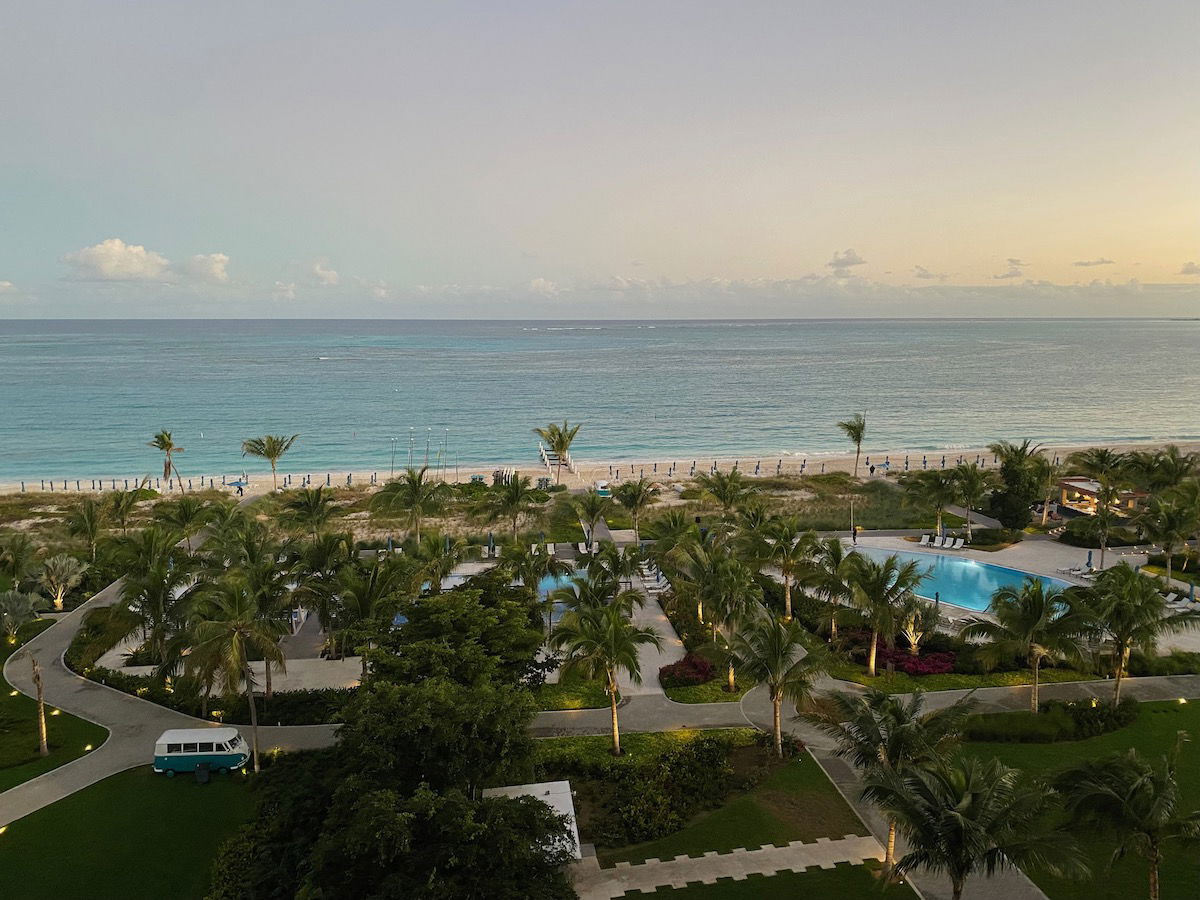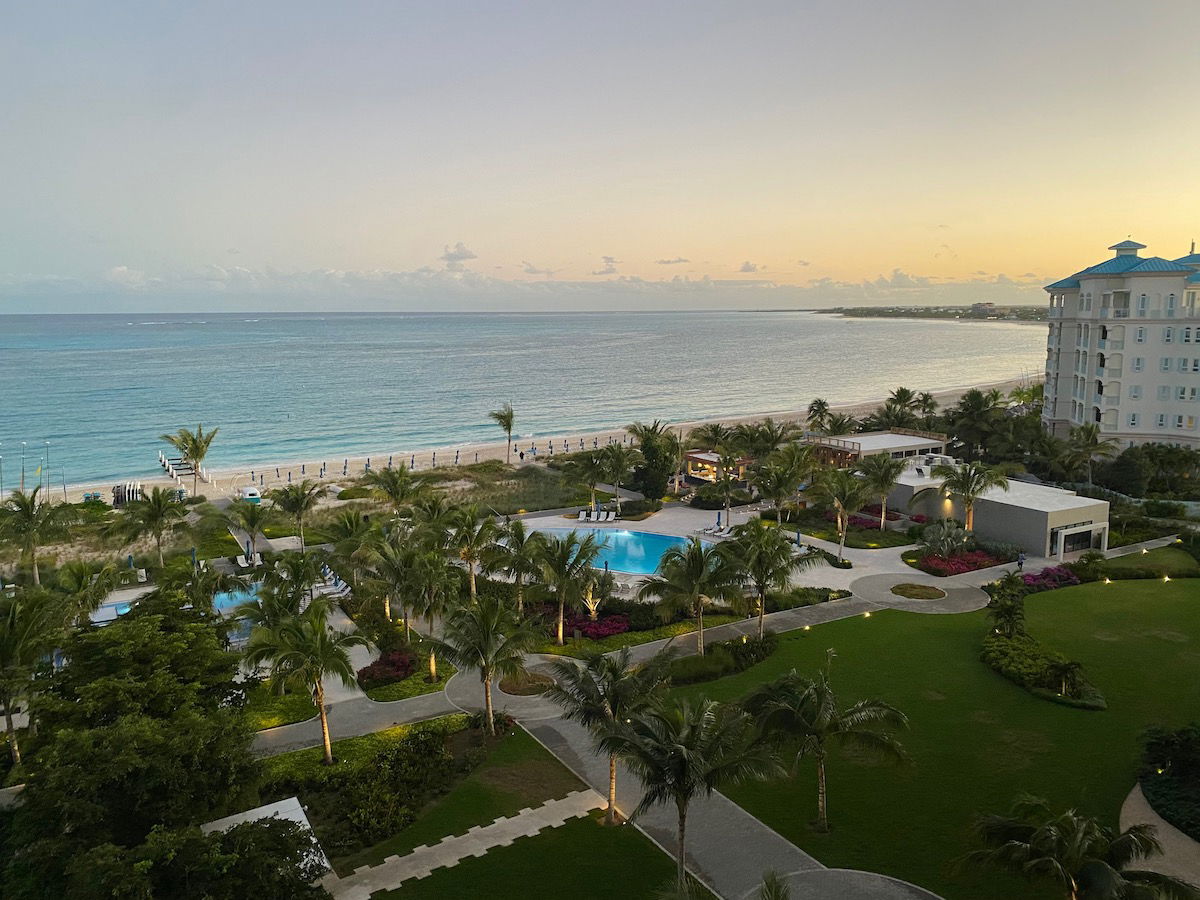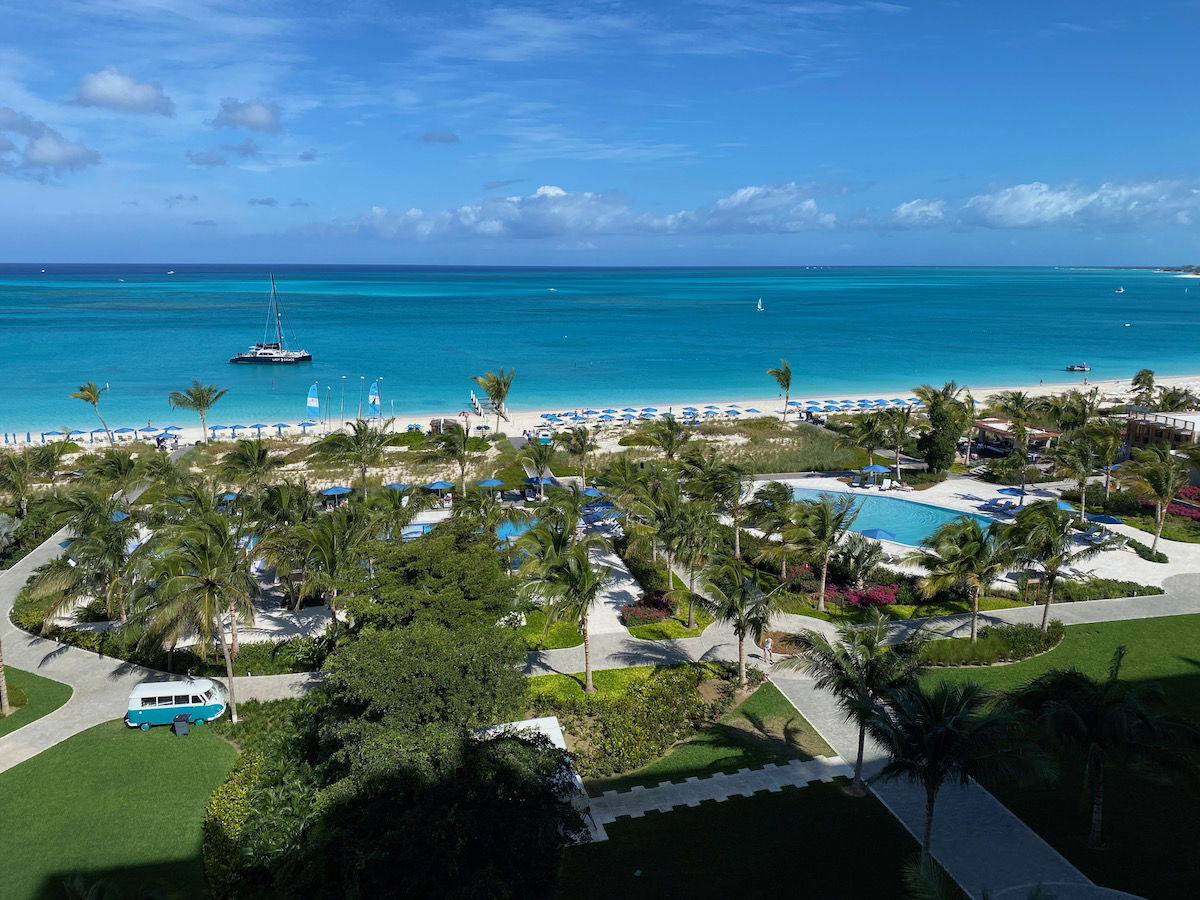 Rooms were not only serviced daily, but there was also proactive nightly turndown service, which included bottled water and chocolates.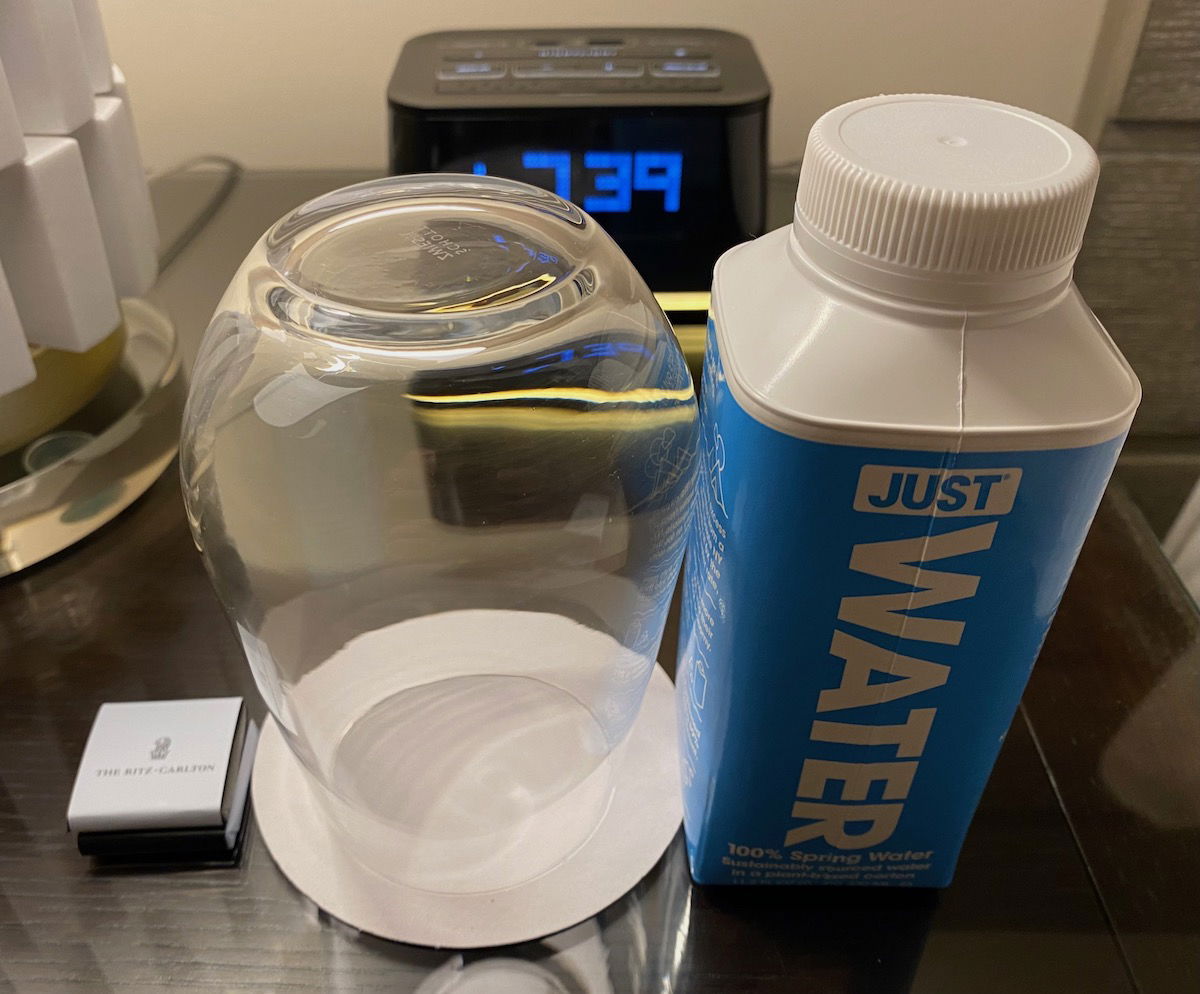 As you can probably tell, I have mixed feelings about the rooms. They're a great size and have beautiful balconies with unbelievable views. But otherwise the rooms simply don't feel luxurious, and seem like they could just as easily belong to a Westin.
The rooms need a bit more personality, and ideally some more art or even wall treatments. For that matter, the bathroom could also use towel racks. Funny enough we met some lovely ladies who were staying at the hotel as well, and when we asked them what they thought of the rooms, they immediately brought up their confusion about the lack of towel racks in the bathroom.
It's pretty clear some corners were cut when it comes to the indoor finishes. On the plus side, the outdoor space is much nicer.
Ritz-Carlton Turks & Caicos pools
The Ritz-Carlton Turks & Caicos has two pools, located beyond the three buildings and near the beach. There's a walkway directly from the lobby leading to these.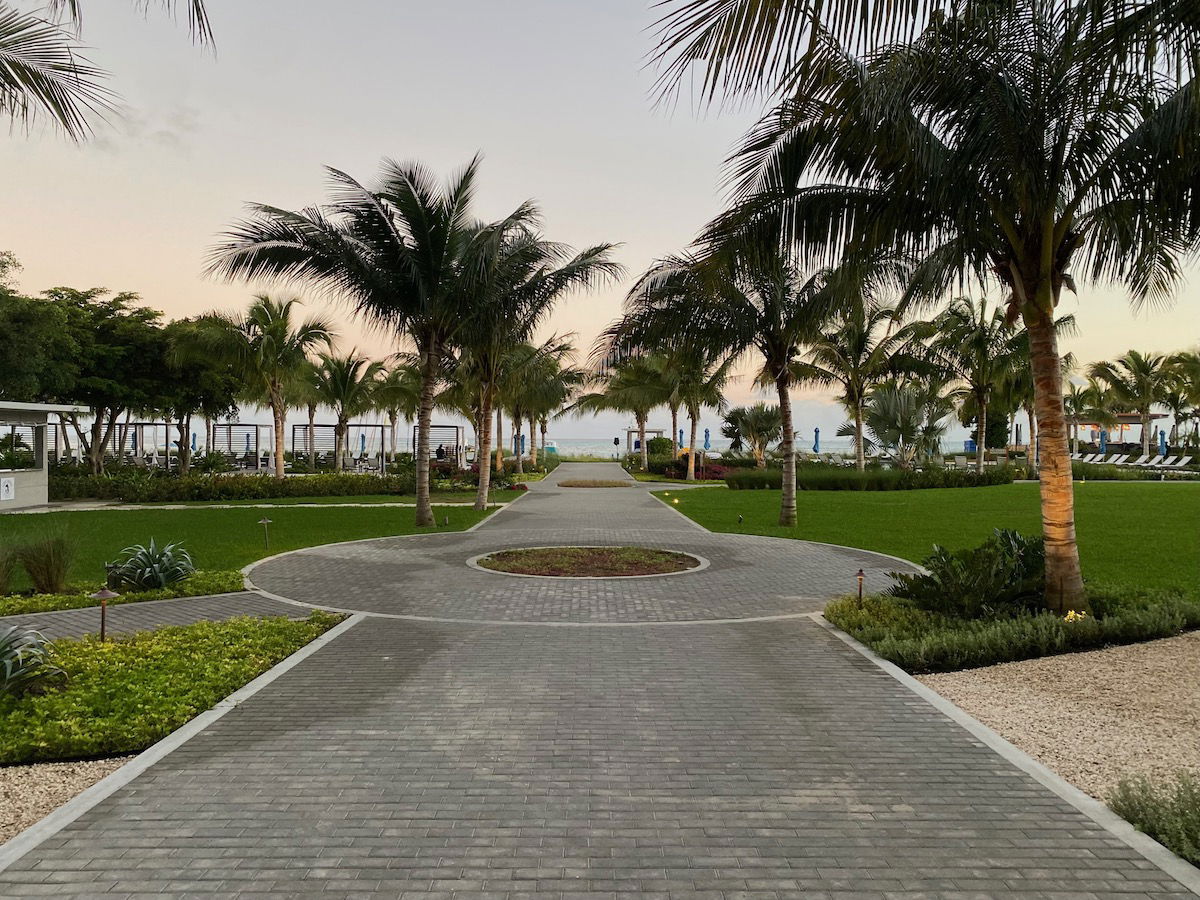 One pool is exclusively for adults, and is really well done. It has plenty of seating, and an overall nice design.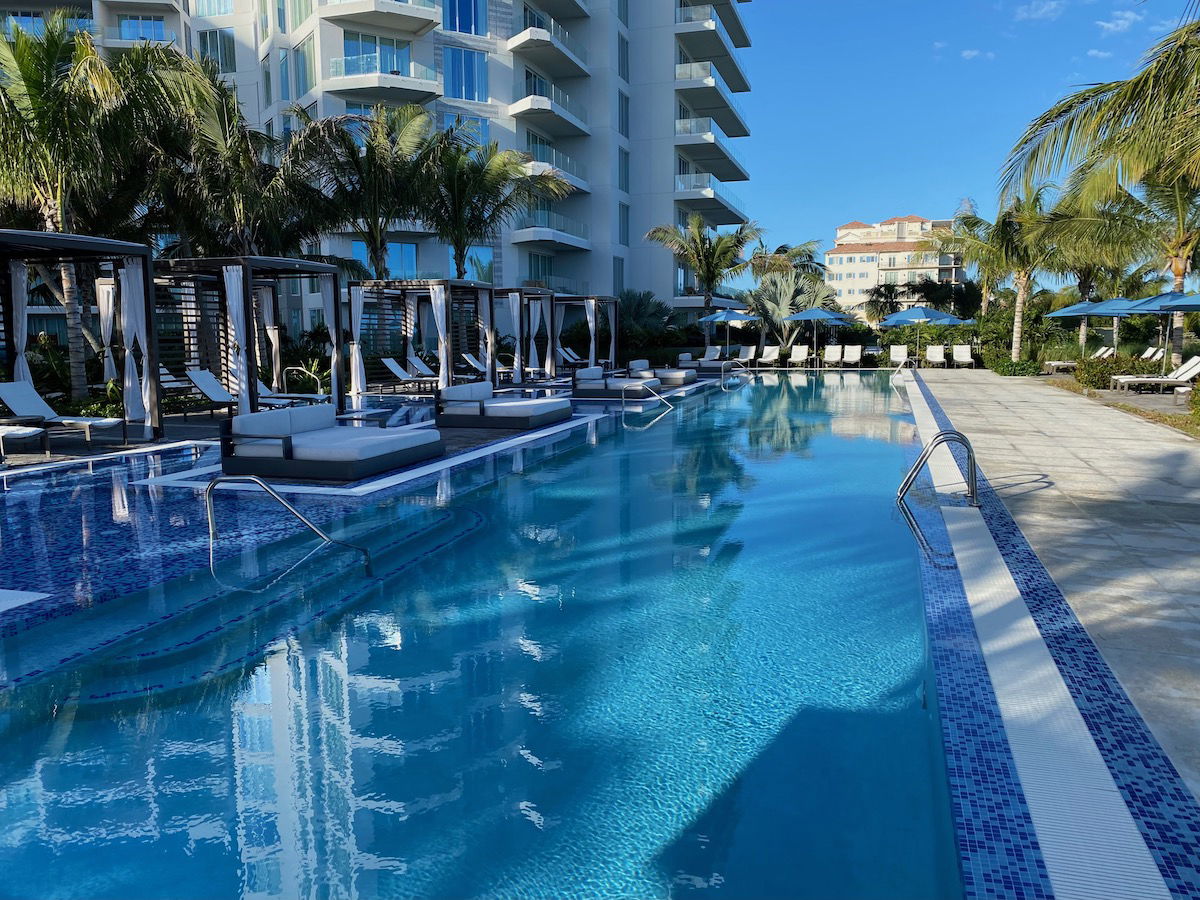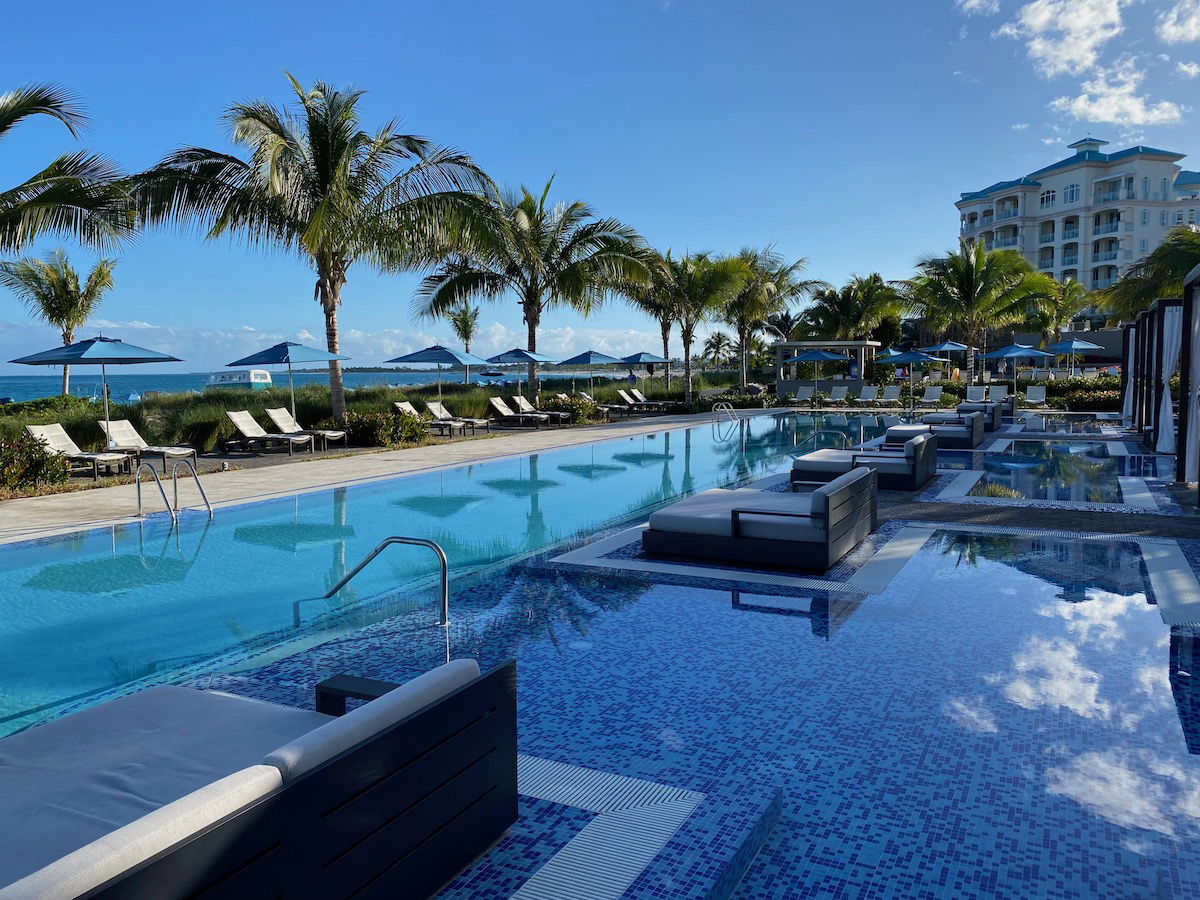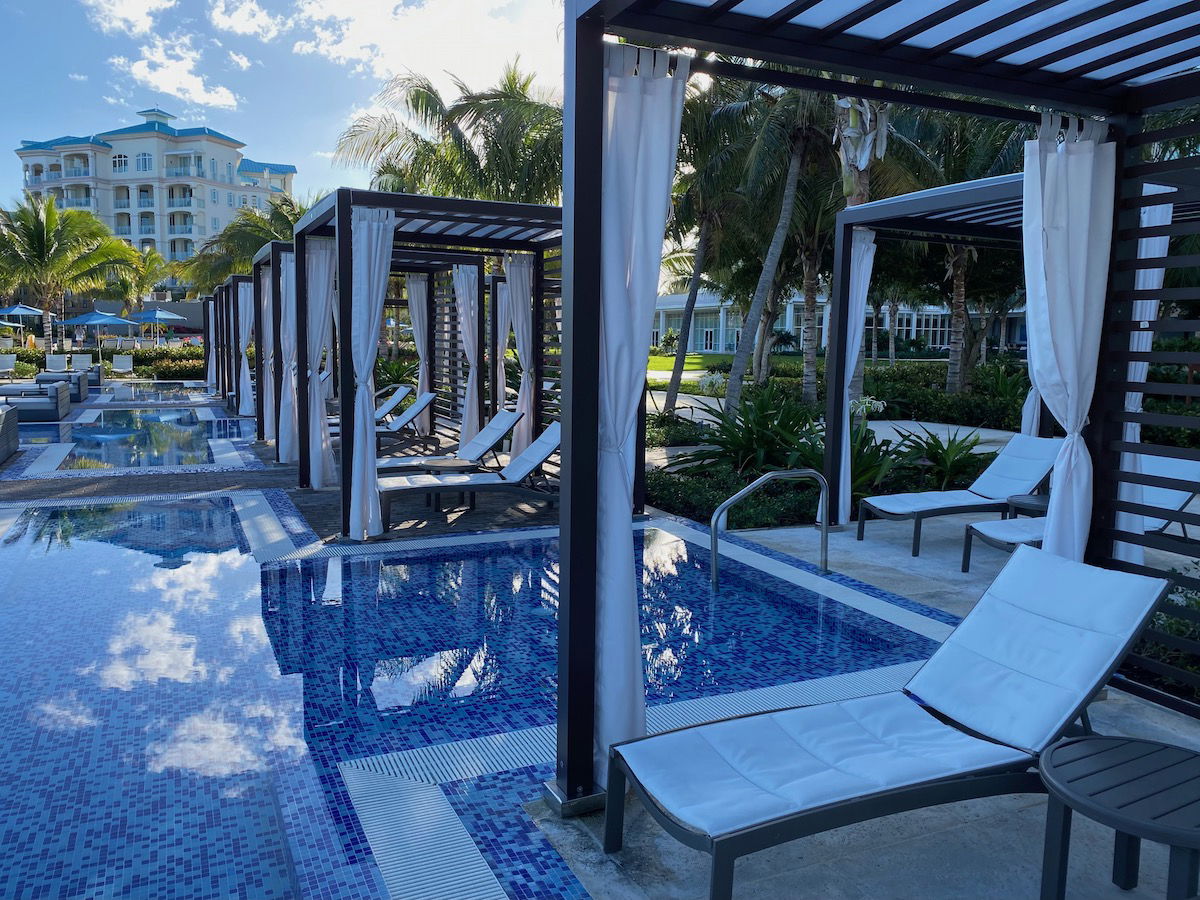 There's a second pool for families. While the pool design as such isn't as inspiring, I think many will appreciate a separate option for those with kids.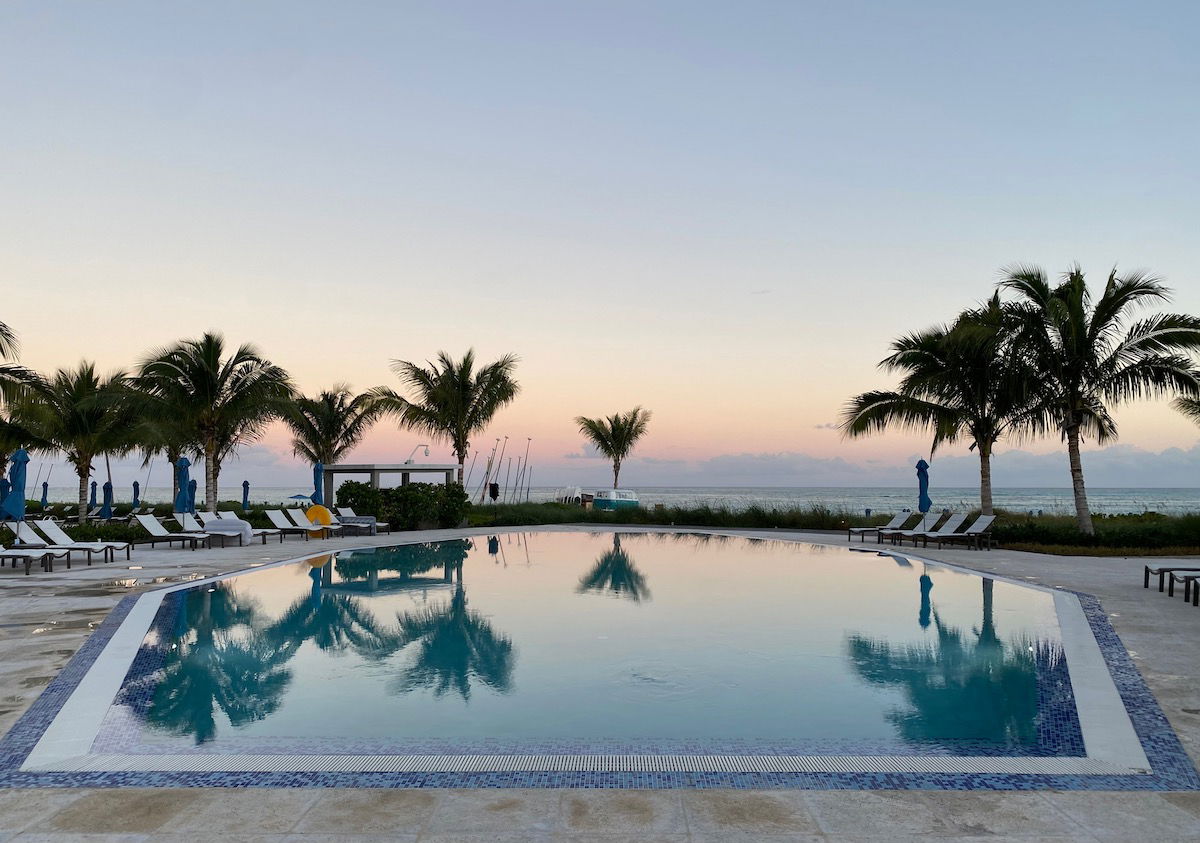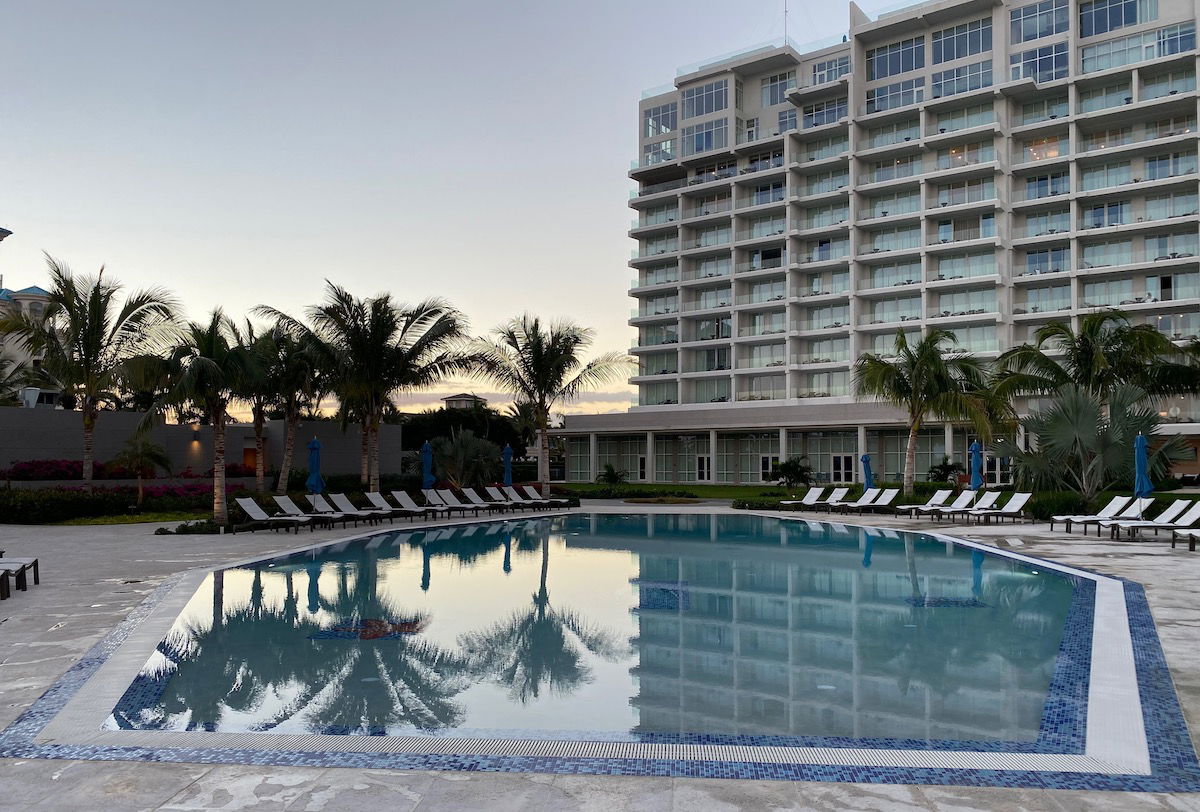 It's my understanding that the hotel was roughly 80% full when we were staying there, so I was impressed that there was no need to play games to reserve seats. They were always readily available.
I also appreciated that the hotel had a variety of complimentary sunscreen available at the pool, plus water. There are so many beach resorts that try to rip guests off with sunscreen.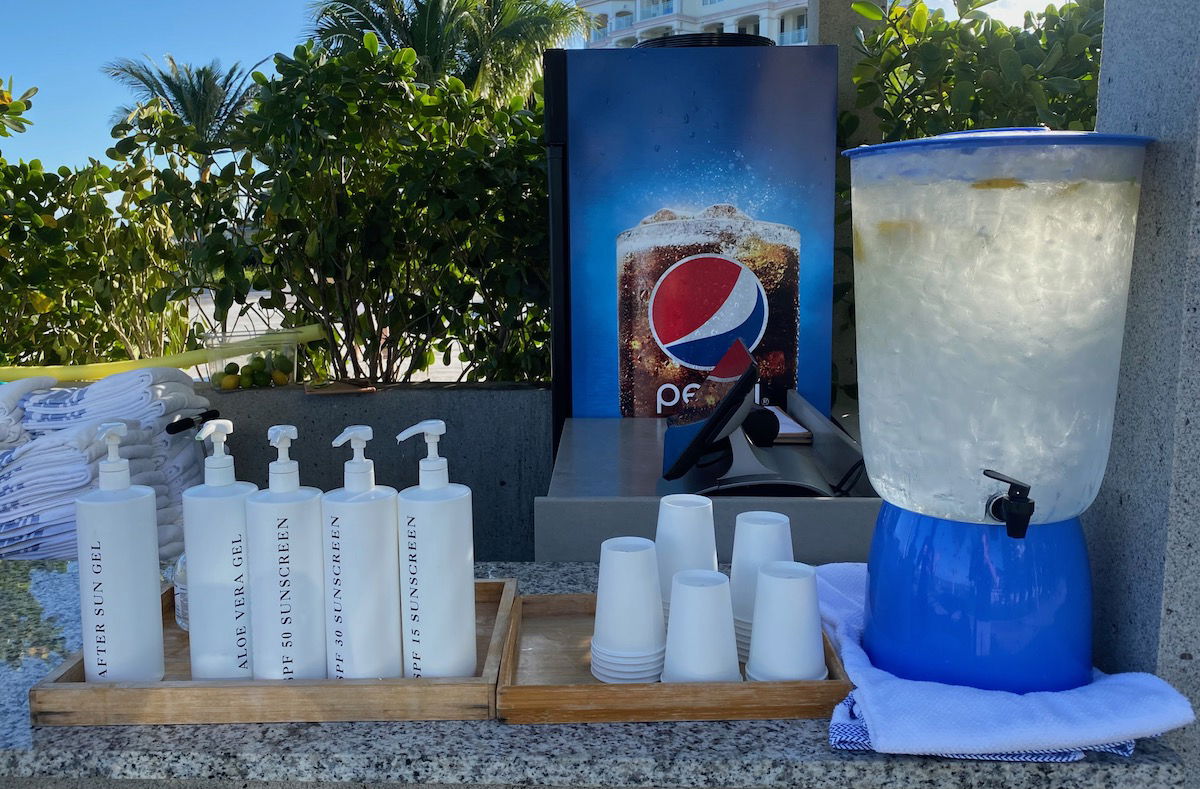 My one disappointment here was the lack of hot tubs. I always find it strange when beach resorts don't have hot tubs, but maybe that's just me?
Ritz Carlton Turks & Caicos beach
The Ritz-Carlton's biggest asset is that it's on Grace Bay, often regarded as one of the world's best beaches. There's a path leading directly to the beach, and then the hotel has a setup with lounge chairs, service, etc. There are also all kinds of water sports available.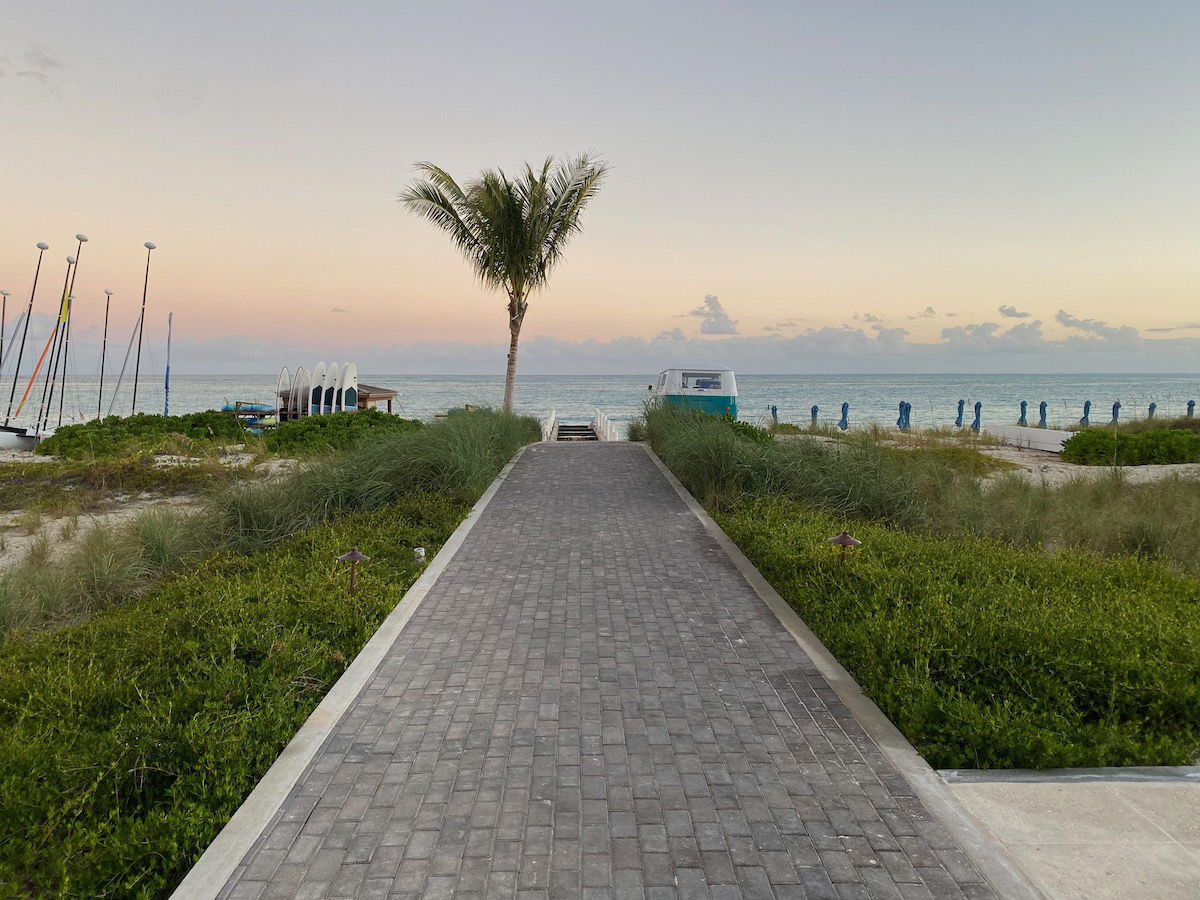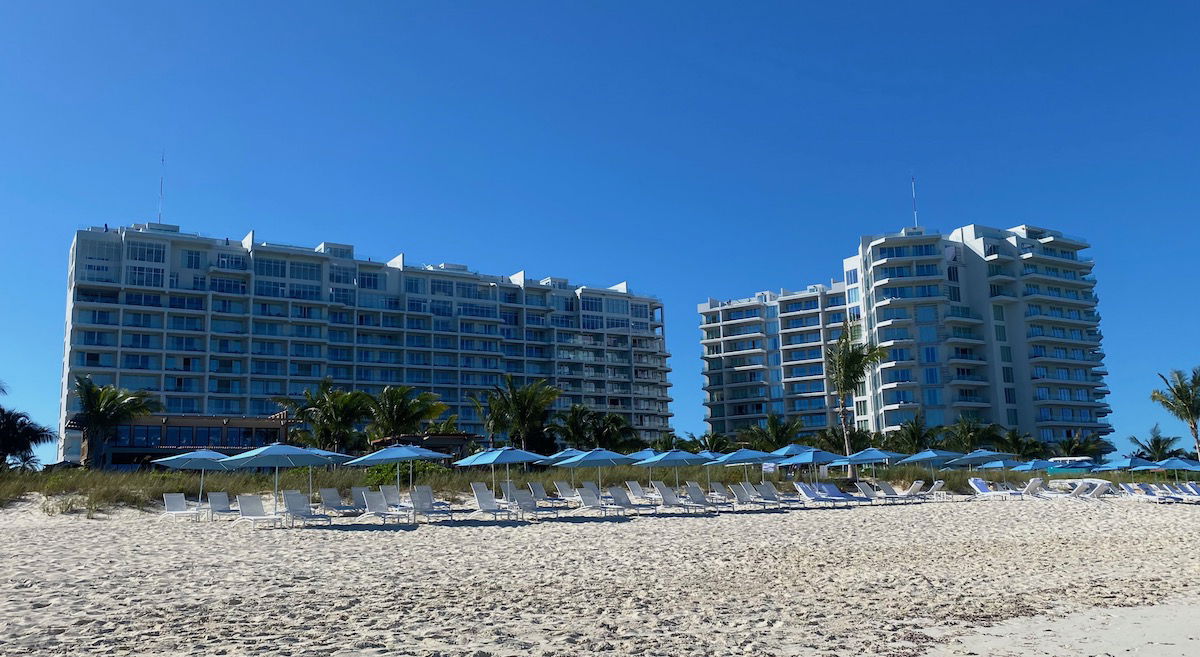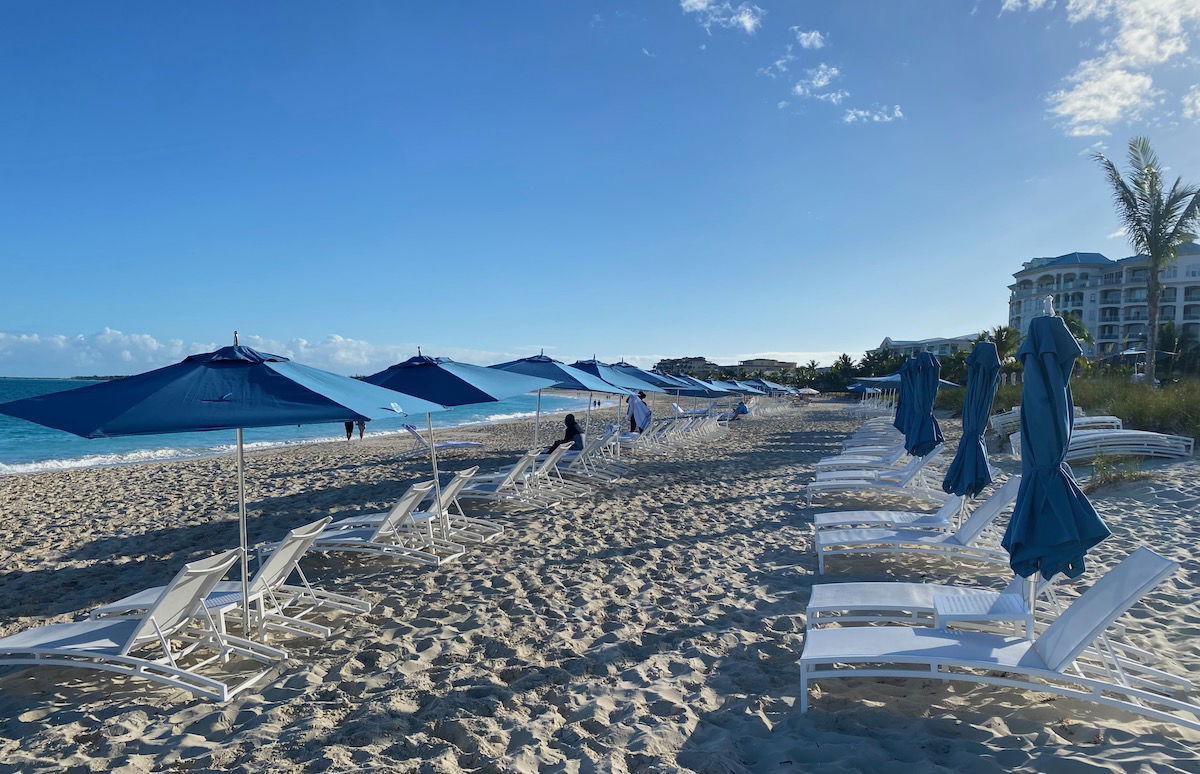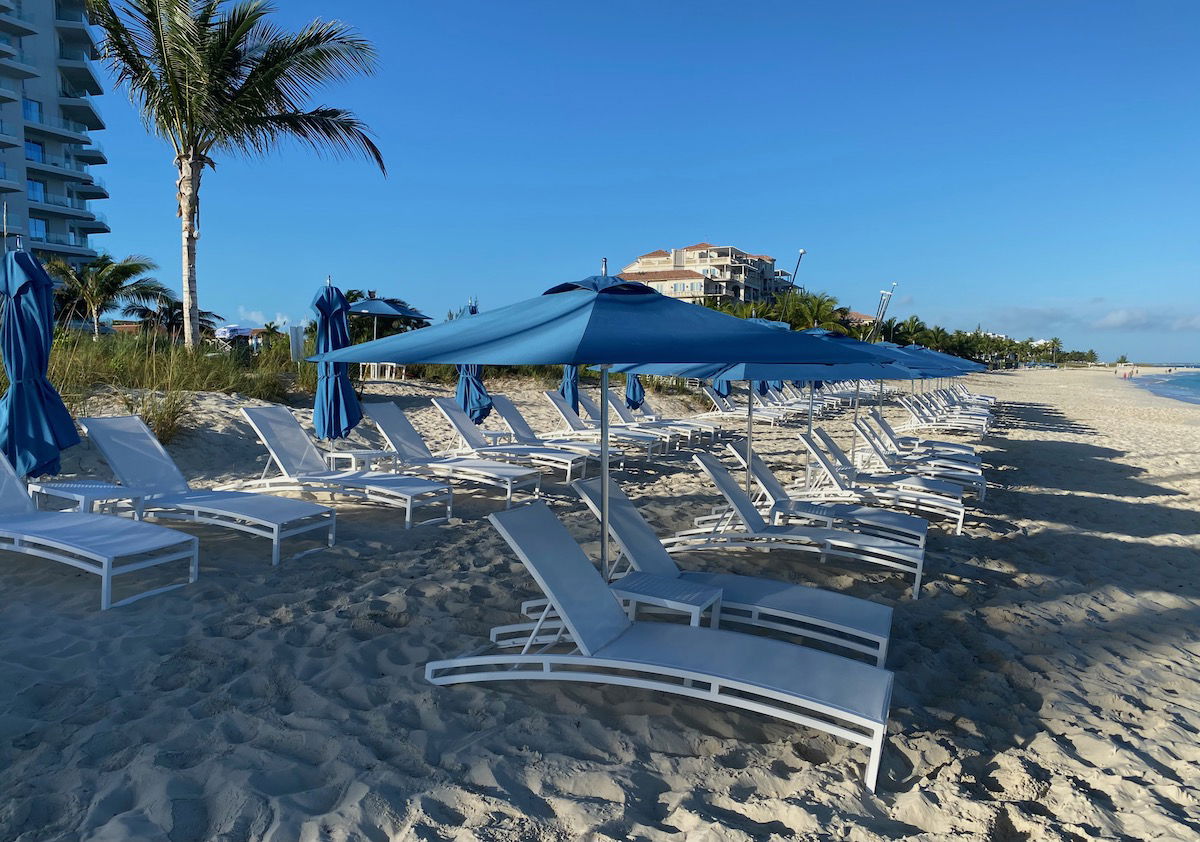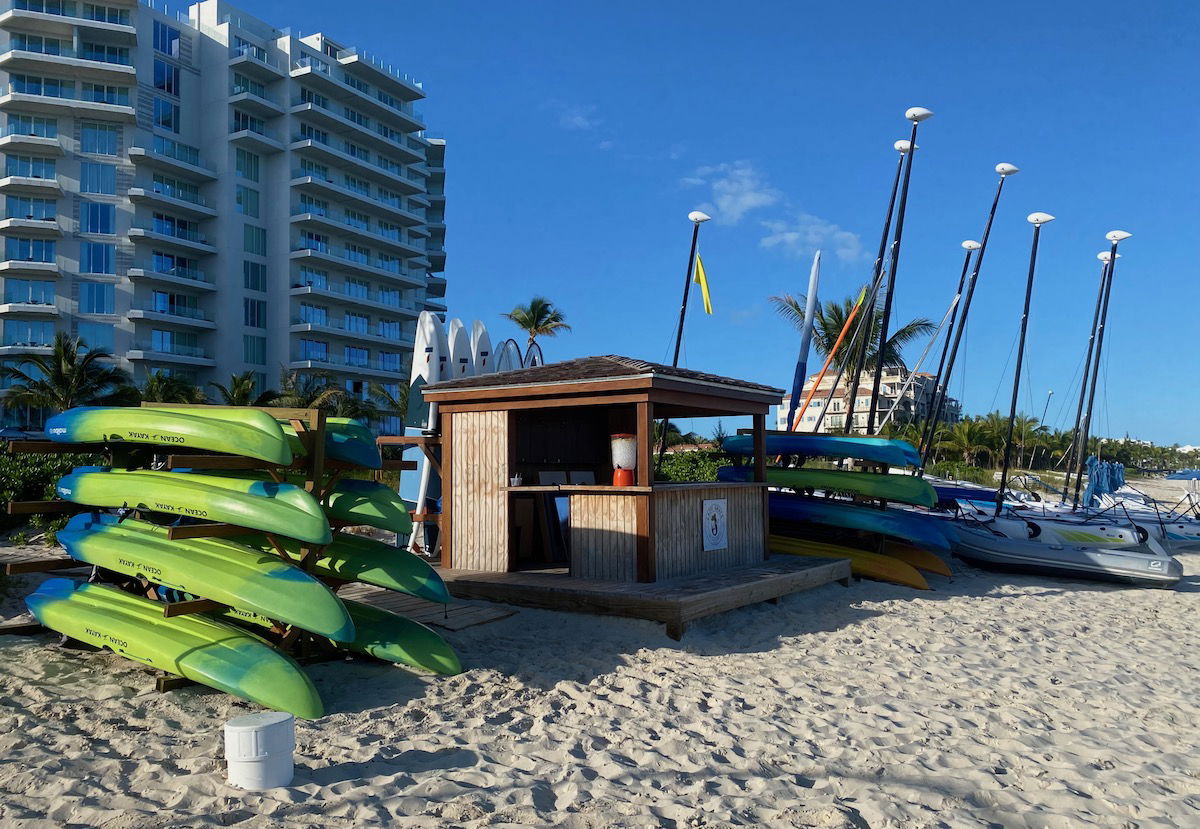 So, did Grace Bay live up to the hype? I'm not much of a beach lounger, but rather am more of a beach walker, and I have to say the answer is yes. The beach here is extremely long (you could walk over seven miles), and I was amazed by how soft and clean the sand was, and how clear the water was.
This really is a top notch beach, and being able to take an extended walk here every morning was a real treat.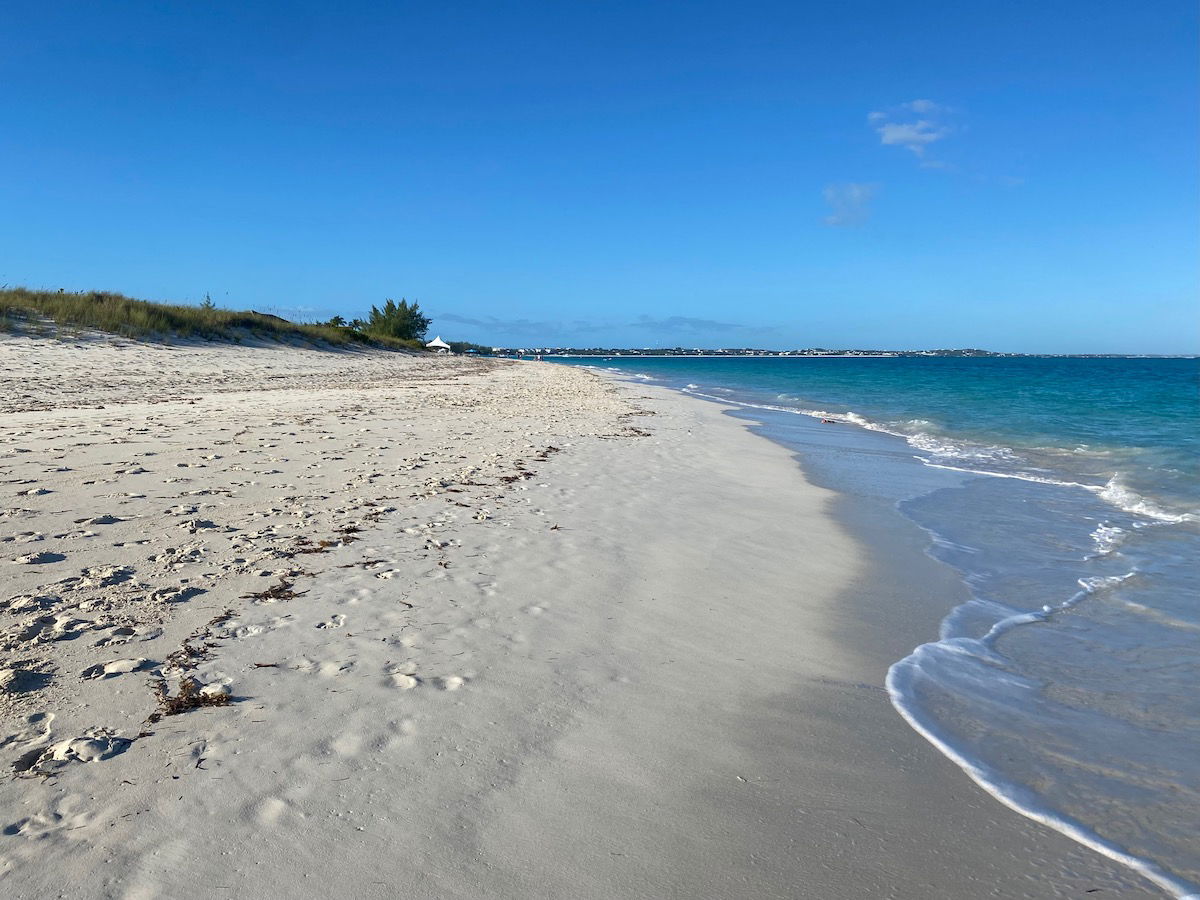 Ritz-Carlton Turks & Caicos gym & spa
The Ritz-Carlton has a gym and spa, located on the ground floor near the elevators and the lobby. The gym was very well equipped, with both cardio and weight equipment. The gym also had floor-to-ceiling windows toward the ocean, which was nice.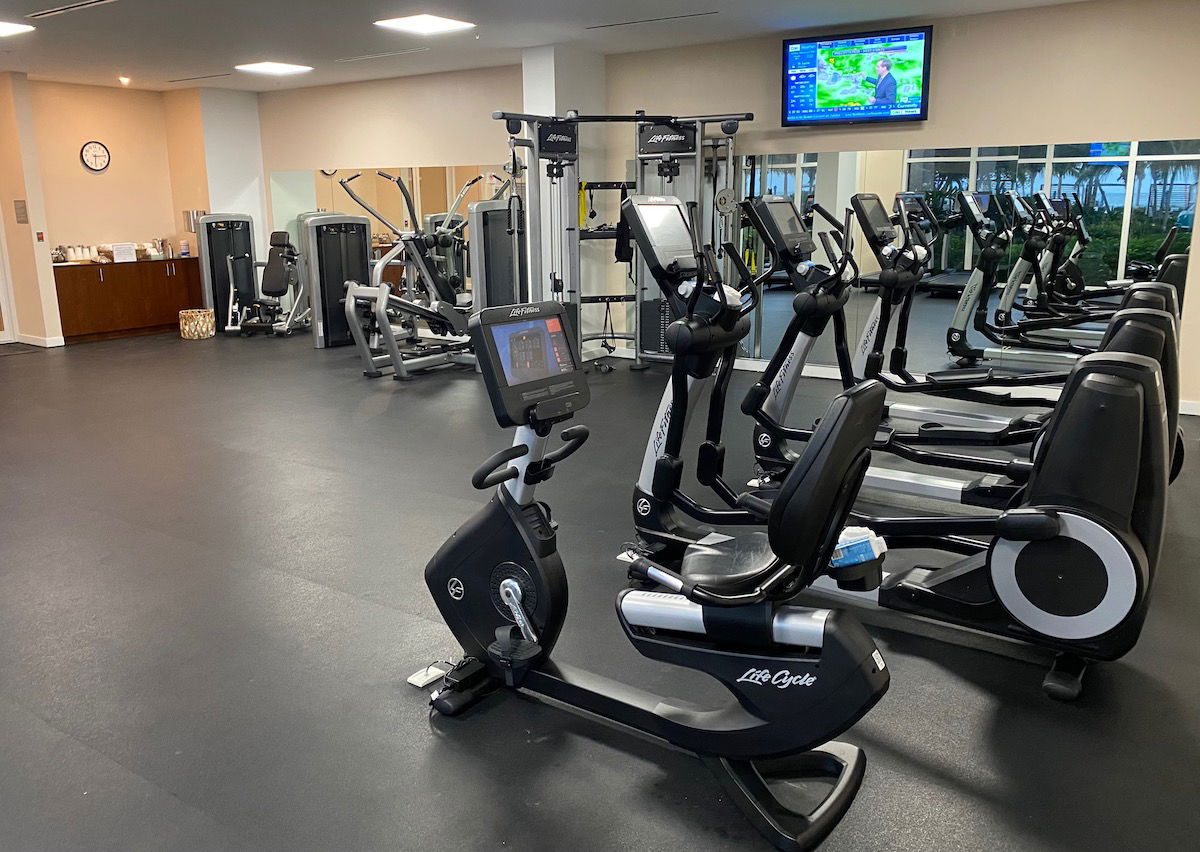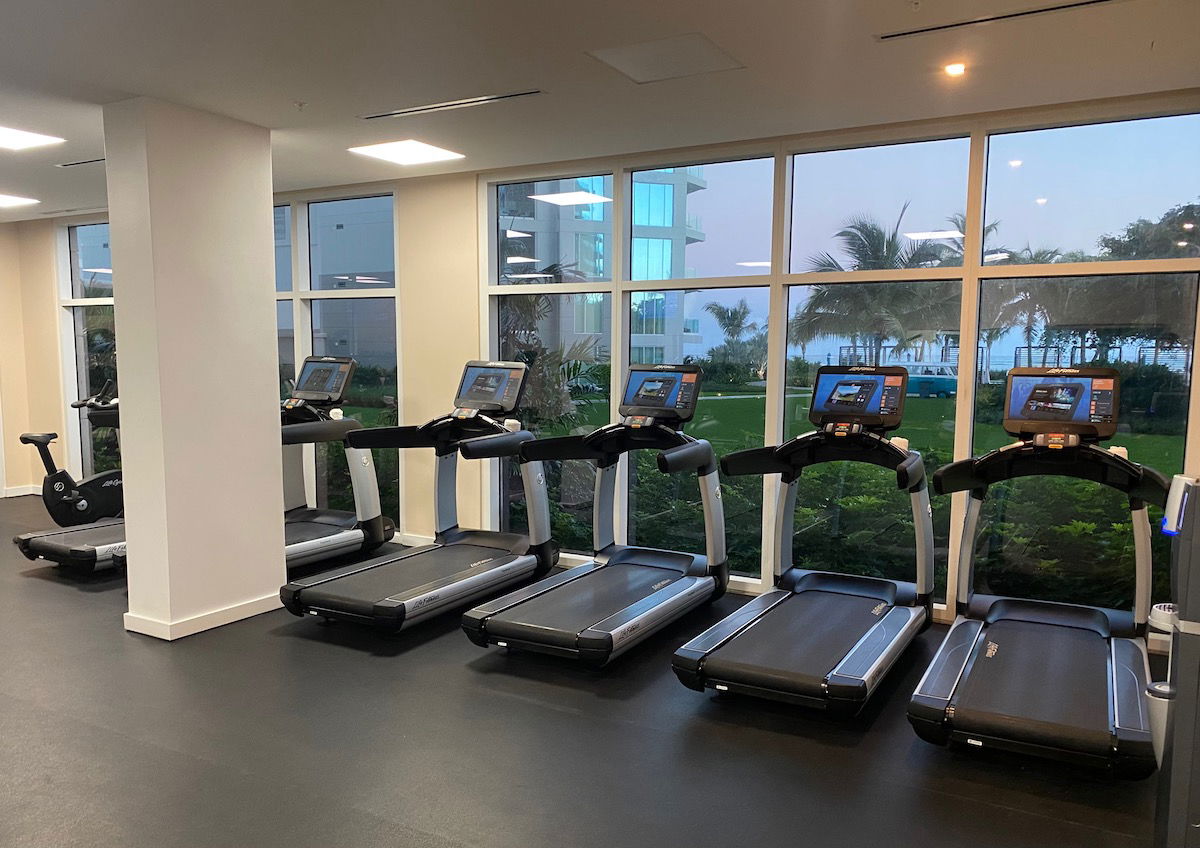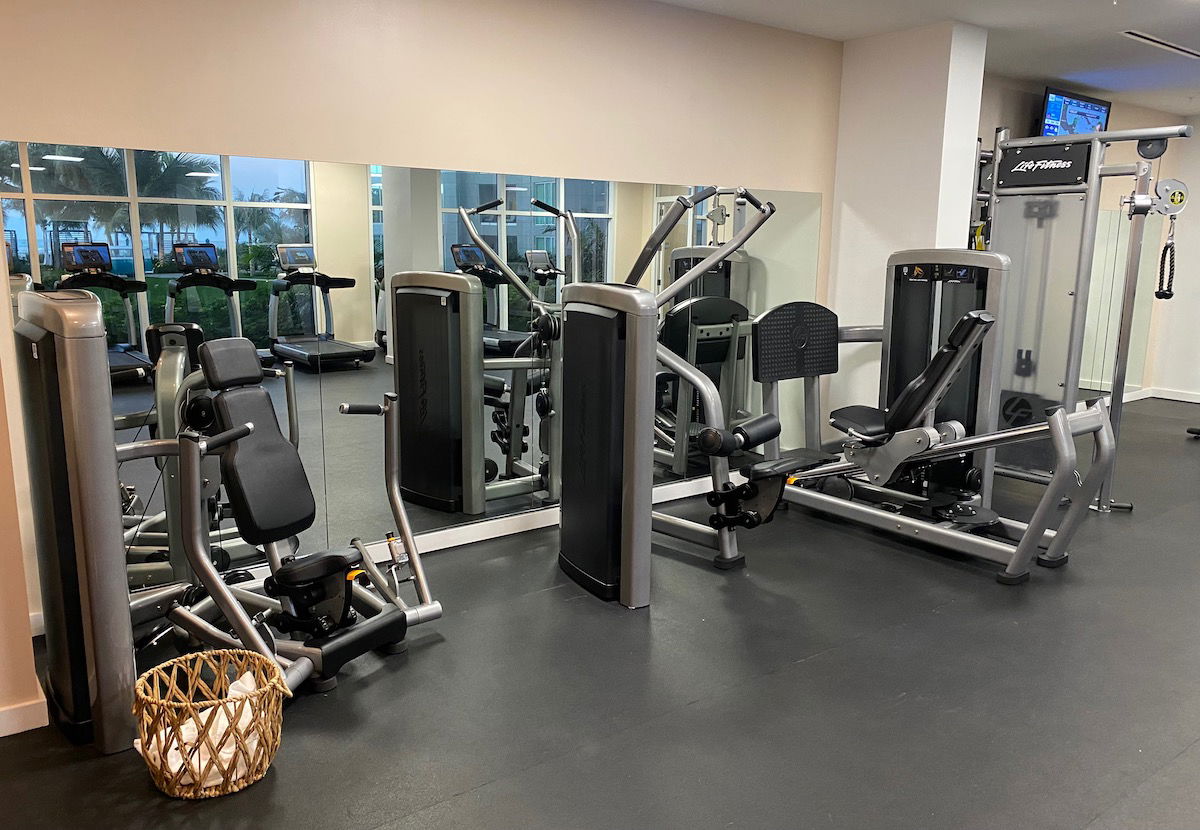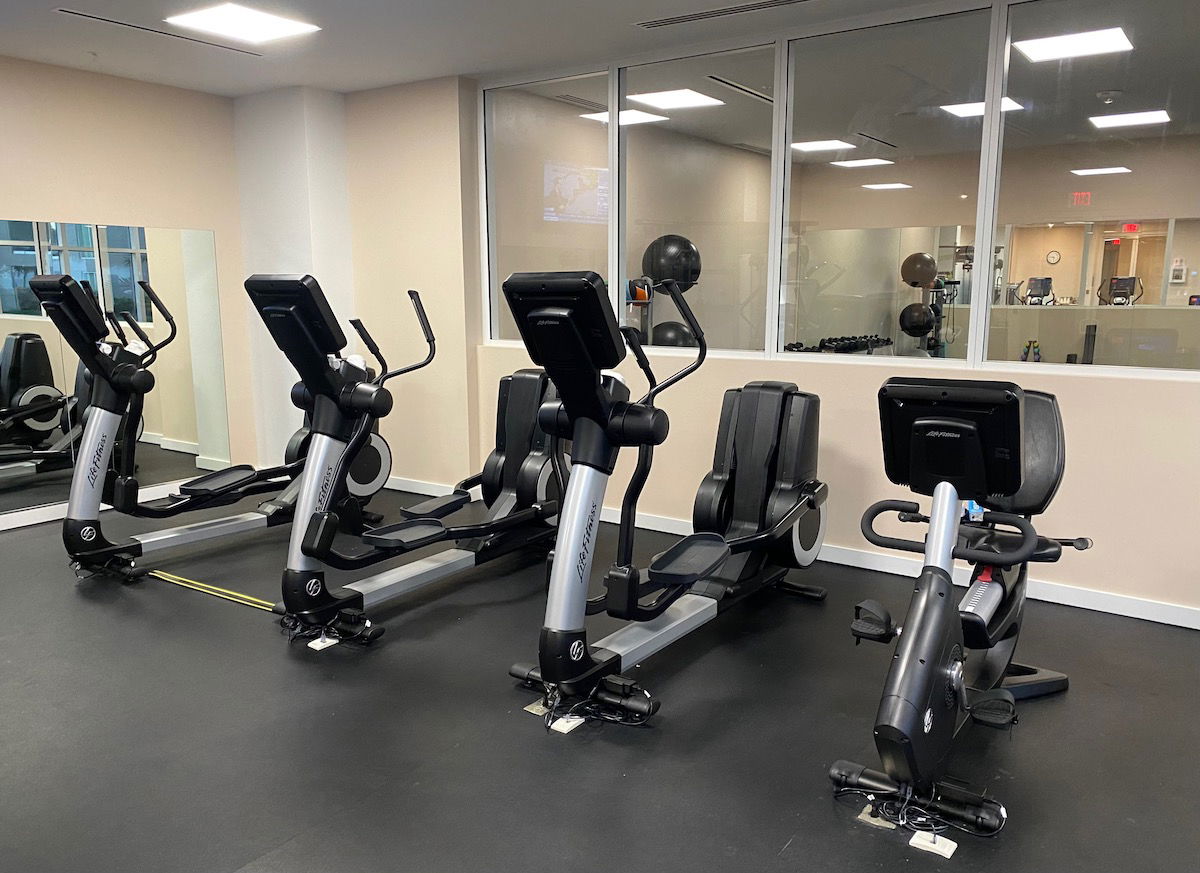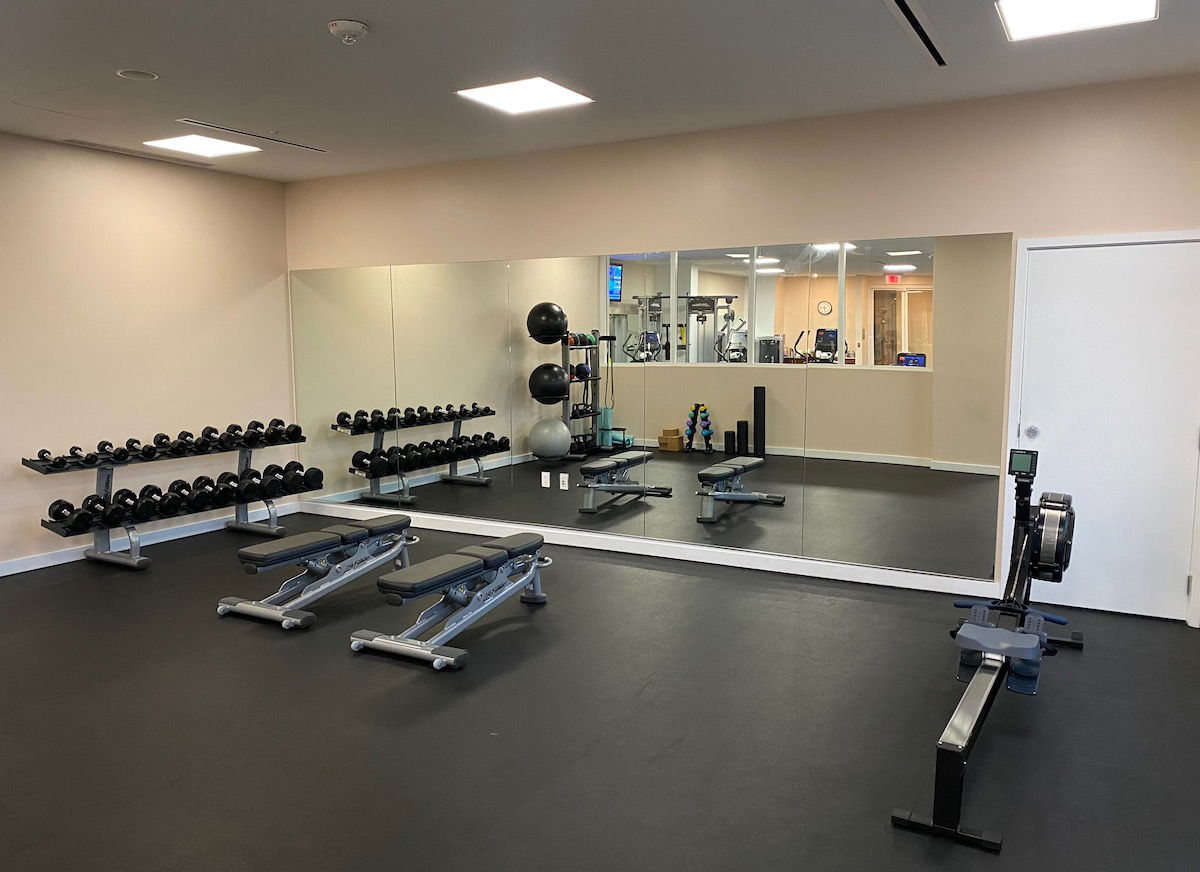 The hotel also has a spa, and you can find the menu here and the spa list here. We didn't end up using the spa. We were thinking of getting a treatment on one of our last days, only to discover that the spa is closed on Wednesdays and Thursdays.
Oddly the hotel's website suggests that the spa is open daily from 9AM until 6PM, though obviously that wasn't our experience. I don't think I've ever been to a beach resort before where a spa is closed for two consecutive days.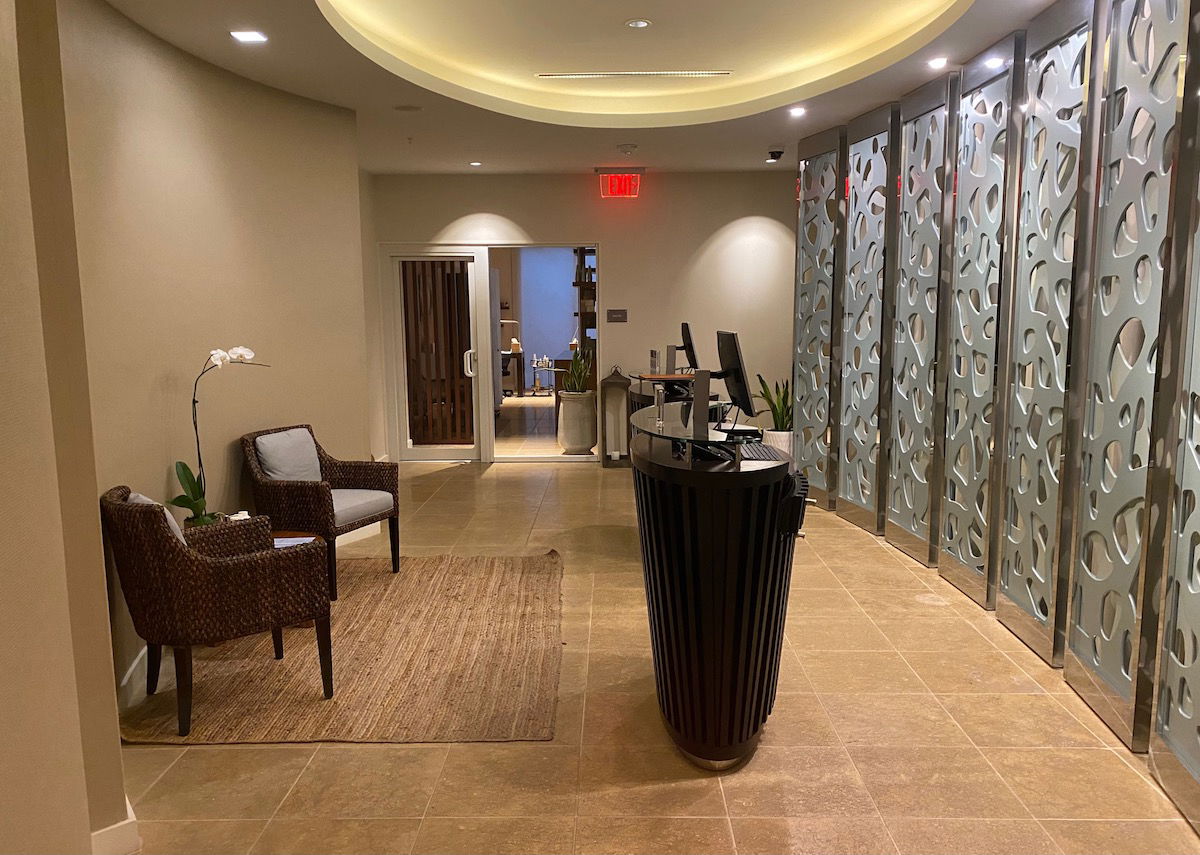 Ritz-Carlton Turks & Caicos Coralli Restaurant (breakfast)
The Ritz-Carlton has a few dining options, and one of those is Coralli Restaurant, which is located on the beach. This is open daily for breakfast and lunch, and it's also where pool service is provided from.
While breakfast isn't included for Marriott Bonvoy elites at Ritz-Carlton properties, we still checked out the restaurant a couple of mornings.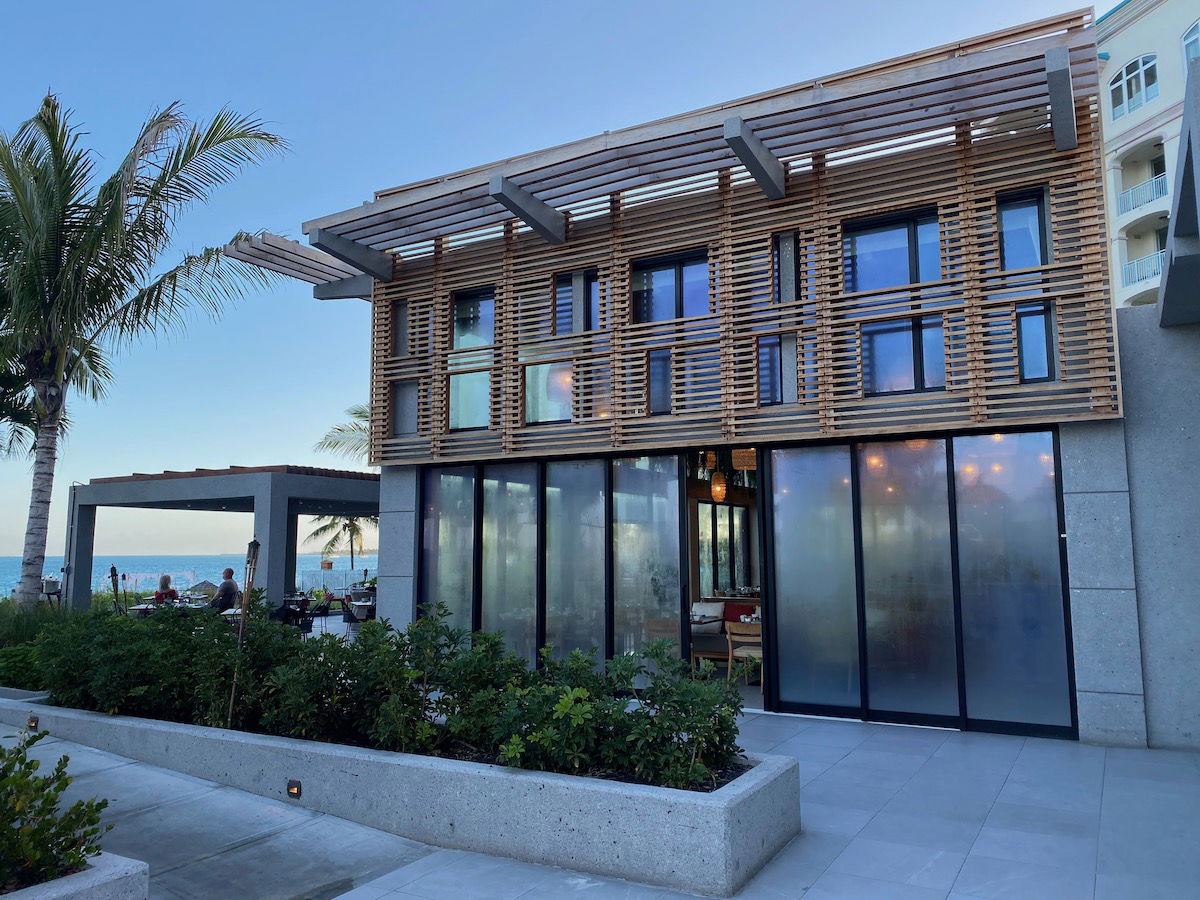 The restaurant has a bit of indoor seating, and then also a beautiful outdoor patio looking out toward the ocean.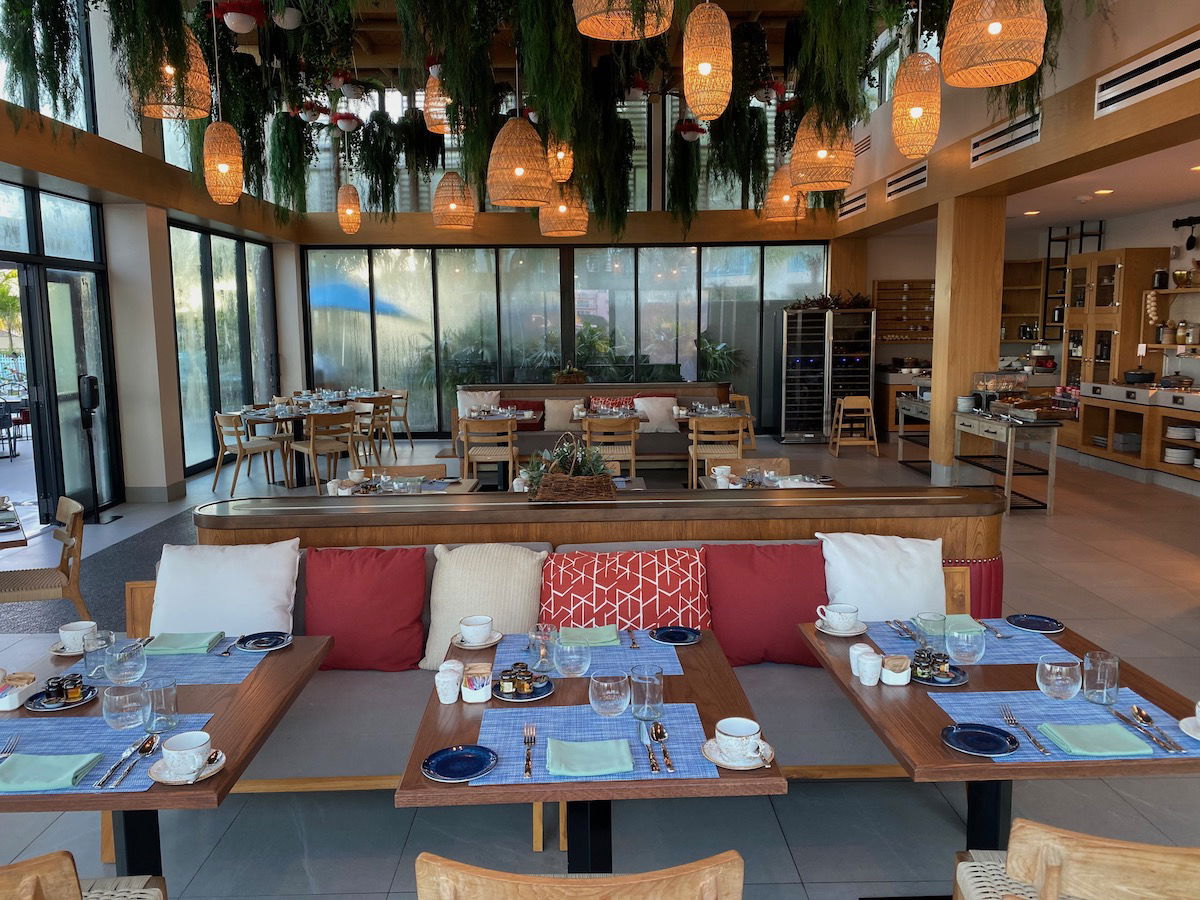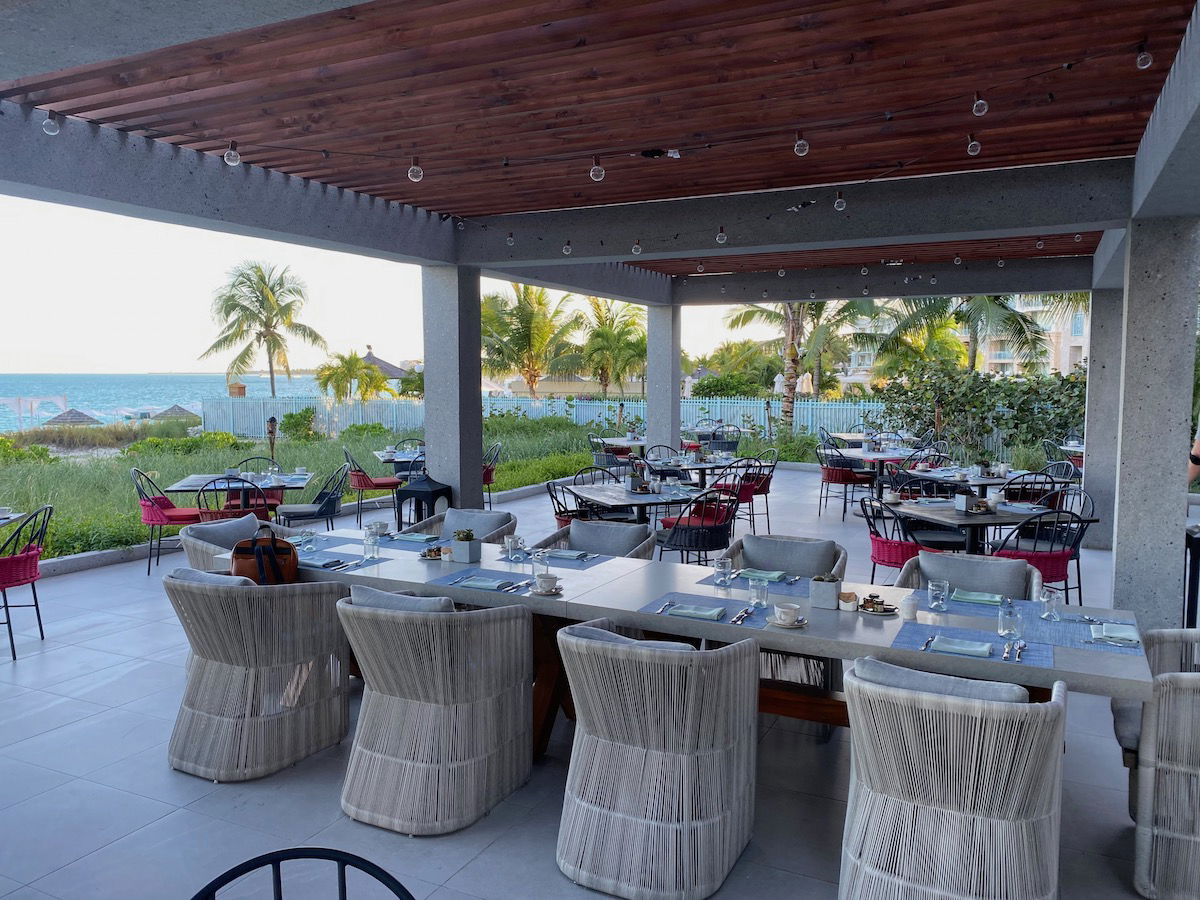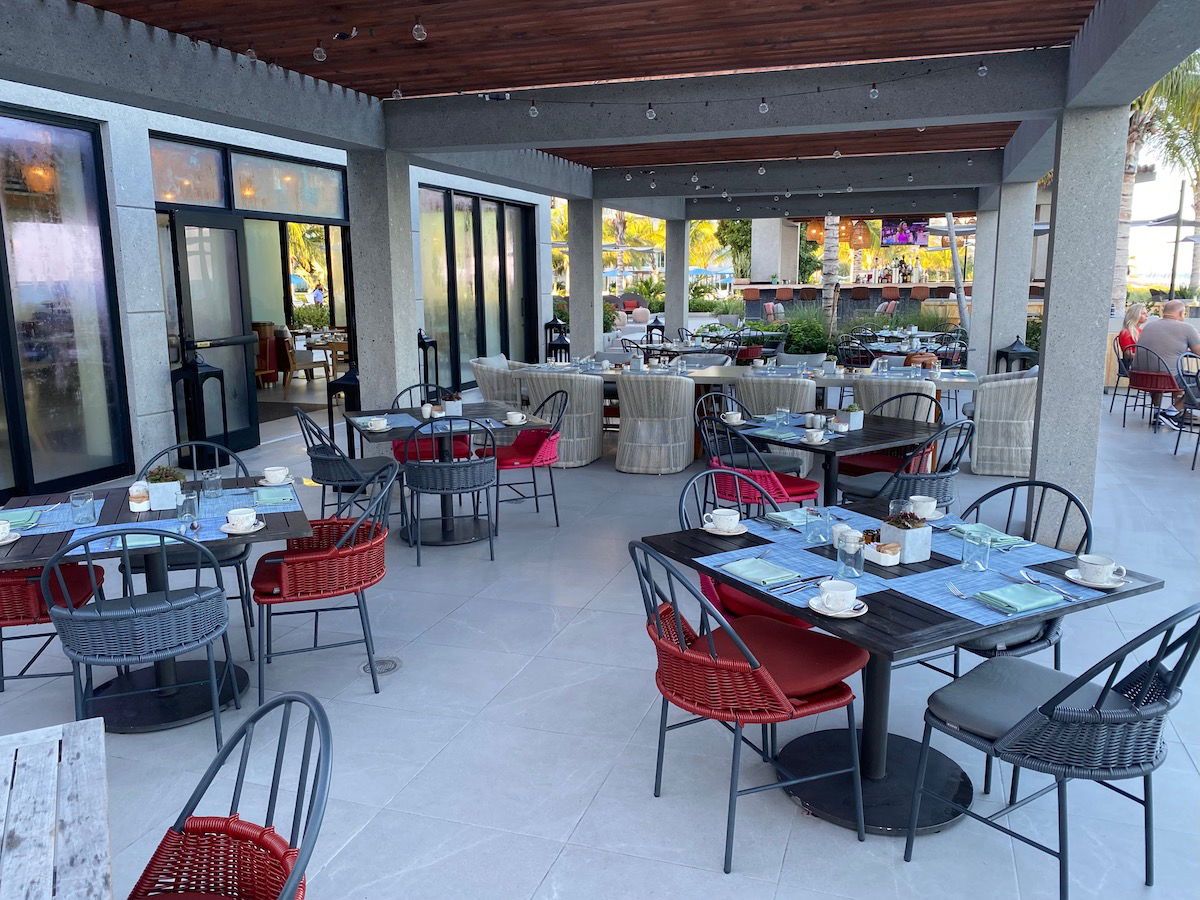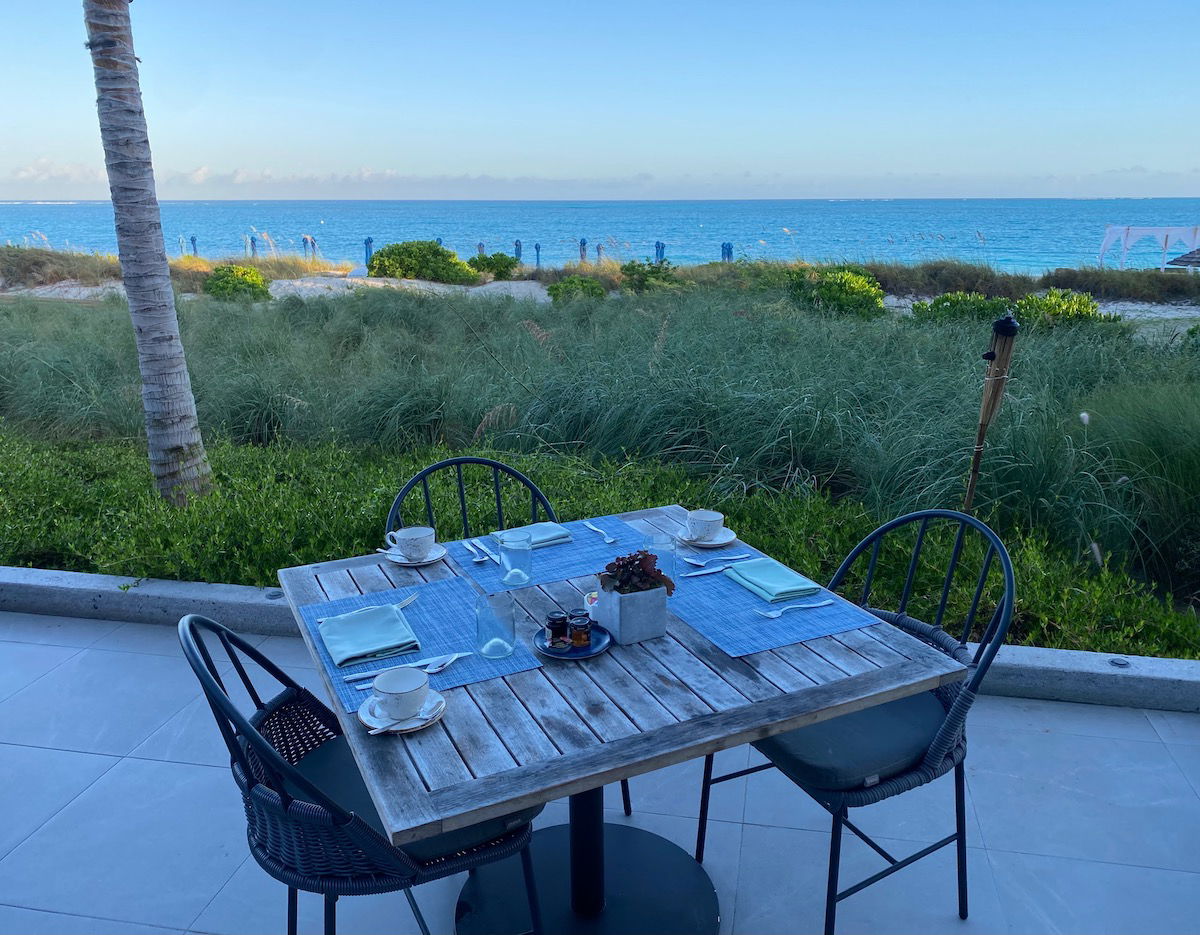 You can find the breakfast menu here. One option is to do the buffet for $34 per person including coffee and juice, or else you can order from the menu. Below are some pictures of the buffet.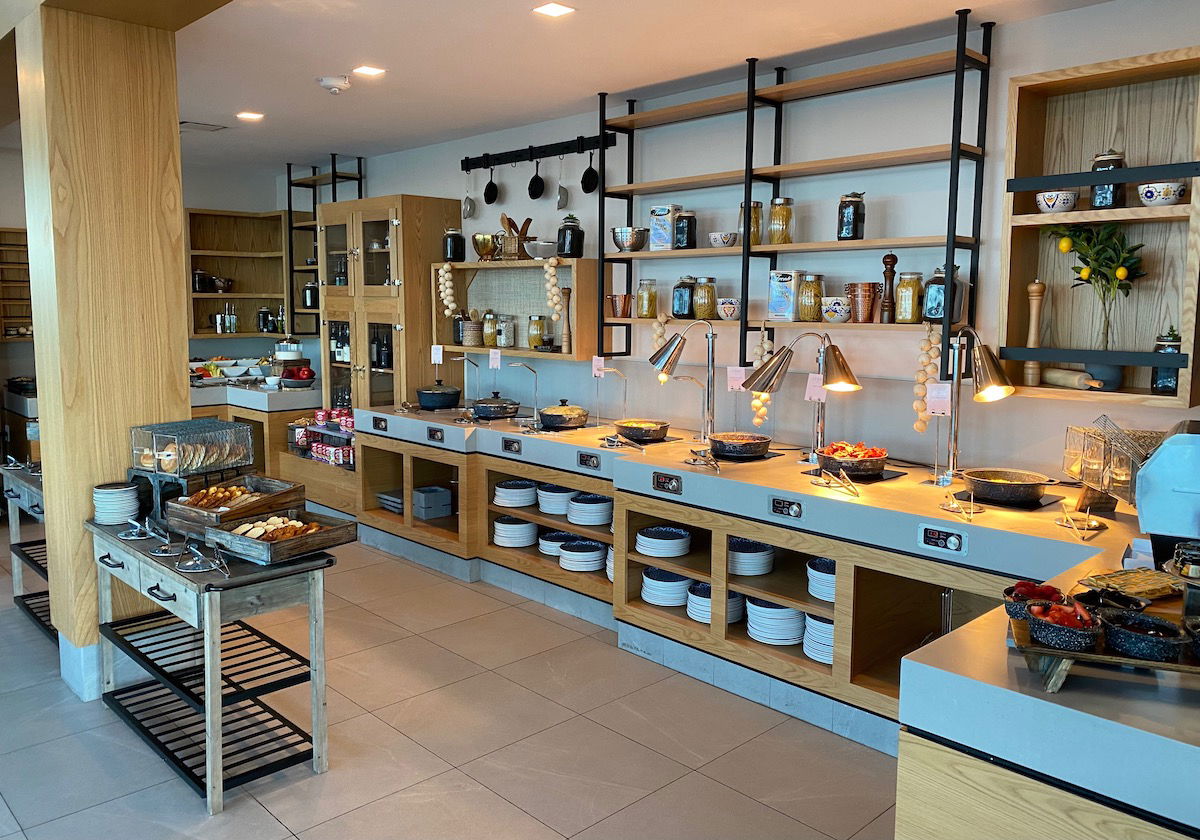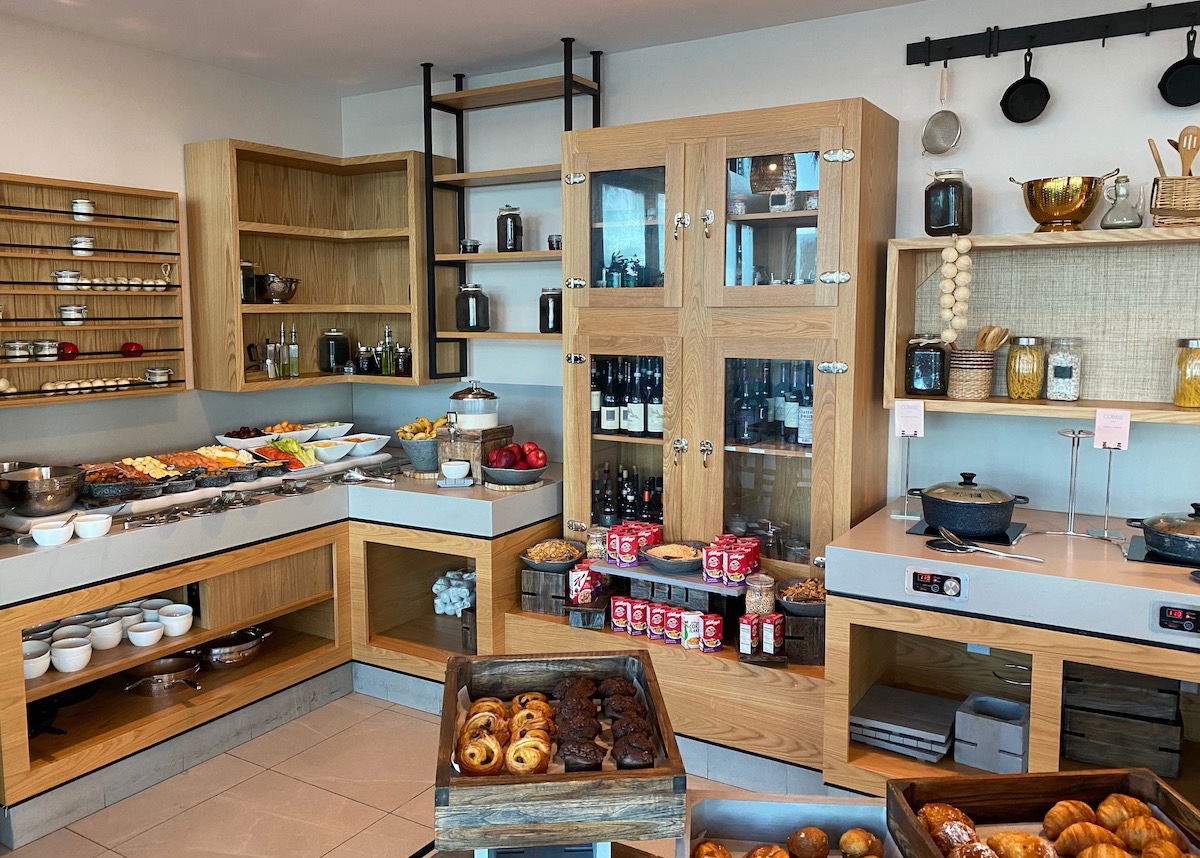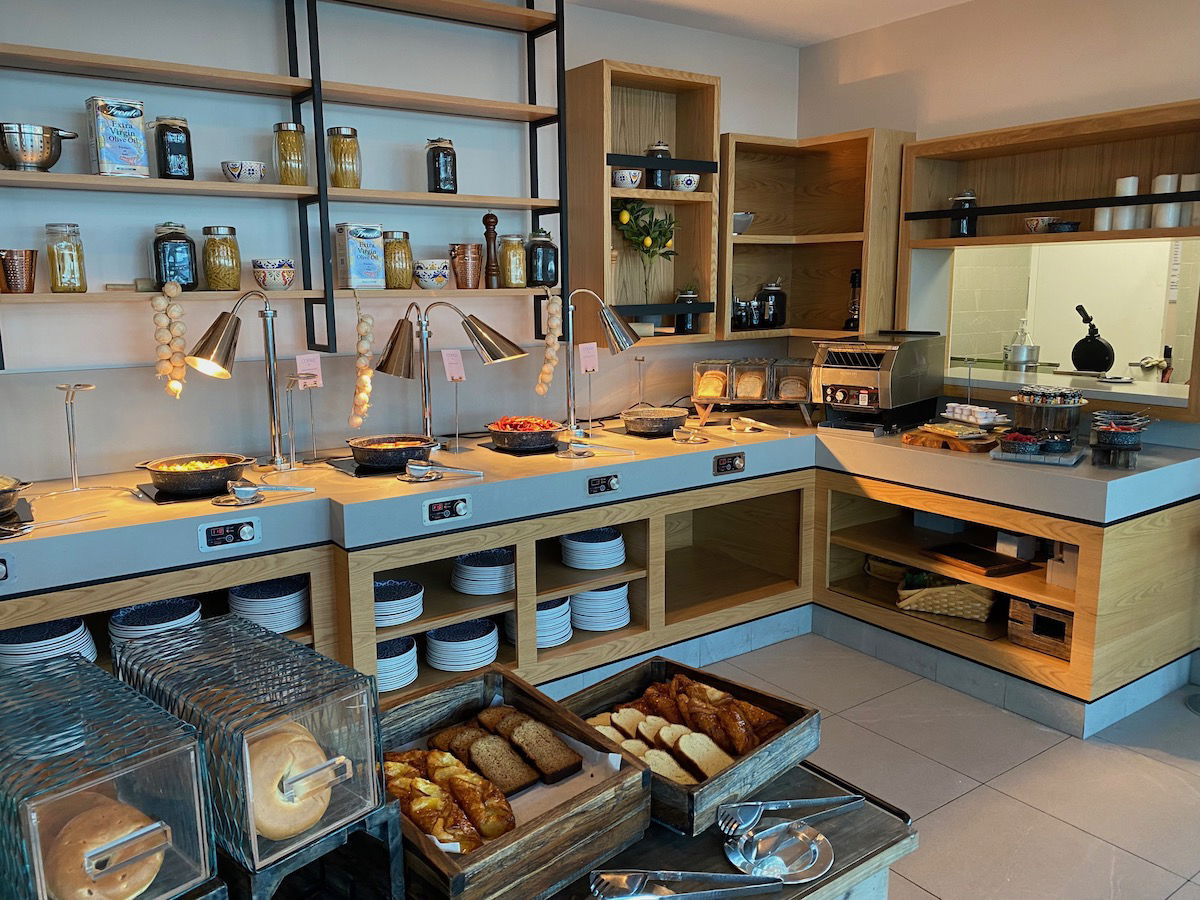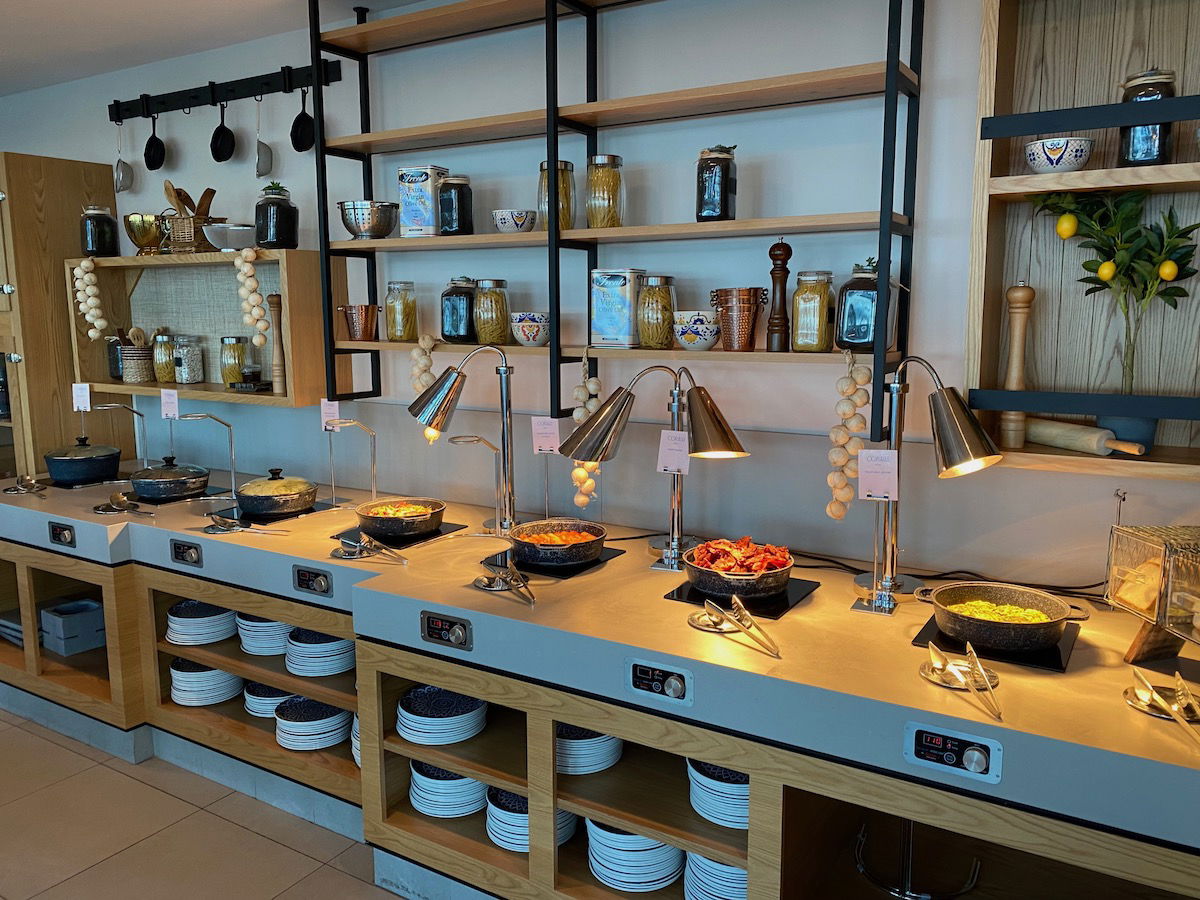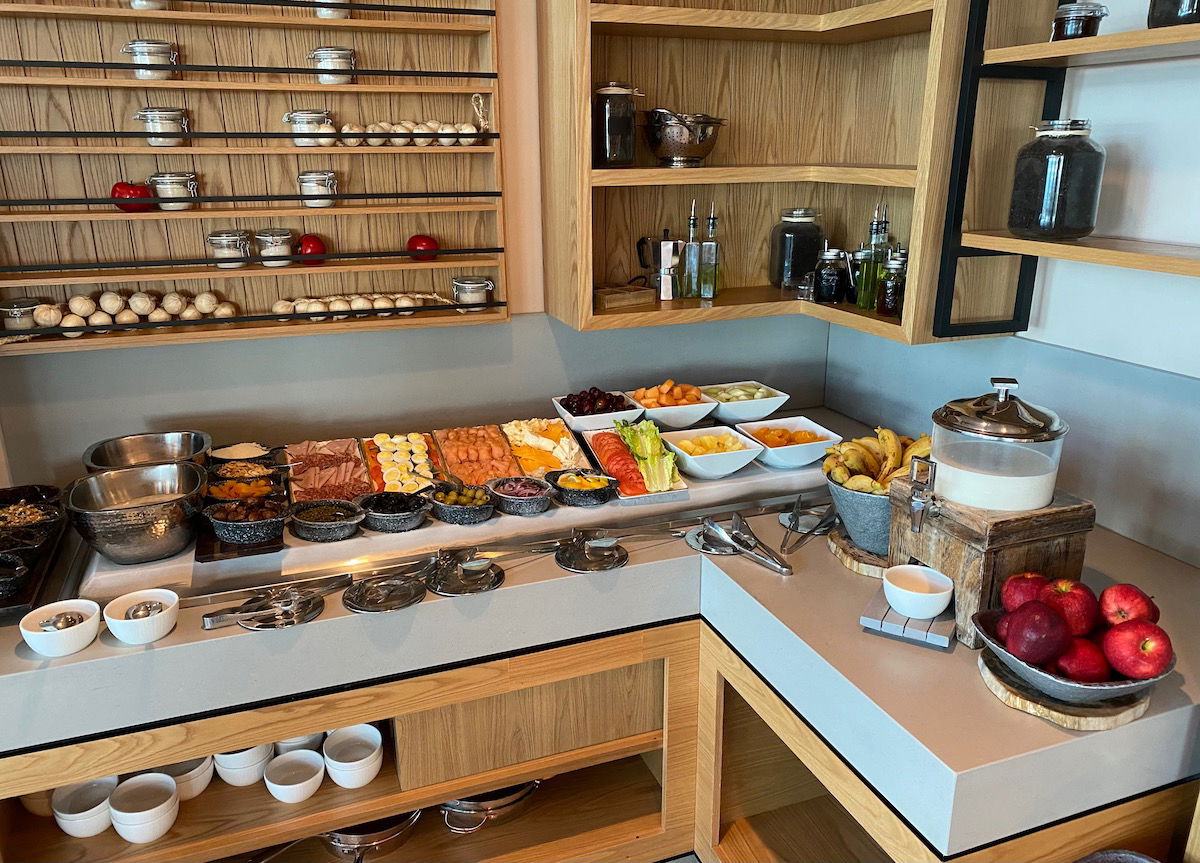 We ordered a la carte, and had both hot and iced coffee, which were quite good.
We also enjoyed the avocado toast, omelets, and the banana oatmeal pancakes (which we wouldn't usually order, but a group we met on property told us how good they were, so we decided to give them a try). The food was excellent across the board.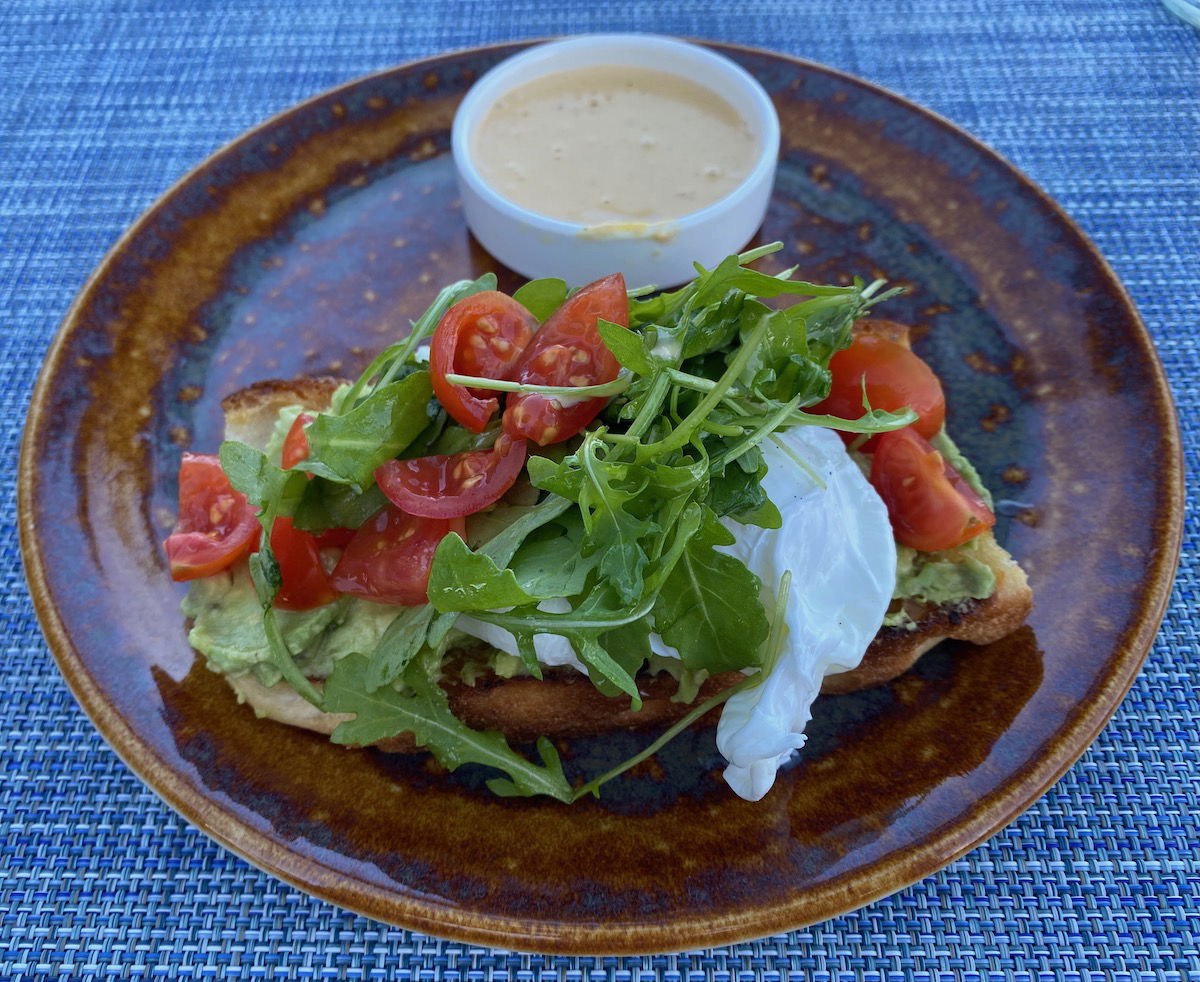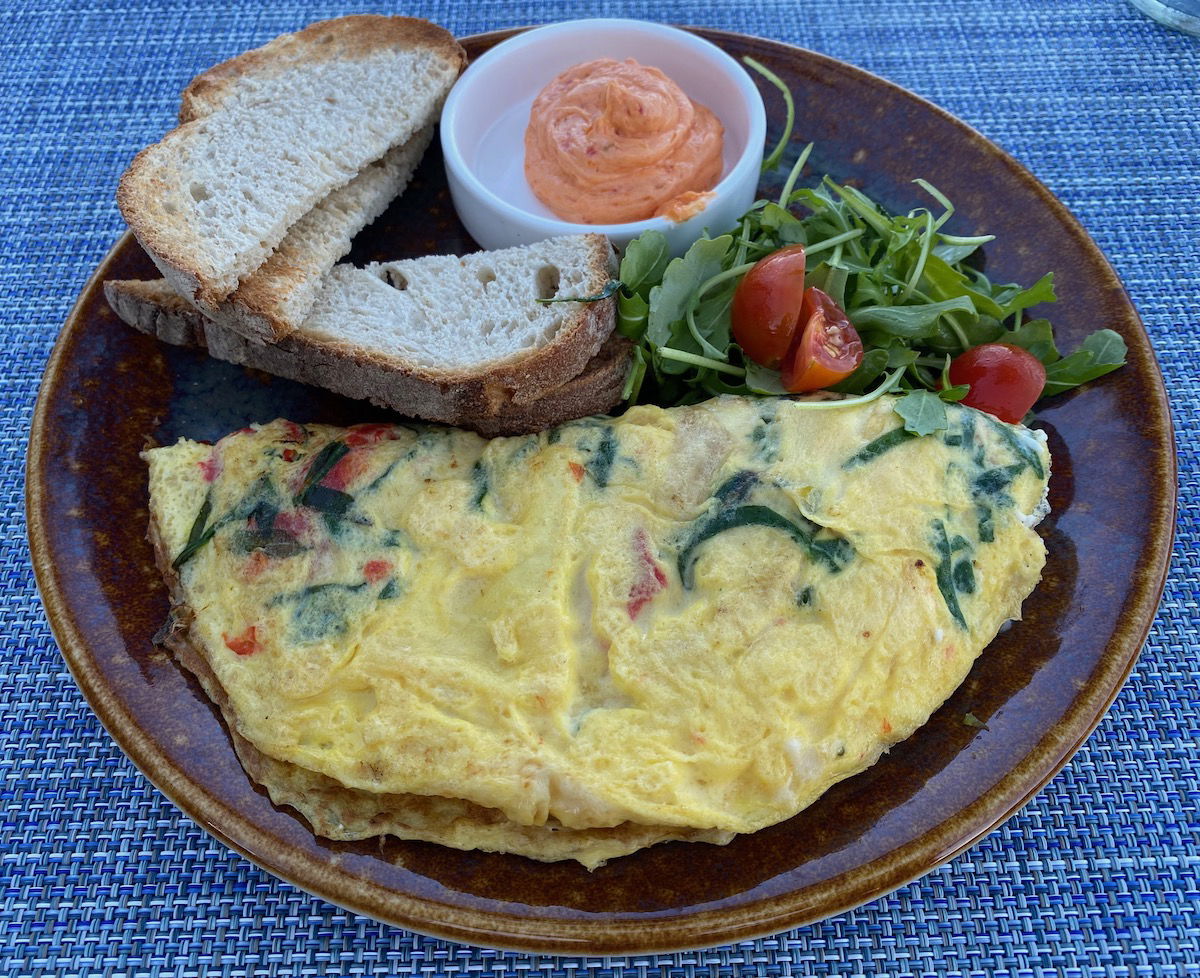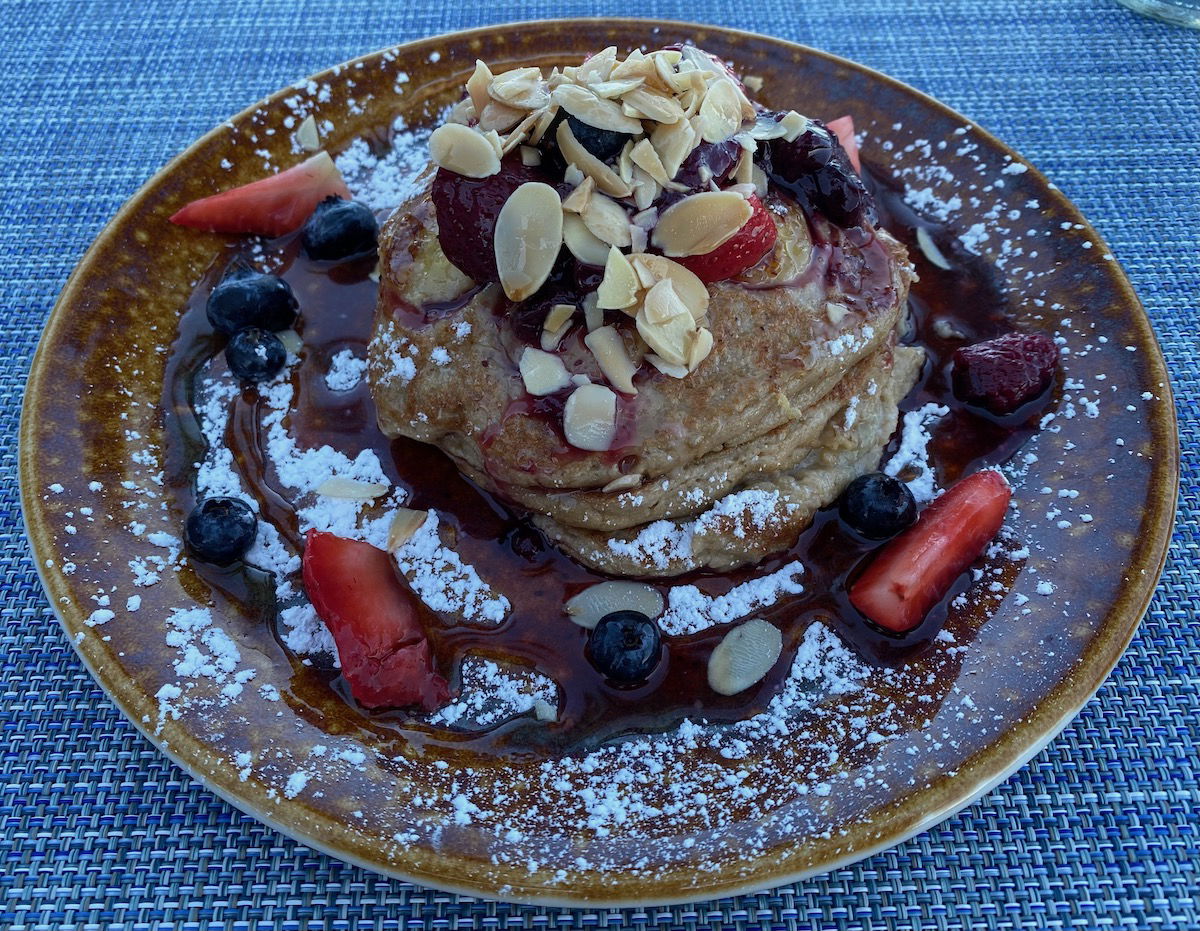 It's worth noting that the Ritz-Carlton also sets up complimentary coffee in the lobby each morning, which is a nice touch.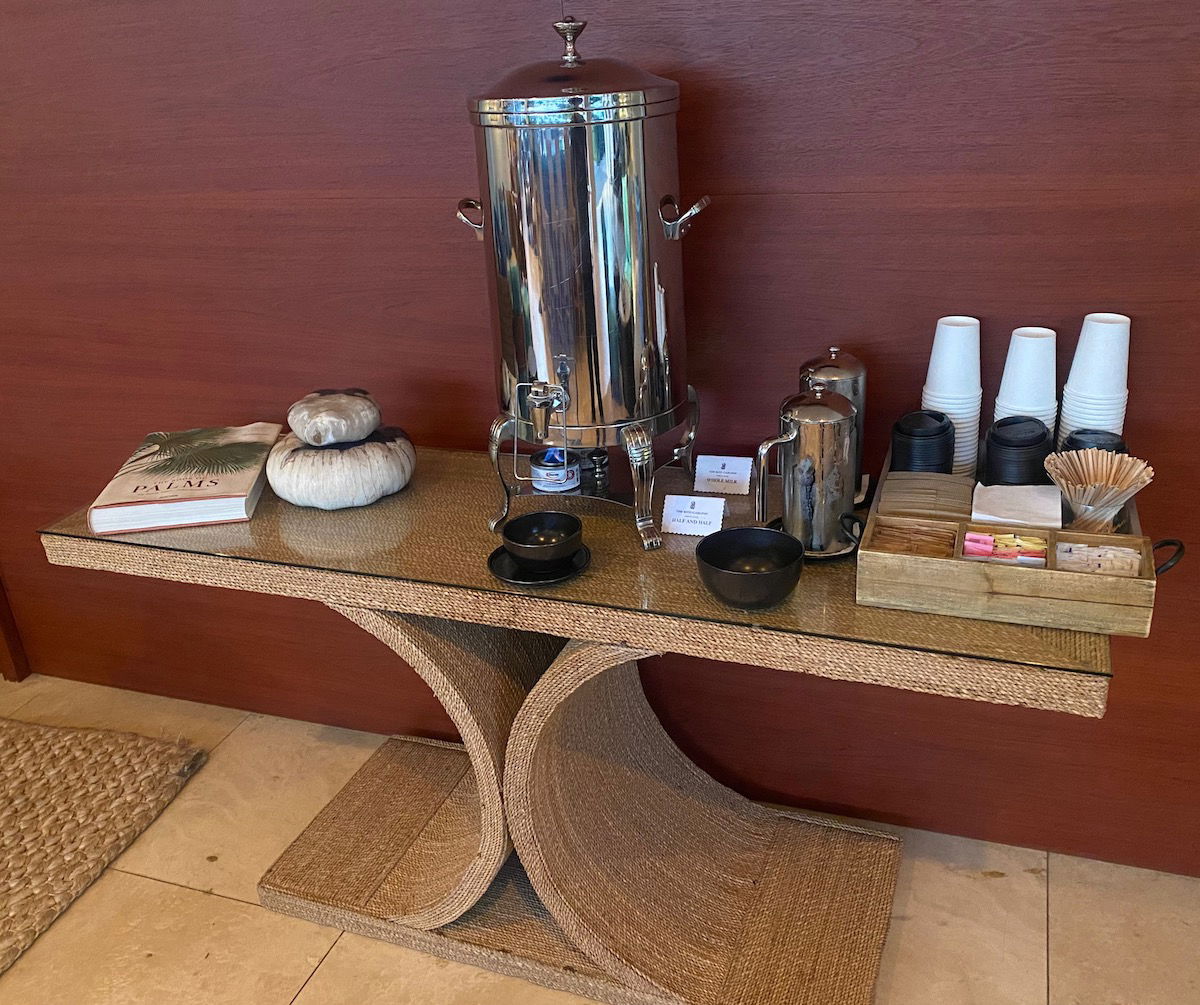 Ritz-Carlton Turks & Caicos Coralli Restaurant (lunch)
We also enjoyed lunch at Coralli Restaurant, as it's the primary on-property restaurant that's open during the day. You can either sit in the restaurant, or in the more casual bar area.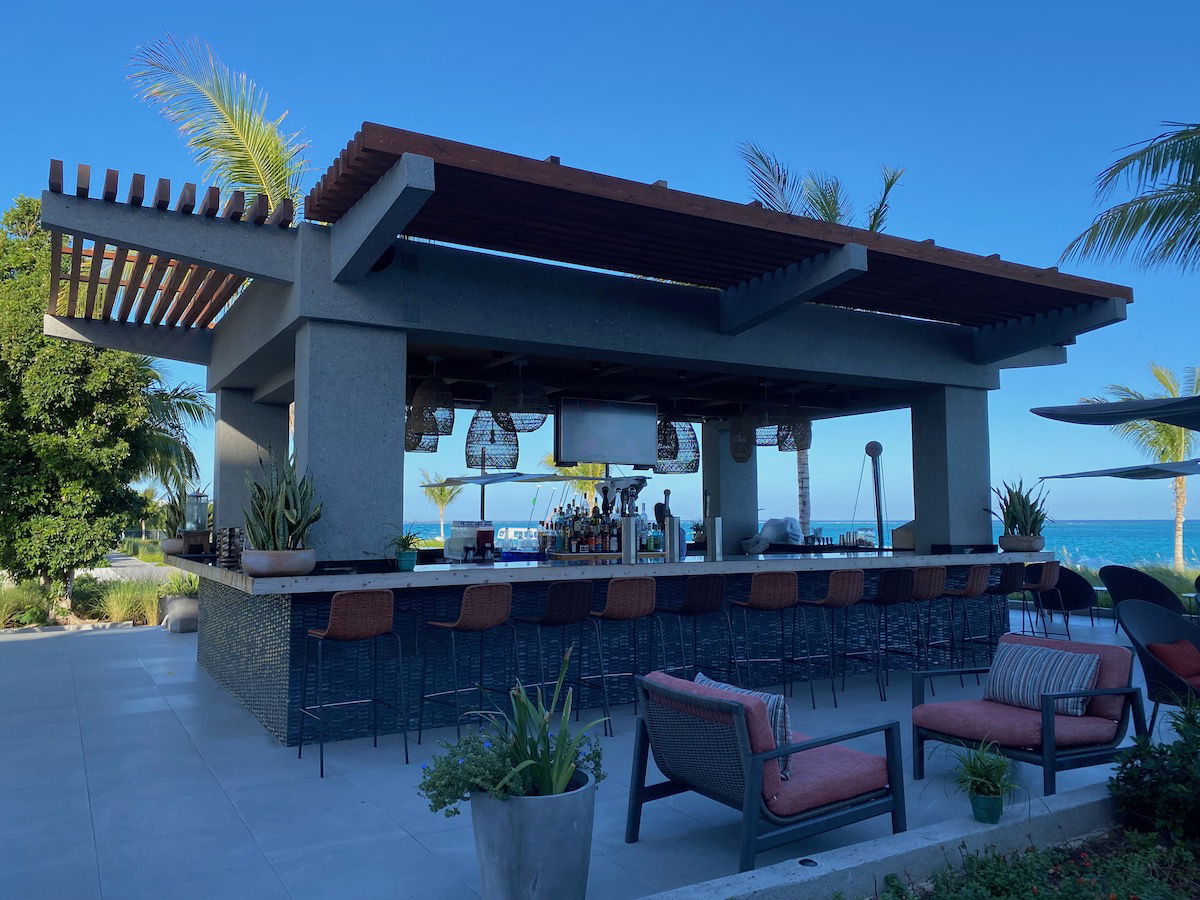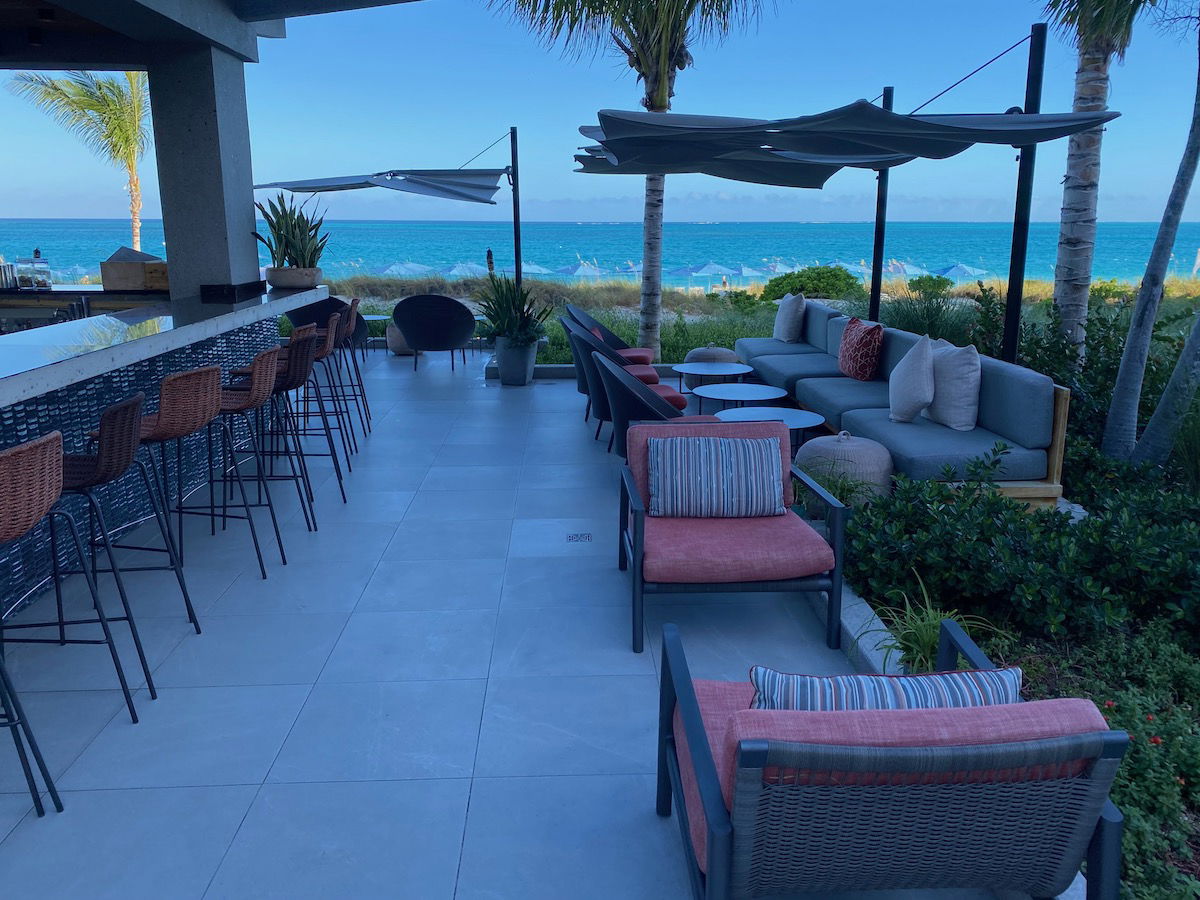 As far as drinks go, there was an extensive wine and cocktail list. They also had some pitchers that could be shared, and we ordered The Tipsy Palmer, which consisted of Maker's Mark, iced tea, simply syrup, and lemon juice. I've gotta say, at $49 this might be the best value alcoholic drinks on property. We both have a decent alcohol tolerance, but my gosh, we were wasted after finishing this. Oops.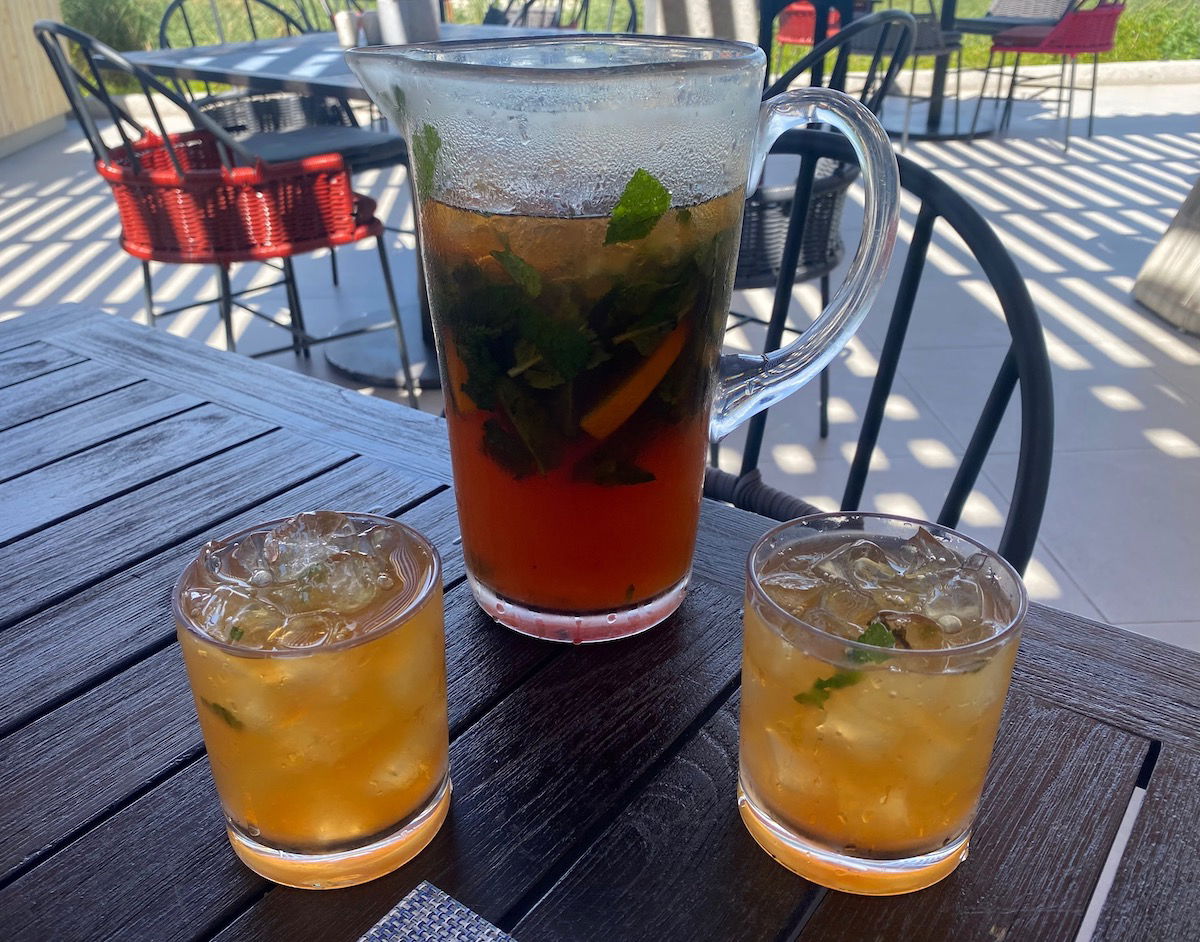 You can find the lunch menu here, and as you can see, it includes all kinds of sandwiches, burgers, salads, and more. We ordered the Mediterranean dips to start, and then I had the fish sandwich, while Ford had the doner kebab.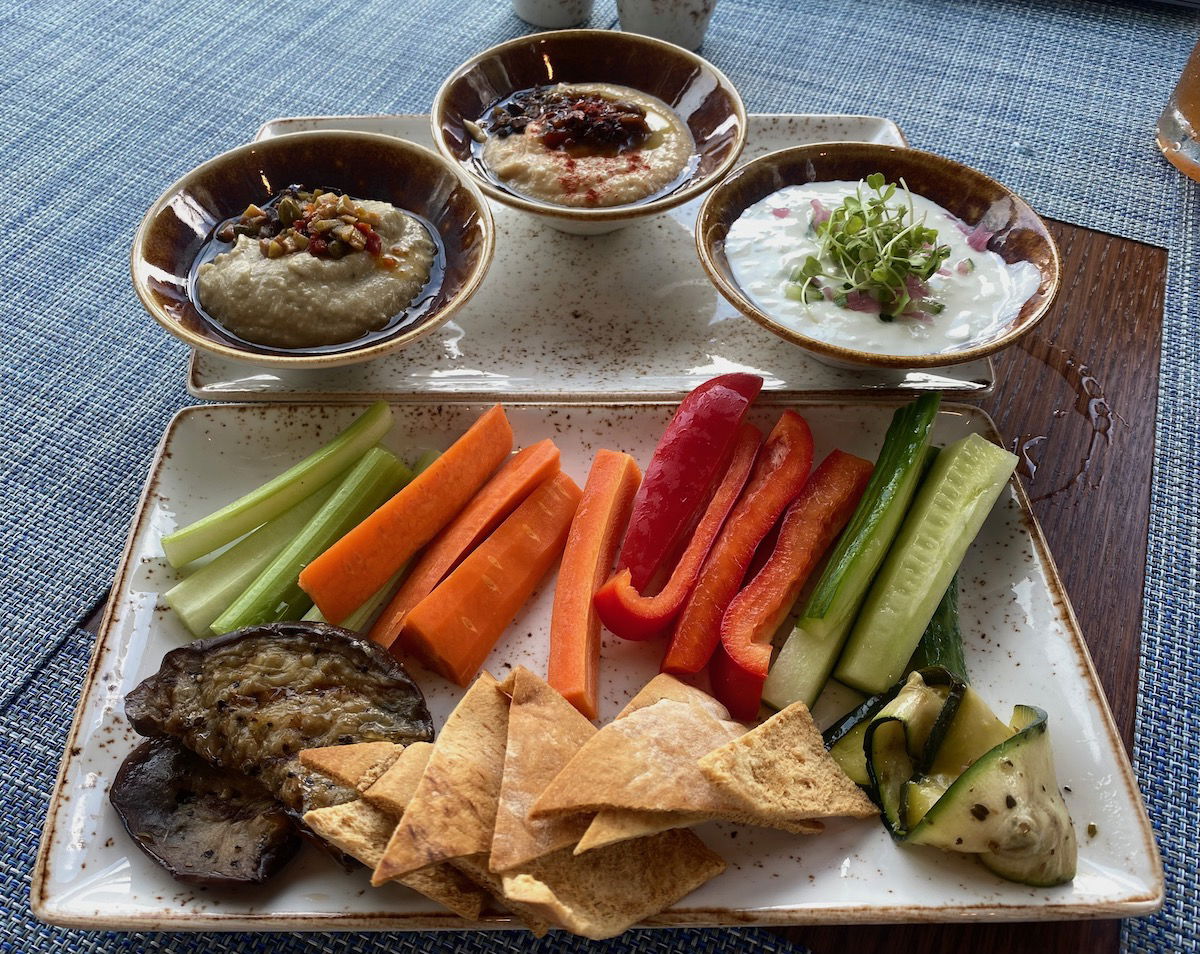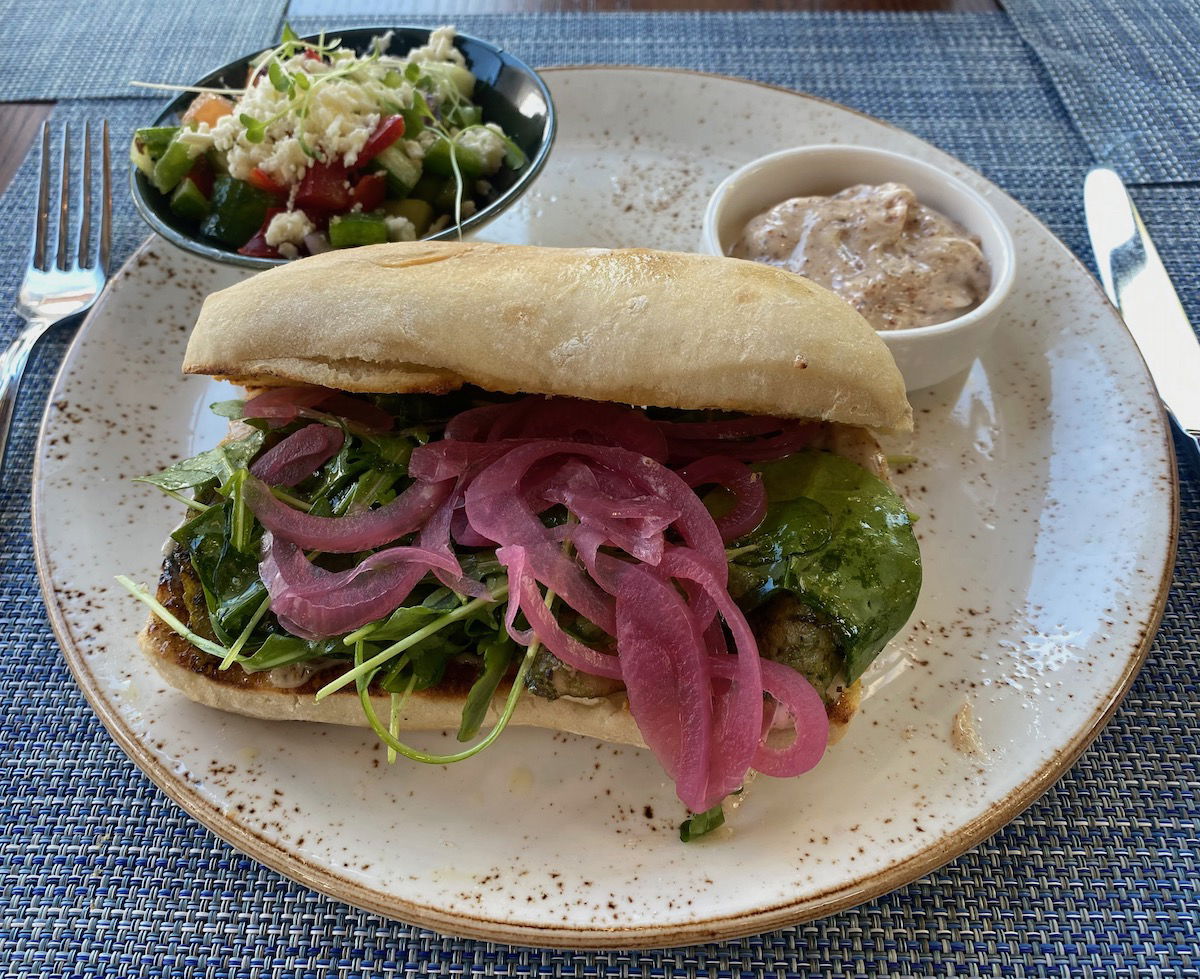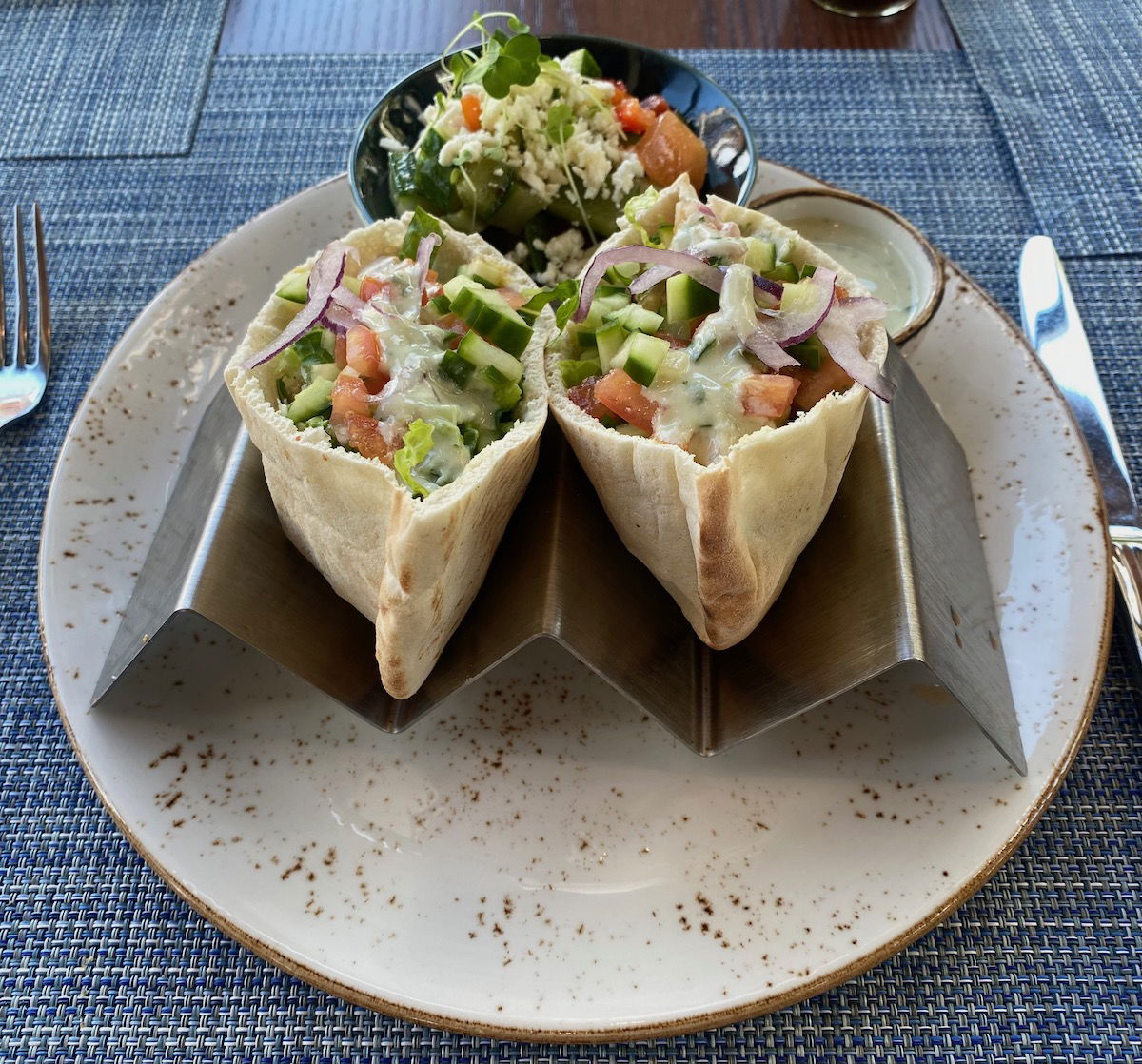 We enjoyed the drinks we ordered from the pool as well.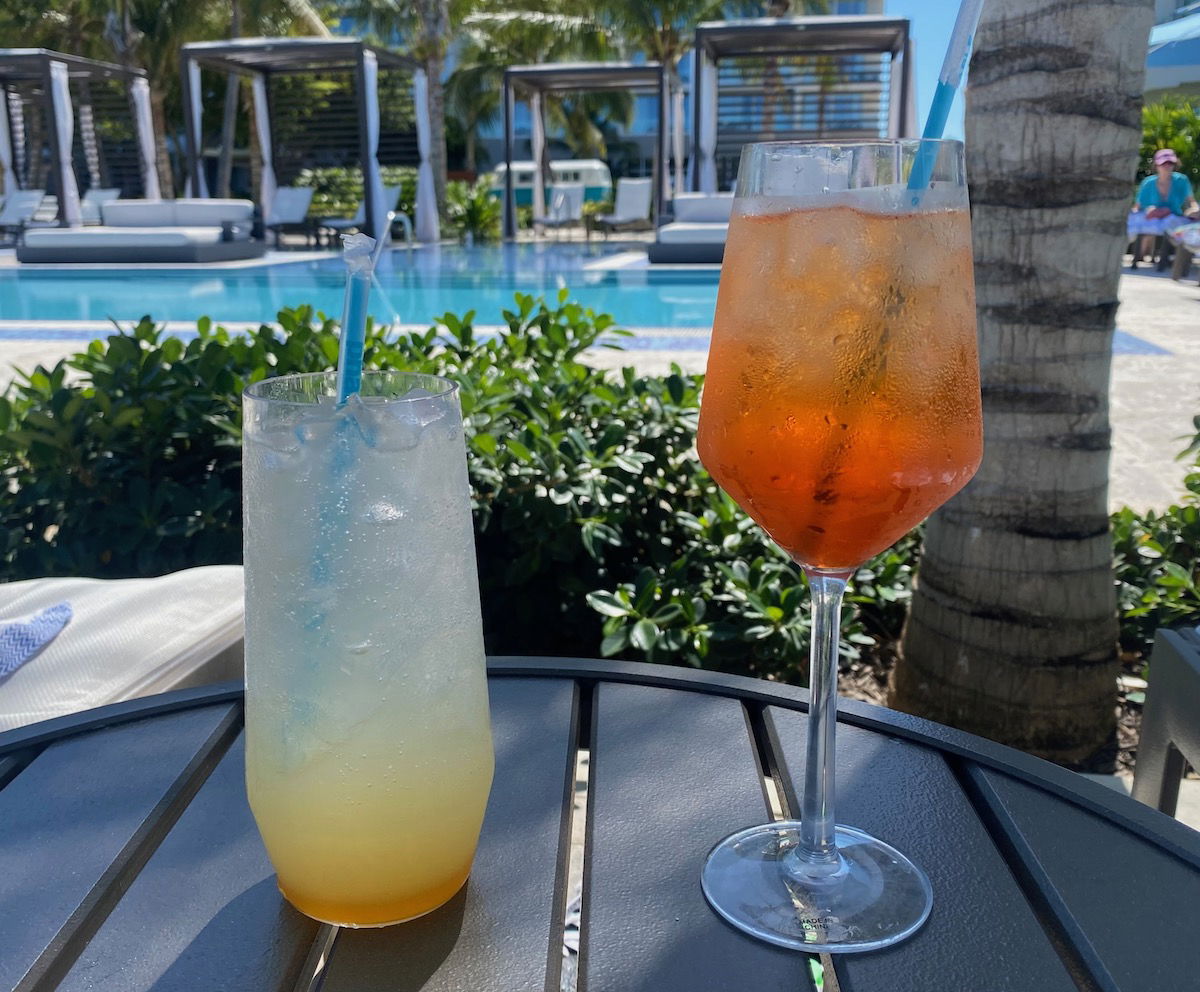 Across the board food on property was expensive, but not more expensive than I'd expect at a Ritz-Carlton in the Caribbean.
Ritz-Carlton Turks & Caicos BLT Steak (dinner)
The Ritz-Carlton has a BLT Steak, as you'll find at several Ritz-Carlton properties. While not a particularly local experience, BLT Steak does have some great meat. The restaurant is located in a separate building next to the hotel, near the entrance (as a result it doesn't offer anything in the way of ocean views).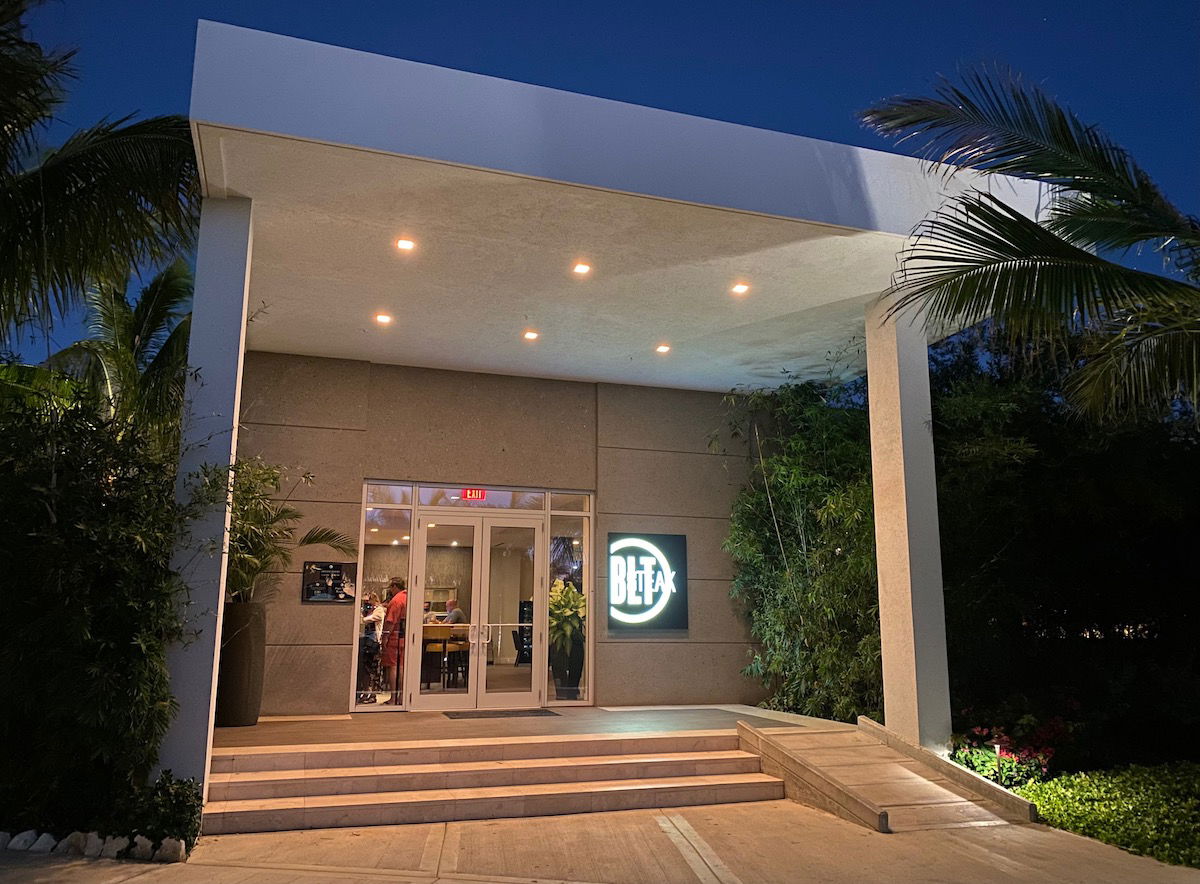 The restaurant has both indoor and outdoor seating, and we decided to sit outdoors in the courtyard.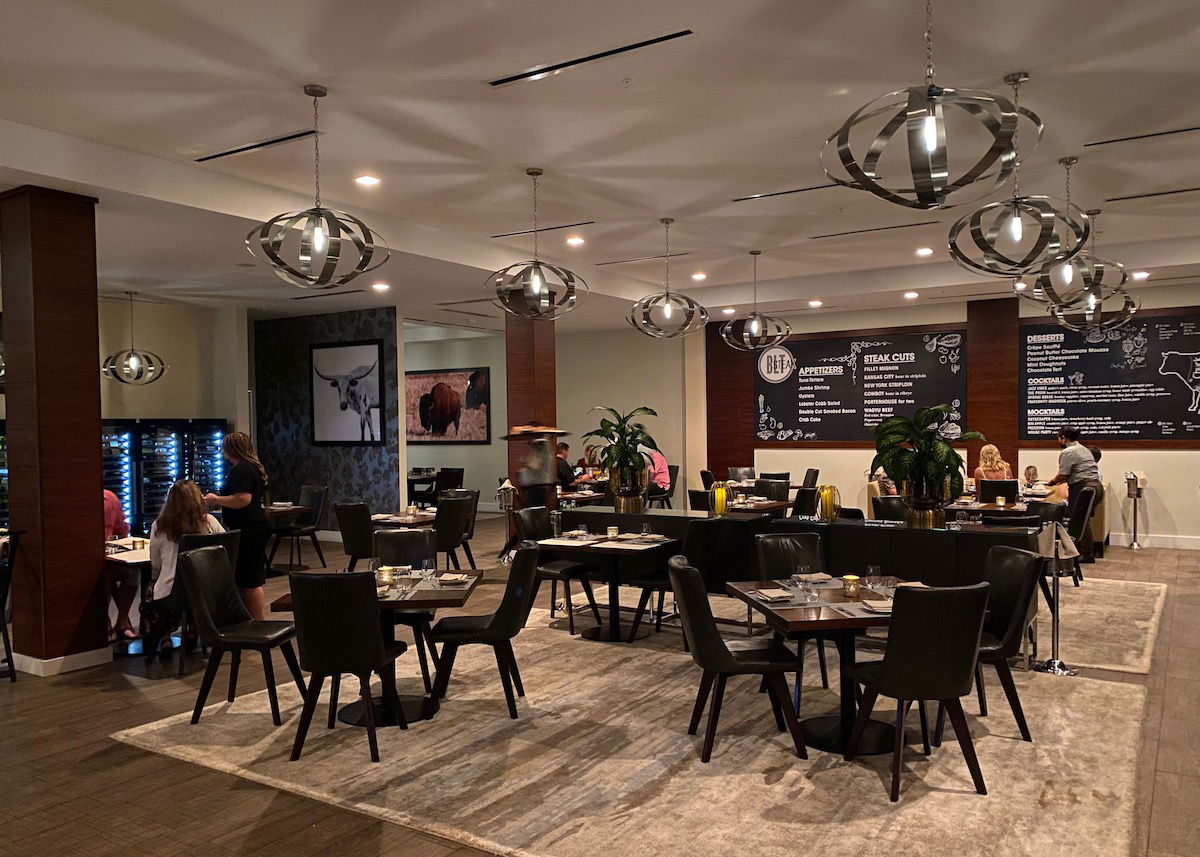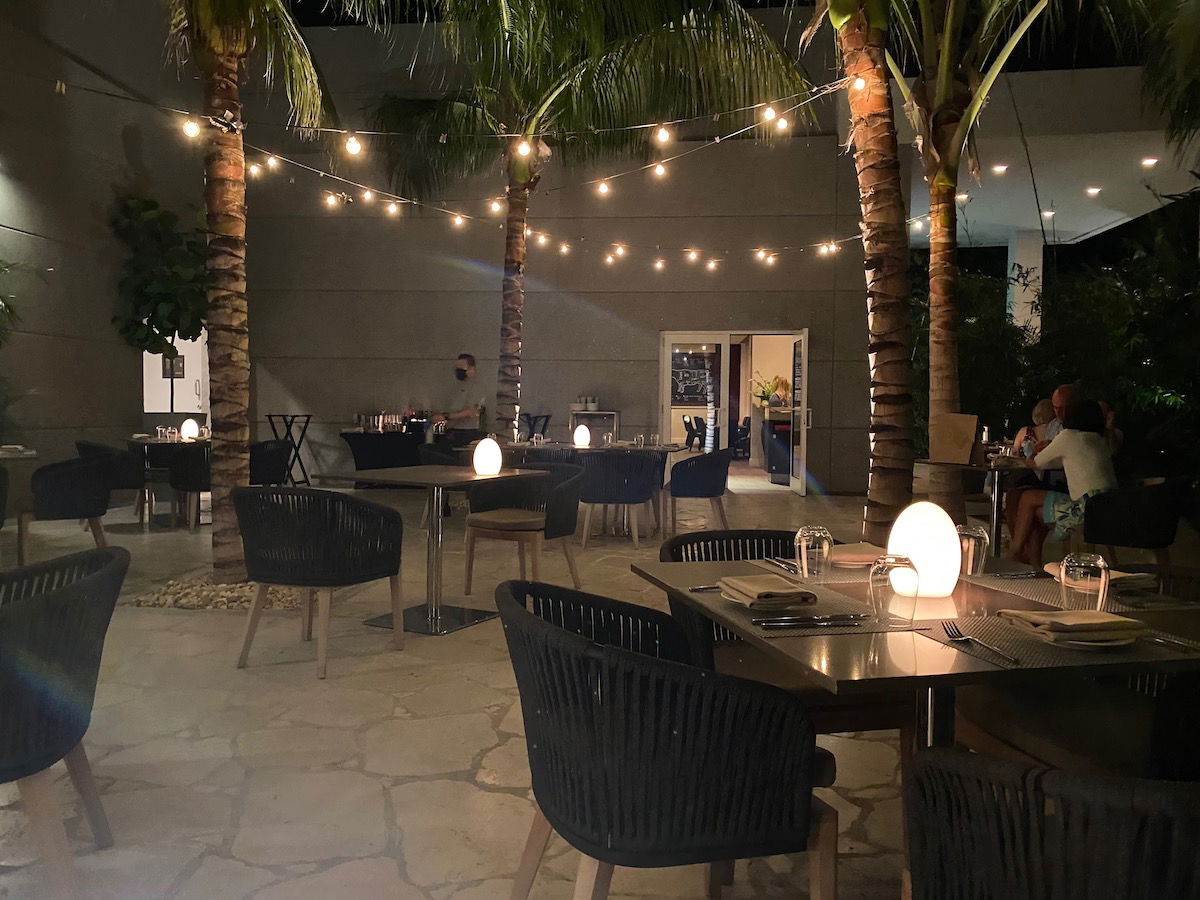 I have a bad habit of ordering dirty martinis in places where that's not a common cocktail, and usually end up disappointed. I tried my luck at BLT since it's a steakhouse, and fortunately they delivered.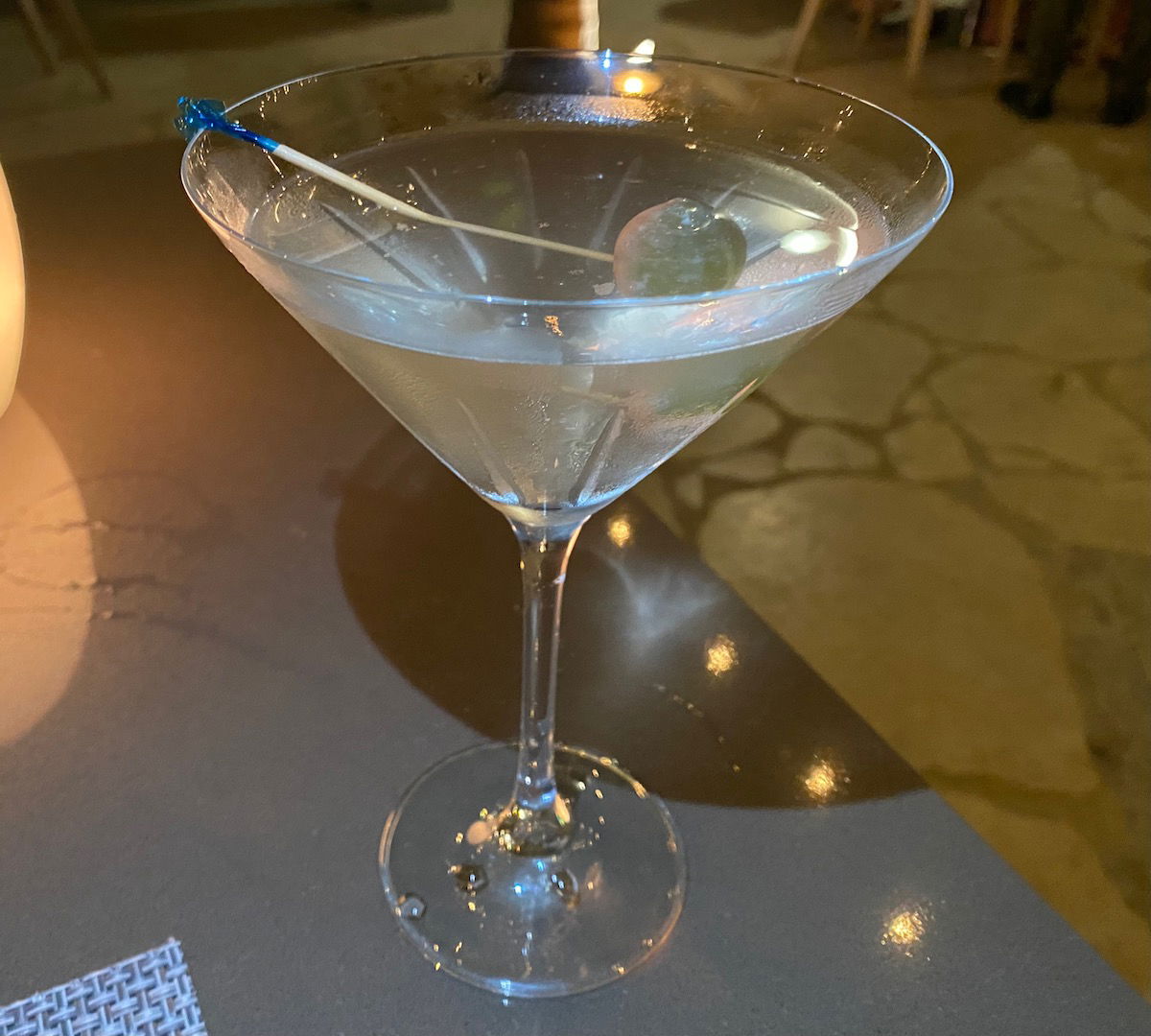 At the start of the meal we were offered some chicken liver pate and popovers. Ford loved the chicken liver pate, while I loved the popovers. Yum.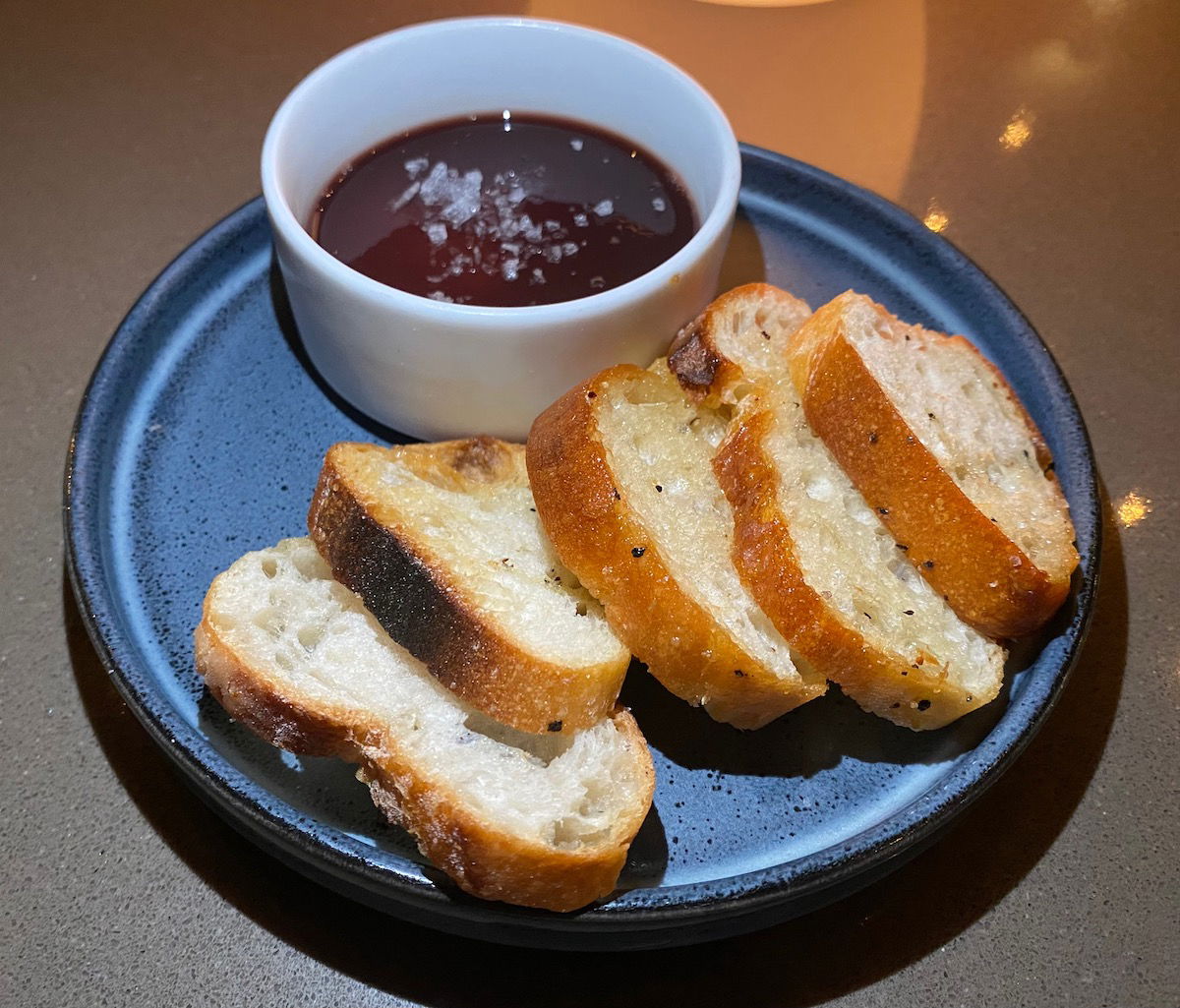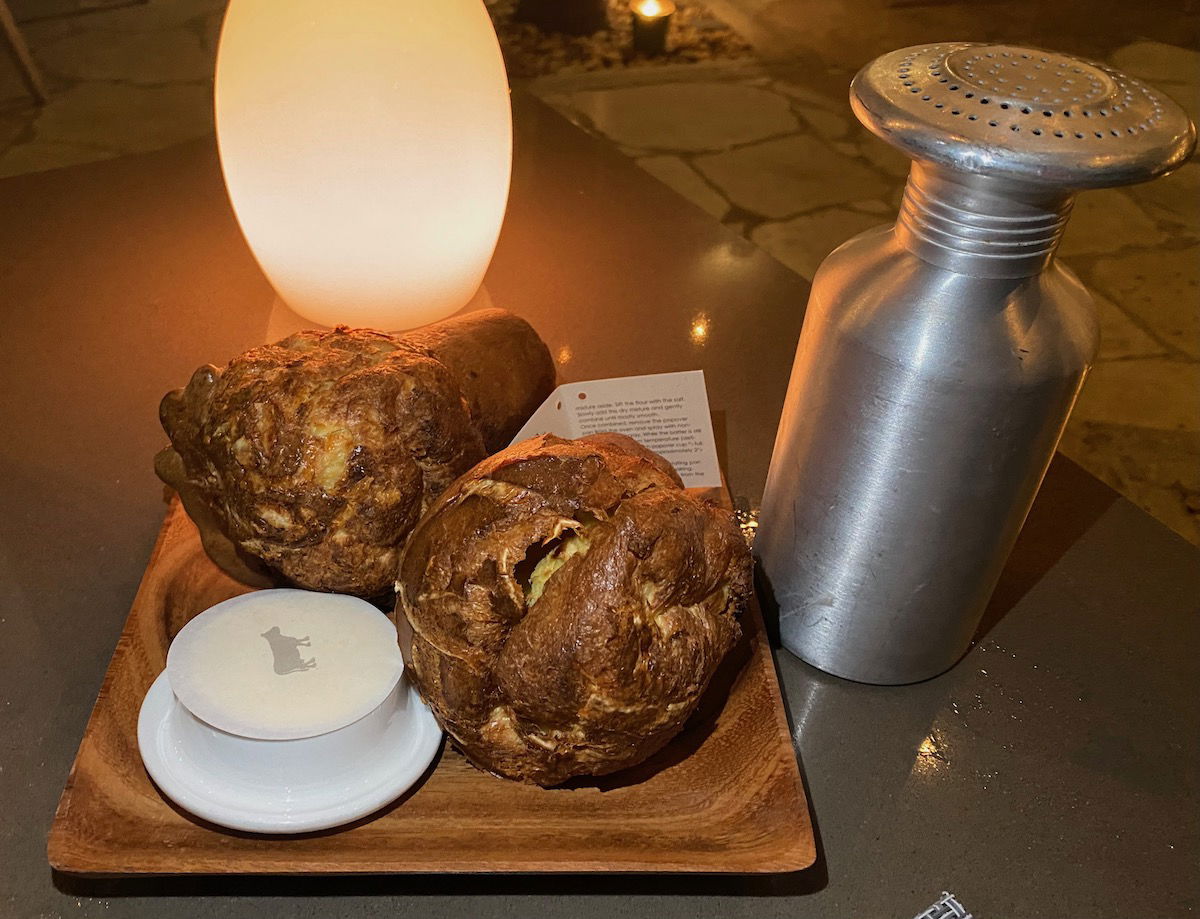 As far as dinner itself goes, you can find the menu here. To start we ordered the tuna tartare to share.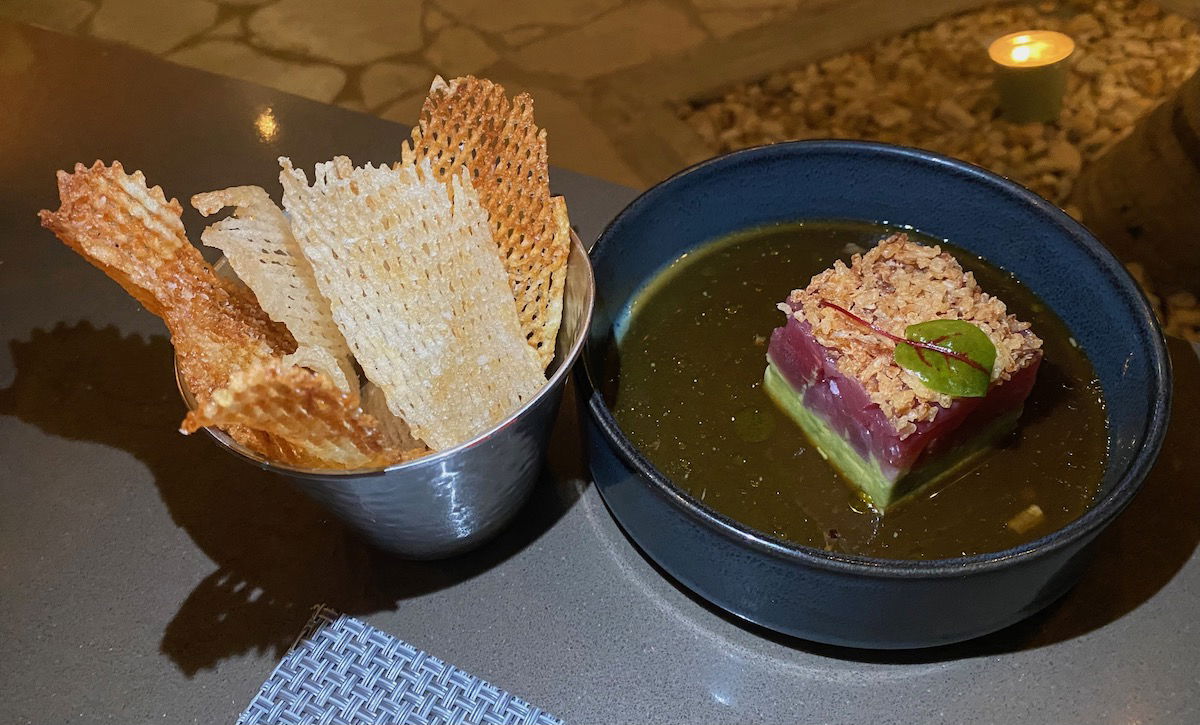 For our mains we both ordered the seven ounce filet mignons with horseradish, which we enjoyed immensely.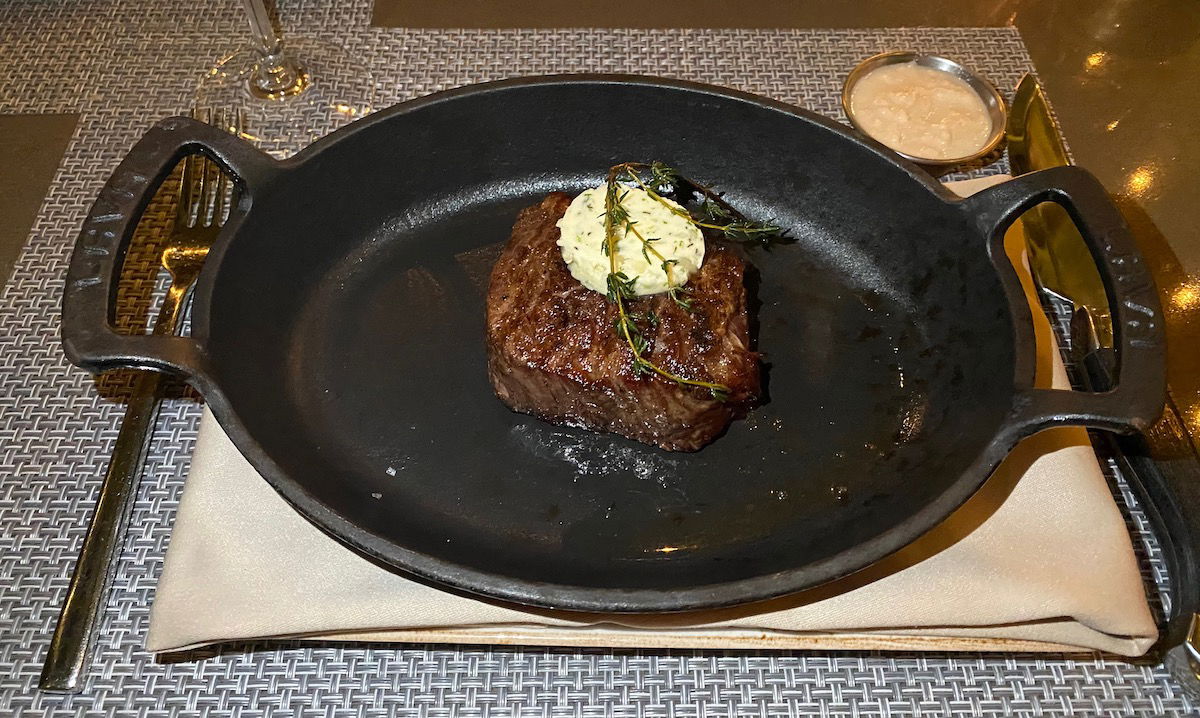 We also ordered some asparagus to share.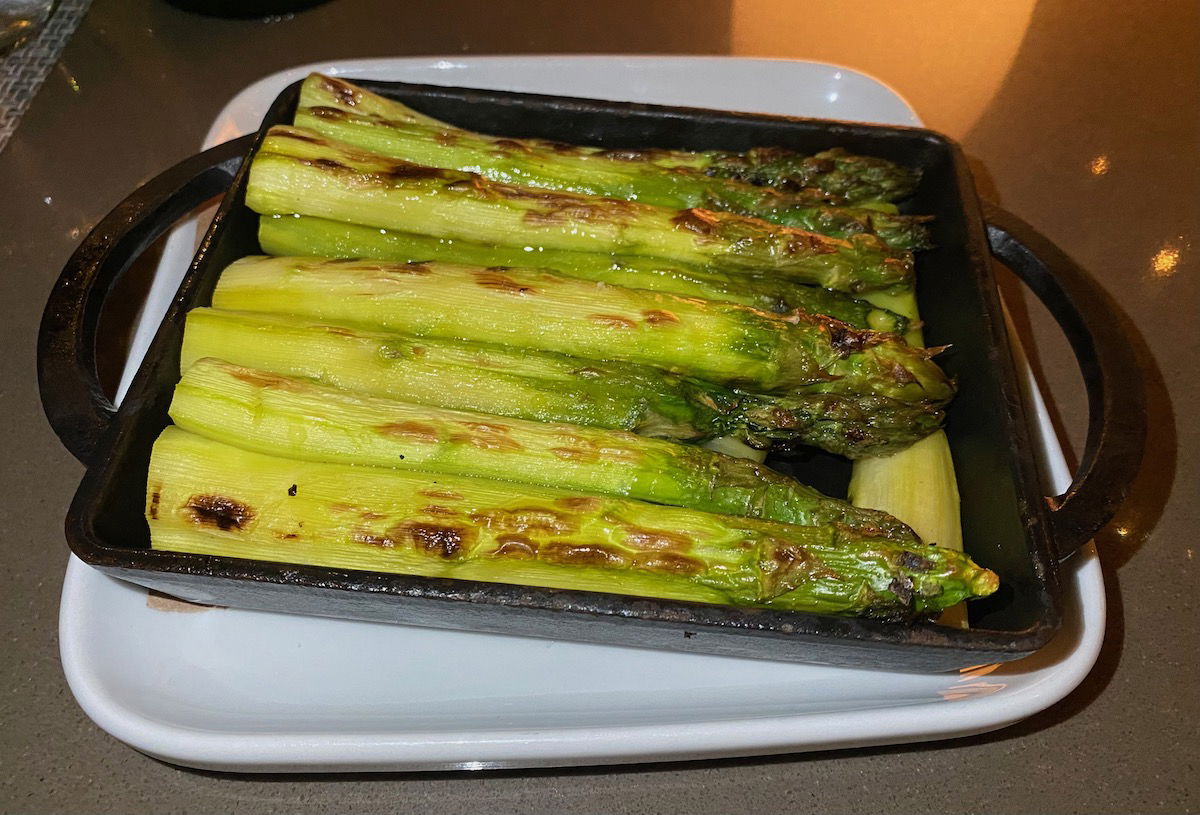 At the conclusion of the meal we were offered some warm mini-brownies.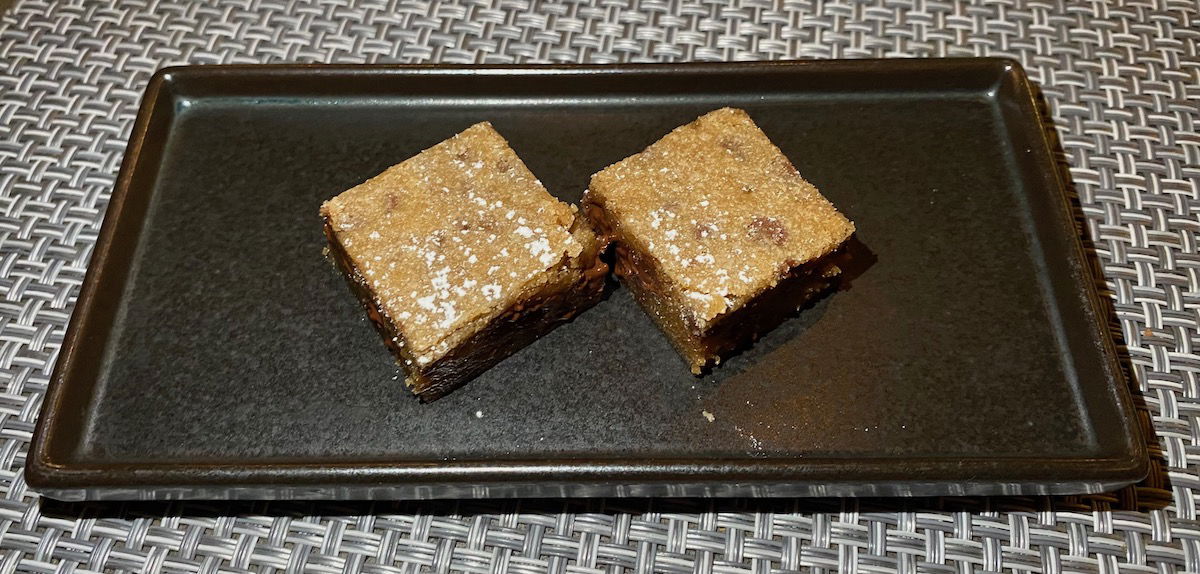 Ritz-Carlton Turks & Caicos Casa Nonna (dinner)
On select days of the week the Ritz-Carlton has Casa Nonna, an Italian restaurant. At first I was confused about where this restaurant is, since I thought I had seen the whole hotel, but hadn't seen the restaurant. Then I realized that Coralli (the breakfast and lunch) restaurant is simply converted into Casa Nonna at night. Ahh…
We sat outside, and what a view!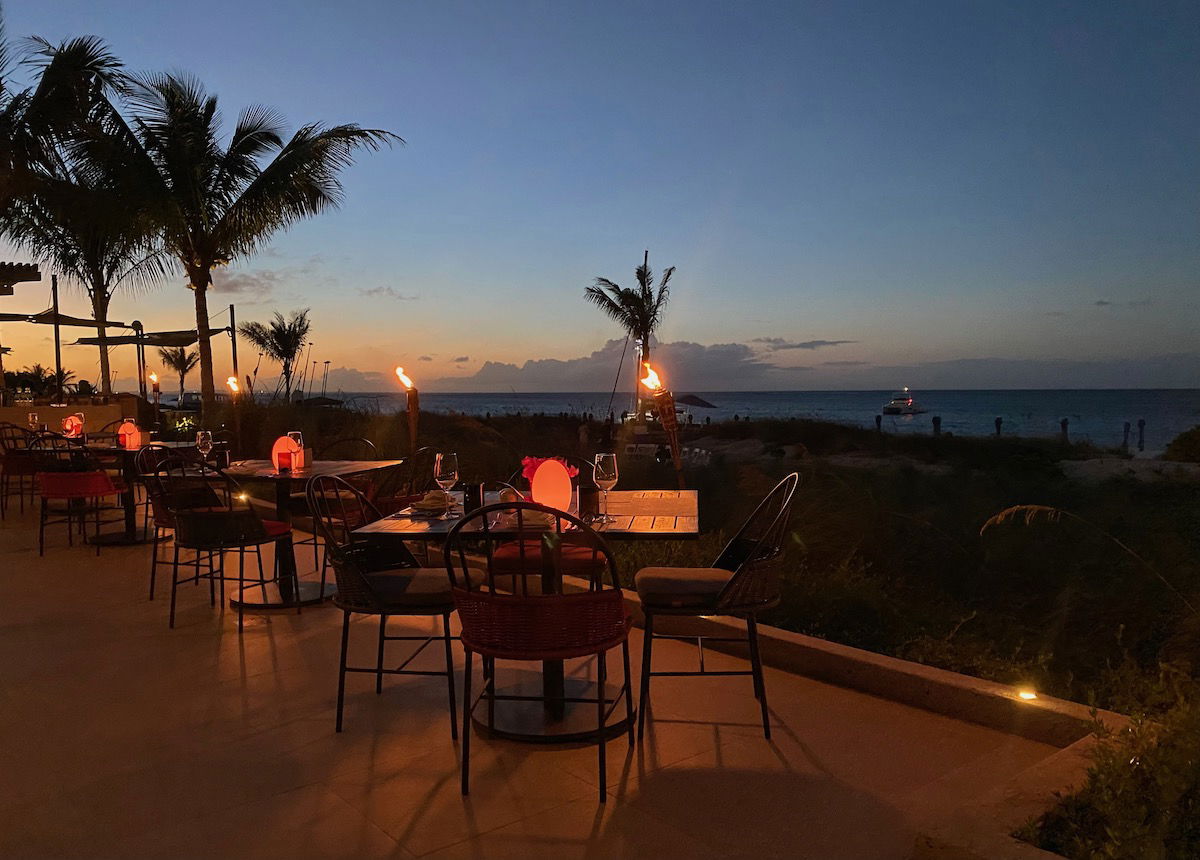 As you may have guessed based on the name, the restaurant serves Italian cuisine, and you can find the menu here. We were offered some pieces of flatbread to start.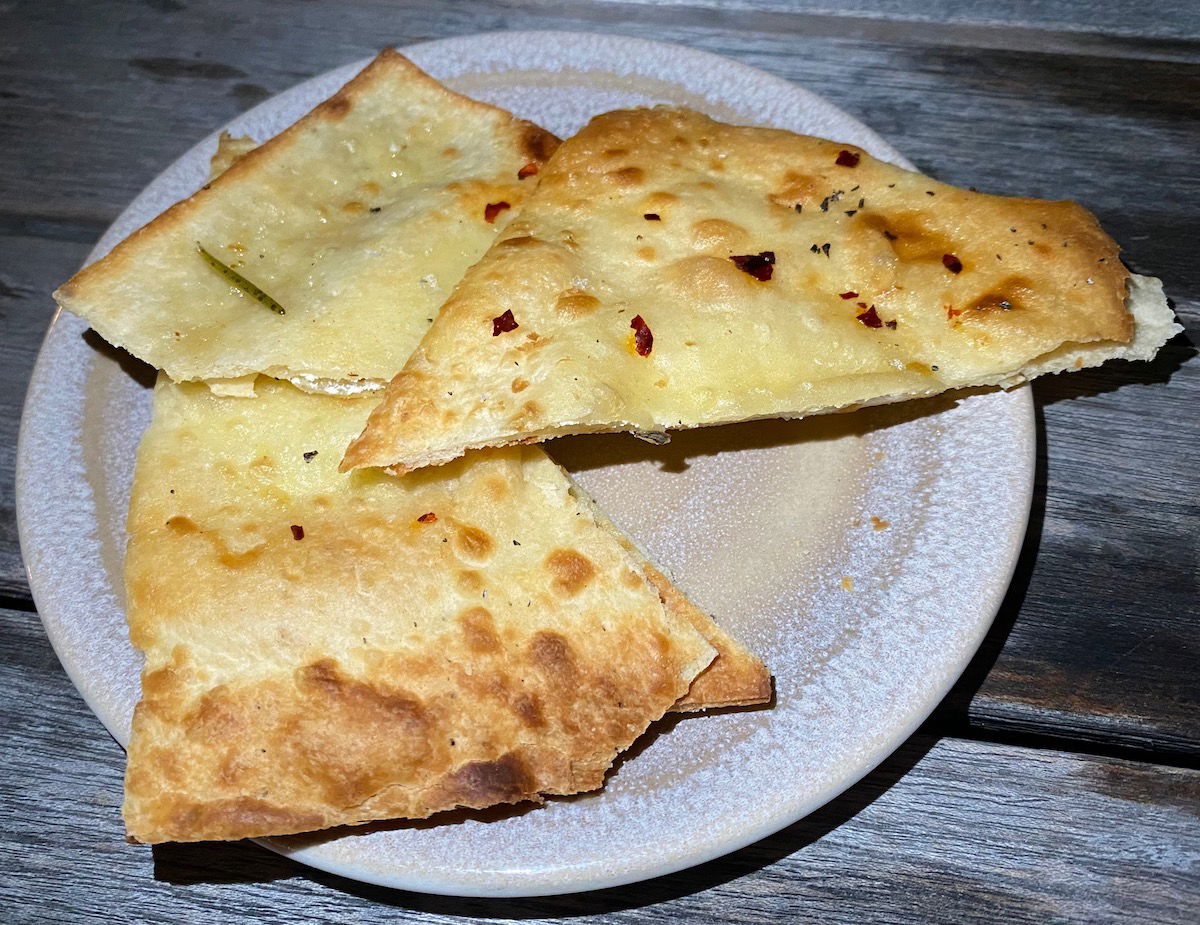 As a starter we shared the calamari fritti.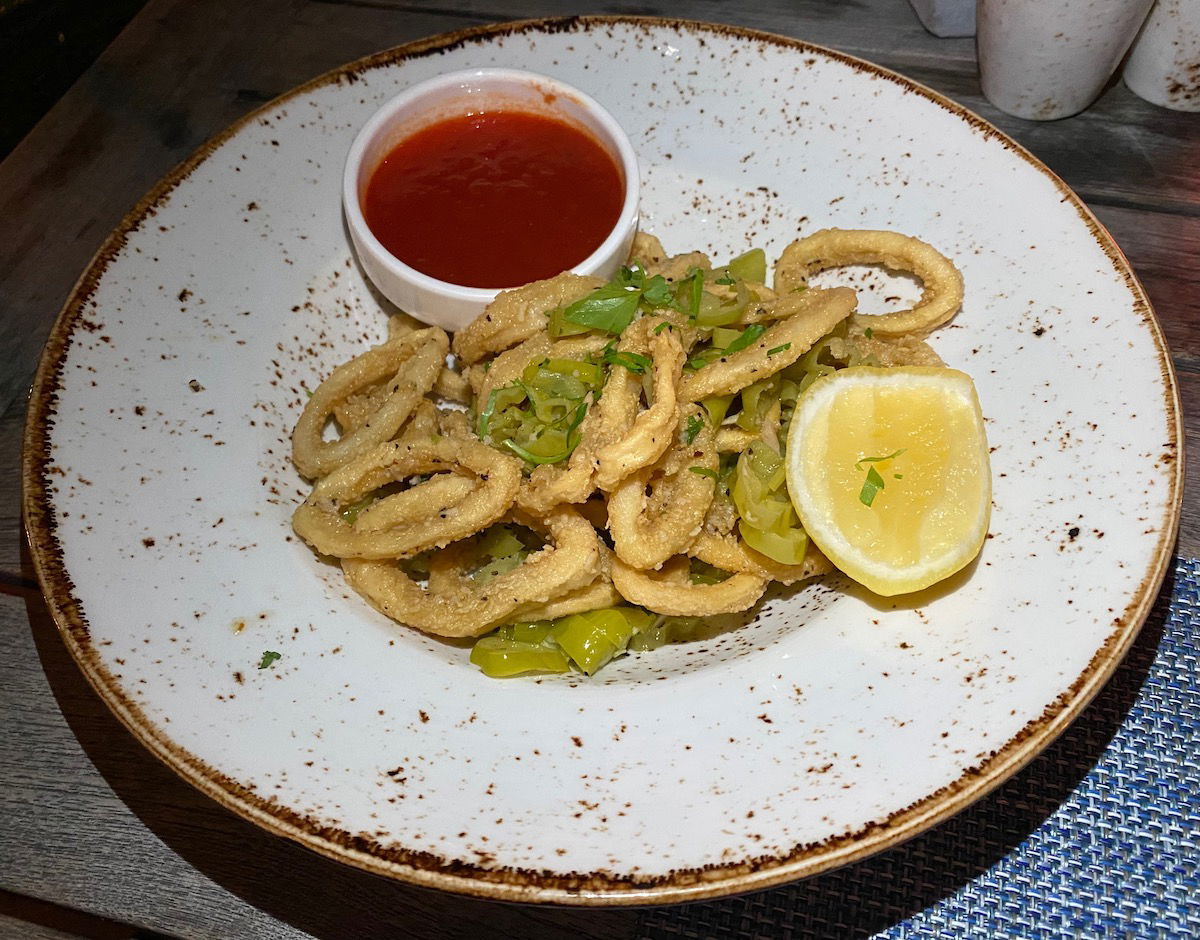 Then for our mains we split the tortelloni di ricotta and branzino croccante. All three dishes were exceptional.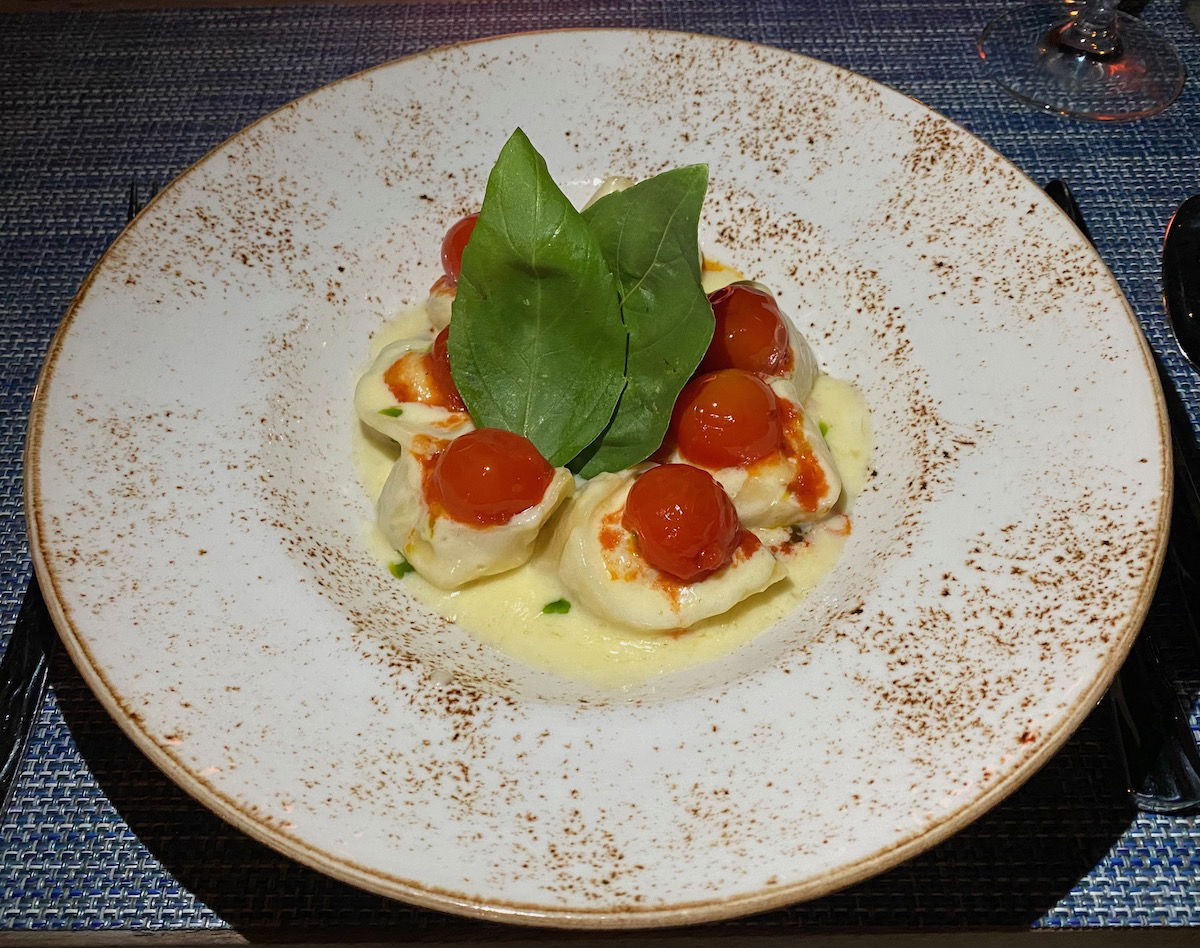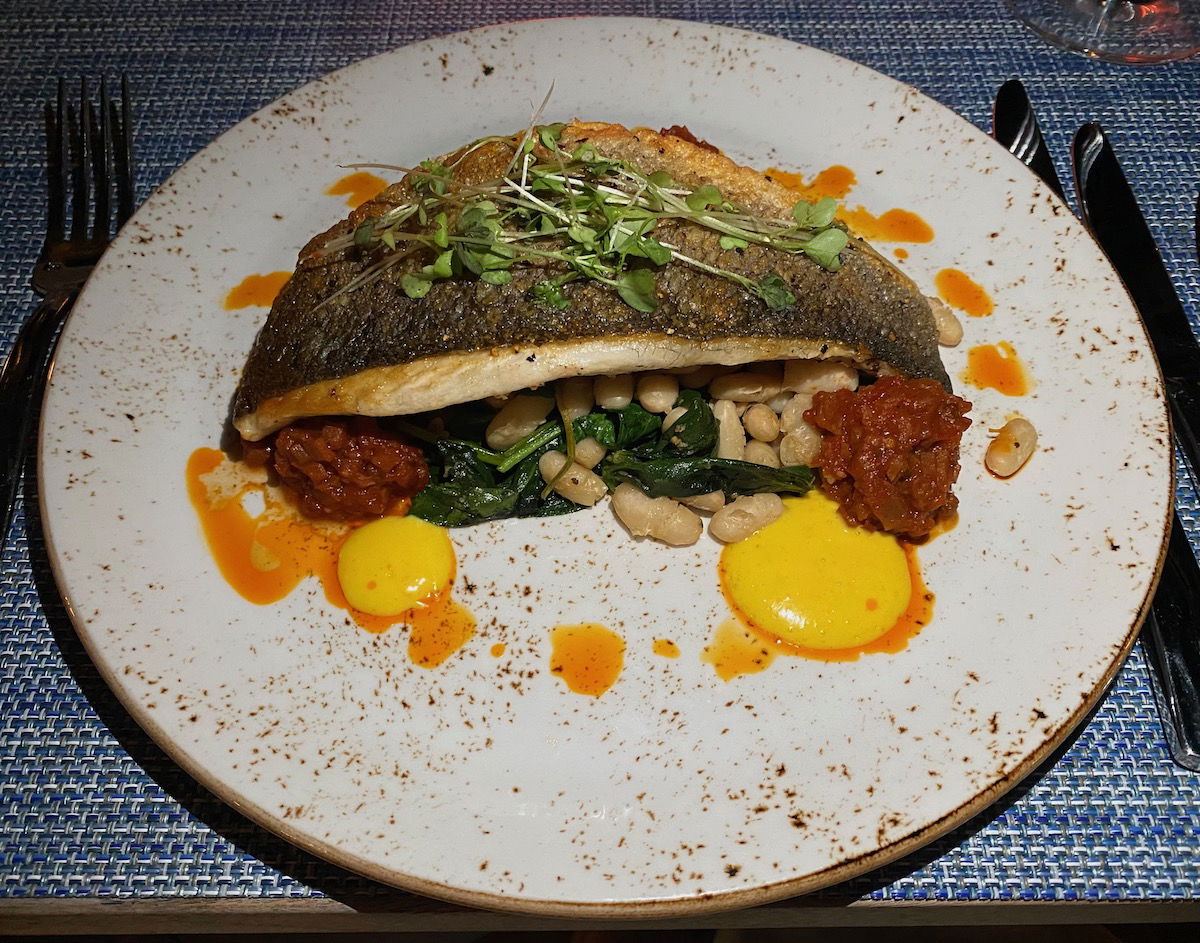 Ritz-Carlton Turks & Caicos Lobby Lounge
The Ritz-Carlton also has the Lobby Lounge, which is open from around noon until late at night. It's entirely outdoors, and looks out toward Grace Bay, with plenty of seating options.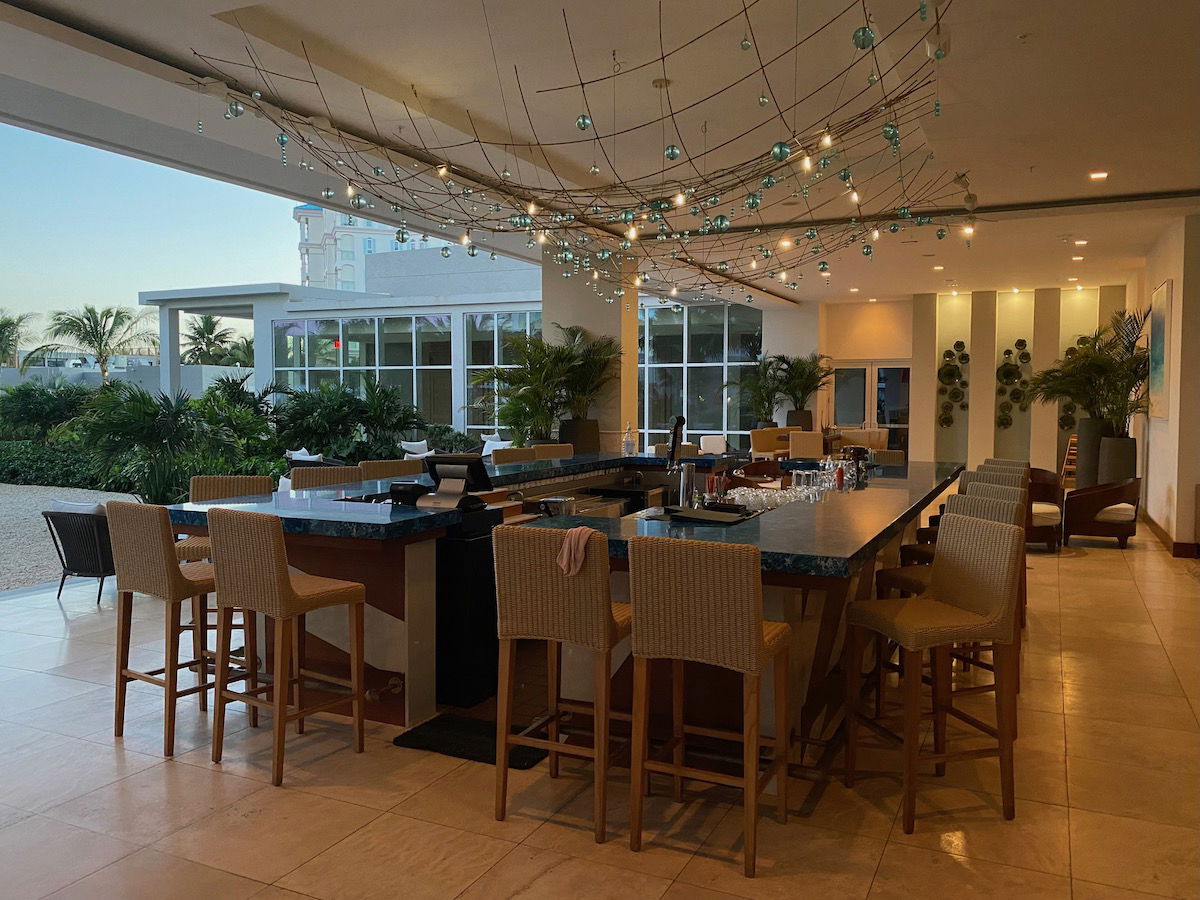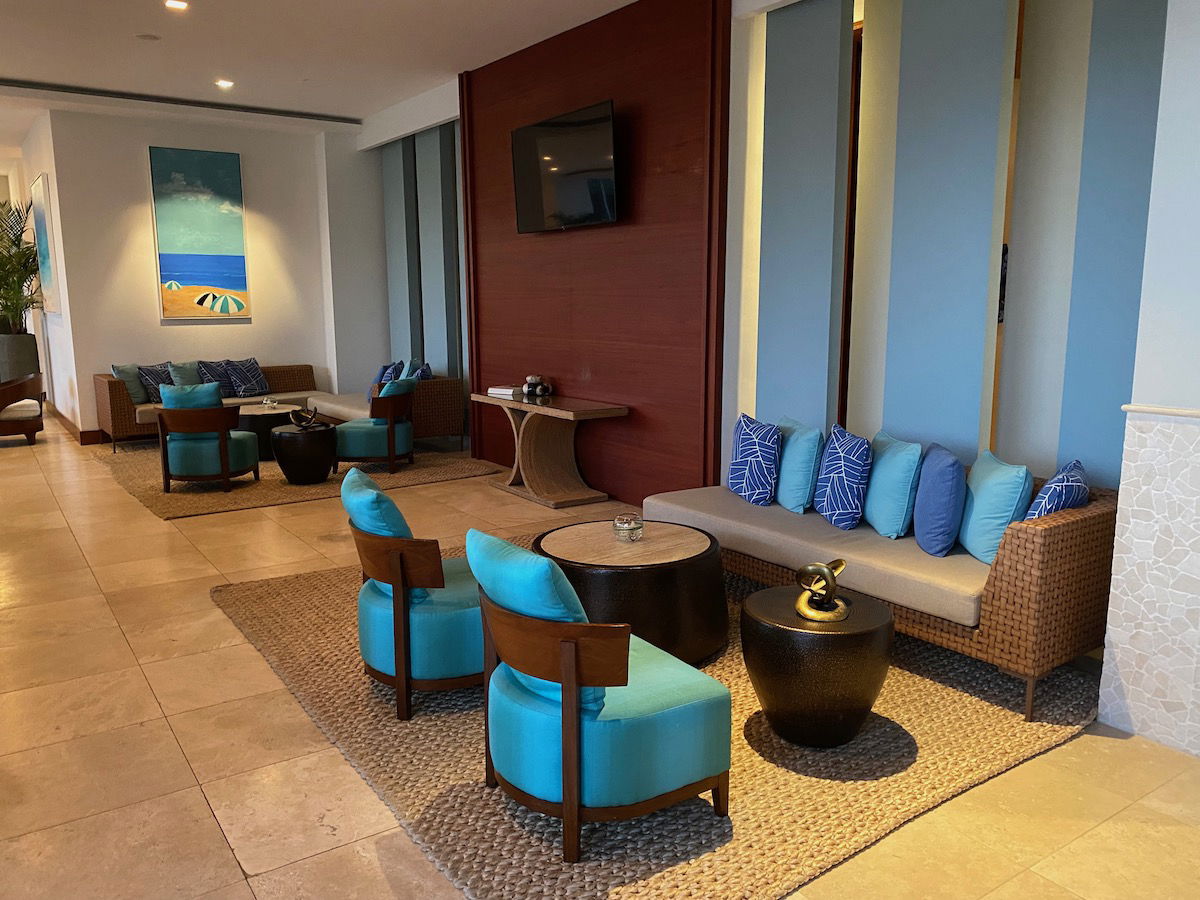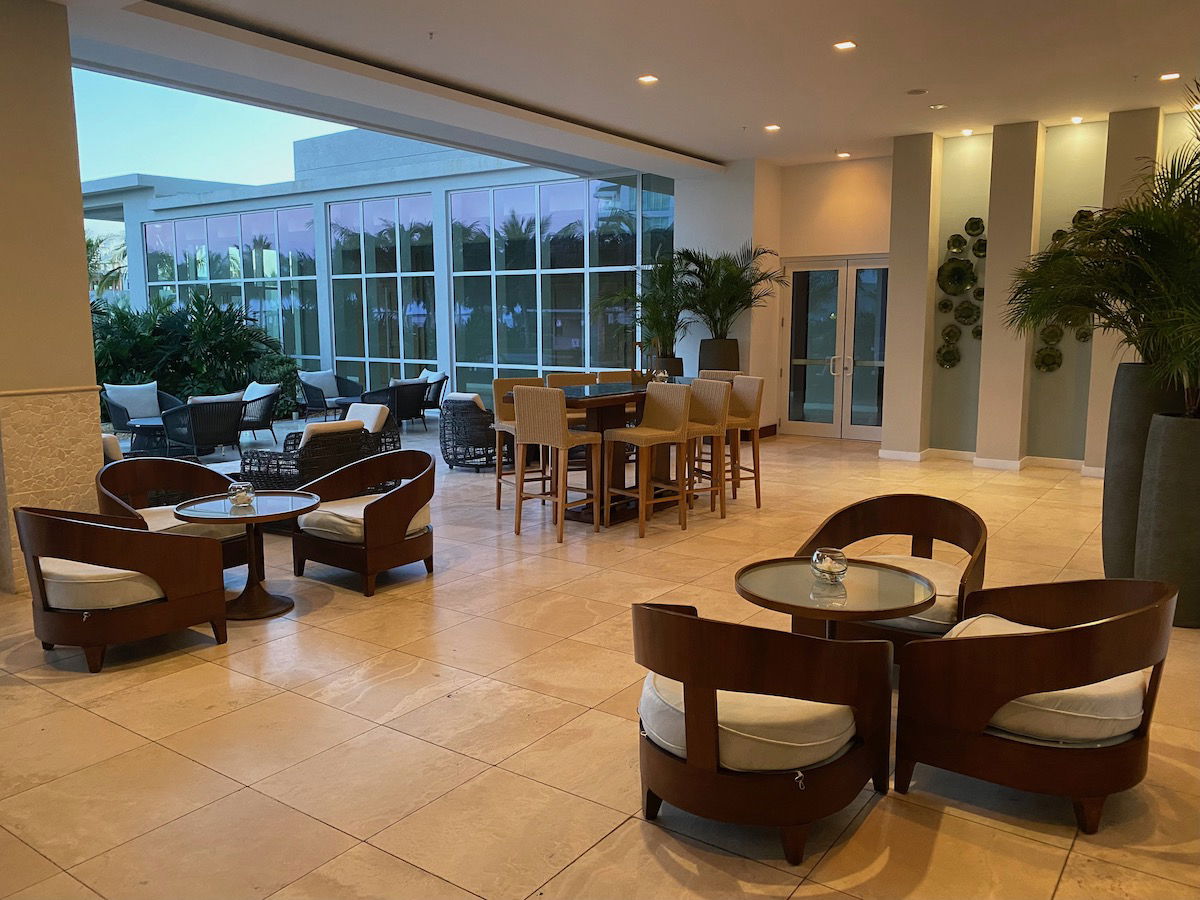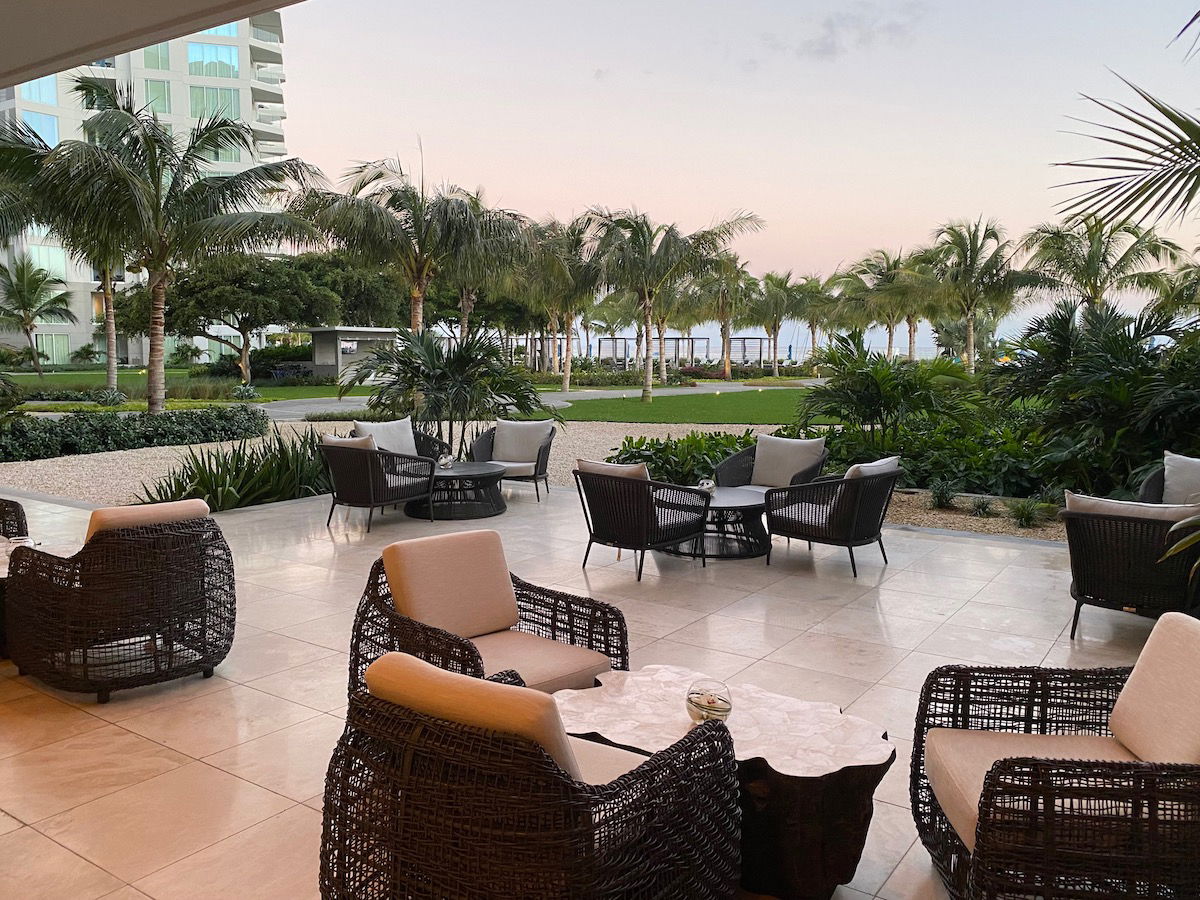 While you can come here for a drink, the Lobby Lounge also serves sushi, and you can find the menu here. We ordered some tuna with avocado and two sushi rolls, which were all very well done.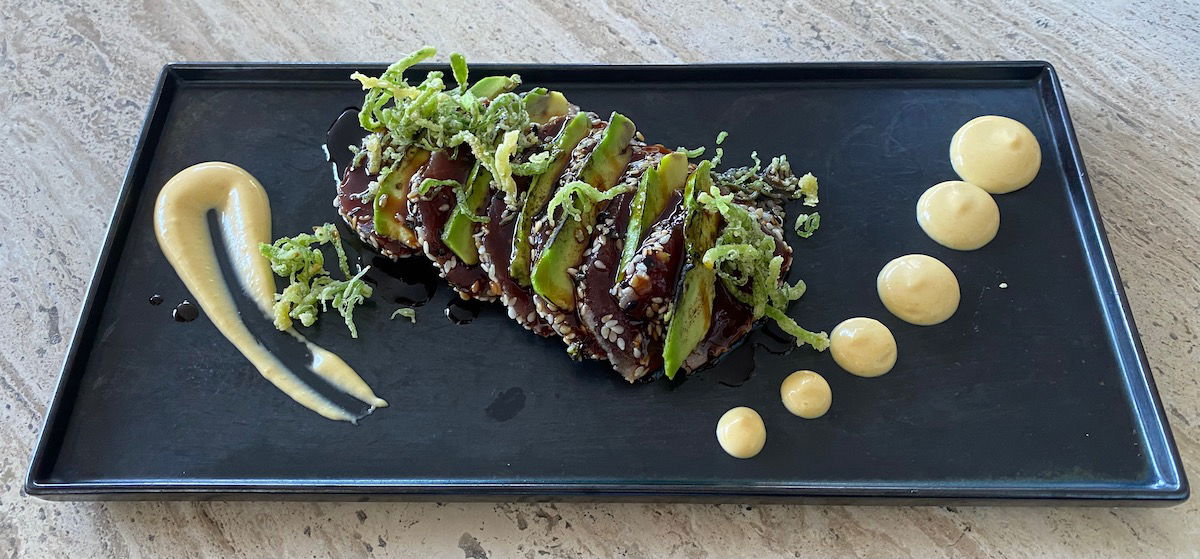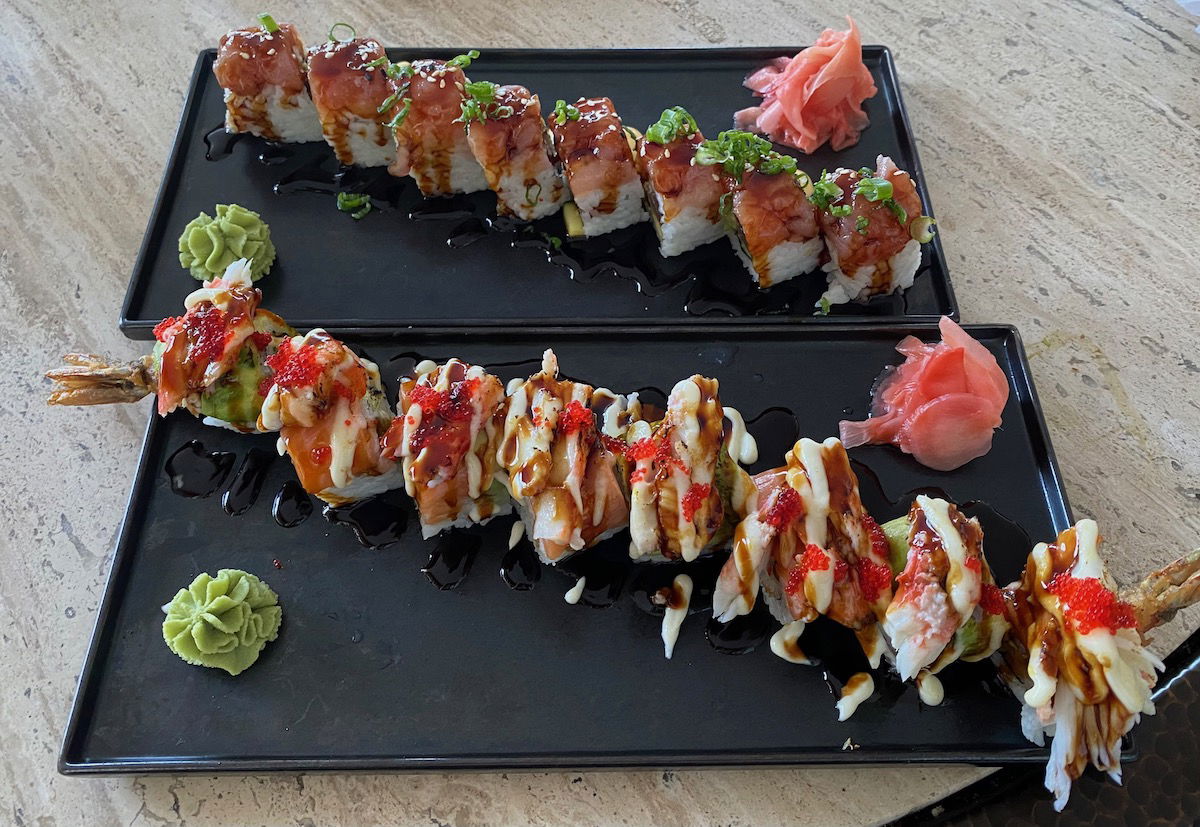 Ritz-Carlton Turks & Caicos casino
The Ritz-Carlton Turks & Caicos has a casino. We didn't end up using it, but it's there. The good news is that it's in a separate building near the entrance (right next to BLK Steak), so if you're a guest at the hotel you don't have to worry about this detracting from the experience.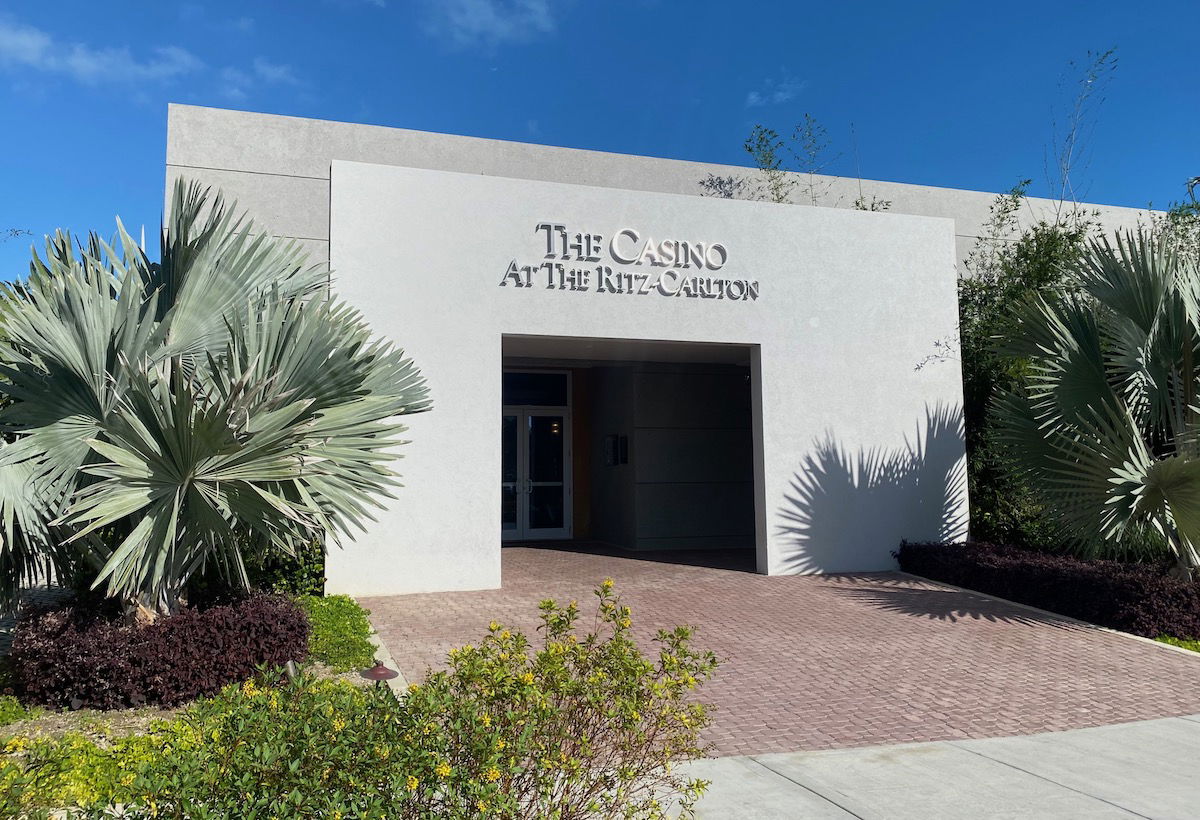 Ritz-Carlton Turks & Caicos Lady Grace sunset cruise
The Ritz-Carlton has a catamaran, named Lady Grace, which does a 90 minute sunset cruise most nights. This is open to both hotel guests and outsiders. The cost is $129 per person, and that includes drinks and appetizers. Since the sun set early during our stay, the cruise started at 4:30PM.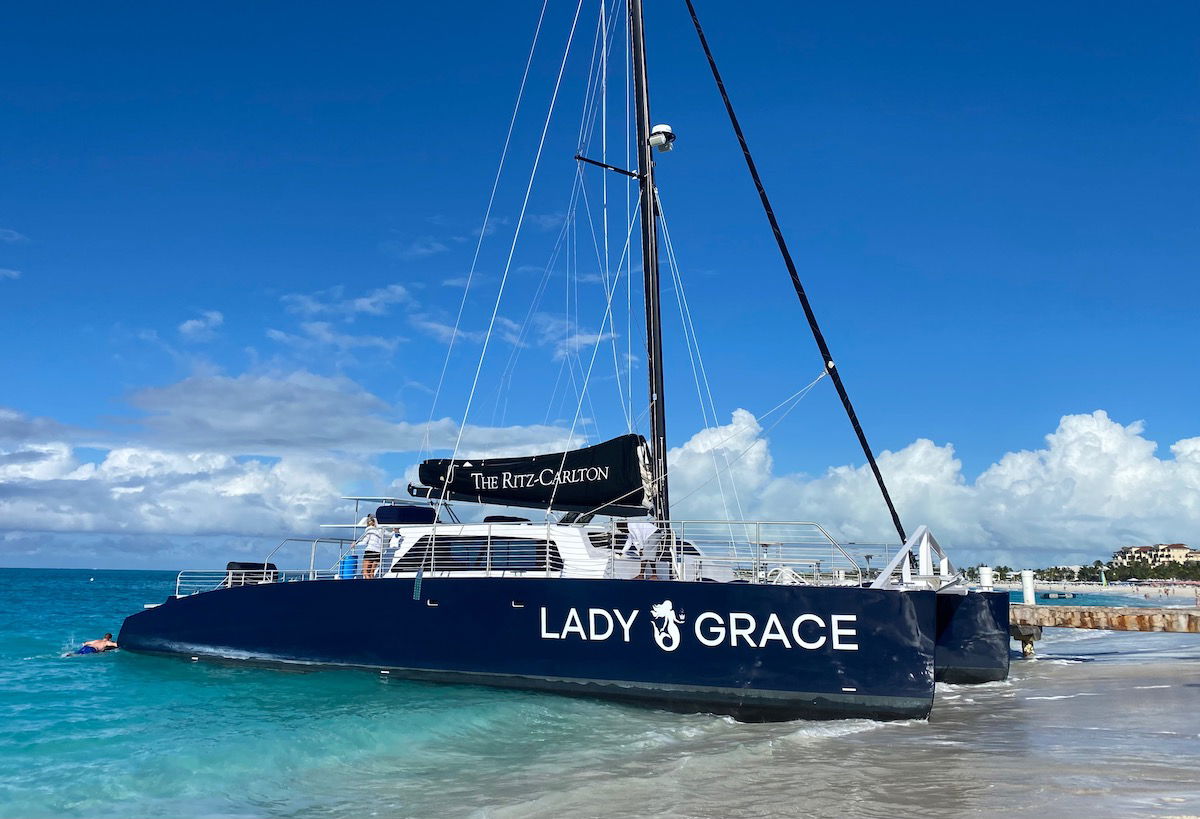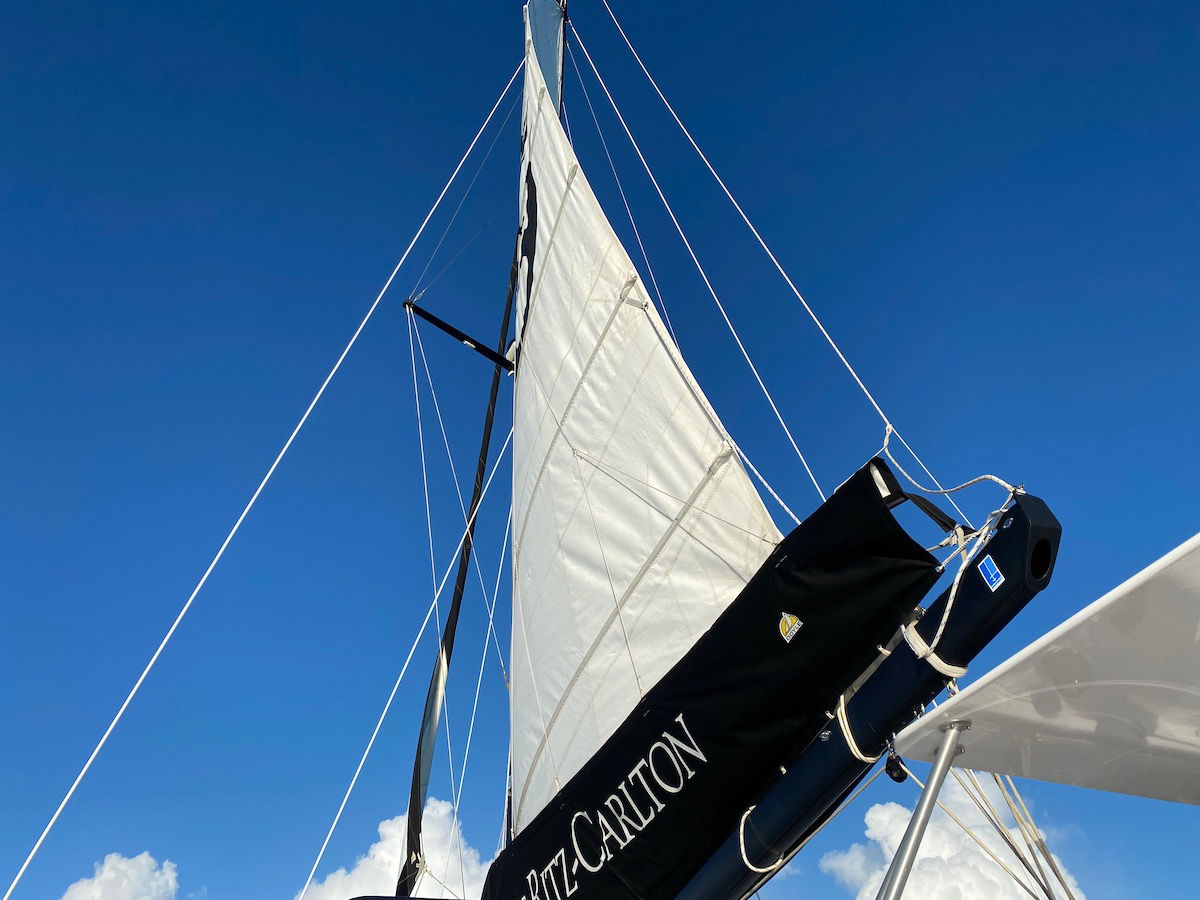 The catamaran itself is quite nice, and indeed there was an open bar and some appetizers. The staff were friendly as well.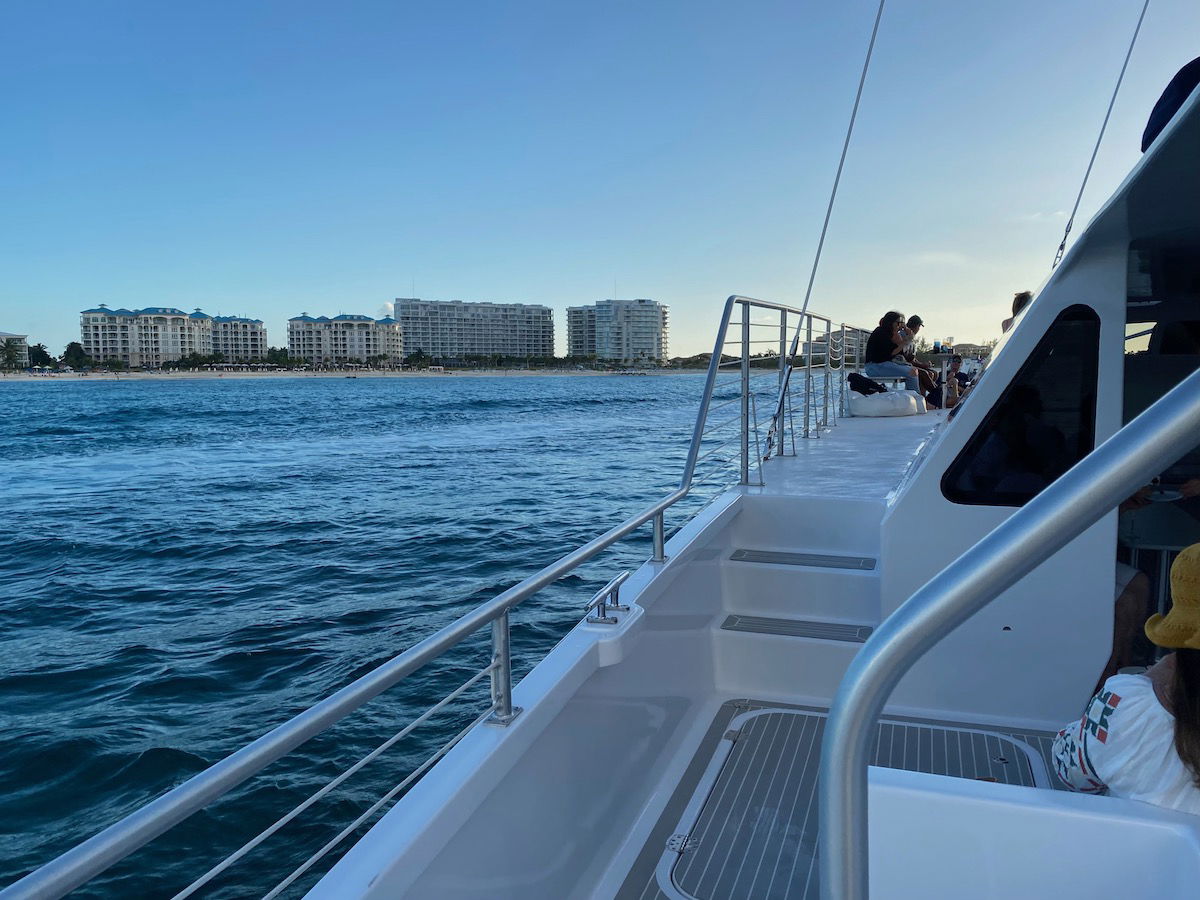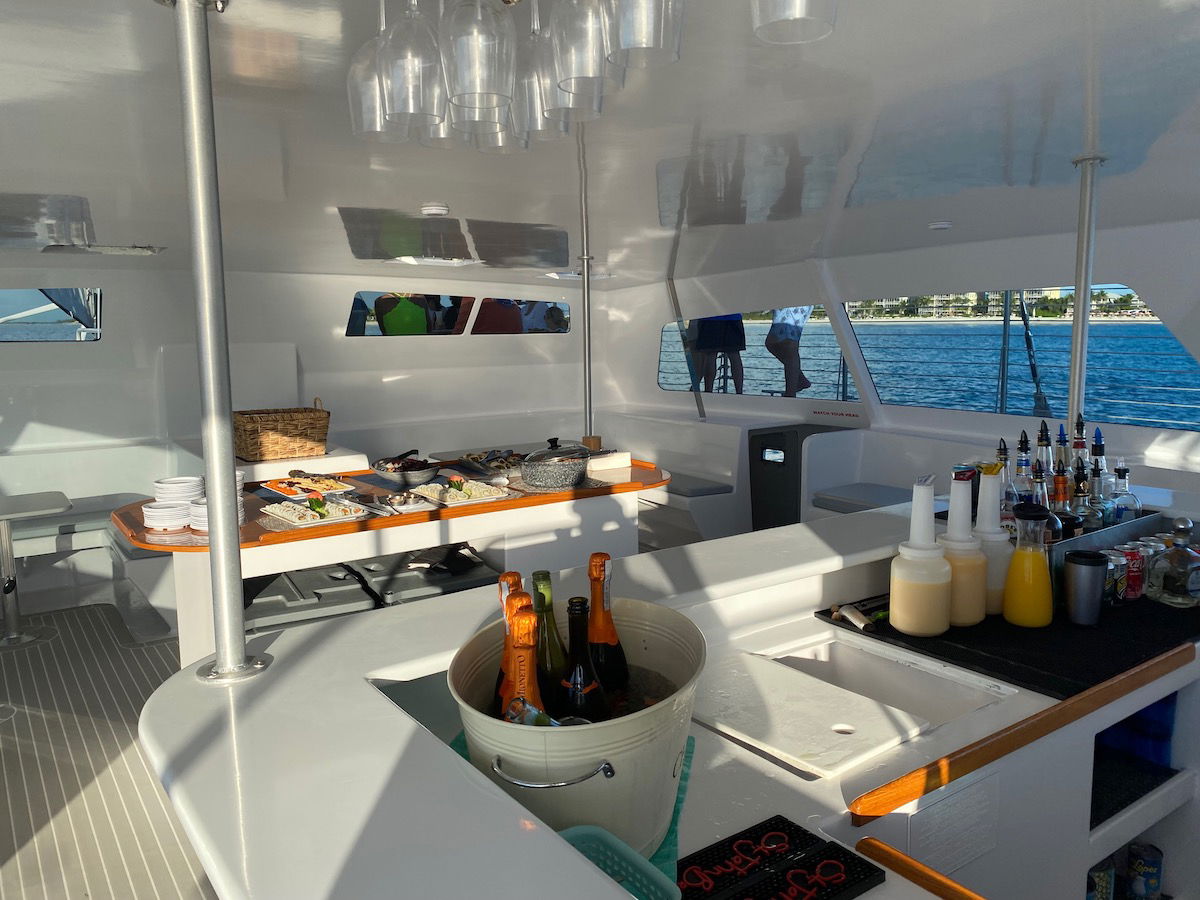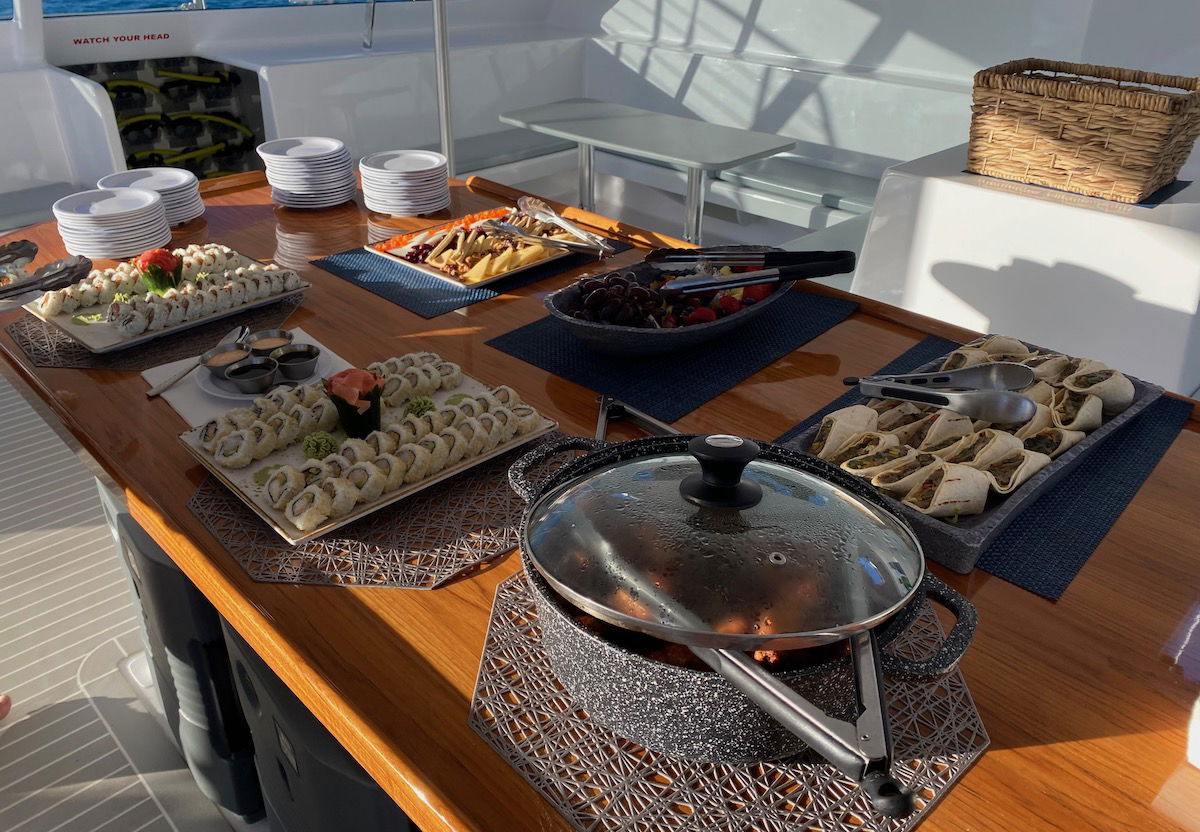 I enjoyed a couple of aperol spritzes.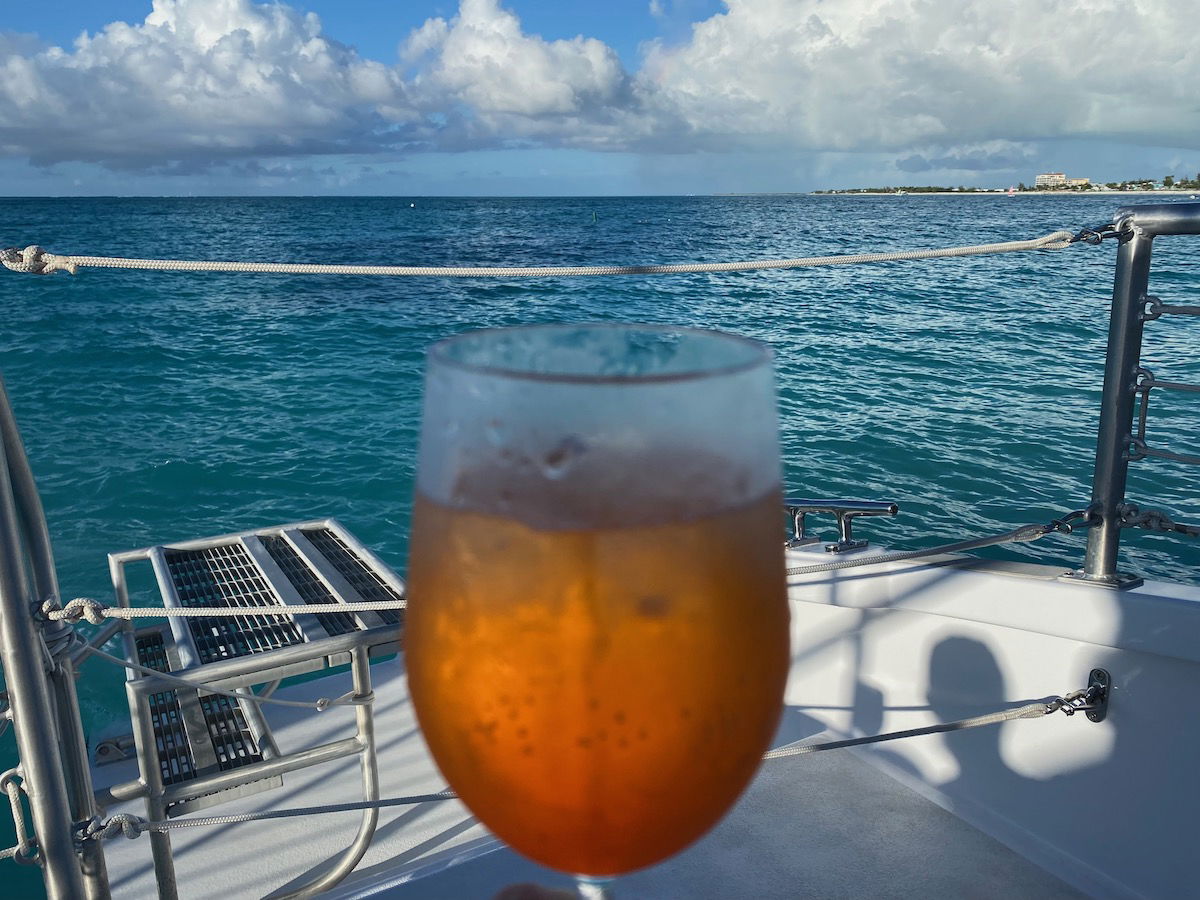 And the sunset was indeed beautiful…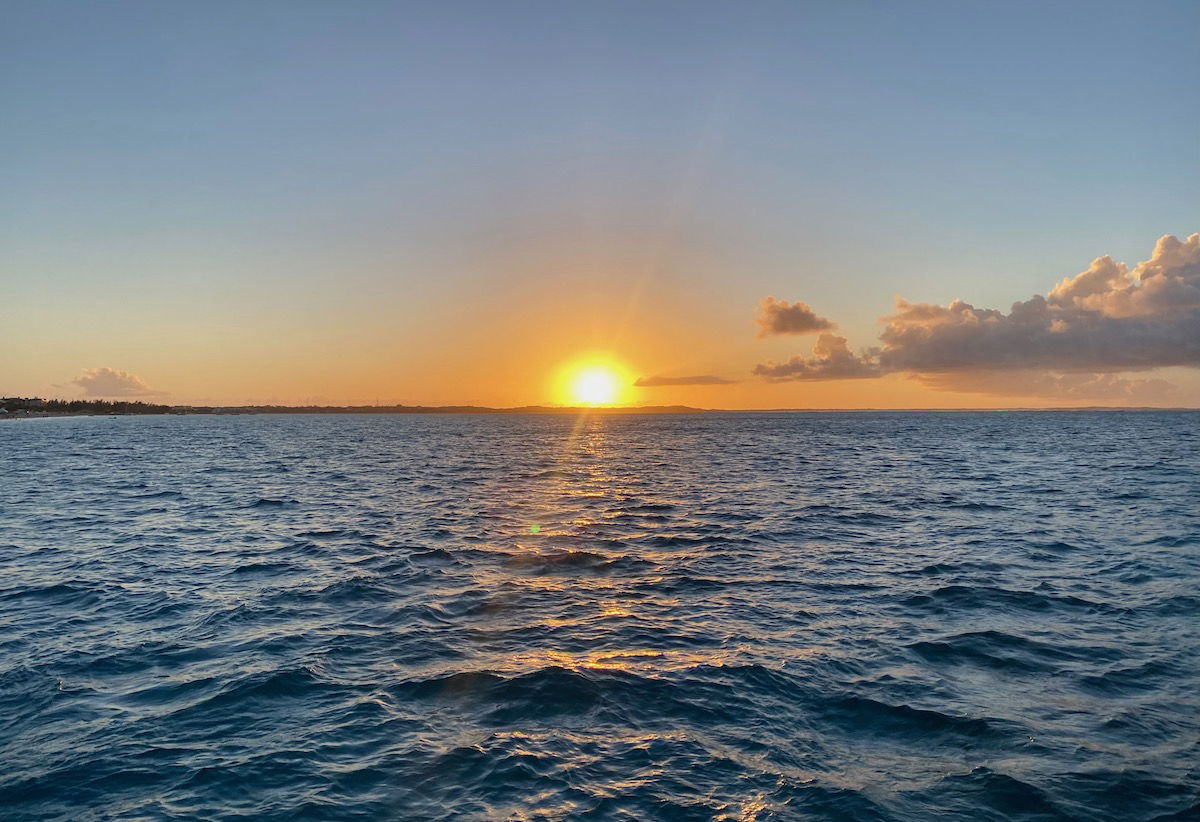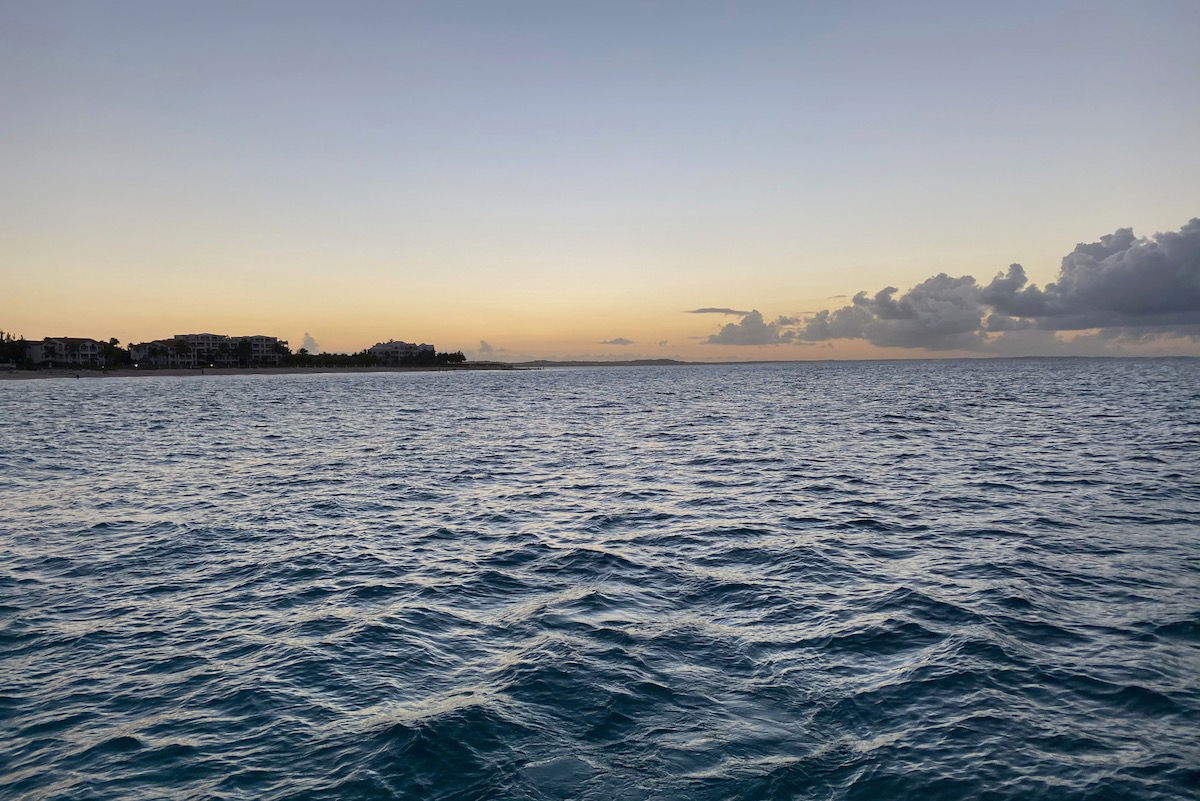 A few things to note, though:
The very nice ladies we met on the cruise told us how hotel staff told them "you can get trashed" while selling the concept of the cruise
I only mention that because some people were really trashed; for example, there was one lady who must have spent a good 10 minutes flicking off a drone and yelling "f*ck you" at it, even though it was very far away (at least I'm going to hope it was alcohol that caused her to act that way?)
While the cruise offers appetizers, you'd think this place was a Centurion Lounge based on how quick the food was gone; within five minutes there was nothing left
When the cruise started we were told we'd sail 45 minutes in one direction and then turn around, but in reality we sailed for maybe five minutes, and then just kind of stayed there for a while; I'd guess we got at most half a mile from the hotel during the cruise
Ritz-Carlton Turks & Caicos service
Overall I was impressed by service at the Ritz-Carlton. A few observations:
Staff at the hotel are roughly half locals and half Filipinos, which created a really interesting blended service culture; the locals working at the hotel were friendly, as were the Filipinos (as you'd expect, since it's a very service oriented culture)
I've seen some complaints online about service at the resort being really slow; while service wasn't the fastest and there was an element of "island time," personally I didn't have any issues with service speed
All bills at the hotel have a 10% service charge automatically added, and then you can tip on top of that; it's my understanding that tipping in Turks & Caicos is similar to what we do in the United States, so I always added an extra 10%
Bottom line
I'm happy I had the chance to check out the new Ritz-Carlton Turks & Caicos, which is a great addition to Marriott's portfolio.
Highlights included the large rooms with beach and ocean views (who doesn't love hearing the sound of waves from their room?), an ideal location on Grace Bay, friendly service, and excellent food (though at a price, as you'd expect at a Ritz-Carlton in the Caribbean).
The main thing I didn't love about the hotel was how the rooms were appointed. It's obvious these rooms were designed on a budget, though I feel like if a bit more effort were put into the rooms (wall treatments, art, towel racks, etc.), this could be a top notch property. The other general issue people have with this property is that it sticks out like a sore thumb. The developers didn't try to blend into the environment, but rather built something that's way bigger than just about anything else on Grace Bay.
So, would I return? Yes, absolutely, assuming I were redeeming points. I loved being right on Grace Bay, so being able to redeem points for an oceanfront room with that experience is awesome. That being said, if I were paying the cash rate and weren't brand loyal, I'd certainly consider other options as well.
What do you make of the Ritz-Carlton Turks & Caicos?