EXTRA PERKS AVAILABLE
Enjoy breakfast, upgrades, & more
Want to take advantage of Four Seasons Preferred Partner benefits, including a space available room upgrade, complimentary breakfast, a hotel credit, and more? Contact Ford ([email protected]) for more details. He may even be able to help if you already have a stay booked.
For the first stop on our trip to Kyoto, we spent a night at the 285-room Four Seasons Los Angeles at Beverly Hills.
Honestly, Los Angeles is a pretty tricky hotel market, as there aren't necessarily any obvious "best" choices. There are so many different areas to stay in (Beverly Hills, DTLA, Hollywood, Santa Monica, and West Hollywood, among others), and even in each area, there's not one hotel that necessarily shines.
Take the area around Beverly Hills, for example. You have the Beverly Hills Hotel, the Beverly Wilshire, the Four Seasons Los Angeles at Beverly Hills, the Maybourne, the Peninsula, and the Waldorf Astoria. They're all well regarded, and each have their pros and cons. However, I'm not sure anyone can authoritatively say that any of them is the undisputed best hotel.
Anyway, a while back I reviewed the Waldorf Astoria Beverly Hills, which I'd consider to be the best points hotel in the Los Angeles area. This time we decided to check out something different, and stayed at the Four Seasons Los Angeles at Beverly Hills.
This is a very good hotel, with friendly service, a nice pool, good dining, a central location, and modern rooms. It's a solid choice if you're looking for a great luxury hotel in the area. Is this hotel going to be life-changing, and a destination in and of itself? No, I don't think so. But I also don't think any hotel in Los Angeles is. Anyway, let's get into the review…
Booking the Four Seasons Los Angeles at Beverly Hills
Rates at the Four Seasons Los Angeles at Beverly Hills vary quite a bit seasonally and based on what's going on in town. For our night, the hotel was running $725, but generally rates range from $600 to $1,200 per night, give or take. In the interest of full disclosure, Ford got a travel advisor rate for our stay here, but all opinions expressed are my own, and this post hasn't in any way been reviewed by the property.
The best way to book any Four Seasons hotel is through a travel advisor affiliated with the Four Seasons Preferred Partner program. Ford is happy to help book Four Seasons properties through Preferred Partner, and can be reached at [email protected].
When booking through Preferred Partner you pay the same rate you'll find directly on Four Seasons' website, but you'll receive extra perks, including the following:
A room upgrade, subject to availability
Complimentary daily breakfast
A hotel credit to use during your stay
Four Seasons Preferred Partner is generally combinable with promotions being offered directly through Four Seasons, including advance purchase rates, free night offers, and more. Note that booking Four Seasons properties through Preferred Partner is generally better than booking through programs like Amex Fine Hotels & Resorts. Why?
With Preferred Partner you have the option of room service breakfast in place of restaurant breakfast
Upgrades are prioritized for Preferred Partner bookings, given that it's Four Seasons' own proprietary program (and the value of an upgrade can be significant)
You can combine Preferred Partner perks with virtually any rate on Four Seasons' website (other programs don't allow you to stack promotions in the same way)
The only advantage to booking through Amex Fine Hotels & Resorts is guaranteed 4PM check-out, but this will often be offered subject to availability to Preferred Partner guests
Four Seasons Los Angeles at Beverly Hills location
The Four Seasons Los Angeles at Beverly Hills is located at 300 S Doheny Drive, which is near the intersection with Burton Way. The property is located close to Beverly Hills, and just a little further from West Hollywood.
Los Angeles is so spread out, so it's not like there's going to be one location that gives you easy access to everything. However, I liked the location of this property, as it was walking distance to both Beverly Hills and West Hollywood (not that people really walk in this area of LA… but we do/did).
We arrived at the hotel via Uber, and that took about 40 minutes from LAX with moderate traffic. Upon arriving at the hotel, we were welcomed by the bellmen, and shown the way to reception. The hotel first opened back to 1987, so the exterior definitely feels classic, but the interior has largely been updated.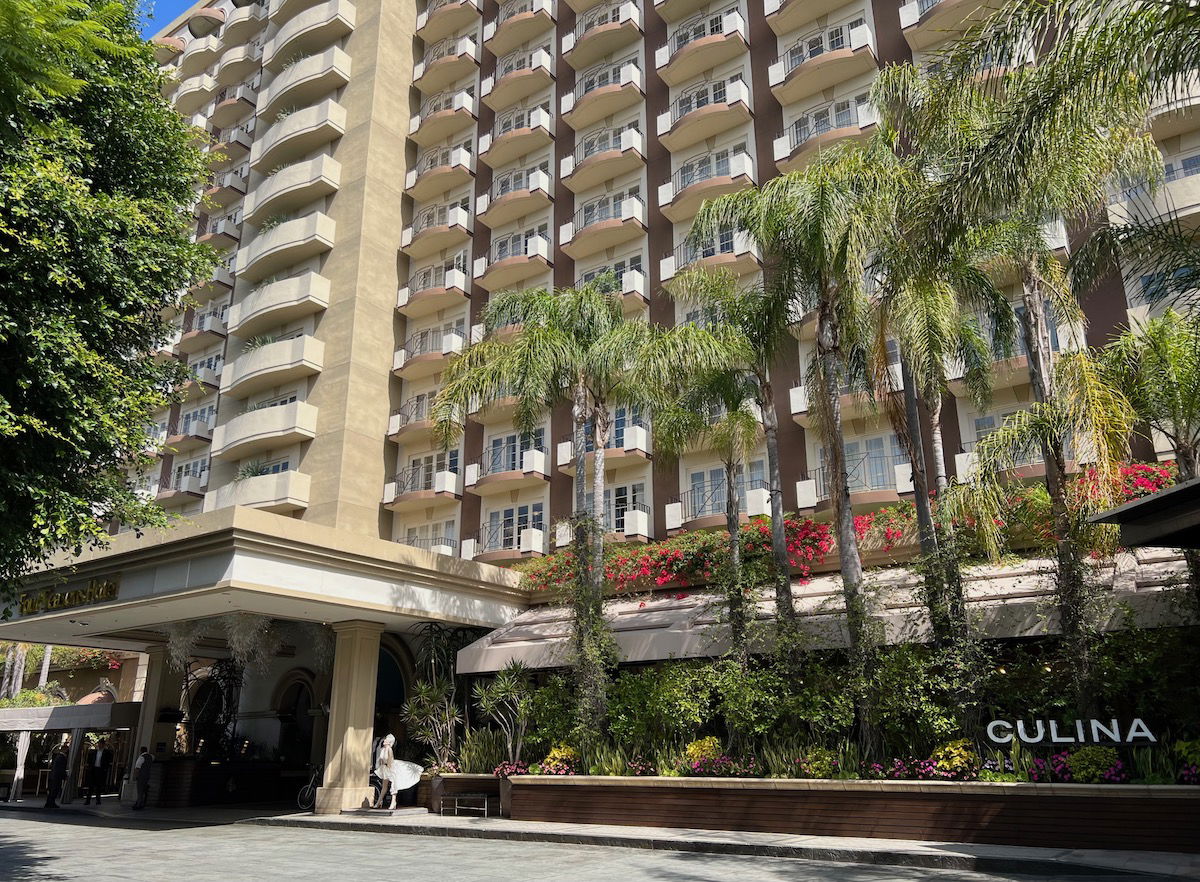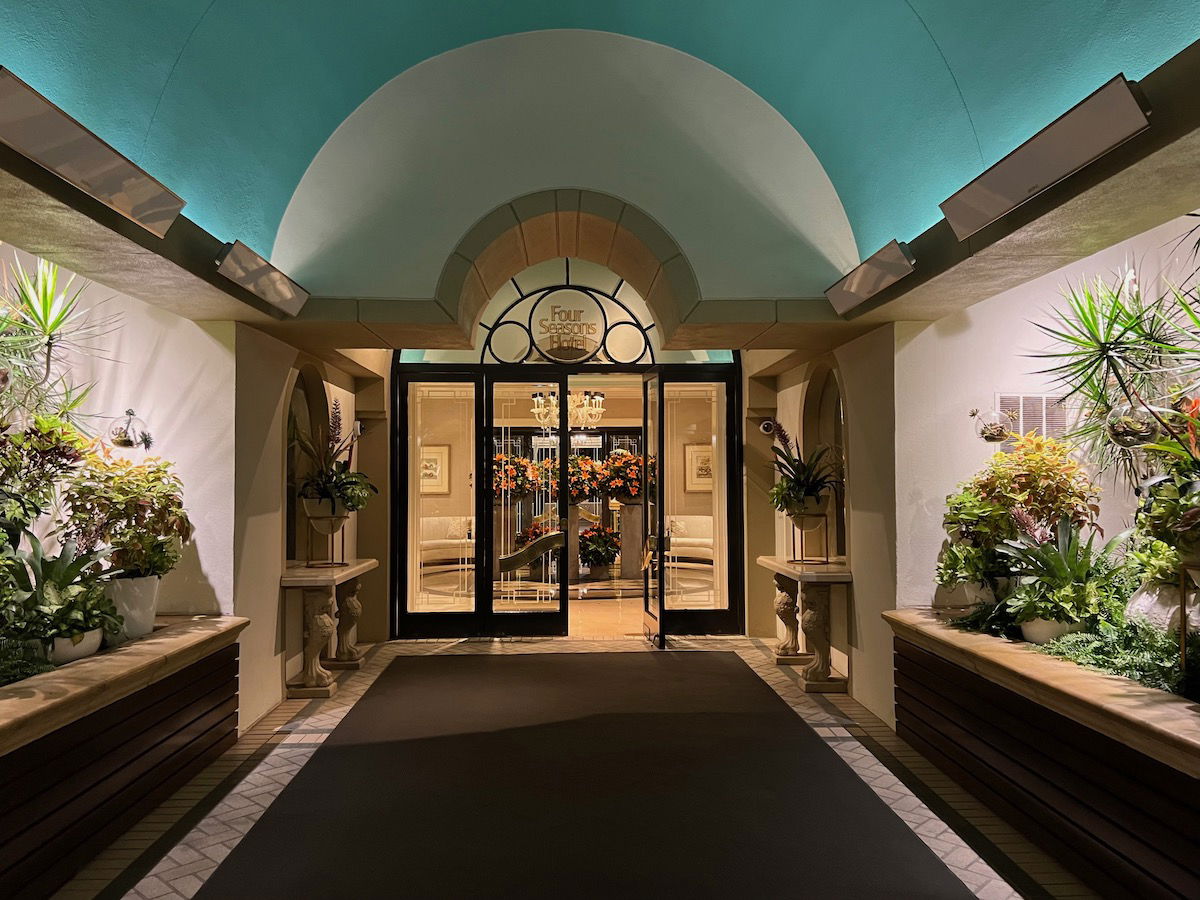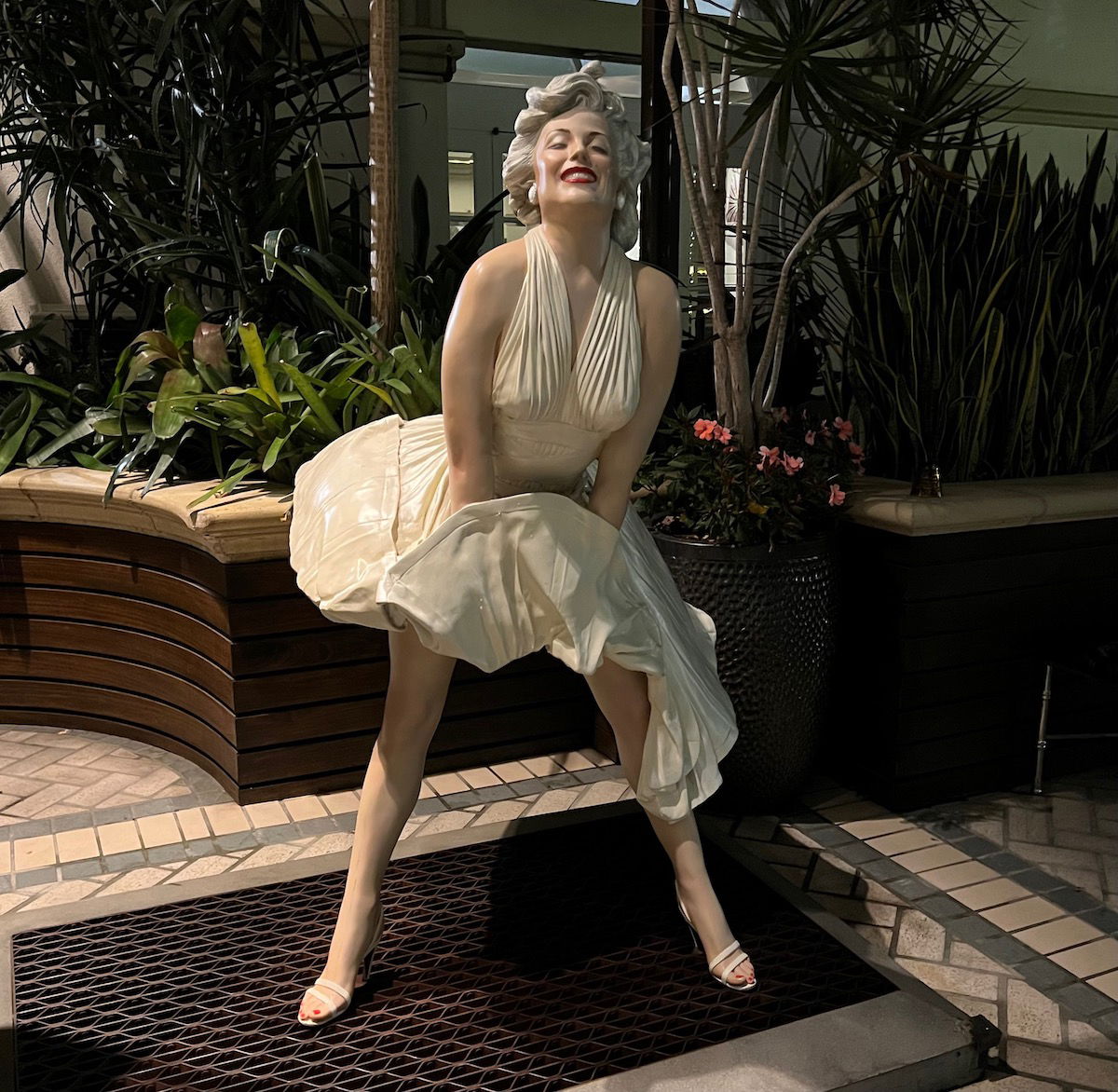 Four Seasons Los Angeles at Beverly Hills lobby & check-in
When you enter the lobby of the Four Seasons Los Angeles at Beverly Hills, the first thing that you'll notice is the beautiful flower arrangements. Reception and elevators to guest rooms are located to the left, while the lobby bar is located to the right.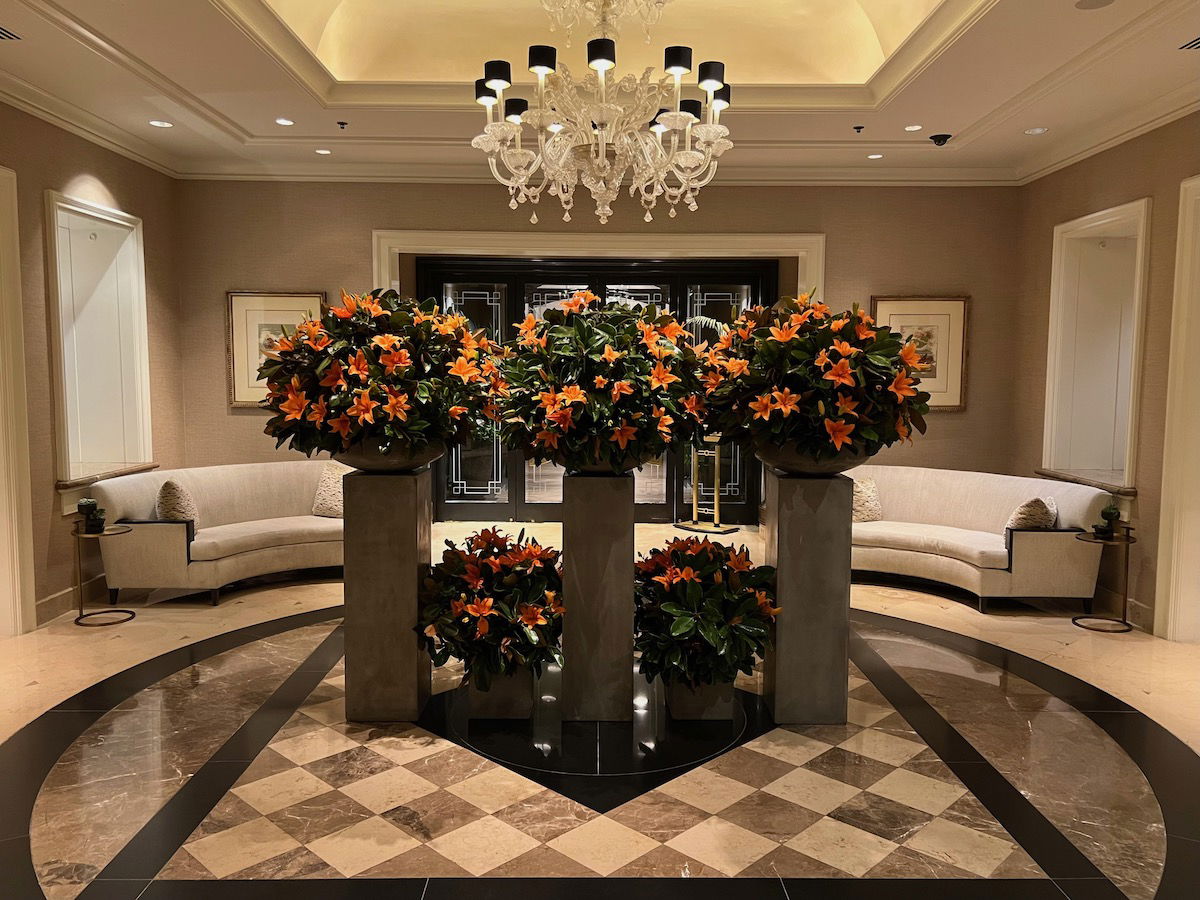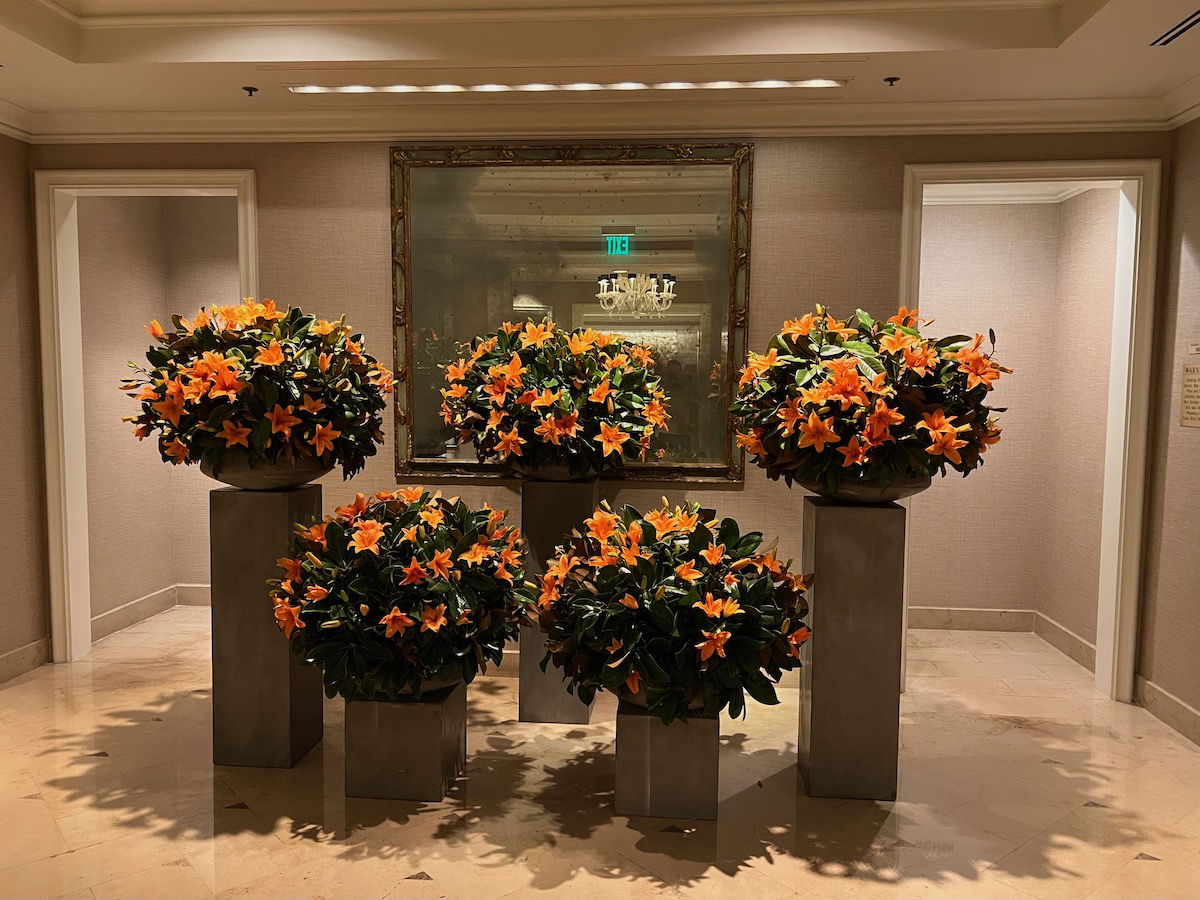 Our check-in process was quick and efficient, and we were even offered water or champagne (we just had water, since drinking in the morning didn't seem like a good idea). Within a few minutes, we had keys in hand and headed to our room.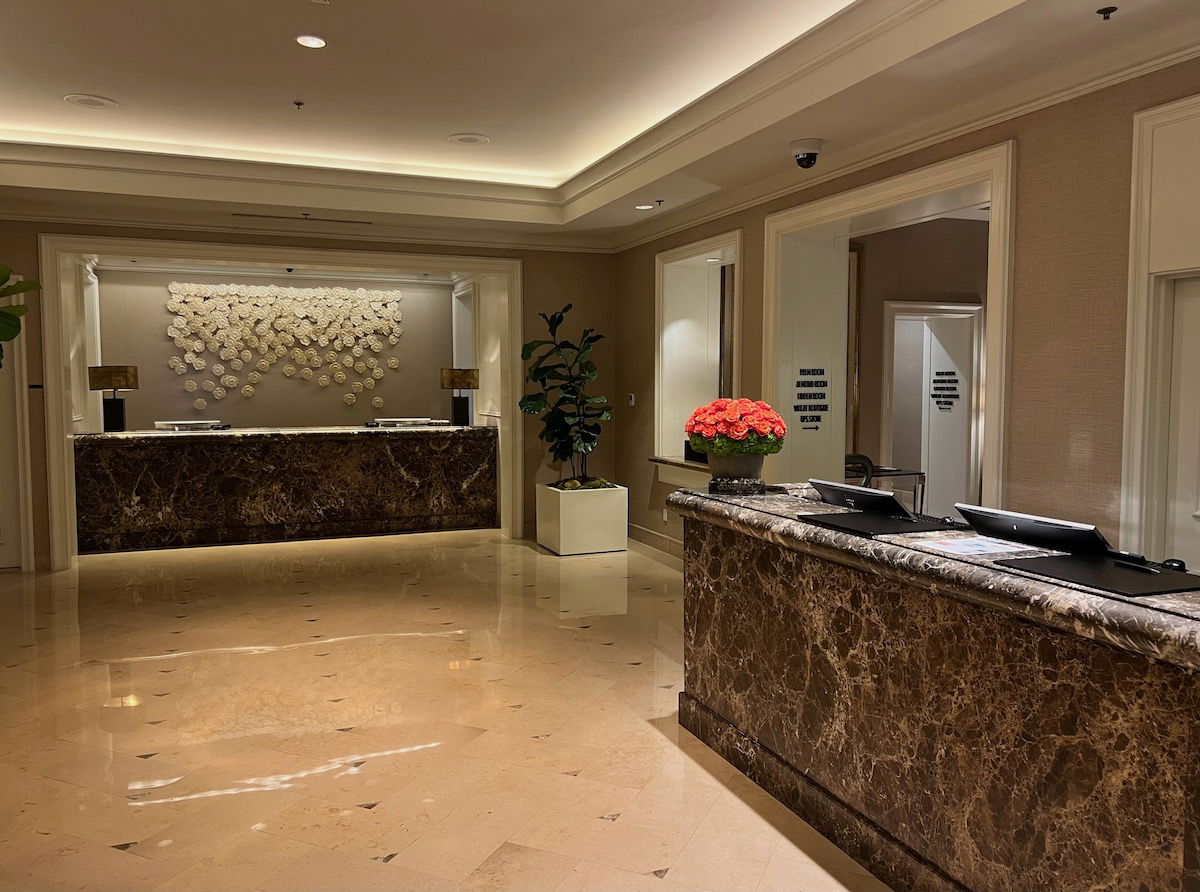 The lobby also has quite a bit of seating, comprised of some couches and tables.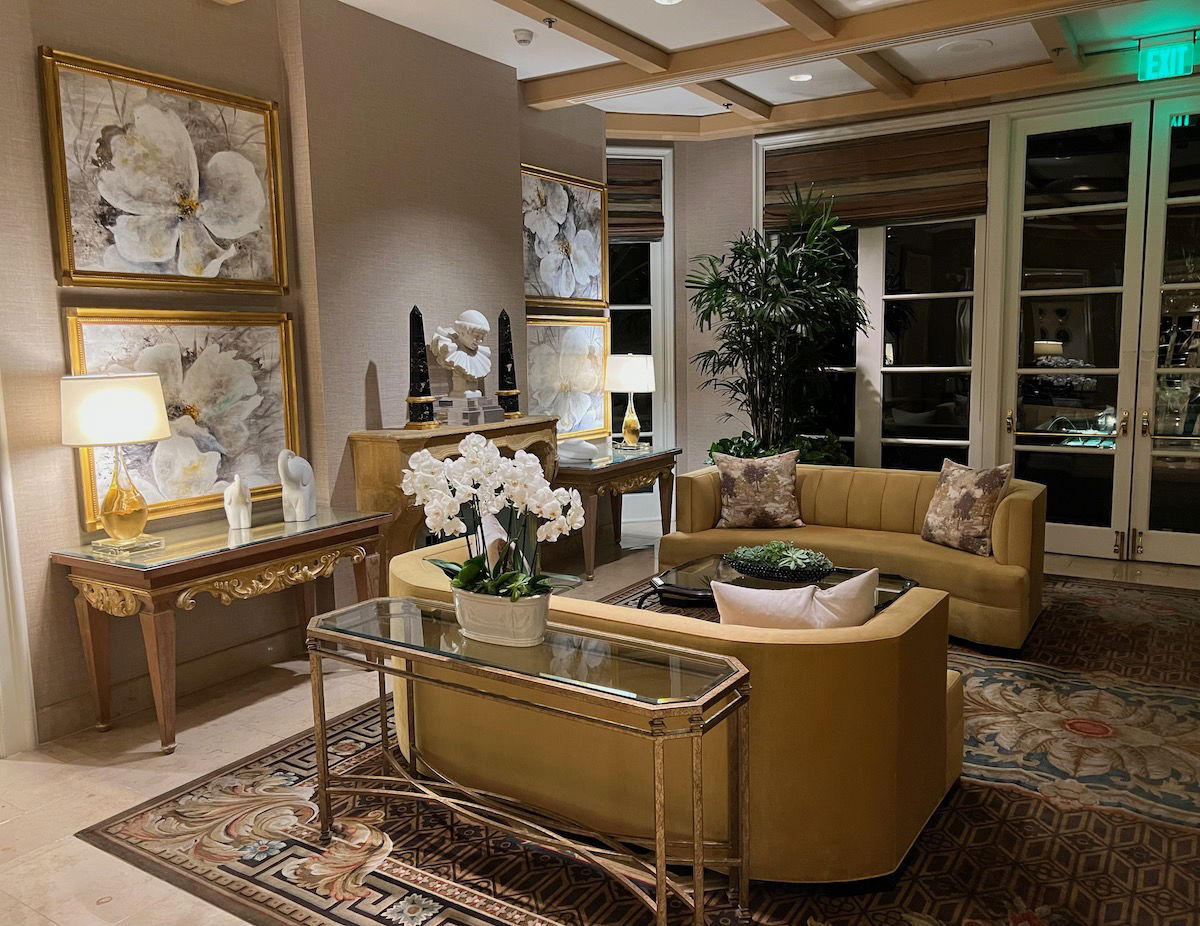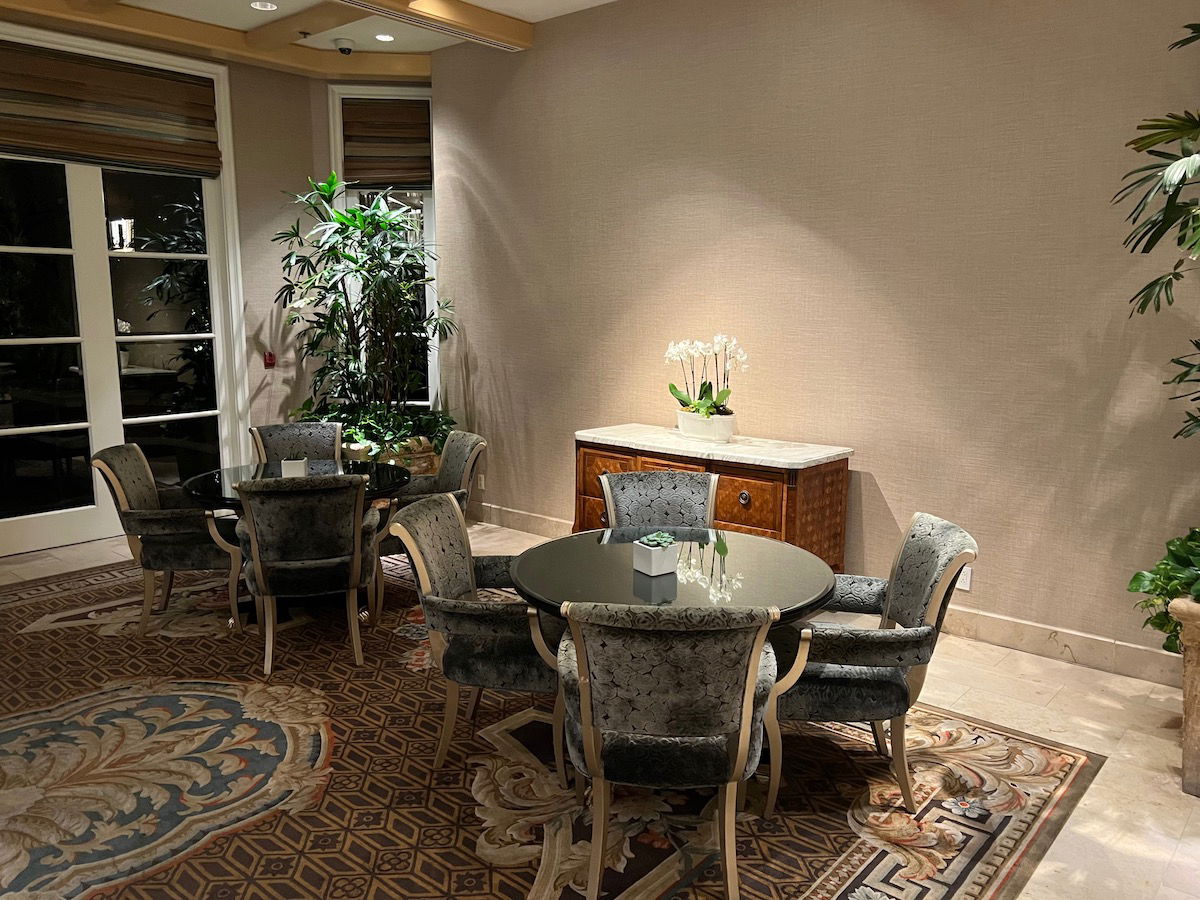 There's also a gorgeous garden outside with lots of greenery, which I assume is primarily used for special events, based on the layout.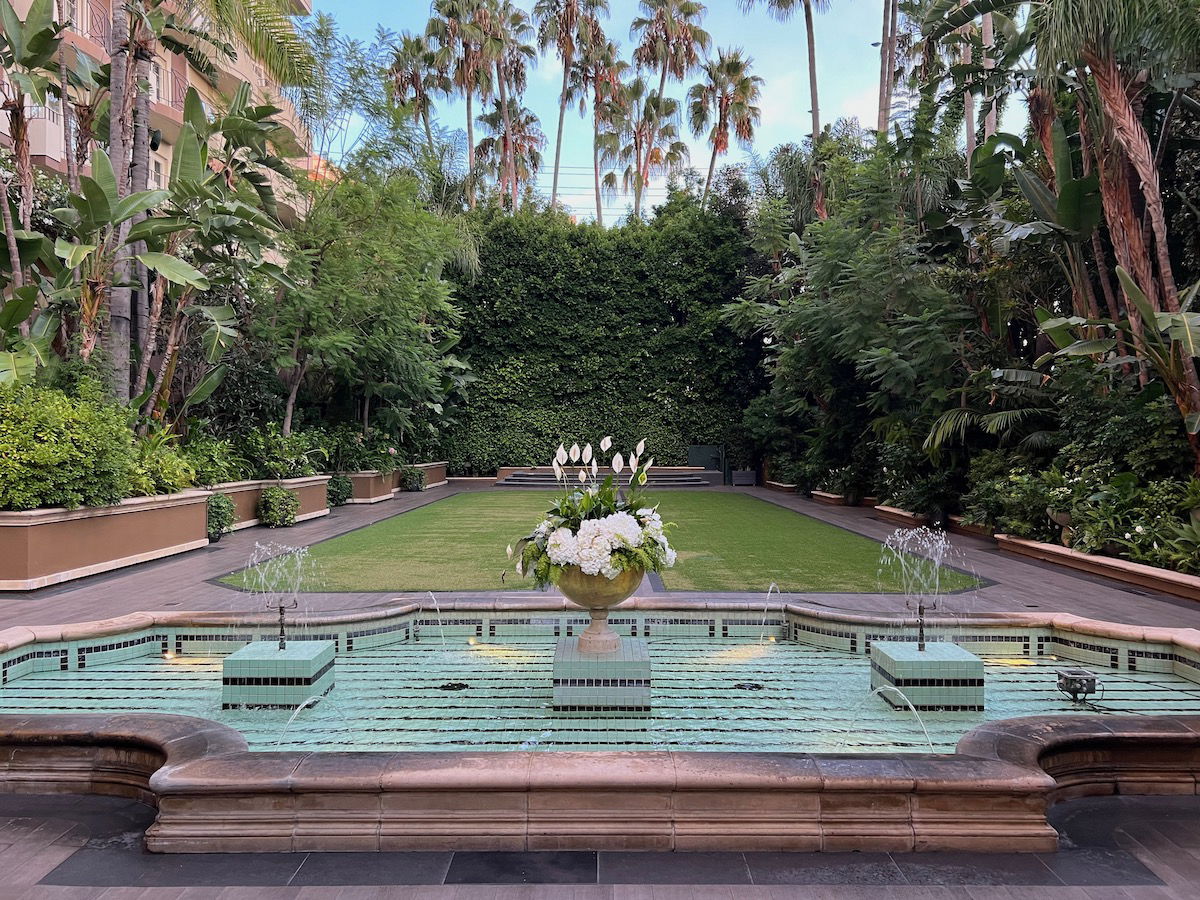 Inside the entrance to the hotel and to the right, the Four Seasons also has a lobby lounge, open nightly from 5PM until 10PM (and until 12AM on weekends), which has a bar and plenty of other seating options.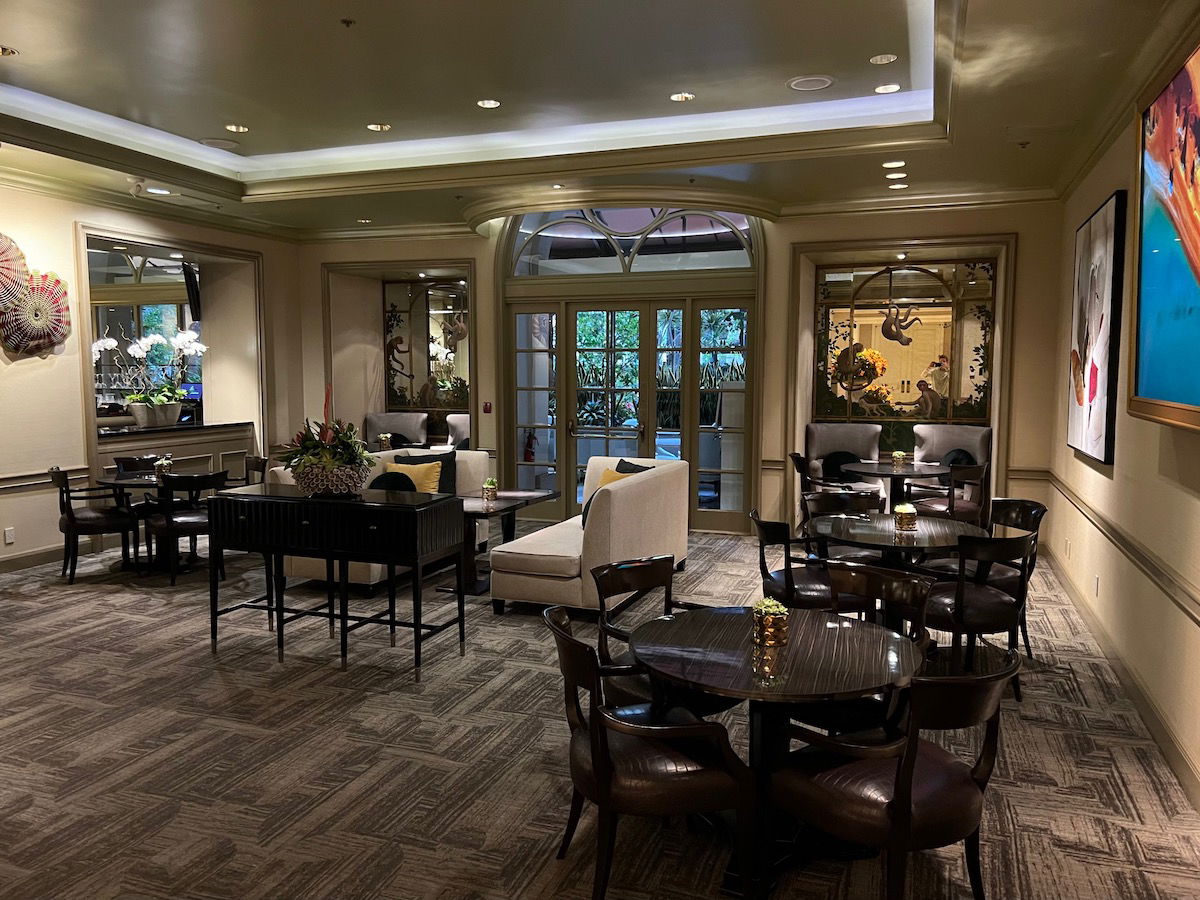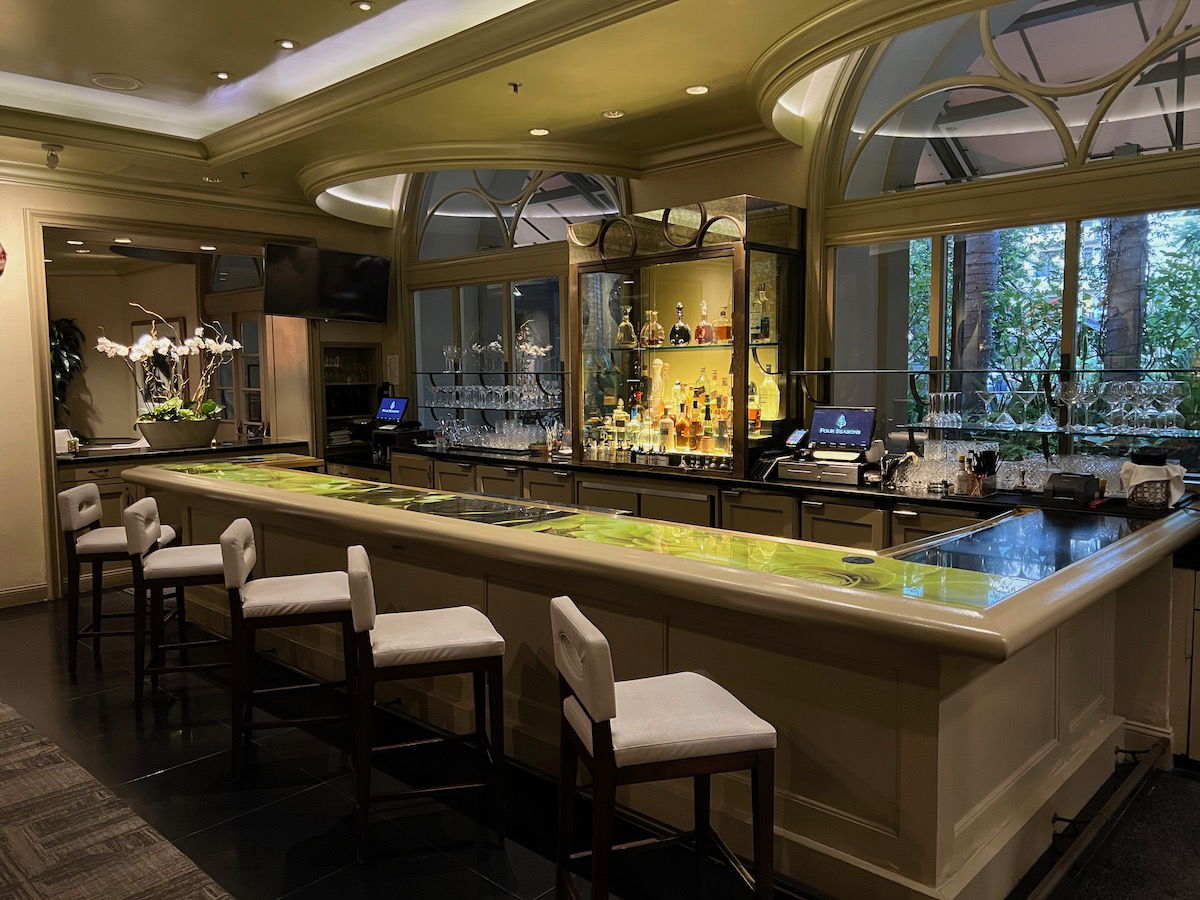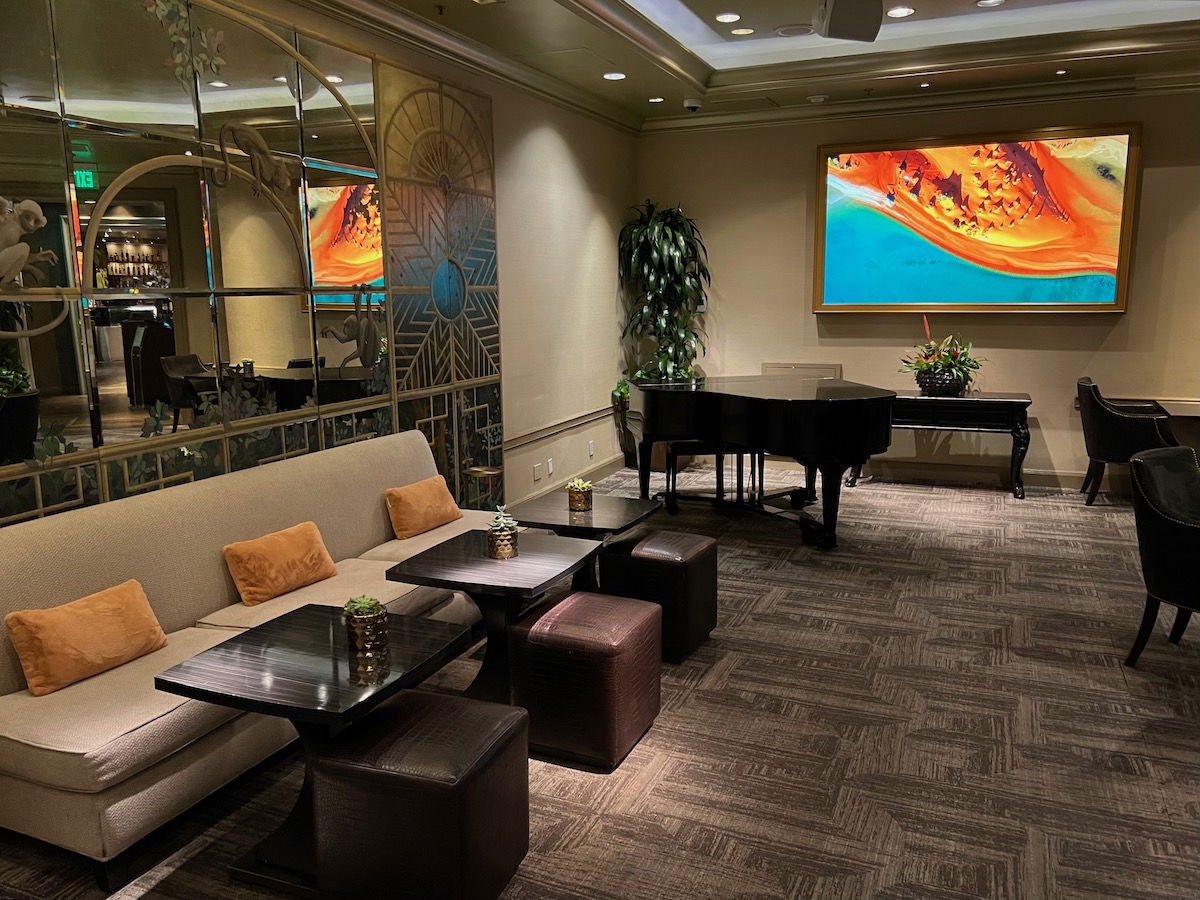 Also, as is standard at Four Seasons, in the morning the lobby has a selection of coffee and tea, plus some muffins. As someone who loves coffee, this is a feature I really appreciate about Four Seasons properties.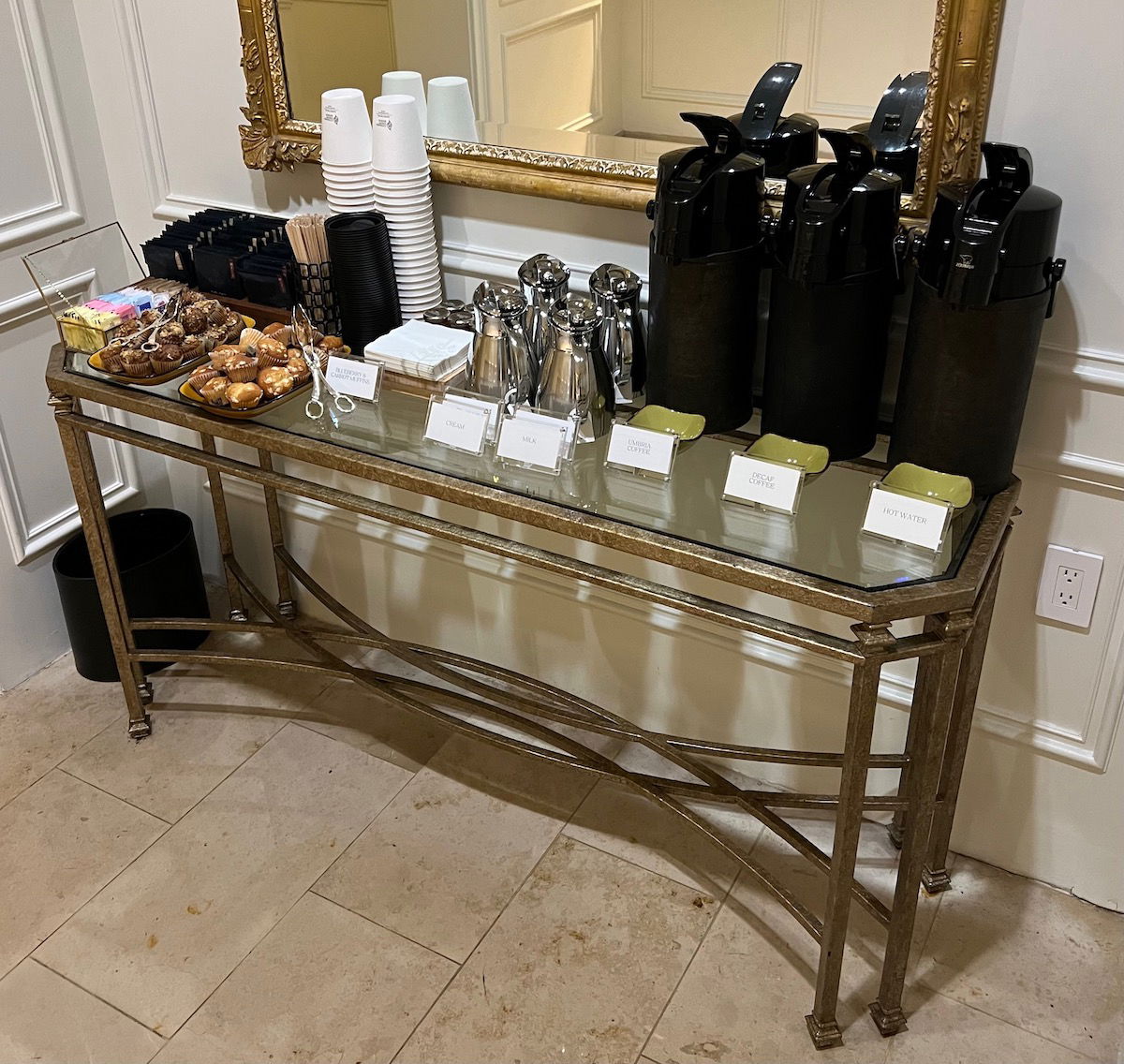 Four Seasons Los Angeles at Beverly Hills suite
The elevators are located just near reception. We were assigned room 921, located on the ninth floor (the hotel has 16 floors).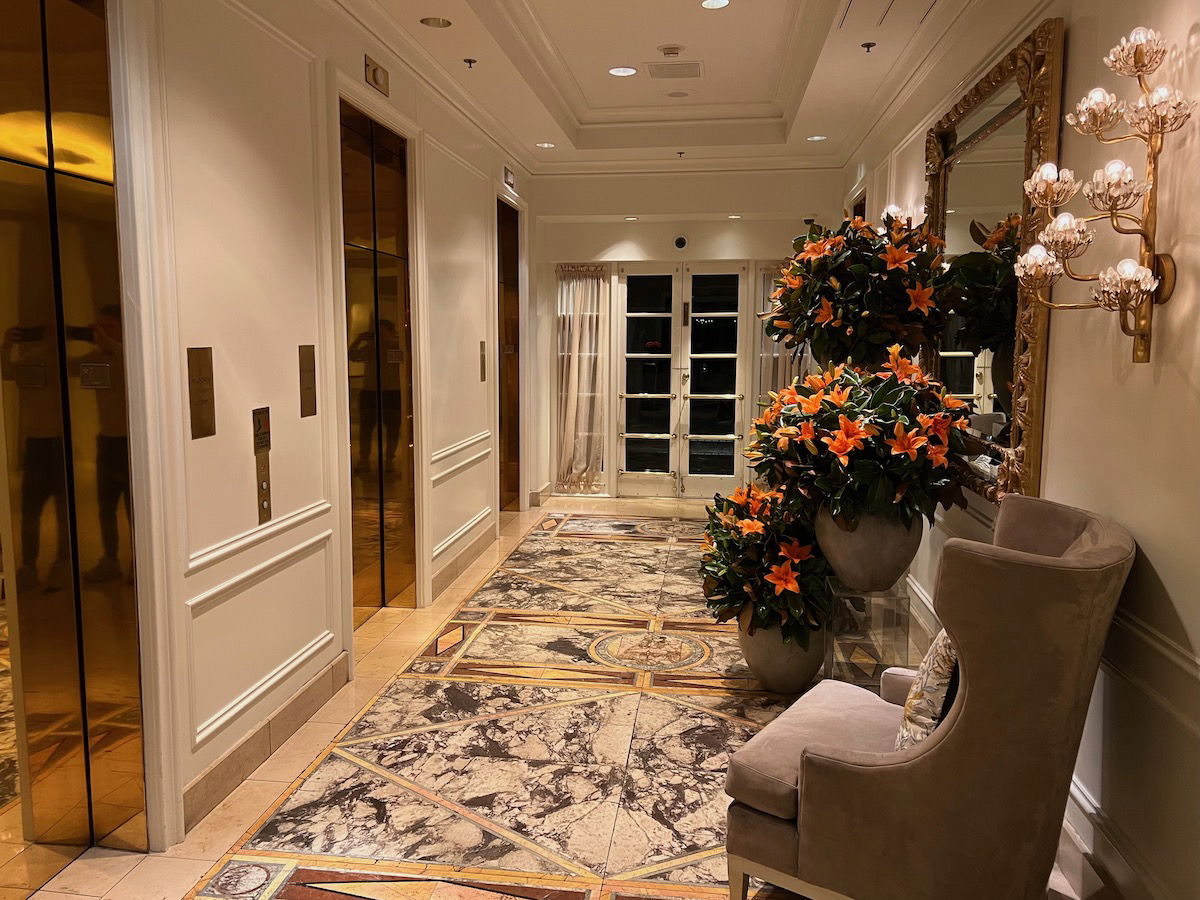 While the hotel's lobby feels classic, the guest rooms seem to have been recently renovated, and feel much more modern.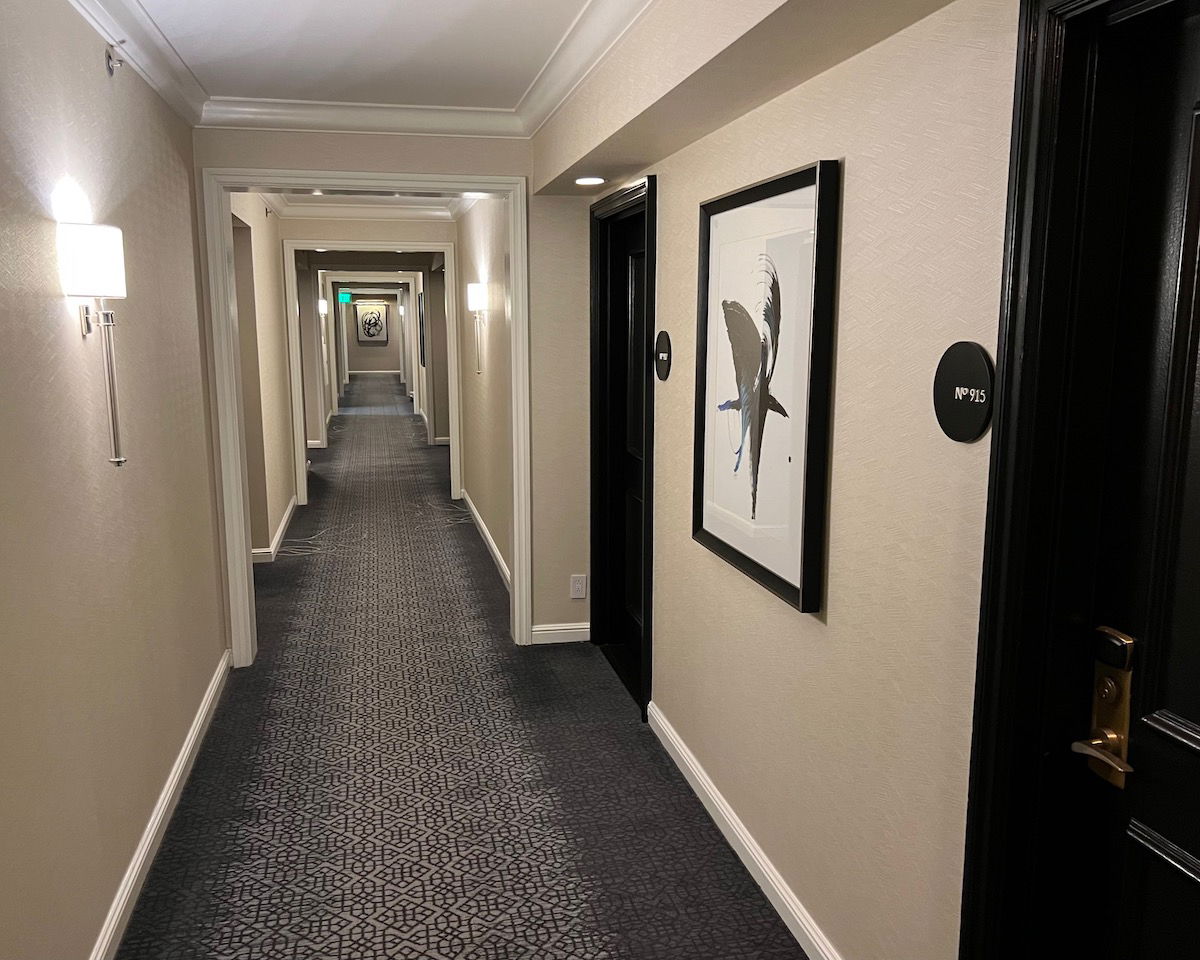 We were assigned a one-bedroom suite, which is marketed as being 860 square feet. This is a "proper" suite, consisting of two fully separate rooms. I got the sense that this may have been two separate rooms at some point in the past, as the room even had two separate, full bathrooms.
Upon entering the room we were in the living room, which featured an entryway with the bathroom on the left, and the rest of the room straight ahead.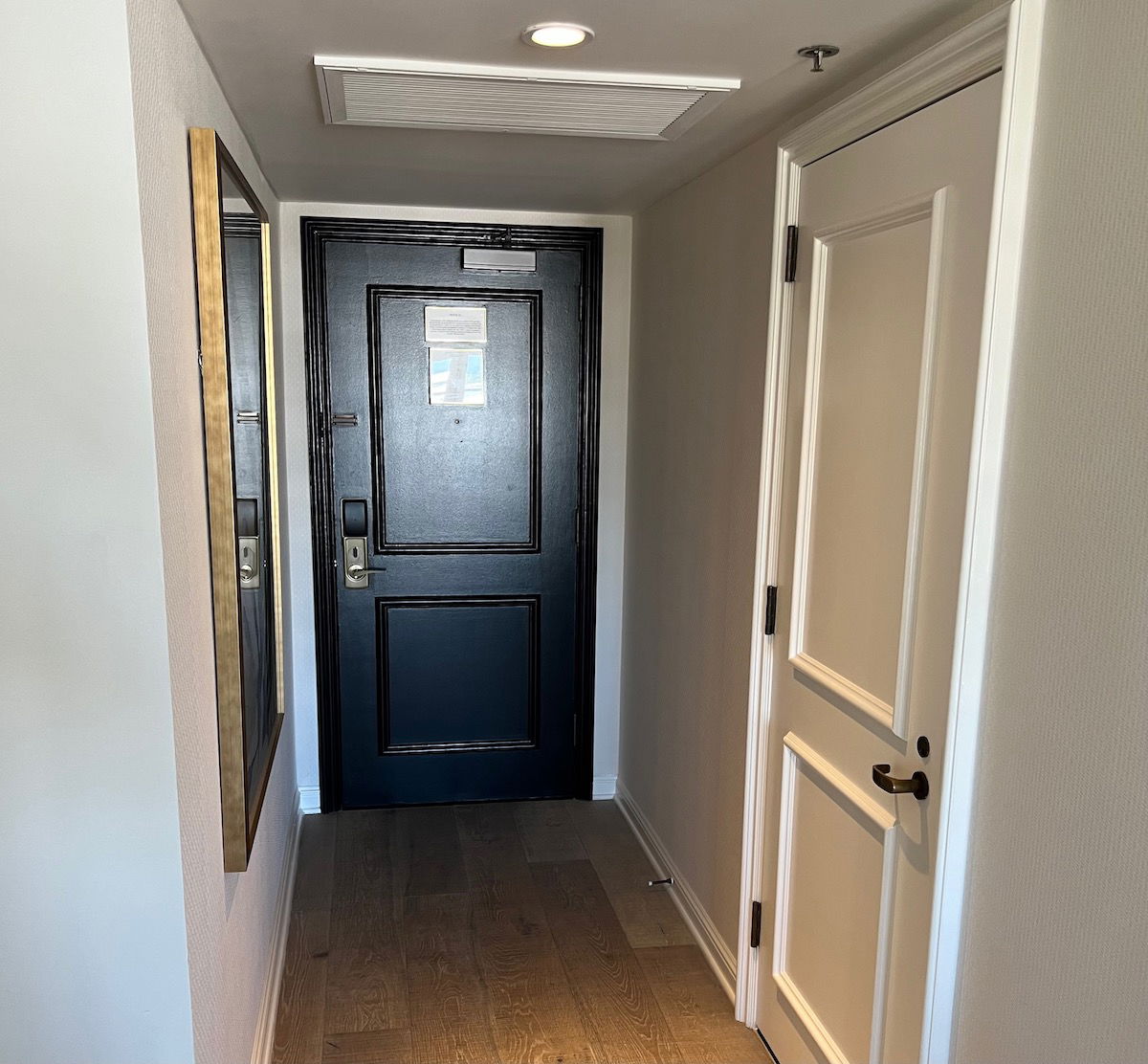 The living room was large, and had a sitting area with a couch and two chairs, a table with two chairs, and a wall-mounted TV.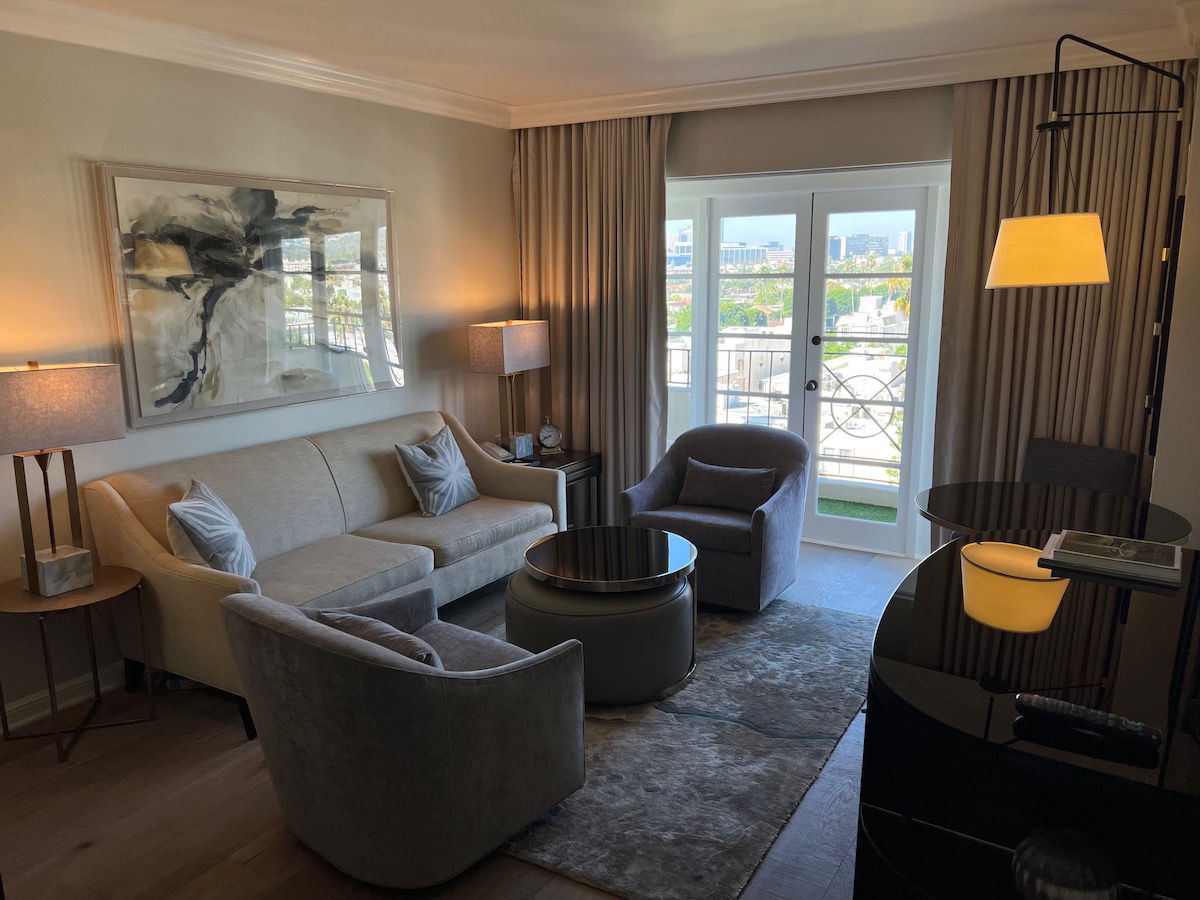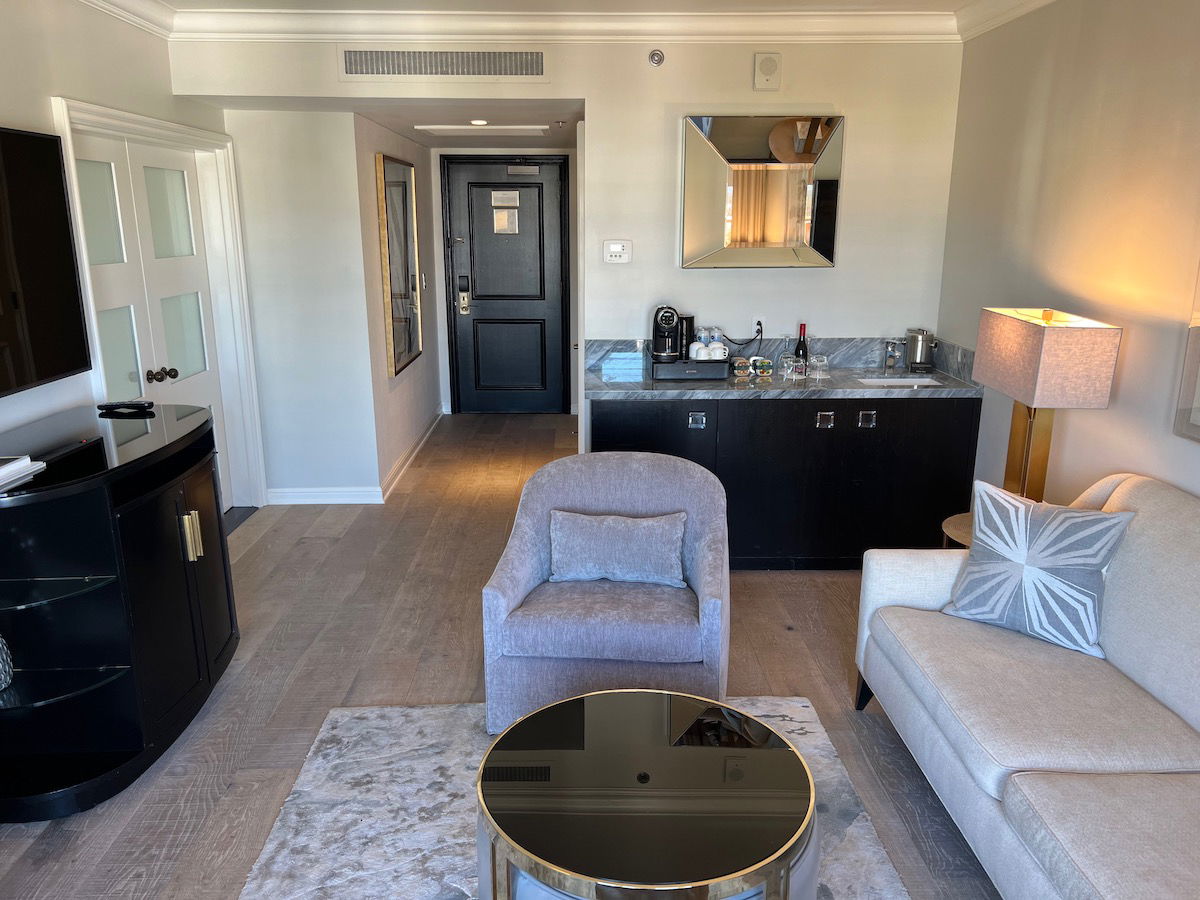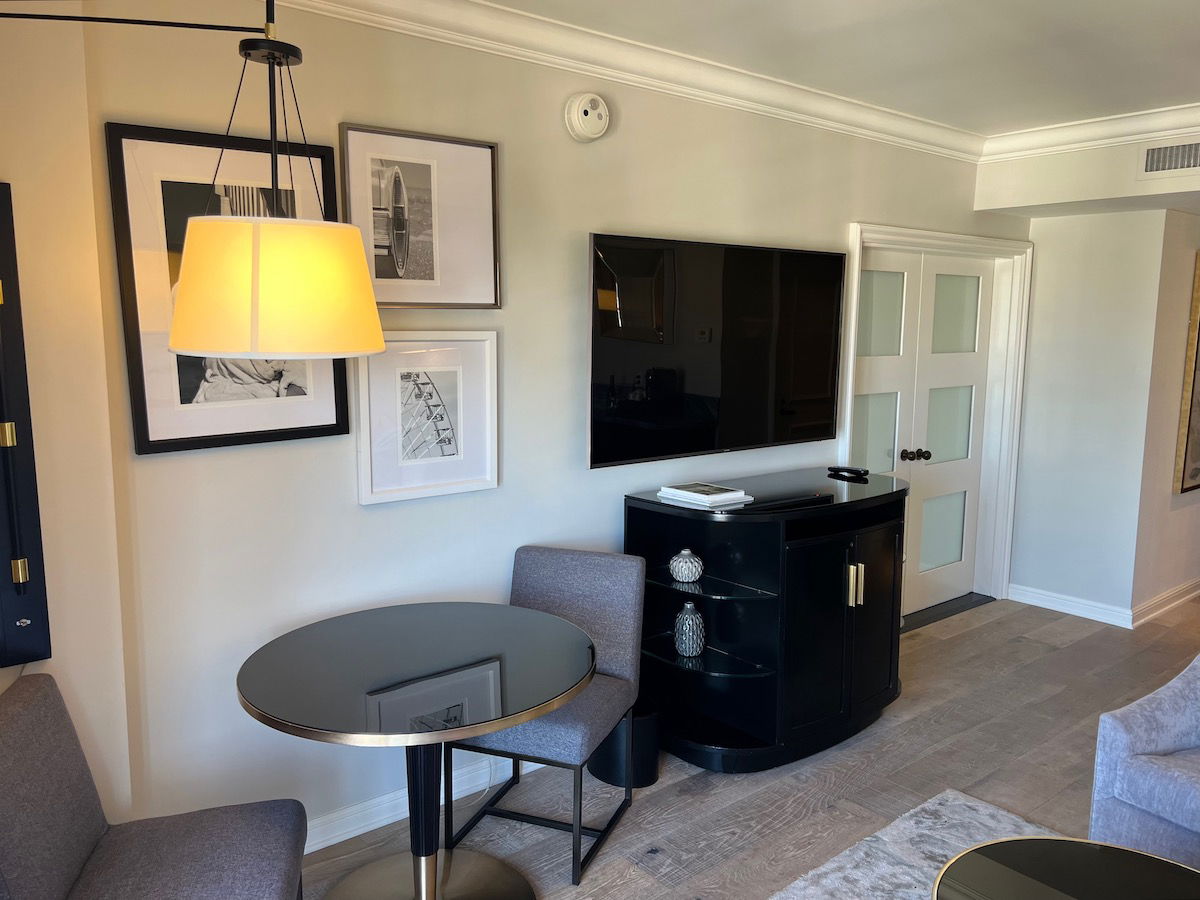 The minibar was back near the entrance to the room, and had a Lavazza espresso machine, a kettle and some tea, and a variety of snacks and drinks for purchase.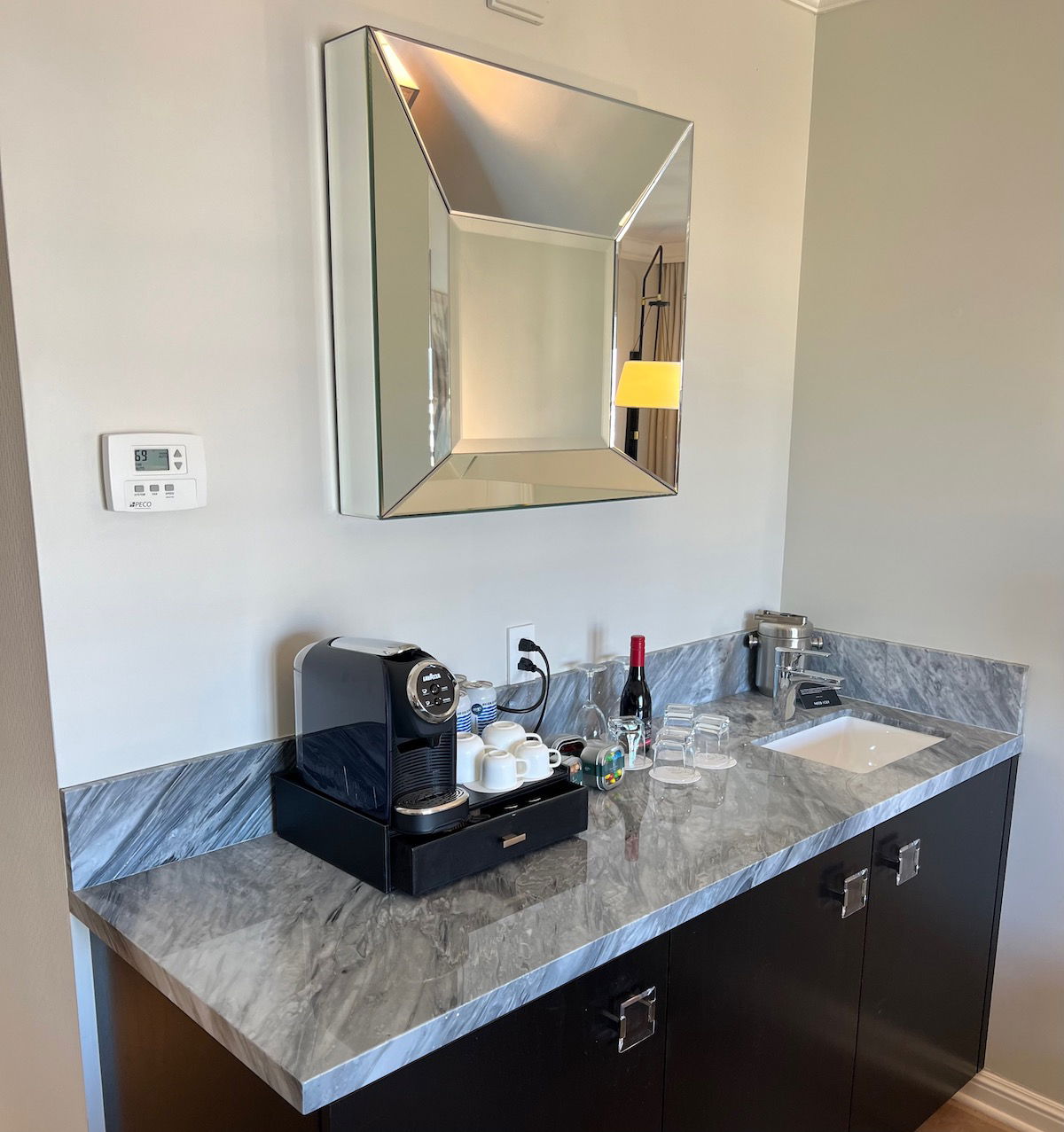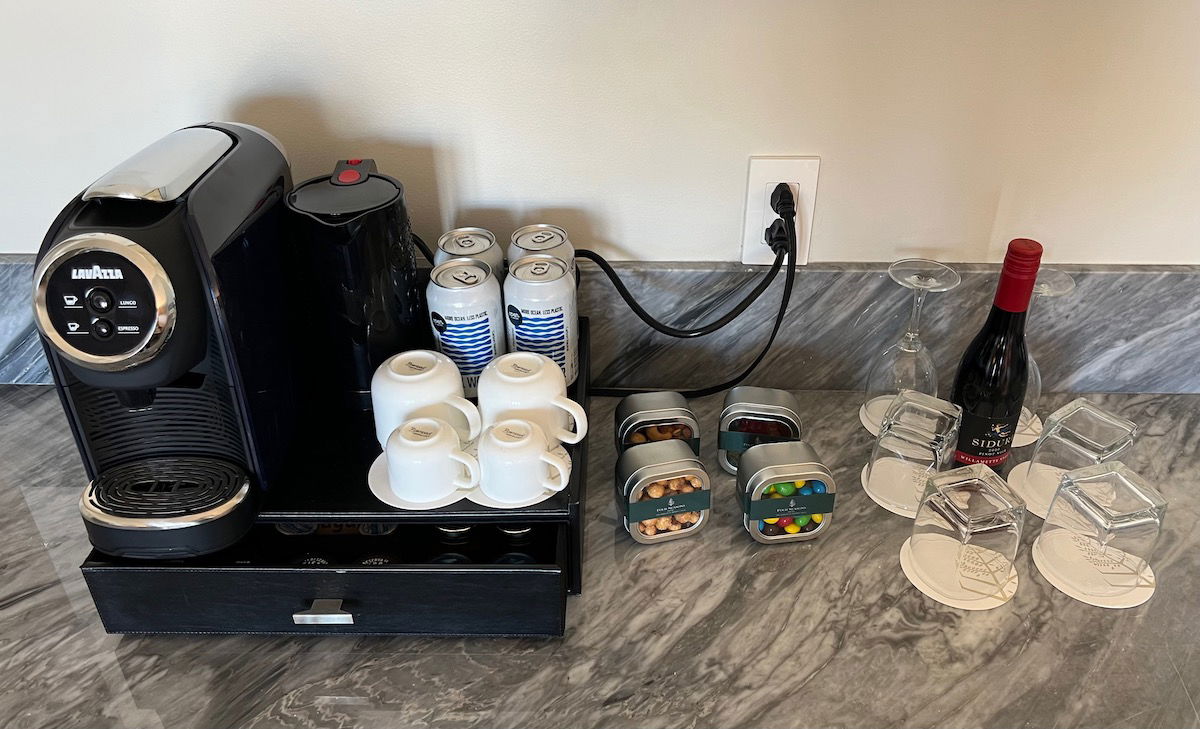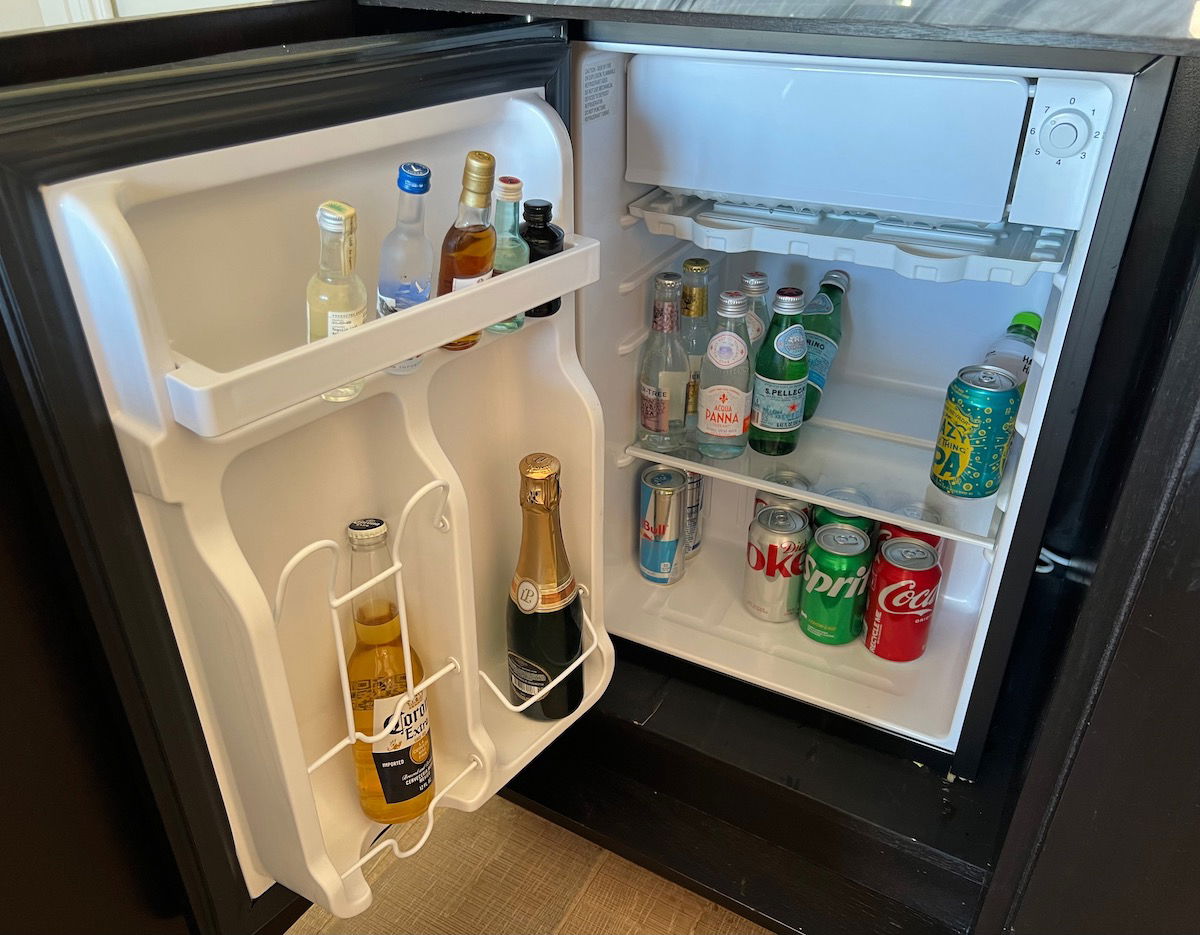 By the entrance was the second bathroom, which had a shower and tub shower, a toilet, and a sink. It sure is nice to have a full second bathroom in a suite, and it makes it a great option for families!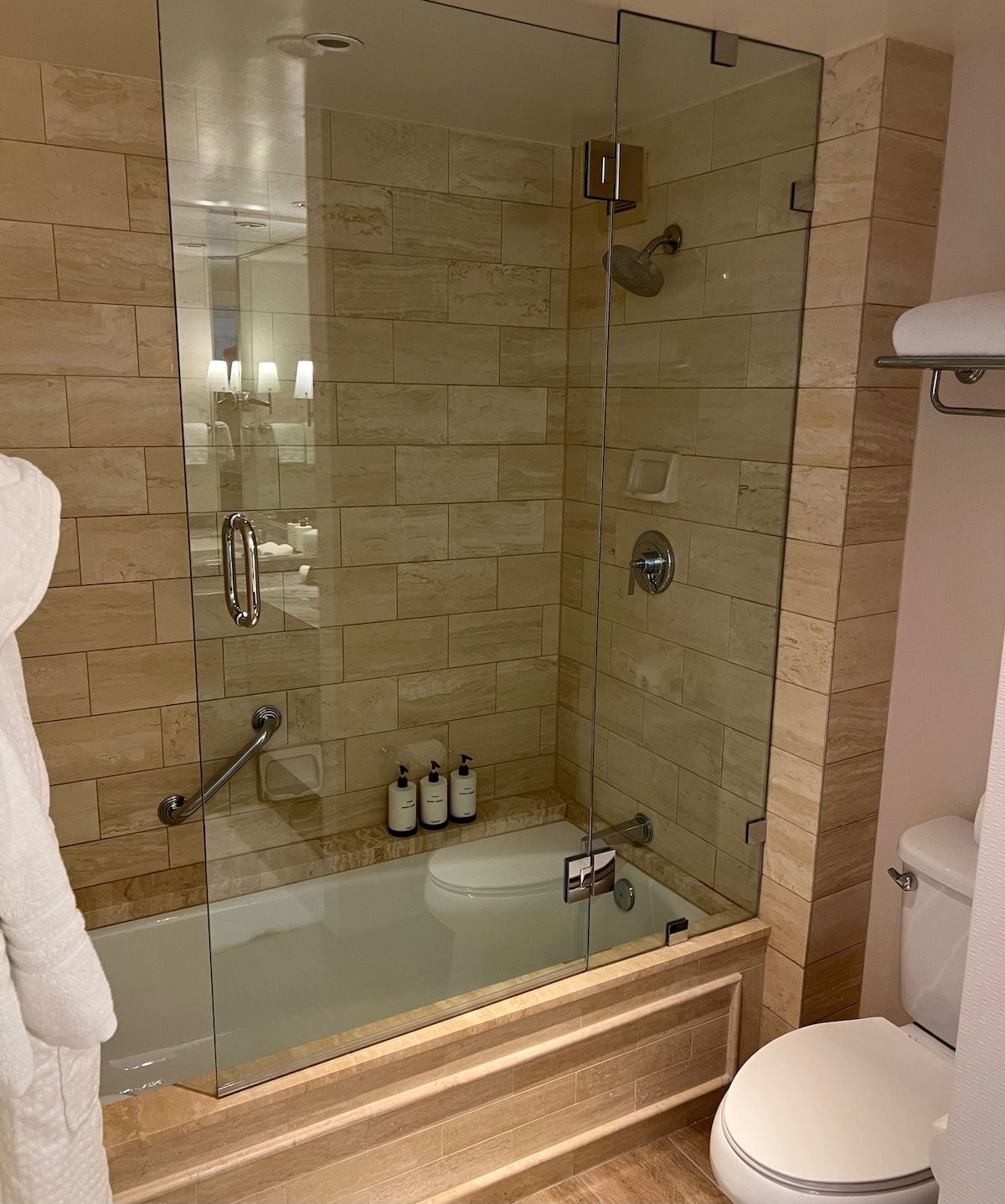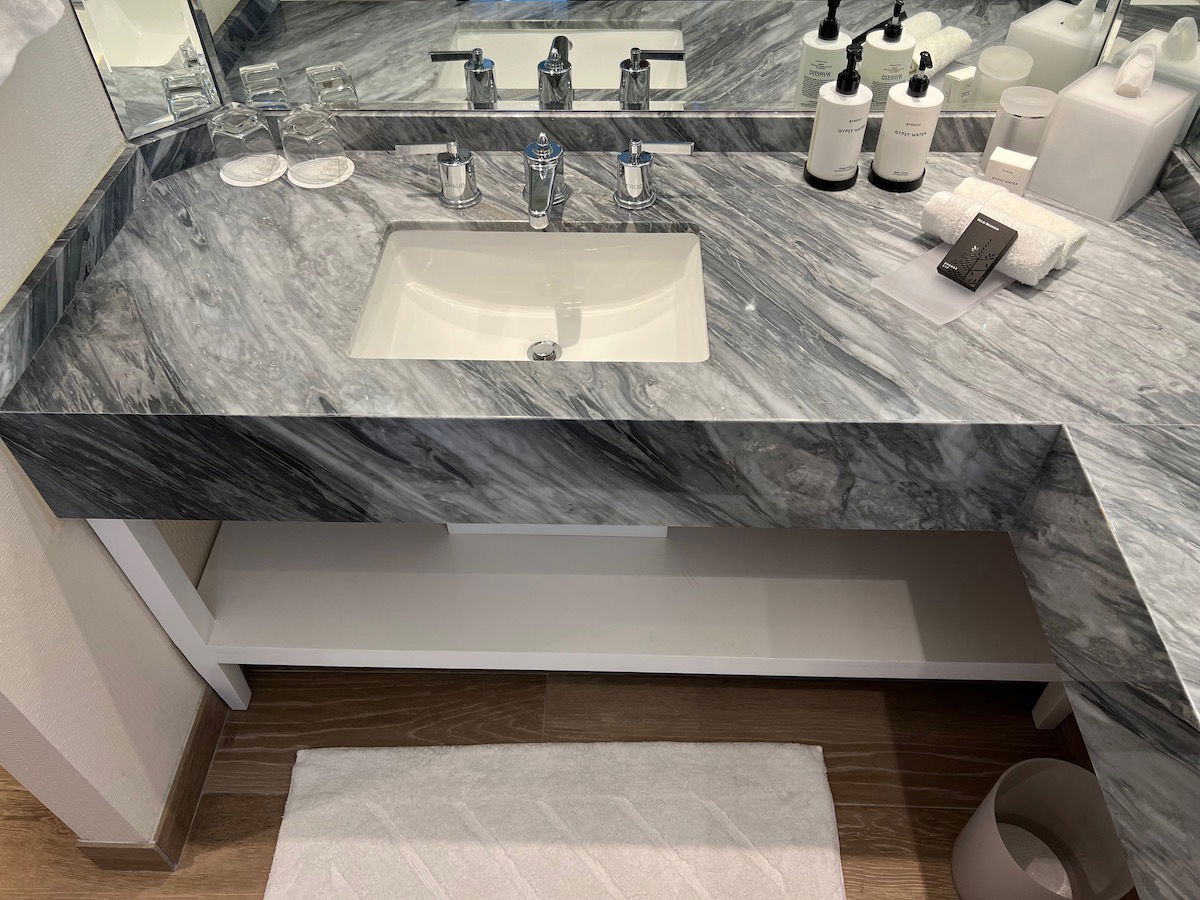 The bedroom was then separated from the living room by a set of double doors, allowing full privacy between the two spaces. The bedroom had a Four Seasons signature bed (the most comfortable hotel bed there is, in my opinion), as well as a comfortable chair in the corner, plus a TV.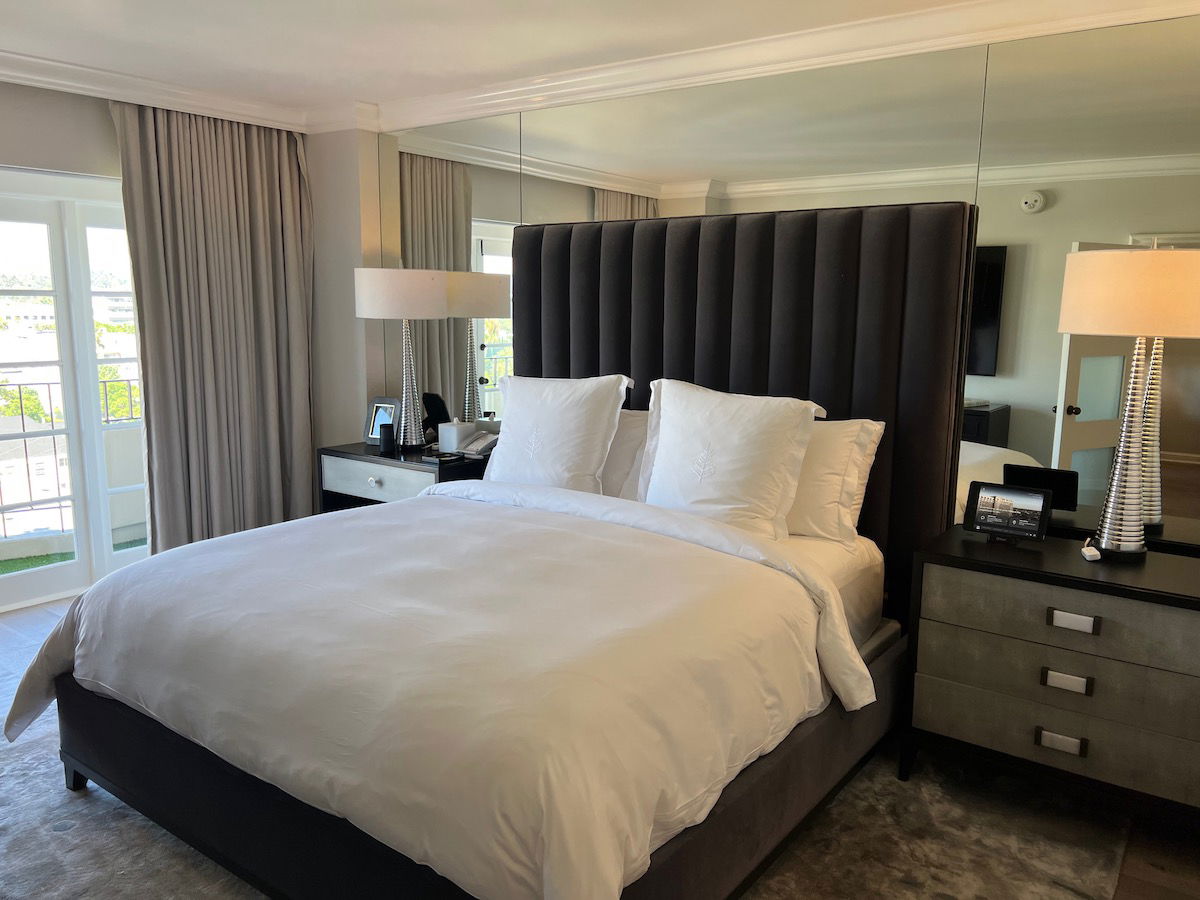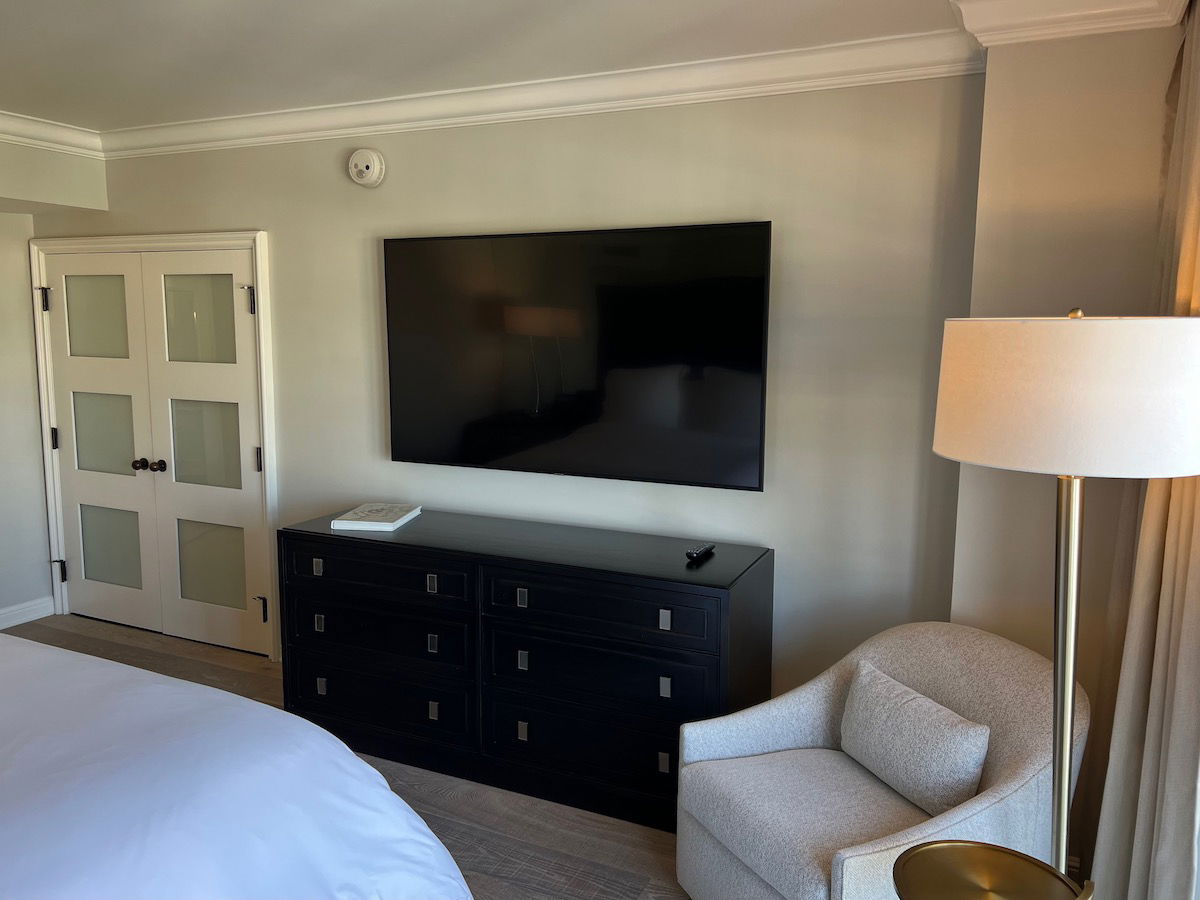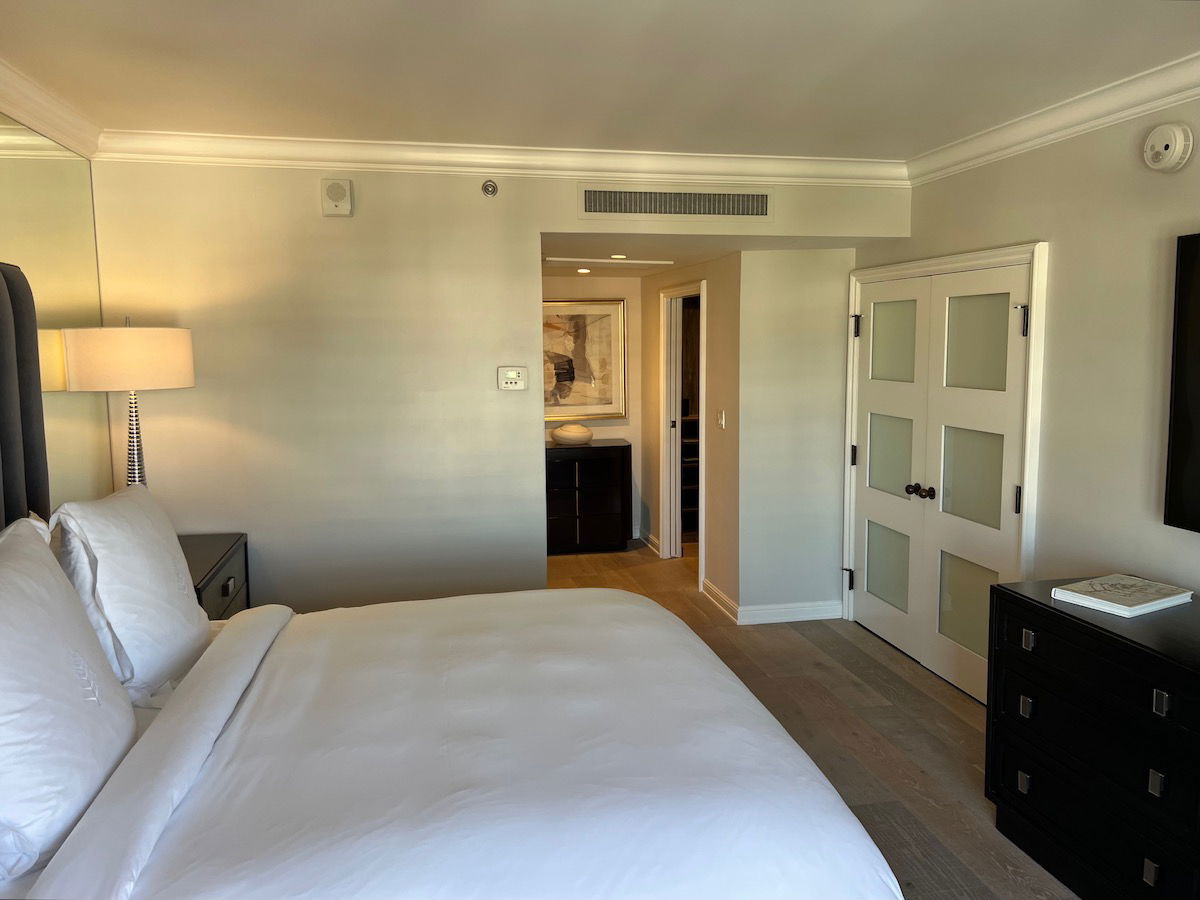 Off the bedroom, there was a large closet area, so that you can keep the luggage out of the rest of the room.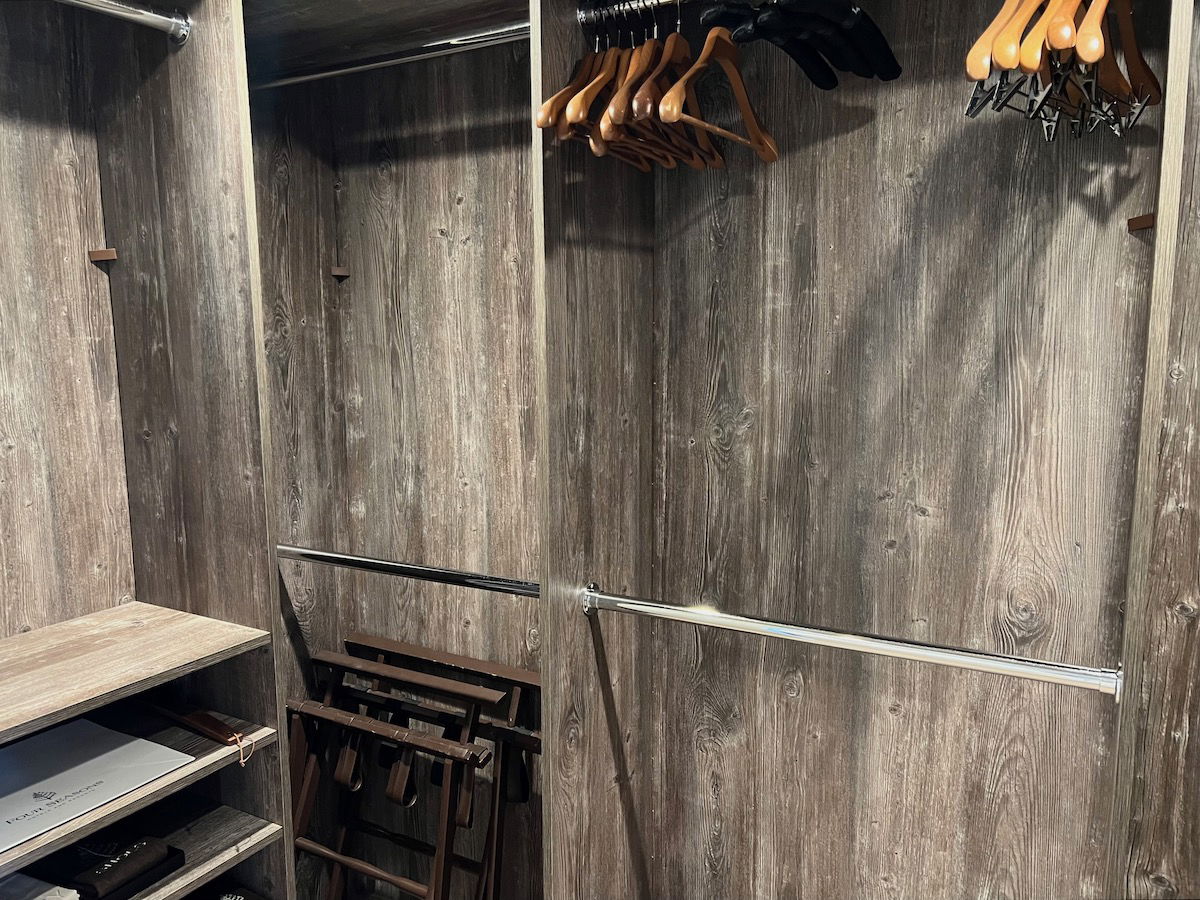 This bathroom had a sink, a walk-in shower, and a toilet. Usually a suite would have double sinks, though in this case the two sinks were simply in different rooms. 😉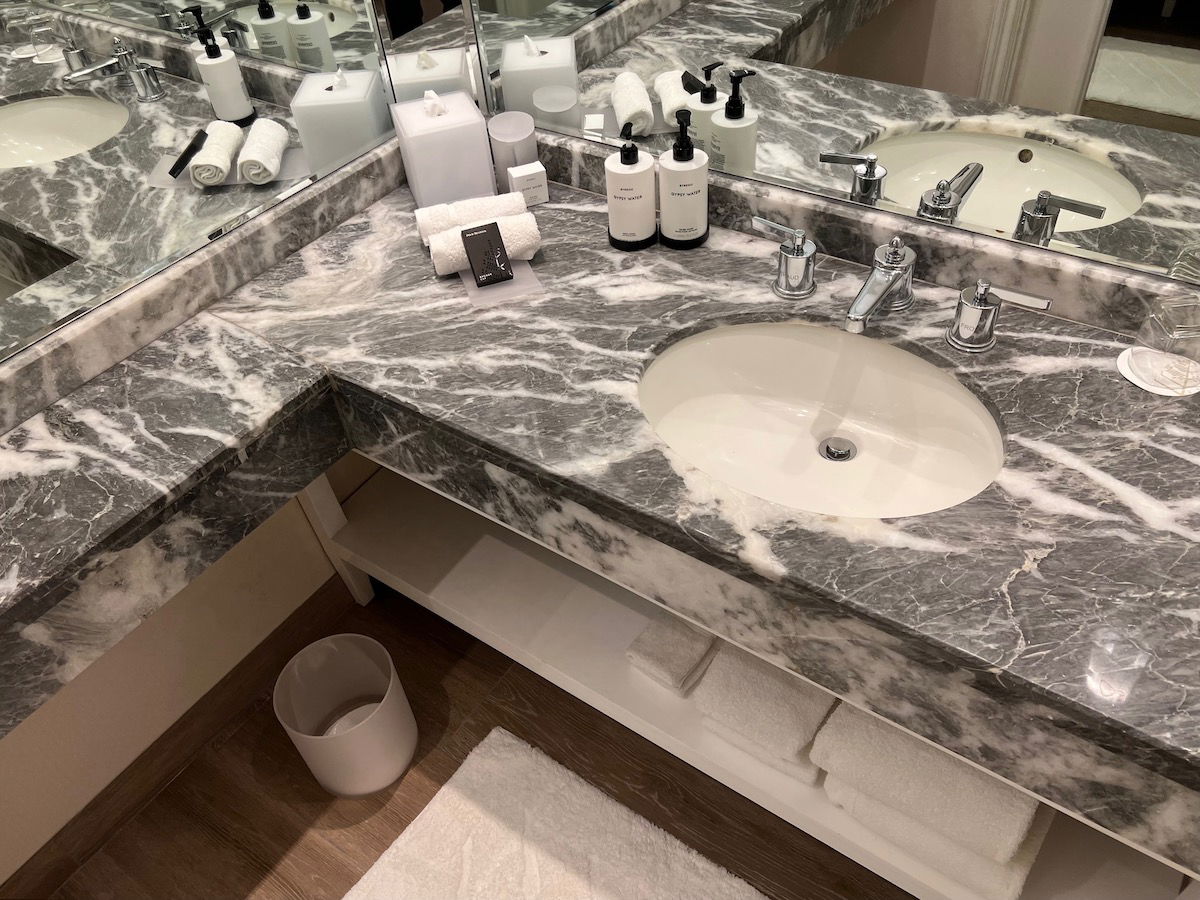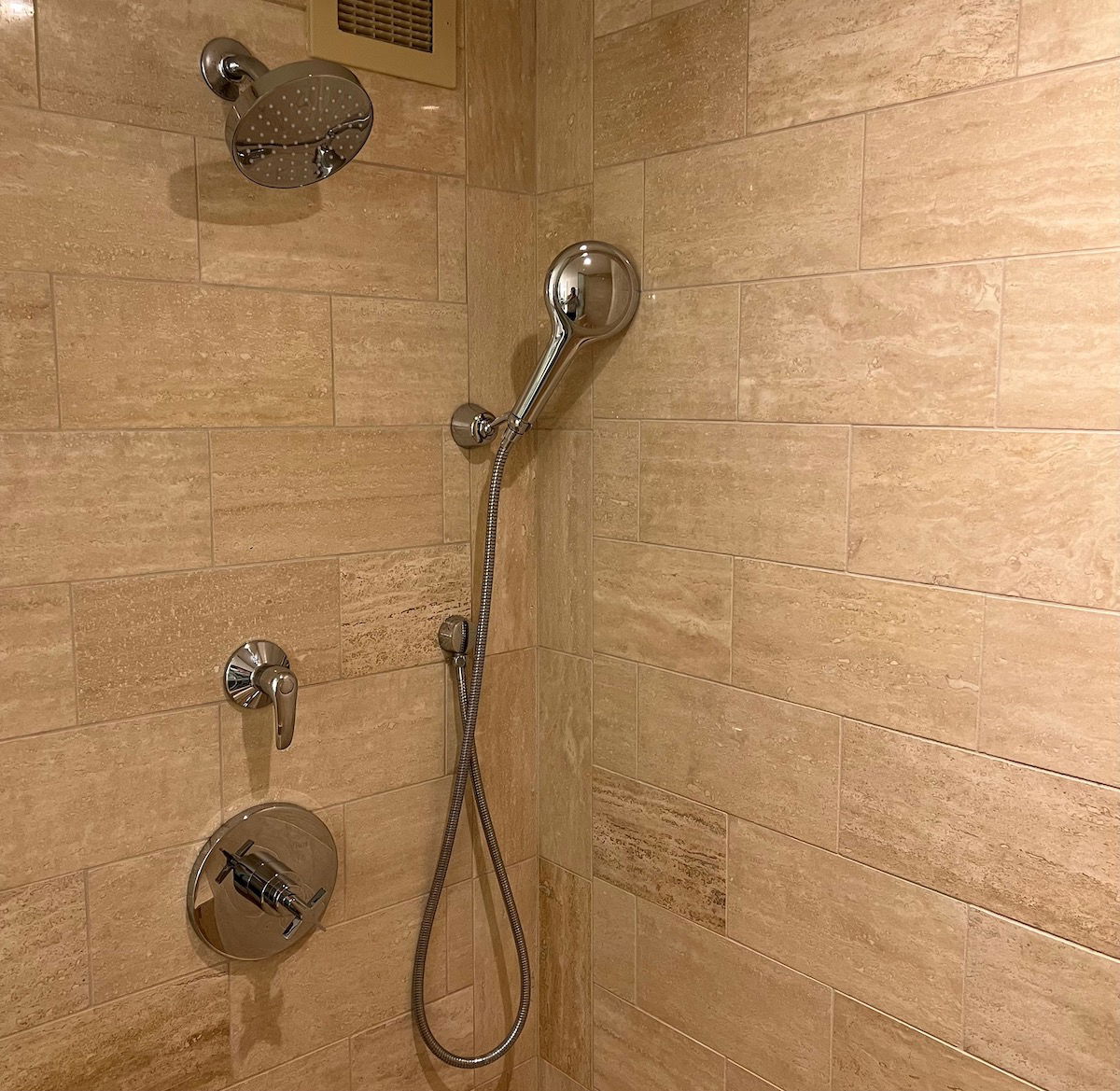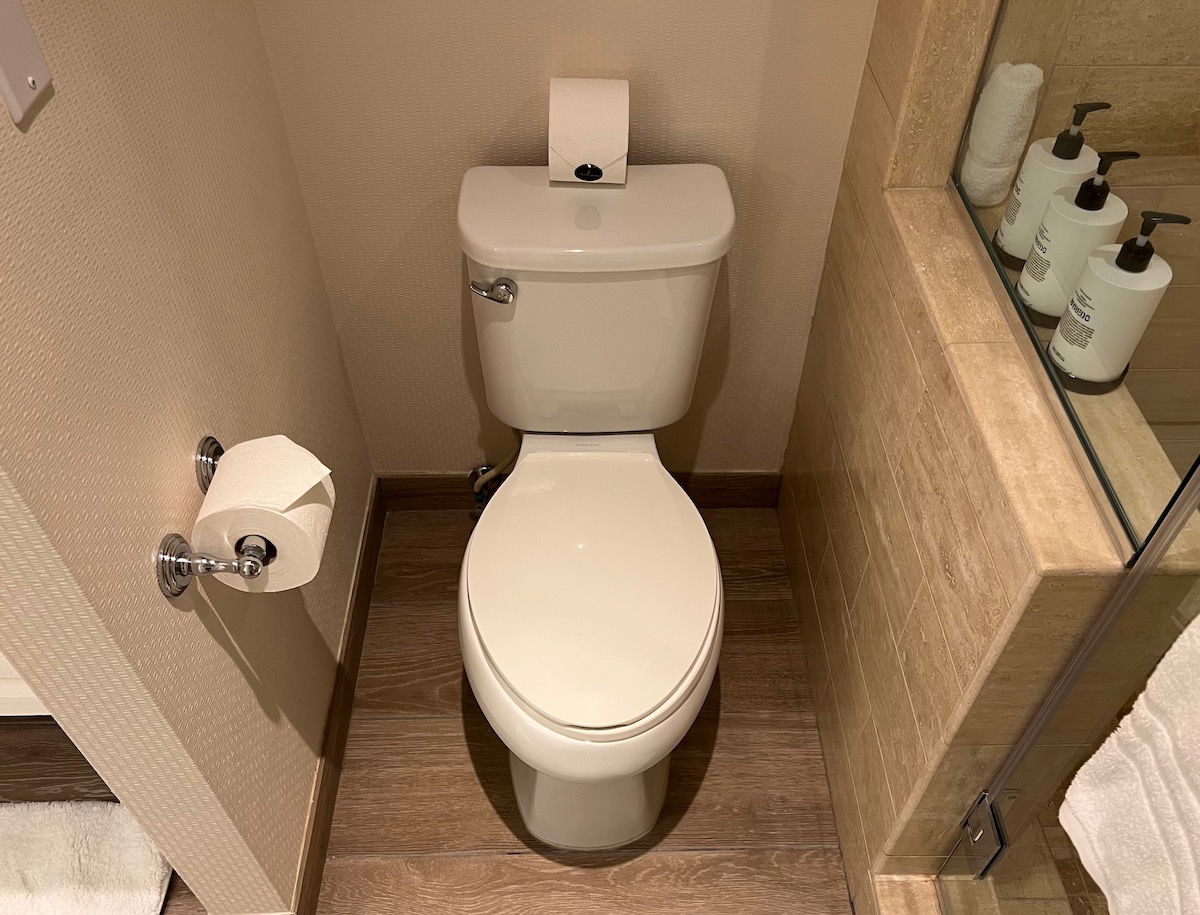 Toiletries were from BYREDO, and were in reusable containers.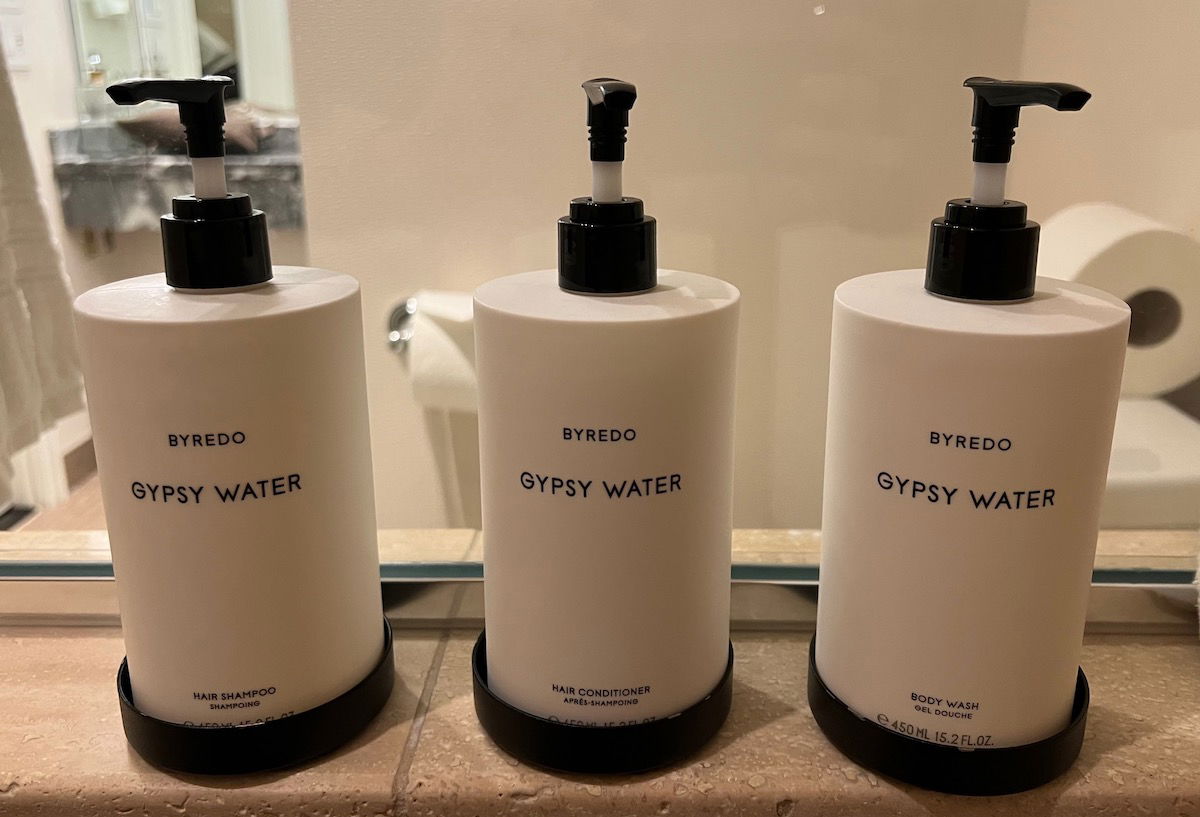 The room contained two separate balconies, with stunning views of the area. The views were especially dramatic at sunrise and sunset.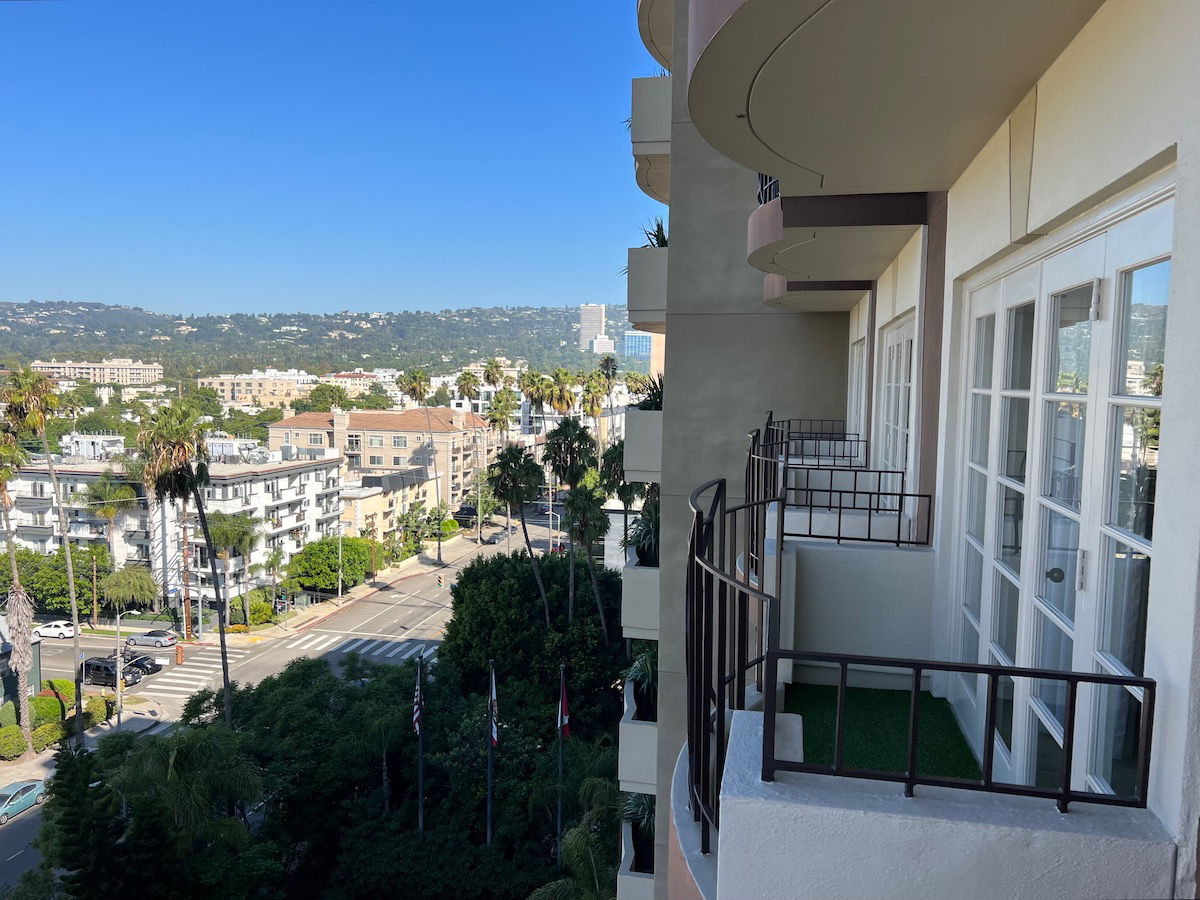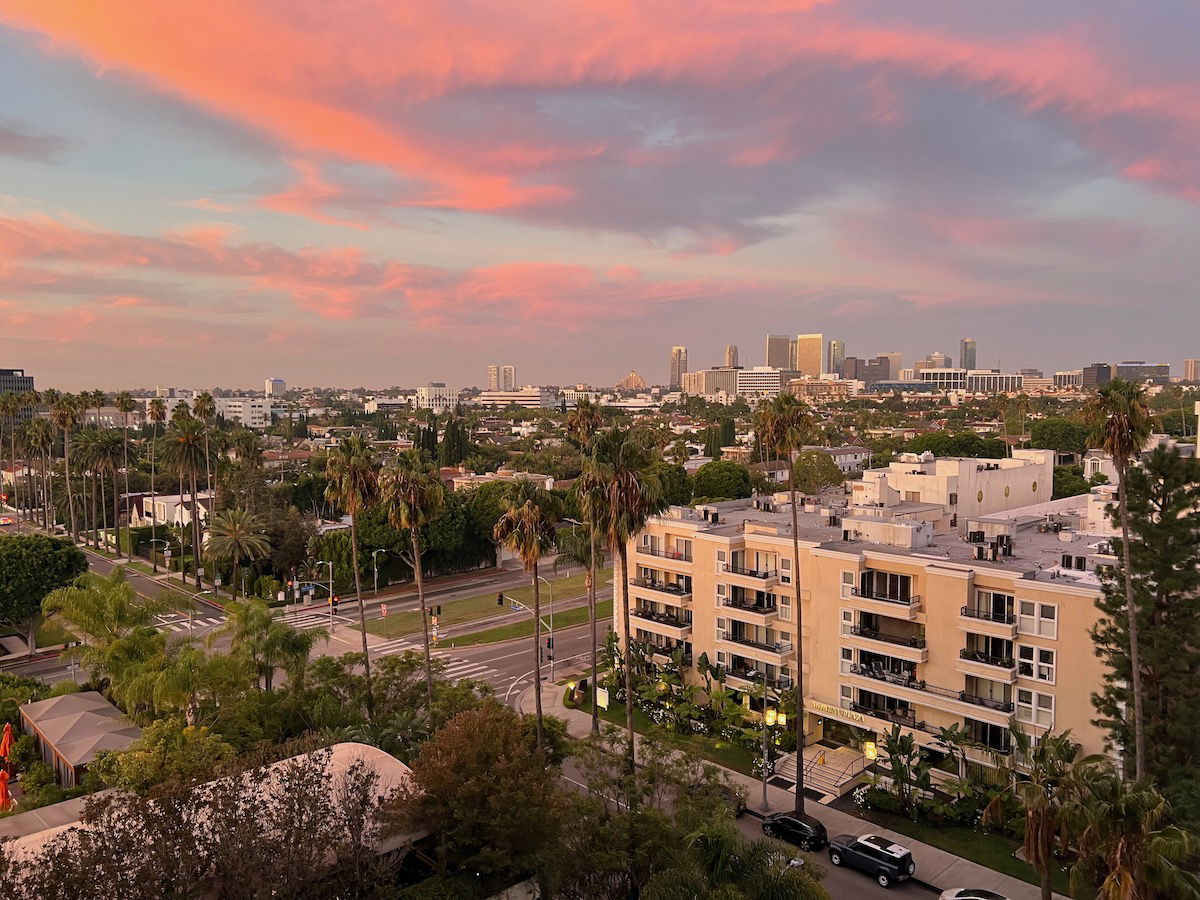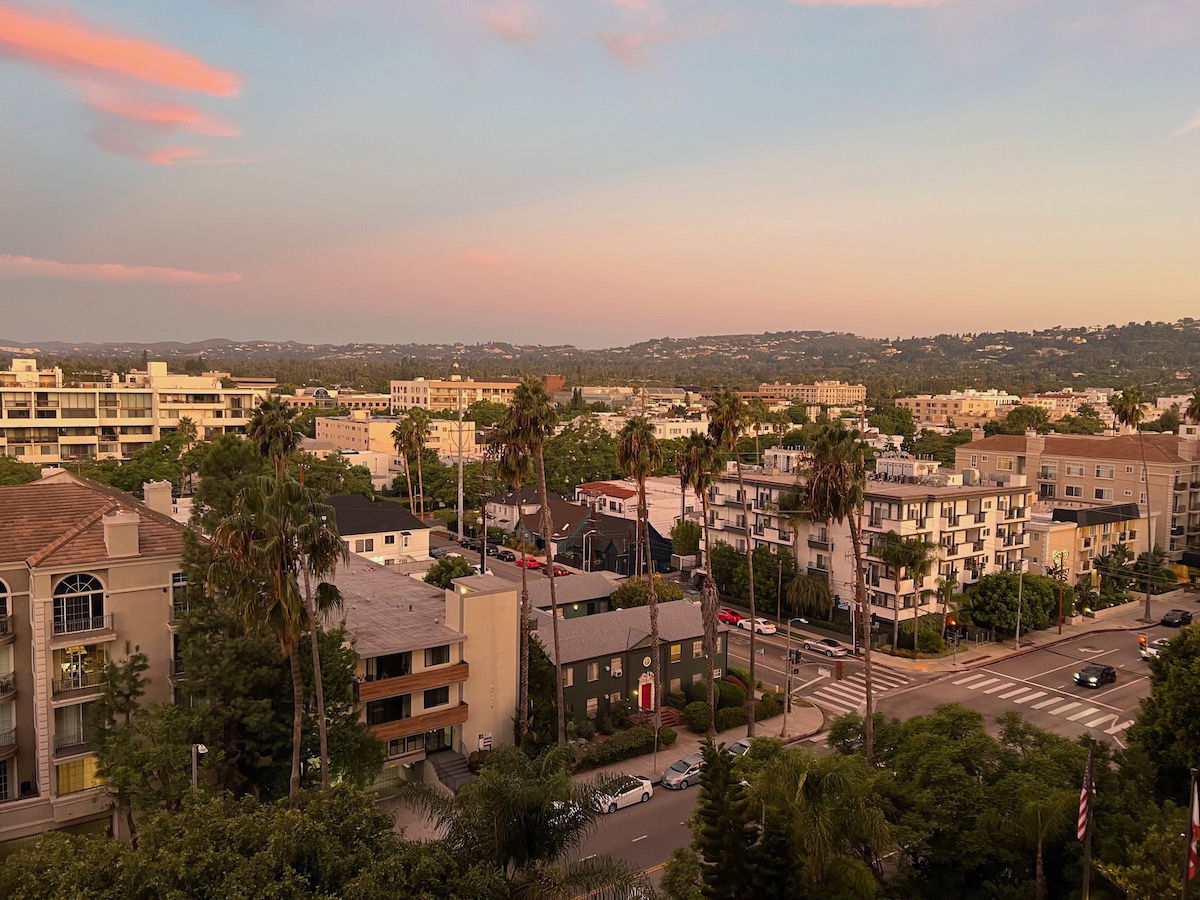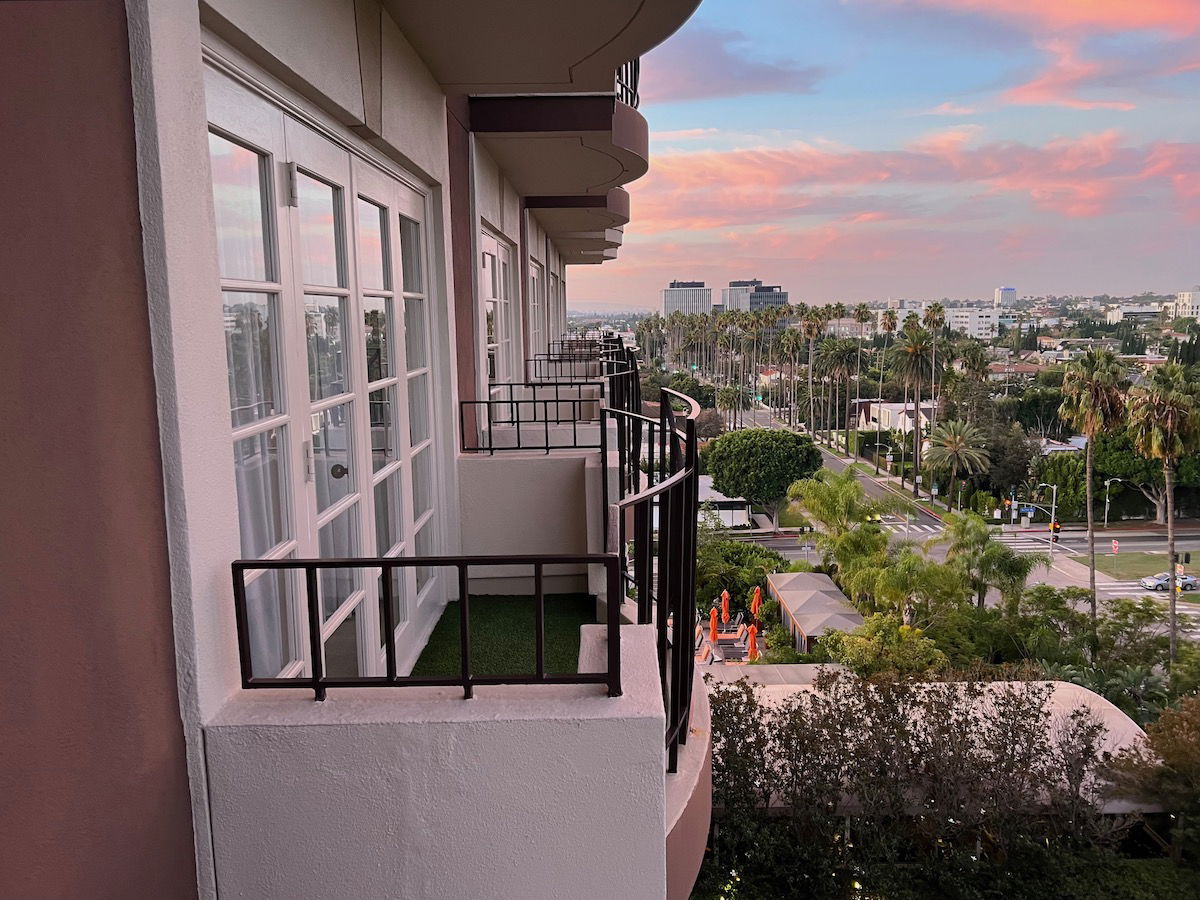 A while after getting to our room, we were brought a welcome amenity, consisting of a delicious plate of berries in the shape of California.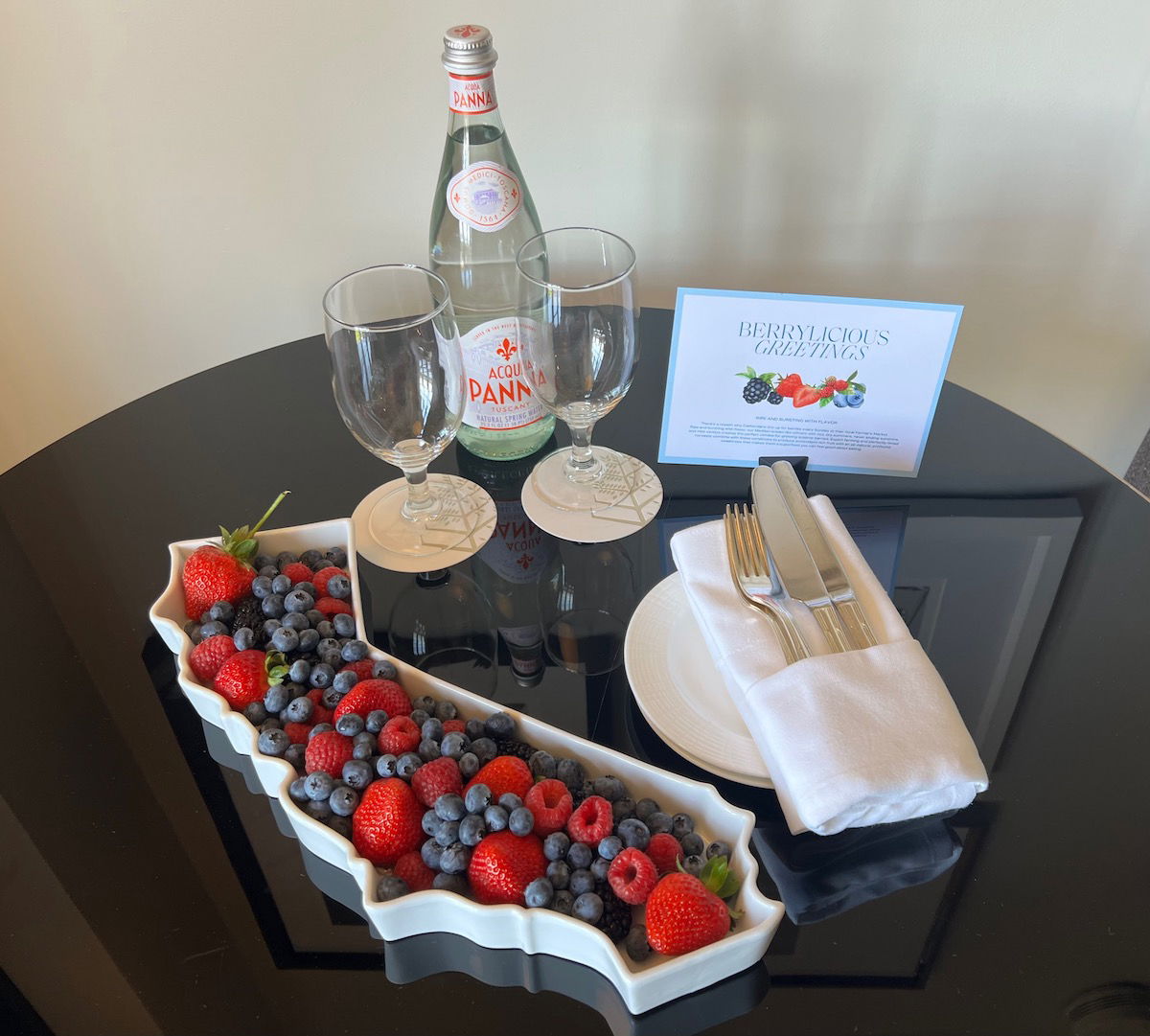 Turndown service was offered in the evening, and in-room Wi-Fi was fast and free.
Four Seasons Los Angeles at Beverly Hills pool
The Four Seasons Los Angeles at Beverly Hills has a pool terrace located on the fourth floor, open daily from 7AM until 9PM. It's a lap pool with plenty of seating around it, including lounge chairs, as well as cabanas that can be rented.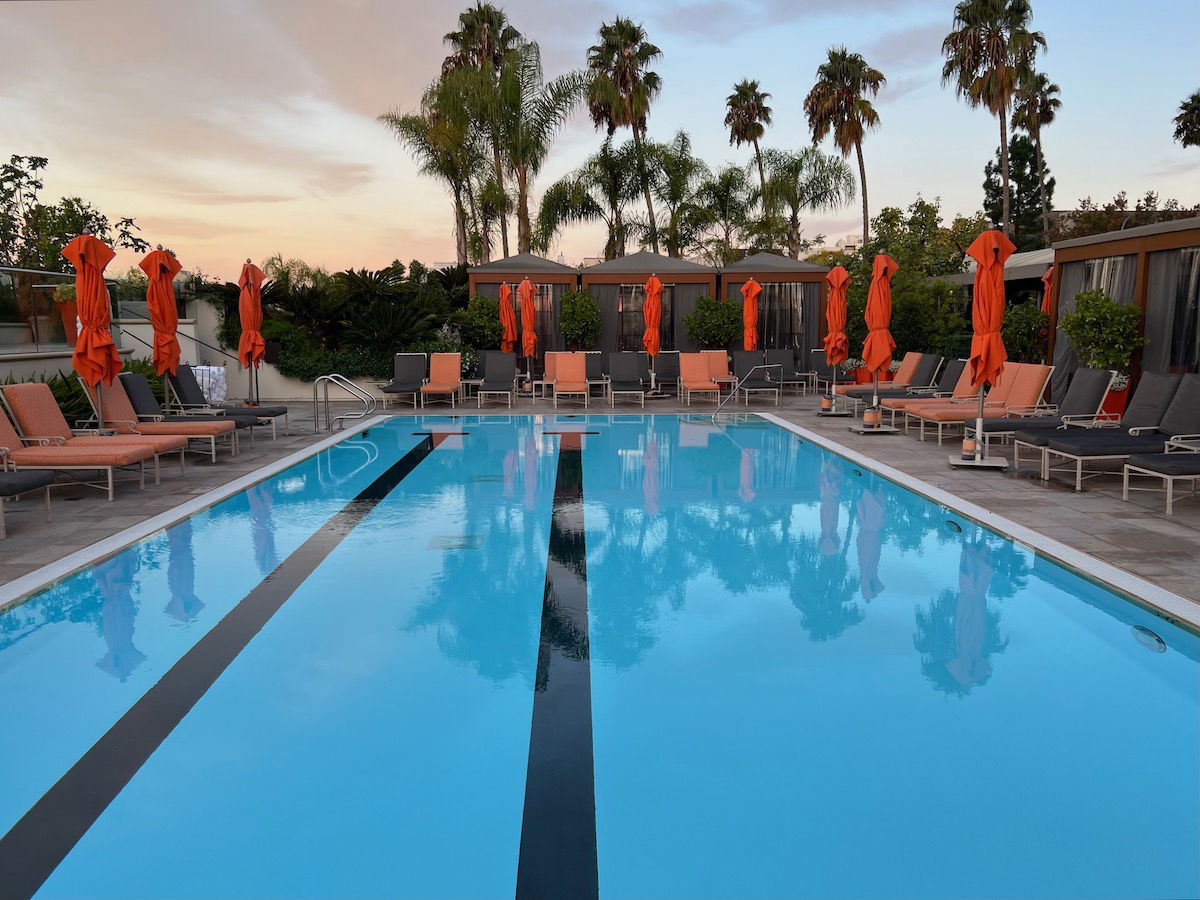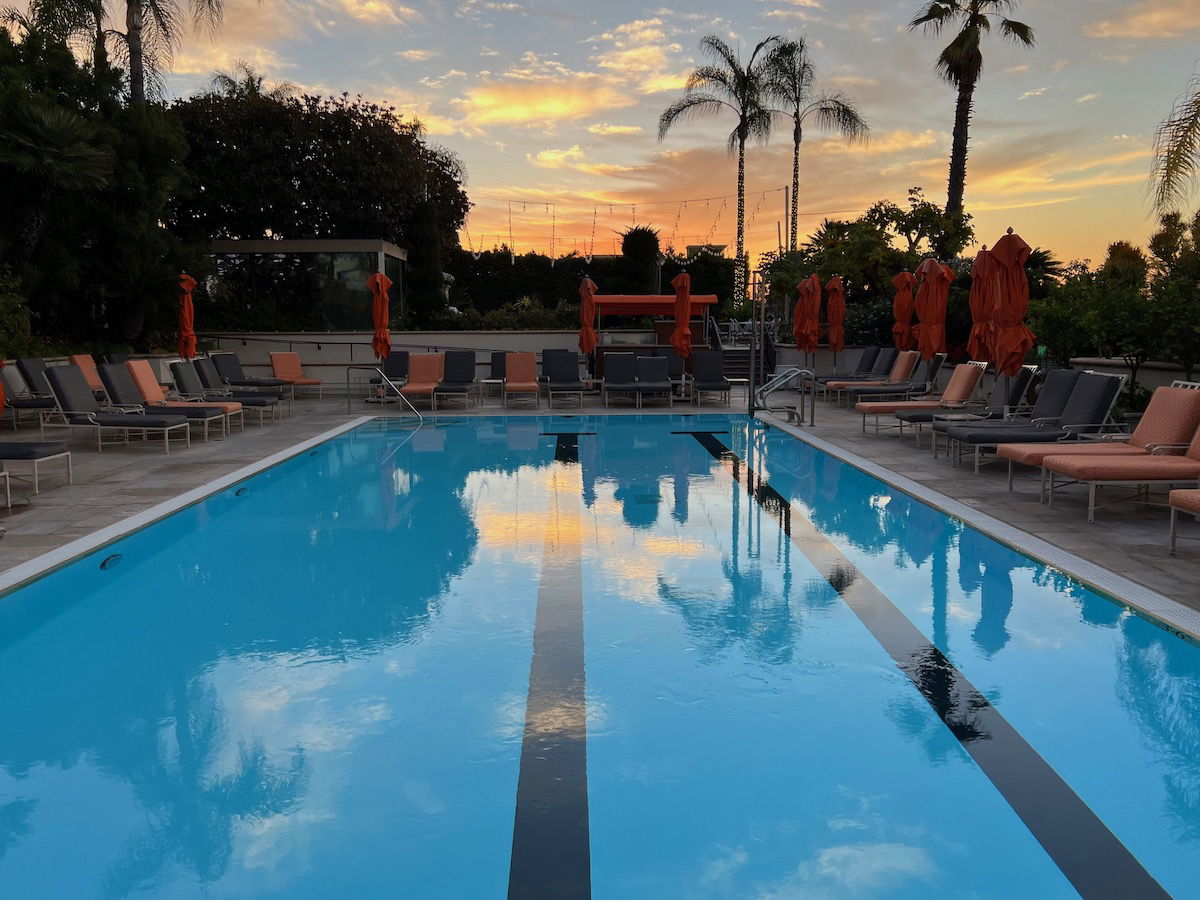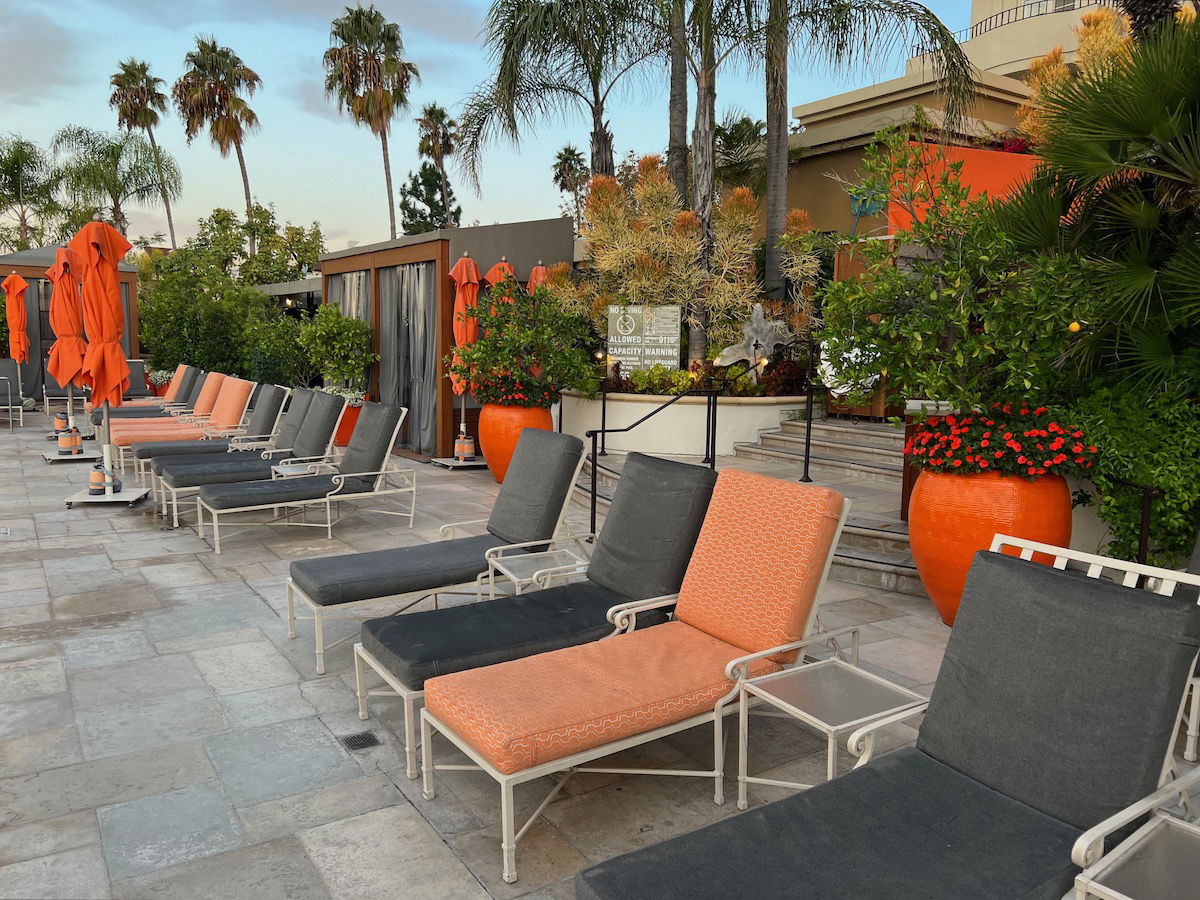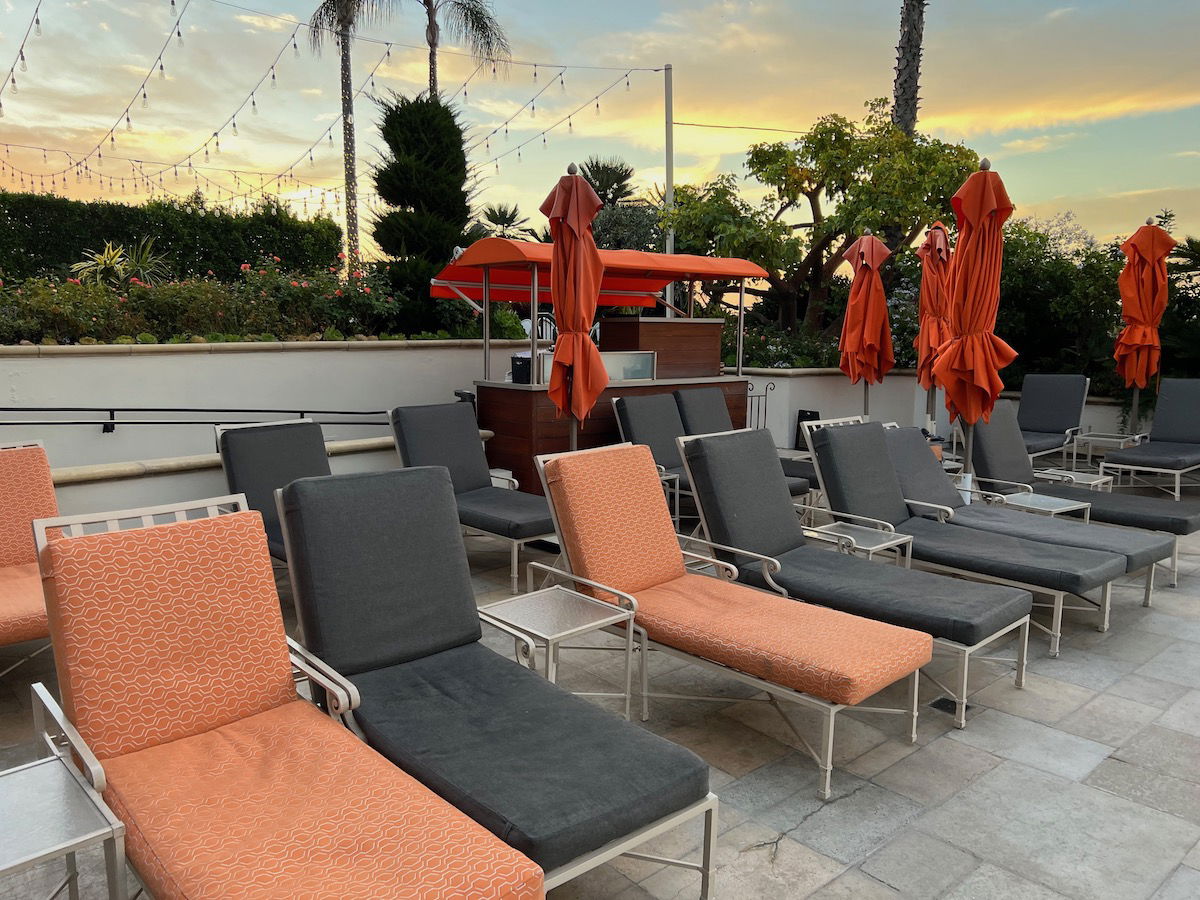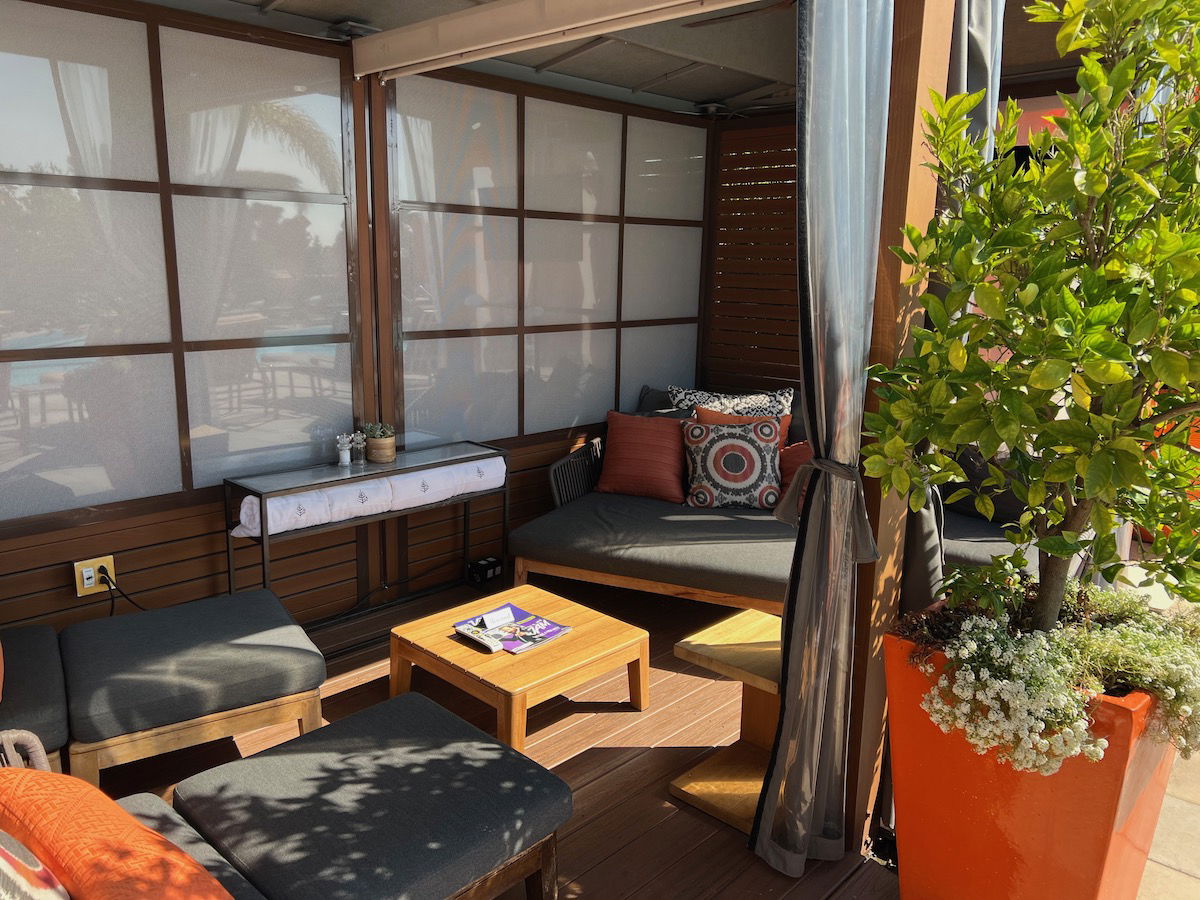 The pool area also had a hot tub, should you be into that.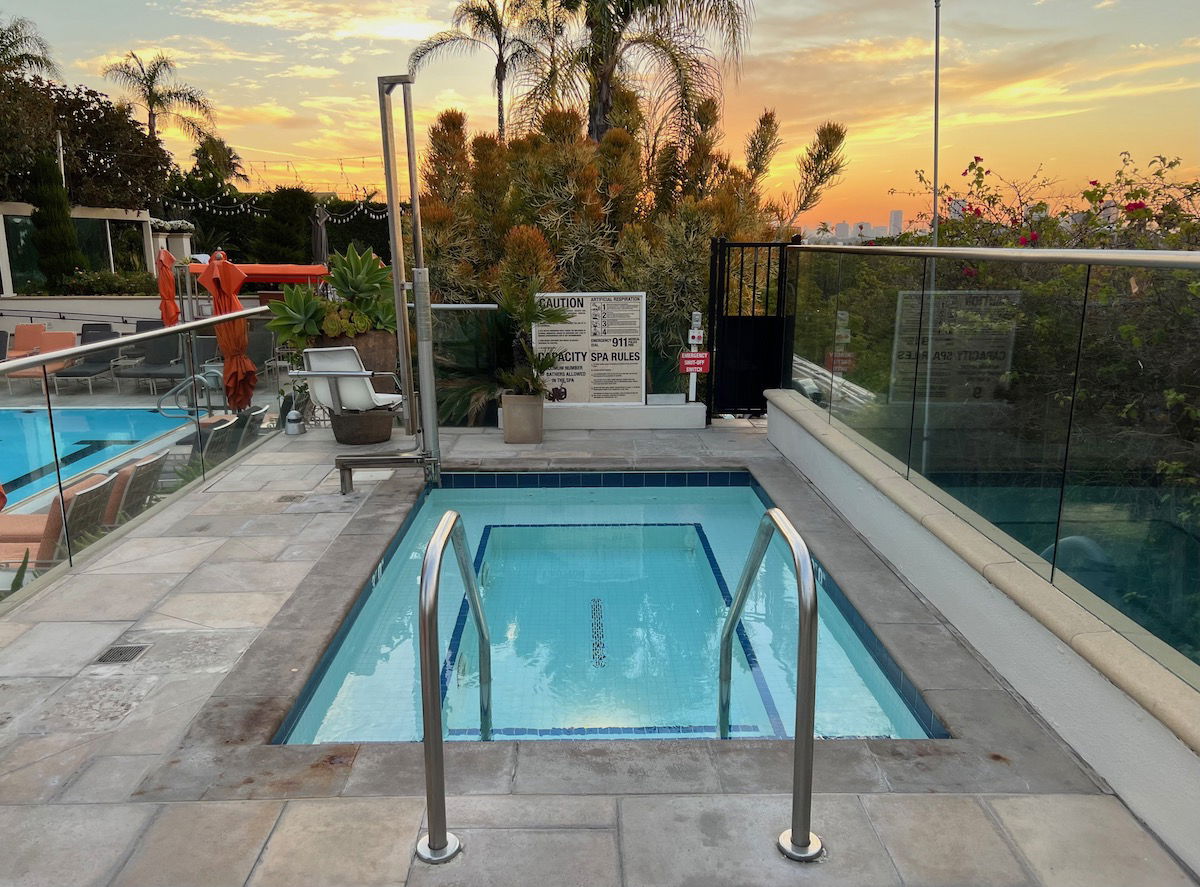 Service at the pool was friendly, with attendants always checking on guests. There was also complimentary sunscreen and aloe vera available.
Four Seasons Los Angeles at Beverly Hills gym & spa
The Four Seasons Los Angeles at Beverly Hills also has a gym and spa on the fourth floor. The spa is open daily from 10AM until 7PM, and you can find details of treatments here.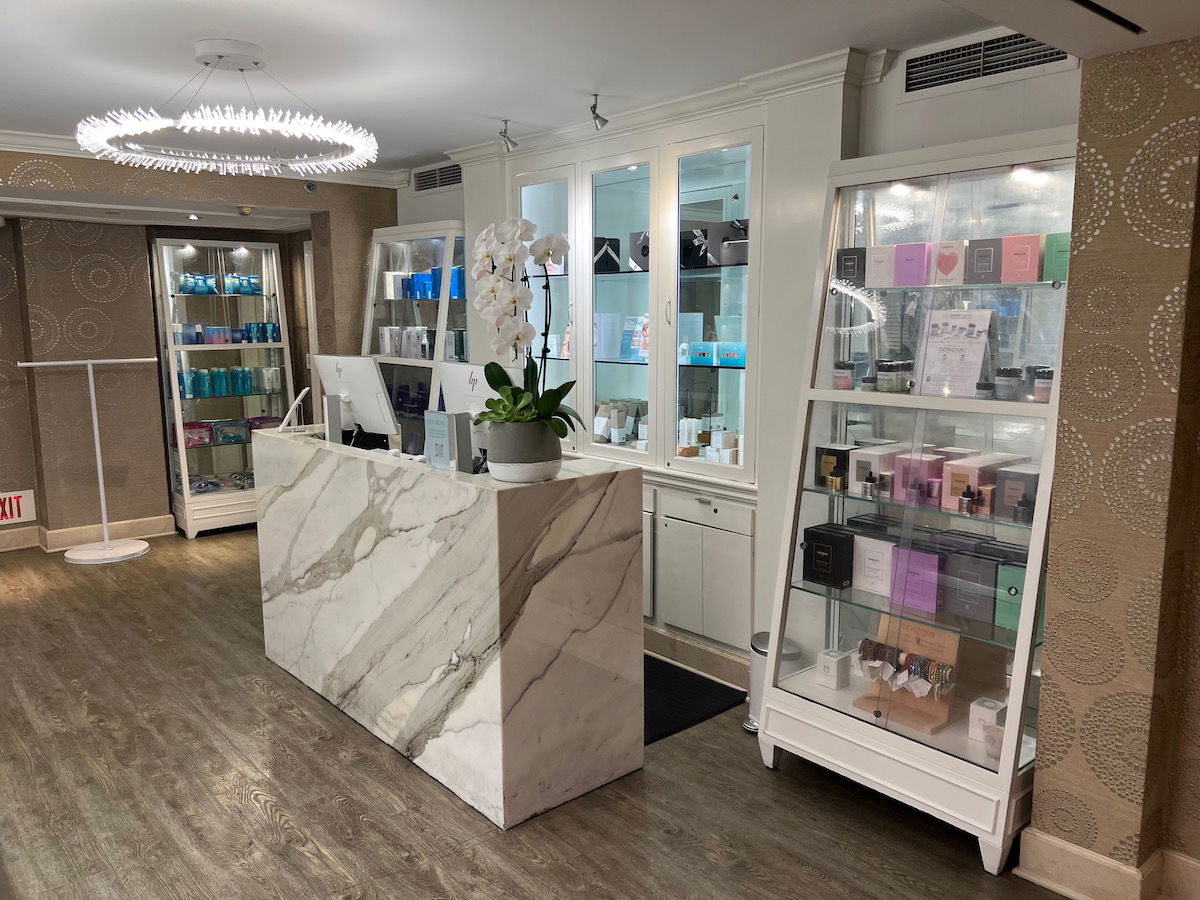 Then the hotel has a 24/7 outdoor gym, which is a concept that I absolutely love. The gym was well equipped, with lots of cardio and weight equipment.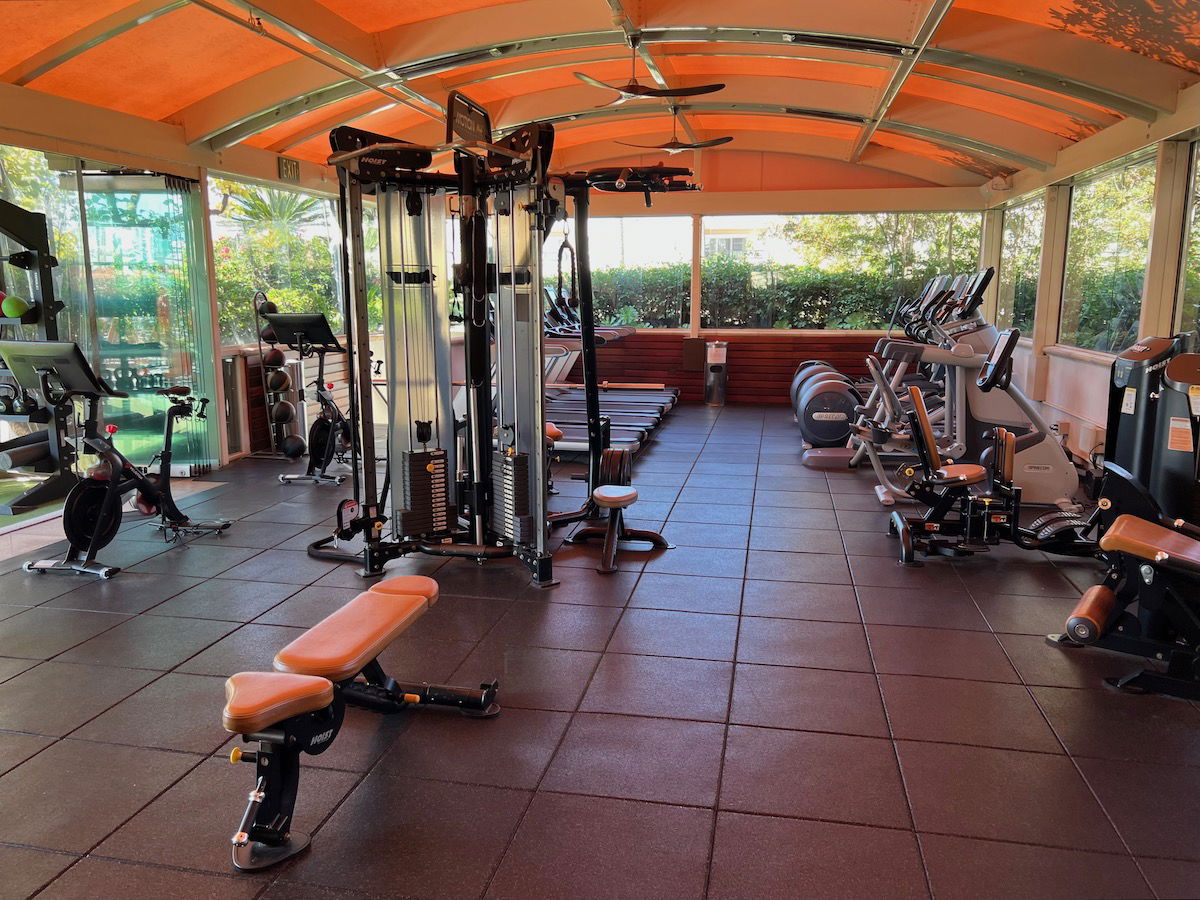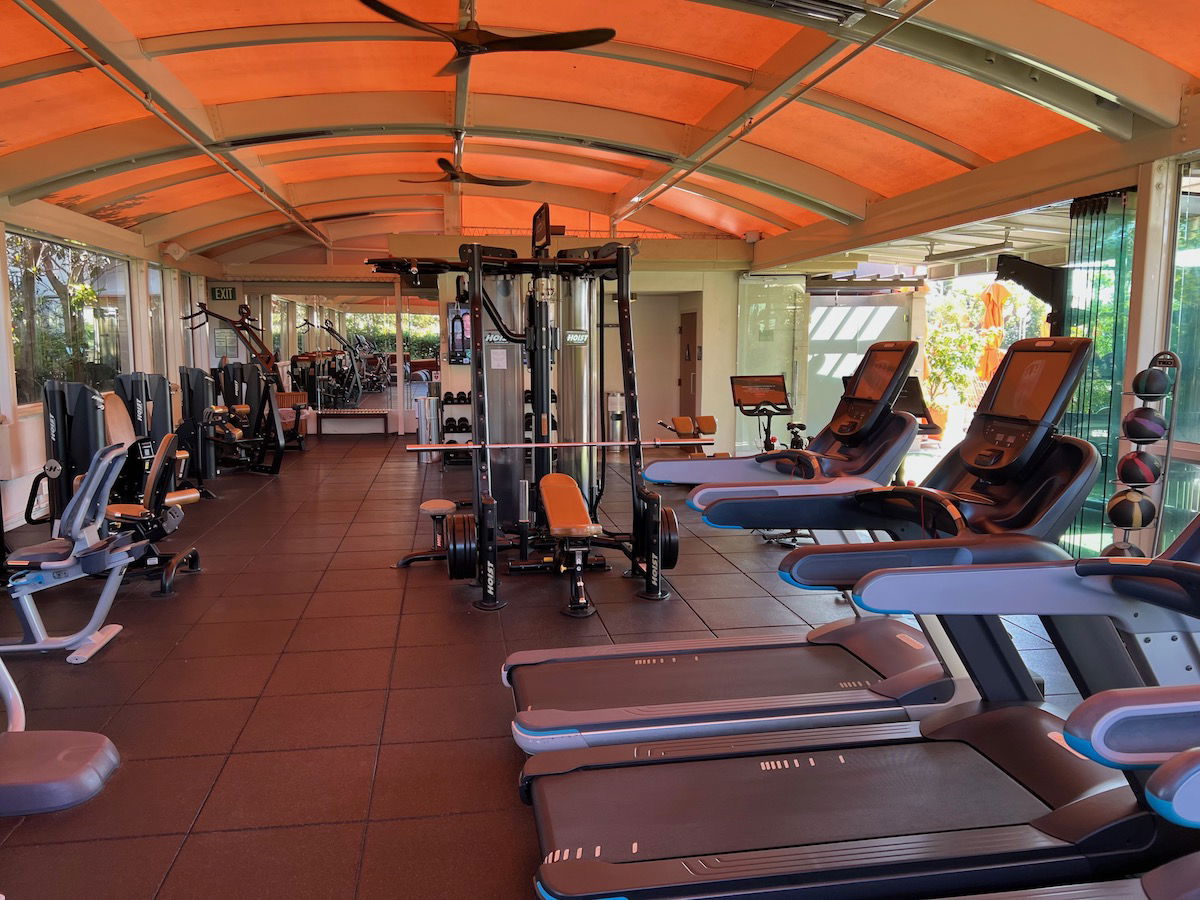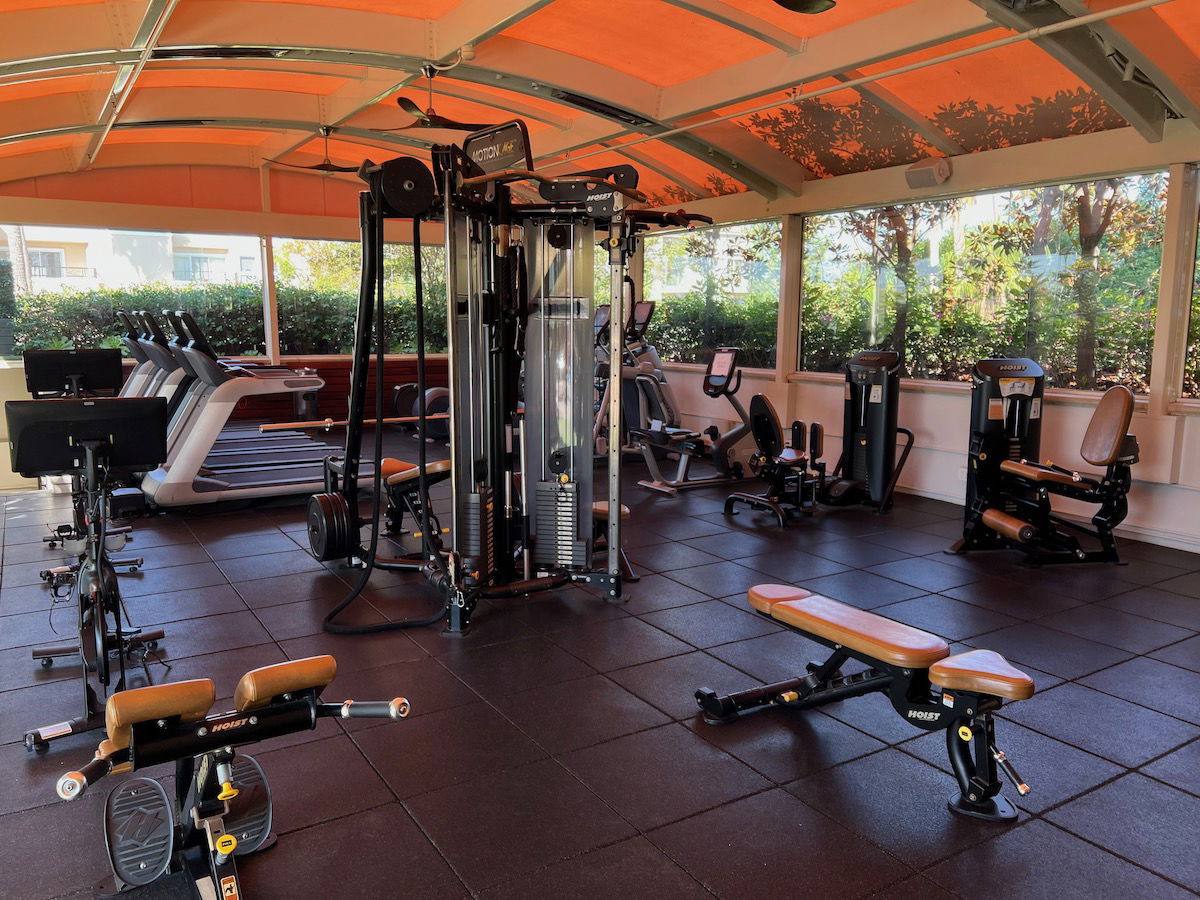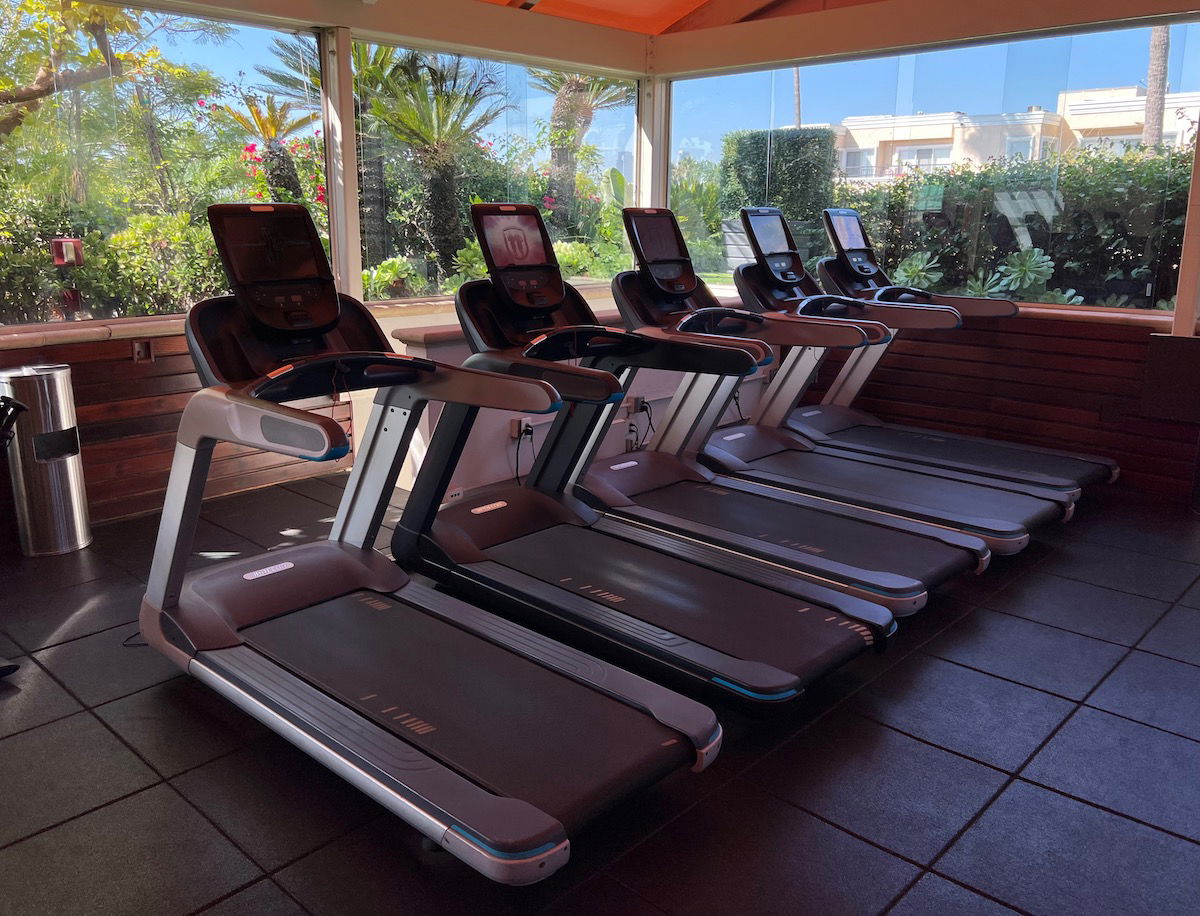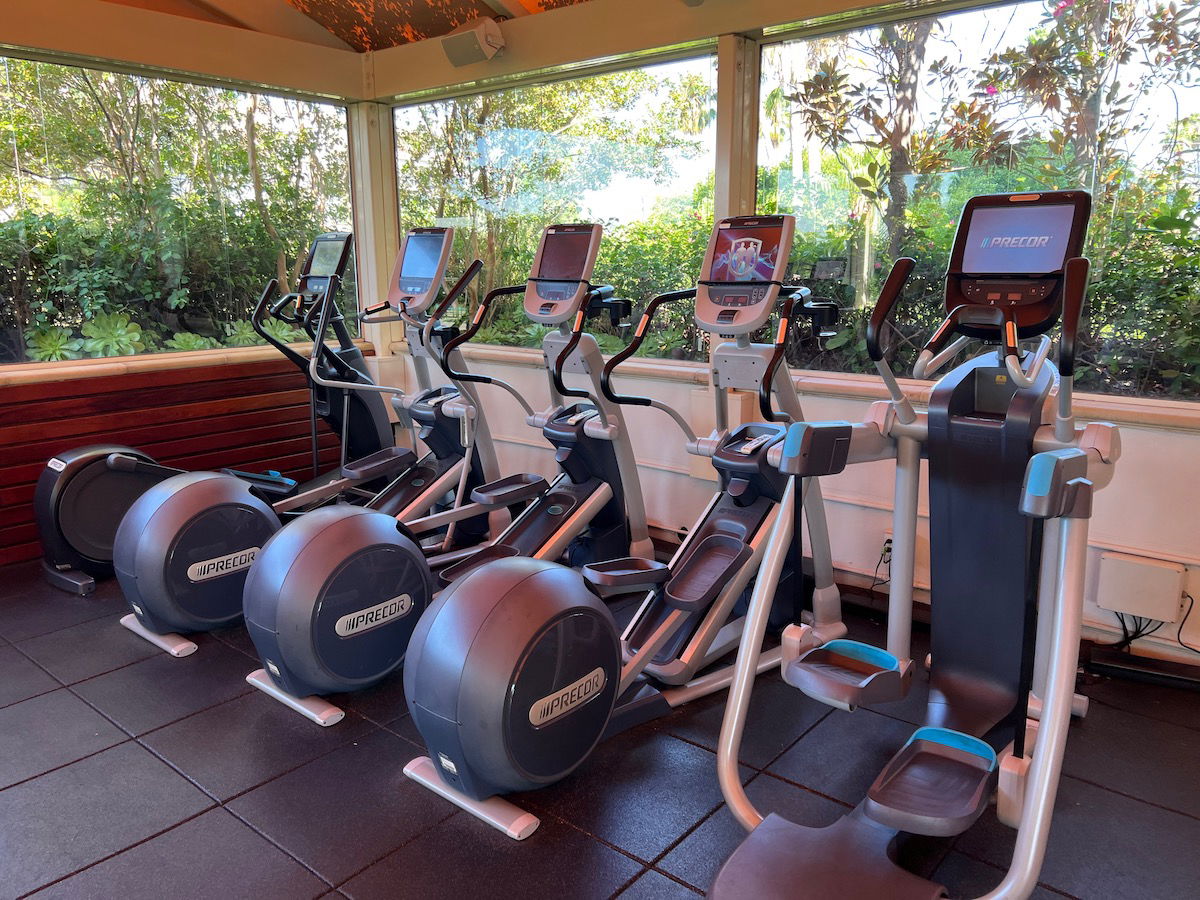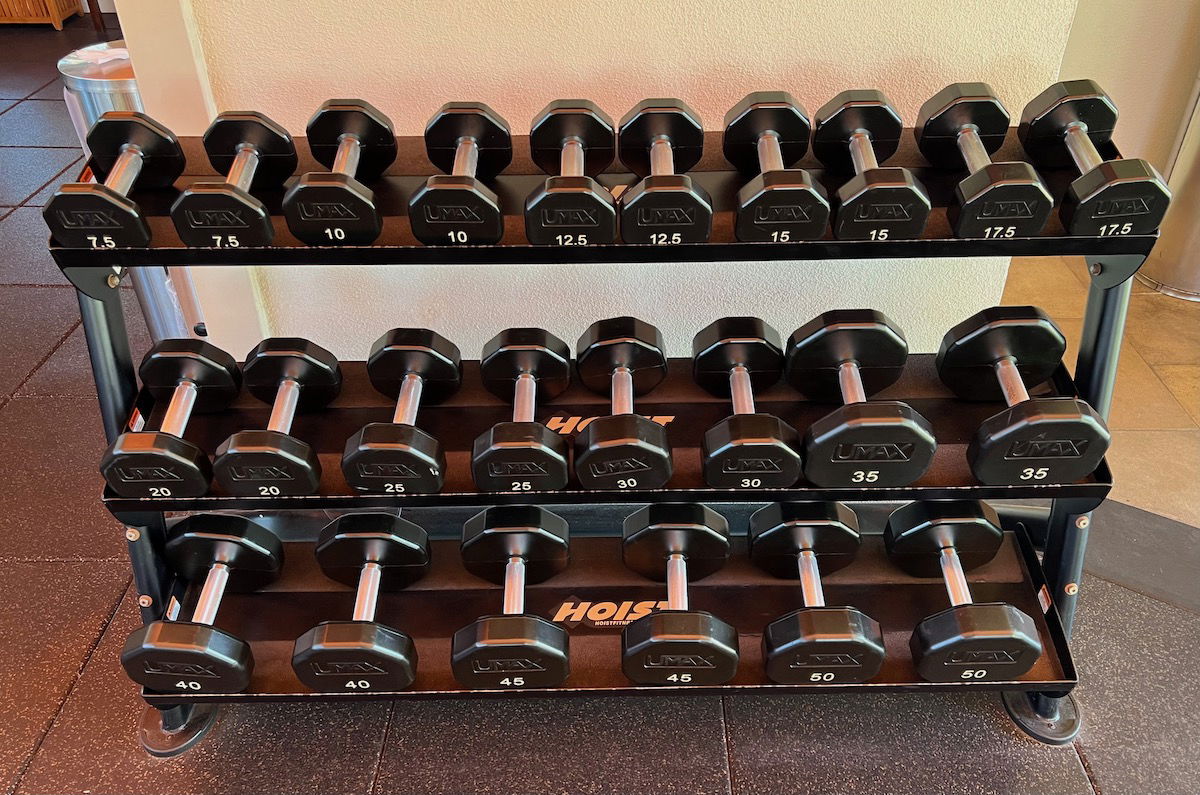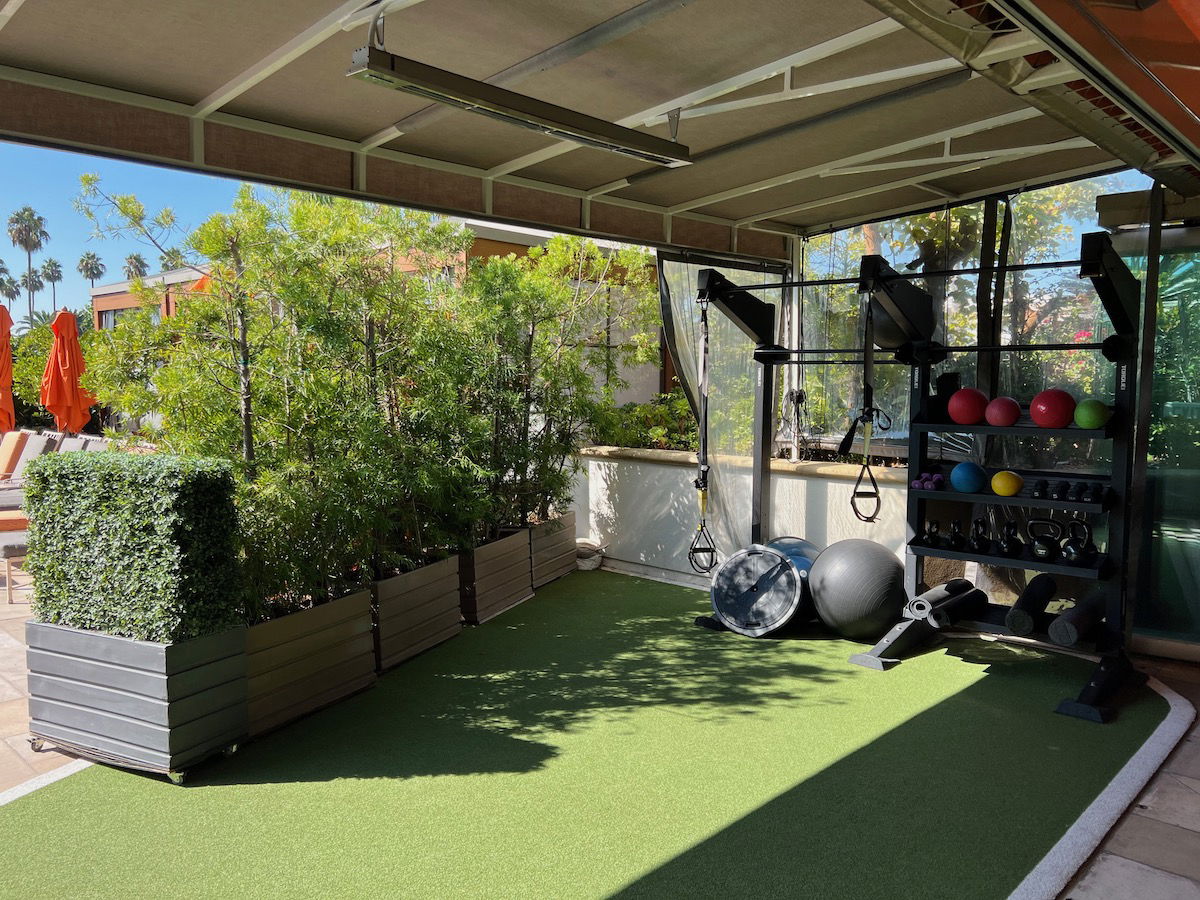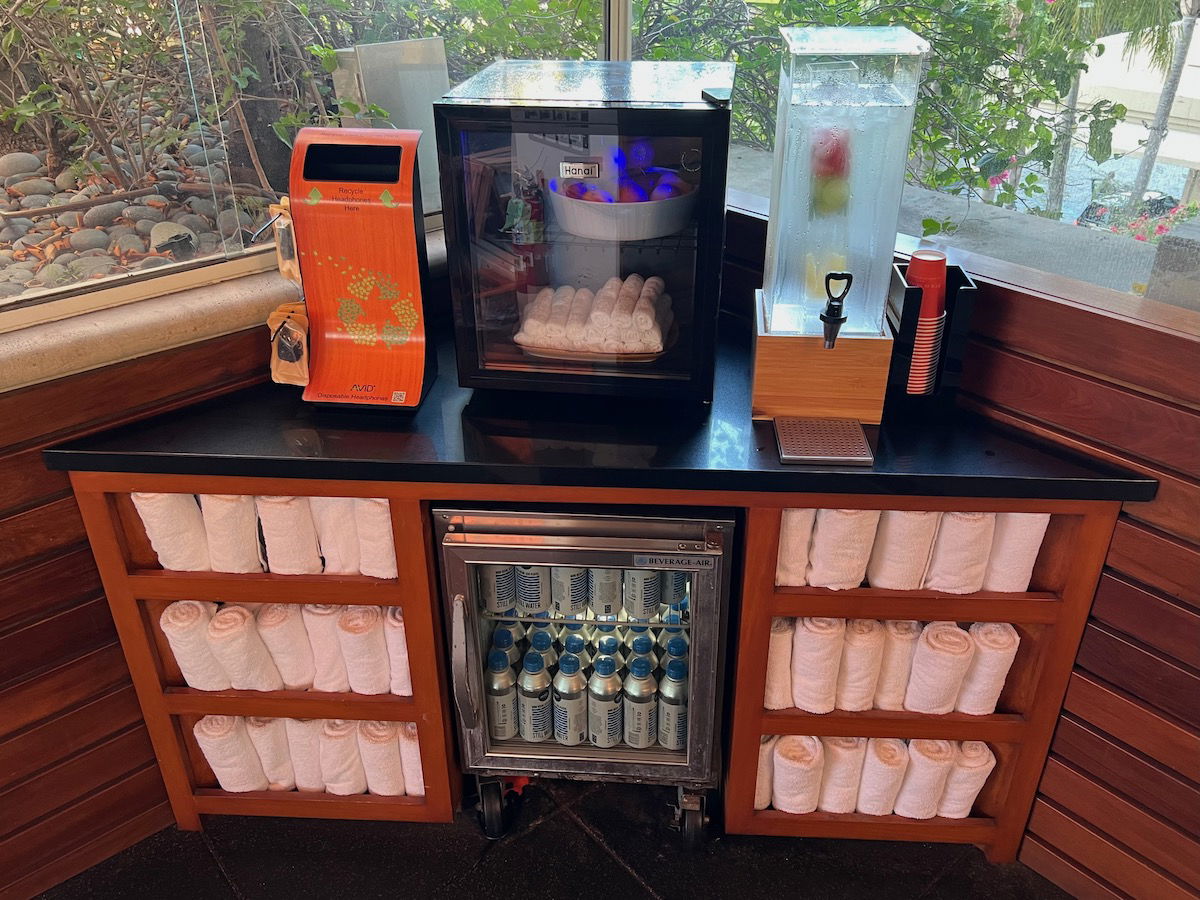 Four Seasons Los Angeles at Beverly Hills Culina Ristorante
Culina Ristorante is the Four Seasons' signature all-day dining restaurant, located off the lobby. The restaurant features both a bar area as well as a dining room, with both indoor and outdoor seating.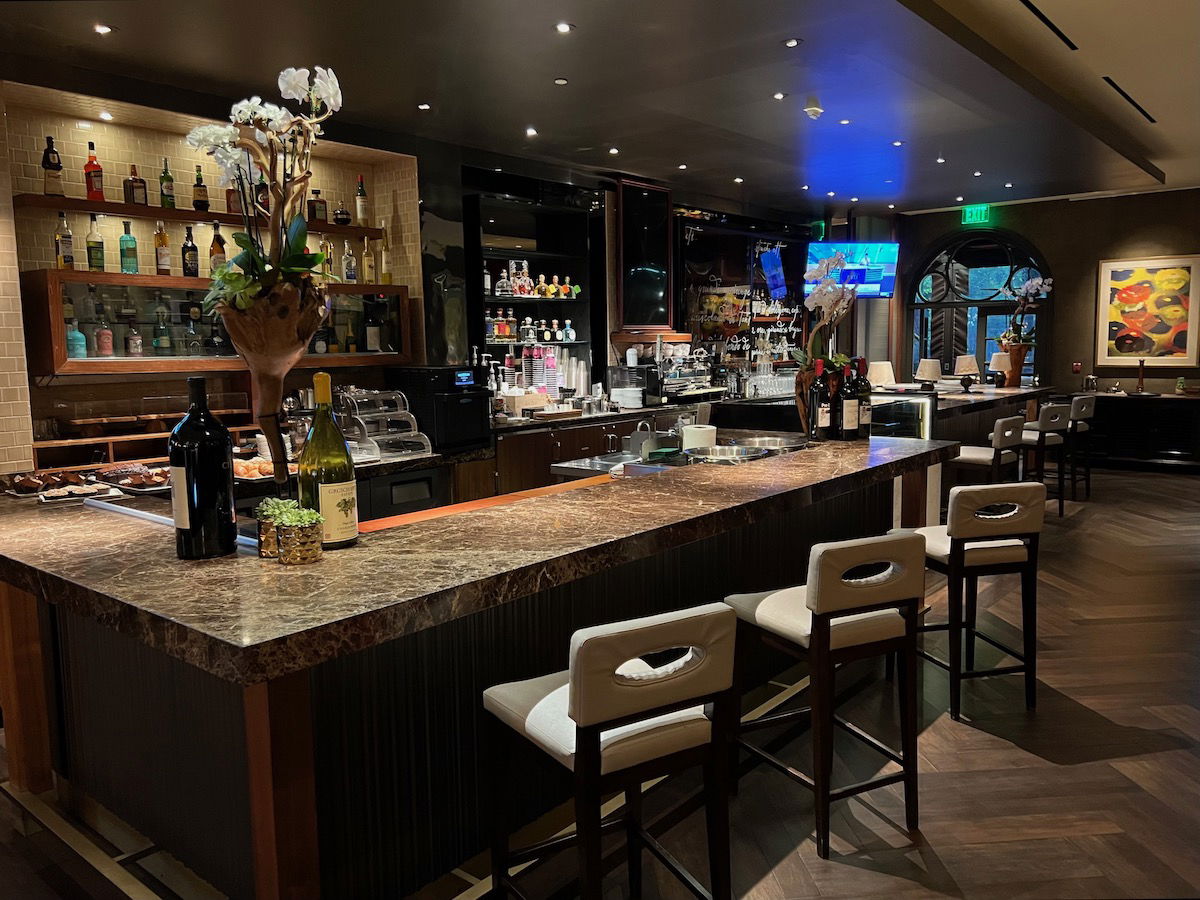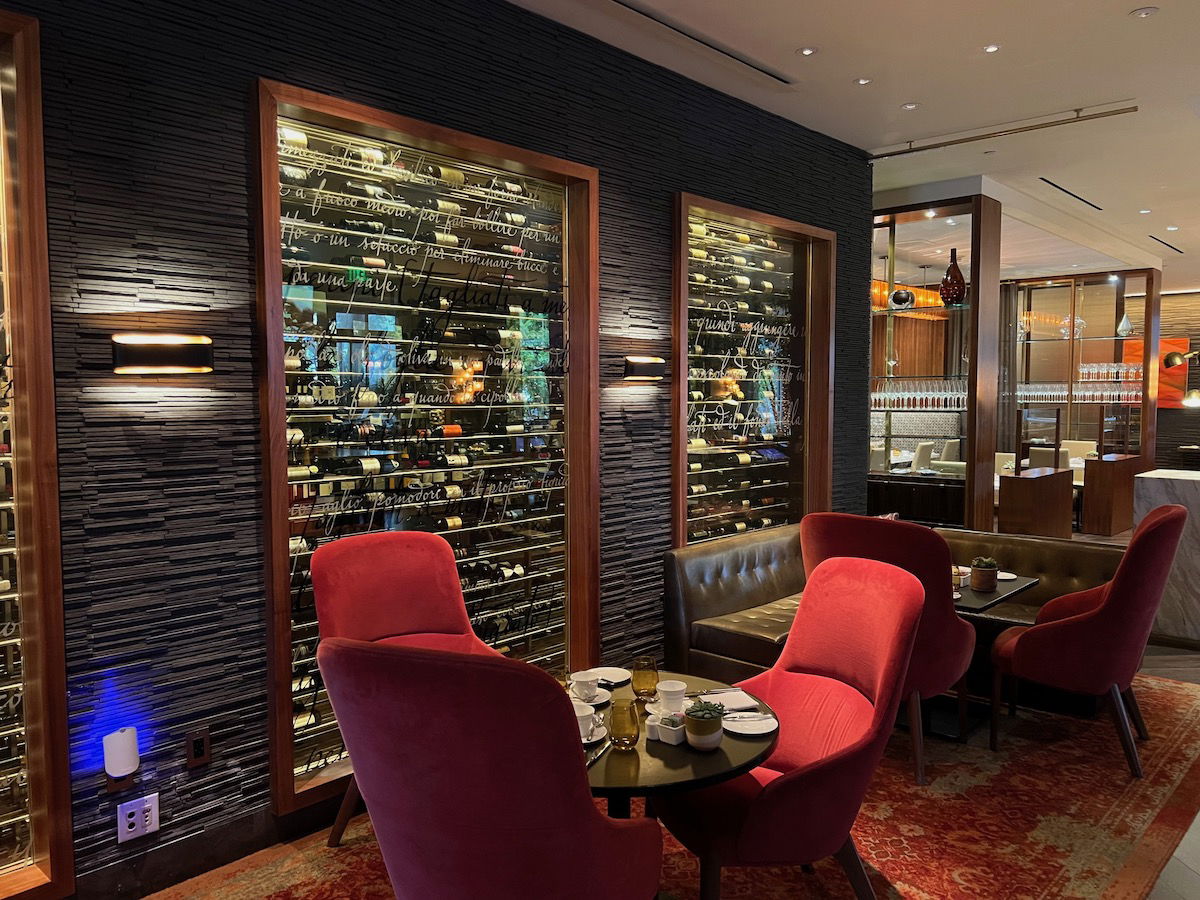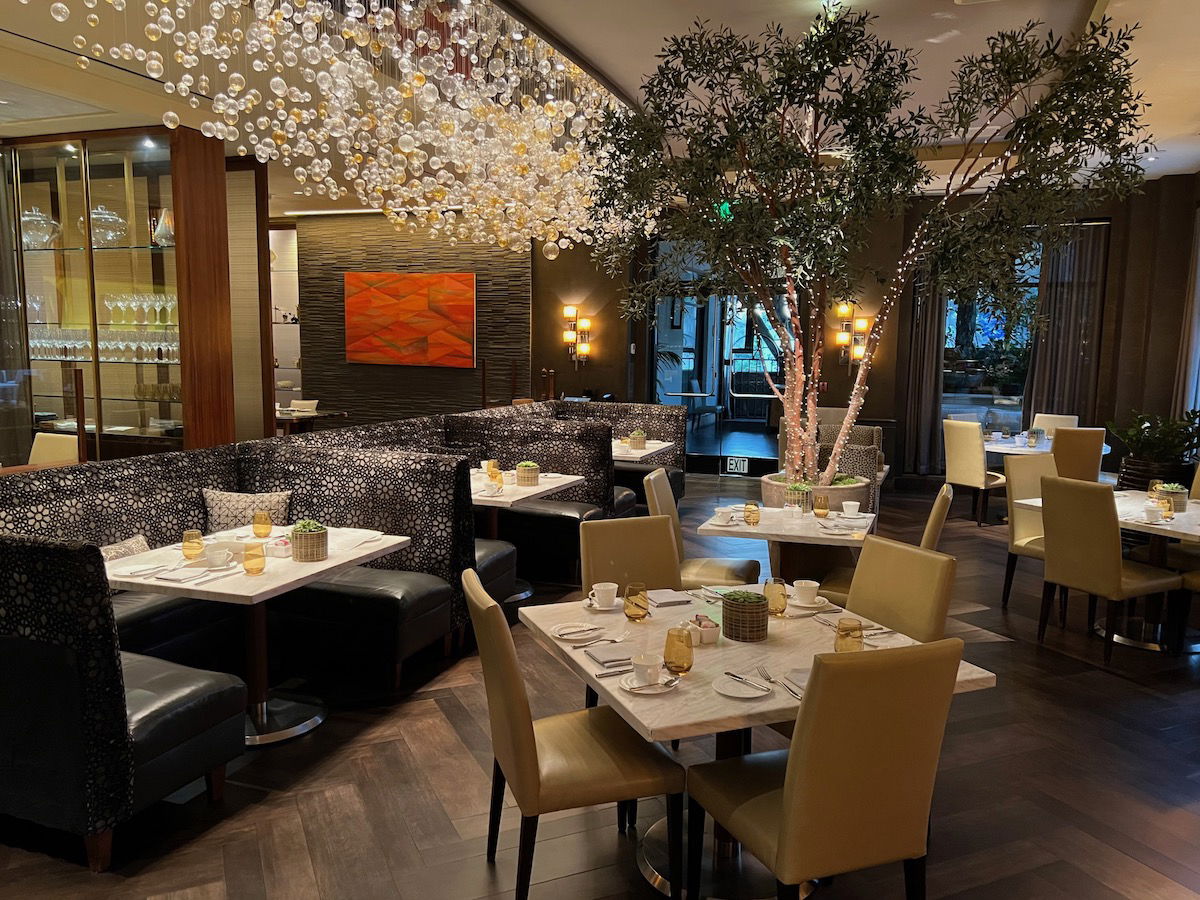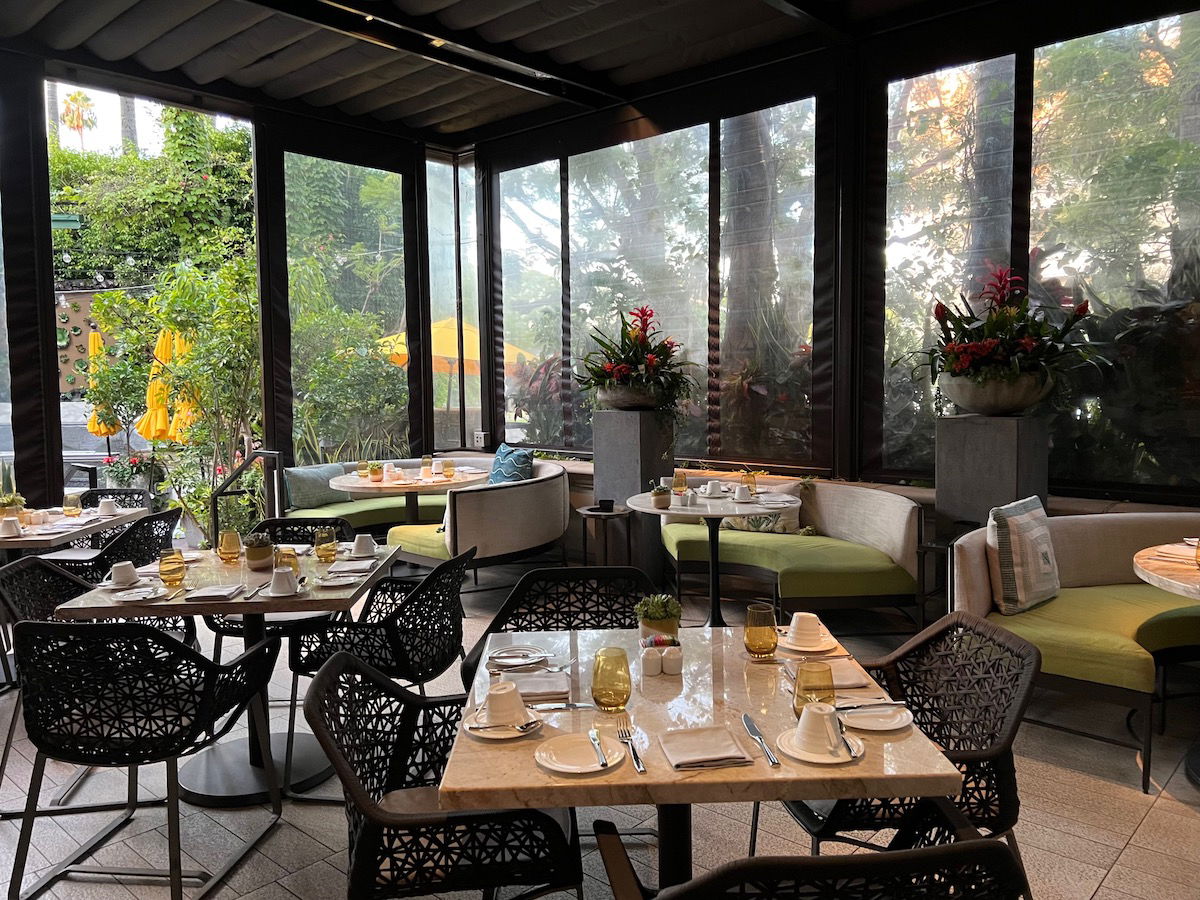 While we didn't come here for dinner, I sure was tempted to, given the beautiful pizza oven (pizza is my vice).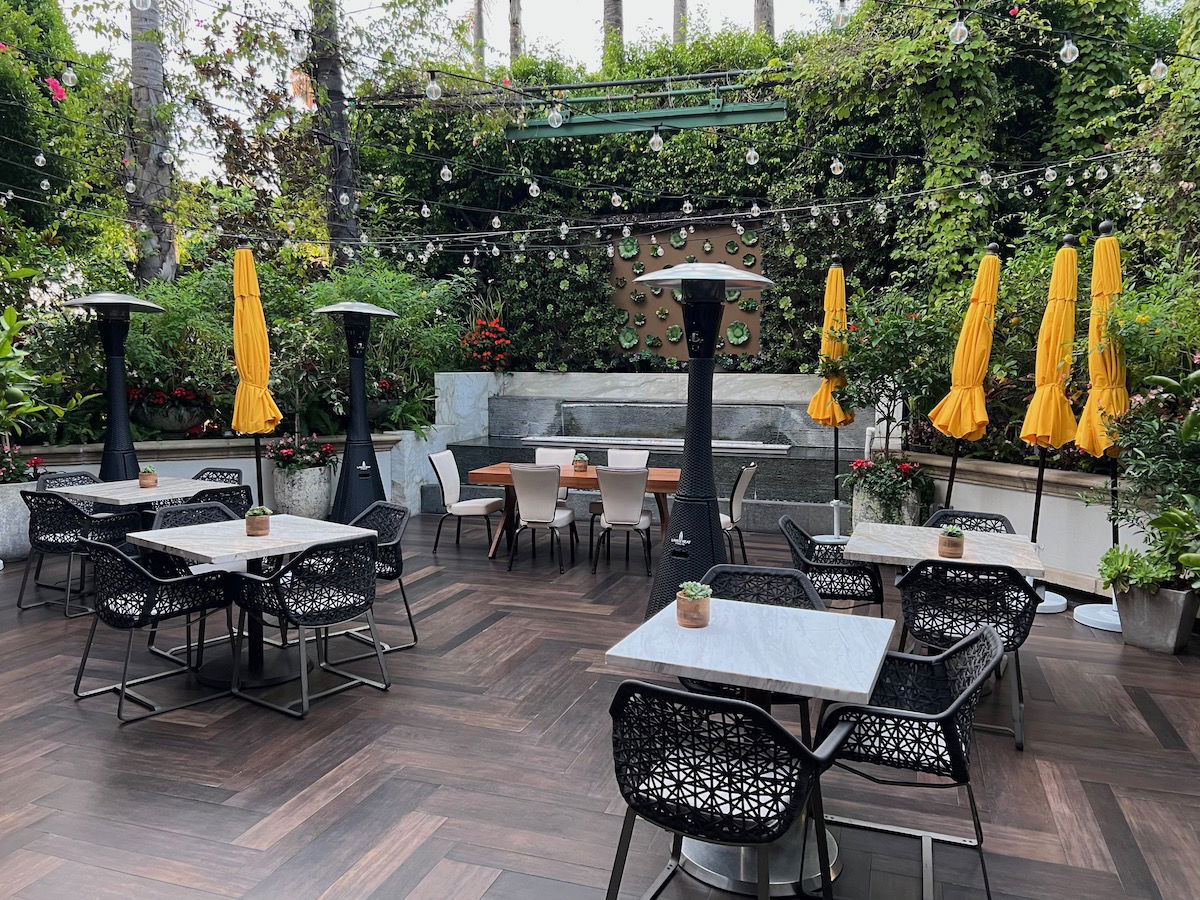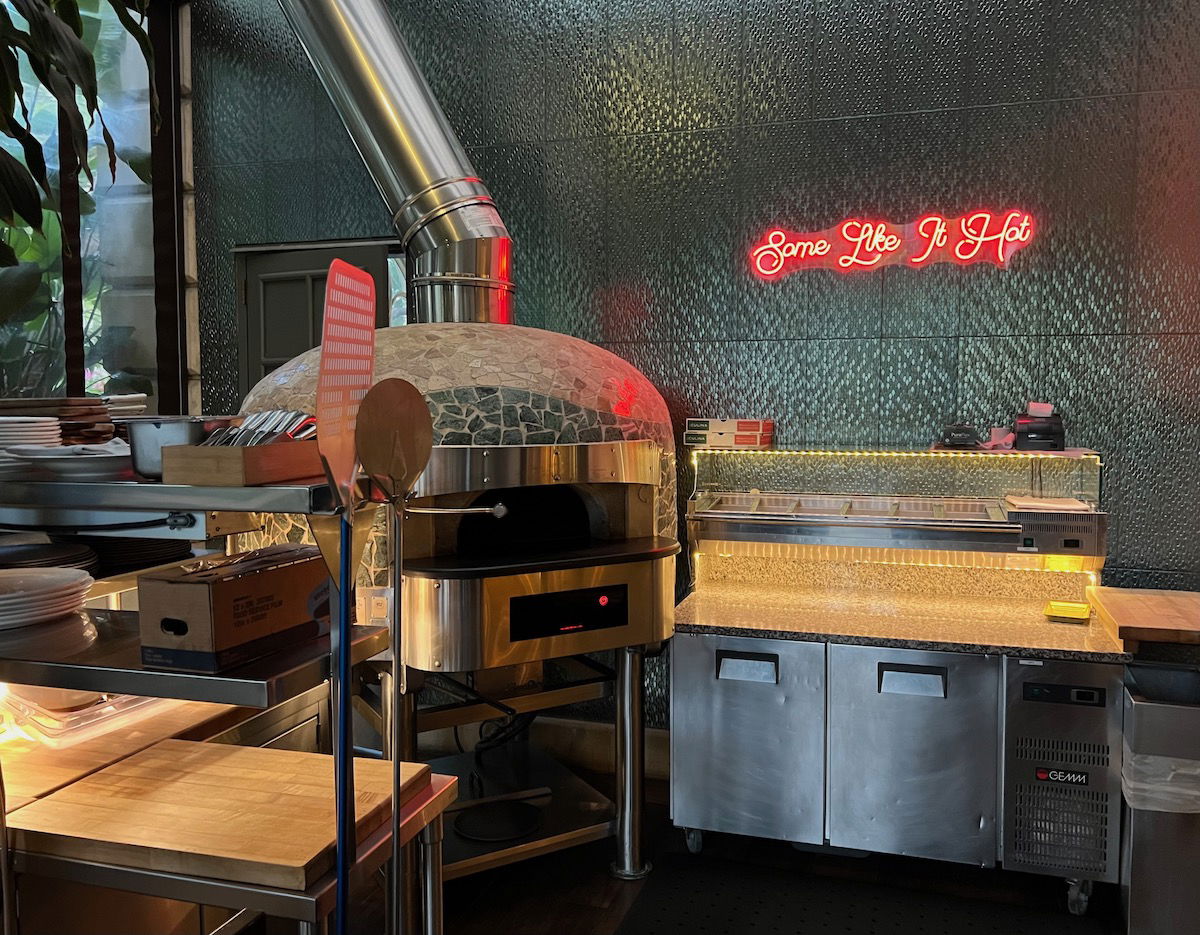 This restaurant is also where breakfast is served daily (if you book through Four Seasons Preferred Partner you can also have in-room dining, though). We had breakfast here, and you can find the menu below.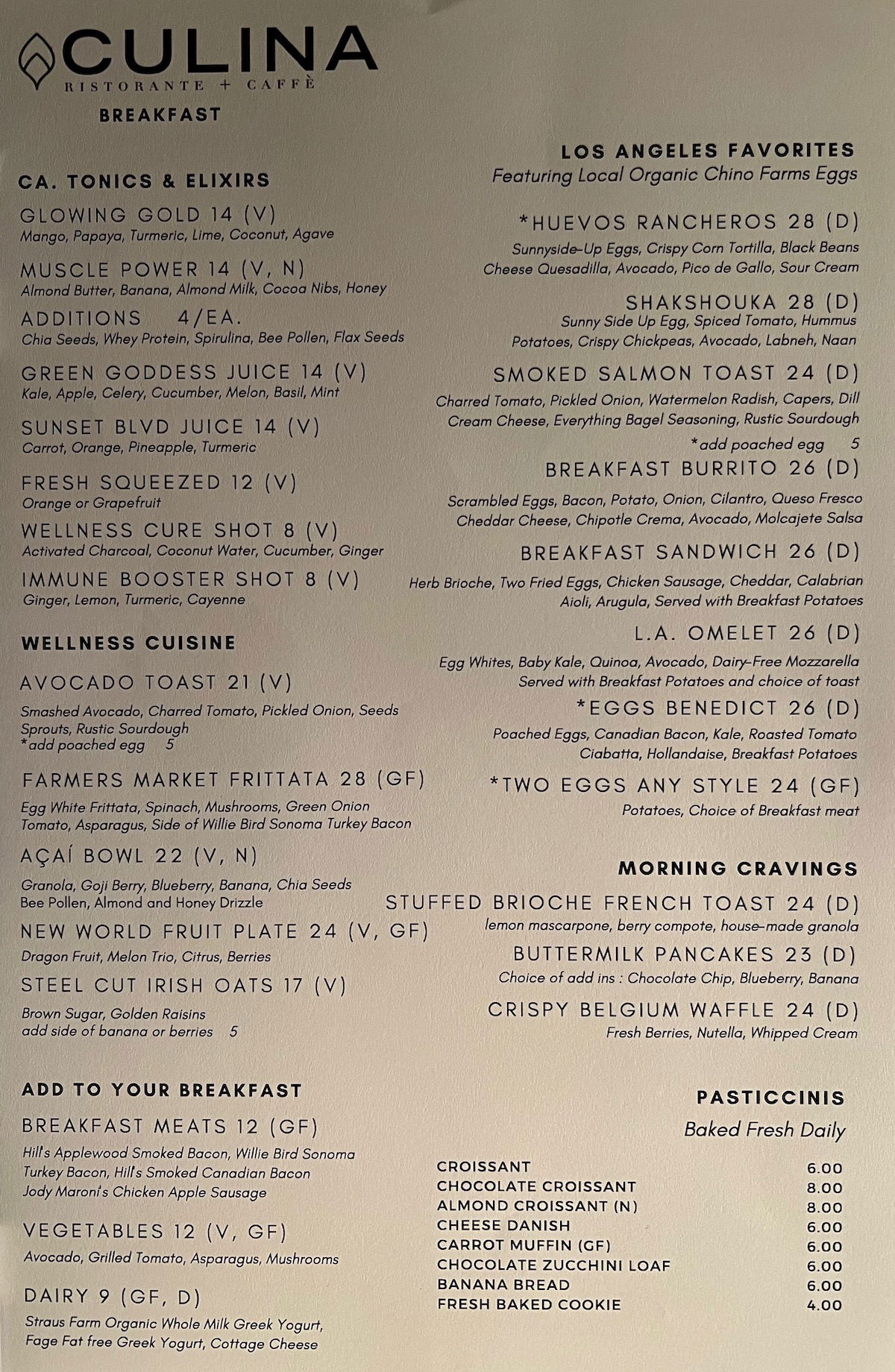 To drink, we both had cappuccinos. While not artfully presented, they tasted great.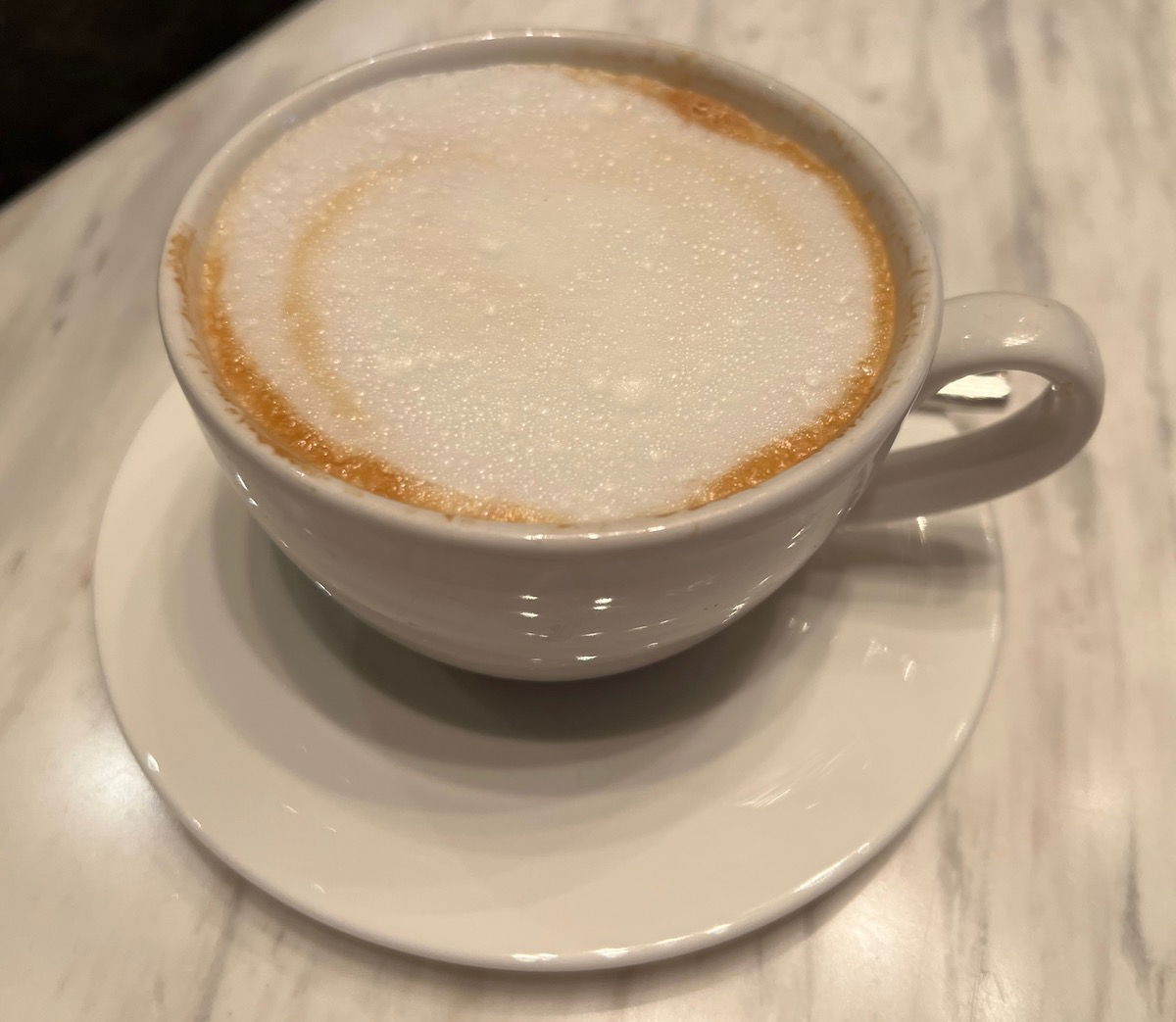 Then to eat, I had the egg white omelet, Ford had the shakshouka, and then we split an açaí bowl.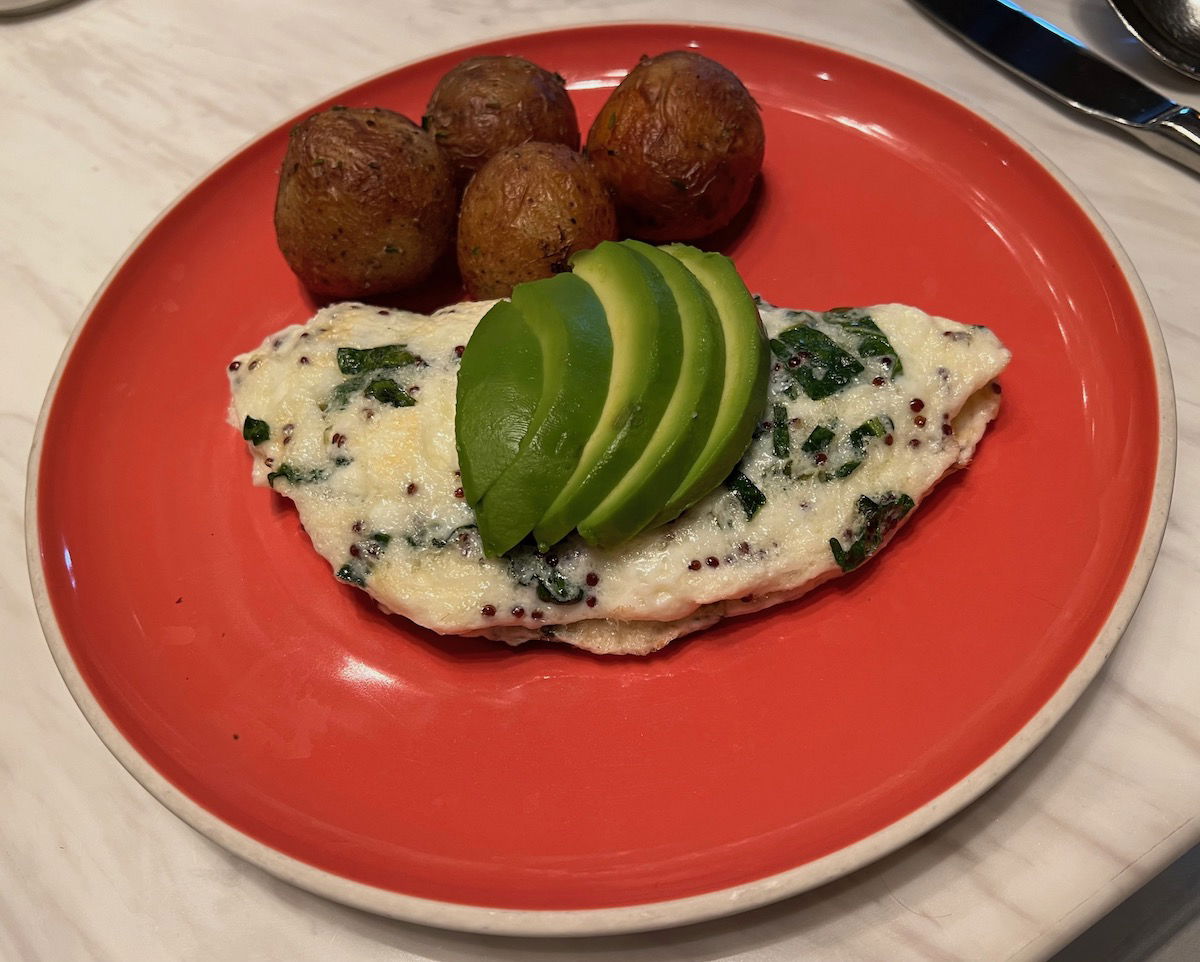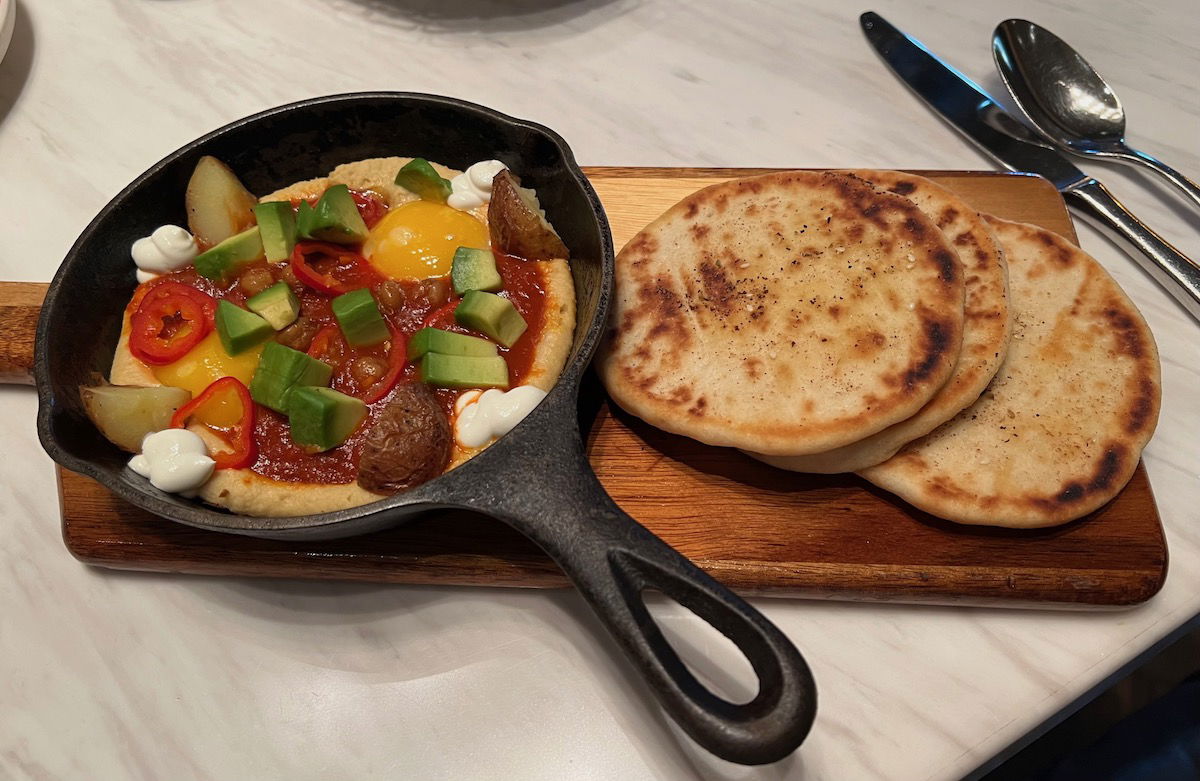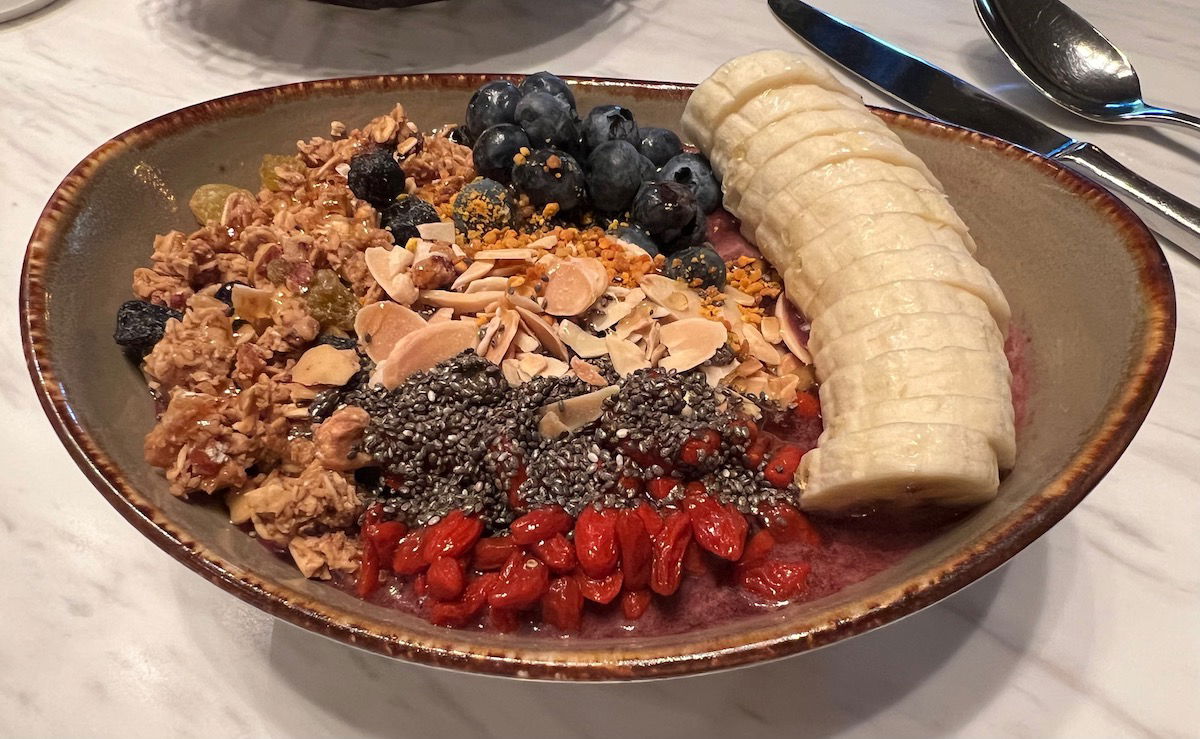 The food was very good, as was the service.
Four Seasons Los Angeles at Beverly Hills Plant Food + Wine
As a second dining outlet, the Four Seasons Los Angeles at Beverly Hills has Plant Food + Wine, which is located on the pool deck. This is a vegan restaurant by Matthew Kenney, and it consists of a beautiful outdoor terrace.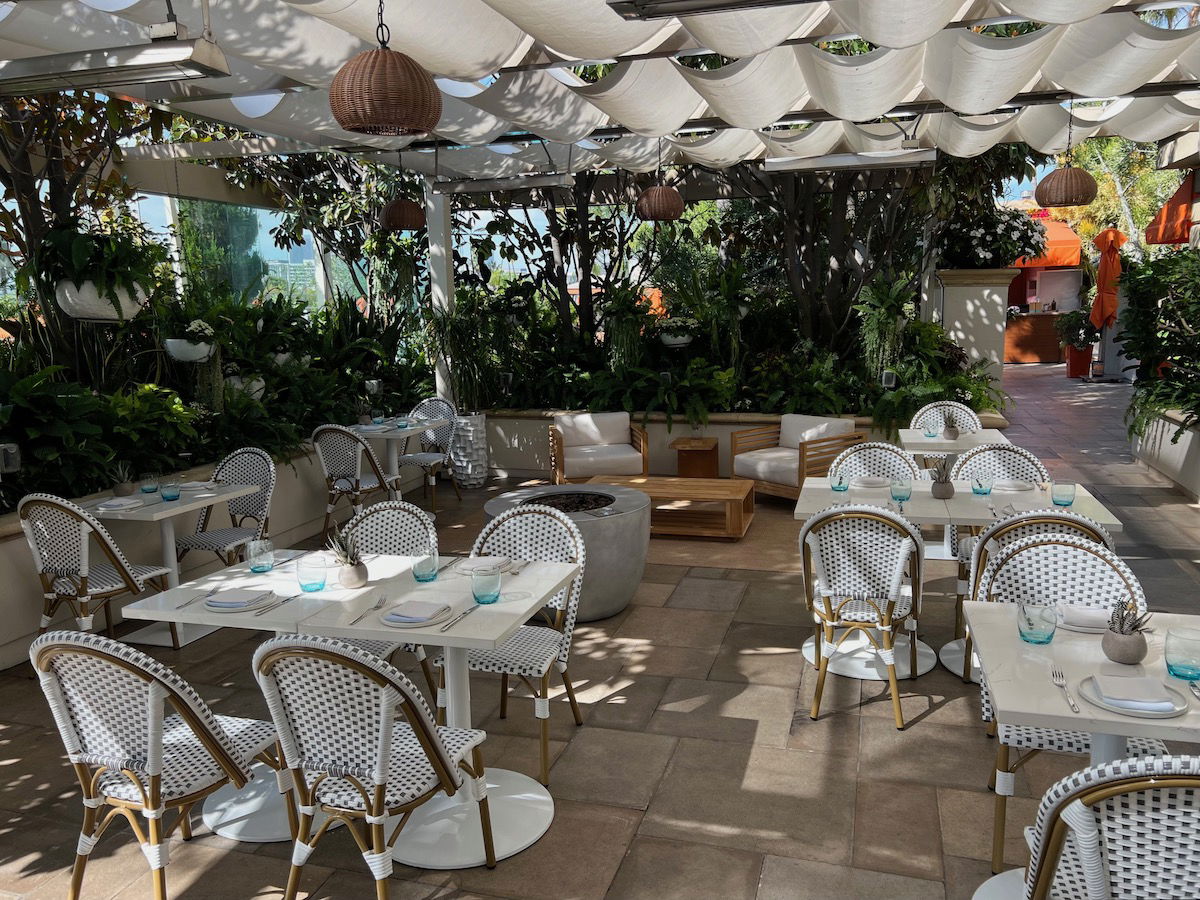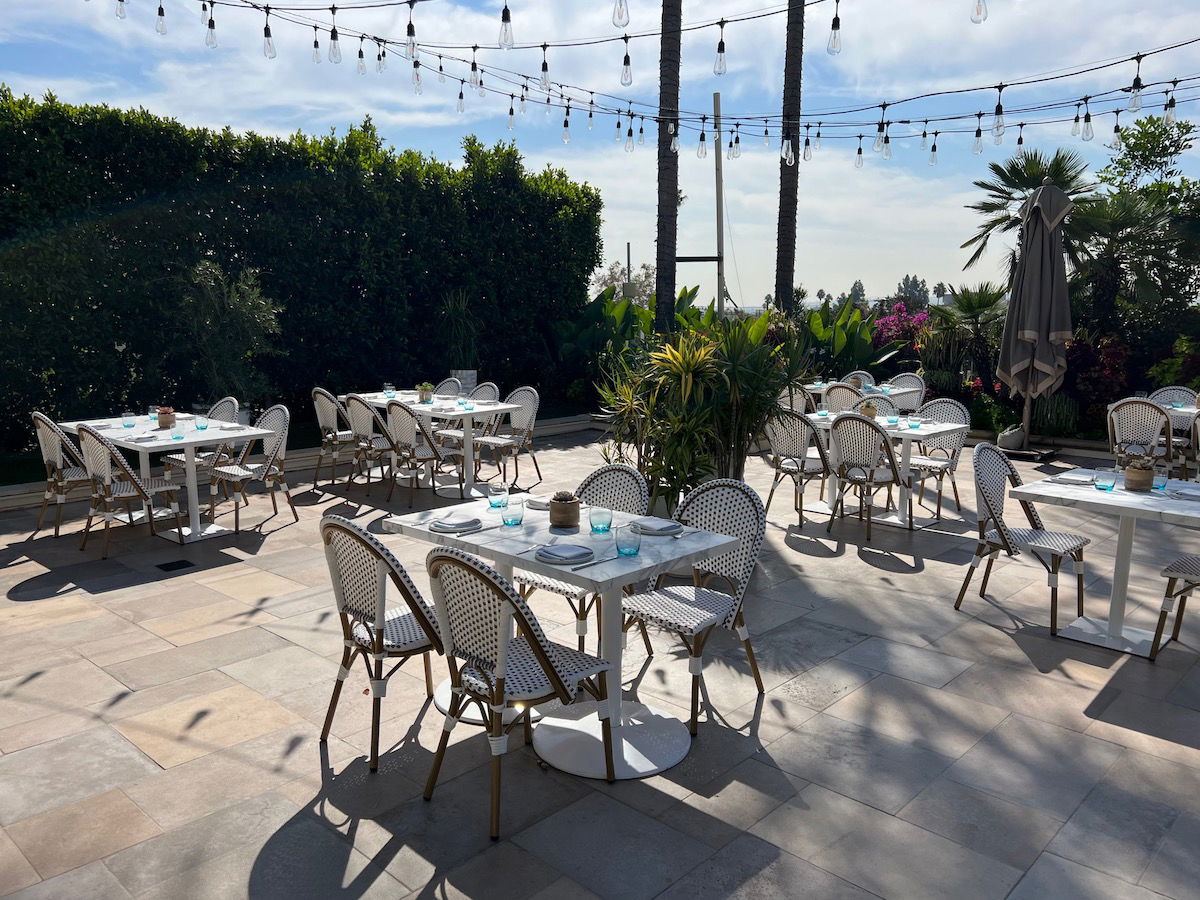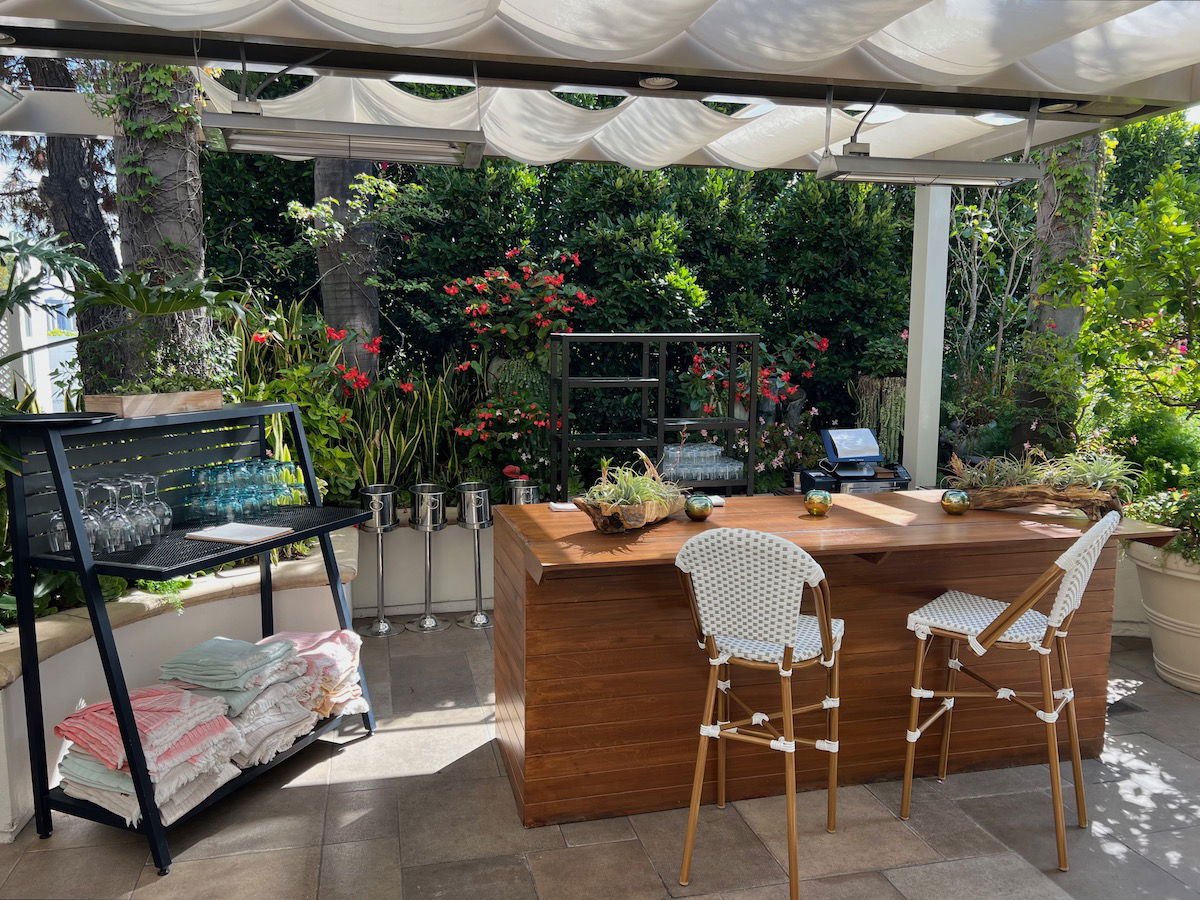 Ford had a commitment in the afternoon, so I had lunch here while working. You can find the menu below.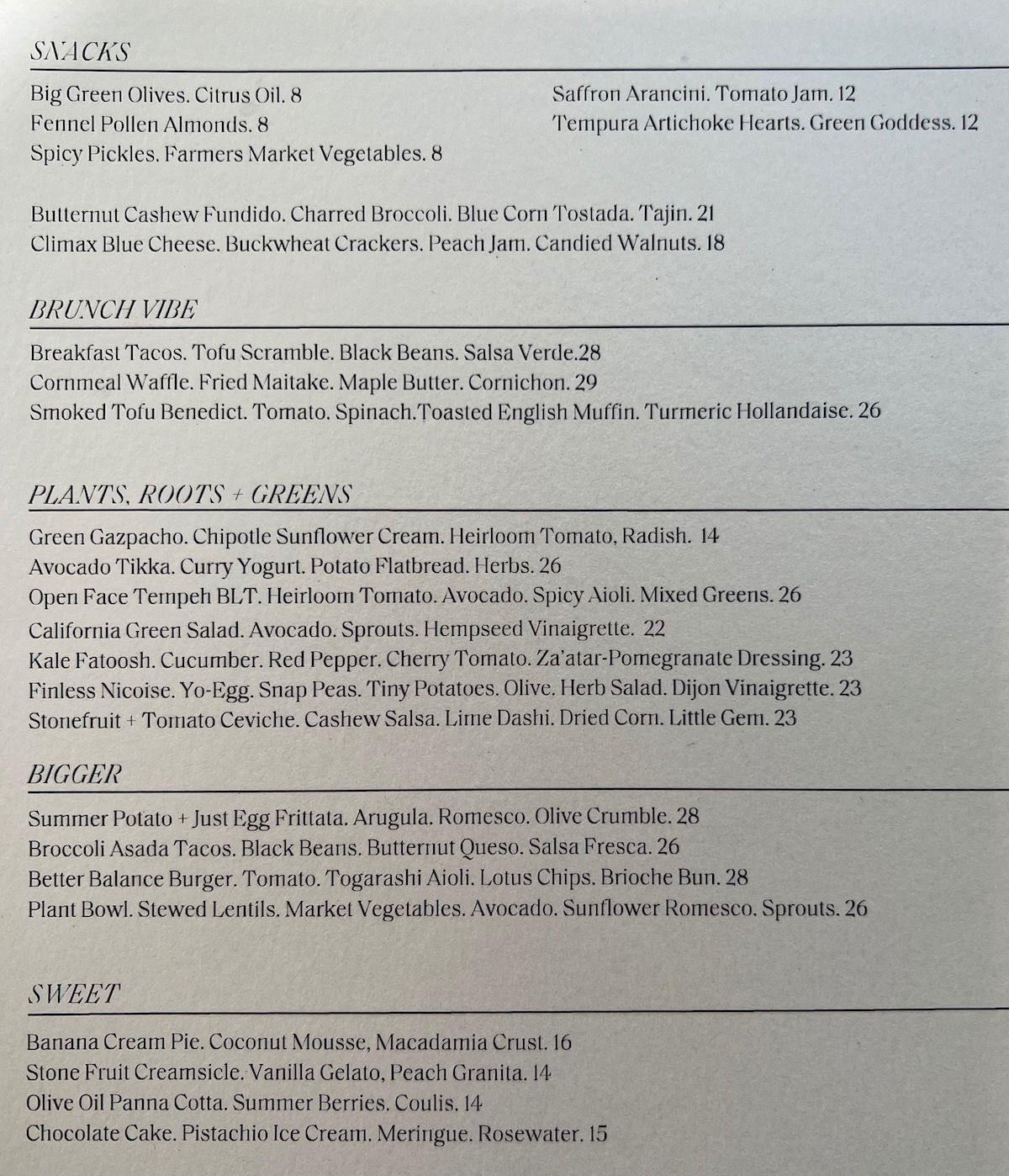 I ordered the tempura artichoke hearts and the kale fattoush, both of which I really enjoyed.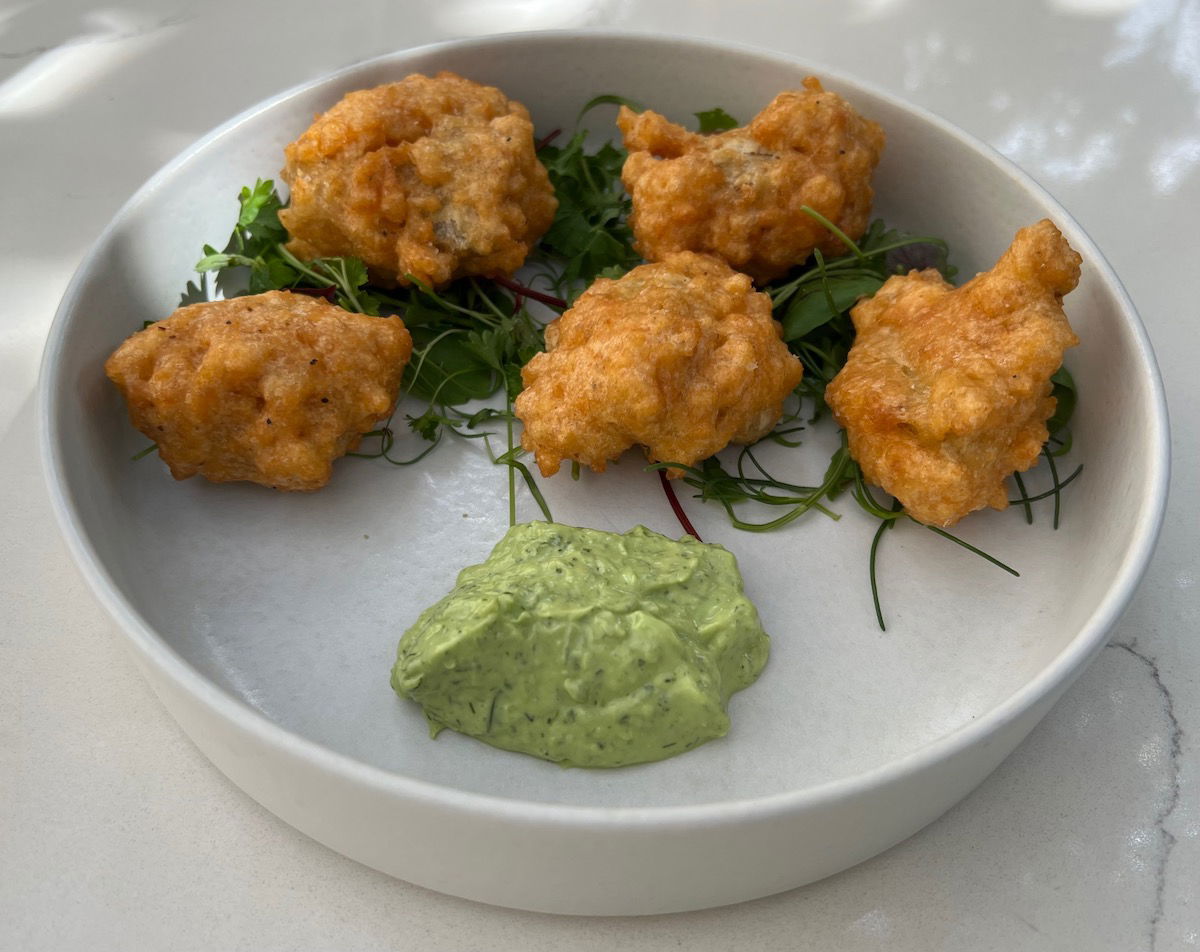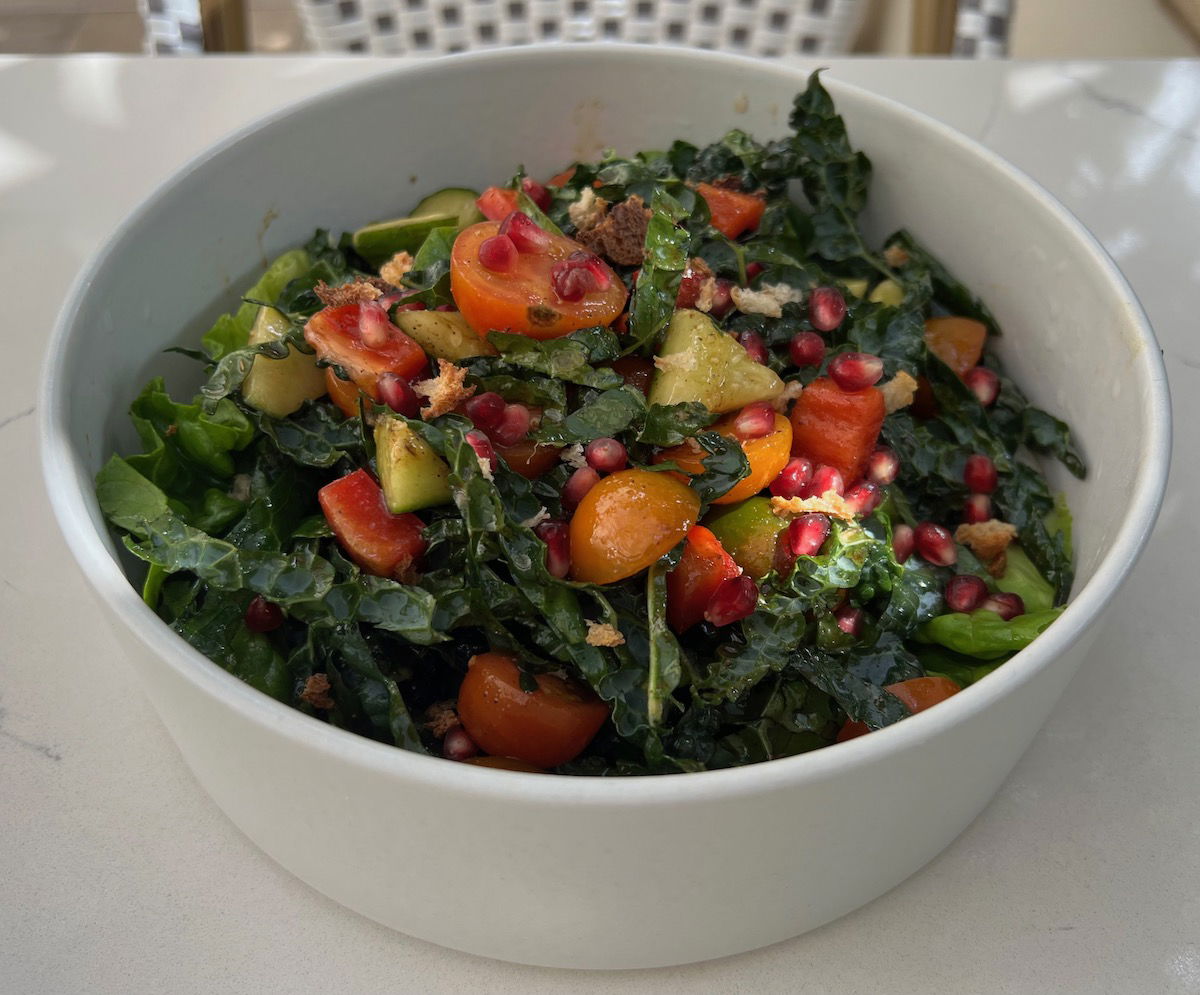 Bottom line
If you're a fan of the Four Seasons brand, then you'll definitely like the Four Seasons Los Angeles at Beverly Hills. The hotel has friendly and attentive service, nice rooms, a nice outdoor pool deck and gym, and two great restaurant concepts.
This is an excellent hotel that I'd recommend, though in my opinion it's not some unforgettable property that's a destination in and of itself (city hotels rarely are). I don't think there's any hotel in Los Angeles like that, though.
What do you make of the Four Seasons Los Angeles at Beverly Hills?