EXTRA PERKS AVAILABLE
Enjoy breakfast, upgrades, & more
Want to take advantage of Four Seasons Preferred Partner benefits, including a space available room upgrade, complimentary breakfast, a hotel credit, and more? Contact Ford ([email protected]) for more details. He may even be able to help if you already have a stay booked.
Ford and I recently spent some time in Punta Mita. We first spent three nights at the 177-room Four Seasons Punta Mita, which I'll be reviewing in this installment. Then we spent three nights at the 15-room Four Seasons Naviva, which is a brand new tented resort next door, and I'll be reviewing that in the next installment (and OMG, I think it might just be the best resort in North America).
The Four Seasons Punta Mita is one of brand's most popular resorts in North America, and for good reason. It's easily accessible from major gateways in the United States, and the resort is a destination in and of itself. The property has everything from an amazing beach, to several pools (including a lazy river!), to multiple top notch dining outlets, to golf, to a kids club, to friendly service.
Let's get into the review…
Booking the Four Seasons Punta Mita
Luxury hotel rates in North America have increased significantly in recent years, and the Four Seasons Punta Mita is no exception. Rates at the property generally start at somewhere around $1,000-1,800 per night, depending on the time of year, when you book, if there are promotions, etc.
The best way to book any Four Seasons hotel is through a travel advisor affiliated with the Four Seasons Preferred Partner program. When booking through Preferred Partner you pay the same rate you'll find directly on Four Seasons' website, but you'll receive extra perks, including the following:
A room upgrade, subject to availability
Complimentary daily breakfast
A hotel credit to use during your stay
Four Seasons Preferred Partner is generally combinable with promotions being offered directly through Four Seasons, including advance purchase rates, free night offers, and more. Note that booking Four Seasons properties through Preferred Partner is better than booking through programs like Amex Fine Hotels & Resorts. Why?
With Preferred Partner you have the option of room service breakfast in place of restaurant breakfast
Upgrades are prioritized for Preferred Partner bookings, given that it's Four Seasons' own proprietary program (and the value of an upgrade can be significant)
You can combine Preferred Partner perks with virtually any rate on Four Seasons' website (other programs don't allow you to stack promotions in the same way)
You can't beat getting all of these extra perks just for booking through an eligible travel advisor. Note that Preferred Partner bookings can also be made for the Four Seasons Private Retreats at the property, which consist of villas that can be booked by the night. Ford is happy to help book Four Seasons properties through Preferred Partner, and can be reached at [email protected]
In the interest of full disclosure, Ford books a lot of people at Four Seasons properties, and got a travel agent rate for our stay. As always, all opinions expressed are my own.
Four Seasons Punta Mita location
The Four Seasons is set on a 400-acre nature reserve, located in the gated Punta Mita development, on a private peninsula overlooking Bahía de Banderas. This area has the Four Seasons, Naviva (the other Four Seasons resort), the St. Regis, a golf course, and lots of residences.
While some other properties (like the Conrad and W) are marketed as being in Punta Mita, the Four Seasons and St. Regis are truly at the "tip" of the peninsula, making for some incredible views.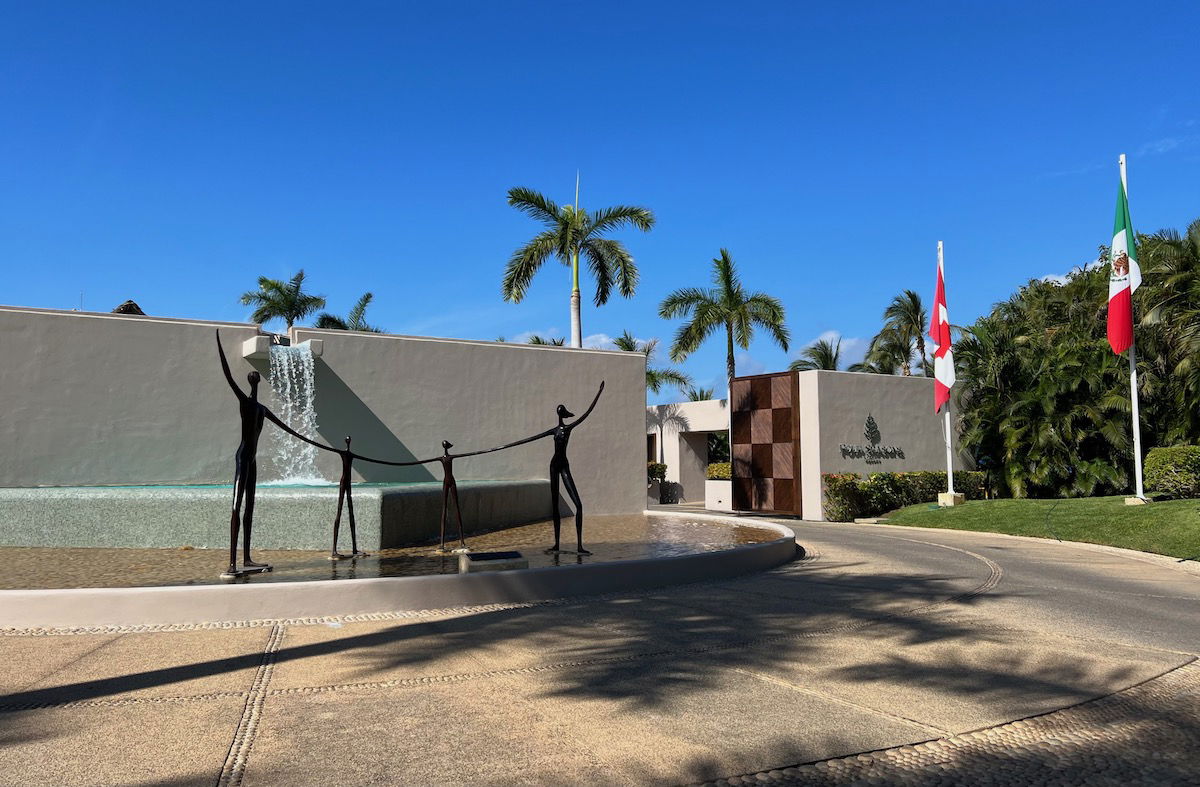 The closest airport to the hotel is Puerto Vallarta Airport (PVR), which has nonstop flights from many gateways in the United States, so it's easy to get to. From the airport to the resort, you can expect that the transfer will take somewhere around 45 minutes, depending on traffic.
Four Seasons Punta Mita lobby & check-in
When we pulled up to the Four Seasons Punta Mita, we were welcomed by the friendly bellmen, and invited to take a seat in the open air lobby. My gosh, what a gorgeous space — the lobby has a great sense of place, and beautiful views of palm trees and the ocean.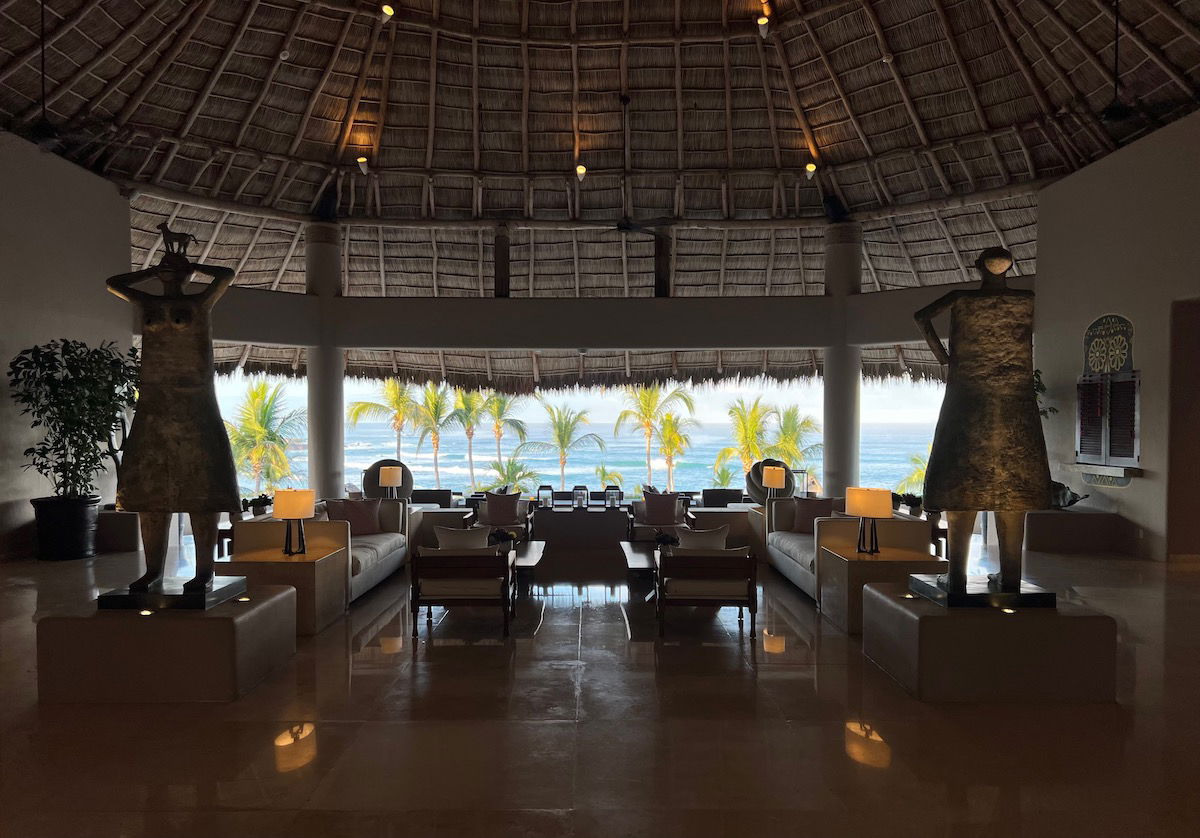 The lobby has lots of seating, and is a great place to hang out if you just want to take in the views.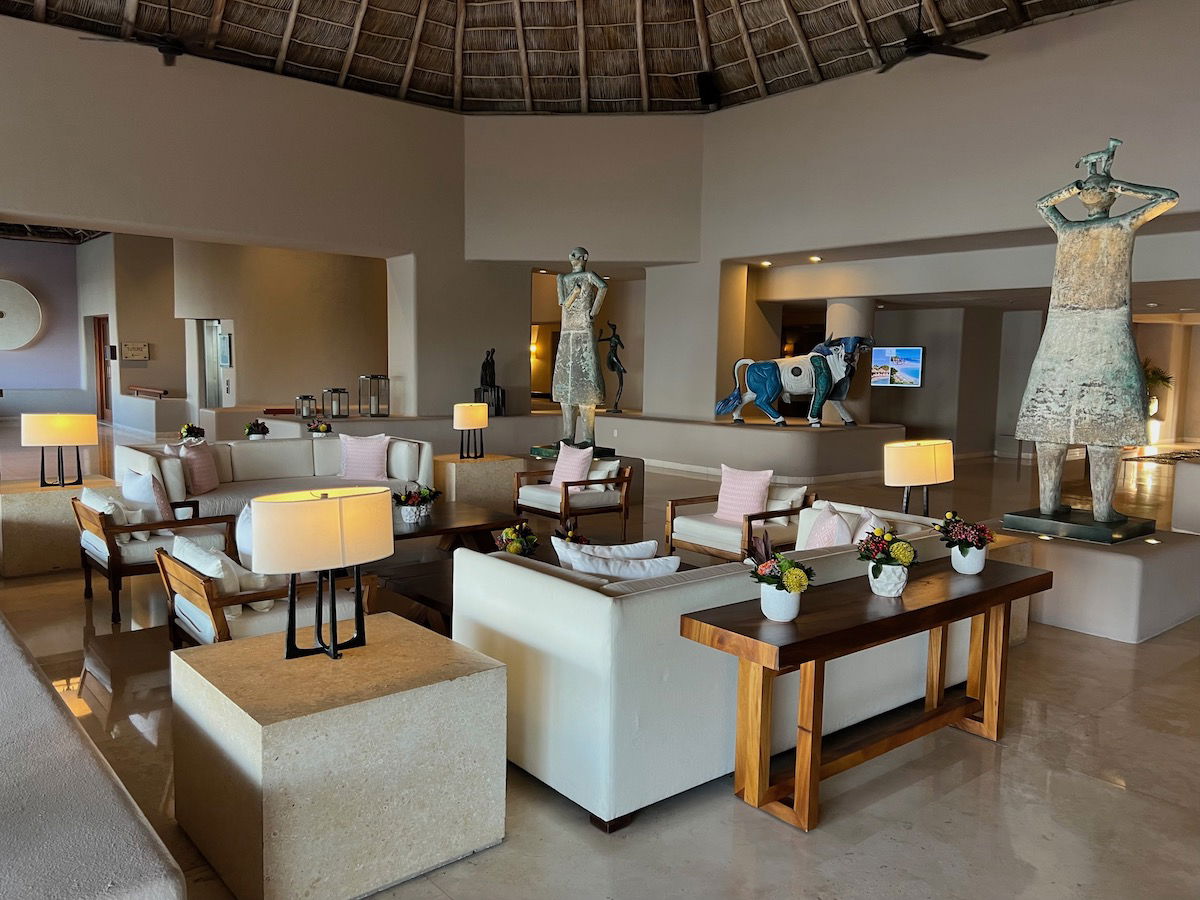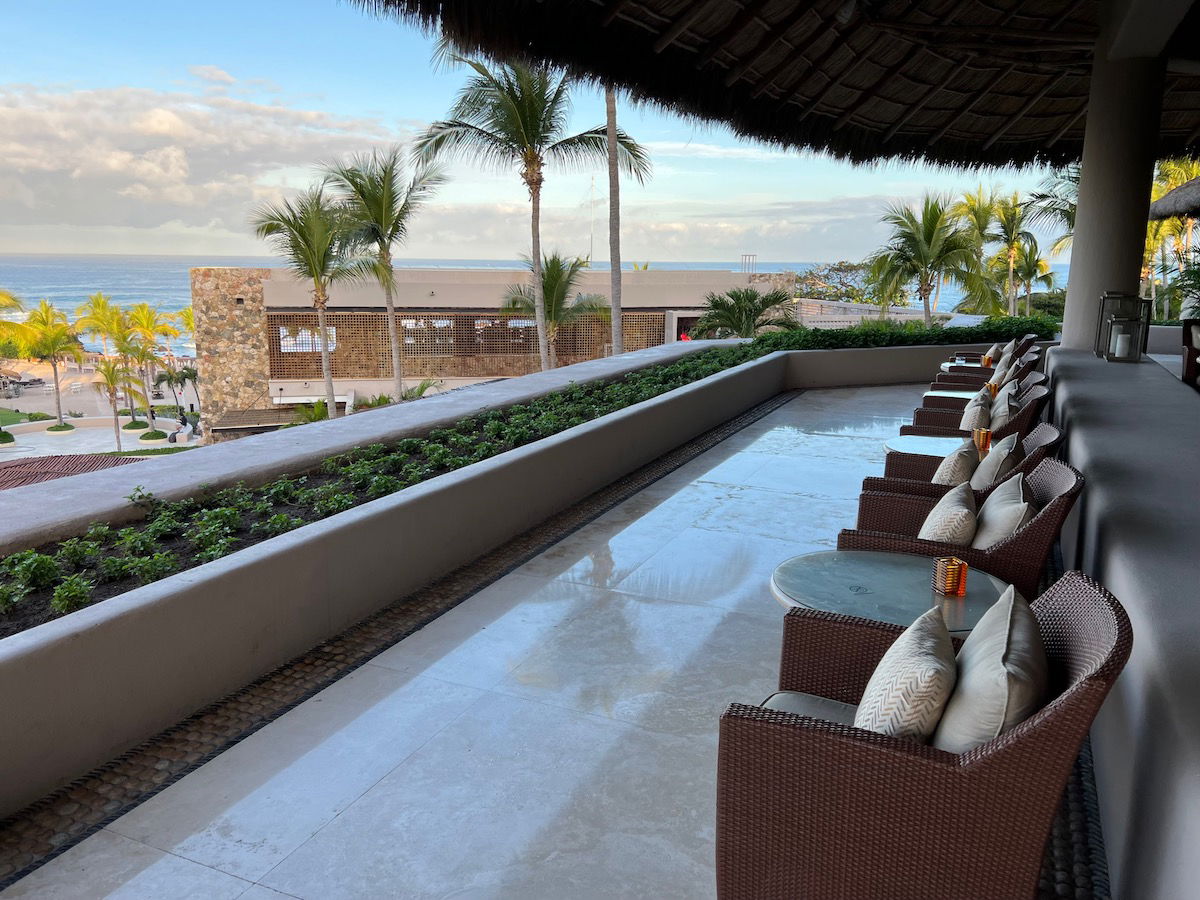 There's even a little tequila bar in the lobby, should you want to enjoy a sunset cocktail.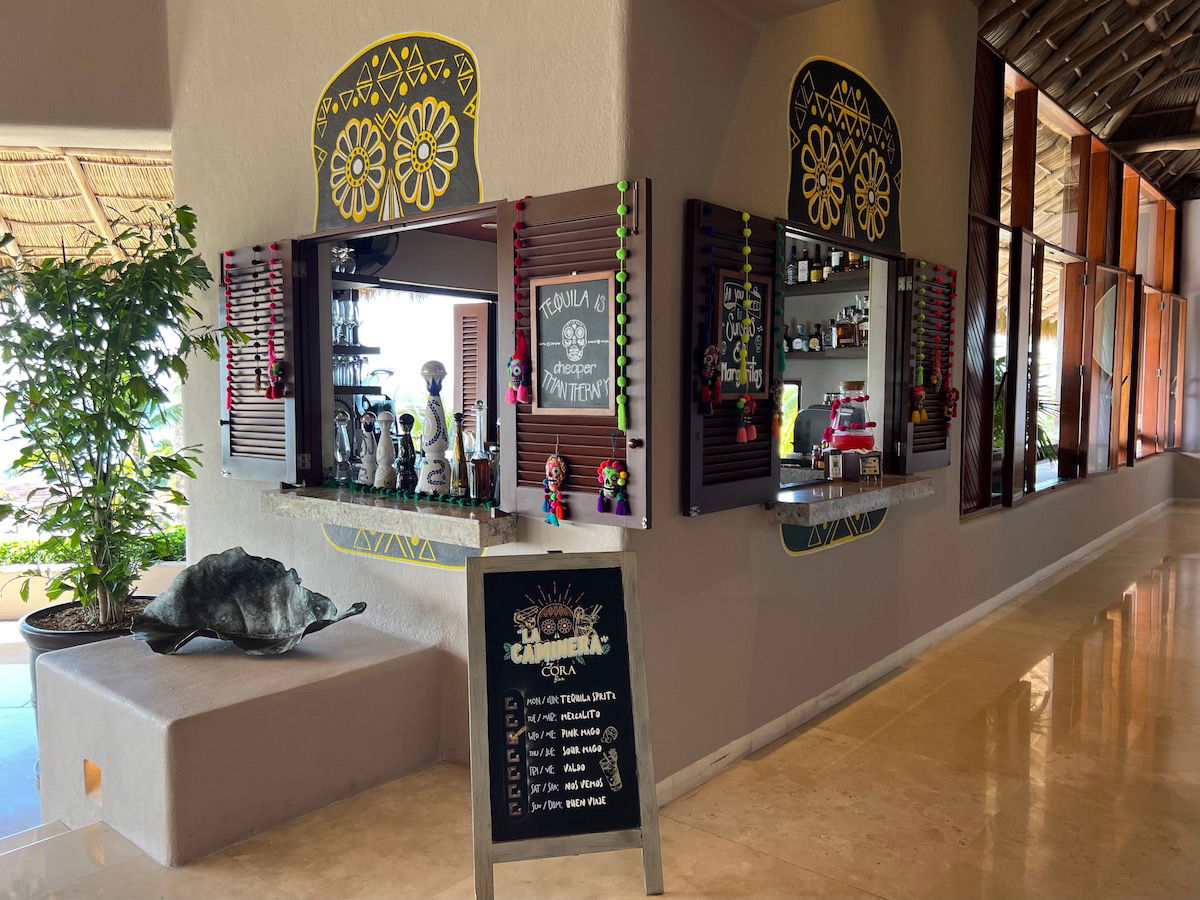 Upon having a seat, we were offered cold towels, along with an orange mango welcome drink (which can be enjoyed with or without tequila).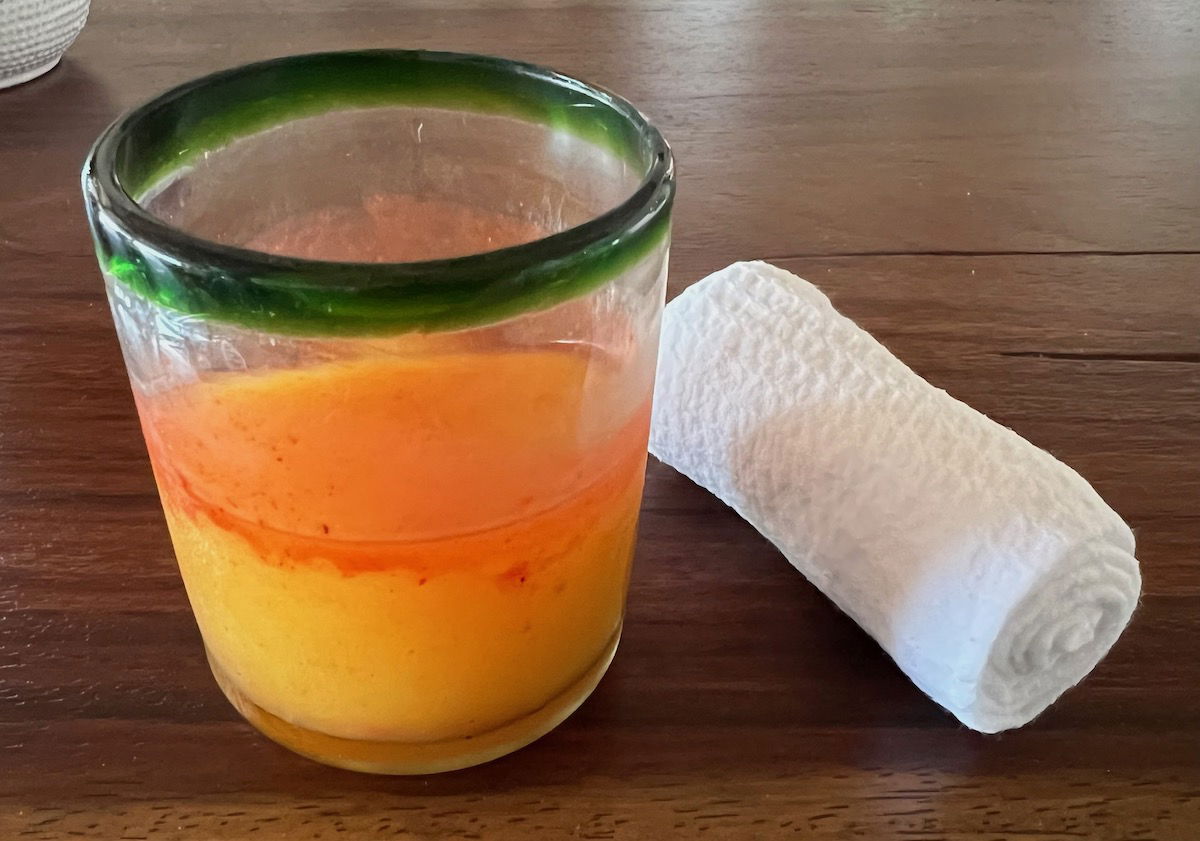 The check-in process was efficient, and within a few minutes we were driven to our casita in a golf cart.
Four Seasons Punta Mita oceanfront casita
The standard accommodations at the Four Seasons Punta Mita are casitas, with the difference being the view — there are garden casitas (mainly with views of the garden), ocean casitas (with some views of the ocean), and oceanfront casitas (with direct views of the ocean).
We were assigned room 405, which was an oceanfront casita. This had a convenient, central location near the main pool and the restaurants. Just walking (or being driven) around the property is a treat in and of itself, as the grounds are beautifully maintained.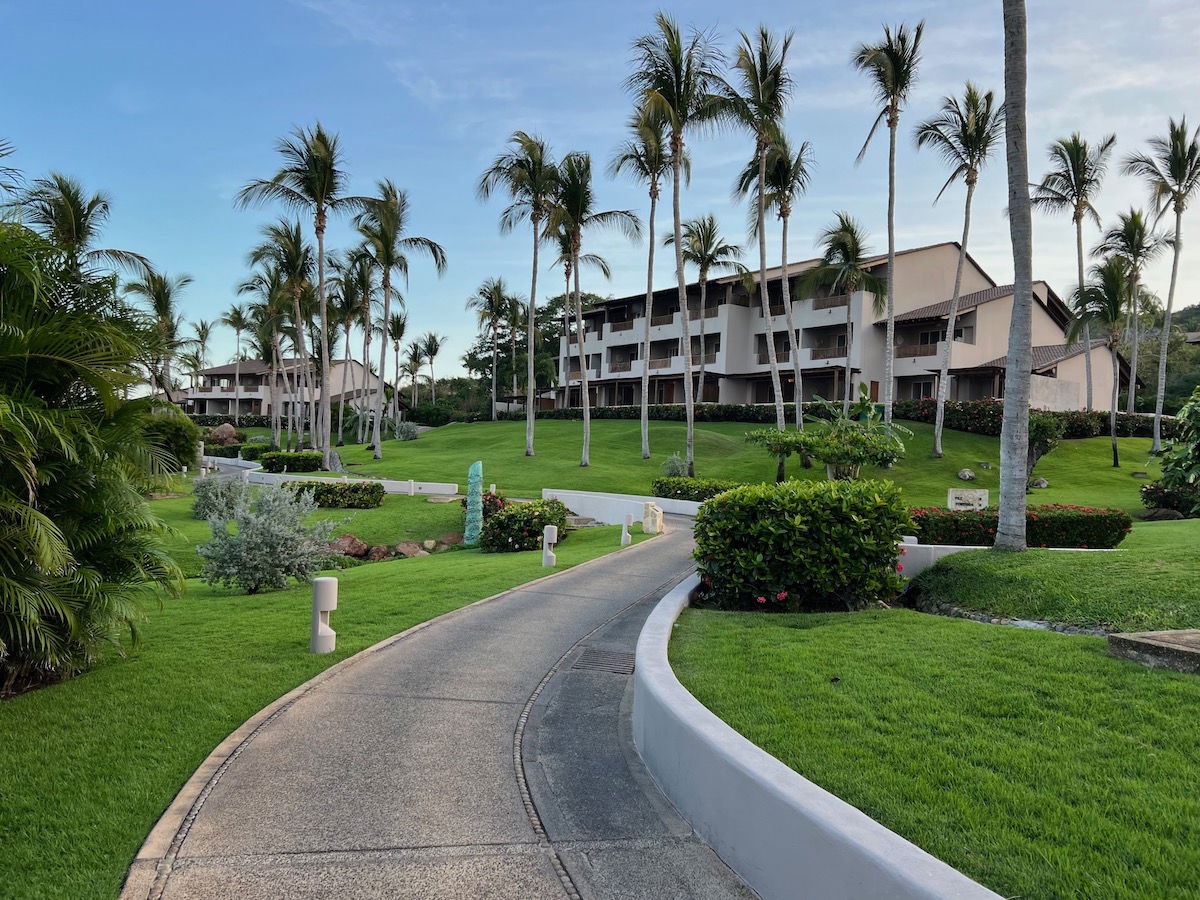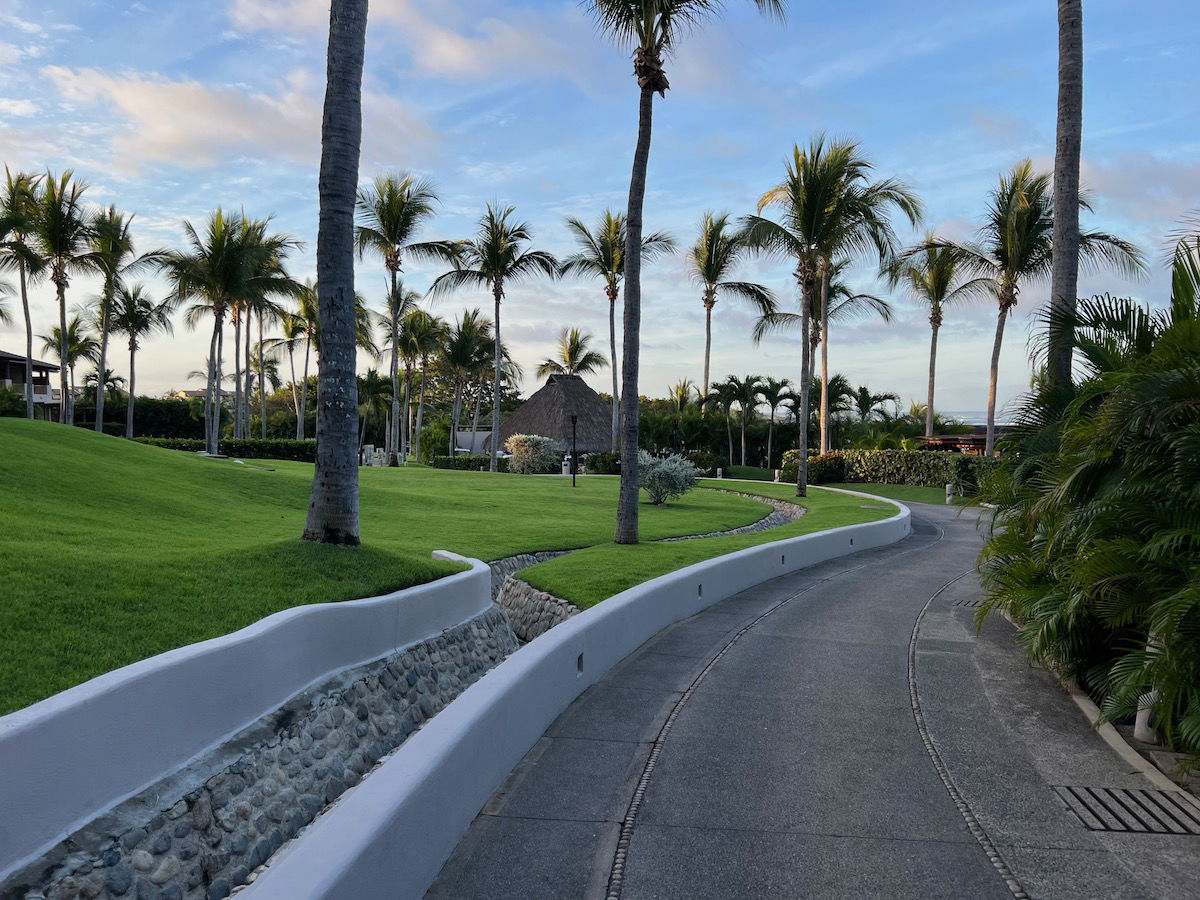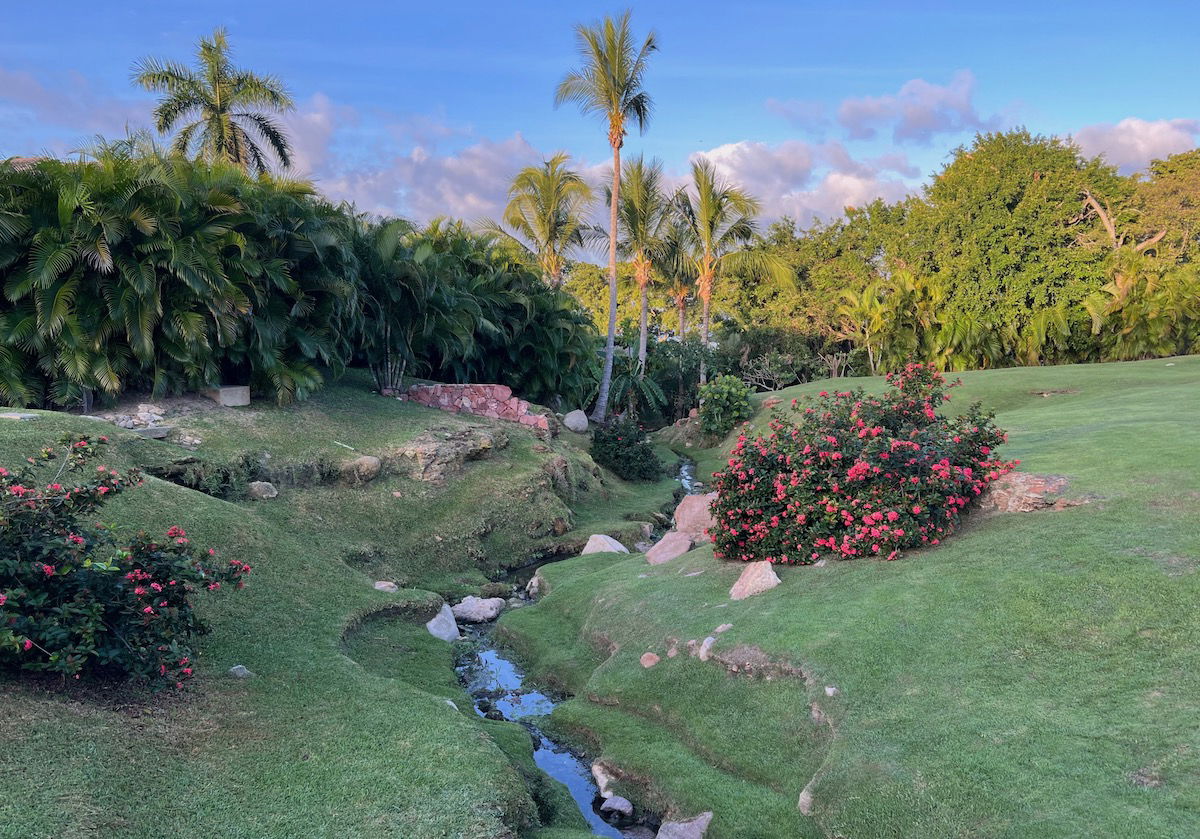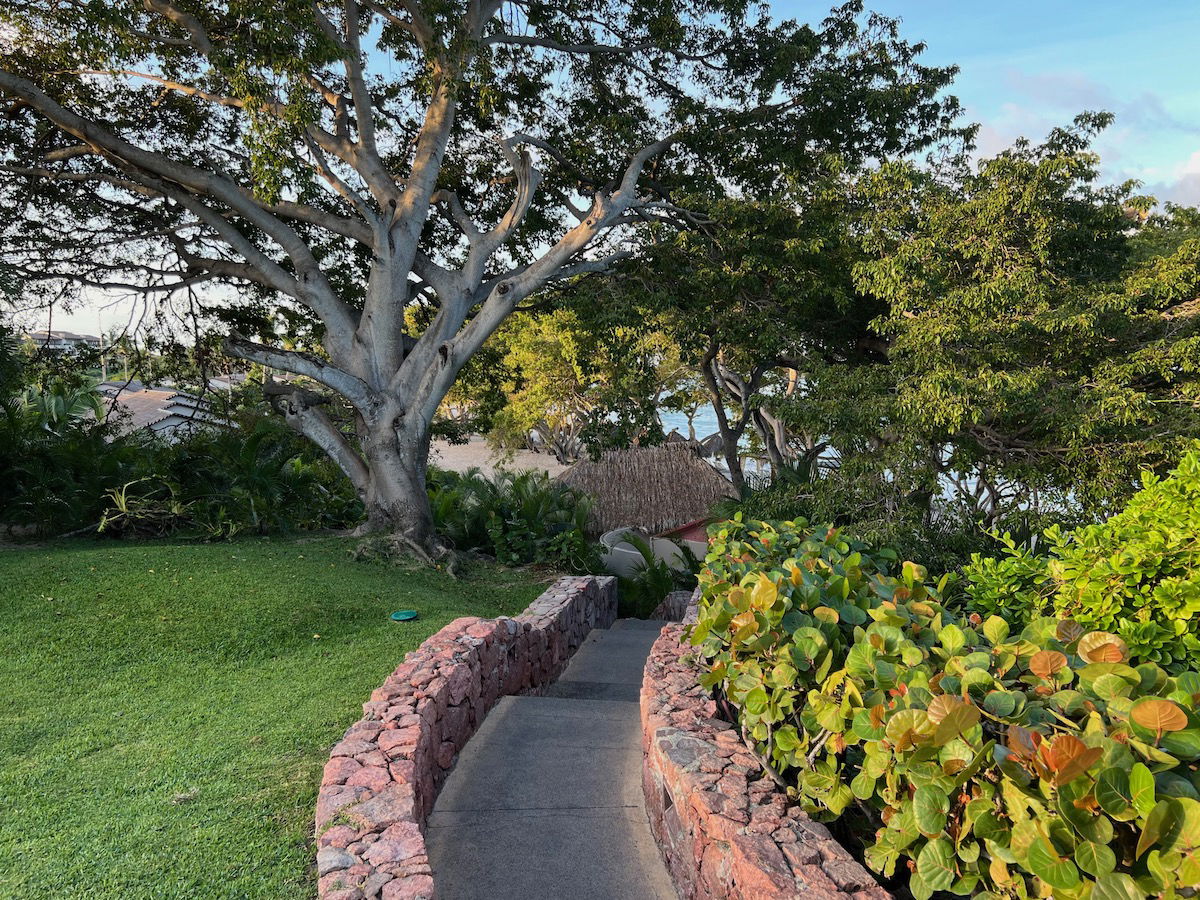 Now, admittedly the Four Seasons Punta Mita opened in 1999, so it's not going to be as cutting-edge in terms of design as the Four Seasons Los Cabos, for example. However, that's also part of the charm, in a way, as the red-tiled rooftops are fitting for the area.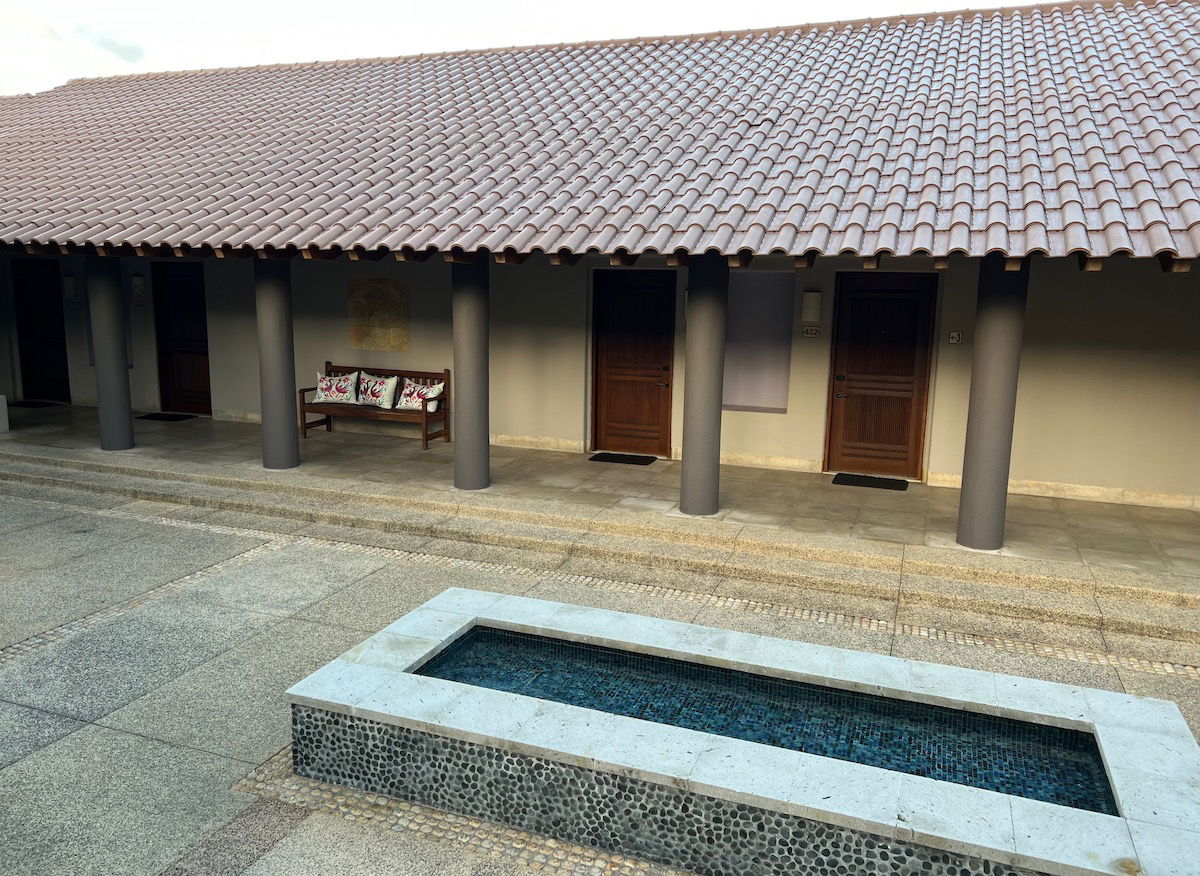 All casitas at the Four Seasons are marketed as being 645 square feet (60 square meters), and that includes both indoor and outdoor space.
The room featured an entryway with the bathroom to the left and a closet to the right, and the rest of the room straight ahead.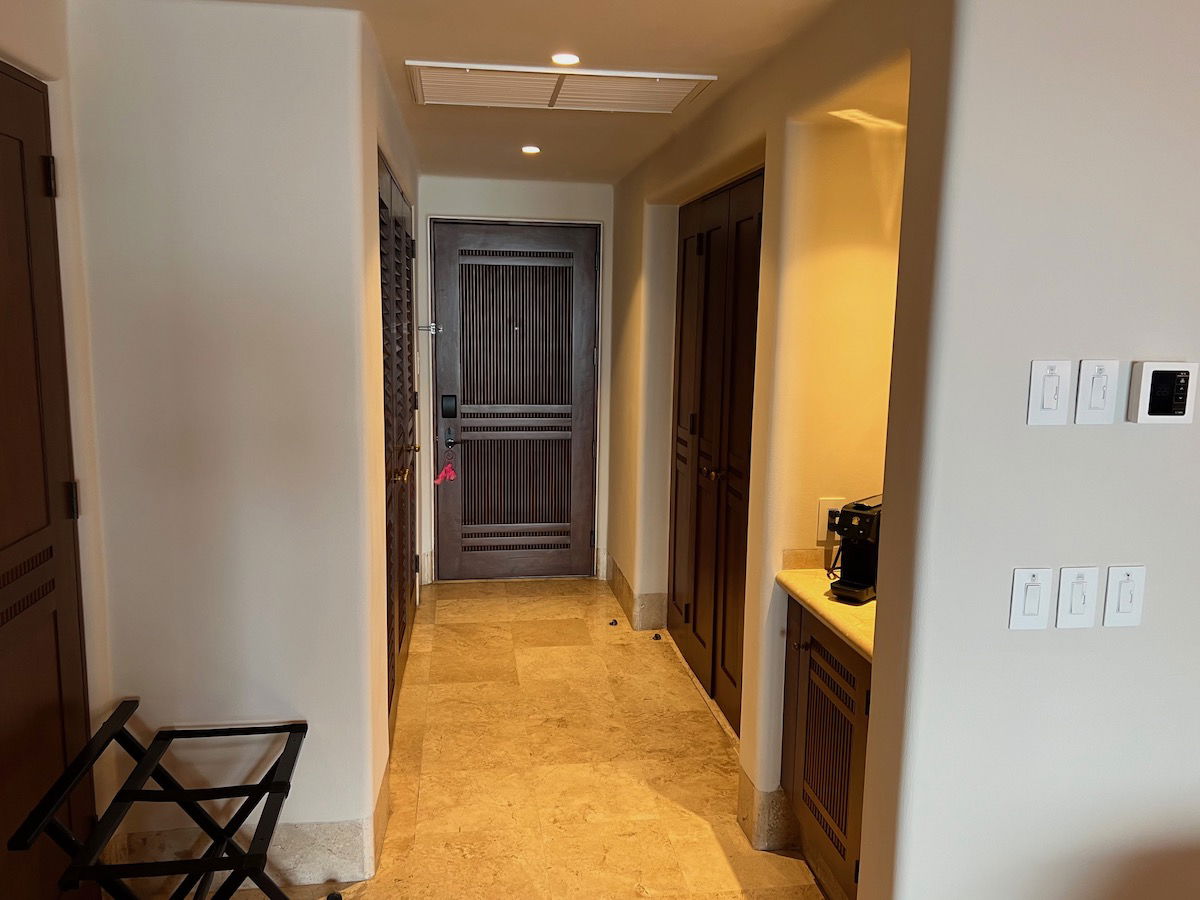 The rooms at this property are generously sized for non-suites, with quite a large living area. The room featured the comfortable (as always) signature Four Seasons bed, which is my favorite of any hotel group. The room then featured a a couch (which doubles as a queen sofa bed), as well as a dining table with two chairs.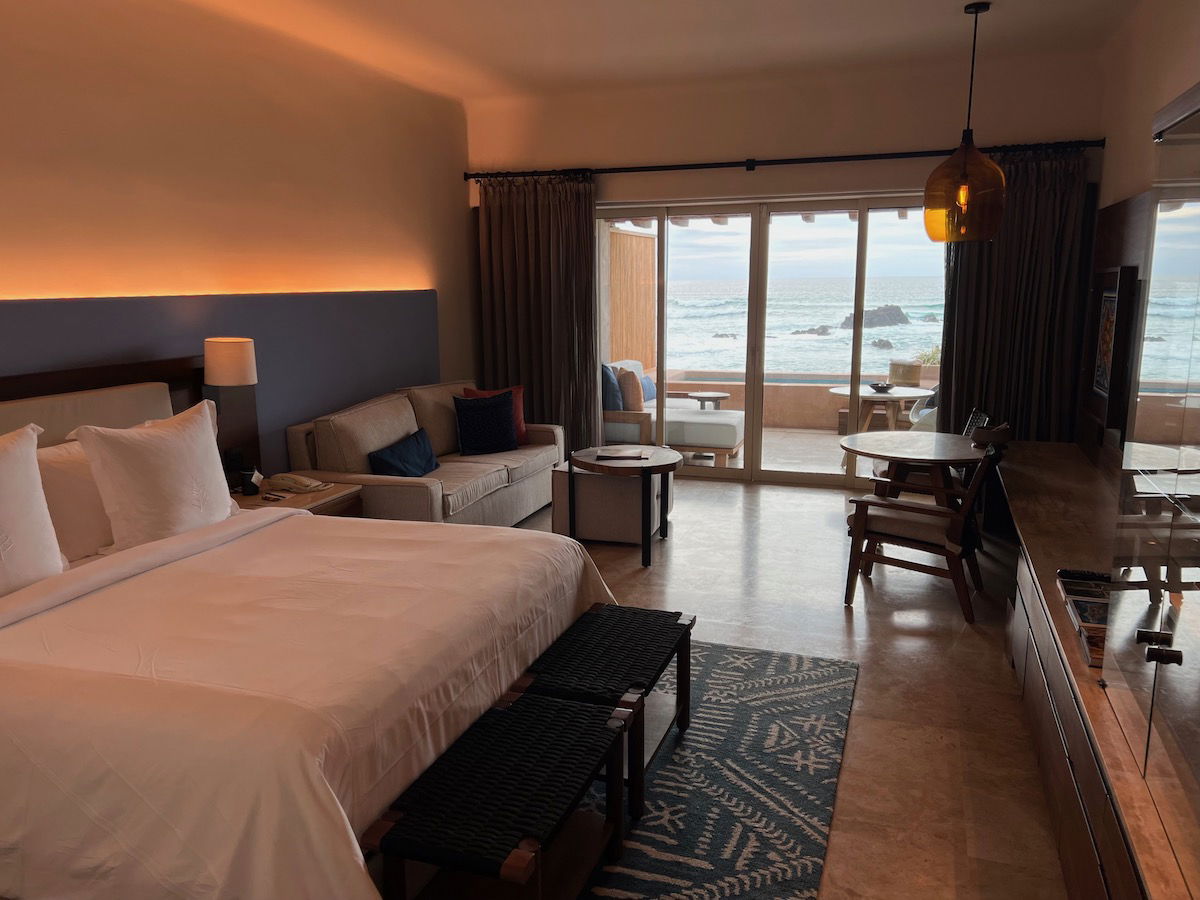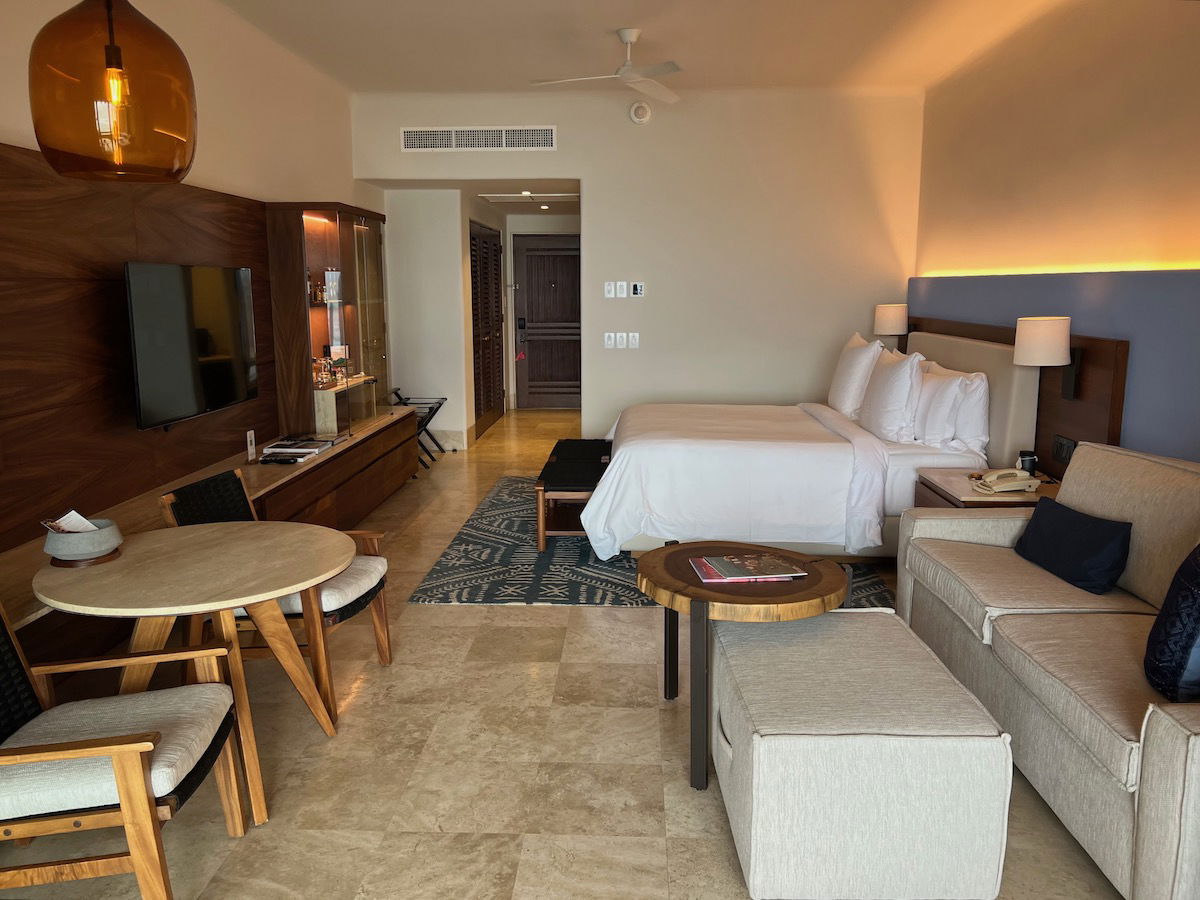 There was a large, wooden console along one of the walls, featuring a piece of art, a wall-mounted TV, and a minibar display in a glass enclosure.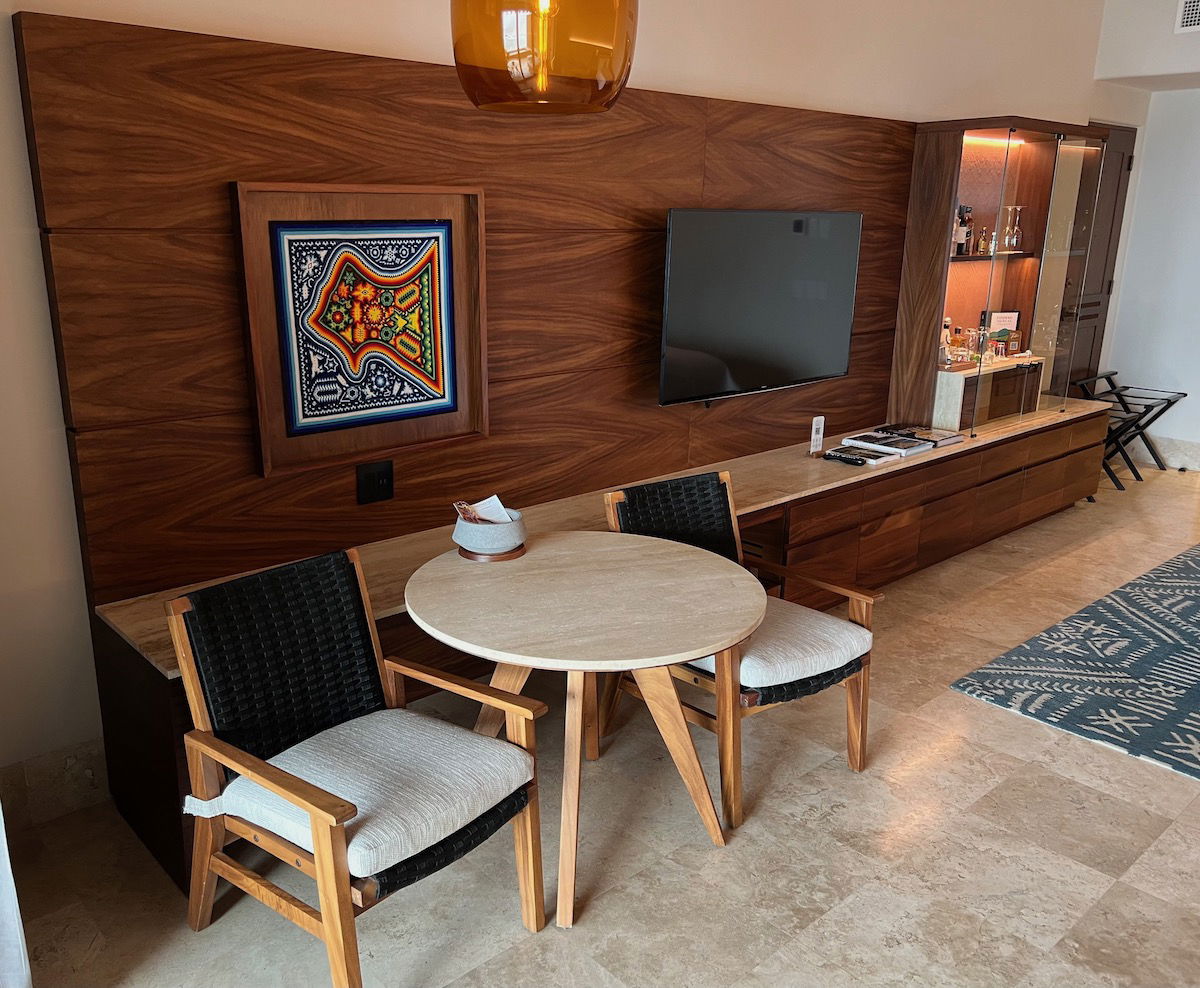 The minibar had all kinds of liquor, wine, and snacks.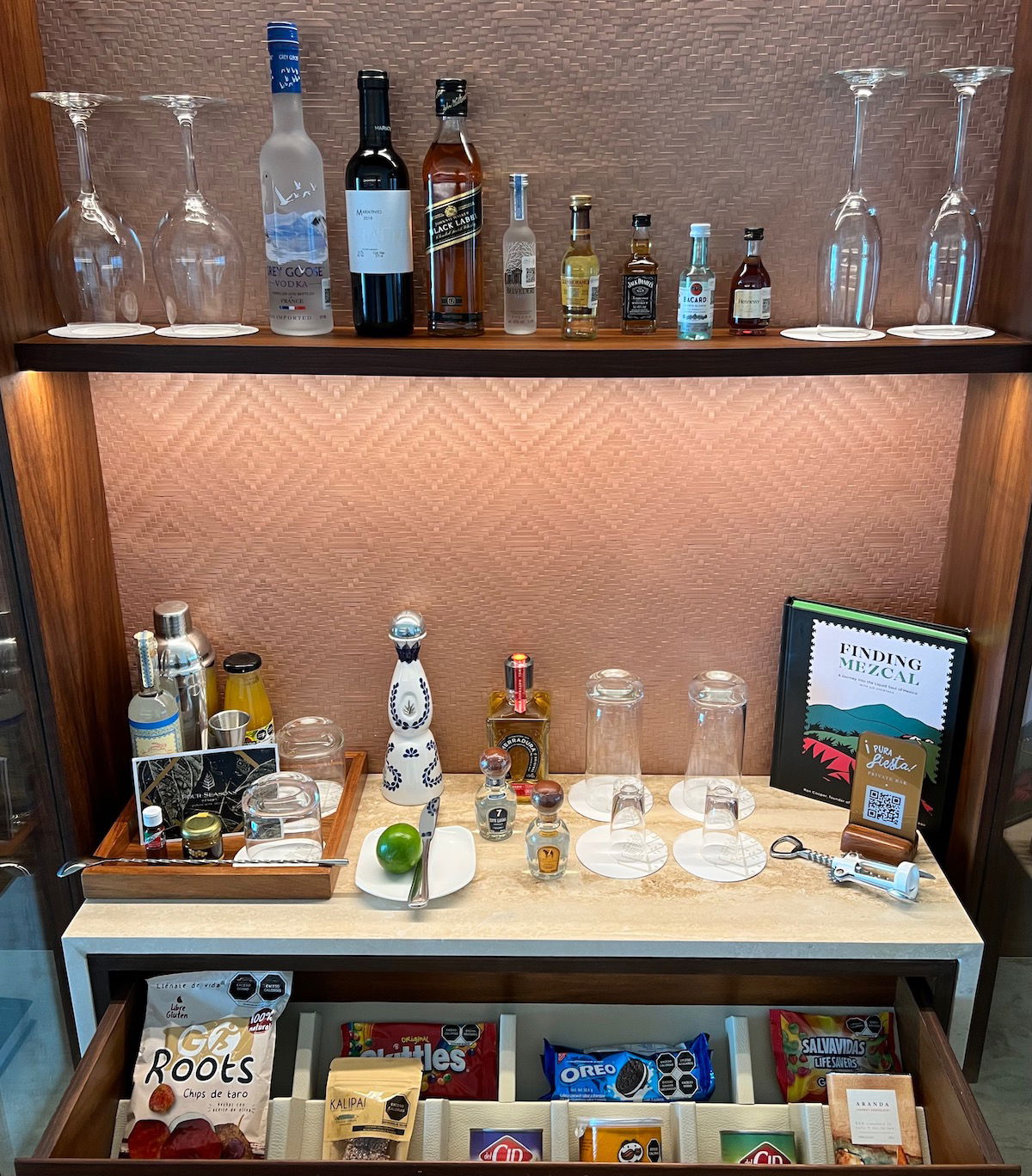 Across from that minibar display was a second minibar area, with a coffee machine, a tea kettle, and a fridge with more drinks.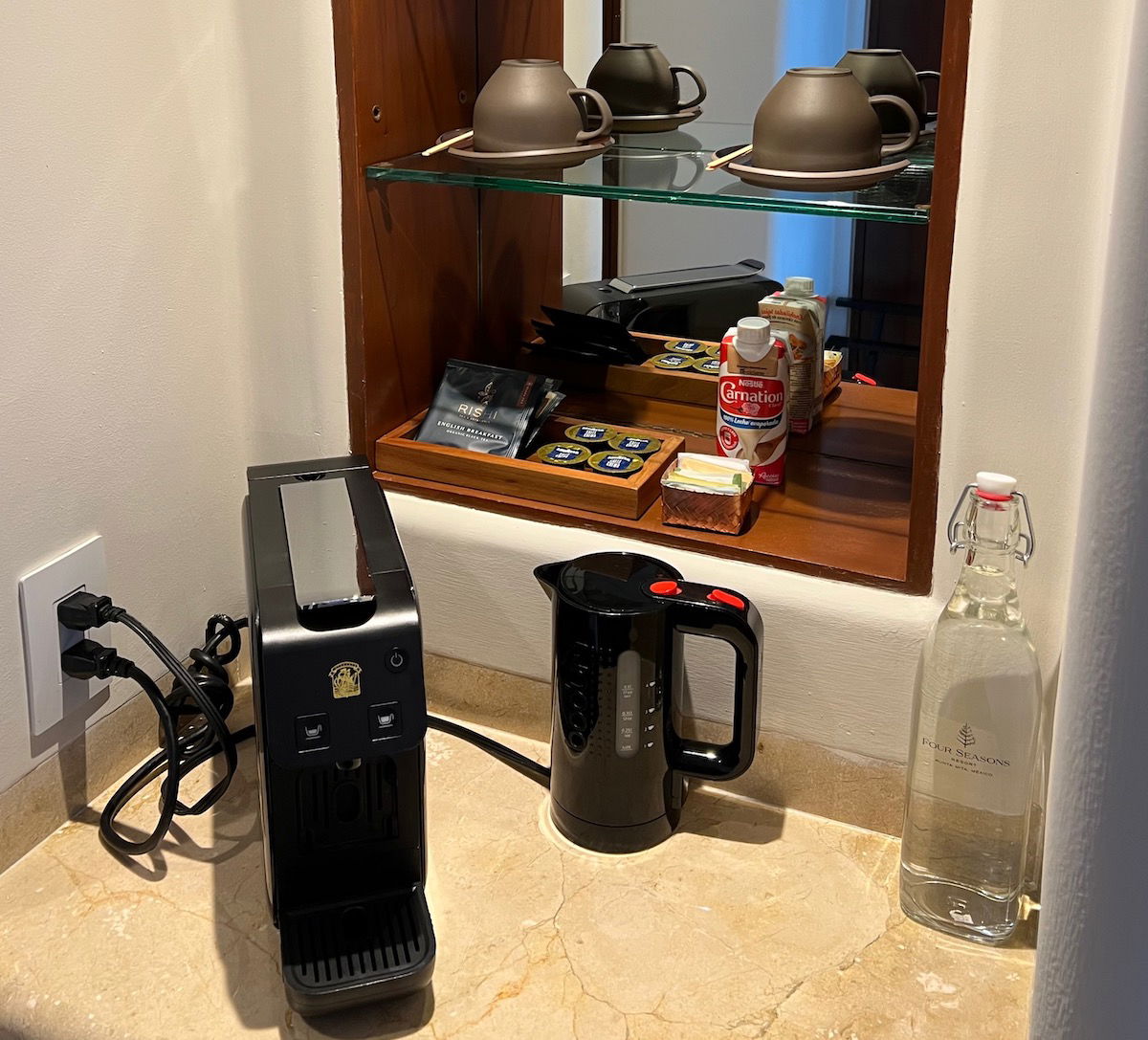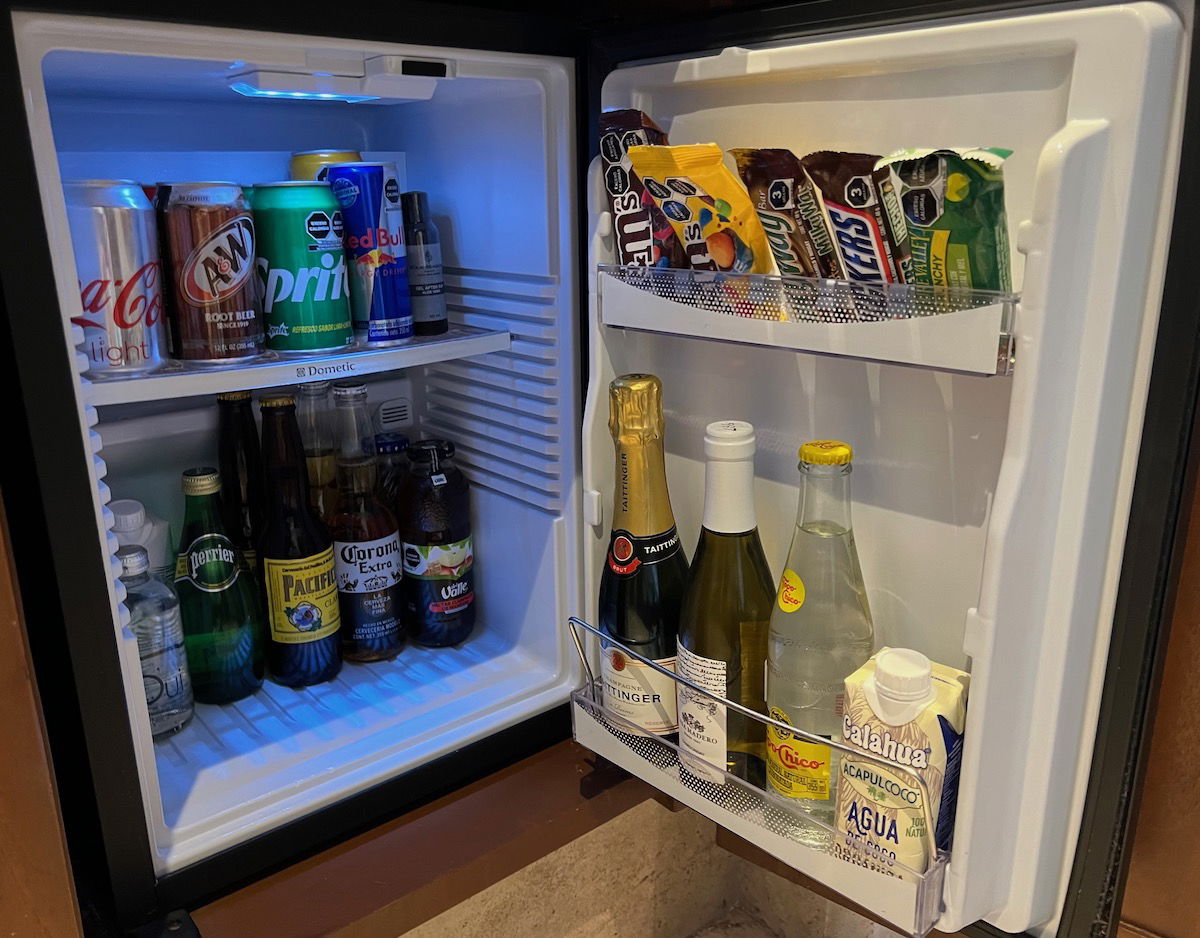 On the evening of our arrival, we were brought a welcome amenity consisting of a make-your-own margarita set, which I thought was cute.
The bathroom was back near the entrance, and featured double sinks, a soaking tub, a walk-in shower, and a toilet in a separate room.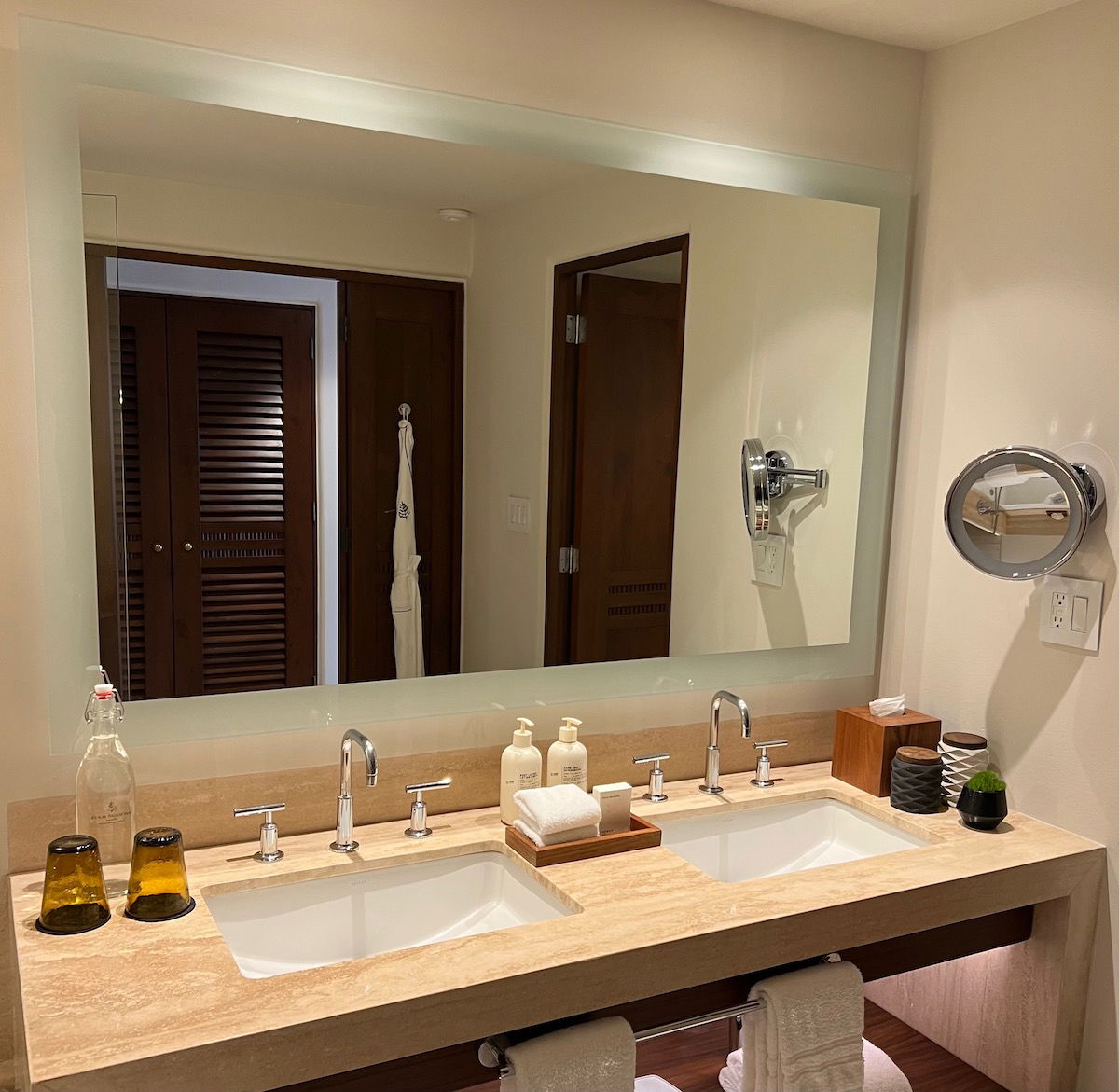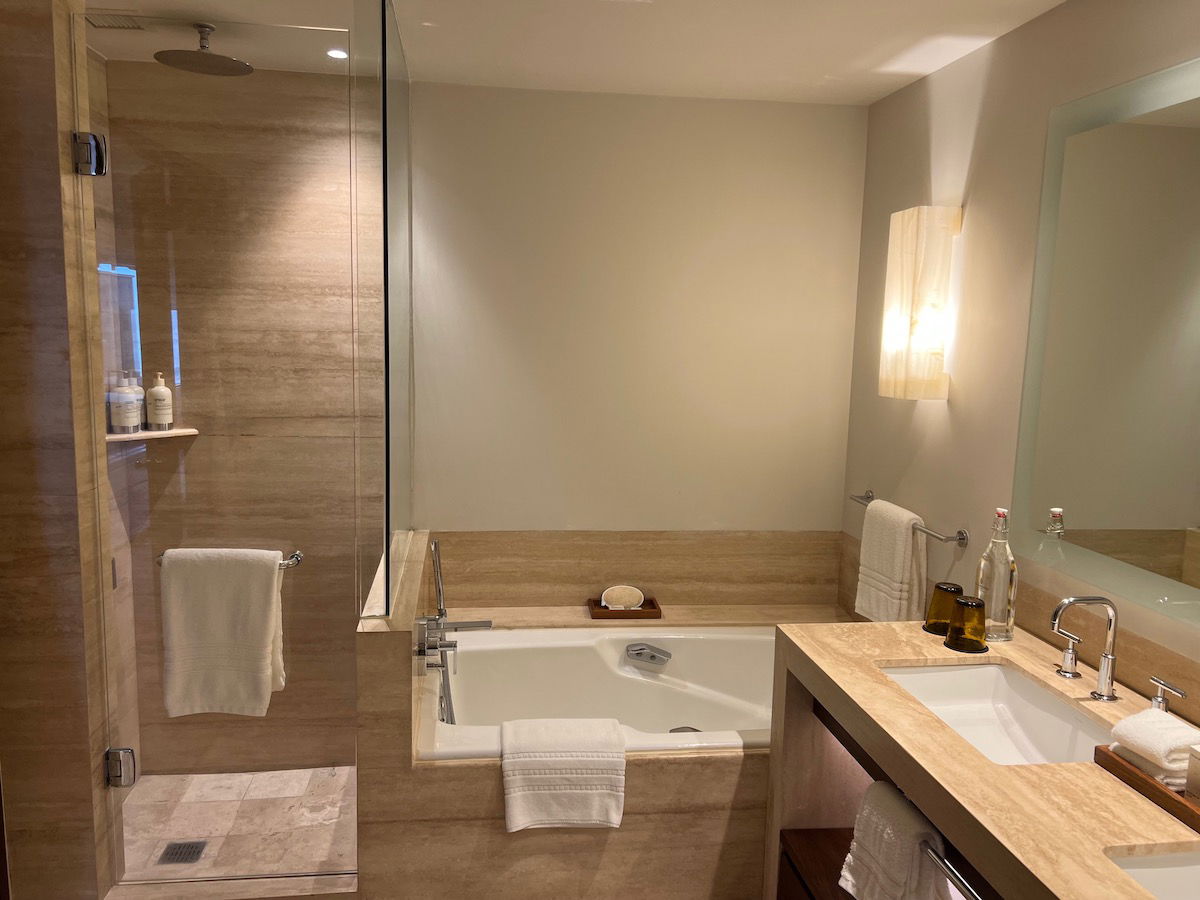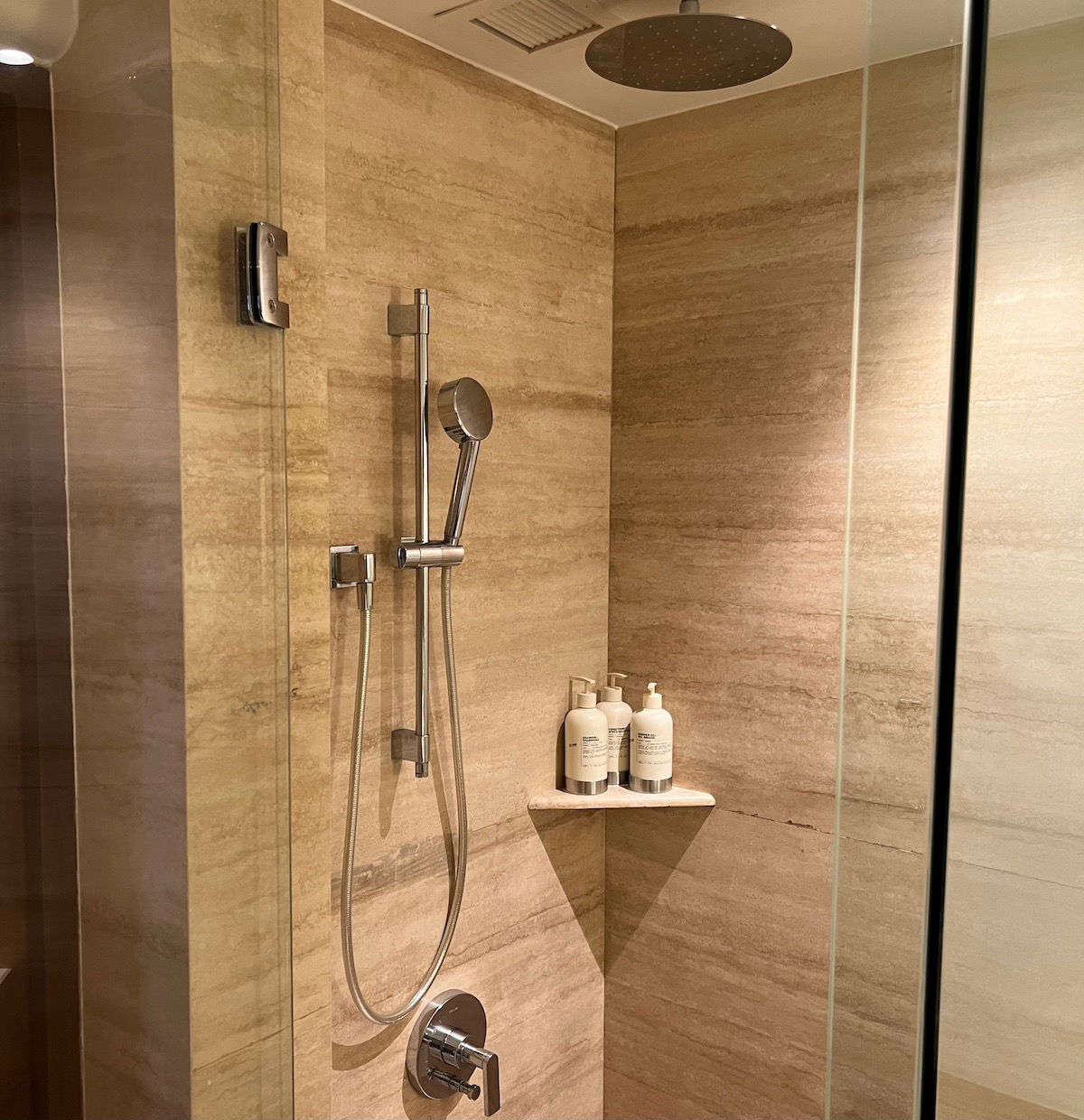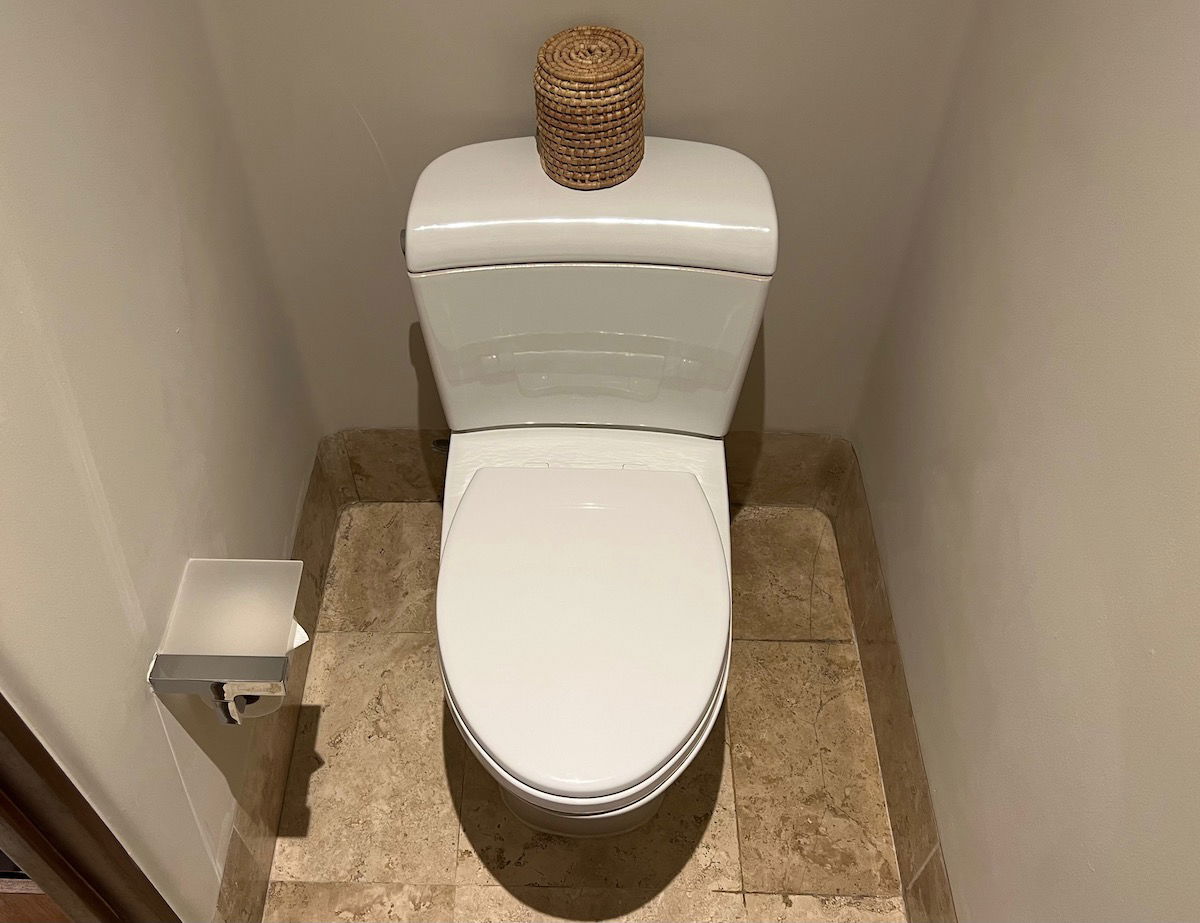 Toiletries were from Le Labo, and were in reusable containers.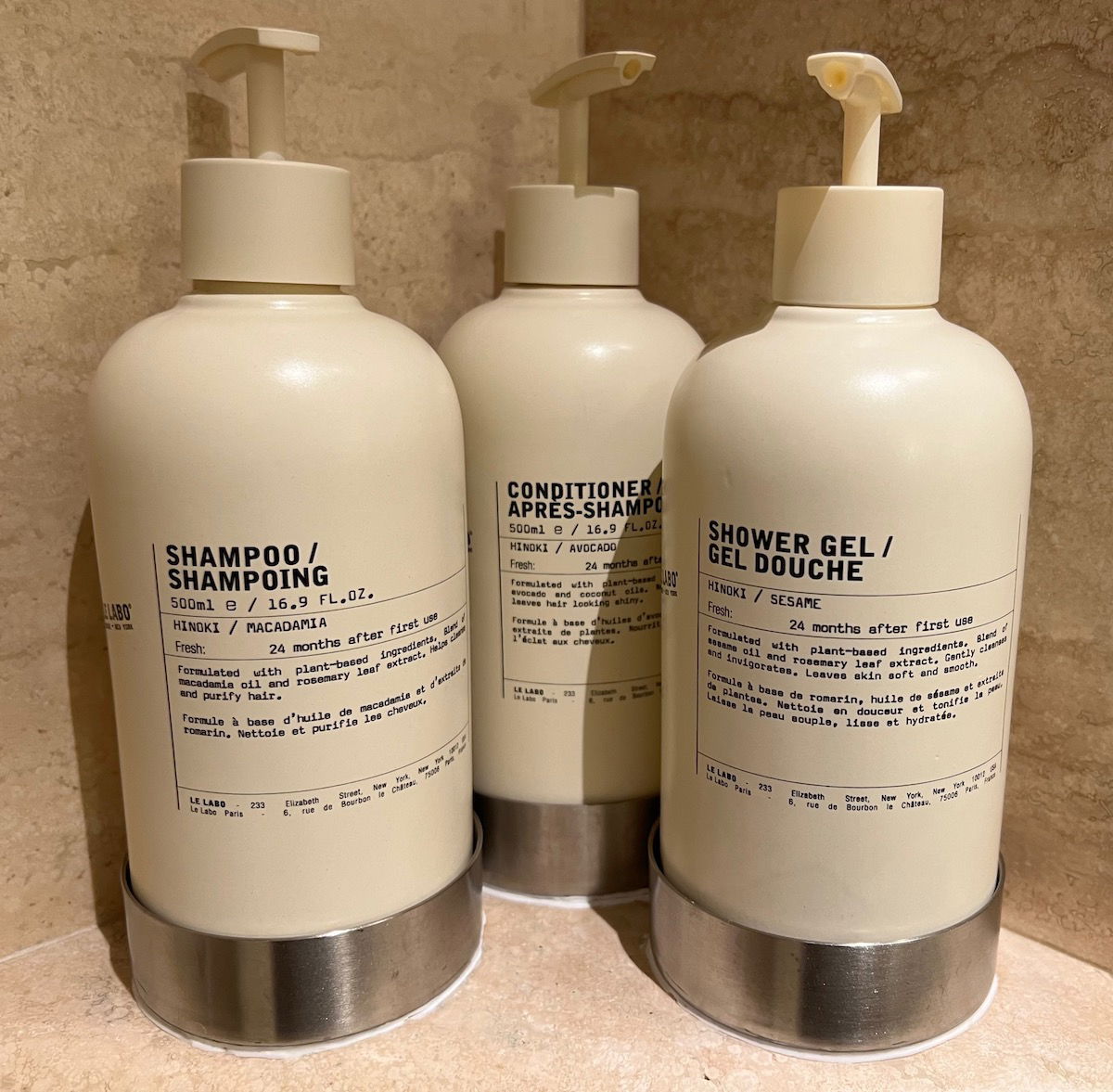 As is often the case at resorts in Mexico, the real highlight of the room was the outdoor space. The outdoor area had a table with two chairs, as well as a loveseat. There was also a small plunge pool.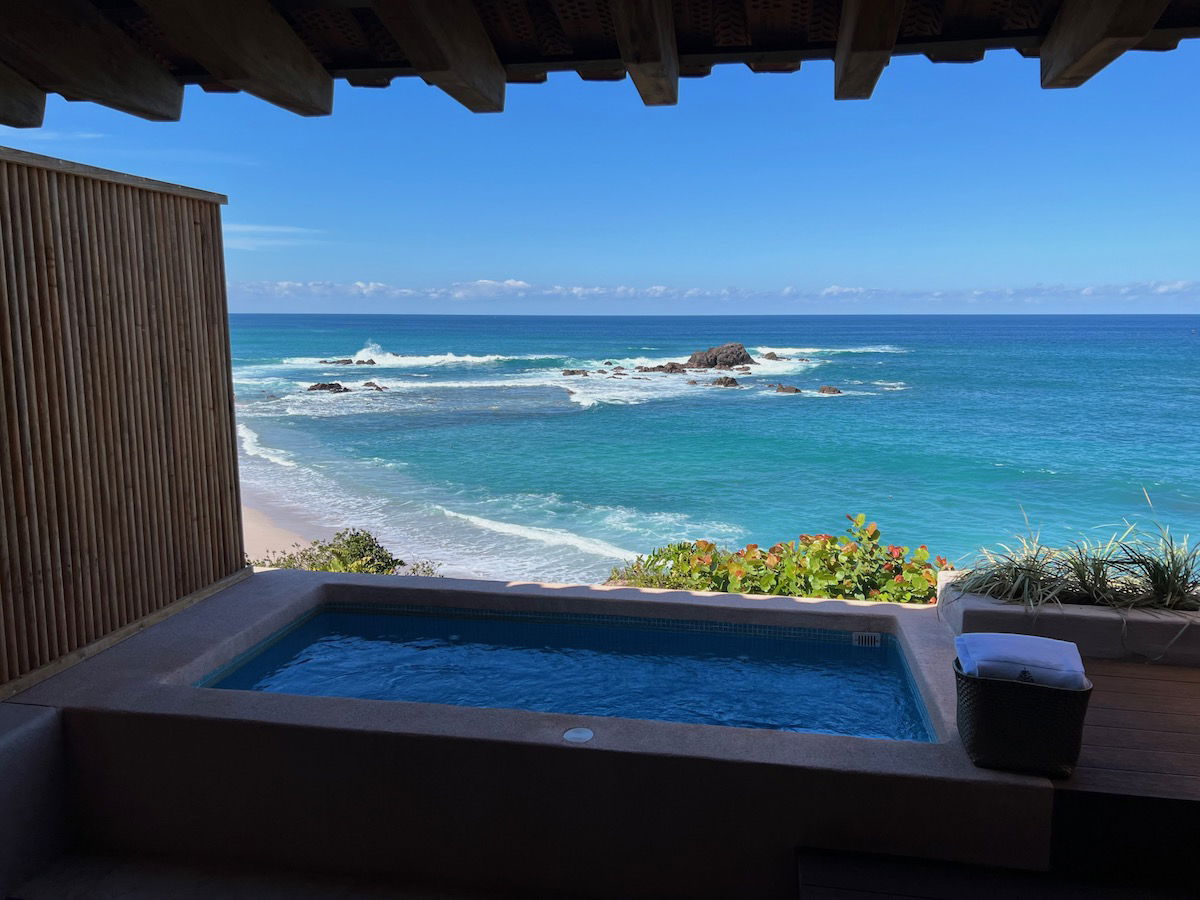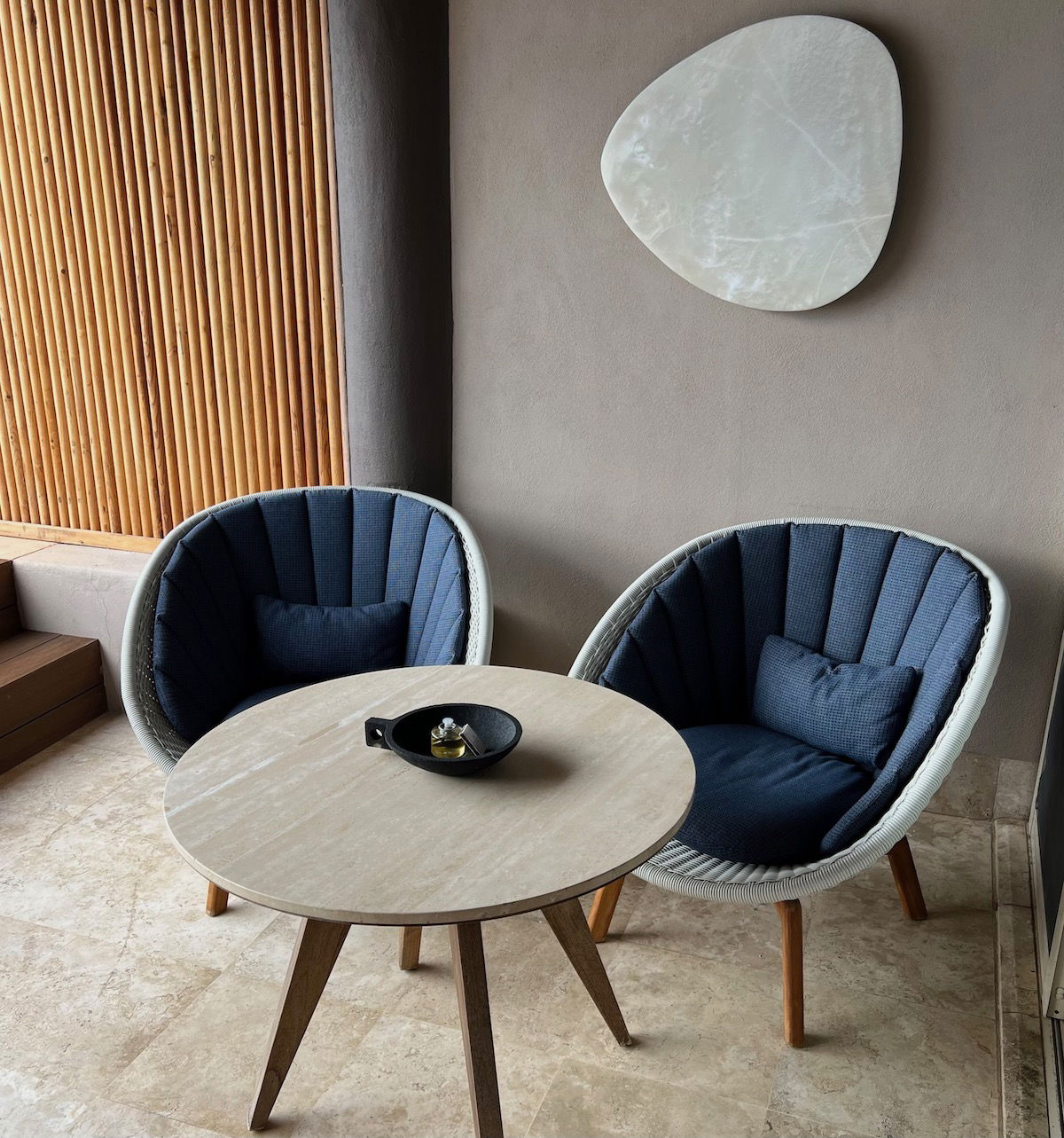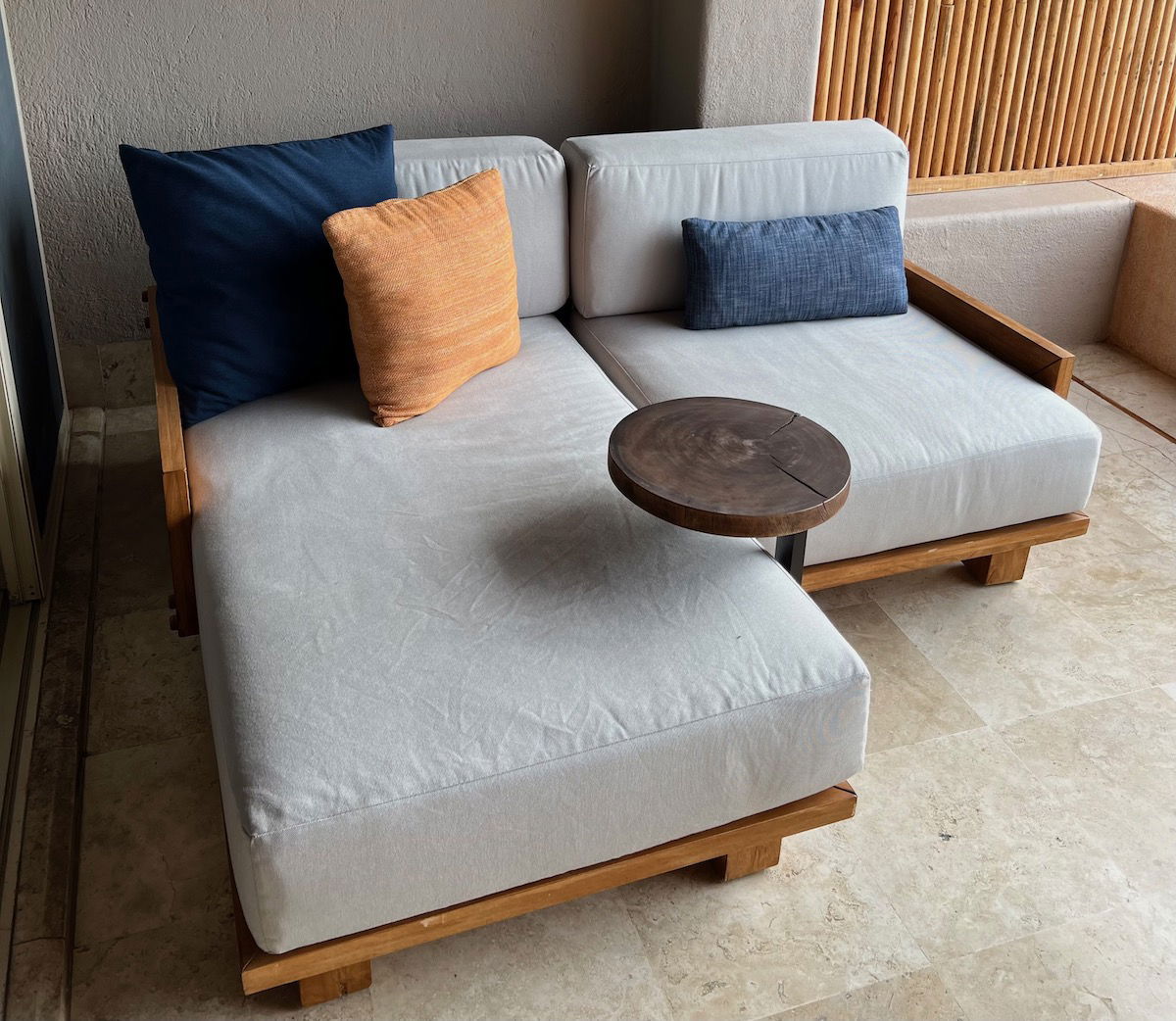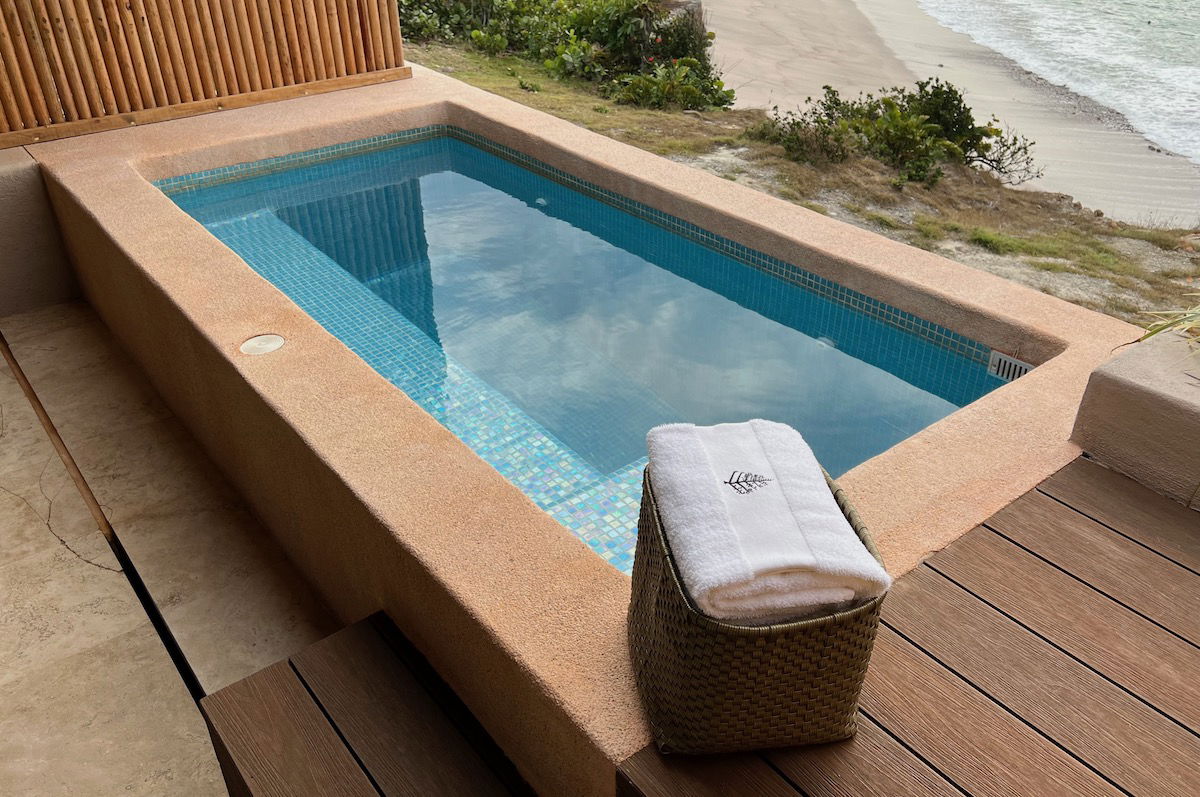 Most exciting of all, though, was the view from here. Having a view like this is simply unreal. I can't count how many hours we spent out here, as the views never got old. I also loved how loud the waves were from the outdoor space, which has to be one of my favorite sounds in the world. While I listen to white noise at night of waves crashing, nothing can compare to the real thing.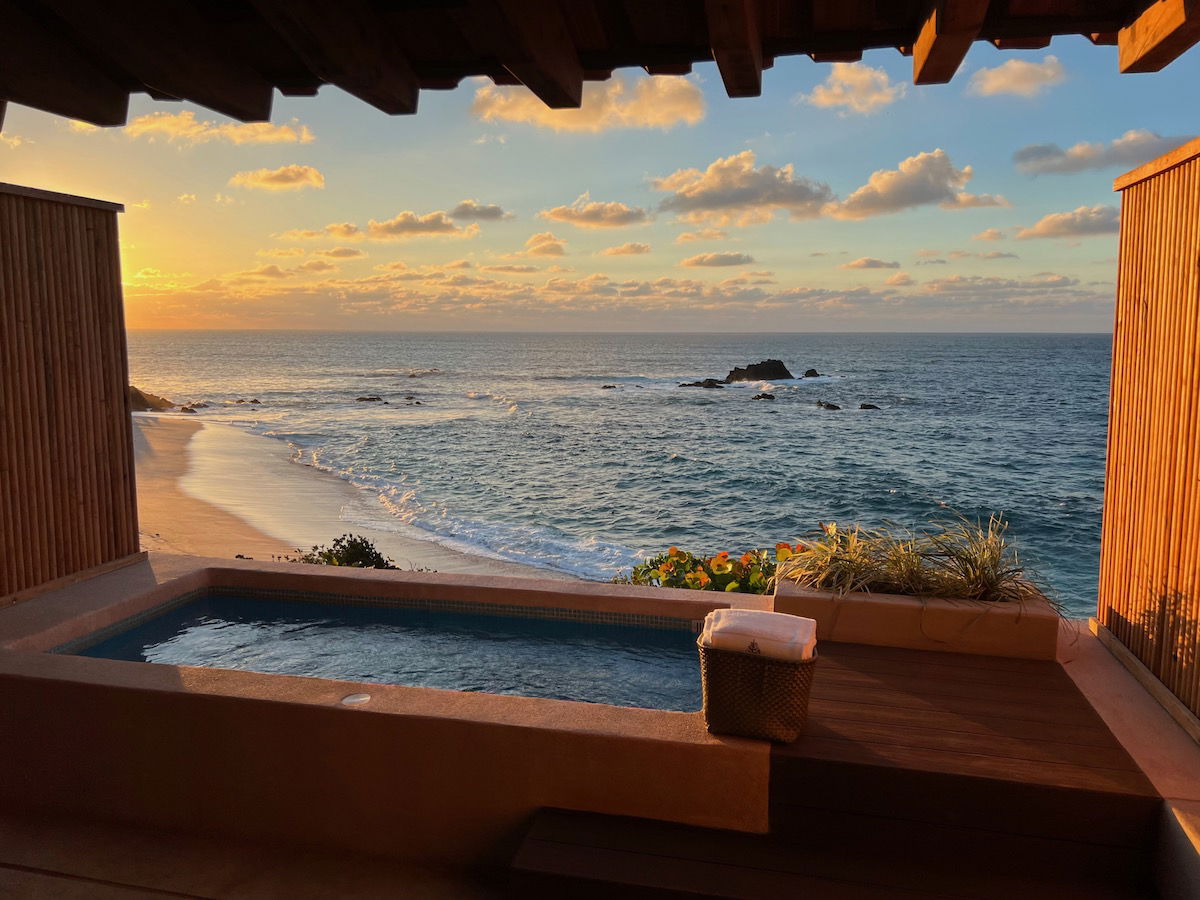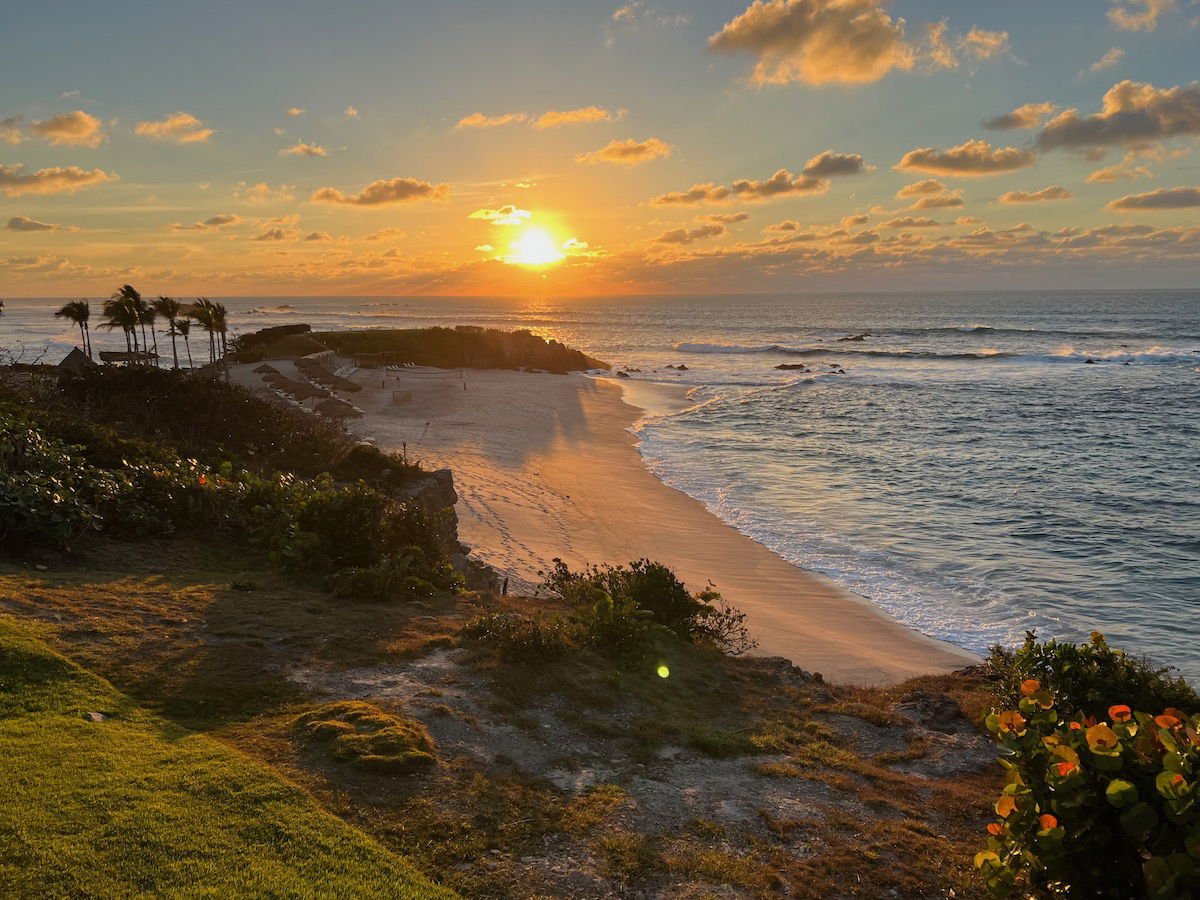 We very much enjoyed the room, and in particular the view. While we're talking about the rooms, one of the amenities that I love about this hotel is that there are complimentary laundry facilities throughout the resort, so you can do your own laundry. This is such a simple yet useful feature, especially for those who are traveling light and/or are on extended trips.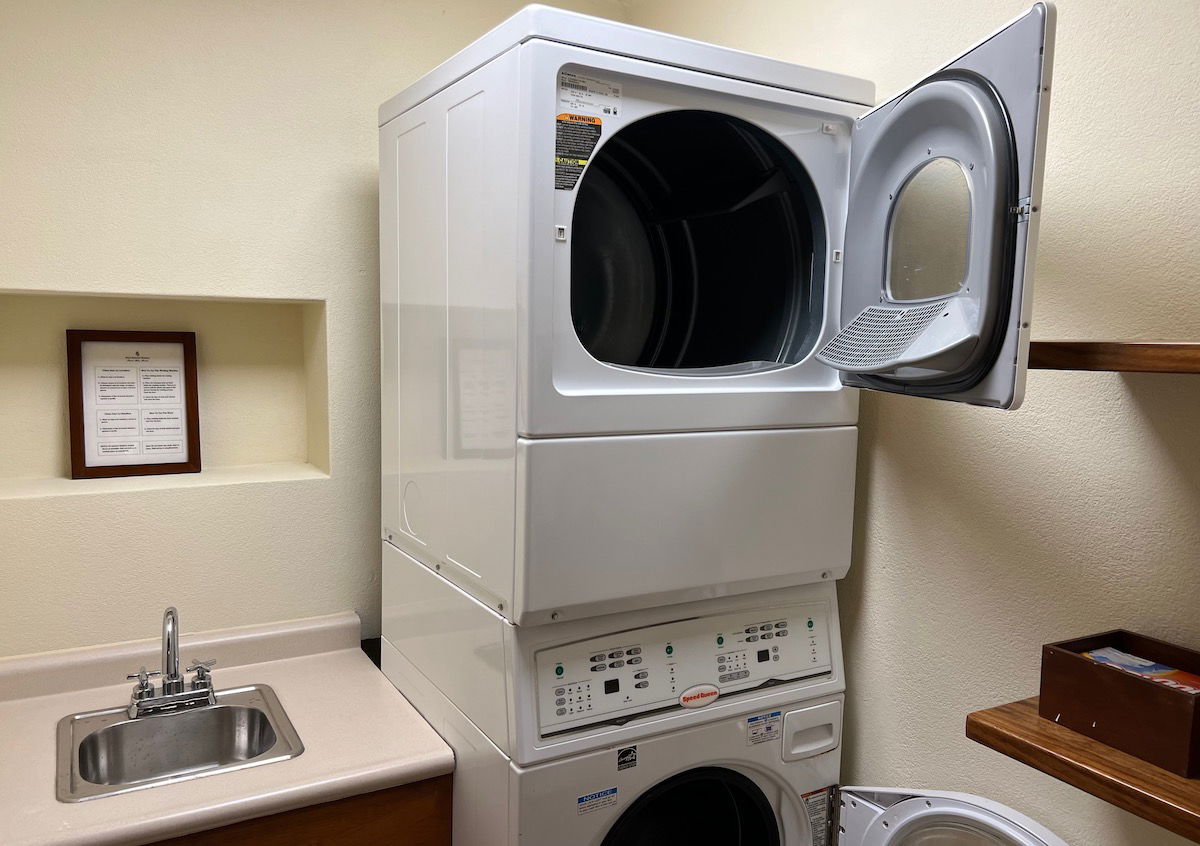 Four Seasons Punta Mita pools & lazy river
The Four Seasons Punta Mita has a very strong pool (and lazy river) game. The property has three main pool areas:
There's the Nuna Pool, which is the infinity-edge pool for families
There's the Tamai Pool, which is the pool for adults
There's the lazy river, which is very much for people of all ages to enjoy
The main pool is gorgeous. Not only is it infinity-edge, but it's elevated above the beach and ocean, so the views are spectacular. This area consists of one large pool, plus a hot tub.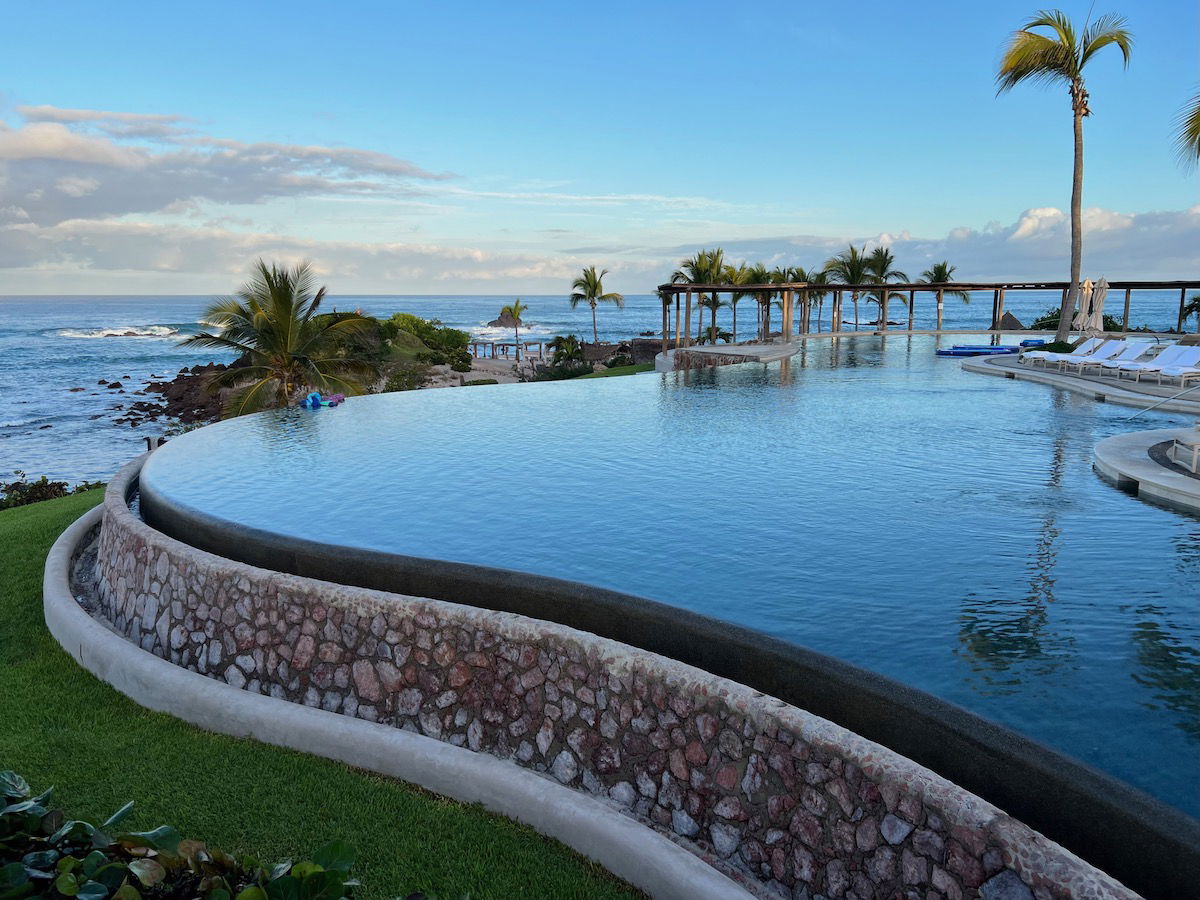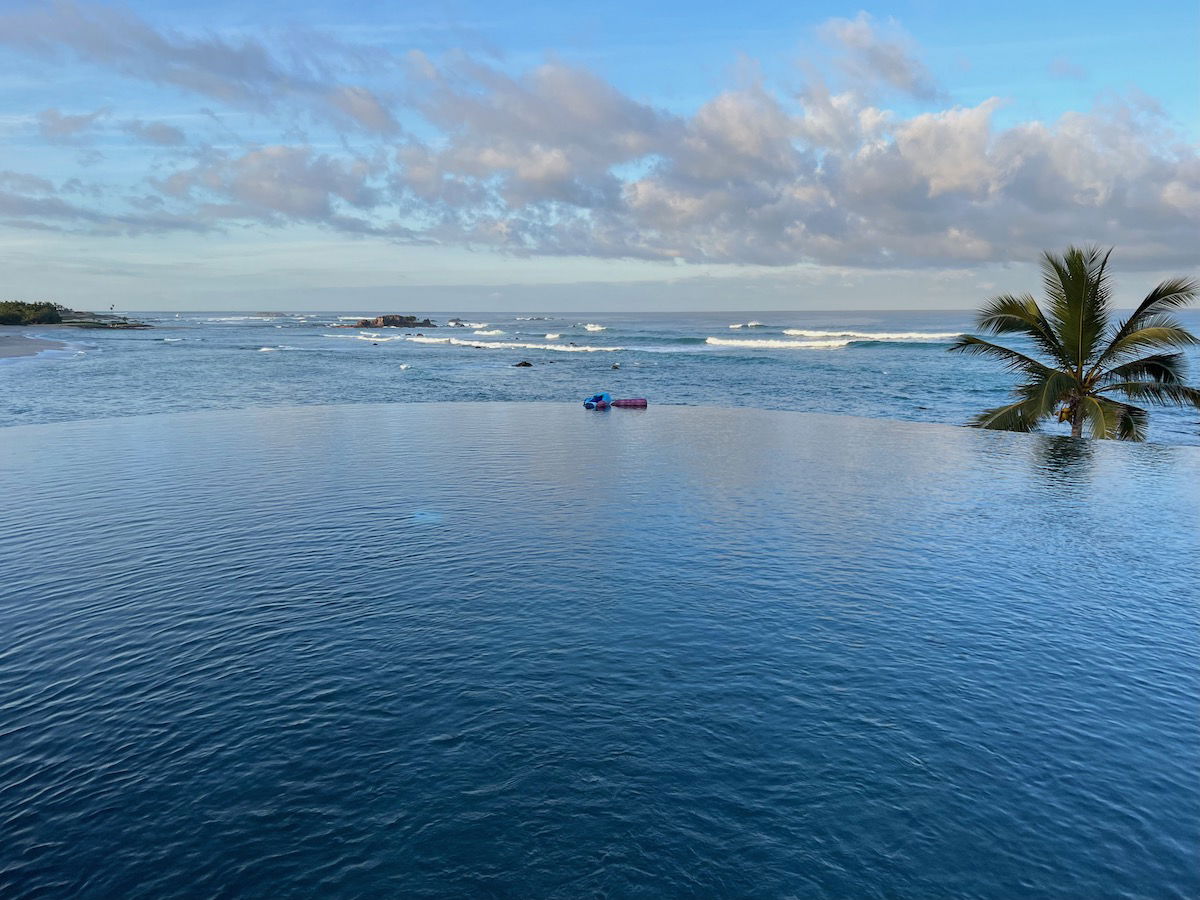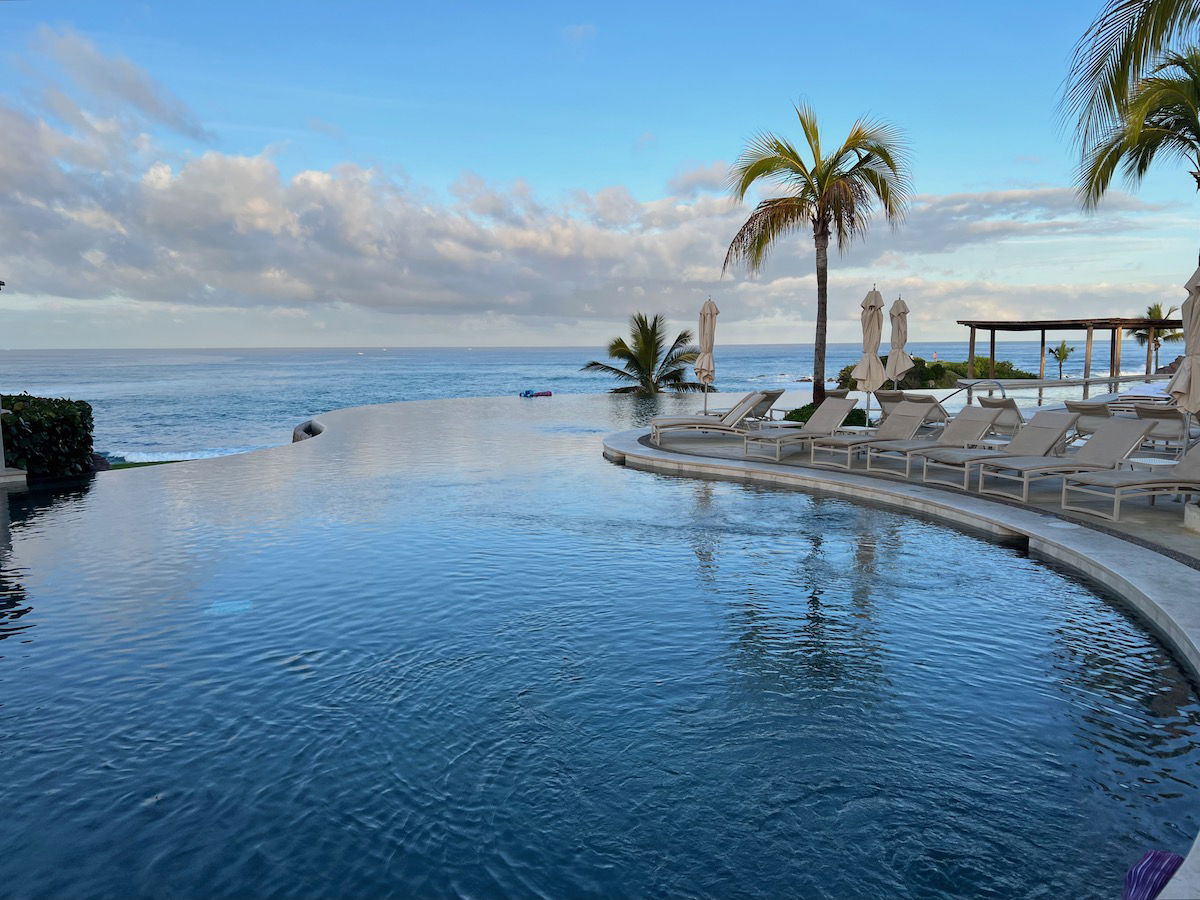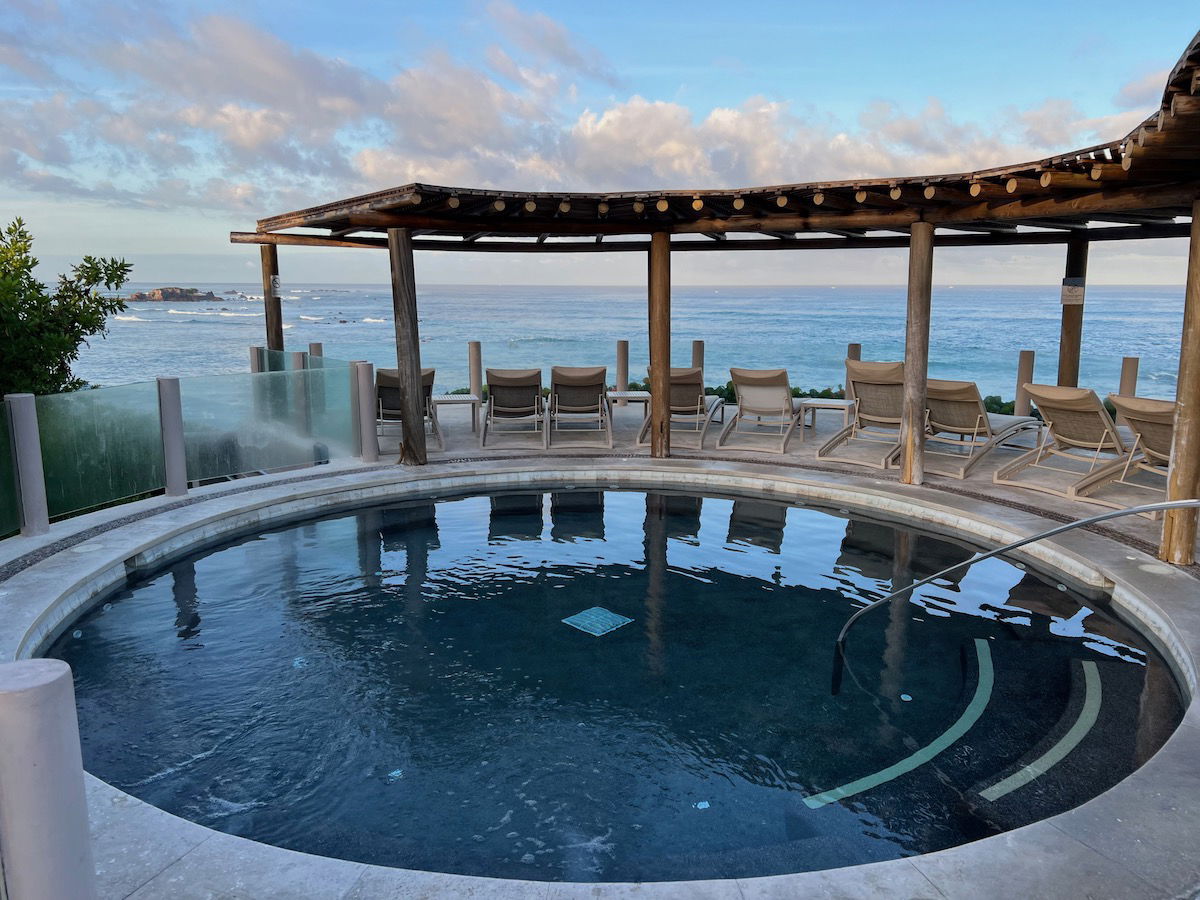 The pool has plenty of seating, and I can't imagine it ever fills up, given just how many seats there are.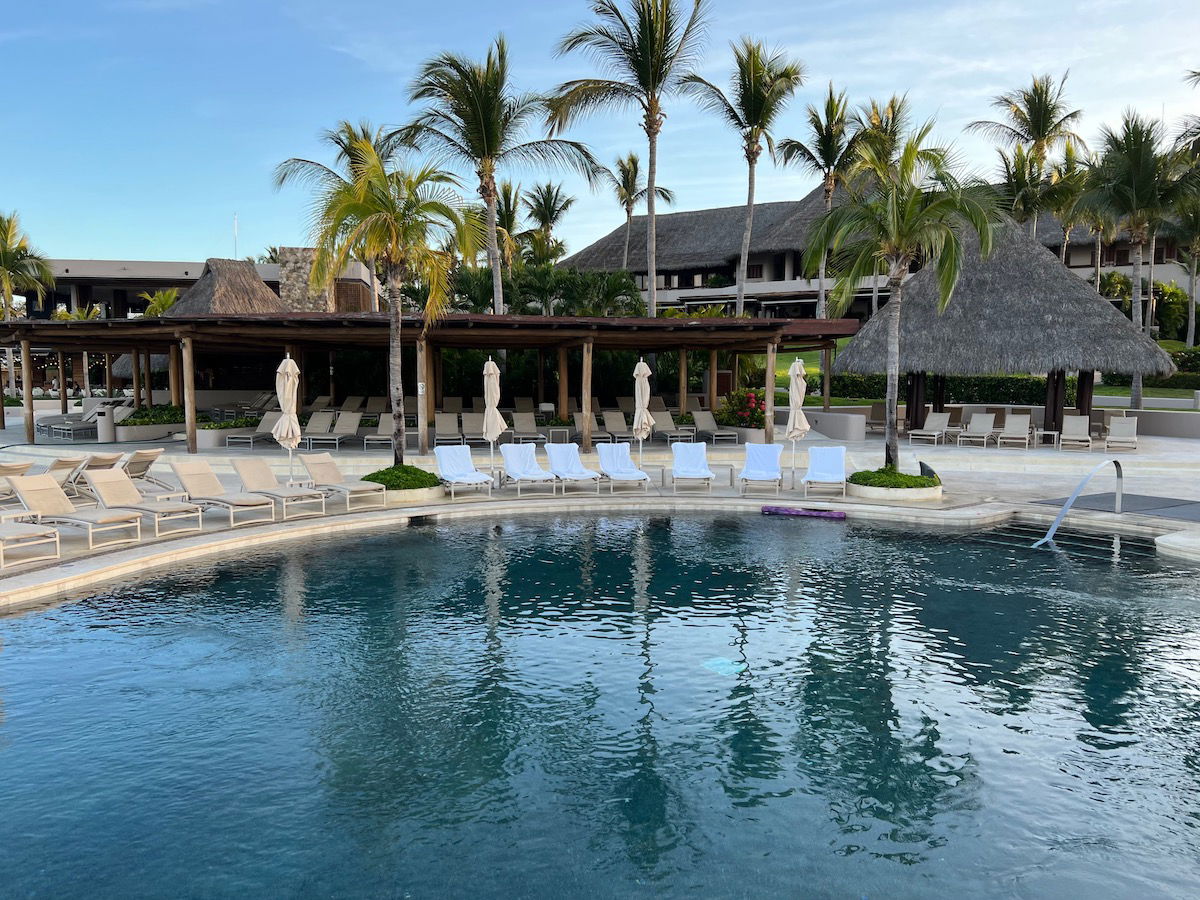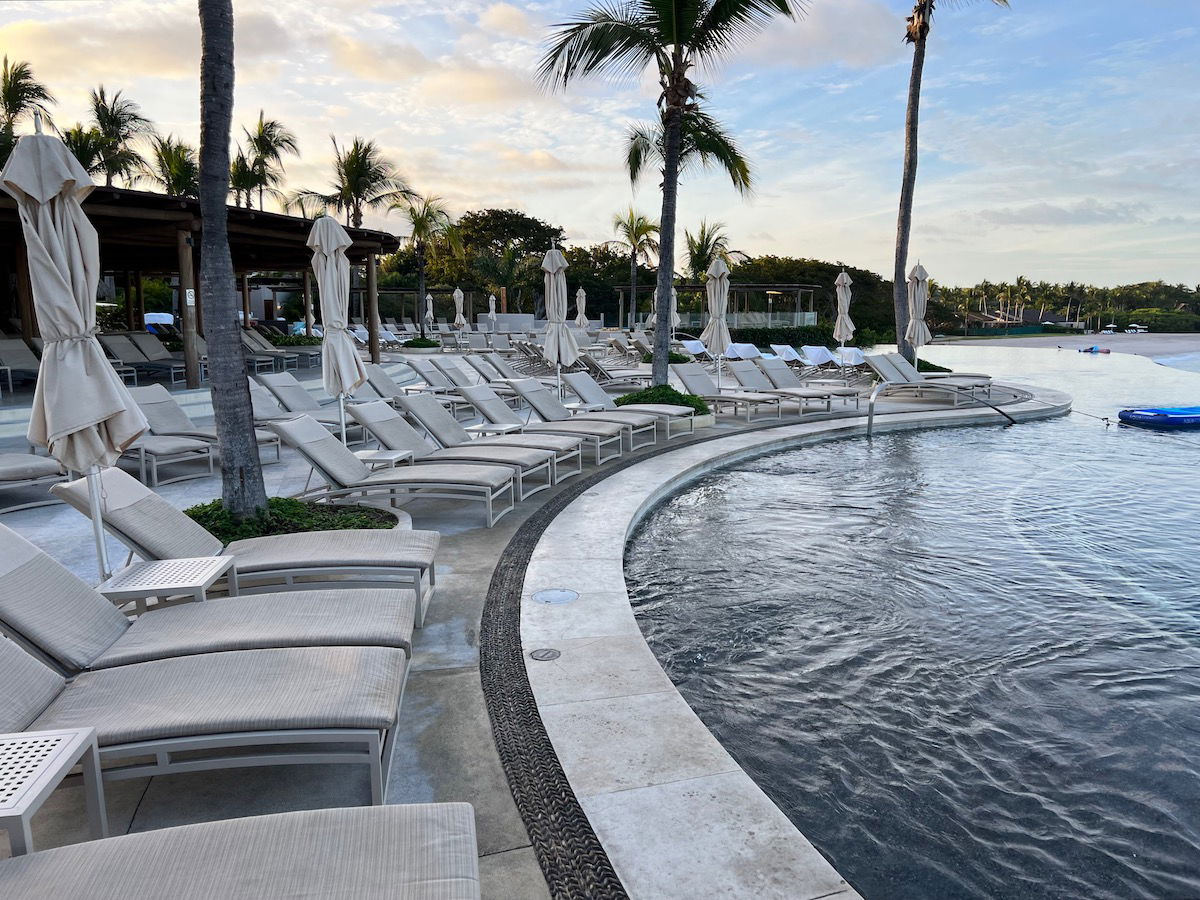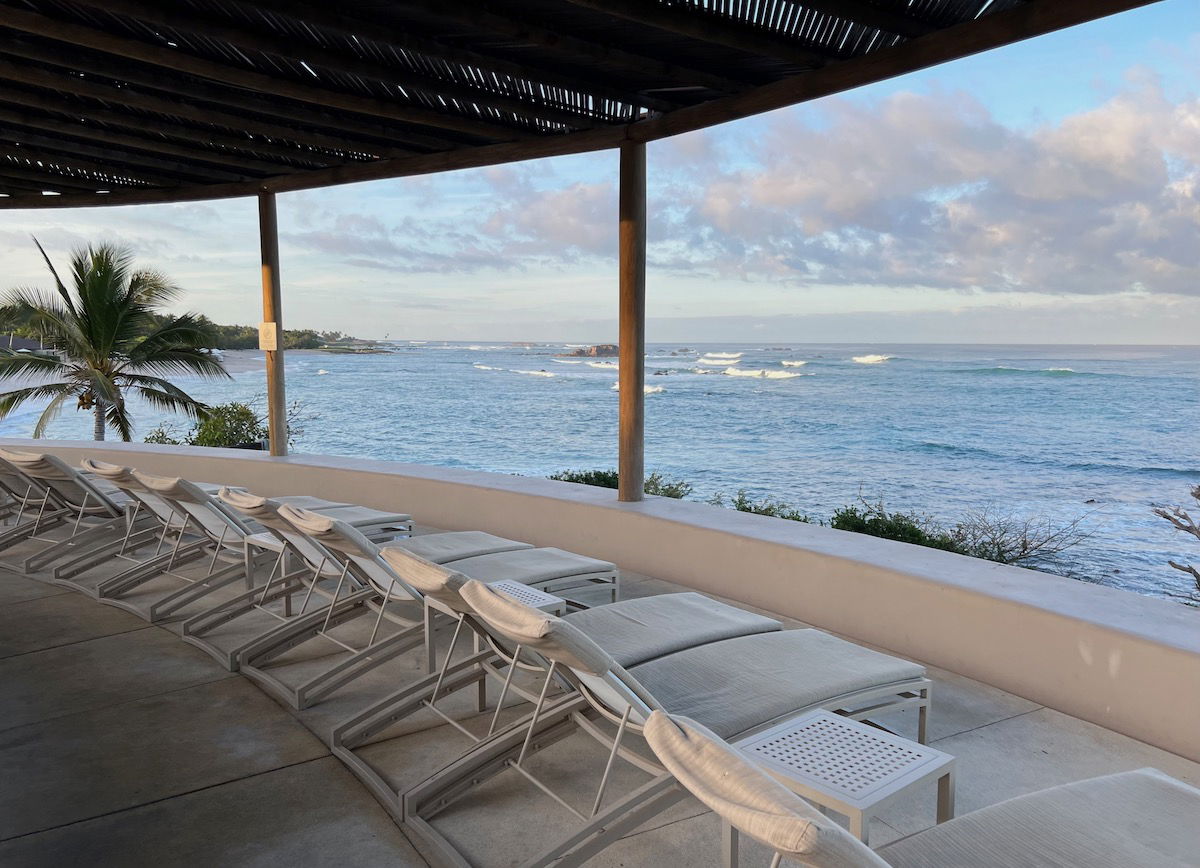 The views here are especially breathtaking during sunset, as you have a direct view of that.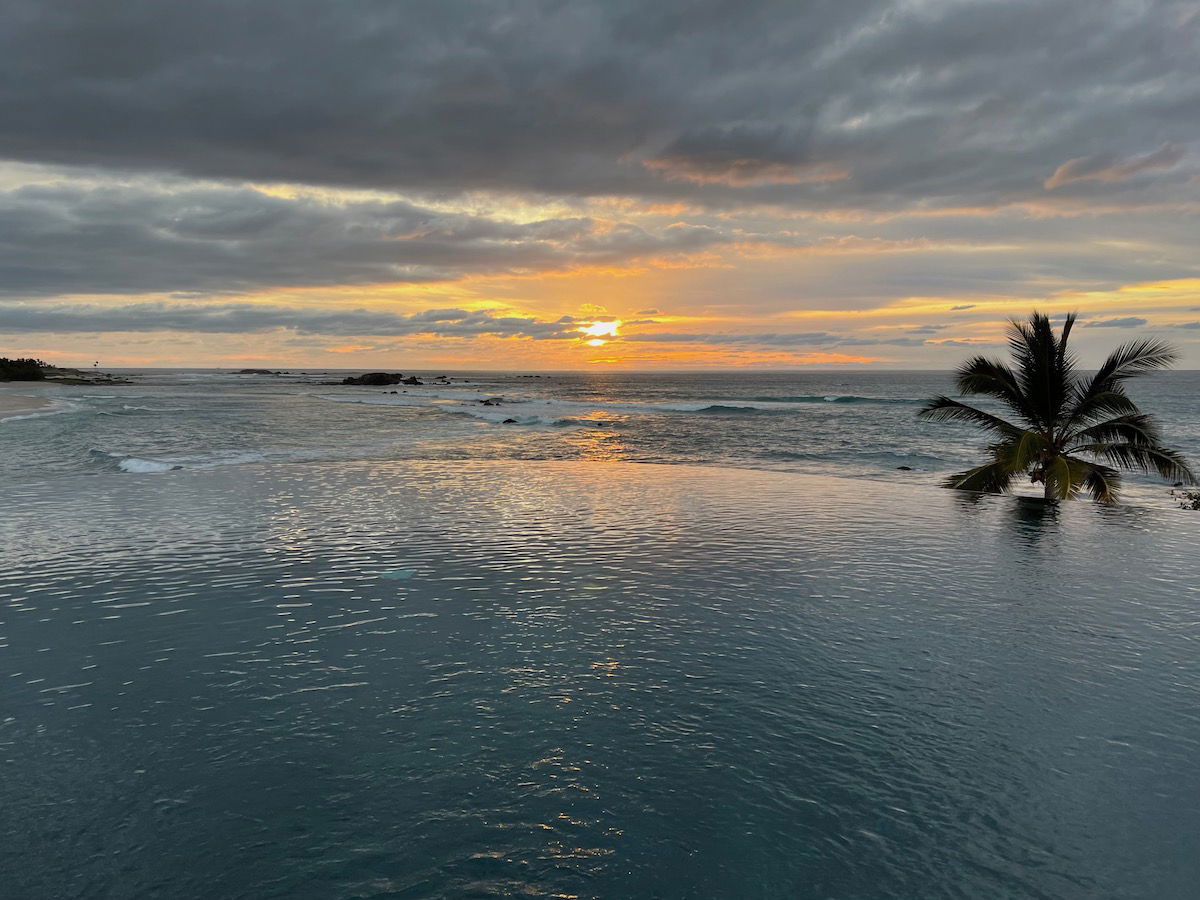 Next up is the pool area for adults, which actually consists of three different pools.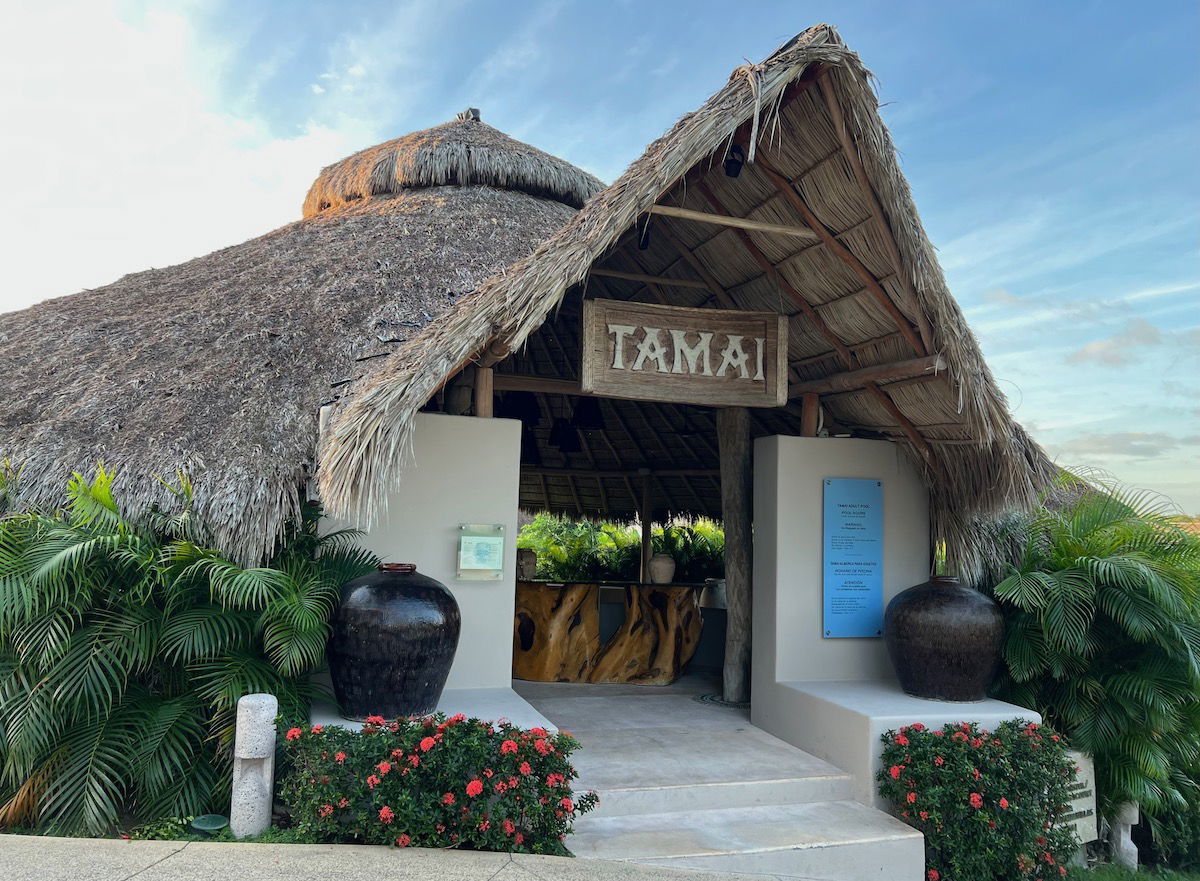 There's a main pool that's ideal for laps, which flows over into a smaller pool.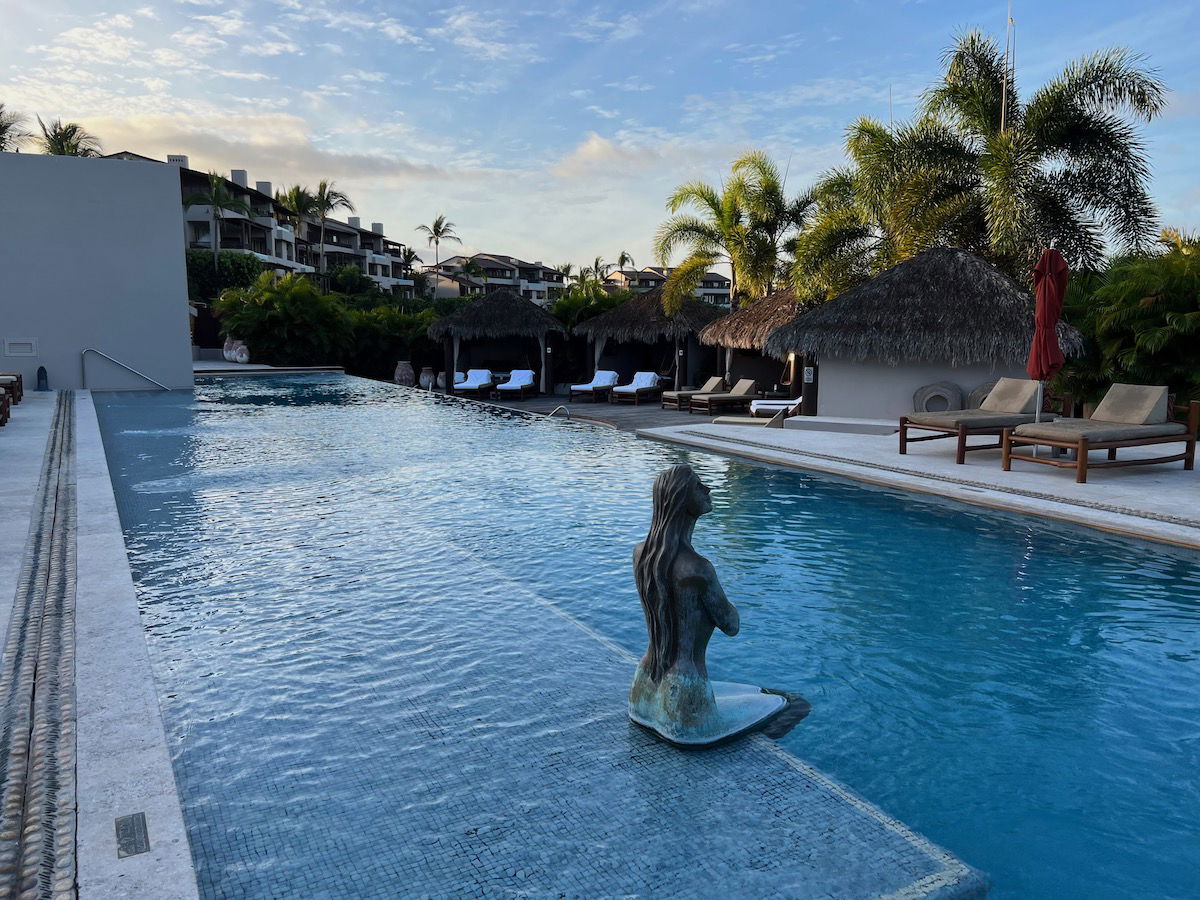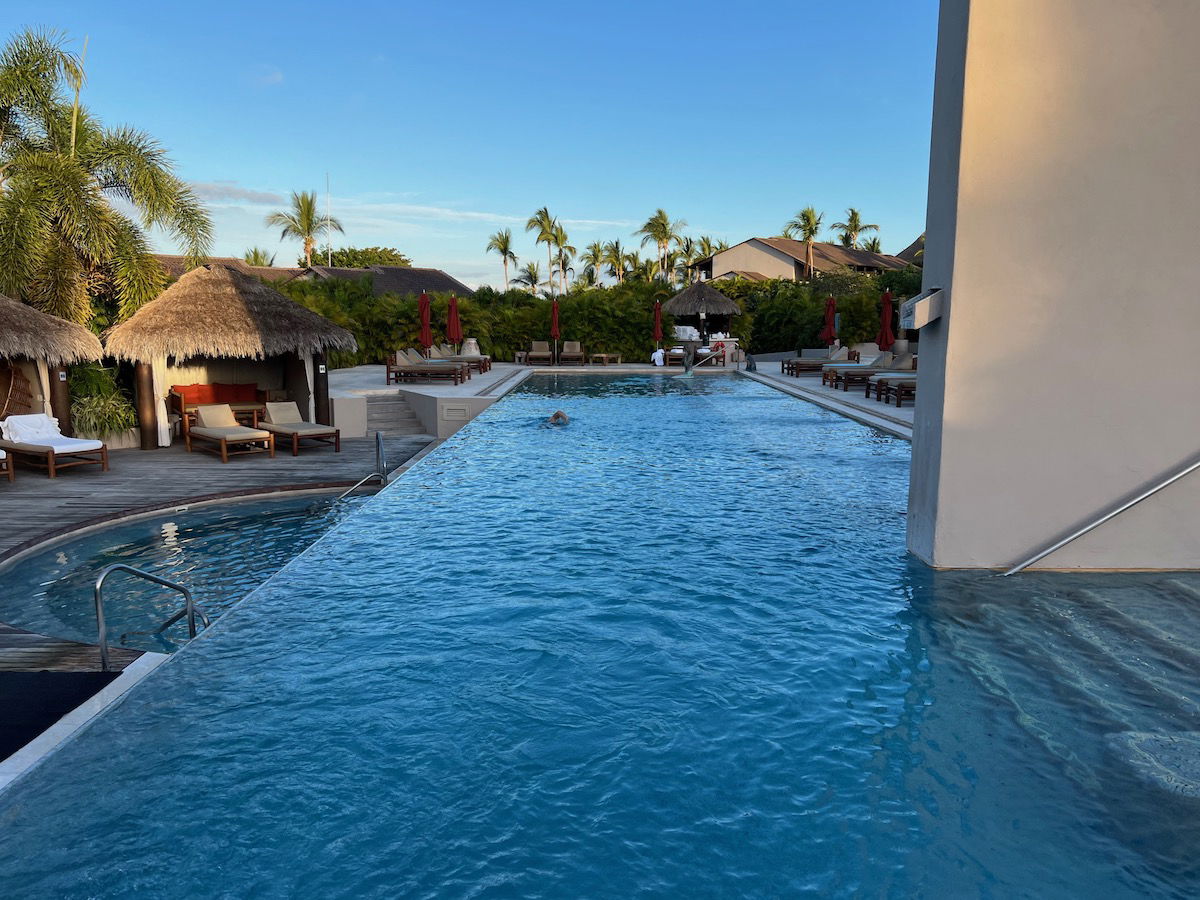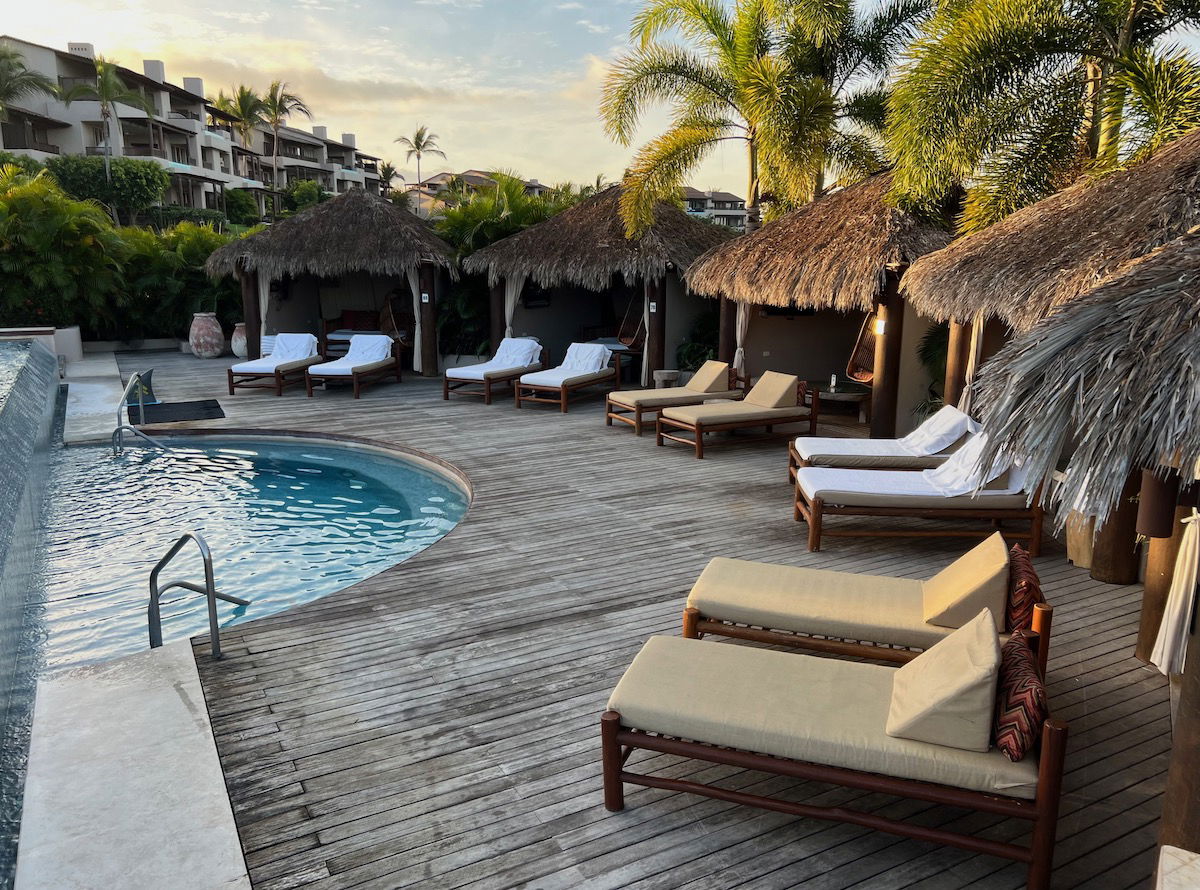 There's then an additional pool, which has a hot tub next to it.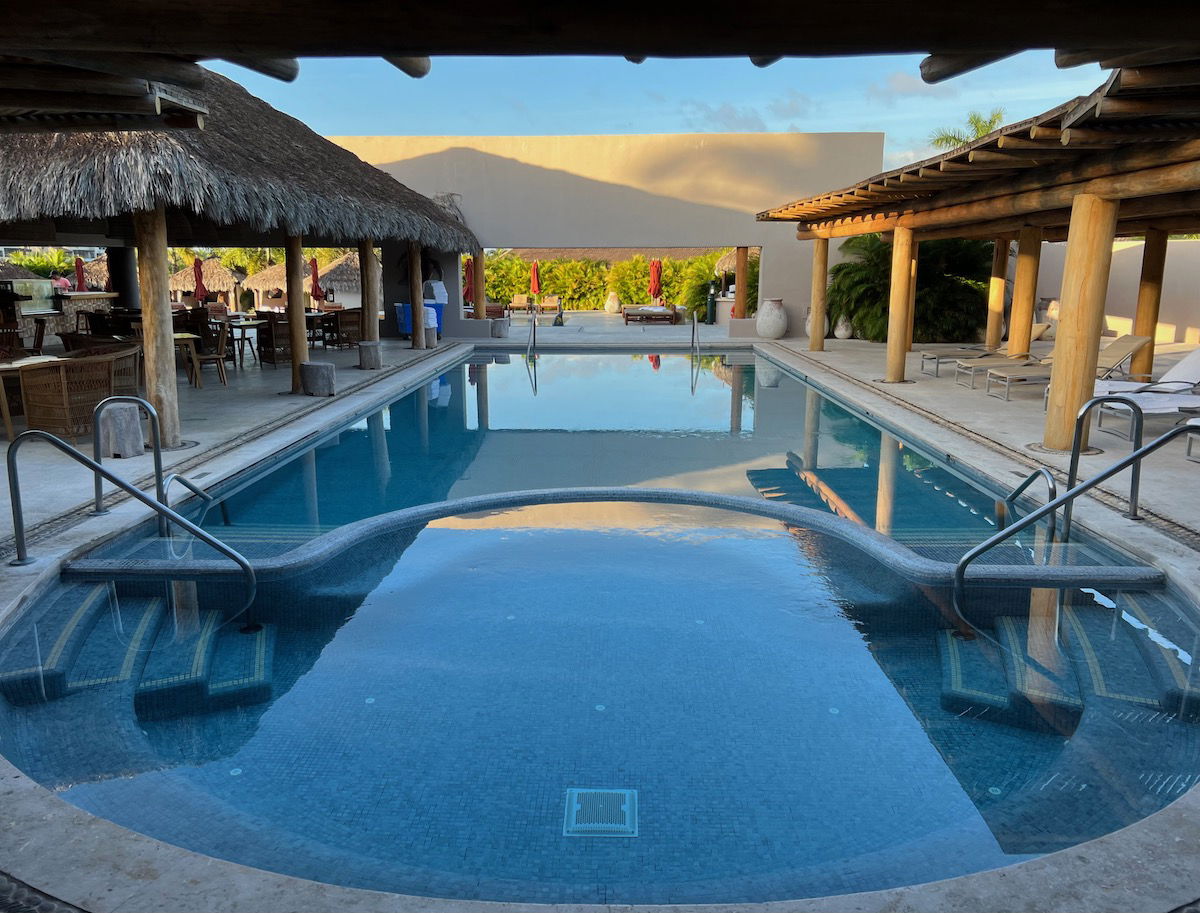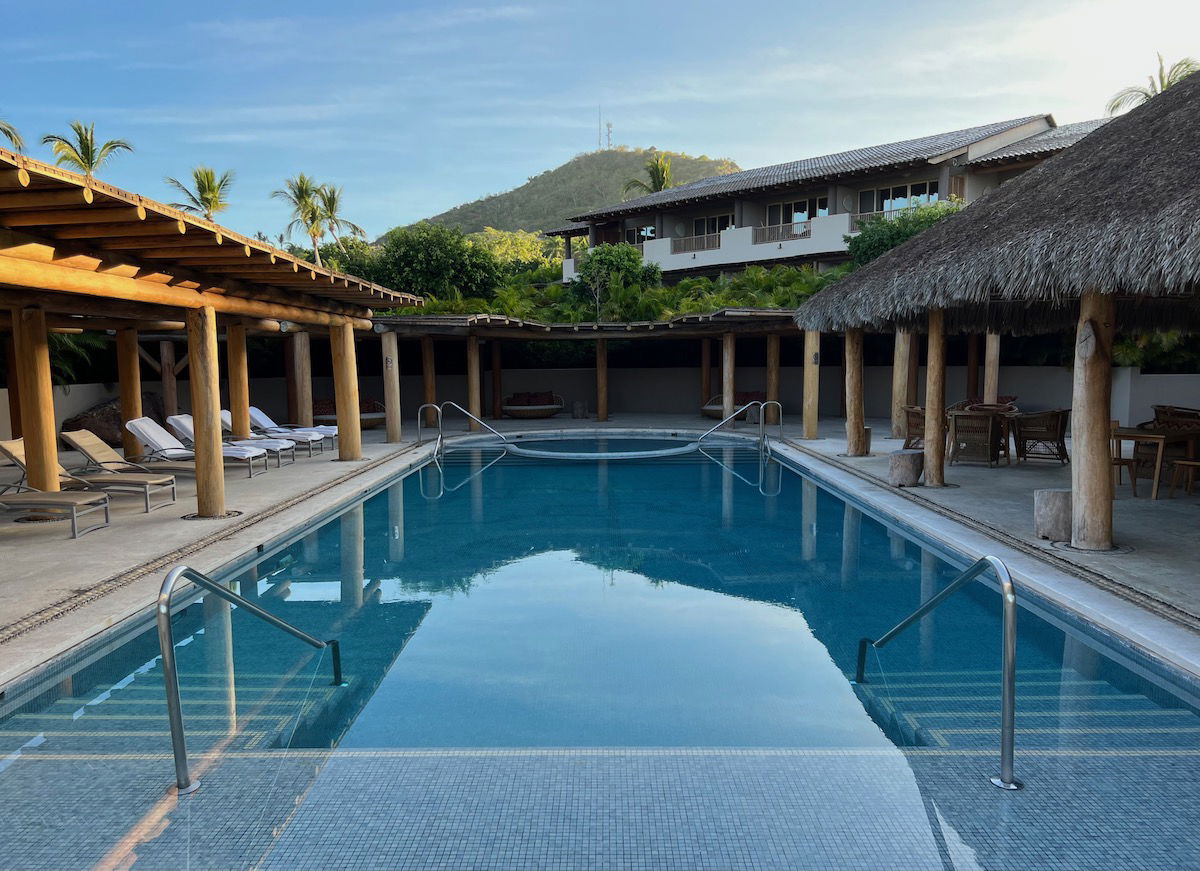 On top of that, there's yet another hot tub.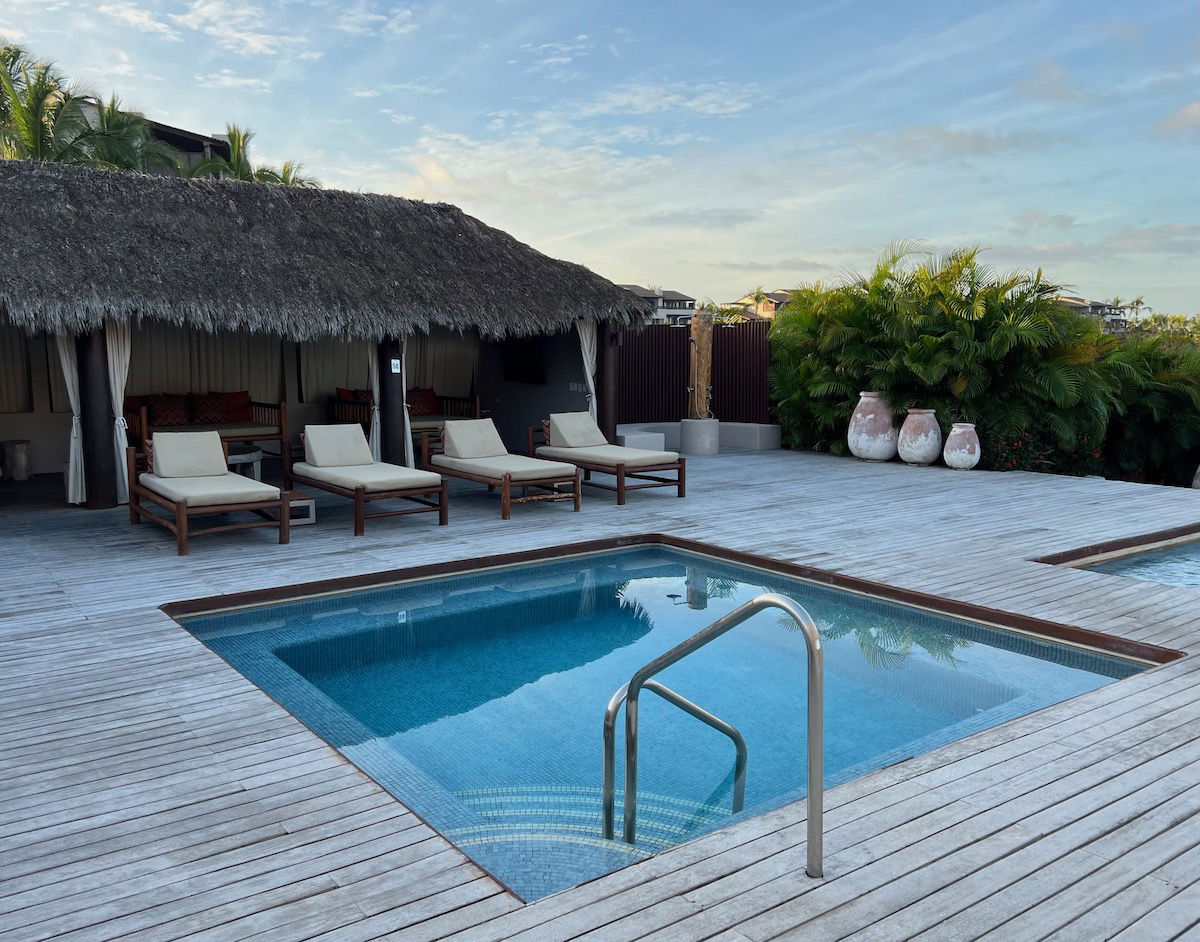 Seating around the adults pool is also plentiful.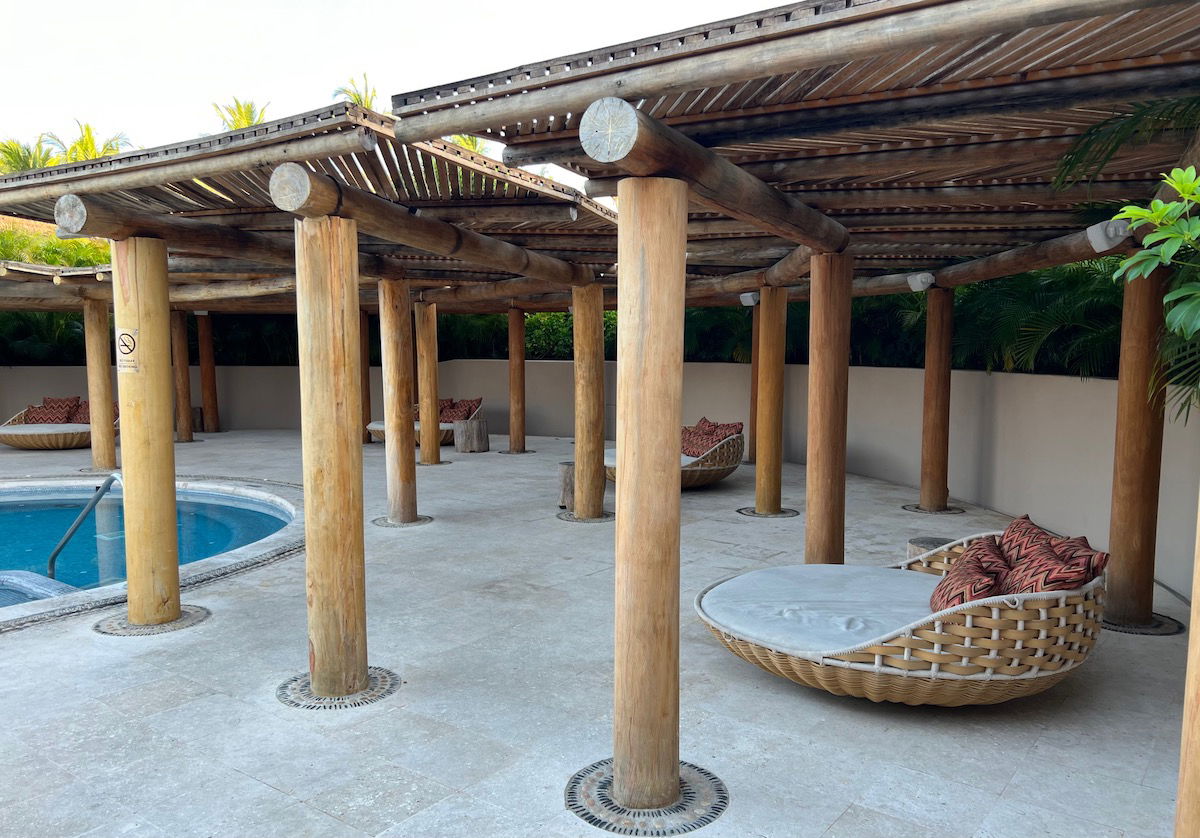 As you'd expect, there's also a full bar and dining area around this pool.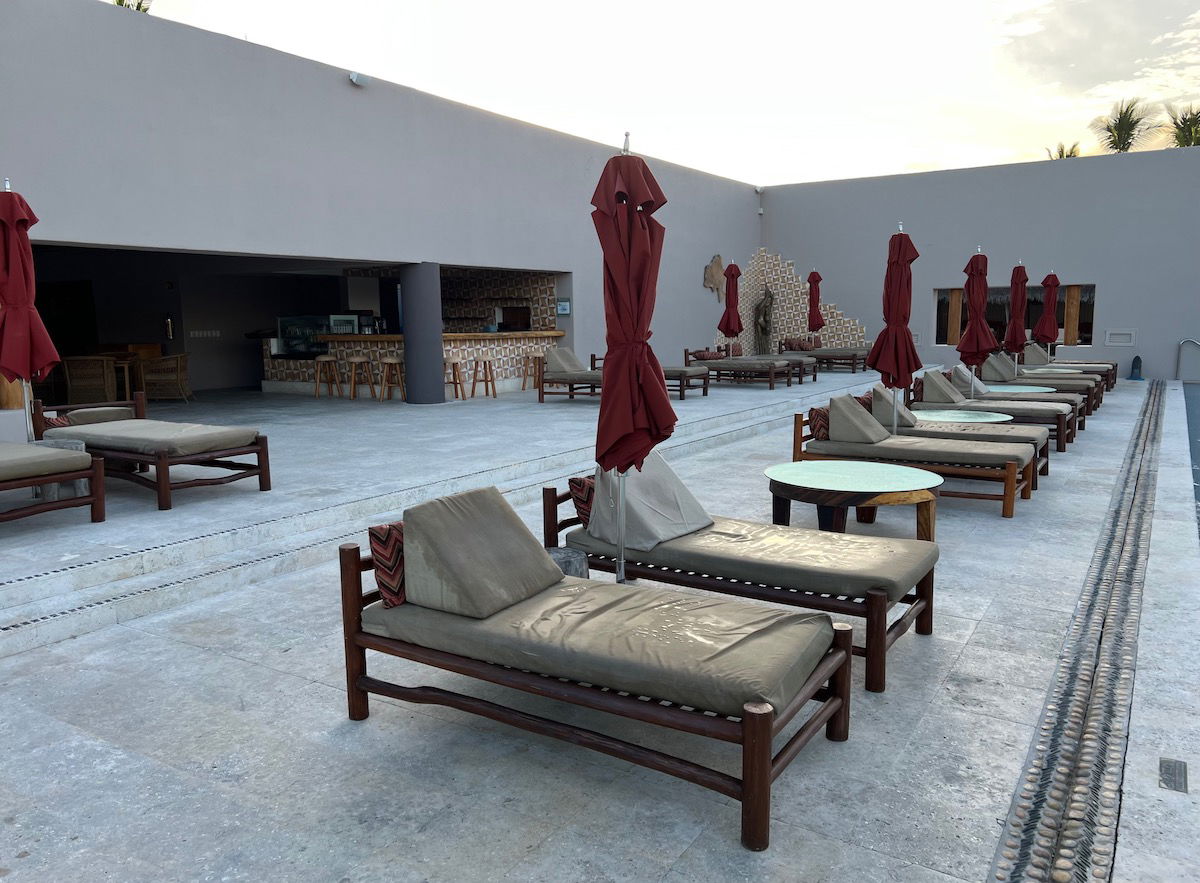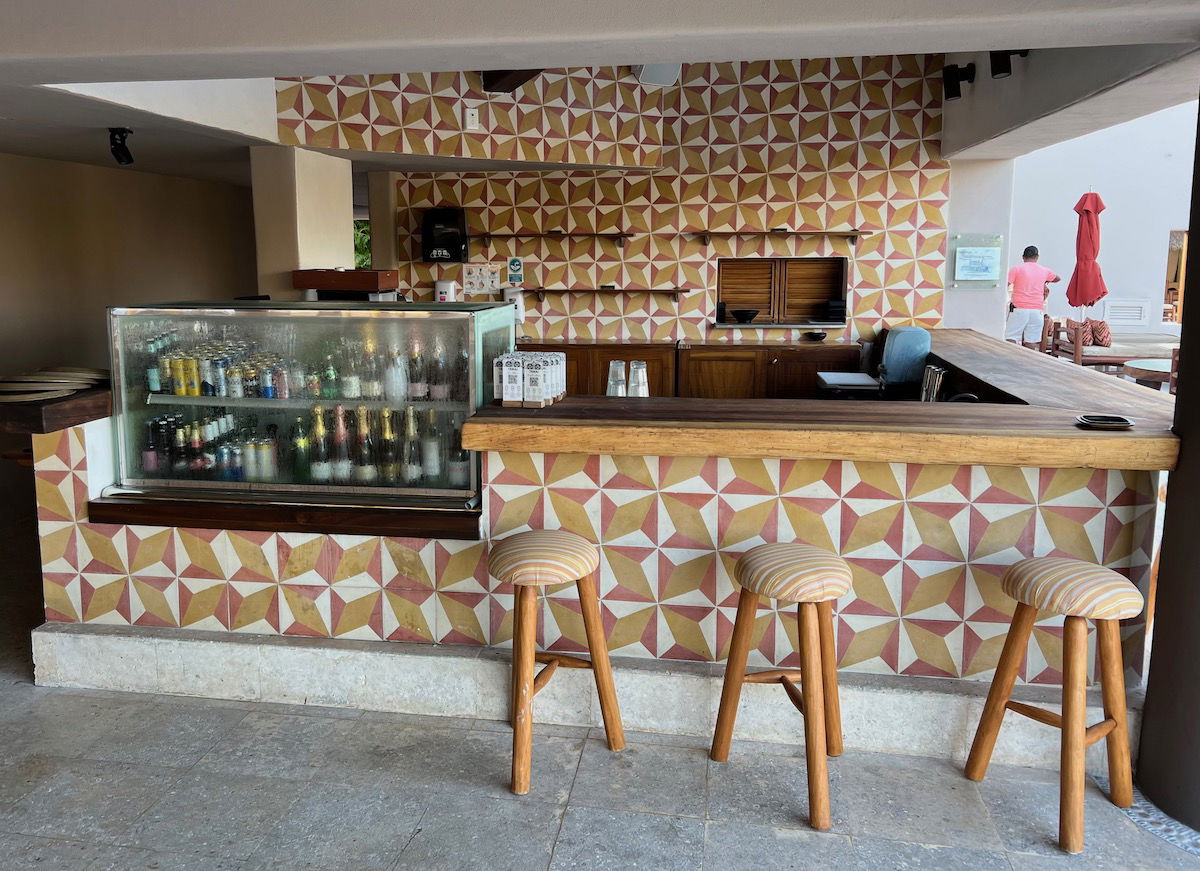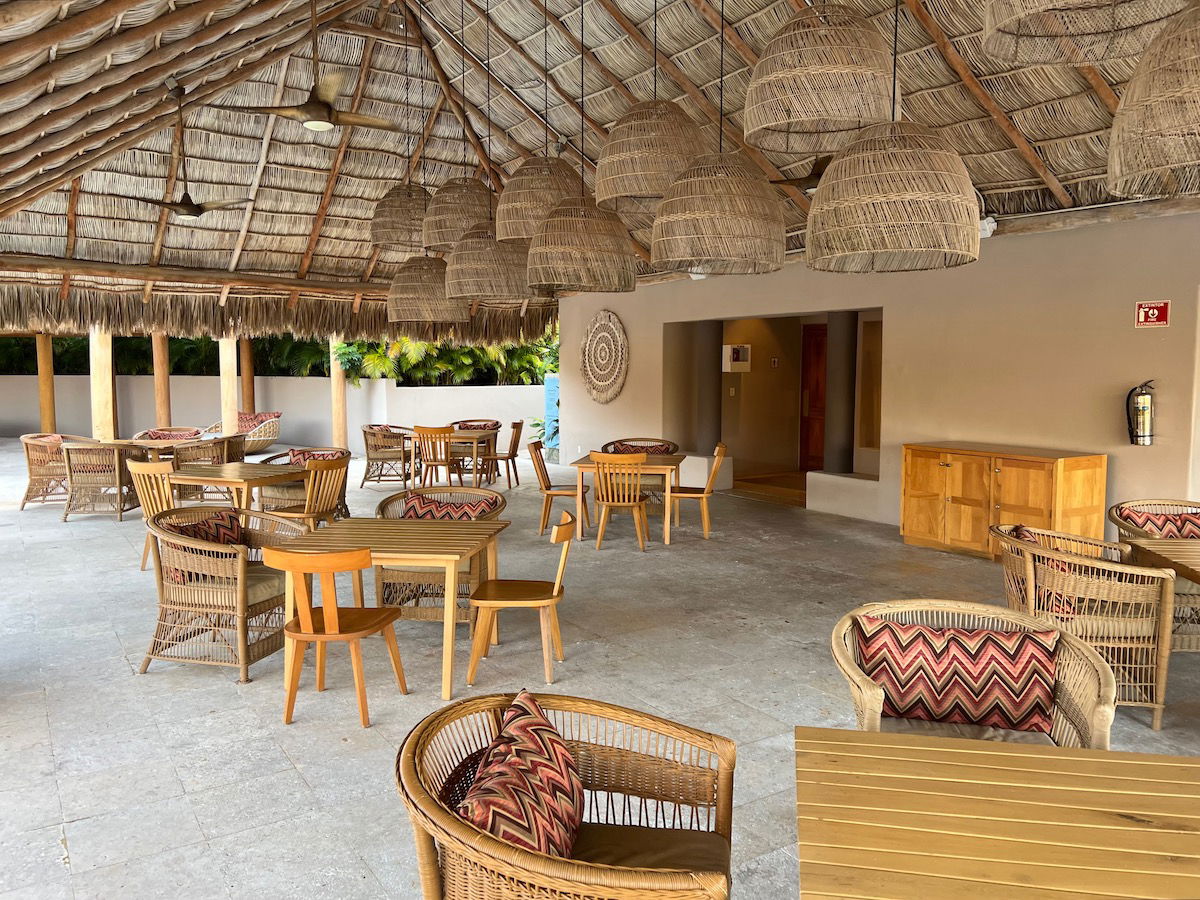 Last but most certainly not least, the Four Seasons Punta Mita has a lazy river. I've gotta be honest, I don't think I've been in a lazy river in over 20 years. When Ford proposed we check it out (aside from me taking pictures), I gave him a weird look, and reminded him we're not five years old. Well, a couple of drinks, and four trips down the lazy river later, I can assure you that it's a ton of fun. It was so fun, in fact, that we came back the next day.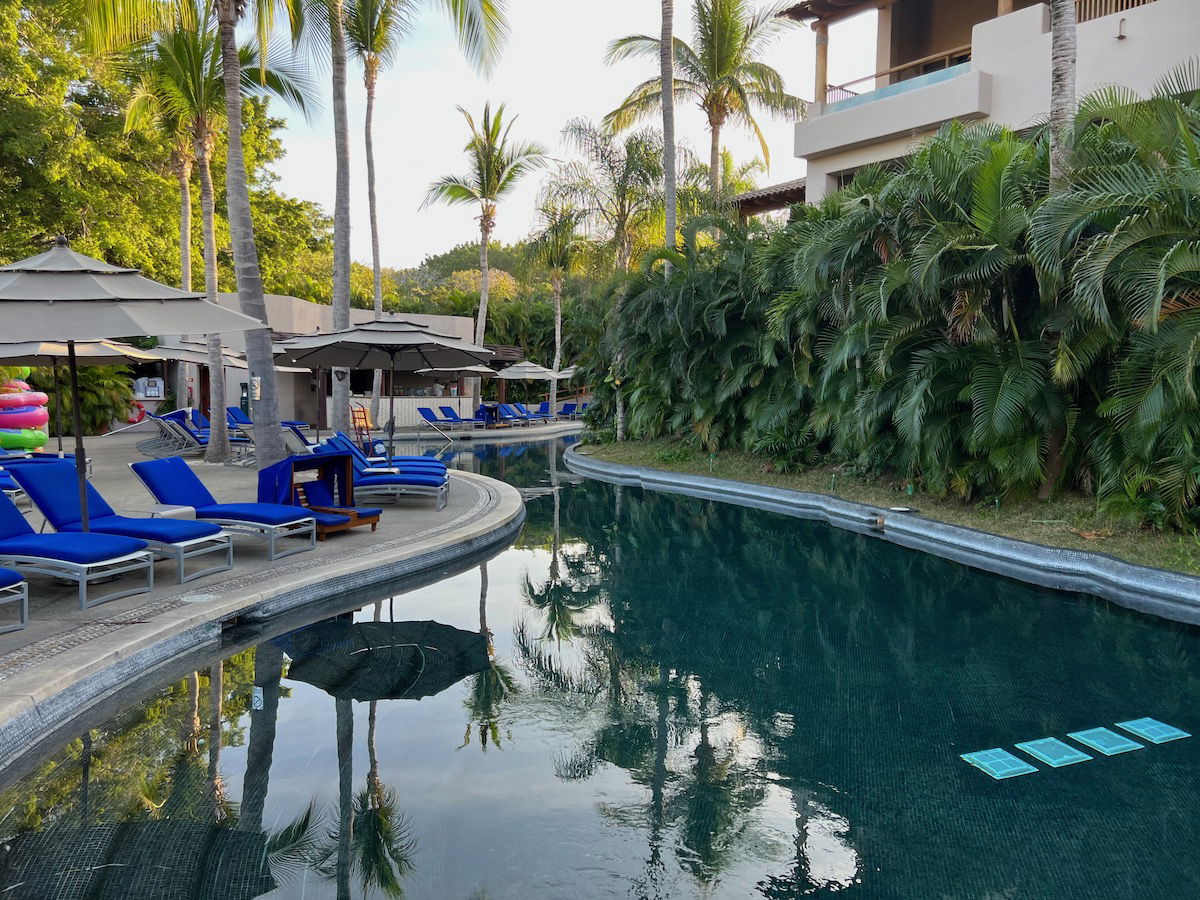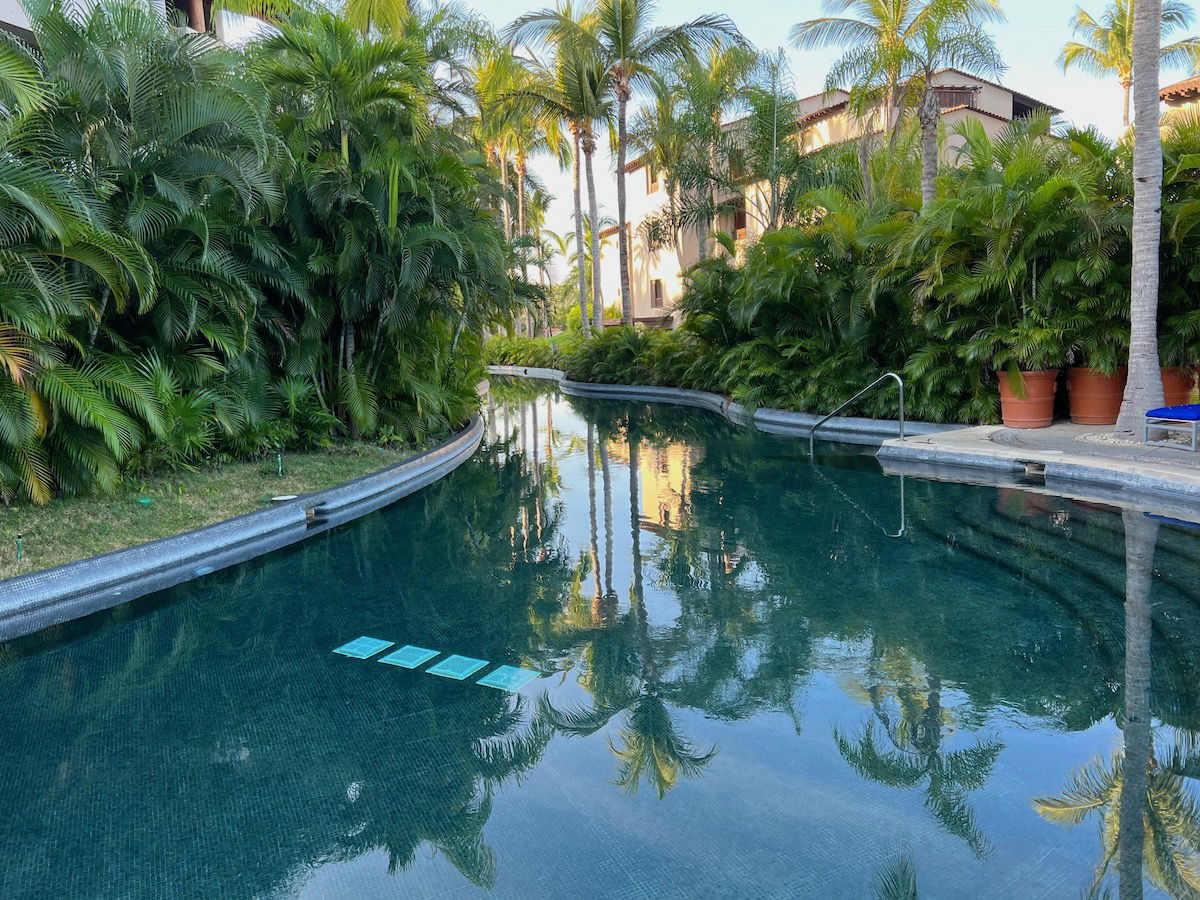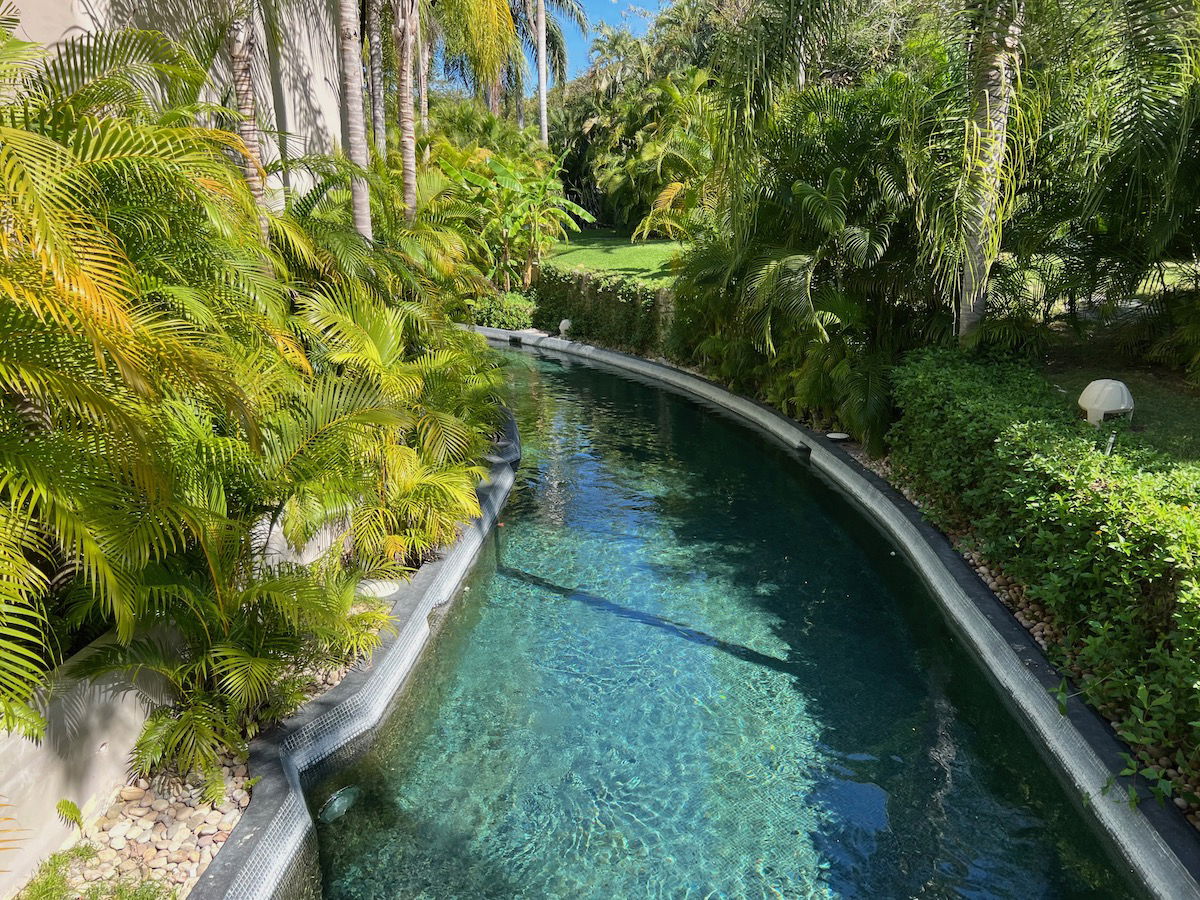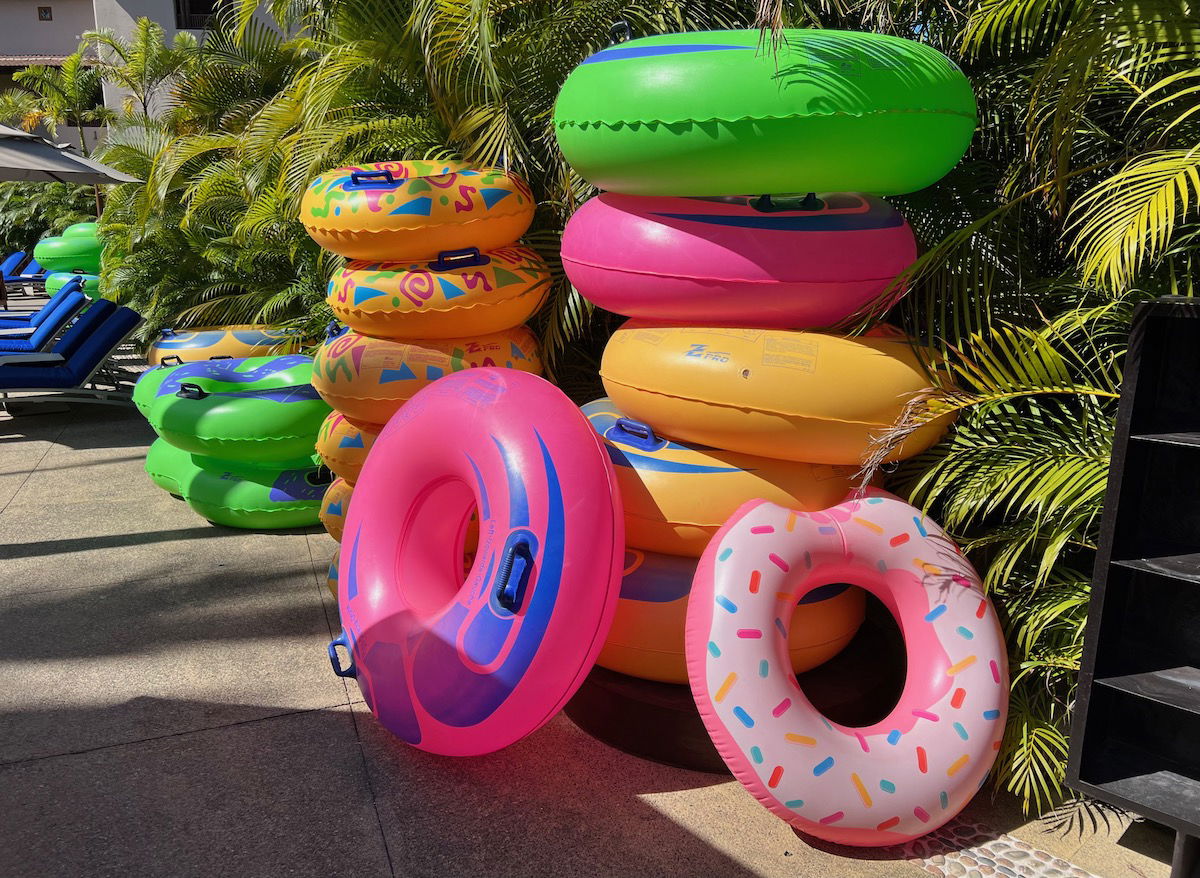 And yes, as I hinted at above (and as you'd expect), the lazy river does have a bar, and you can also order some snacks here.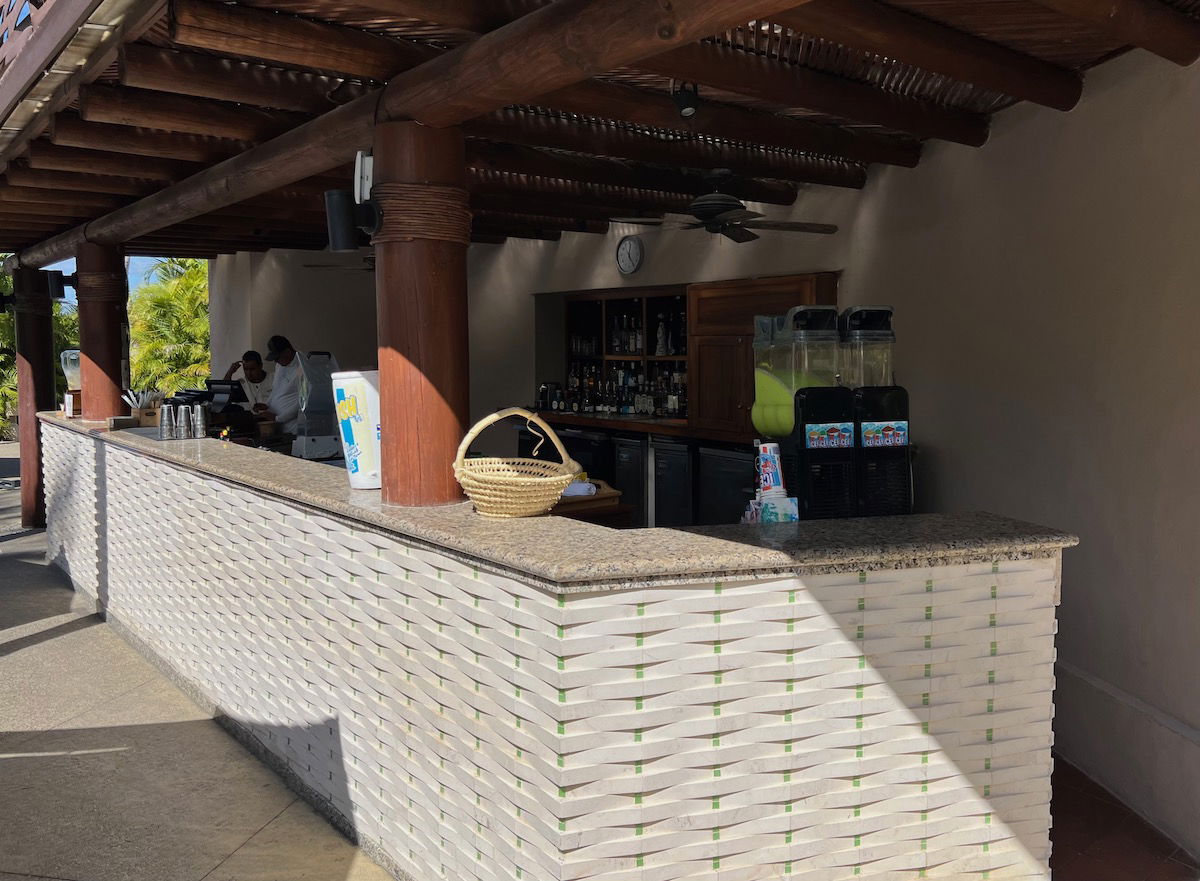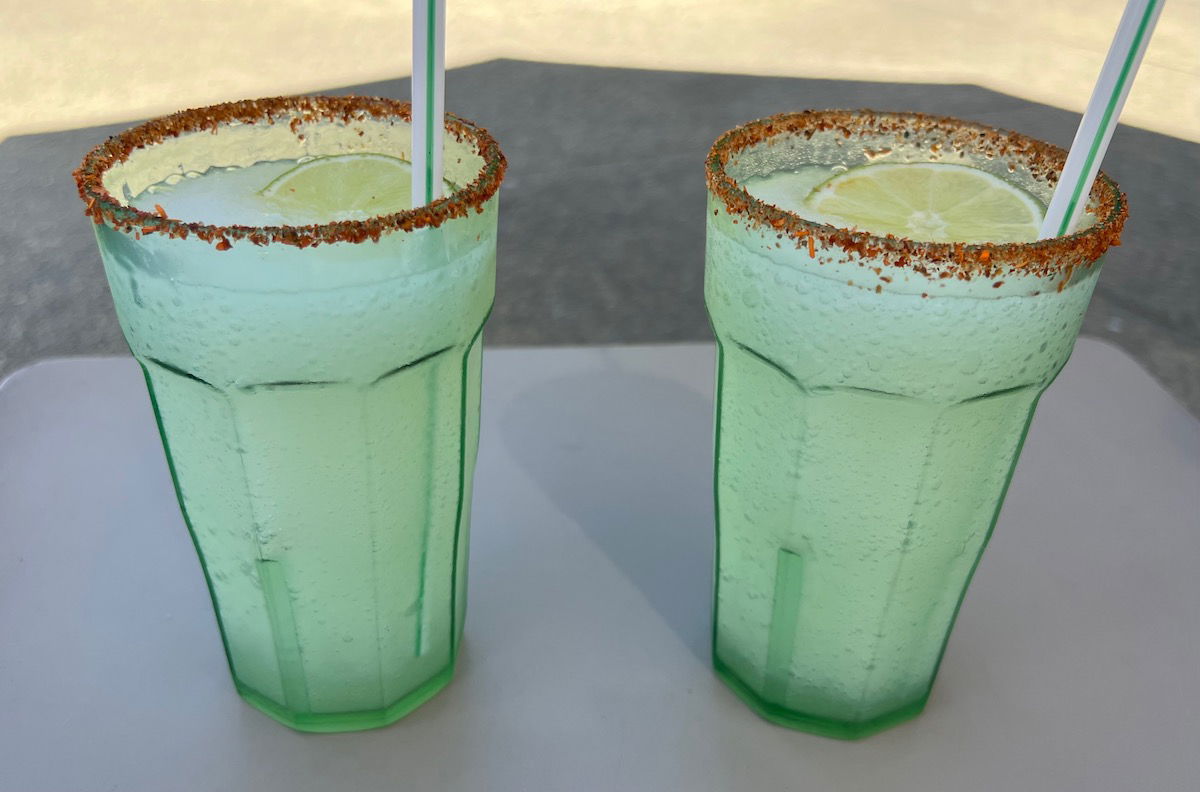 As is standard at Four Seasons properties, you'll find complimentary water and sunscreen throughout the resort, at all the pools and the beaches. I appreciated that there were even different SPF options, depending on what you're looking for.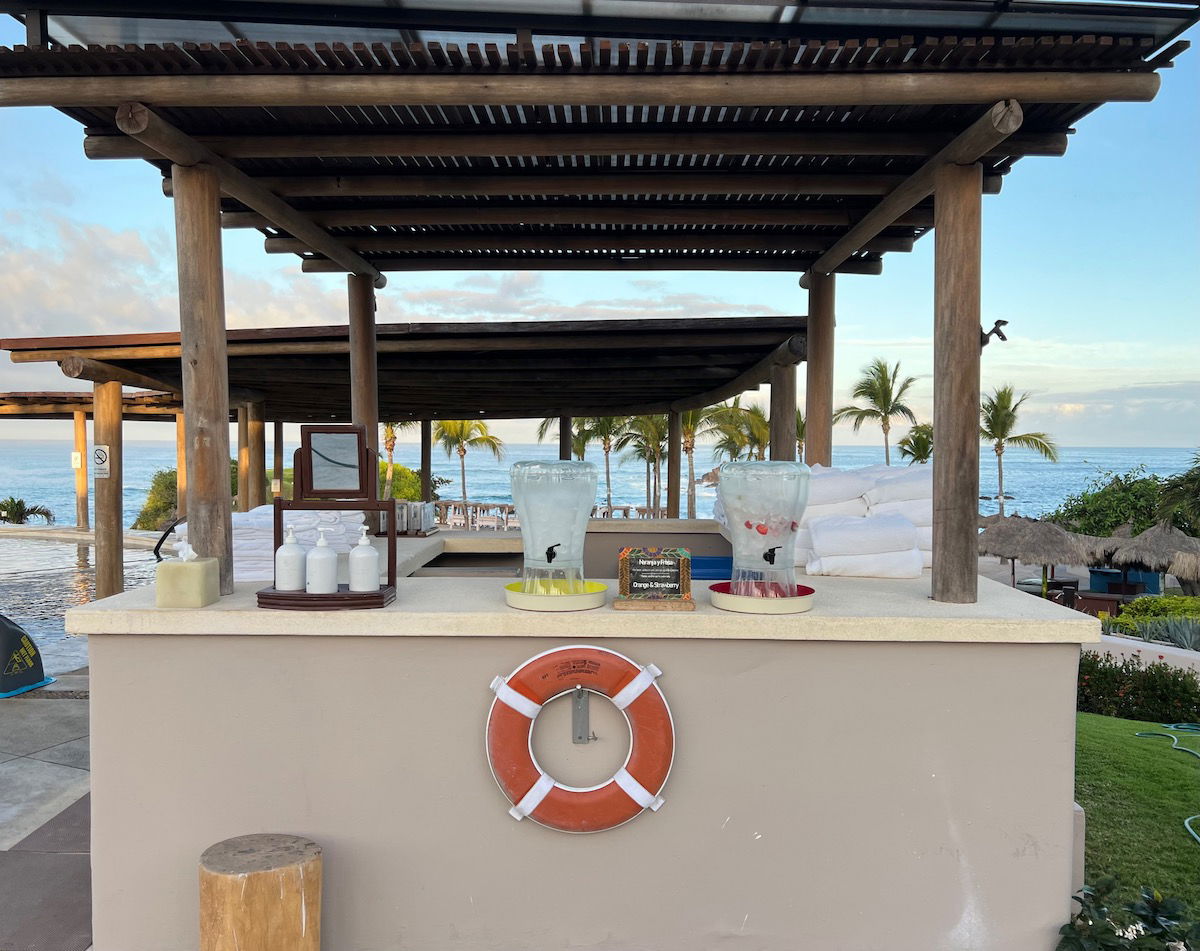 Four Seasons Punta Mita beach
The Four Seasons Punta Mita has two separate, secluded beaches, separated by some rocks in the middle. The two beaches have different vibes and setups, so both can be fun to visit.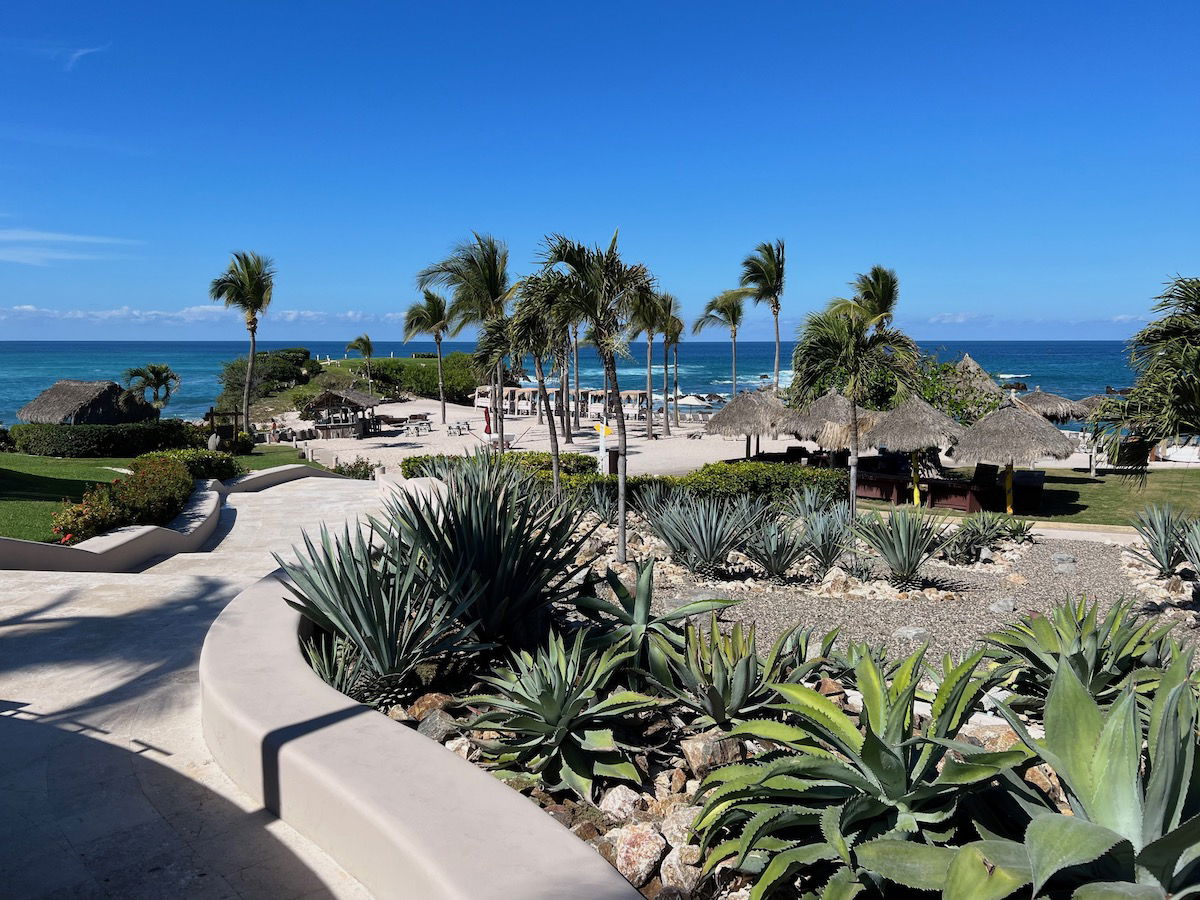 The beach to the left feels a bit more secluded, and is also larger. You can walk quite far on this beach, so if you're into beach walking, this is where you'll want to be. There's plenty of seating at this beach, and the water also tended to be a bit calmer over here.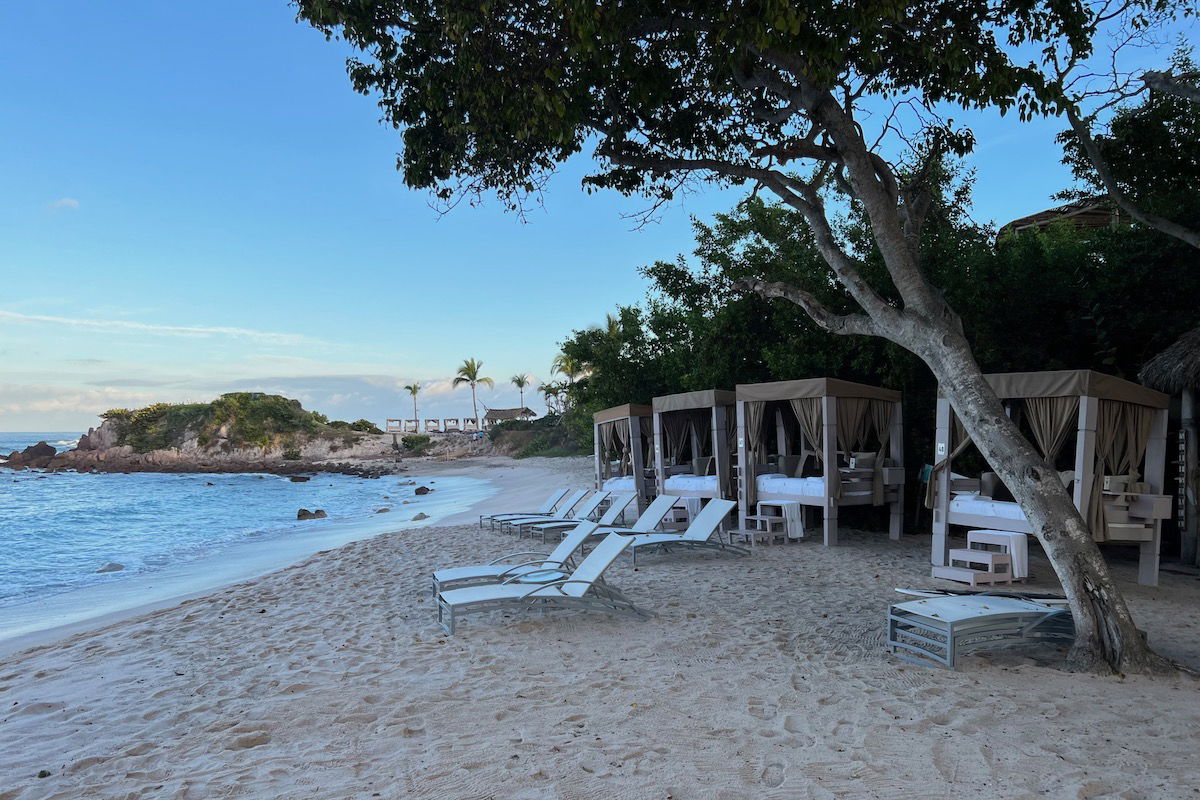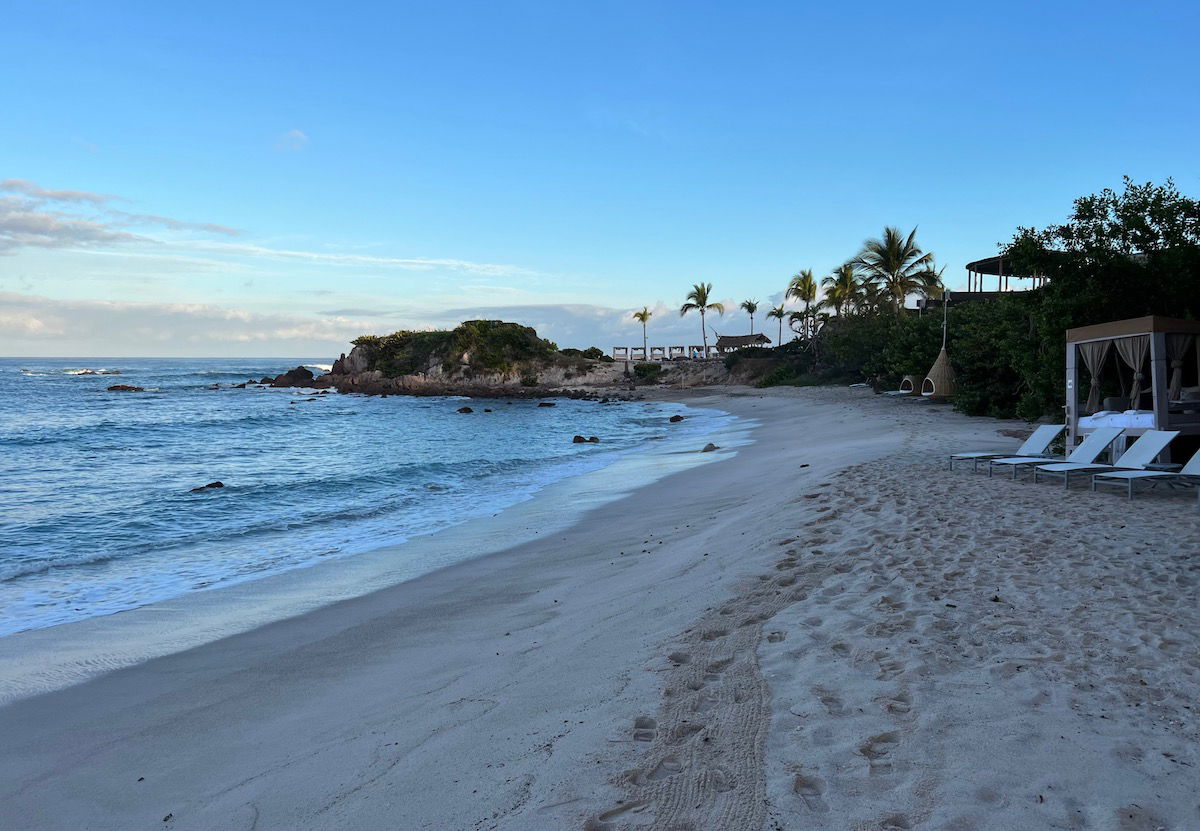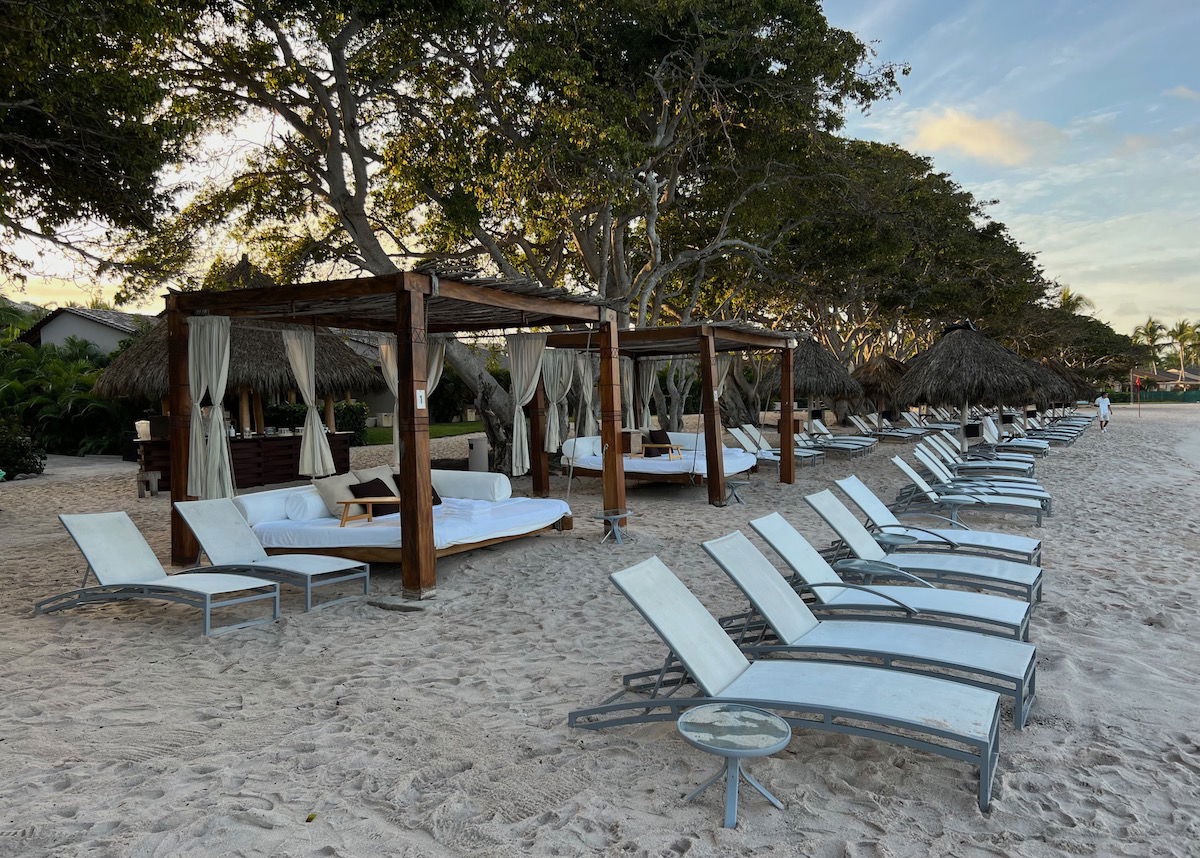 This beach was also really pretty for watching the sunset.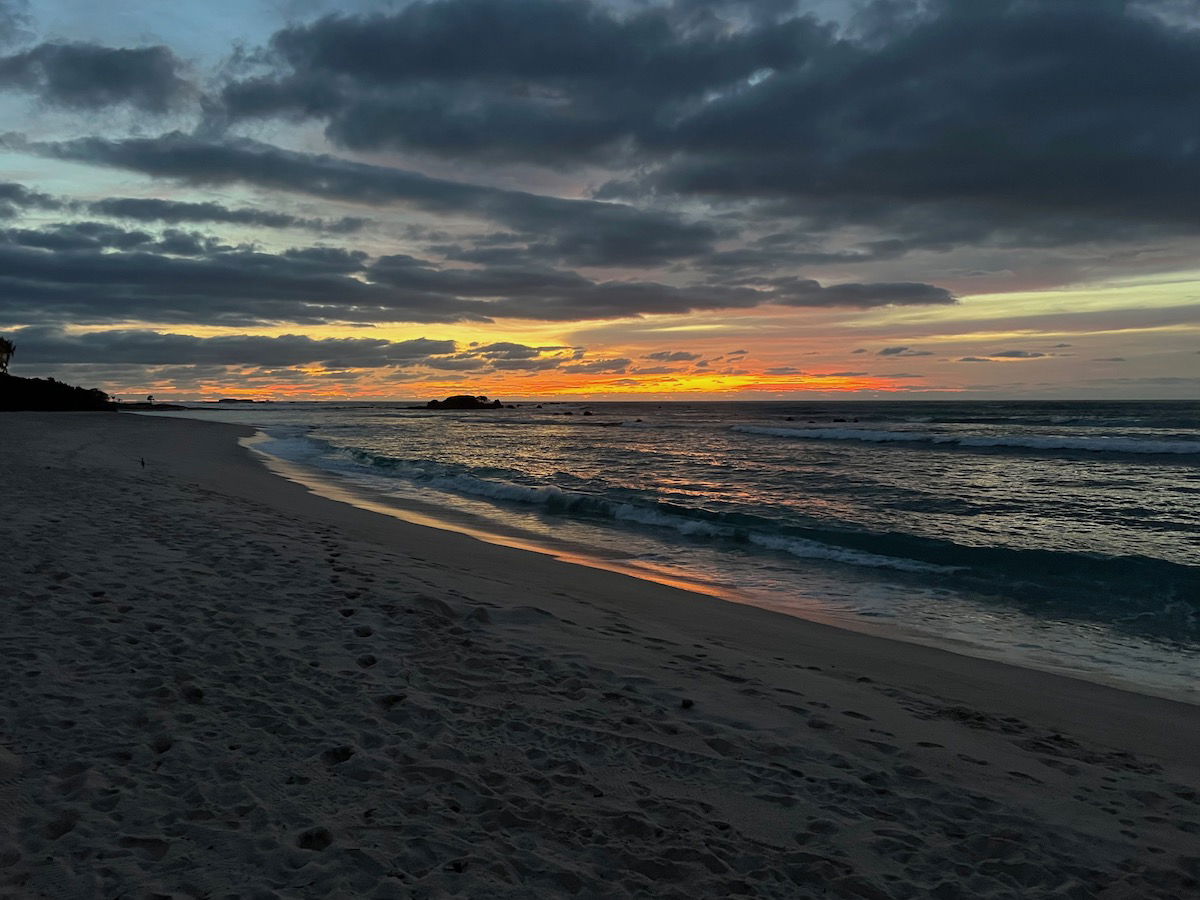 The other beach was a bit smaller, and seemed to generally be more popular, as it's closer to the bars and restaurants. There are also incredible whale watching opportunities from this beach (and from the entire property, for that matter), so always keep your eyes on the ocean.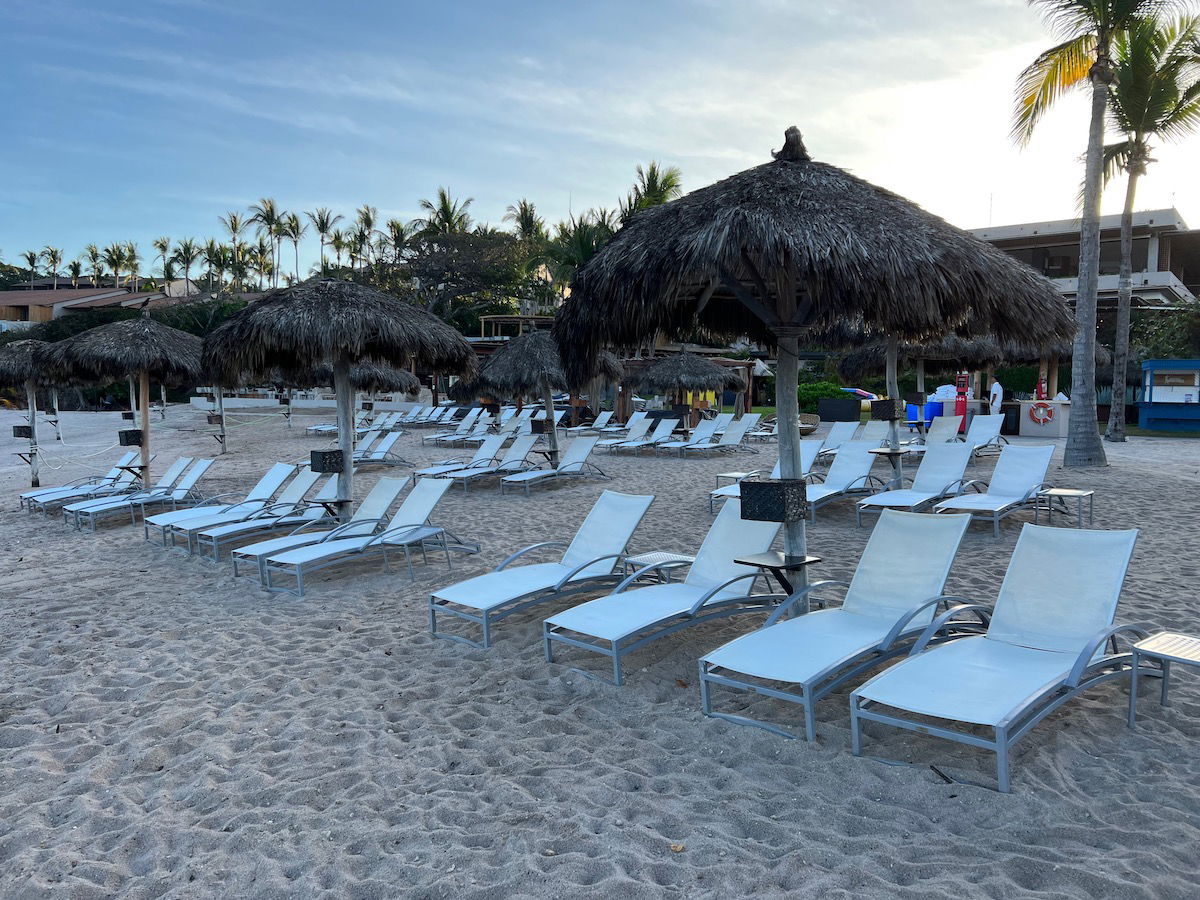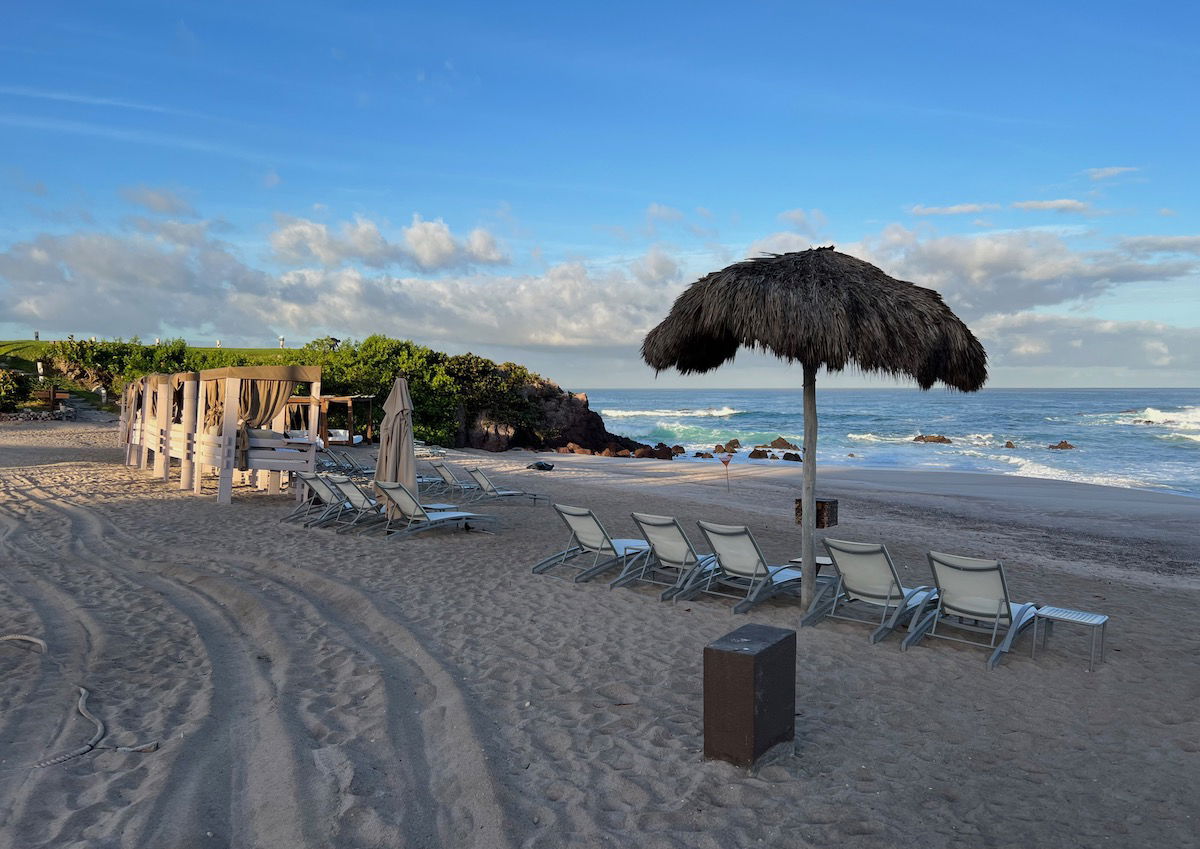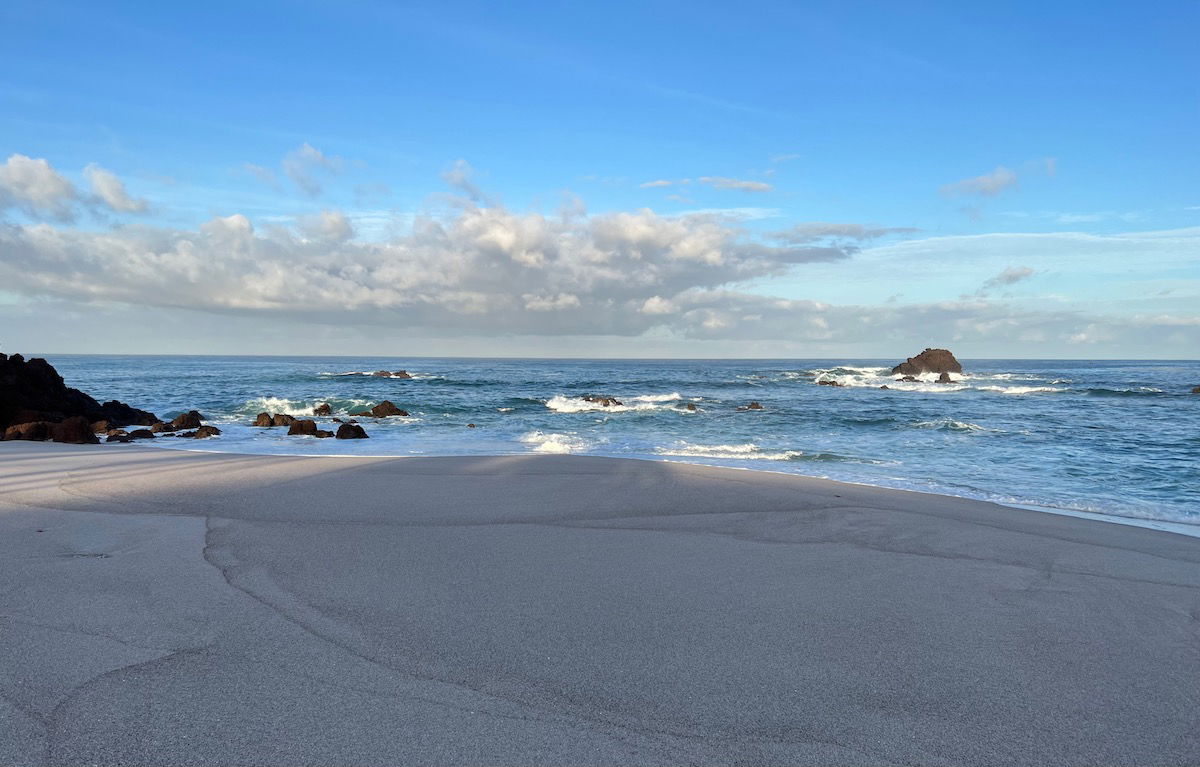 Speaking of the beaches at the Four Seasons Punta Mita, the property has a really cool turtle release program, whereby they release baby turtles into the ocean several nights a week around sunset, and that's something guests can take part in. We did this one evening, and it was interesting to learn more about the program the Four Seasons has for doing that.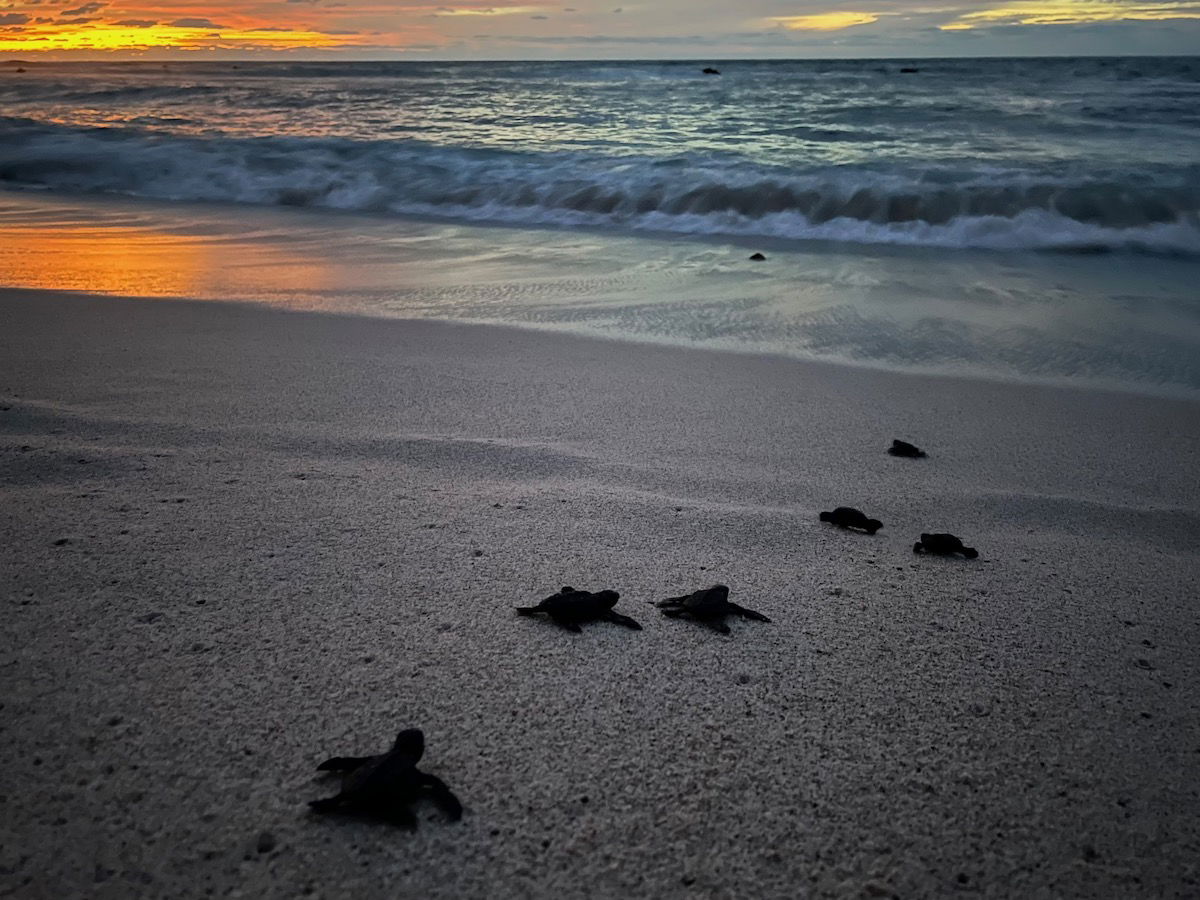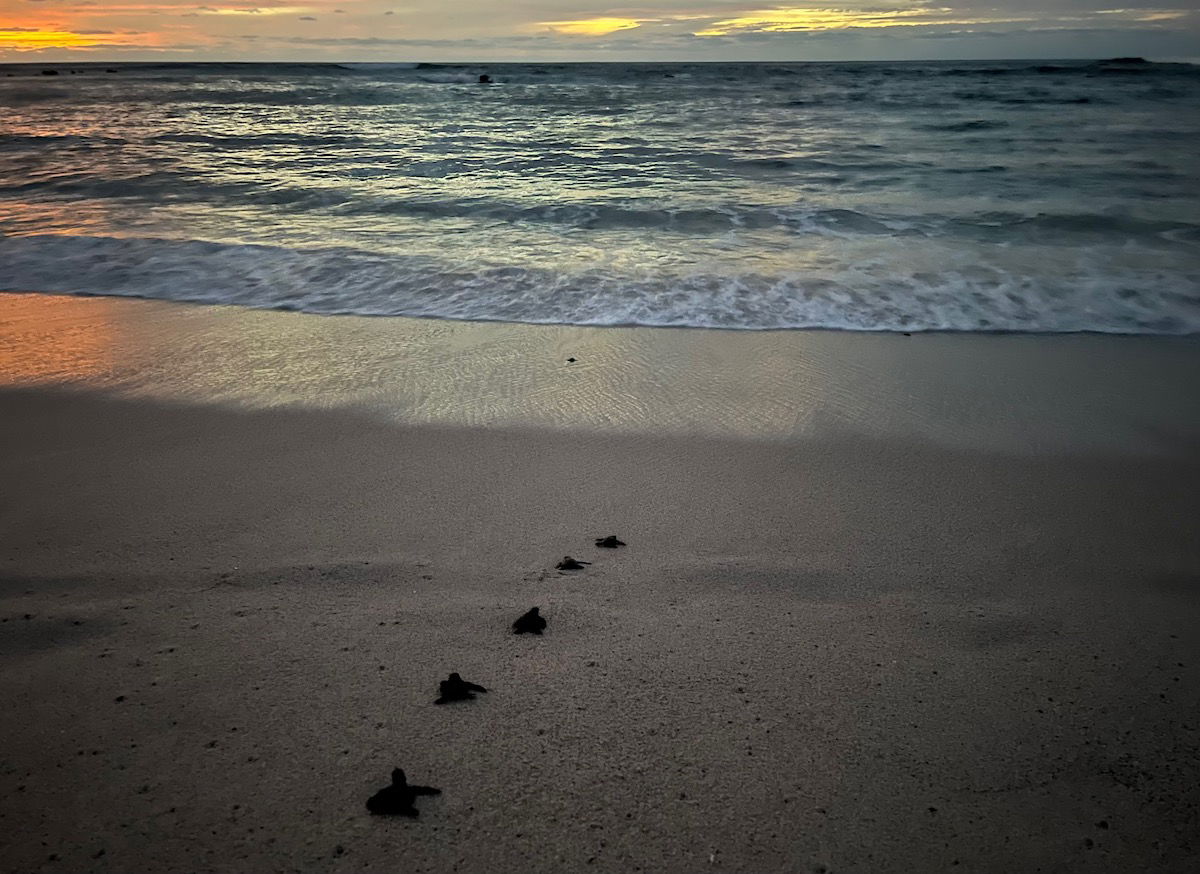 Four Seasons Punta Mita spa & gym
While we didn't get any spa treatments during our stay, the Four Seasons Punta Mita does have the Apuane Spa, which features 13 treatment rooms. You can find the Four Seasons Punta Mita spa menu here, and as you'll see, there are some interesting options, ranging from a tequila stone massage, to a hakali cactus massage.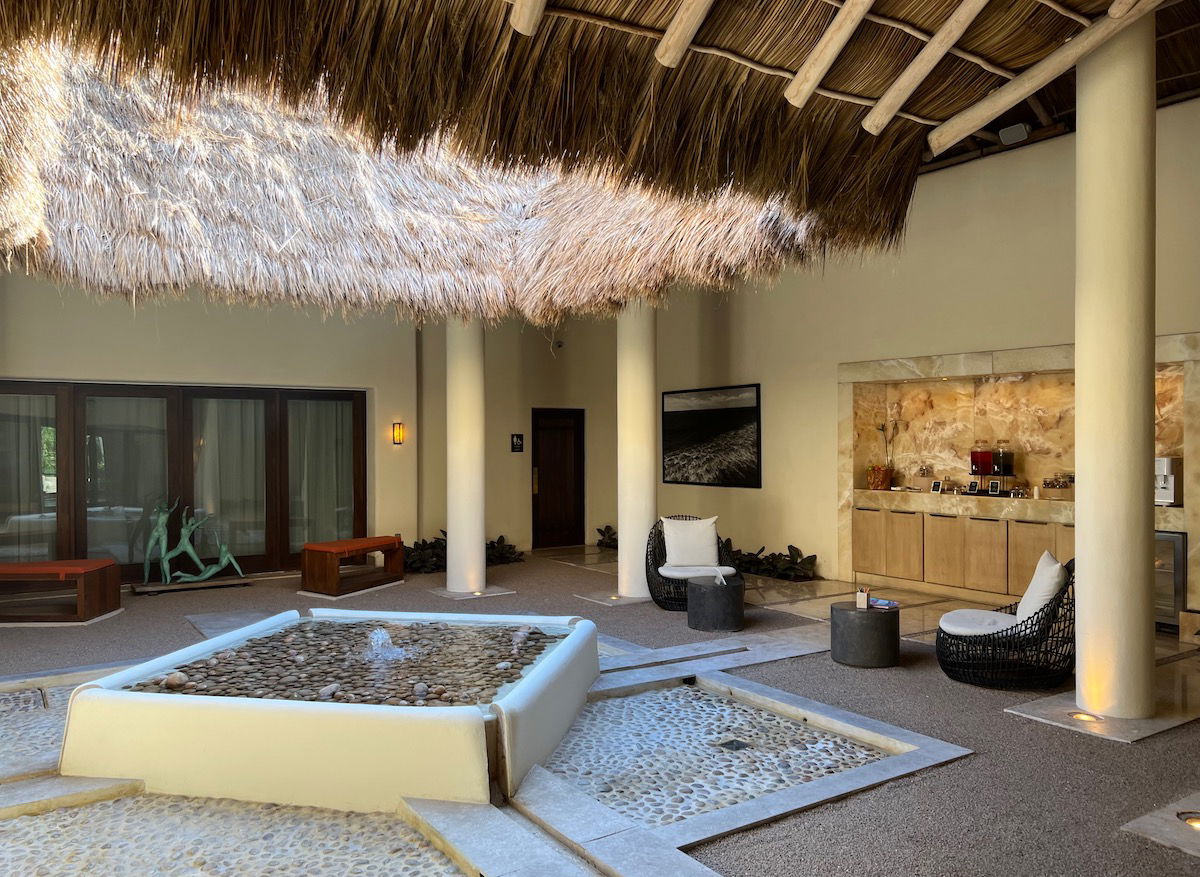 In addition to the spa, the Four Seasons Punta Mita has a good gym, with a variety of cardio and weight equipment.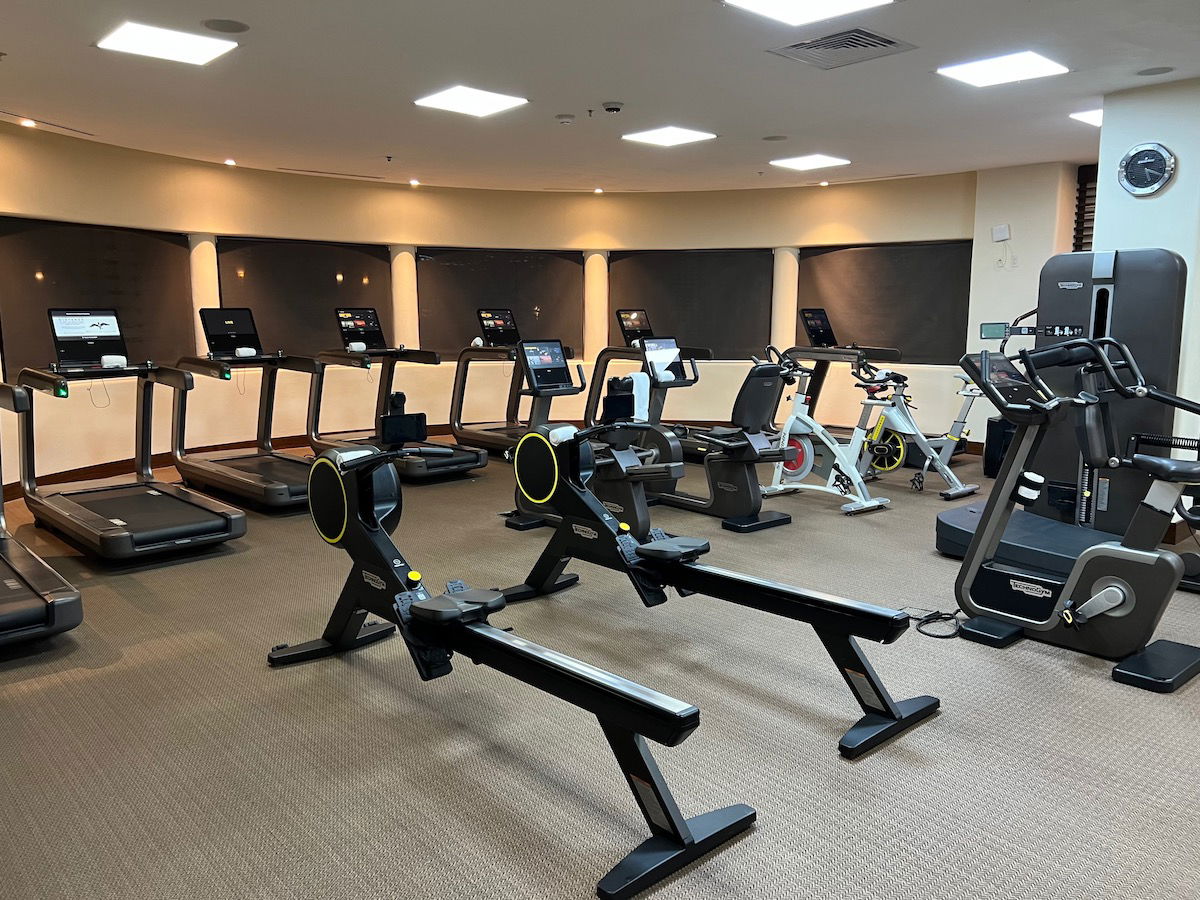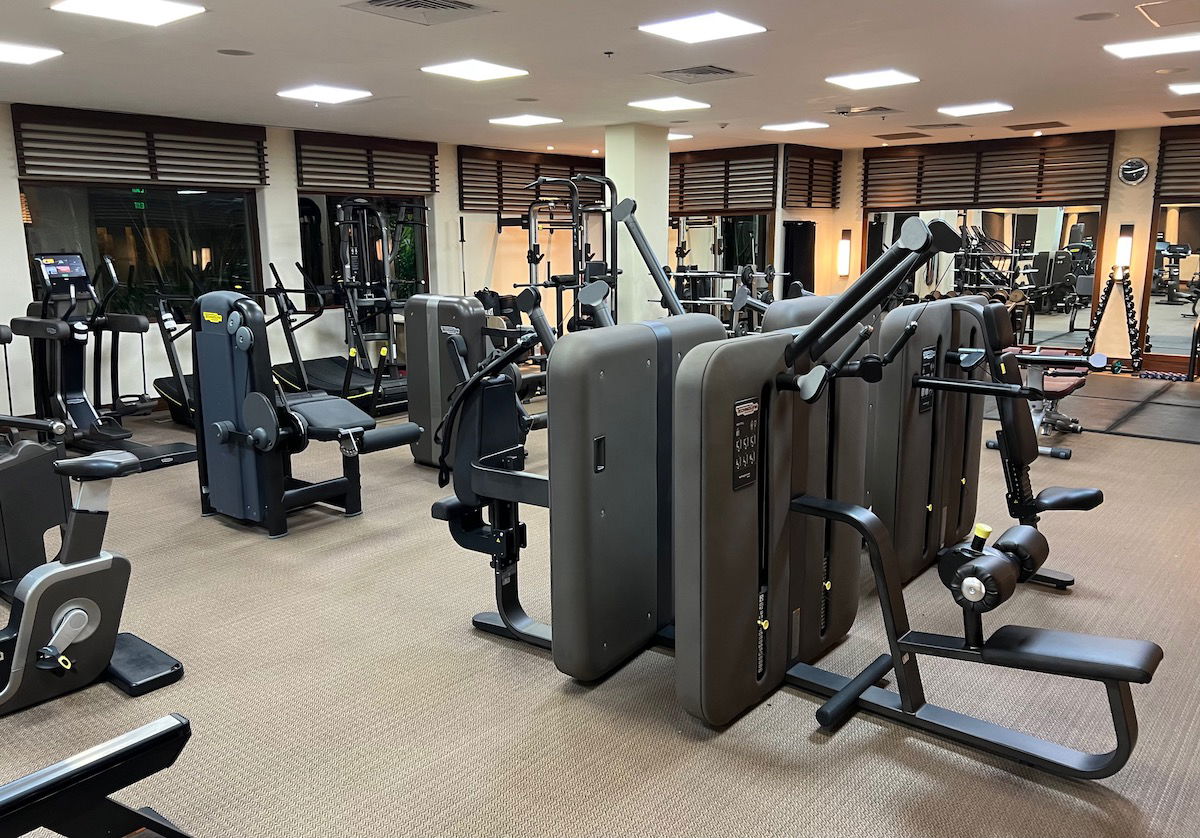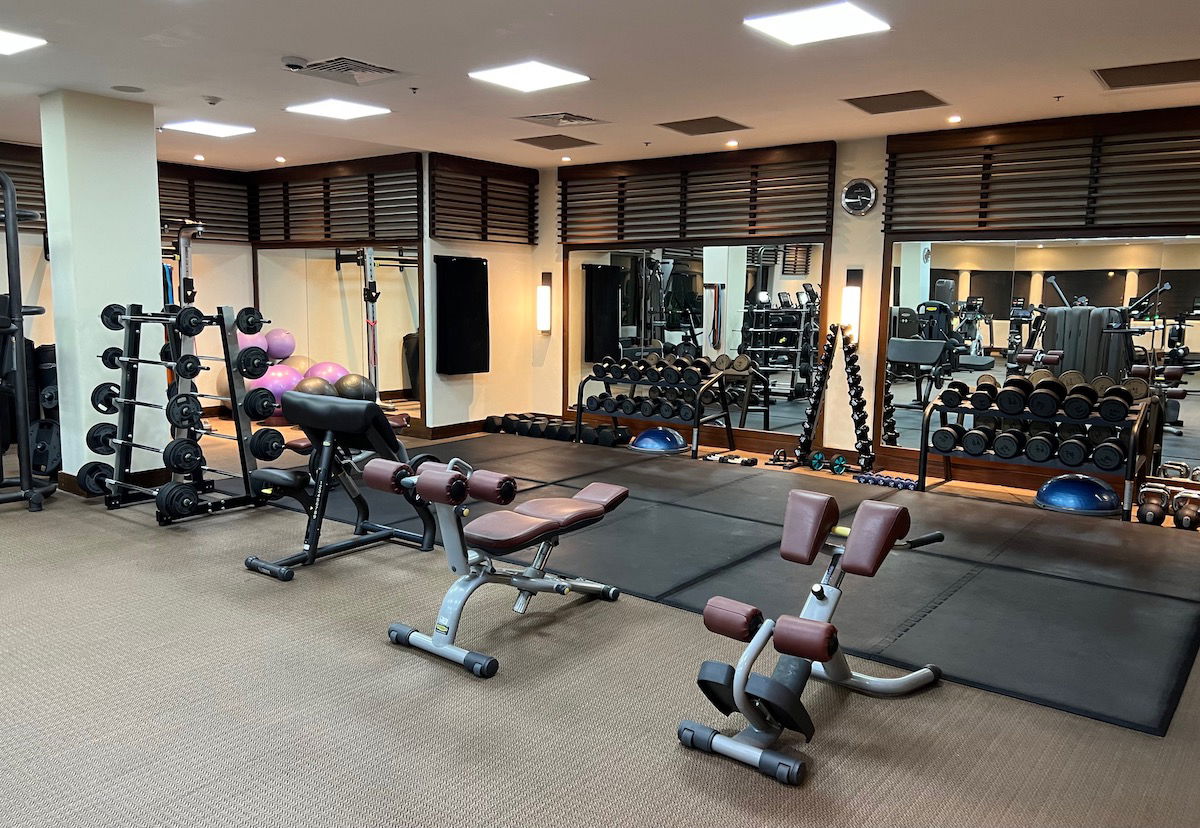 The gym also has apples, granola bars, nuts, and fruit infused water.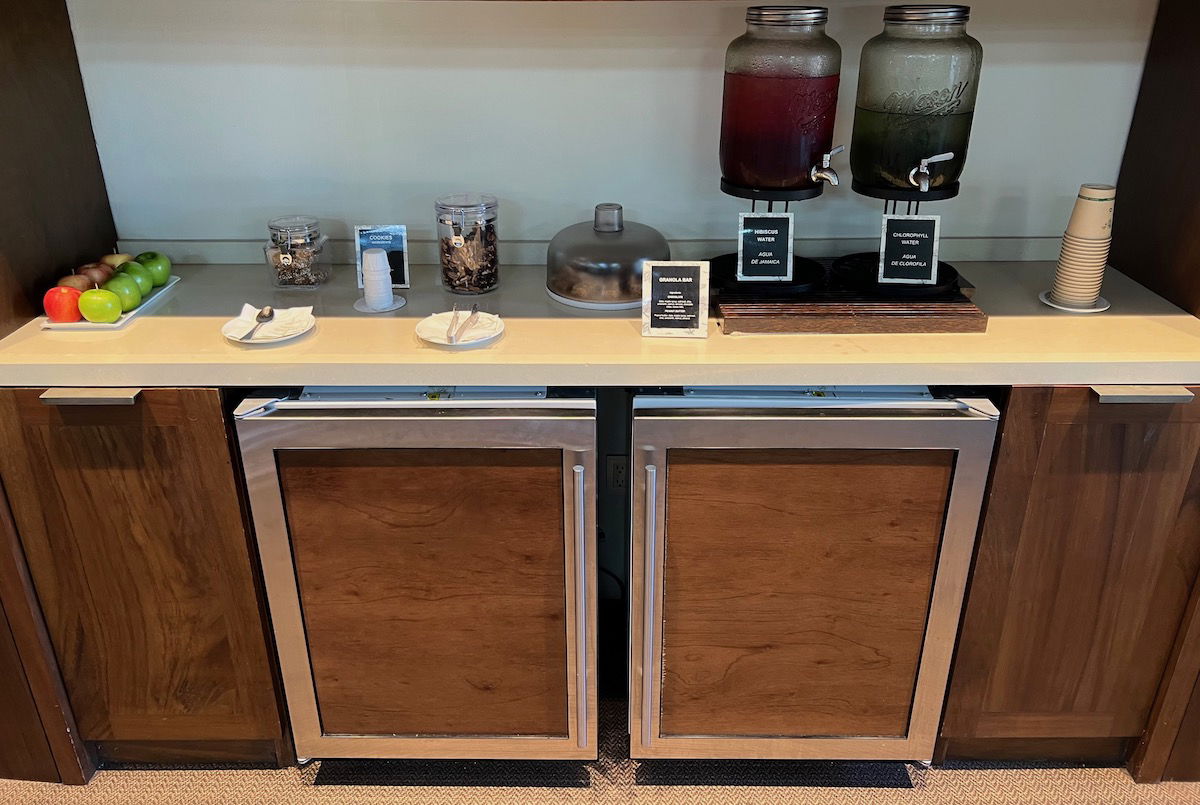 On top of the main part of the gym, there's a separate room for fitness classes with bikes.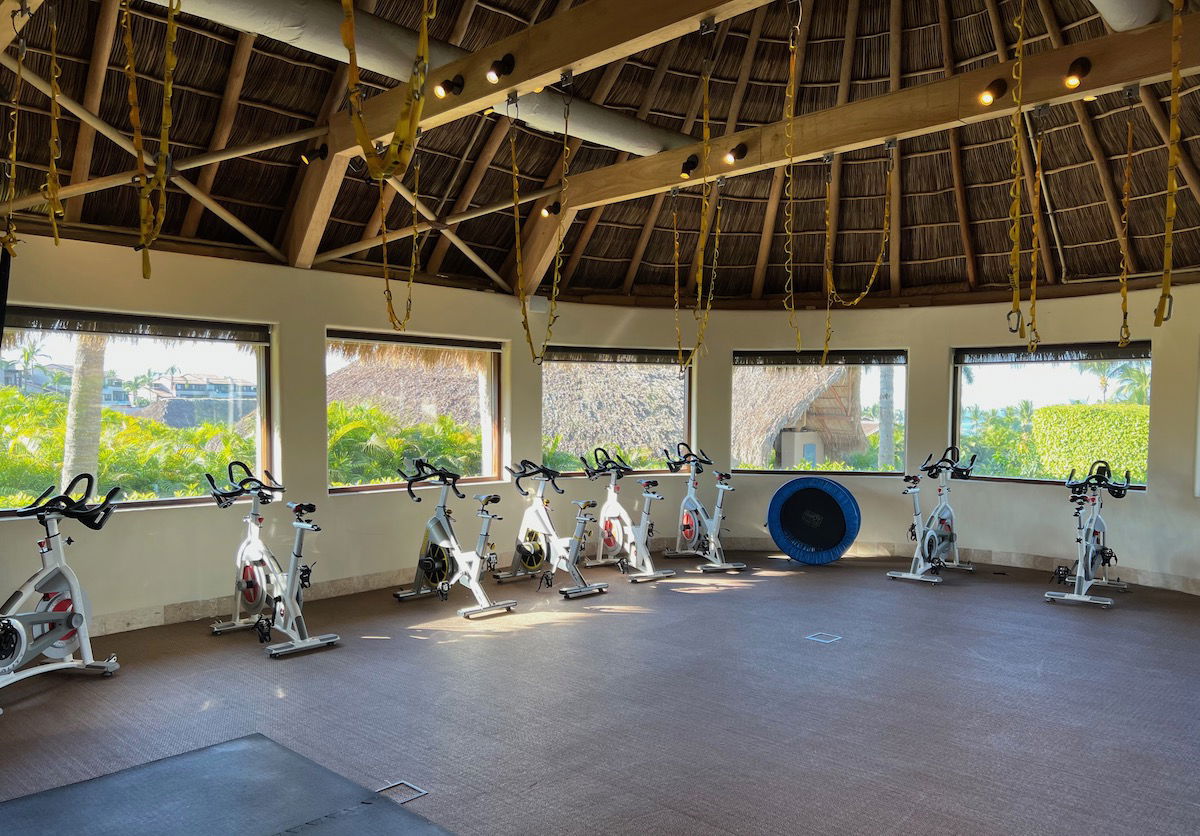 Four Seasons Punta Mita Dos Catrinas Restaurant
The Four Seasons Punta Mita has a variety of dining options. The all-day dining restaurant is Dos Catrinas Restaurant, which is an open-air restaurant right on the beach, serving breakfast (7:00AM until 11:30AM), lunch (11:30AM until 6:00PM), and dinner (6:00PM until 10:30PM). The restaurant is described as serving authentic Mexican fare with a contemporary twist.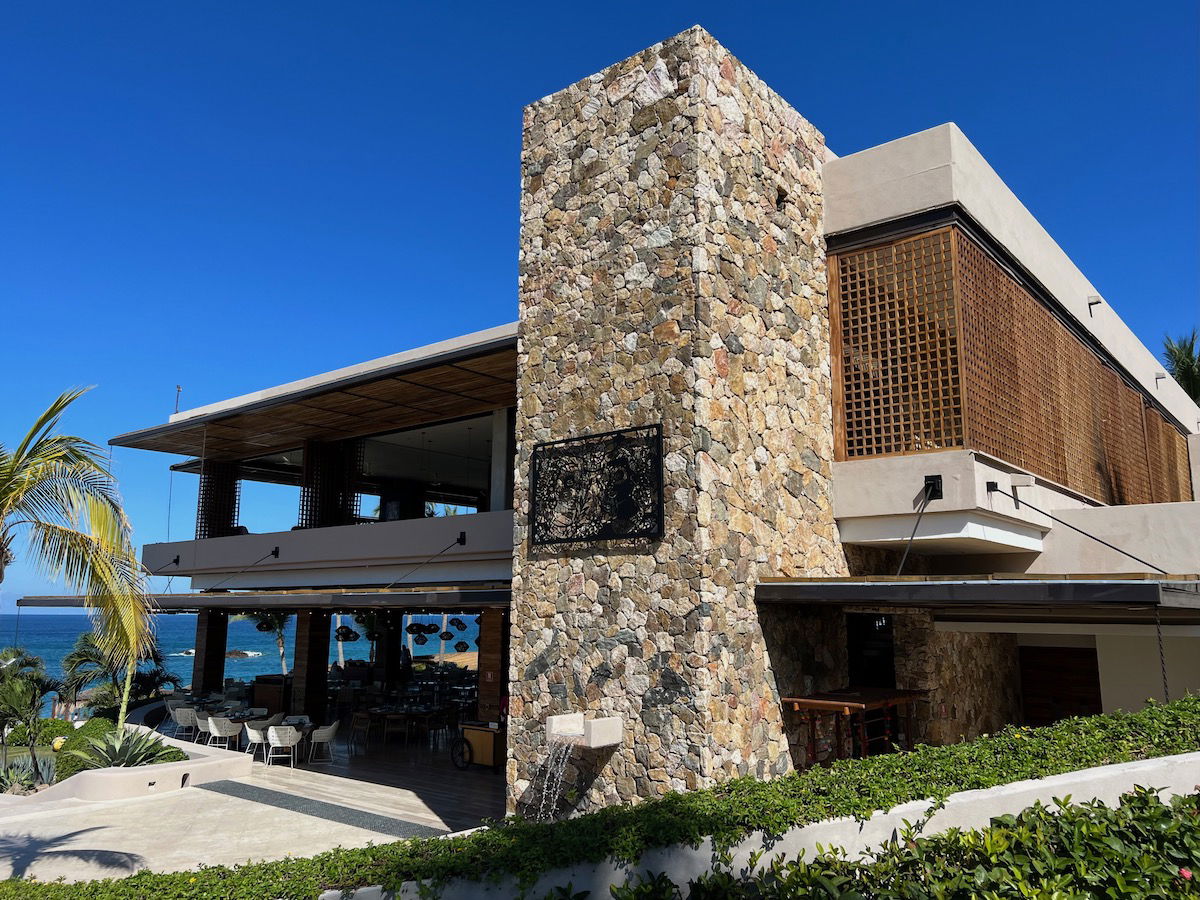 We had breakfast here each morning. While the restaurant is large, it never even got anywhere close to being crowded, even though the hotel was pretty full.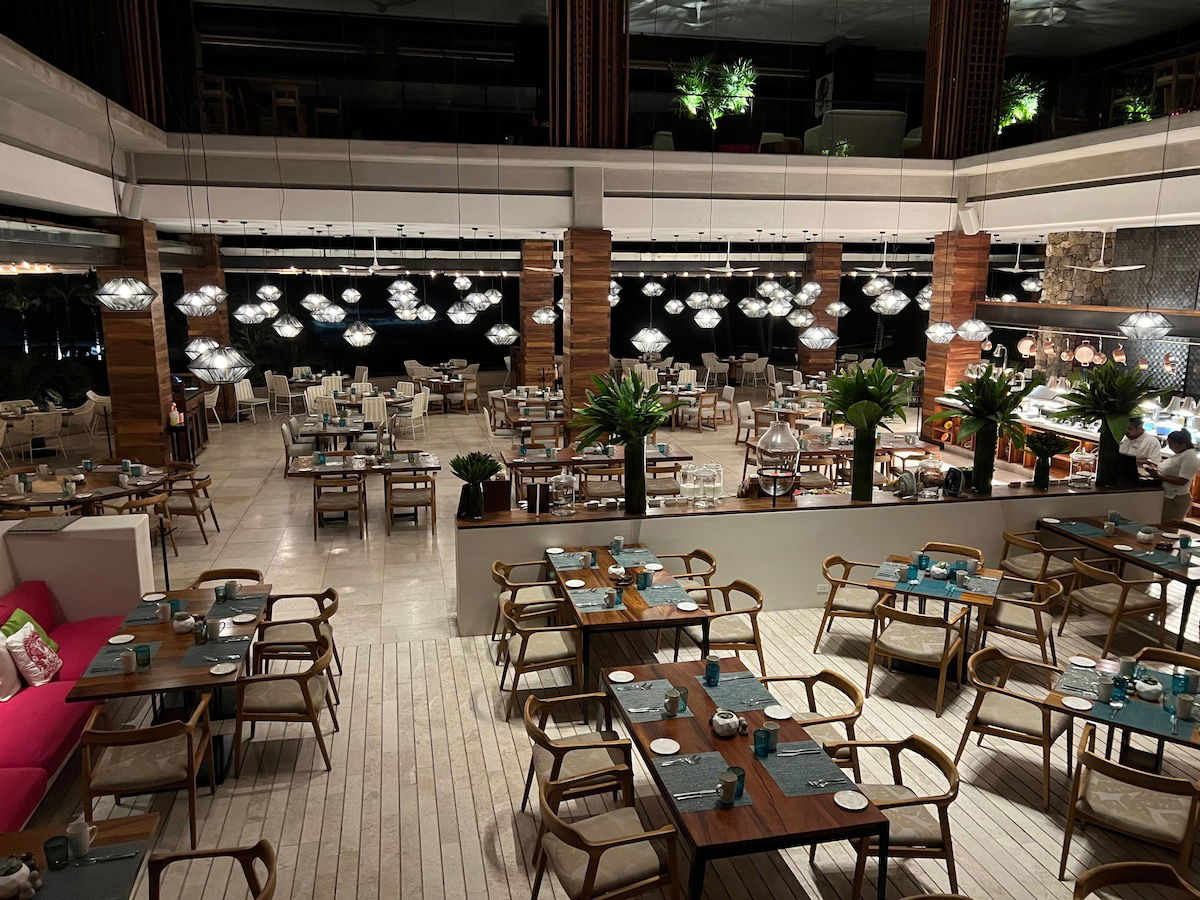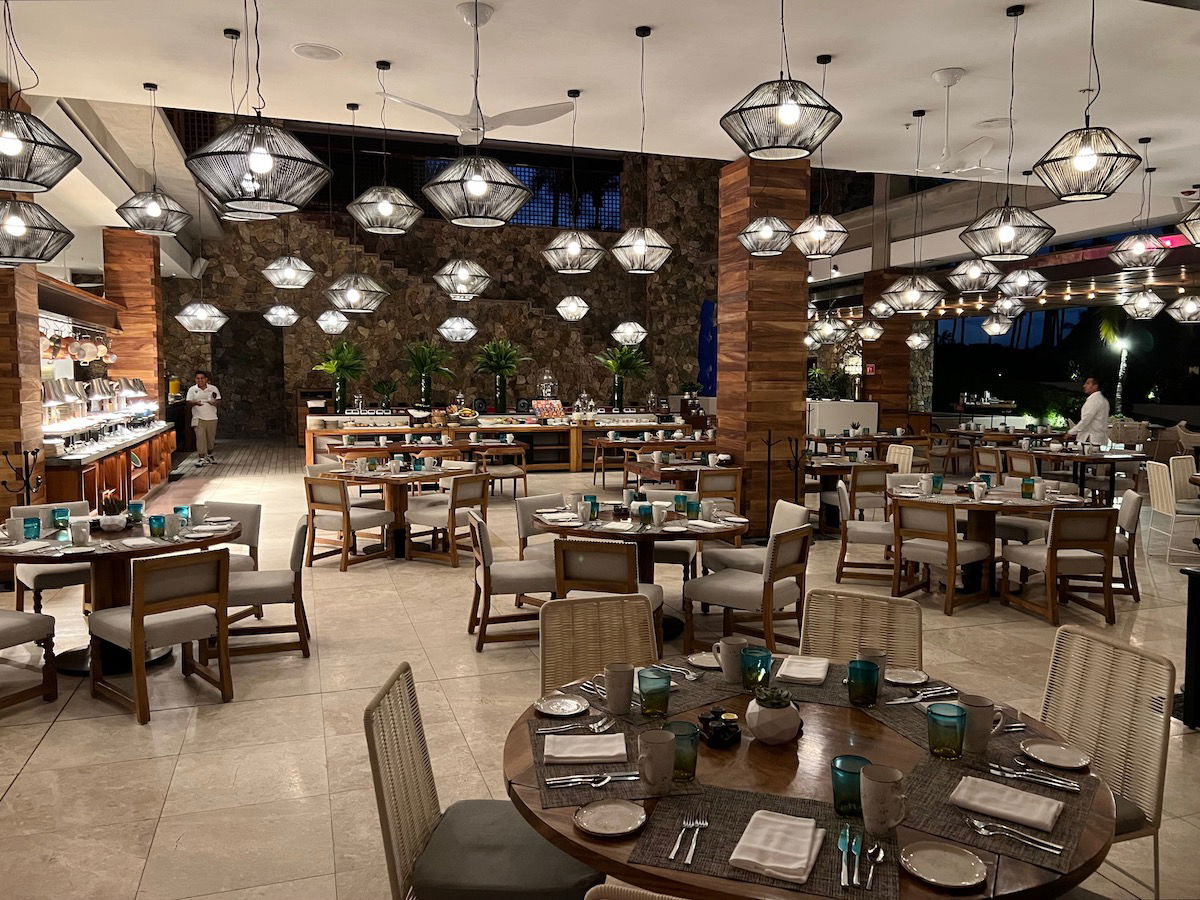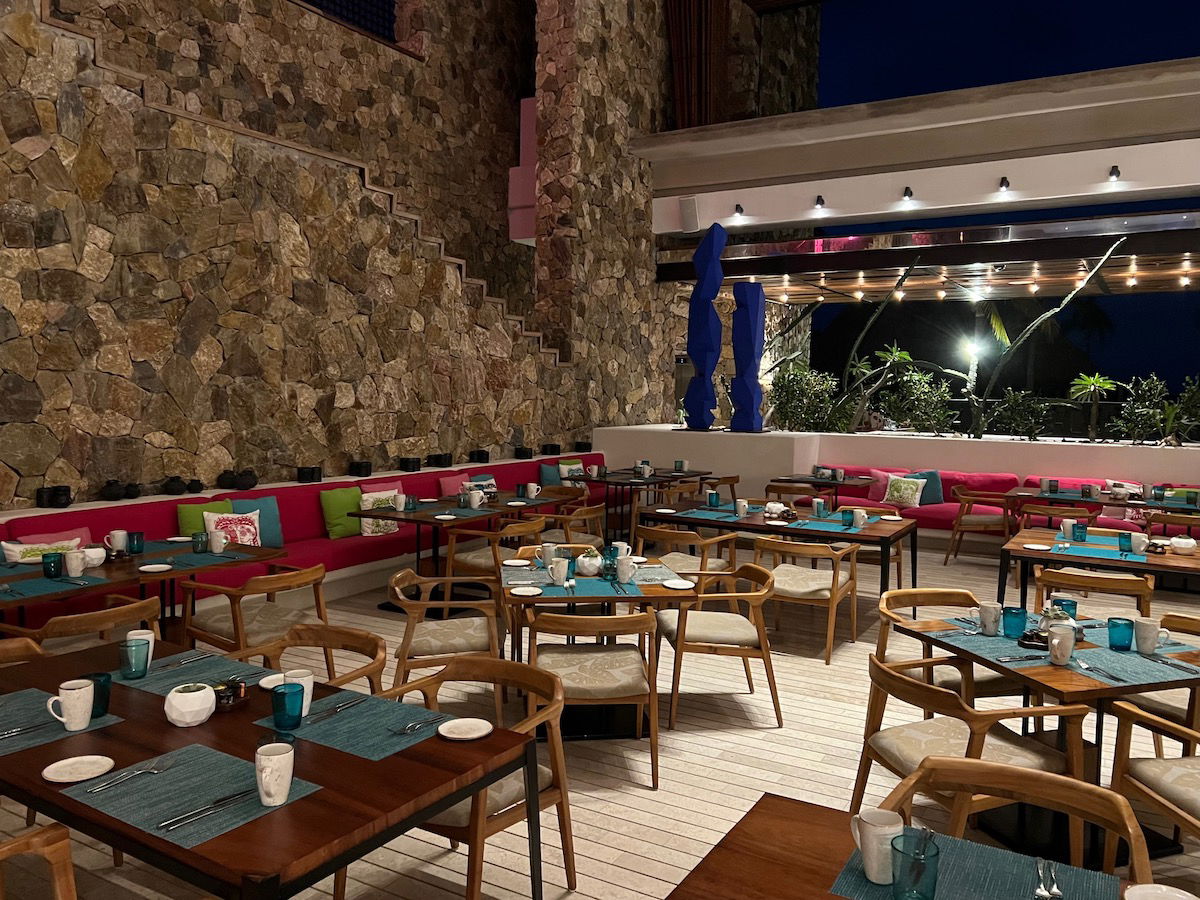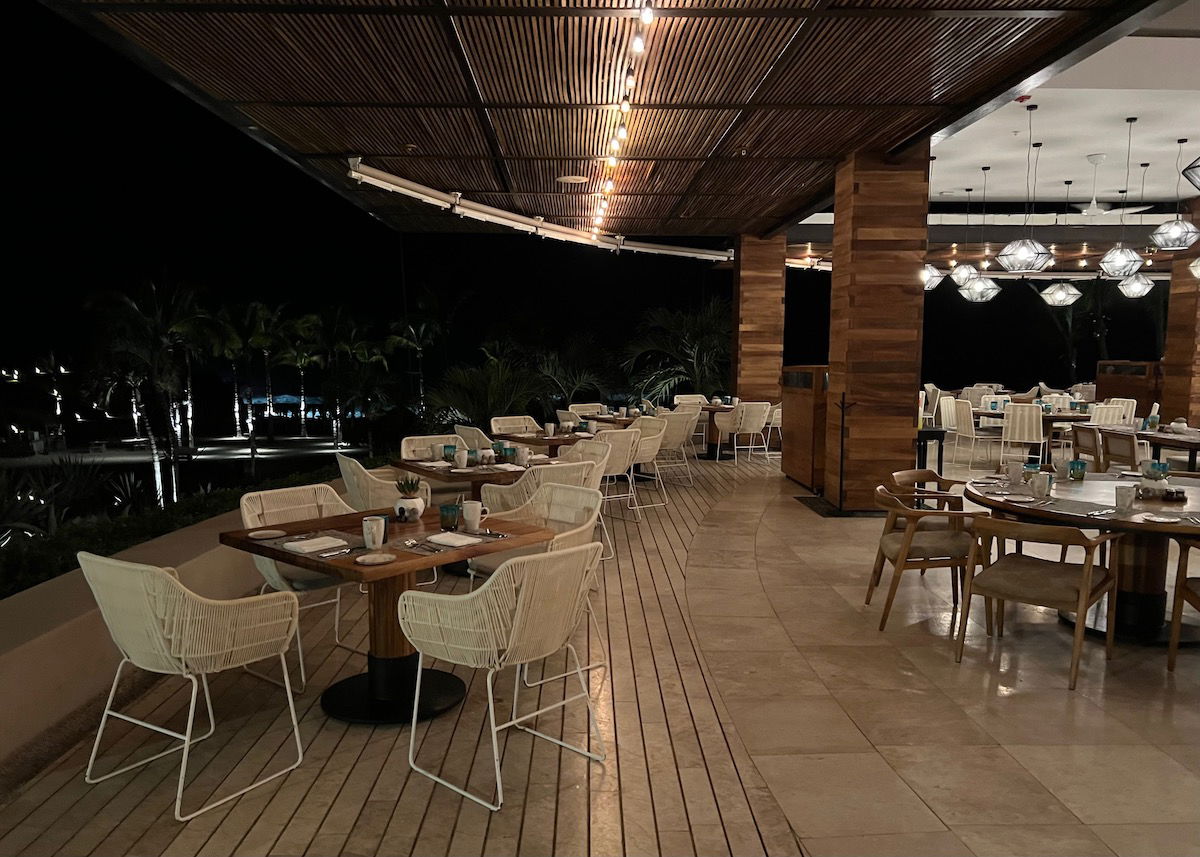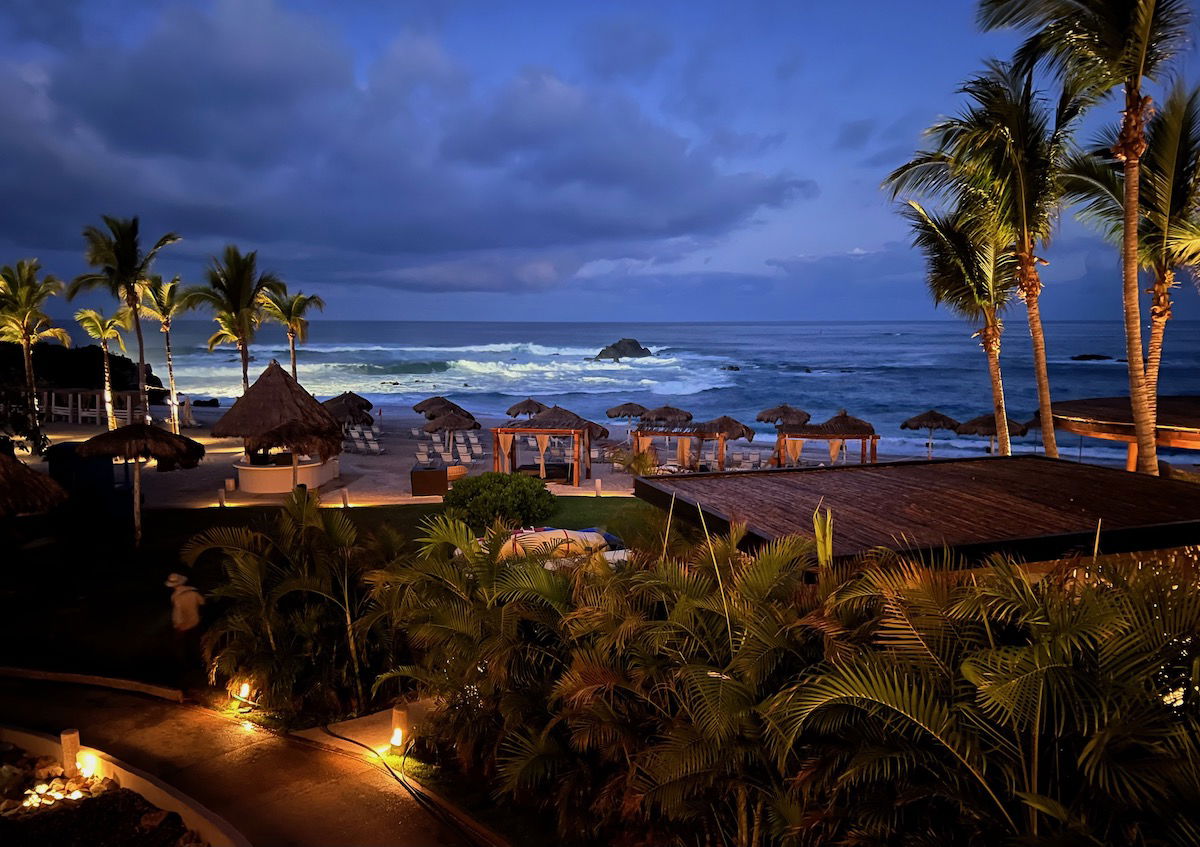 For breakfast, guests have the choice of the buffet, or ordering off the menu. You can find the breakfast menu and custom juice menu below.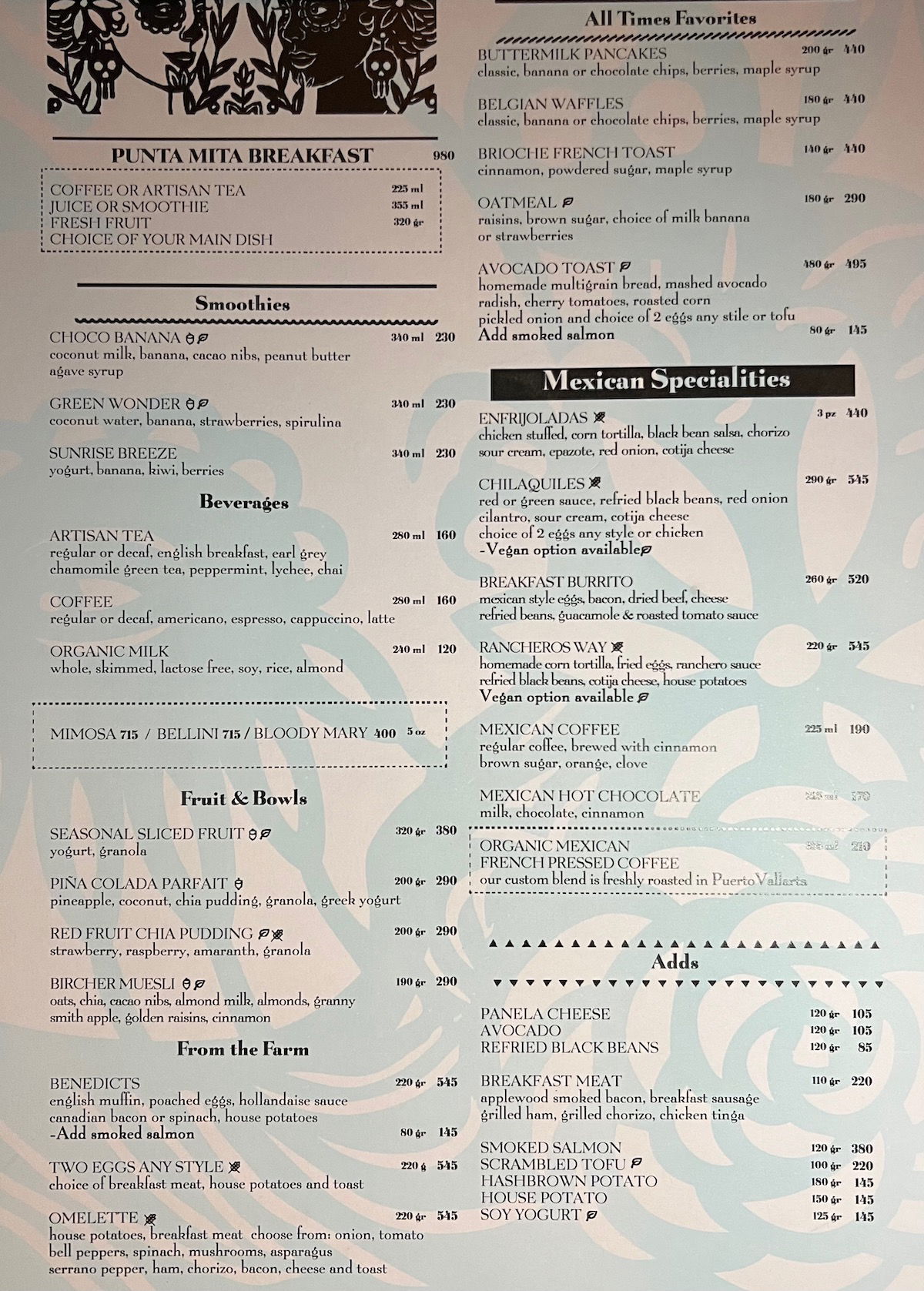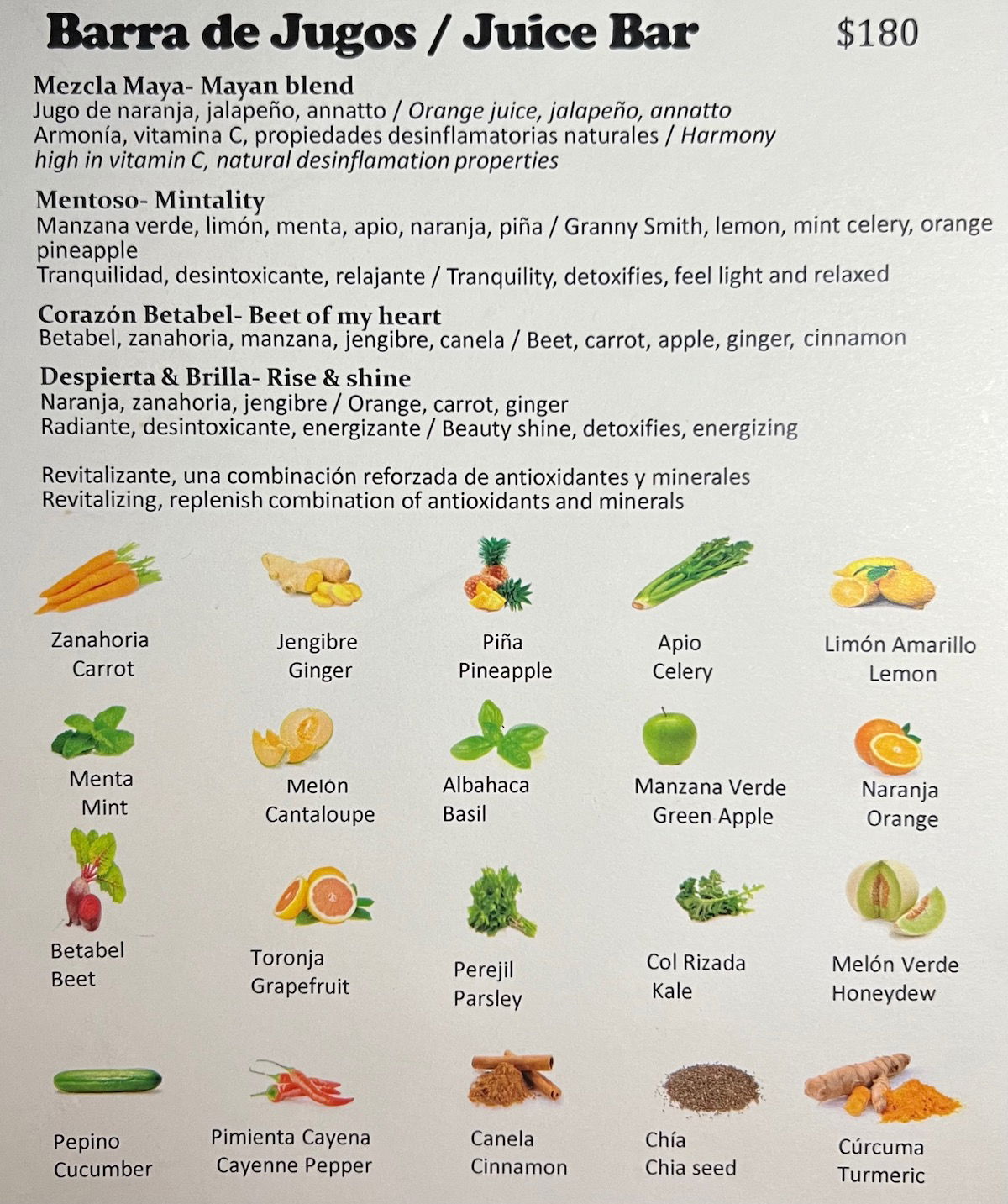 The breakfast buffet was extensive, with everything from fresh fruit, to yogurt, to cold cuts, to cereal, to pastries, to hot options.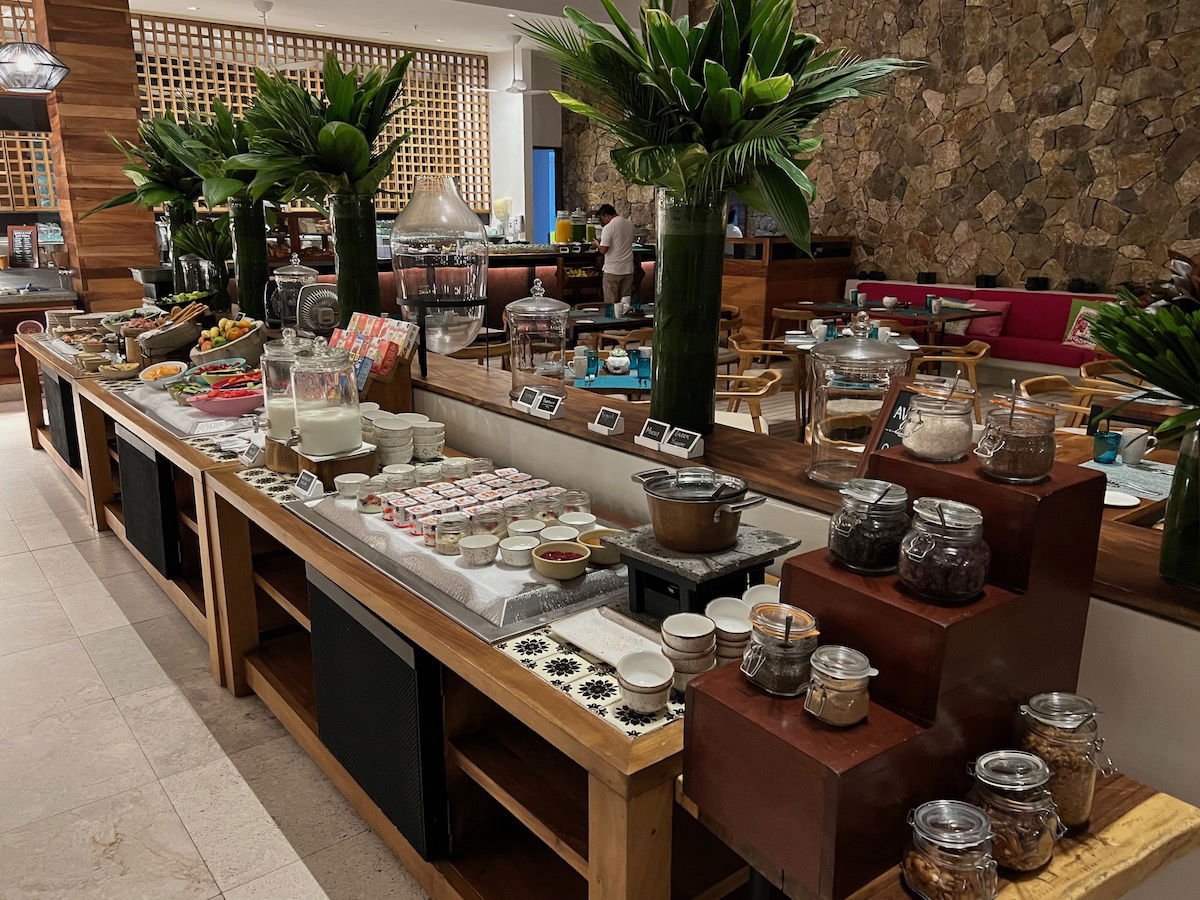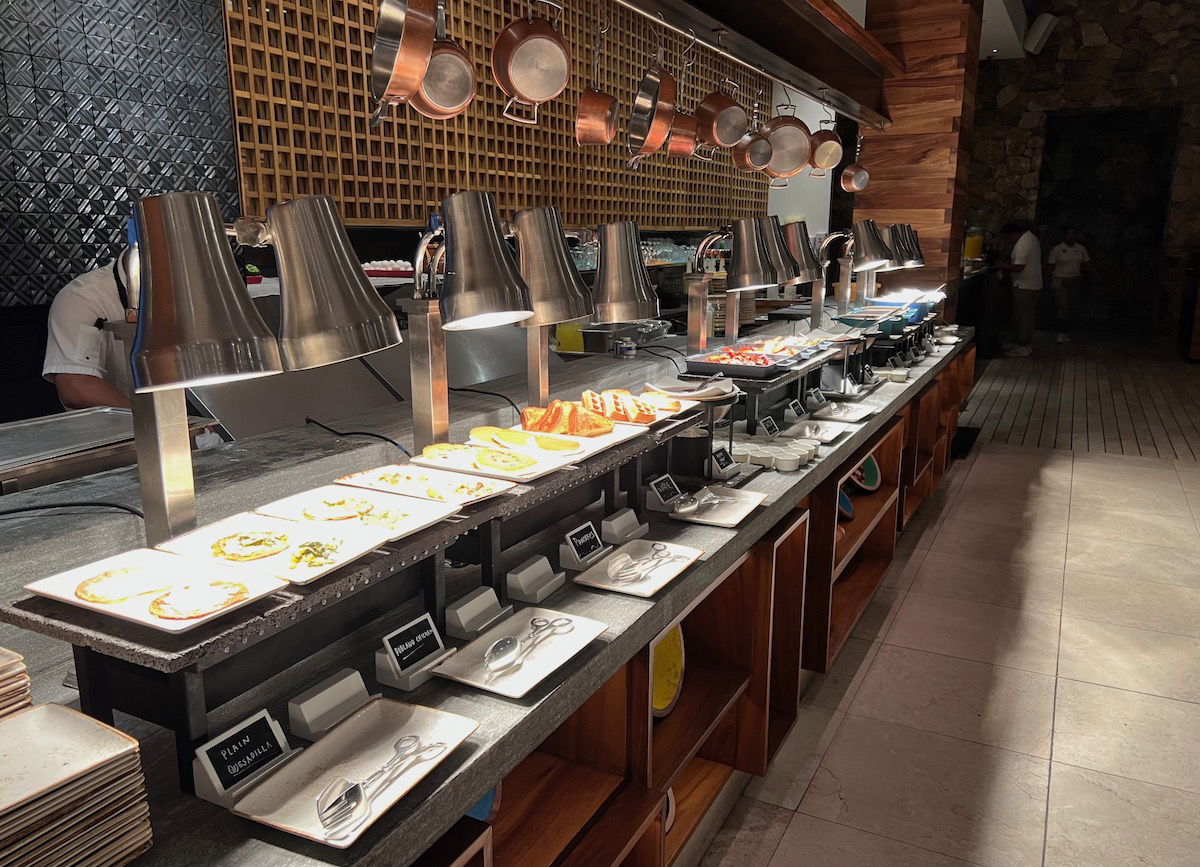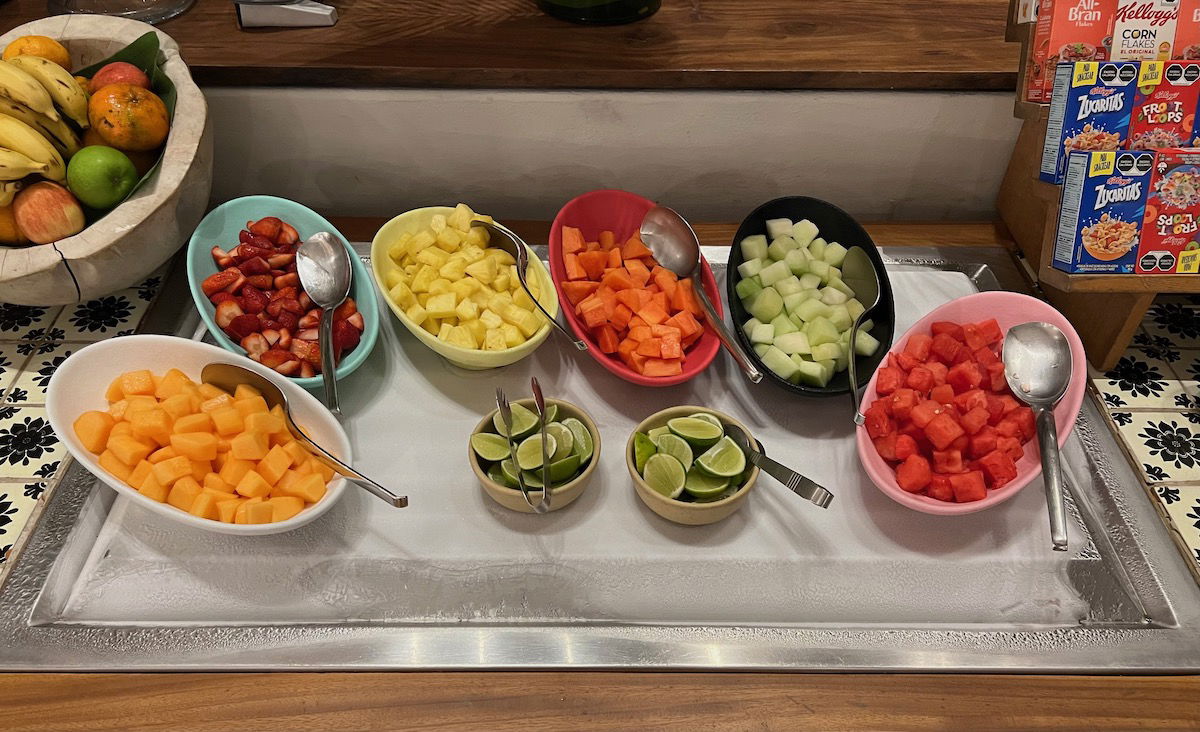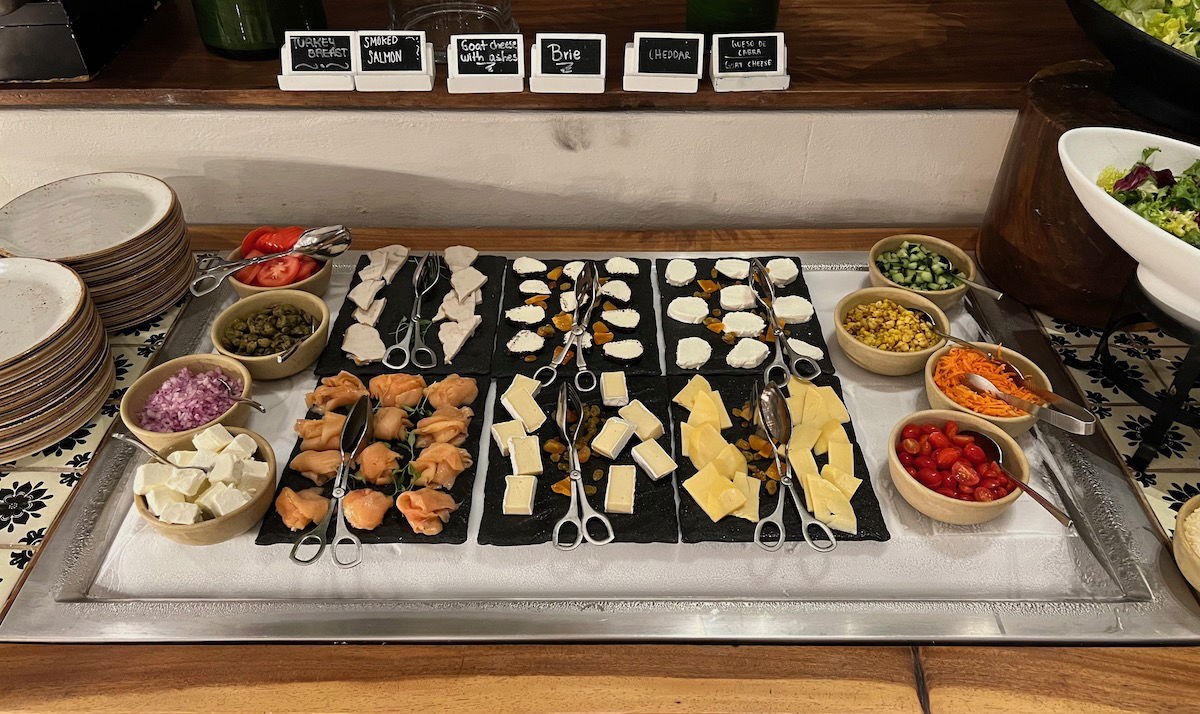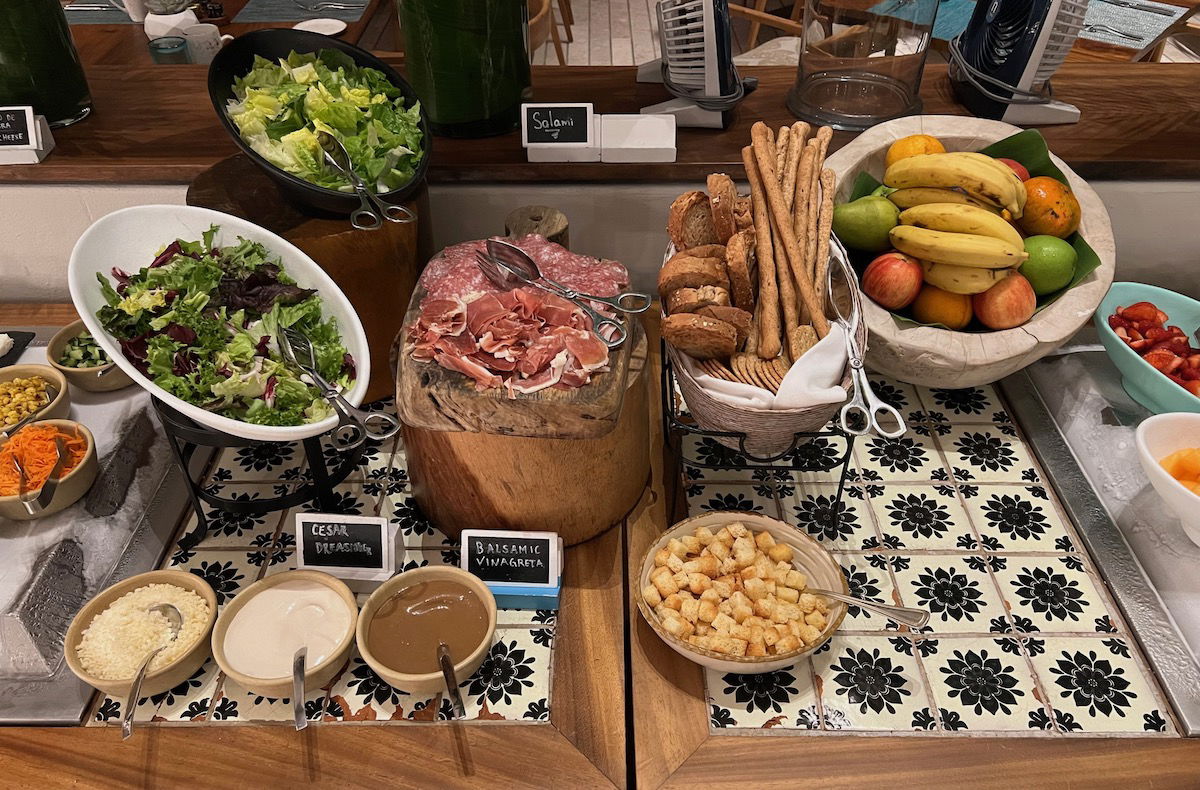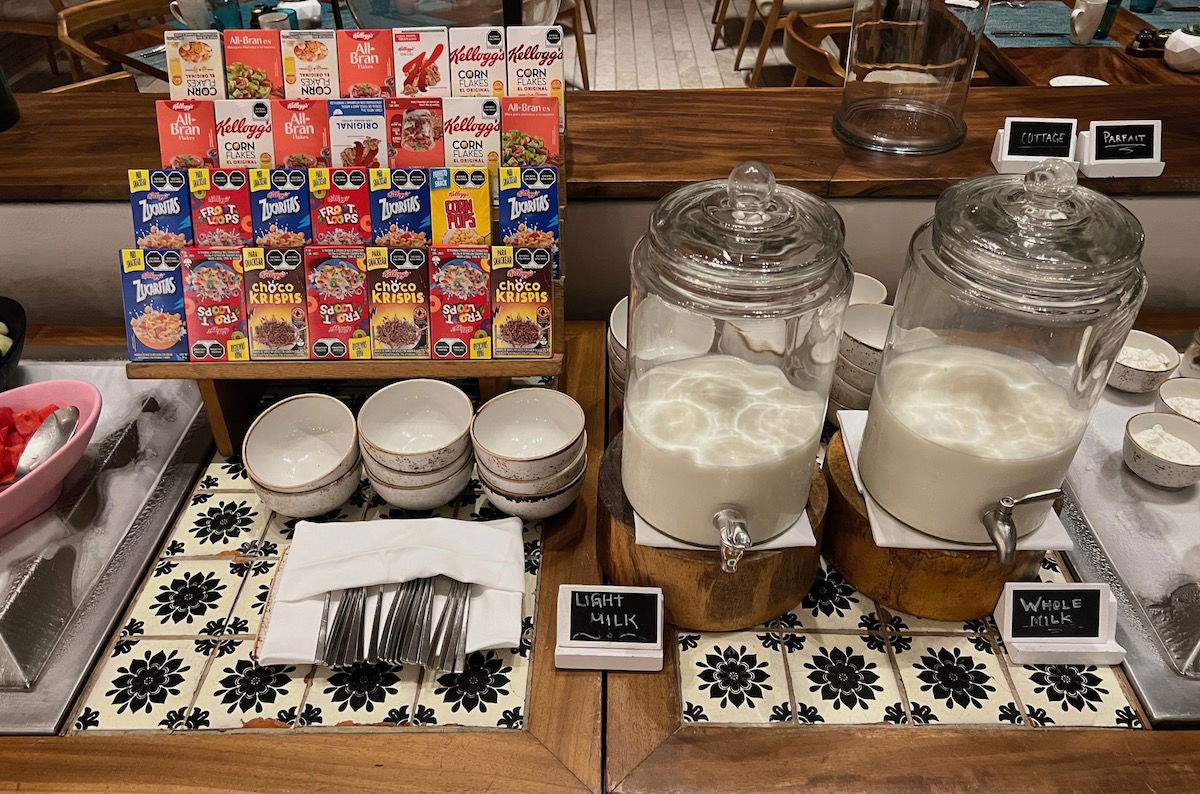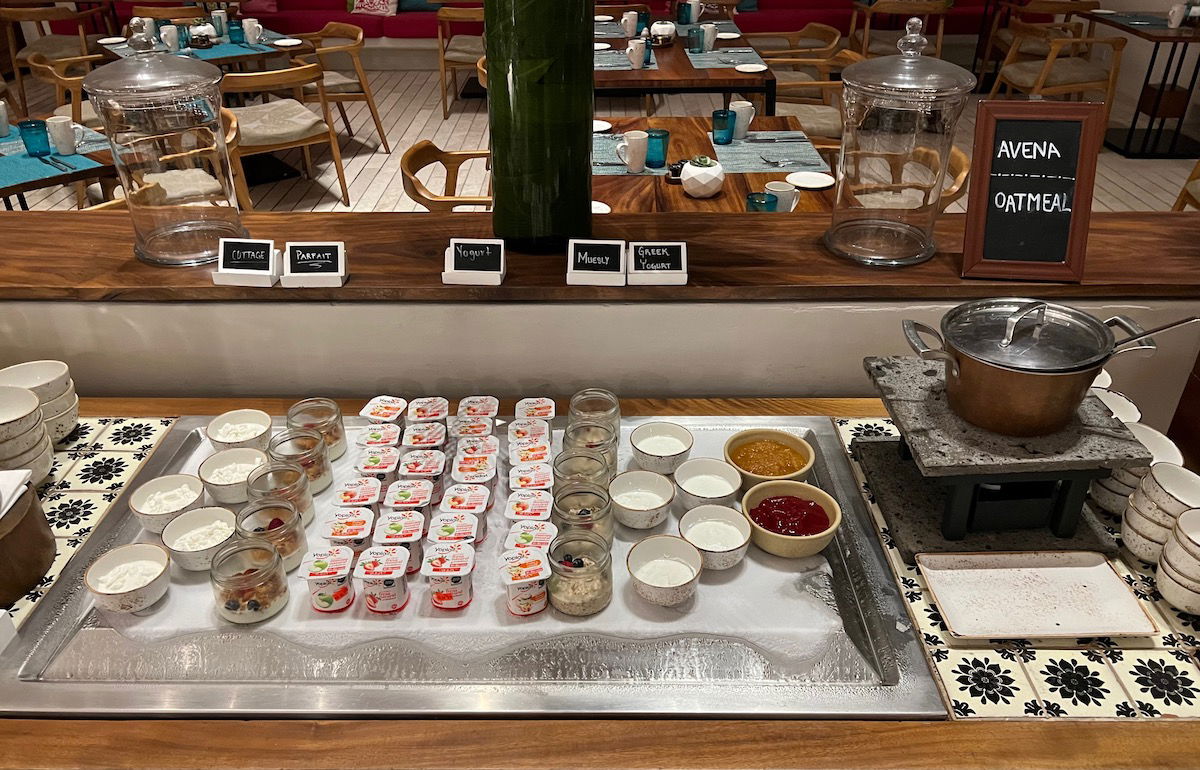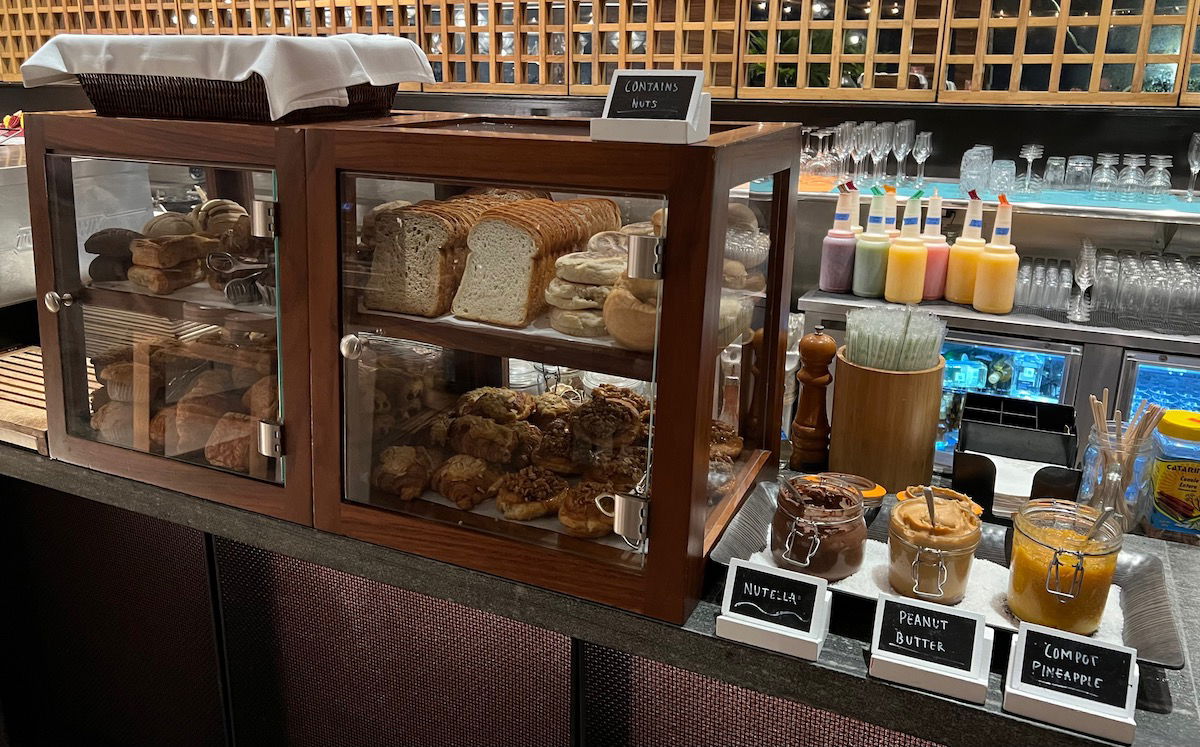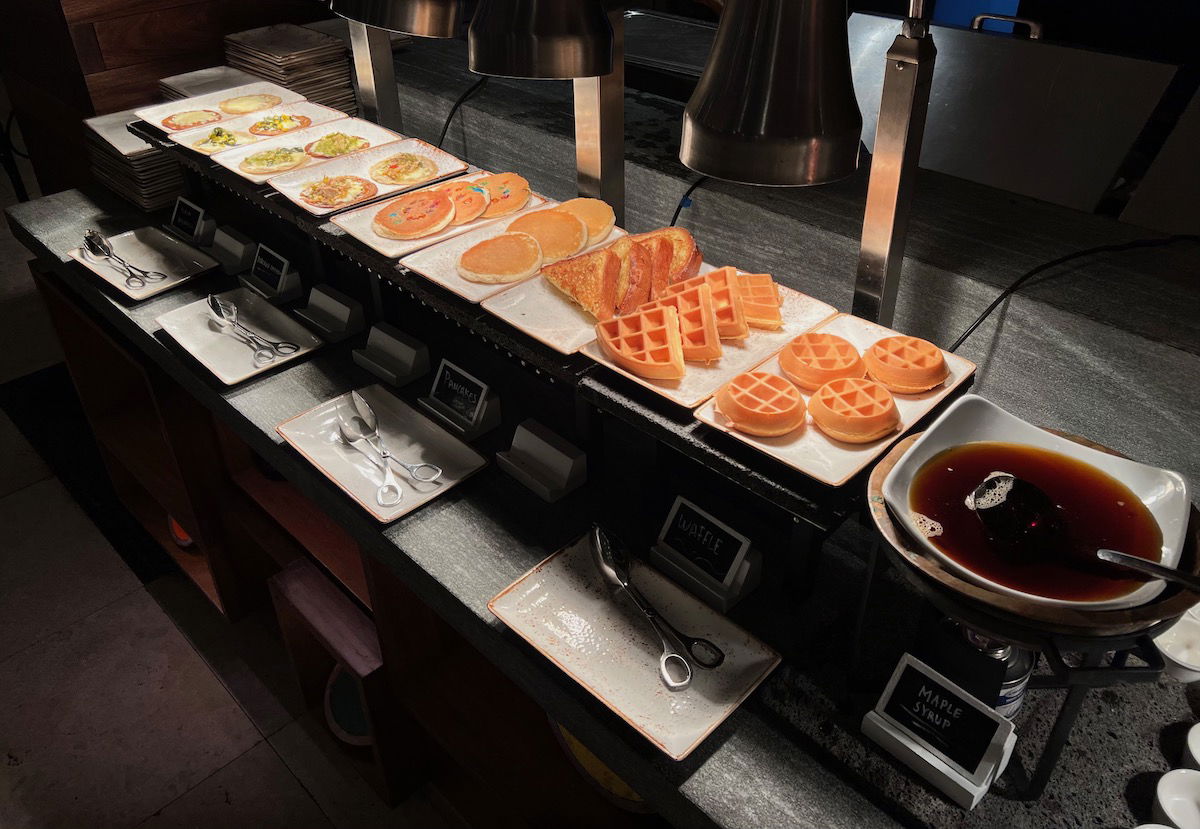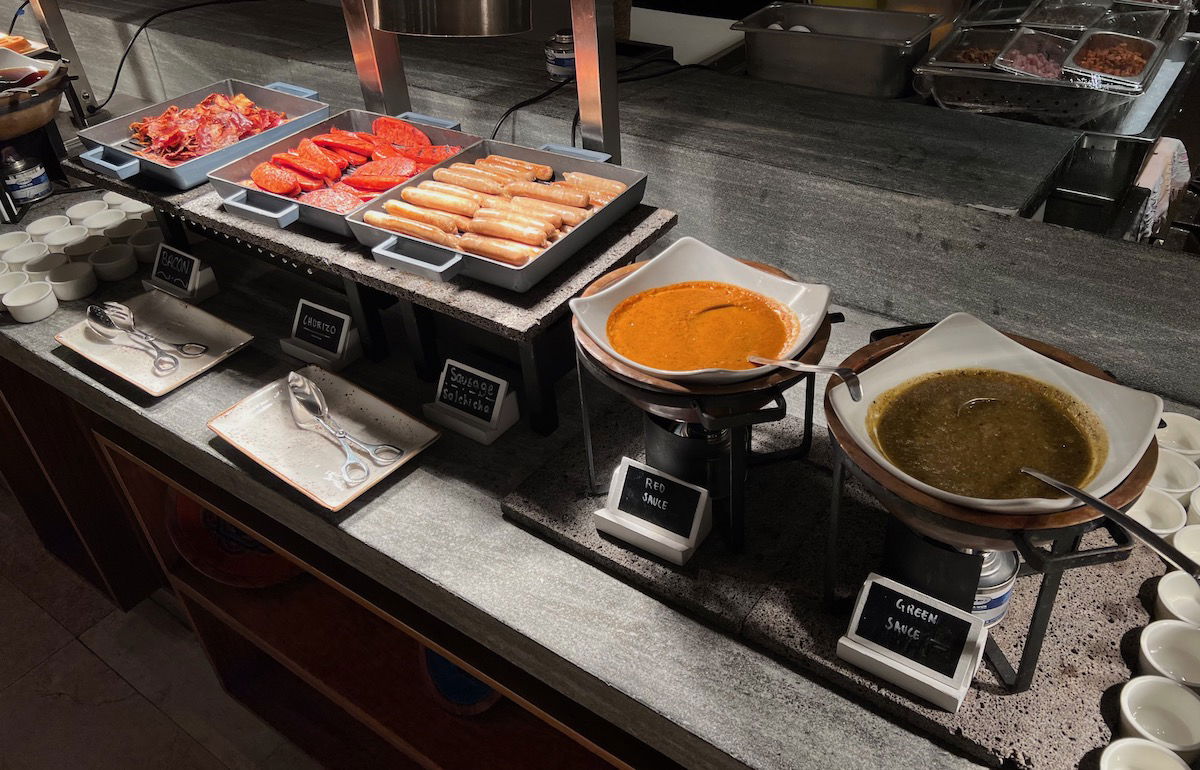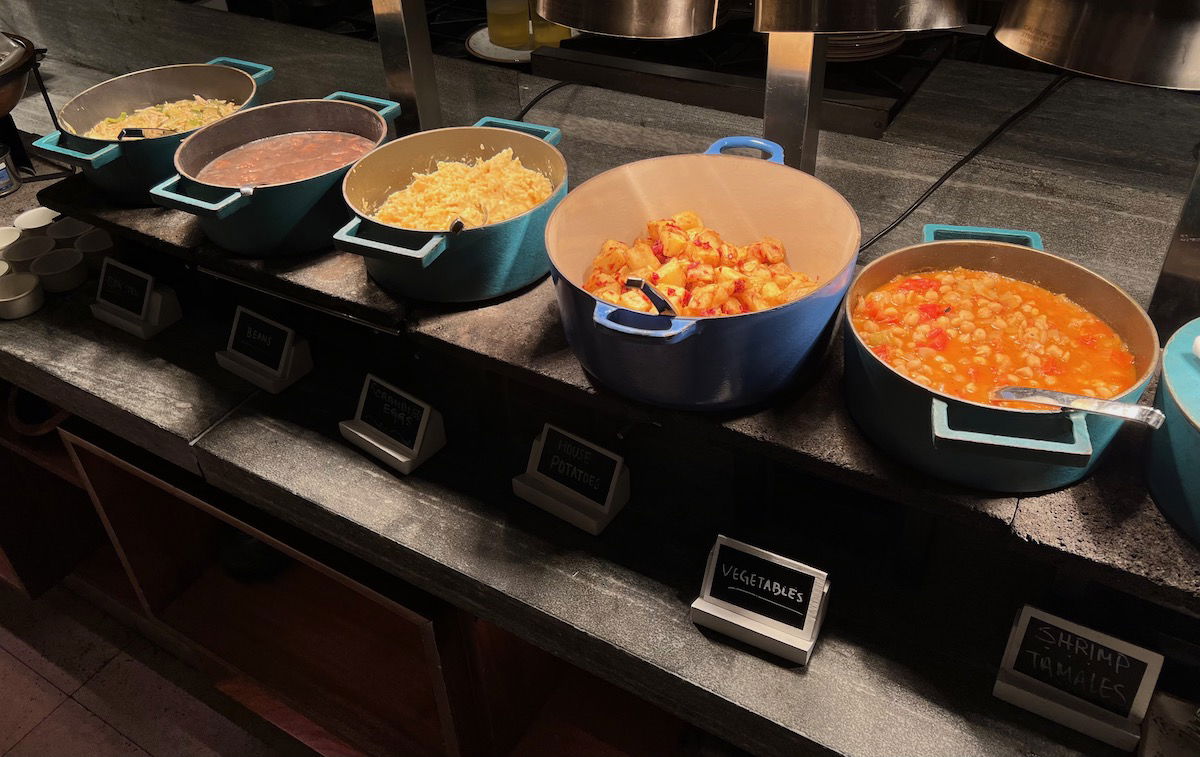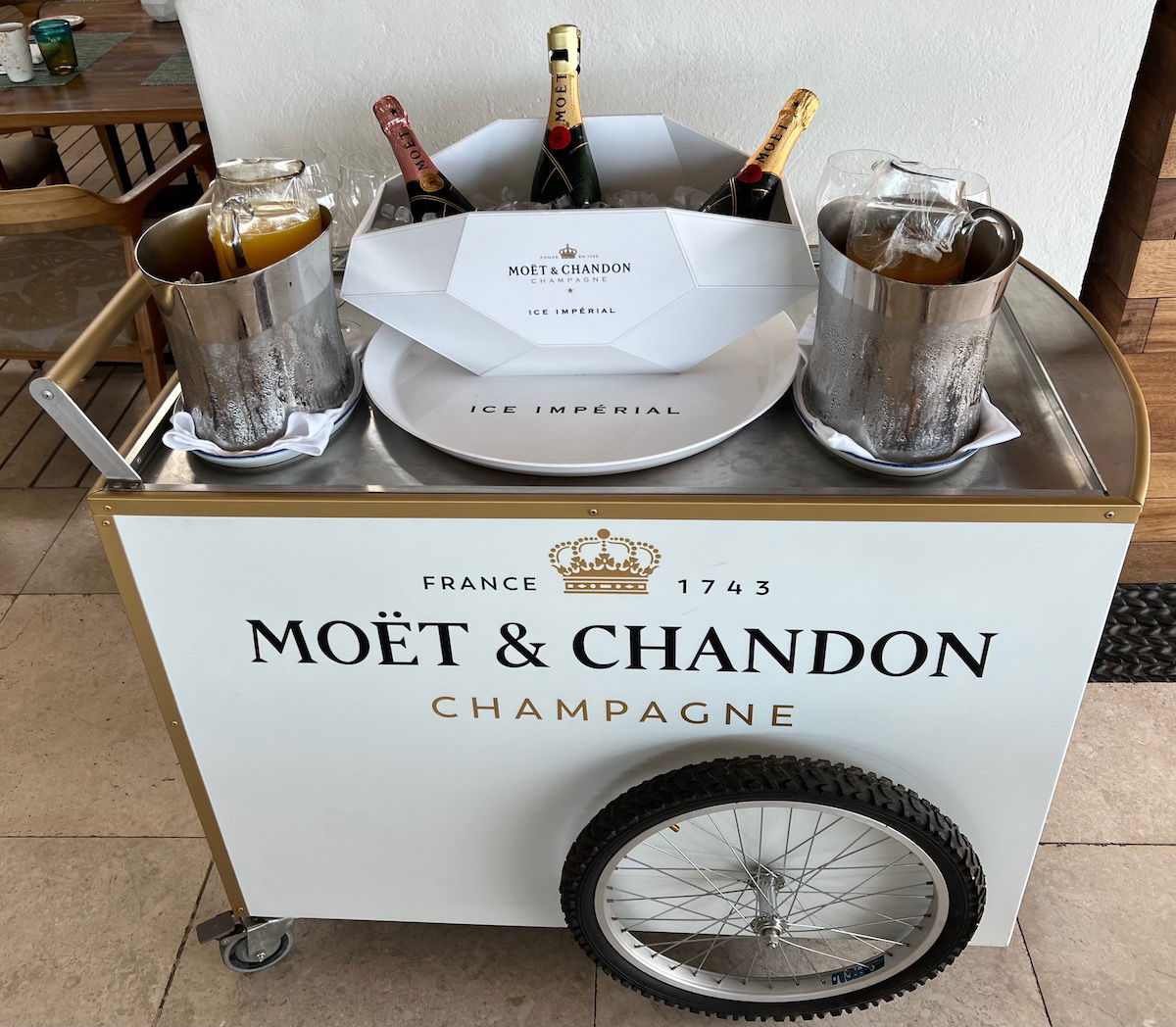 There's also an egg station, so you can enjoy cooked to order eggs with the buffet.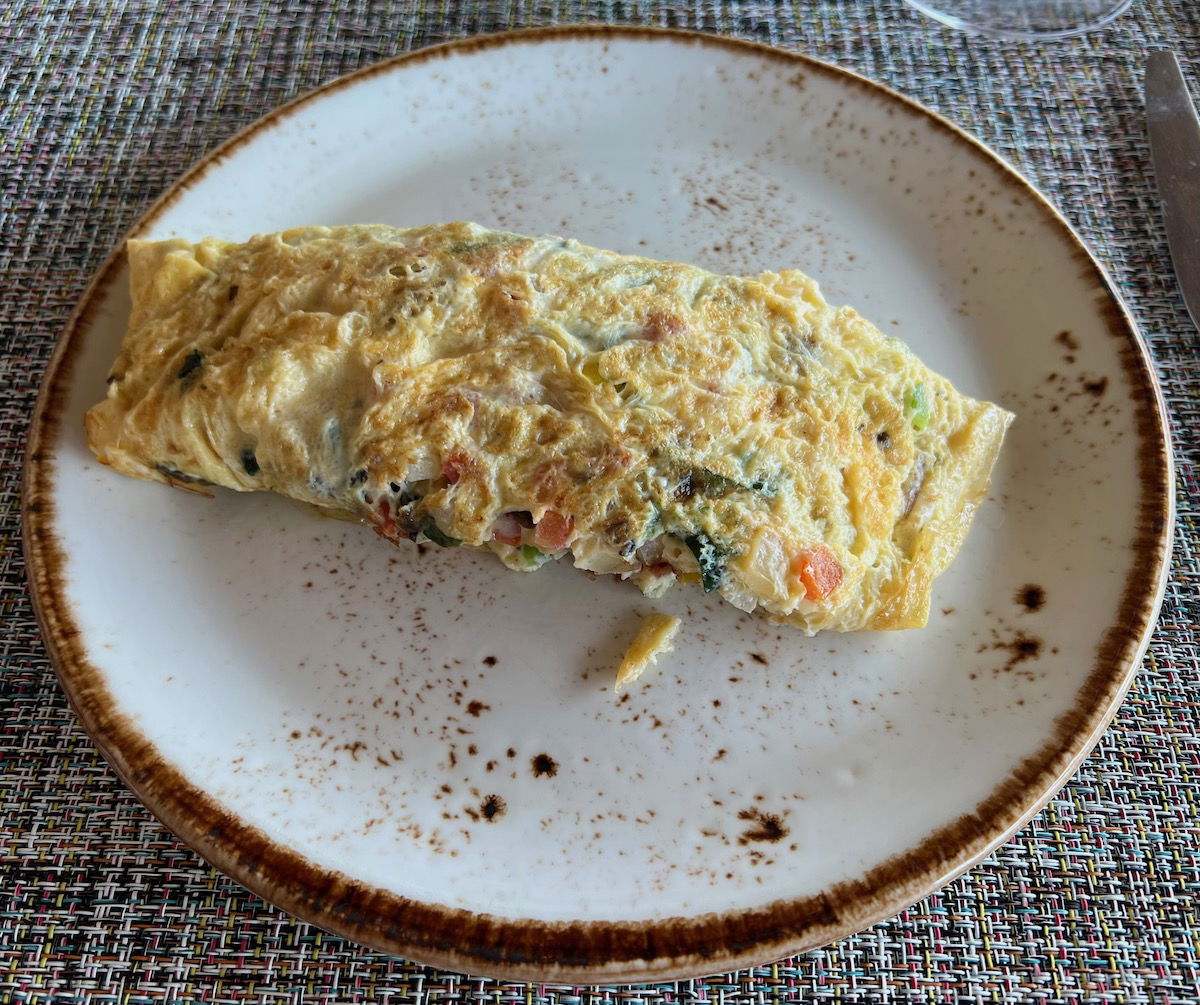 We ended up having the buffet one morning, and ordering off the menu the other two mornings. The drinks at breakfast were excellent, ranging from the fresh carrot juice, to the Mexican French press coffee, to the cappuccinos, to the cold brew (the cold brew even had cold brew ice cubes in it, which was awesome).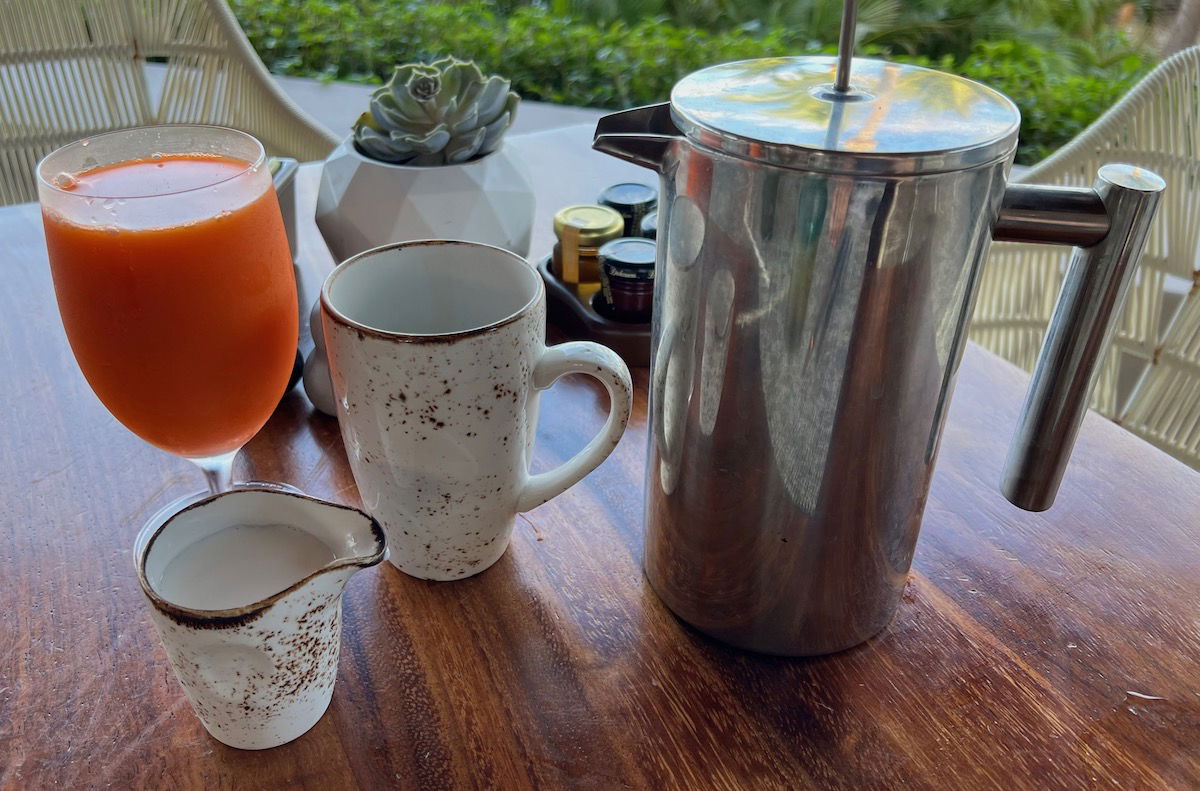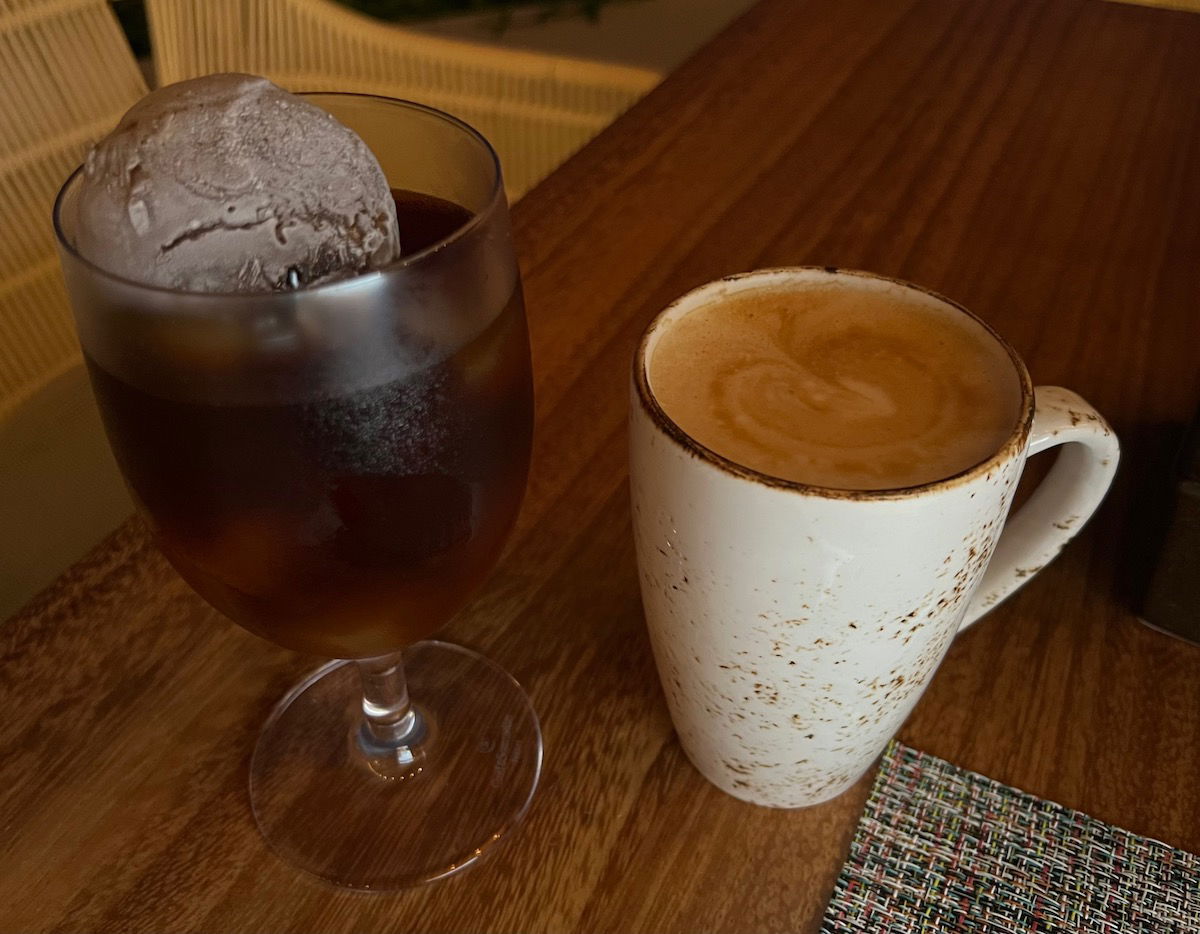 Over the course of our stay we tried the red fruit chia pudding, avocado toast with salmon, chilaquiles, and eggs benedict.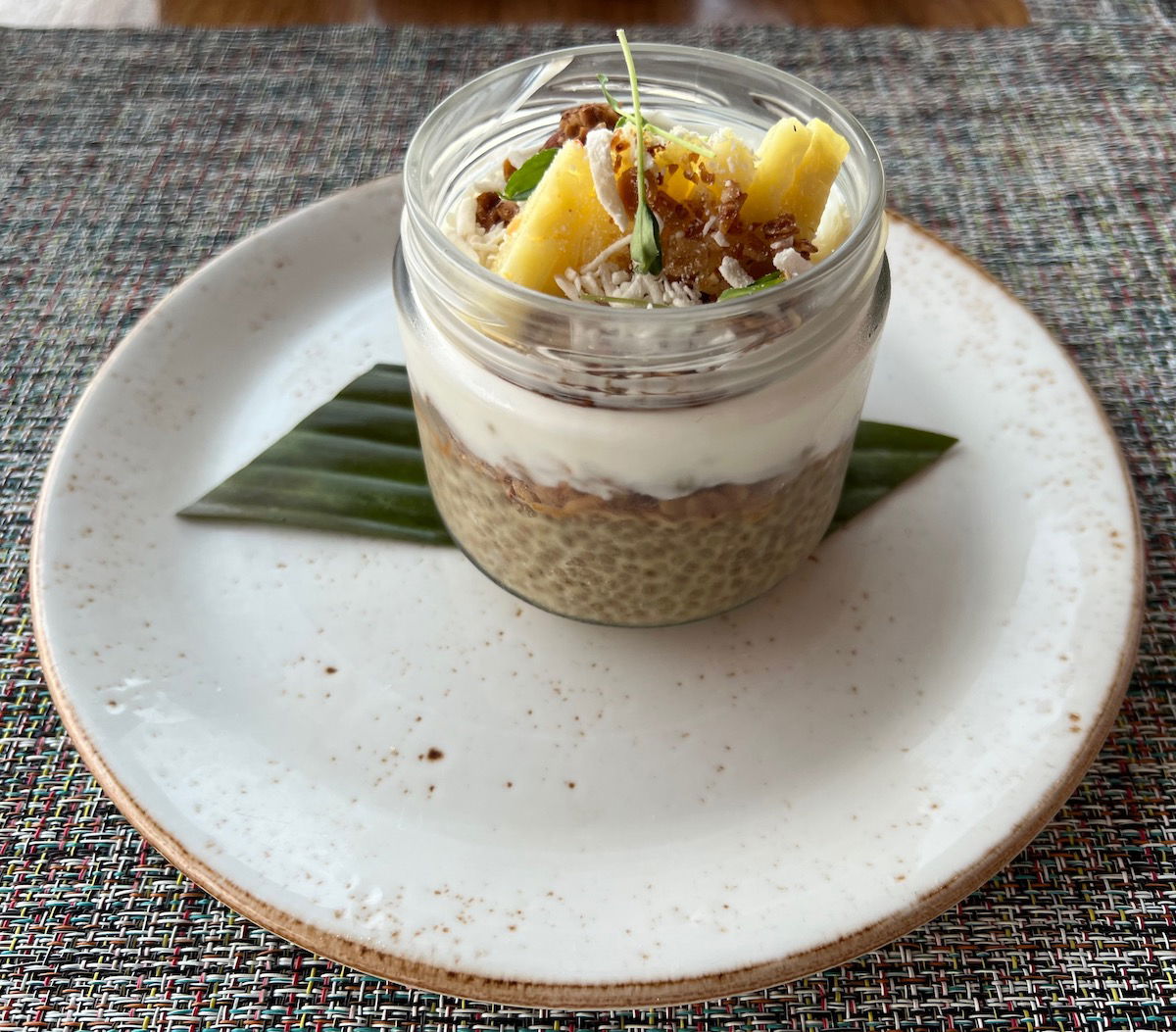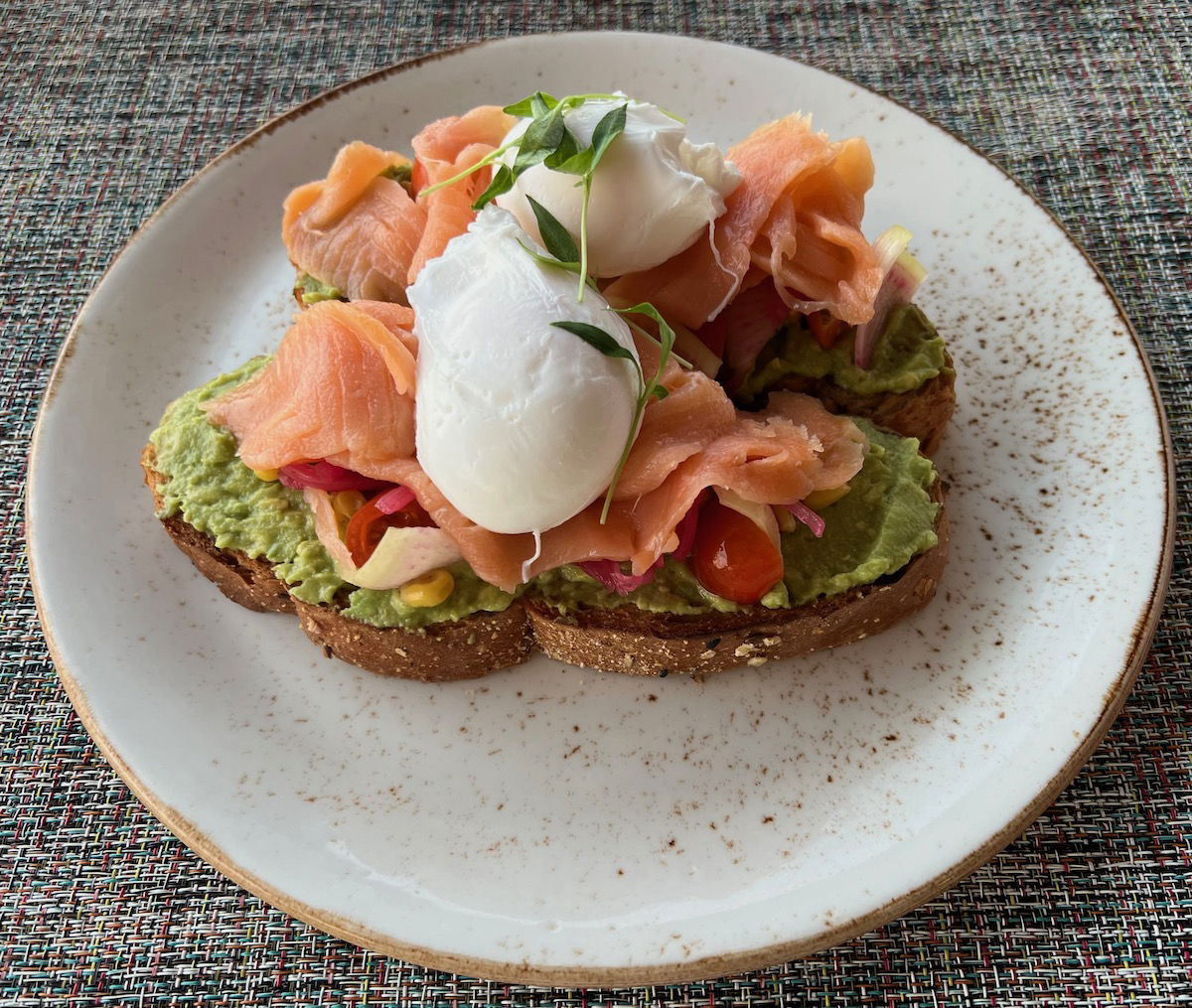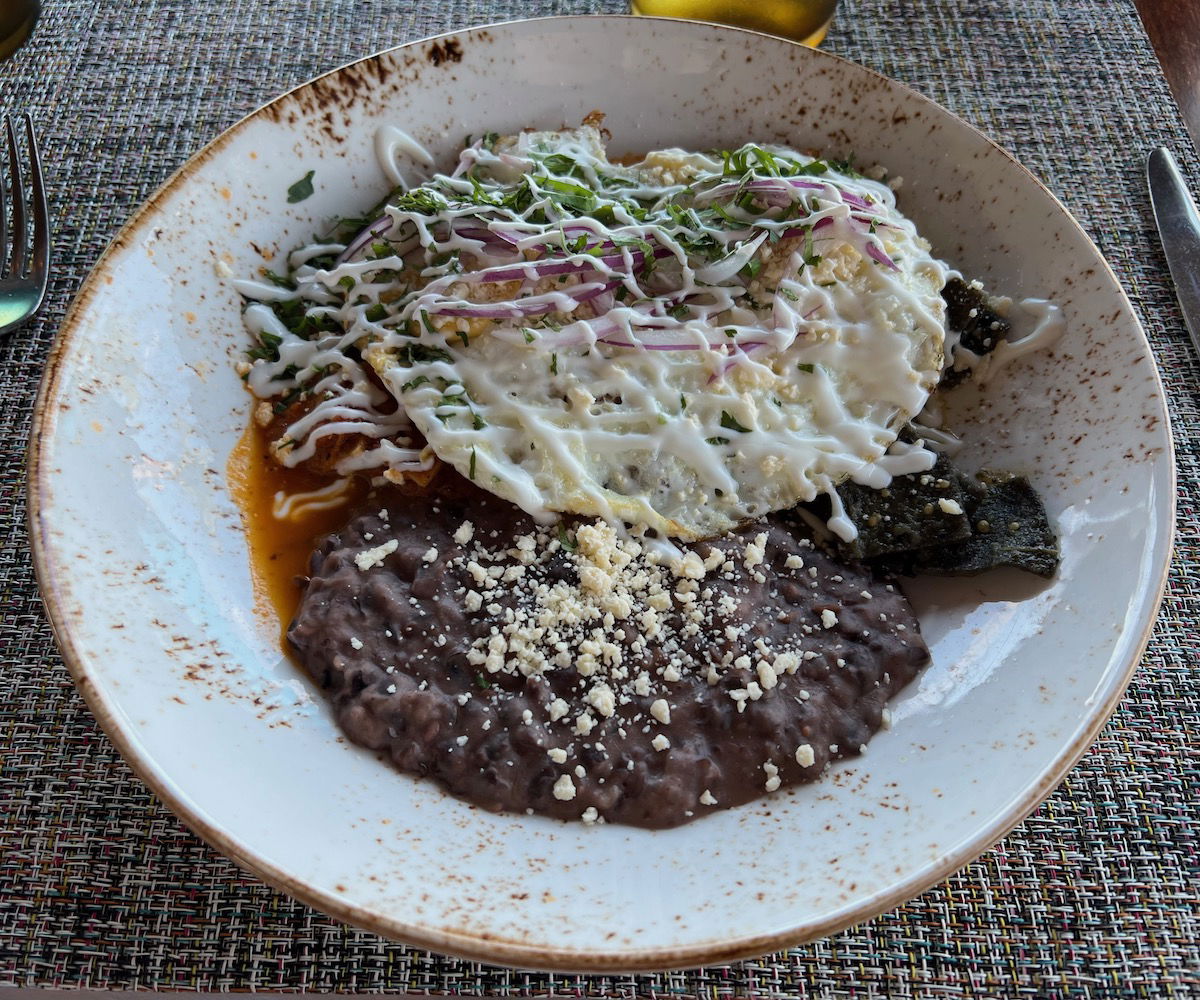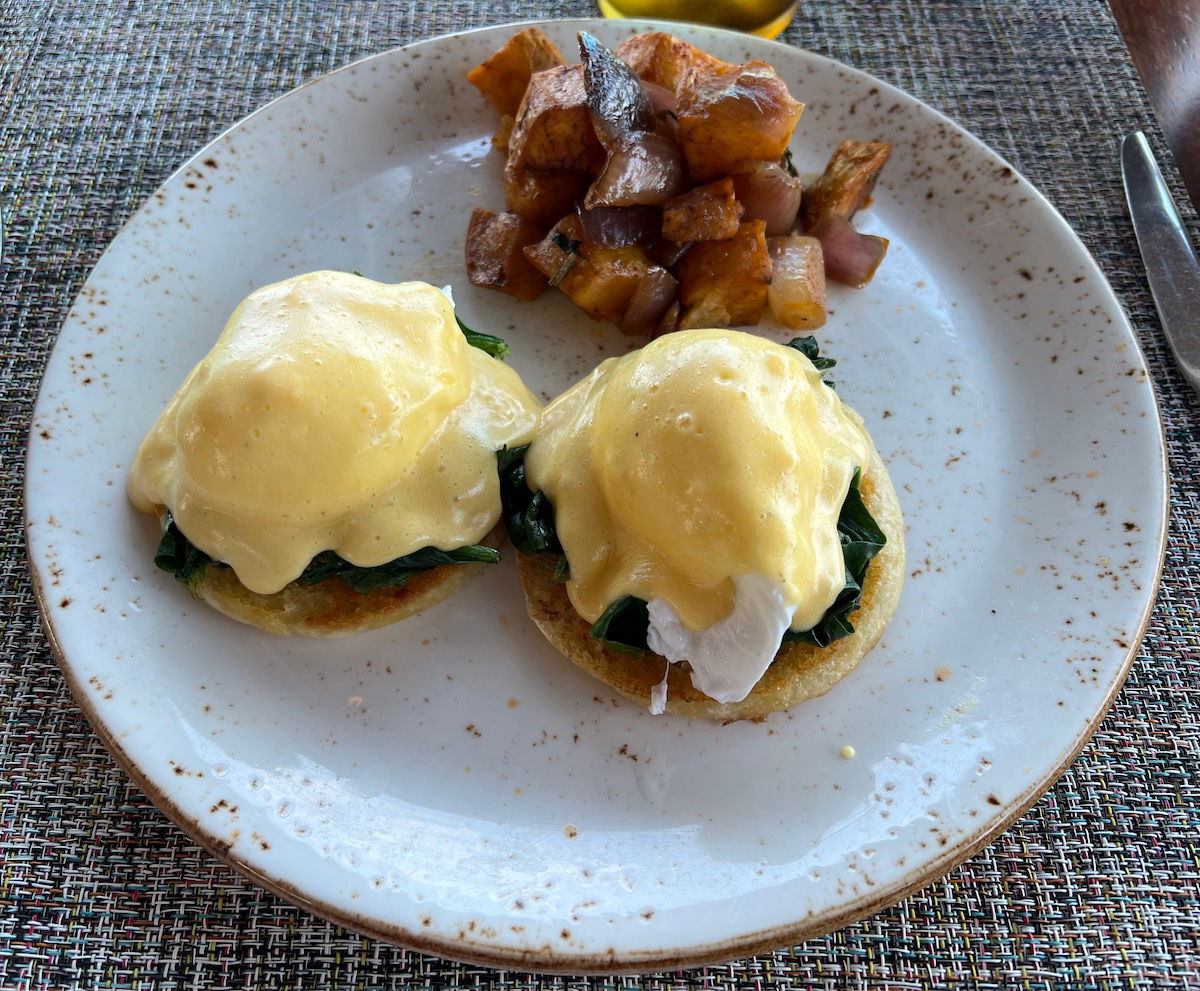 In addition to the Dos Catrinas Restaurant, there's a bar located one level up from the lobby. This acts as a coffee bar in the morning, and a cocktail bar in the afternoons and evenings.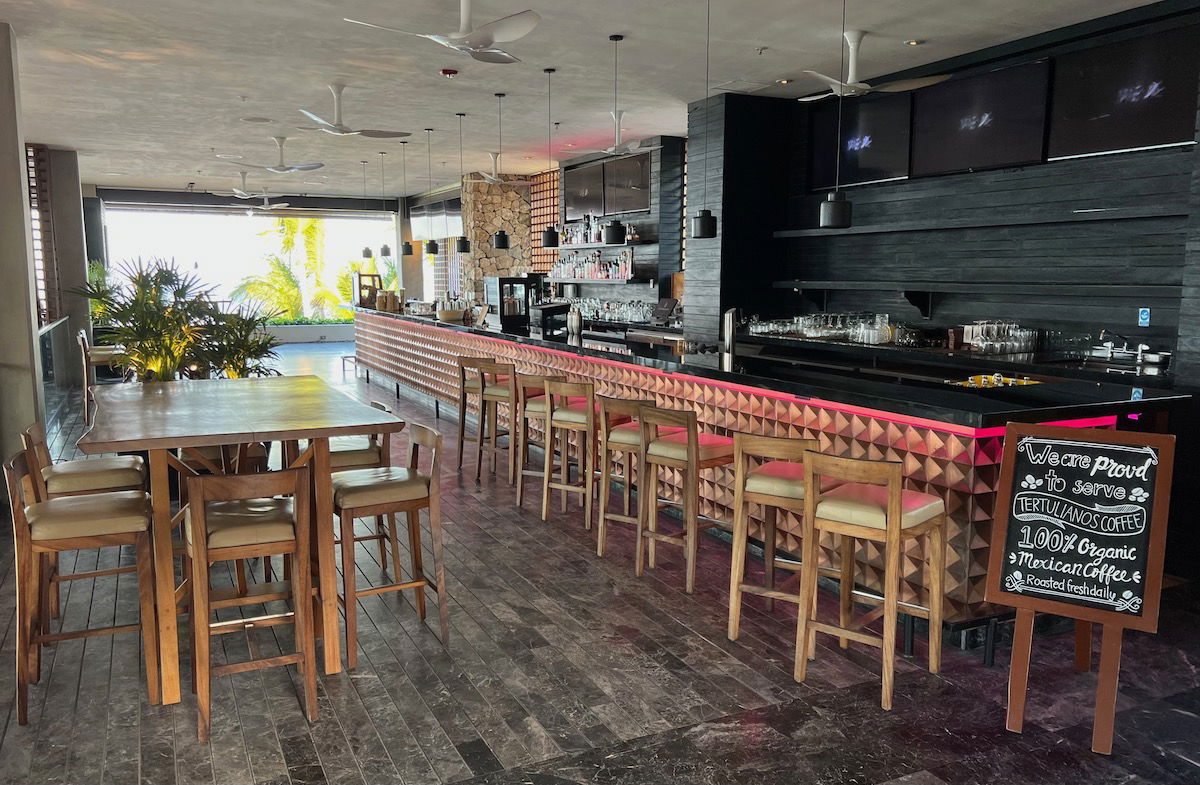 This area might just have my favorite views from the entire resort.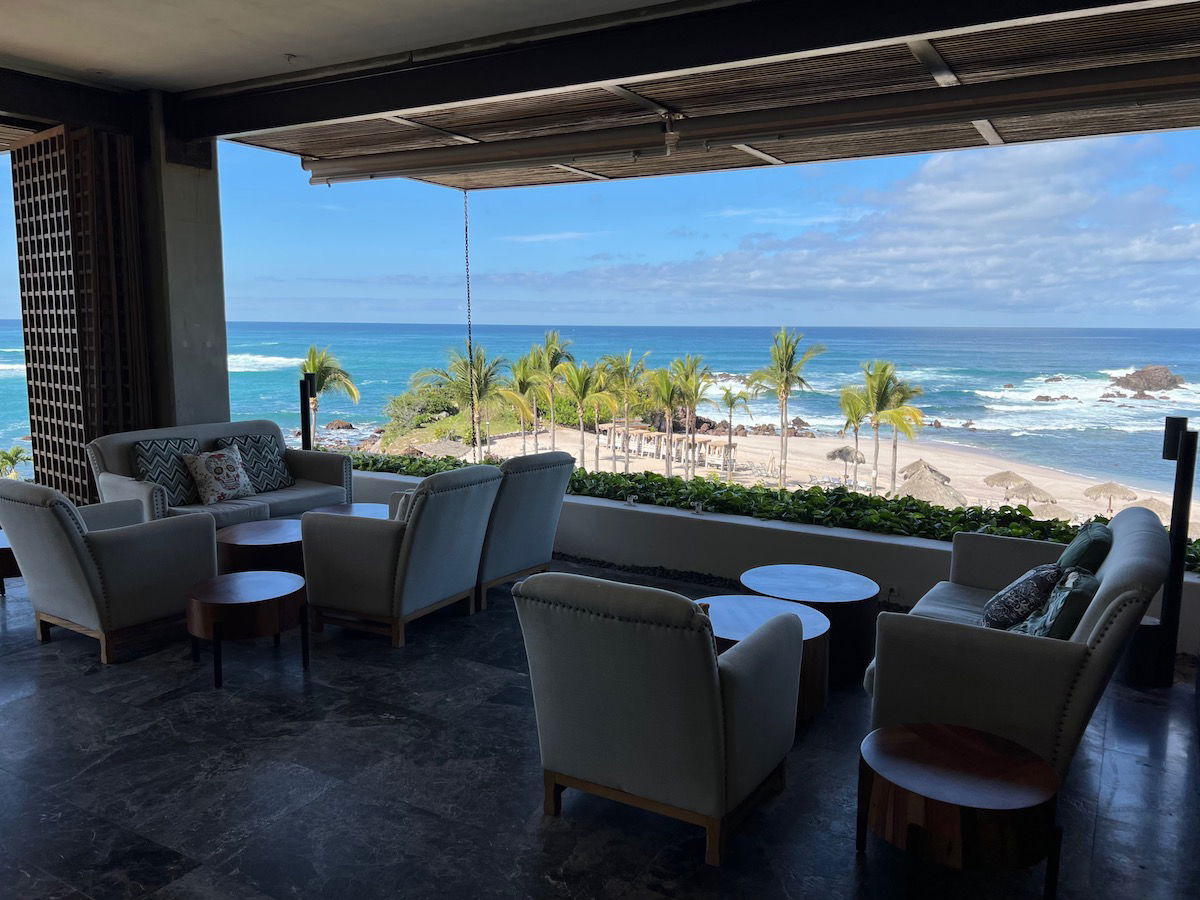 Lastly, the Four Seasons offers complimentary coffee and tea in the morning, just outside of the restaurant. I appreciate how this is a consistent feature at Four Seasons properties.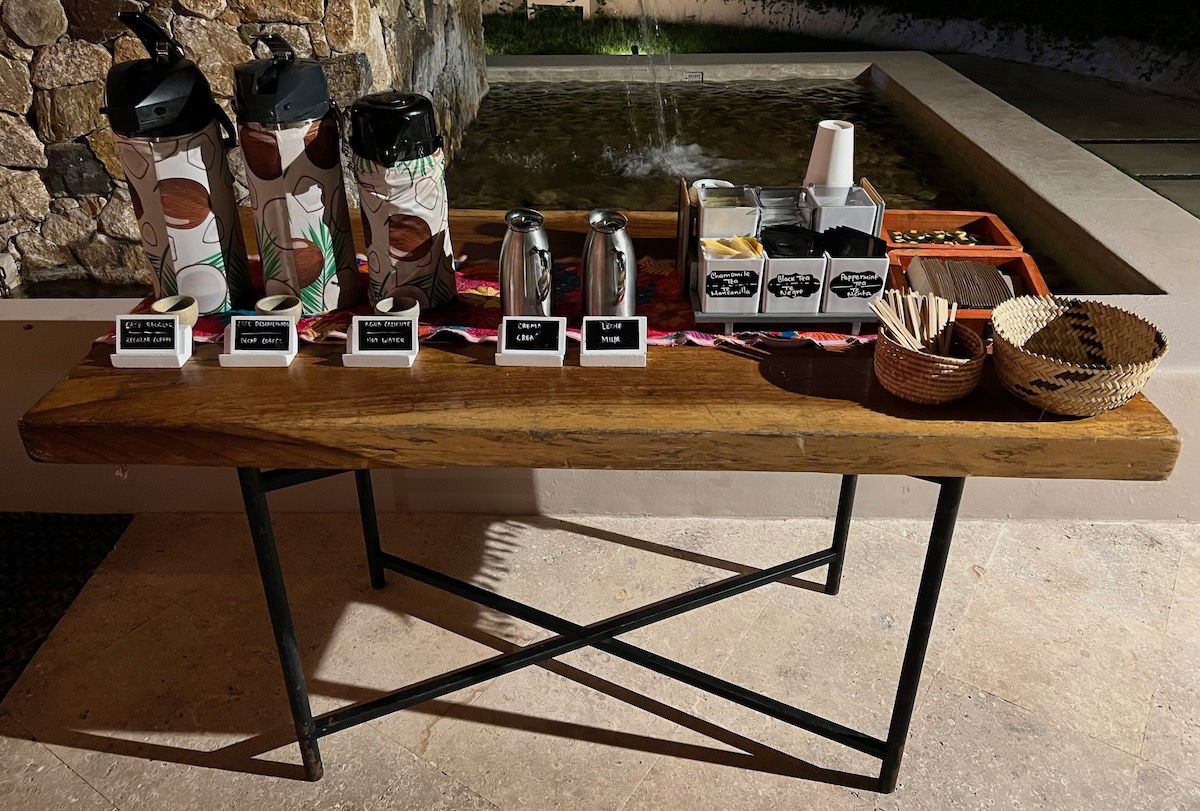 Four Seasons Punta Mita Bahia by Richard Sandoval Restaurant
Bahia by Richard Sandoval is another one of the Four Seasons' signature restaurants. It's open daily for dinner from 6:00PM until 10:30PM, and it's the hotel's seafood restaurant. This place has an amazing setting, as it's directly on the beach, so I'd recommend dining here around sunset.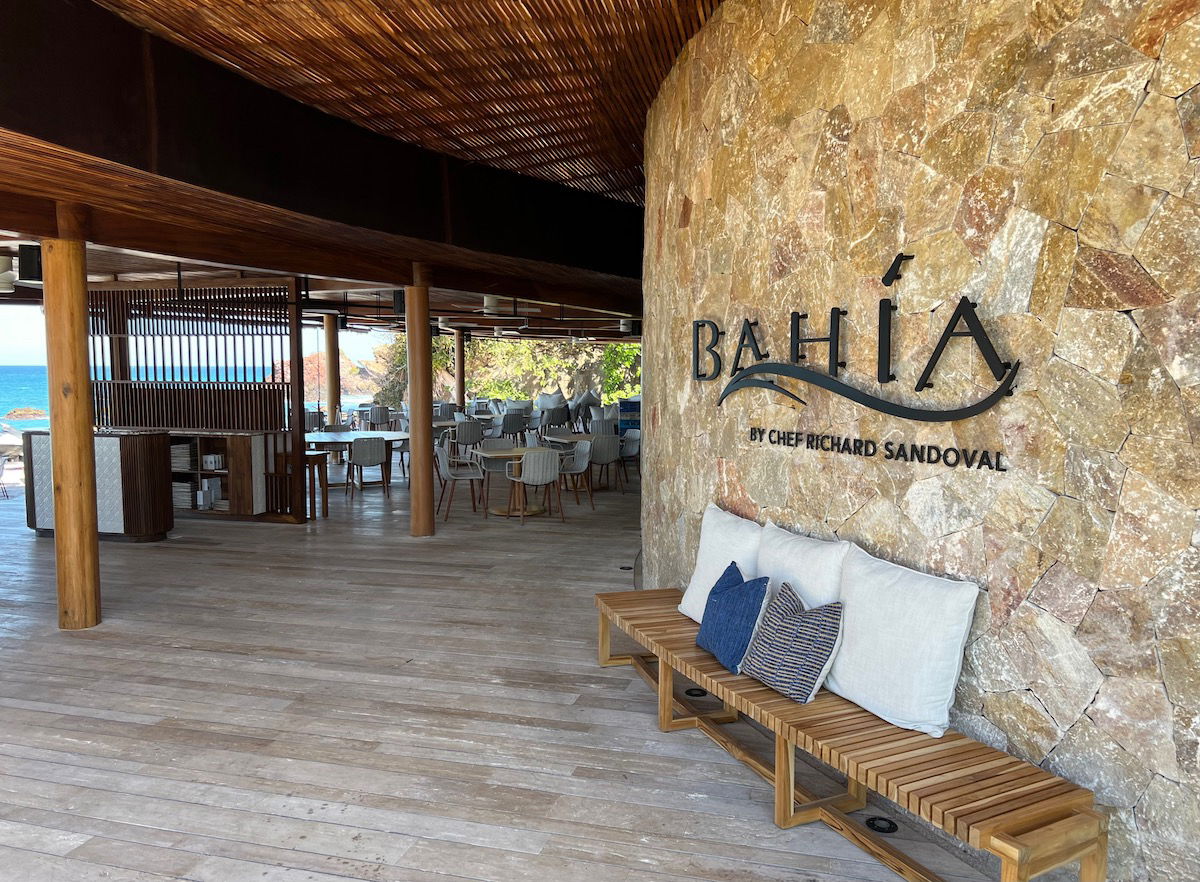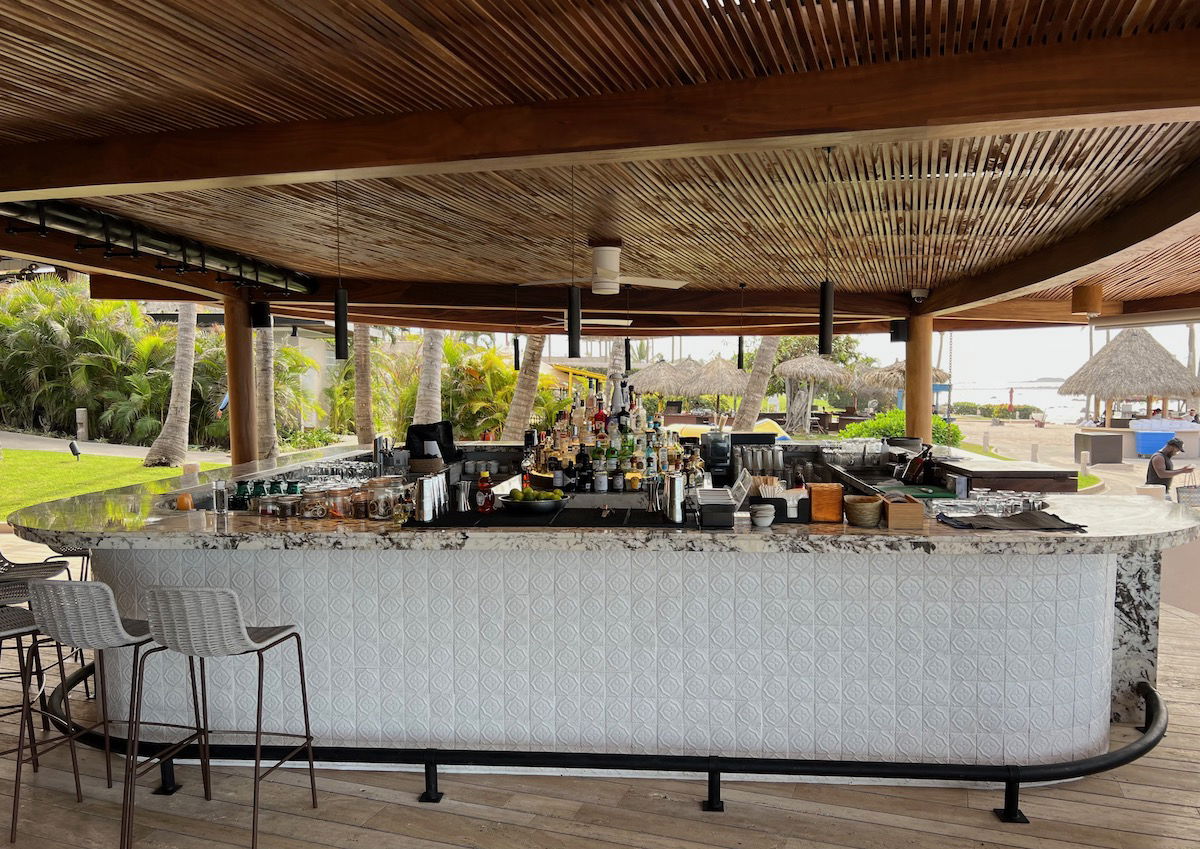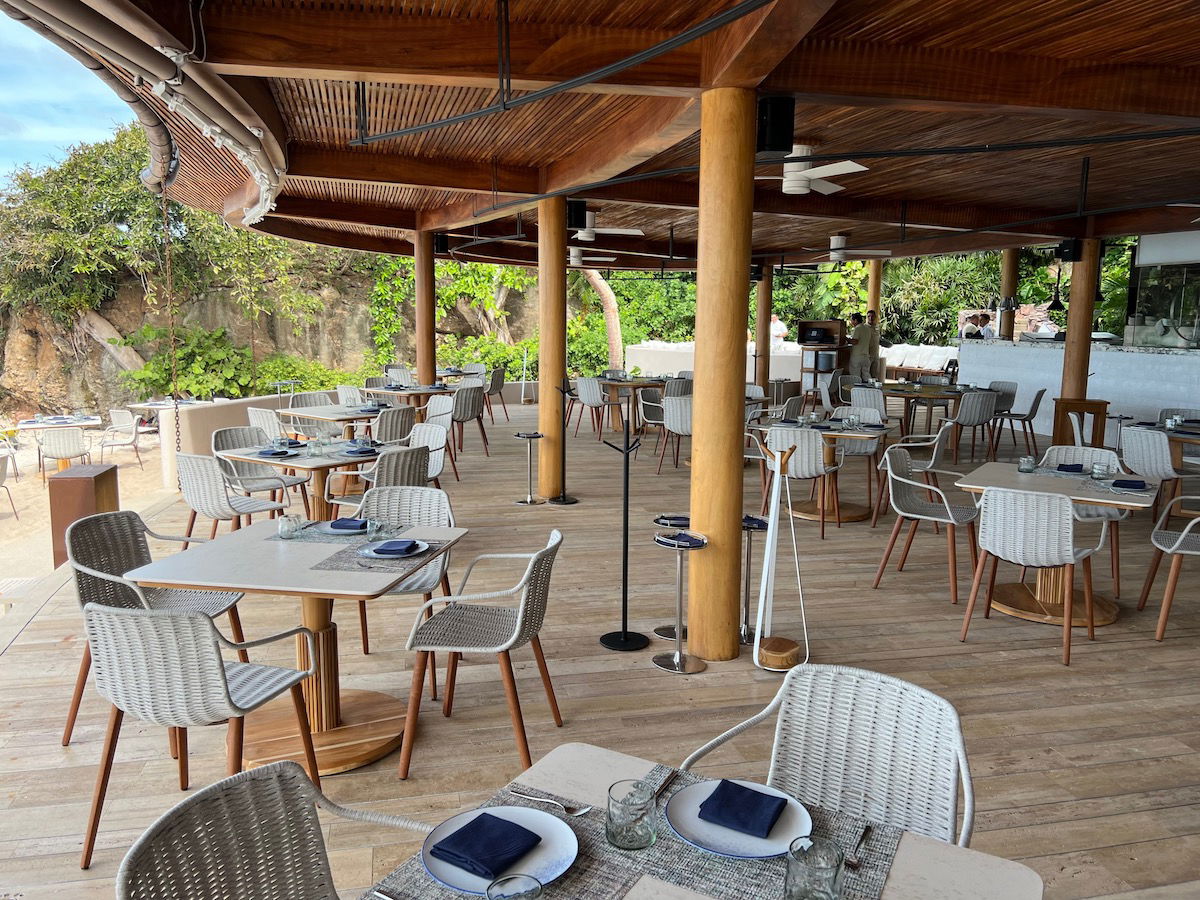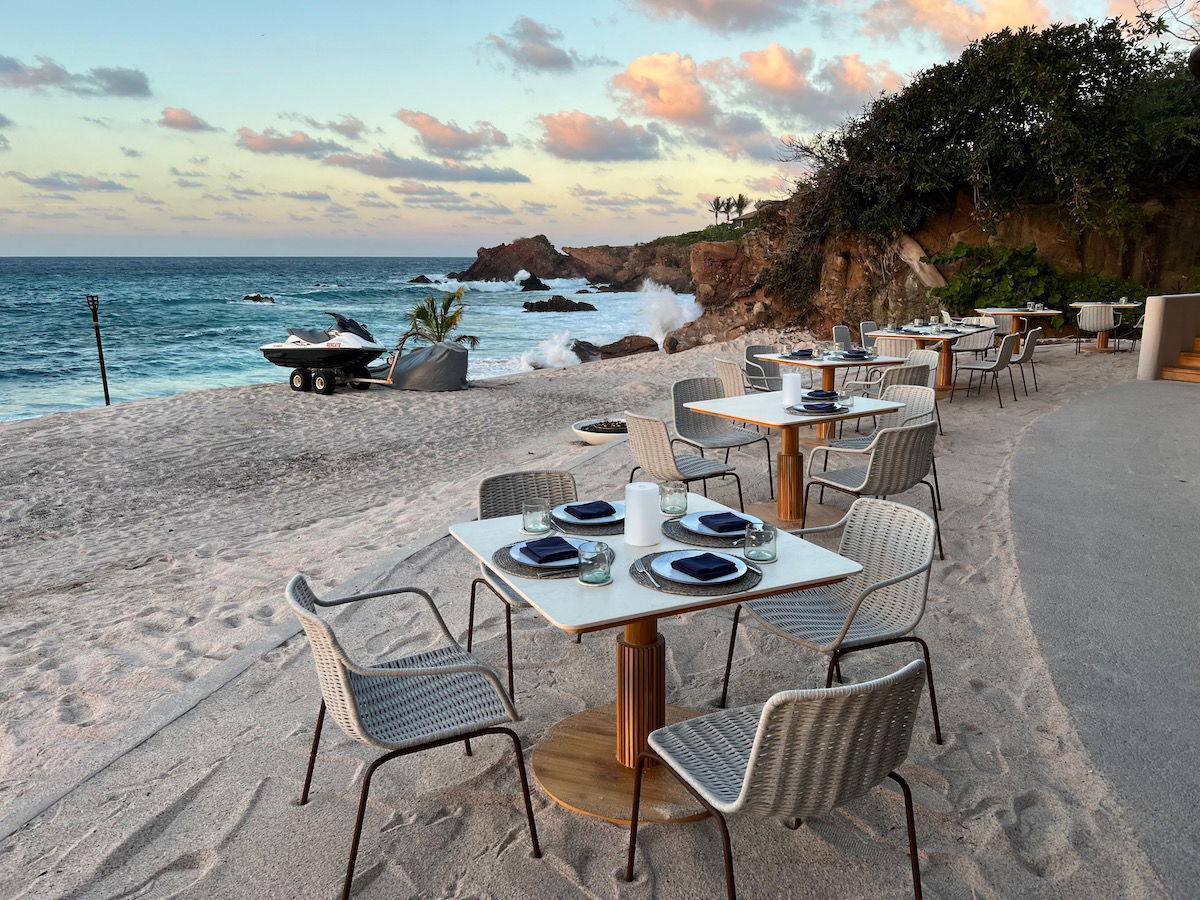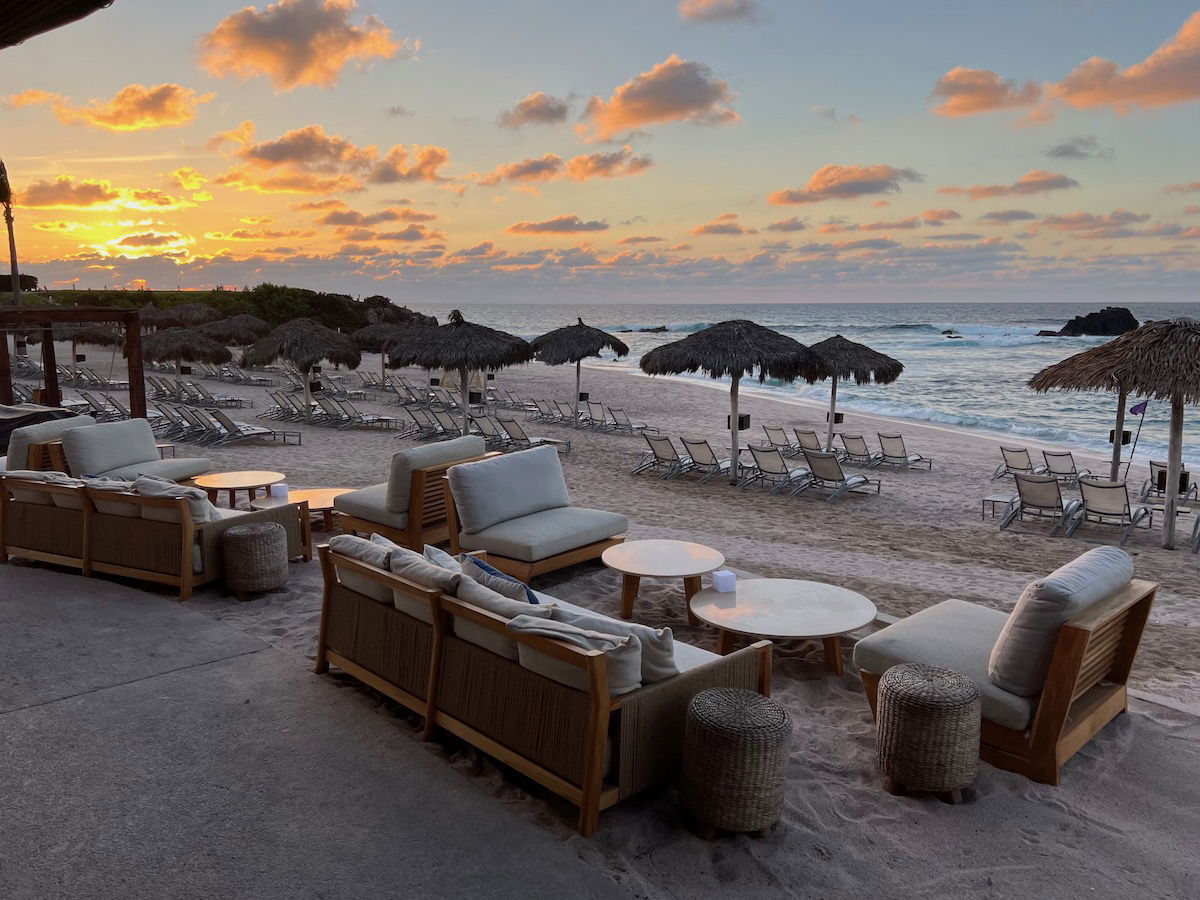 You can find the dinner menu for Bahia by Richard Sandoval below.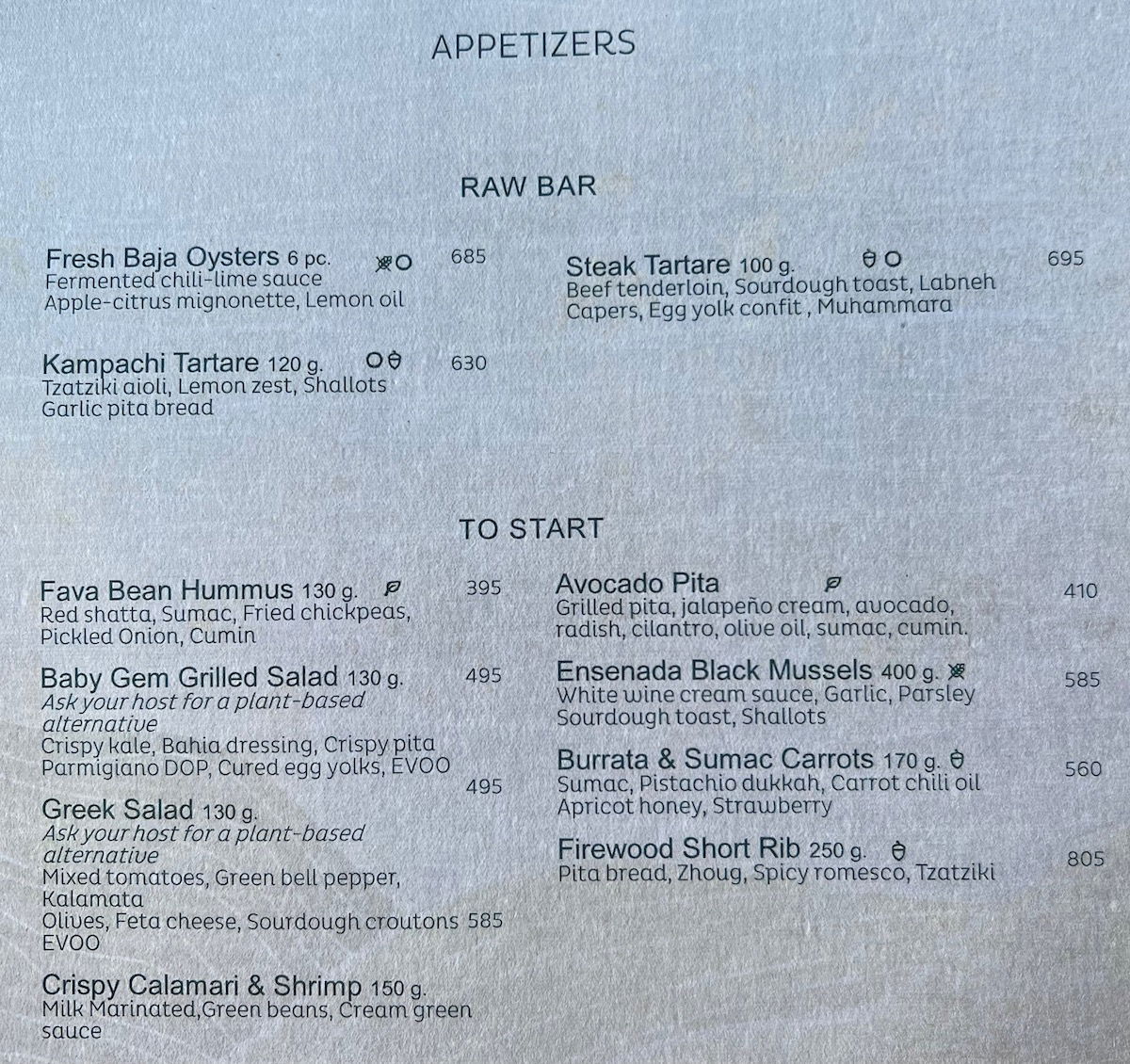 This was probably my favorite restaurant at the hotel, and we had a tasty meal here. To start, we had the avocado pita with jalapeño cream, avocado, radish, cilantro, olive oil, sumac, and cumin.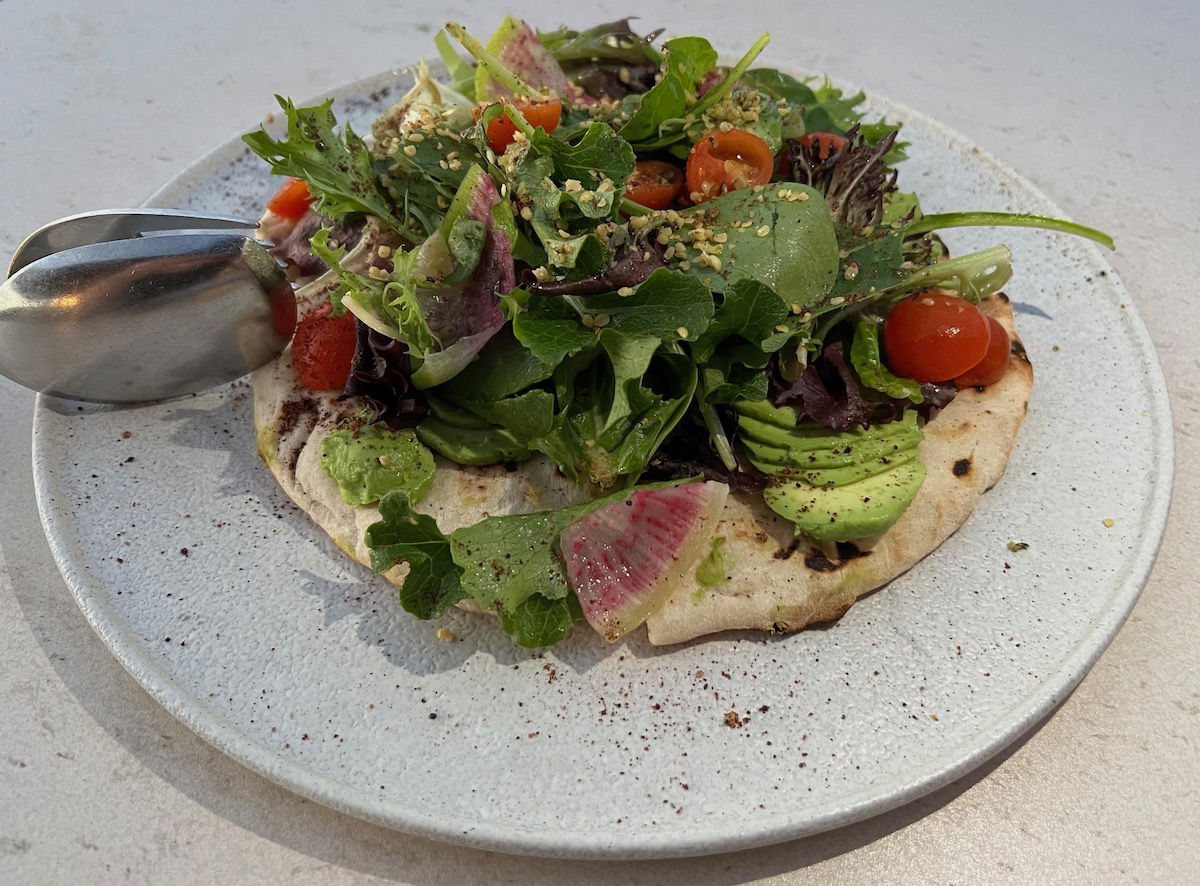 For mains, I had the bluefun tuna, while Ford had the catch of the day. We also shared a side of asparagus.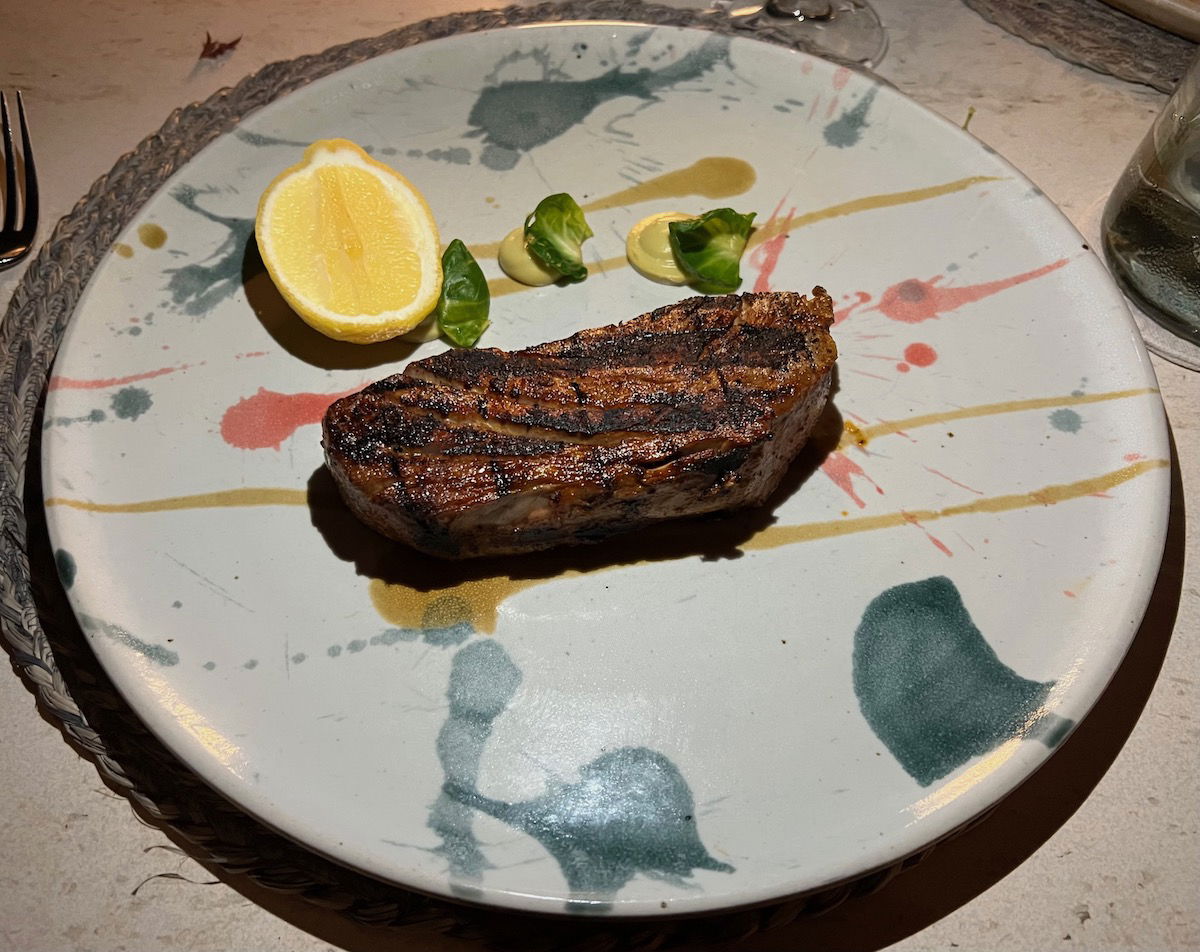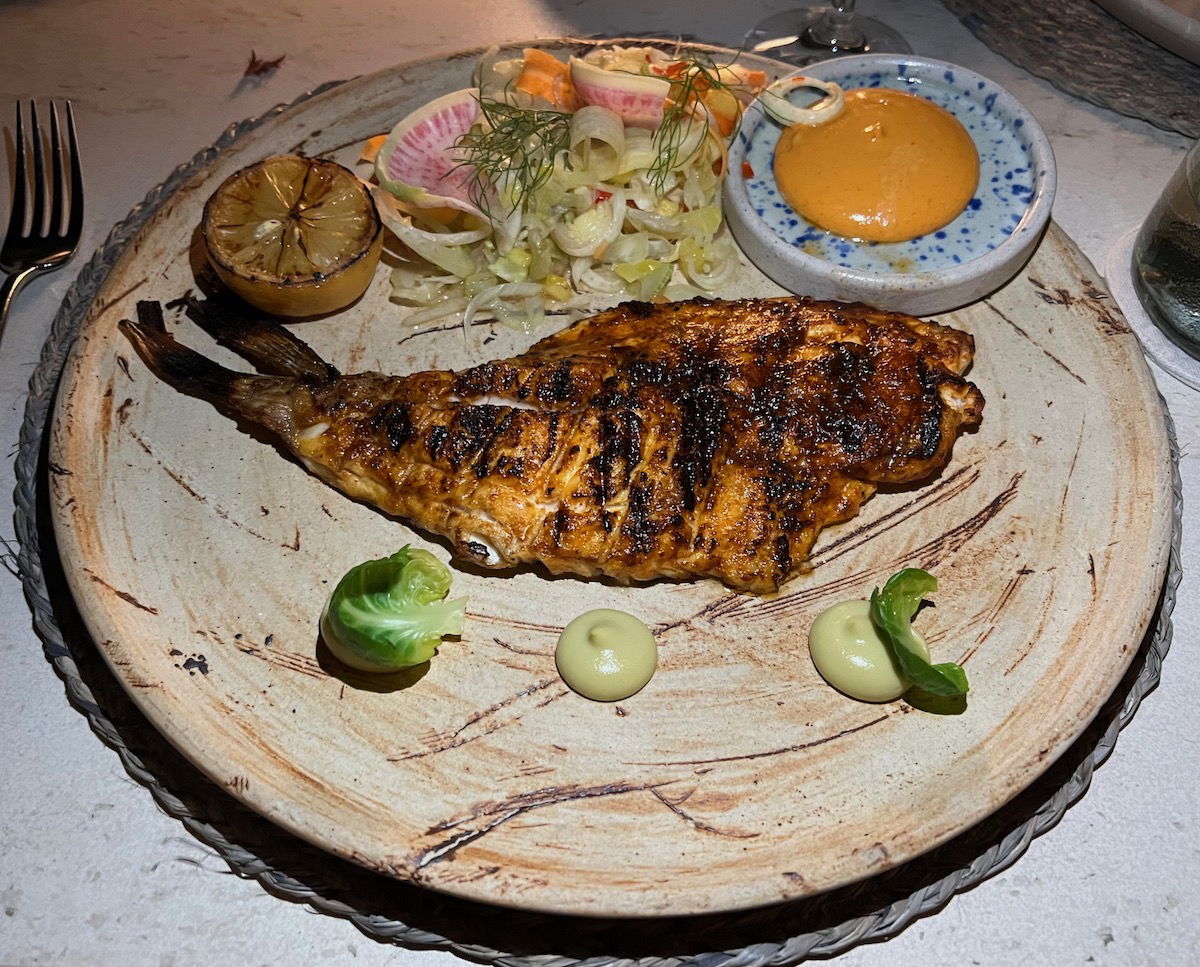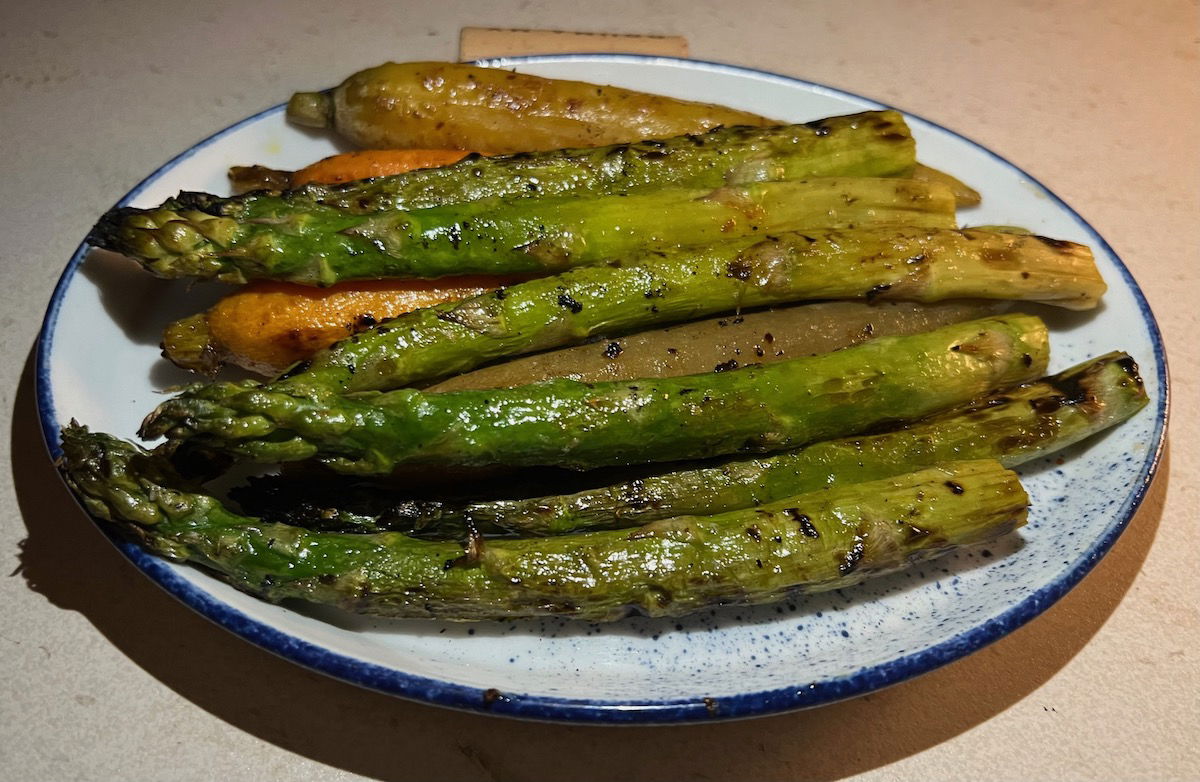 Four Seasons Punta Mita Aramara Restaurant
The Four Seasons Punta Mita's last main restaurant is Aramara, which serves Asian fusion food. It's open daily for dinner from 6:00PM until 10:00PM. Even though this restaurant is located underneath the lobby, it still has beautiful views of the resort grounds, and even the ocean in the distance. Most of the seating at the restaurant is outdoors, though there is also an area indoors.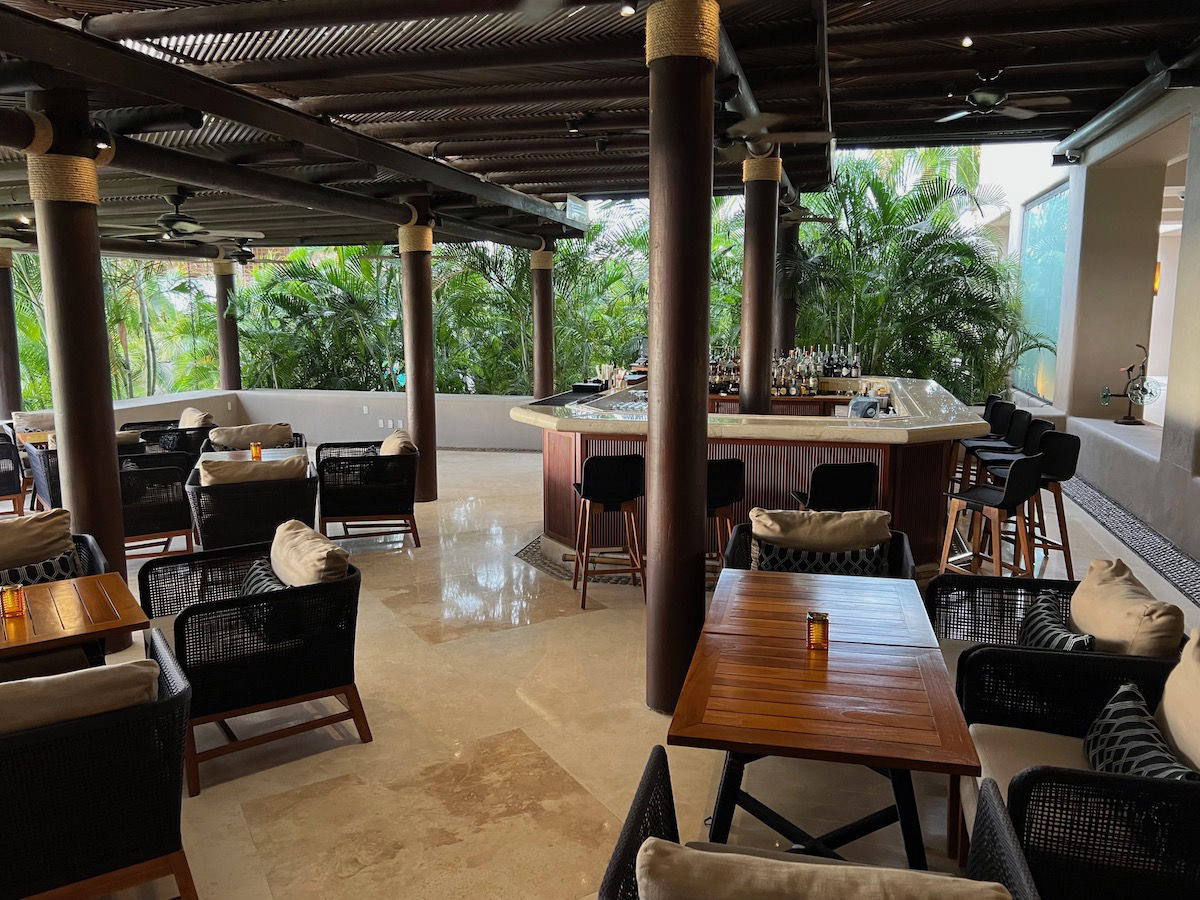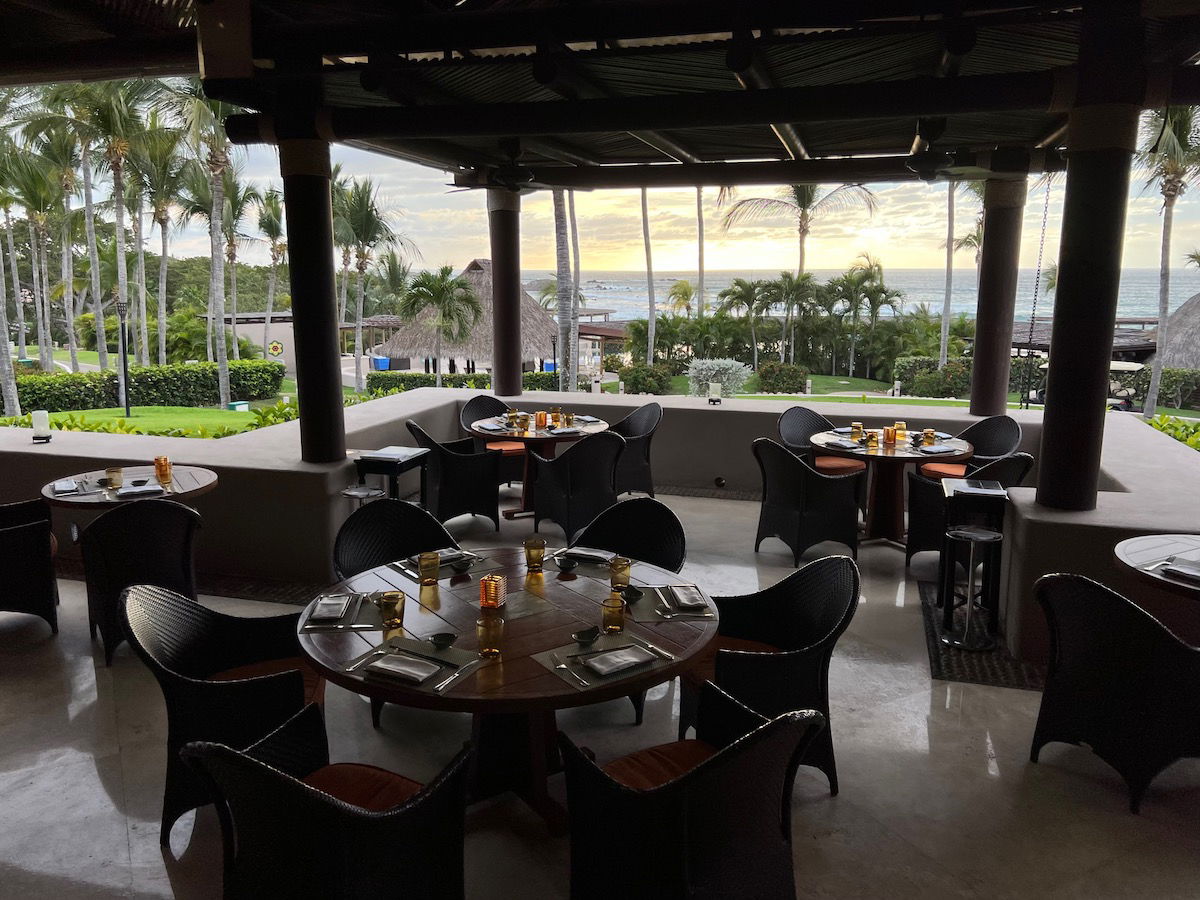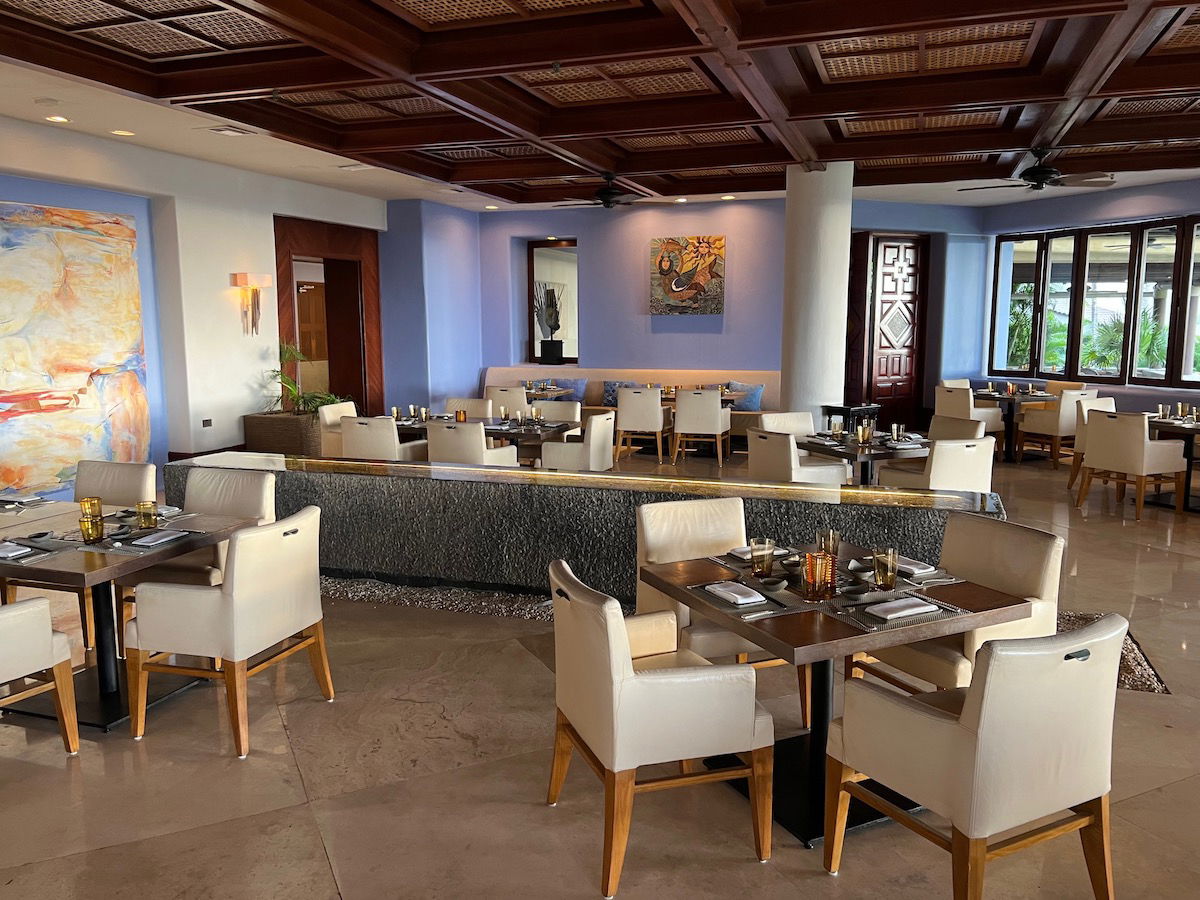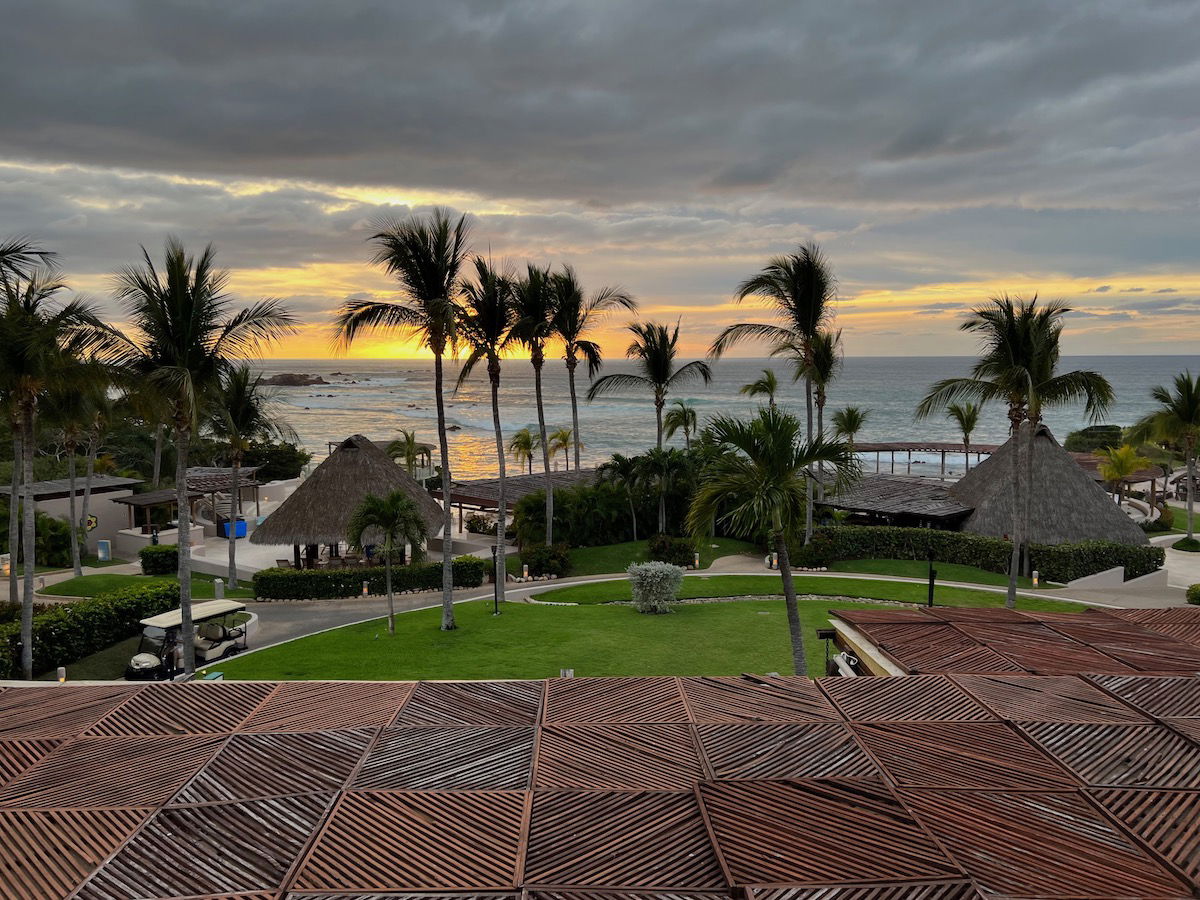 You can find the dinner menu for Aramara below.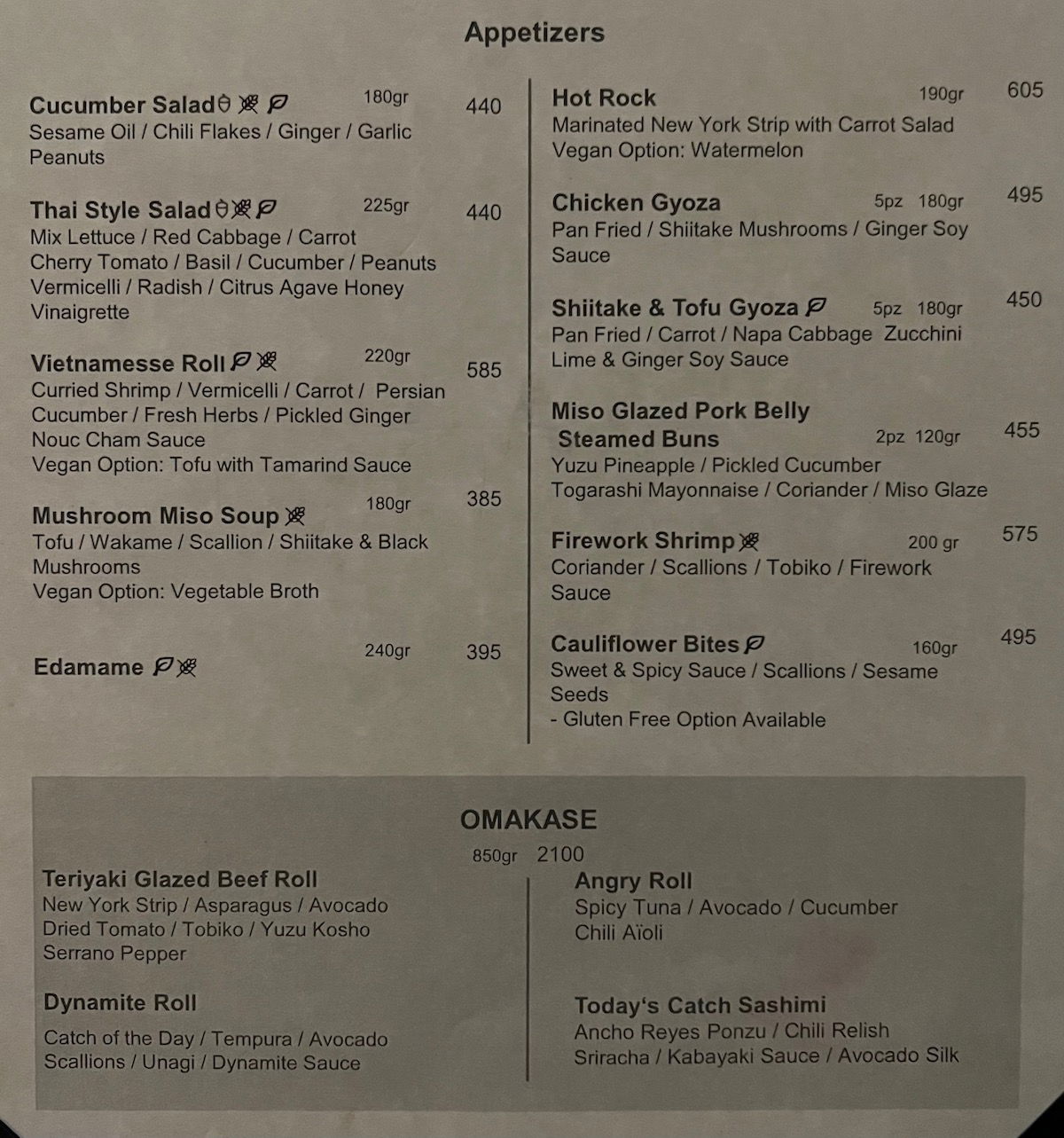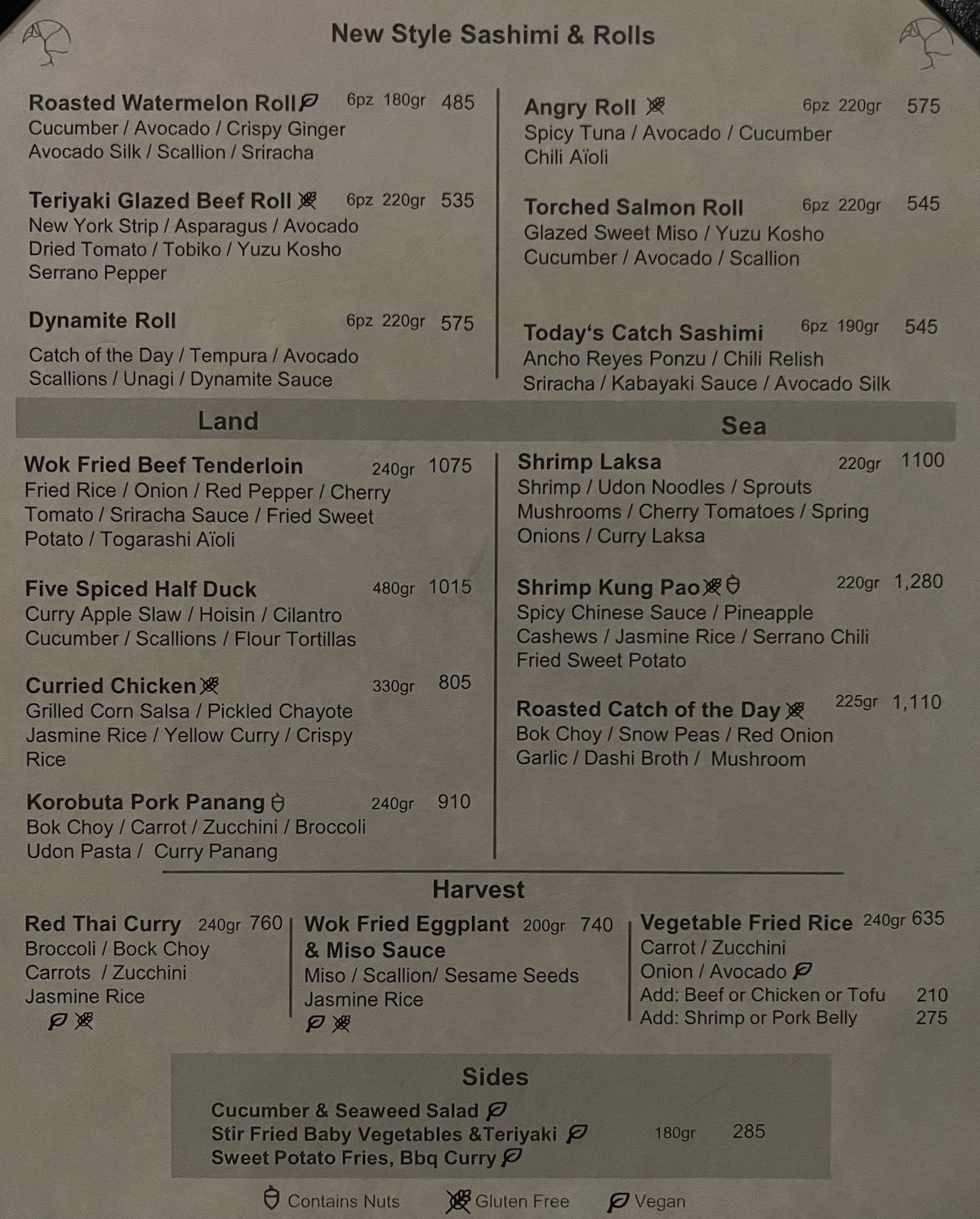 To start, we split the chicken gyoza and cauliflower bites.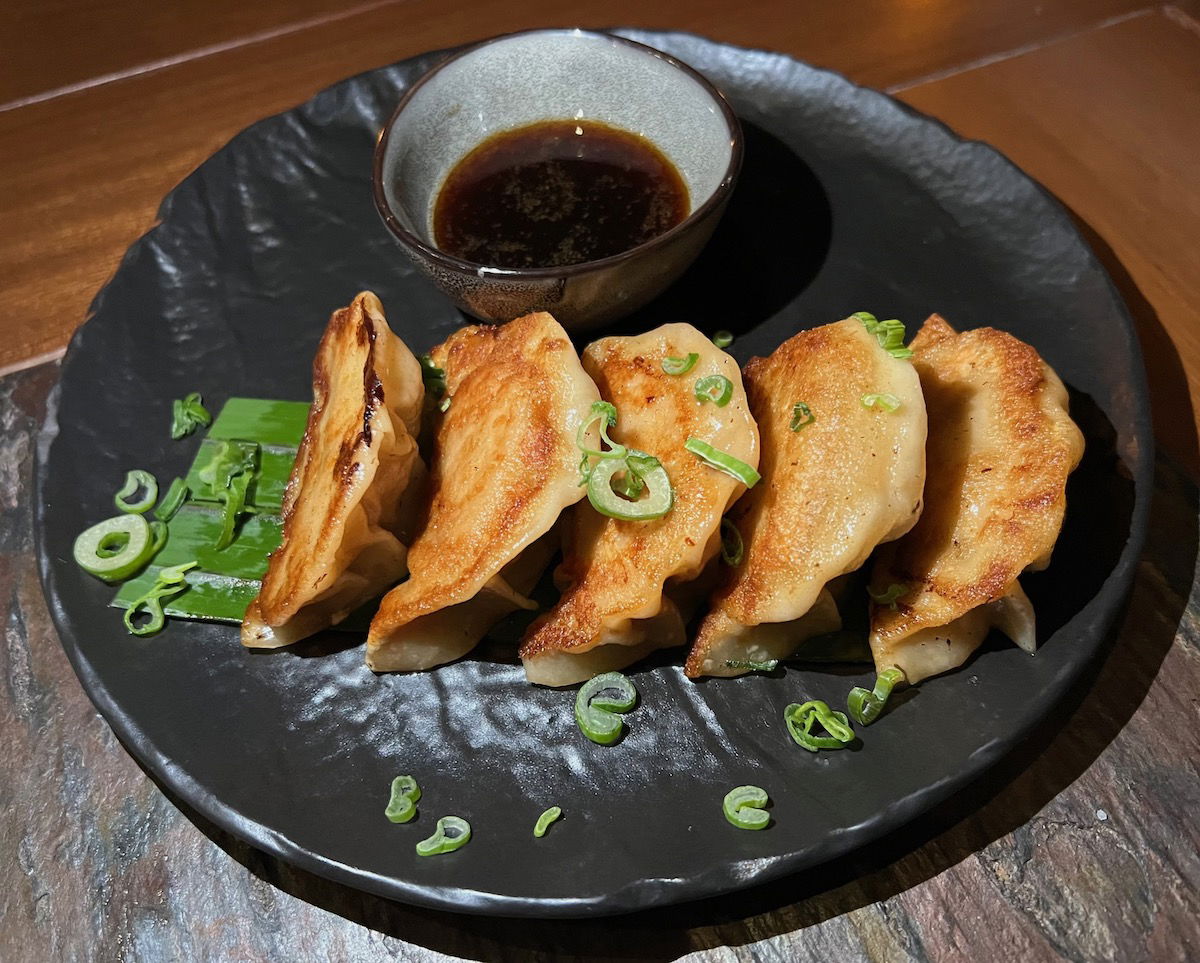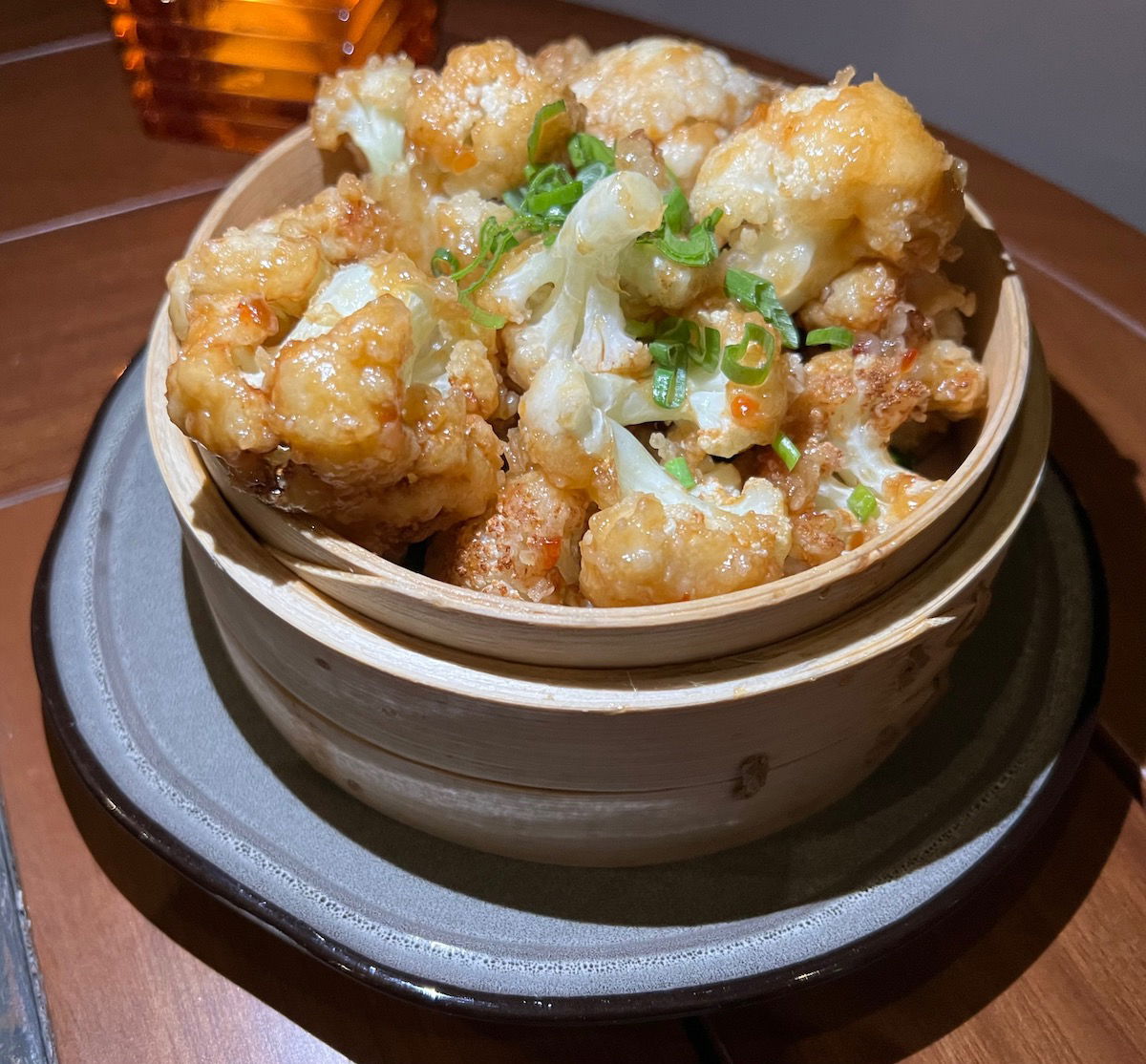 Then for our mains, we ordered the wok fried beef tenderloin and shrimp kung pao.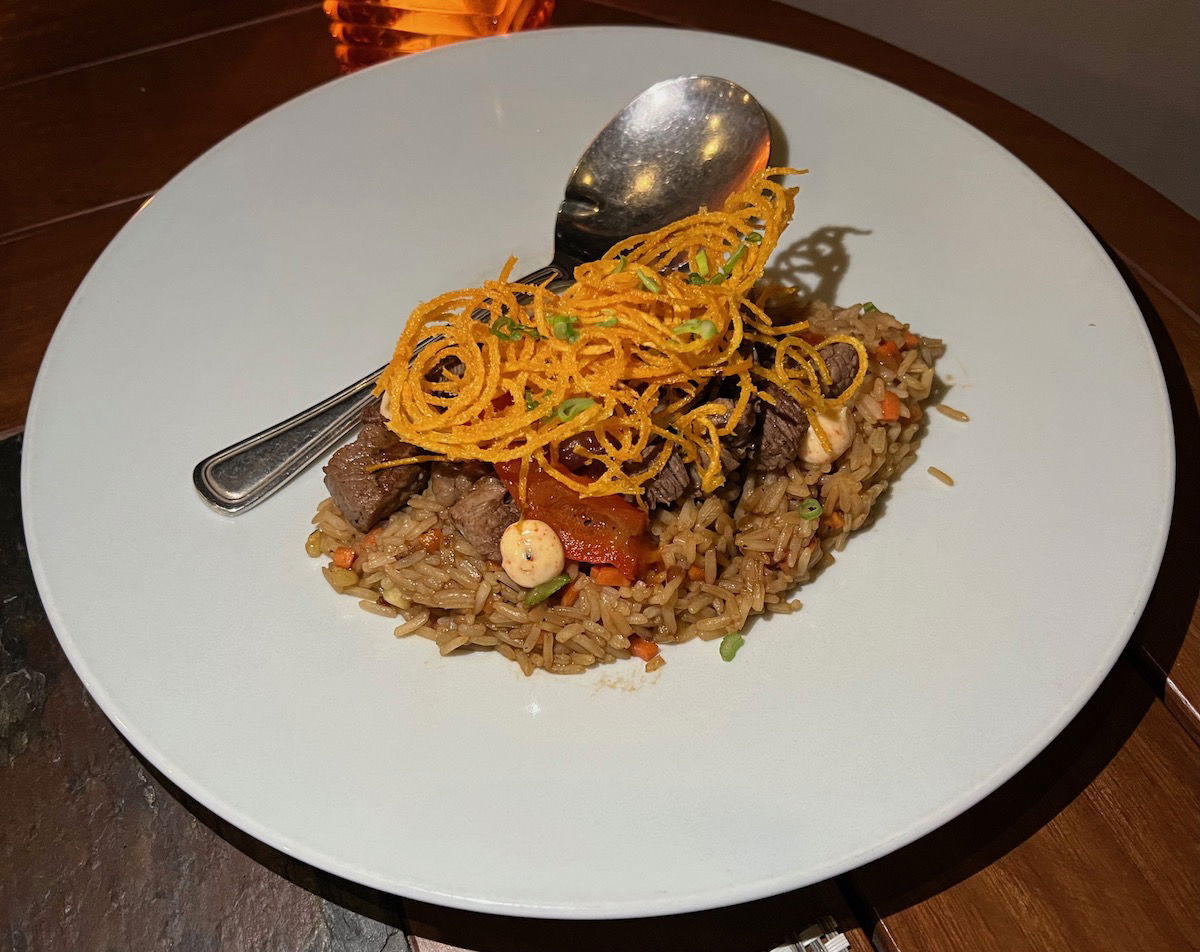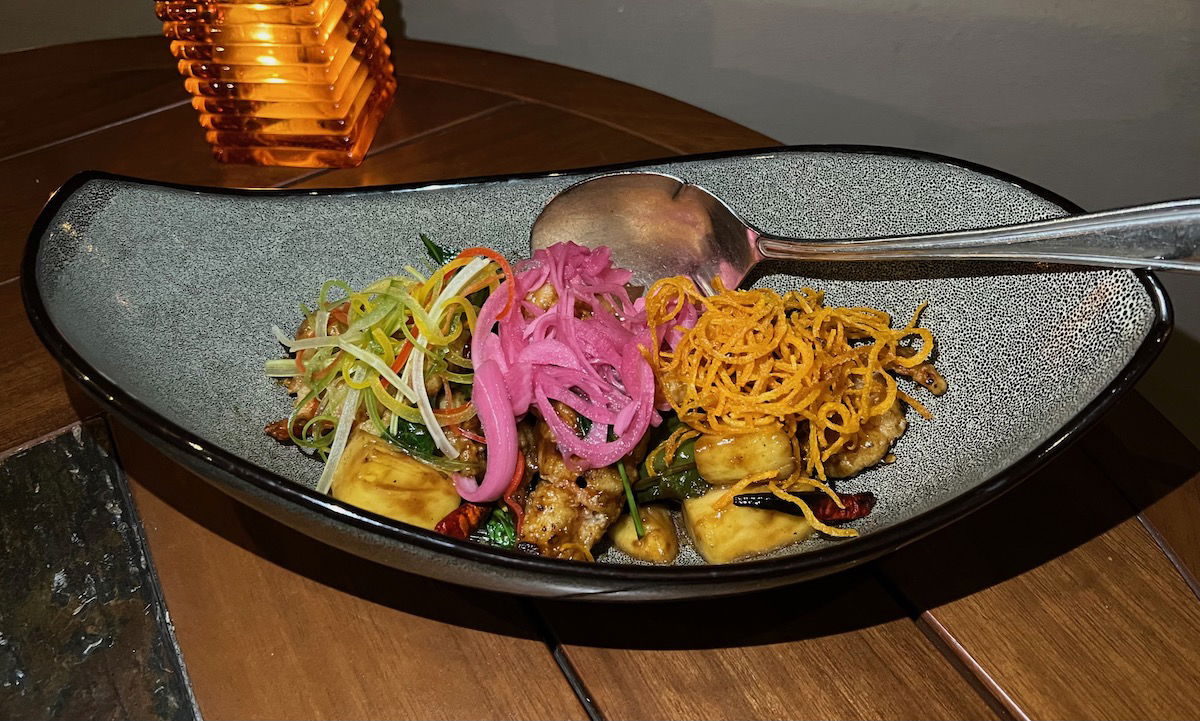 I'm usually pretty skeptical of Asian fusion restaurants, but the food here was very good, and we enjoyed all the dishes we had.
Four Seasons Punta Mita Salad Shack
While not exactly as big as the other dining outlets, I did want to highlight the Salad Shack, which is a little restaurant on the beach, open daily from 11AM until 4PM.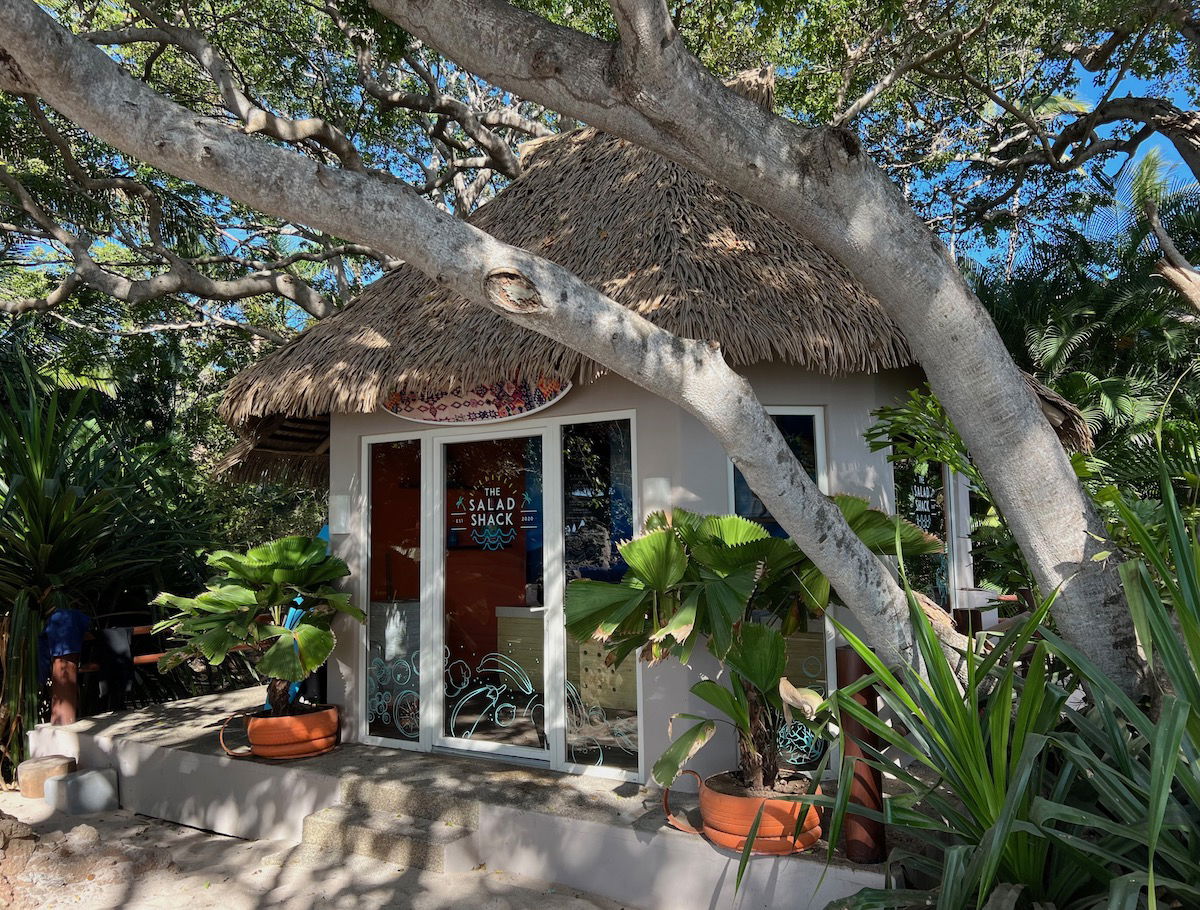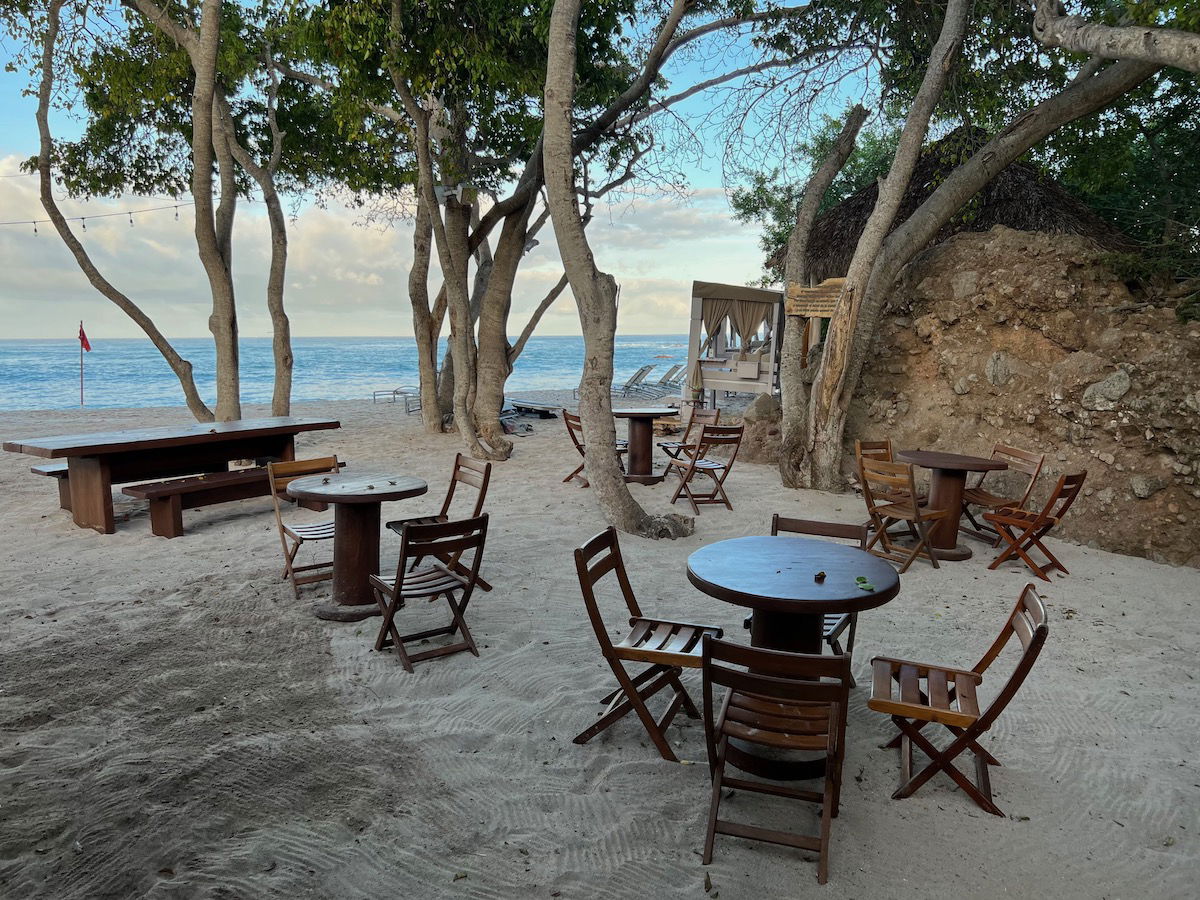 The place is essentially a make-your-own salad bar. I wish more hotels had concepts like this, where you could order something that's healthy and tasty.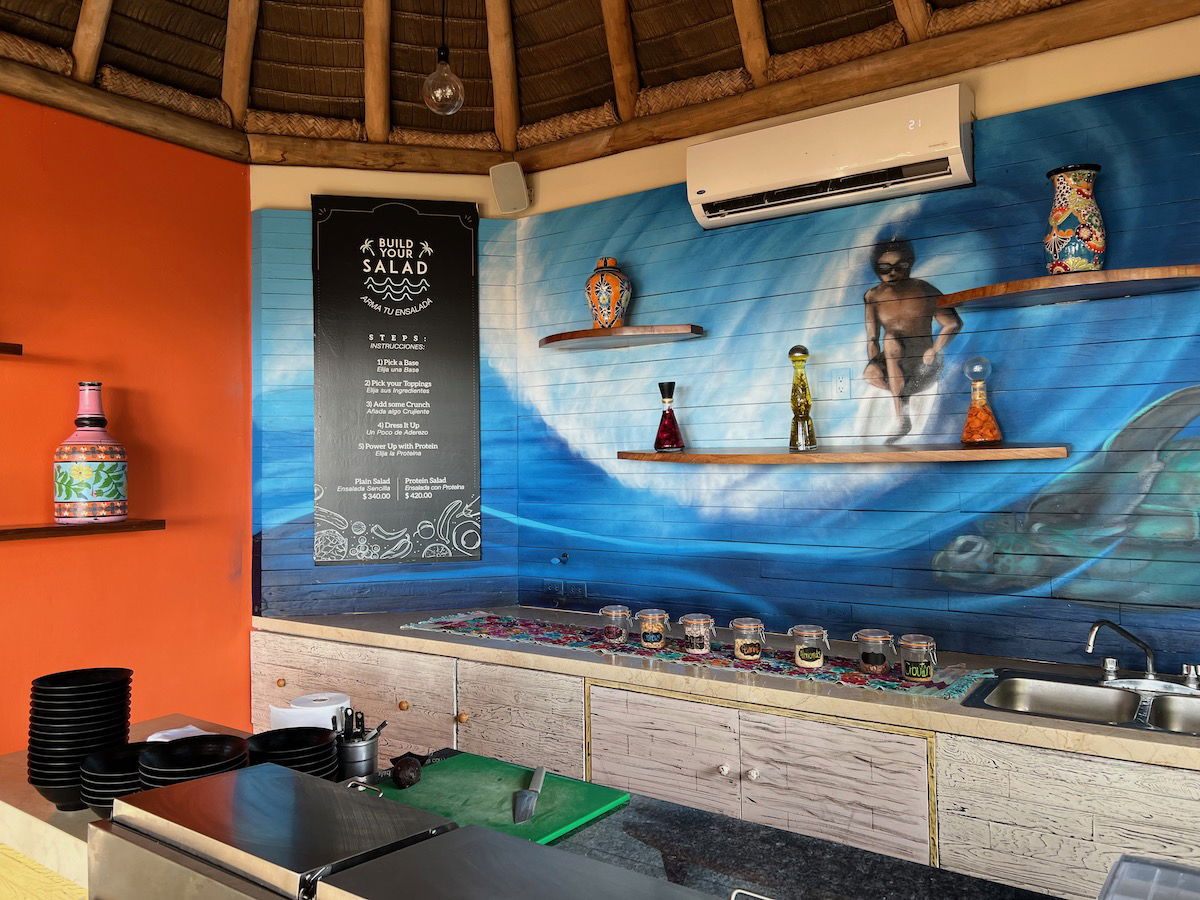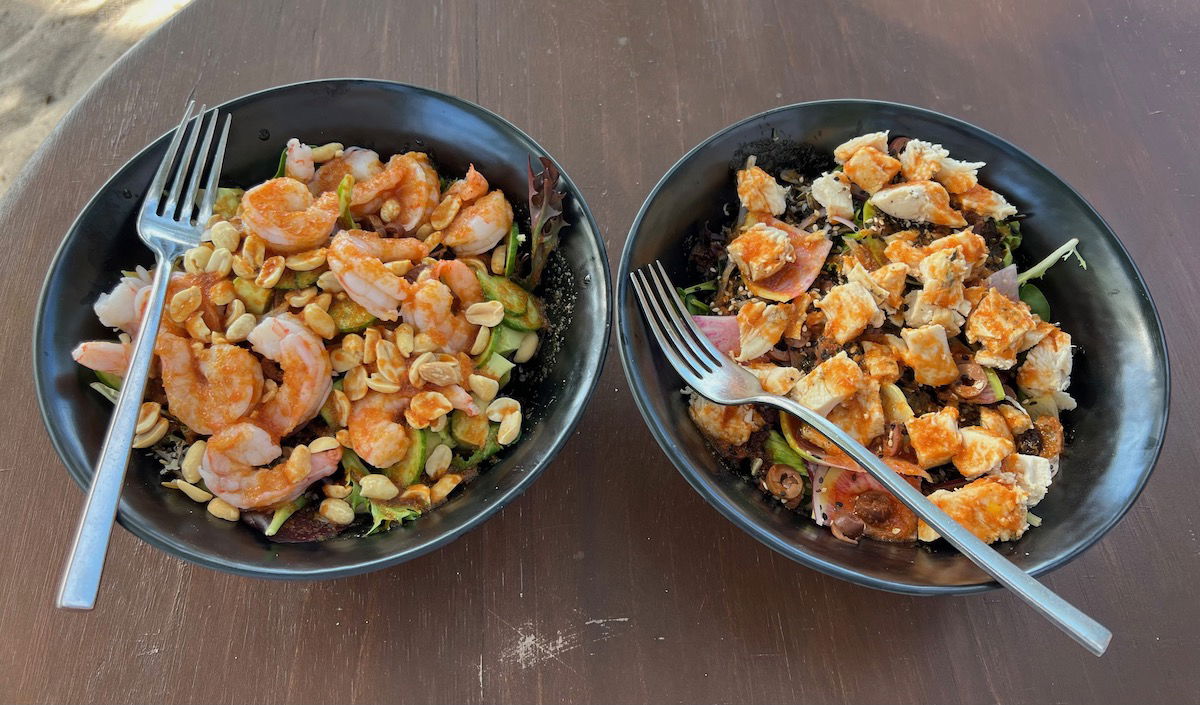 Four Seasons Punta Mita Kids For All Seasons
Four Seasons is known for its Kids For All Seasons program, which is the brand's club for kids.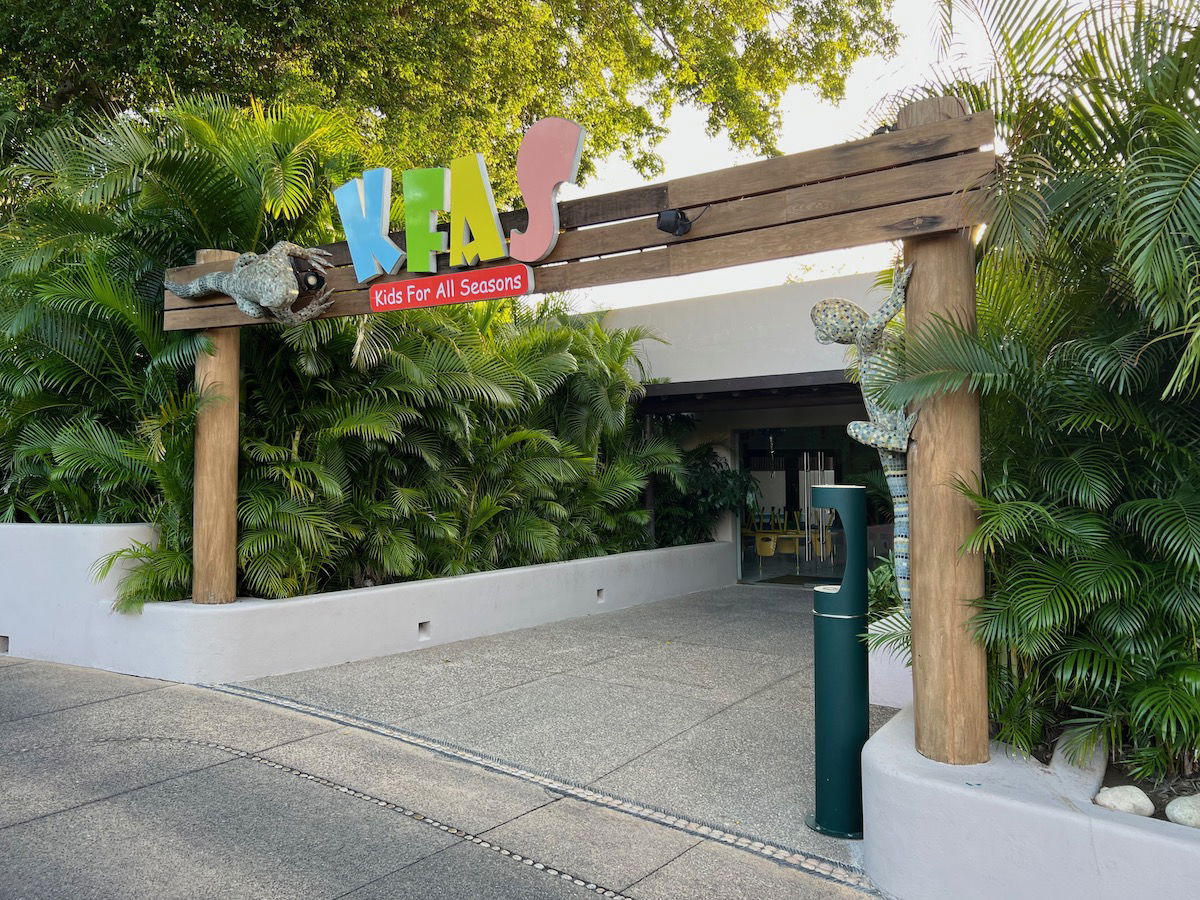 In addition to the standard club for younger kids, it's awesome that the resort also has a special area for teens, known as The Container. This has everything from video games, to two virtual reality areas, to air hockey, to billiards, to ping pong, to foosball.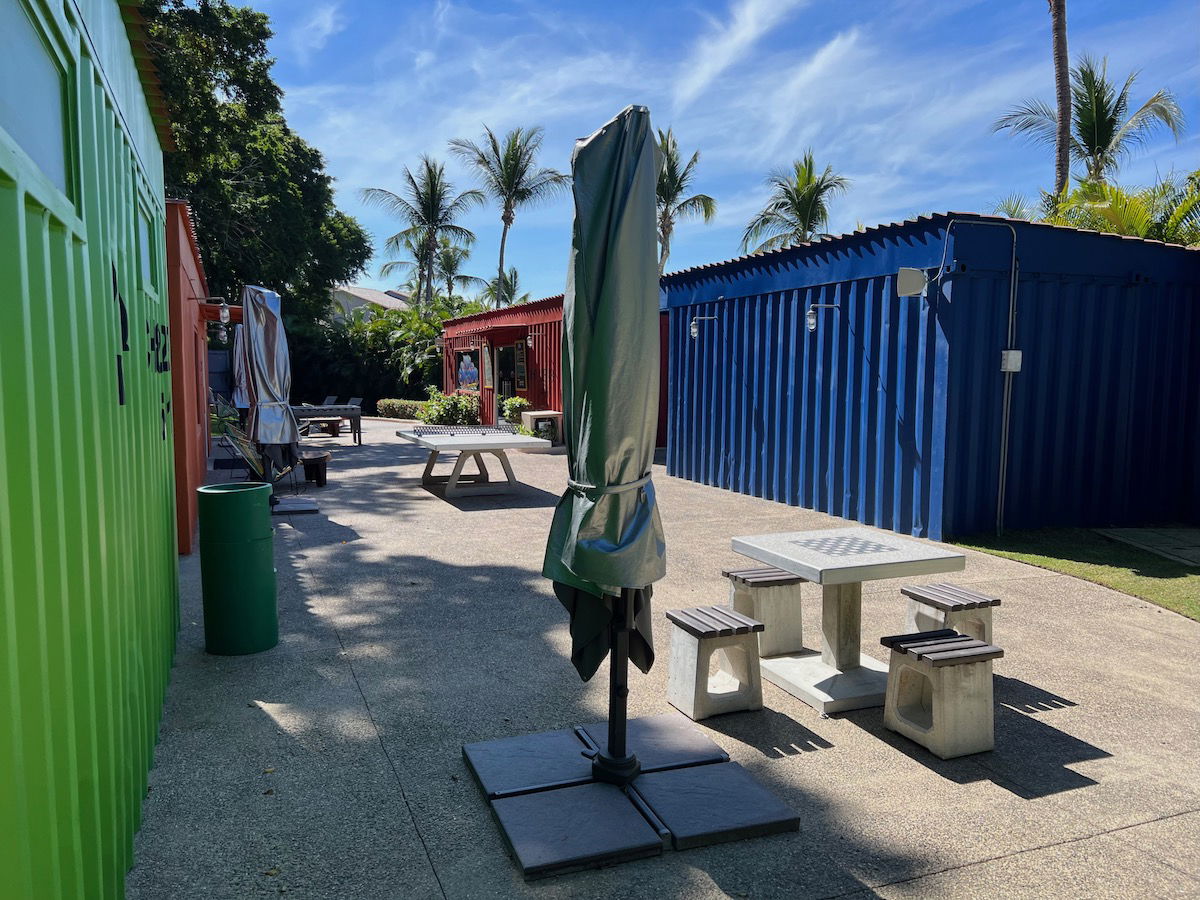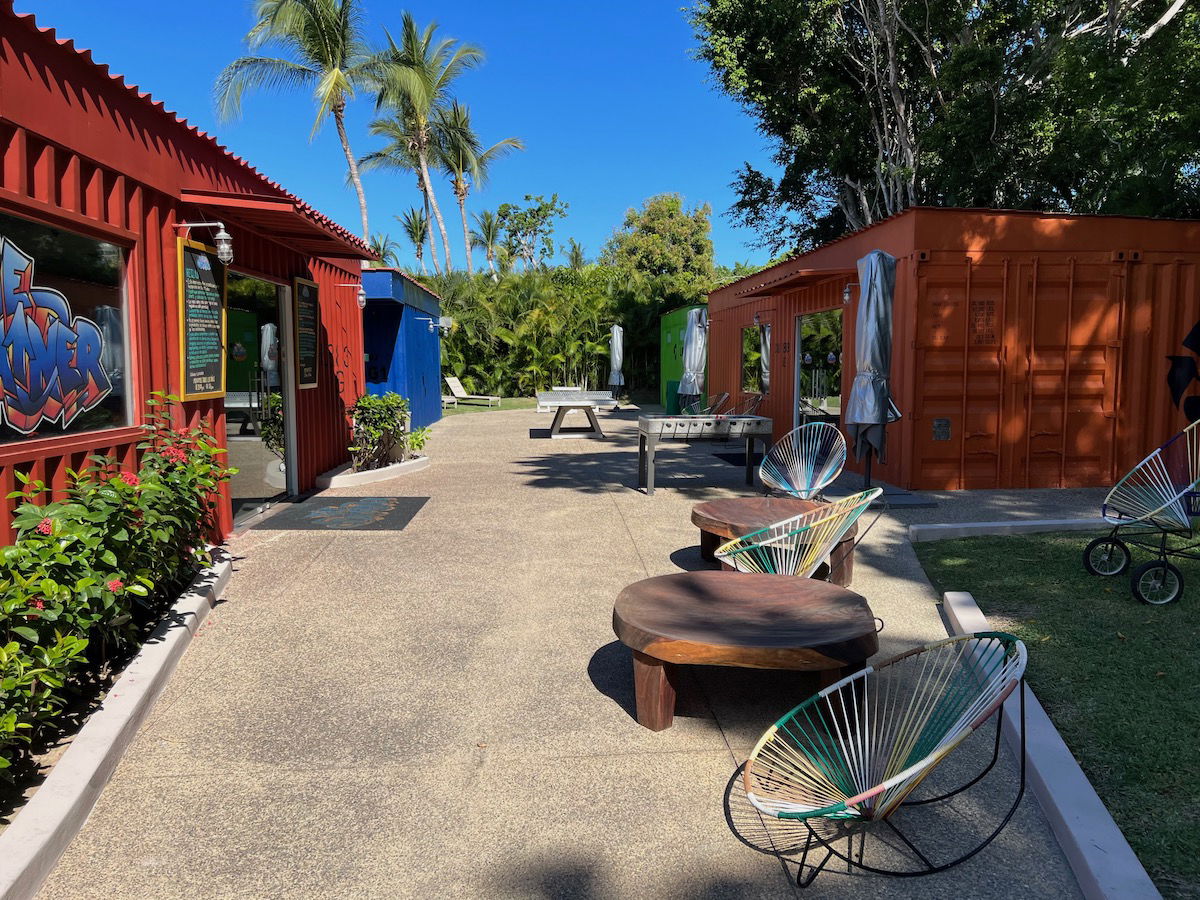 There's also a basketball court, which seemed to be popular with younger guests.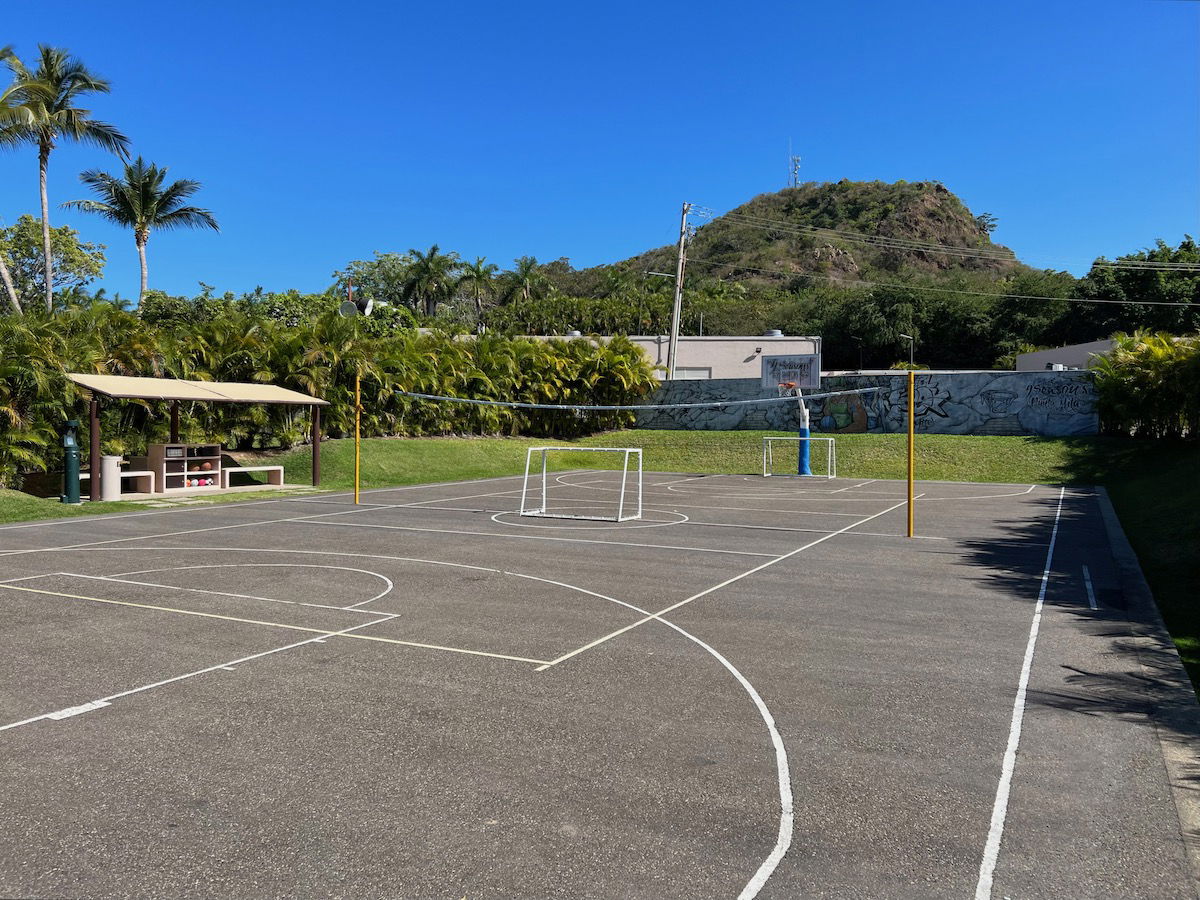 Four Seasons Punta Mita doctors office
Here's an aspect of a hotel you never want to experience, but something that we were impressed by. Ford has asthma, though it's rare that it causes issues for him. Heck, I remember the last time he had a major flare up was when we got engaged in Paris many years ago, and that was an adventure in terms of moving award flights around, since we ended up in the hospital the morning we were supposed to depart.
Well, unfortunately he was having issues with this during our time in Punta Mita, and we were expecting we'd have to venture out to Puerto Vallarta, and sit in a waiting room for hours. At around 4AM his asthma got really bad, so I contacted the front desk. I was delighted to find out that the hotel has a 24/7 doctor on-property, who could see Ford right away. The clinic is right behind the gym and spa.
Not only did he help Ford feel better almost immediately, but he was possibly one of the most interesting people I've ever met. I could listen to his stories all day. So if you ever end up needing help while at the property, know that you're in good hands with Doctor Luis.
Best of all, the entire thing was pretty reasonably priced, at least by US medical standards.
Four Seasons Punta Mita service
Service at the Four Seasons Punta Mita was flawless, as you'd expect. Not only does Four Seasons consistently do a great job with service, but on top of that I find hospitality in Mexico in particular to be great. So when you combine the two, you're in for a treat.
Literally every employee we interacted with was friendly and helpful, so I have nothing but good things to say there. A special shoutout to Jesus at Dos Catrinas and Hugo at Bahia, who were particularly friendly.
Bottom line
The Four Seasons Punta Mita is a popular resort for good reason. It's located just a short flight from the United States, and the resort has beautiful beaches and pools, friendly service, excellent dining, and all kinds of amenities that will be fun for the whole family, ranging from golf to a lazy river.
When I stayed at this property, I couldn't help but think that this falls in the same category as Four Seasons Hualalai and Dorado Beach in terms of offering an easy, luxury vacation for families, where you could spend a week relaxing without getting bored.
What do you make of the Four Seasons Punta Mita?
EXTRA PERKS AVAILABLE
Enjoy breakfast, upgrades, & more
Want to take advantage of Four Seasons Preferred Partner benefits, including a space available room upgrade, complimentary breakfast, a hotel credit, and more? Contact Ford ([email protected]) for more details. He may even be able to help if you already have a stay booked.
Read Four Seasons reviews: Athens, Boston, Cap-Ferrat, Denver, Desroches Island, Fort Lauderdale, Hualalai, Lanai, Los Cabos, Madrid, Maldives at Landaa Giraavaru, Maui, Miami, Napa Valley, Naviva, Oahu at Ko Olina, Paris, Punta Mita, San Francisco at Embarcadero, Scottsdale, Seychelles, and Surfside
Learn about Four Seasons deals & offers: Anguilla, Athens, Atlanta, Austin, Bahamas, Bora Bora, Boston, Cap-Ferrat, Costa Rica, Dubai, Fort Lauderdale, Hawaii, Jackson Hole, London, Los Cabos, Maldives, Minneapolis, Nashville, Naviva, New York, Napa Valley, New Orleans, Orlando, Palm Beach, Paris, Philadelphia, Punta Mita, San Francisco, Santa Fe, Seattle, Sicily, Tamarindo, and Vail
Learn about Four Seasons basics: Four Seasons Preferred Partner, Four Seasons Private Retreats, Four Seasons Private Jet, Four Seasons travel agents, Four Seasons loyalty program, and maximizing value at Four Seasons