EXTRA PERKS AVAILABLE
Enjoy breakfast, upgrades, & more
Want to take advantage of Four Seasons Preferred Partner benefits, including a space available room upgrade, complimentary breakfast, a hotel credit, and more? Contact Ford ([email protected]) for more details. He may even be able to help if you already have a stay booked.
After a few nights at the Four Seasons Punta Mita, it was time for something we were both indescribably excited about — a few nights at the Four Seasons Naviva. The Four Seasons Naviva opened in December 2022, and it's a completely new concept for Four Seasons.
While I'll have a lot of details below, let me just say upfront that this place is beyond spectacular. I think this might just be the best new resort in North America, and I suspect that within a year it will be hard to get a reservation here, given how few rooms there are.
For now the Four Seasons Naviva's problem is that people don't really know what it is, or what to expect. Four Seasons is known for its amazing, well-run resorts (some with hundreds of rooms), not for 15-key, tented wellness camps.
So I'm delighted to be able to publish what I think is the first actual review of the property. Even if this resort isn't in your price range (which applies to 99.99% of us), I hope you enjoy getting a glimpse at an amazing new hospitality concept from Four Seasons.
What is the Four Seasons Naviva?
The Four Seasons Naviva consists of 15 luxury tents (they're really glam — there's no roughing it here). It's an incredibly intimate, adults-only resort that really redefines the way Four Seasons delivers hospitality, but in a good way.
Four Seasons Naviva is ultimately a wellness resort, in the sense that there are all kinds of activities, from meditation, to yoga, to sound healing, to a traditional temazcal (which… is wild). But the truth is that even if you're not into spirituality, you'll still love this place. You could have just as good of a time skipping all of those activities, and instead lounging at the pool, doing tequila tastings, and eating amazing food.
But the unique service concept of the property goes way beyond that. You're literally intended to feel like you're at home. For example, there are no menus, but rather you can order what you want when you want. You'll never have to sign for anything while on-property. And the staff take a much more informal approach toward service than at other Four Seasons properties, by design.
Four Seasons Naviva is built right next to the Four Seasons Punta Mita, but it feels a world away. For some context on how this property came to be, back in 2002 there were plans for a 70-room Rosewood Punta Mita to be built on this lot. Long story short, the project stalled for a long time, then sat empty, and then finally a couple of years ago, an agreement was made for Four Seasons to develop it for this new concept.
What's included with stays at Four Seasons Naviva?
Rates at the Four Seasons Naviva aren't cheap, but they offer an "inclusive experience." Among other things, rates at Naviva include:
All meals, snacks, and drinks
Daily community activities, mind and body practices, and "unscripted moments"
A complimentary spa treatment for two guests once per stay
So unless you want additional massages or want to book private experiences, you'll likely depart Four Seasons Naviva without spending a dime on-property. I'm usually skeptical of all-inclusives in terms of quality (after all, there's an incentive to cut costs when not generating incremental revenue), though the Four Seasons Naviva delivers.
The food is some of the best I've had anywhere, and no expenses are spared with drinks either, from great wine, to innovative cocktails.
Booking the Four Seasons Naviva
The Four Seasons Naviva has a two-night minimum stay, with all rates getting you the inclusions listed above. While I'm sure rates will fluctuate over time, currently pricing is pretty consistent for most of the year. There are two room categories — Tent and Grant Tent — with the former typically costing $3,950 per night, and the latter typically costing $4,950 per night.
Obviously that's expensive, though I'd point out that standard rooms at the Four Seasons next door can sometimes be half of that in high season. And here you're getting a completely different kind of experience, with a lot more inclusions.
The best way to book any Four Seasons hotel is through a travel advisor affiliated with the Four Seasons Preferred Partner program. The Preferred Partner amenities here are modified a bit since so many things are already included, though this will be how you get the best value.
Ford is happy to help book Four Seasons properties through Preferred Partner, and can be reached at [email protected].
In the interest of full disclosure, Ford books a lot of people at Four Seasons properties, and got a travel agent rate for our stay. As always, all opinions expressed are my own.
Four Seasons Naviva location
The Four Seasons Naviva is located in the gated Punta Mita development, on a private peninsula overlooking Bahía de Banderas. This area has the Four Seasons, Naviva, the St. Regis, a golf course, and lots of residences.
The Four Seasons Naviva is located on its own 48-acre property, with lots of forested land overlooking the Pacific Ocean.
The closest airport to the hotel is Puerto Vallarta Airport (PVR), which has nonstop flights from many gateways in the United States, so it's easy to get to. From the airport to the resort, you can expect that the transfer will take somewhere around 45 minutes, depending on traffic.
In our case we were coming from the Four Seasons, which is just a short drive away. We could already tell it would be a different kind of experience when the resort manager, Ronny, picked us up personally in a Ford Bronco — not your typical hotel transfer car, but this is what Naviva uses for transfers around the complex.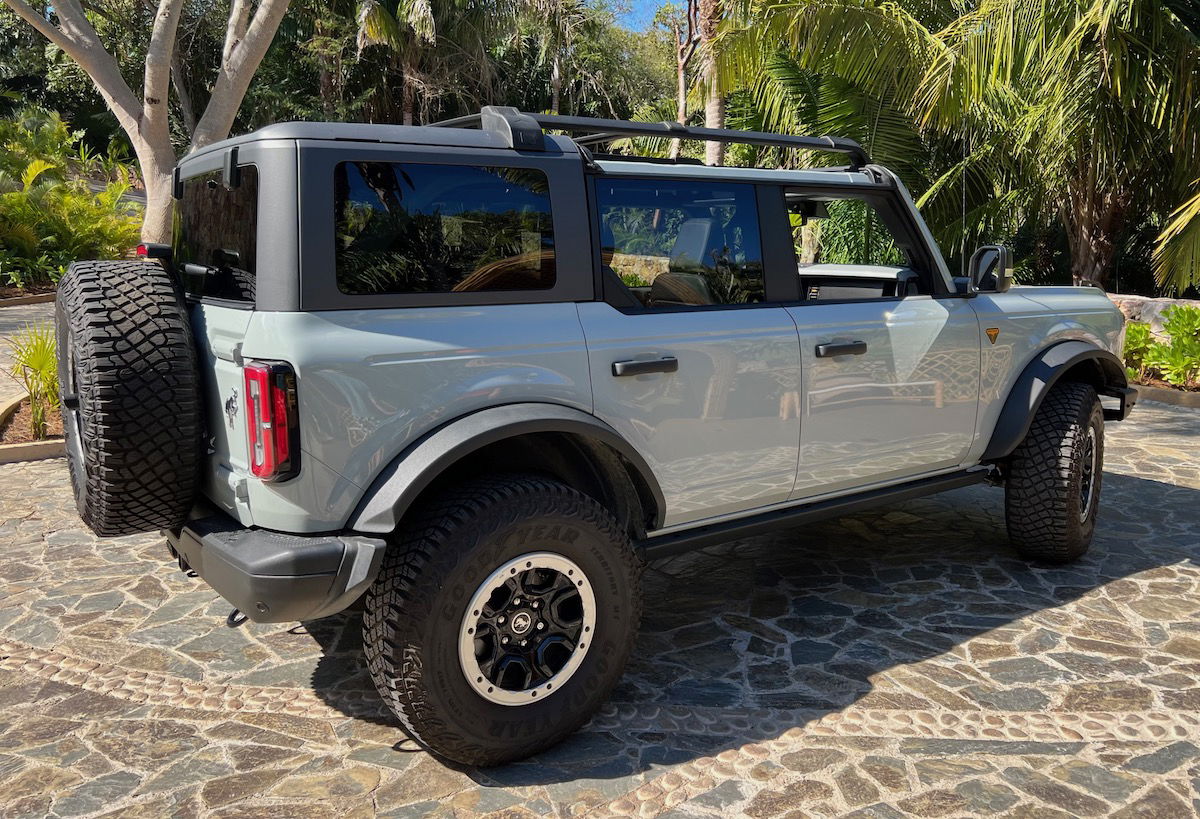 Four Seasons Naviva service
Usually I talk about service at the end of my reviews, but in this case I think it's worth starting with that. Service at the Four Seasons Naviva is different than you might be used to at other Four Seasons properties, yet totally flawless.
The whole experience is intended to make you feel like you're a guest in someone's home. I wondered if the service would feel different than at other Four Seasons properties, and it did… in the best way possible (and I think Four Seasons has really high service standards elsewhere).
Where do we even begin?
Honestly I'm not sure if anyone working here has the word "no" in their vocabulary; you're given so much flexibility to do what you'd like, whether that's a spa treatment at 10PM, a dip in the pool at 2AM, or breakfast at 7PM (not that you'd necessarily want to do any of those, but…)
Service here is much more informal than at other Four Seasons properties; guests are addressed by their first names, the staff don't have uniforms, and I'm told that staff can even drink with guests (though, in fairness, I didn't see that happening)
As you'd expect, the staff to guest ratio here is incredible. During our stay there were at most three other accommodations occupied (and on our last day there was only one other tent occupied), so we really felt like we had the place to ourselves. Even if this resort were at capacity, you'd still feel like you had your own palace in the jungle, since the property is so spread out, with at most 30 guests.
But it's not just the training that's great here, but the staff were just incredible across the board. They took such pride in their jobs, were genuinely warm and friendly, and were also so professional. From the constantly present resort manager, to all the staff in the restaurant and at the pool, to the wellness team, this place couldn't have better service.
Usually throughout a hotel stay I take notes on my phone with the names of specific employees who were especially professional, so I can give them the credit they deserve. There's only one problem at this property — by the end of our stay, just about everyone's name was on the list.
Four Seasons Naviva lobby & check-in
You can tell from the moment you check-in that a stay at the Four Seasons Naviva will be a bit different. There's a beautiful open-air welcome pavilion as you arrive at the resort.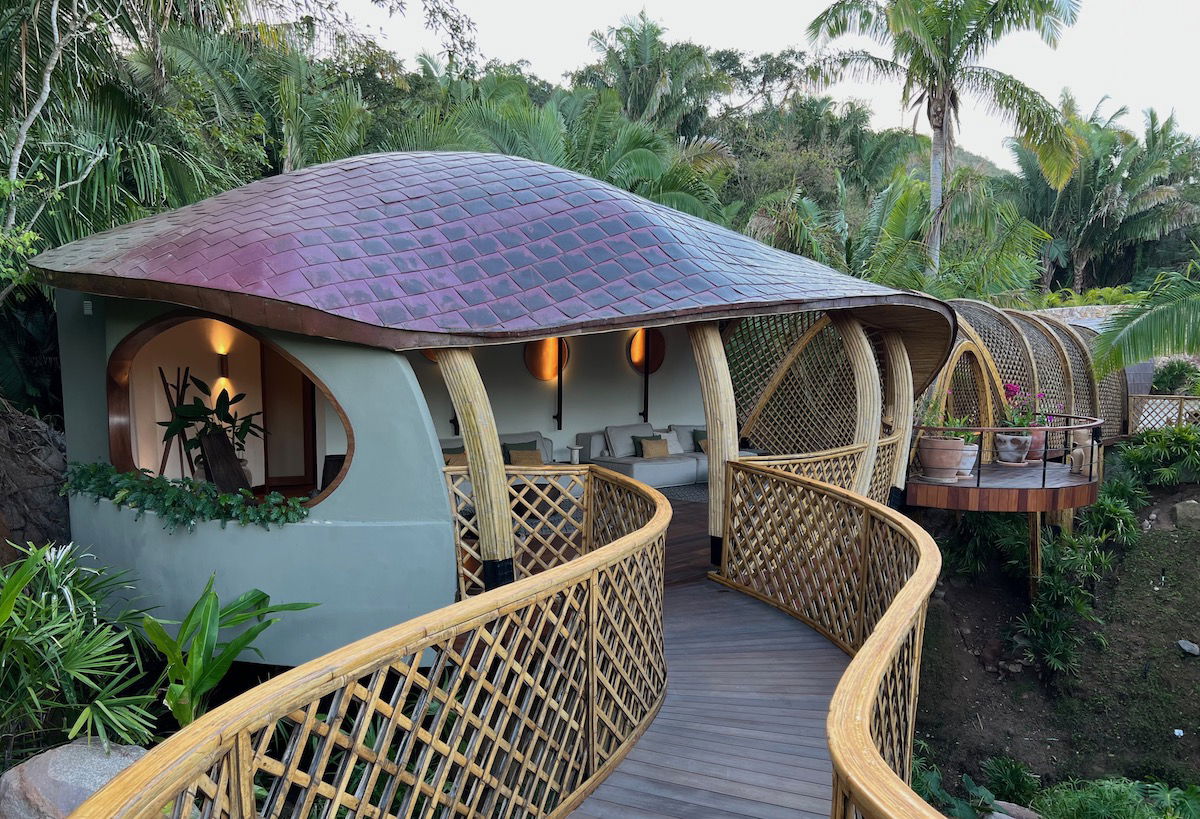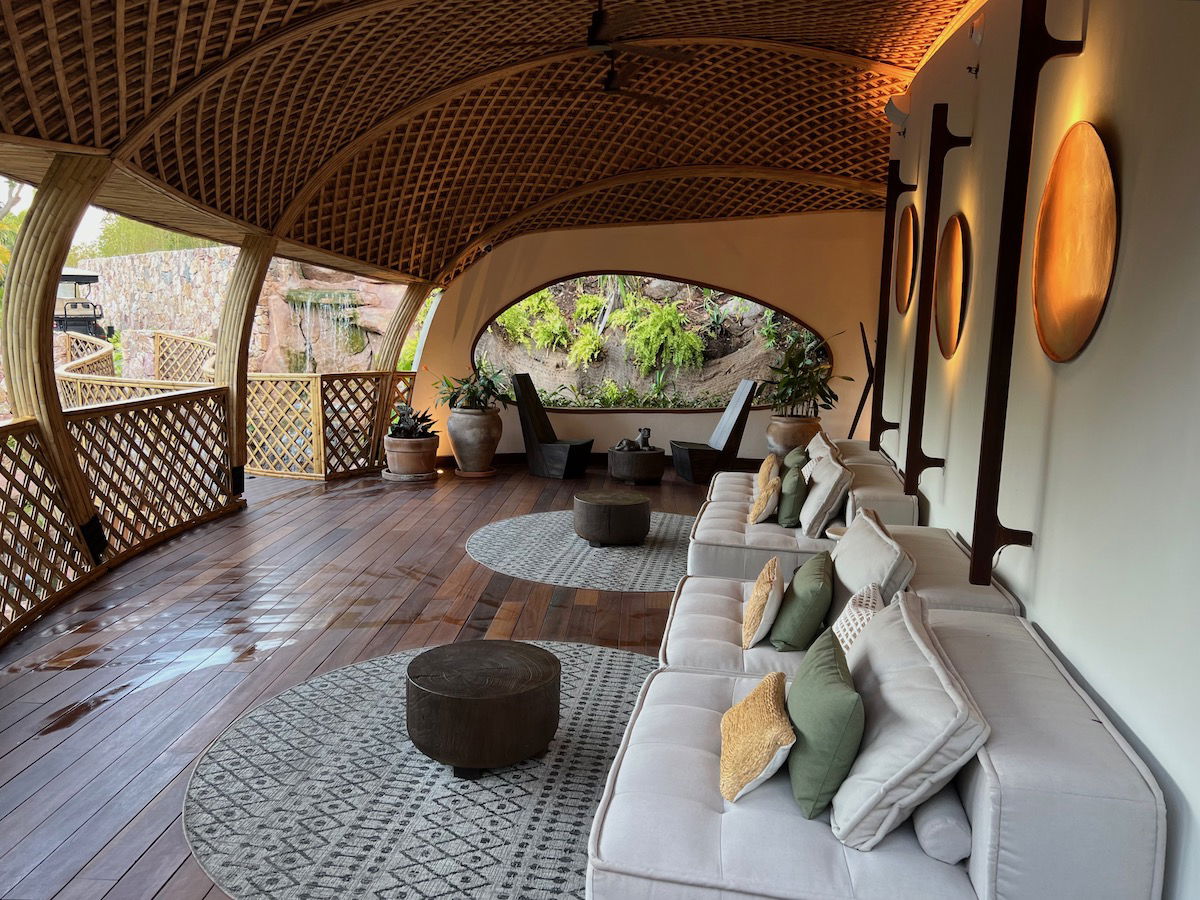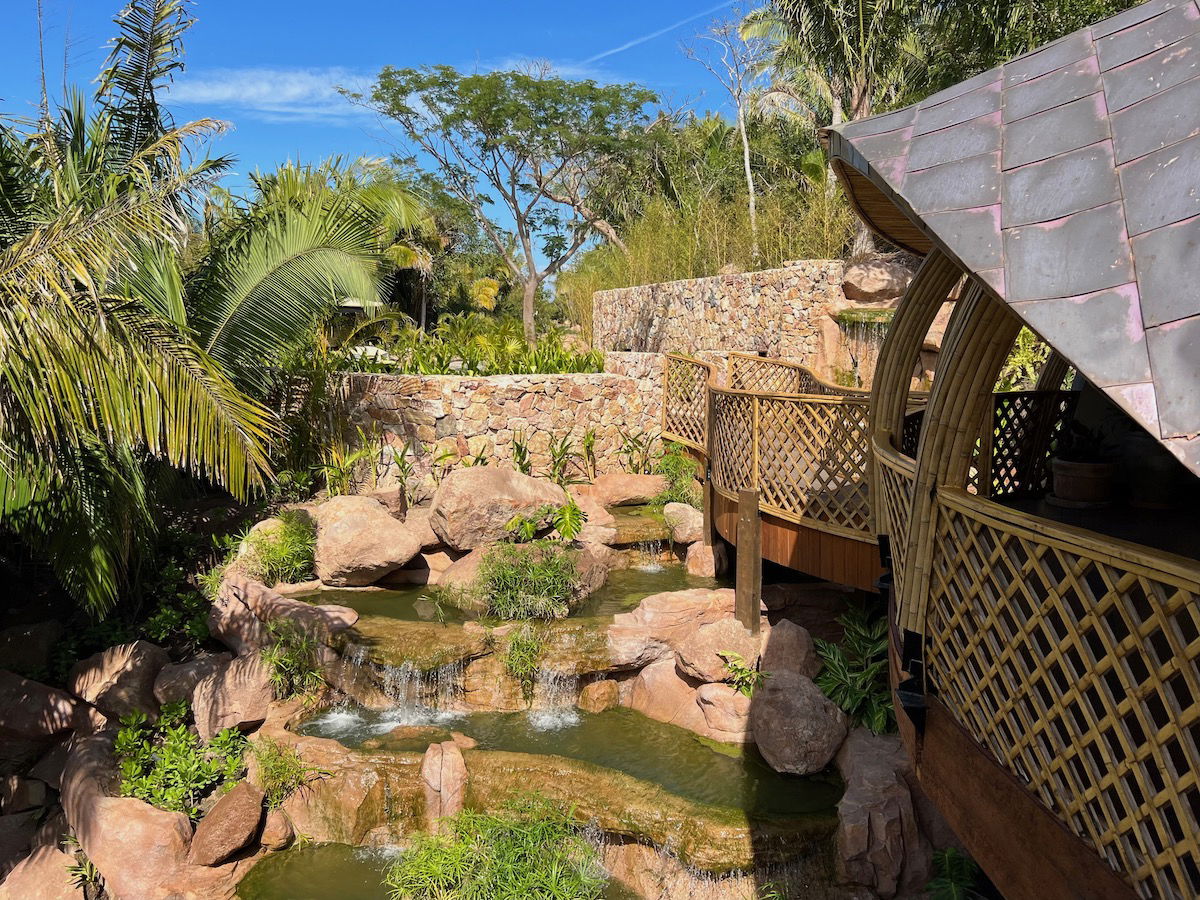 Rather than being given a specific welcome drink, you're asked what you'd like to have as a welcome drink. While there's a tray with some options, you can have whatever you'd like, so we chose some mezcal on ice.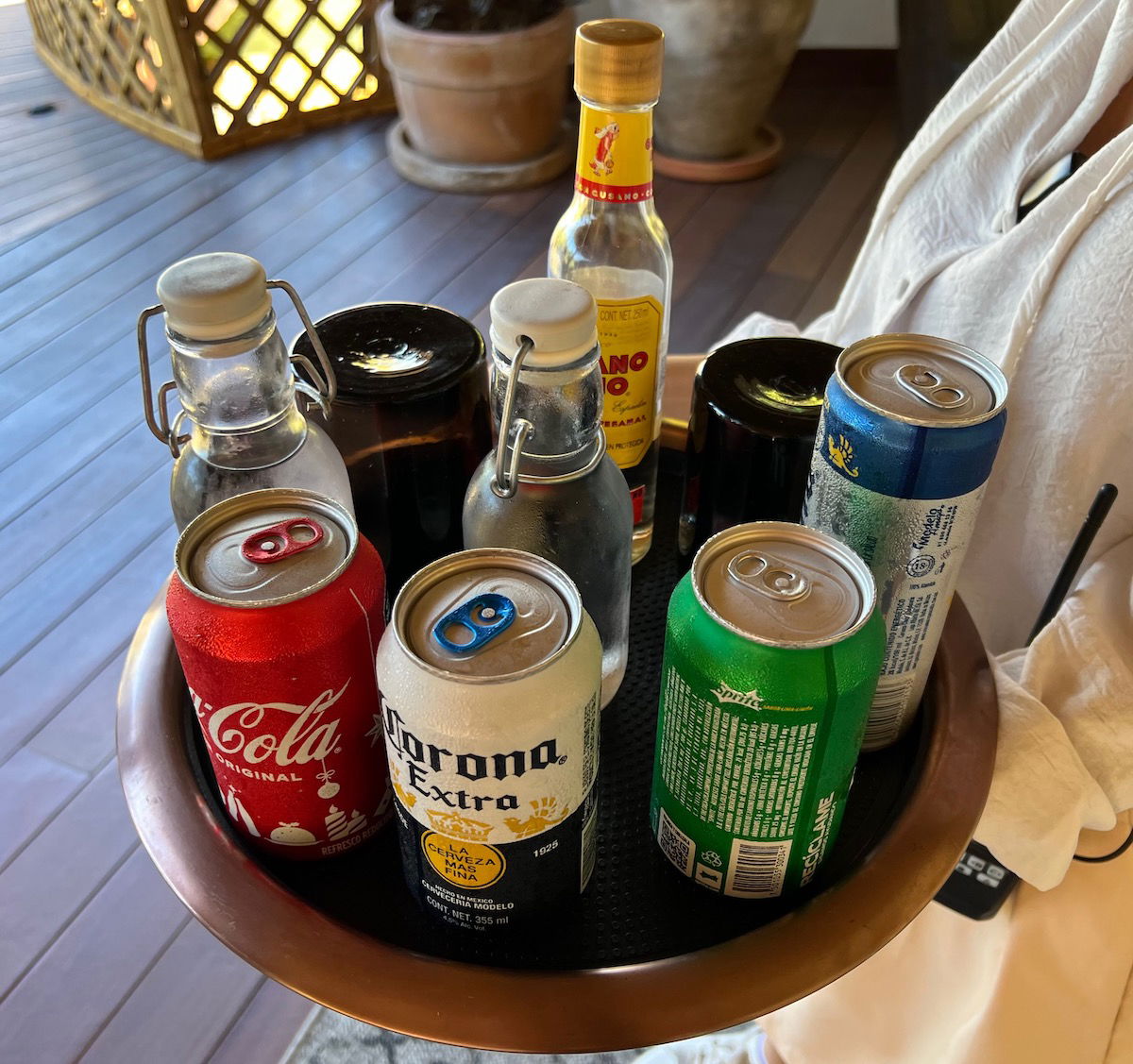 At this point we were given our room keys, which are unconventional. They're wristbands you can keep on throughout your stay, which are also waterproof.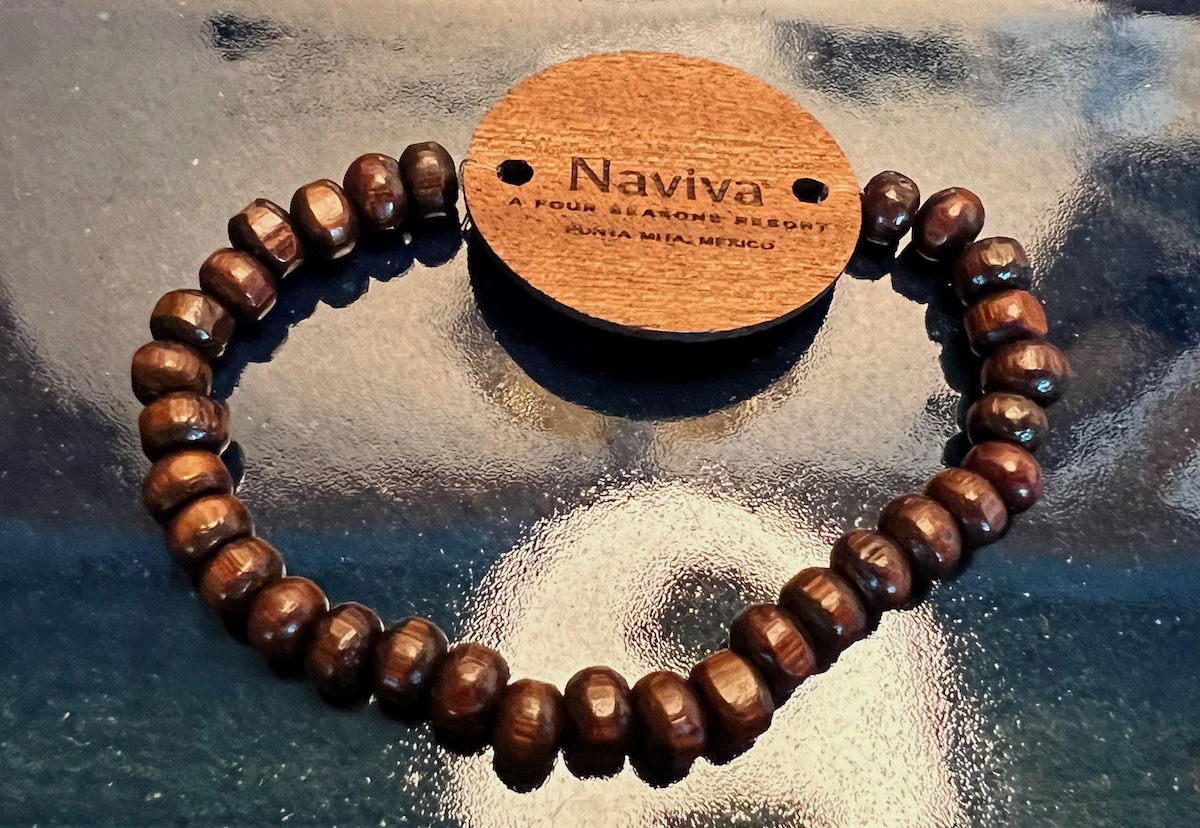 We were then driven in a golf cart to our room. You can of course be driven around all you want during your stay, though the property is quite walkable.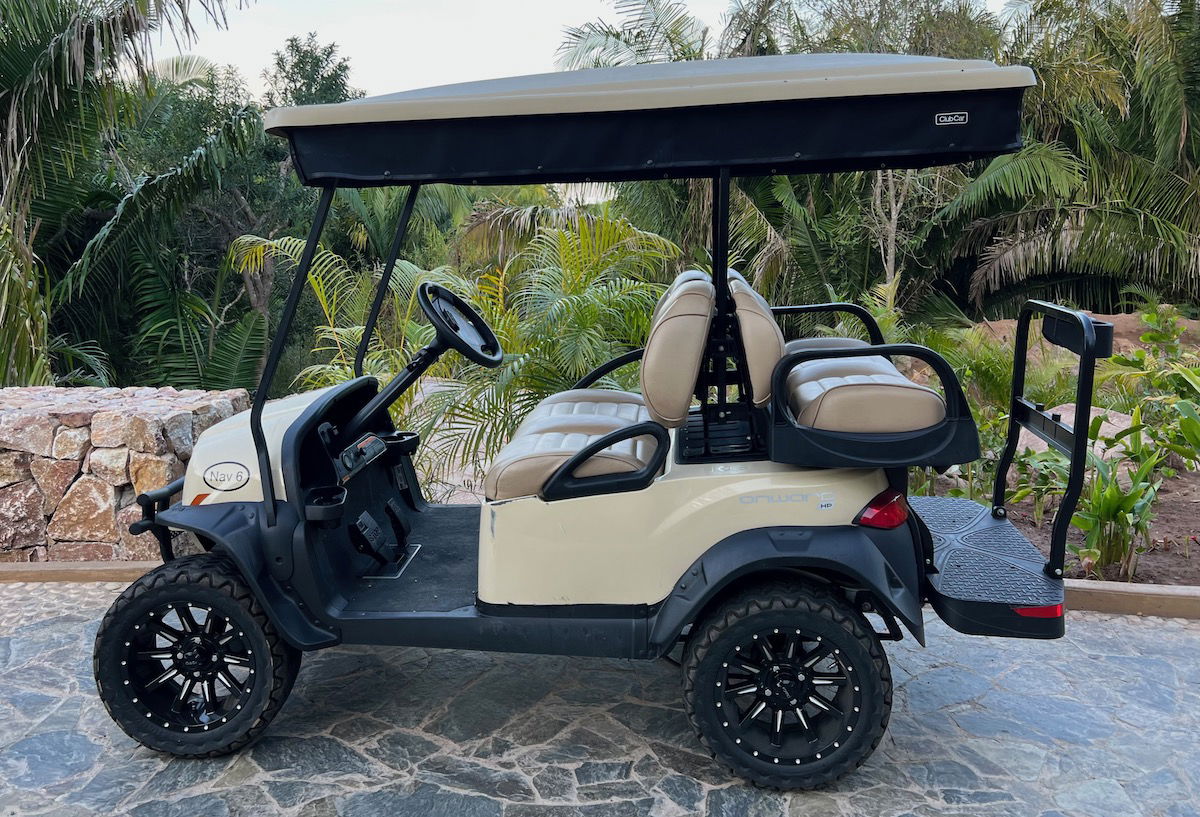 Reception is located at the very top of the resort, and then everything else is underneath that.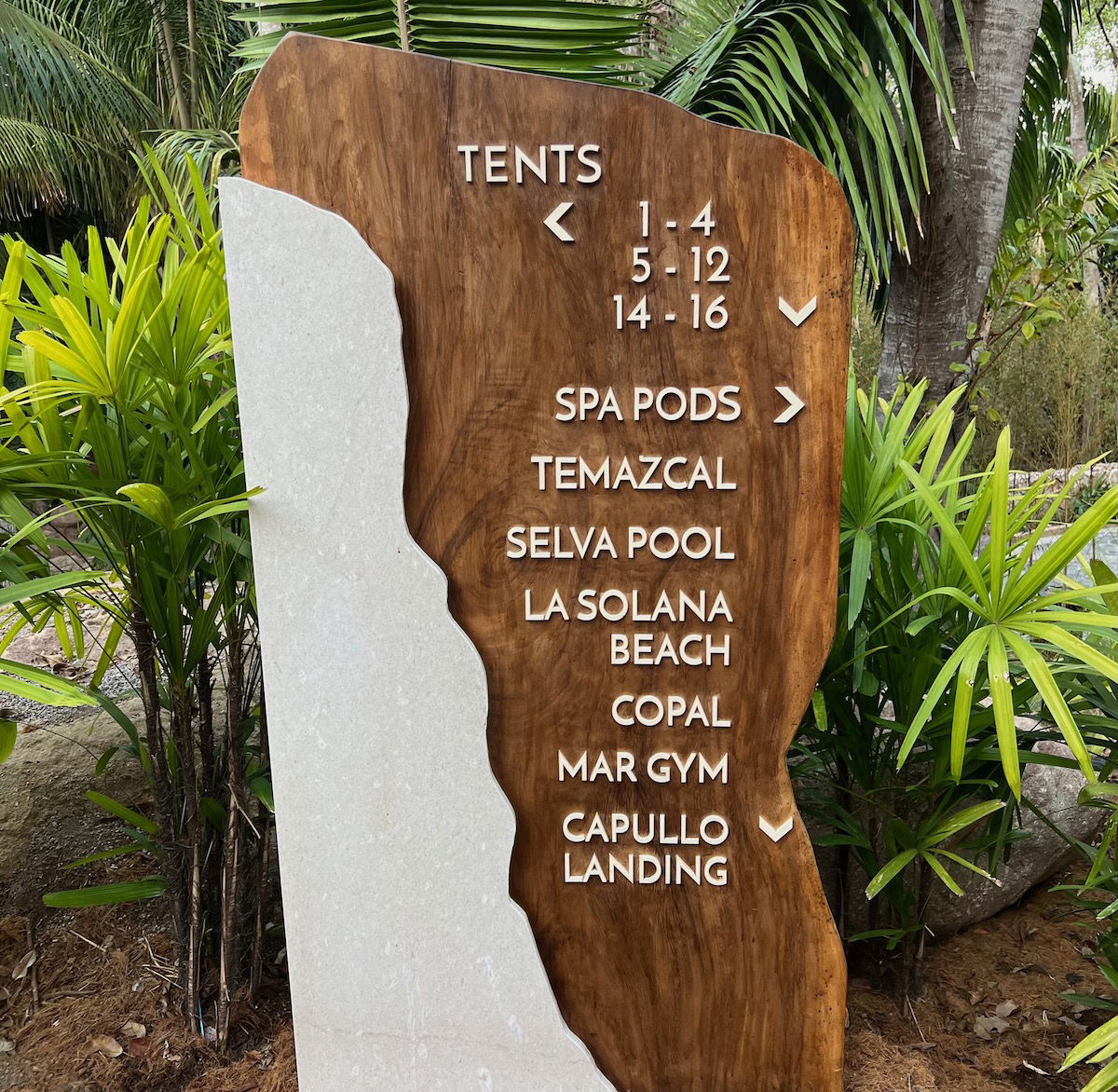 The paths at the Four Seasons Naviva are stunning. We were told that during construction, they tried to leave trees and all the other nature as intact as possible, so you really feel like you're in some sort of a nature reserve. No trees at the resort were cut down in order to create ocean views.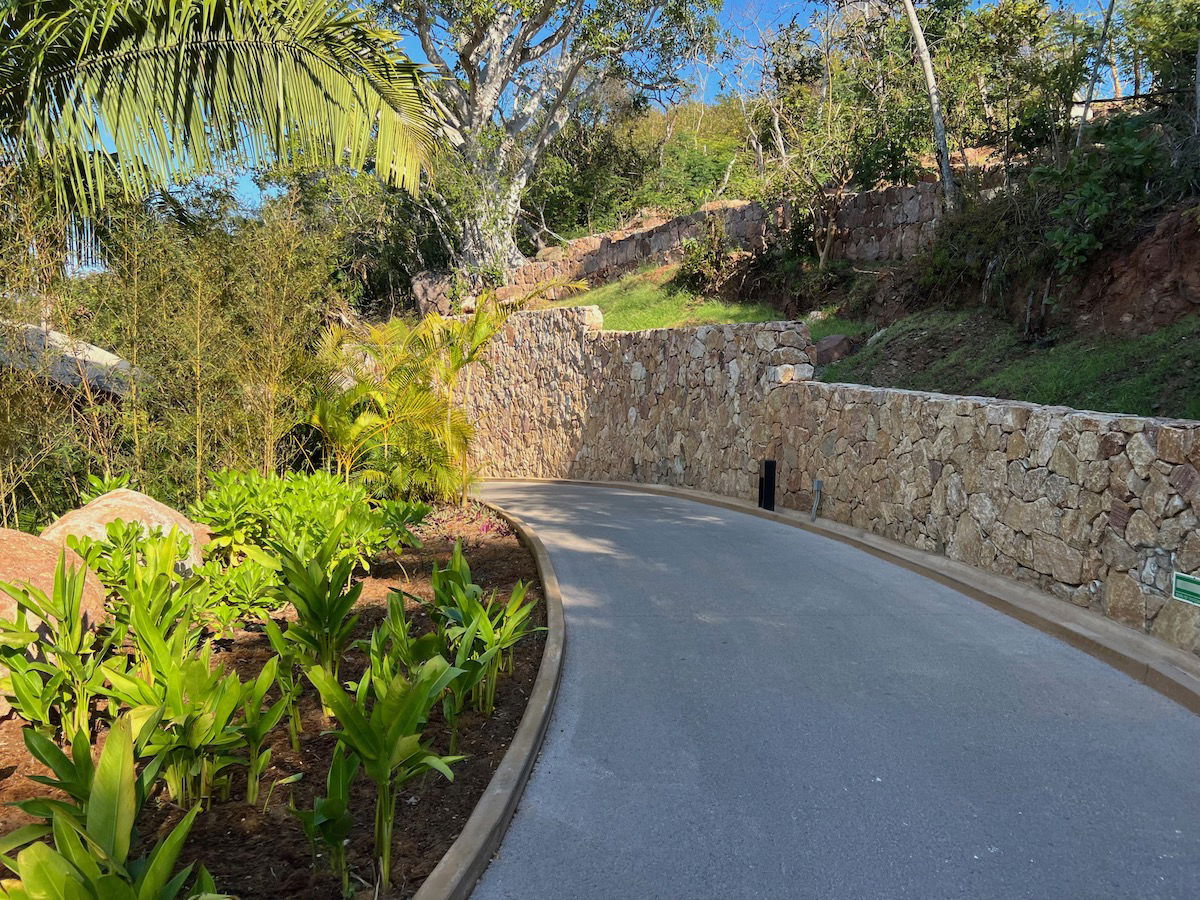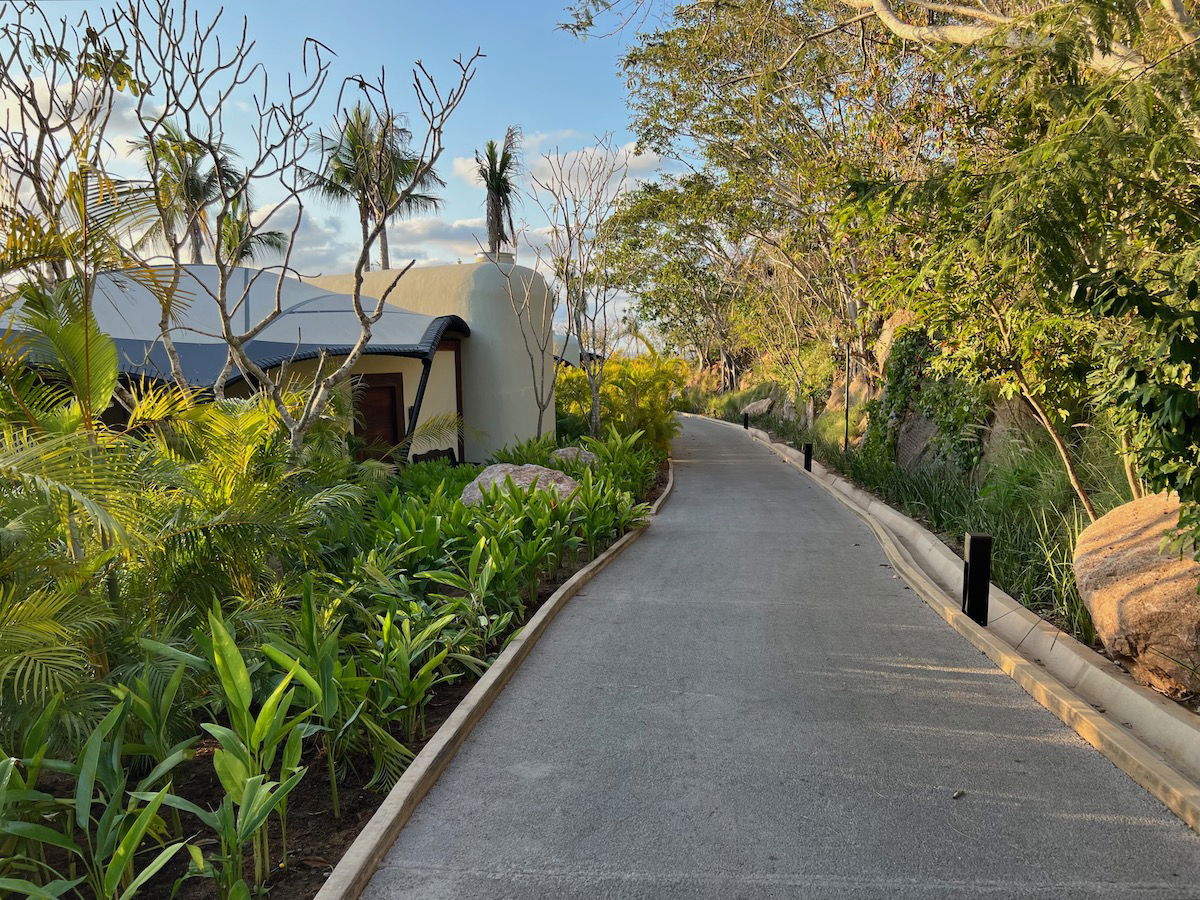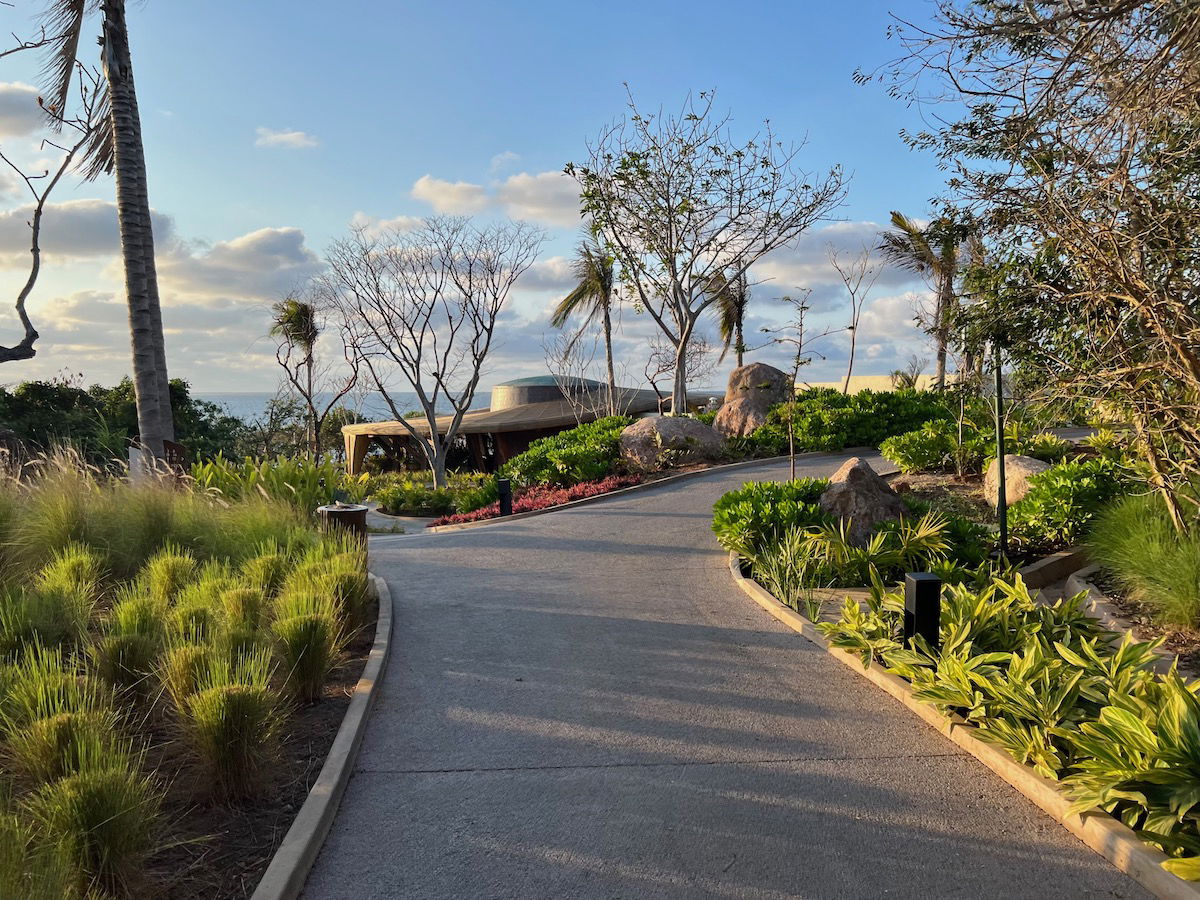 Four Seasons Naviva Grand Tent
We were assigned room 12, which was a grand tent with the name Cleofas (each tent has a name).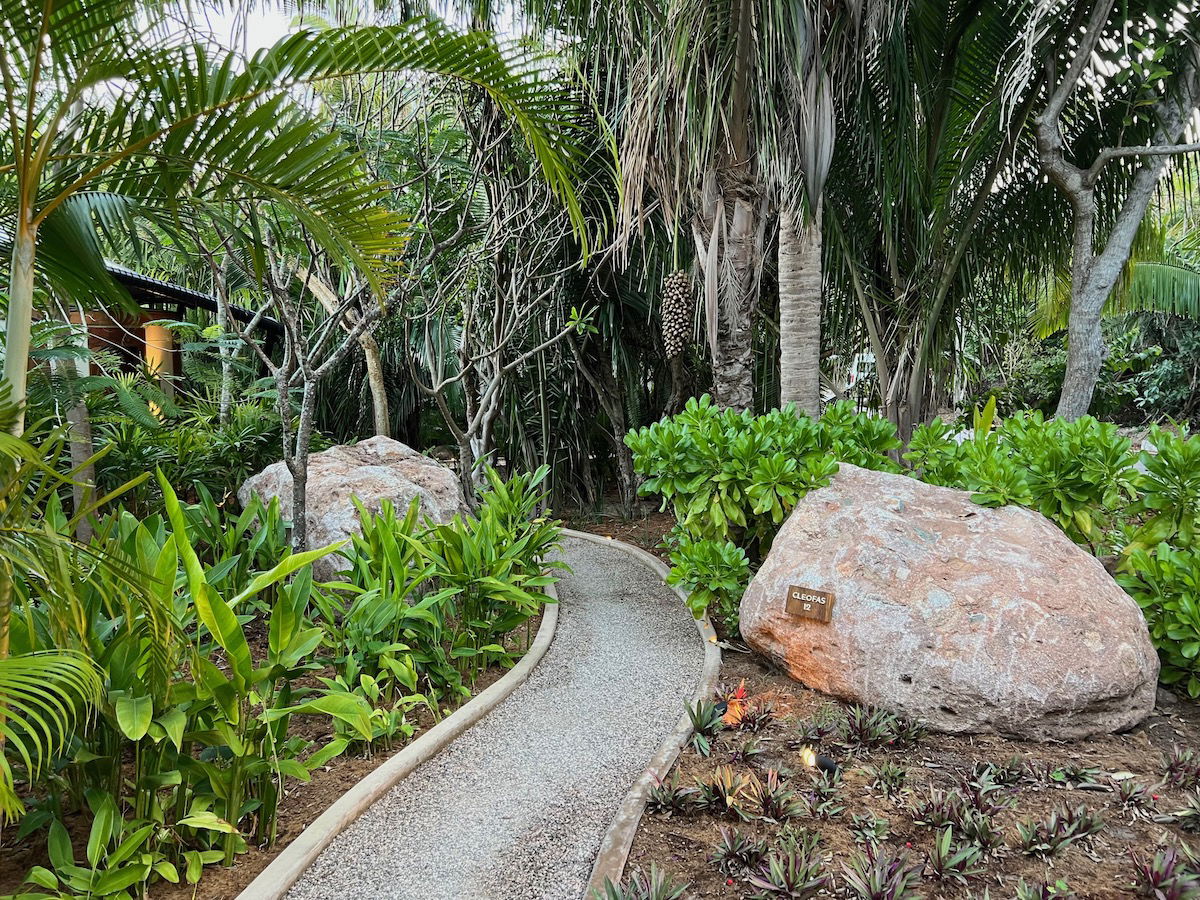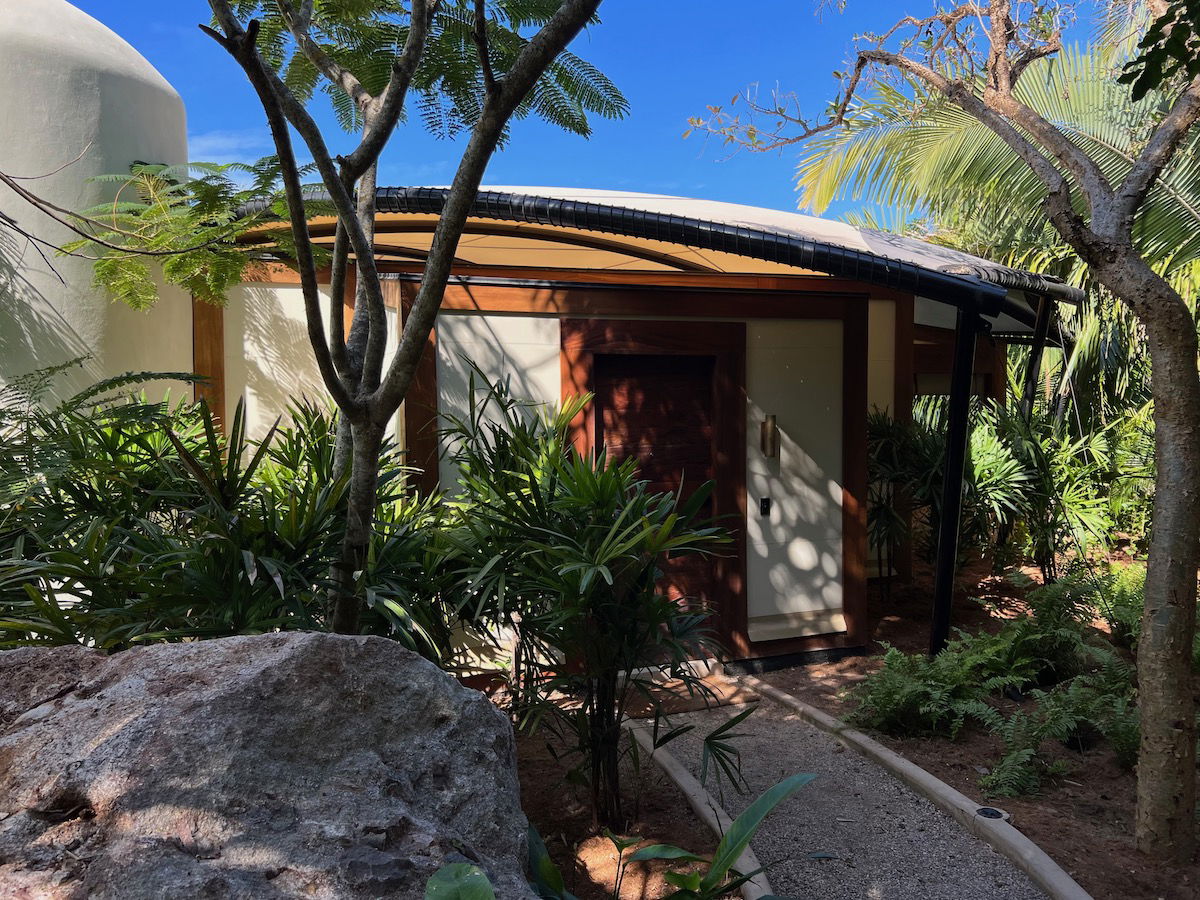 Grand tents are marketed as being 1,604-1,722 square feet (149-160 square meters), and that includes both indoor and outdoor space. As I said above, while these are technically "tents," there's no roughing it here. Inside the entrance is the bedroom, which features a signature Four Seasons king bed, and a couch along the wall.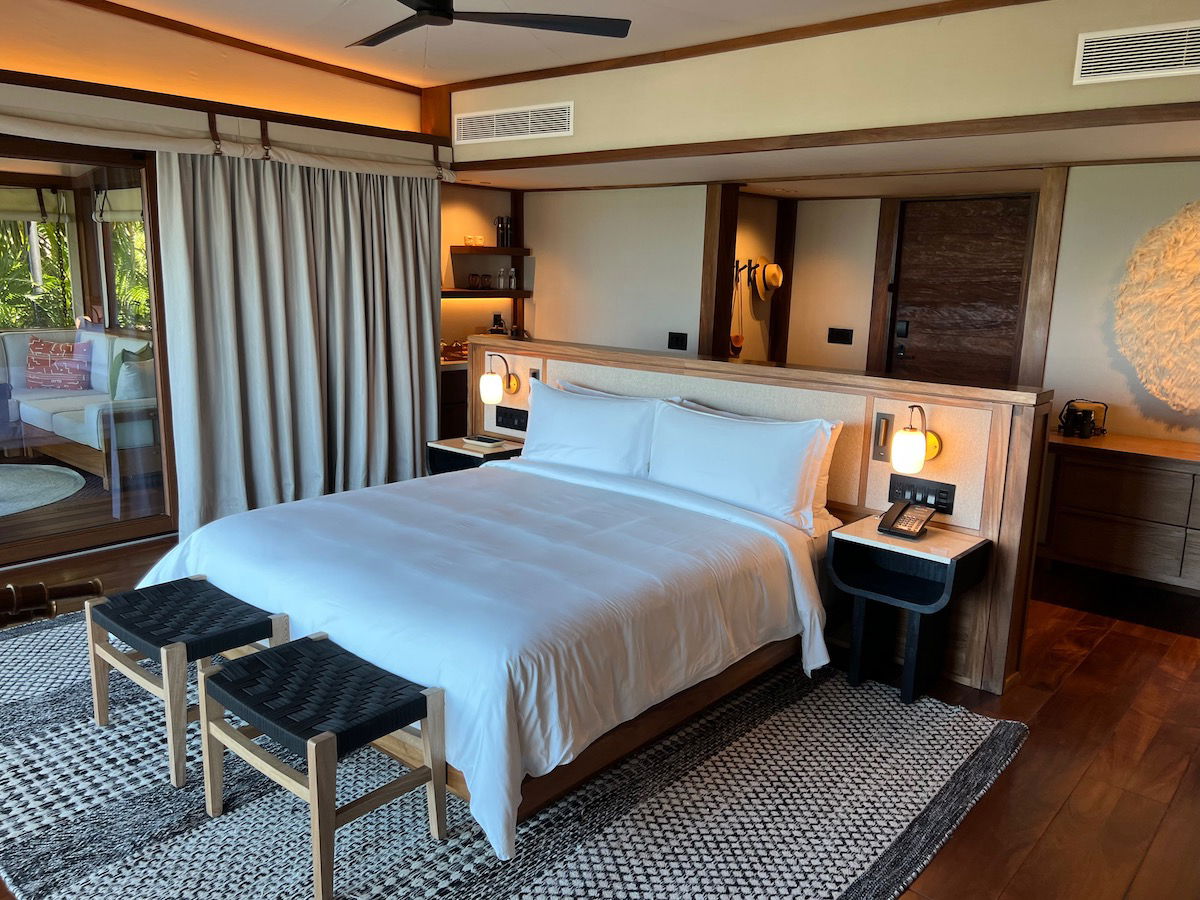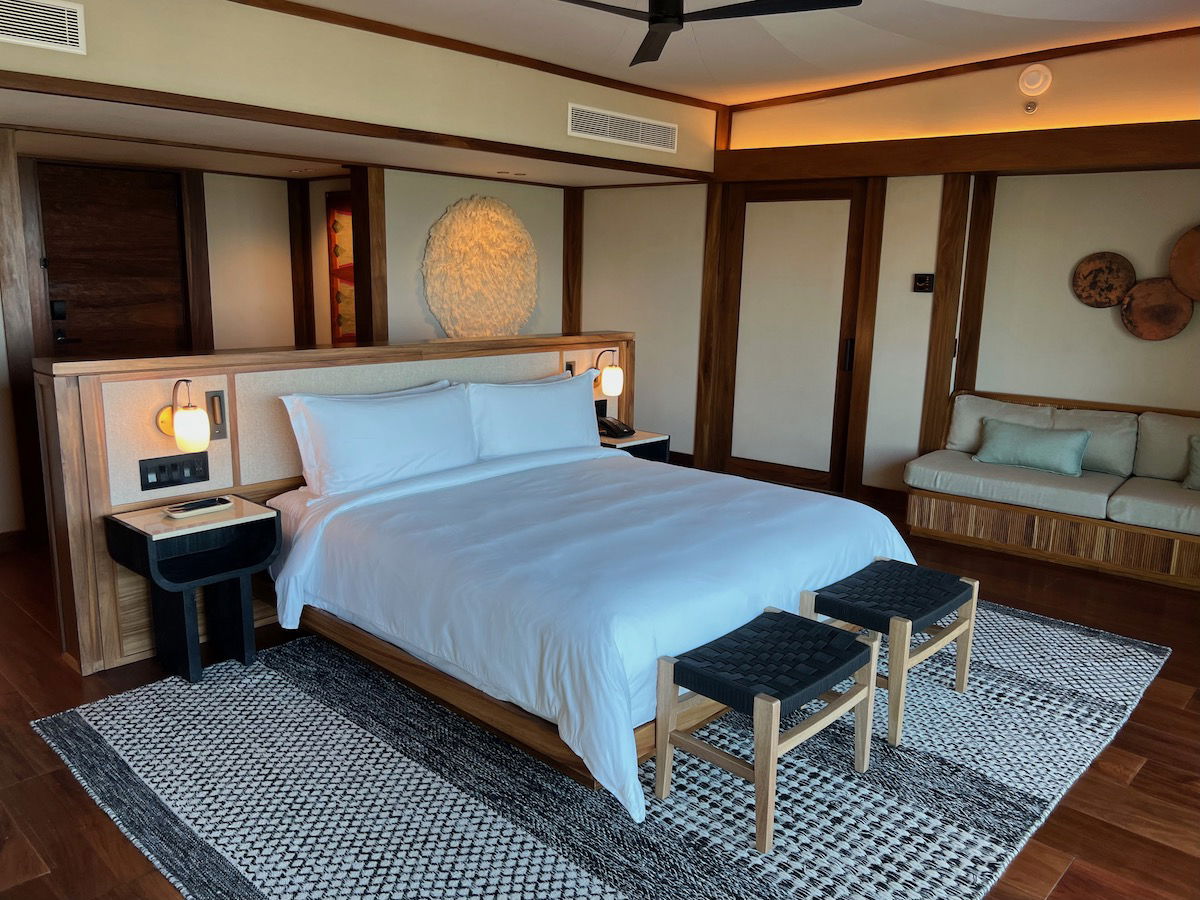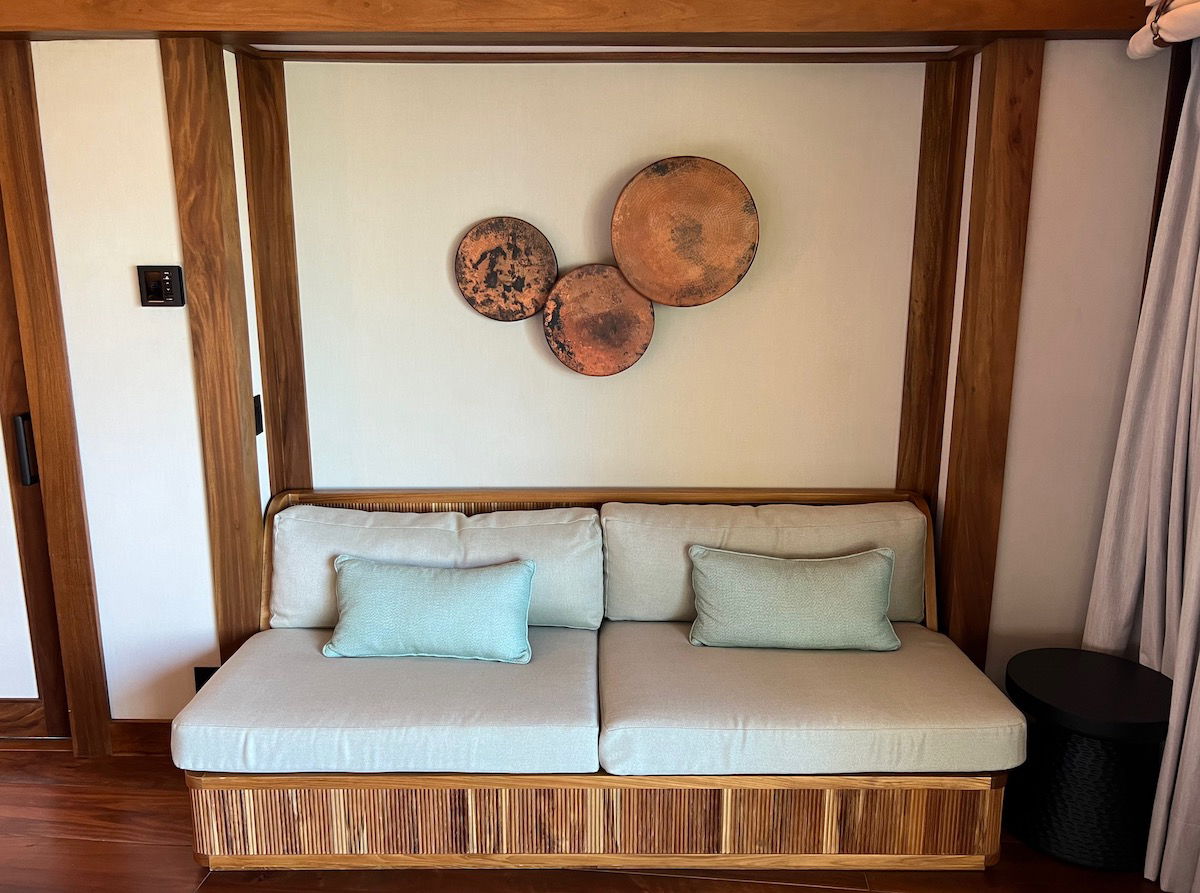 There's lots of cool art on the walls, plus binoculars and even a telescope.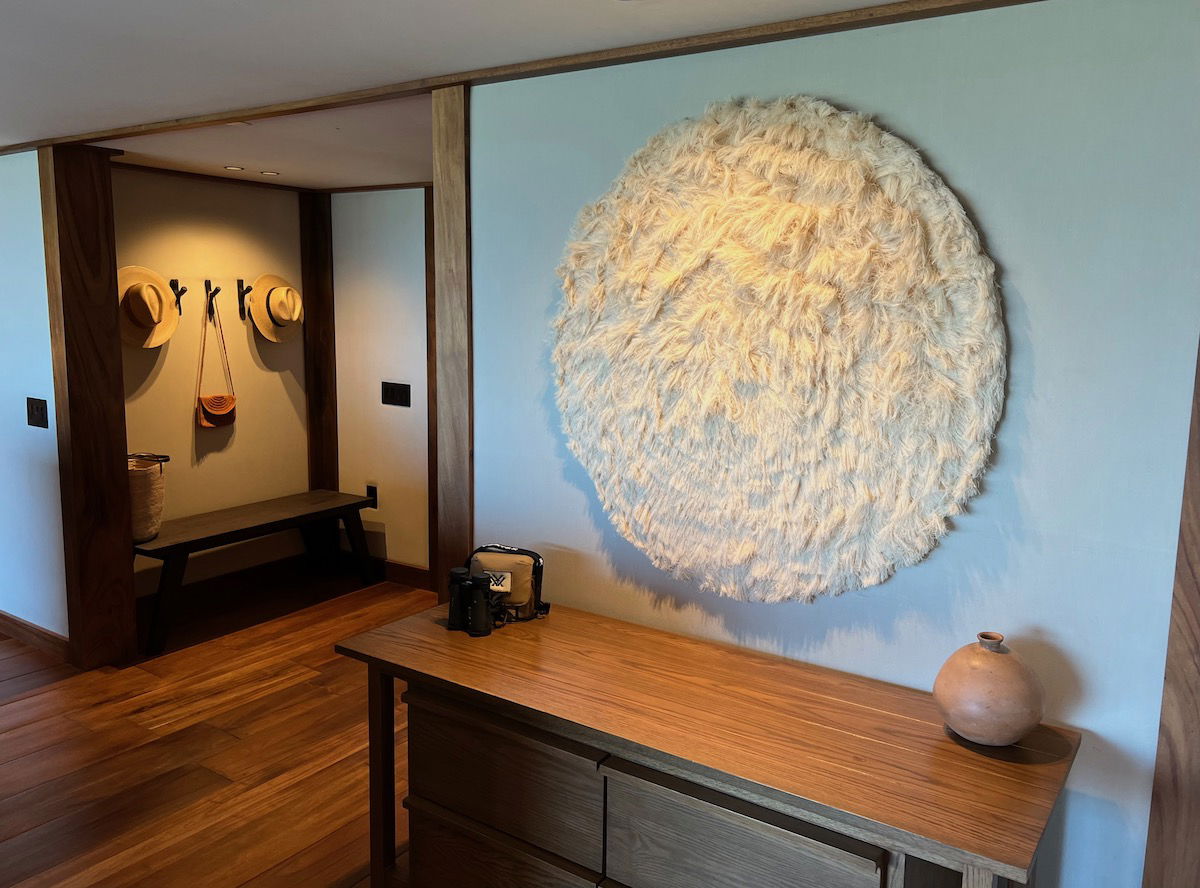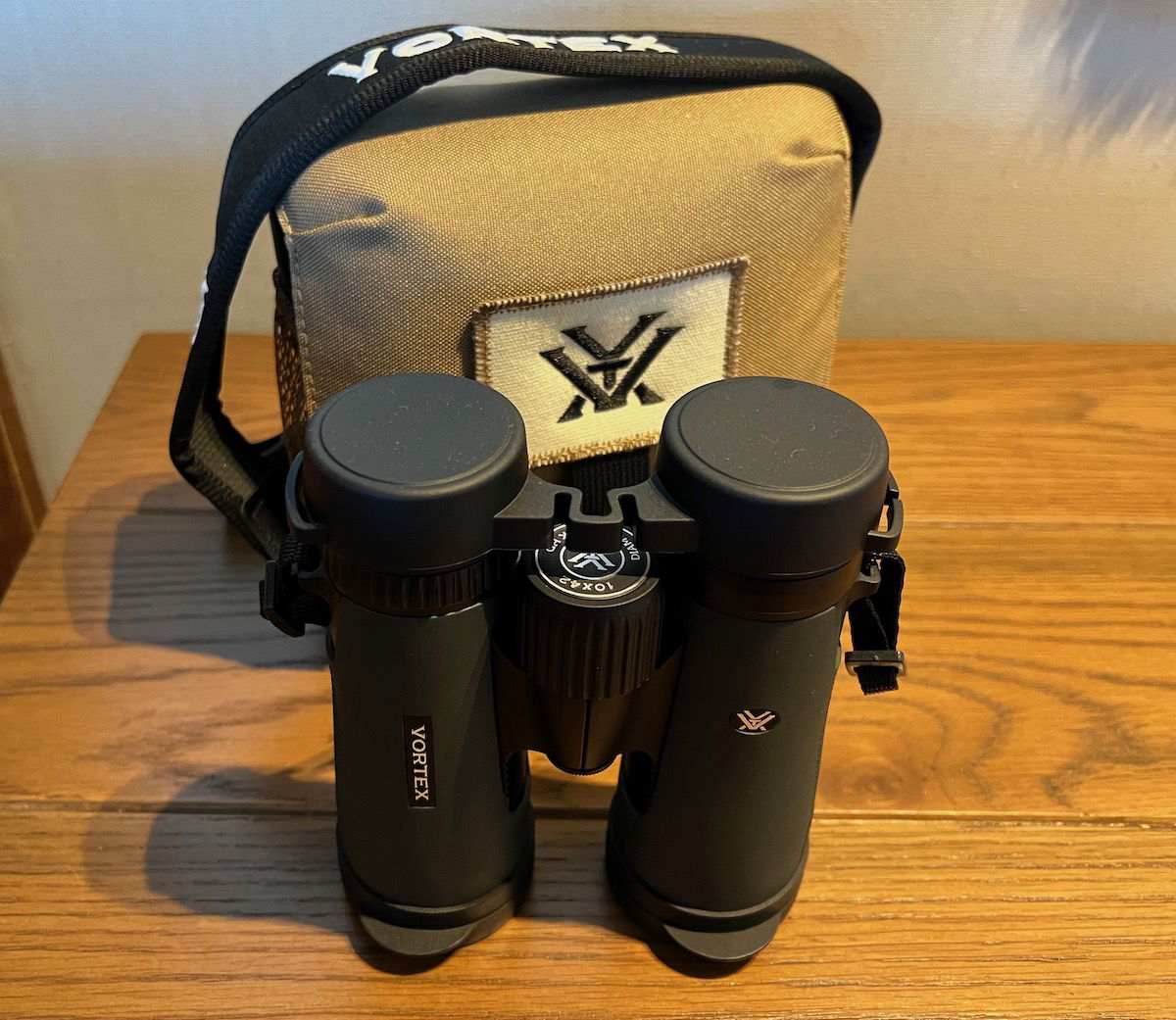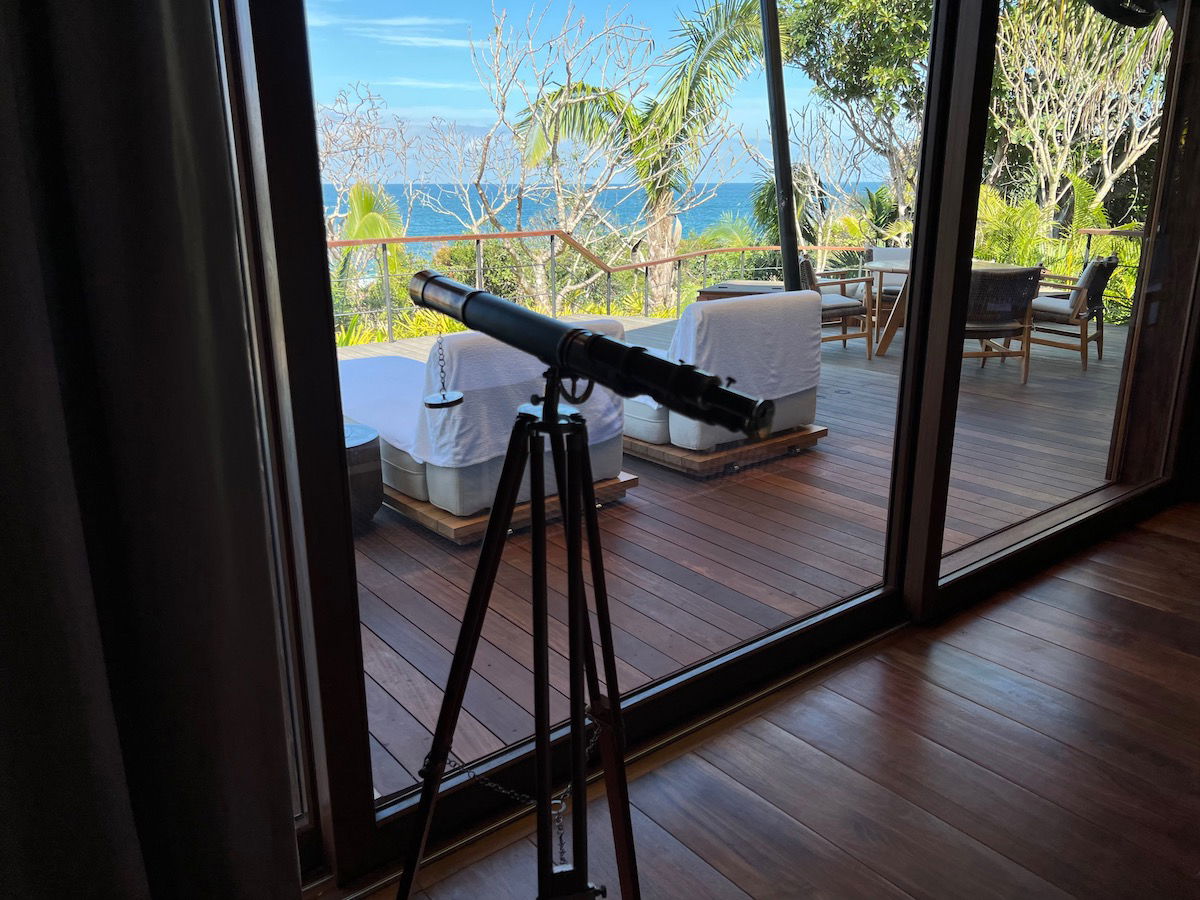 Also in this room was the minibar, where everything was complimentary.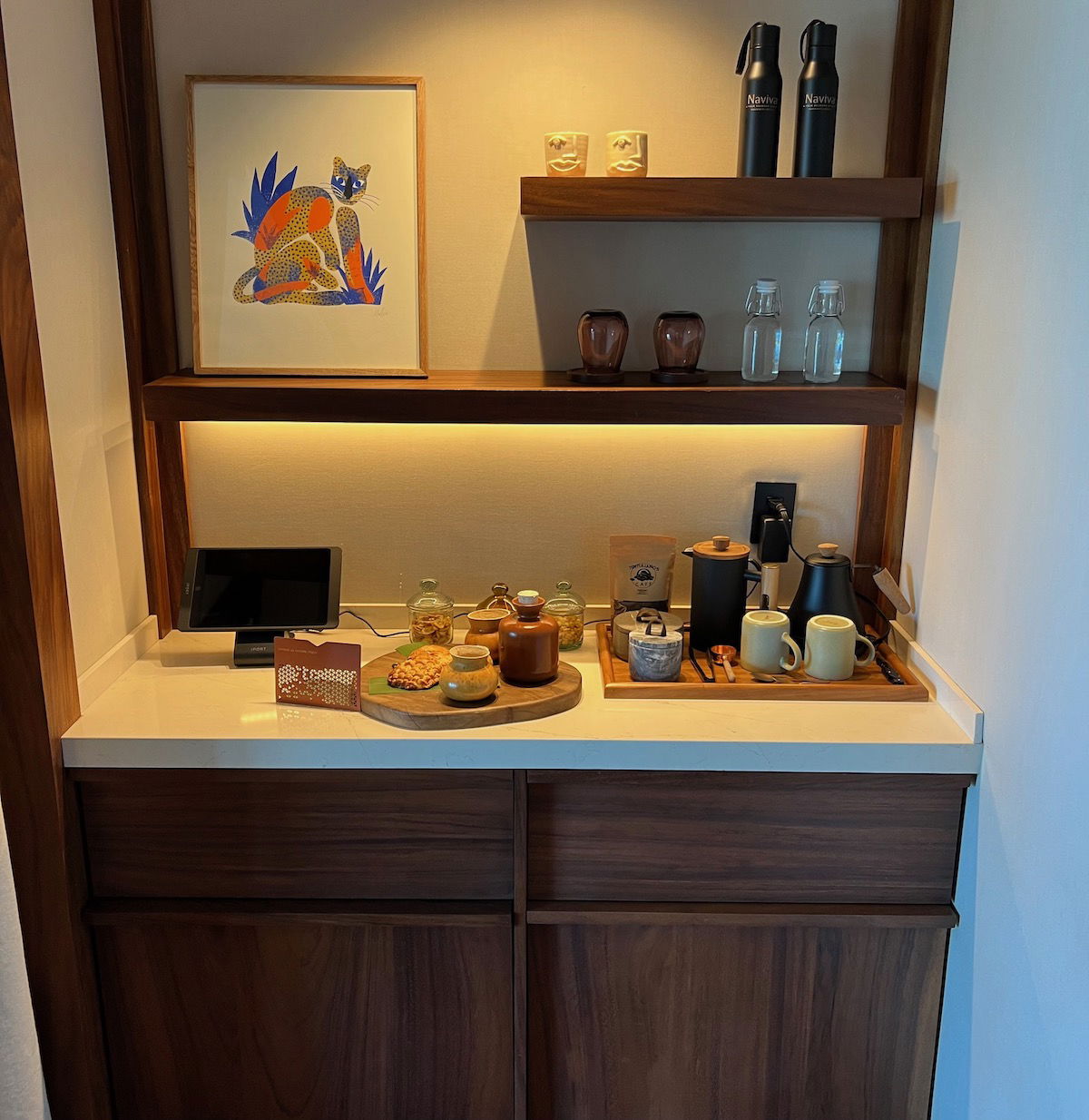 The drink selection was pretty basic, but that's by design, since you can order whatever you'd like. Want a bottle of wine or a couple of cocktails delivered to your room? That can be taken care of within minutes, 24/7.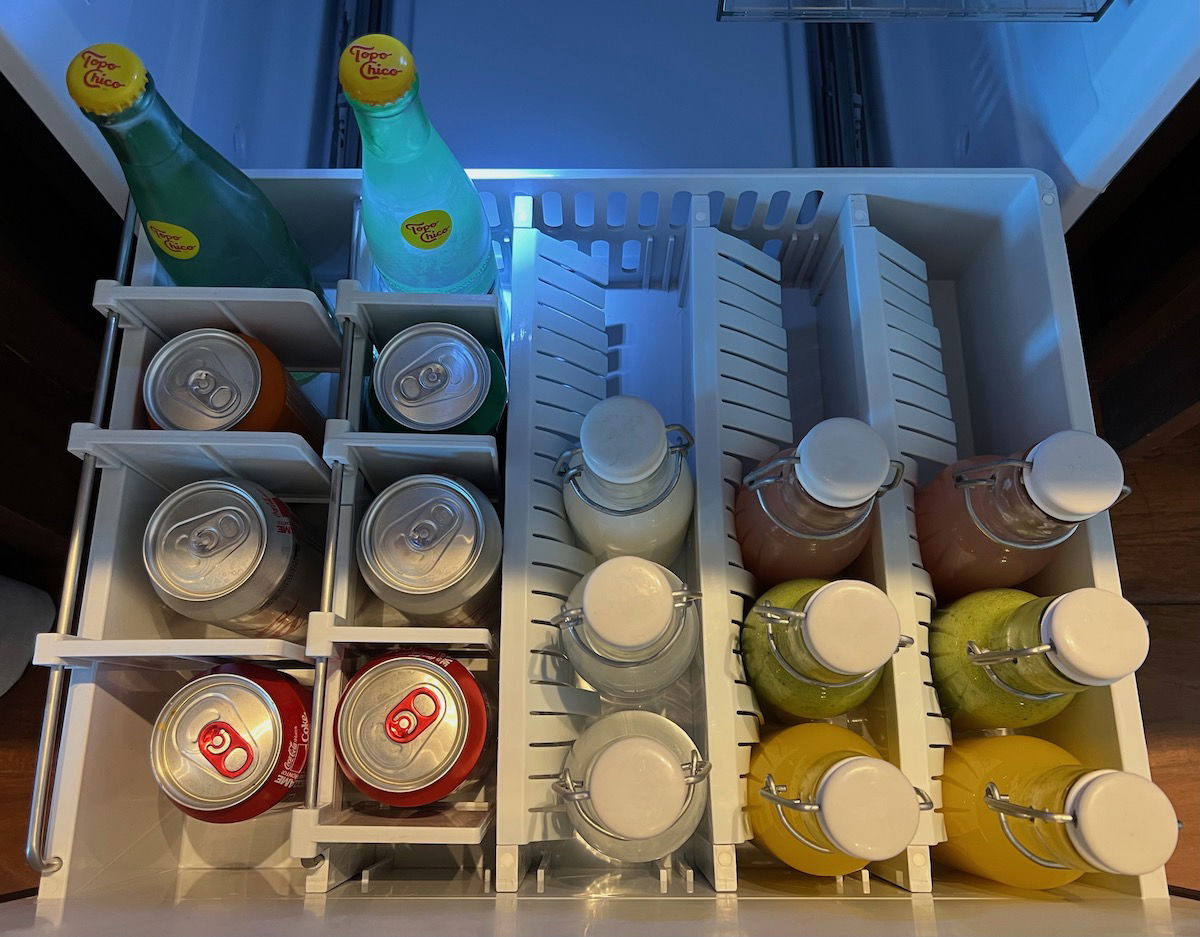 There was also a coffee and tea kettle setup.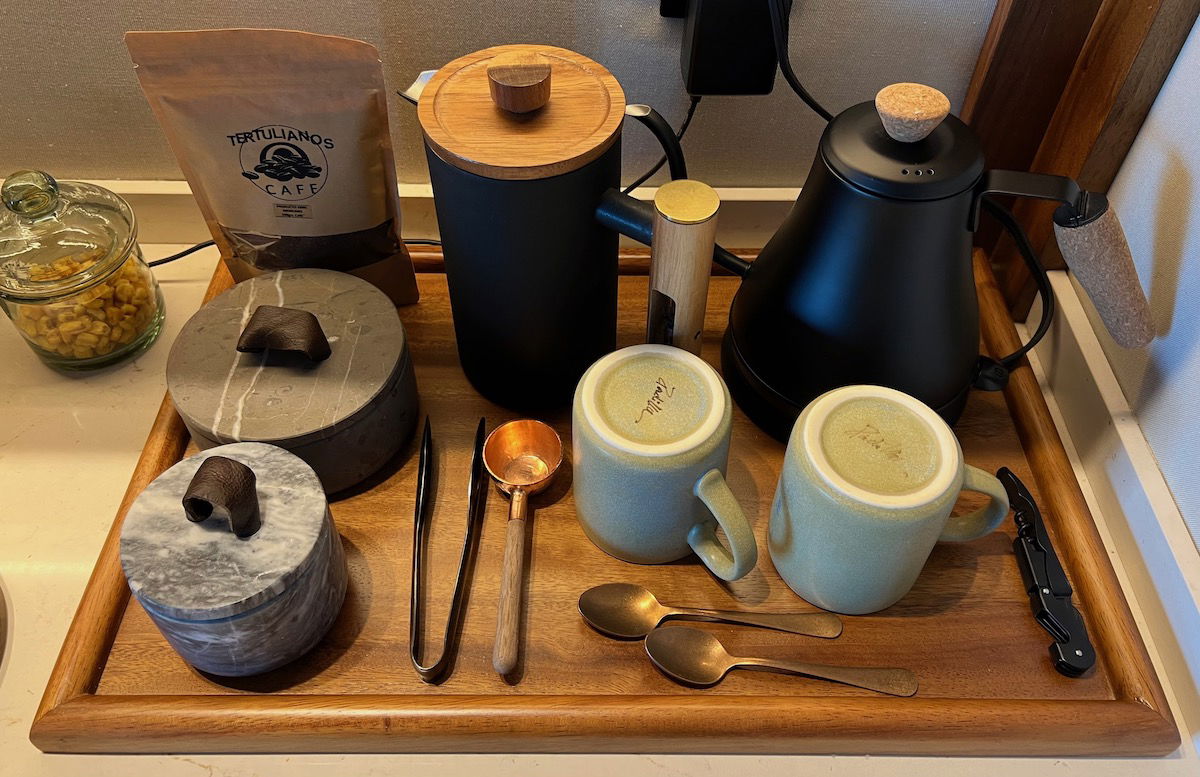 We never ended up using it, since we just ordered our morning coffee via room service.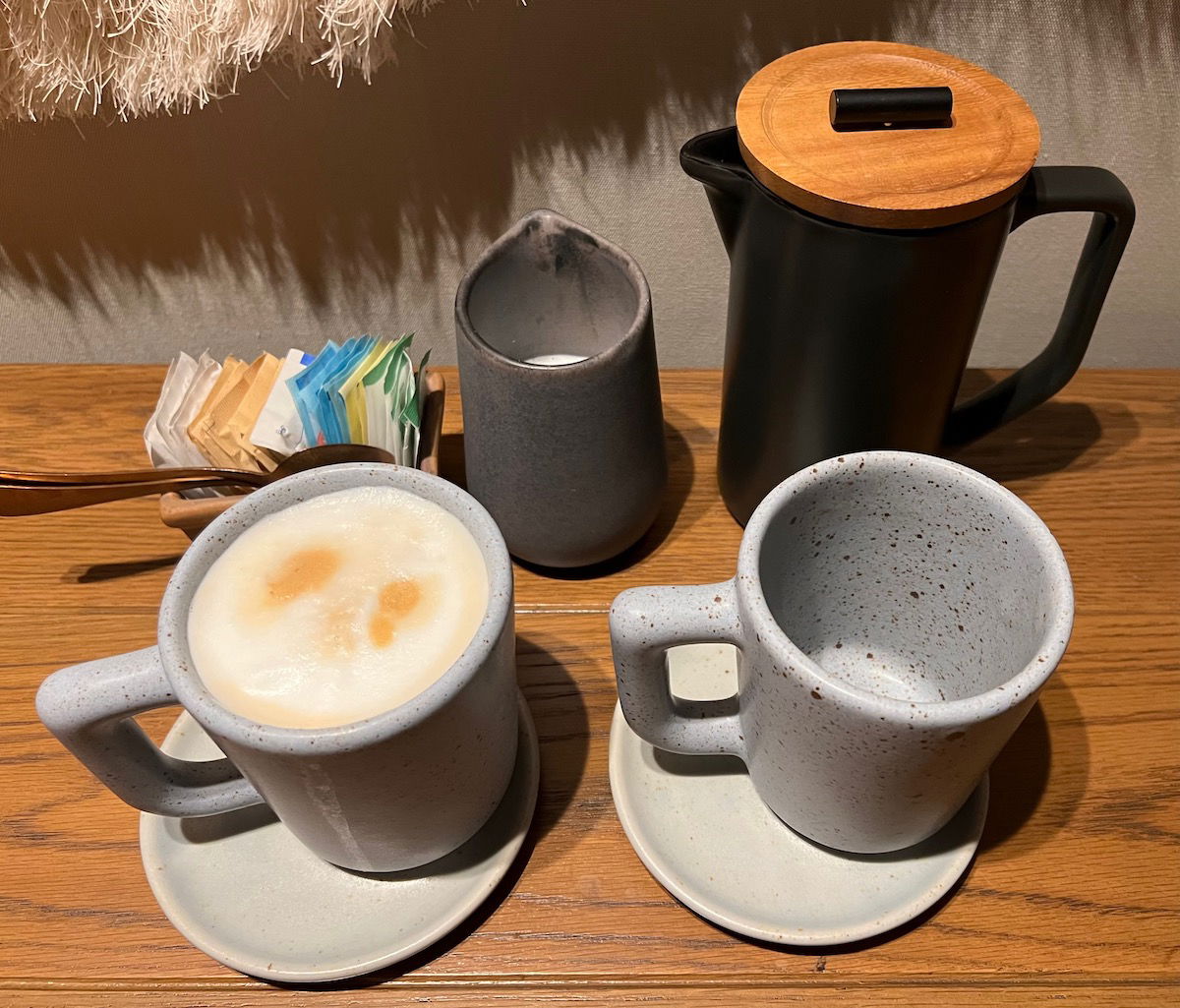 There was also a welcome amenity in this area, consisting of some delicious apple turnovers, and a traditional Mexican drink with coconut.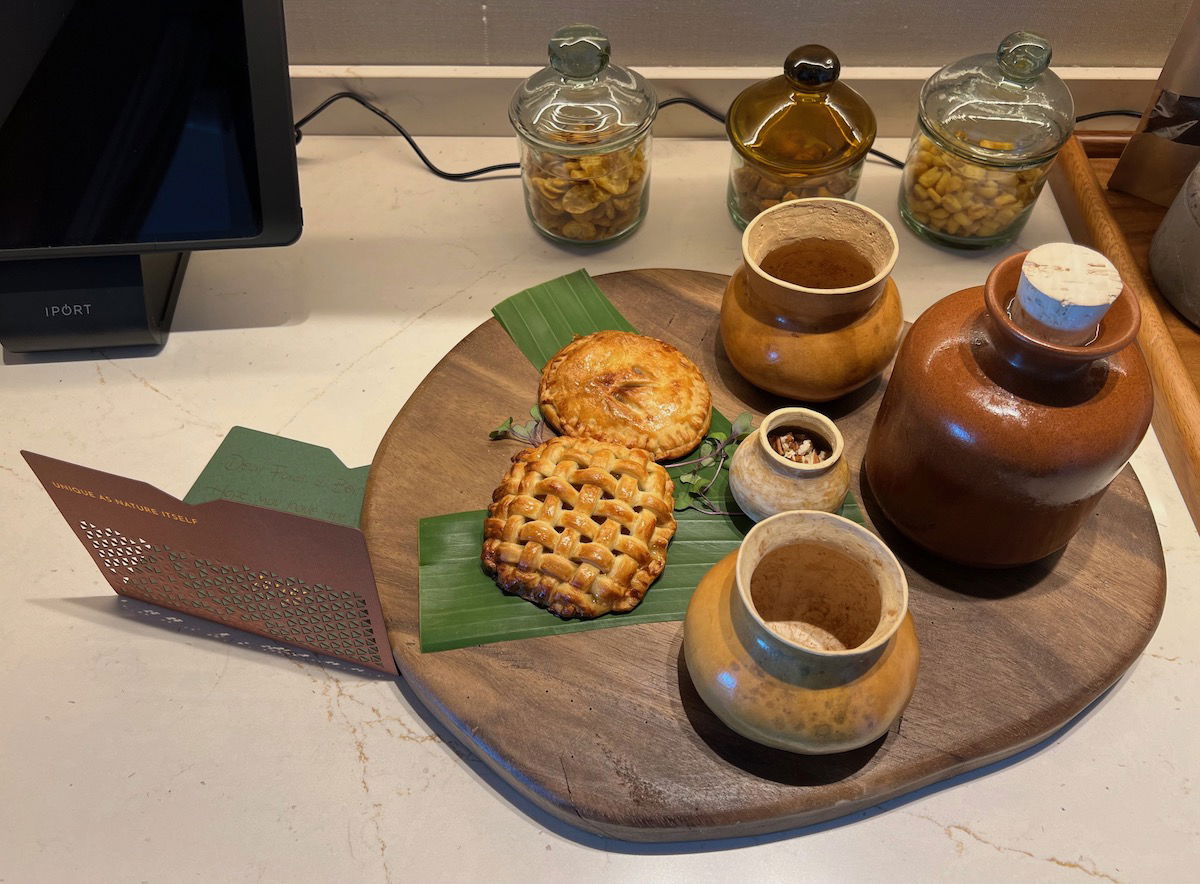 To the side of the bedroom was the bathroom, which might just be one of the all-around most beautiful bathrooms I've ever seen. The bathroom had double sinks, a soaking tub, an indoor shower, an outdoor shower, and a toilet in a separate room.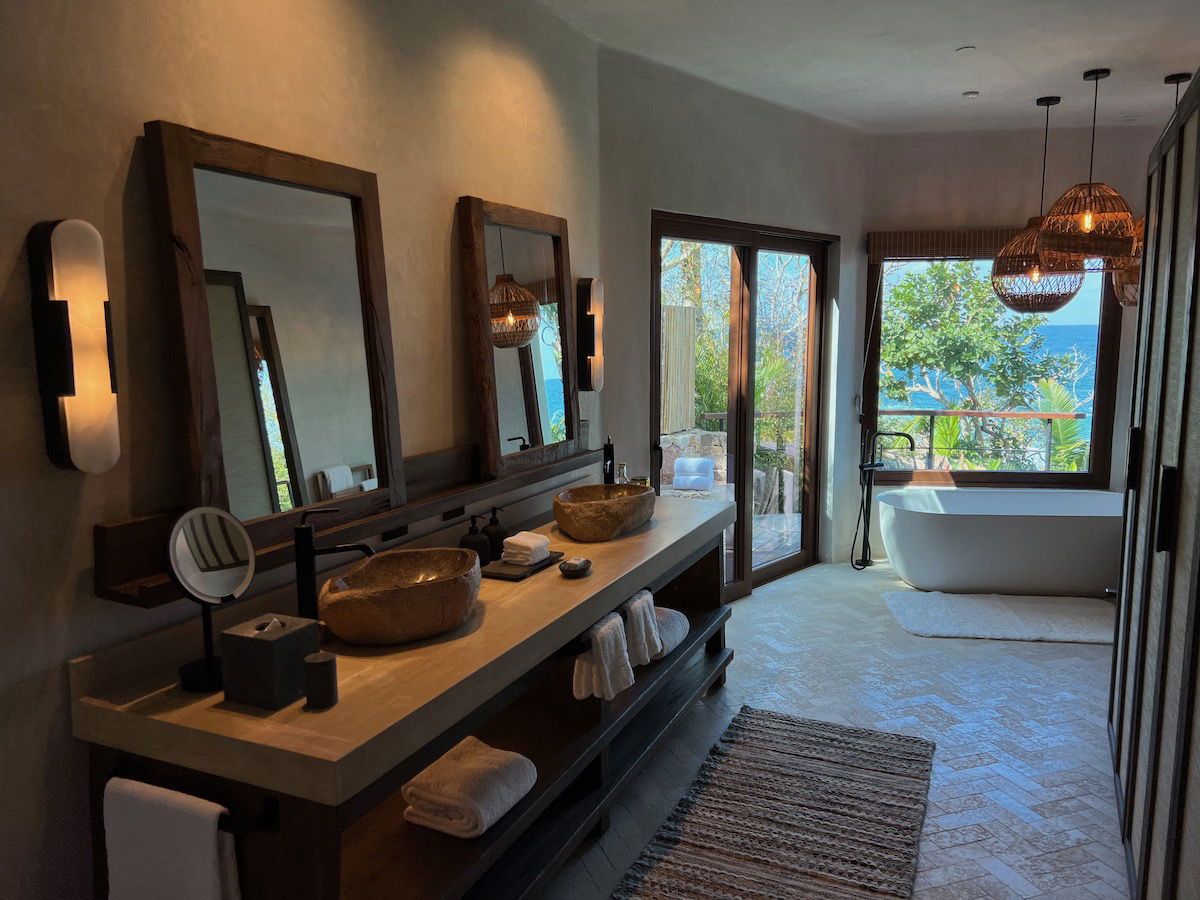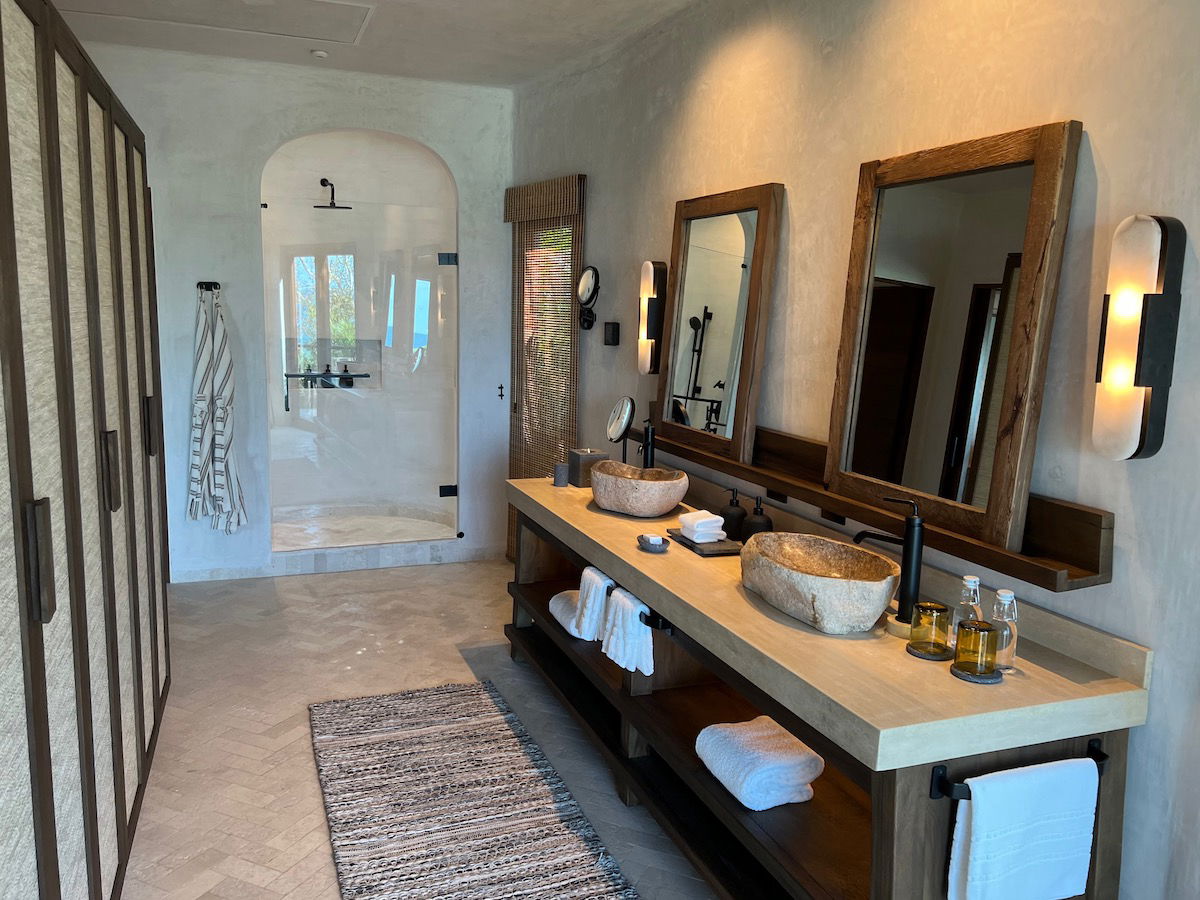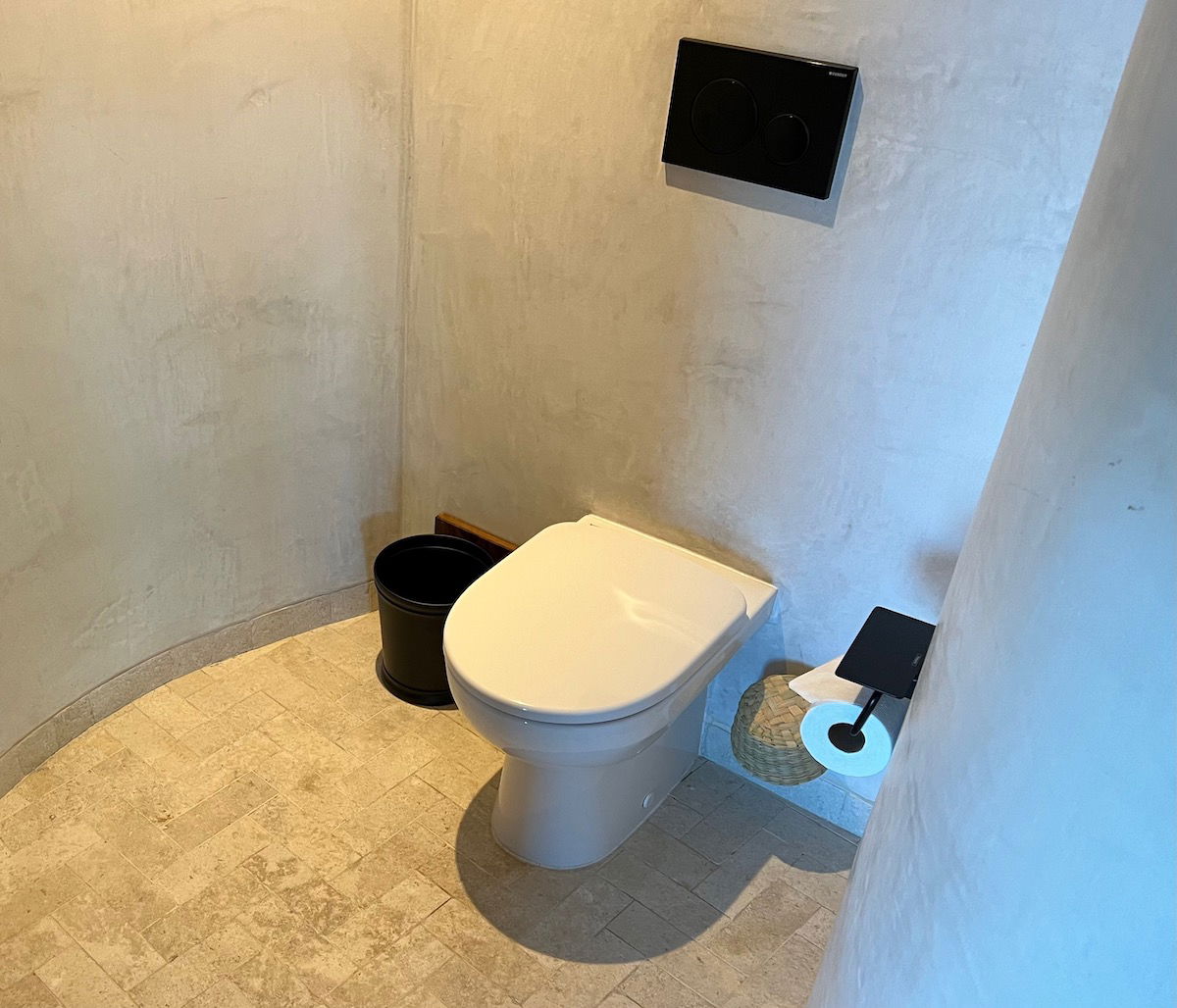 Does this bathtub view look like it's out of a postcard, or what?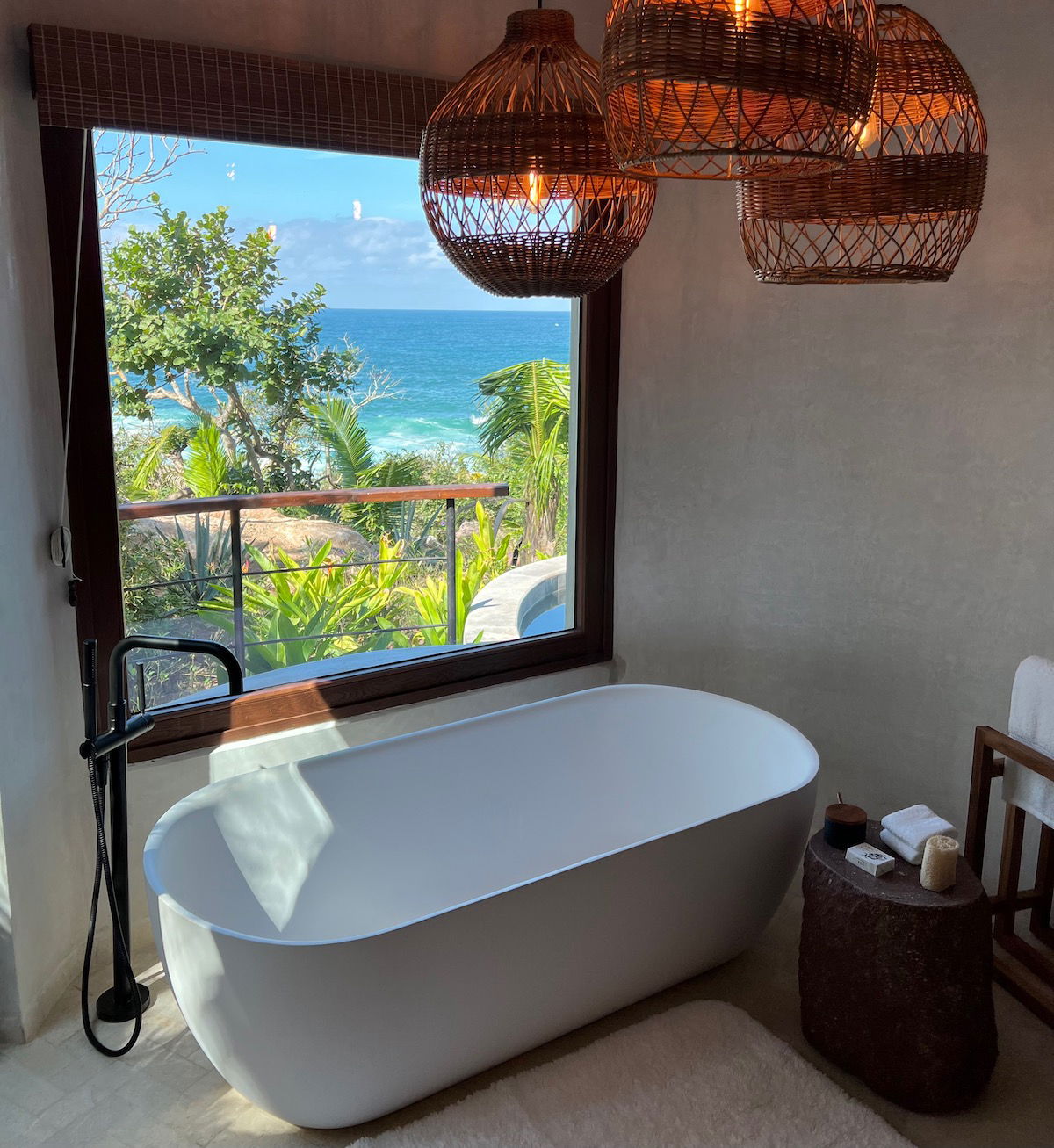 The attention to detail with the design really impressed me. For example, the below shower is nice enough as is…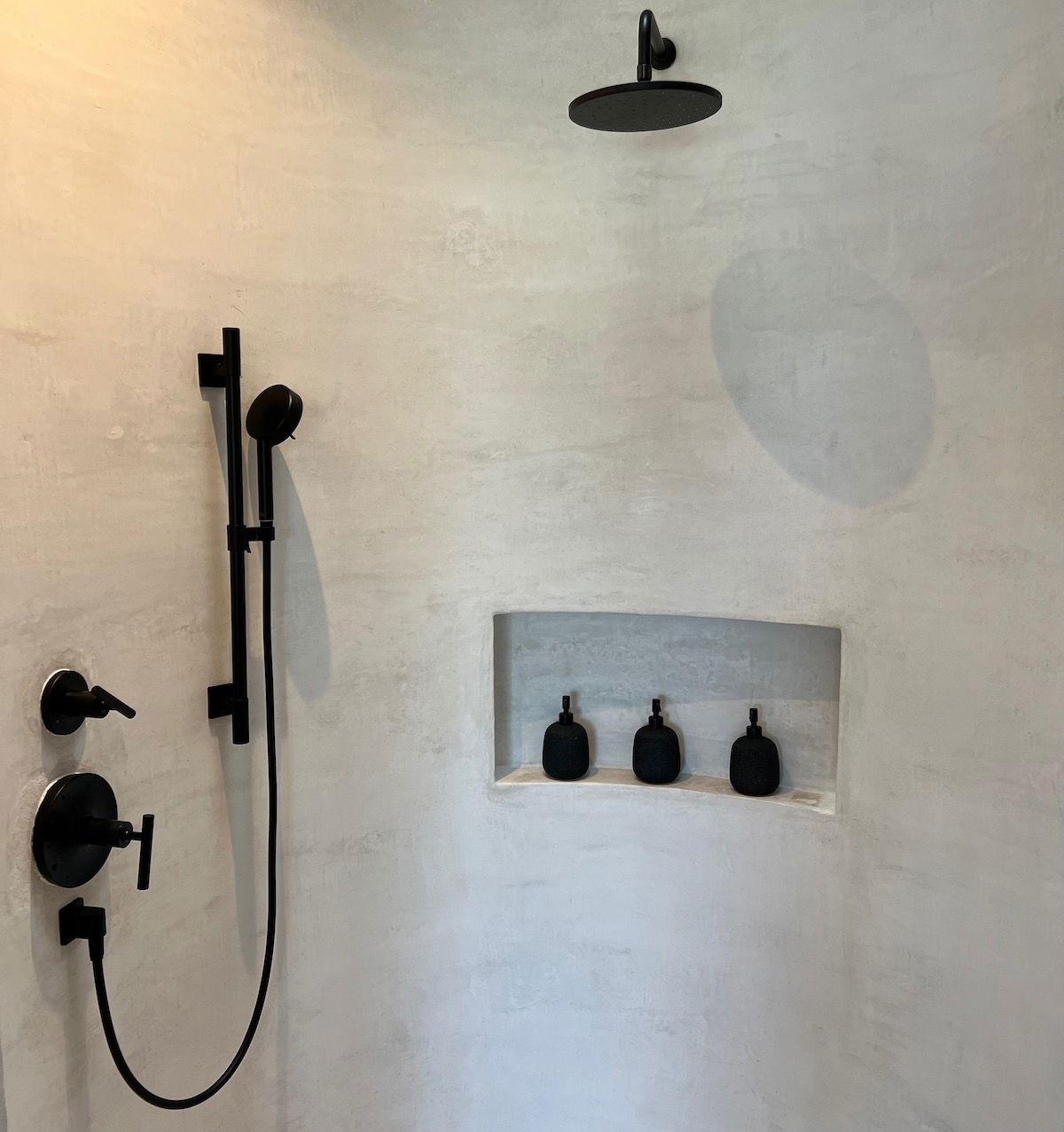 …but then you look up and see an incredible circular skylight looking at a palm tree.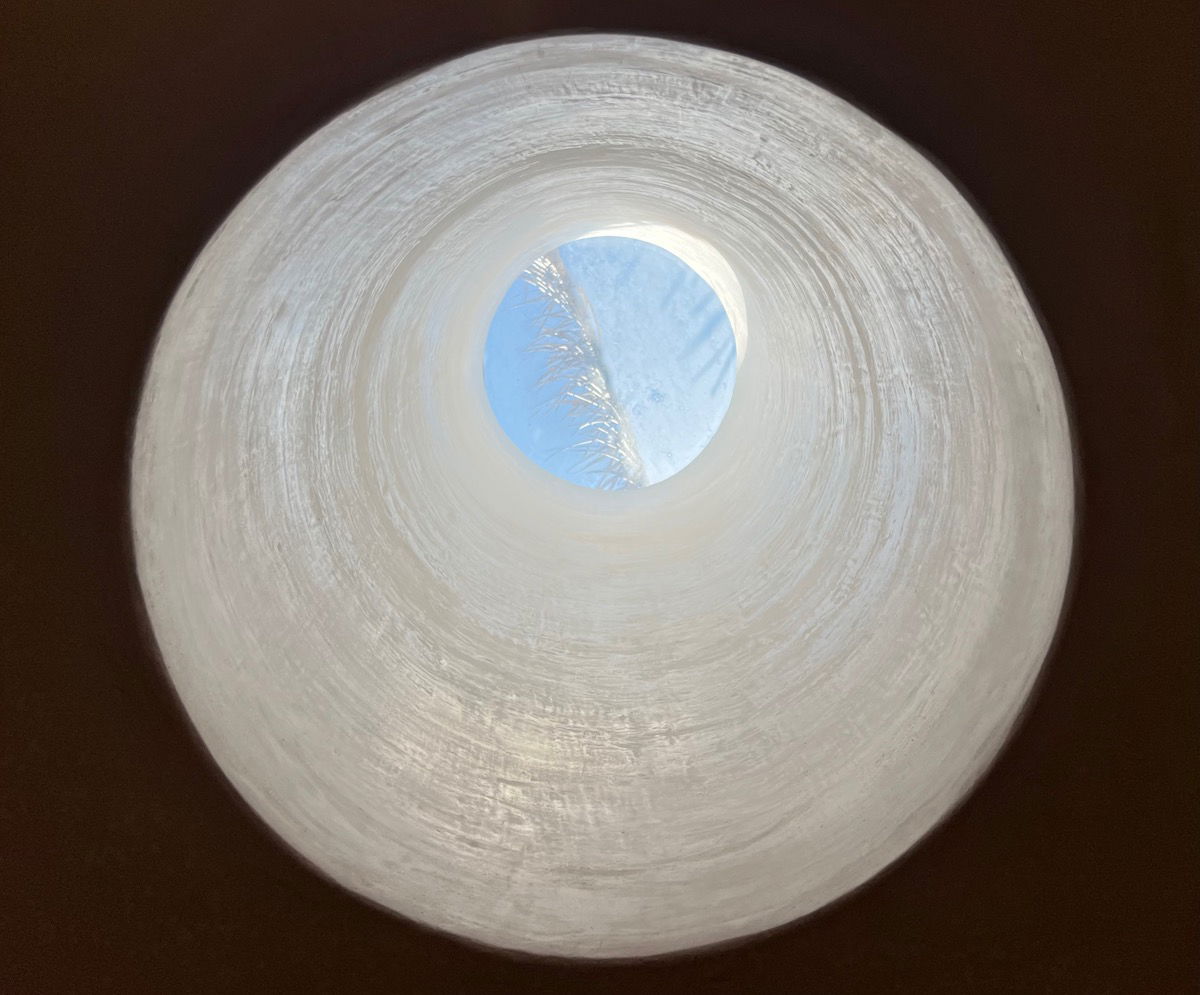 Many will appreciate the outdoor shower, as it's not often you can shower outdoors with a view like this…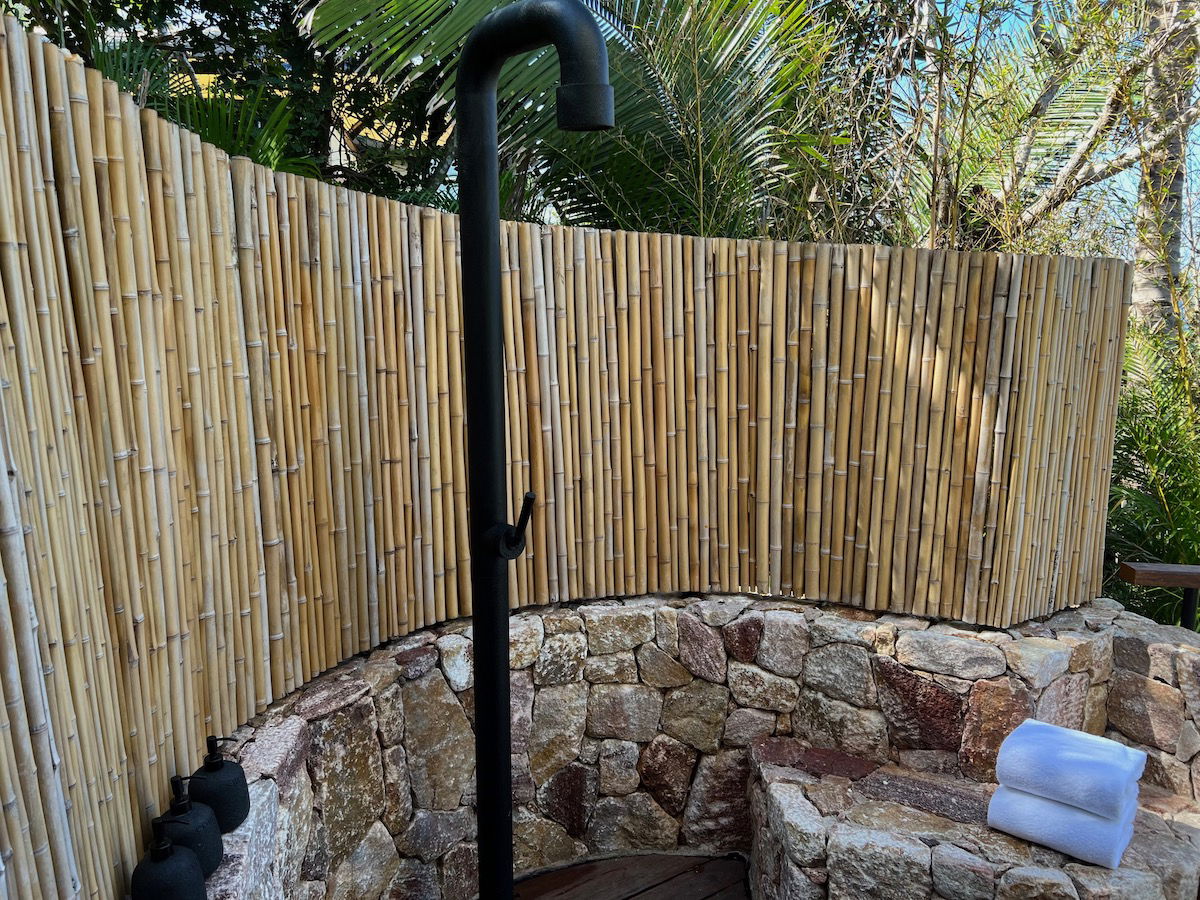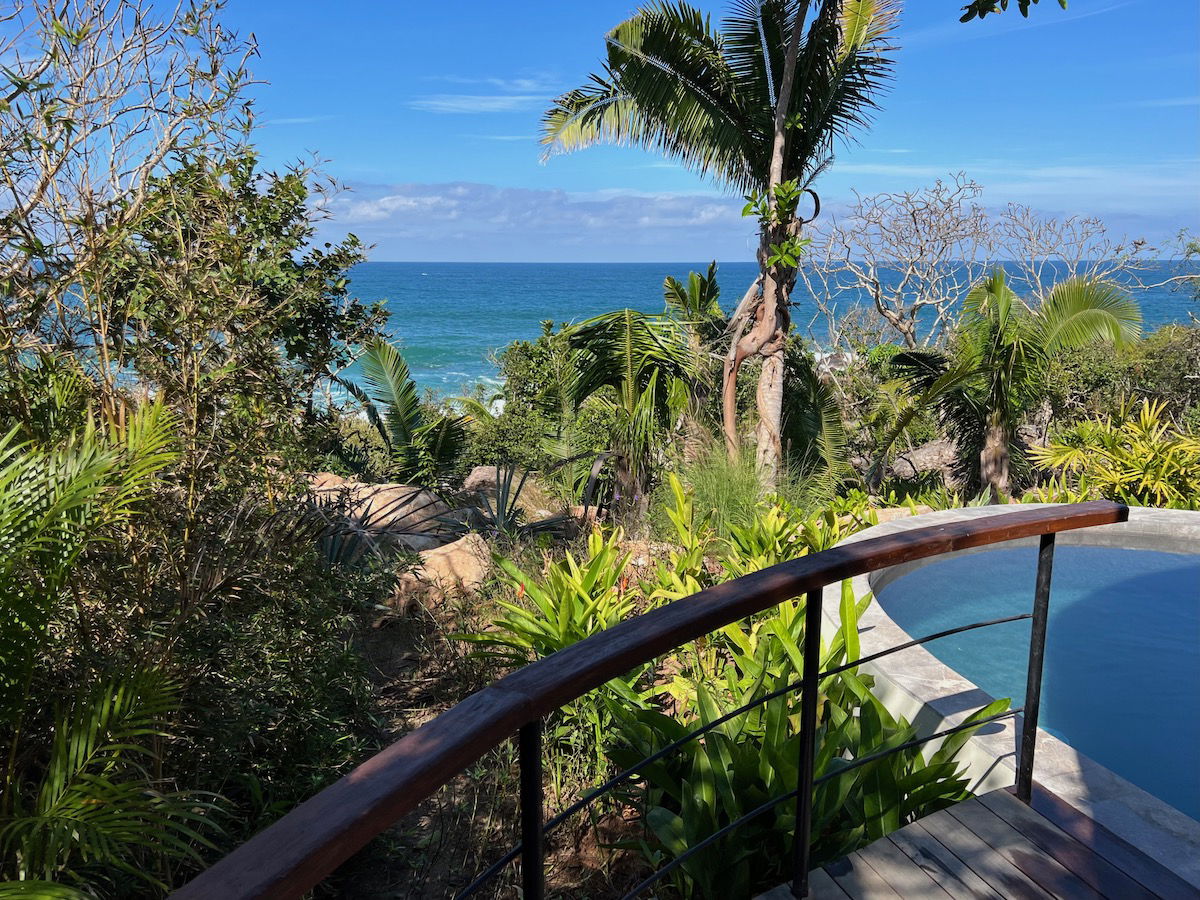 I should mention that the entire indoor space is well air conditioned, in case that's a corner you may have about this property.
Off the bedroom and in the opposite direction was the living room, which had a unique indoor/outdoor concept. The living room was exposed to the outdoors in the sense that it didn't have air conditioning, but it was screened in so that there weren't any bugs. You could then open the door between the bedroom and living room.
The living room had an "L" shaped couch and a rocking chair.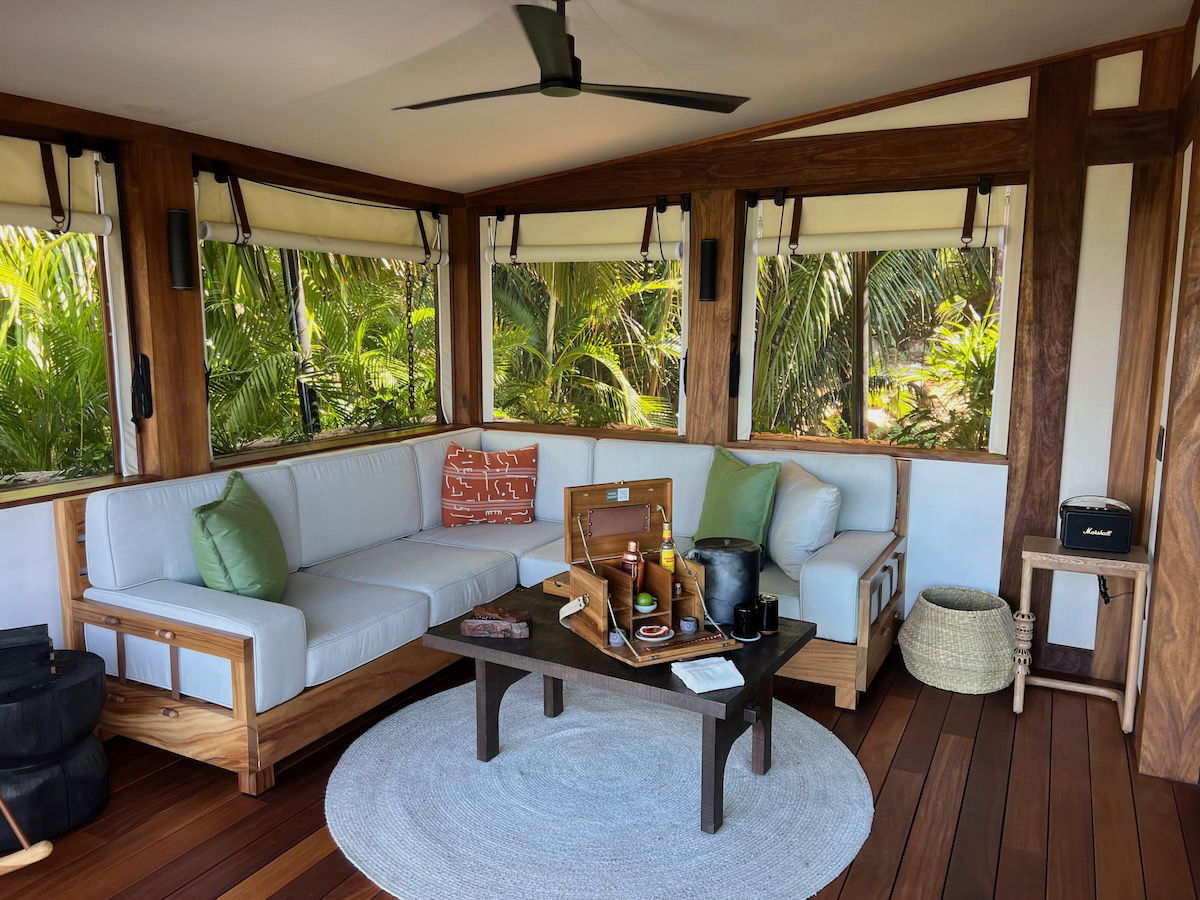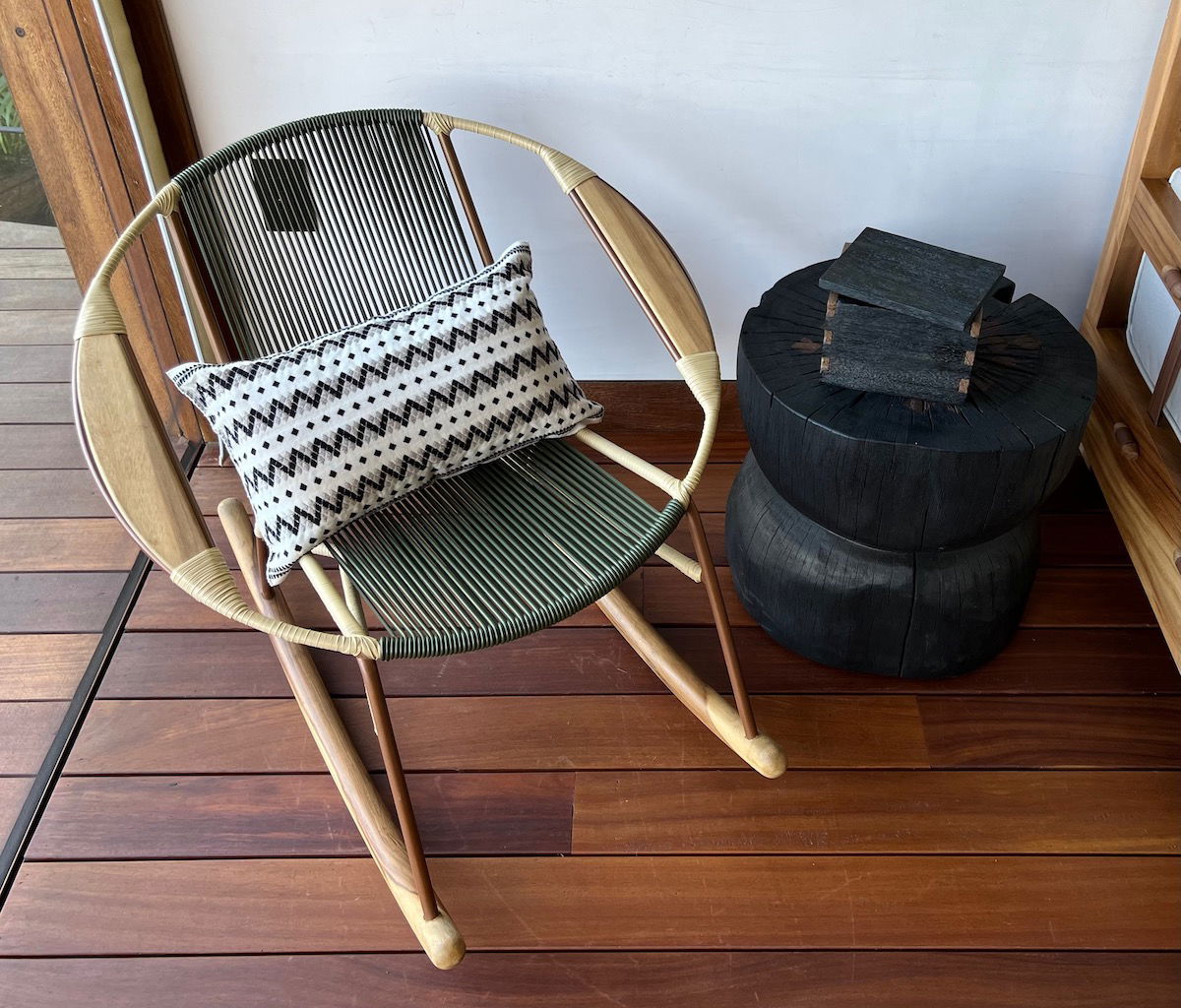 There was also a kit on the living room table for making your own smoked & spicy cocktail. You could even scan a QR code to get exact instructions.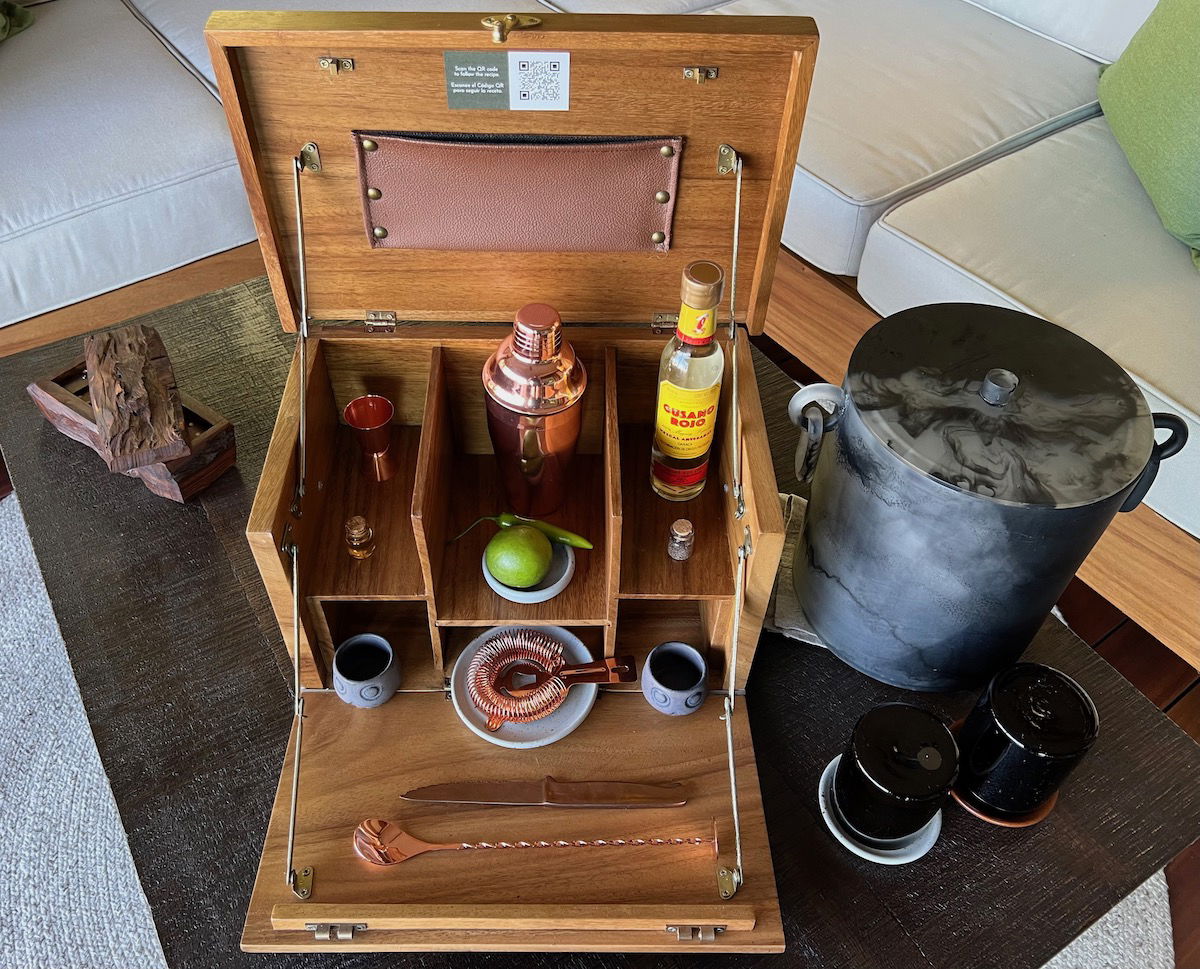 As impressive as the indoor space was, the outdoor space was arguably even more impressive. It had a dining table with seating for four, two loungers, a huge couch area with a fire pit, and a pool.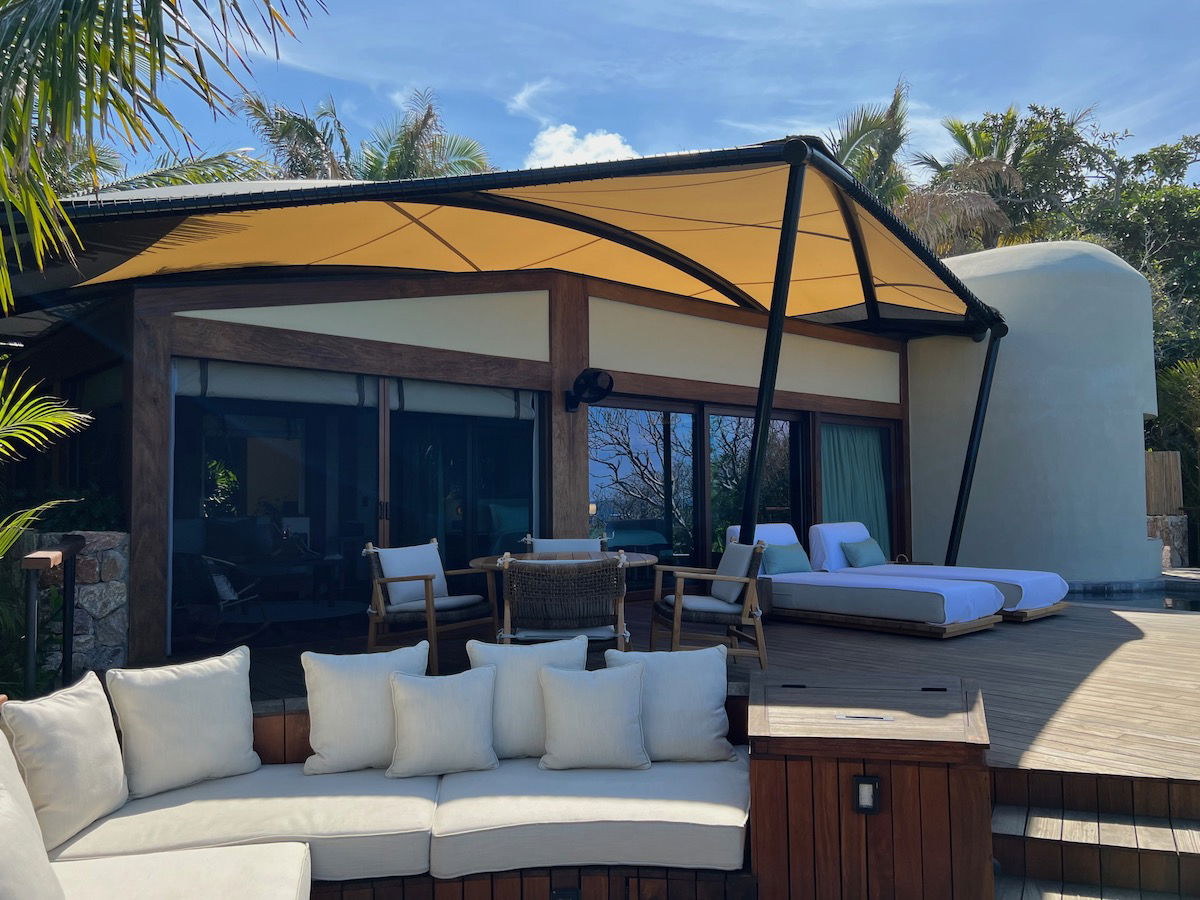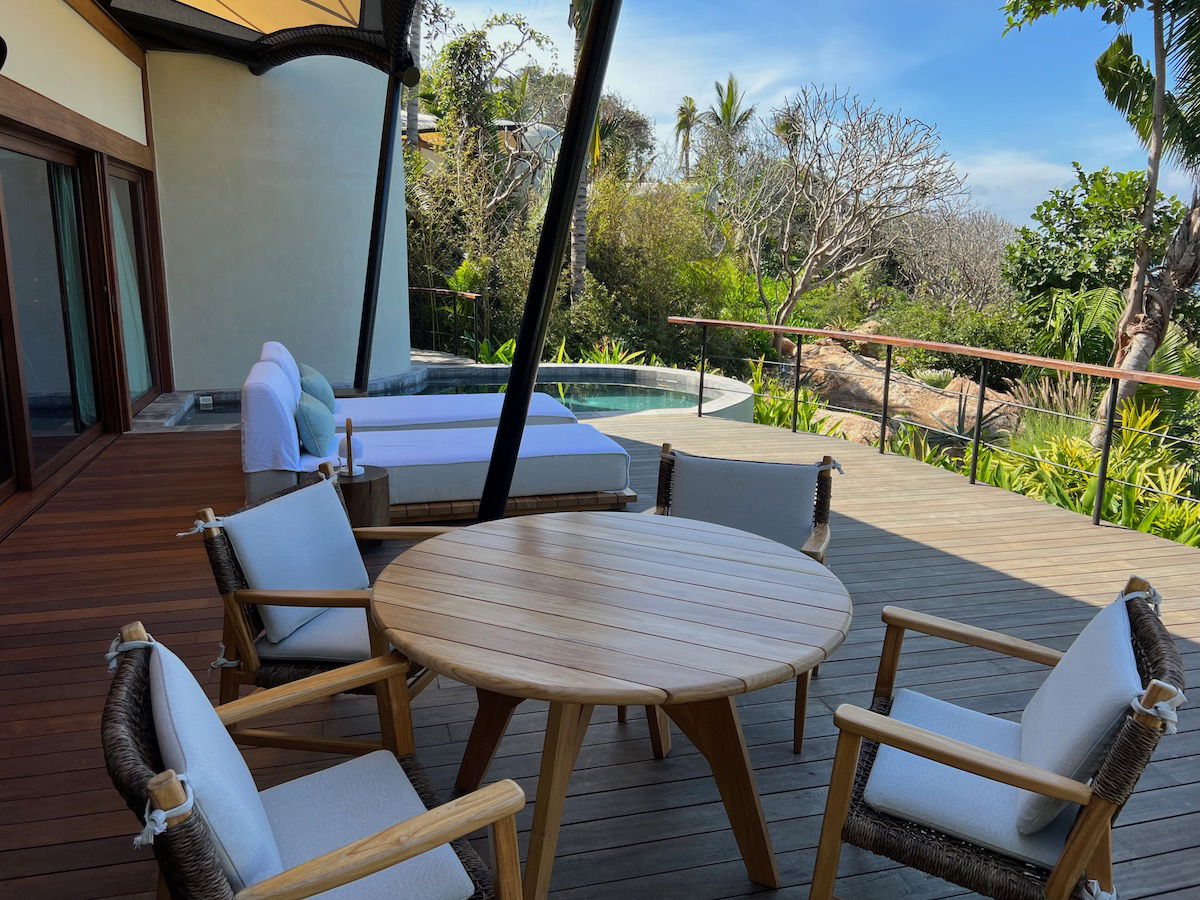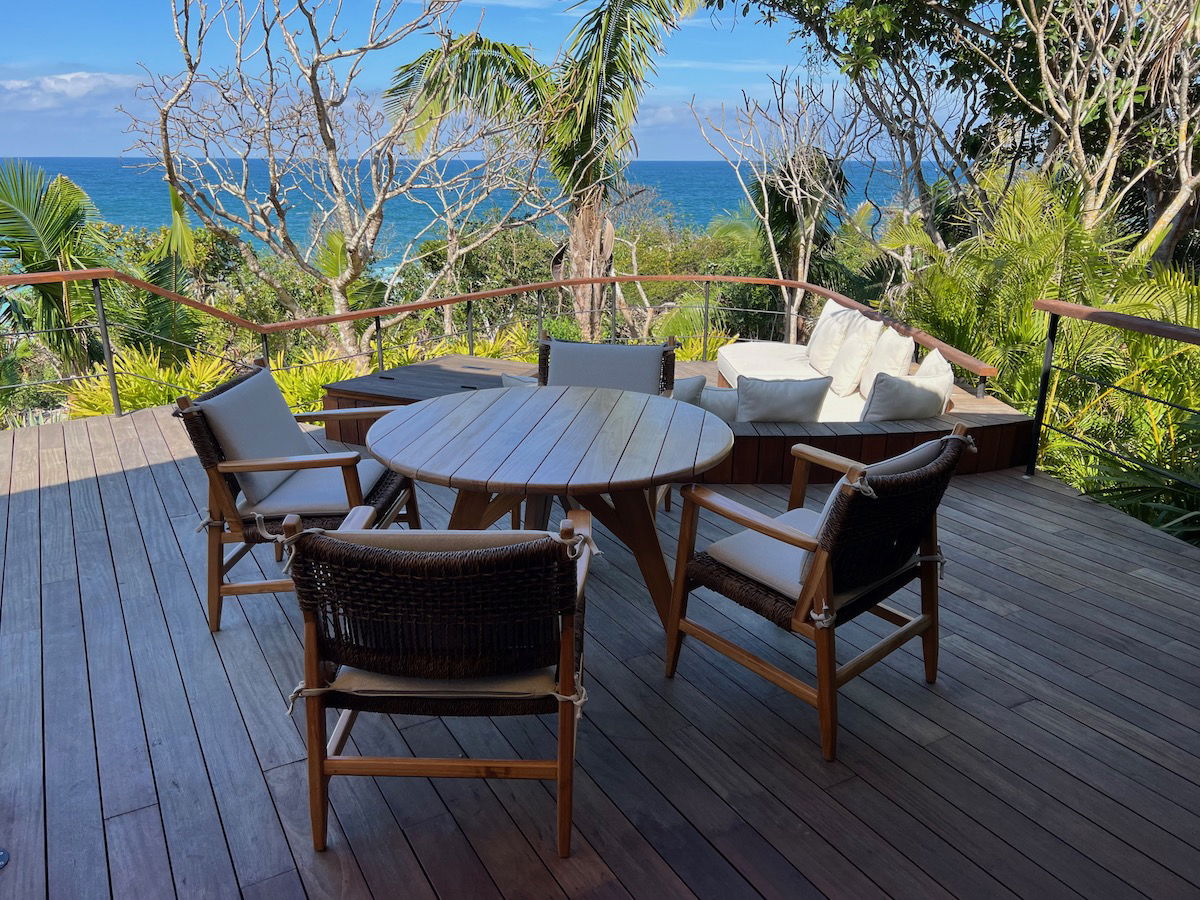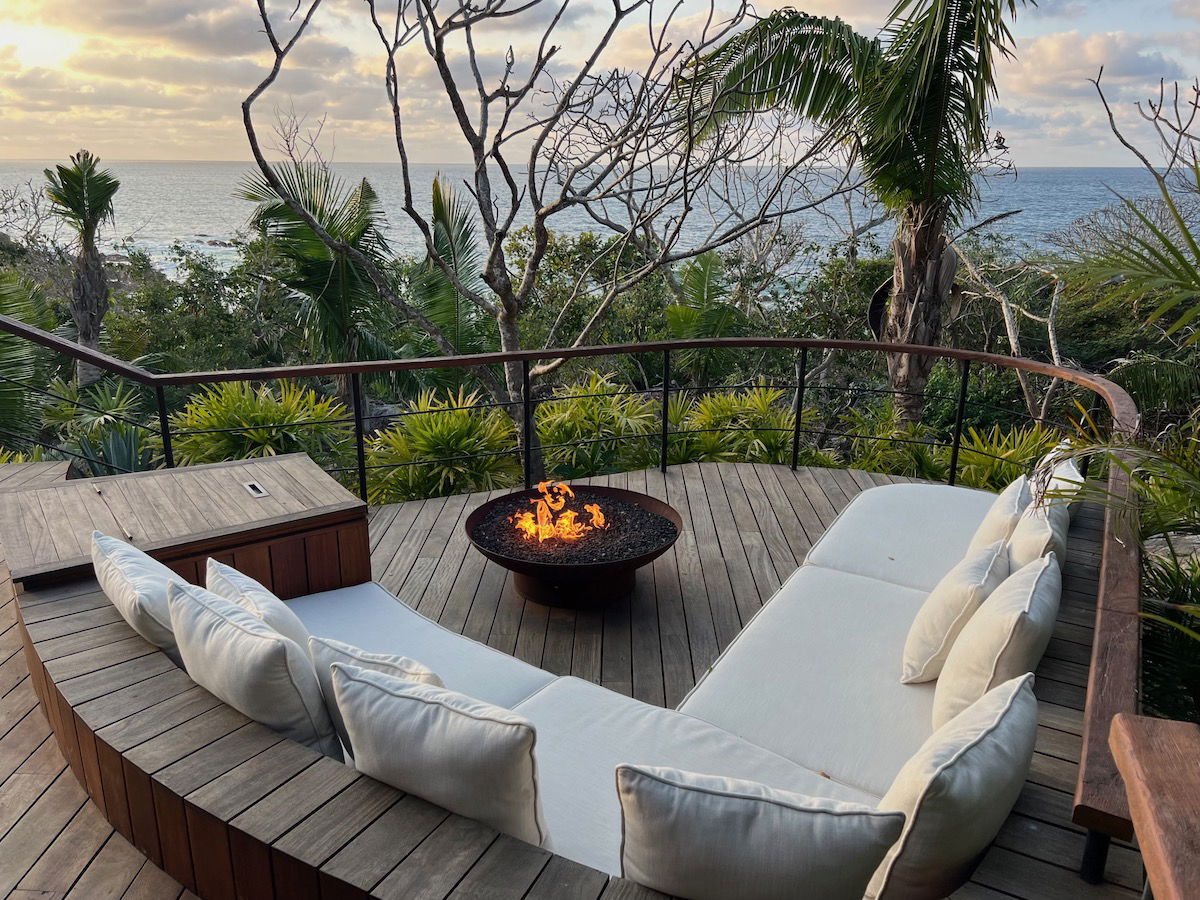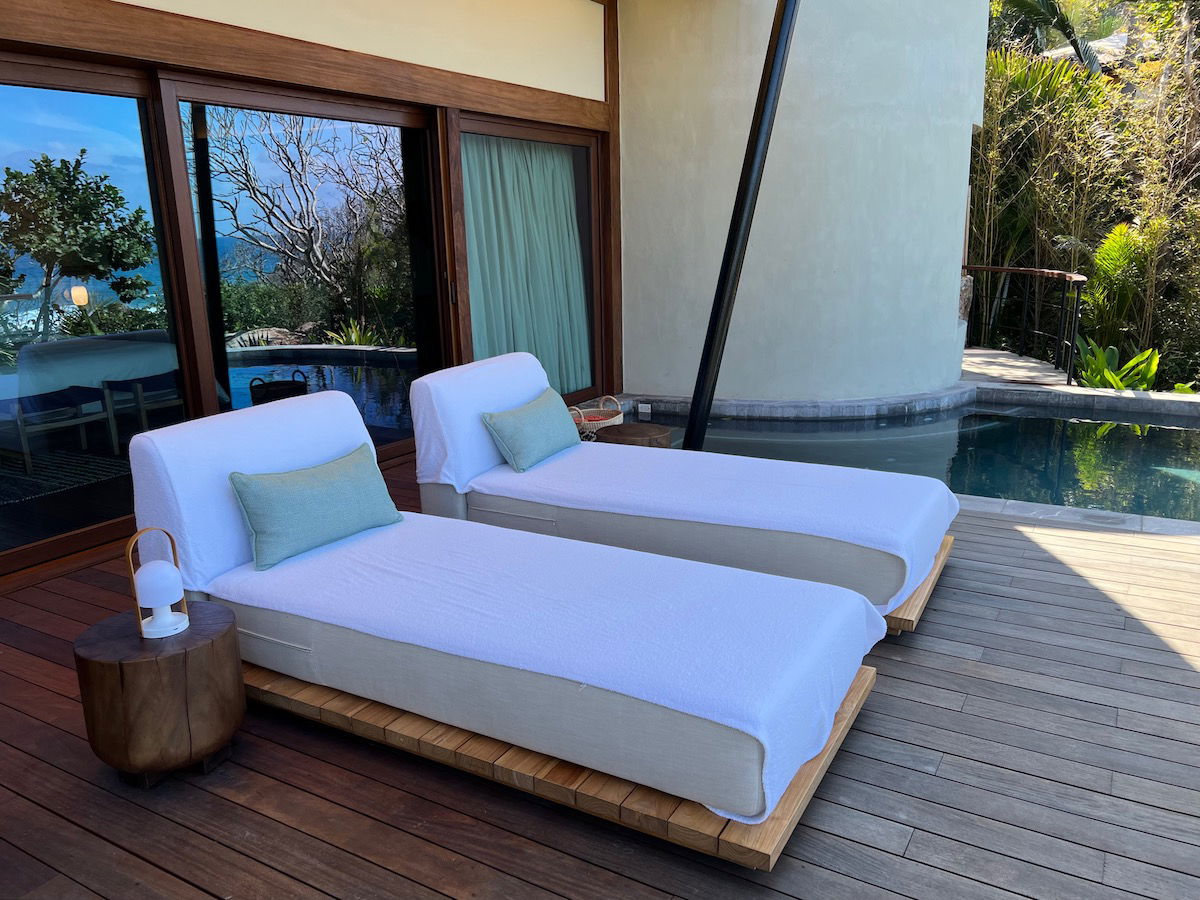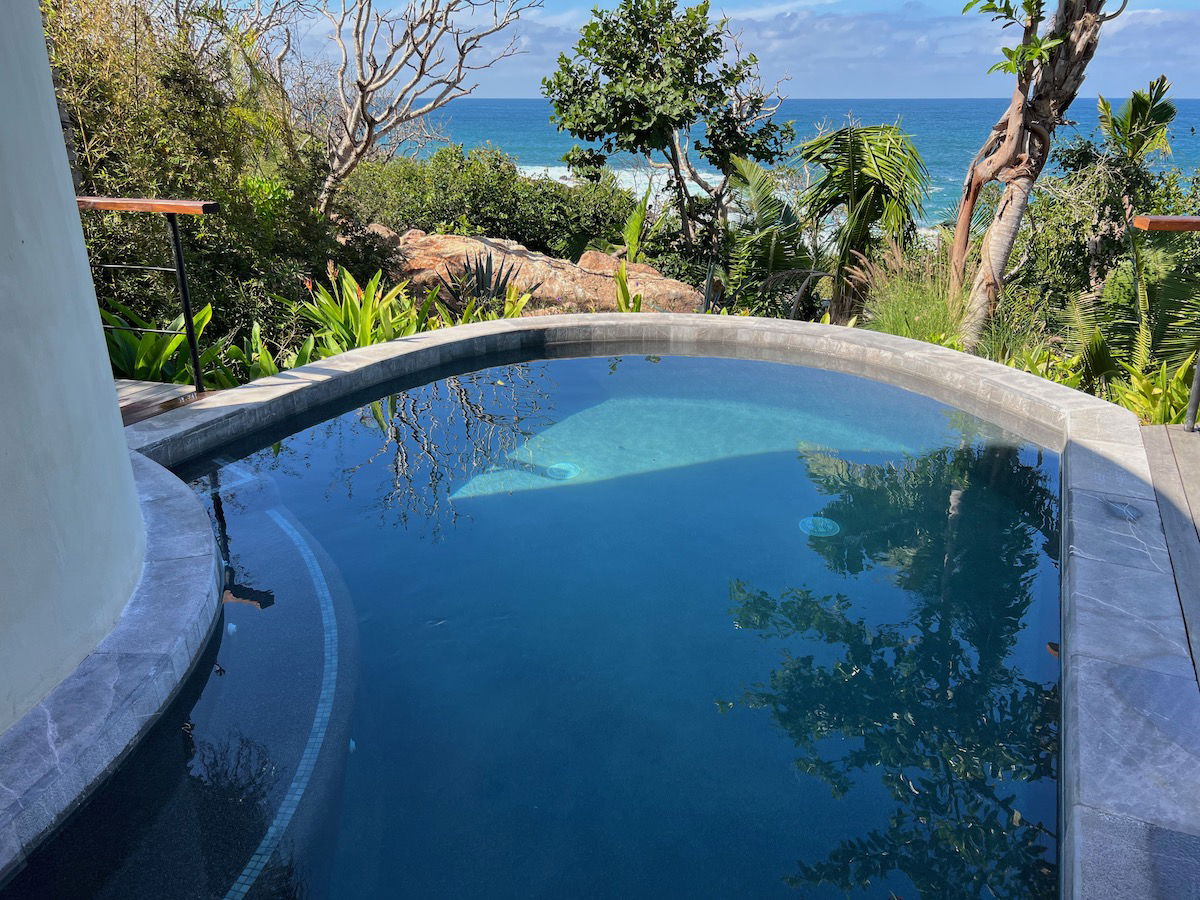 The views from the outdoor space were just gorgeous.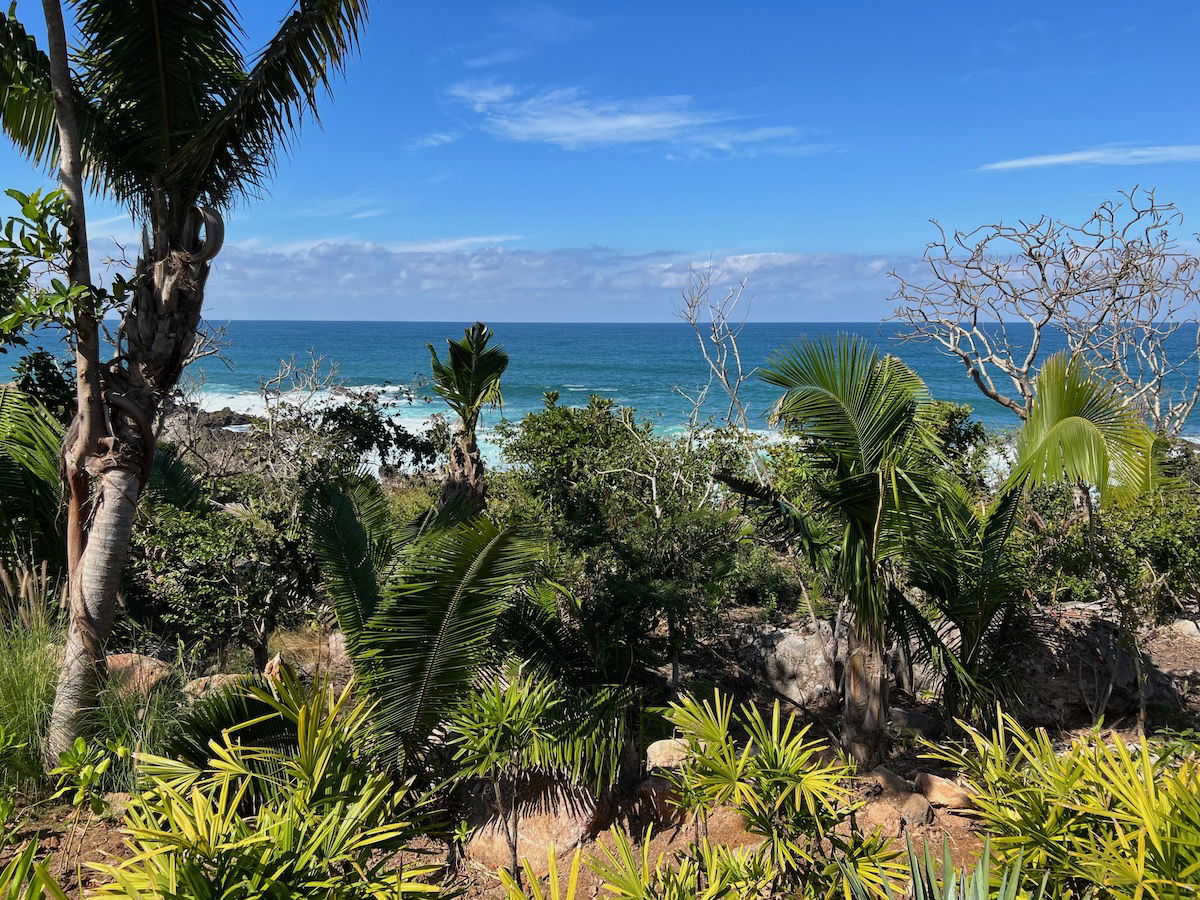 Four Seasons Naviva pool
The Four Seasons Naviva has a main pool area, with three tiered pools. Rather than going with an infinity-edge pool right on the water, the designers instead decided to build the pool in the middle of the jungle, which I think is super fun (though there are still Pacific Ocean views).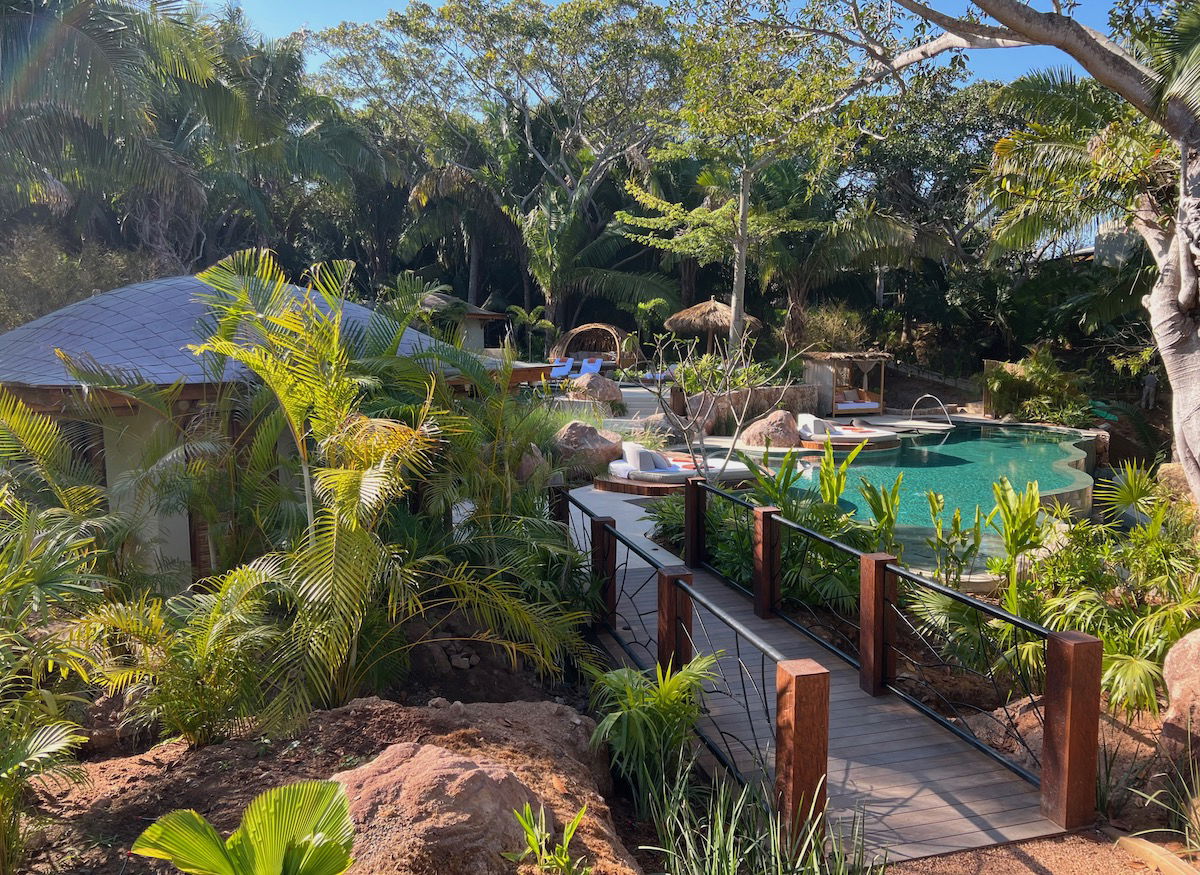 Honestly, what a ridiculously gorgeous pool…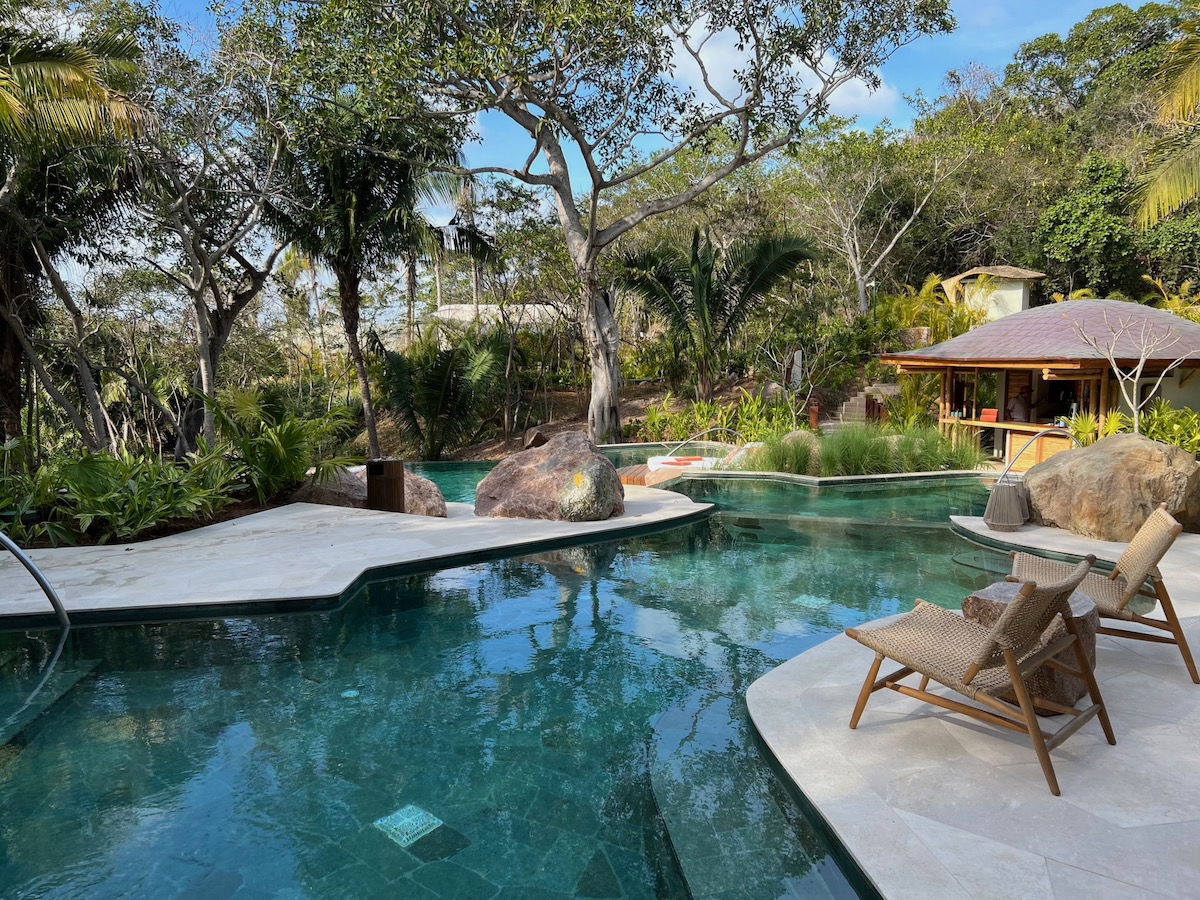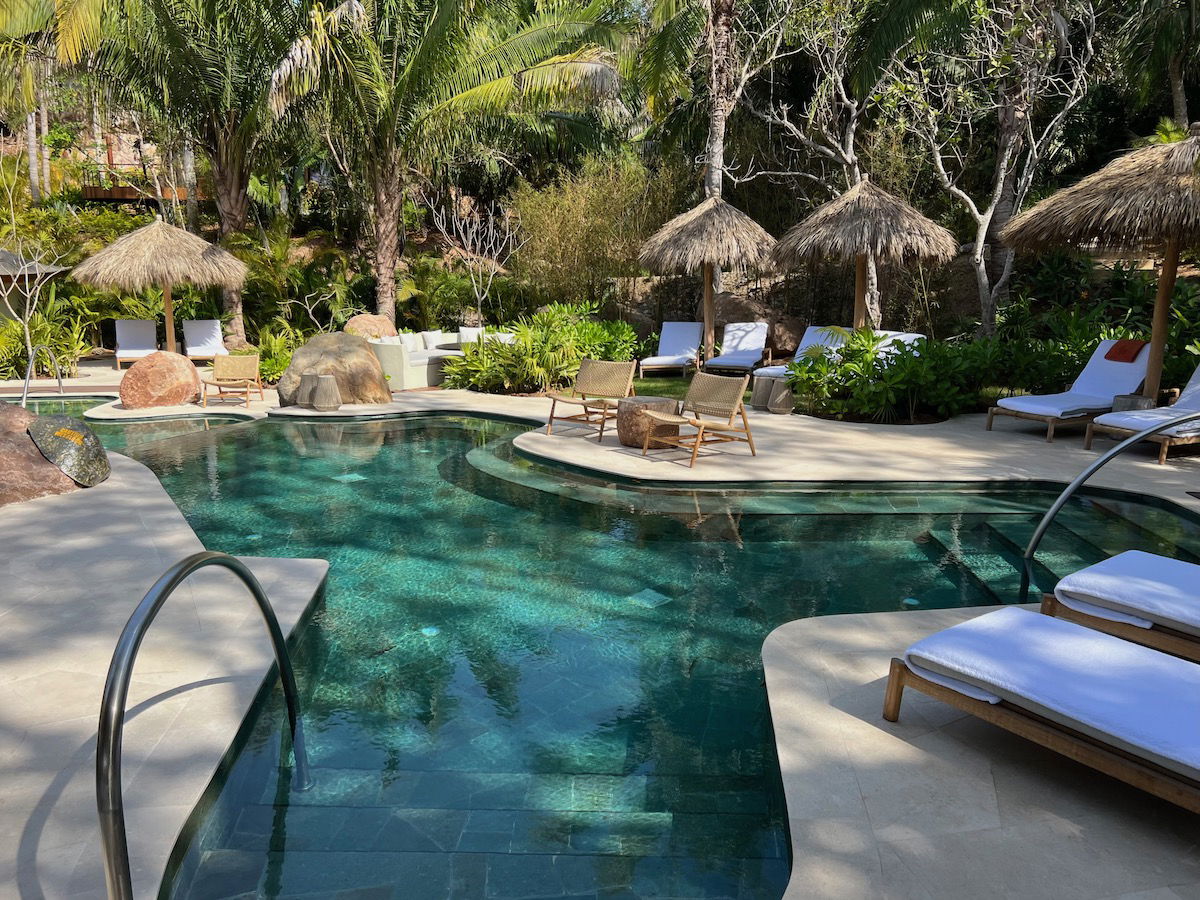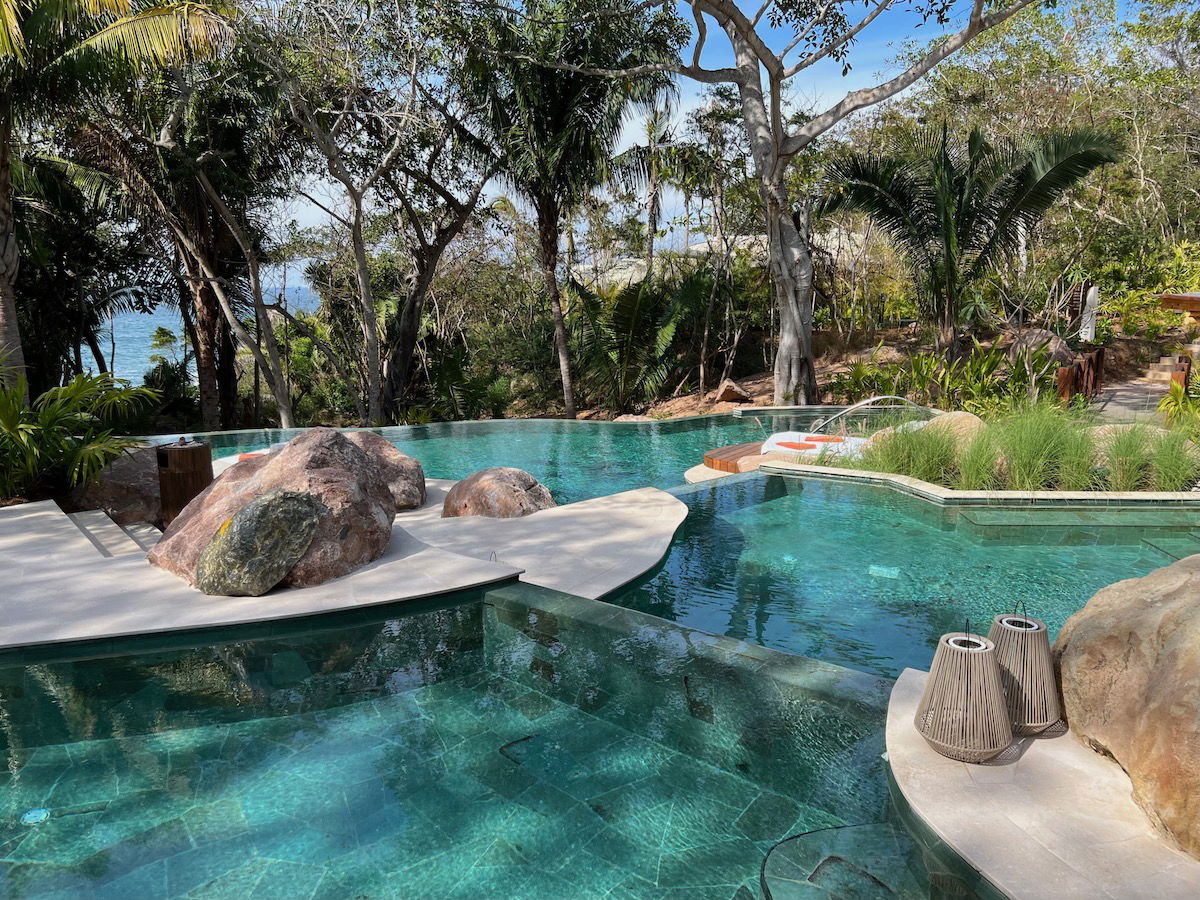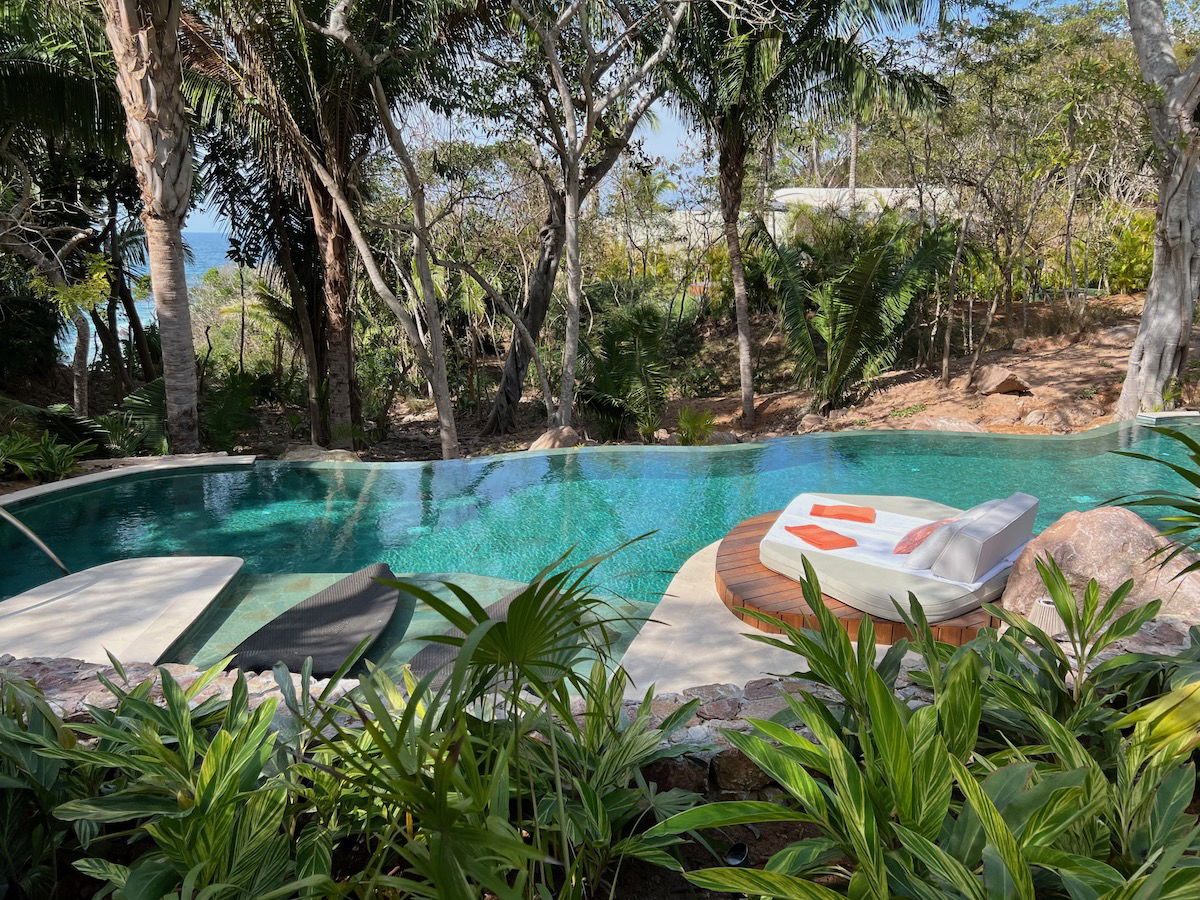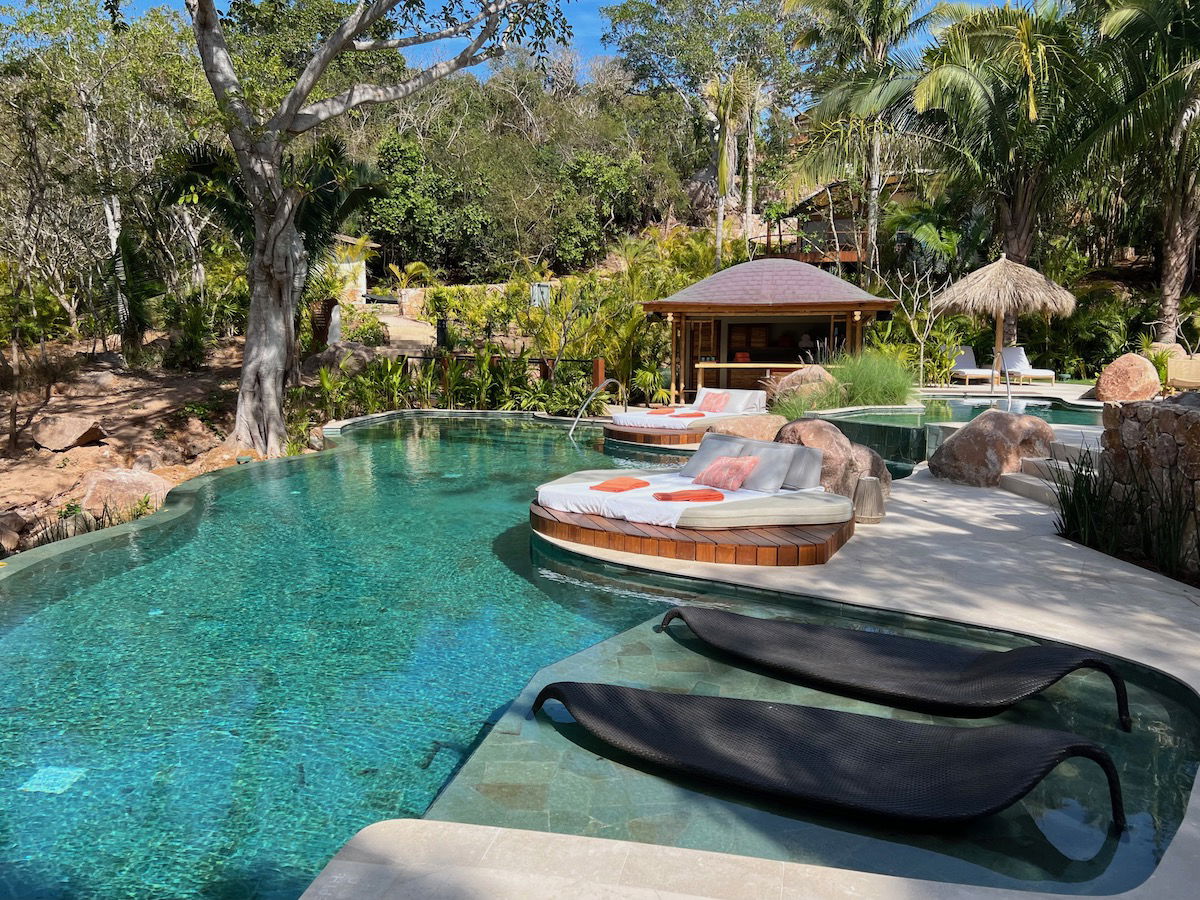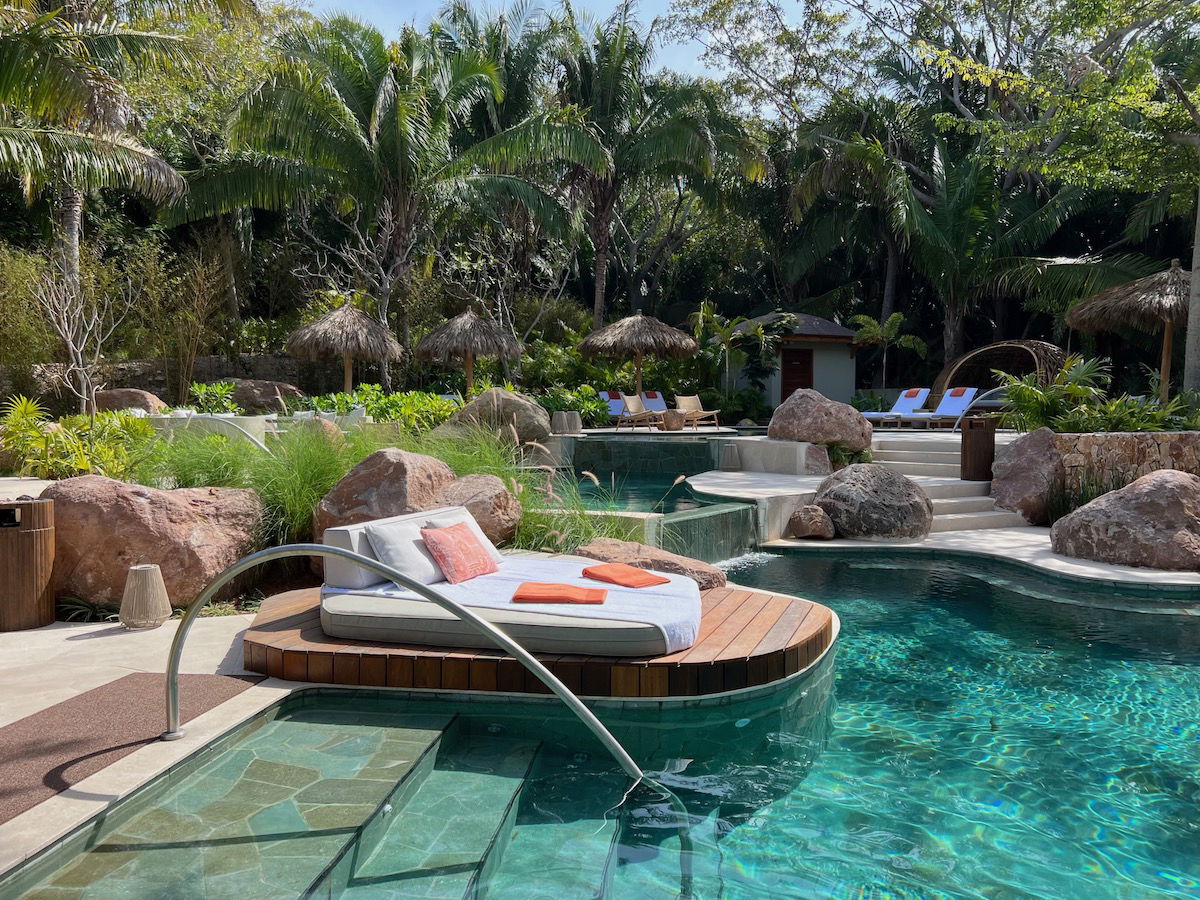 There was also endless seating around the pool, from cabanas, to couches, traditional loungers.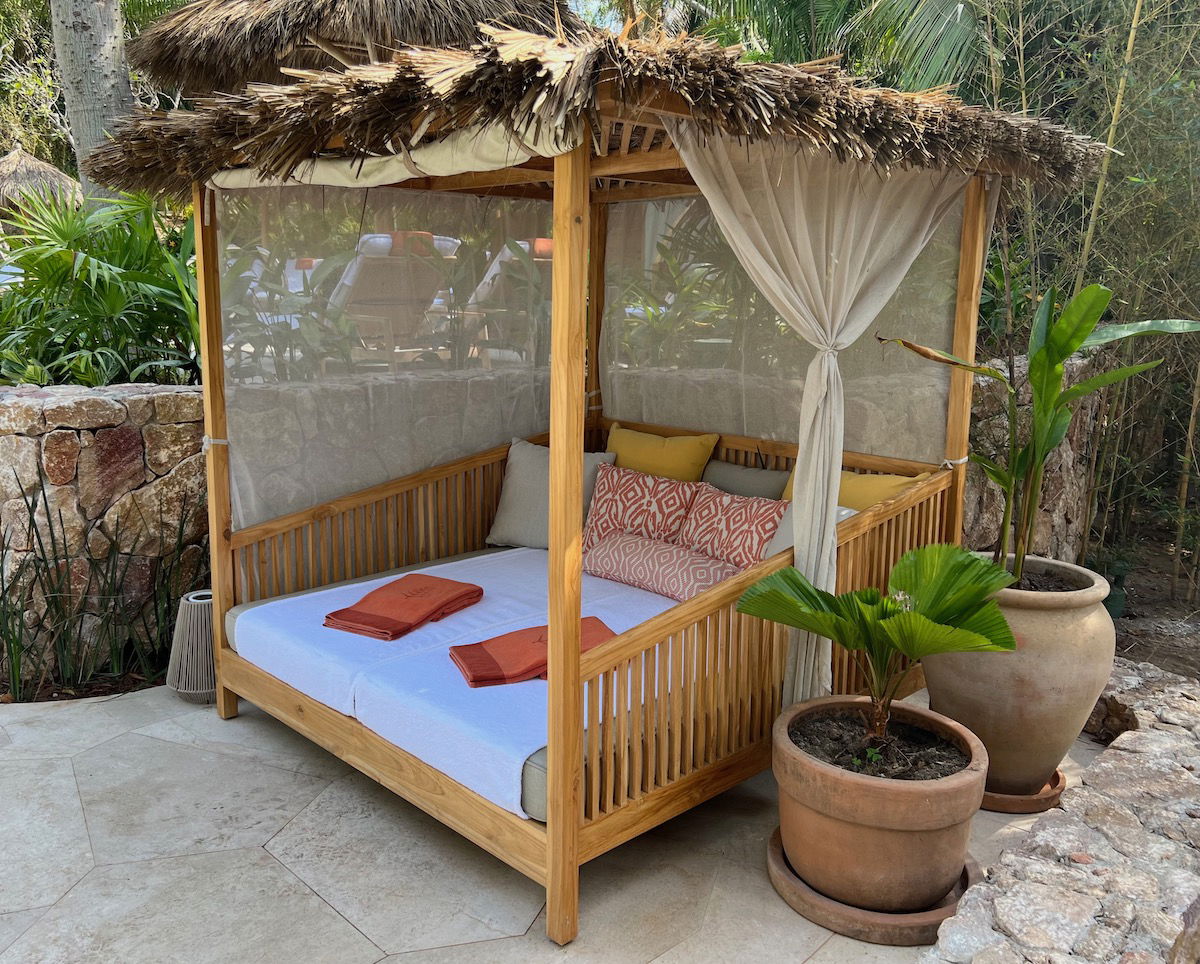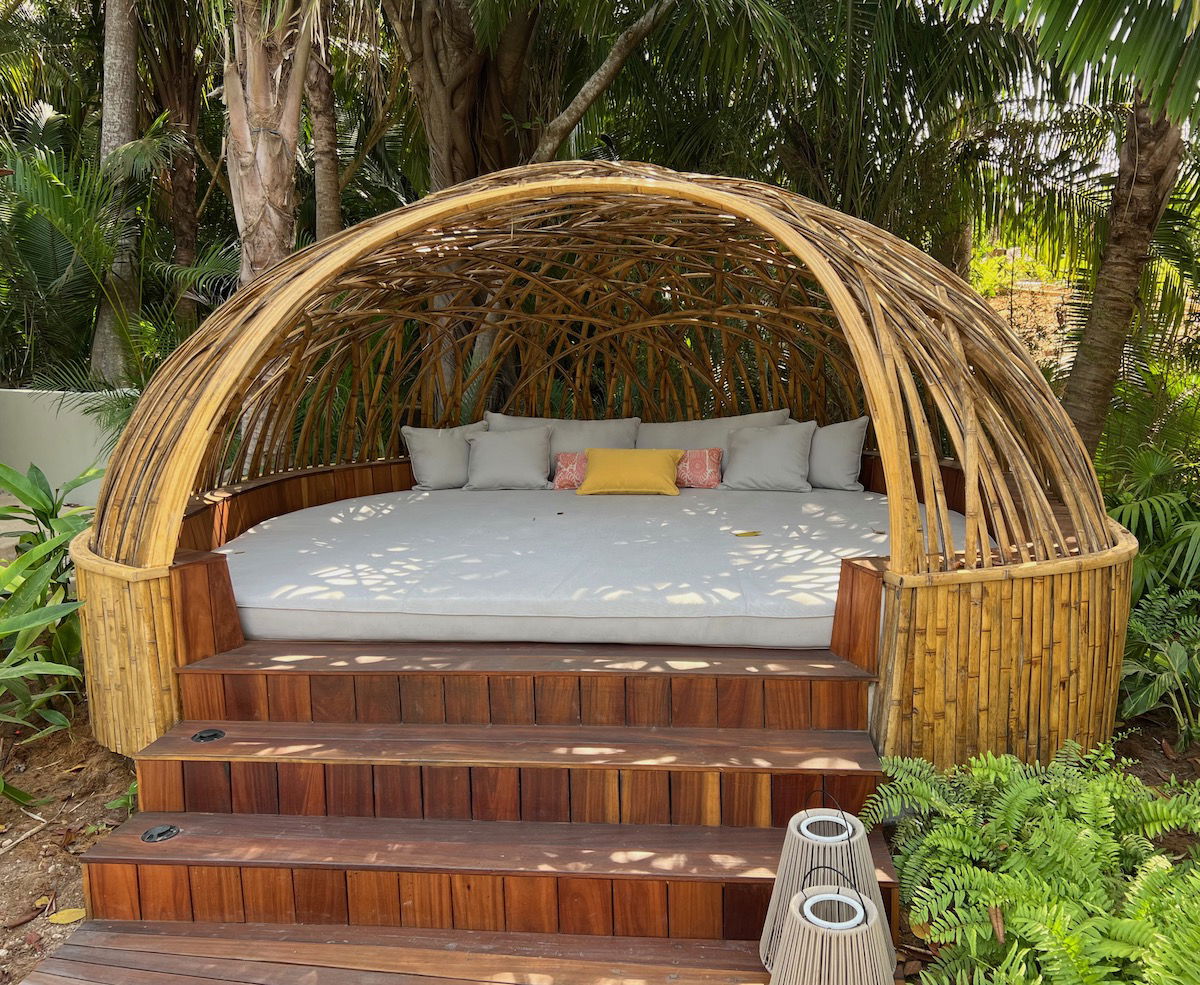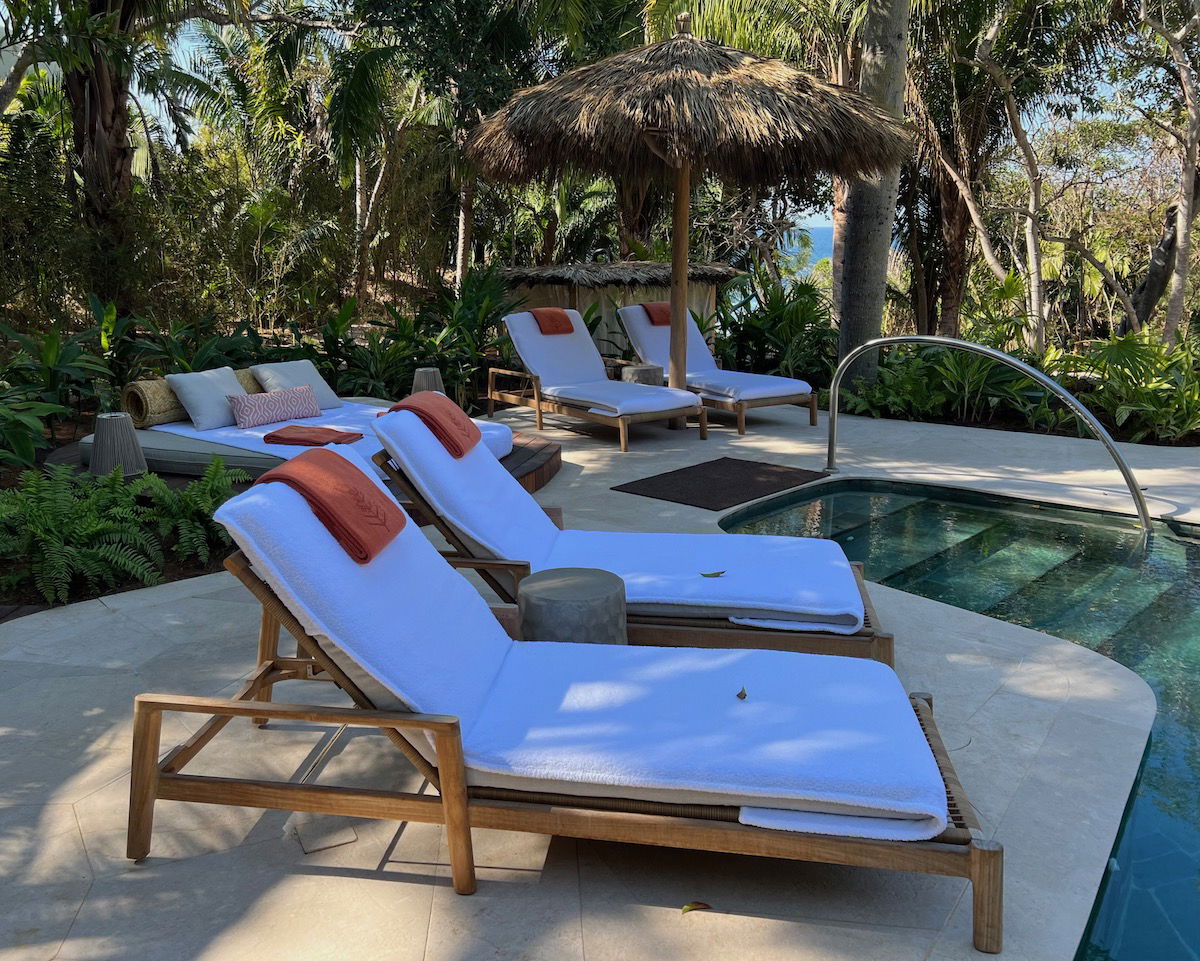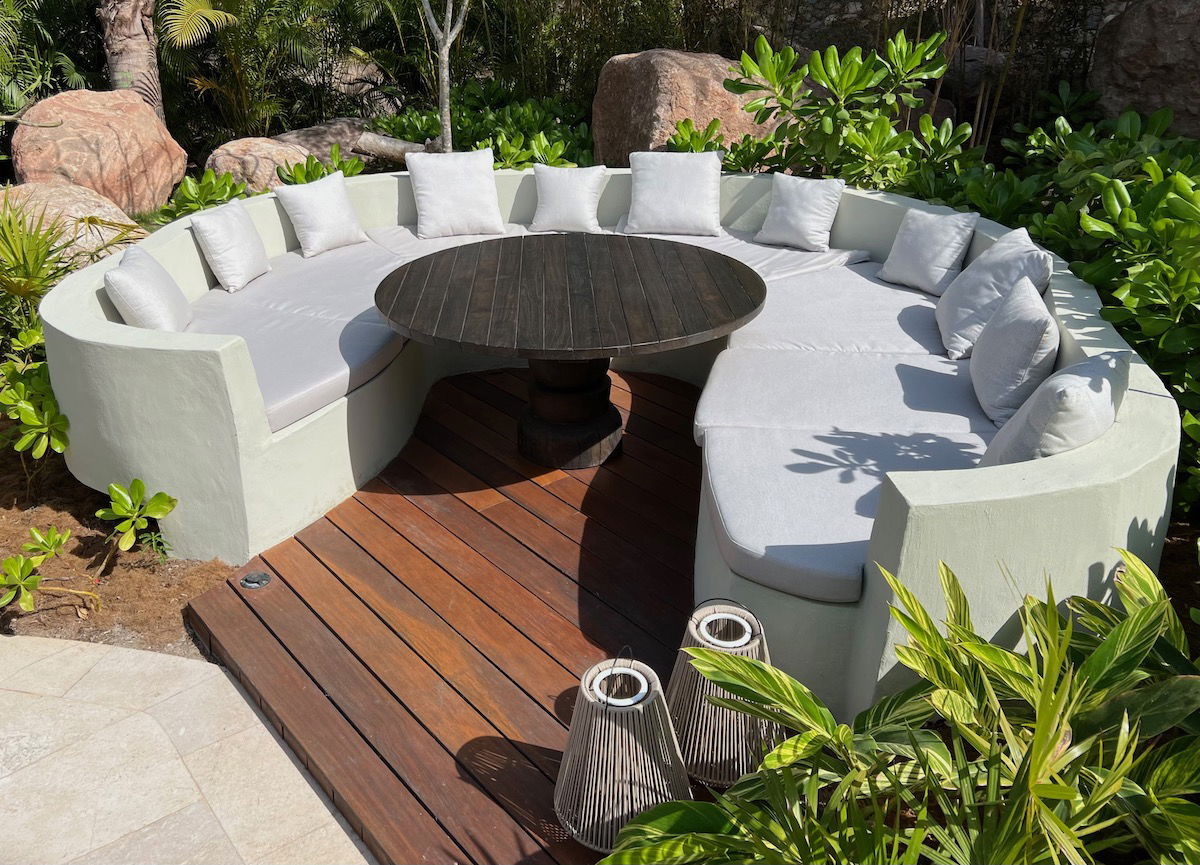 Service at the pool was attentive, so whether you want an iced coffee, a cocktail, or lunch, you can enjoy that here.
My only criticism of the pool area is that I wish there were a hot tub.
Four Seasons Naviva beach
The Four Seasons Naviva has one of the most magical beaches I've ever seen. Specifically, it's located between two huge sets of rocks, so no one can really access this, other than Naviva guests. Having this beautiful of a stretch of beach all to yourself is a dream.
The beach is also set up in such a way that you kind of feel like a castaway. There are no rows of seats along the beach, but rather just different areas have a few cabanas. As you'd expect, you can have anything served down at the beach, from drinks to a meal.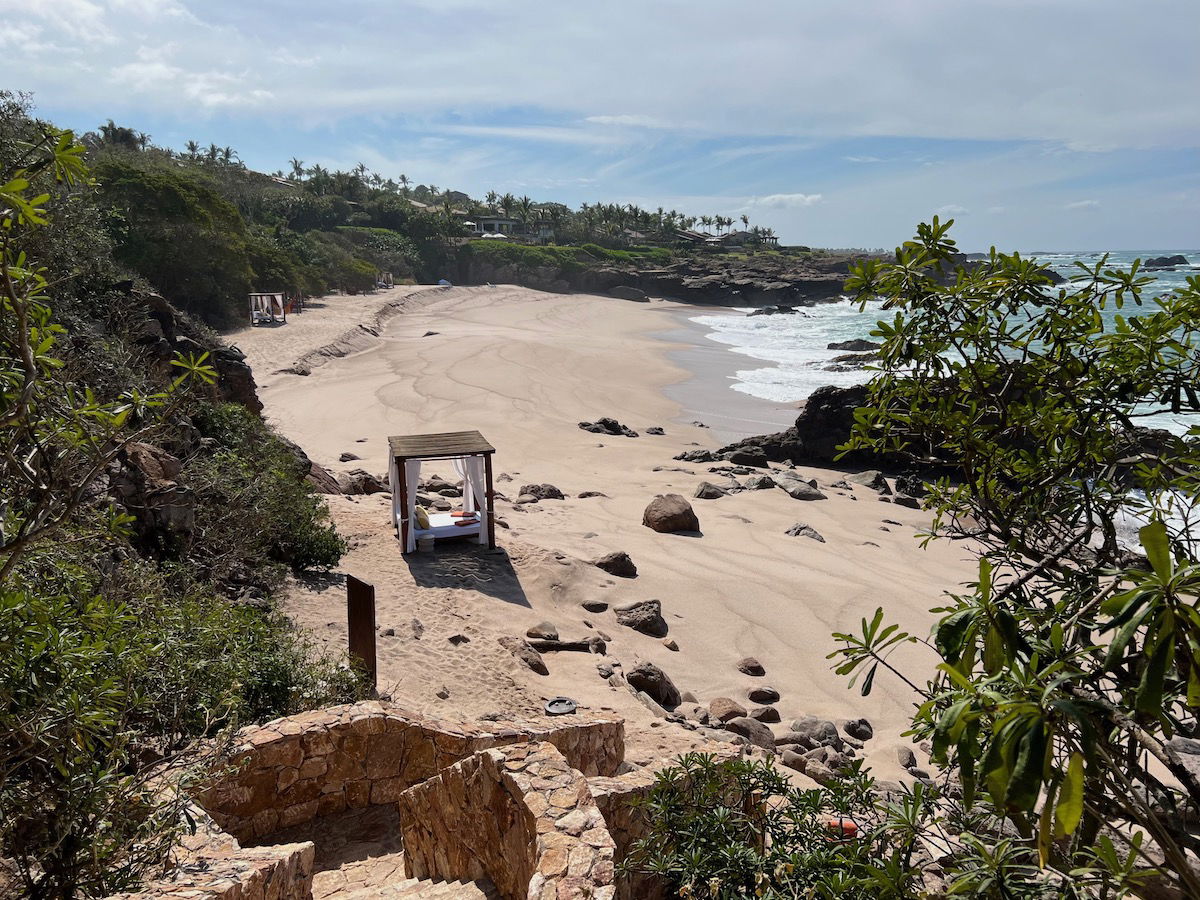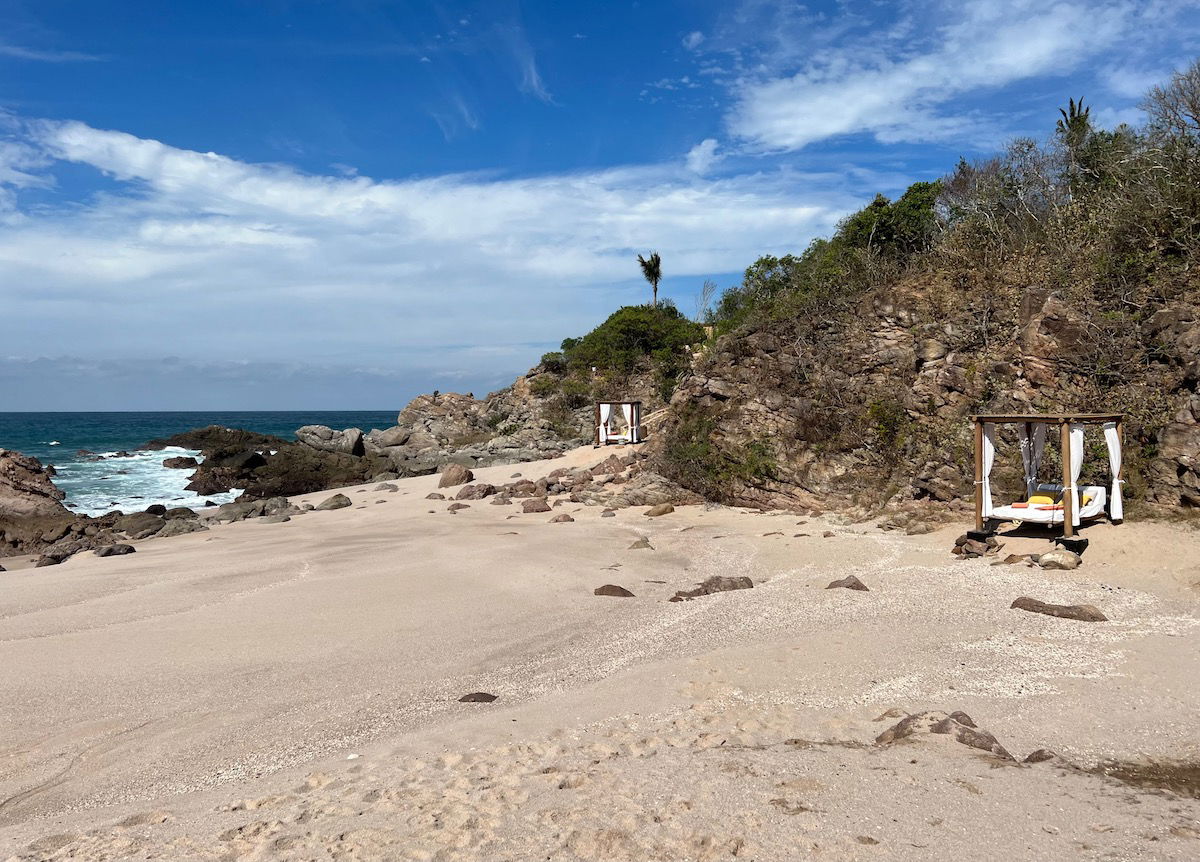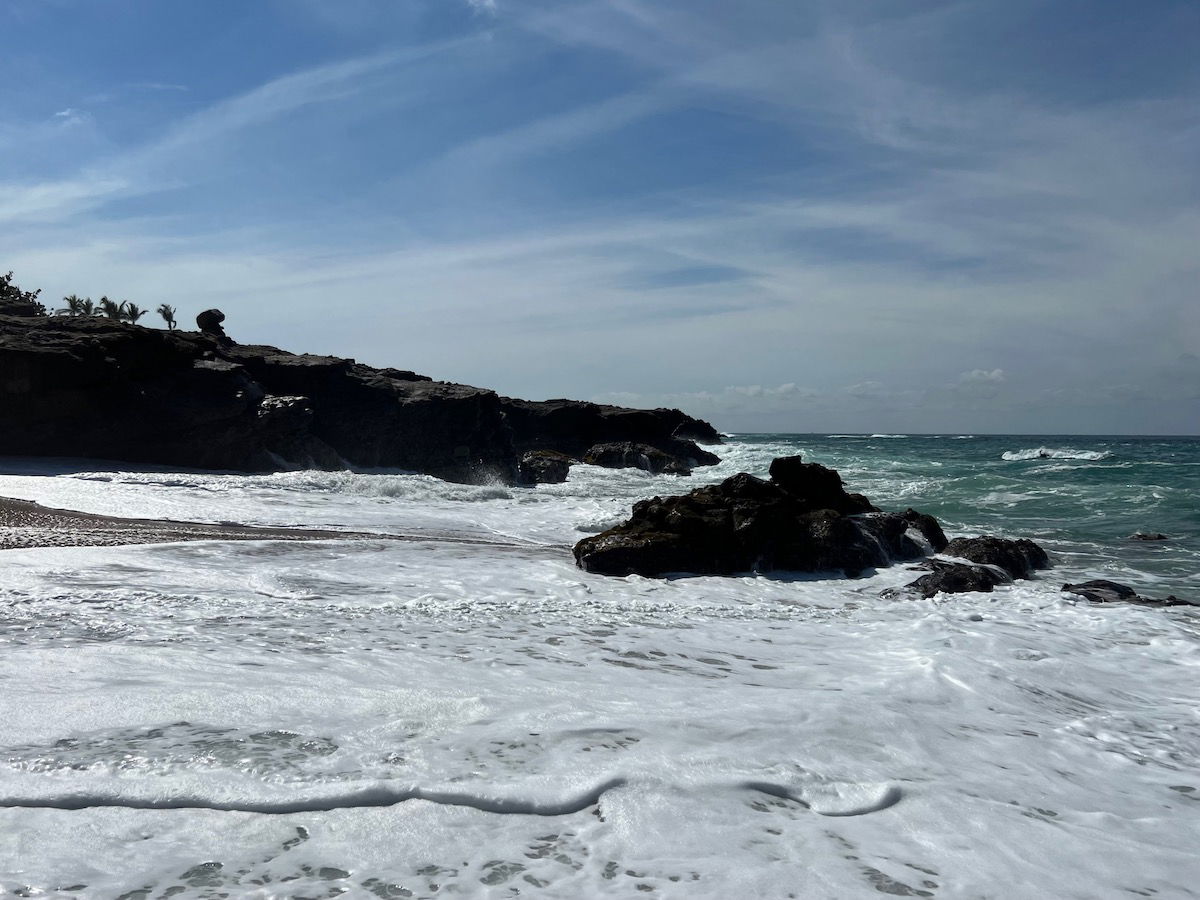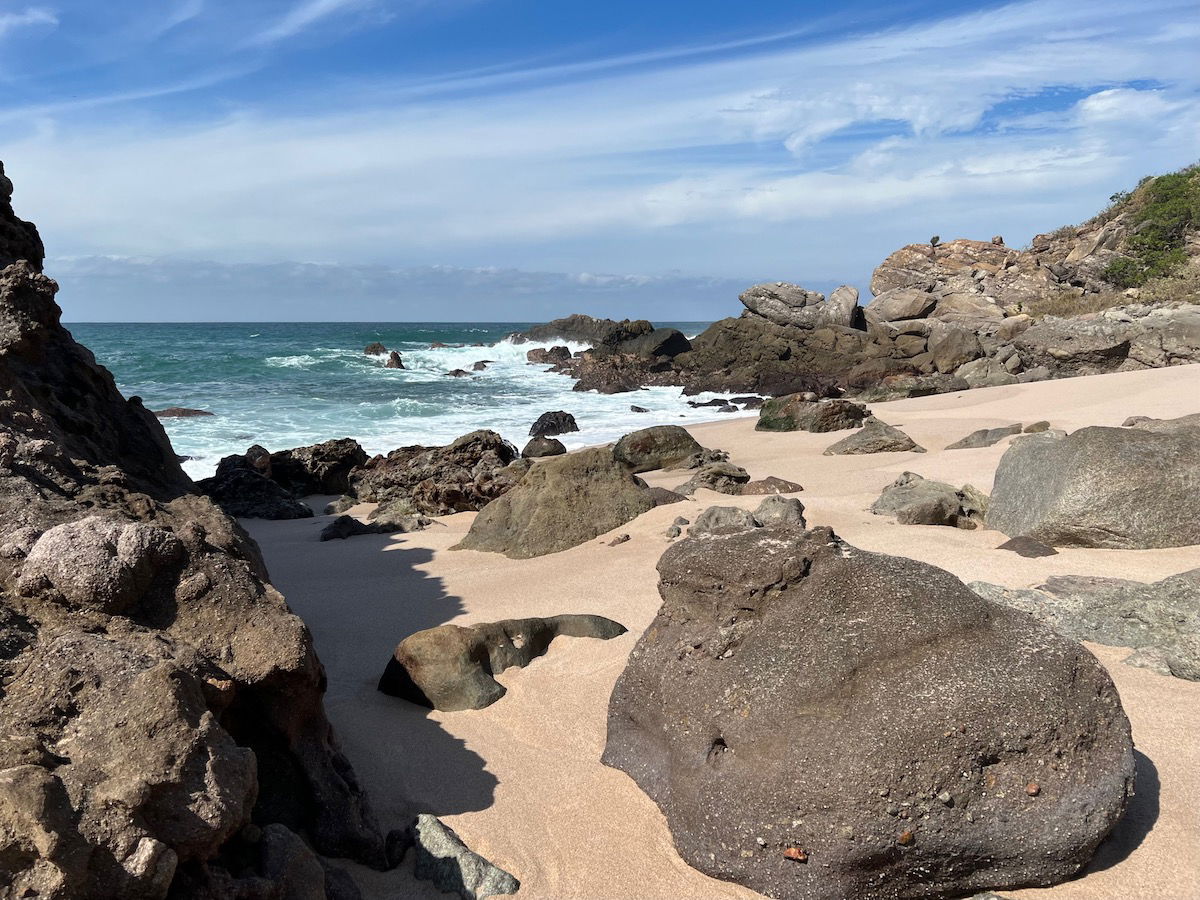 Four Seasons Naviva spa
The Four Seasons Naviva has two spa tents, each of which can accommodate couples treatments. The spa doesn't operate with any set schedule, so you can schedule a treatment for whenever you'd like, pending availability. You can find the Naviva spa menu here, and as a reminder, all stays here include one spa treatment per person.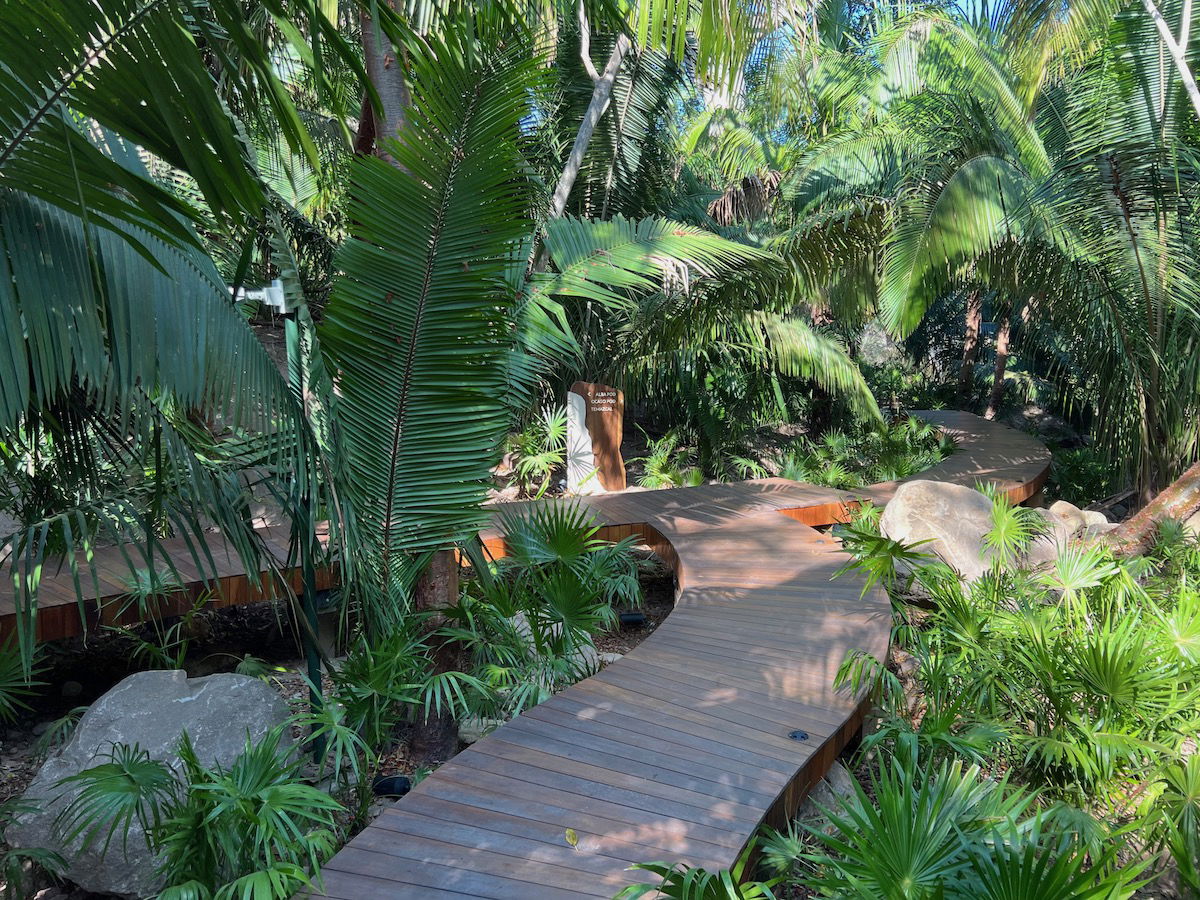 The spa treatment rooms do a great job blending the indoors and outdoors. While the treatment rooms are "open," they also have air conditioning, which is pretty awesome.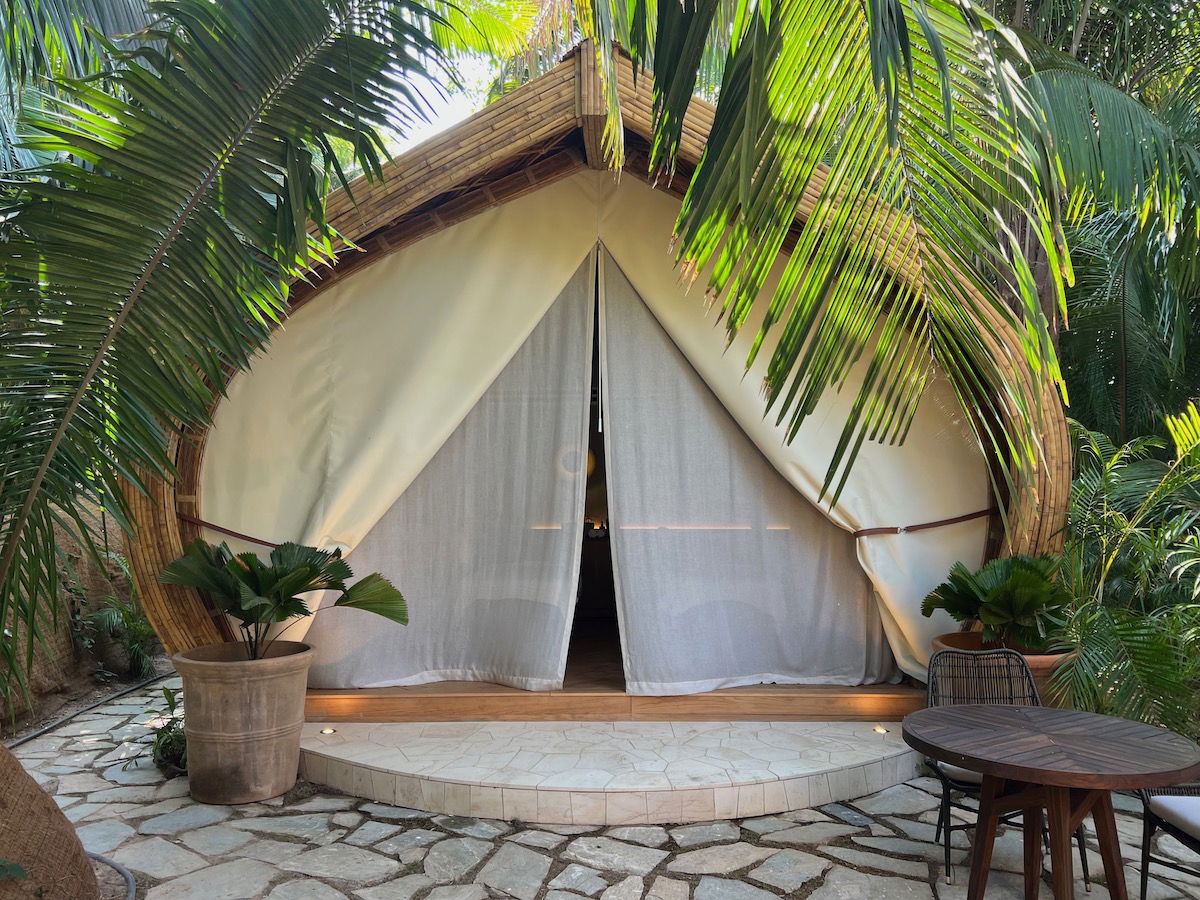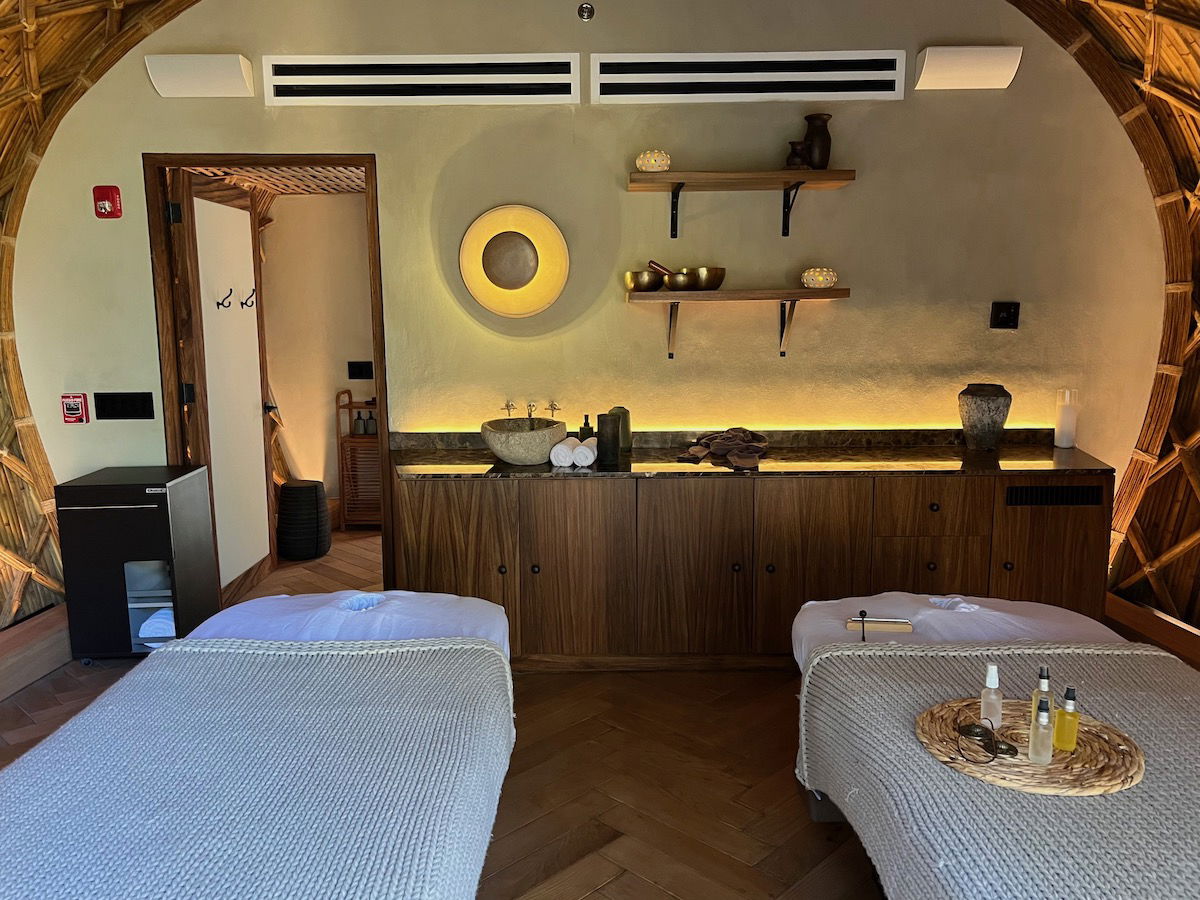 There's also a beautiful outdoor space, with a table with two chairs, a daybed, and a hot tub.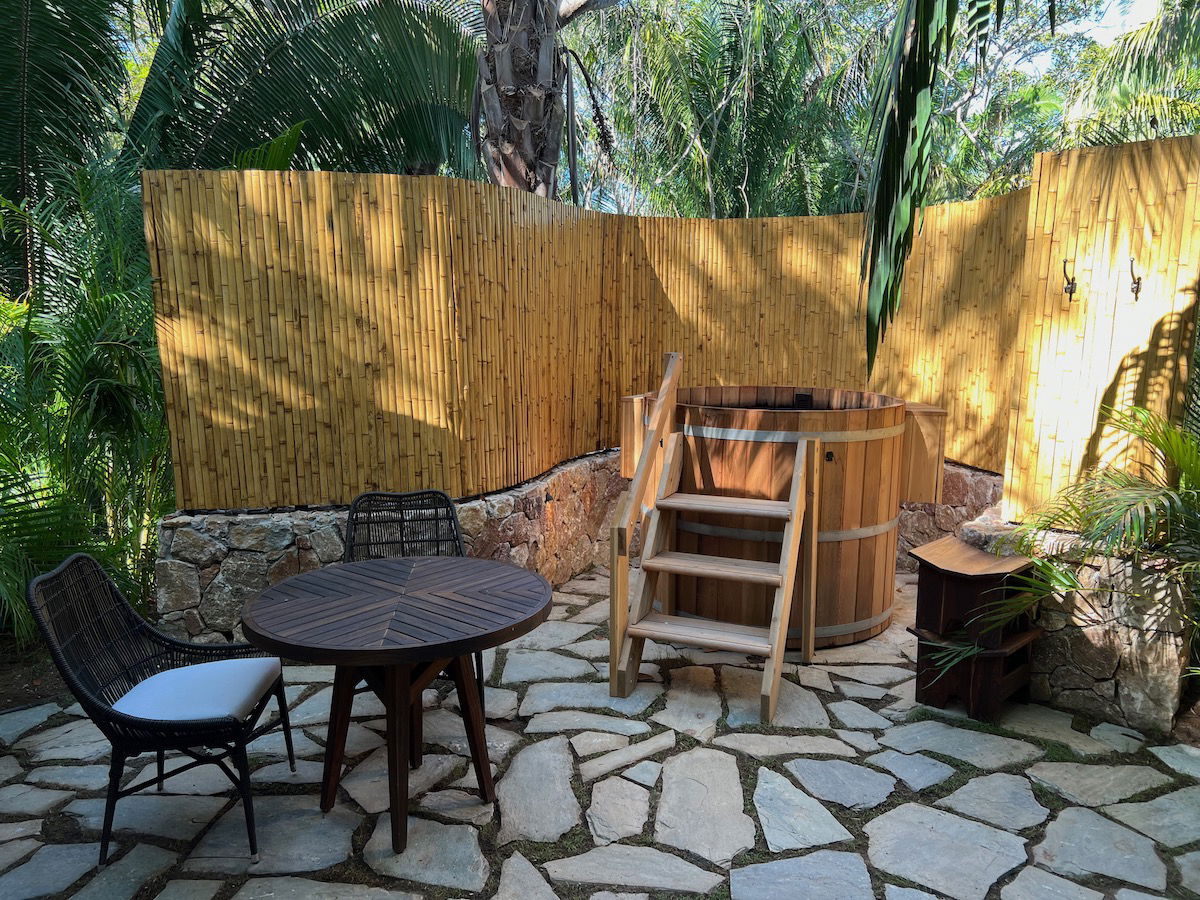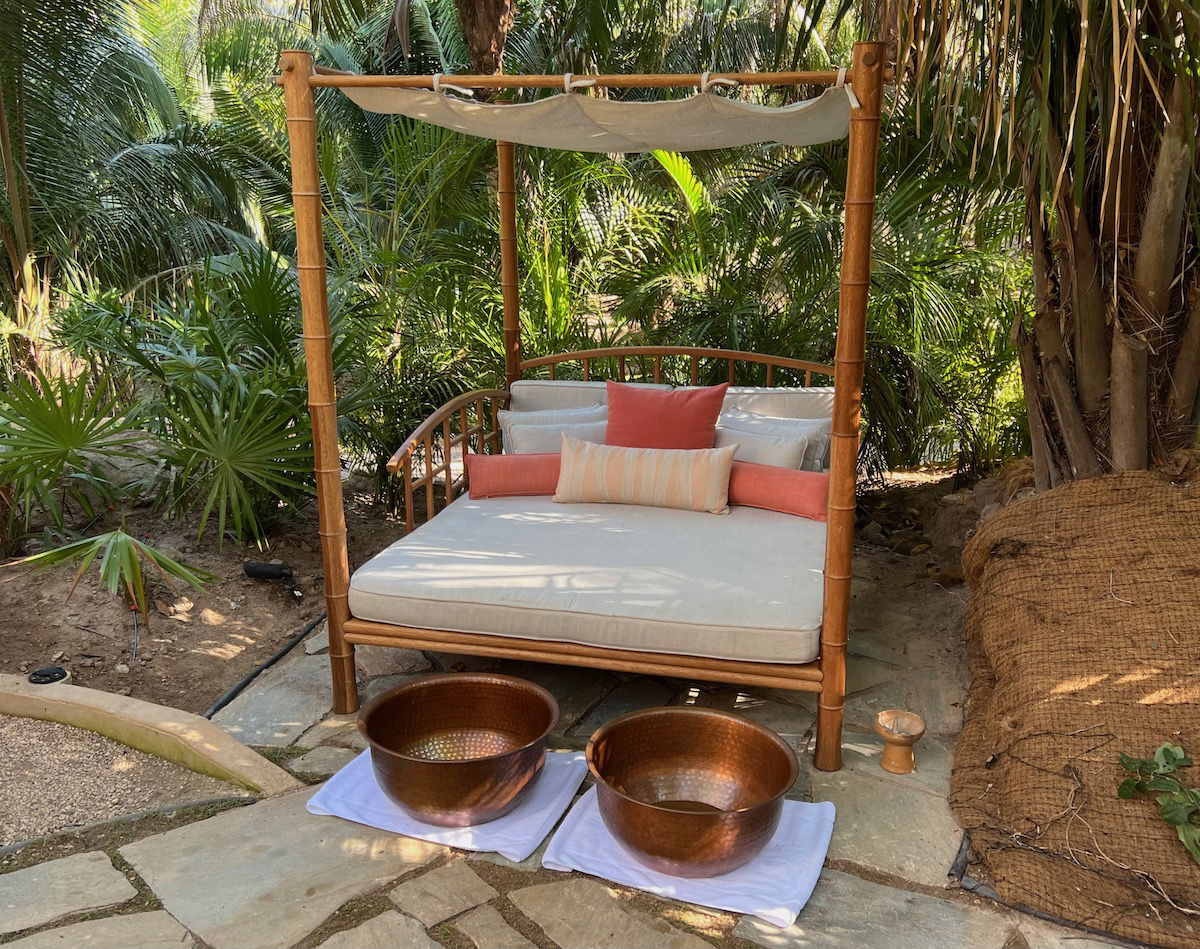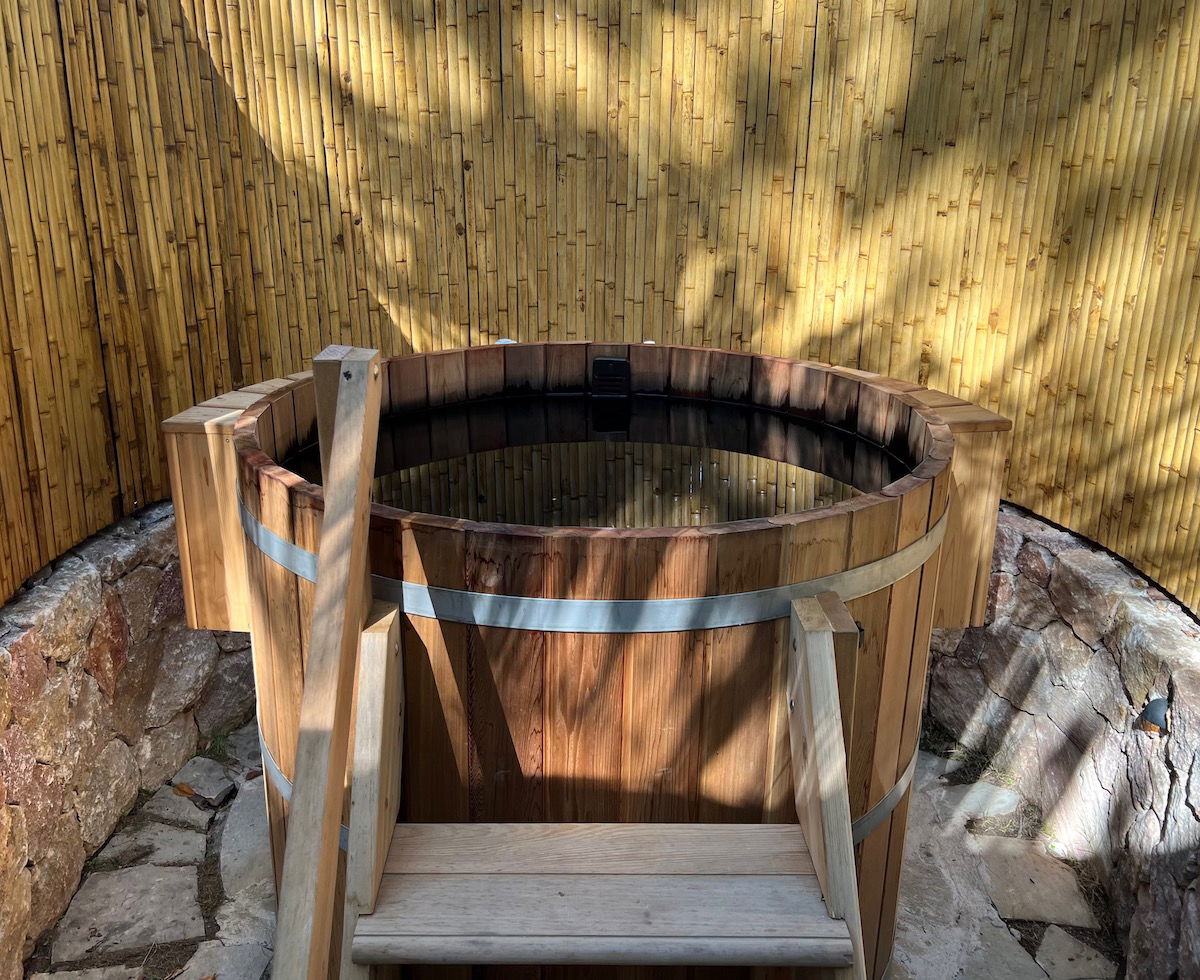 We each had a 60-minute customized massage, and the treatments were exceptionally good.
Four Seasons Naviva gym
The Four Seasons Naviva has a unique outdoor gym. Often wellness resorts try to do these but they're not actually good. Well, this one is pretty awesome, and I appreciate the thought that went into it. For example, the free weights were created by carving stone found on the property.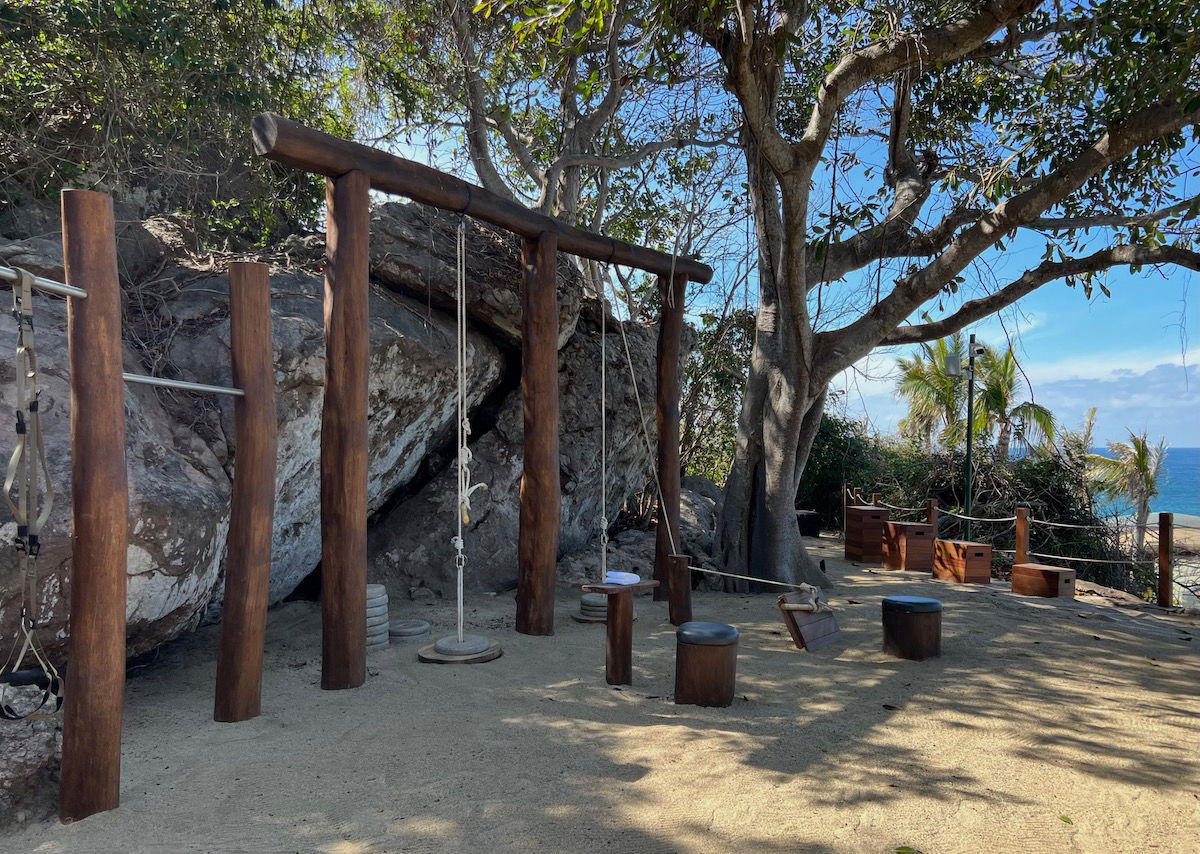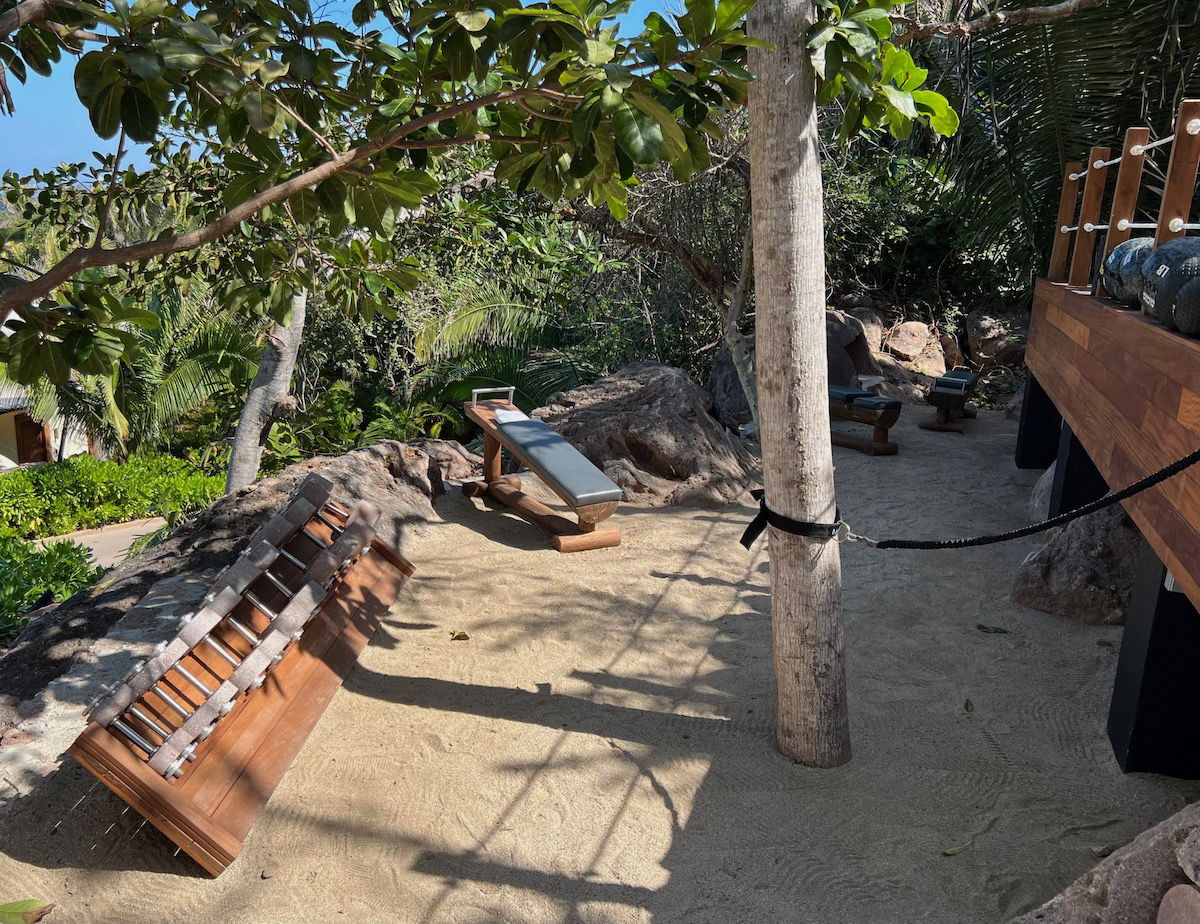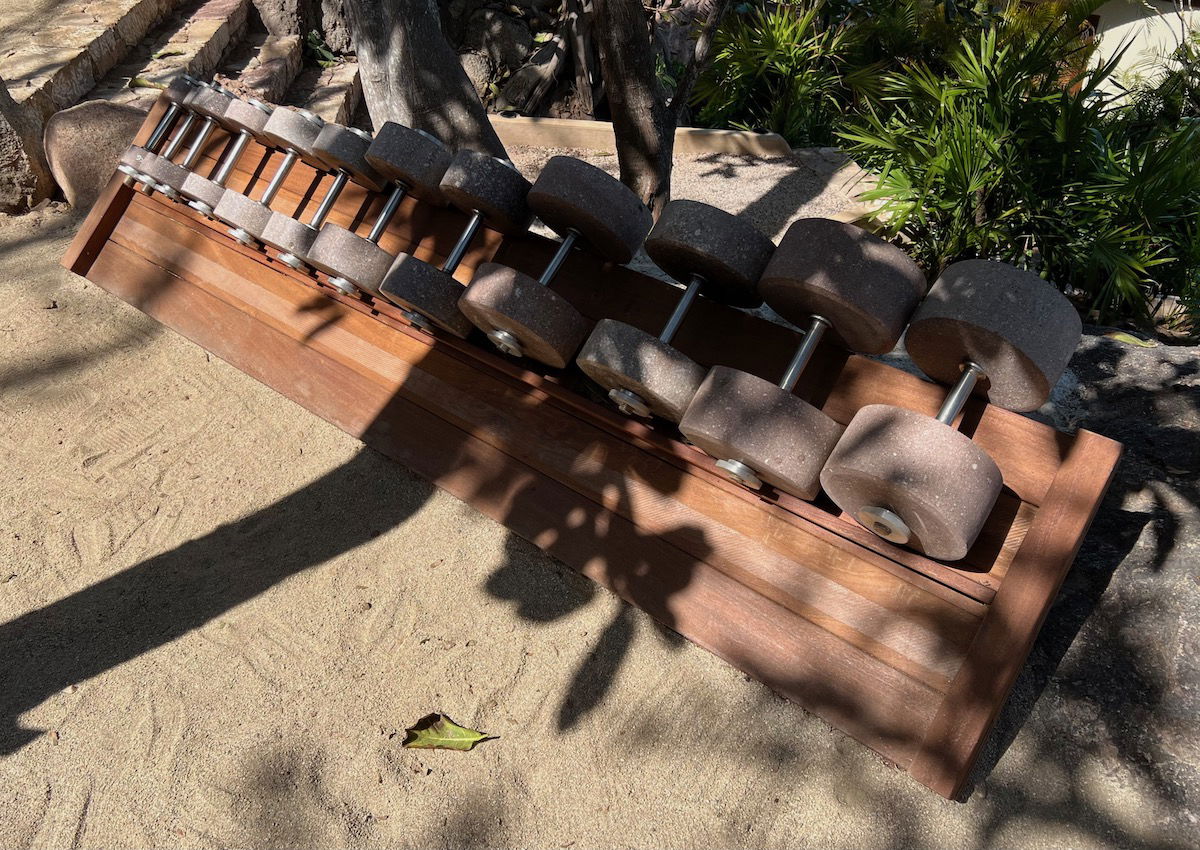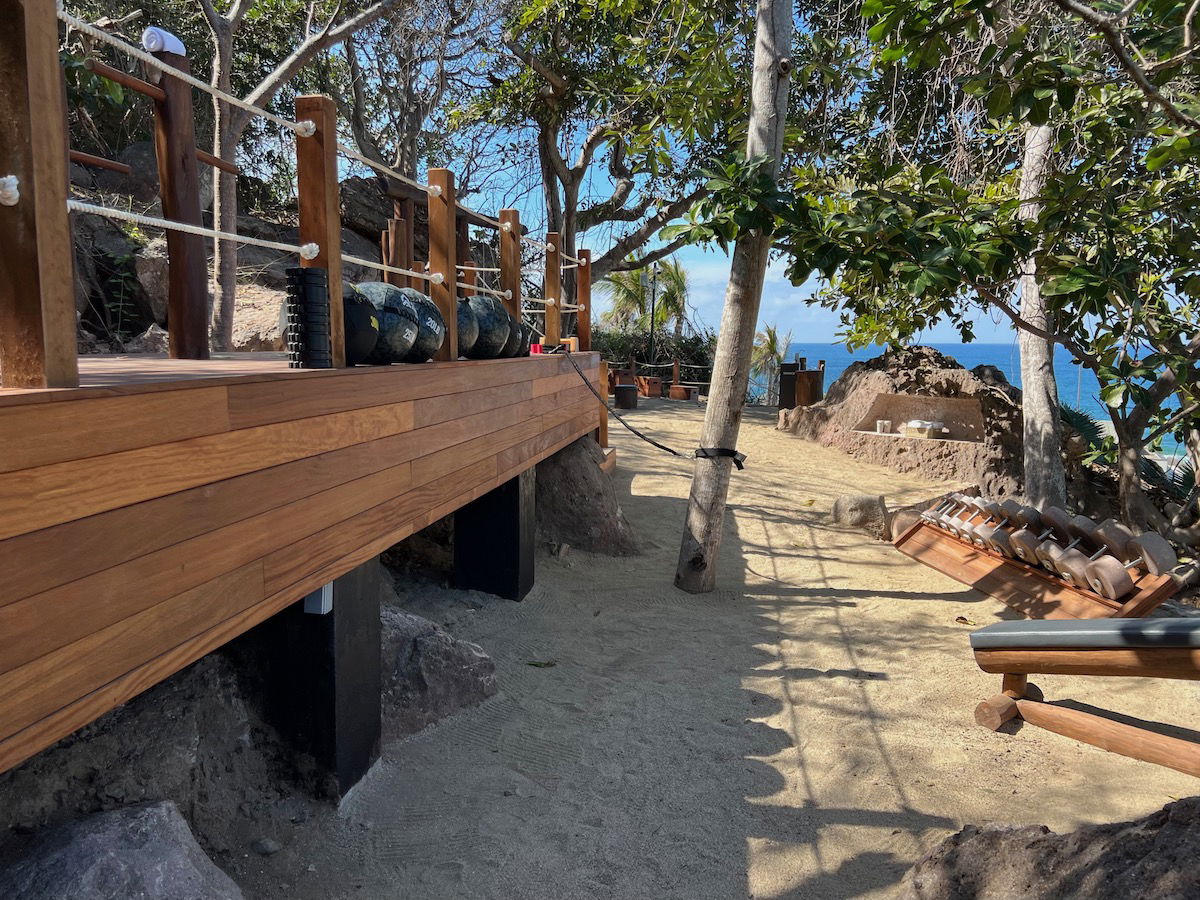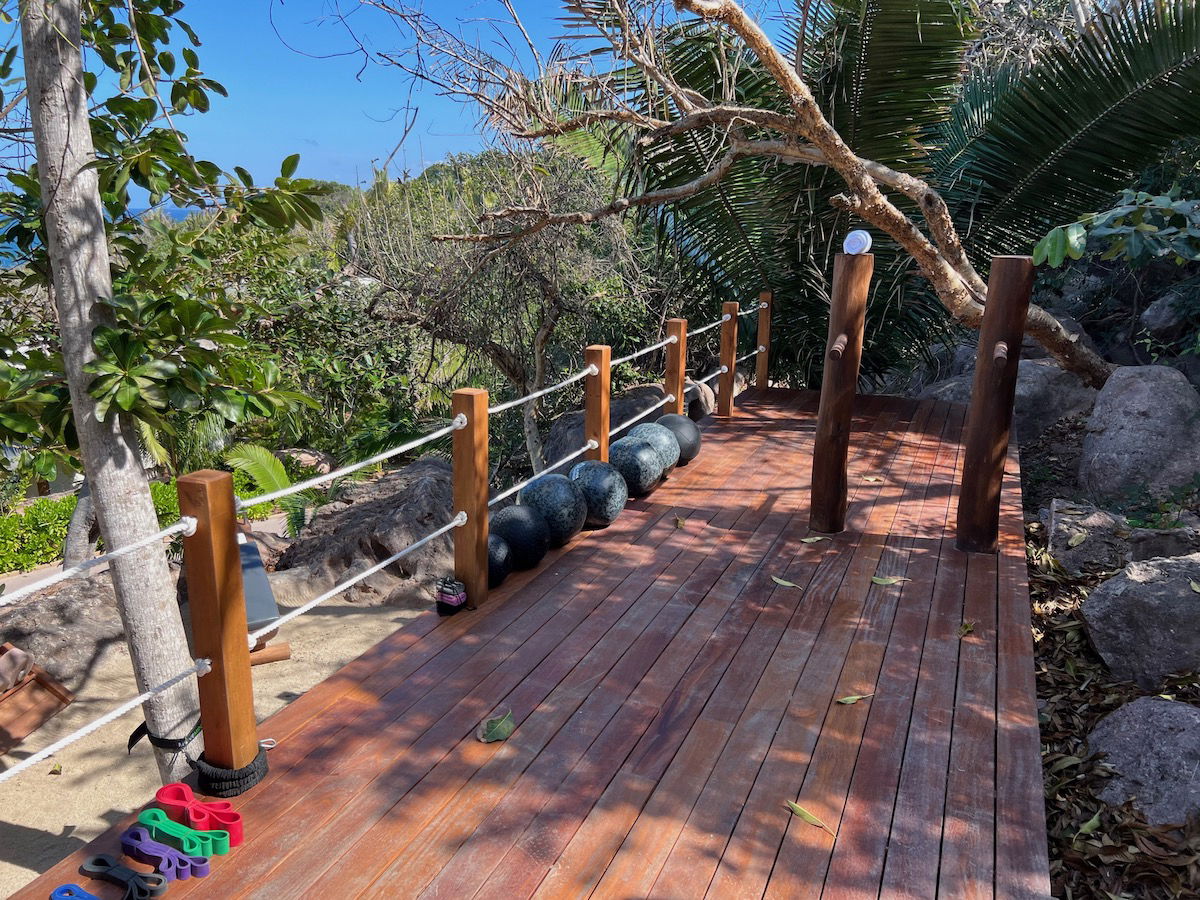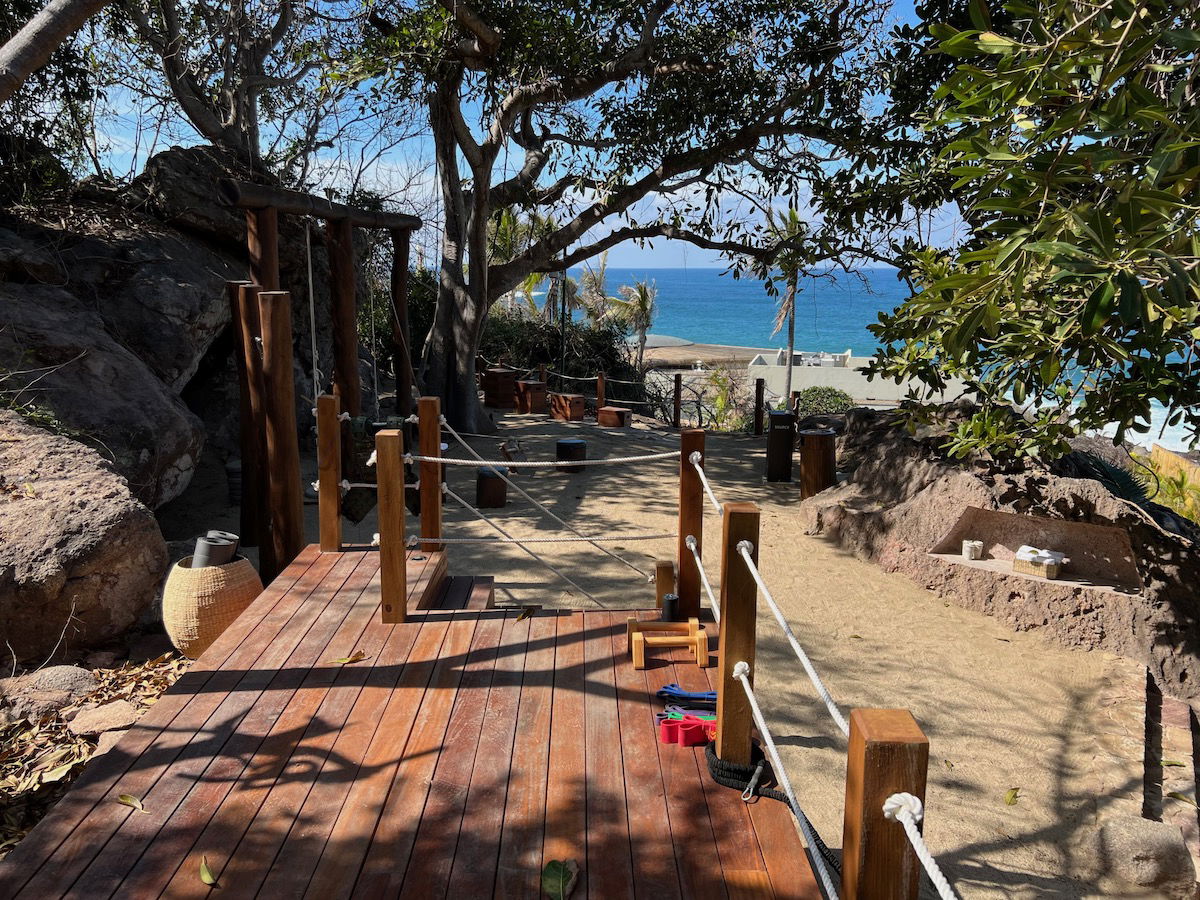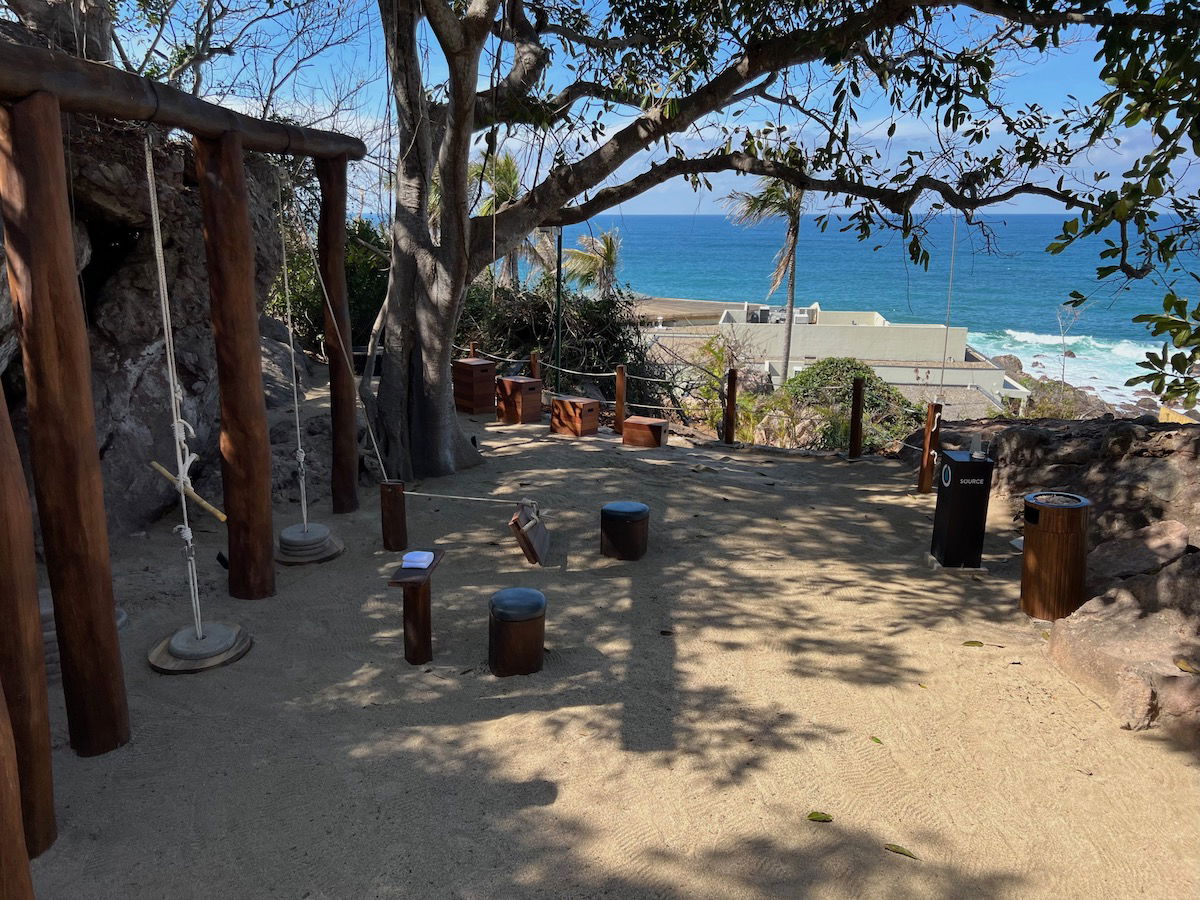 It's not very day you can exercise outdoors with a view like this…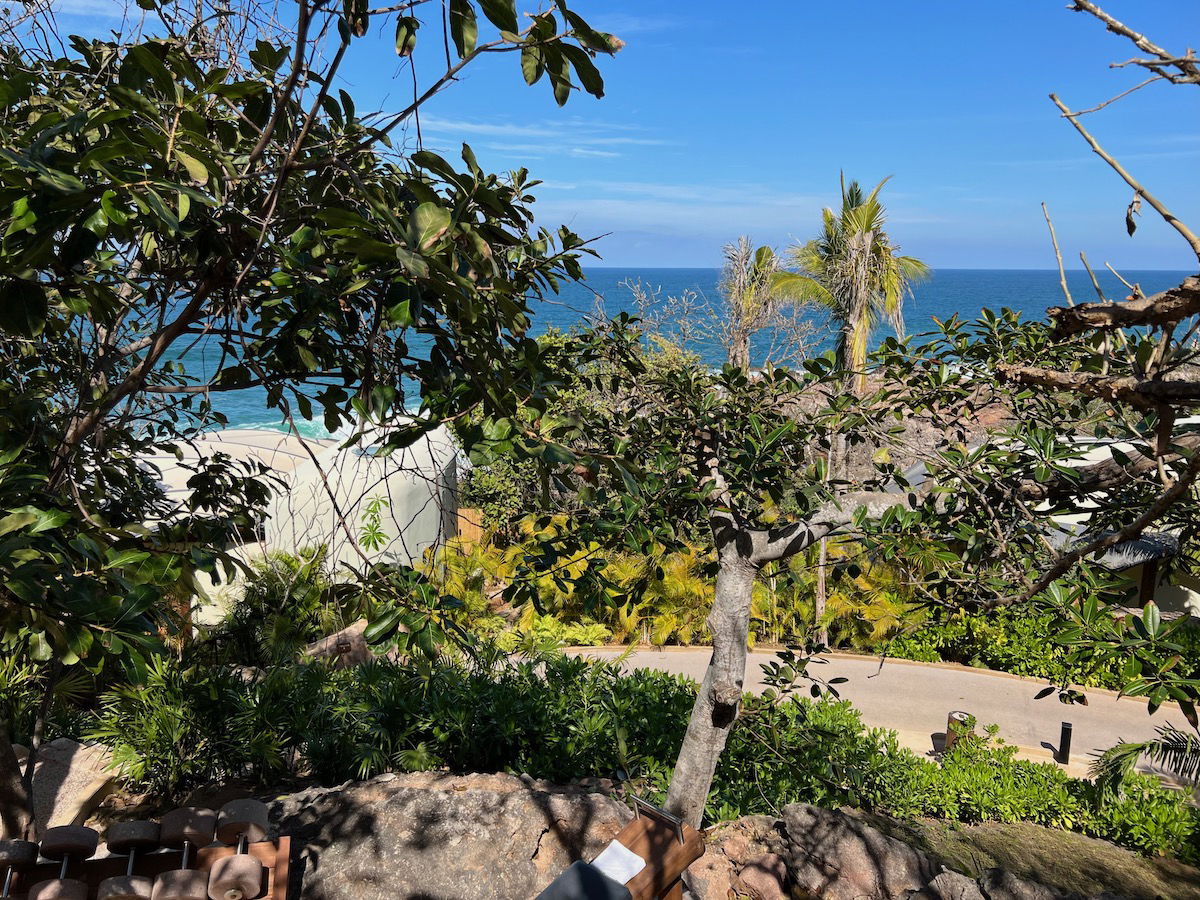 It's also worth mentioning that if you want a more "traditional" workout, Four Seasons Naviva guests have access to all the facilities at the Four Seasons Punta Mita, including the gym.
Four Seasons Naviva activities
All stays at the Four Seasons Naviva include access to daily activities. Having recently visited Miraval Arizona, I have to say that the quality of the included activities here put Miraval to shame. For example, below you can find a listing of the activities during our stay. I appreciate how they're mostly in the mornings and afternoons, so you can then relax during the day.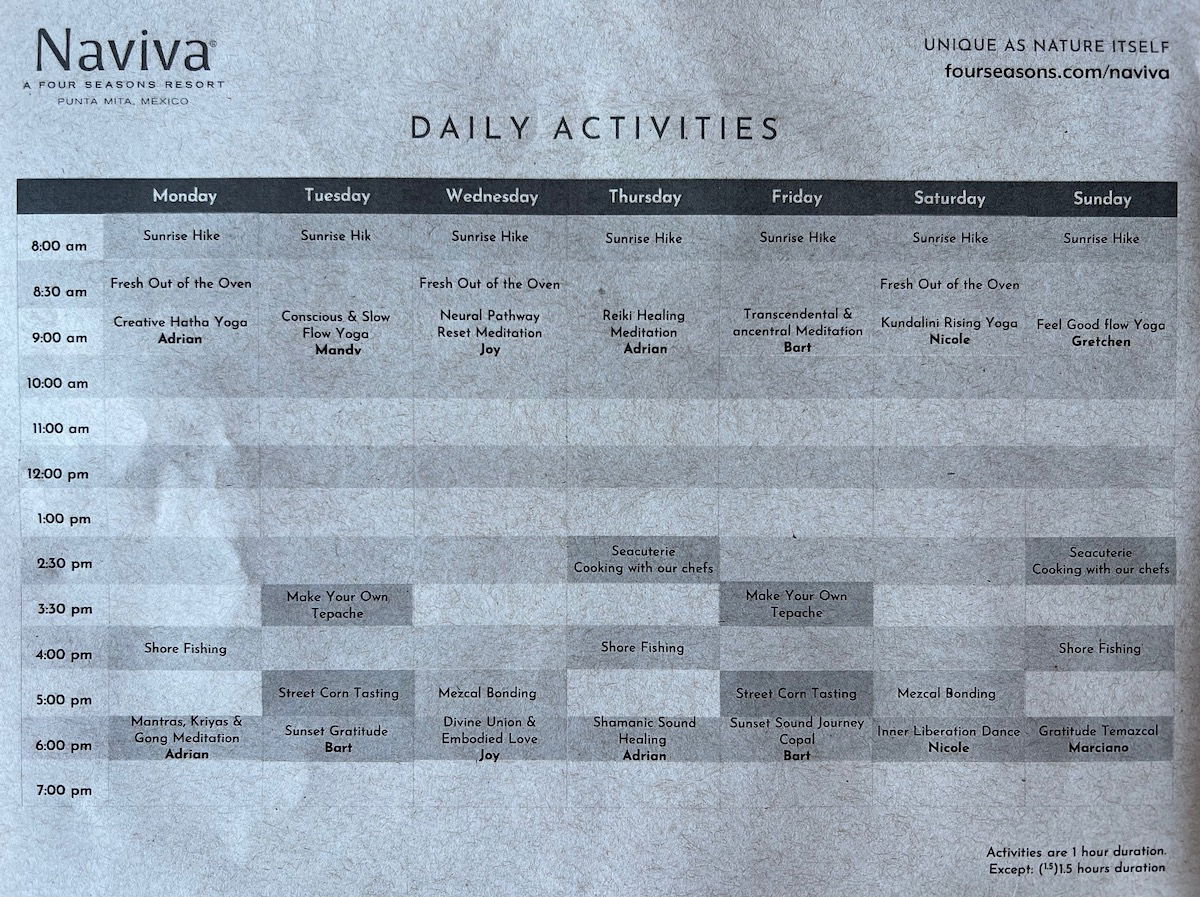 As you can see, these activities include everything from fishing, to sound healing, to street corn tasting.
Four Seasons Naviva meditation & sound healing
Before I talk too much about our meditation and sound healing sessions, let me mention that this kind of stuff isn't necessarily up my alley. However:
I love learning about things that others are passionate about, so even if I don't feel anything, I consistently enjoy the learning aspect of it
Even if a meditation or sound healing doesn't make me "feel" anything, I find them relaxing, if nothing else
With any sort of spiritual matter, I believe human minds are powerful, and we can train ourselves to believe certain things and feel certain things
I always approach this with an open mind, hoping to feeling the power of something
With that in mind, I think the first thing to note is that the Four Seasons Naviva might just have the most beautiful meditation and yoga pavilion that I've ever seen. How unreal is this view?!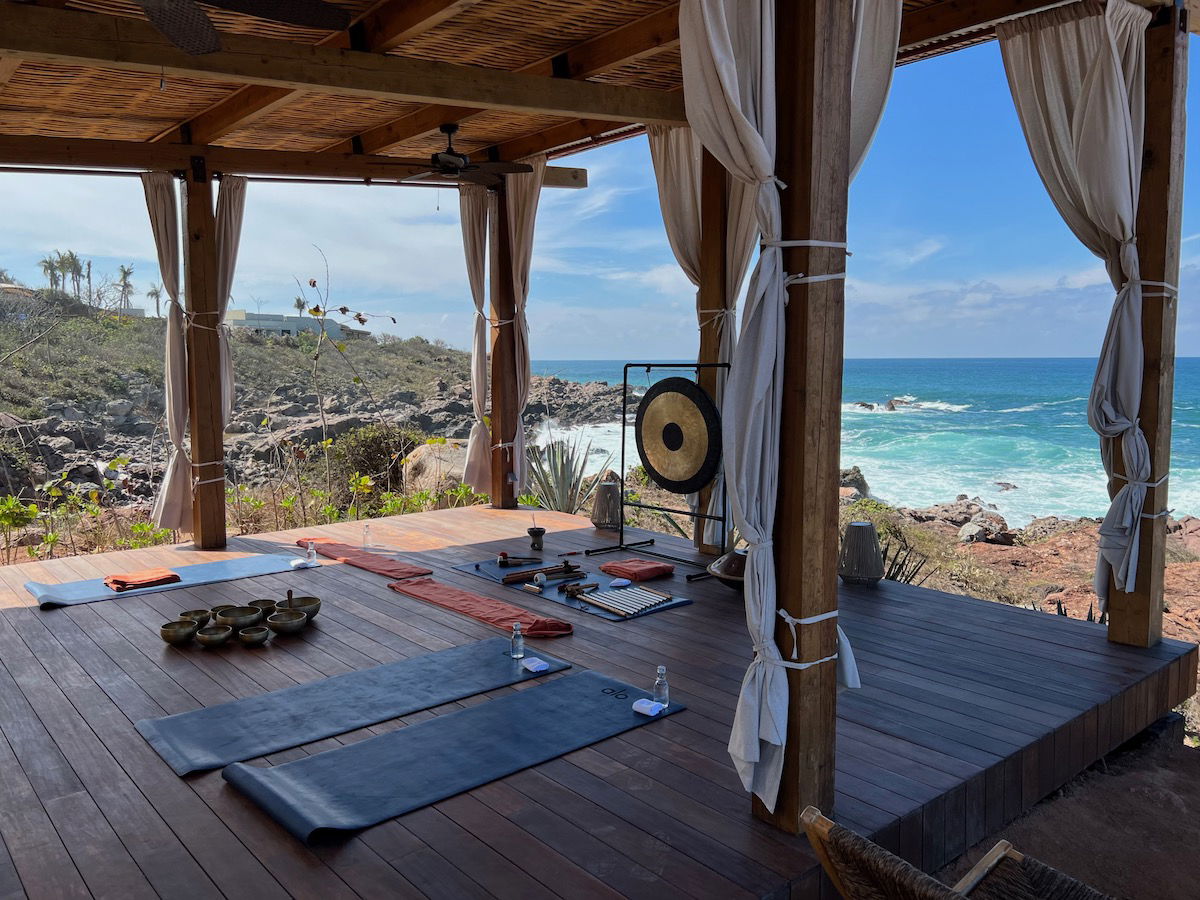 Over the course of our stay we did three different meditations and sound healings, including the shamanic sound healing, sunset sound journey, and transcendental & ancestral meditation.
I particularly enjoyed the two sessions with Bart. Four Seasons chose some really amazing, inspirational people. He gave up his life in the Netherlands and decided to move to the nearby town of Sayulita to pursue what he loves, and his passion was evident.
During the transcendental & ancestral meditation I felt something that I still can't actually describe. It was very strange, because I usually struggle to relax, but I drifted off into a different world I've never experienced before. Even over a week later, I'm still thinking about this. I was nearly crying at the end, for some odd reason.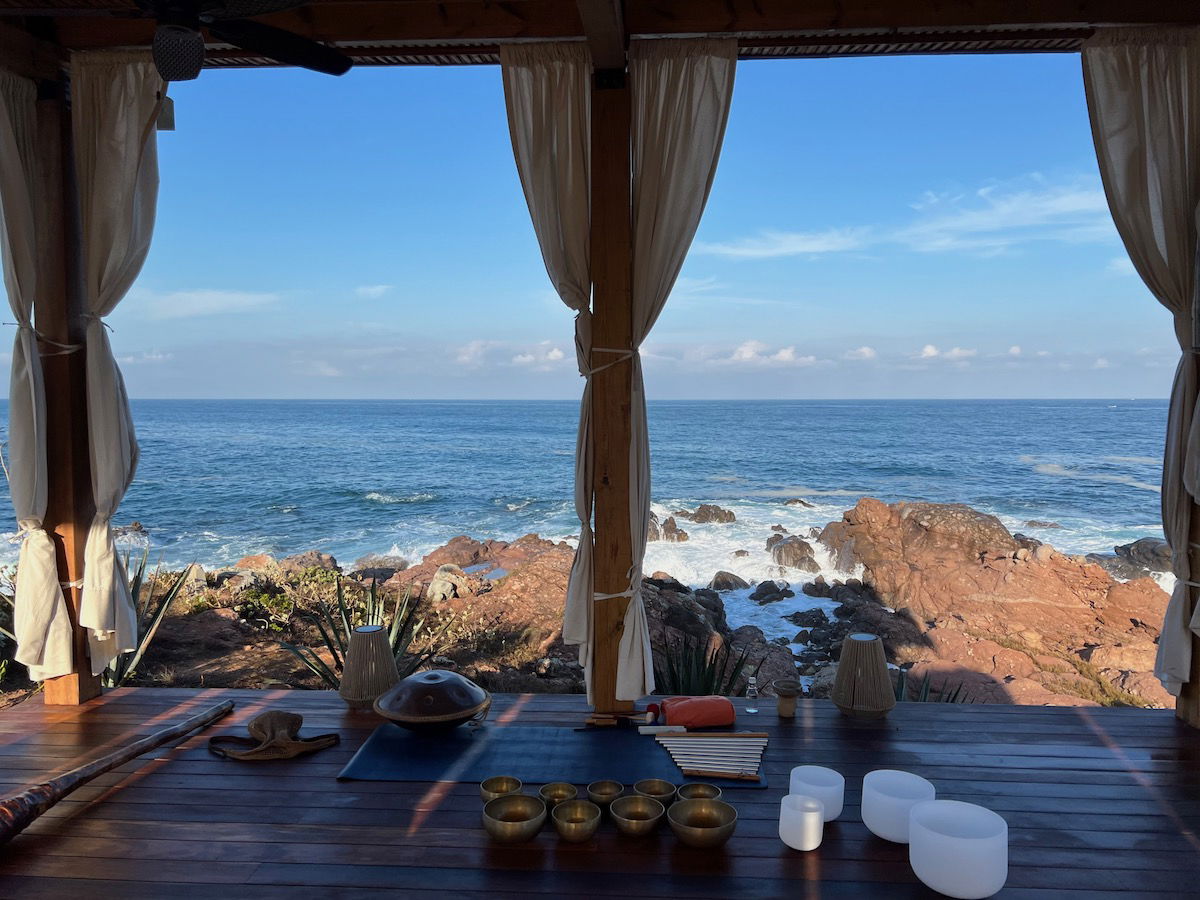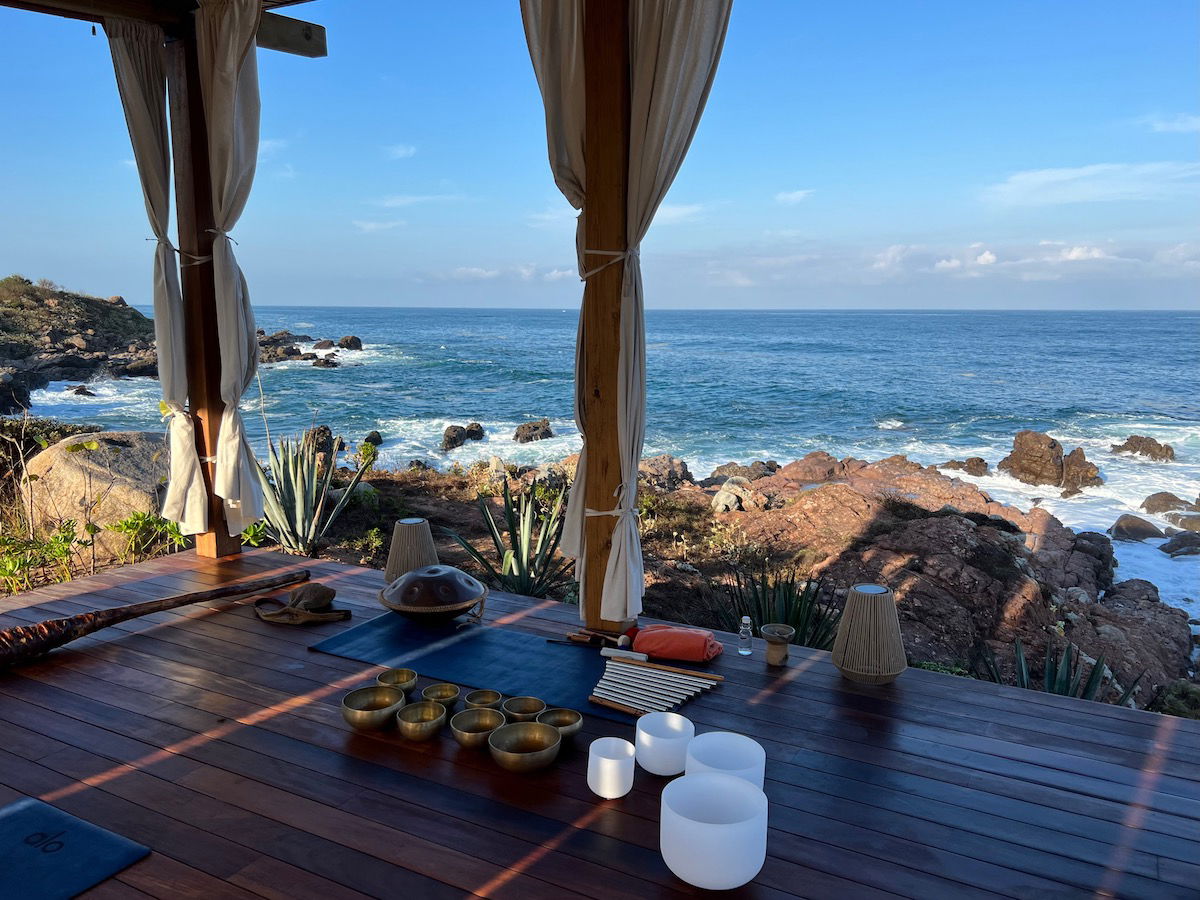 The evening sunset sound journeys were equally magical, since they'd start shortly before sunset, and would end after sunset.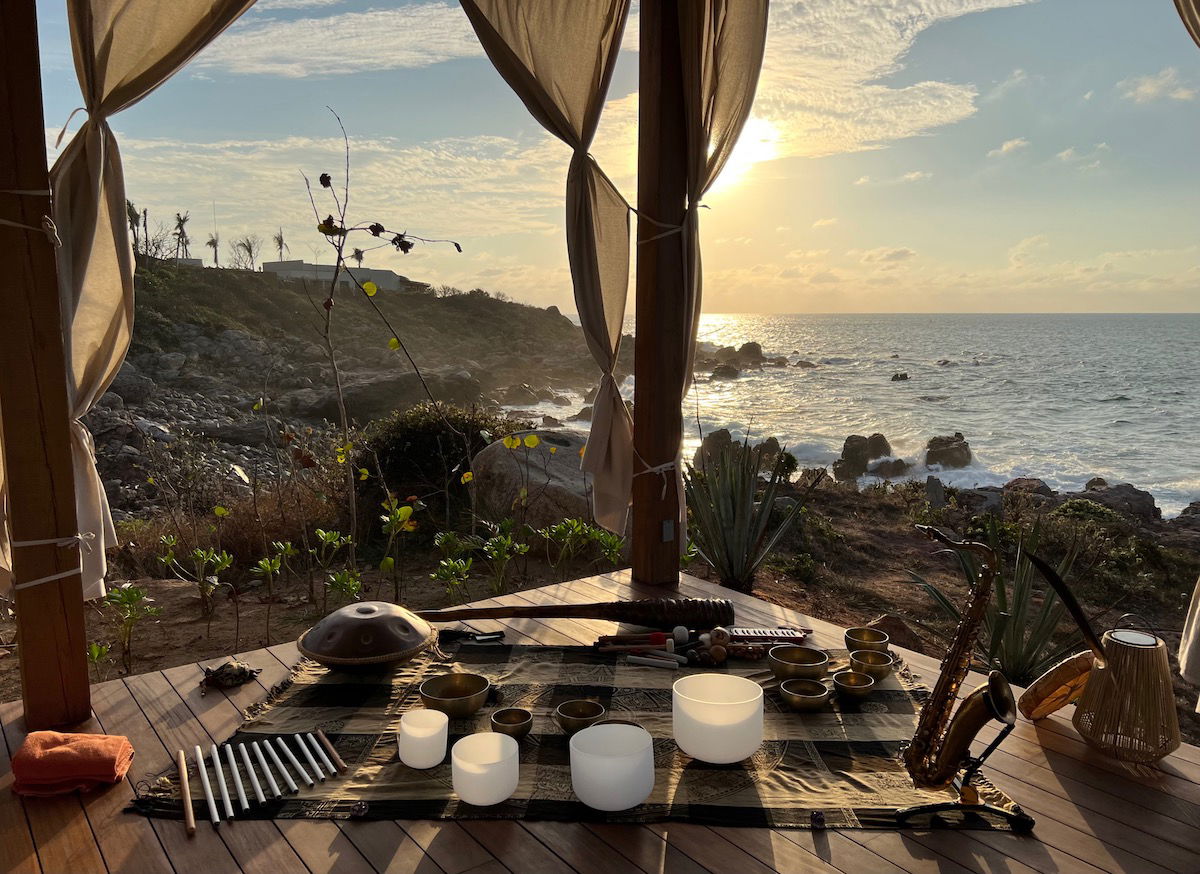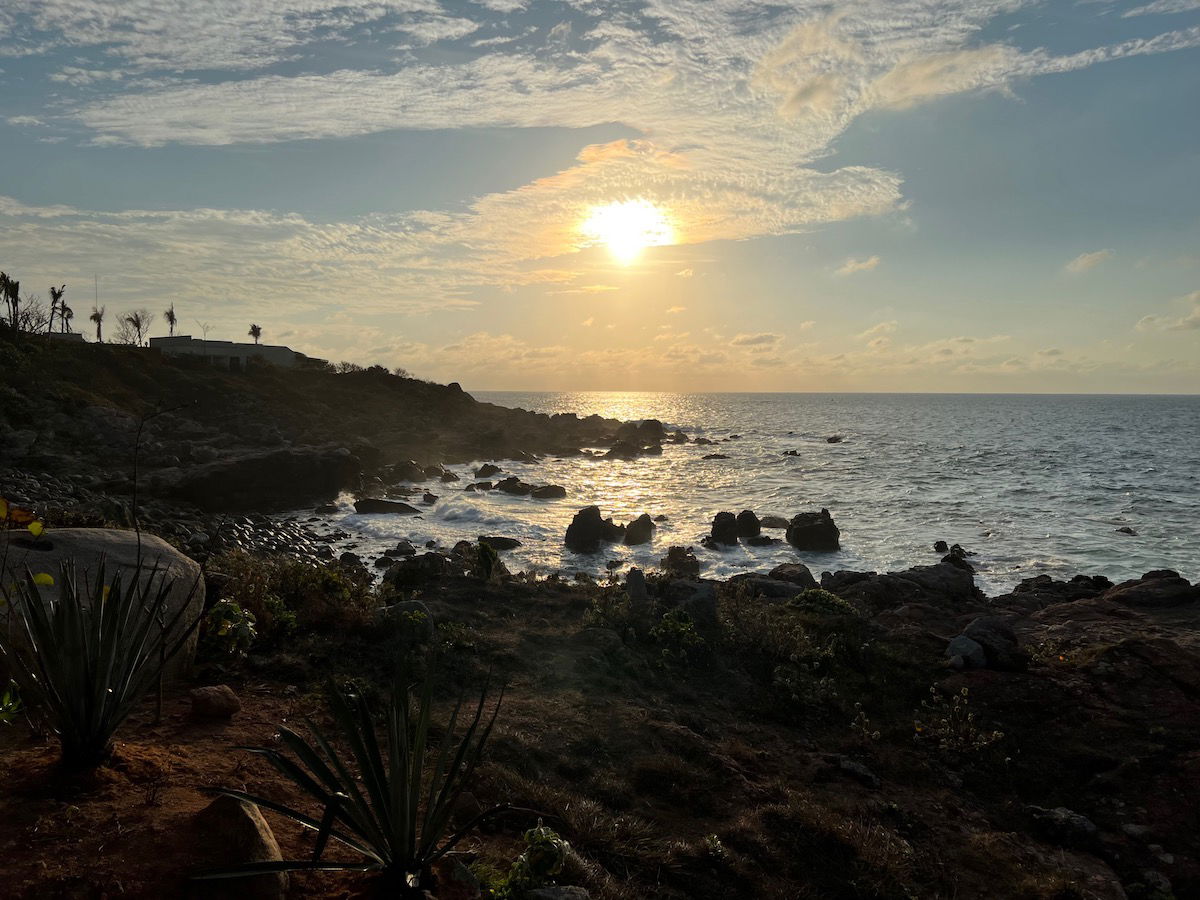 I can't recommend these sessions enough. Even if you don't usually do meditation or sound healing, come into it with an open mind, and you'll really enjoy it.
Four Seasons Naviva temazcal
Without a doubt the wildest thing we did at the Four Seasons Naviva was the temazcal. This is a traditional ceremony led by a shaman, during which you enter a sweat lodge (essentially an igloo-shaped sauna). It's intended to signify going back into the womb.
During this ceremony, the shaman places hot stones in the center of the sweat lodge, and then makes it completely dark. There are four separate parts to this ceremony, each of which involves staying in there for around 15 minutes, during which time you sing, chant, and talk.
Then after each session, more hot stones are placed inside the sweat lodge, making it progressively hotter and hotter.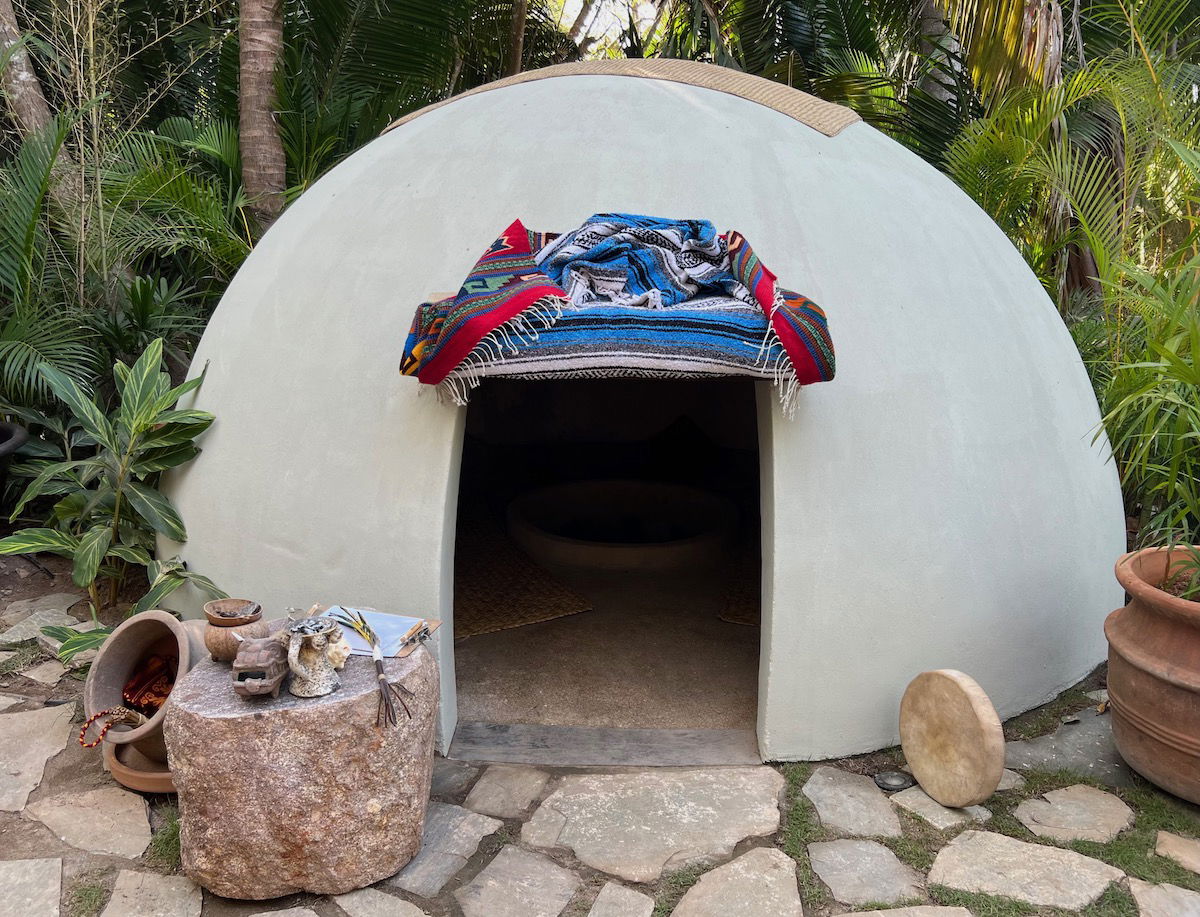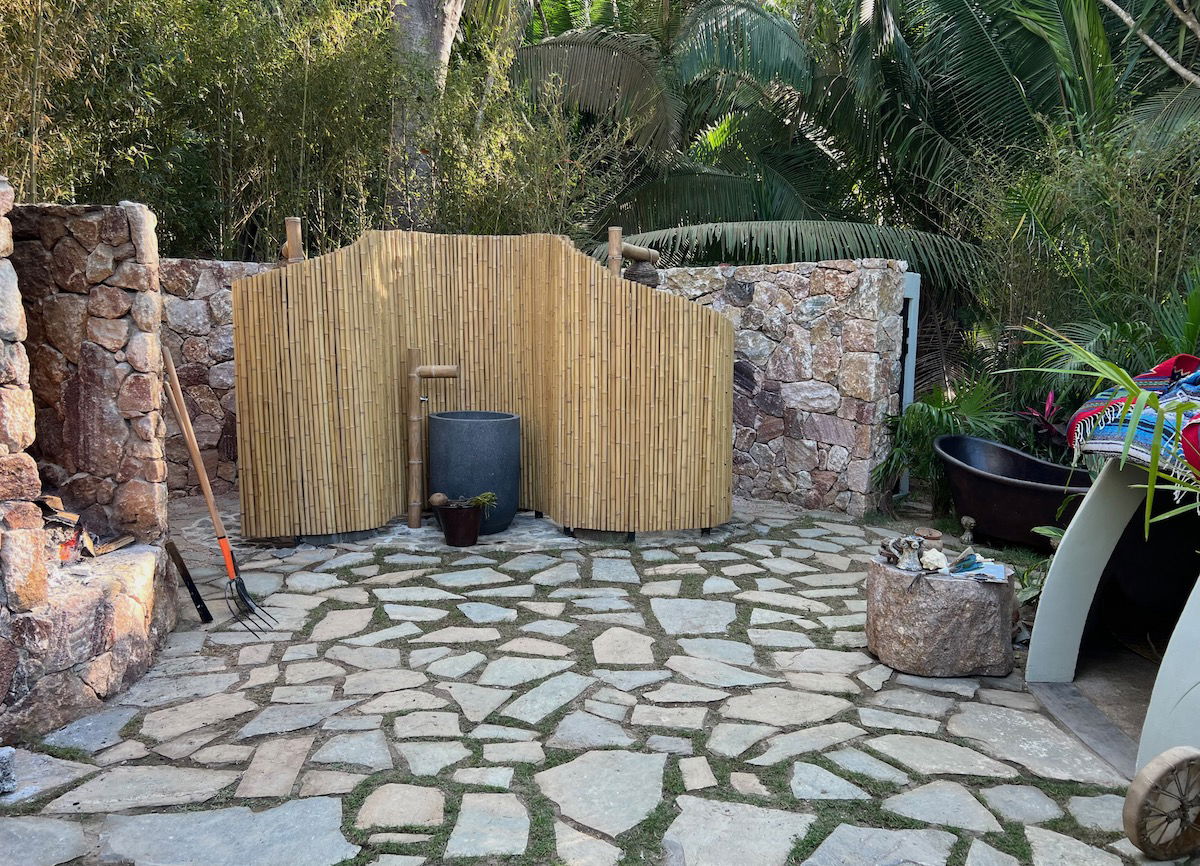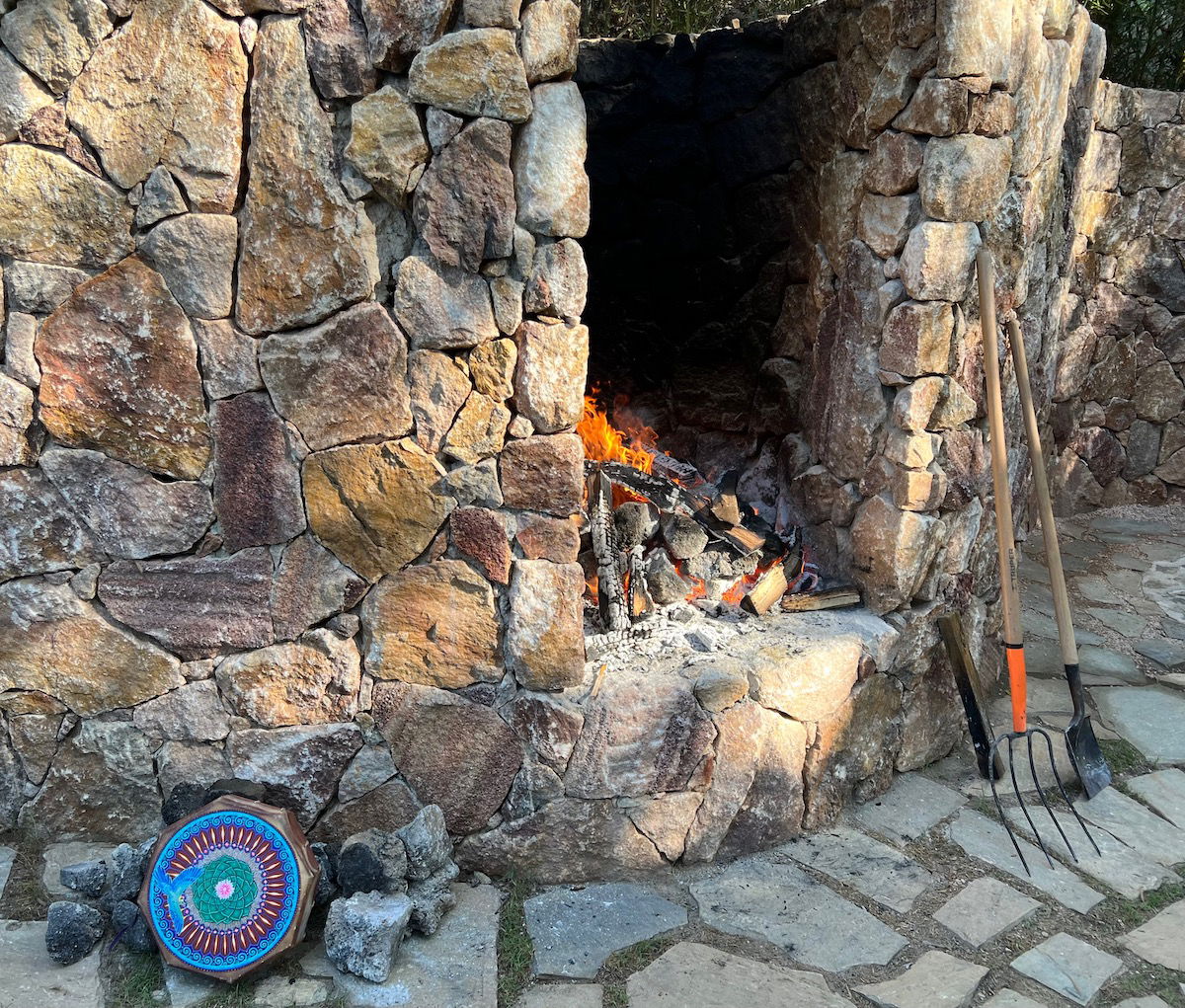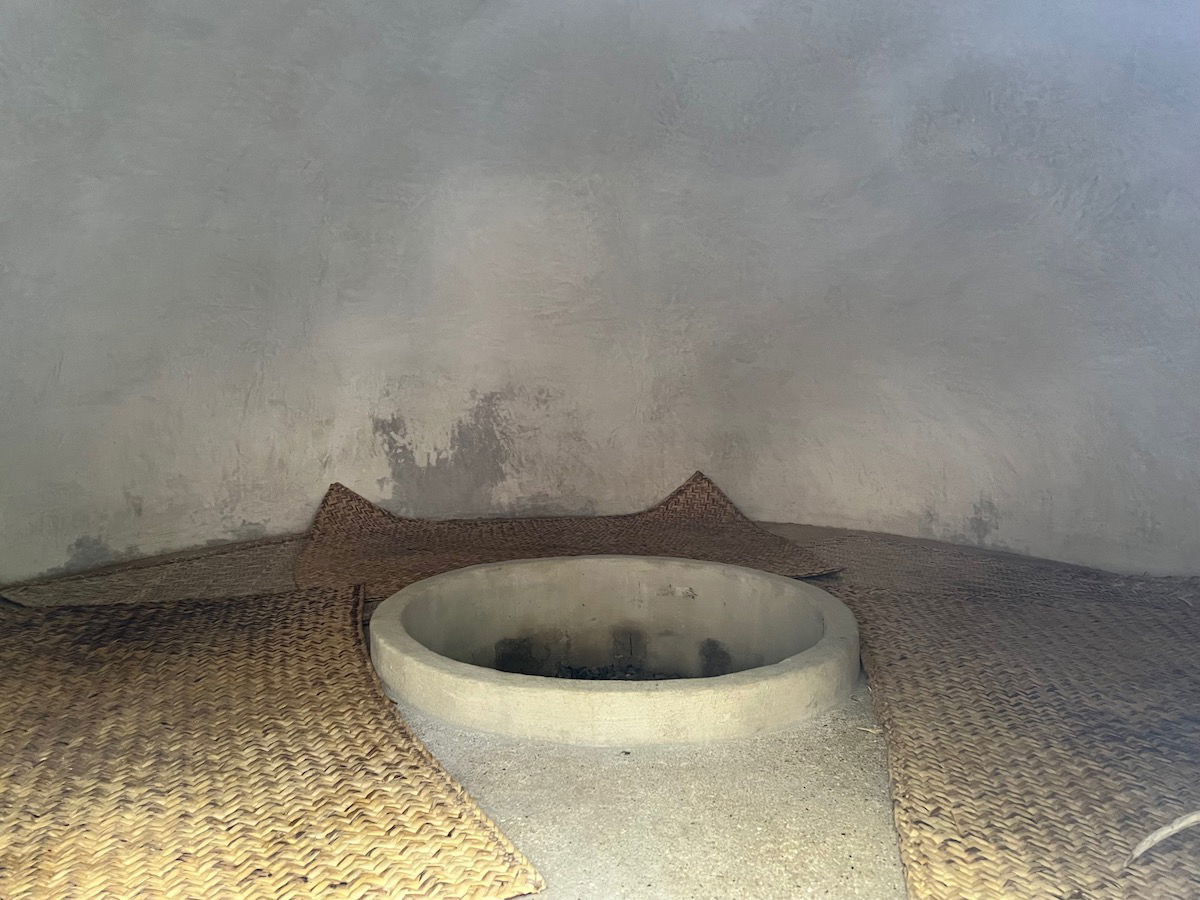 What a unique experience. I can't say I quite "felt something" in the same way as during the meditation, but it was really cool to learn about this practice, and experience it firsthand. Make sure you hydrate well both before and after the ceremony, because it's an endurance test.
Four Seasons Naviva street corn tasting
Just to give a further example of an additional activity, the Four Seasons Naviva had a street corn tasting one afternoon, so we took part in that. Yum.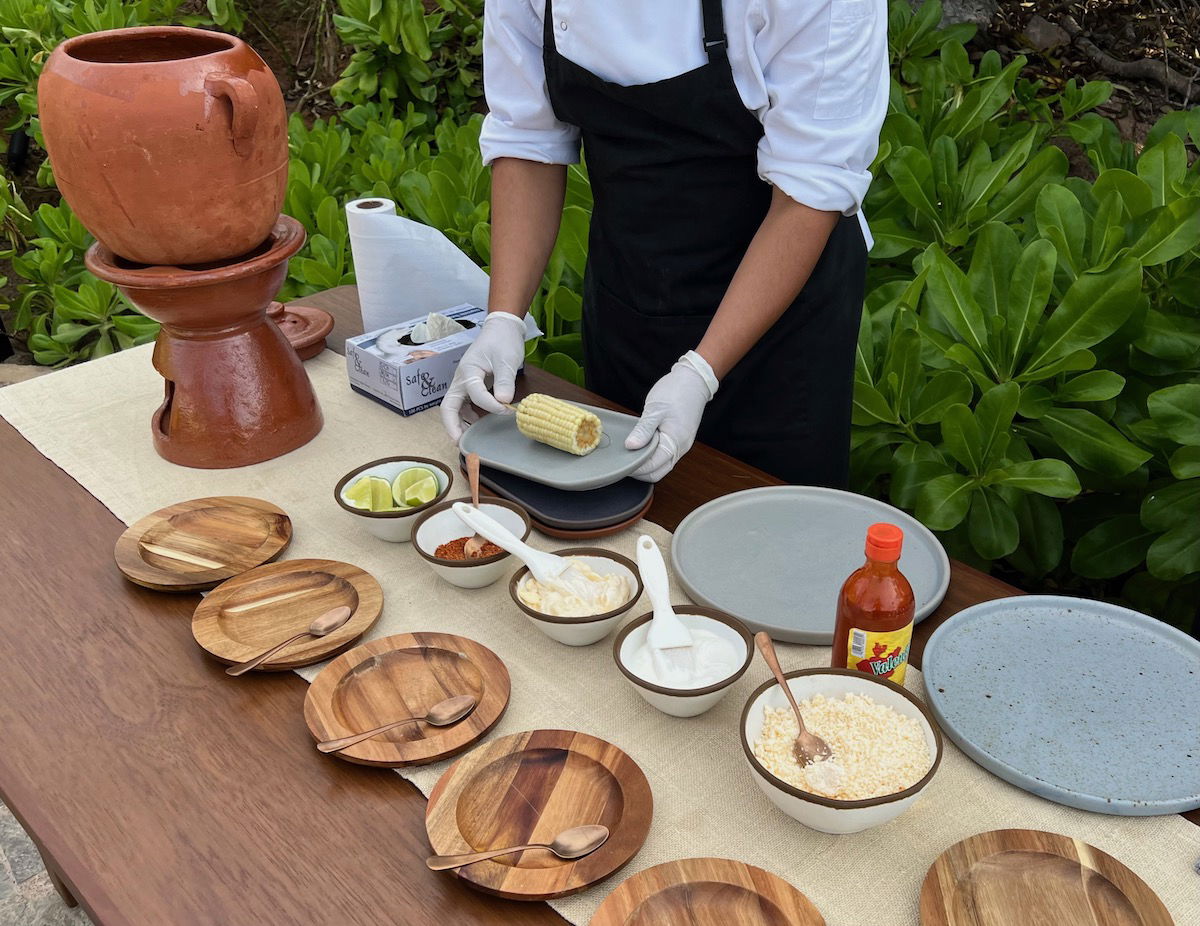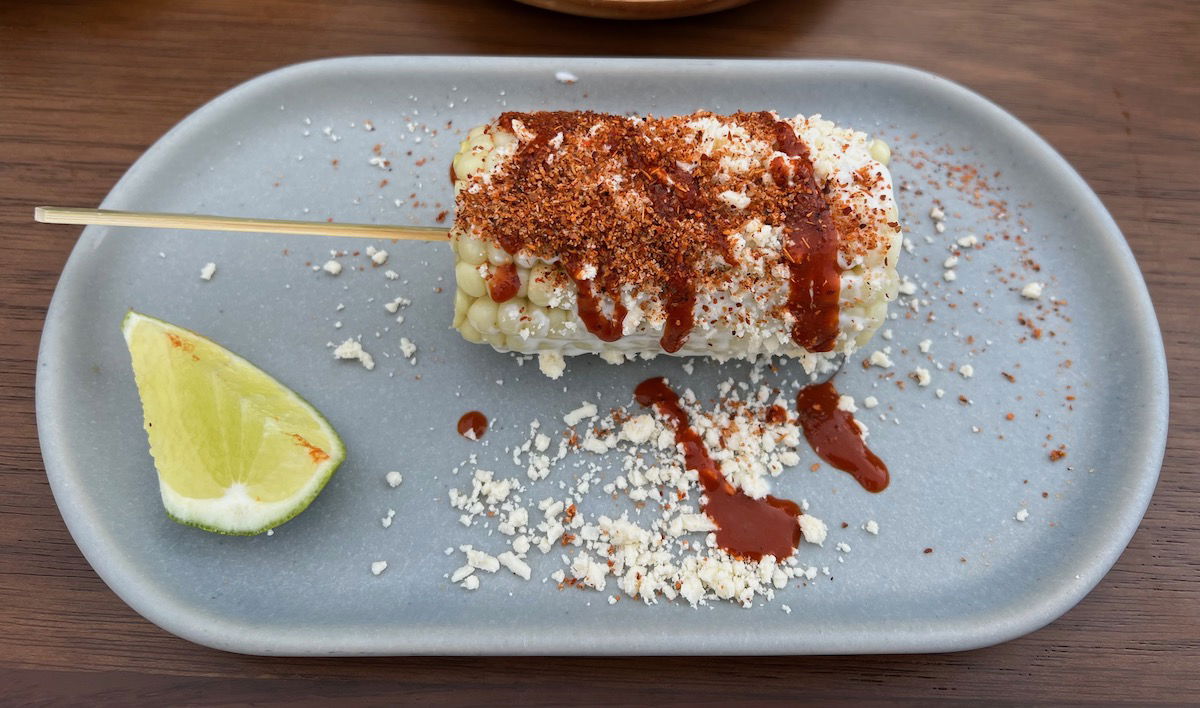 Four Seasons Naviva hiking
The Four Seasons Naviva has extensive hiking trails. There are guided hikes around sunrise, though alternatively you could just do it on your own. You really feel like you're in the middle of nowhere, in the best way possible.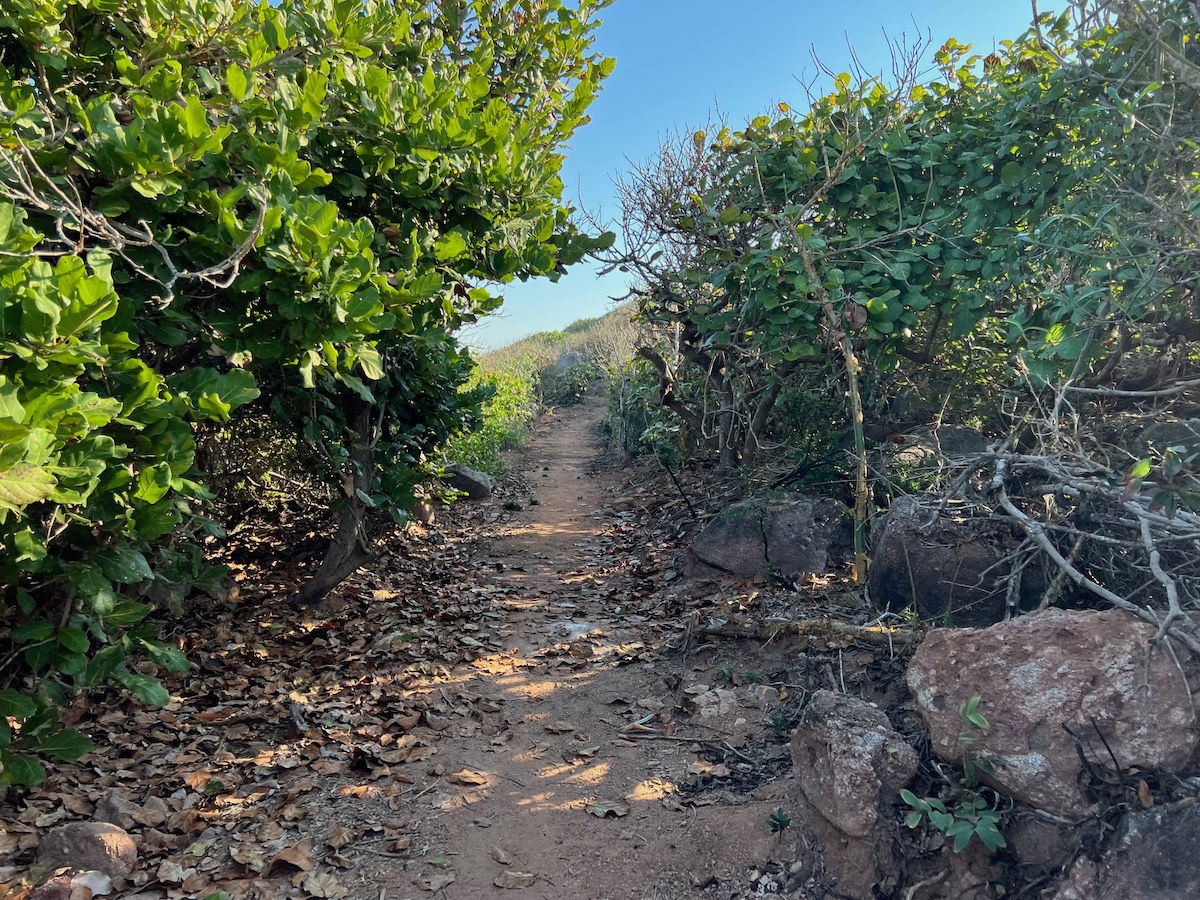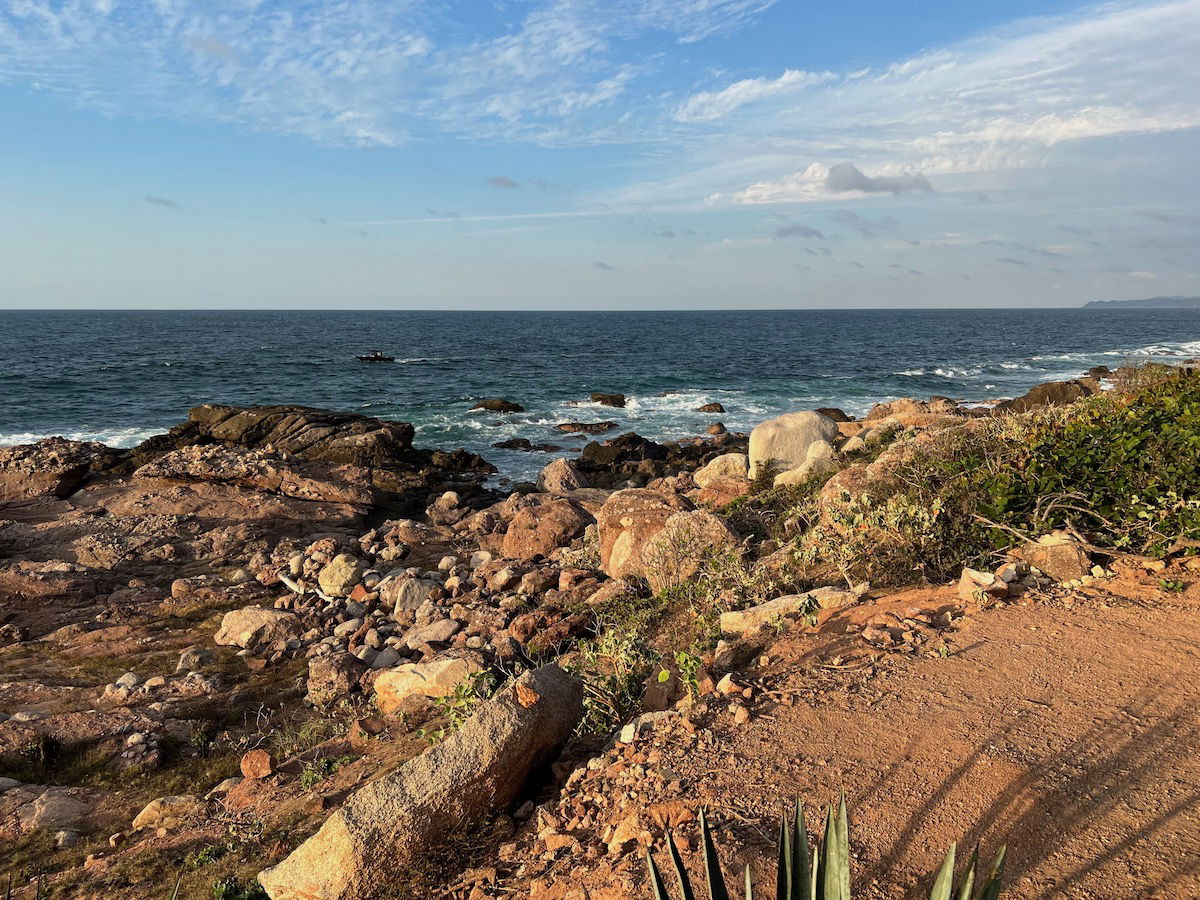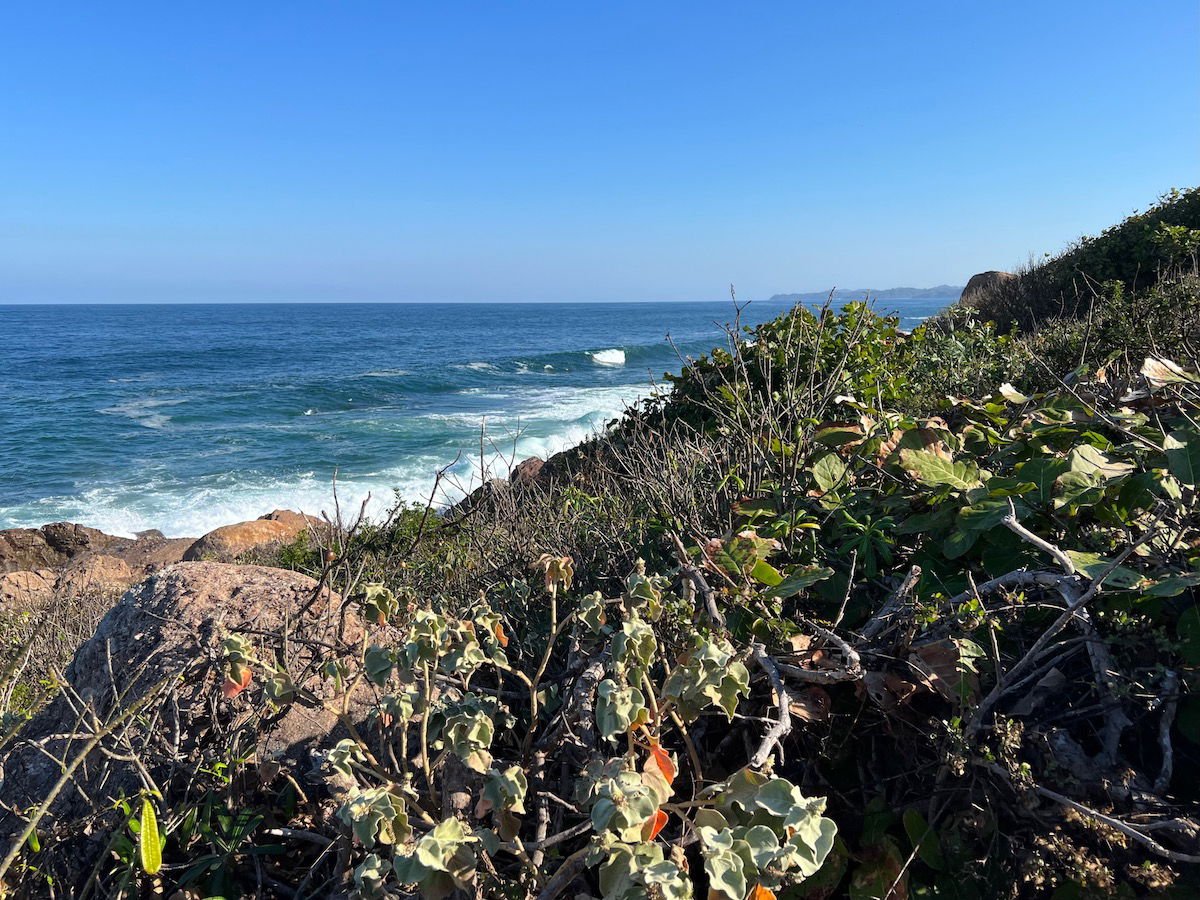 Four Seasons Naviva dining
The Four Seasons Naviva has the most flexible dining concept imaginable. You can have what you want, when you want, where you want, with no real limits. So whether you want to eat in the restaurant, or via in-room dining (I suppose in-tent dining, in this case), or at the pool, or at the beach, or while hanging upside down in a hammock, the choice is yours.
And to take it a step further when it comes to customization, there are no menus. The resort has an amazing culinary team led by Chef Sofia (who is a total rockstar, by the way), and every day they propose something based on your preferences and dietary restrictions.
However, you absolutely don't have to eat what they propose, and you can order whatever you'd like, and they'll make it for you. If there's something very specific you want, I'm sure you can let the team at the hotel know before your stay, and they'll make it happen.
Four Seasons Naviva restaurant & bar
We ended up having virtually all of our meals at the restaurant, because it's so ridiculously nice, and is the heart of the resort. Heck, even if you're not eating, this is a great place to grab a drink, or get some work done on your laptop. The restaurant and bar area are entirely open-air, with direct views of the water.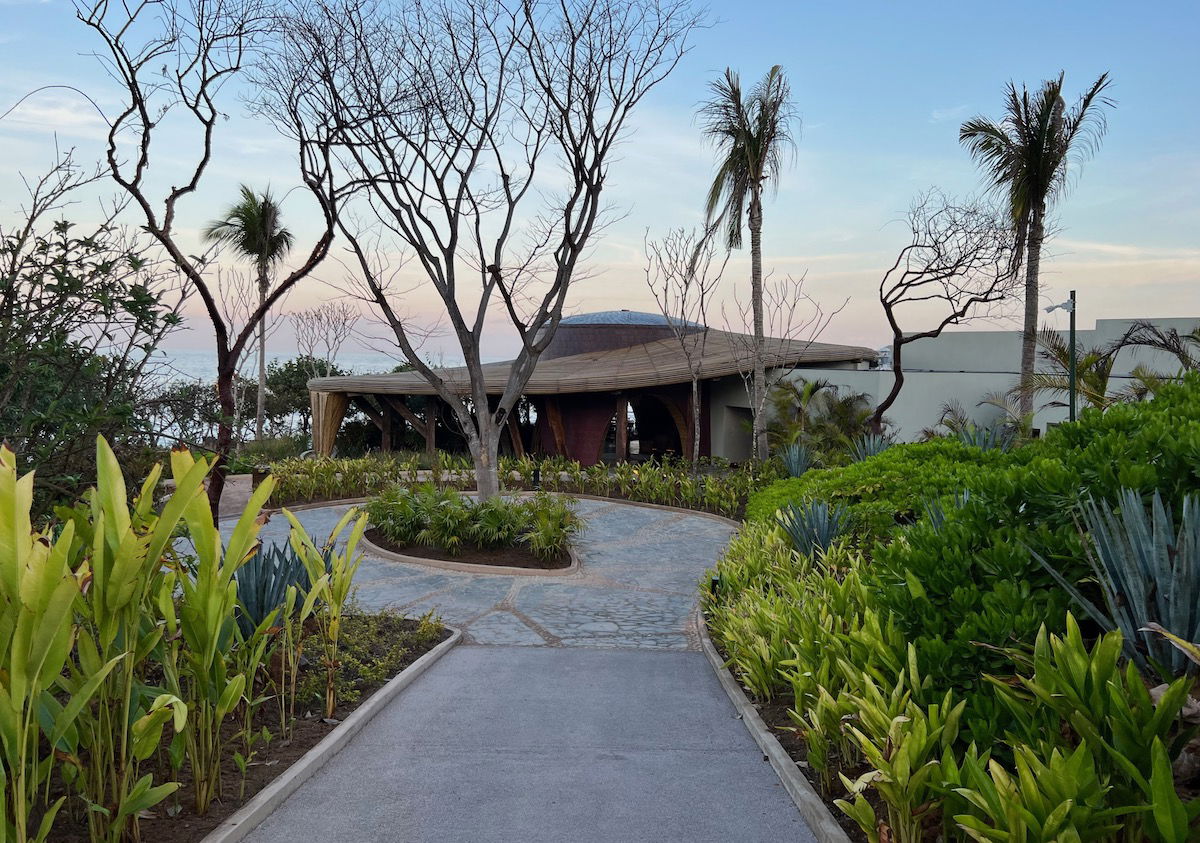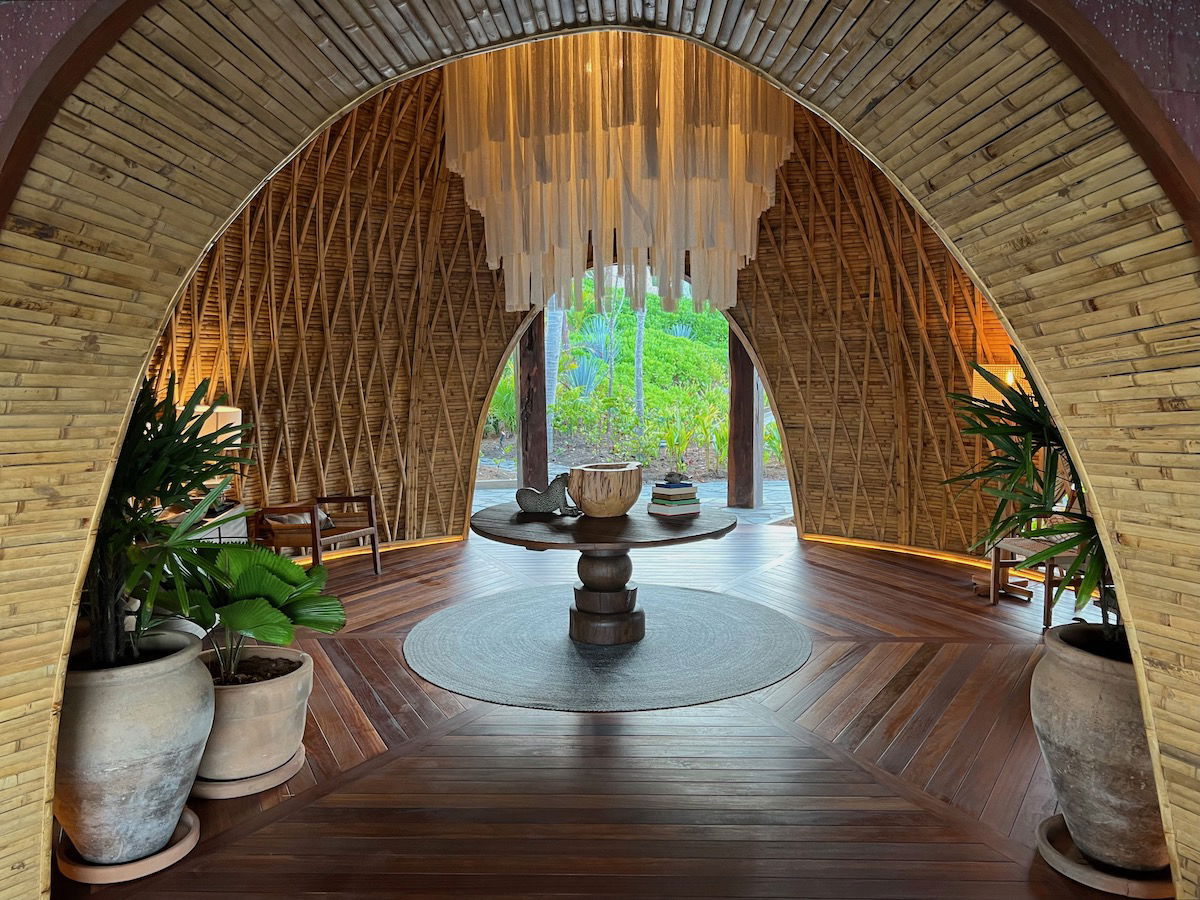 As you can see, this area is more than just a dozen dining tables. There's also an area for lounging, a bar area where you can sit, a foosball table, board games, and more.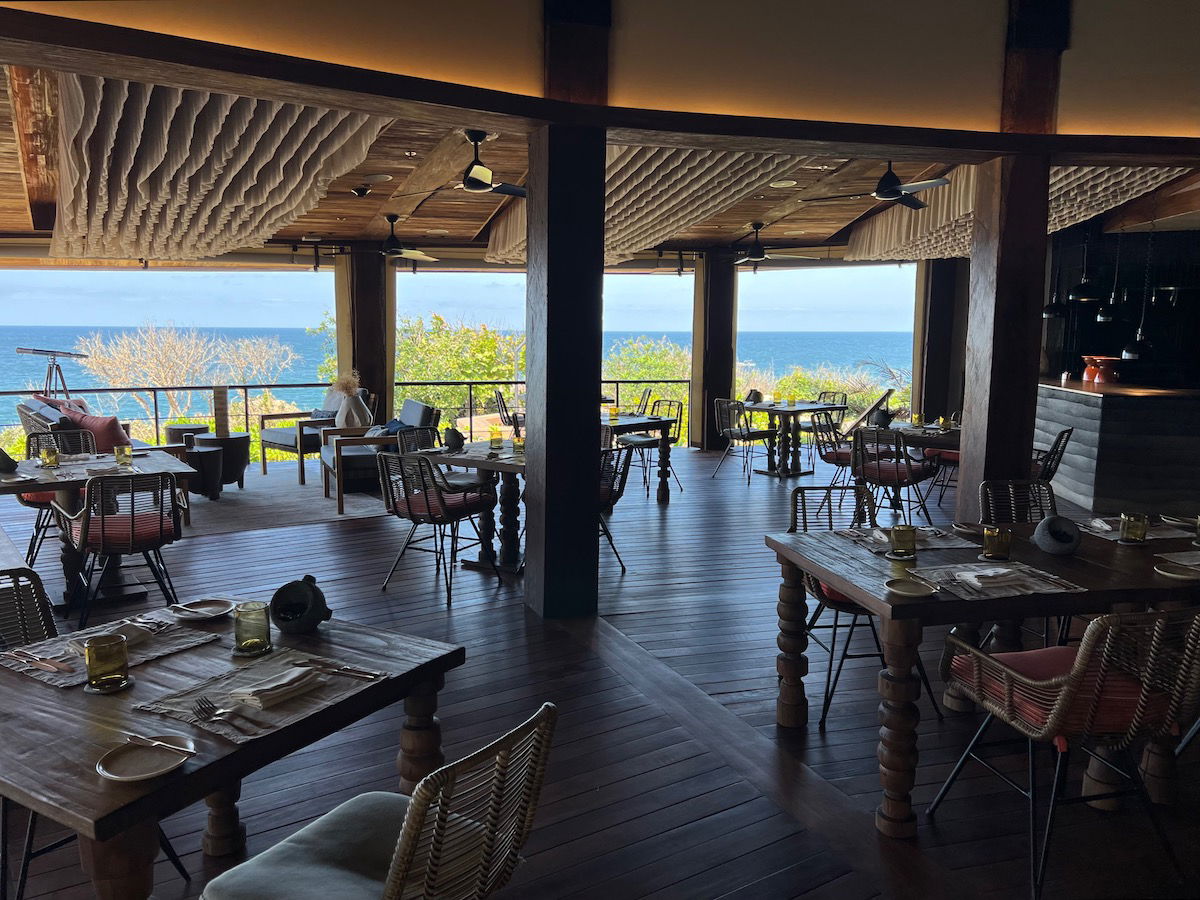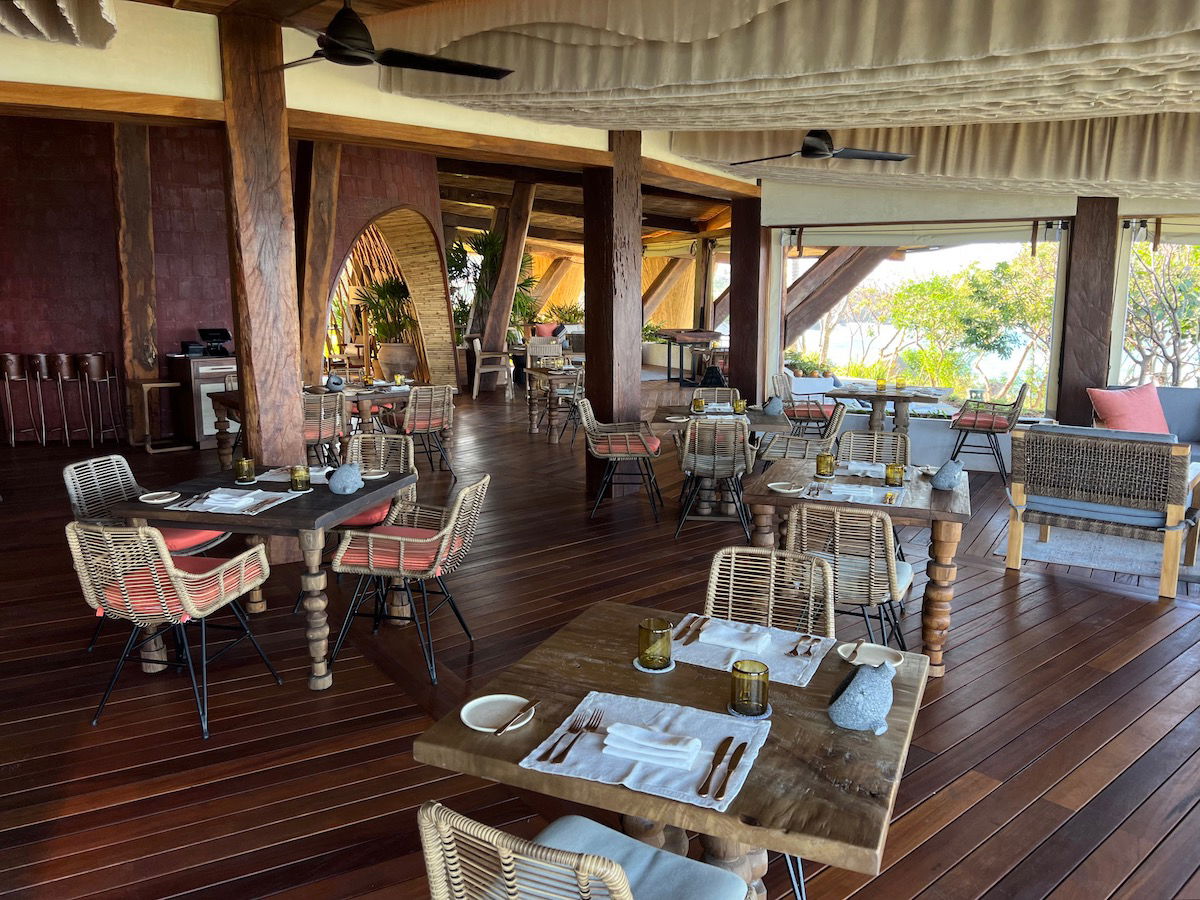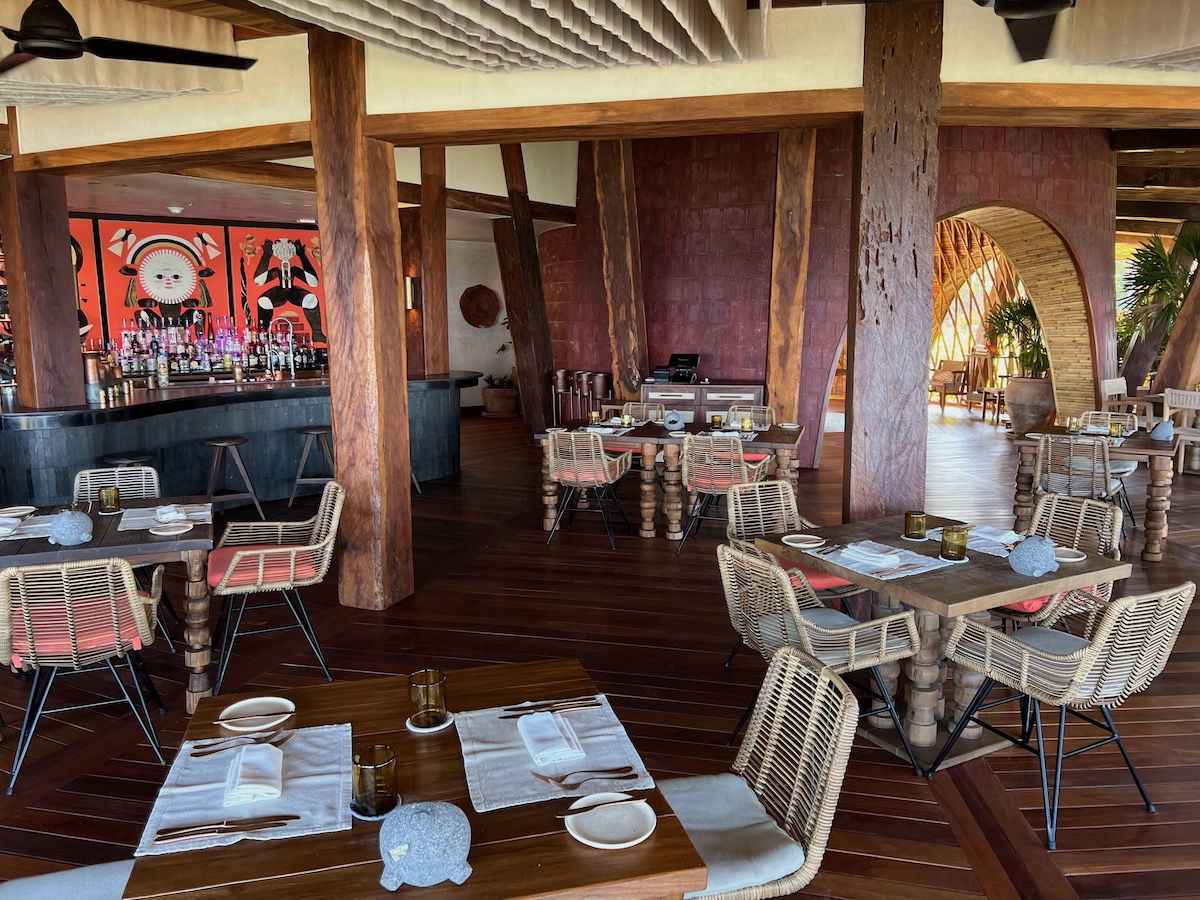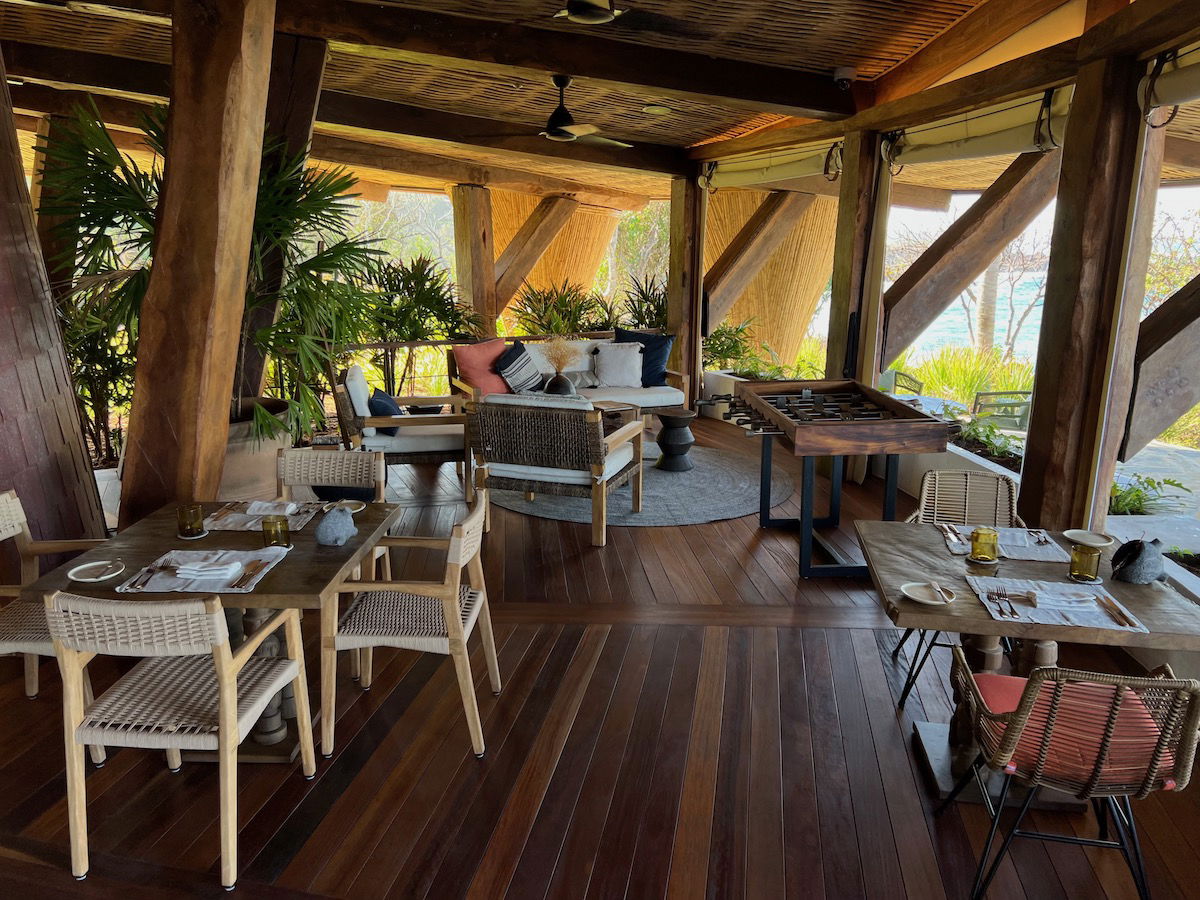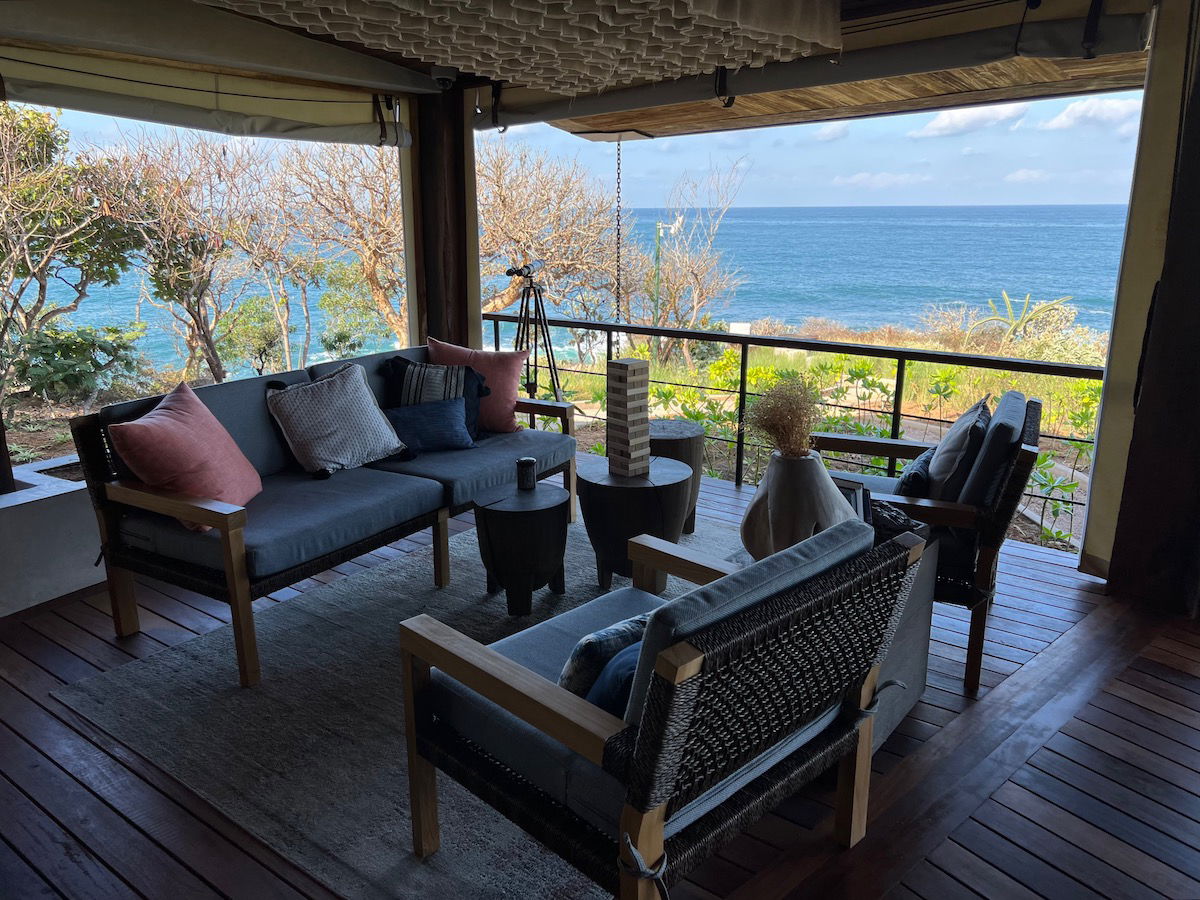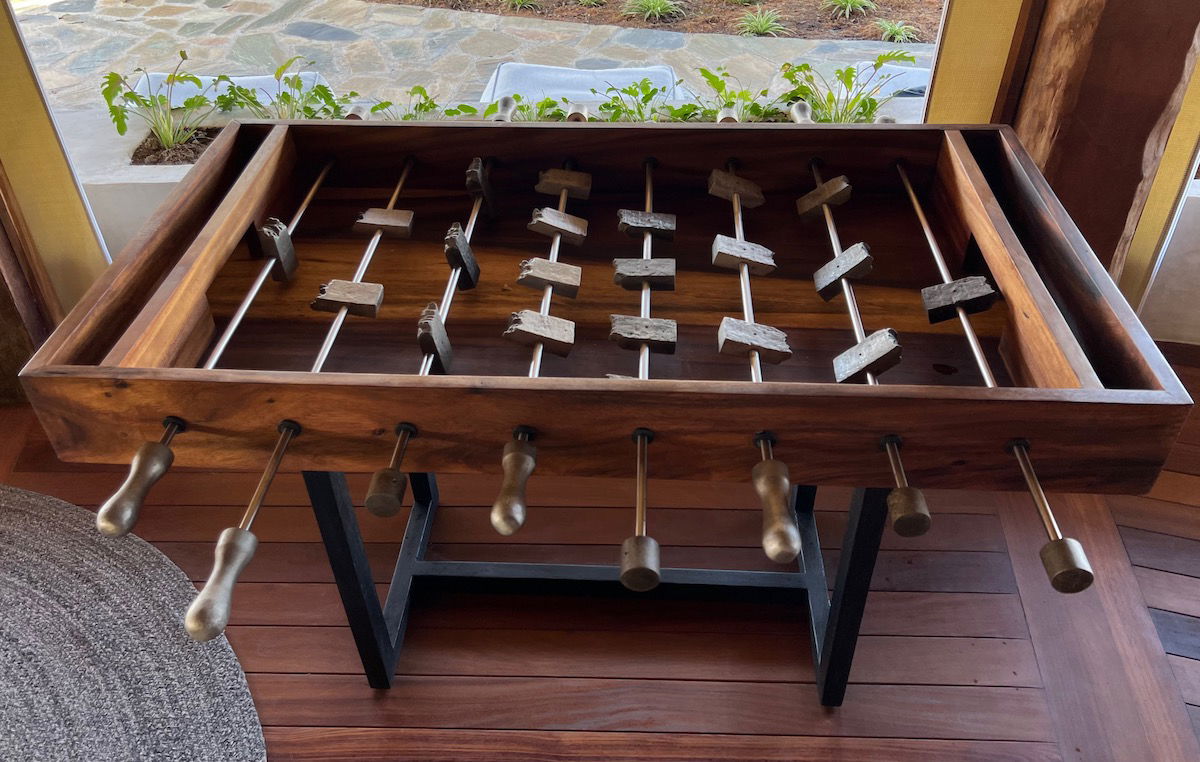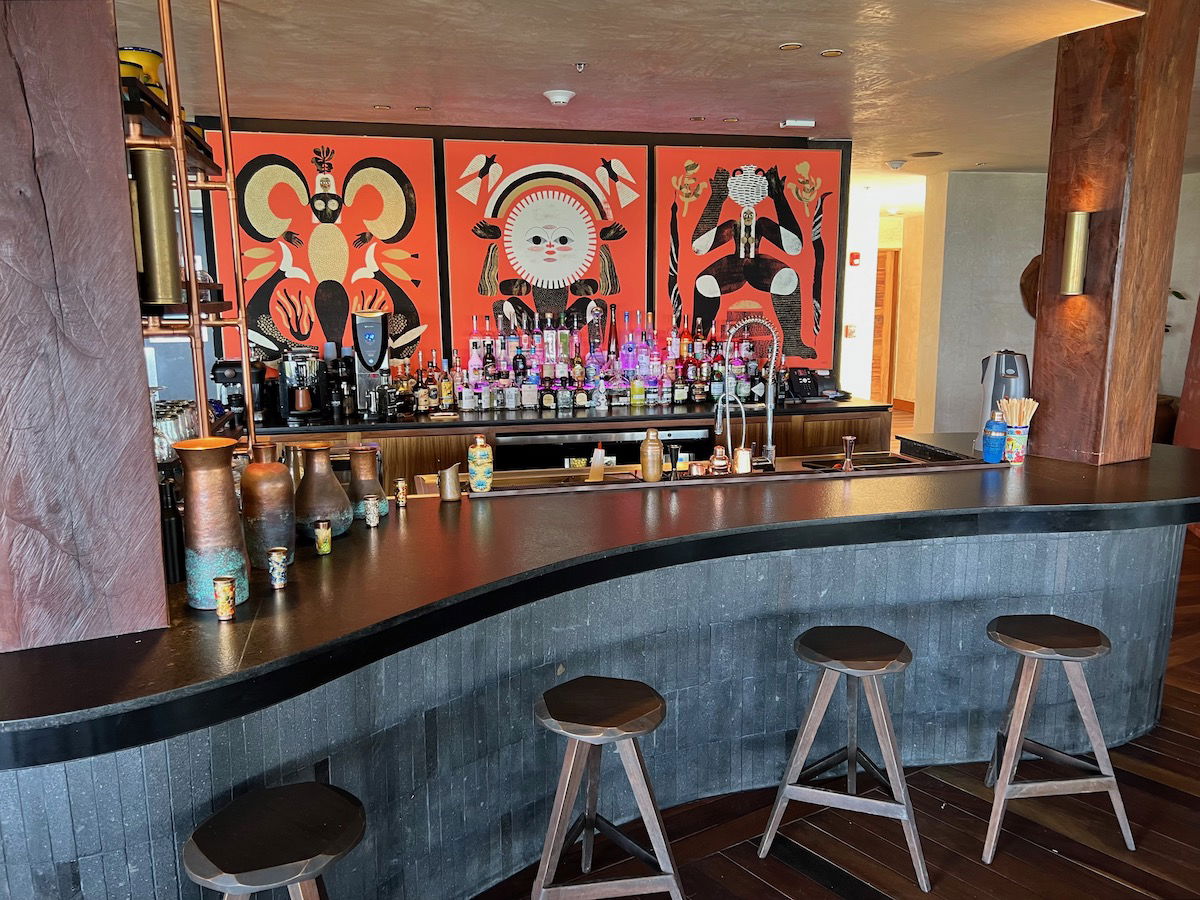 There's also an open kitchen, so you can see everything being prepared.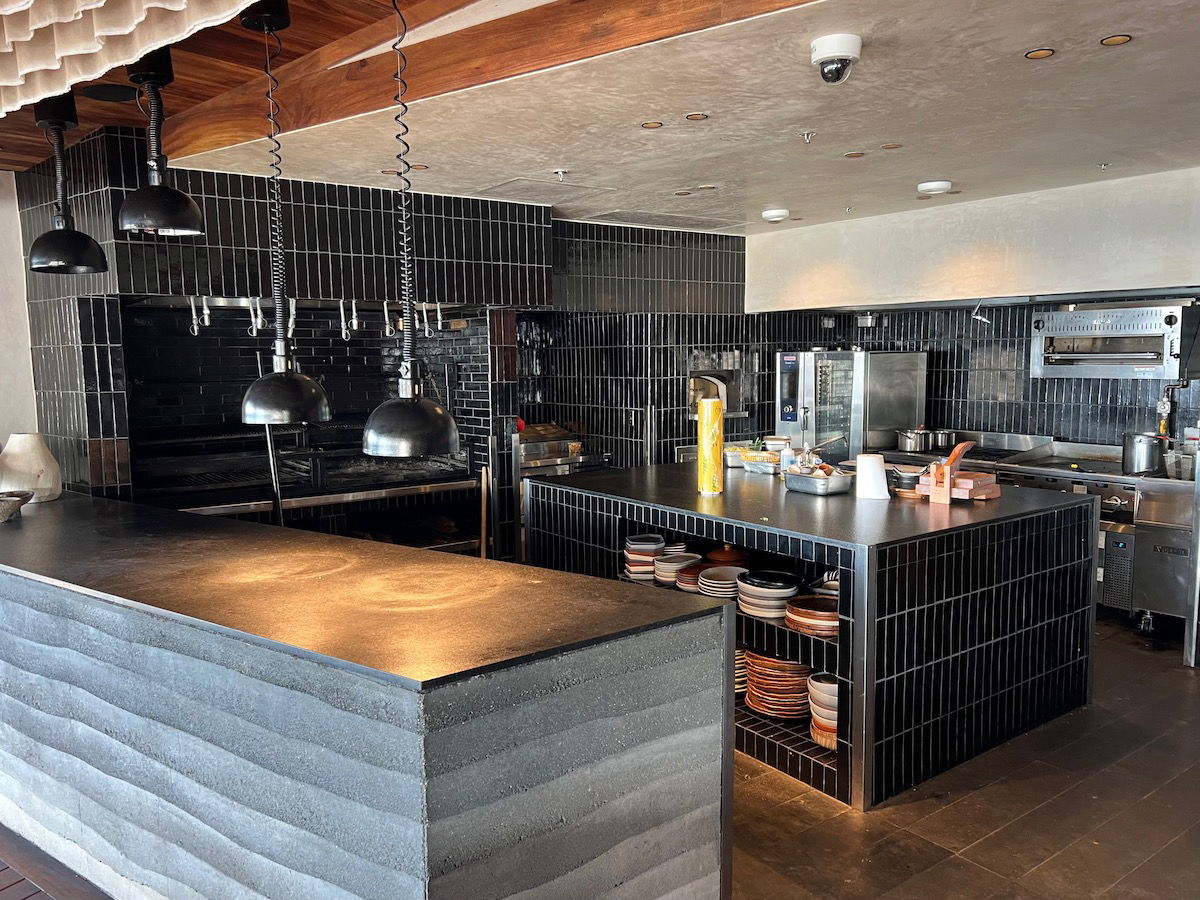 There's also lovely seating outdoors, ranging from daybeds, to seats by the cliff with a fire pit, to swings.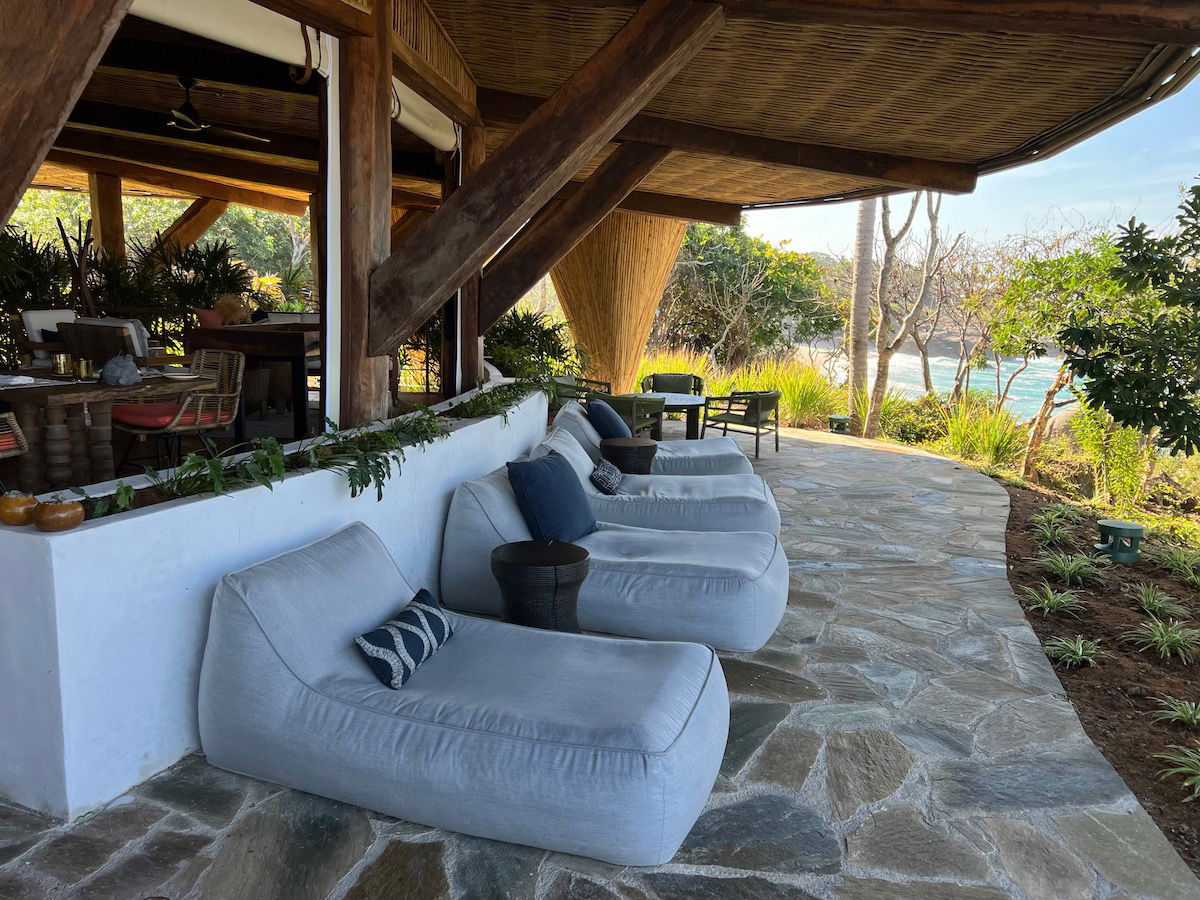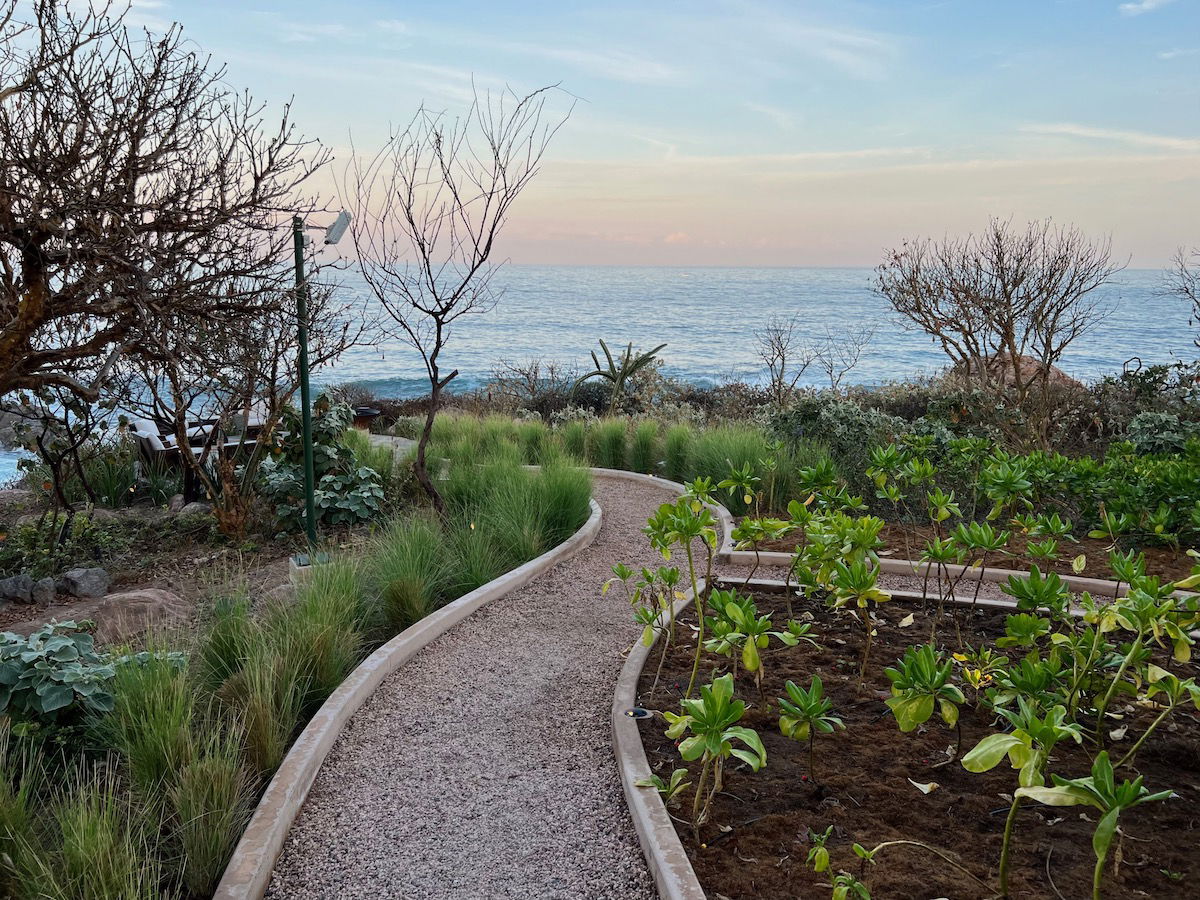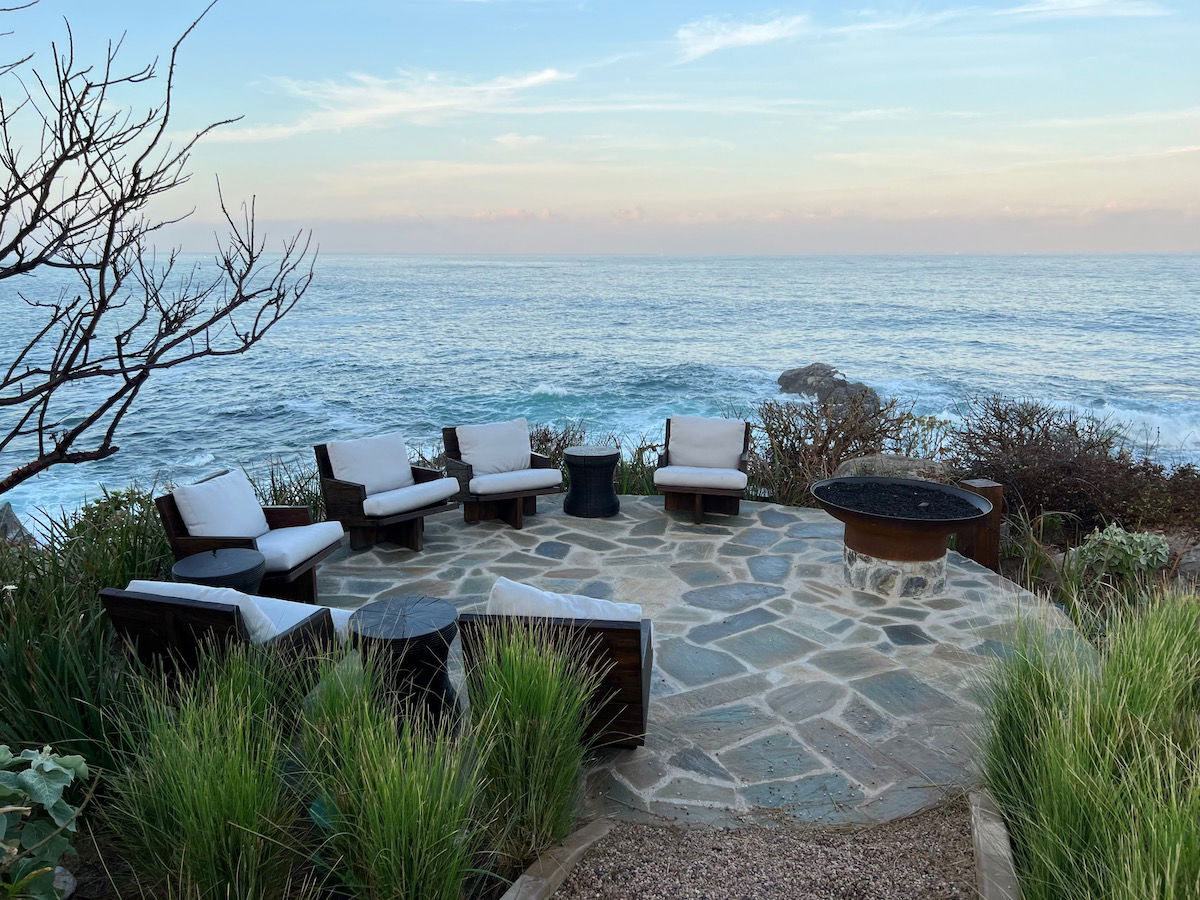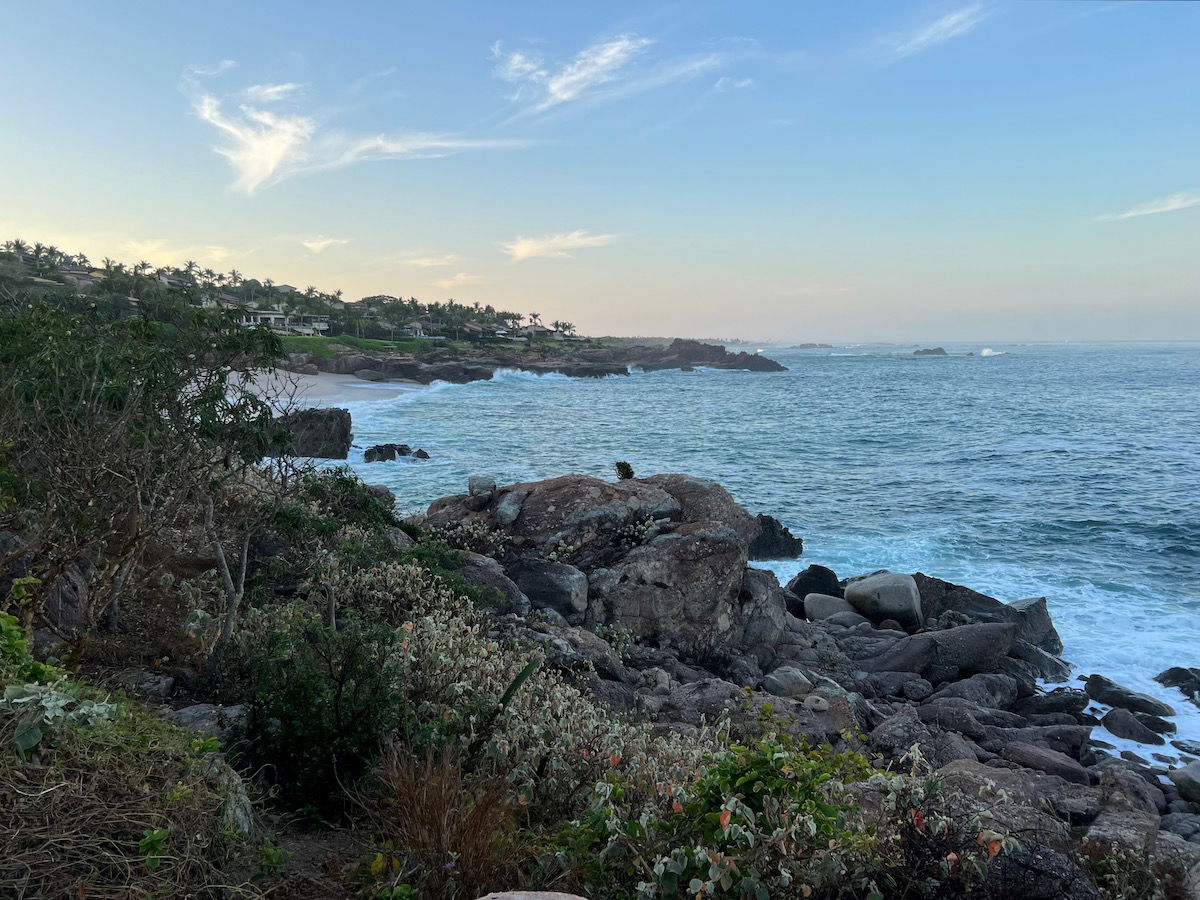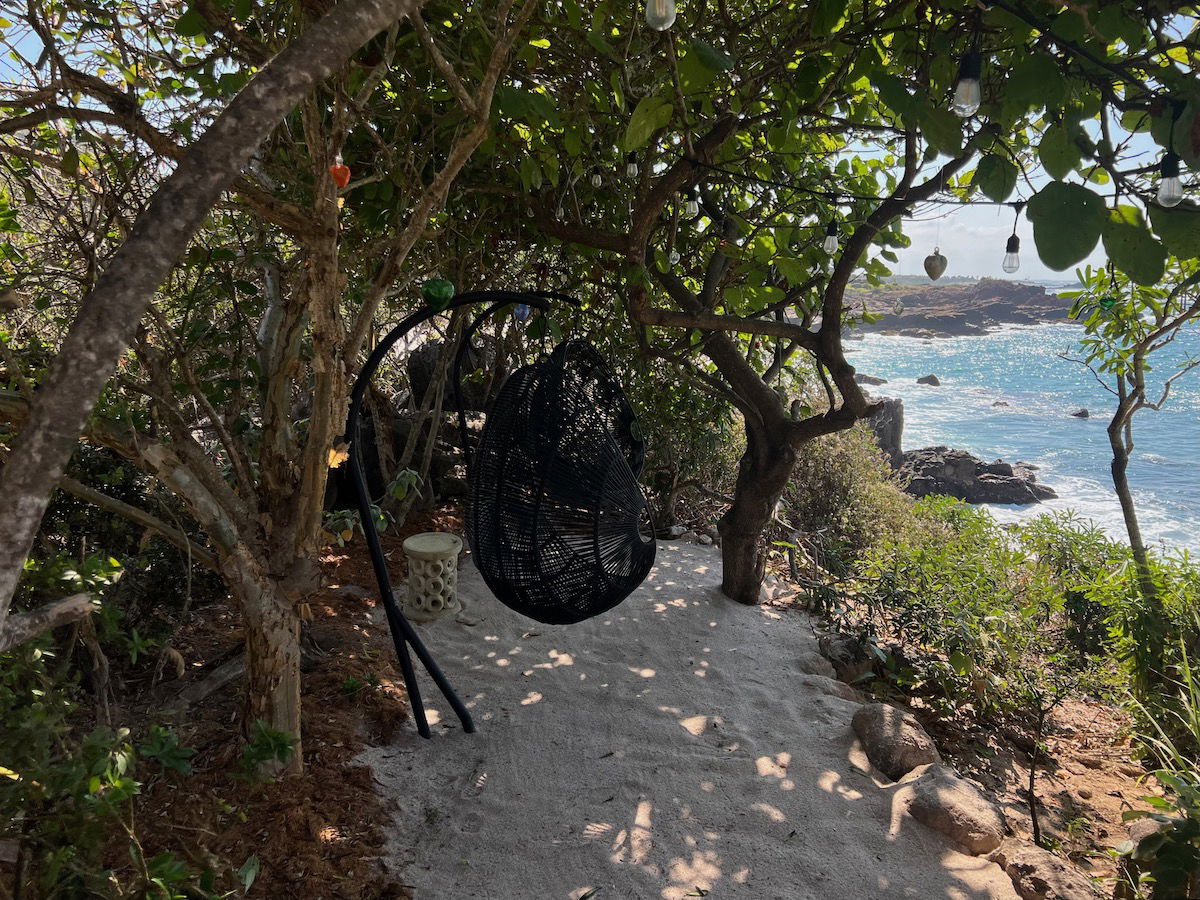 This area becomes even more beautiful when the sun sets and at night, if that's even possible.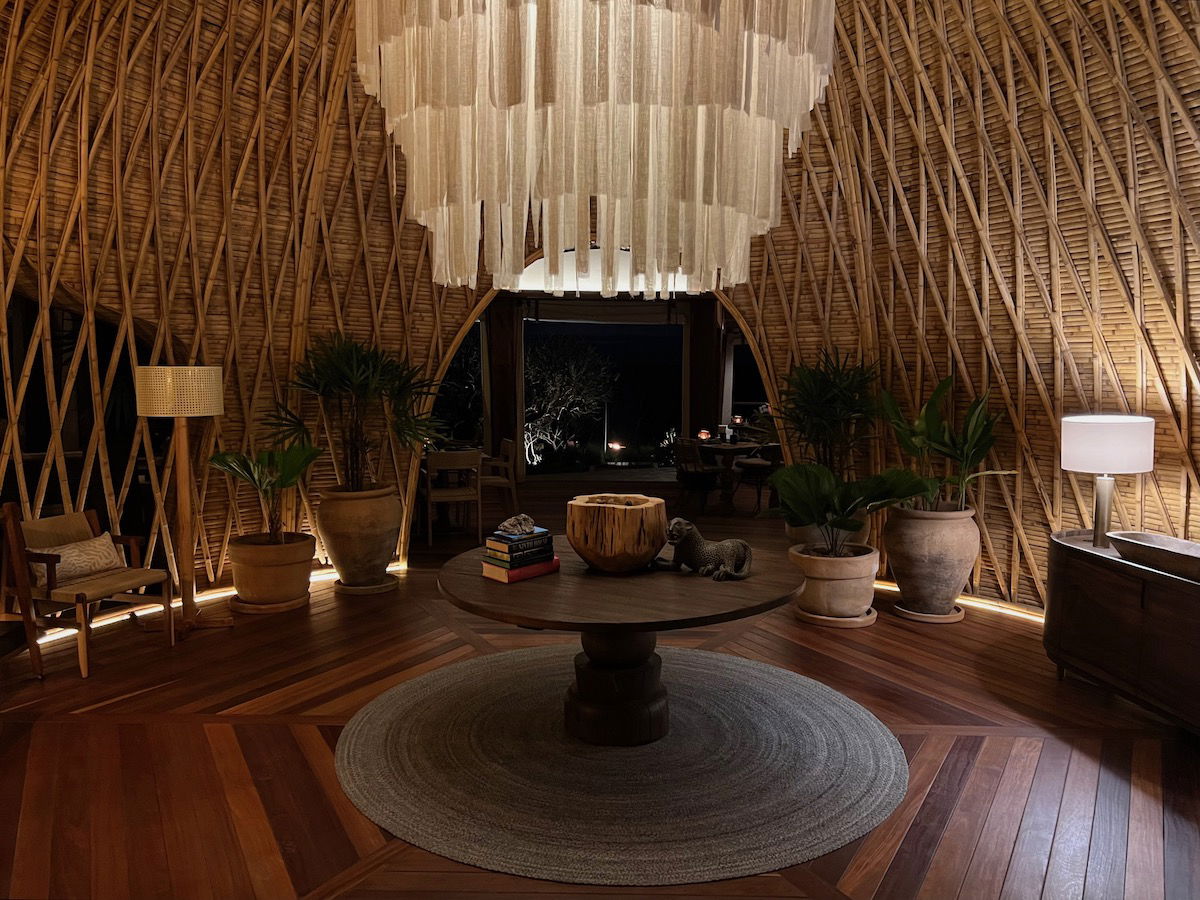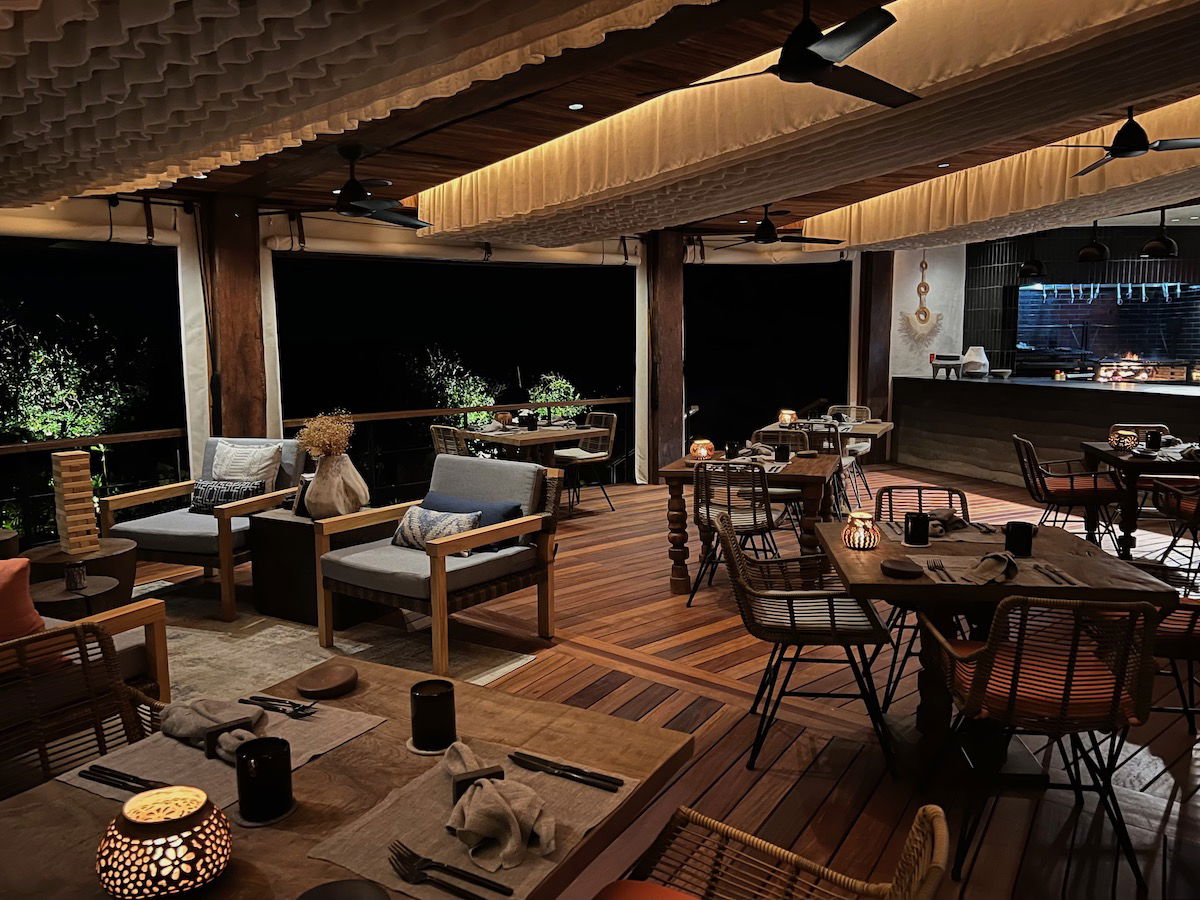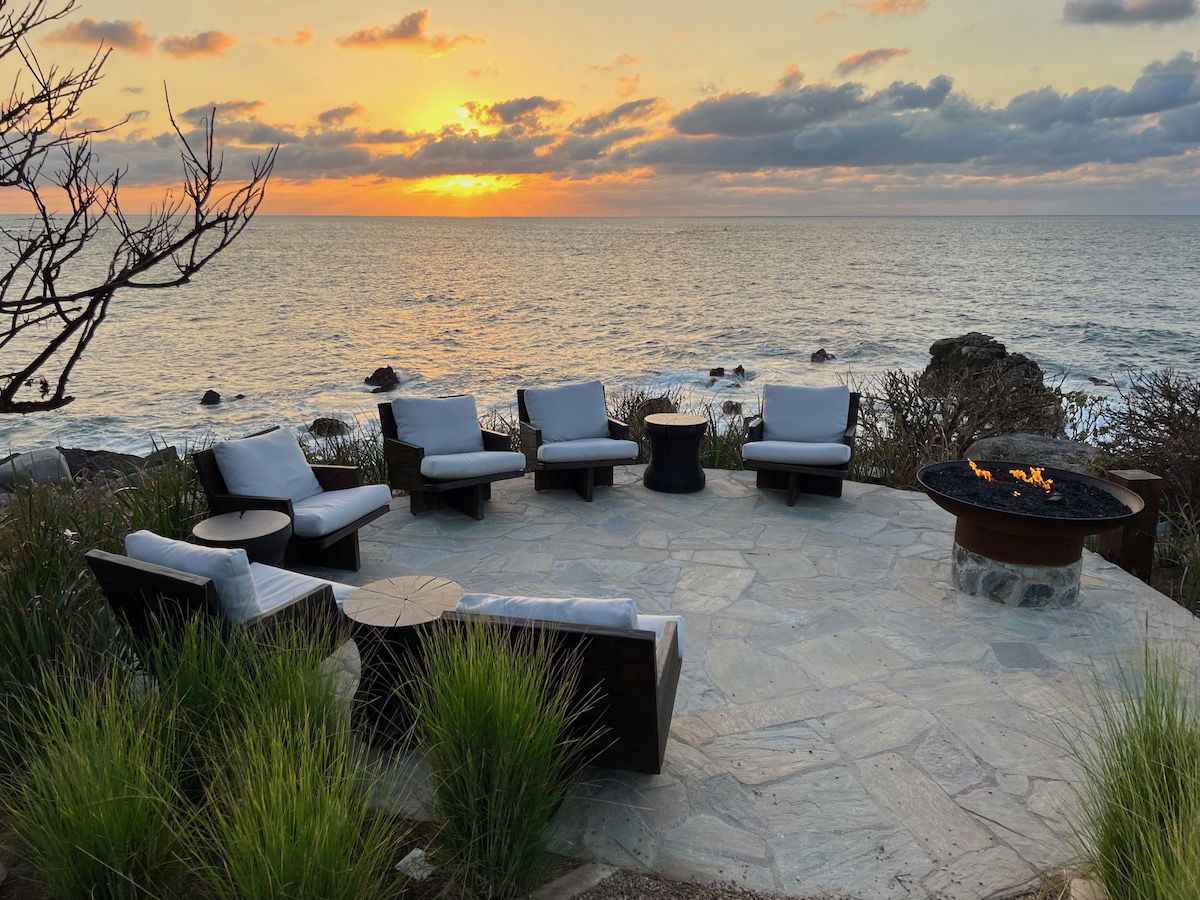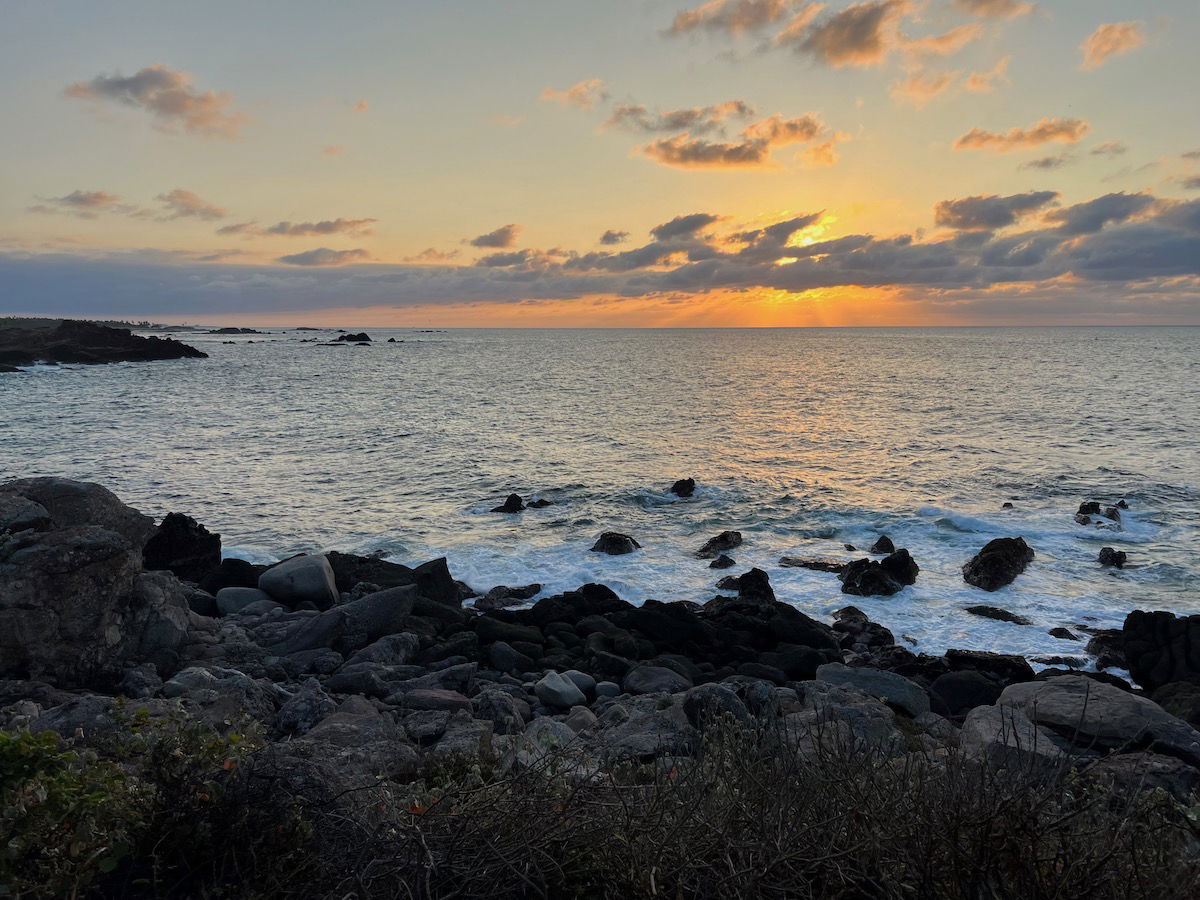 Four Seasons Naviva breakfast
Breakfast at Four Seasons Naviva was a treat, with excellent fresh juices and cappuccinos (though I do think the cold brew could be improved, as it was much better at the Four Seasons Punta Mita).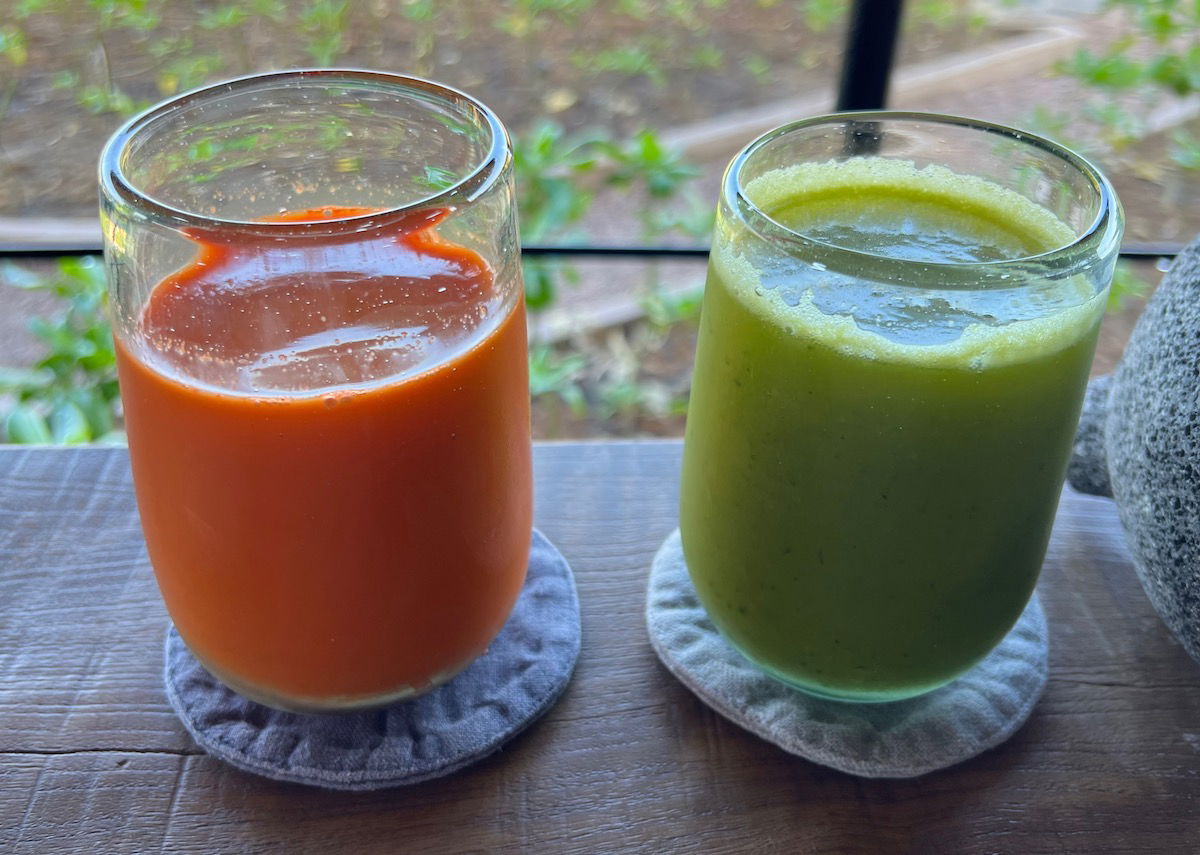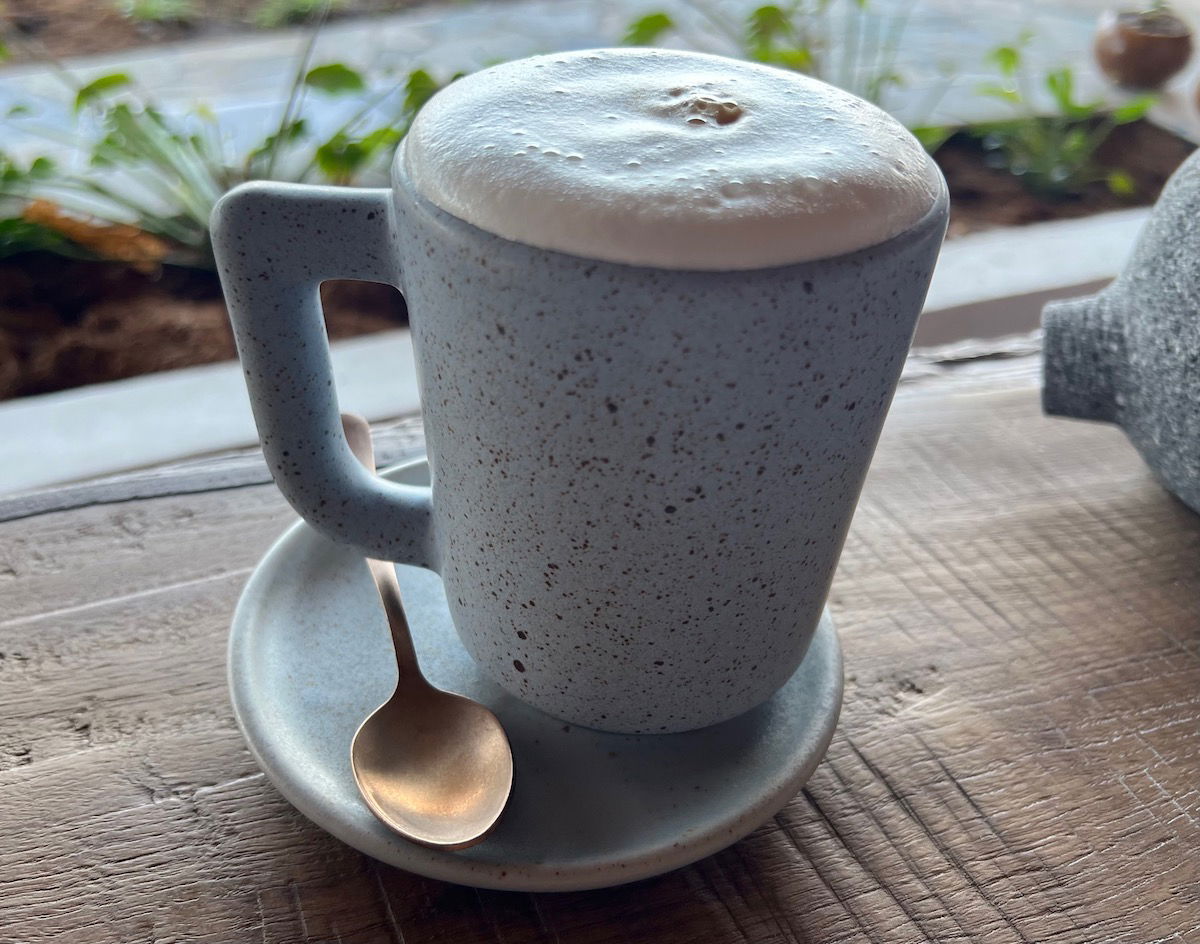 There was always a bread basket with all kinds of options. On two mornings it was specifically mentioned that the chef had freshly prepared certain sweets, so that seemed like a good excuse to try them. 😉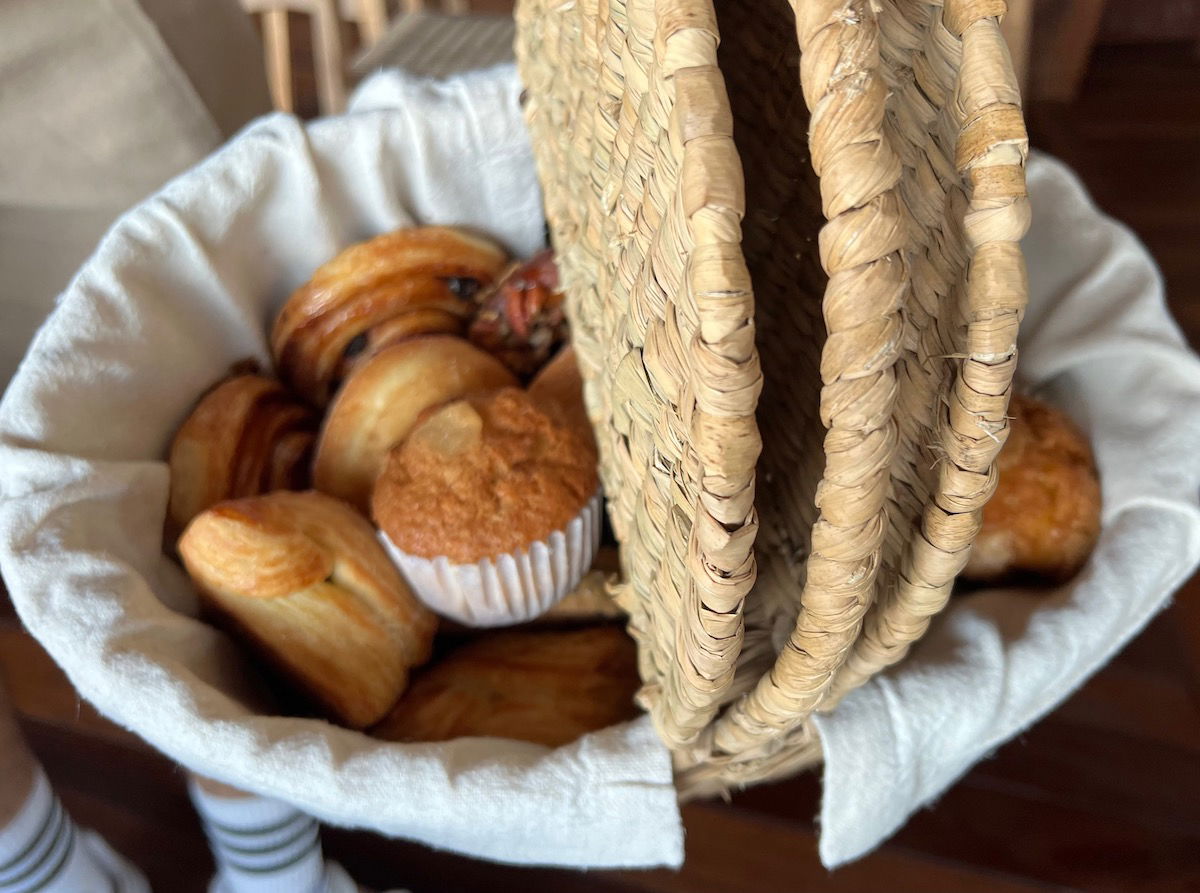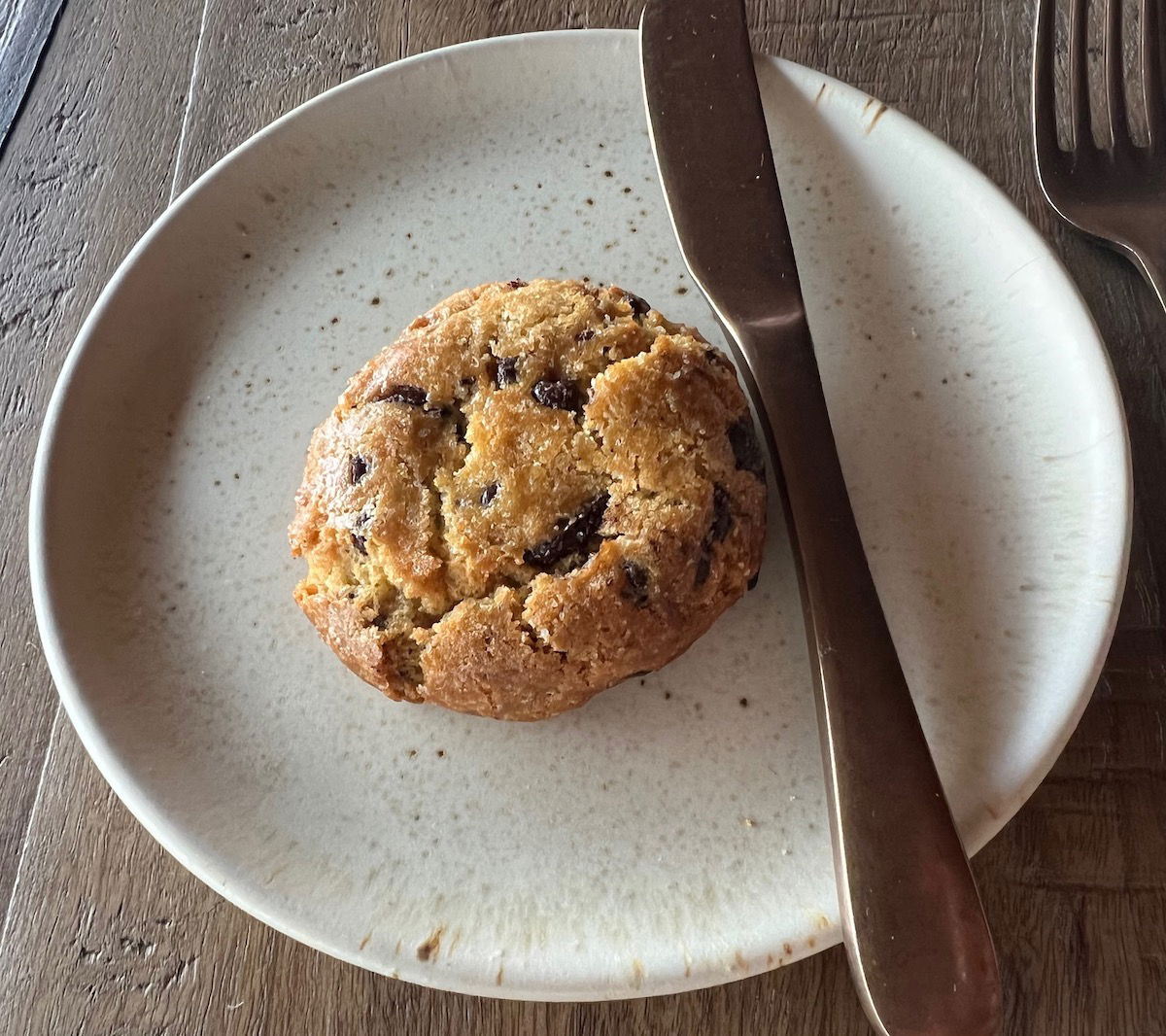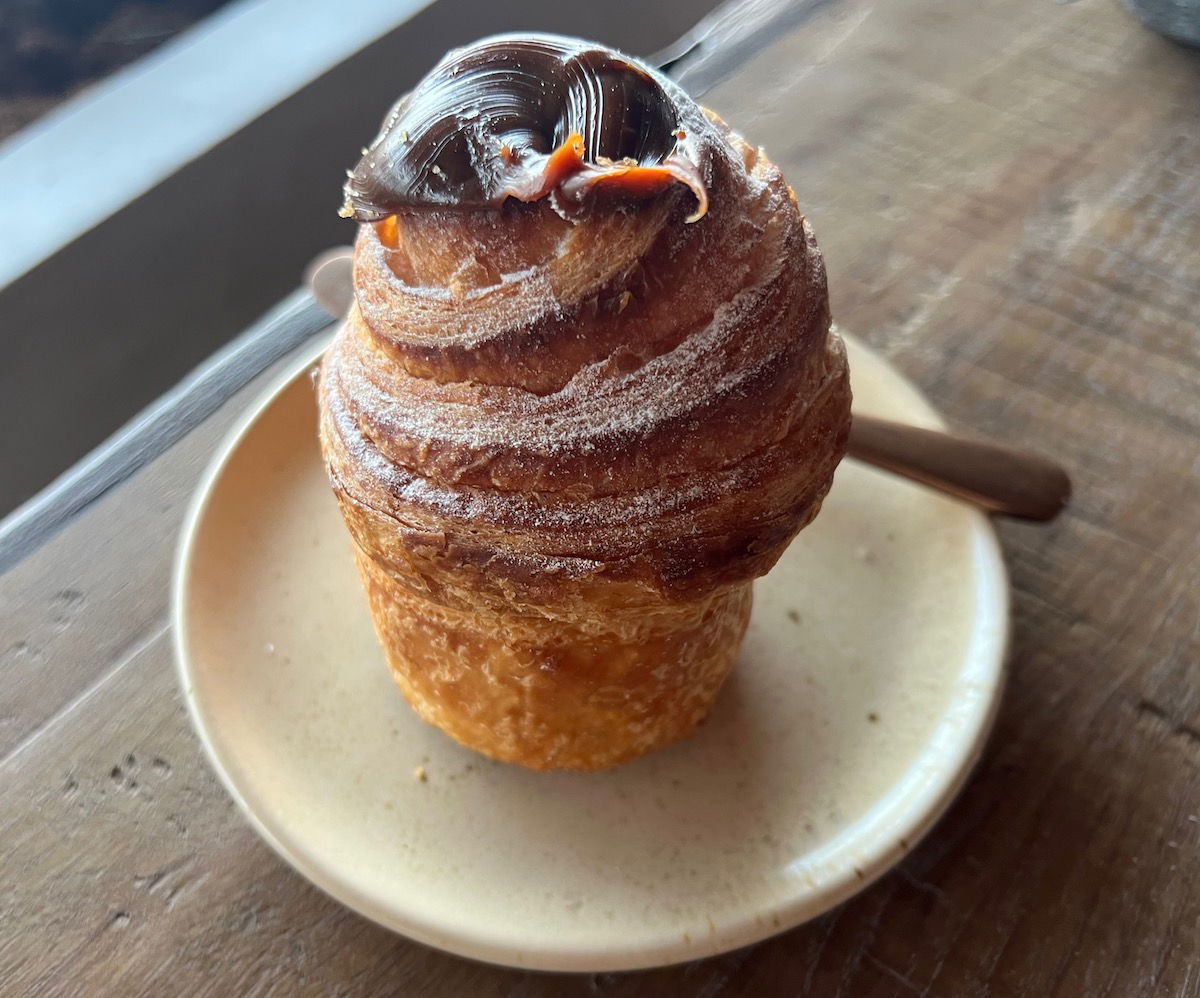 For breakfast you were encouraged to get something to start, whether that's a fruit plate, or a chia bowl with strawberries and granola.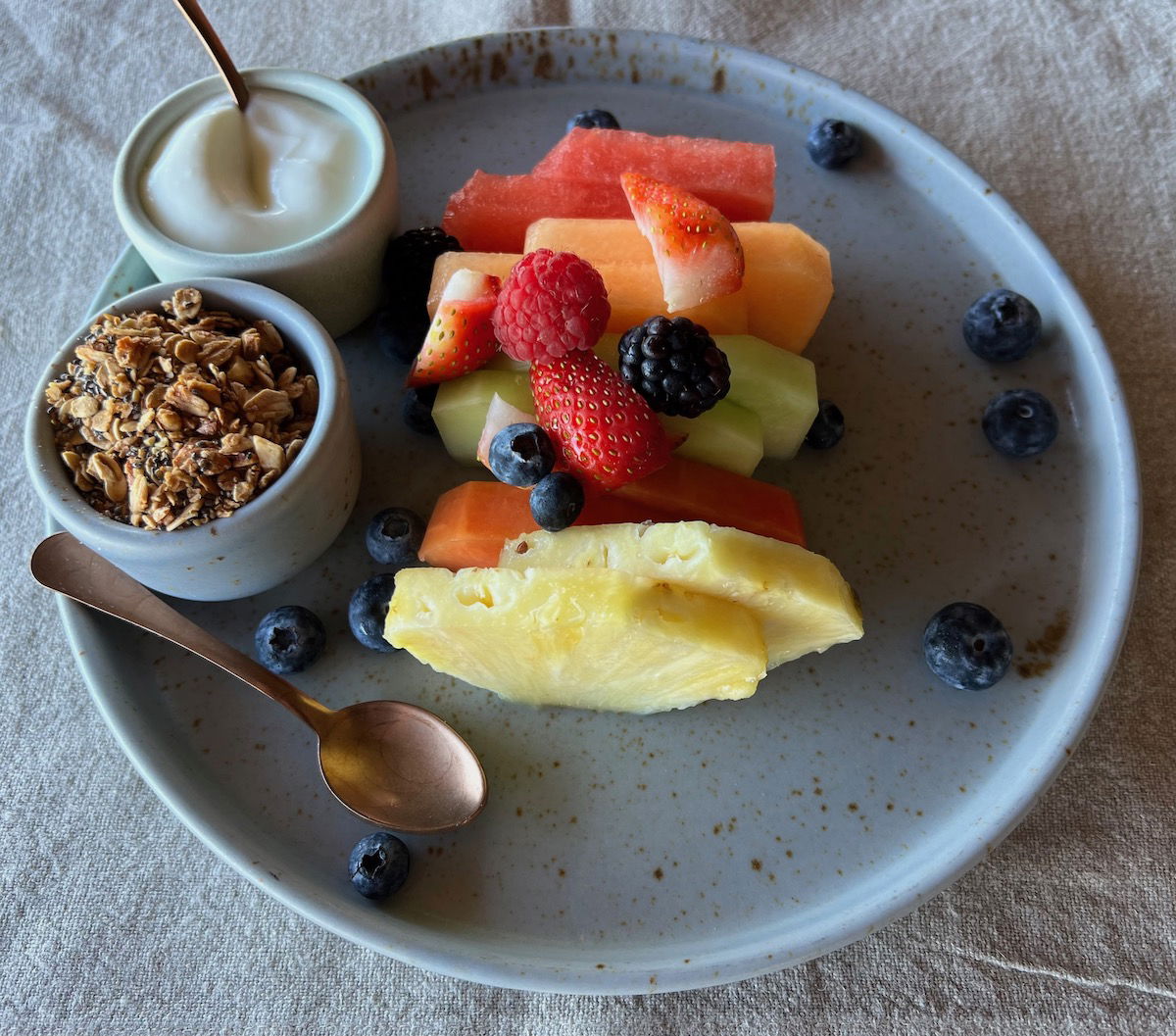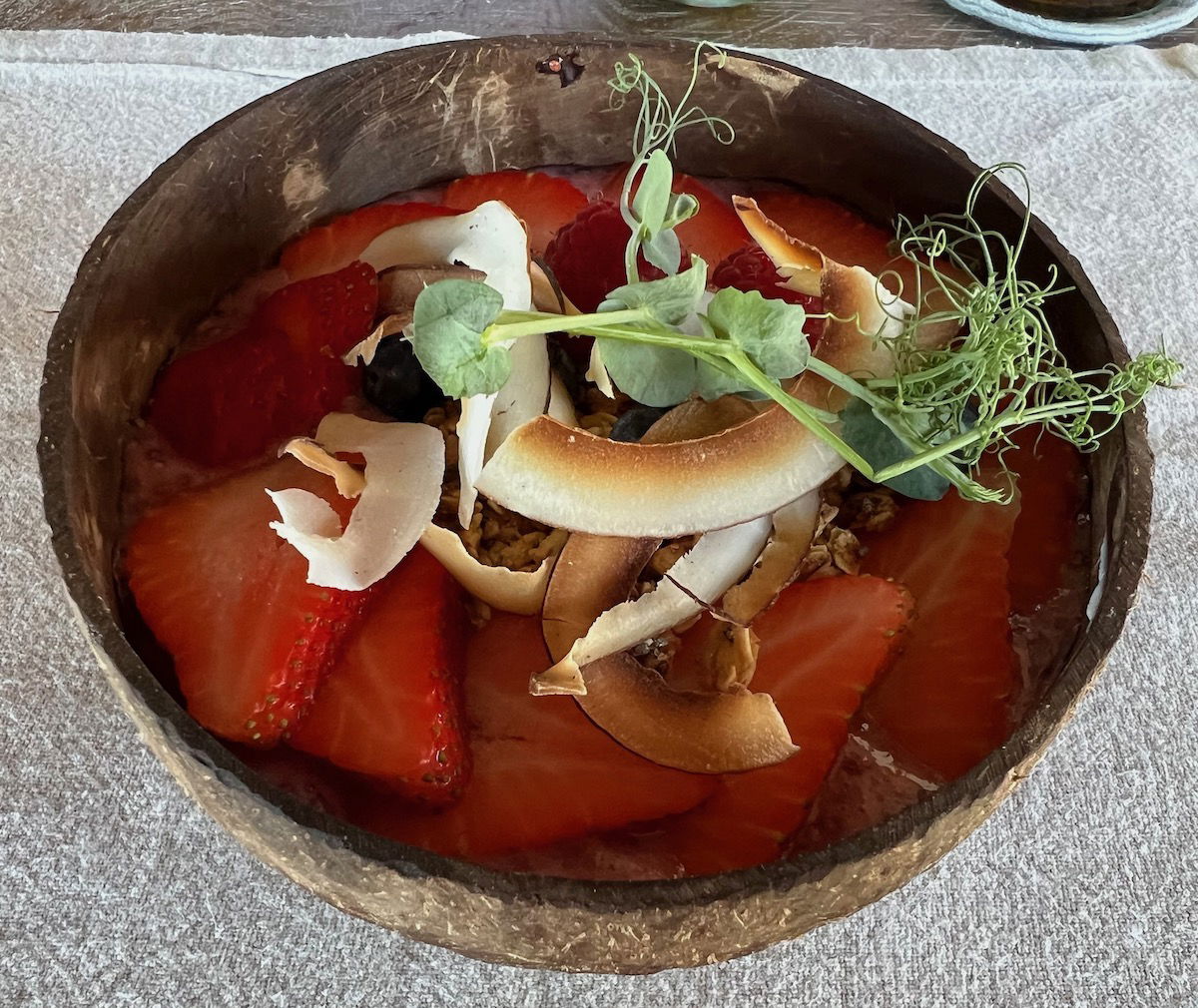 Each morning a different breakfast was proposed, and there's not one that I didn't love. My favorite was probably the short rib avocado eggs benedict, which was sinfully delicious. I'm getting hungry just looking at the picture of it.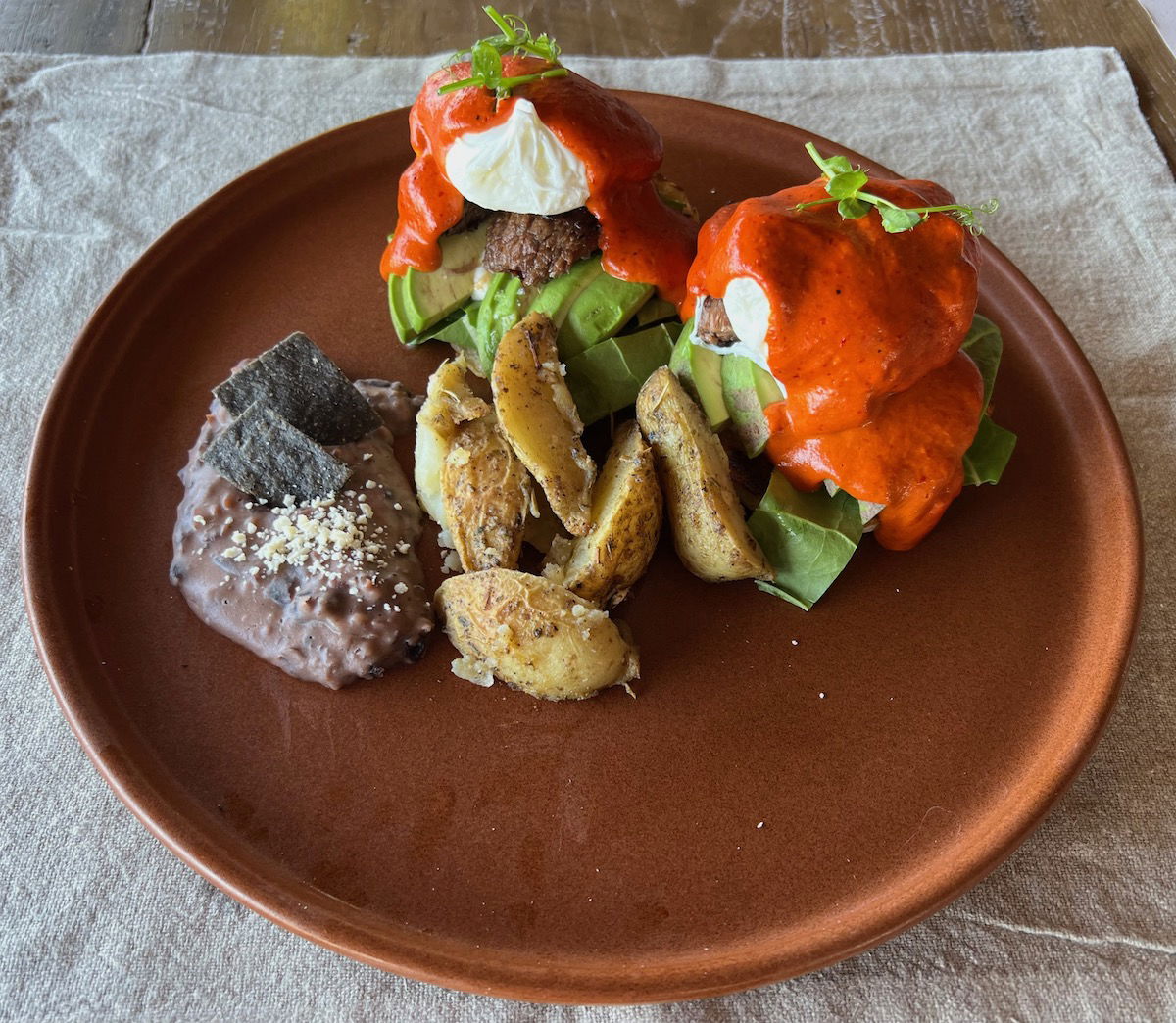 There were other excellent options as well, ranging from baked eggs and veggies with quesadillas, to avocado toast.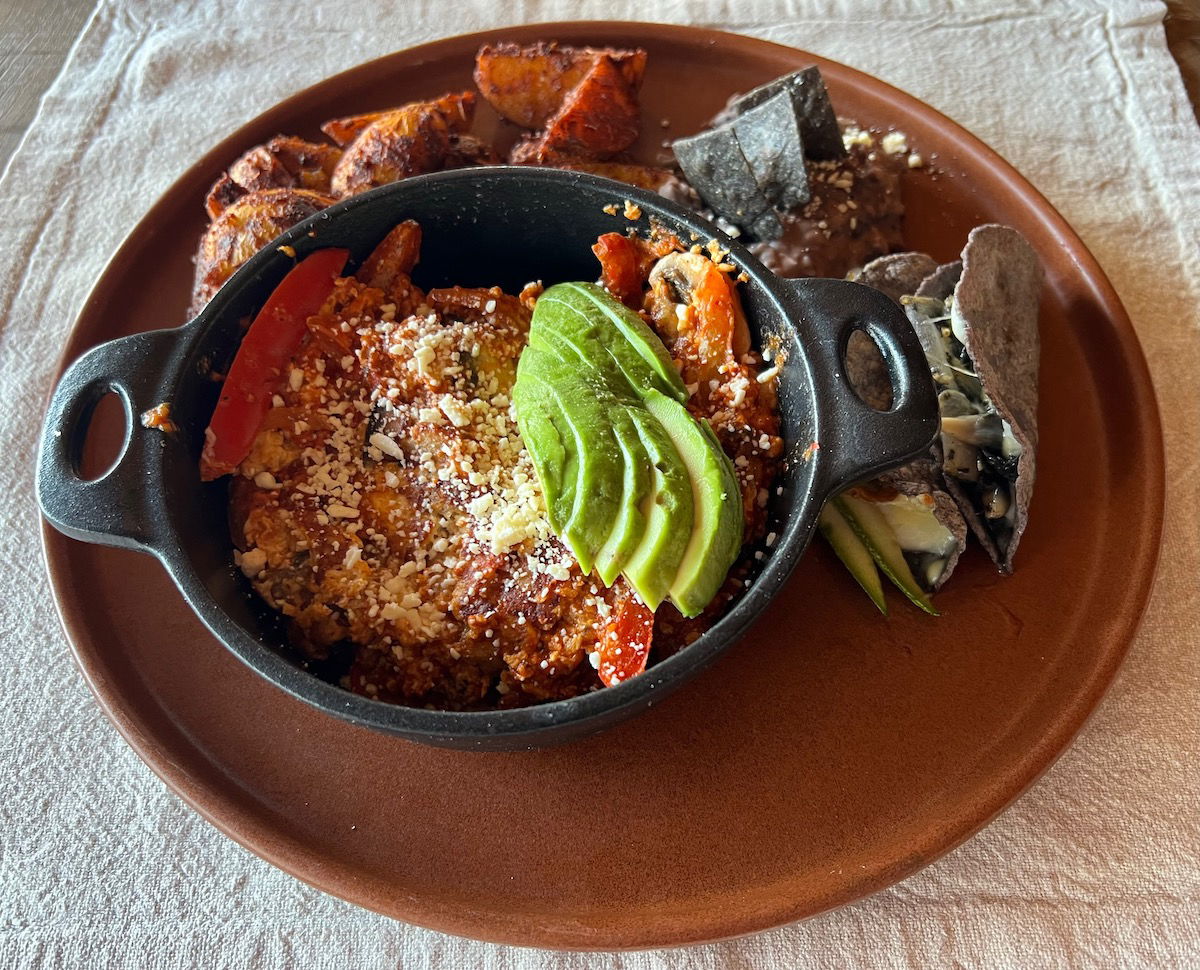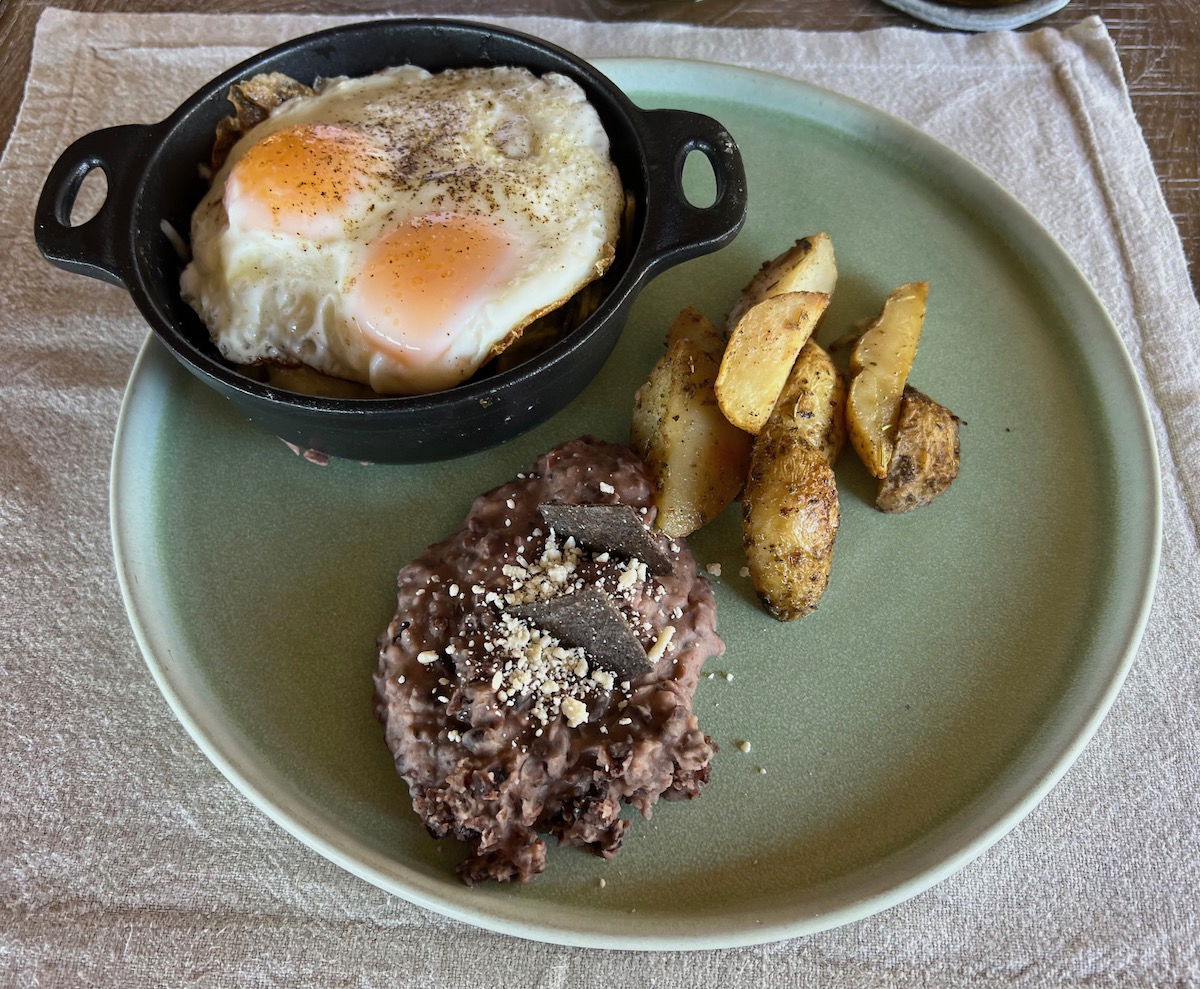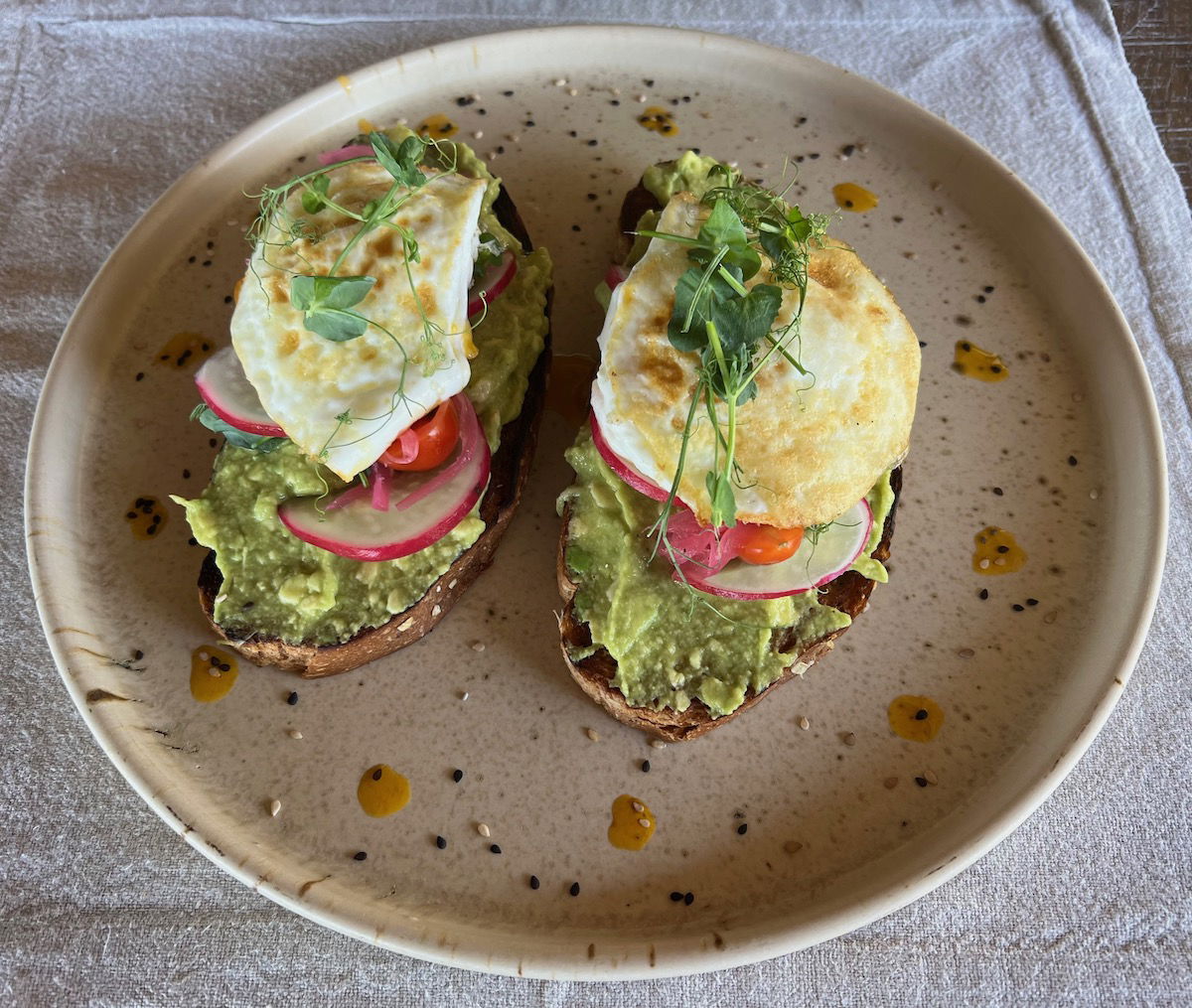 Four Seasons Naviva lunch
There are limits to how much we can eat, so I'm sorry for letting OMAAT readers down, but our lunch data points were fairly limited. Between the huge breakfasts and amazing dinners, it was hard to have anything else.
We did order some guacamole with crudité and plantains at the pool one day, which was tasty.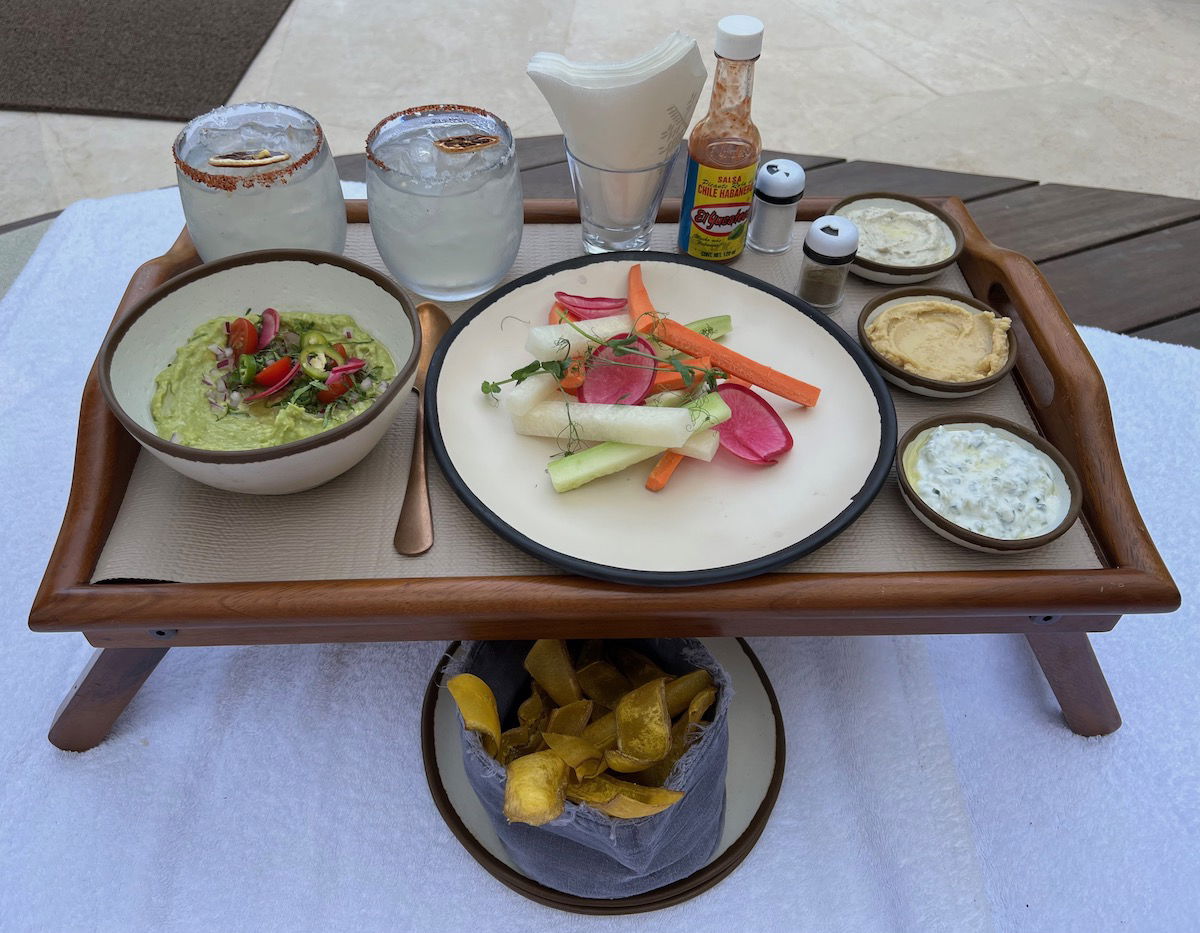 It was so good that we ordered more guacamole the next day.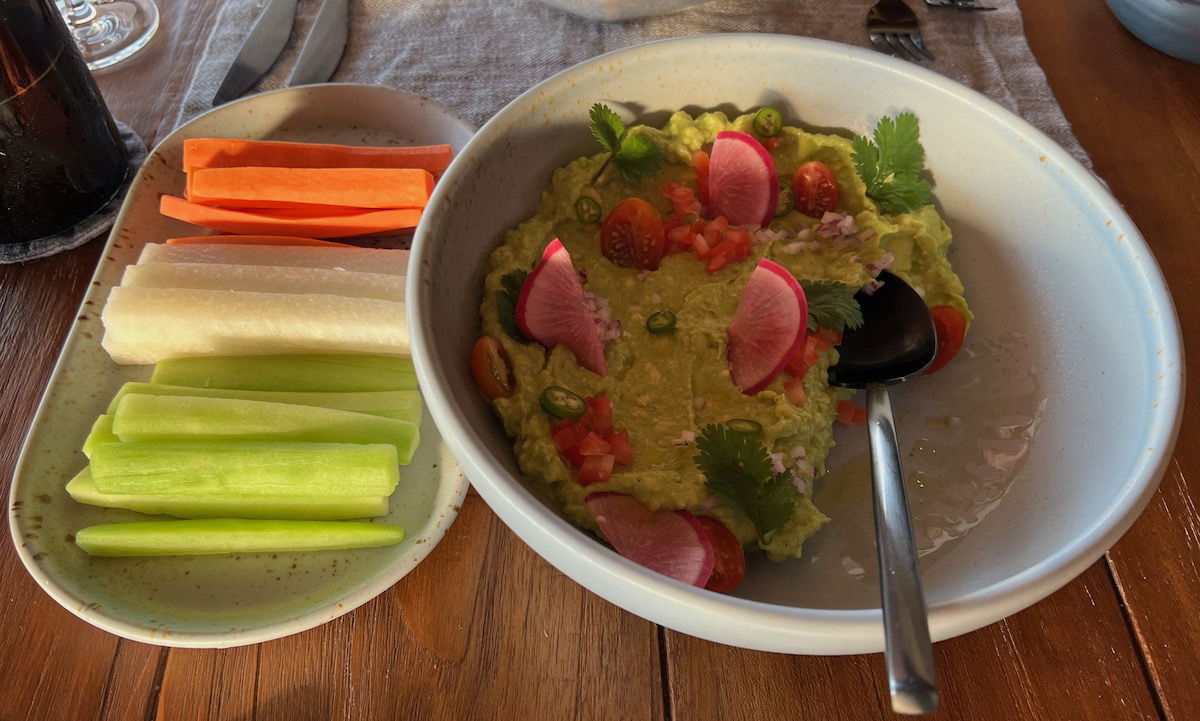 Another day we decided to split a burger that was recommended, which was a cheeseburger with turkey bacon. I'm not usually a burger person, but yum.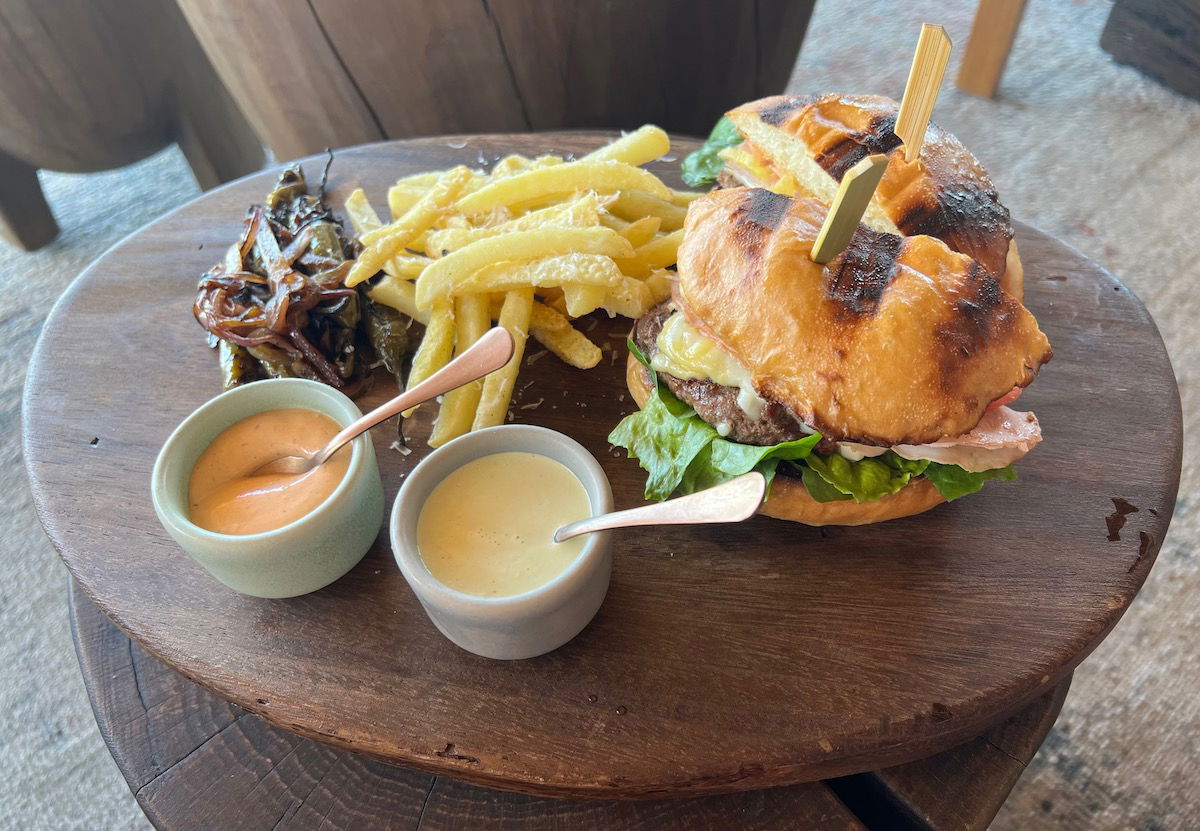 Sitting at the pool, all kinds of treats were constantly brought out, from refreshing blended drinks, to ice cream.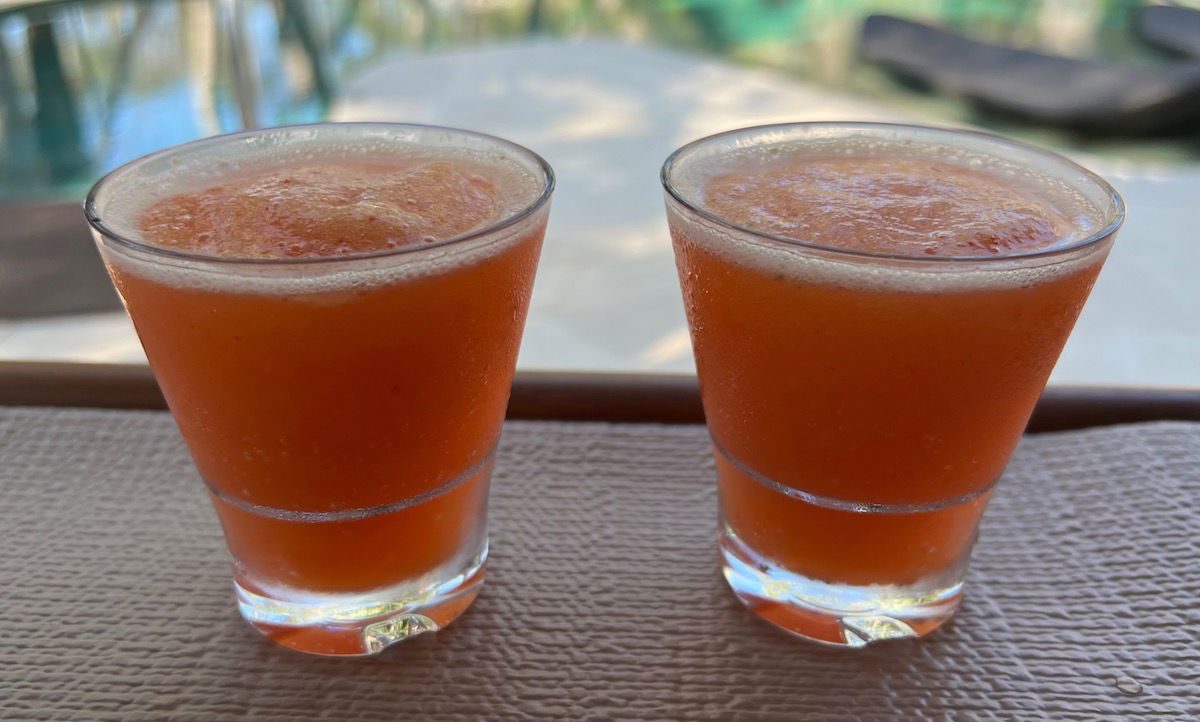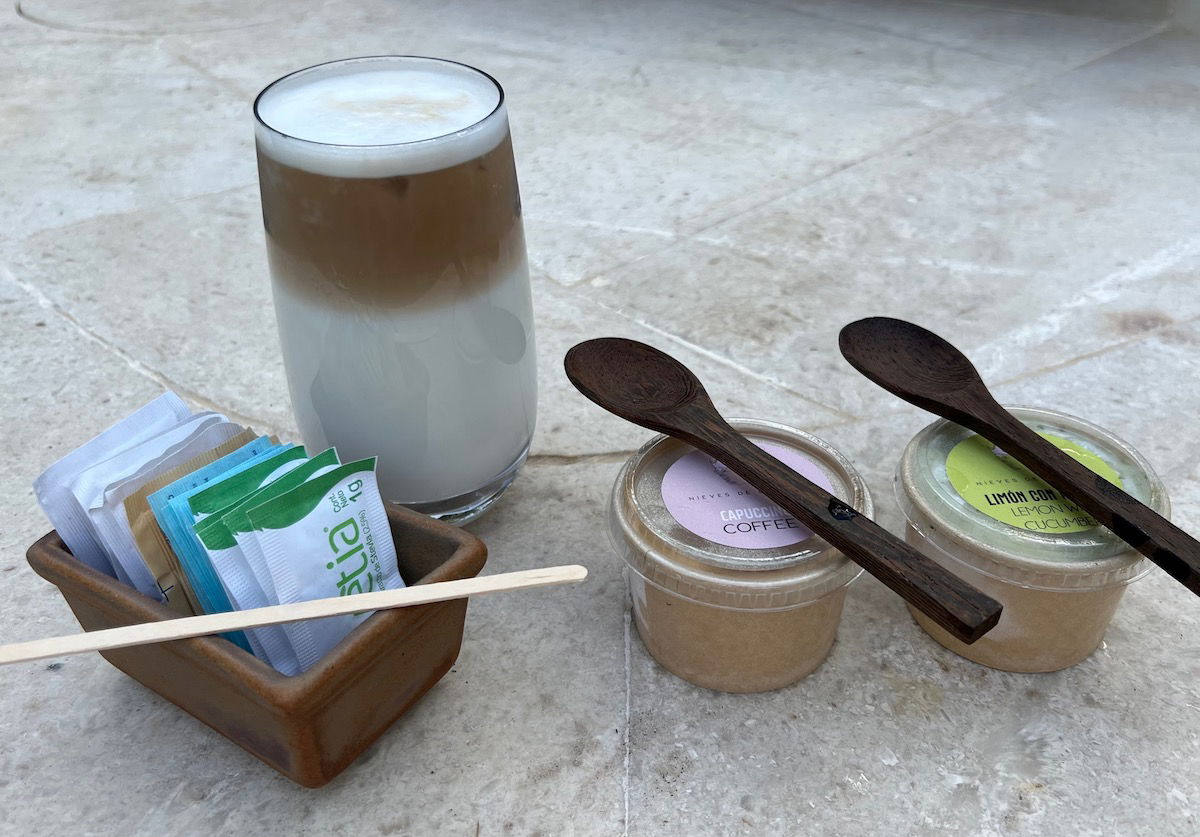 Four Seasons Naviva dinner
Each night, a different menu was proposed, though you could of course customize it however you'd like (or even reject it). Dinner always consisted of an amuse bouche, followed by a starter, main course, and dessert (though again, you can customize that however you'd like, and you could have that structured differently if you wanted to).
One of the downsides of Naviva not having menus, as well as Naviva being very generous with drink refills, is that I'm not sure I can actually tell you everything I ate. However, I can tell you it was delicious across the board.
Our first evening we had an amuse bouche with eggplant and olive, an appetizer with smoked chicken, an amazing fish main course, and then a selection of desserts.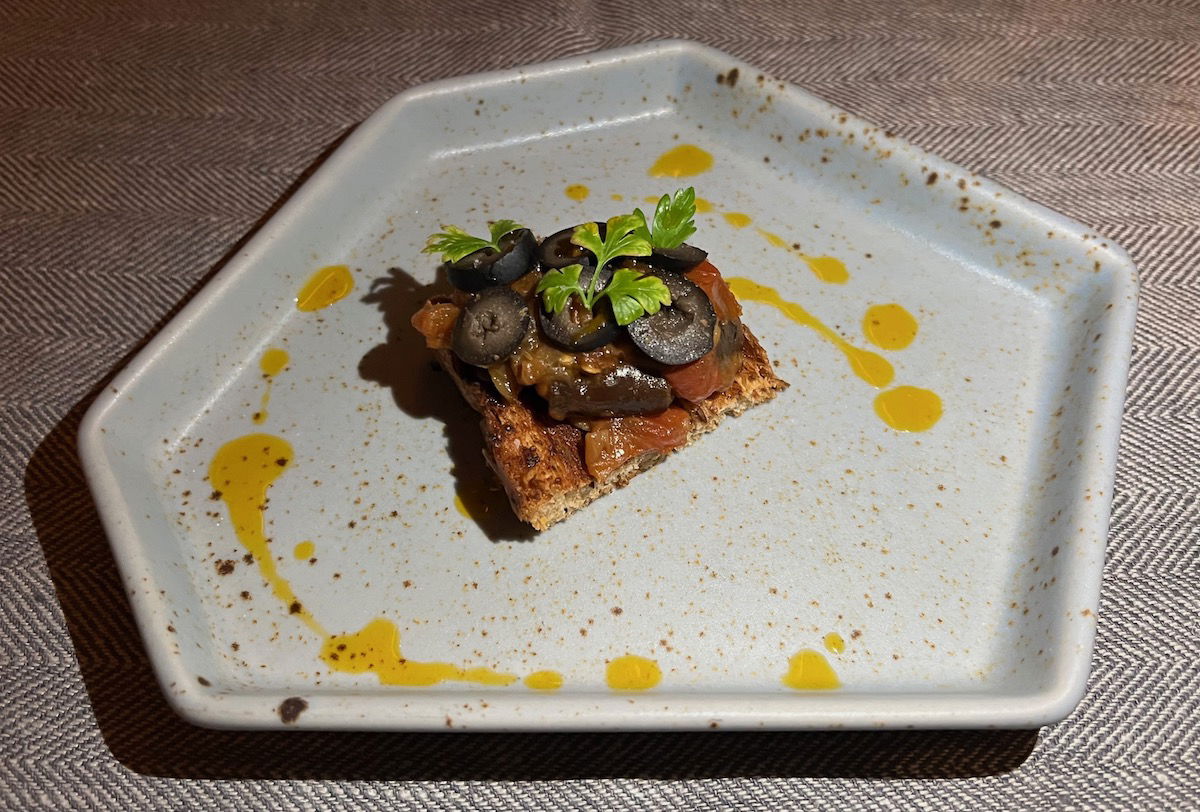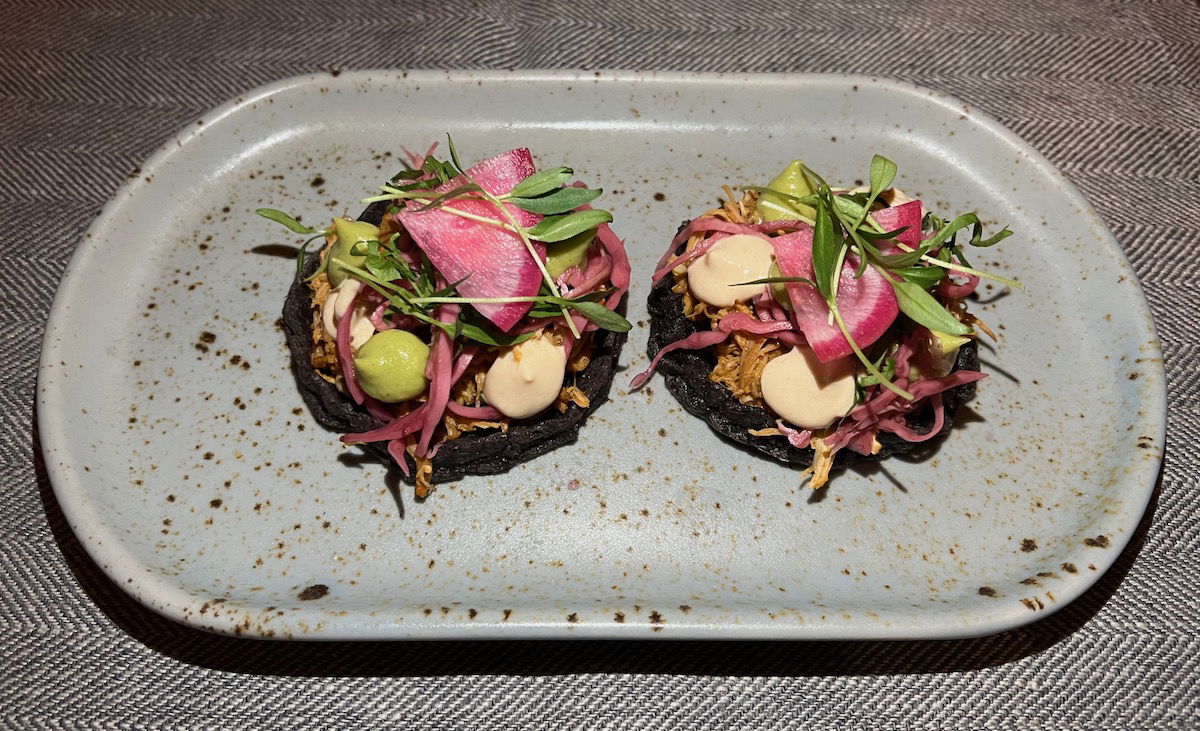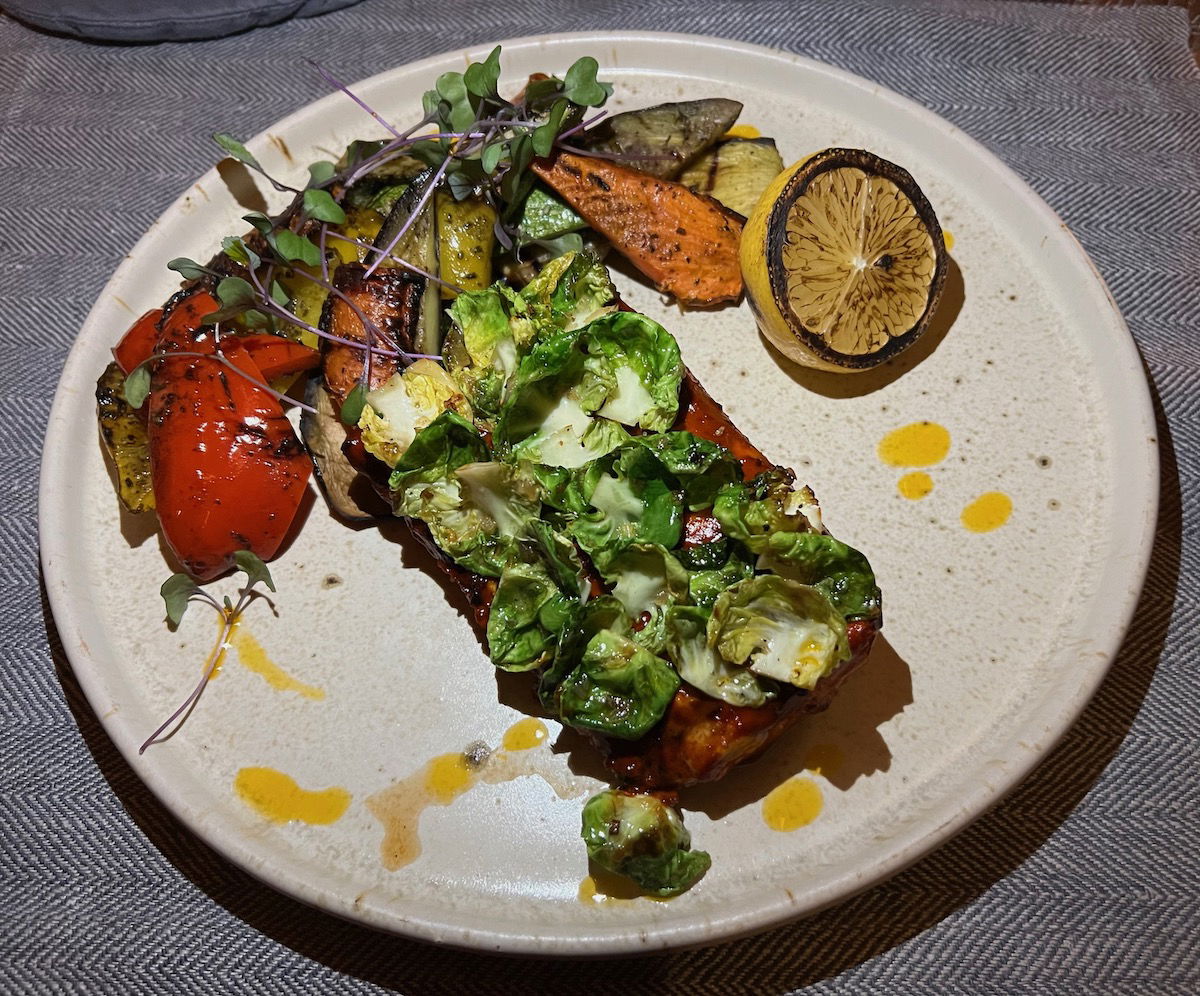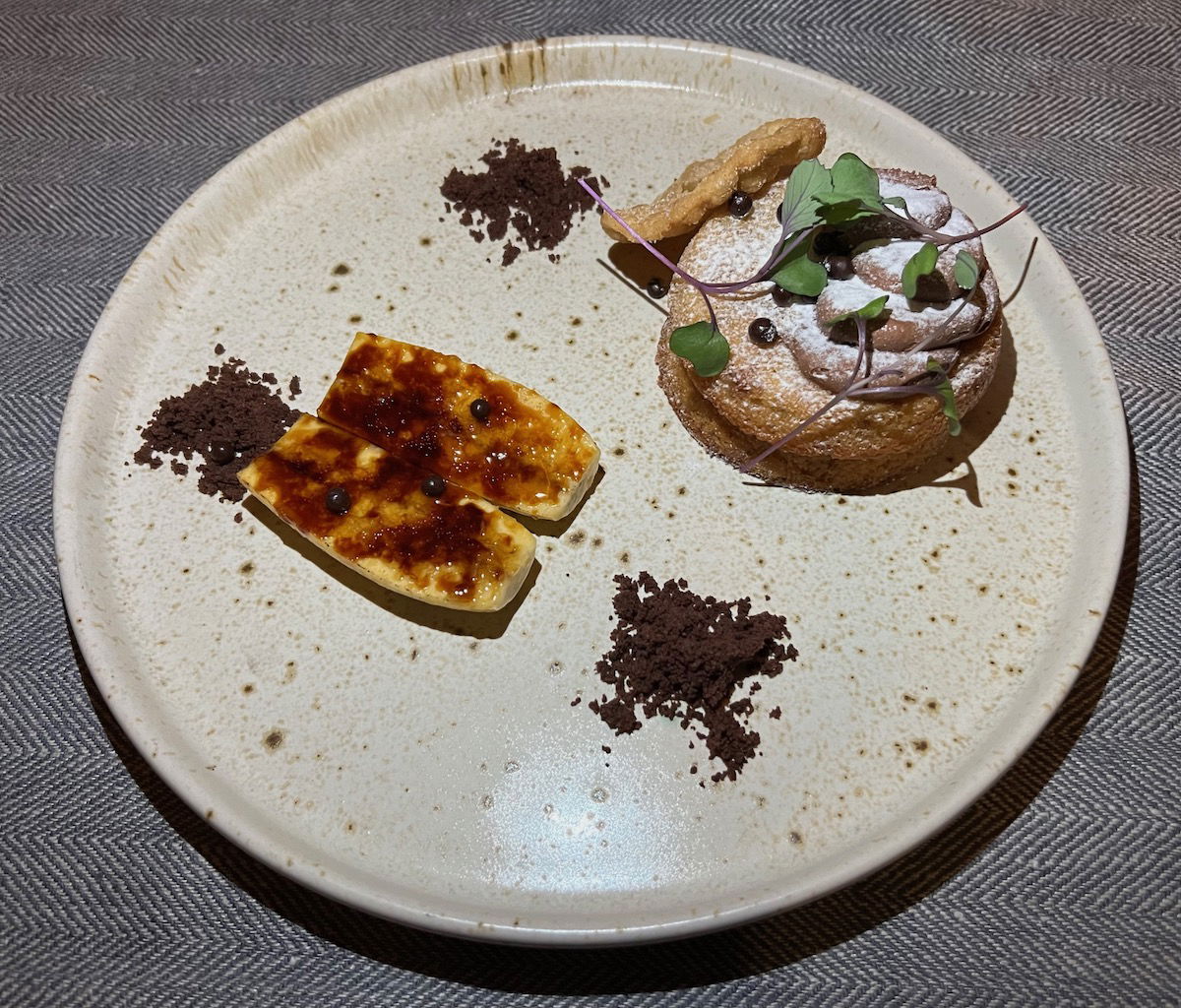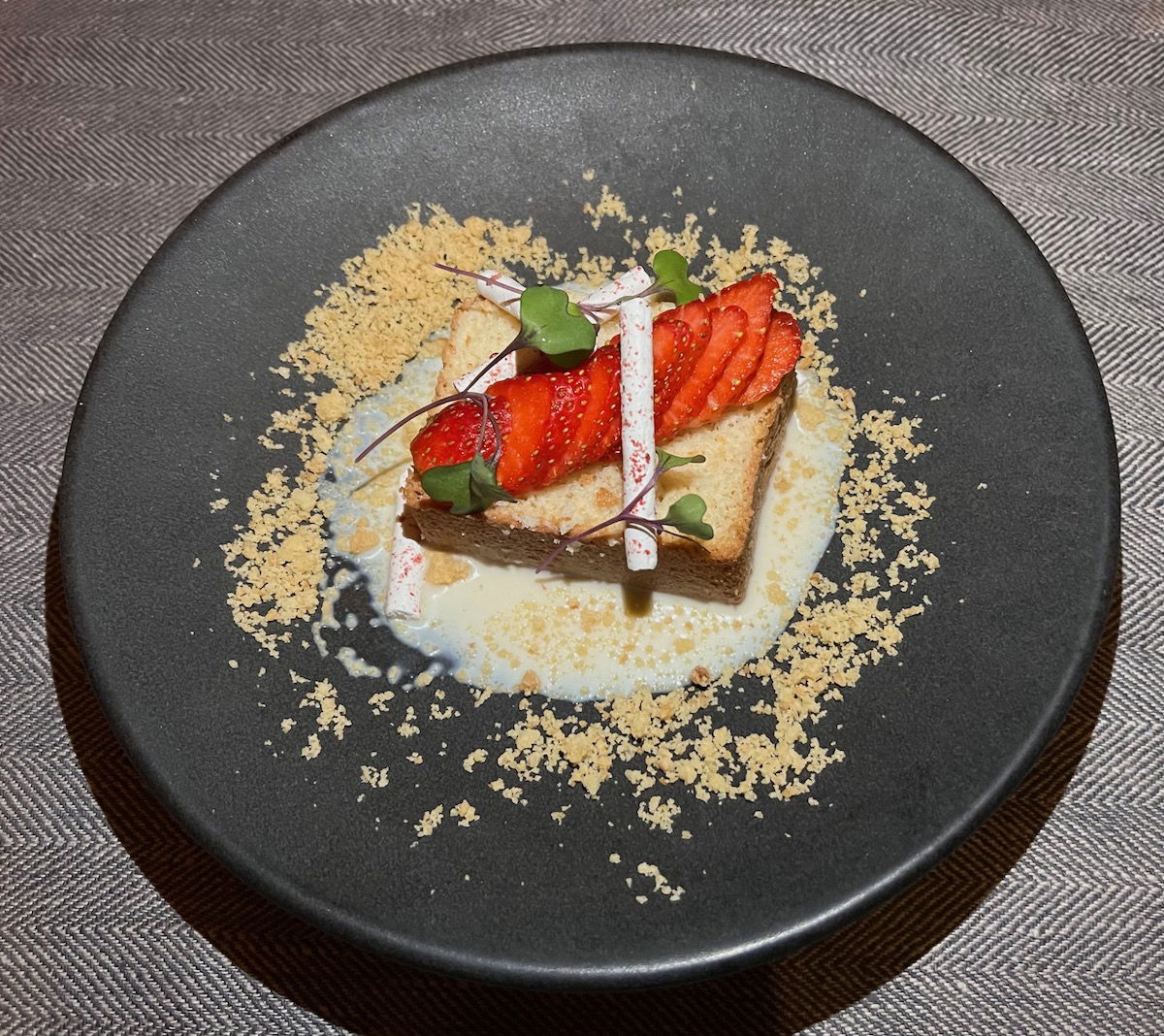 Our second evening we had an amuse bouche with avocado, a starter of a salad with avocado and quail egg, a main course with beef short rib, and a little dessert sampler (note: we always tried to get out of ordering dessert, but the lovely team here insisted).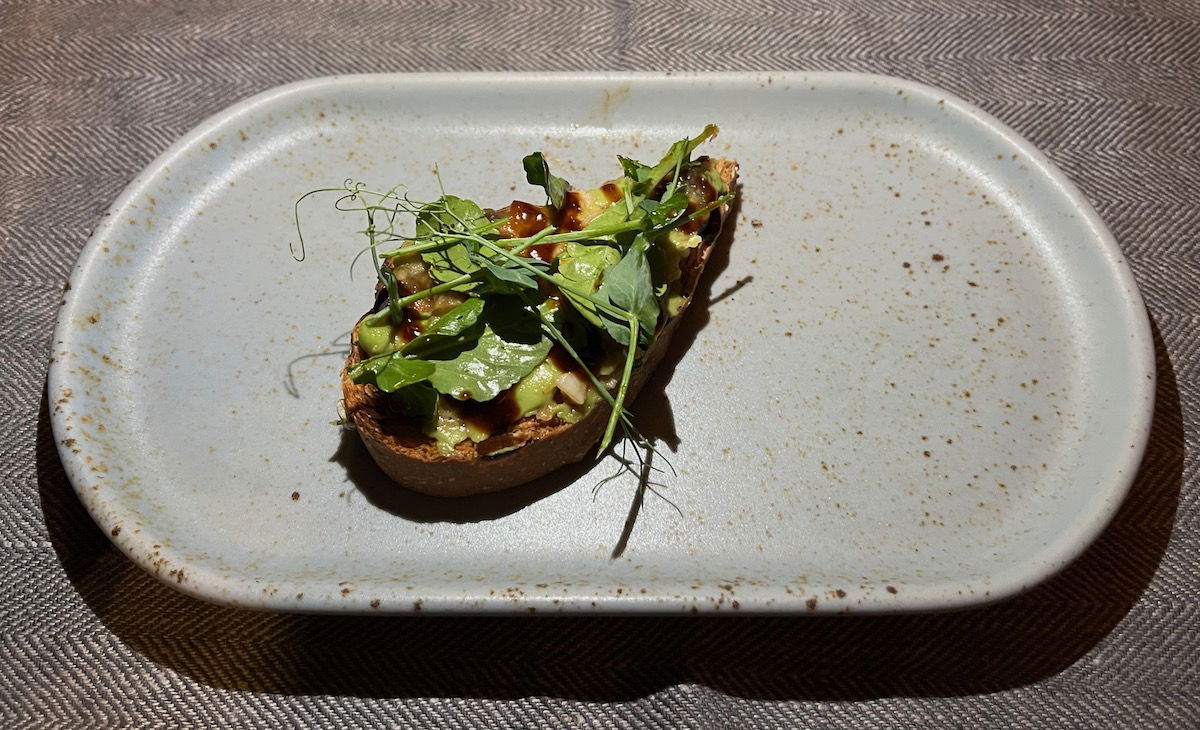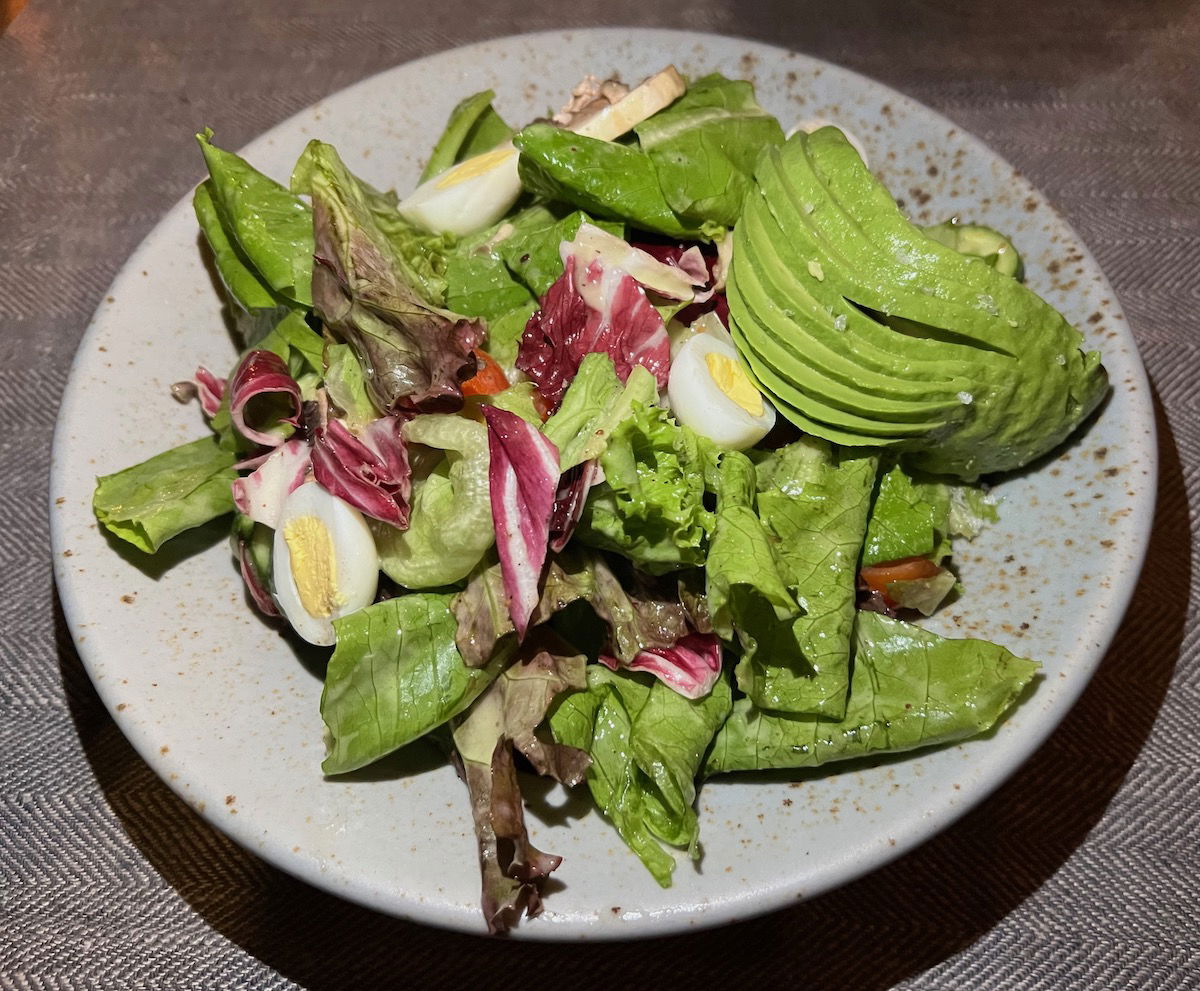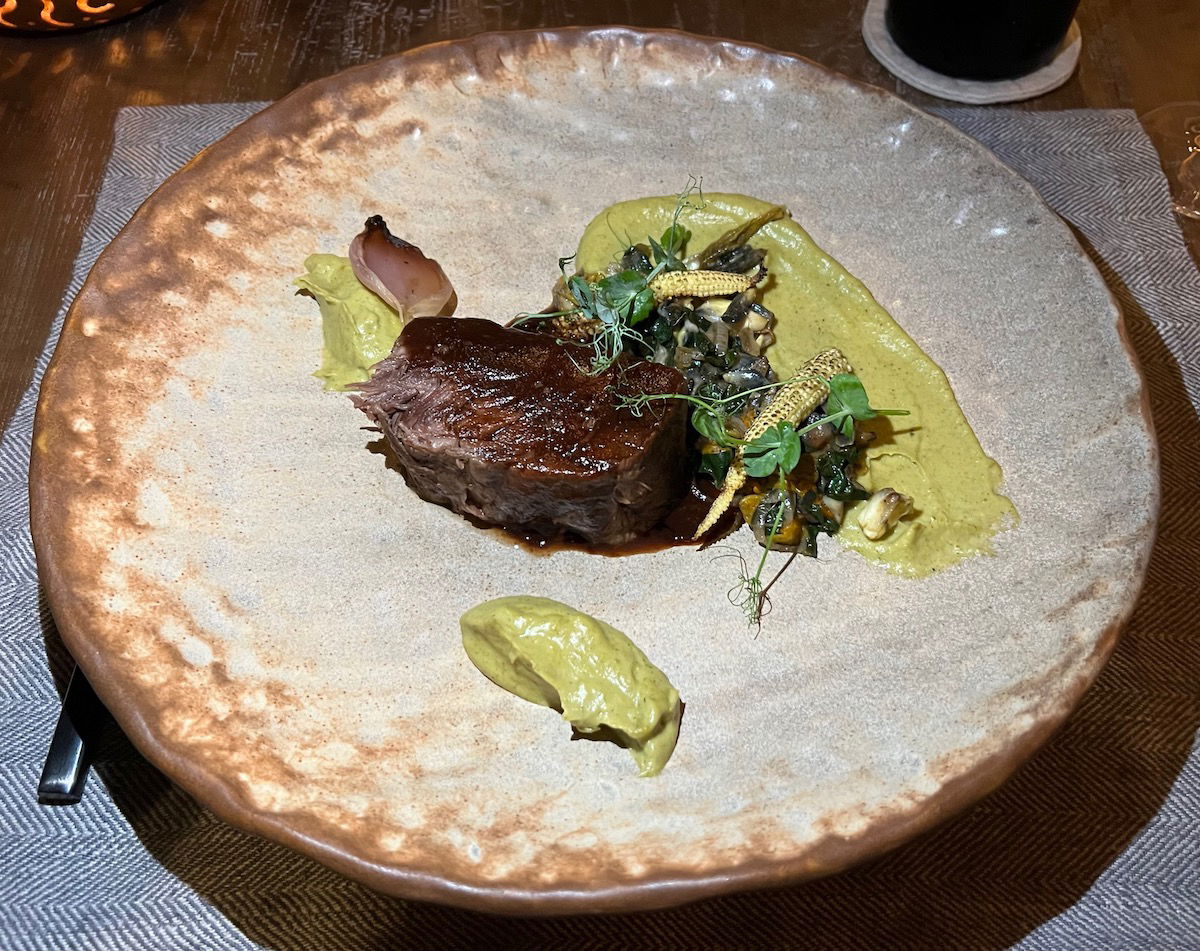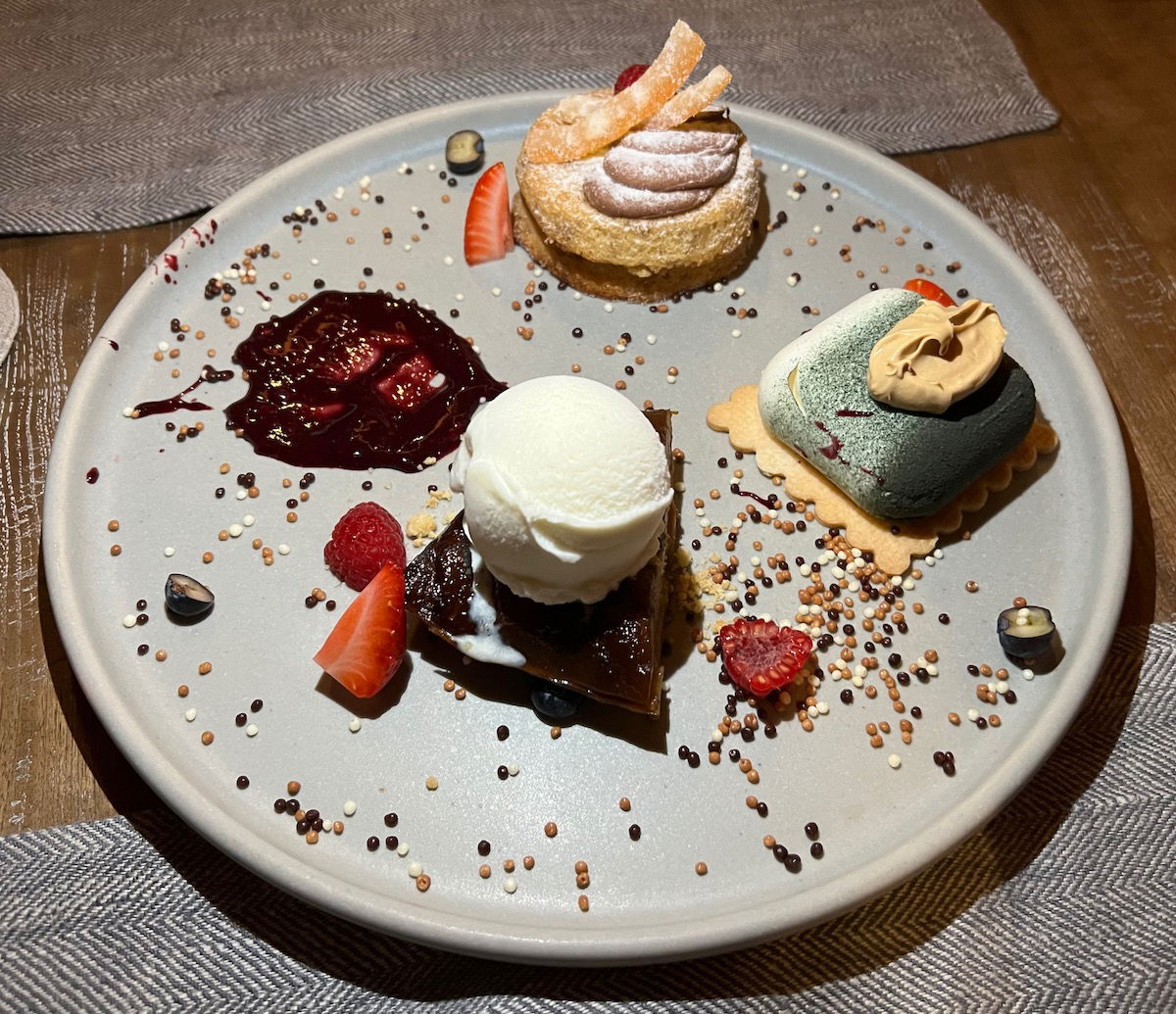 For our last evening, the team set up a special dinner for us in the sand. Funny enough, at this point there was only one other guest at the hotel, and he was out for the evening, so the restaurant was totally empty.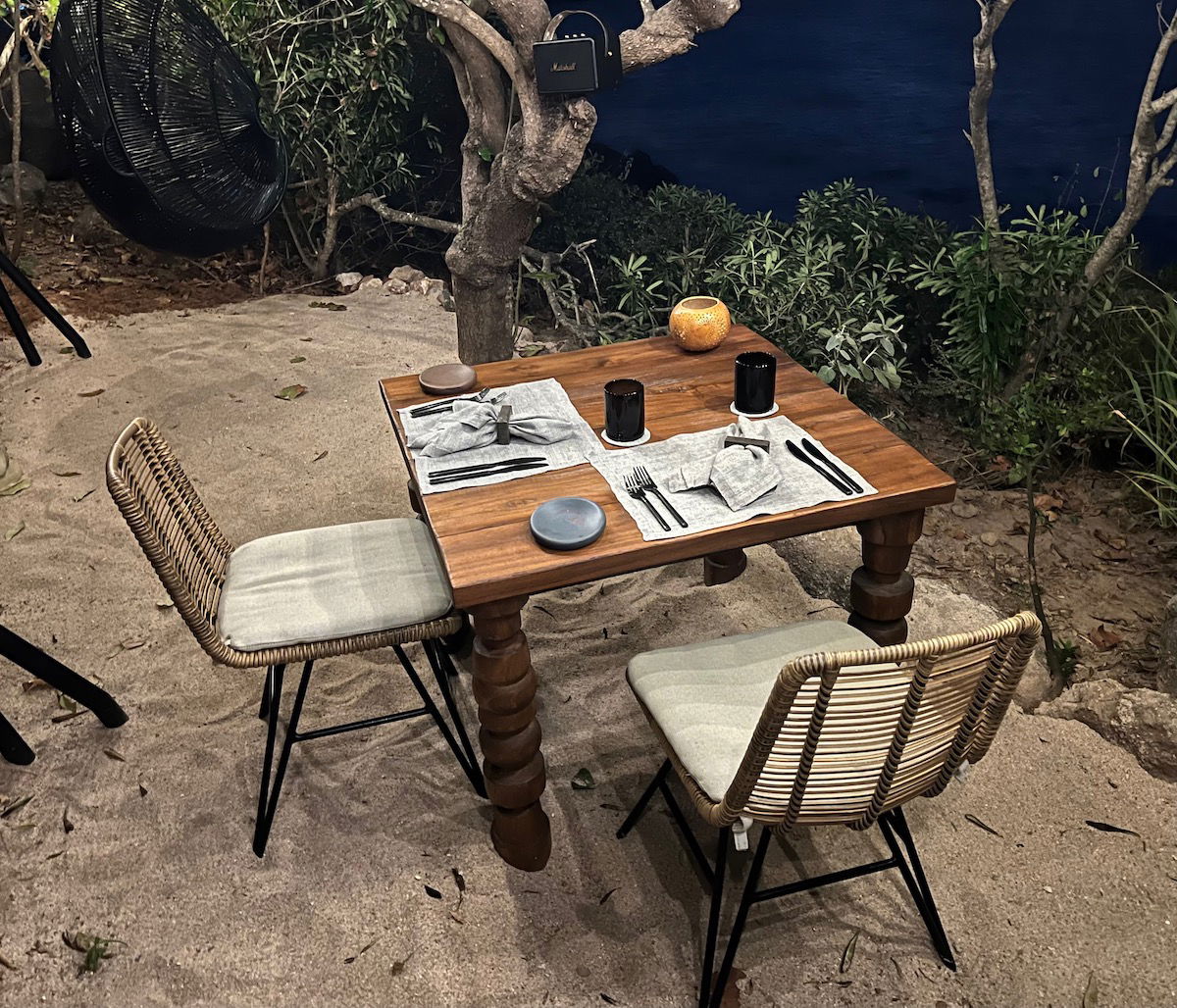 This dinner consisted of an amuse bouche with chicken empanadas, a starter with octopus, a main course with mahi mahi, and then another incredible dessert.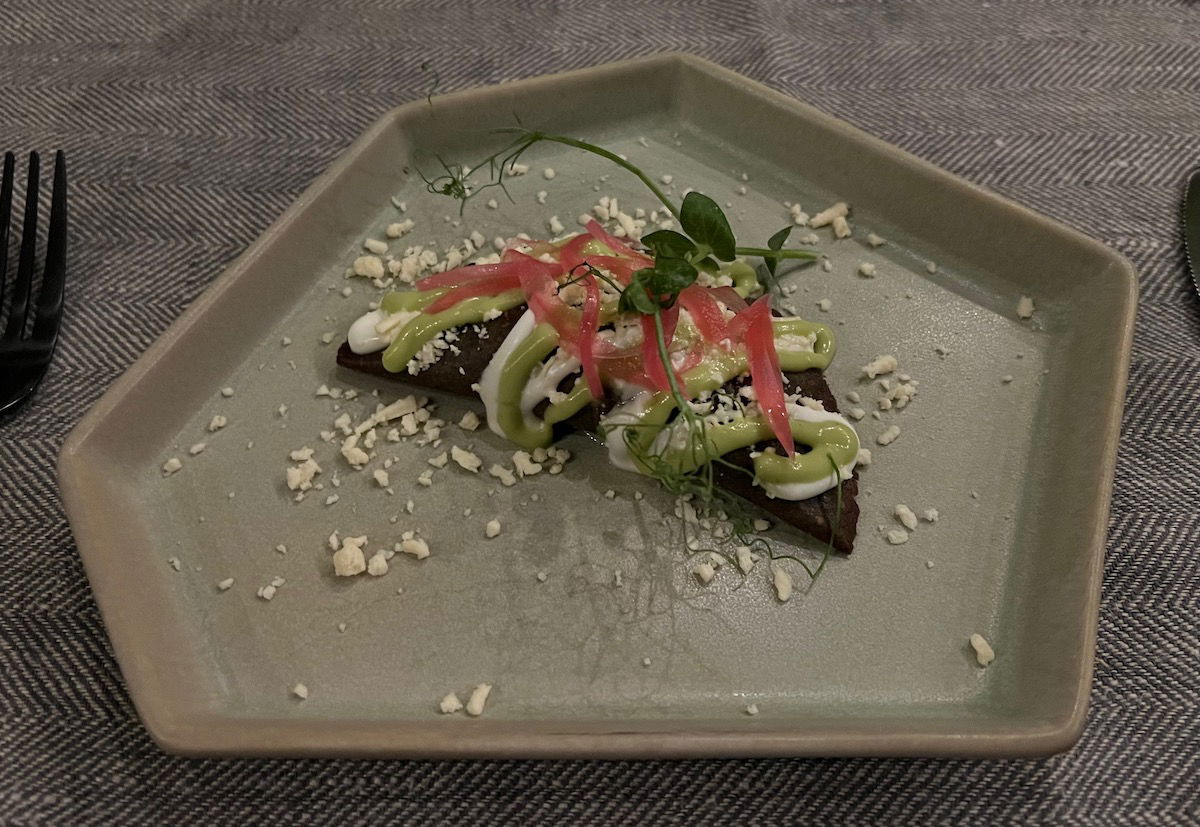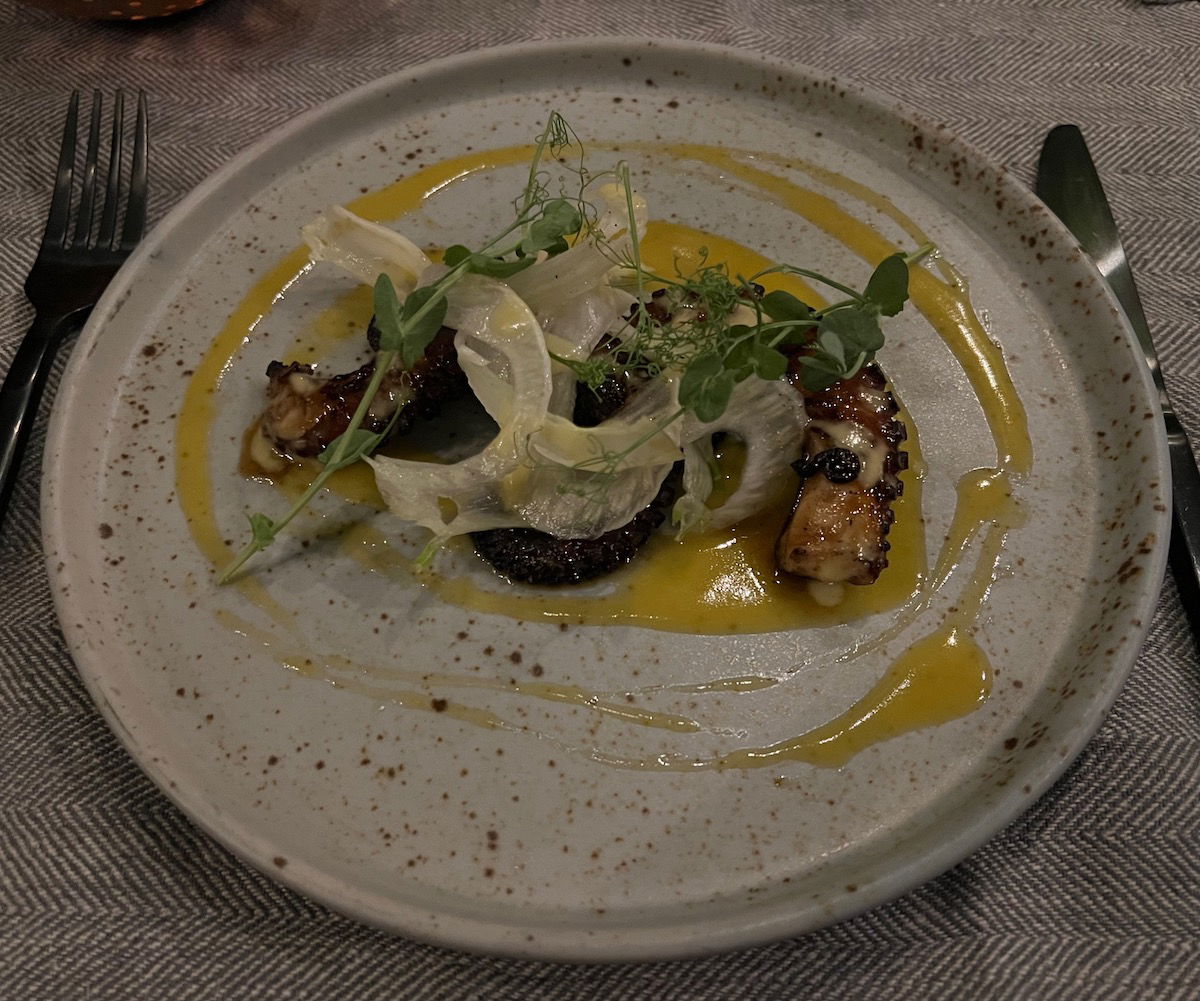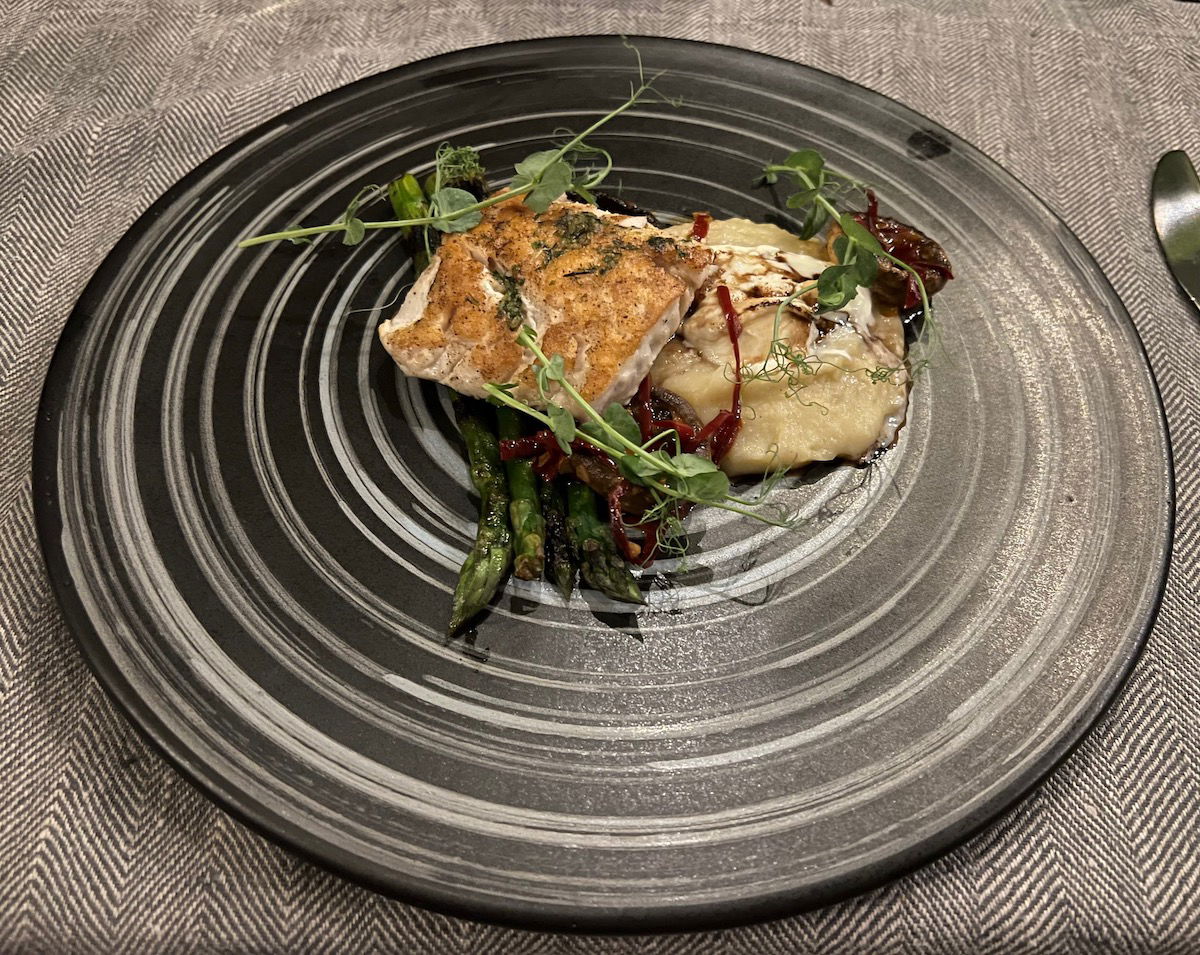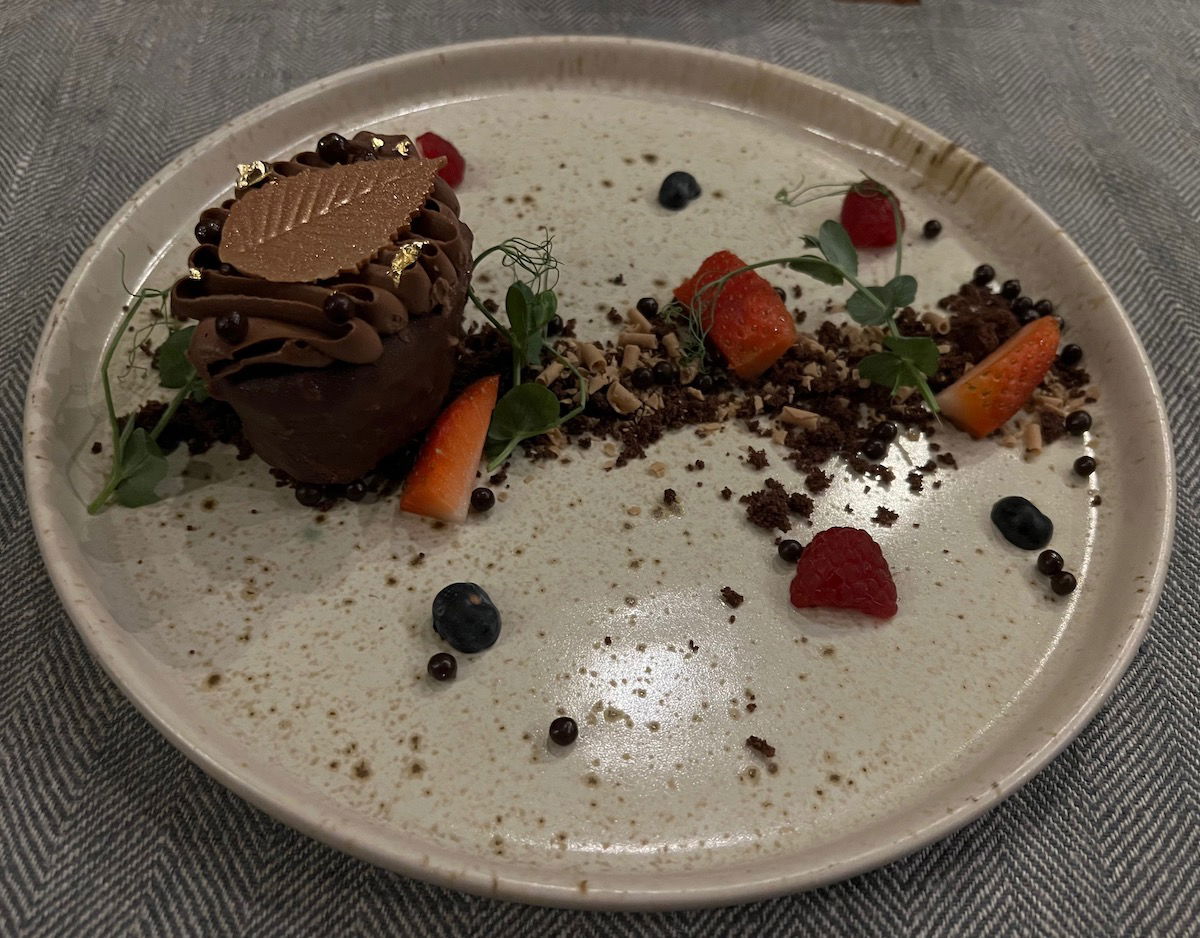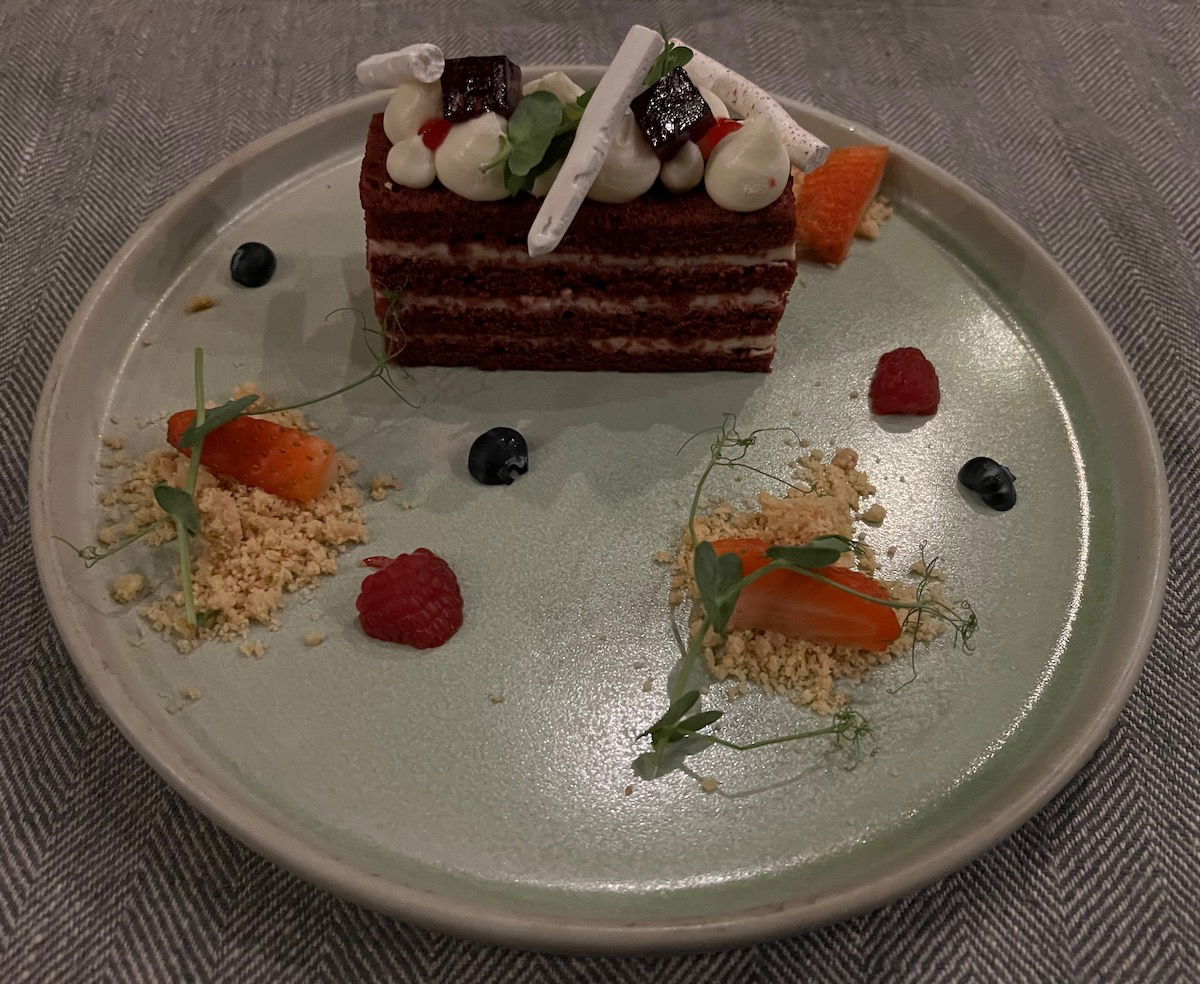 The food here blew me away. While the ability to customize is nice, I actually loved how relaxing it was not to have to make any decisions. We quickly realized the chefs here are amazing, so if they're aware of your dietary restrictions and preferences, then I'm thrilled to let them make the hard choices for me.
Four Seasons Naviva drinks
I don't think alcohol at inclusive resorts gets better than at the Four Seasons Punta Mita. Of course the staff here can make you traditional cocktails, like a negroni, dirty martini, and aperol spritz.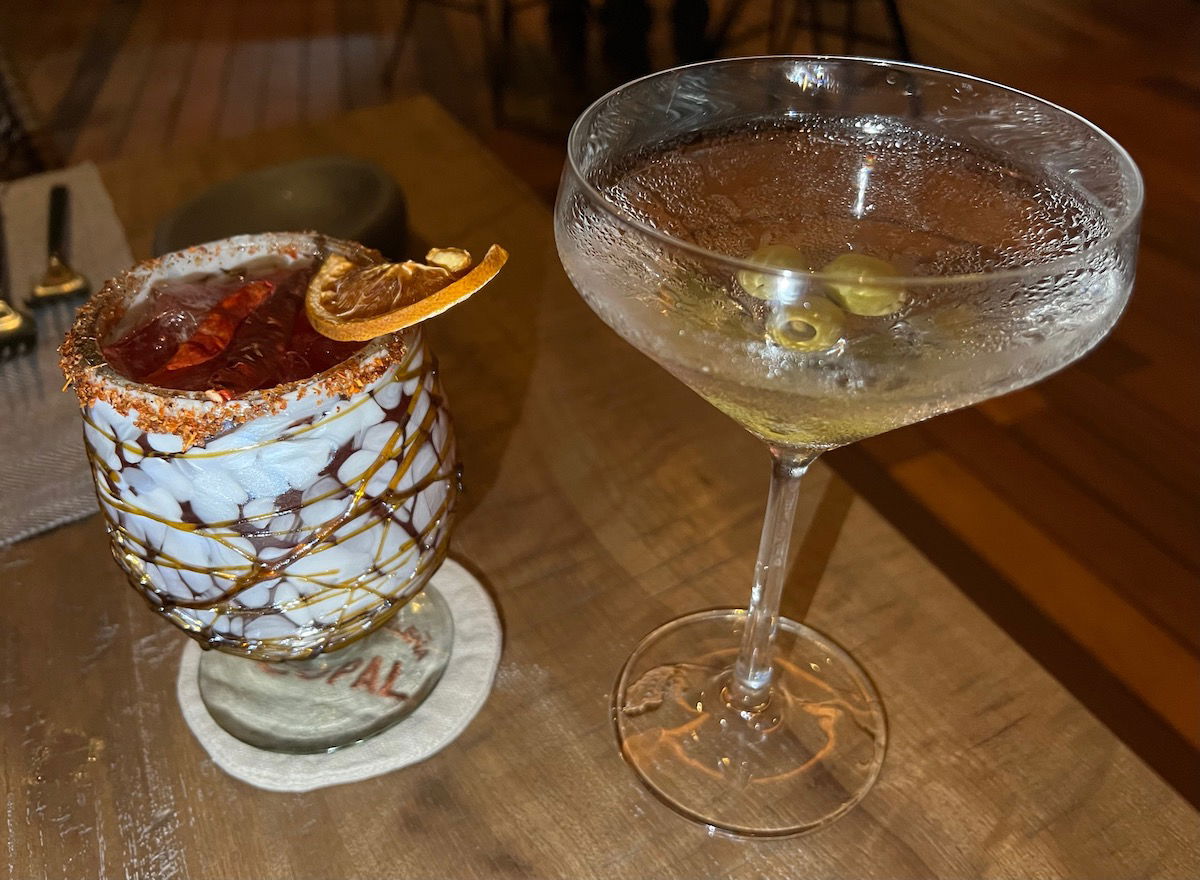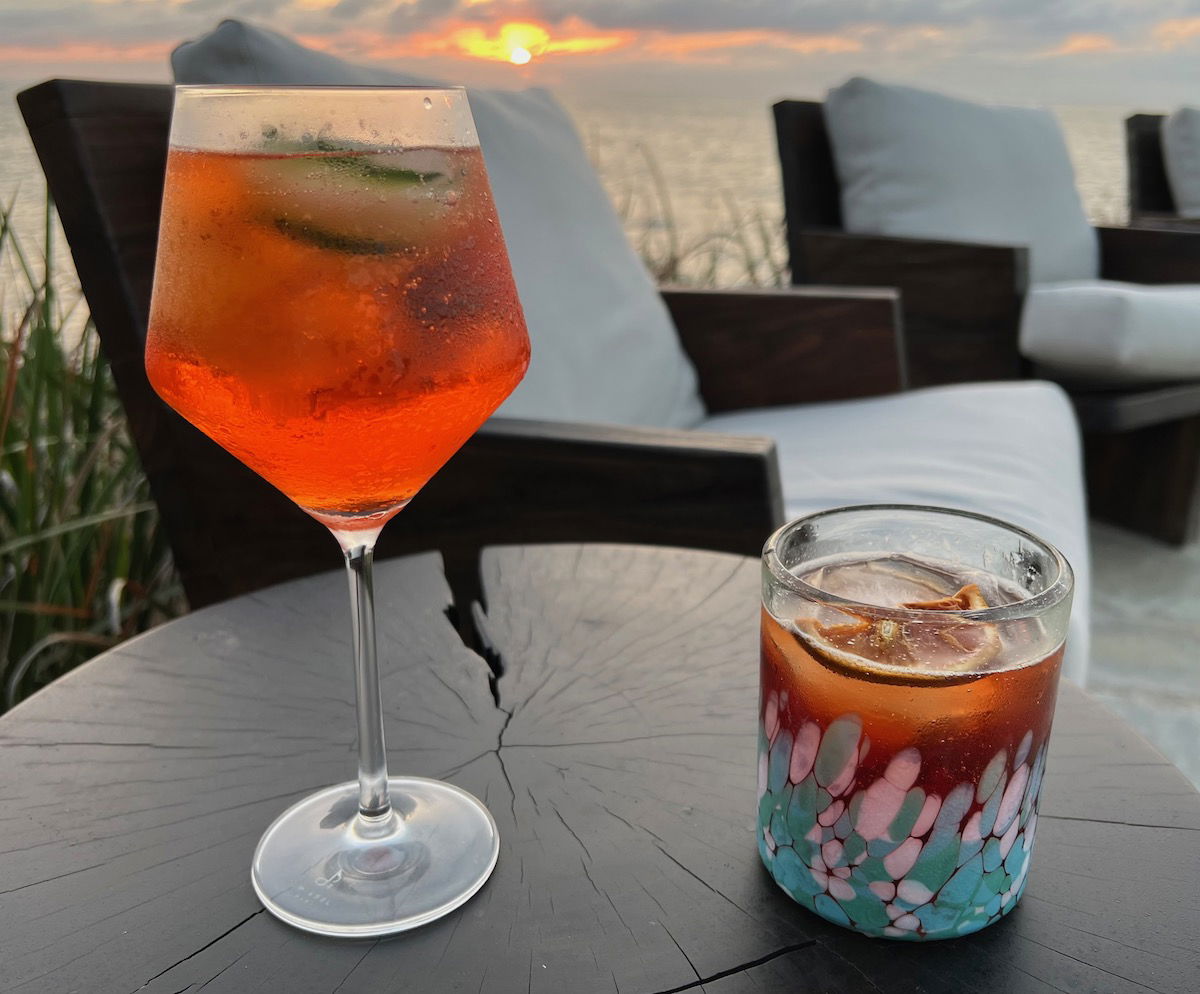 However, what I really loved was all the cocktails that they proposed, including many traditional Mexican ones (and we're not just talking margaritas, though those were great as well!).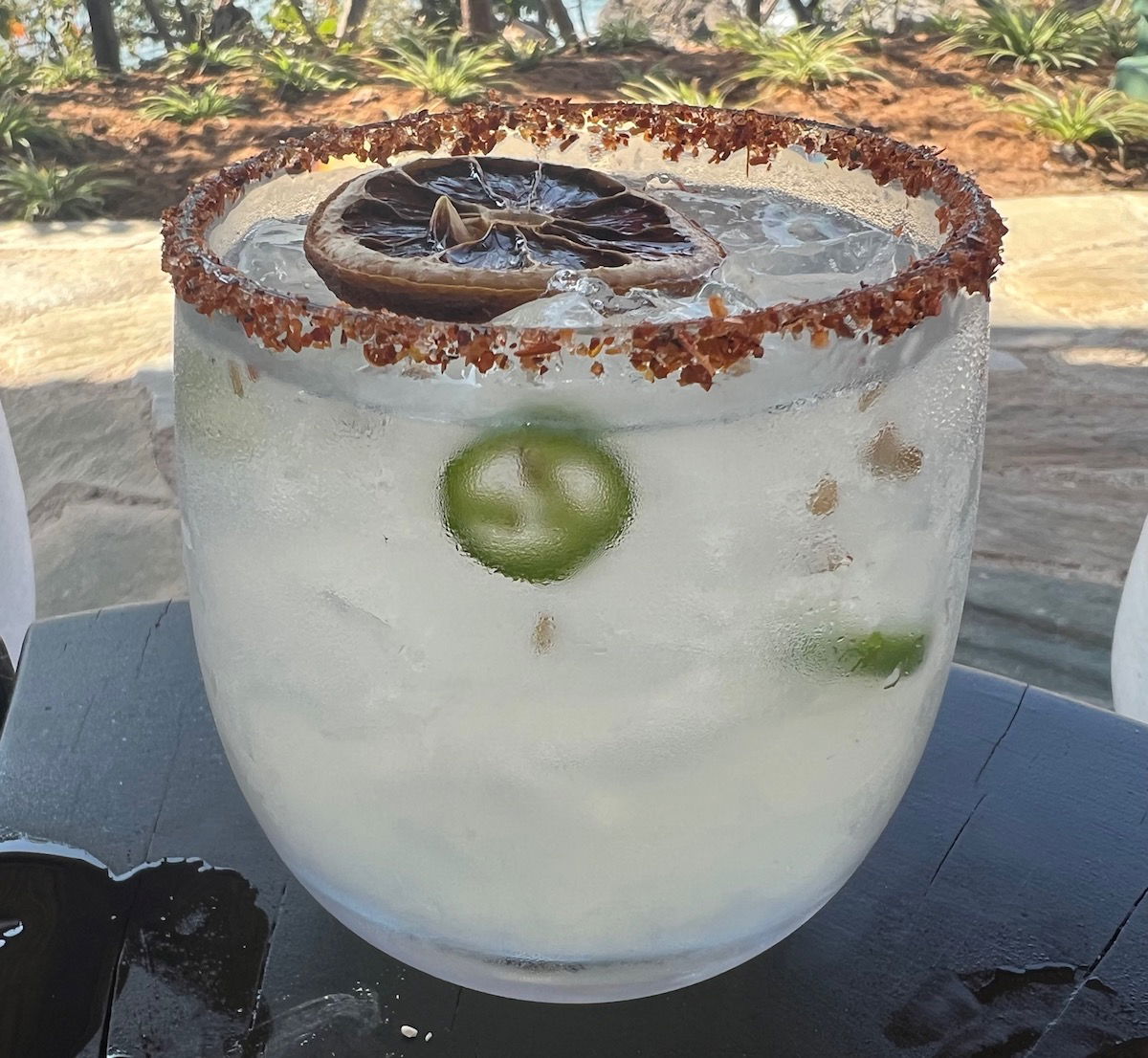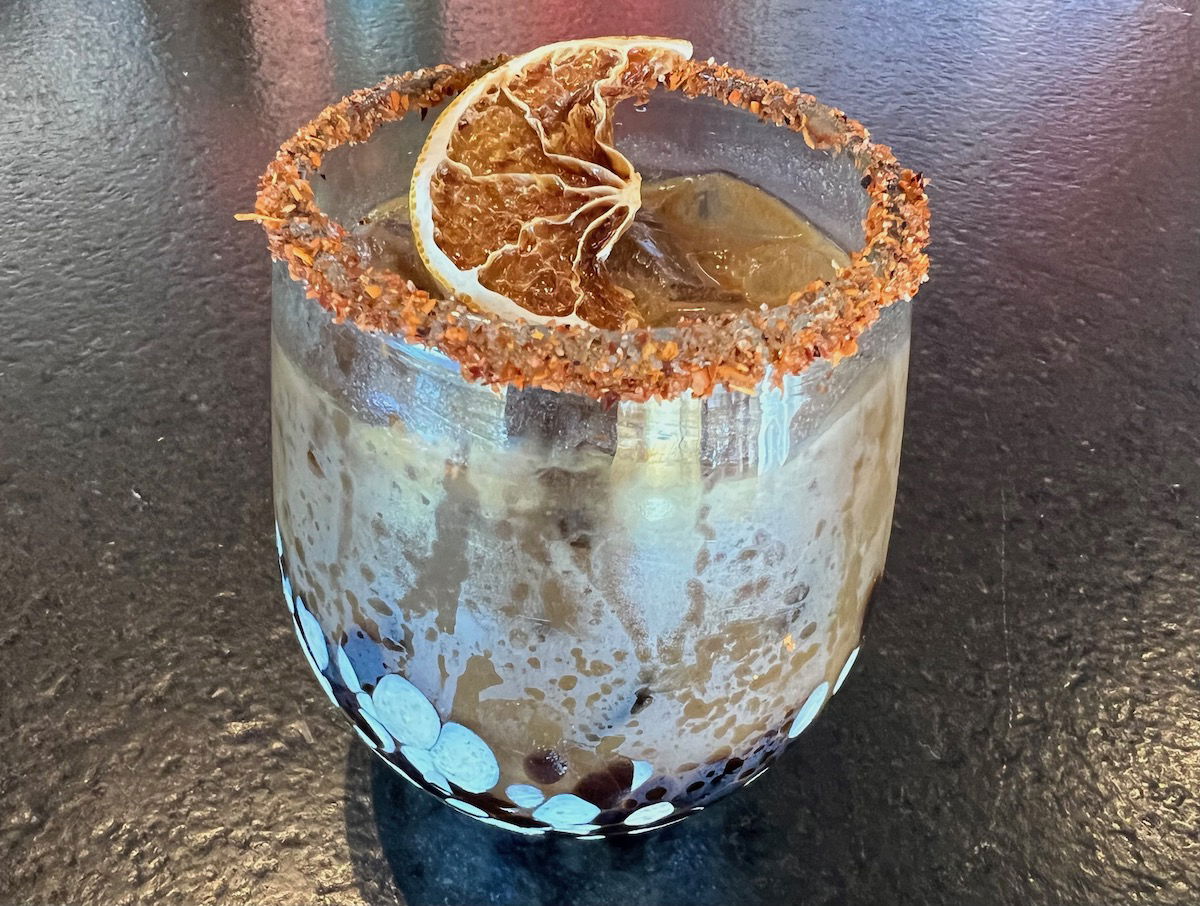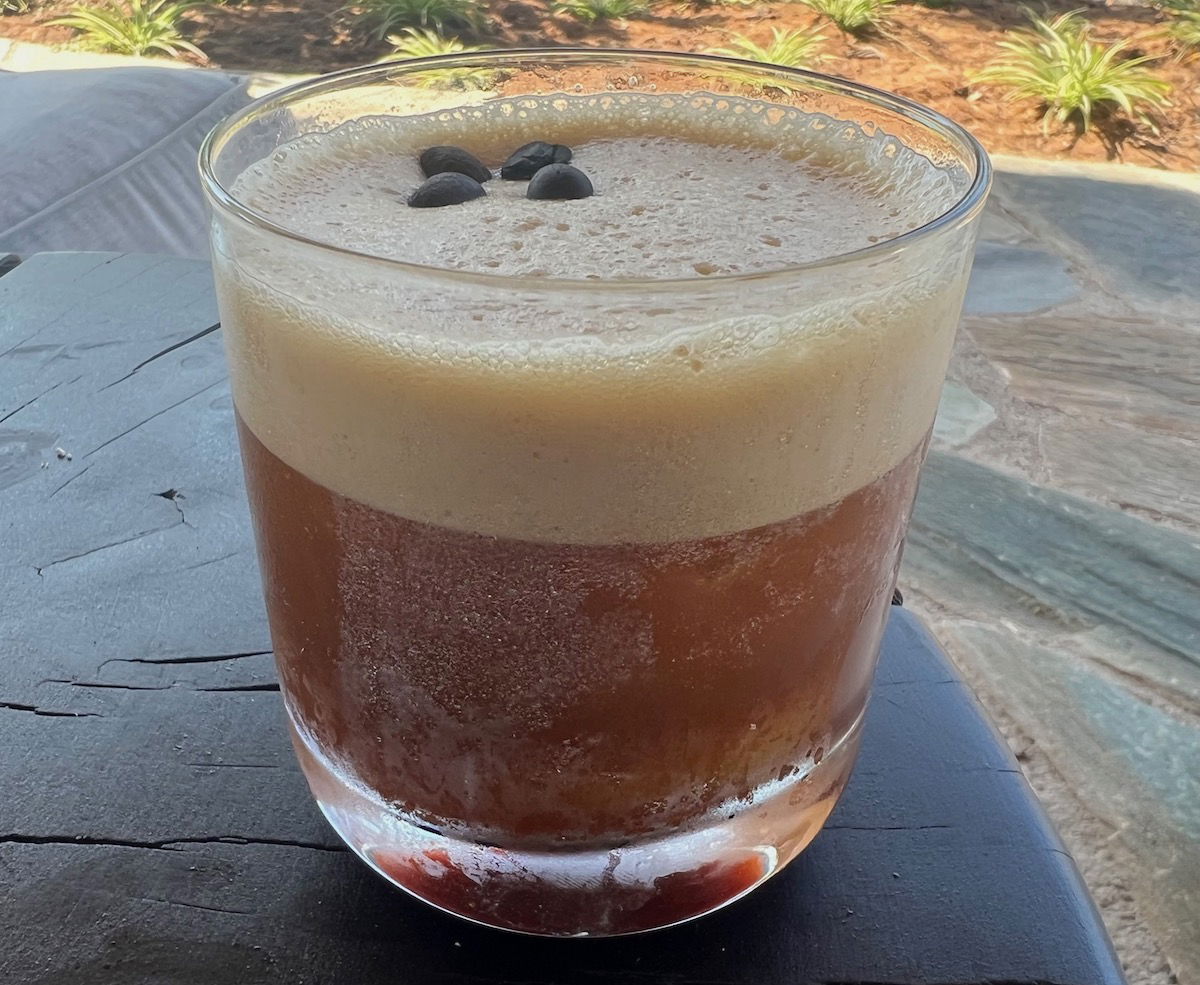 I also found the wine selection to be very good. I never saw a wine list (I think it's part of Naviva not having any menus), but rather we just told the wonderful staff here what we'd like, and they made a few suggestions. I always enjoy consuming wines from whatever country I'm visiting, and we had some really great Mexican wines here (which you don't otherwise see on the menu much internationally).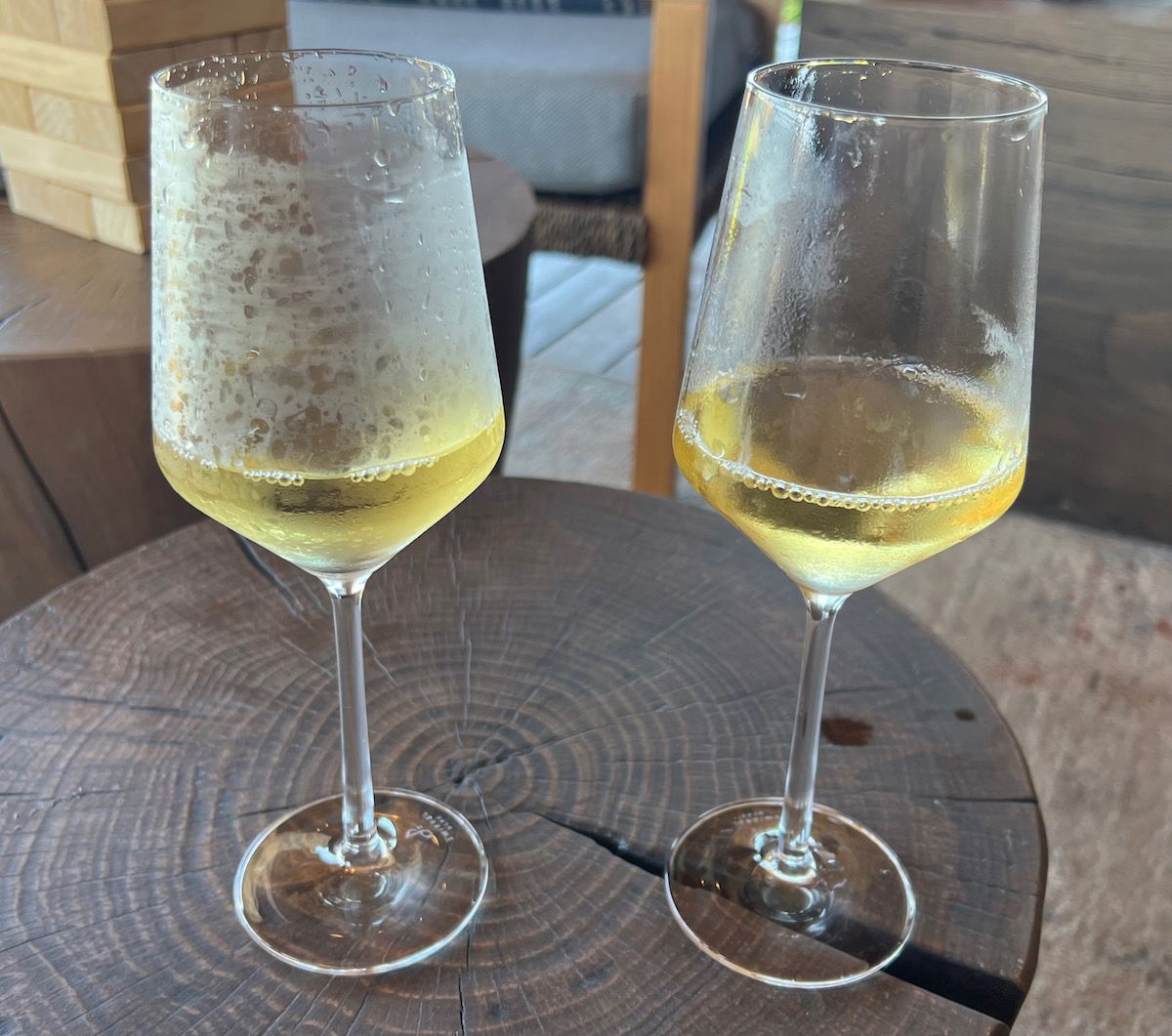 When we ordered champagne, we were served A Margaine Brut, which we enjoyed. I'm not sure what the selection is beyond that, but you should be very well taken care of in terms of drinks.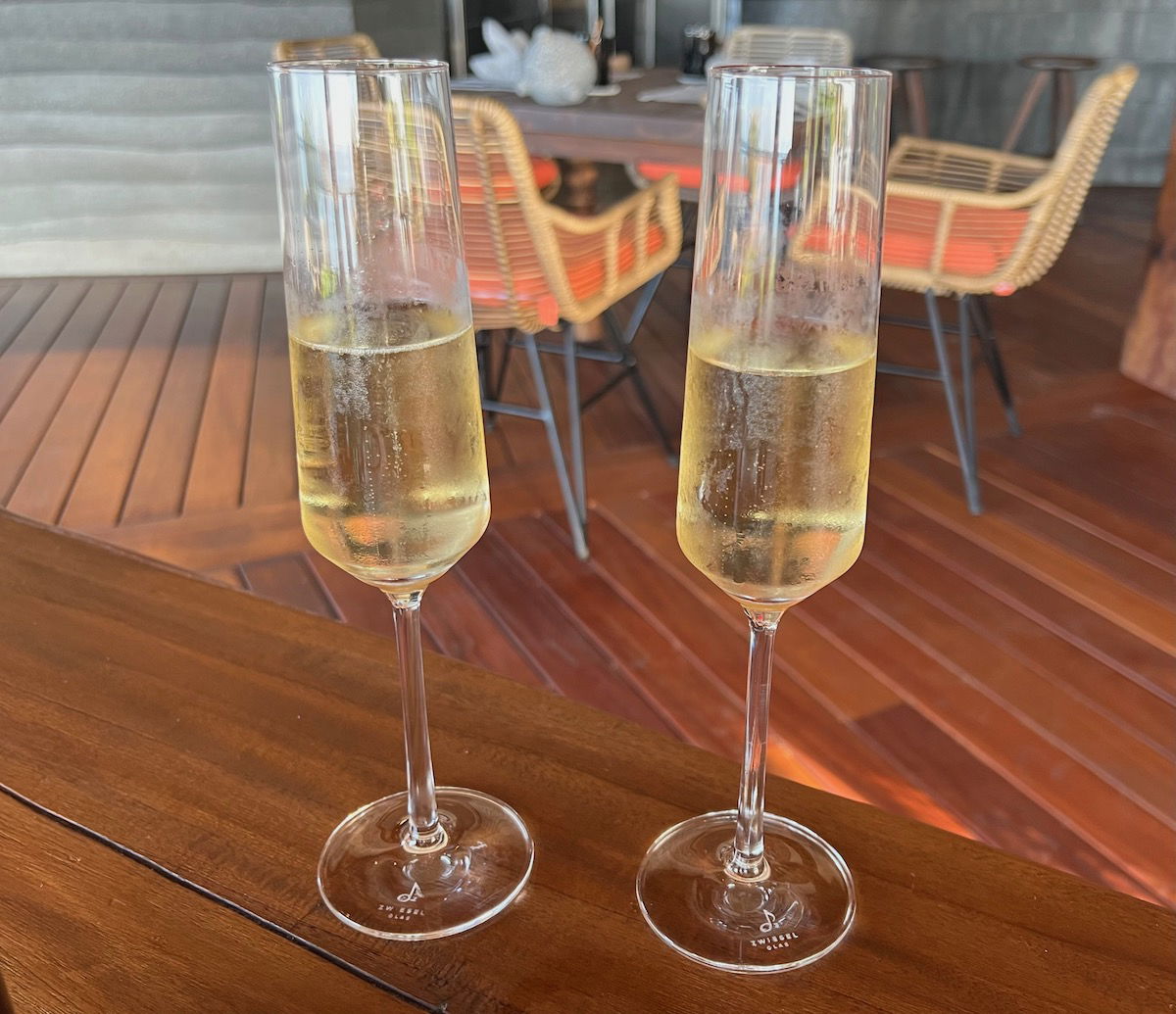 Access all Four Seasons Punta Mita facilities
It's worth noting that guests at the Four Seasons Naviva have access to all the amenities of the Four Seasons Punta Mita, though the inverse isn't true. You can be driven between properties for free any hour of the day or night, whether you want to use the gym there, visit one of the pools, or dine at one of the restaurants.
If you have more than just a weekend for your trip, I think a great strategy could be to spend a few nights at the Four Seasons Punta Mita and then a few nights at the Four Seasons Naviva, so you can enjoy the different vibes of the resorts. But if you're just going for a weekend, being able to escape to a place like the Four Seasons Naviva is pretty awesome, and I'd recommend spending all your time taking advantage of what the property has to offer.
Is the Four Seasons Naviva worth it?
Understandably, the topic of value often comes up in the comments section when discussing luxury resorts. This property starts at around ~$4K per night, so of course I'm not going to say "oh yeah this place is definitely worth it, you should deplete your bank account to stay here."
That being said, I think Four Seasons Naviva will have no issues getting people to pay these rates, and I imagine they'll only go up over time:
Base rooms at the Four Seasons Punta Mita start at $1,000-2,000 per night, depending on the season; for that matter, competing properties in the area (like the St. Regis) charge similar rates, while even properties like the Conrad Punta Mita are charging $700+ per night on many dates
All accommodations at the Four Seasons Naviva are more like executive suites in terms of the space and amenities they offer, and these typically retail for at least twice as much as base rooms
If you're staying at a luxury resort in Mexico, you could easily spend $1,000 per day on meals, drinks, activities, spa treatments, etc. (easily… often more)
At the end of the day, in Mexico you're paying for close proximity to the United States and major wealth centers, and easy access to a weekend getaway; in the past few years we've seen luxury hotel rates in North America increase greatly, while that hasn't been true to the same extent in places like the Maldives, Thailand, etc.
If you're in a financial position to stay here, and if you like the general vibe this property offers, I can't recommend the resort enough. I've never been to a resort where I felt so much like I was in a the most impressive private residence imaginable, rather than feeling like I was at a hotel. Best of all, you can experience this all by taking just a short flight from the United States.
Bottom line
Prior to our stay at Four Seasons Naviva, I said to Ford "either this place is going to be really good and wildly popular, or Four Seasons is going to be reconsidering this concept pretty quickly." Well, I'm happy to report that I'm confident the former is the case.
The Four Seasons Naviva is really, really good. This is a totally new concept for Four Seasons, with ridiculously luxurious accommodations, genuine service, amazing food, and some surprisingly substantive wellness activities.
This property can appeal to all kinds of travelers, from those looking to relax by the pool, to those looking for a spiritual journey, to everyone in between. I'd say the only types of travelers who shouldn't consider this property are those looking for a really lively atmosphere, who want to party.
It's so cool to see a brand as respected as Four Seasons try a completely new hospitality concept. It's my understanding that this is a test concept for the brand, and if it works out well, we could see more of these types of properties in the future.
What do you make of the Four Seasons Naviva?
EXTRA PERKS AVAILABLE
Enjoy breakfast, upgrades, & more
Want to take advantage of Four Seasons Preferred Partner benefits, including a space available room upgrade, complimentary breakfast, a hotel credit, and more? Contact Ford ([email protected]) for more details. He may even be able to help if you already have a stay booked.
Read Four Seasons reviews: Athens, Boston, Cap-Ferrat, Denver, Desroches Island, Florence, Fort Lauderdale, Hualalai, Kyoto, Lanai, Los Angeles at Beverly Hills, Los Cabos, Madrid, Maldives at Landaa Giraavaru, Maui, Megeve, Miami, Napa Valley, Naviva, Nevis, Oahu at Ko Olina, Paris, Punta Mita, San Francisco at Embarcadero, Scottsdale, Seychelles, and Surfside
Learn about Four Seasons deals & offers: Anguilla, Athens, Atlanta, Austin, Bahamas, Bora Bora, Boston, Cap-Ferrat, Costa Rica, Dubai, Fort Lauderdale, Hawaii, Jackson Hole, London, Los Cabos, Maldives, Minneapolis, Nashville, Naviva, New York, Napa Valley, New Orleans, Orlando, Palm Beach, Paris, Philadelphia, Punta Mita, San Francisco, Santa Fe, Seattle, Sicily, Tamarindo, and Vail
Learn about Four Seasons basics: Four Seasons Preferred Partner, Four Seasons Private Retreats, Four Seasons Private Jet, Four Seasons travel agents, Four Seasons loyalty program, and maximizing value at Four Seasons