EXTRA PERKS AVAILABLE
Enjoy breakfast, upgrades, & more
Want to take advantage of Four Seasons Preferred Partner benefits, including a space available room upgrade, complimentary breakfast, a hotel credit, and more? Contact Ford ([email protected]) for more details. He may even be able to help if you already have a stay booked.
During our recent trip to California (where I also reviewed Alila Marea Encinitas and Four Seasons San Francisco at Embarcadero), we spent a few nights at the Four Seasons Napa Valley. This hotel has been in the works for around a decade, and I know many luxury hotel fans have been curious about what to expect. I'm here to report back.
The Four Seasons Napa Valley opened in November 2021. The roughly 23 acre resort features 85 guest rooms, plus some residences. While there are still some kinks to be worked out (as you'd expect for a new hotel), the property has a gorgeous setting on a winery, beauty pools, excellent service, and phenomenal food.
Booking the Four Seasons Napa Valley
For our dates in early December, the nightly rate for a base room at the Four Seasons Napa Valley was $1,200. Napa Valley tends to be pricey to begin with, given its proximity to the Bay Area, which has a lot of wealth. On top of that, the domestic luxury hotel market is hot right now, given that many people prefer to travel domestically due to travel restrictions.
The best way to book any Four Seasons hotel is through a Preferred Partner travel advisor. When booking through Preferred Partner you pay the same rate you'll find directly on Four Seasons' website, but you'll receive extra perks, including the following:
A room upgrade, subject to availability
Complimentary daily breakfast
A hotel credit to use during your stay
Four Seasons Preferred Partner is generally combinable with promotions being offered directly through Four Seasons, including advance purchase rates, free night offers, and more. Note that booking Four Seasons properties through Preferred Partner is better than booking through programs like Amex Fine Hotels & Resorts. Why?
With Preferred Partner you have the option of room service breakfast in place of restaurant breakfast
Upgrades are prioritized for Preferred Partner bookings, given that it's Four Seasons' own proprietary program (and the value of an upgrade can be significant)
You can combine Preferred Partner perks with virtually any rate on Four Seasons' website (other programs don't allow you to stack promotions in the same way)
You can't beat getting all of these extra perks just for booking through an eligible travel advisor. Ford is of course more than happy to help anyone book Four Seasons properties through Preferred Partner, and can be reached at [email protected] He doesn't charge any booking fees for Four Seasons properties.
Full disclosure — Ford got a travel agent rate for our stay — while it was a discount over the standard rate, it was far from free. As always, all opinions expressed are my own.
Four Seasons Napa Valley location
The Four Seasons Napa Valley is located at 400 Silverado Trail North, in the town of Calistoga. For those not familiar with Napa Valley, the area has five different towns, each of which has its own charm. Many people love Calistoga, and the Four Seasons is right across the street from Solage, an Auberge Resorts Collection property.
The closest airport to the Four Seasons is Santa Rosa Sonoma County Airport (STS), which is a roughly 30 minute drive from the hotel. Alternatively you can use San Francisco Airport (SFO), though that's about a two hour drive away, give or take (depending on traffic).
Four Seasons Napa Valley check-in & lobby
The Four Seasons Napa Valley consists of dozens of standalone buildings, and the lobby is its own building. As we pulled up to the hotel we were welcomed by the bellmen, who offered to park our car and help us with our bags. The Four Seasons offers complimentary valet parking, as is pretty standard in Napa Valley.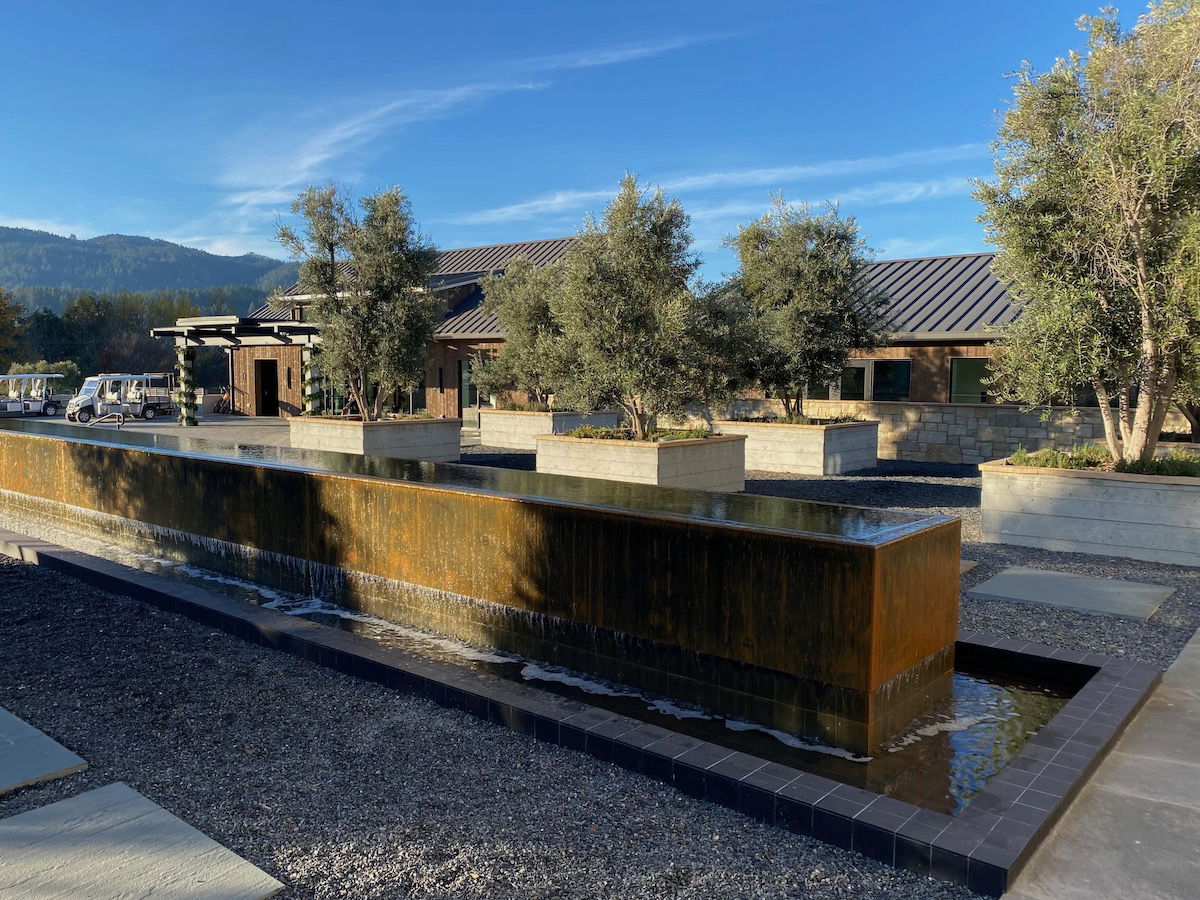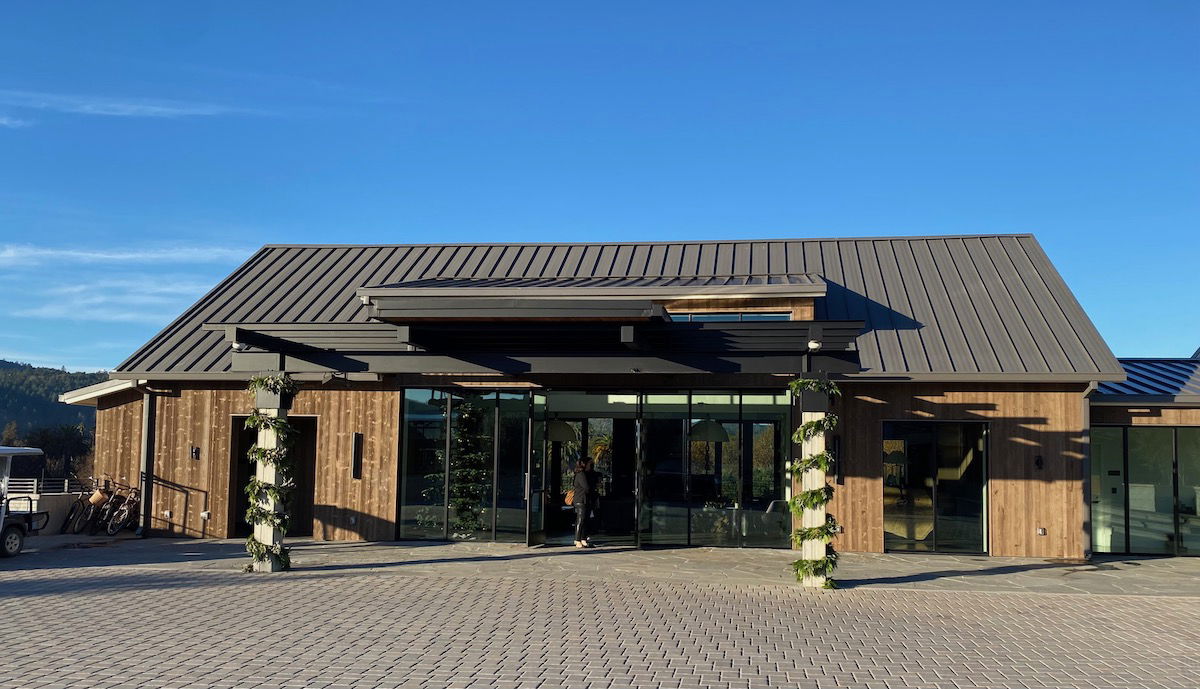 The hotel's lobby is beautiful, and has a sense of place, with plenty of seating.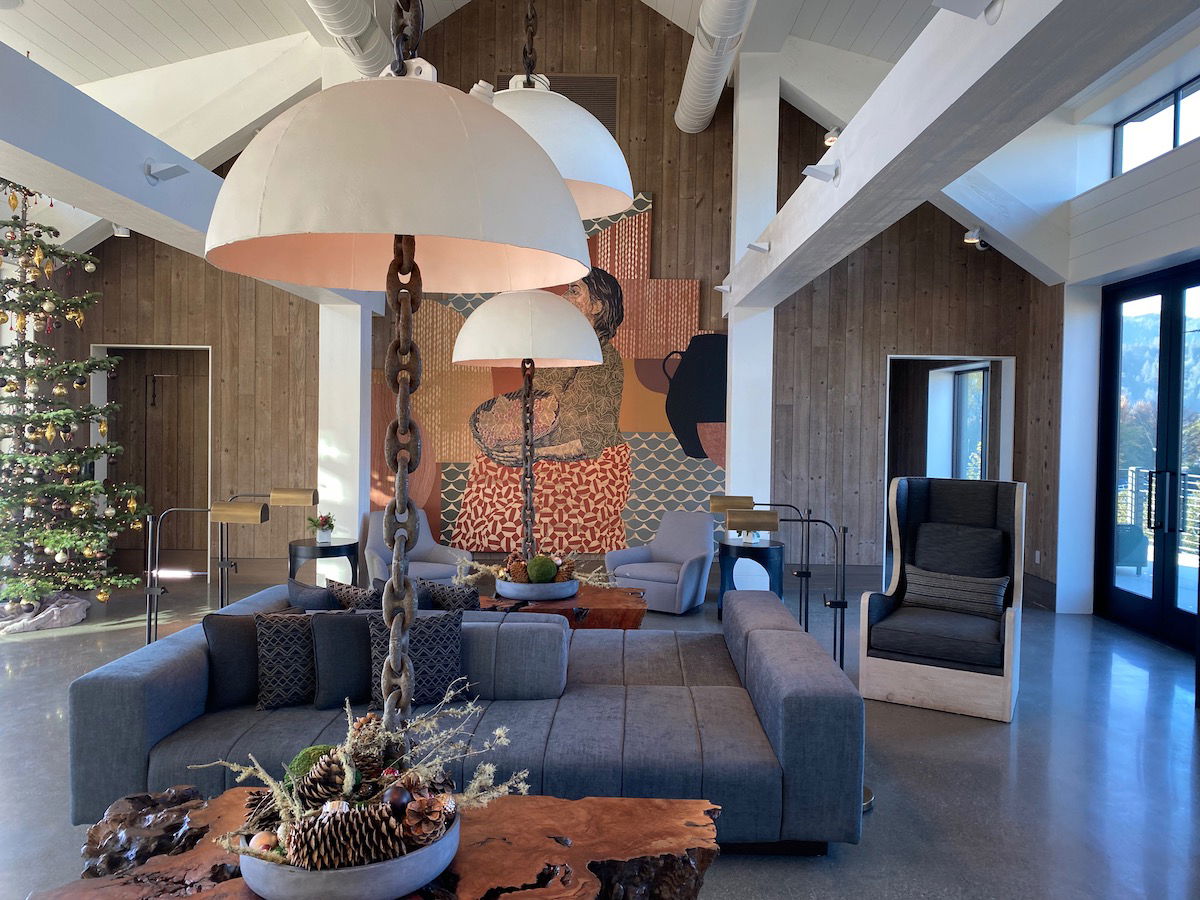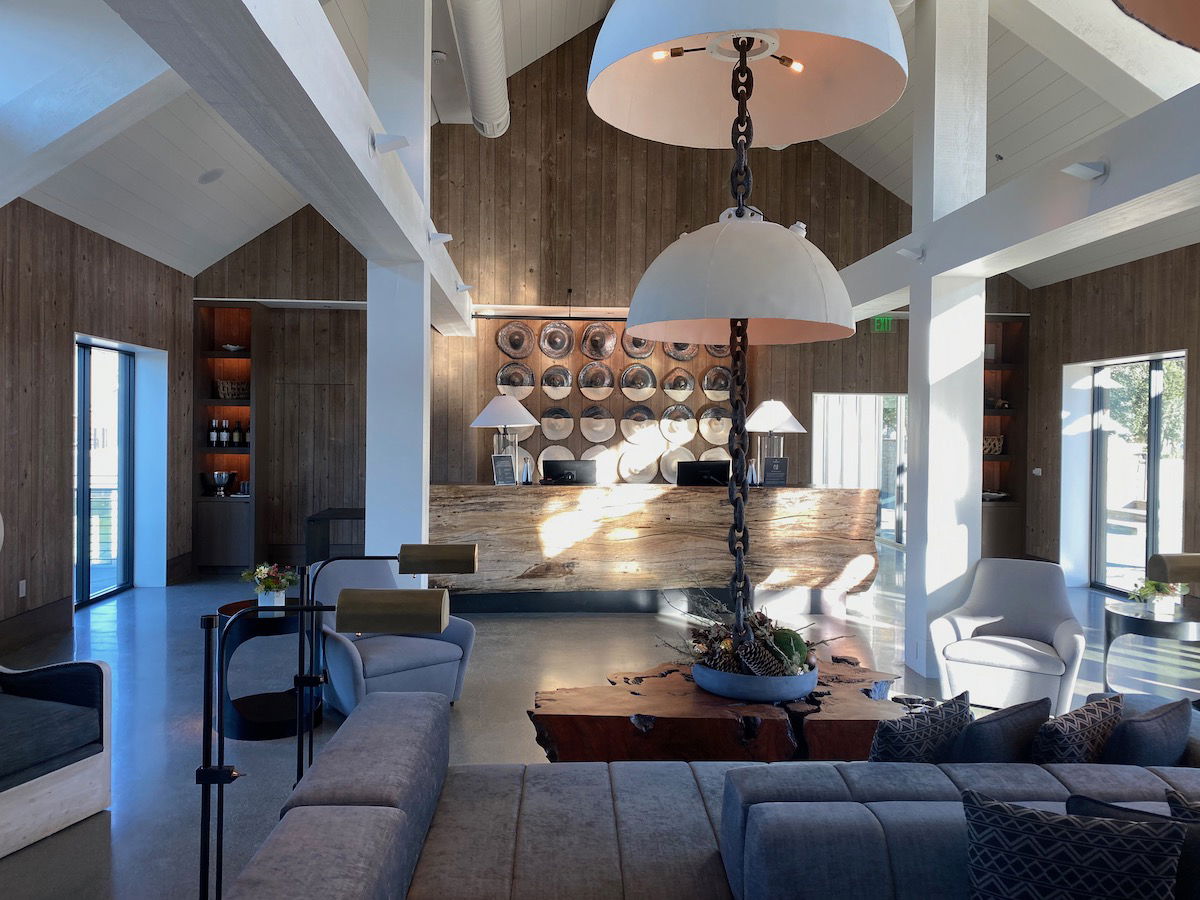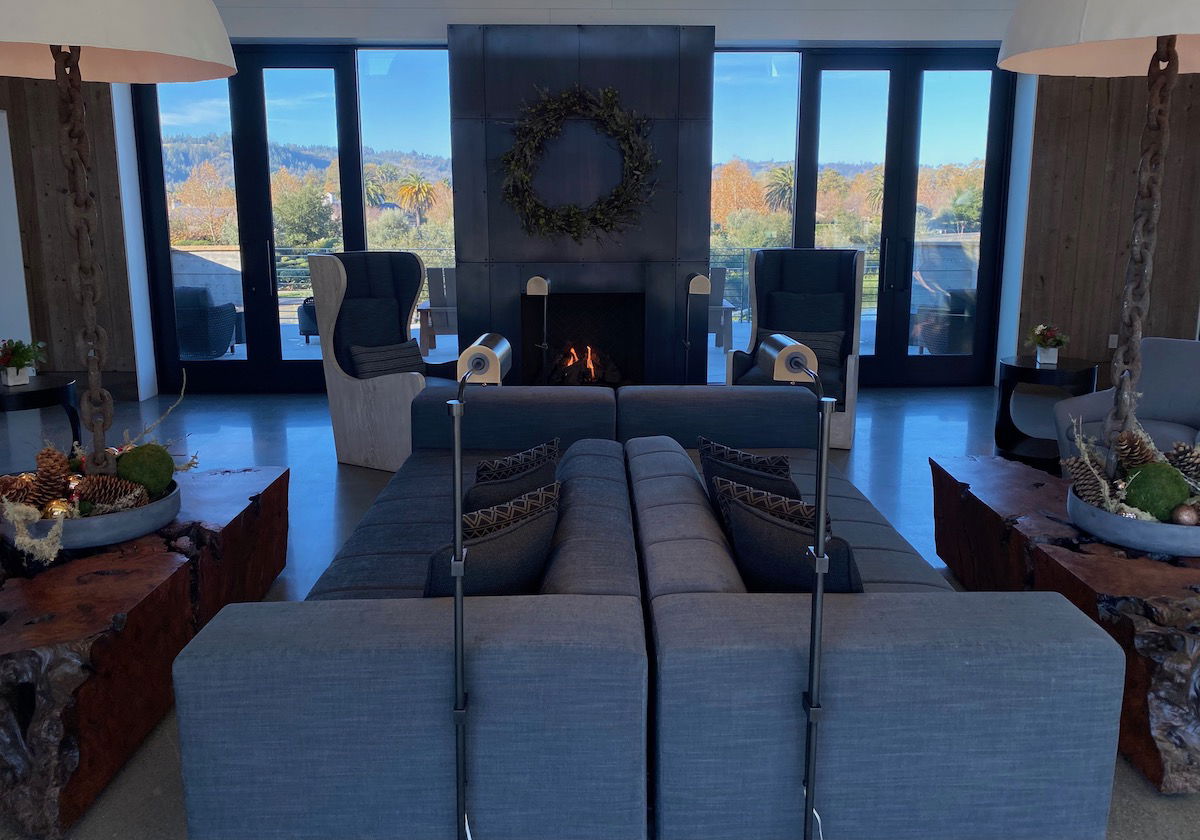 In addition to the interior, there was also an outdoor space with more seating, overlooking a pond with a water fountain.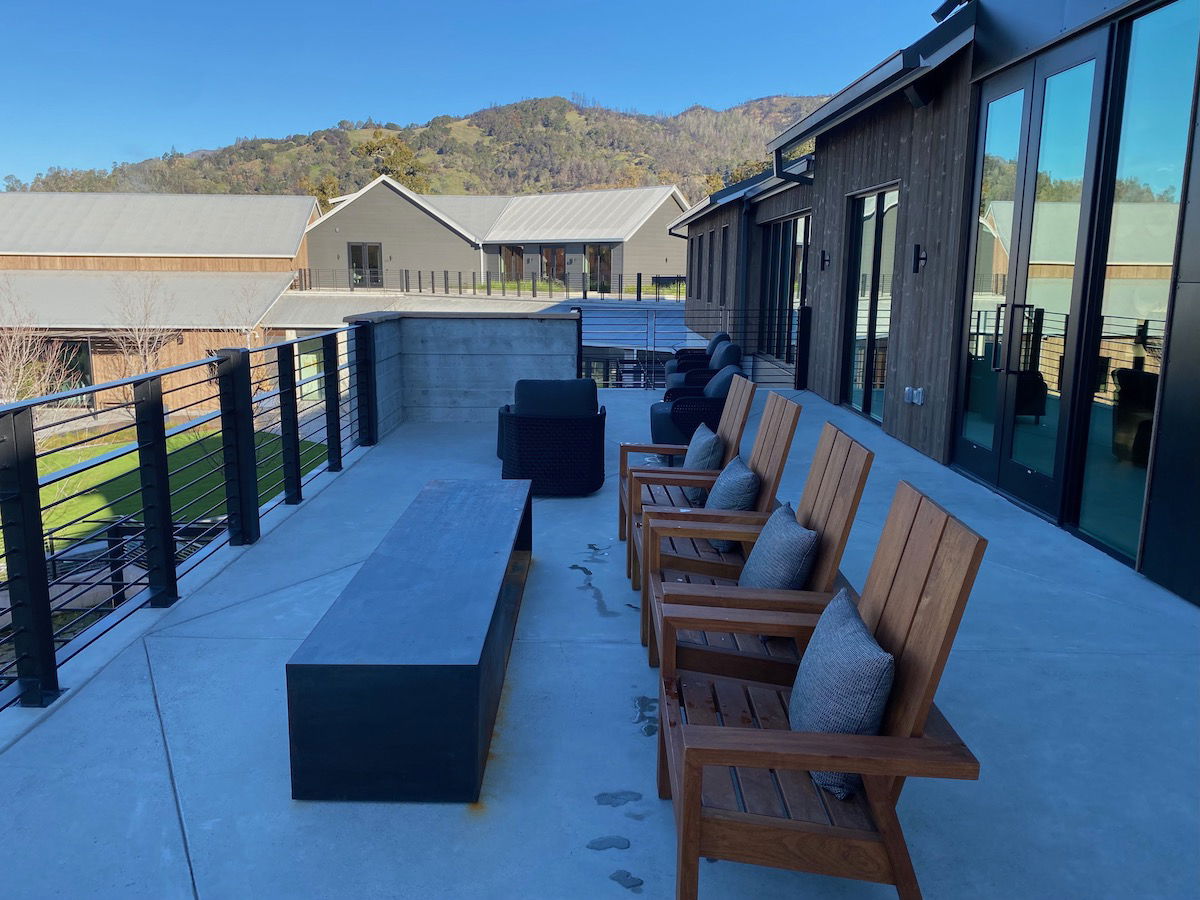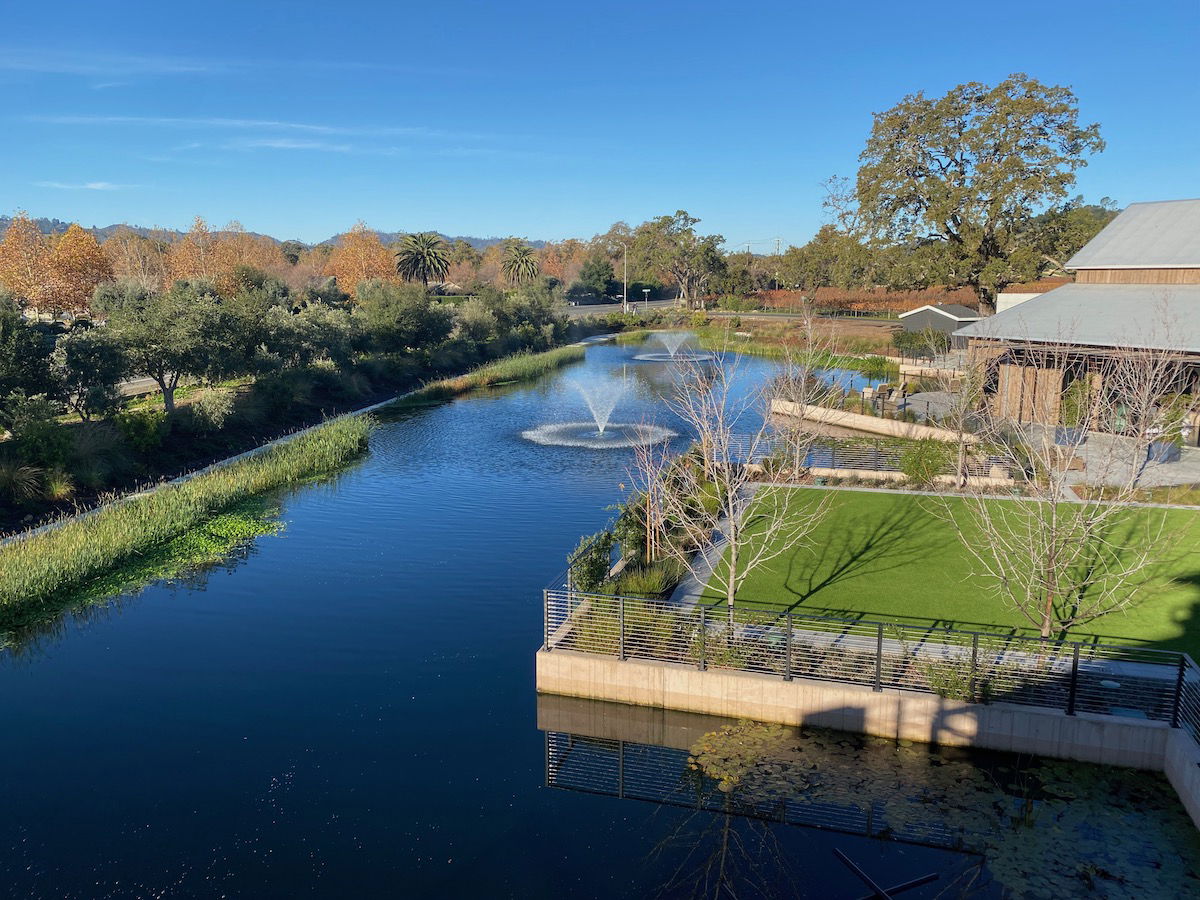 When we started our check-in process we were offered a glass of sauvignon blanc from Elusa Winery, which is located on property. That's a nice way to start a stay.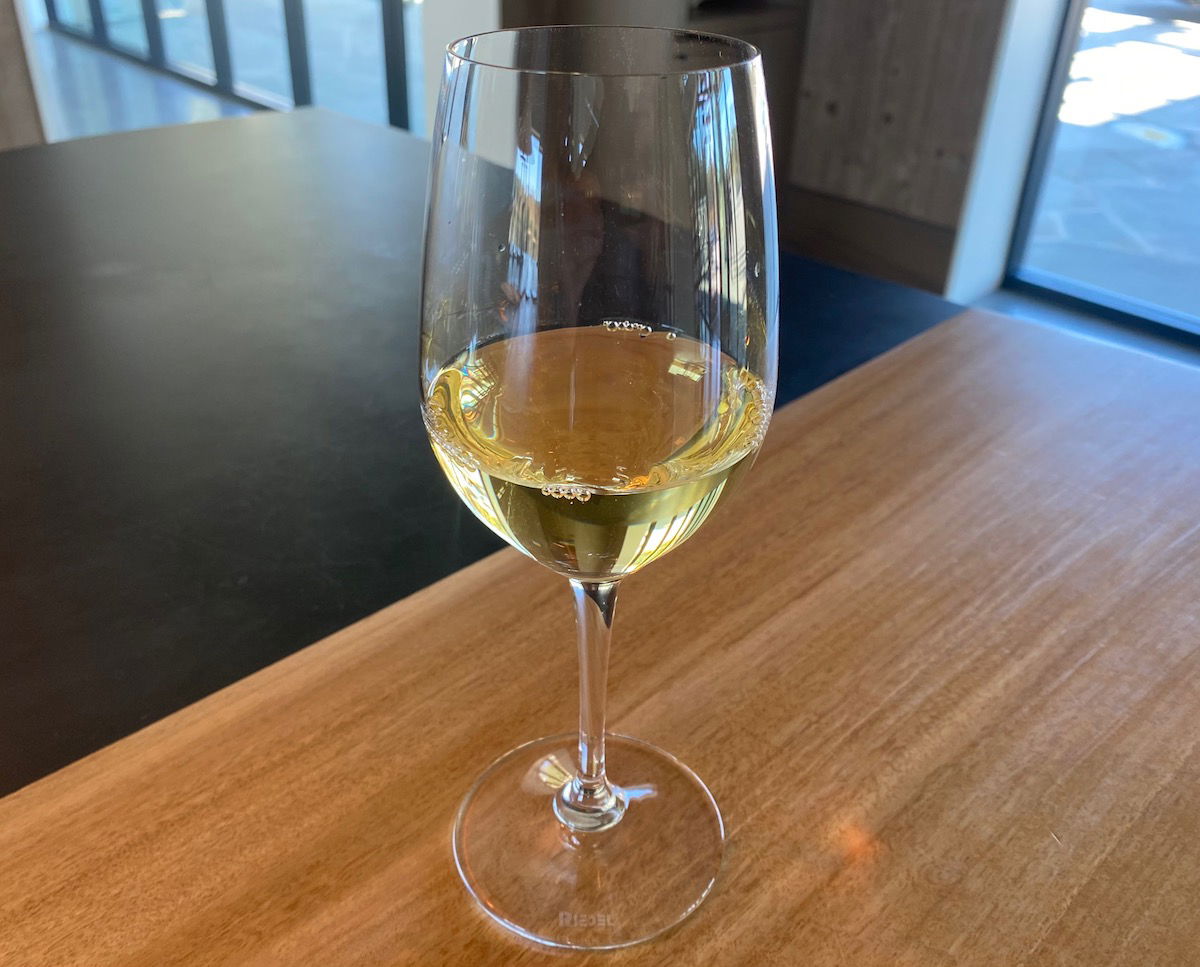 With keys in hand, we were driven to our room in a golf cart, though we could have just as easily walked, as the property is easy to get around.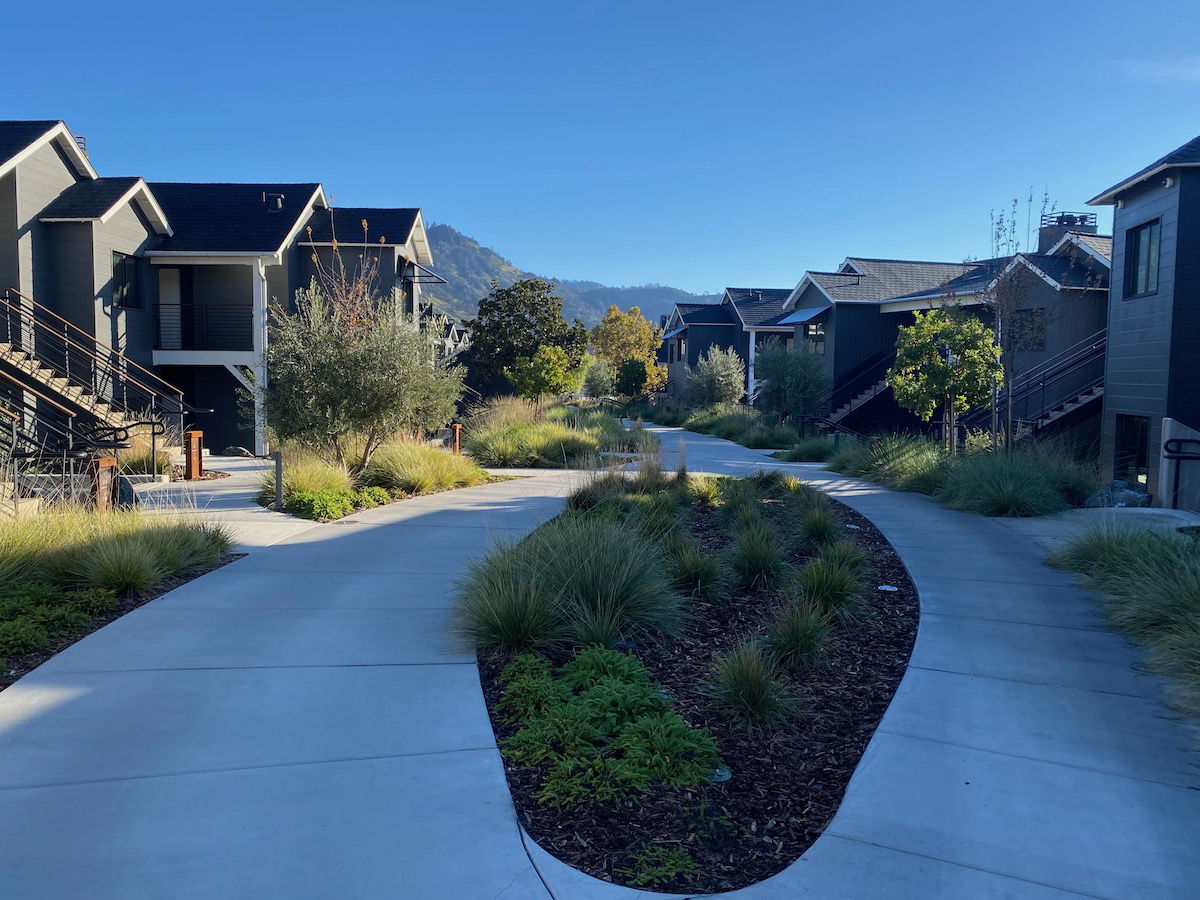 For that matter, the hotel has bikes available, which you can borrow either to ride around the property, or to town.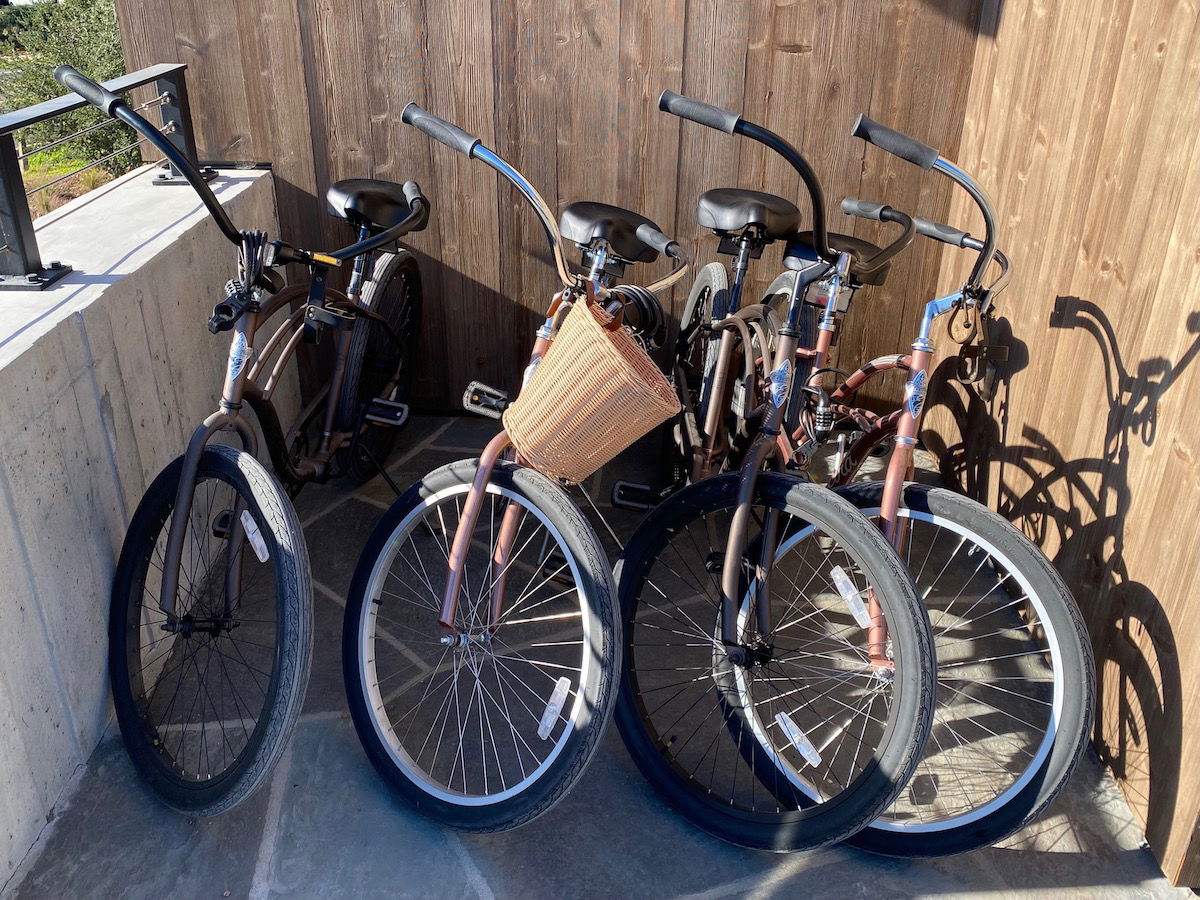 As we were driven to our room, it was also pointed out that the hotel offers complimentary DIY laundry. How cool is that?!? If only more hotels did that…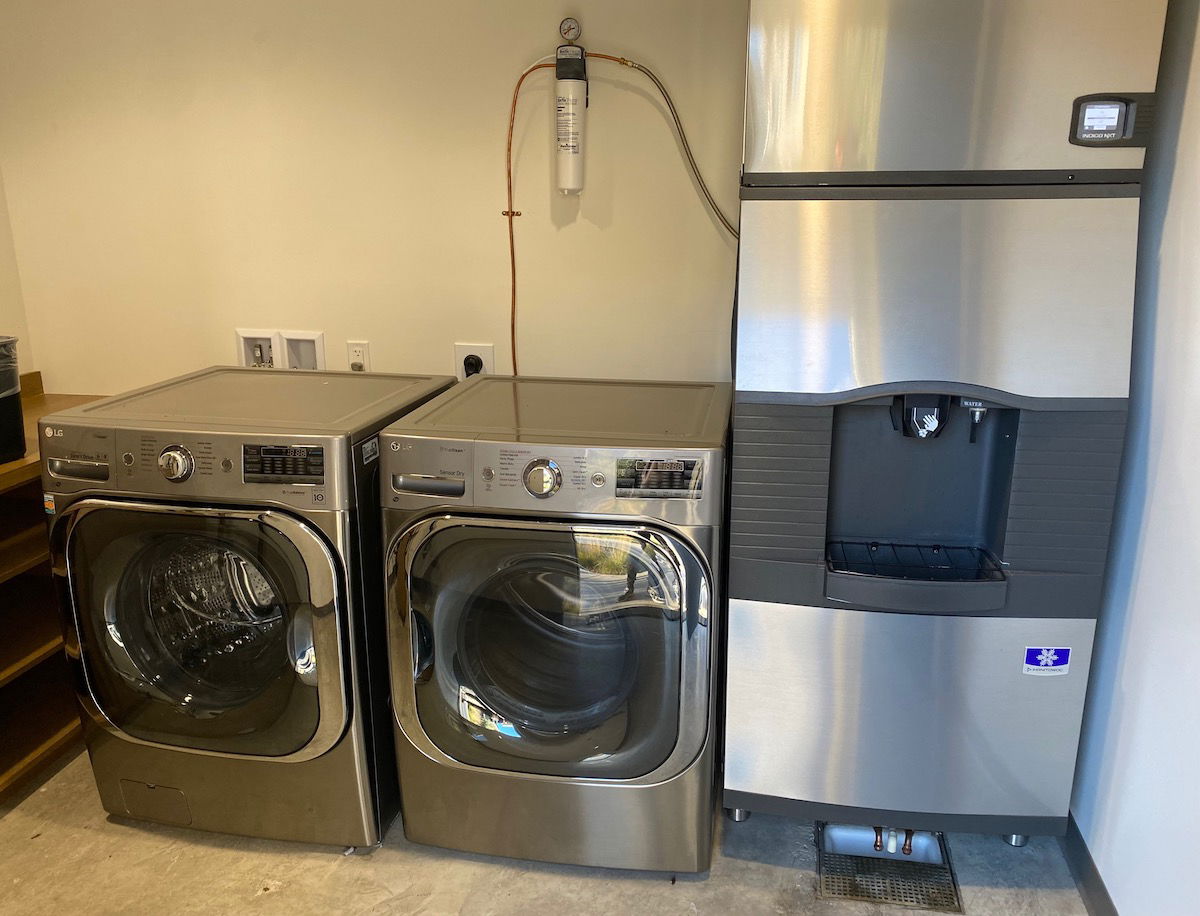 For context, the property is in a roughly triangular shape, so below is a property map to give you a sense of the layout.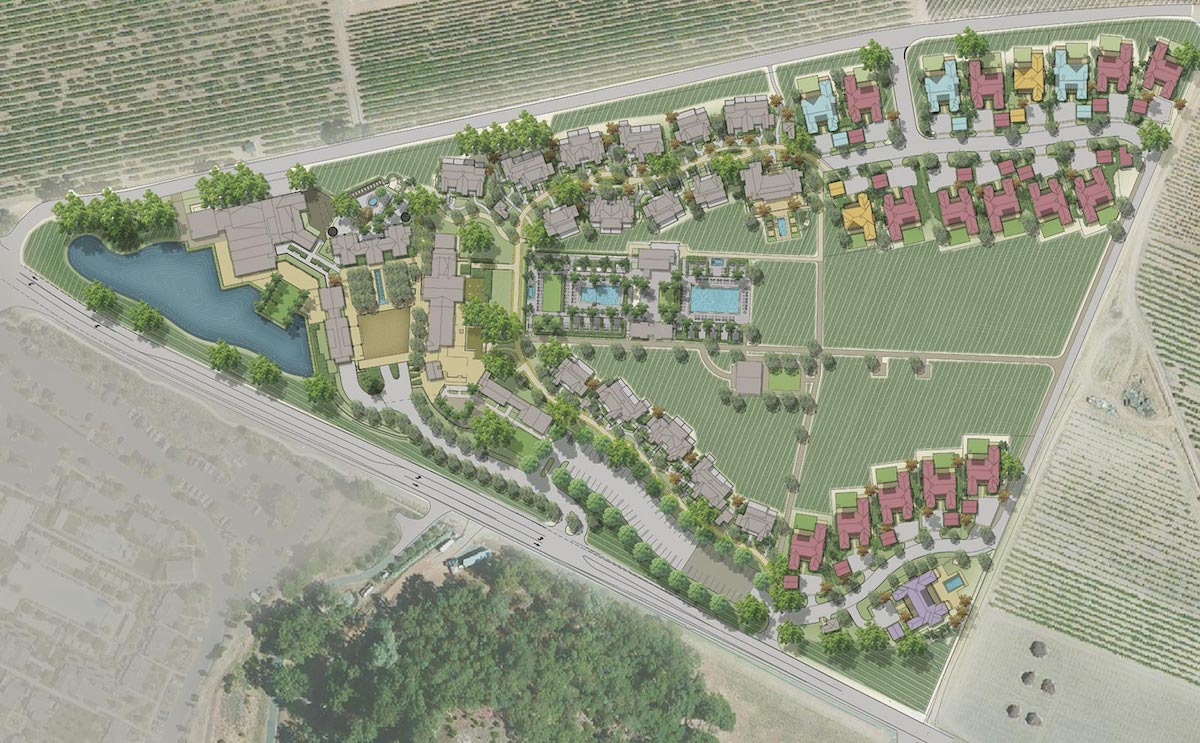 Four Seasons Napa Valley One-Bedroom Suite
For our stay at the Four Seasons we were assigned room 501, a one bedroom suite. Rooms here are spread out over roughly 15 buildings. The building we were in had four accommodations, including two suites and two standard rooms.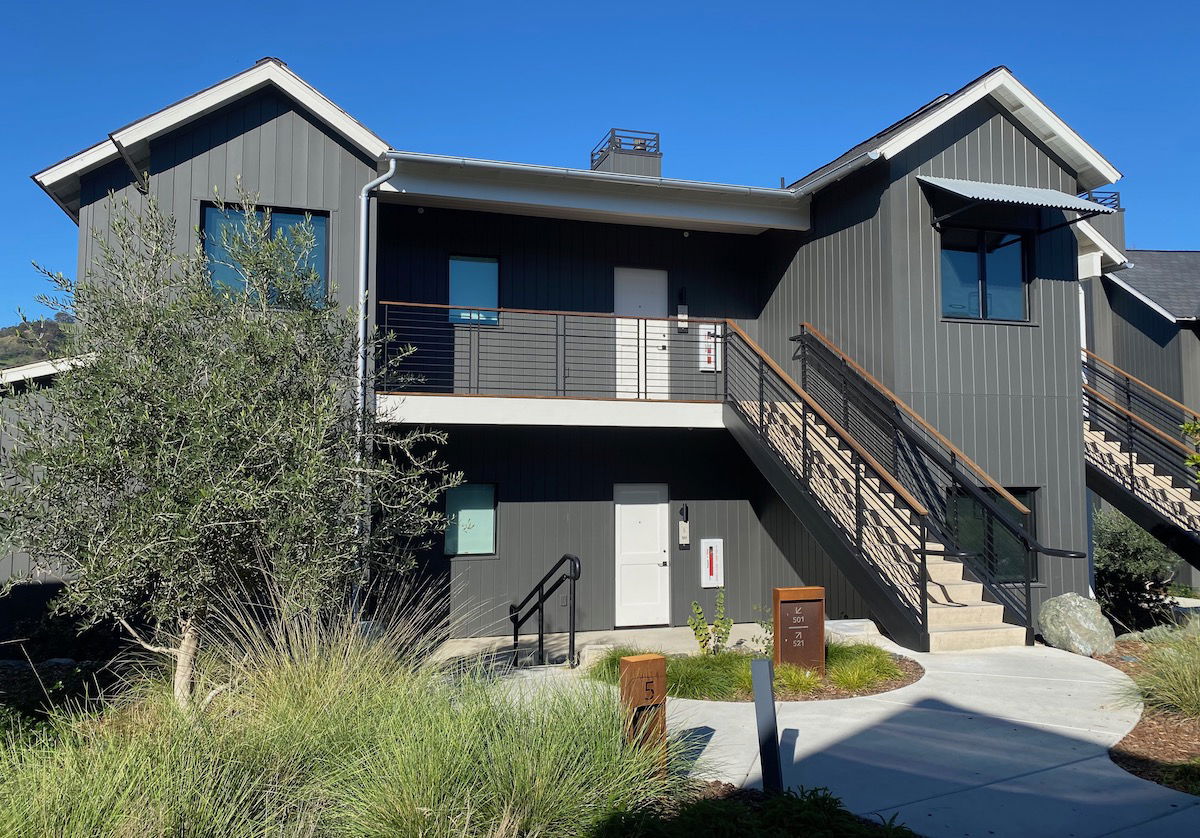 The rooms at the Four Seasons are generously sized — standard rooms start at 480 square feet, while suites start at 960 square feet. So the suites here are real, true suites with multiple rooms, and not just junior suites with a small living area.
Inside the entryway to our suite was a wet bar area, which had a sink, a Nespresso coffee machine and kettle, and a very well stocked minibar.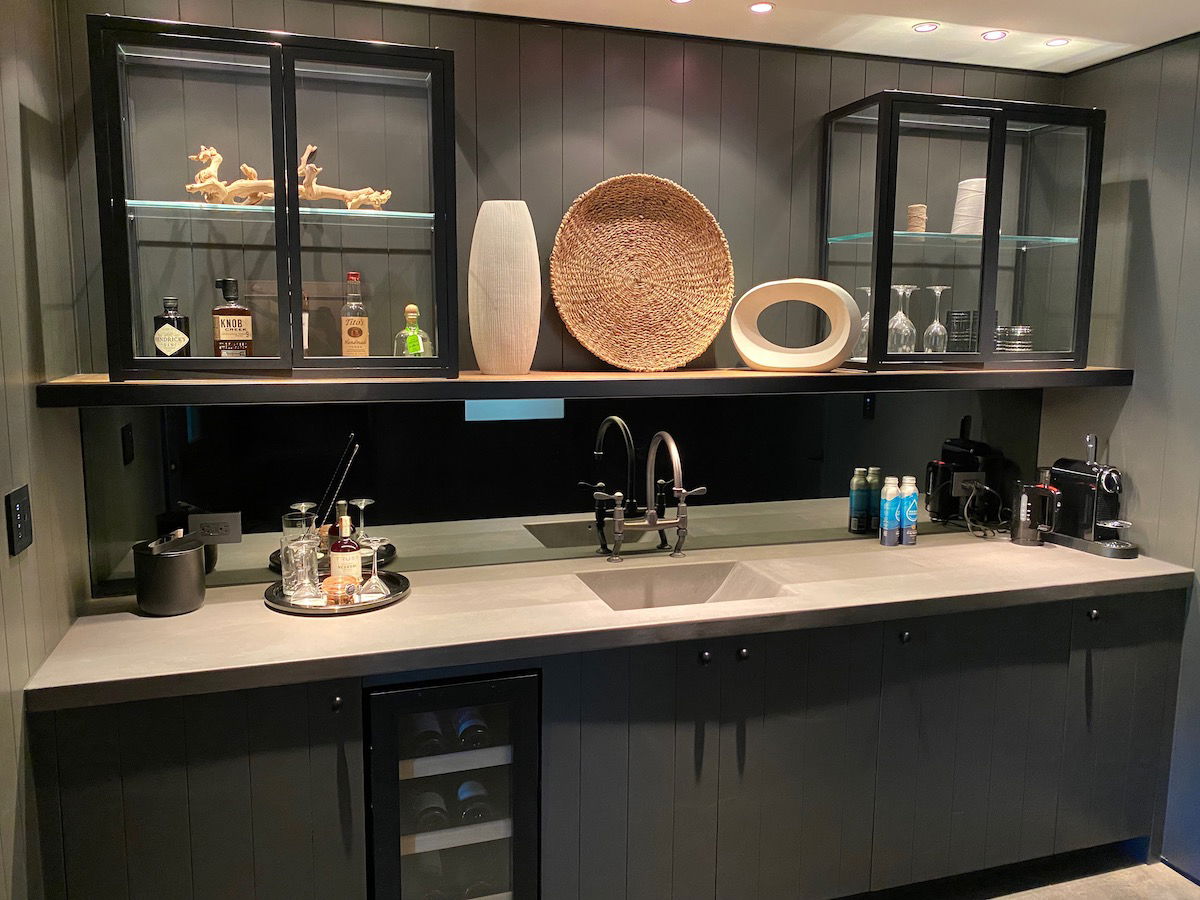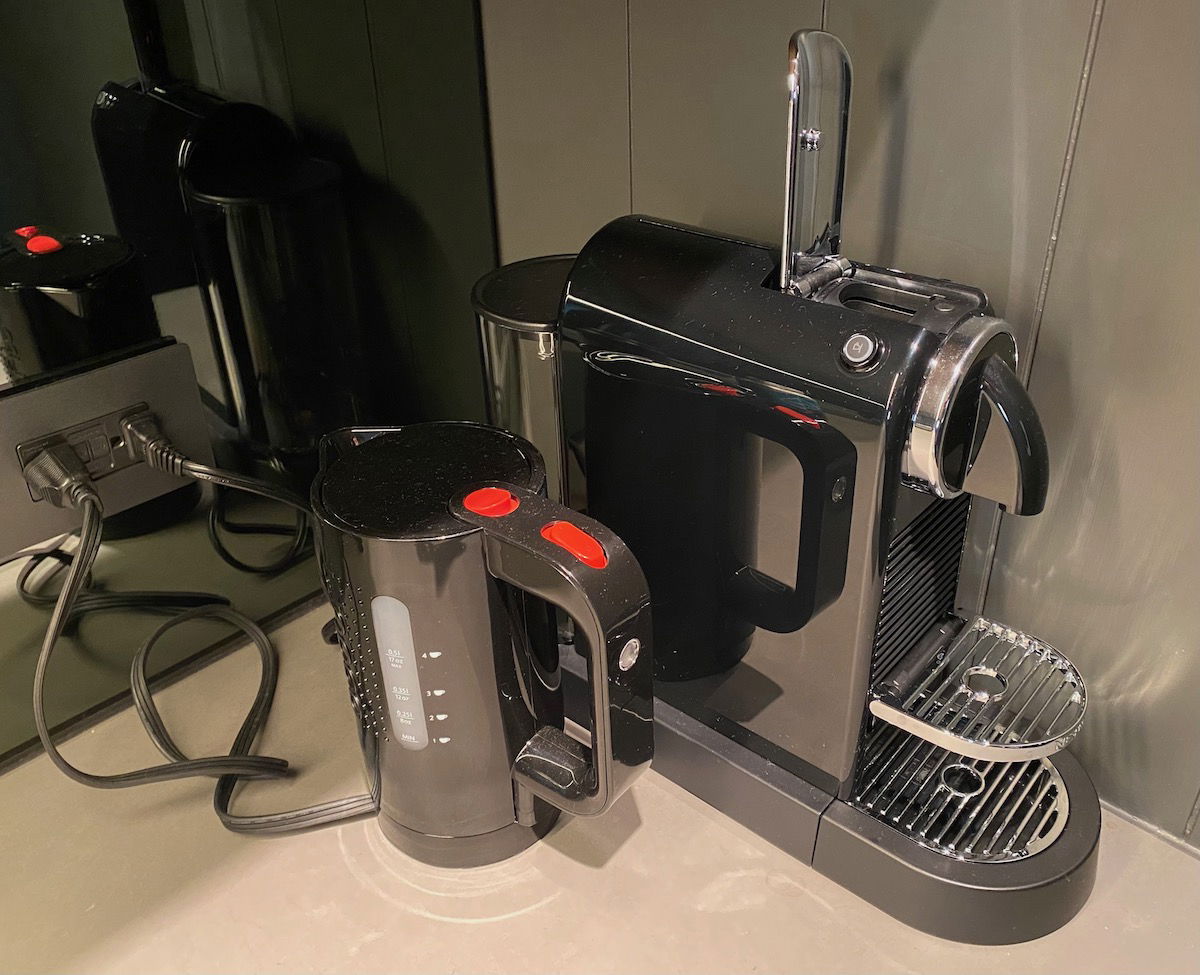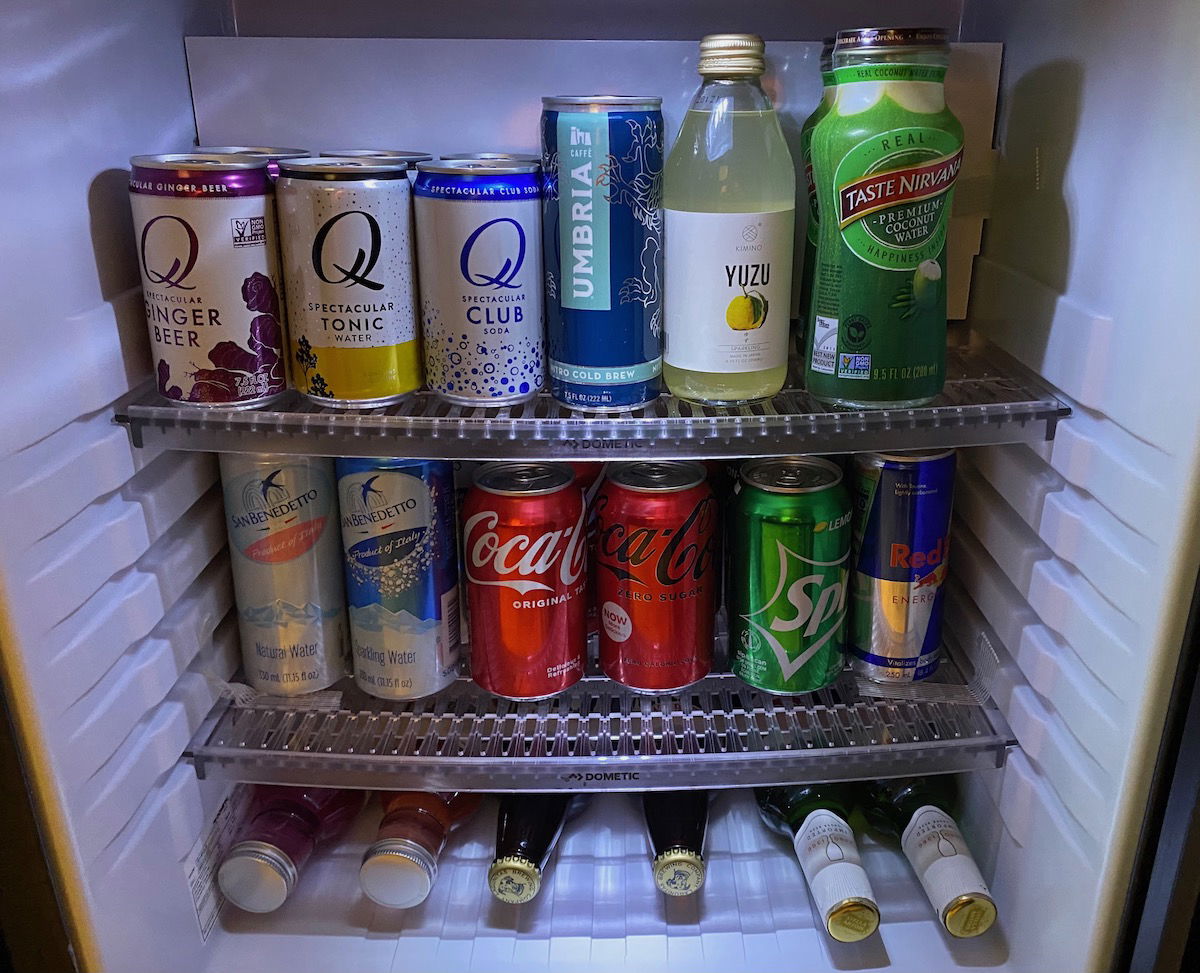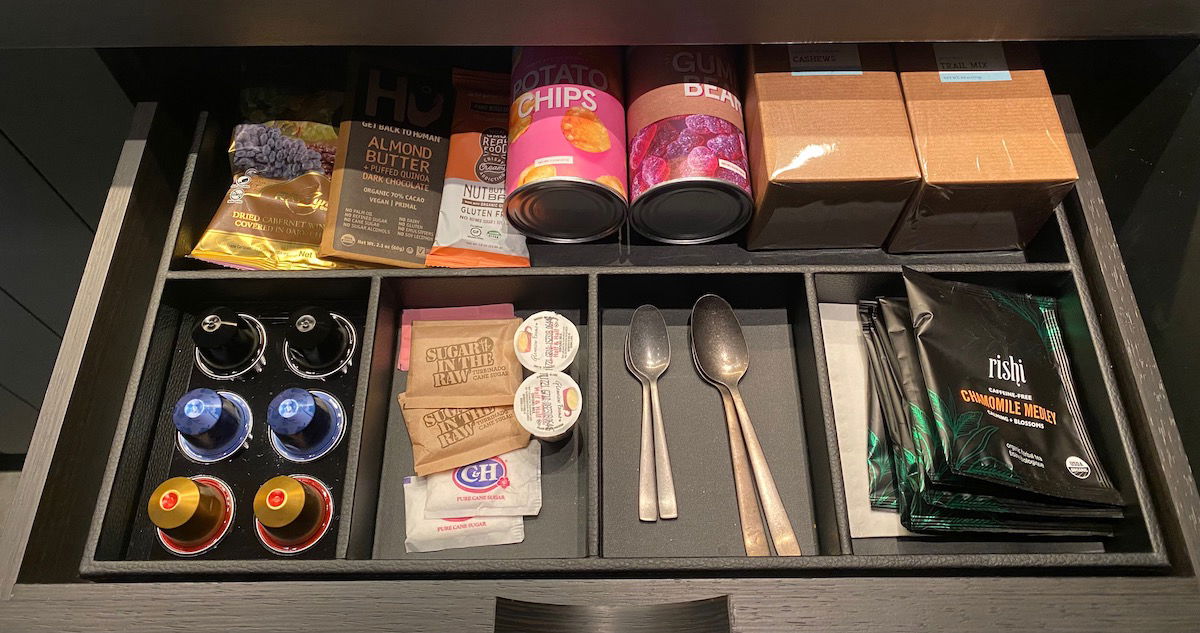 Immediately across from that was the room's second bathroom, which surprisingly was a full bath. It had a toilet, a sink, and a walk-in shower.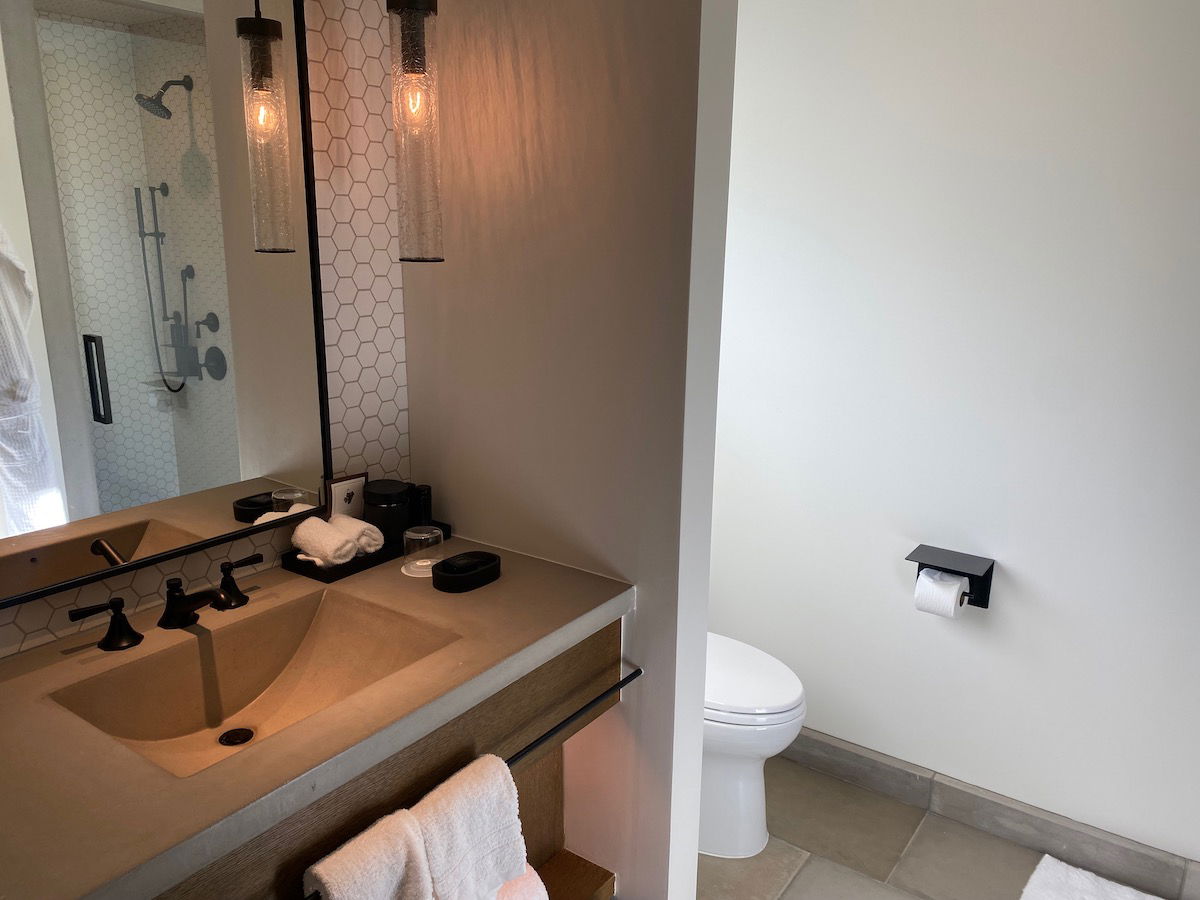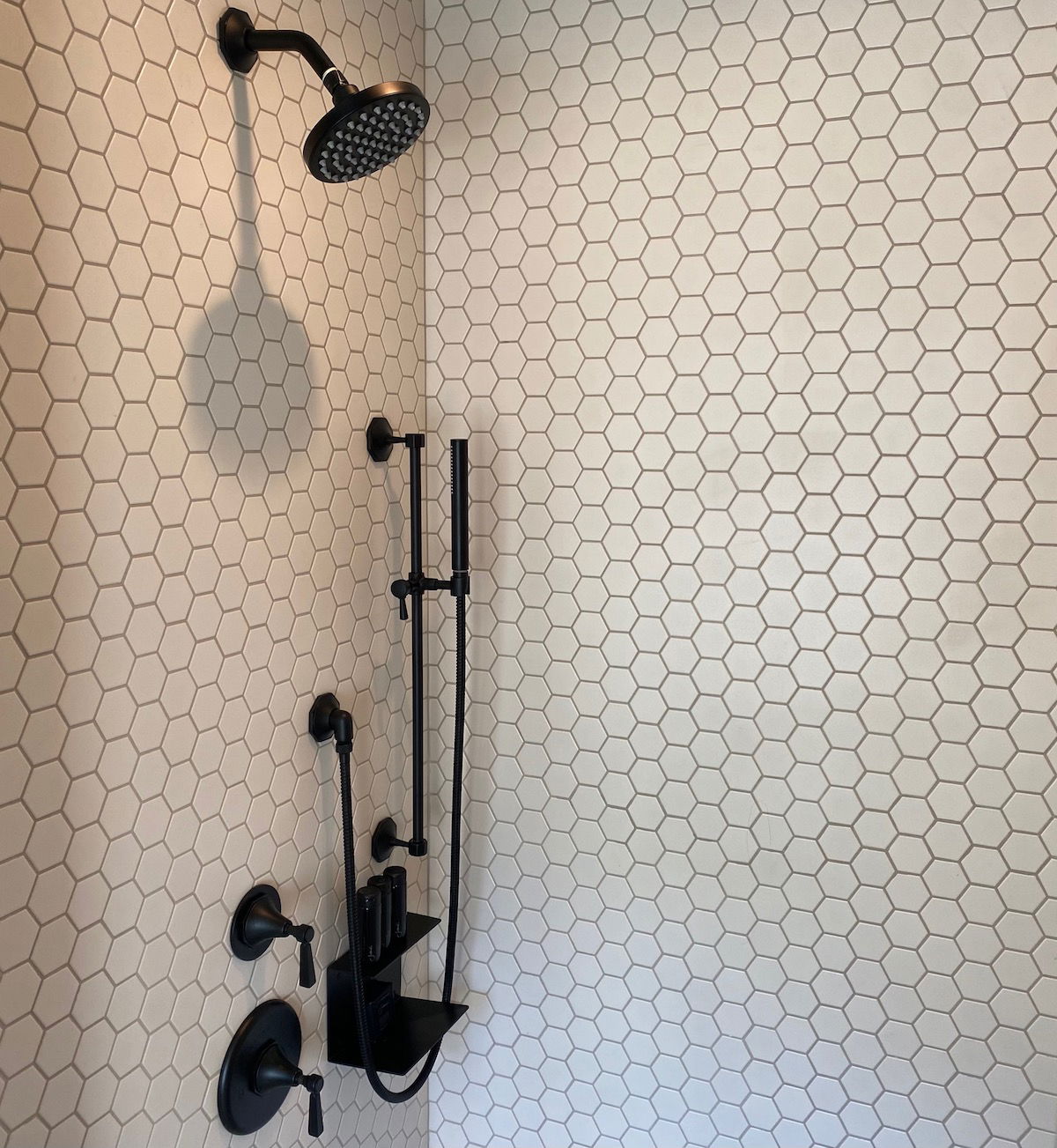 Past that was the large living room, with a very well padded couch and a chair facing a fireplace and TV.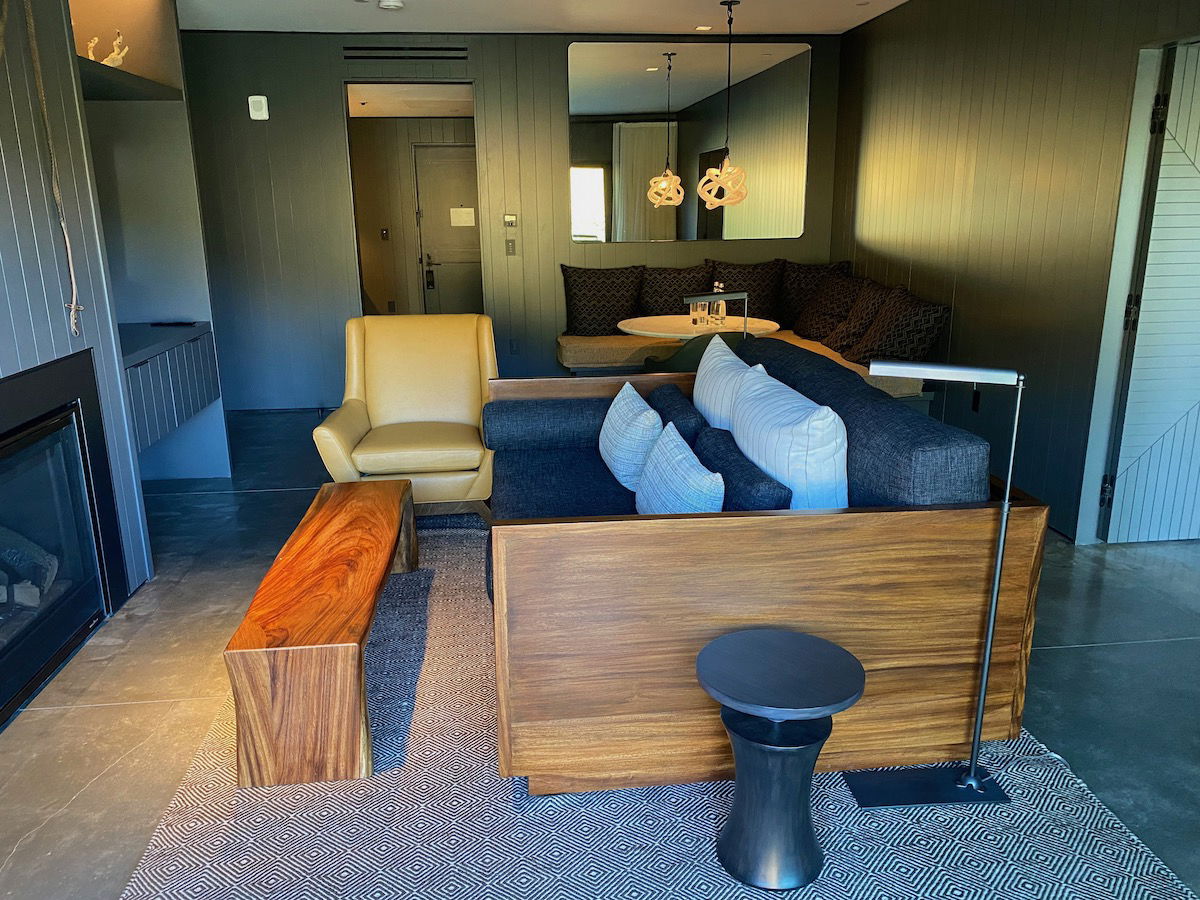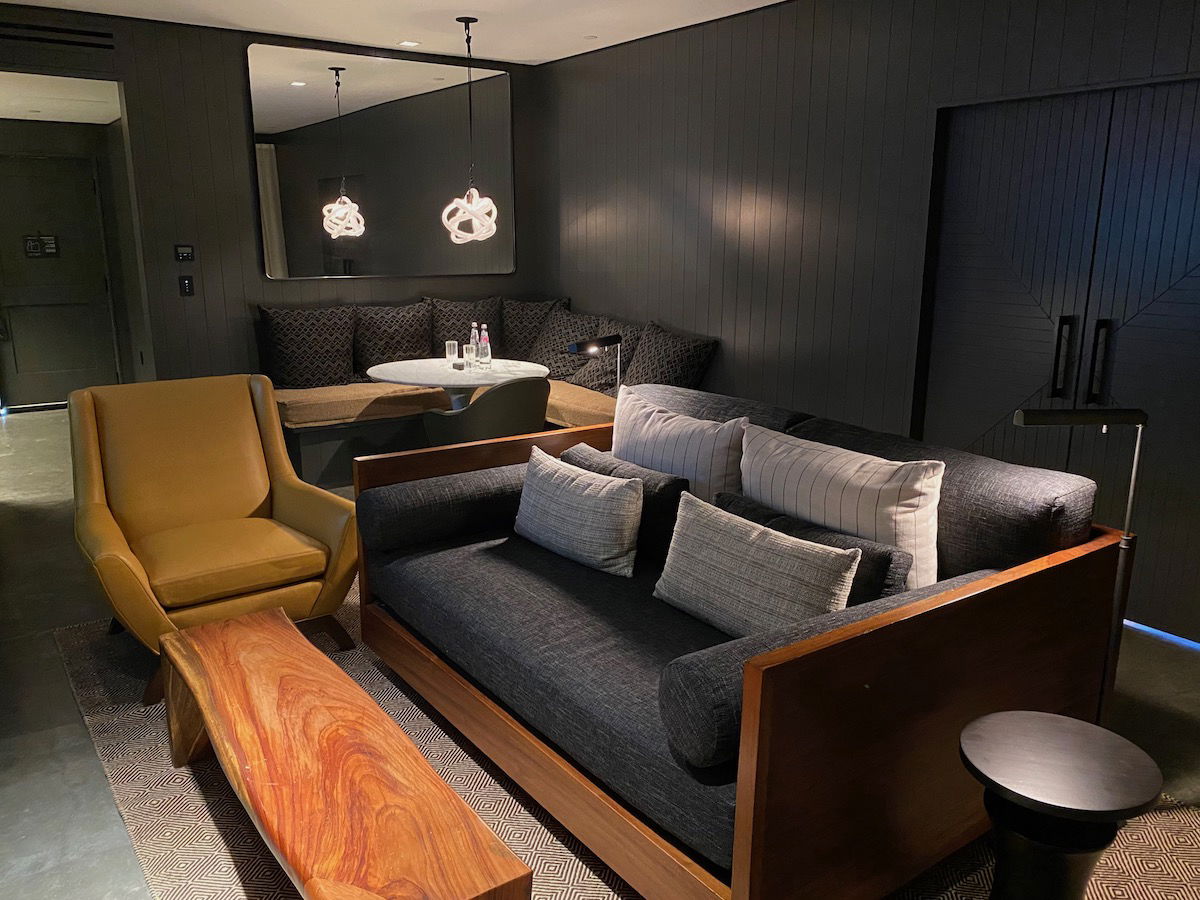 I loved the fireplace, as it could be turned on at the push of a button, and was so cozy. There was also a desk area with a chair.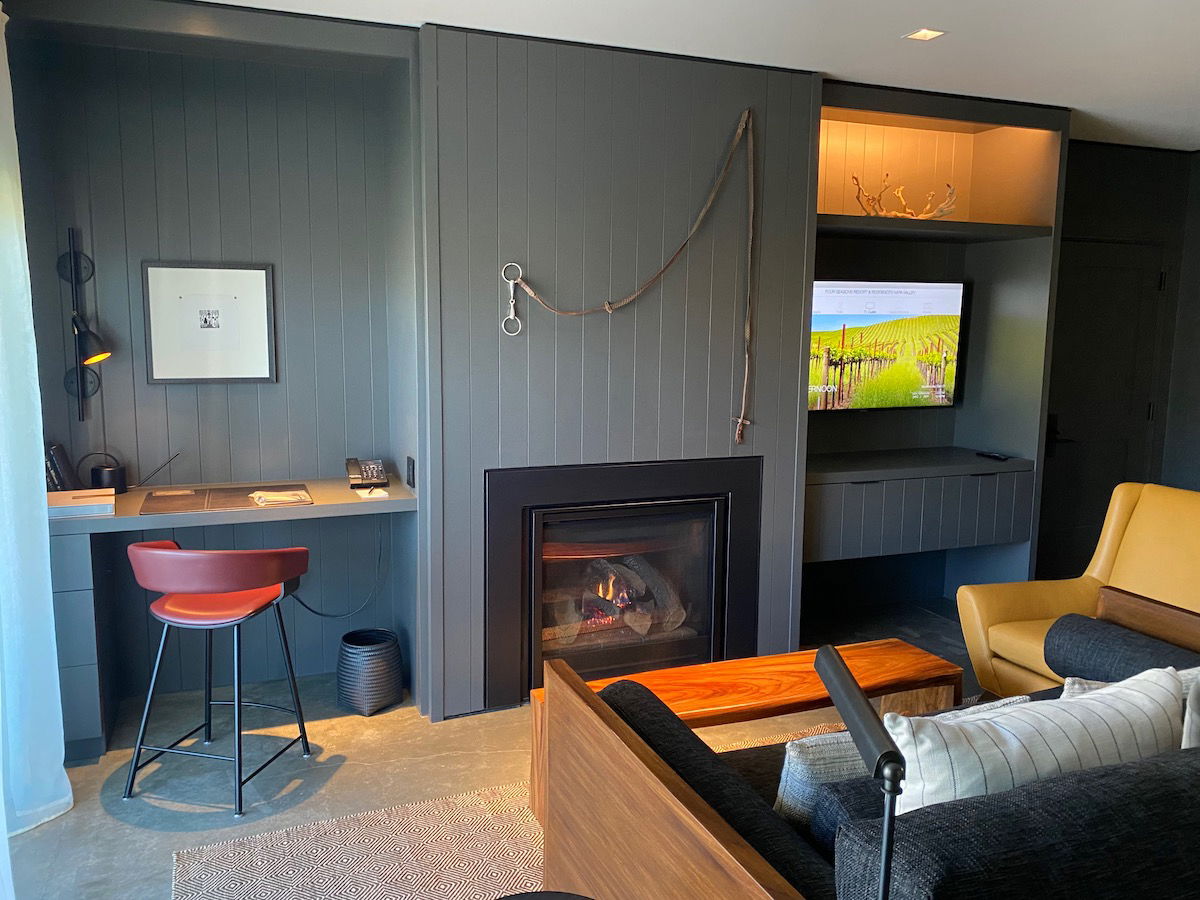 The living room also had a dining area, which had an "L" shaped bench and an extra chair.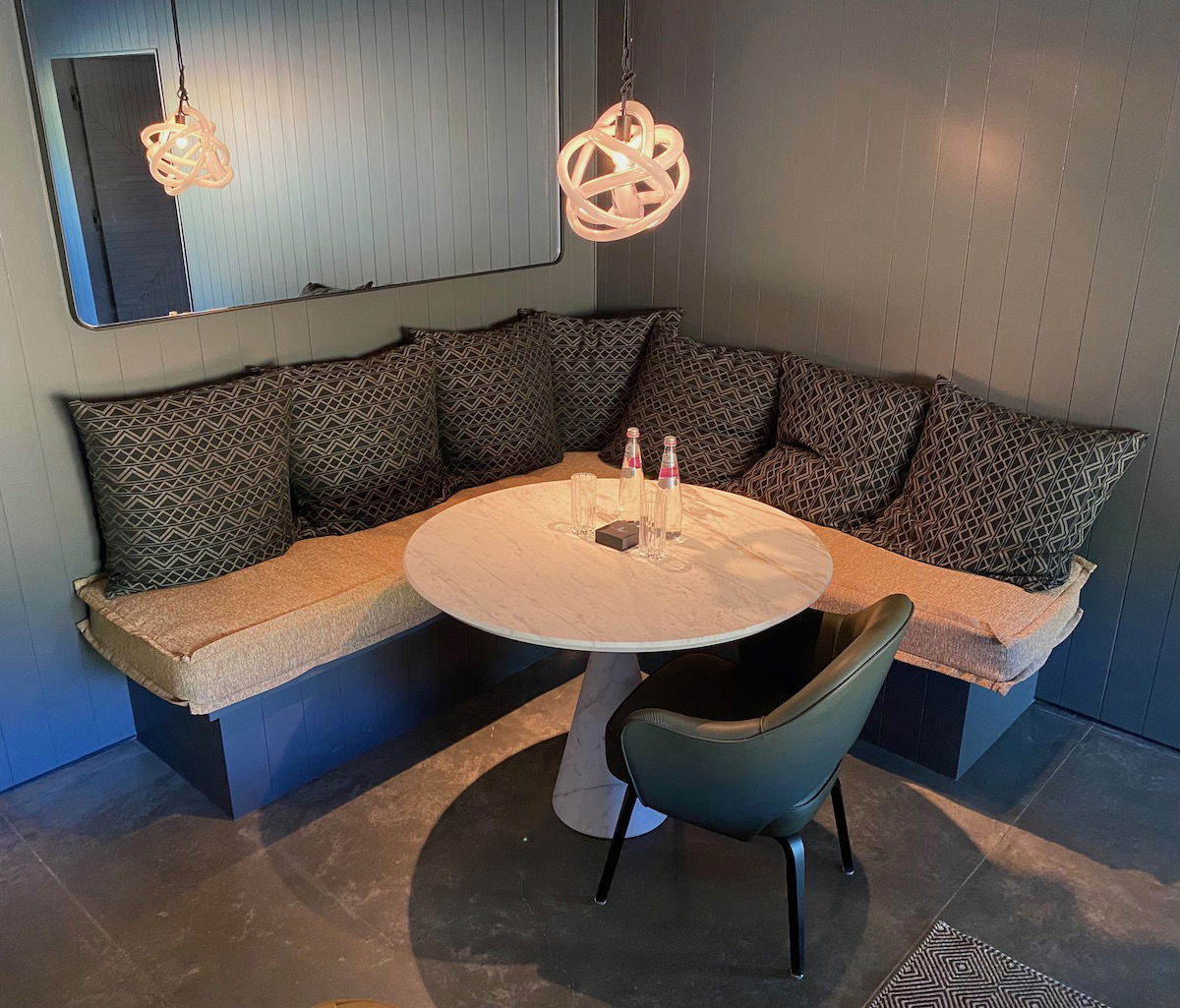 There were sliding double doors leading into the bedroom, which had a signature Four Seasons king bed. Four Seasons has the most comfortable beds of any hotel group, so it's always so nice to sink into one of them after a long day.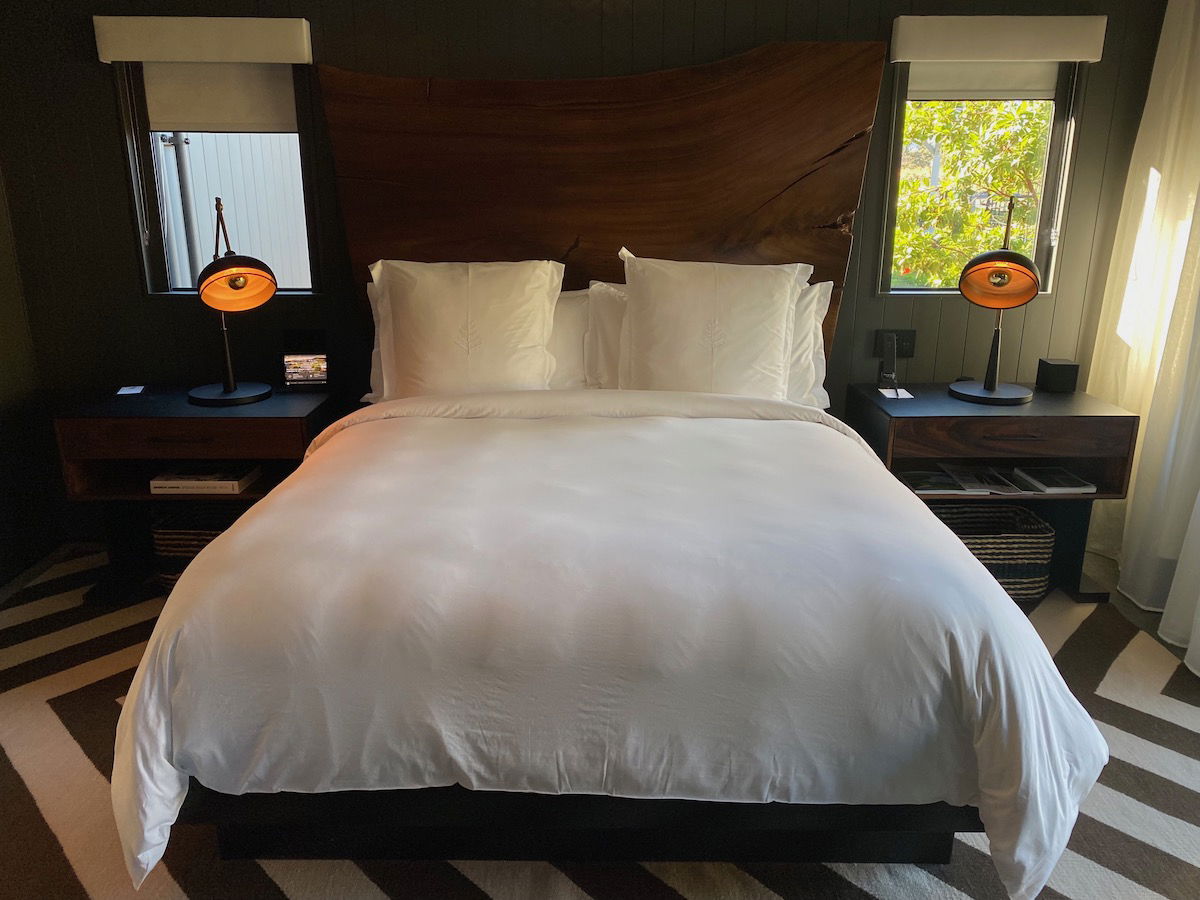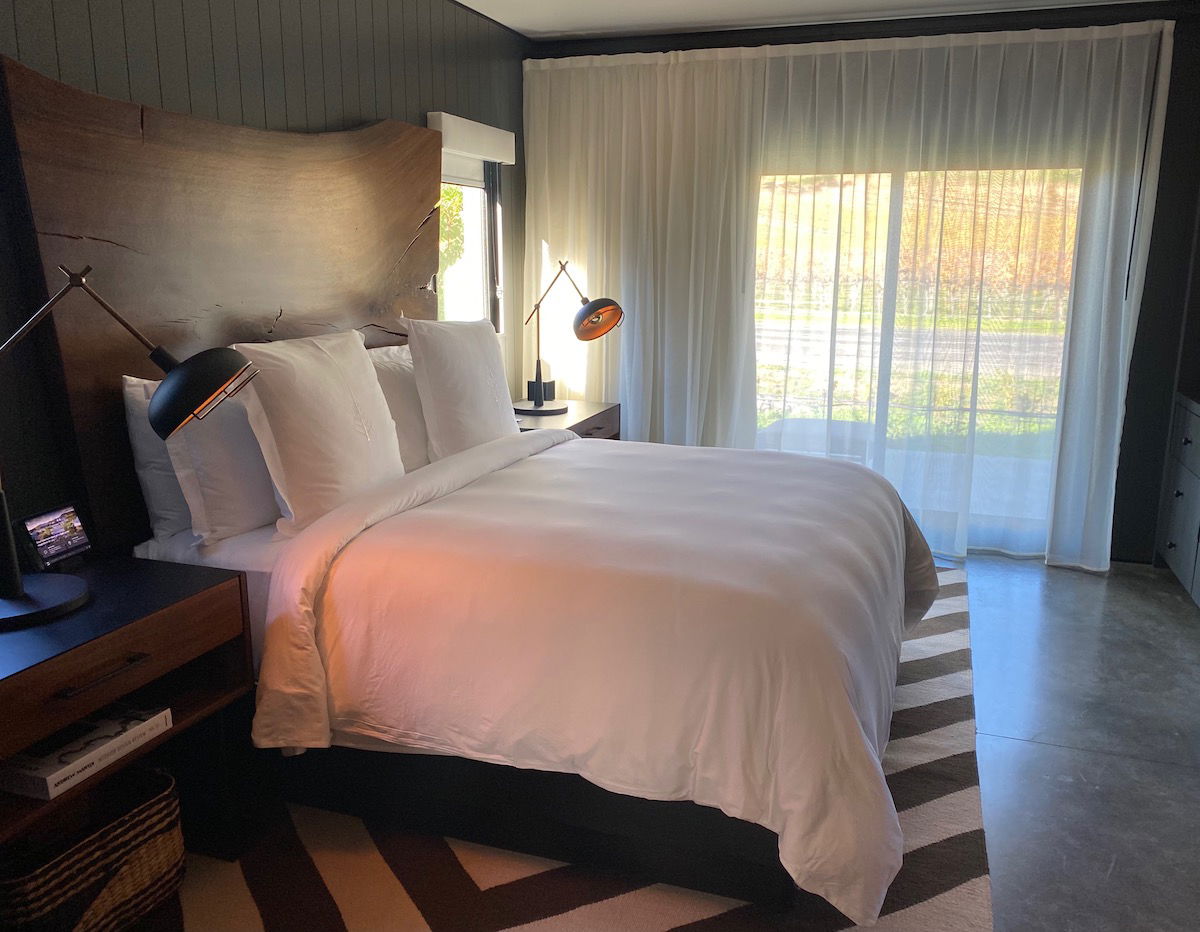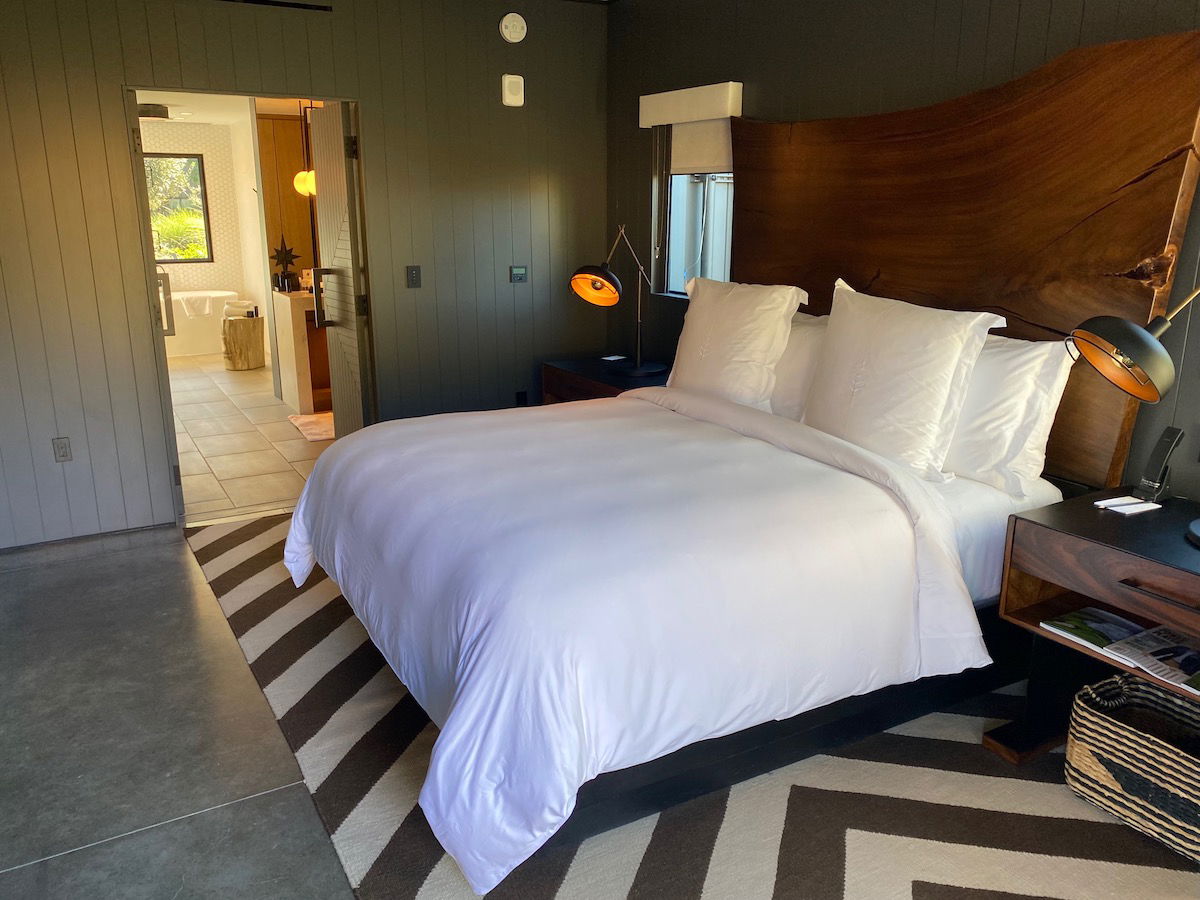 The bedroom also had a wall-mounted TV.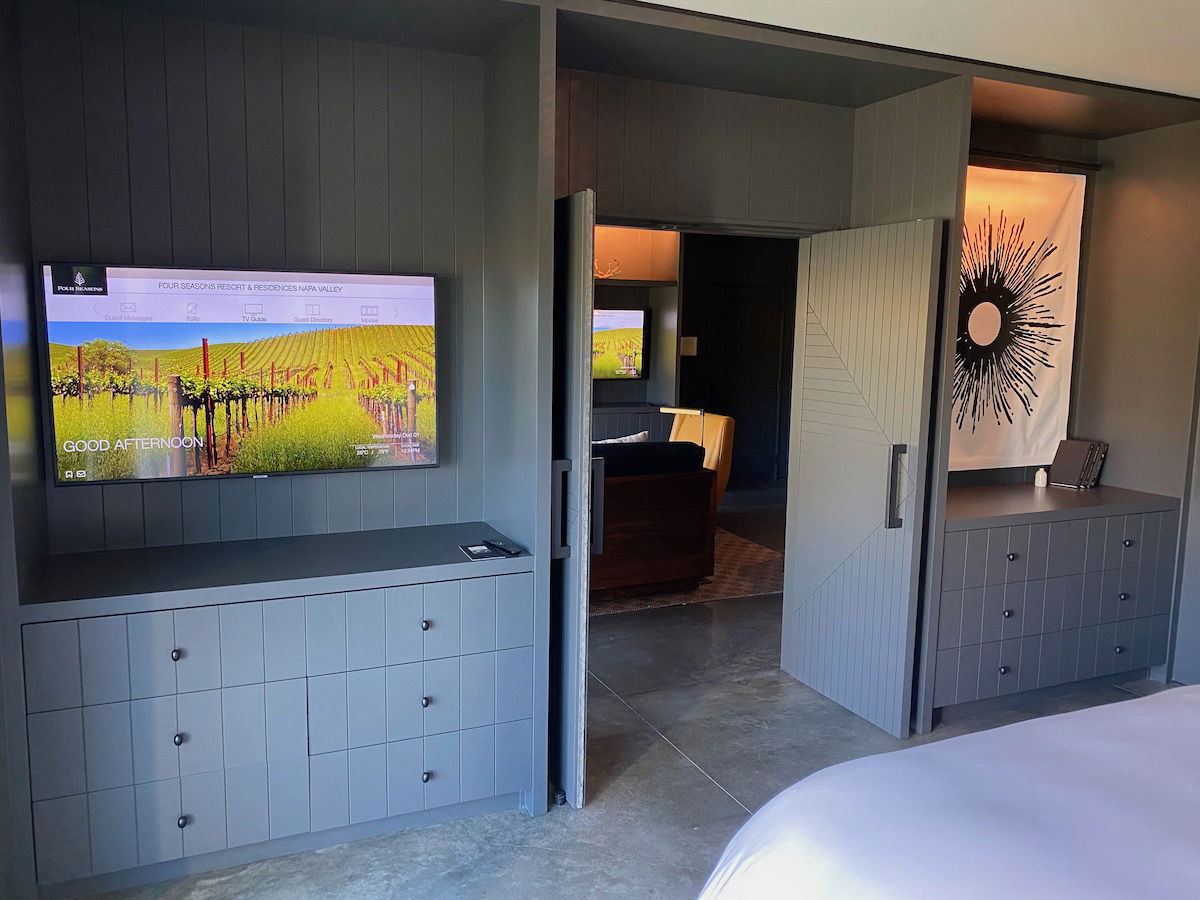 At the far end of the bedroom was the massive bathroom area, which had double sinks, a soaking tub, a walk-in shower, and a partitioned off toilet.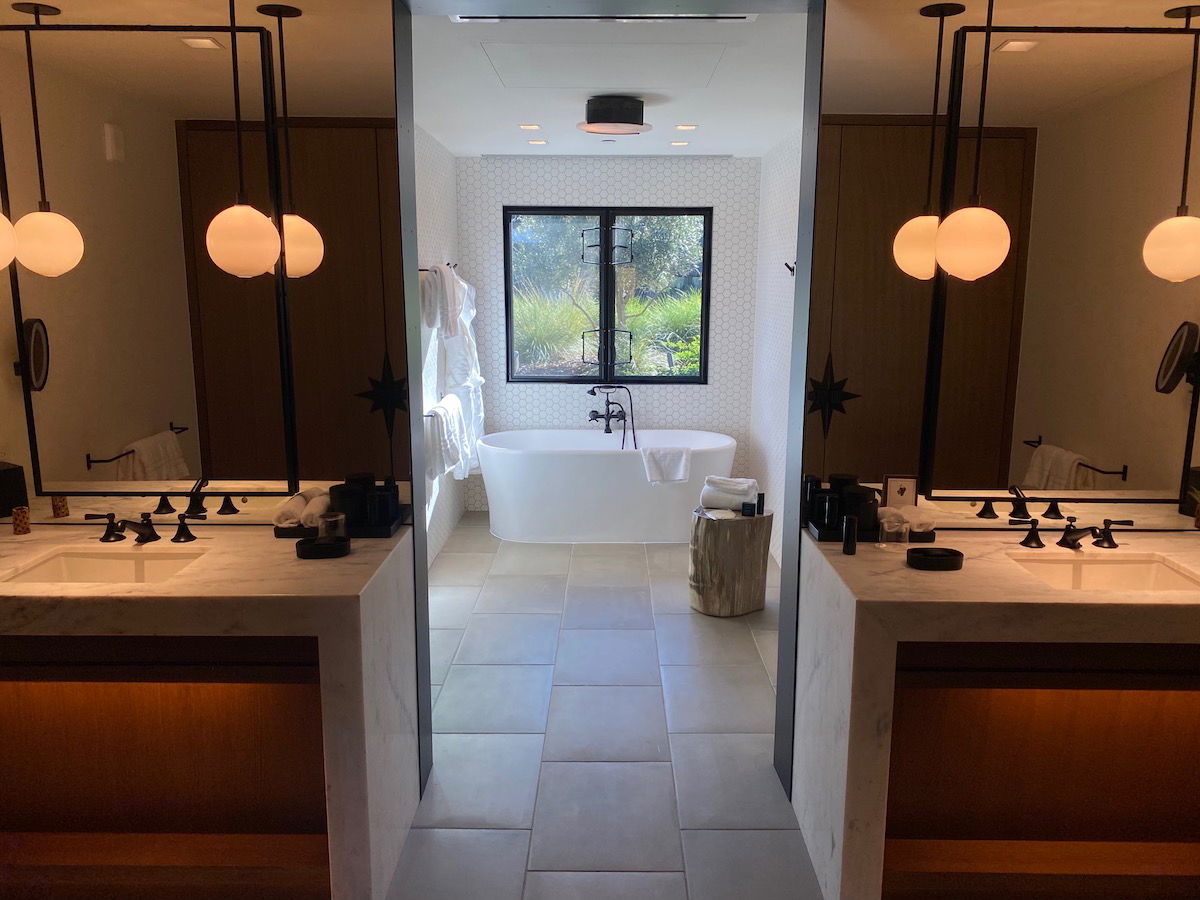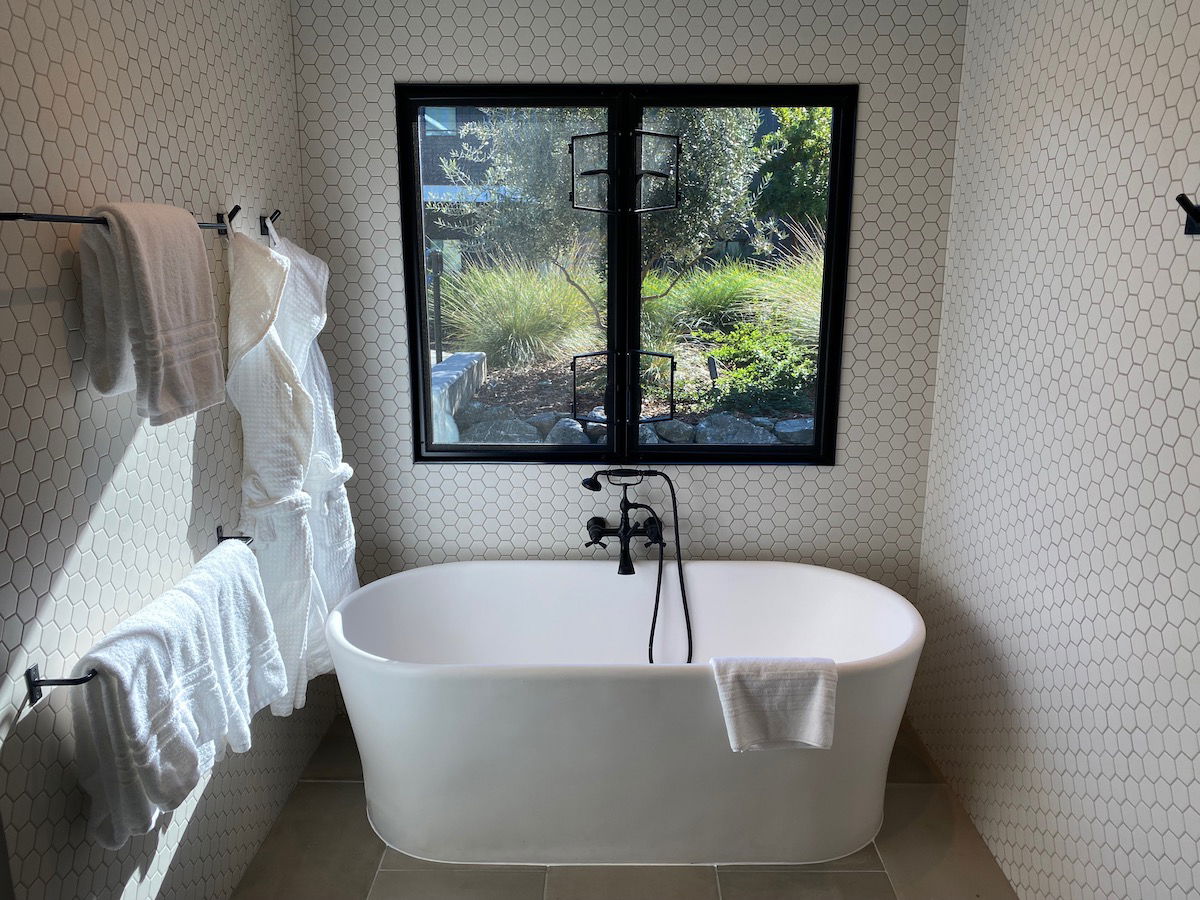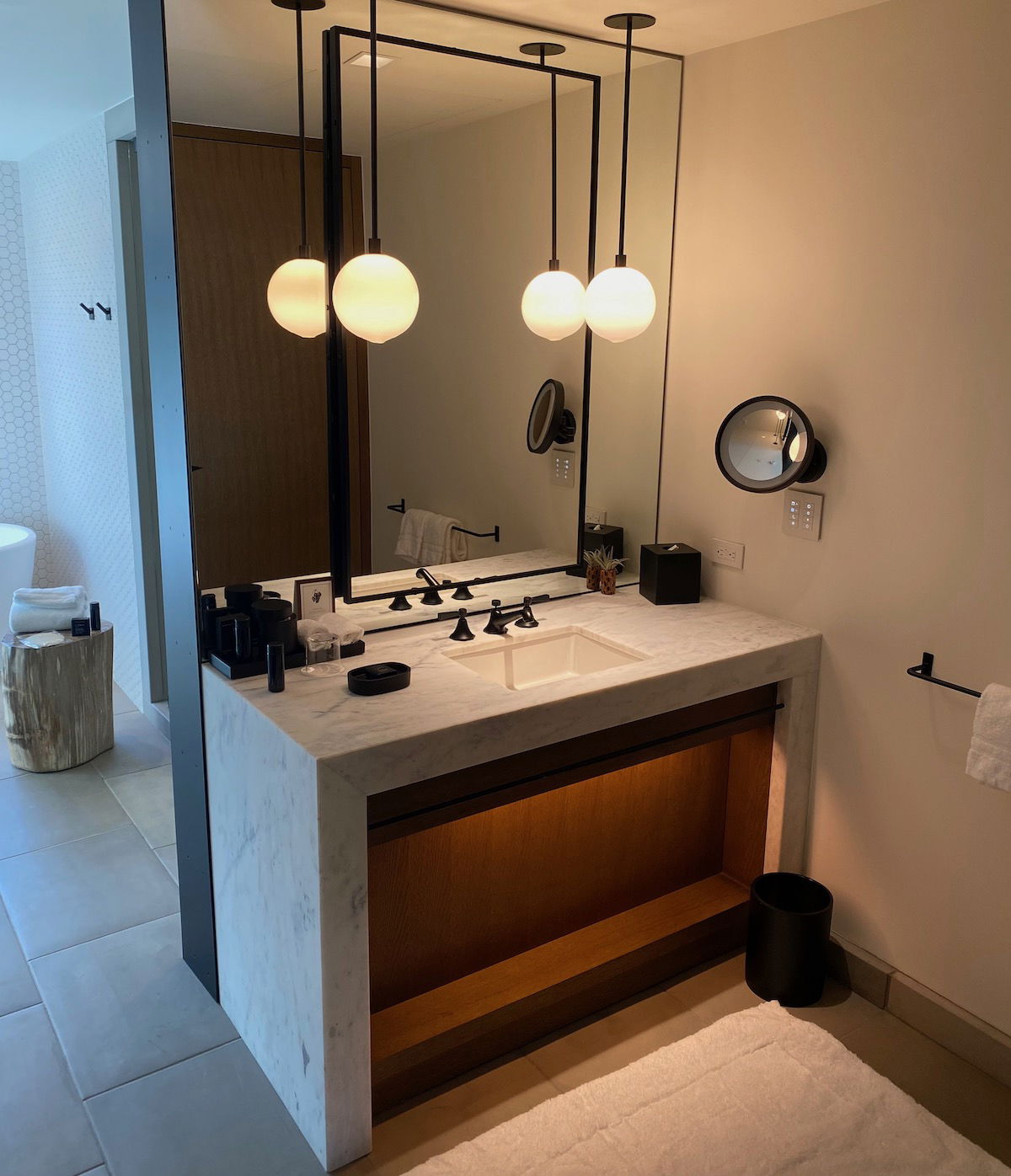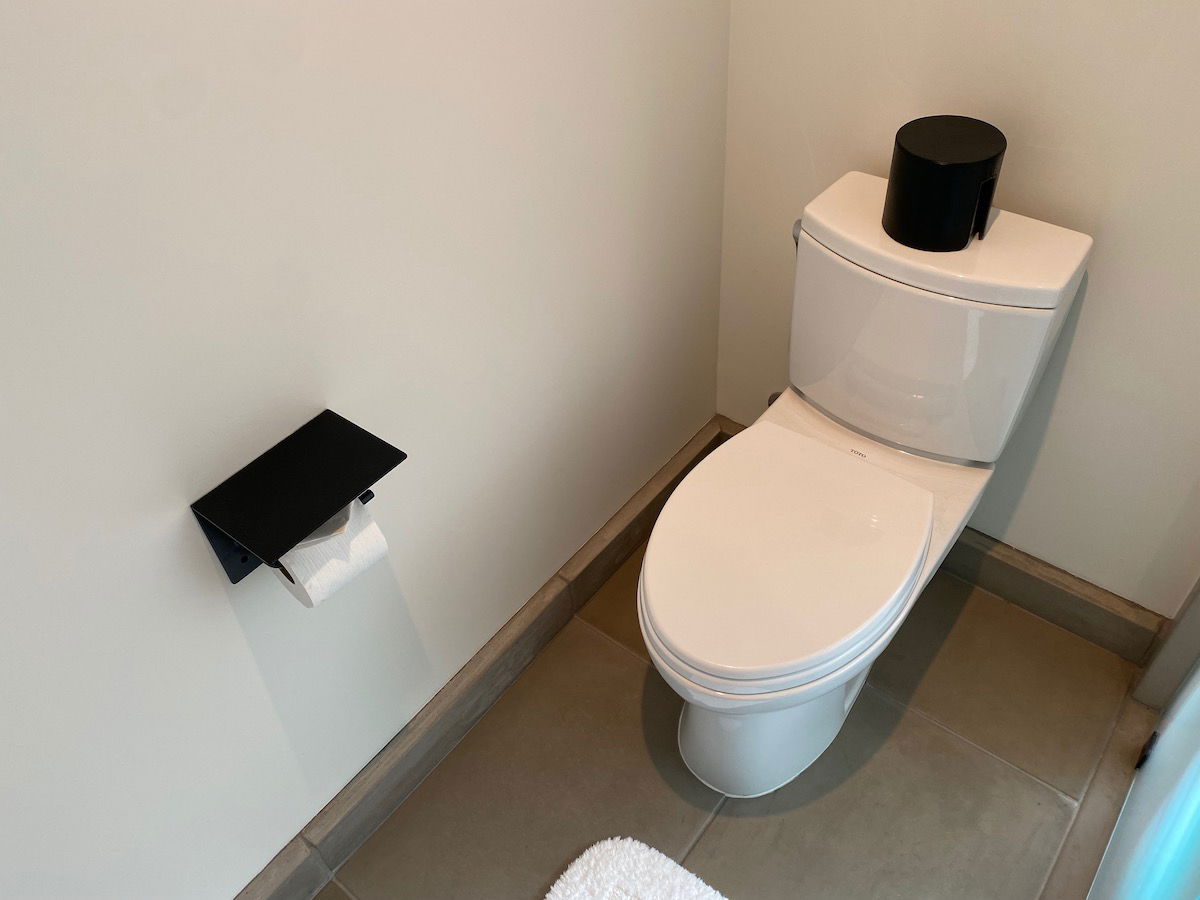 The shower had not, not two, but three shower heads.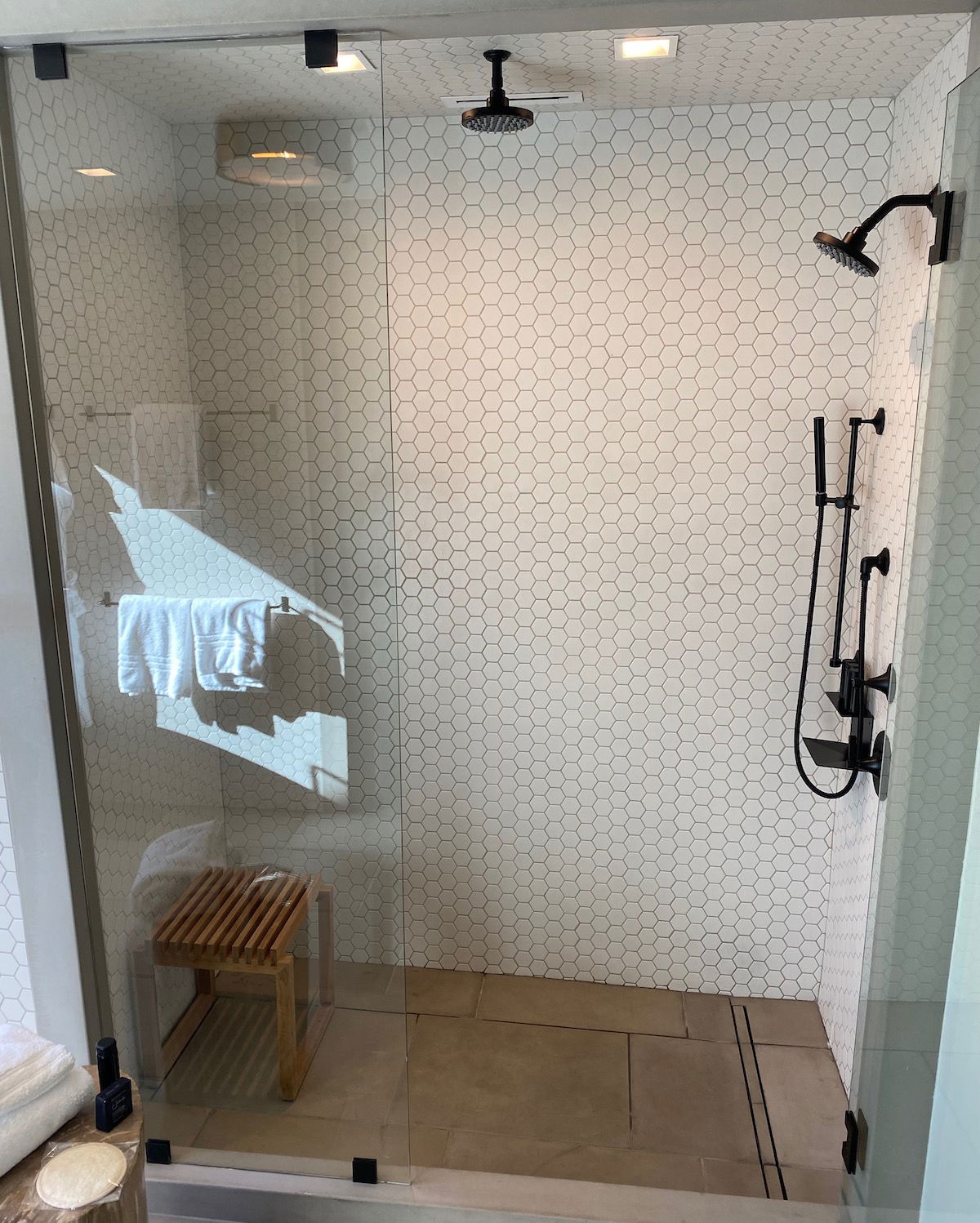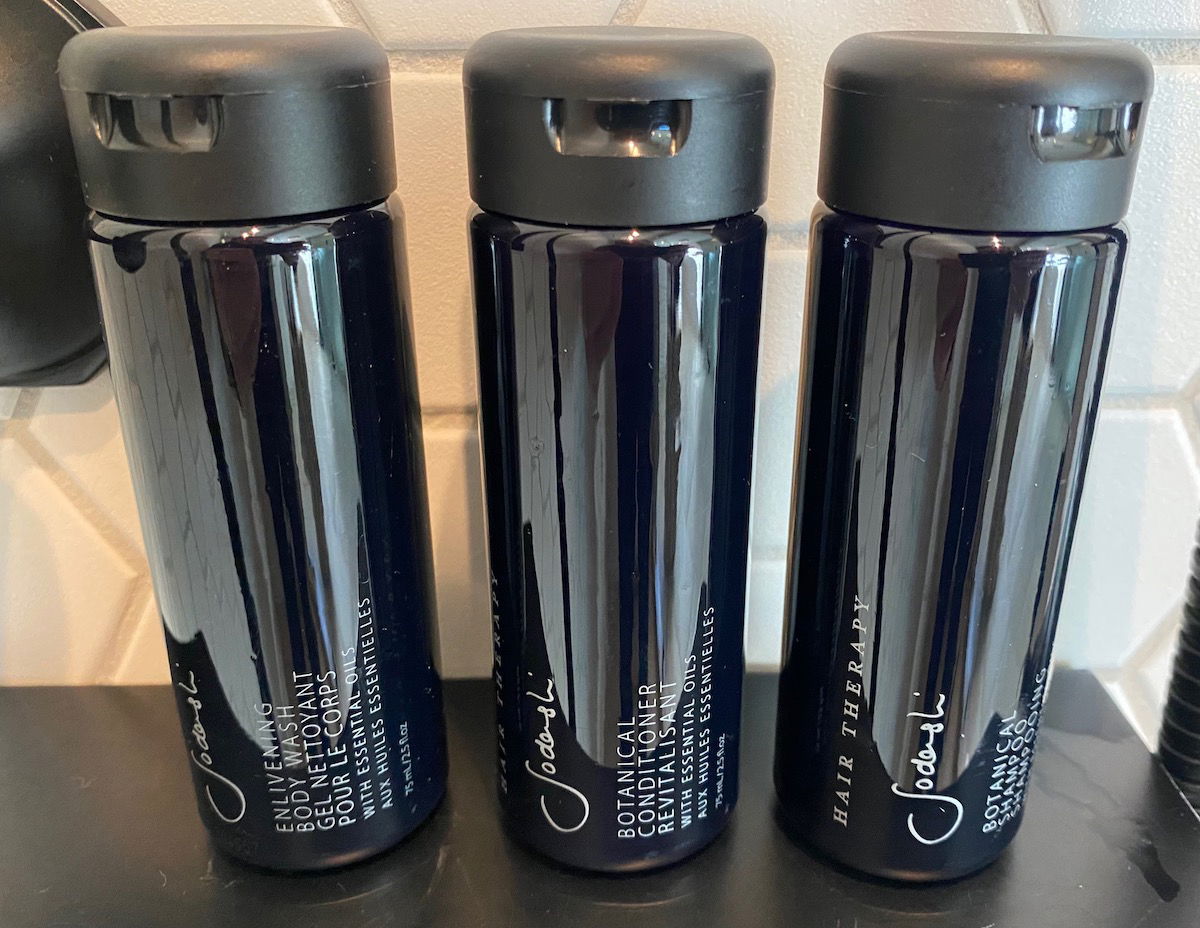 Our room was on the ground floor, and had a patio that stretched the entire length of the room. The patio had a dining table with four chairs, plus two more chairs on the other end with an ottoman.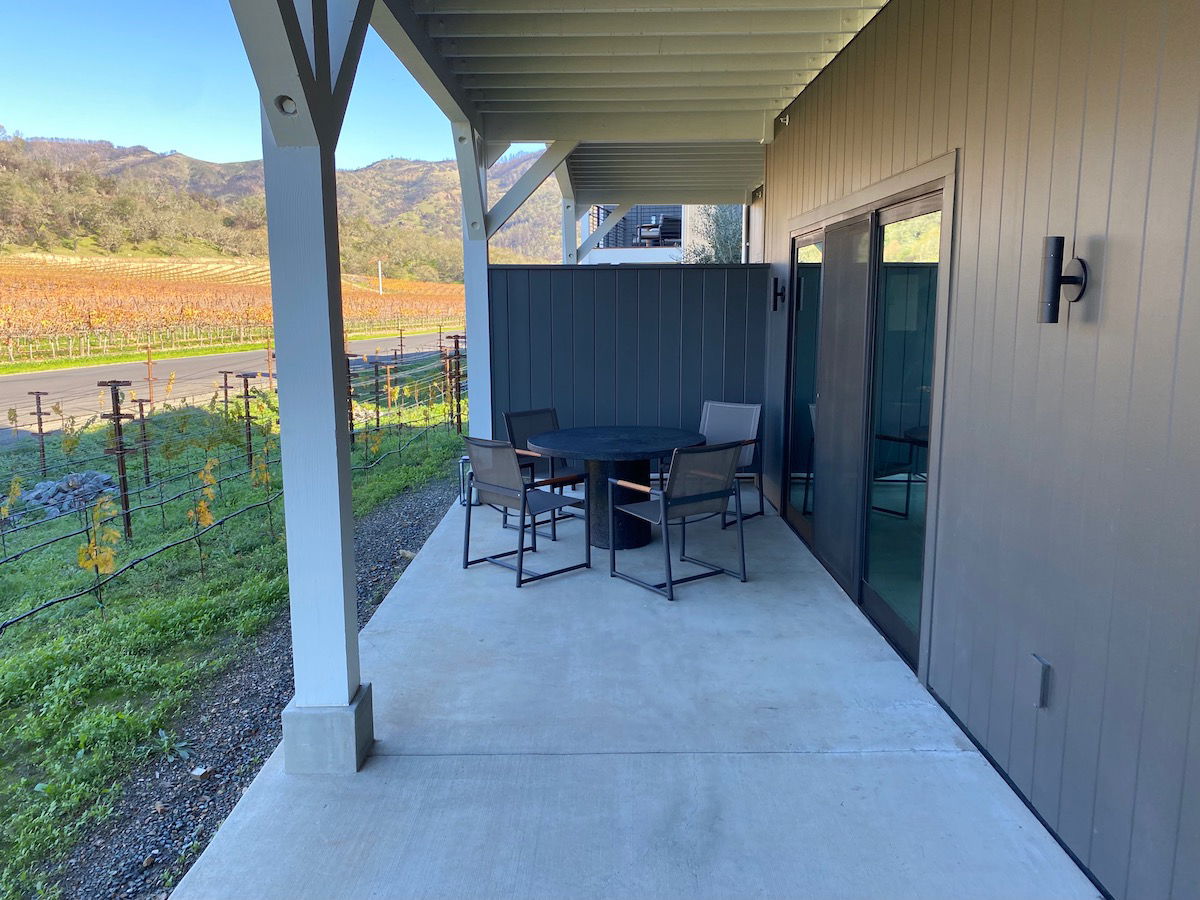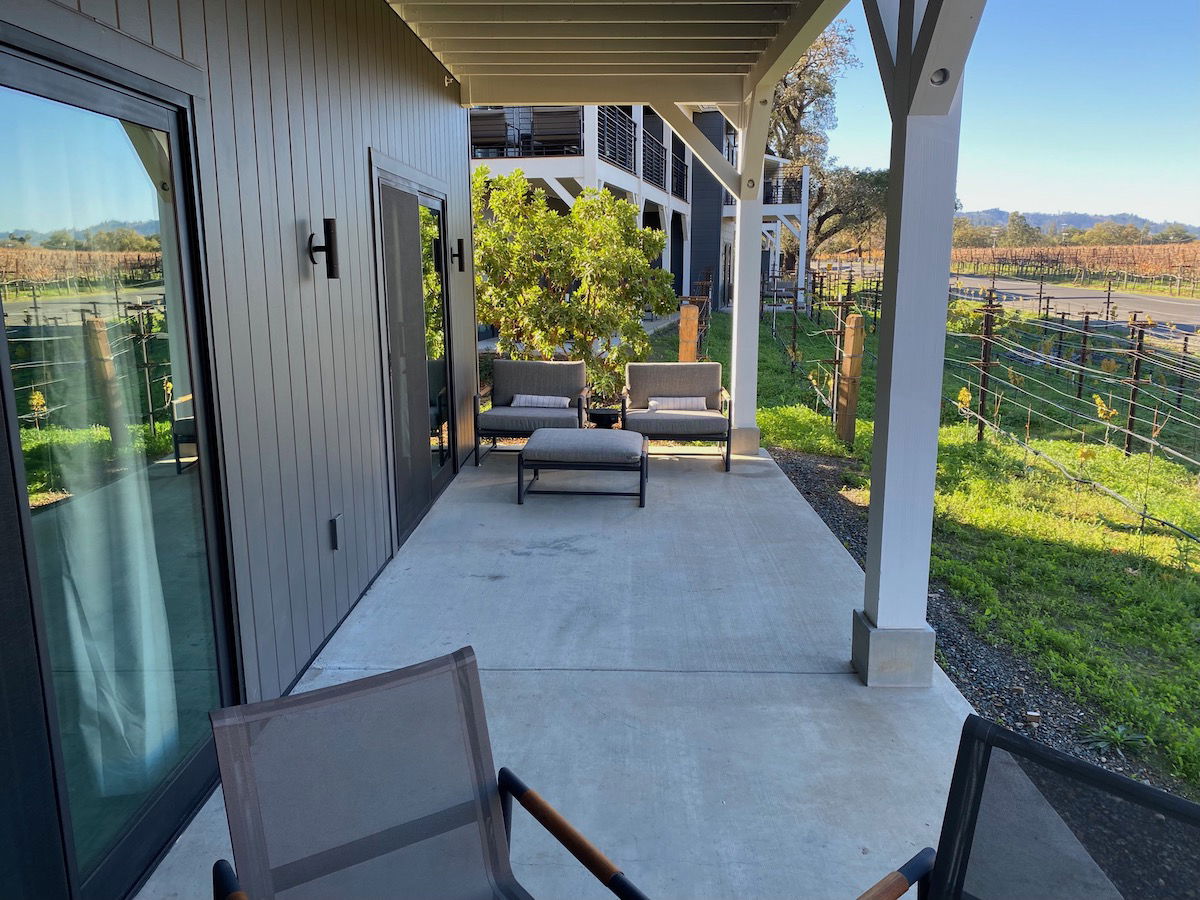 I believe we were in a Palisades view room, which is supposed to be the most premium view type at the hotel. Personally I'd recommend trying to not get a room with this view, at least for the time being, and at least not on the first floor.
These rooms have views of the very edge of the hotel's vineyard, and of an unaffiliated vineyard across the street. I assume this view is considered most premium because it faces the Palisades mountains, which is no doubt a beautiful thing to look at.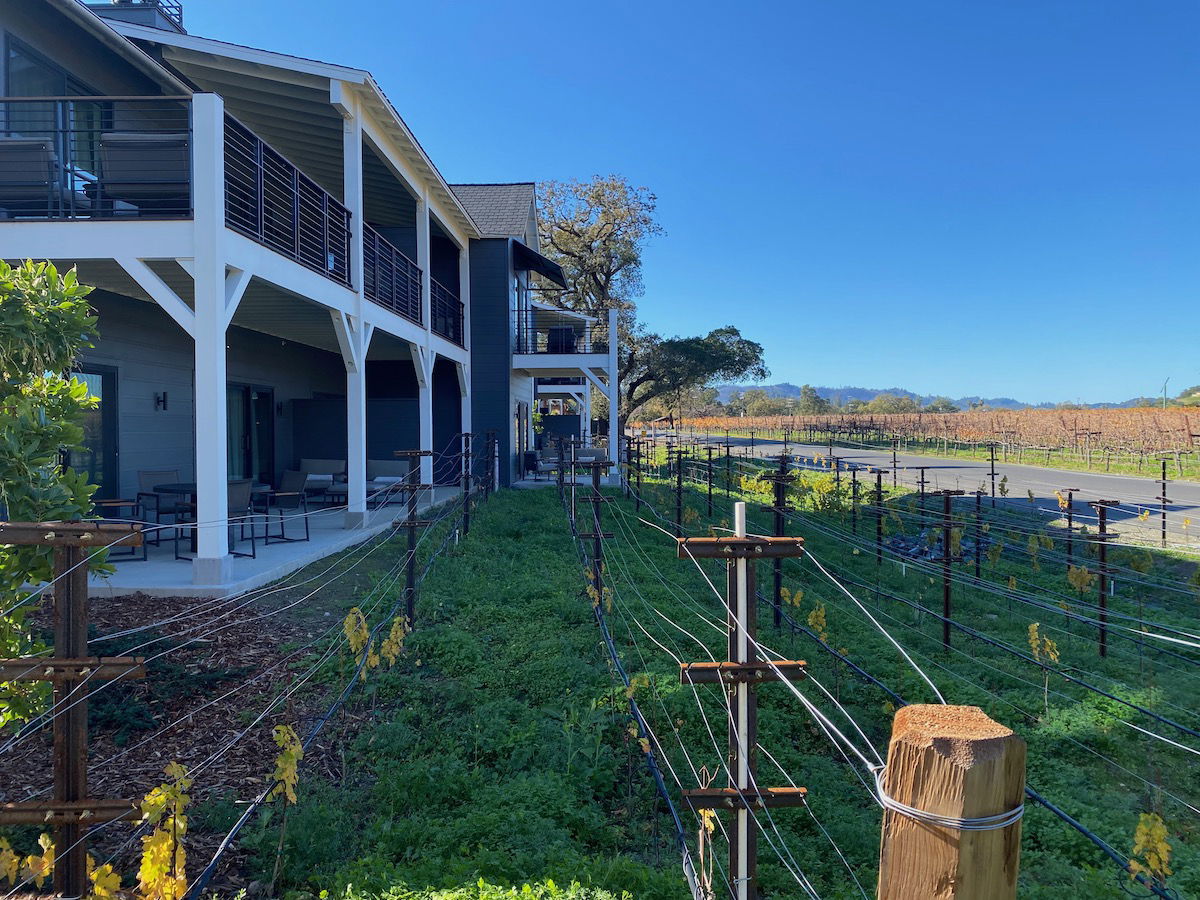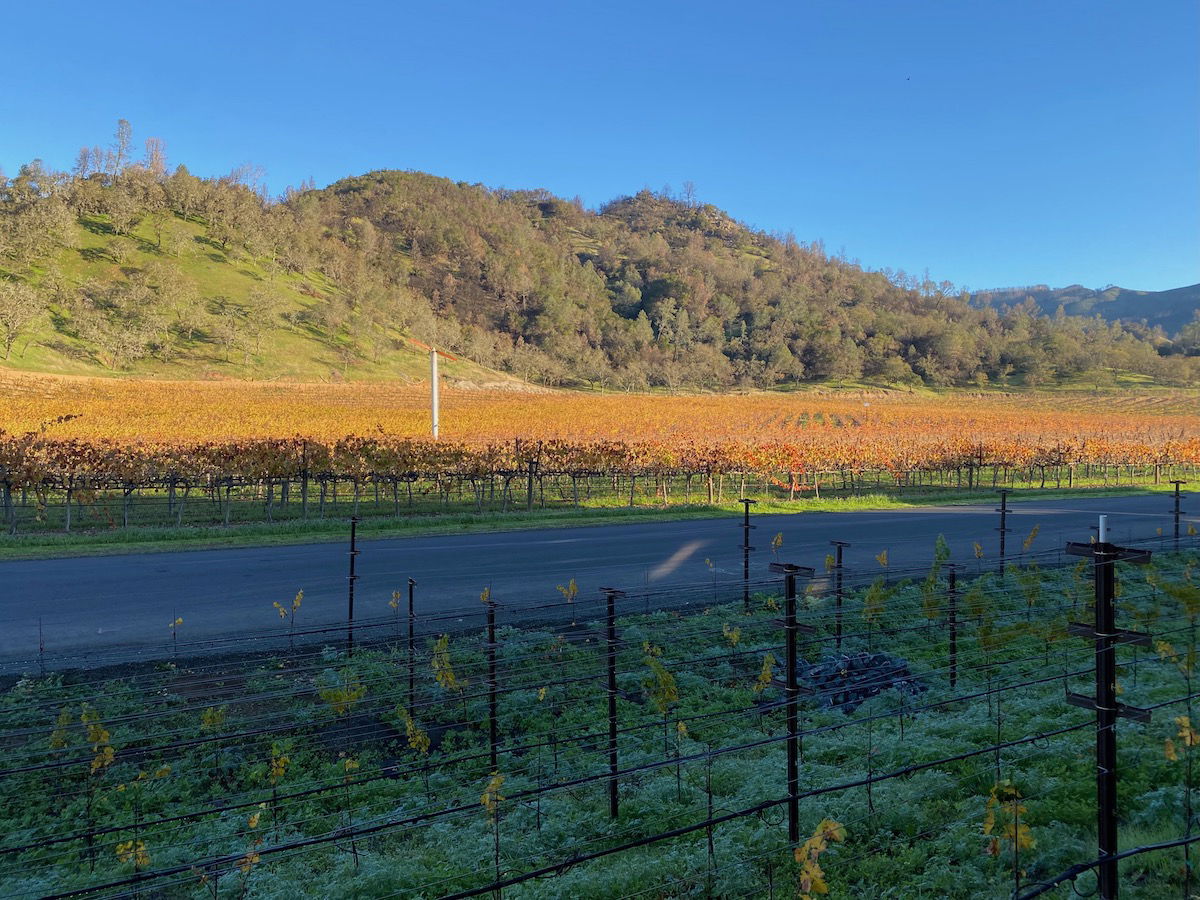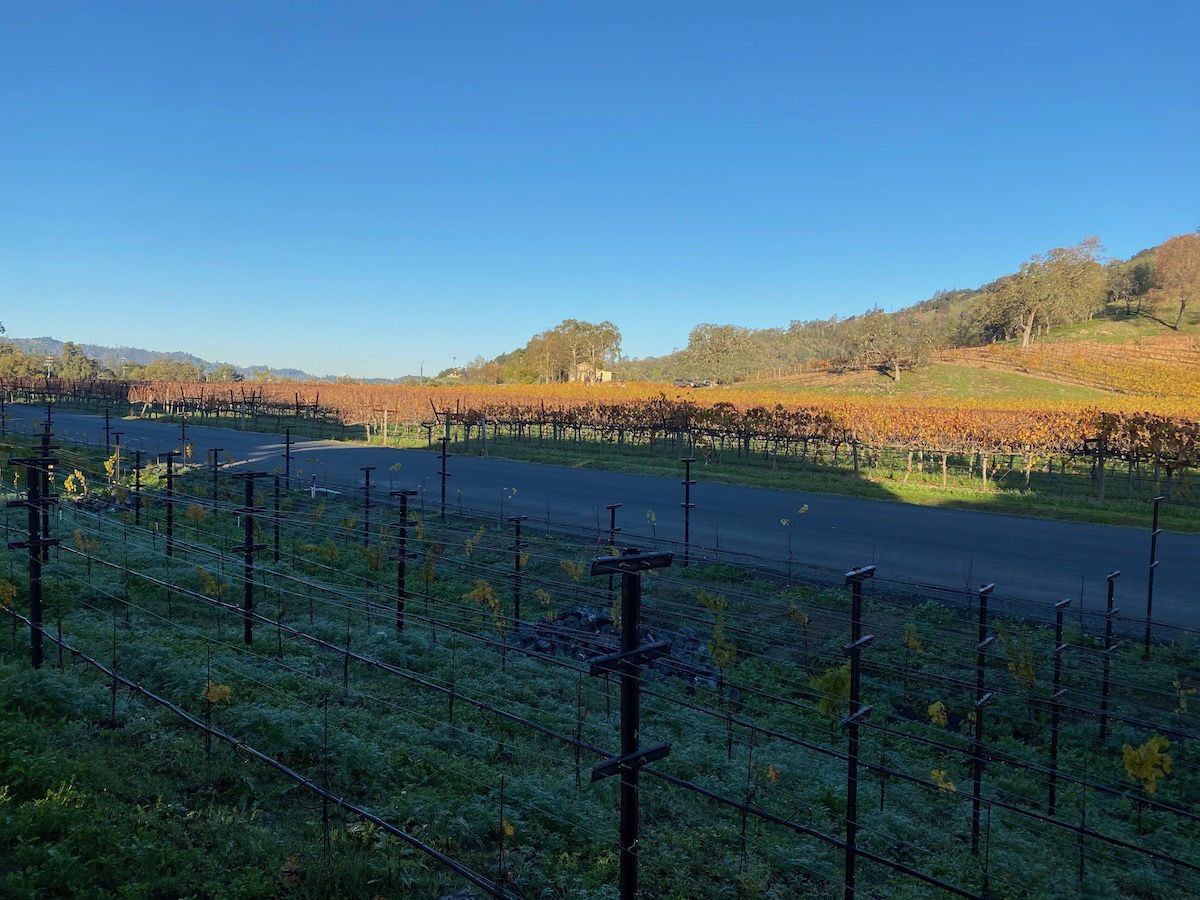 The major catch is that the road behind the hotel is public, so if you're on the ground floor you have very little privacy. Don't get me wrong, this isn't a high traffic road, but it did have an average of maybe a car every minute, so that limits your ability to have privacy while having curtains open. People would walk or jog by and peek into rooms as well.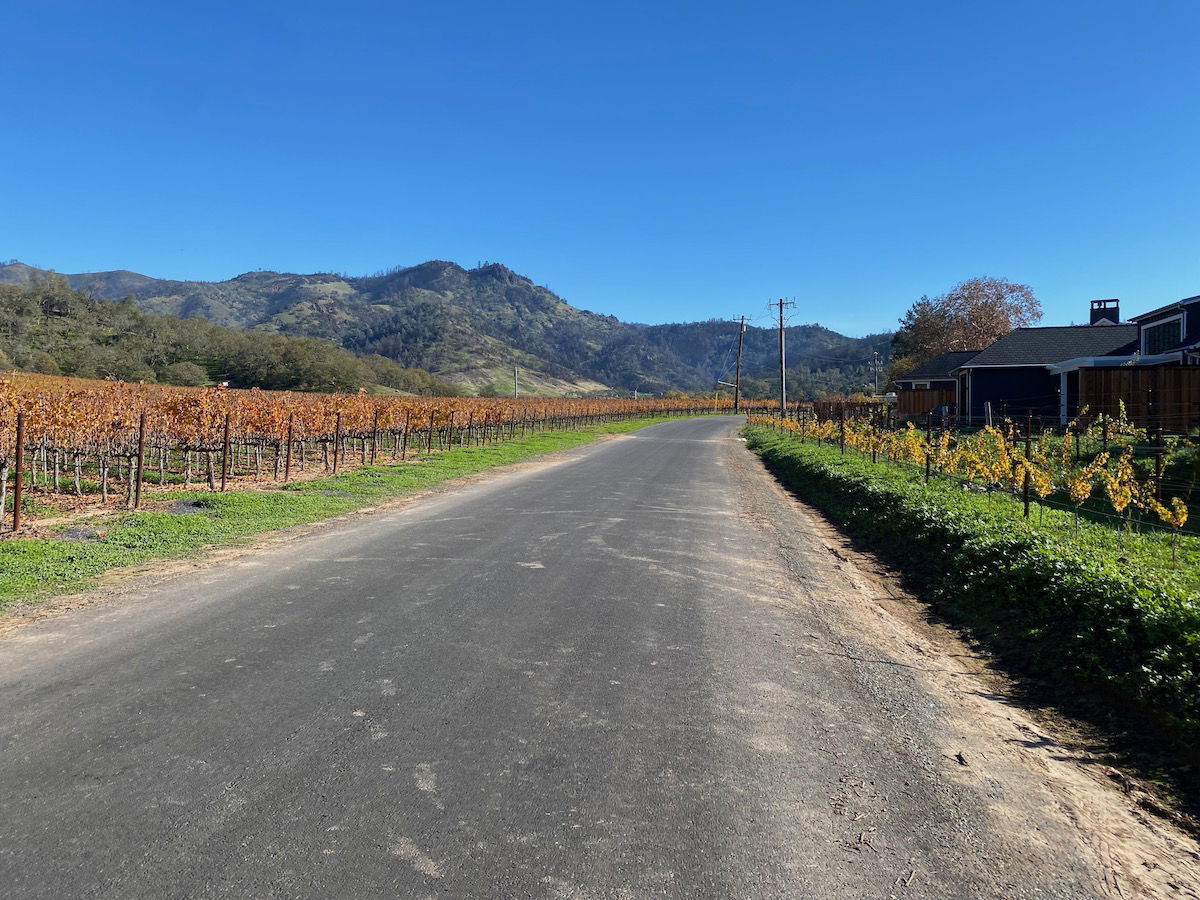 That situation is probably made worse right now by the fact that the residences at the resort are partly still under construction. The construction as such wasn't an issue (in terms of noise, etc.), though construction vehicles would often park not far down the road from our room. I think the hotel should address this by having some sort of vegetation beyond the vineyards at the edge of the property, or find some other way to provide more privacy for these rooms.
If you're going to get a Palisades view room, I'd recommend requesting the second floor. Personally I'd recommend getting a vineyard view room instead. Rooms with vineyard views are cheaper than rooms with Palisades views, because you don't have the direct mountain views, but instead you look out over the property. The property is absolutely gorgeous, so I still think that's the better bet.
For context, below is a picture of some of the rooms with vineyard views.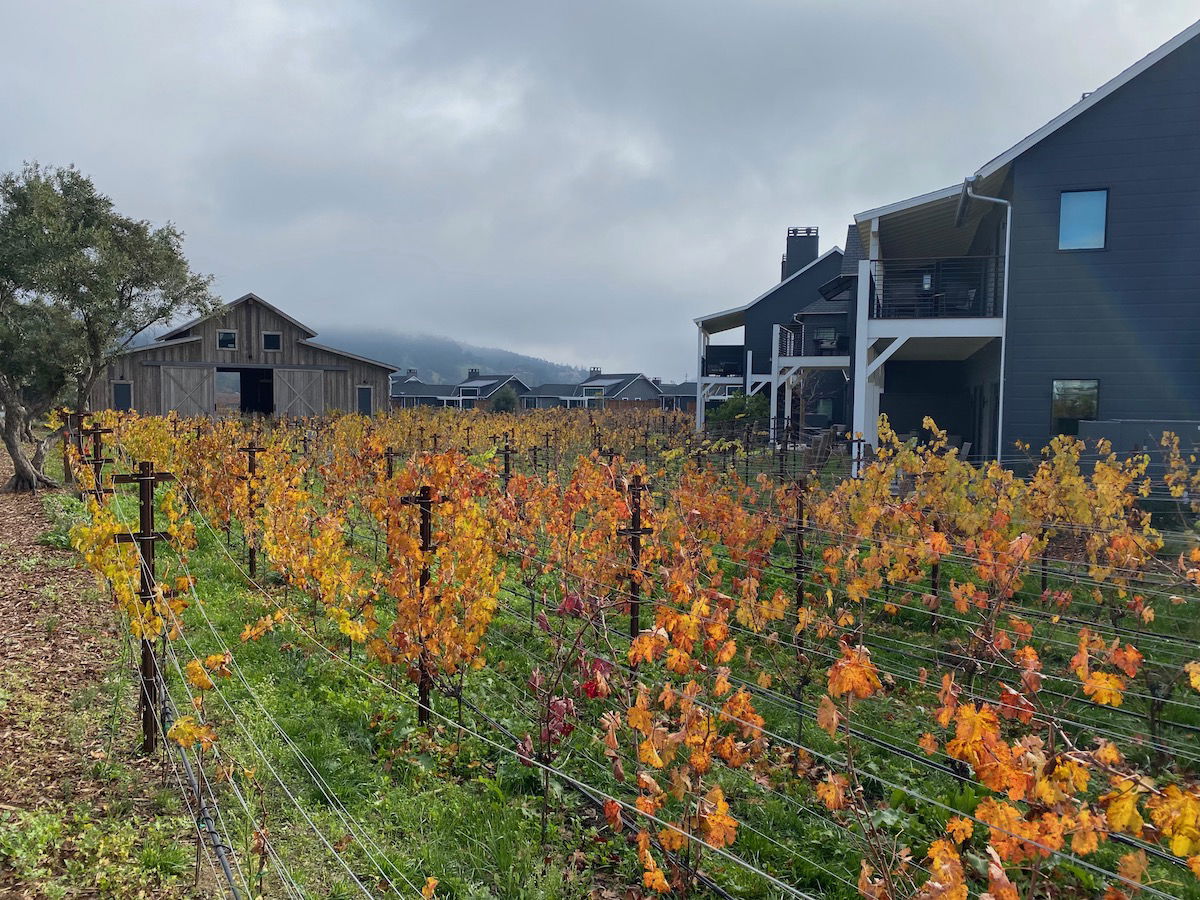 Anyway, aside from the view issue, our room was absolutely lovely. There was twice daily housekeeping, and high speed Wi-Fi was free.
Four Seasons Napa Valley TRUSS Restaurant
TRUSS is Four Seasons Napa Valley's signature restaurant, and it's open daily for breakfast, lunch, and dinner. The restaurant isn't fully open yet — right now only Calistoga's Living Room at TRUSS is open, though in reality this is more or less a full restaurant, as far as I'm concerned. TRUSS is located near the entrance to the hotel, and is at the highest point of the property, affording it great views.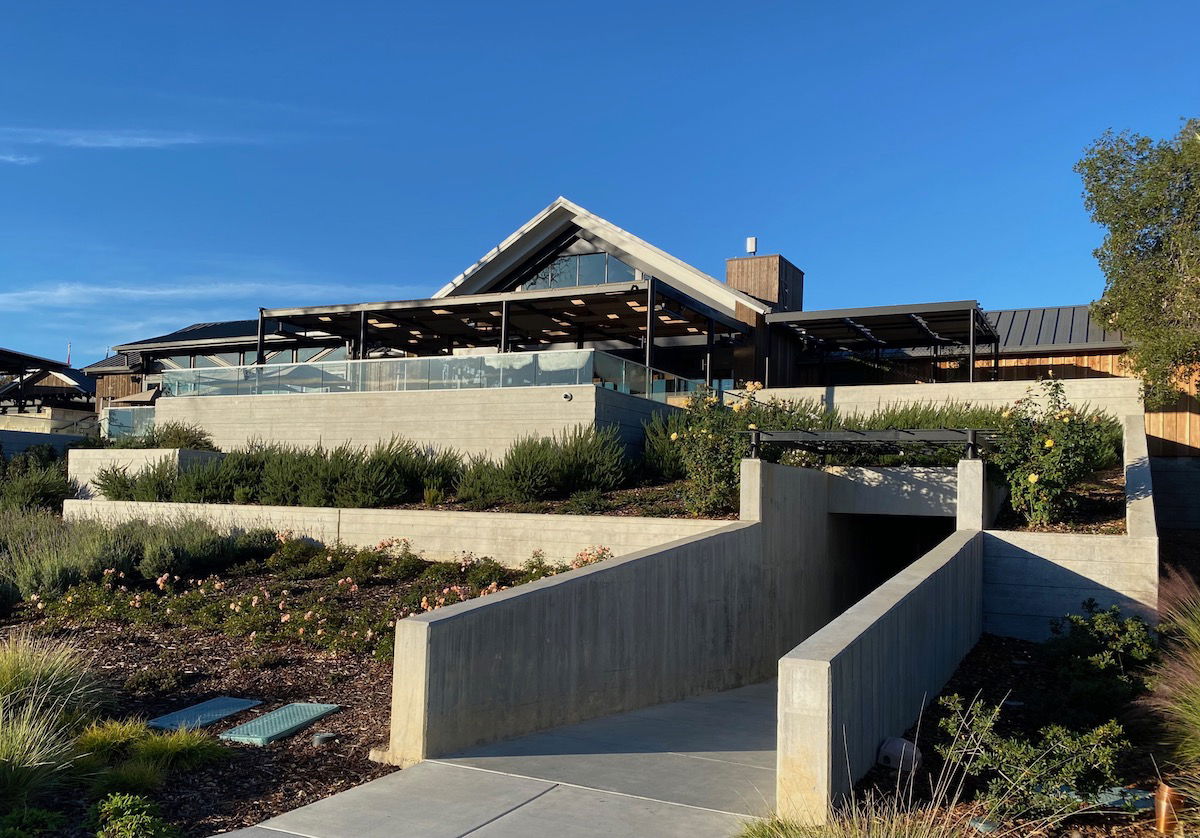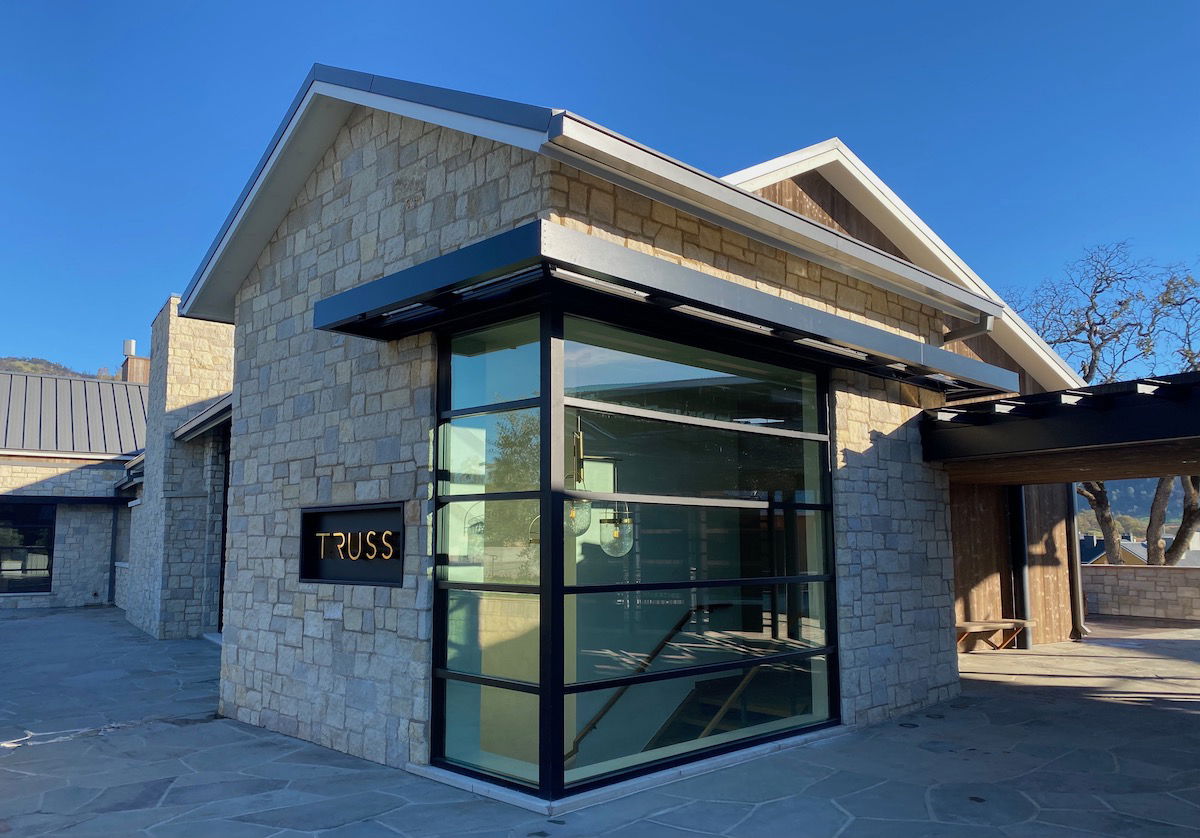 TRUSS is such a gorgeous, cozy restaurant. Currently capacity in the restaurant isn't very high (that's being expanded still), but we never had an issue getting a table.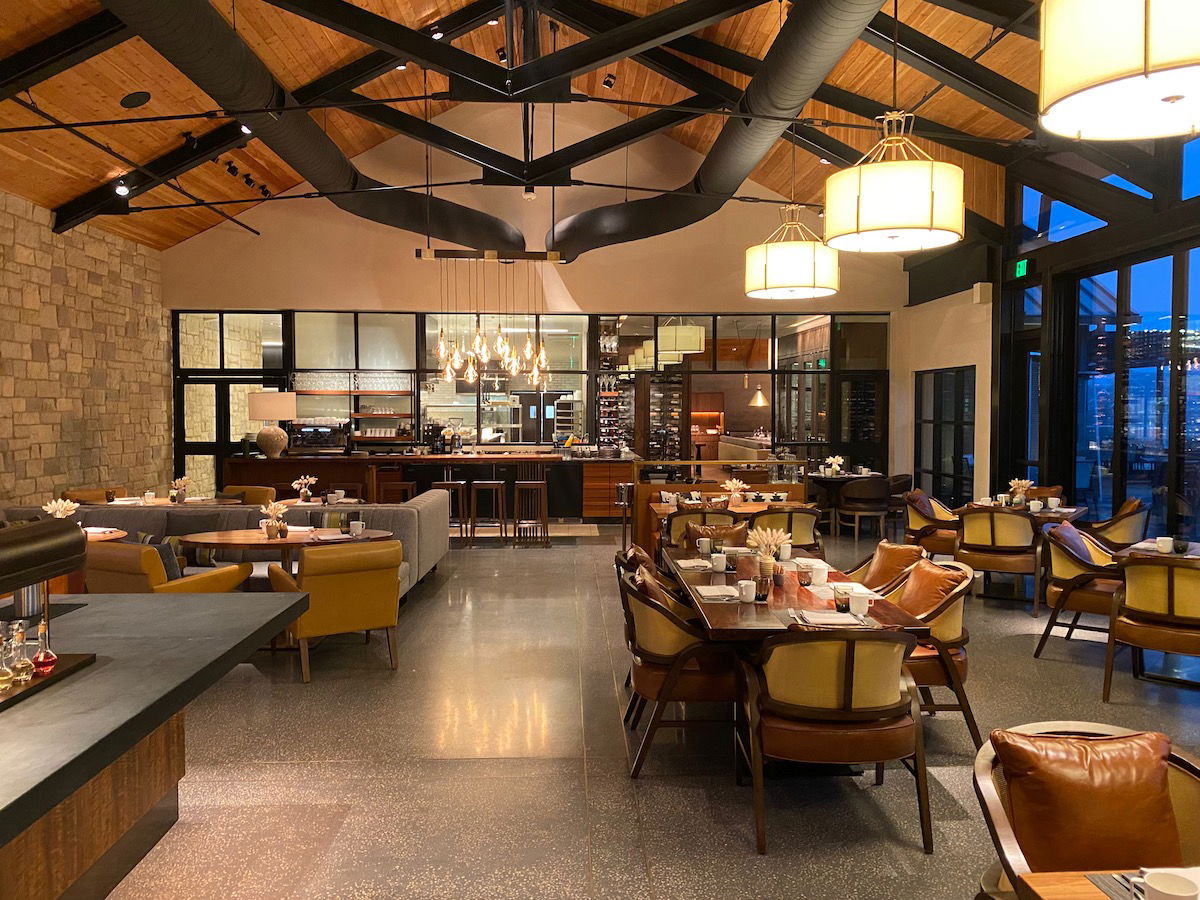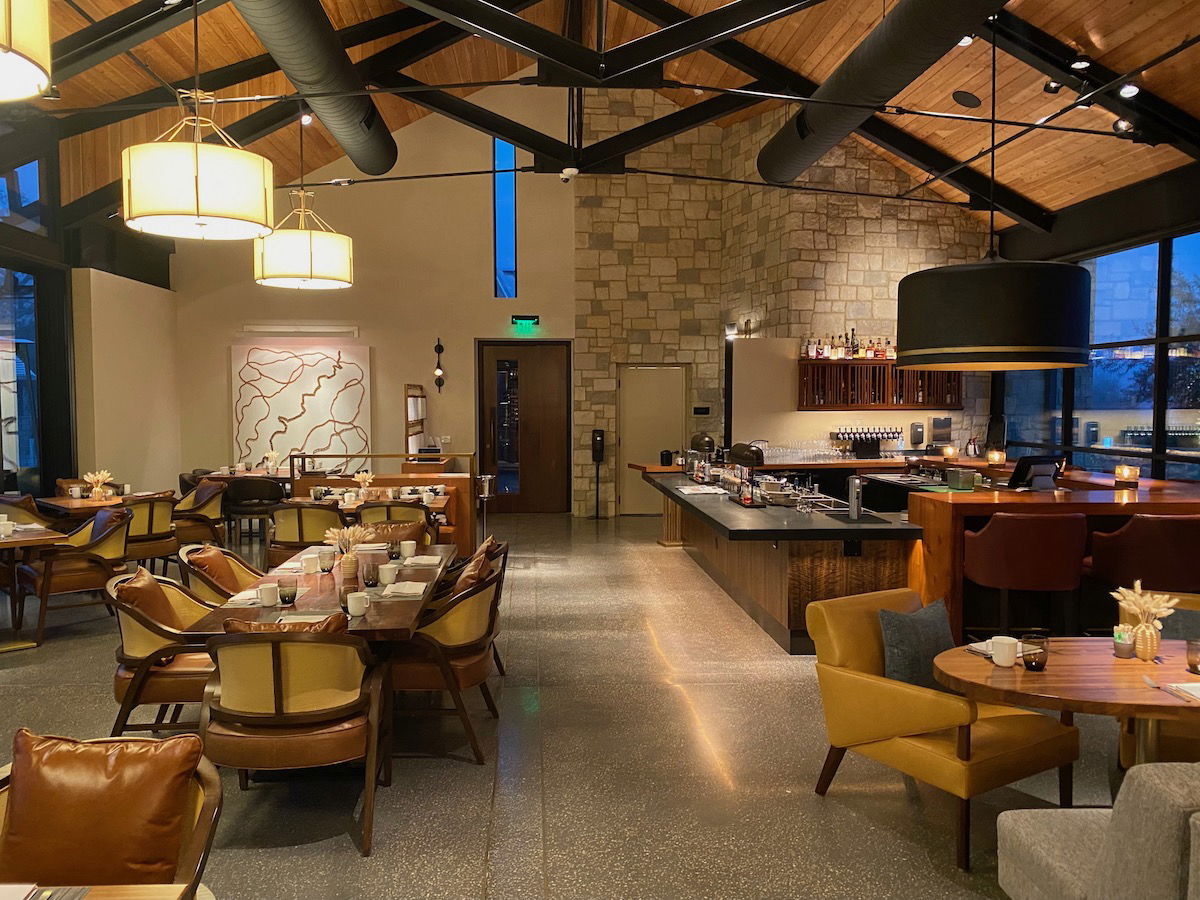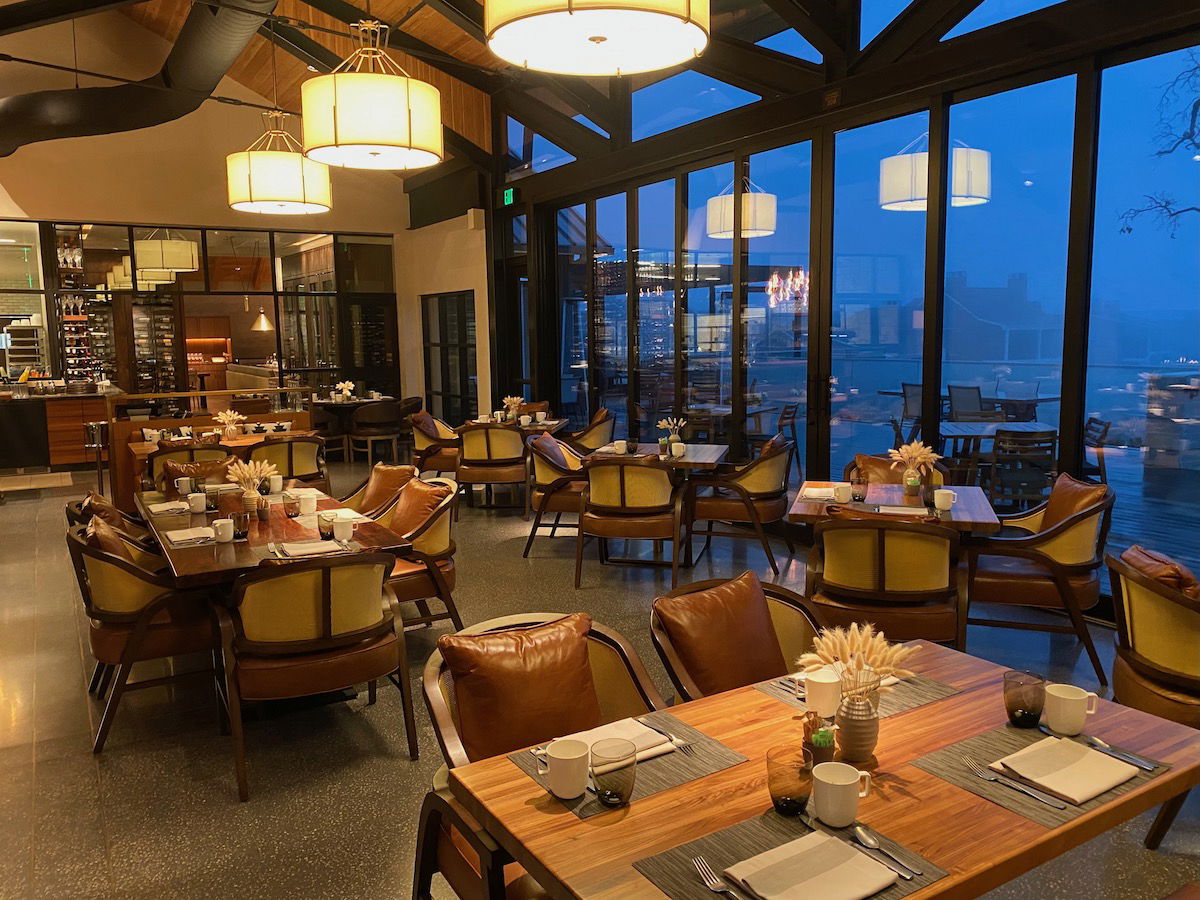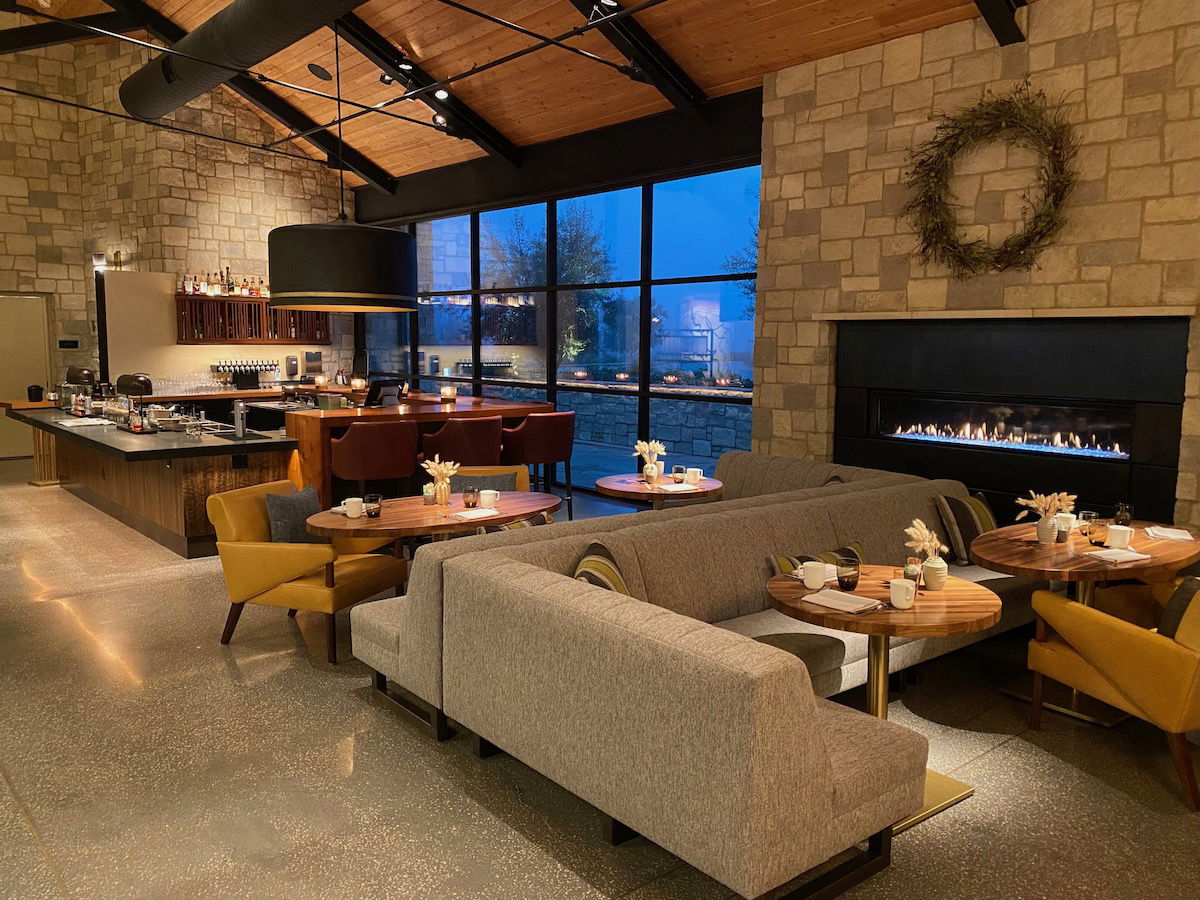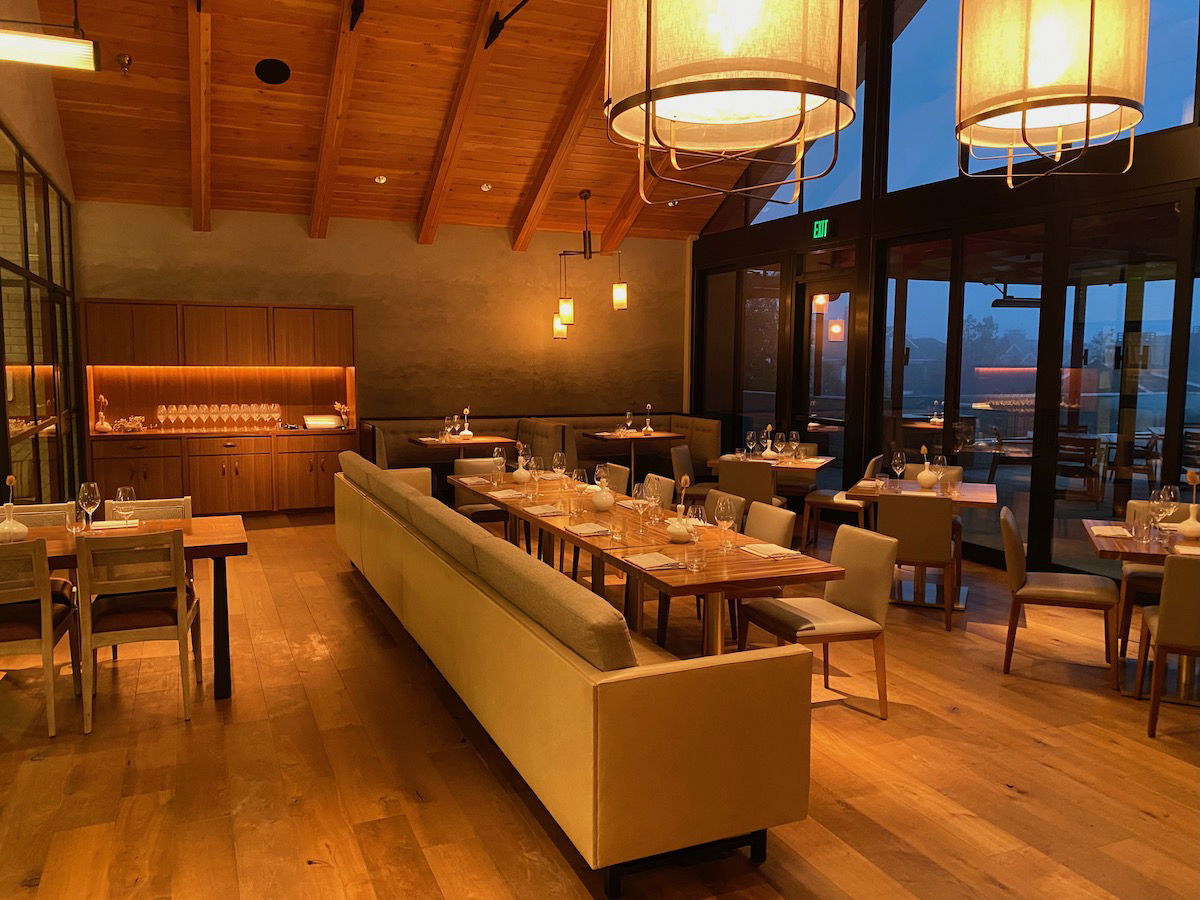 There's also a beautiful terrace with endless outdoor seating, and even a couch with a fire pit.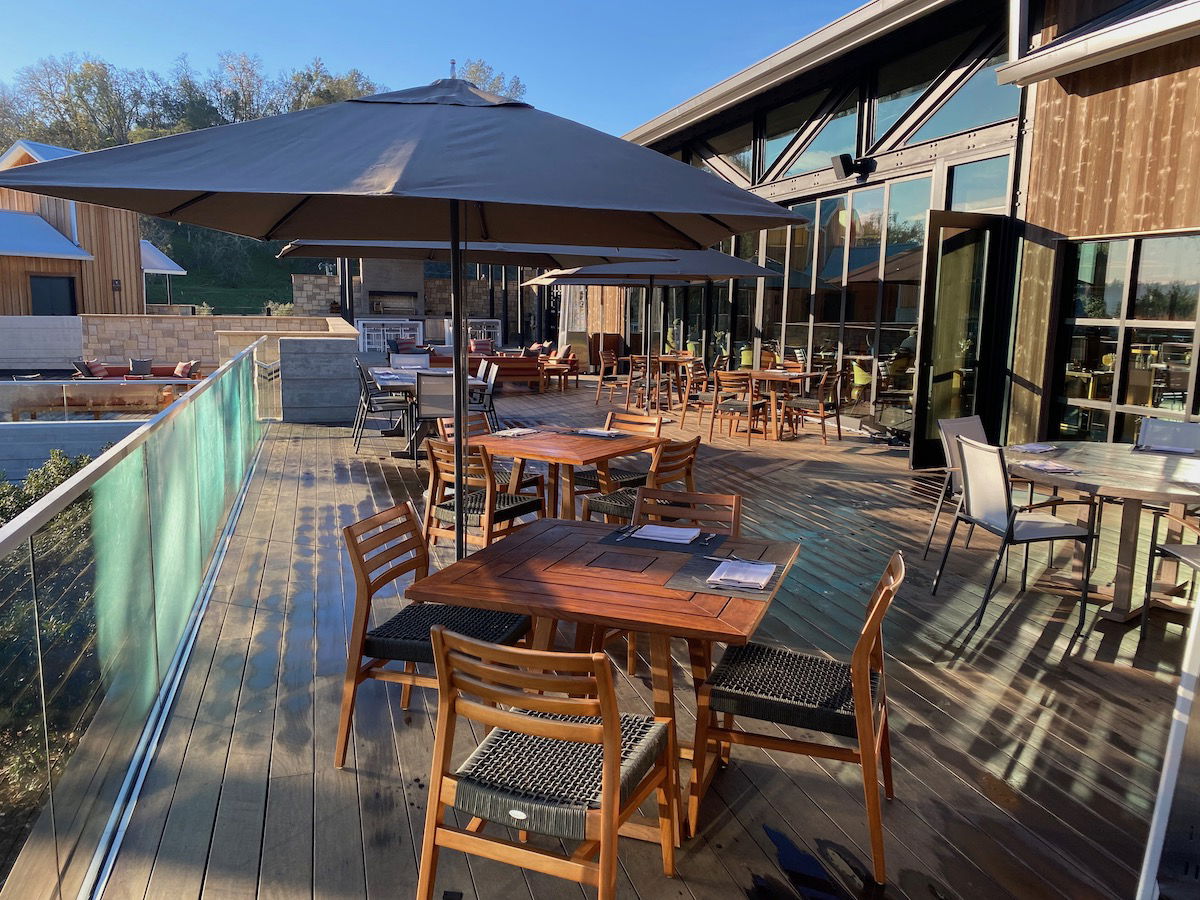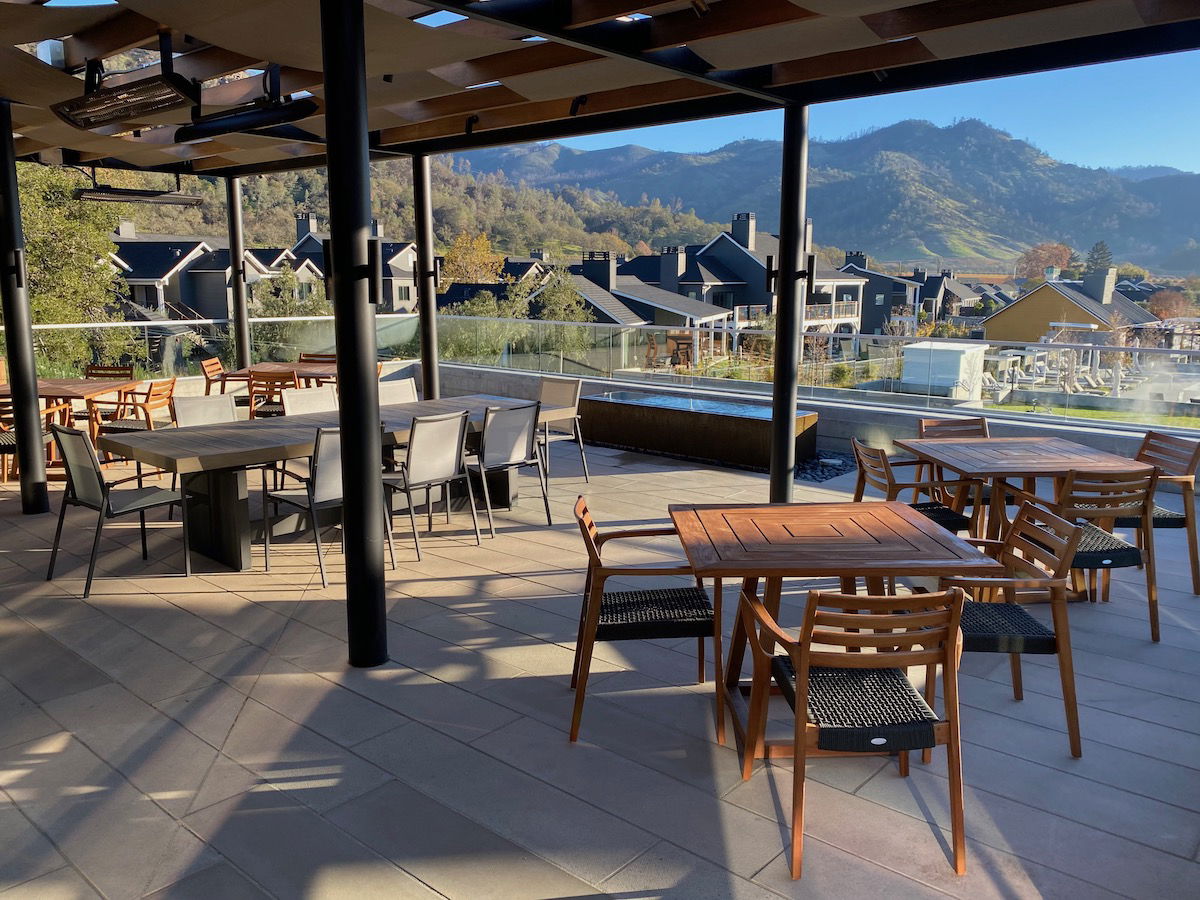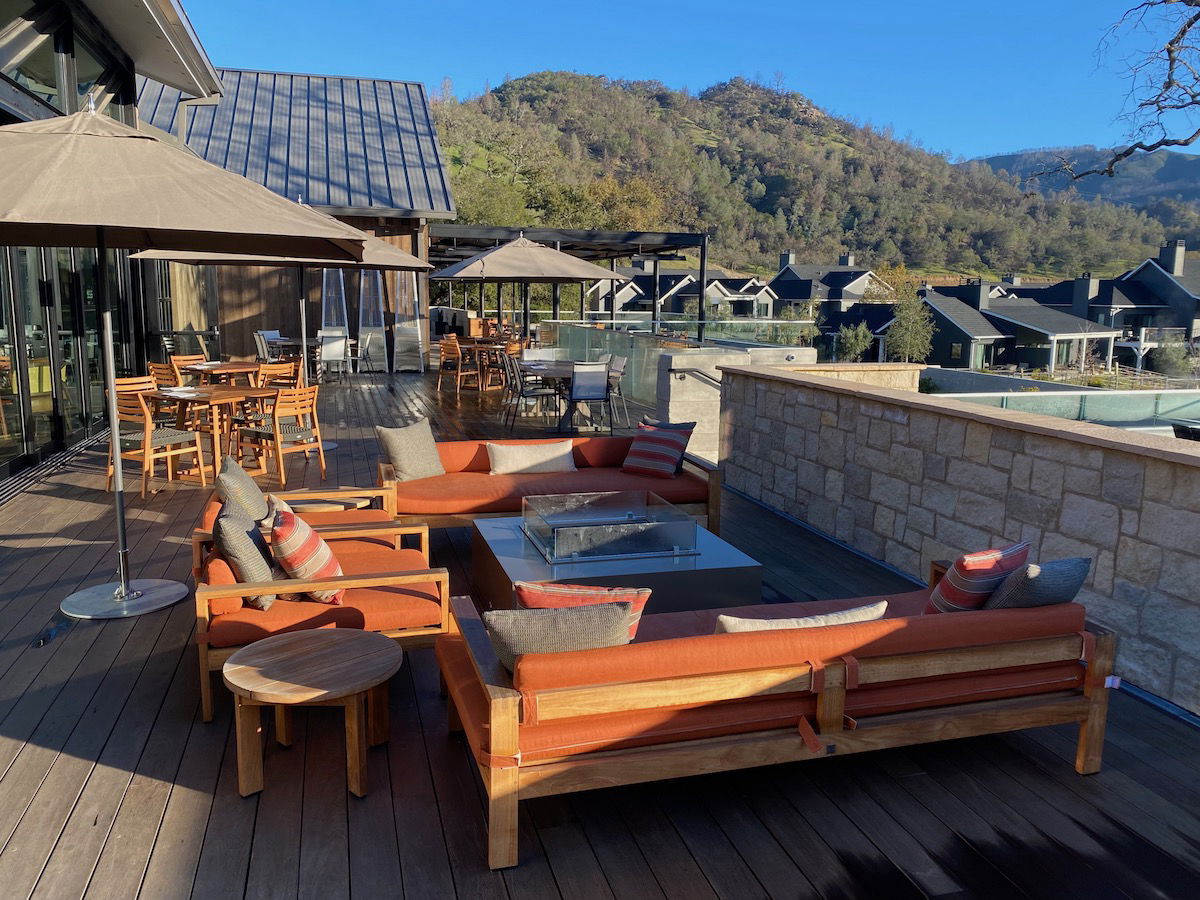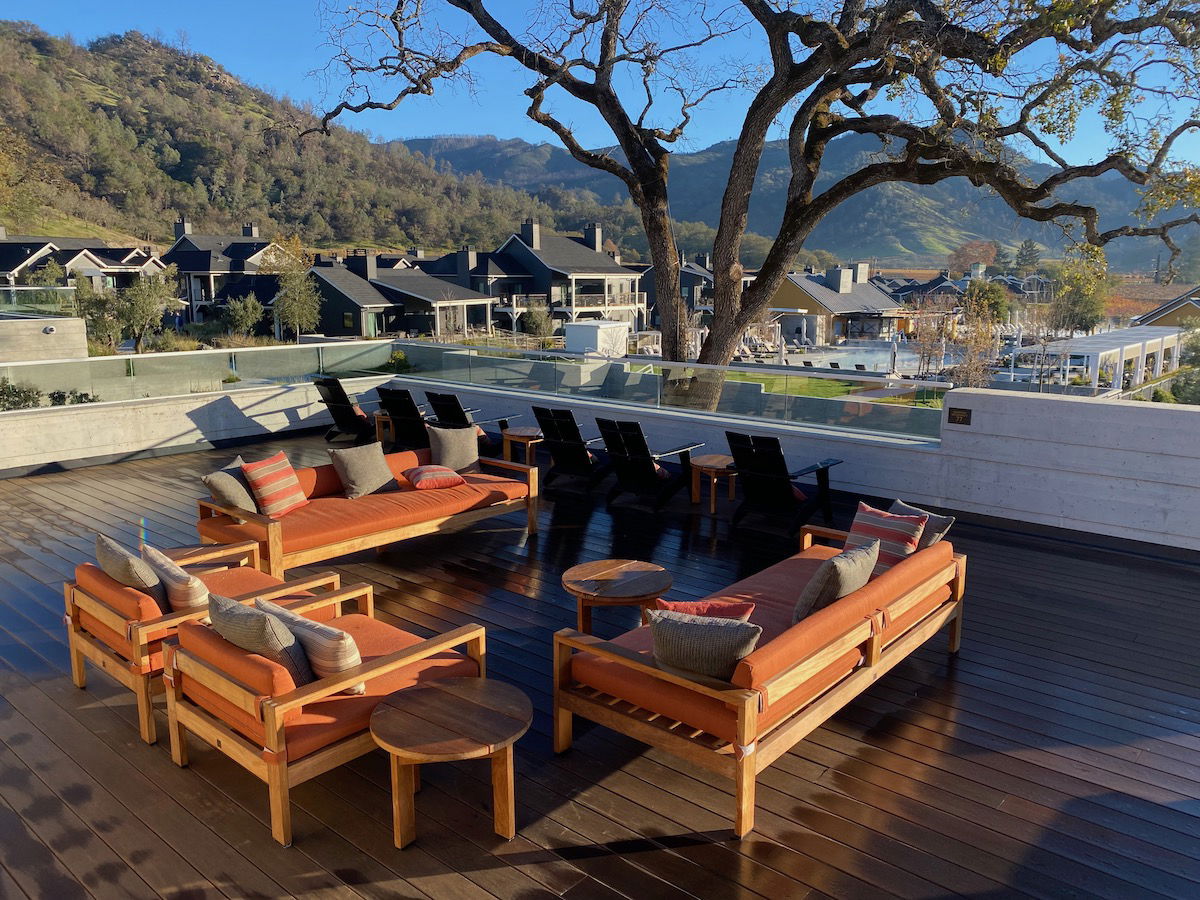 The view from the restaurant is great, whether it's a clear, cold morning, or a foggy morning where you'll fully expecting the Headless Horseman to appear out of nowhere. And how cool is that massive tree?!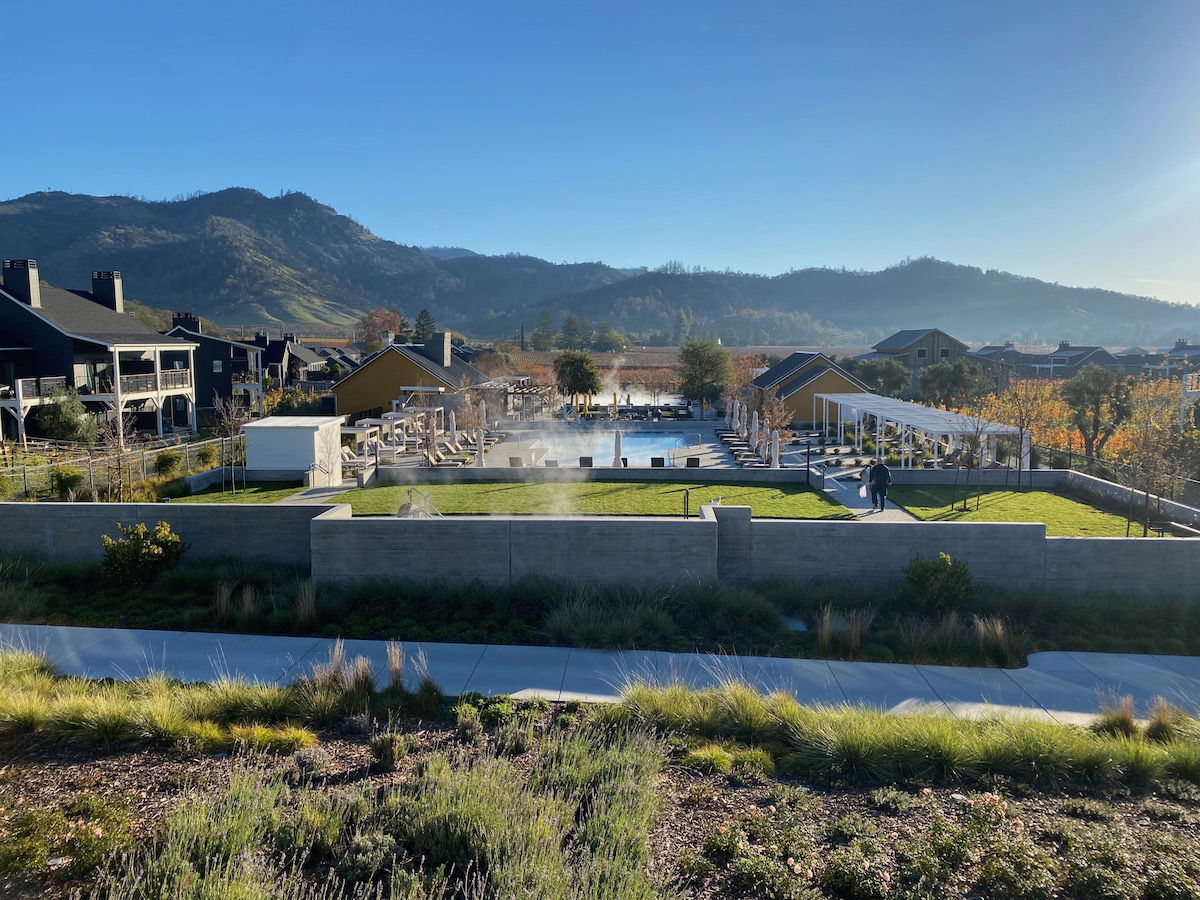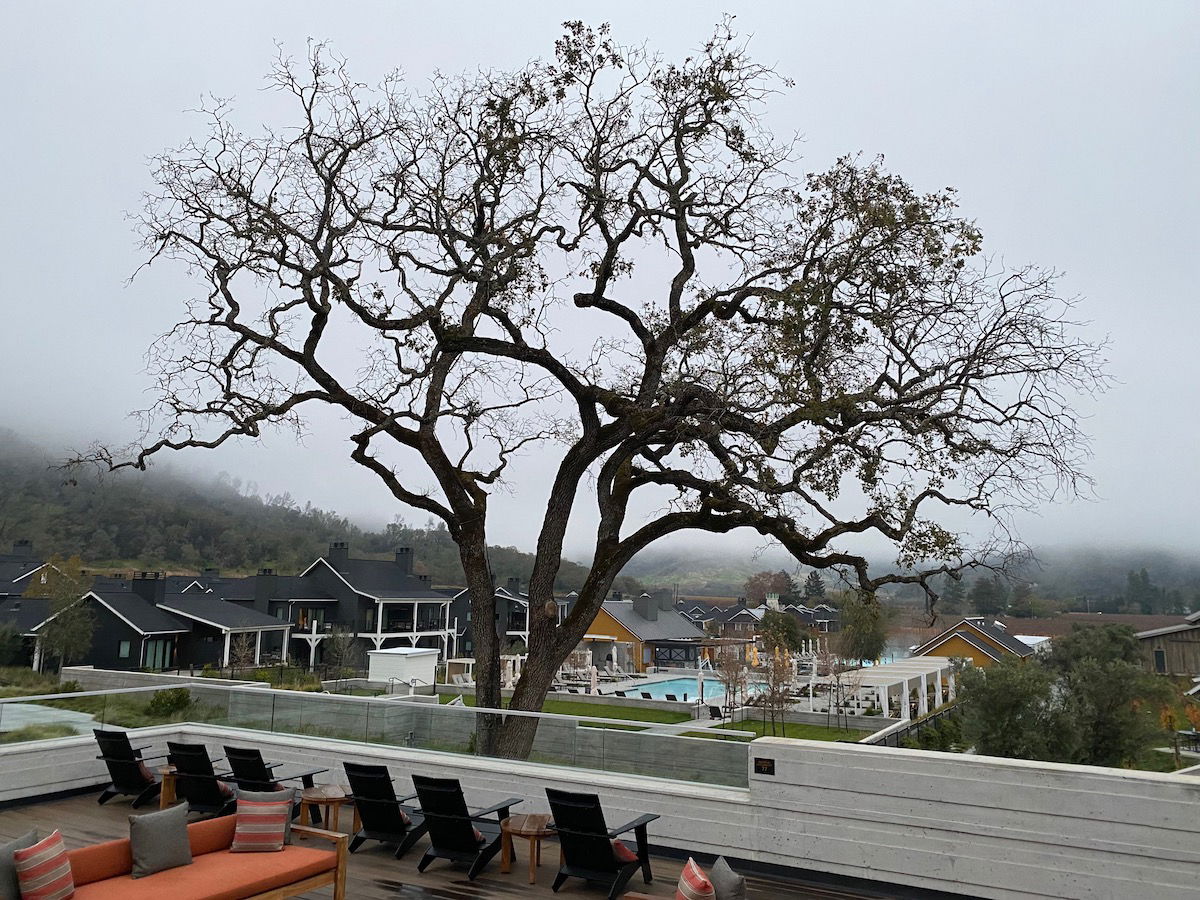 Four Seasons Napa Valley breakfast
As is the case at virtually all Four Seasons properties, there was a complimentary coffee & tea setup in the lobby in the mornings (plus mini-muffins!), which I sure do appreciate.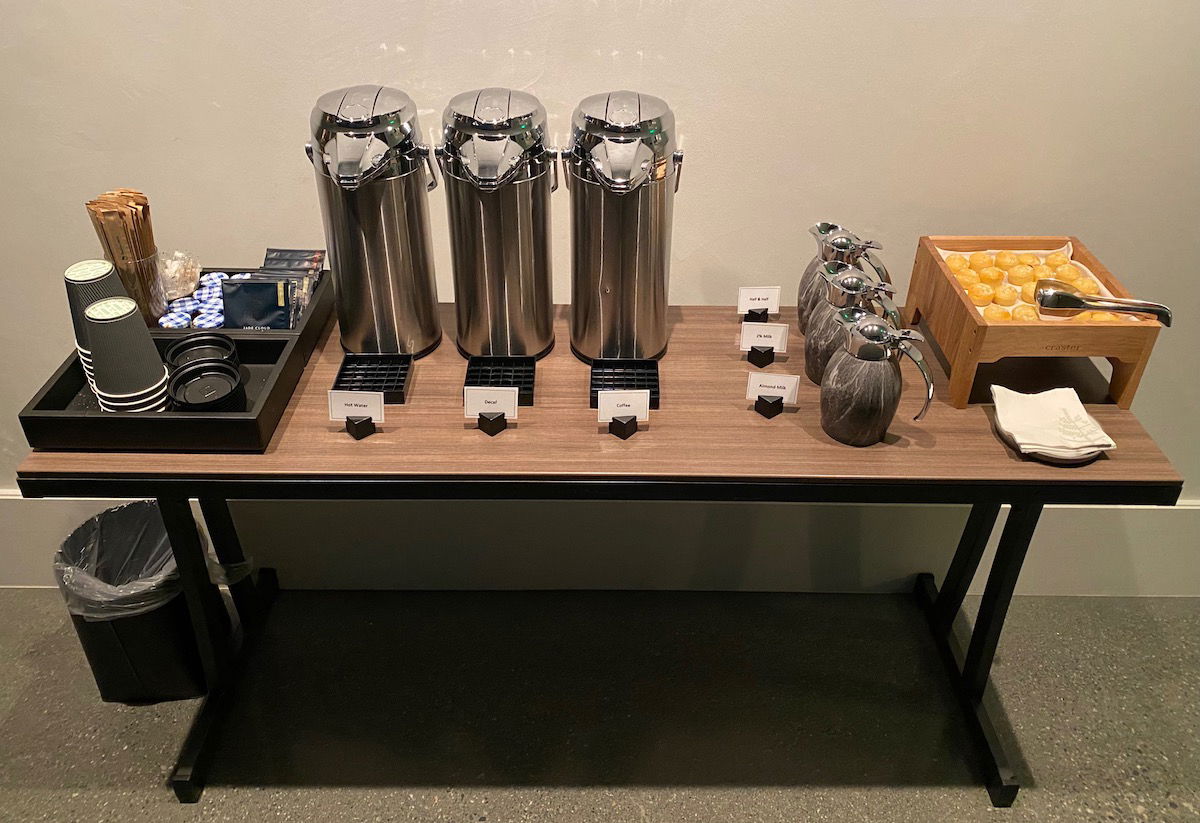 Those booking through Four Seasons Preferred Partner (which is how I recommend booking Four Seasons stays) receive complimentary breakfast in the restaurant or via in-room dining. We had breakfast each morning in the restaurant, and you can find the menu below.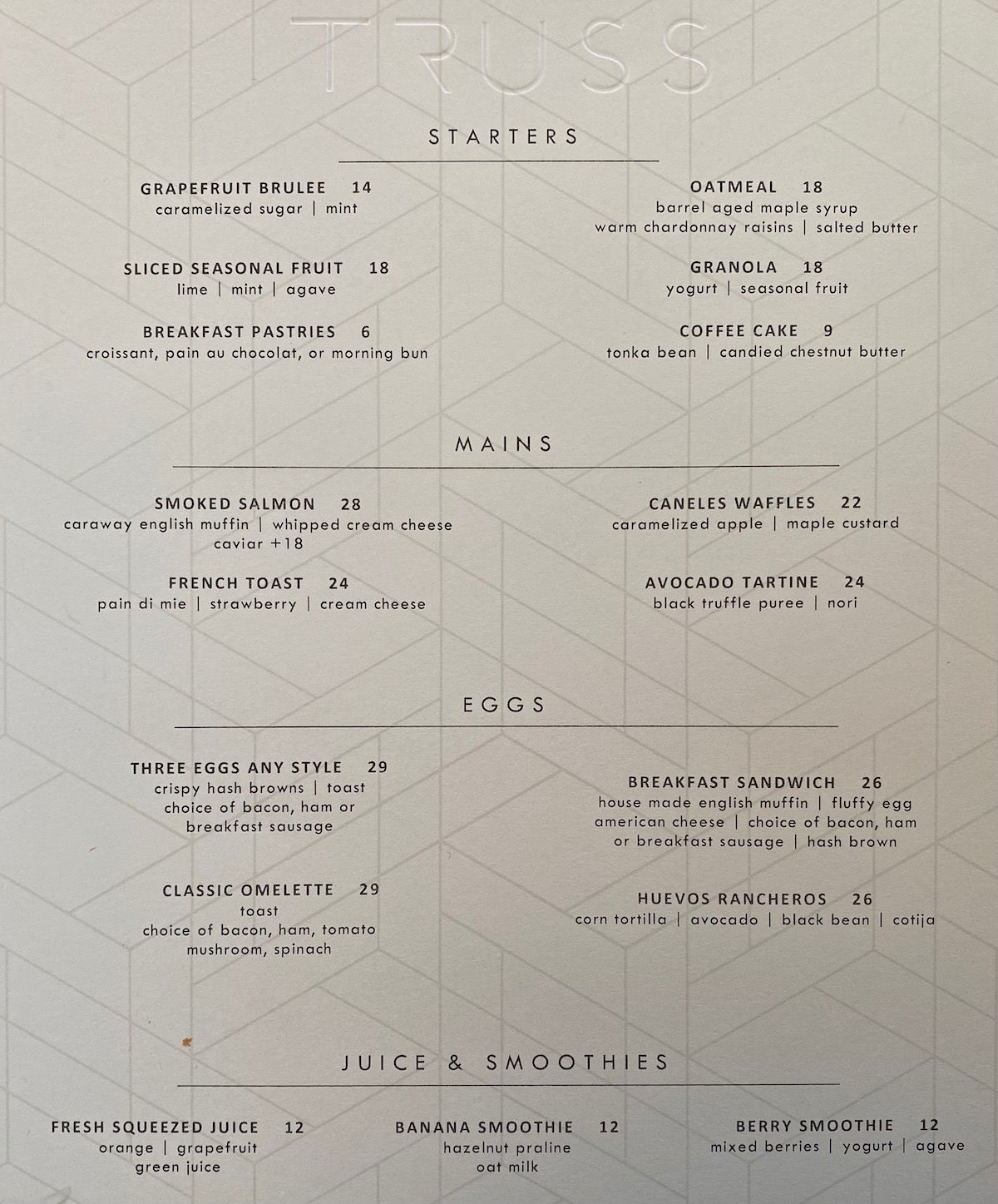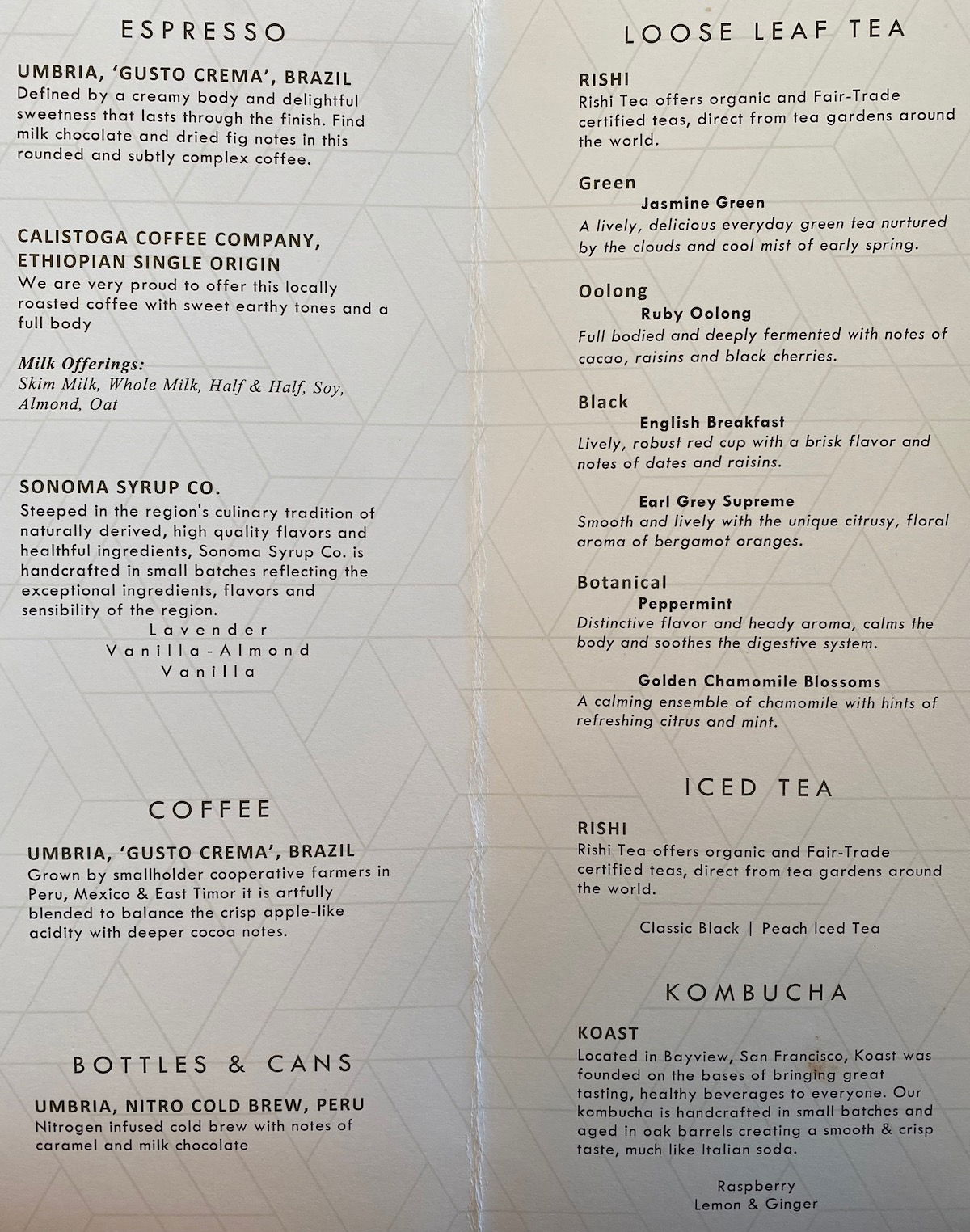 The drinks were excellent, including cappuccinos, iced coffees, and green juices.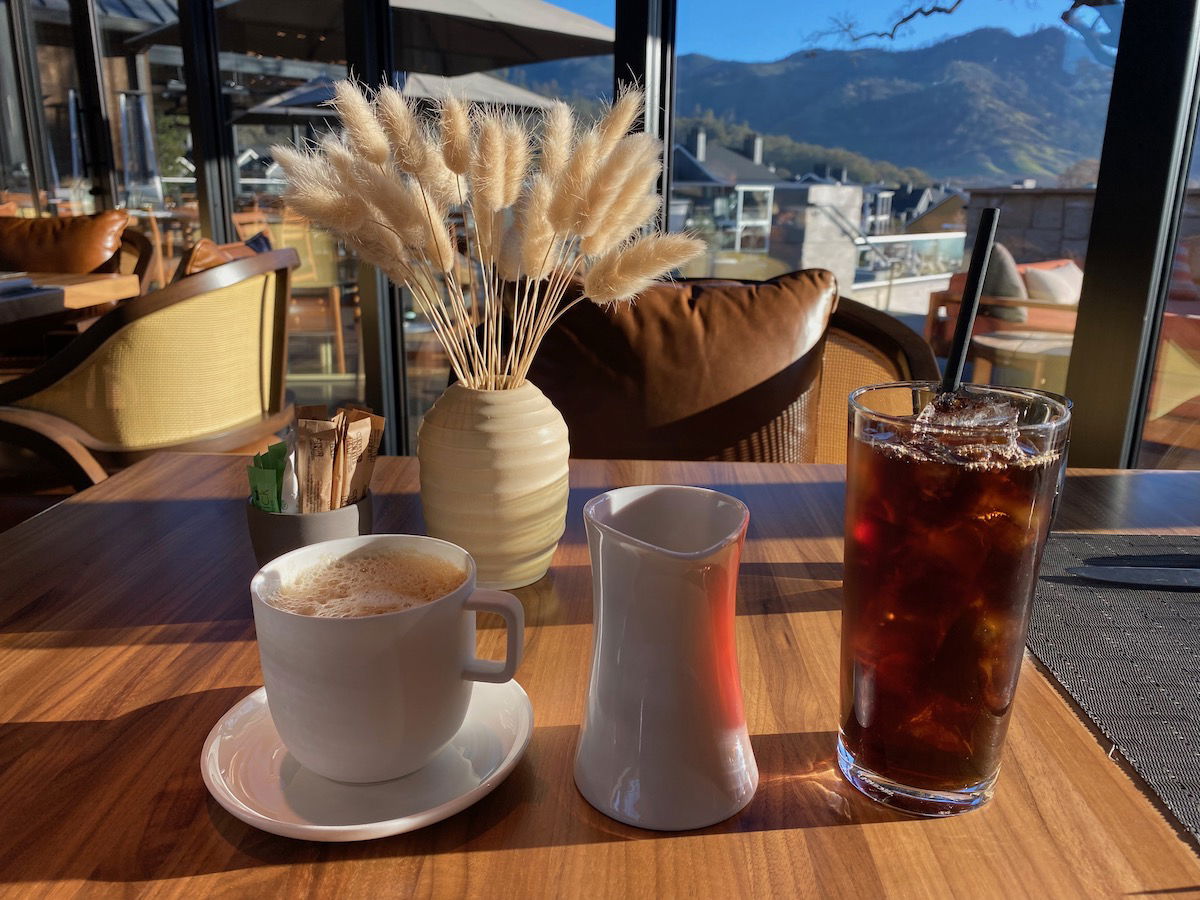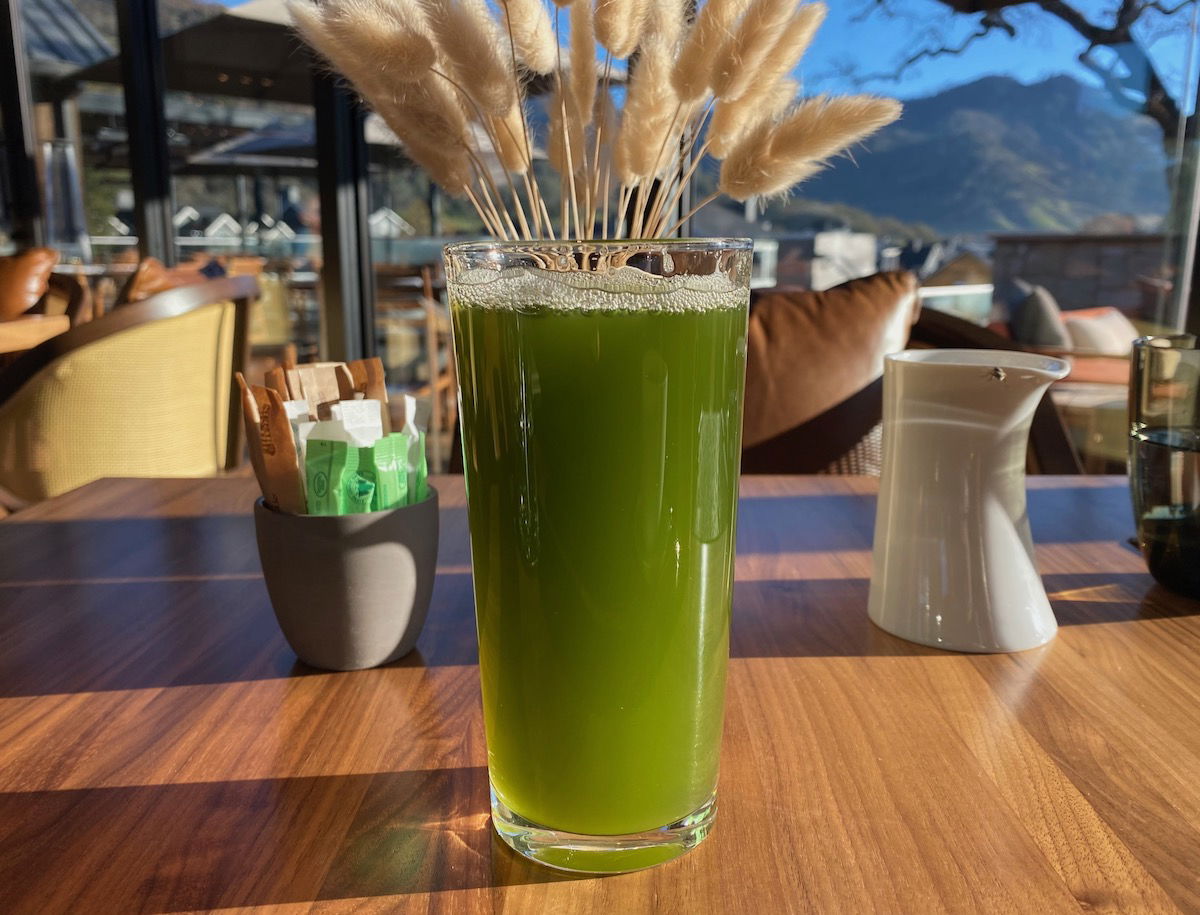 Over the course of our stay, we sampled several things on the menu, including granola with yogurt and seasonal fruit…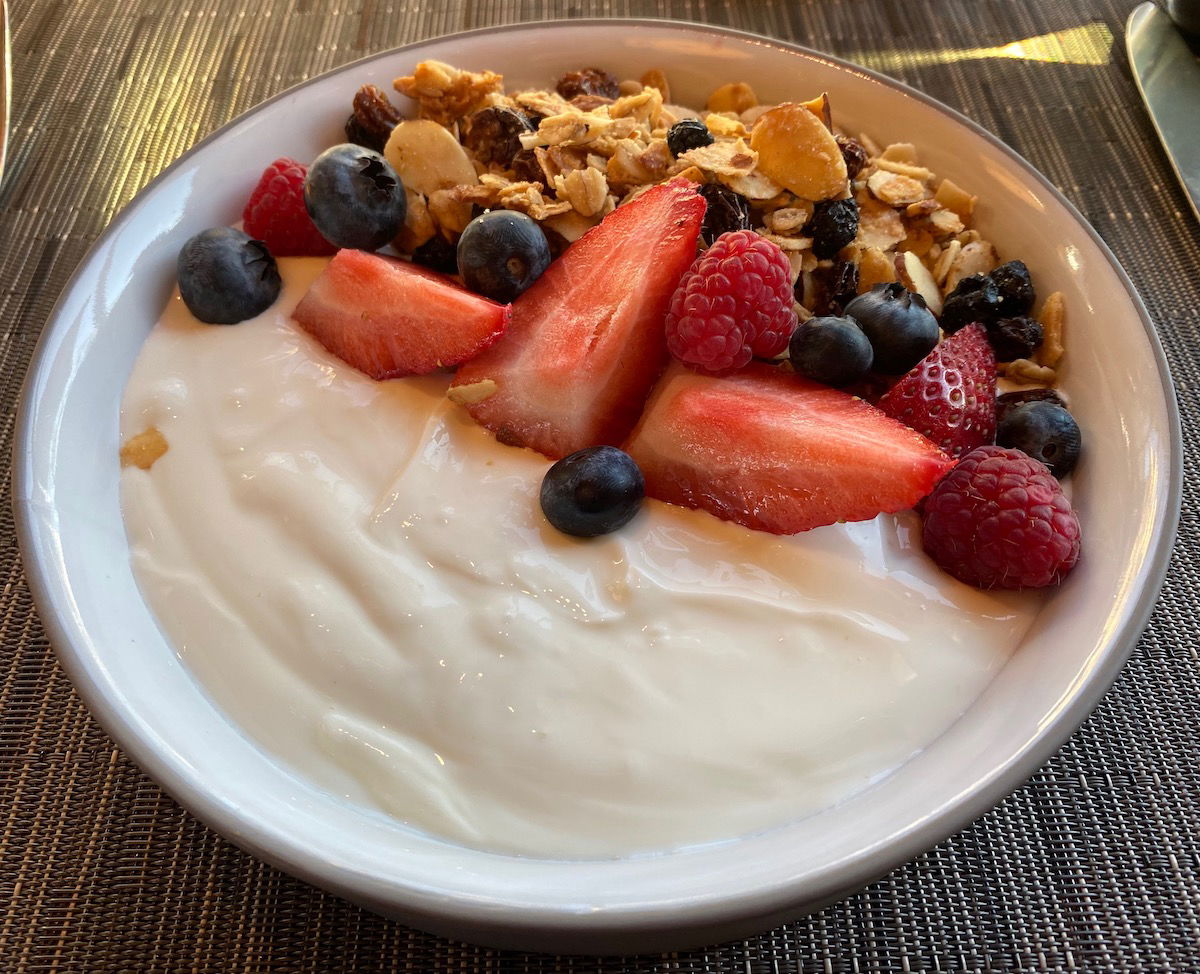 Grapefruit brûlée with caramelized sugar and mint…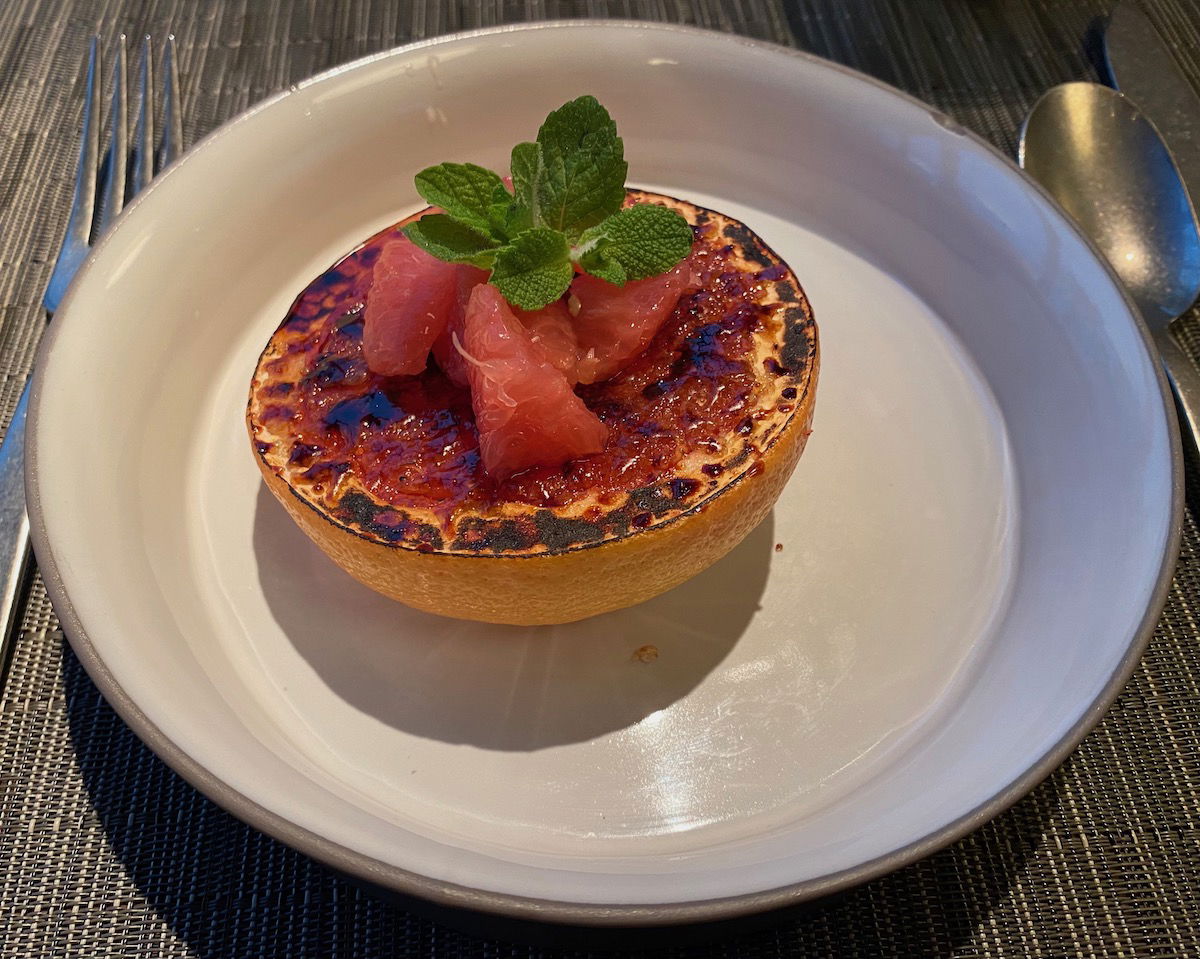 An avocado tartine with black truffle puree…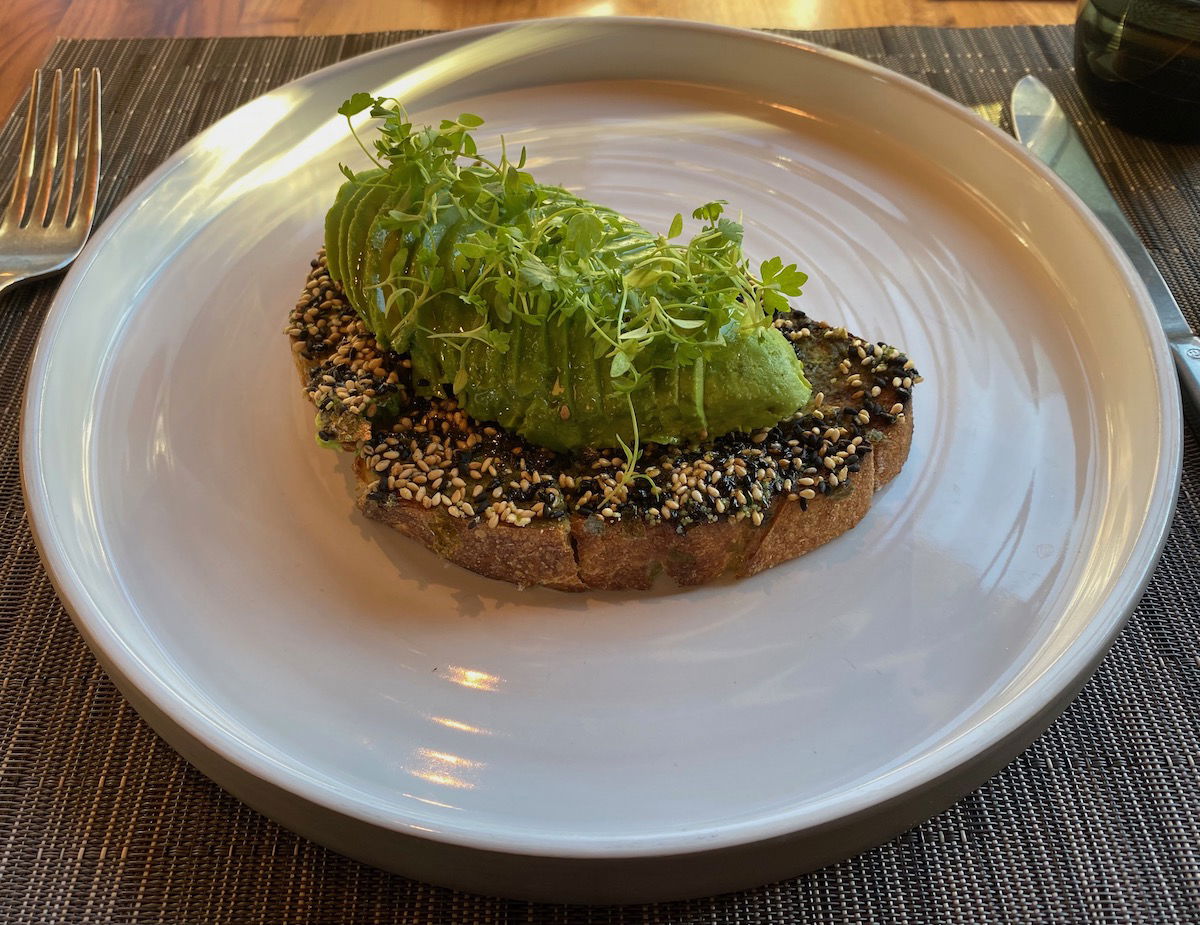 Smoked salmon on a caraway english muffin, with whipped cream cheese…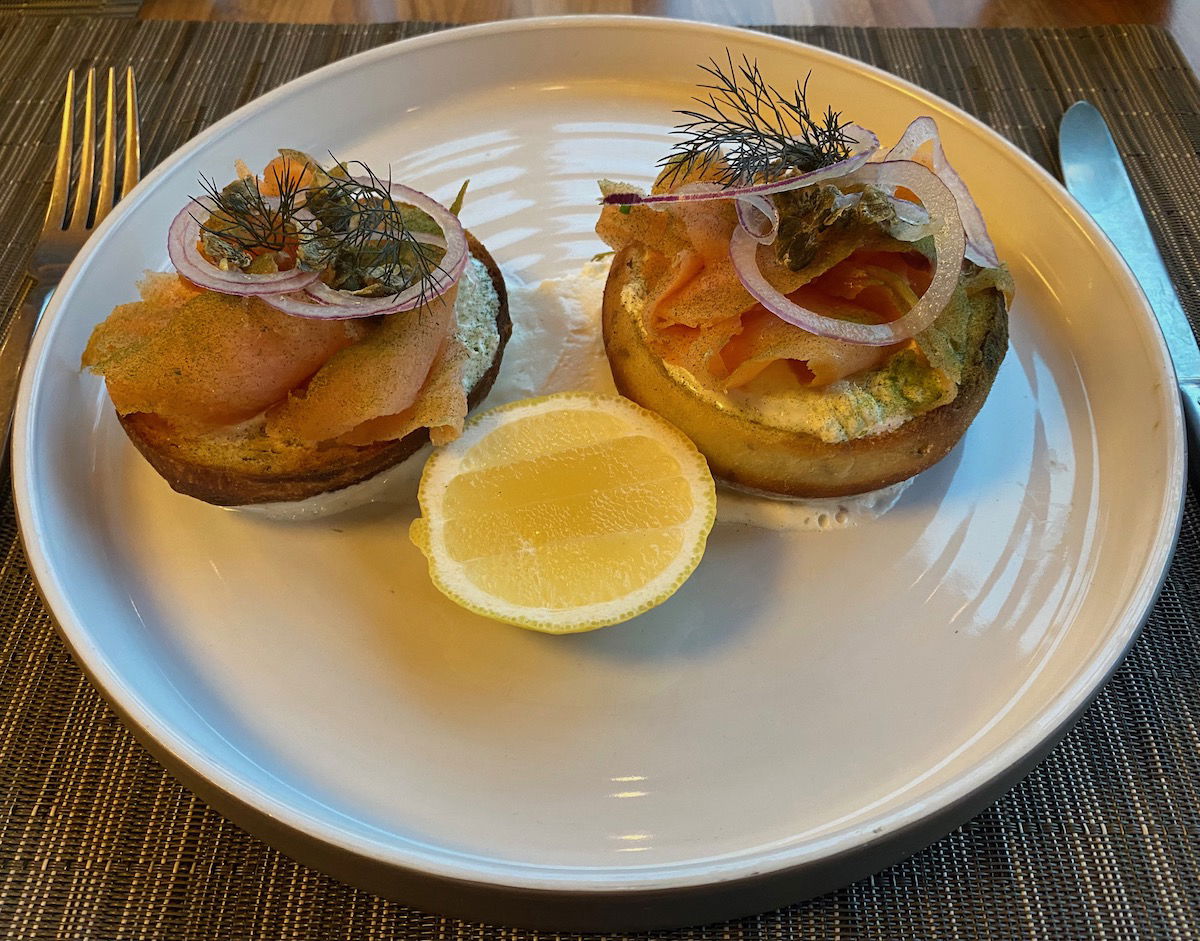 The three eggs any style with an english muffin and fruit…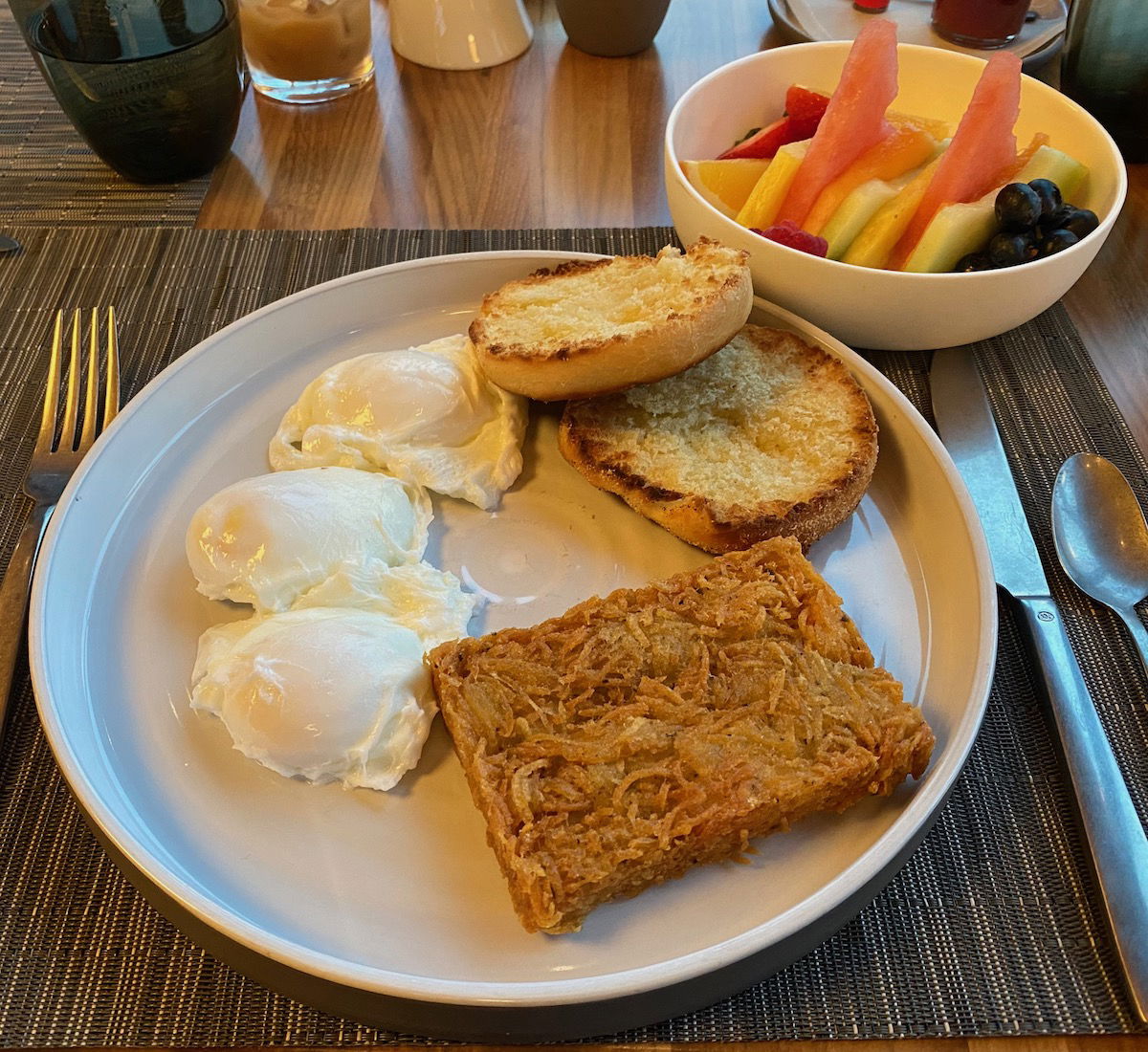 Huevos rancheros with corn tortilla, avocado, black bean, and cotija…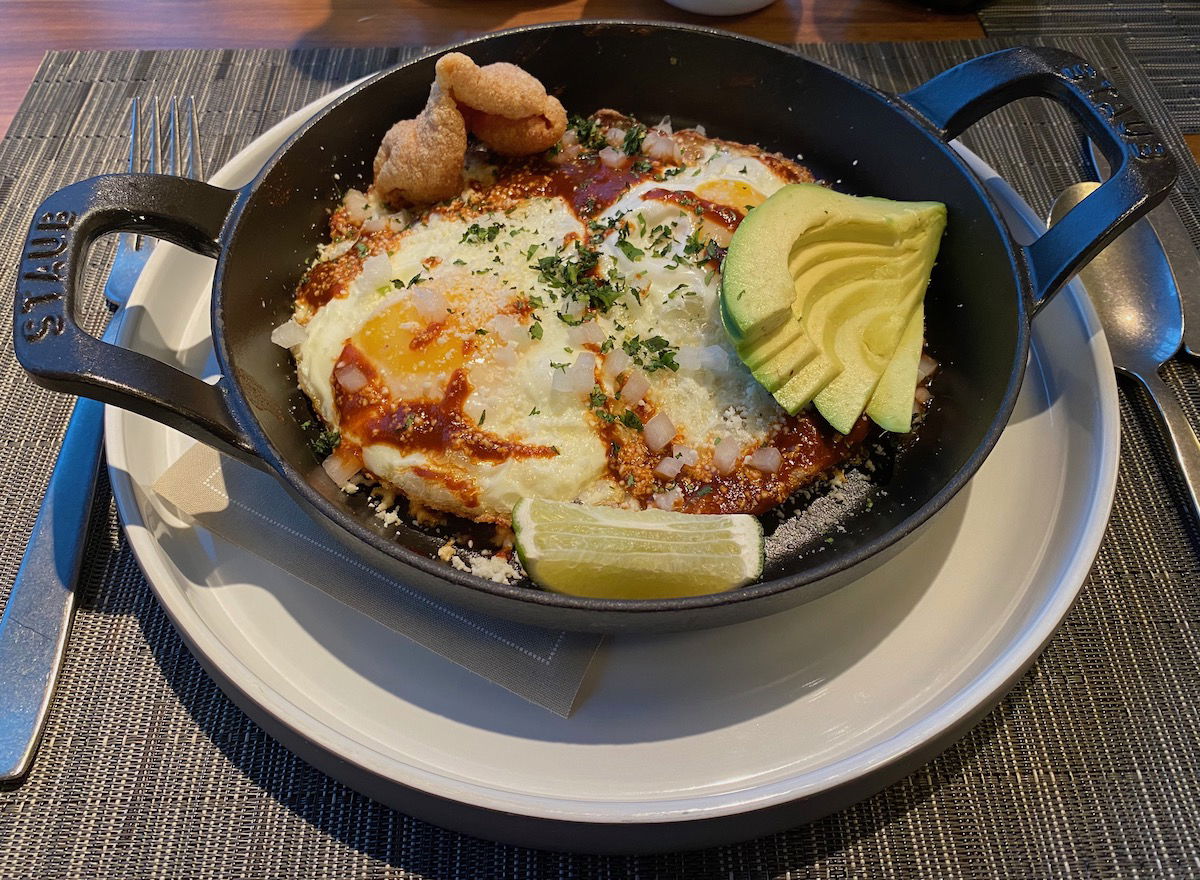 And French toast with pain di mie, strawberry, and cream cheese.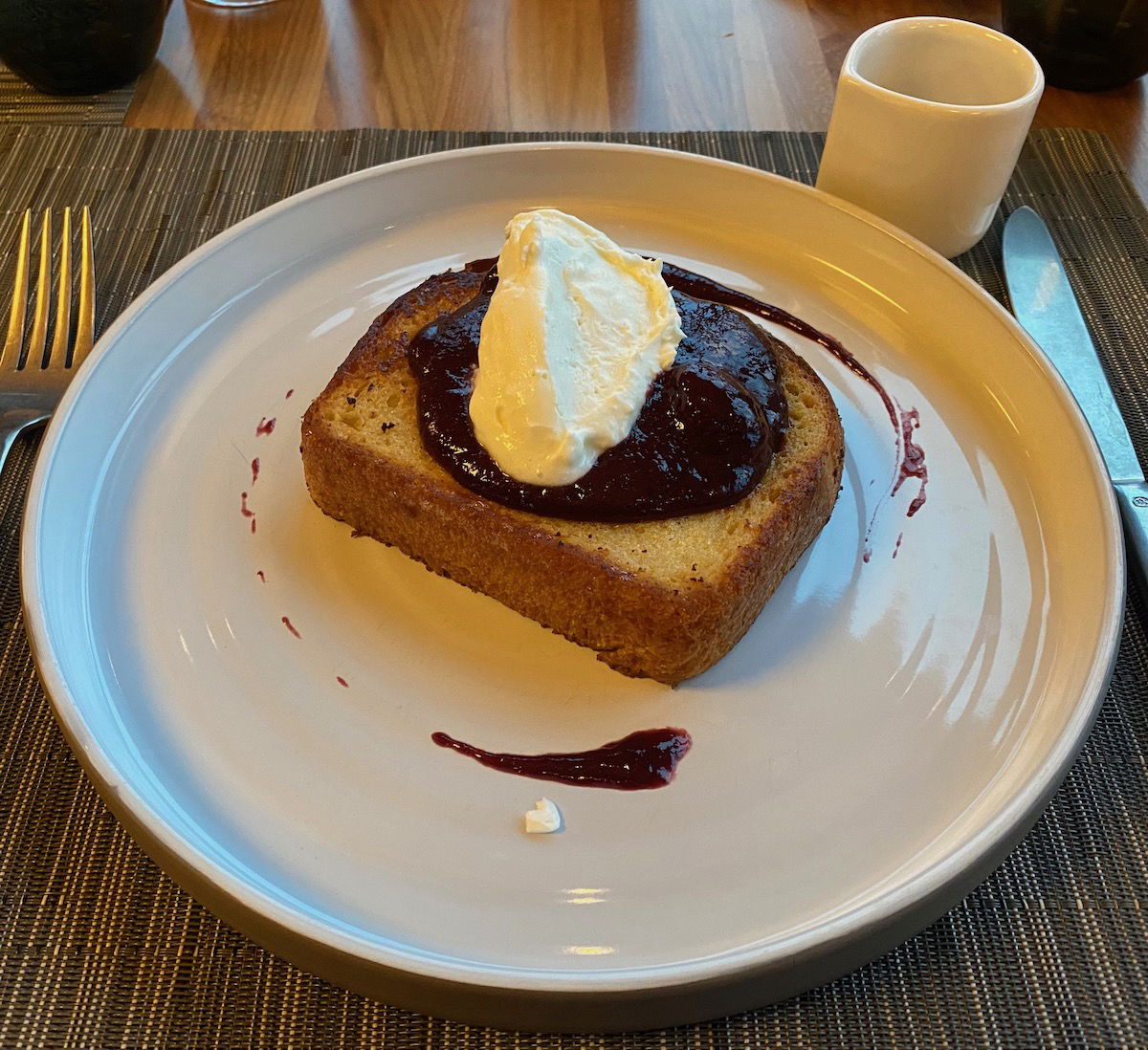 The breakfast dining experience was simply perfect. The service was friendly, and the food was excellent. I appreciated that it was a bit imaginative, and even typical breakfast classics were modified a bit.
Four Seasons Napa Valley Calistoga's Living Room at TRUSS drinks & dinner
On a couple of evenings we had drinks outside at TRUSS, given the beautiful setting. They have an extensive cocktail menu, which you can see below.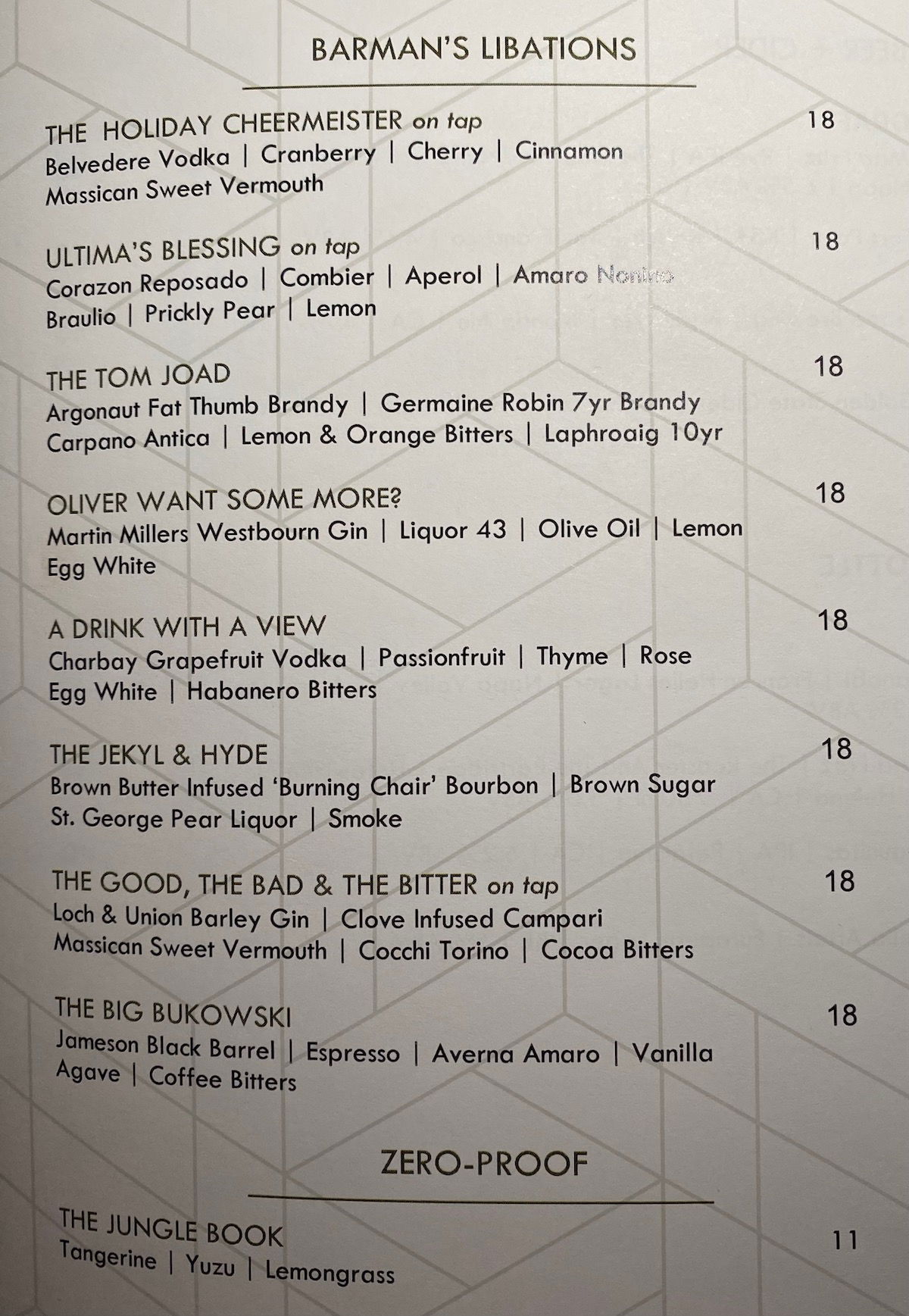 The presentation of some drinks was special…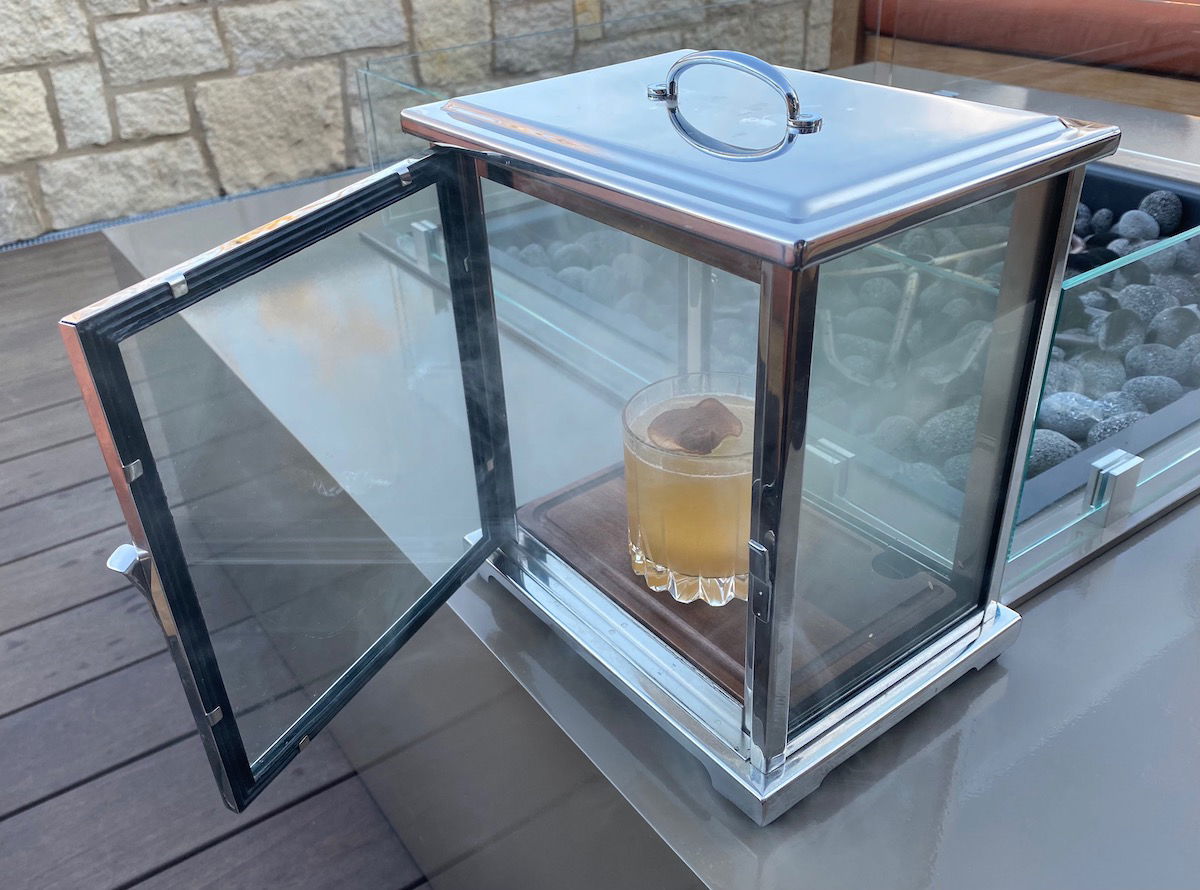 Classic cocktails, like an old fashioned and dirty martini, were also excellent.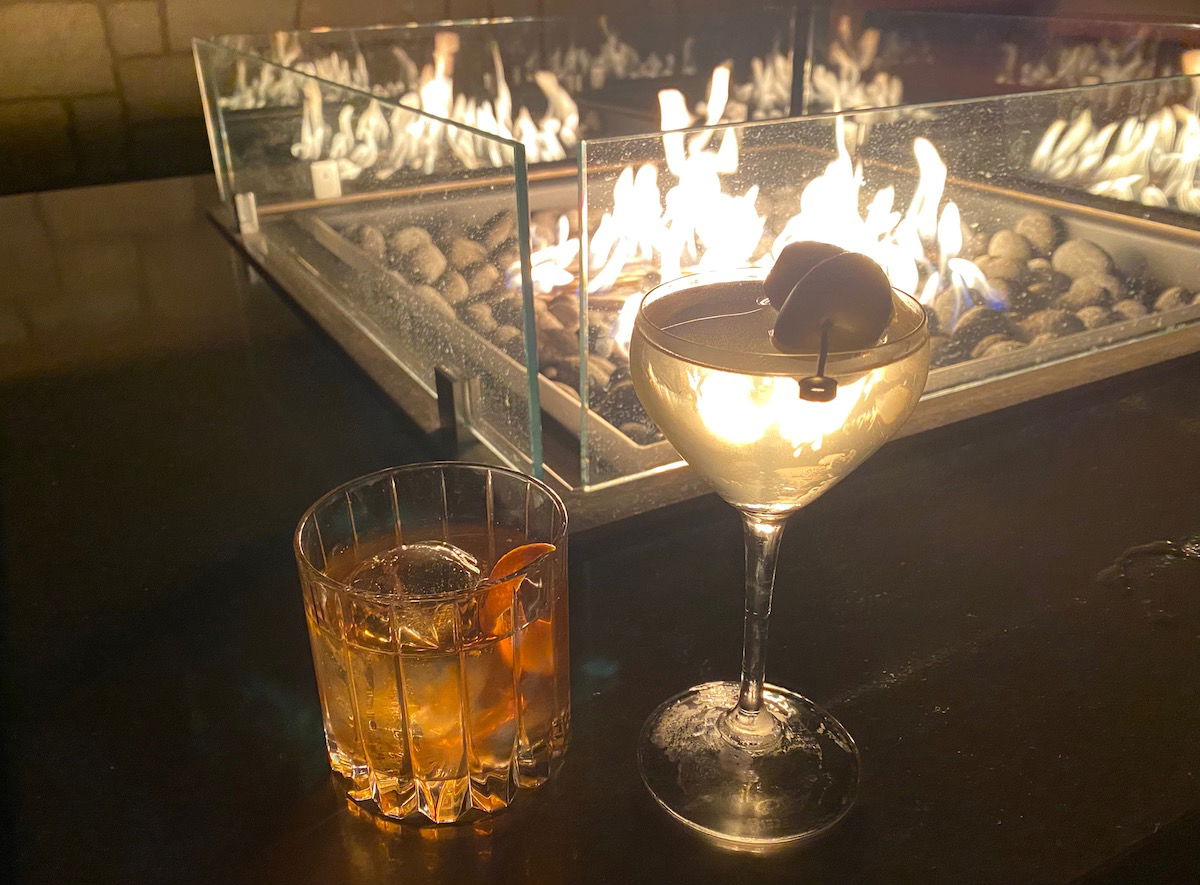 We also had dinner one evening at TRUSS, and you can find the menu below.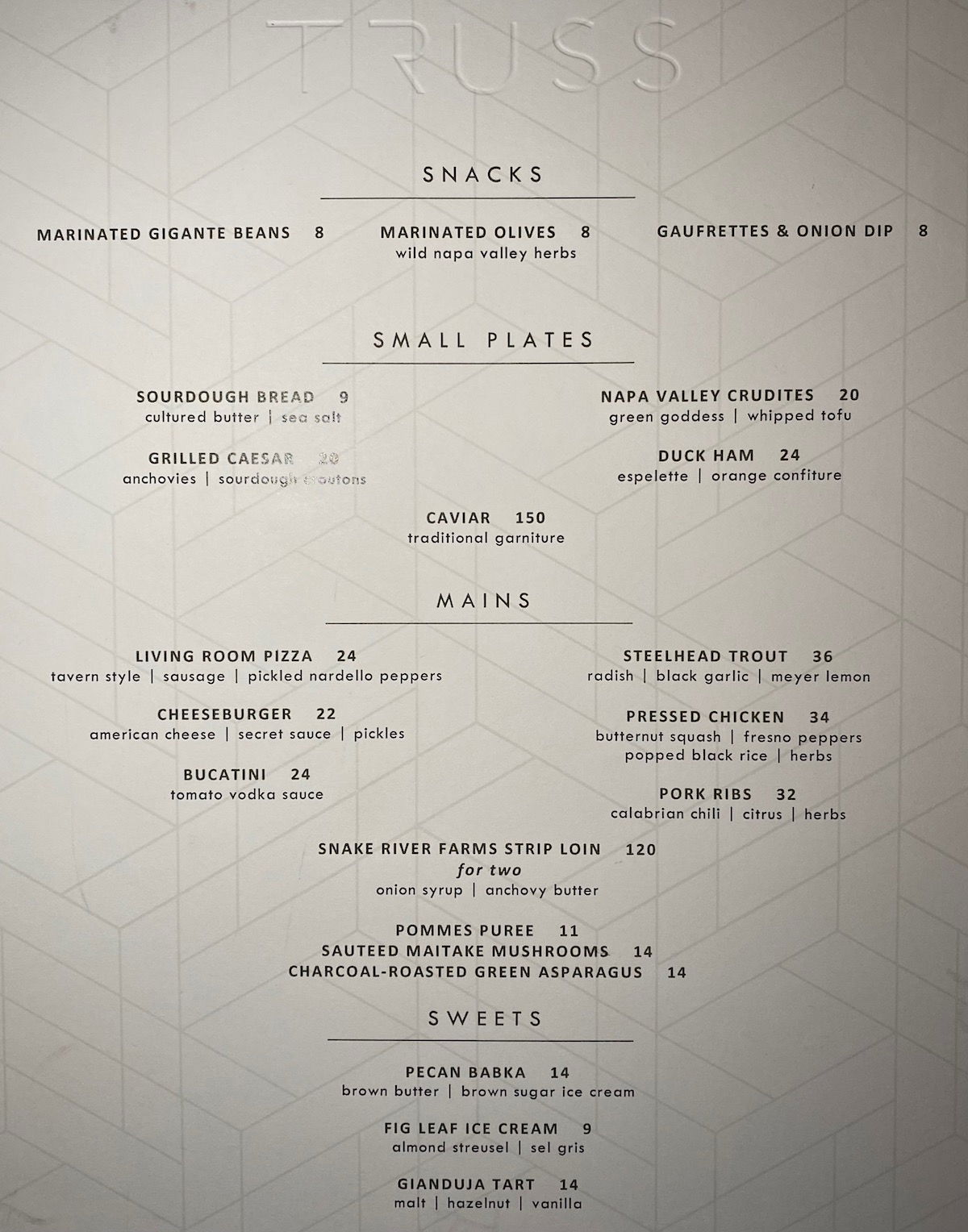 To start we had the gaufrettes (aka classy chips) & onion dip.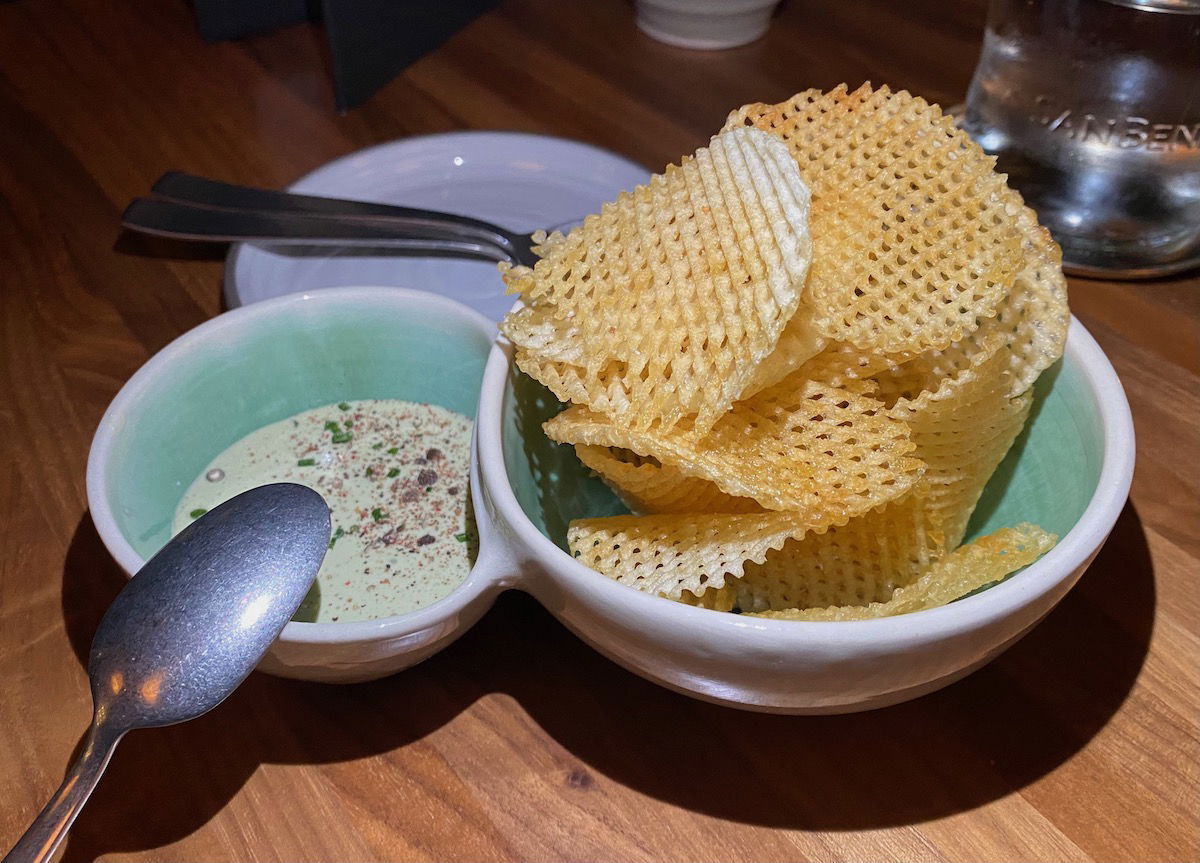 We then shared a pizza to start. While there was a pizza on the menu, there was also an incredible-sounding pizza as a special that evening, so we ordered that. Yum.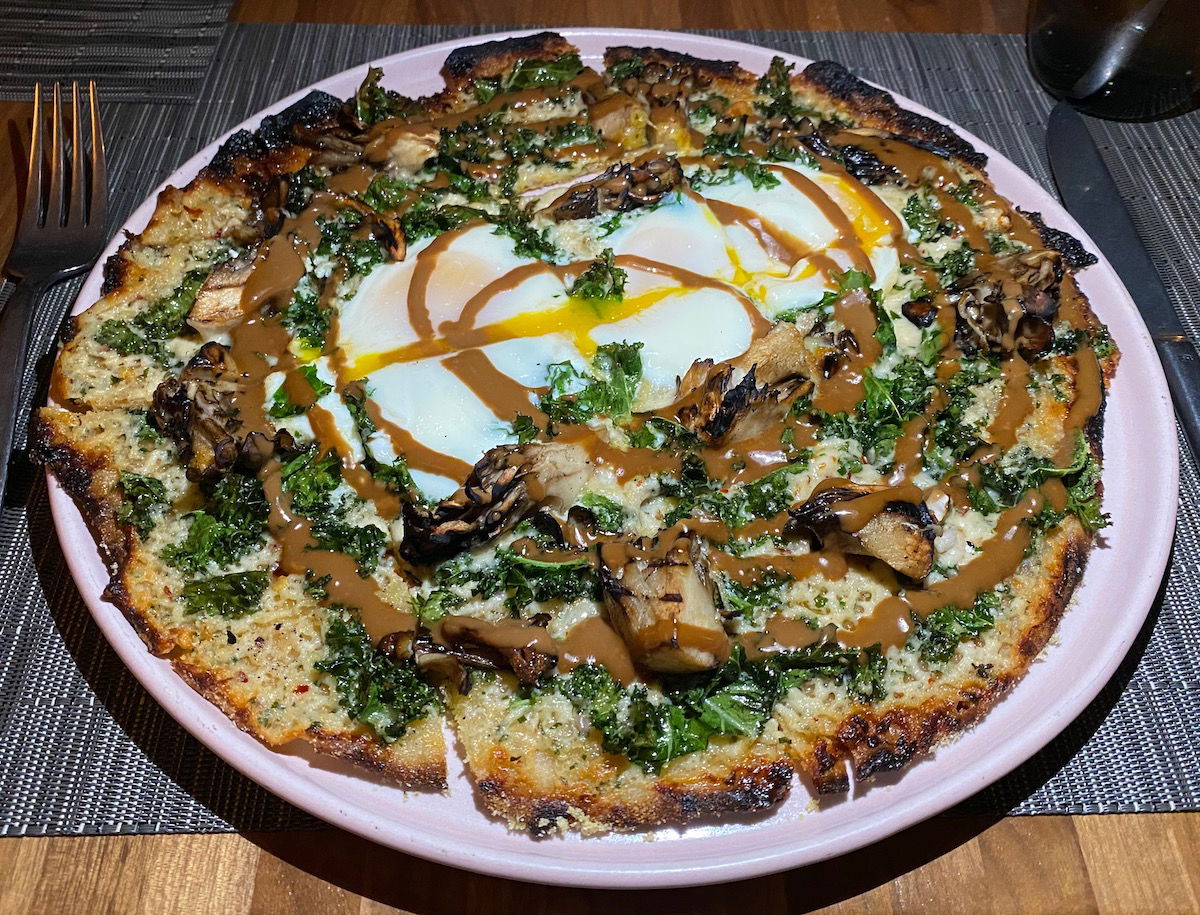 For main courses I had the steelhead trout with radish, black garlic, and meyer lemon, while Ford had the pressed chicken with butternut squash, fresno peppers, popped black rice, and herbs.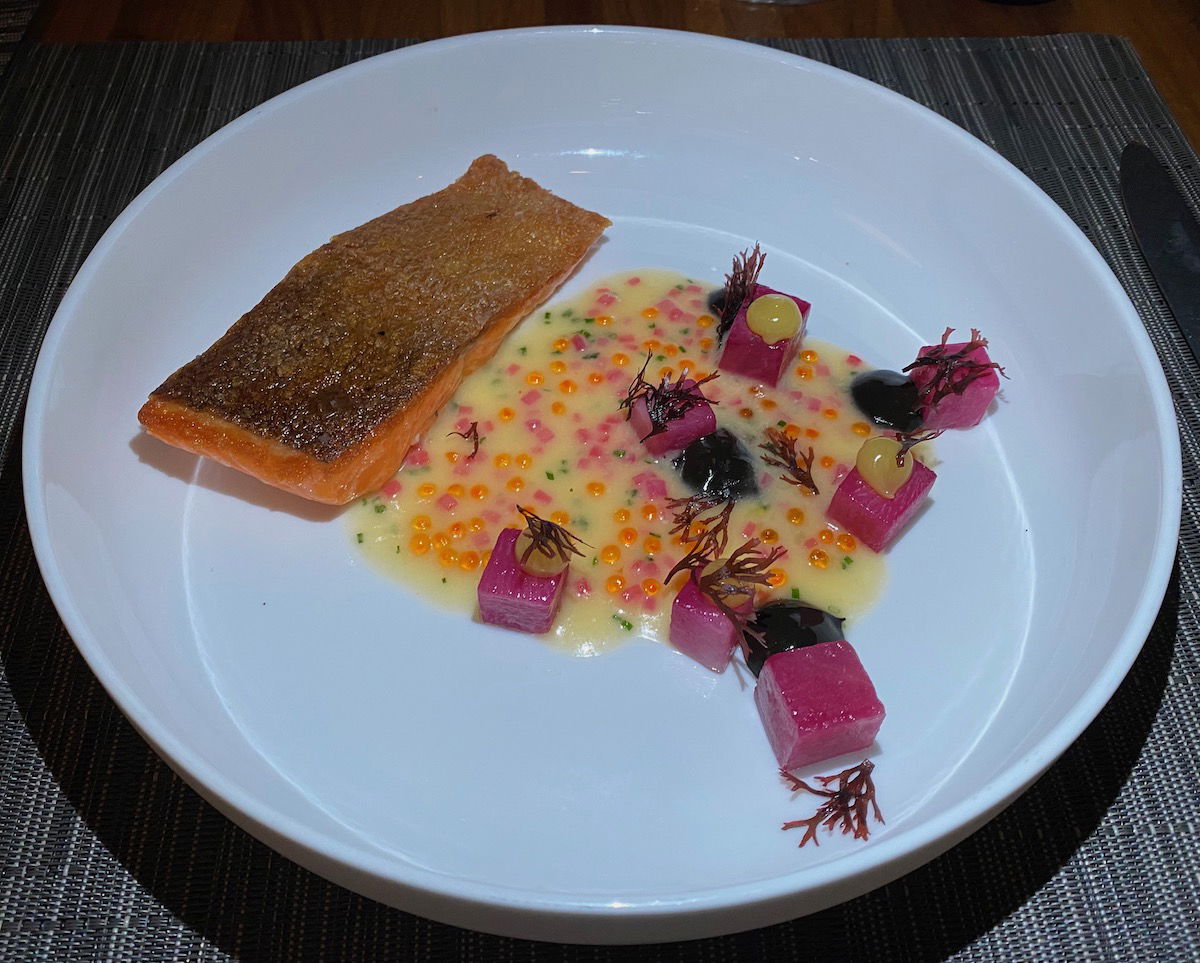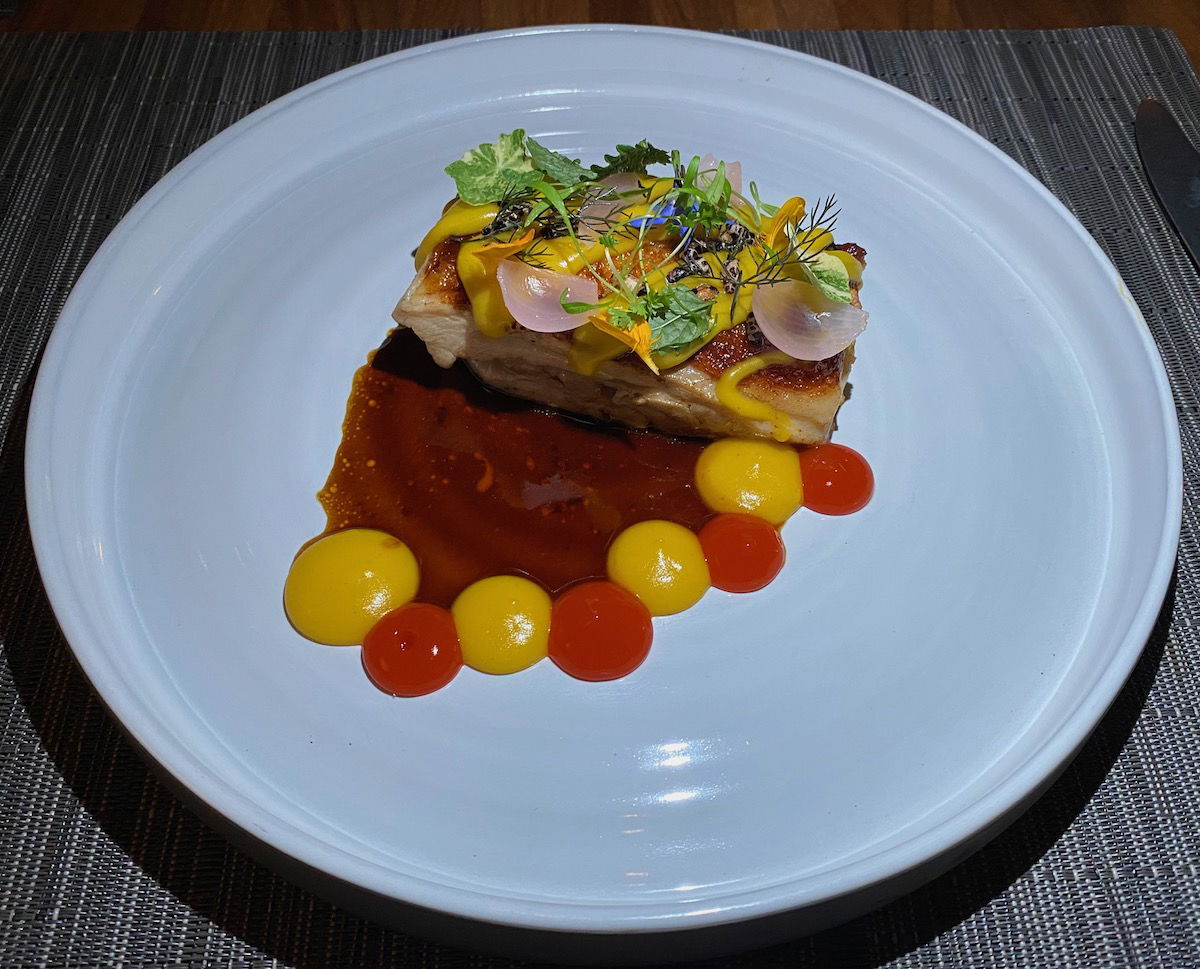 The food was indescribably good. My only feedback is that the menu was fairly limited, though it should be expanded significantly once the restaurant fully opens in the coming months.
Four Seasons Napa Valley Campo Poolside
The Four Seasons' other main restaurant is Campo Poolside, and it's open daily from 11AM until 5PM. The restaurant is described as serving Cal-Mexican and poolside favorites. The restaurant exclusively has outdoor seating, and you can also order food and drinks from here to anywhere at the pool.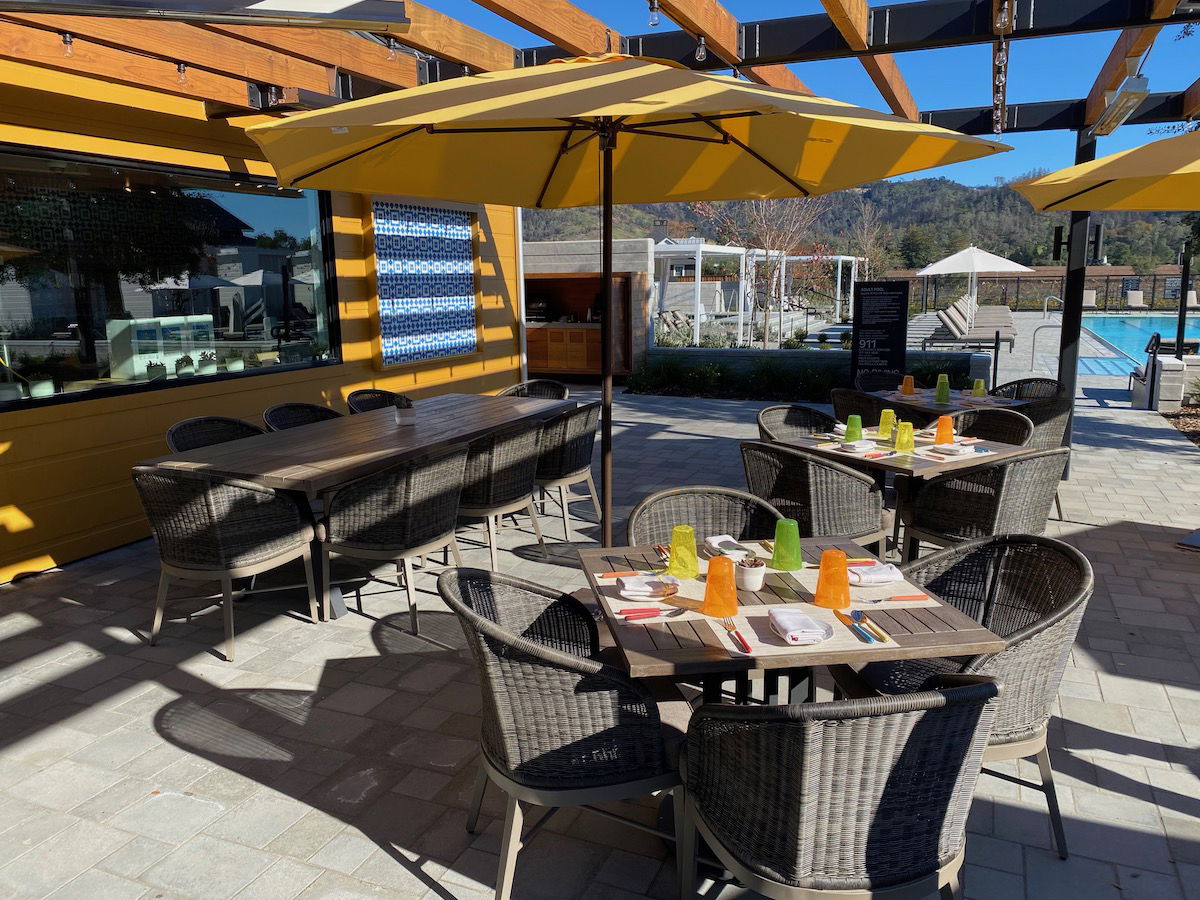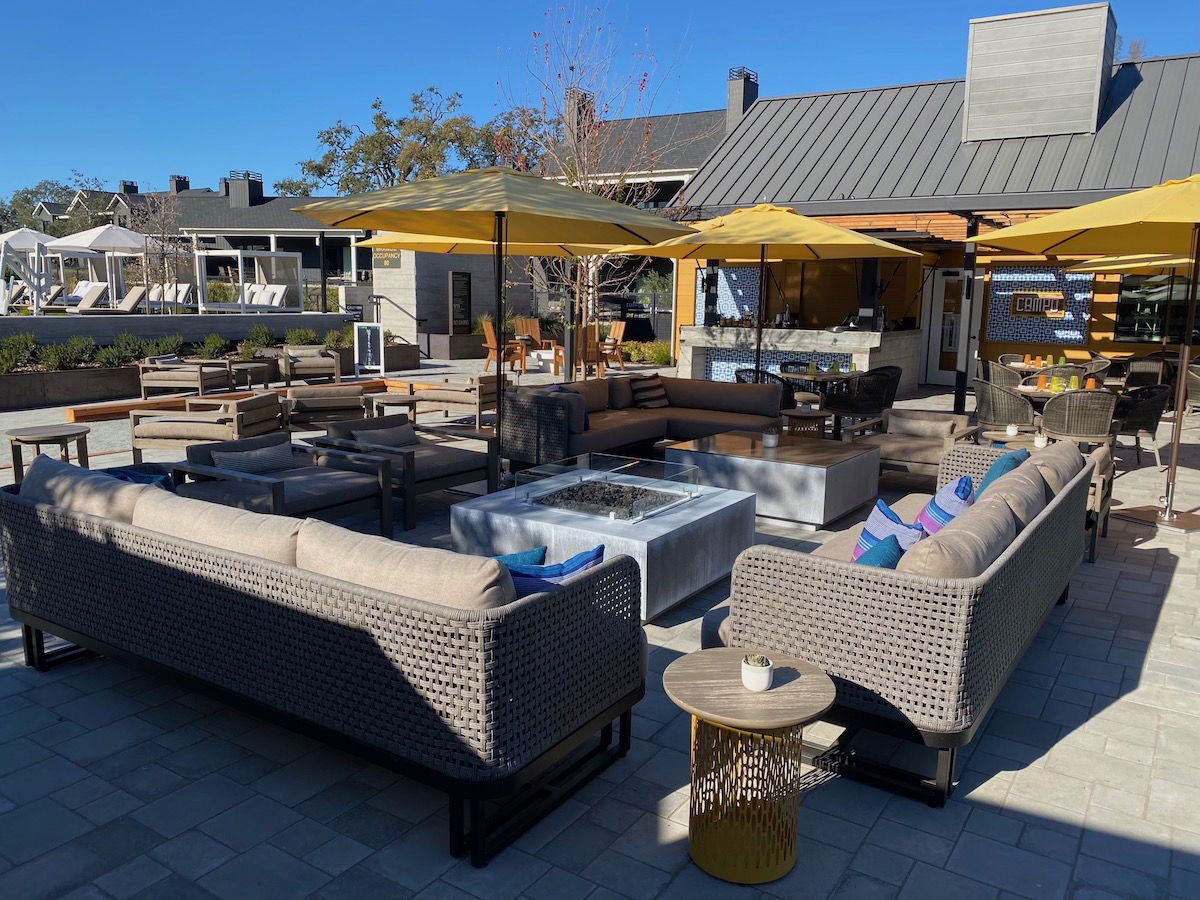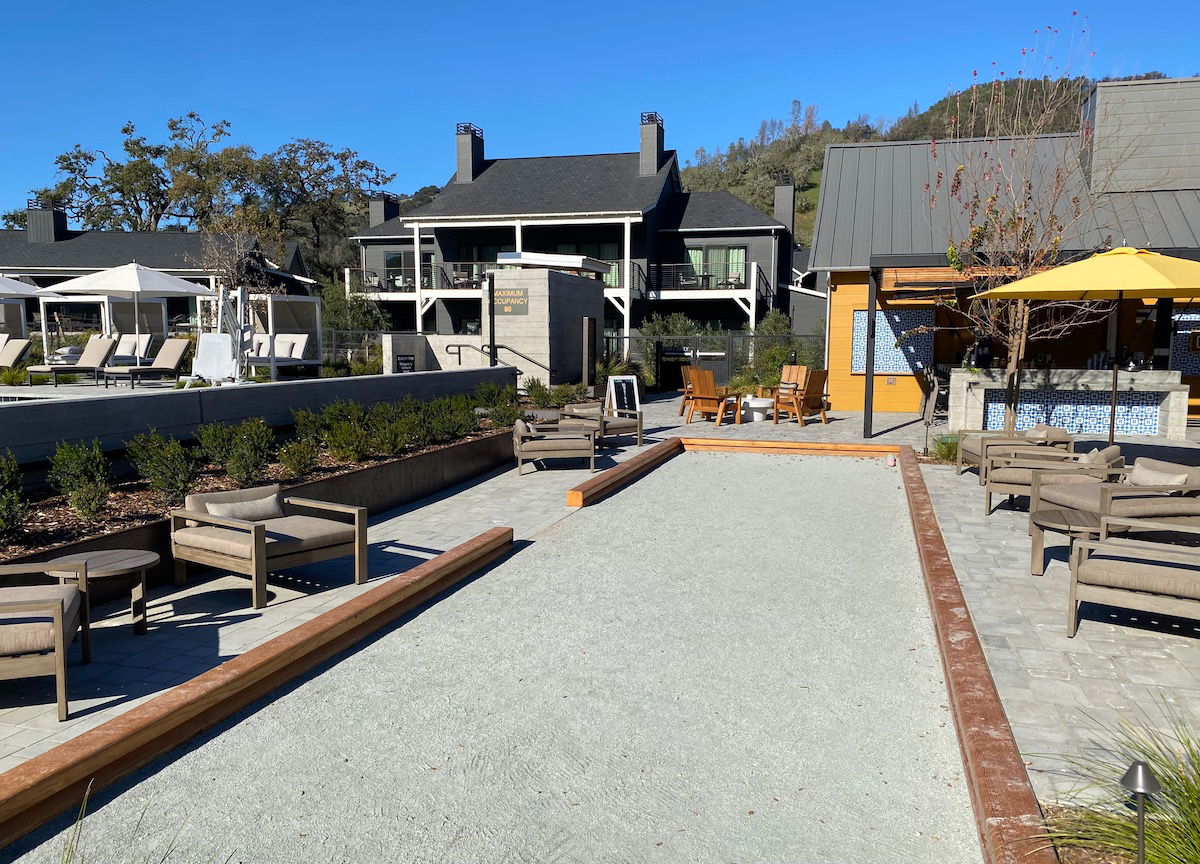 You can find the Campo Poolside food and drink menus below.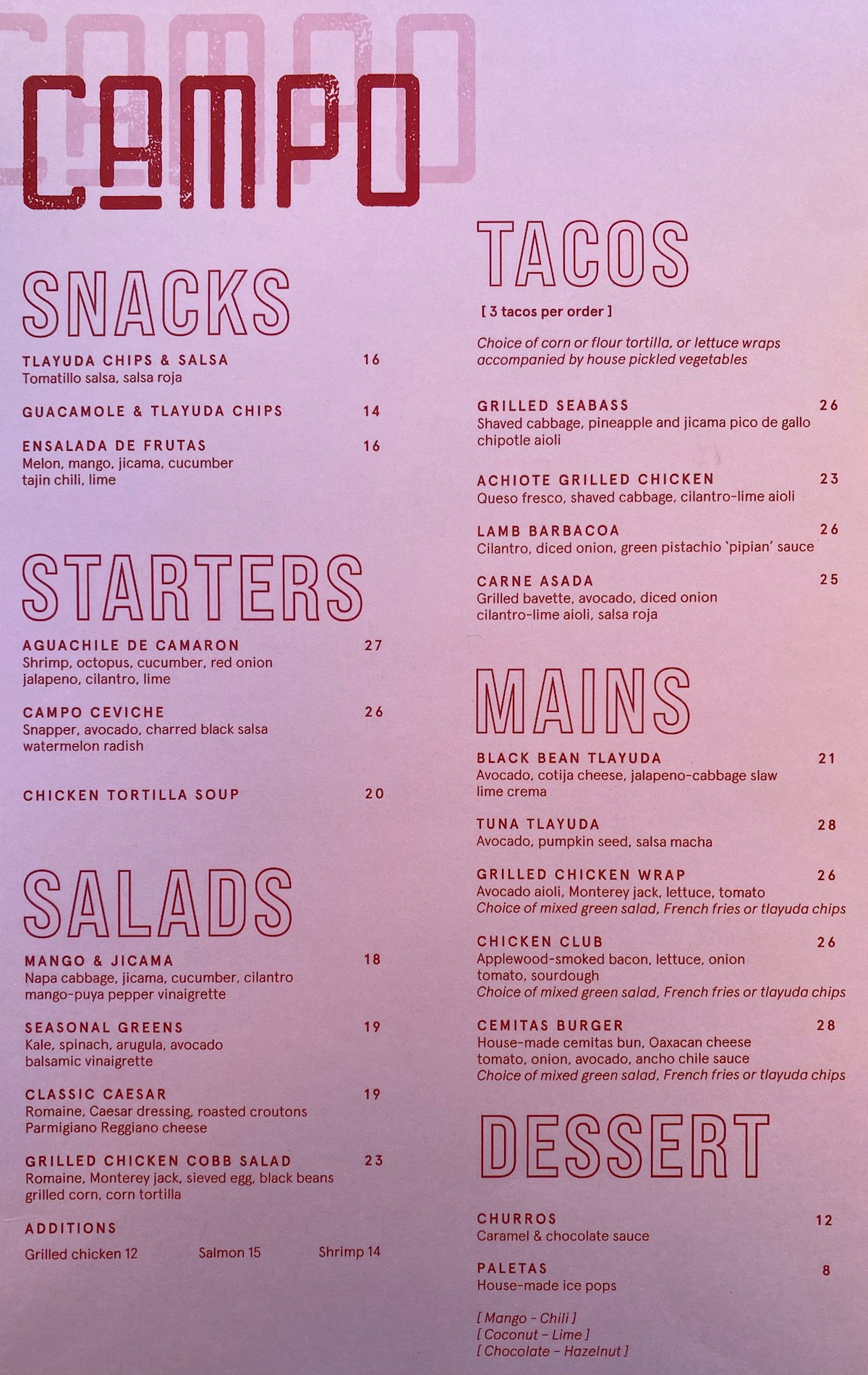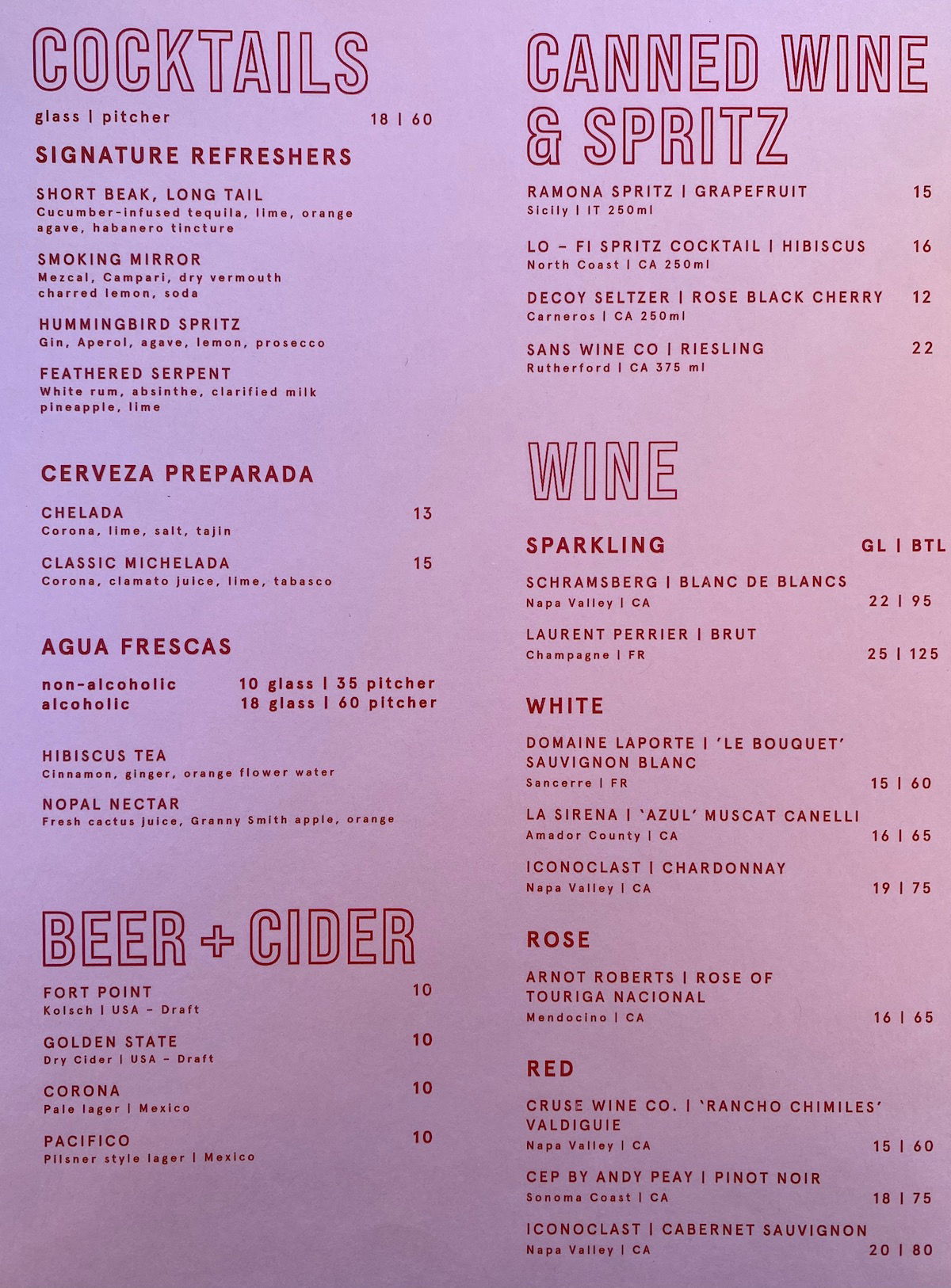 We ordered some cocktails here one afternoon, which we enjoyed.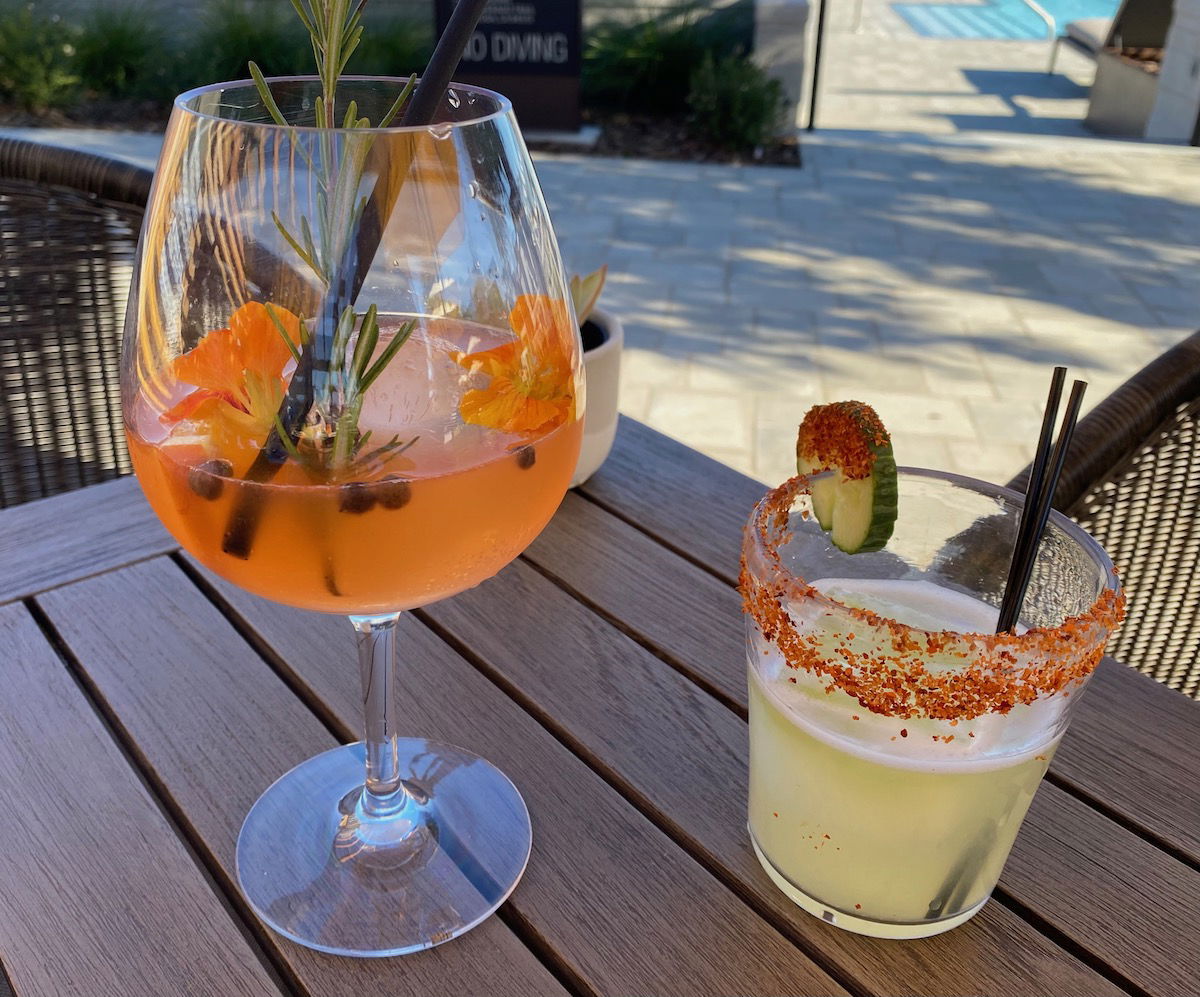 We sampled several things on the menu, including the guacamole & tlayuda chips…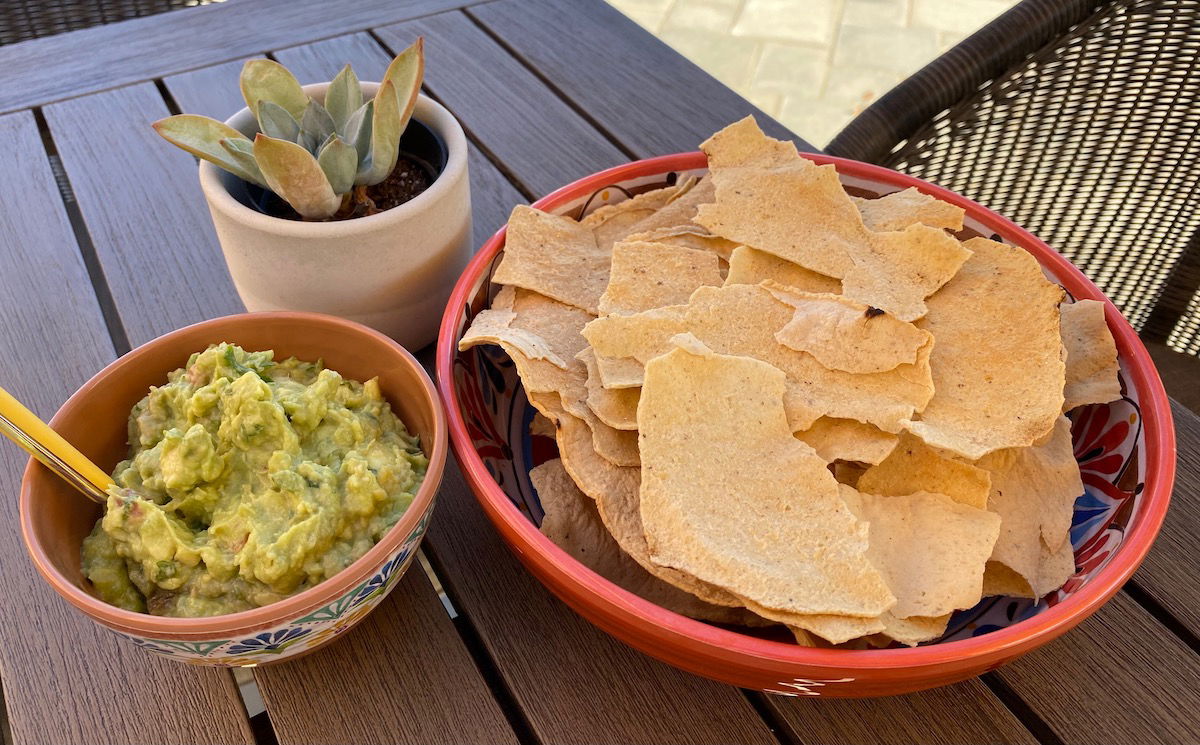 Ensalada de frutas, which had melon, mango, jicama, cucumber, tajin chili, and lime…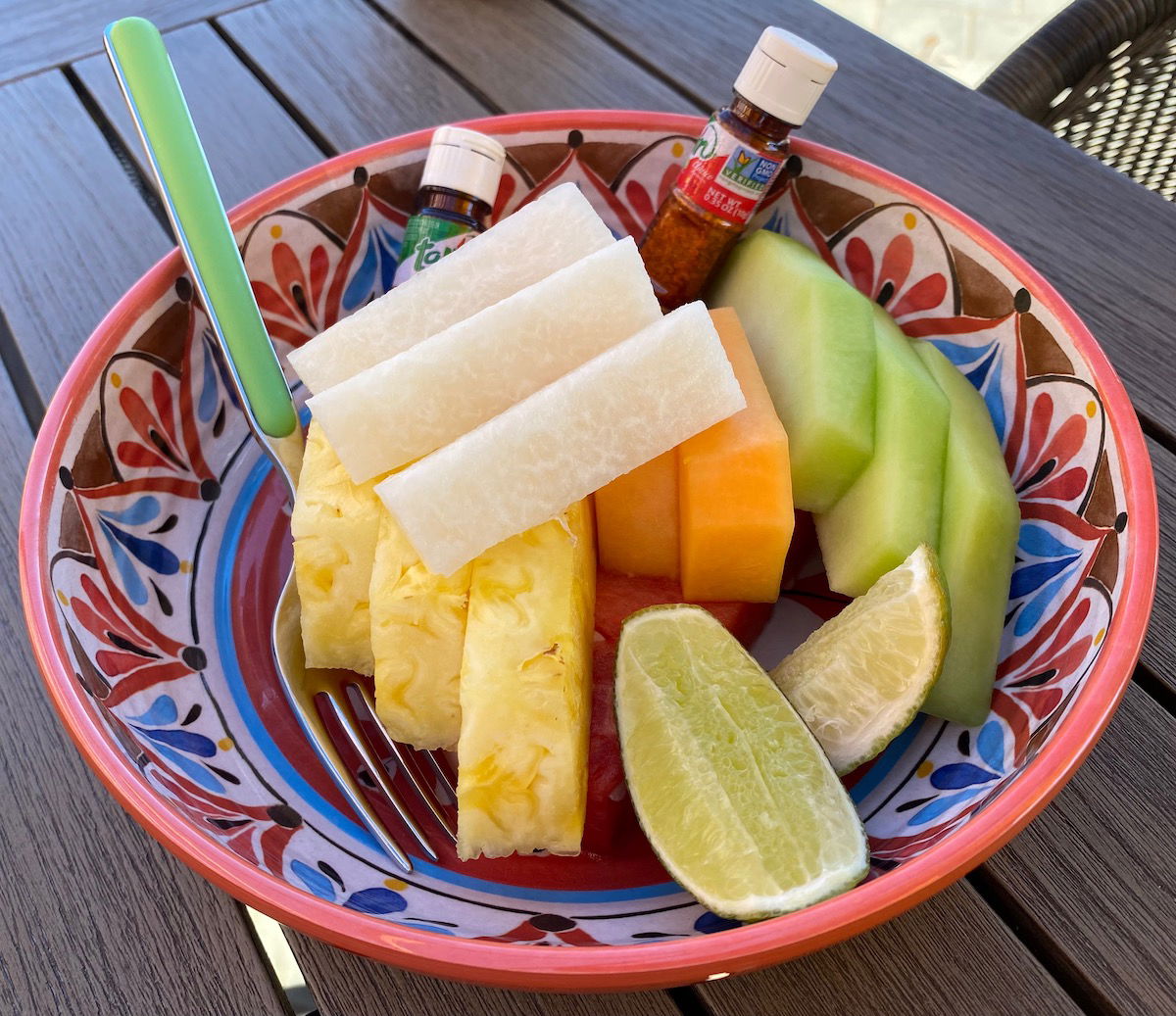 Carne asada tacos with grilled bavette, avocado, diced onion, cilantro-lime aioli, and salsa roja…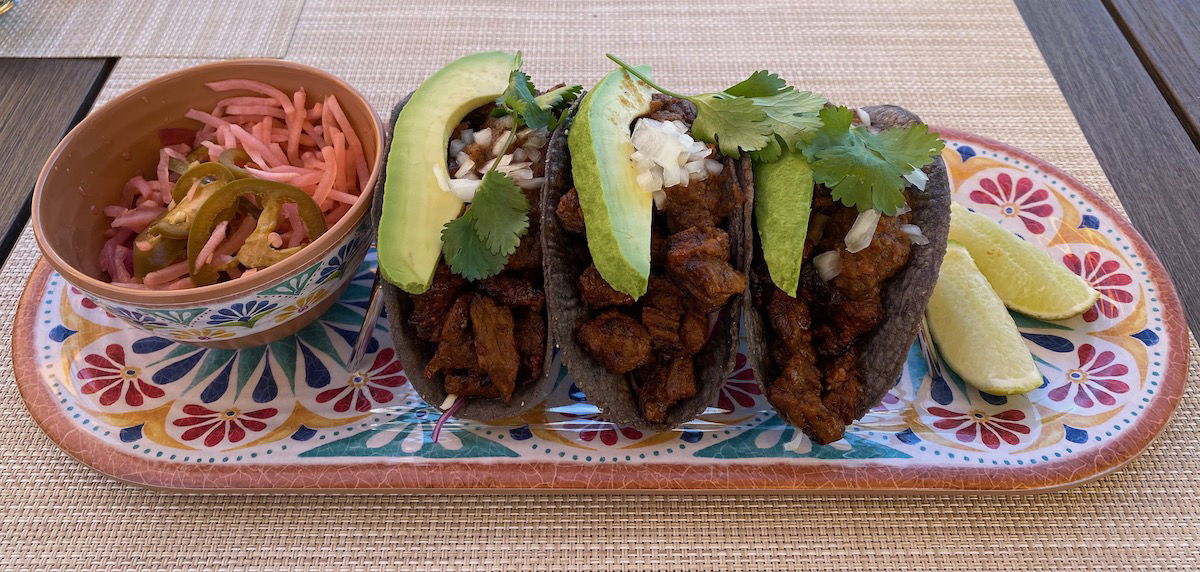 Grilled chicken cobb salad with romaine, monterey jack, sieved egg, black beans, grilled corn, and corn tortilla…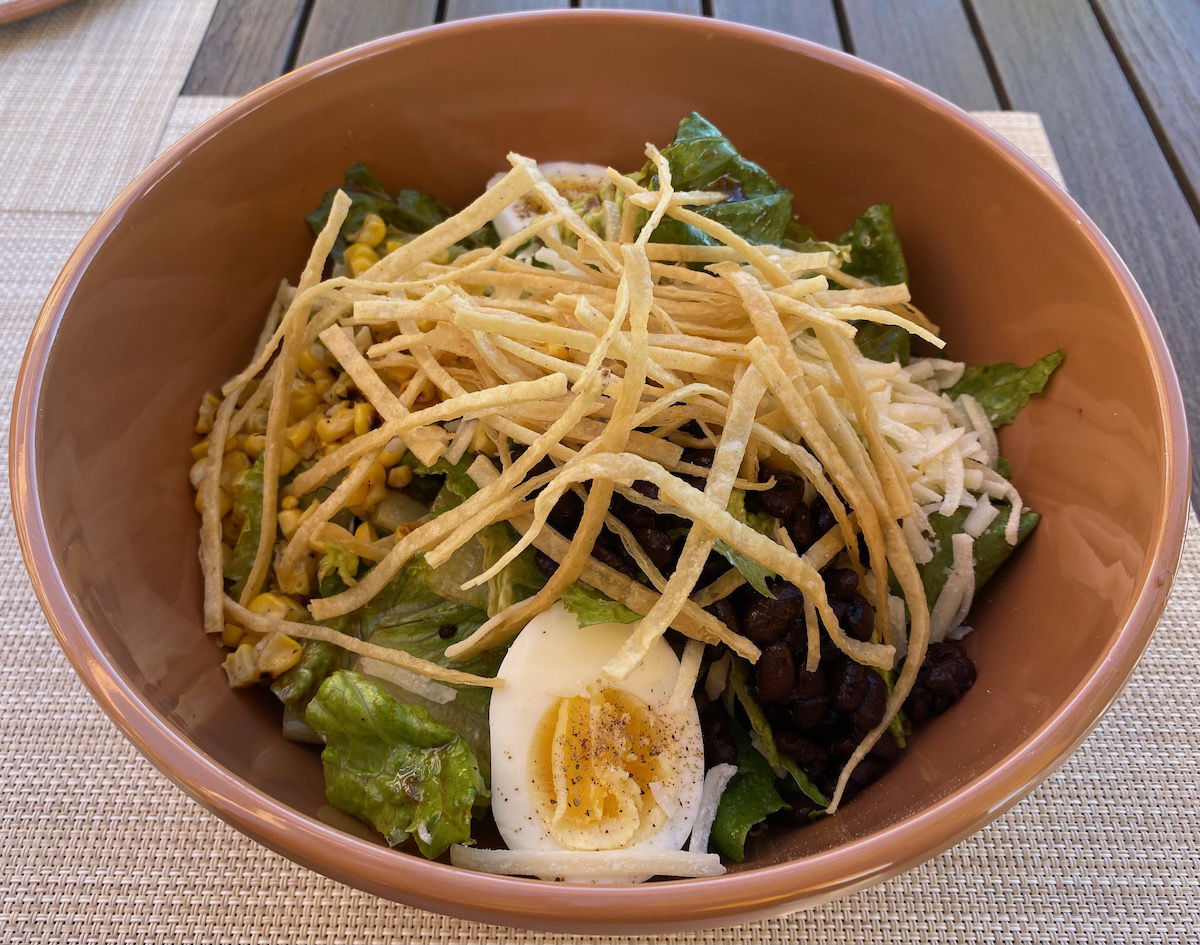 And tuna tlayuda with avocado, pumpkin seed, and salsa macha.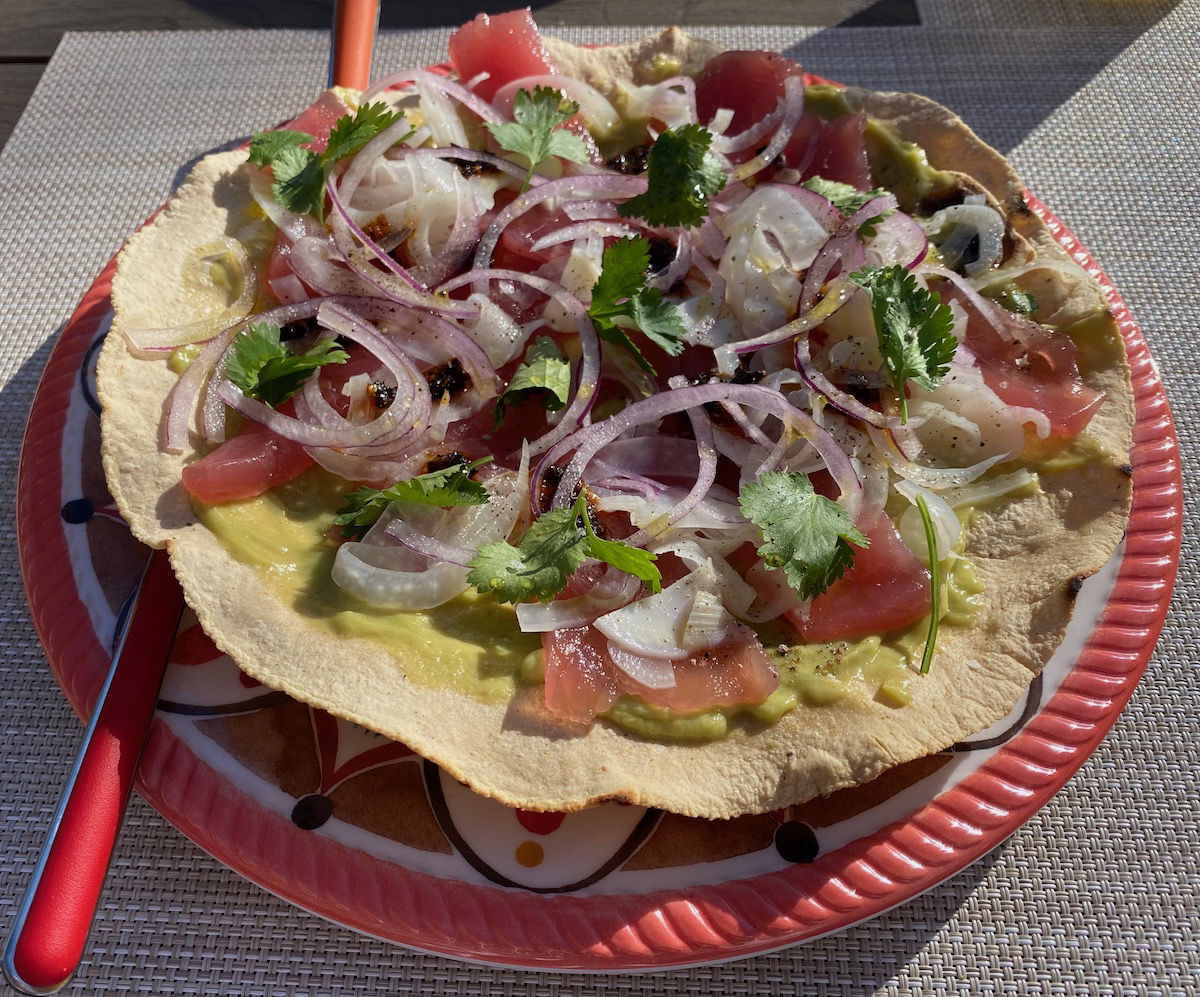 The food here was excellent as well — there's not a single thing I can fault about the quality of the food at this property.
Four Seasons Napa Valley pools
The Four Seasons Napa Valley has an impressive pool setup. There are two large pools, roughly in the center of the resort. The largest pool is an adults-only 23-meter heated lap pool, which features five lanes. There's also plenty of seating around the pool, as you'd expect.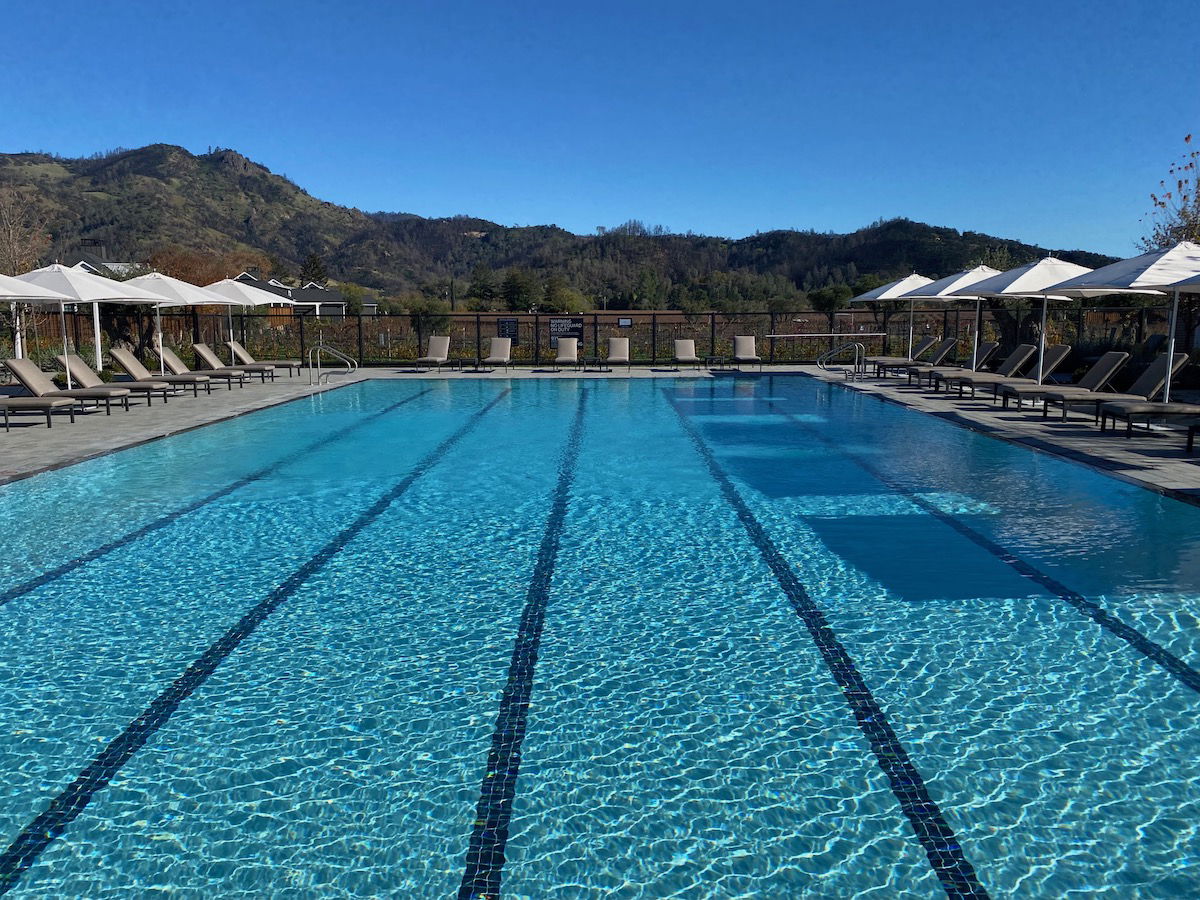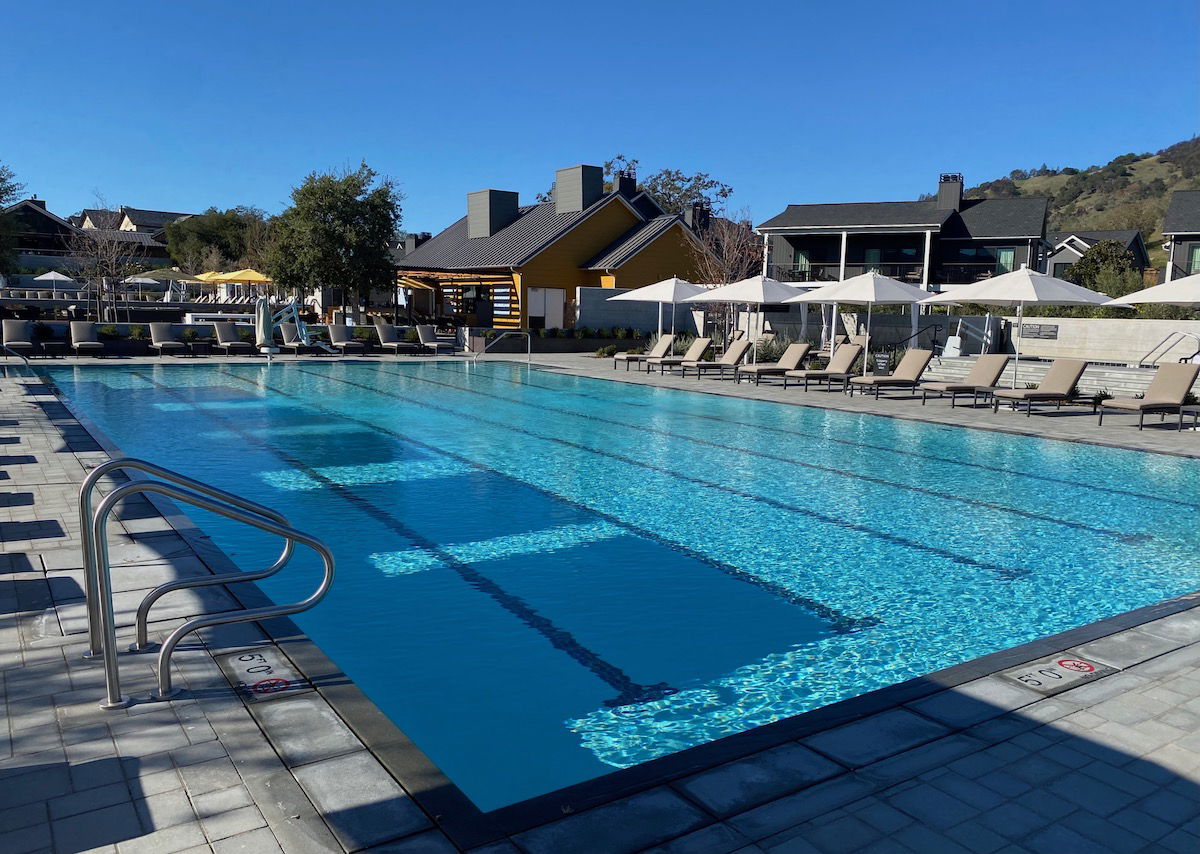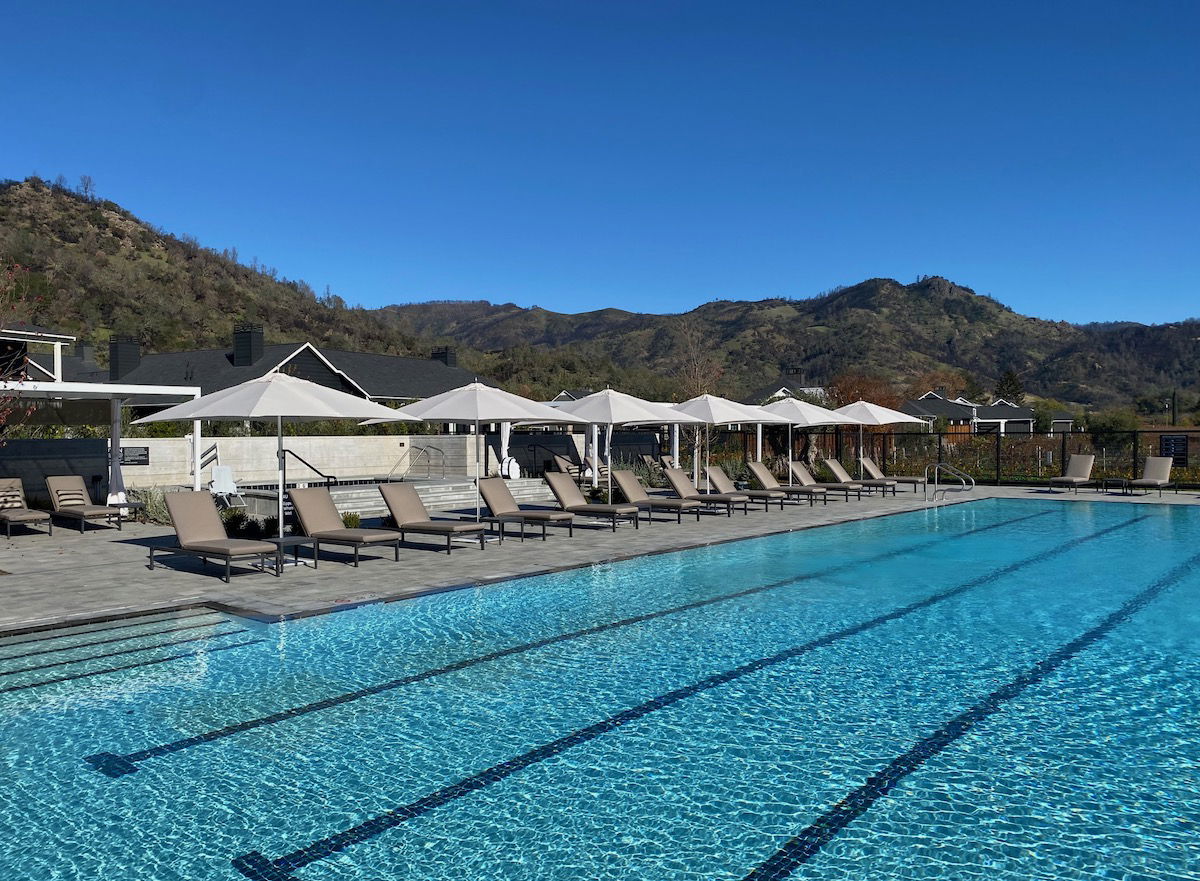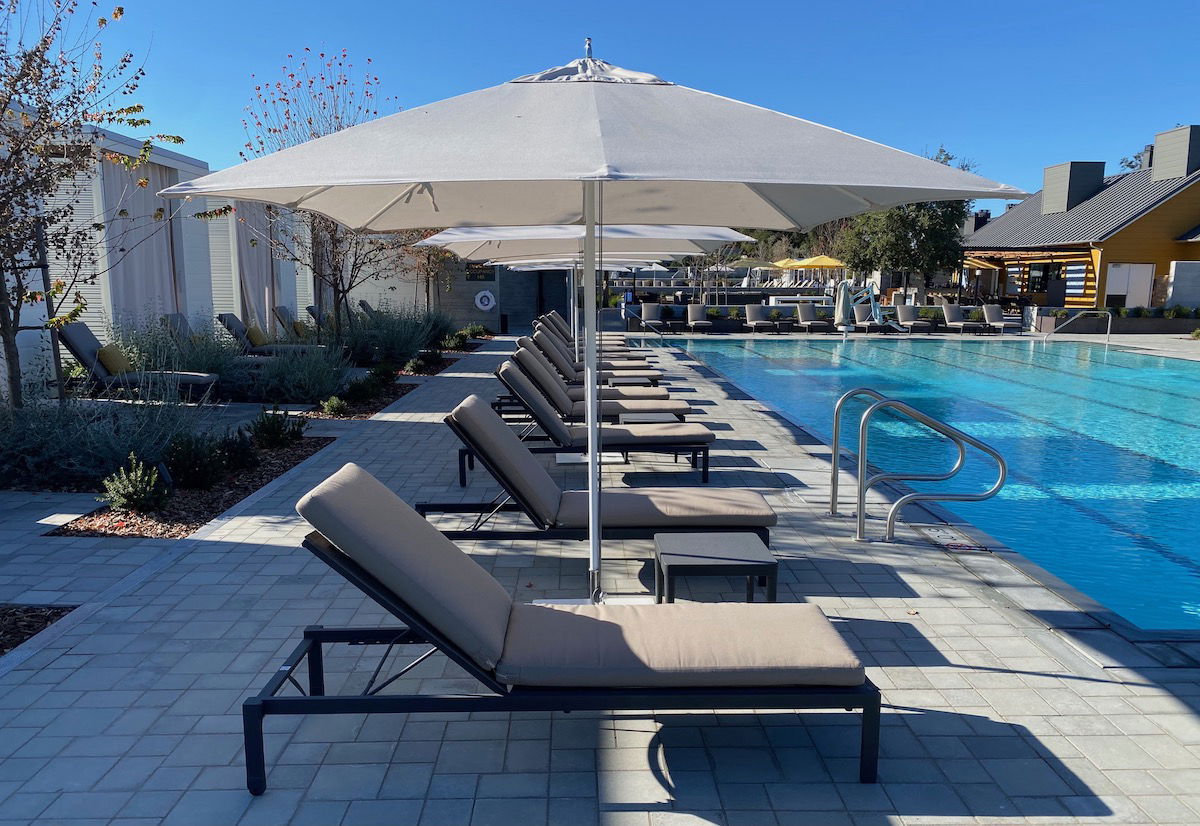 Then there was a second heated pool for families.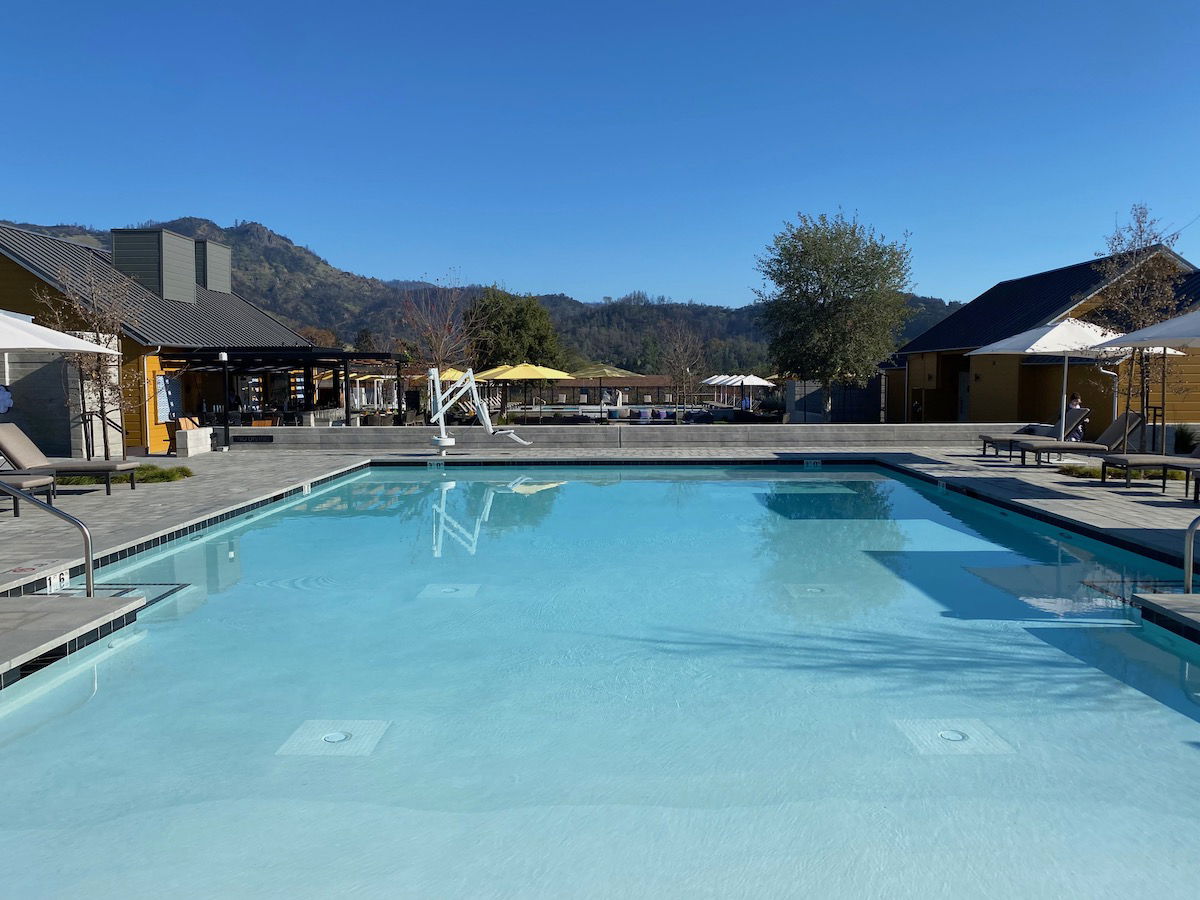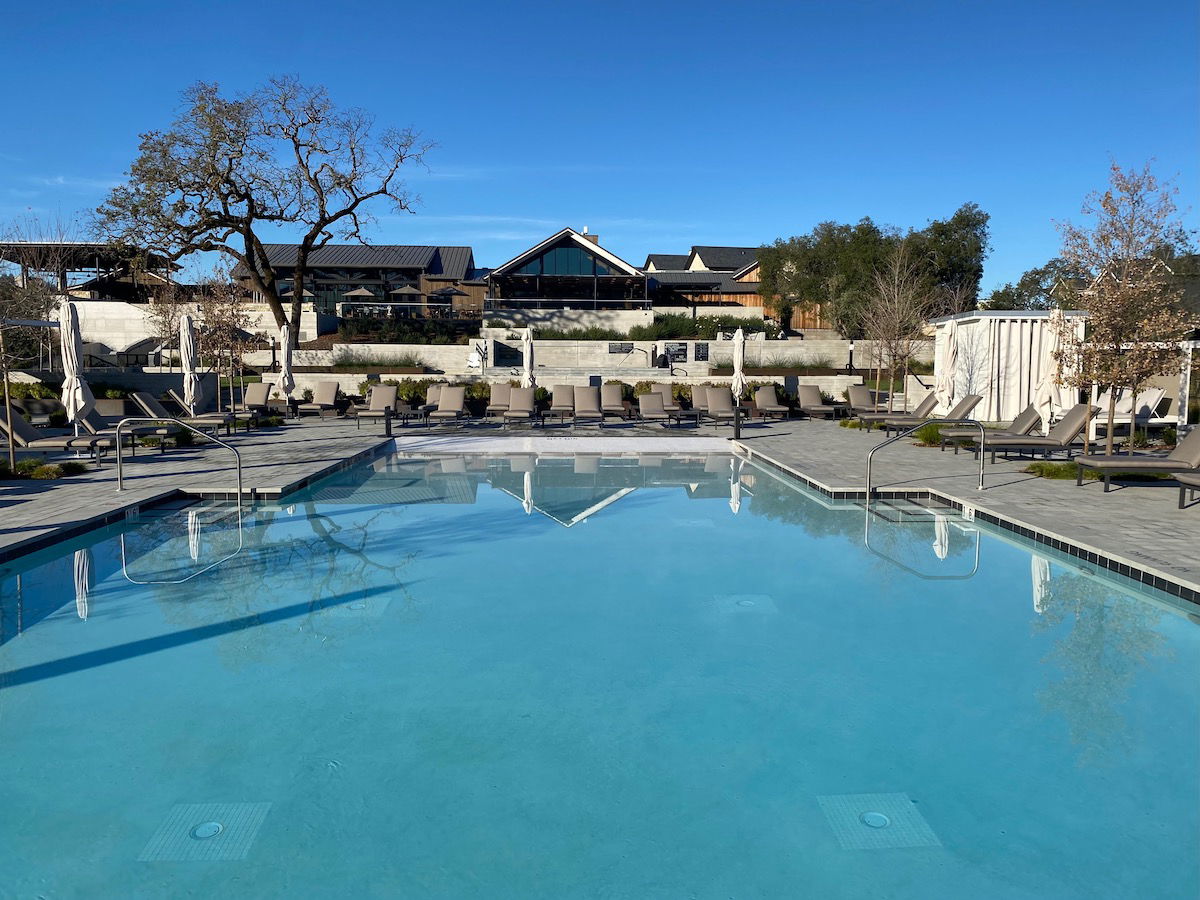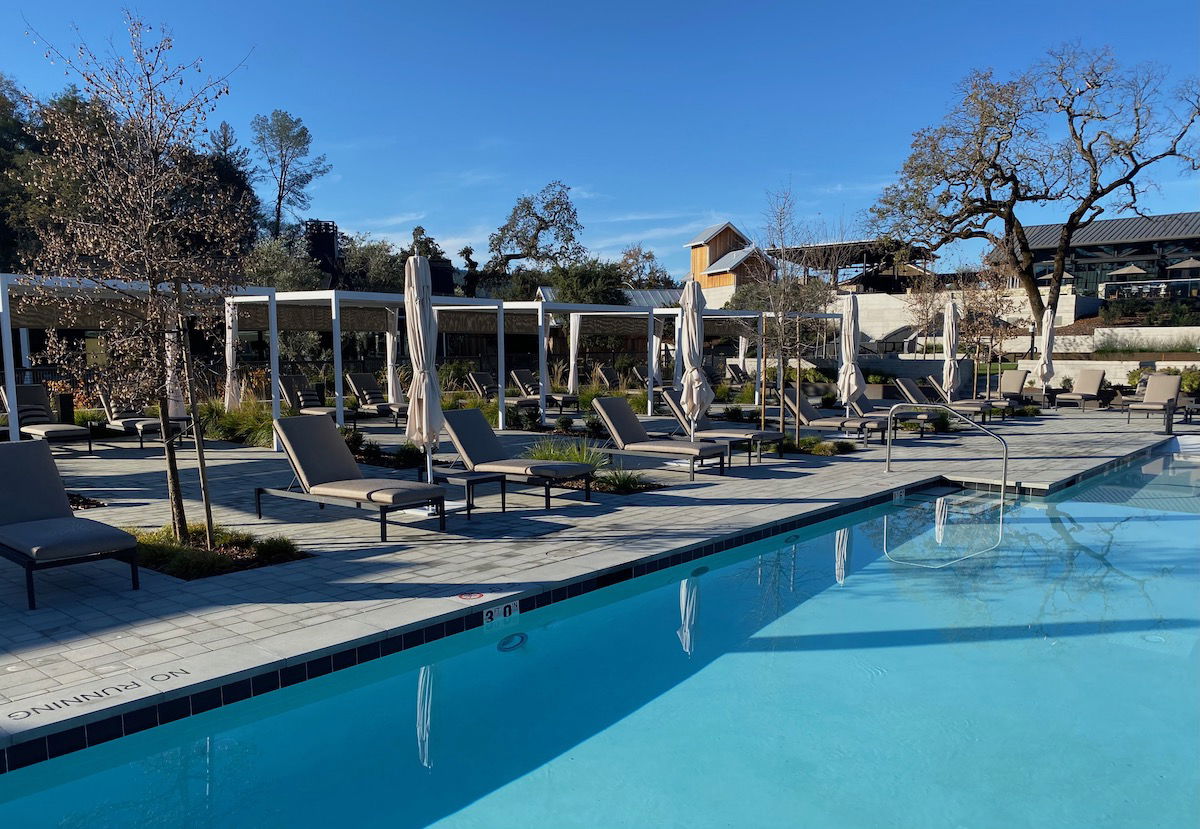 In addition to the two pools, there were also two hot tubs. The hot tubs didn't get hot during our stay, though, but rather were just warm. So I'm guessing that's a kink that still needs to be worked out. Fortunately the hot tub at the spa worked properly, and that was open to all guests.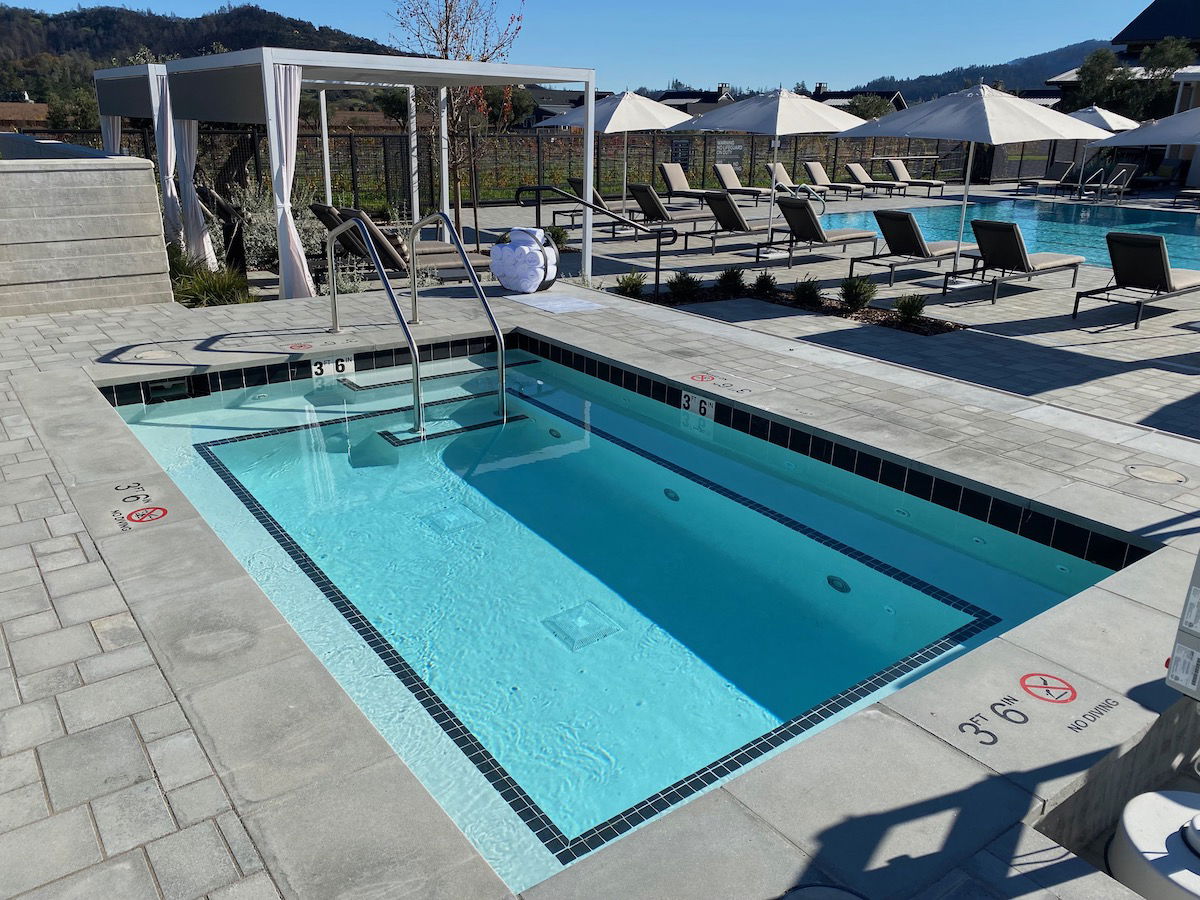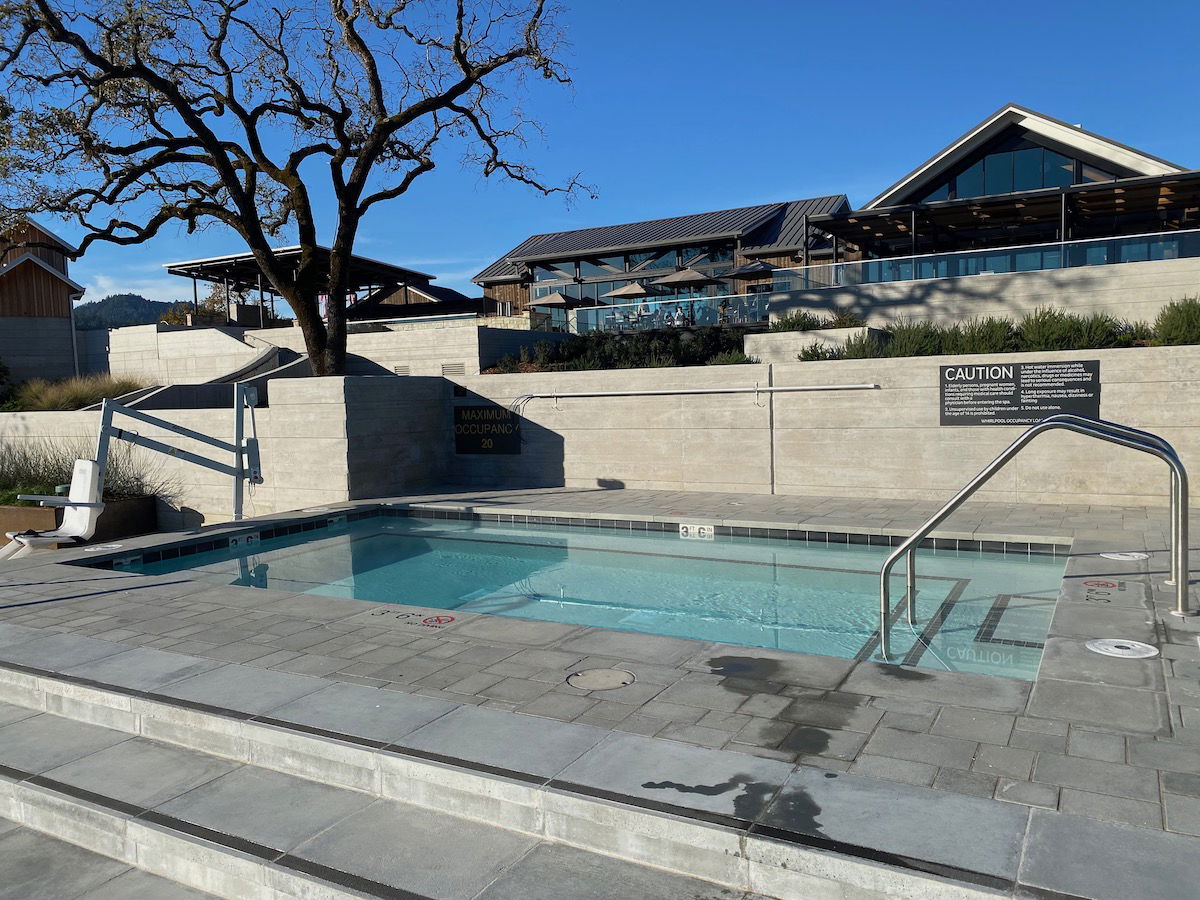 I also appreciate how Four Seasons properties typically don't nickel-and-dime. Not only was there no resort fee, but there was complimentary sunscreen at the pool (then again, the UV index is pretty low in Napa Valley in December).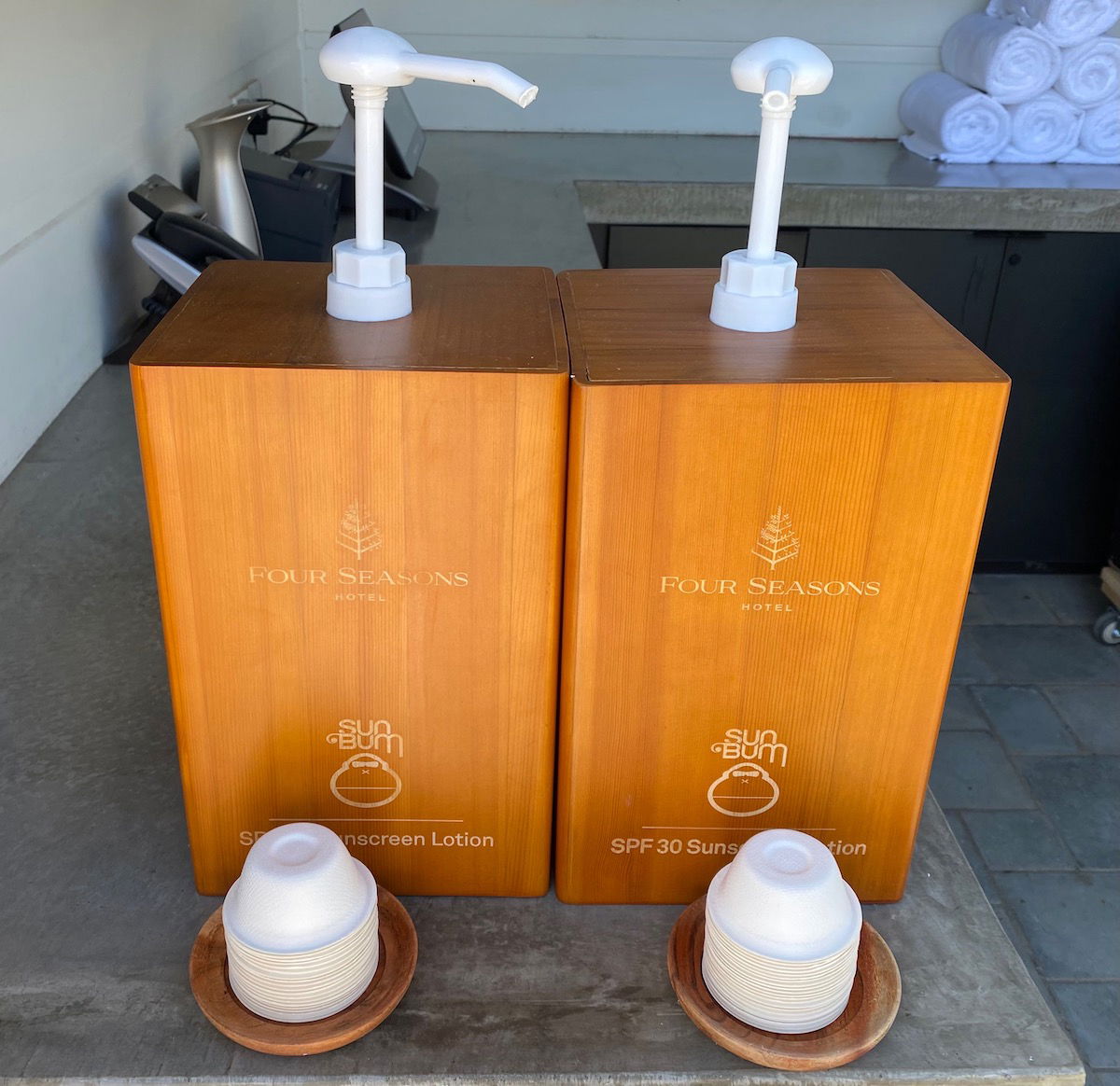 Four Seasons Napa Valley gym
The Four Seasons has a 24/7 gym, located in a standalone building near reception.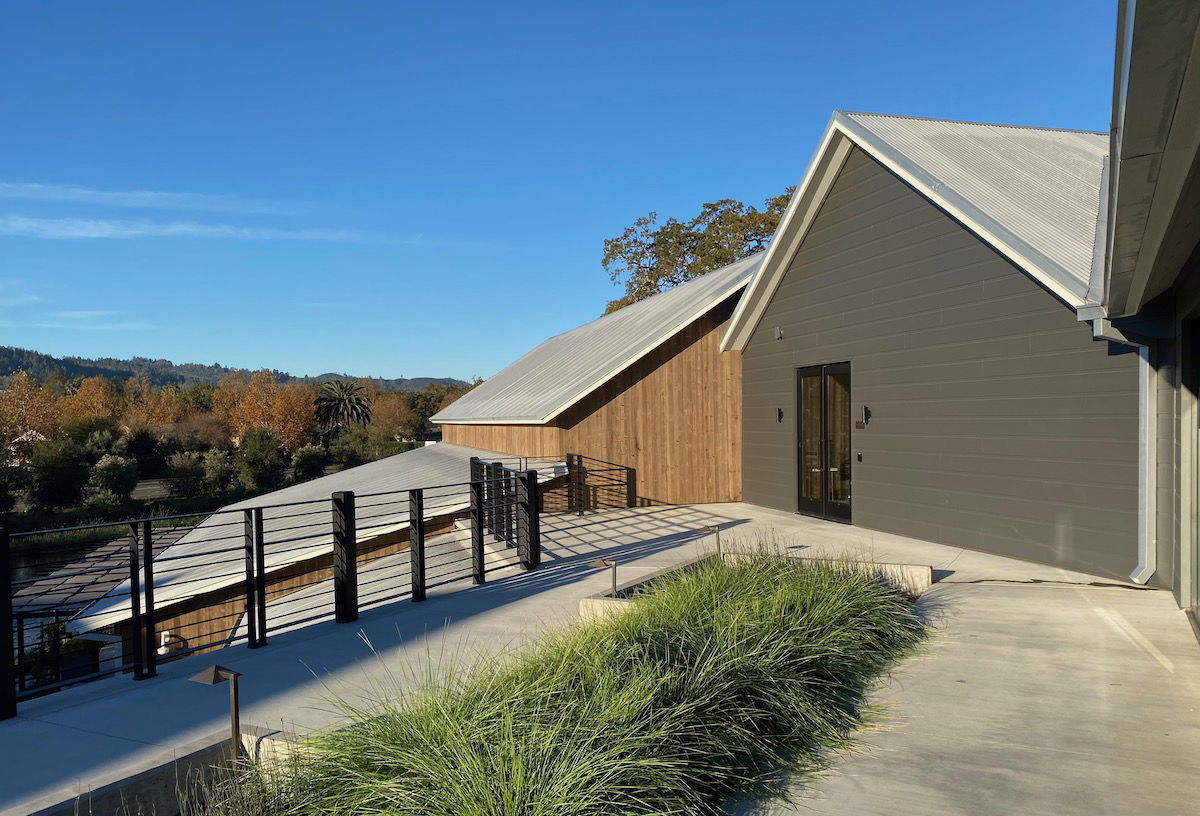 Four Seasons pretty consistently has the best gyms of any major hotel group, with modern equipment and plenty of cardio and weight options.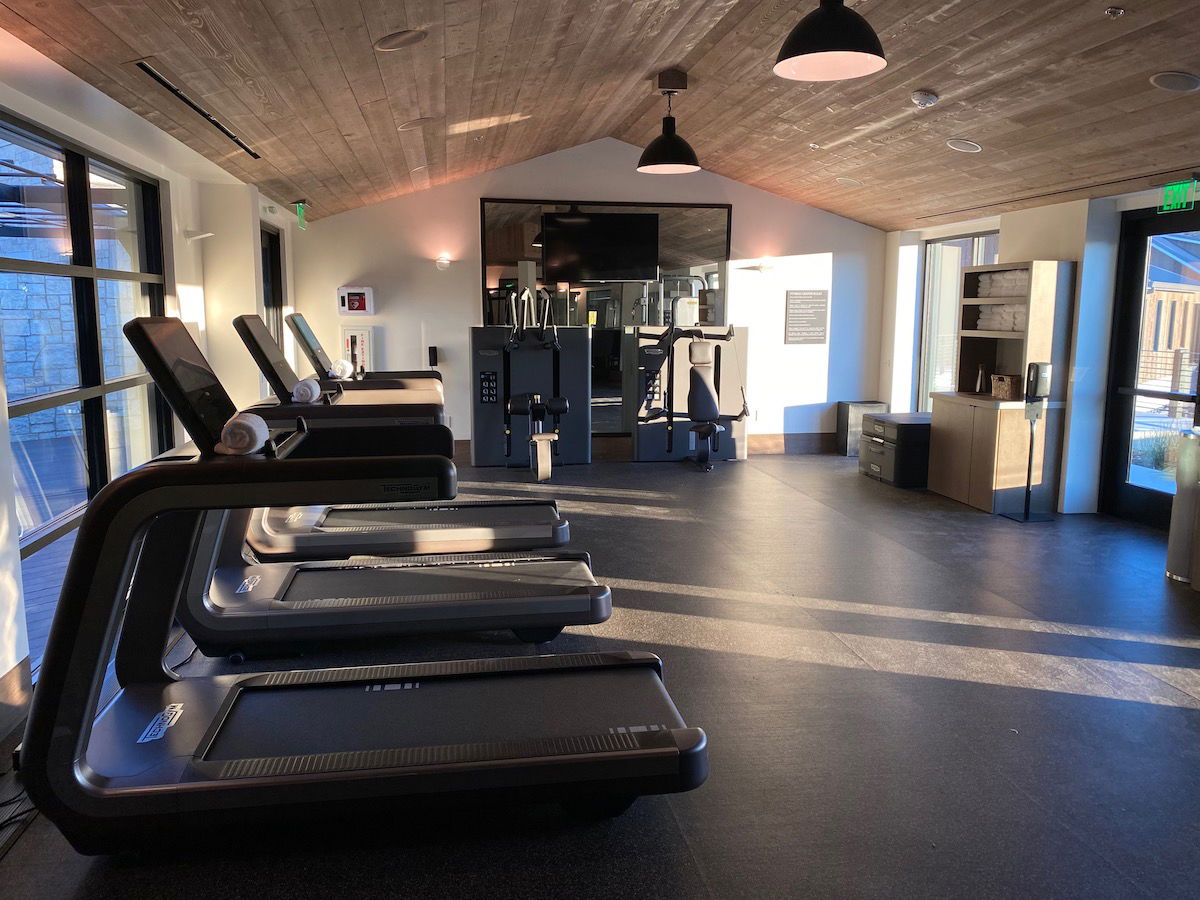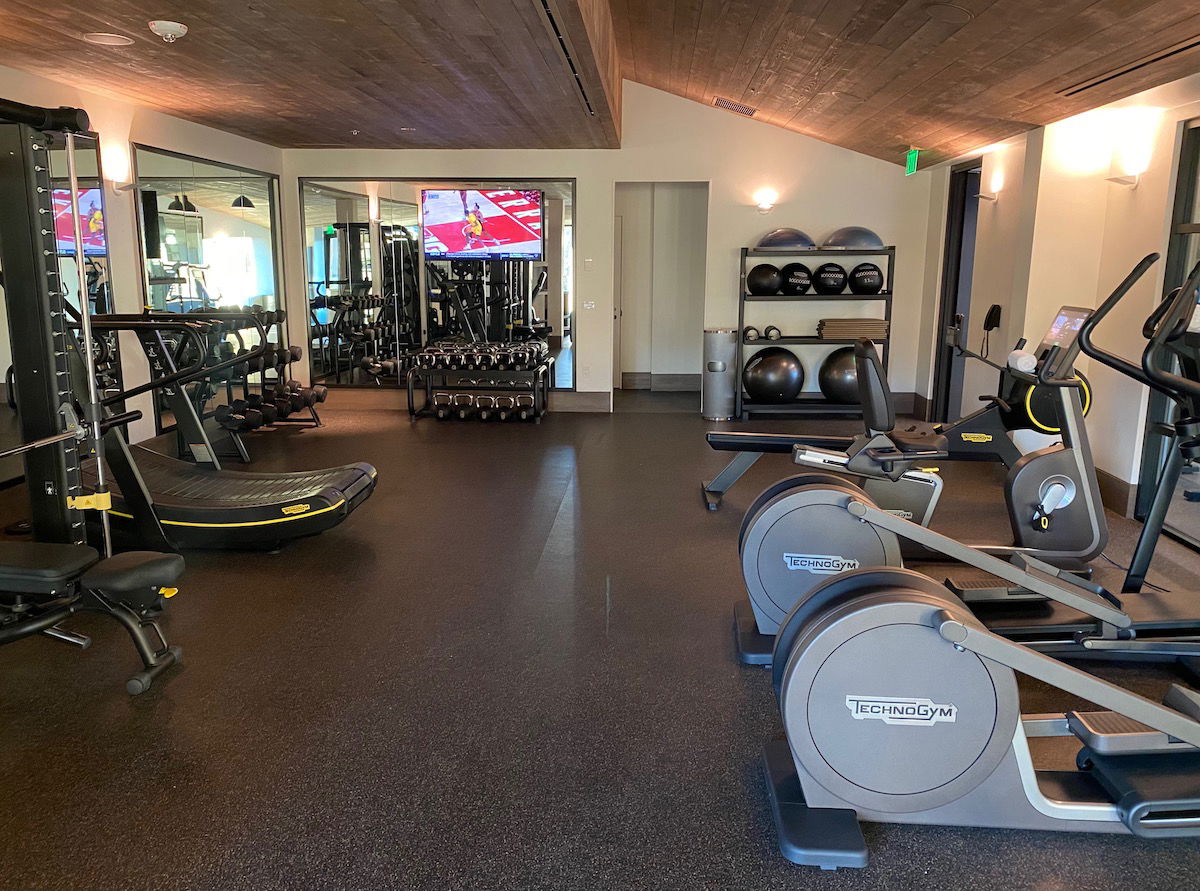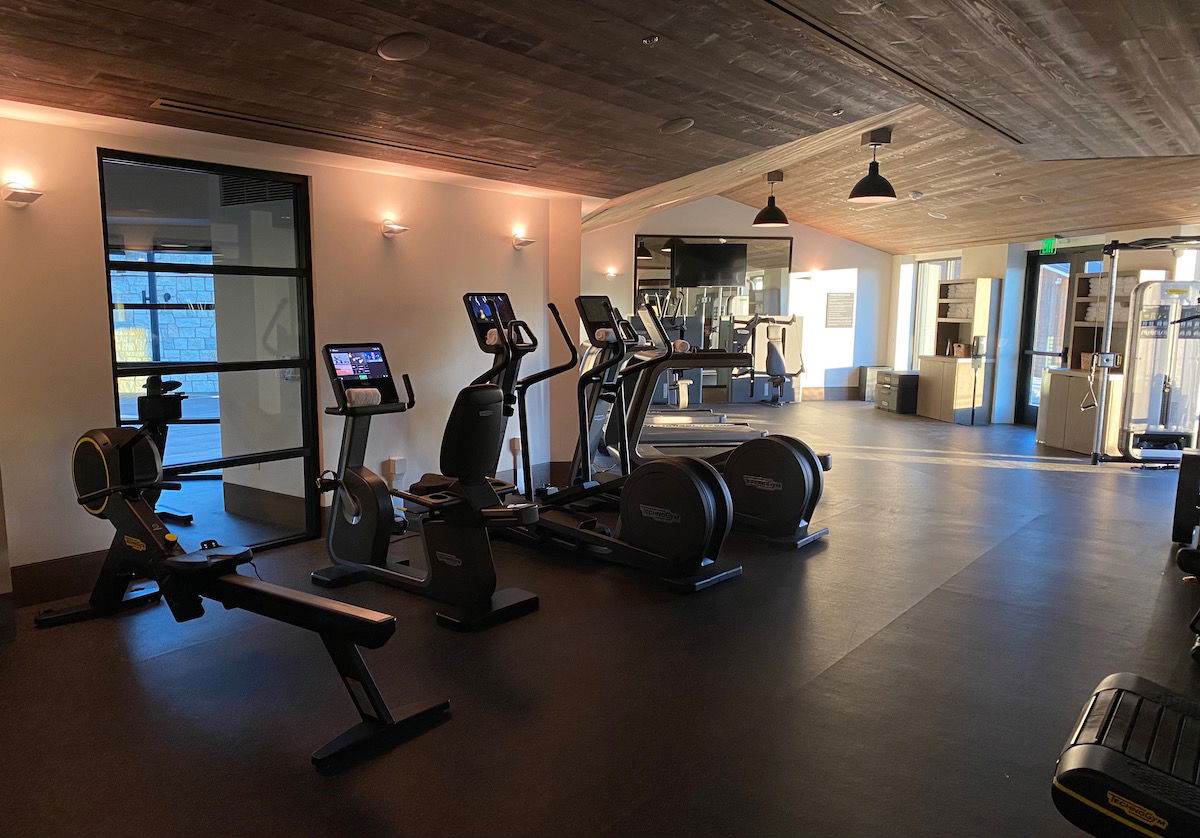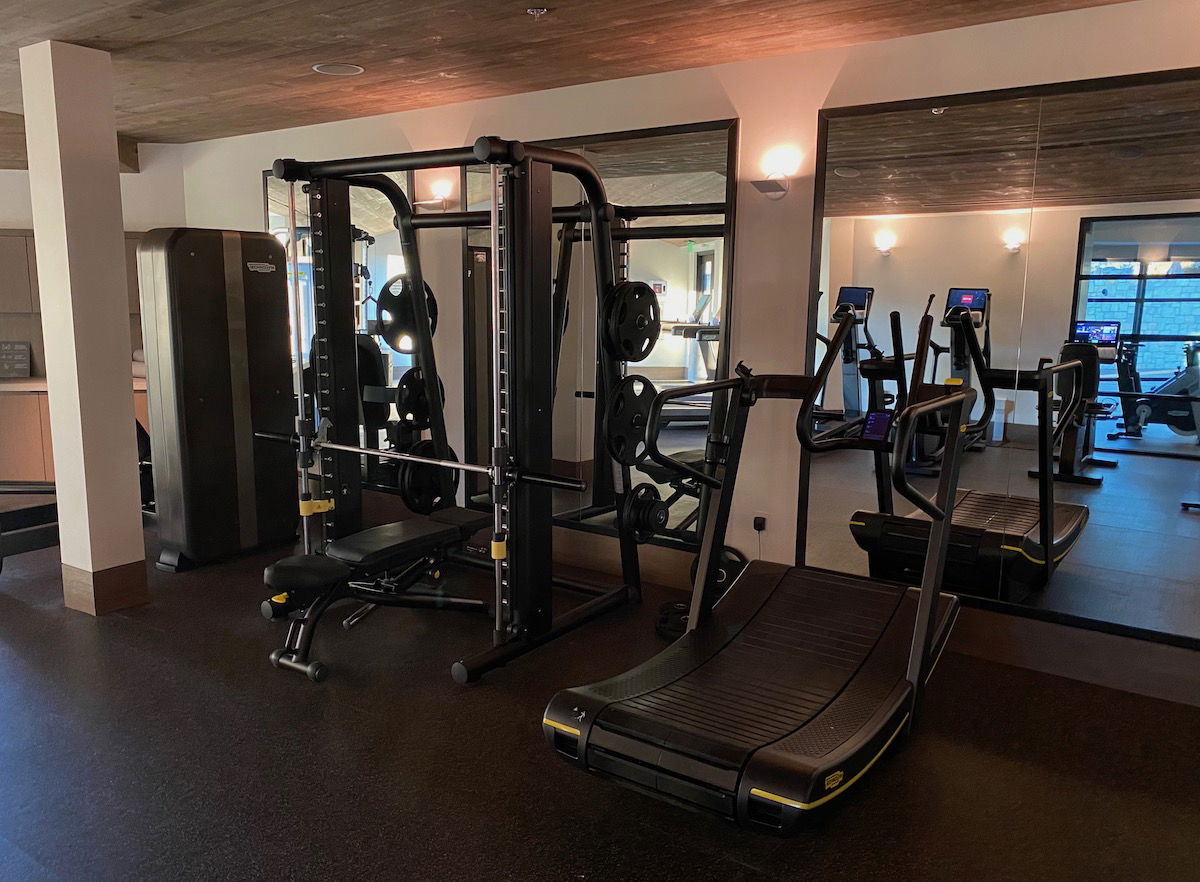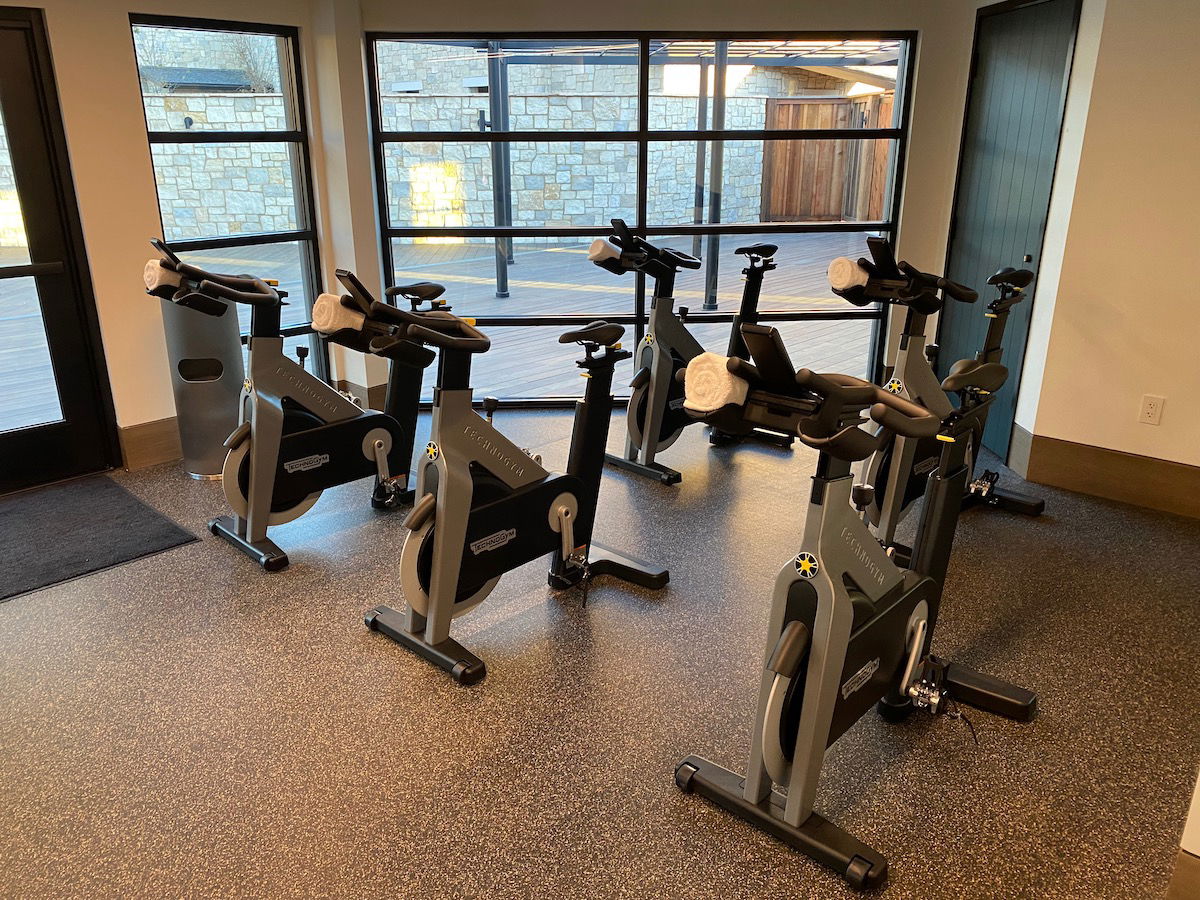 I will say that compared to other Four Seasons properties, this was one of the weaker gyms. Not in terms of the size of the gym or quality of equipment, but rather in terms of the layout. For example, there was a single bench for weights, and not much room in the weights area for that matter. So there's really only room for one party to do weights in the gym at the time, while there's plenty of room for cardio.
Even though the hotel was mostly empty and there was typically only one other person in the gym, we kind of had to step around one another to use the weights. So at a minimum I'd recommend they add a second bench for weights, and leave a bit more space in that area.
Four Seasons properties also often have some outside gym equipment. While that wasn't set up yet, the gym had a huge outdoor space, so hopefully that's something that's added in the future, at least seasonally.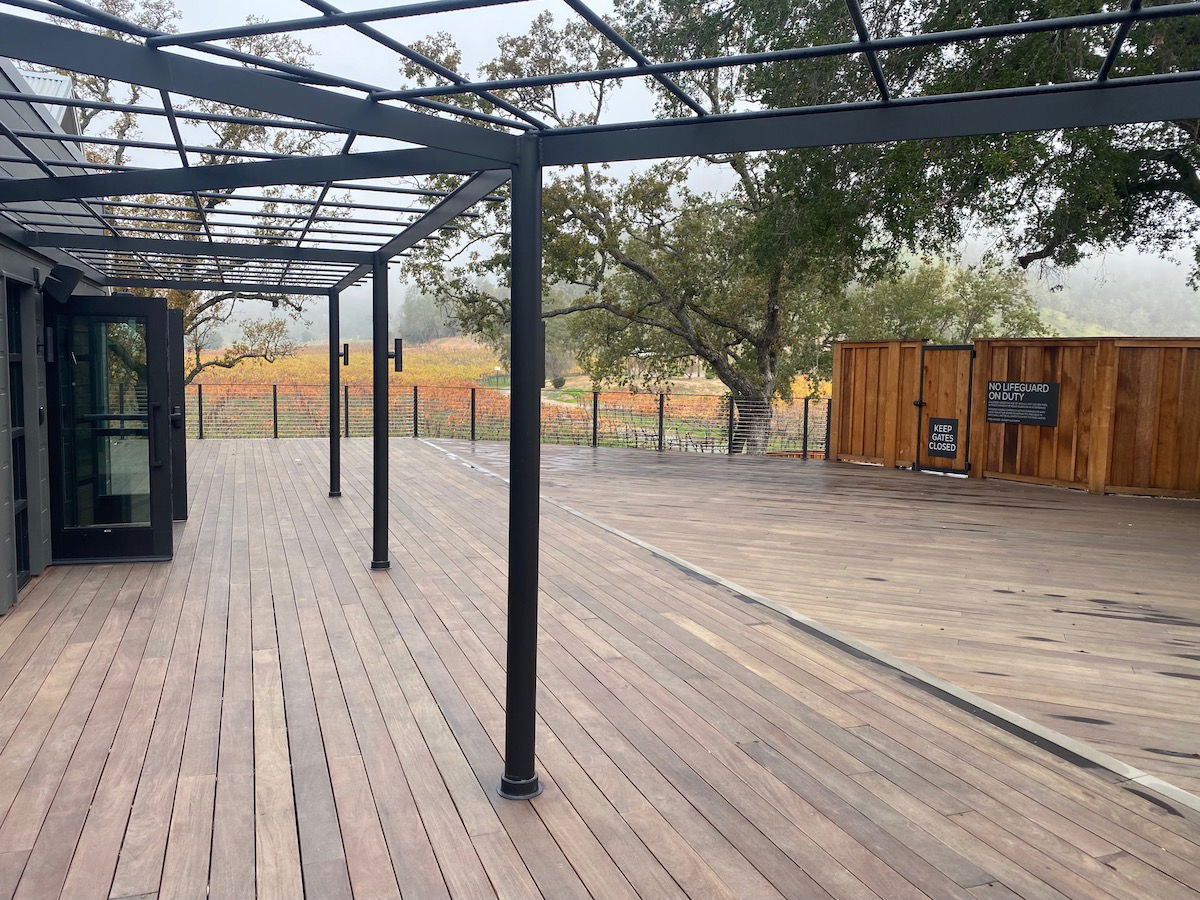 Four Seasons Napa Valley Spa Talisa
Spa Talisa is the Four Seasons' on-property spa. The spa is located between reception and the gym. While I didn't get any treatments, the spa menu looked intriguing, and included some outdoor treatments with mud.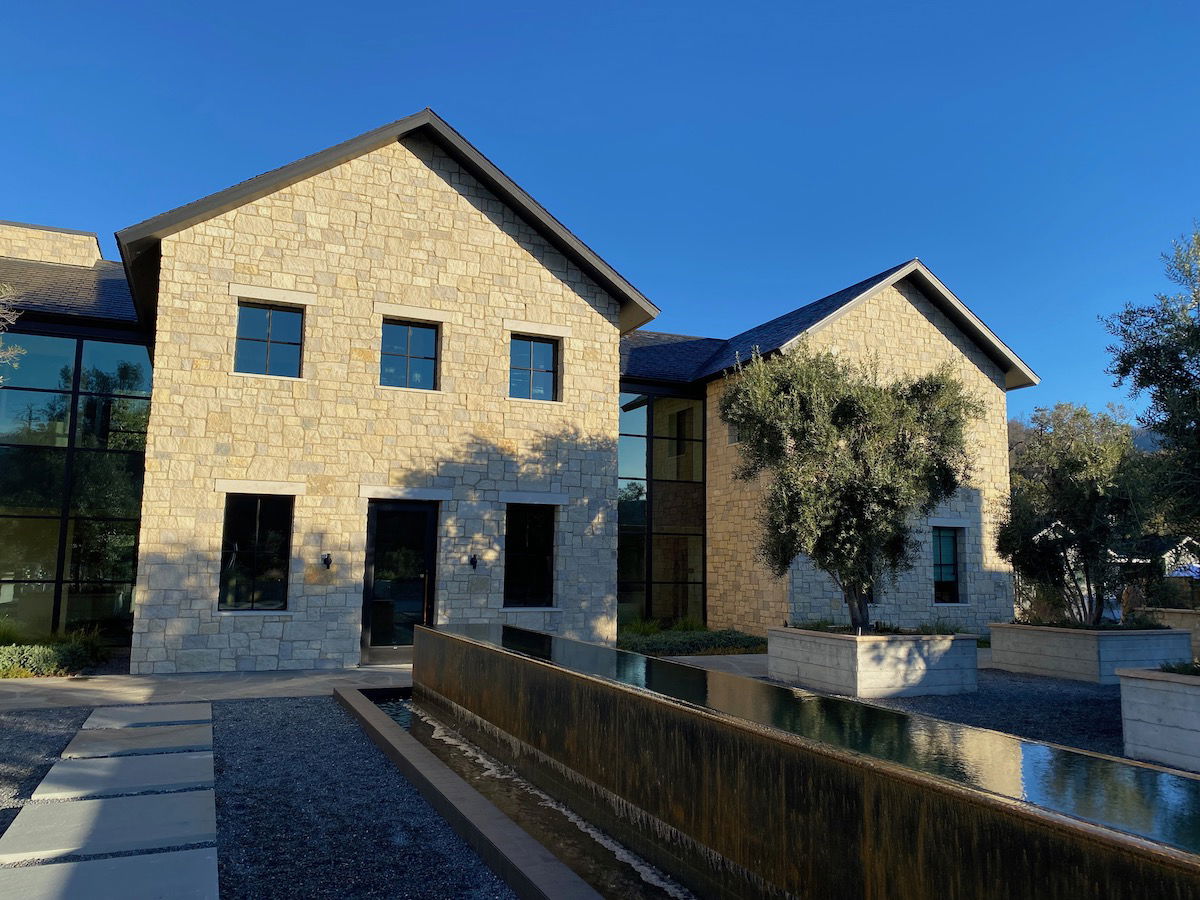 What we did use is the spa's outdoor whirlpool area, which is beautiful. Unlike the hot tubs at the pool, this one was the right temperature, and had a beautiful view over the vineyards to boot.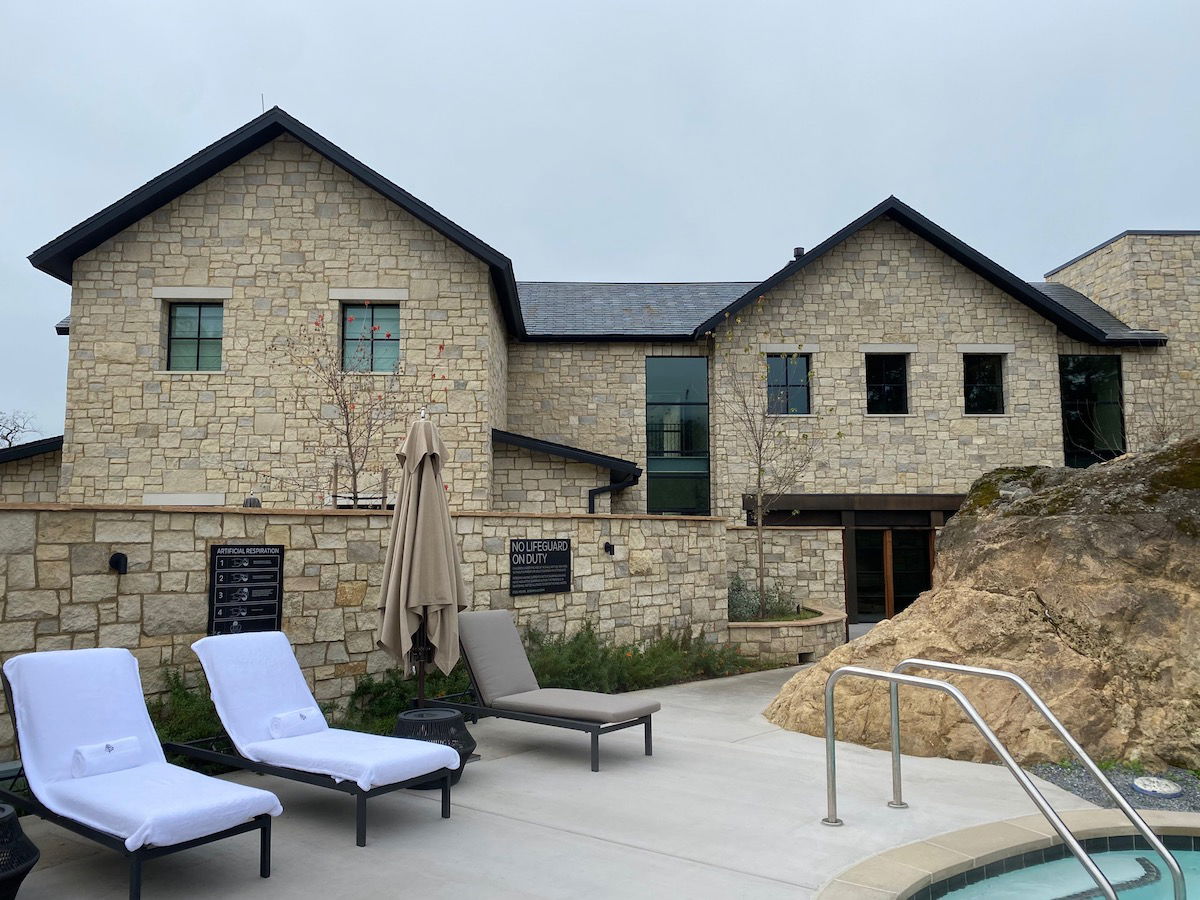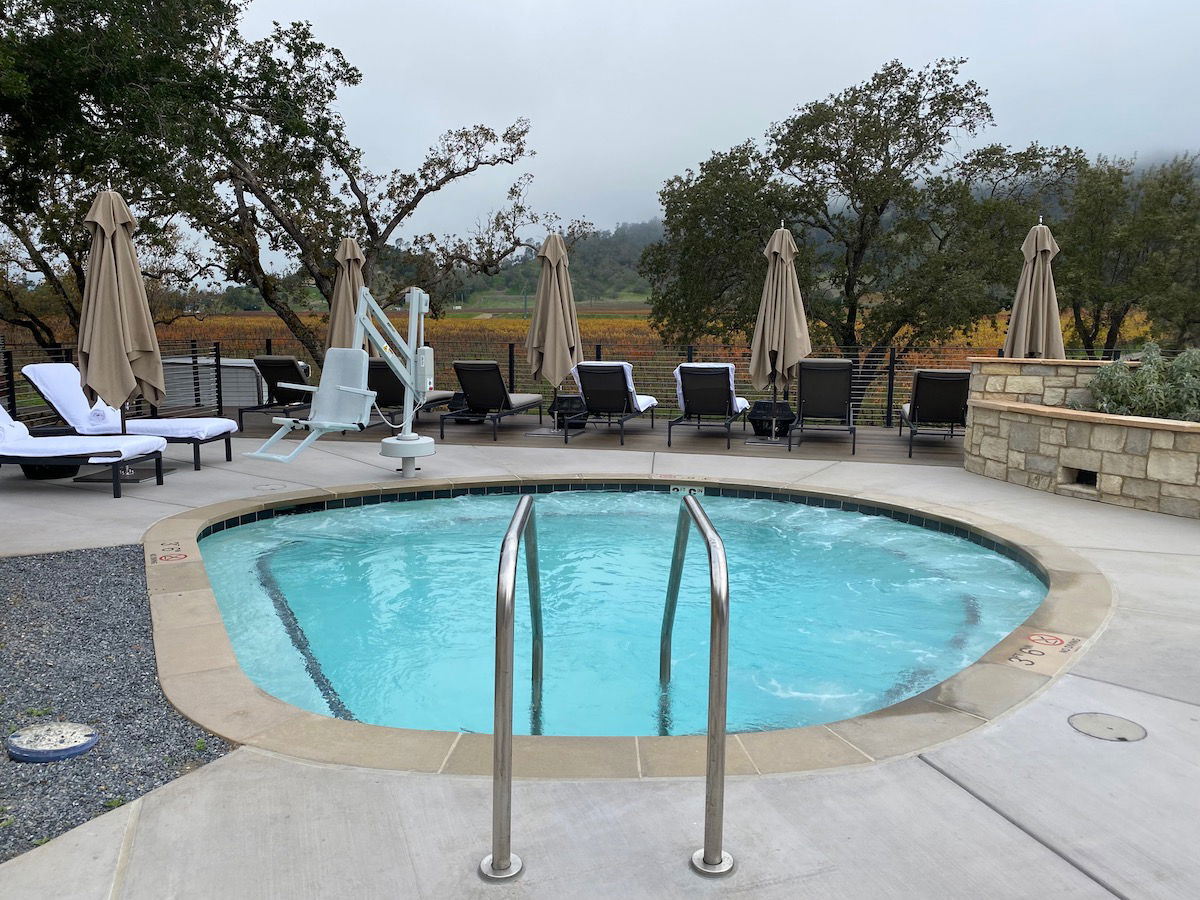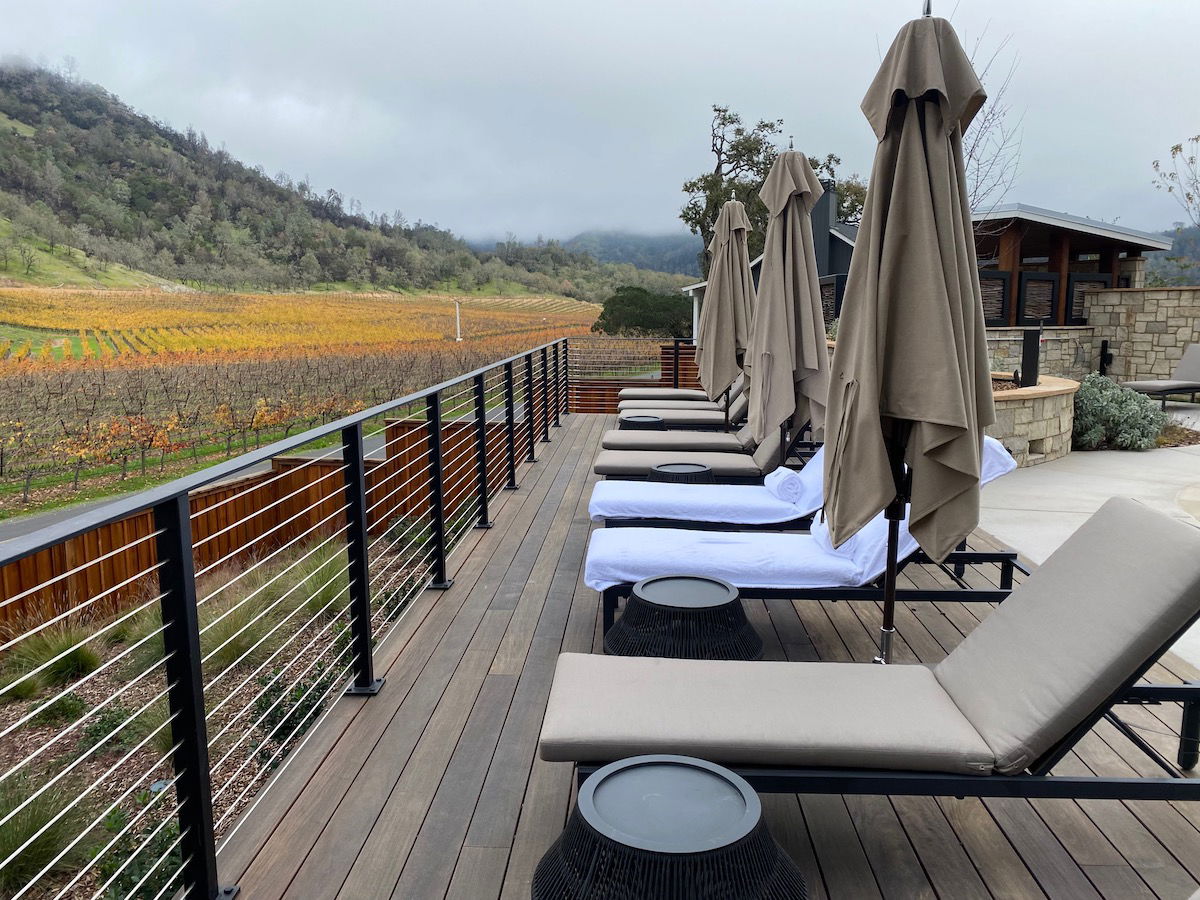 Four Seasons Napa Valley Elusa Winery
One exciting aspect of the Four Seasons is that it's the only property in Napa Valley set within a working winery. That doesn't refer to the winery on the other side of the road, but rather there are vineyards all around the rooms and facilities that belong to Elusa Winery.
The vineyard area is just several acres, so Elusa is never going to be a massive winery. Rather the intent is to produce enough wine for TRUSS (the hotel's restaurant), for tastings, and for Elusa Winery members to buy bottles.
You'll want to make a reservation with Elusa Winery in advance, and tastings are $100 per person. This seems like it could be integrated into the Four Seasons experience a bit better — for example, you can't charge that to your room, but rather have to make the booking and pay directly with Elusa.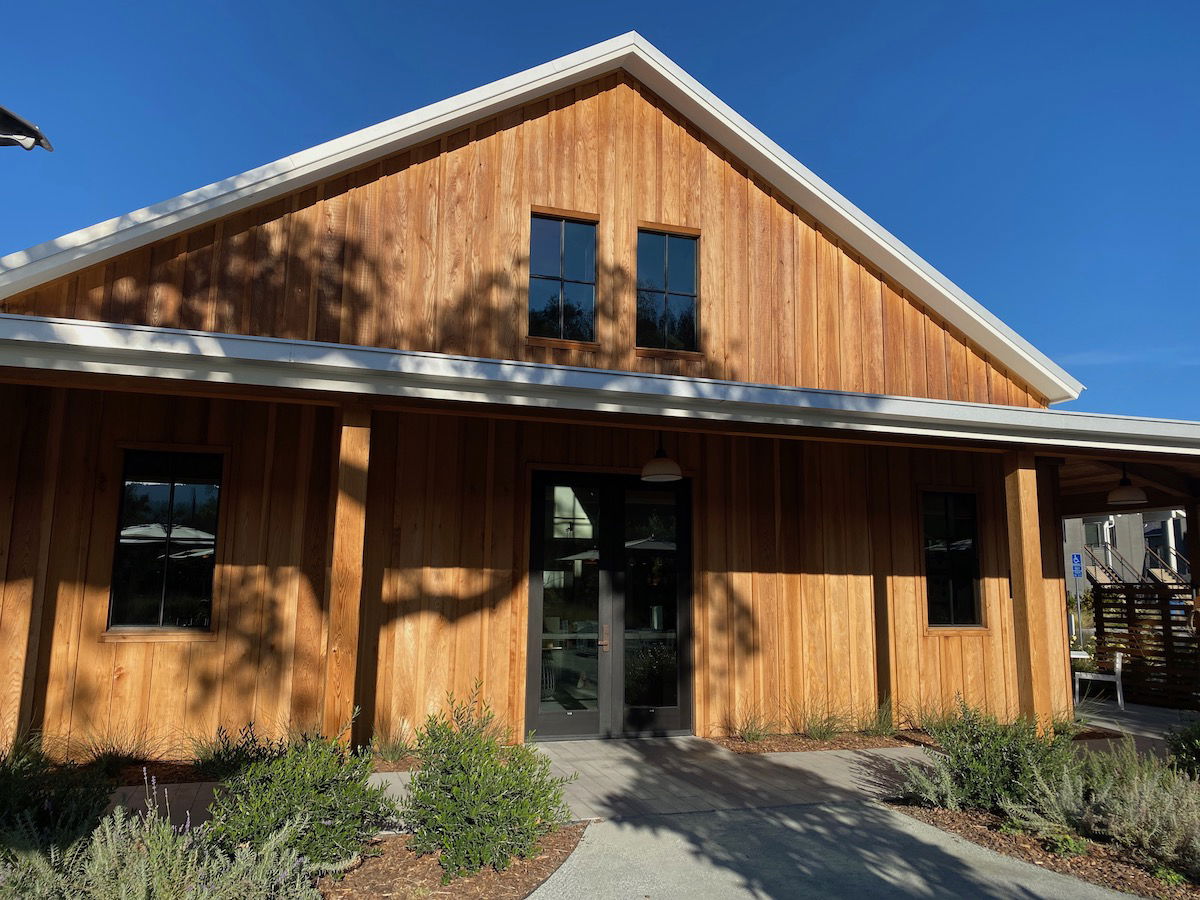 Our tasting started with a tour of the property's vineyards. Of course we had seen these in passing from walking around the property, but it's helpful to get a better understanding of how it all works.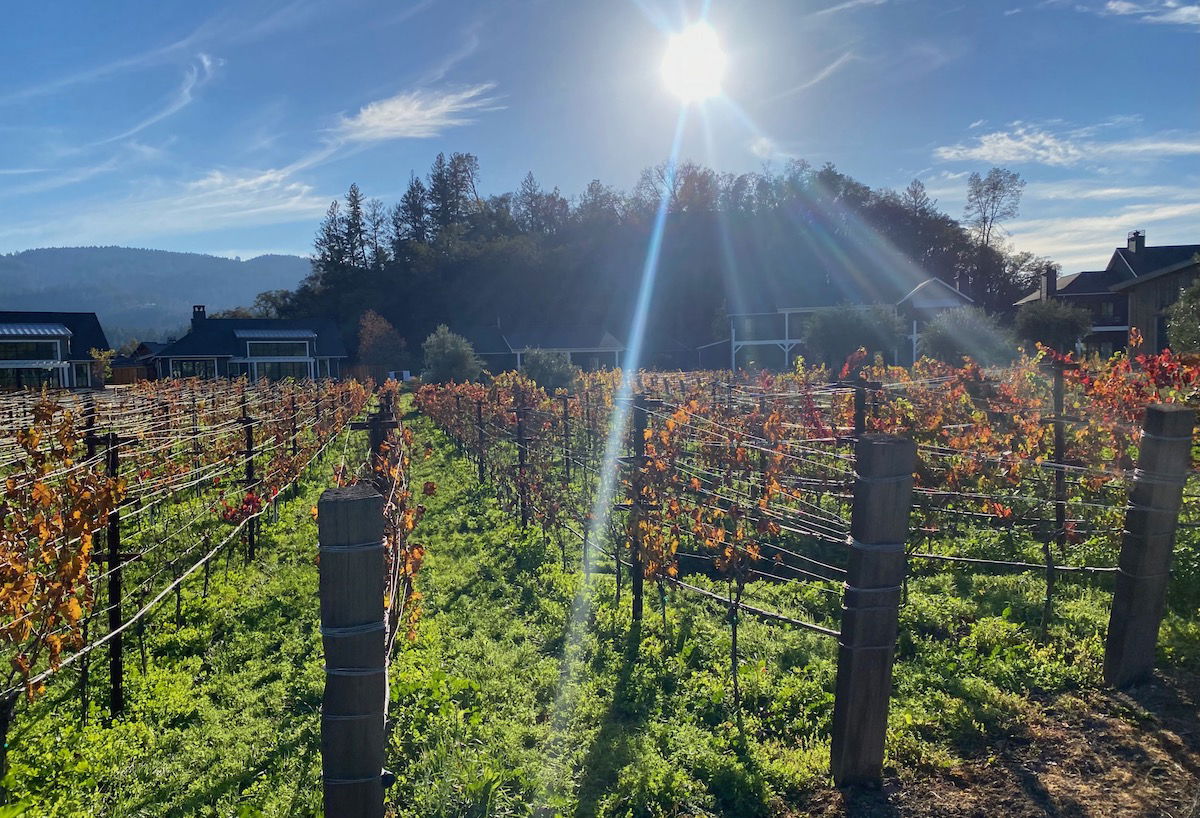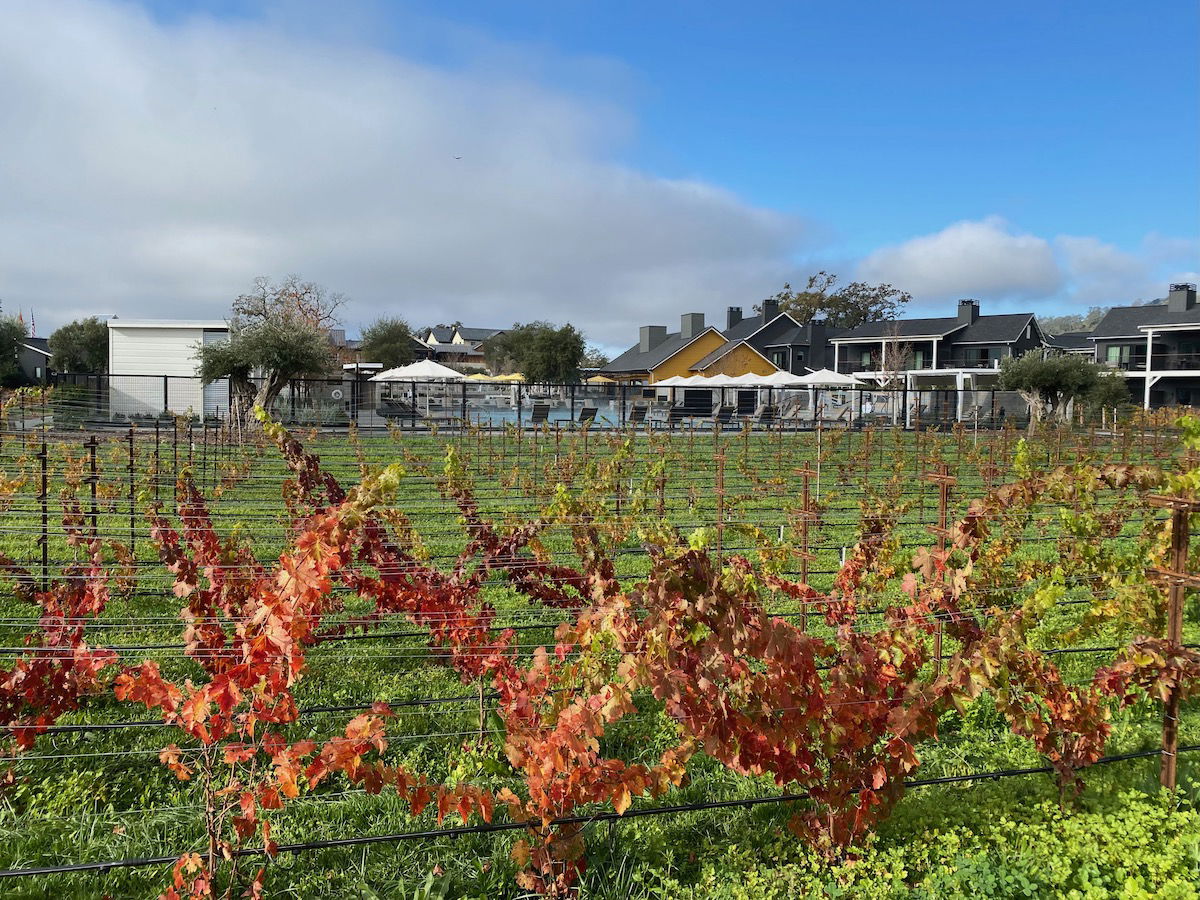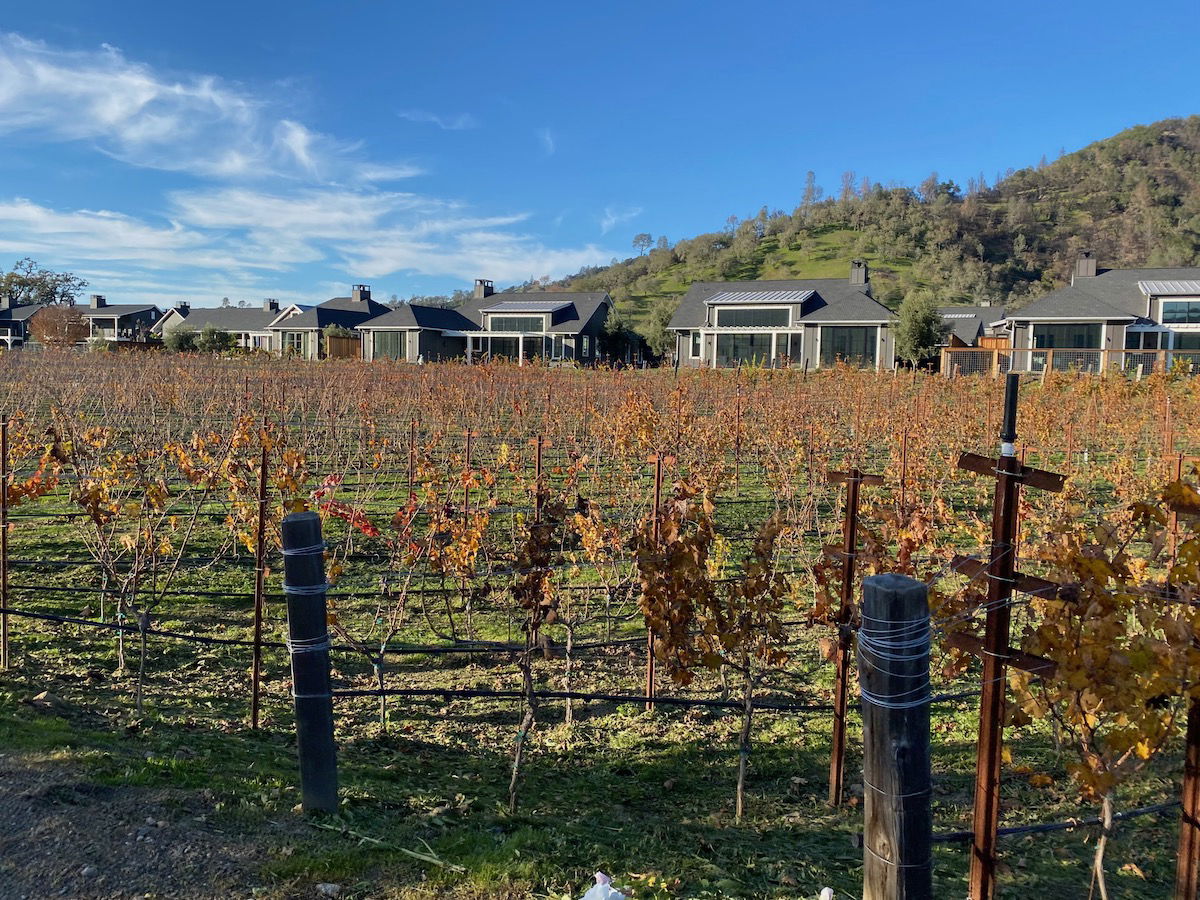 Then we got a tour of everything that happens beyond the vines…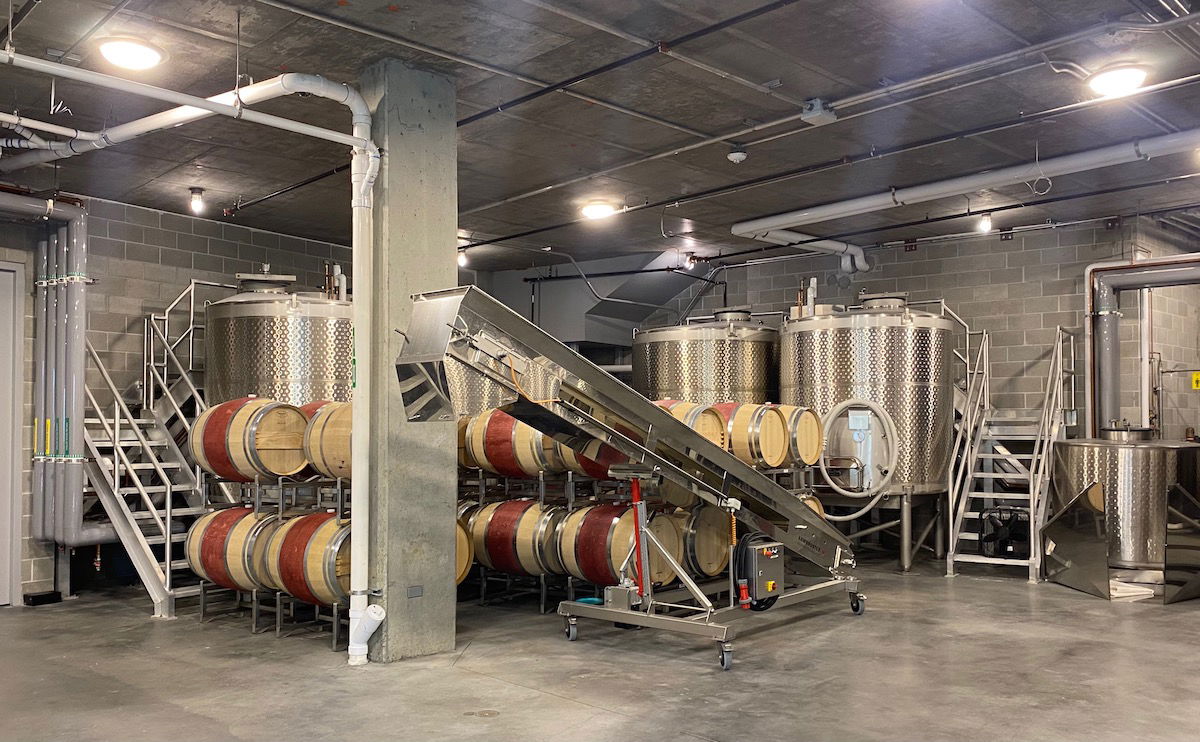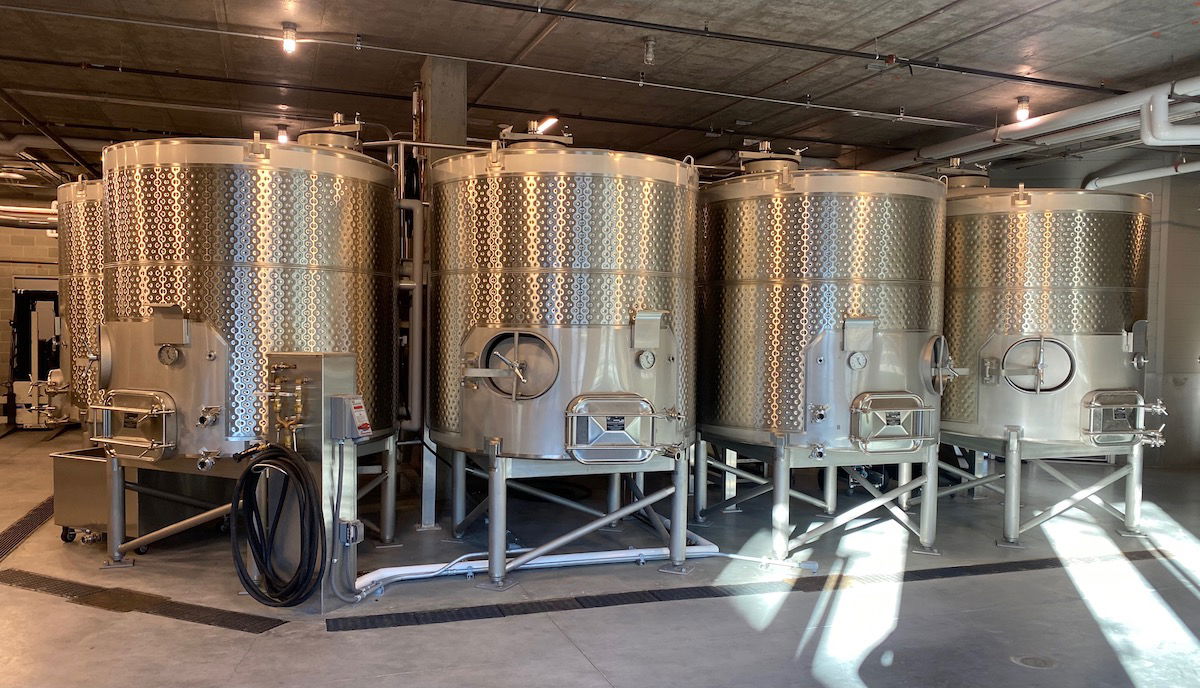 This even included a couple of tastings during that process.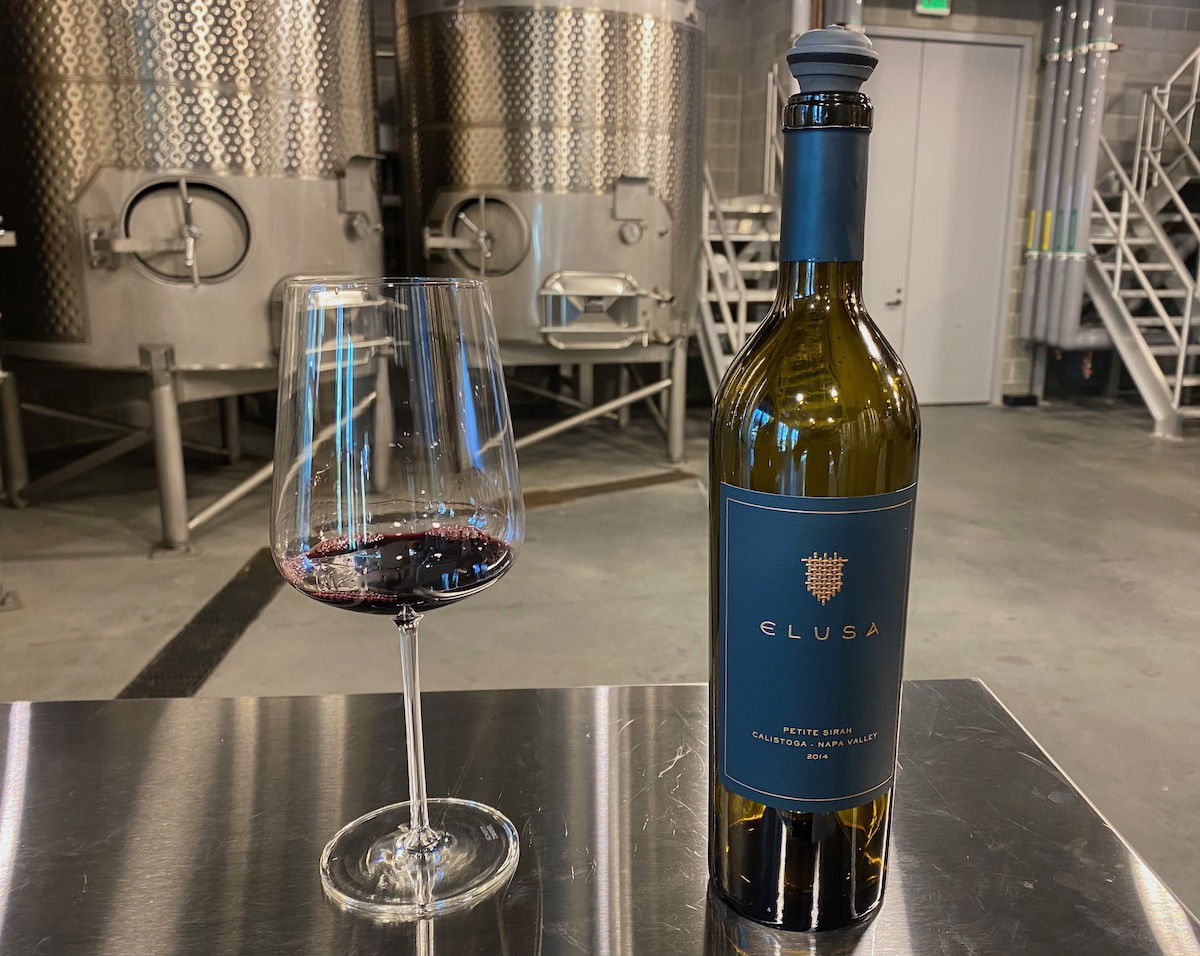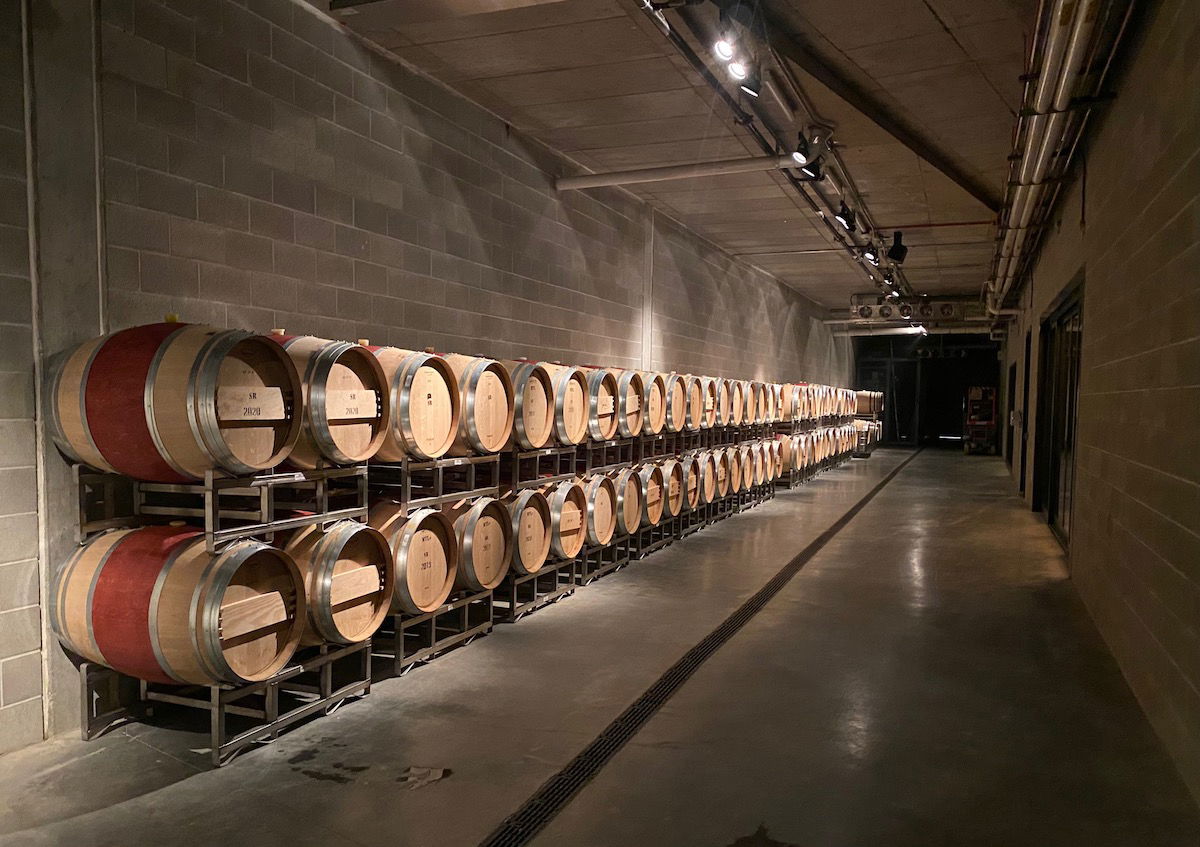 After that we were brought to a beautiful room where our main tasting took place. We got to try three red wines.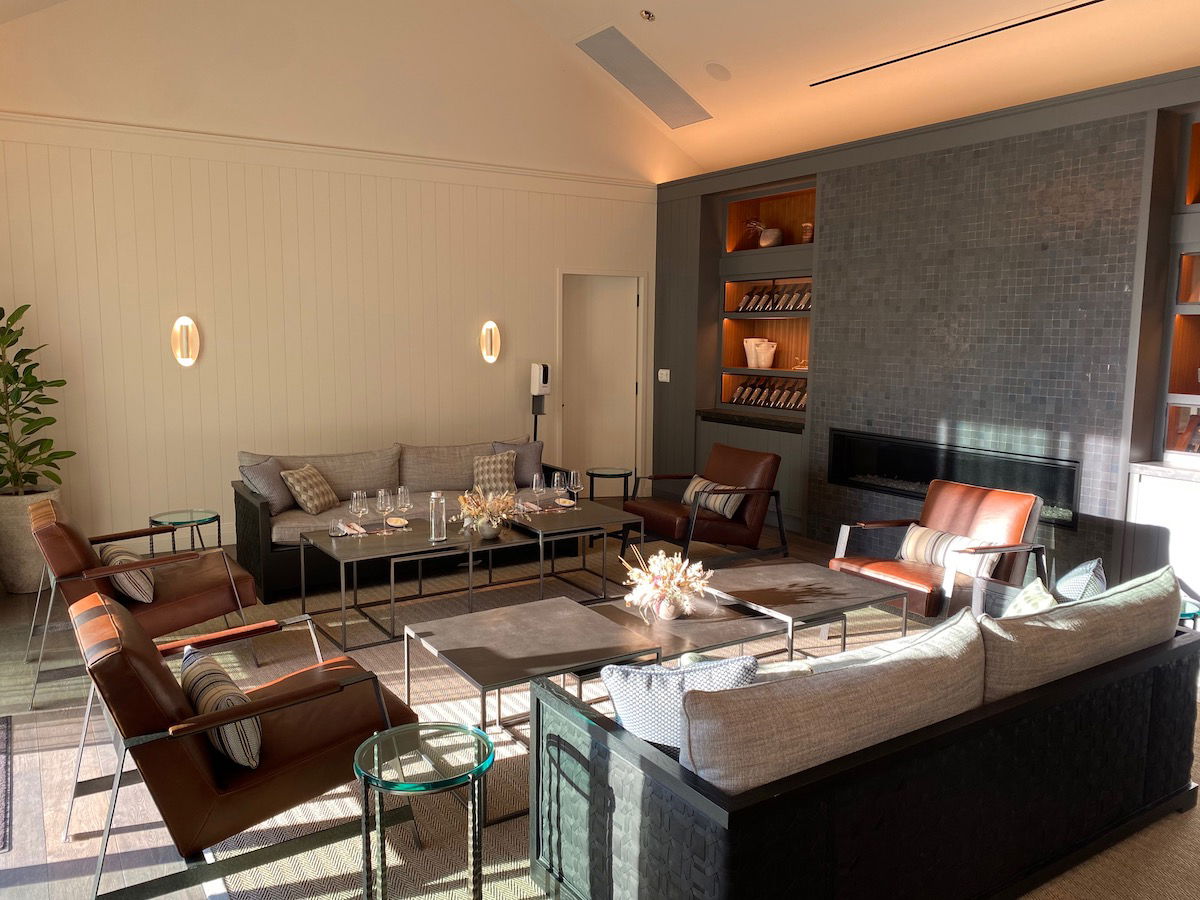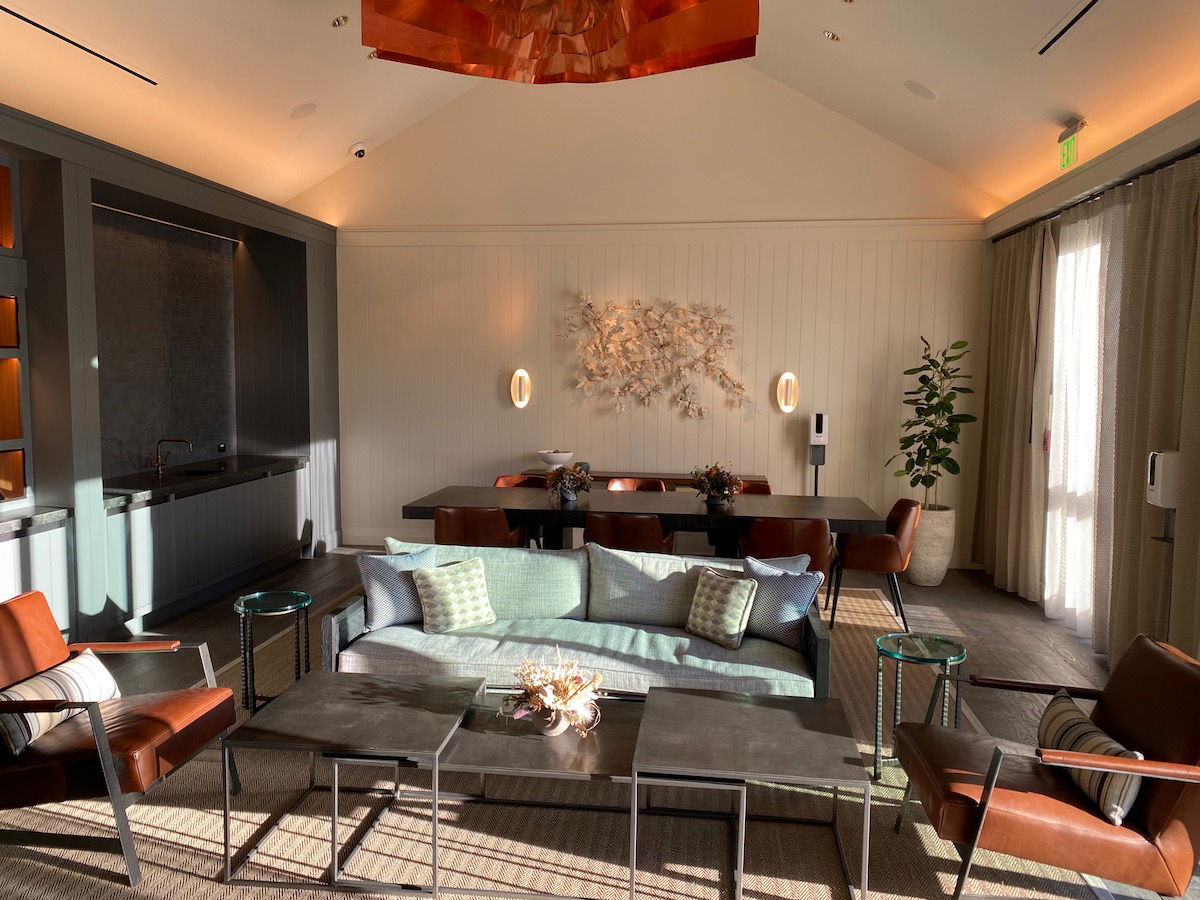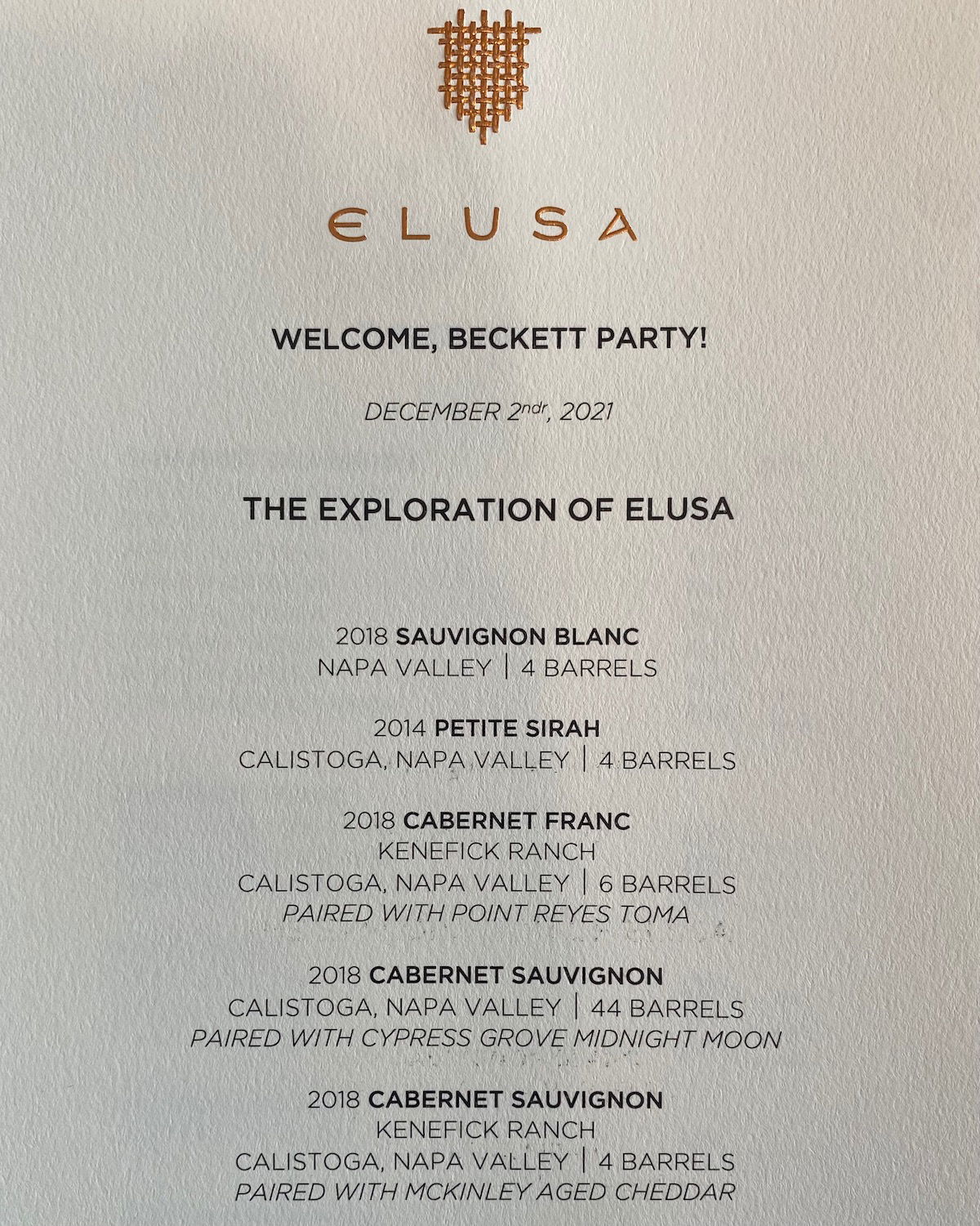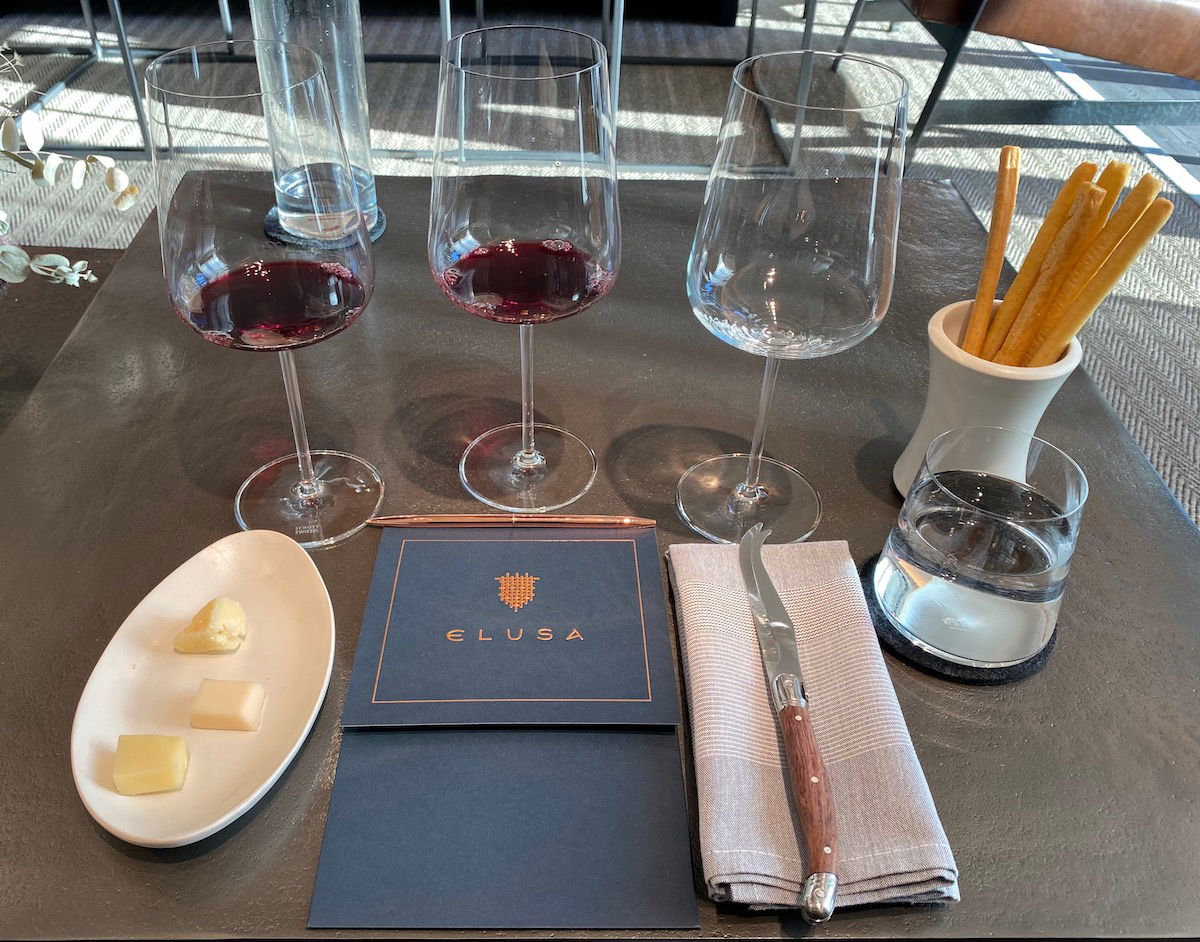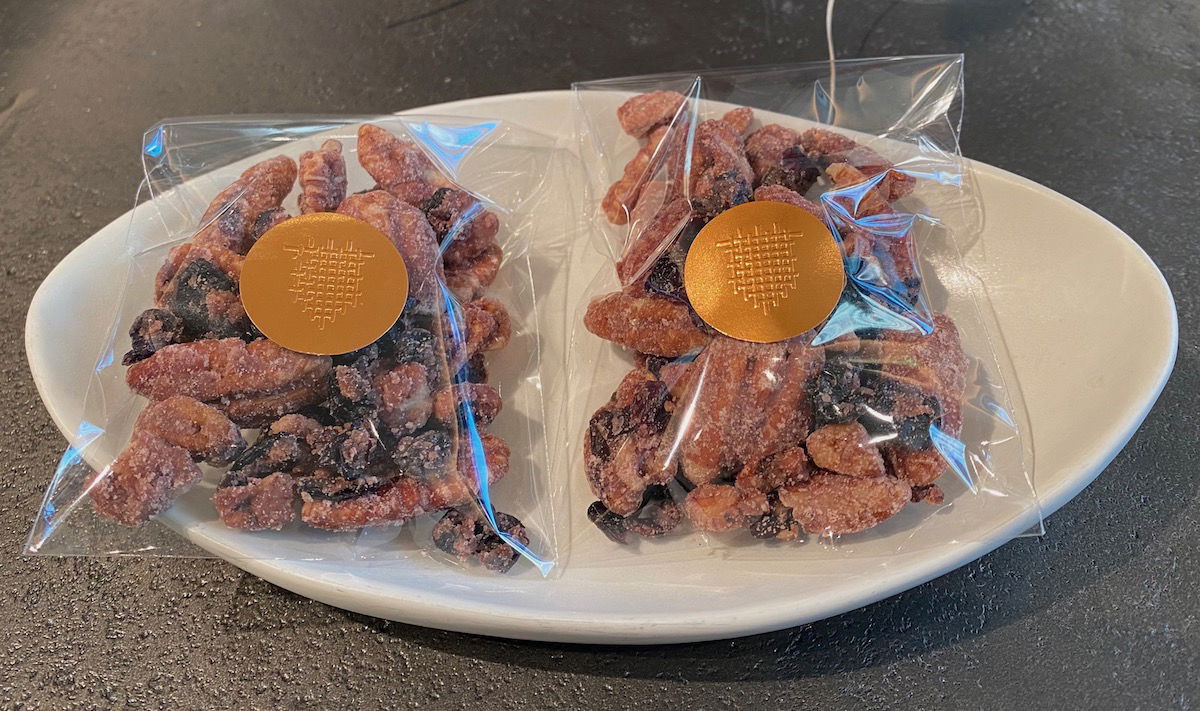 It was a fun experience, and it really is very cool how the hotel is also quite literally a winery.
Four Seasons Napa Valley service
Service at the Four Seasons Napa Valley was great. The brand consistently does an excellent job with hiring, and this was no exception. Heck, I'd say service was almost too good.
The hotel was eerily empty when we were there (probably due to a combination of the property having just opened, plus it being between Thanksgiving and Christmas, which isn't a popular time to vacation), so at times it felt like there was a 1:1 service ratio.
Bottom line
The highly anticipated Four Seasons Napa Valley has finally opened, and I'm happy to have had the chance to check it out. Napa Valley is such a fun and easy getaway (especially for those in California), and the Four Seasons will no doubt be one of the best luxury properties in the area.
The Four Seasons Napa Valley has its fantastic TRUSS signature restaurant, a large and beautiful pool area, friendly service, and a special setting on an active winery.
As you'd expect from a new property, there are still some kinks to work out. I'd say my only major concern that can't easily be worked out is those ground floor rooms that are basically directly on a public street. I'd try to avoid these if possible, and I hope the hotel does something to try to add some privacy for these rooms.
Anyone plan on visiting the Four Seasons Napa Valley? Do you have another favorite hotel in the area?
EXTRA PERKS AVAILABLE
Enjoy breakfast, upgrades, & more
Want to take advantage of Four Seasons Preferred Partner benefits, including a space available room upgrade, complimentary breakfast, a hotel credit, and more? Contact Ford ([email protected]) for more details. He may even be able to help if you already have a stay booked.
Read Four Seasons reviews: Athens, Boston, Cap-Ferrat, Denver, Desroches Island, Fort Lauderdale, Hualalai, Lanai, Los Cabos, Madrid, Maldives at Landaa Giraavaru, Maui, Miami, Napa Valley, Naviva, Oahu at Ko Olina, Paris, Punta Mita, San Francisco at Embarcadero, Scottsdale, Seychelles, and Surfside
Learn about Four Seasons deals & offers: Anguilla, Athens, Atlanta, Austin, Bahamas, Bora Bora, Boston, Cap-Ferrat, Costa Rica, Dubai, Fort Lauderdale, Hawaii, Jackson Hole, London, Los Cabos, Maldives, Minneapolis, Nashville, Naviva, New York, Napa Valley, New Orleans, Orlando, Palm Beach, Paris, Philadelphia, Punta Mita, San Francisco, Santa Fe, Seattle, Sicily, Tamarindo, and Vail
Learn about Four Seasons basics: Four Seasons Preferred Partner, Four Seasons Private Retreats, Four Seasons Private Jet, Four Seasons travel agents, Four Seasons loyalty program, and maximizing value at Four Seasons