After a lovely time in Oman, it was time to start the journey back to the United States. Of course my goal was to review something new, so I decided to build an itinerary that included Turkish Airlines' A321neo and 737 8 MAX business class, as well as SAS' A350-900 business class.
So, how was Turkish Airlines' business class experience? Fantastic, though at the same time it's hard to judge an airline on a route like this, given how competitive airlines to & from the Middle East are.
How I booked my Turkish Airlines business class ticket
I booked the return itinerary through Air Canada Aeroplan, and managed to ticket the following in business class for 105,000 Aeroplan points plus $55.25 in taxes and fees:
02/27 TK775 Muscat to Istanbul departing 1:20AM arriving 6:05AM
02/27 TK1781 Istanbul to Copenhagen departing 11:50AM arriving 1:10PM
03/01 SK953 Copenhagen to Miami departing 9:35AM arriving 2:05PM
One of the awesome things about Aeroplan is that you can add a stopover to a one-way award for just 5,000 points, so I was able to add one of those here, so I could spend a couple of days in Copenhagen.
Turkish Airlines business class boarding
In the last installment I reviewed the Primeclass Lounge Muscat, which is the contract lounge that Turkish Airlines uses at the airport. Boarding for the flight was scheduled to start at 12:50AM, 30 minutes prior to departure, so we headed to the gate at around 12:30AM. The flight was departing from gate C7, a roughly five minute walk from the lounge.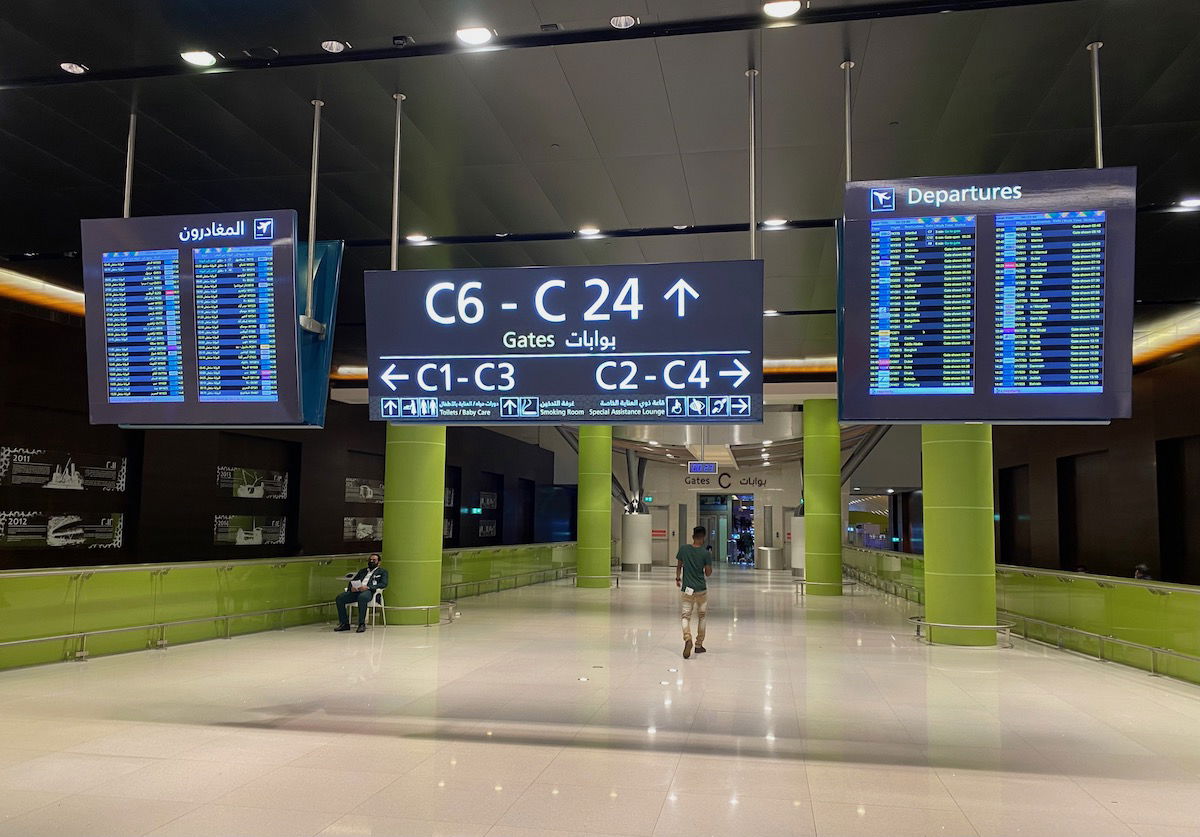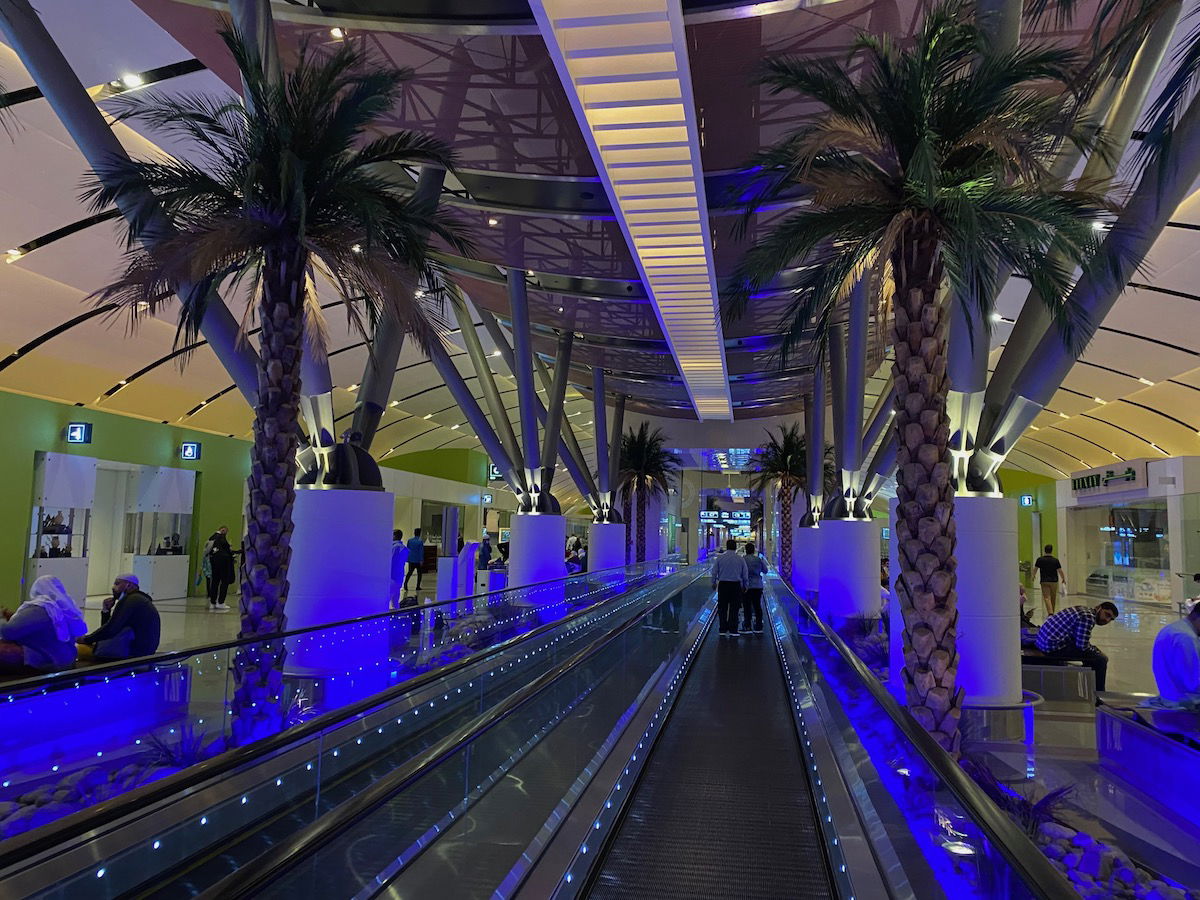 At Muscat Airport your boarding pass is scanned as you enter the gate area, so at that point you're already considered to be onboard, for all practical purposes.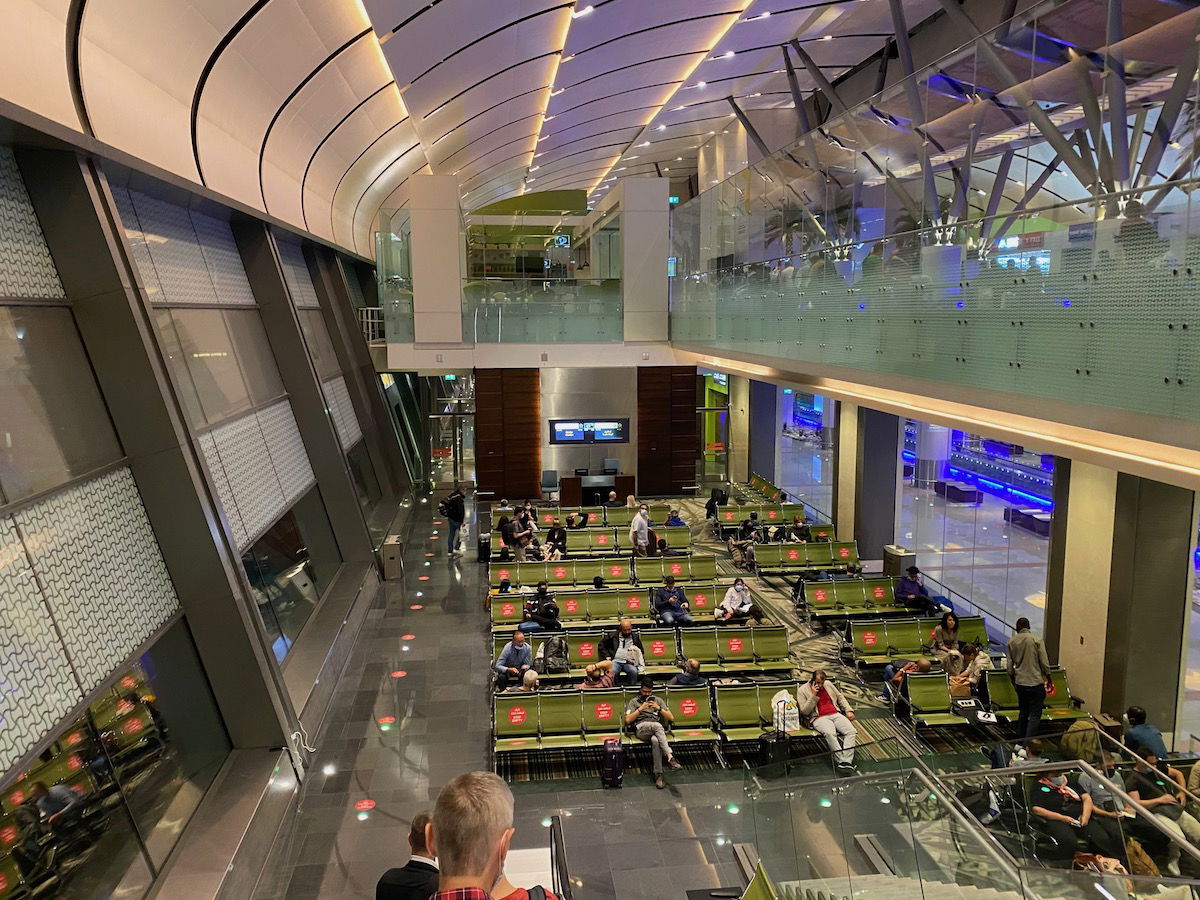 I was happy to see that the crew was arriving at the gate a few moments after us. I had wondered whether the crews for this flight did a same day turn or had a layover, so I was glad that the crew had a layover (and therefore was hopefully well rested). Sometimes I'm a bit freaked out by crews working redeyes with very long duty days.
Sure enough boarding started at the scheduled time, with business class passengers being invited to board first. As y'all know, I always try to board first (without letting the airline know) in order to be able to get "clean" cabin pictures. As boarding started a lady tried to yell at me and claim that I was cutting her in line (which I wasn't). I let her go first, and when it was her turn to board she was turned away, as she wasn't in business class. Hmmm…
Turkish Airlines A321neo business class cabin & seats
Turkish Airlines already has 30 A321neos in its fleet, with a further 58 on order, so I was looking forward to seeing what the carrier's new short haul product is like. Turkish Airlines' A321neos feature a total of 20 seats, spread across five rows in a 2-2 configuration (I assigned us seats in the last row).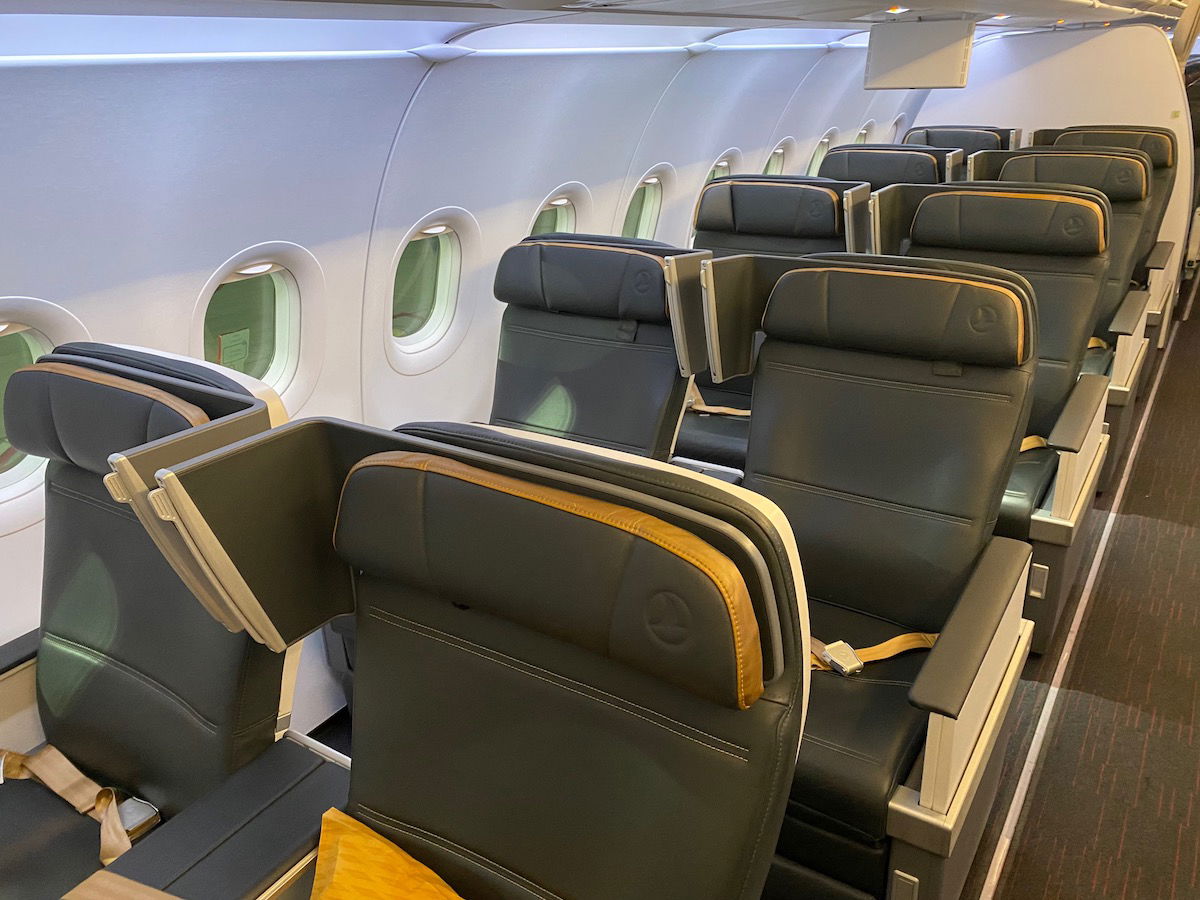 Think of this as being more along the lines of domestic first class within the United States, rather than long haul business class. That being said, this was so much nicer than what you'd find on a US airline. Each seat had a personal television, and on top of that there were overhead monitors.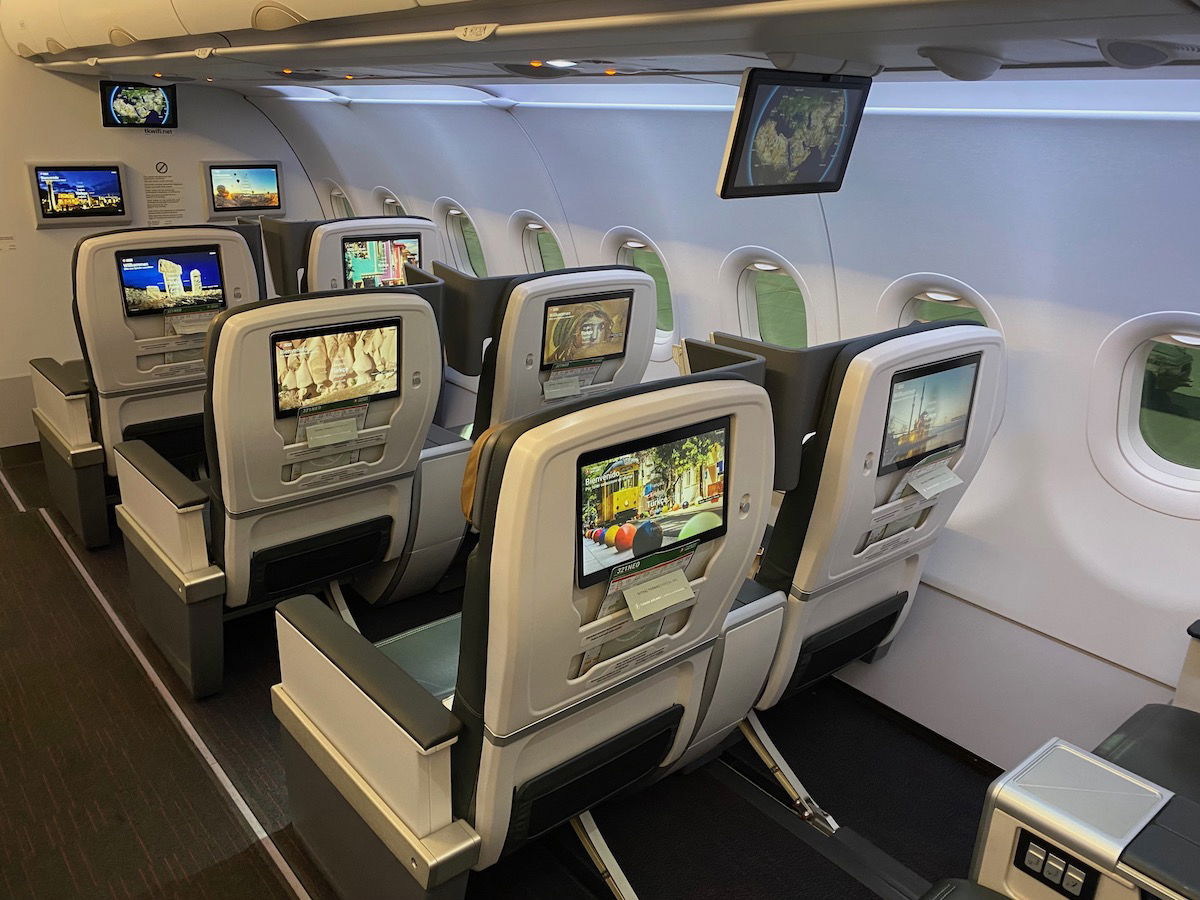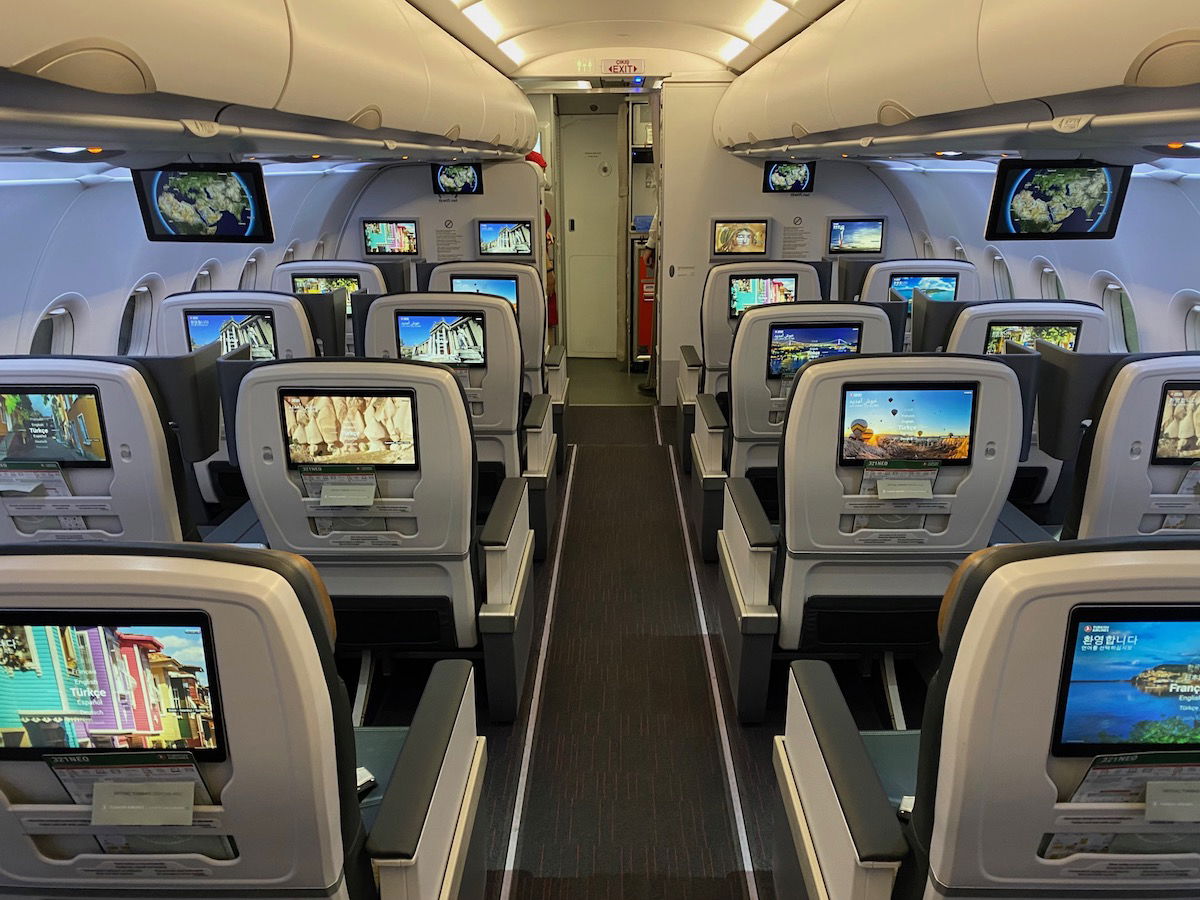 The legroom was also excellent, significantly better than what you'd find on a US airline.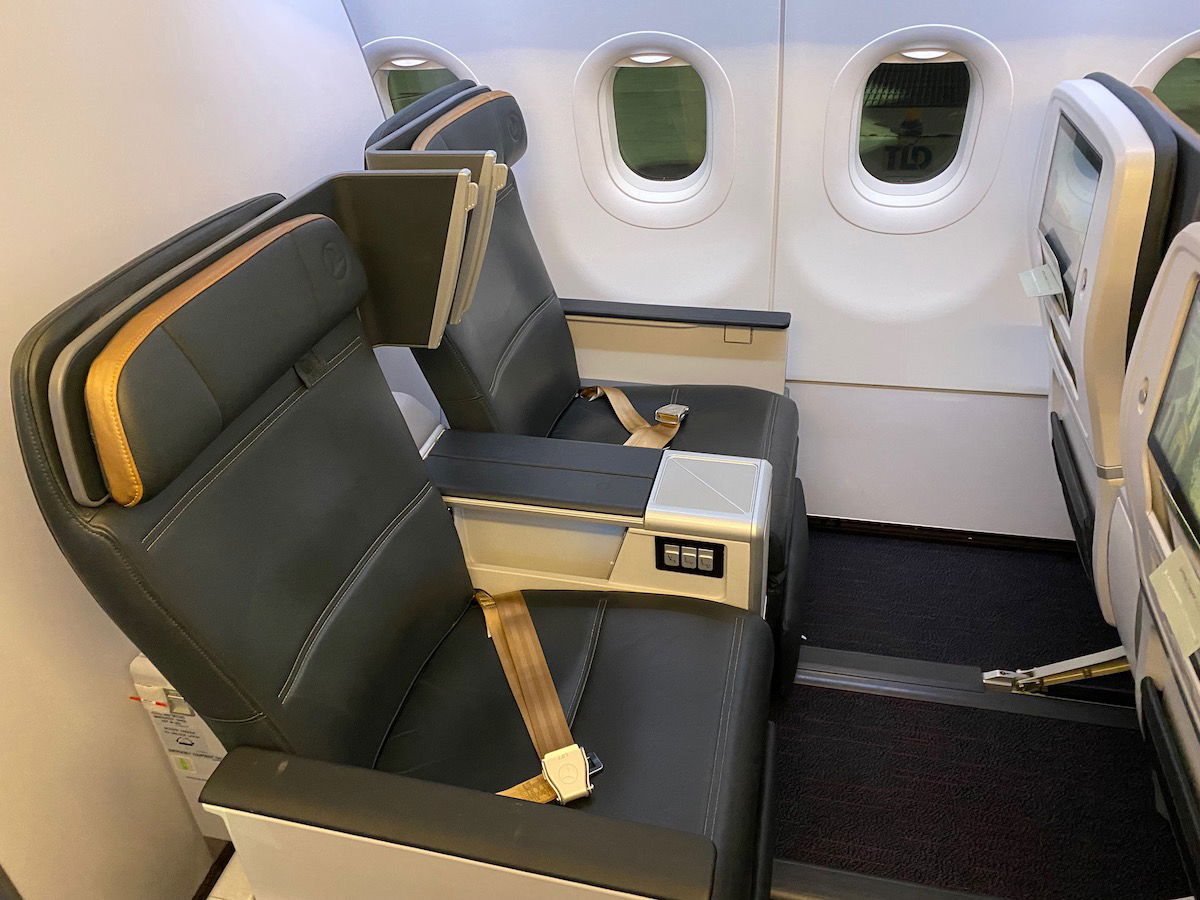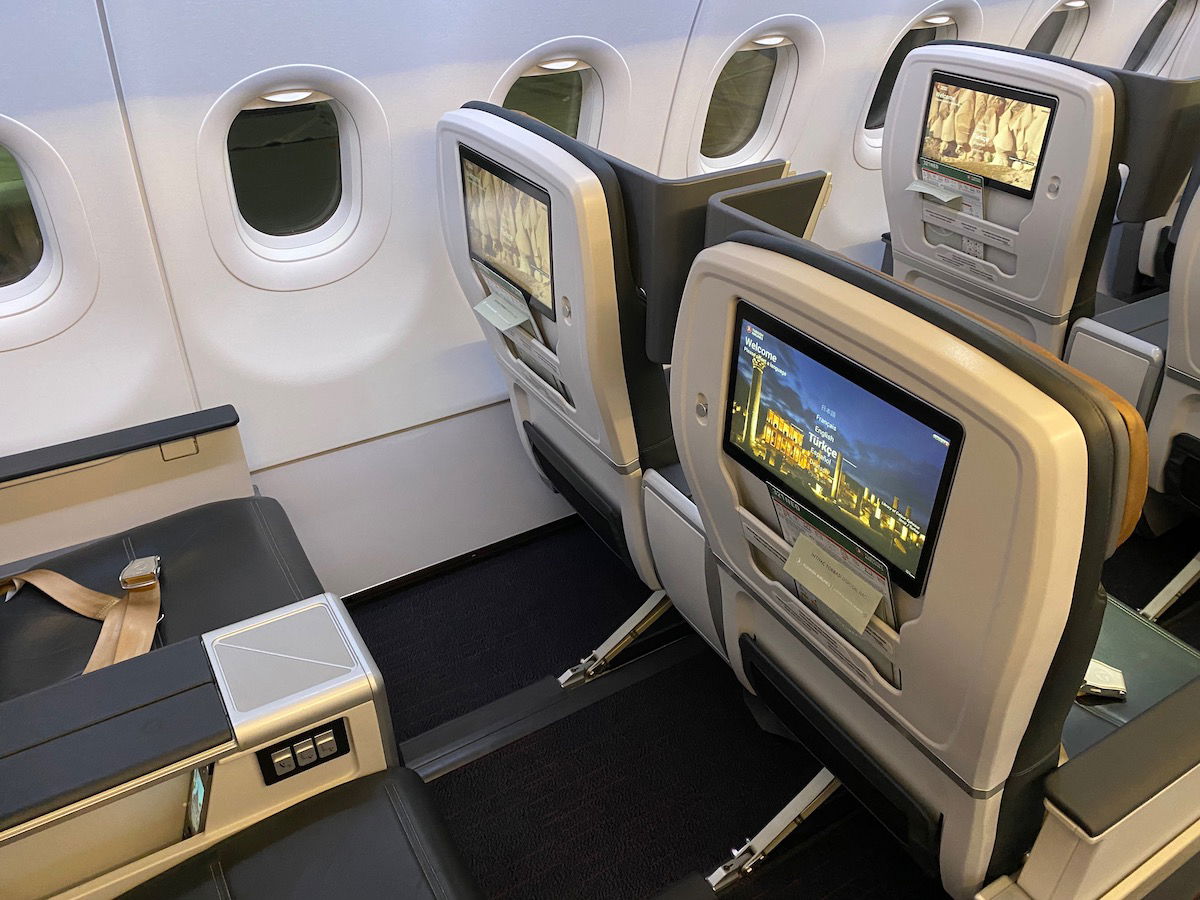 The "shell" of the seat was almost identical to what you'd find on American Airlines "Oasis" Boeing 737s. That's why the center consoles may look familiar. The center armrest can be lifted to reveal a storage compartment, which is also where the power outlets (AC and USB) are located, as well as headphone jacks and entertainment controls.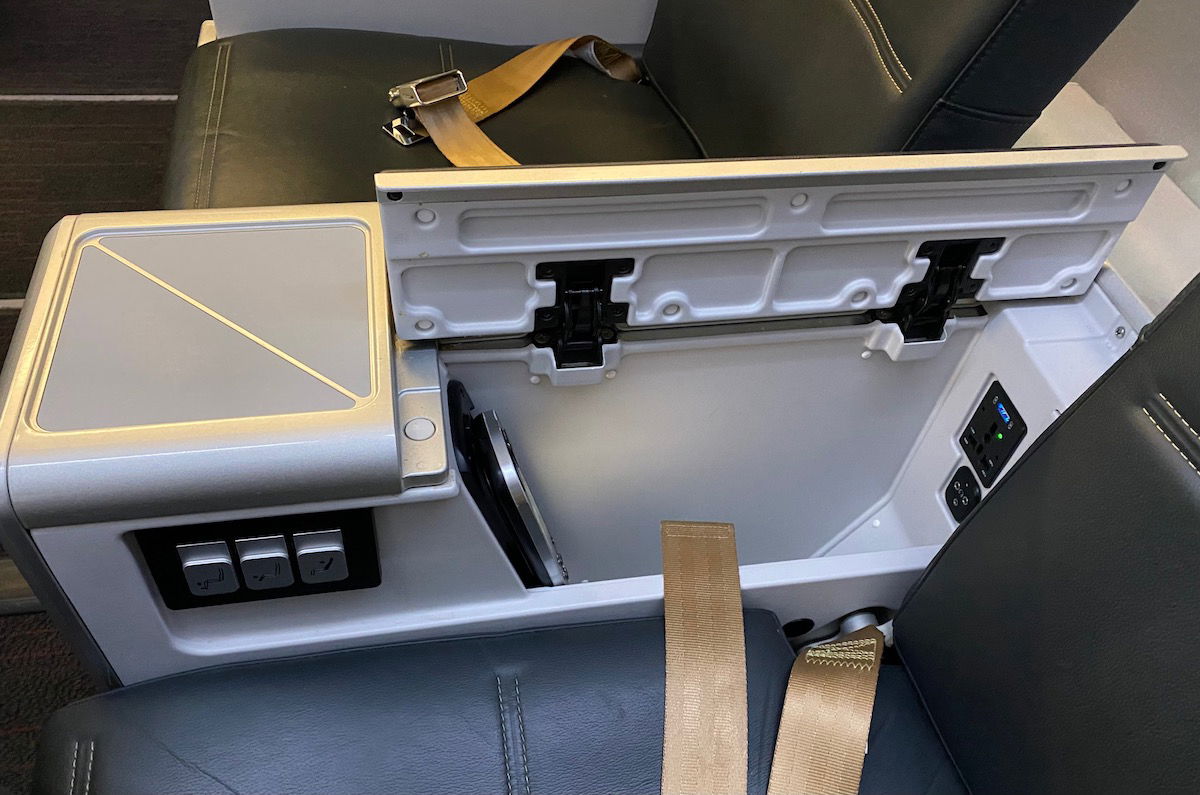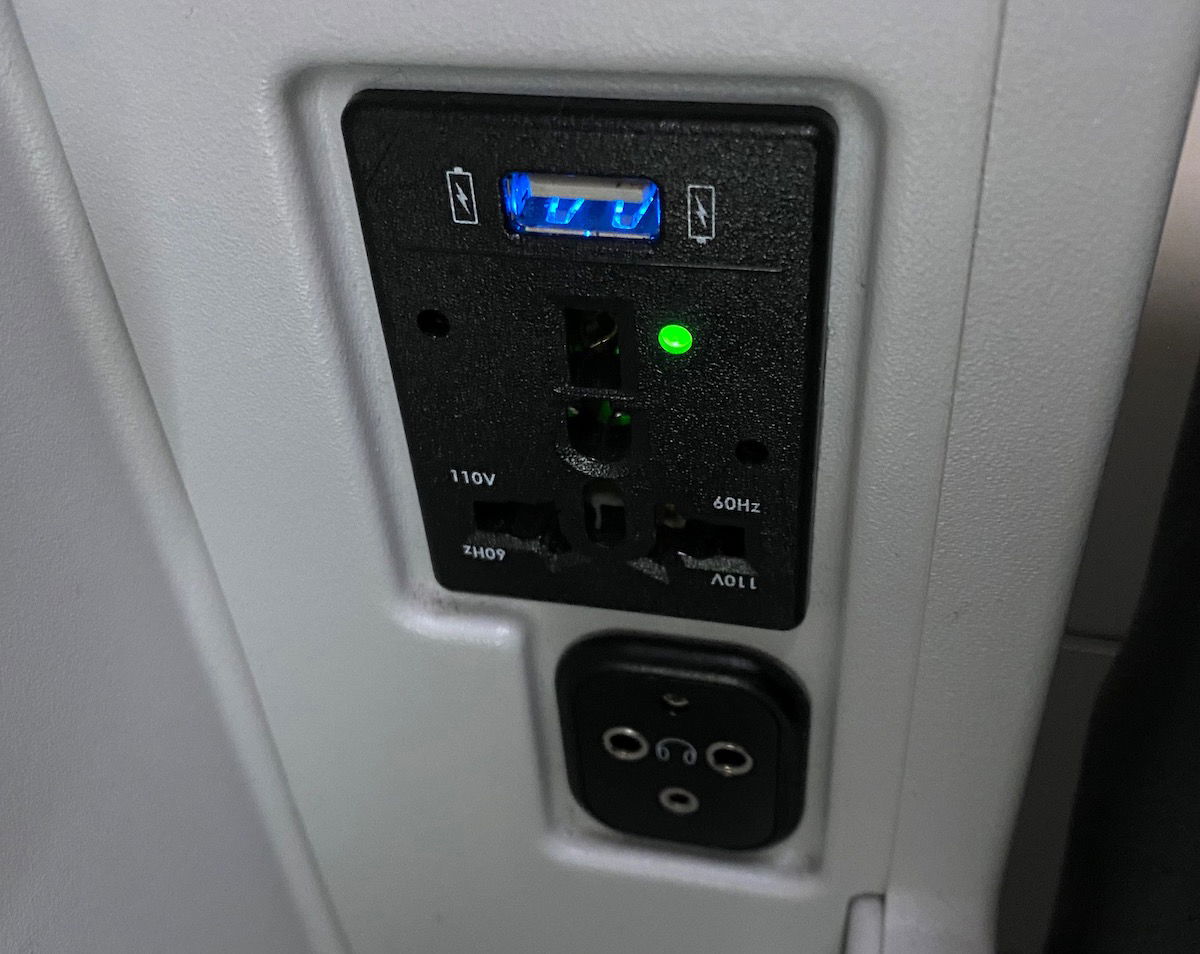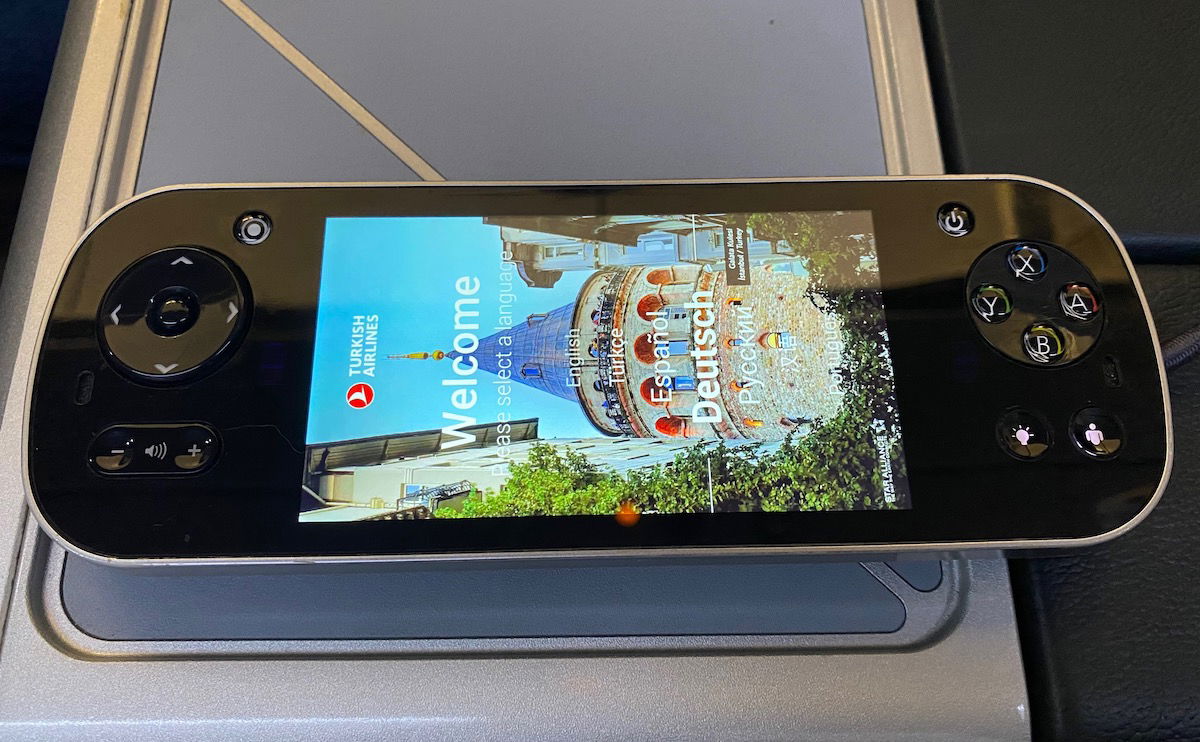 The three manual seat controls are located right next to that.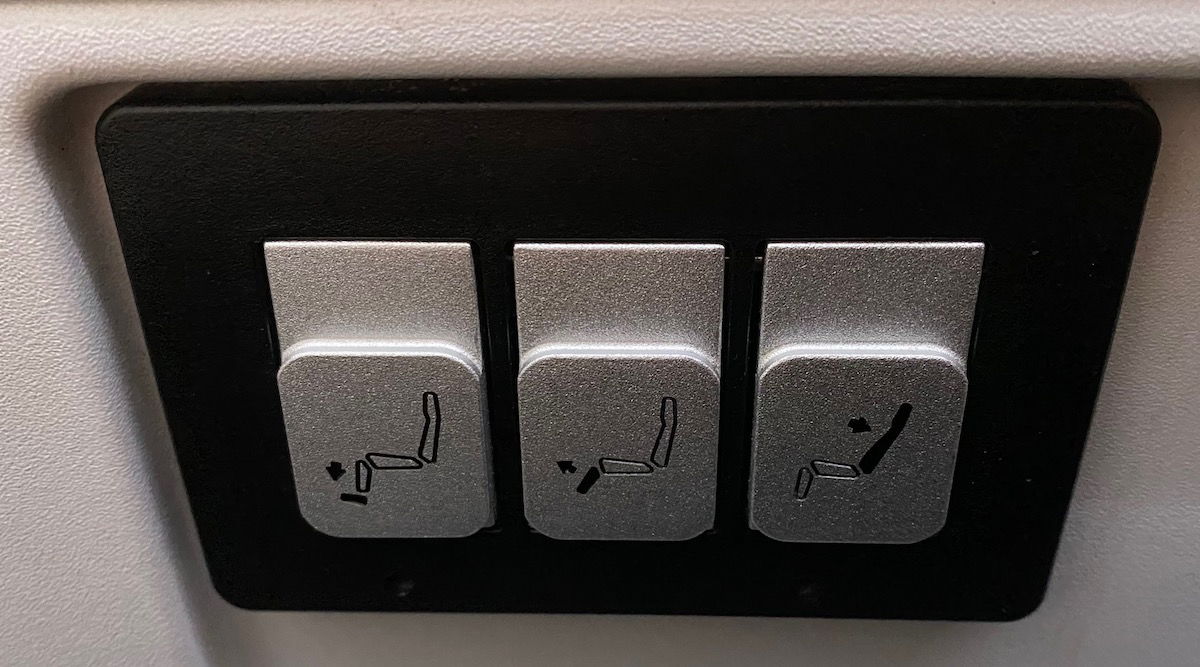 The seats reclined a fair bit, and on top of that the seats have legrests, which you typically don't find on US airlines.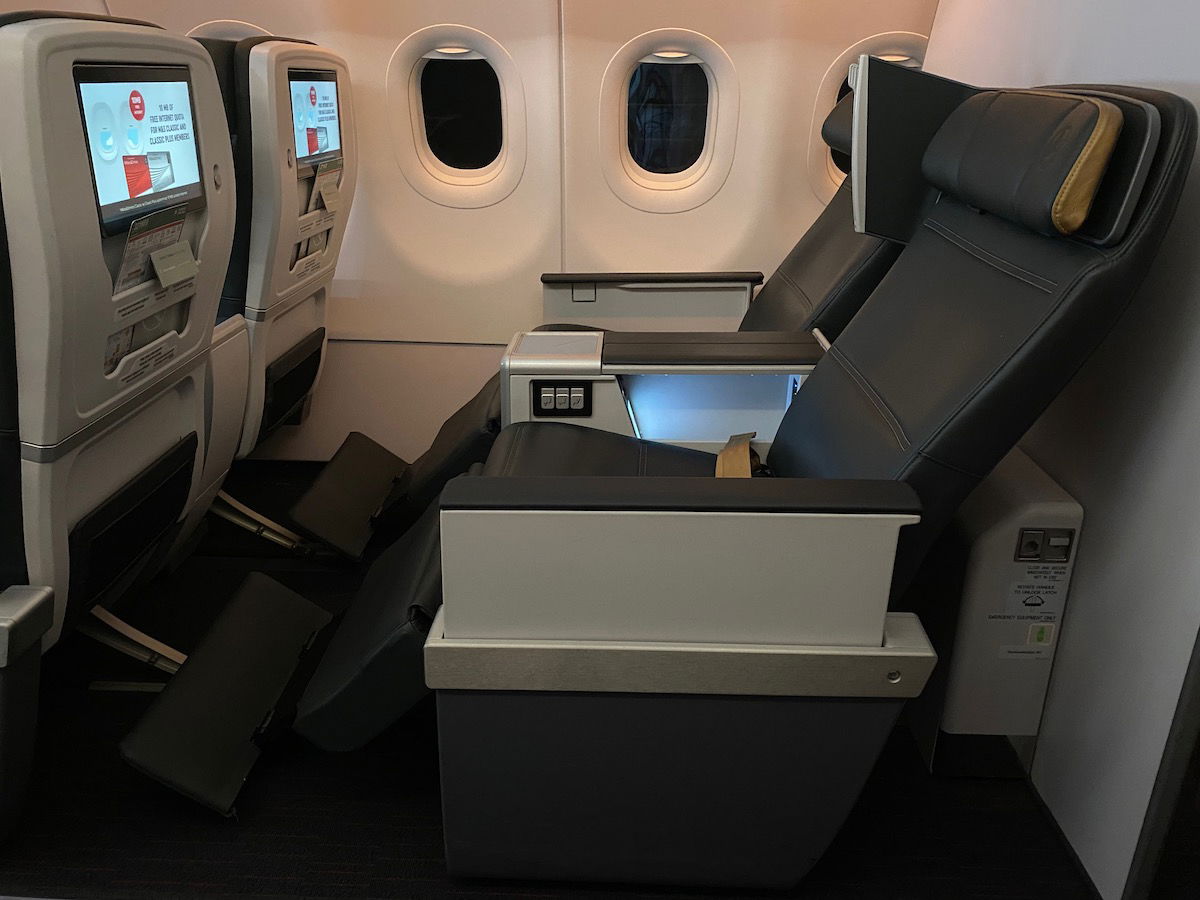 The center console has a small tray on which you can place drinks, and then a second tray that can be extended, as needed.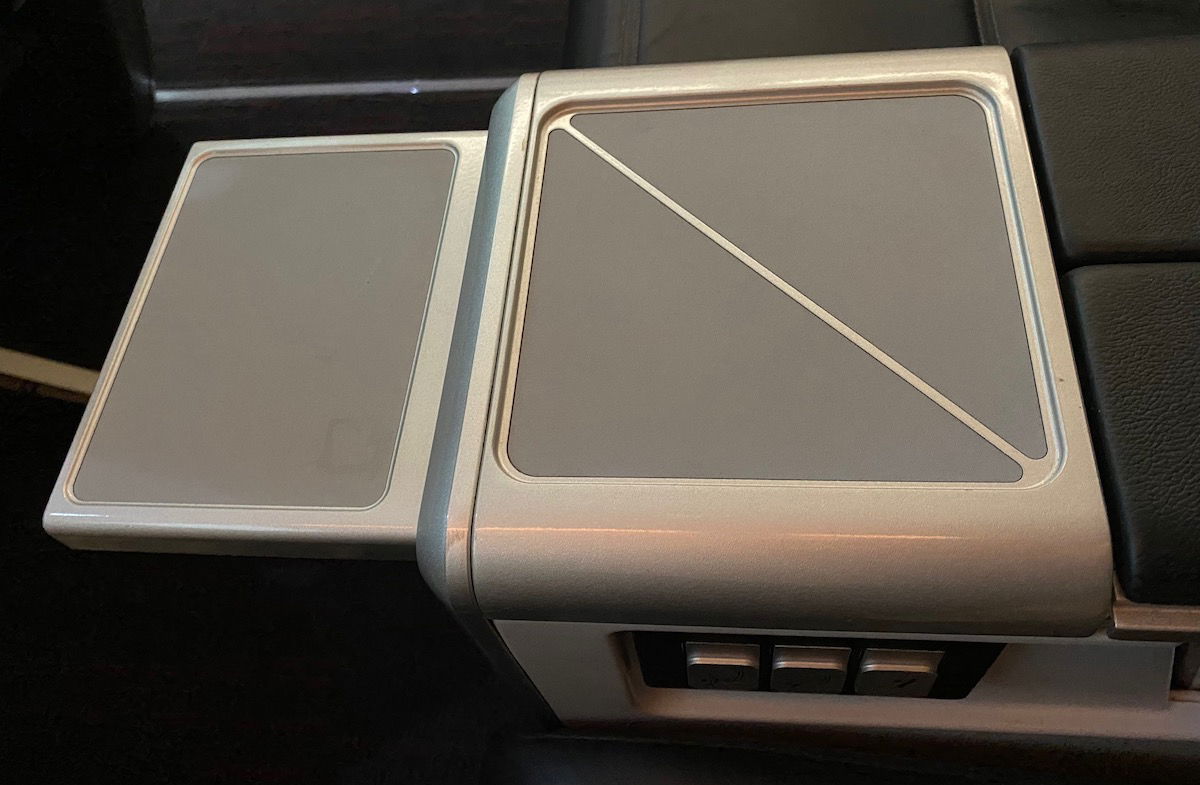 The seats have privacy widgets. I've gotta say, I found these to be kind of strange. They couldn't be pulled forward very far, but also didn't go back very far. So I guess they provide a bit of privacy if you're traveling alone, but if you're traveling with someone they're just kind of annoying.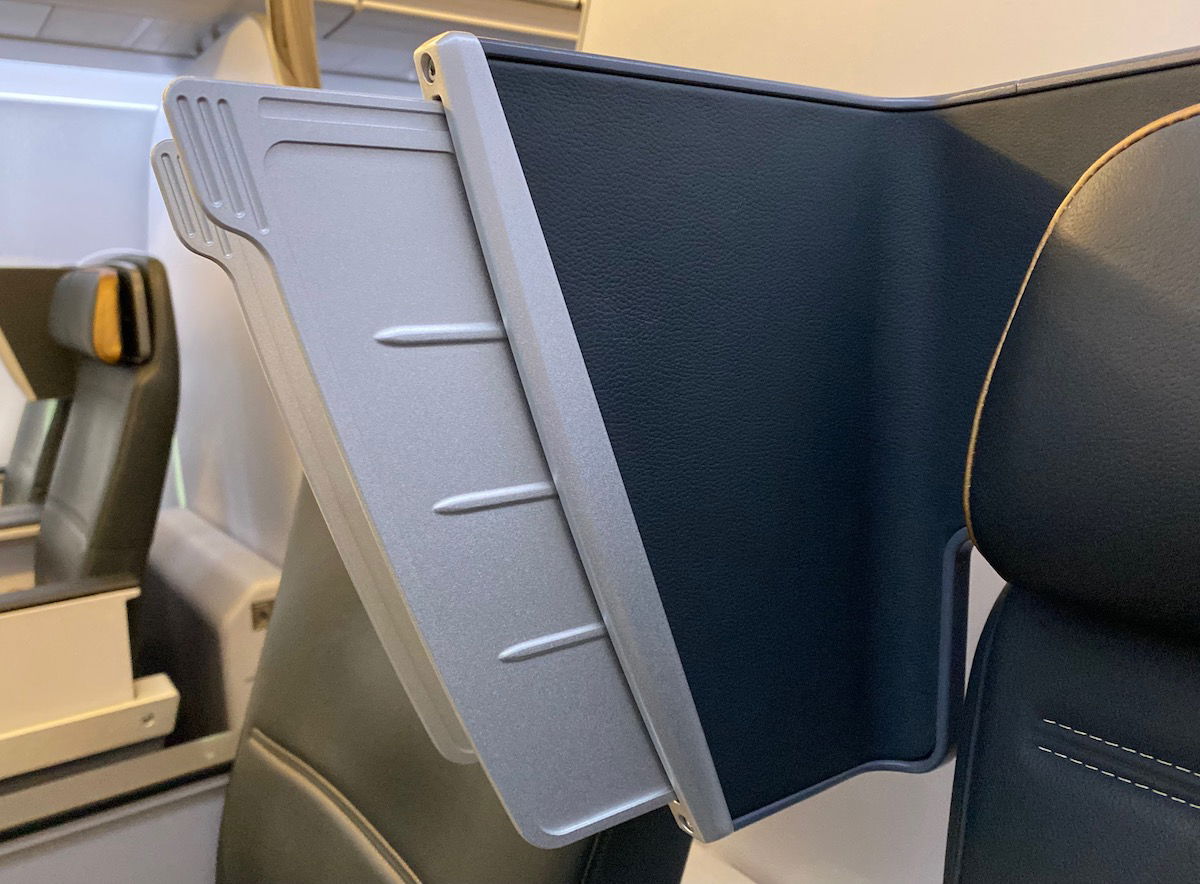 The business class tray table extended from the far armrest, and could be folded over in half.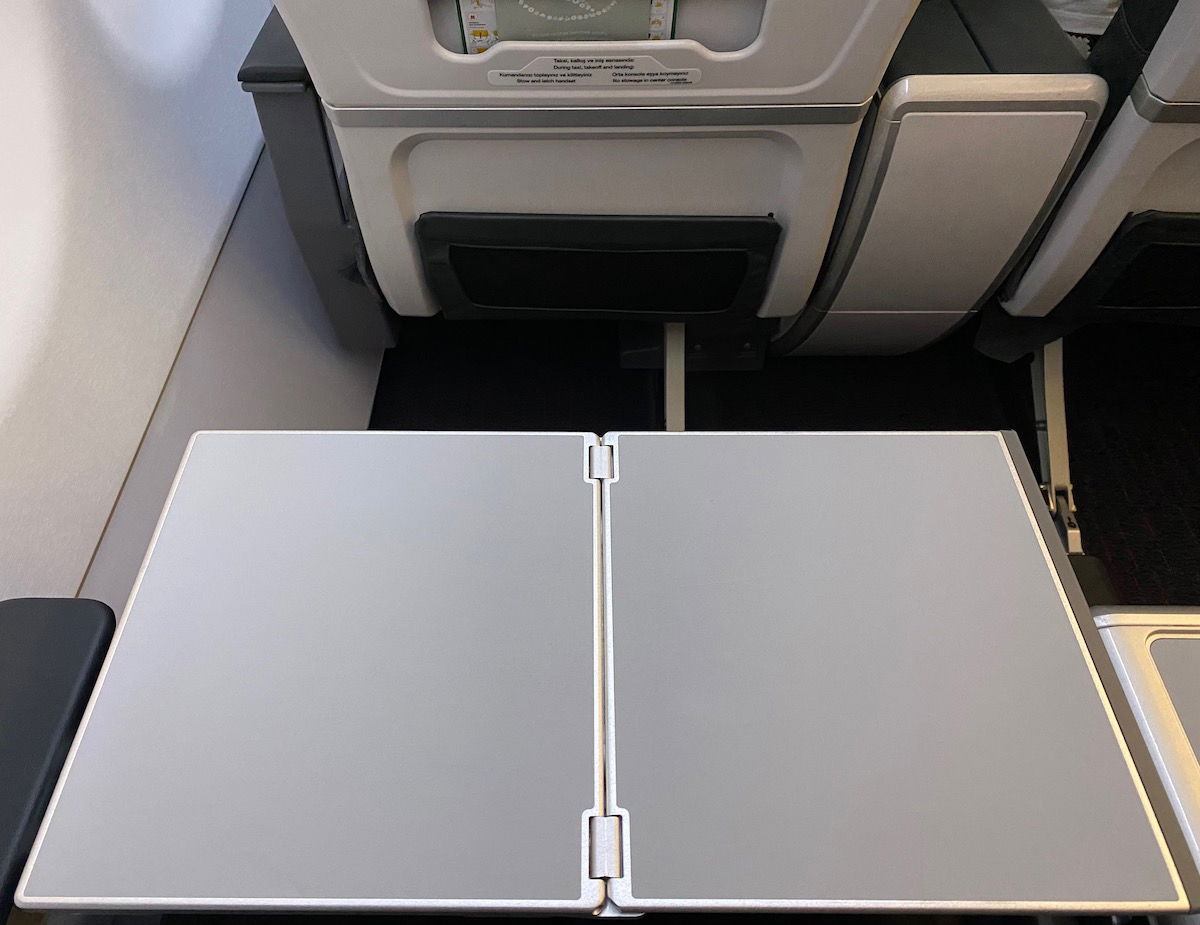 The seatback had a huge, high-definition television monitor, which certainly made this different than your typical American Airlines seat. 😉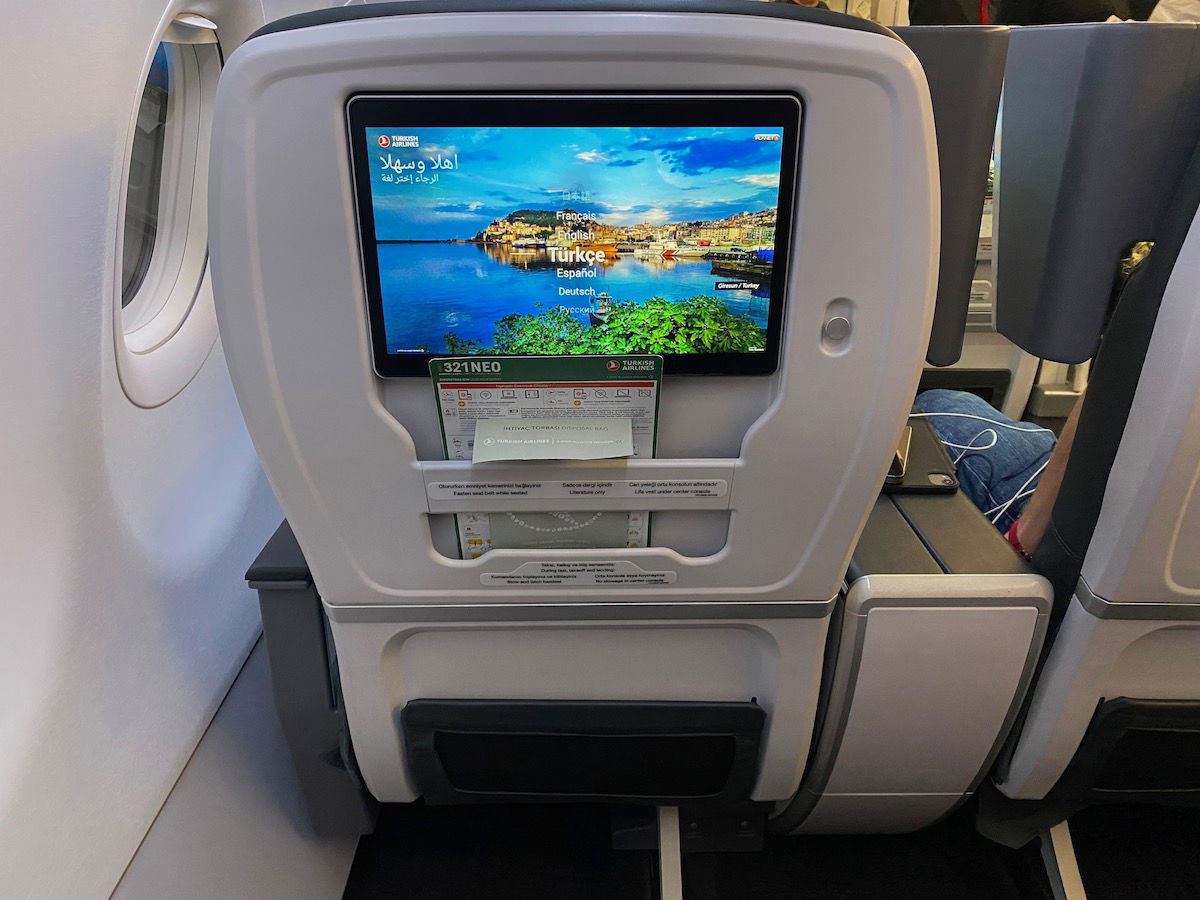 Each seat also had a reading light and an individual air nozzle.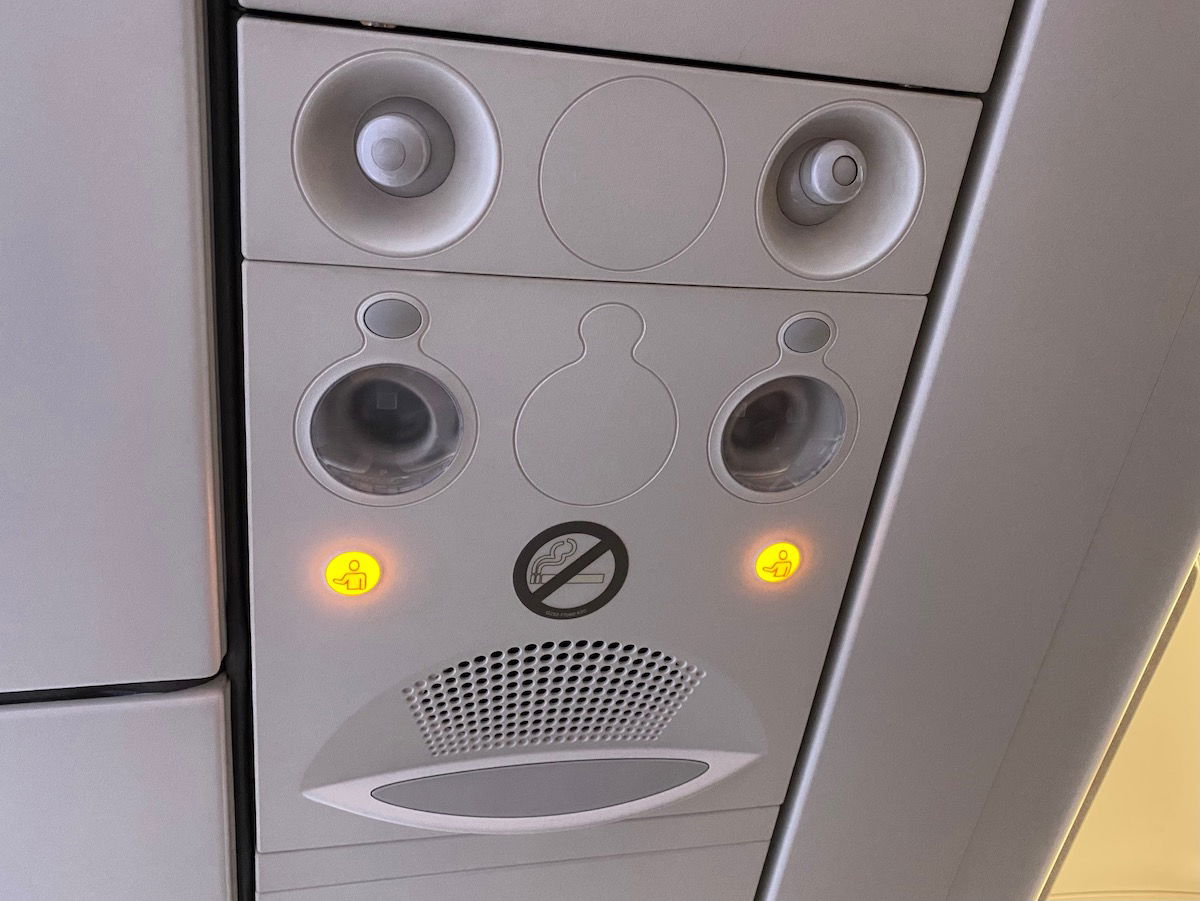 There was a lavatory located at the front of the cabin, which had Molton Brown amenities.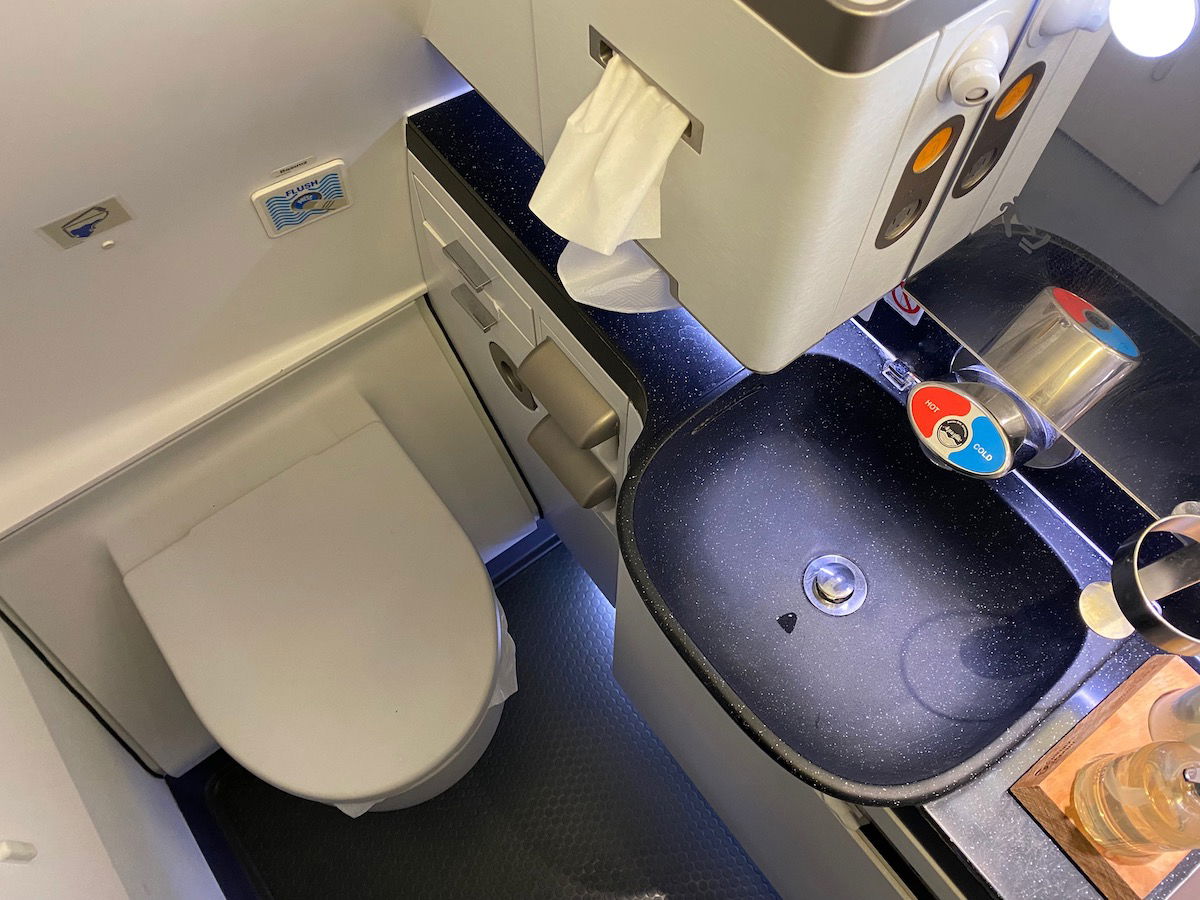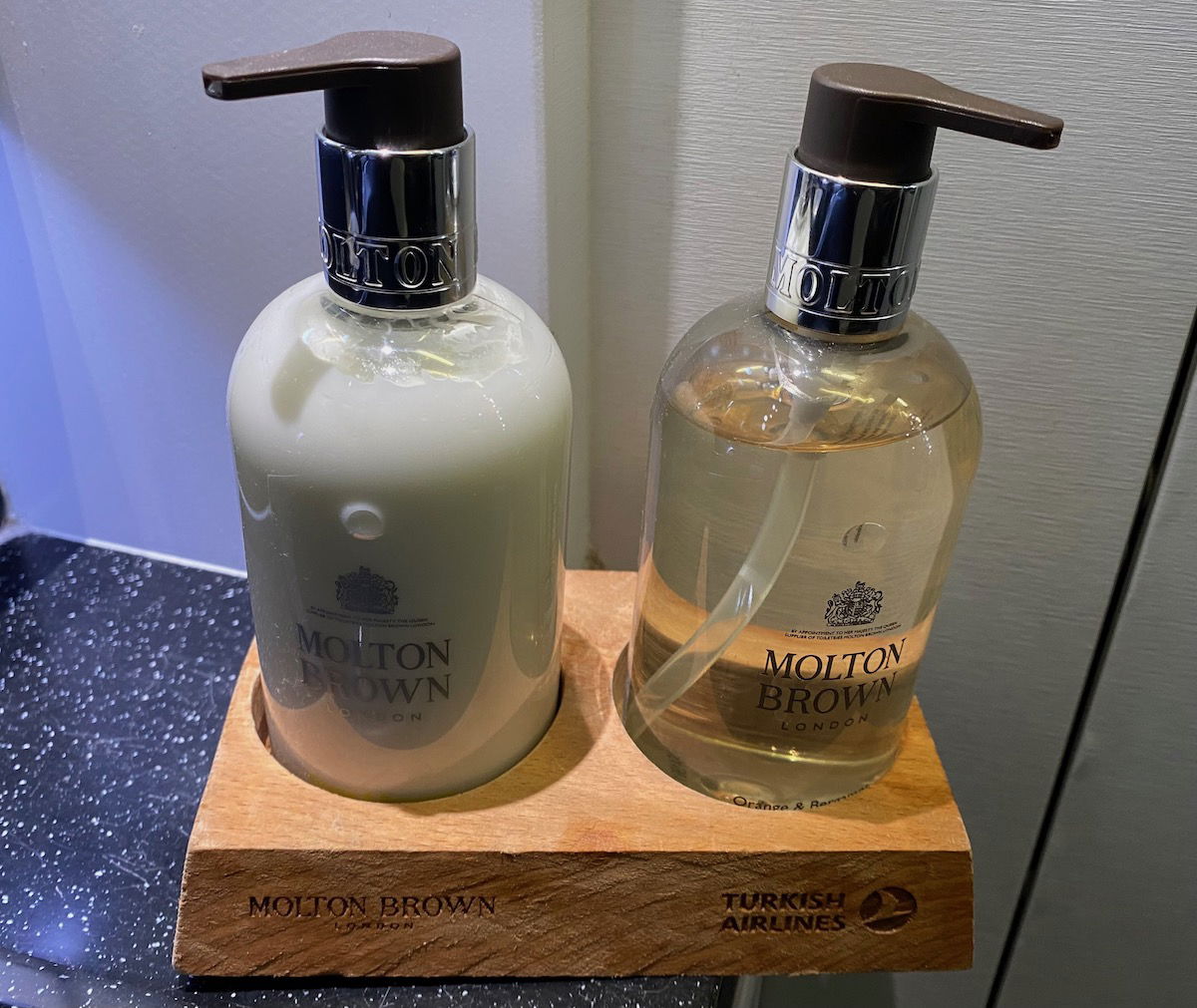 Turkish Airlines business class amenities
A few moments after settling in, one of the lovely flight attendants offered us pre-departure drinks, with choices consisting of orange juice, raspberry juice, lemonade, or water. Turkish has some of the most beautiful non-alcoholic pre-departure drinks, in my opinion.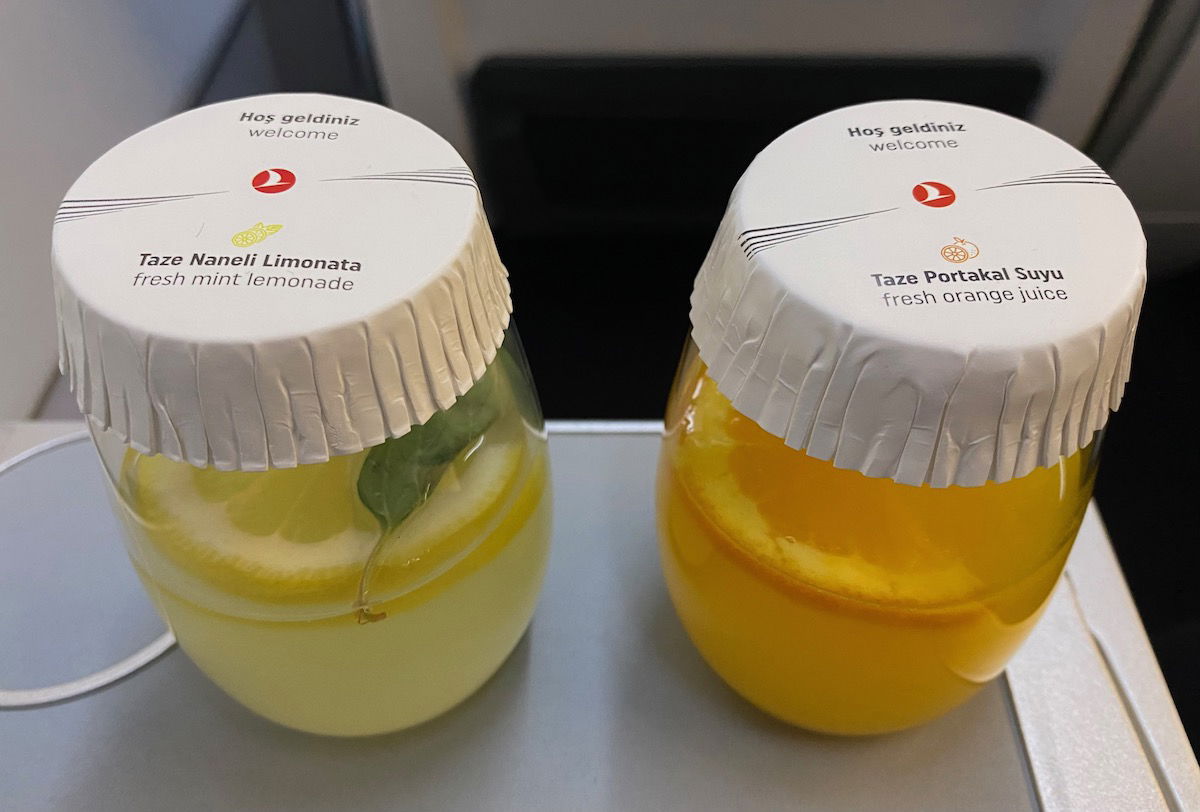 Headphones were also distributed, which were pretty good quality.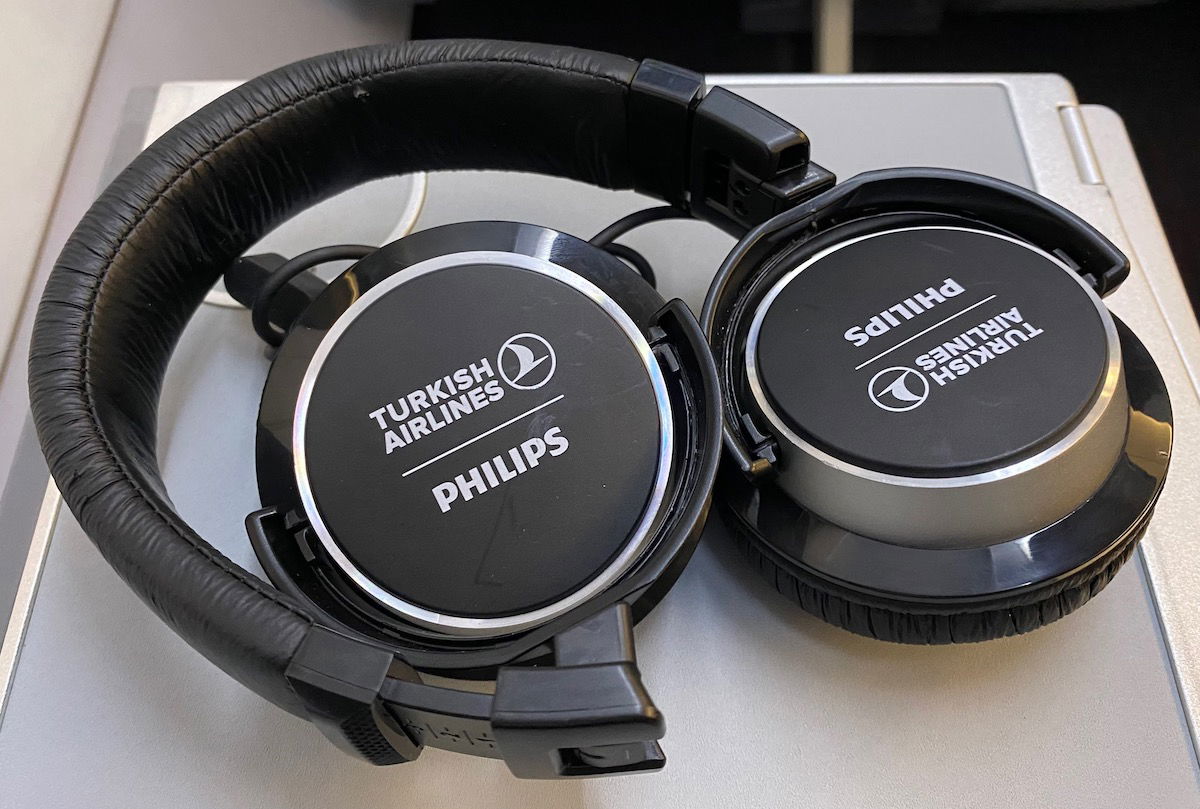 Blankets and pillows were also offered.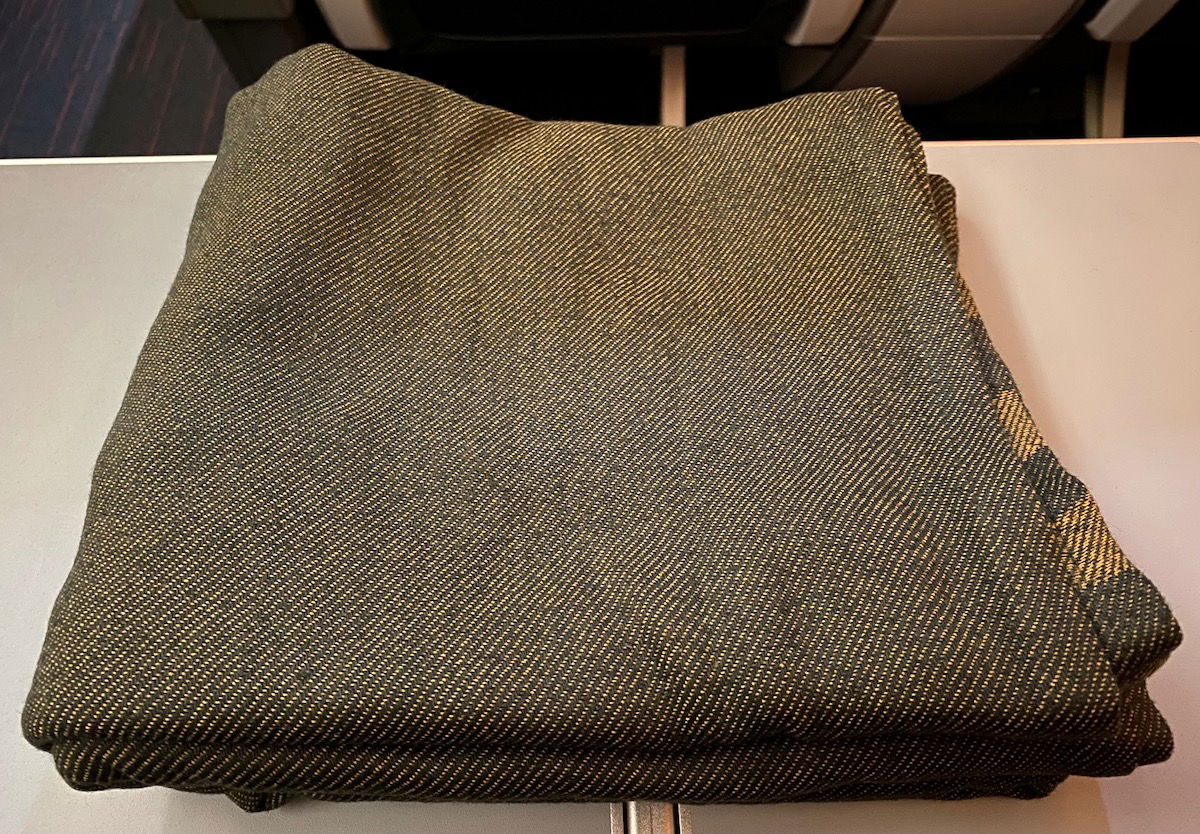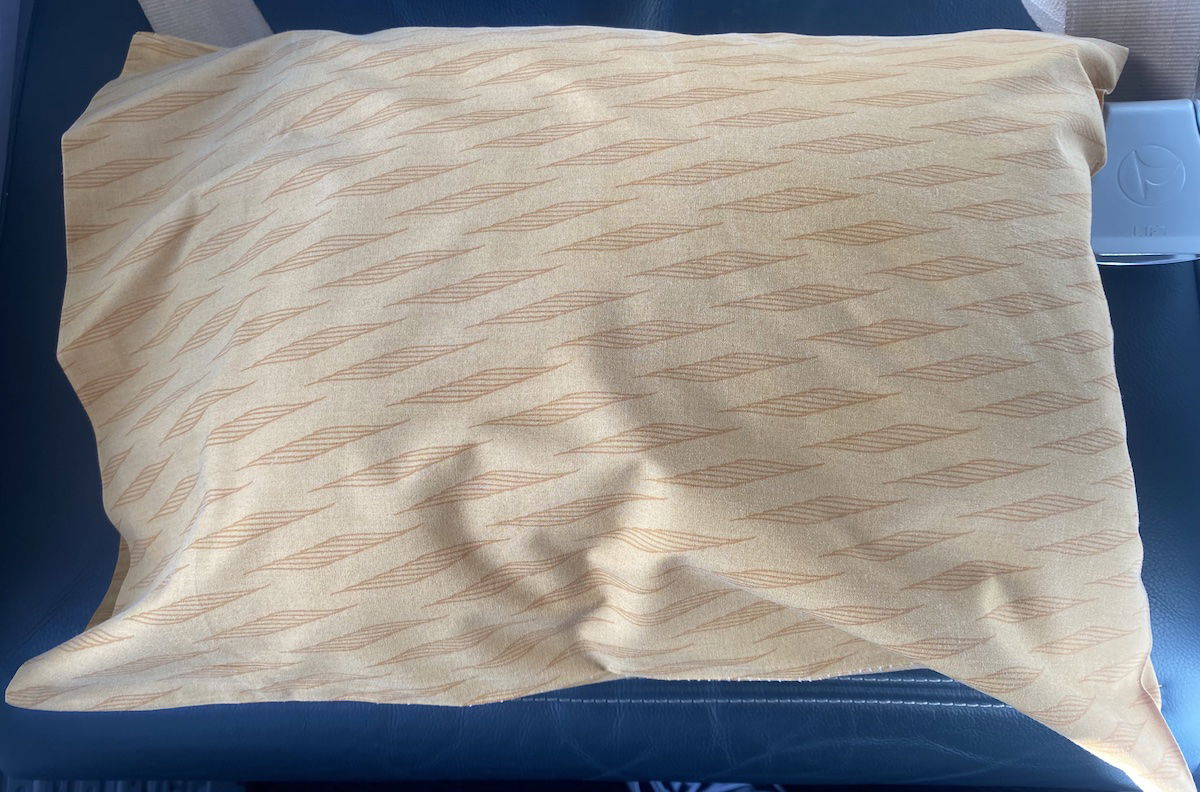 Lastly, menus were distributed for the flight.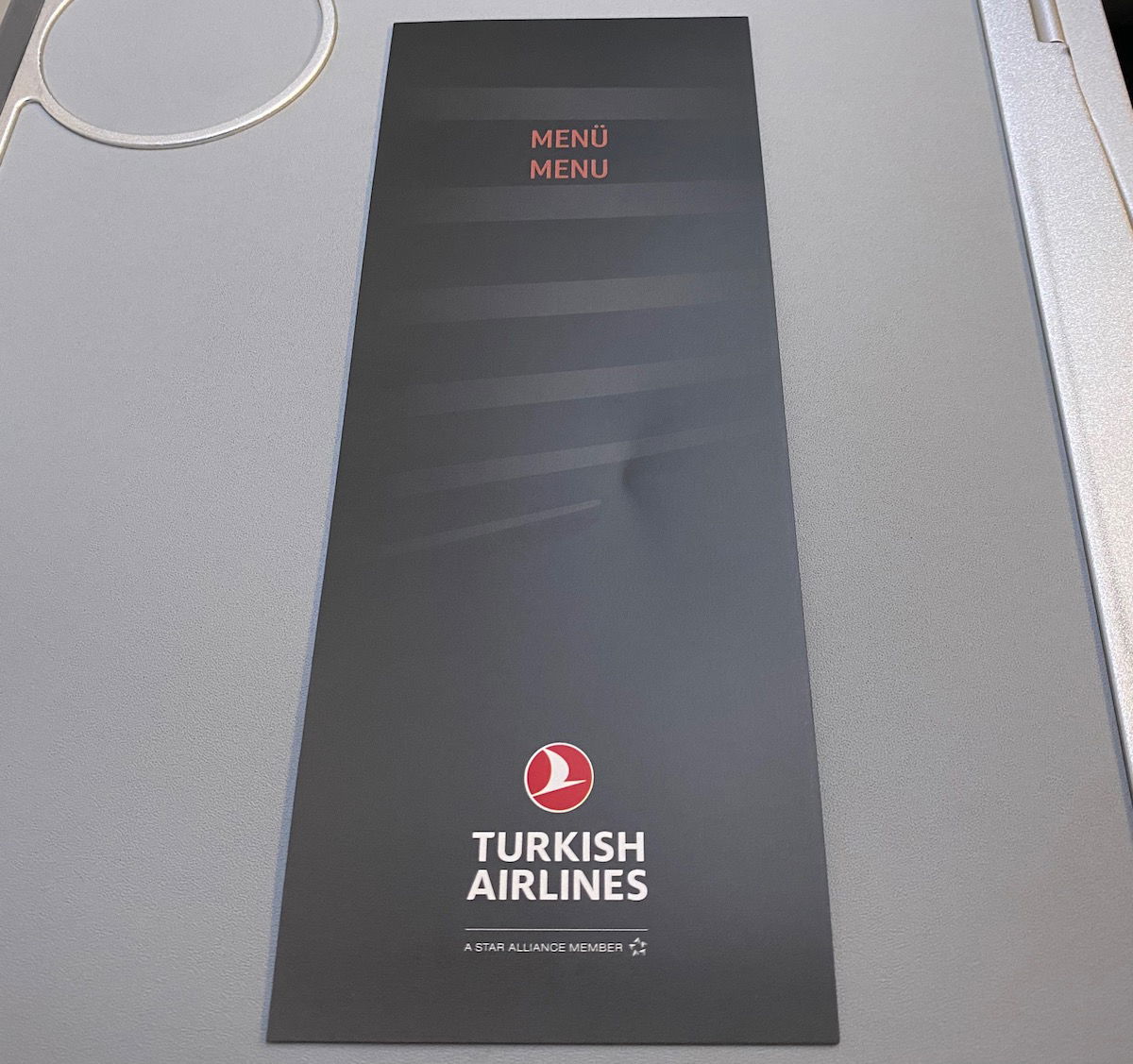 Turkish Airlines departure from Muscat
Boarding was complete at 1:20AM (right on schedule). Business class was 75% full, and I'd say economy was maybe even a bit fuller than that. At this point the captain made his welcome aboard announcement, informing us of our flight time of 5hr5min.
A few minutes later the safety video was screened. Turkish Airlines has an animated safety video, which I find to be ridiculously cute.
At 1:30AM we began our pushback, and 10 minutes after that we began our taxi. By 1:50AM we were cleared for takeoff, and five minutes after takeoff the seatbelt sign was turned off.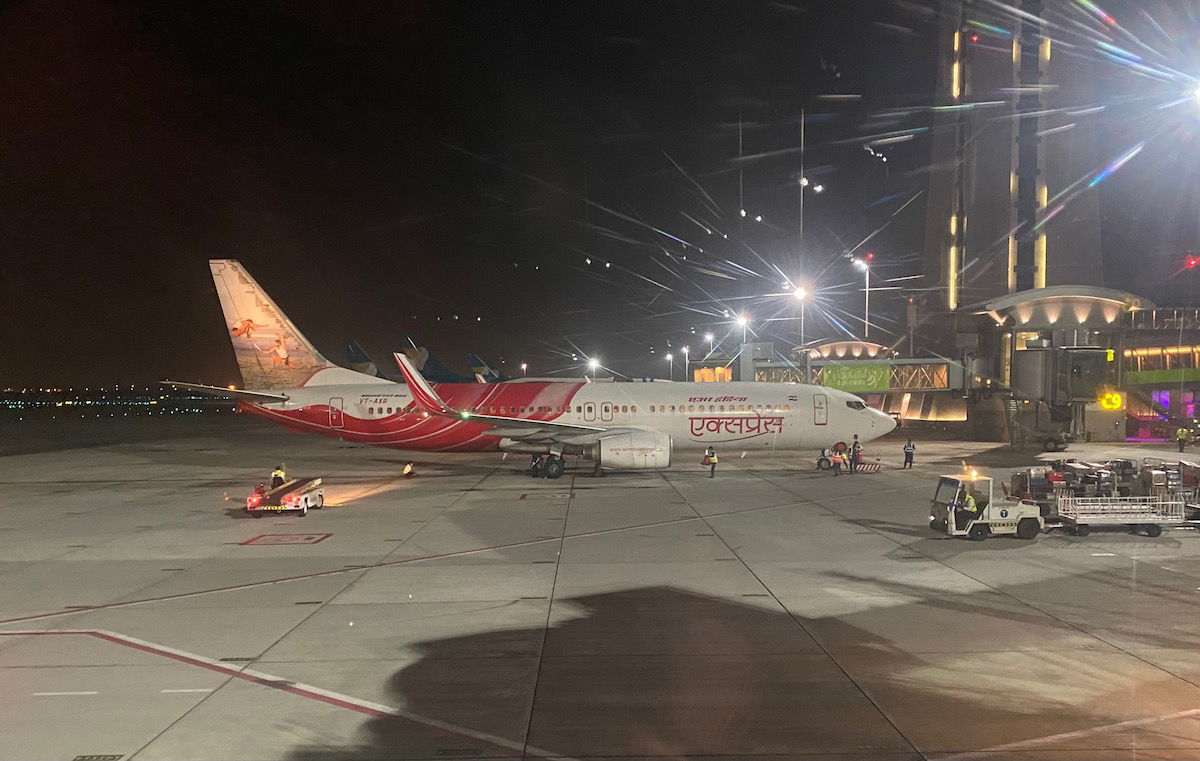 Turkish Airlines A321neo entertainment & Wi-Fi
Once airborne I browsed the extensive entertainment selection. Turkish Airlines' entertainment system is simply excellent, with 570+ movies and 990+ TV shows.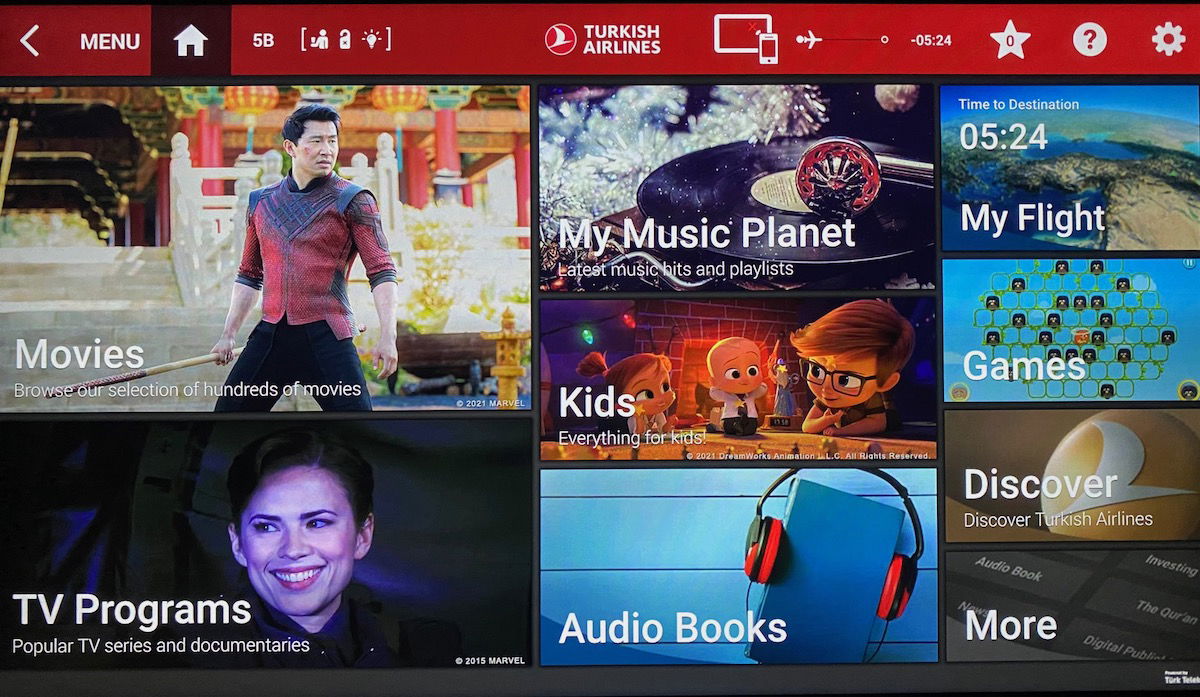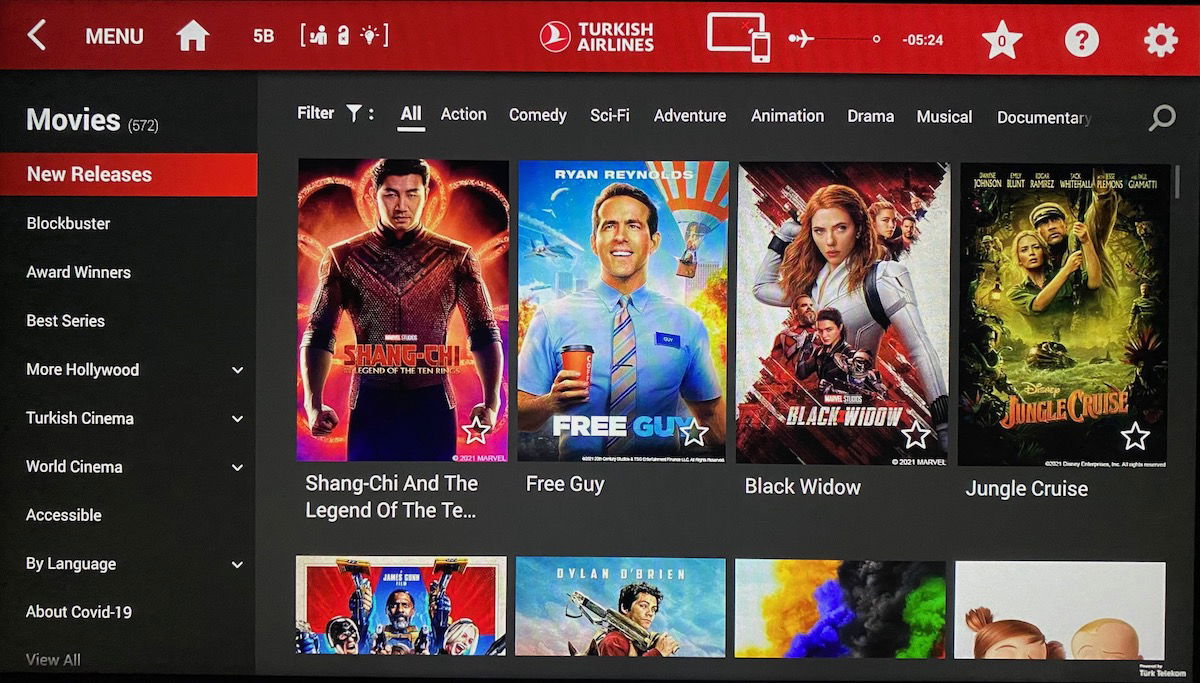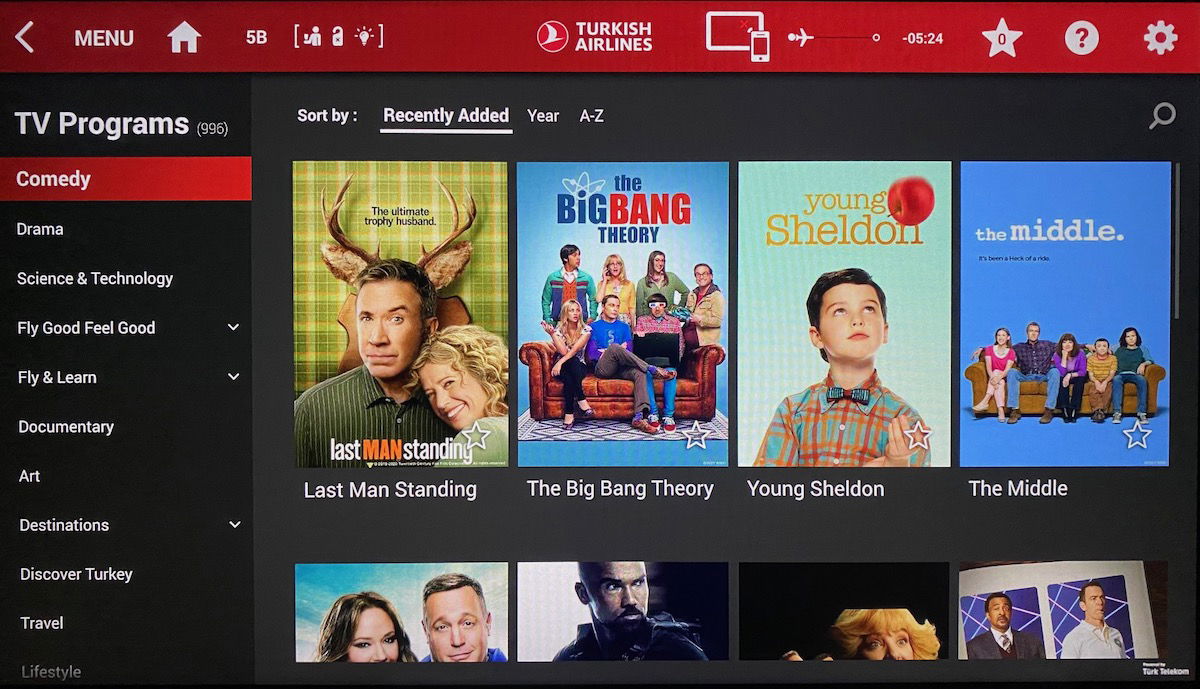 There was also the moving map feature, which is what I had on for most of the flight.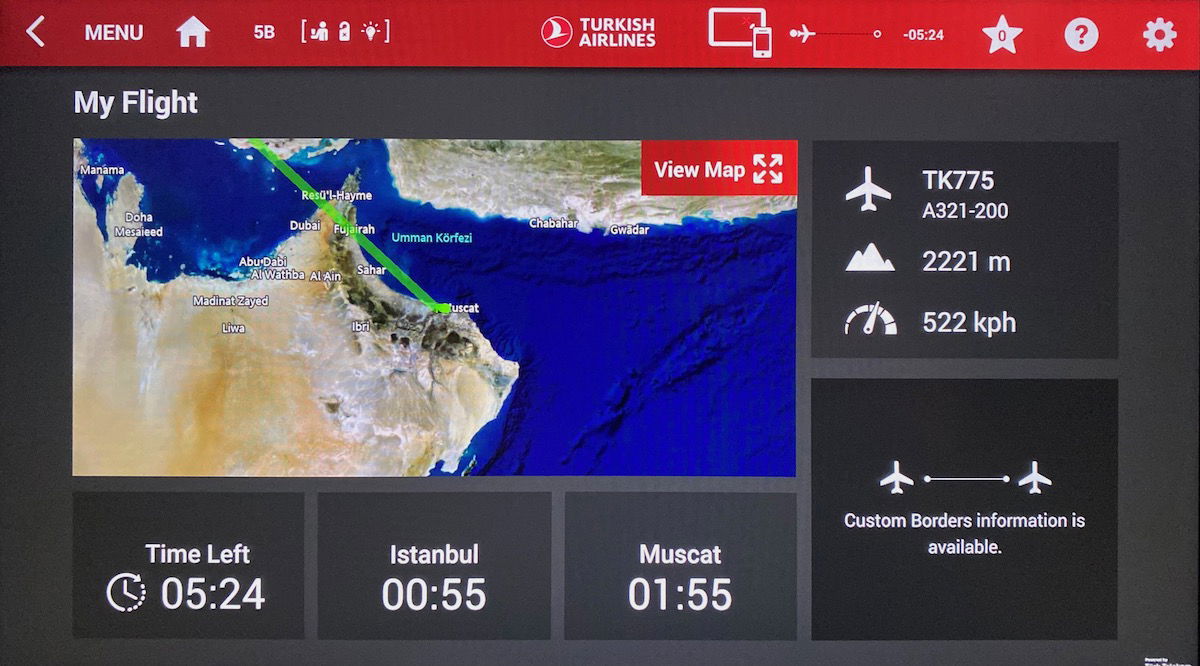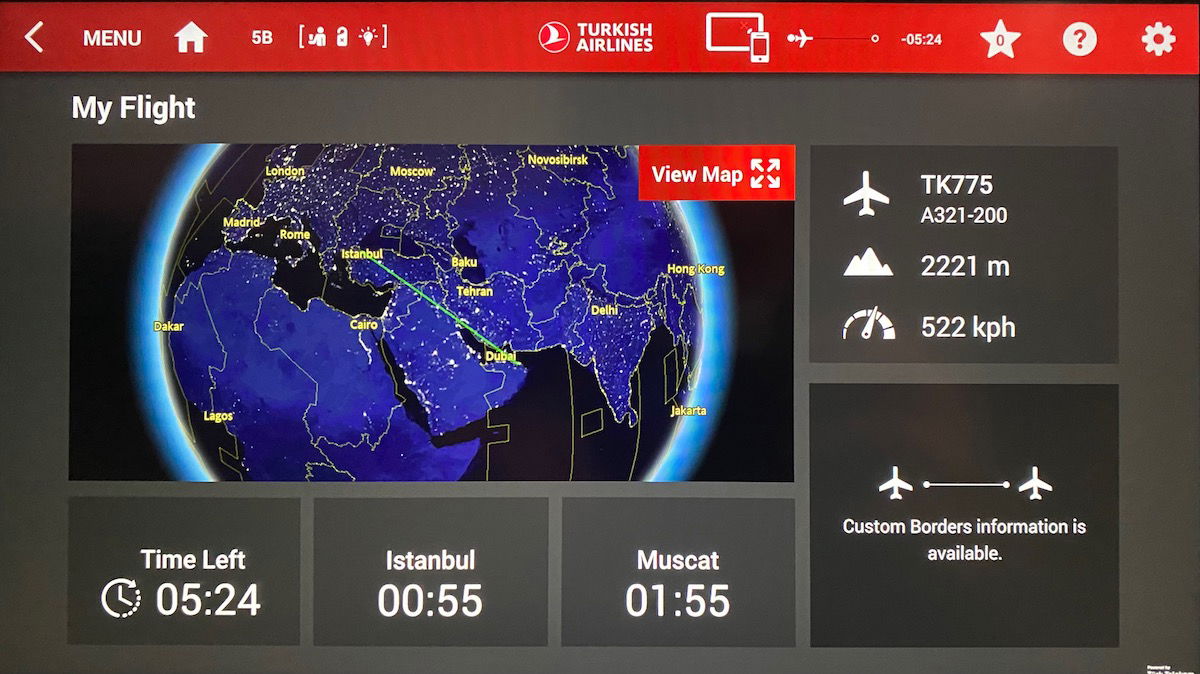 Turkish Airlines' A321neos also have Wi-Fi. Best of all, it's complimentary for business class passengers (you just have to enter your last name and seat number), and speeds were fast. I love how Turkish offers free Wi-Fi in business class, and while it's limited to 1GB of data, that's a very high limit.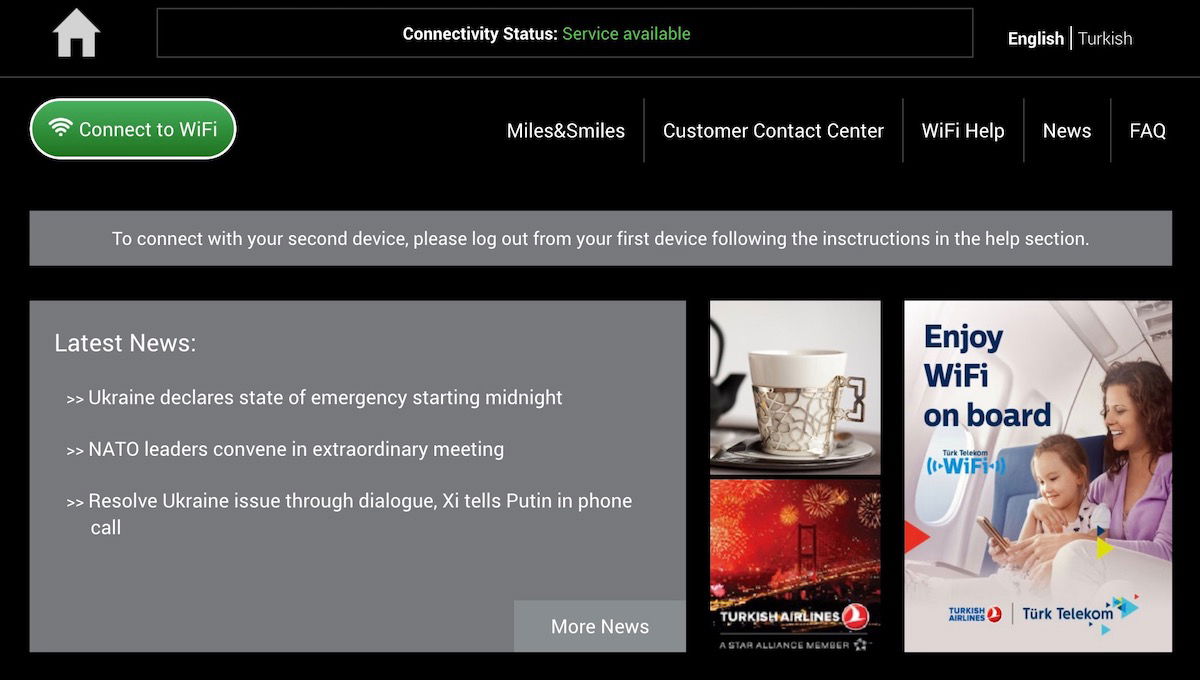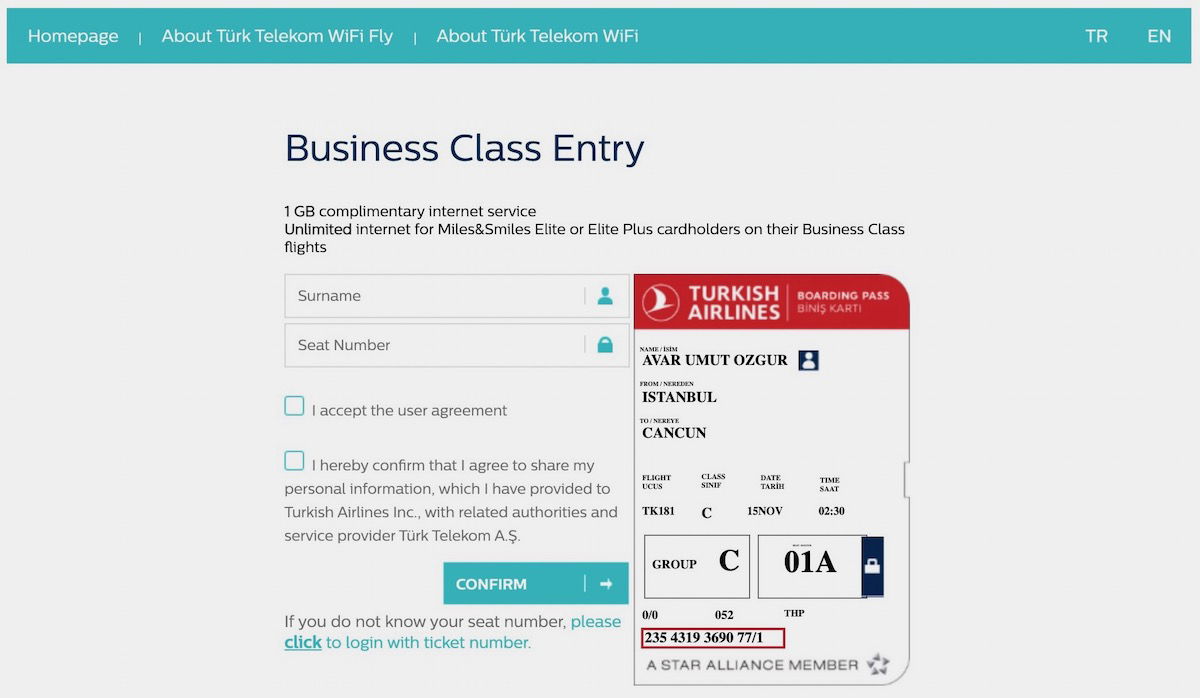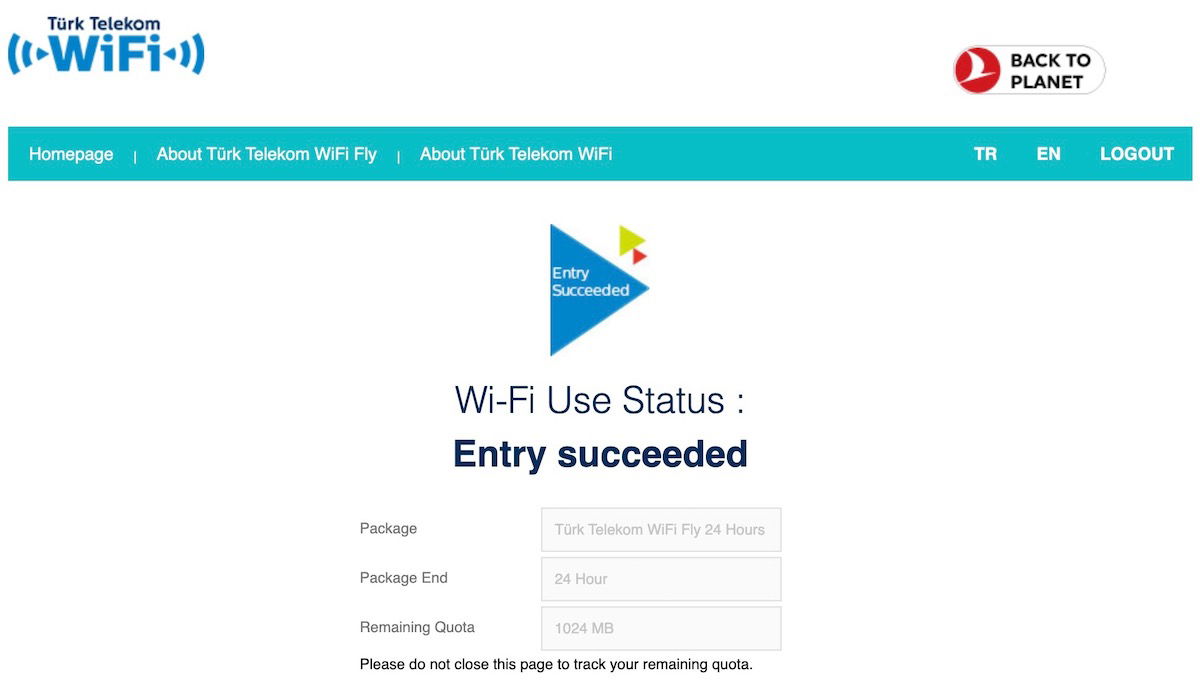 For those not in business class, a Wi-Fi pass costs anywhere from $2.99-24.99, depending on how much data you were looking for.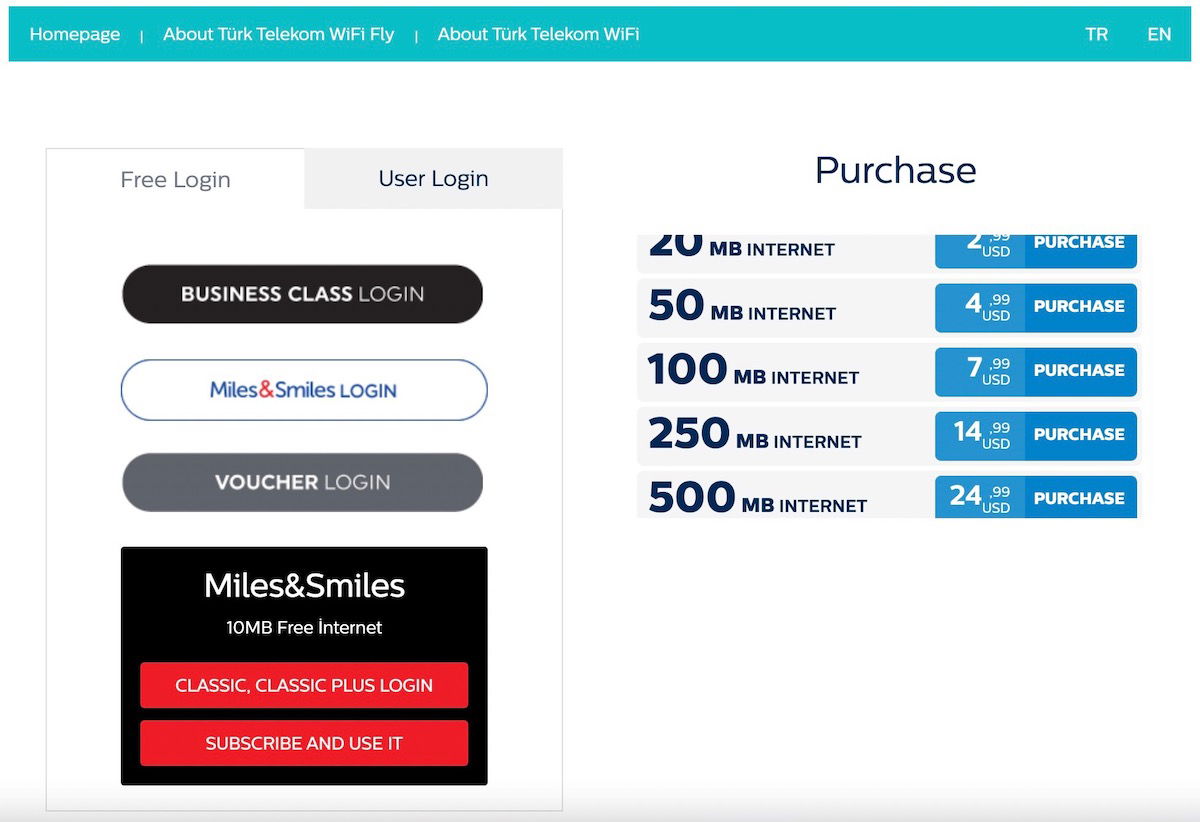 Turkish Airlines business class meal service
I was curious to see what the meal service would be like on a roughly five hour flight departing around 1:30AM and arriving around 6AM. As it turns out, Turkish was serving breakfast on this flight, and it was offered after takeoff.
You can find the menu below.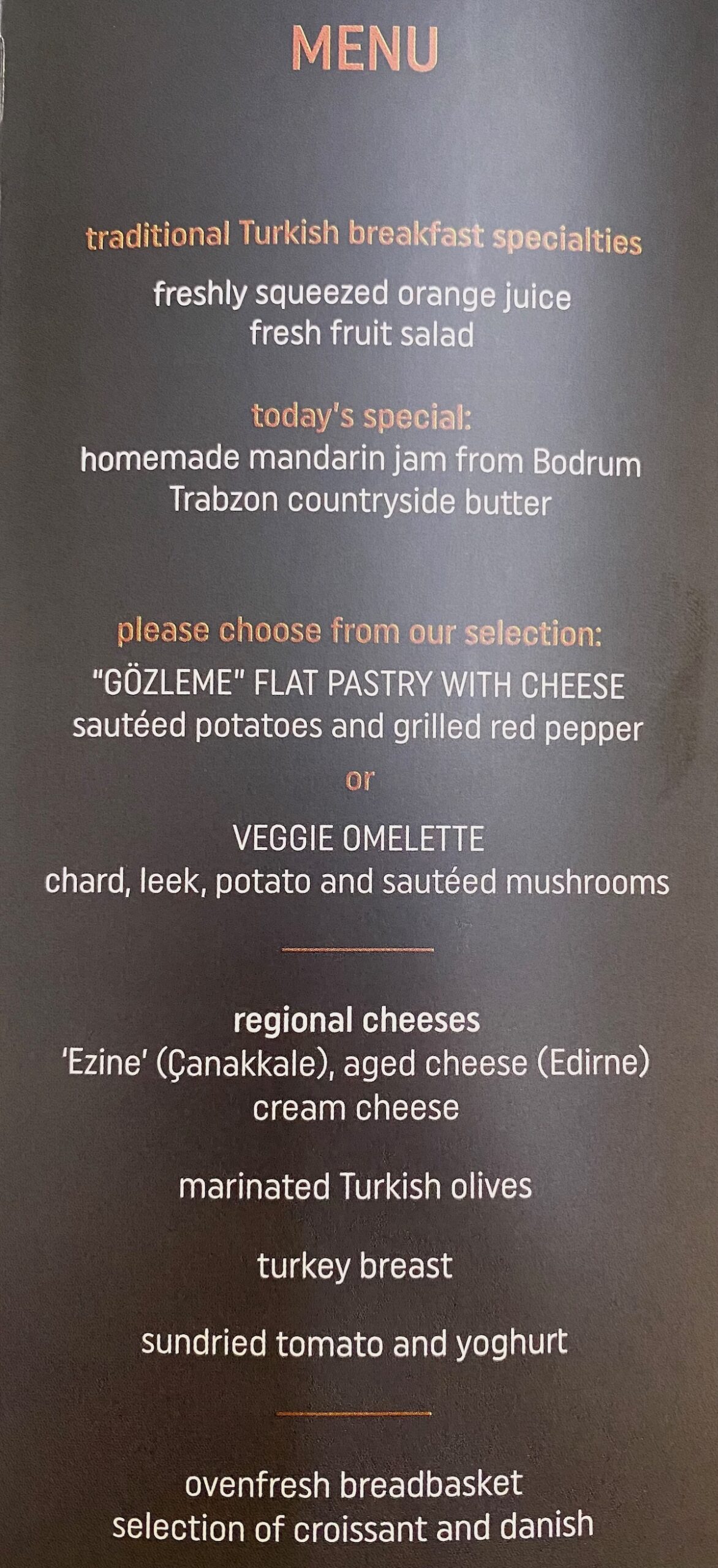 You can find the beverage list below.

Meal orders were taken about 15 minutes after takeoff, and we were just about the only people who didn't go straight to sleep (thanks to the nap room at the Primeclass Lounge). Service began with warm towels being distributed — I haven't seen many of those during the pandemic!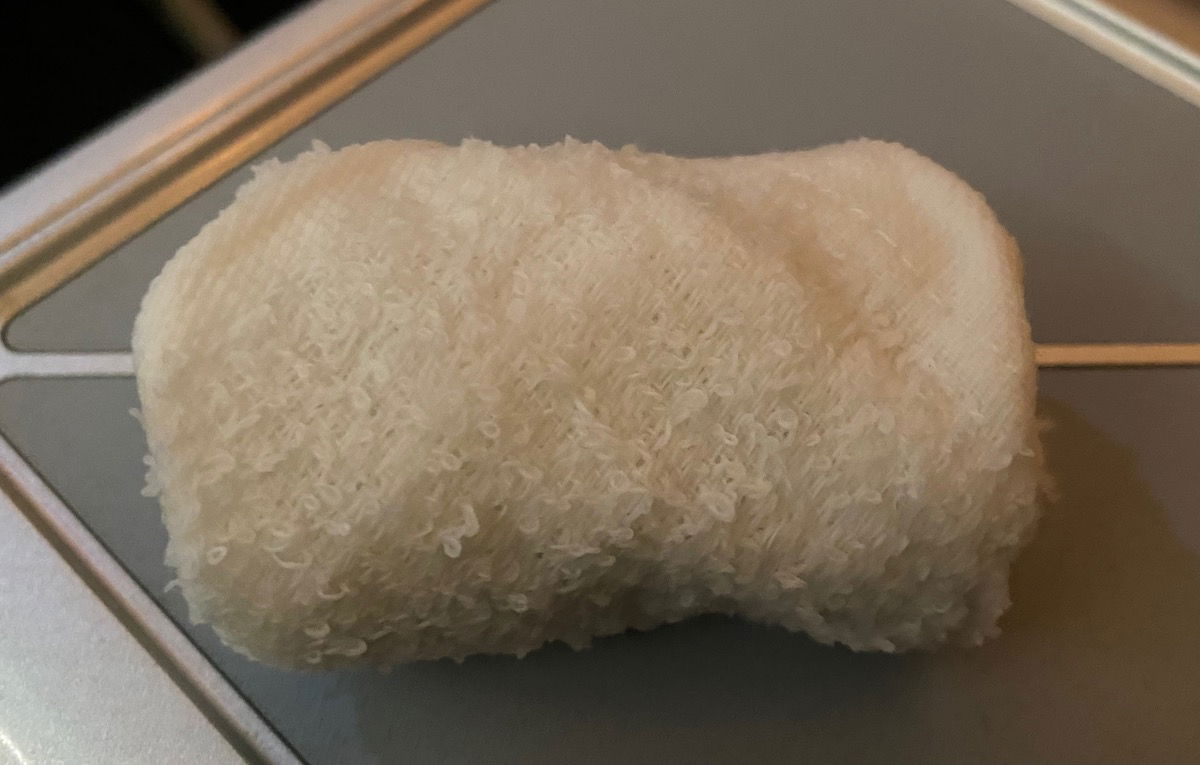 The first course was served roughly 30 minutes after takeoff. Each individual dish was served covered, though the flight attendant proactively offered to remove the cover.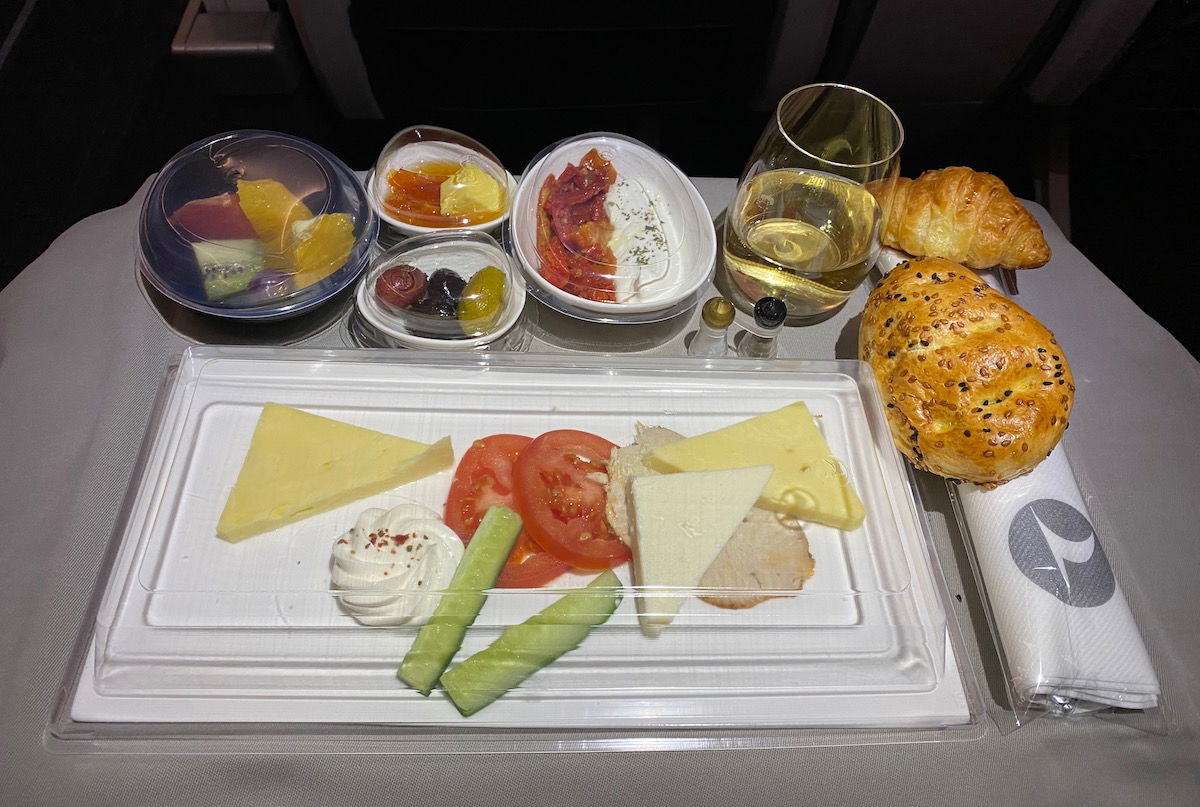 The first course consisted of regional cheeses and turkey breast, and then sides included fresh fruit, olives, jam and butter, and sundried tomato and yogurt. A selection of bread was also offered. And since my body was confused about what time it was, I had a glass of Turkish sauvignon blanc to go along with it… as one does with breakfast.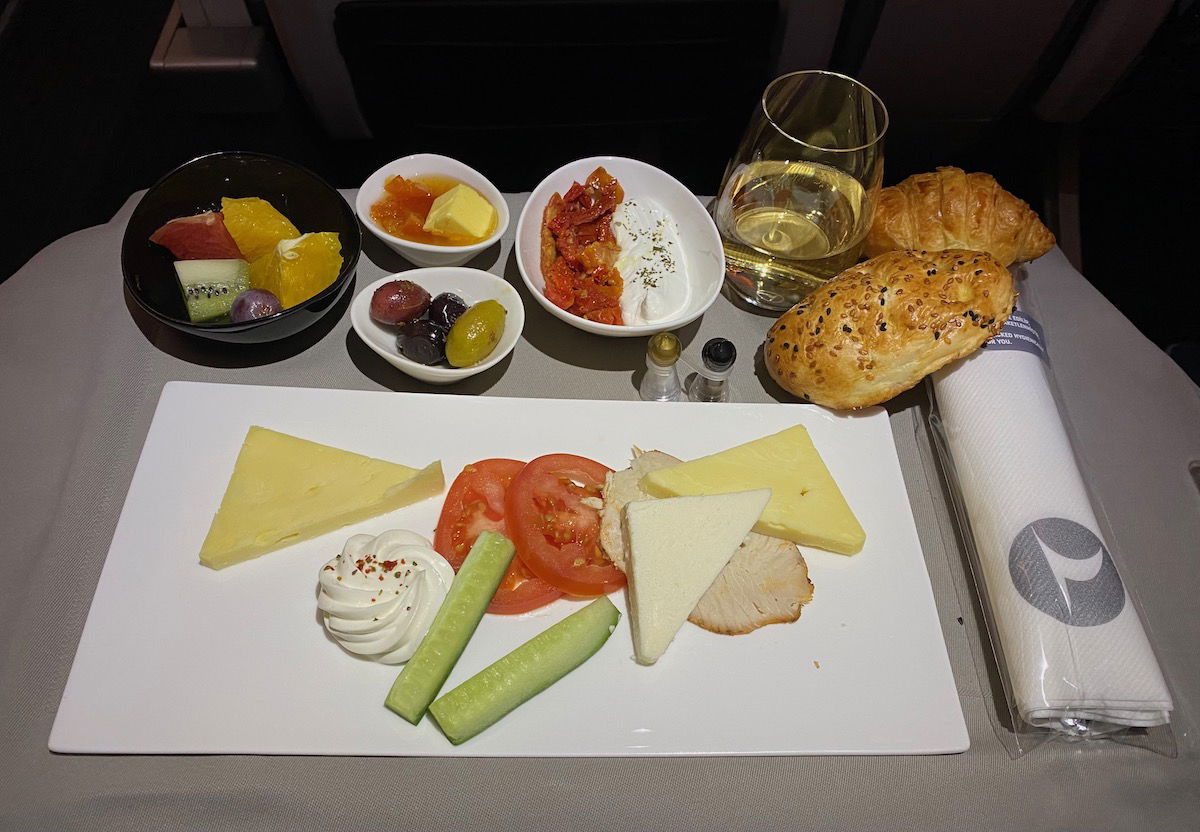 For the main course there were two choices — either a veggie omelet with chard, leek, potato, and sautéed mushrooms, or a Turkish flat pastry with cheese, sautéed potatoes, and grilled red pepper. I was thrilled to see two vegetarian options, unlike my recent Iberia flight, where both breakfast options had pork.
I had ordered the veggie omelet, but the flight attendant said that I also had to try the Turkish dish, as he said he thought I'd also enjoy it (and clearly they had extras, since no one else was eating).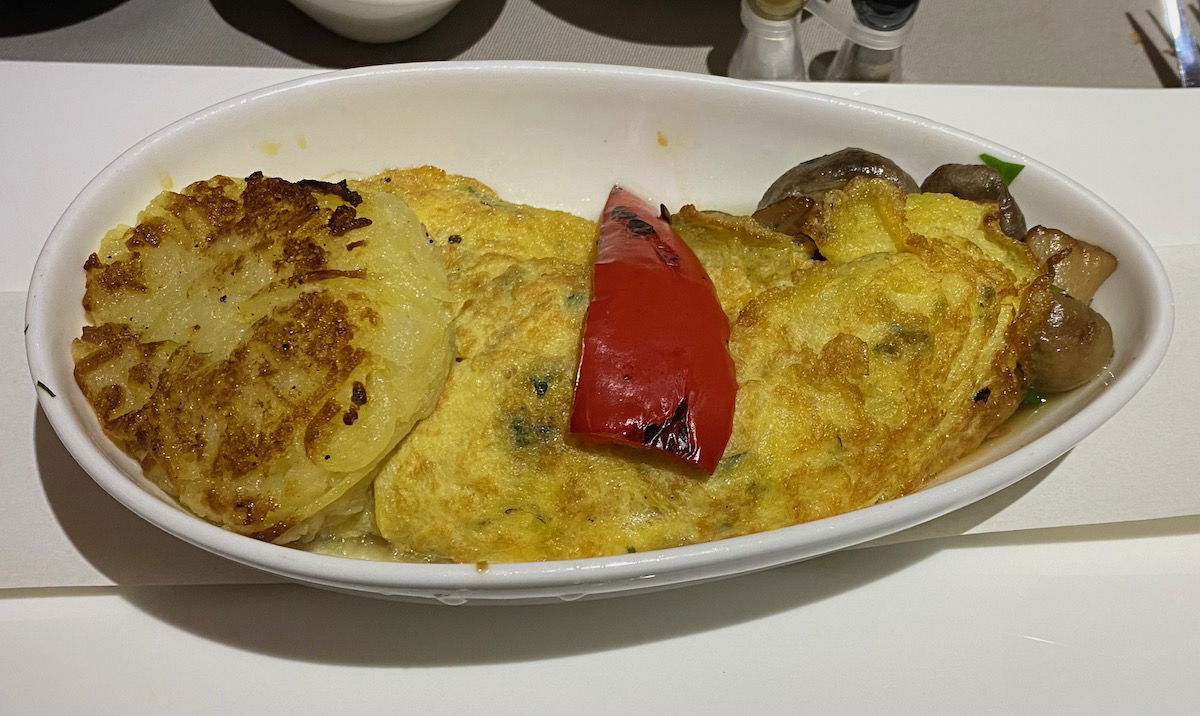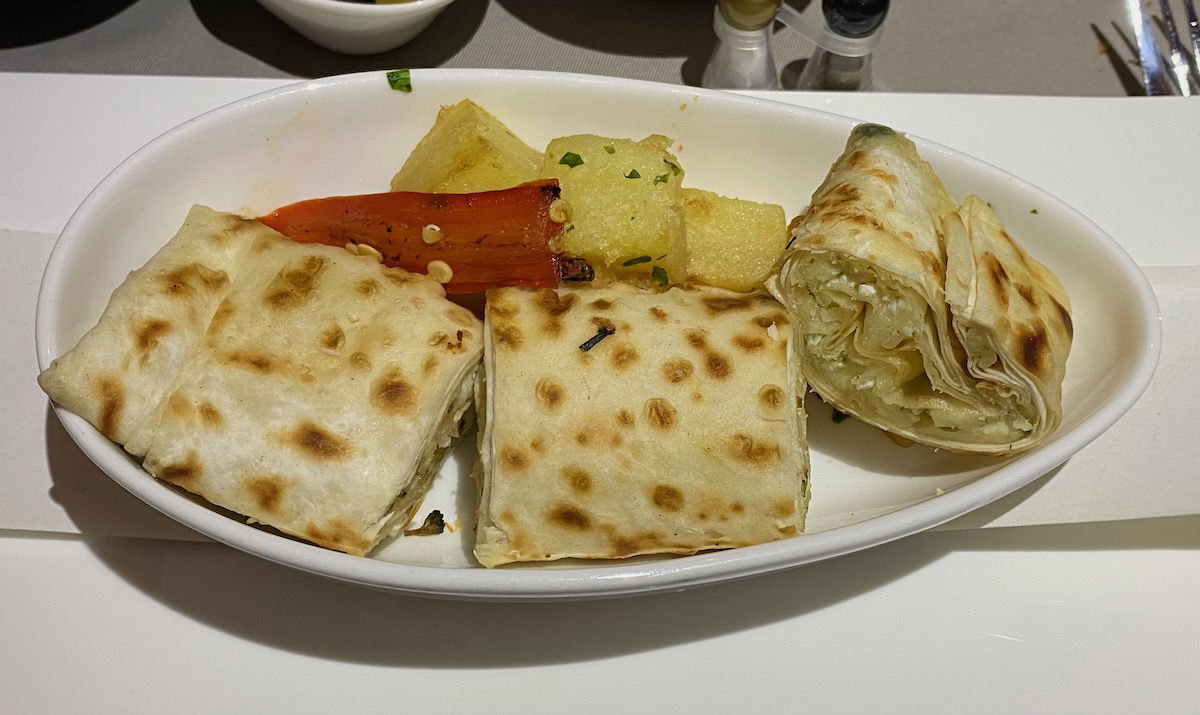 Both dishes were very good. Since I had Wi-Fi and I don't sleep well sitting up, I decided to just work for the remainder of the flight. The crew did a great job keeping my coffee topped off.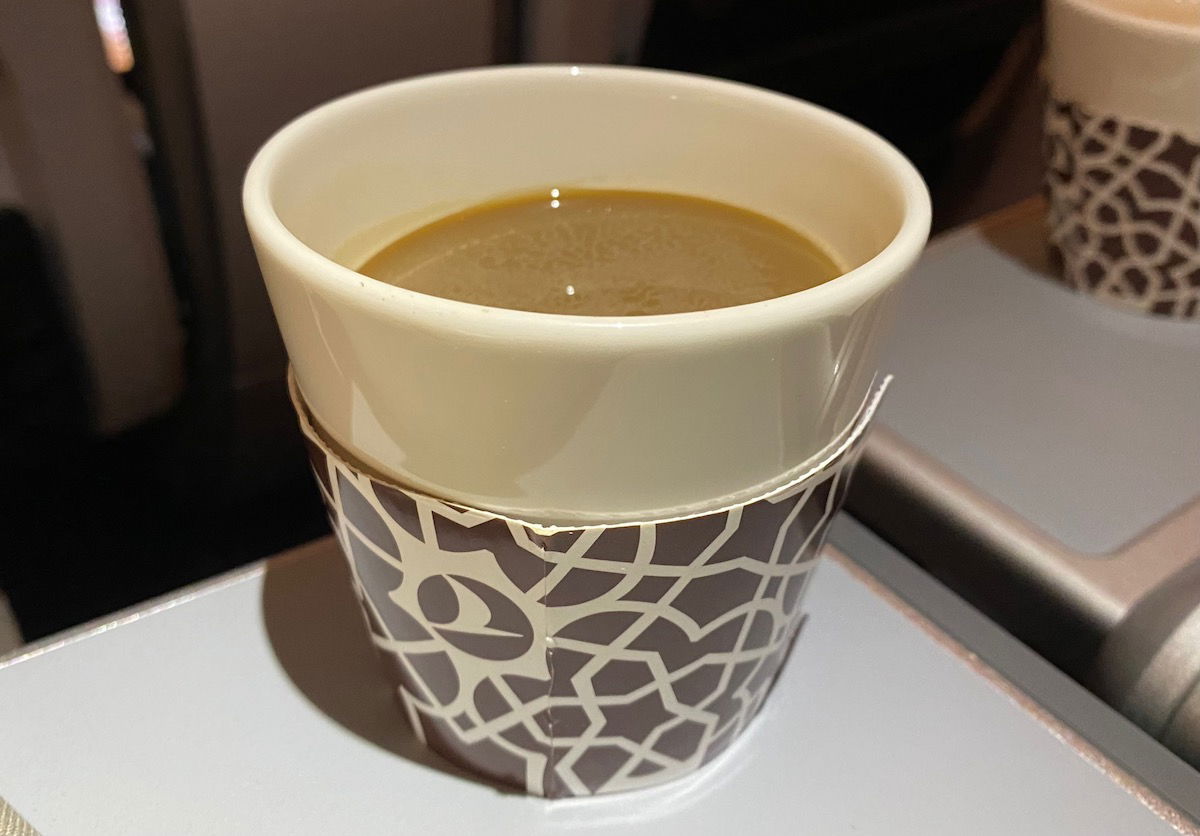 I found it interesting that mood lighting was kept on throughout the flight, rather than making it totally dark. Since I was trying to stay up I appreciated that, though I'm not sure if those trying to sleep felt the same way.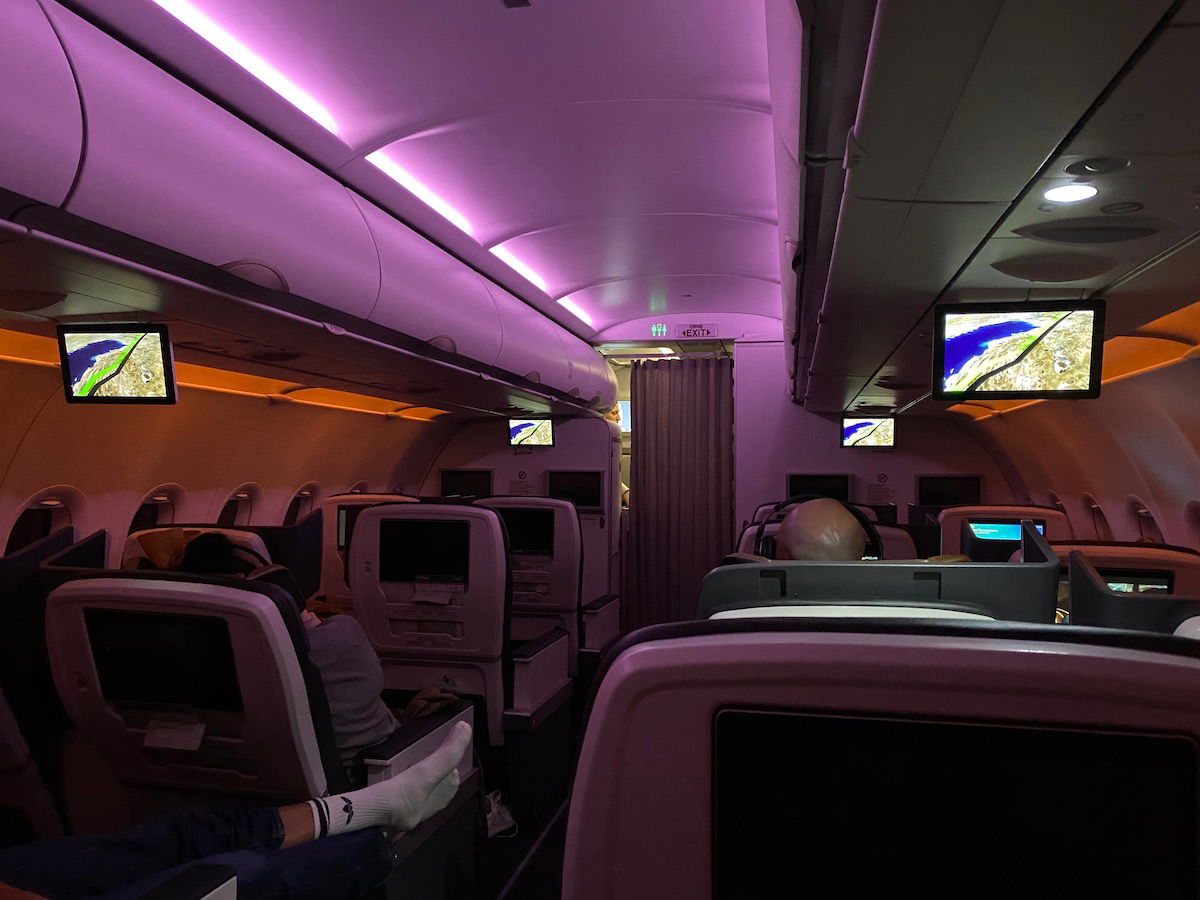 I wanted to share one funny thing that happened. We were initially in the seats in row five on the left side, but during the meal moved over to the seats on the right side. That's just because the seats on the right side in row four were empty, so it gave us a bit more space, and it meant we'd be less disruptive to those sleeping.
There was a German family seated in rows three and four (on the left side), and one of the kids decided to just take my window seat in row five in order to sleep, even though it had all my stuff in it. It didn't bother me (after all, I wasn't entitled to multiple seats), other than him using his feet (with socks on) to control the personal television. I just found the whole thing odd, especially since my backpack was in the aisle seat there.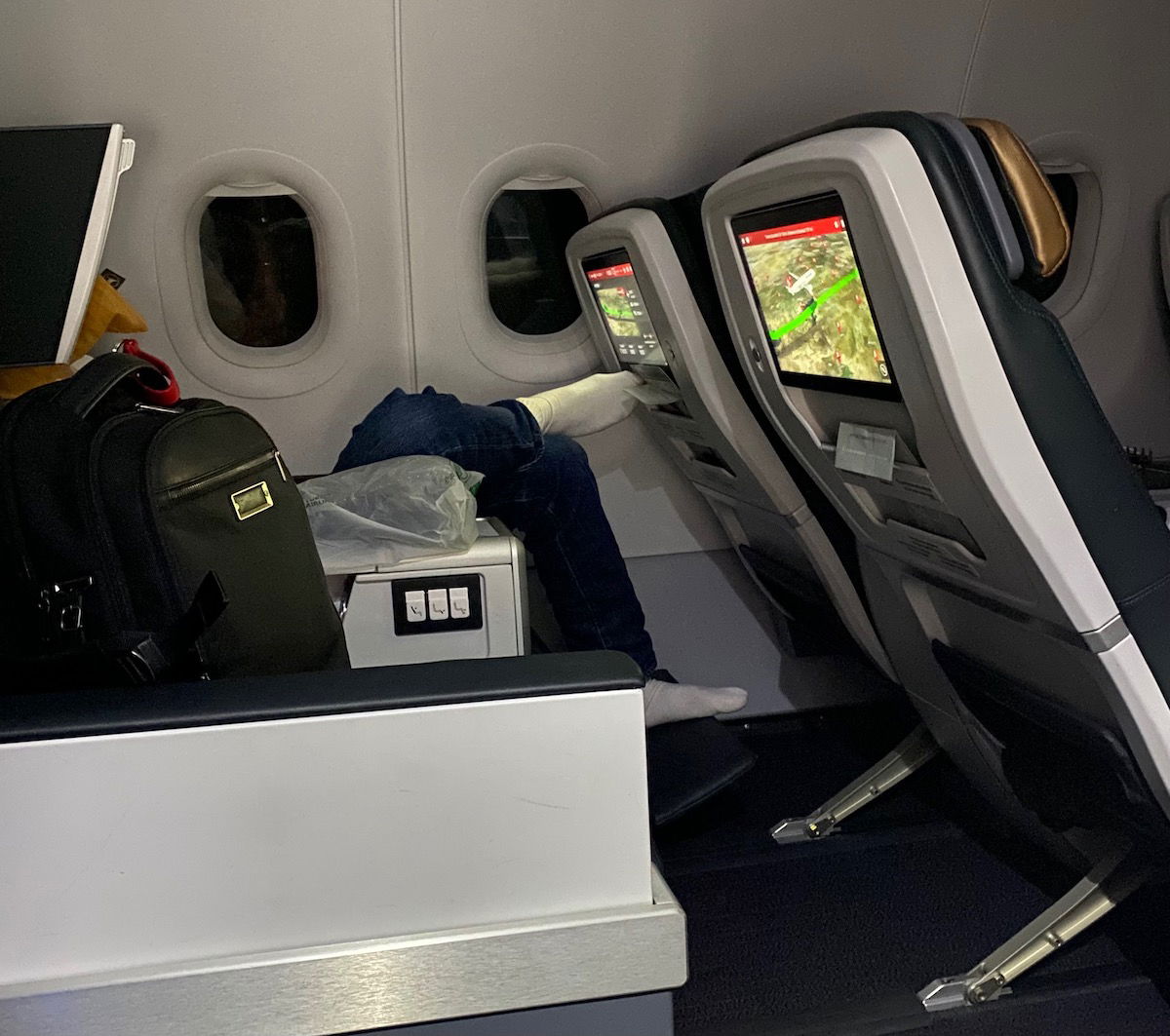 Turkish Airlines business class service
I love Turkish Airlines, and have consistently found service on the airline to be exceptionally good. Turkish people in general are some of the most hospitable people in the world, and that extends to the airline.
What I love about service on Turkish Airlines is that it's not formulaic (like you might find on some Gulf carriers), but rather seems to come from the heart, and is based on genuine interactions. On our flight the cabin chief was working the galley, while the guy working the aisle was delightfully friendly. He would constantly offer drink refills, and couldn't have been politer.
Turkish Airlines approach to Istanbul
At around 5:25AM Istanbul time the captain announced that we'd soon start our descent, and would be landing in 40 minutes. At that point the crew was advised to start preparing the cabin for arrival. Turkish Airlines does prepare the cabin for arrival frustratingly early, but that's the case with a lot of airlines.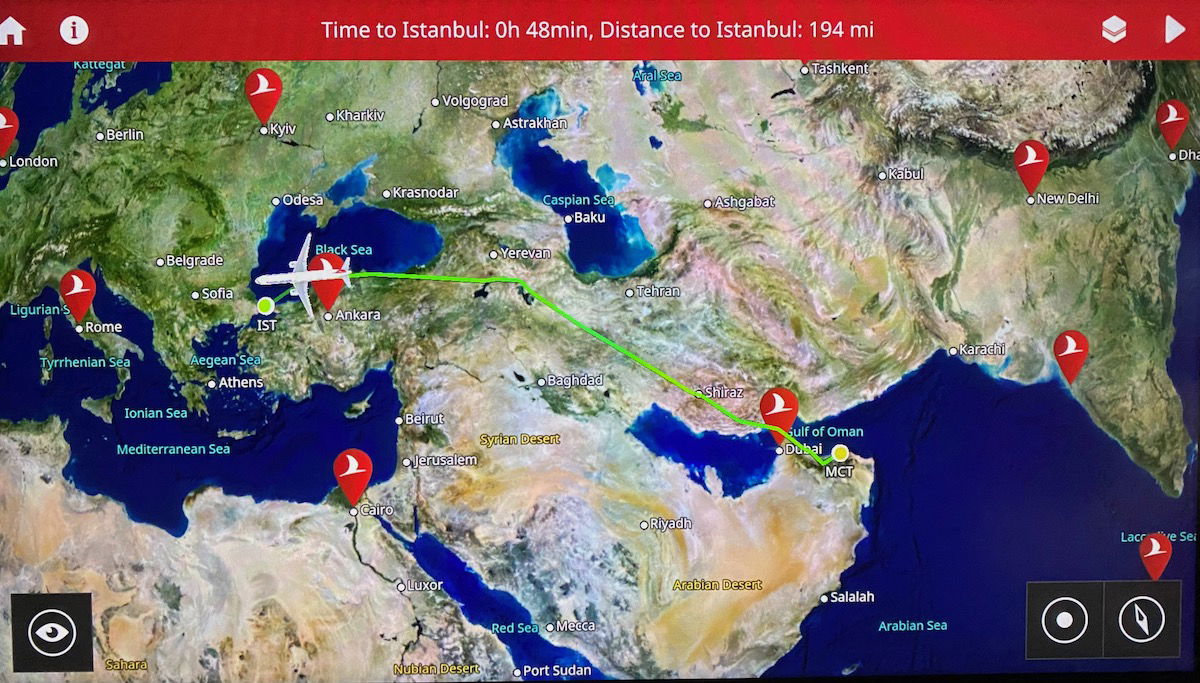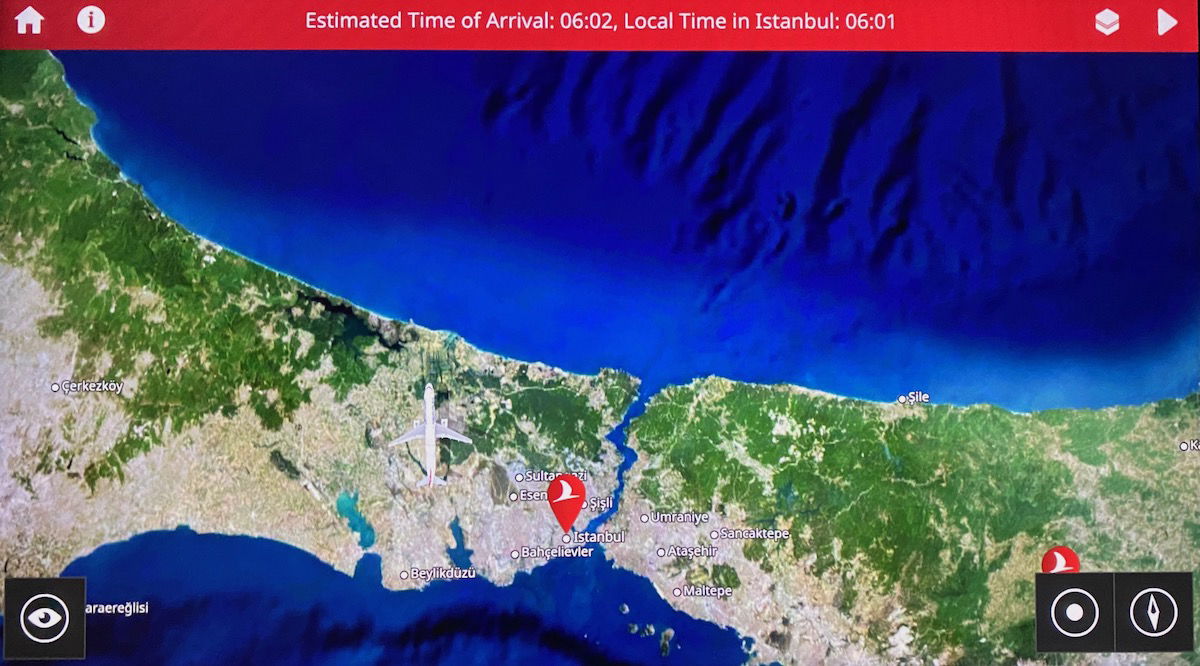 We ended up touching down in Istanbul at 6:05AM, and then had a roughly 10 minute taxi to our arrival gate, where we arrived at 6:15AM.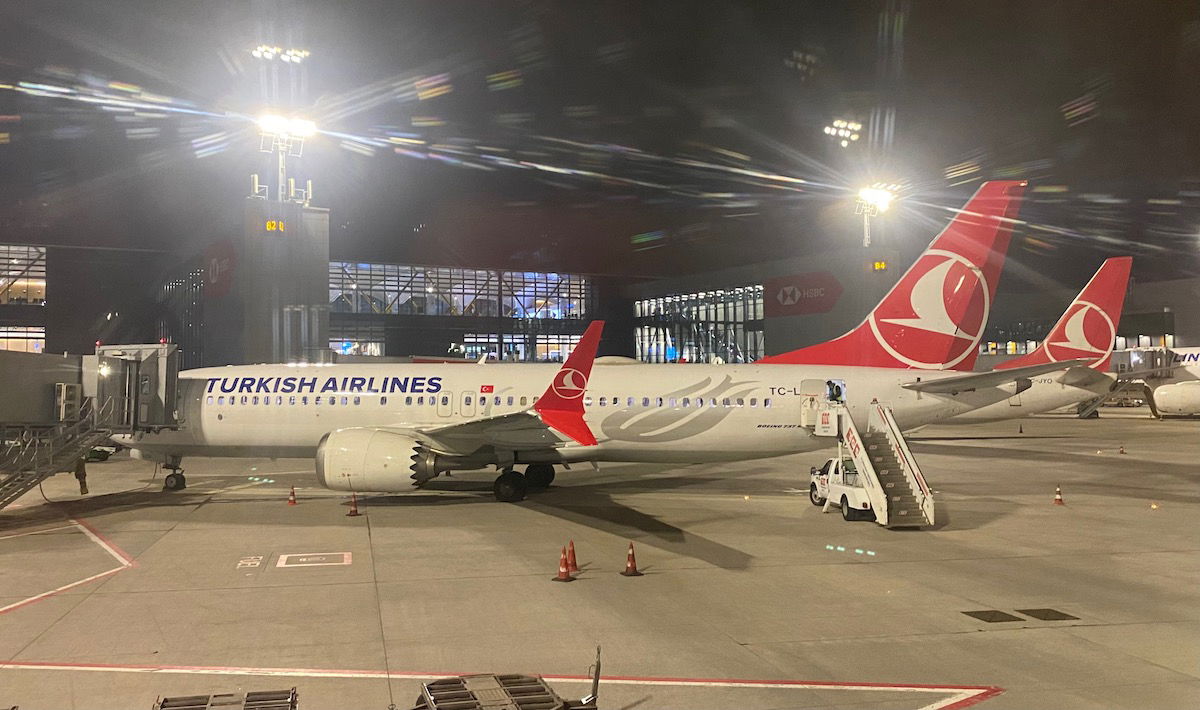 The challenge with judging Turkish Airlines' product
There's one general challenge I'd like to point out when it comes to assessing the quality of a product like this on a redeye flight from Muscat to Istanbul. Keep in mind that this is the exact product Turkish offers on flights between Istanbul and Europe.
Getting this product on an intra-Europe flight is beyond spectacular, and the best in the industry. While most European airlines simply block middle seats in economy and call it business class, Turkish has a legitimately differentiated product that's unlike anything else you'll find.
Admittedly it's harder to compare that product on a route like this. For example, some days Turkish flies an A330 with flat beds on this route, while other days it flies A321s. Obviously a flat bed is better than a recliner seat like this.
At the same time, this product interested me a lot more, since I've flown Turkish's A330 business class. This is a really excellent regional business class product, in my opinion, though it's hard to know where exactly to rank this on a redeye from the Middle East.
Bottom line
Turkish Airlines is a phenomenal airline with an industry-leading hard and soft product. This is an excellent regional business class experience, especially when you consider that this is also offered on intra-Europe flights. Add in the great food & drinks, genuinely friendly service, amazing entertainment, complimentary Wi-Fi, and solid amenities, and I'd fly Turkish Airlines again in a heartbeat.
Admittedly I generally try to avoid redeyes in non-flat beds, so this probably wasn't the ideal flight for experiencing this product. At the same time, my jetlag and pre-flight napped helped.
If you've flown Turkish Airlines' A321neo business class, what was your experience like?