We had quite a long journey to Oman, as we flew Iberia's A330 business class from Miami to Madrid, and then Iberia's A320neo business class from Madrid to Milan. Next up was the flight I was most looking forward to — Qatar Airways' new 787-9 business class from Milan to Doha.
How I booked our Qatar Airways business class tickets
Our time in Oman would be starting in Salalah, so I booked the following in business class for 42,500 AAdvantage miles plus $74.60 in taxes and fees per person:
02/16 IB3252 Madrid to Milan departing departing 11:30AM arriving 1:45PM
02/16 QR128 Milan to Doha departing 3:50PM arriving 11:35PM
02/17 QR1130 Doha to Salalah departing 12:50AM arriving 4:20AM
The reason for the indirect routing (rather than flying direct from Madrid to Doha) is because Milan to Doha was operated by Qatar Airways' new Boeing 787-9, while Madrid to Doha wasn't.
Qatar Airways business class boarding
Our flight from Milan to Doha was scheduled to board at 3:05PM, 45 minutes before departure. The flight was departing from gate B55, just a short walk from the Sala Montale Lounge.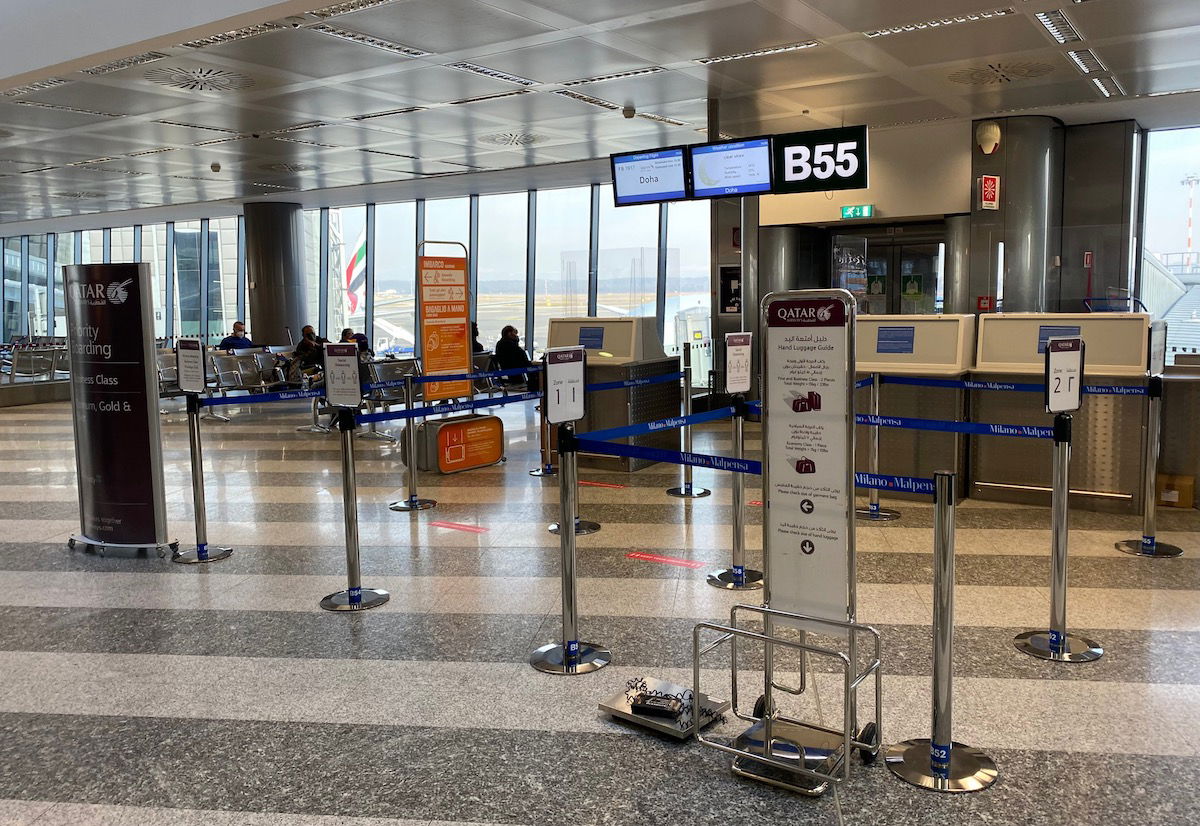 Business class passengers were invited to board first, and boarding took place exclusively through the second set of doors. There I was greeted by the friendly crew, and pointed left into business class.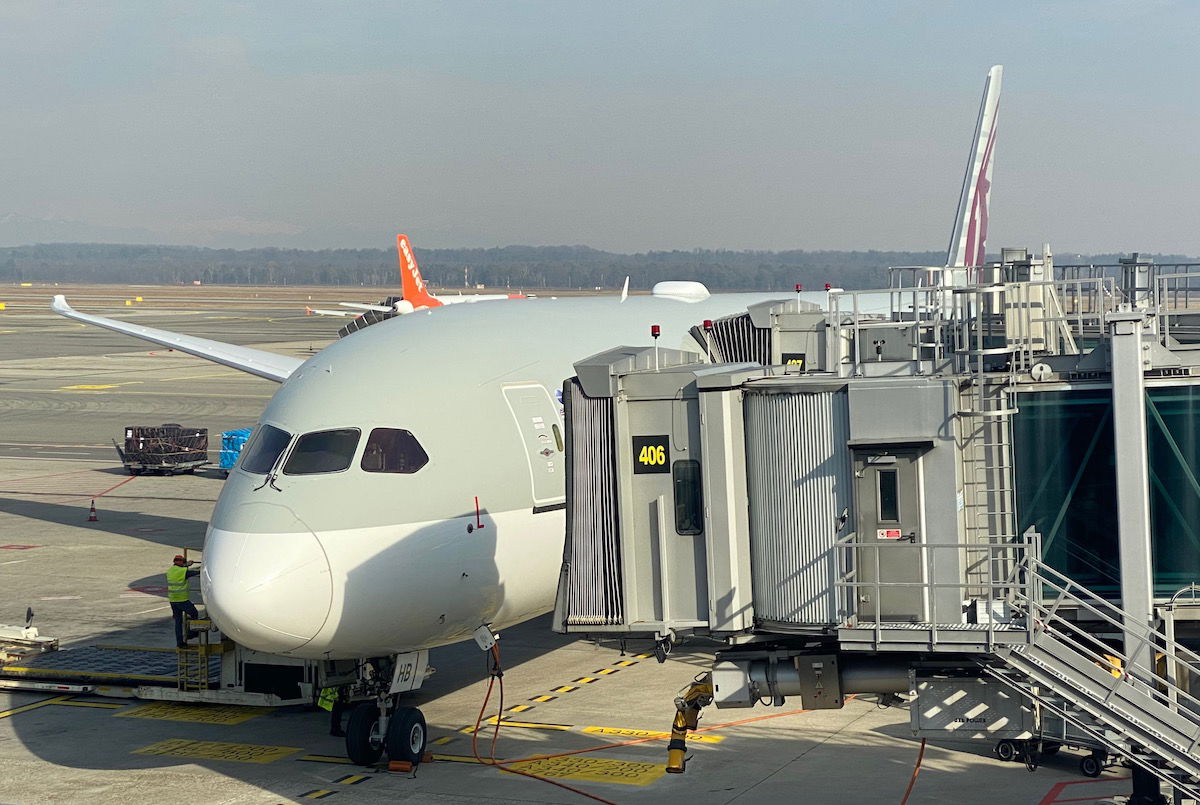 Qatar Airways Boeing 787-9 business class cabin & seats
Qatar Airways has installed all new business class seats on its Boeing 787-9s, different than the Qsuites you'll find on other planes, which are among my favorite business class seats in the world. Qatar Airways has a gorgeous entryway by the second set of doors, with an area that could be used as a self-serve bar, along with a bulkhead that had a cool texture and the carrier's logo.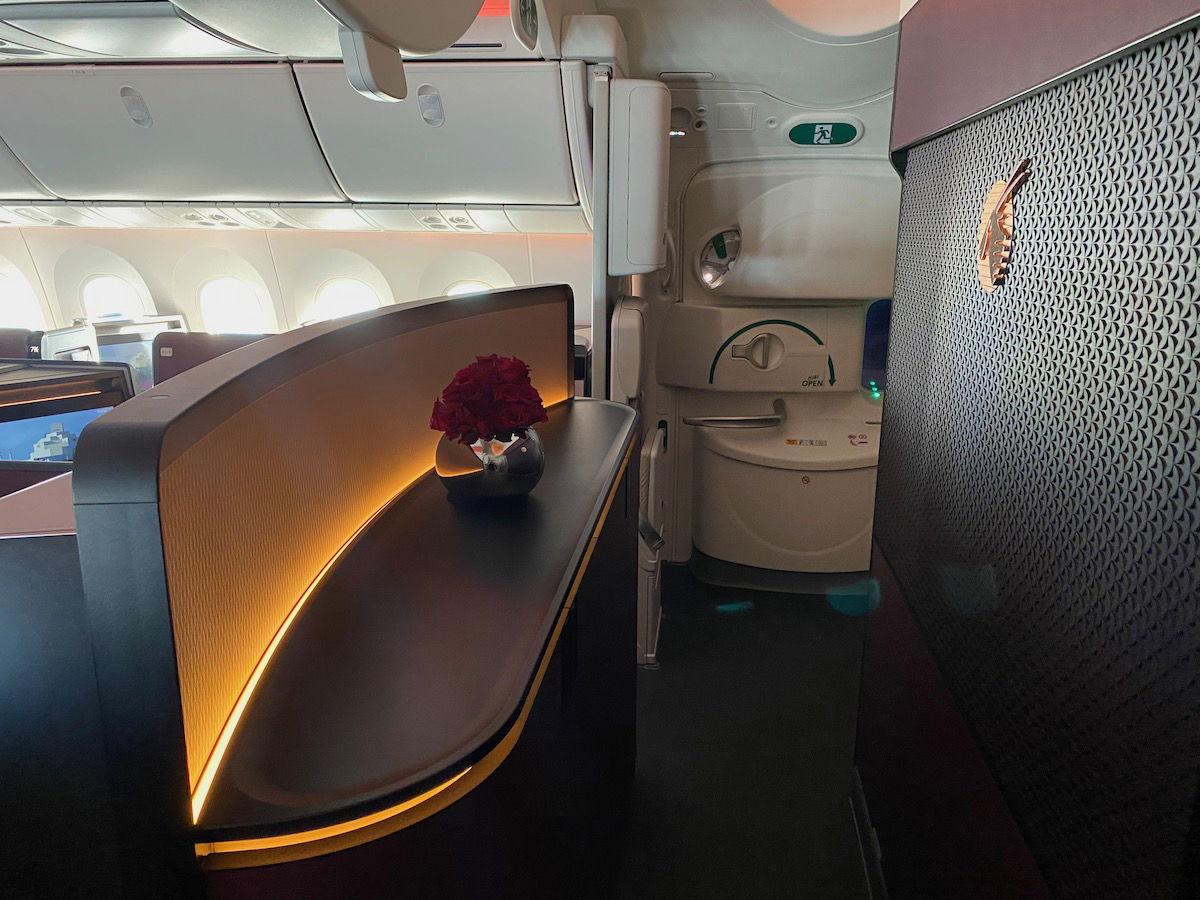 Qatar Airways' Boeing 787-9s have a total of 30 business class seats, spread across eight rows in a 1-2-1 configuration. Qatar Airways is the launch customer for the new Adient Ascent seat, which is a highly customizable product that we'll soon see on other airlines as well. The cabin is incredibly sleek-looking, if you ask me. I'm not usually a fan of burgundy as a color, but Qatar Airways pulls it off.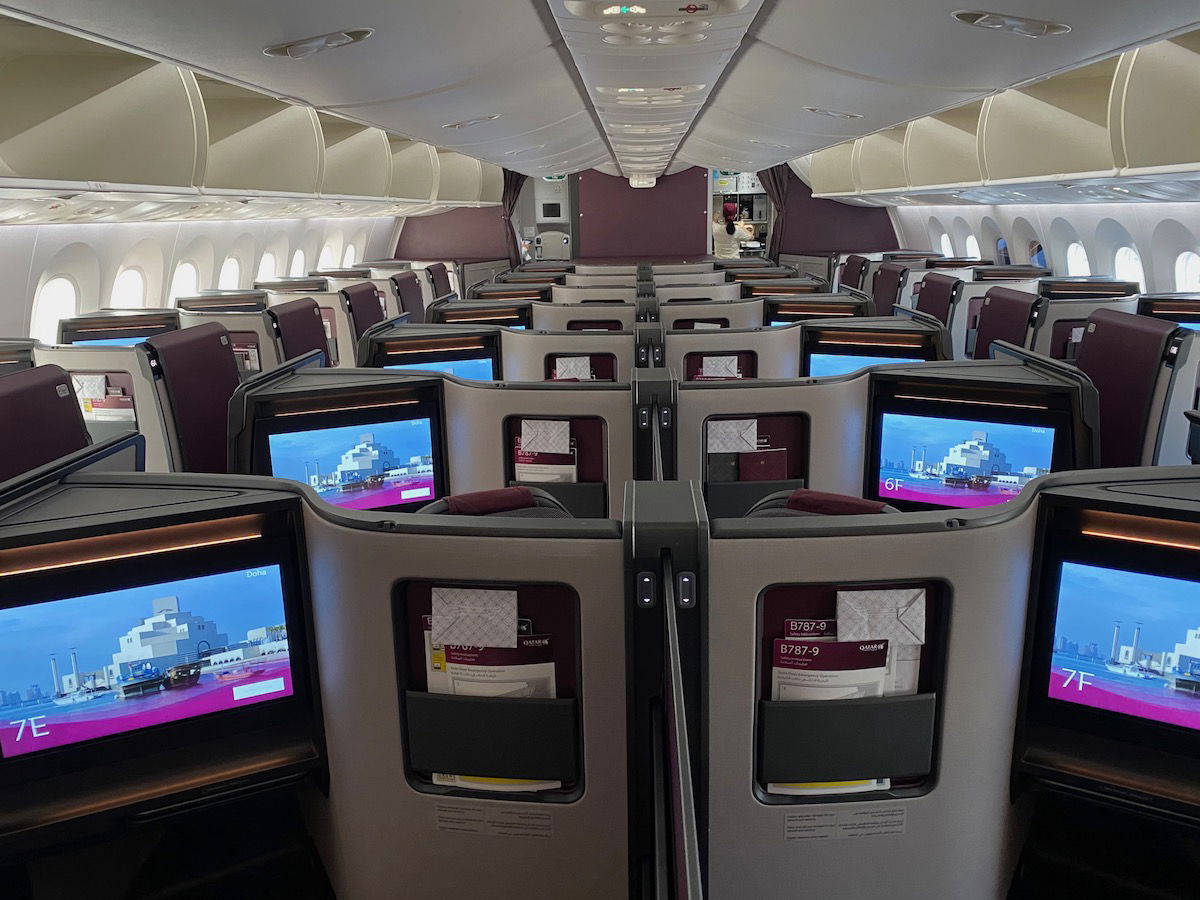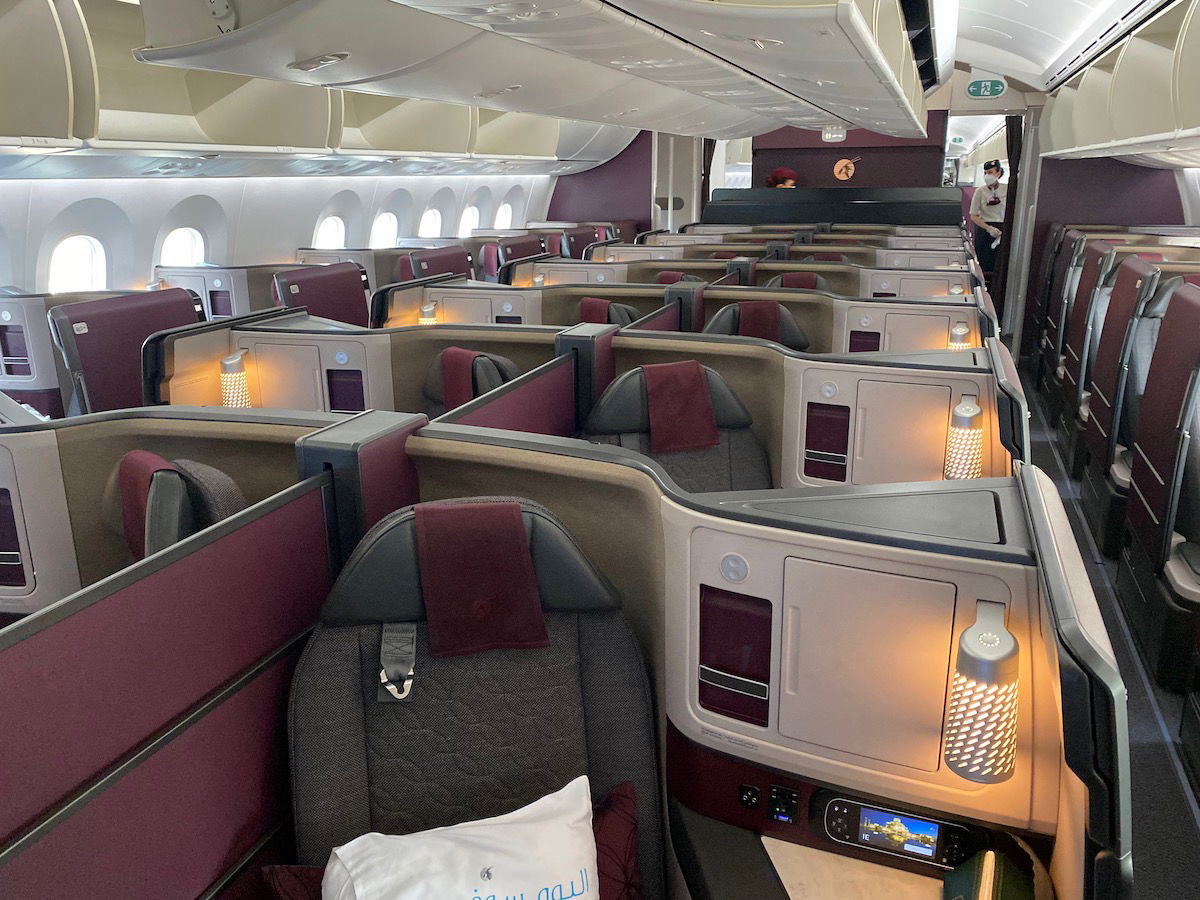 Qatar Airways has a consistent configuration in each row on the 787-9, which is to say that seats aren't staggered. Along the windows you'll find reverse herringbone seats, facing the windows. Each seat has a door, so I'd say the most comparable product would be British Airways' new Club Suites (though I think Qatar Airways' product is better).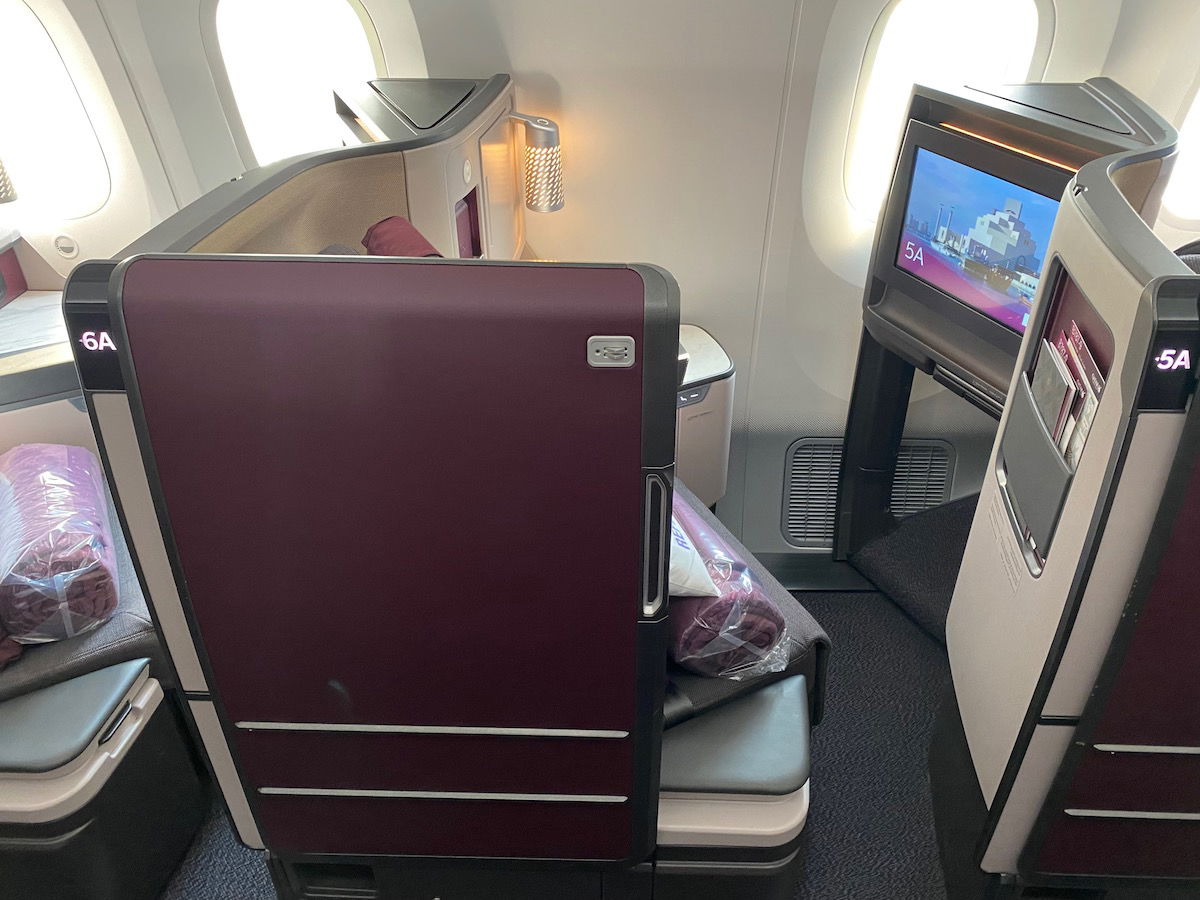 The attention to detail with the seat design is impressive, both in terms of style and substance.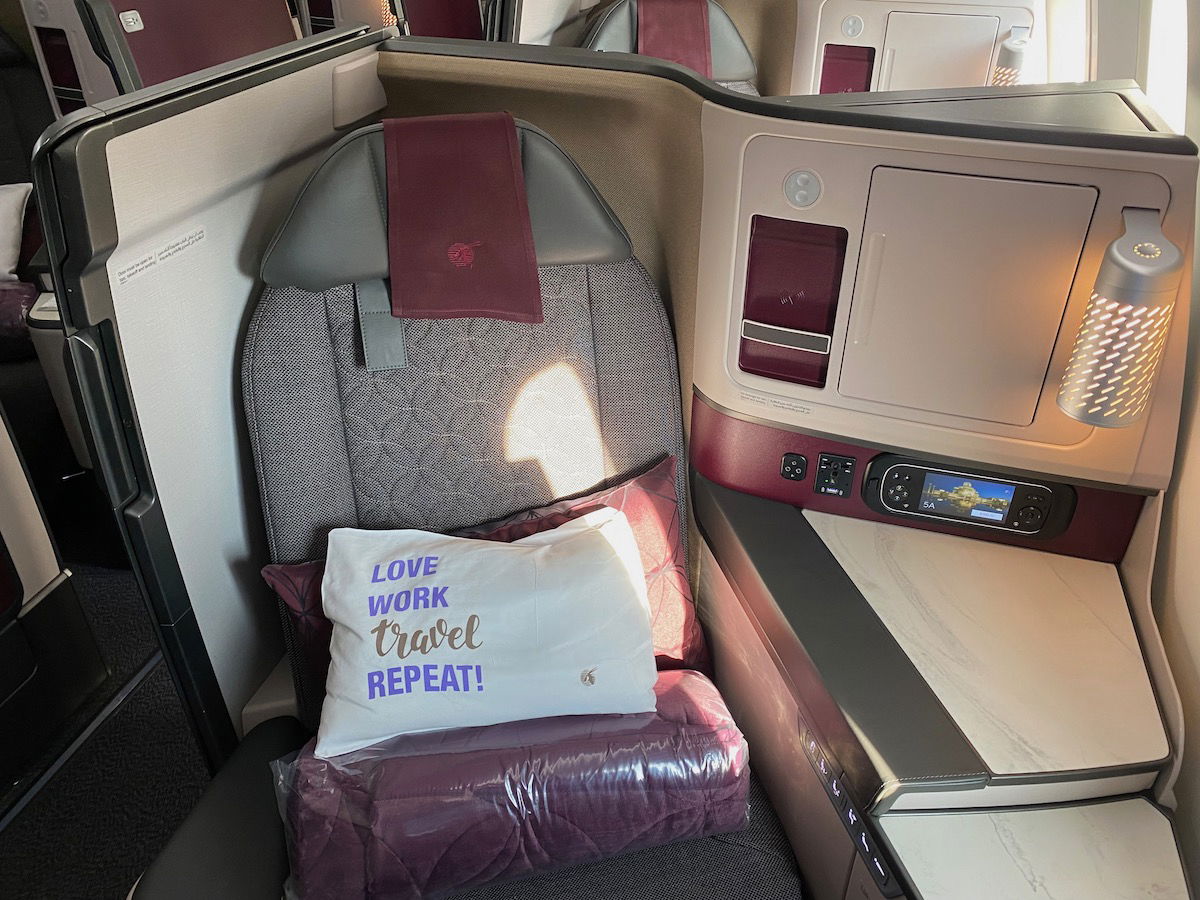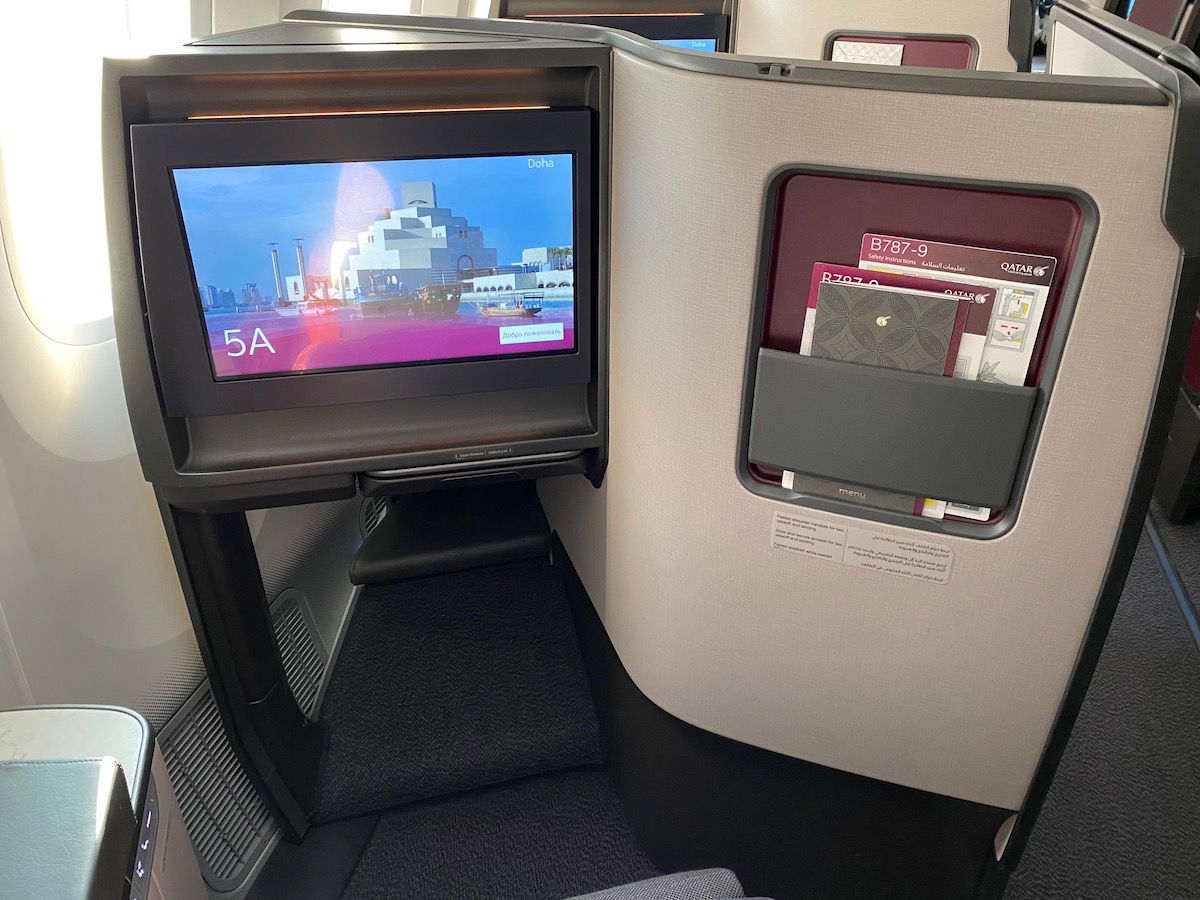 While the window seats are in a reverse herringbone configuration, the center seats are in a herringbone configuration, which is to say that they face the aisle, and are angled away from one another. I decided to assign us the two center seats in row five. This mixed reverse herringbone and herringbone layout reminds me of Virgin Atlantic's new Upper Class.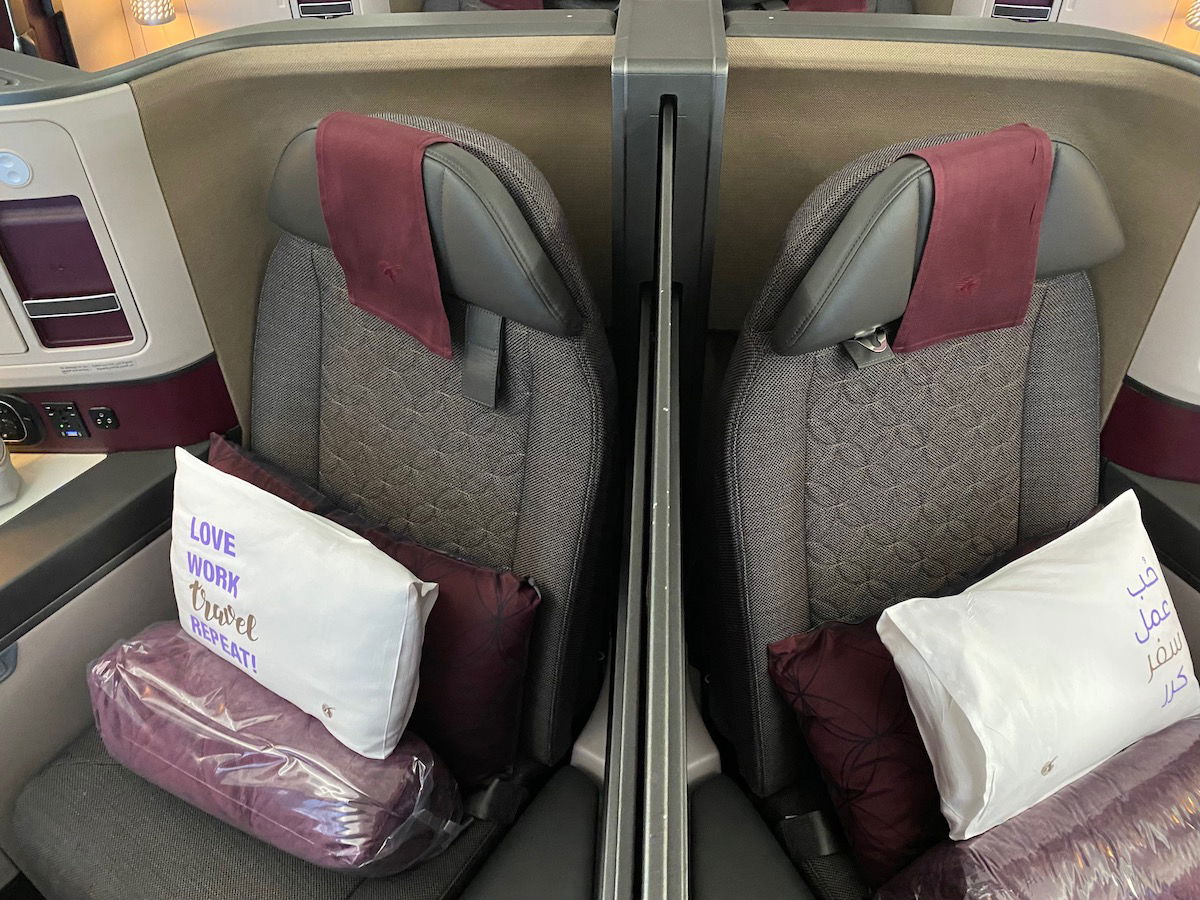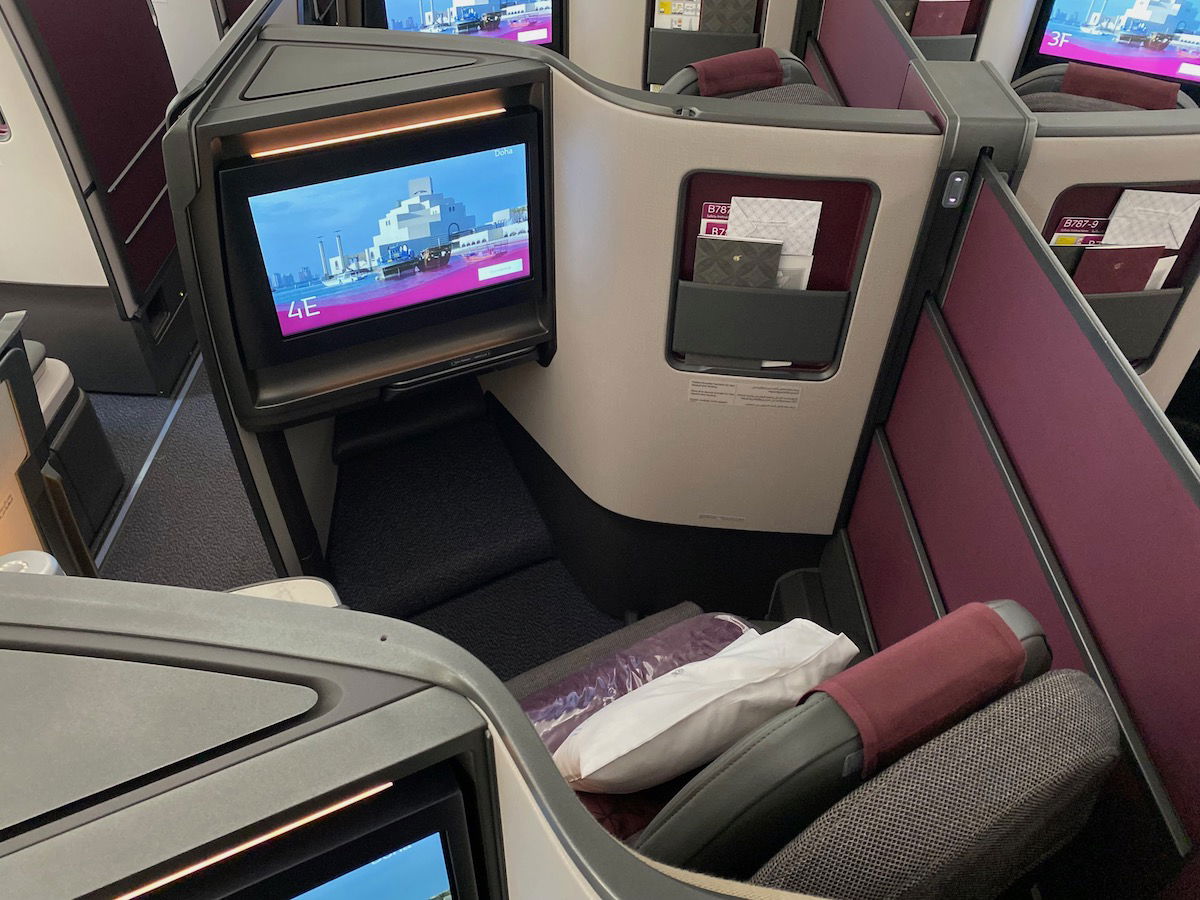 There's a very high privacy divider, so if you're seated in a center seat next to a stranger, the good news is that you'll still have full privacy.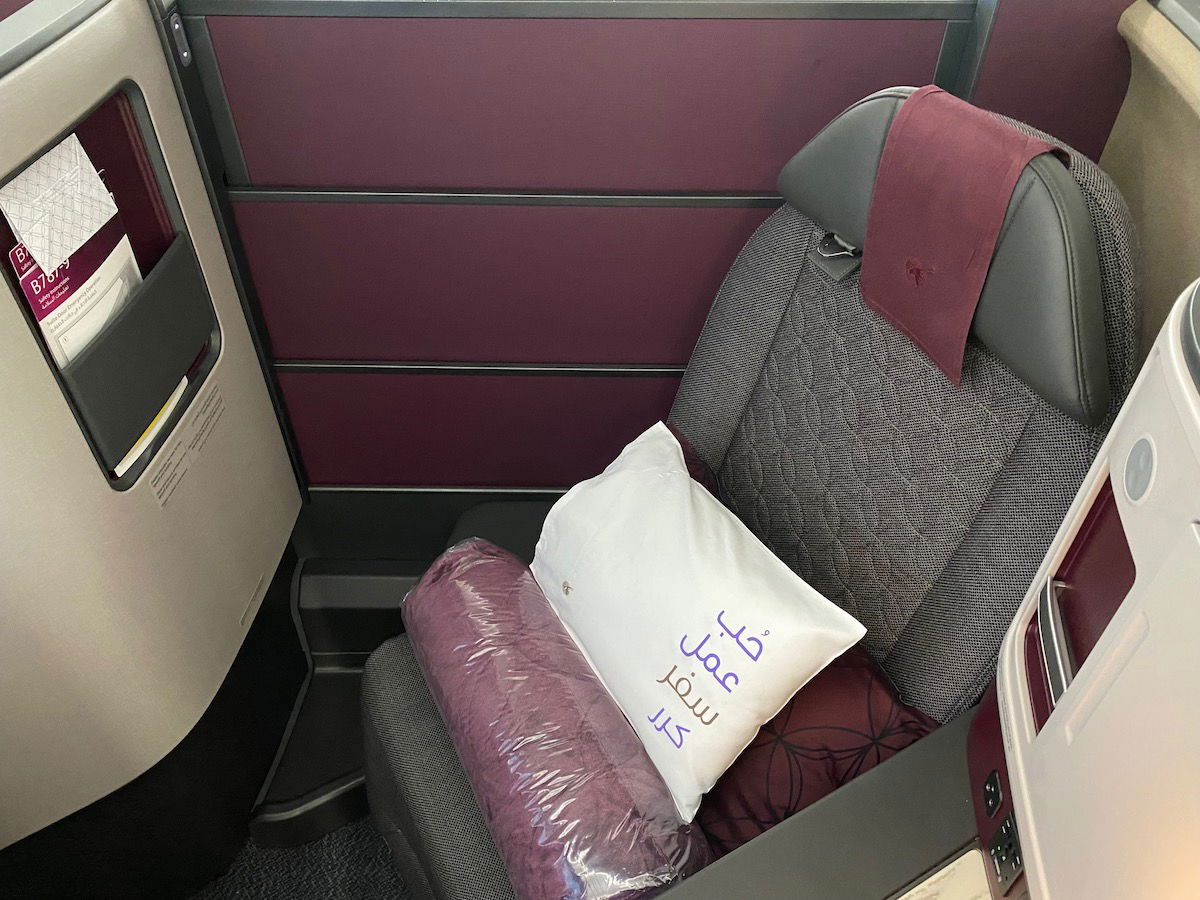 If you're traveling with someone, the partition can be lowered the entire way, and that's done by both passengers pushing the down button by the divider at the same time.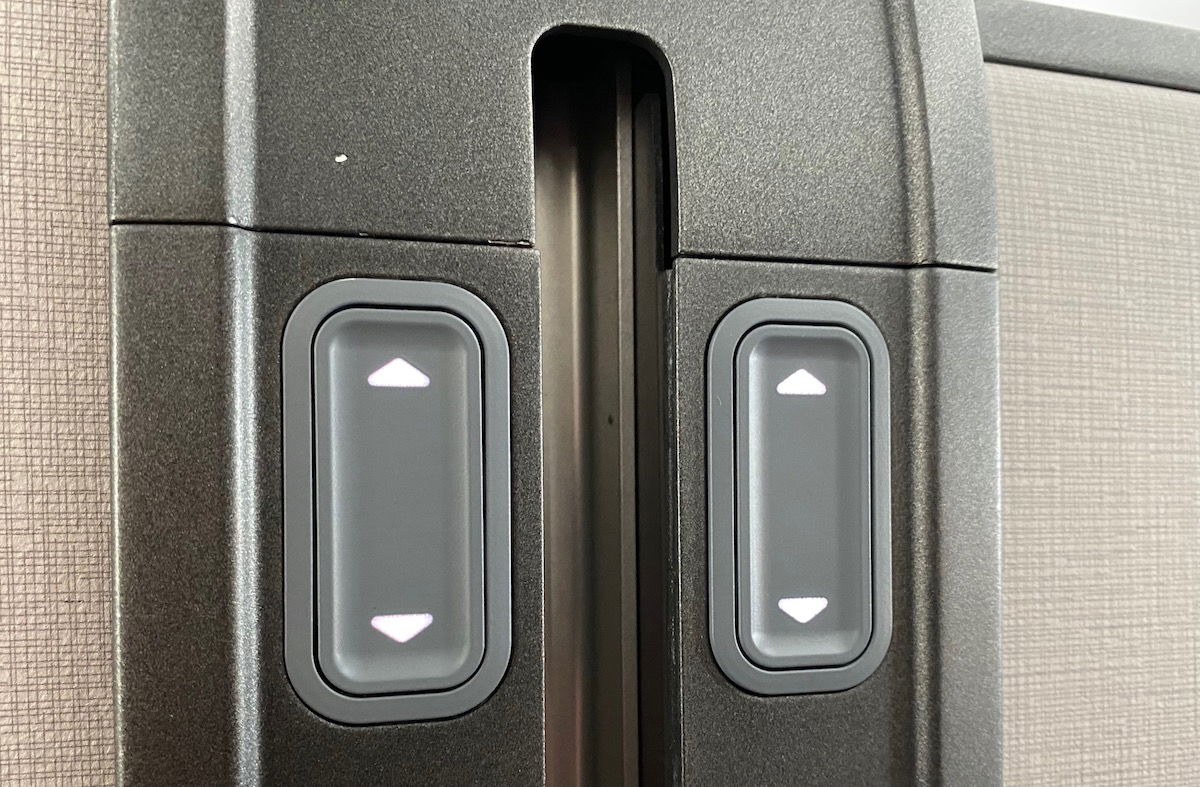 Each business class suite has a door, which is a nice feature. While the door was pretty easy to open and close, it didn't quite close all the way, unlike in Qsuites.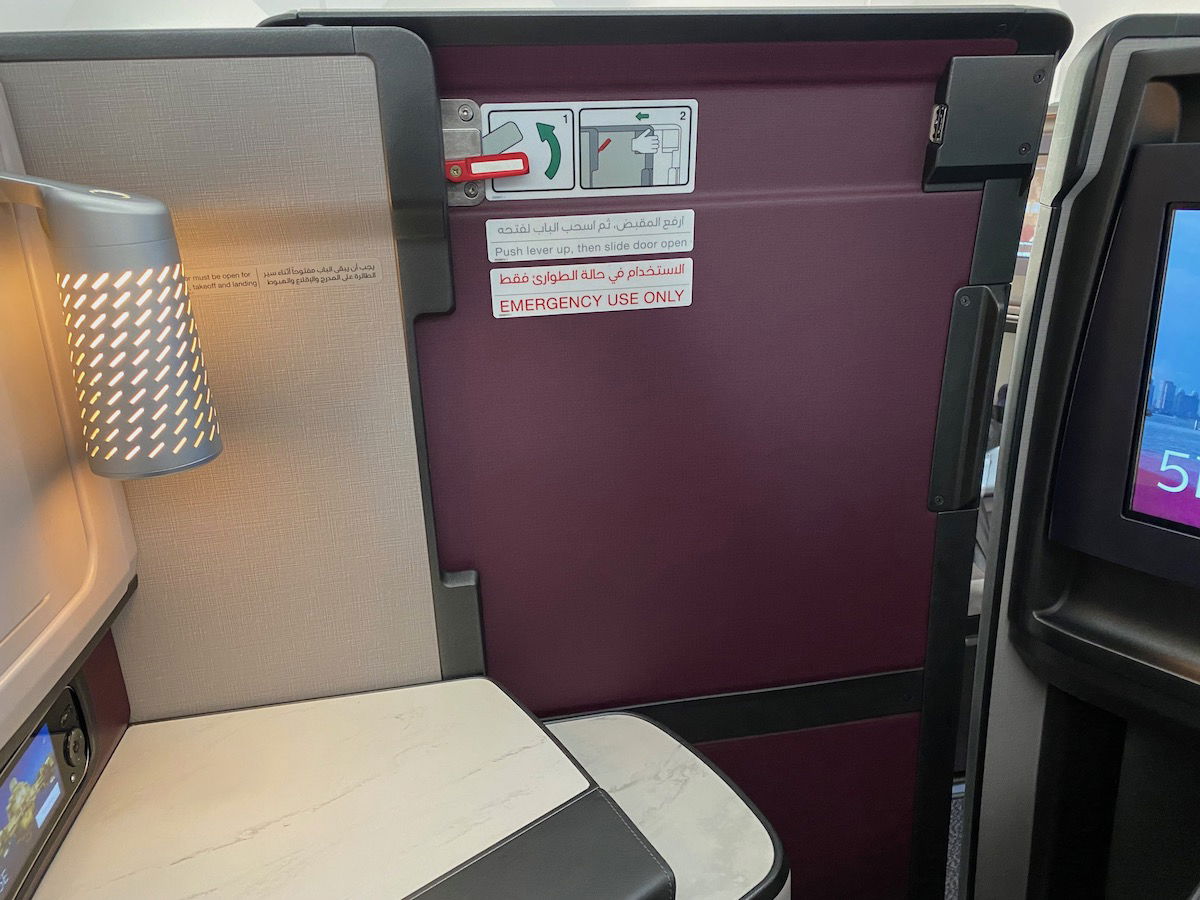 The area next to the seat was designed both beautifully and functionally. There was a small storage compartment where headphones could be stored, and it also had a small mirror.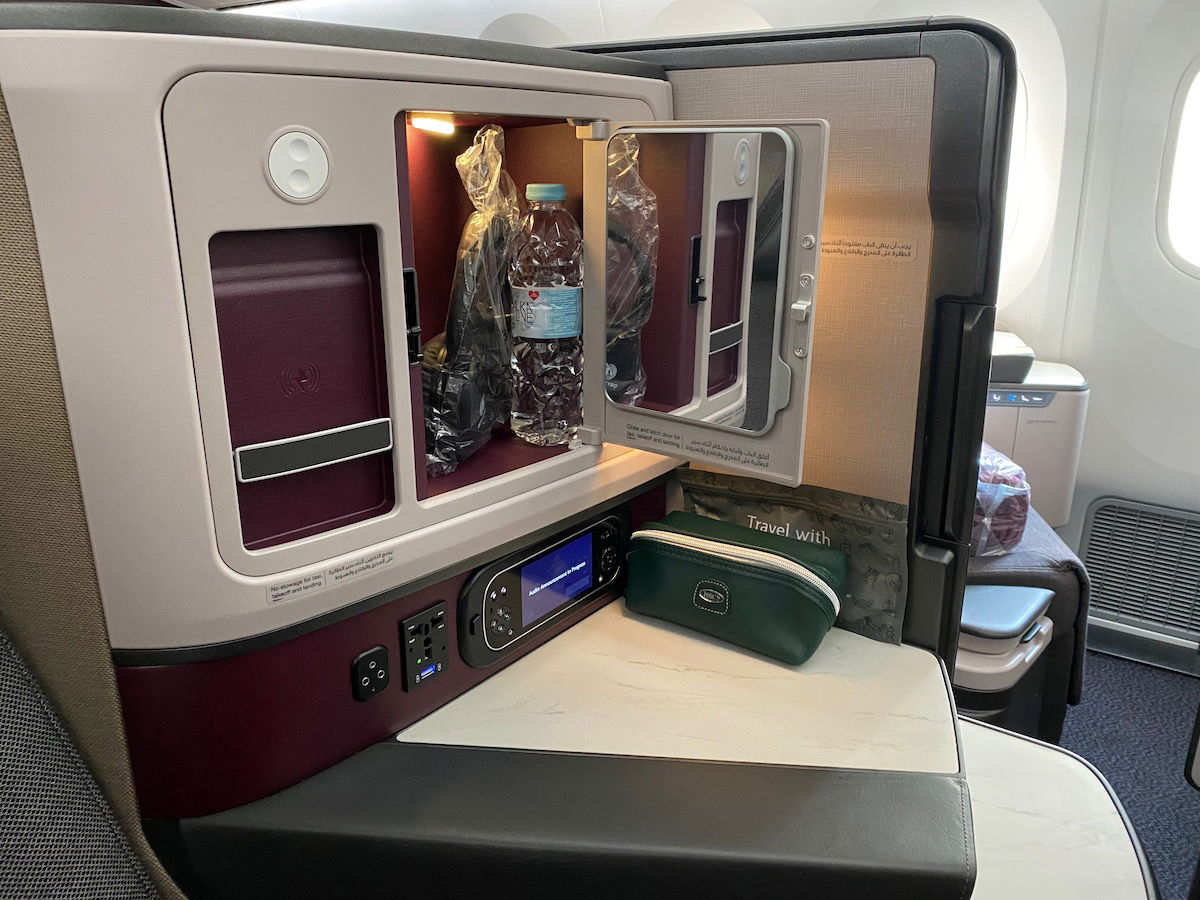 Next to that was a wireless phone charger. It's smart that this is vertical and that you can secure your phone in it, so that it won't move around. While wireless charging is a cute concept, the catch is that the charging is way slower than if you plug in, so it took several hours to get my phone charged.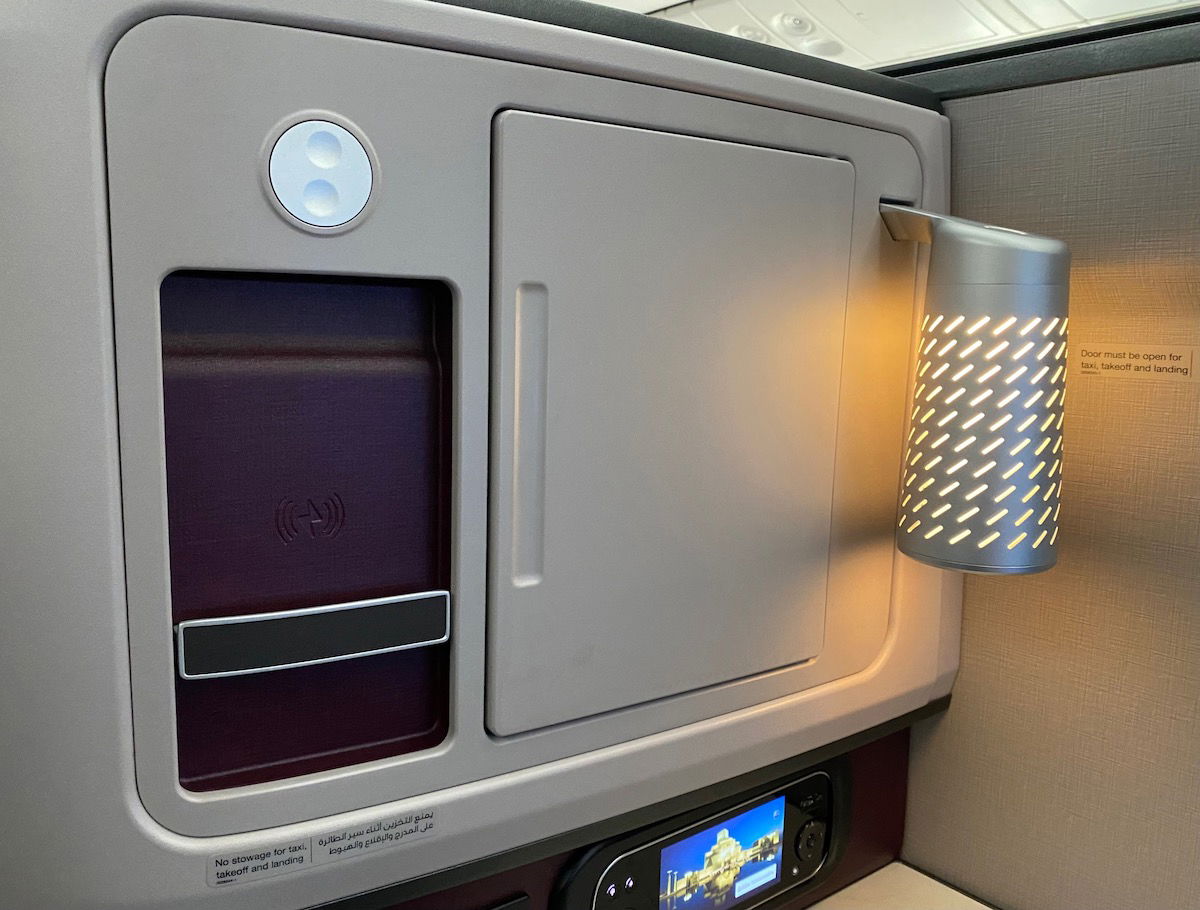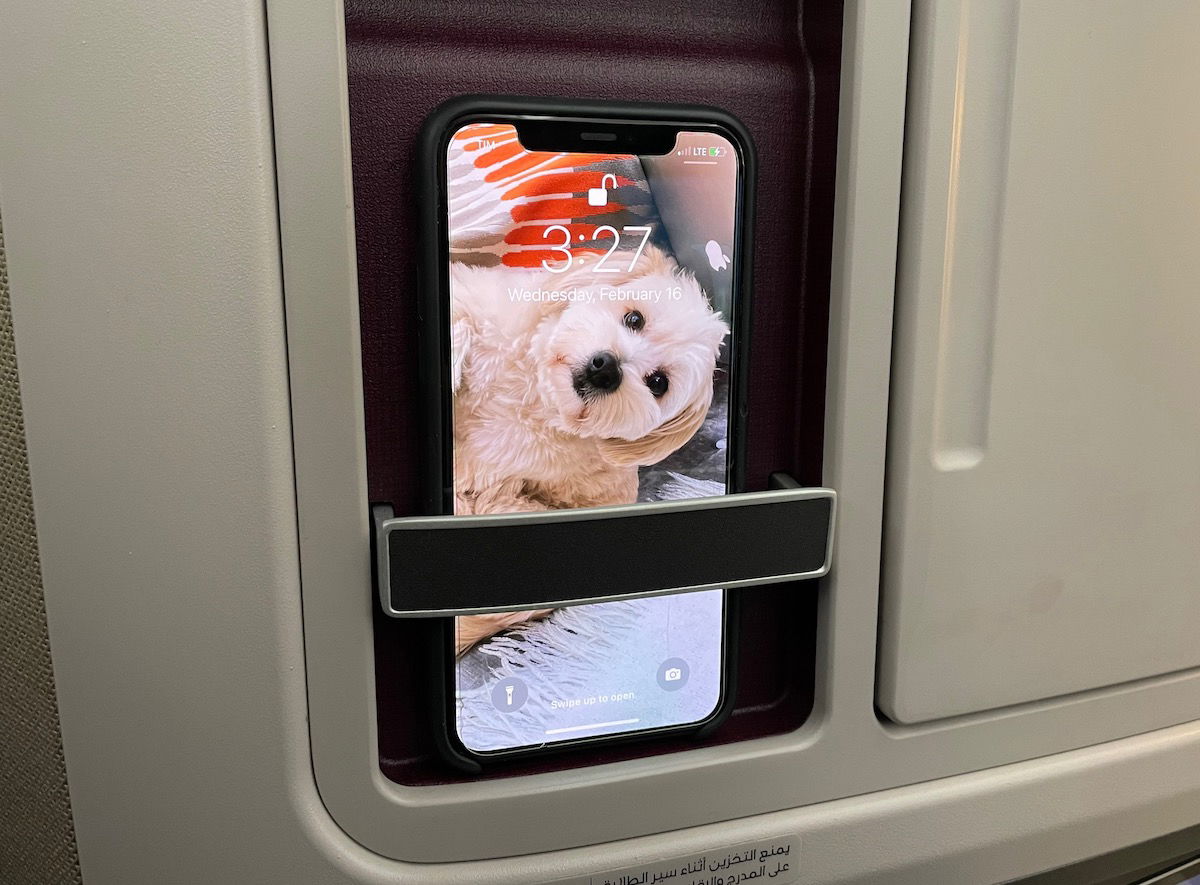 The seat controls were located underneath the armrest, and were easy to use. There was also a "do not disturb" button.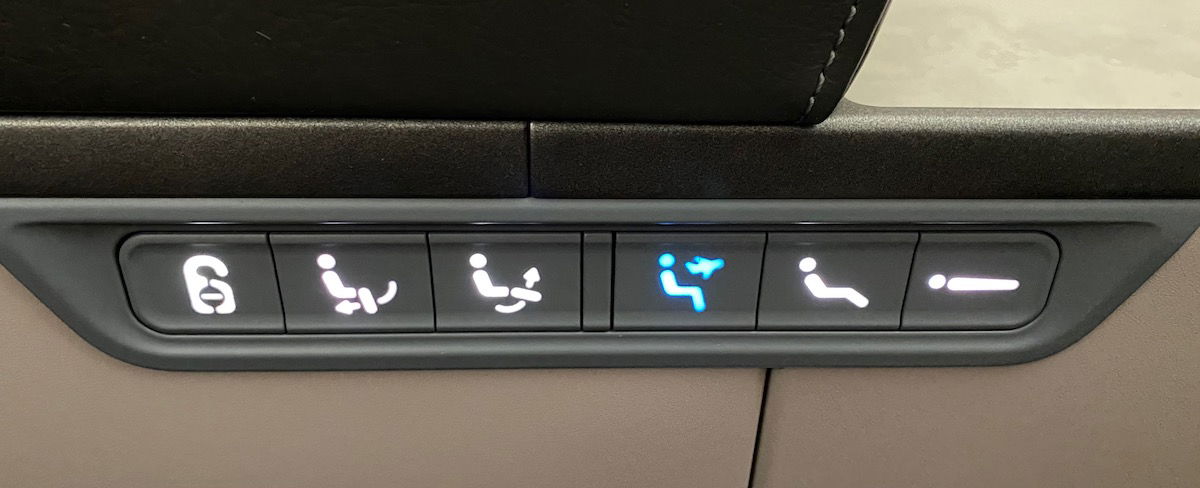 Above that was the entertainment controller, power outlets (AC and 110v), and the headphone jack (though the 787-9 also offers bluetooth audio so that you can use your own headphones, which is awesome).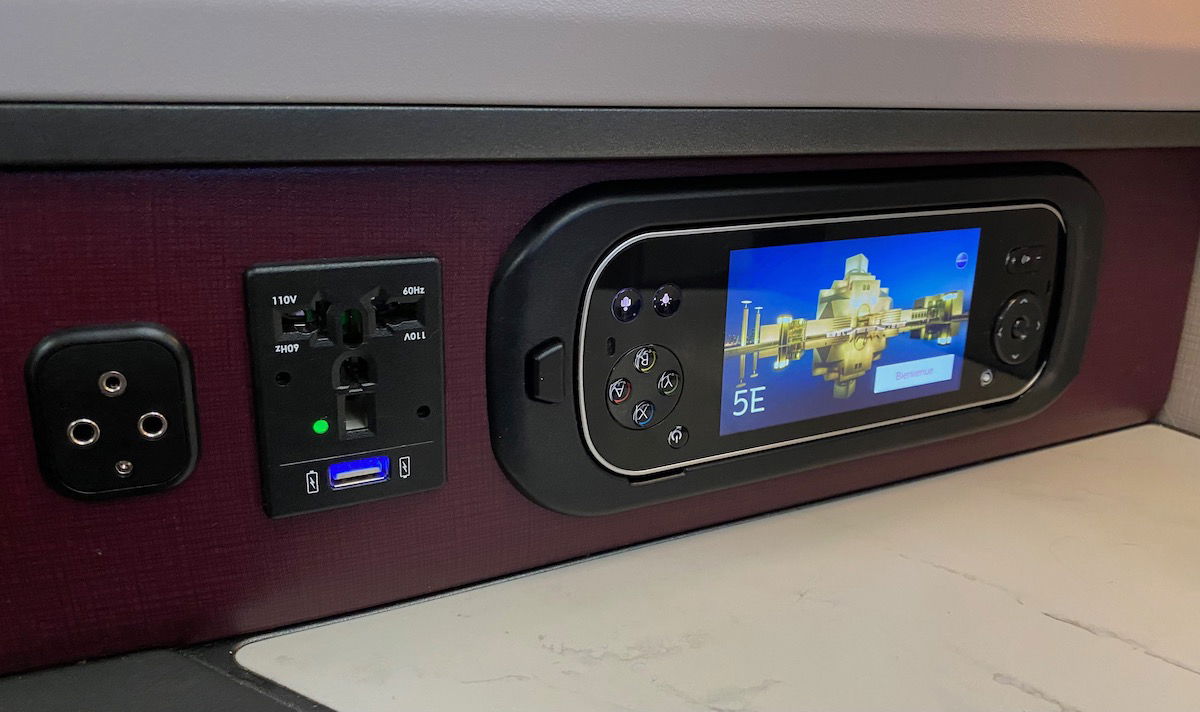 The tray table could be extended from underneath the personal television, and was sturdy and large.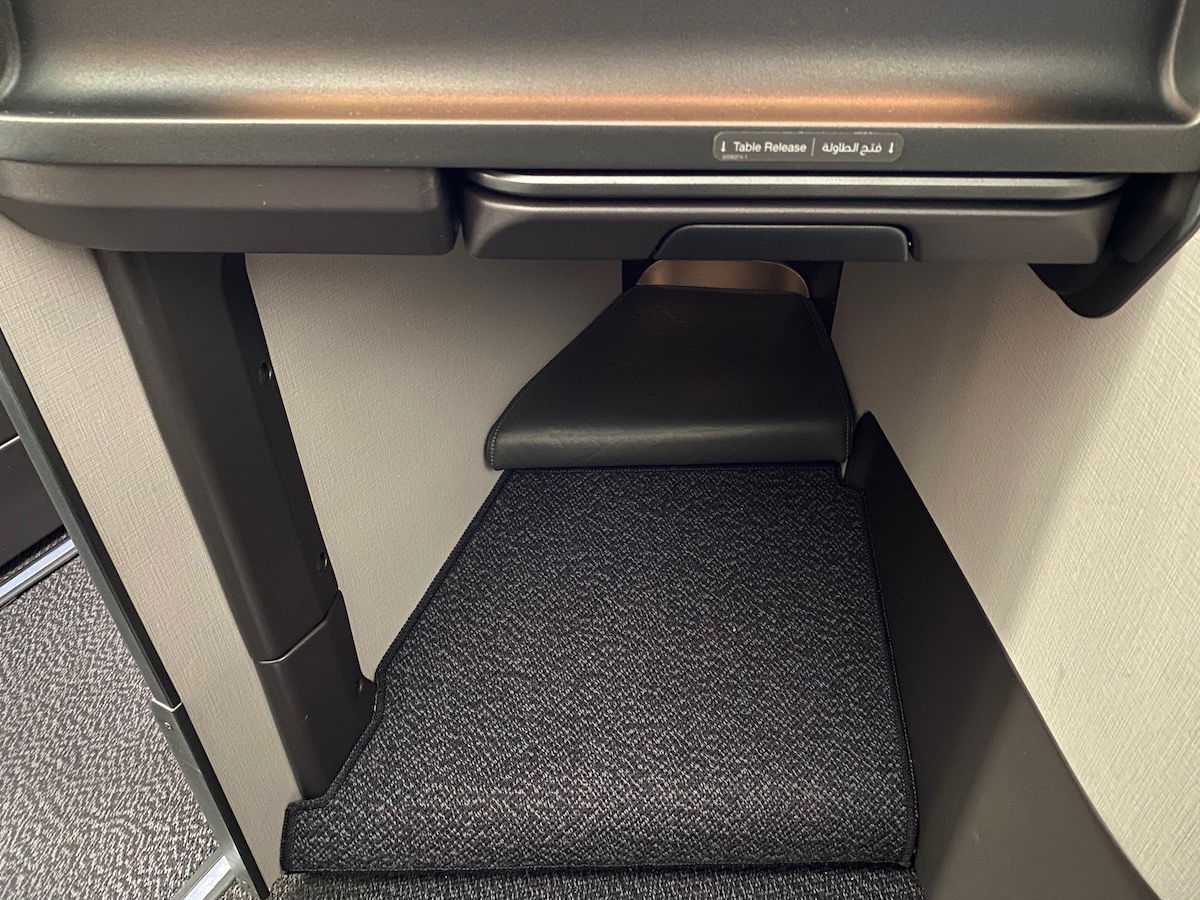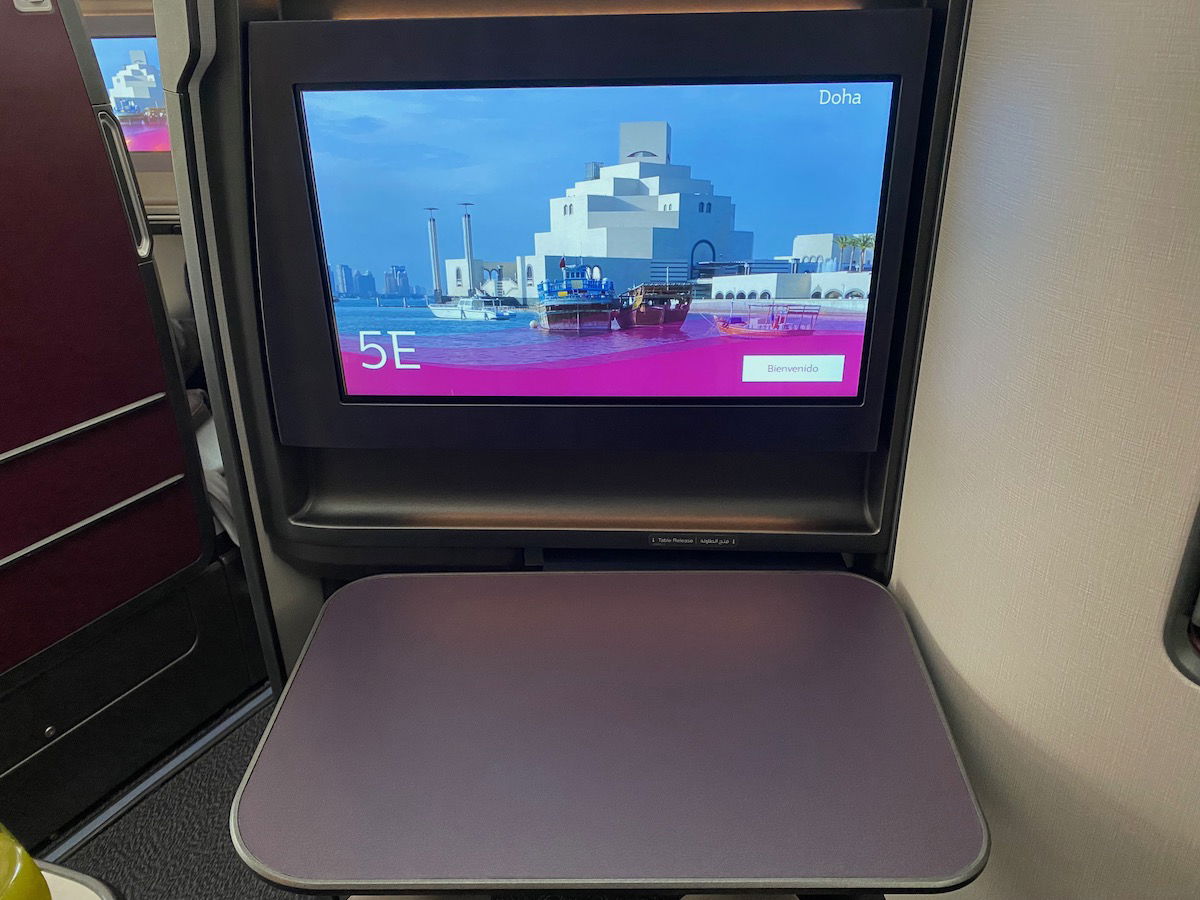 One major concern about these types of seats is the size of the footwell, as often they're quite restrictive, especially if you have big feet. I found the footwell here to be a good size, better than many other popular seats.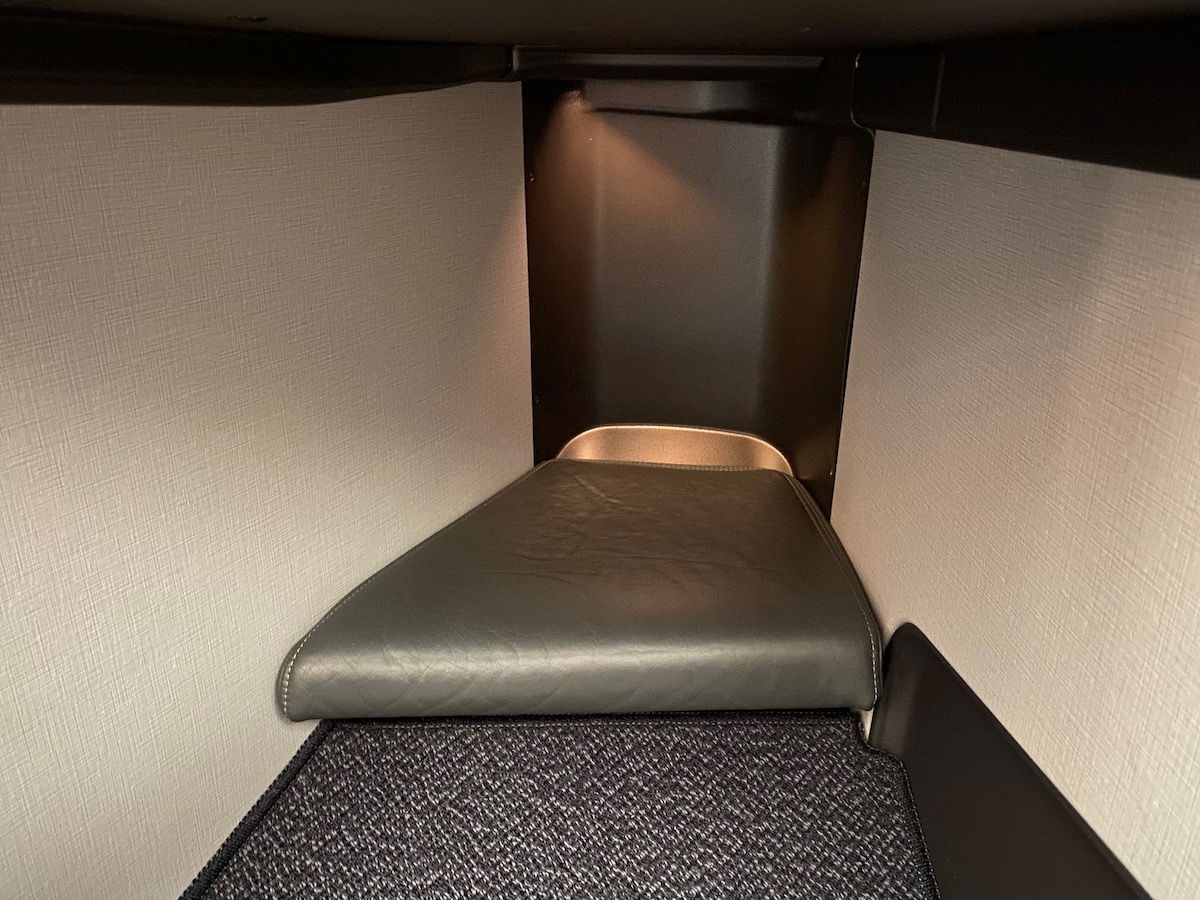 There was a literature pocket to the side of the entertainment screen.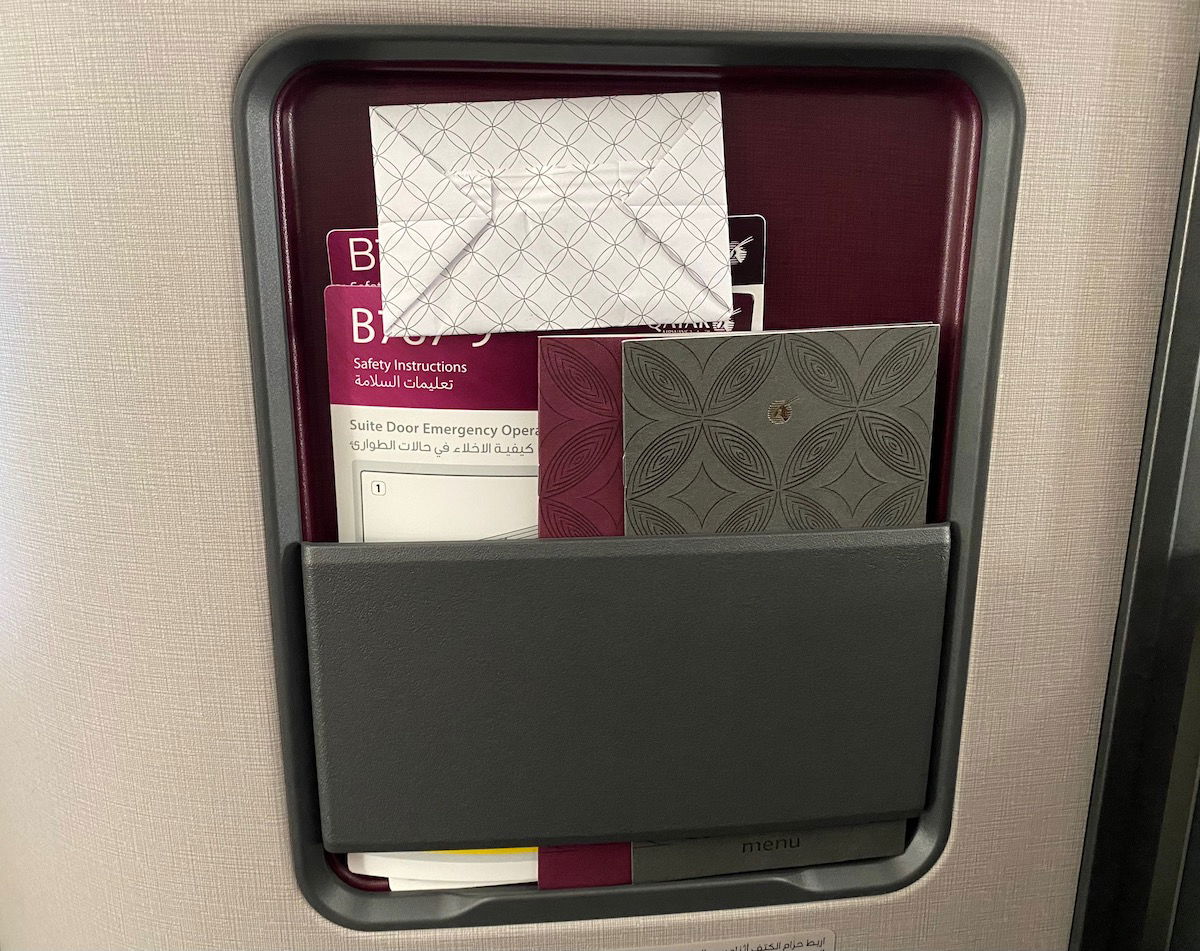 The one downside to this seat is the lack of storage. In addition to the small compartment to the side of the seat, there's also a small exposed cubby underneath the seat and to the side.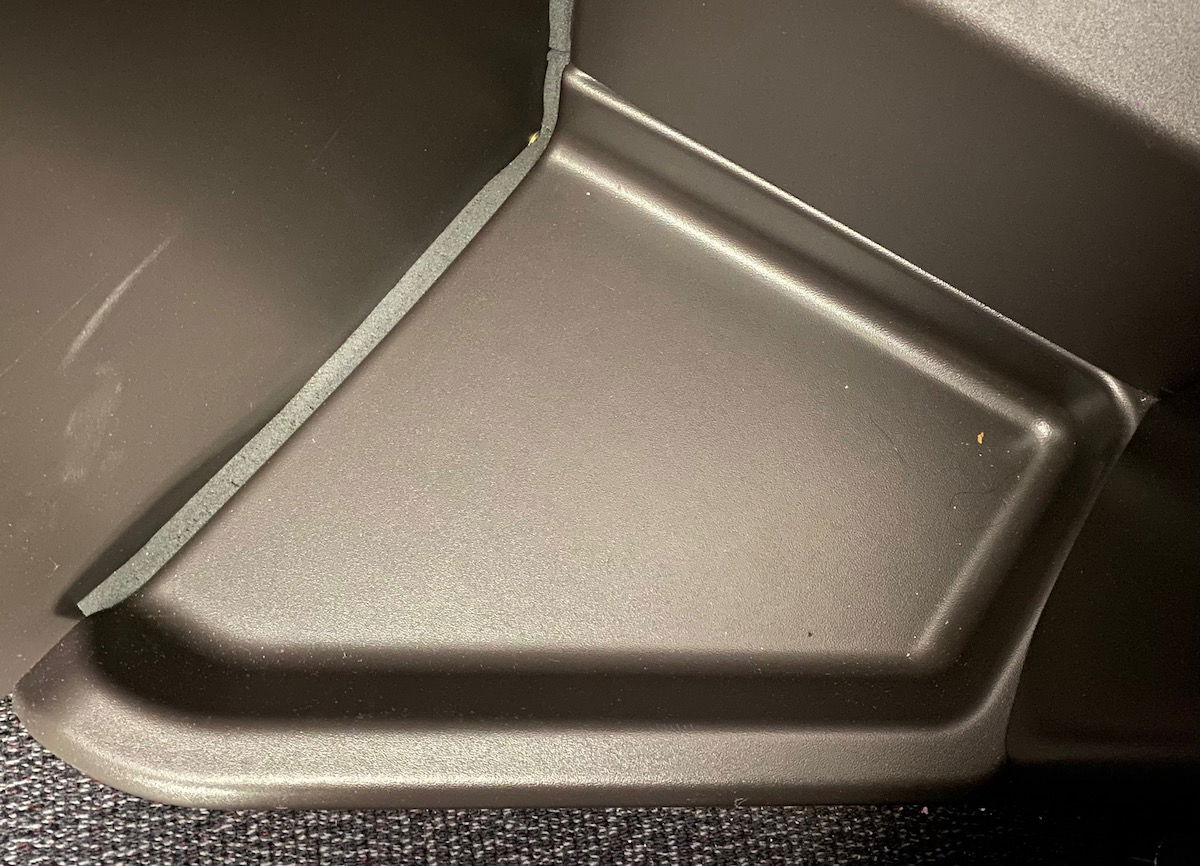 Each seat also had an individual air nozzle, though in the center section these can be quite difficult to reach.
Qatar Airways business class amenities
Boy did I miss Qatar Airways! While most airlines have greatly cut back service during the pandemic, it was nice to be back on an airline that still offers a great product (even if it's a bit scaled back compared to pre-coronavirus). Waiting at each seat upon boarding were two pillows and a blanket. I find Qatar Airways' bedding to be excellent (even if the quotes on the pillows are sometimes a bit "Live, Laugh, Love" vibes).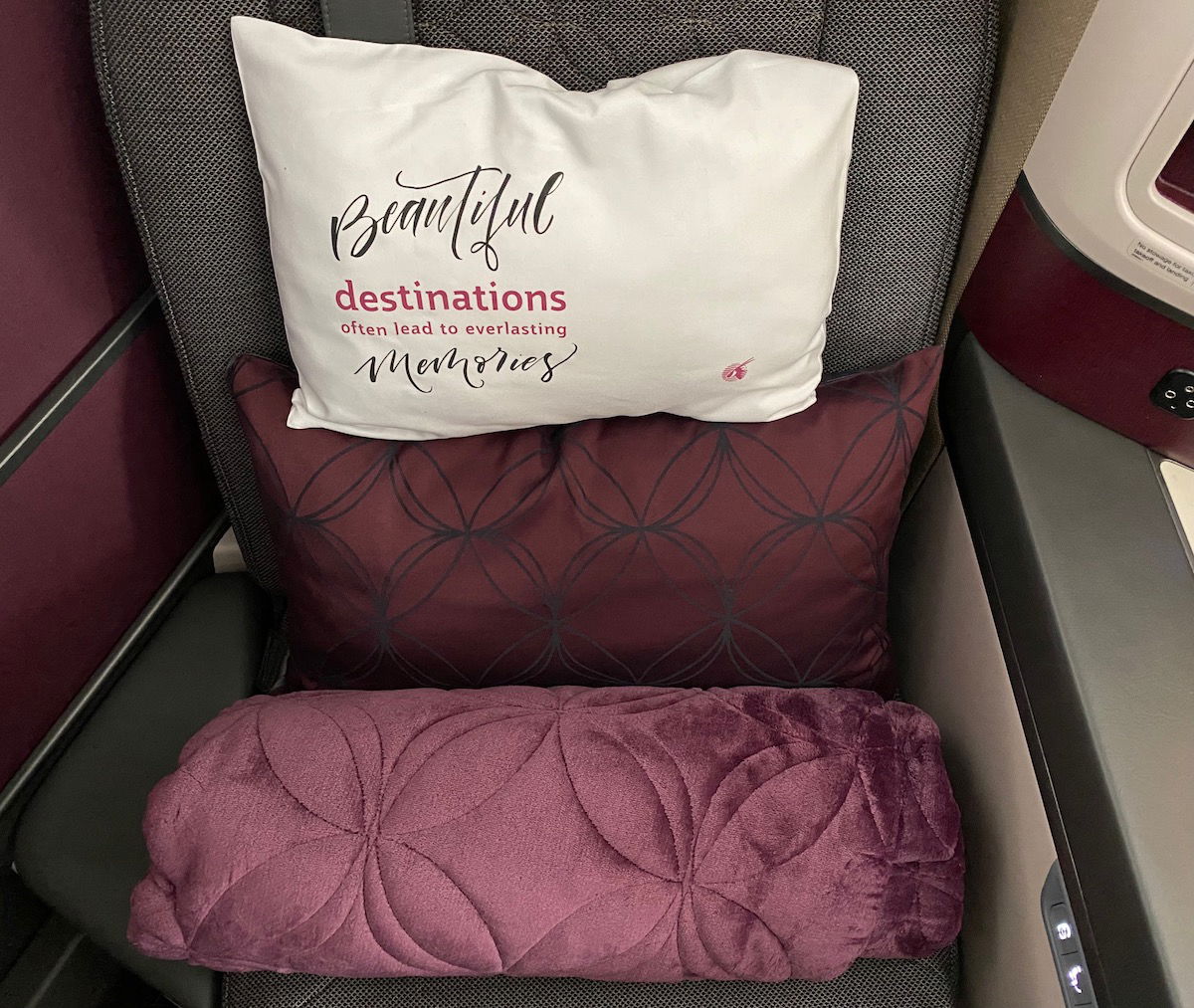 Also waiting at each seat were a pair of noise canceling headphones, which are reasonably good, though not industry-leading.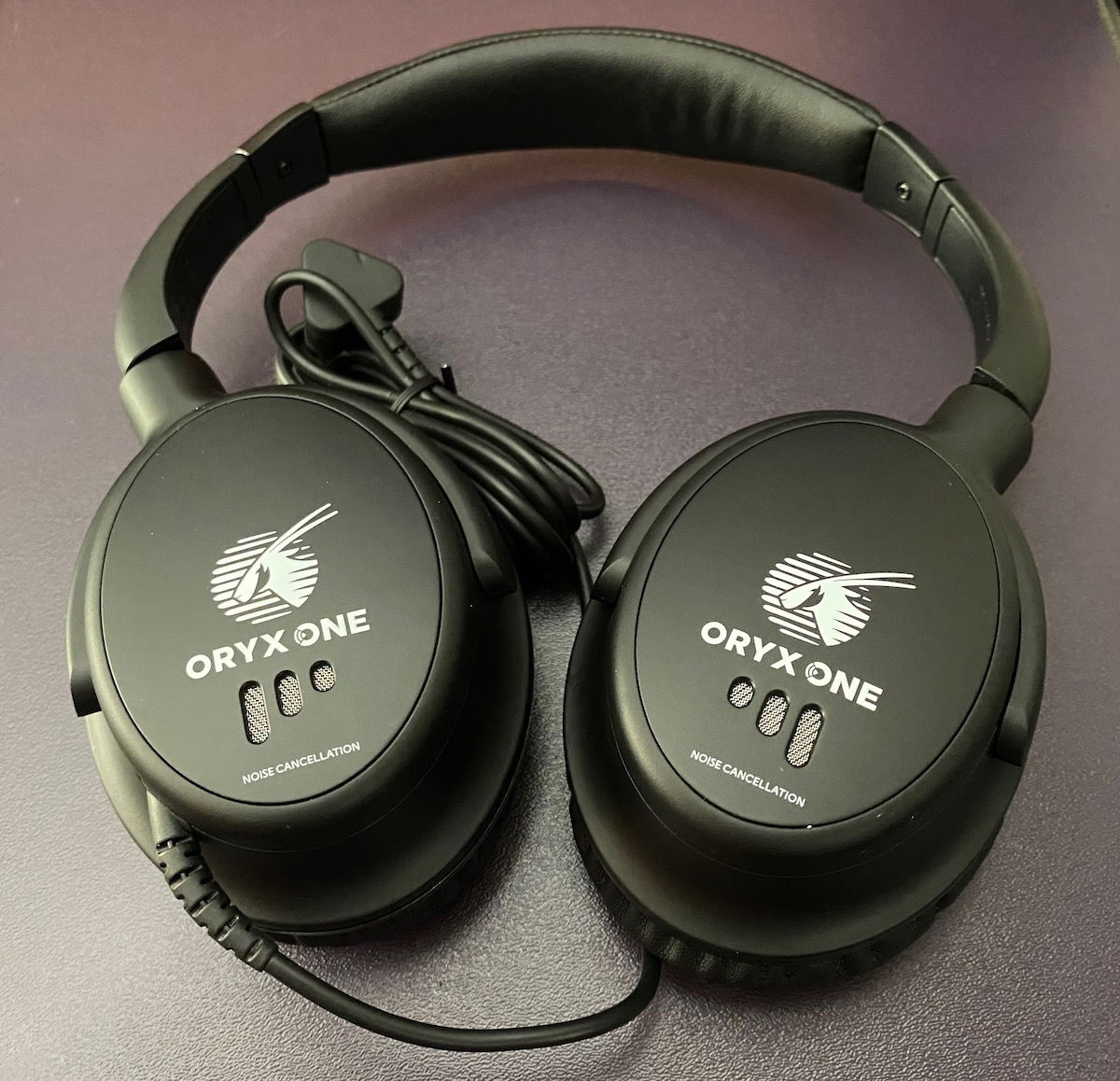 The menu and wine list were also at my seat upon boarding, in the literature pocket.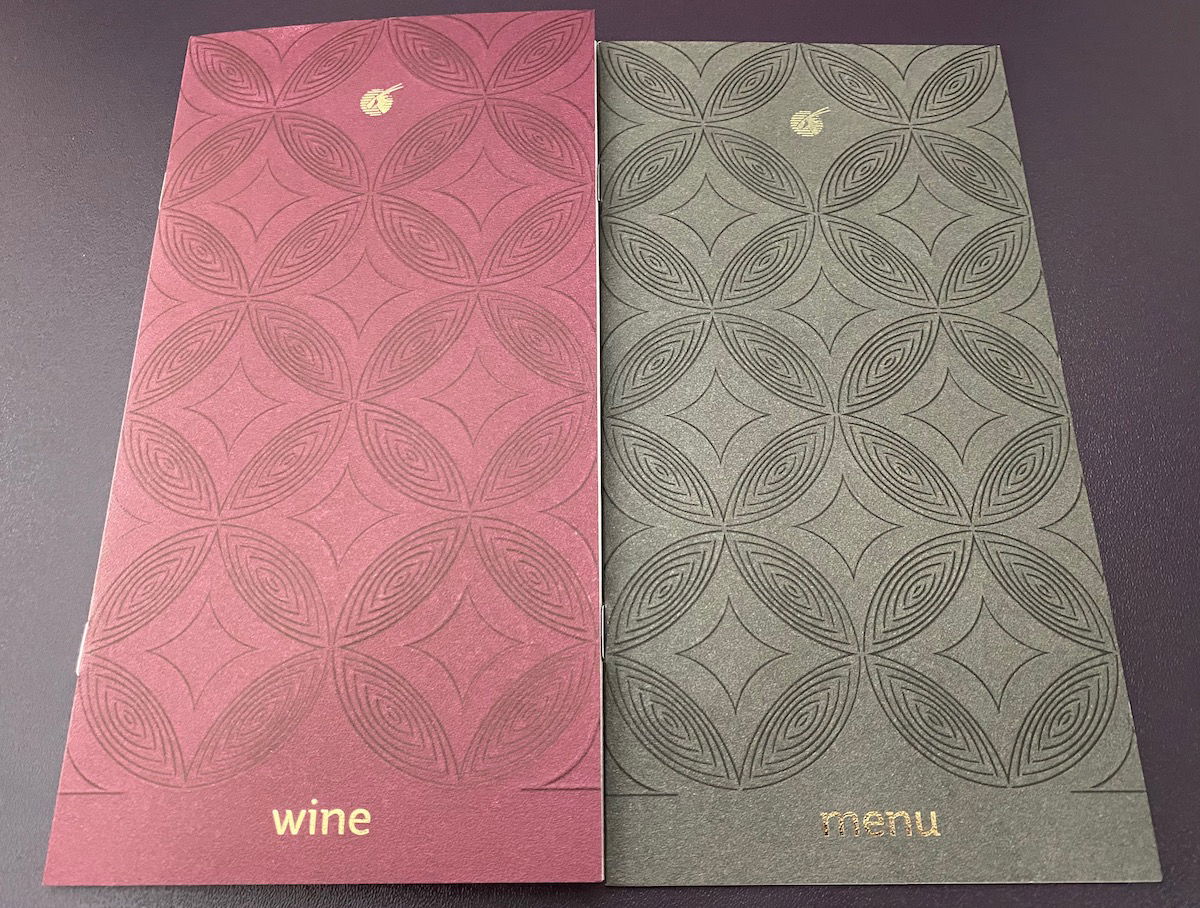 A moment after settling in, the friendly flight attendant working my aisle introduced herself, familiarized me with the business class suite, and offered me a pre-departure drink. I asked for a glass of champagne (Charles Heidsieck was being served) and the signature lime-mint juice. This was served with a packaged cold towel. Yum!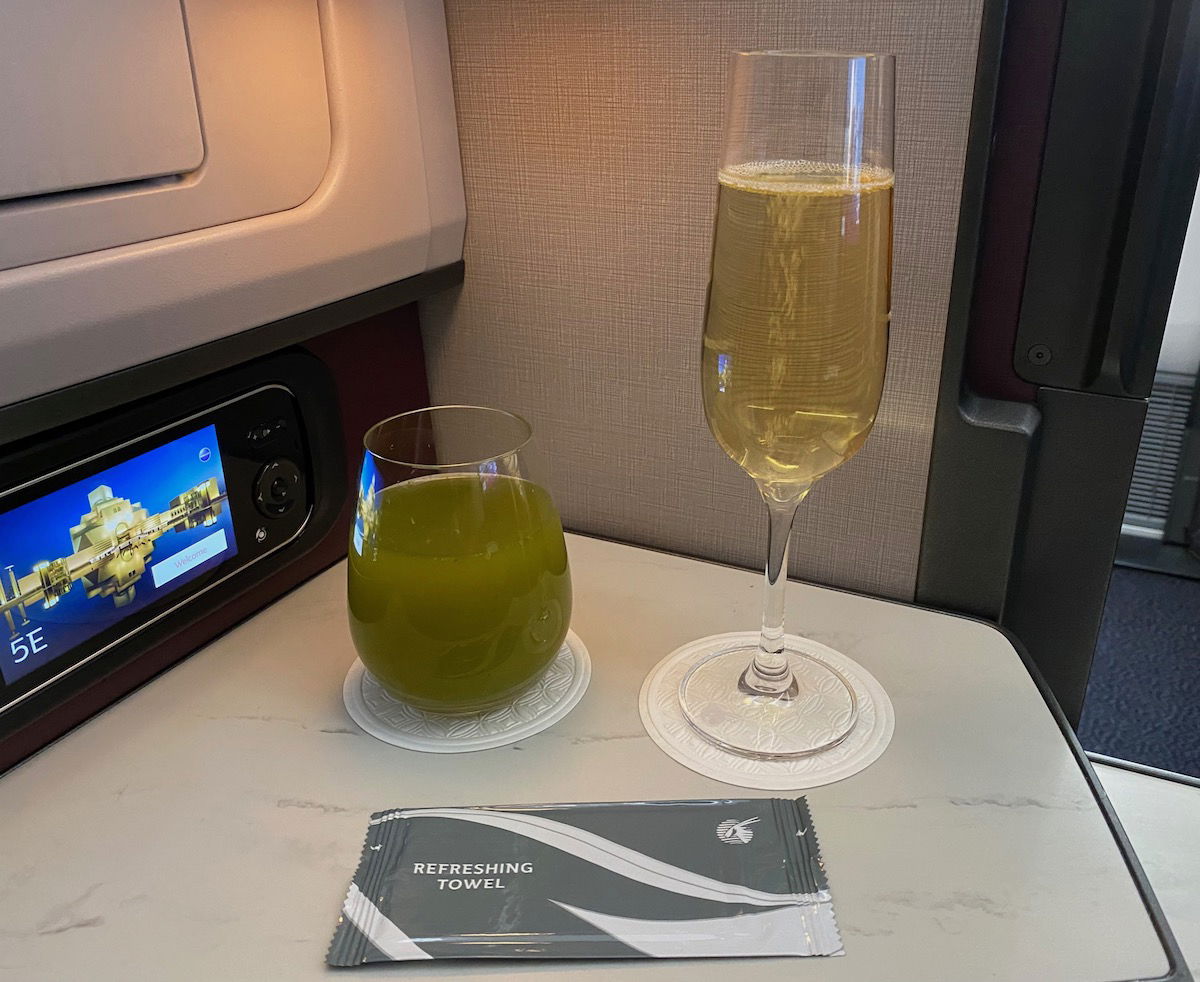 I was also offered a BRIC'S amenity kit, with eyeshades, socks, earplugs, cream, facial spray, and lip balm.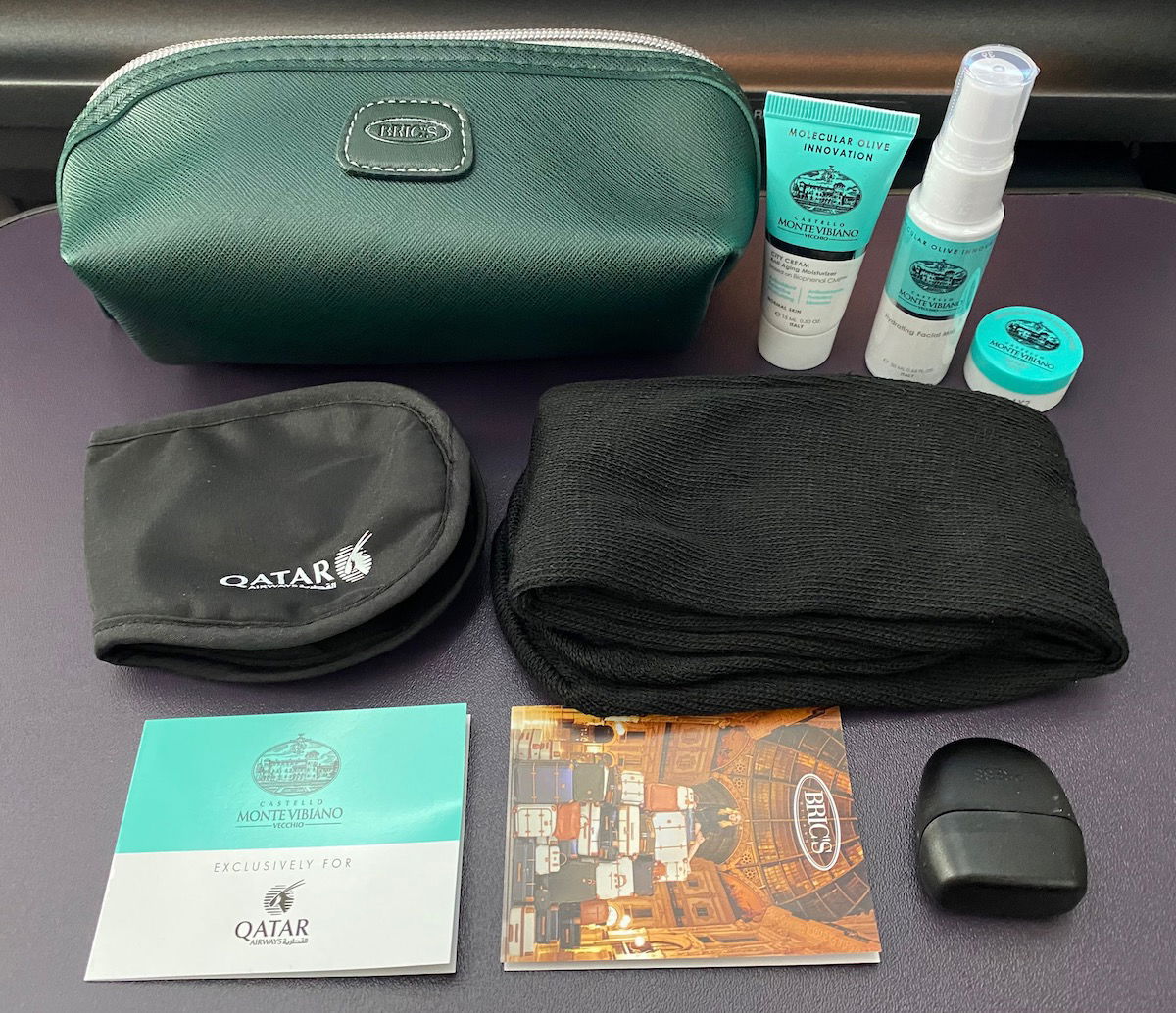 There was also a protective kit, featuring a mask, gloves, and four packets of hand sanitizer.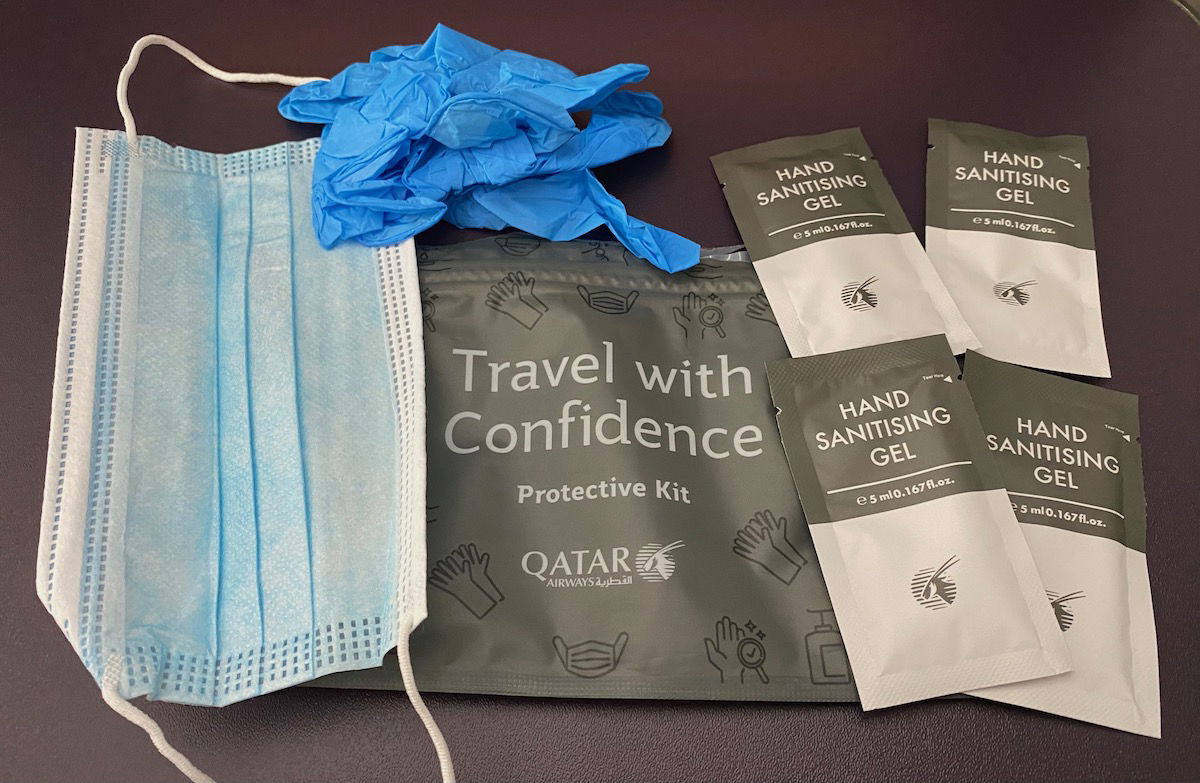 Throughout boarding I enjoyed listening to Qatar Airways' boarding music, which is incredibly elegant and calming.
Qatar Airways departure from Milan
By 3:35PM boarding was complete, with 20 of the 30 business class seats occupied. At that point the captain made his welcome aboard announcement, informing us of our flight time of 5hr10min, and our cruising altitude of 39,000 feet.
It's always amazing when you put into perspective the product that Qatar Airways offers compared to what you'll find on flights of similar length in the United States.
At 3:45PM the main cabin door closed, and five minutes later we began our pushback. At that point the safety video was screened. We had a roughly 15 minute taxi to our departure runway — at 4:05PM we were airborne from runway 35R. The Qatar Airways Boeing 787-9 has a nose camera, and I loved being able to watch the takeoff view (though it doesn't quite compare to the A380 tail camera found on some airlines).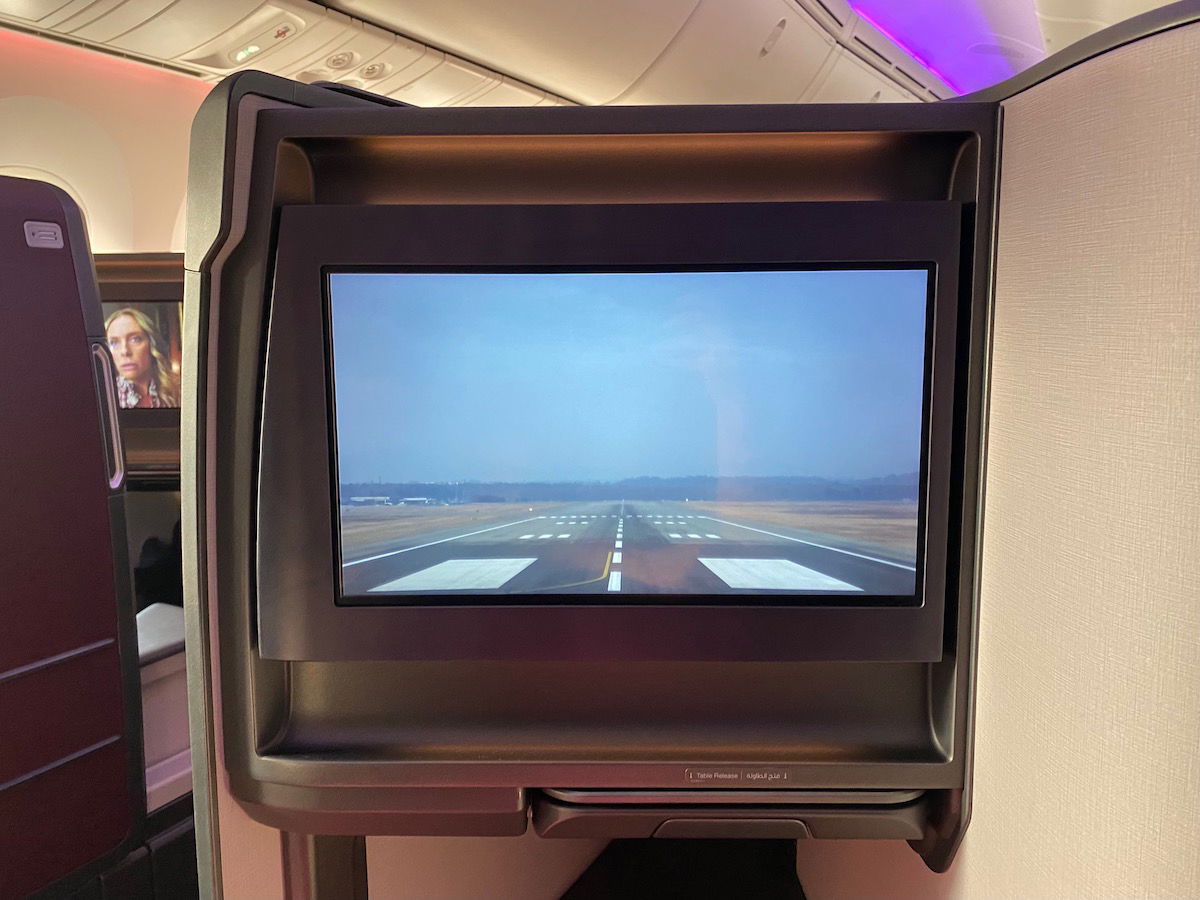 Qatar Airways business class entertainment & Wi-Fi
After takeoff I browsed Qatar Airways' Oryx One entertainment selection, which is exceptional.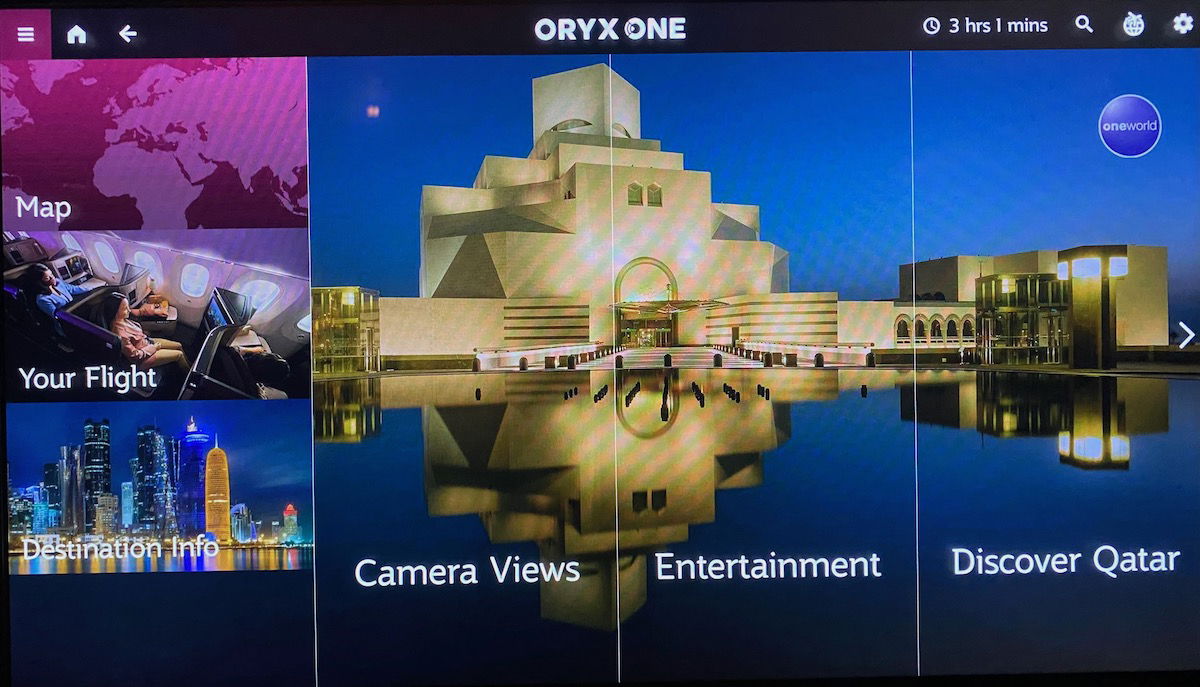 The system is well organized, and has a massive selection of movies and TV shows.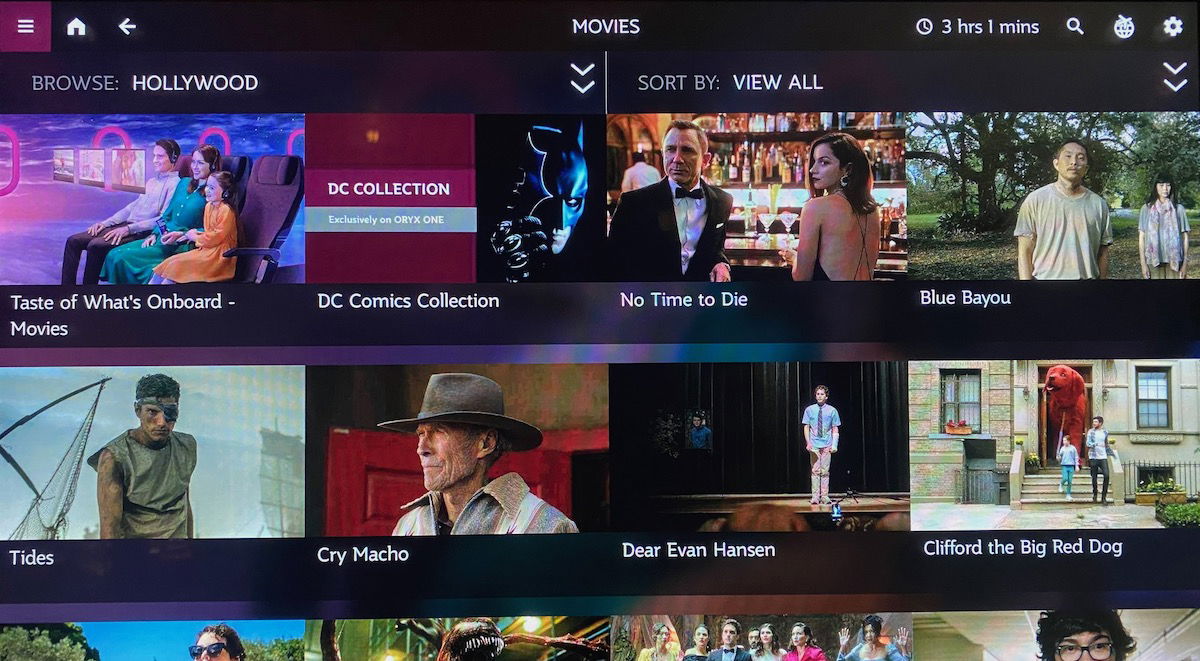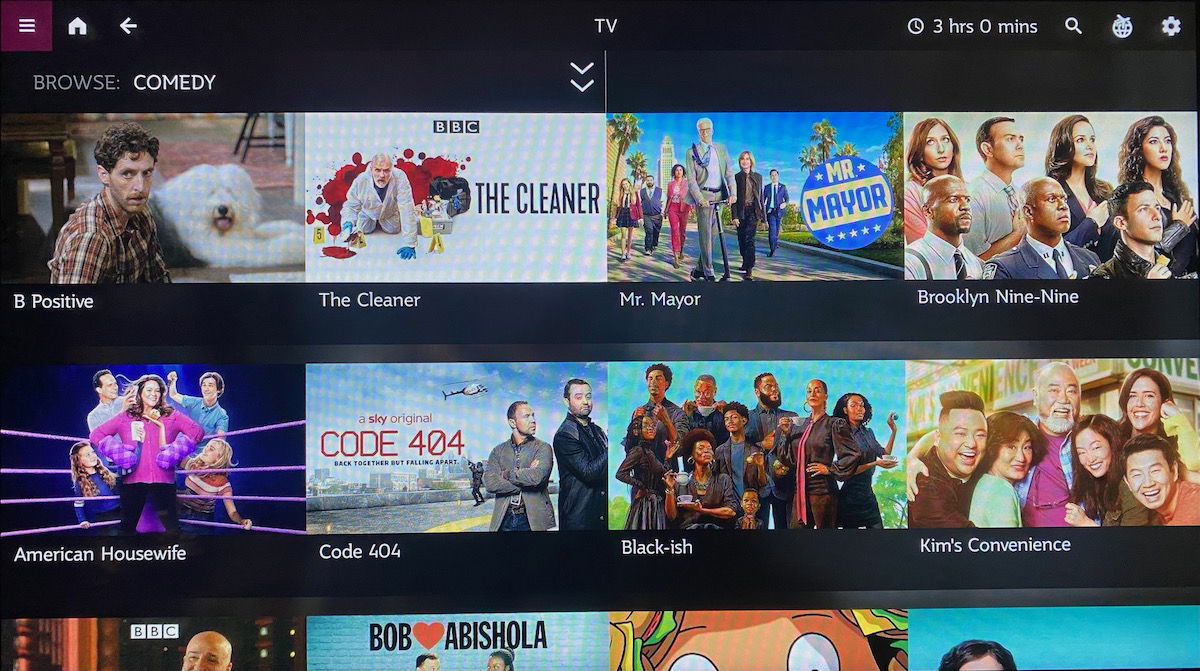 There's also a moving map feature, which I enjoyed keeping an eye on throughout the flight…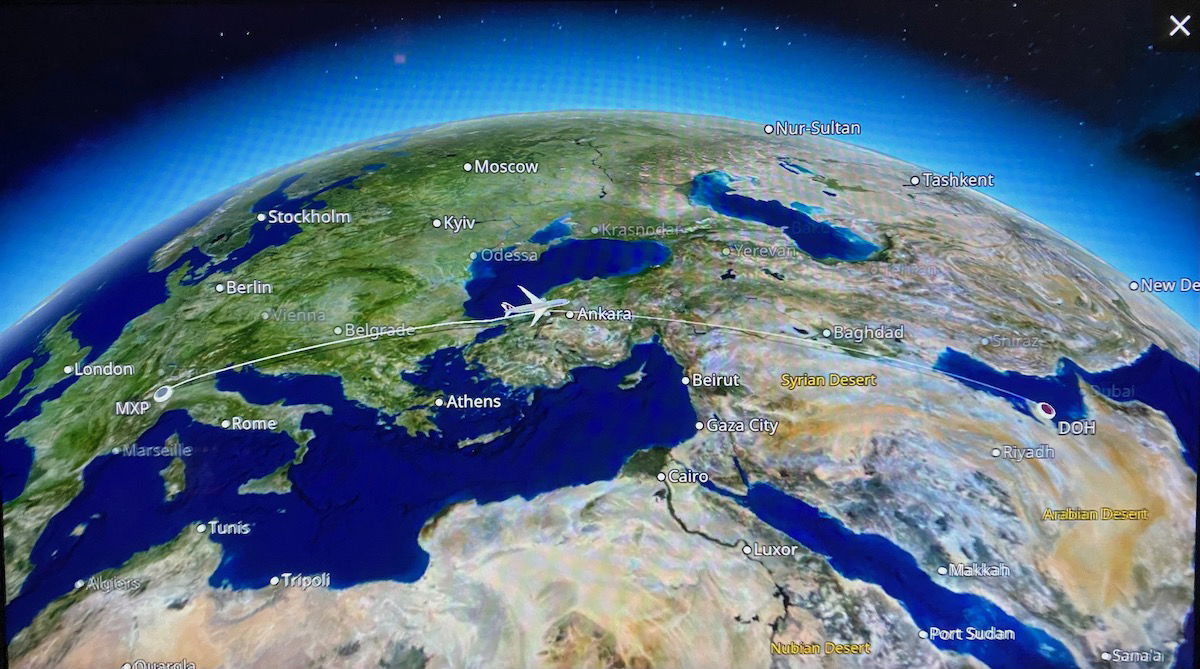 …especially as routings in this region can often have some interesting turns.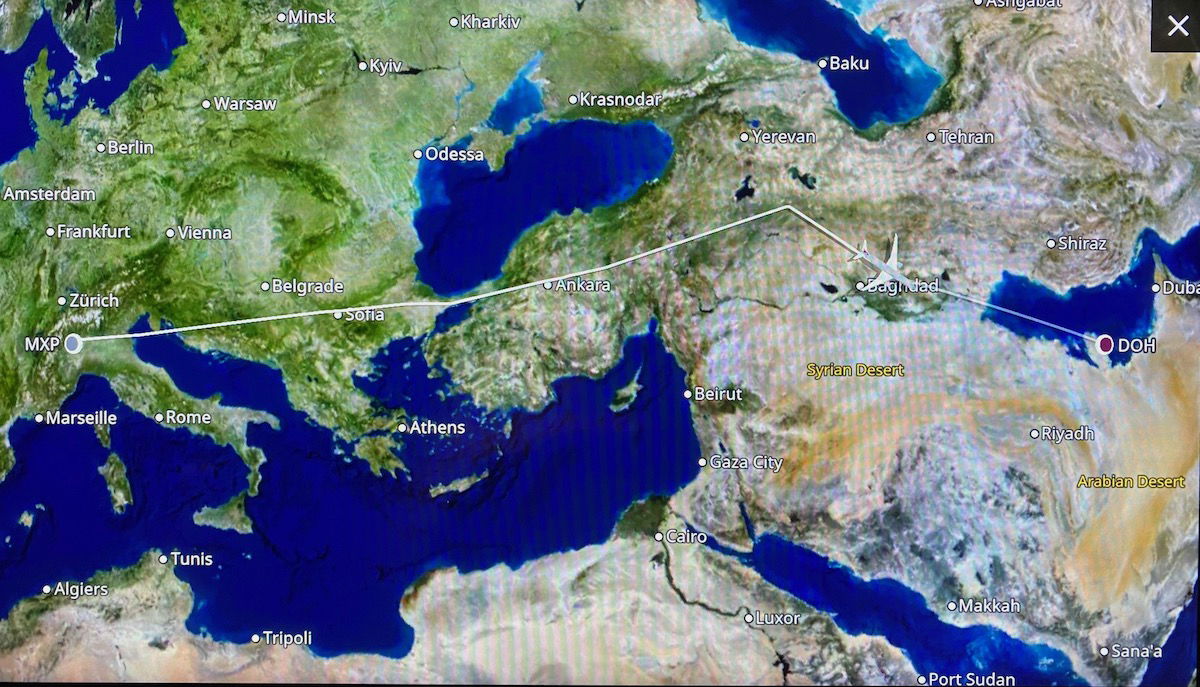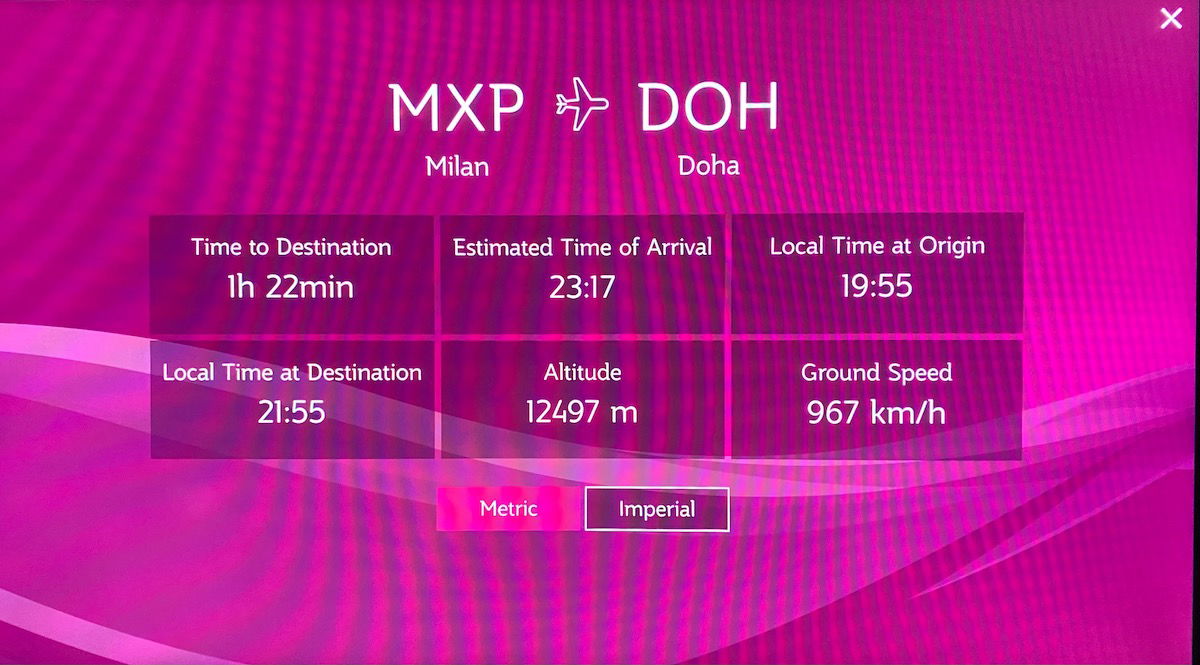 Qatar Airways' Boeing 787-9s also feature "Super Wi-Fi," as the airline calls it, which is probably the best value in the industry.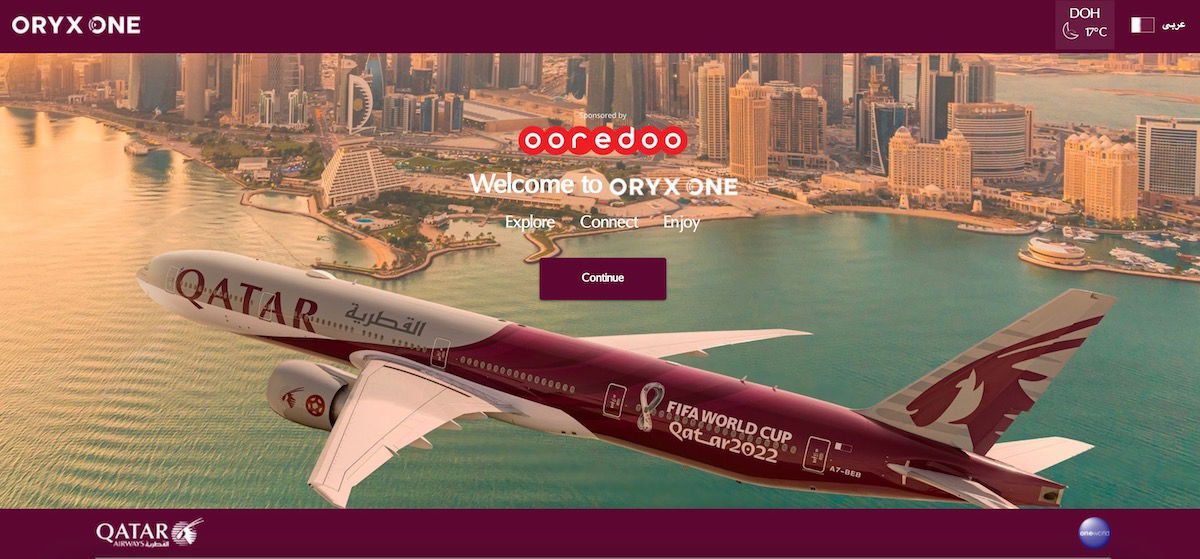 While all Qatar Airways Privilege Club members can enjoy one hour of free Wi-Fi, you can otherwise buy a full flight pass for $10, which has no data caps.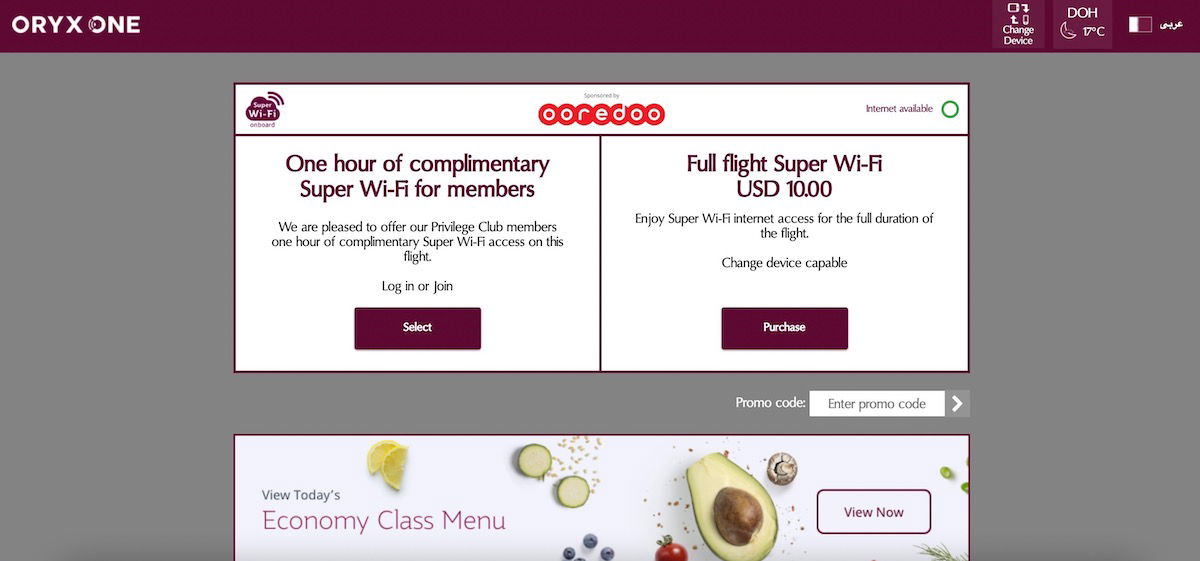 Not only is the pricing phenomenal, but the speeds are excellent. I was able to legitimately be as productive as on the ground, and didn't find myself waiting for pages to load, etc.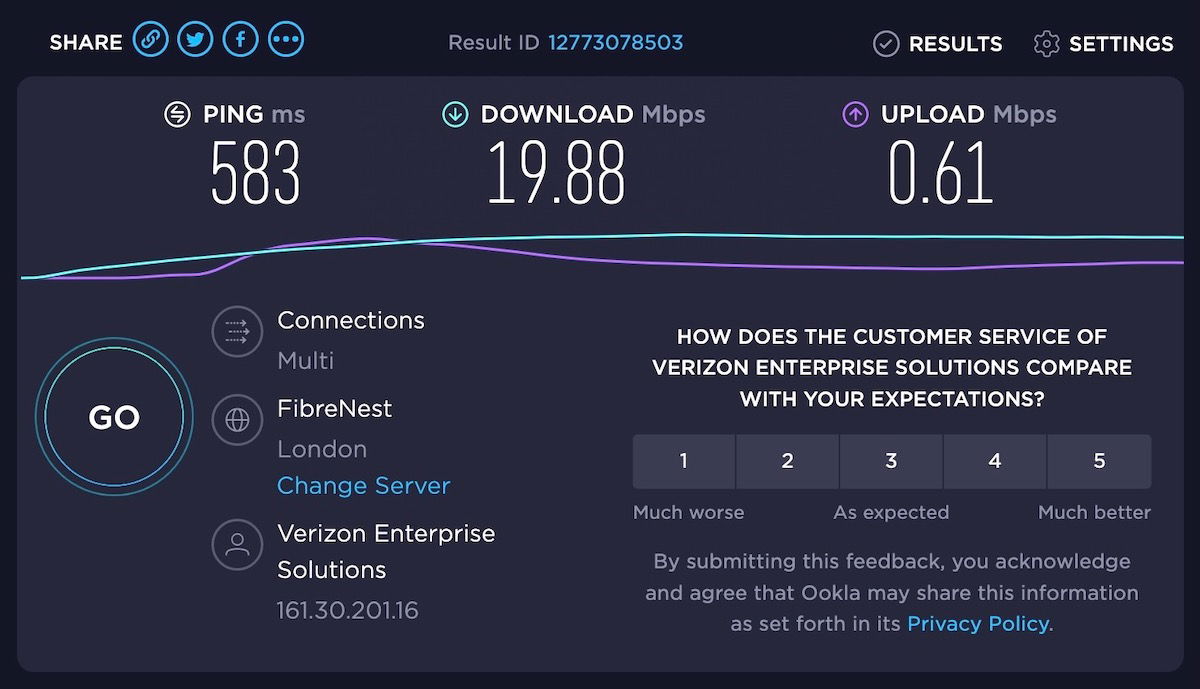 Qatar Airways business class meal service
Qatar Airways offers a dine on demand menu in business class. The menu read as follows: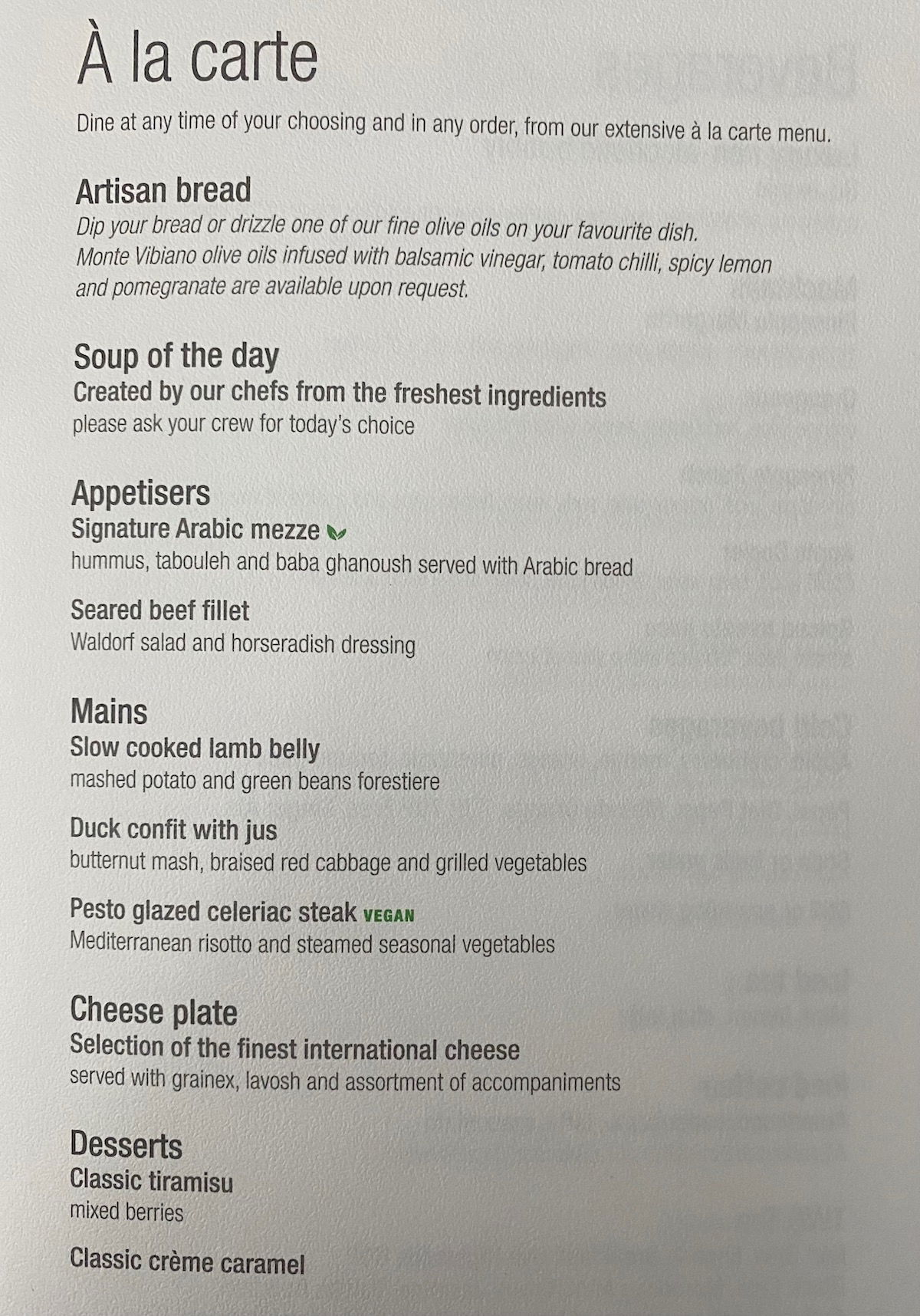 There's also a very extensive selection of beverages. The wine list read as follows: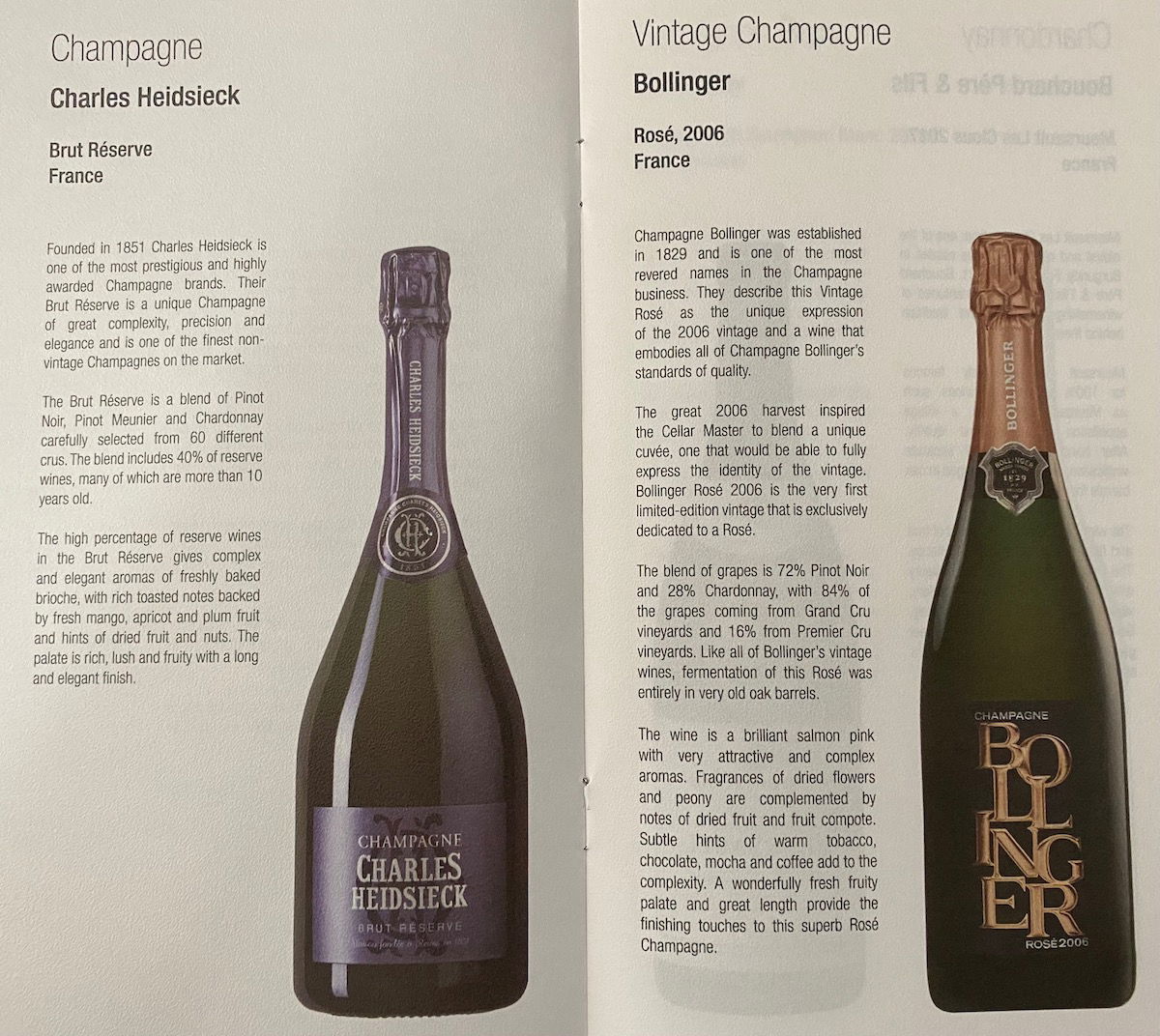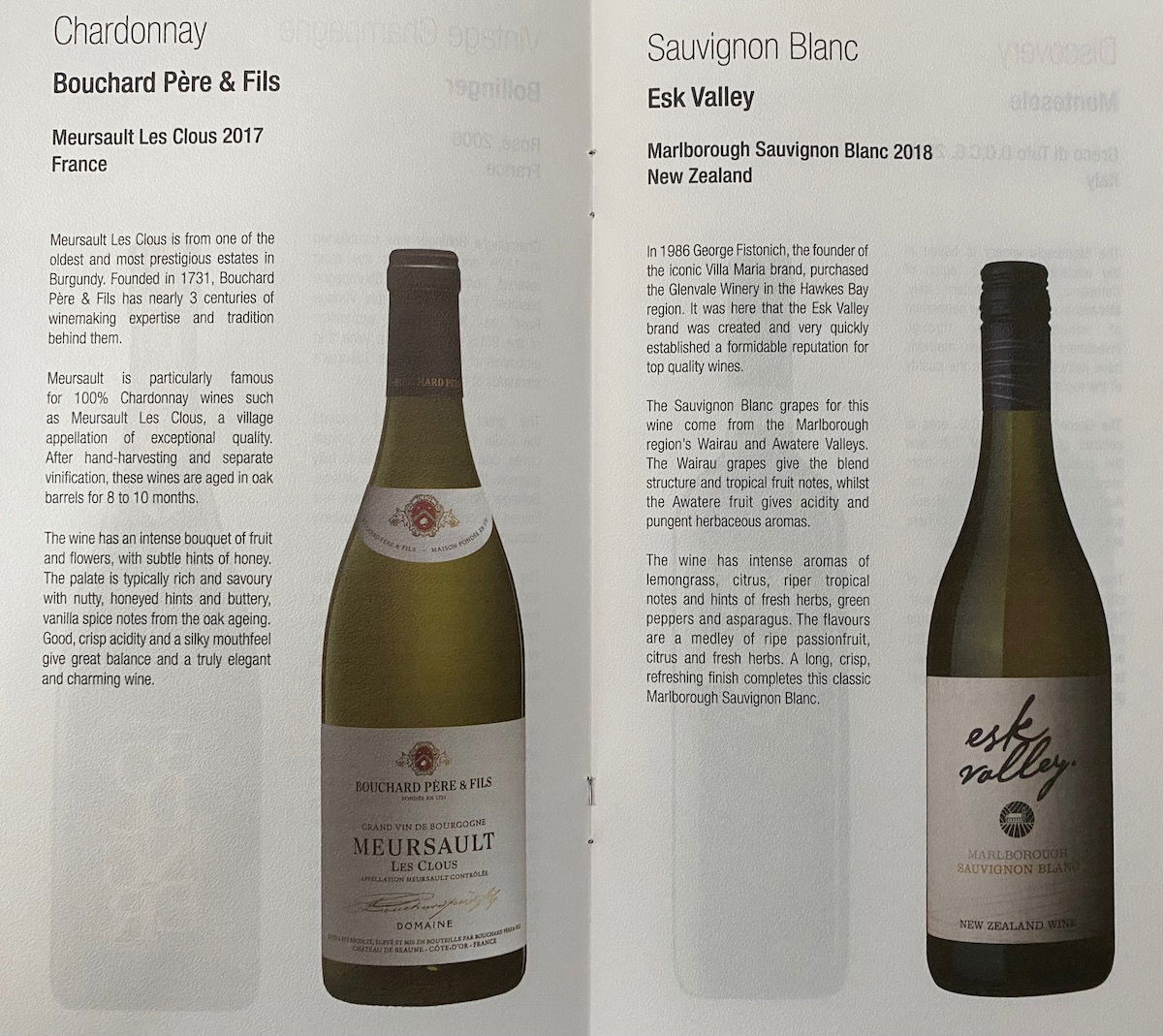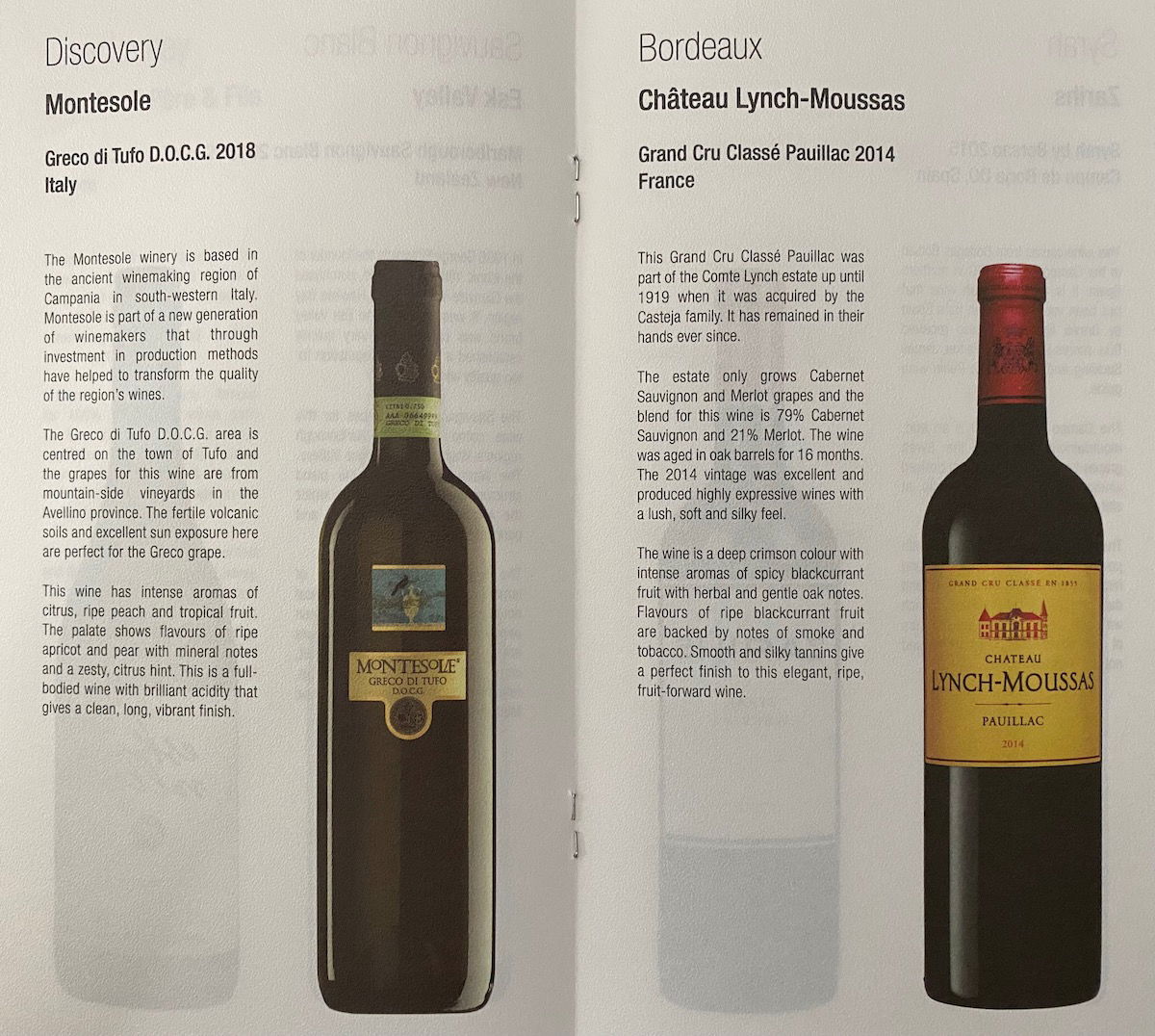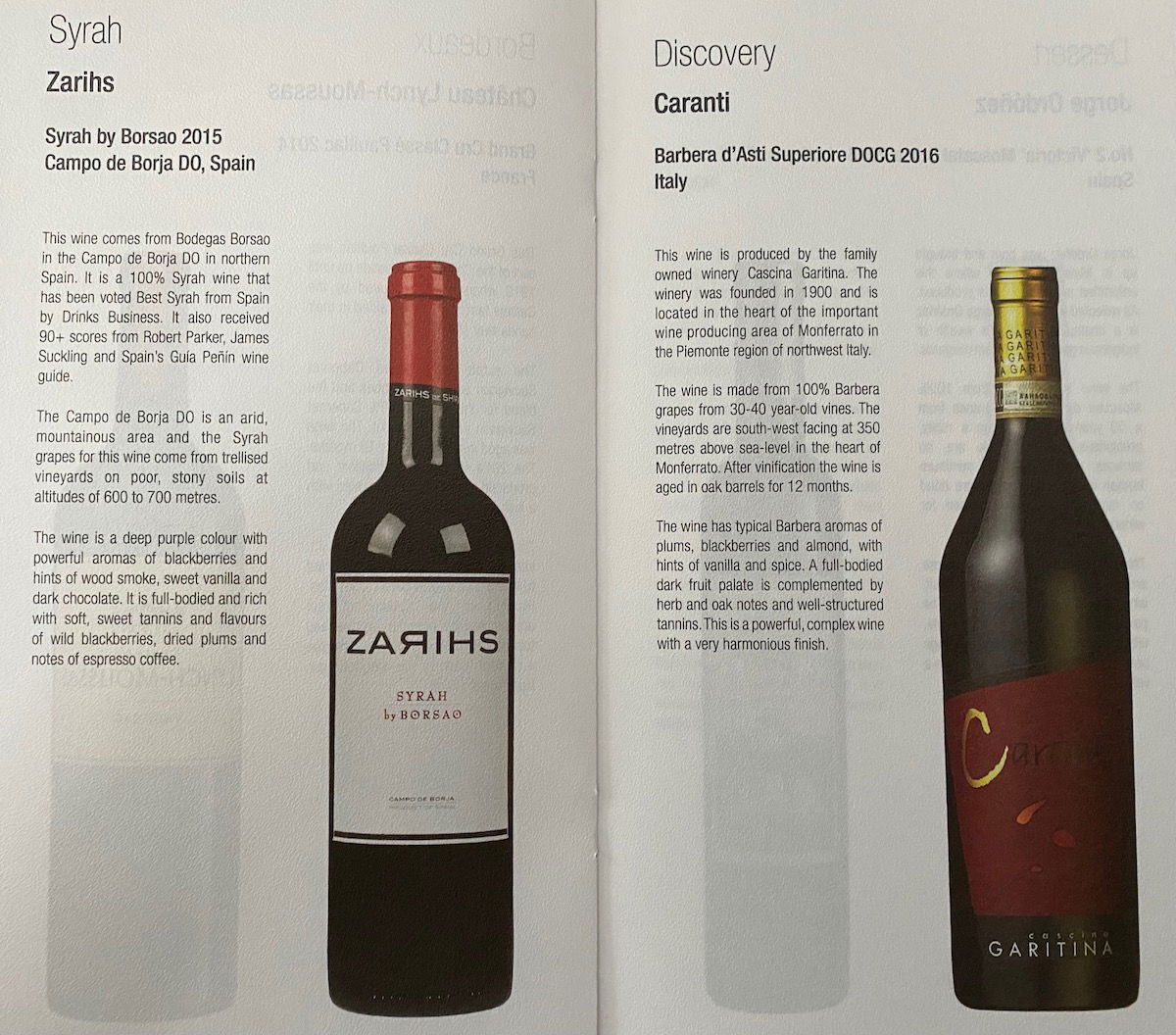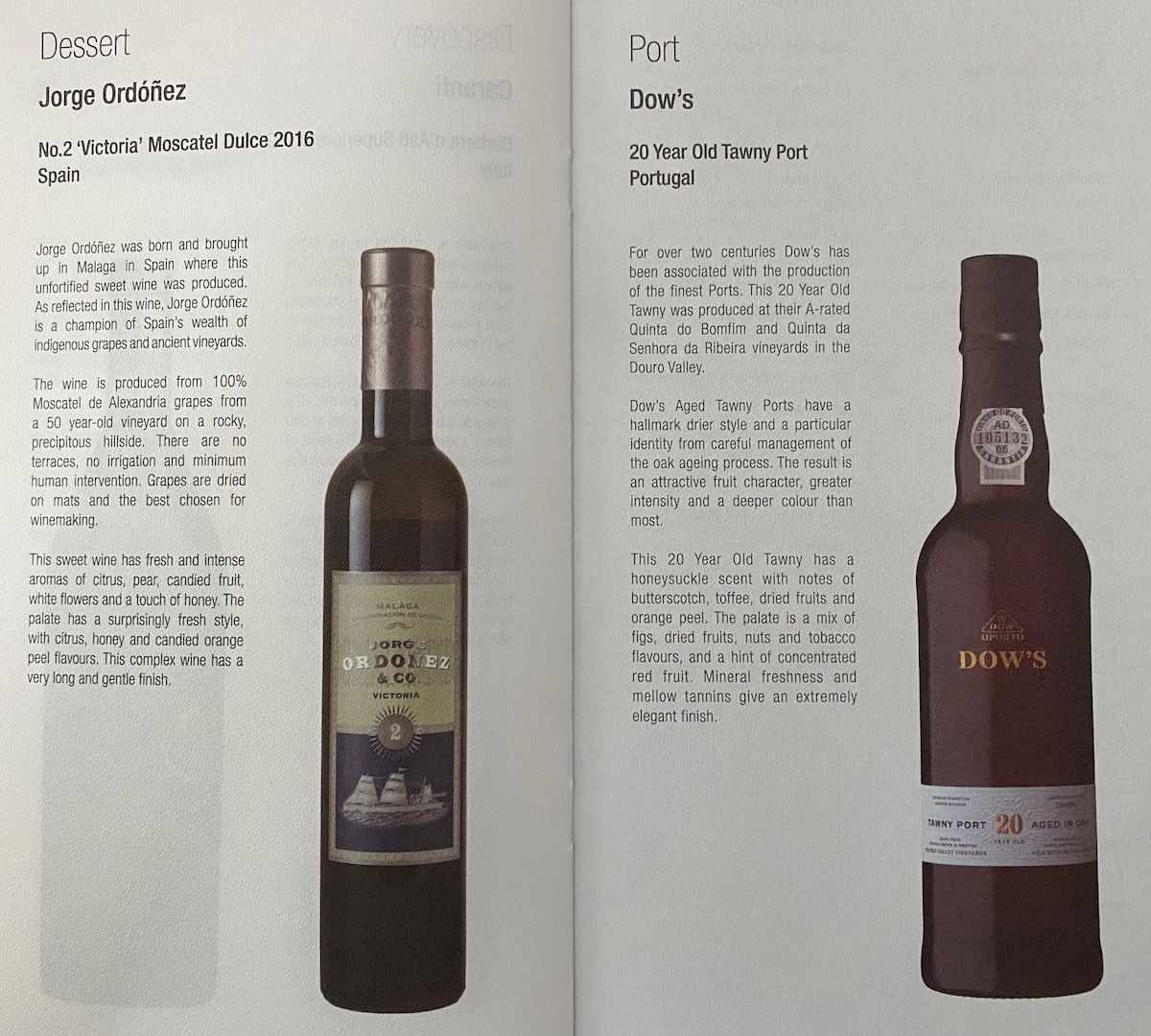 Meanwhile the rest of the drink list read as follows: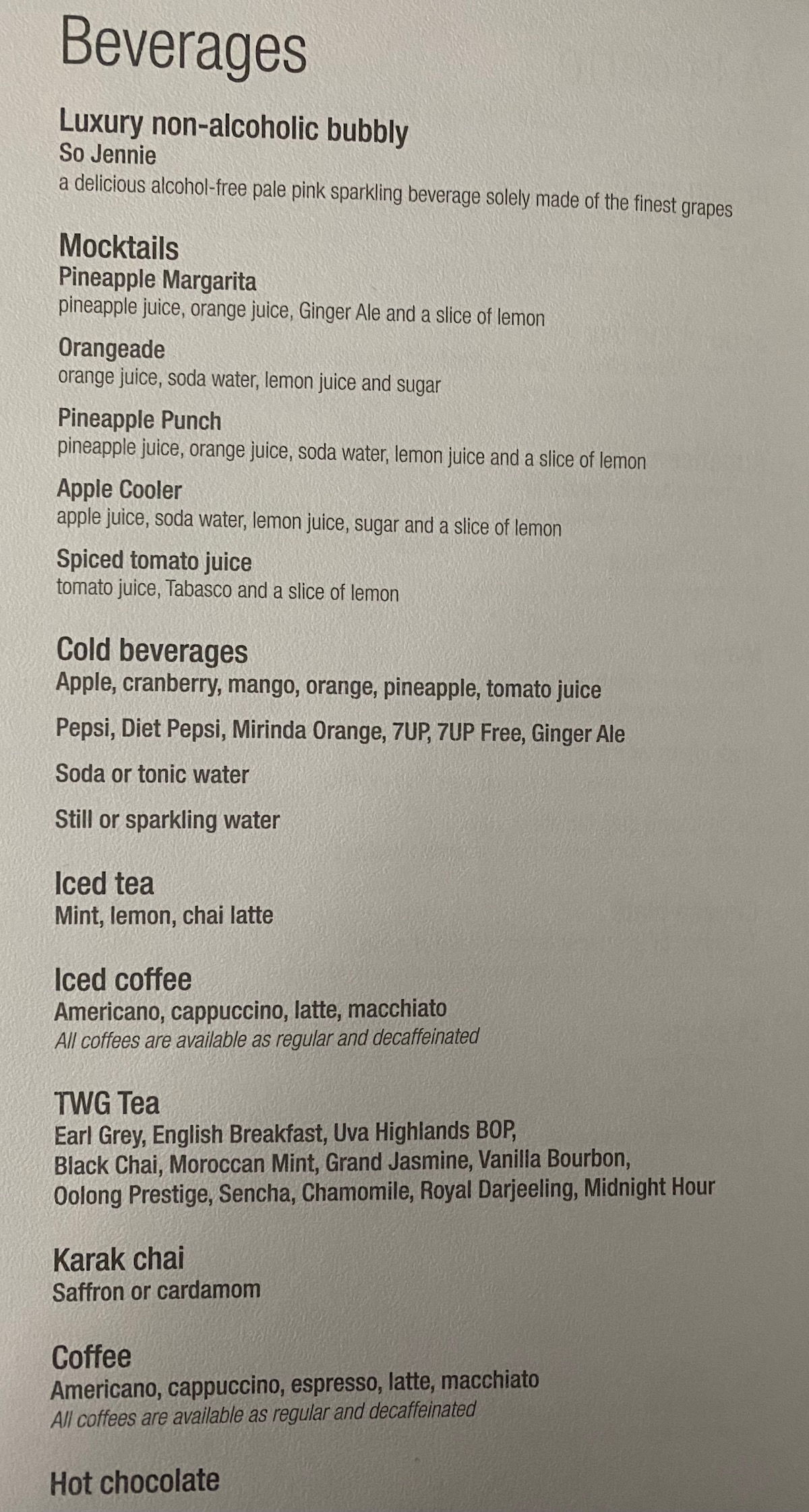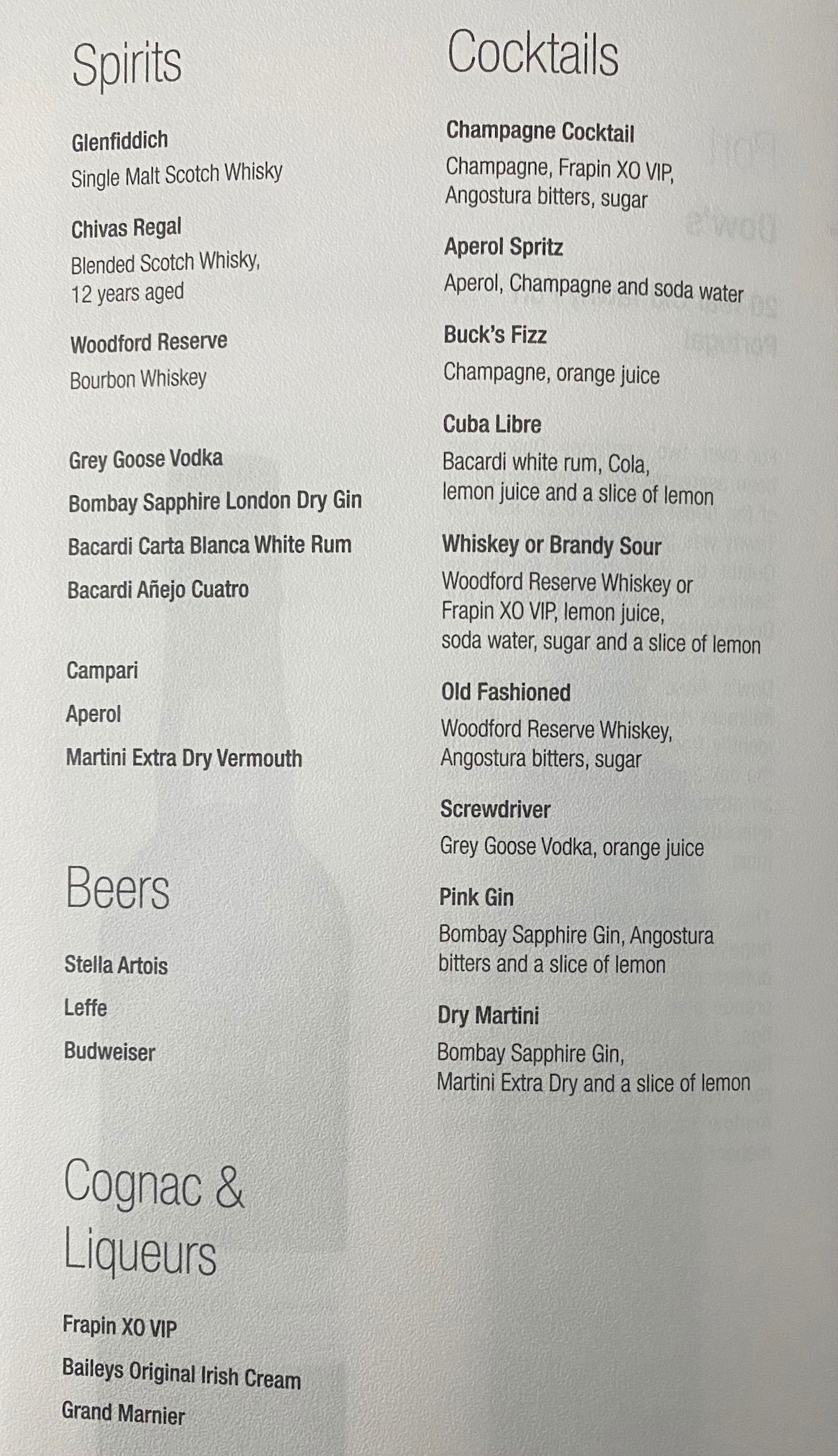 Before takeoff we were already asked if we wanted to place an order, and when we wanted to eat. It's great to have that kind of flexibility.
Qatar Airways has a cocktail menu, so for after takeoff I decided to order an aperol spritz, while Ford had an old fashioned. It's nice to be able to order cocktails, and it's something I wish we'd see more airlines offer. The cocktails were reasonably good for being on a plane, though could've been better (or probably should have had ice).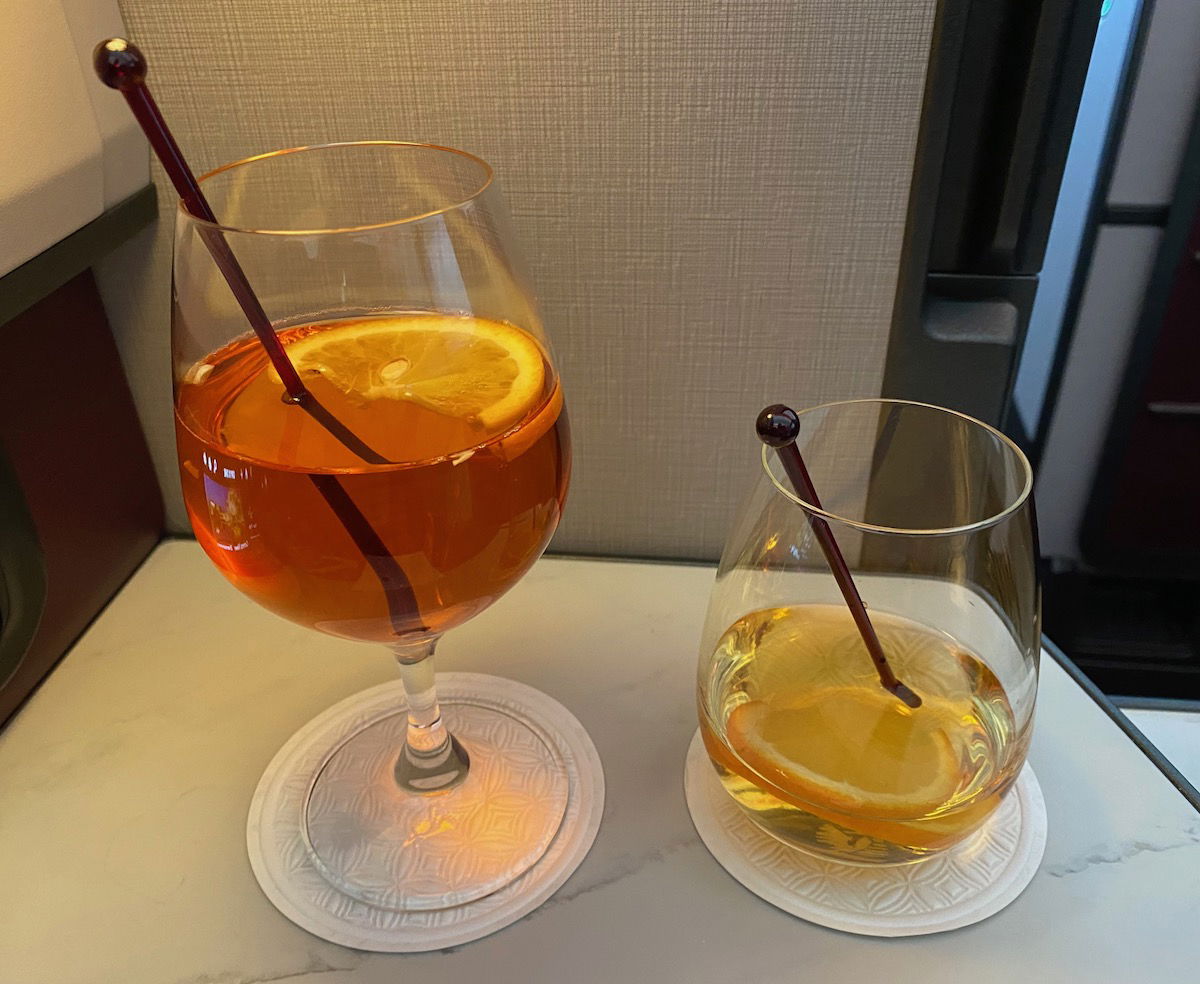 We decided to have dinner about an hour into the flight. I found the menu to be significantly scaled back compared to the last time I flew Qatar Airways on a flight like this, as there were fewer snack and appetizer options. While I do think this represents a scaling back, context is important here — Qatar Airways is still more or less in a league of its own when it comes to catering on a flight like this.
To start I decided to order the Arabic mezze, which included hummus, tabouleh, and baba ghanoush, served with Arabic bread. This was served with a tasty bread selection, as well as butter plus a choice of olive oil.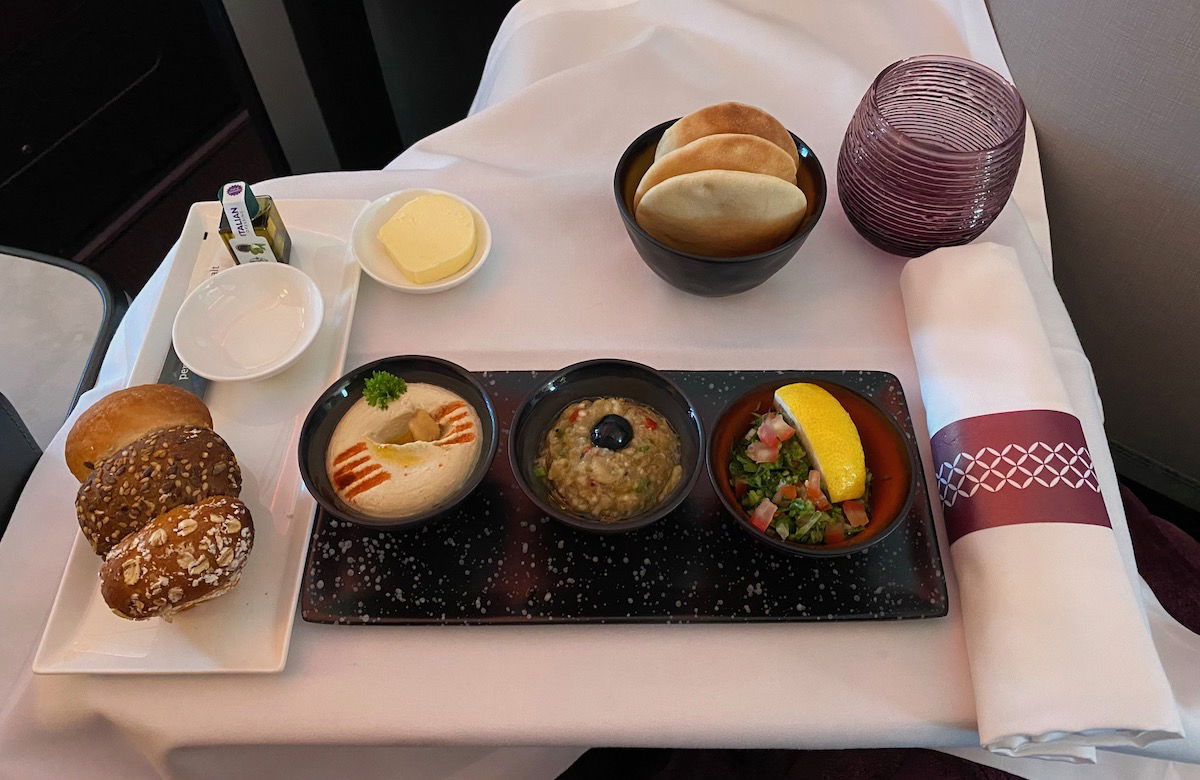 Ford had the seared beef fillet as his starter, which came with a waldorf salad and horseradish dressing.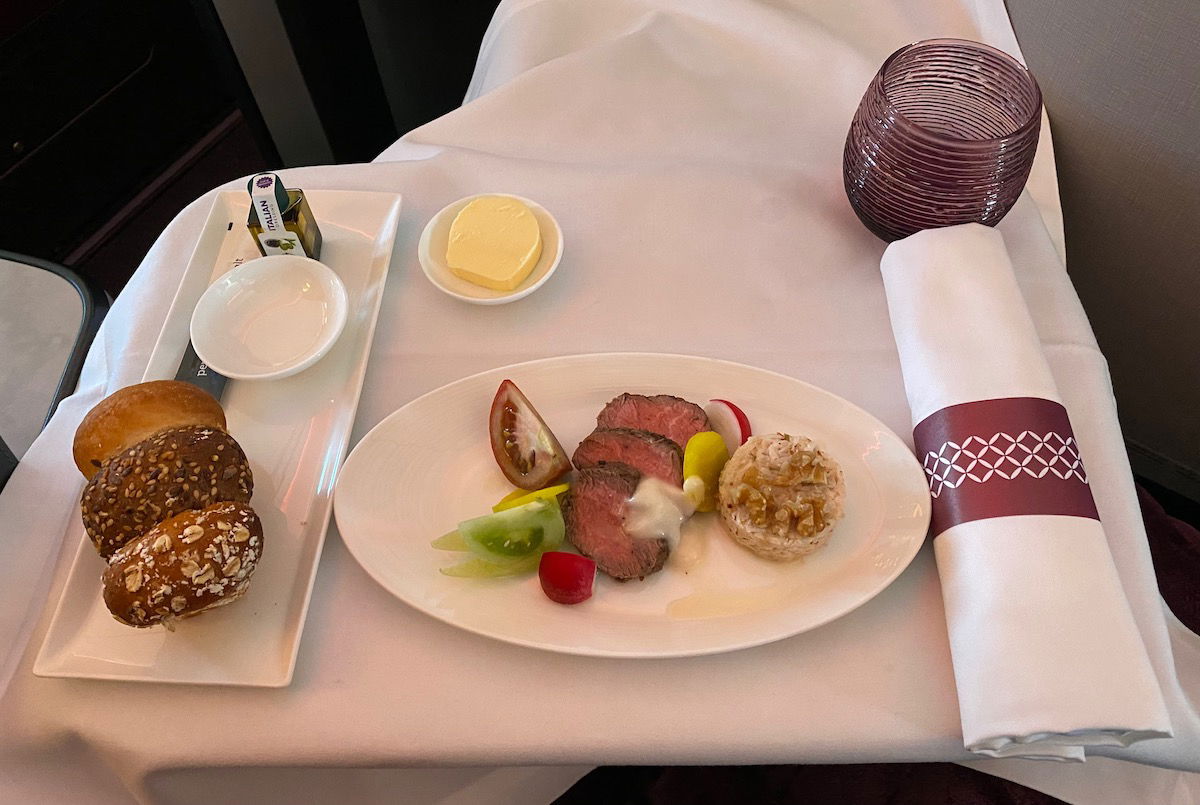 There were three main course choices, and they included lamb belly, duck confit, or a vegan option. I appreciate that Qatar Airways now consistently has a vegan option in business class, so I decided to order that. The vegan menu item was a pesto glazed celeriac steak with Mediterranean risotto and steamed seasonal vegetables. The dish was pretty tasty, and I had a glass of sauvignon blanc to go along with it.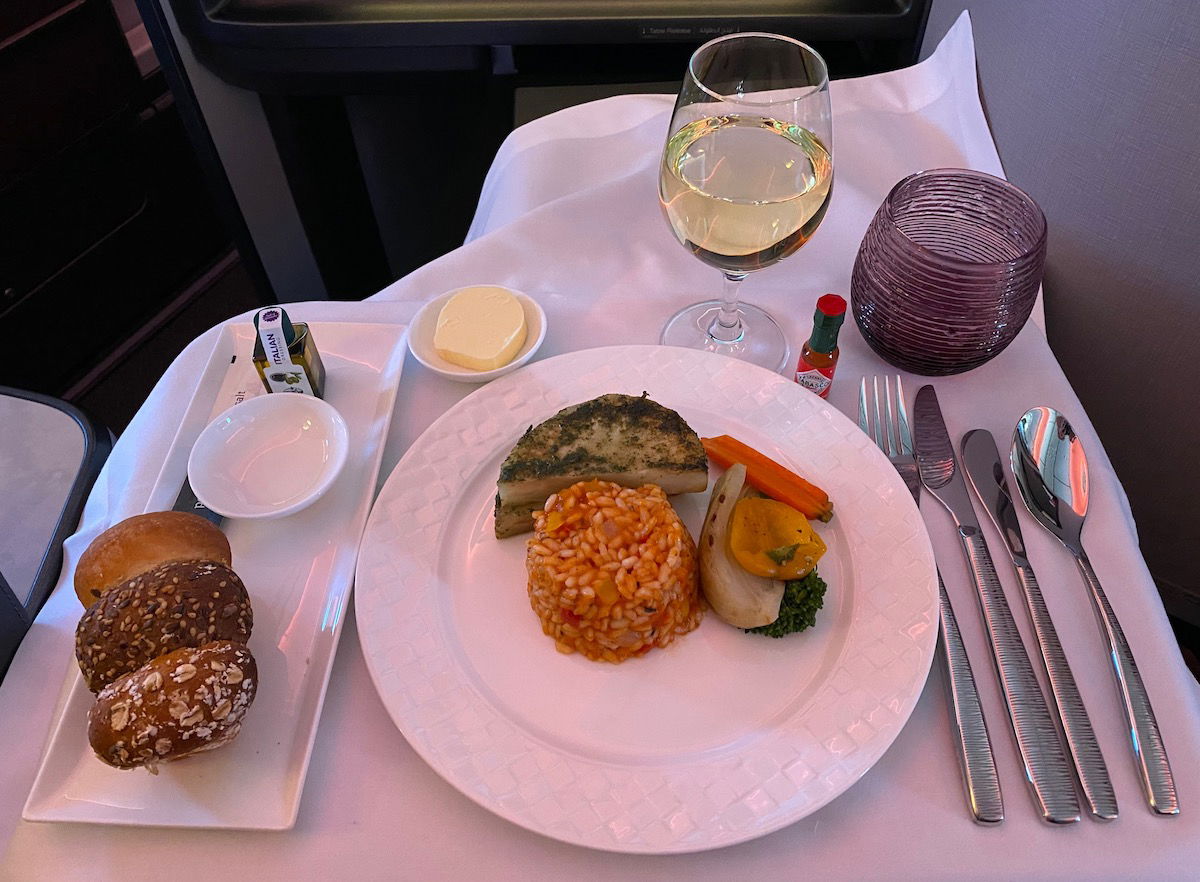 After the main course I ordered a cheese plate, which was beautifully presented.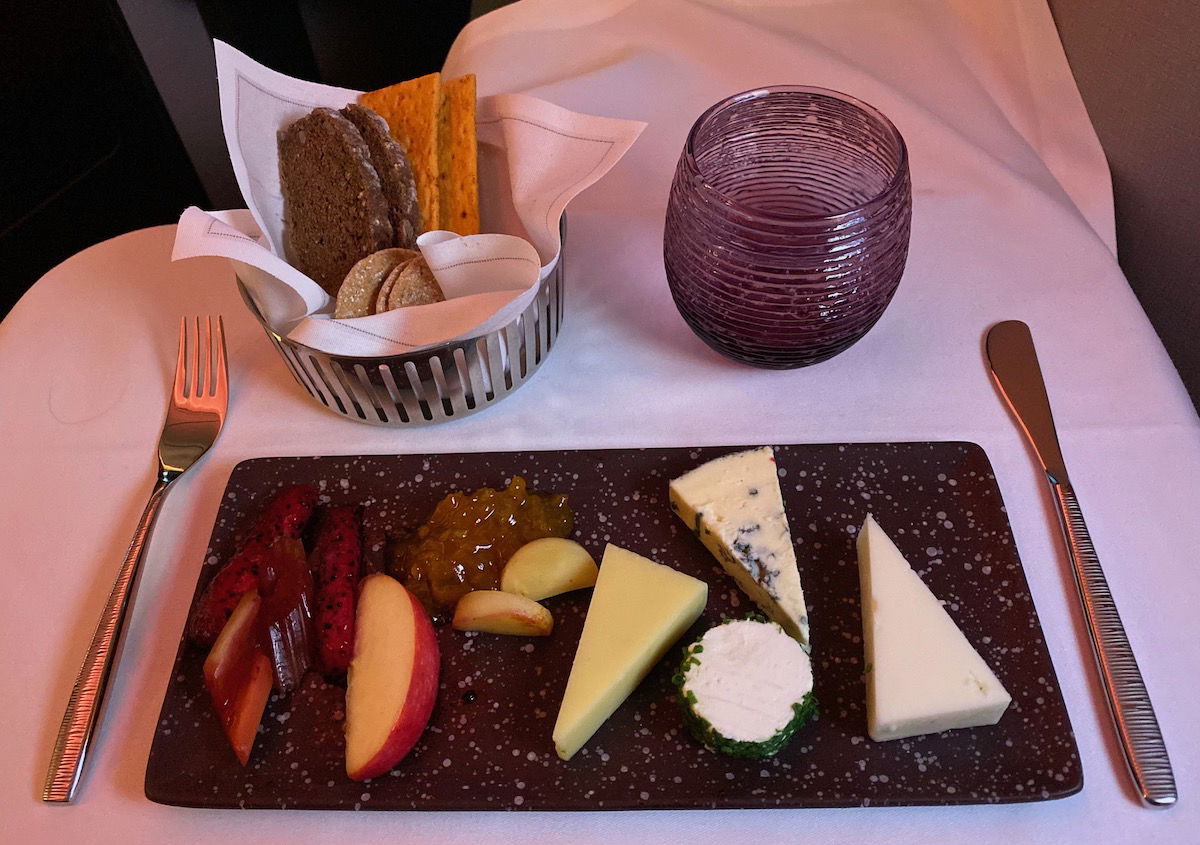 Lastly I ordered the classic tiramisu, which was great.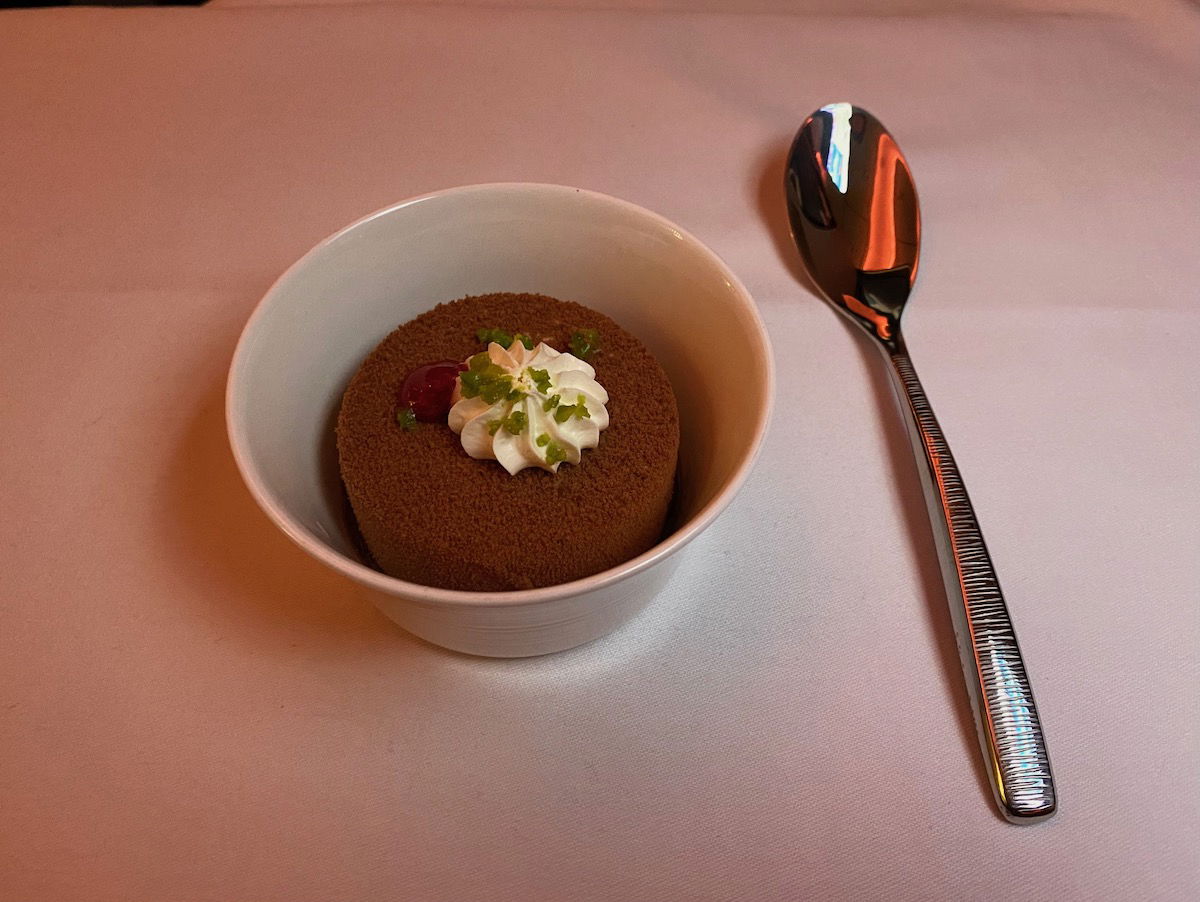 To be honest, I've had better meals in Qatar Airways business class, but this was still very good. The menu is definitely more limited than in the past, but then again, it's not like most other airlines have bigger menus.
As we approached Doha I decided to order an iced cappuccino, and I was offered a box of Godiva chocolates to go along with it. I love Qatar Airways' coffee selection.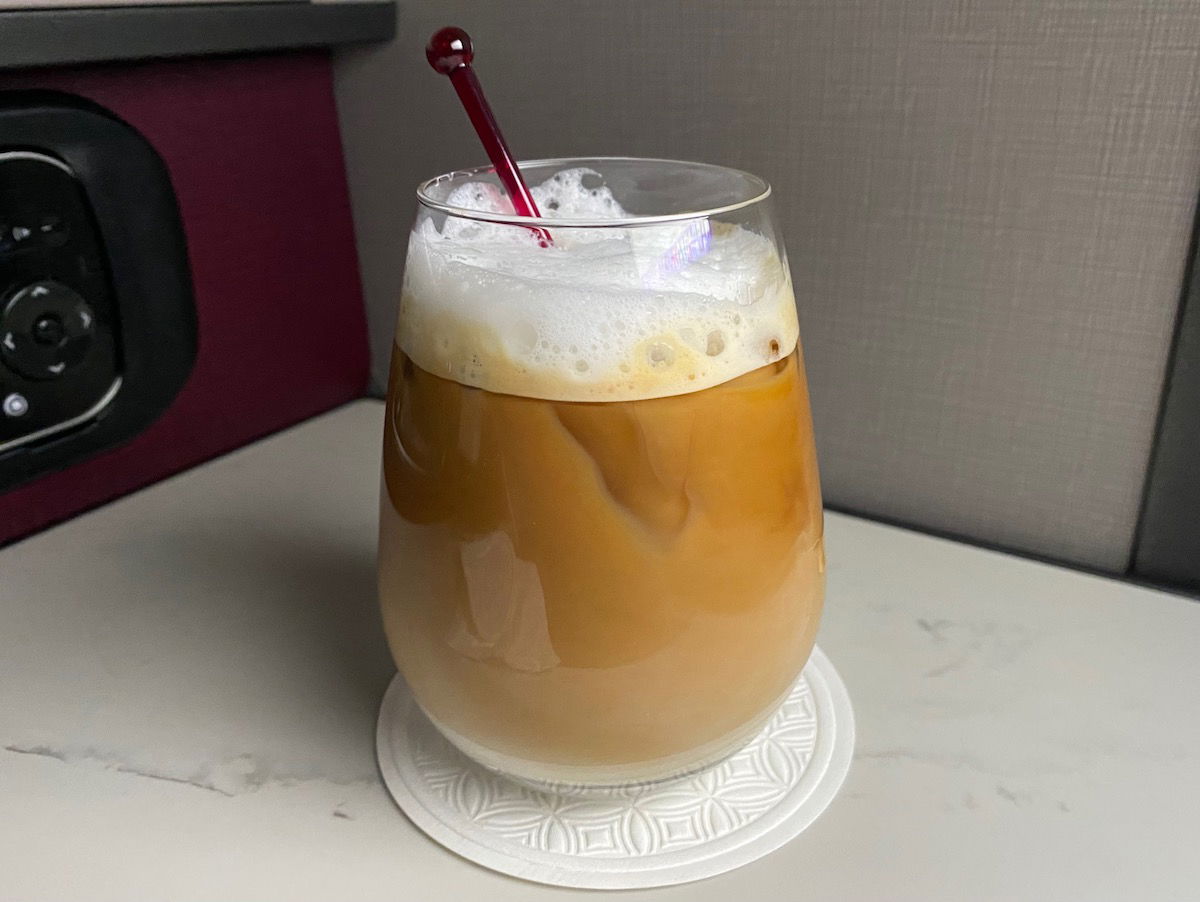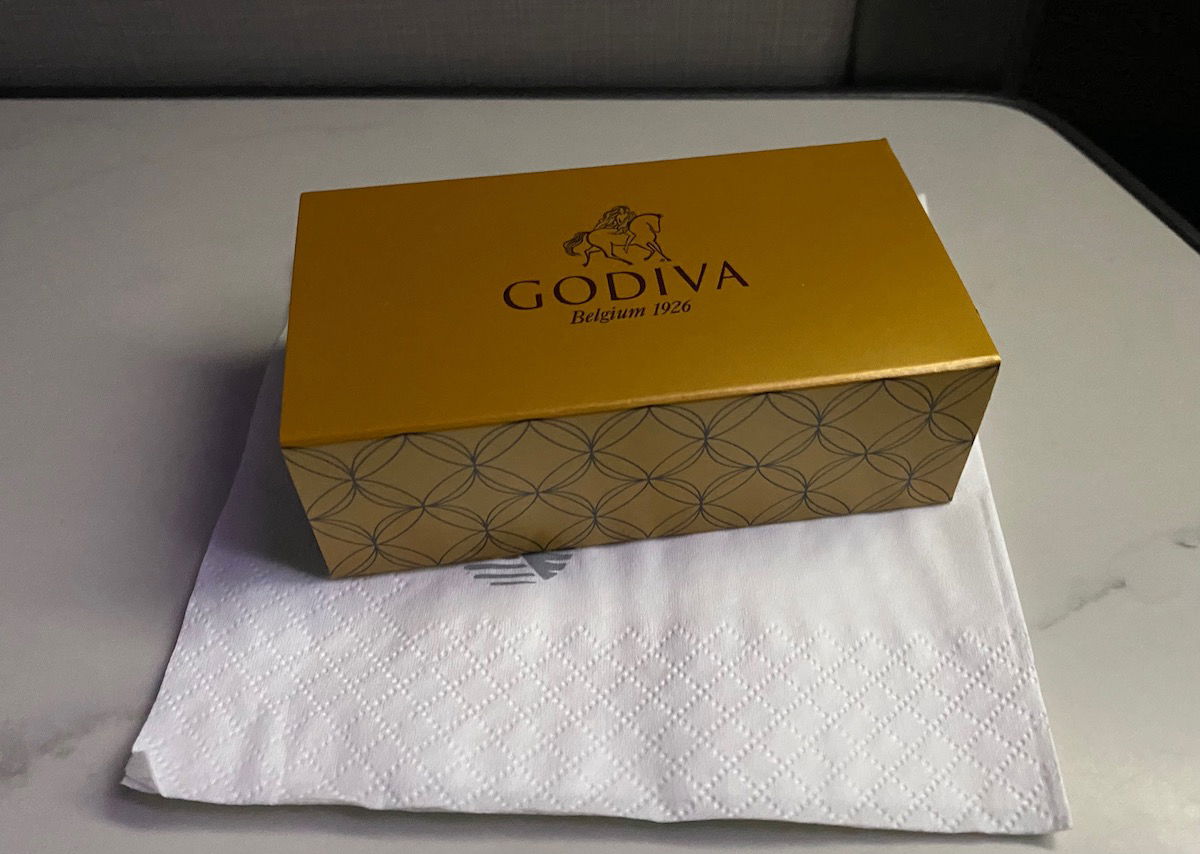 Qatar Airways Boeing 787-9 business class bed
While I didn't get any sleep on this (fairly) short daytime flight, I did check out the bed, both in a window seat, and in a center seat. In bed mode the seat is comfortable and well designed — it's spacious, cozy, and I felt like there was enough space even though I'm a side sleeper who tends to bend my knees a bit. Meanwhile I've been in plenty of reverse herringbone seats where I felt my knees were pushed up against the side of the seat.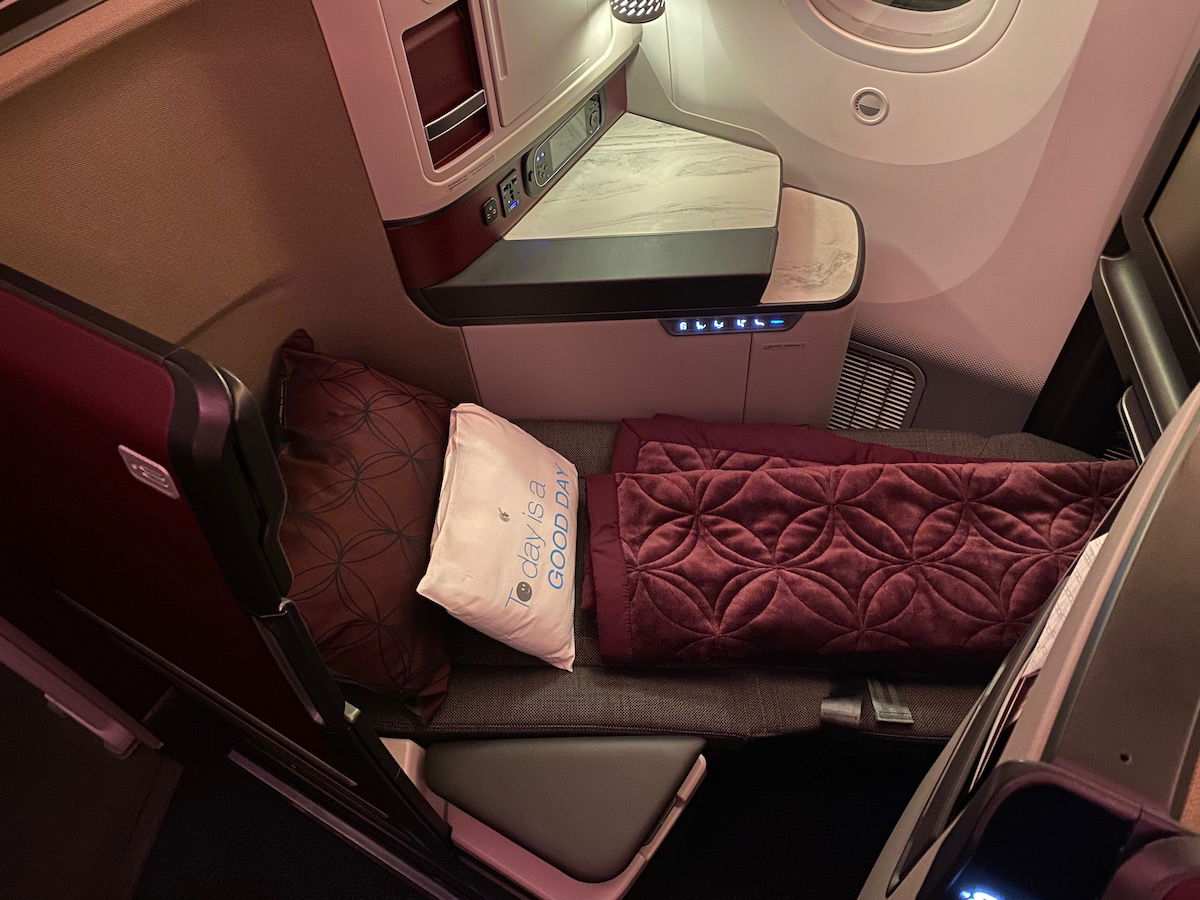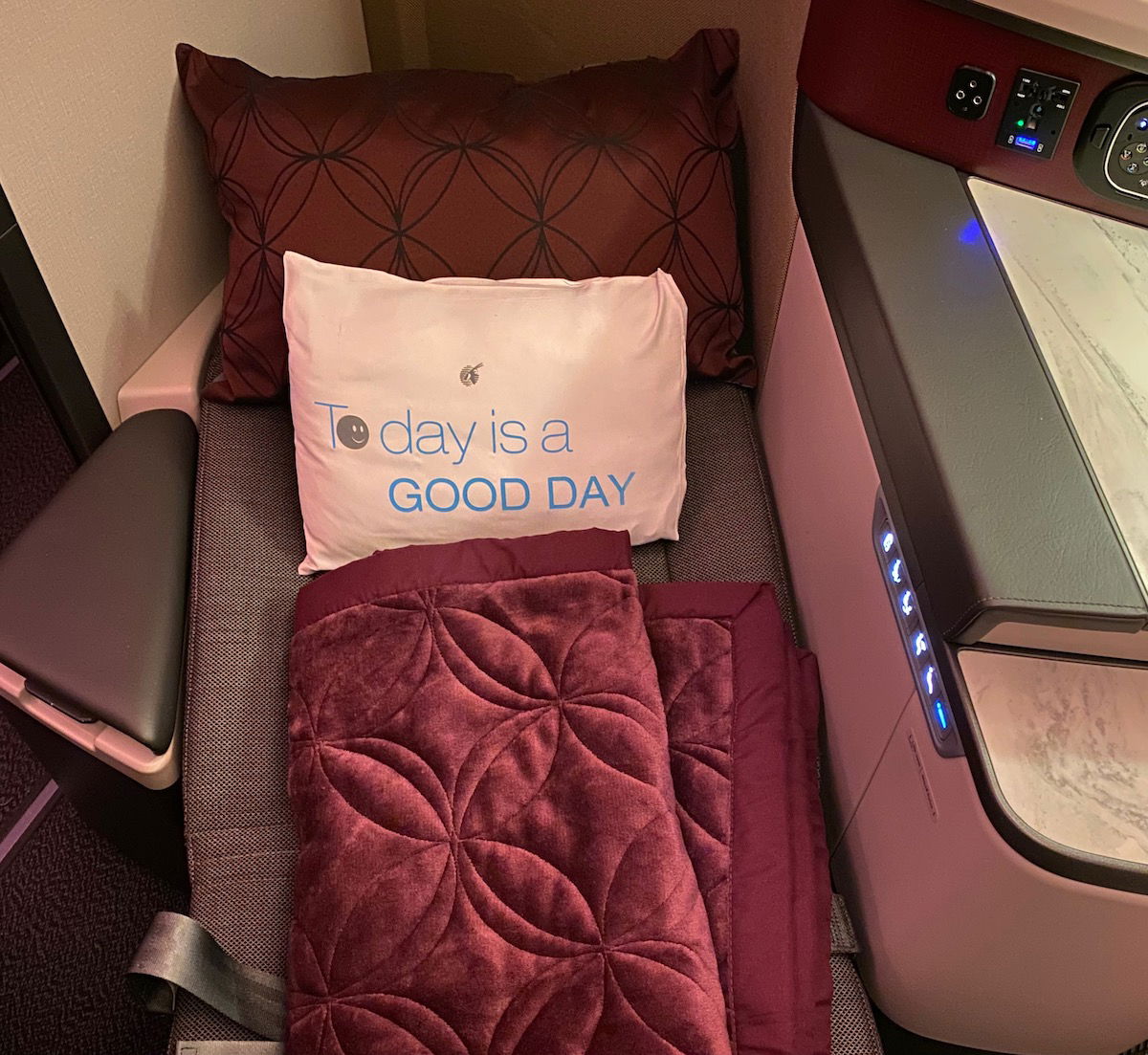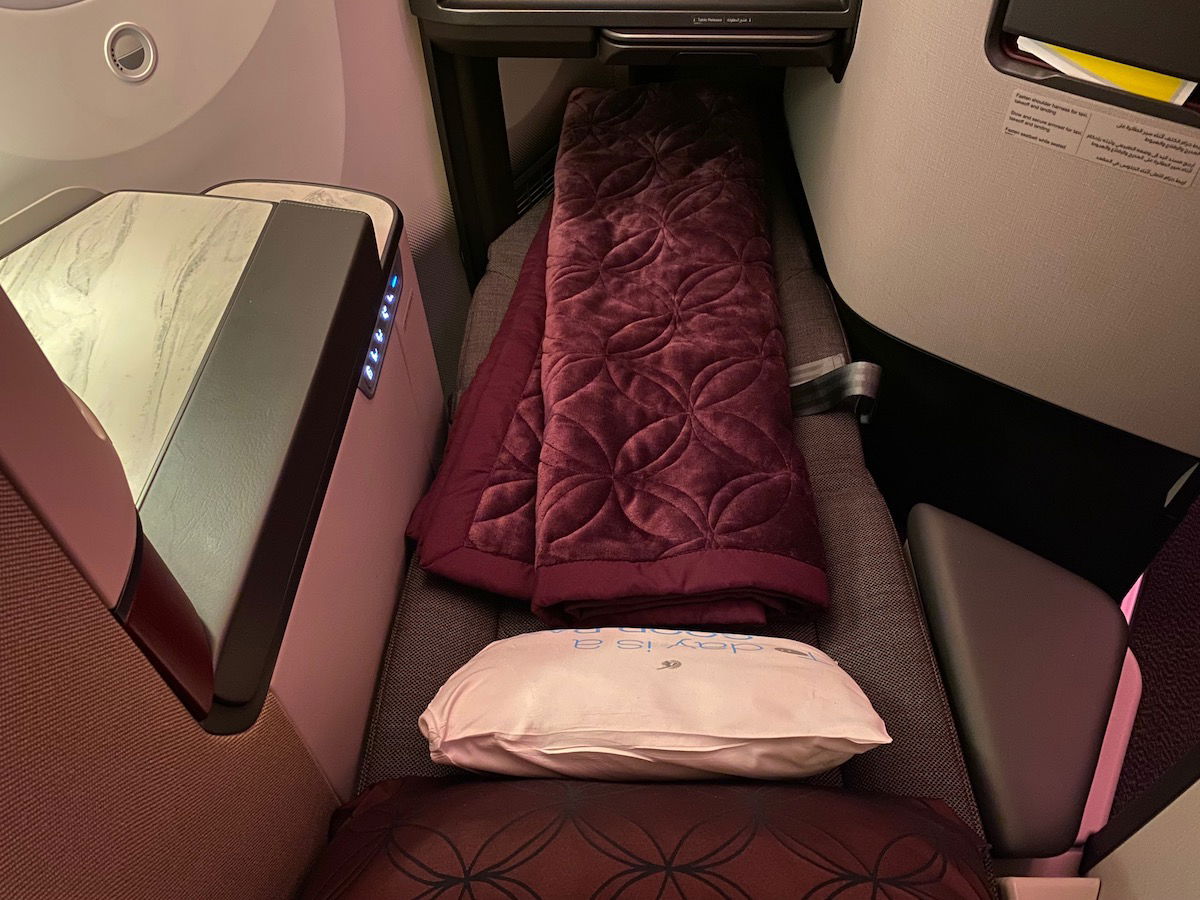 If you're traveling with someone, the center seats are cool in that you can fully lower the partition and have your heads next to one another. The catch is that your bodies are angled away from one another, so this isn't the same double bed you'd find in Qsuites. Nonetheless it's nice to be close to a companion, at least.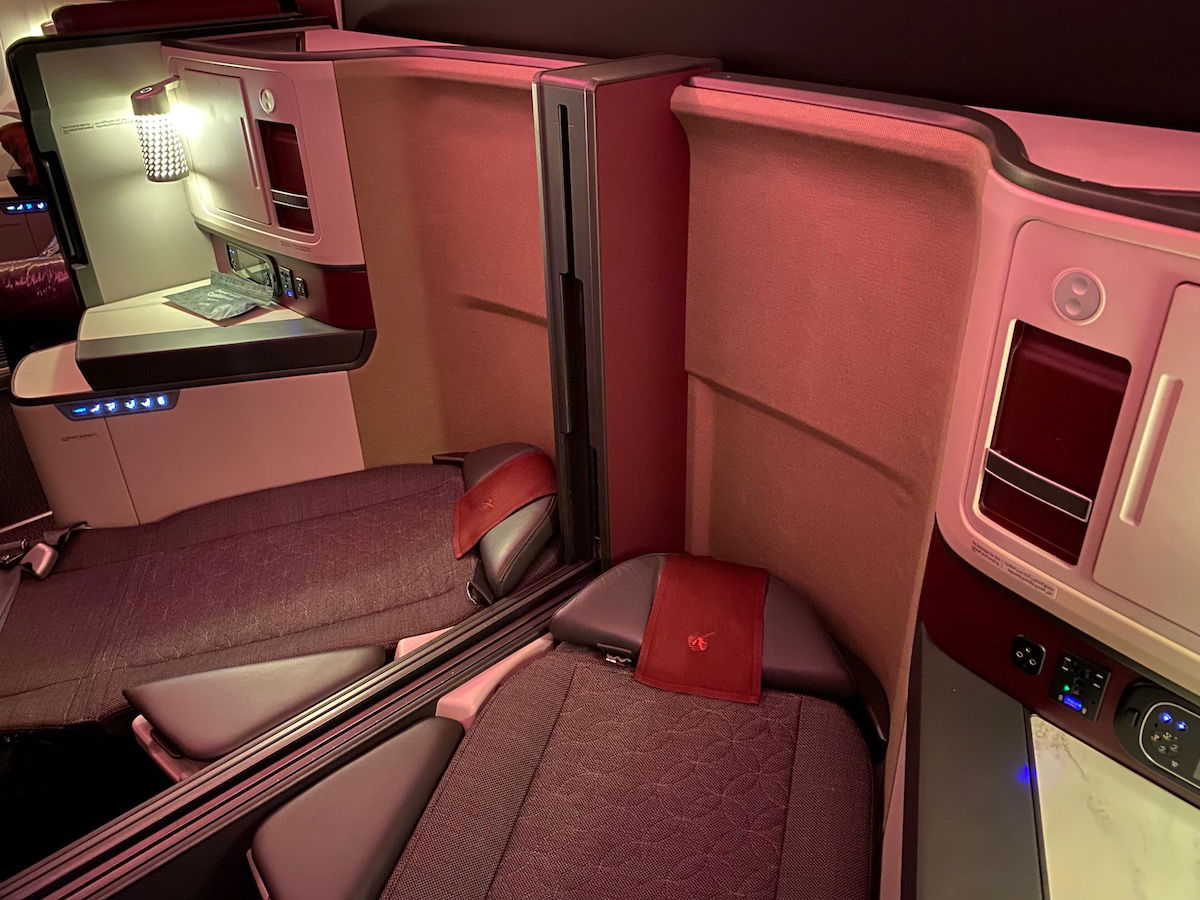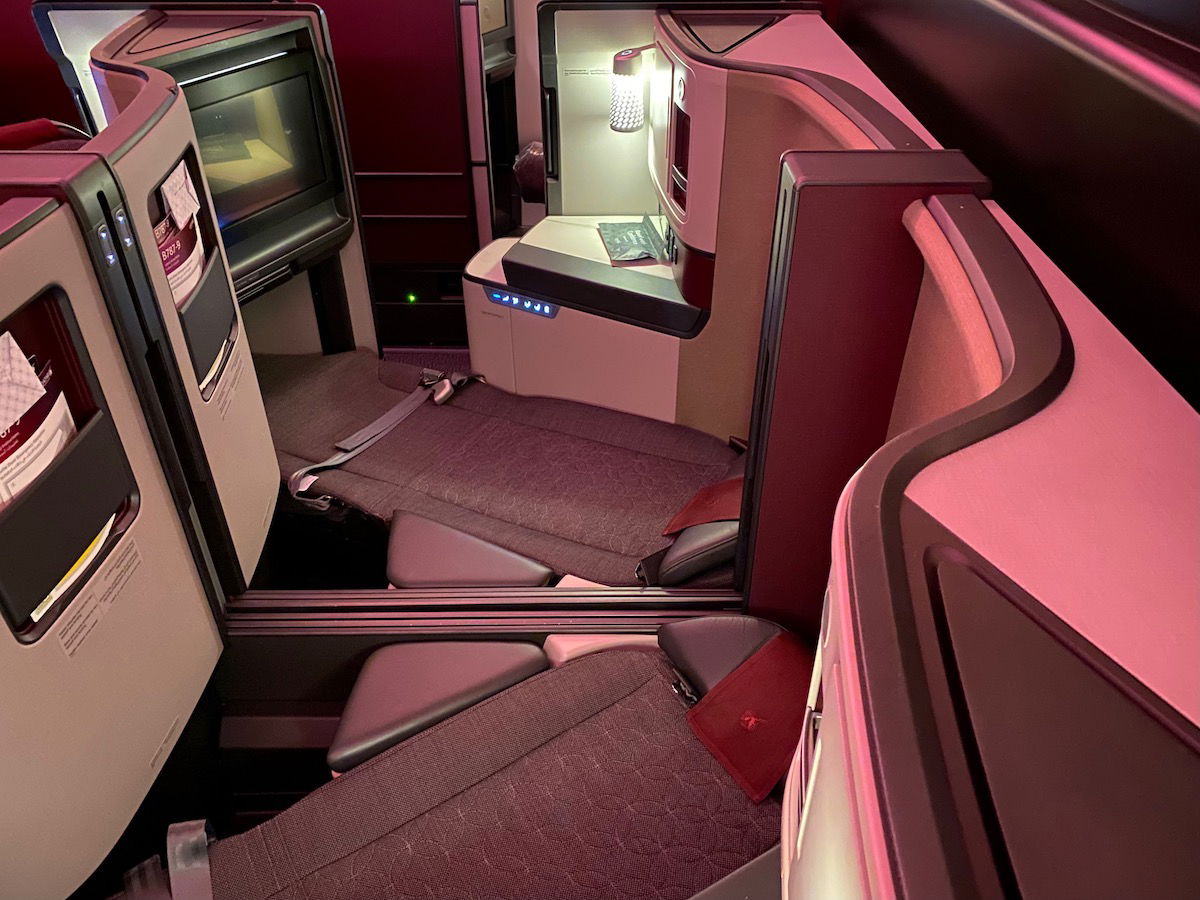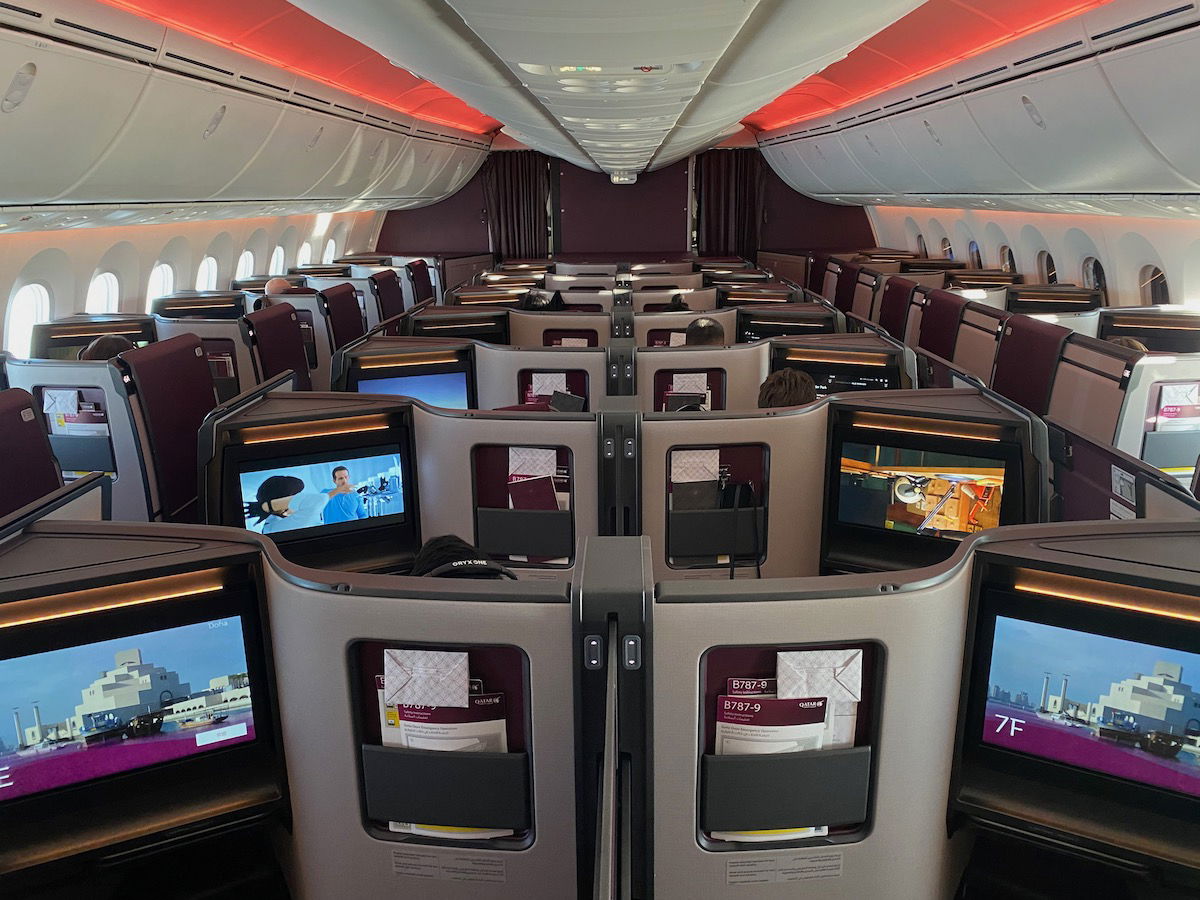 Qatar Airways Boeing 787-9 business class bathrooms
On the Boeing 787-9, both of Qatar Airways' business class lavatories are located behind the cabin, near door two. There's one on each side, and they each have a window, which sure is cool.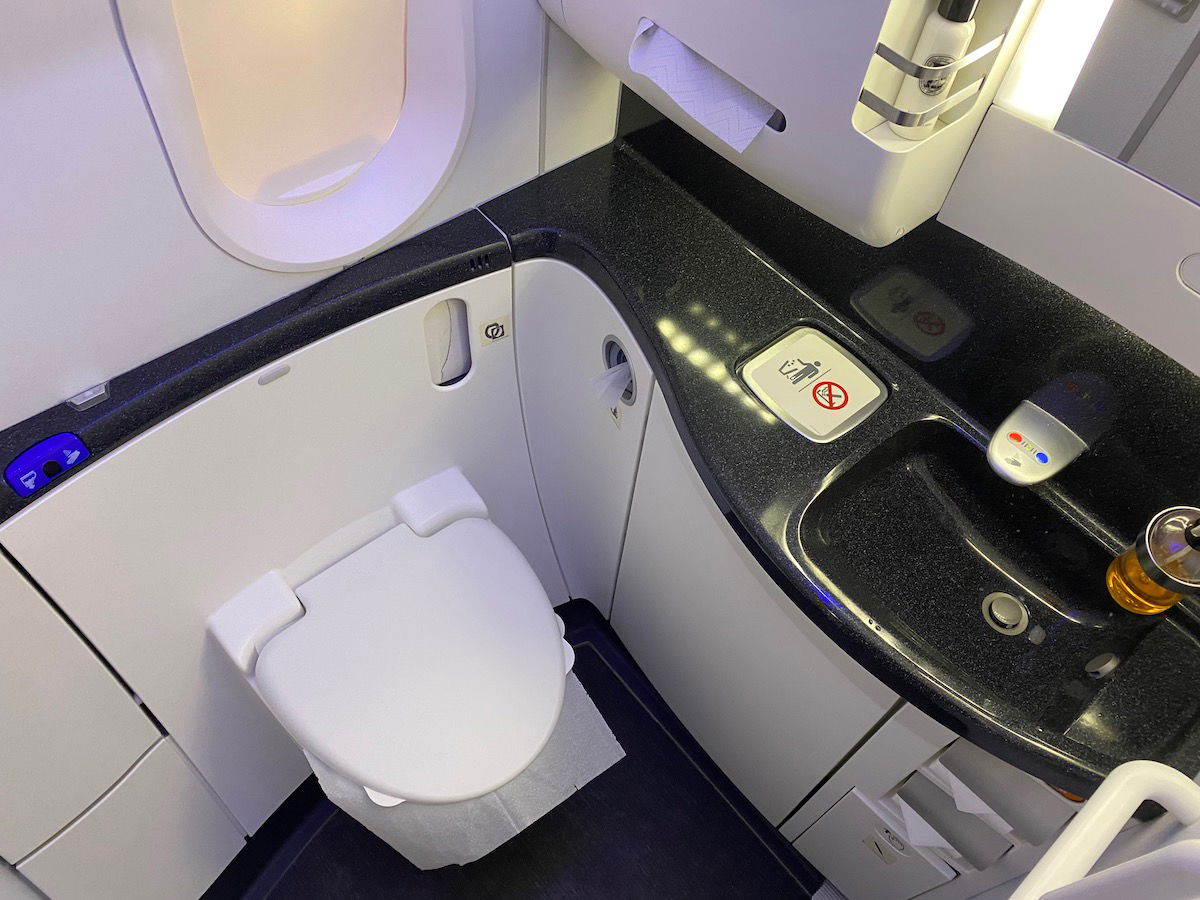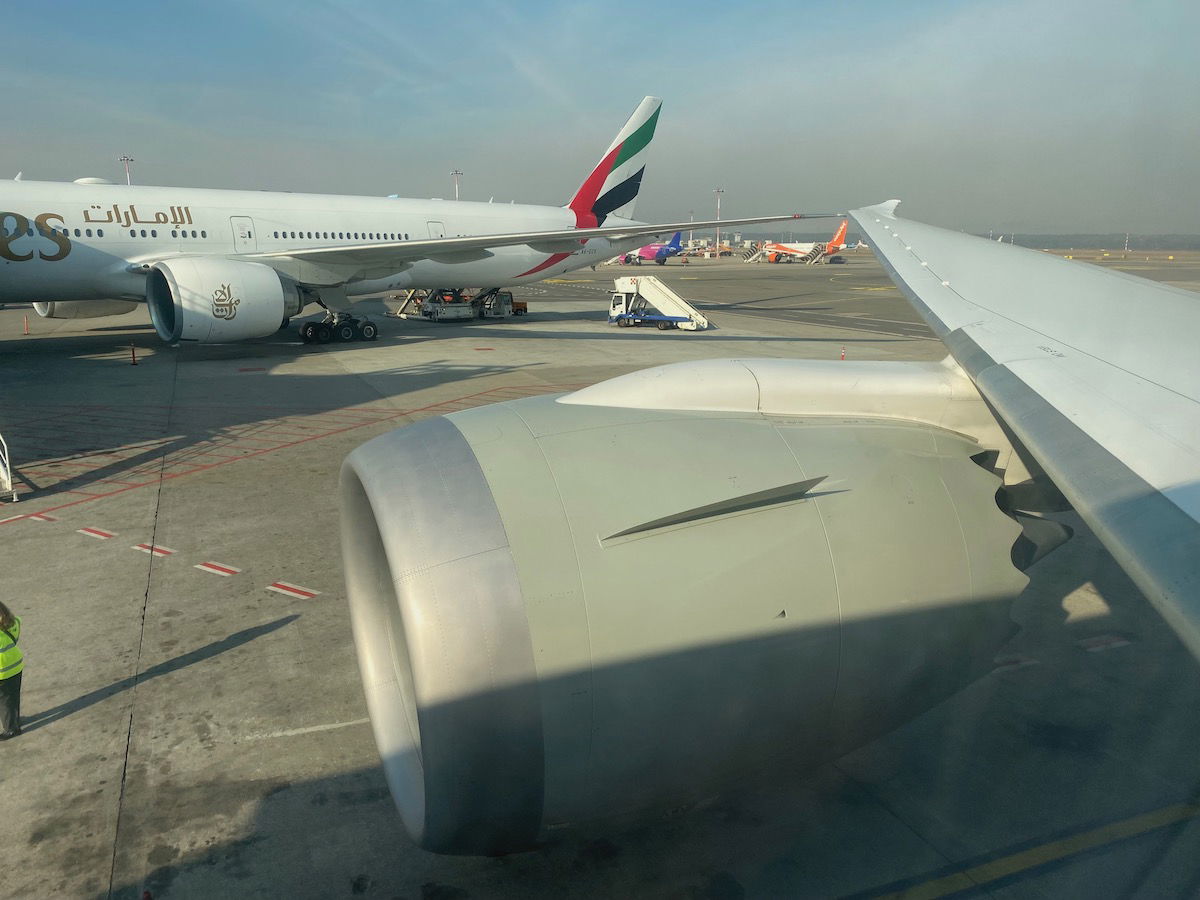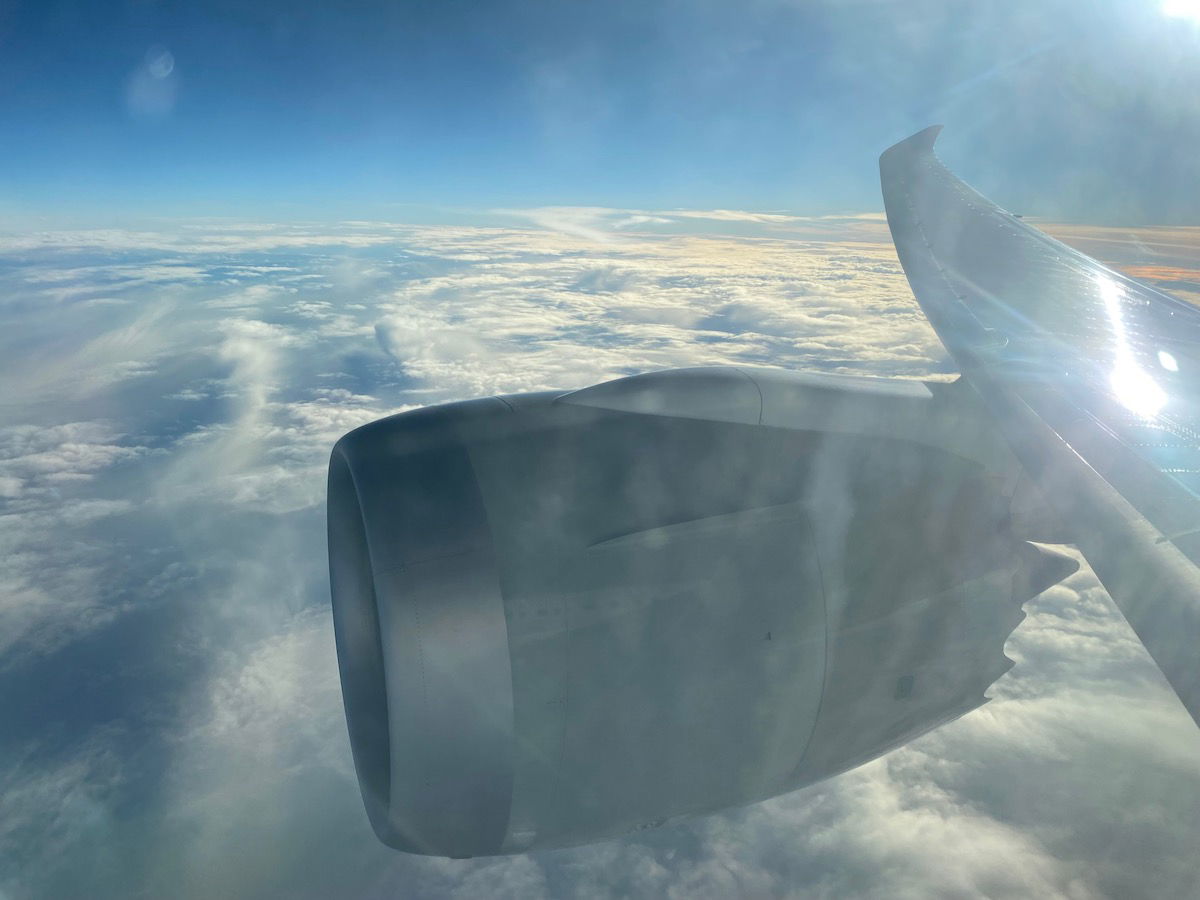 The bathrooms were well maintained, and had a variety of amenities, including dental kits, shaving kits, and Diptyque toiletries. This is totally random, but I'm curious — do any OMAAT readers shave on planes? I could see myself doing it in the Emirates A380 shower suite, but that's about it…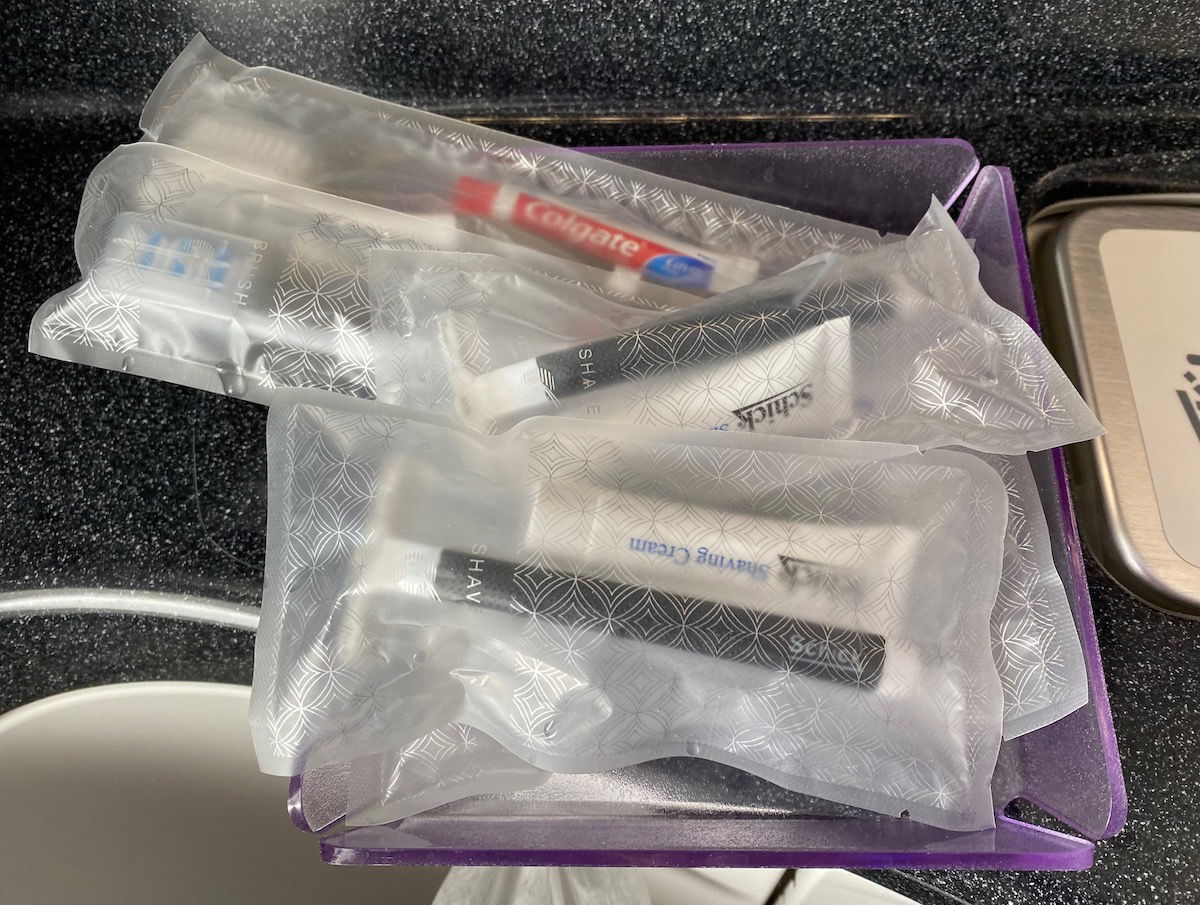 Qatar Airways business class service
The crew on this flight was great — they were friendly, attentive, and always happy to fulfill any requests. End of story.
Qatar Airways arrival in Doha
At around 10:45PM Doha time the captain announced we would soon be commencing our descent, and should be landing in about 30 minutes. While we initially made good progress on our descent, we ended up having a rather circuitous approach.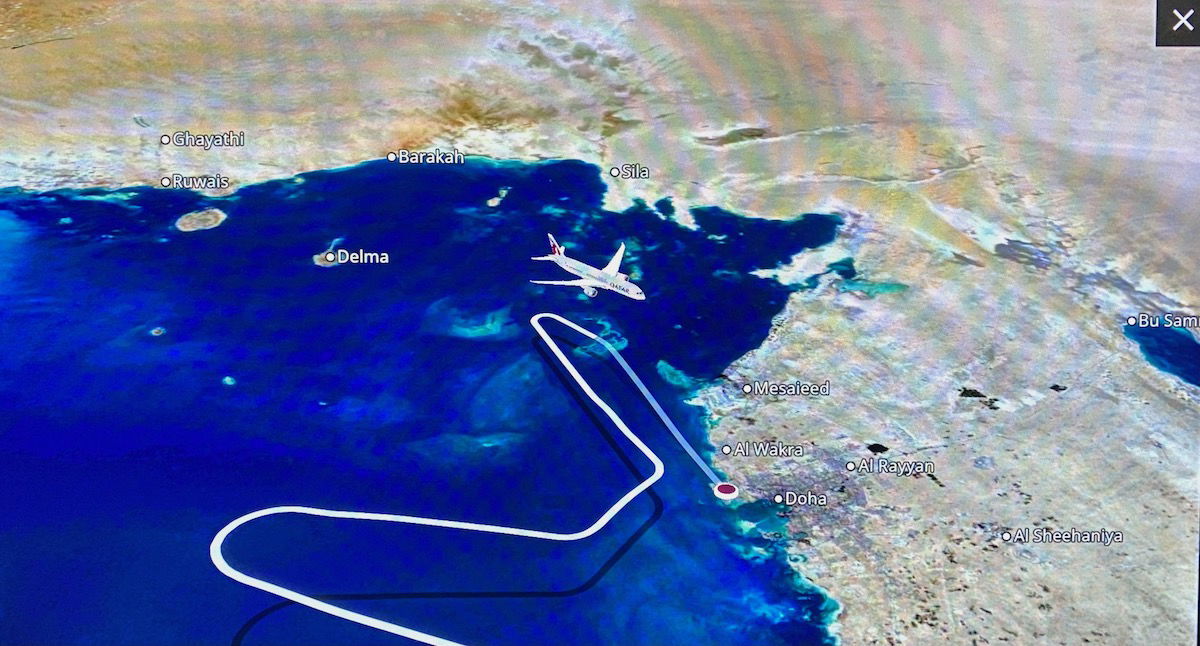 We landed in Doha at 11:35PM. Just like during takeoff, I enjoyed watching the nose camera during this phase of flight.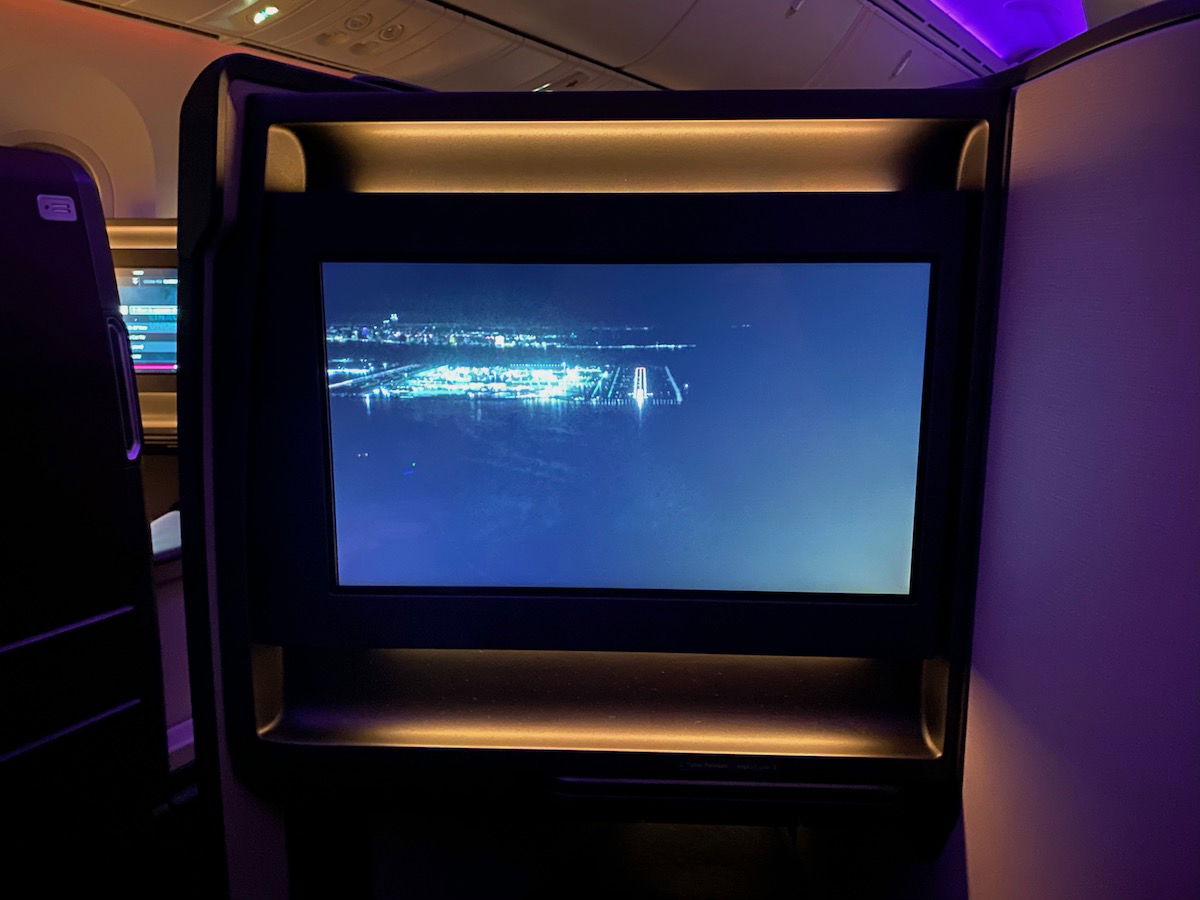 We arrived at our gate at 11:40PM, five minutes behind schedule.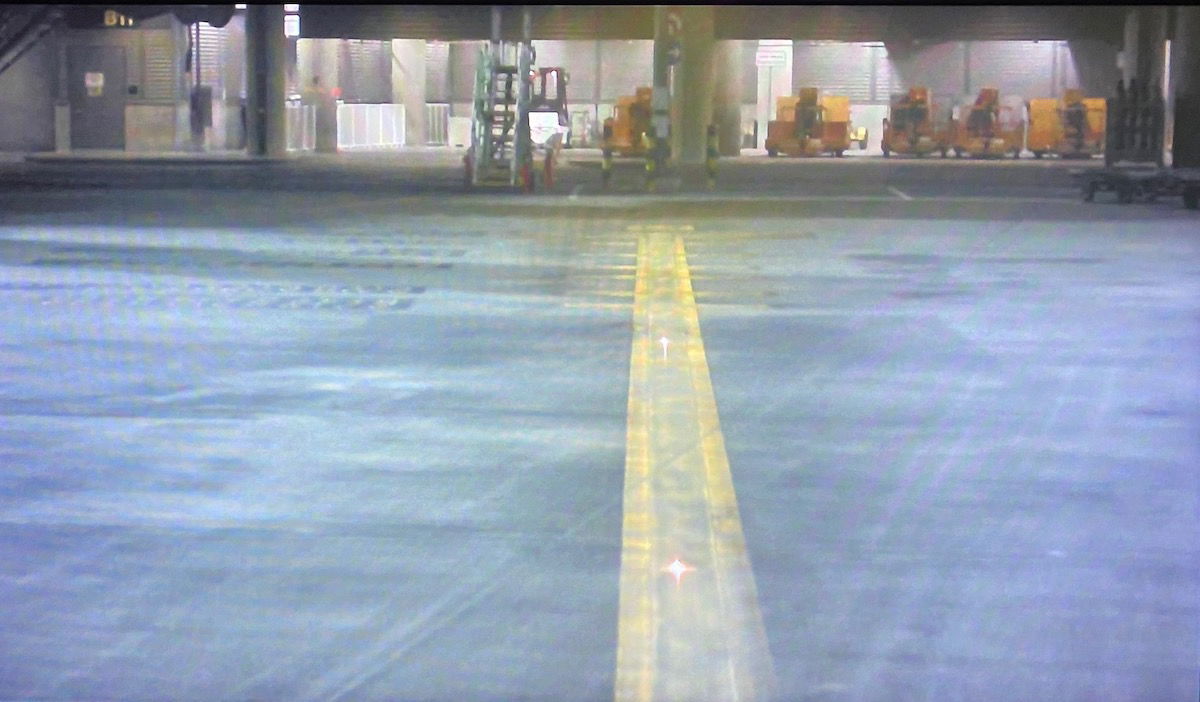 Bottom line
I'm thrilled I had the chance to fly Qatar Airways' new Boeing 787-9 business class, as the Adient Ascent seat is one we'll likely see on several more airlines. The new 787-9 business class suite is great, though I think Qsuites still has the edge.
In terms of soft product, Qatar Airways continues to hit it out of the park, with a dine on demand concept, an excellent drink selection, and great bedding and amenities. As someone who likes to stay connected while traveling, I also love Qatar Airways' "Super Wi-Fi," where you can get unlimited high speed Wi-Fi with no data caps for just $10.
In fairness, the experience is definitely scaled back a bit compared to what it used to be. There were no nuts with the first drink service, and the menu was smaller than in the past. Still, two years into the pandemic, it was so nice to take a business class flight that actually felt "normal" again. Qatar Airways is in a league of its own when it comes to business class, in my opinion.
What do you make of Qatar Airways' 787-9 business class?