EXTRA PERKS AVAILABLE
Enjoy breakfast, upgrades, & more
Want to take advantage of Four Seasons Preferred Partner benefits, including a space available room upgrade, complimentary breakfast, a hotel credit, and more? Contact Ford ([email protected]) for more details. He may even be able to help if you already have a stay booked.
During our time in Kyoto, we decided to check out three different hotels — the Four Seasons, the Park Hyatt, and the Ritz-Carlton — which are regarded as among the best hotels in the city. All of these hotels are great, though they offer surprisingly different experiences, each with their pros and cons. In this post I'll be reviewing the Four Seasons Kyoto.
The Four Seasons Kyoto opened in 2016. It has a total of 180 accommodations, including 110 guest rooms, 13 suites, and 57 residences. So it's the largest of the hotels we stayed at, at least if you include the residences.
Of the three hotels, we liked the Four Seasons and Park Hyatt most, but for totally different reasons. The single greatest thing about the Four Seasons is the outdoor space, as the hotel is built around a gorgeous 12th-century Shakusui-en pond garden. It's incredible to have this kind of outdoor space at a hotel.
The other thing I loved about the Four Seasons is the impressive wellness area, including a beautiful pool and hot tub, and a large gym. In addition to that, the property has everything you'd expect from a Four Seasons, including beautiful design, friendly service, great food and beverage outlets, and more.
That being said, the Four Seasons Kyoto isn't for everyone. If you're looking for a hotel right in the heart of the action that feels more boutique, I'd probably select the Park Hyatt, as it's a more intimate property. It all depends on what you're looking for.
Anyway, let's get into the review…
Booking the Four Seasons Kyoto
Full disclosure — Ford had won a prize through work with Four Seasons, which he could use for a two night stay at any property in Japan. He decided to use it for the Four Seasons Kyoto. So in this case our room was complimentary, though all opinions expressed are my own, and my review hasn't in any way been reviewed by the property.
Rates at the Four Seasons Kyoto were roughly $2,000 per night for a base room over our dates, though rates do vary seasonally, as you'd expect. Pricing was virtually the same at all three properties we stayed at. Of course the pricing doesn't reflect the experience you're getting at these hotels, but rather just reflects the amount of luxury demand for Kyoto at the moment, so hotels can get away with charging that.
The best way to book any Four Seasons hotel is through a travel advisor affiliated with the Four Seasons Preferred Partner program. Ford is happy to help book Four Seasons properties through Preferred Partner, and can be reached at [email protected]. When booking through Preferred Partner you pay the same rate you'll find directly on Four Seasons' website, but you'll receive extra perks, including the following:
A room upgrade, subject to availability
Complimentary daily breakfast
A hotel credit to use during your stay
Four Seasons Preferred Partner is generally combinable with promotions being offered directly through Four Seasons, including advance purchase rates, free night offers, and more. Note that booking Four Seasons properties through Preferred Partner is generally better than booking through programs like Amex Fine Hotels & Resorts. Why?
With Preferred Partner you have the option of room service breakfast in place of restaurant breakfast
Upgrades are prioritized for Preferred Partner bookings, given that it's Four Seasons' own proprietary program (and the value of an upgrade can be significant)
You can combine Preferred Partner perks with virtually any rate on Four Seasons' website (other programs don't allow you to stack promotions in the same way)
The only advantage to booking through Amex Fine Hotels & Resorts is guaranteed 4PM check-out, but this will often be offered subject to availability to Preferred Partner guests
Four Seasons Kyoto location
The Four Seasons Kyoto is located in the Higashiyama district of Kyoto. There's not much in the area immediately around the property, but that's also because the Four Seasons' property is much larger than those of other luxury hotels.
The hotel is still pretty centrally located, and we were within a 20 minute walk of many of the city's most popular attractions.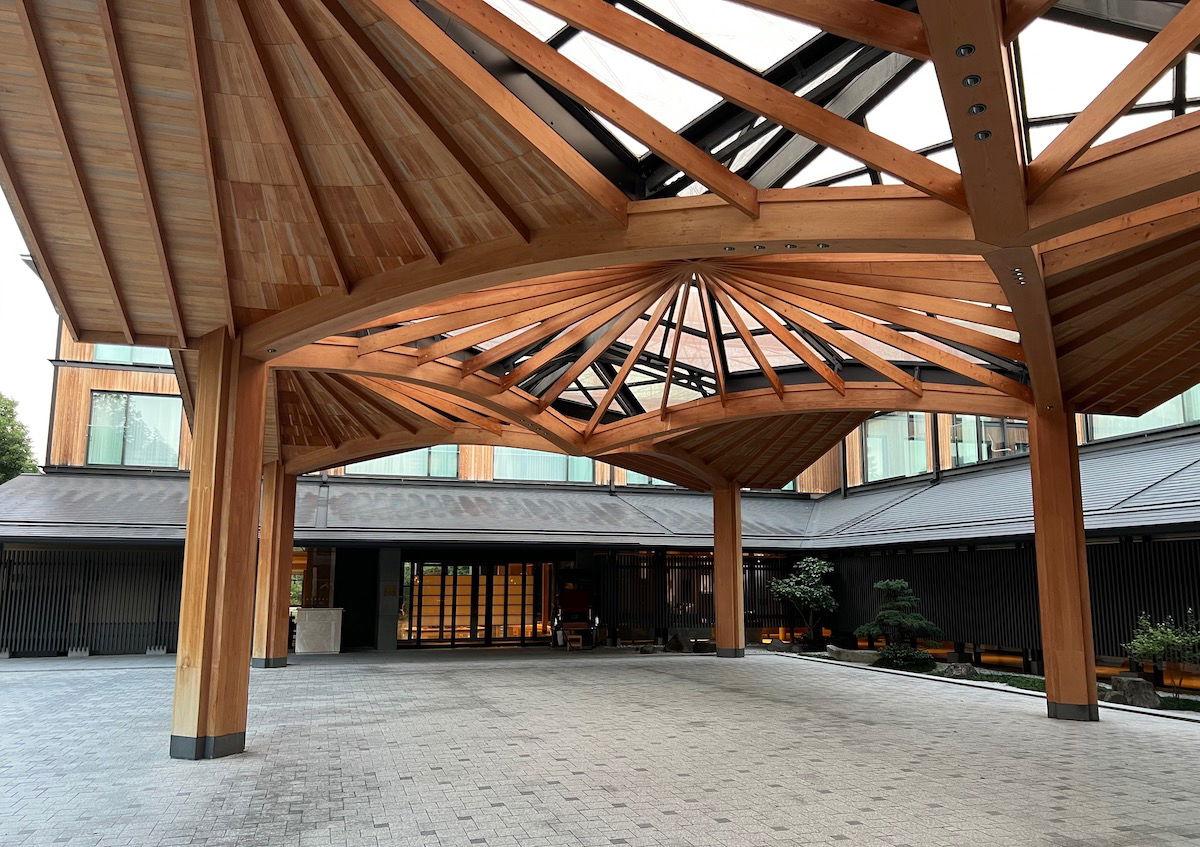 As far as getting to Kyoto goes, the most convenient major international airport is Kansai Osaka Airport (KIX). Directly from the airport you can take the Haruka Express train to Kyoto, which takes around 75 minutes. From there, the hotel is around a 15 minute taxi ride away.
Four Seasons Kyoto lobby & check-in
The Four Seasons Kyoto has an interesting layout, as it's spread out over six floors, spanning from level B2 (basement level two) to level four. The lobby is located on level three, so it's on the second highest floor. The lobby feels quite grand, as it looks out over the hotel's restaurant, which can be accessed by walking down a staircase. There are floor-to-ceiling windows spanning three floors, giving you a beautiful view of the nature.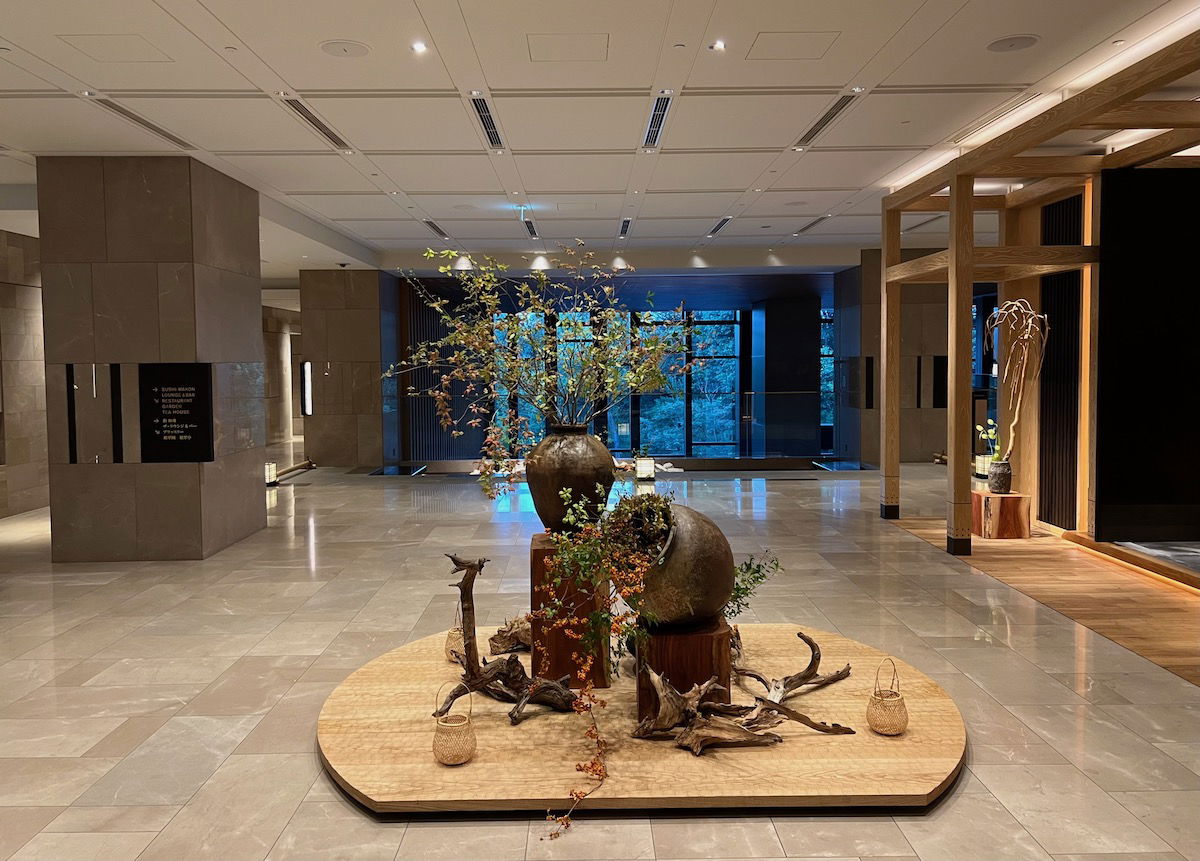 Reception is located inside the entrance and to the left, while there's plenty of lobby seating inside the entrance and to the right.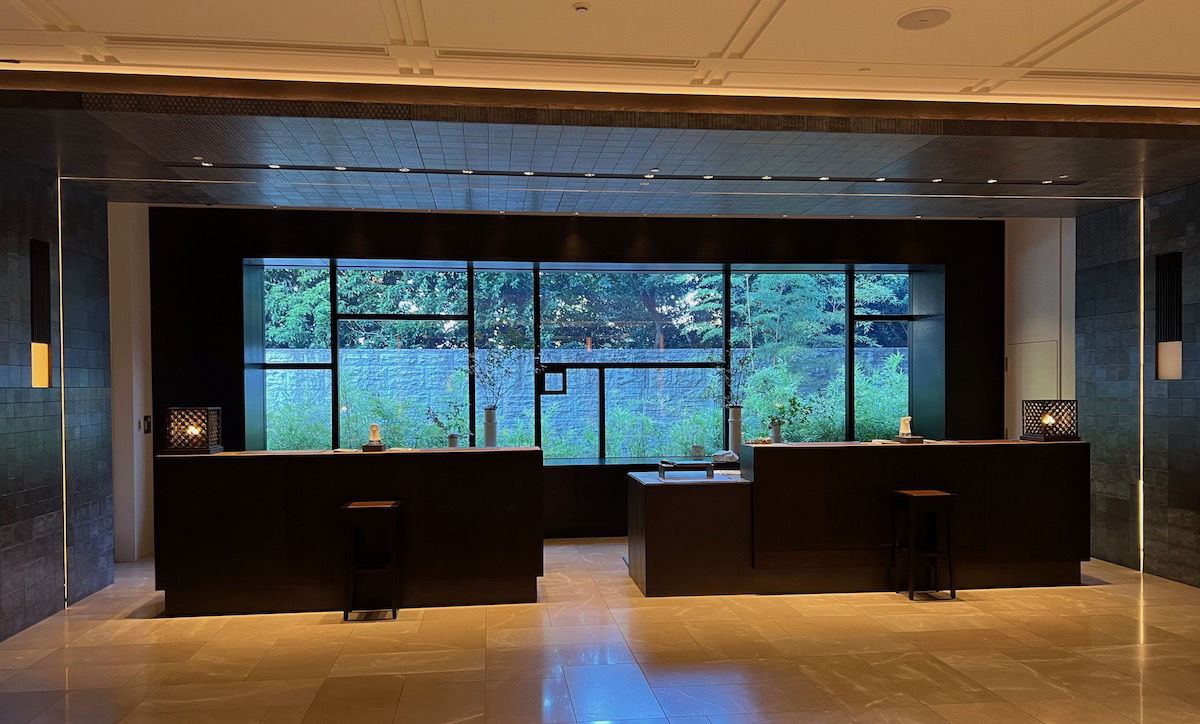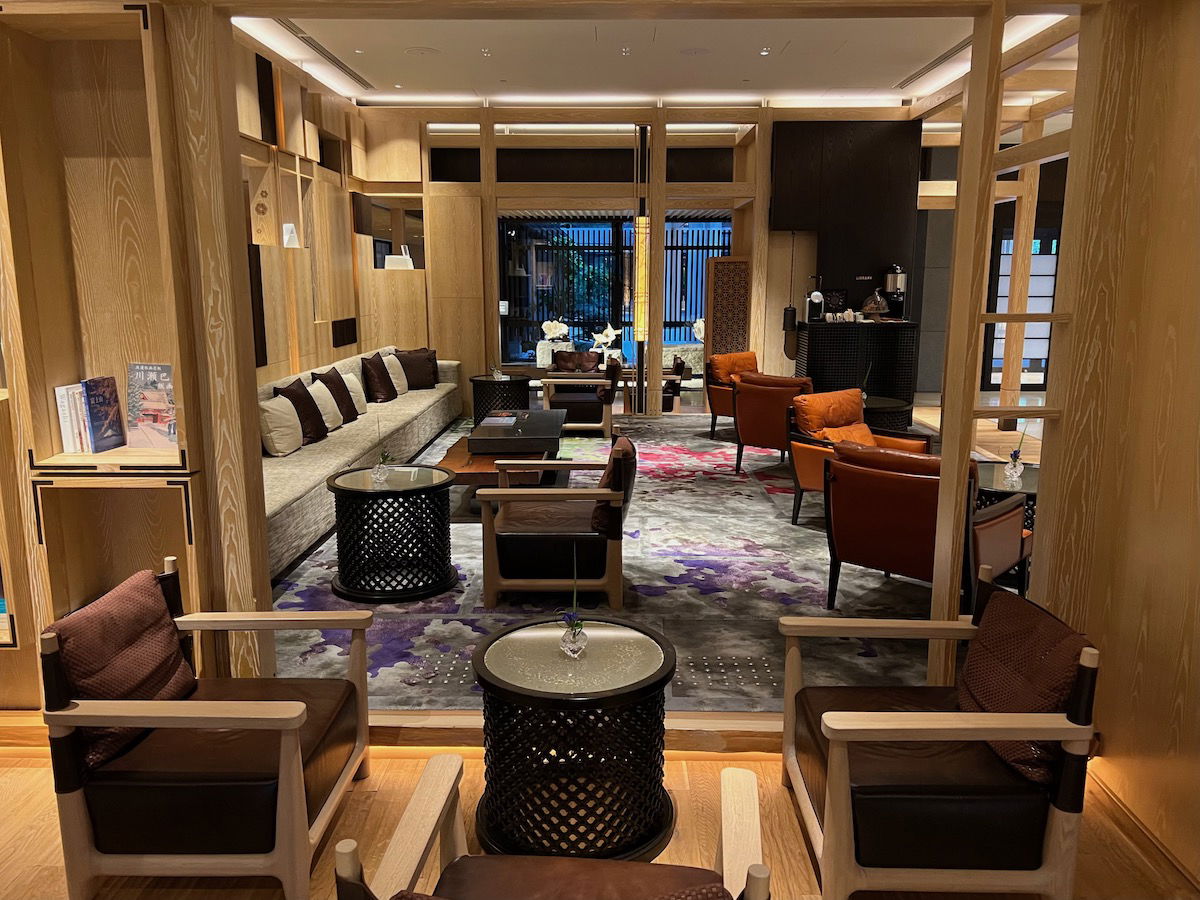 This lobby seating is also where there's complimentary coffee, tea, croissants, and muffins available each morning, as is standard at Four Seasons properties.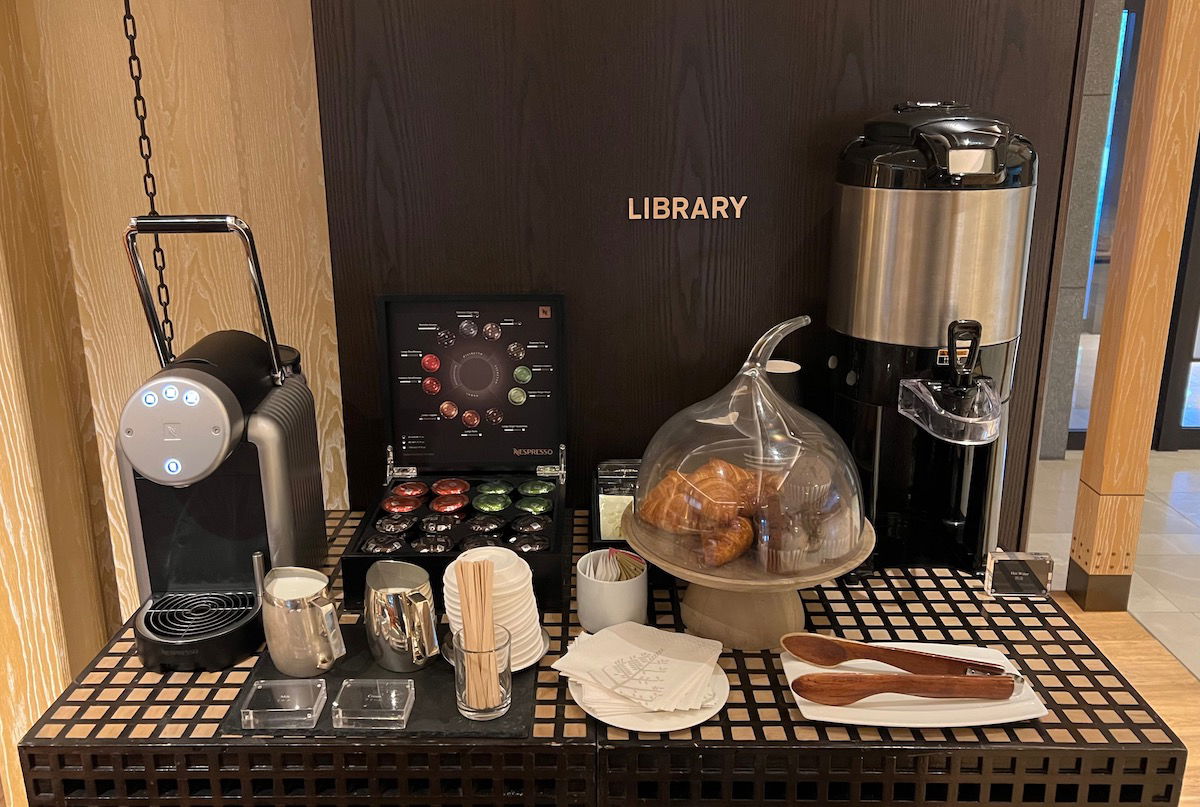 The lobby has quite some fun design elements, like an Hermes rickshaw and bicycle.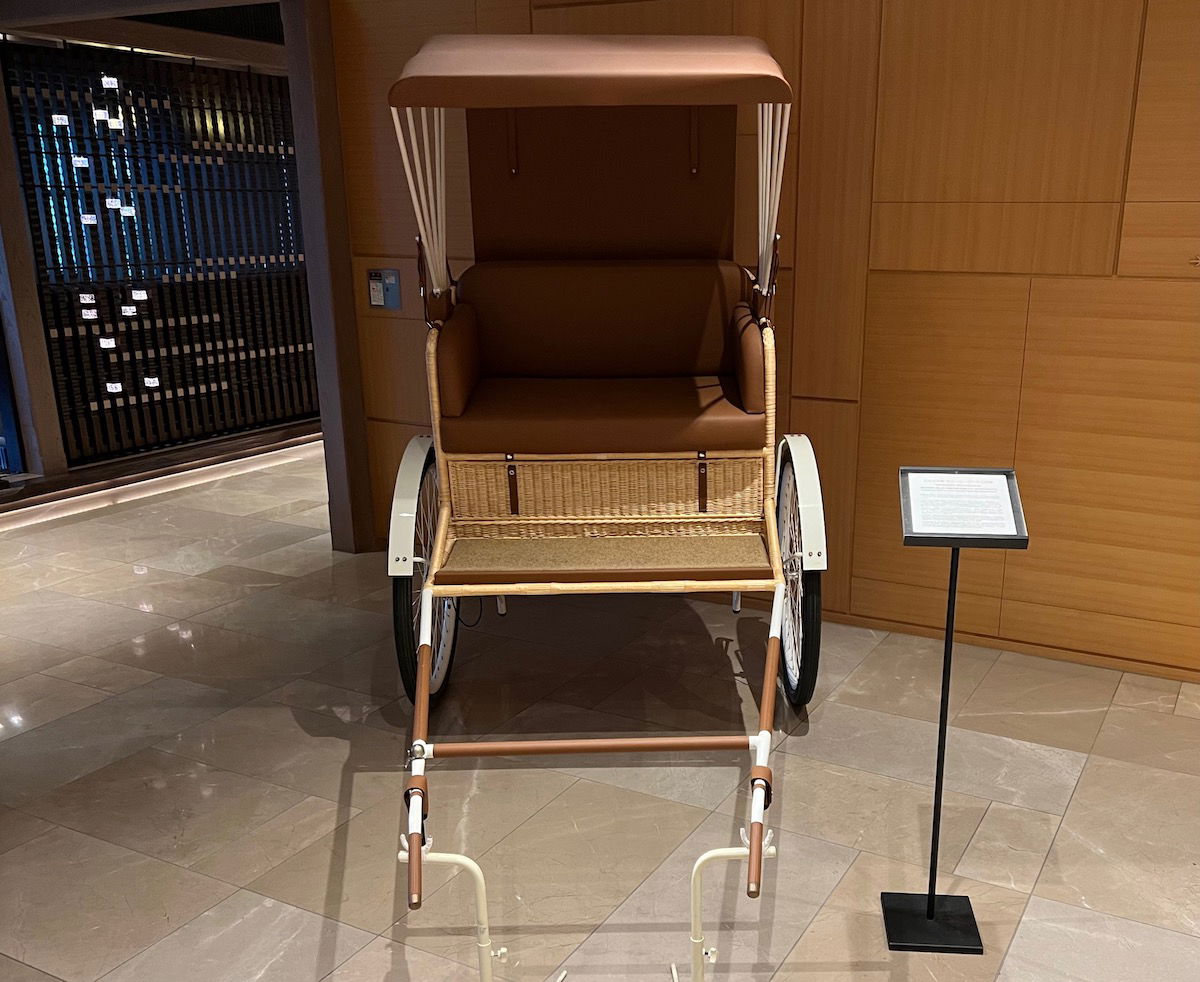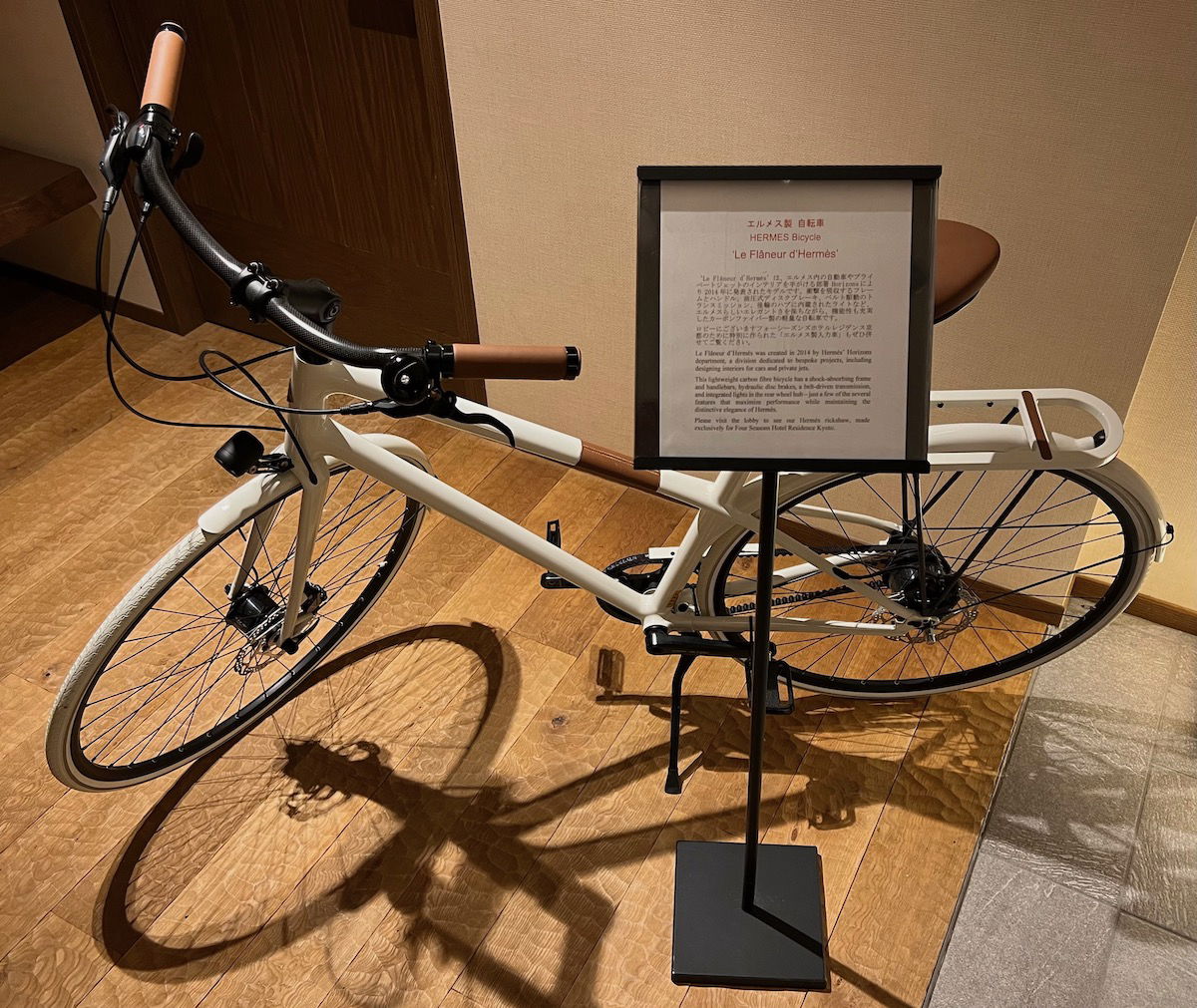 Anyway, our check-in experience was efficient but quite traditional, compared to the Ritz-Carlton (where we were escorted straight to our room) and the Park Hyatt (where we were invited to have a seat and enjoy a drink). I did love the Four Seasons' key cards, though, which were very cute.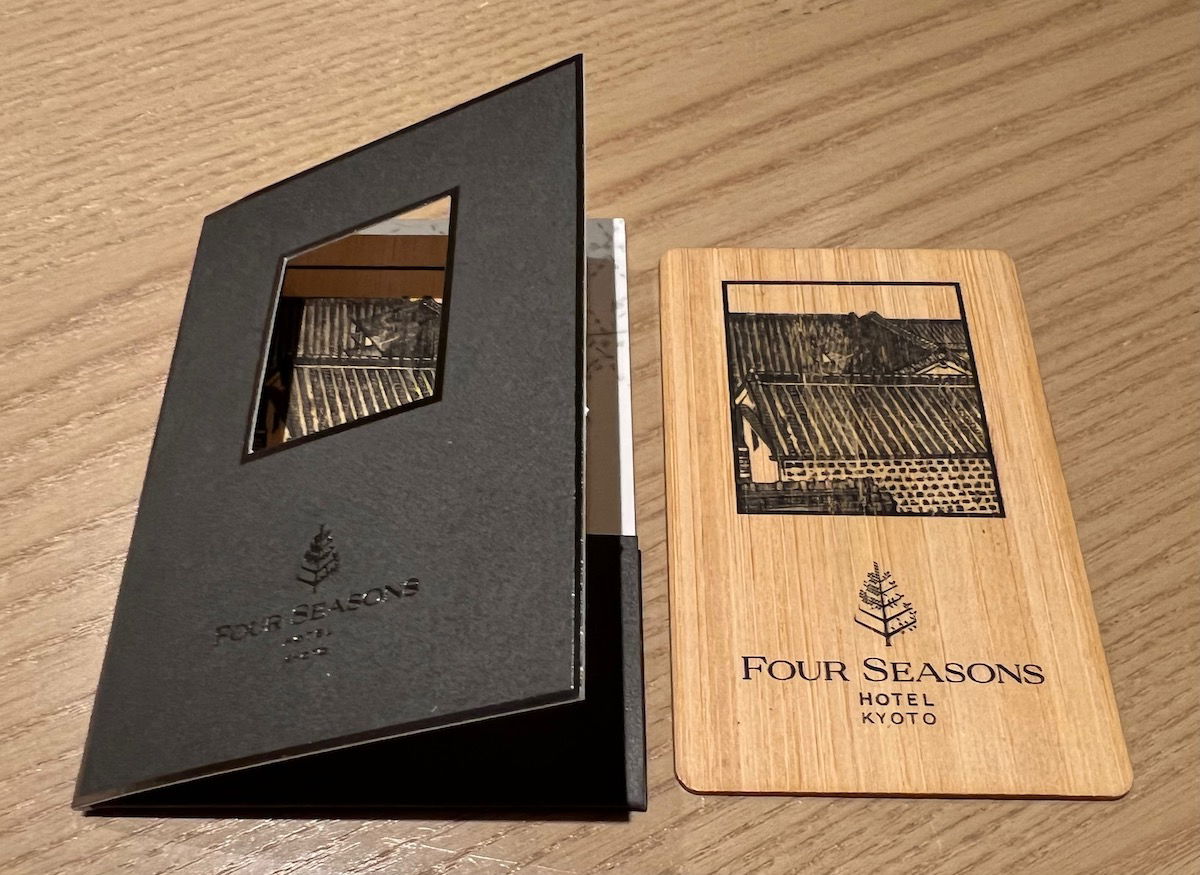 Four Seasons Kyoto suite
We were assigned room 102, an executive suite on the first floor, two levels underneath the lobby. The hotel is quite spread out, as there are several sets of elevators, depending on the part of the property you're staying in.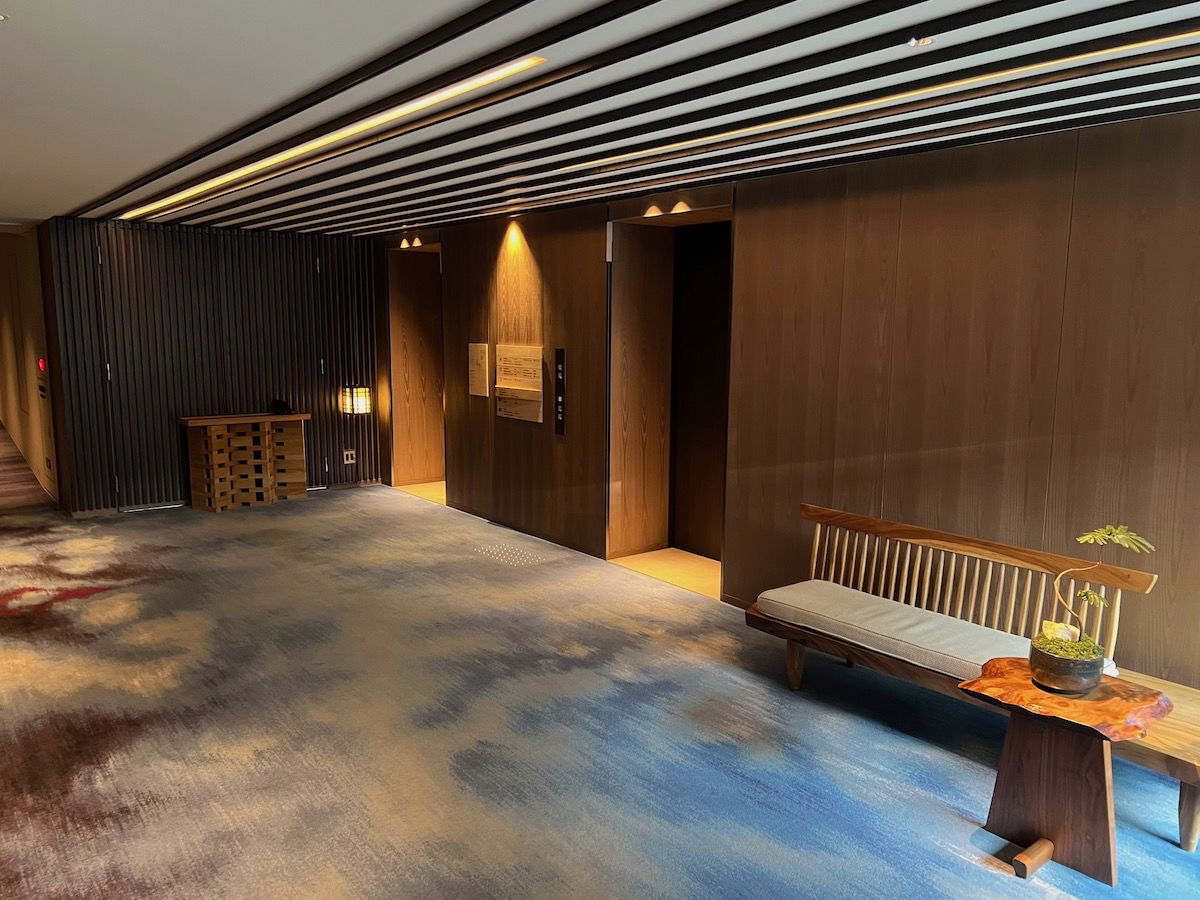 I love the Four Seasons' aesthetic — it definitely feels more modern than the Ritz-Carlton. Once on the first floor, our room was one of the first ones on the right.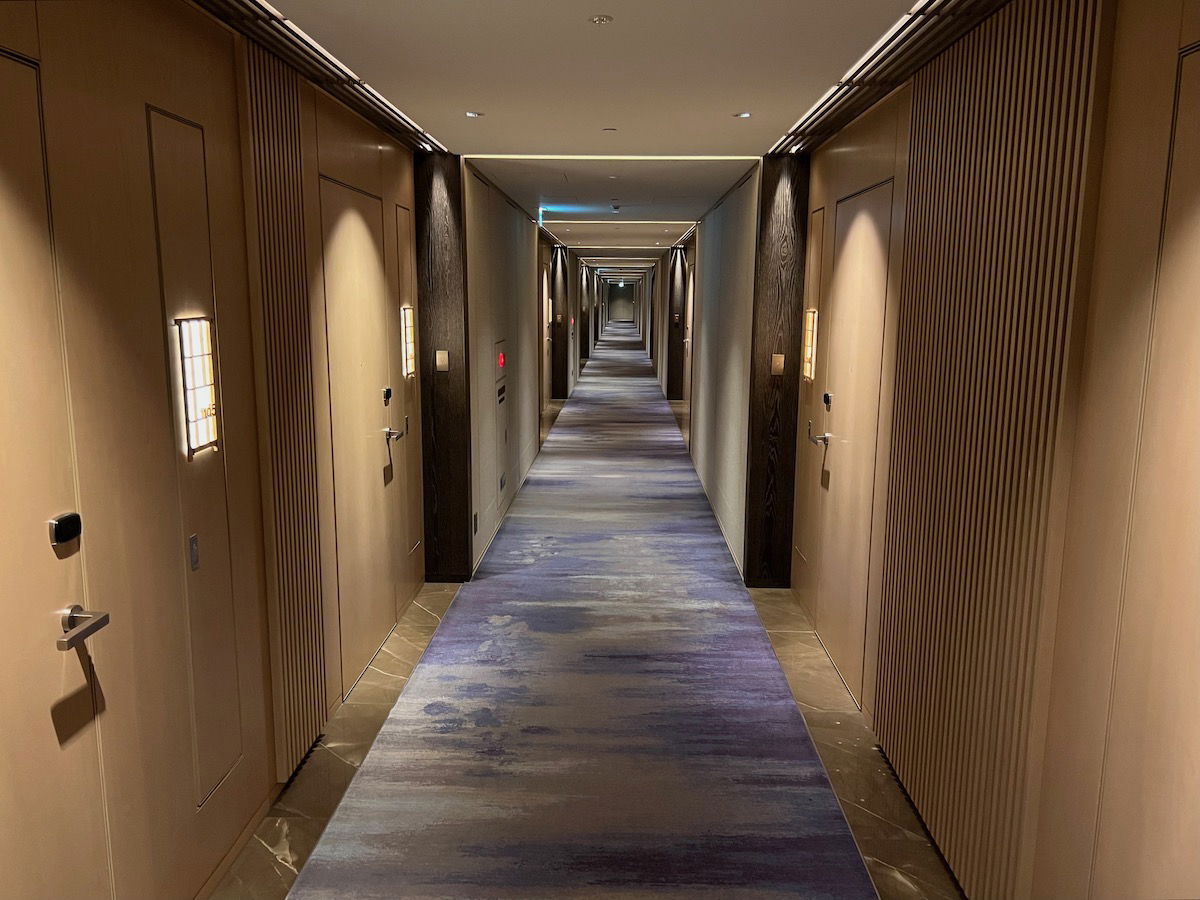 Executive suites at the Four Seasons Kyoto are marketed as being 71-76 square meters (764-818 square feet), so they're quite generously sized. Inside the entrance to the suite was the living room, which contained a proper dining area, a living area, and a desk.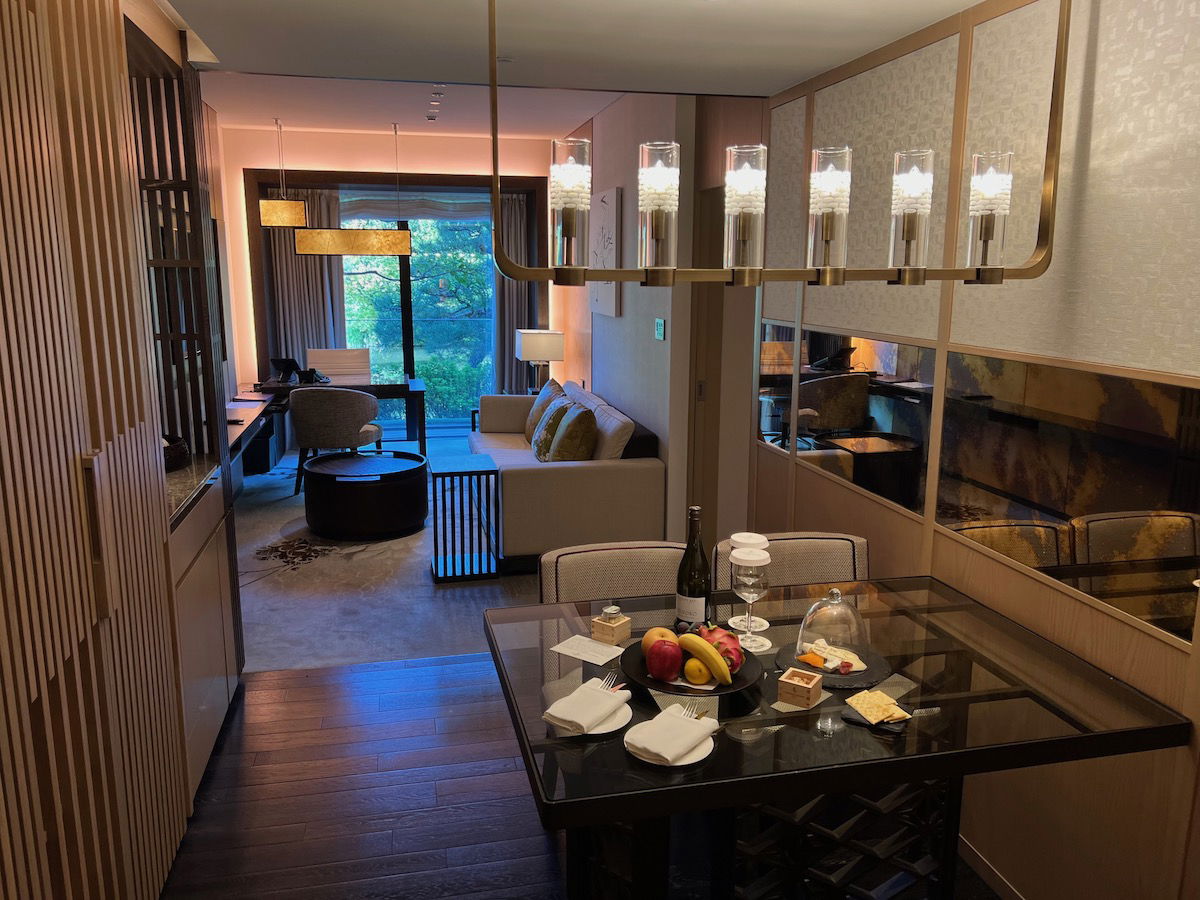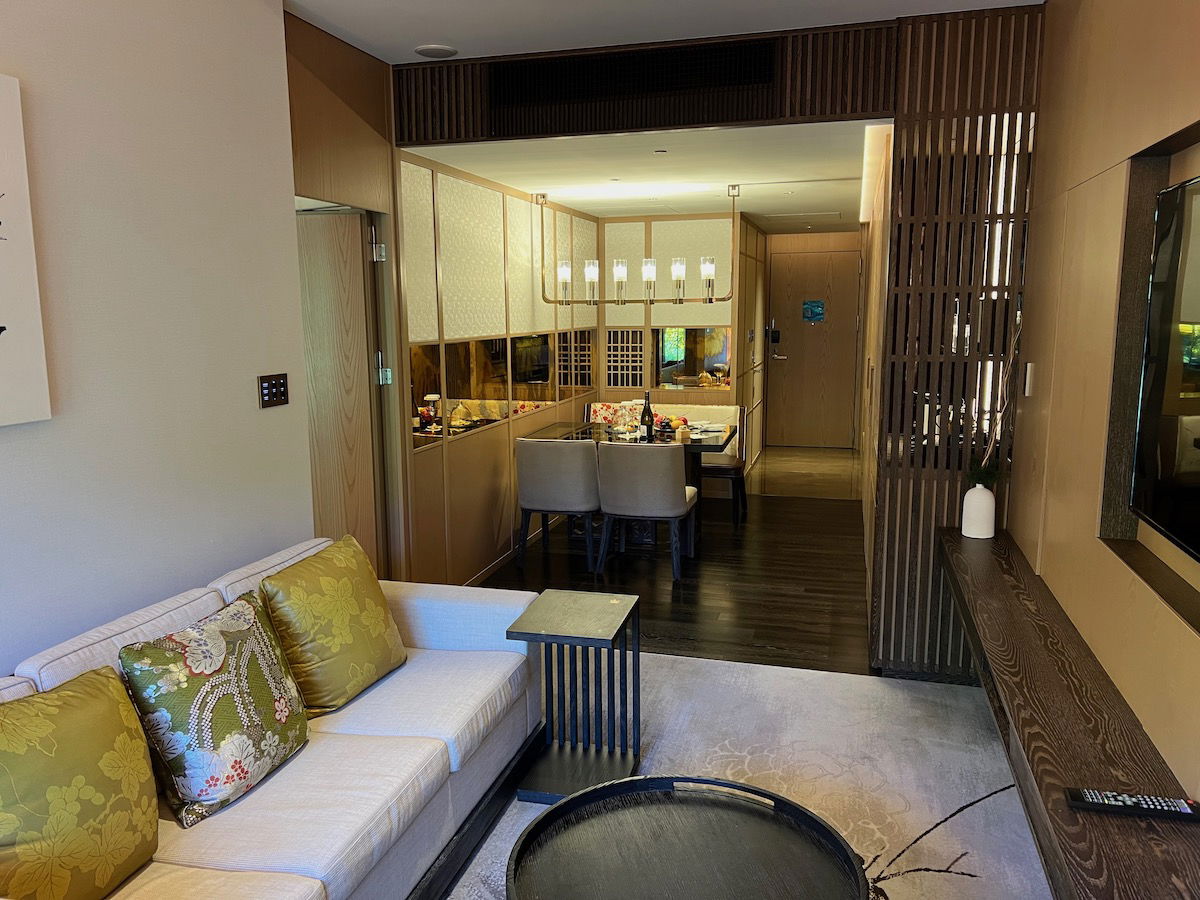 The dining area could seat four people, and had two chairs plus a bench.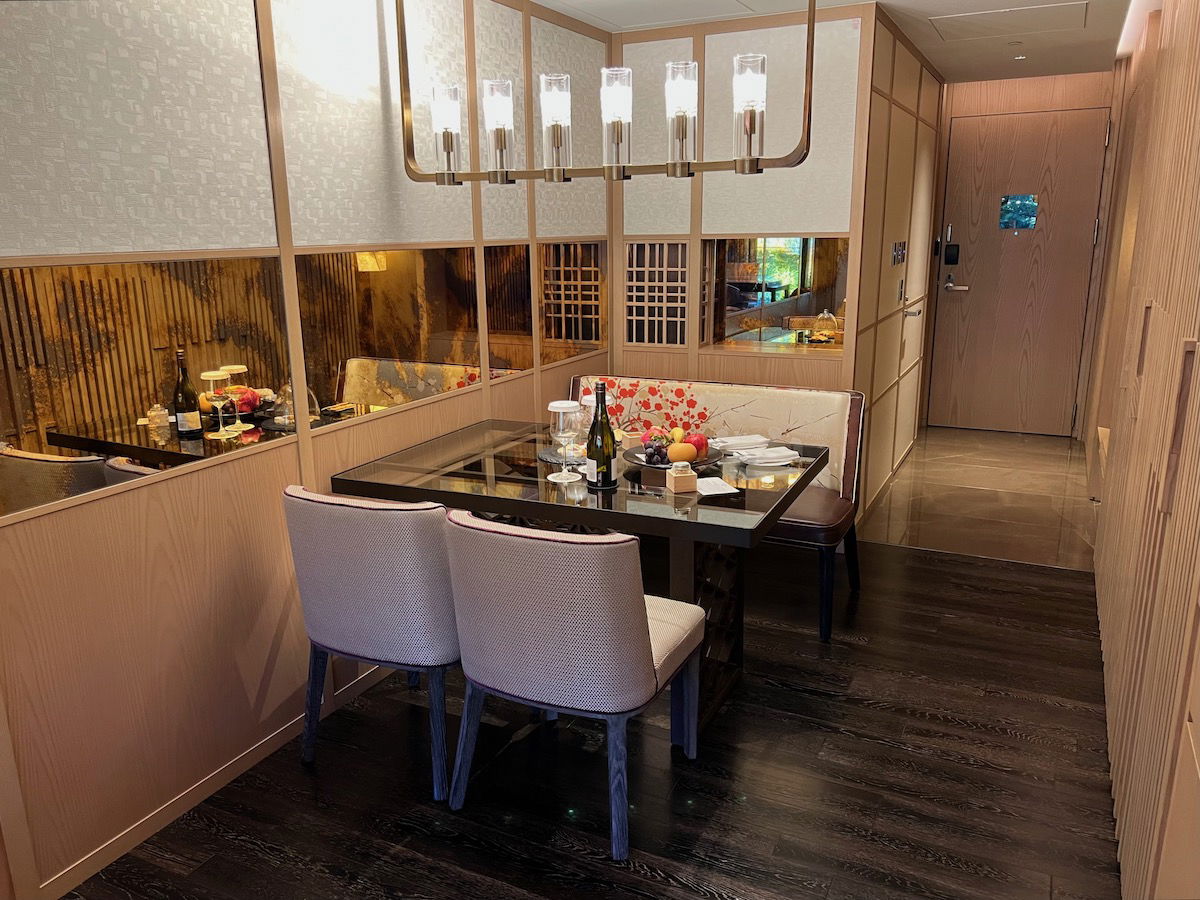 Waiting on the dining table was a lovely welcome amenity, consisting of some fruit, cheese, and nuts, plus a bottle of white wine.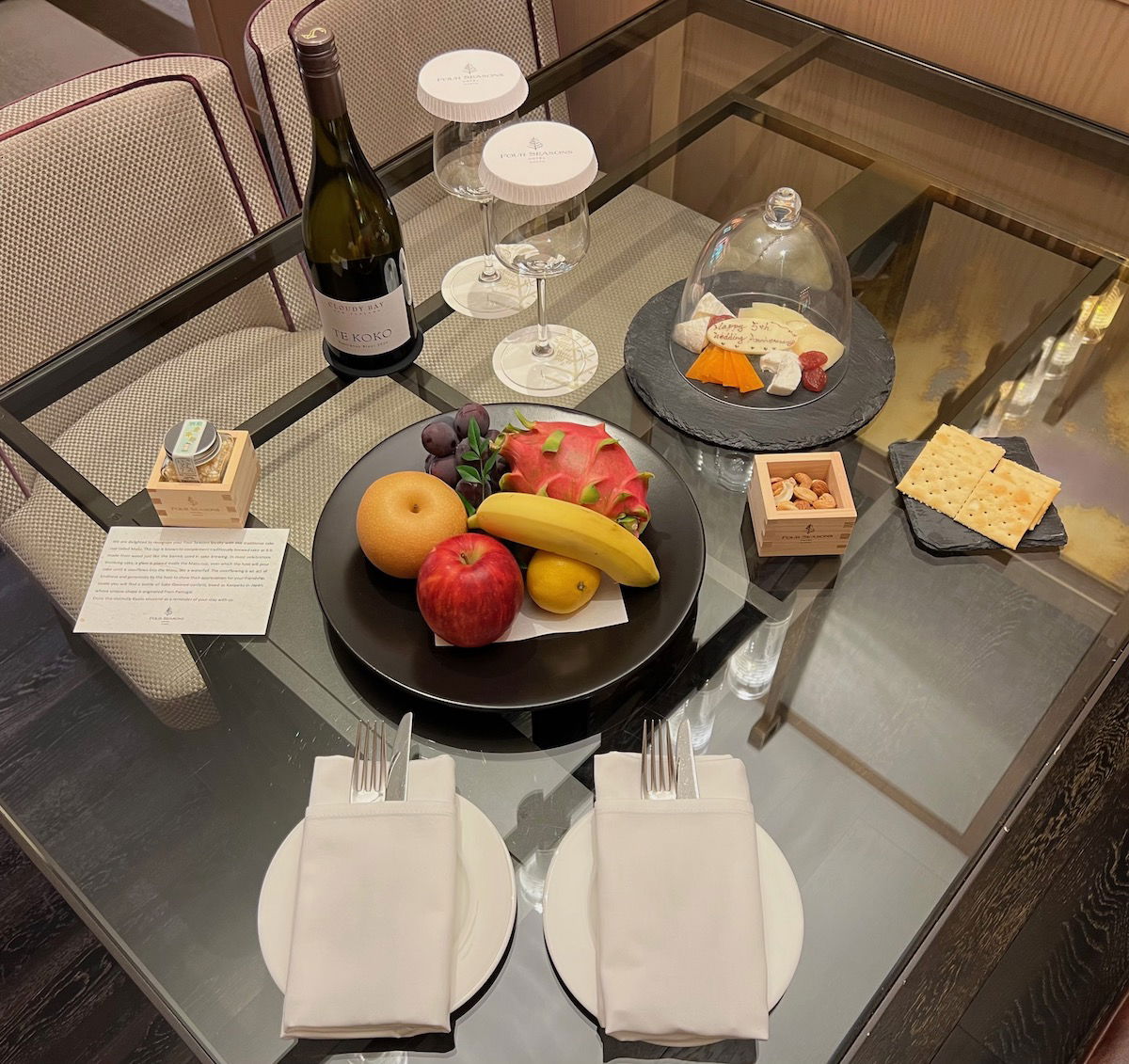 Then the living area had a couch, as well as a desk that had two chairs, one of which was a desk chair that could roll.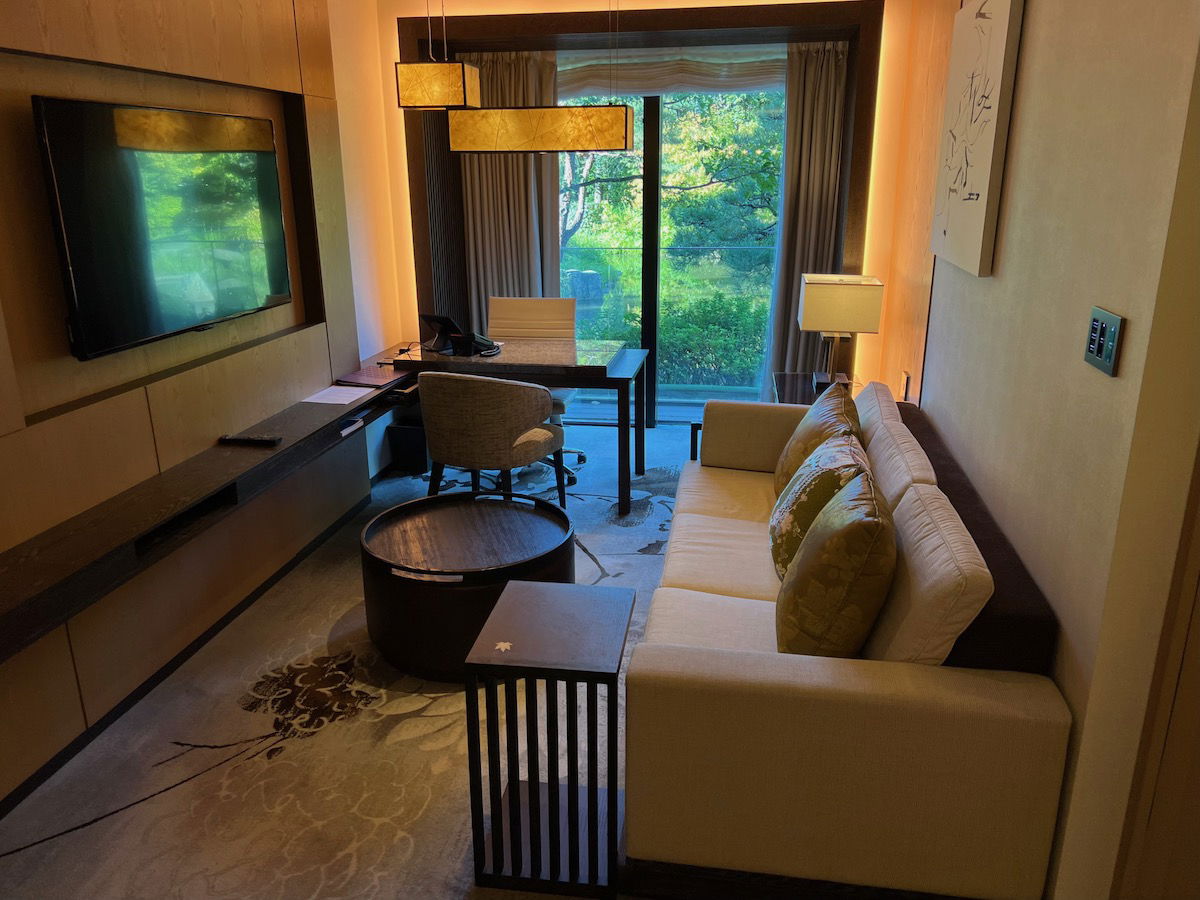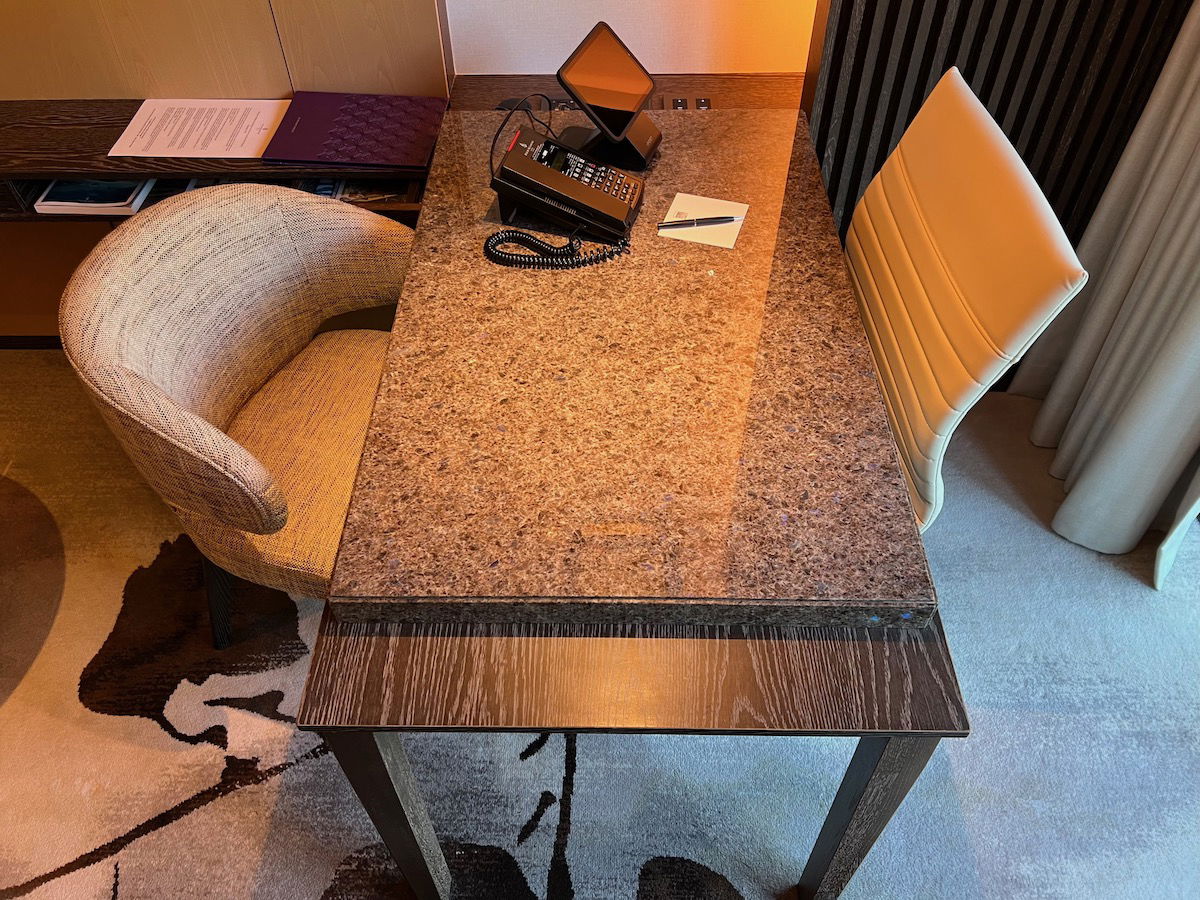 The minibar was back toward the entrance, and contained a complimentary selection of coffee and tea, plus some free snacks in glass jars. On top of that, there were additional drinks and snacks for purchase.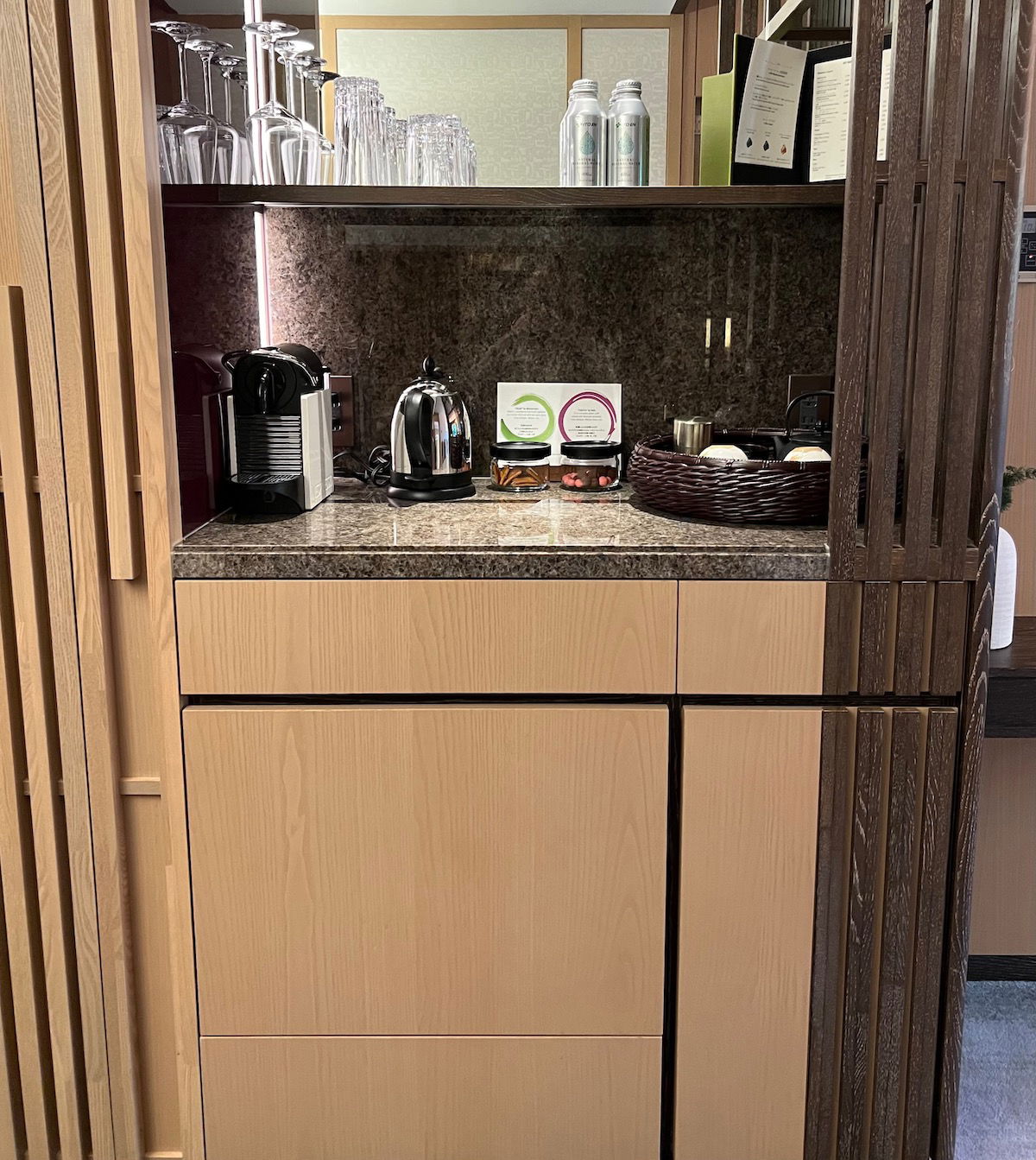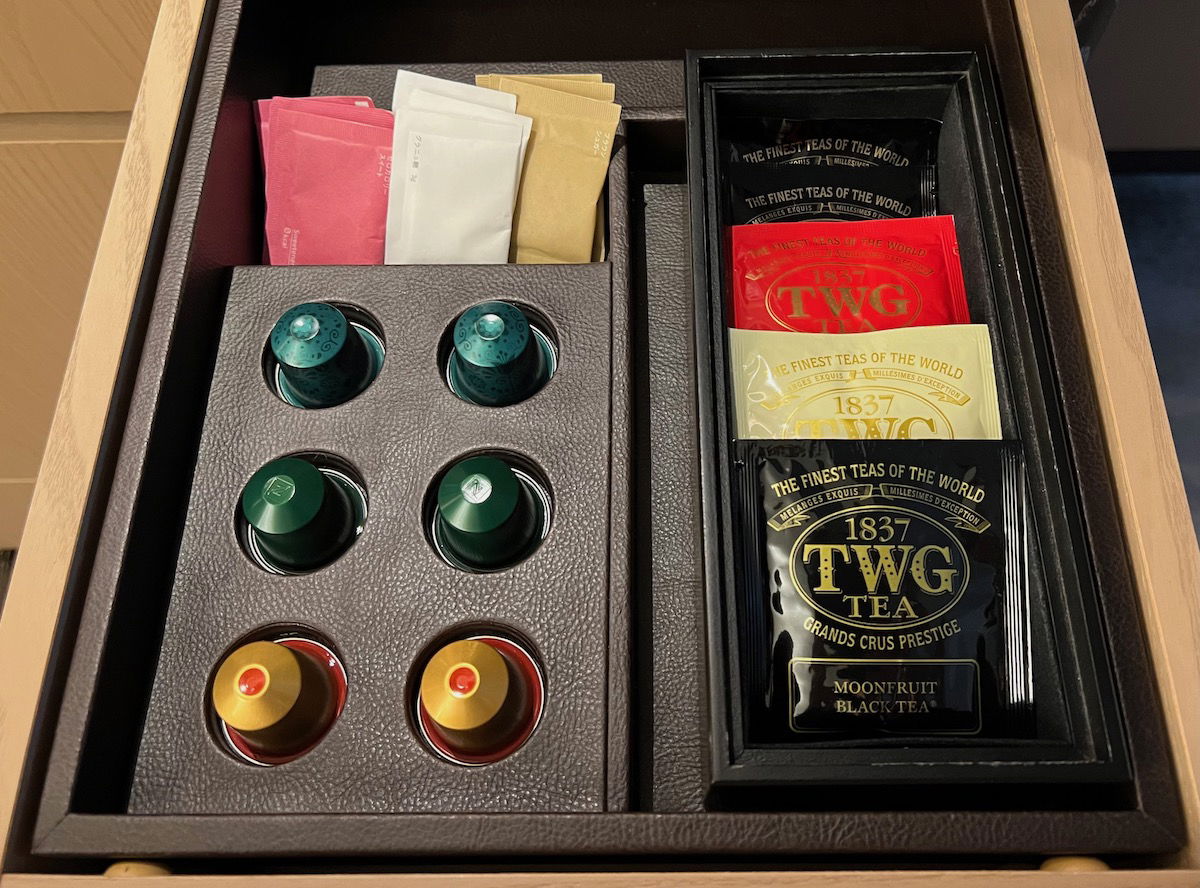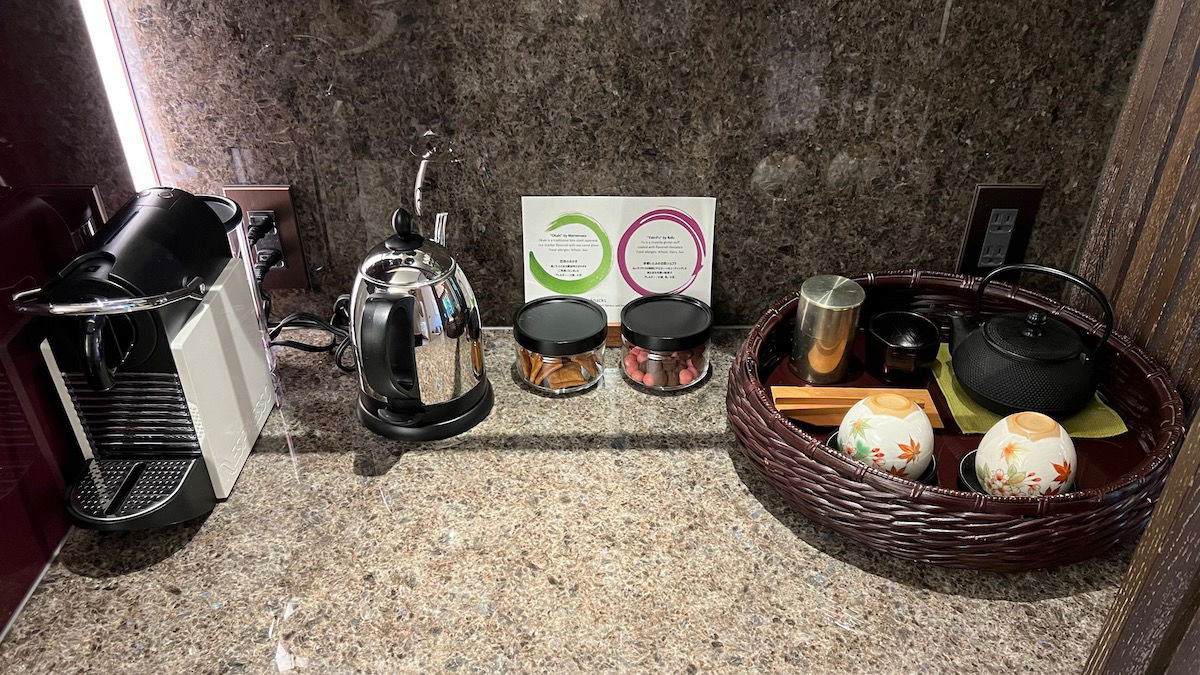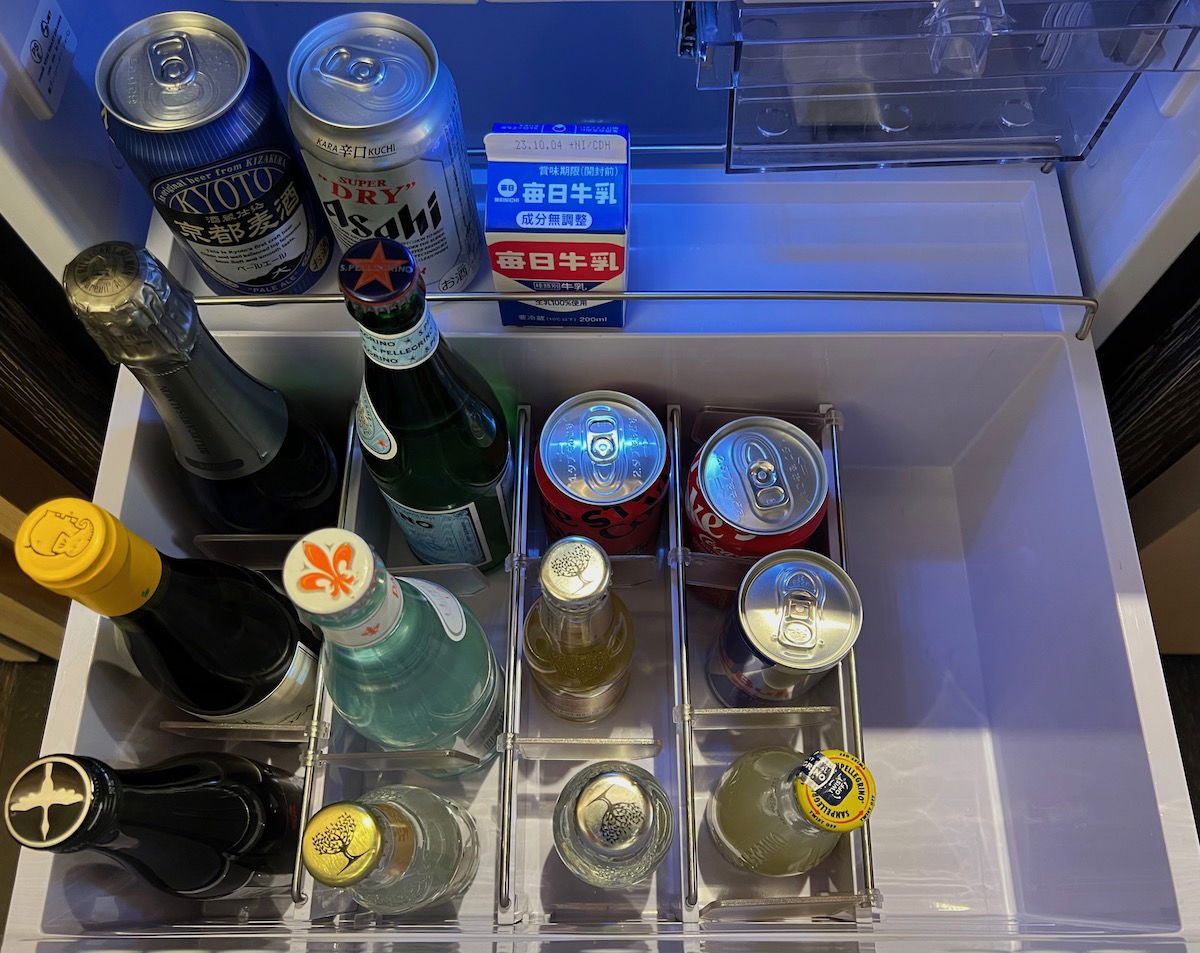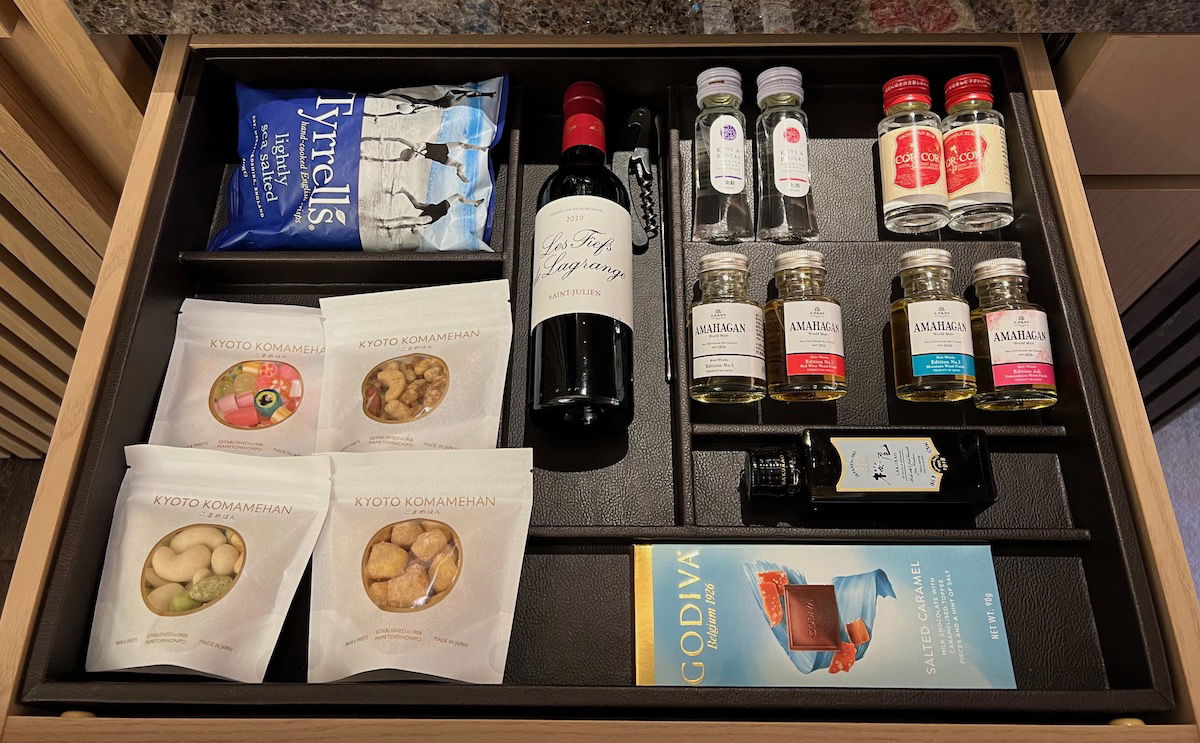 At the very entrance to the living room was a half bathroom, containing a sink and a Japanese toilet.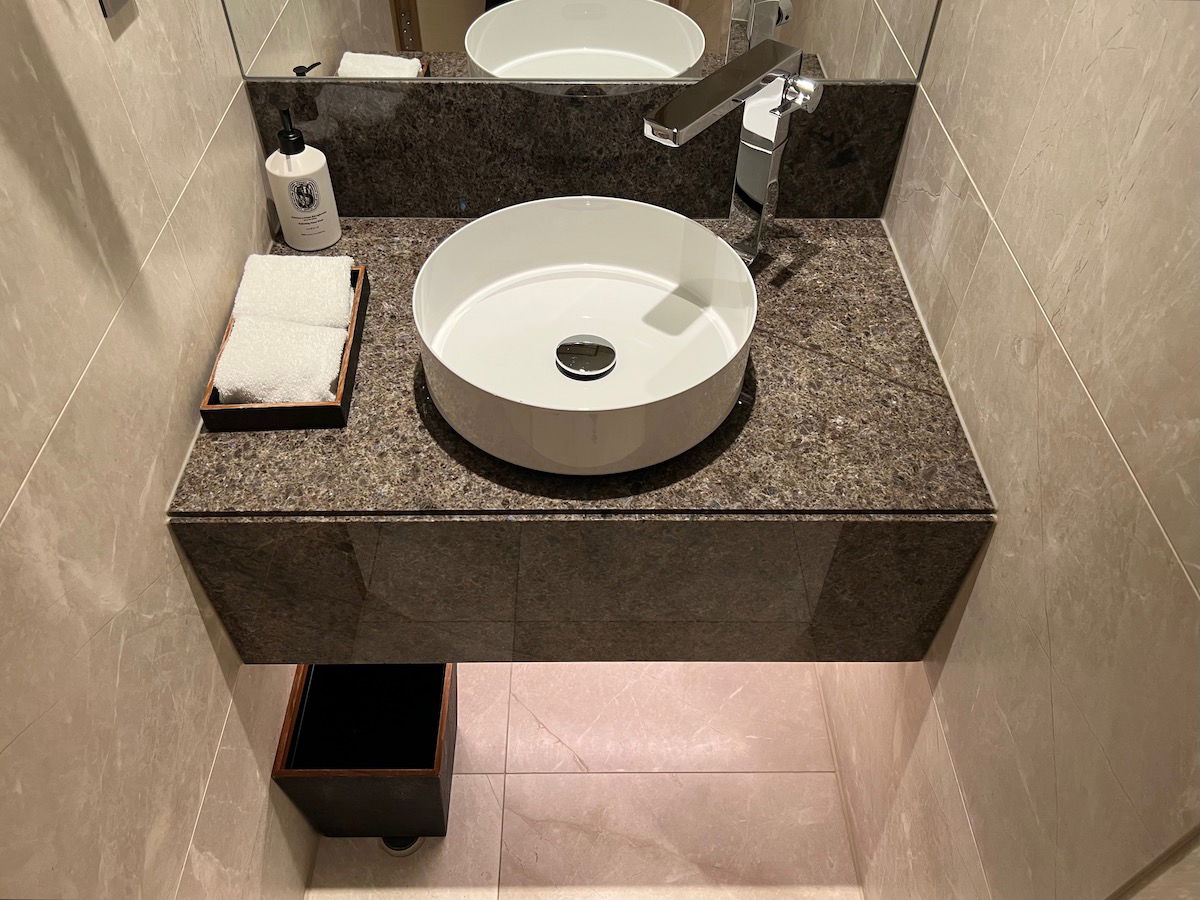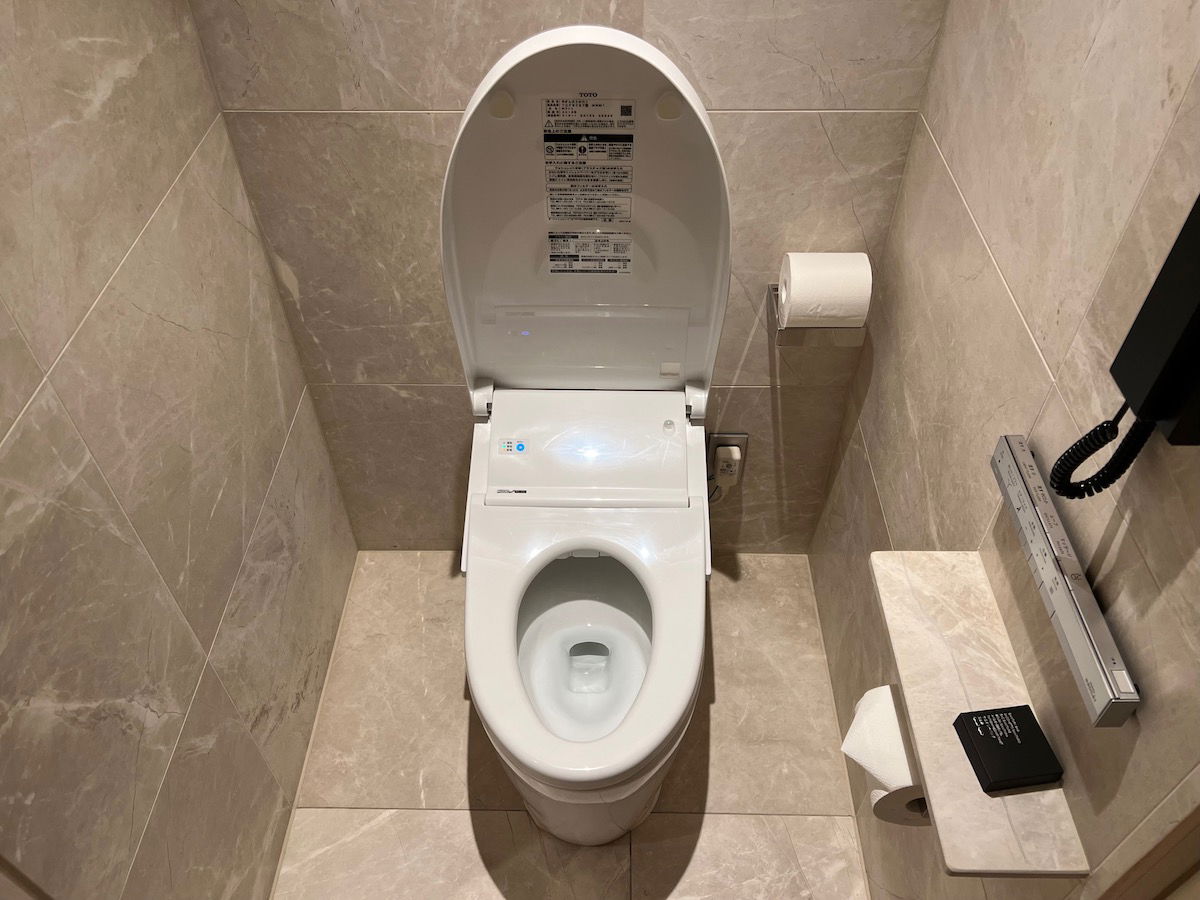 There was then a door separating the living room from the bedroom. The bedroom had a signature Four Seasons king bed, which I consider to be the hotel industry's most comfortable bed. There was also a chair with an ottoman, plus a wall-mounted TV, in the room. We happened to be celebrating our fifth wedding anniversary during our stay, so there was some "romantic" towel art on the bed… heh.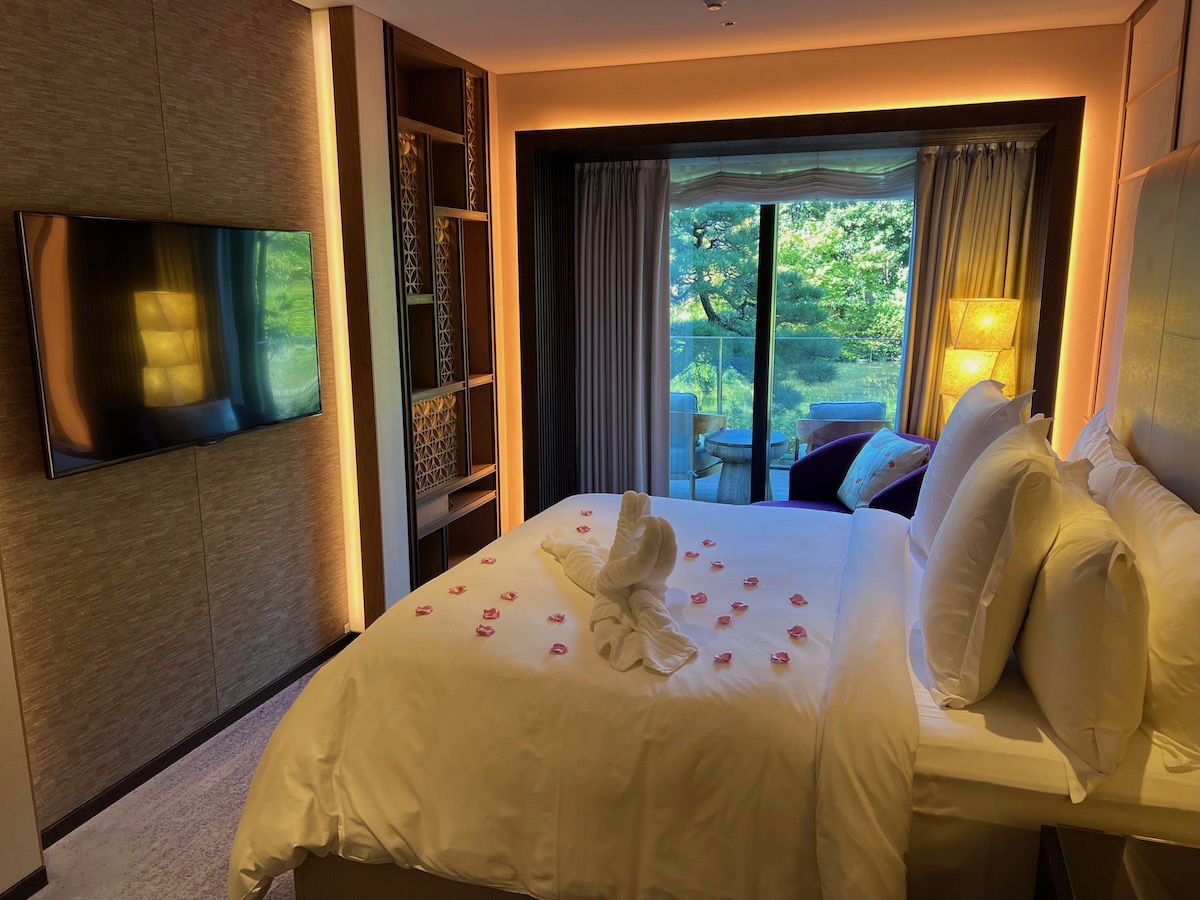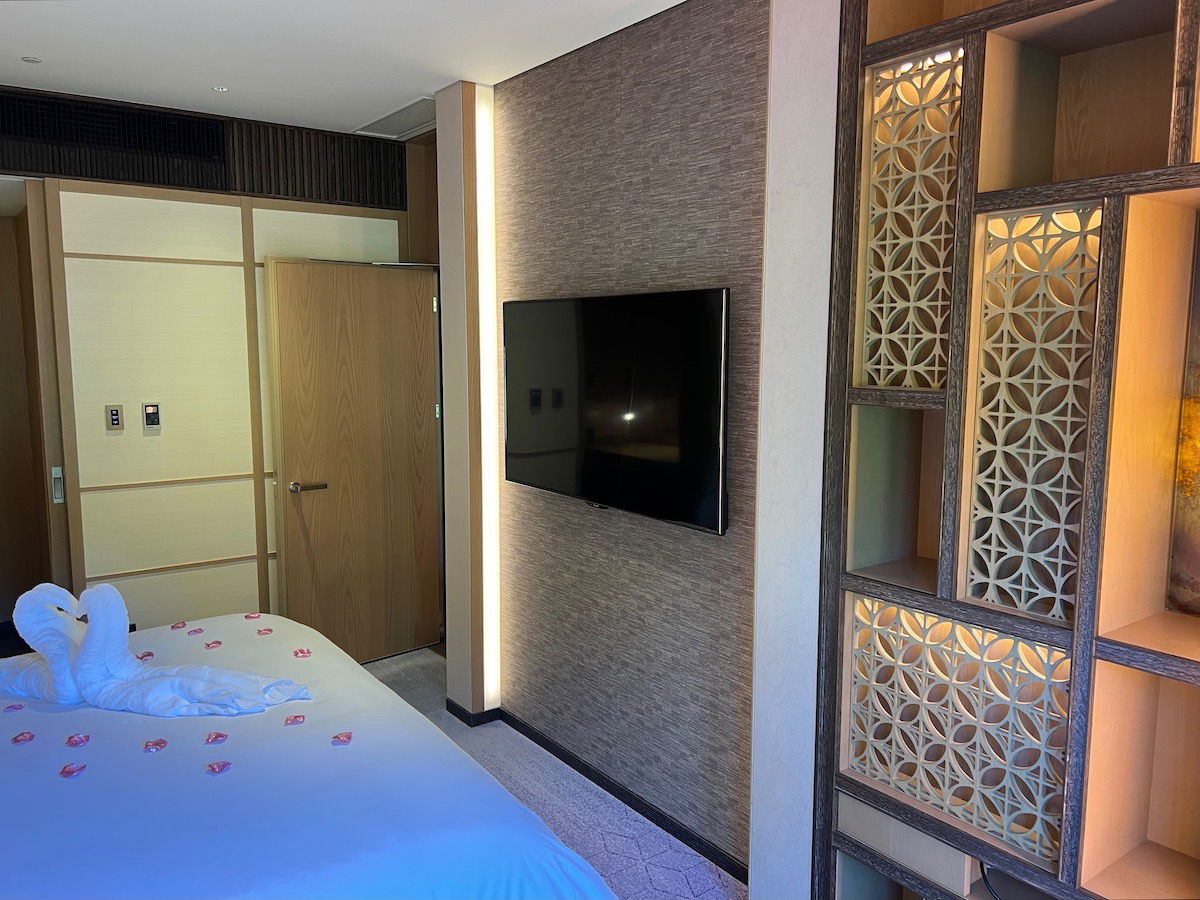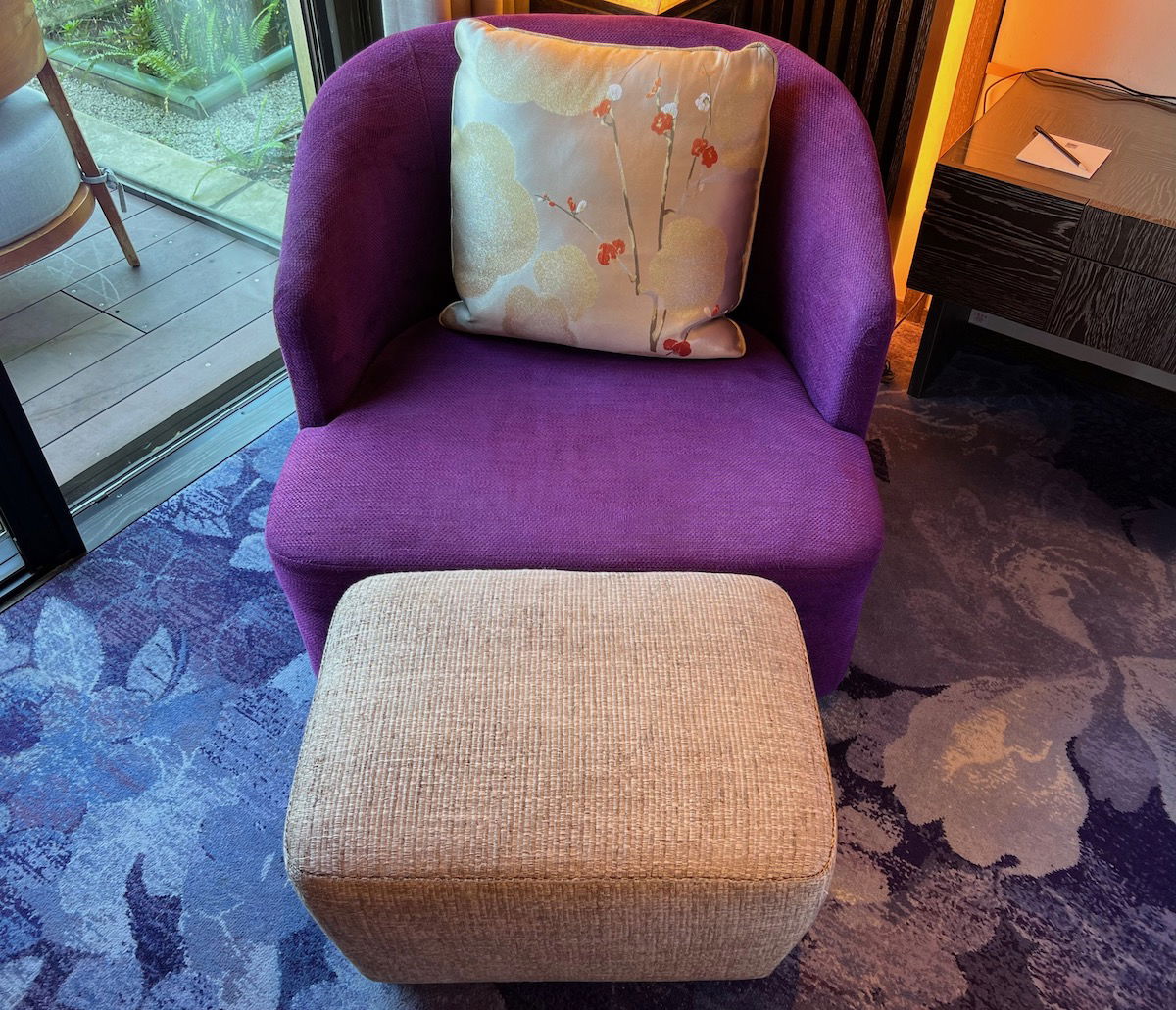 Off the bedroom was a closet area, plus a vanity, separating the bedroom from the bathroom.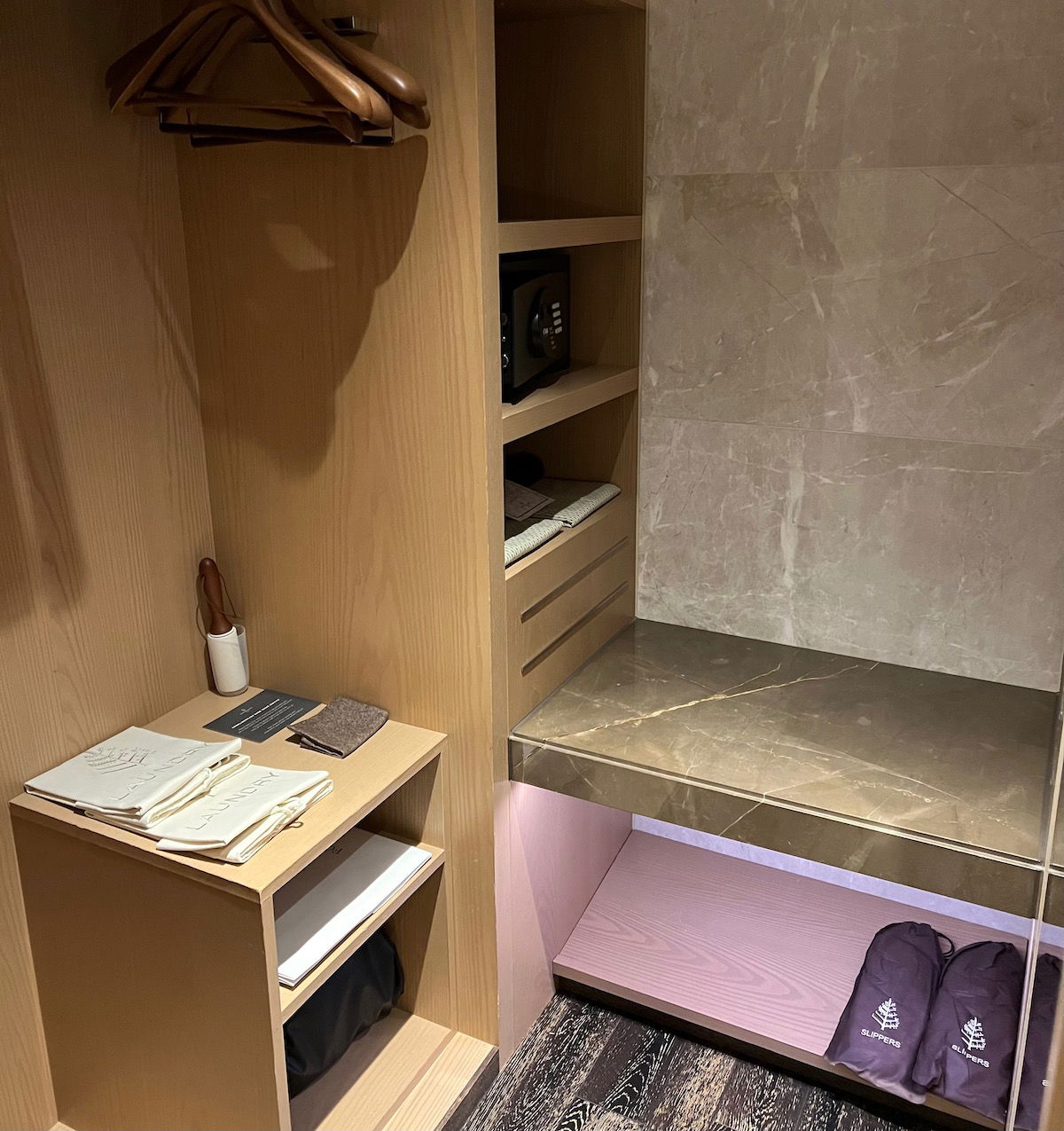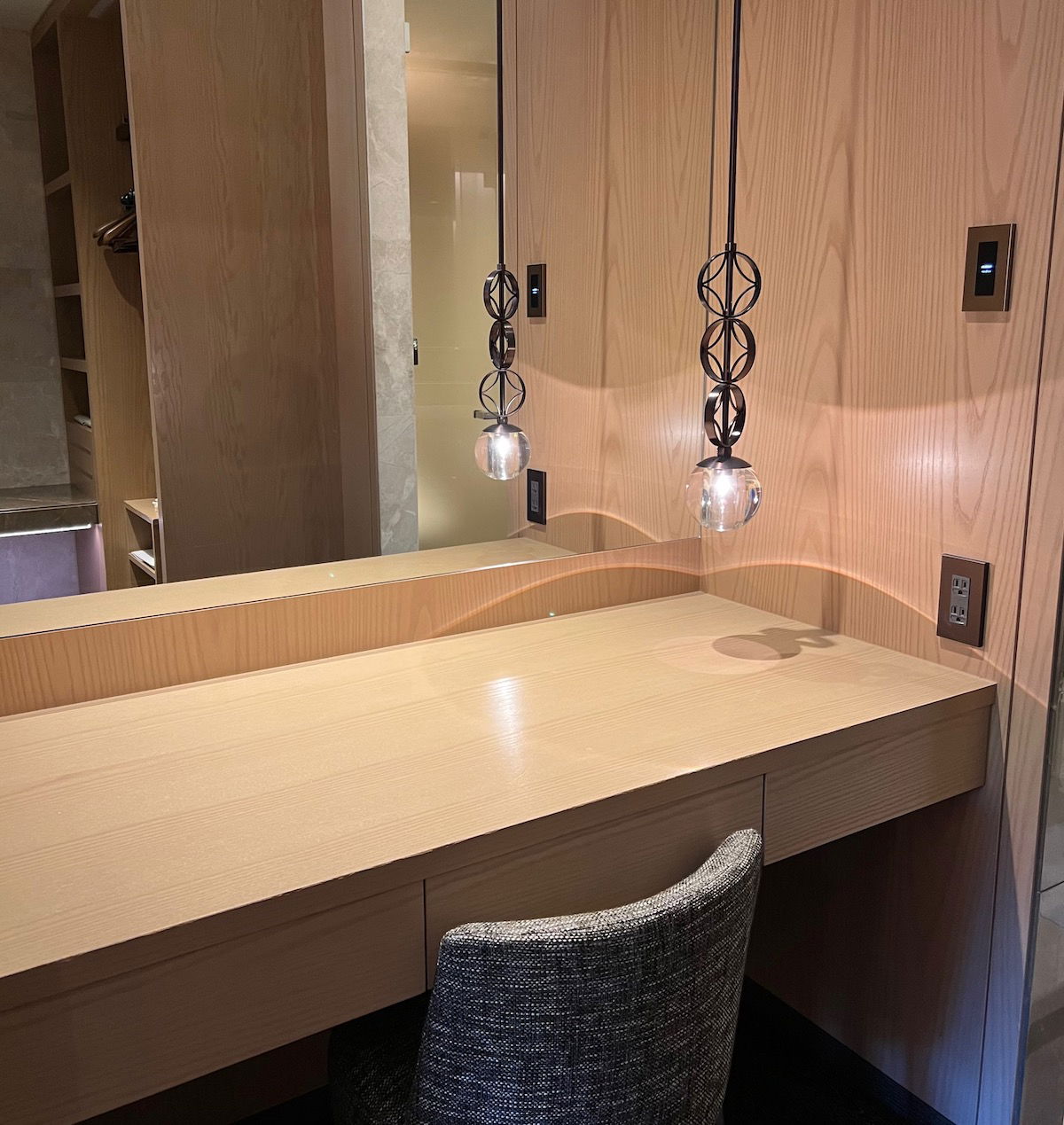 The main bathroom was a great size, and had double sinks, a huge compound with both a walk-in shower and bathtub, and a toilet that was partitioned off from the rest of the room.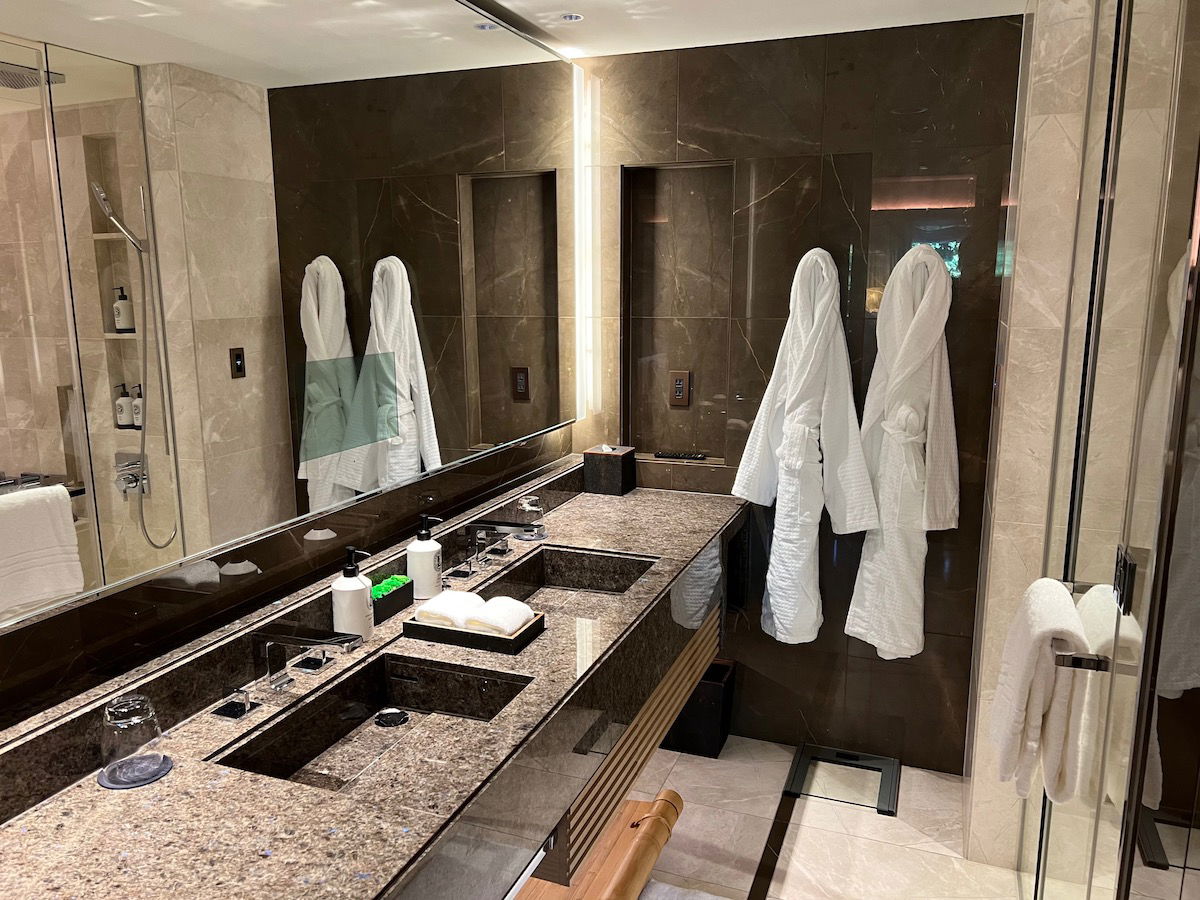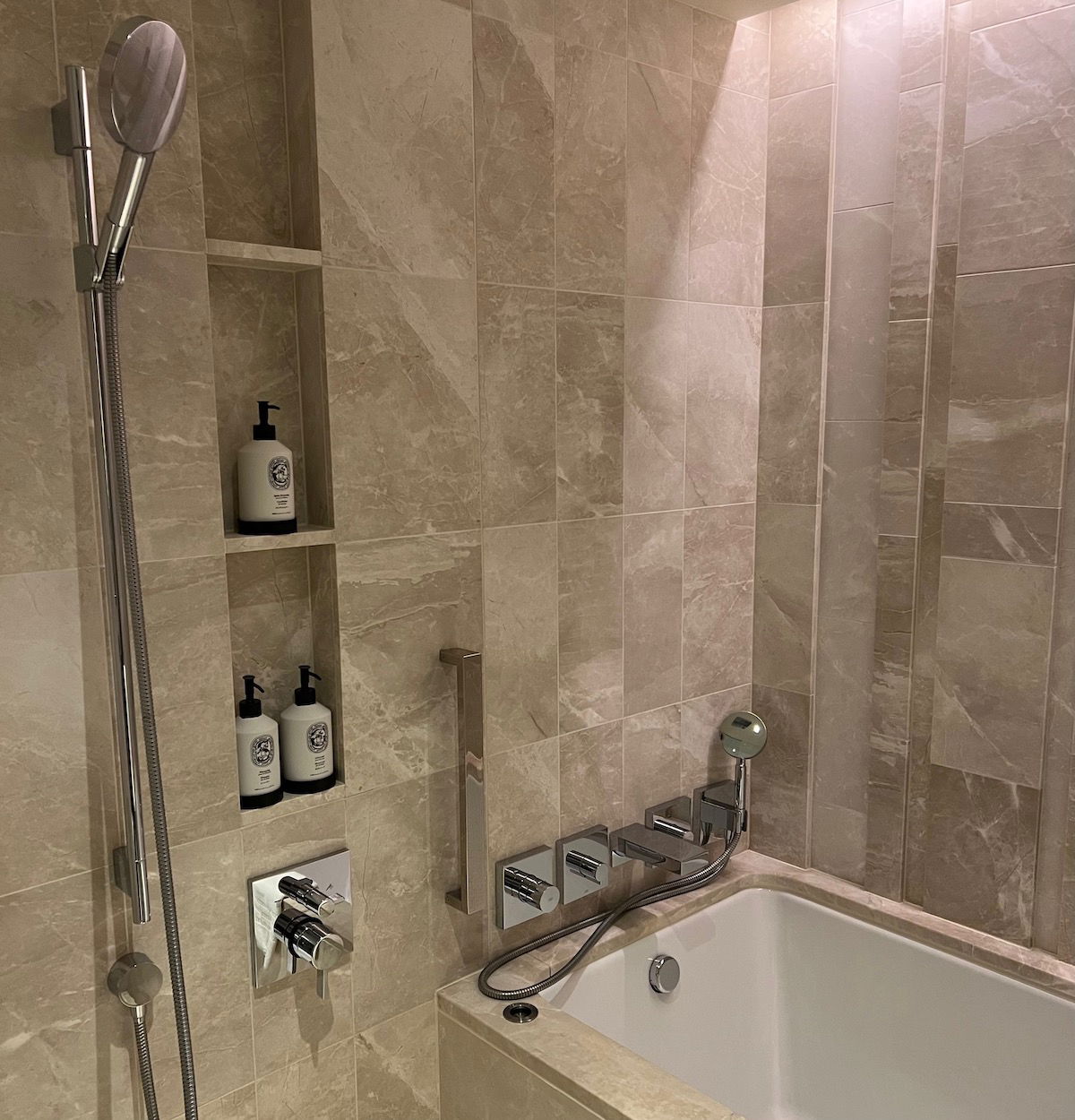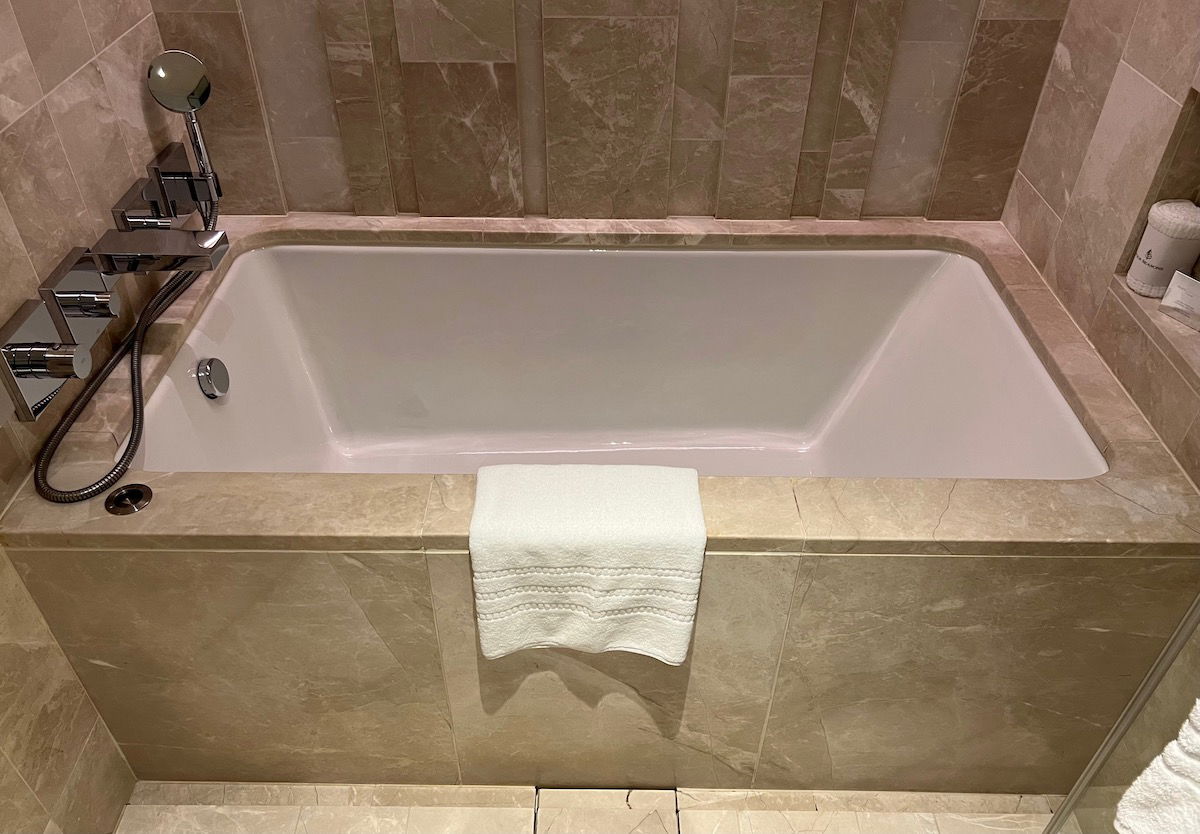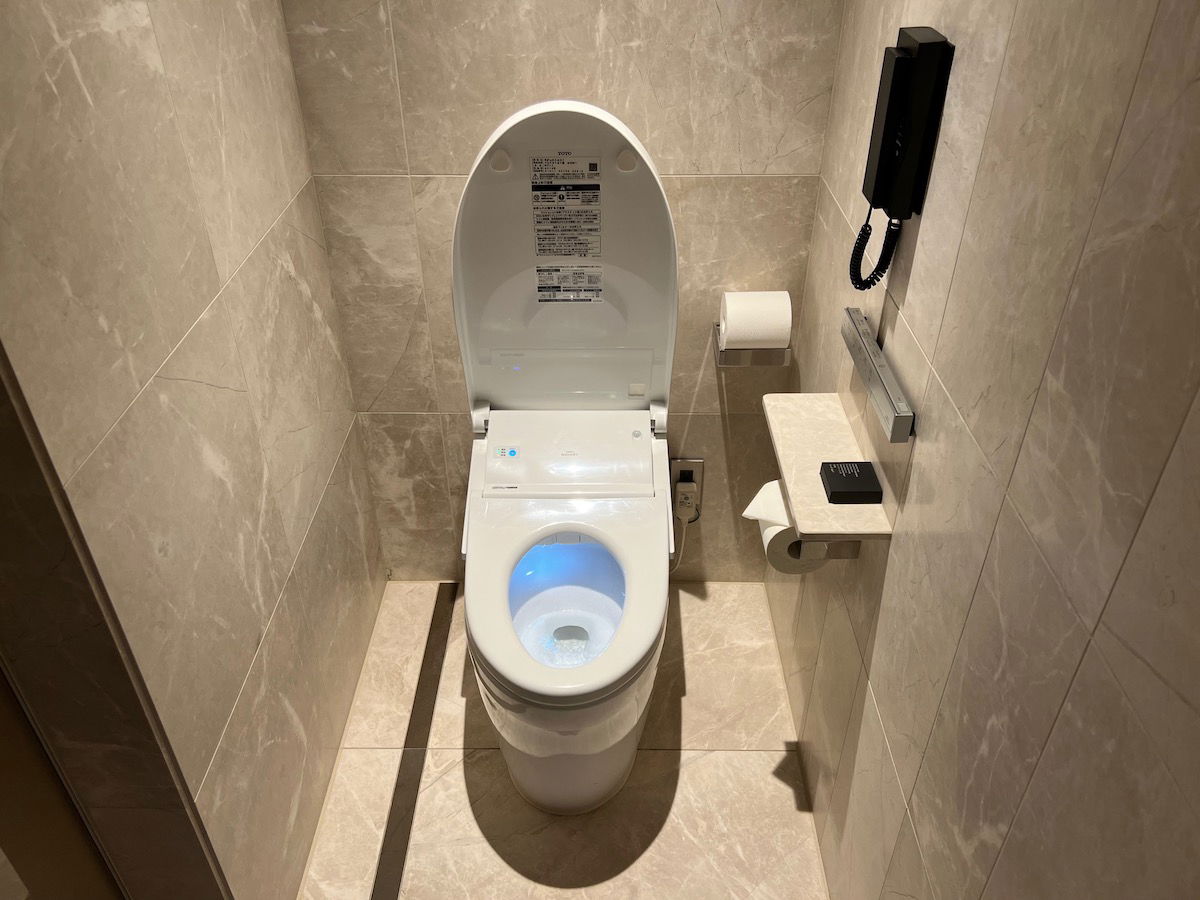 Toiletries in the bathroom were in reusable containers, from Diptyque.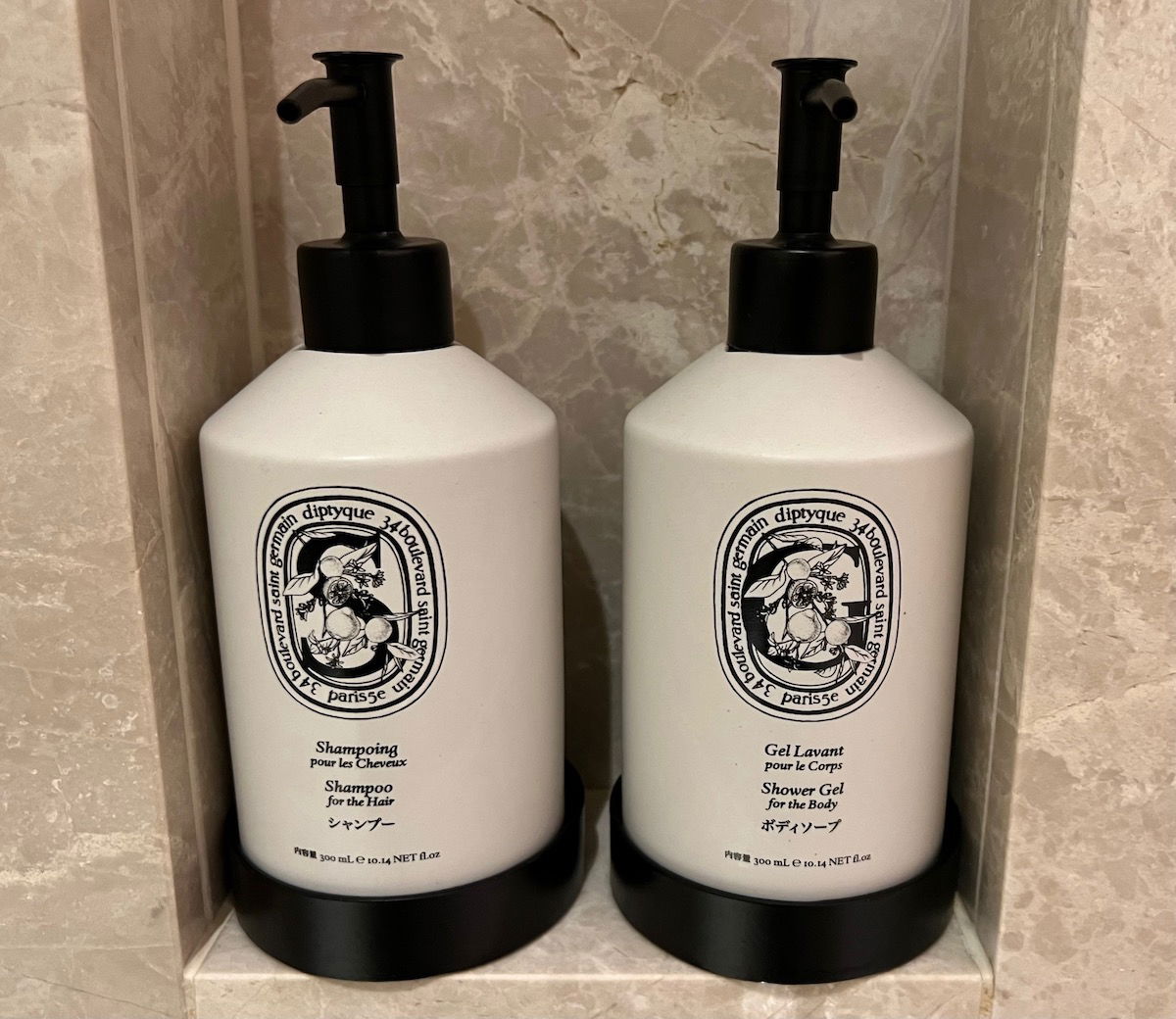 The most stunning part of the room, though was the outdoor space, as the room directly overlooked the hotel's pond and garden.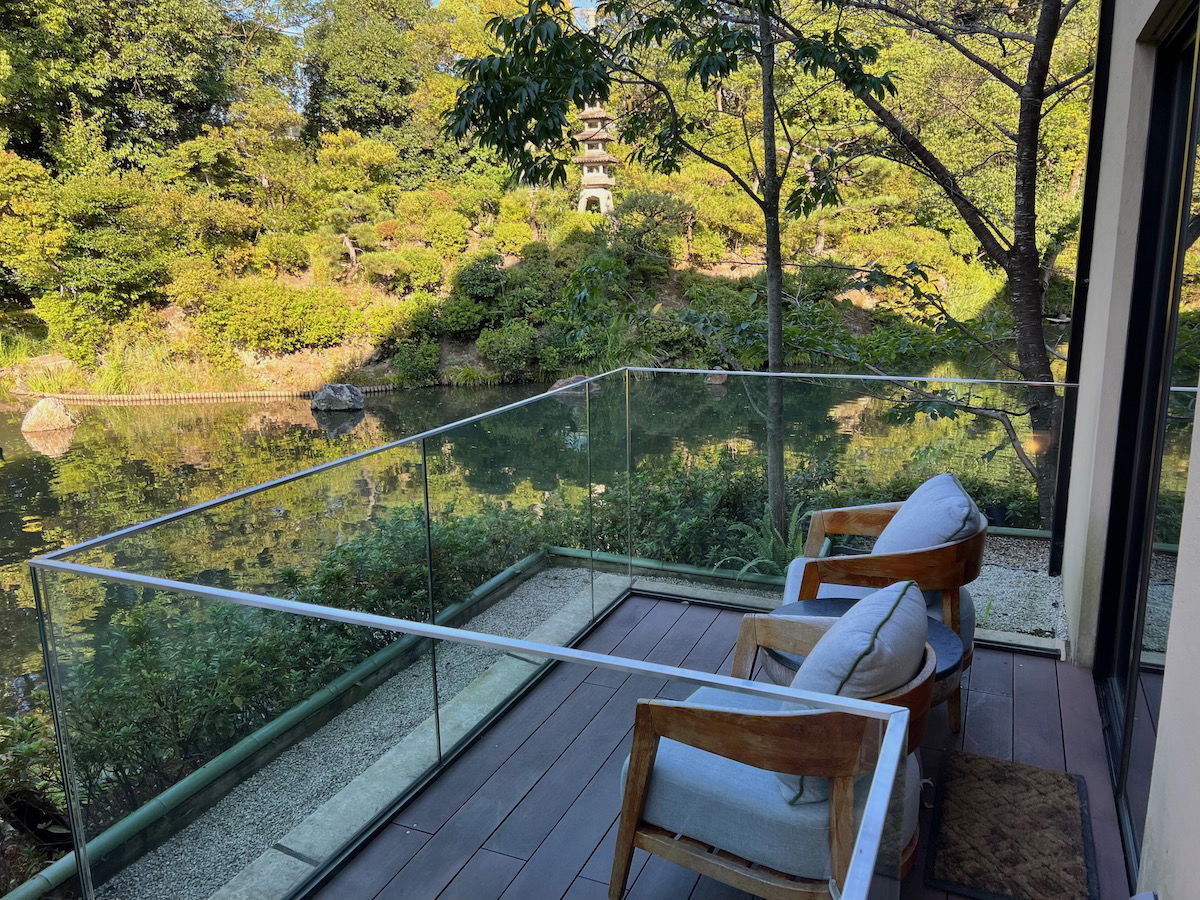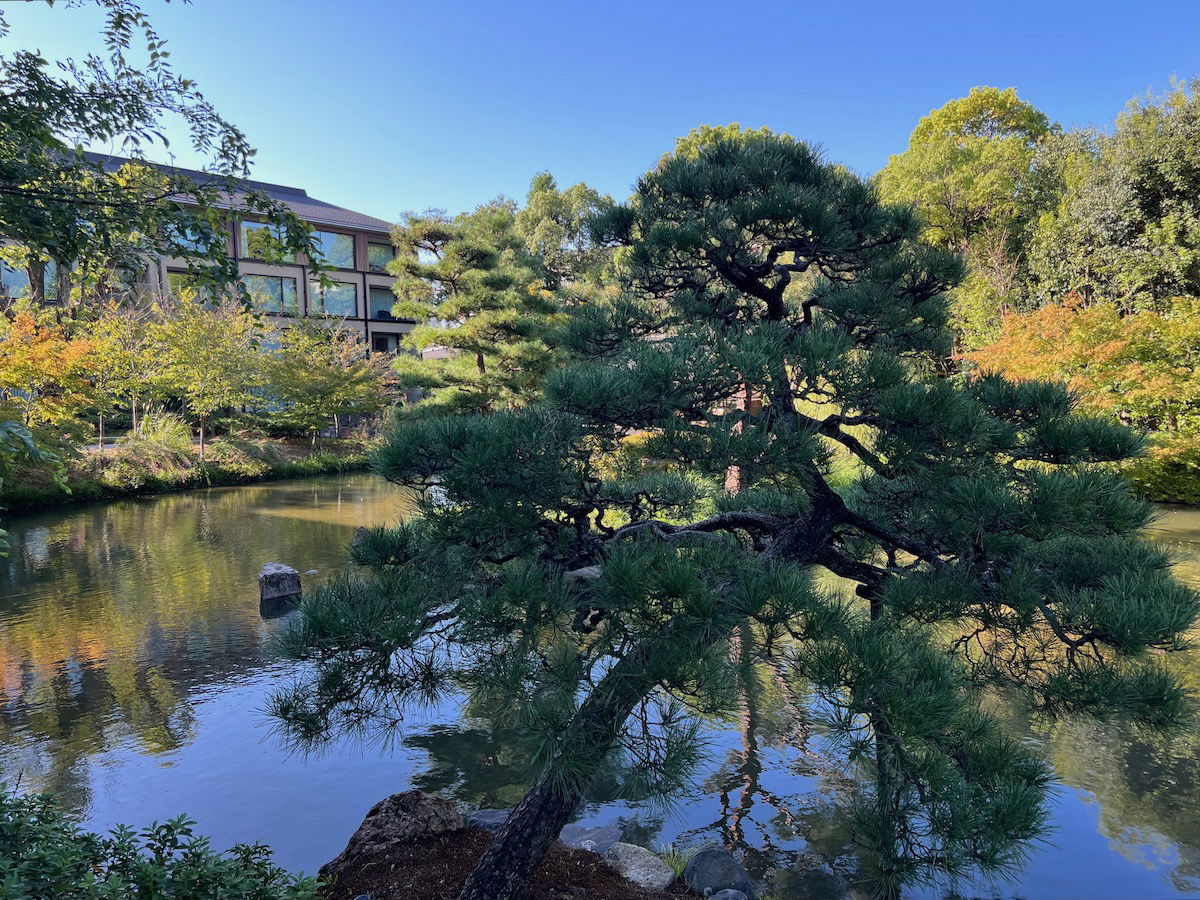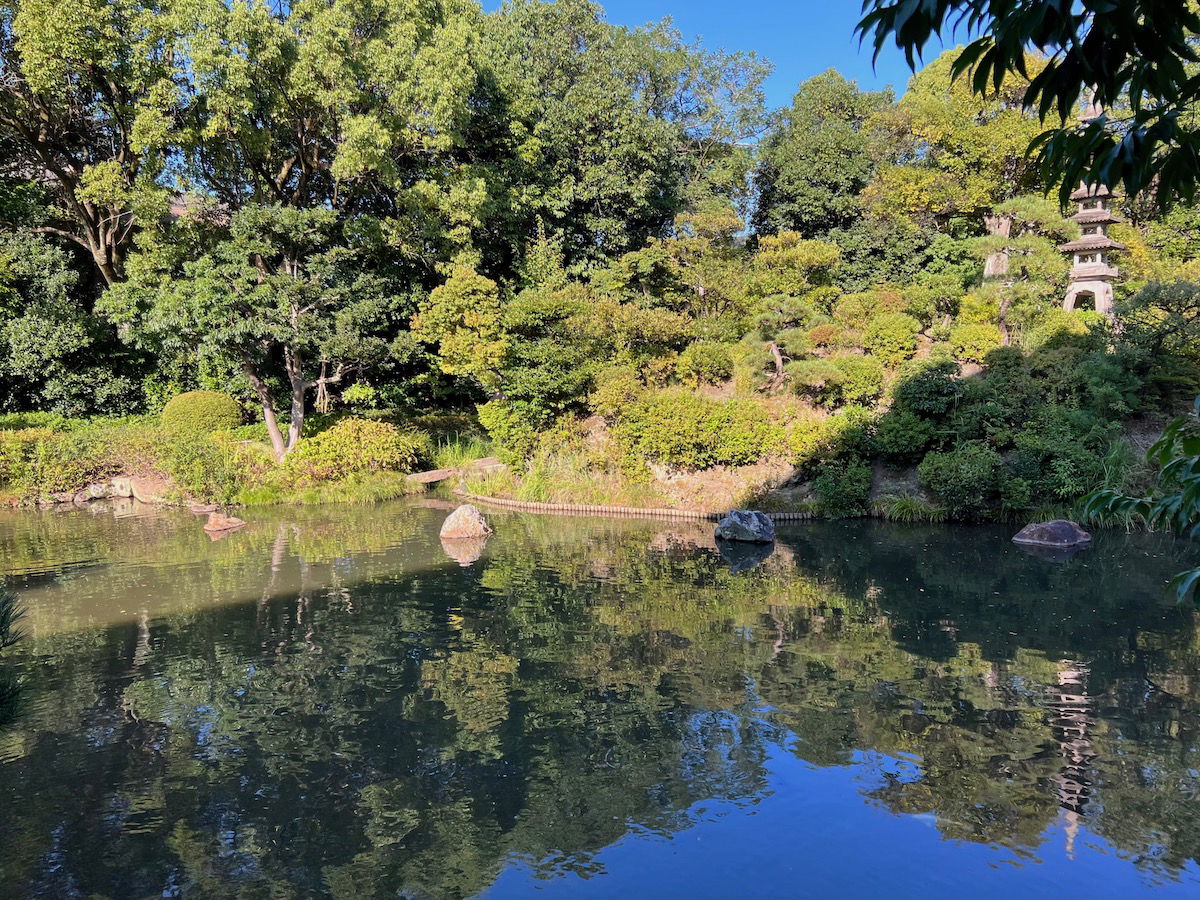 Wi-Fi in the room was fast and free, and housekeeping was provided twice daily, and was very detail oriented. There were even some treats with turndown service.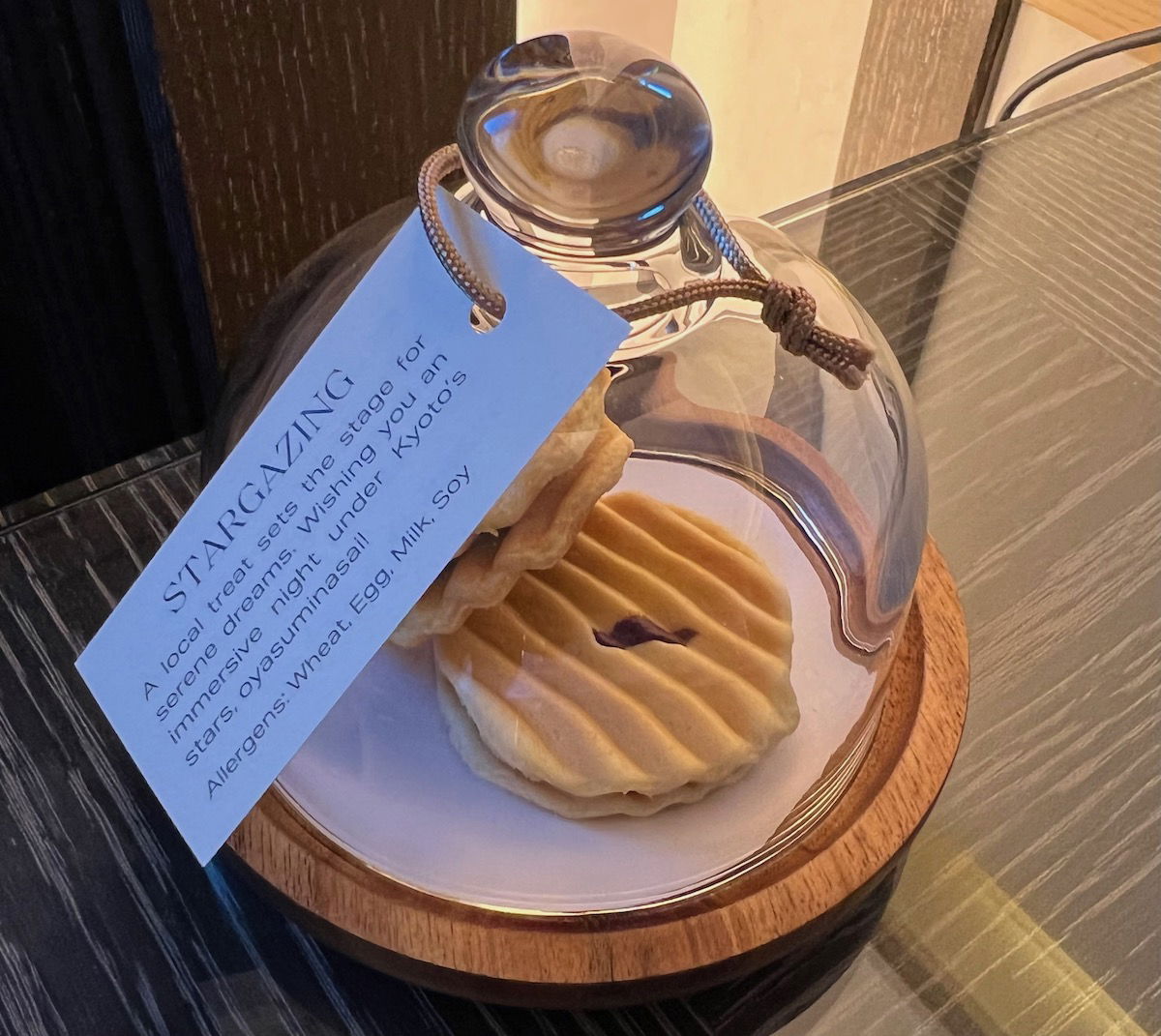 Four Seasons Kyoto garden & pond
As I hinted at above, my favorite thing about the Four Seasons Kyoto is the outdoor space. The hotel is set on an 800+ year old five acre pond garden. This gives the hotel such a serene ambiance, and makes it feel more like a secluded resort than a city hotel (all while still being walking distance to so many sites).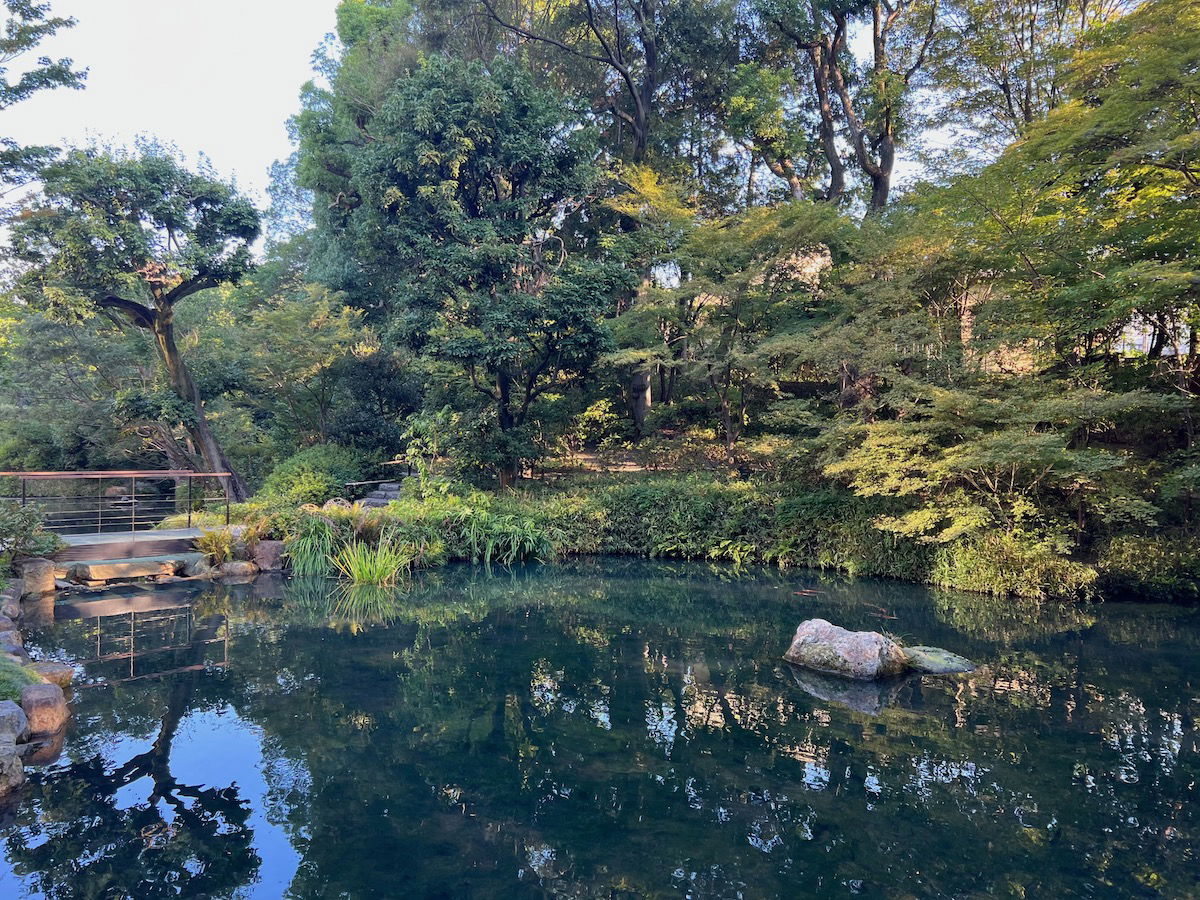 In addition to just being able to enjoy the view of the pond, there's also a path you can stroll down, and at the end of it is a tea garden there where you can enjoy some afternoon drinks or snacks, which I'll cover more in a bit.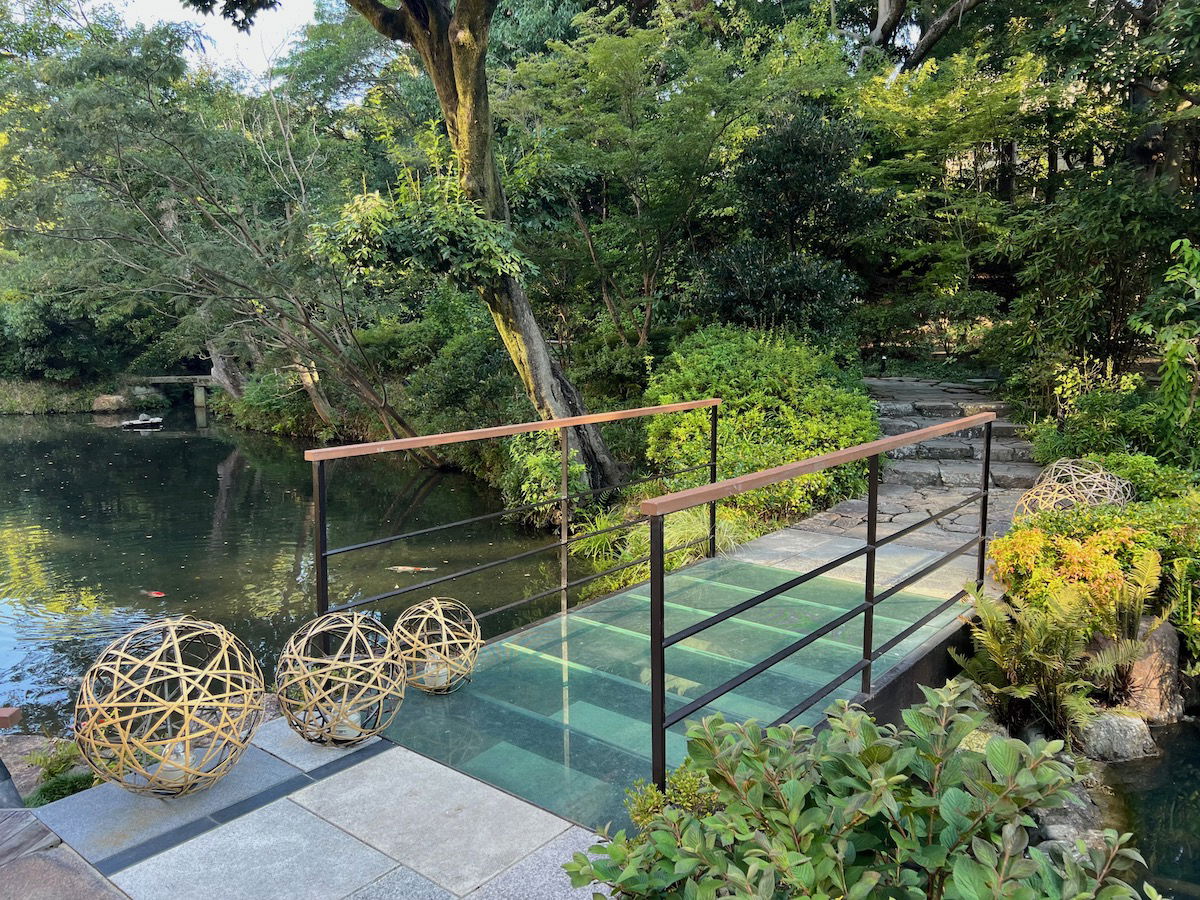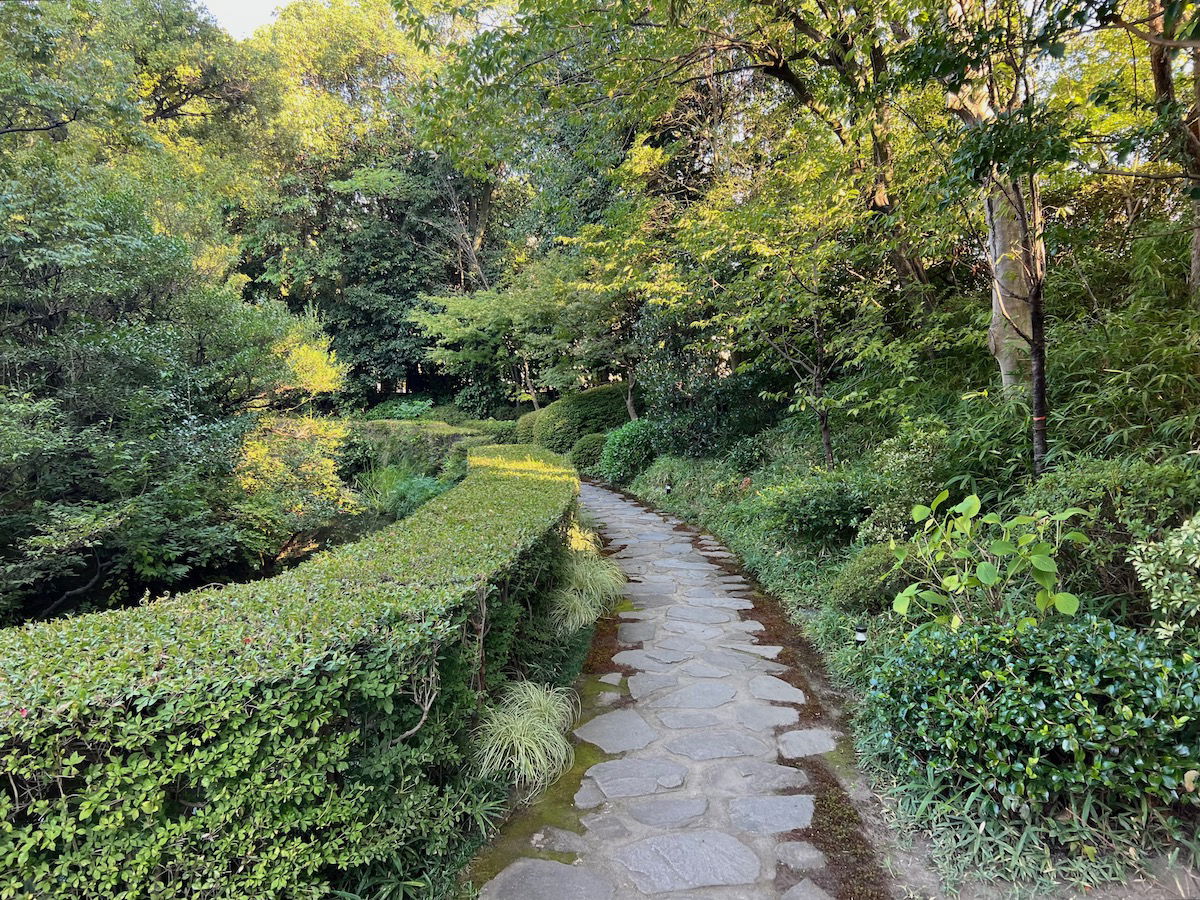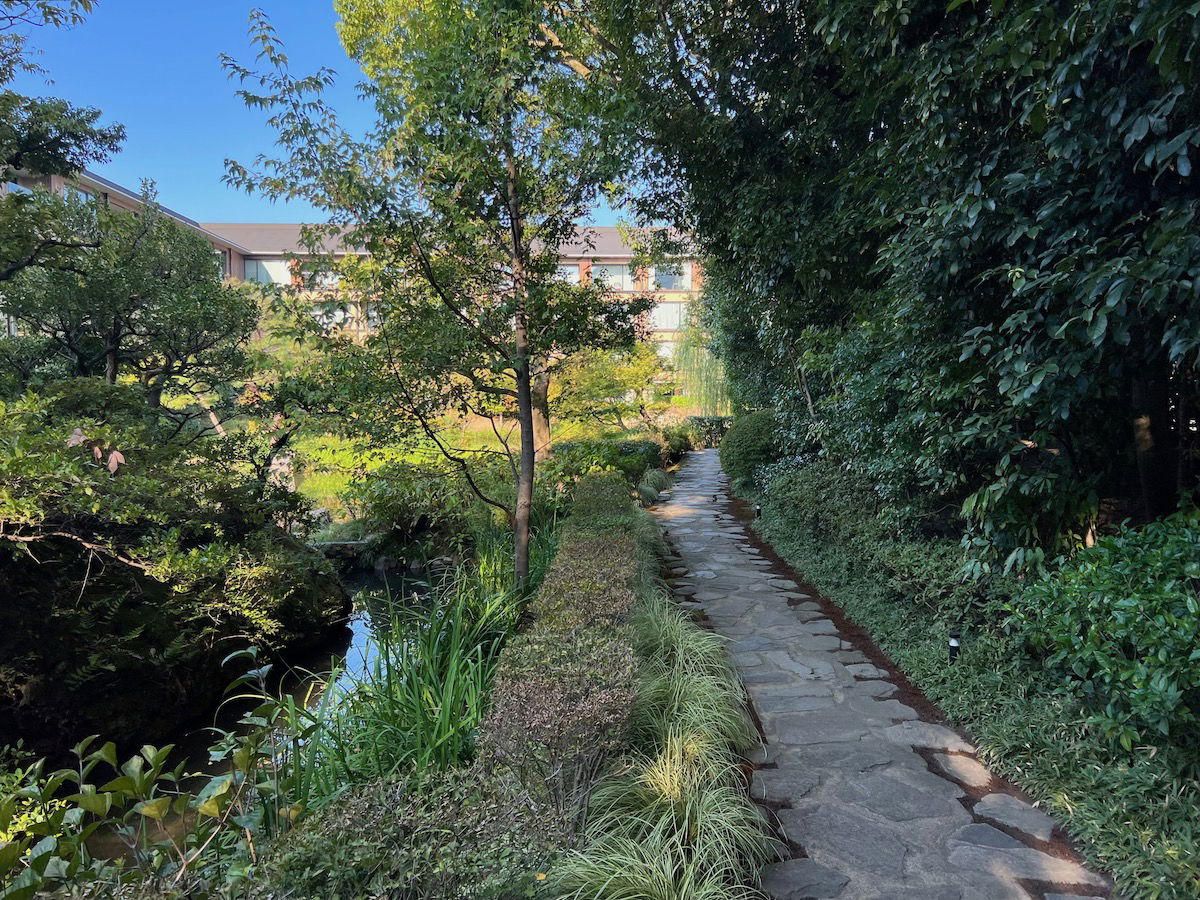 Four Seasons Kyoto spa & pool
The Four Seasons Kyoto has exceptional spa and wellness facilities, which sets this apart from other hotels in the area. The wellness facilities at the property are so big that they take up an entire two floors.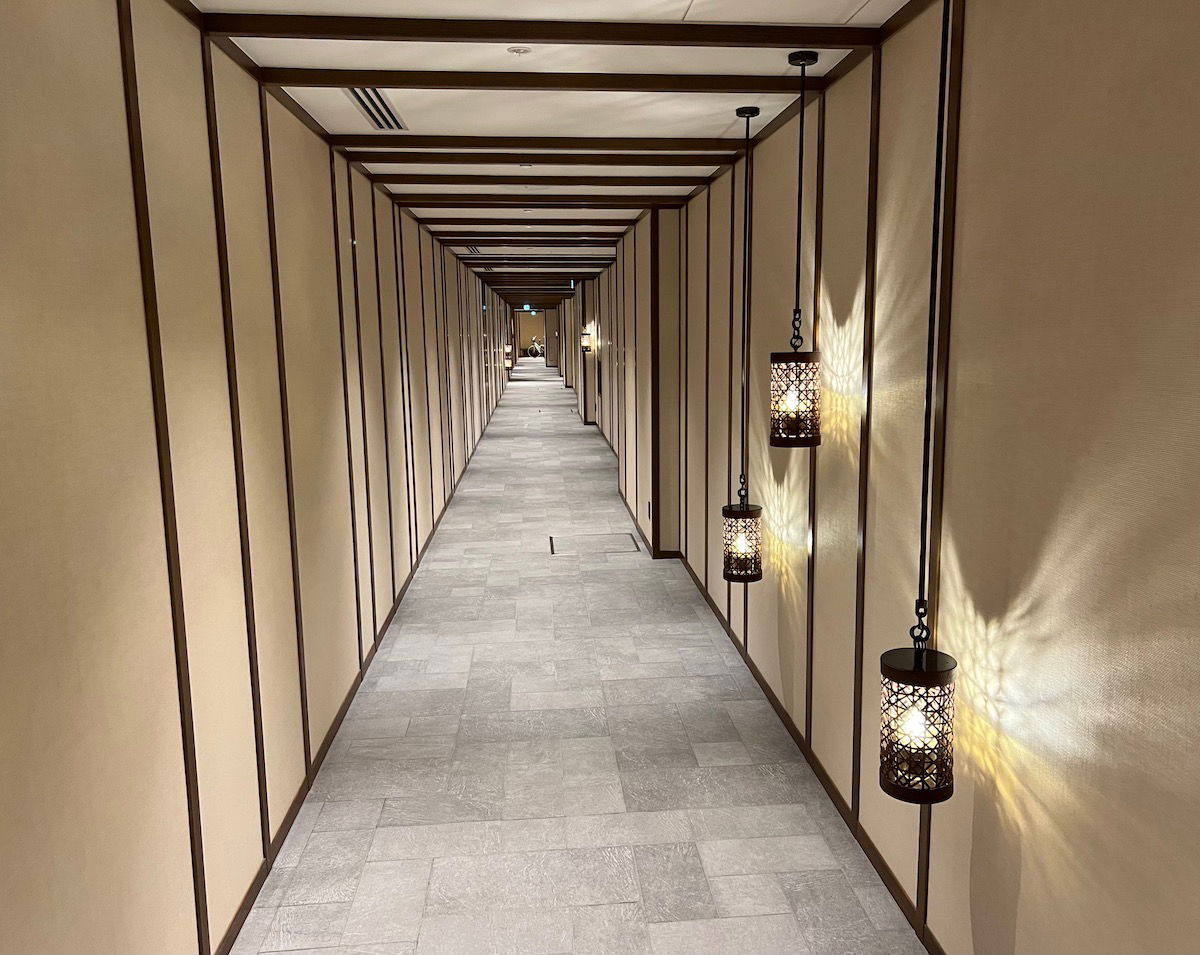 The hotel has a 20 meter (65 foot) indoor pool, available to guests daily from 7AM until 9PM.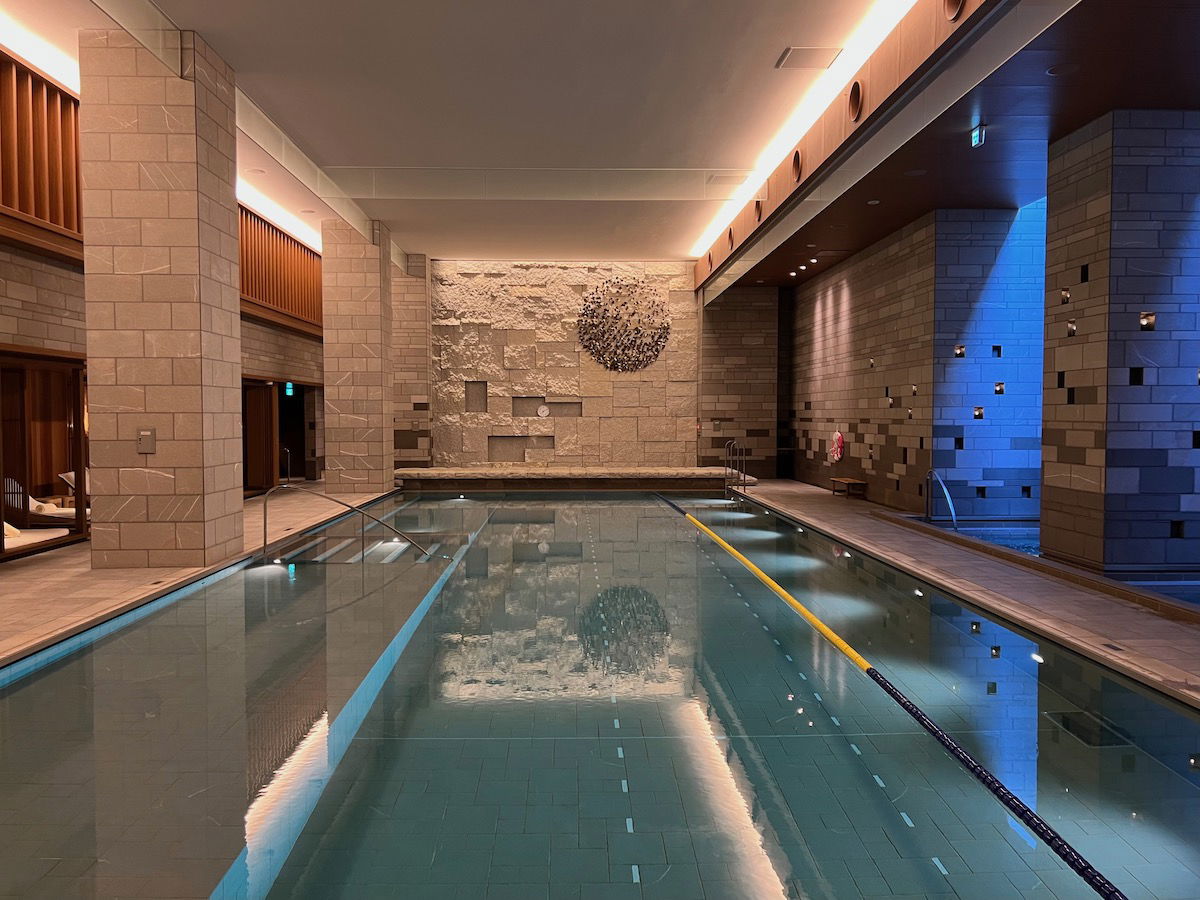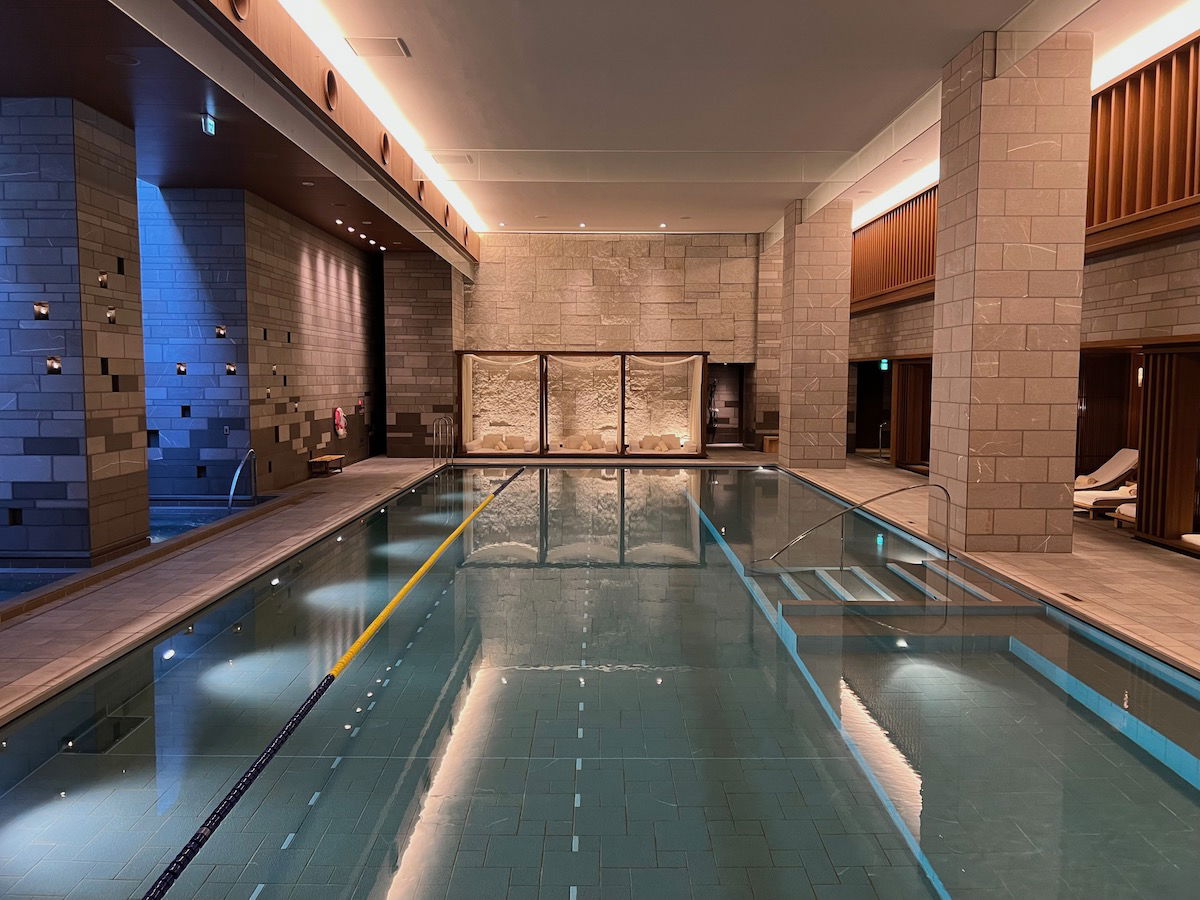 There's plenty of cozy seating around the pool, ranging from lounge chairs to cabanas of sorts.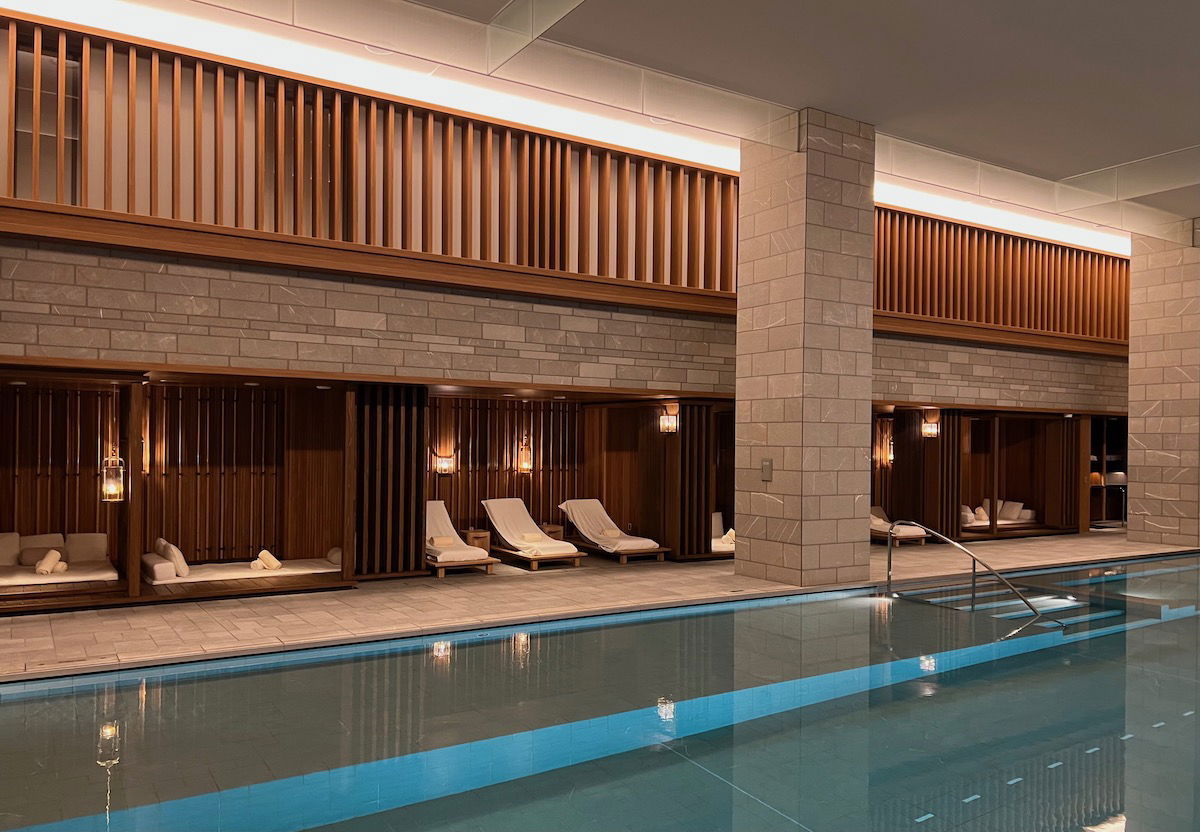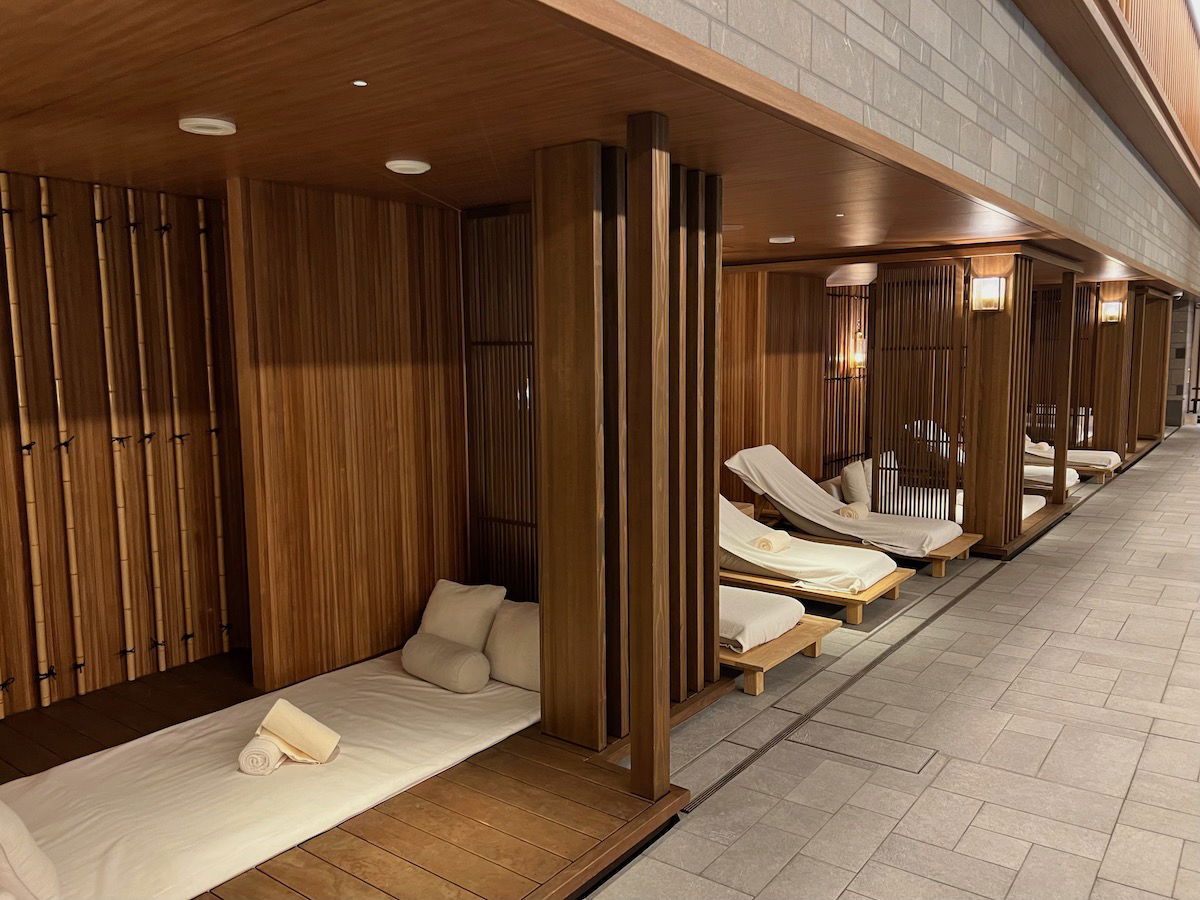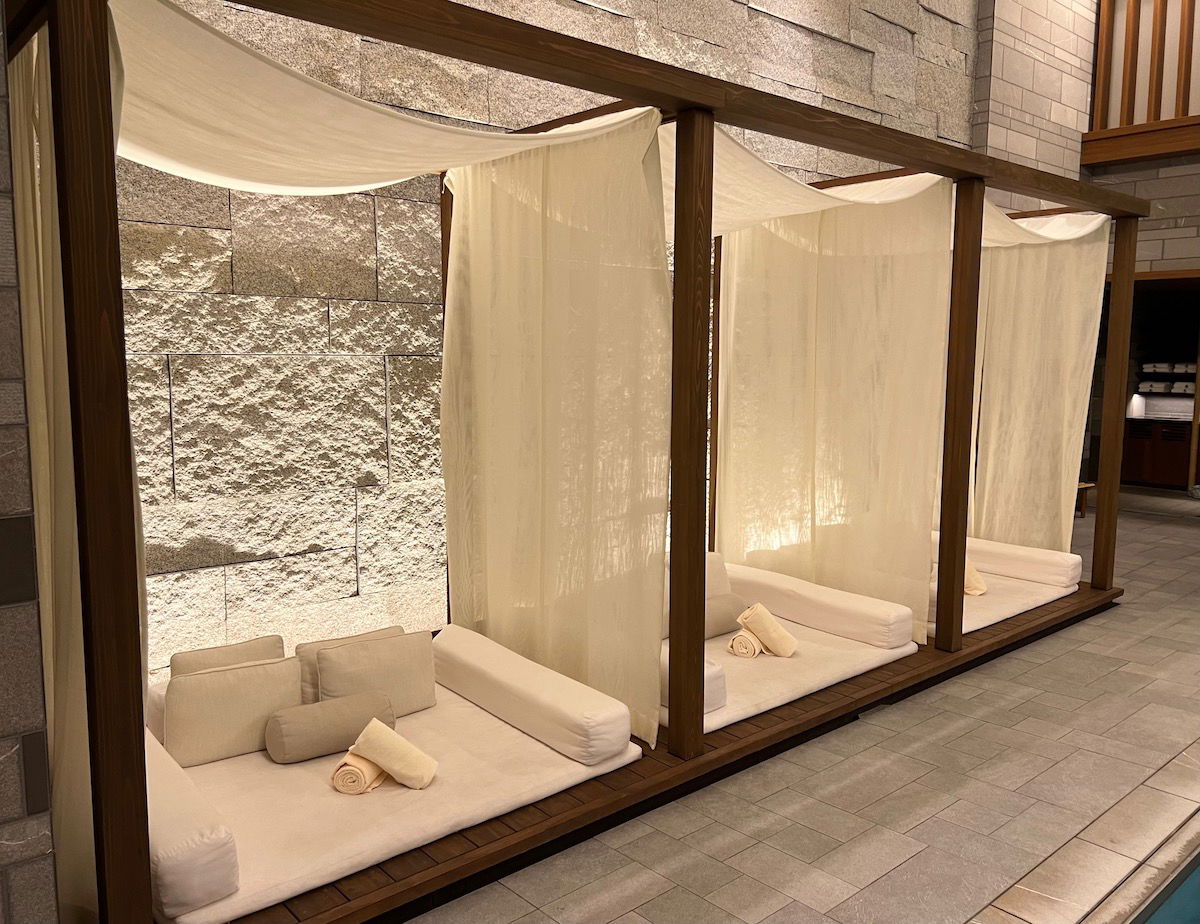 There's also a large hot tub area next to the pool.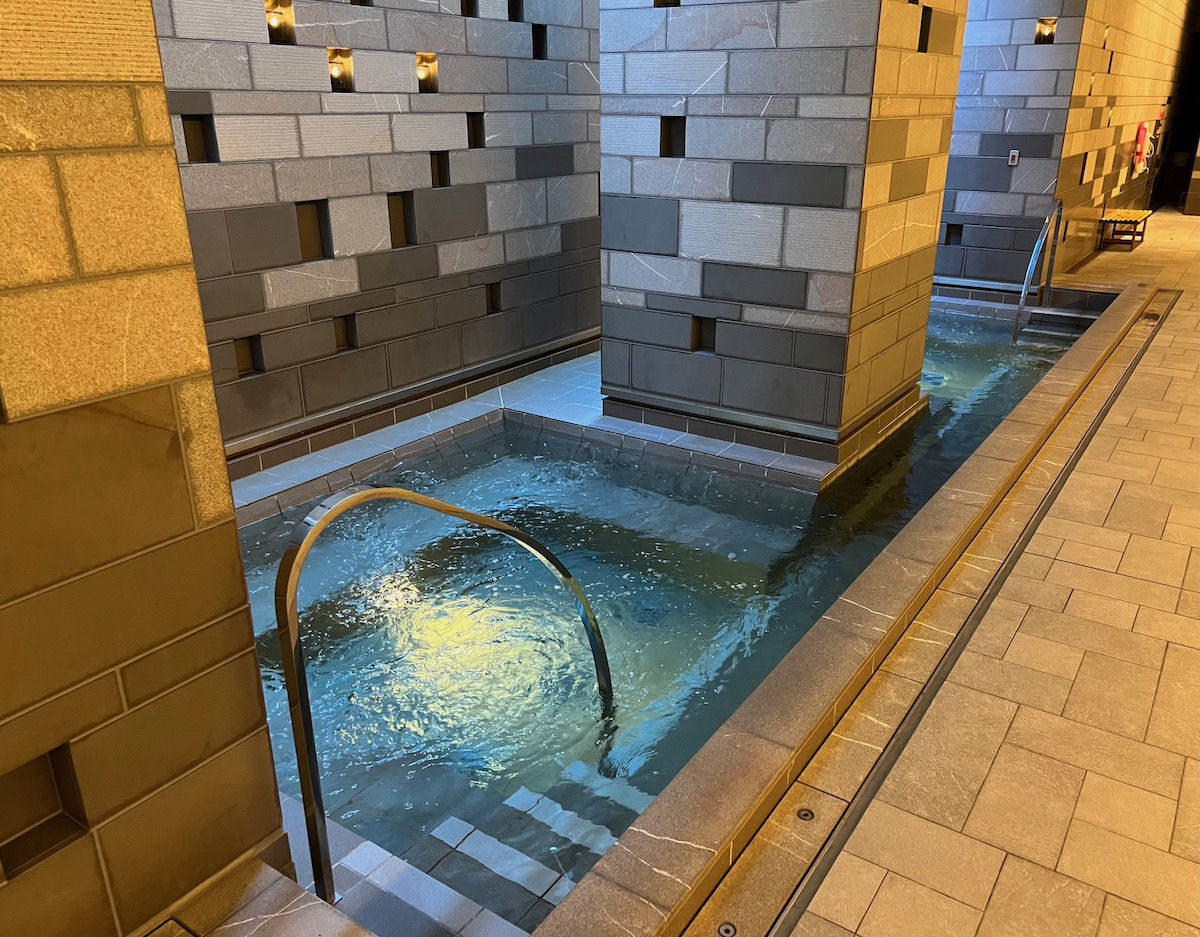 The spa facilities then also had a Japanese-style bathhouse, as well as a sauna and steam room.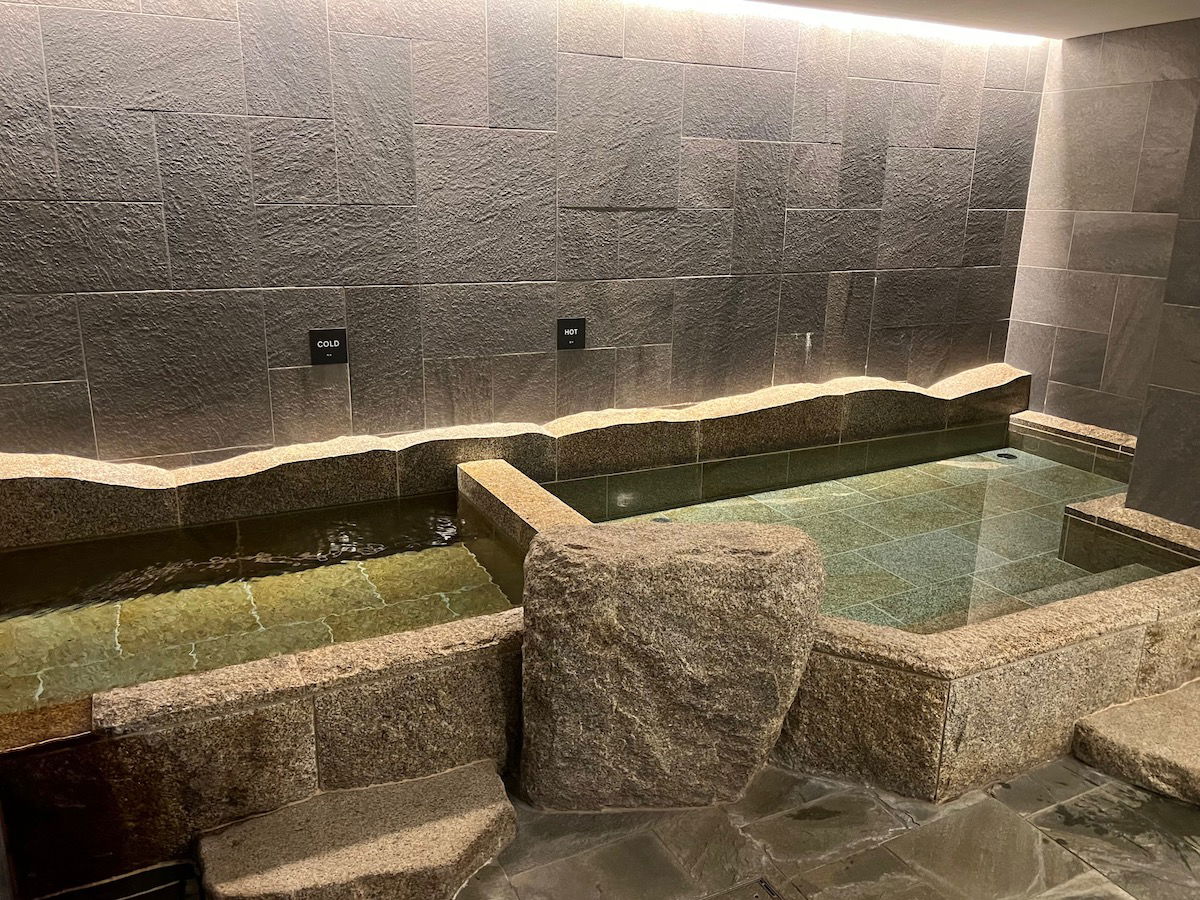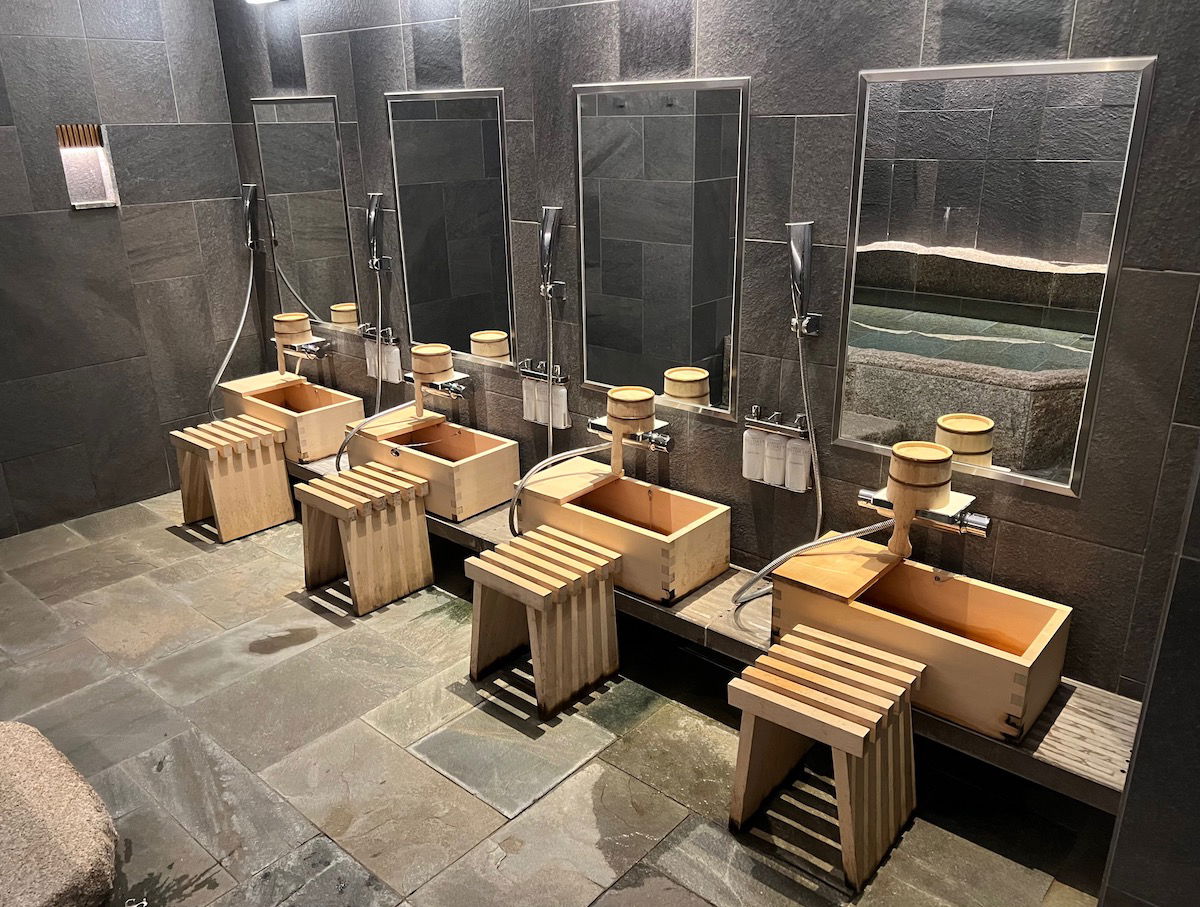 While we didn't get any spa treatments, the Four Seasons spa is open daily from 10AM until 9PM. It has nine treatment rooms, and a variety of therapy options. You can find the spa menu here. This was by far the nicest wellness area at the three hotels we stayed at.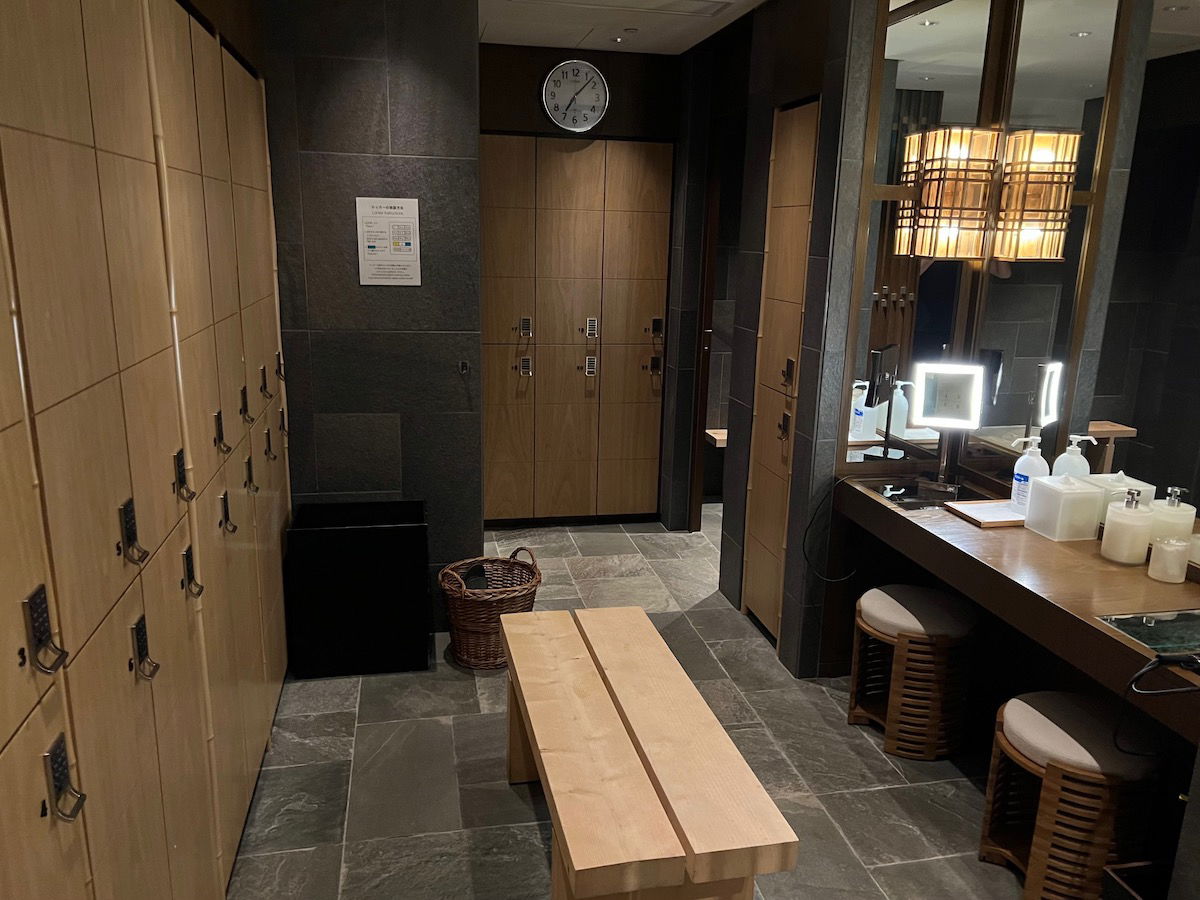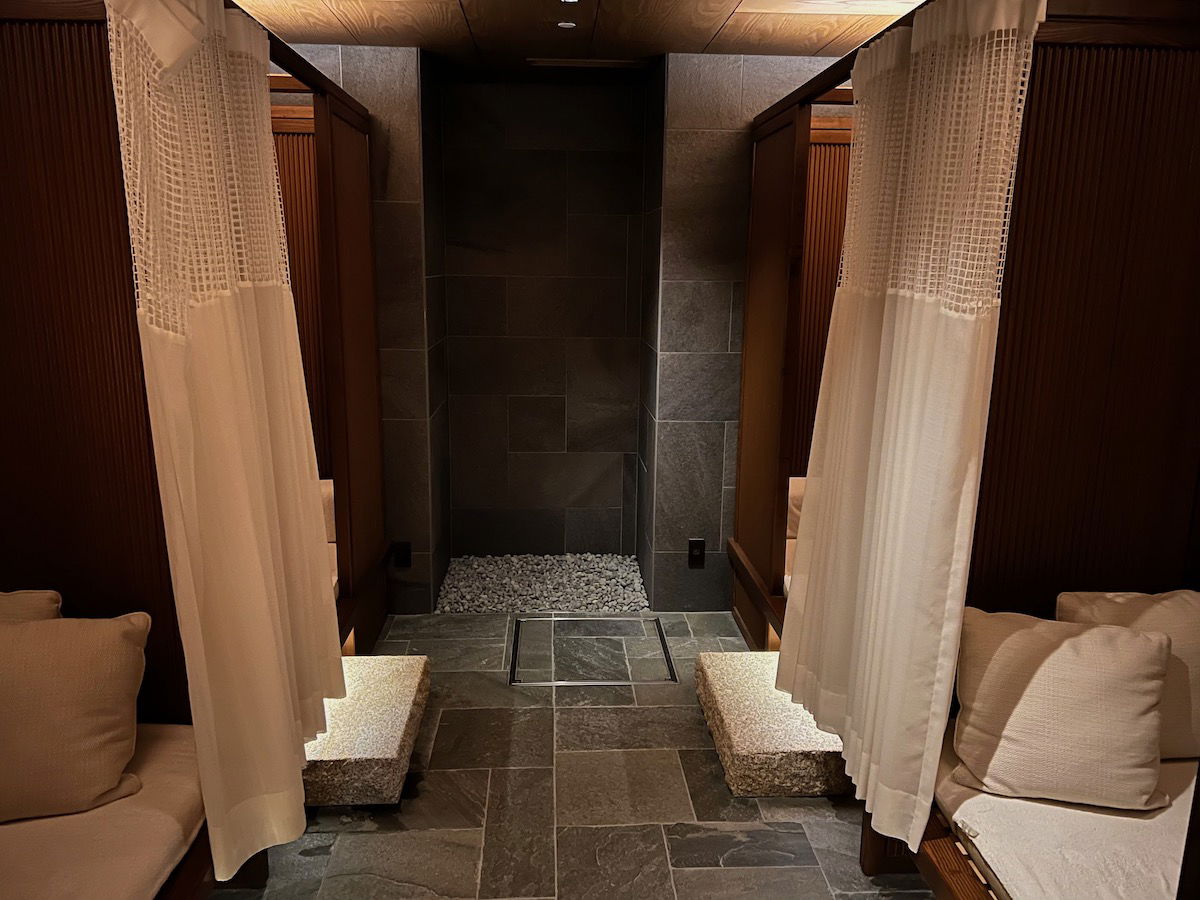 Four Seasons Kyoto gym
Not only does the Four Seasons Kyoto have a beautiful spa and pool, but it also has an impressive gym. This is available to hotel guests 24/7. It has a large amount of cardio and weight equipment, as well as a yoga room.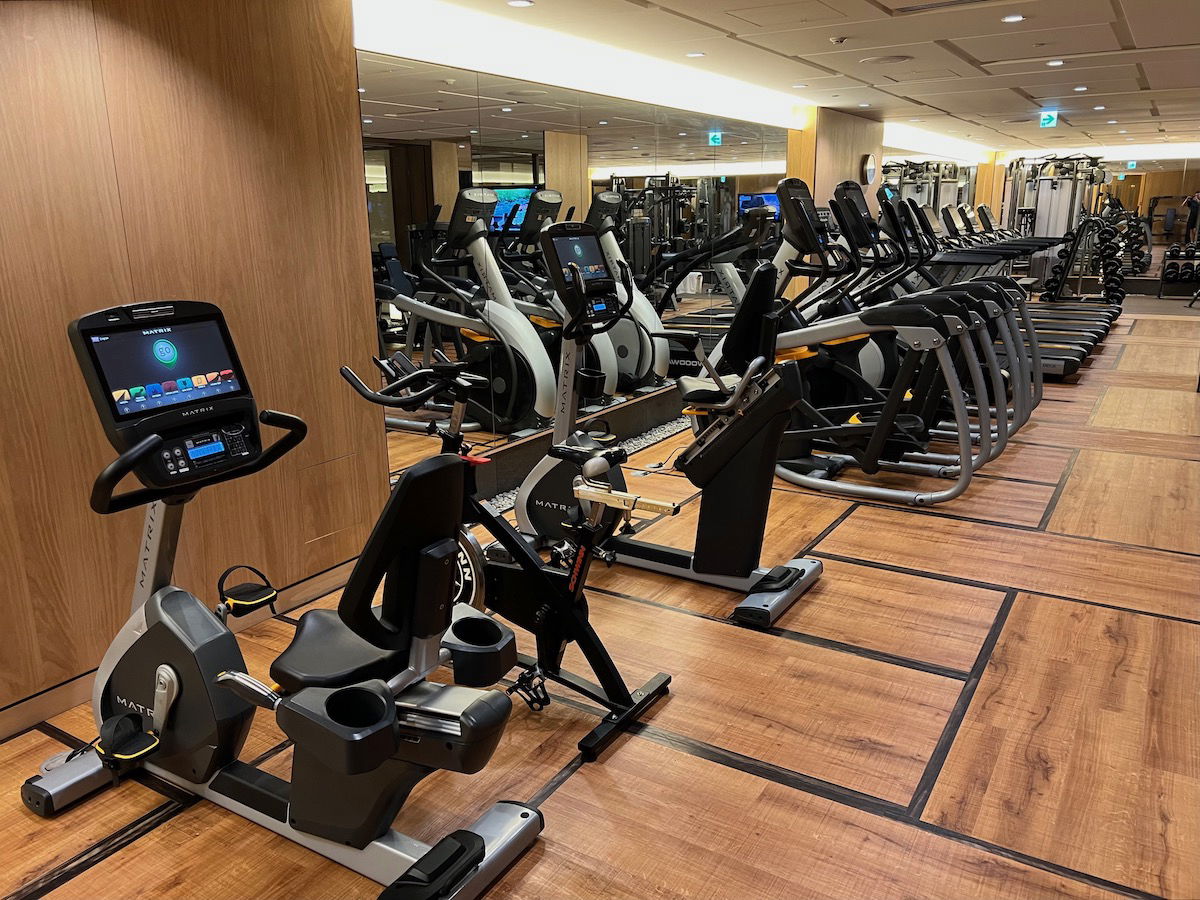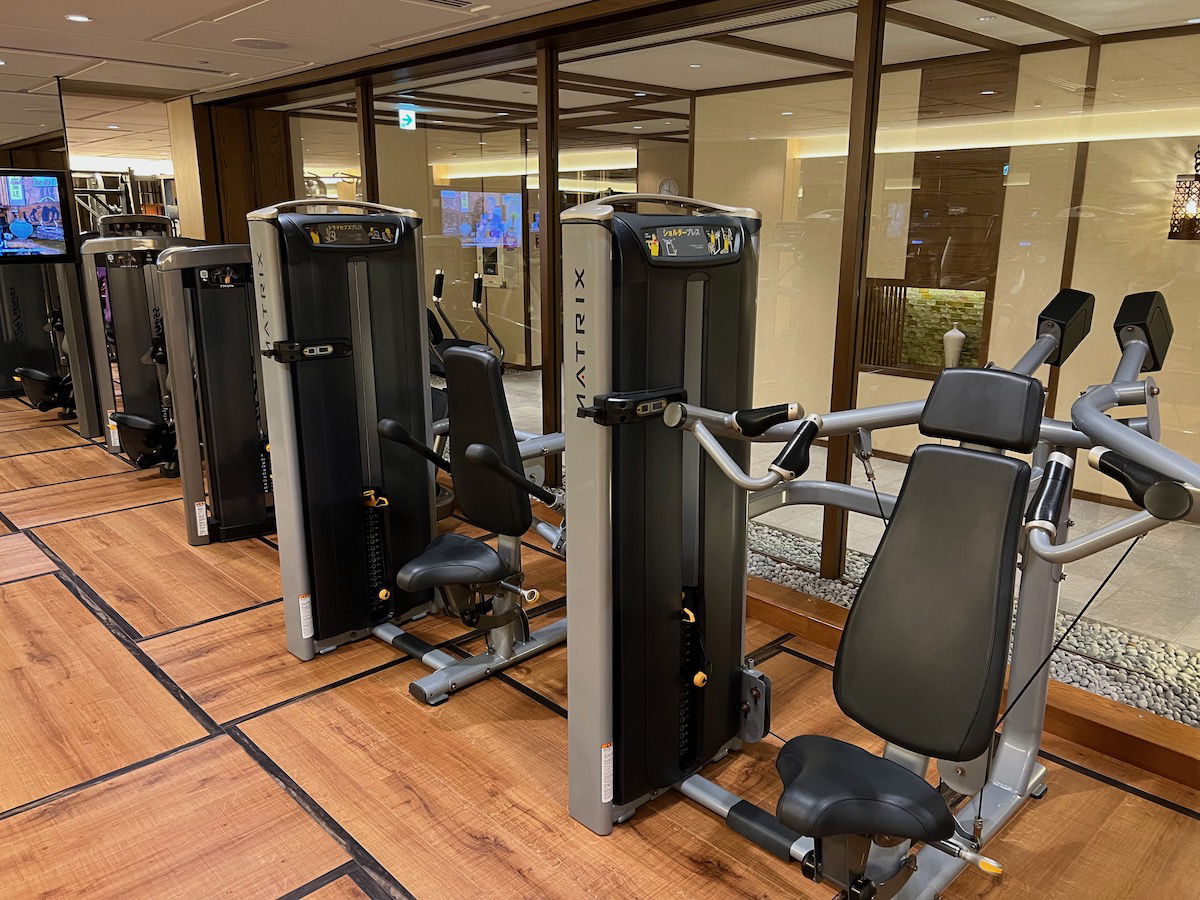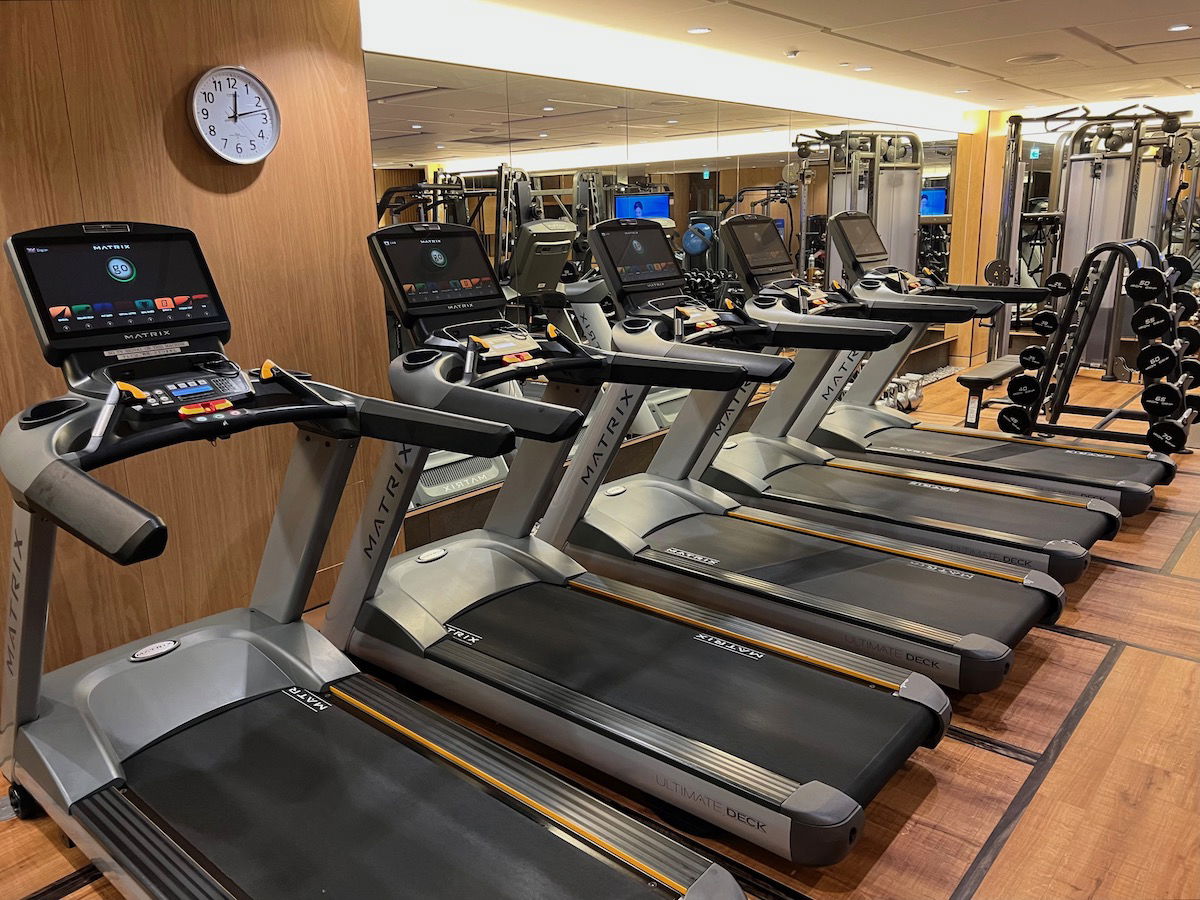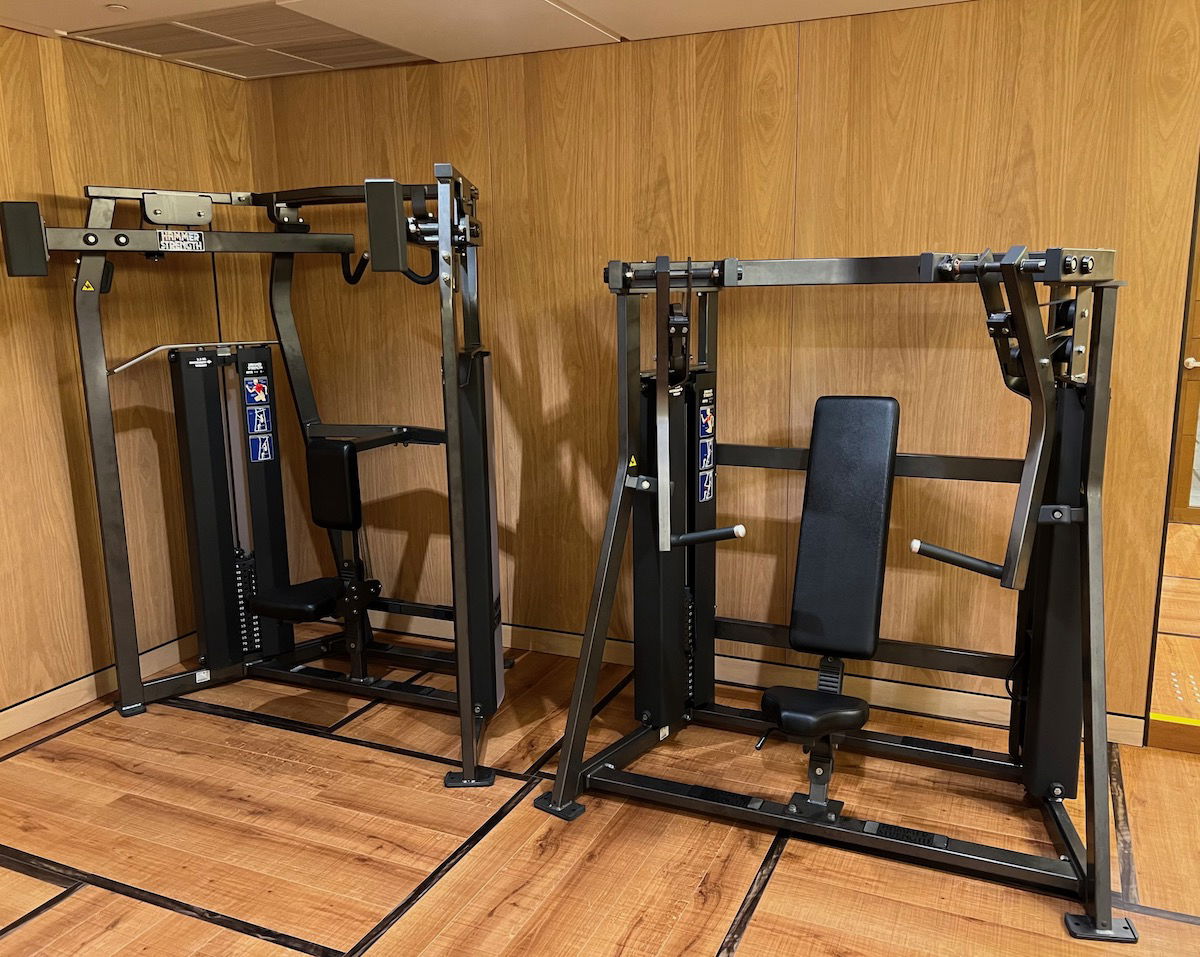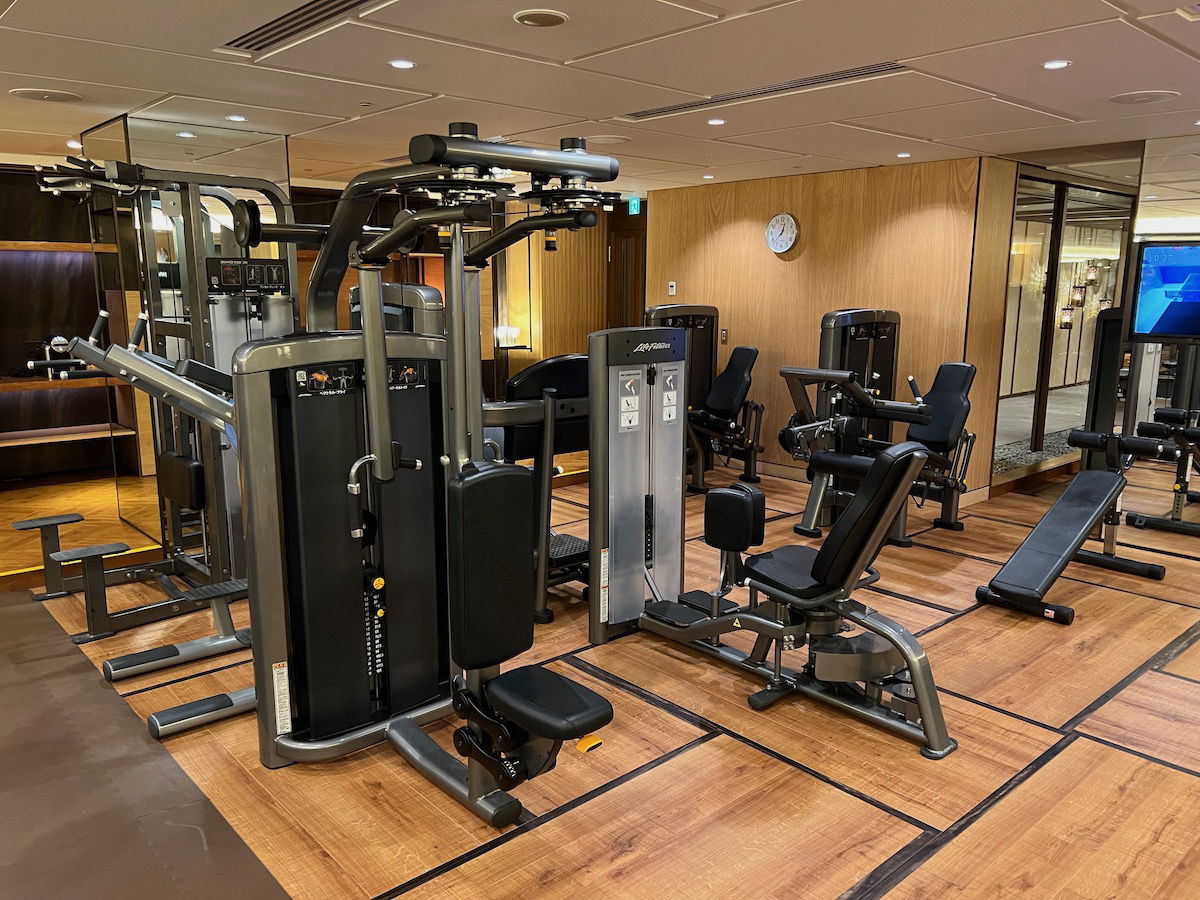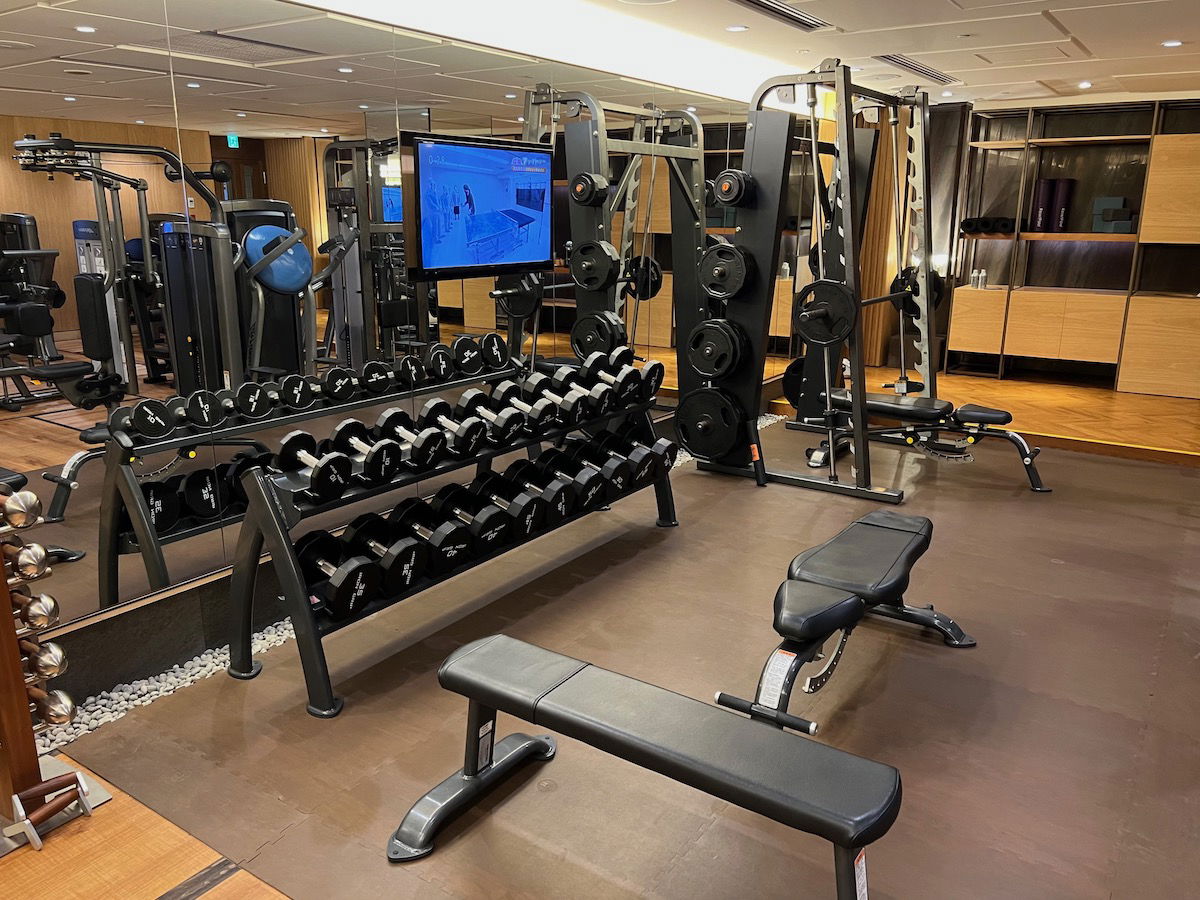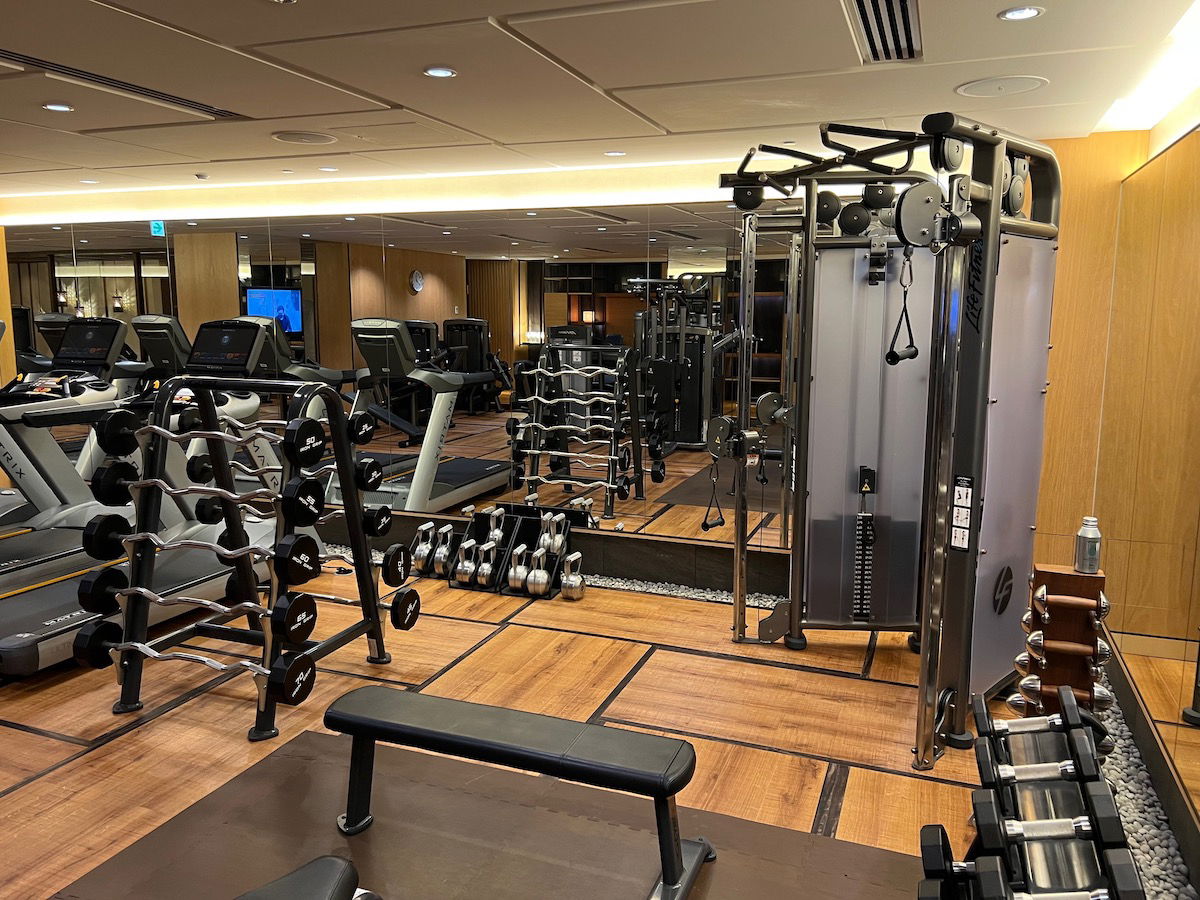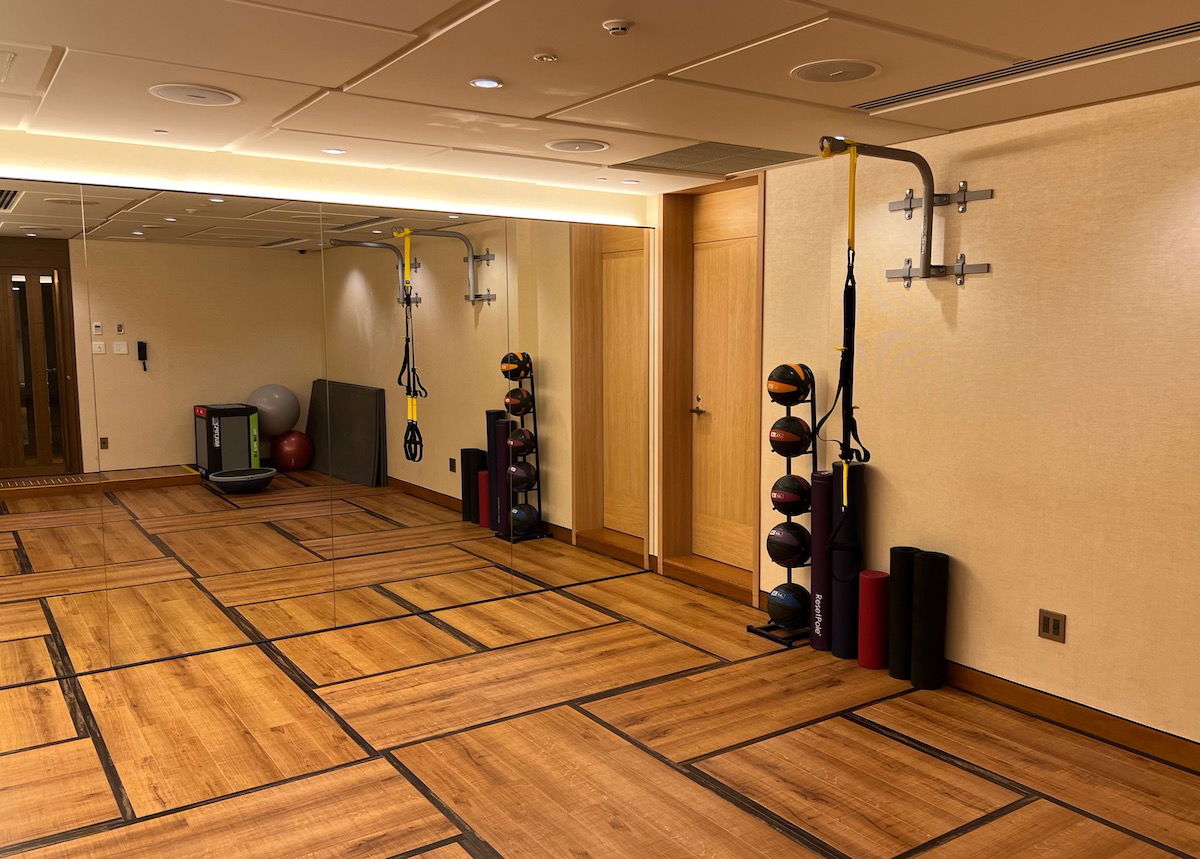 Four Seasons Kyoto Brasserie Restaurant
As far as dining at the Four Seasons Kyoto goes, Brasserie is the hotel's all-day dining restaurant. It's where breakfast is served, and it's also open for lunch and dinner (during the day it's a French restaurant, and you can find the lunch and dinner menu here). The restaurant has really high ceilings, plus floor-to-ceiling windows, giving the restaurant lots of natural light.
The restaurant has an indoor lounge area, a bar counter of sorts, and a more traditional restaurant area.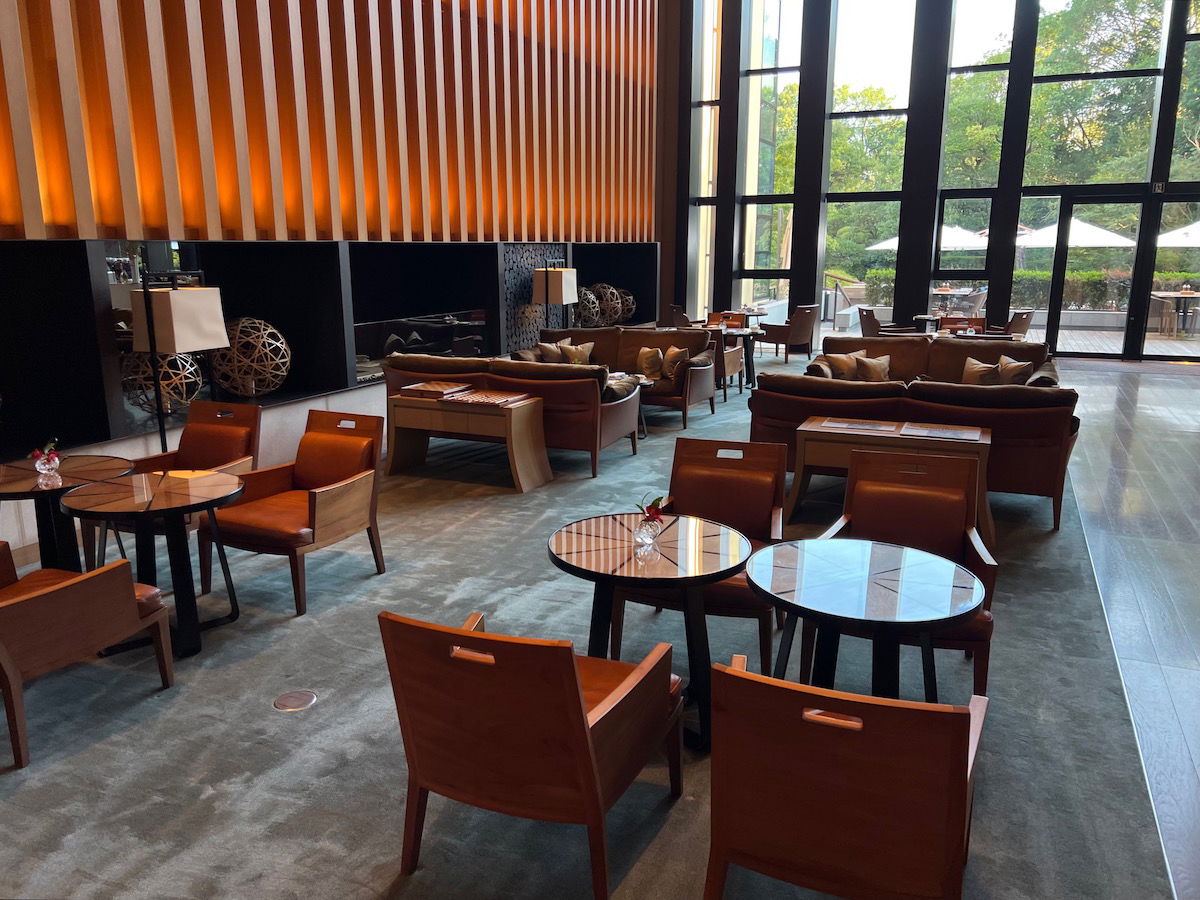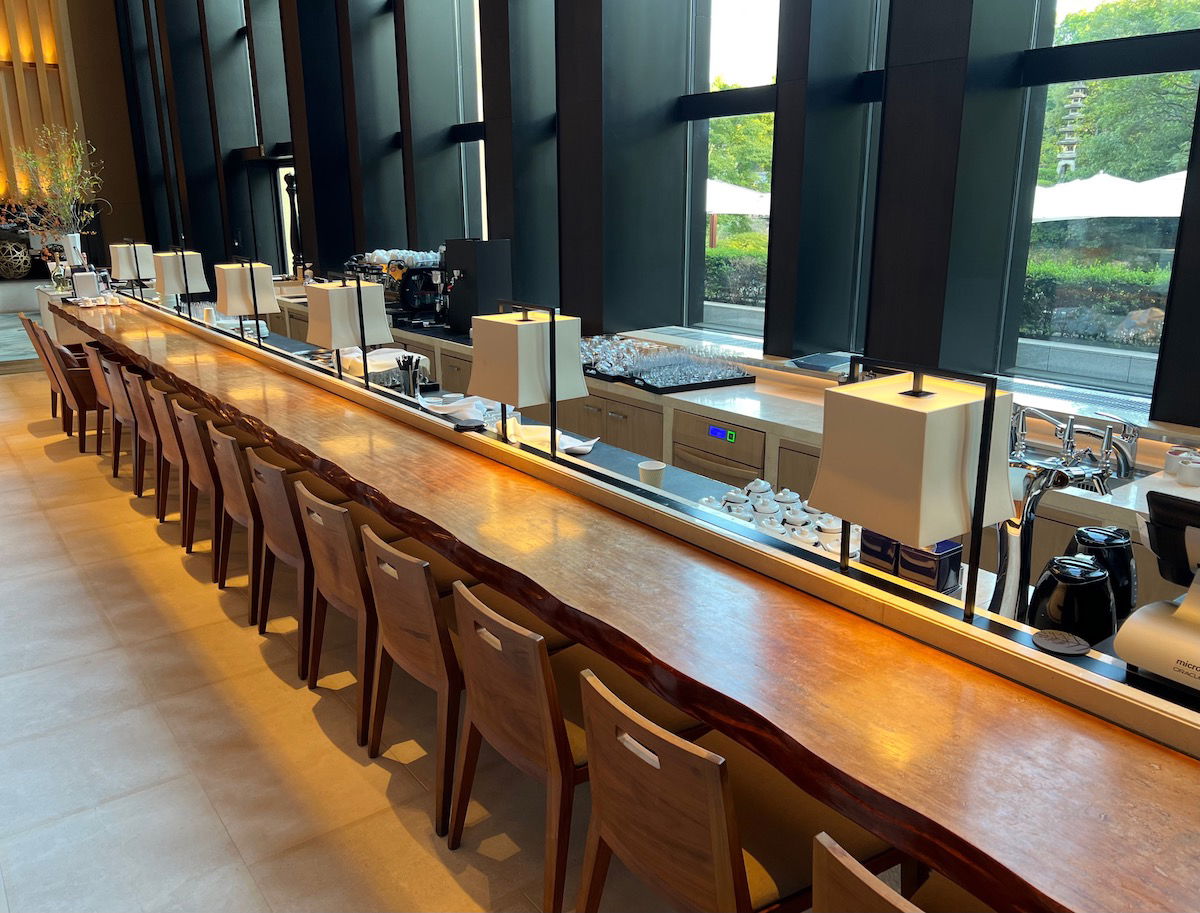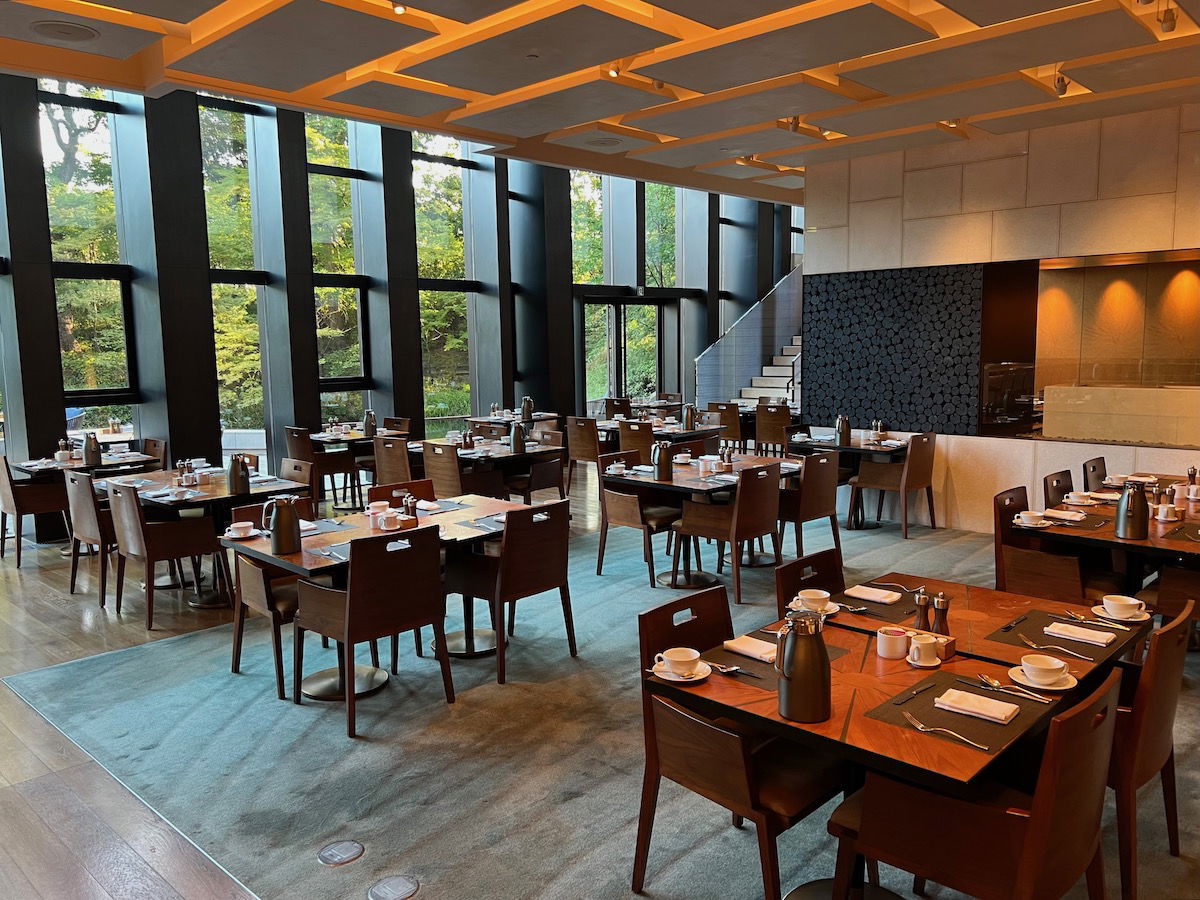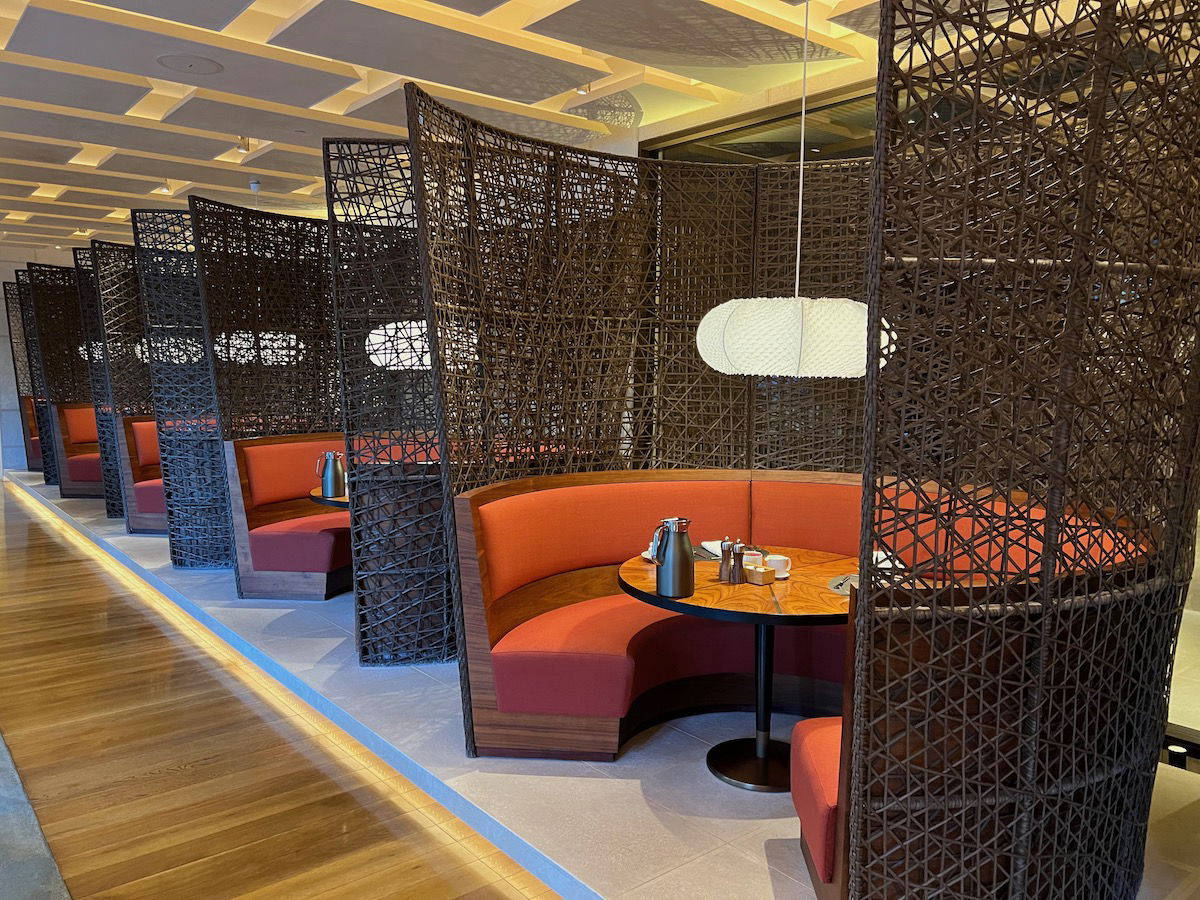 By far the coolest part of the restaurant, though, is the outdoor space, which includes a gorgeous terrace. I felt like something like this was really lacking at the Park Hyatt and Ritz-Carlton.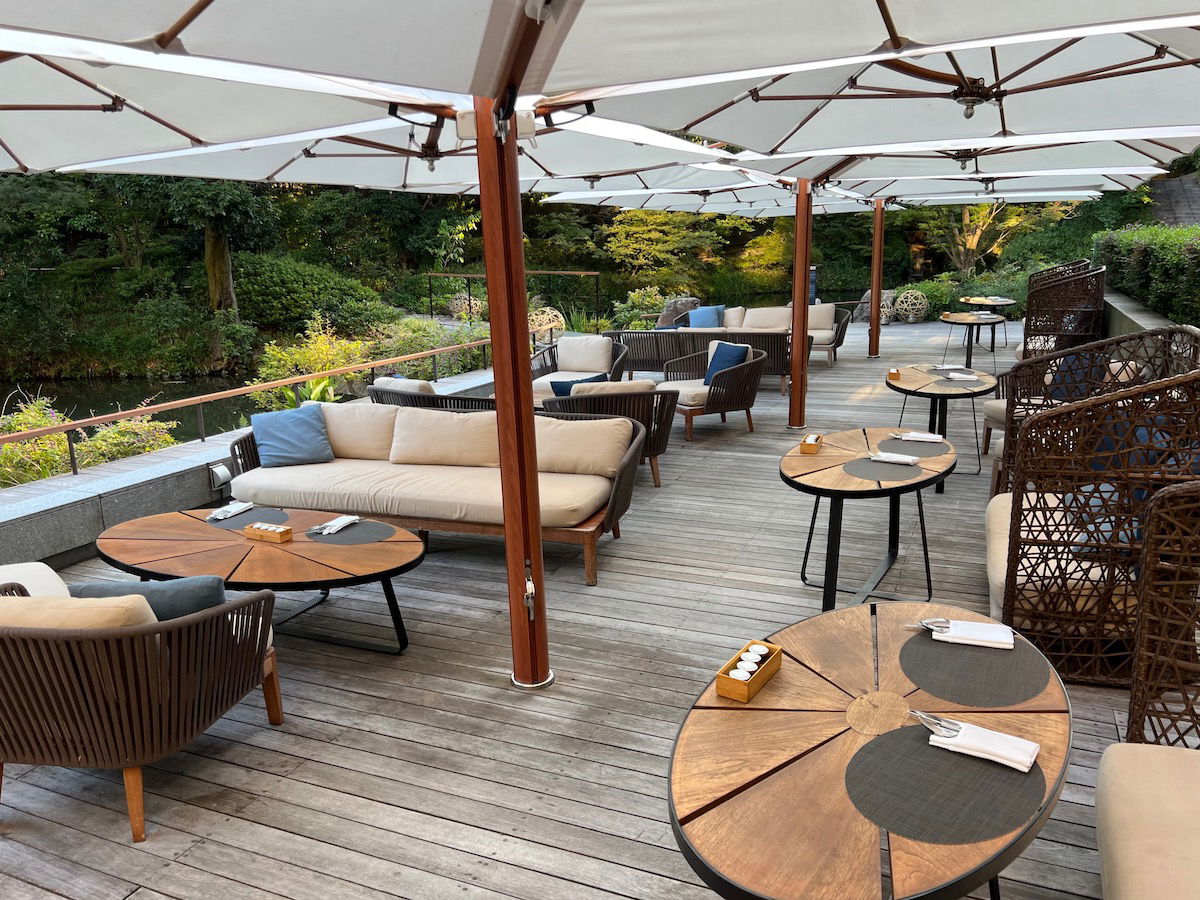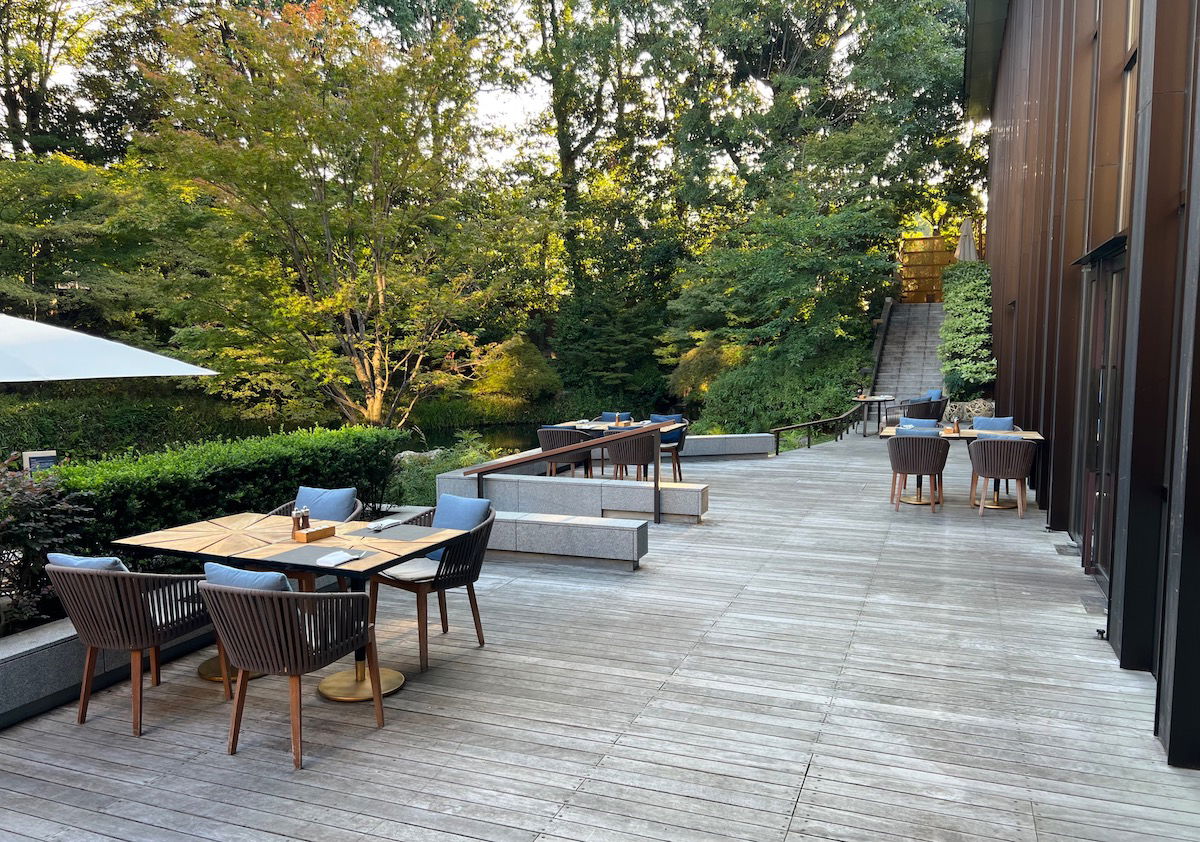 Breakfast was served at Brasserie from 7AM until 10:30AM daily, and I appreciated the hotel's straightforward breakfast concept. You could either choose a Western breakfast (comprised of a buffet plus a small a la carte selection) or a Japanese breakfast (comprised of a set menu). Unlike at the Park Hyatt and Ritz-Carlton, there was no need to order the Japanese breakfast in advance, or to state at what time you wanted to eat.
You can find the two breakfast menus below.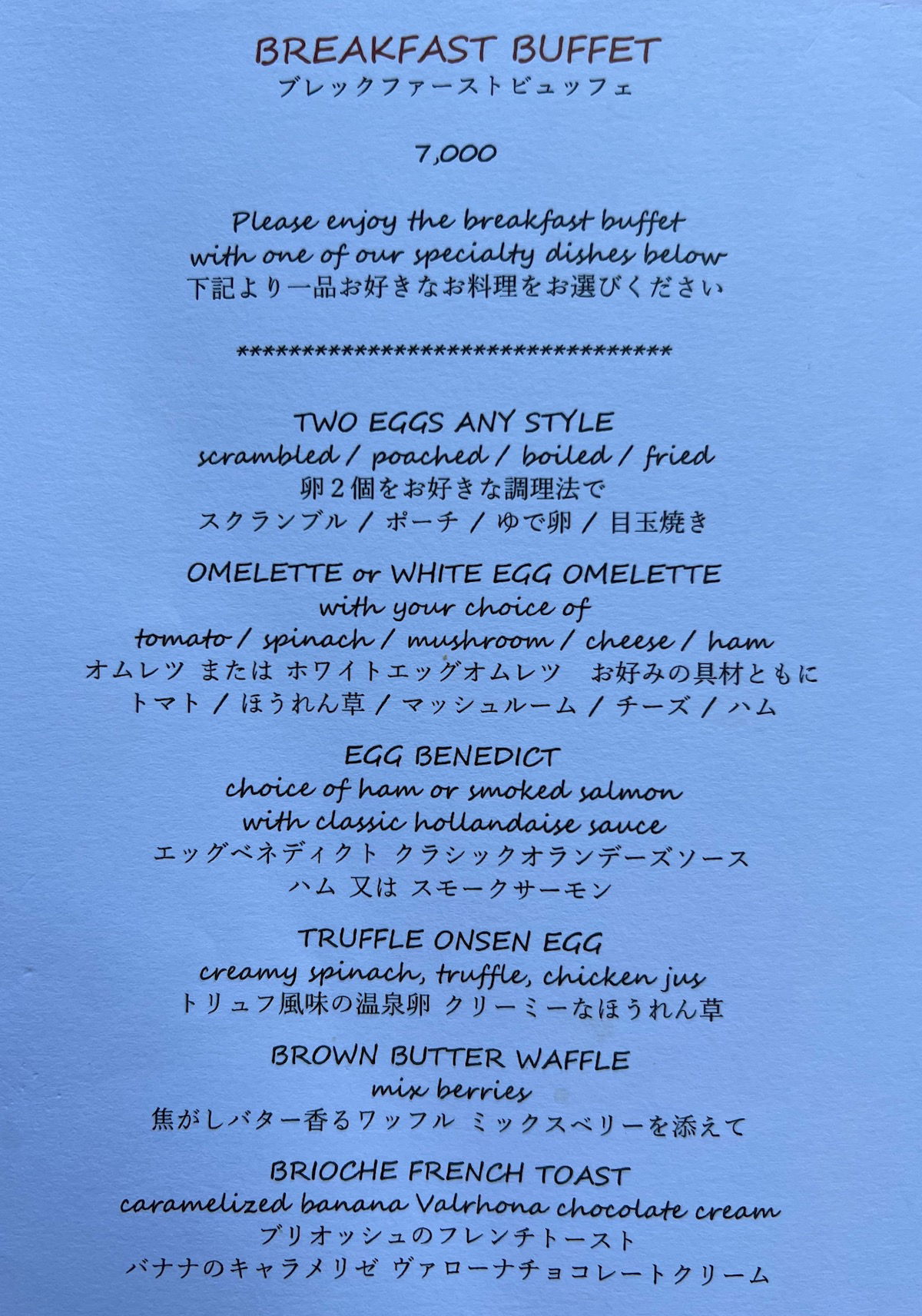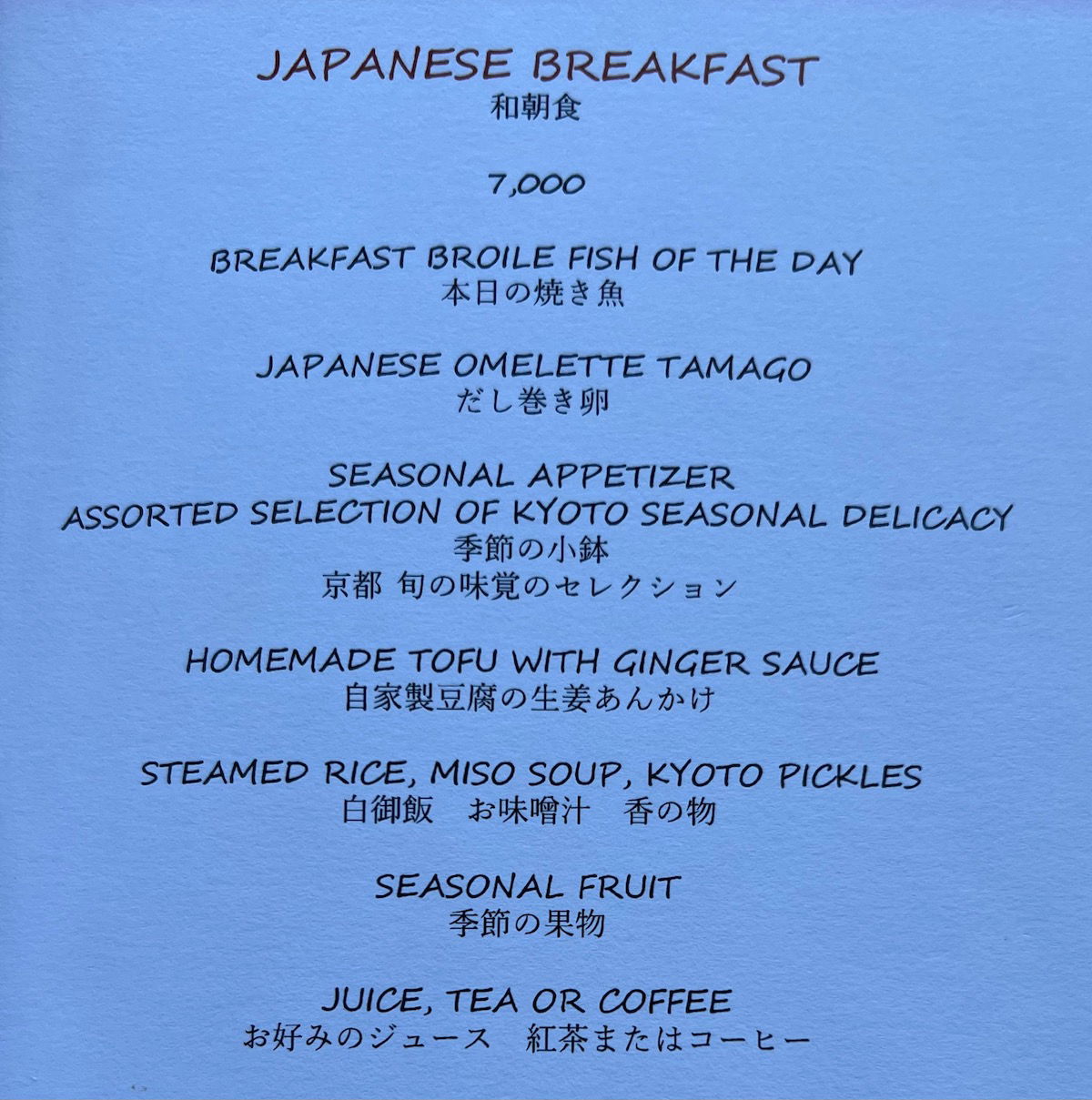 The breakfast buffet was extensive, and consisted of fresh fruit, cold cuts and cheese, salad, cereal, yogurt, all kinds of pastries and bread, fresh juices and smoothies, and several hot options, some of which were more Asian focused.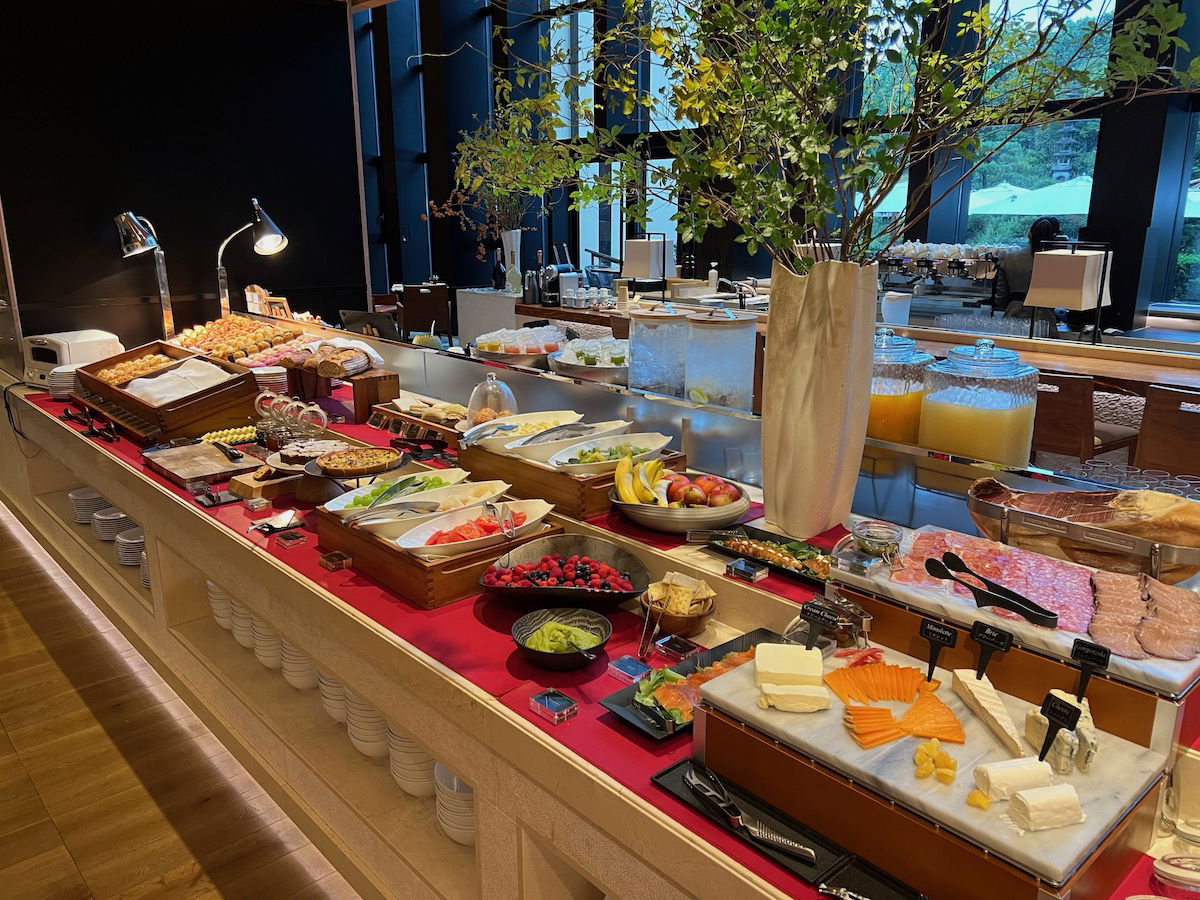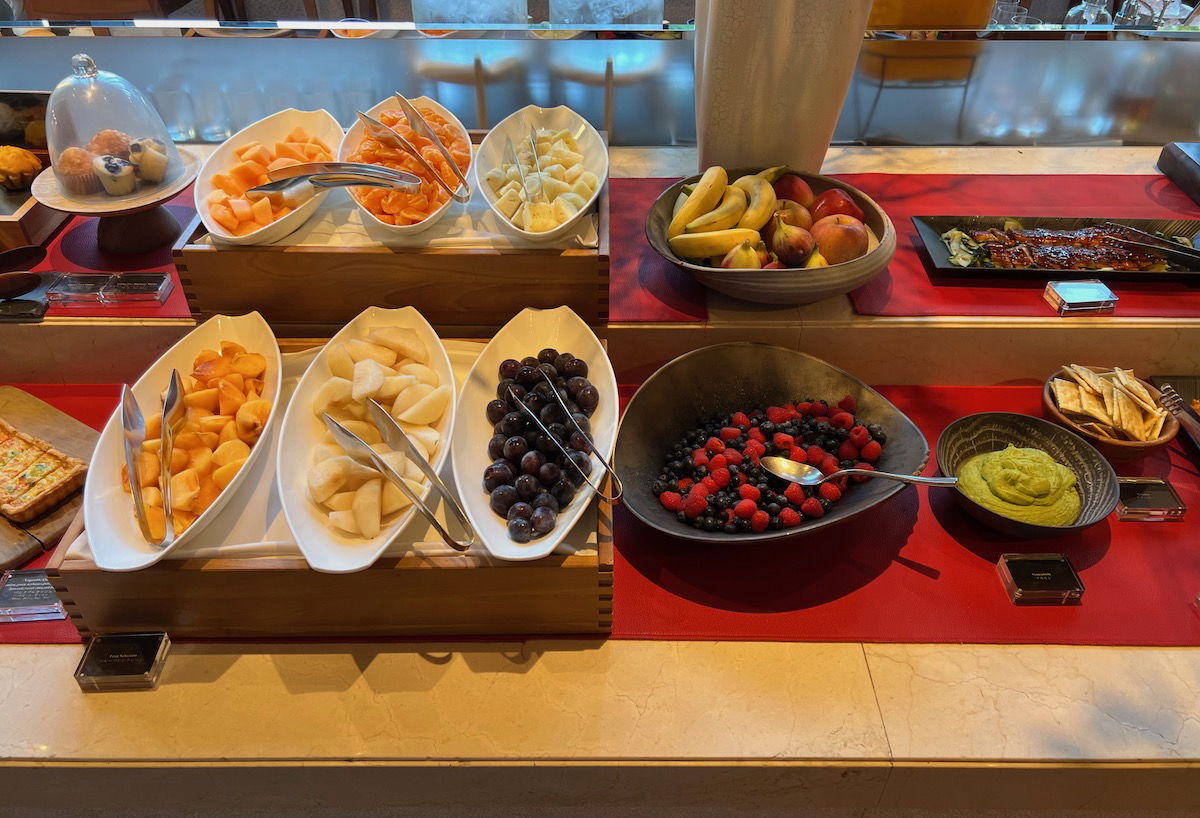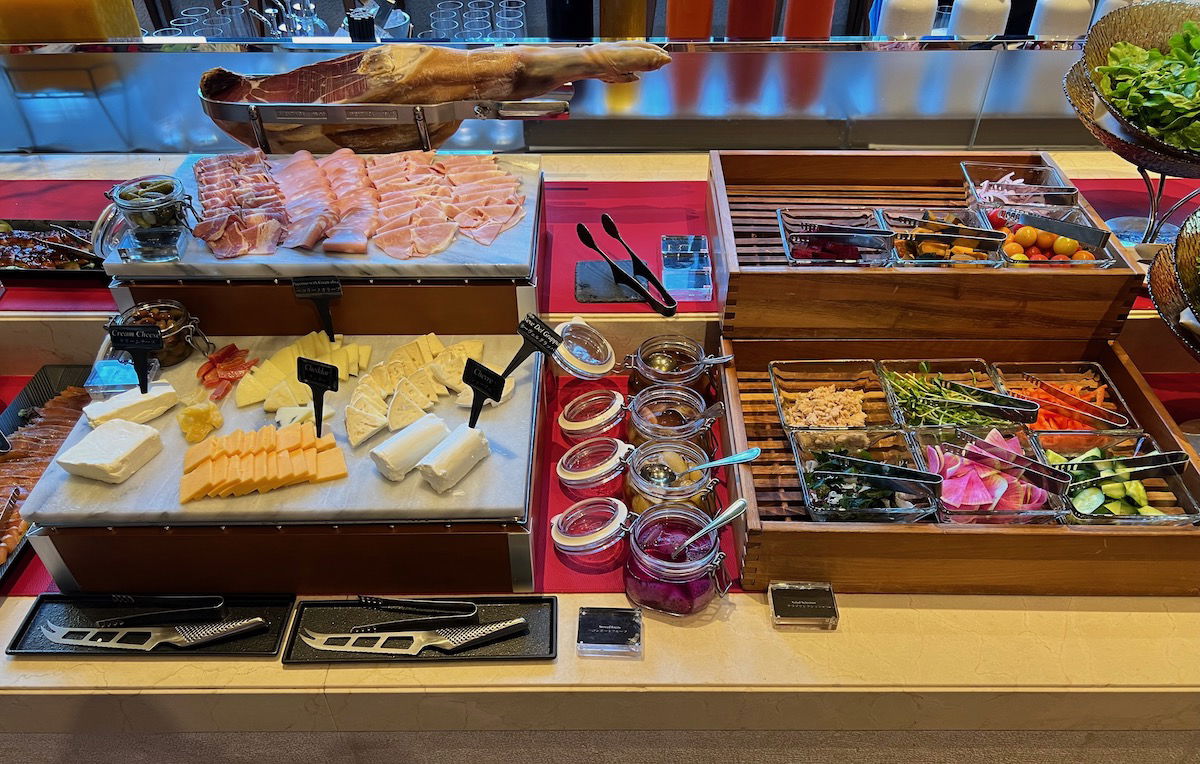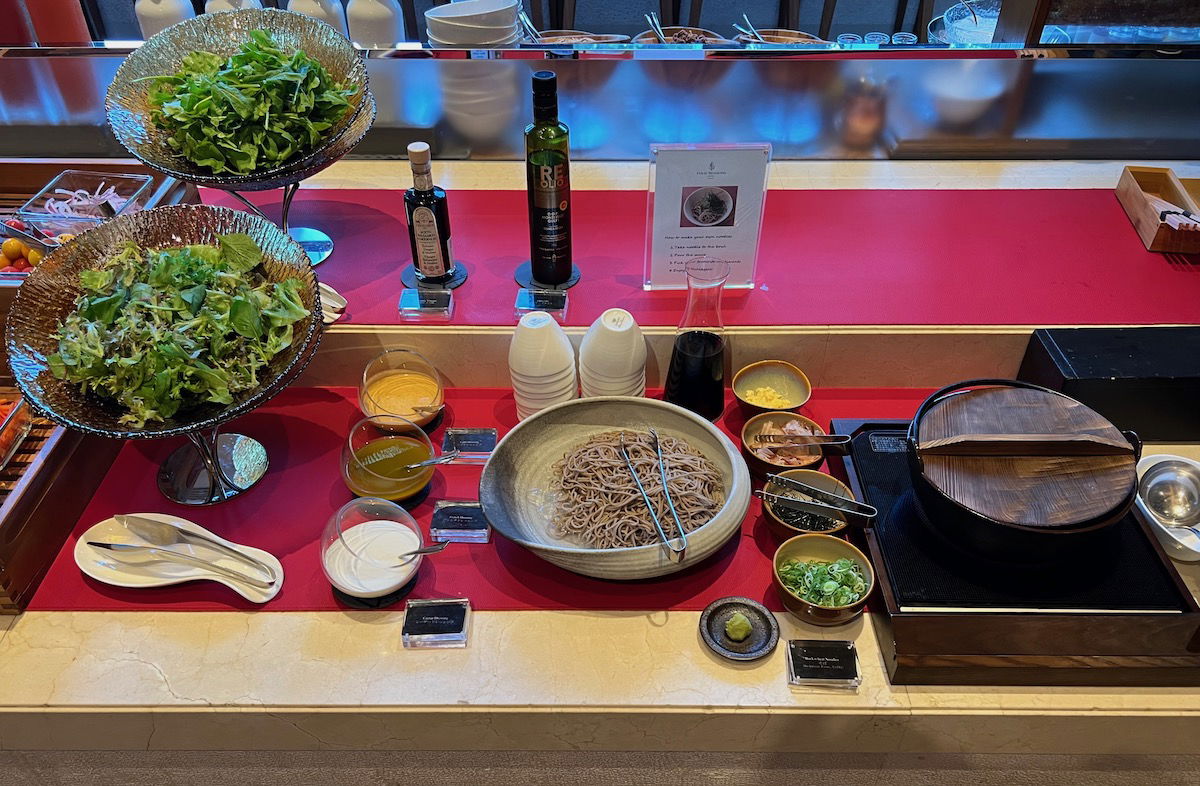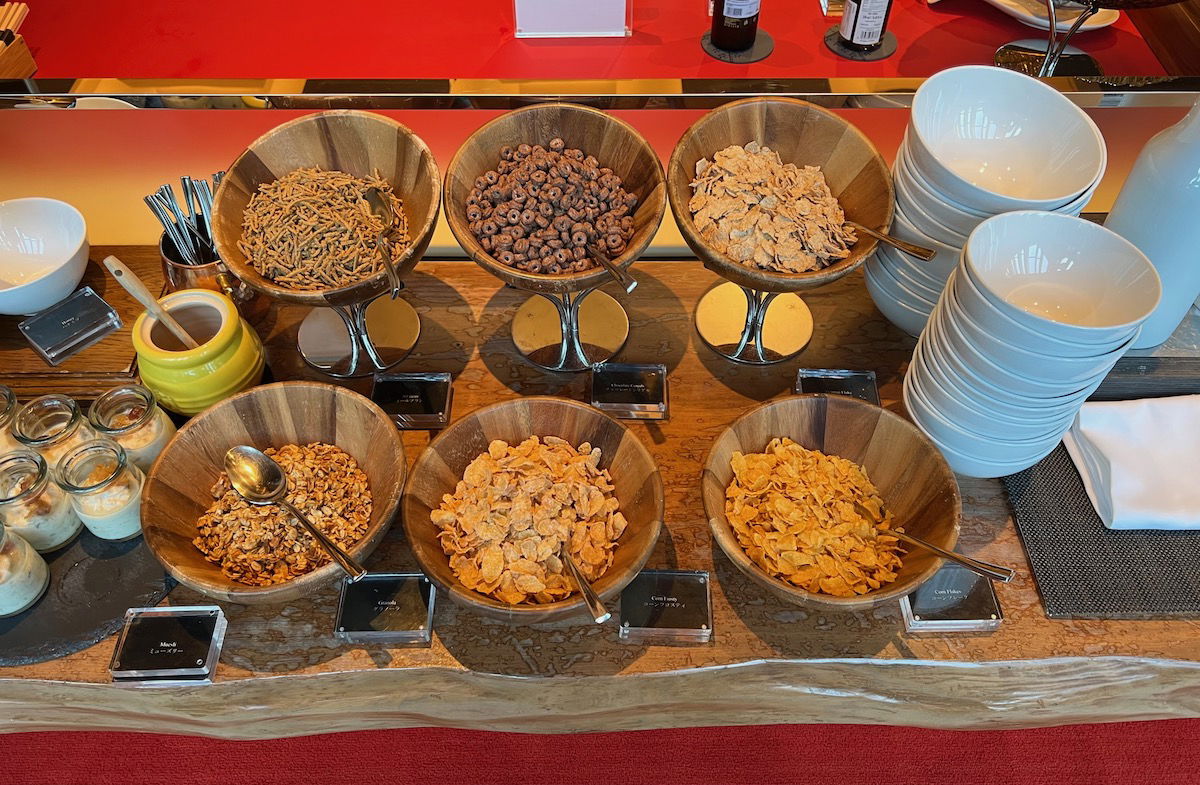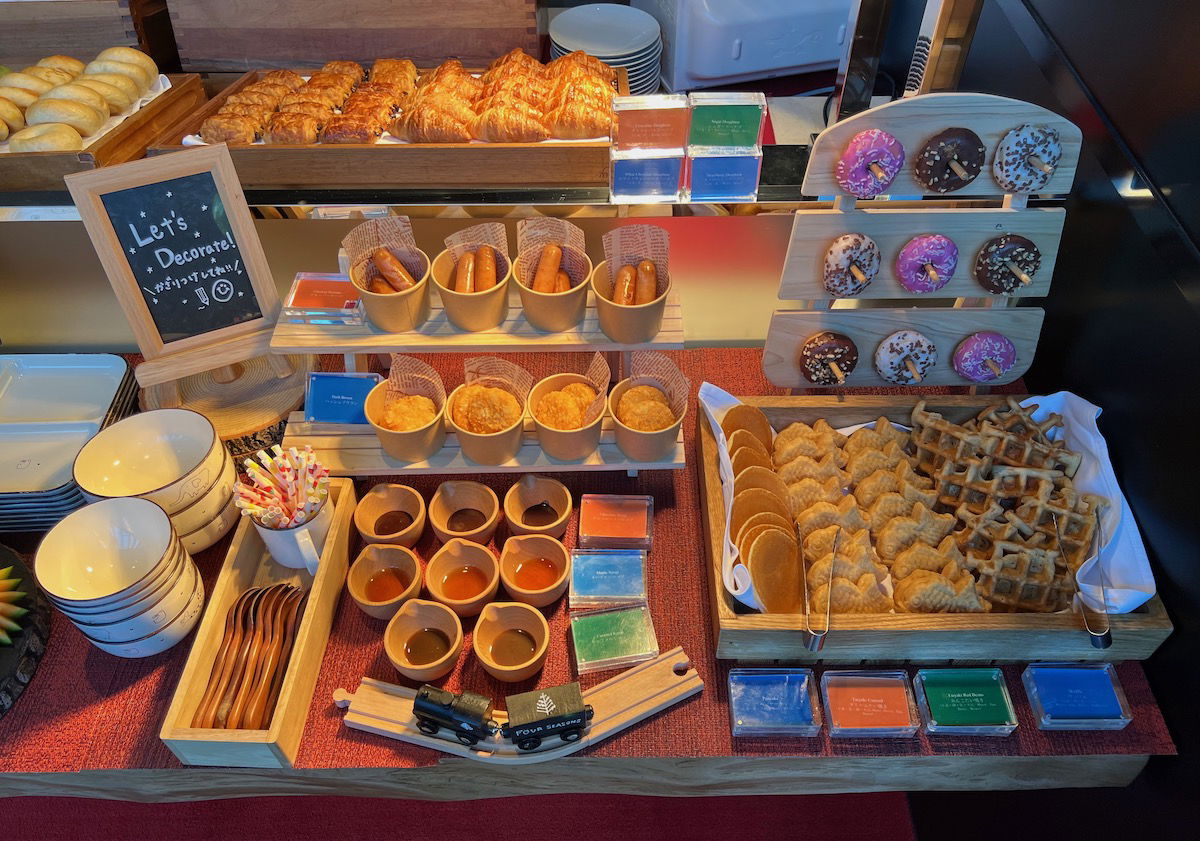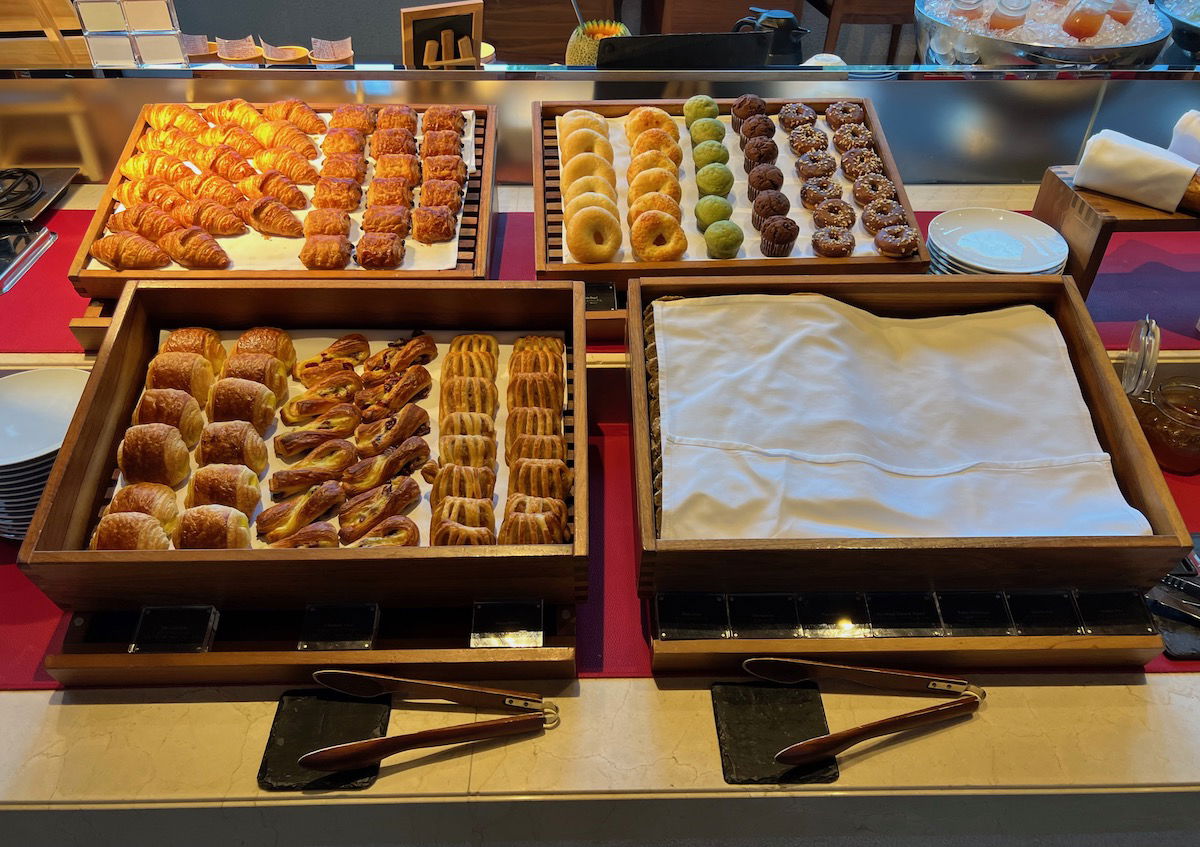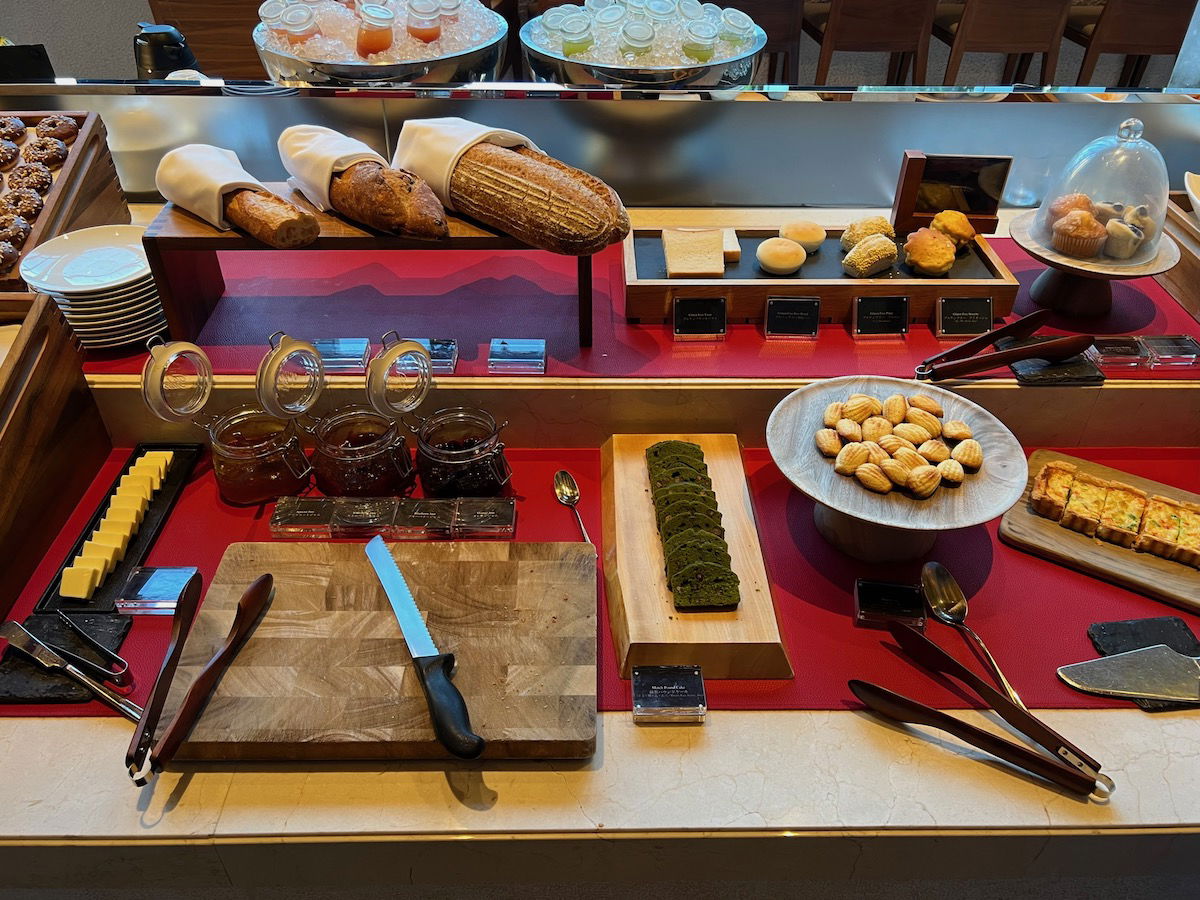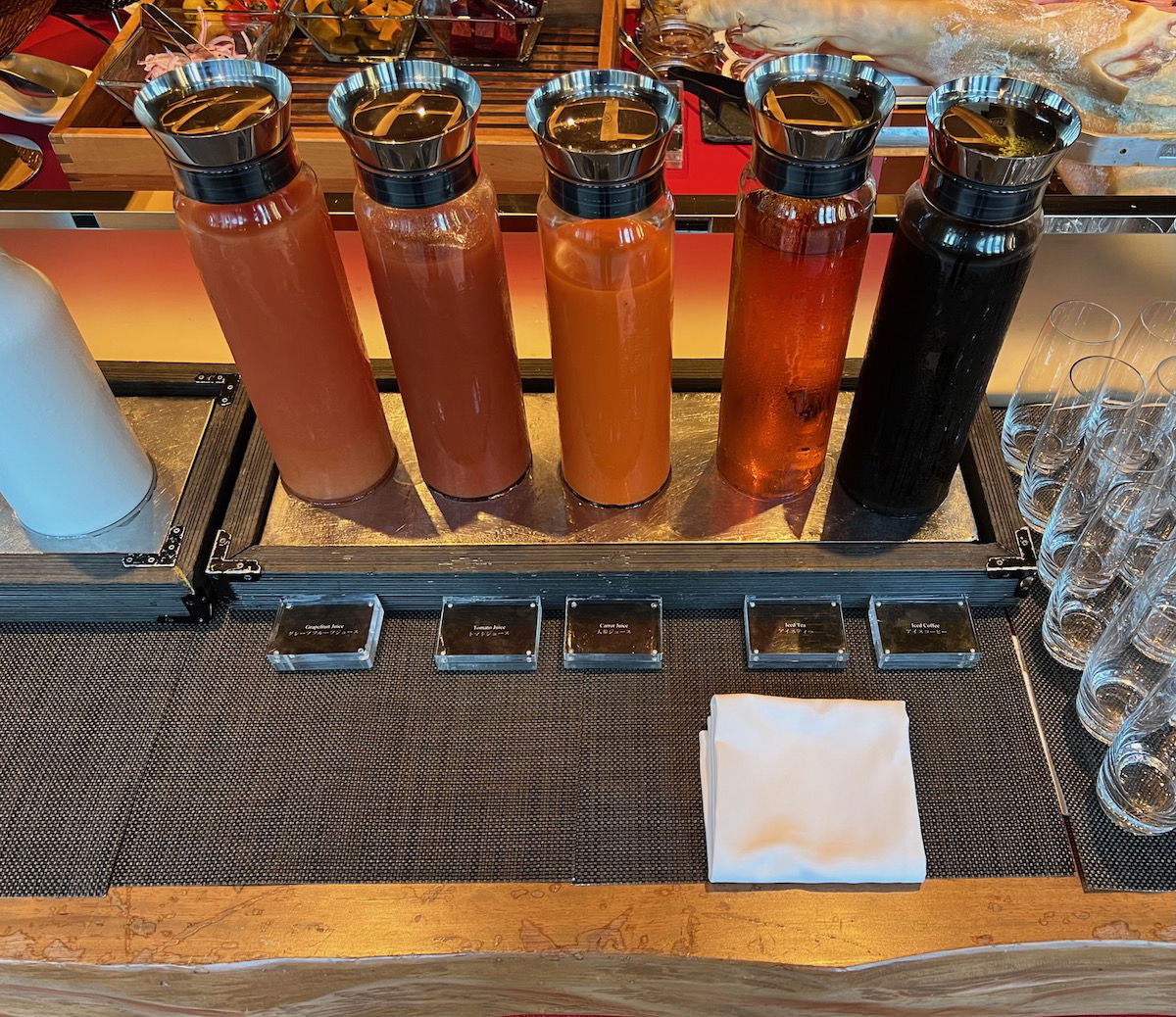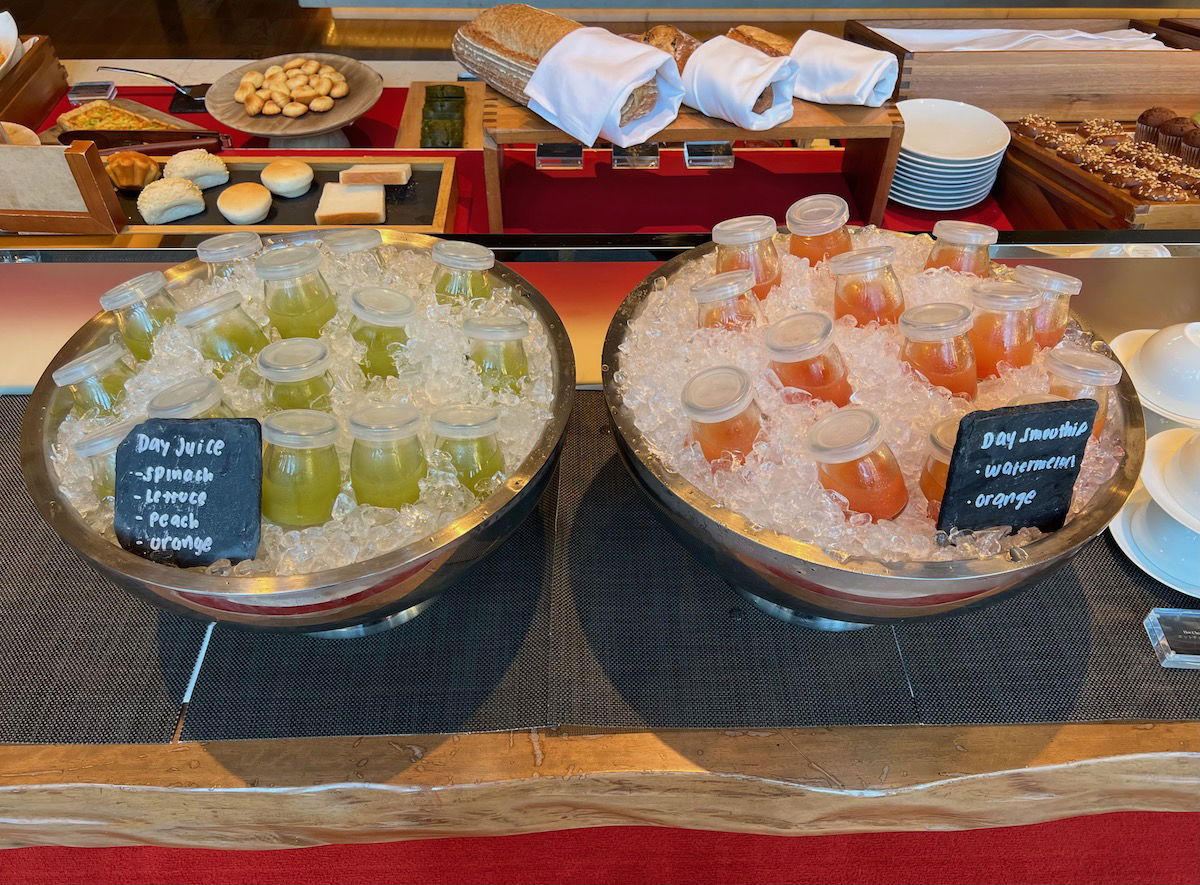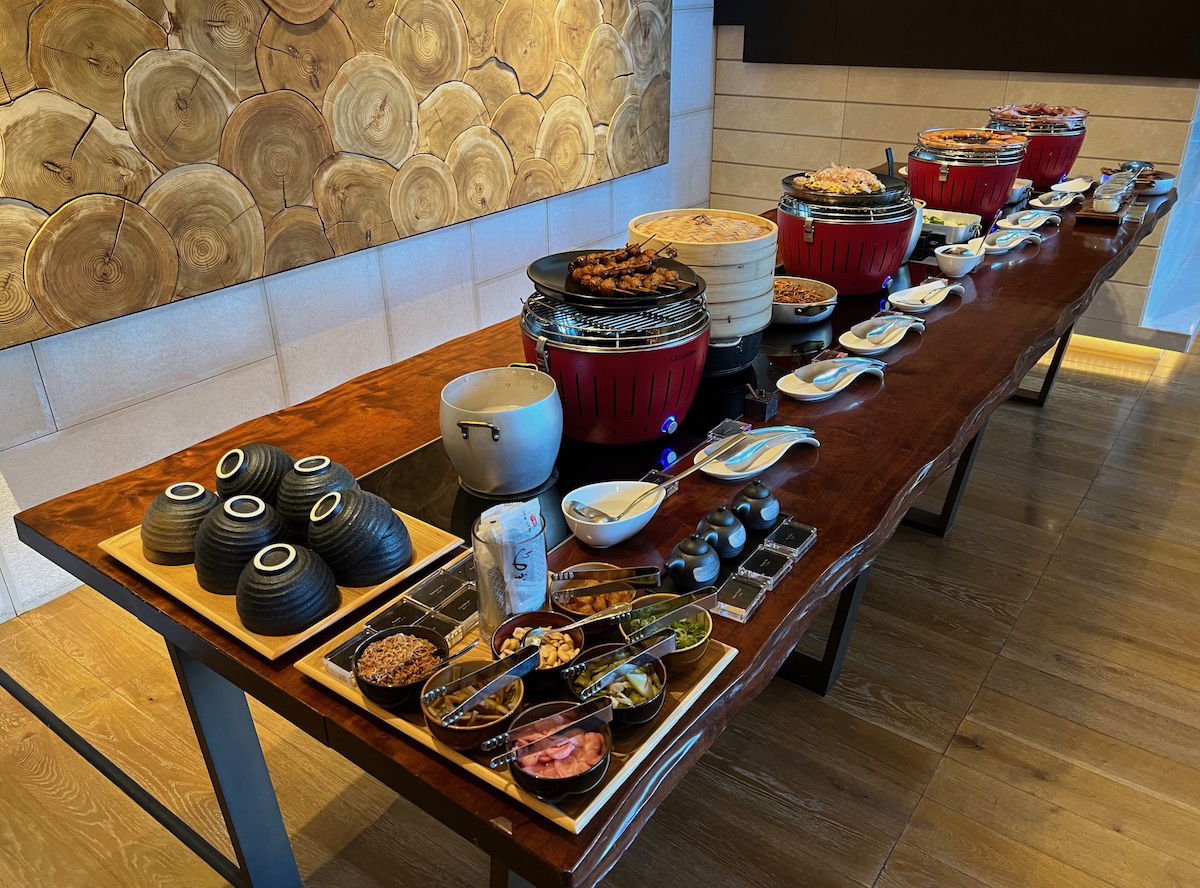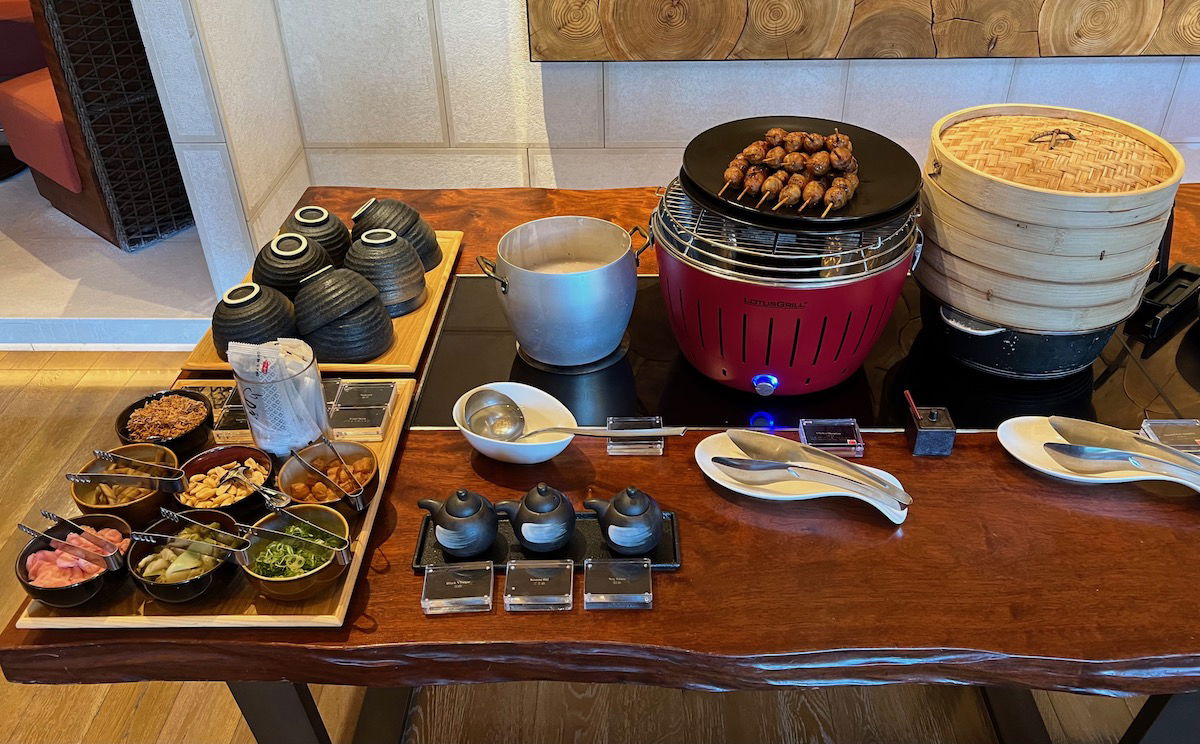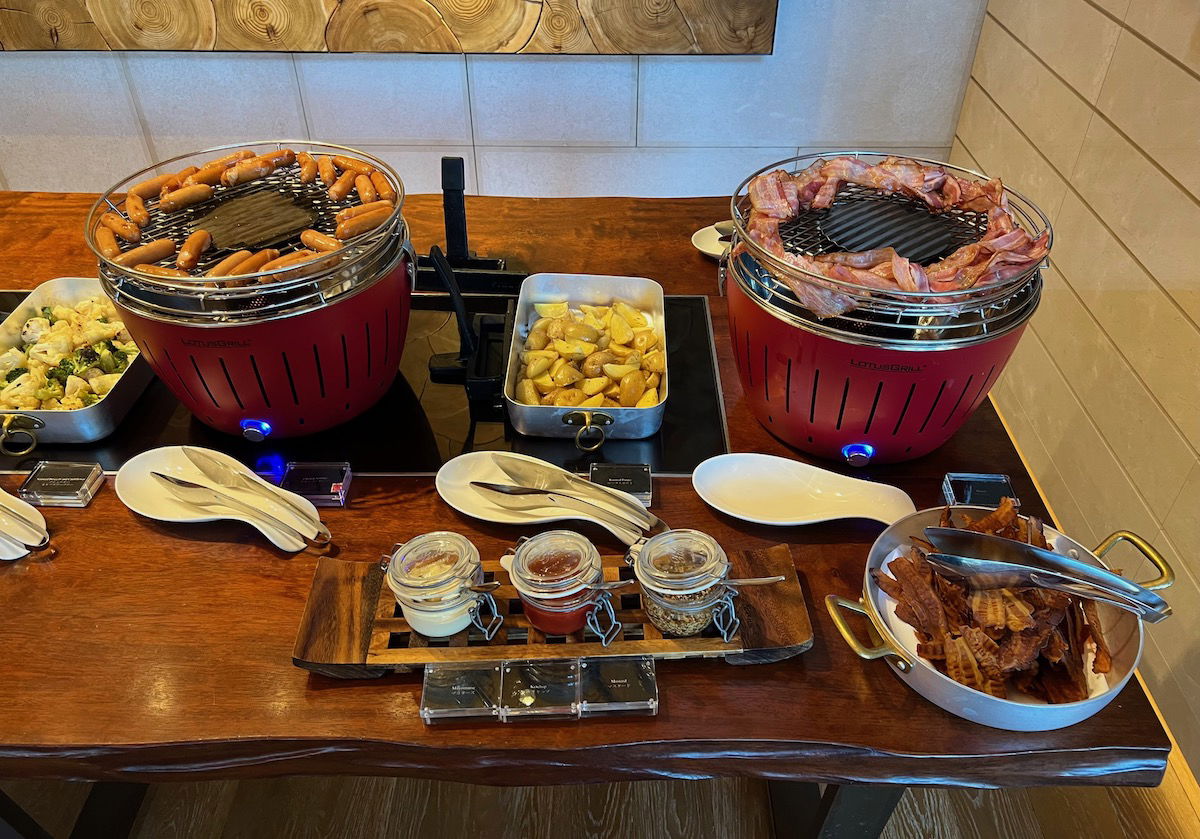 The fresh juices and cappuccinos were very good, and I also enjoyed the veggie omelet that I had.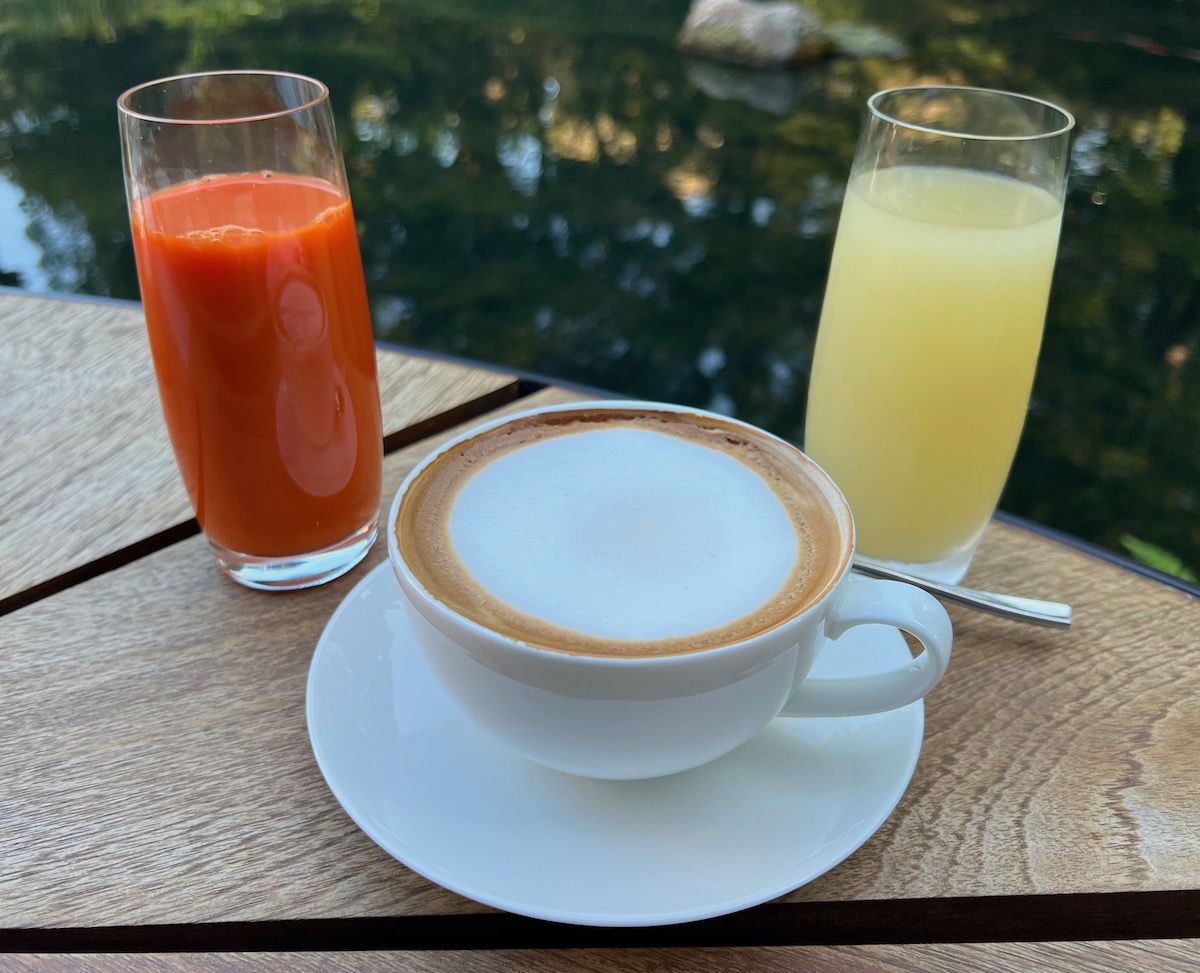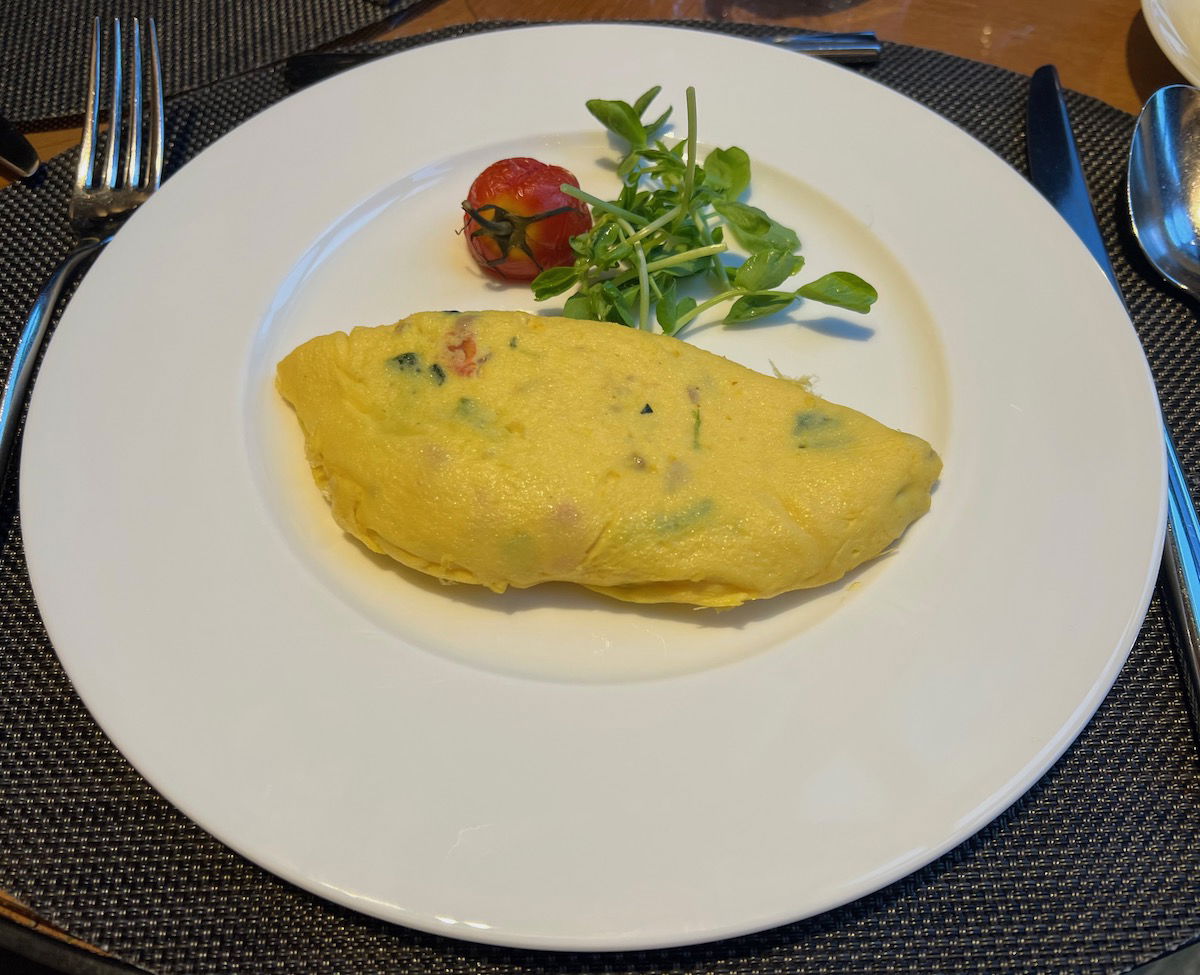 The second morning we decided to have the Japanese breakfast. This changes every day, and below you can see the menu for the day that we enjoyed it.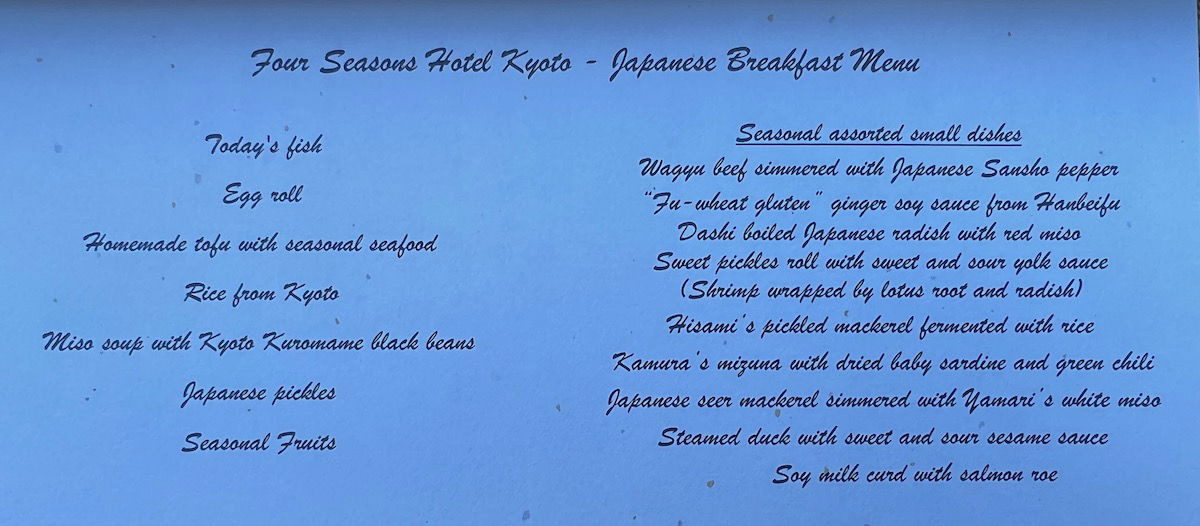 The Japanese breakfast was really great.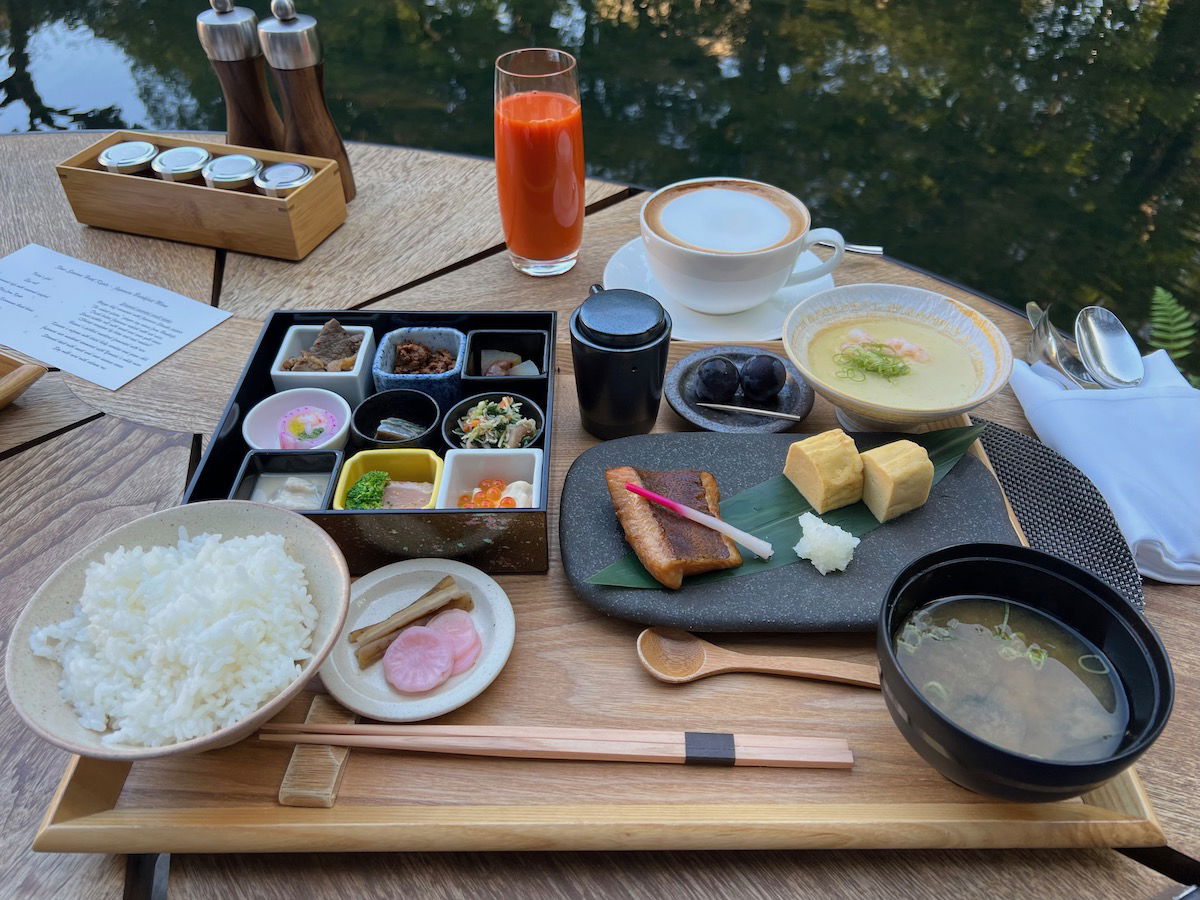 But you know what made the breakfast even better? The view. This is simply a magical setting in which to enjoy breakfast.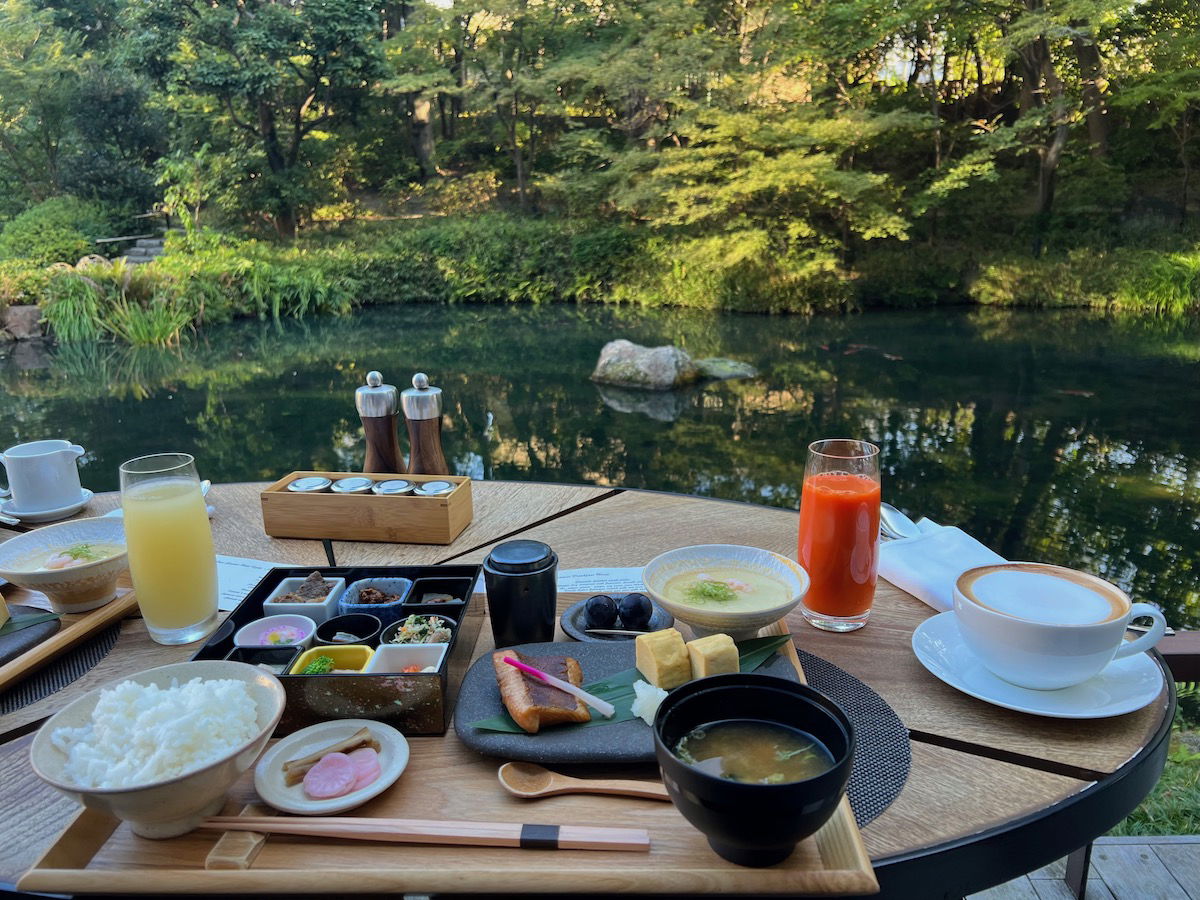 Four Seasons Kyoto Sushi Wakon
Sushi Wakon is the Four Seasons' signature Japanese restaurant. It's an intimate space, as it just consists of an eight meter (26 foot) Hinoki counter. We decided to have dinner here one evening. I just love these kinds of experiences, because it's basically dinner and a show, as you get to see the precision and passion with which everything is prepared.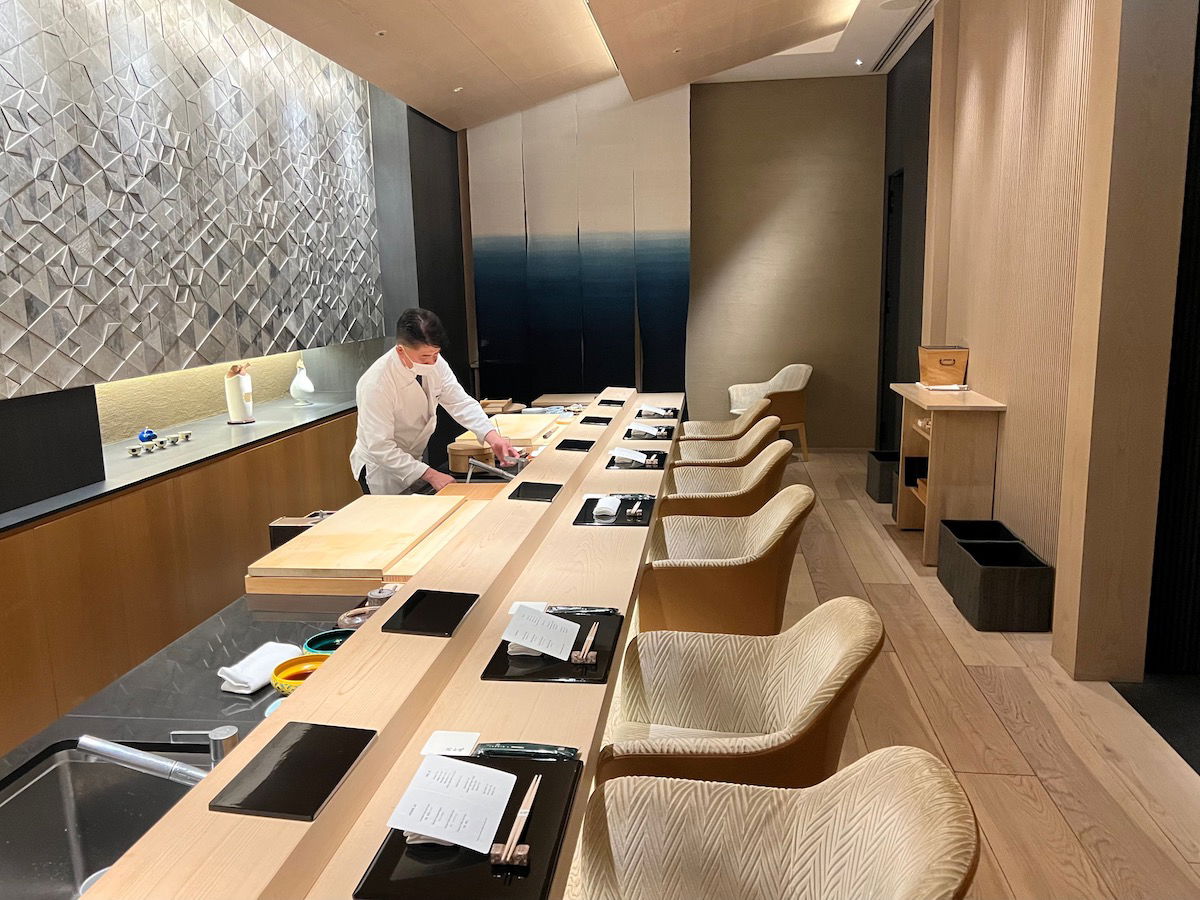 Sushi Wakon has an omakase concept, and you can find the menu for our evening below.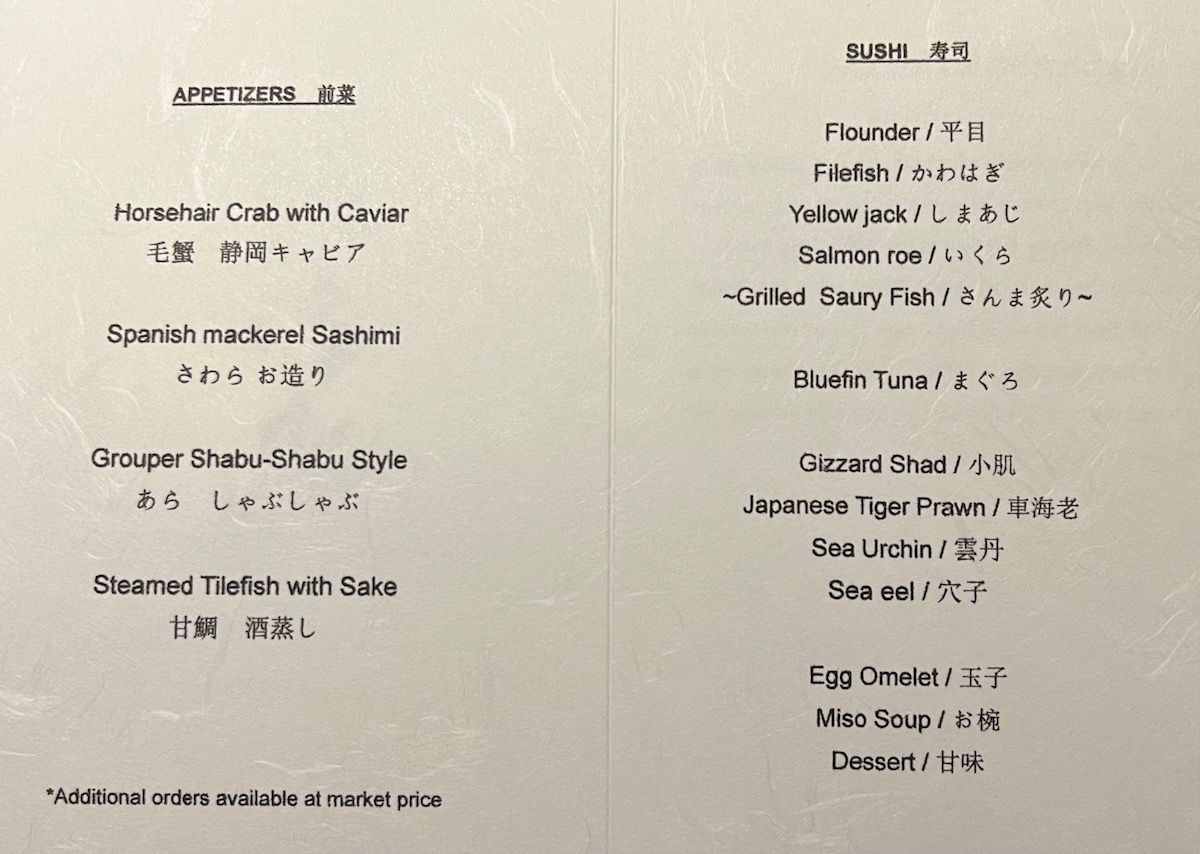 At the beginning of the meal, the chef presented us with many of the products that would be used for our meal.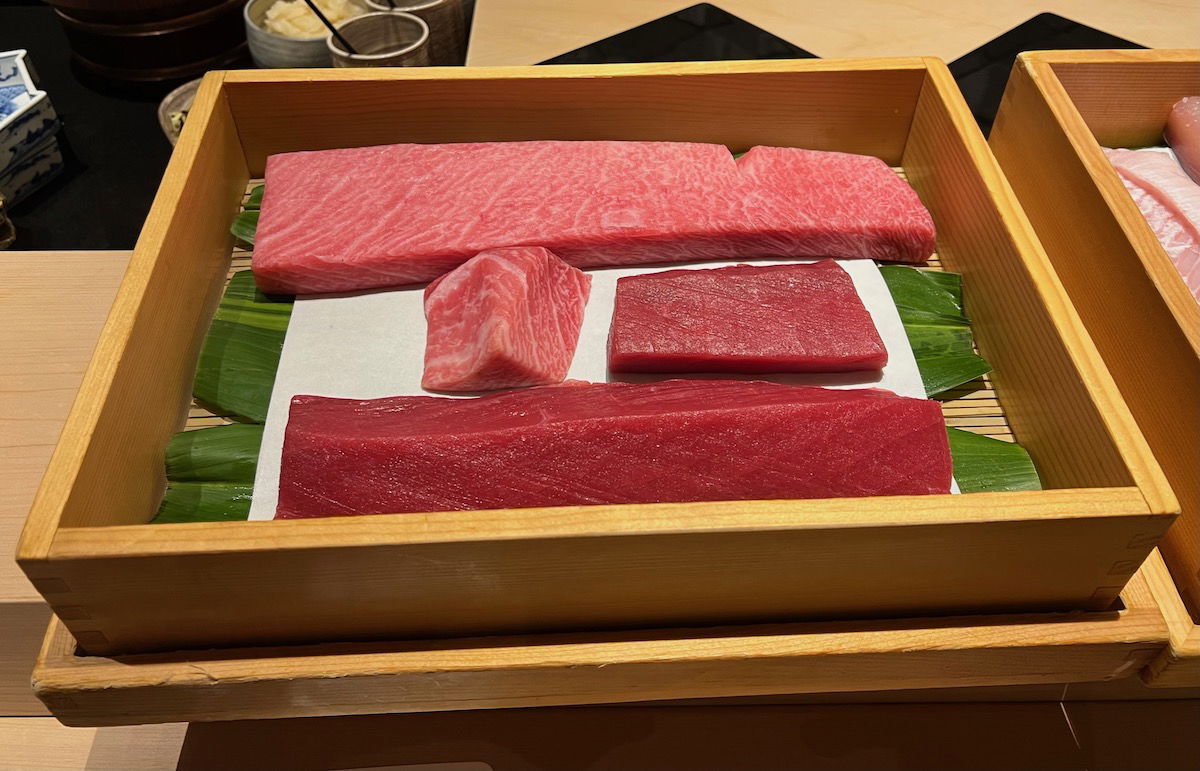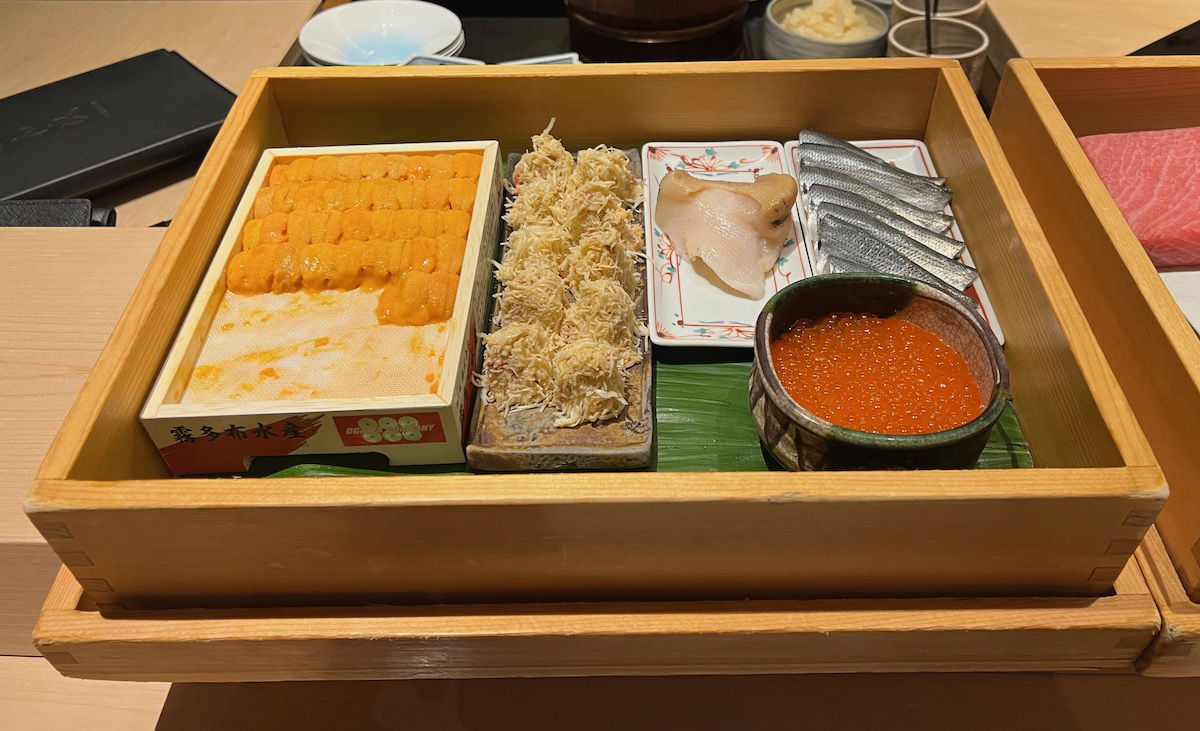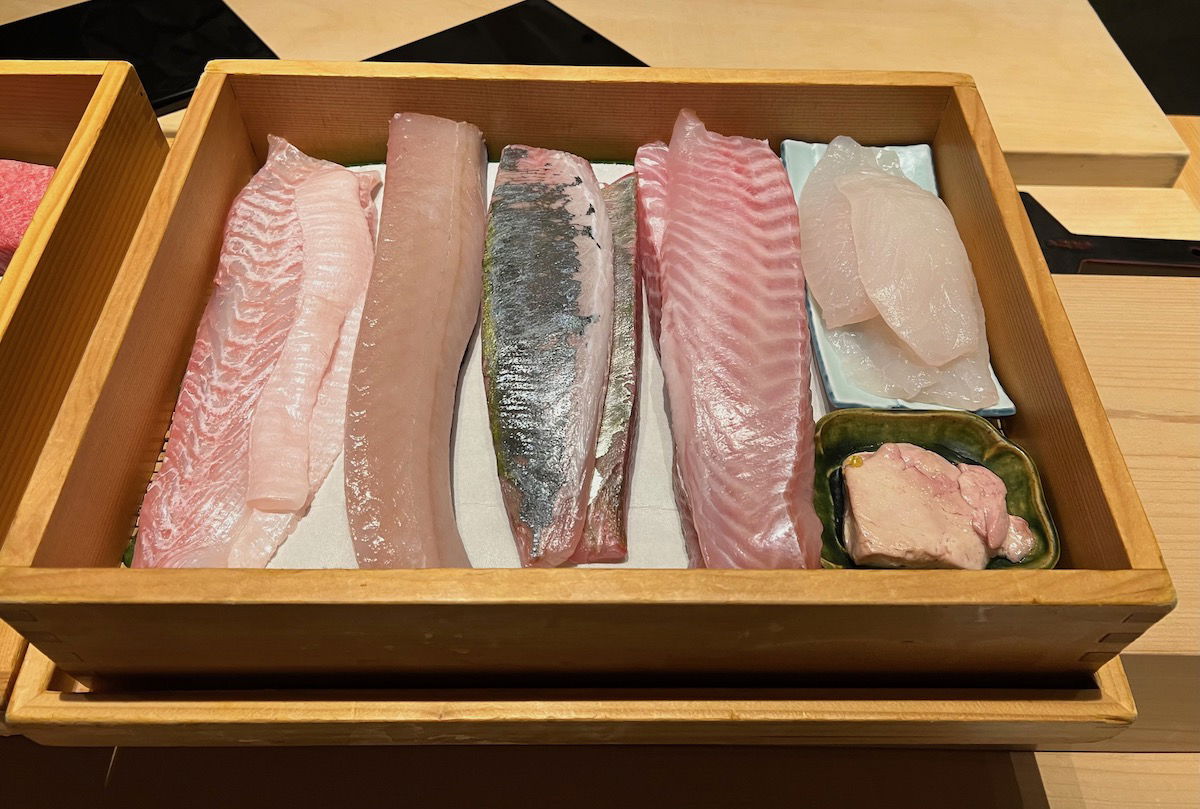 Below is just a small sampling of some of the dishes that we enjoyed…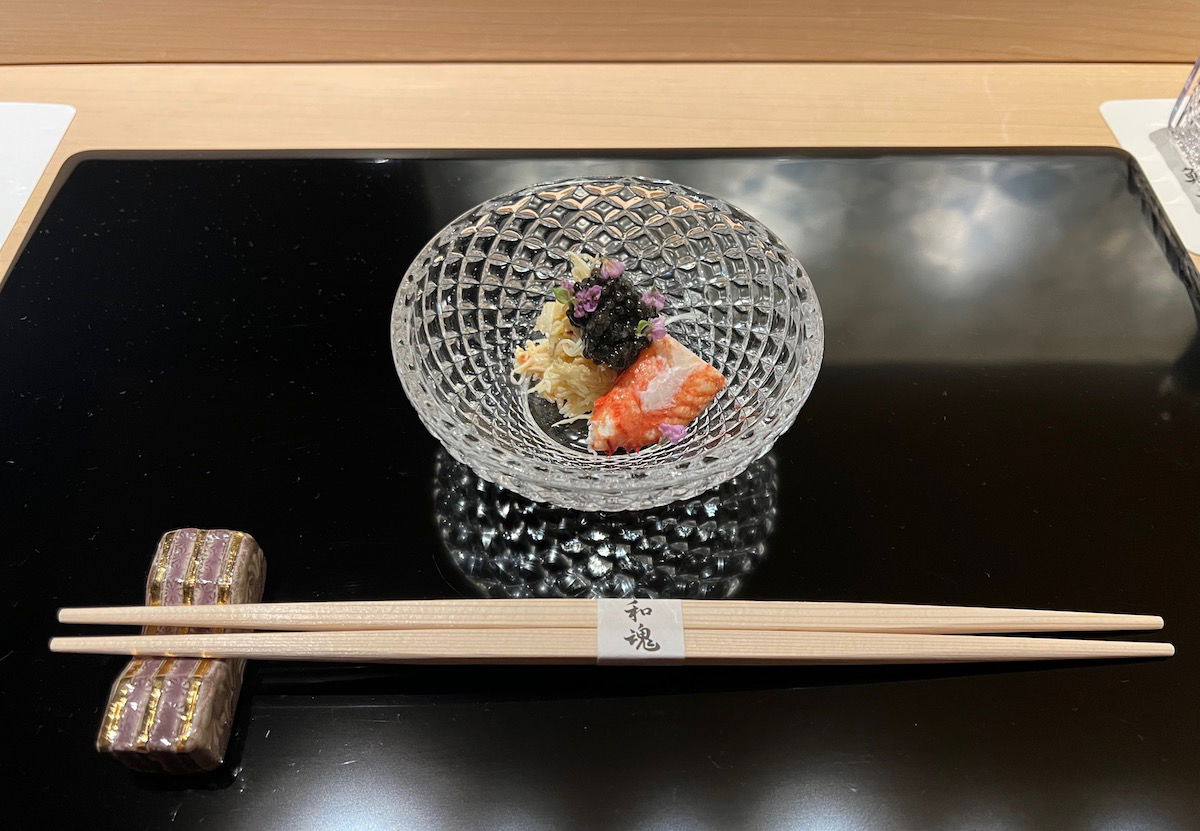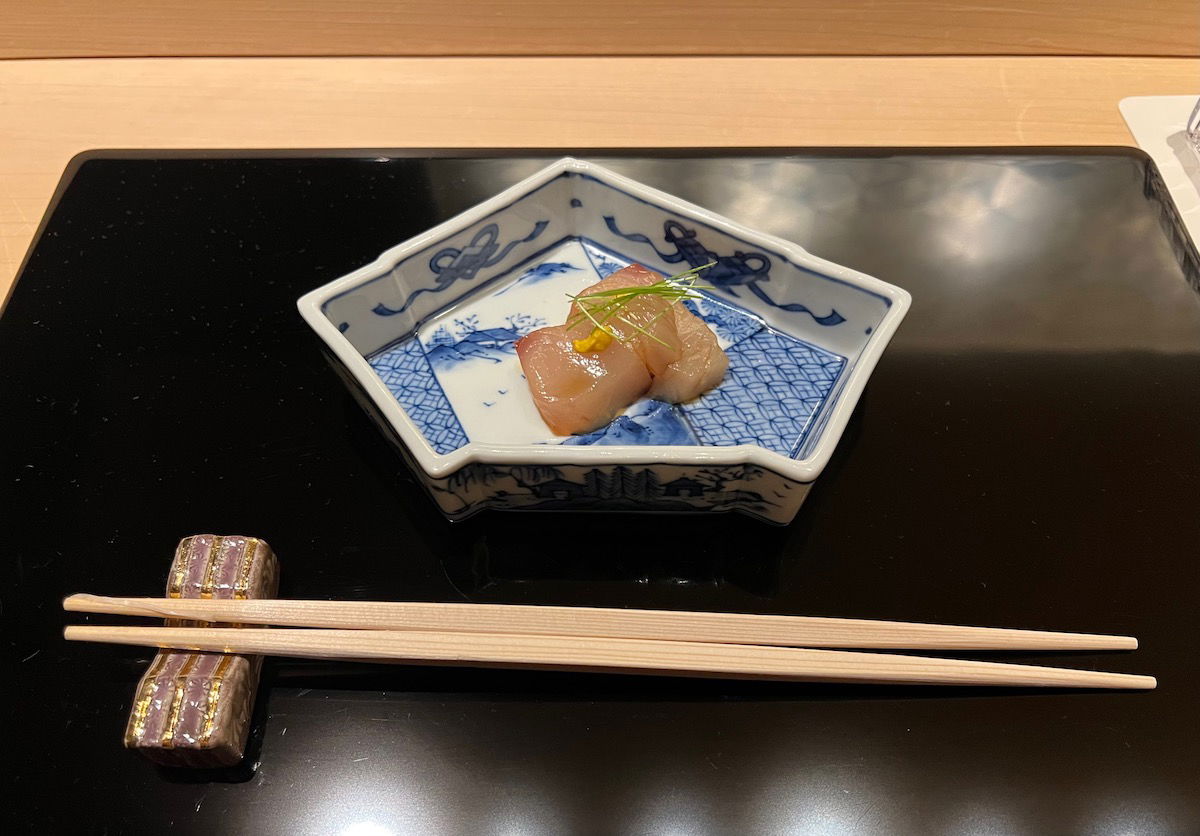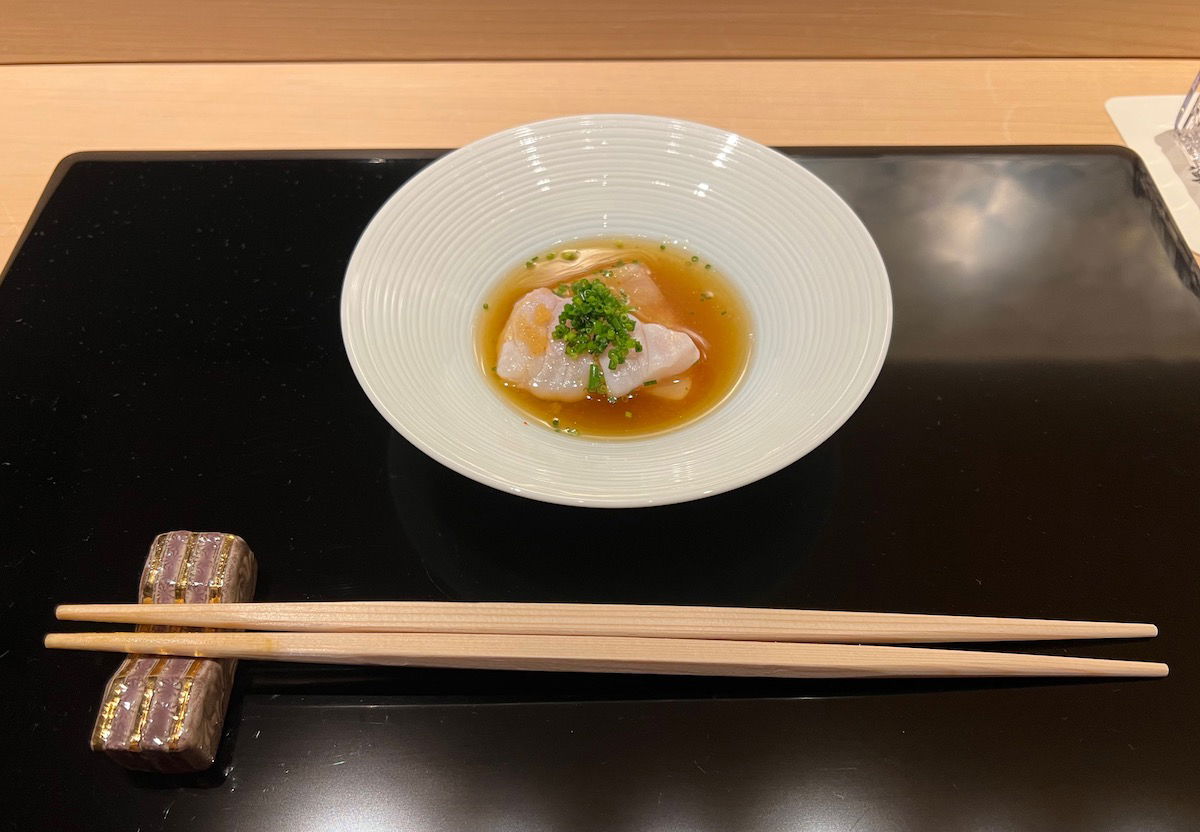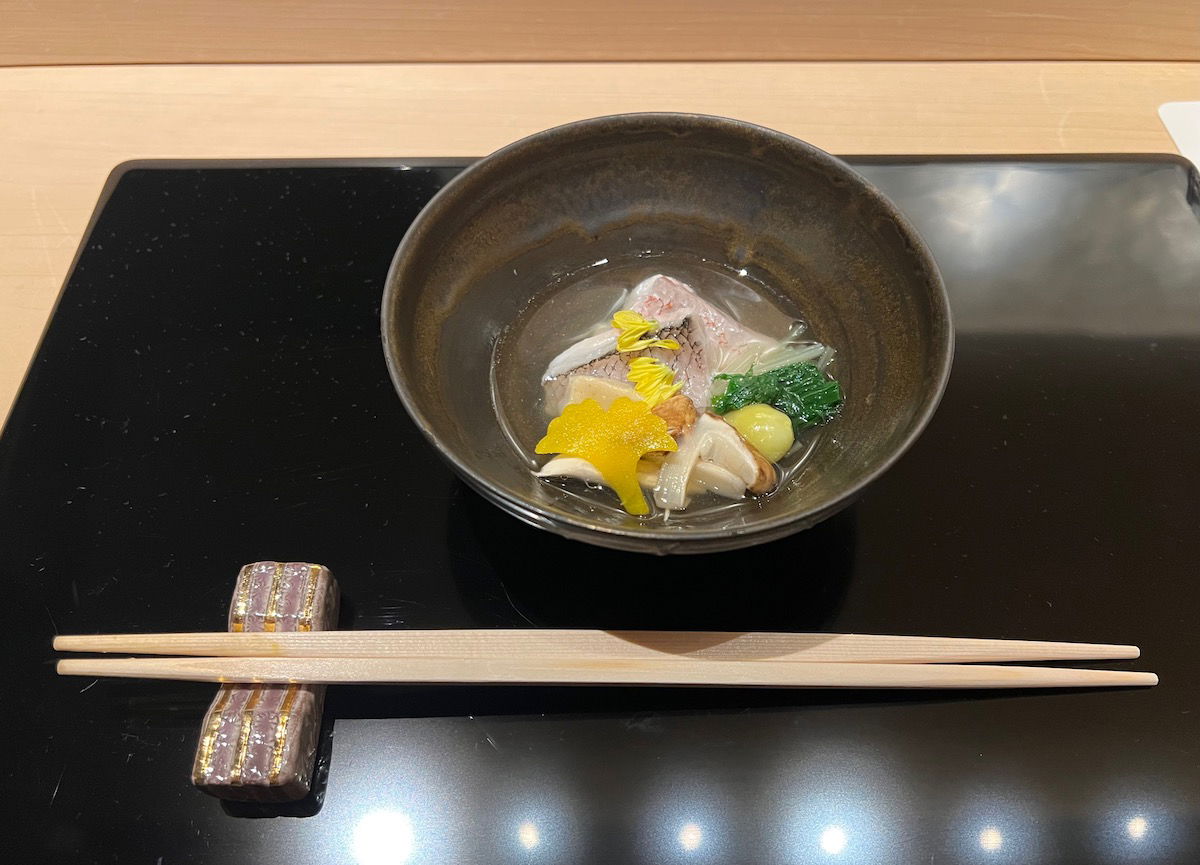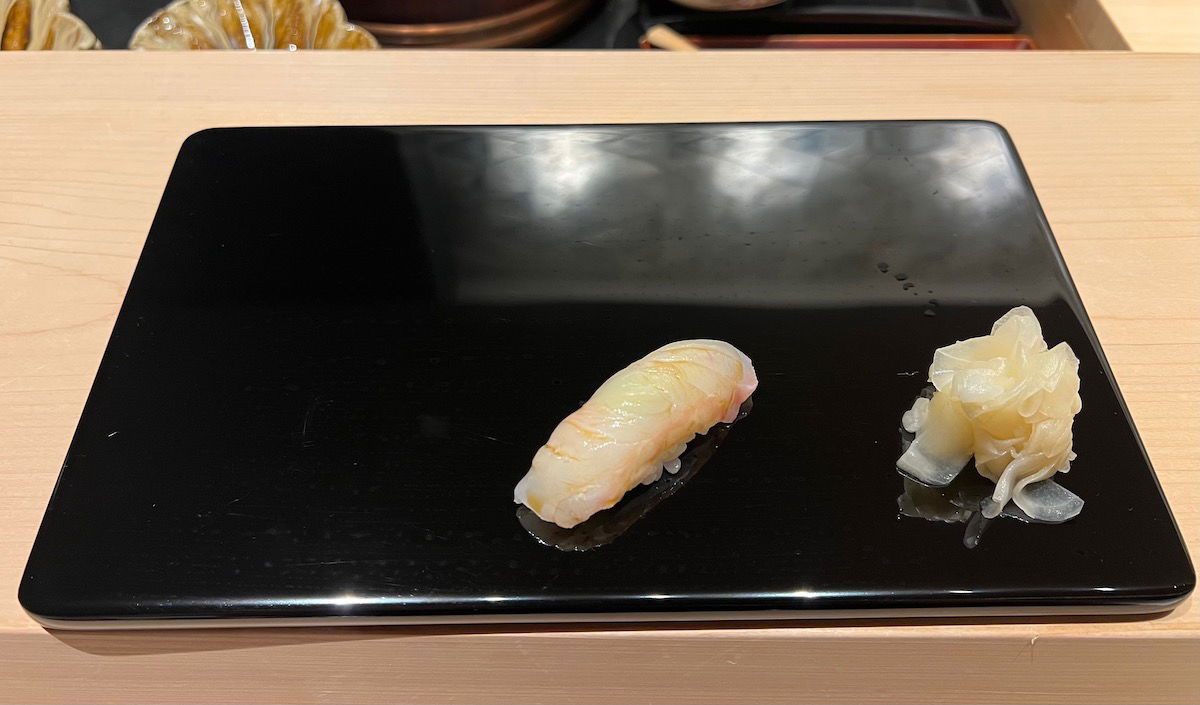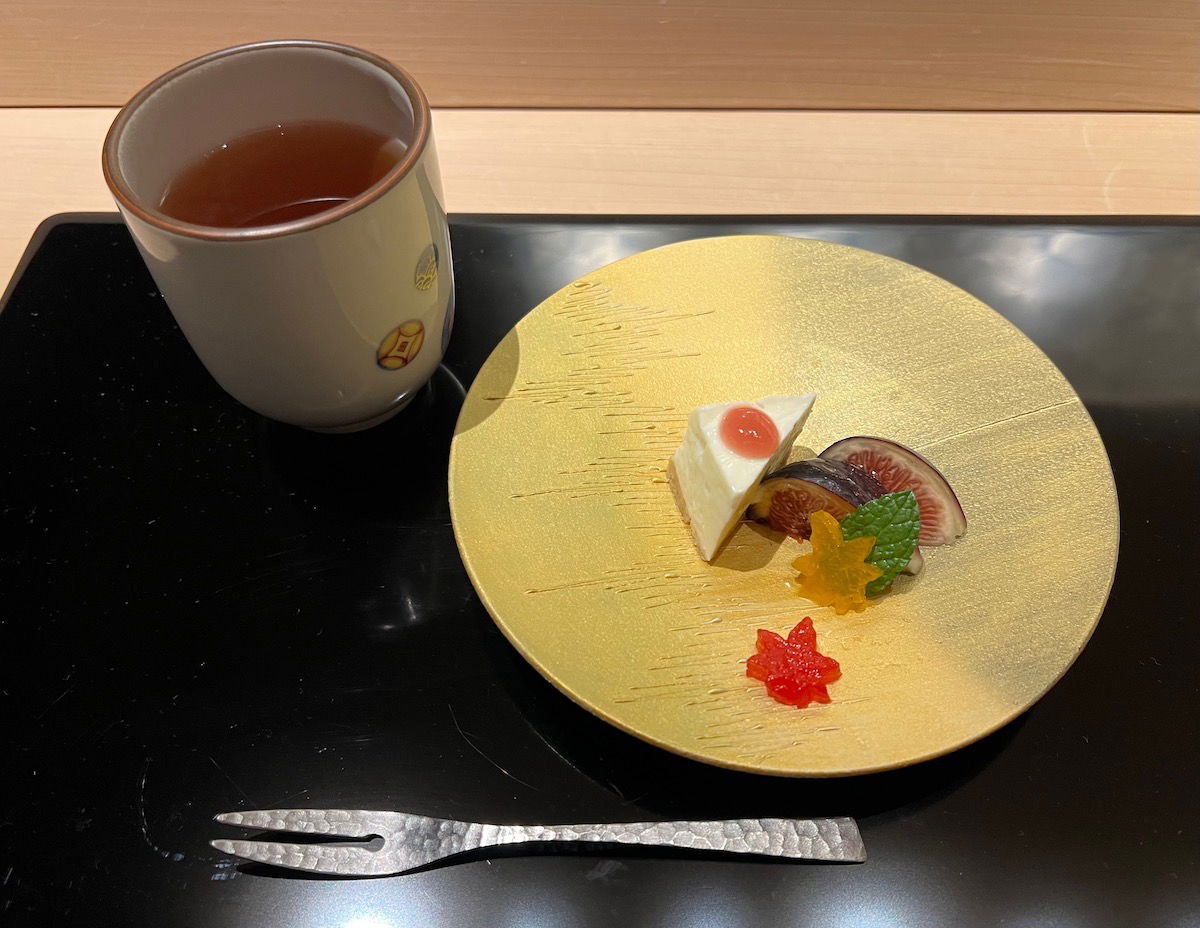 It was an excellent meal — you could taste the freshness of all the ingredients, all the dishes were beautifully plated, and the chef was fun to watch as well.
Admittedly the quality of dining in Japan is just so high. The only thing I'd say is that this was the most expensive meal we had in Kyoto (at ~$250 per person, including the service charge), but it wasn't necessarily our single favorite meal.
Four Seasons Kyoto Fuju Tea Garden
The Four Seasons Kyoto makes the most of its pond garden space, as the hotel has Fuju Tea Garden, open daily from 2PM until 7PM. This is located across the glass bridge and down the path, and it leads to a cute little house with both indoor and outdoor seating.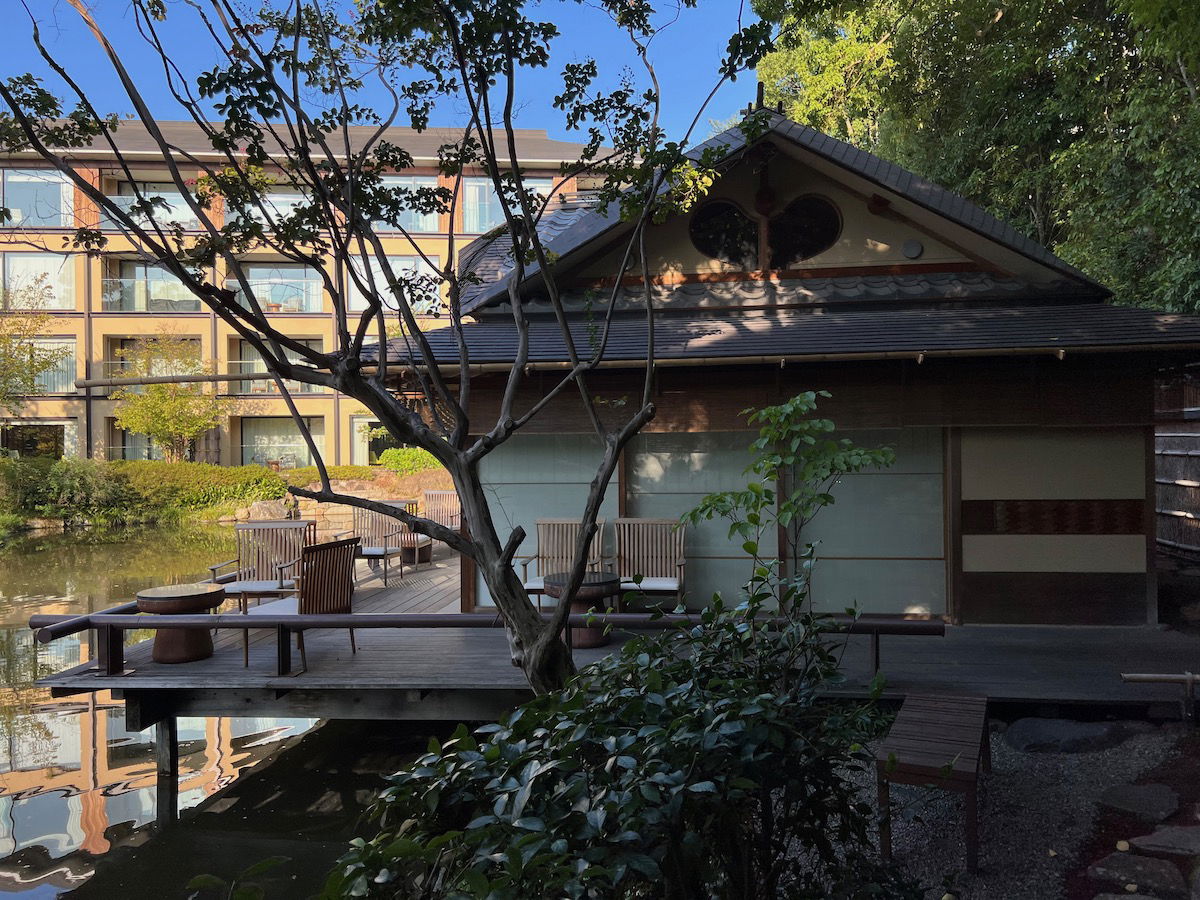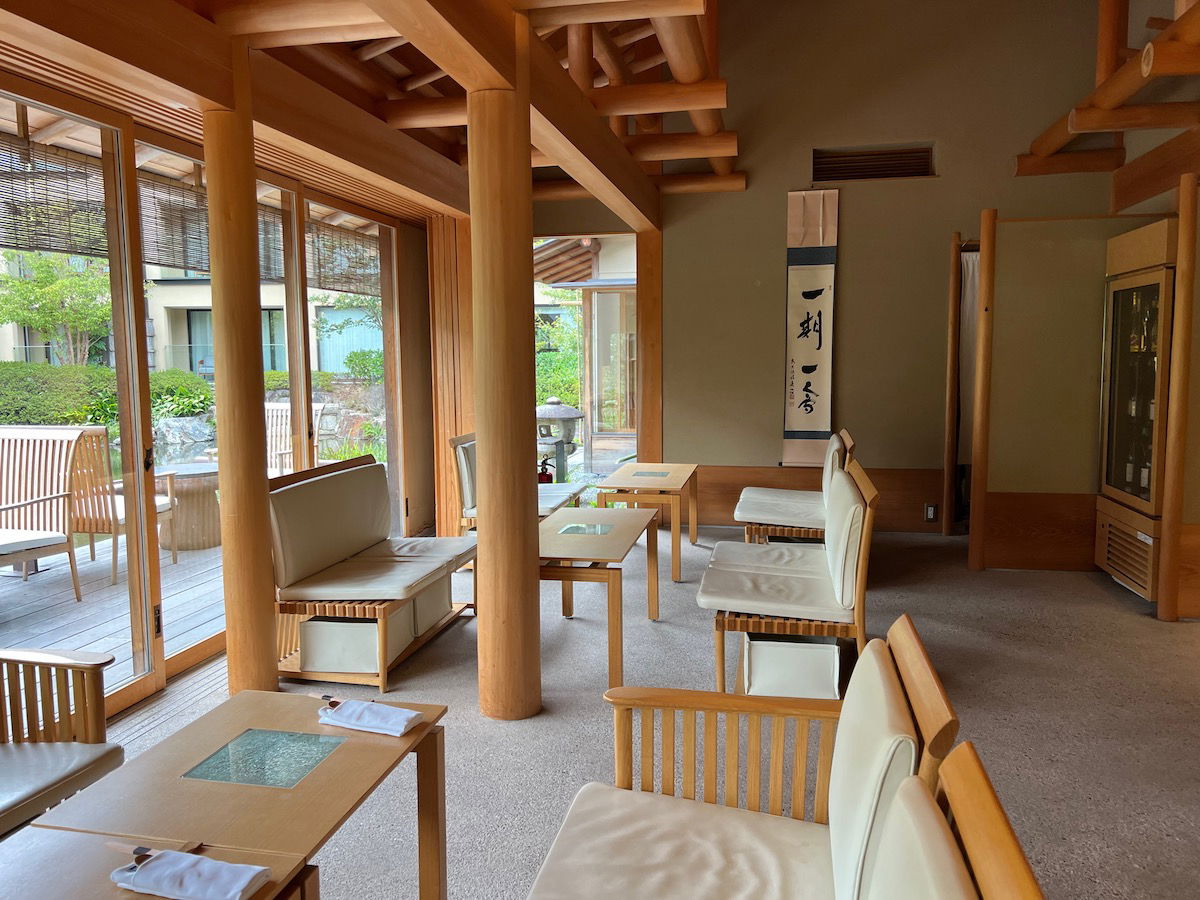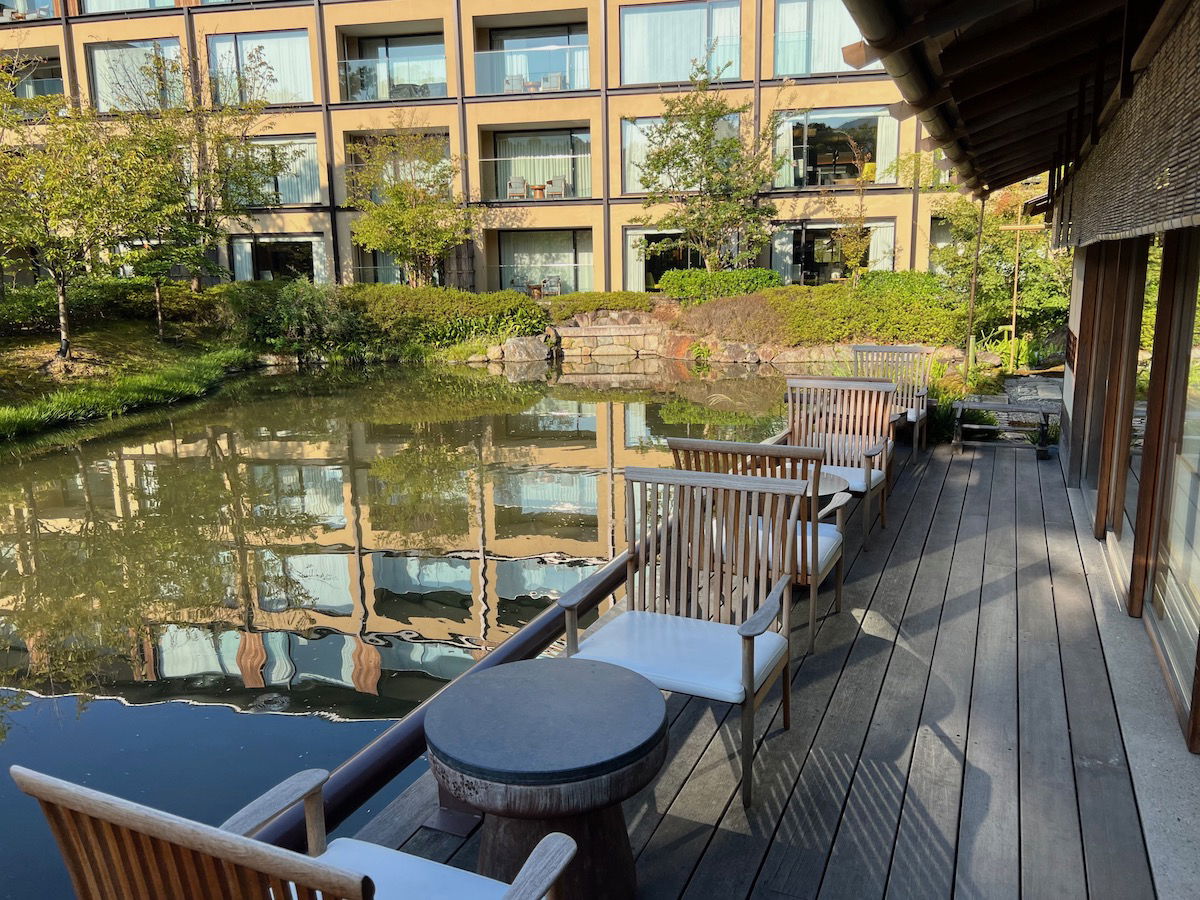 Fuju Tea Garden serves a selection of dessert, tea, sake, gin, and champagne.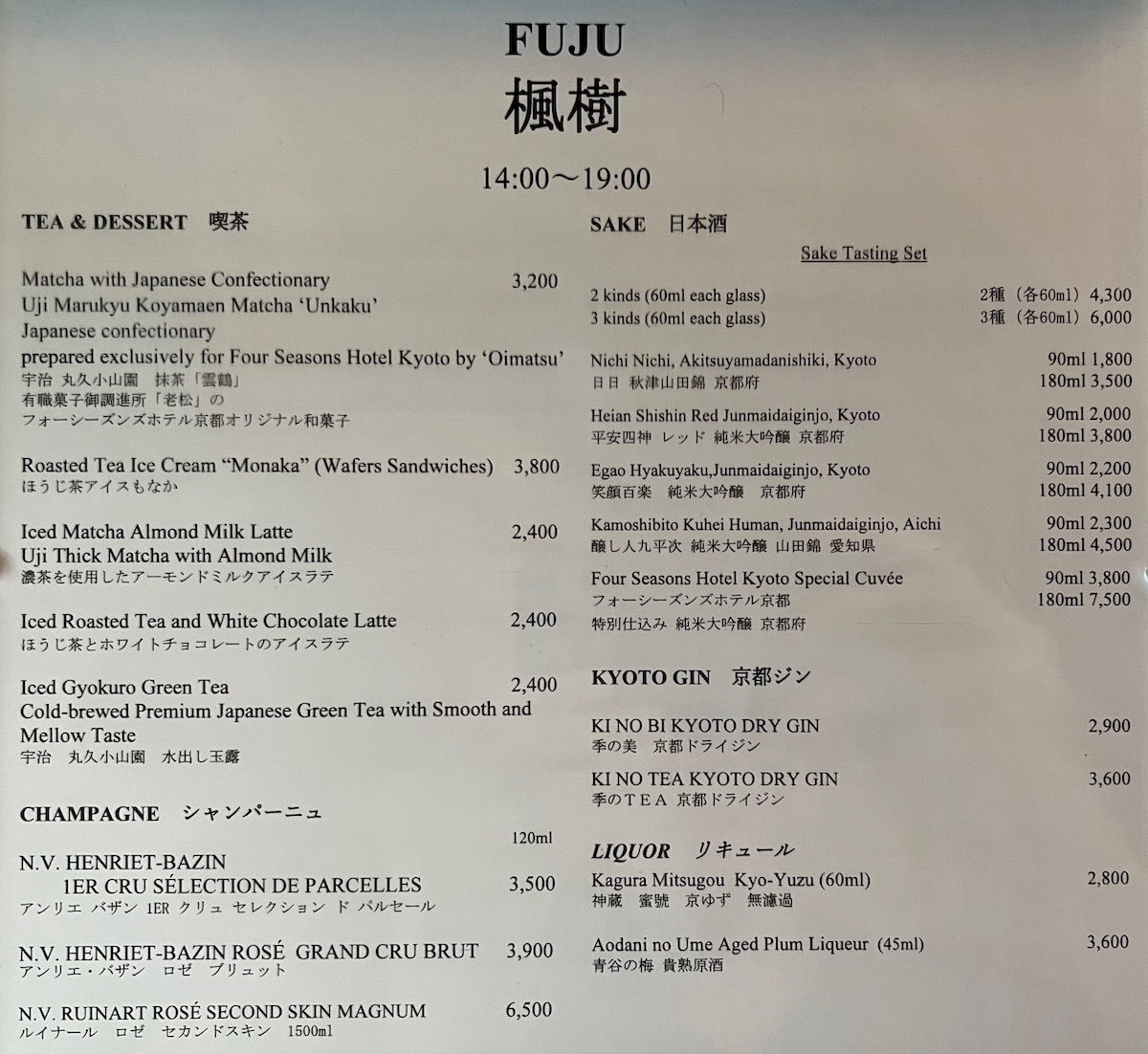 We came here for an afternoon snack, and split the matcha with Japanese confectionary, as well as an iced almond milk matcha latte. Asian desserts are just about my favorite thing in the world, so this was such a treat.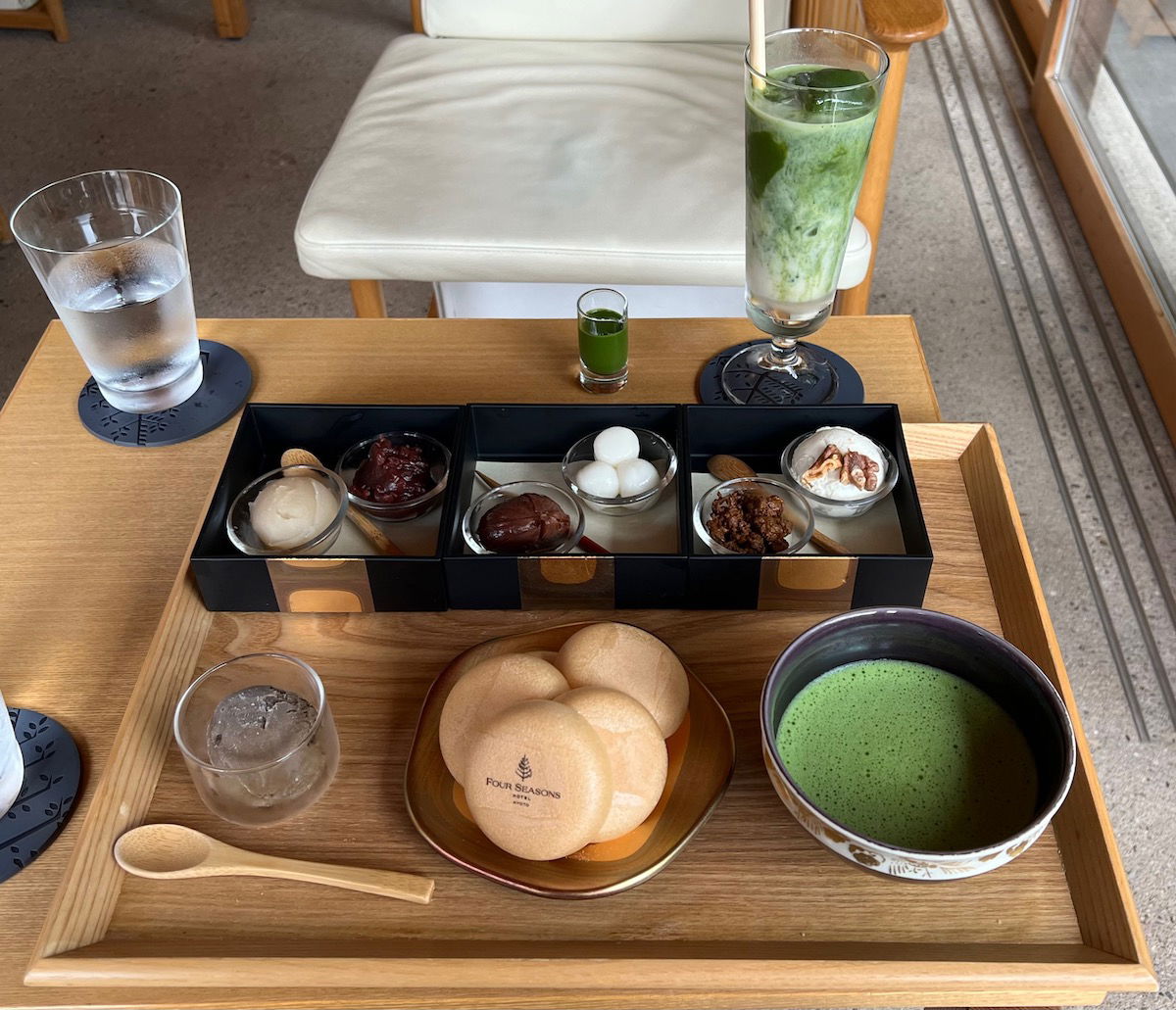 Four Seasons Kyoto Lounge & Bar
The Four Seasons Kyoto Lounge & Bar is located on the lobby level, and is open daily from 12PM until 10PM. This is a traditional hotel lobby bar, and offers a selection of light snacks, afternoon tea, and any drink you could imagine, ranging from coffee to cocktails. The bar overlooks the Brasserie, as well as the hotel's outdoor space.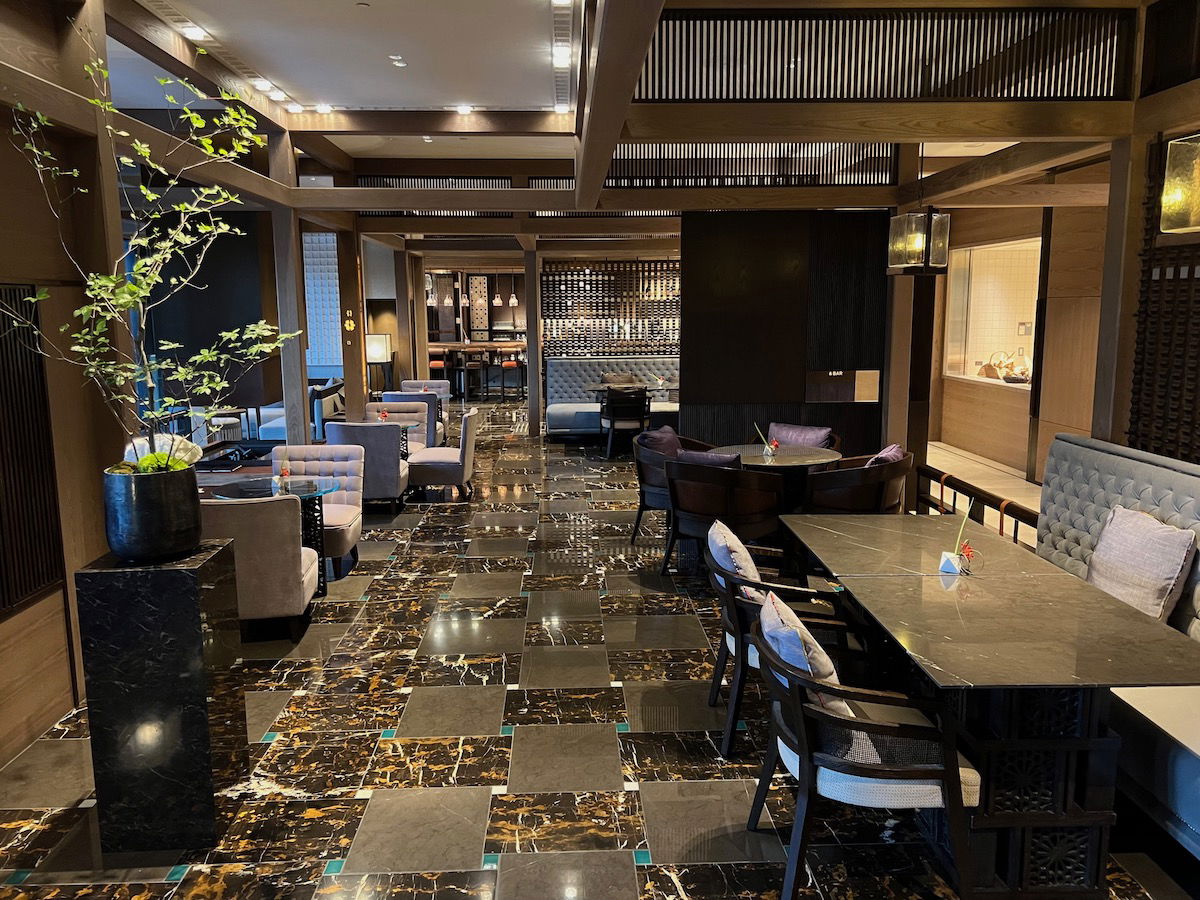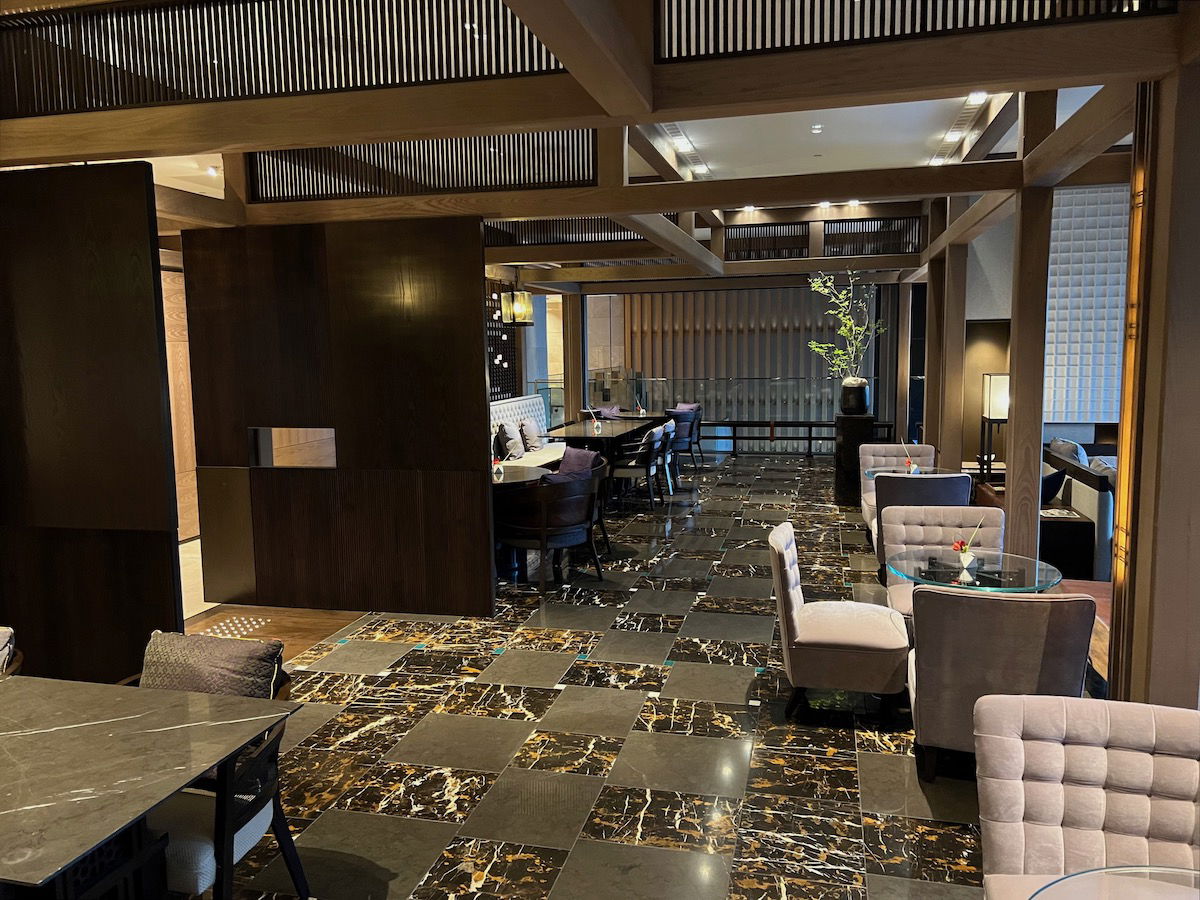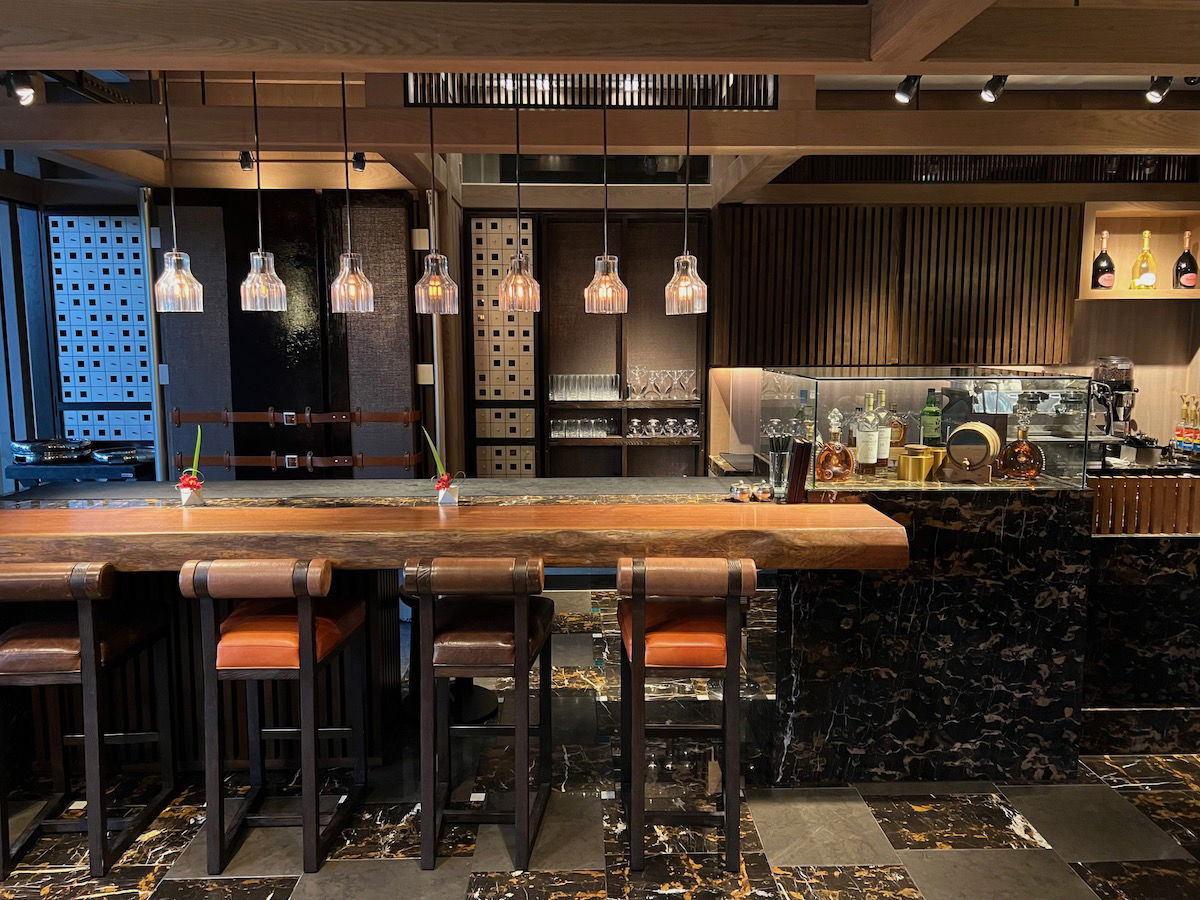 We came here one evening for a pre-dinner cocktail. Ford had their specialty negroni, while I had a dirty martini. These were served with some tasty snacks.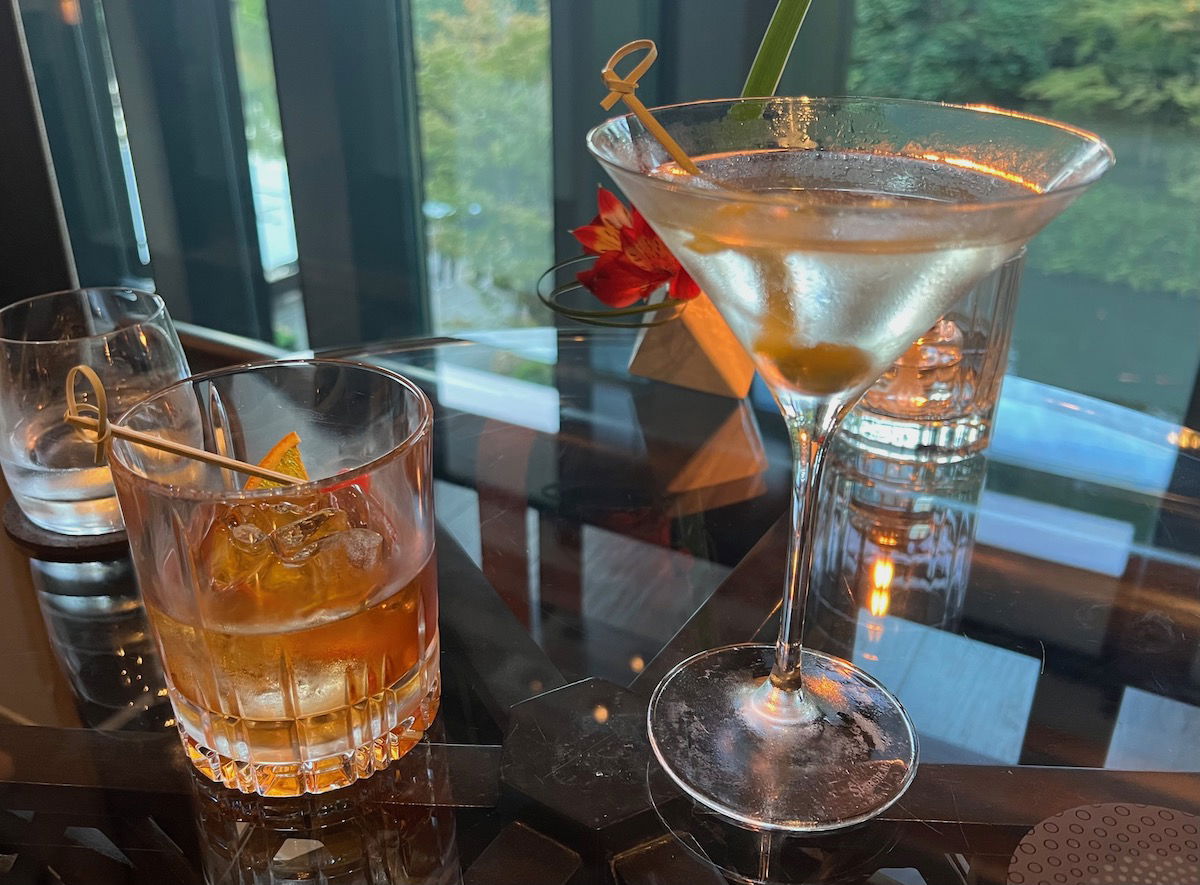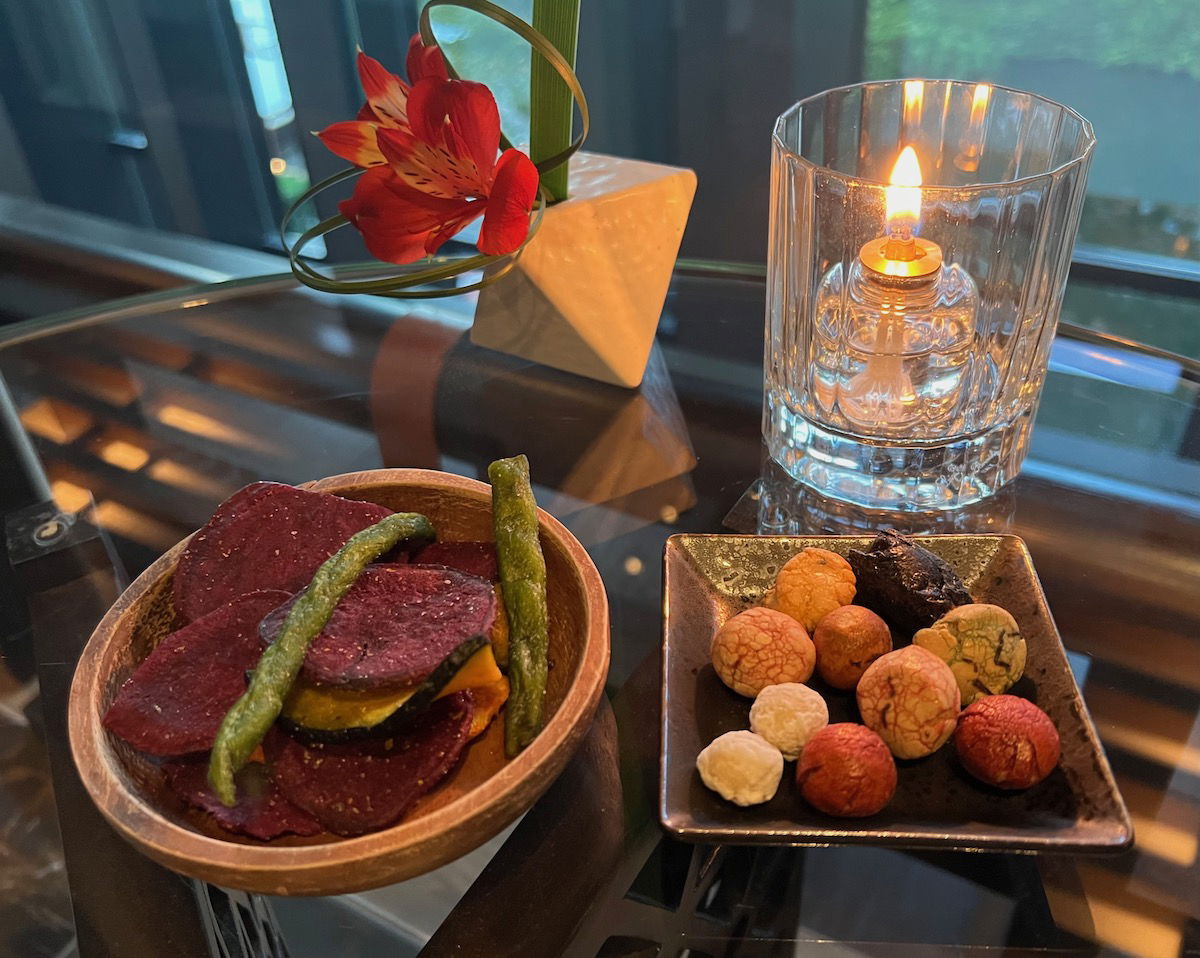 Four Seasons Kyoto service
The service level in Japan is of course pretty high across the board, and the Four Seasons is no exception. I found all employees at the hotel to be friendly and well intentioned. There seems to be a higher percentage of Japanese employees than foreigners at the Four Seasons compared to other properties.
I will note that service didn't quite feel as personalized as at the Park Hyatt or the Ritz-Carlton, and I think that largely reflects the size of the hotel. As you'd expect, with the number of rooms here, it's just a bit less intimate of an experience.
Bottom line
The Four Seasons Kyoto is a great hotel. What sets this hotel apart is its beautiful setting on a pond garden, which makes you feel like you're at a secluded resort. Having this kind of outdoor space makes for a memorable experience. Furthermore, the hotel has an impressive wellness area, including a beautiful pool, baths, and gym.
I absolutely loved this hotel, and if this is the kind of experience you're looking for, I'd highly recommend it. The only thing to be aware of is that the hotel is pretty big, so if you value a more boutique property and want to be right in the heart of things, the Park Hyatt would be my recommendation.
What's your take on the Four Seasons Kyoto?