EXTRA PERKS AVAILABLE
Enjoy breakfast, upgrades, & more
Want to take advantage of Four Seasons Preferred Partner benefits, including a space available room upgrade, complimentary breakfast, a hotel credit, and more? Contact Ford ([email protected]) for more details. He may even be able to help if you already have a stay booked.
The 141-room Four Seasons Los Cabos at Costa Palmas opened in 2019, and is completely different than anything else you'll currently find in Los Cabos. It's in Costa Palmas, which is a new 1,000-acre development in the middle of nowhere (or rather, in an area that's being rapidly developed, and that previously had very little tourism — this is also where a new Aman will be opening in the not-too-distant future).
This property's seclusion is also what makes it so special if you're looking to get away. You'll feel like you've traveled a world away, and will have access to an incredible two mile beachfront on the Sea of Cortez, which is even swimmable.
Let's get right into the review…
How to book the Four Seasons Los Cabos
Let me start by sharing how we booked — while I pay publicly available rates for a vast majority of our hotel stays, in this case Ford booked a travel advisor rate. He's a Four Seasons Preferred Partner travel advisor, and he books a lot of clients at this resort (and Four Seasons properties around the world, for that matter), so this was a great opportunity for him to also check it out firsthand.
Published rates at the Four Seasons Los Cabos vary by season, as is the case at most beach resorts. Generally speaking rates start at somewhere around $900 per night, though here are all kinds of factors to consider, from the time of year, to promotions, etc.
If you're booking a stay at the Four Seasons Los Cabos at Costa Palmas (or any Four Seasons property in the world), the best option is to book through a travel advisor affiliated with the Four Seasons Preferred partner program. You pay the same rate you'll find directly on Four Seasons' website, but you'll receive extra perks, including the following:
A room upgrade, subject to availability
Complimentary daily breakfast, either in the restaurant or via in-room dining
A hotel credit to use during your stay
Roundtrip airport transfers (this is a huge perk, as it's a $495 value, and available exclusively through Preferred Partner)
Four Seasons Preferred Partner is generally combinable with promotions being offered directly through Four Seasons, like a third or fourth night free offer.
Note that booking Four Seasons properties through Preferred Partner is better than booking through programs like Amex Fine Hotels & Resorts. Why?
With Preferred Partner you have the option of room service breakfast in place of restaurant breakfast (that's something a lot of people value)
Upgrades are prioritized for Preferred Partner bookings, given that it's Four Seasons' own proprietary program (and the value of an upgrade at a hotel like this can be significant)
You can combine Preferred Partner perks with virtually any rate on Four Seasons' website (other programs don't allow you to stack promotions in the same way)
You can't beat getting all of these extra perks just for booking through an eligible travel advisor. Ford is of course more than happy to help anyone book Four Seasons properties through Preferred Partner, and can be reached at [email protected] He doesn't charge any booking fees for Four Seasons properties.
Four Seasons Los Cabos location
The Four Seasons Los Cabos is located on Mexico's Baja California Peninsula, more specifically in Costa Palmas. Rather than being near Cabo San Lucas or San Jose del Cabo, it's located in the East Cape, on the Sea of Cortez. The hotel is about one hour from Los Cabos International Airport (SJD), and then from there it's about 15 minutes further to San Jose del Cabo, and 45 minutes further to Cabo San Lucas.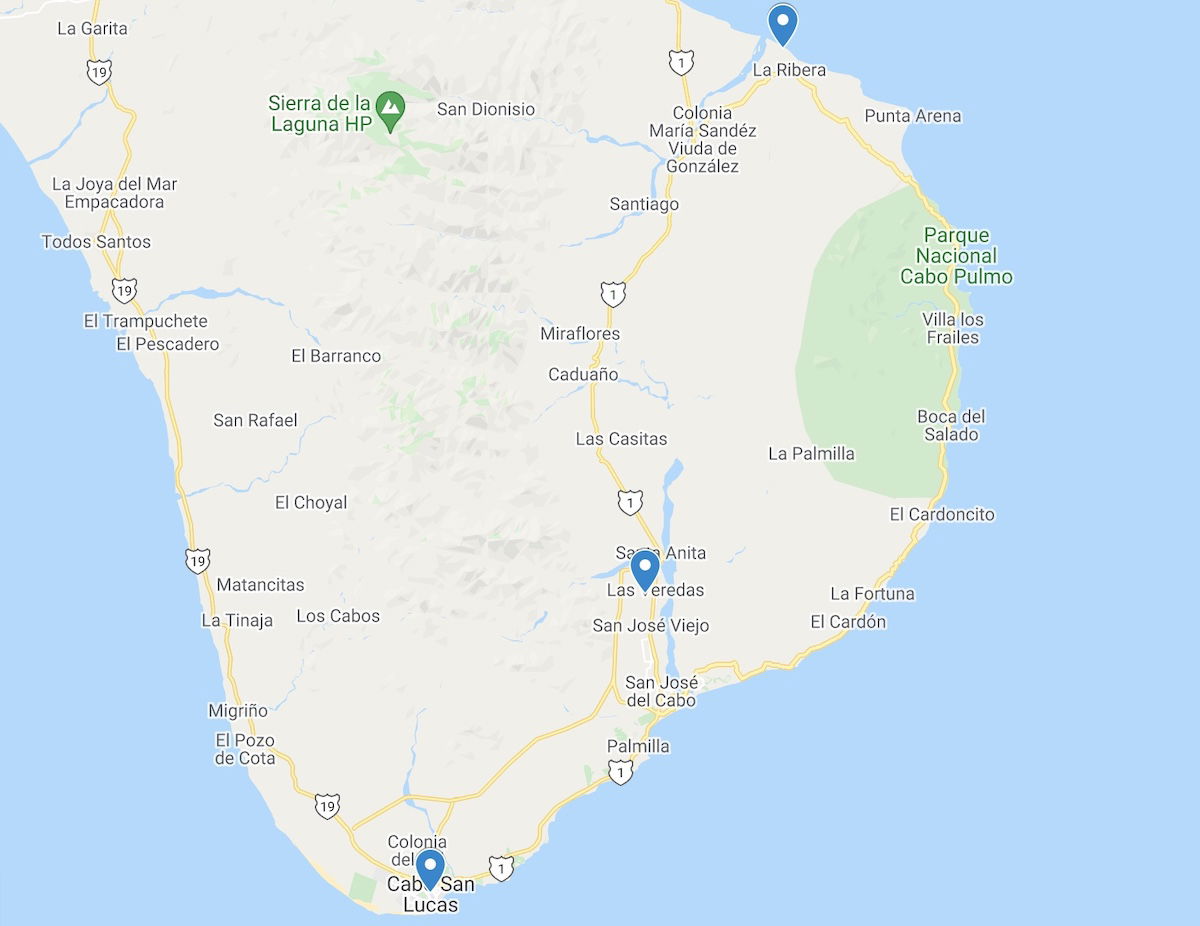 If you're visiting the Four Seasons, I'd recommend coming here with the expectation that you won't leave the property, perhaps with the exception of seeing some of the beautiful nearby nature (we went on a great hike nearby, and also went swimming with whale sharks in La Paz while staying here). So visit if you're looking for a true getaway, or another great strategy could be to combine a stay at the Four Seasons with a stay at a hotel closer to Cabo San Lucas or San Jose del Cabo.
Another interesting thing about the Four Seasons is that it's being described as the brand's first marina resort, as the Costa Palmas development will soon have a proper marina that people will be able to take their boats to.
Four Seasons Los Cabos check-in & lobby
As you pull up to the Four Seasons, there's an open-air lobby with beautiful contemporary design (which is found throughout the hotel, for that matter — the architecture here is a real highlight).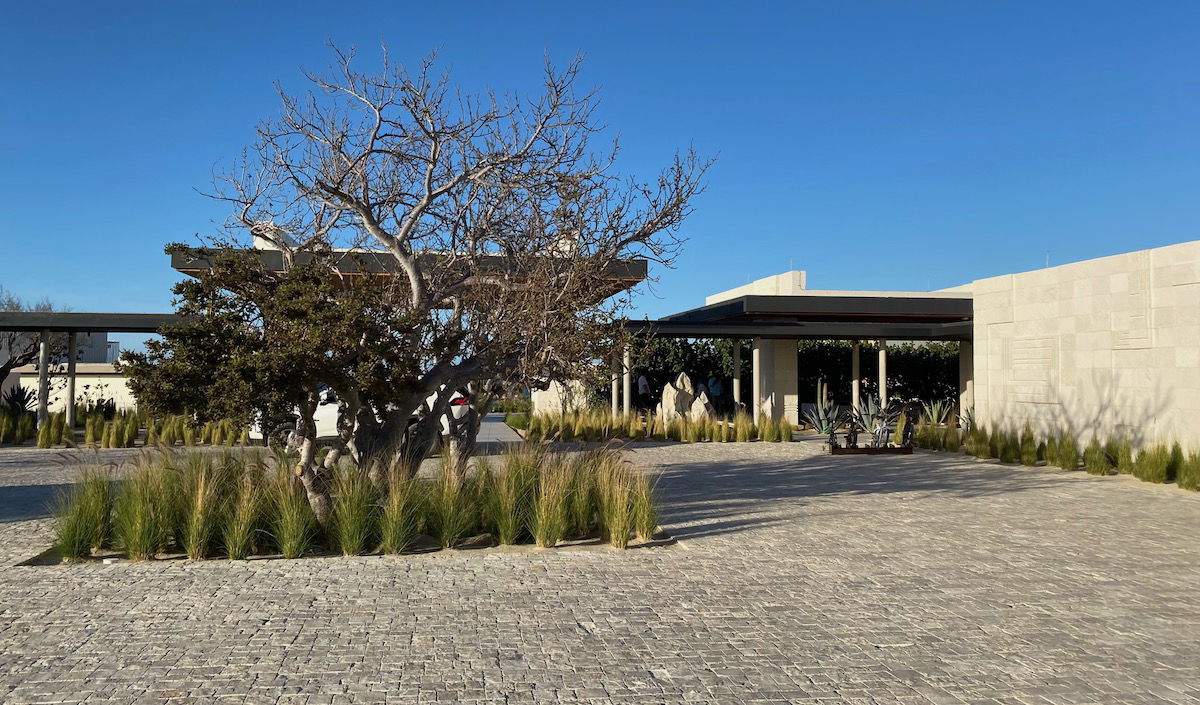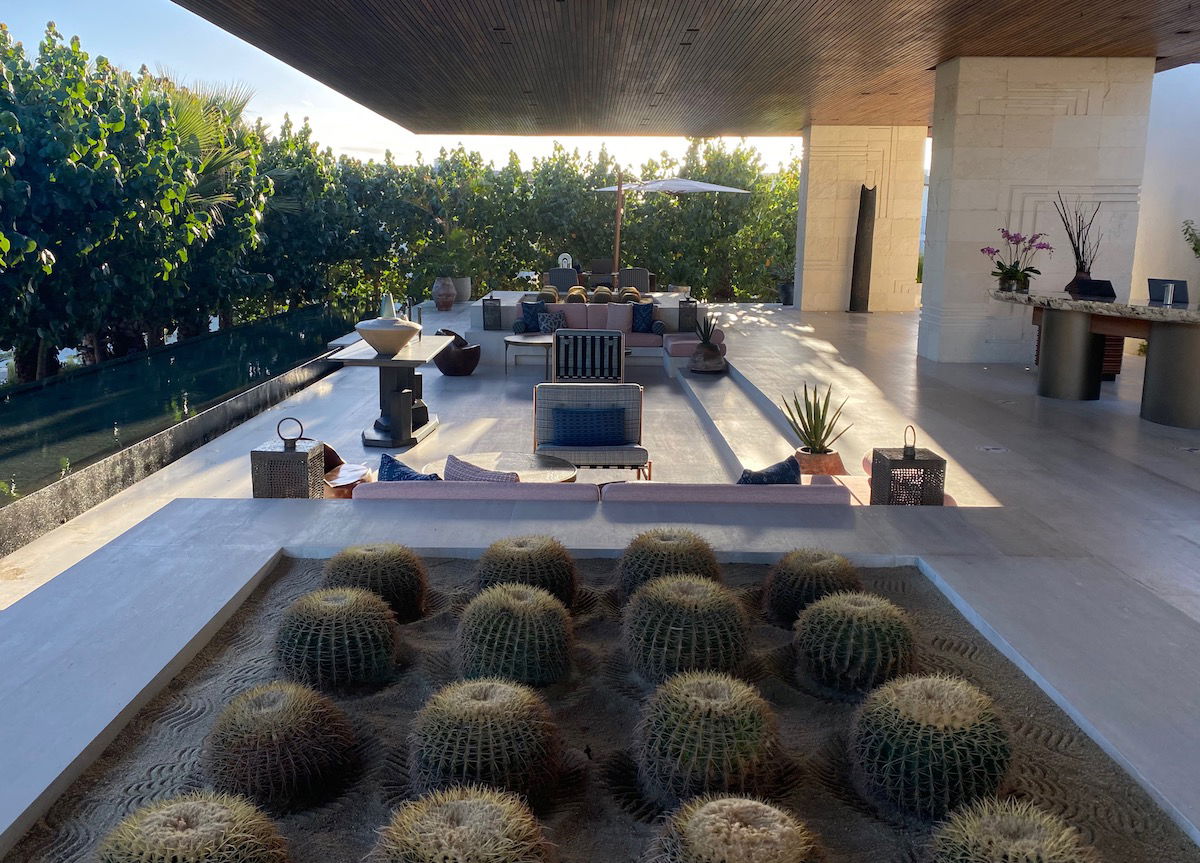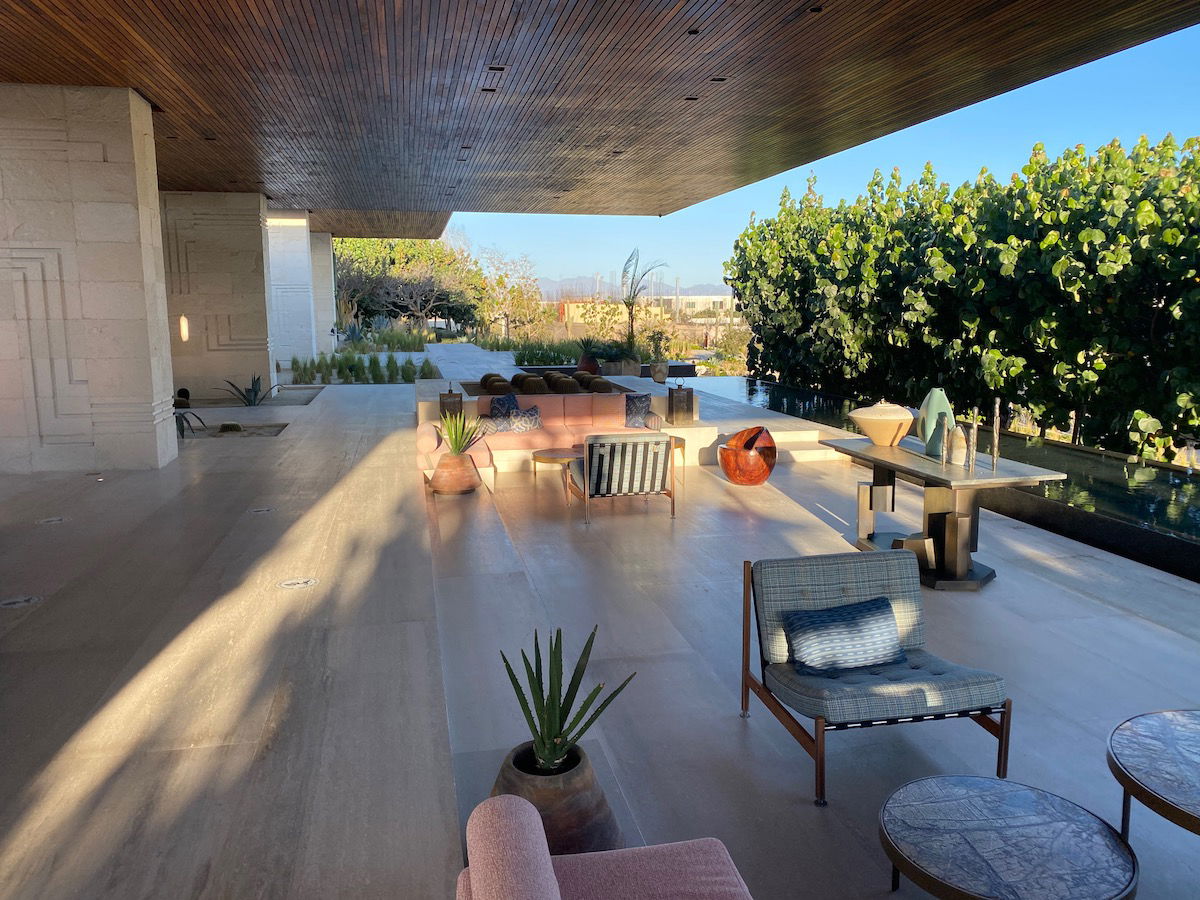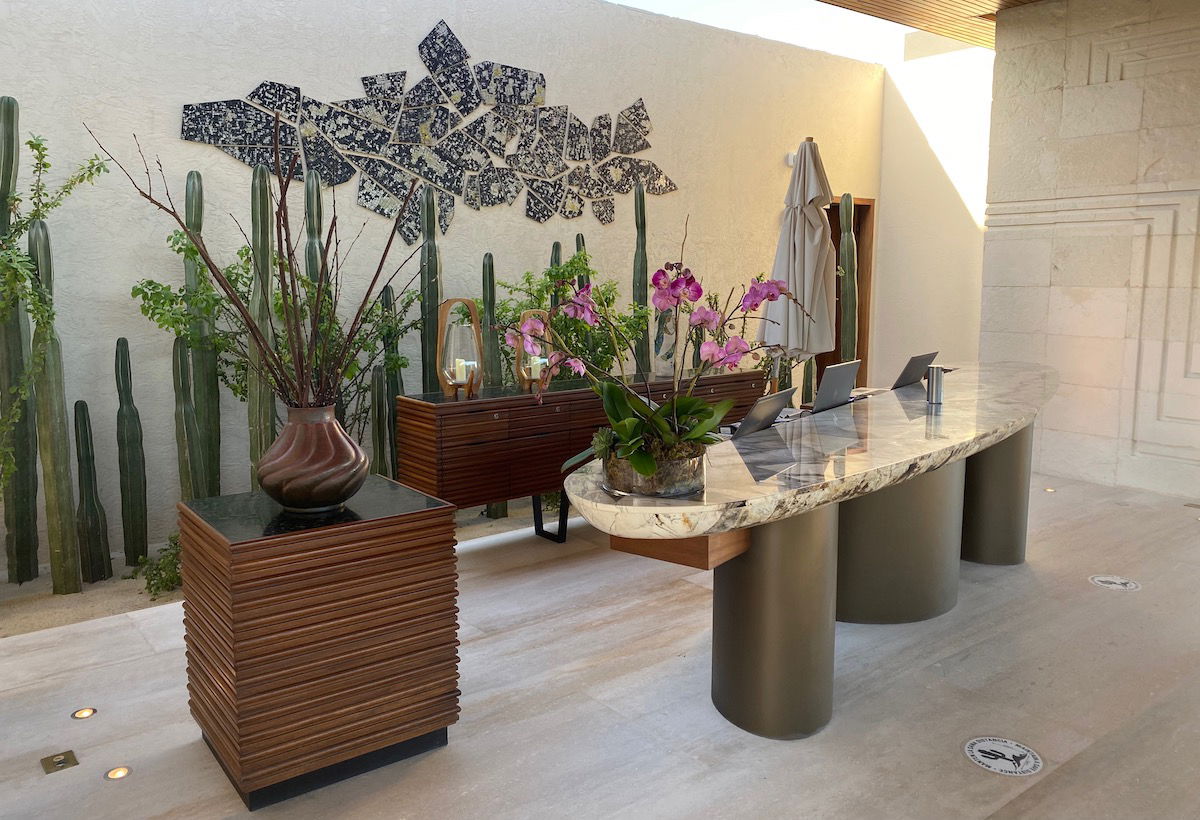 The lobby is more or less at the highest point of the resort, so has a view of the sea in the distance. Fortunately the hotel is fairly flat, so you shouldn't get winded walking around.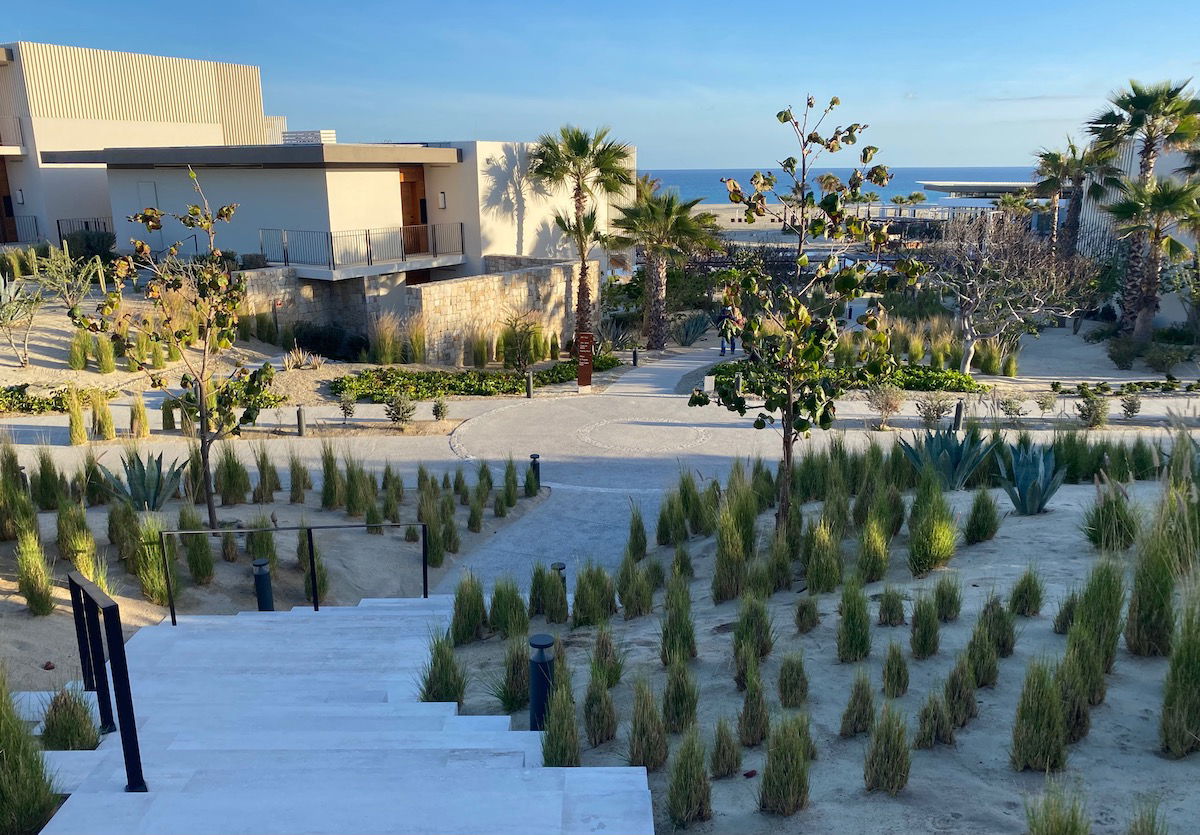 Here's a map of the resort, which gives you a general sense of the layout: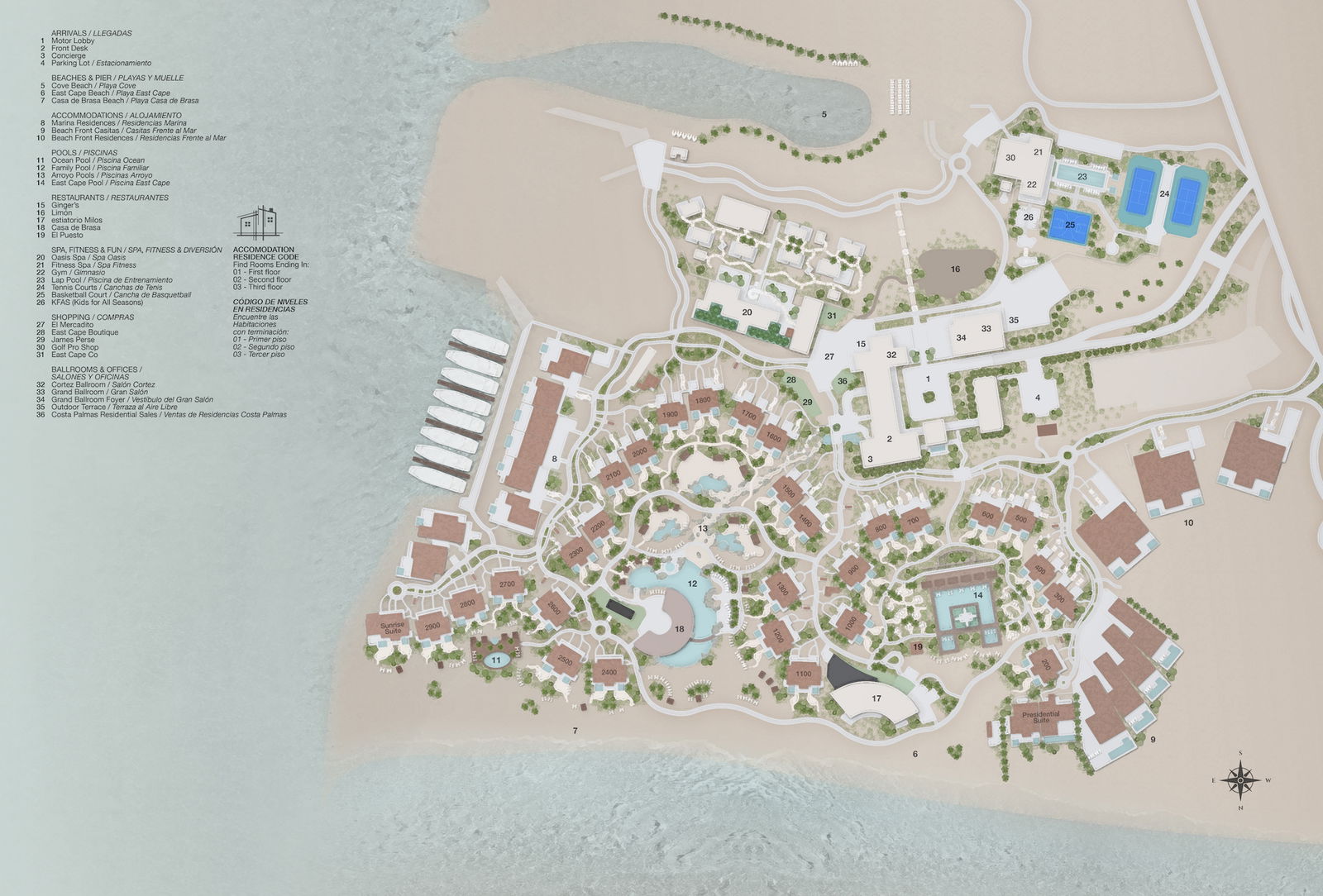 Our check-in process was efficient and friendly, and within a few minutes we were escorted to our room.
Four Seasons Los Cabos Ocean-View Room with Plunge Pool
For context on the Four Seasons' room categories, all rooms (meaning non-suites) at the hotel are 680 square feet. What differs is the views and whether they have plunge pools or not. From entry level to most premium, the rooms go Ocean-View (view of ocean in the distance), Prime Ocean-View (better view of ocean), Ocean-View with Plunge Pool (view of ocean in the distance with a plunge pool), Oceanfront (right on the beach), Oceanfront with Plunge Pool (right on the beach with a plunge pool).
We were assigned room 811, an Ocean-View Room with Plunge Pool (in other words, the room had the least premium view, but had a plunge pool).
All of the Four Seasons' accommodations are either in two or three story buildings, so the property feels nicely spread out. While the property is huge, most of the guest rooms are pretty central, so it's just a few minutes by foot to get anywhere.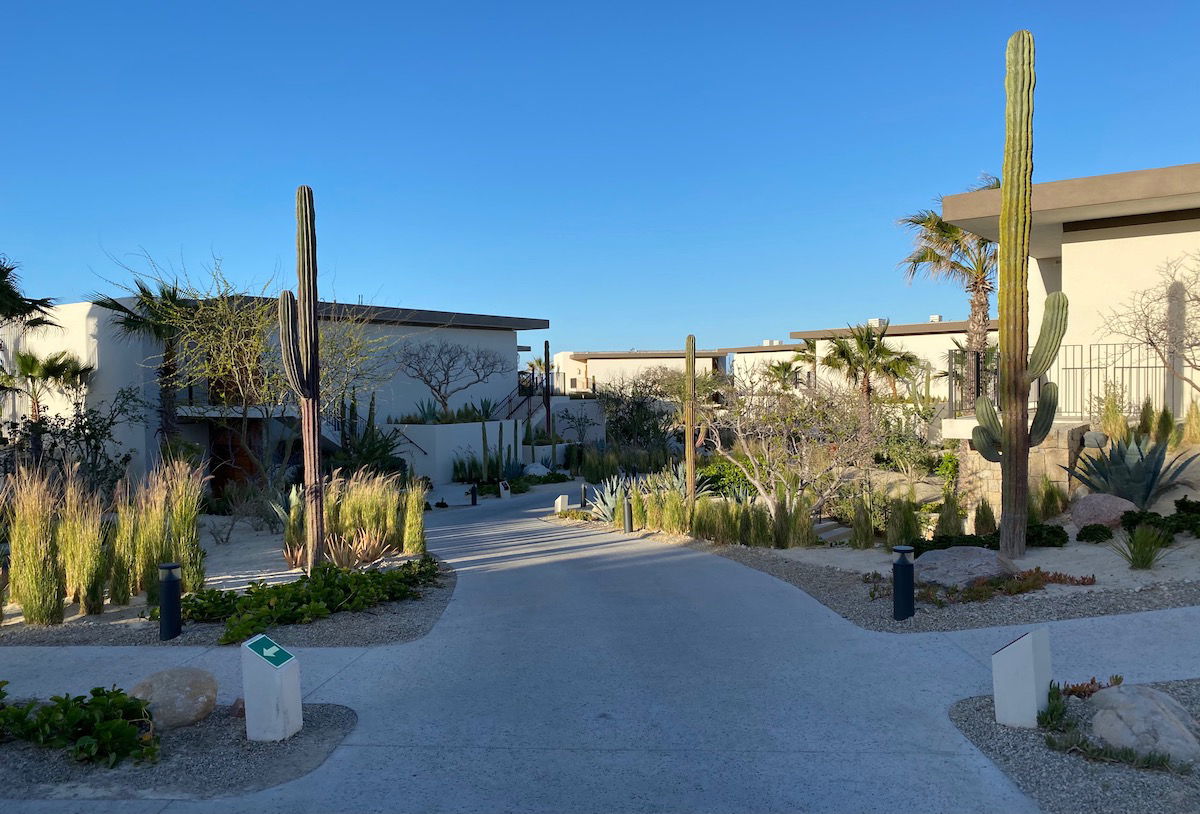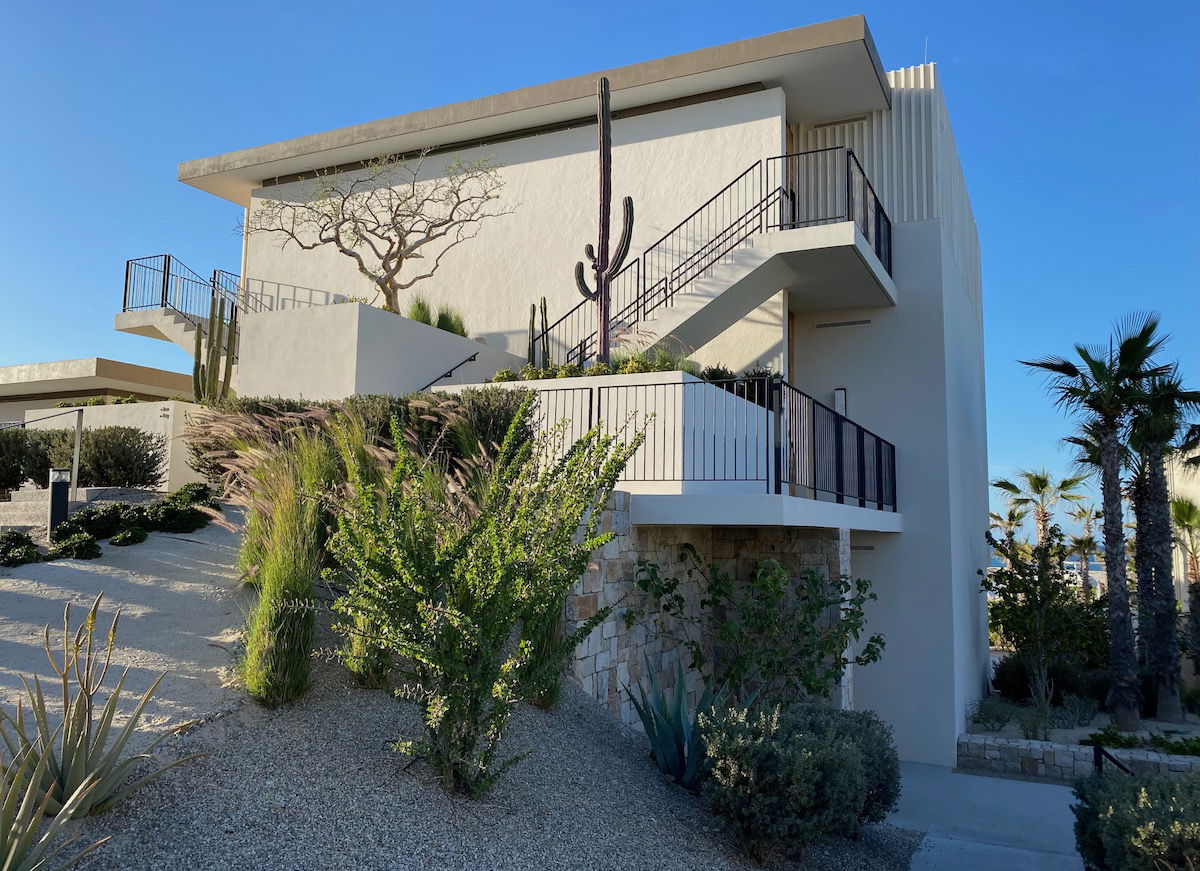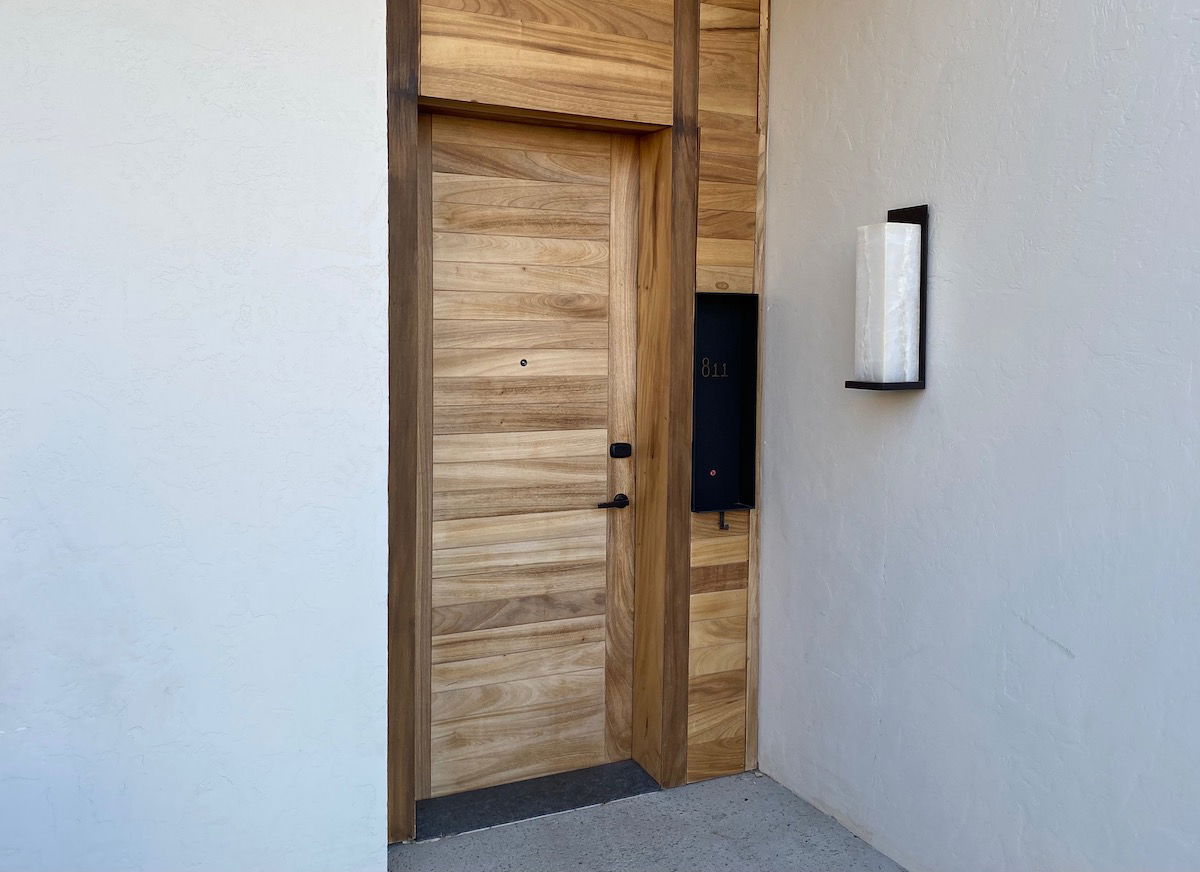 Four Seasons' newer resorts consistently do a fantastic job with room design, in particular making them functional, which so many other hotel groups struggle with. Four Seasons also does a great job making rooms feel uber-luxurious, while still integrating some local elements (though in my opinion Four Seasons could often go a bit further with sense of place).
Inside the entrance to the room was a beautiful wall treatment with a couple of blankets hanging from it.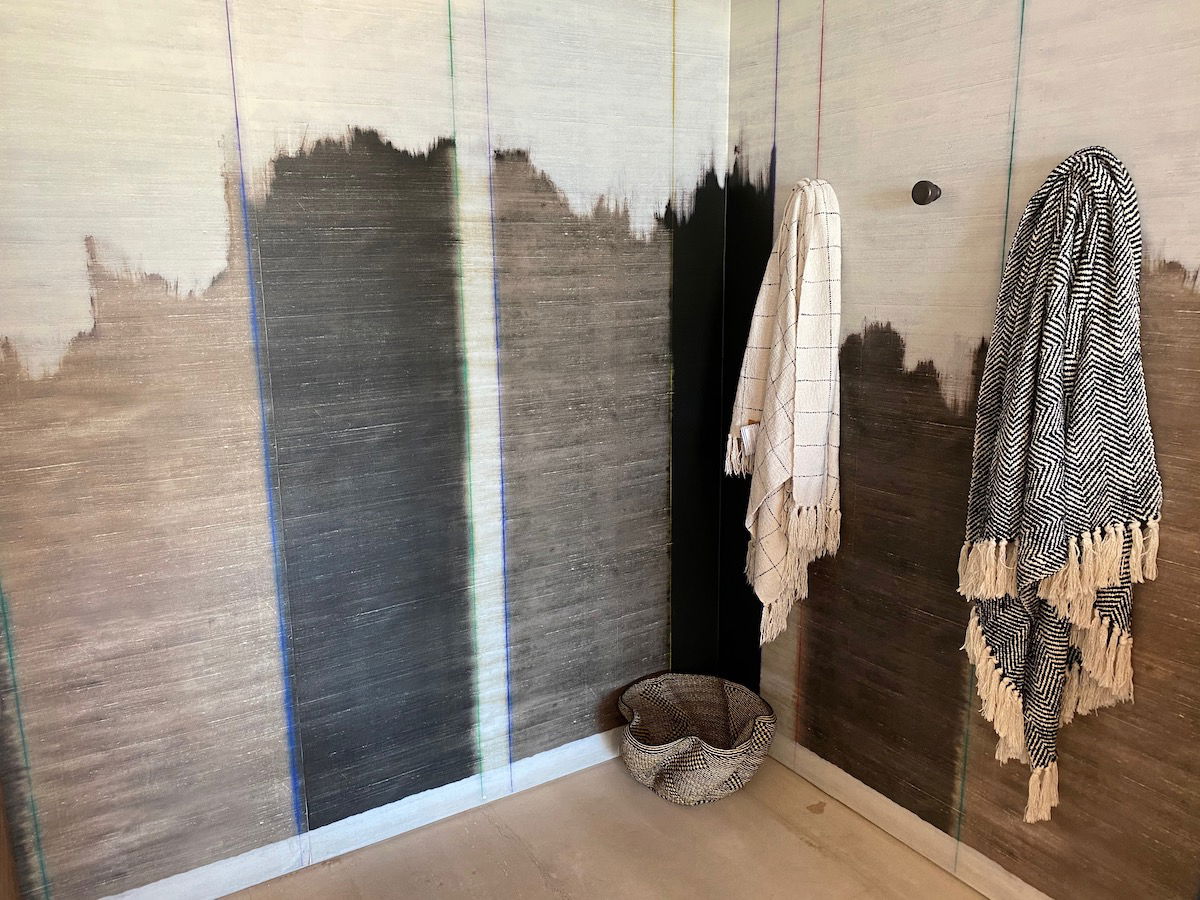 Past that was the main part of the room, which featured a Four Seasons signature bed (my favorite hotel bed, bar none), a pull-out sofa, and a table with two chairs, which could act as a desk or a dining table, depending on your needs.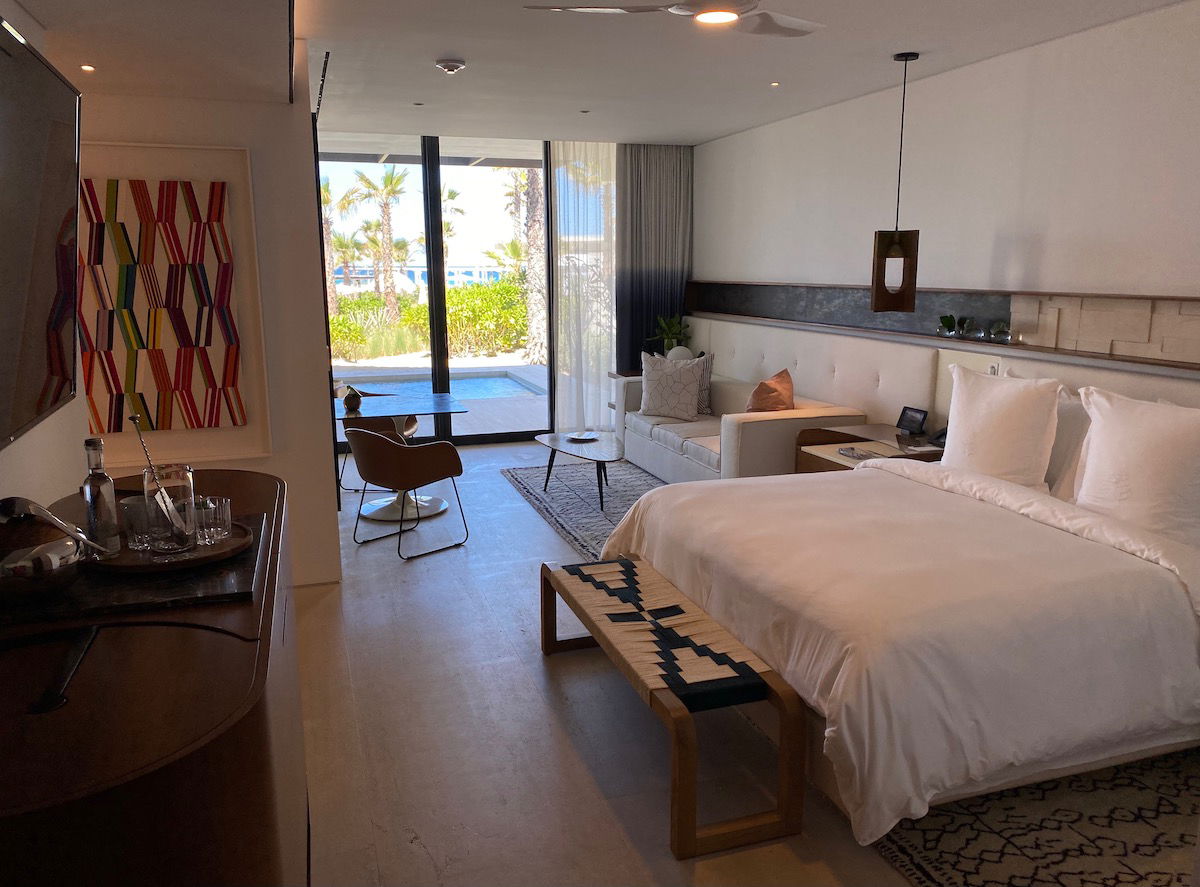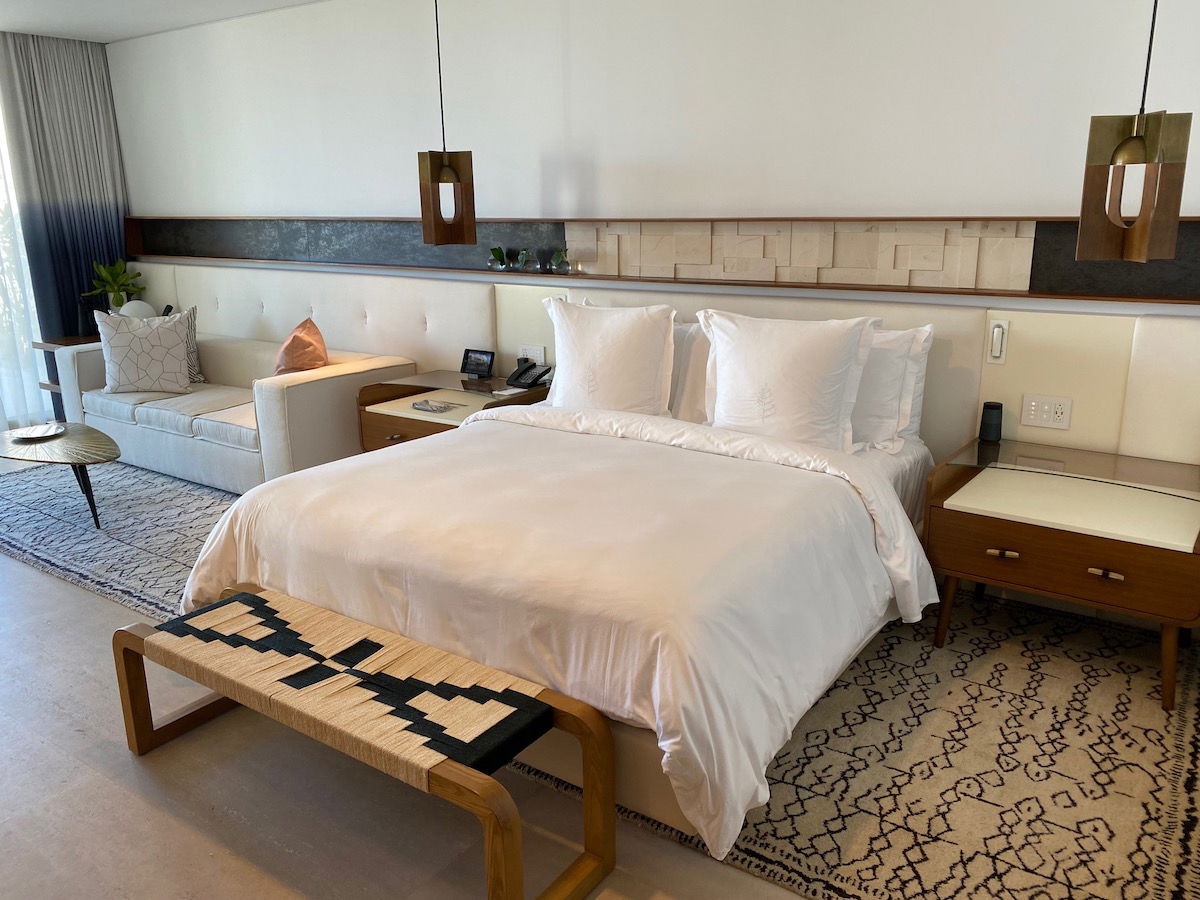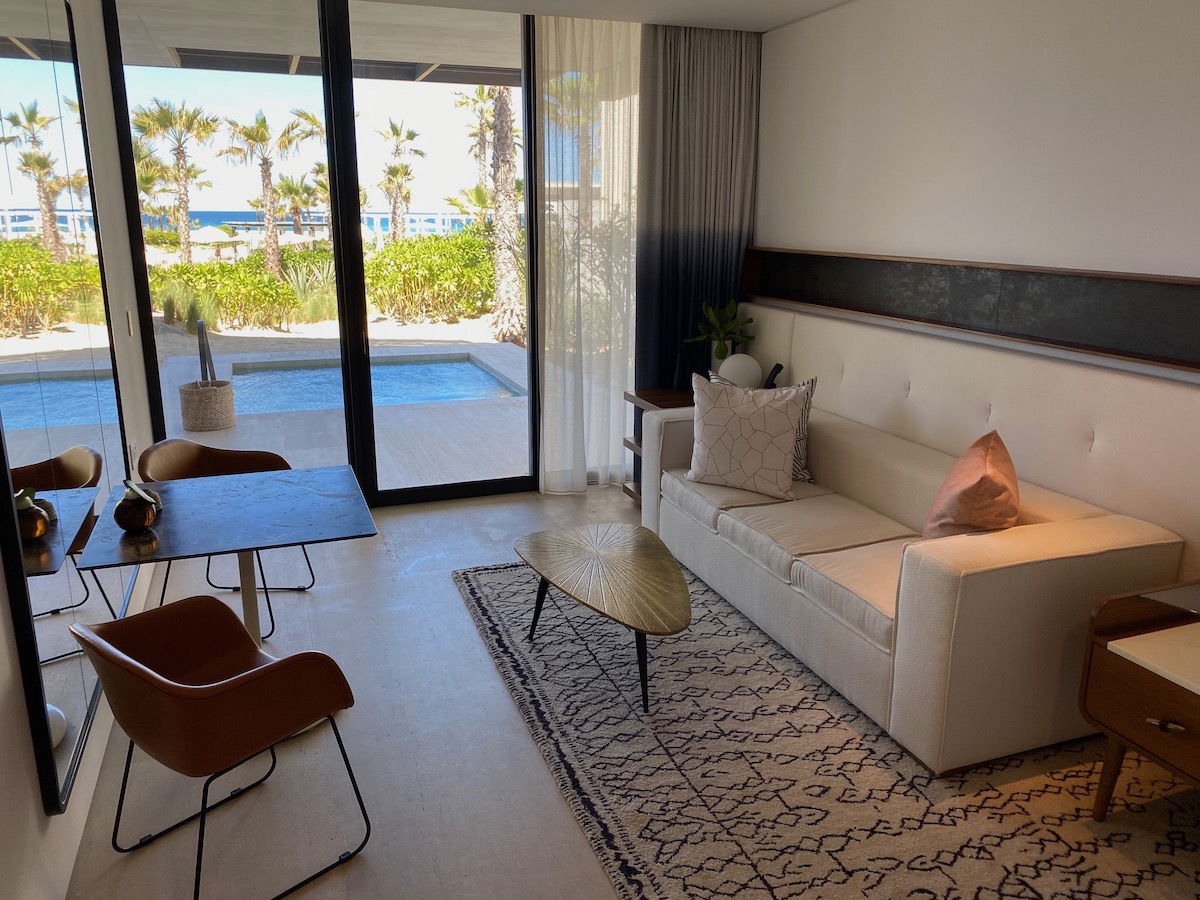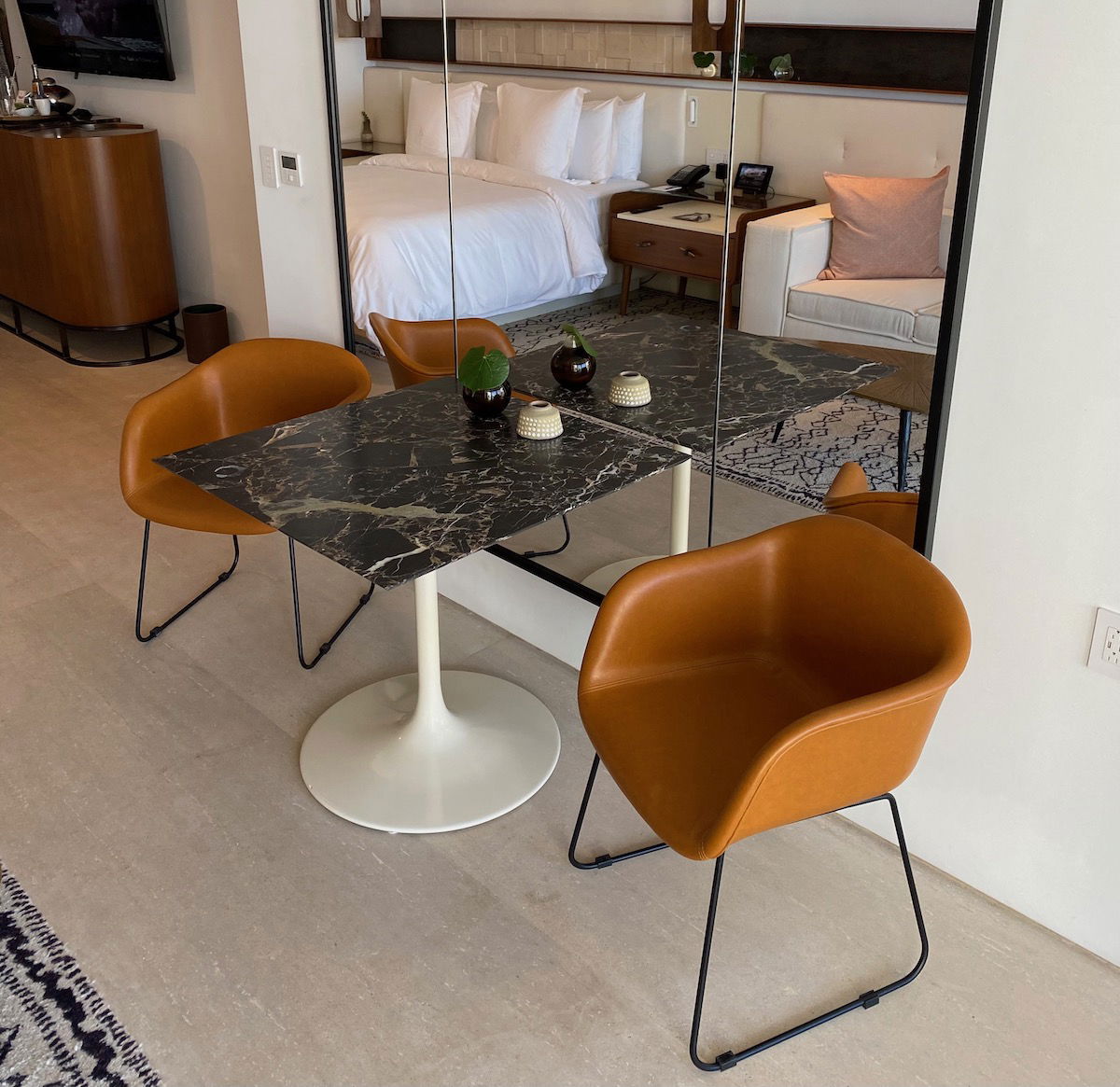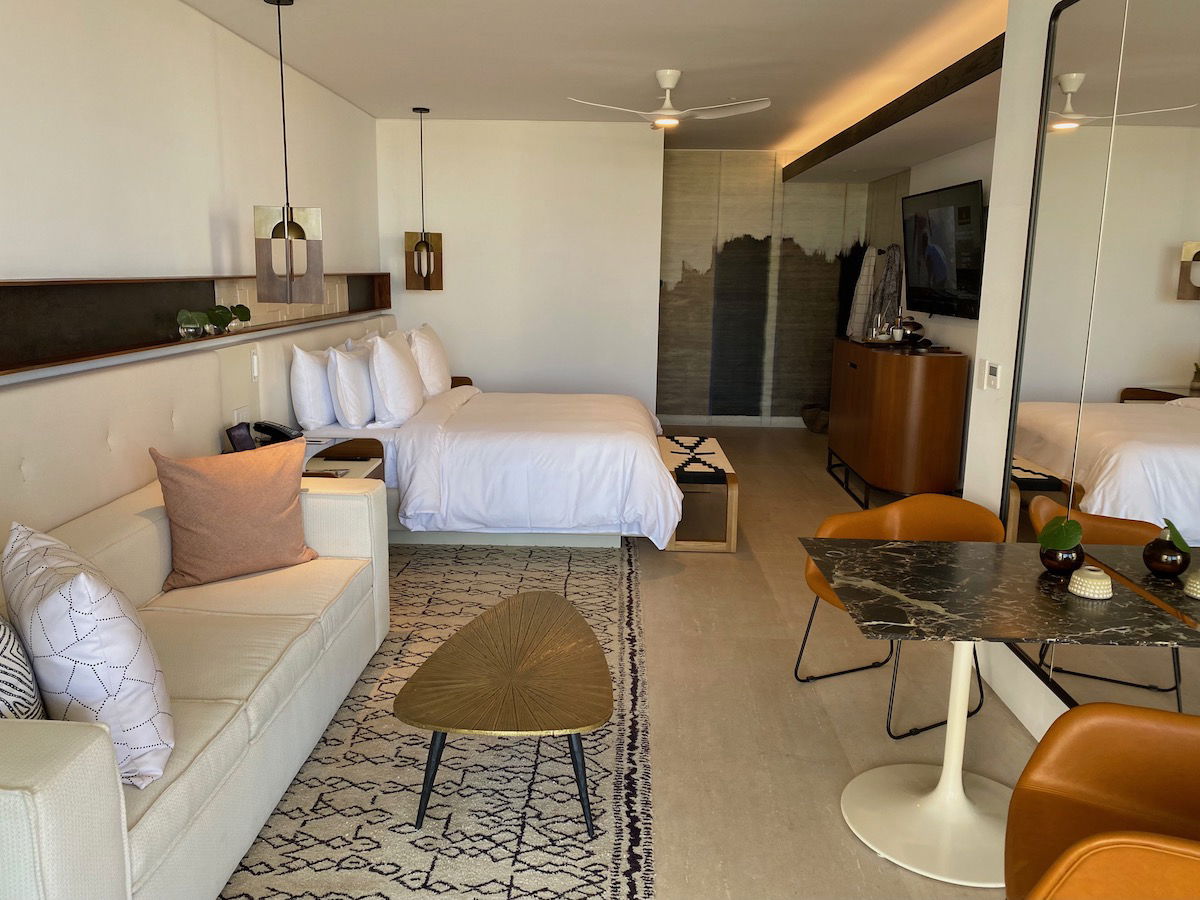 The minibar and wall-mounted TV were across from the bed. The minibar was in a fully enclosed console, and when you opened a door, a revolving tray was exposed on each side.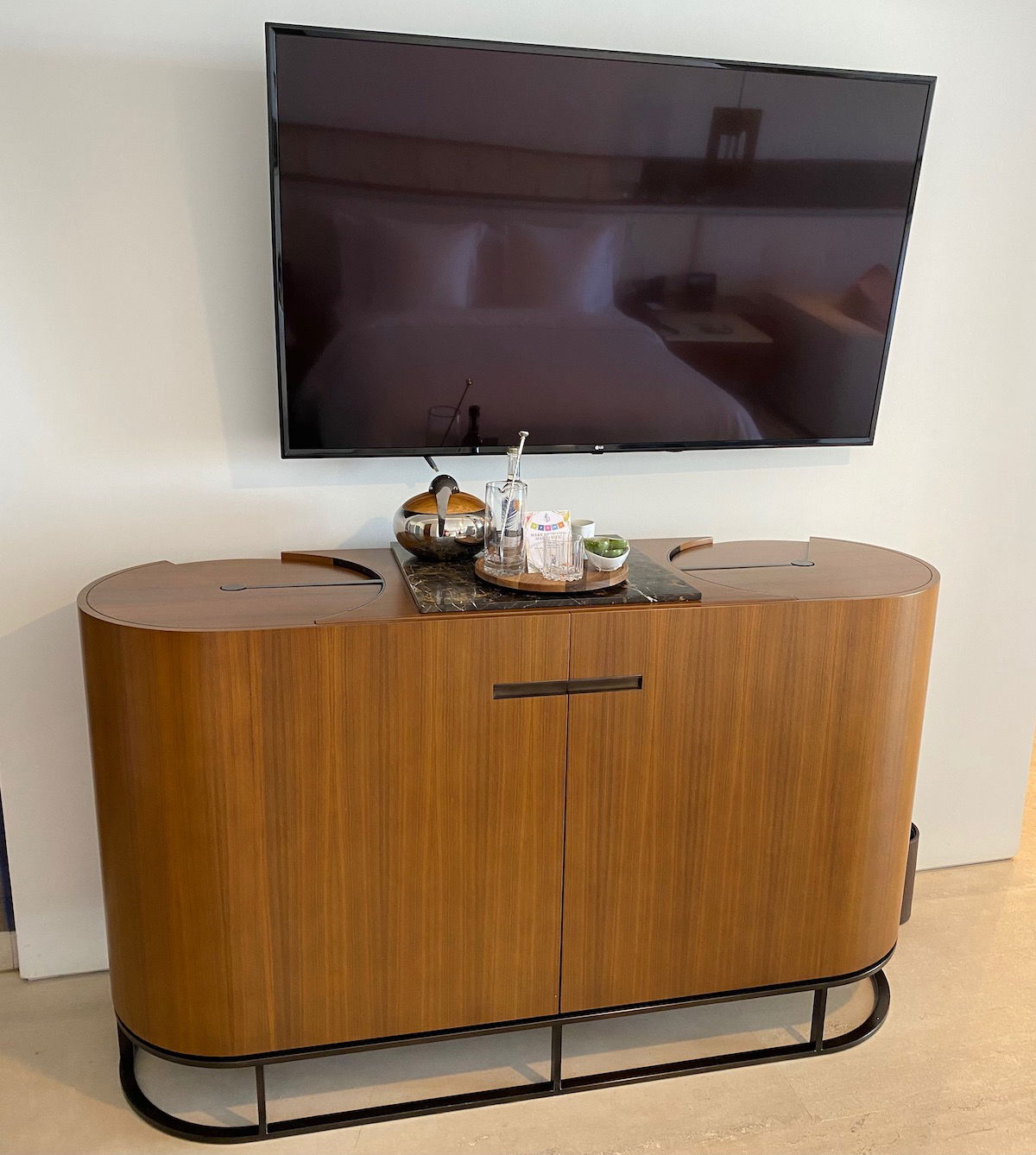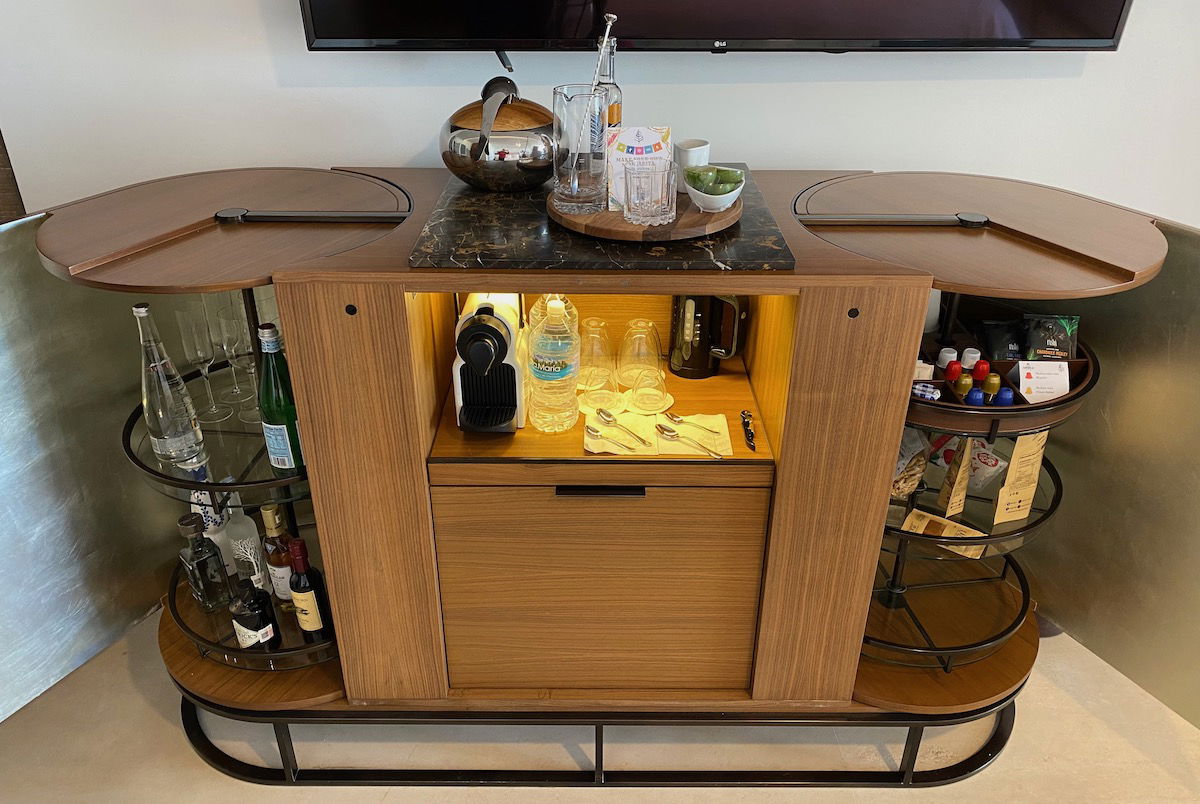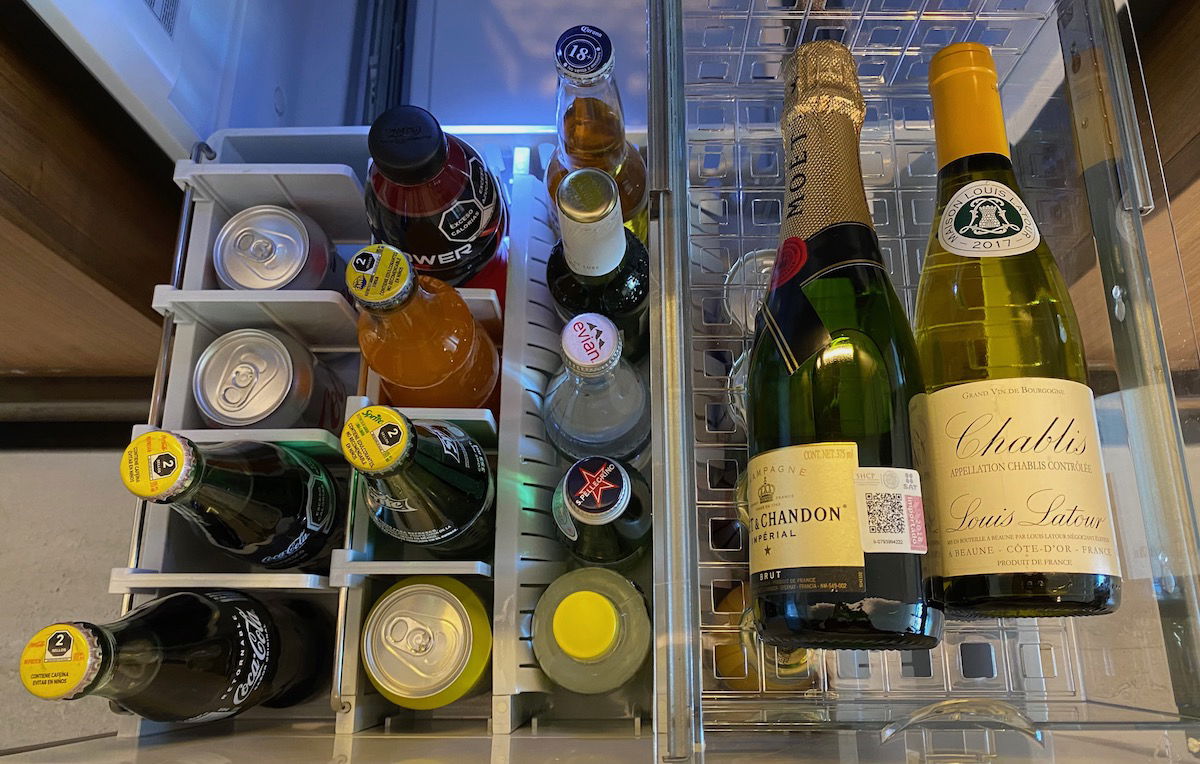 There was also a Nespresso machine and a kettle, which were of course complimentary.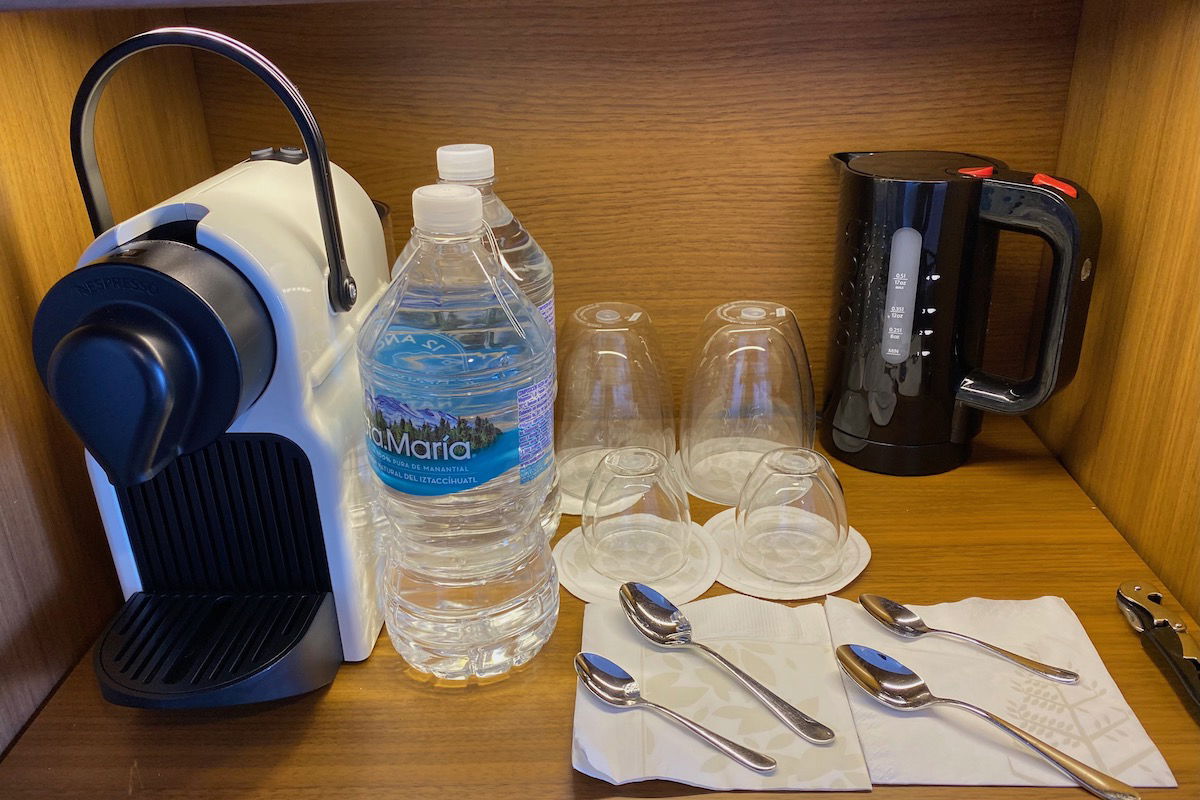 As a standard welcome amenity, the Four Seasons offers a cute "make your own margarita" kit. Everything you'll need is there, and then you can turn on the TV for a step-by-step tutorial.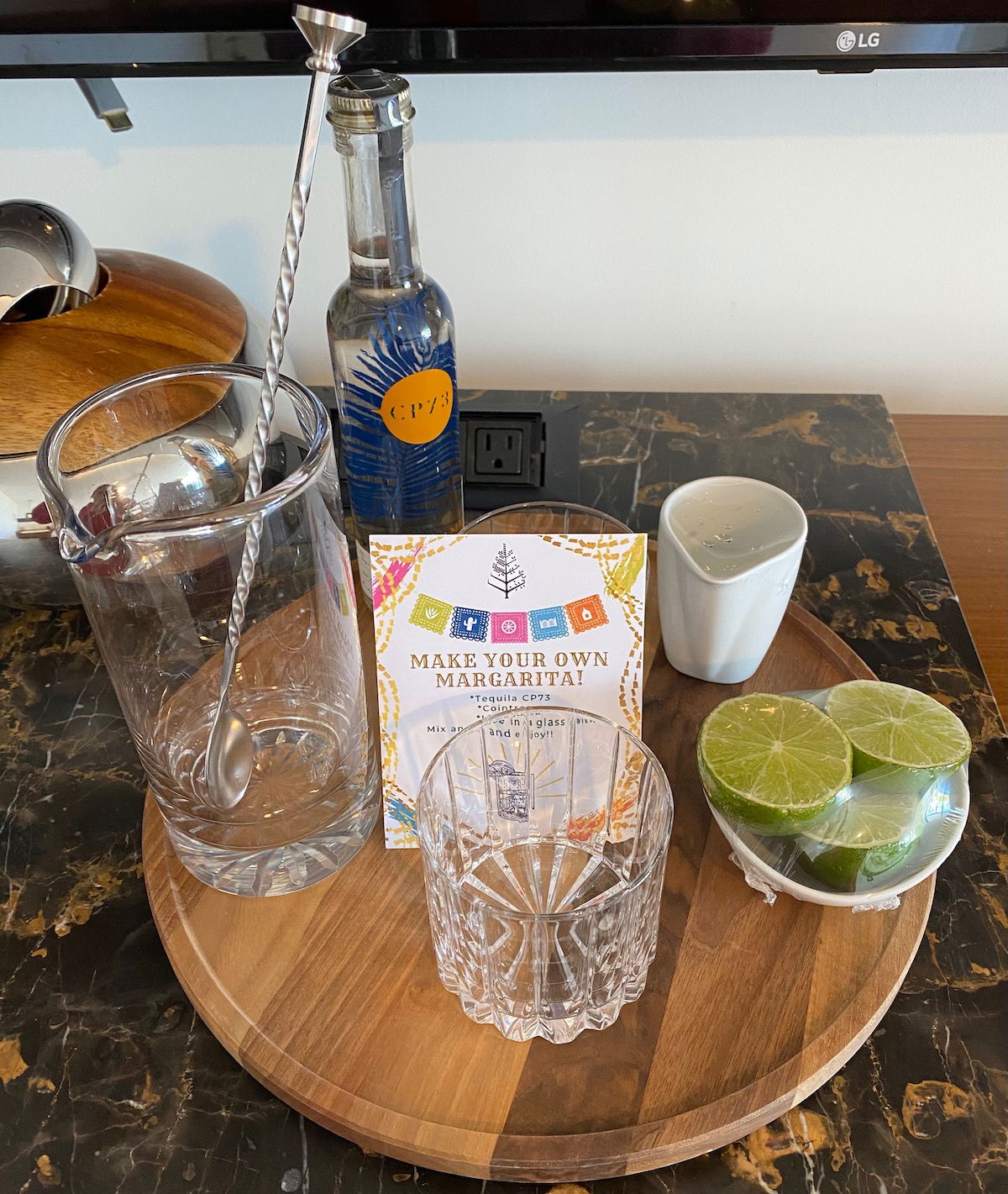 There was also a special welcome amenity for Winston, which he gave two paws up.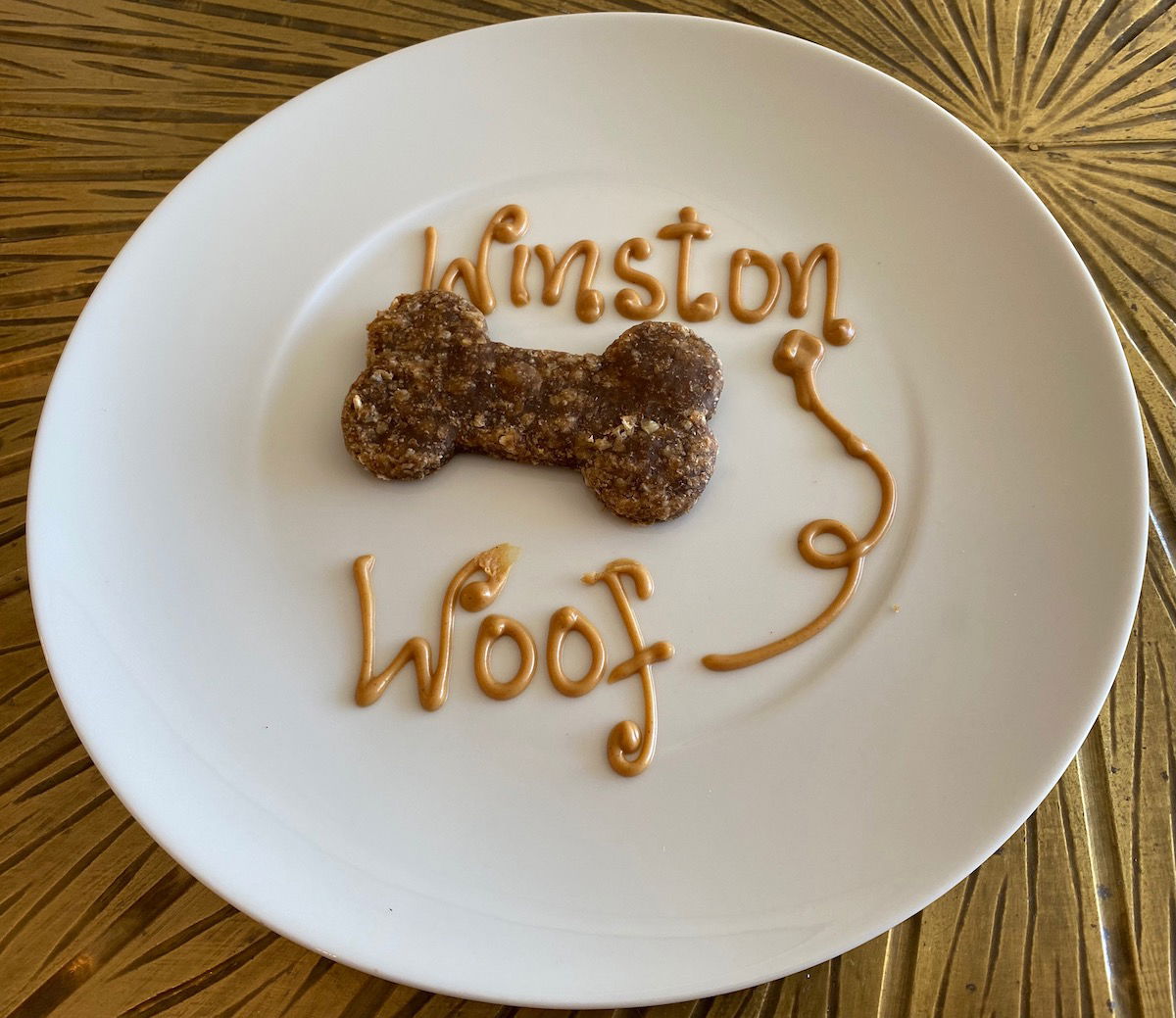 The bathroom area spanned the entire length of the room. From the bedroom there was a hallway with a table at the end. When you turned left there was a ton of closet space, a vanity, and the toilet. When you turned right there was the rest of the bathroom.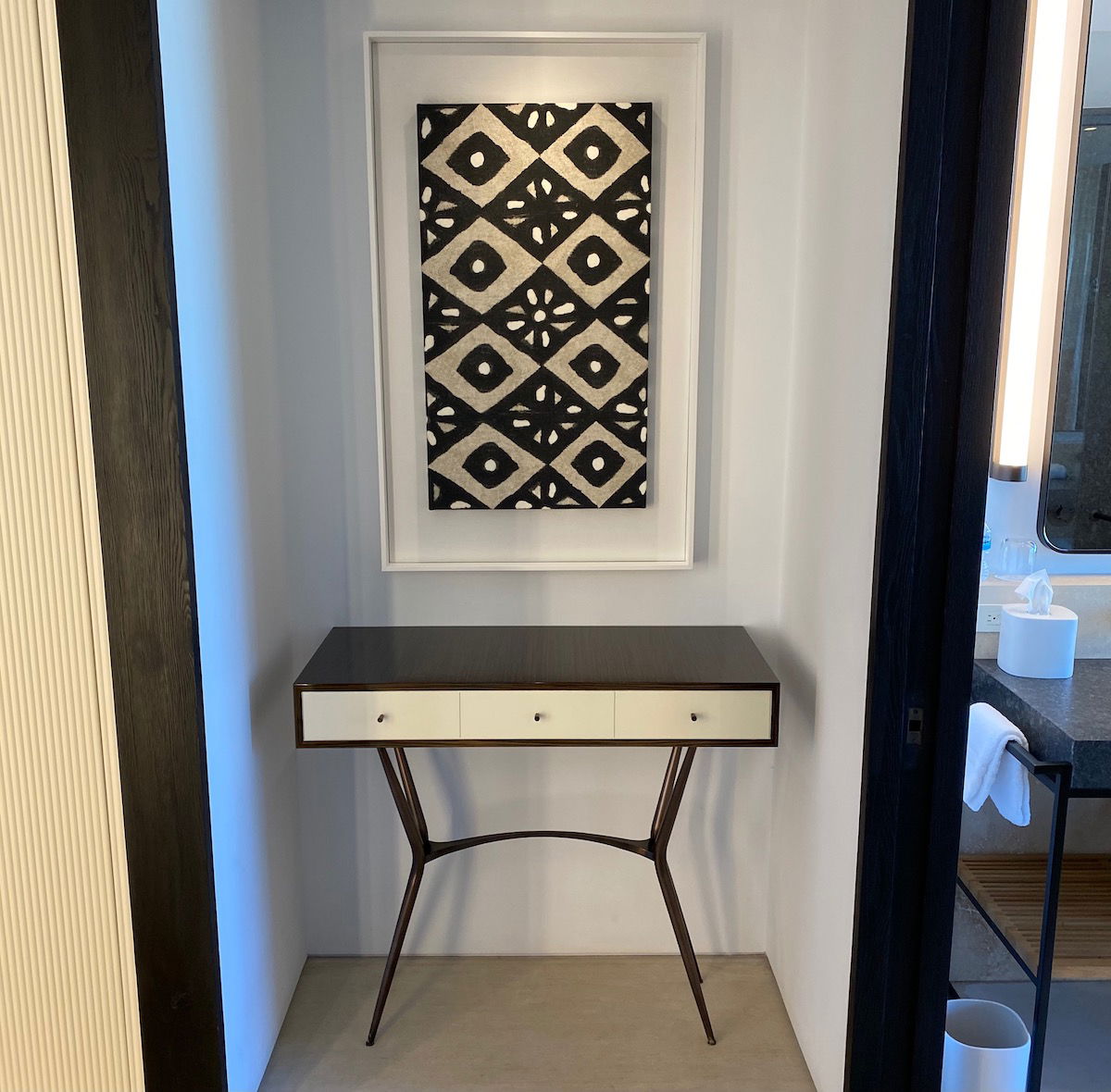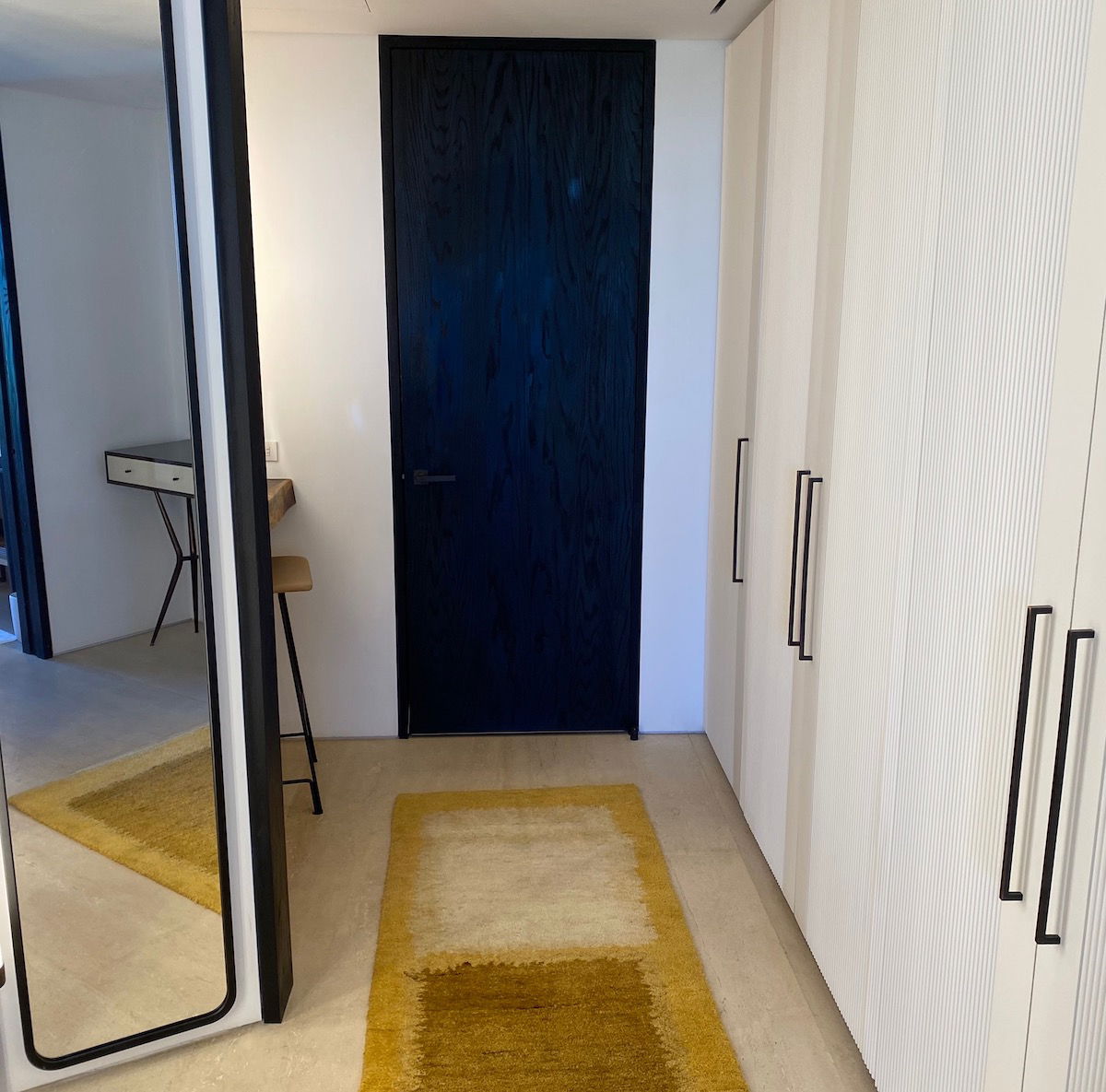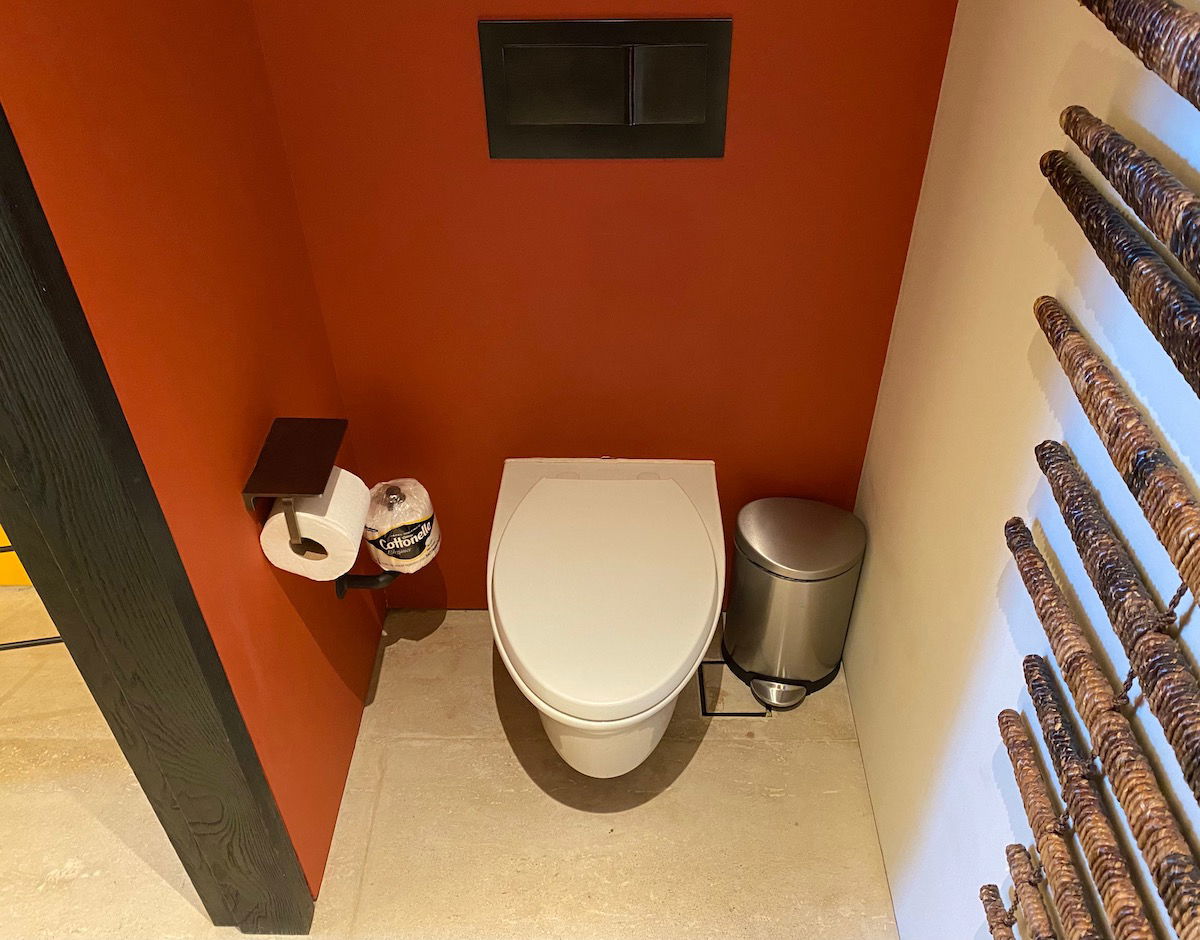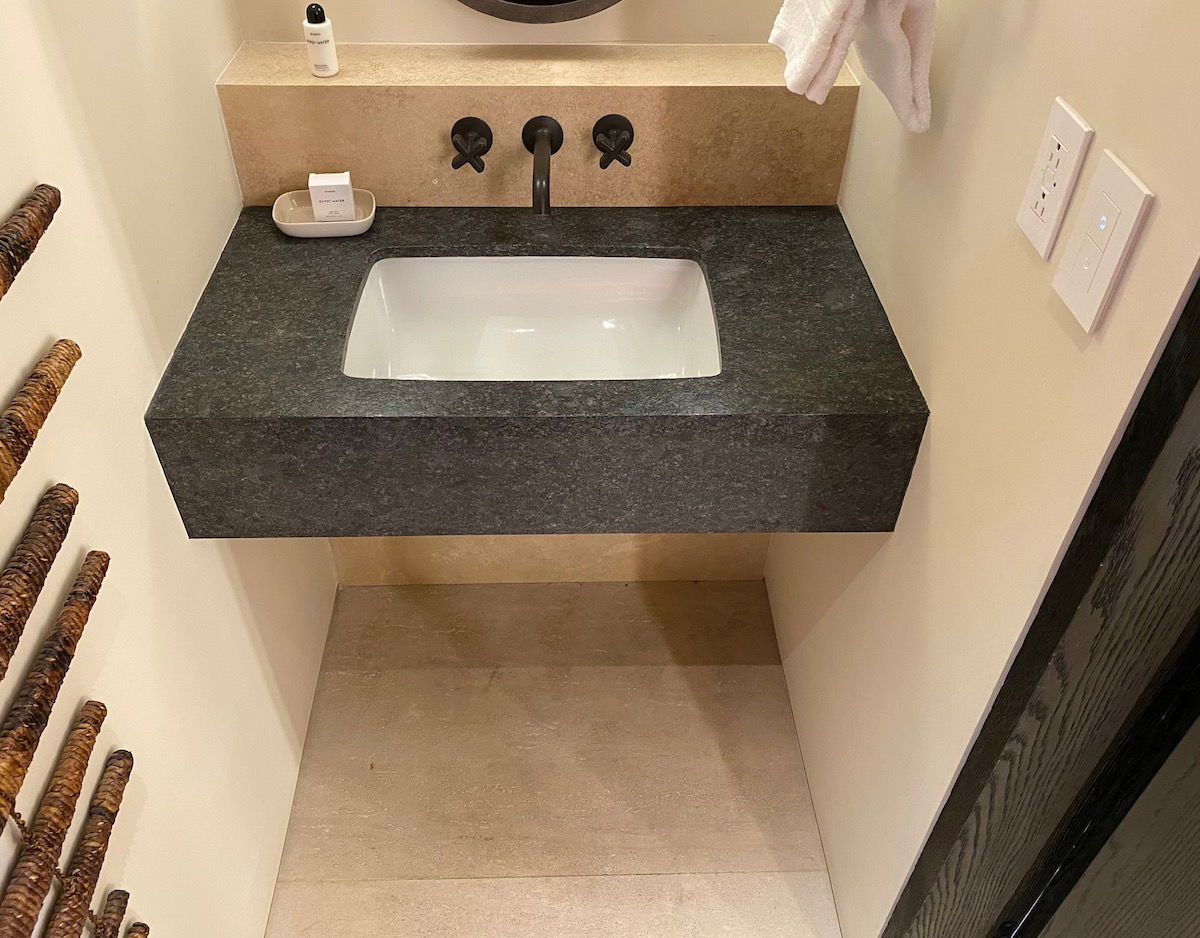 The bathroom was huge, and had double sinks, a soaking tub, and a walk-in rainforest shower. There were floor-to-ceiling windows, so you could really enjoy the views.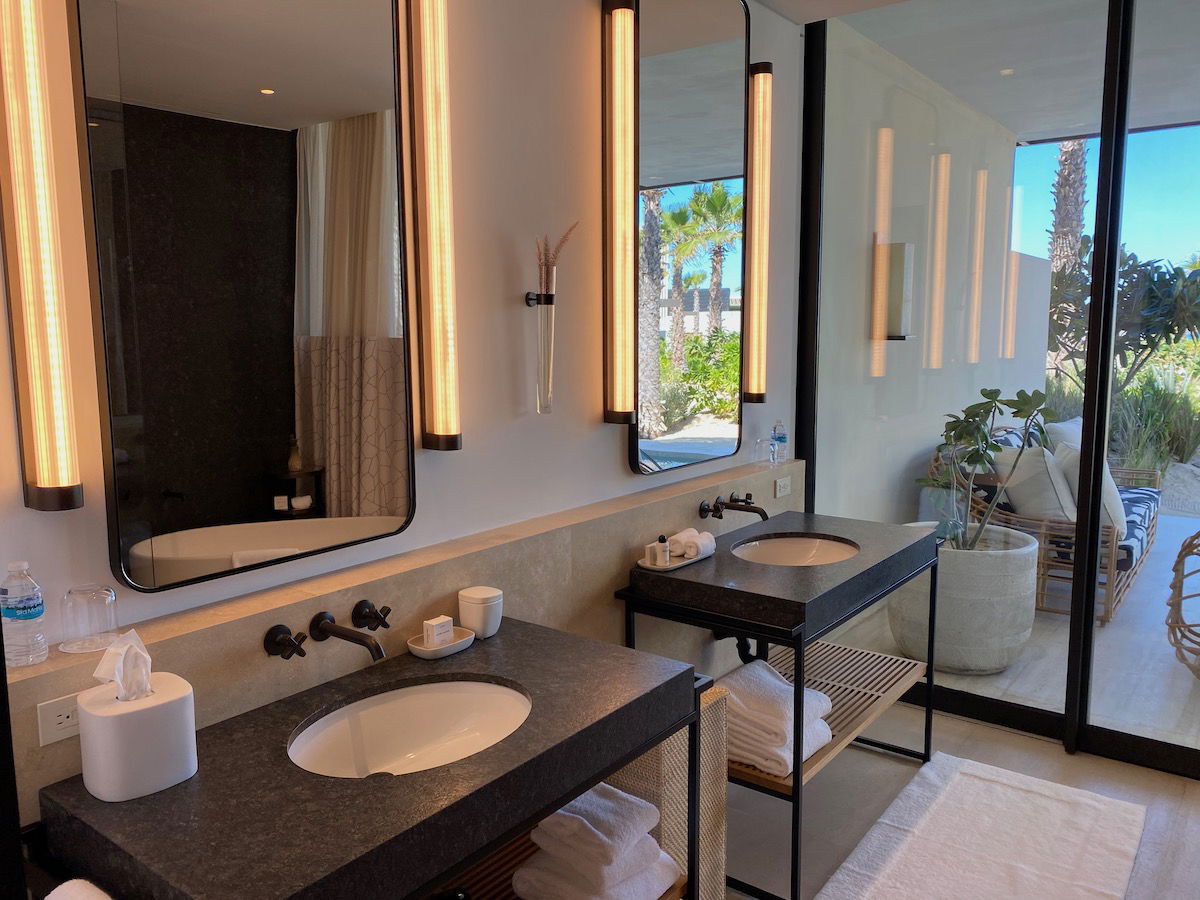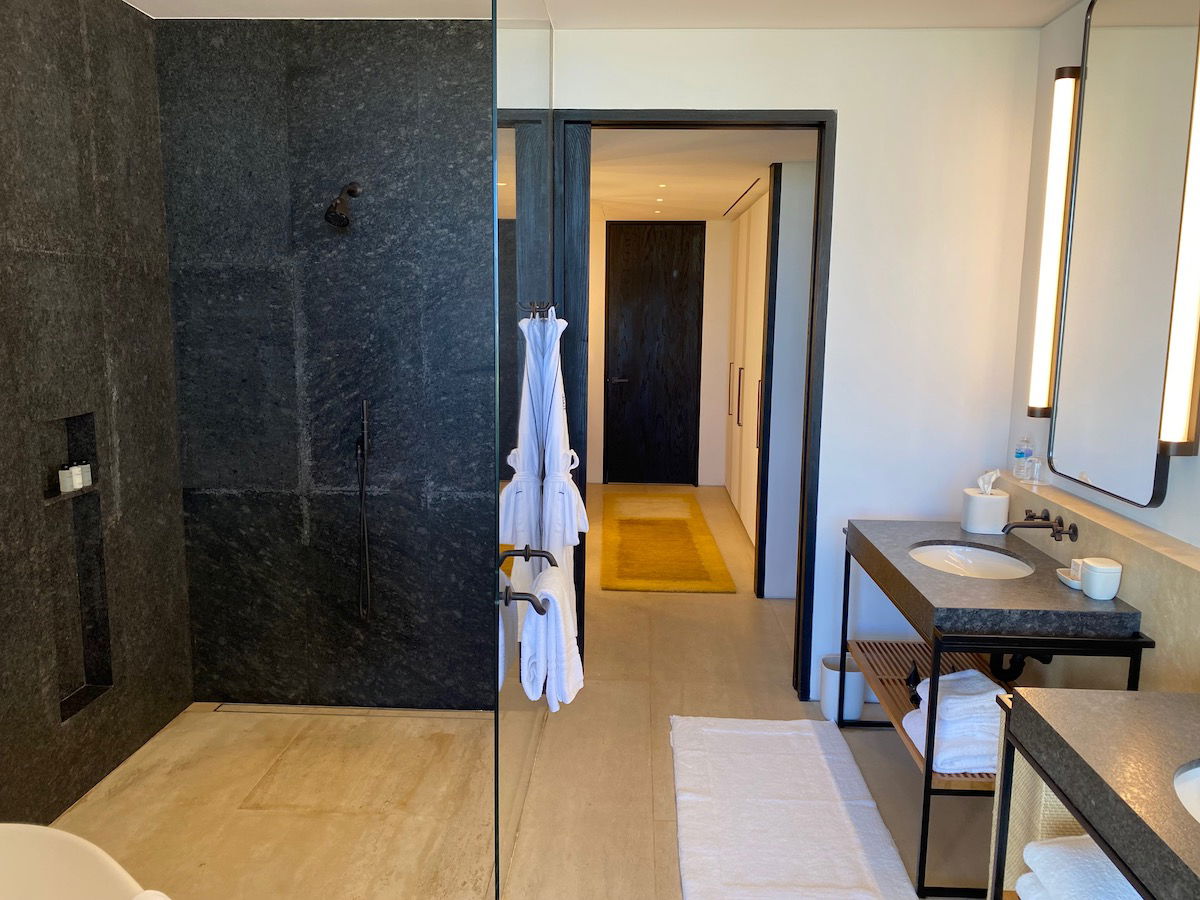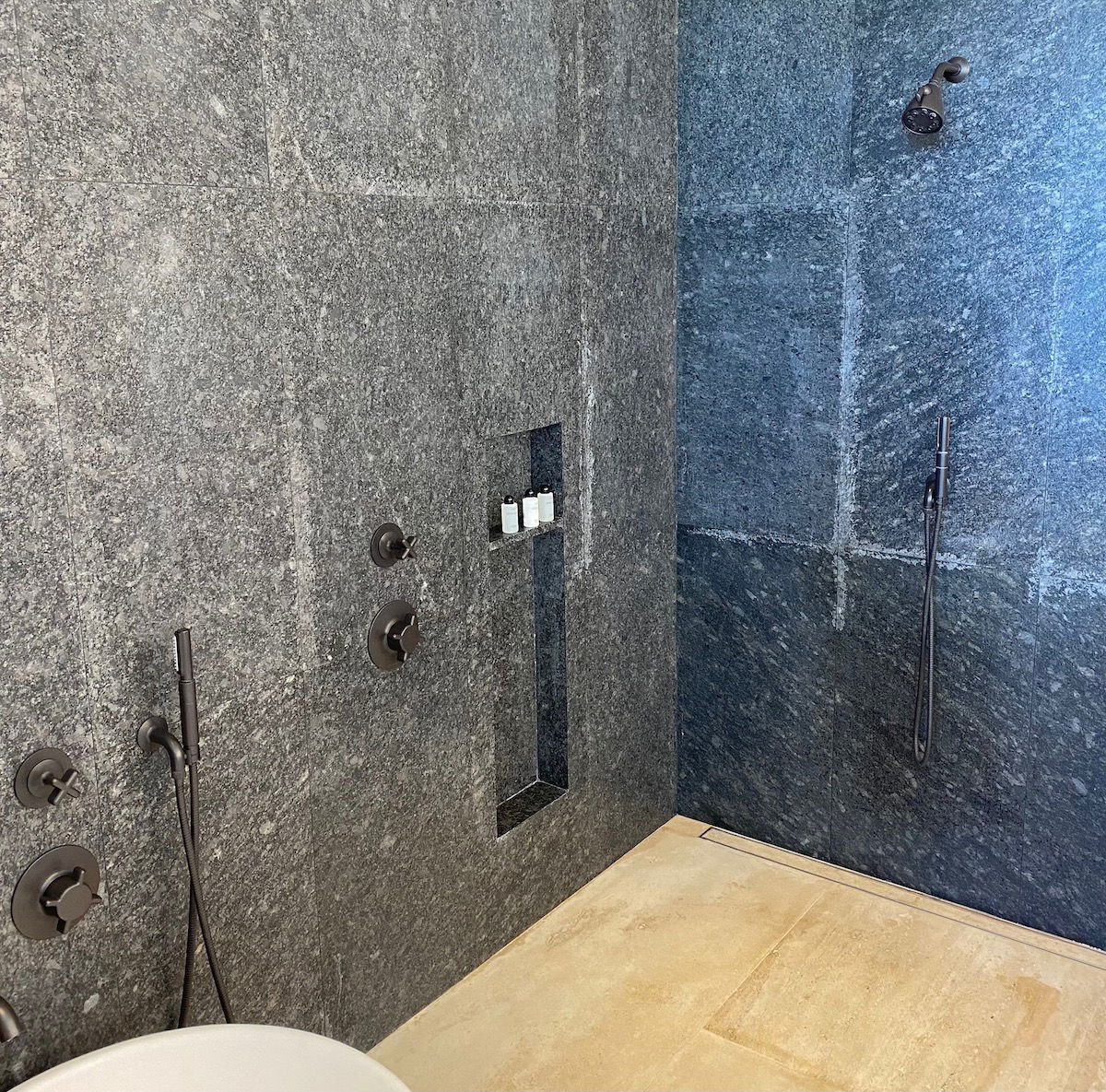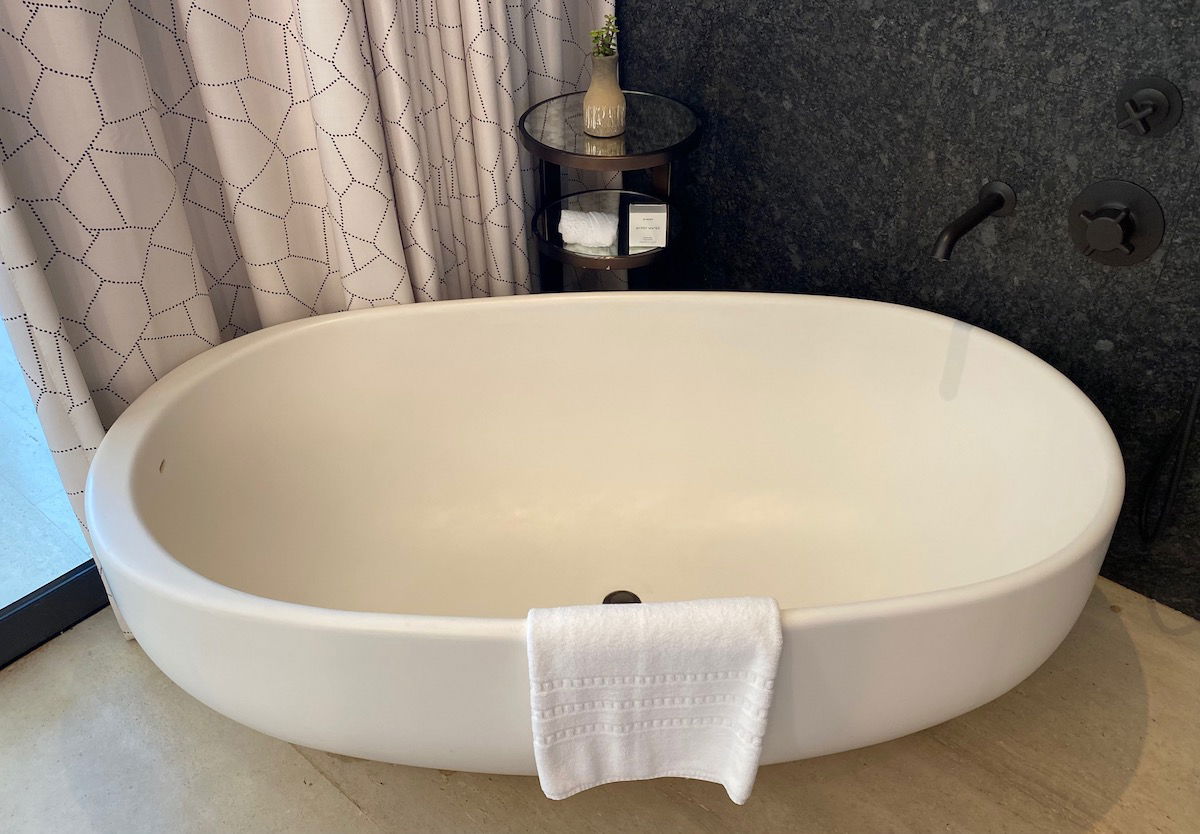 Toiletries were the Gypsy Water collection from Byredo, which are good, but nothing special, in my opinion.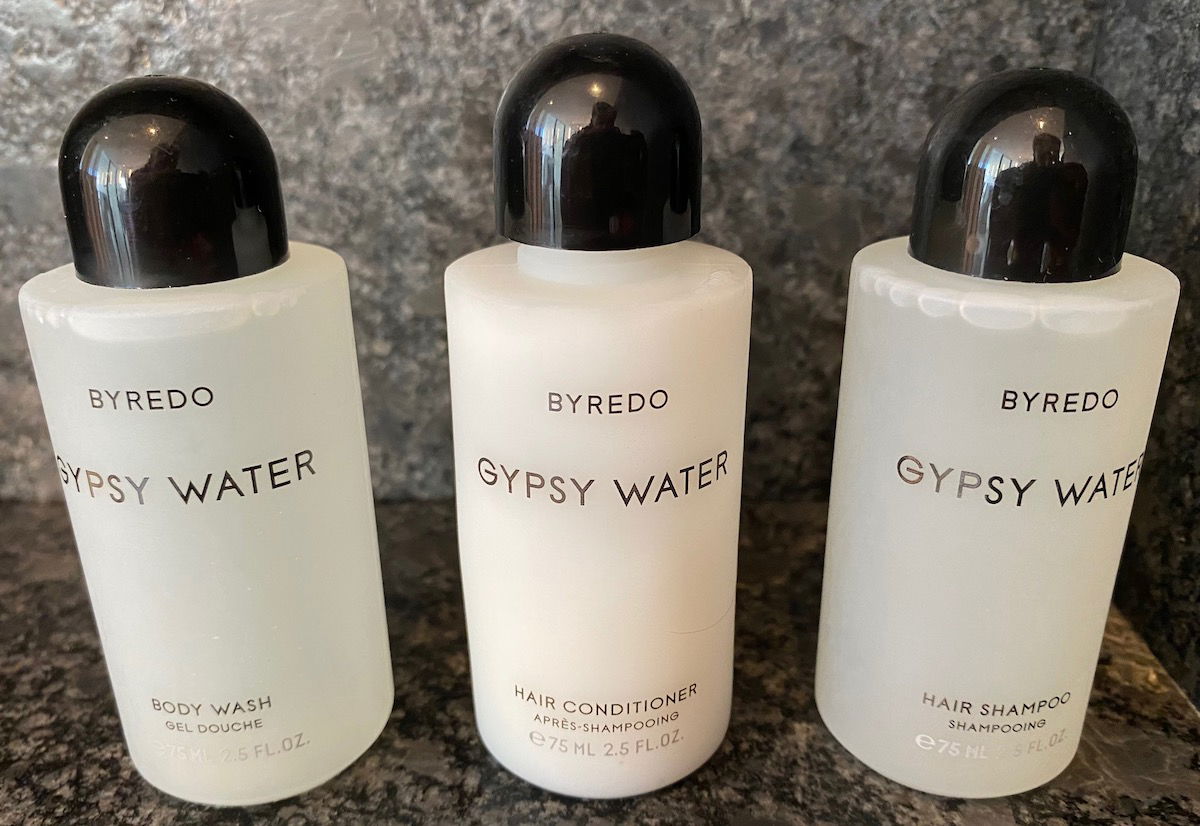 The room had a beautiful outdoor area, including a sitting area and a plunge pool.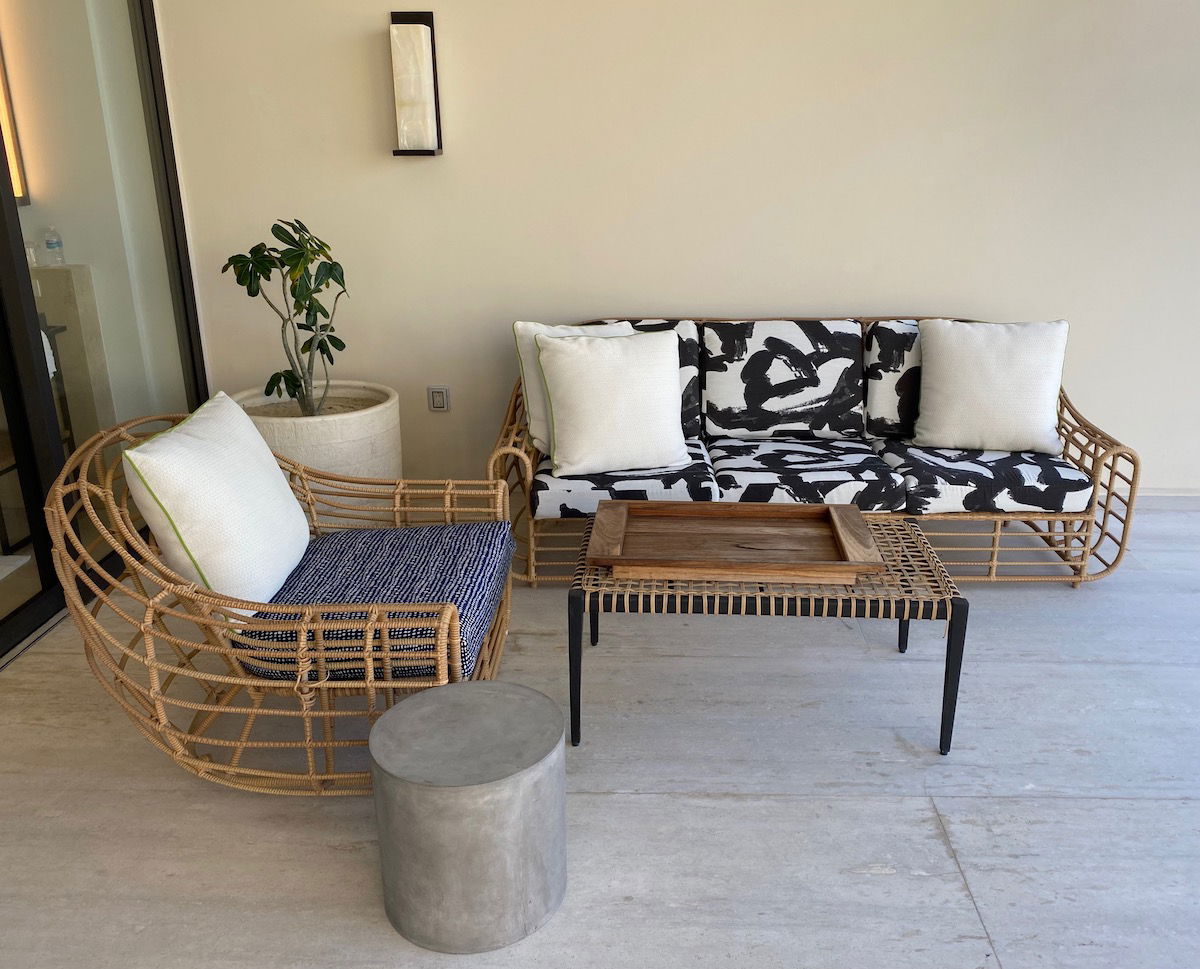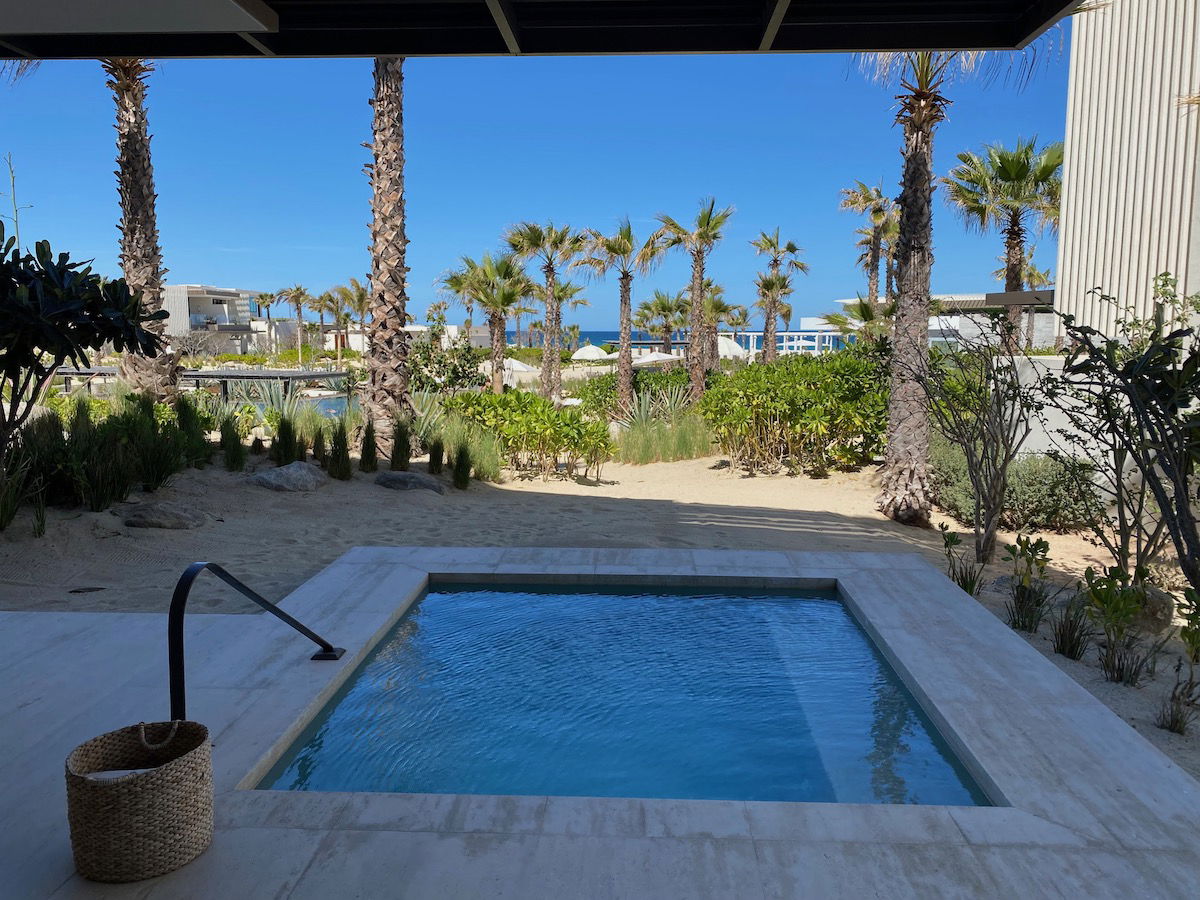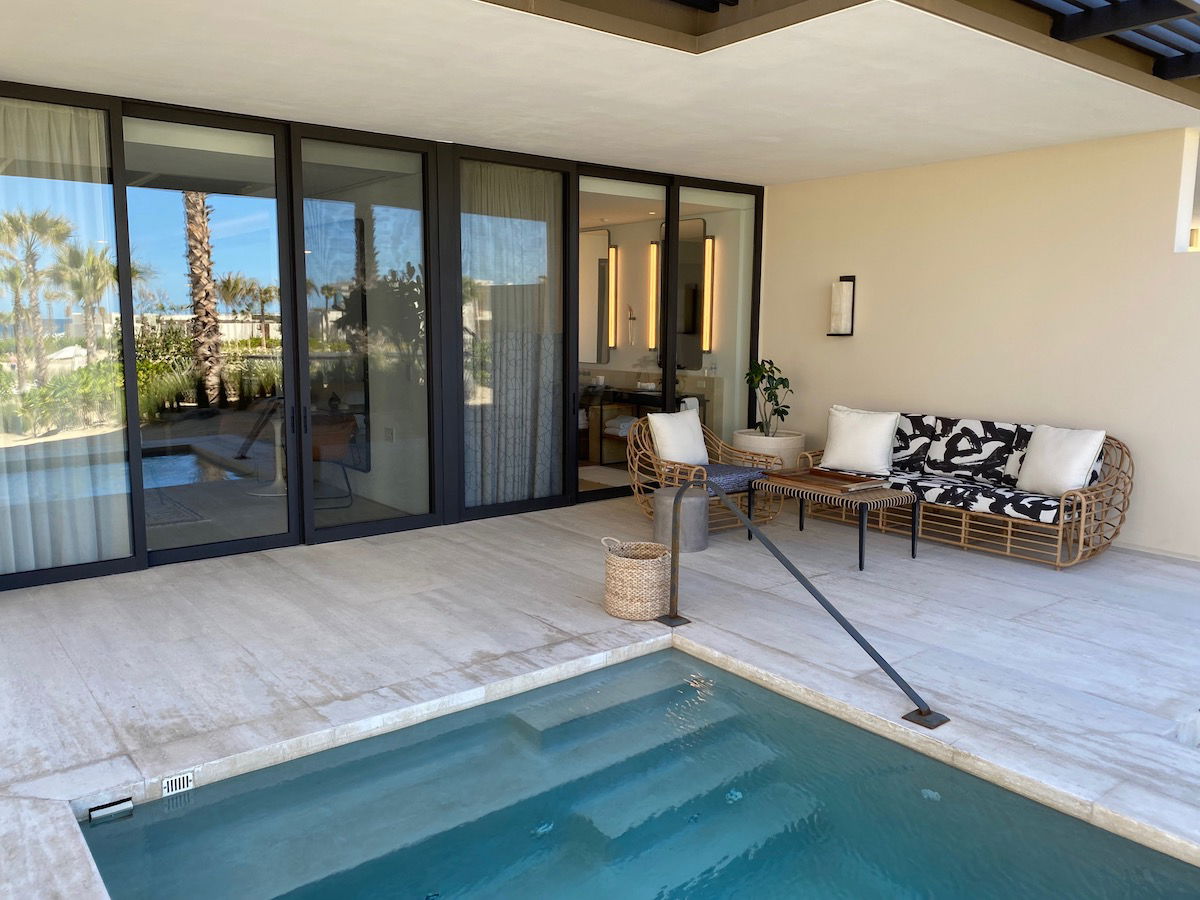 The room had quite a bit of privacy, though in the distance you could see the hotel's pools and the sea. As noted above, this is the entry level room in terms of the view, so most other accommodations give you better sea views, and some are even right on the beach.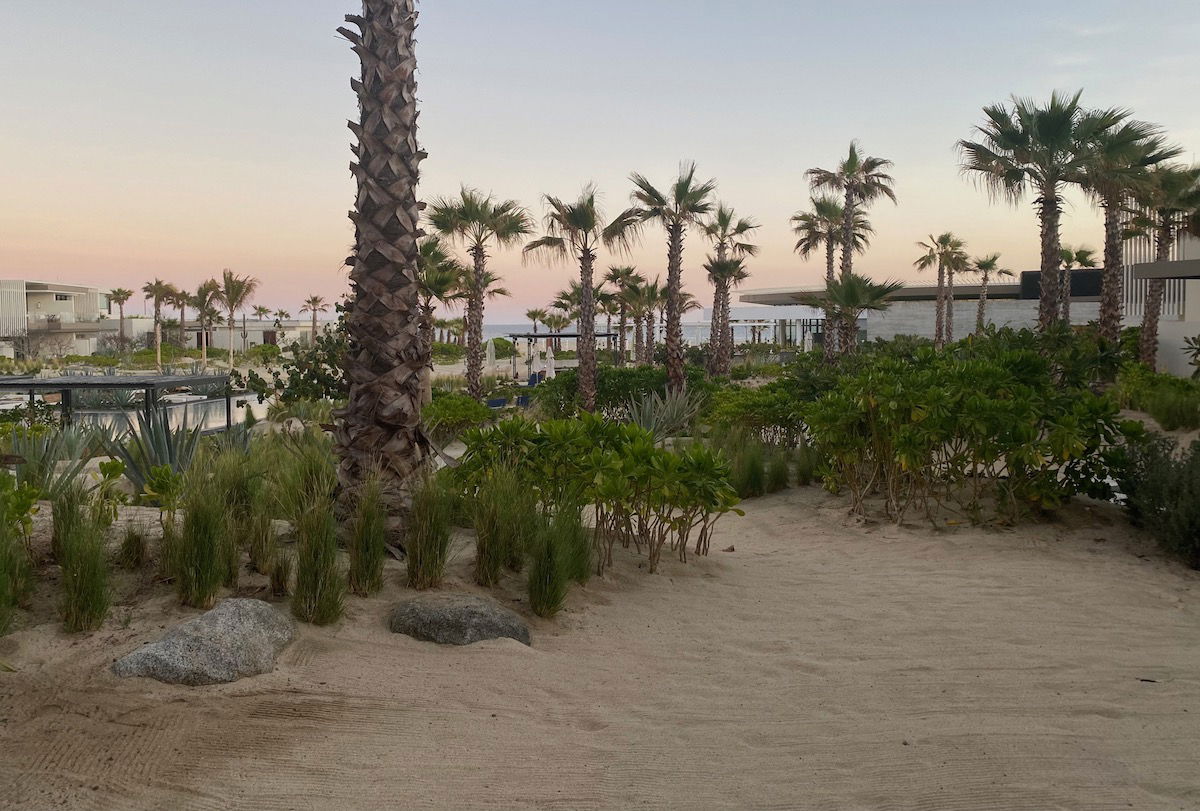 The Four Seasons' rooms are simply awesome — Four Seasons is the leader when it comes to thoughtful room design, in my opinion, and that's very much reflected at the Costa Palmas property.
Four Seasons Los Cabos pools
The Four Seasons Costa Palmas features a jaw-dropping seven pools plus several hot tubs (in addition to private plunge pools), so this isn't a resort where you need to get up at the crack of dawn to reserve your seat at the pool.
There was the largest pool, which surrounded one of the hotel's restaurants, and featured rocks and sand.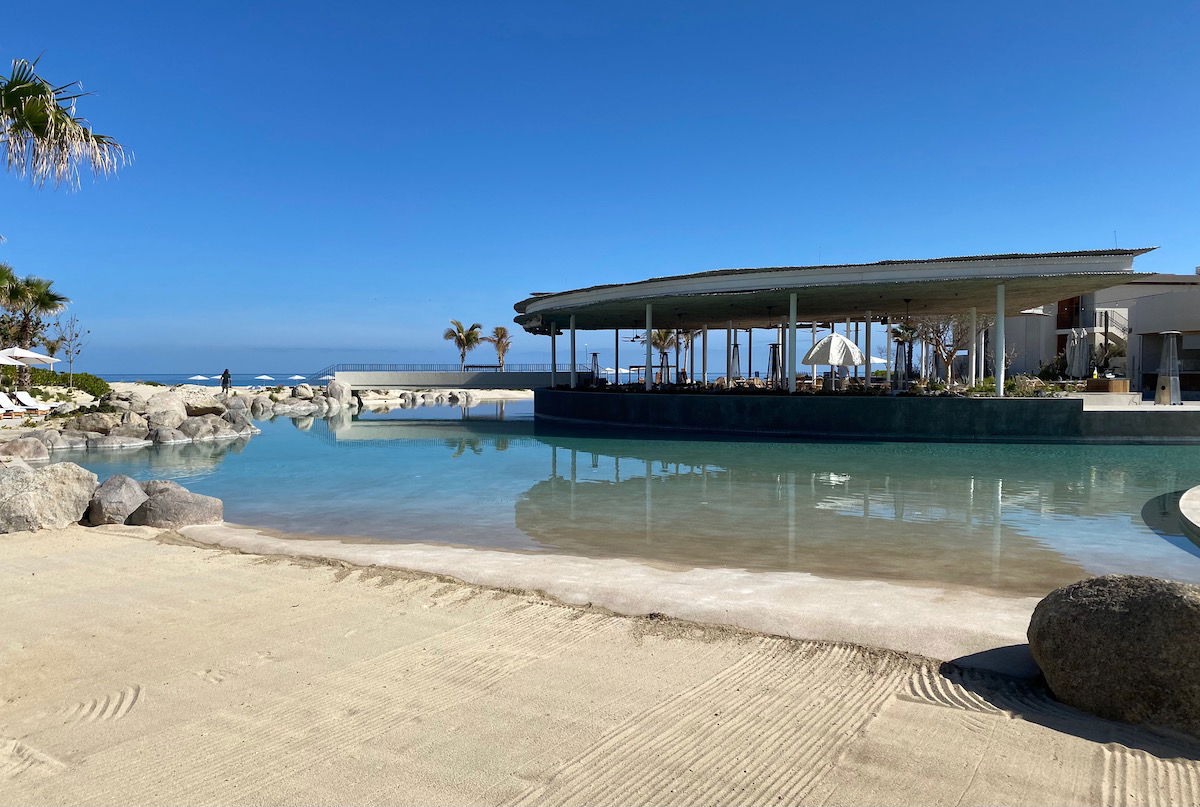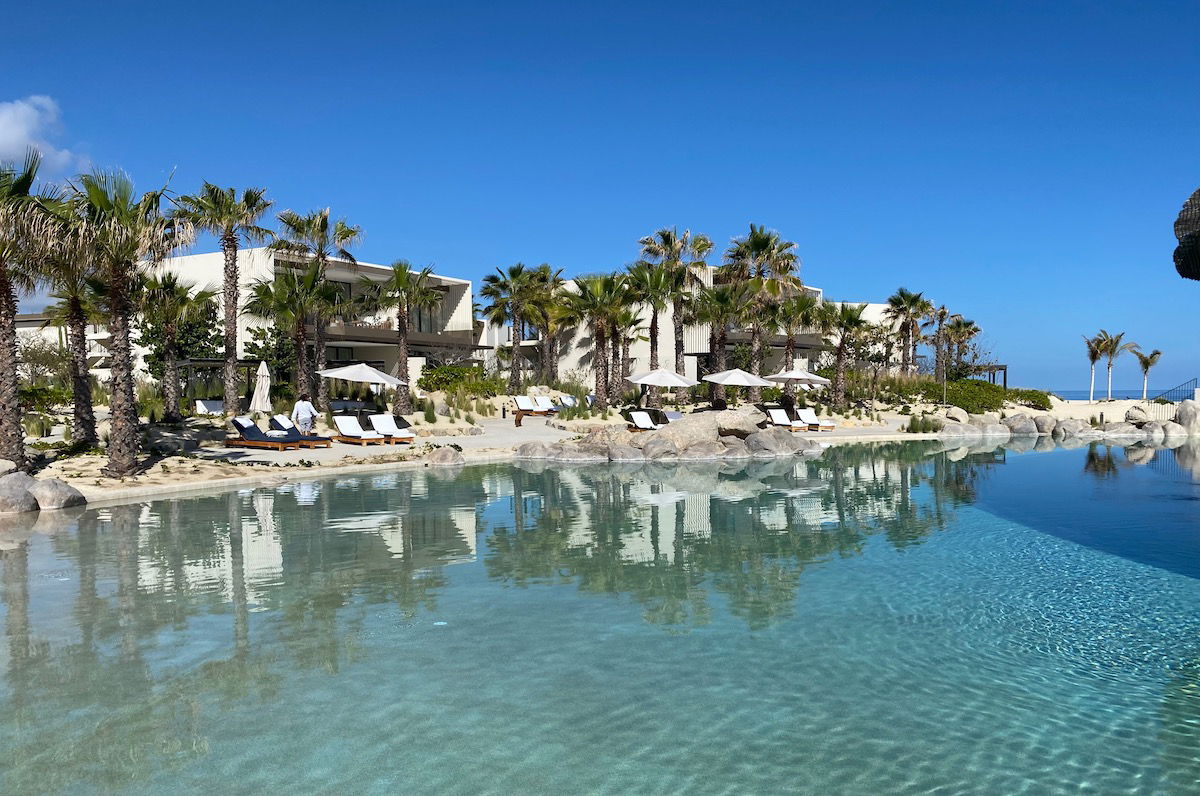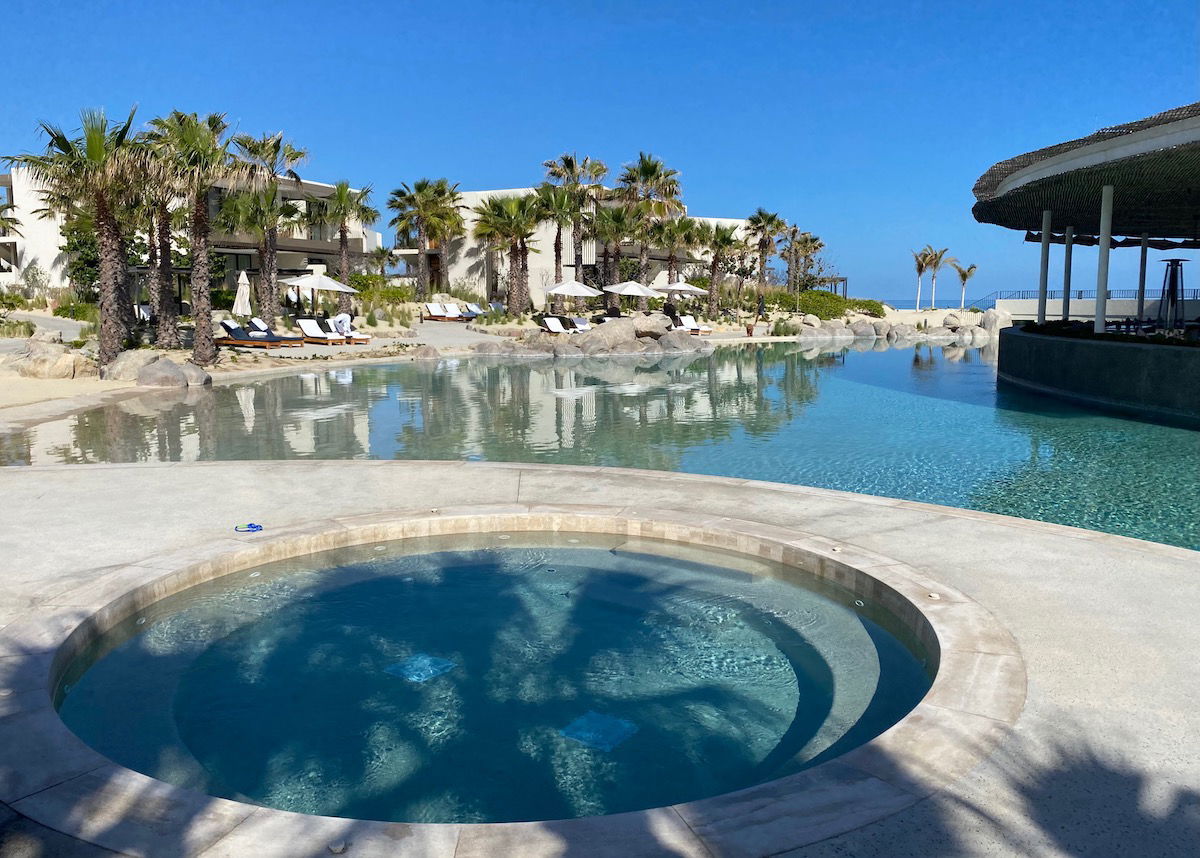 Then there was a large "U" shaped pool, with plenty of seating around it…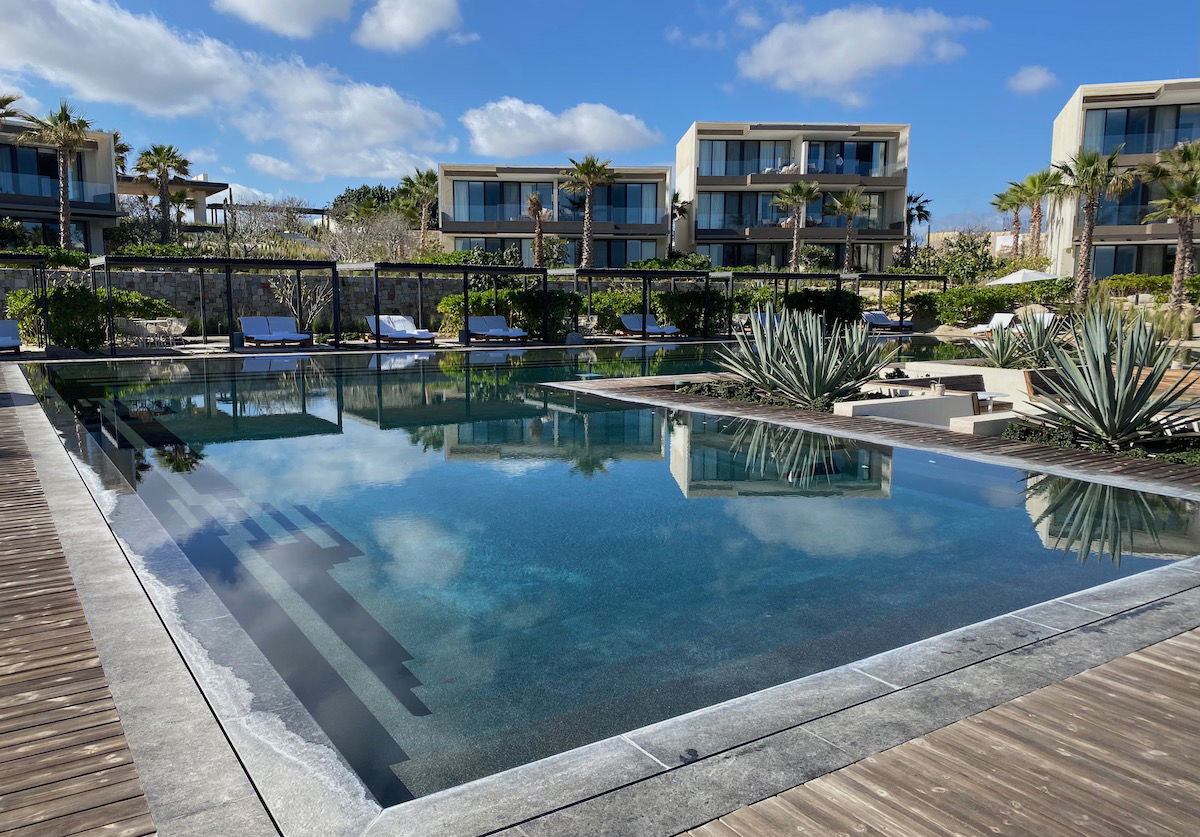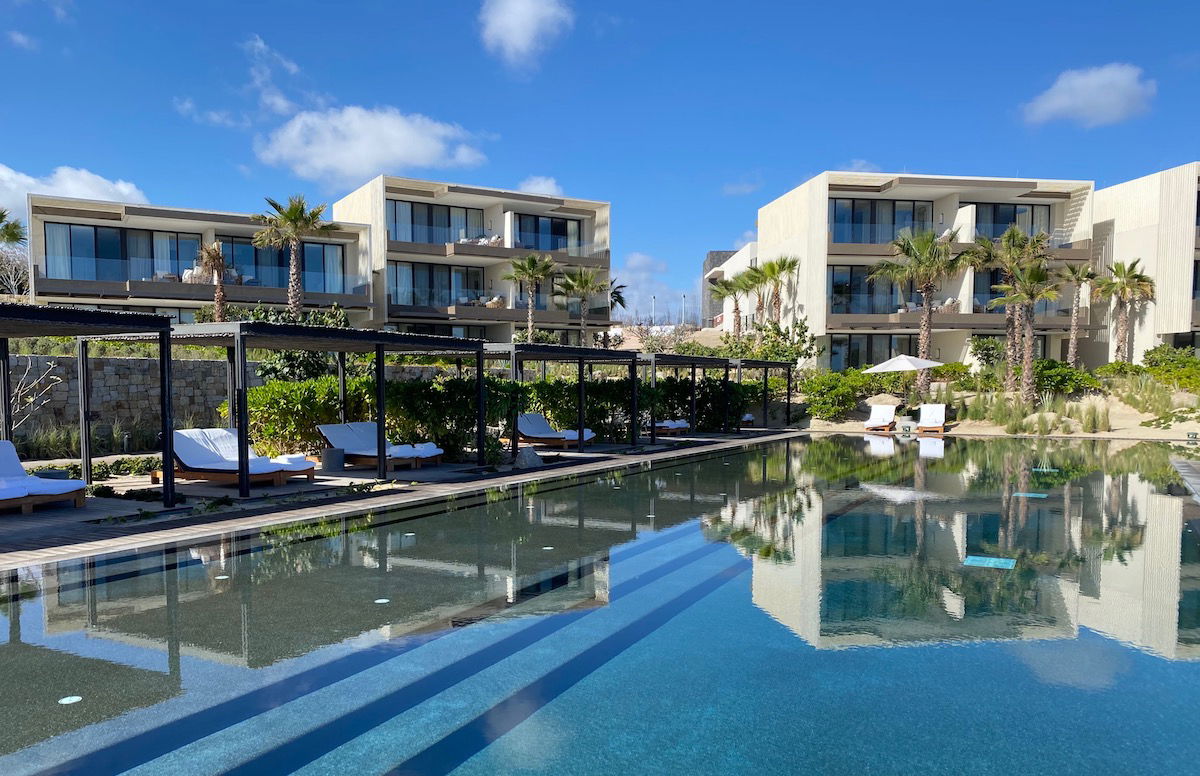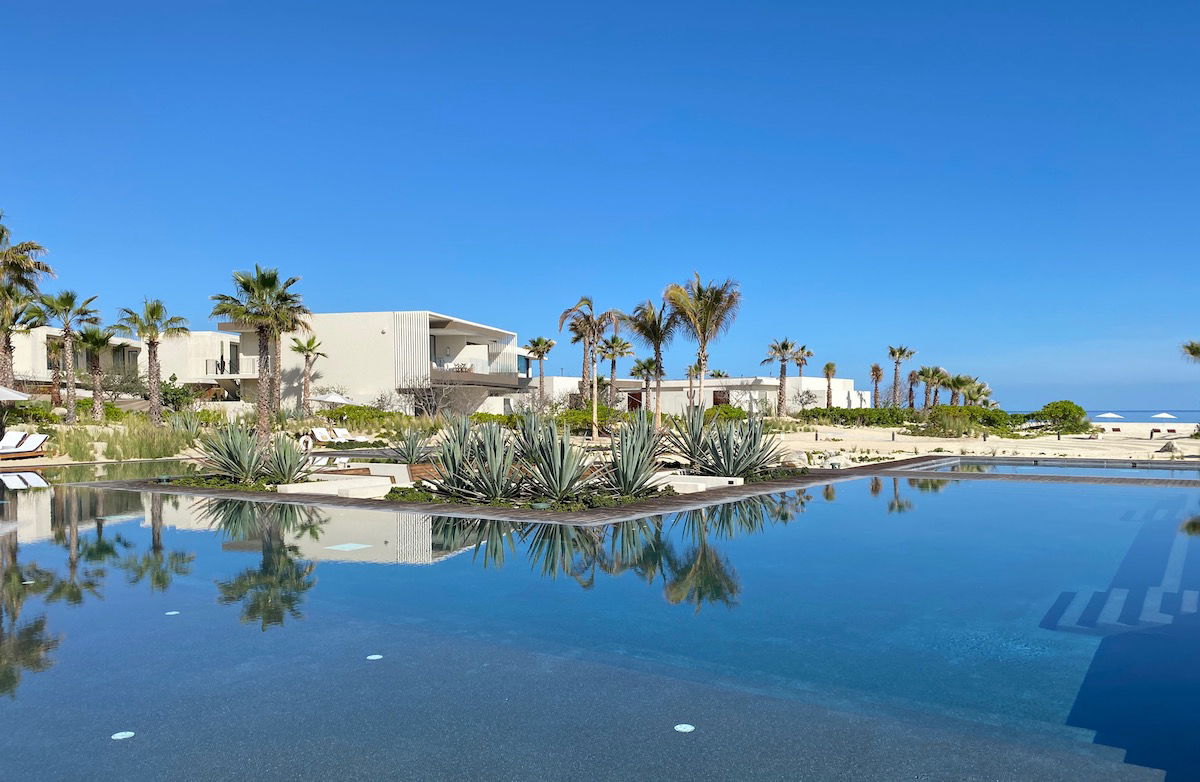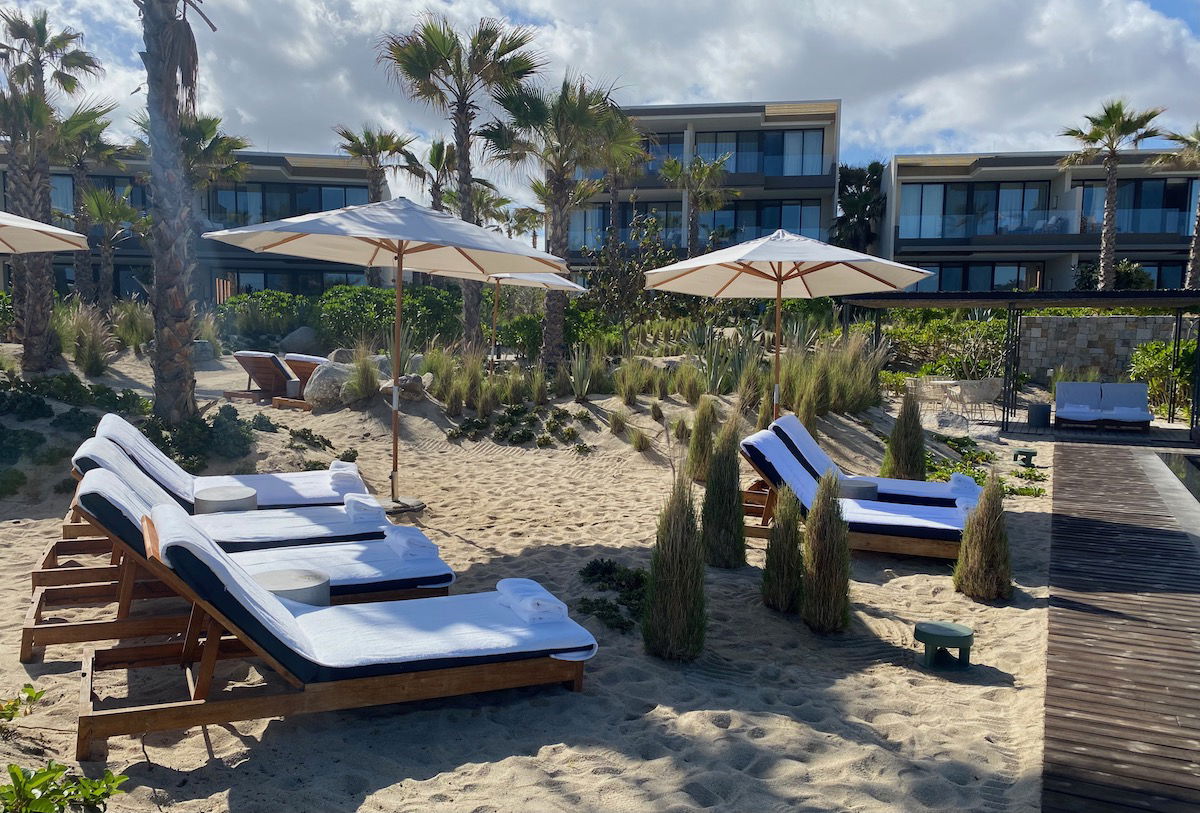 There was another pool with a unique shape…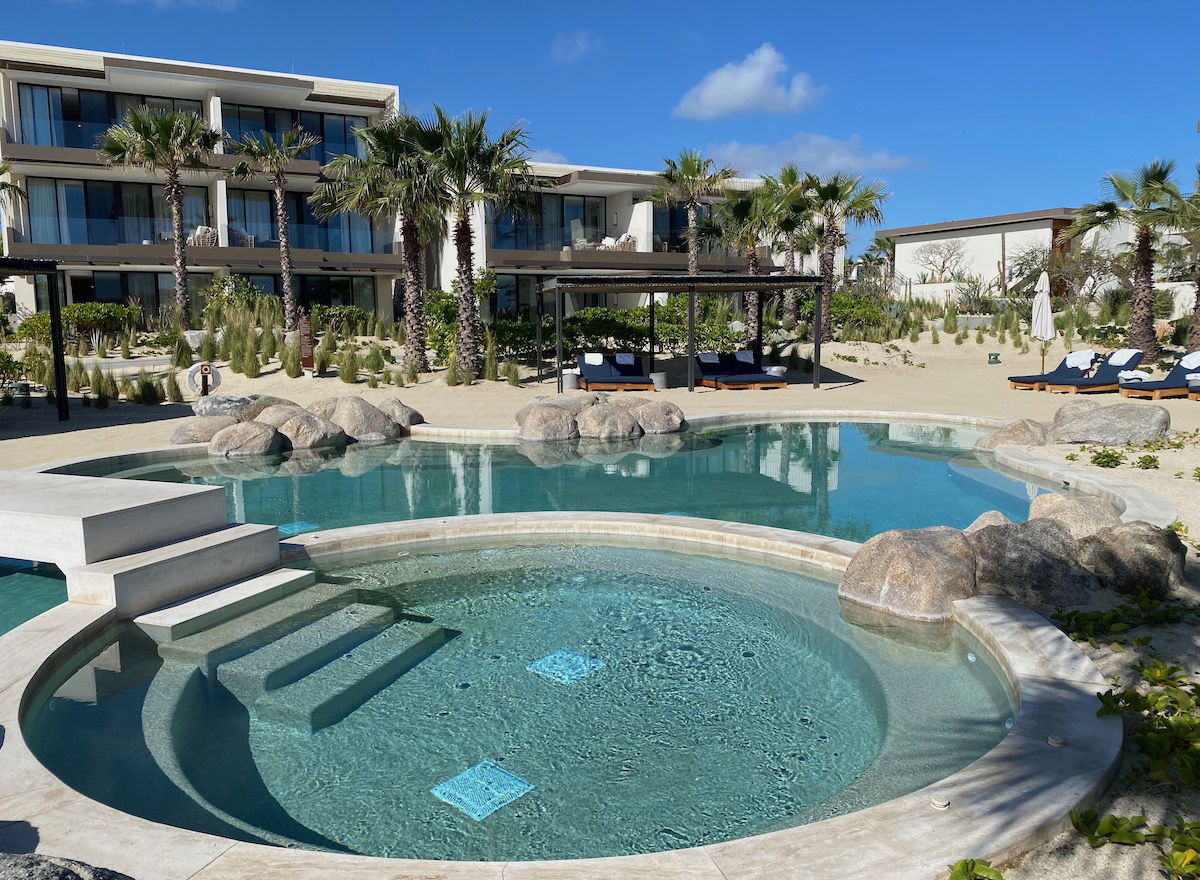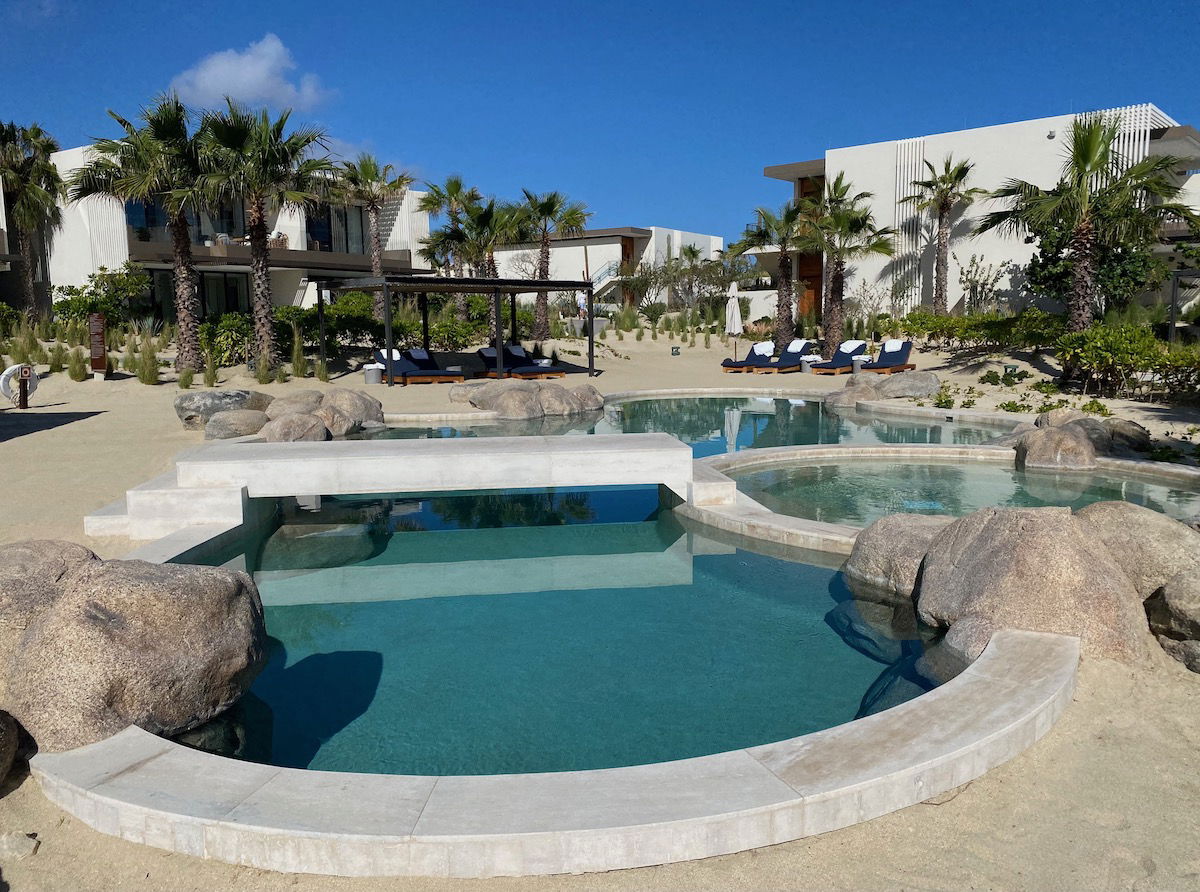 Then there were a couple of smaller pools…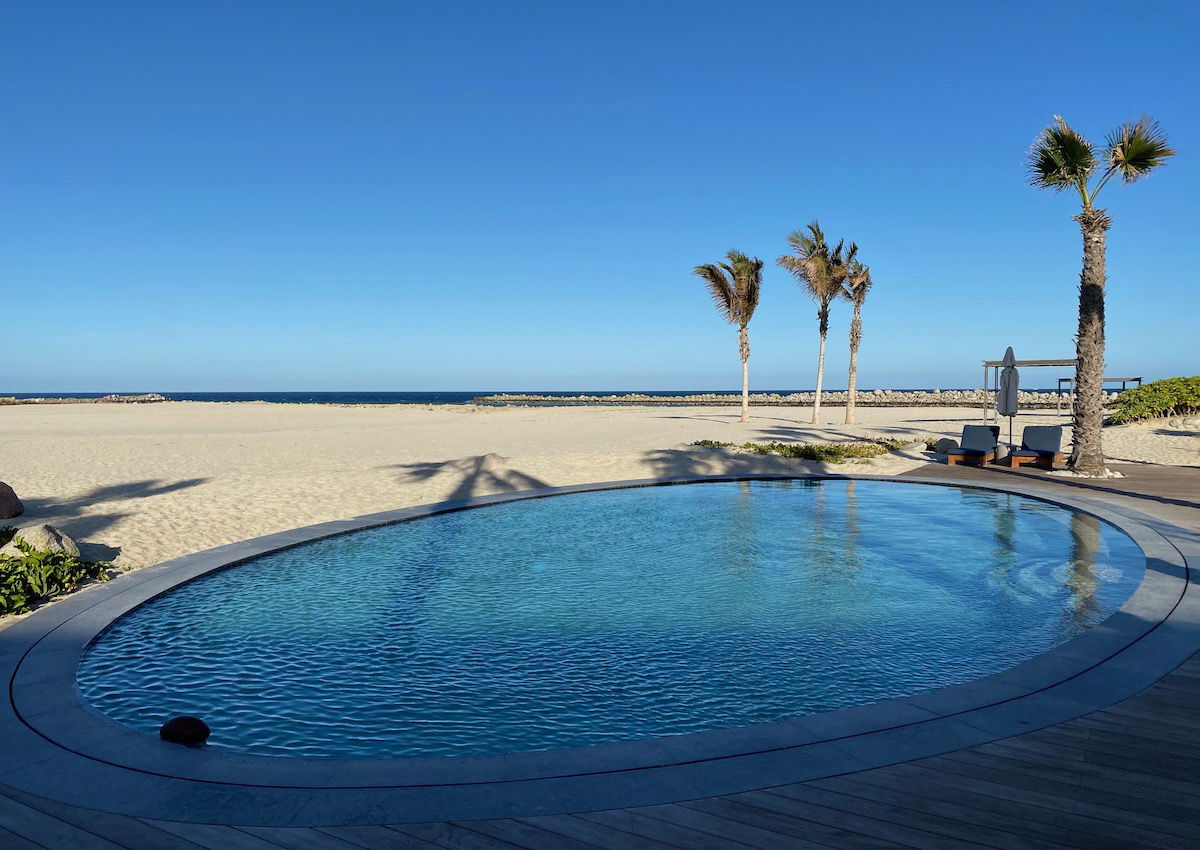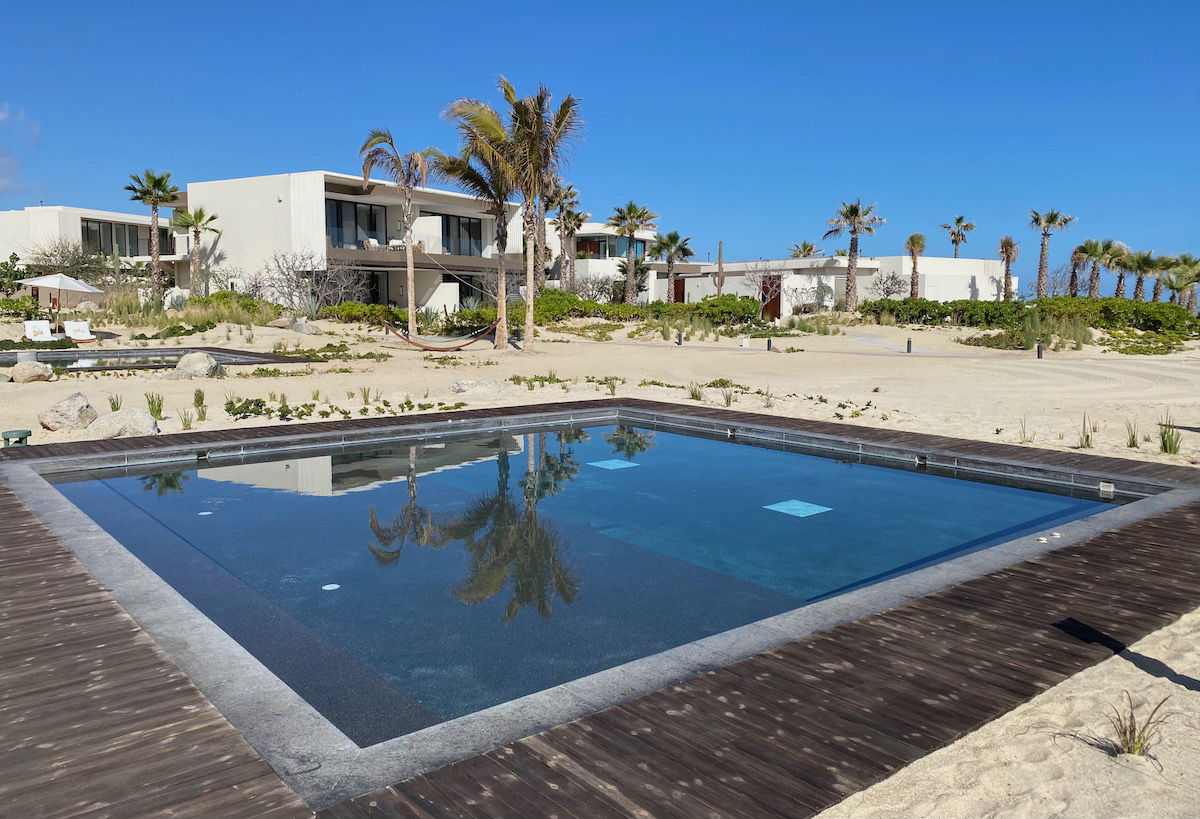 Then there was a lap pool at the gym…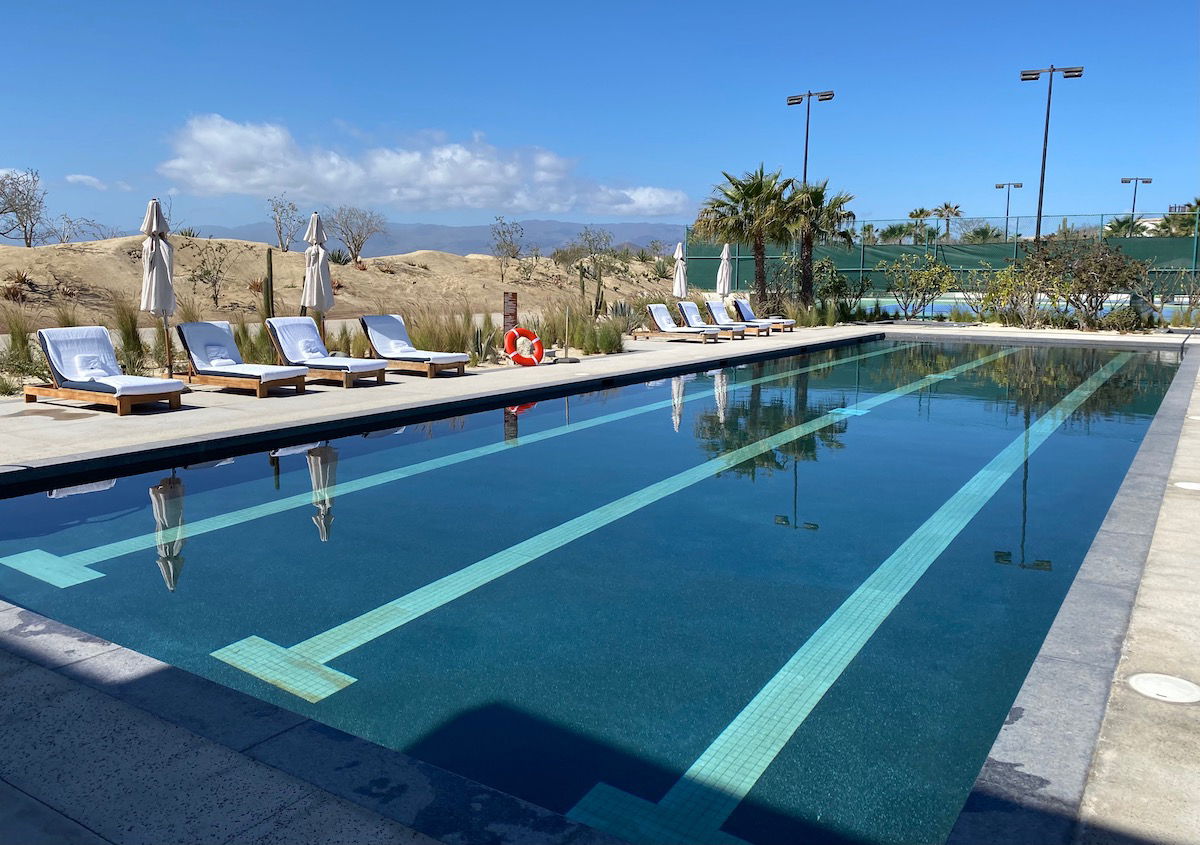 Yeah, the Four Seasons has a strong pool game.
Four Seasons Los Cabos beach
Arguably this is what sets the Four Seasons apart the most from all other properties in Los Cabos. In general beaches in Los Cabos aren't that impressive, and aren't swimmable. The Four Seasons is on a two mile stretch of beach on the Sea of Cortez that's in a league of its own.
Near the hotel you of course have service on the beach, with lounge chairs, umbrellas, food and drink service, etc.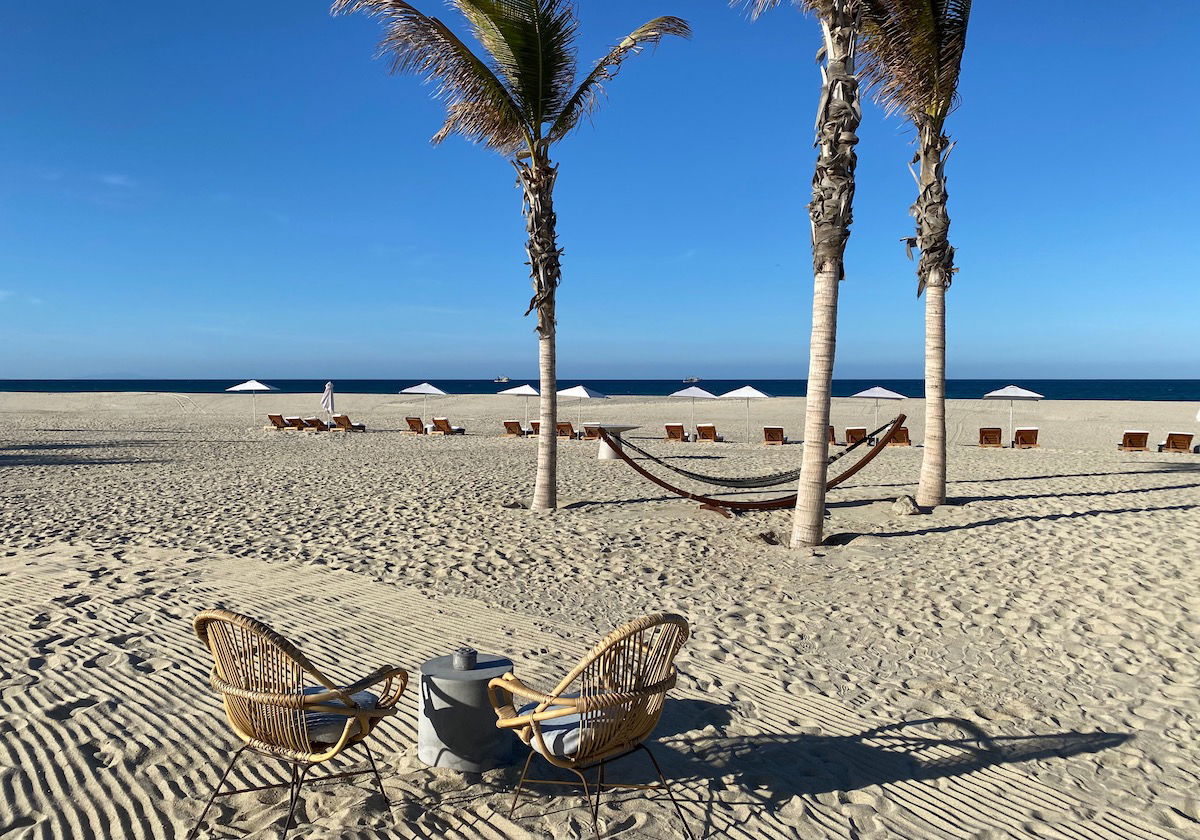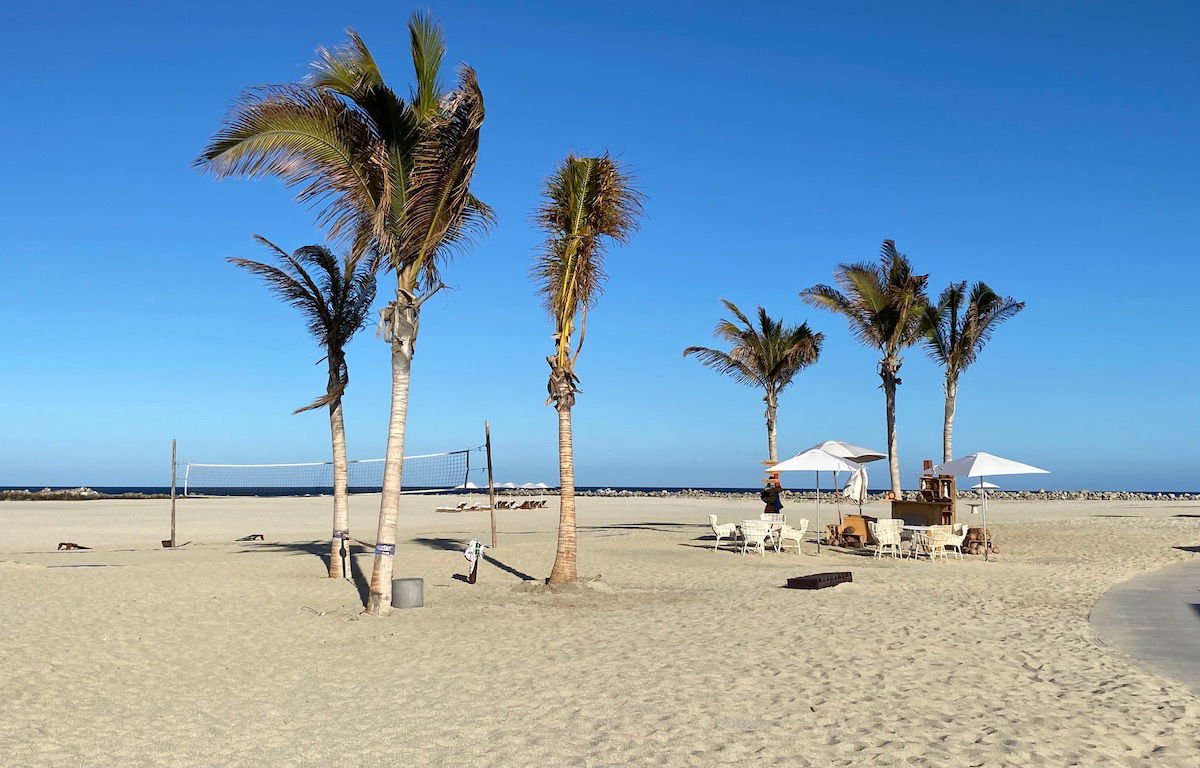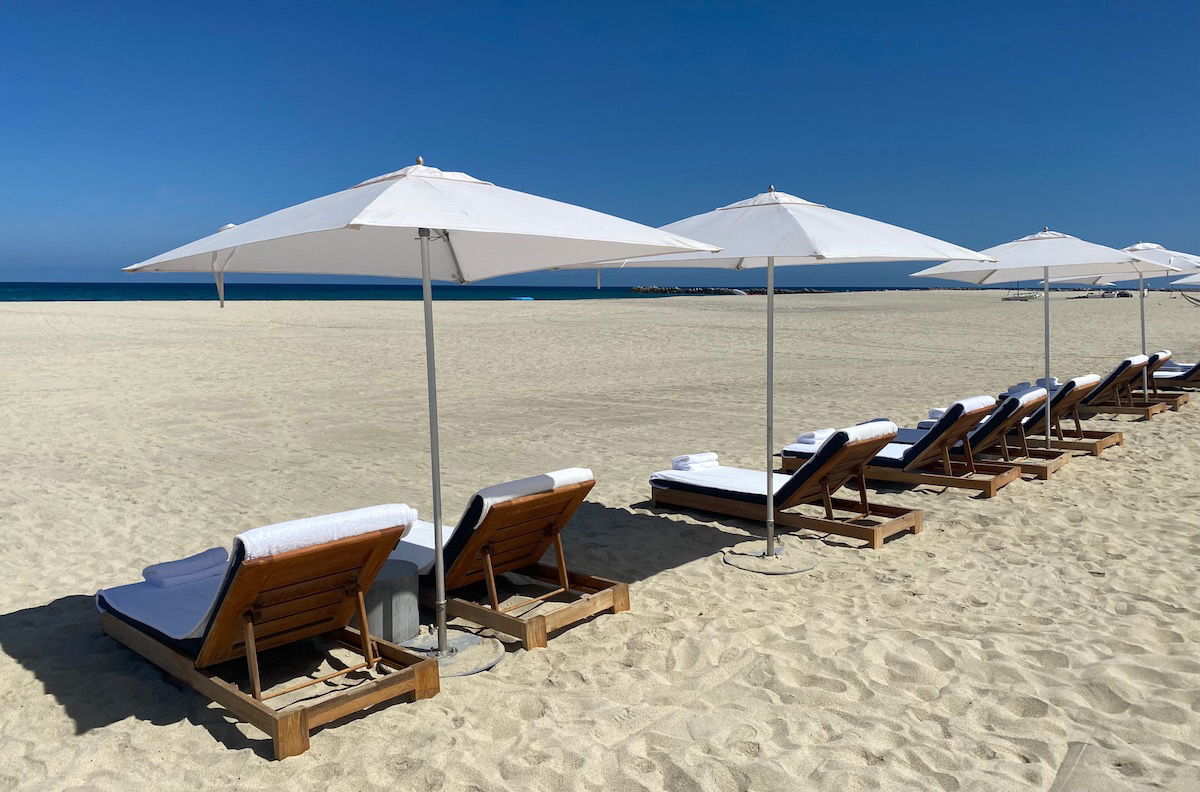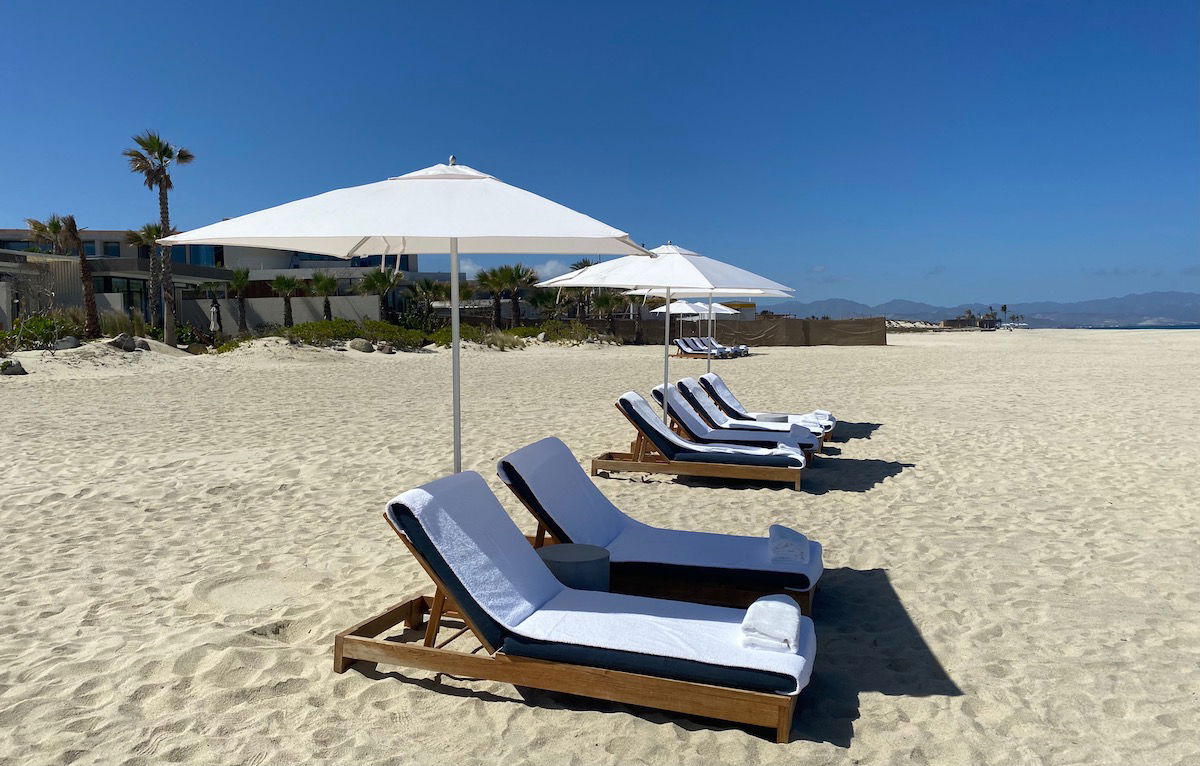 Beyond that you have what's easily one of the widest, biggest, and most pristine beaches I've ever seen. While other beaches in the Cabo area may be 50 feet "deep," this one must be… I don't even know? Not only that, but on a day with calm weather, the sea here is swimmable, and you can partake in water sports, like kayaking, which isn't possible at other Los Cabos properties.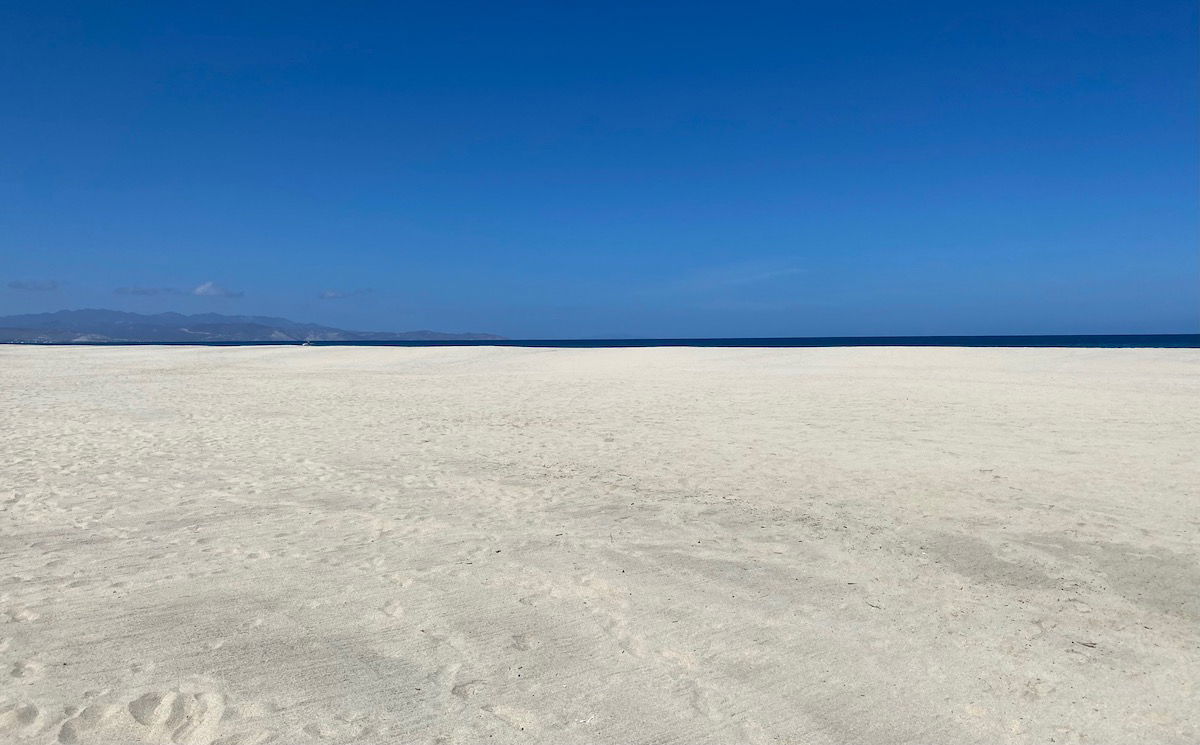 Other parts of Costa Palmas are still being developed, but taking a sunrise walk on this beach every morning and seeing literally no one is something I haven't forgotten to this day.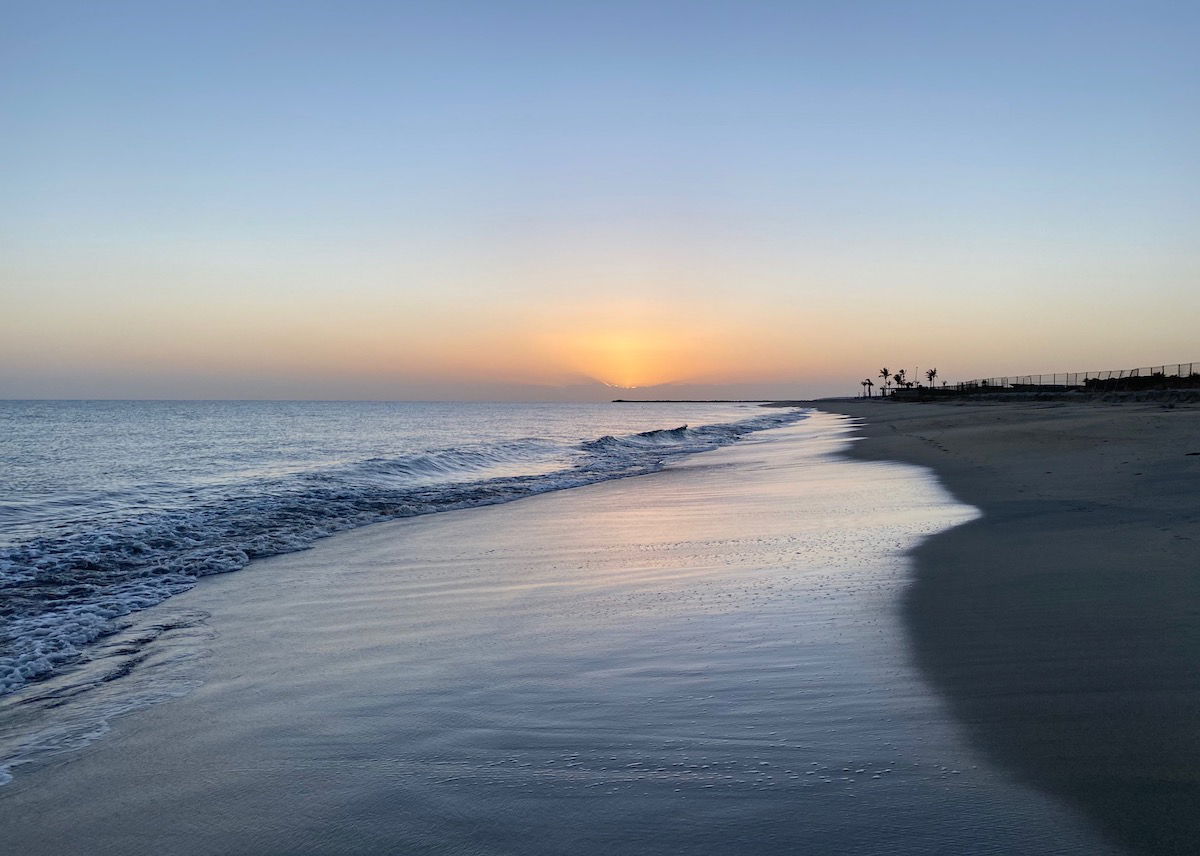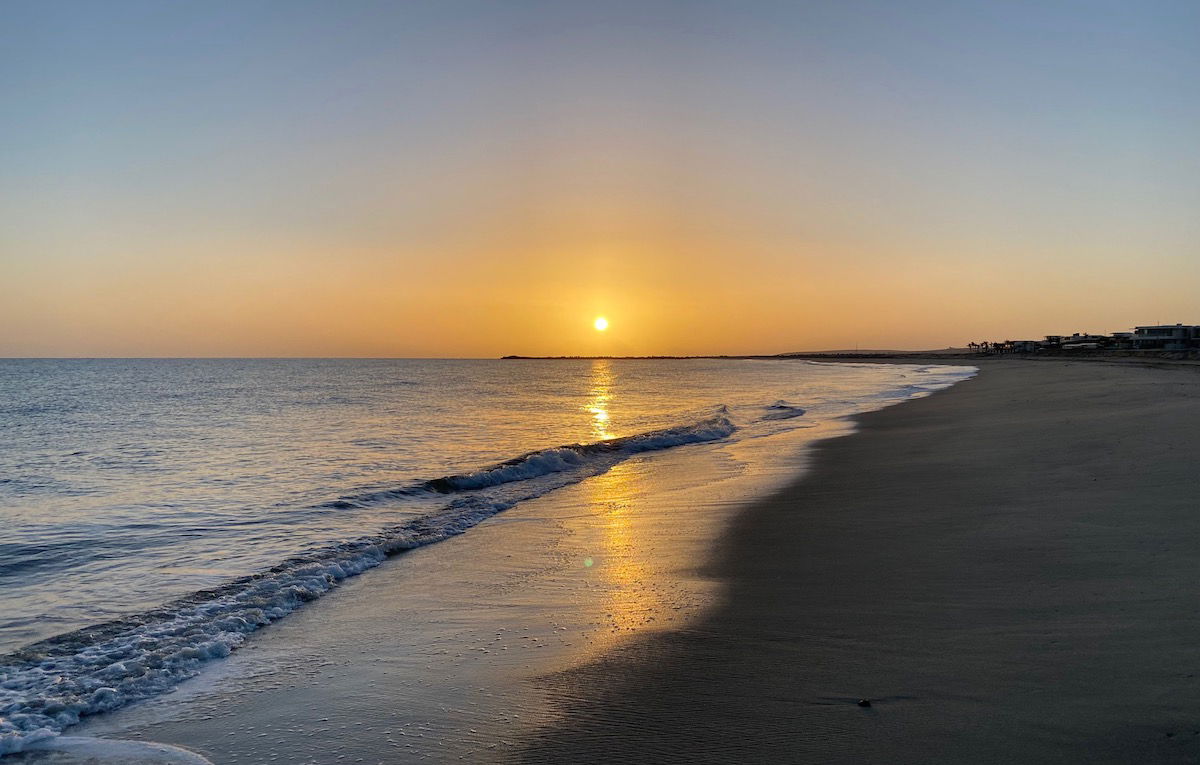 Four Seasons Los Cabos gym
Four Seasons properties consistently have great gyms, but I think this hotel might have the best Four Seasons gym I've ever seen, and that's saying a lot. The gym was in a two story complex, and featured both an indoor and outdoor area.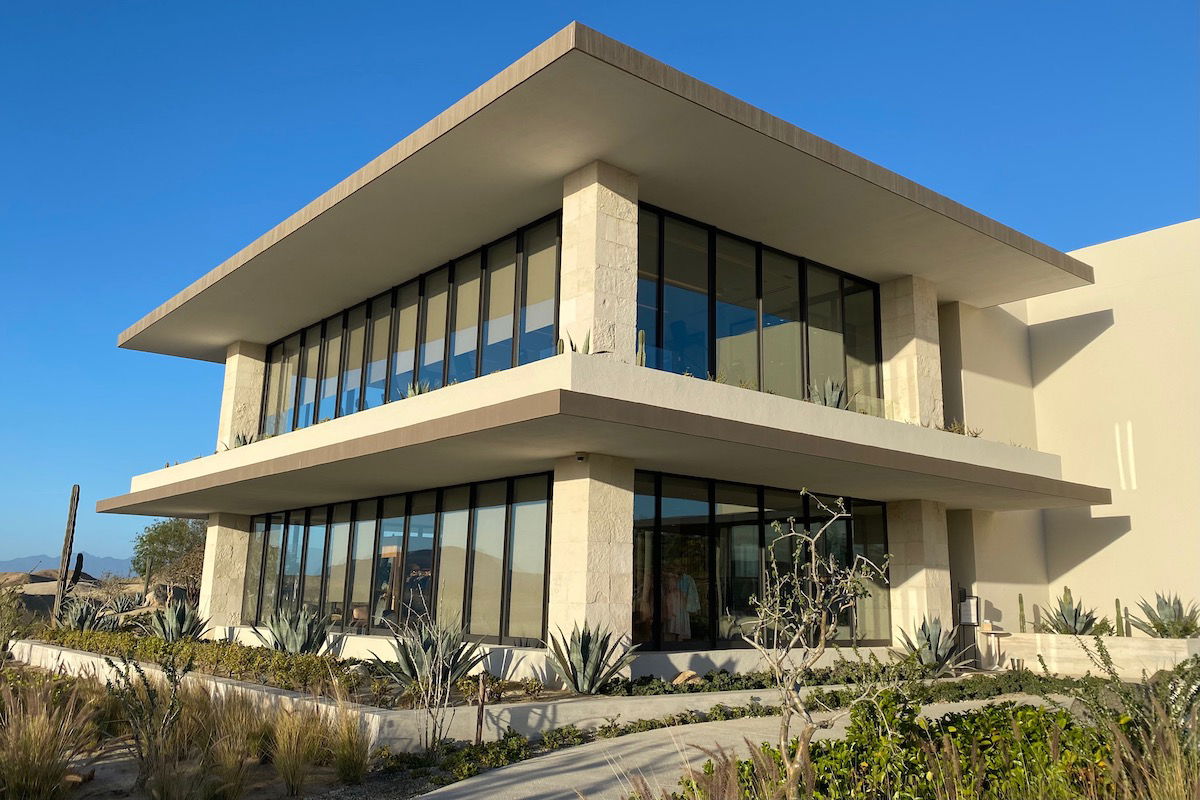 The quality and quantity of equipment here was astonishing. There was an area dedicated to cardio, with dozens of machines.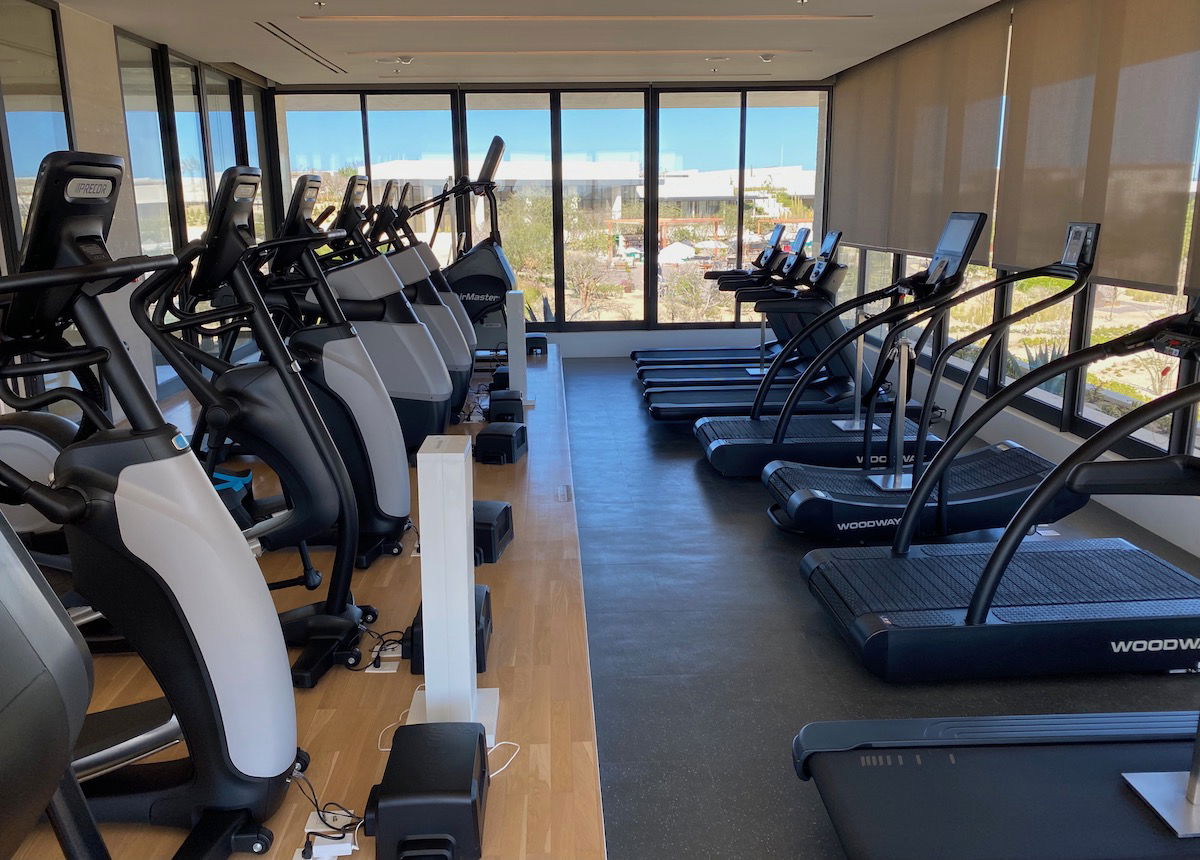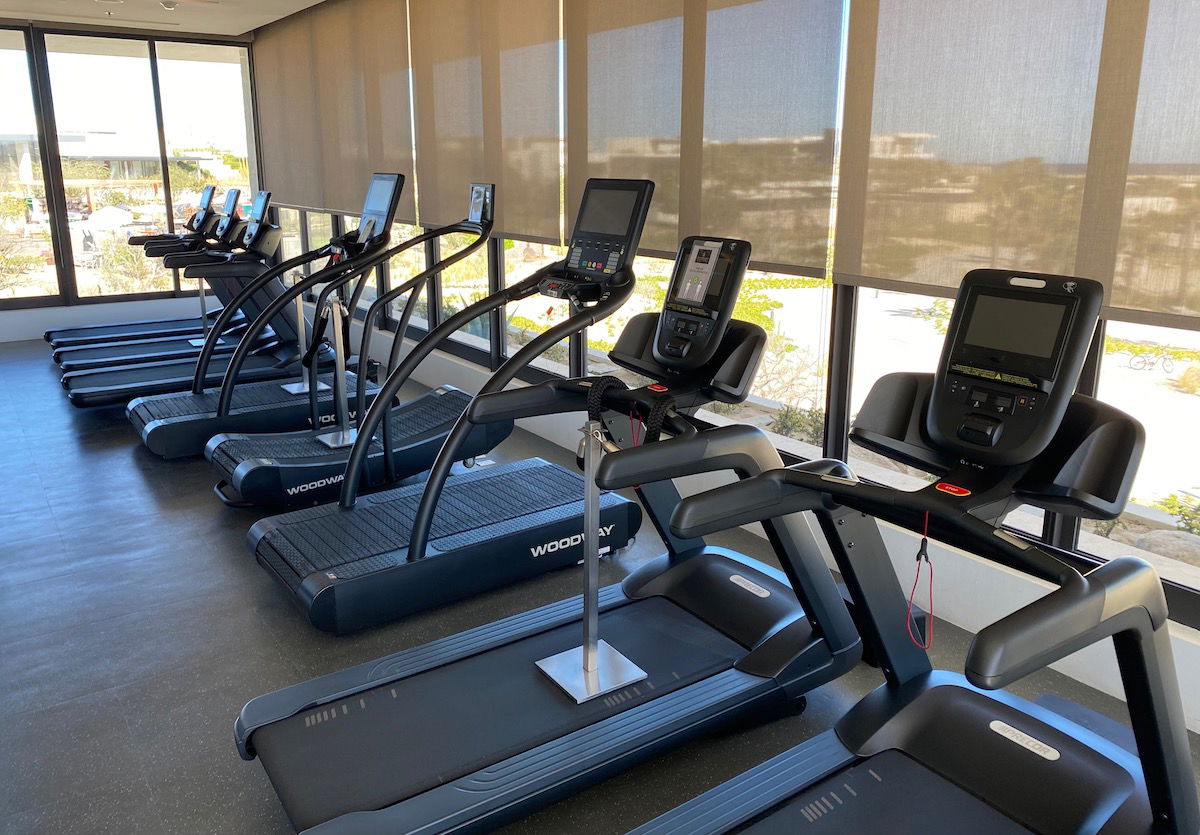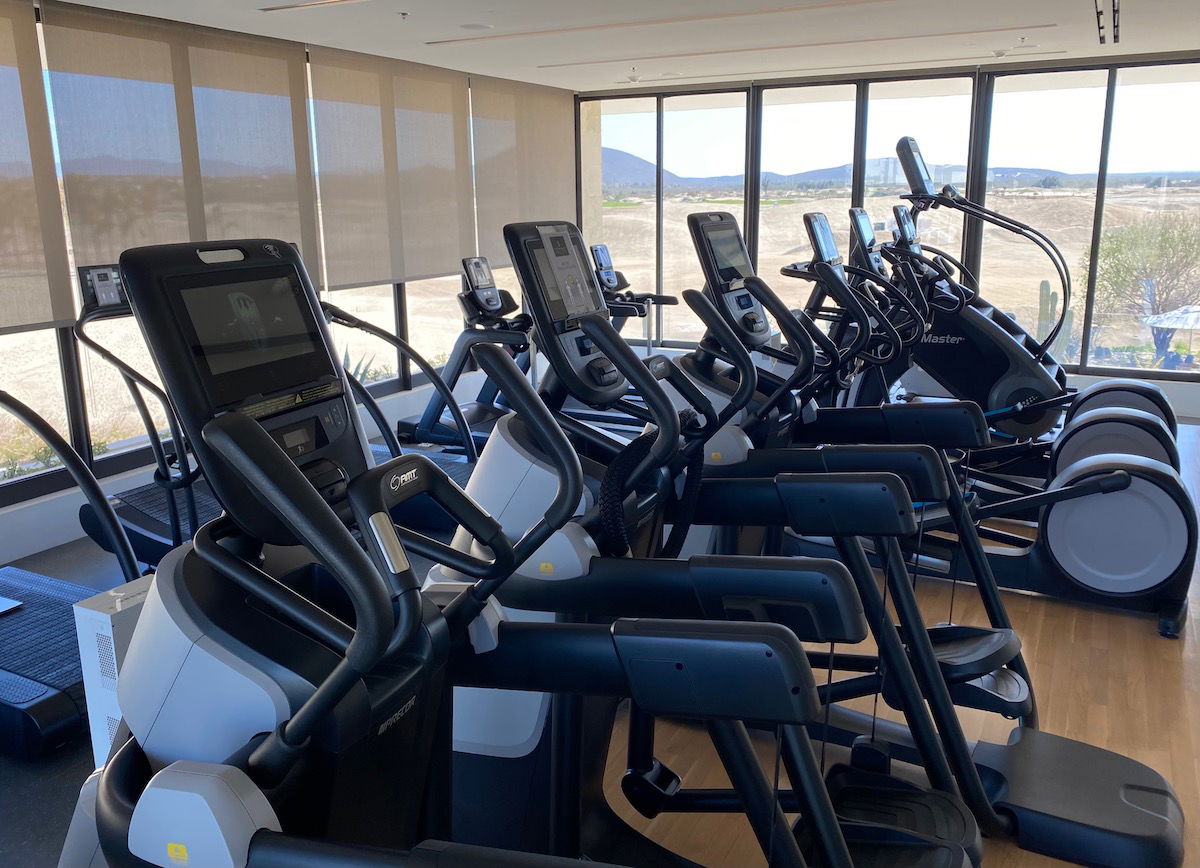 There was even some outdoor cardio equipment.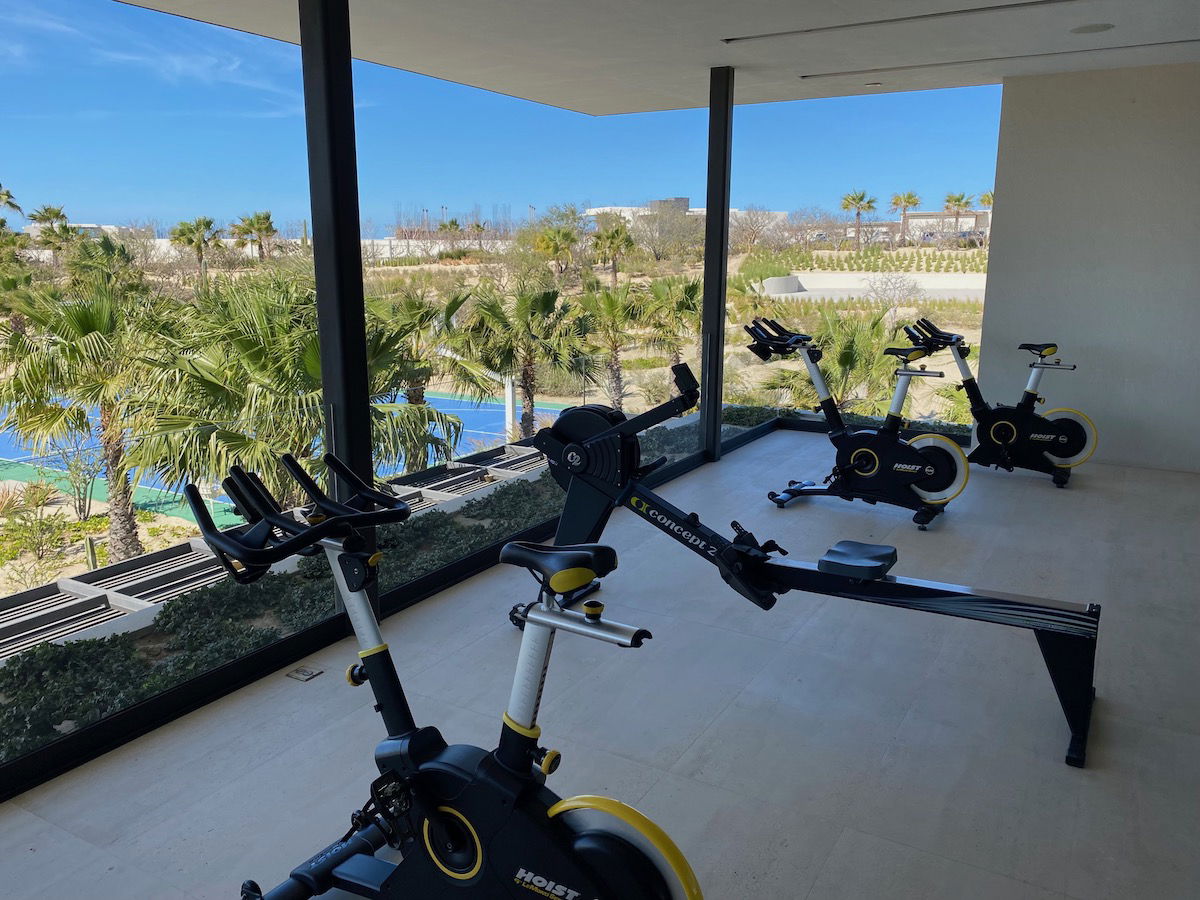 Then there was a huge separate room with weights and strength training.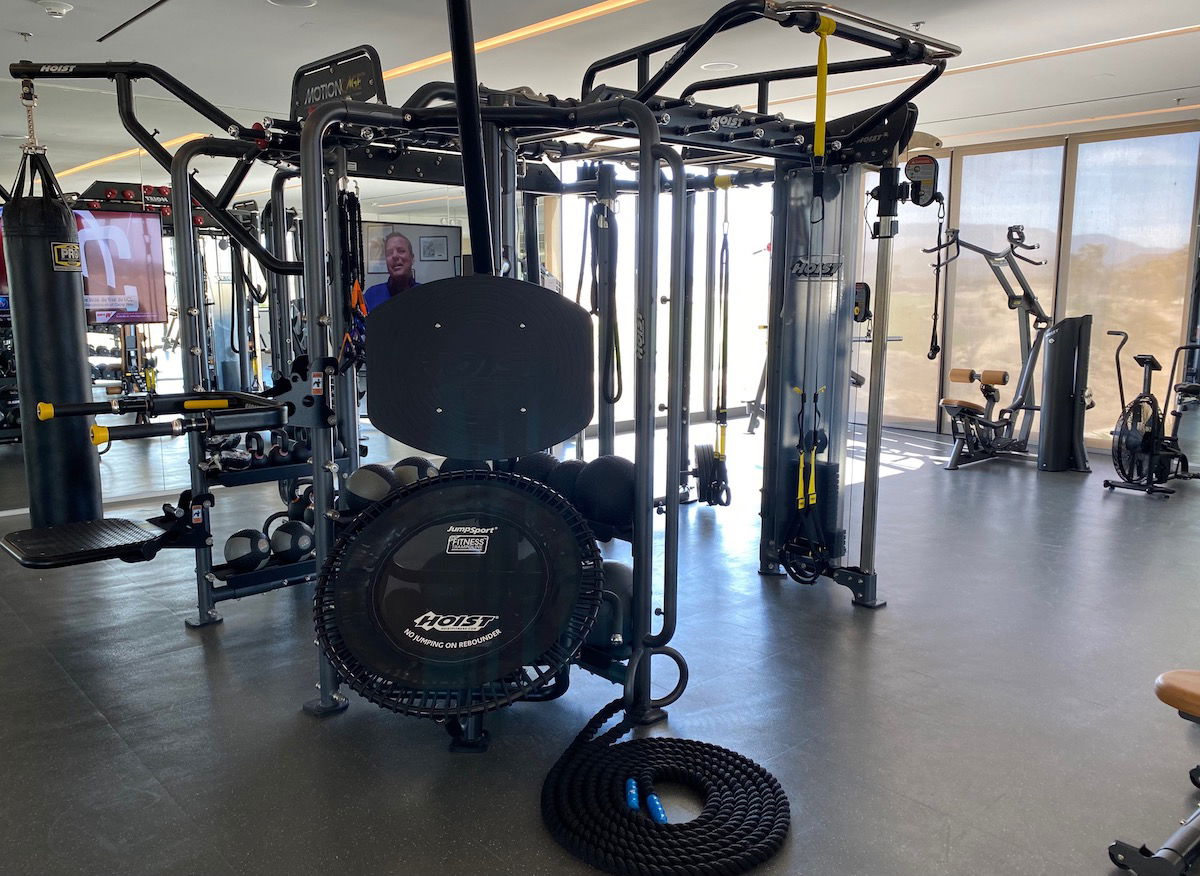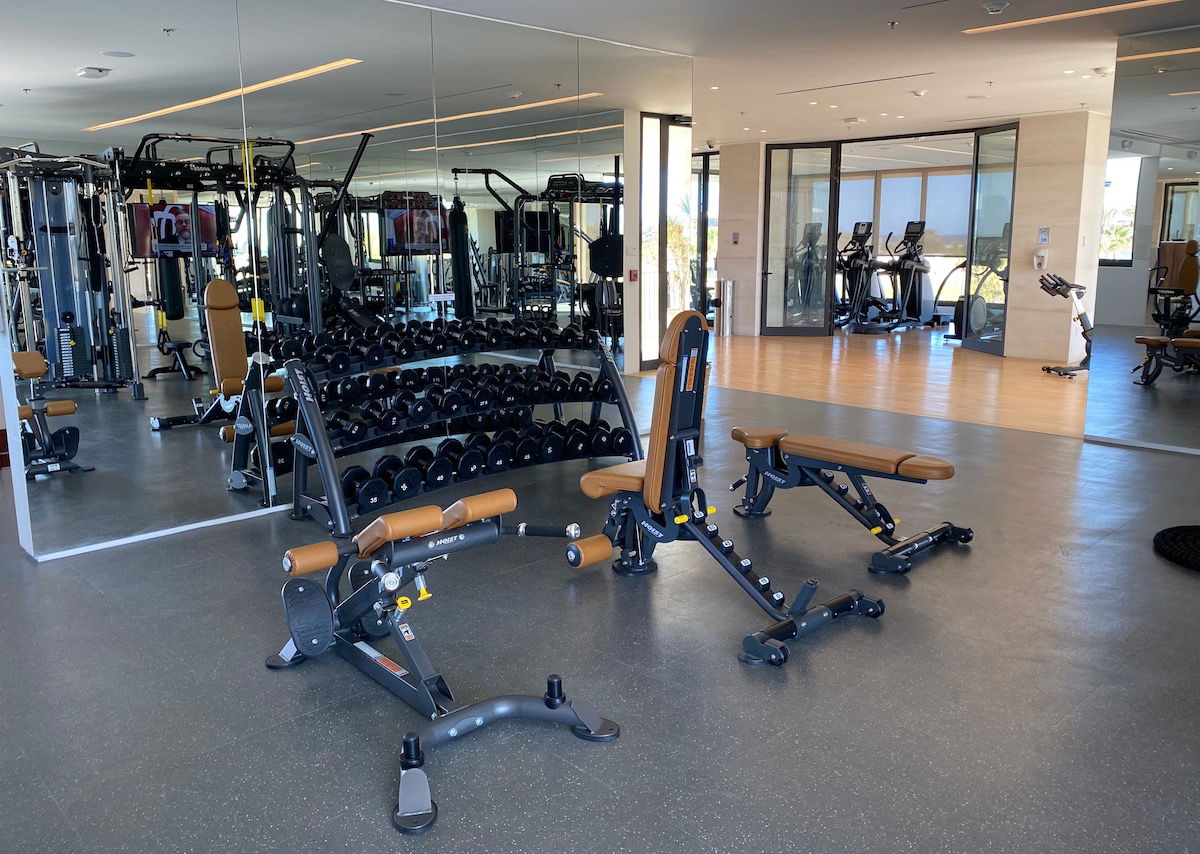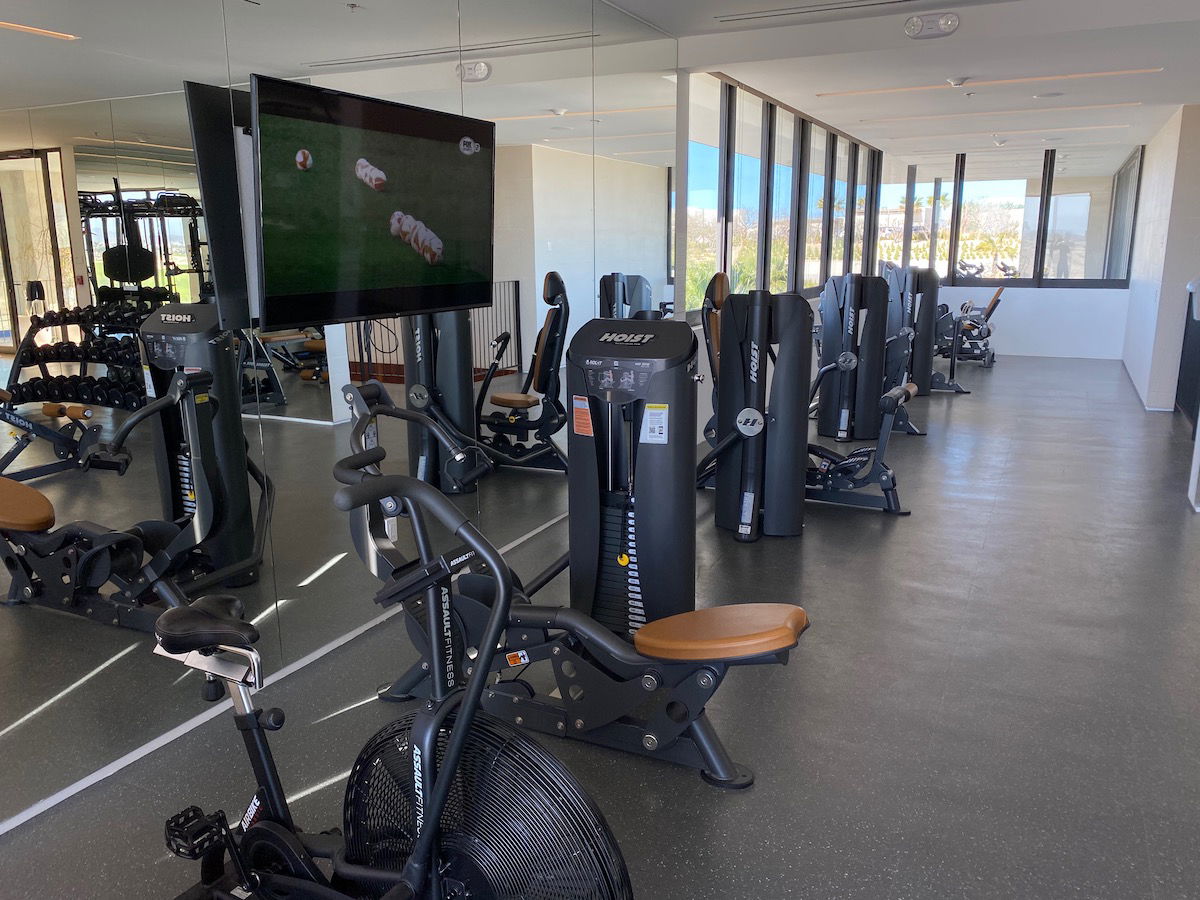 There was also a yoga and spin room.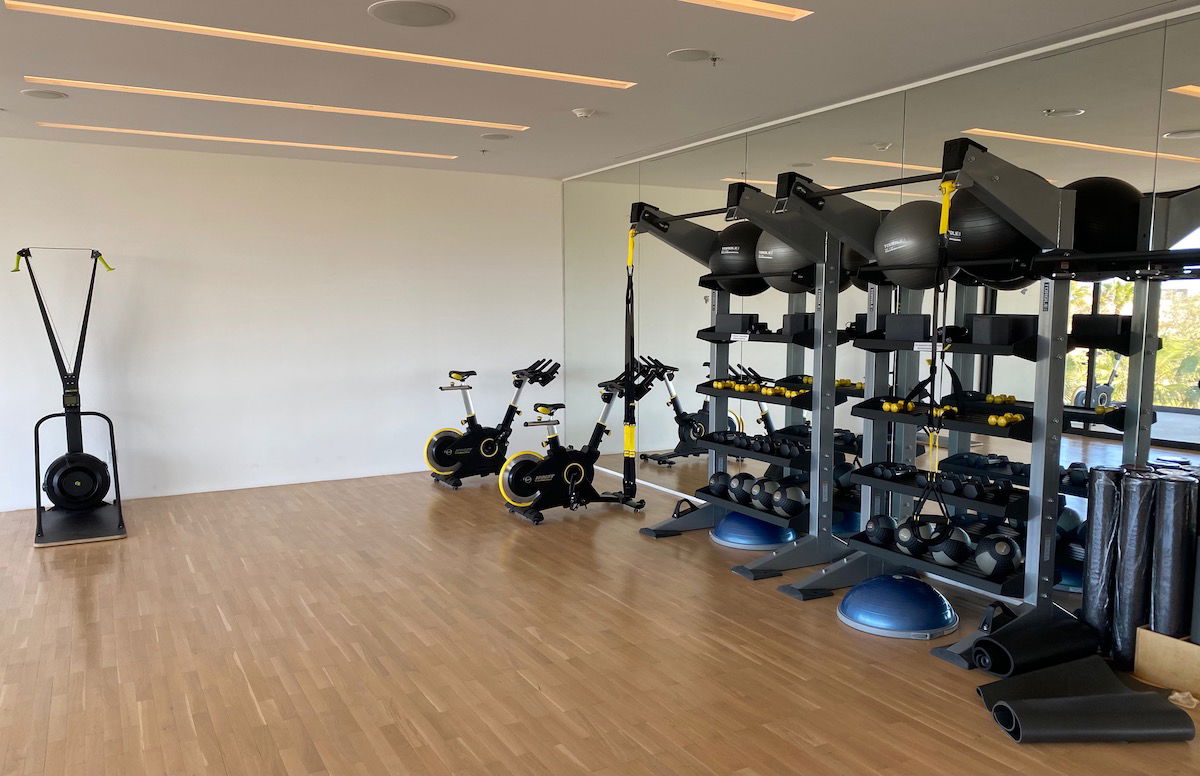 The gym complex is also where the lap pool was located, along with tennis courts, a basketball court, and more.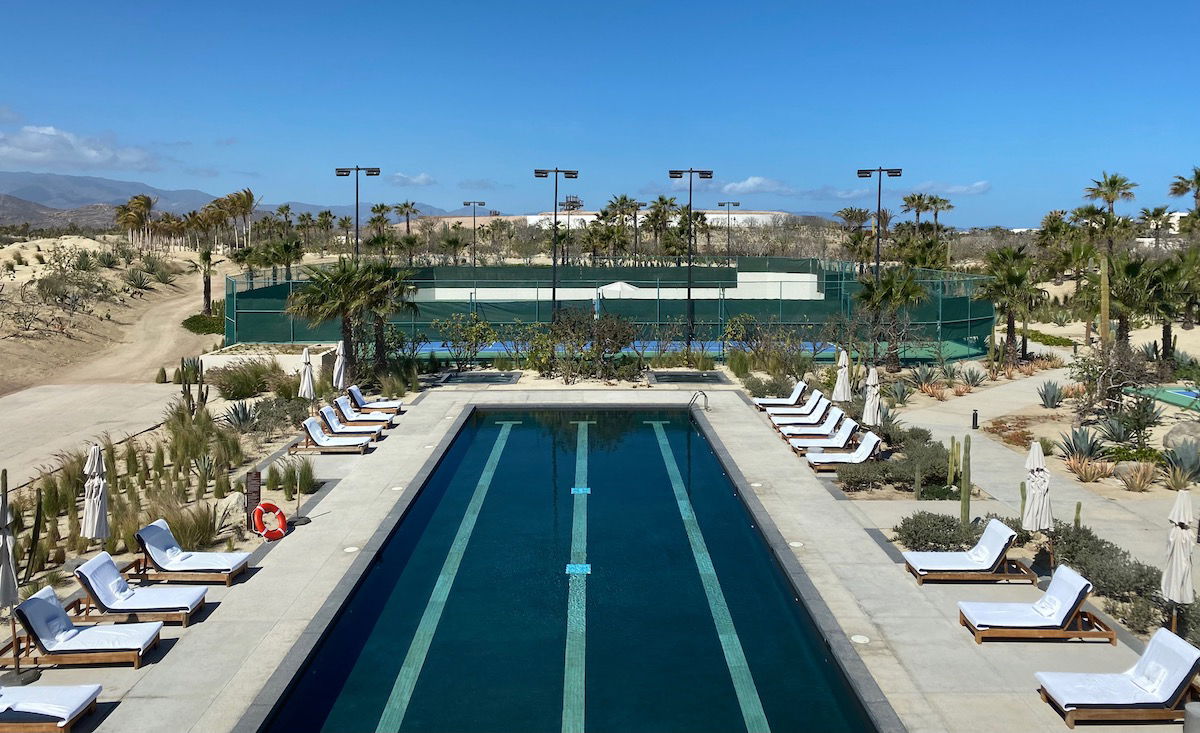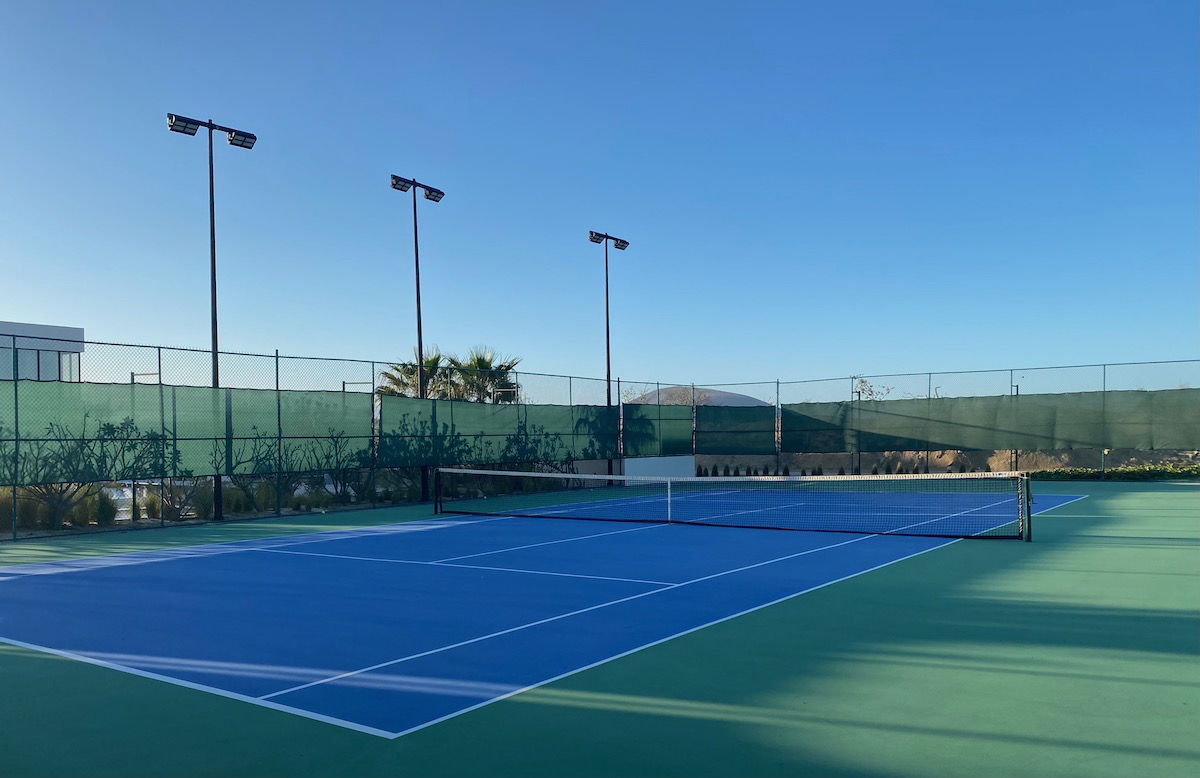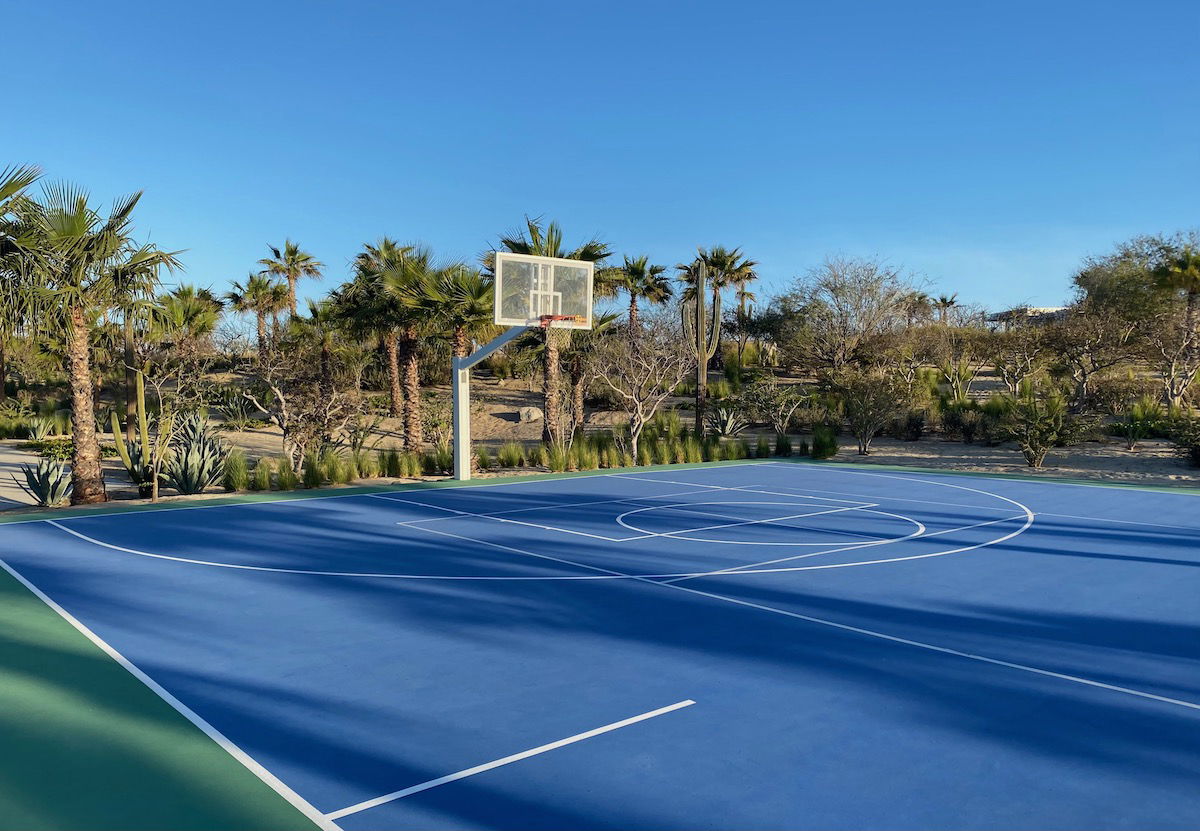 Four Seasons Los Cabos spa
While I didn't get any spa treatments (you can find the spa menu here), I had a look at the spa at the Four Seasons Costa Palmas. The spa has 10 standalone treatment rooms (including two couples suites), a hydrotherapy area with sauna and steam room, a salon, a makeup and nails studio, and more.
I'll let the pictures speak mostly for themselves.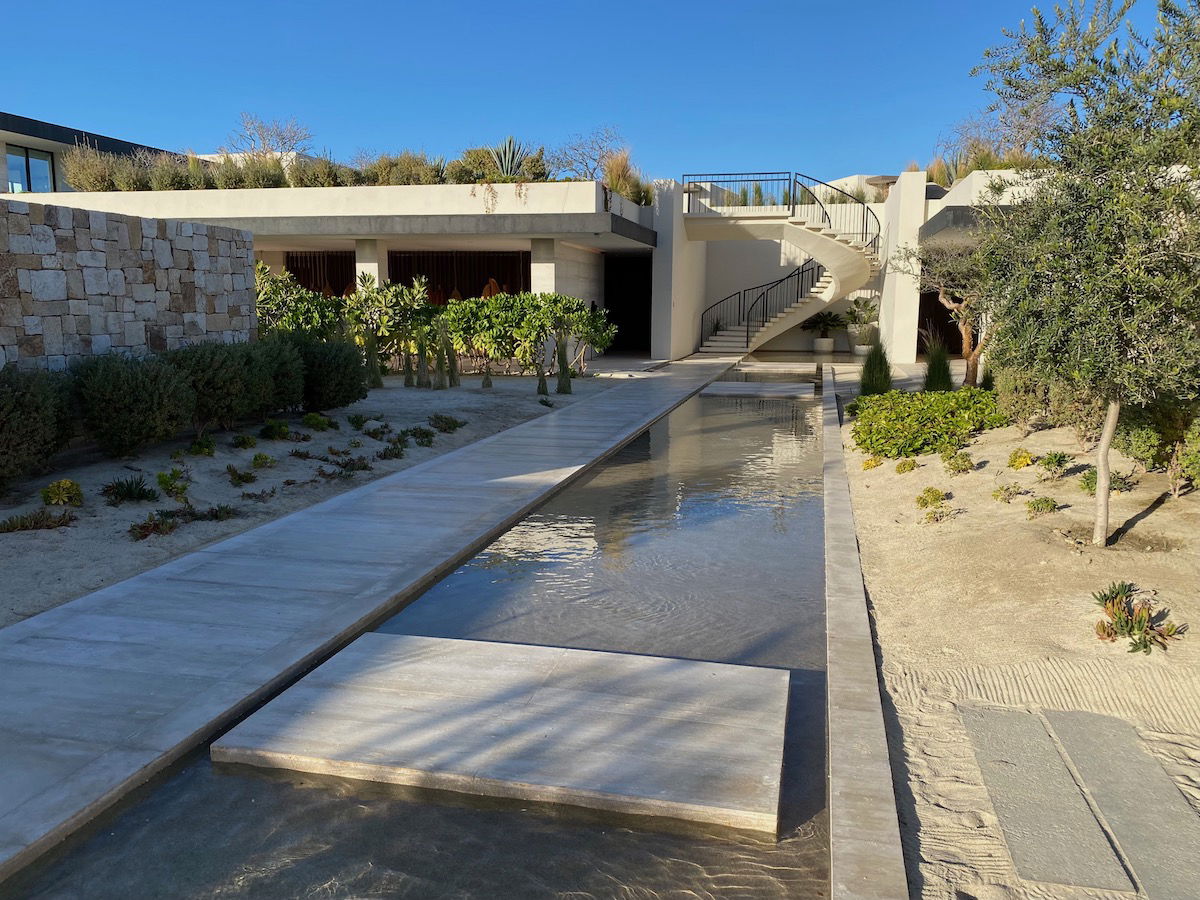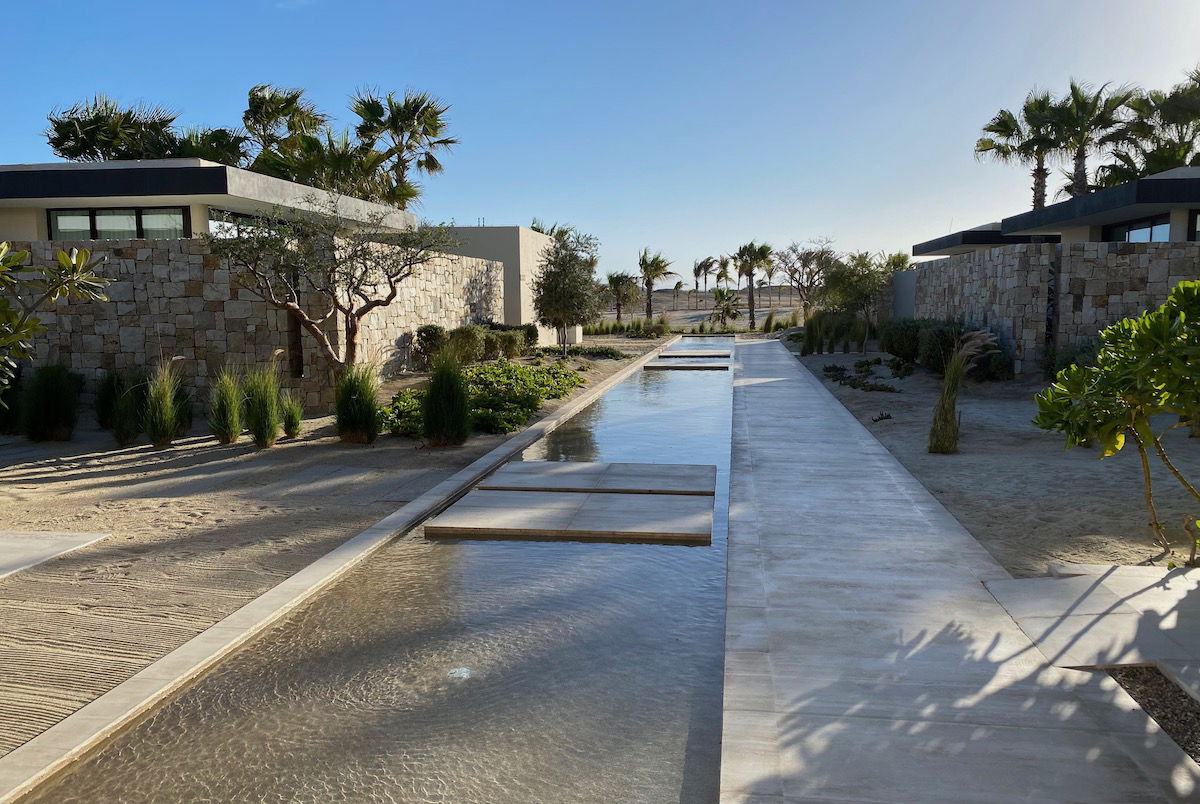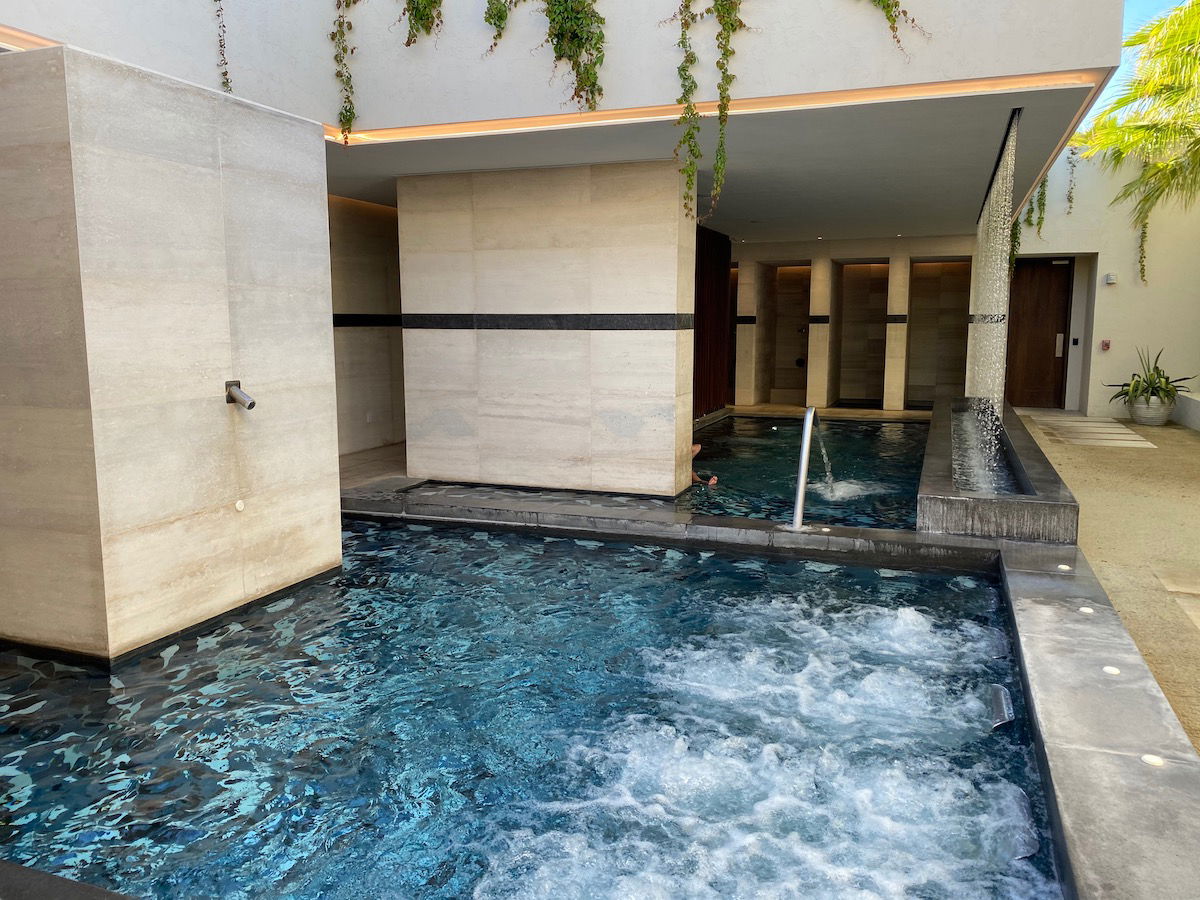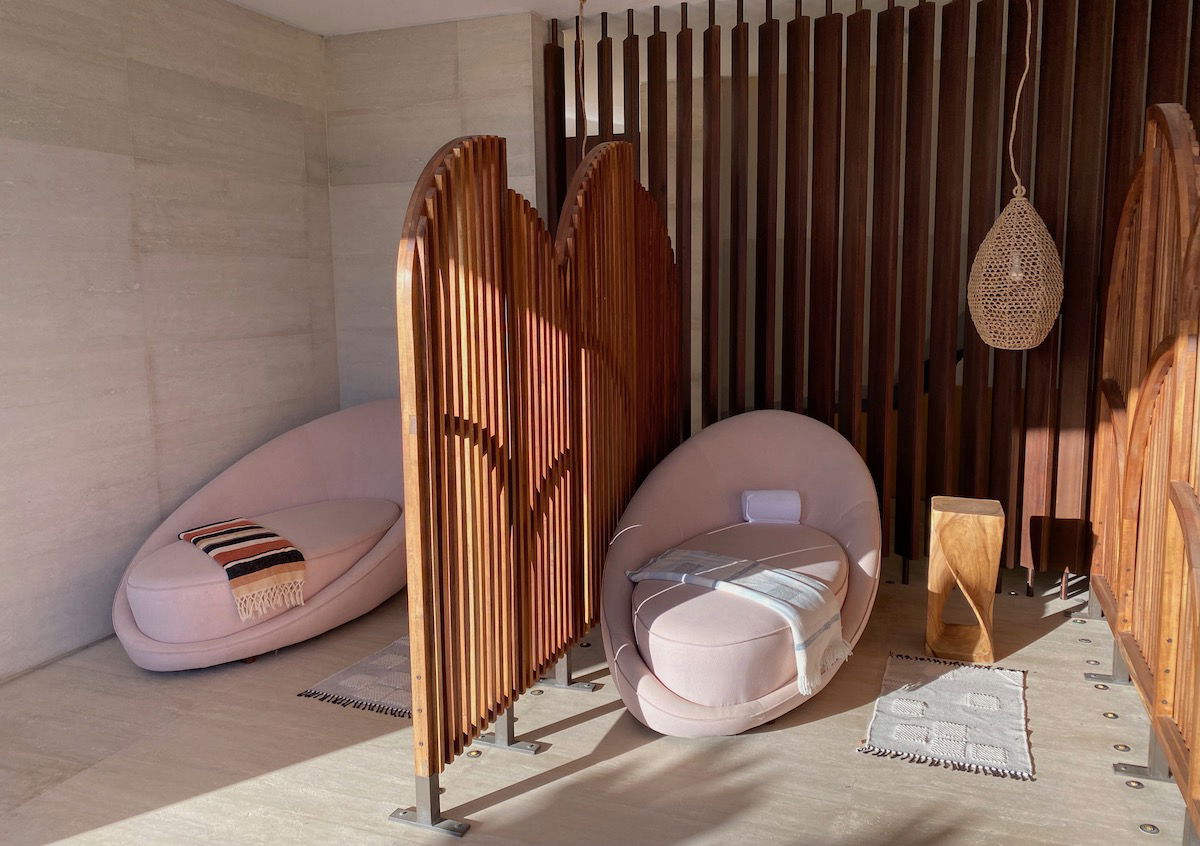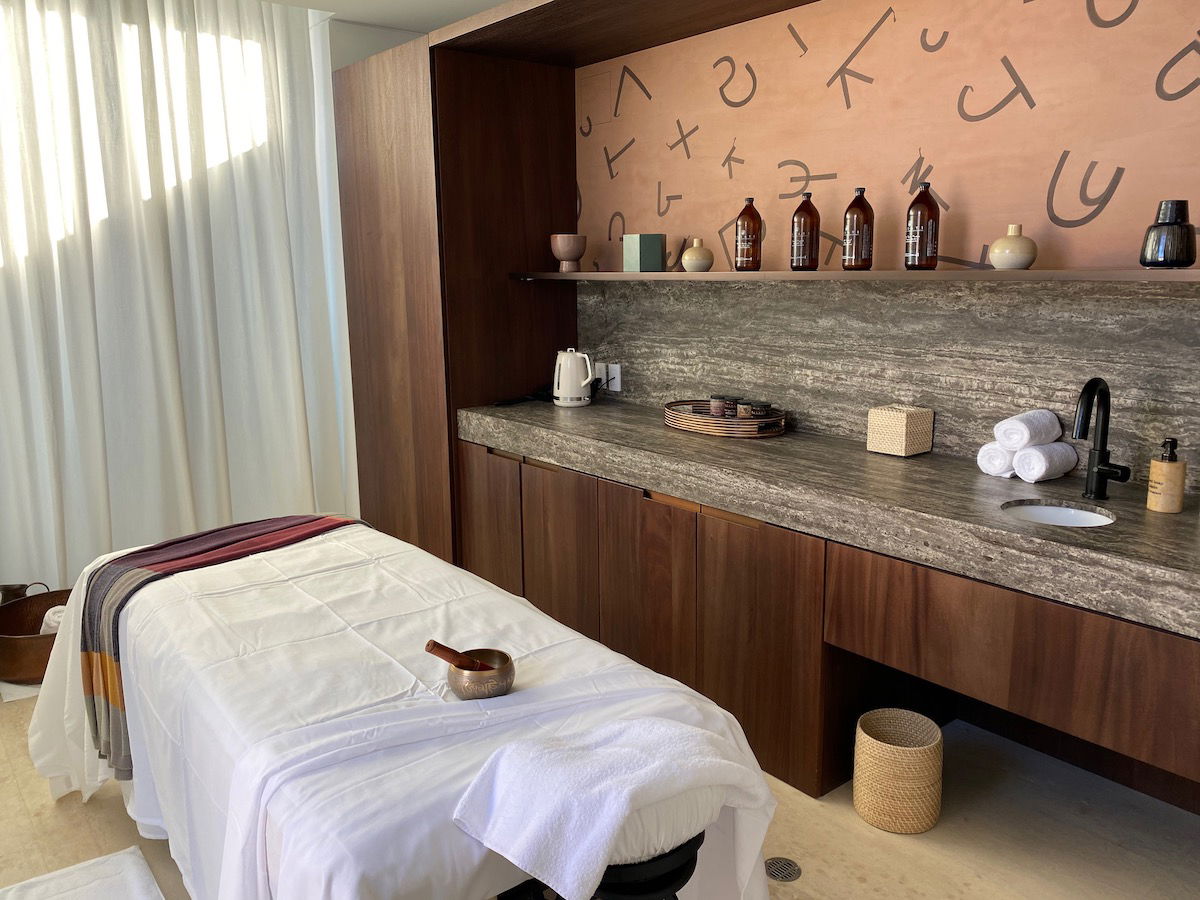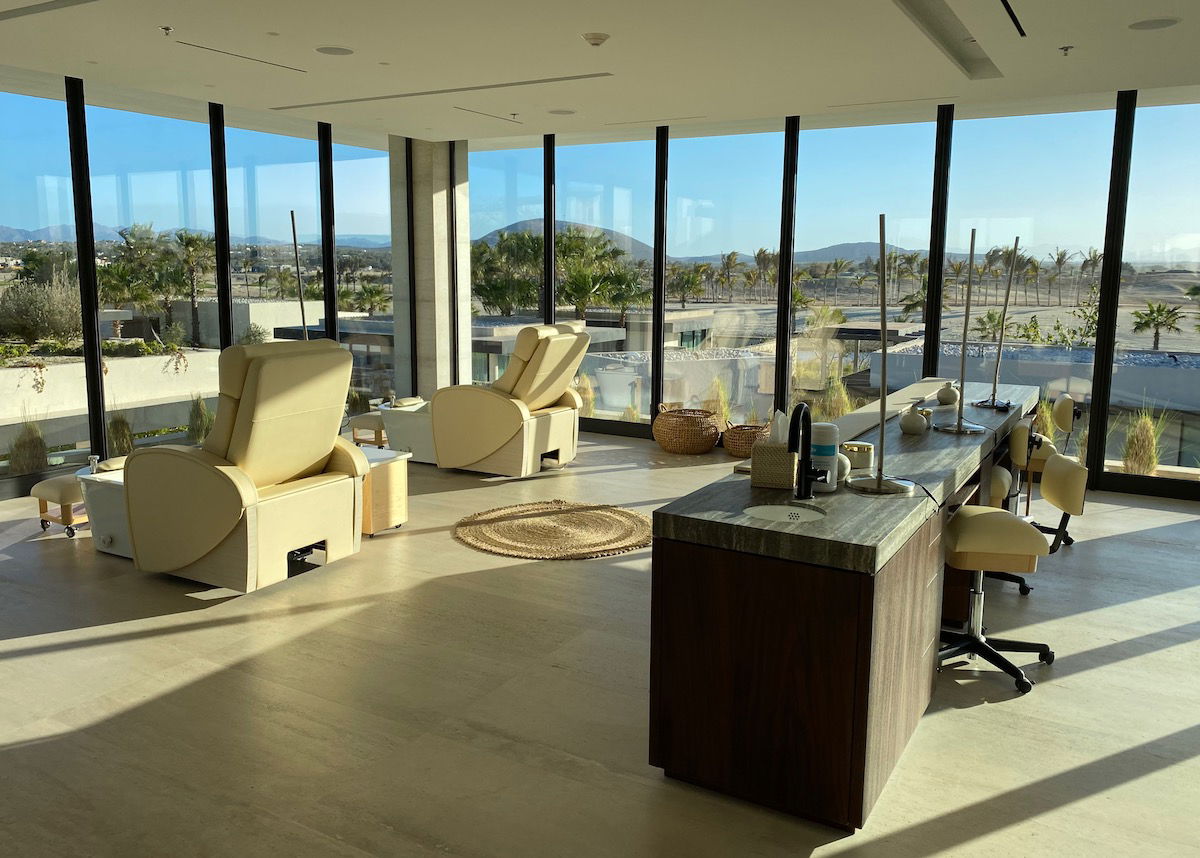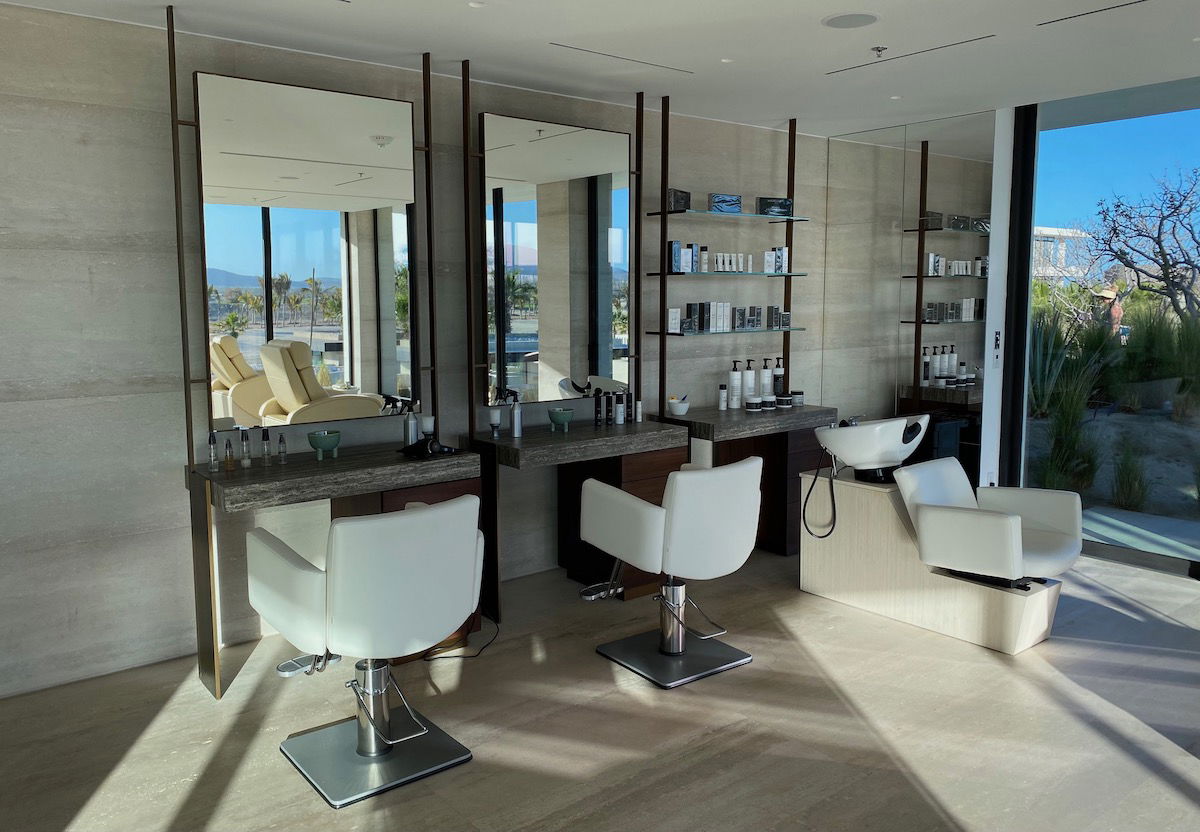 Four Seasons Los Cabos Estiatorio Milos Restaurant
The Four Seasons' signature restaurant is an Estiatorio Milos, which is a restaurant people may be familiar with from Miami, New York, etc. This is the hotel's breakfast restaurant (from 7:00AM until 11:30AM), and it's also open for dinner (from 5:00PM until 10:00PM).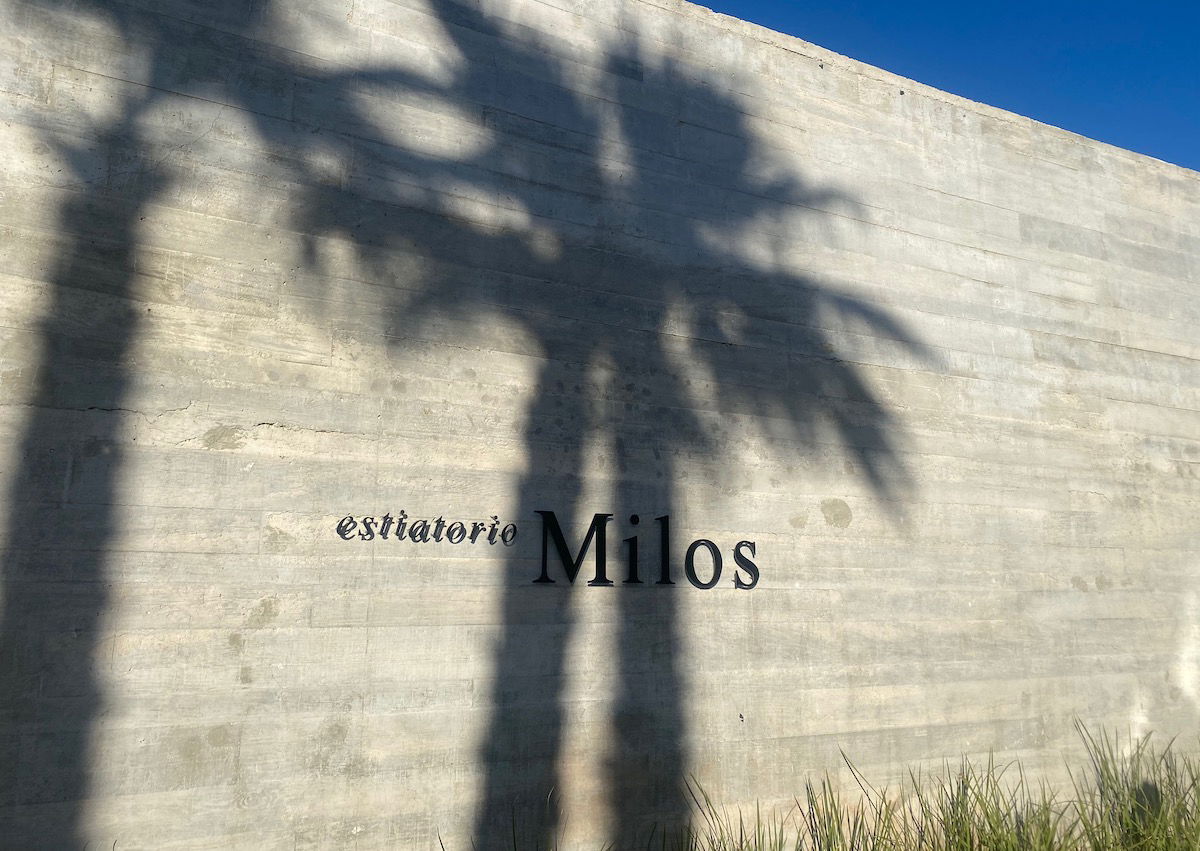 The restaurant has plenty of indoor seating, with floor to (really high) ceiling windows.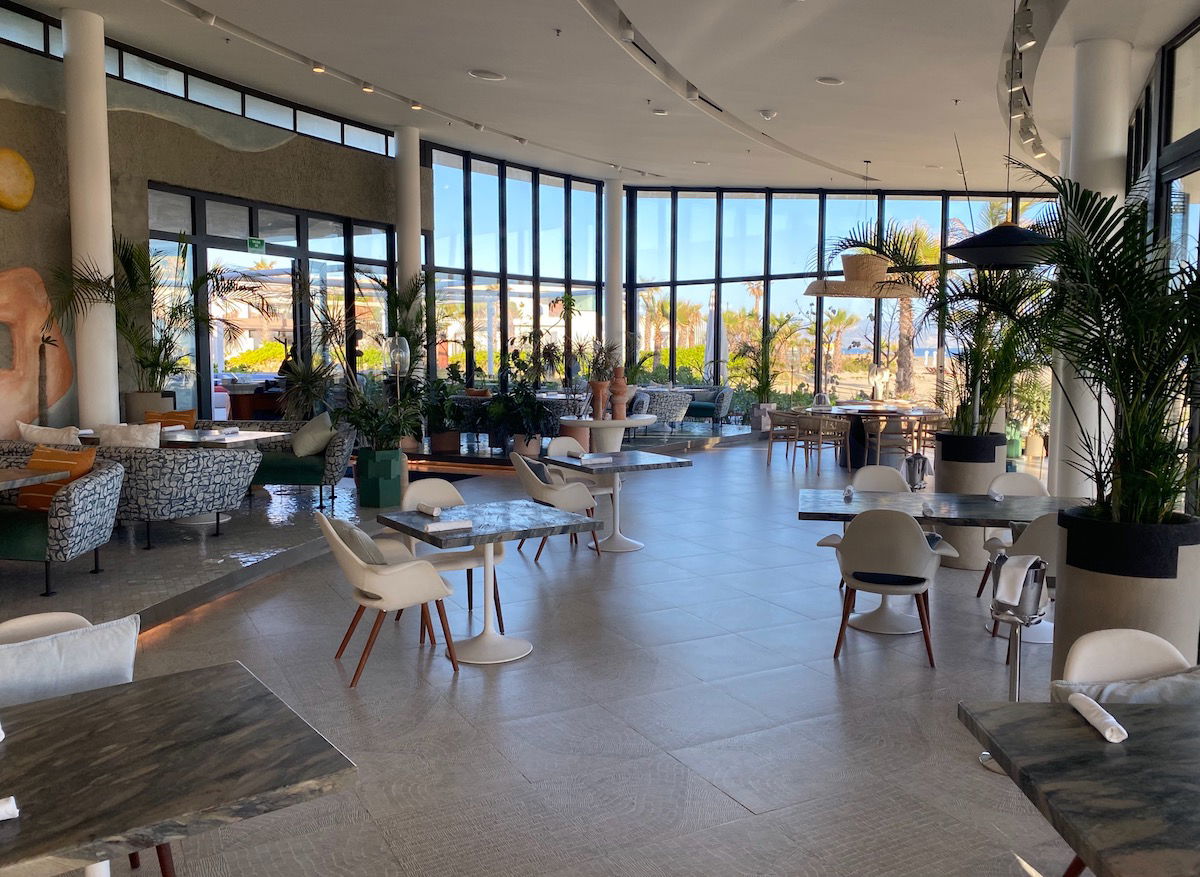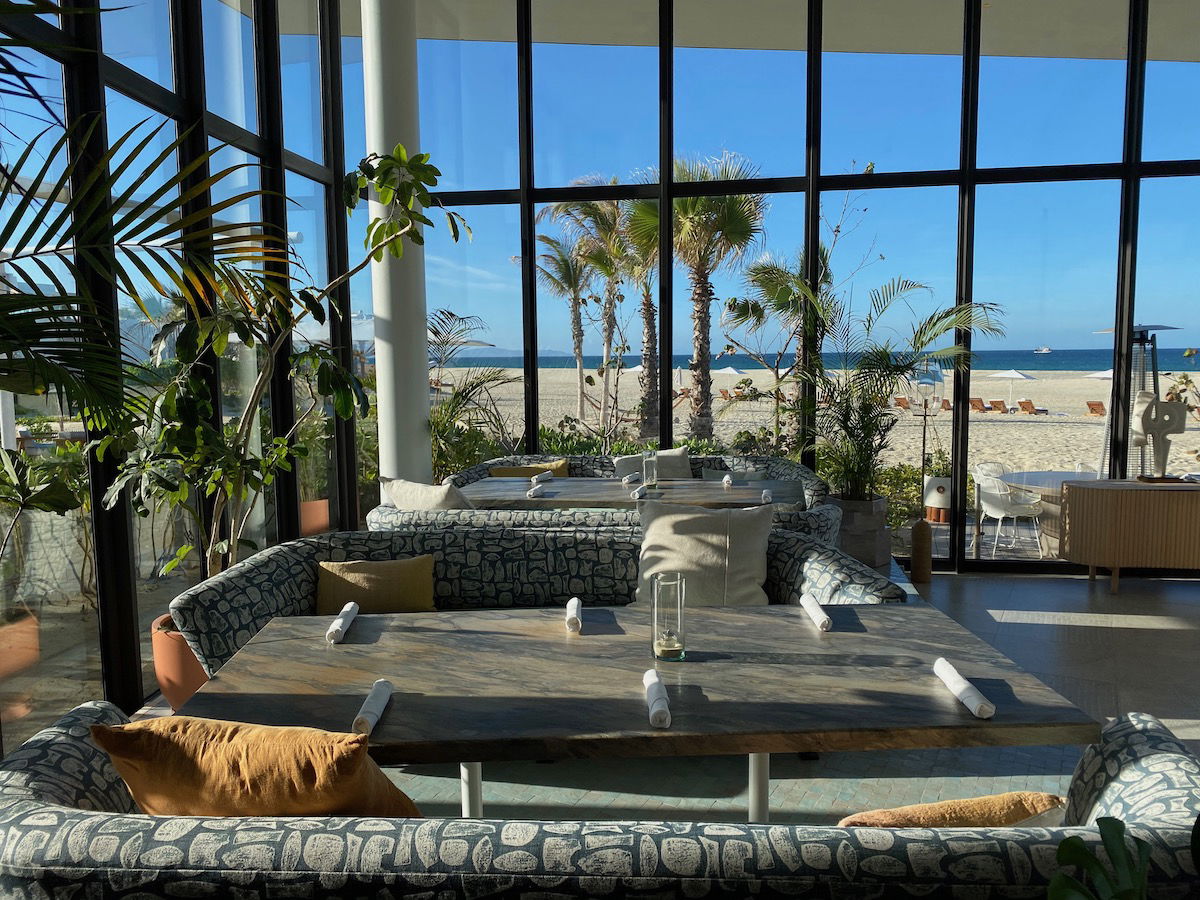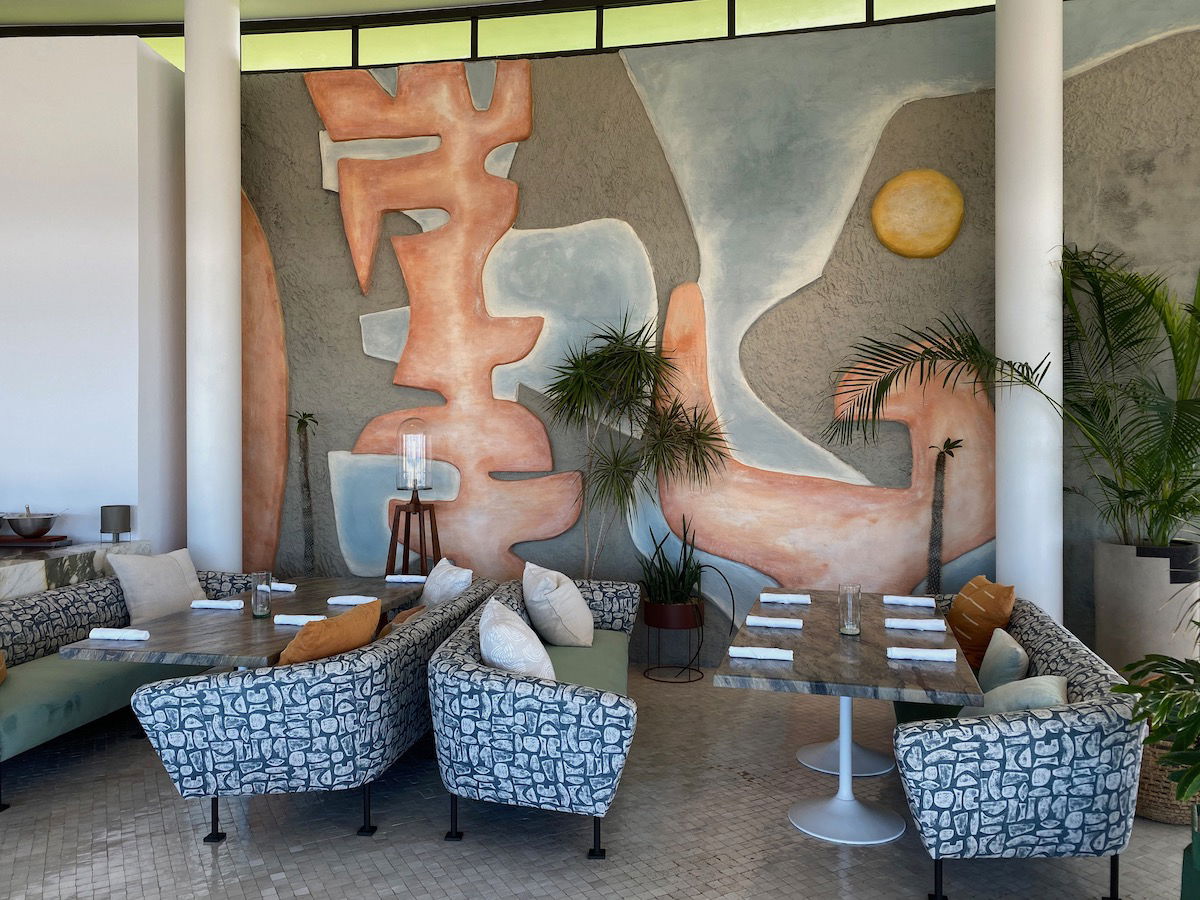 There's also a large terrace with beachfront seating.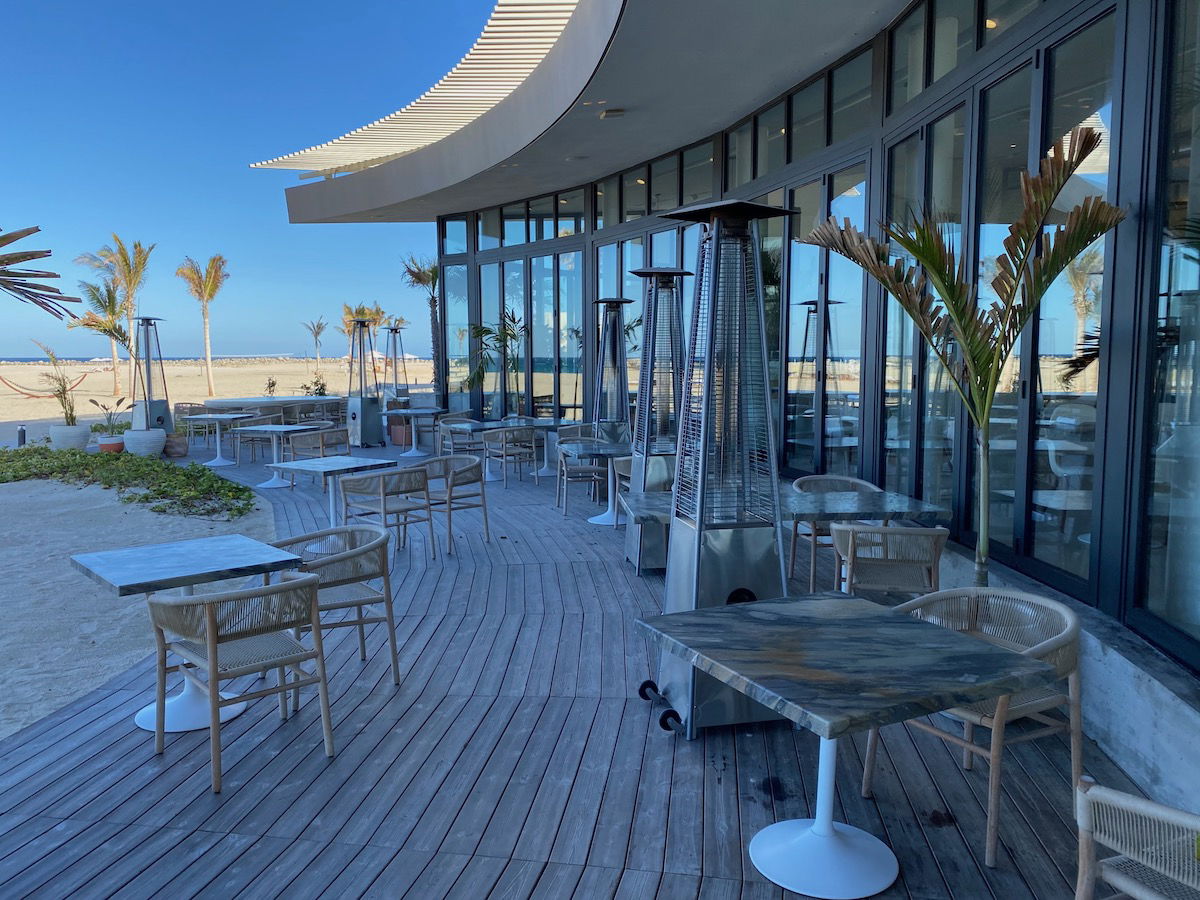 The restaurant also has a bar area, where you can come for cocktails in the evenings.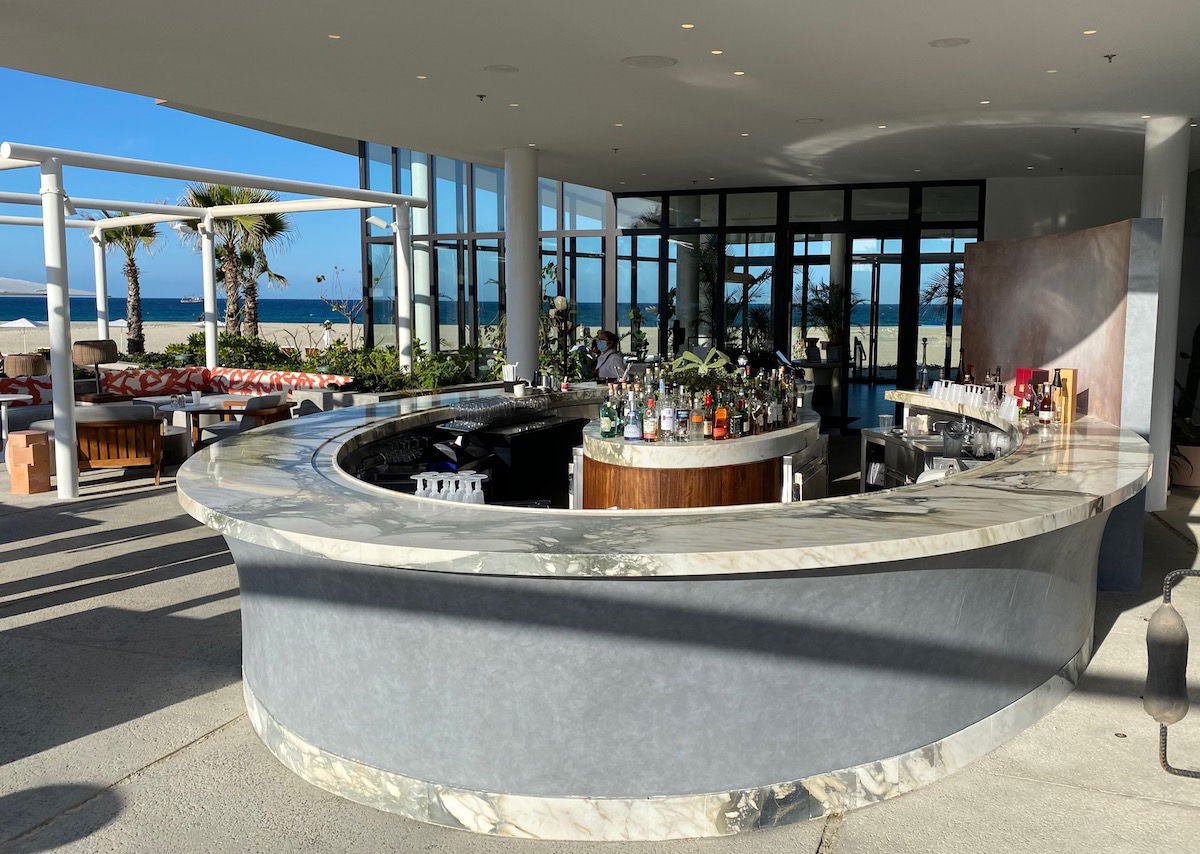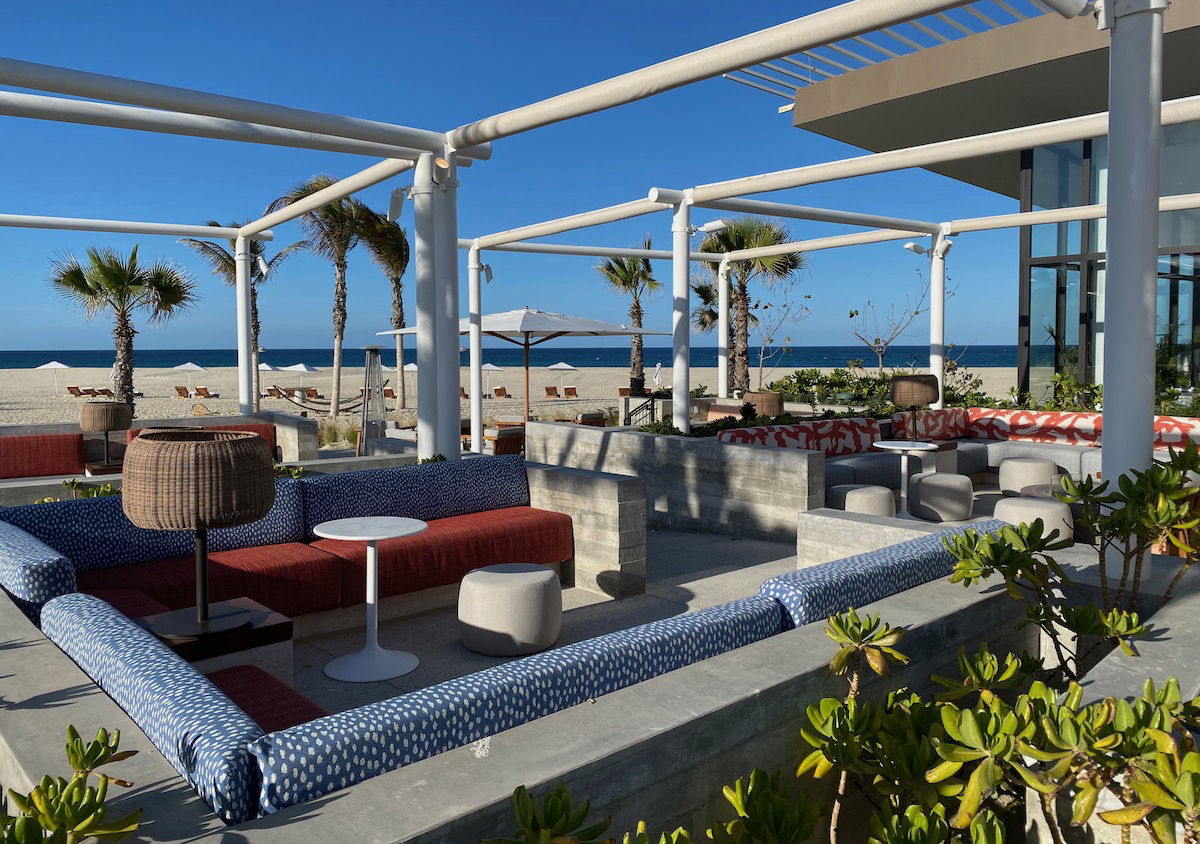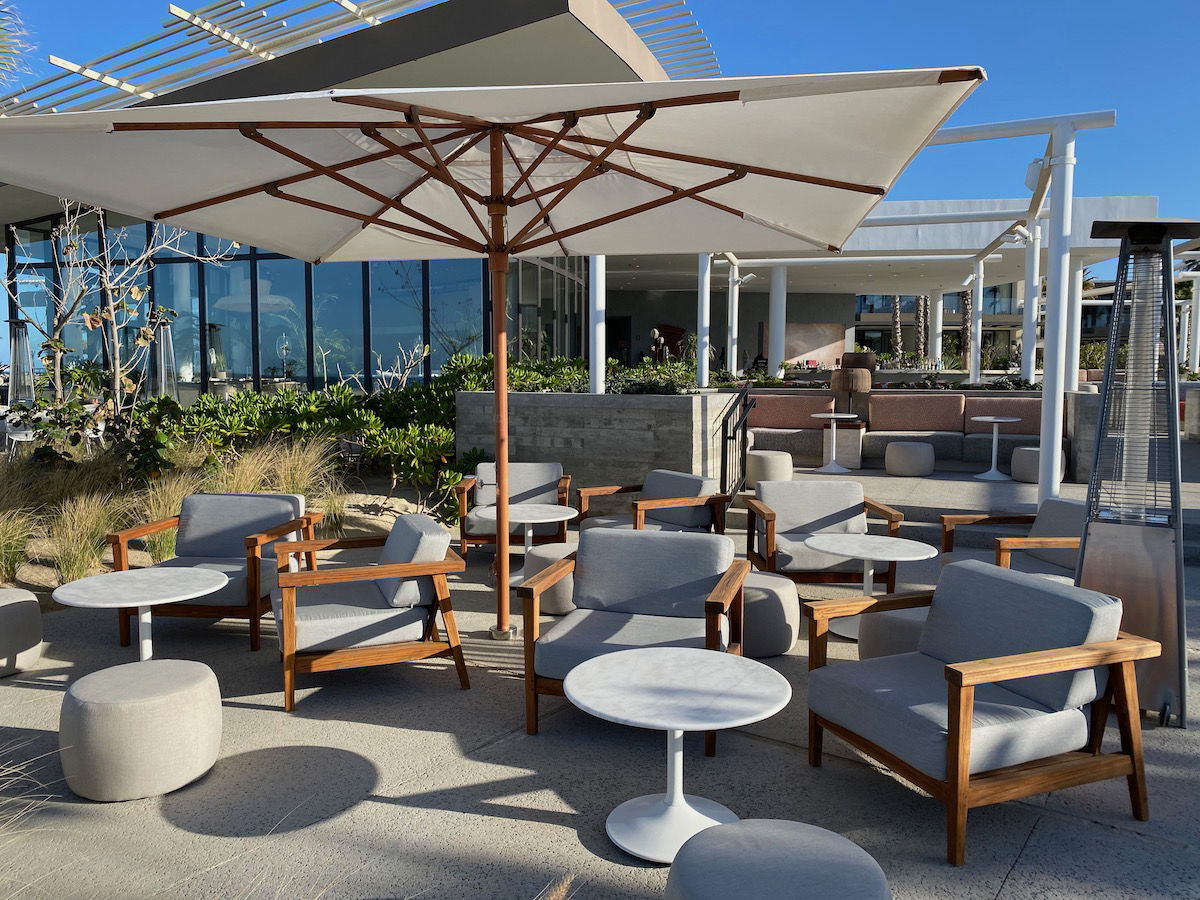 We had breakfast at Estiatorio Milos every morning. Breakfast was entirely a la carte (you can find the breakfast menu here), and if your rate includes breakfast (which everyone booking through Preferred Partner gets), then you can more or less order whatever you'd like.
The breakfast here was excellent, from the cappuccinos, to the iced coffee, to the pineapple juice, to the green juice.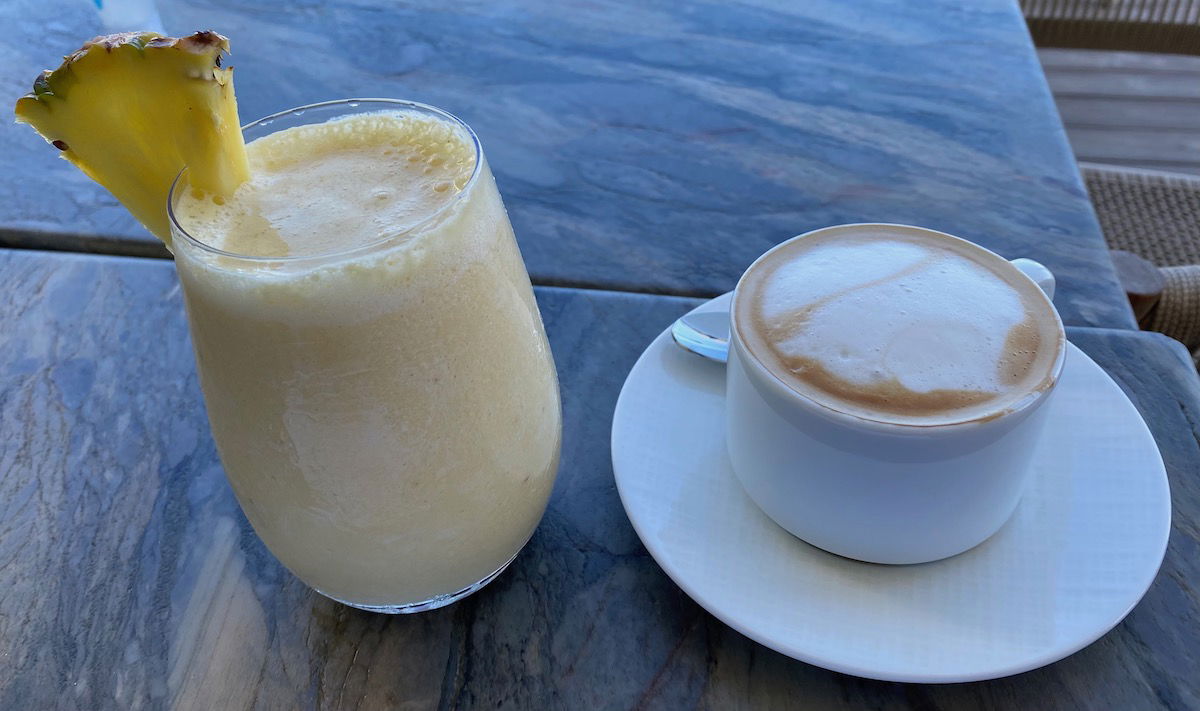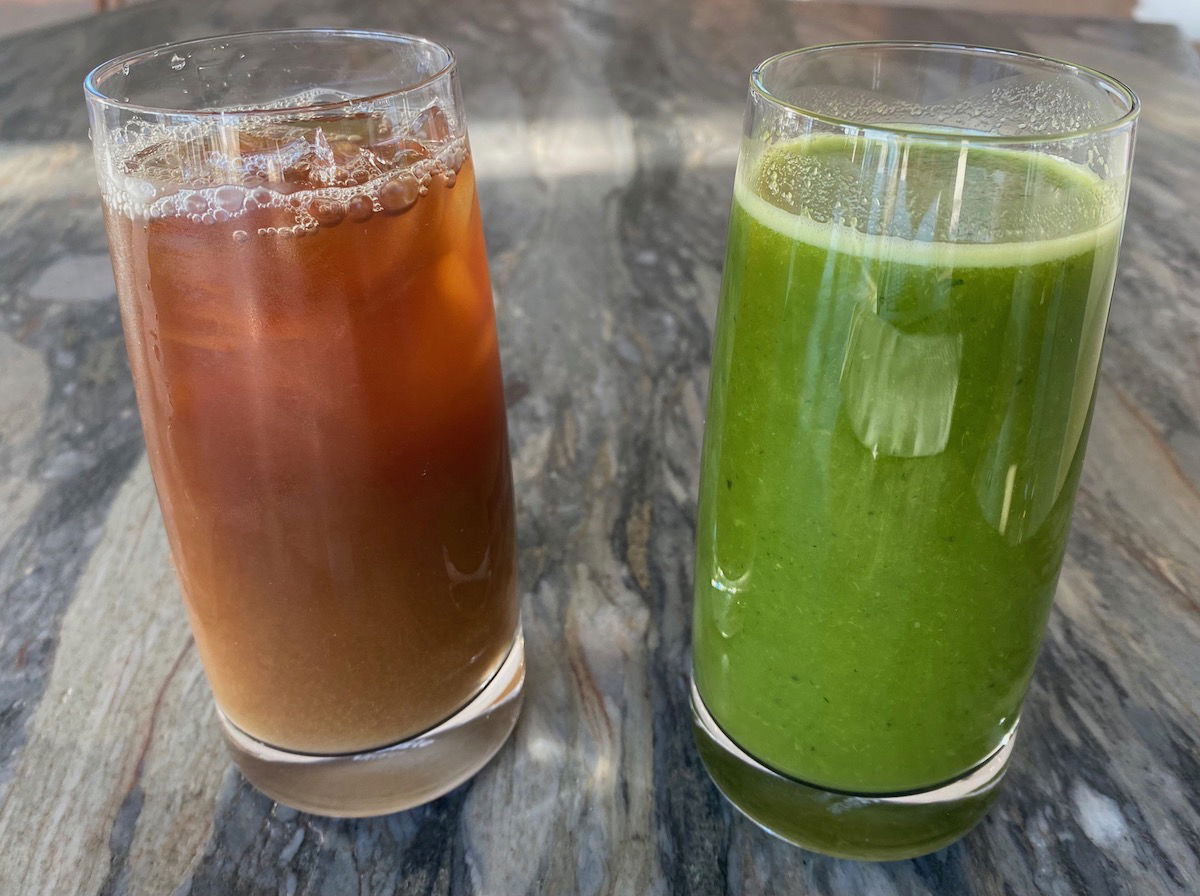 The food was equally good, including fruit plates, avocado toast, and omelets.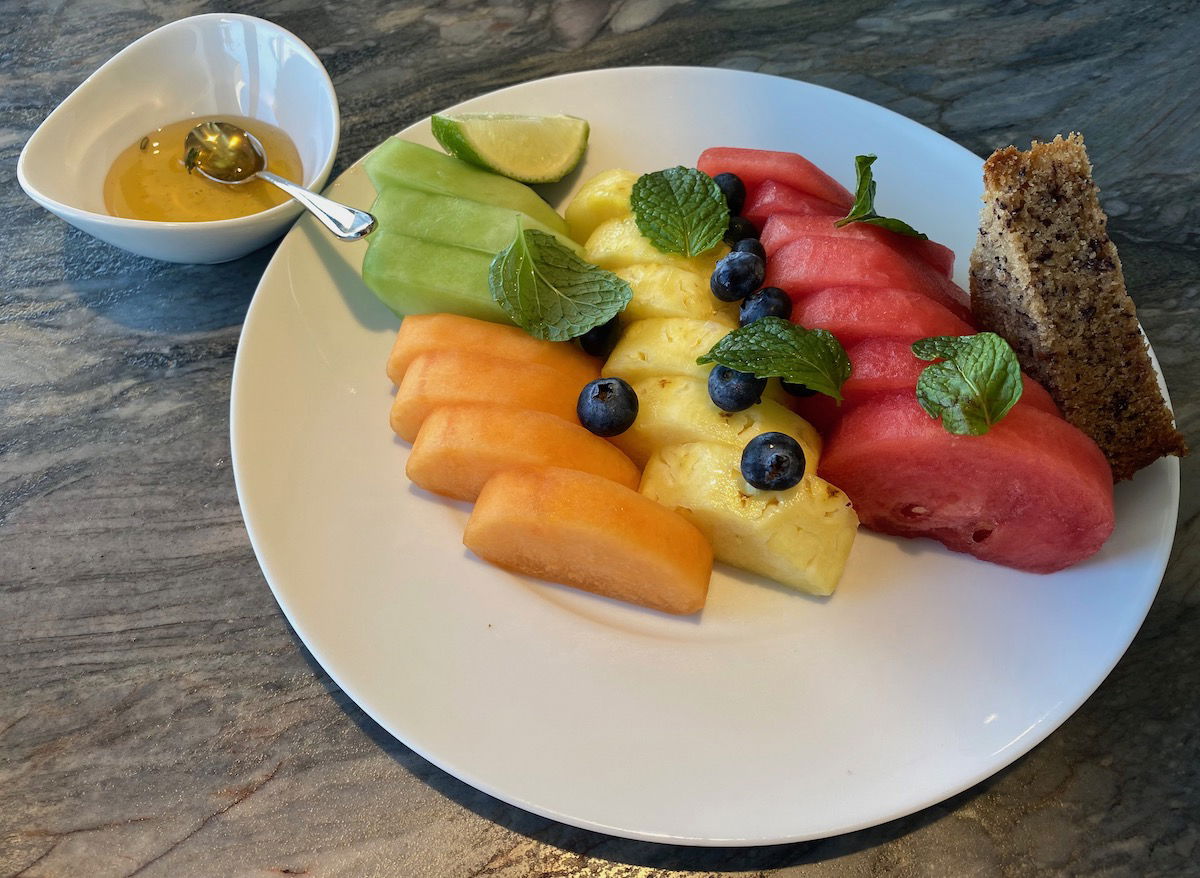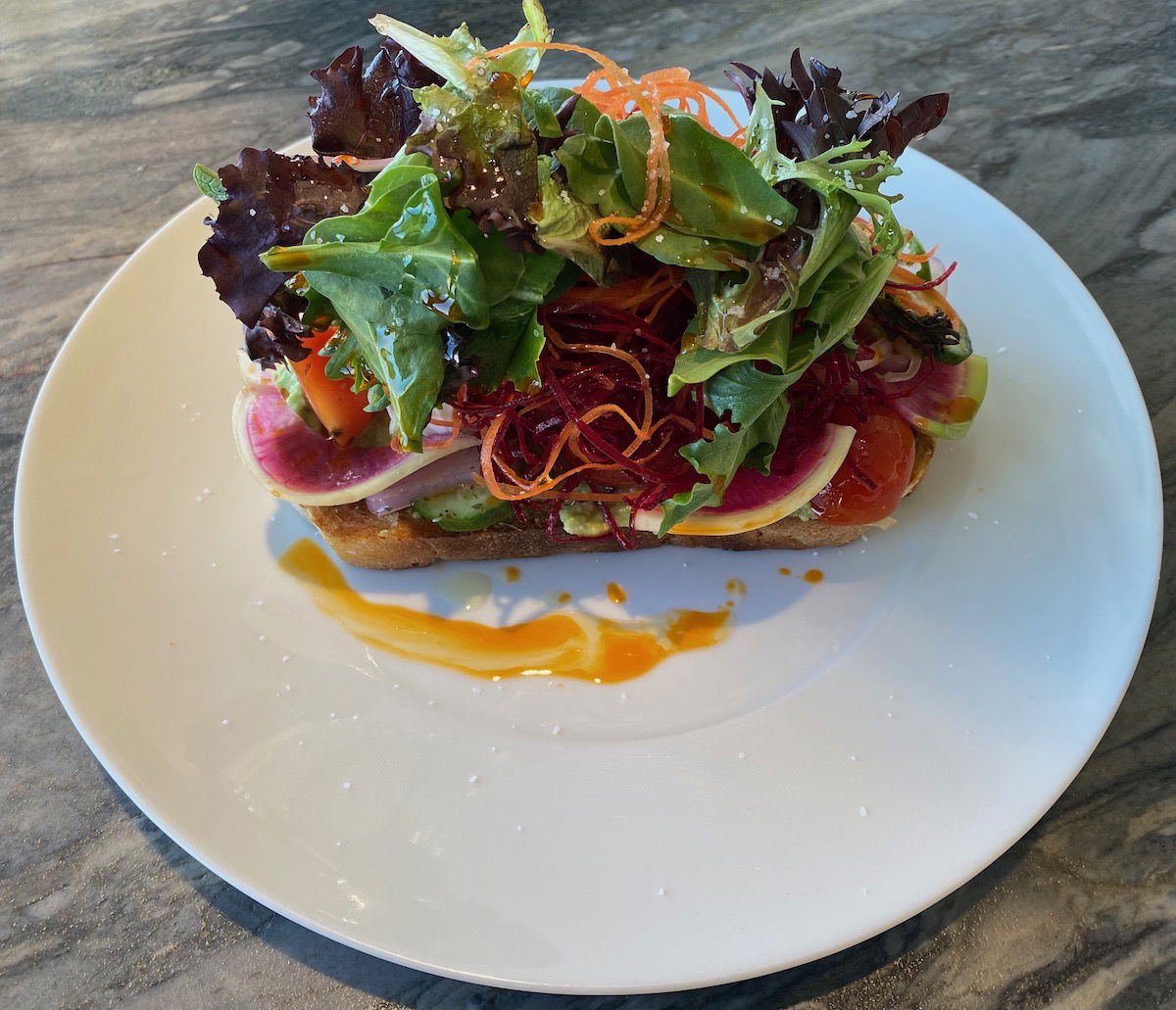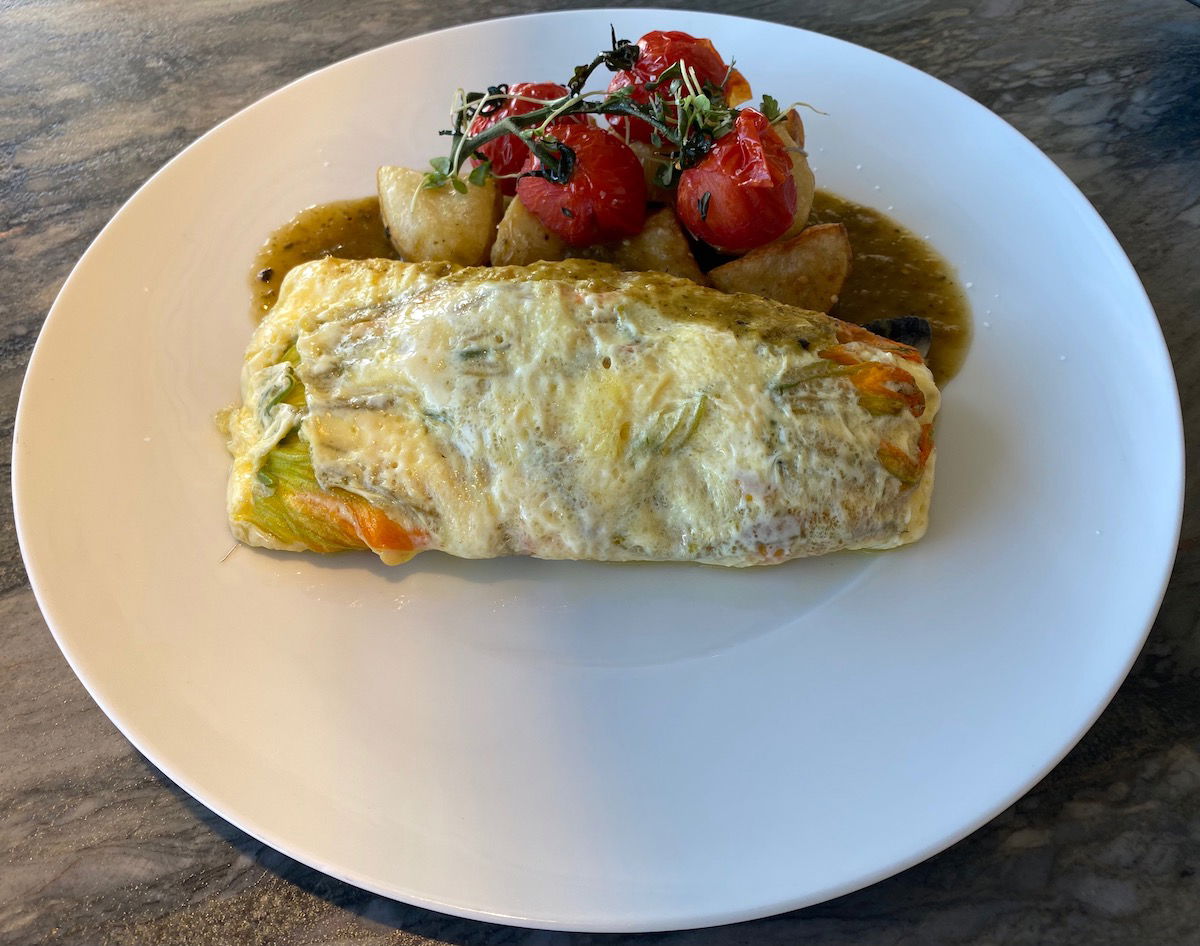 We also had dinner at the restaurant one evening (you can find the dinner menu here). We've dined at Milos in Miami, and there certainly weren't any corners being cut here, despite the hotel's secluded location. To start we shared the Greek spreads, which were excellent.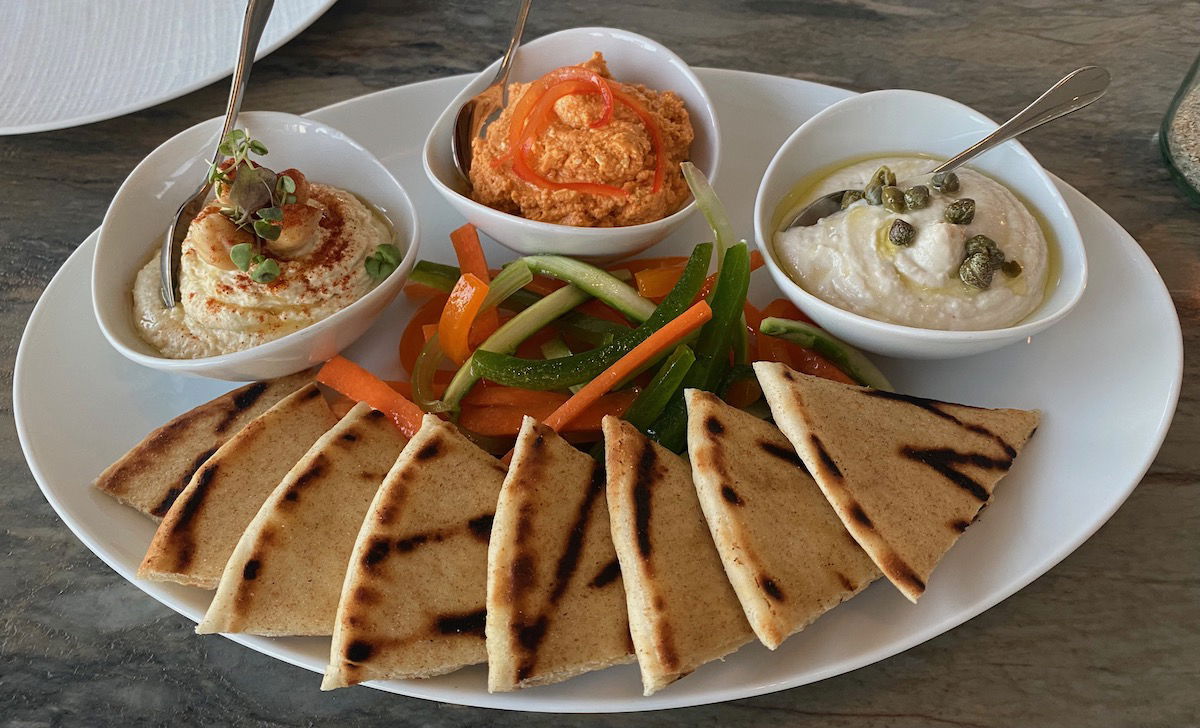 We then shared a grilled fish, which was prepared table-side.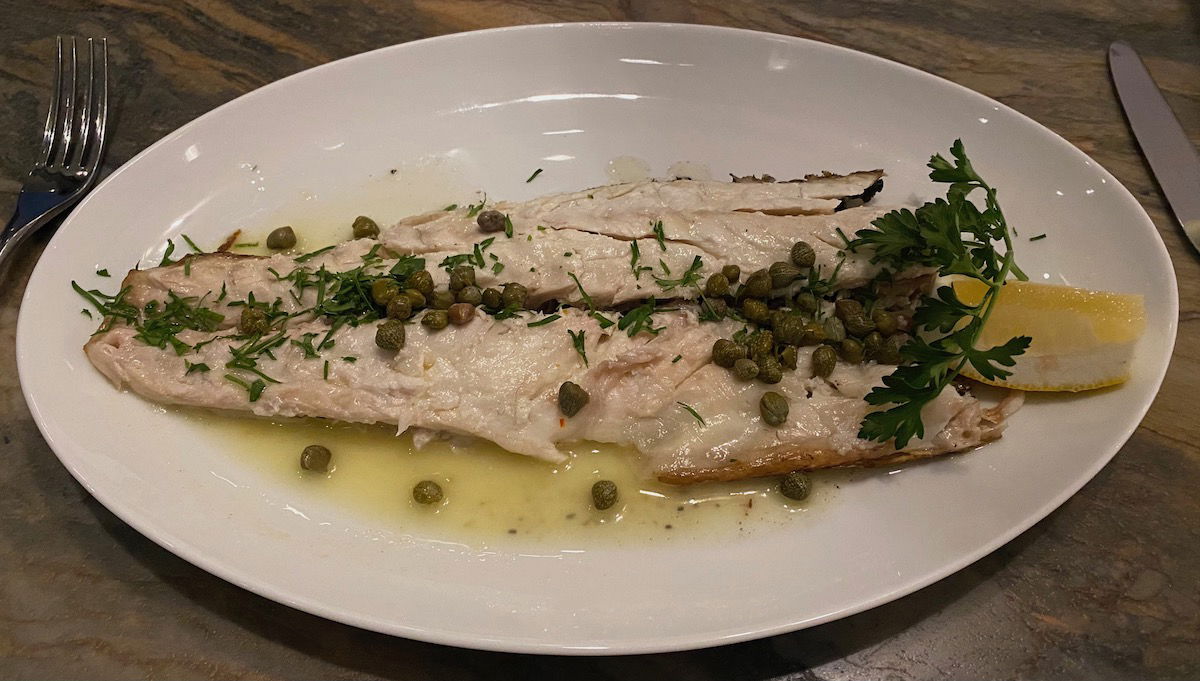 We accompanied that with some grilled onions.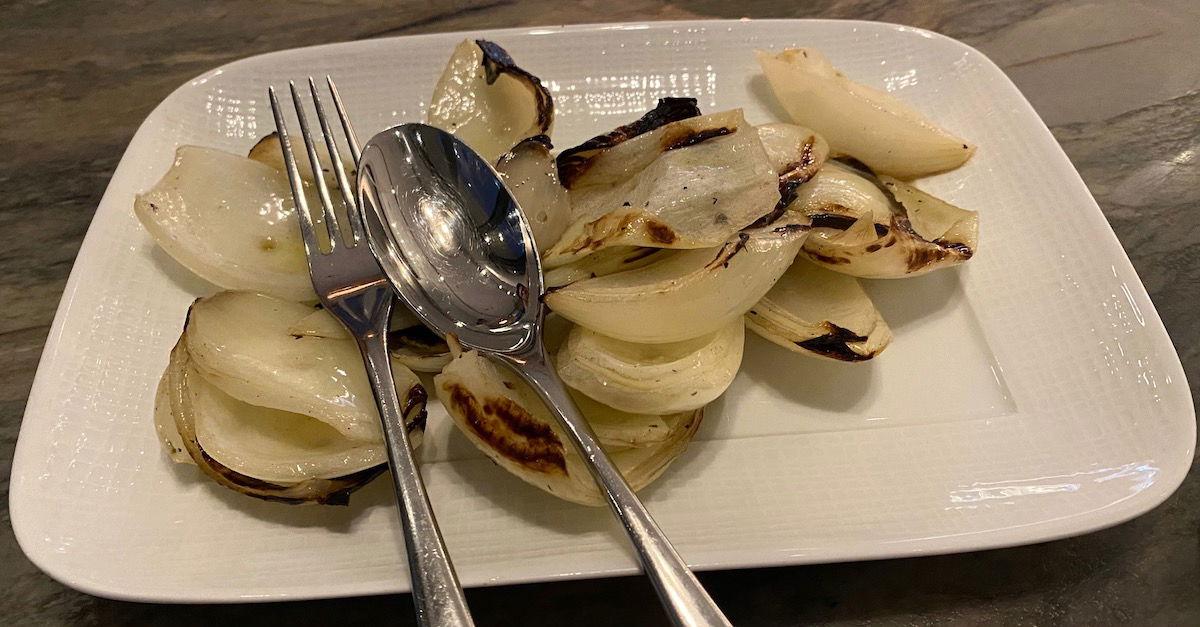 Then for dessert we shared the baklava.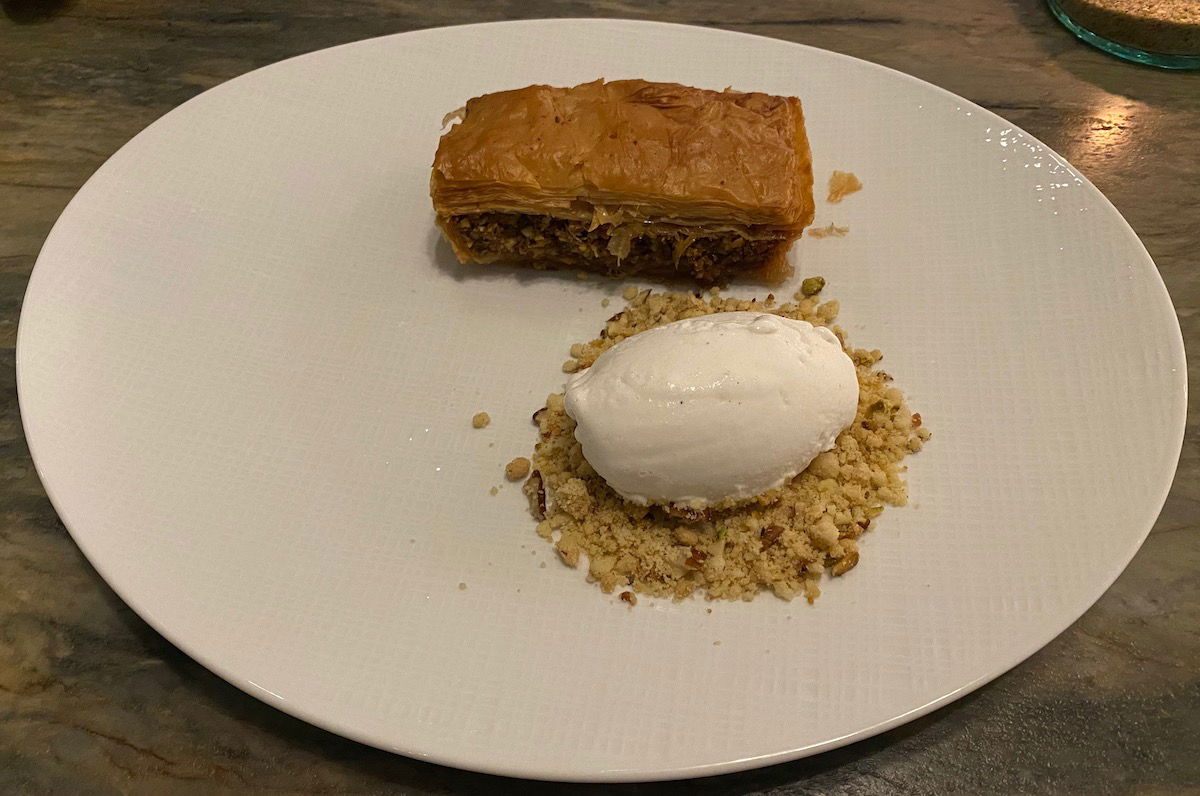 Four Seasons Los Cabos Limon Restaurant
While our Milos experience was great, our favorite restaurant was probably Limon, which is entirely outdoors, and serves dinner from 6PM until 10PM (you can find the dinner menu here).
The restaurant is entirely outdoors, and is located by a lemon grove garden, hence the name. The restaurant has a seafood focus, with some Mexican flair to it. I loved both the setting and design of the restaurant, given the beautiful bar, a nice lounge area with a fire pit, and the spread out tables on a rocky surface.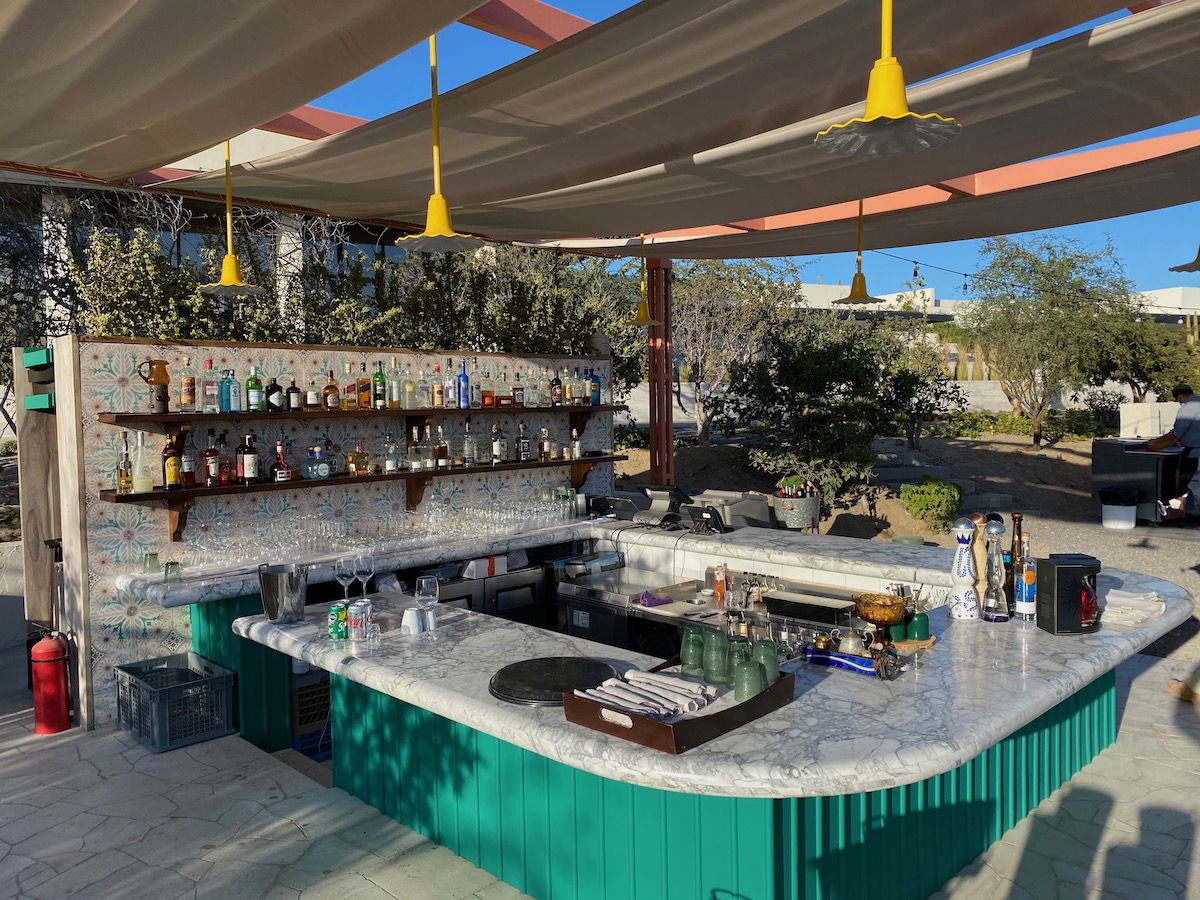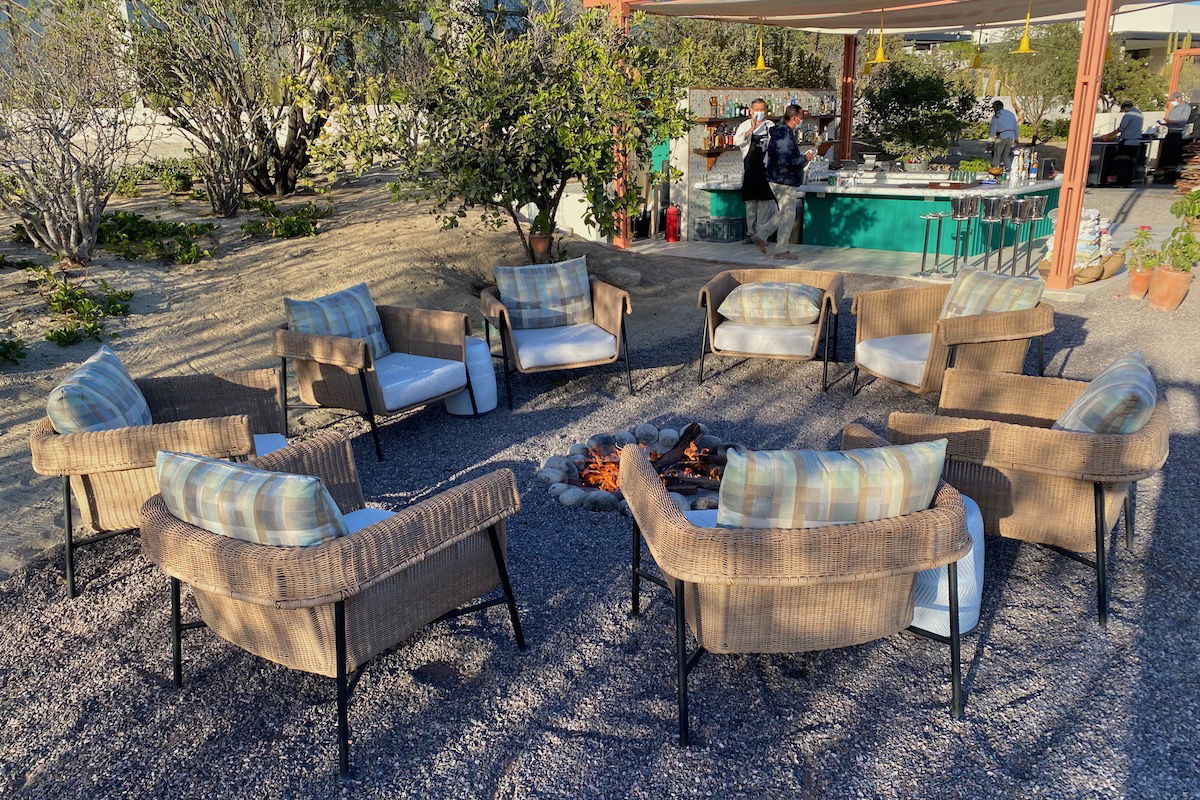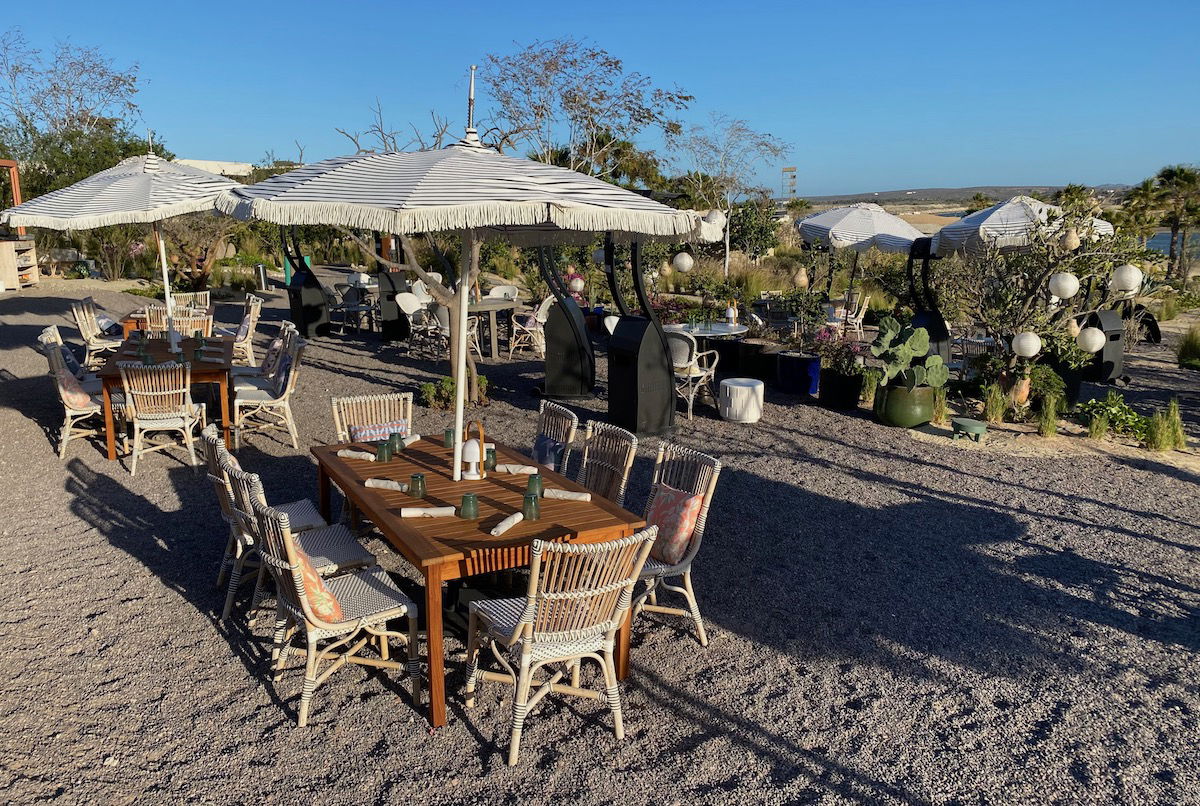 The restaurant is slightly higher than the surrounding area, and has a totally different view than you'll find on the other side of the resort — you almost feel like you're looking at a desert.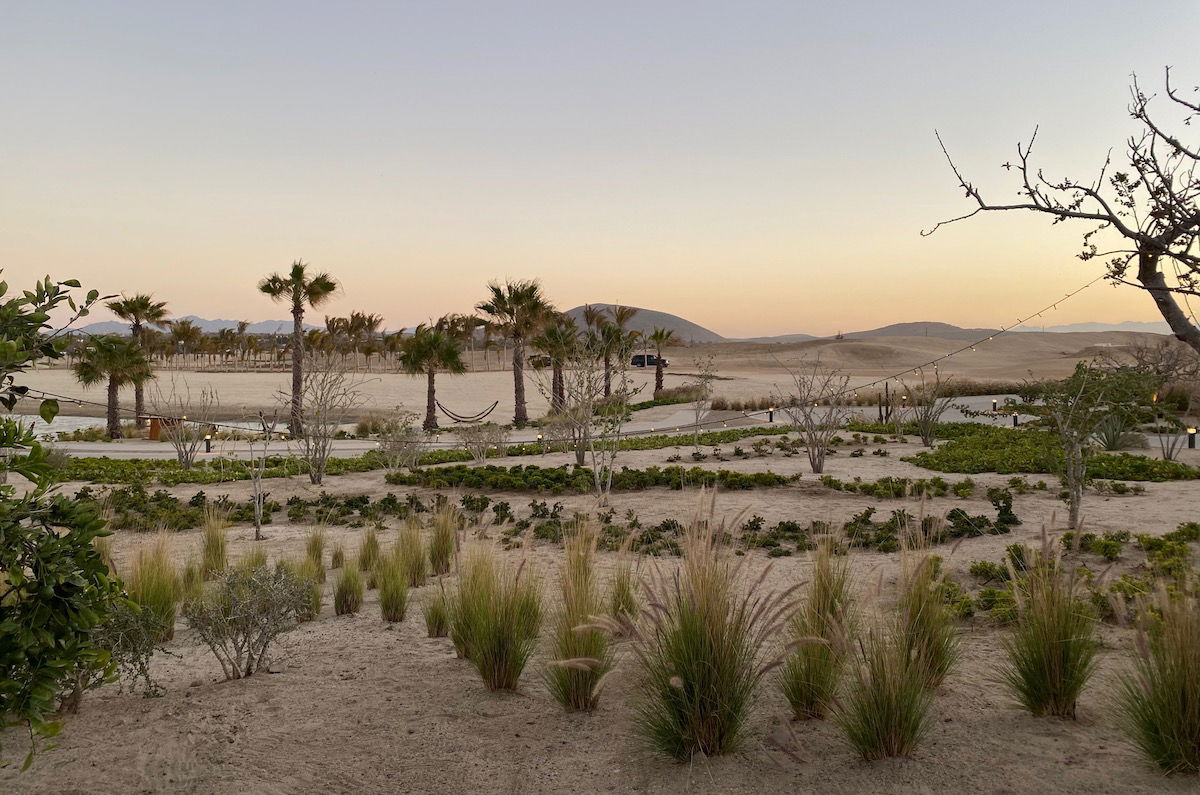 Our meal here was excellent. We had two great cocktails, including a dirty martini and the signature limon drop drink.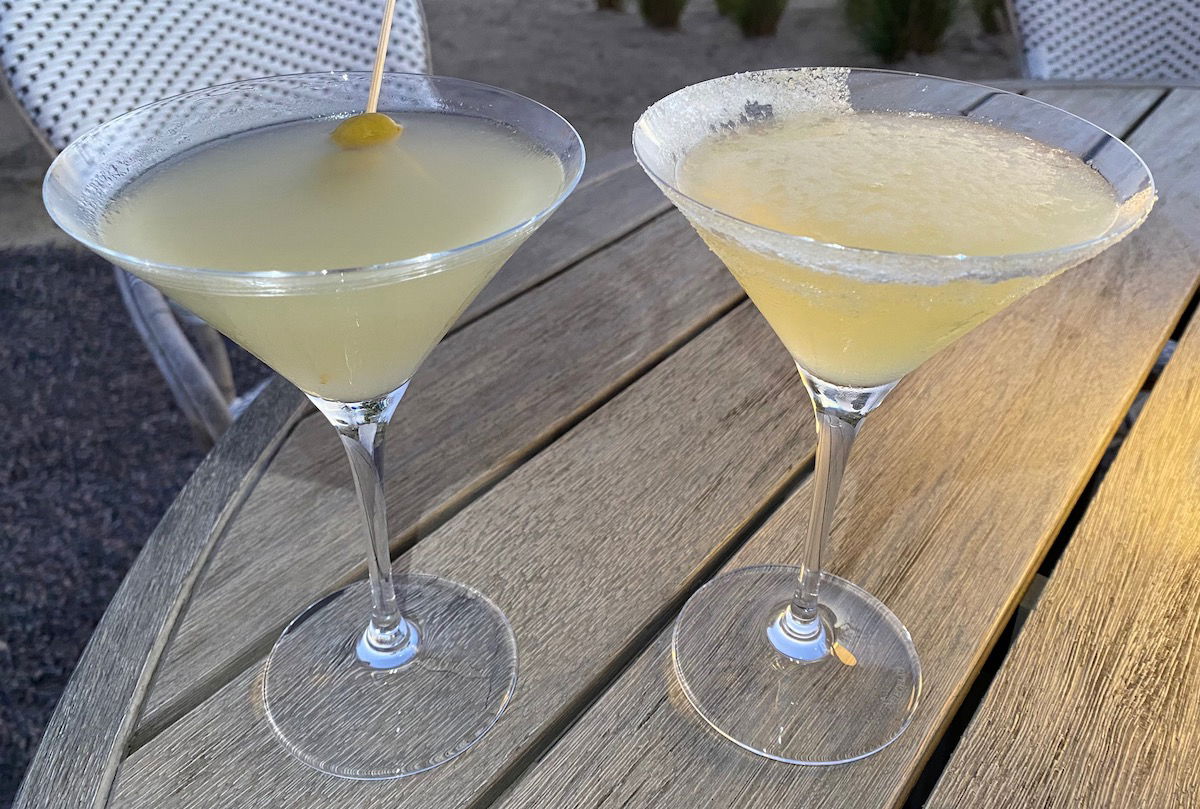 We enjoyed the roasted cauliflower and ribeye tartare to start, and then the catch of the day and the organic chicken as our mains, all of which were exceptionally good.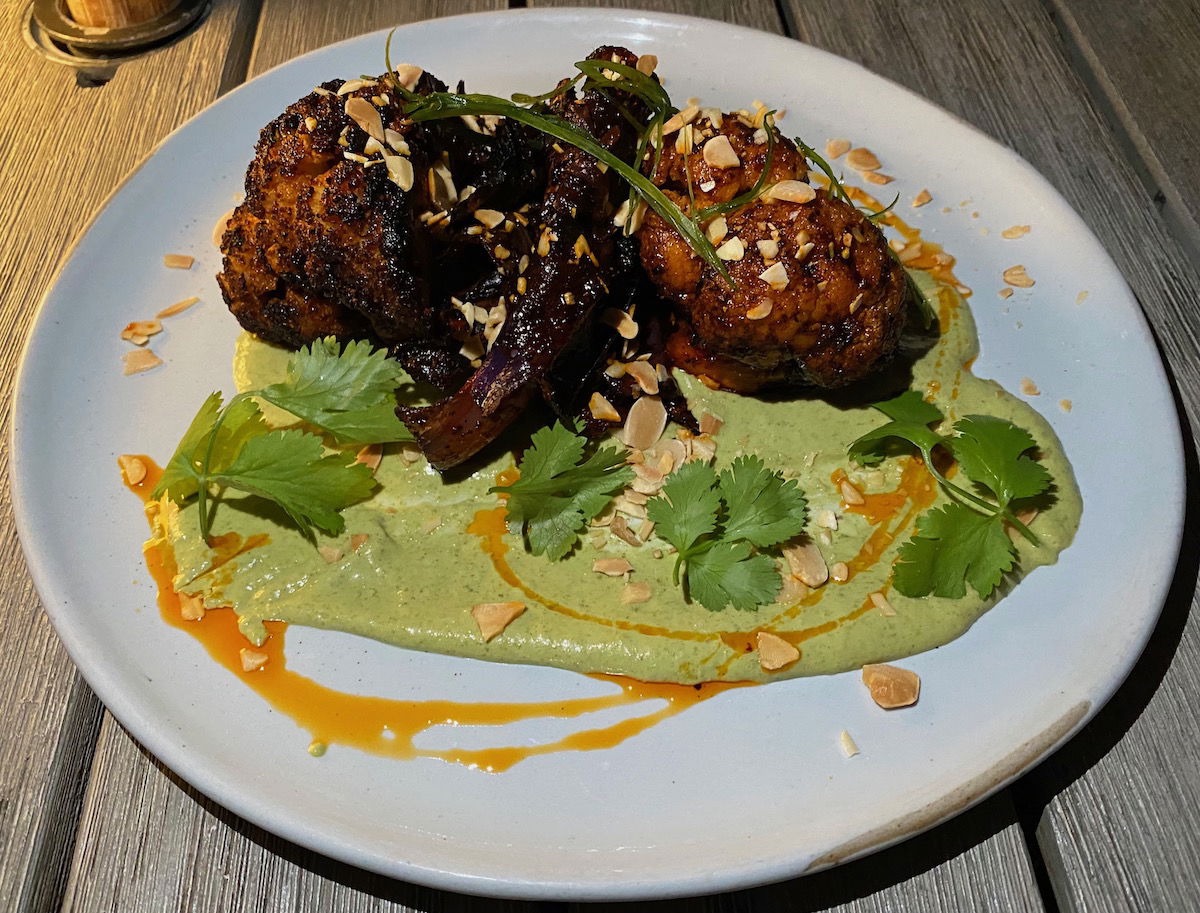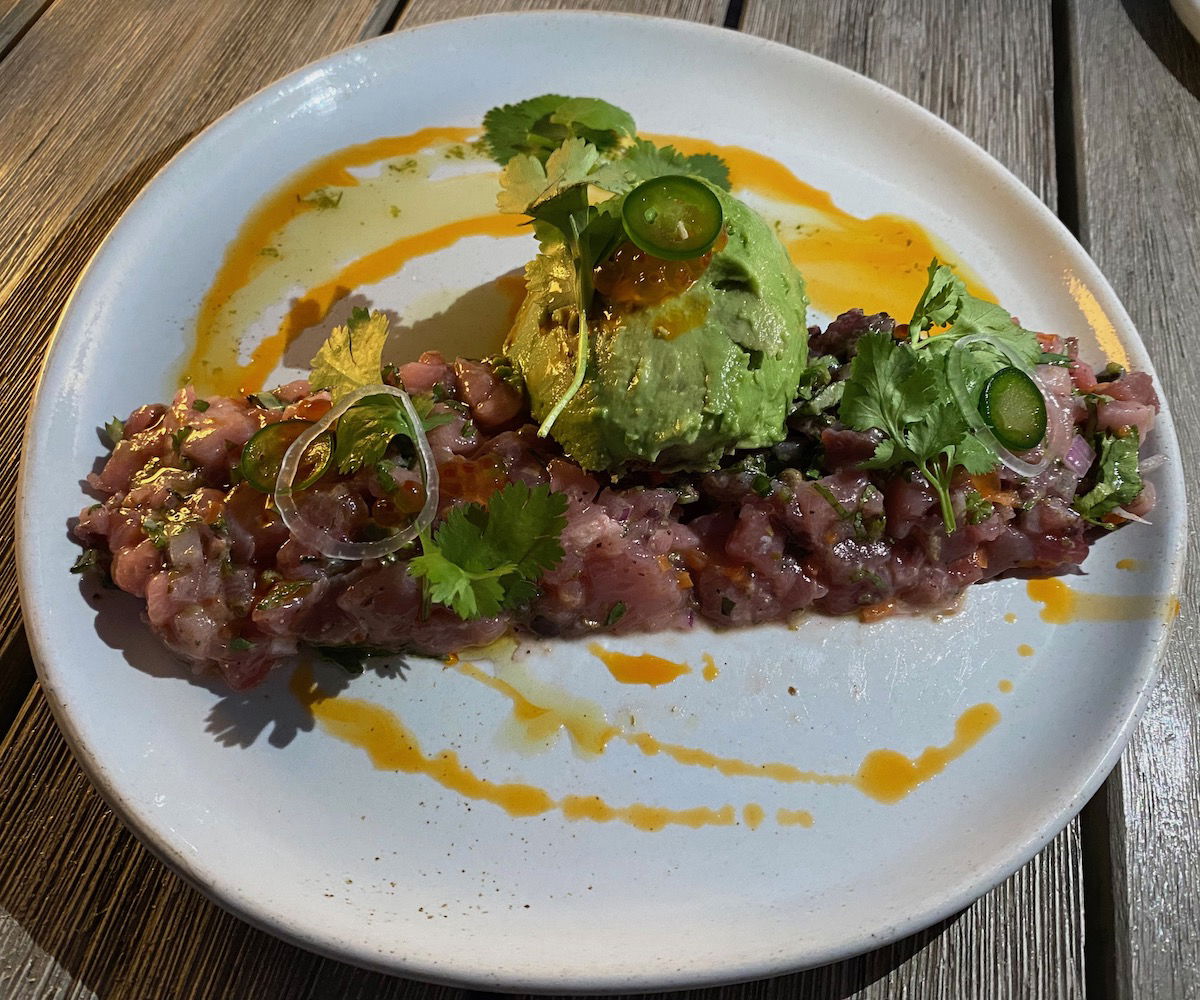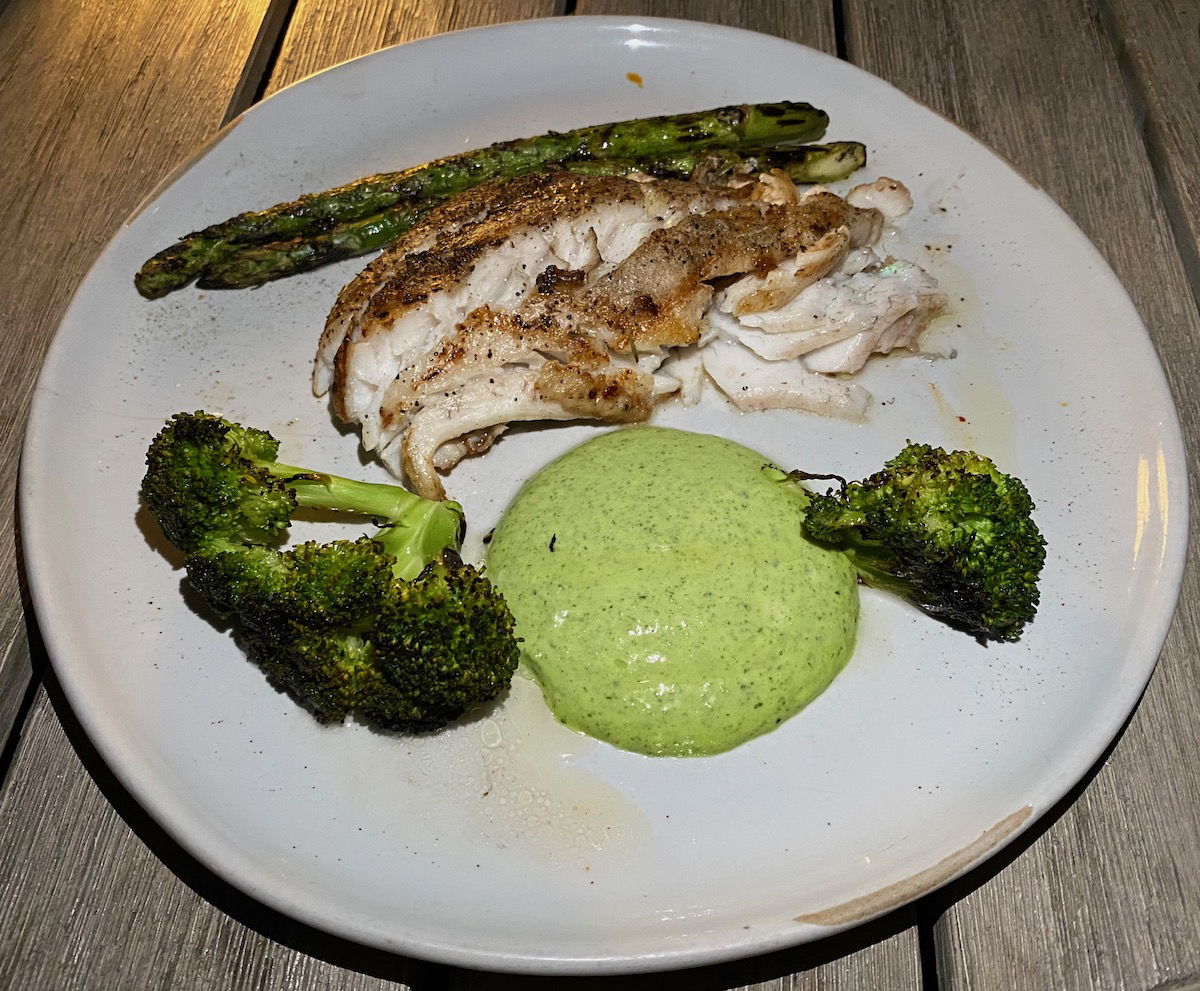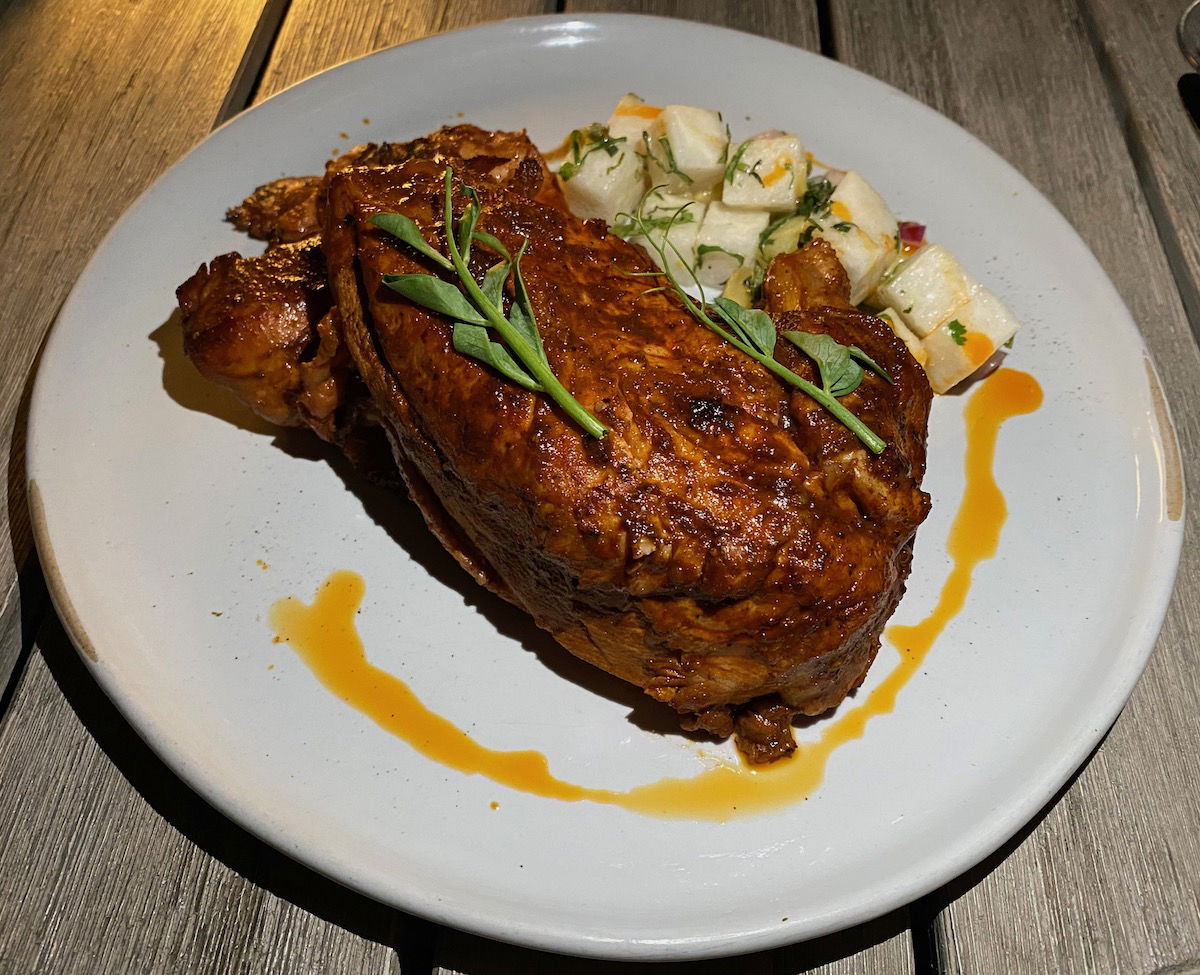 Four Seasons Los Cabos Casa de Brasa Restaurant
Casa de Brasa is the Four Seasons' signature Mexican restaurant, and both lunch and dinner are served here. It's a fully open-air restaurant that's by the pool, so it's especially popular as a lunch option.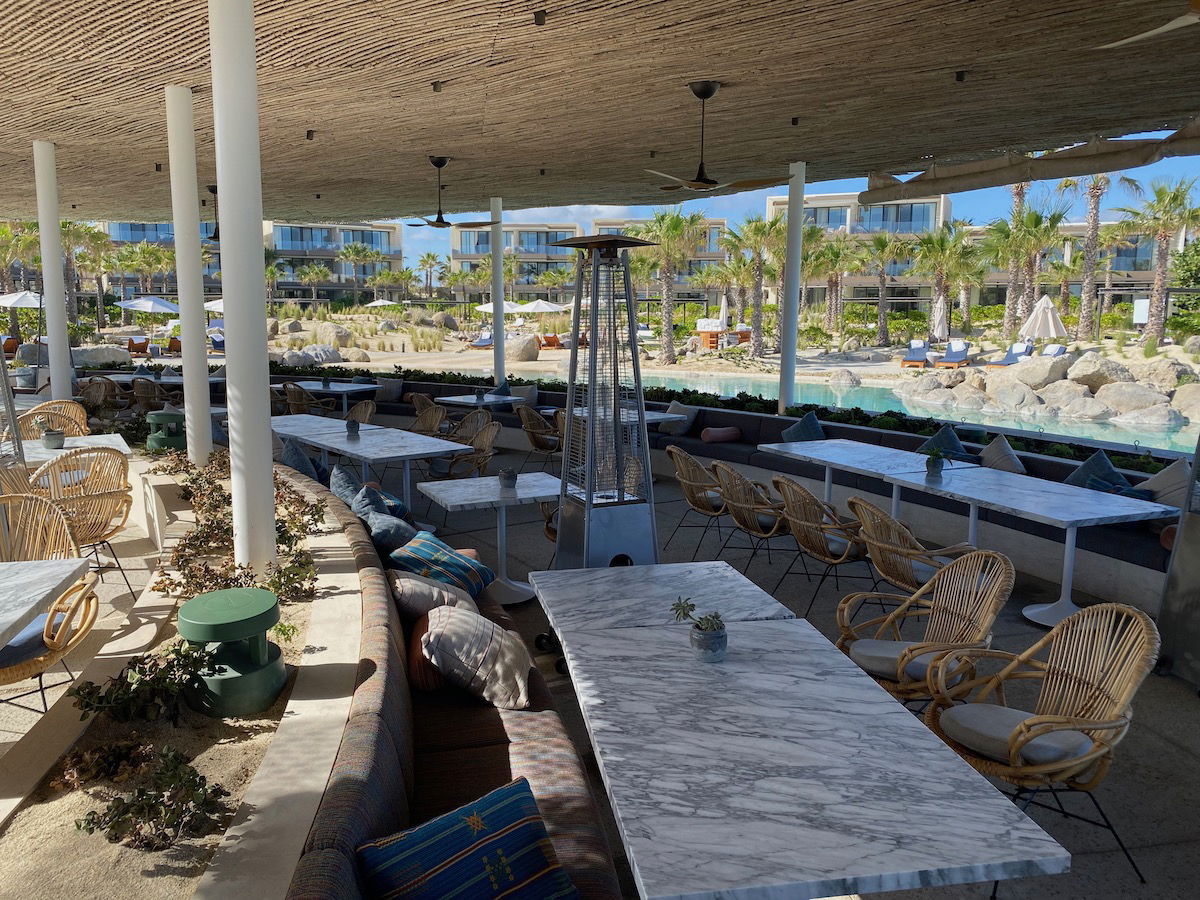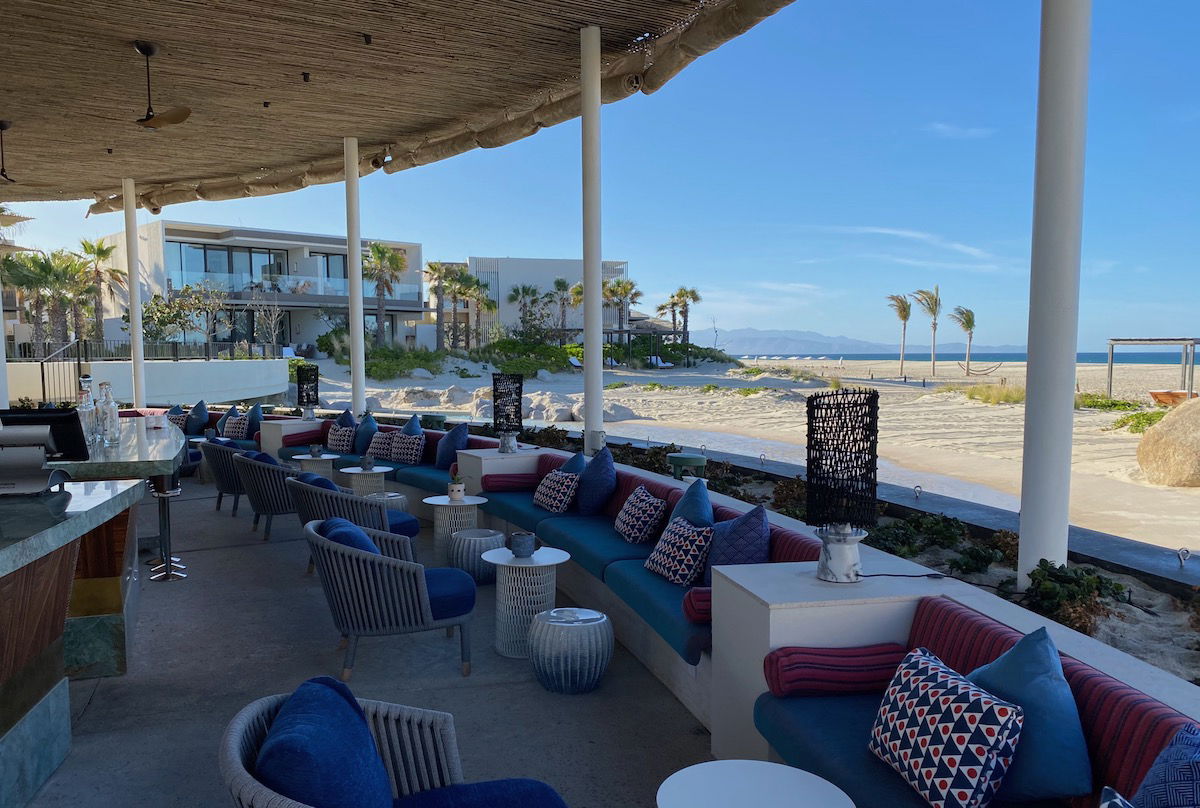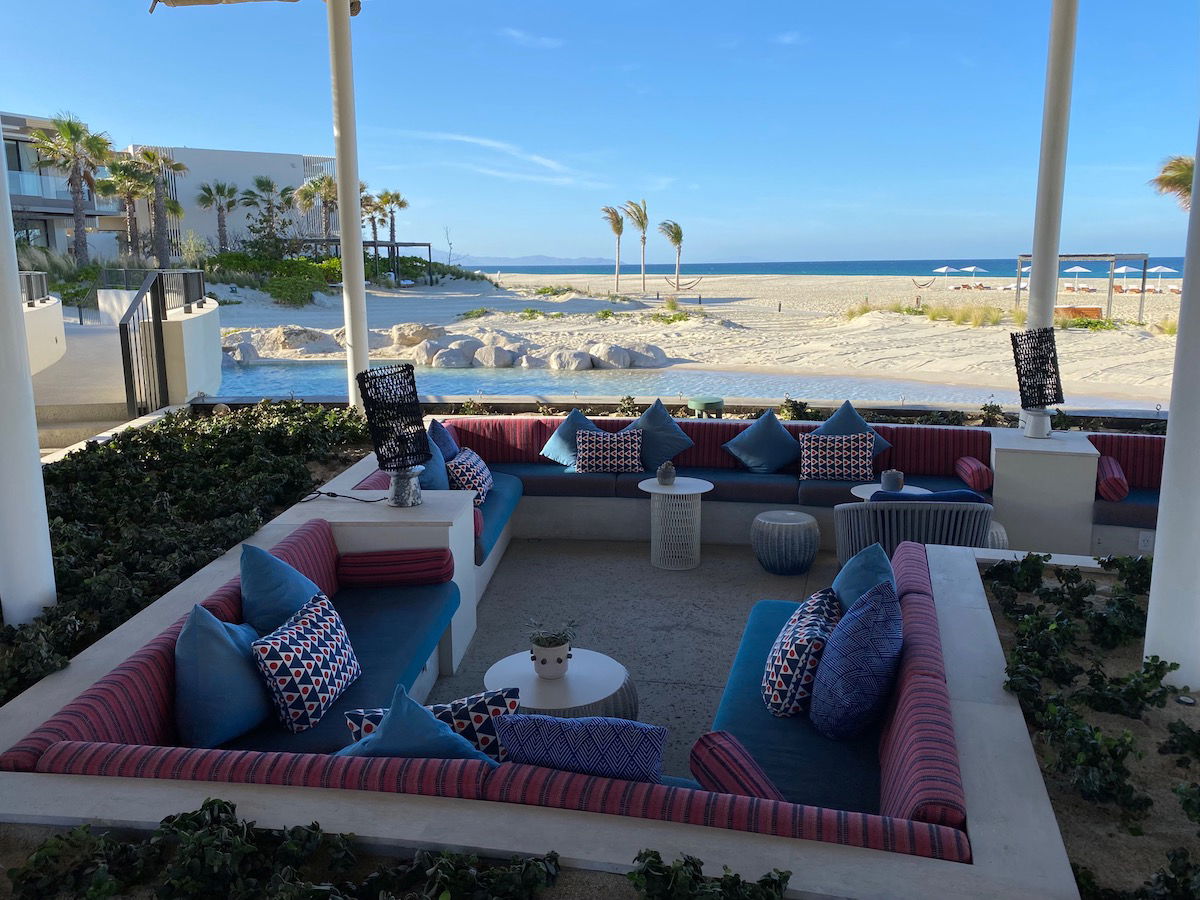 We had dinner here while they were having a prix fixe "Mexican Gastronomy Tour," which they have certain nights of the week (you can find the standard dinner menu here). The meal was simply flawless, and you can find the menu below (this cost ~$75 per person).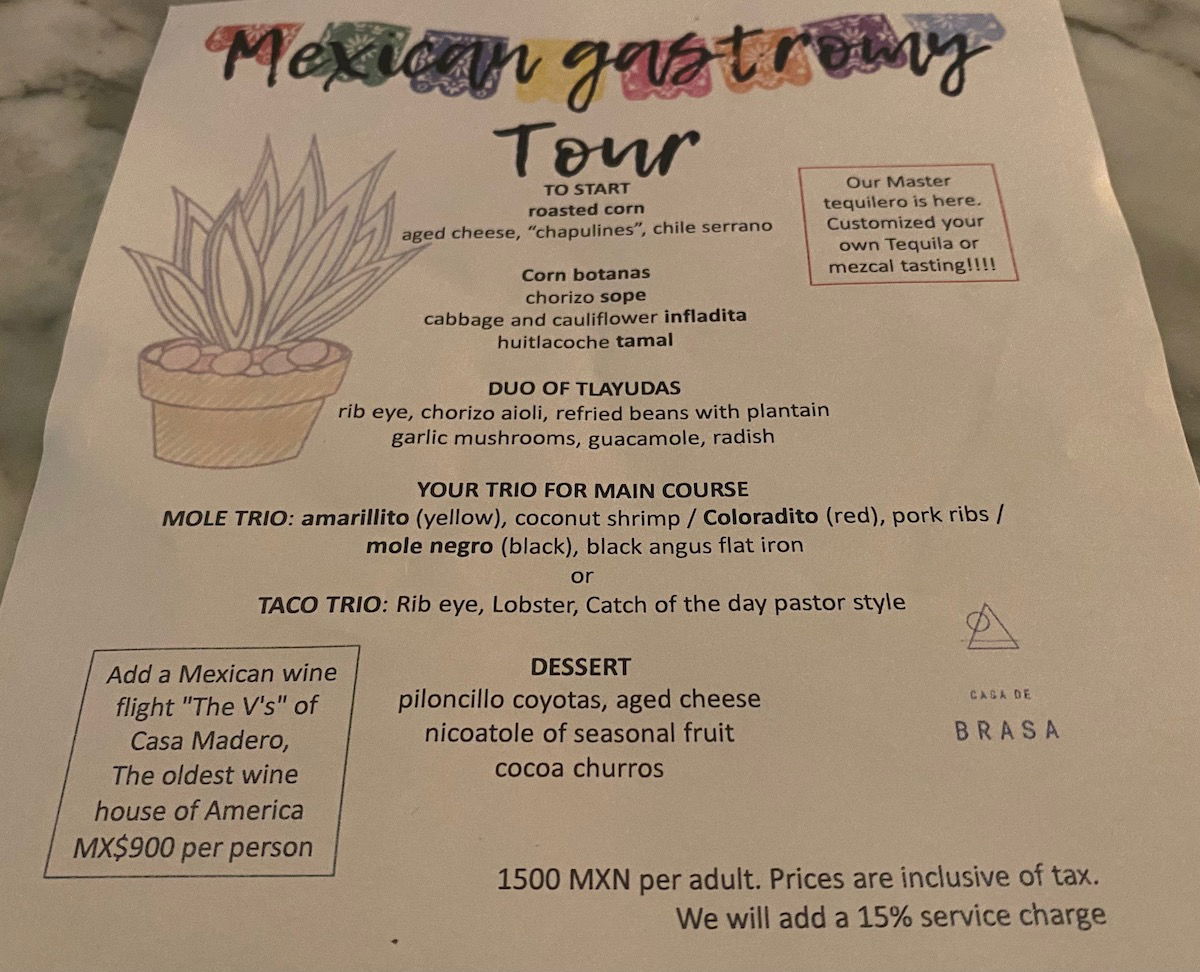 First we were served a fruity welcome cocktail, included with the experience.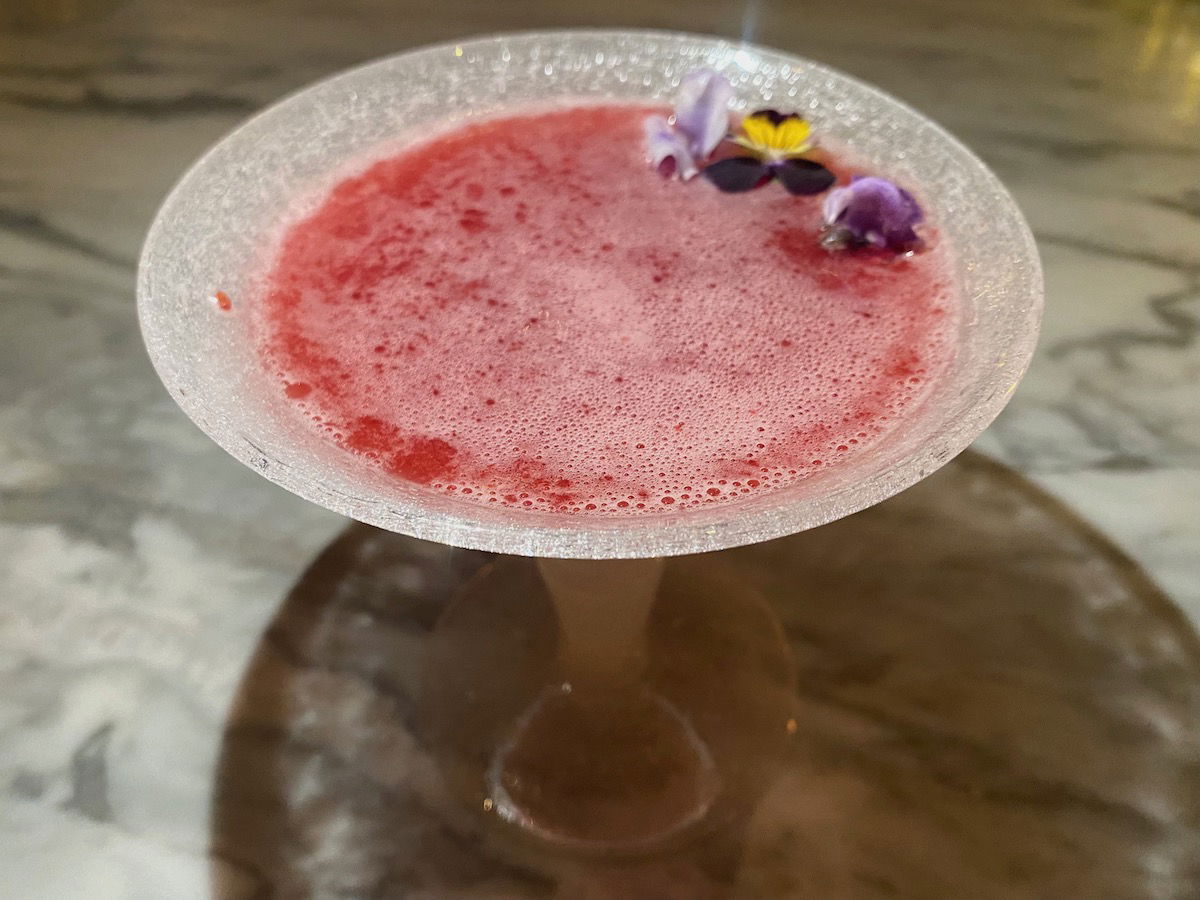 The first course consisted of roasted corn with "chapulines." I didn't know what that was until I was served the meal and asked the server what those dark flakes were, and was told they were grasshoppers.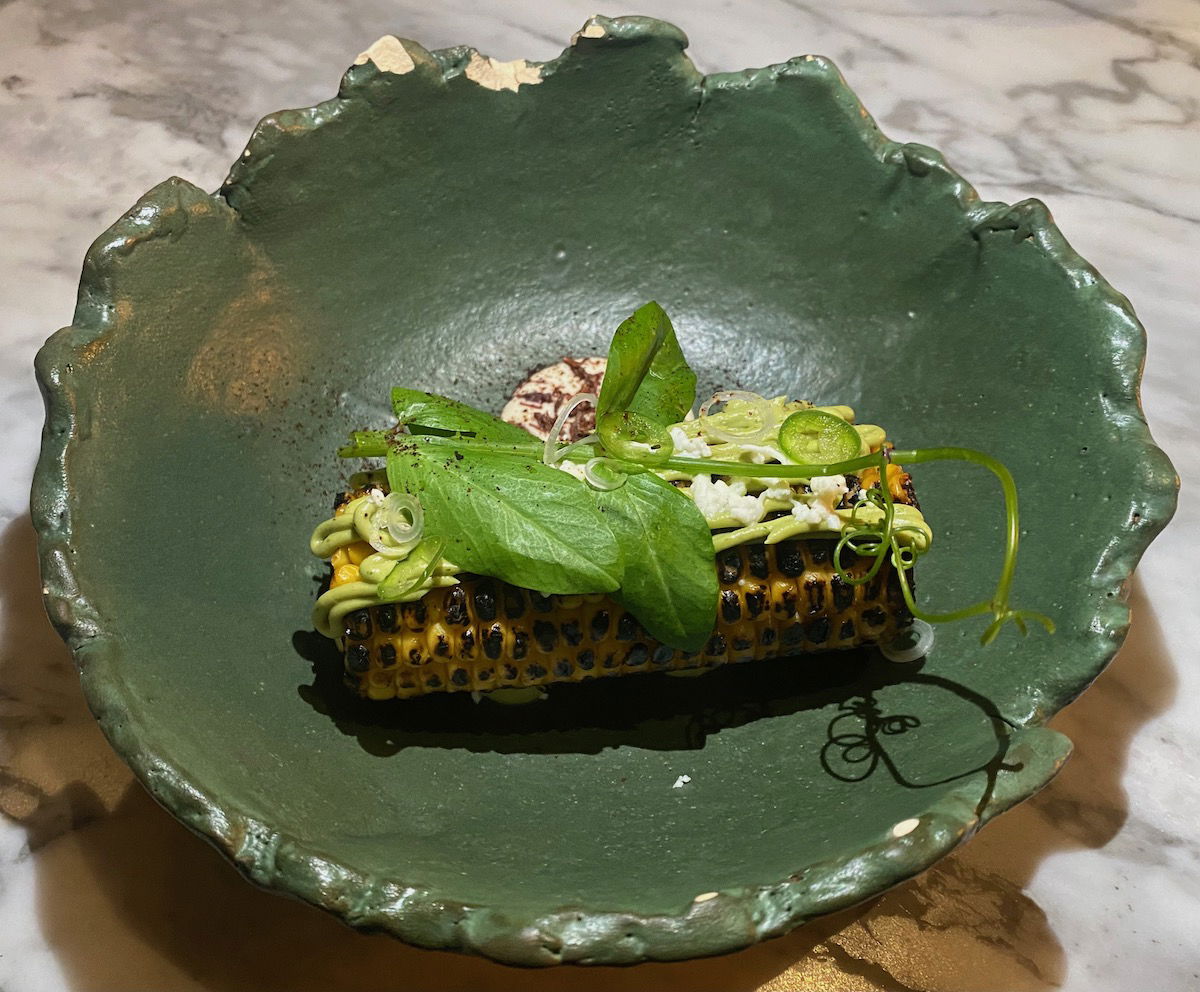 Next up was a duo of tlayudas.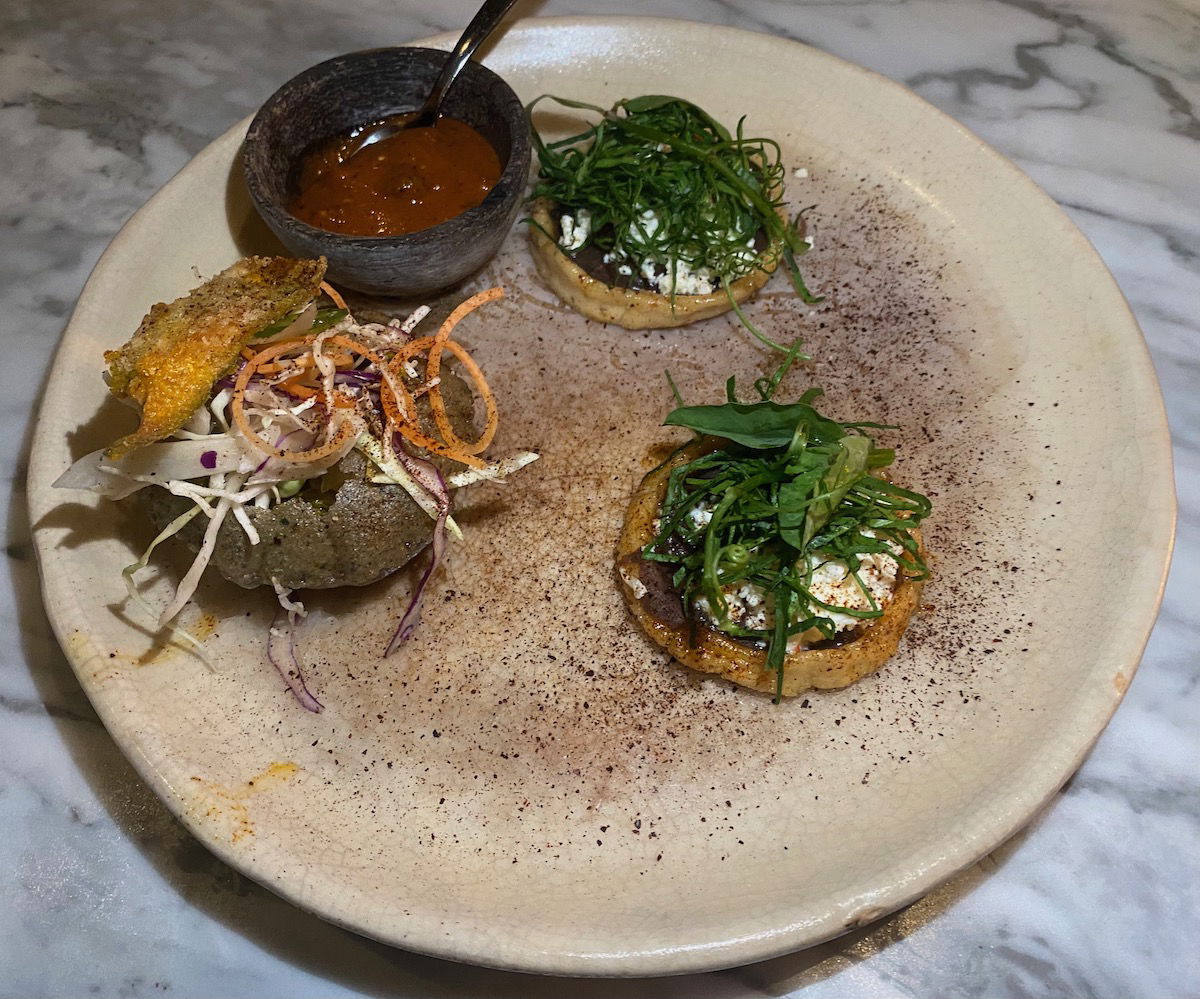 For the main course there was the choice of a taco trio or a mole trio, so we had one of each.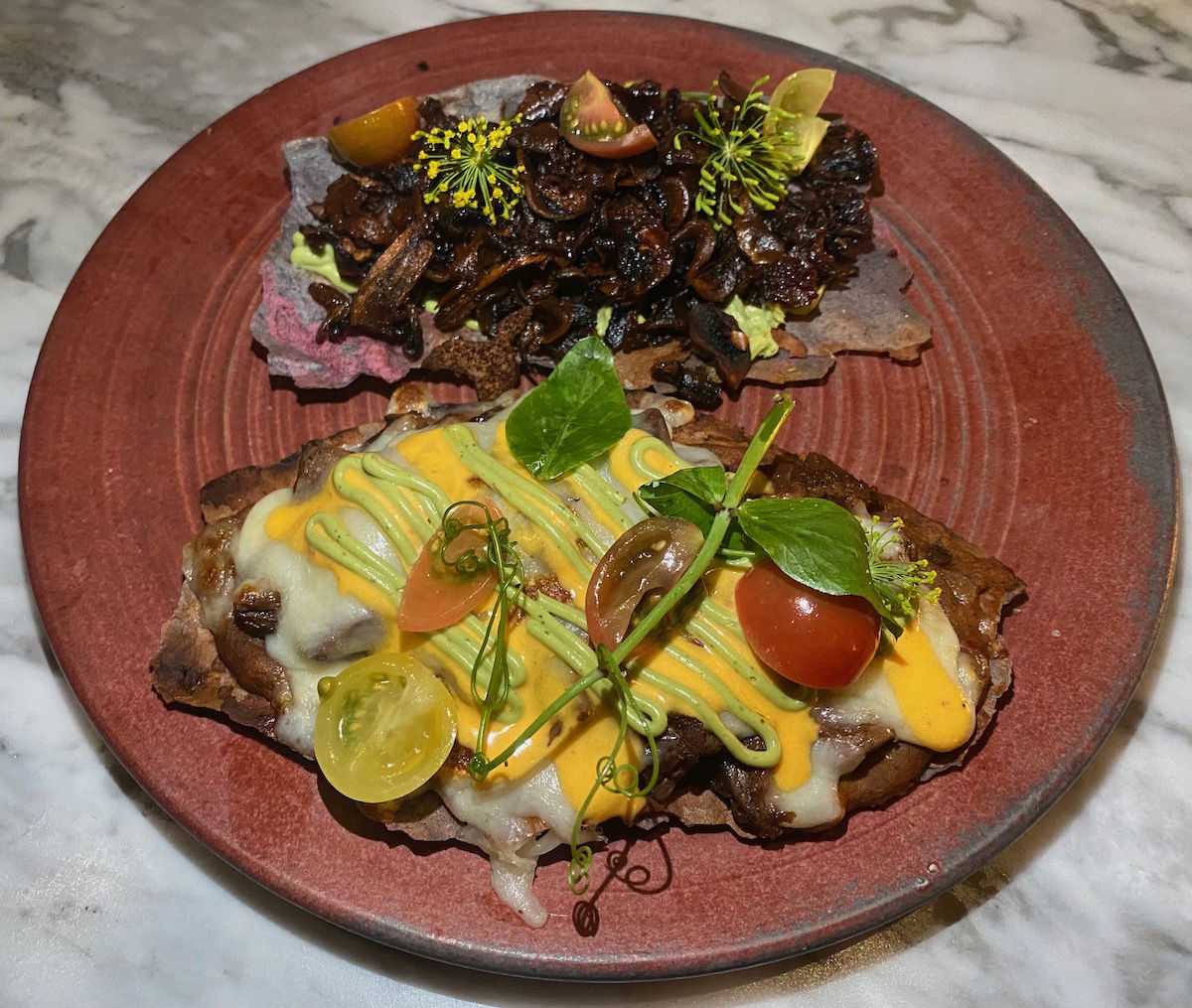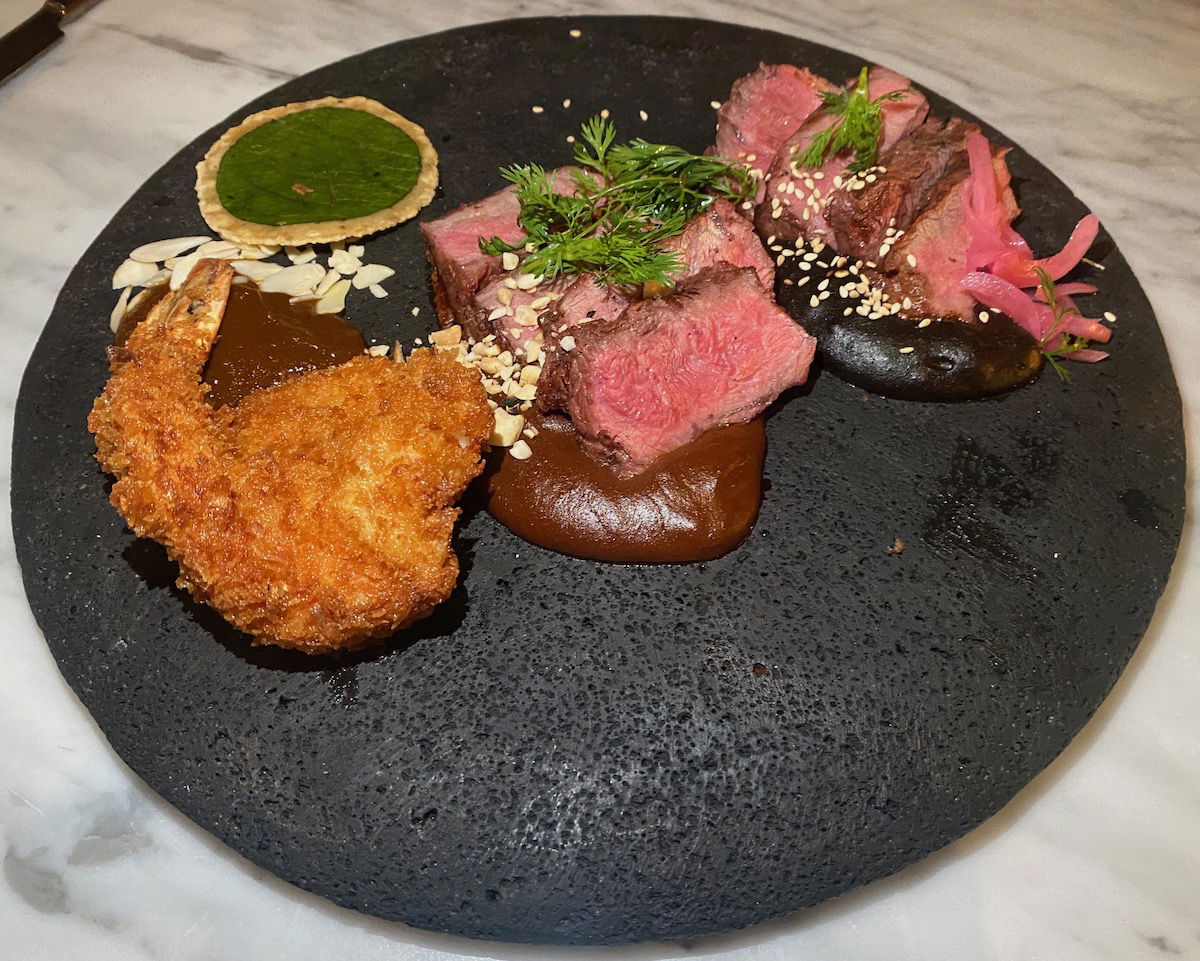 And then there was the dessert…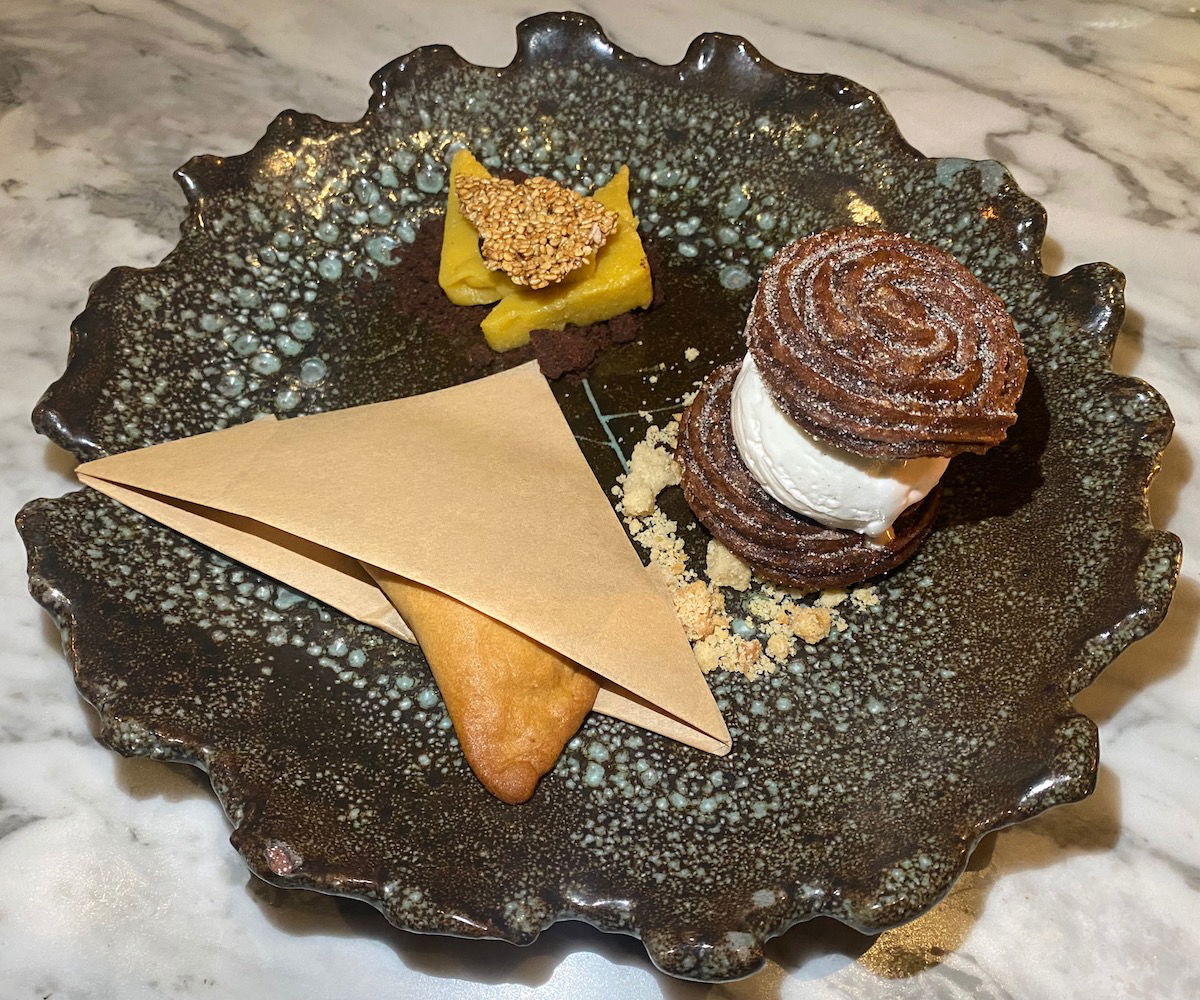 We were stuffed at that point… what a meal!
Four Seasons Los Cabos Ginger's Cafe & shops
The Four Seasons Los Cabos feels more like a village than a hotel. The property has a couple of high-end stores, including James Perse — as of now they have very little business, but I assume they opened in anticipation of Costa Palmas becoming a big thing, and continuing to be developed.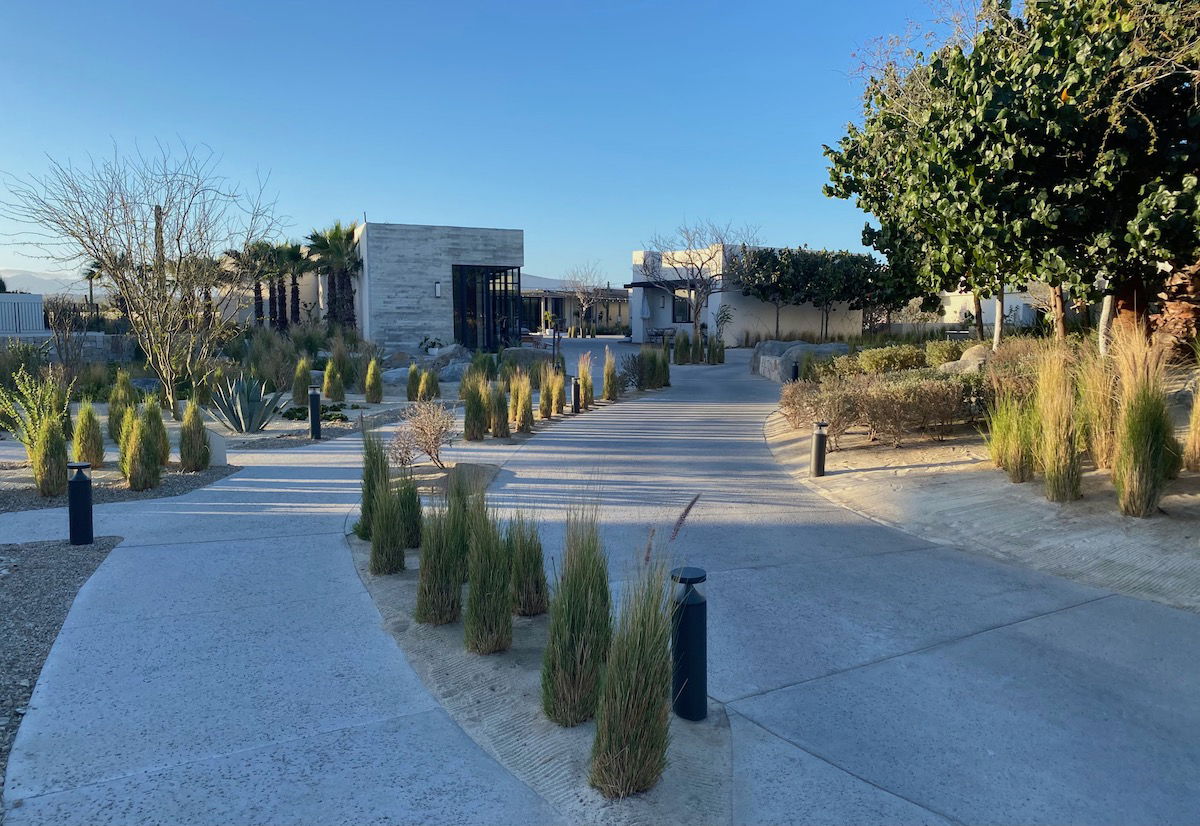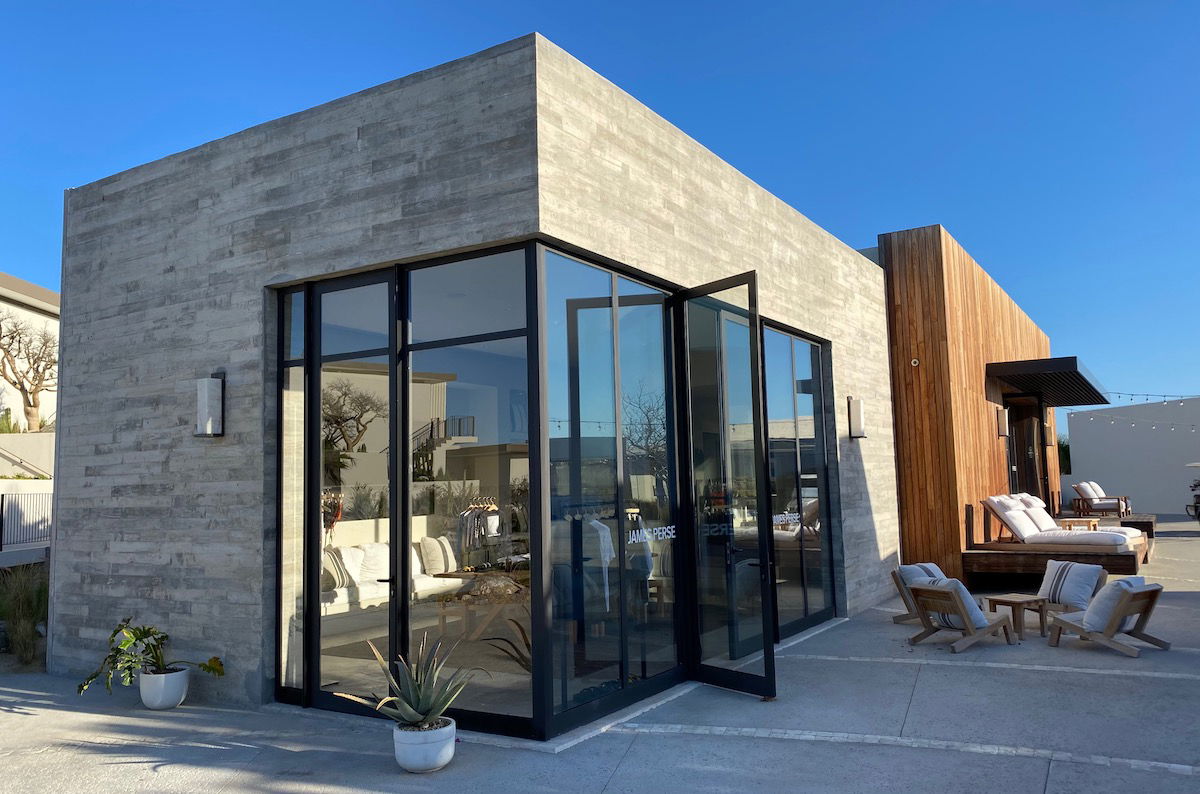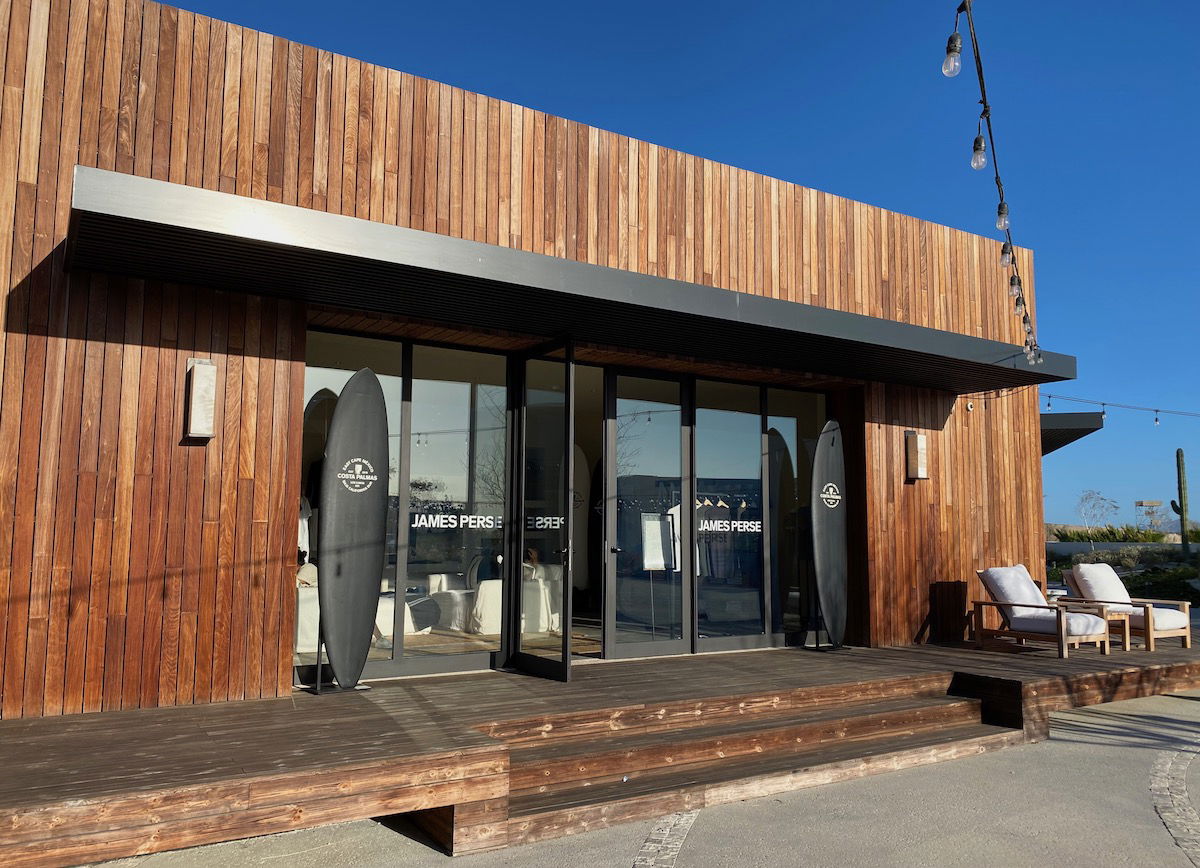 Also in this area is Ginger's Cafe, which is an all-day cafe where you can get everything from a cappuccino, to gelato, to a protein shake. The interior is also decorated nicely, and there are games outside.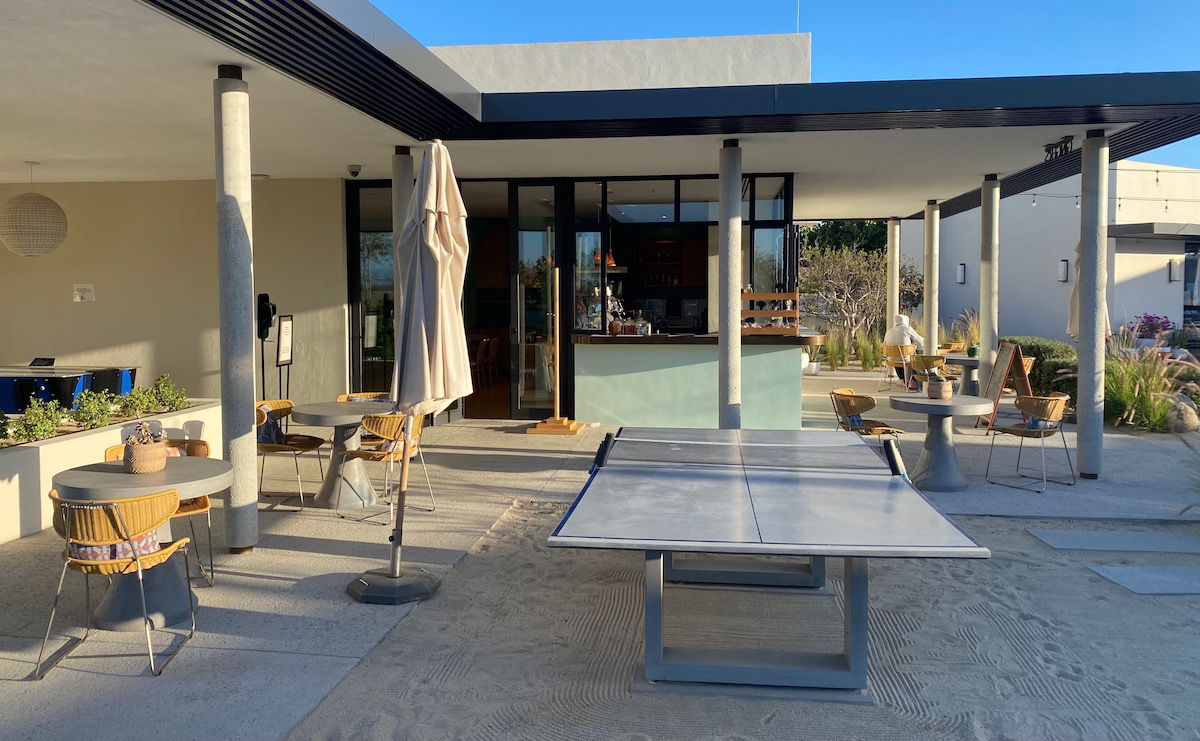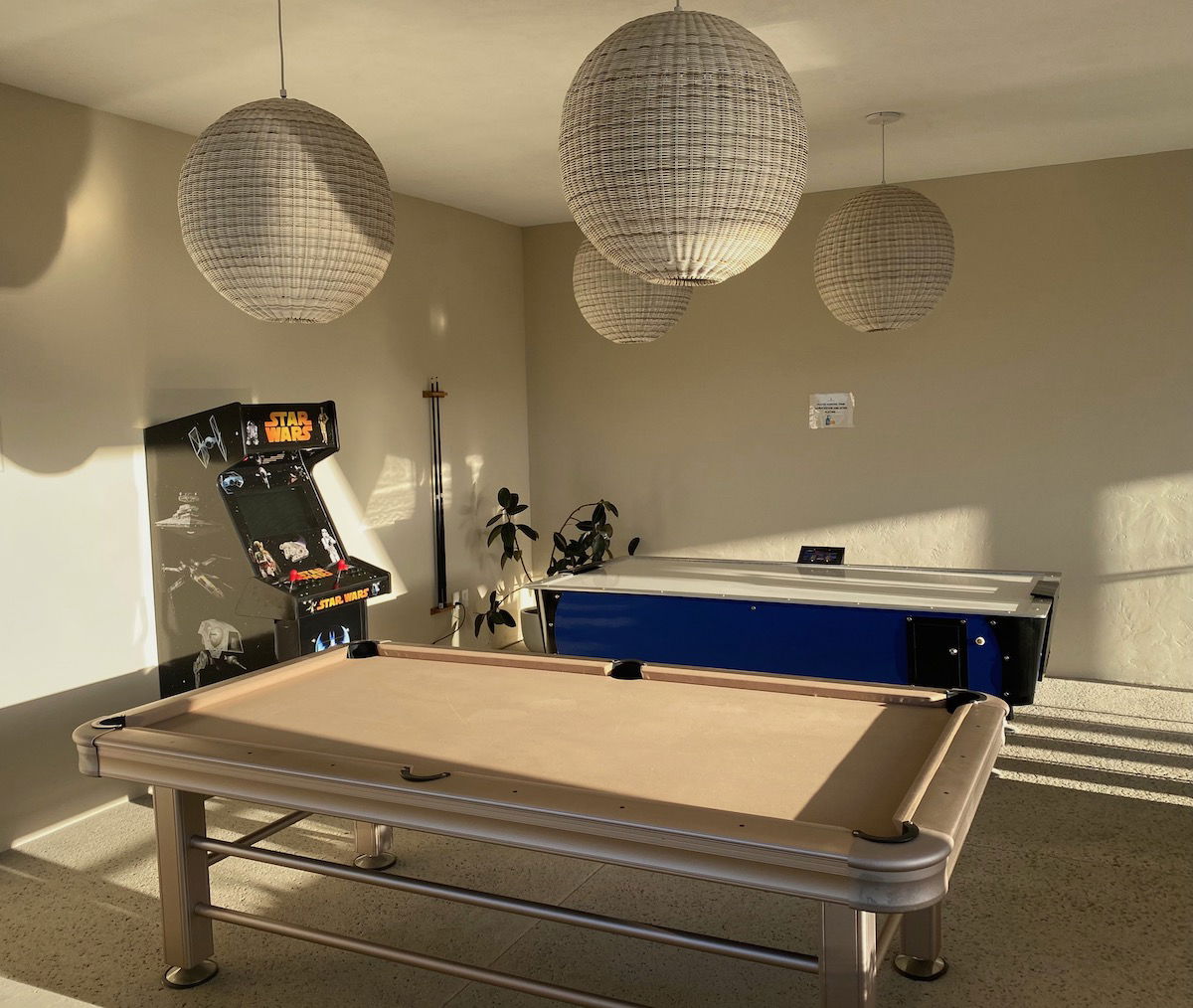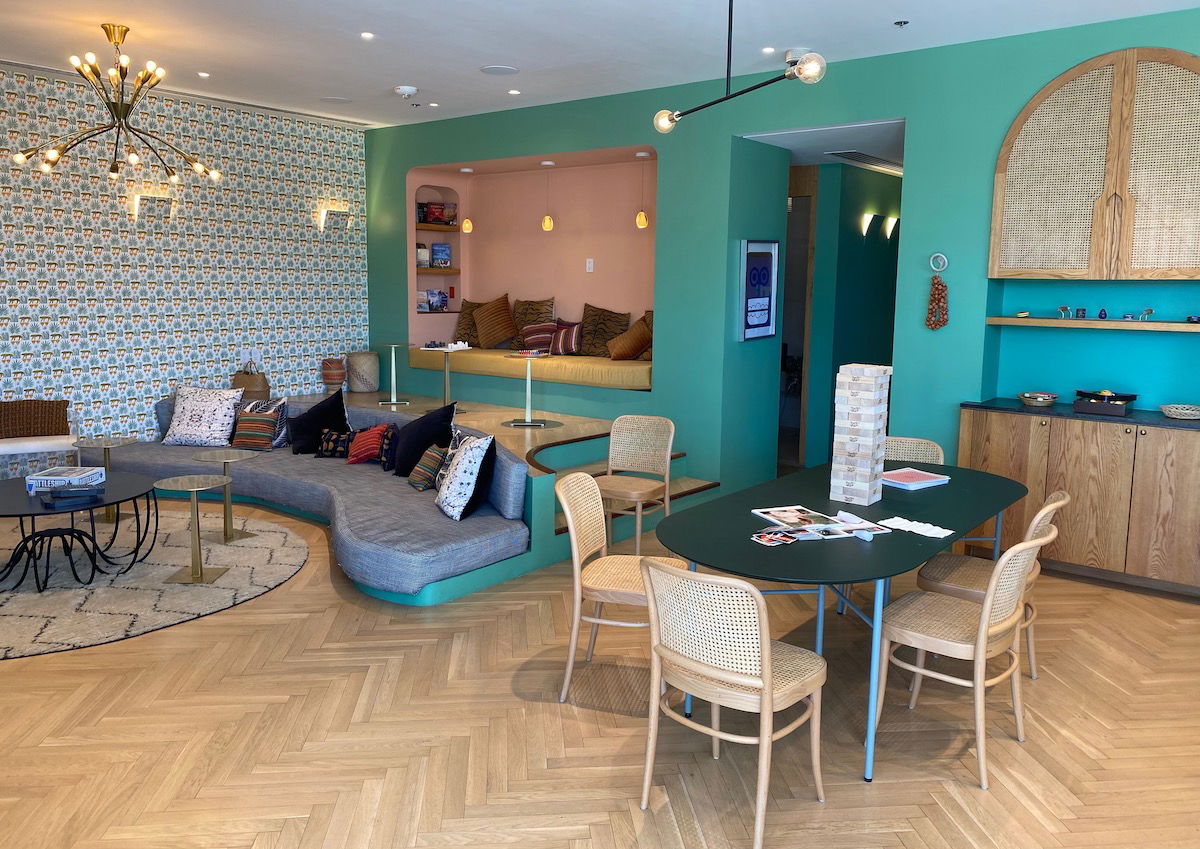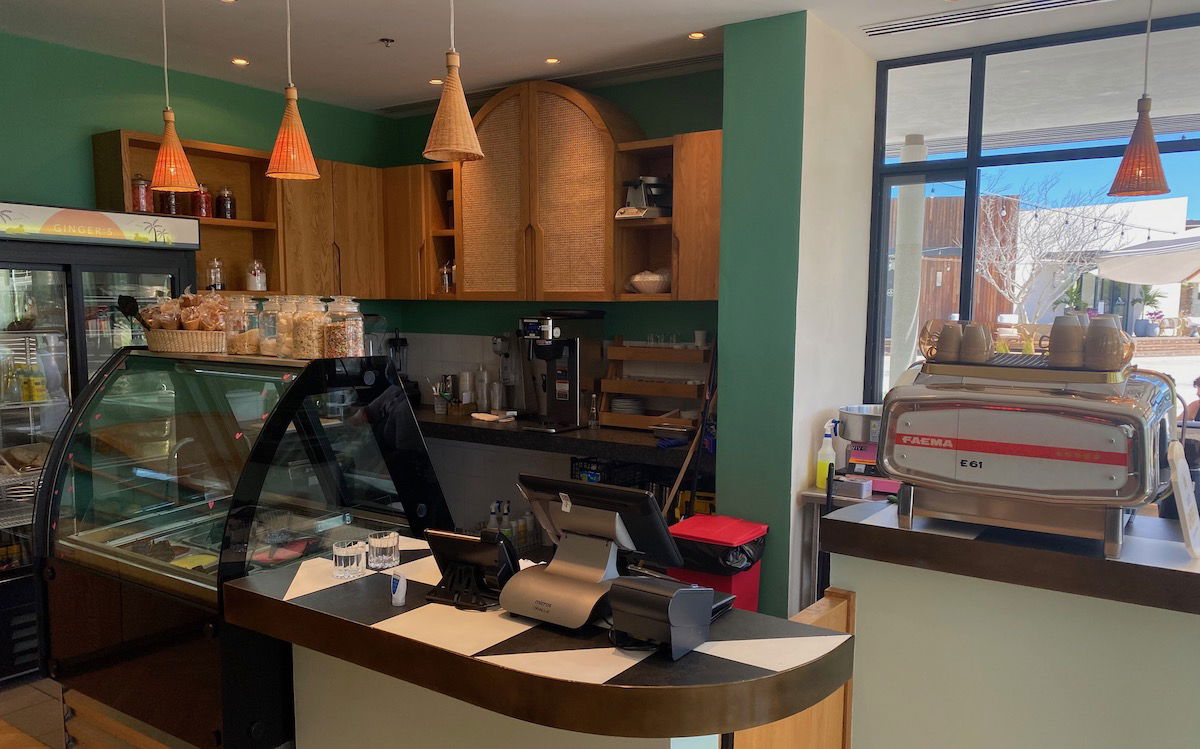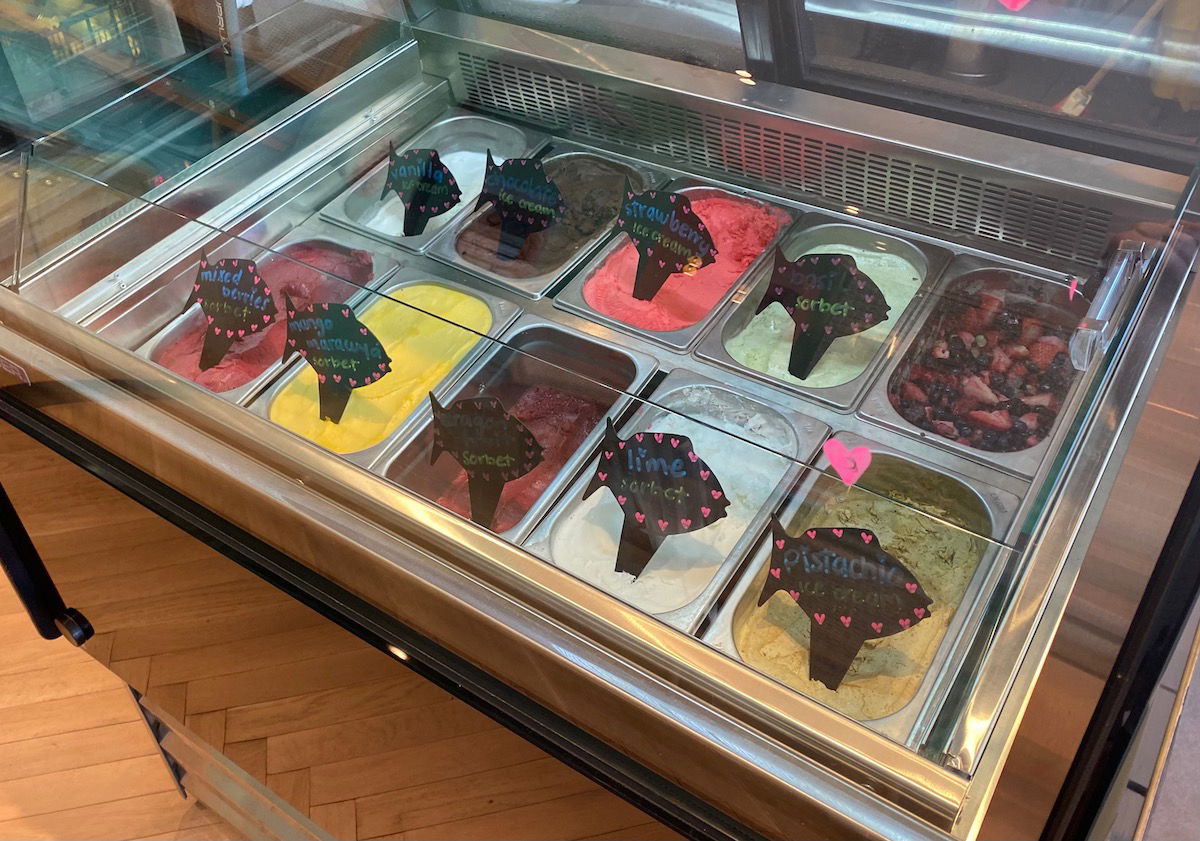 Four Seasons Los Cabos service
Service at the Four Seasons Costa Palmas was very, very good. As I've stated in all the reviews up to this point of properties in the Los Cabos area, service in the region is top notch in general, and this hotel was no exception.
Service was genuinely friendly and proactive, and I love the chat feature in the Four Seasons app, which allows you to easily communicate with the front desk for just about anything.
Bottom line
The Four Seasons Los Cabos at Costa Palmas is a unique and special property. This isn't your typical Los Cabos resort, but rather is located in a secluded area that's newly being developed, far from all other Cabo resorts. If you come here, expect to spend all of your time at the resort… and that's not a bad thing.
This resort is massive, and features seven pools, an incredible gym, several amazing restaurants, and probably the best beach in the Cabo area. It's going to be interesting to see how the Costa Palmas development expands over time, given all the construction going on (fortunately the construction doesn't get in the way of the Four Seasons experience).
If you're a Four Seasons fan, the Costa Palmas property won't disappoint, and should be on your bucket list. I'd absolutely recommend staying here, and perhaps even splitting your time between the Four Seasons and a property closer to Cabo San Lucas, if you want a bit more variety.
What do you make of the Four Seasons Los Cabos at Costa Palmas?
EXTRA PERKS AVAILABLE
Enjoy breakfast, upgrades, & more
Want to take advantage of Four Seasons Preferred Partner benefits, including a space available room upgrade, complimentary breakfast, a hotel credit, and more? Contact Ford ([email protected]) for more details. He may even be able to help if you already have a stay booked.
Read Four Seasons reviews: Athens, Boston, Cap-Ferrat, Denver, Desroches Island, Fort Lauderdale, Hualalai, Lanai, Los Cabos, Madrid, Maldives at Landaa Giraavaru, Maui, Miami, Napa Valley, Naviva, Oahu at Ko Olina, Paris, Punta Mita, San Francisco at Embarcadero, Scottsdale, Seychelles, and Surfside
Learn about Four Seasons deals & offers: Anguilla, Athens, Atlanta, Austin, Bahamas, Bora Bora, Boston, Cap-Ferrat, Costa Rica, Dubai, Fort Lauderdale, Hawaii, Jackson Hole, London, Los Cabos, Maldives, Minneapolis, Nashville, Naviva, New York, Napa Valley, New Orleans, Orlando, Palm Beach, Paris, Philadelphia, Punta Mita, San Francisco, Santa Fe, Seattle, Sicily, Tamarindo, and Vail
Learn about Four Seasons basics: Four Seasons Preferred Partner, Four Seasons Private Retreats, Four Seasons Private Jet, Four Seasons travel agents, Four Seasons loyalty program, and maximizing value at Four Seasons