For the fourth and final sector of our journey to Oman, we flew Qatar Airways' Airbus A320 business class from Doha to Salalah. While we ended up getting Qatar Airways' old regional business class, the supervisor on this flight was spectacular, and made this a memorable flight. On top of that, Qatar Airways' service offering on short haul flights in the middle of the night is simply unrivaled.
How I booked our Qatar Airways business class tickets
Our time in Oman would be starting in Salalah, so I booked the following in business class for 42,500 American AAdvantage miles plus $74.60 in taxes and fees per person:
02/16 IB3252 Madrid to Milan departing departing 11:30AM arriving 1:45PM
02/16 QR128 Milan to Doha departing 3:50PM arriving 11:35PM
02/17 QR1130 Doha to Salalah departing 12:50AM arriving 4:20AM
How Qatar Airways markets regional flights
Before I get into the review, I wanted to point out an interesting thing about the way that Qatar Airways markets the forward cabin on many flights within the Middle East. No other global Gulf carrier does this, so I figured it's worth highlighting.
Qatar Airways markets the forward cabin on many regional flights as being first class rather than business class, even though these are the same seats that would be marketed as business class on other flights. What are the implications of this?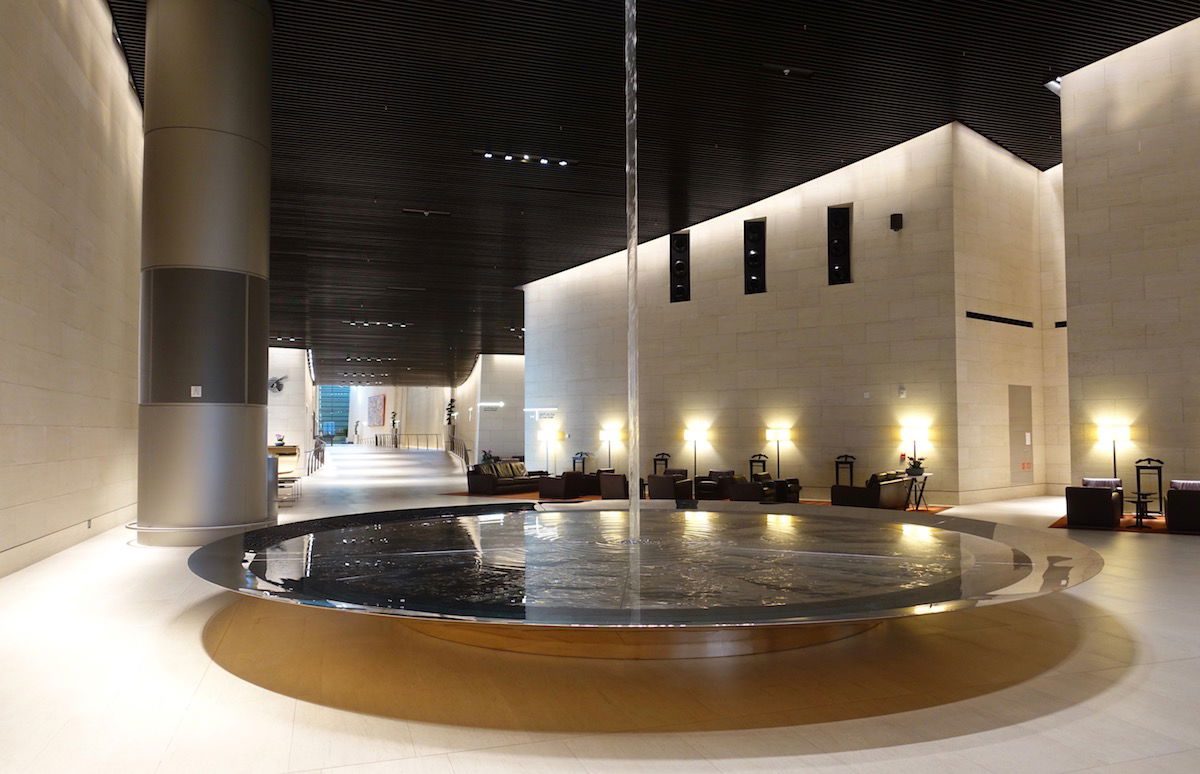 So most flights within the Middle East are marketed this way. For example, Qatar Airways' services to Dubai, Jeddah, Muscat, etc., all have first class in place of business class. I suspect that this is a small benefit for locals, who are often subjected to higher fares than connecting passengers.
Interestingly on Salalah flights, the forward cabin is still marketed as business class. This probably comes down to how premium a particular route is, and how much demand there is.
Qatar Airways Airbus A320 business class cabin & seats
We didn't have much time on the ground in Doha after our Boeing 787-9 flight from Milan, so let's get right into the flight review. Our flight was departing at gate B2, with boarding starting at 12:05AM. Qatar Airways has two A320 configurations, both of which I reviewed before — there are A320s with fully flat beds, and then there are A320s with recliner seats. On this flight we ended up getting the old product.
Qatar Airways' A320 cabin has a total of 12 seats, spread across three rows in a 2-2 configuration.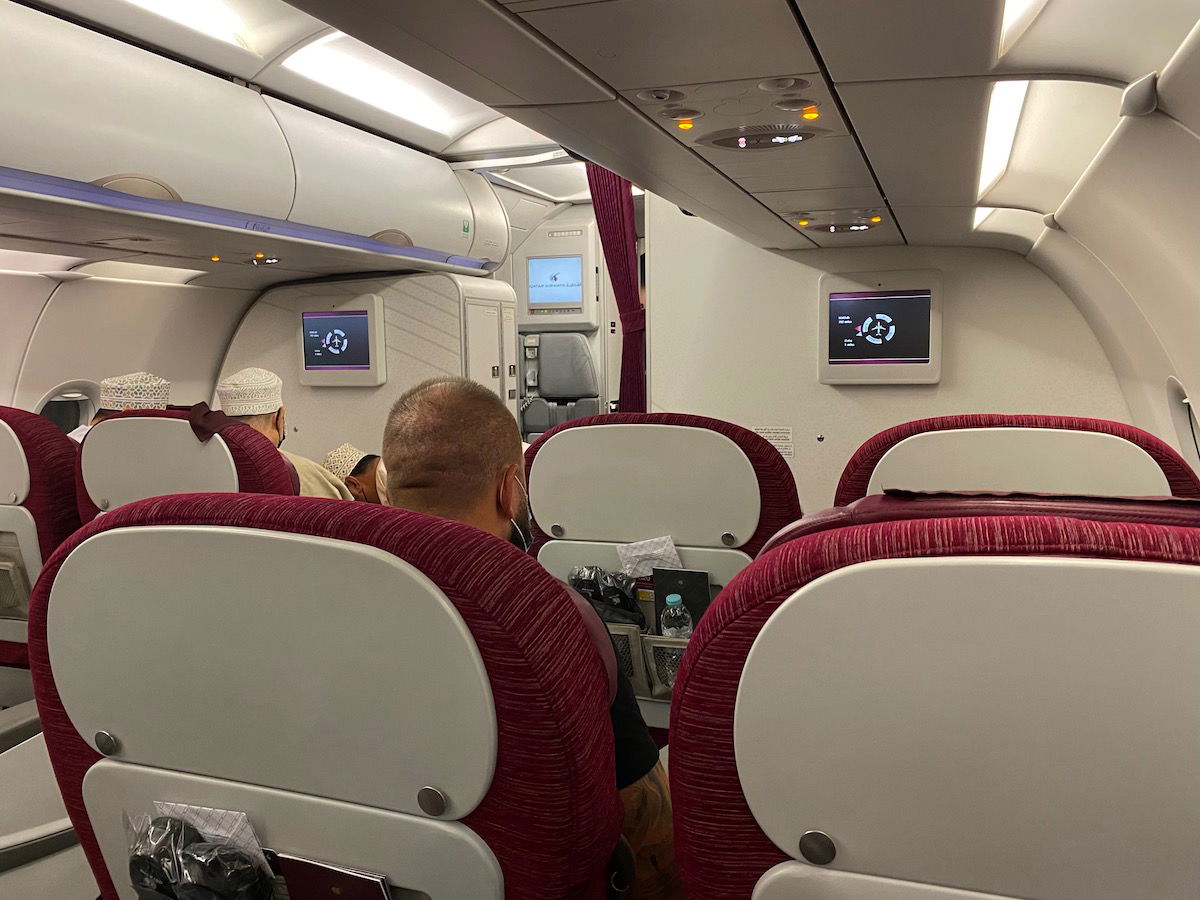 I assigned us seats 3D & 3F, the aisle and window in the last row on the right. While this product isn't cutting edge anymore, it is very well maintained.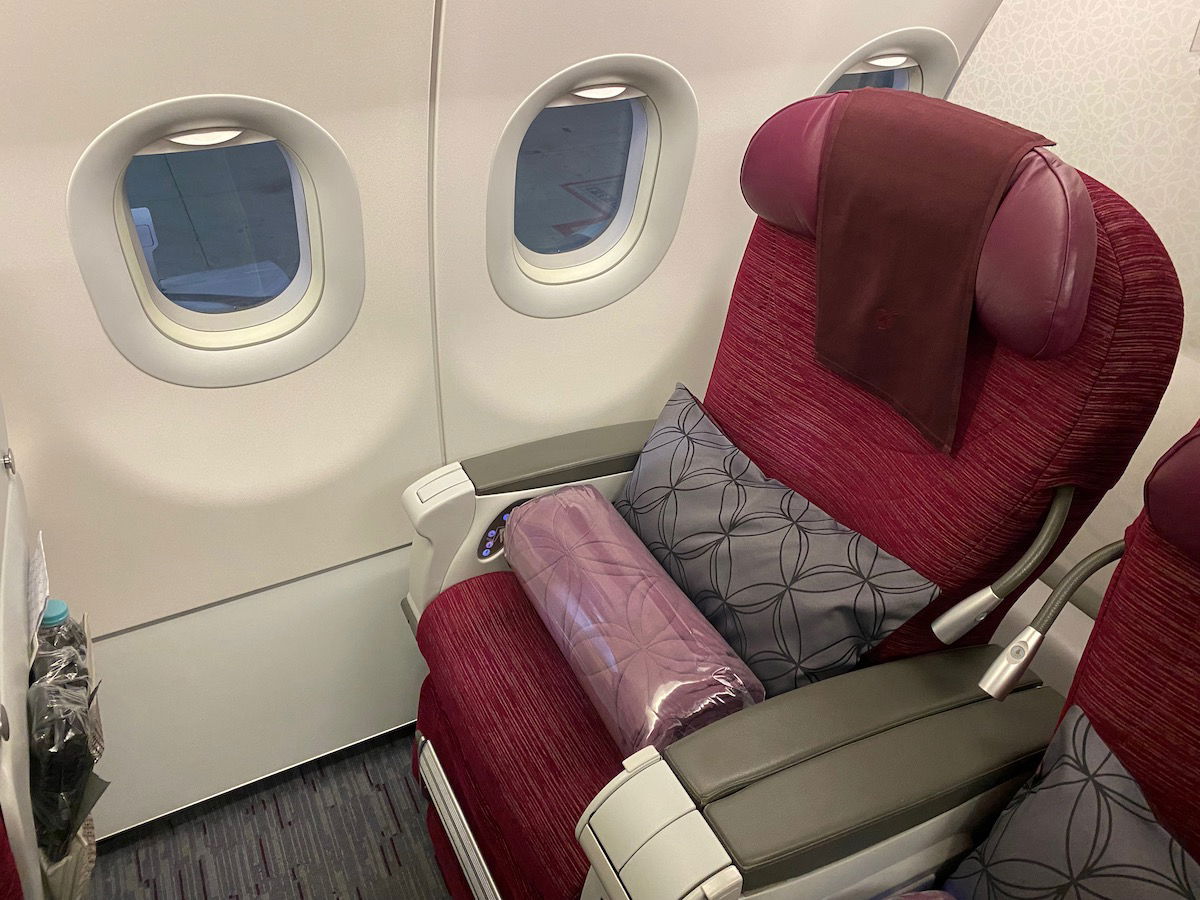 The legroom in business class on these A320s is excellent, much better than you'll find in domestic first class in the United States. There's a seatback pouch that contains many amenities.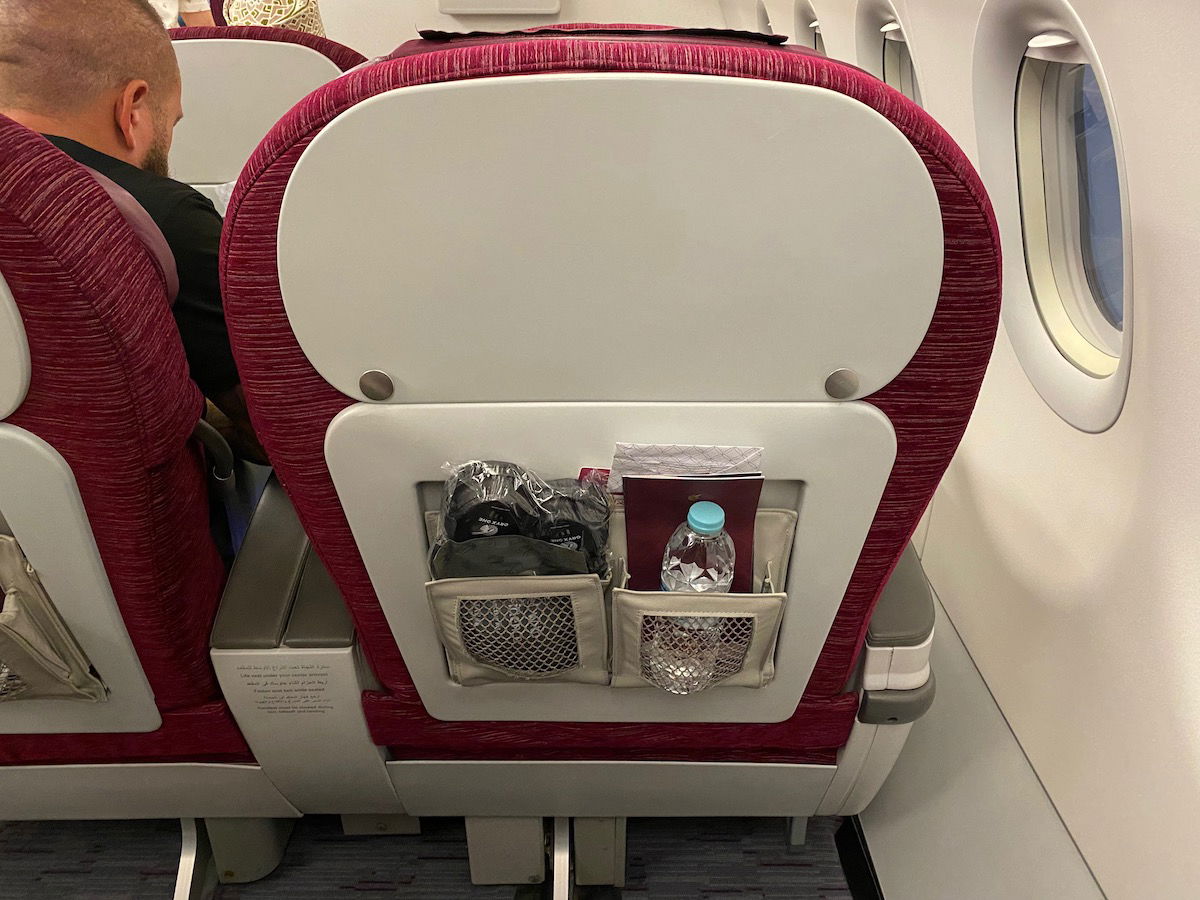 The tray table extends from the side armrest, and can be folded over in half.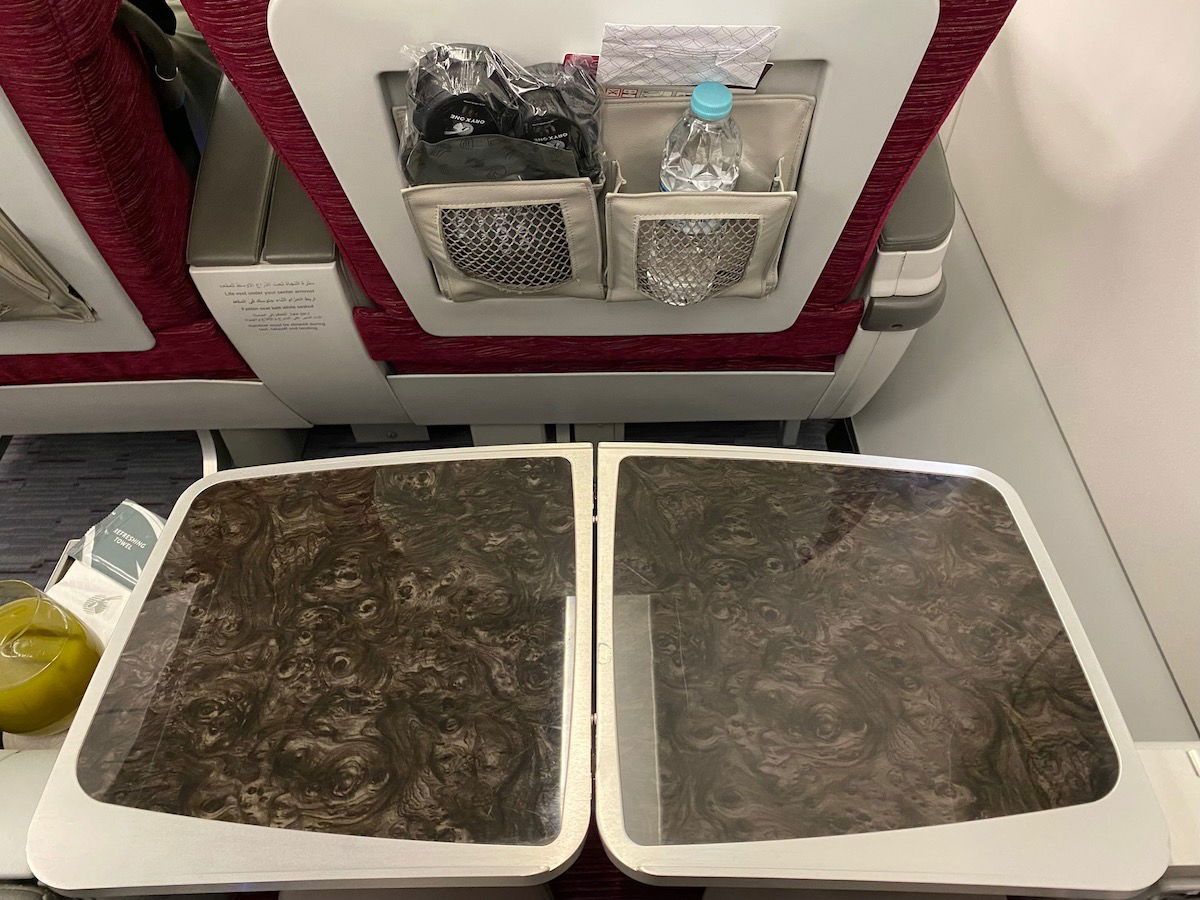 The seat controls were at the far side of the seat, while the entertainment controls were near the center console.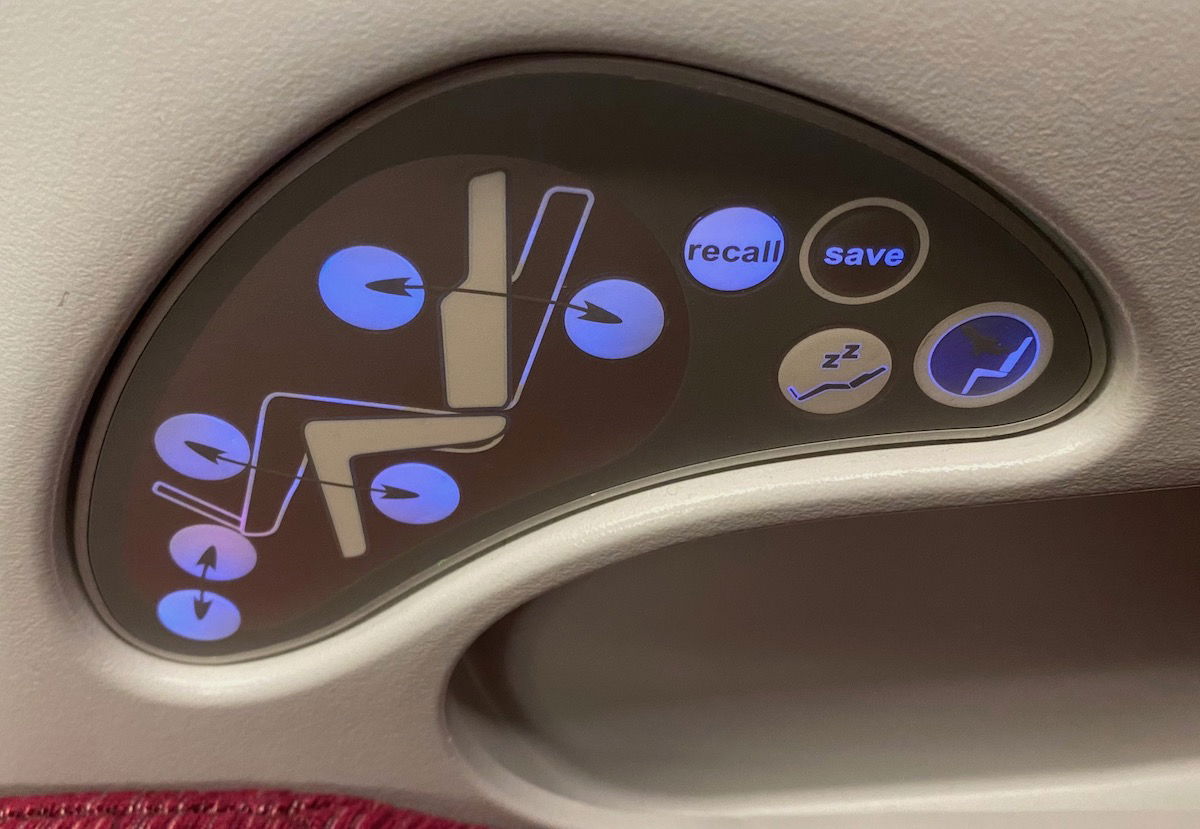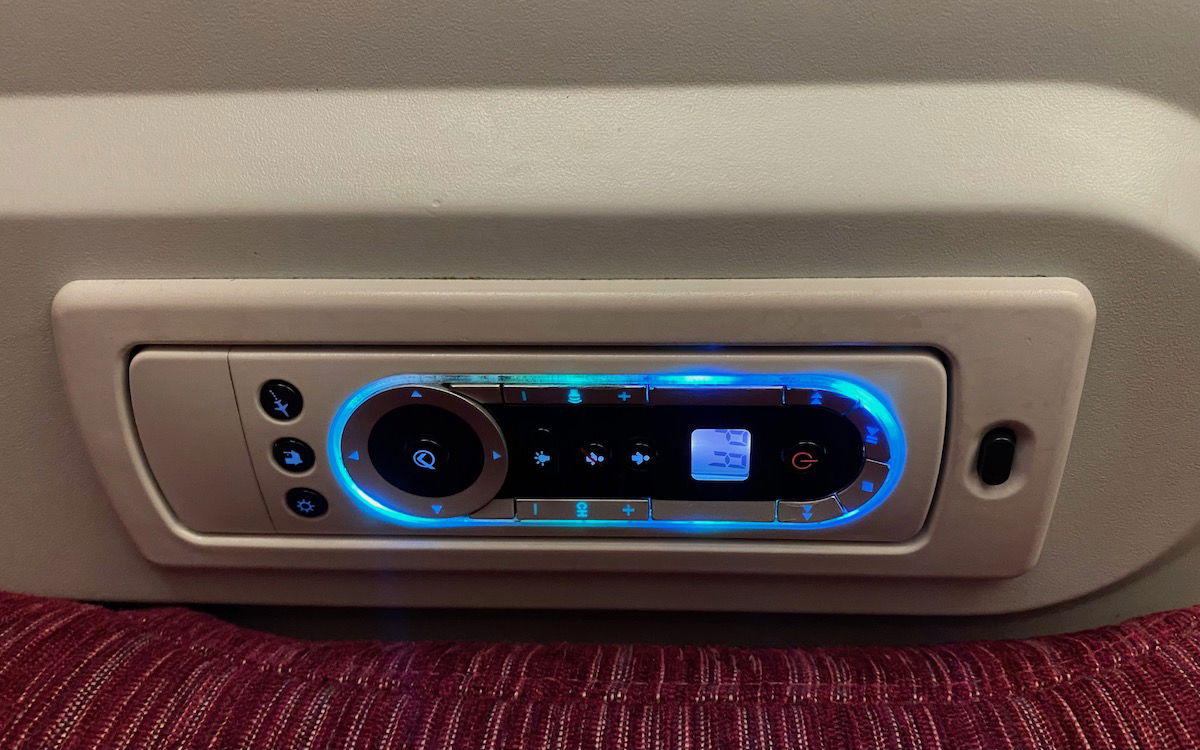 There were also power outlets, including USB and AC plugs, between the seats.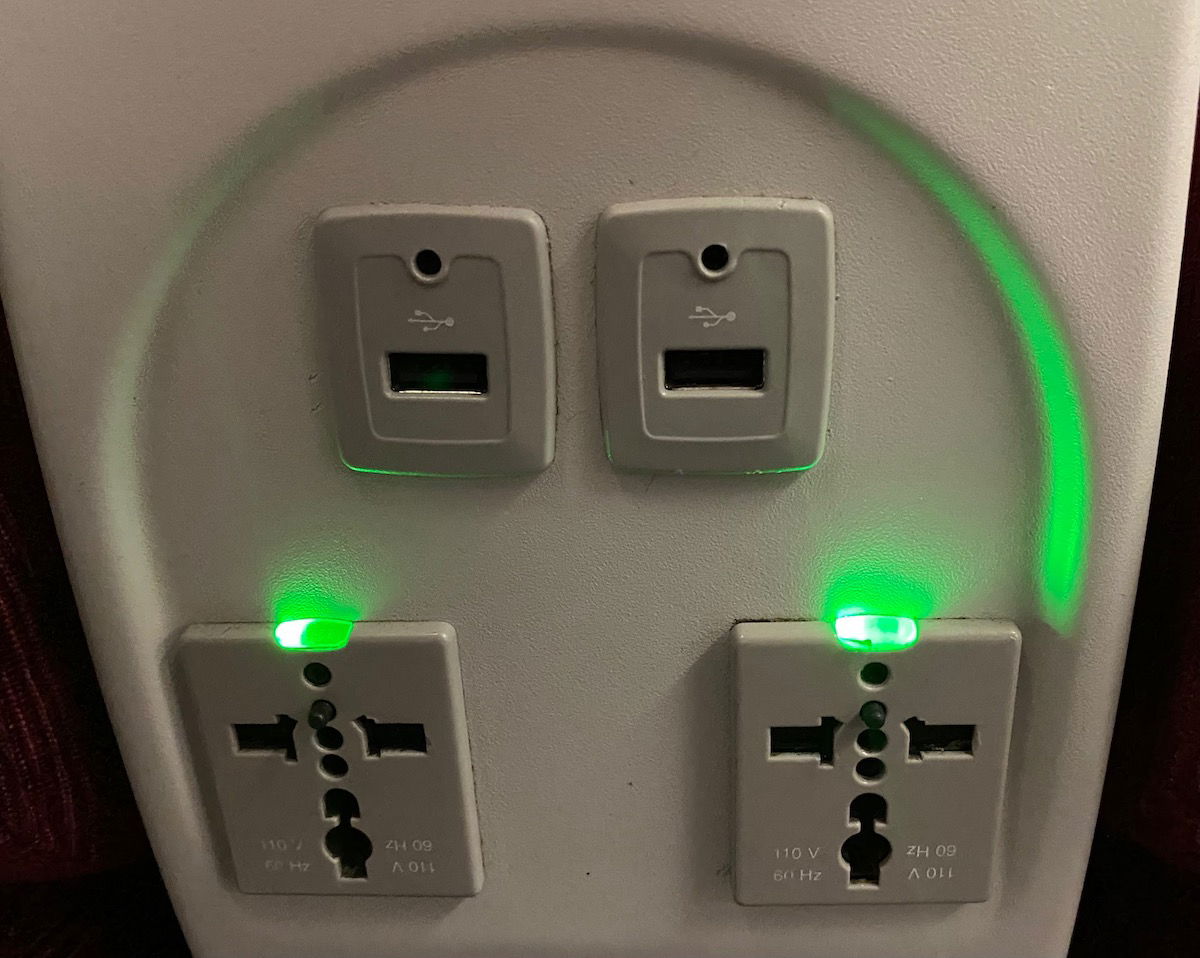 The overhead consoles had individual air nozzles for each seat, which is a useful feature.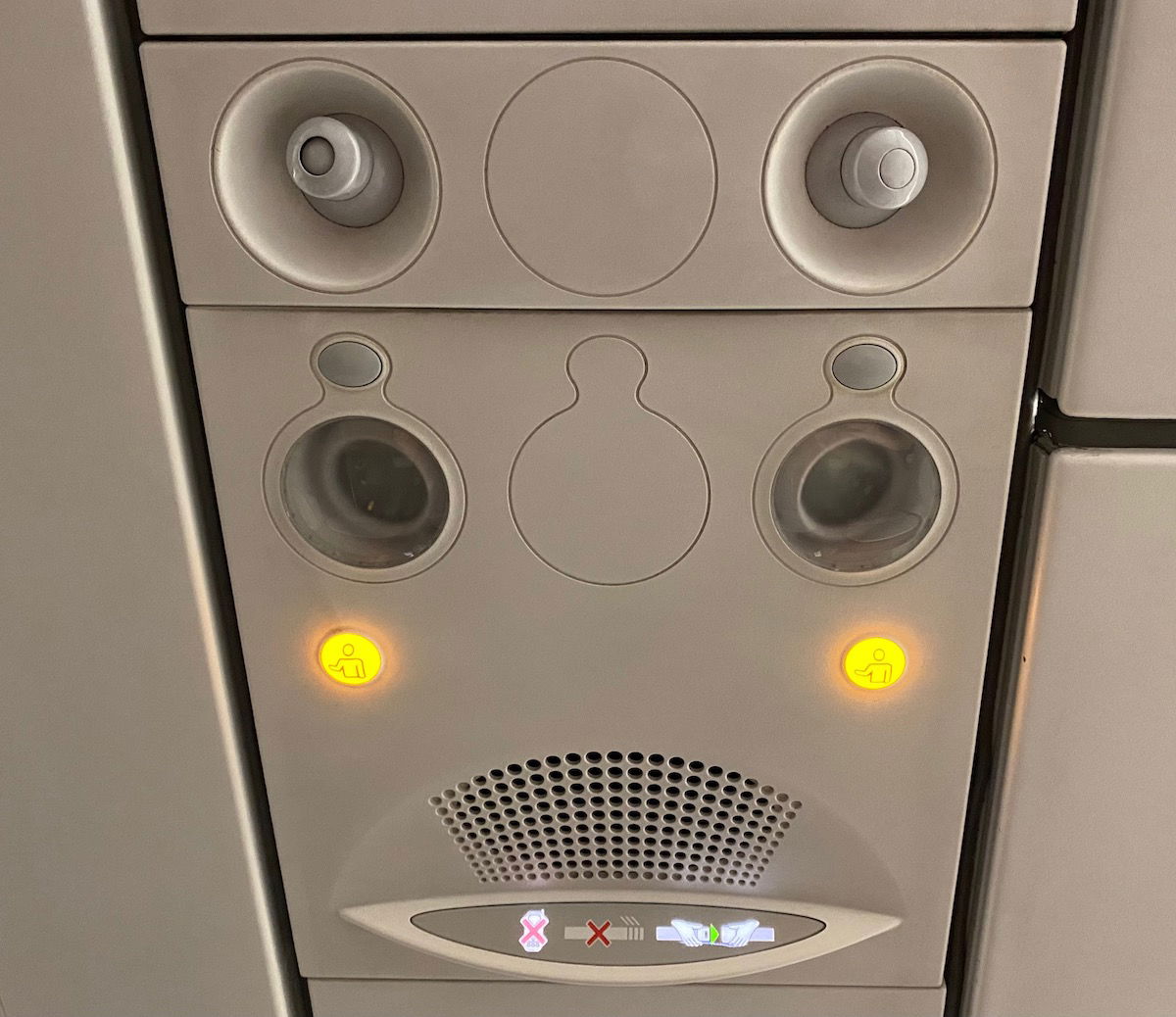 Qatar Airways business class amenities
Despite this being such a short flight, there was no shortage of amenities. There was an excellent blanket and pillow at each seat.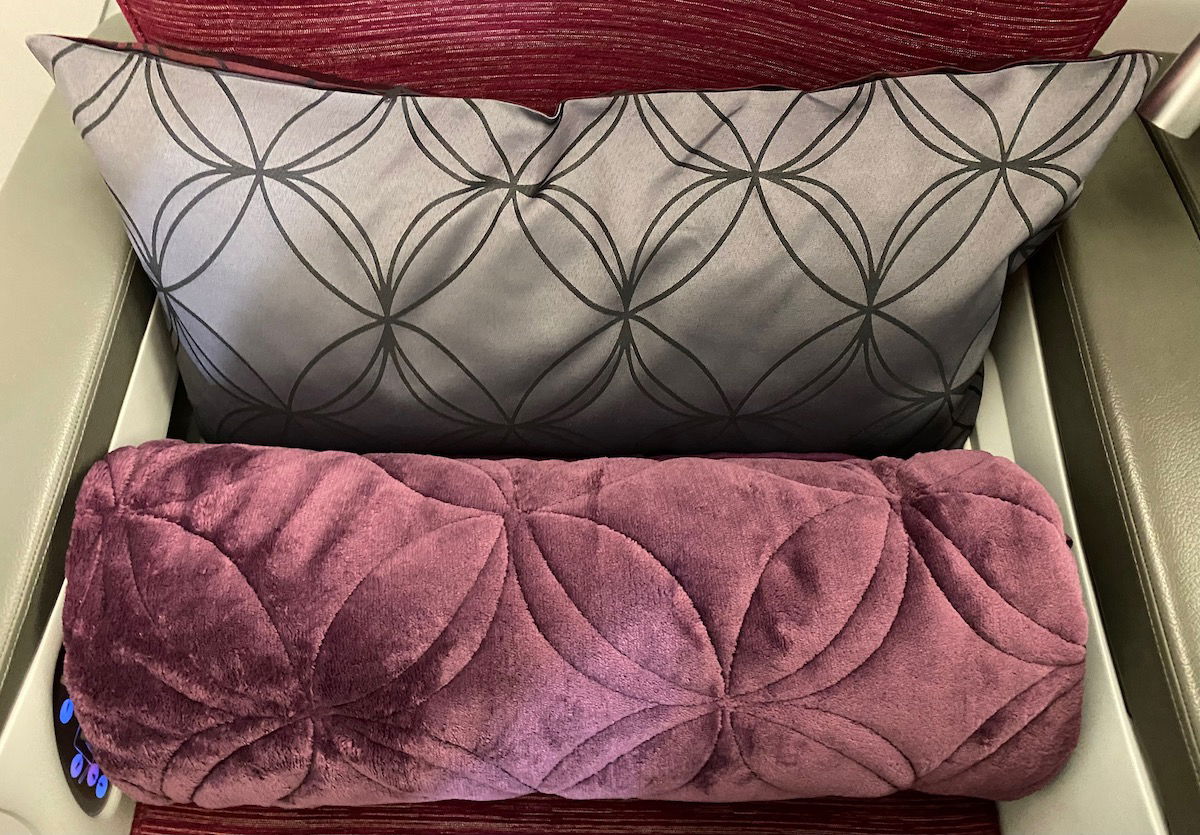 Then there were headphones, a menu and wine list, a bottle of water, and a protective kit.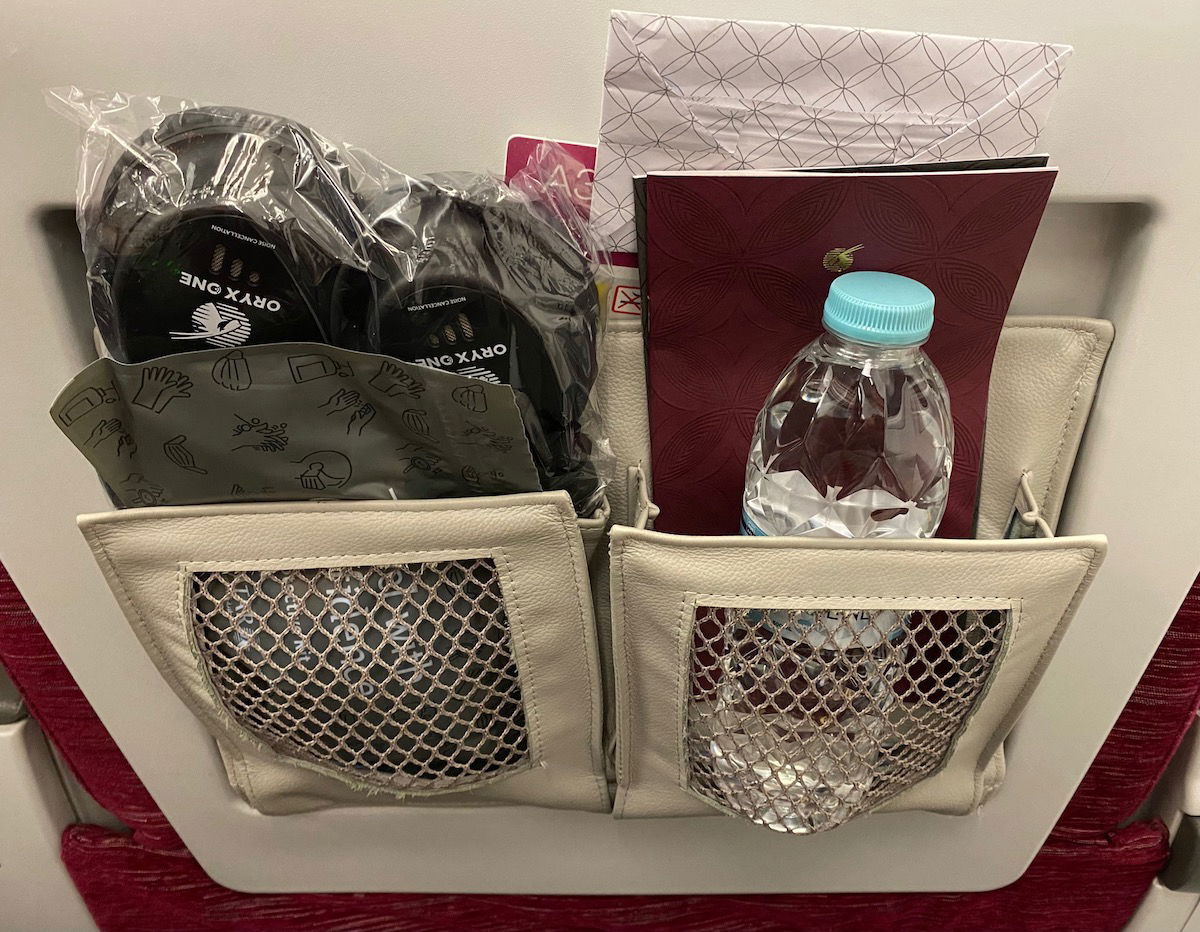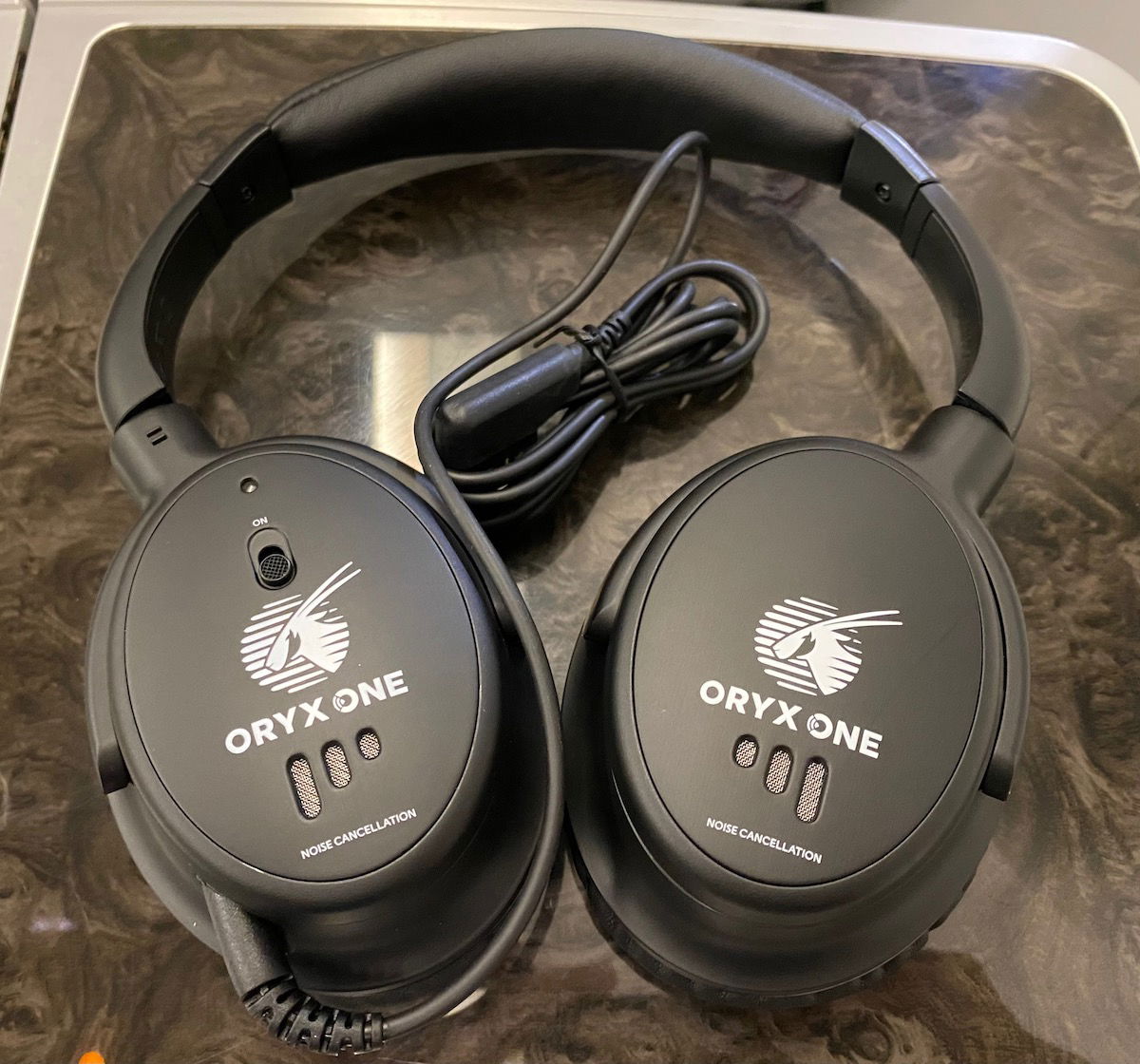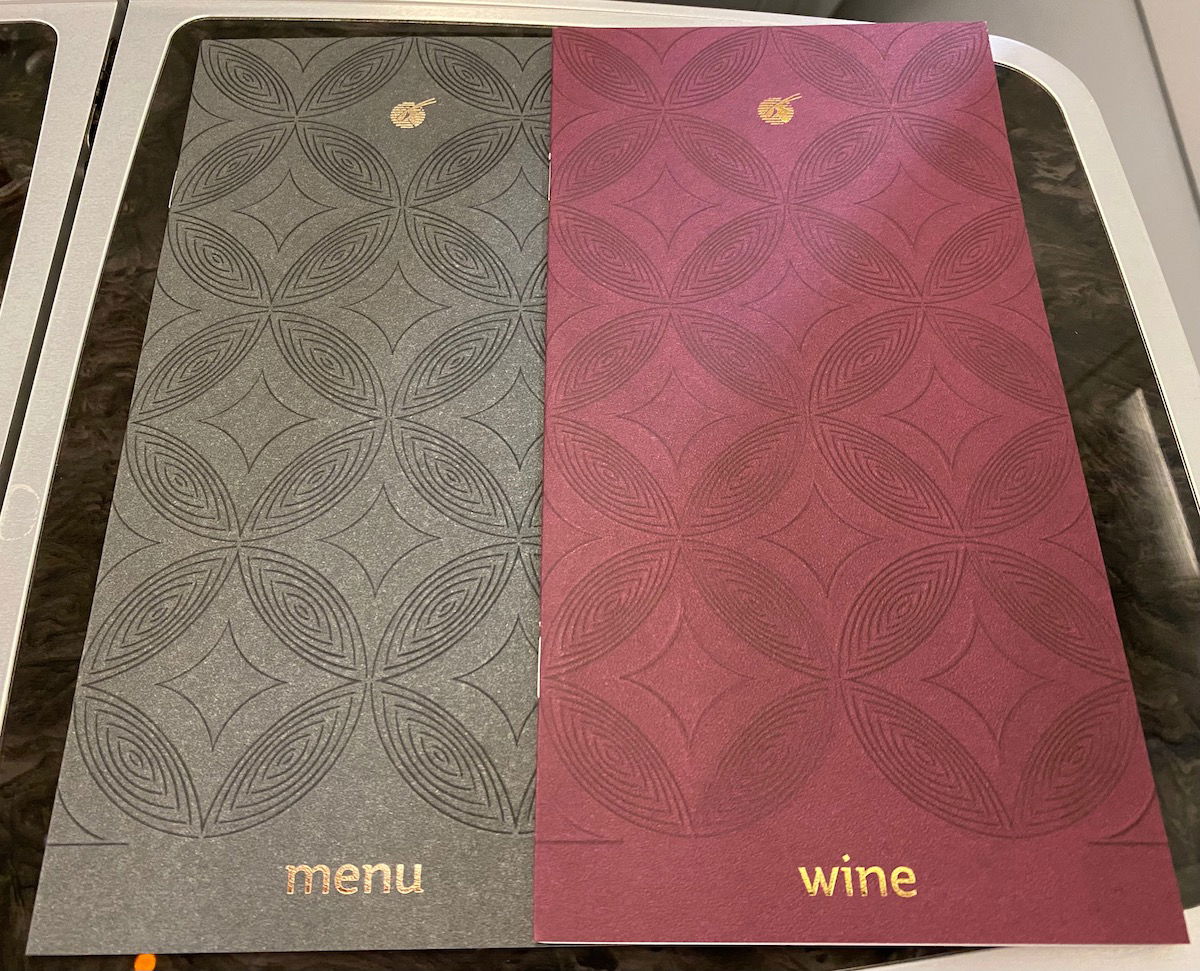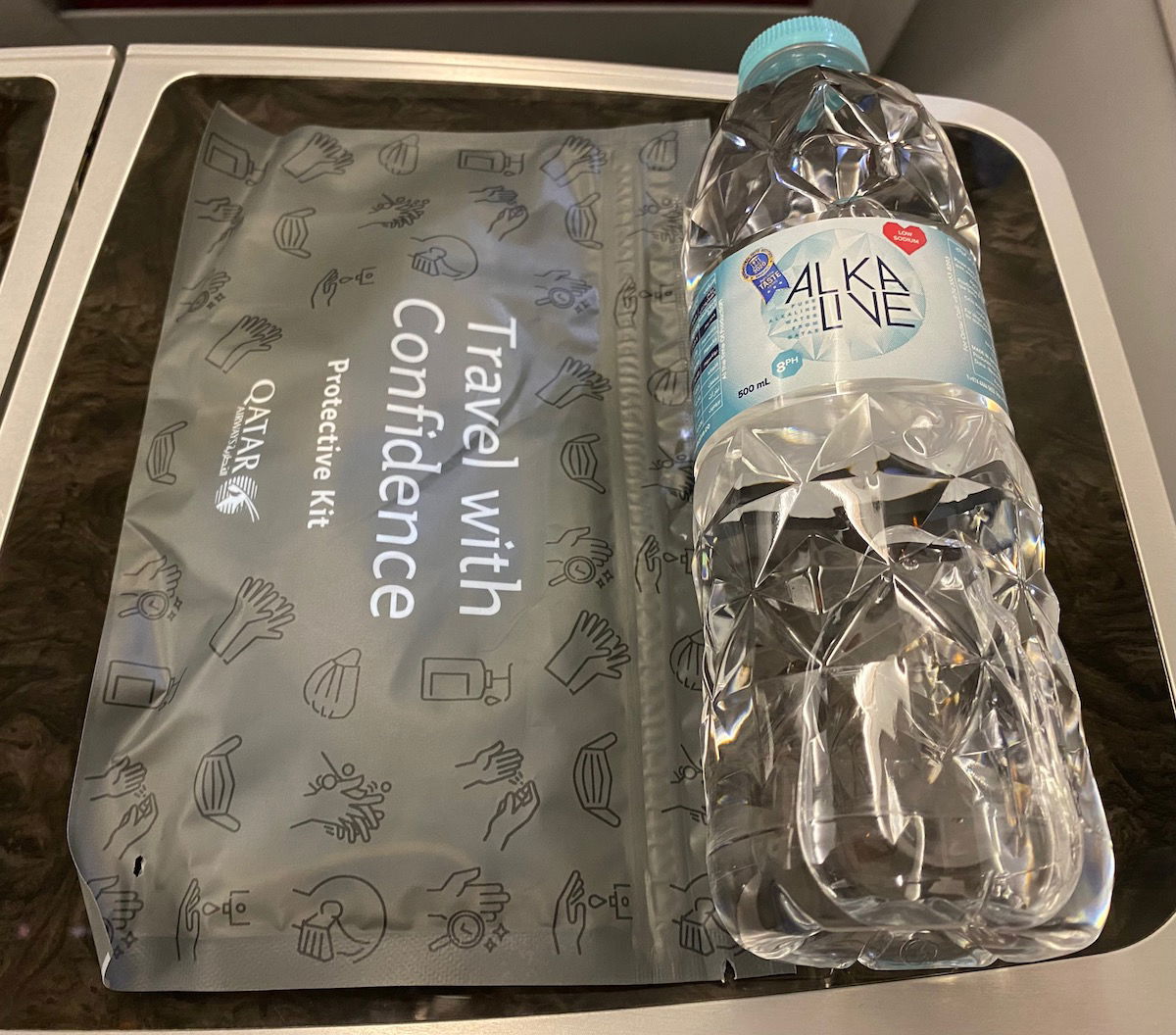 Pre-departure drinks of choice were also served. I ordered a glass of the lime-mint juice, and was offered a packaged refreshing towel to go along with it (I didn't have any alcohol, since we were renting a car in Salalah).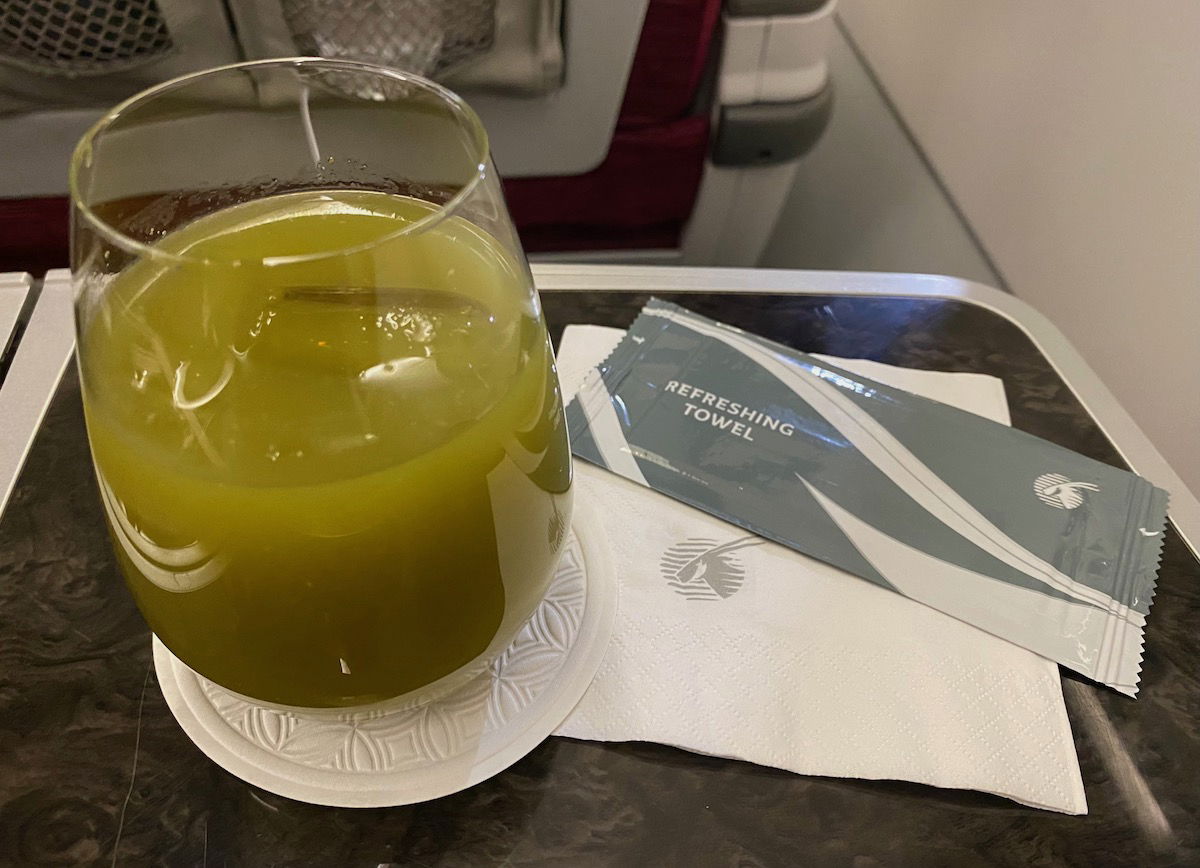 Qatar Airways business class entertainment
Each business class seat had a personal television in the center armrest. The entertainment selection was more limited than on long haul aircraft. I was so tired at this point that I just watched the map for the entire flight.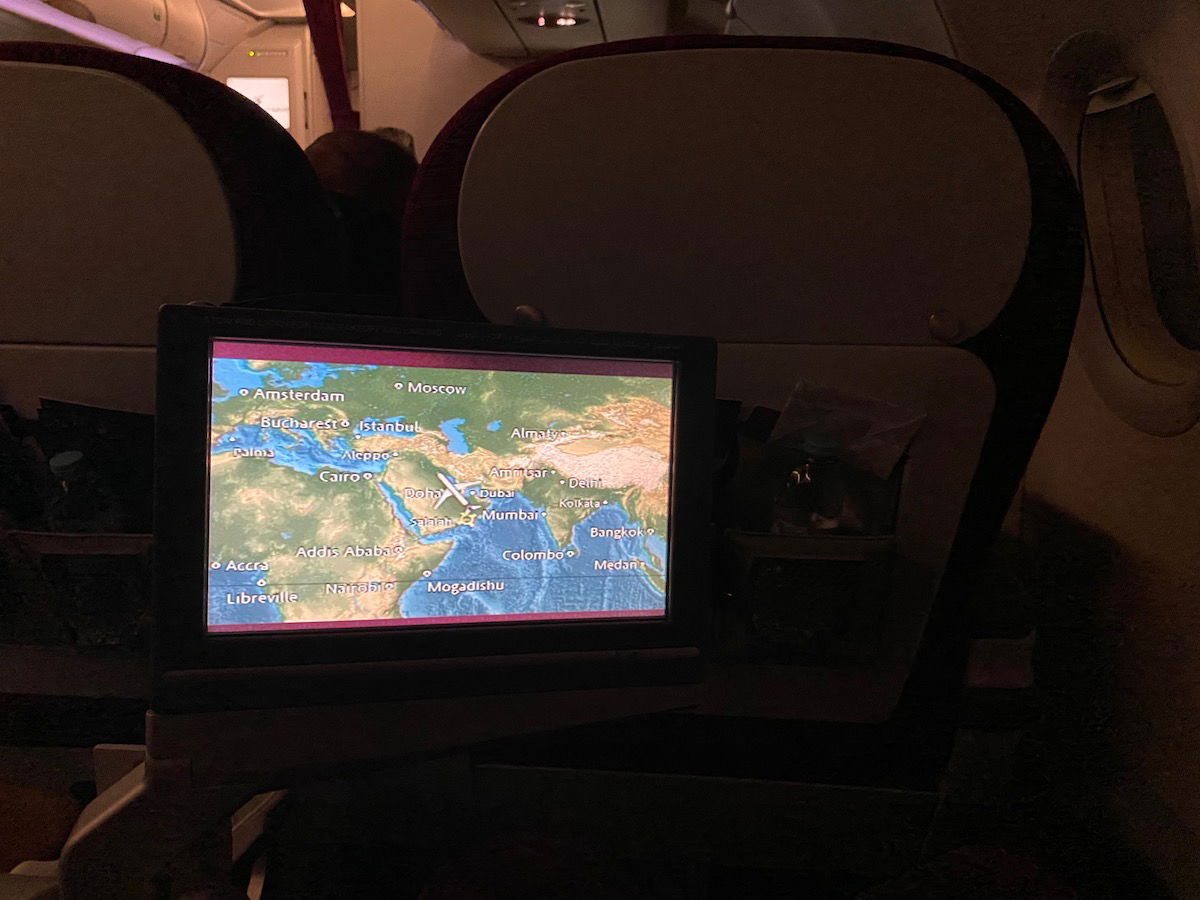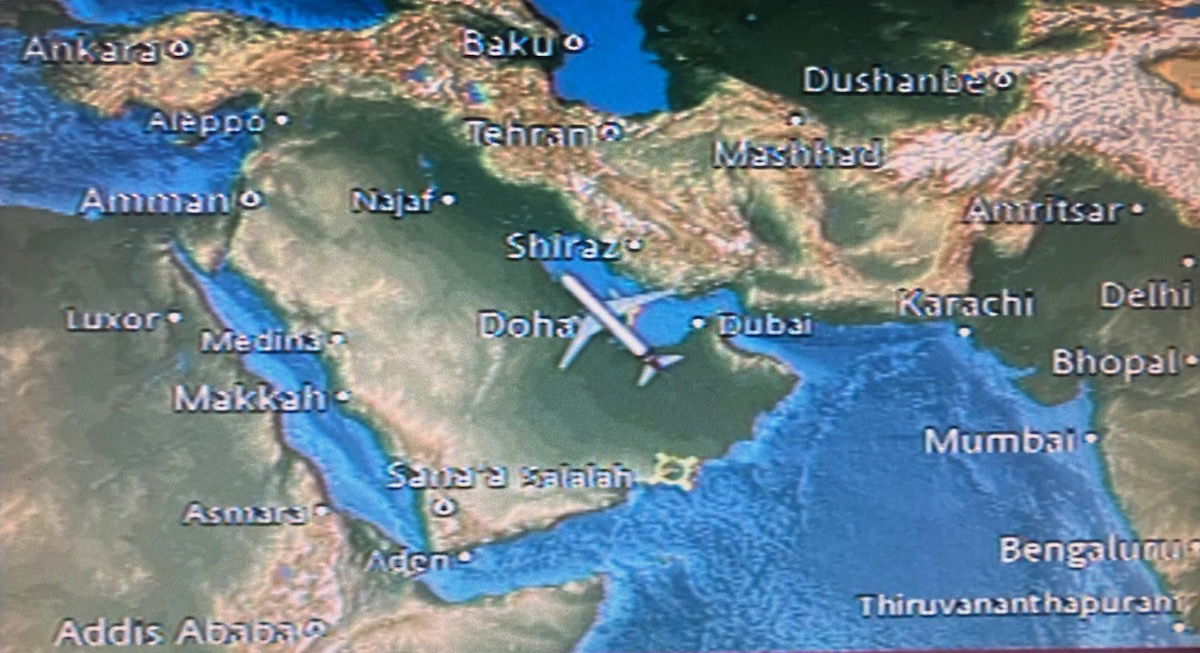 Unfortunately this particular A320 didn't have Wi-Fi, but that was hardly a big deal on a short flight in the middle of the night.
Qatar Airways business class meal service
Our total flight time was expected to be 1hr55min, and we spent a total of 40 minutes at our cruising attitude of 35,000 feet, so what was service like? Well, pretty darn impressive. The seatbelt sign was turned off five minutes after takeoff, at which point the crew sprung into action, starting with closing the curtains between cabins. For what it's worth, eight of the 12 business class seats were taken, while economy was packed.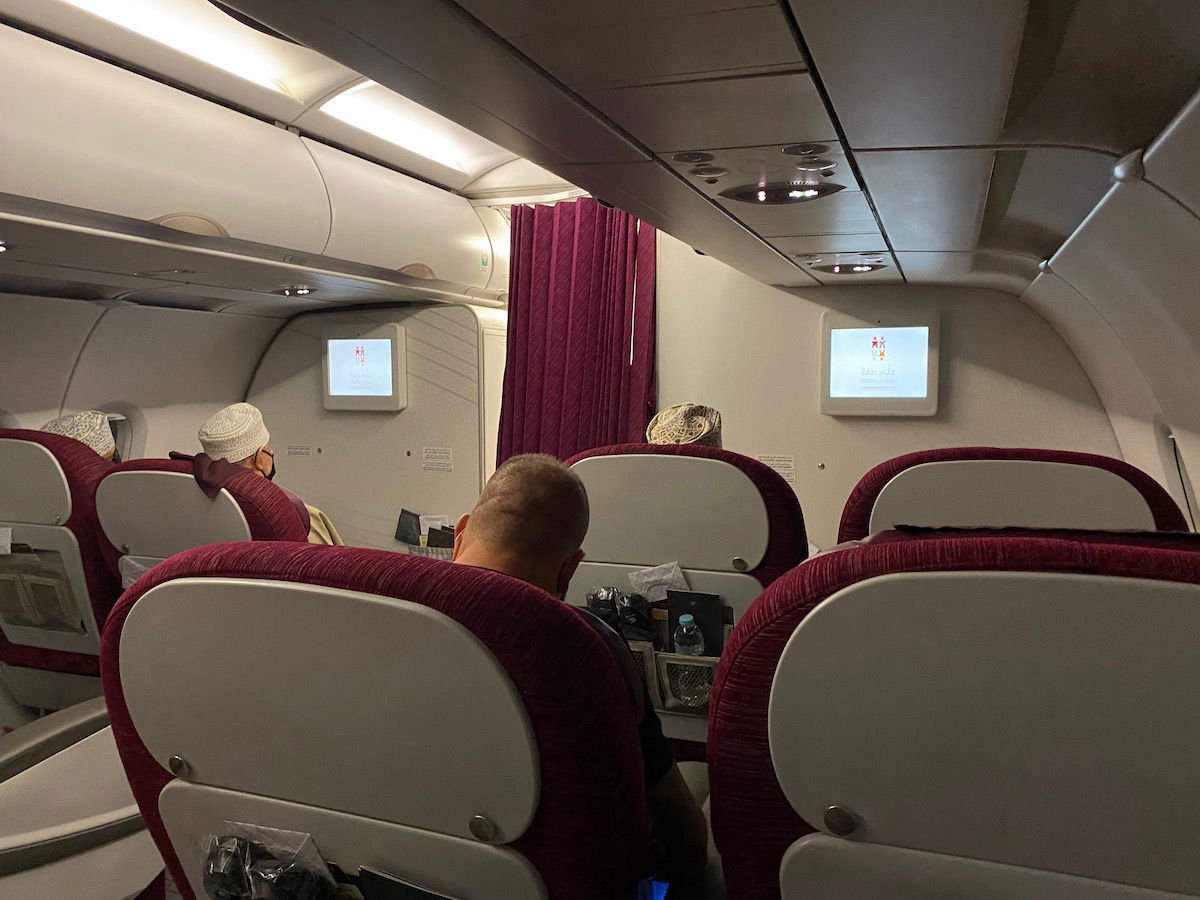 The menu for this flight read as follows: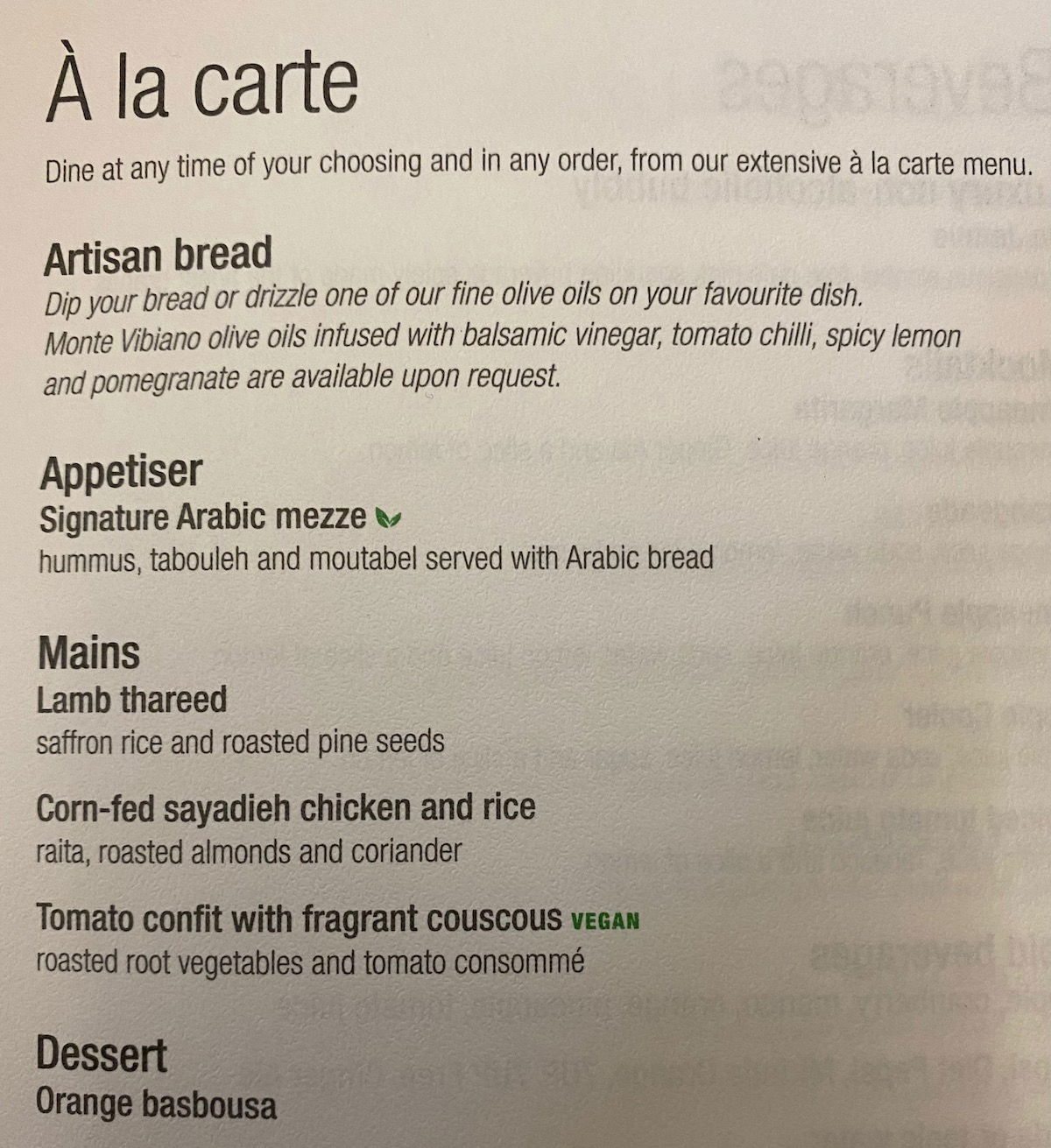 The wine list read as follows: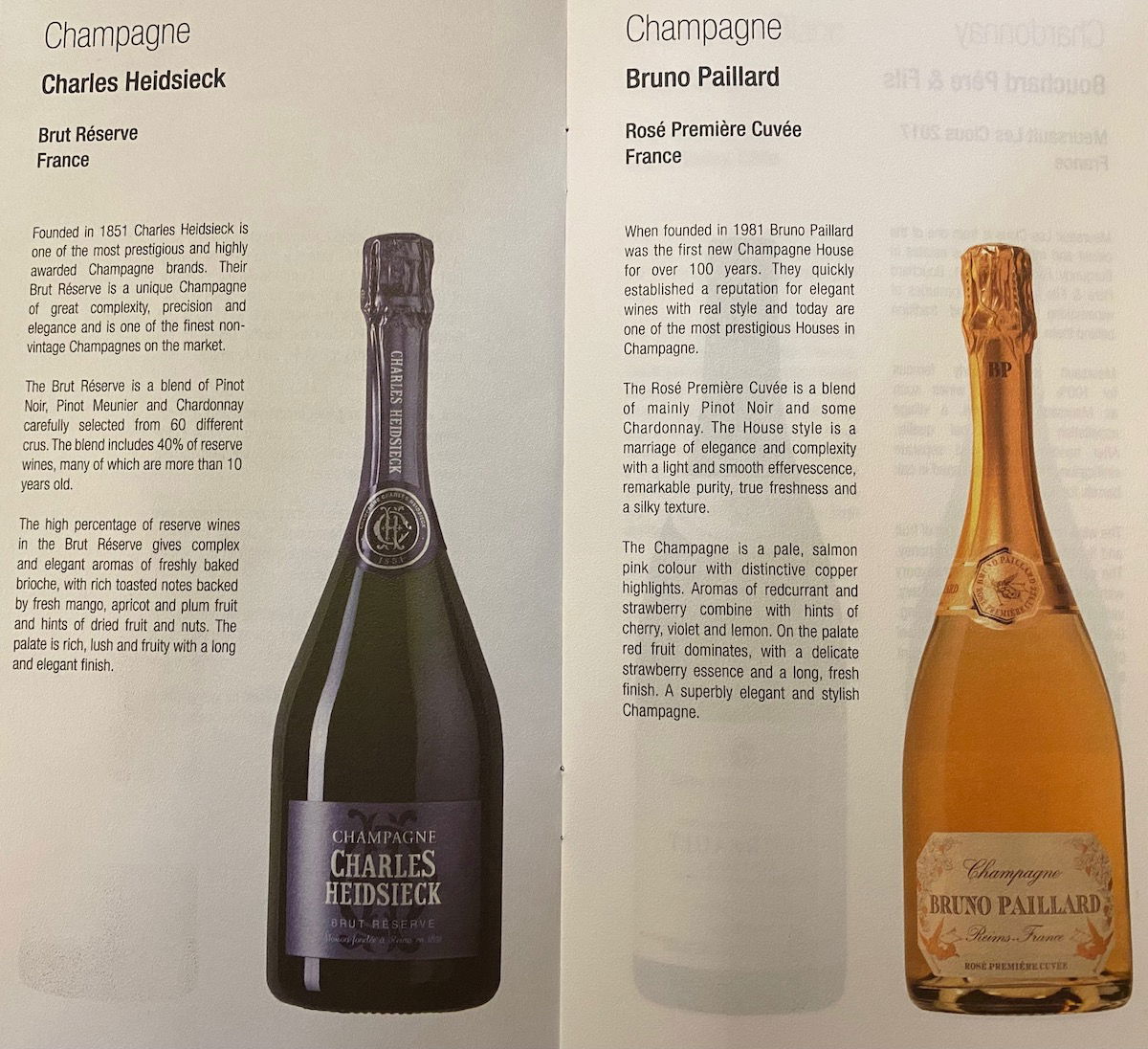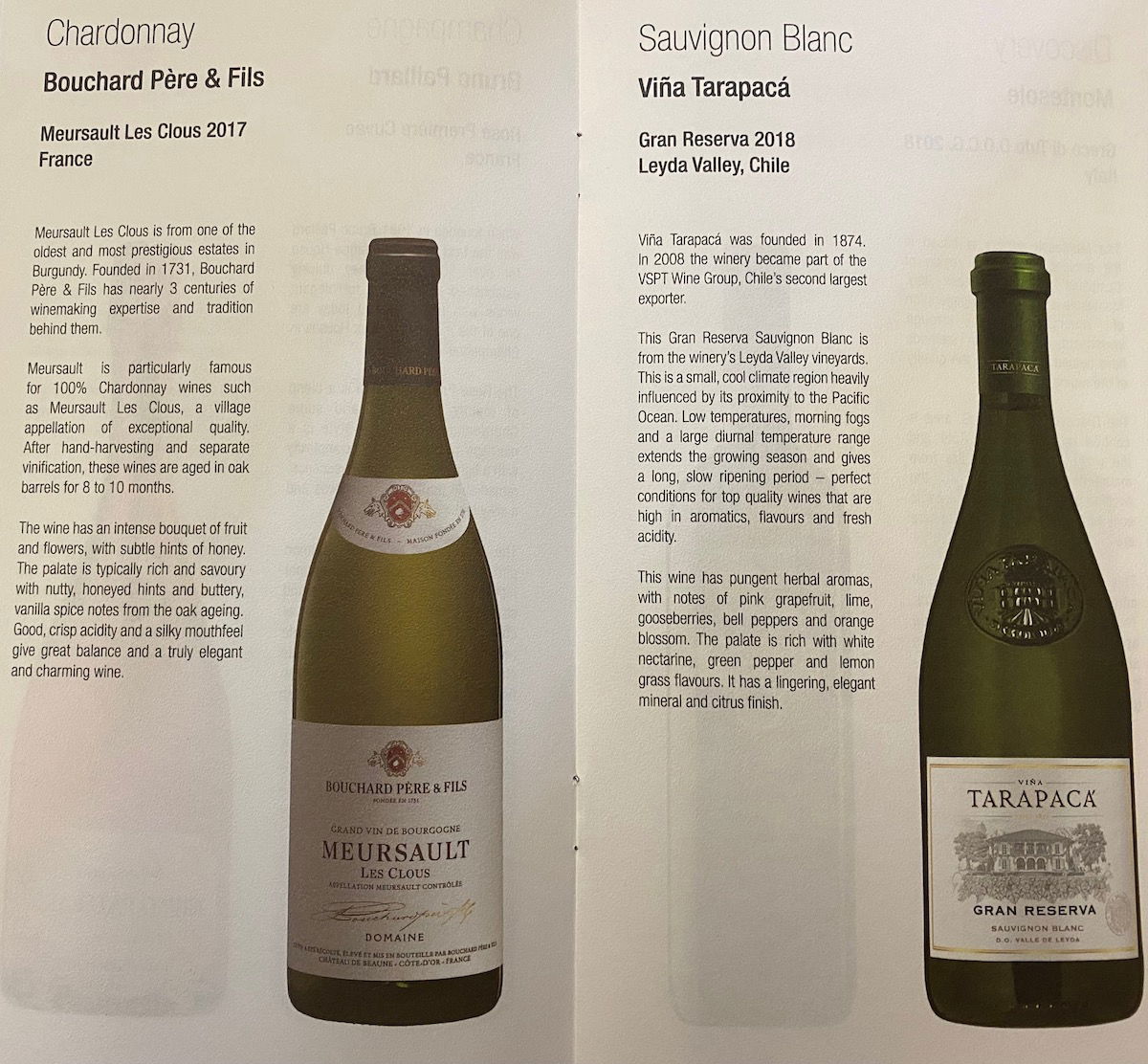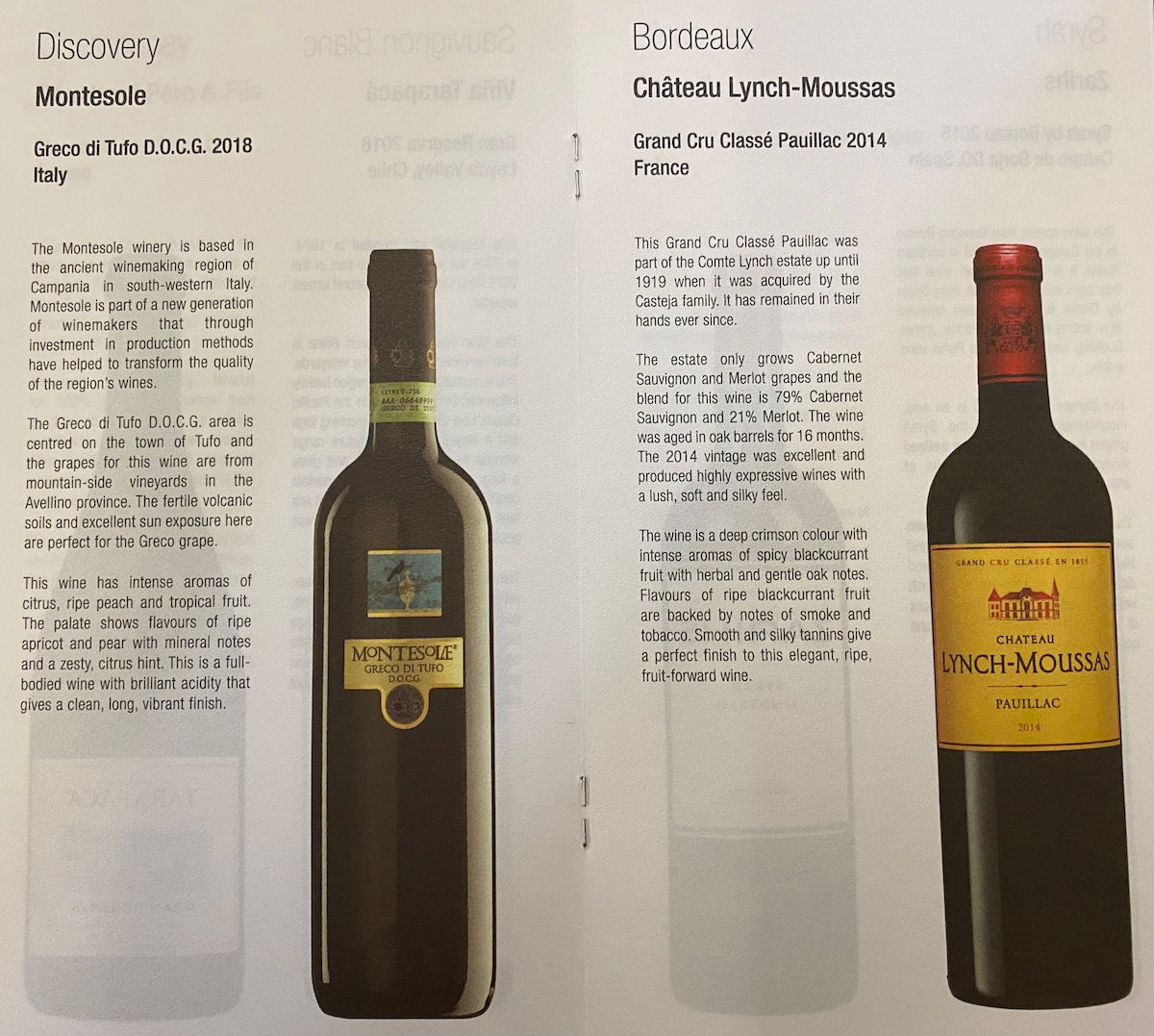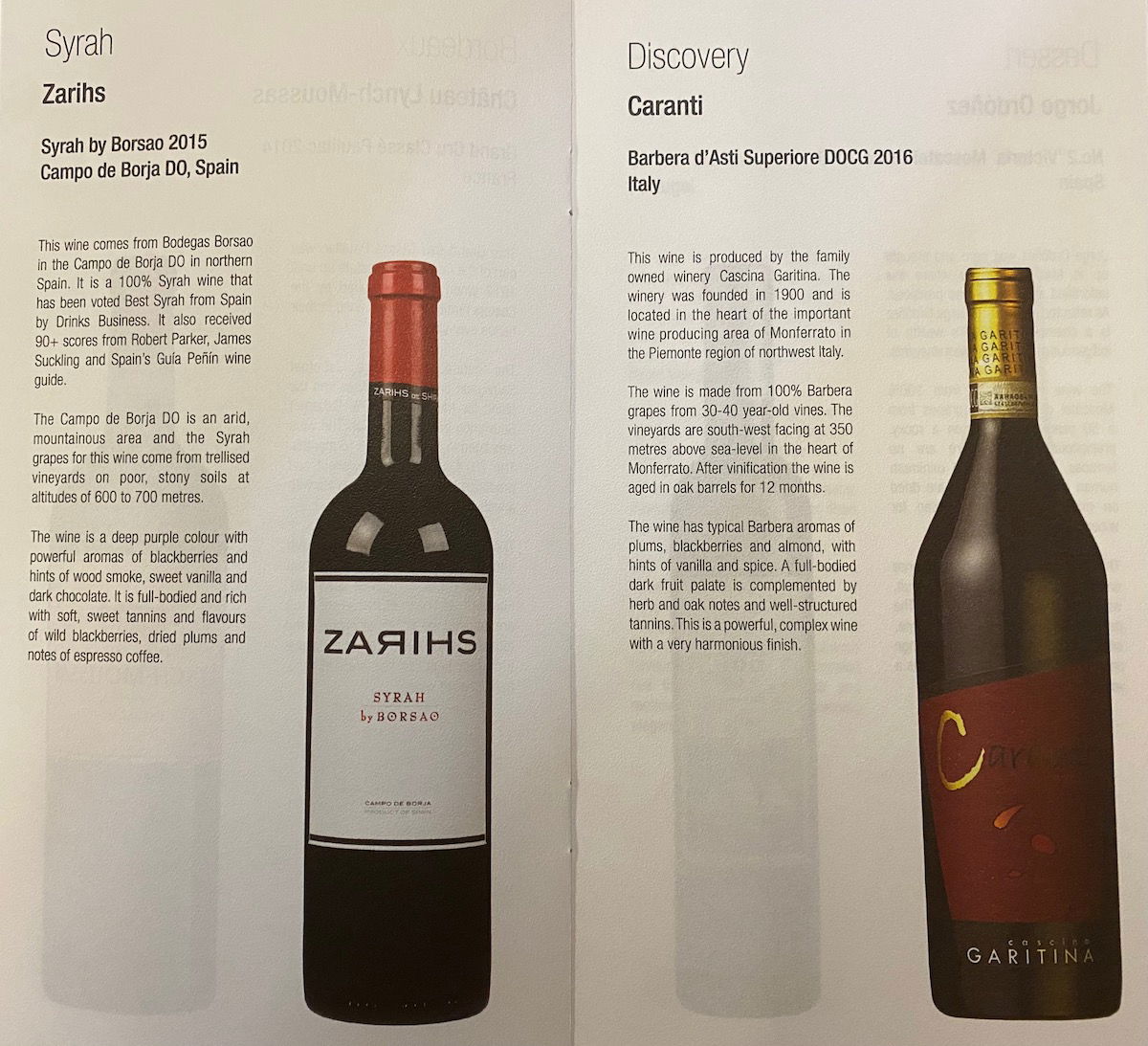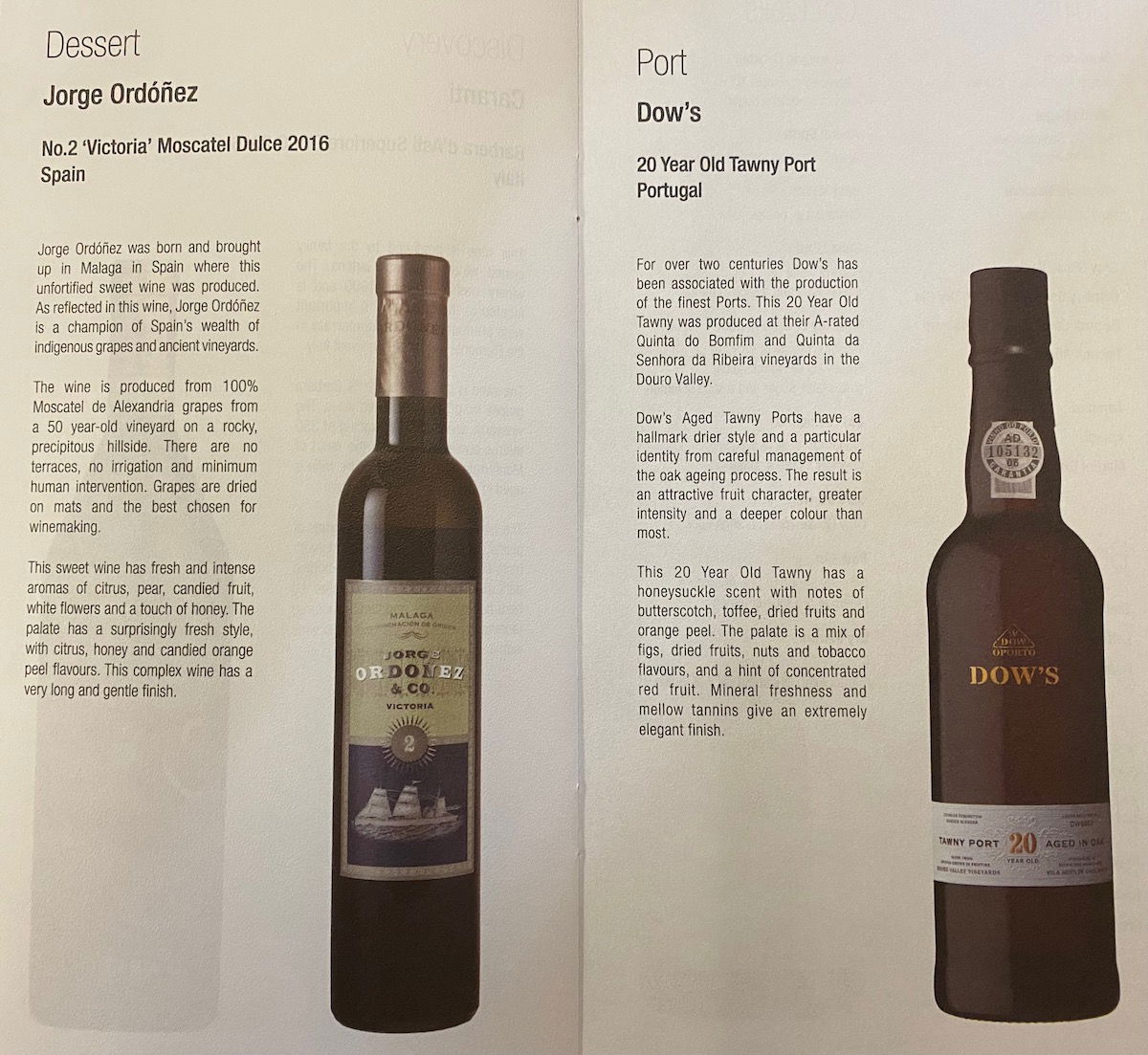 The beverage list read as follows: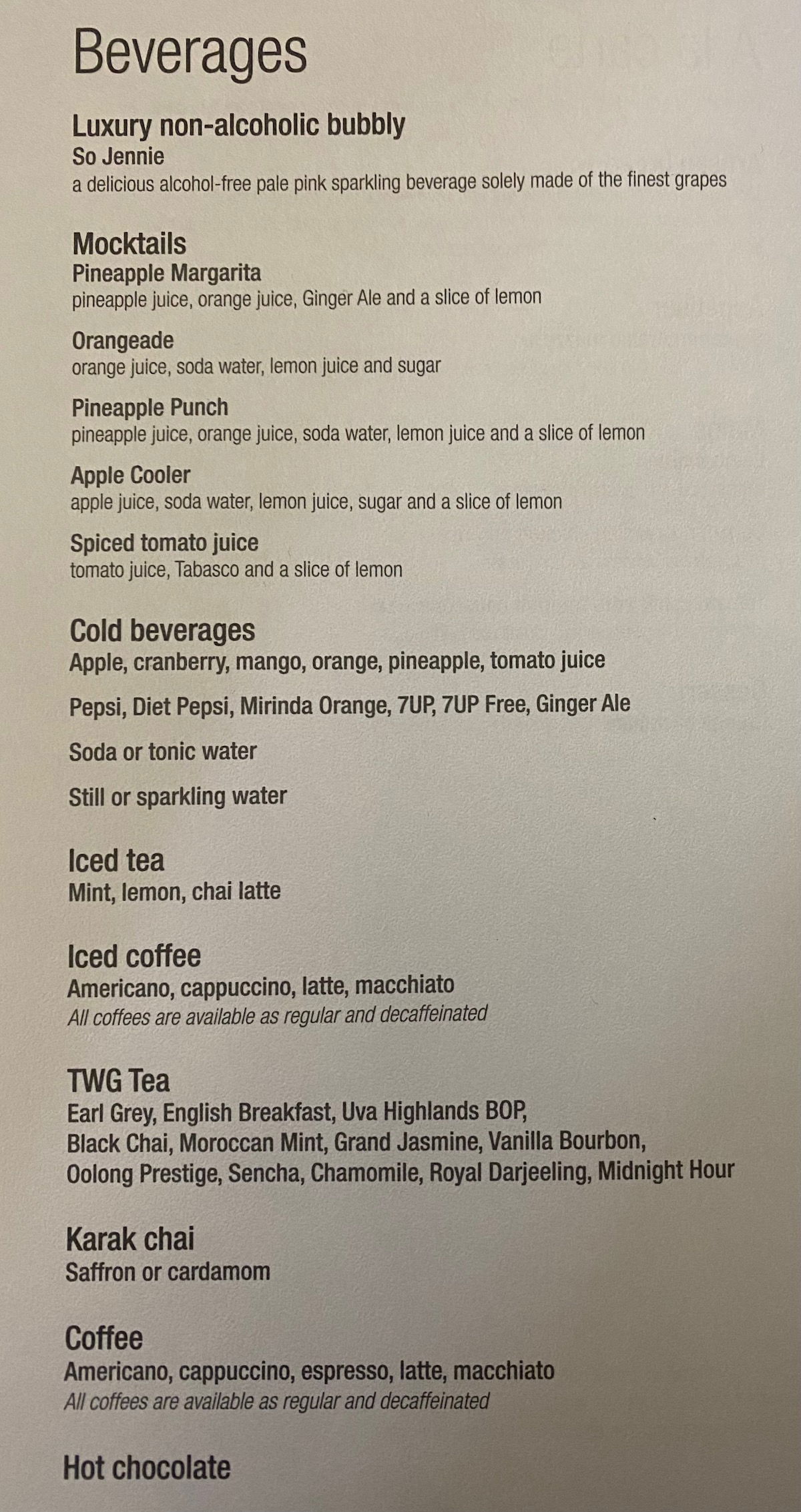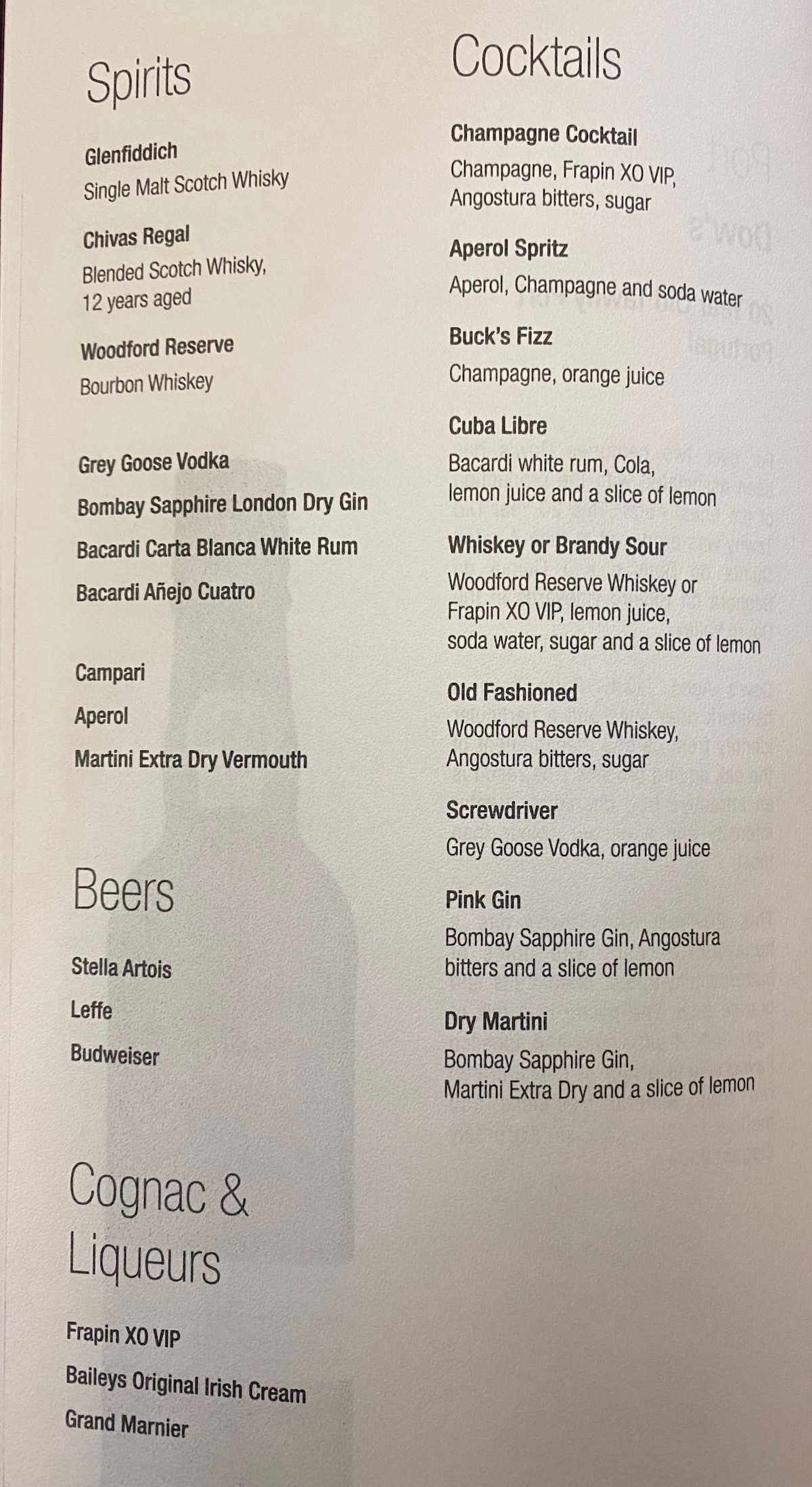 Seriously, where else in the world do you get this kind of service on a flight that's just over 500 miles? To start we were offered drinks. I ordered a Diet Coke with ice and lemon, and was served a ramekin of nuts and a refreshing towel to go along with it.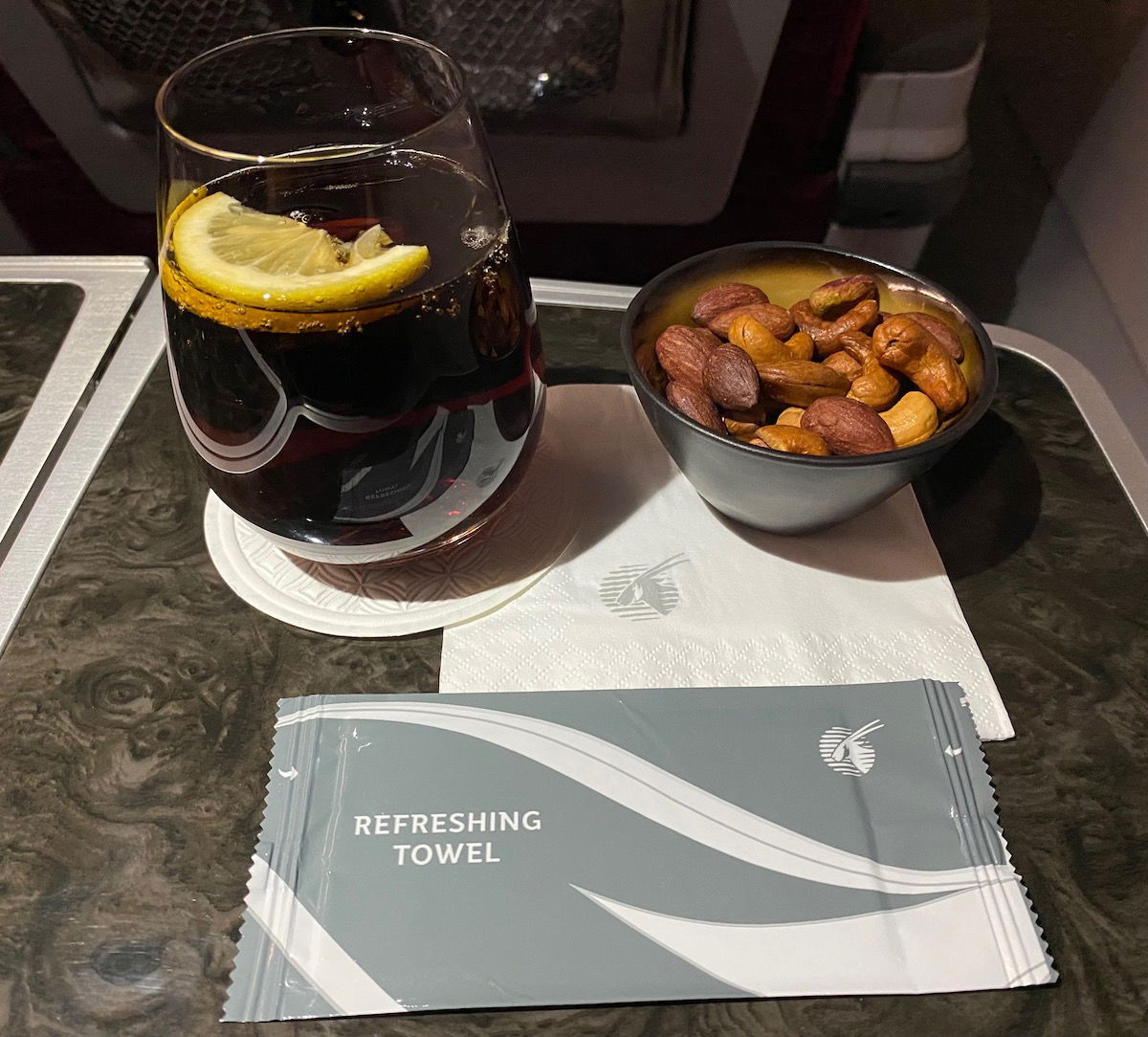 Next up was the appetizer tray. I once again had the Arabic mezze, which came with pita bread, as well as another side of bread. It was excellent, as usual.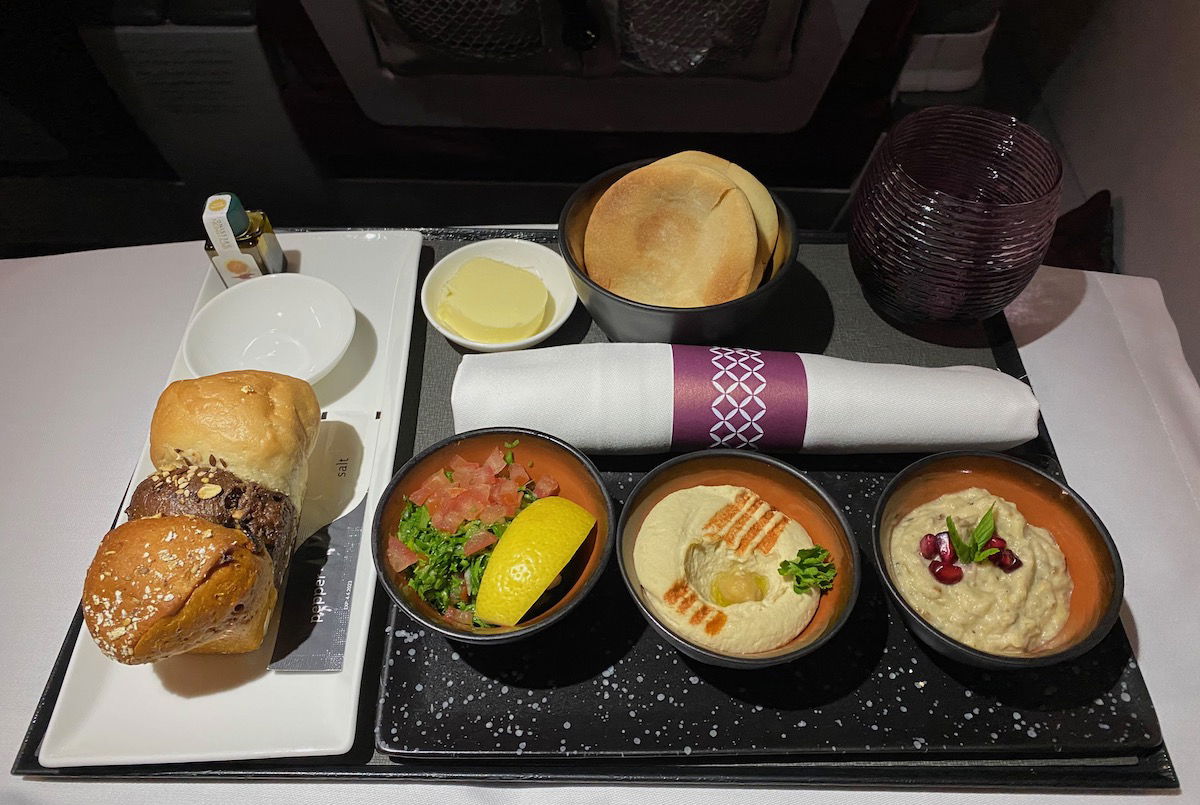 For the main course I ordered the corn-fed sayedieh chicken and rice with raita, roasted almonds, and coriander. While the dish didn't look that good, it tasted excellent. It's understandable that dishes aren't plated individually on these short haul flights, given how short the flights are.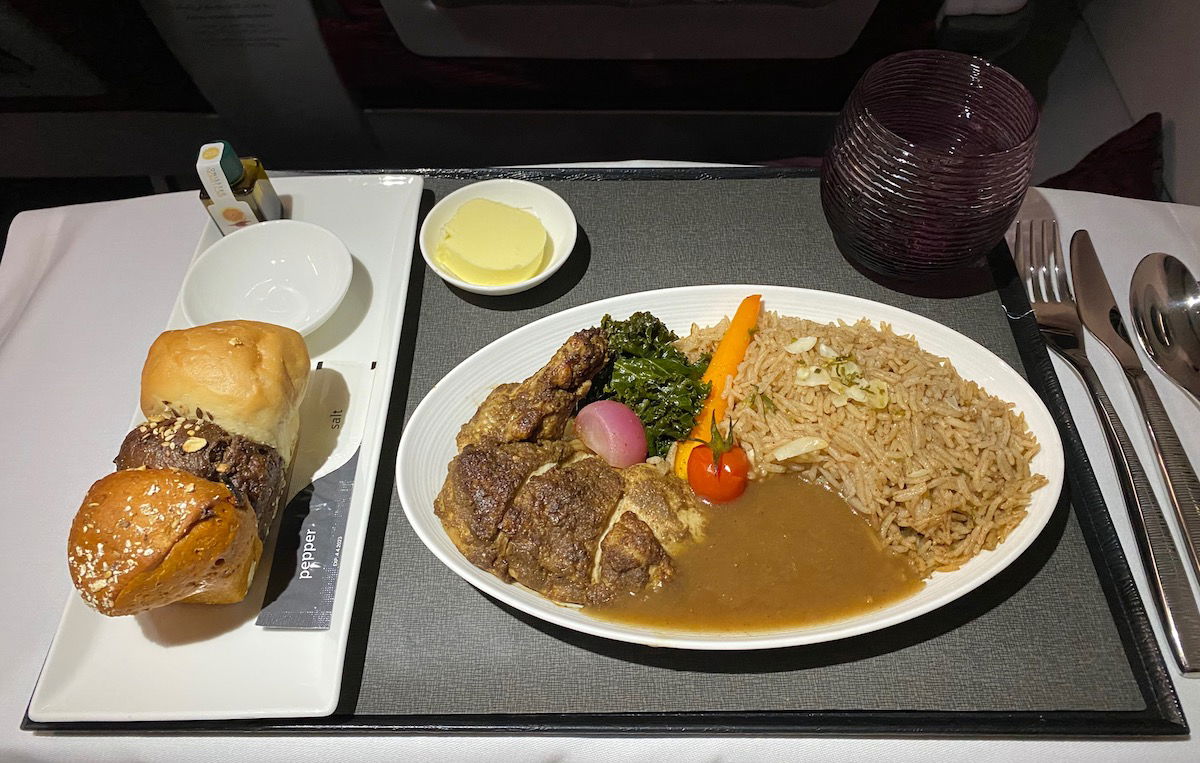 Ford had the lamb thareed with saffron rice and roasted pine seeds, which he enjoyed.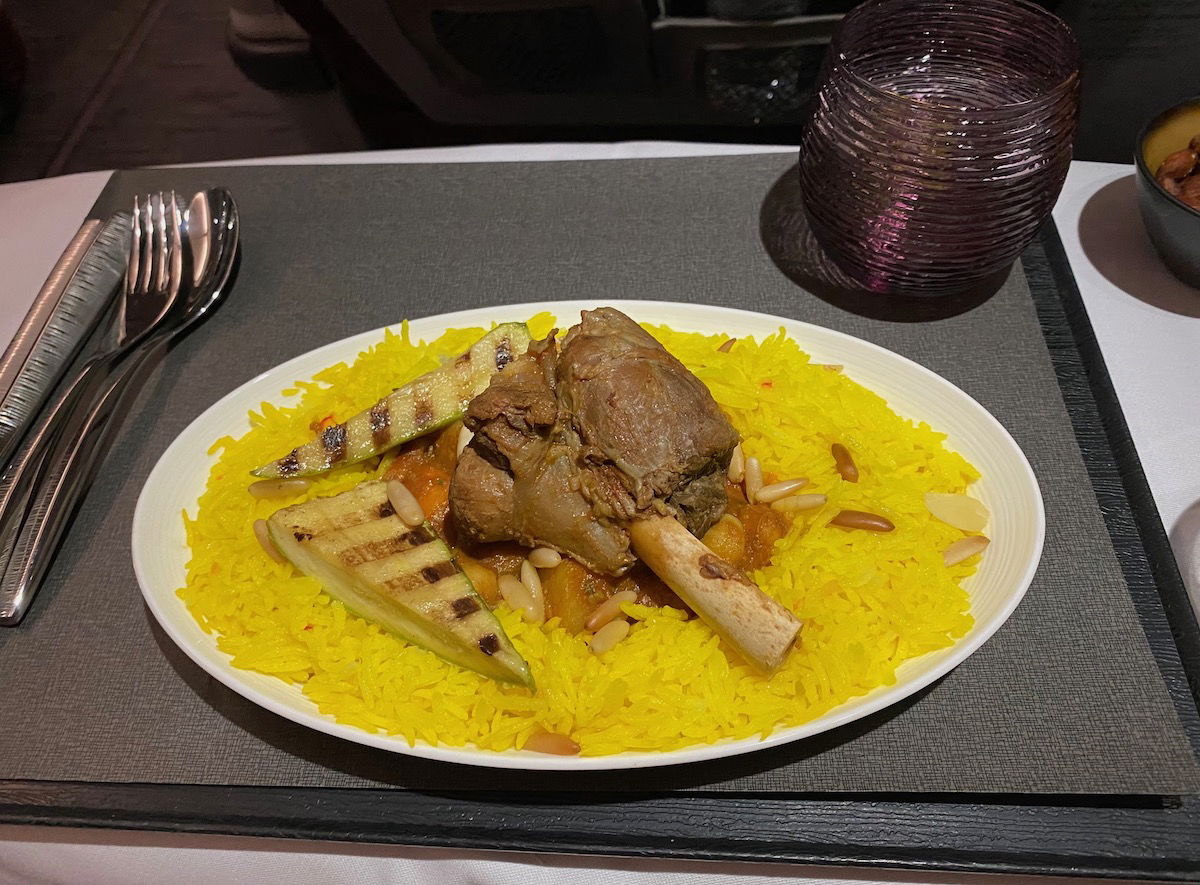 Next up was dessert, for which I selected the orange basbousa. I had an americano to go along with it, while Ford had a cappuccino.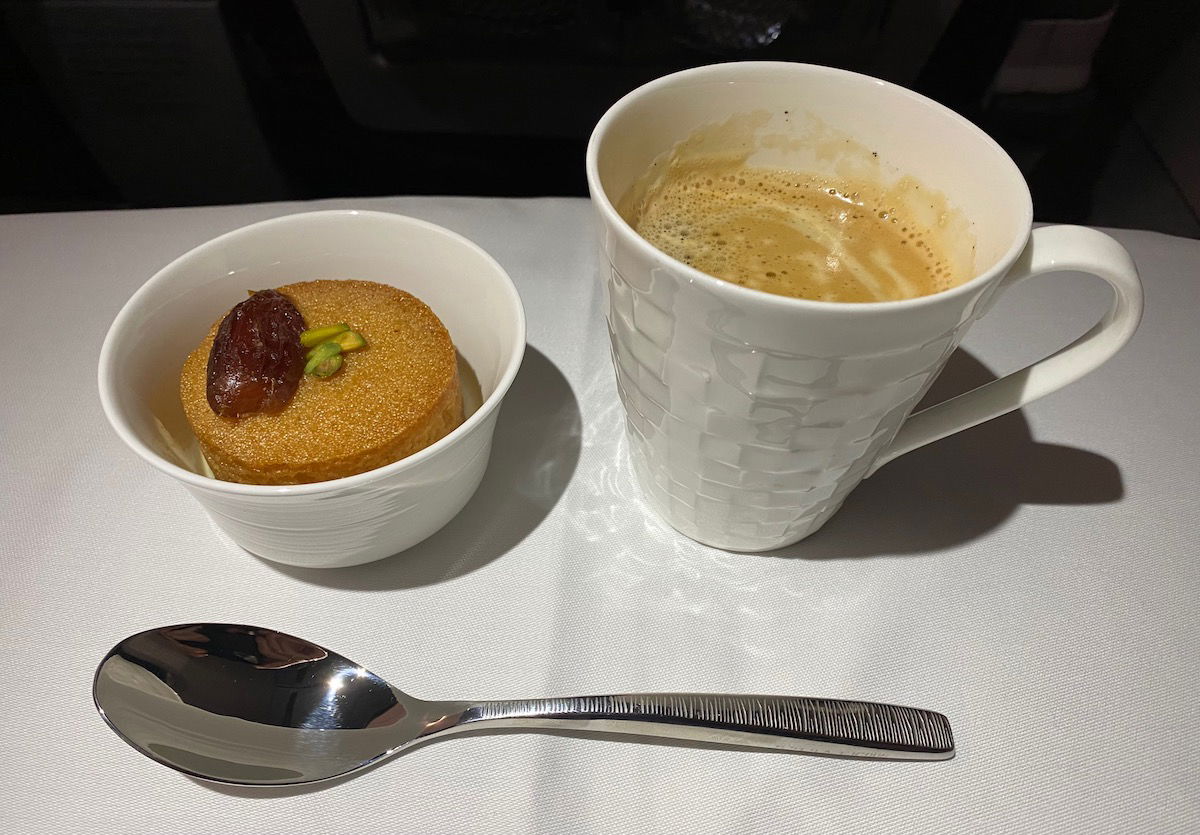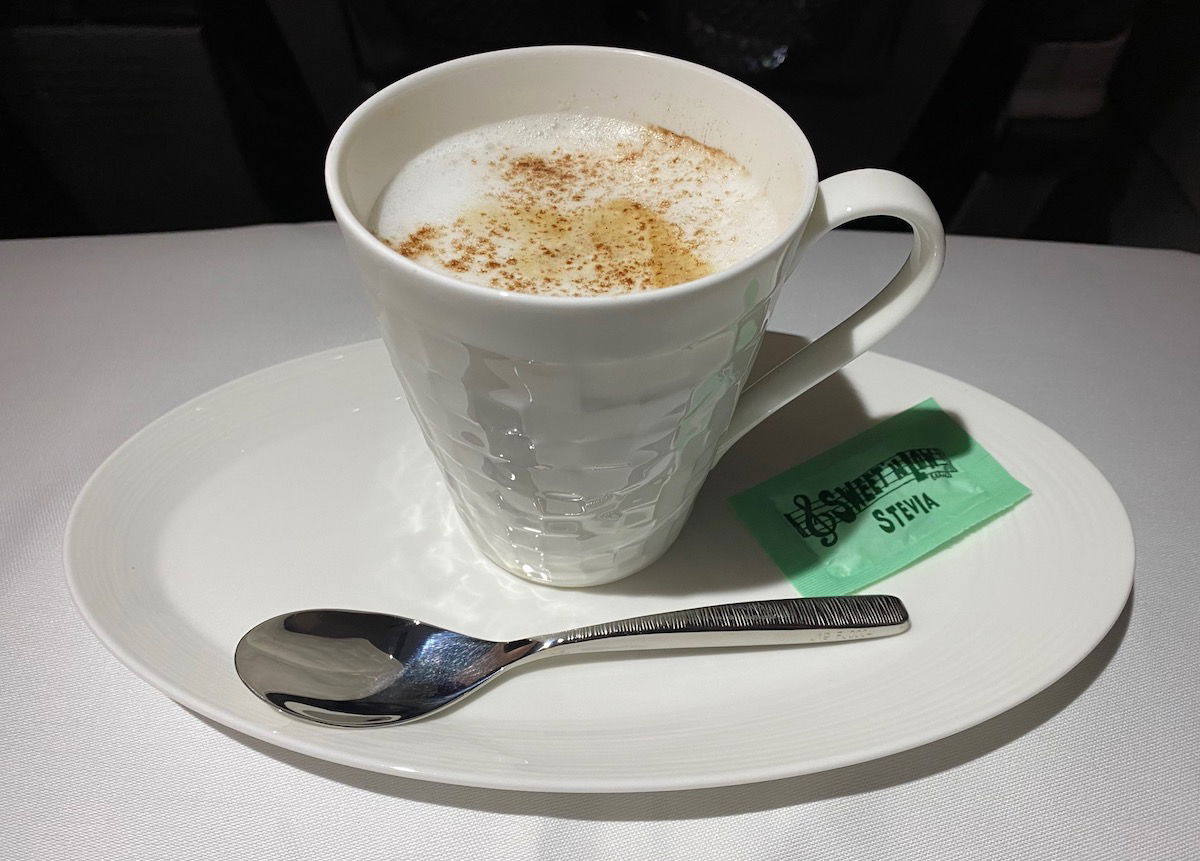 The meal service on Qatar Airways' short haul flights is simply amazing. Not only was this flight short, but it as in the middle of the night. As a point of comparison, on American I would've been lucky to get a packaged bag of cookies from a brand I've never heard of.
Qatar Airways business class service
A good flight attendant can make or break a flight. I want to give a huge shoutout to Donia, the cabin supervisor from Tunisia, who couldn't have been lovelier. I'll take it a step further — she was possibly the best flight attendant I've had in years.
Qatar Airways flight attendants are consistently professional and friendly, but sometimes they're not all that personable. That's because they work very hard (given how involved Qatar Airways' service is), and sometimes they might not have much time to stop and engage with passengers.
Donia was one of those people you couldn't help but just love. Even though this was a short haul flight in the middle of the night, Donia was so graceful, fun, and kind. She genuinely seemed like she loved her job, and she showed interest in each passenger's trip, and their overall experience with Qatar Airways.
Furthermore, she performed the whole service in such a way that made it look easy, when obviously it's not. Serving this many passengers full meals, while also engaging with them, isn't easy. On top of that, there were some complicated passengers in economy (including little kids who tried to run into business class), and she handled that in a firm yet kind way.
Donia is one of those people where even when she's wearing a mask, you can tell she's smiling under it. She's a huge asset to Qatar Airways, and if I ran the airline I'd give her a promotion or put her in charge of training new hire flight attendants. I'm just sad we didn't get her on a long haul flight, though I'd route out of my way to fly with her again.
Thanks, Donia, for being an awesome person.
Qatar Airways business class lavatory
There was a lavatory at the front of the business class cabin, which was meticulously maintained. After every use a new sheet was placed on top of the lid, and toilet paper was also kept in perfect triangles.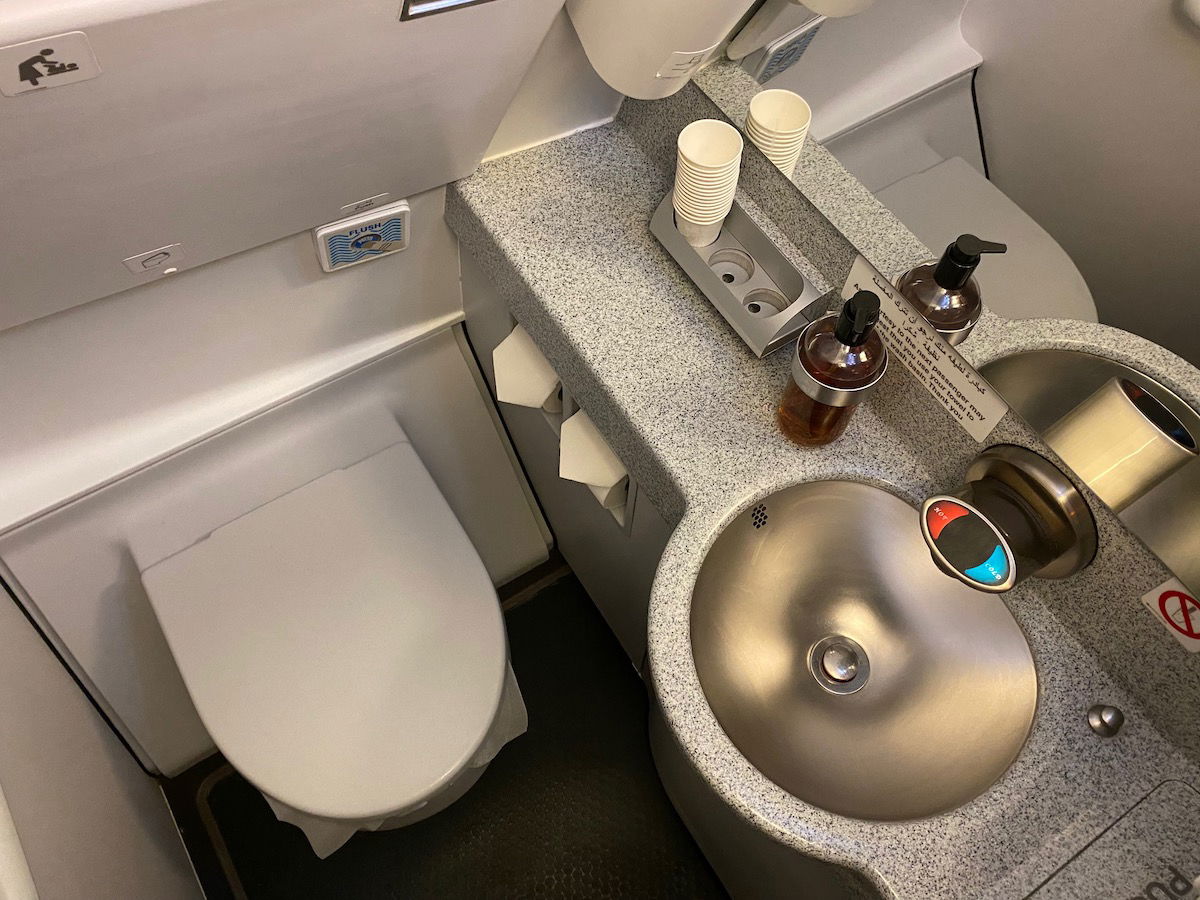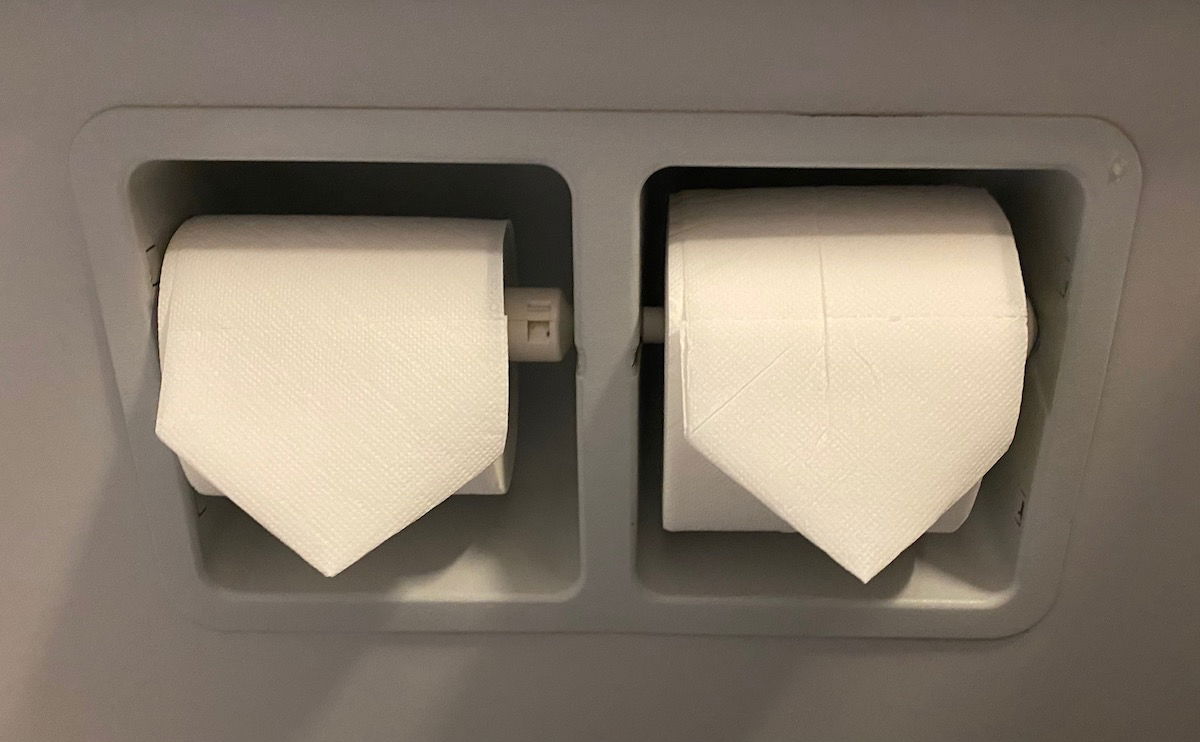 There were the same amenities as on long haul flghts, including Diptyque products, dental kits, and shaving kits.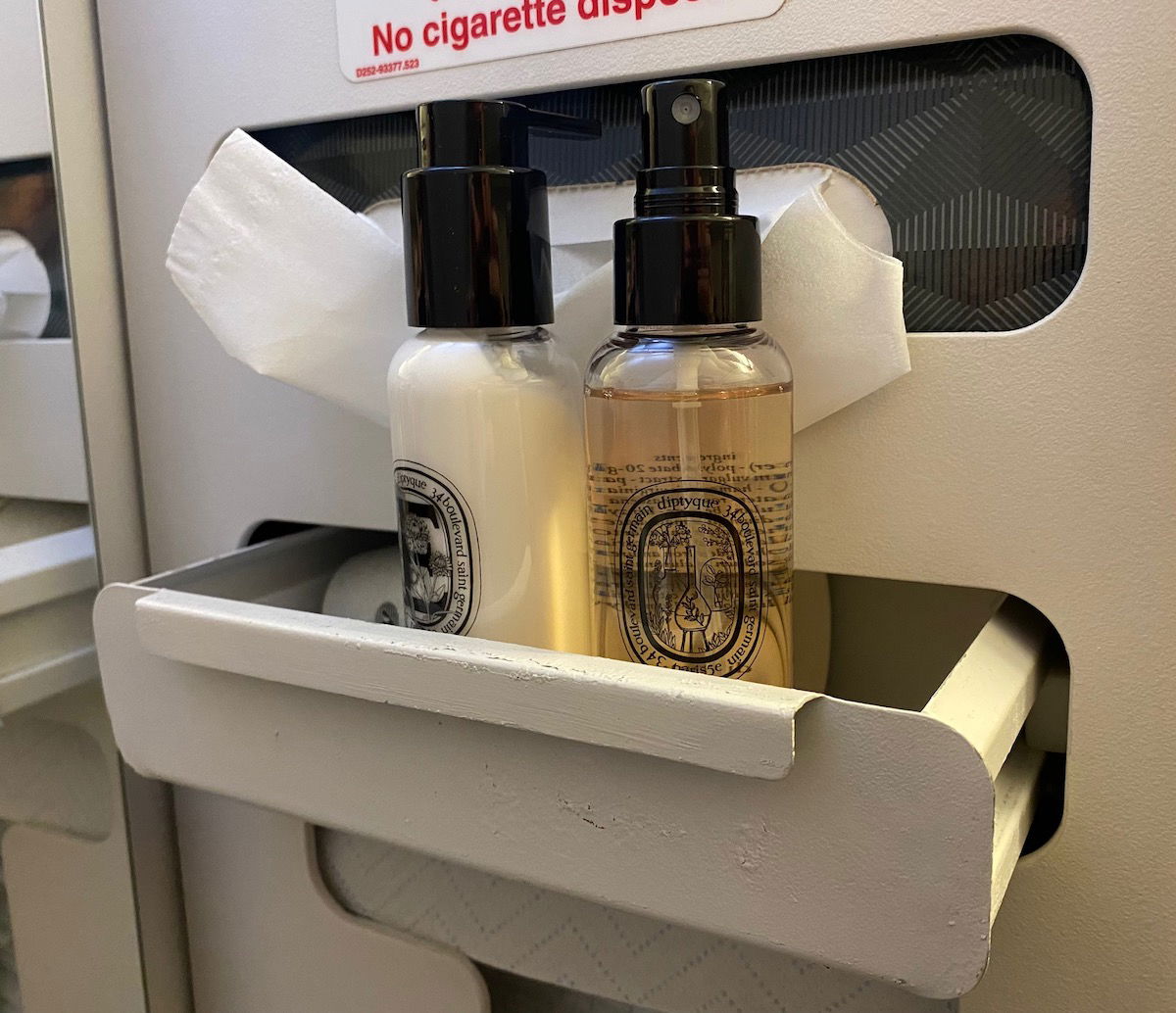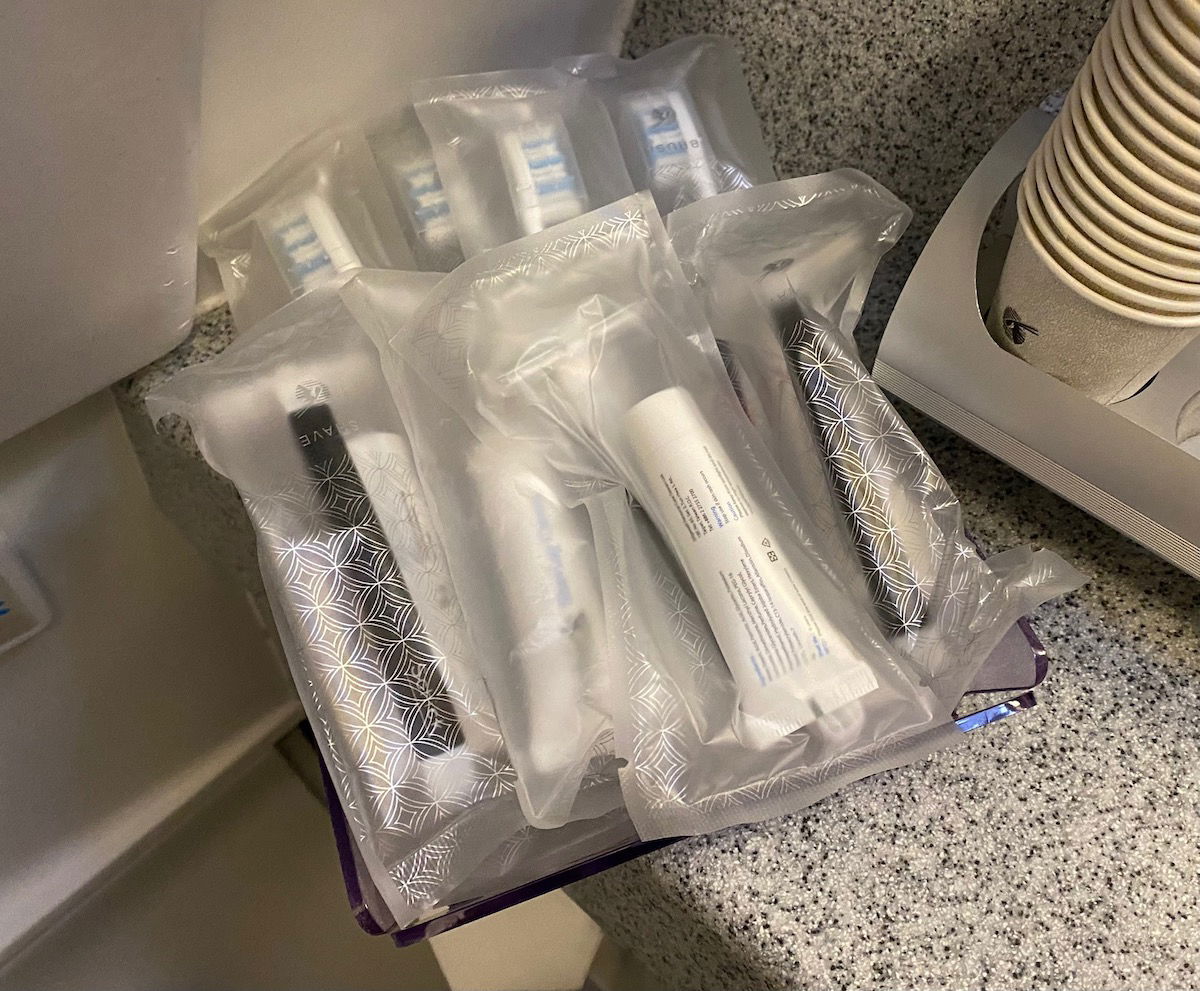 Arrival in Salalah
The flight time of 1hr55min seemed mighty long to me for a 589-mile flight. I figured there was just quite some padding in there. We started our descent just over an hour after takeoff, which is roughly what you'd expect.
Well, as it turned out, we just had a really, really long descent, which lasted 46 minutes. I'm not sure what exactly was going on, but we descended very gradually, and then we held at 8,000 feet for a while, before descending further. We even entered a holding pattern before landing.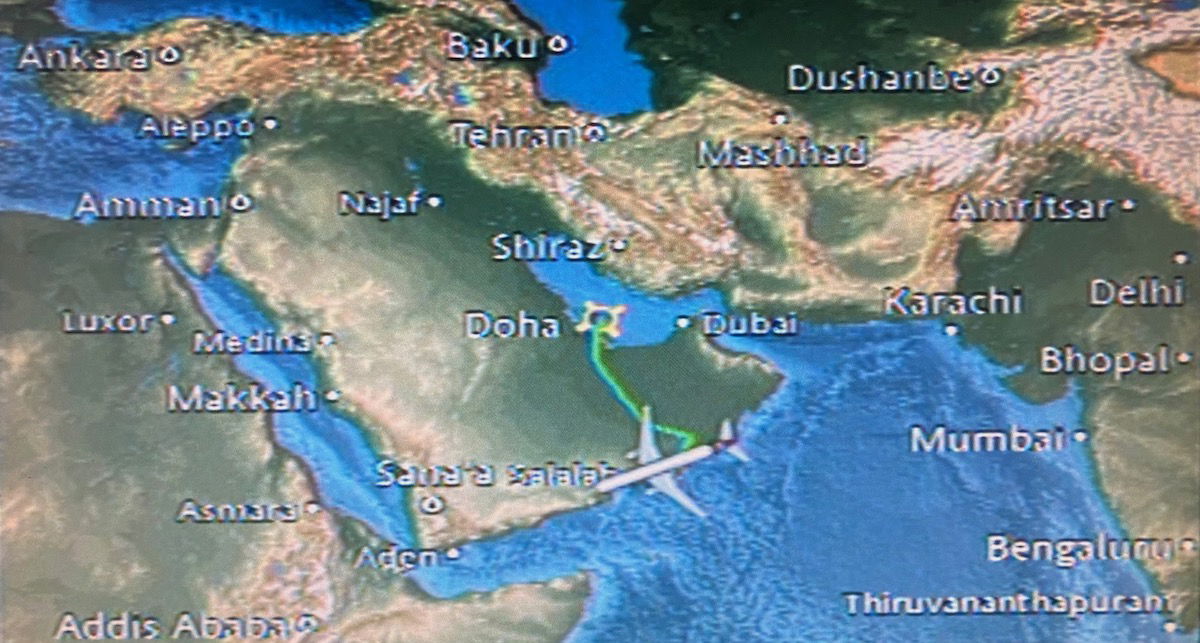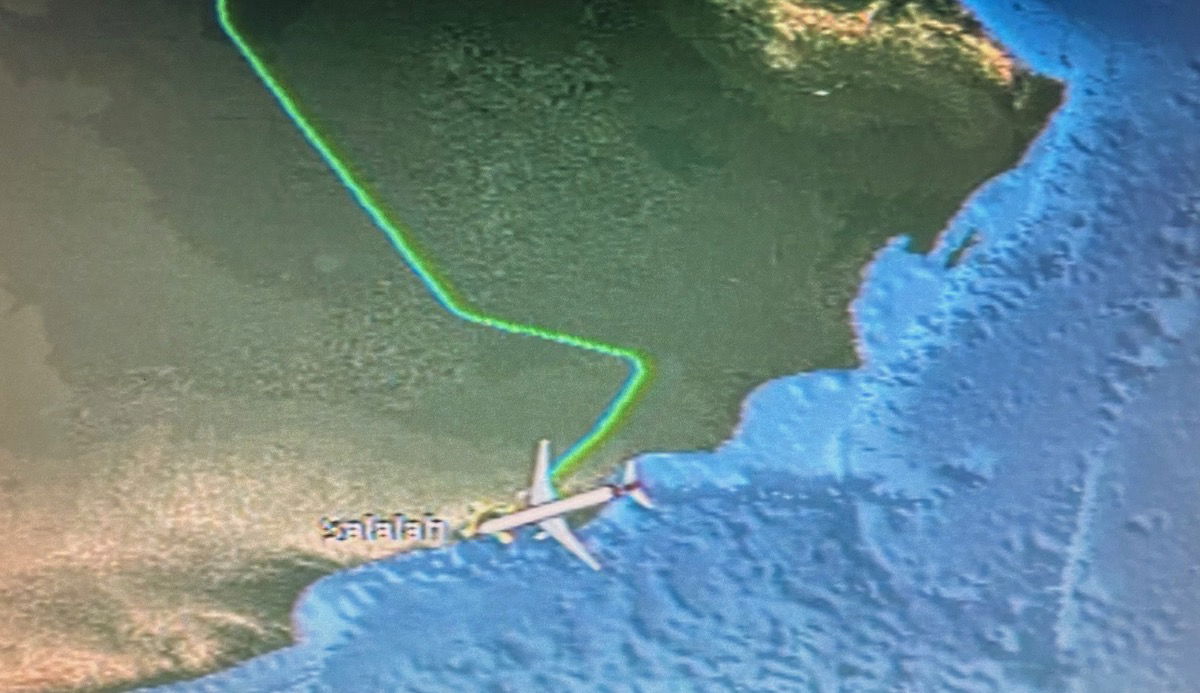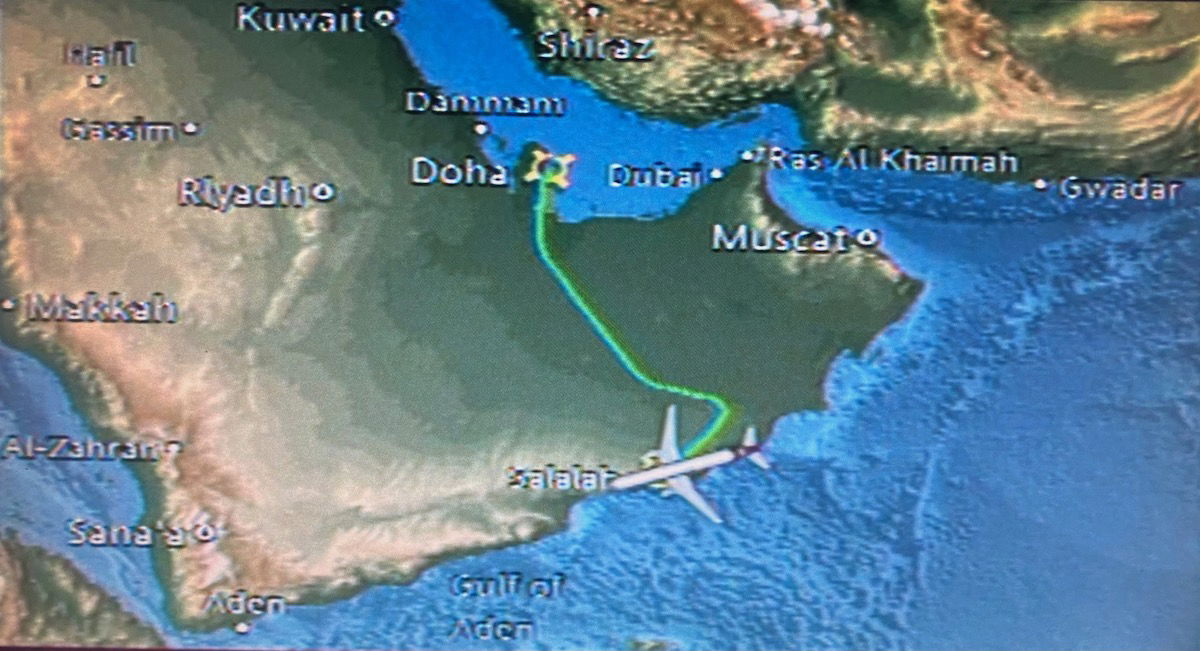 I know in general it can be busy in the Middle East in the middle of the night, but I wouldn't have assumed that the Salalah area would be particularly busy, and for that matter there were no flights arriving or departing in Salalah around the time we were landing. I know sometimes there are just quirks, so I'm not sure why exactly we had this unusual descent. I think the fact that this was our third flight made the descent feel even longer.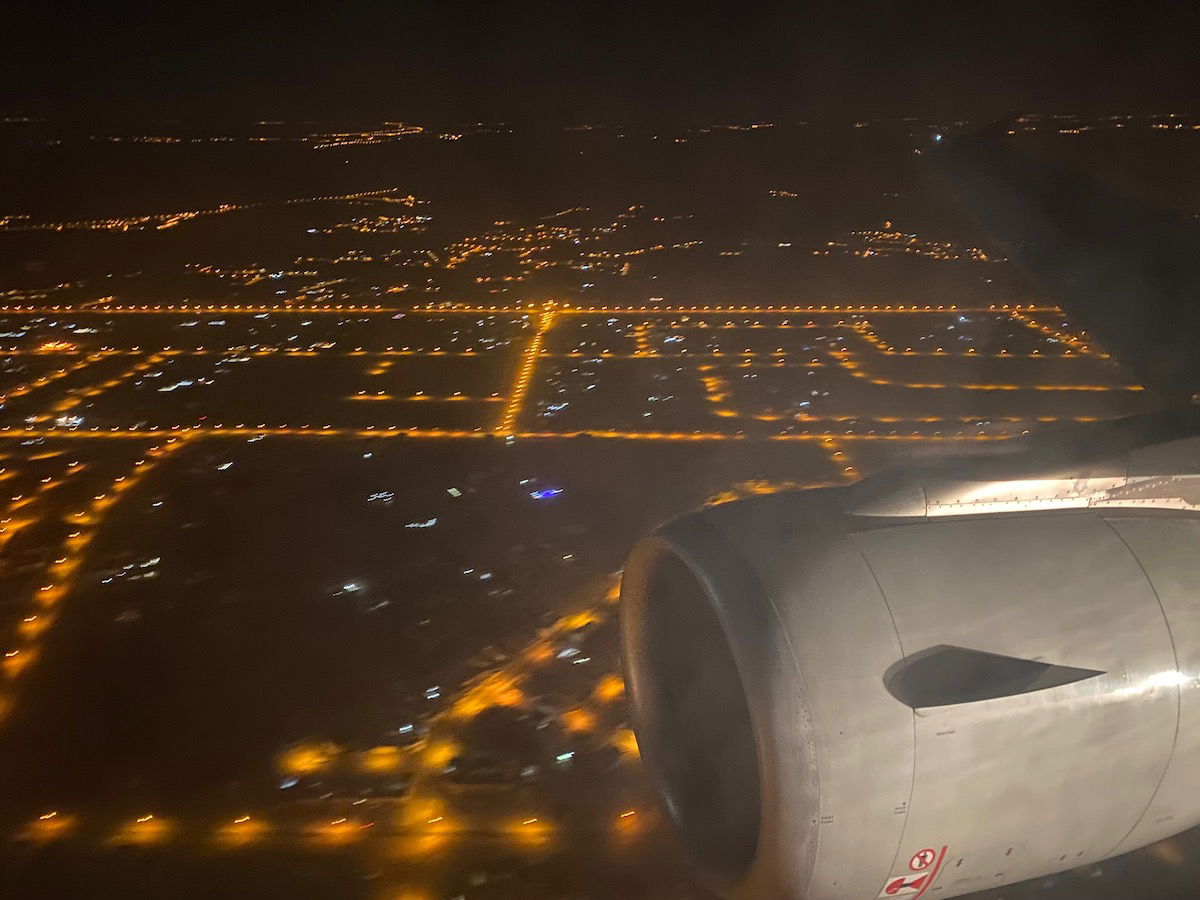 We ended up landing in Salalah at 4:20AM, and a minute later were at our arrival gate. We breezed right through immigration, and I'll share that experience in a separate post.
Bottom line
Qatar Airways' regional business class product is in a league of its own. Getting a full three course meal service with pre-departure drinks, an amazing beverage selection, and great bedding, isn't something you'll find in many parts of the world. But what really made this flight special was Donia, the exceptional flight attendant.
And to think that this is Qatar Airways' "worst" business class product…
If you've flown Qatar Airways' regional business class, what was your experience like?