EXTRA PERKS AVAILABLE
Enjoy breakfast, upgrades, & more
Want to take advantage of Four Seasons Preferred Partner benefits, including a space available room upgrade, complimentary breakfast, a hotel credit, and more? Contact Ford ([email protected]) for more details. He may even be able to help if you already have a stay booked.
We recently spent a long weekend at the 189-room Four Seasons Nevis. This was a special trip for us, as it was the first time we took our son, Miles, on a vacation that involved getting on a plane and traveling to another country. This was the perfect trip for those purposes, since Nevis is pretty easy to get to.
Honestly, prior to this trip I knew very little about the Four Seasons Nevis. We had visited the Park Hyatt St. Kitts many years ago, and St. Kitts and Nevis are one country spread across two islands (Nevis is around 36 square miles, with a population of around 11,000, while St. Kitts is around 100 square miles, with a population of around 40,000). Having been to St. Kitts, I was curious to see what Nevis is like, and how the Four Seasons compared.
Well, I was pleasantly surprised by Nevis and the Four Seasons. The island is quite charming and off the grid, in a good way. Meanwhile the Four Seasons has a sense of place, the friendly Four Seasons service you expect, great dining options, nice pools, and a large beach.
Booking the Four Seasons Nevis
First let me say that in the interest of full disclosure, Ford (and a few other travel advisors) were invited by the Four Seasons for this stay, so our room was complimentary (though we paid for incidentals). We were invited during the annual Sea Turtle Week at the property, which is a cool effort that the hotel participates in. Since Ford was invited to also bring me and our son, we figured it was the ideal first opportunity for Miles to take an international trip.
Opinions expressed are my own, and of course you're welcome to skip this review if these kinds of hotels aren't up your alley. The two major trip reports I'm writing before and after this exclusively have points hotels that I booked at standard rates.
With that out of the way, if you've traveled since the start of the pandemic, you probably know that luxury hotel prices have skyrocketed in the past few years. Along those lines, the Four Seasons Nevis actually seems to represent relatively good value.
For the dates of our stay, the rate was around $600 per night before taxes and fees. Admittedly July is off season, but as a point of comparison, that was slightly lower than the rates at the Park Hyatt St. Kitts and even Westin Grand Cayman (I know comparing the property to Grand Cayman is pretty random, but I've always been confused by the pricing at that property, and wonder what I'm missing?).
Even during the busy season, the Four Seasons Nevis can sometimes be booked for under $1,000 per night before taxes and fees, putting the pricing in line with the above two properties.
The best way to book any Four Seasons hotel is through a travel advisor affiliated with the Four Seasons Preferred Partner program. When booking through Preferred Partner you pay the same rate you'll find directly on Four Seasons' website, but you'll receive extra perks, including the following:
A room upgrade, subject to availability
Complimentary daily breakfast
A hotel credit to use during your stay
Four Seasons Preferred Partner is generally combinable with promotions being offered directly through Four Seasons, including advance purchase rates, free night offers, and more. Note that booking Four Seasons properties through Preferred Partner is better than booking through programs like Amex Fine Hotels & Resorts. Why?
With Preferred Partner you have the option of room service breakfast in place of restaurant breakfast
Upgrades are prioritized for Preferred Partner bookings, given that it's Four Seasons' own proprietary program (and the value of an upgrade can be significant)
You can combine Preferred Partner perks with virtually any rate on Four Seasons' website (other programs don't allow you to stack promotions in the same way)
You can't beat getting all of these extra perks just for booking through an eligible travel advisor. Note that Preferred Partner bookings can also be made for the Four Seasons Private Retreats at the property, which consist of villas that can be booked by the night. Ford is happy to help book Four Seasons properties through Preferred Partner, and can be reached at [email protected].
Four Seasons Nevis location & transfer
I think one hesitation that people have with traveling to the Four Seasons Nevis is that they assume it's hard to get to, since Nevis doesn't have an airport with "major" commercial service. Fortunately the process is actually quite easy.
If you're wanting to visit the Four Seasons Nevis, plan on flying into Robert L. Bradshaw International Airport in St. Kitts (SKB). There are nonstop flights to there from the United States, including on American Airlines to Miami.
The Four Seasons then arranges transfers from the airport to the resort, at the rate of $200 per adult roundtrip (or $100 per child). What does the transfer entail? Well, once you exit immigration at the airport, you'll be greeted by a Four Seasons employee. From there, your bags will already be taken, and then you'll be driven to Christophe Harbour, which is a roughly 20 minute drive.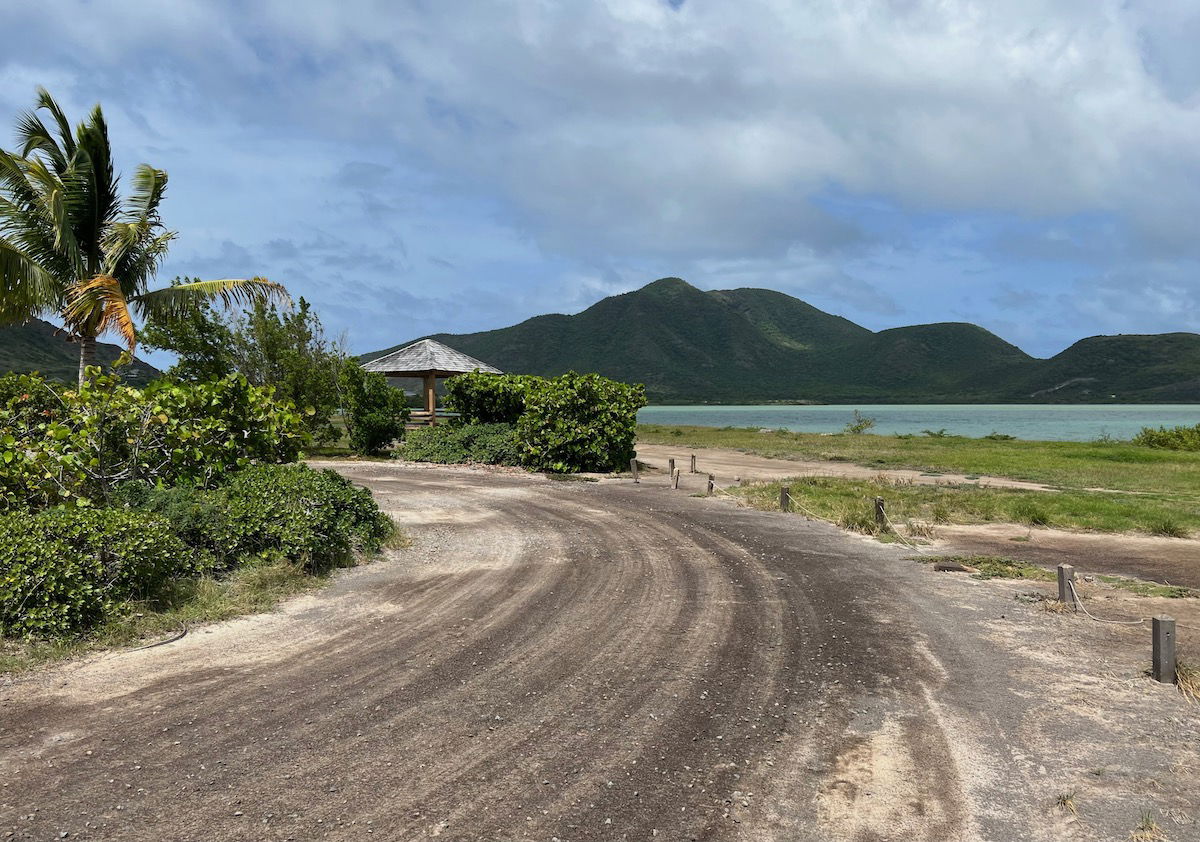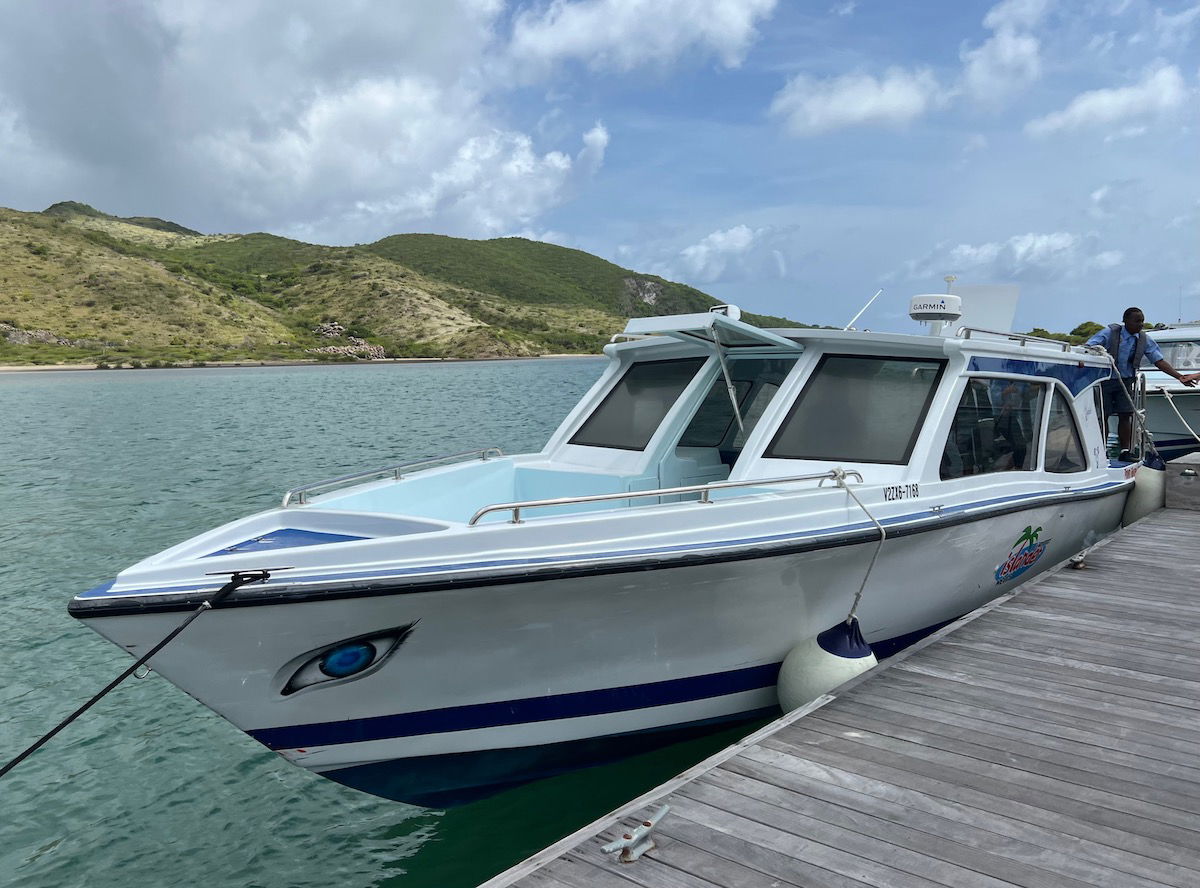 Once there, it's a roughly 20-minute speedboat ride from St. Kitts to Nevis. There's a limited selection of complimentary drinks onboard, including beer, soda, and water.
What's cool is that the boat drops you off directly at the Four Seasons' pier, so it almost feels like you're arriving on a private island. On the dock you're met by Four Seasons staff, and then escorted directly to your accommodation, where your luggage is also delivered.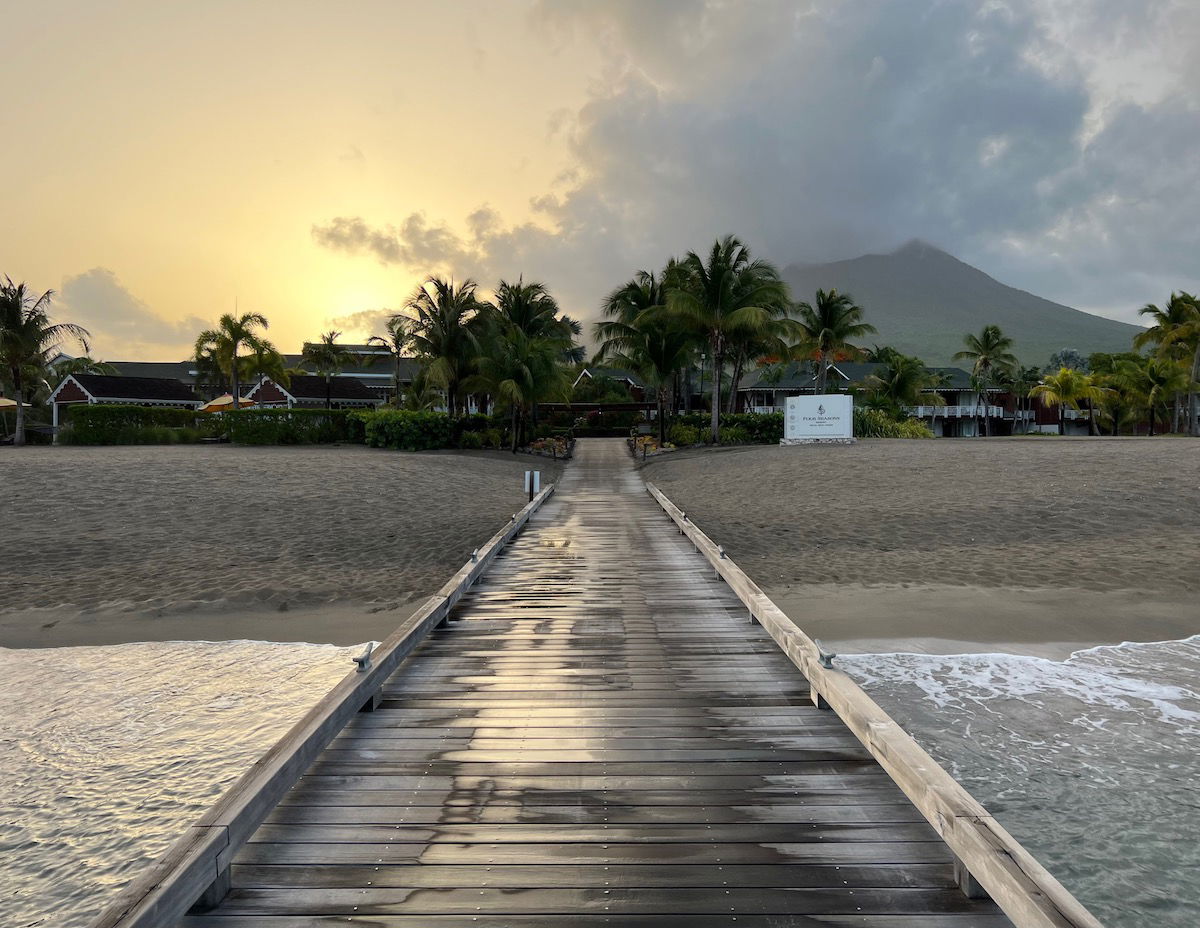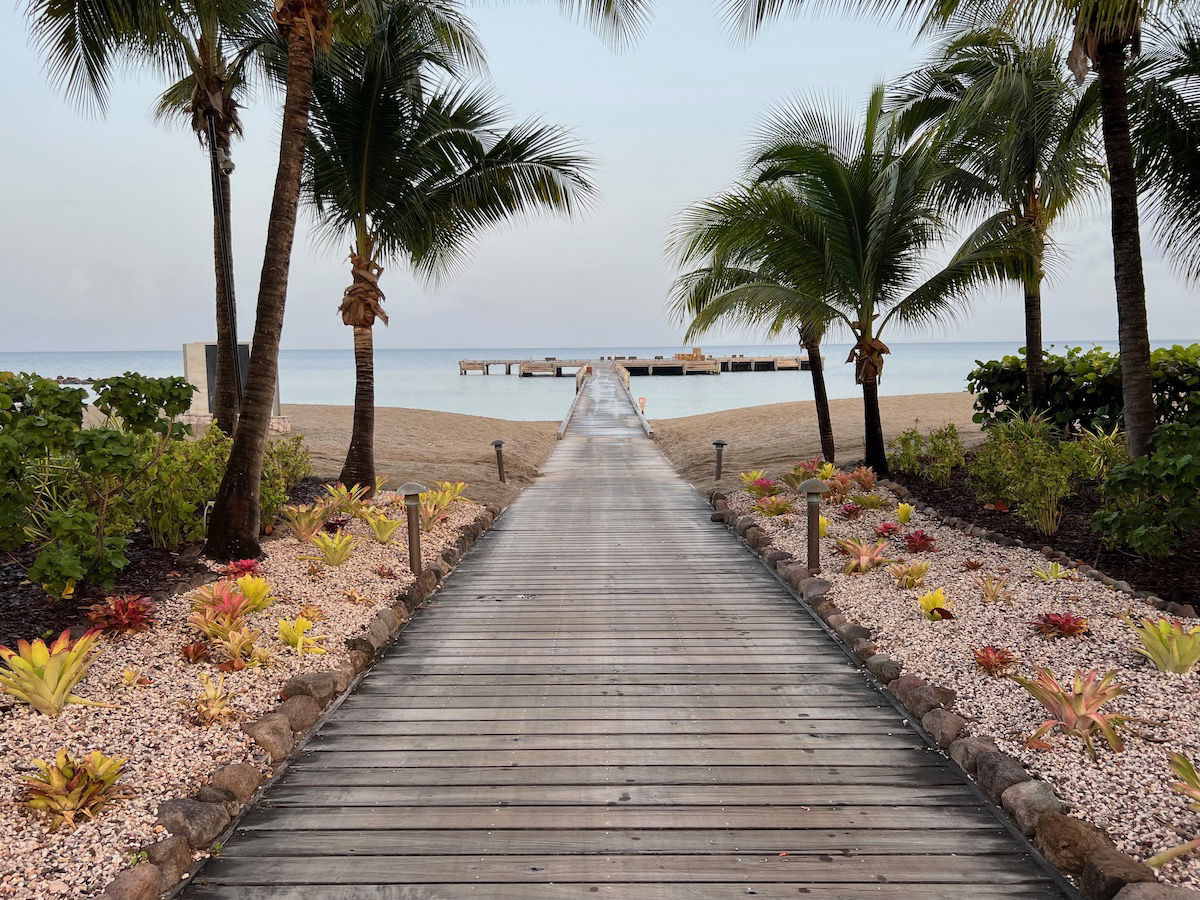 Honestly, the whole arrival experience is pretty seamless. From clearing immigration at the airport to arriving in our room took just over an hour, which isn't half bad.
Four Seasons Nevis property layout & lobby
The Four Seasons Nevis is a gorgeous property that's spread out over 350 waterfront acres. It's a treat just to walk around the property, and oddly I felt like the weather was actually nicer there than in Miami in July. In terms of layout, the property reminded me a lot of the Four Seasons Hualalai, given the beautiful paths along the water.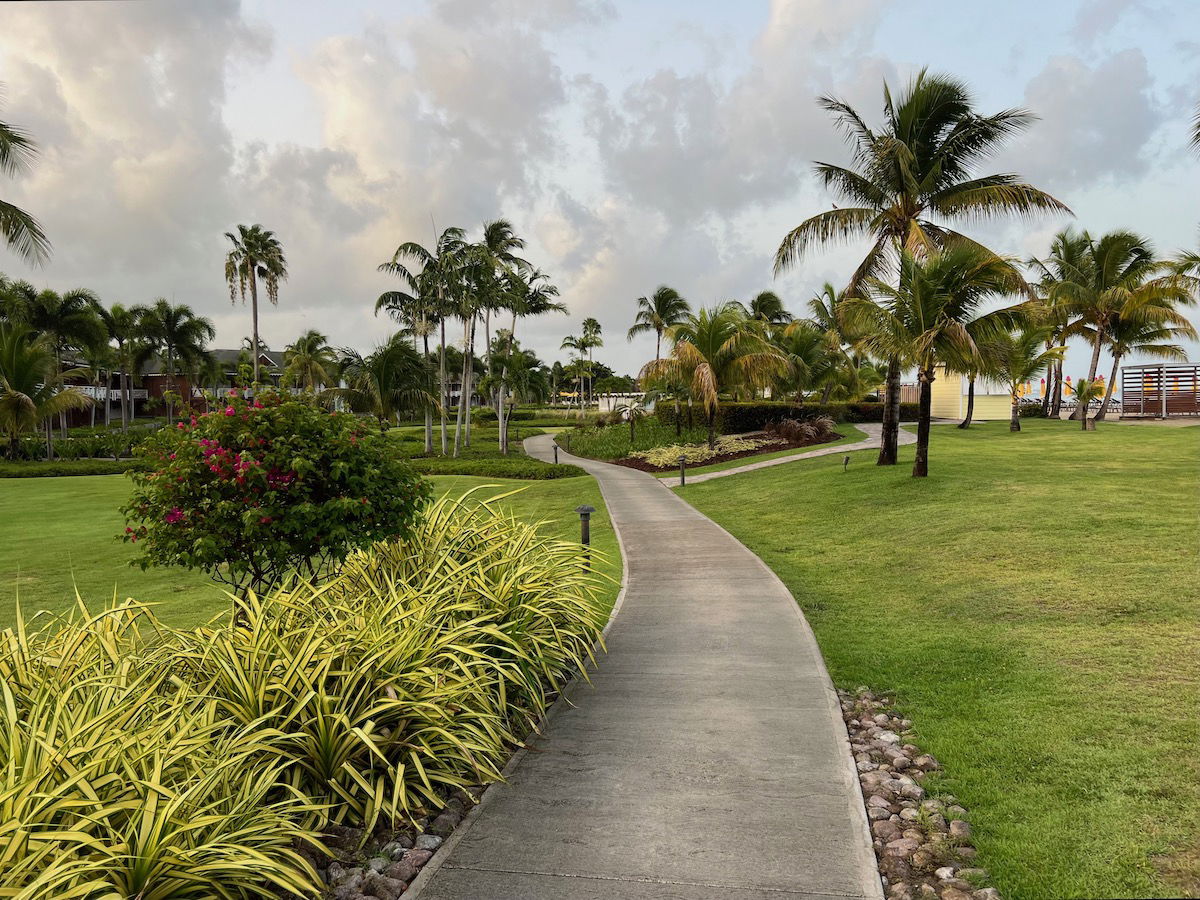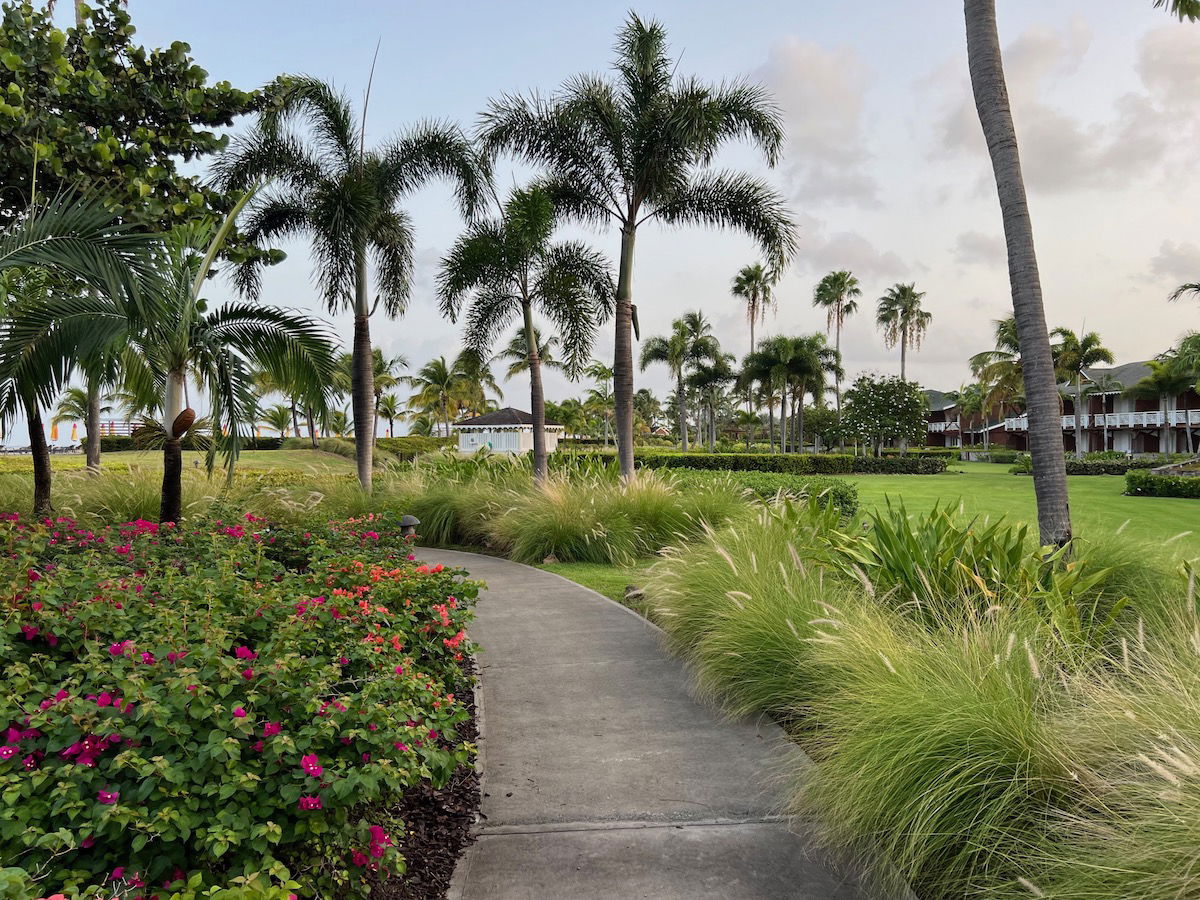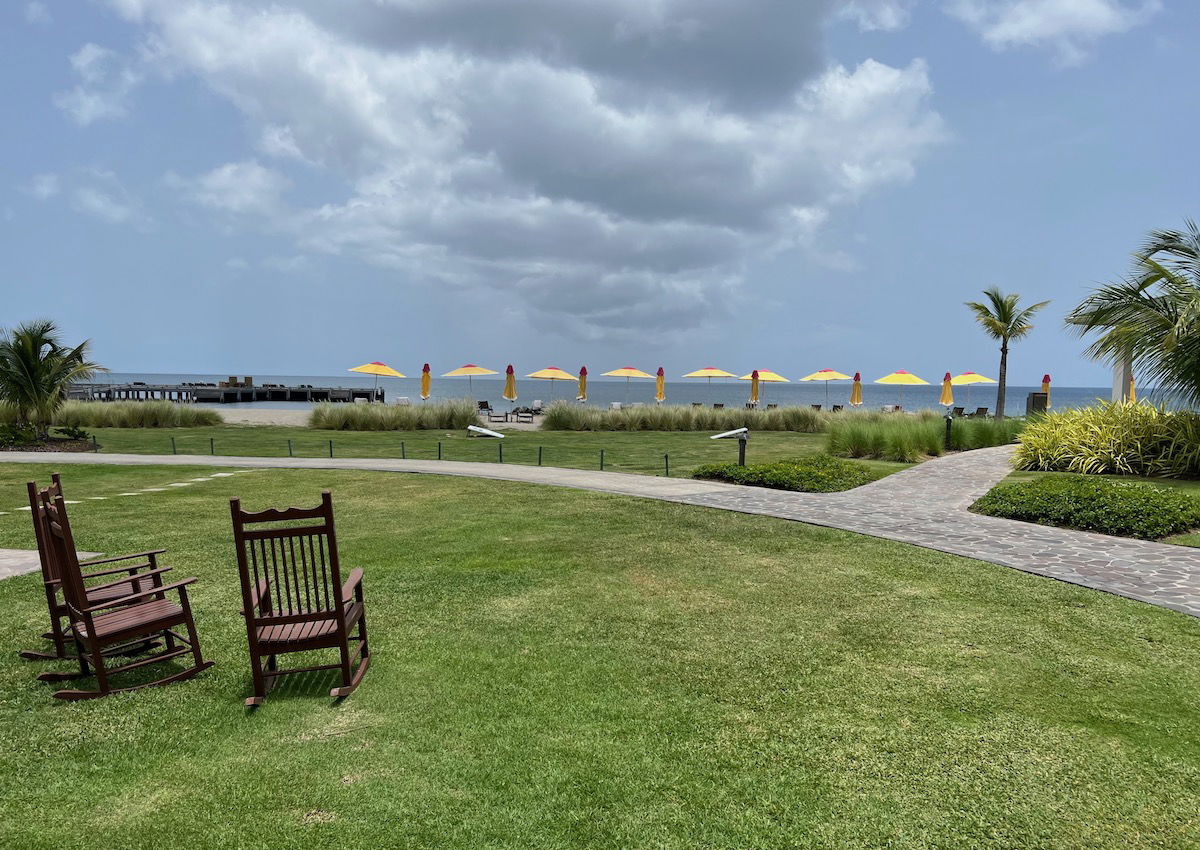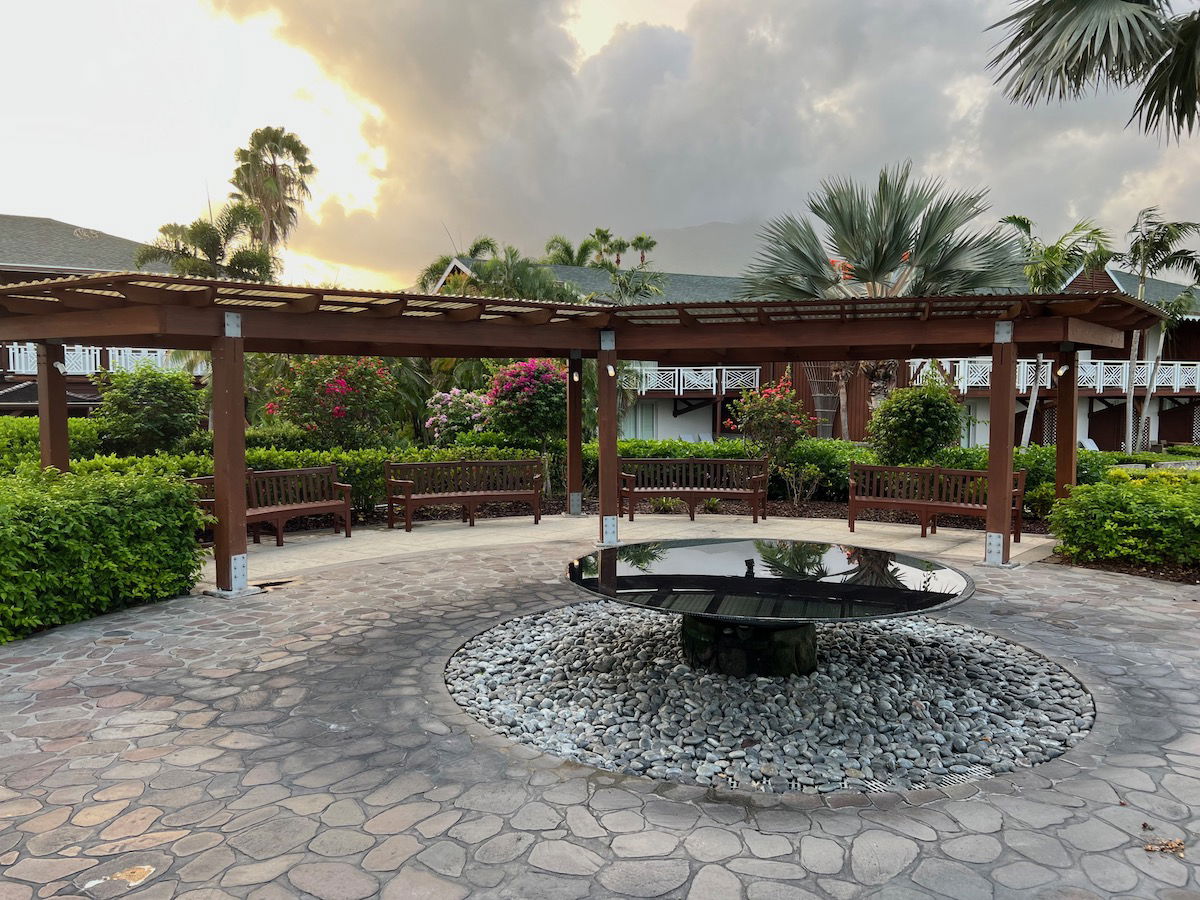 The guest rooms are located in roughly a dozen different cottages, each of which is two stories. It gives the resort a great outdoor and residential feel, since there aren't any interior hallways to walk through.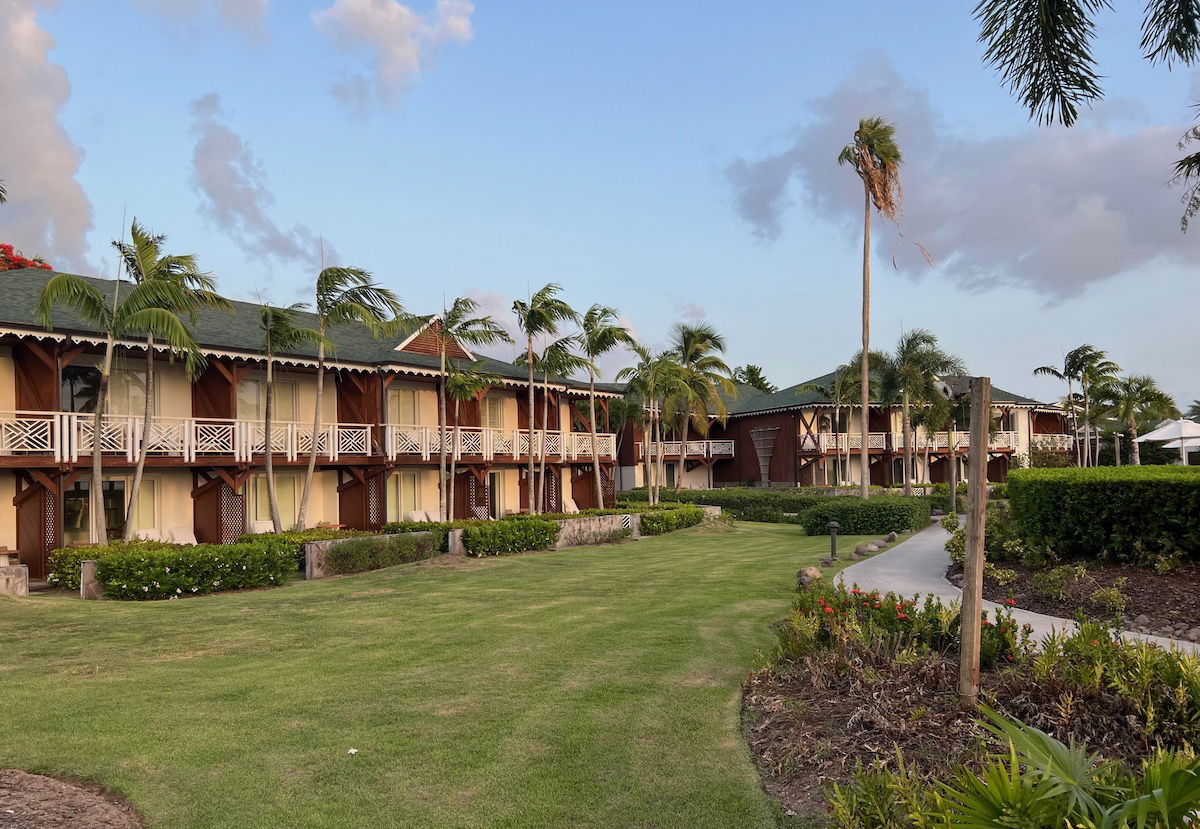 The hotel's lobby (referred to as the Great House) is basically in the center of the hotel, and is a modern, open-air space.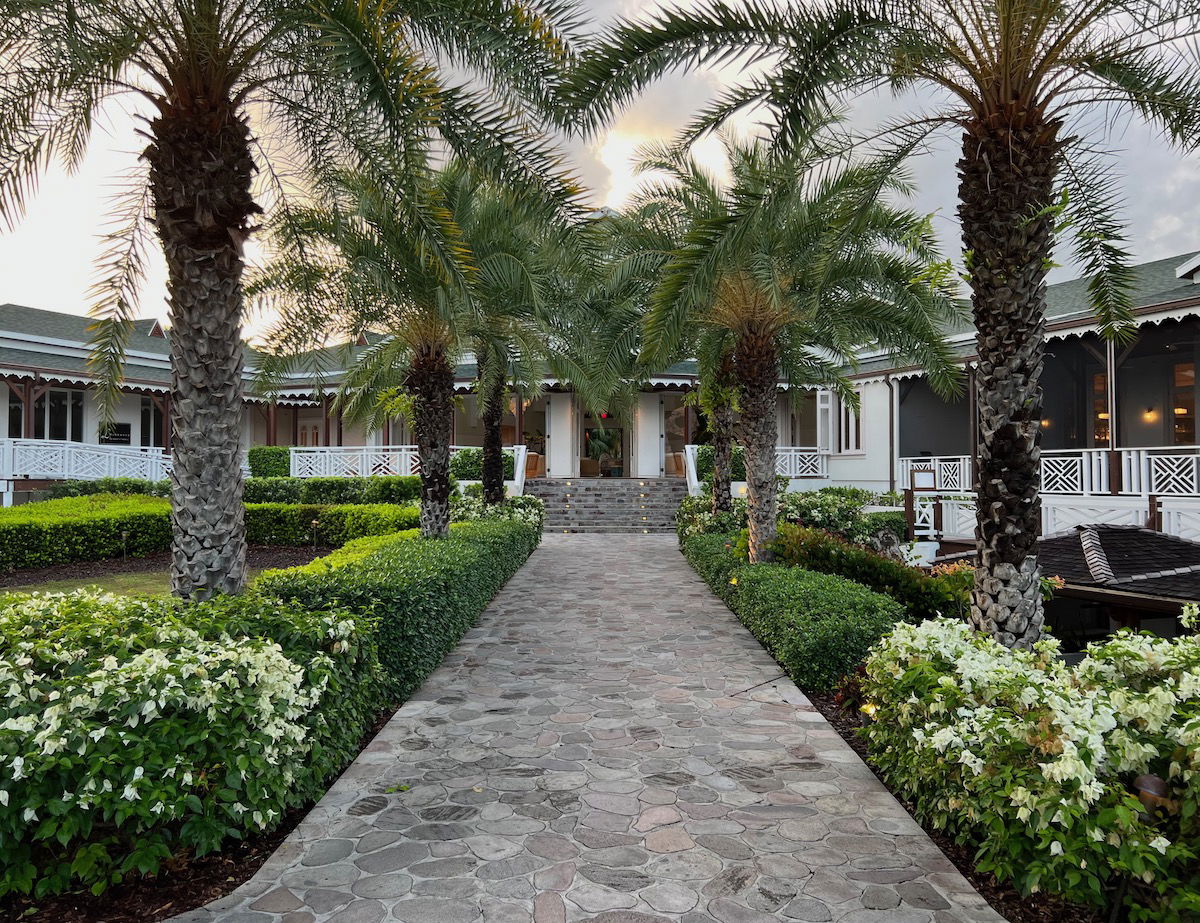 The lobby has plenty of seating, so this can be a great place to sit down and get some work done in the shade, if you're looking for a change of scenery. As a guest you could come to this property and barely even visit the lobby, though, given that you're taken directly from the arrival pier to your room.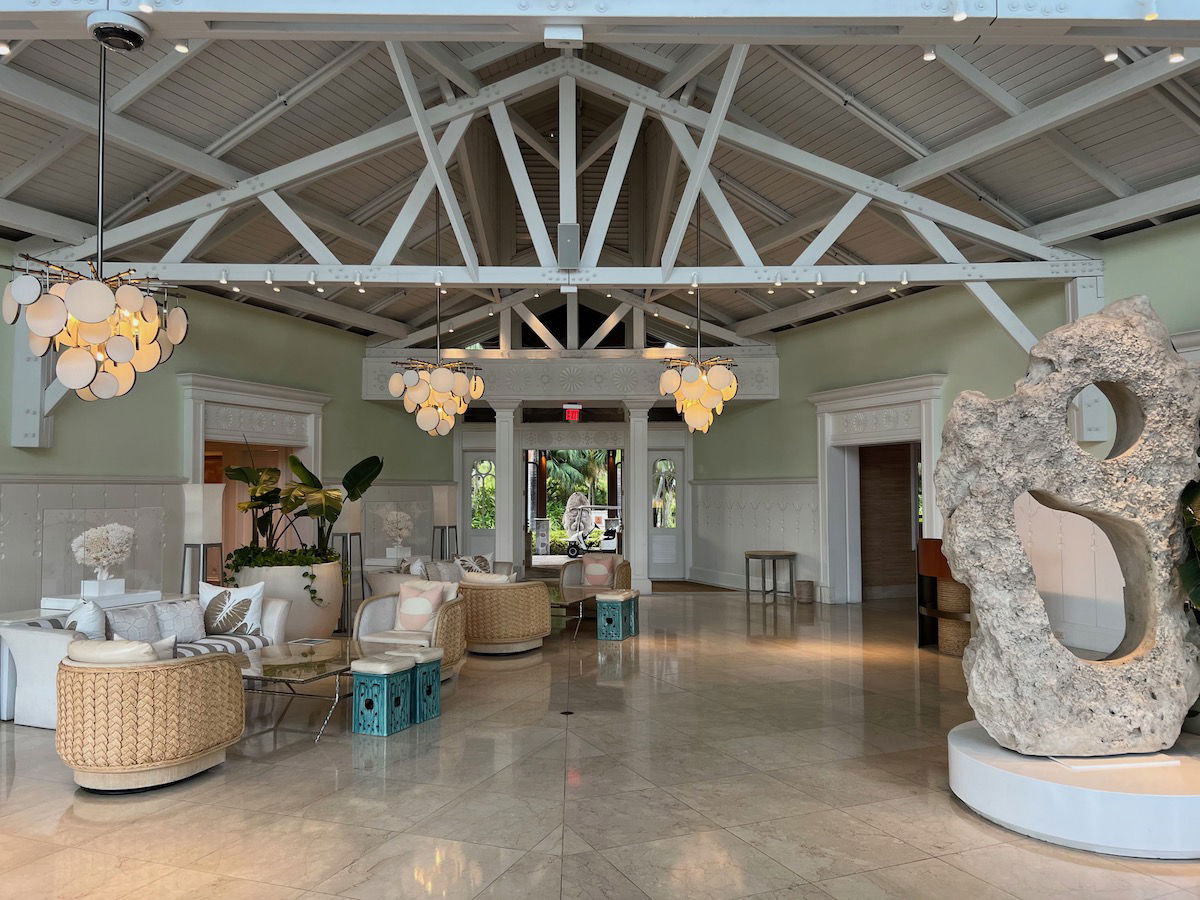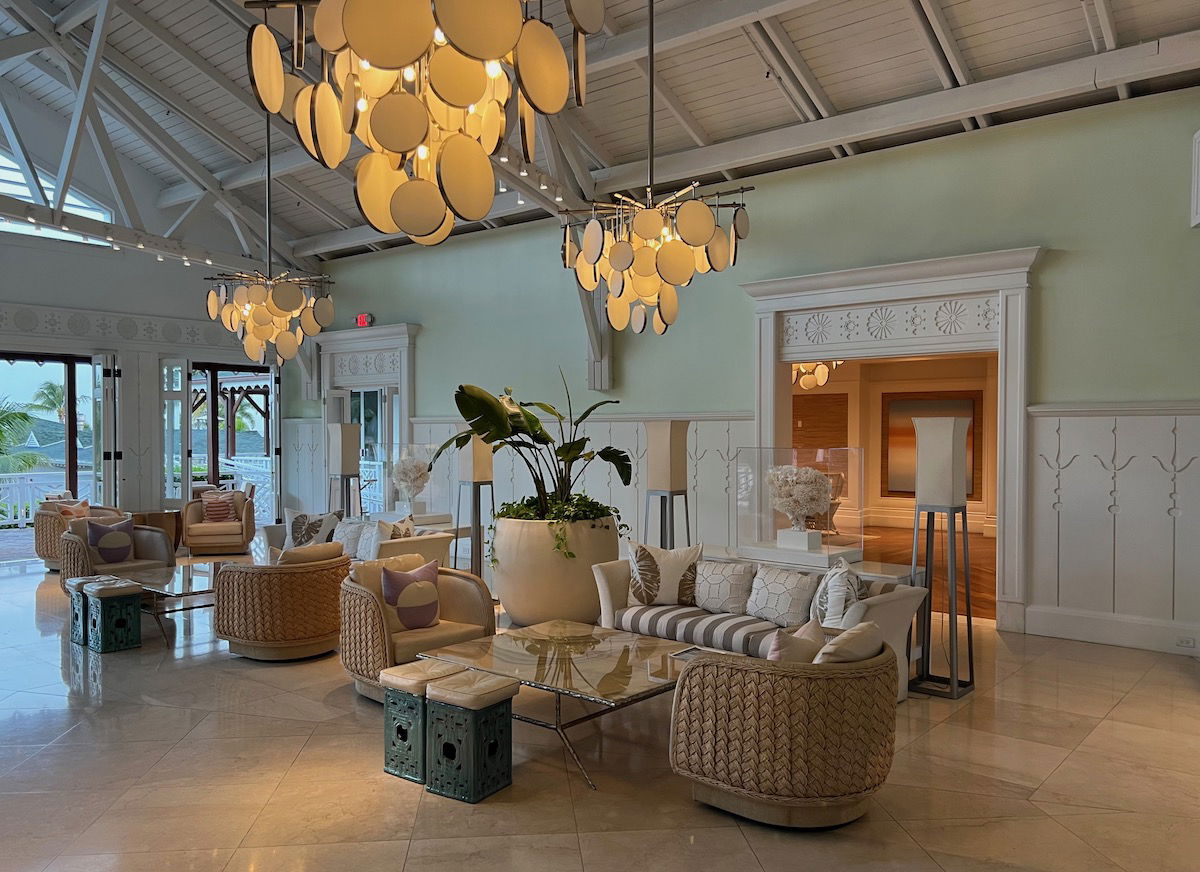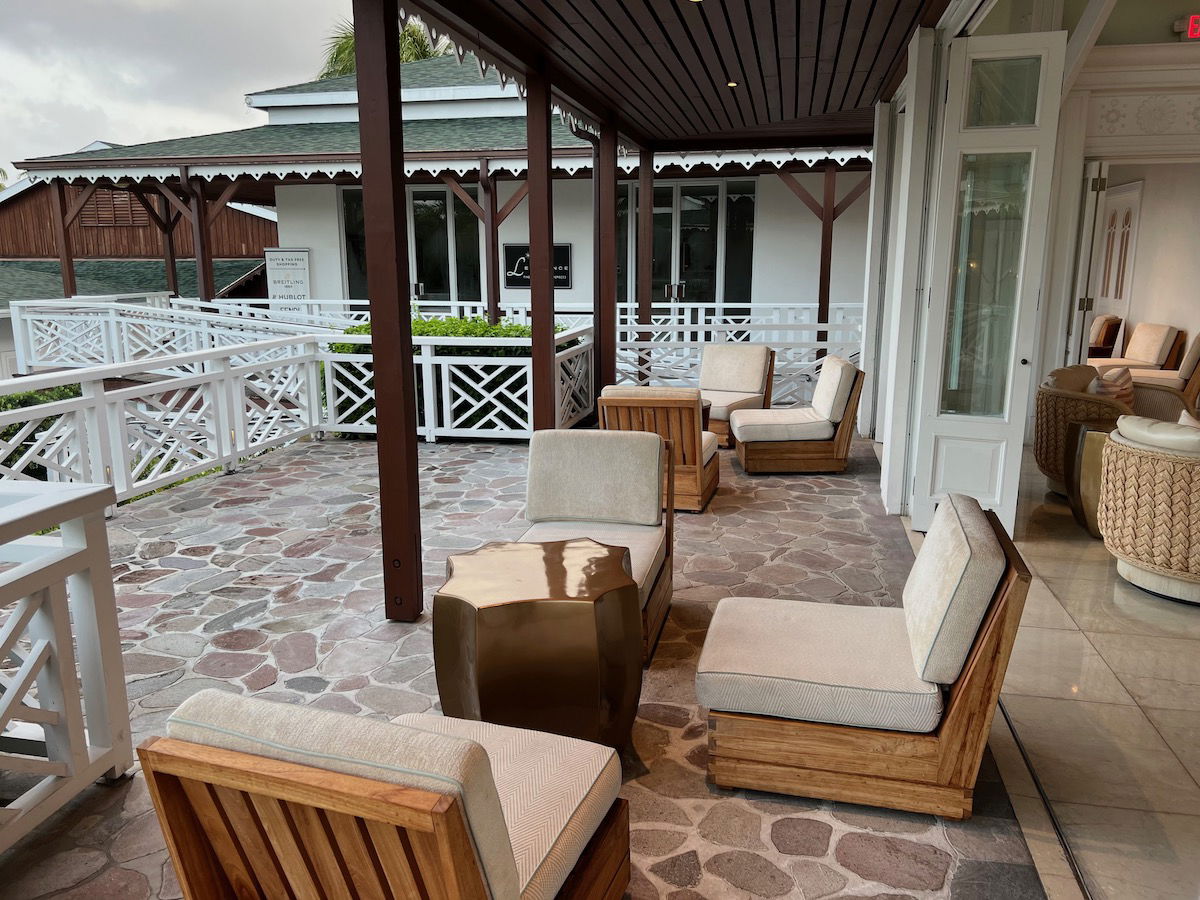 Four Seasons Nevis one bedroom suite
We were assigned room 313, which was a one bedroom suite located in the Coconut Walk cottage, on the ground floor.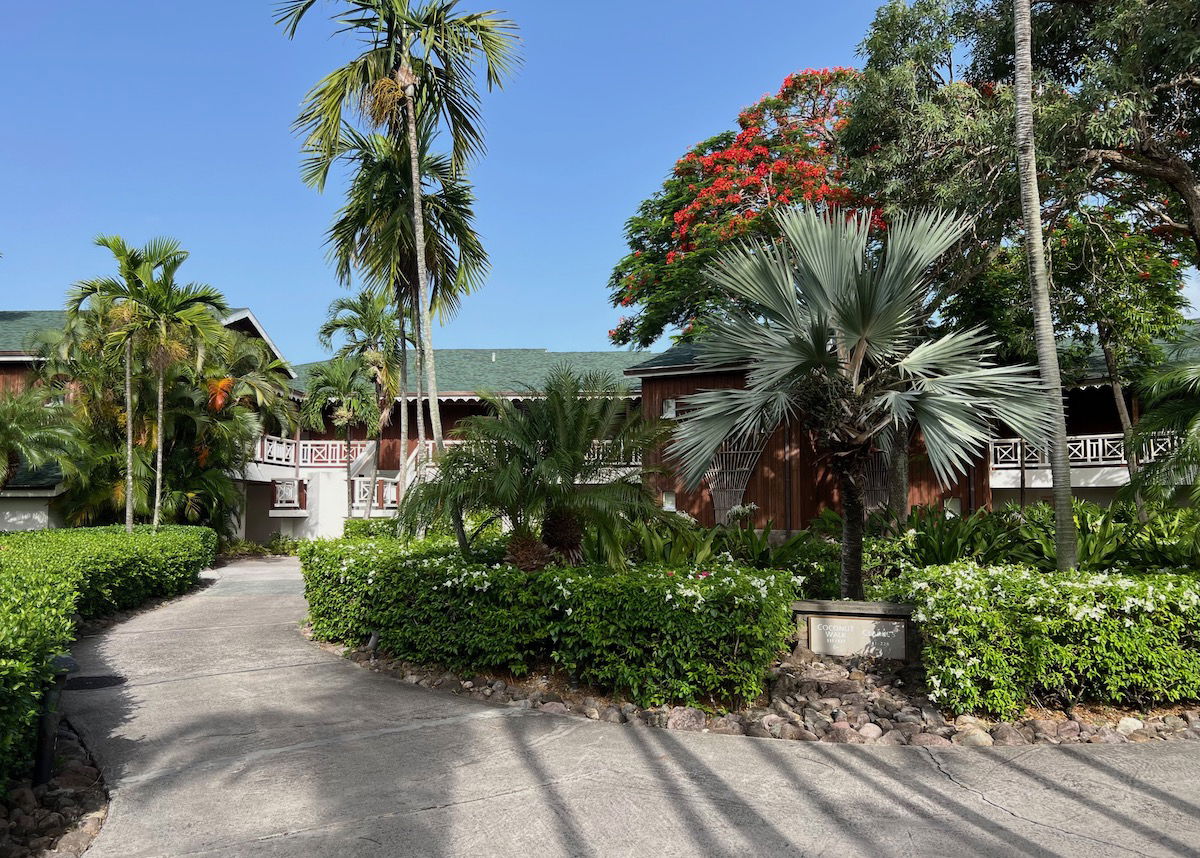 The suites at the Four Seasons Nevis are generously sized, and seem to basically be the equivalent of two guest rooms. Upon entering the suite, the living room was straight ahead.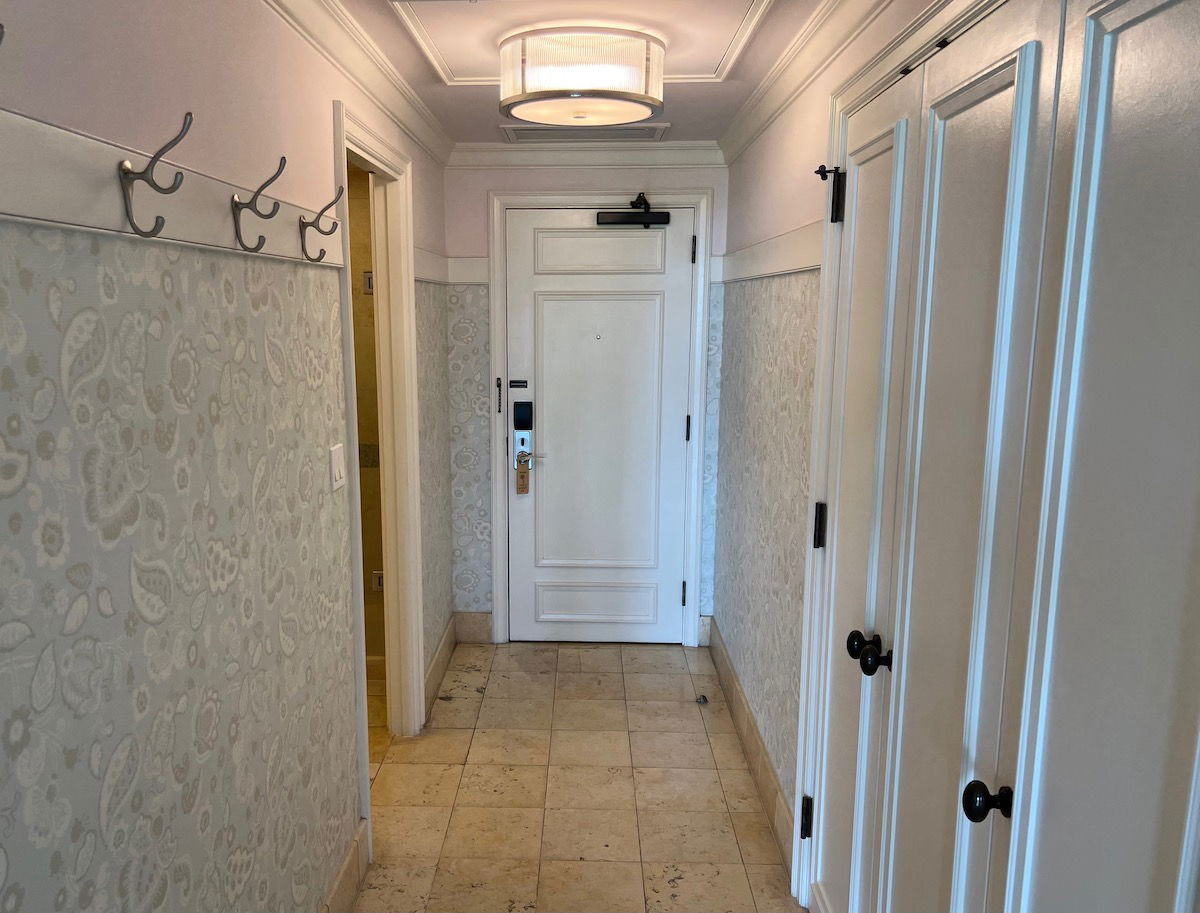 The living room featured a huge couch (which can be converted into a bed), a dining table with four chairs, and a TV.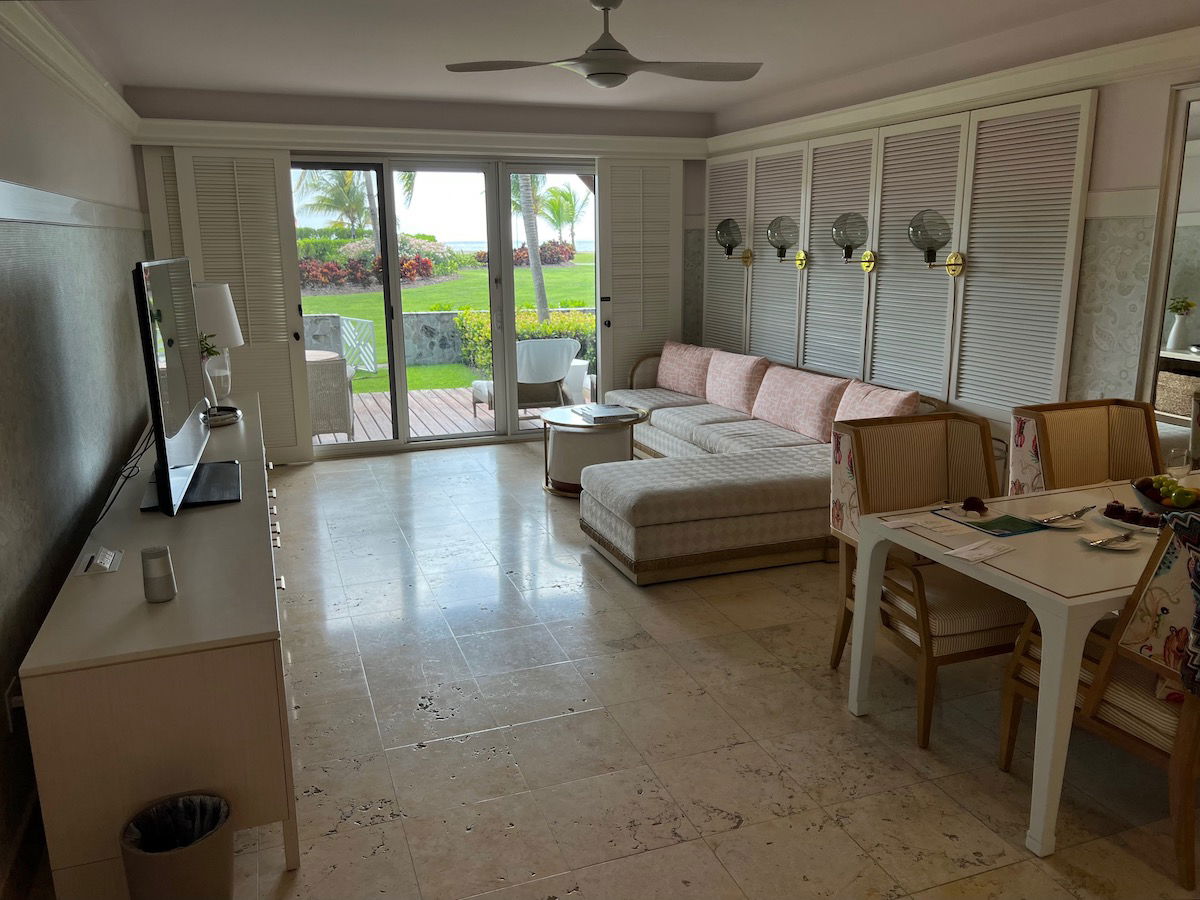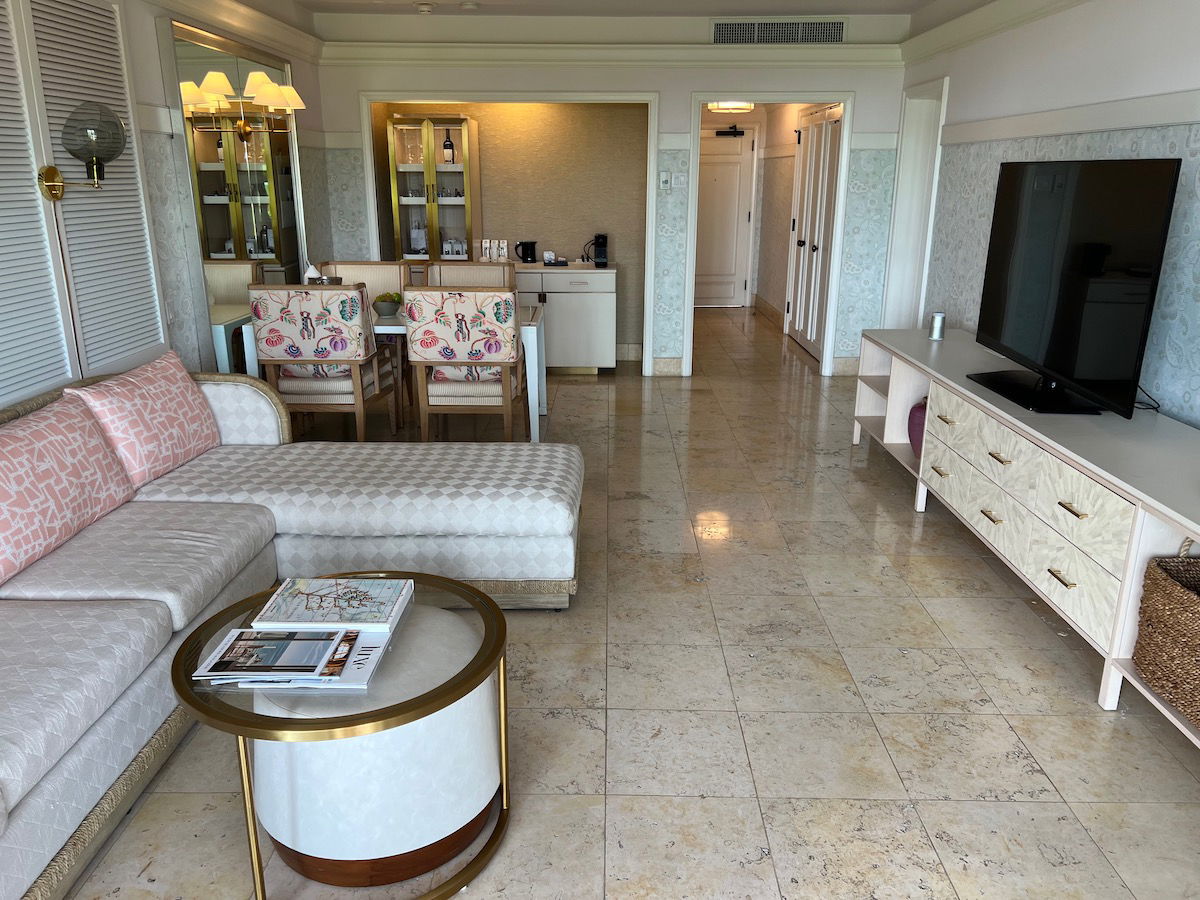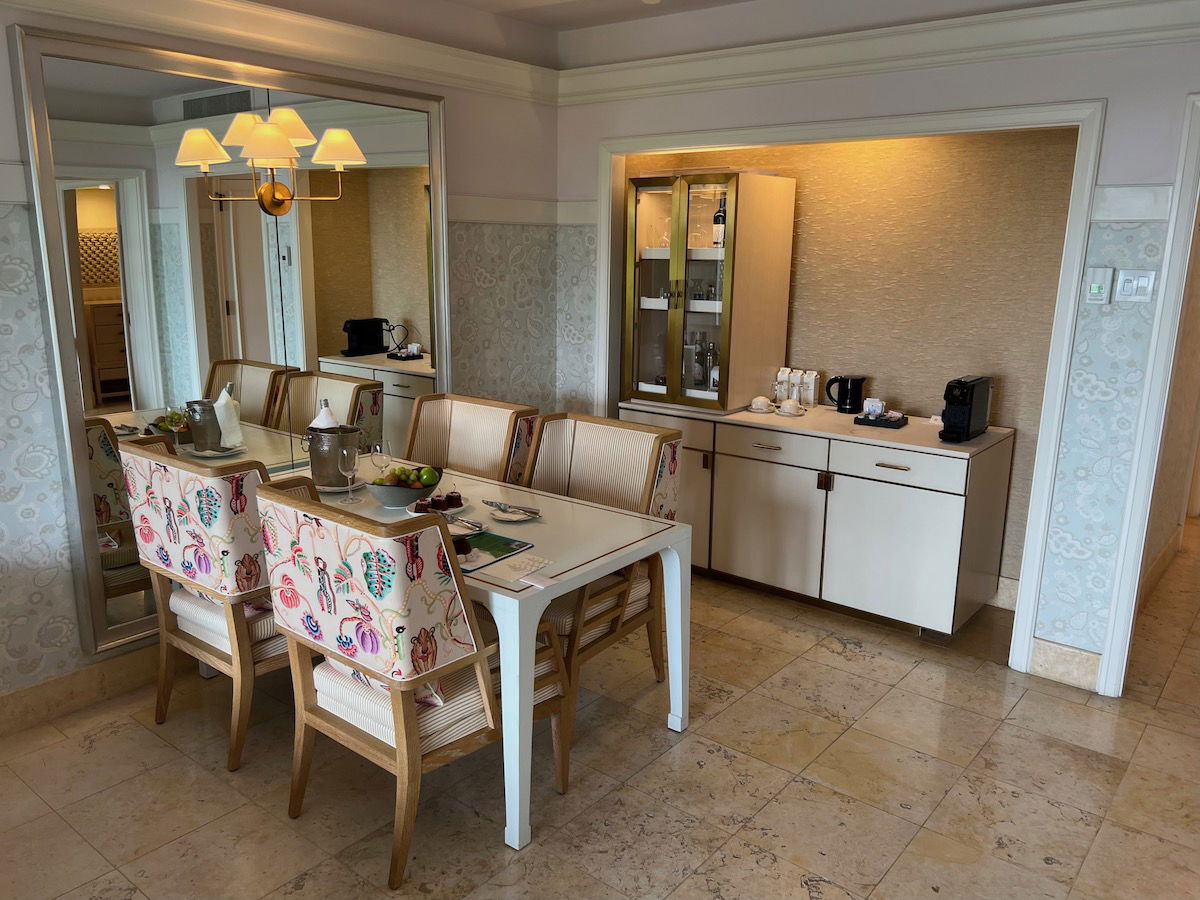 There was also a minibar setup, with complimentary coffee and tea, plus a variety of drinks and snacks for purchase.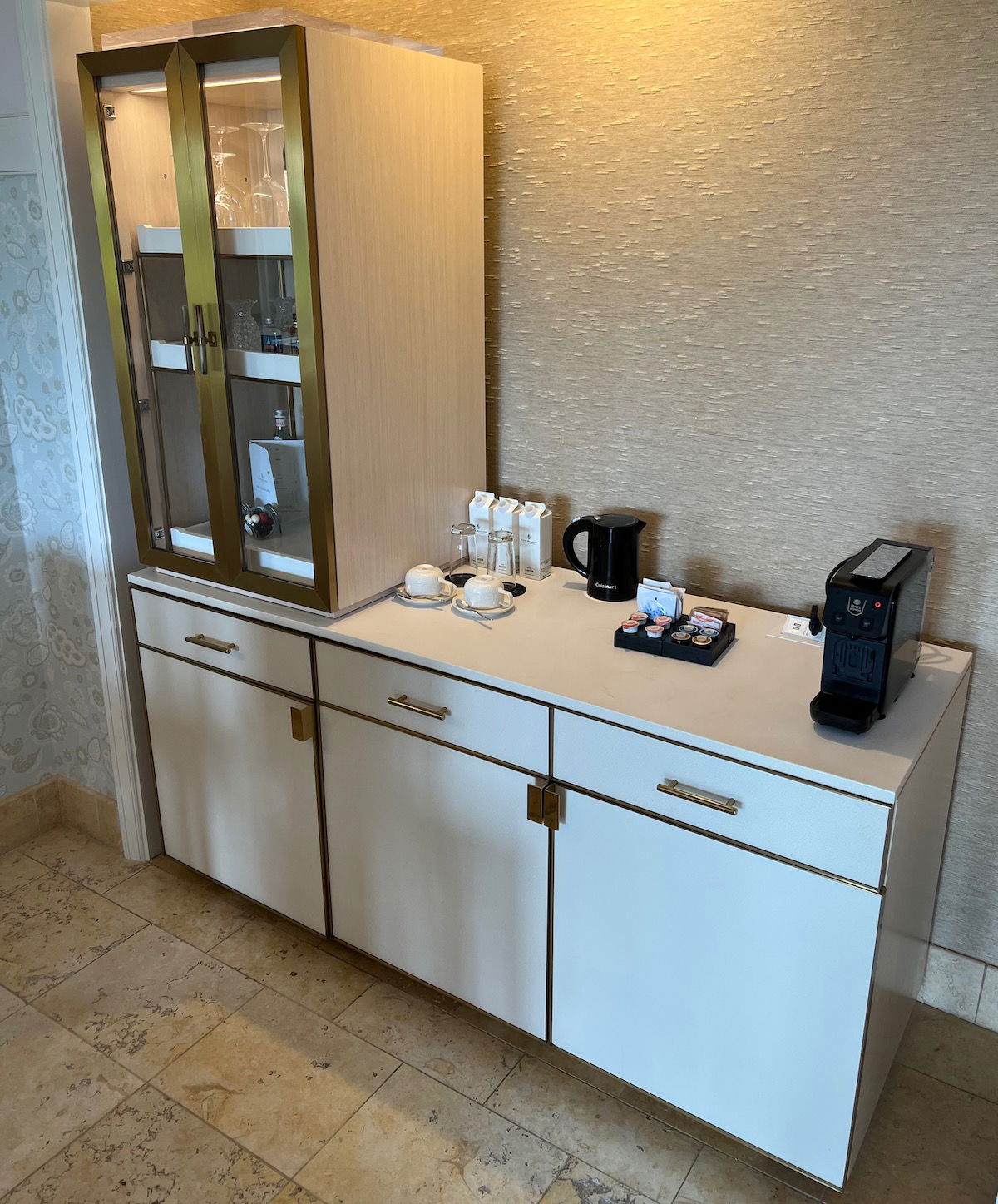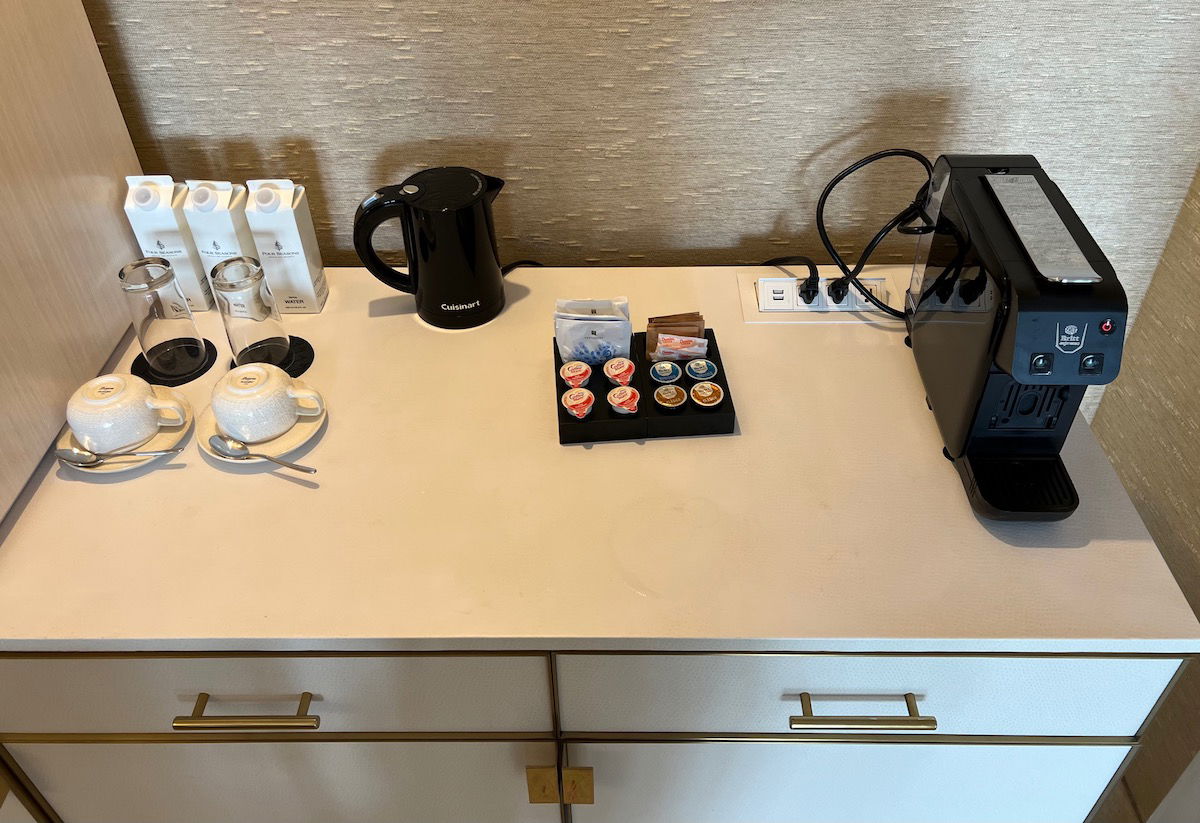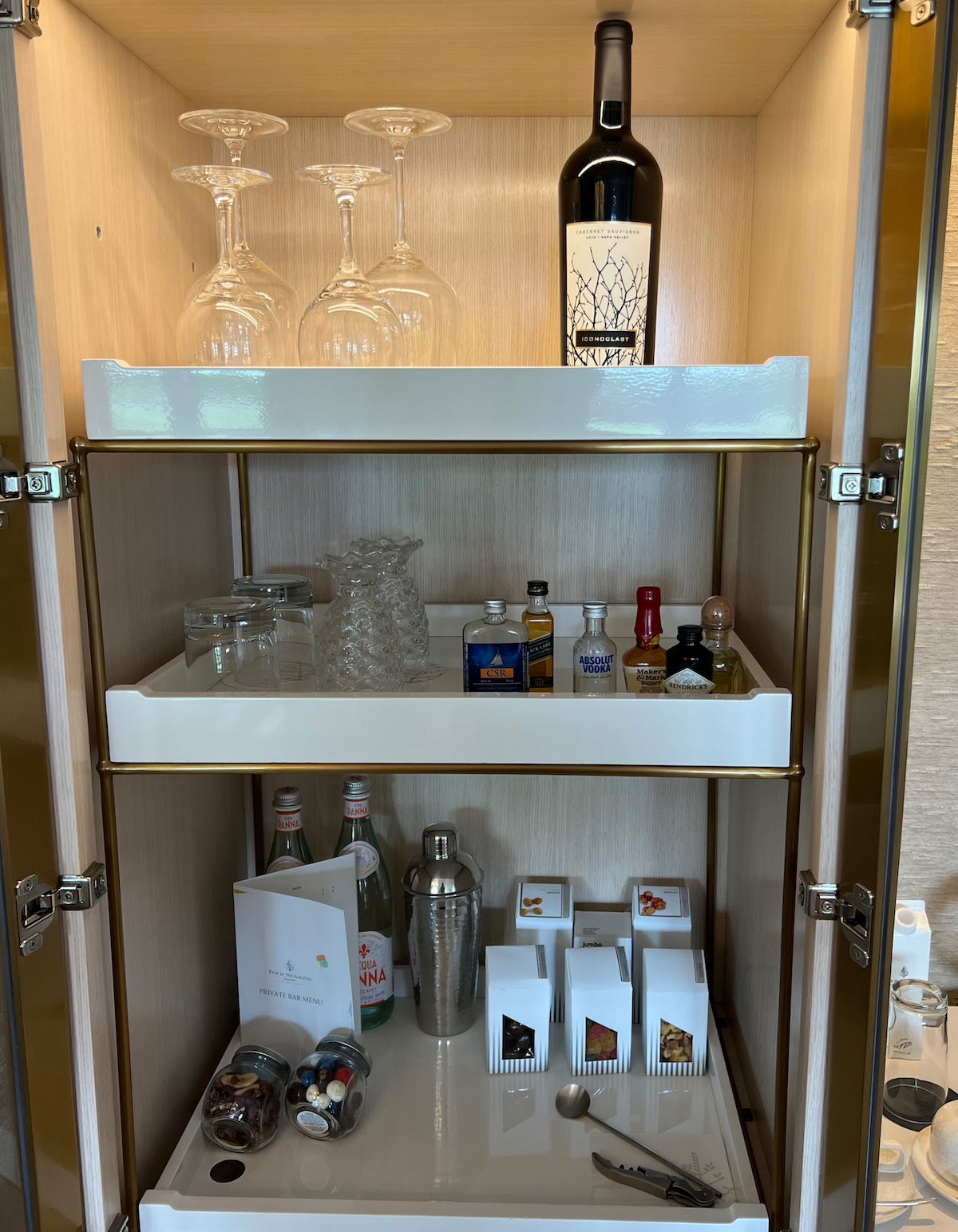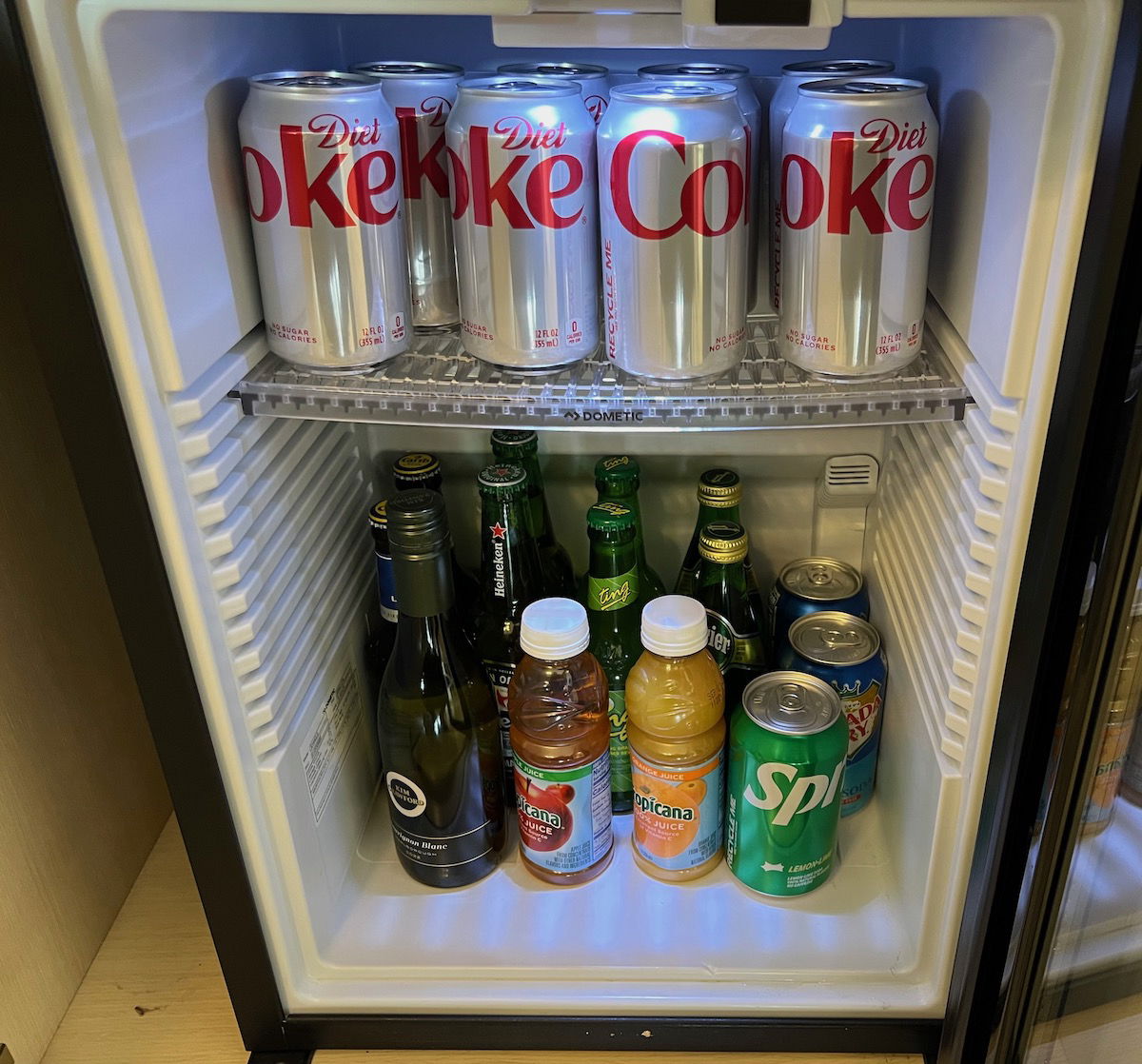 There was also a lovely welcome amenity, consisting of a bottle of sauvignon blanc, some sweets, fresh fruit, and an edible turtle, made of chocolate and marshmallows.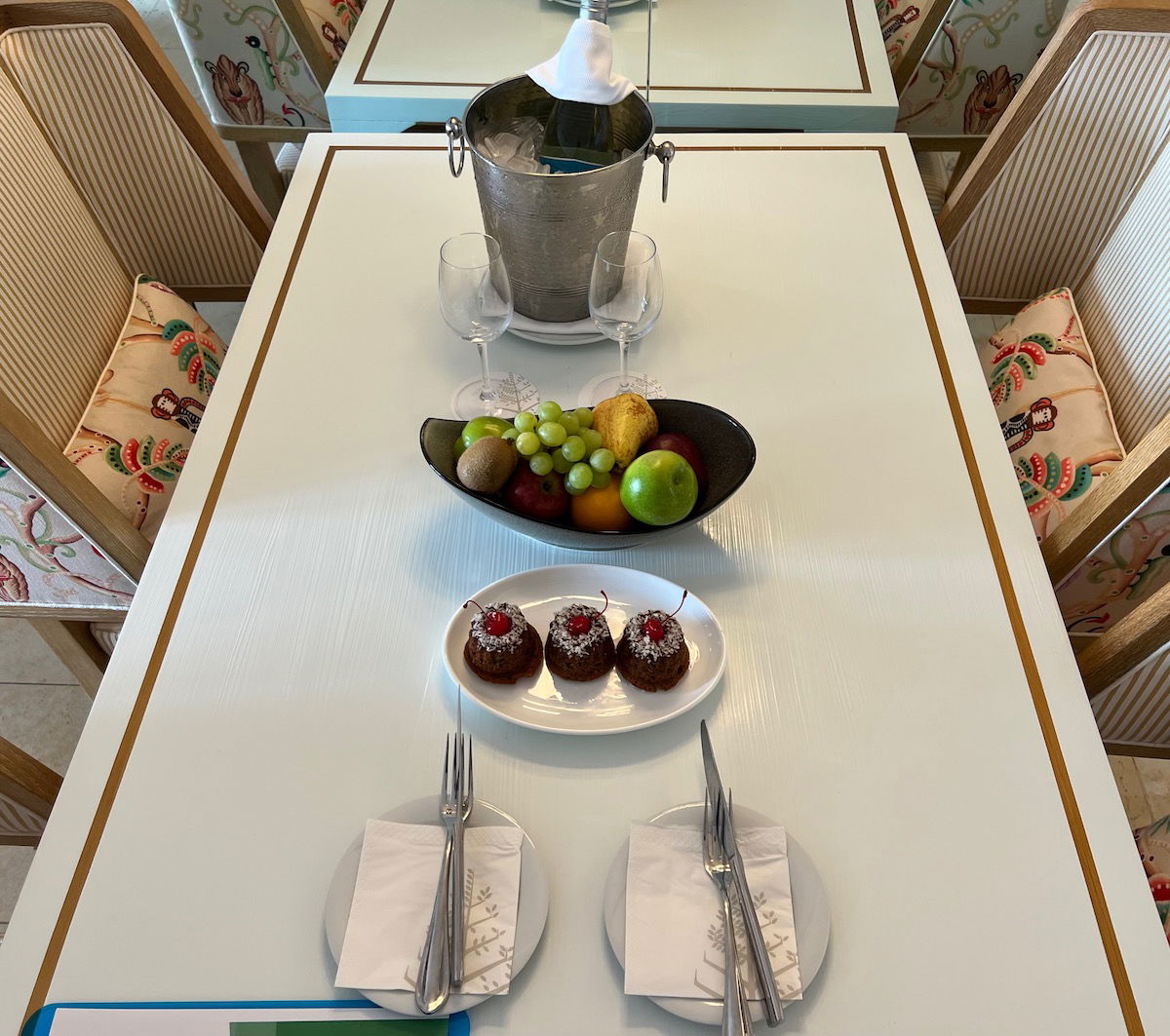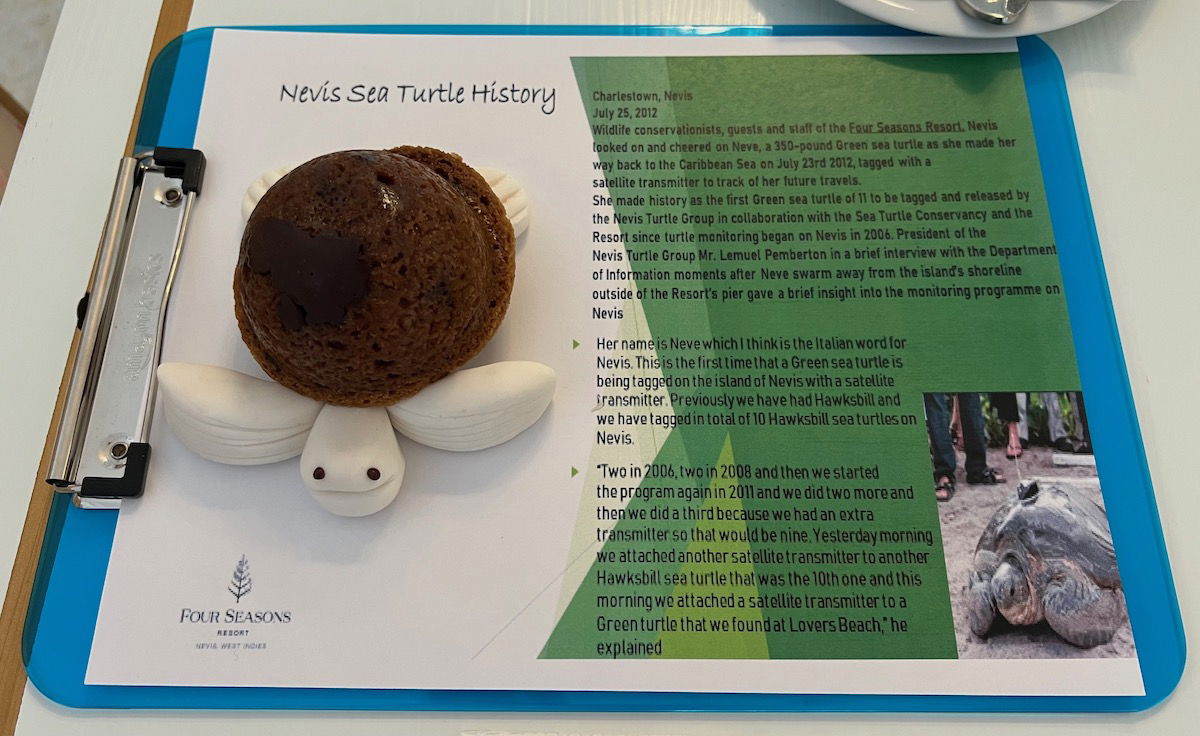 Back near the entrance was the smaller of the two bathrooms, which was still huge. It had a sink, a walk-in shower, a tub, and a toilet. This is a great suite for families, since you have two full bathrooms.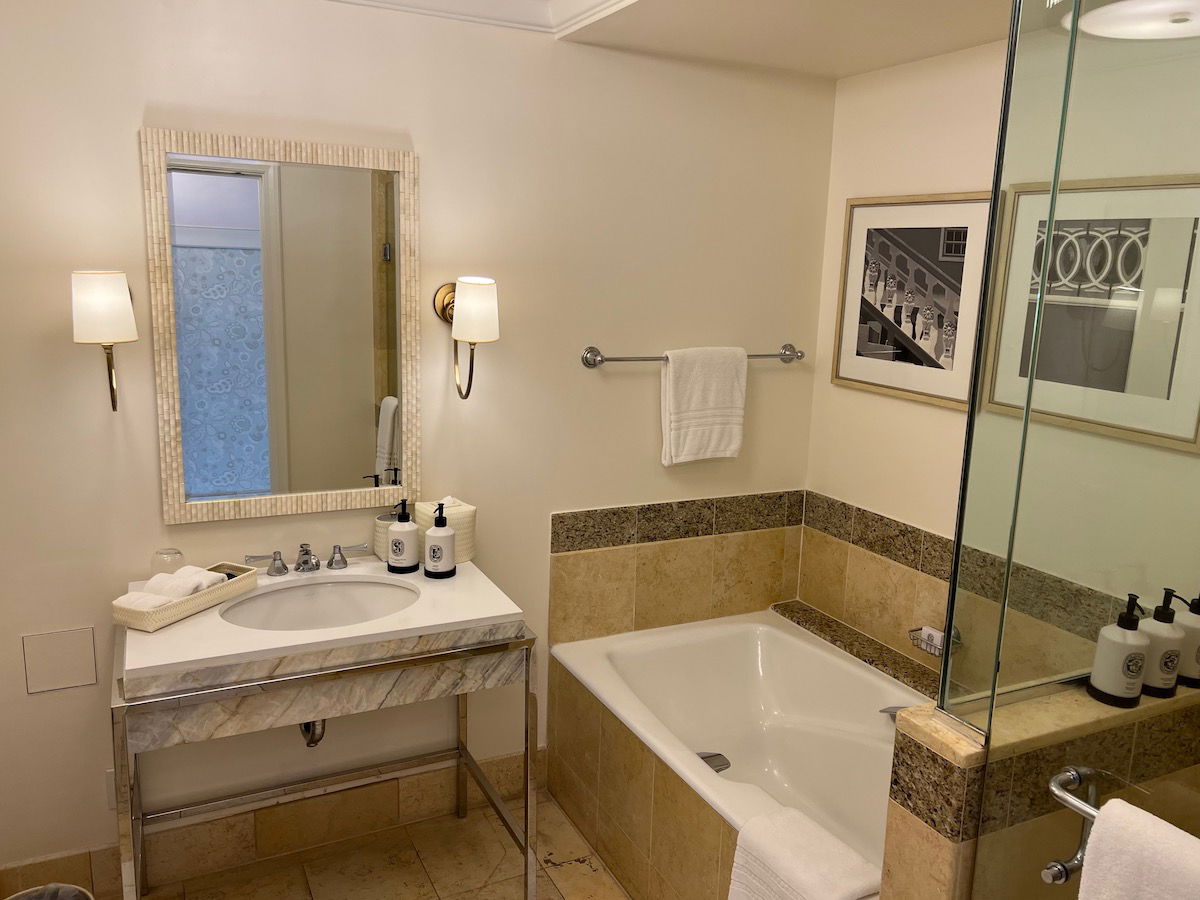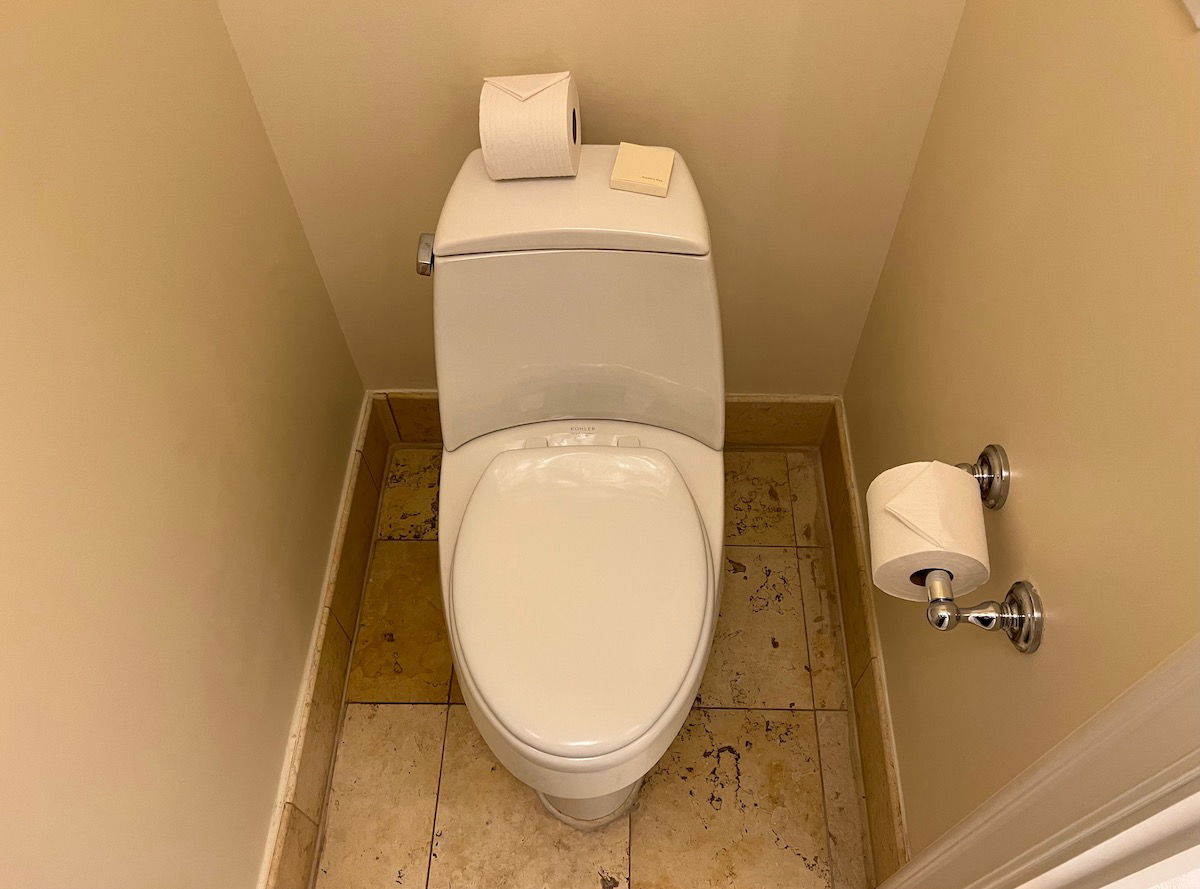 There was then a door separating the bedroom from the living room. The bedroom featured the typical uber-comfortable Four Seasons signature bed, a couch, and a TV (and in our case, also a crib).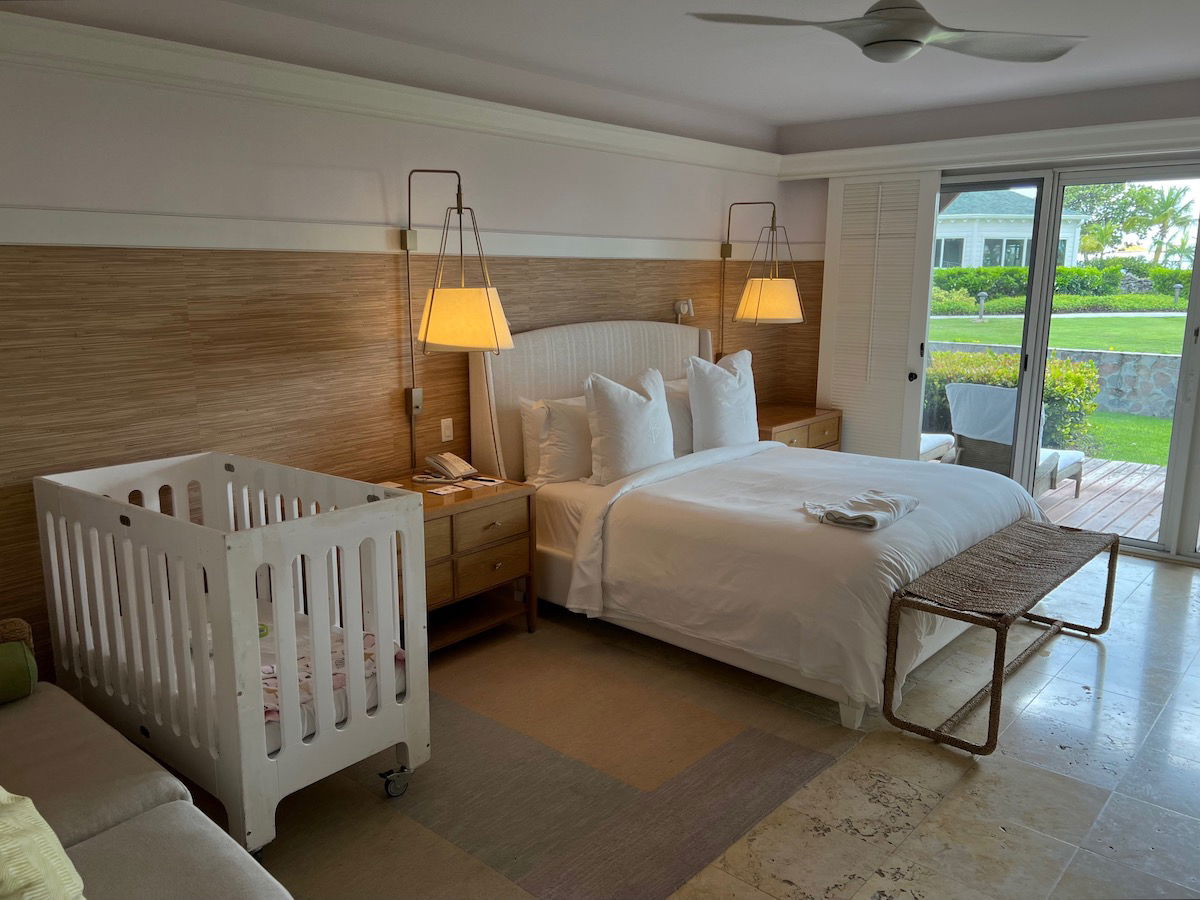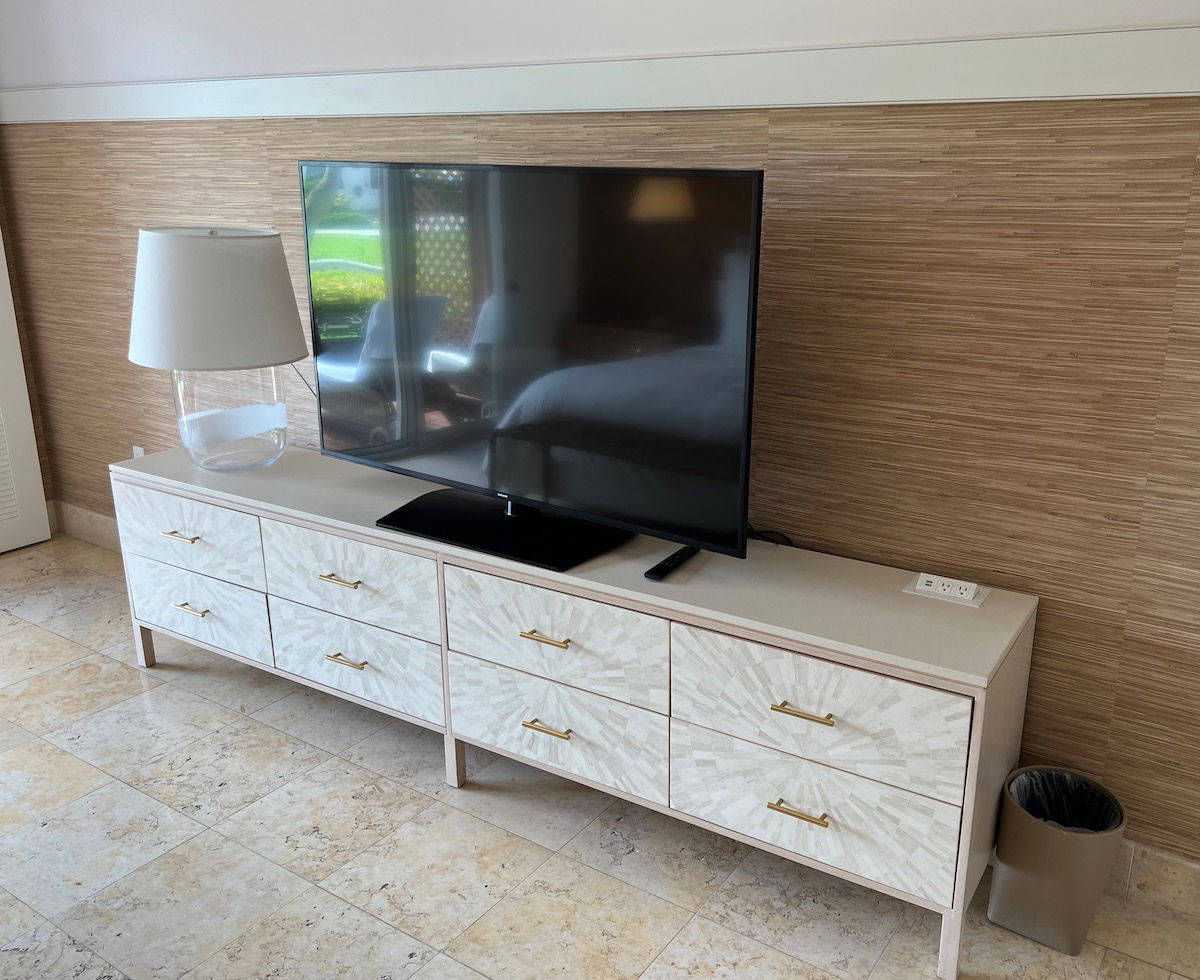 The main bathroom had double sinks, a walk-in shower, a soaking tub, and a toilet.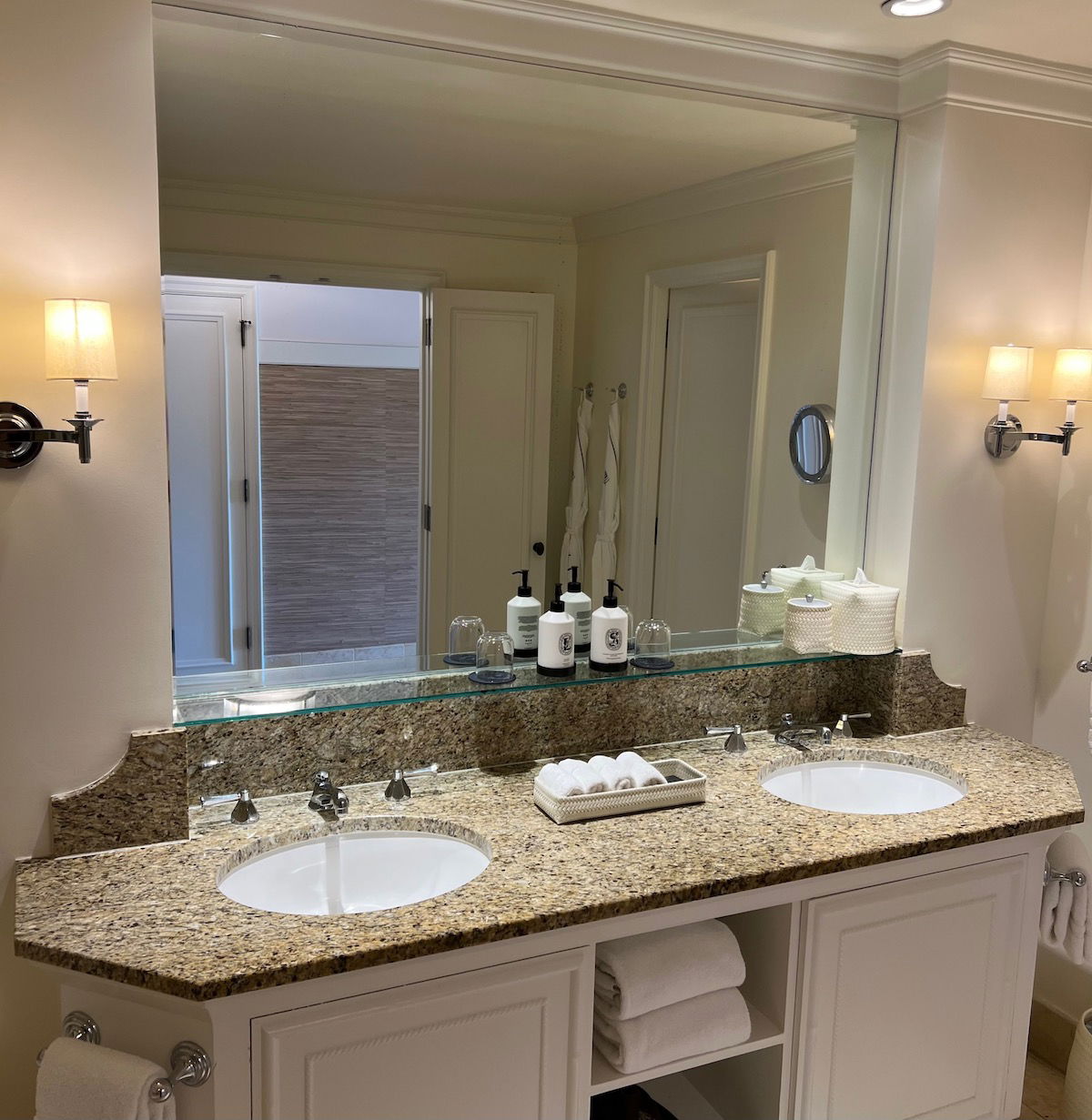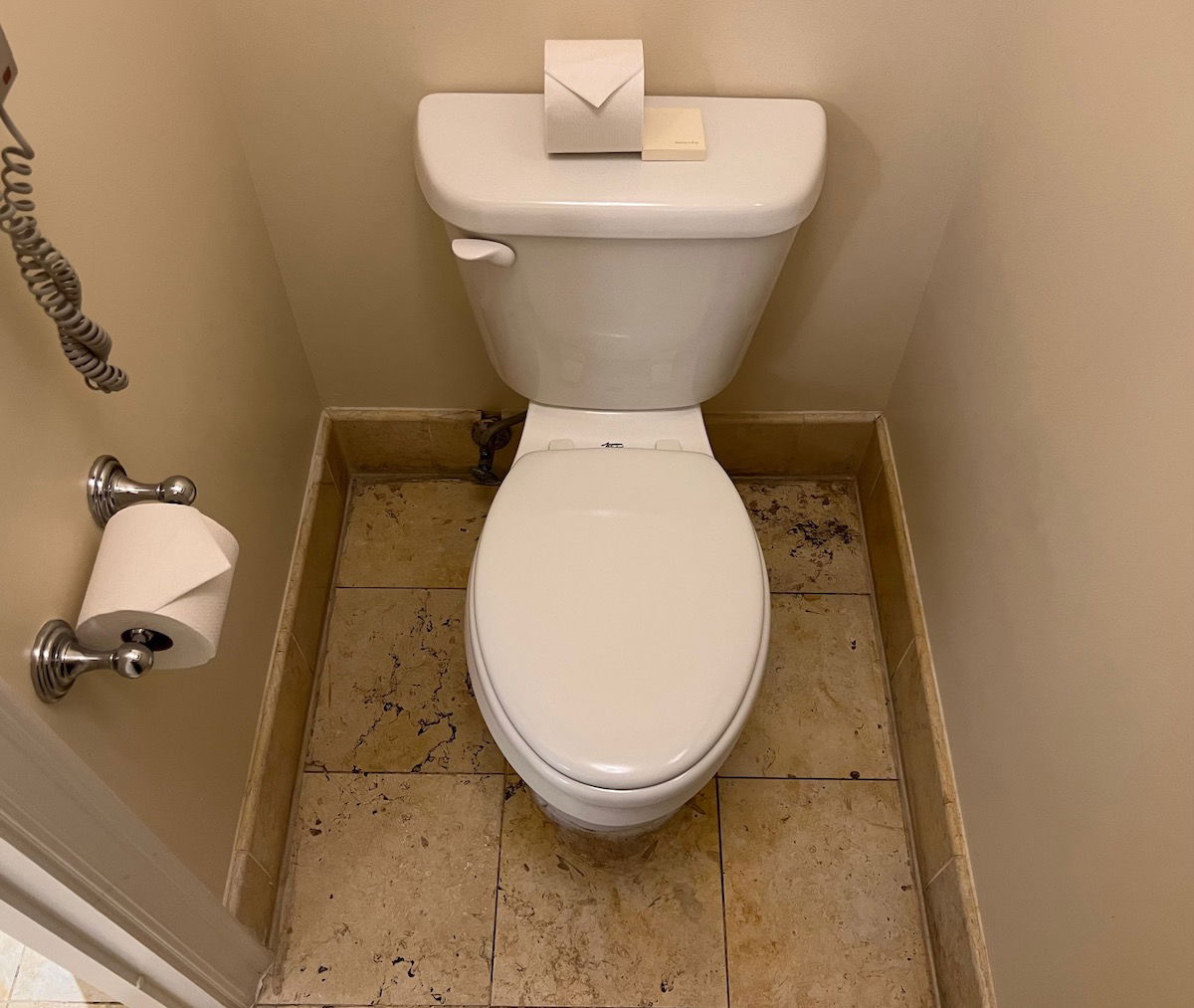 Toiletries were in reusable containers and were from Diptyque.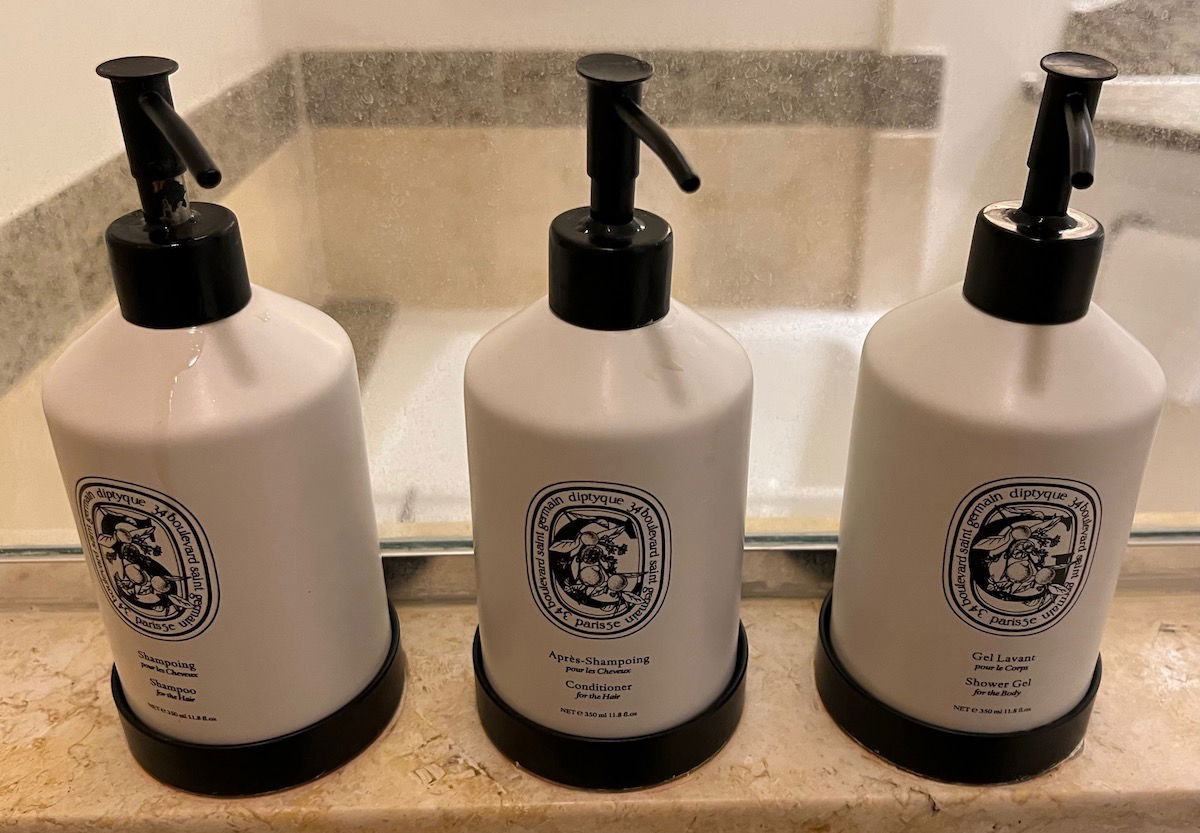 It was also adorable how many cute little touches they left around the room for our son, like the rubber duck. Awww…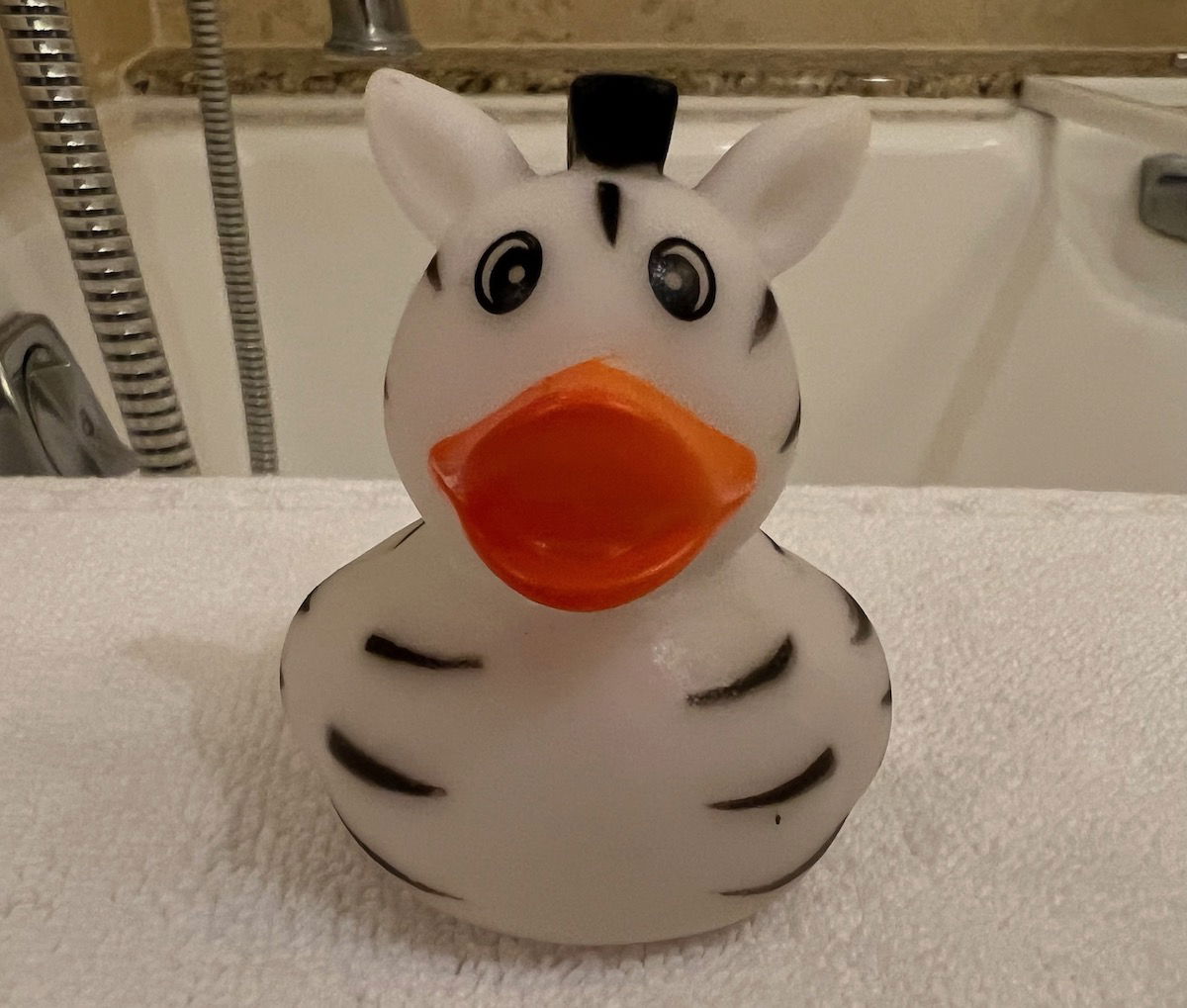 Unfortunately he was much more interesting in exploring every possibly dangerous part of the room, and seeing if he could do any damage…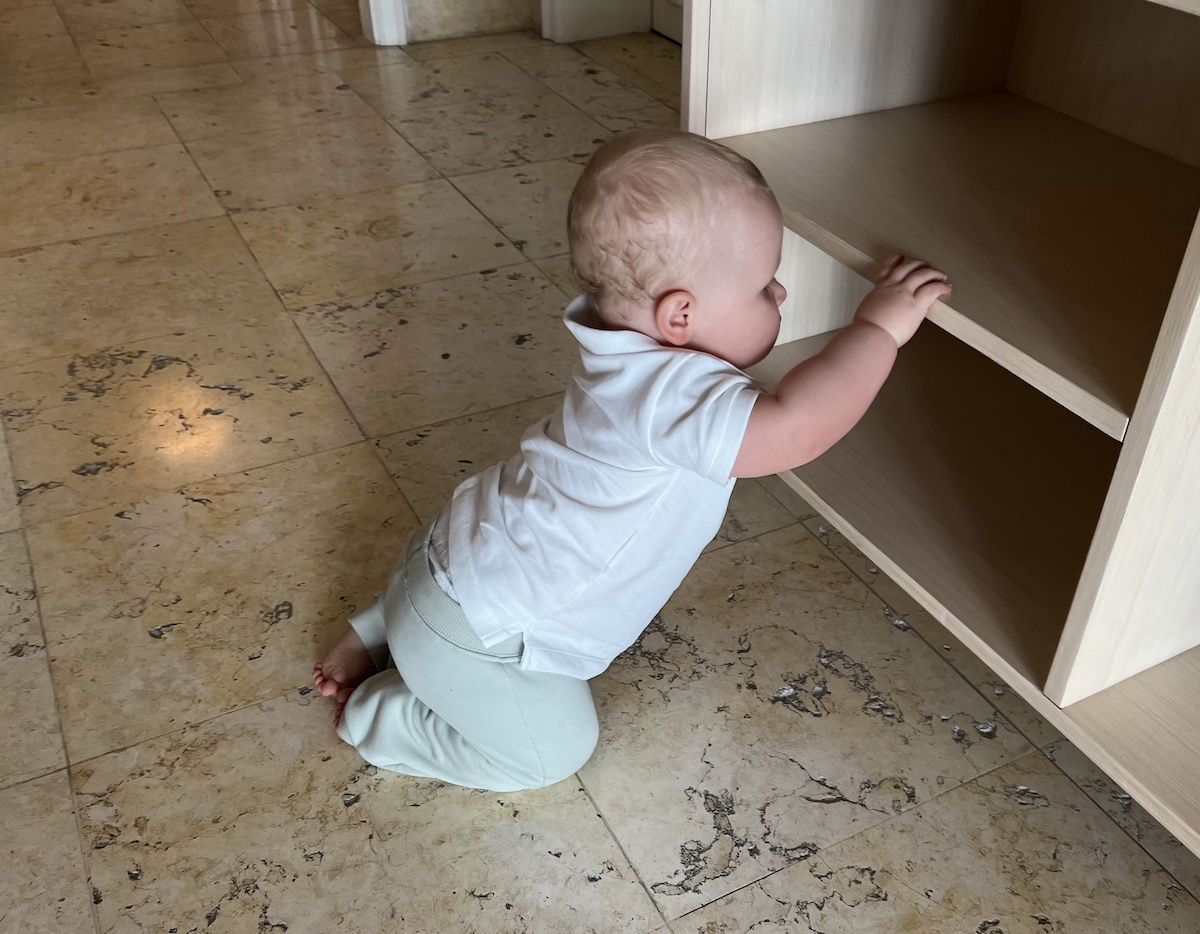 The room also had a huge outdoor space, with two separate areas. Each featured two loungers and a dining table with two chairs.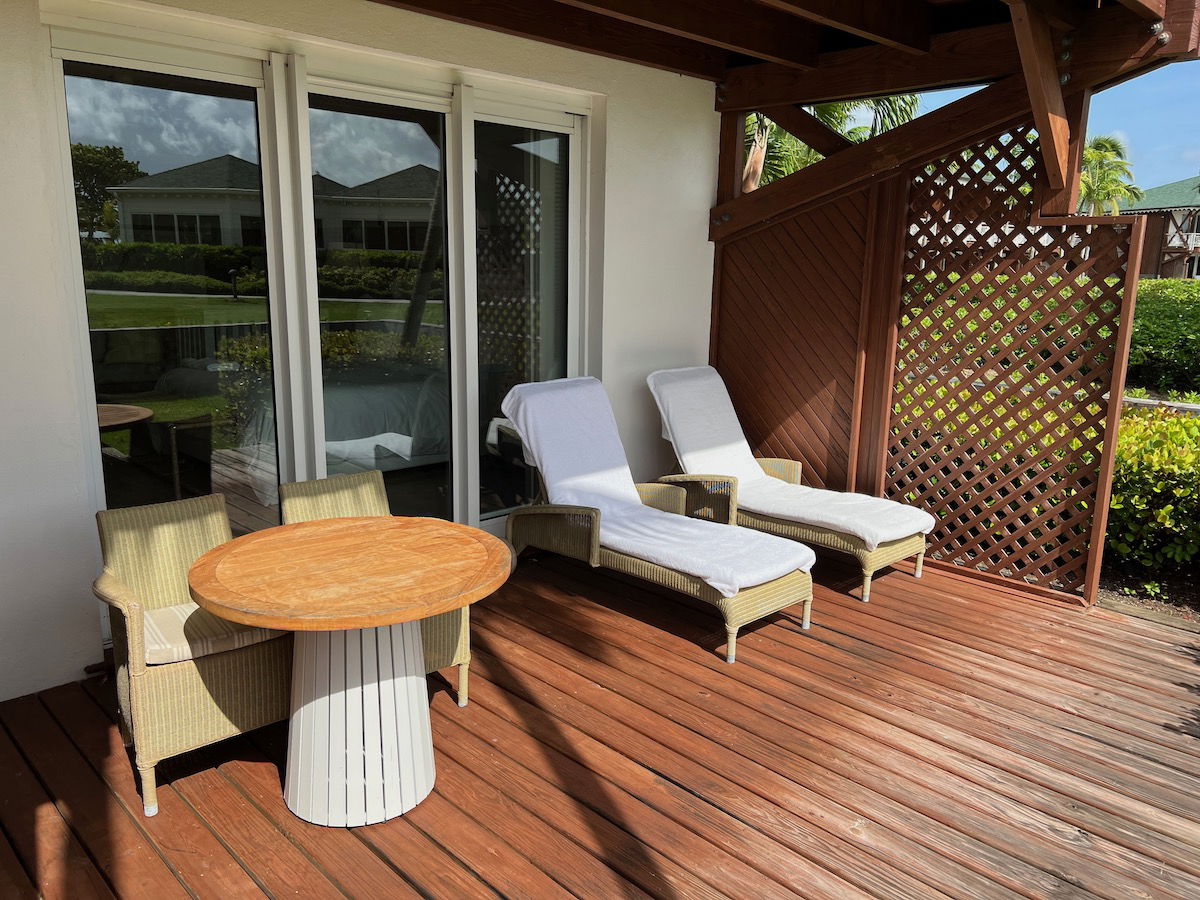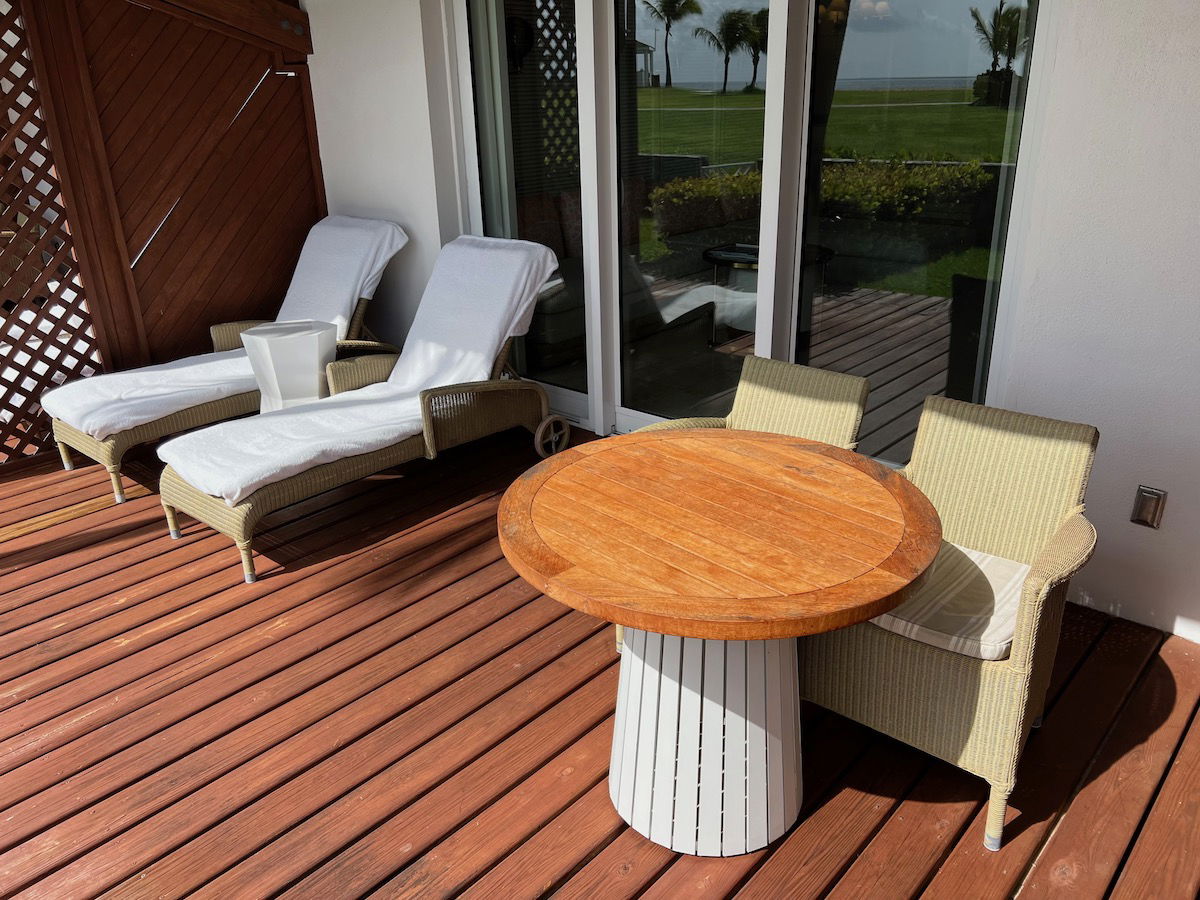 Since we were on the ground floor, we had a gate through which we could directly access the lawn, and we were then just a short walk from the beach and the pools.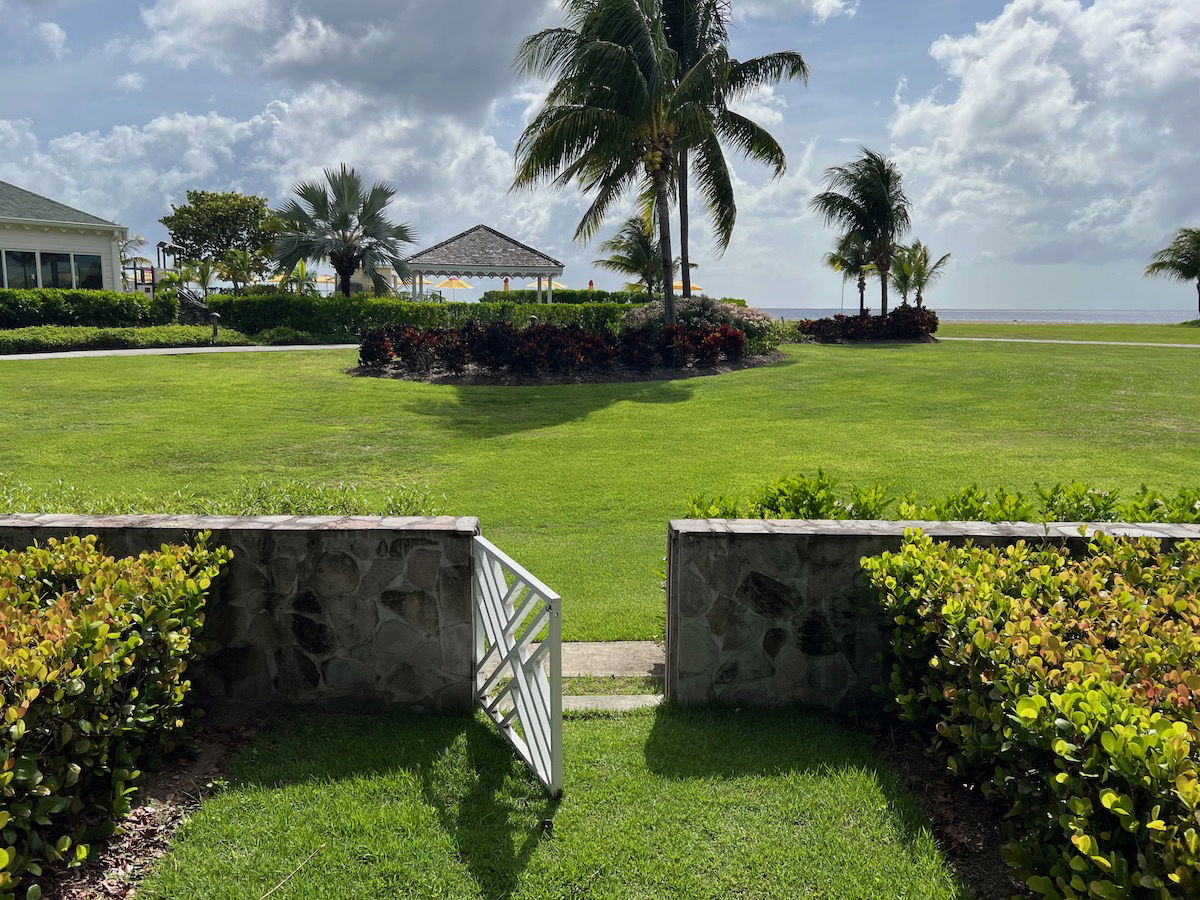 Housekeeping was provided twice daily, and was thorough. Furthermore, Wi-Fi was fast and complimentary.
All-in-all, we thought the rooms here were great. Our suite was spacious and practically designed. However, admittedly this hotel doesn't have uber-modern rooms with remarkable design, as you might find at some of Four Seasons' newer resorts.
By the way, one other cool thing to note, which I really appreciate. The Four Seasons has shared washing machines in each cottage, which you're free to use any time (and there's even detergent and dryer sheets). Being able to wash your clothes for free at a resort is awesome, and something I wish we'd see at more hotels.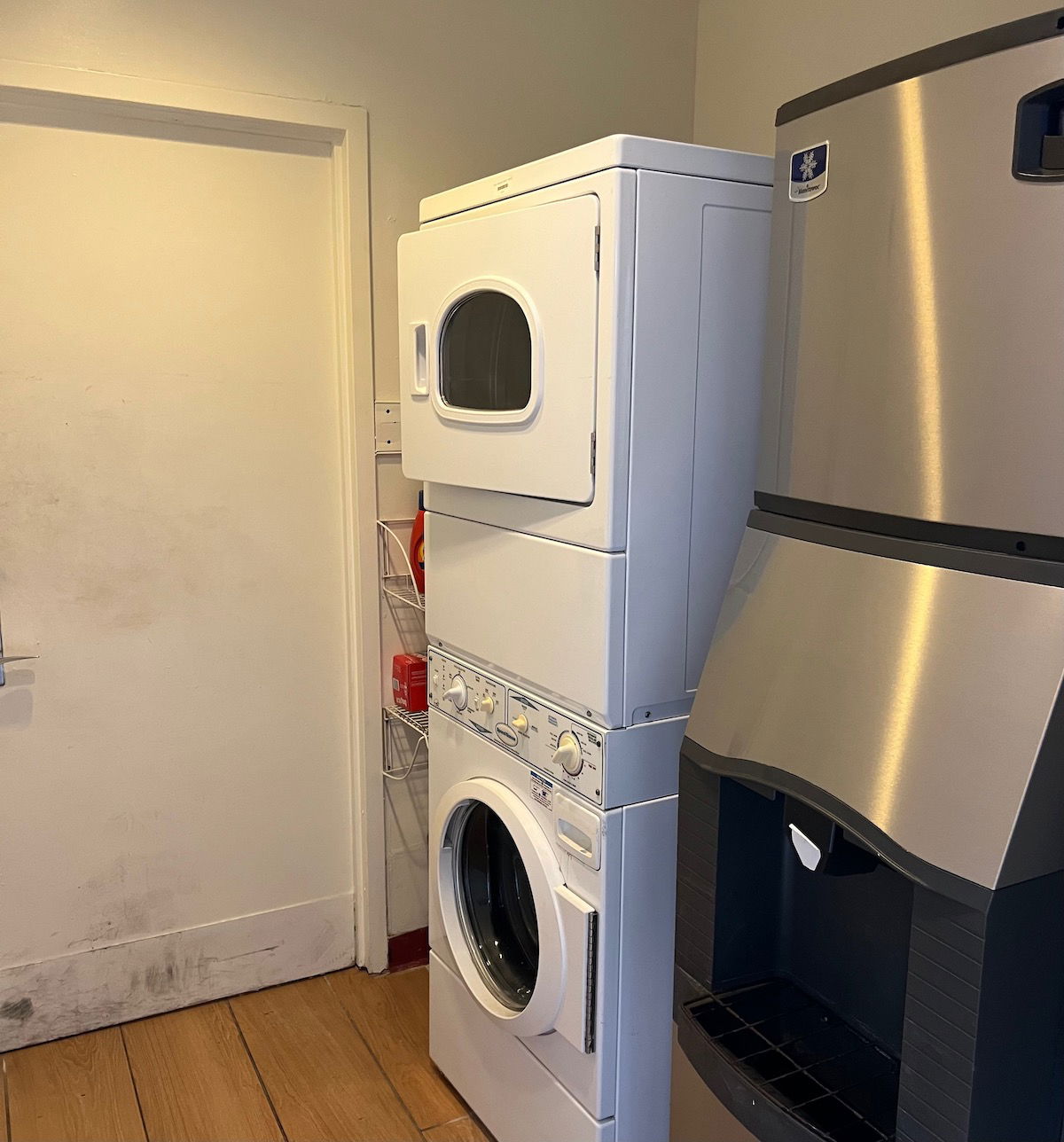 Four Seasons Nevis pools
The Four Seasons Nevis has a very strong pool game, as there are three pools to choose from.
The Limin Pool is specifically for adults, and is definitely the nicest. It's an infinity-edge pool overlooking the Caribbean Sea, and has palm trees and vegetation all around it.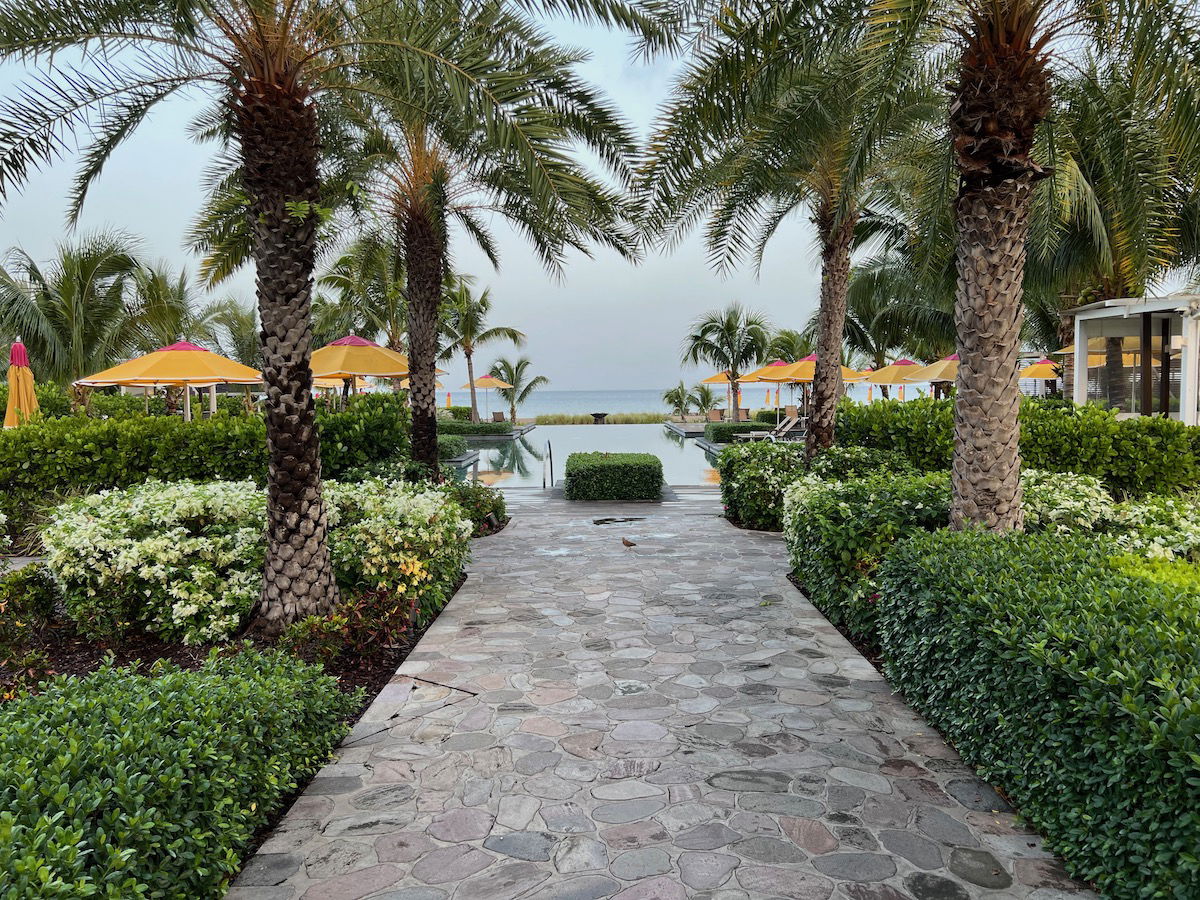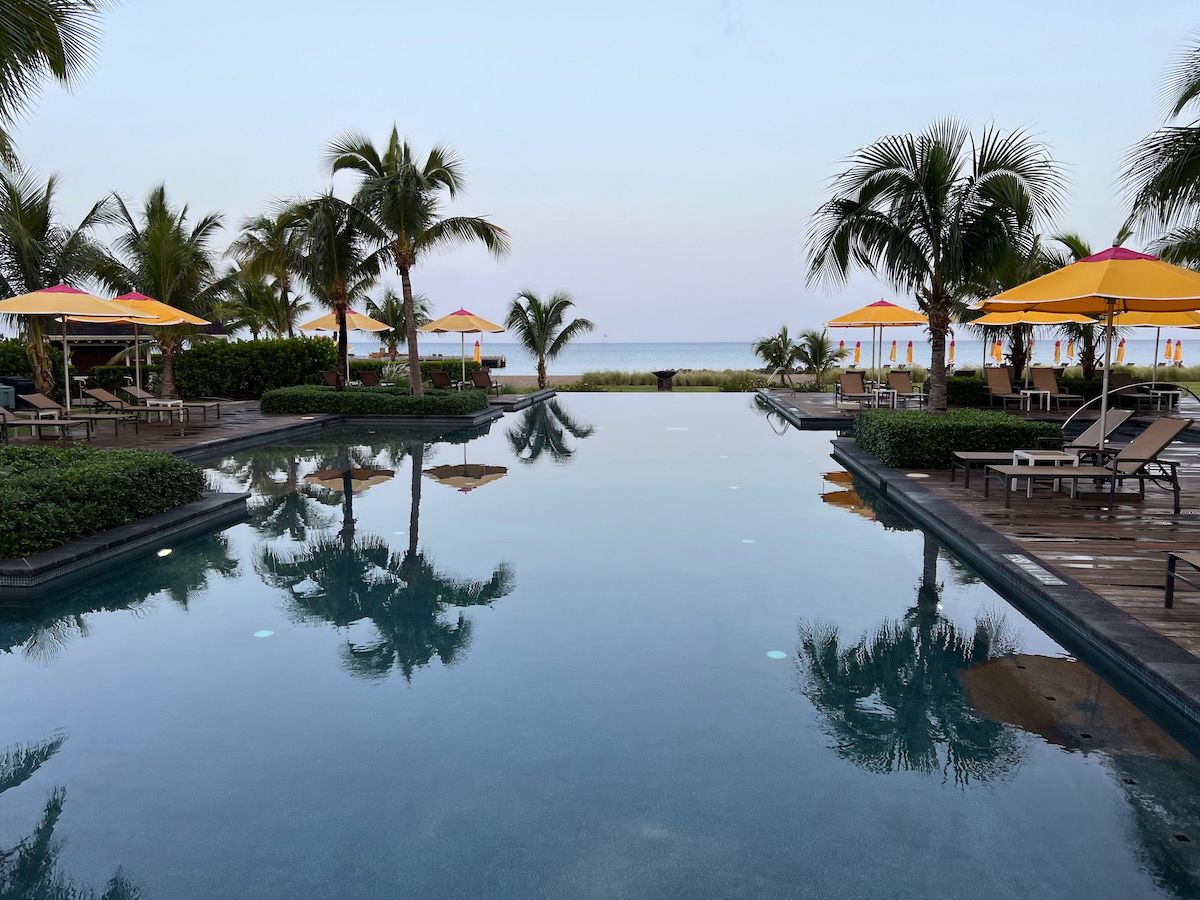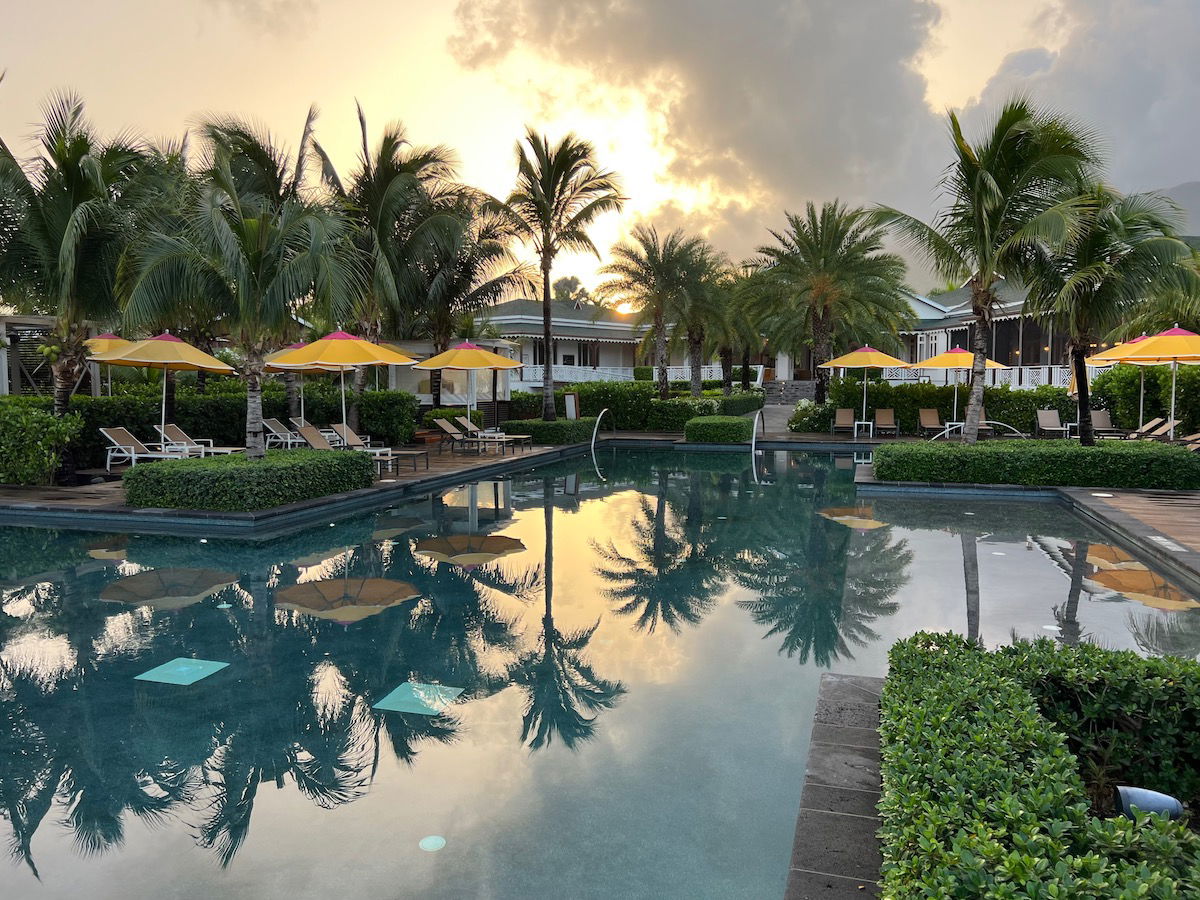 The next pool is the Calypso Pool, which is specifically intended for families. This is the biggest pool, and also features a 25 meter (83 foot) swimming lane. We went swimming here with Miles, and he really enjoyed it (as did we)!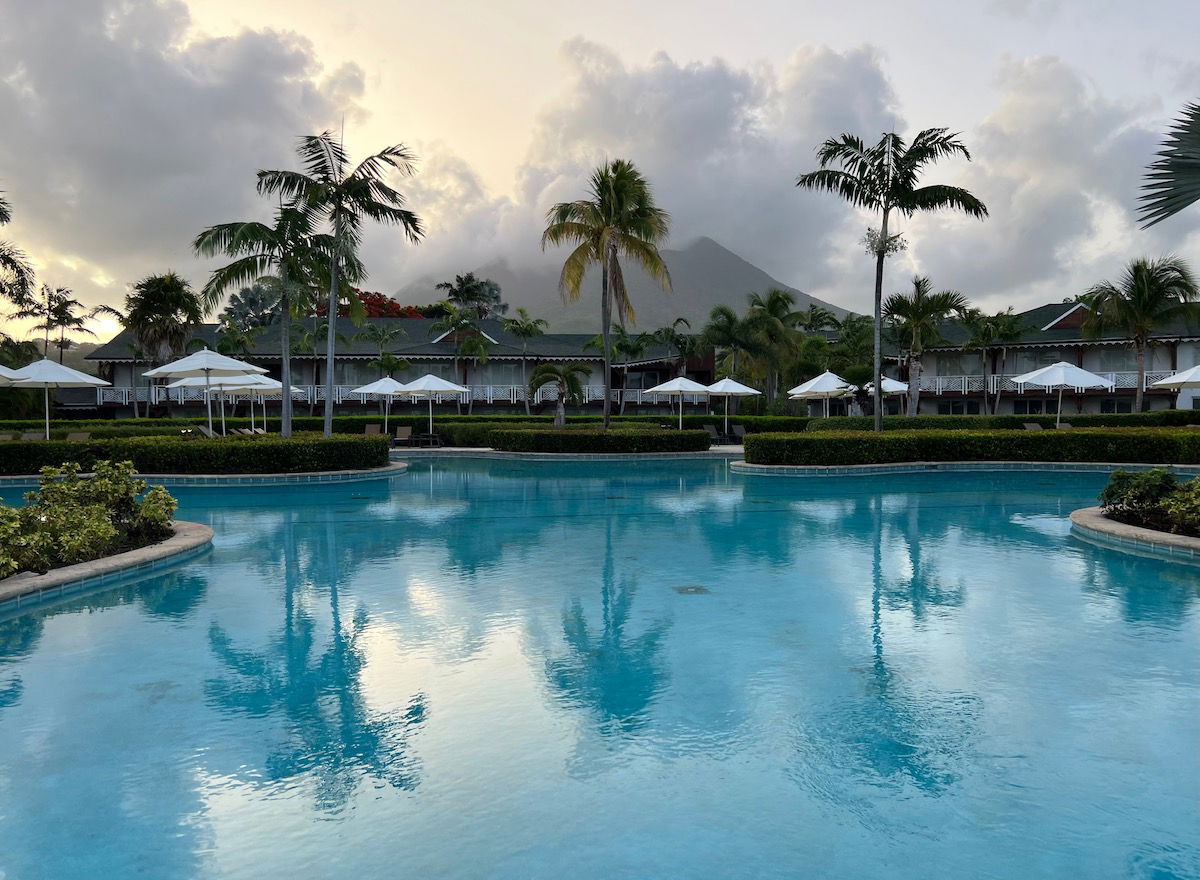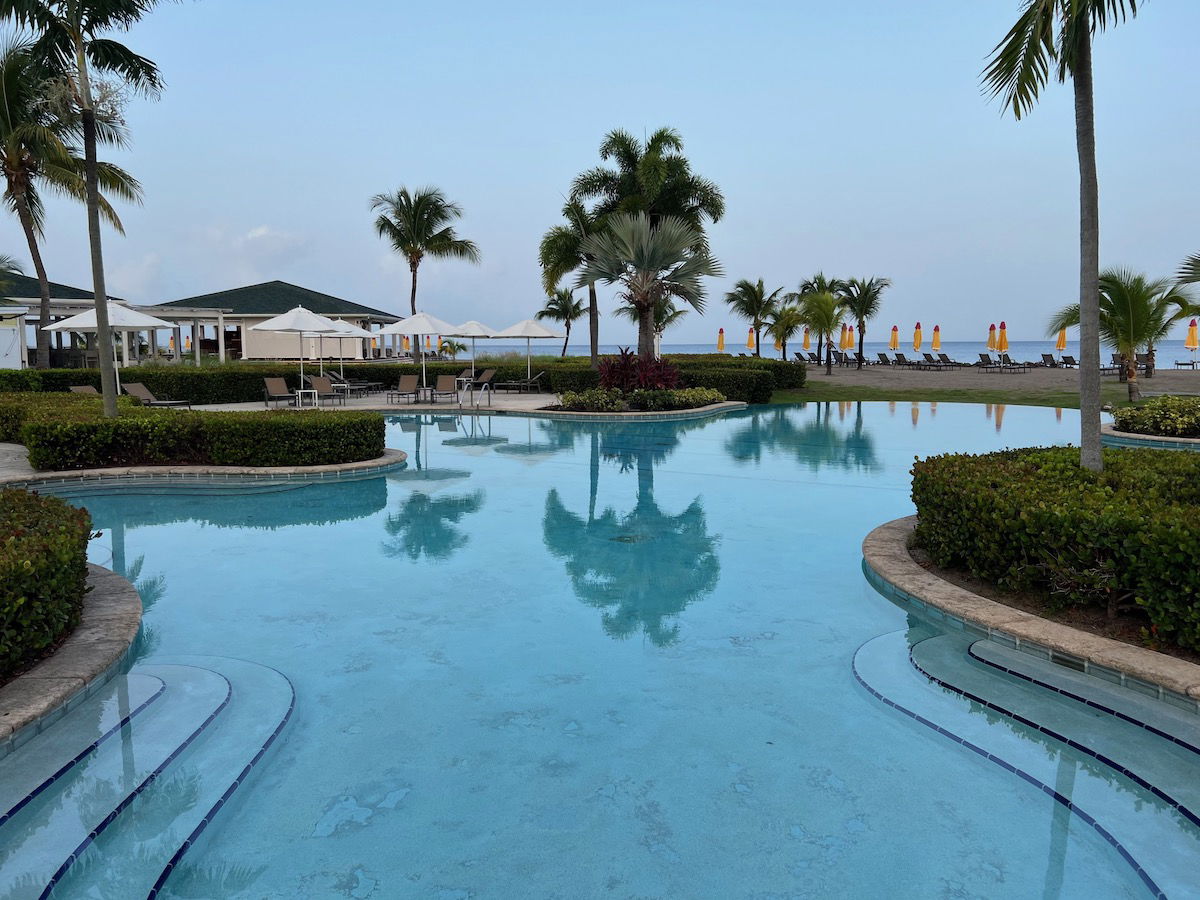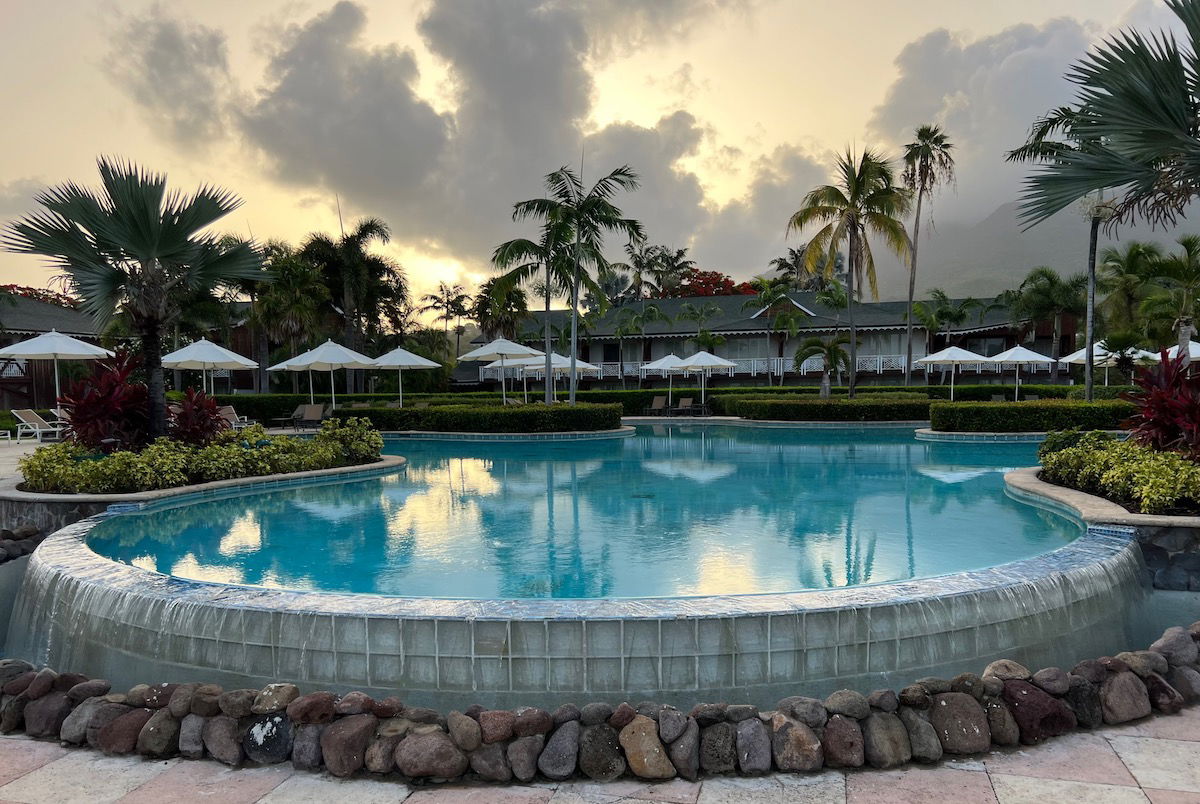 Finally, the third pool is the Soca Pool, which is fairly similar to the Calypso Pool. It's intended more for relaxing, so while it's not explicitly only for adults, you can expect that it'll be between the Limin Pool and Calypso Pool in terms of the vibe.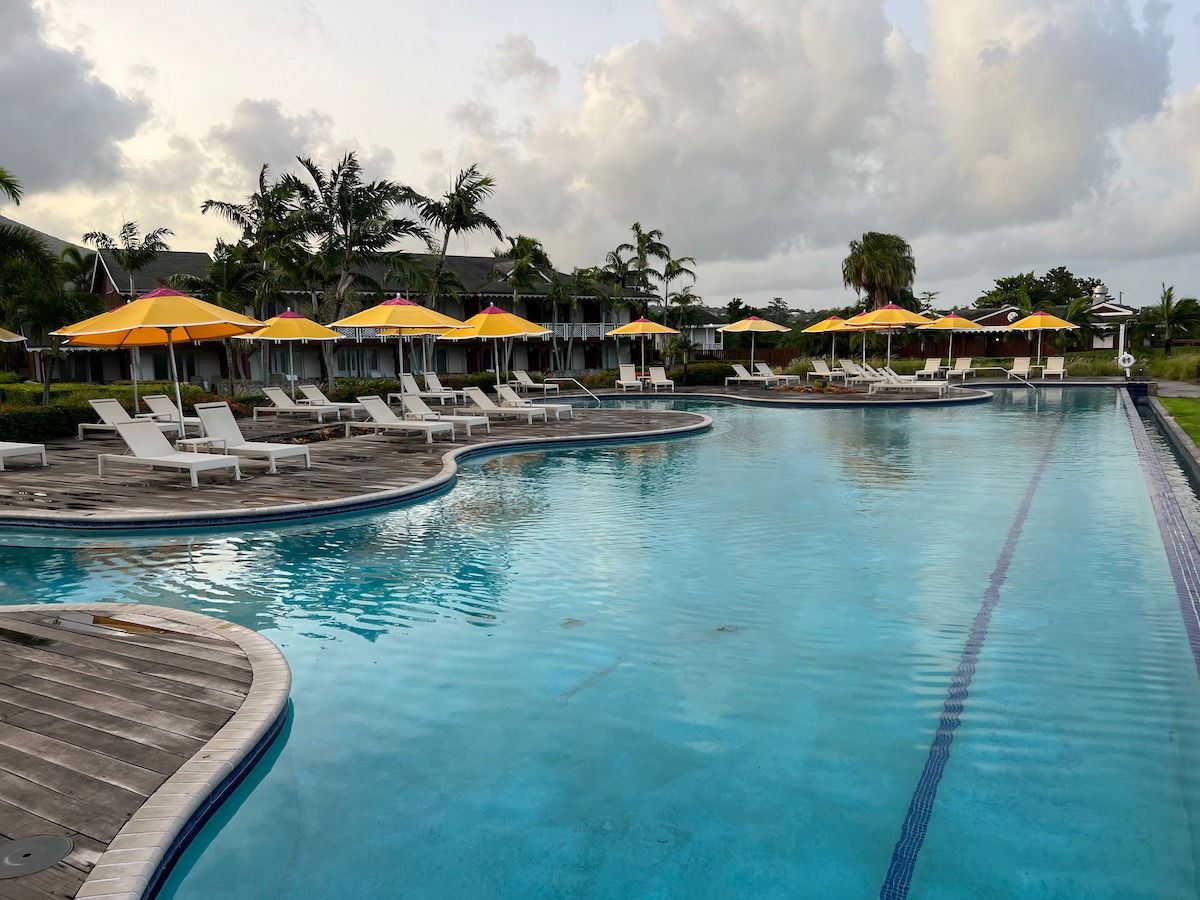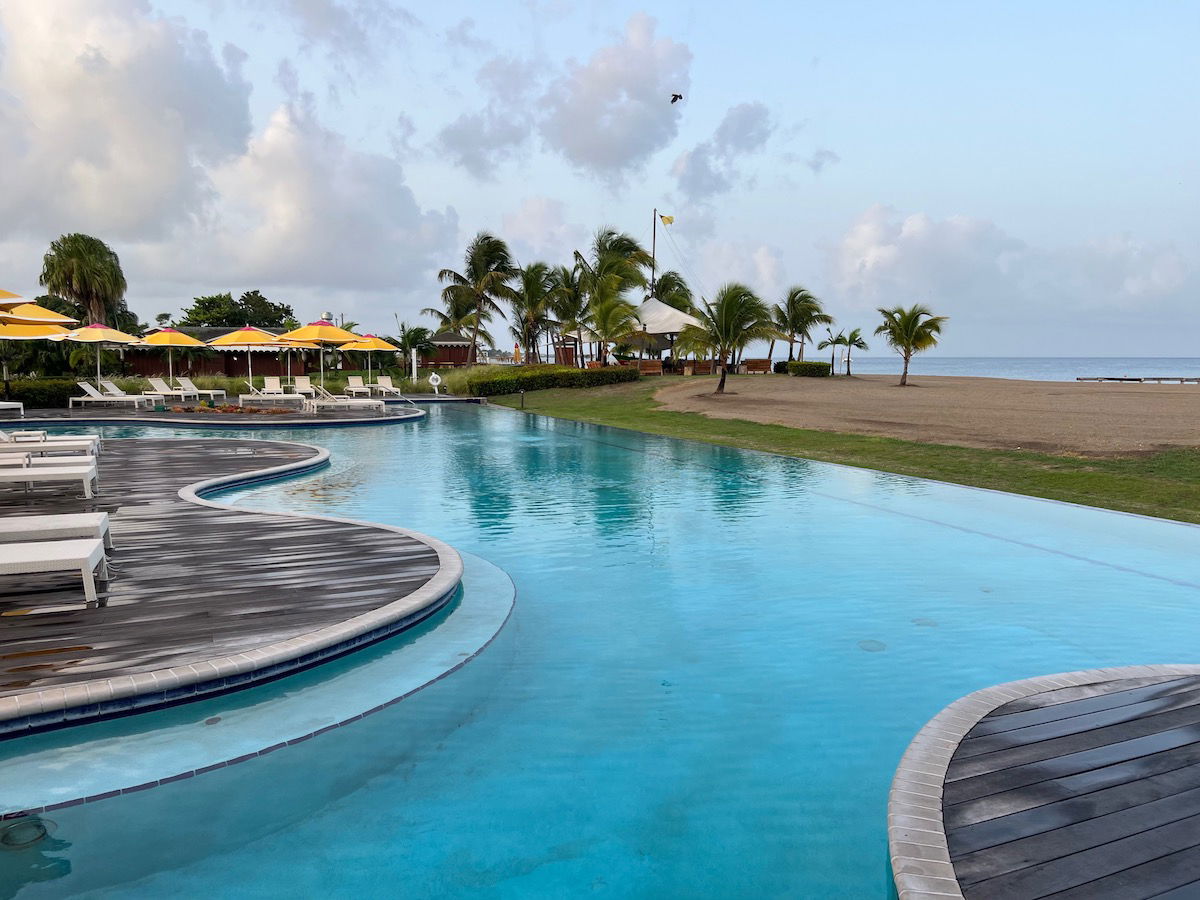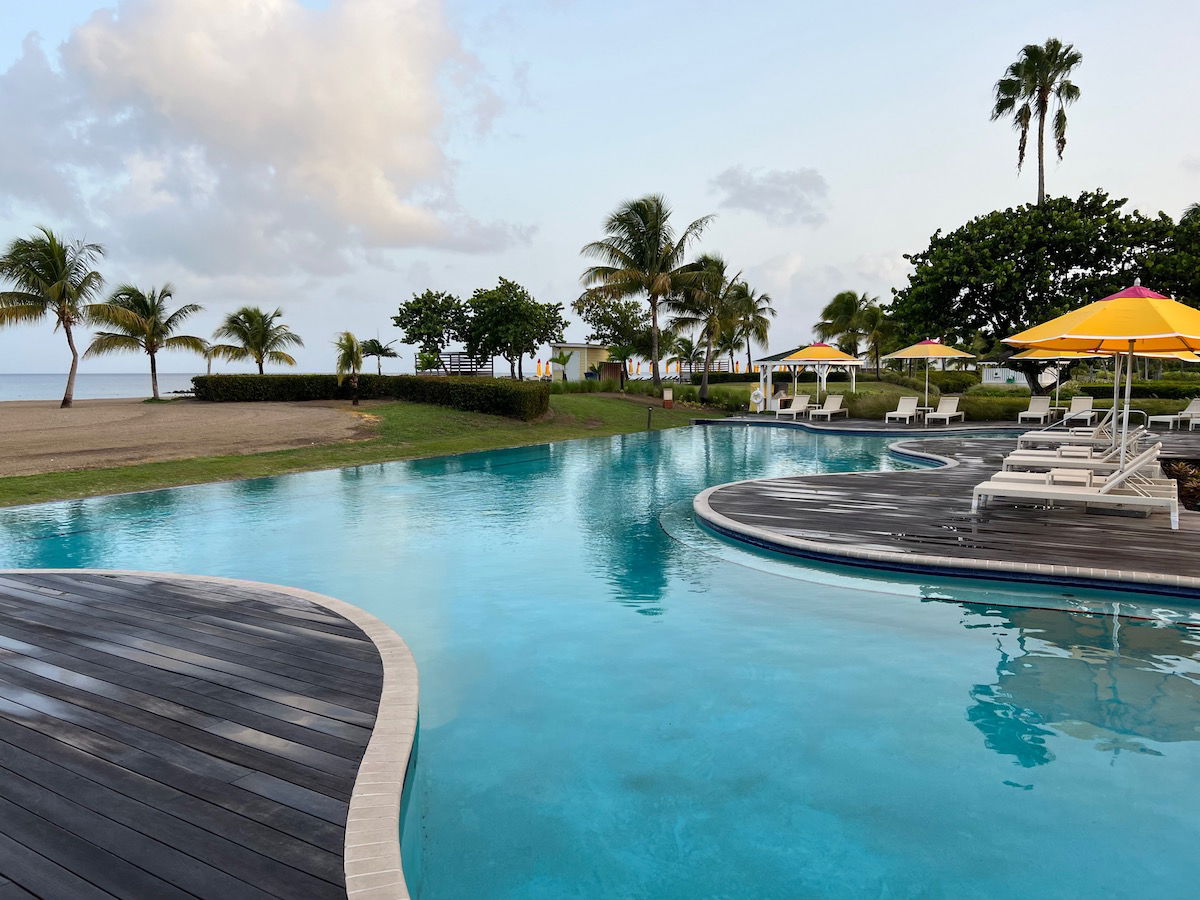 It's hard to beat the total amount of pool space here, and I feel like even if the hotel were busy, the pool areas wouldn't feel overcrowded.
Four Seasons Nevis beach
The Four Seasons Nevis is located on Pinney's Beach, which runs for a few miles uninterrupted. The Caribbean Sea water is calm and clear, and the sand is soft, with no sargassum. While perhaps not as picturesque as Grace Bay in Turks & Caicos, it's a very nice stretch of beach.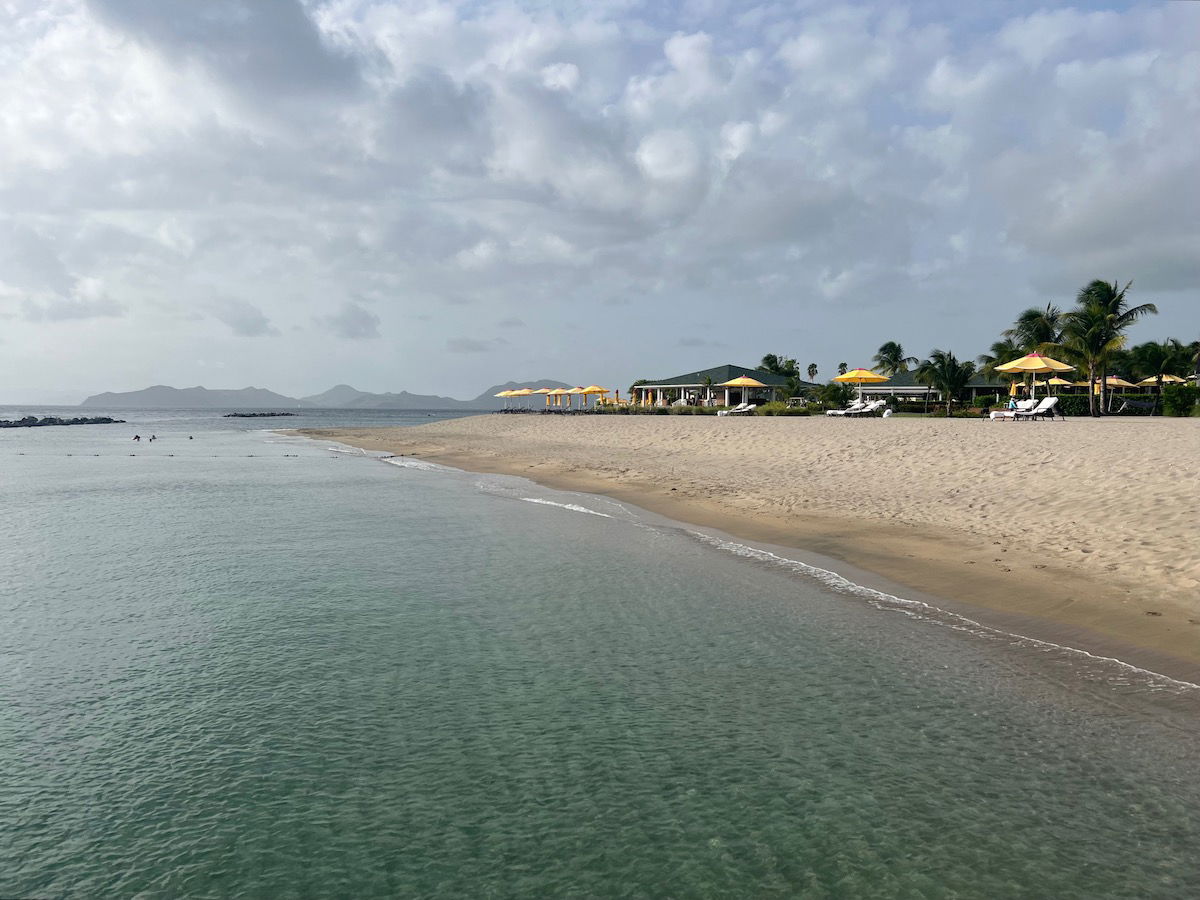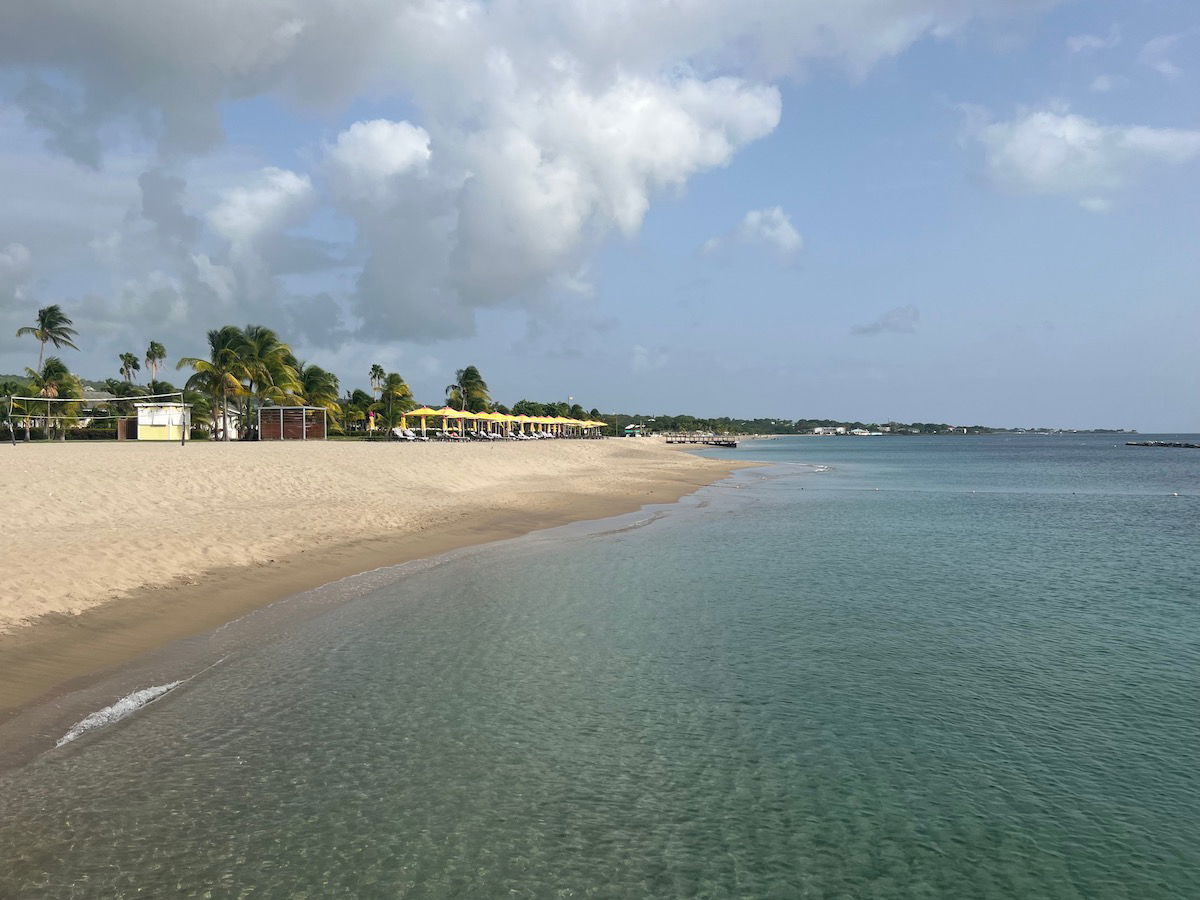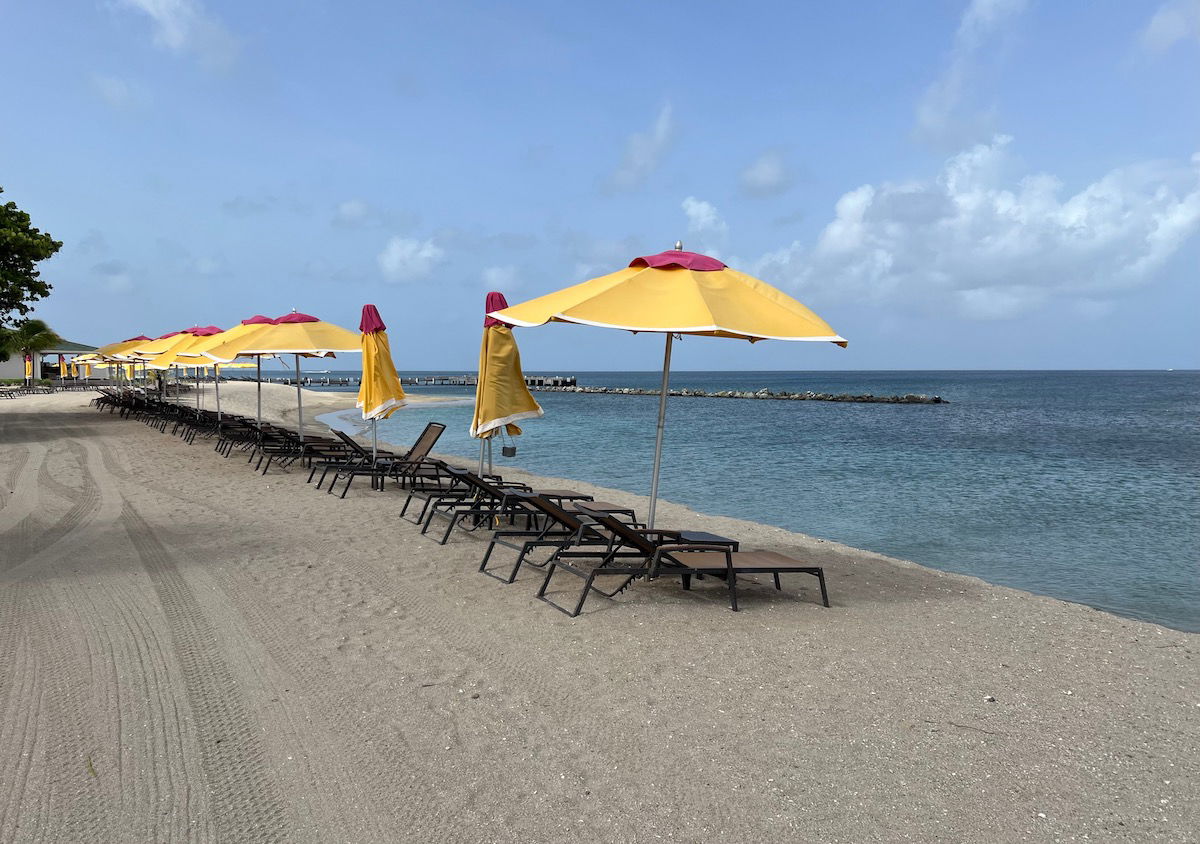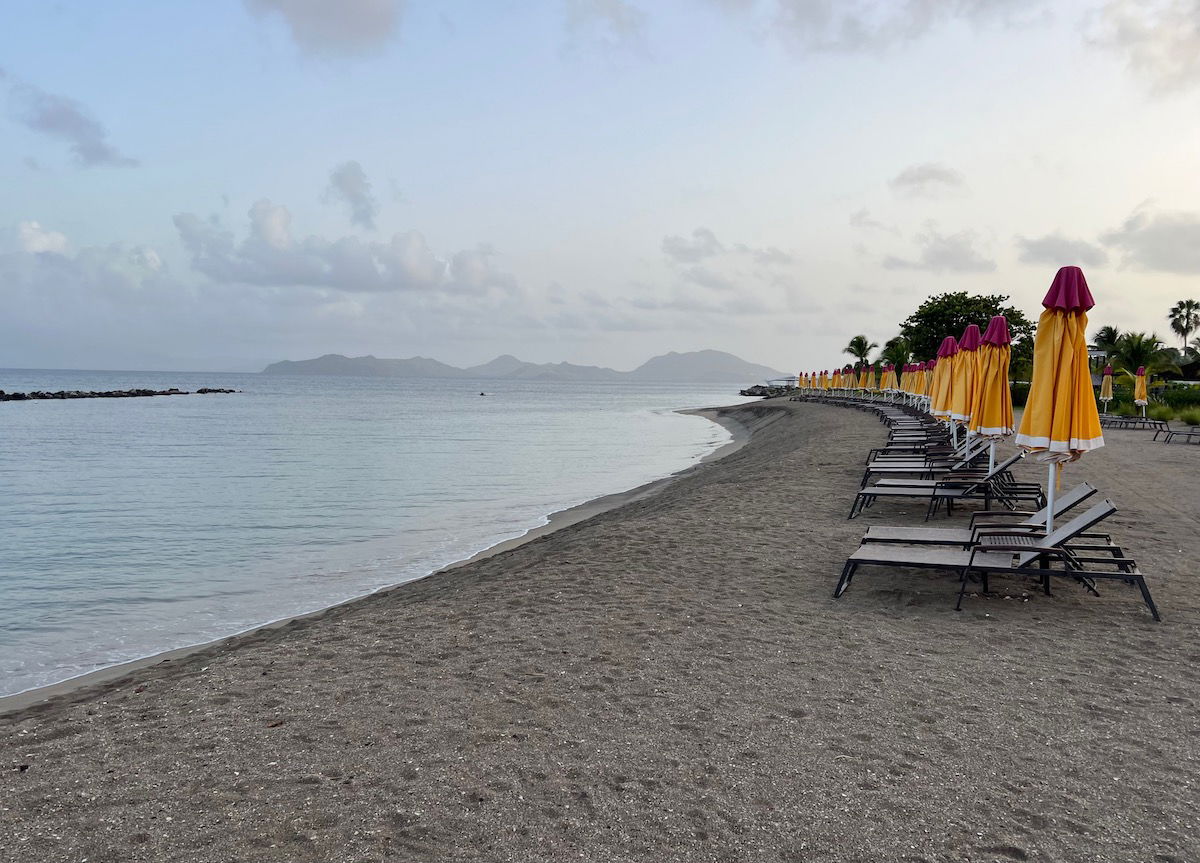 The sunset from the beach can be pretty breathtaking as well!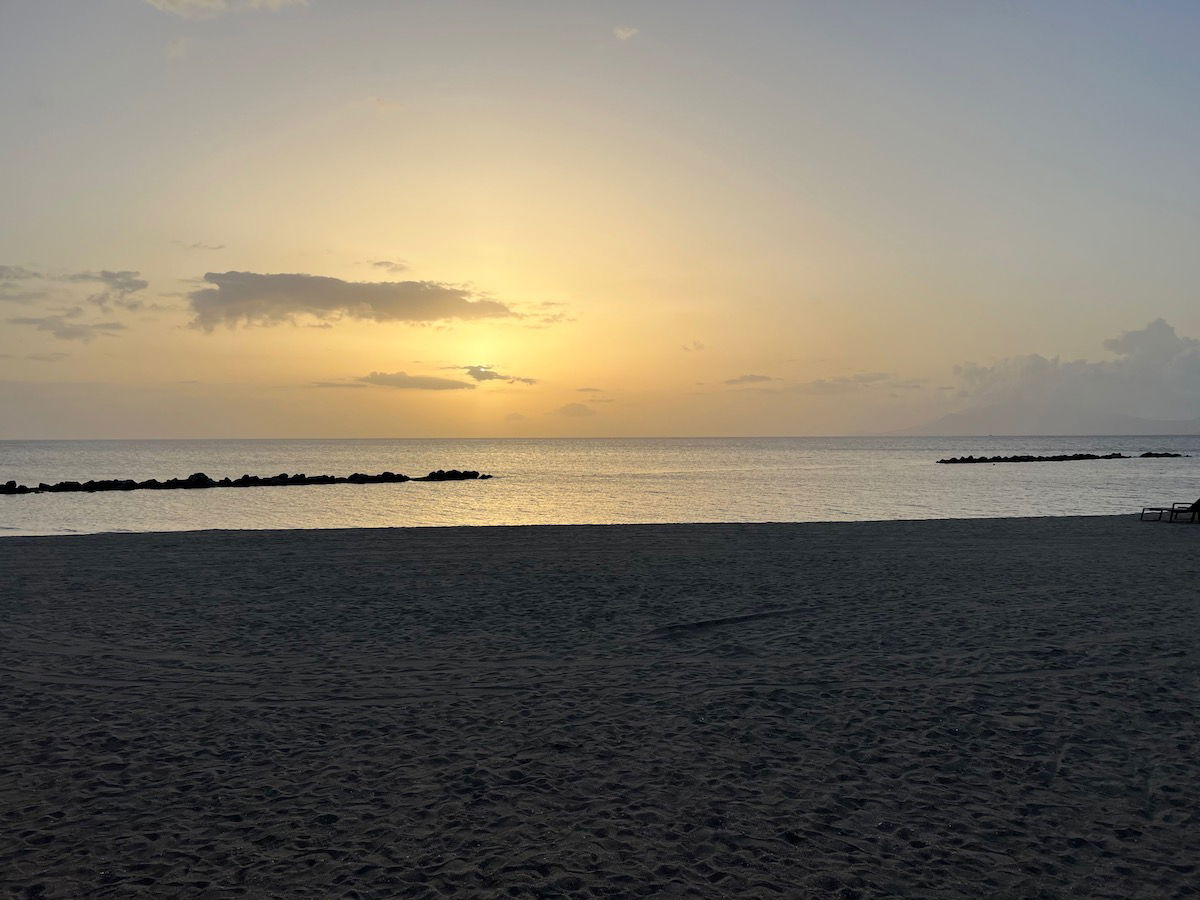 Four Seasons Nevis spa, gym, tennis, and golf
As you'd expect, the Four Seasons Nevis has an impressive spa. We didn't get any spa treatments this trip (since we were traveling with our son, and that kept us very busy), but you can find the spa menu here.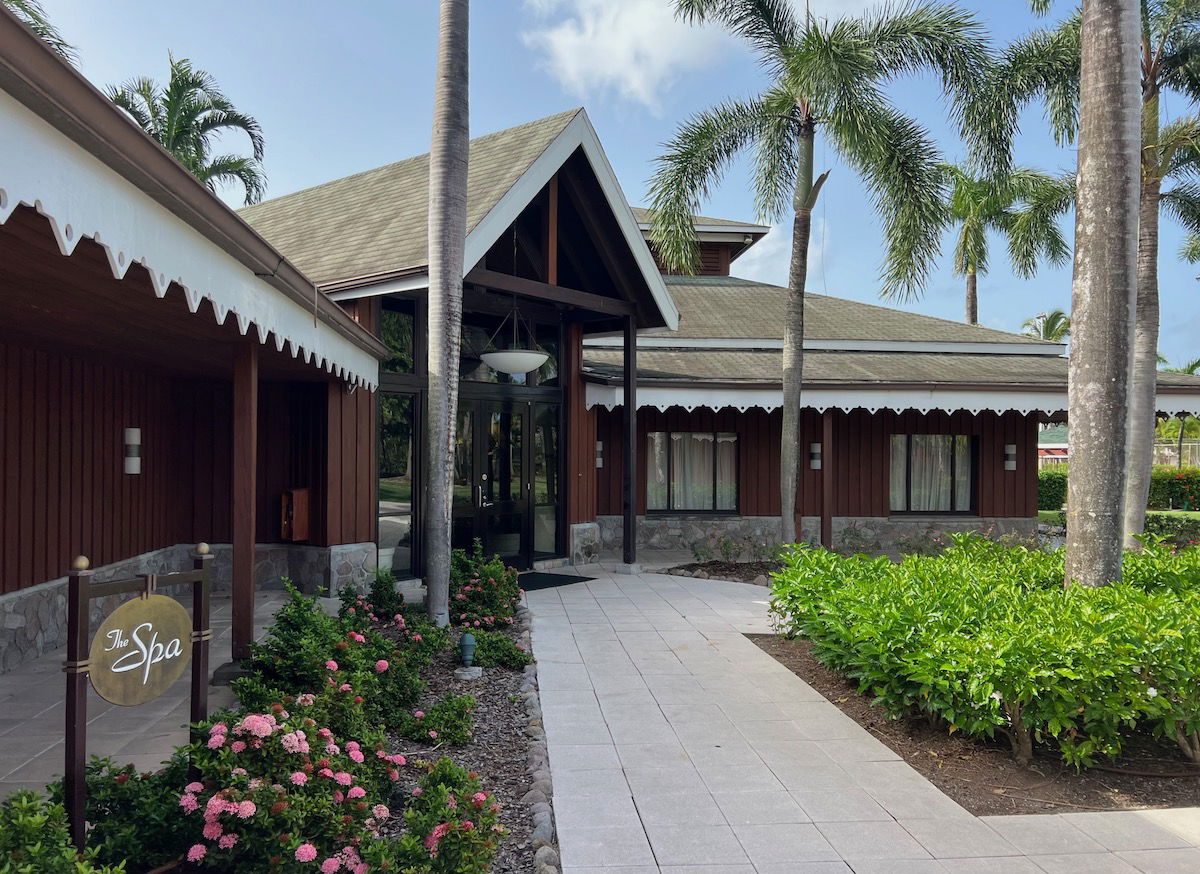 Right next to the spa is the gym, which has pretty modern weight and cardio equipment, and it's a good size for a resort.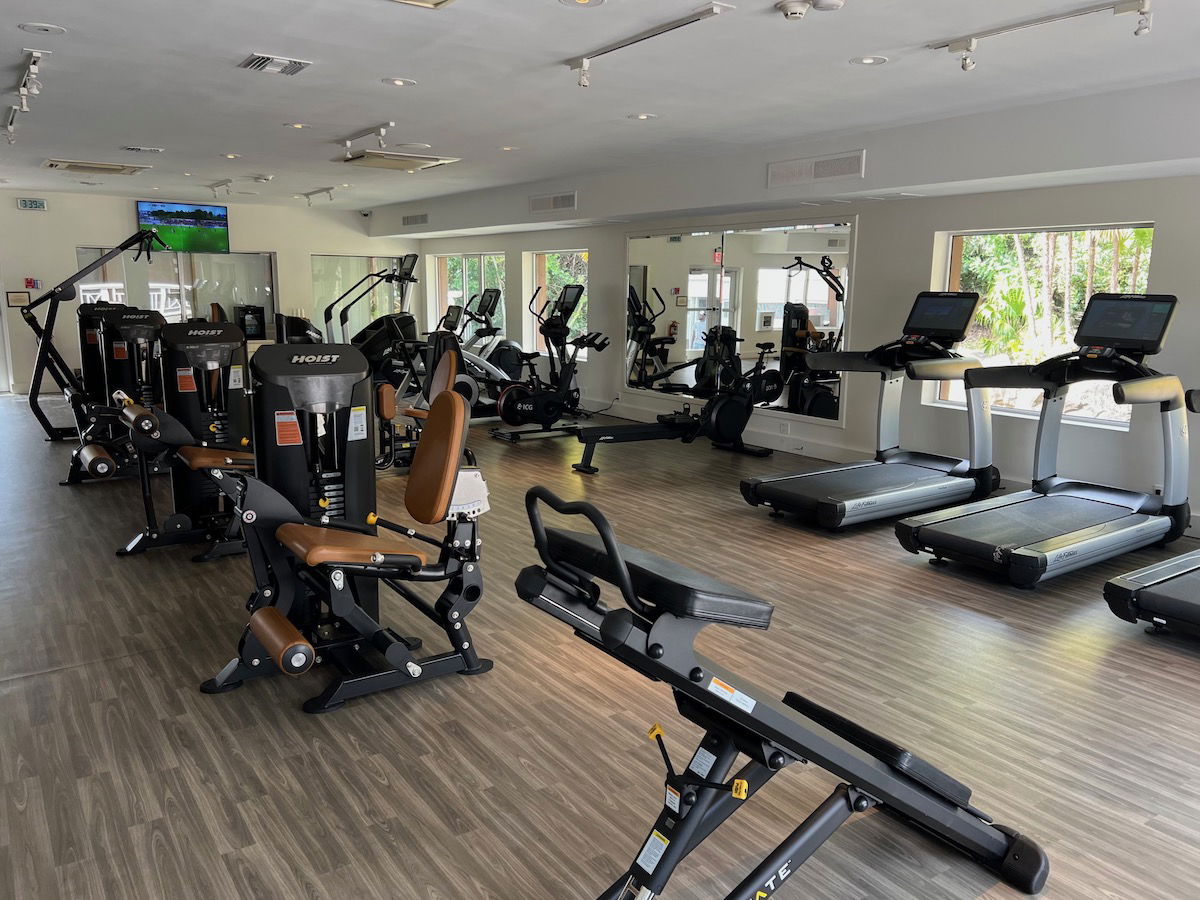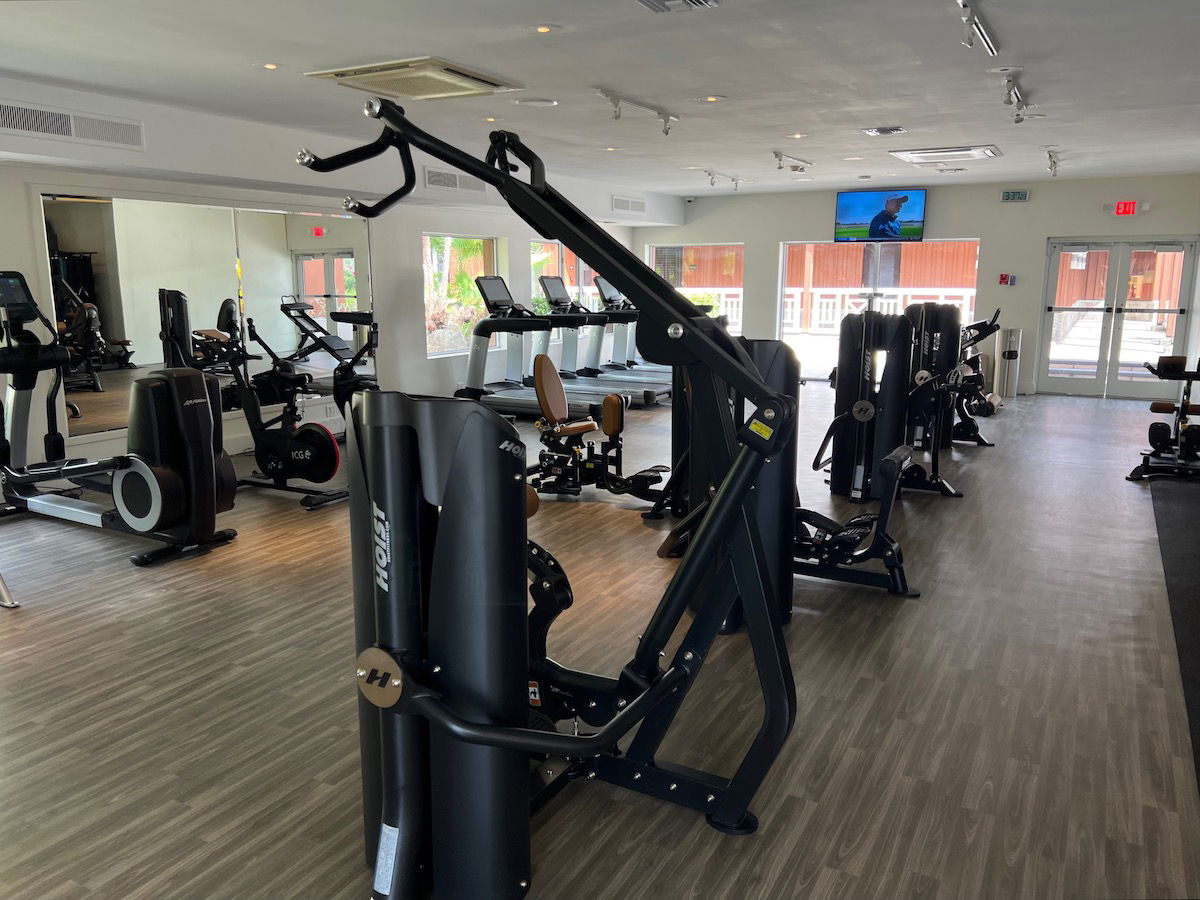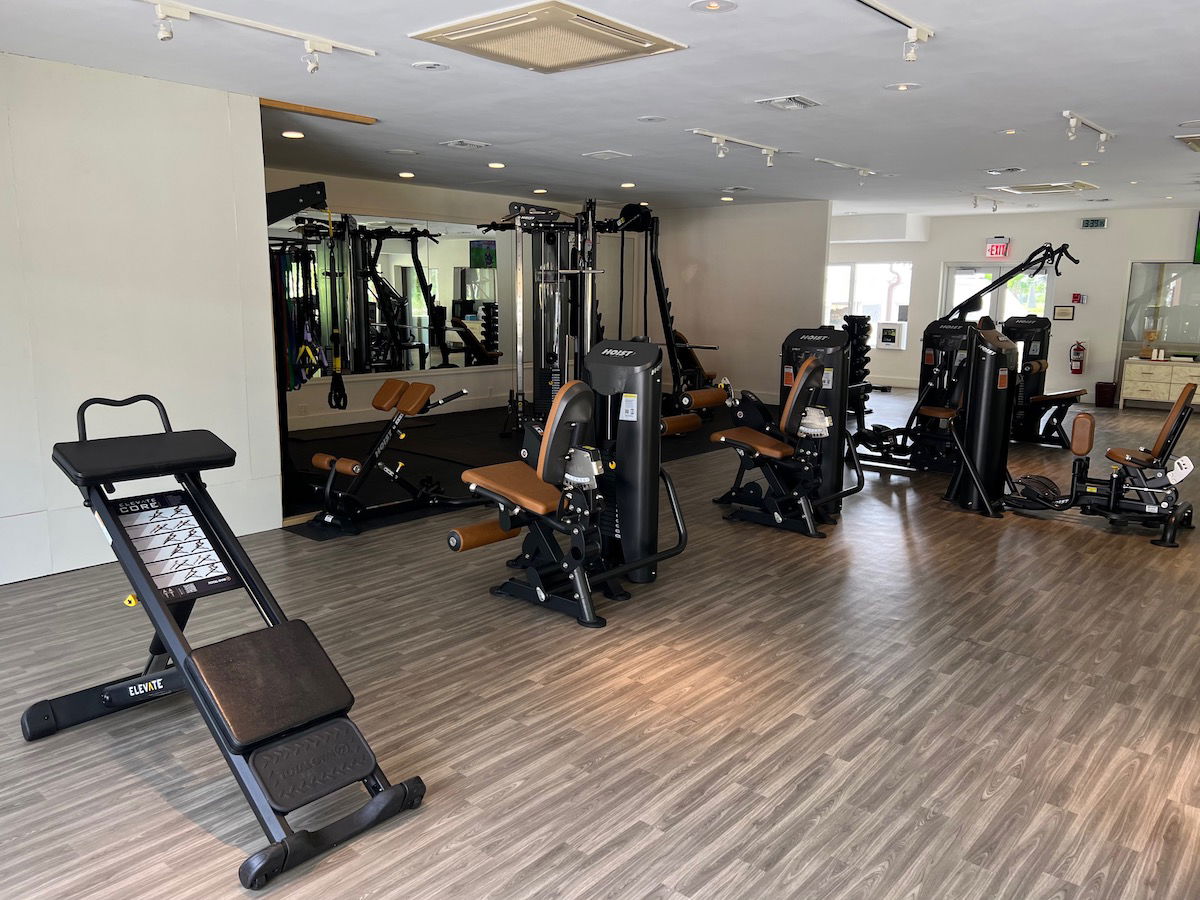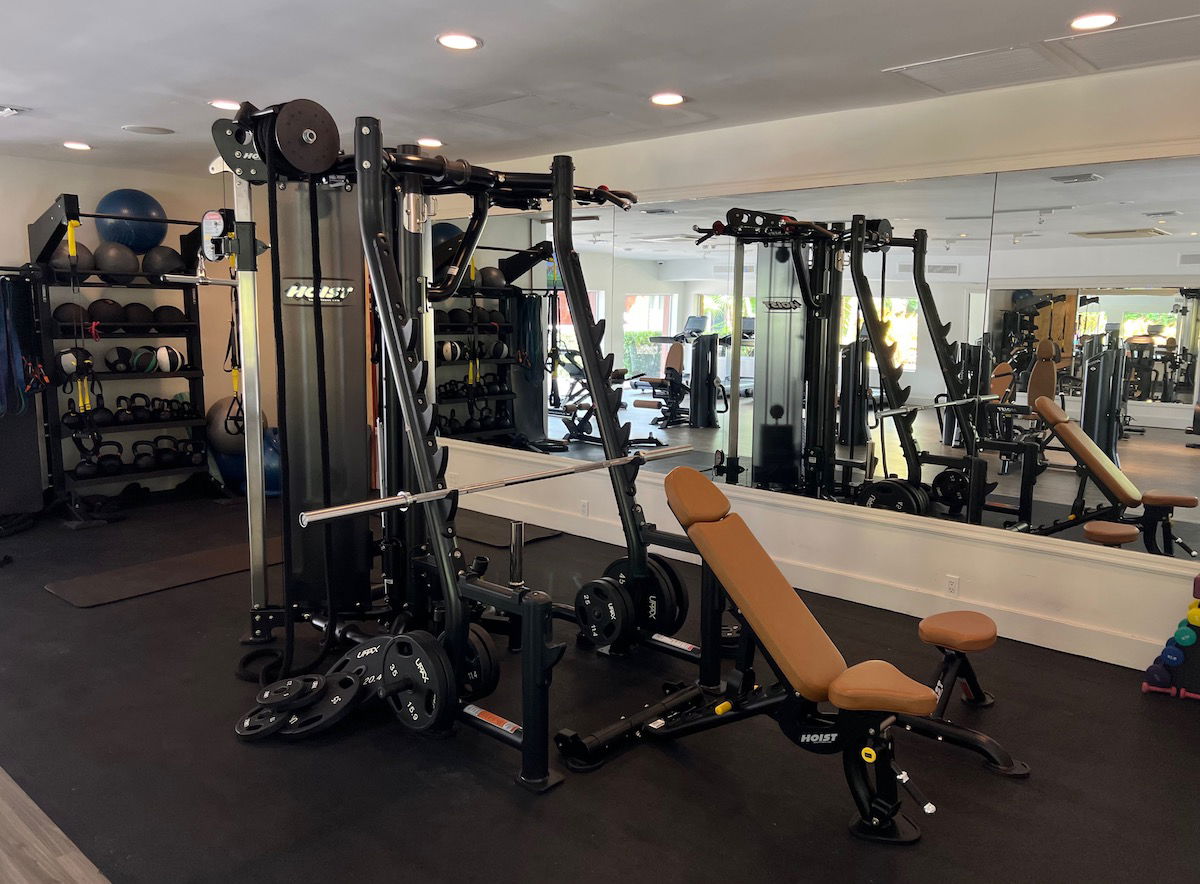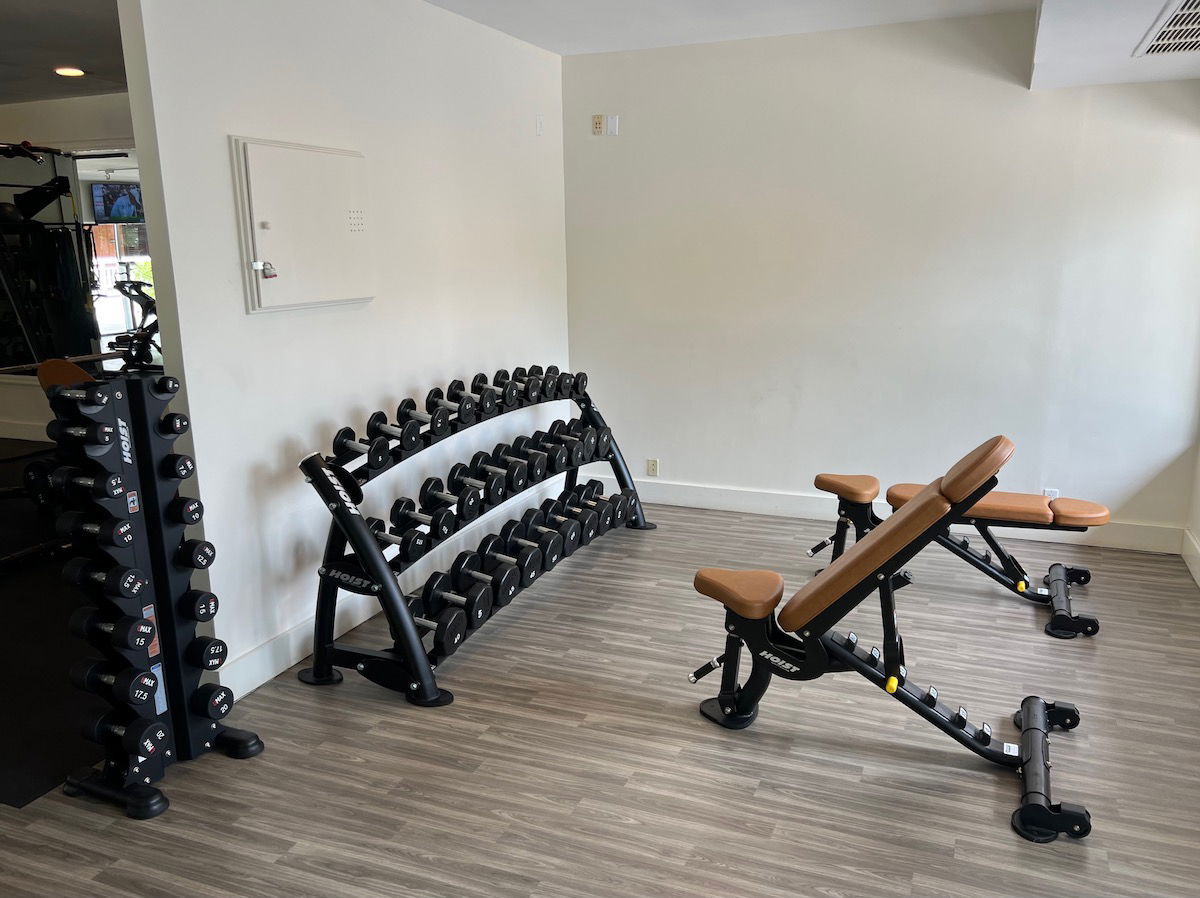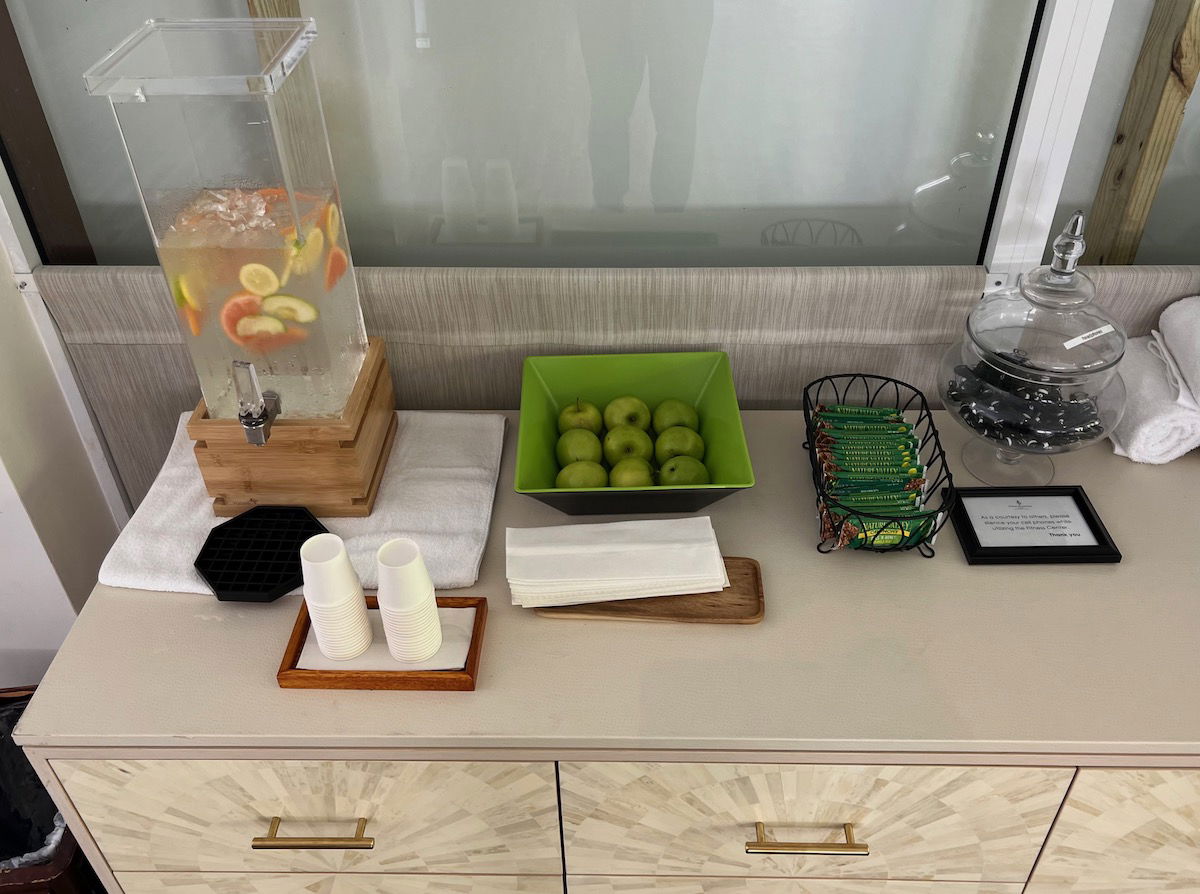 Perhaps what's most impressive is the number of tennis courts you'll find at the resort. There are nine tennis courts, including hard, clay, and grass courts, as well as a basketball court and a pickleball court.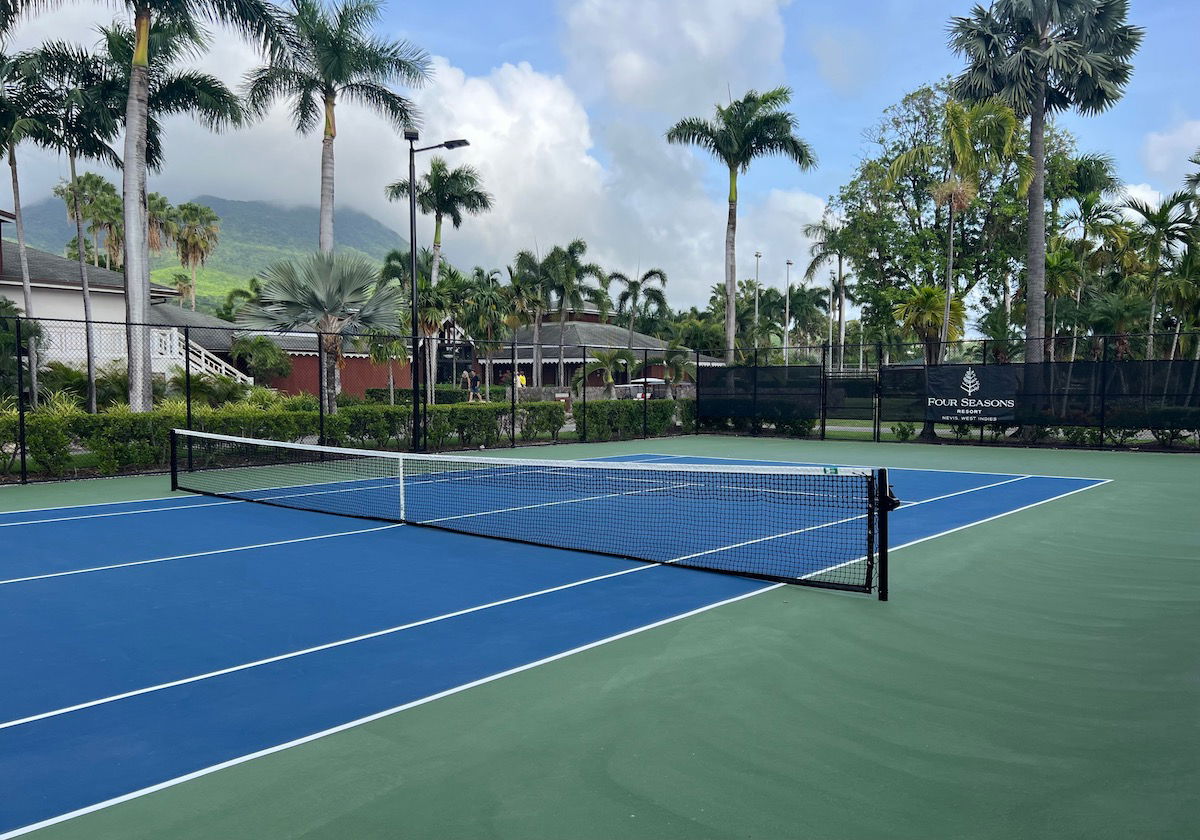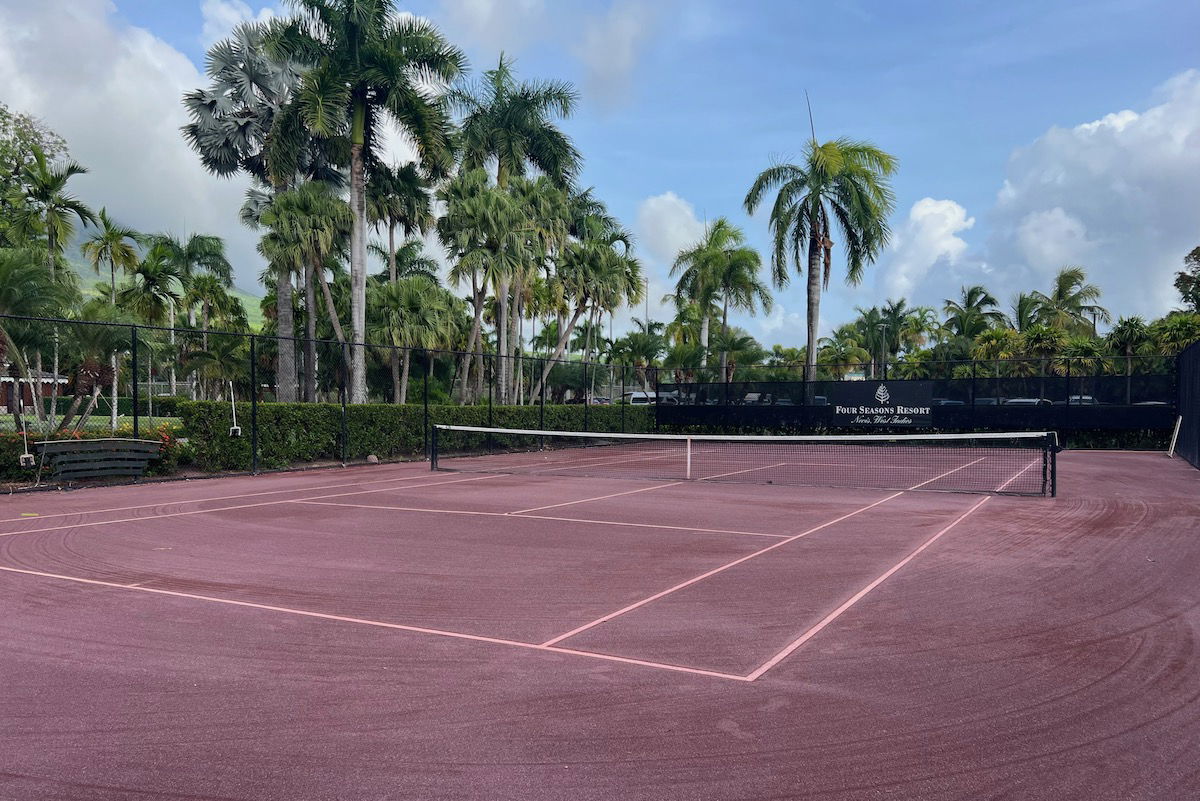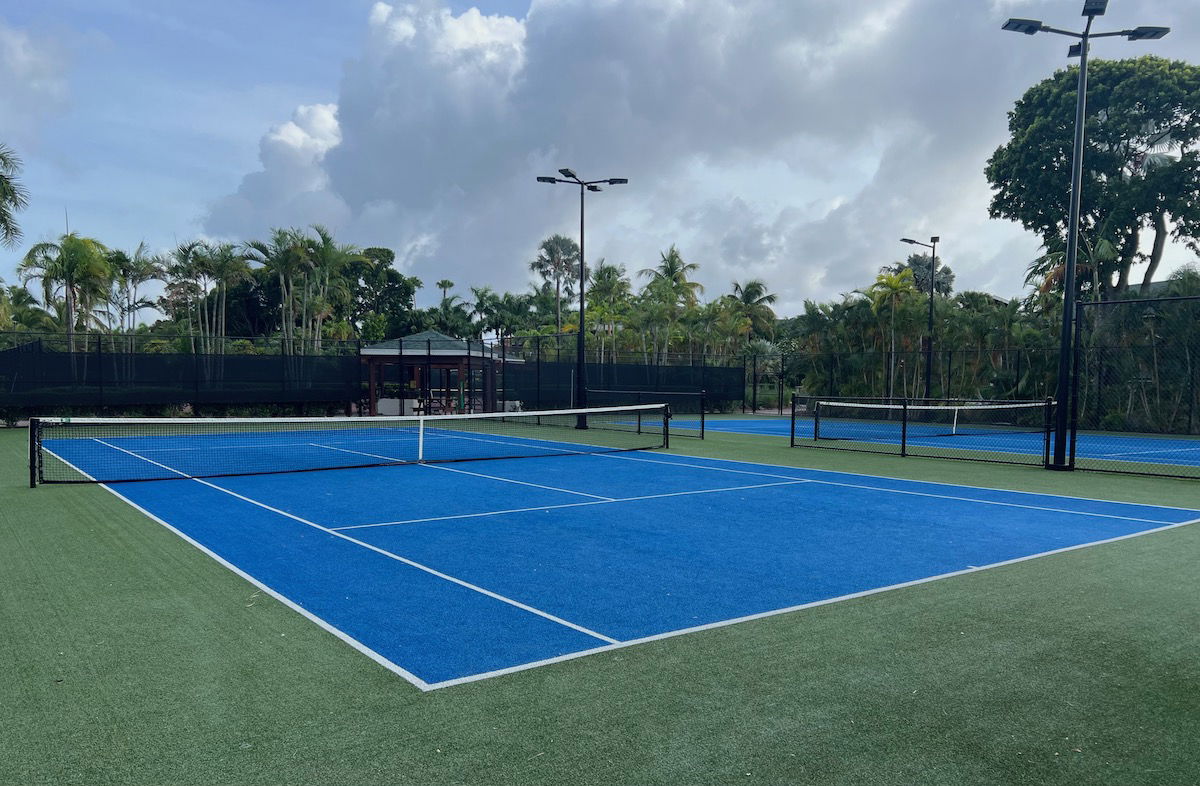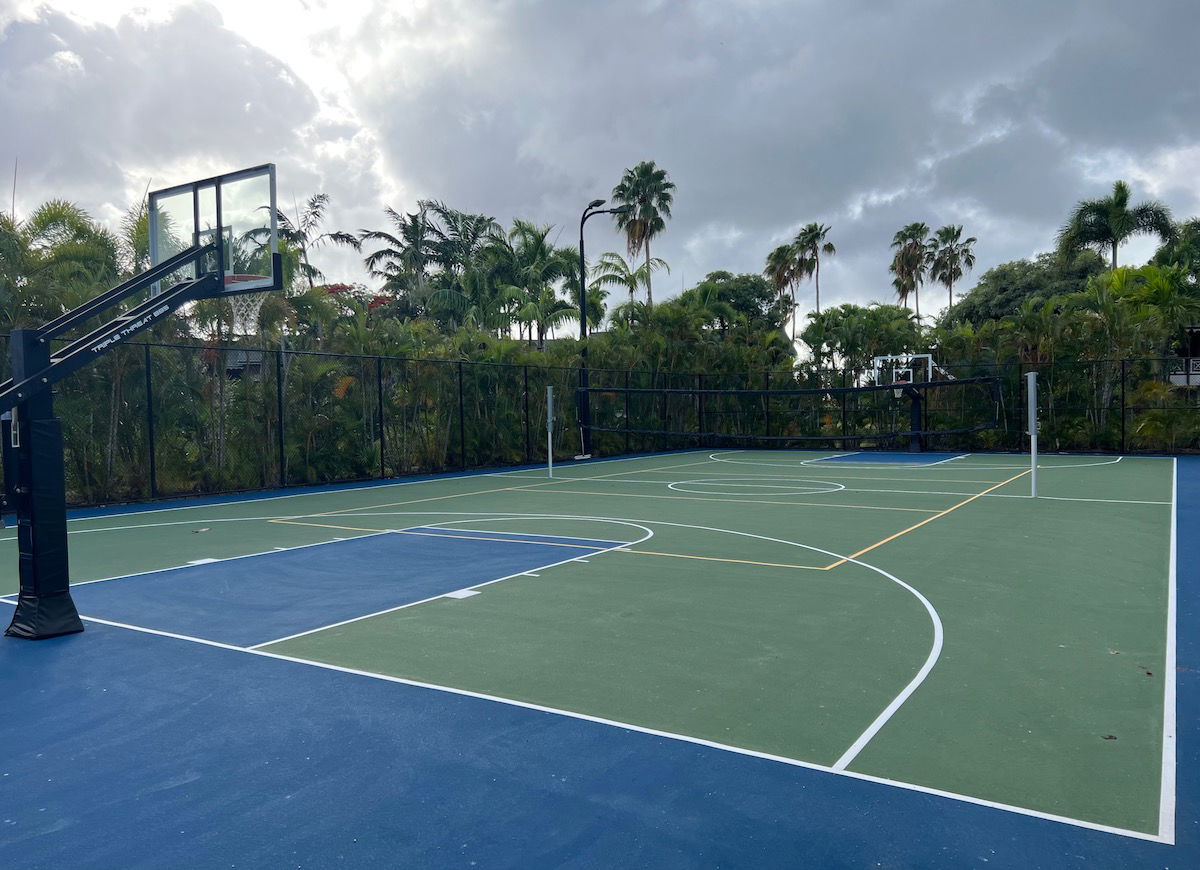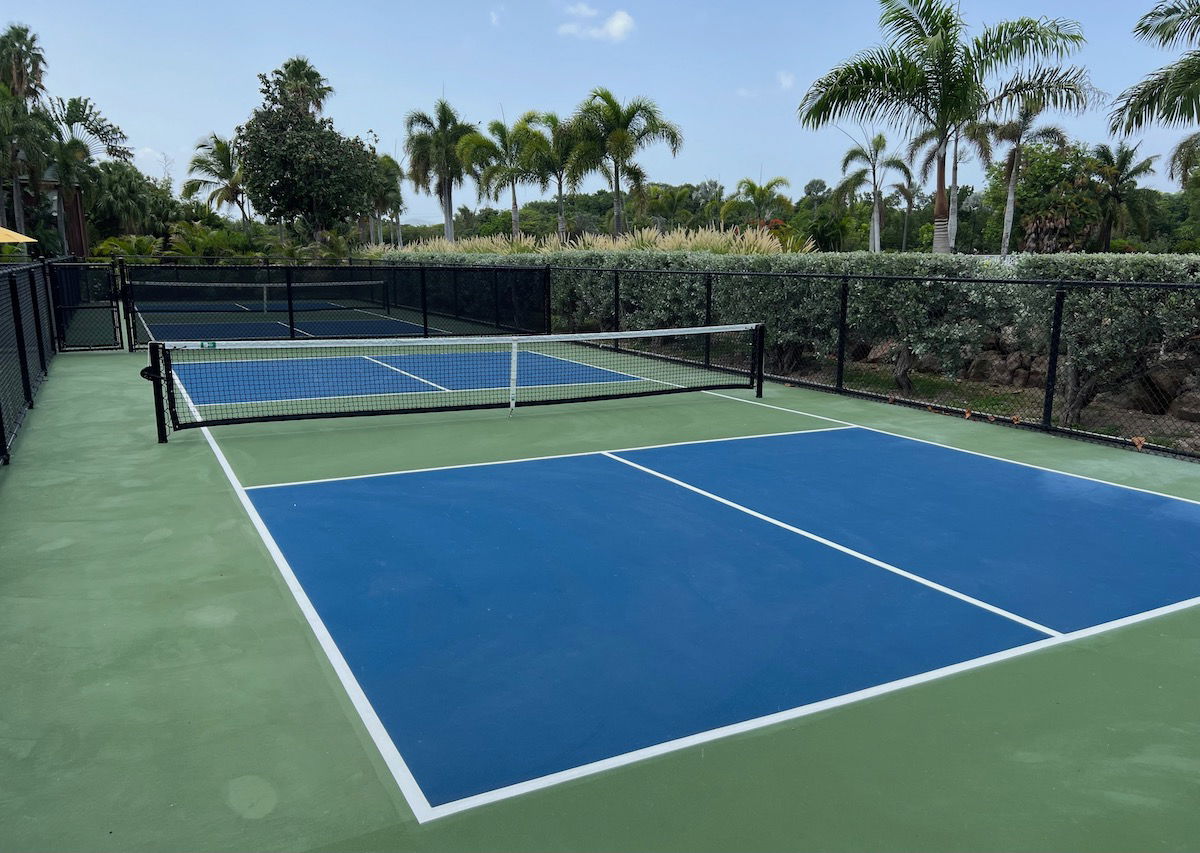 Also, I'm not a golfer, but the hotel has an 18-hole golf course, so this could also be a popular destination for those who are into that.
Dining at Four Seasons Nevis
The Four Seasons Nevis has a few on-property dining outlets, including the following:
EsQuilina is where the resort serves breakfast, and then in the evenings it's transformed into a Mediterranean restaurant for dinner; next to this is Crowned Monkey Rum Bar
On The Dune is the resort's beachside restaurant, serving lunch and dinner; this also has an adjacent bar
Mango is the resort's Caribbean restaurant, and it serves dinner
All-in-all I found the food quality to be very good, though prices are also high (but in line with what I'd expect at a luxury Caribbean resort nowadays). Let's go over each of those options.
Four Seasons Nevis EsQuilina
EsQuilina is located just off the lobby, and has a modern design, with both indoor and outdoor seating. The restaurant is a good size, and has traditional dining tables, booths, counter seating, and an outdoor terrace.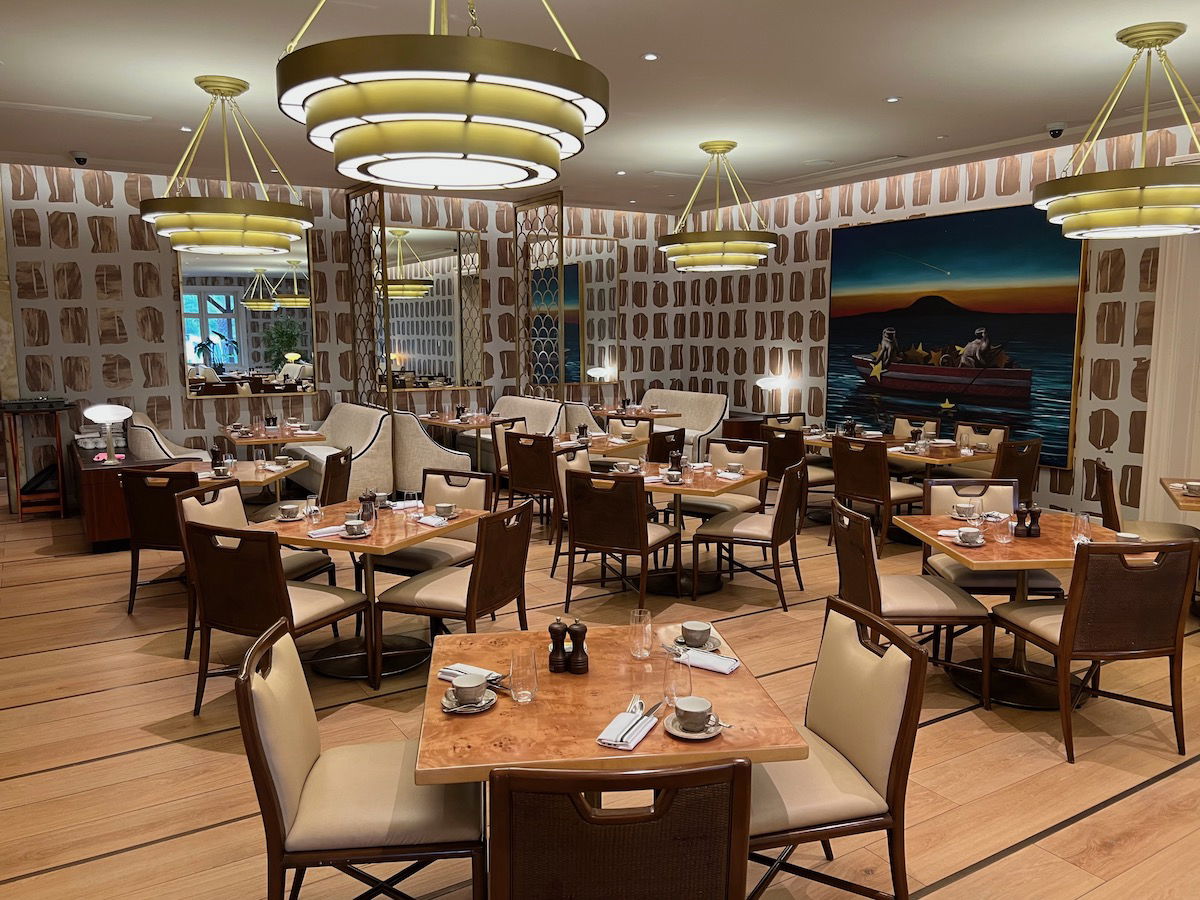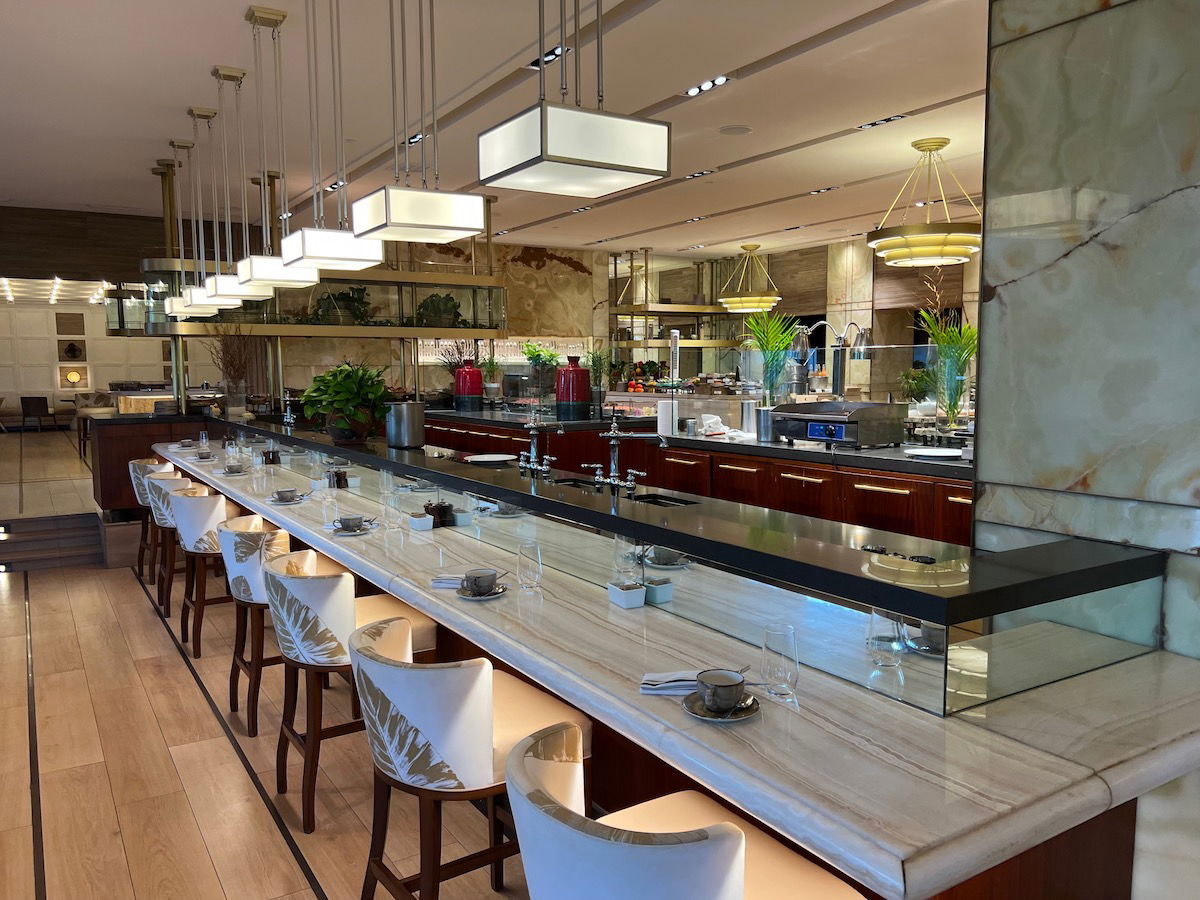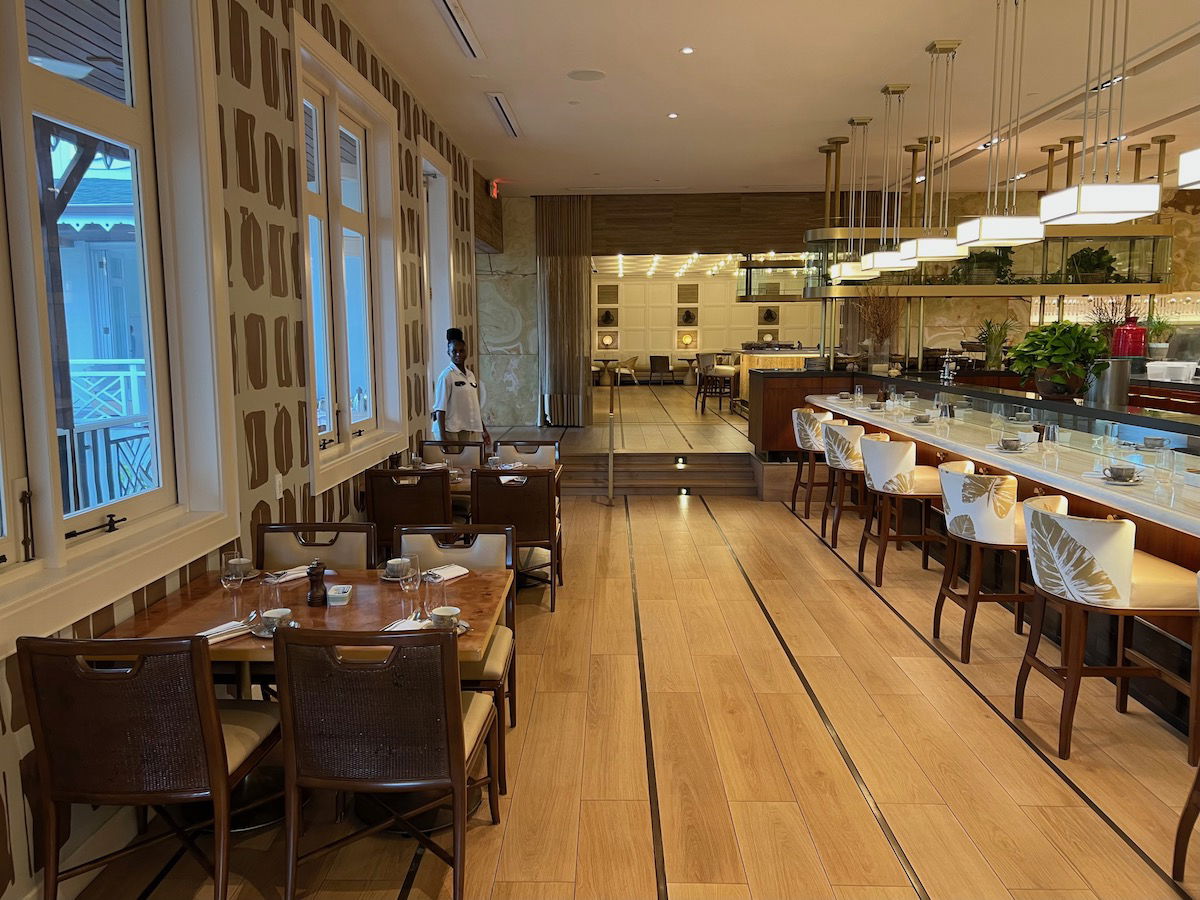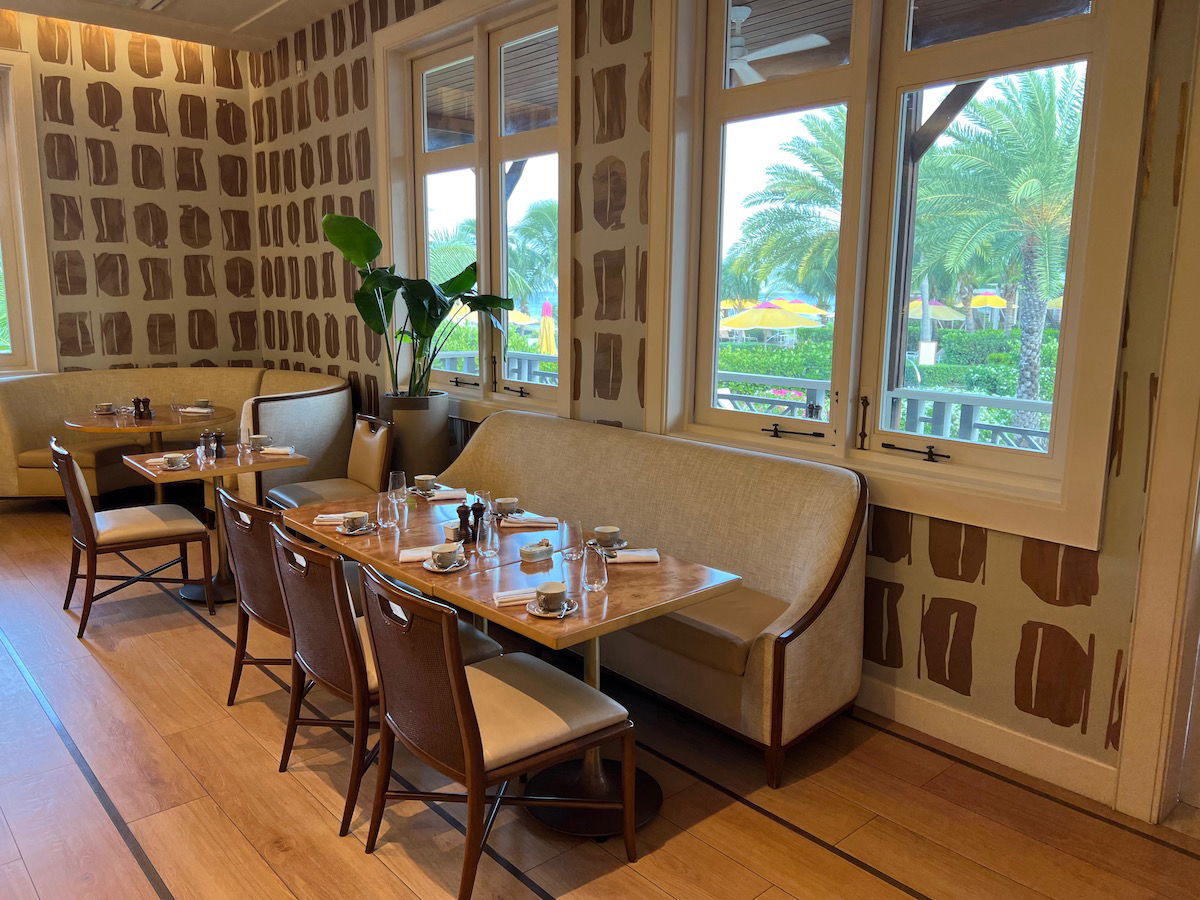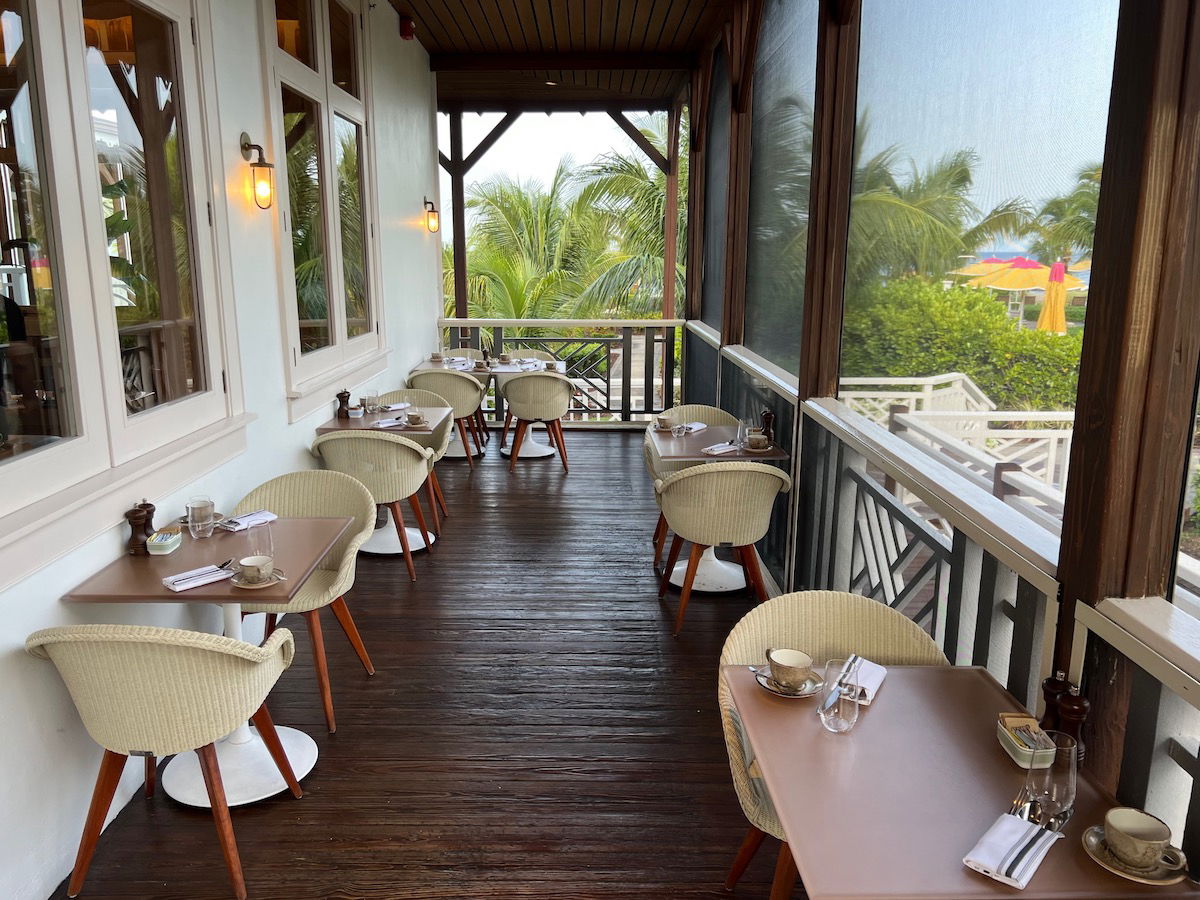 Breakfast is served at the restaurant daily from 7AM until 11AM. There's a buffet option, or otherwise you can order off the menu. We had the buffet each morning, which we enjoyed.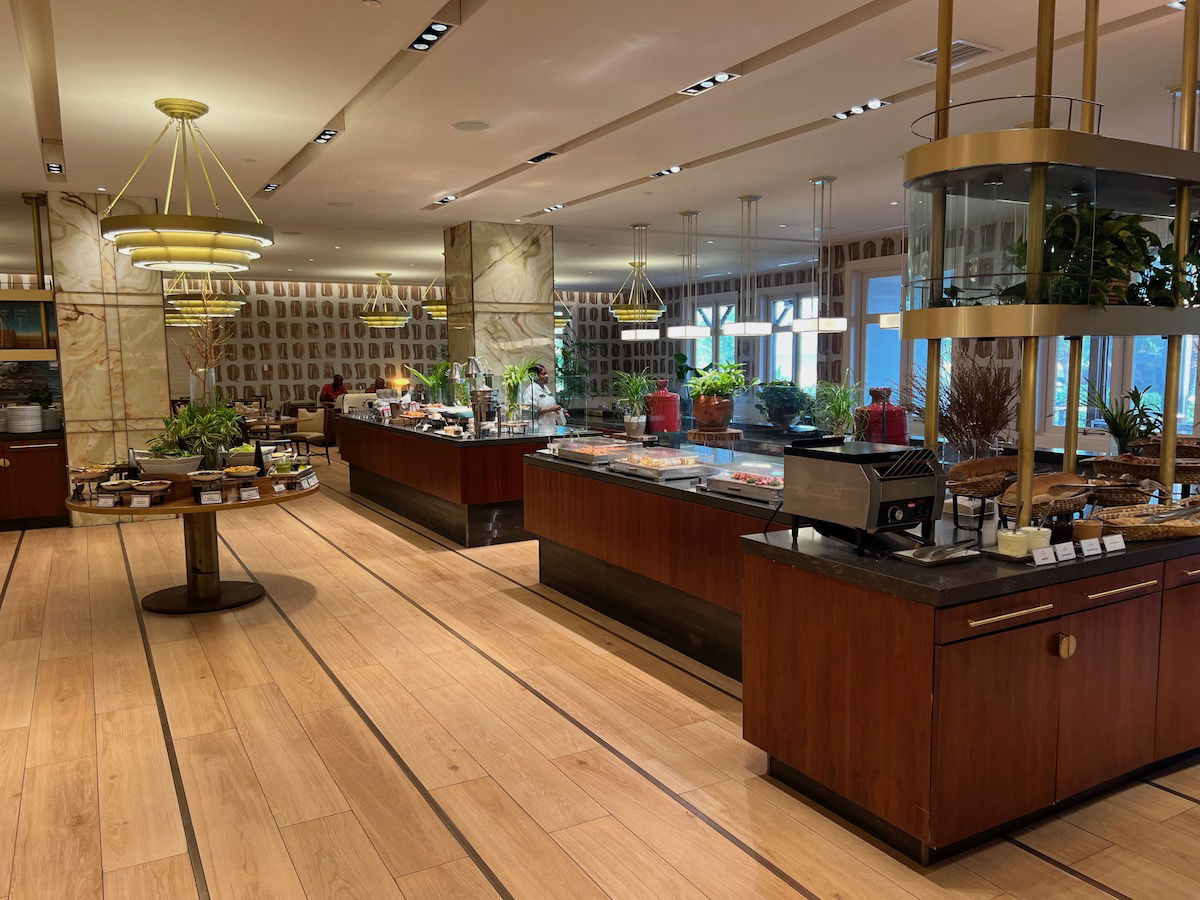 The buffet had a great selection, ranging from fresh fruit, to yogurt, to veggies, to cold cuts, to bread and pastries, to pancakes and waffles, to some other sweets, to several hot dishes, like eggs, bacon, potatoes, fish, etc.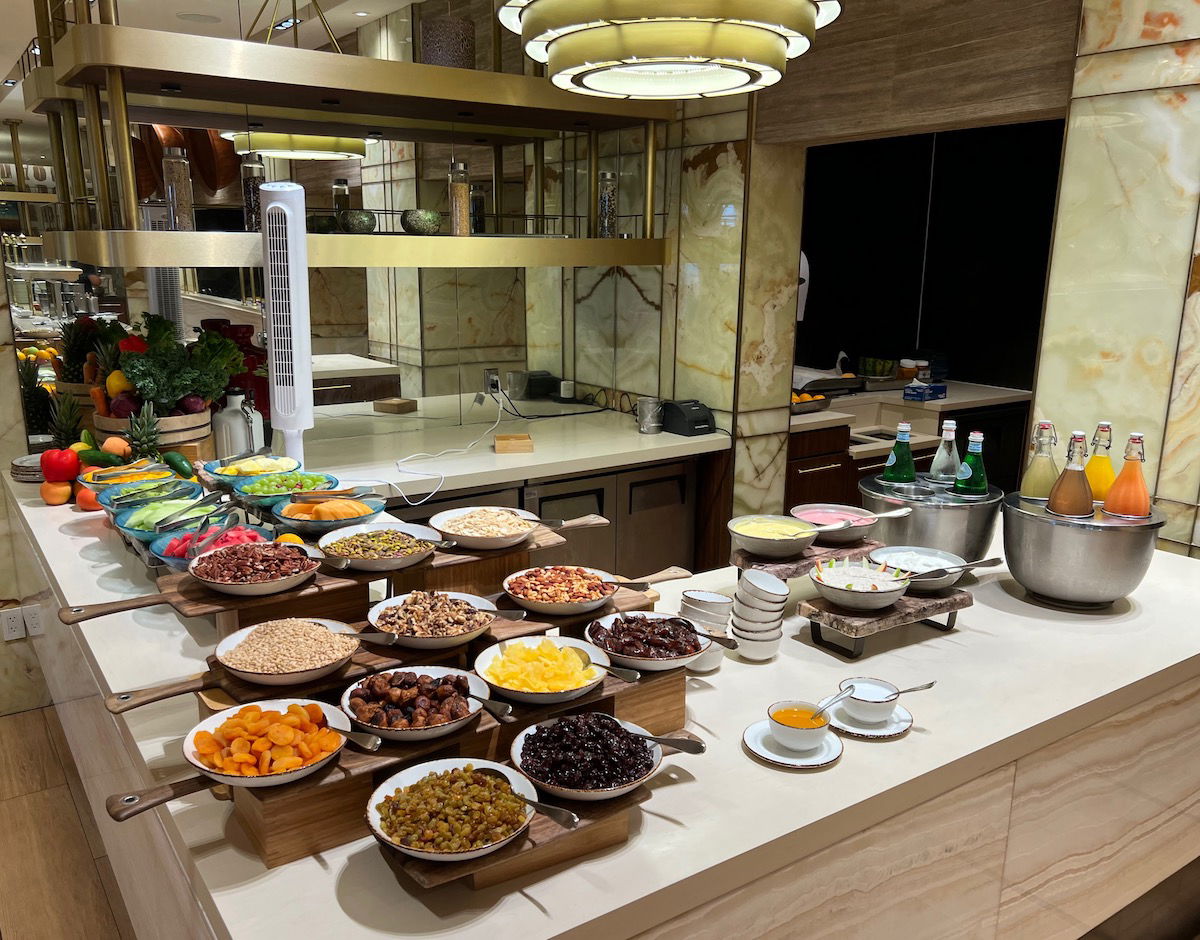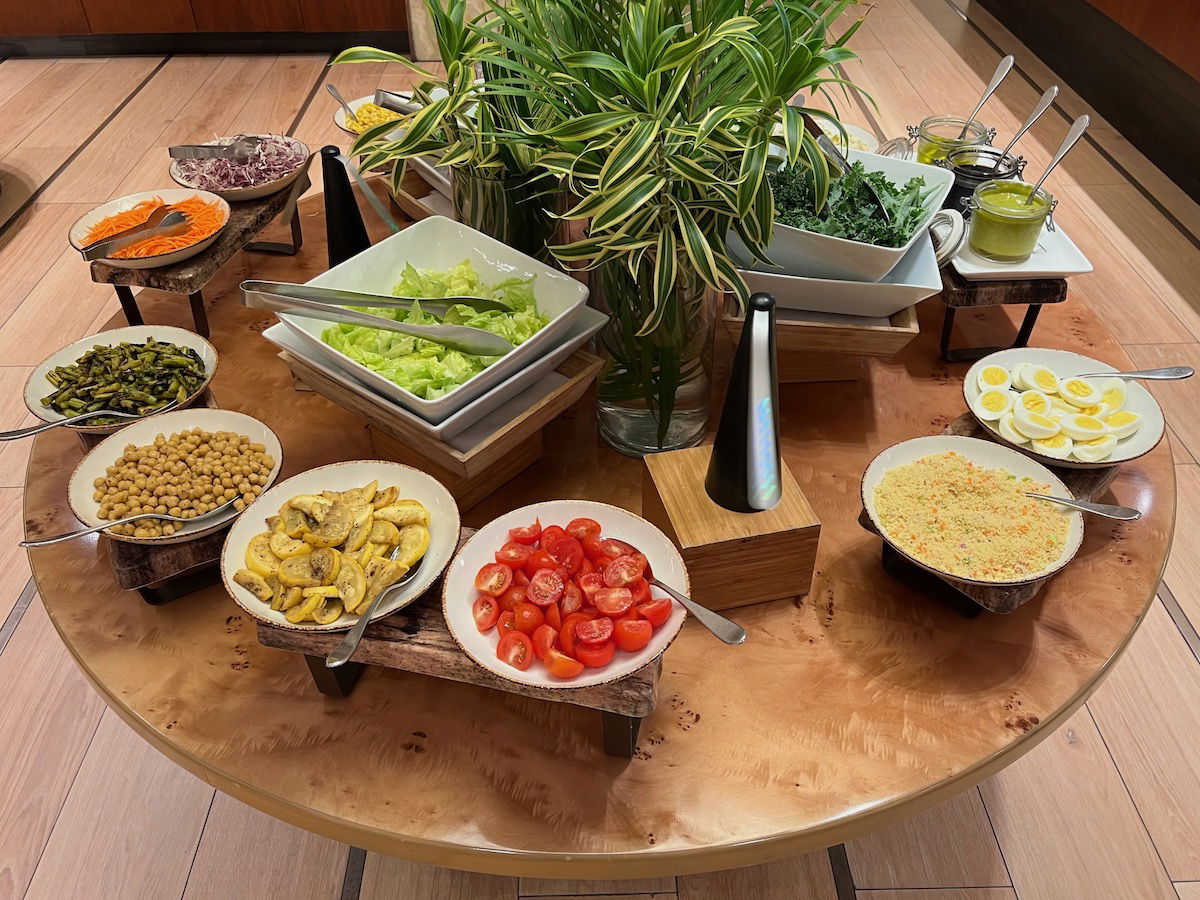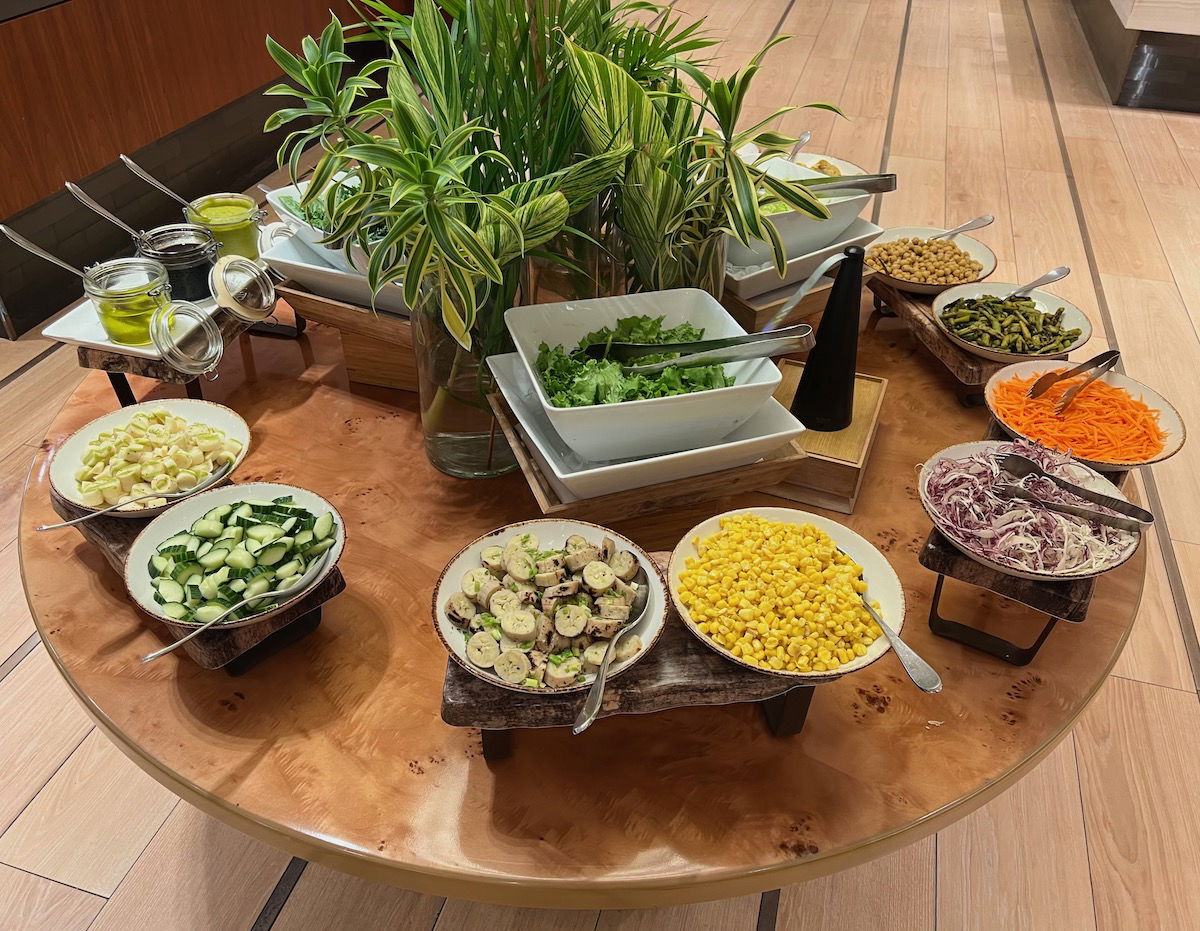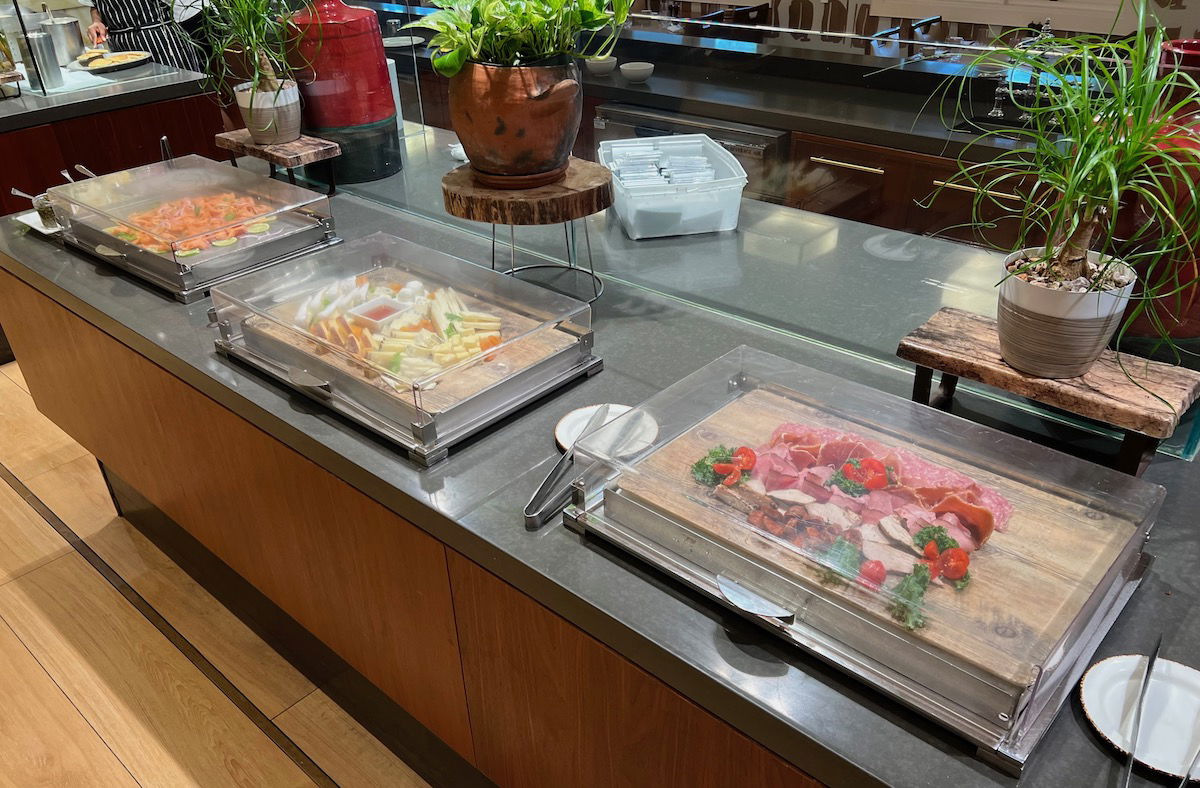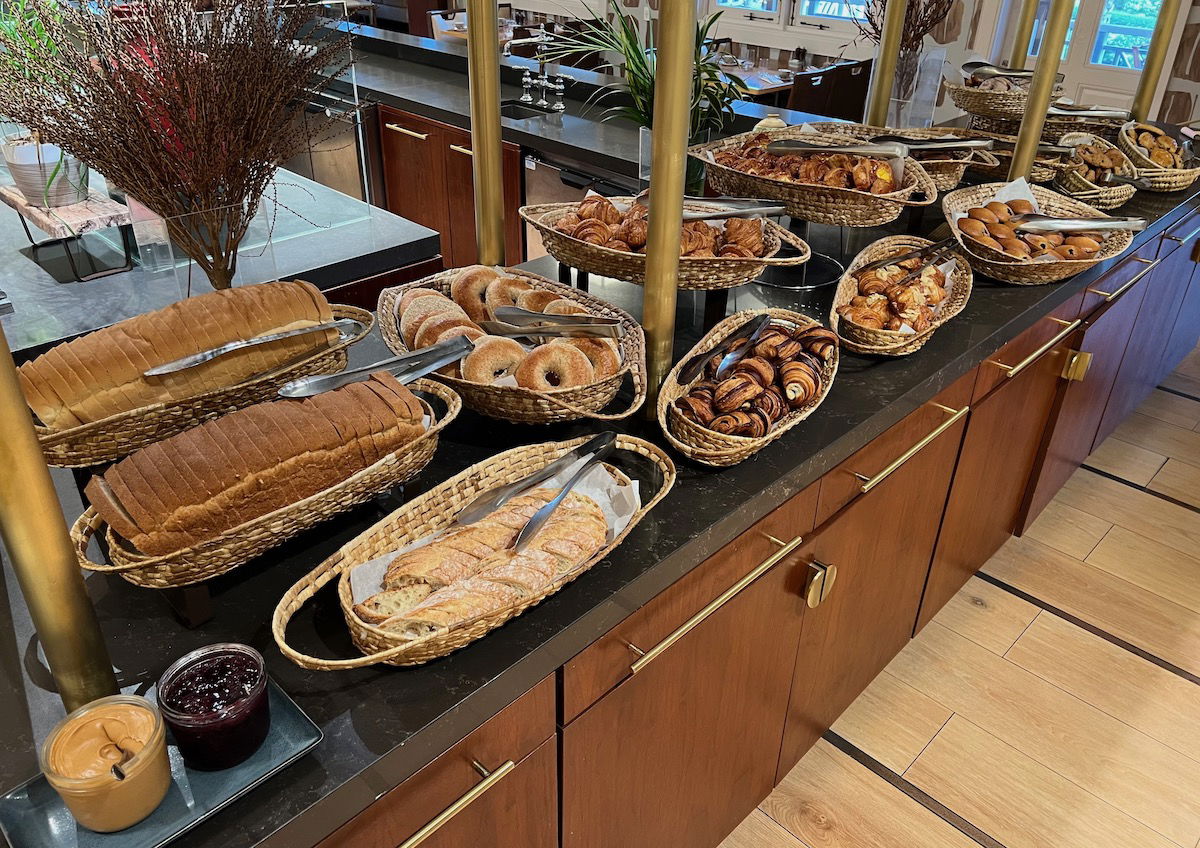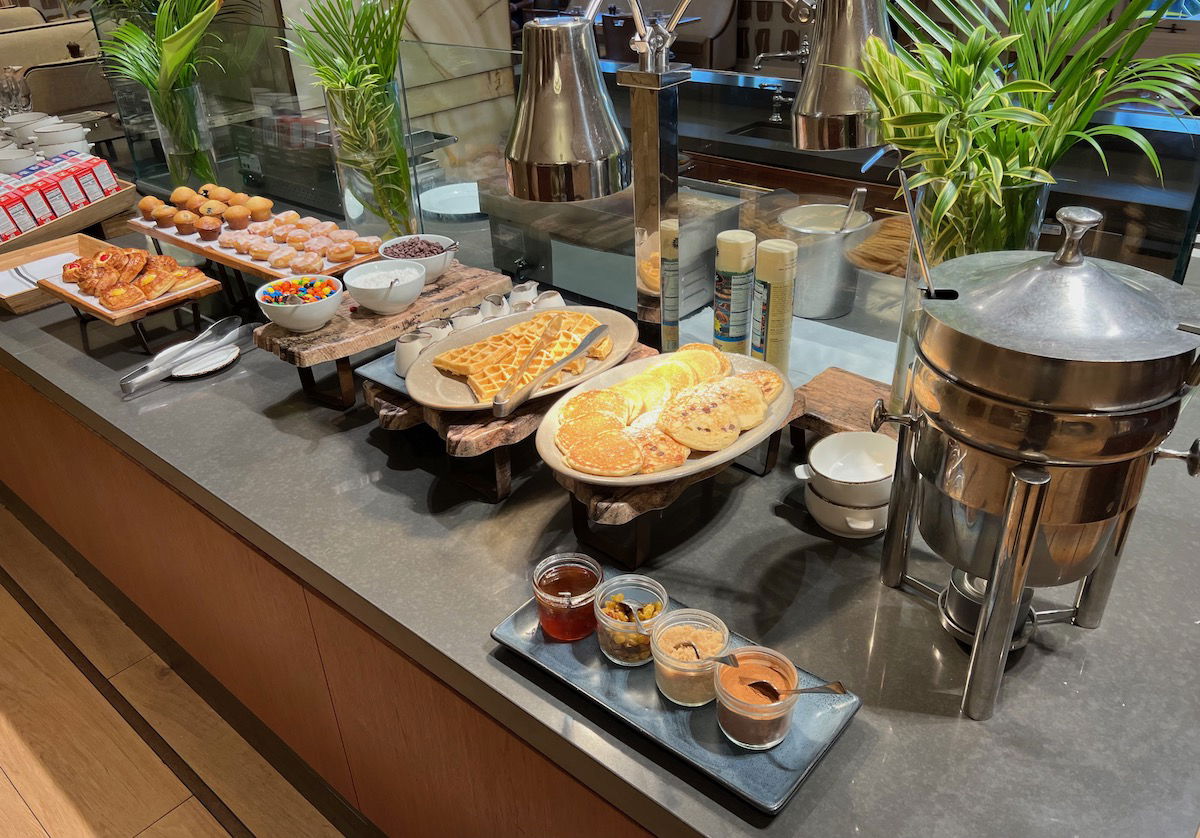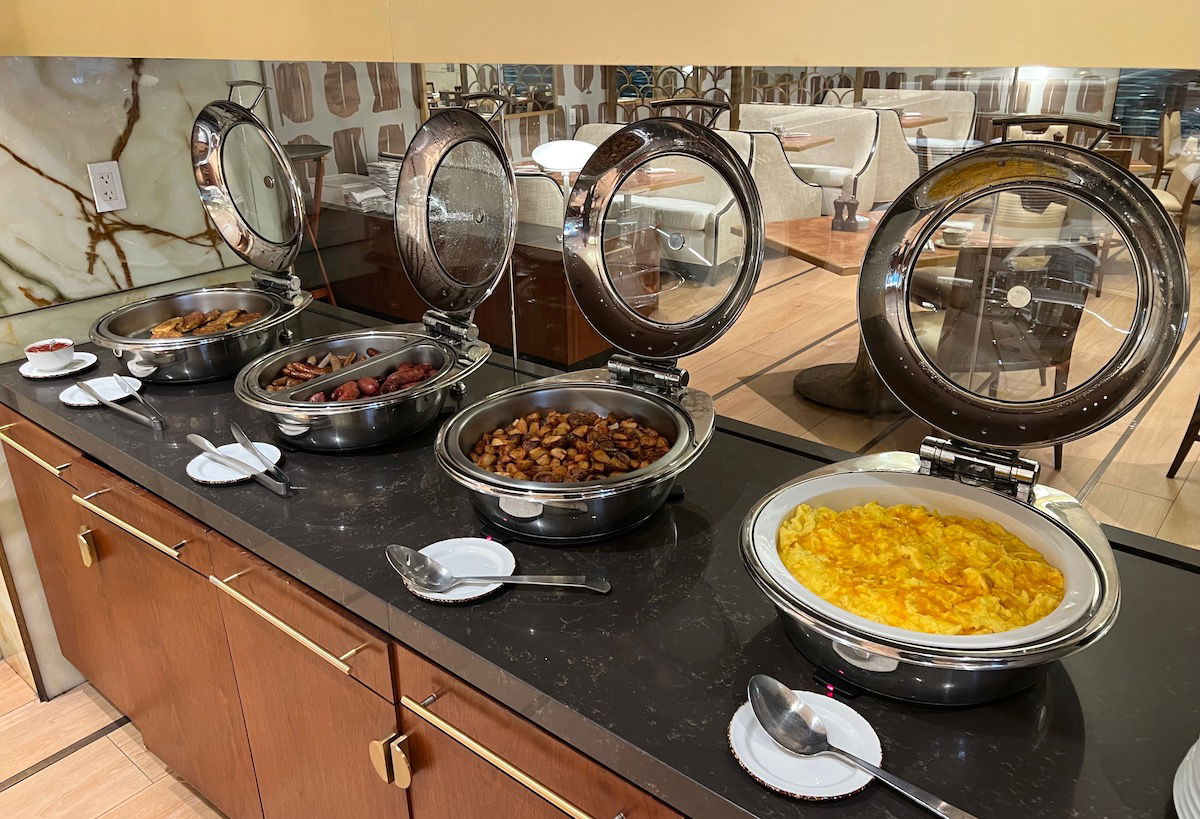 There was also a mimosa and bloody mary station, included with the buffet.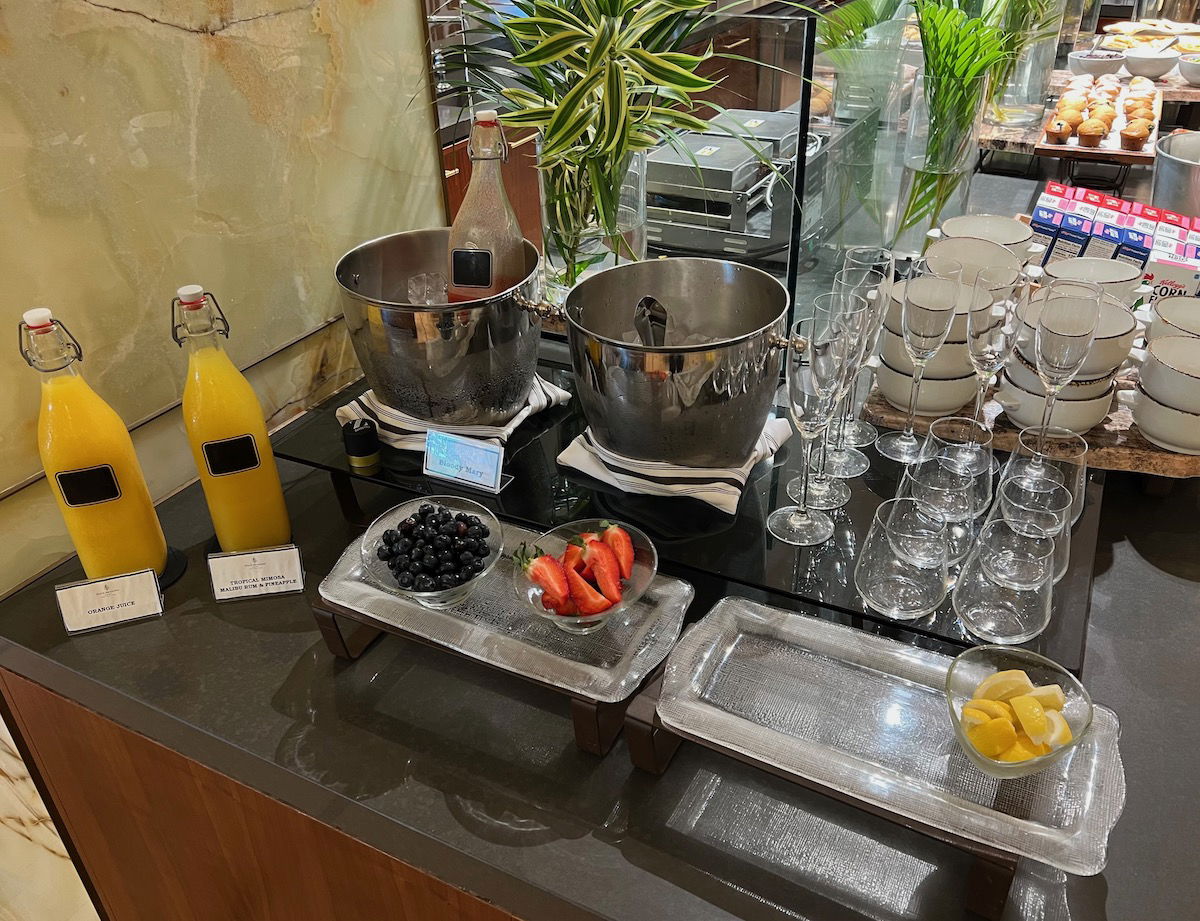 The buffet also has an omelet station, so you can have cooked to order eggs.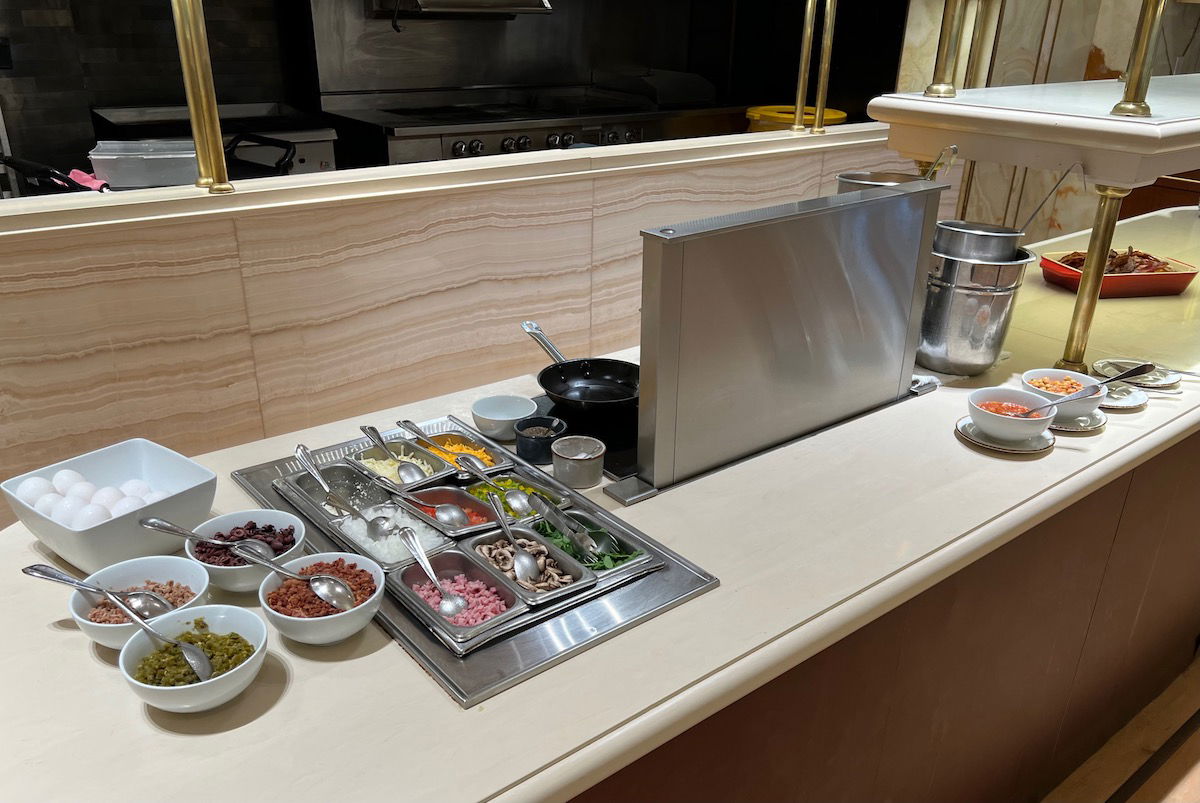 I enjoyed an iced coffee each morning, along with a veggie omelet.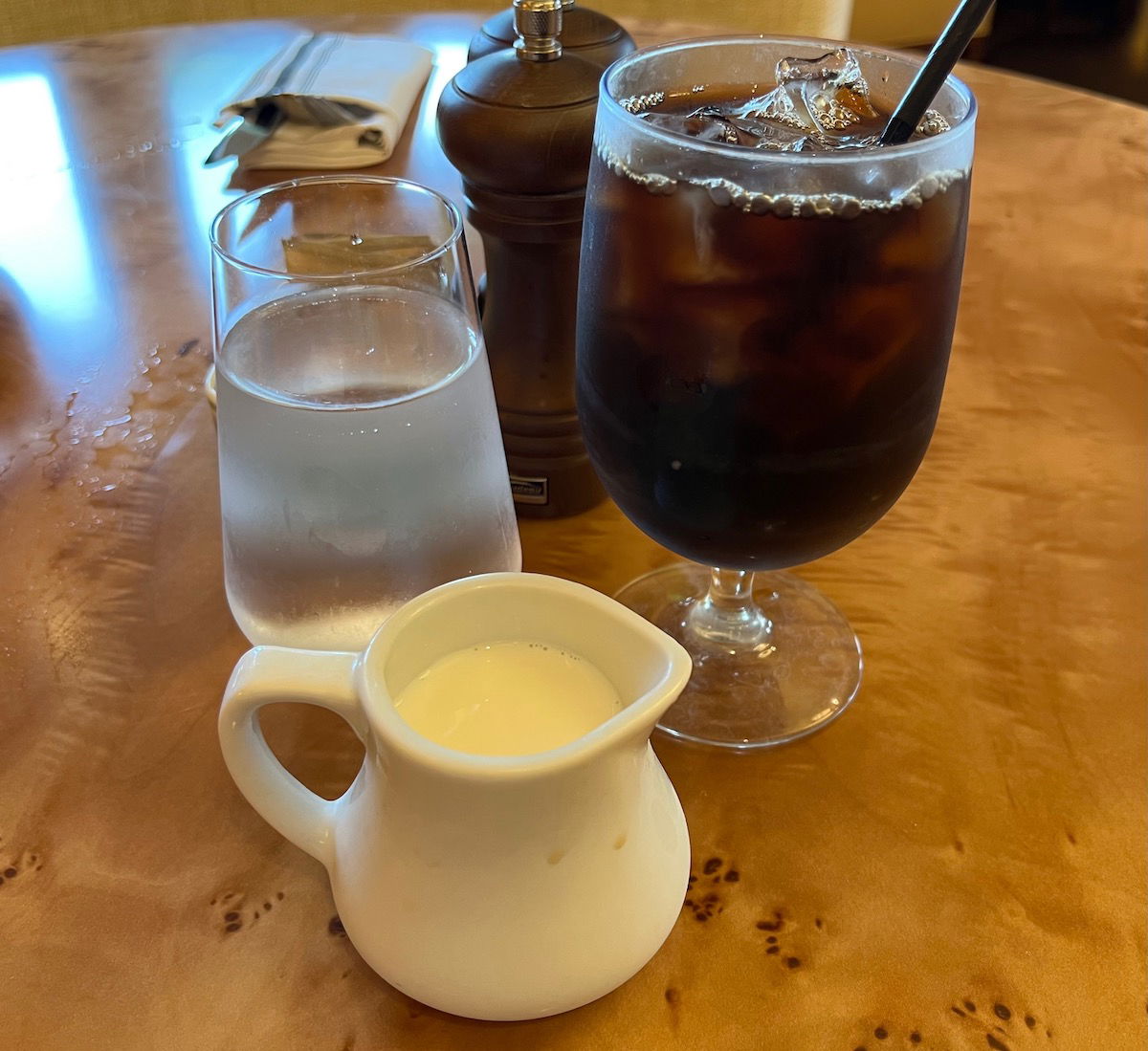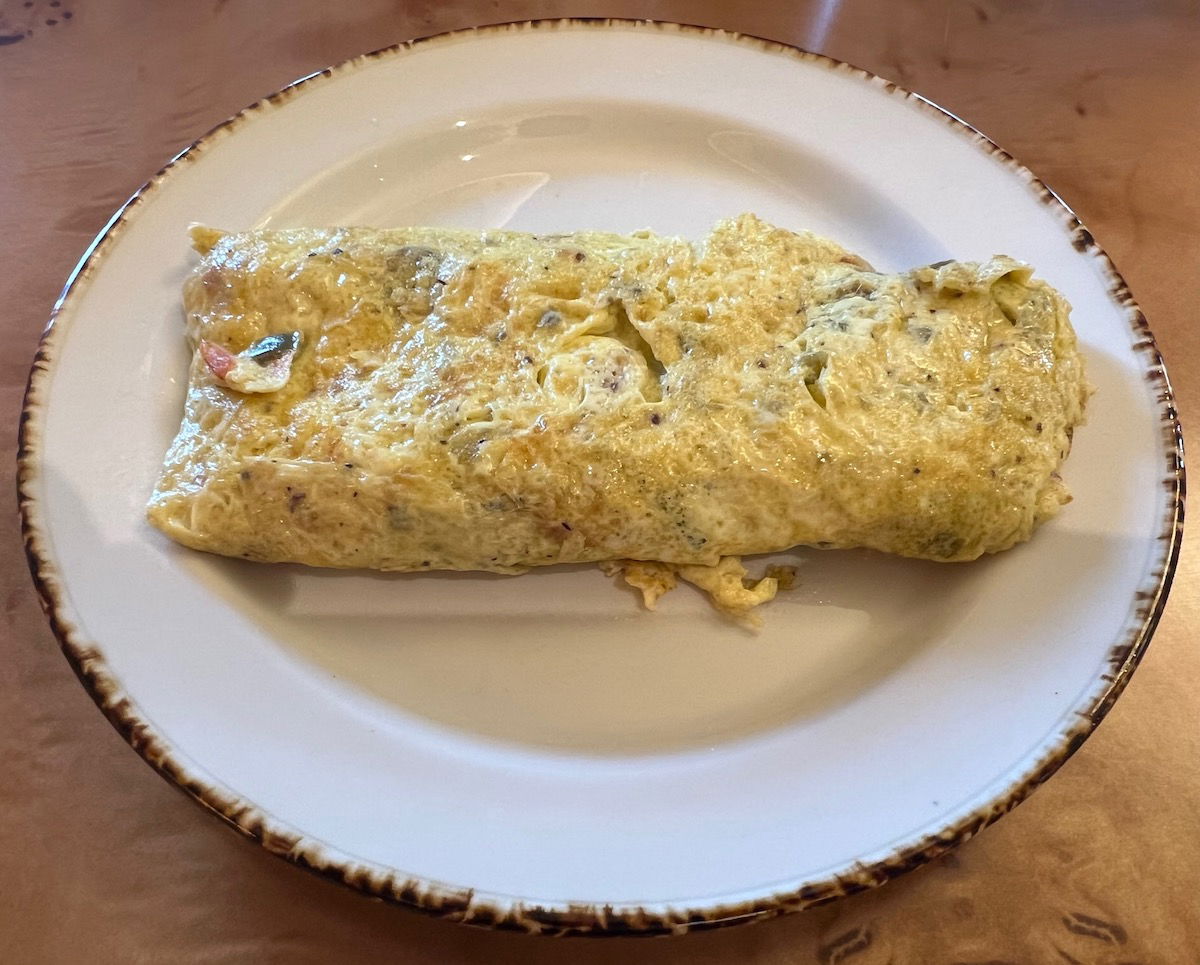 Miles enjoyed trying pancakes for the first time, though he's not sure exactly how he feels about them… I think.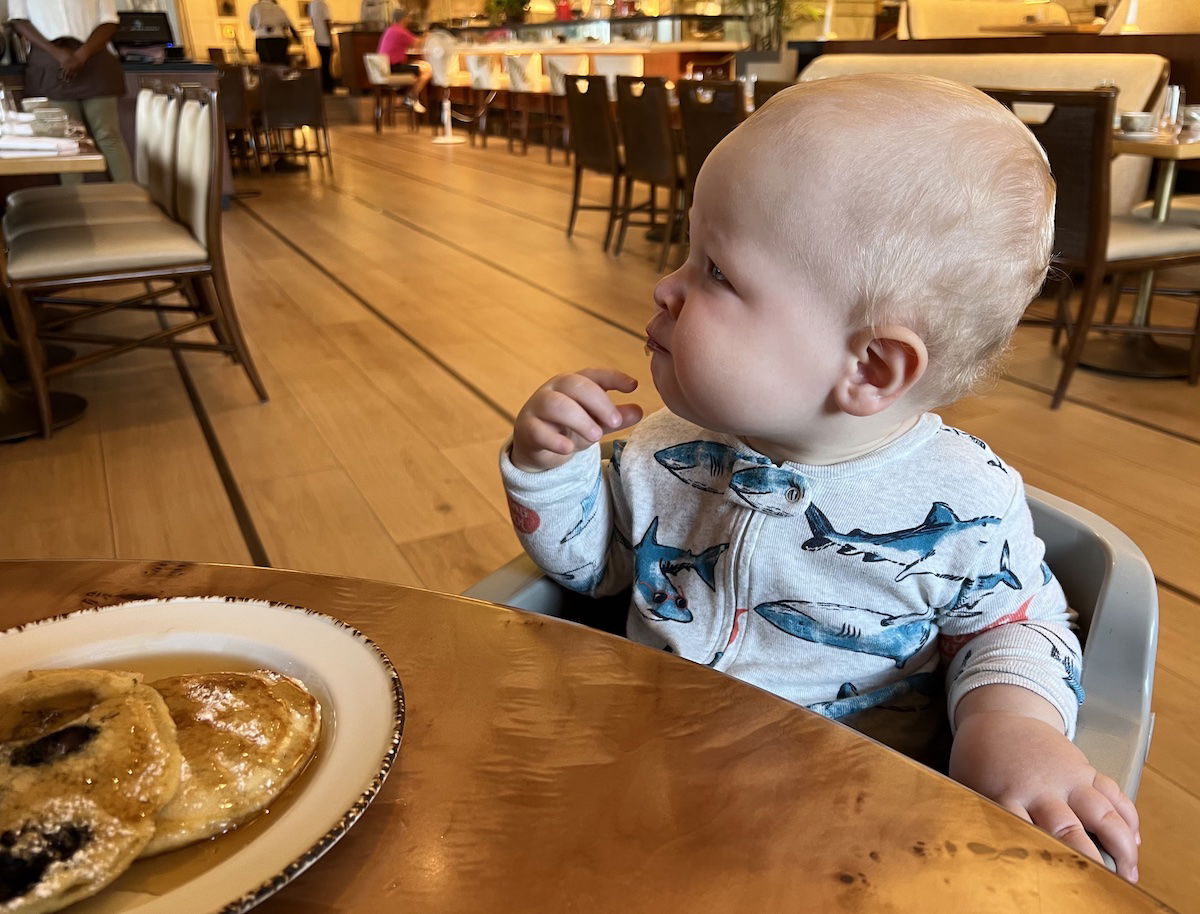 In the evenings, the space transforms into a Mediterranean restaurant, and you can find the menu here. We had dinner here one evening, and the meal started with freshly baked bread plus a sun-dried tomato dip.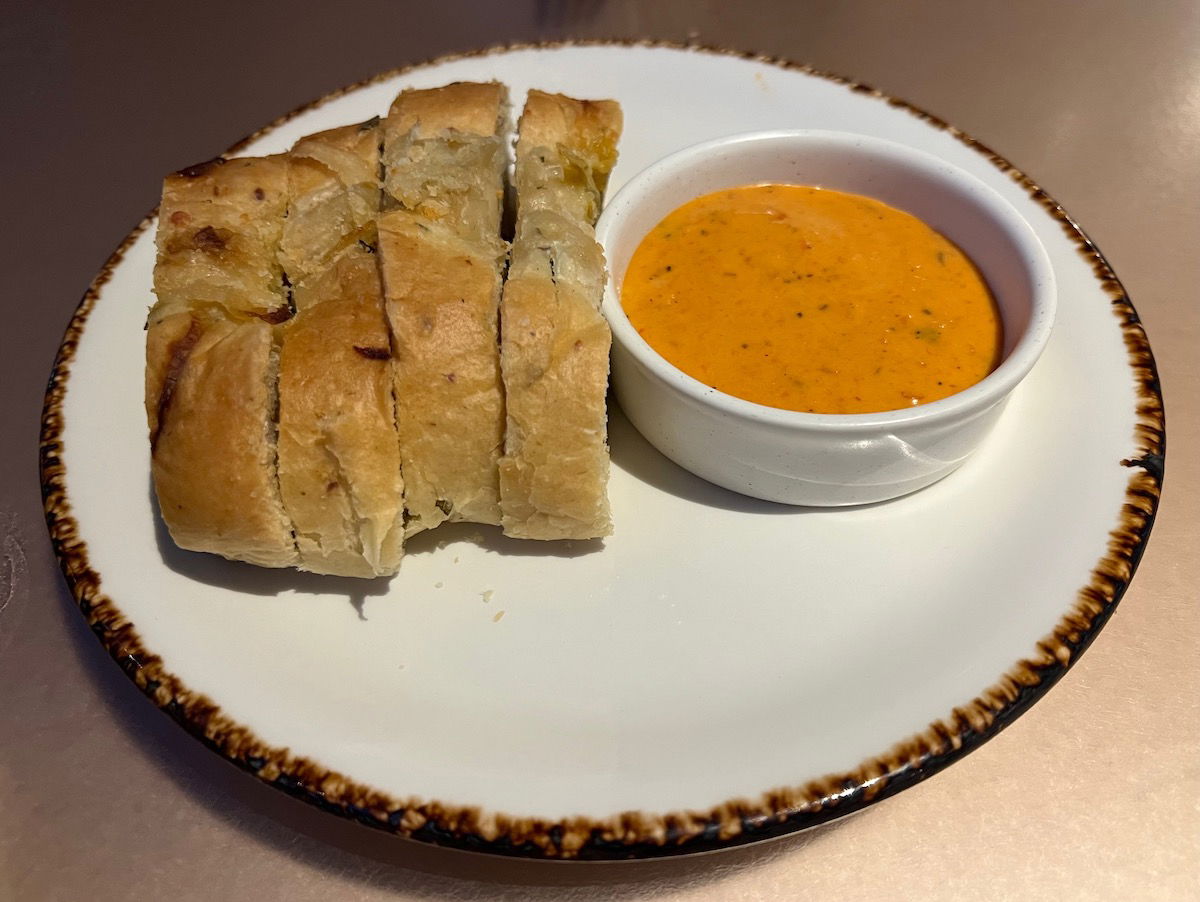 We decided to just split several things, including the Mediterranean platter, keftedes, beef carpaccio, and smoked gambas. We enjoyed everything we tried, and given where we were, I thought the execution was good.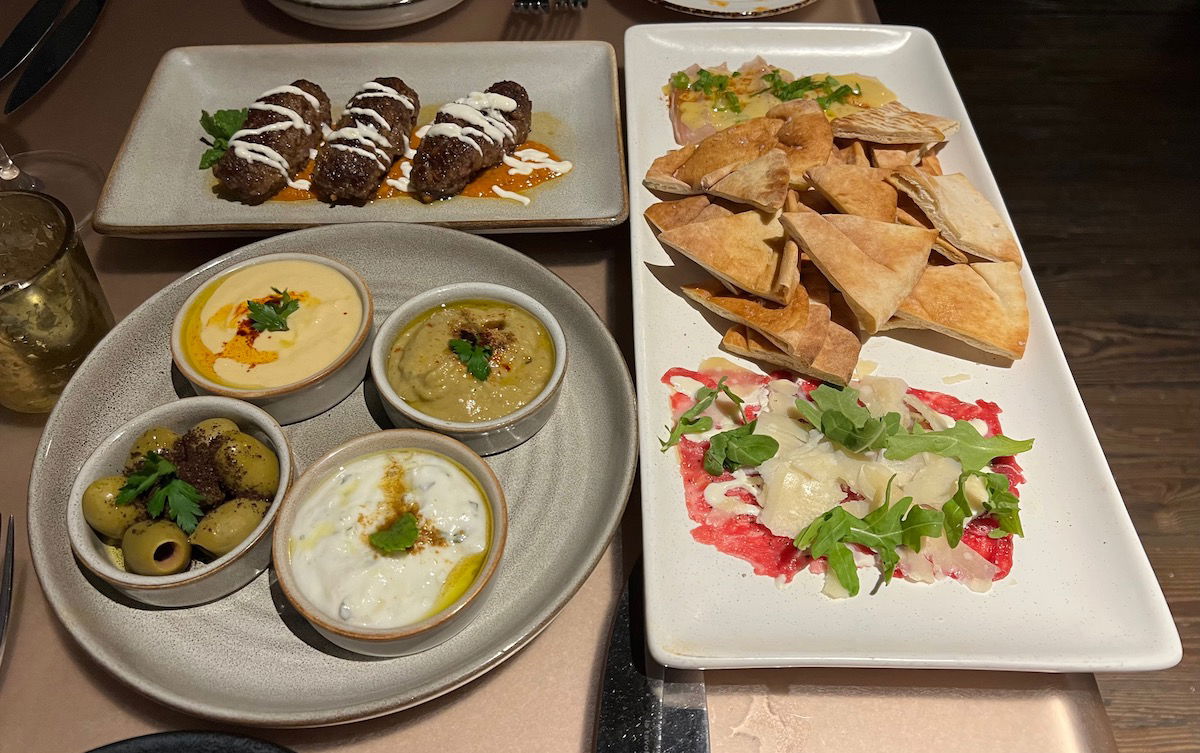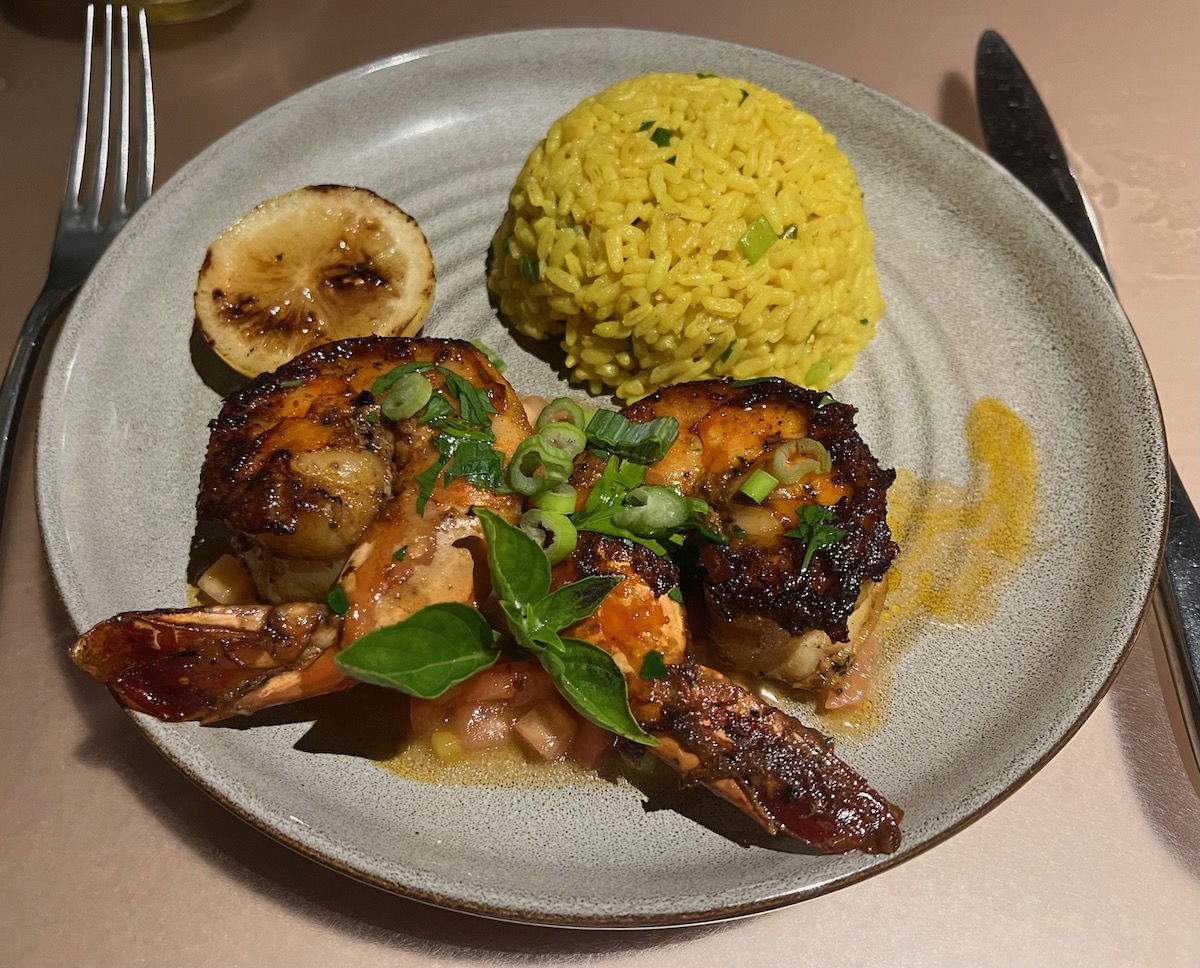 Also, next to EsQuilina is the Crowned Monkey Rum Bar. We never ended up having a drink here, since it's indoors, and we wanted to enjoy the outdoors as much as possible (also, we weren't drinking much, because we had Miles to take care of!).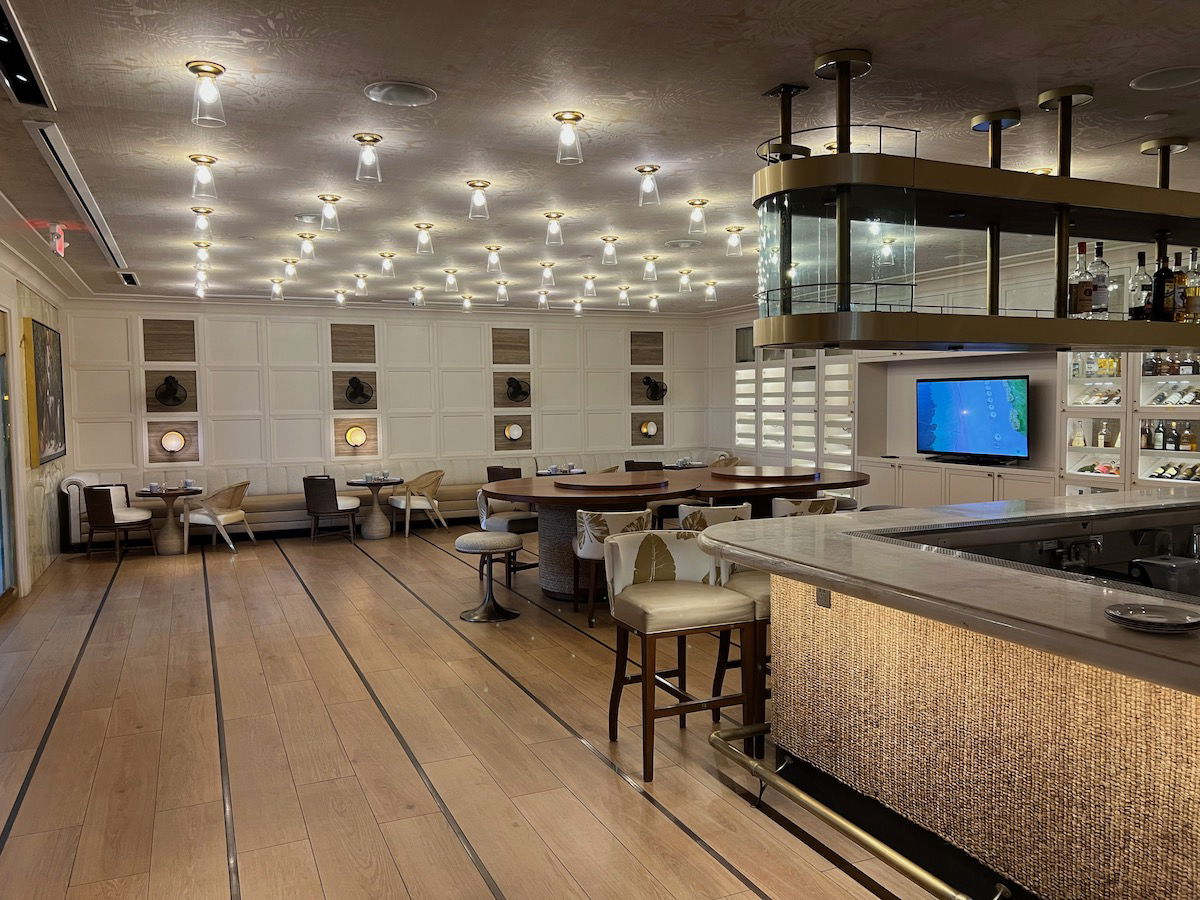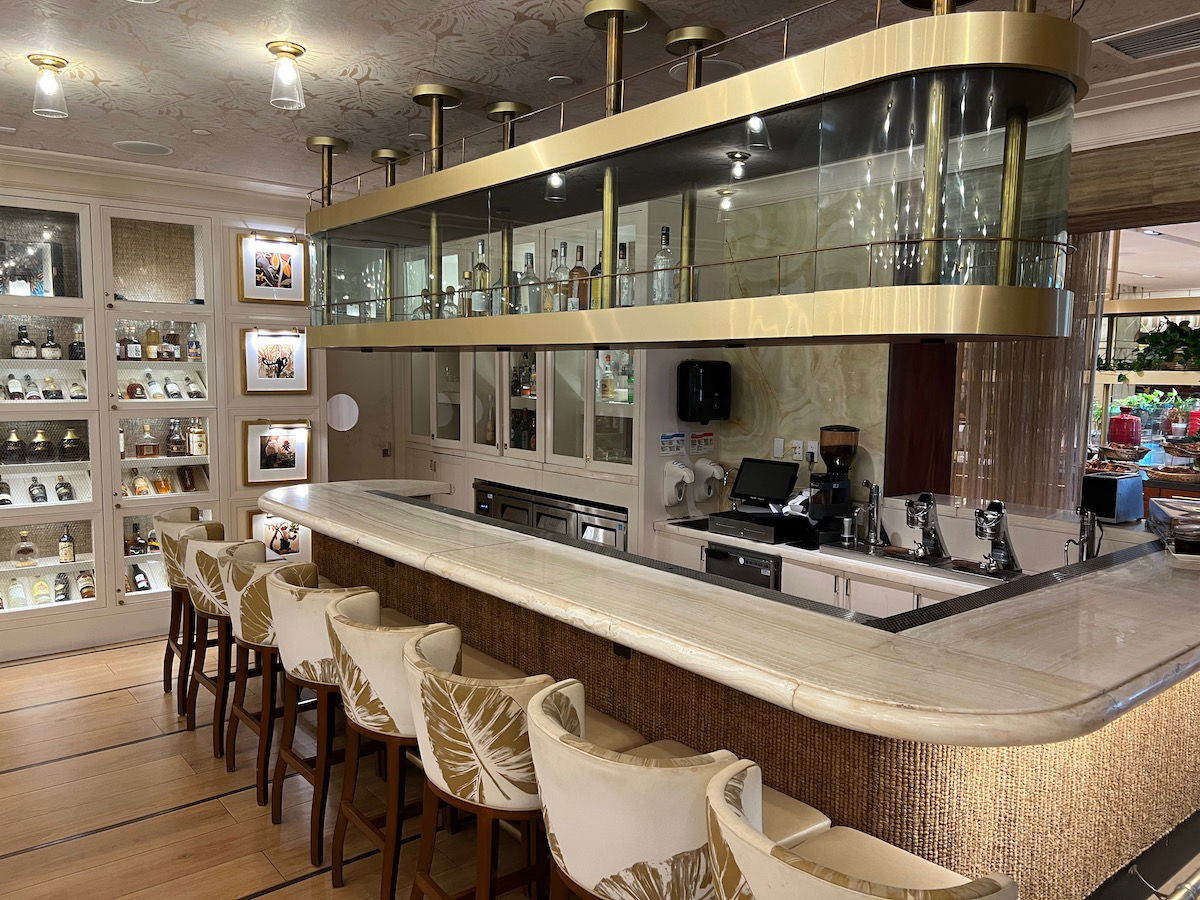 Four Seasons Nevis On The Dune
On The Dune is the Four Season Nevis' open-air restaurant right near the beach, serving lunch and dinner. The restaurant has plenty of tables, as well as bar seating.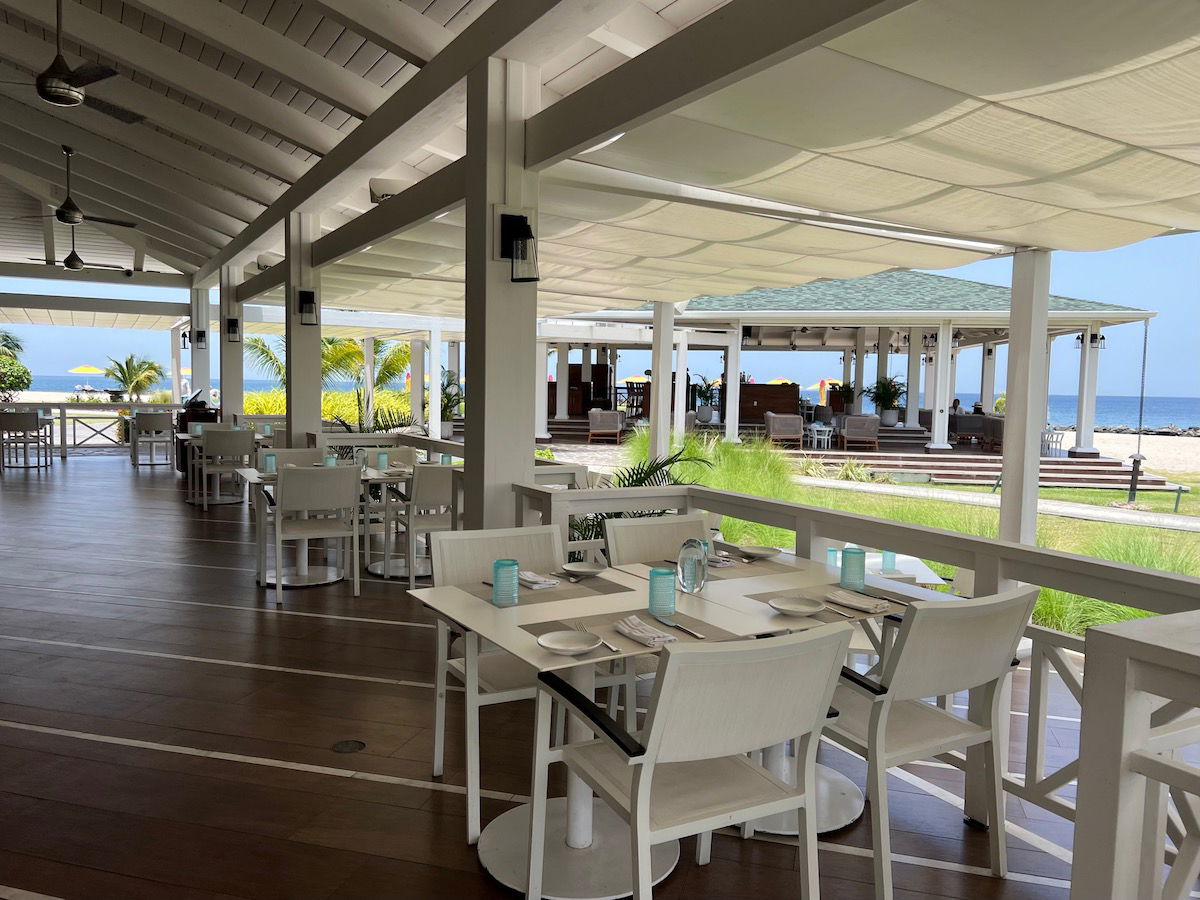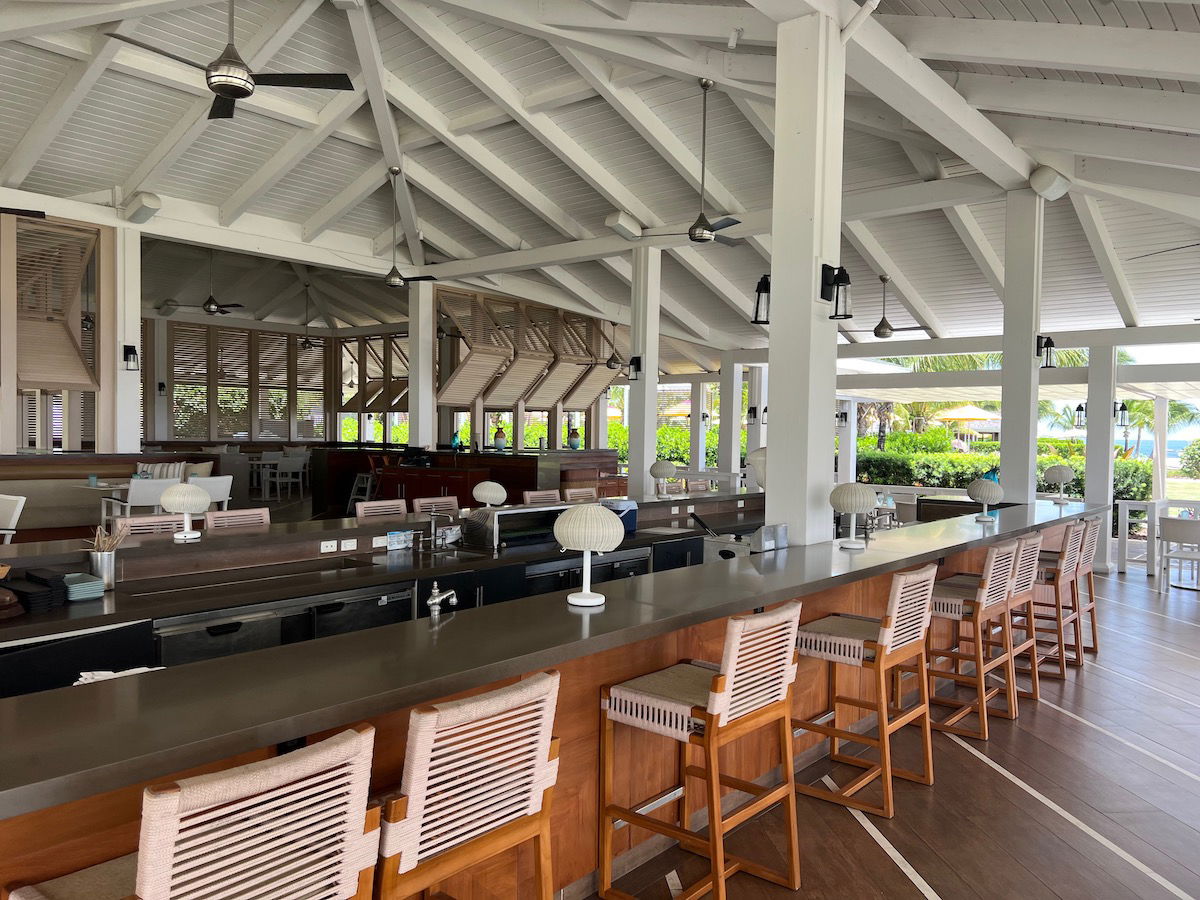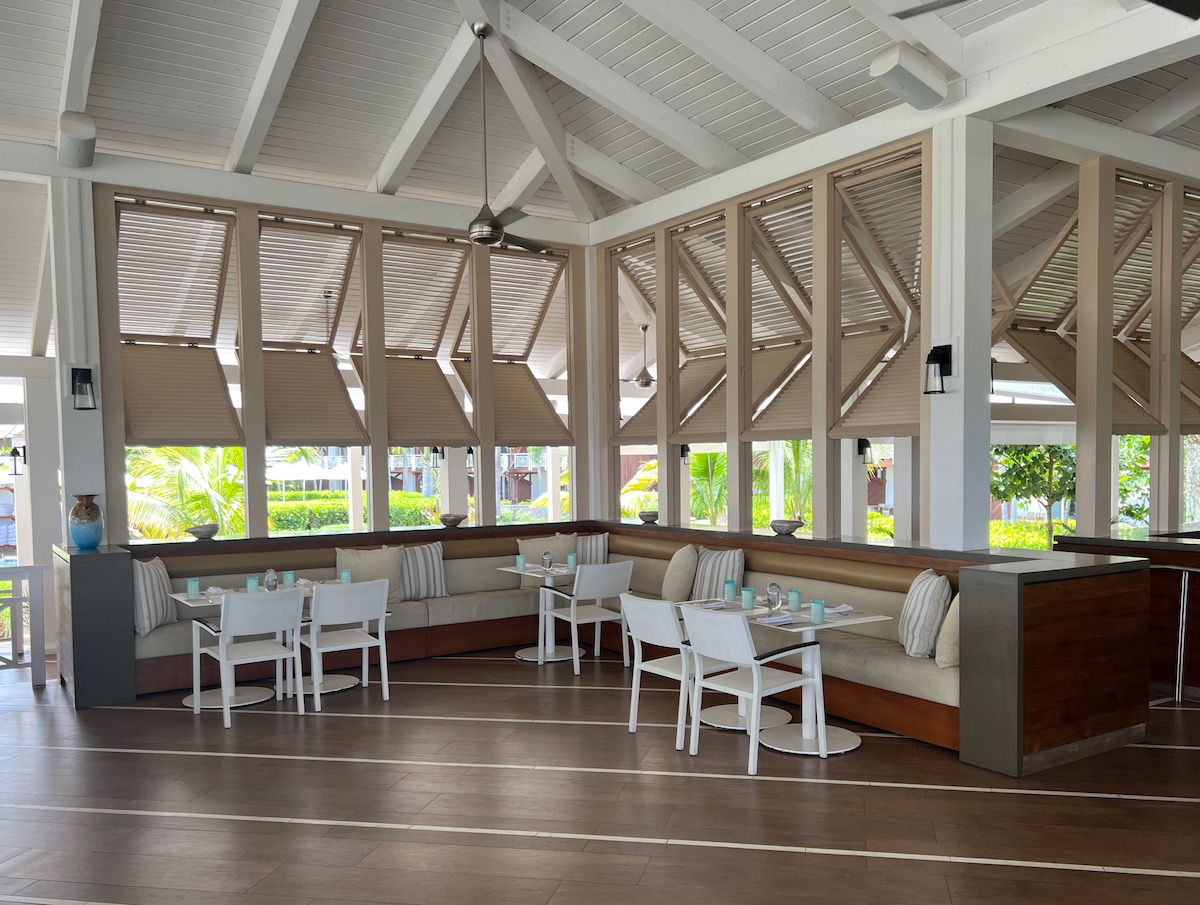 You can find the lunch menu here. At the beginning of each meal, we were offered some delicious pita flatbread with hummus.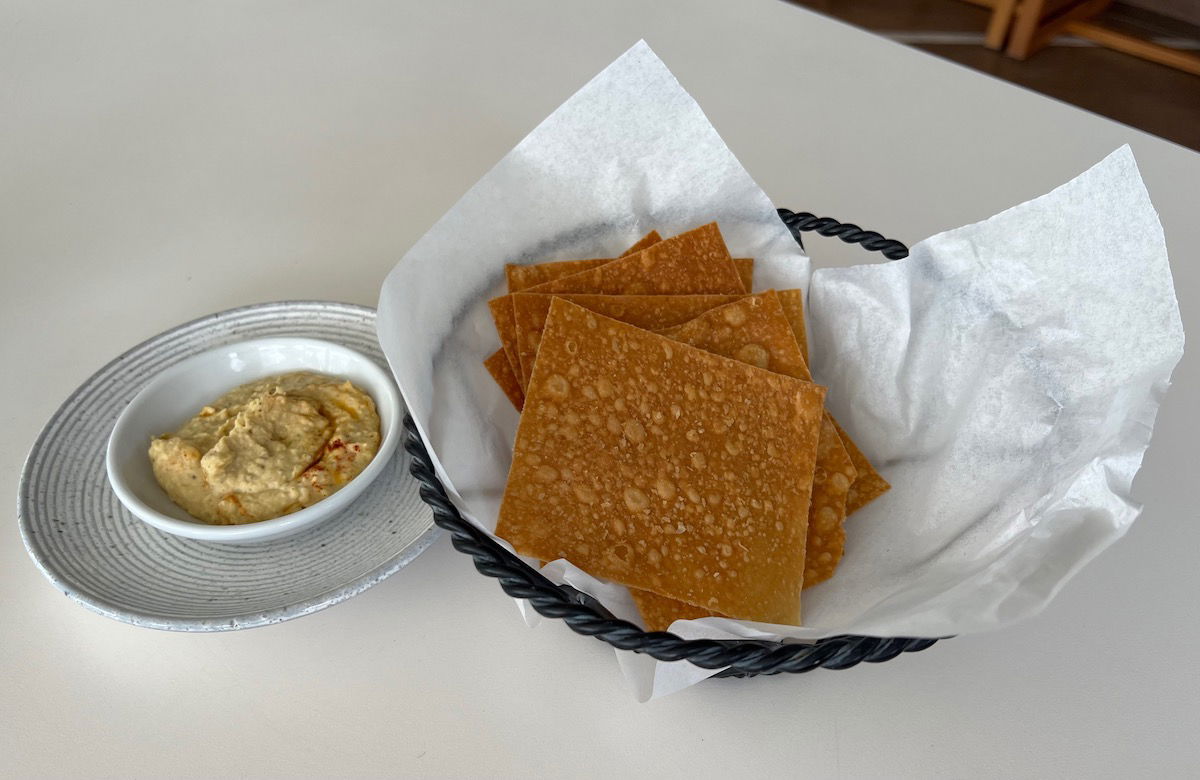 Over the course of our stay we had the island spiced mahi club with a side of squash and cashews (yum!), the shaved kale and toasted quinoa salad, and the Greek salad with chicken.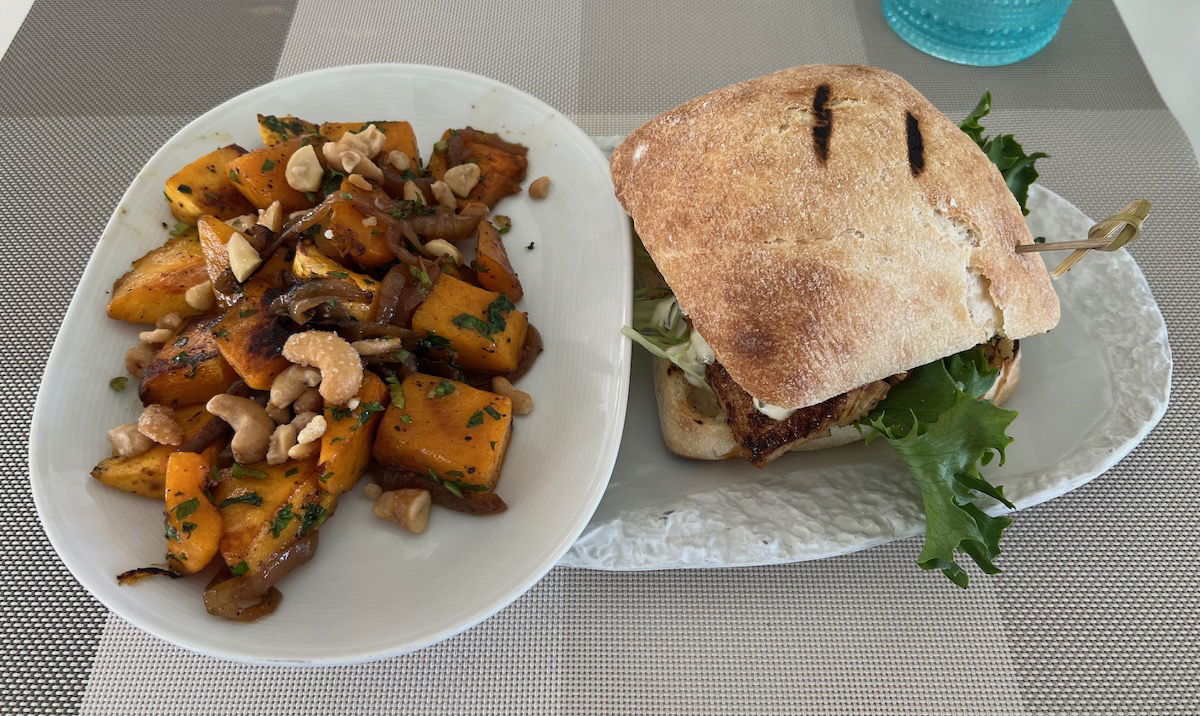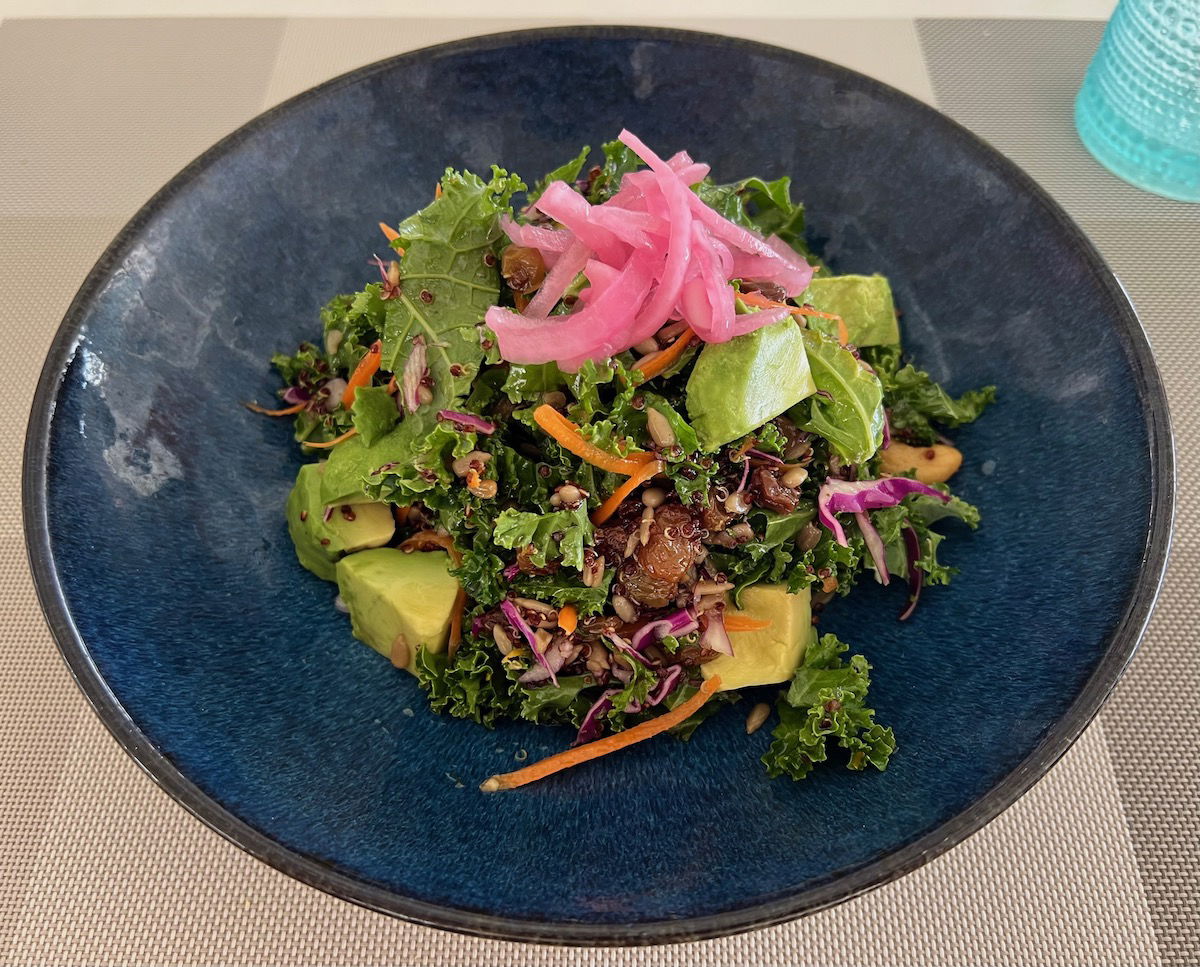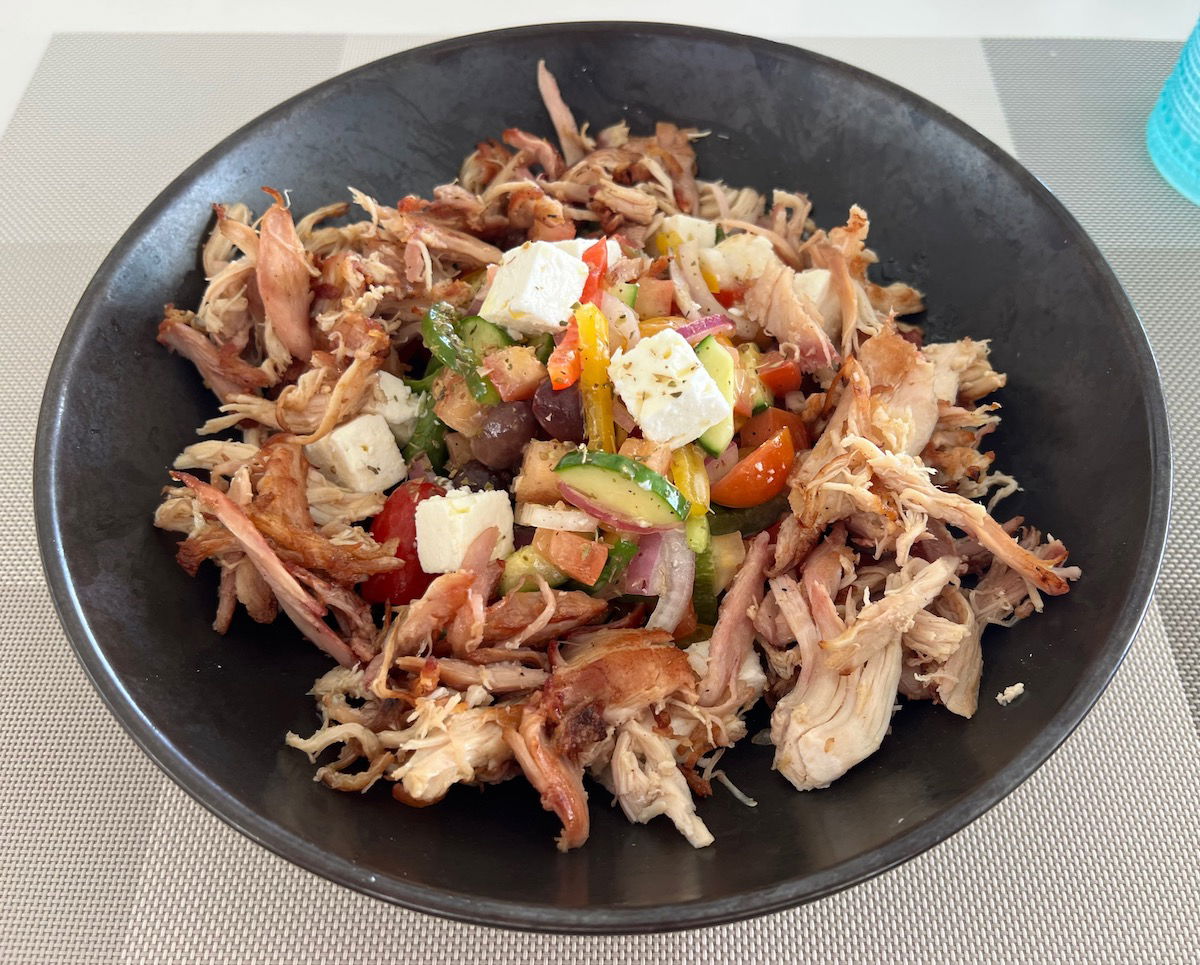 On The Dune also has a bar even closer to the beach, which is a great place to grab a pre-dinner drink. You can find the bar menu here.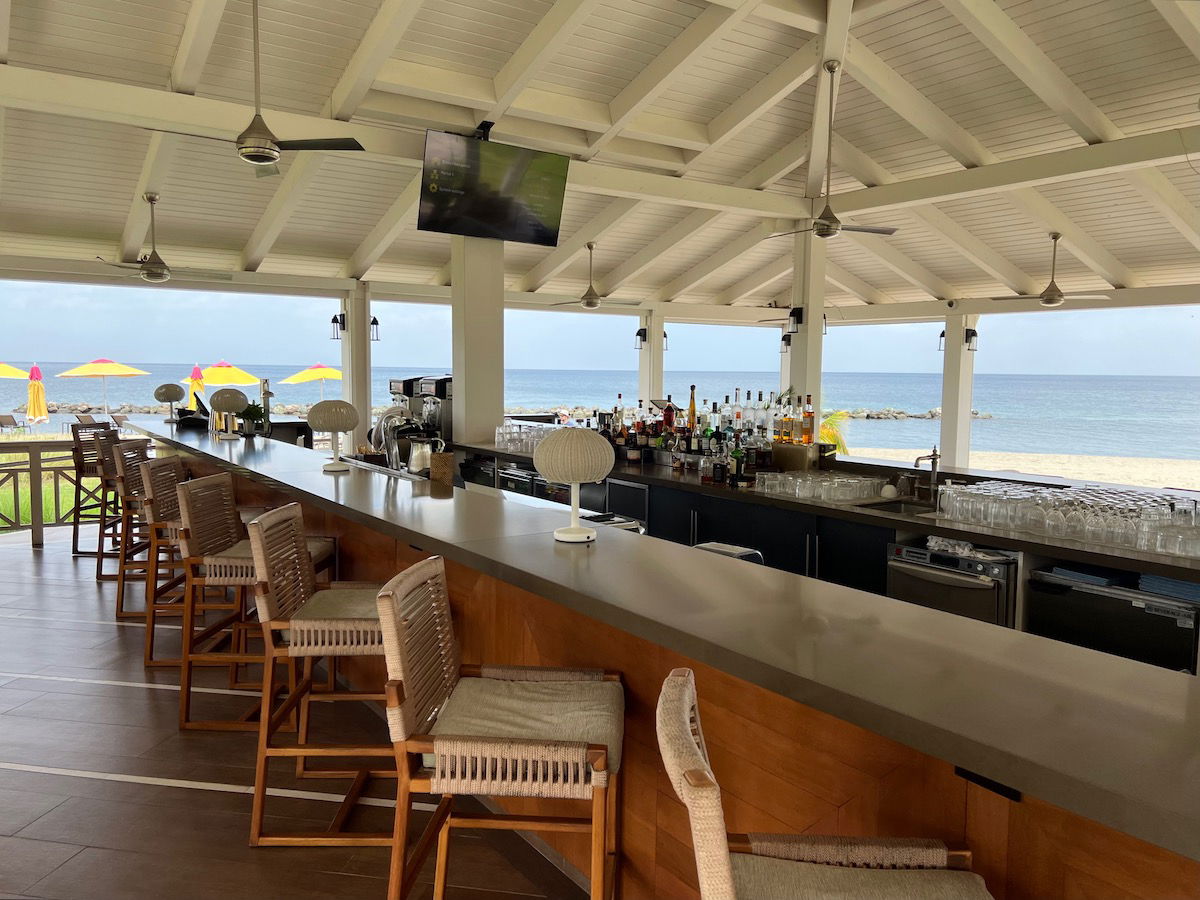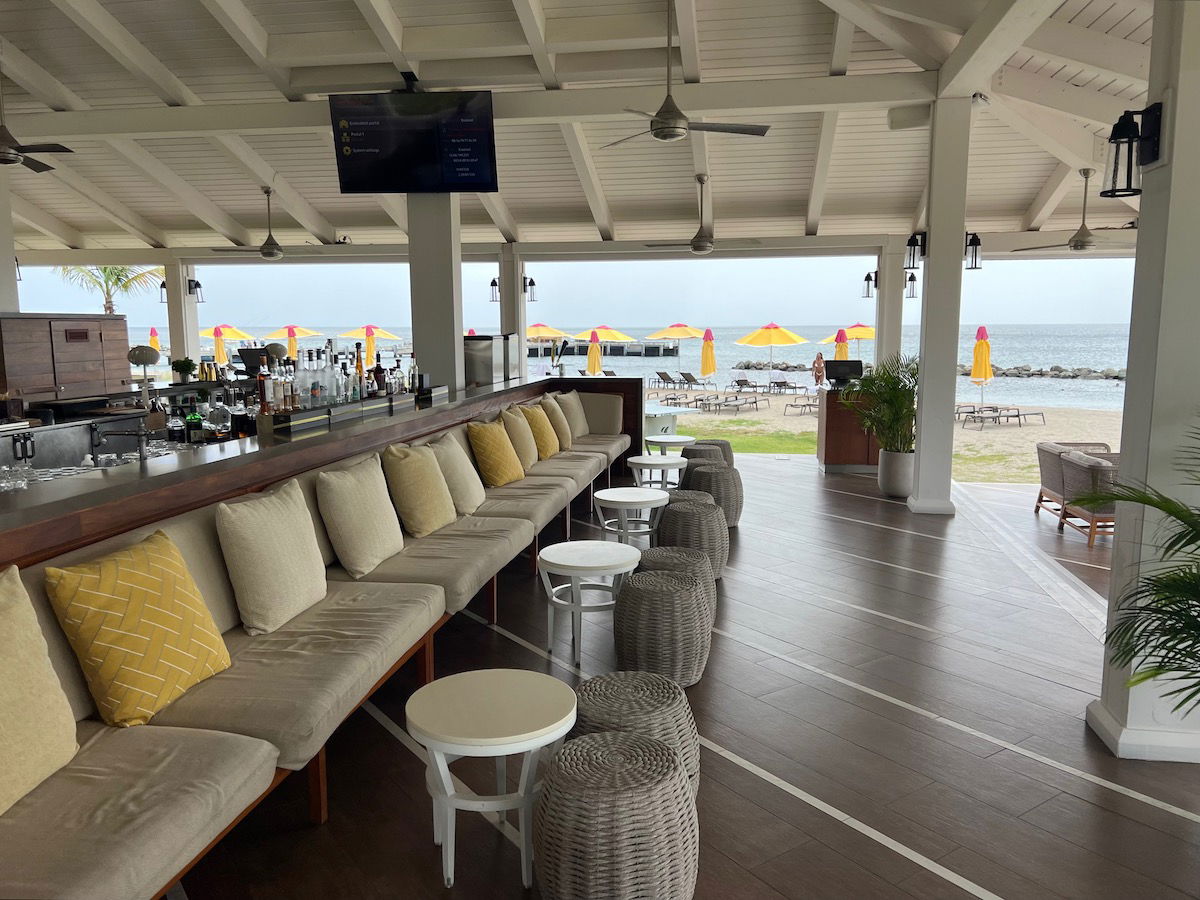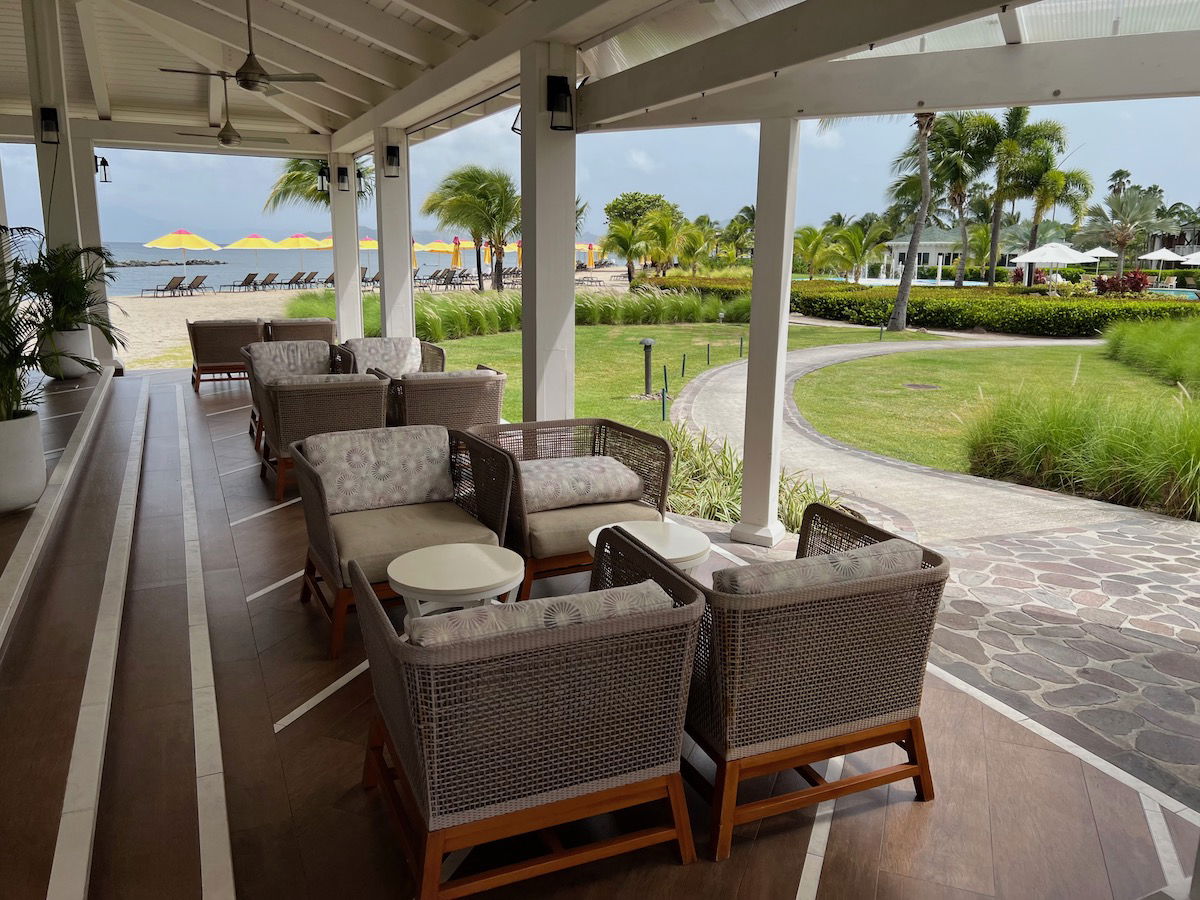 I had a rum punch here, which seems to be the most popular drink at the resort (goodness, it's strong!).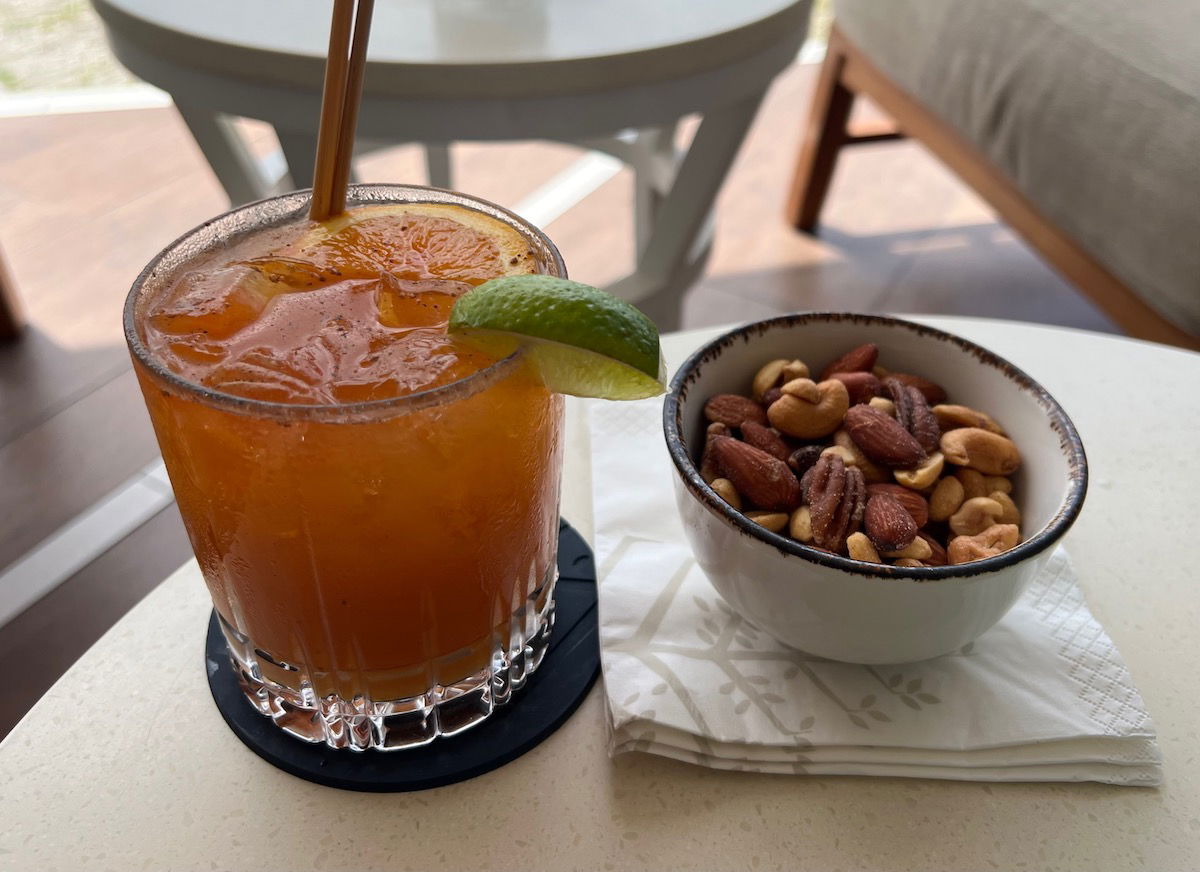 Four Seasons Nevis Mango
Mango is located at the far end of the resort, and is my favorite dining outlet on property. For one, I love the setting of the restaurant, as it's open-air and directly overlooks the Caribbean Sea.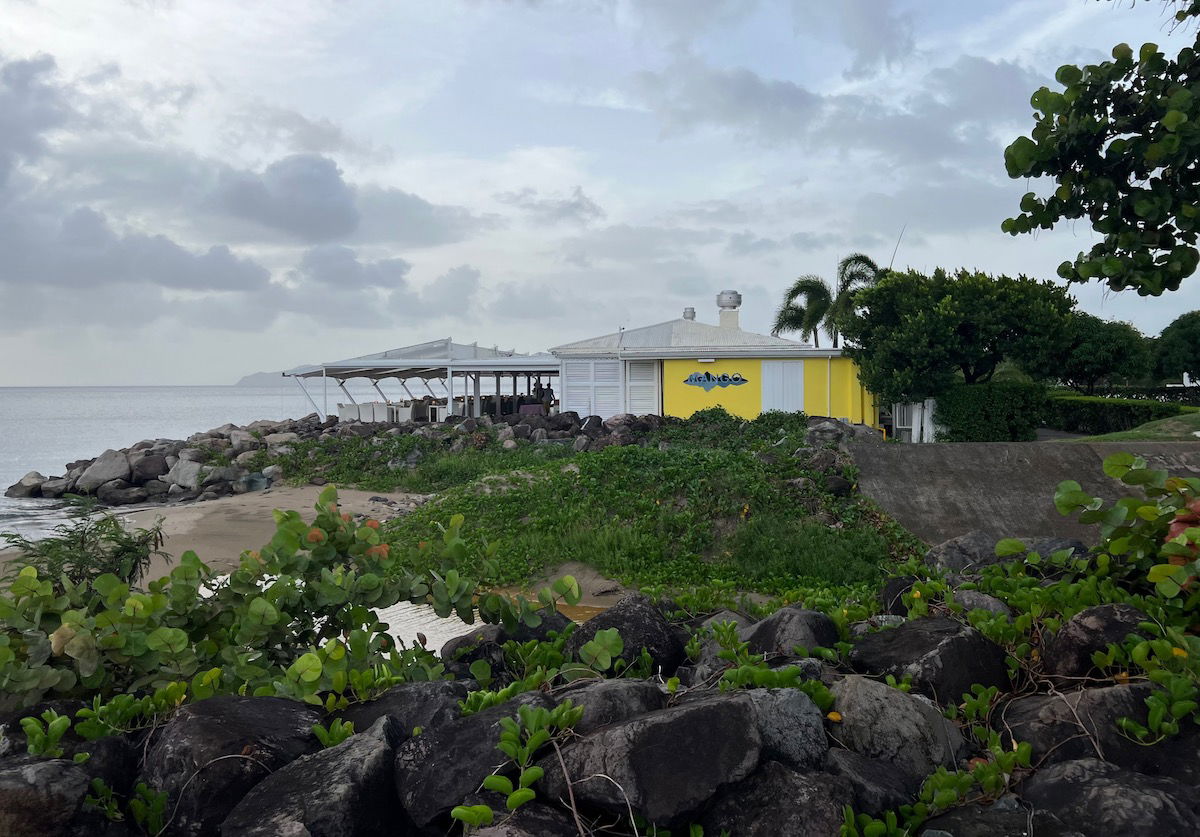 Just about all tables have views of the water, and there's also a couch area where you can relax and have a drink before or after dinner.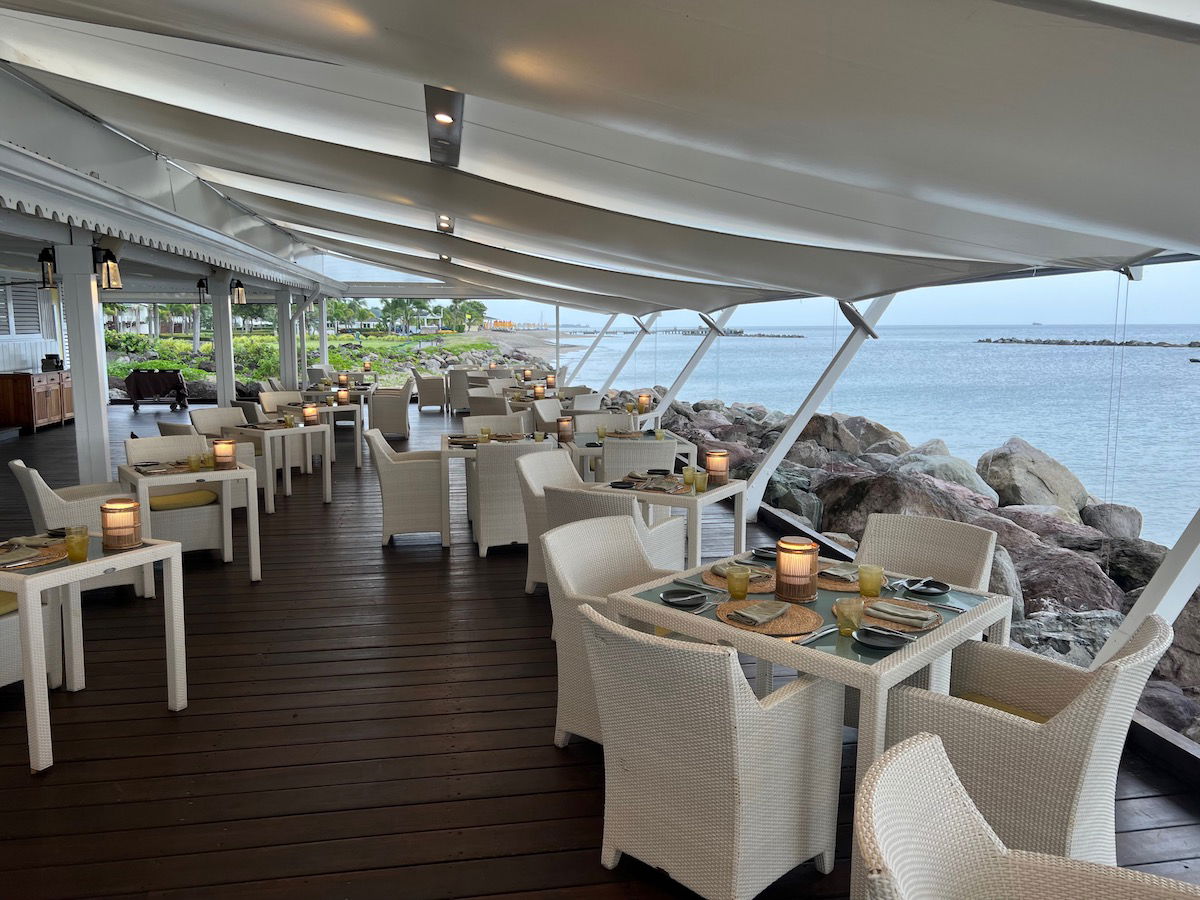 You can find the dinner menu here. When we visited, Ford had a rum punch, while I had a dirty martini (which was surprisingly one of the best dirty martinis I've ever had, and that's saying a lot).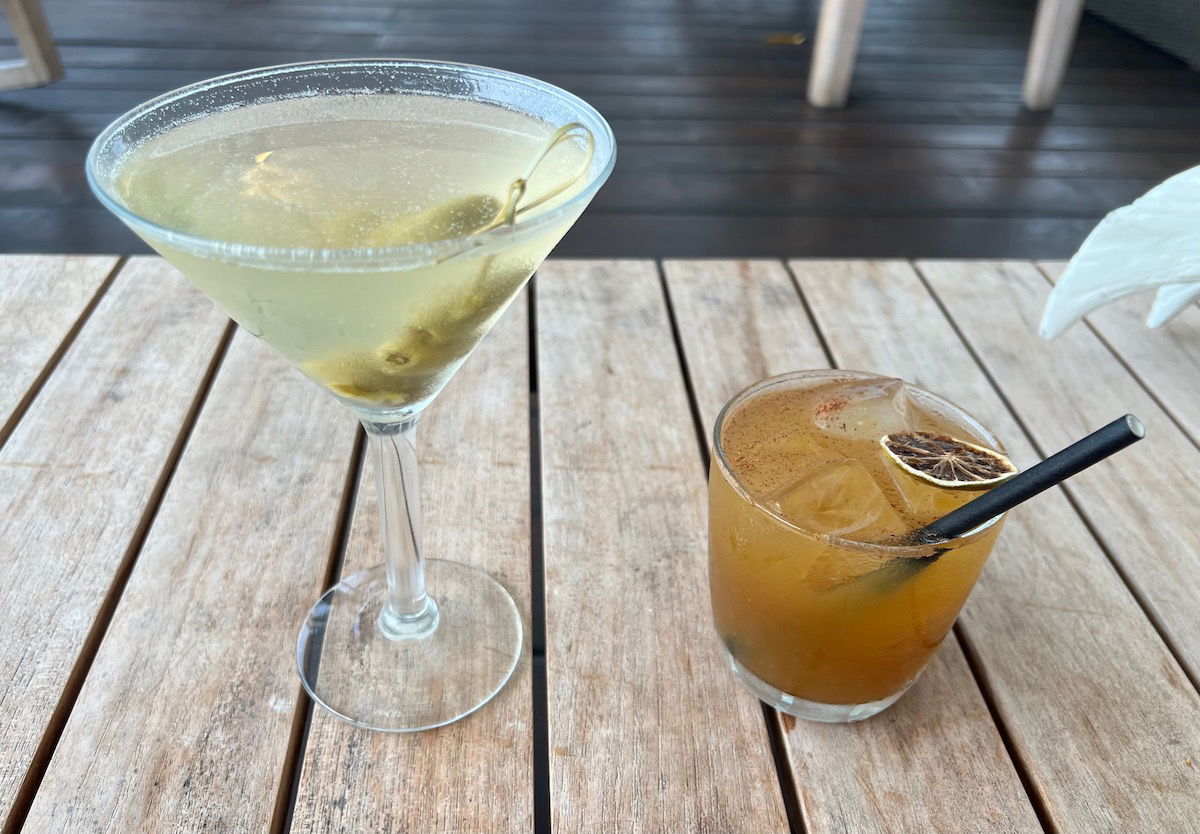 There was some delicious cornbread brought out at the start of the meal.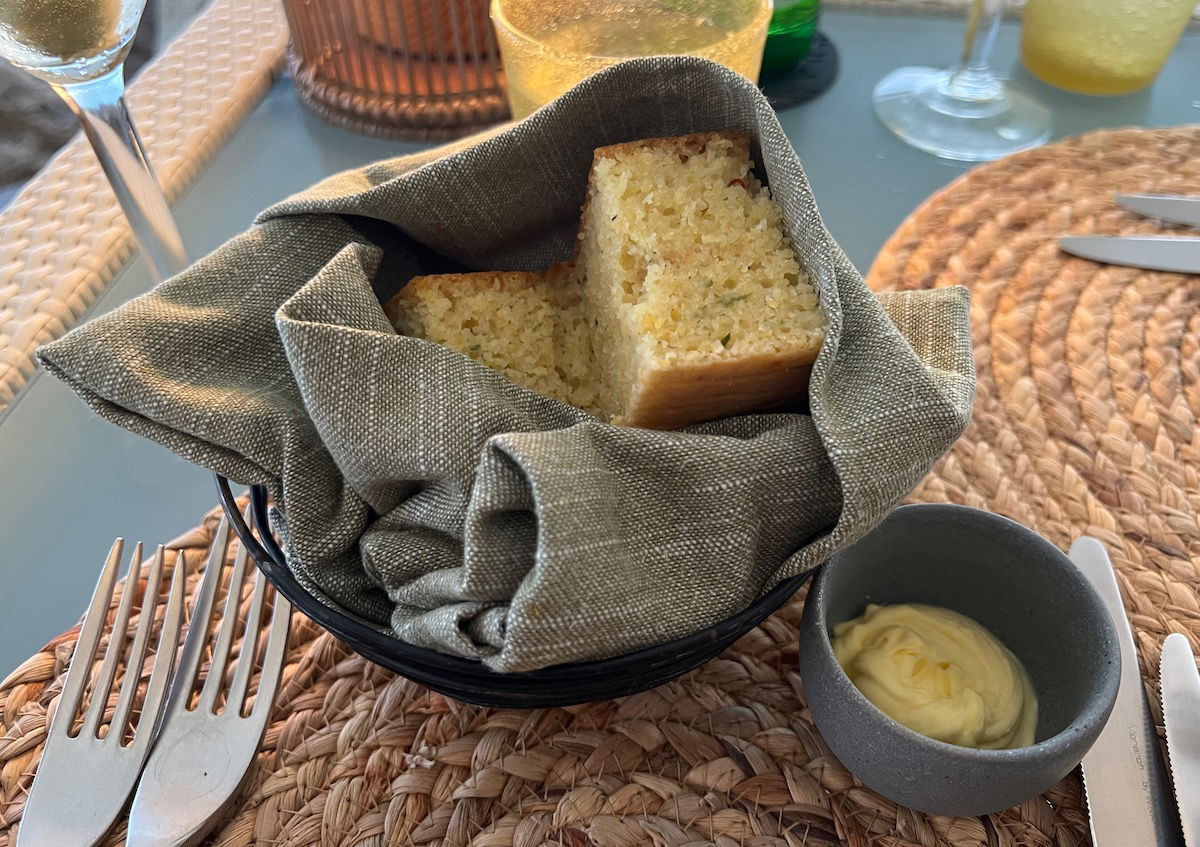 To start, we split the Nevis peak salad.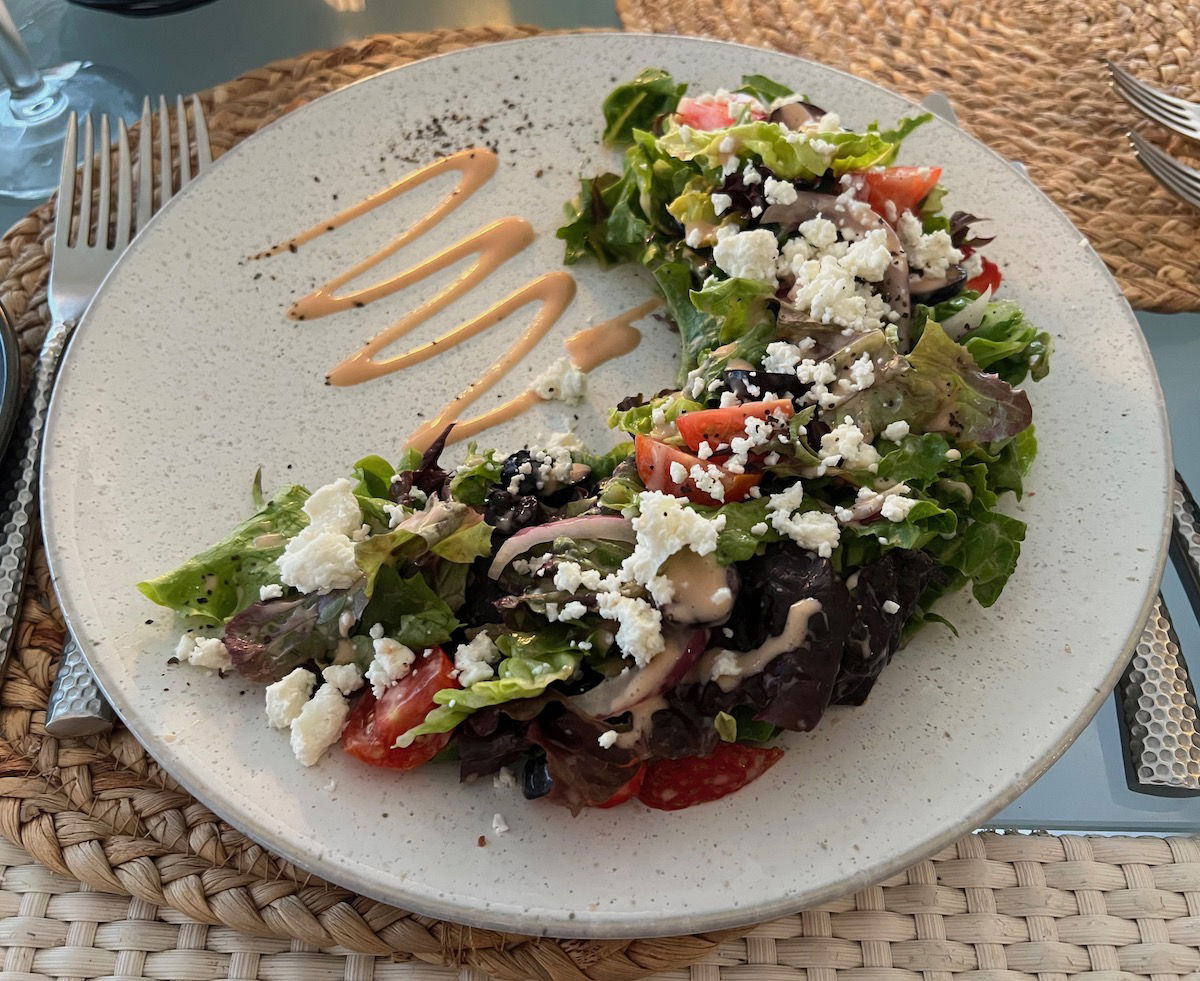 Then for our mains, we had Chef Xavi's volcano curry and the crusted catch of the day.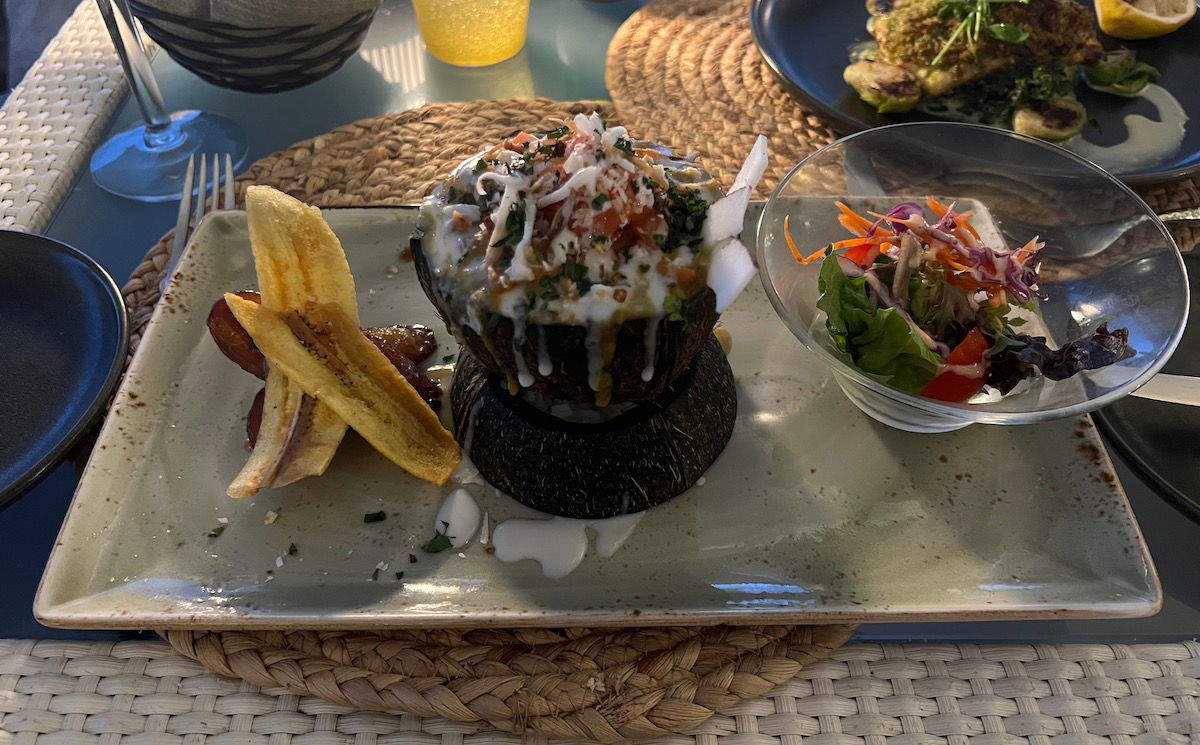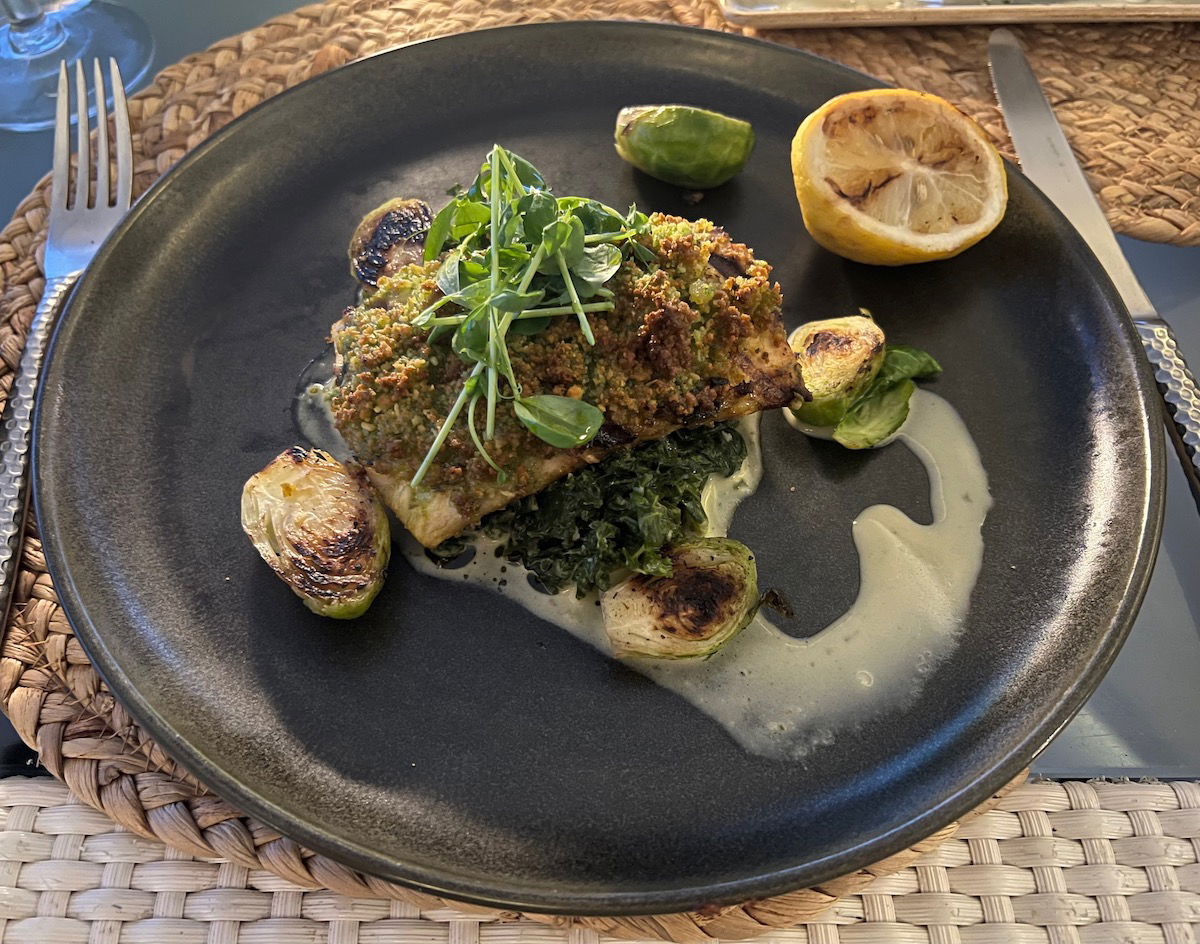 While the food was delicious, my single favorite thing about Mango was the live music. I adore live music in bars and restaurants, and will go out of my way to visit places that have that. So to have truly awesome music throughout dinner was such a treat. The two ladies performing are literal rockstars, and I'd pay to see them in concert any day (except I don't like crowds… so maybe I'll just have to come back here?).
Four Seasons Nevis service
Service was one of the highlights of the Four Seasons Nevis. While Four Seasons is known for great service, I find that service in the Caribbean can be hit or miss sometimes, so I wasn't sure what to expect.
Honestly, I found virtually everyone we interacted with to be incredibly friendly. Some employees particularly stood out. A special shout to Kimisha at Mango (she was so friendly, and her smile could light up a room) and Demar at On The Dune (who couldn't have been kinder when interacting with us and our son at lunch each day).
Honestly, there were so many other great employees, but unfortunately I didn't get everyone else's name. This is such a family friendly resort, which was much appreciated.
Who should visit the Four Seasons Nevis?
The Four Seasons Nevis exceeded my expectations, and in some ways I think it's a hidden gem. When you think of high-end tourism in the Caribbean, you might think of Anguilla, St. Barts, etc. Nevis doesn't cross most peoples' mind unless you specifically have a reason to consider it.
Who should consider the Four Seasons Nevis? I think it's an awesome property for anyone who is looking for a quiet, relaxing, luxurious vacation. Nevis is a charming and small island, and there aren't even any traffic lights or buildings that are more than a few floors on the entire island. I find that really cute, since Nevis is in my opinion more interesting to drive around and explore than your typical Caribbean island, given how different it is.
That being said, if you're looking for a huge scene, endless restaurants packed with half of the Upper East Side, etc., Nevis probably isn't for you. This isn't like St. Barts, where the "rich and famous" go to be seen. Personally I think that's a big selling point of this property, but I think it's important to at least clarify that, given that Four Seasons typically has pretty high end clientele.
Bottom line
The Four Seasons Nevis is a great luxury Caribbean resort if you're looking for an easy, quiet getaway. Nevis isn't a destination that most people think of, since it's a small island with fairly limited tourism. That being said, I'd seriously consider this resort if you're a fan of Four Seasons and like the Caribbean.
The resort sits on a beautiful piece of land with amazing views of the Caribbean Sea. The property has great pools, a huge beach, lots of activities, friendly service, and good food and drinks. There's something really magical about the setting of this property that words can't do justice to.
I'd say the only downside to this property is that it's not a cutting edge Four Seasons design-wise, both in terms of the buildings, and in terms of the interiors. Still, I find the design to be tasteful, and the rooms and grounds are very well maintained.
What do you make of the Four Seasons Nevis?