EXTRA PERKS AVAILABLE
Enjoy breakfast, upgrades, & more
Want to take advantage of Four Seasons Preferred Partner benefits, including a space available room upgrade, complimentary breakfast, a hotel credit, and more? Contact Ford ([email protected]) for more details. He may even be able to help if you already have a stay booked.
After a couple of nights at the Four Seasons Oahu at Ko Olina, our next stop was checking out the Four Seasons Hualalai, located on the Big Island. I've visited the Four Seasons Lanai and the Four Seasons Maui before, so was particularly curious to check out this property, as it's regarded by many to be the best resort in all of Hawaii.
Well, I won't bury the lede — the Four Seasons Hualalai is simply incredible, and breathtakingly beautiful. You could come to this resort for a week without leaving the property, and you wouldn't get bored (though the issue is that the Big Island has so much to offer, so it would be a shame not to explore).
The Four Seasons Hualalai has four restaurants, an expansive property, beautiful coastline, incredible pools (including one that's essentially an aquarium you can swim in), and the typically excellent Four Seasons service.
Booking the Four Seasons Hualalai
For our dates in March, the nightly rate for a base room at the Four Seasons Hualalai was ~$1,800. Since the start of the pandemic, rates at properties in Hawaii (and for that matter rates at so many vacation destinations) have gone way up. I'm sure rates will normalize again eventually, but we haven't reached that point yet. As a point of comparison, the Andaz Maui (a popular Hawaiian points hotel) was charging $1,400 for the same dates for a room with no view. So context is important here.
Furthermore, I think it's worth specifically giving Four Seasons kudos for not having resort fees at any Hawaii properties, unlike… well, just about every other property in Hawaii.
The Four Seasons does have some offers to get a better deal, like a rate with a resort credit, an unlimited golf package, and more, so keep an eye out for those. The best way to book any Four Seasons hotel is through a travel advisor affiliated with the Four Seasons Preferred Partner program. When booking through Preferred Partner you pay the same rate you'll find directly on Four Seasons' website, but you'll receive extra perks, including the following:
A room upgrade, subject to availability
Complimentary daily breakfast
A hotel credit to use during your stay
Four Seasons Preferred Partner is generally combinable with promotions being offered directly through Four Seasons, including advance purchase rates, free night offers, and more. Note that booking Four Seasons properties through Preferred Partner is better than booking through programs like Amex Fine Hotels & Resorts. Why?
With Preferred Partner you have the option of room service breakfast in place of restaurant breakfast
Upgrades are prioritized for Preferred Partner bookings, given that it's Four Seasons' own proprietary program (and the value of an upgrade can be significant)
You can combine Preferred Partner perks with virtually any rate on Four Seasons' website (other programs don't allow you to stack promotions in the same way)
You can't beat getting all of these extra perks just for booking through an eligible travel advisor. Ford is happy to help anyone book Four Seasons properties through Preferred Partner, and can be reached at [email protected] He and his team don't charge any booking fees for Four Seasons properties.
Full disclosure — Ford got a travel agent rate for our stay. As always, all opinions expressed are my own.
Four Seasons Hualalai location & layout
The Four Seasons Hualalai is located on the Kona-Kohala coast of Hawaii Island. It's a roughly 15 minute drive from Kona International Airport (KOA). It's about a 20 minute drive to the town of Kona, or a roughly 90 minute drive to Hilo, if you want to go to the other side of the island.
Hualalai as such is a complex consisting of 800 acres of oceanfront property. The resort has 249 guest rooms and suites, plus there are roughly 330 houses on the complex. The property also has two golf courses, and several pools and restaurants. Below is a property map to give you a sense of the layout of the resort.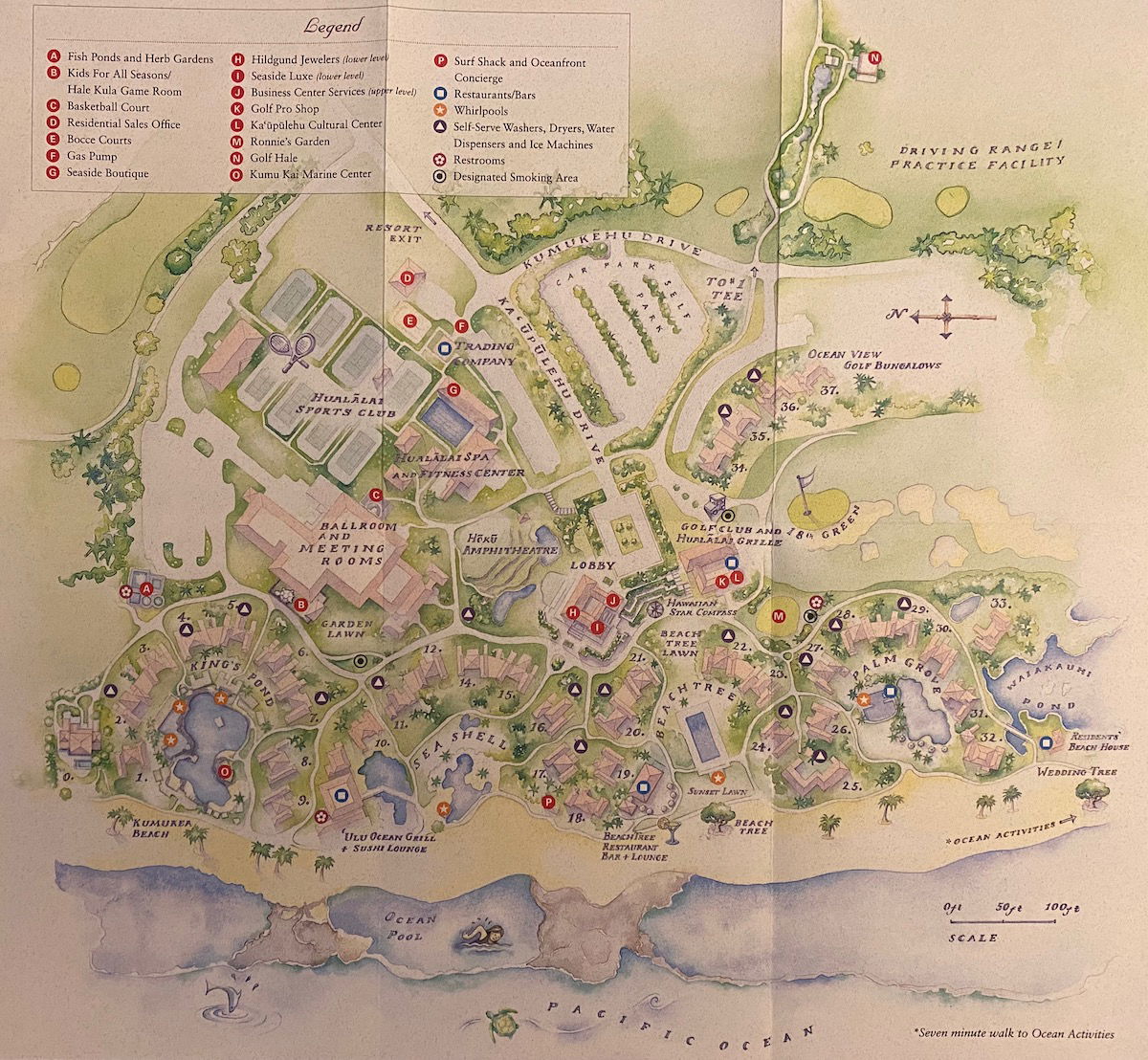 In many ways the Four Seasons Hualalai reminded me of the Ritz-Carlton Reserve Dorado Beach, in the sense that both are huge resort compounds located on gorgeous coasts. This is an ideal family destination, as there's something here for everyone, where you want to swim, golf, eat, or drink.
While the Four Seasons Hualalai initially opened in 1996, the property has undergone a full renovation, which just wrapped up recently.
Four Seasons Hualalai check-in & lobby
We arrived at the resort at around 3PM, and were warmly welcomed by the bellmen. The resort offers complimentary self parking in a lot near reception, so that was nice. We first admired the view from the entrance to the resort, which looks down at the lawn, then one of the pools, and then the Pacific Ocean.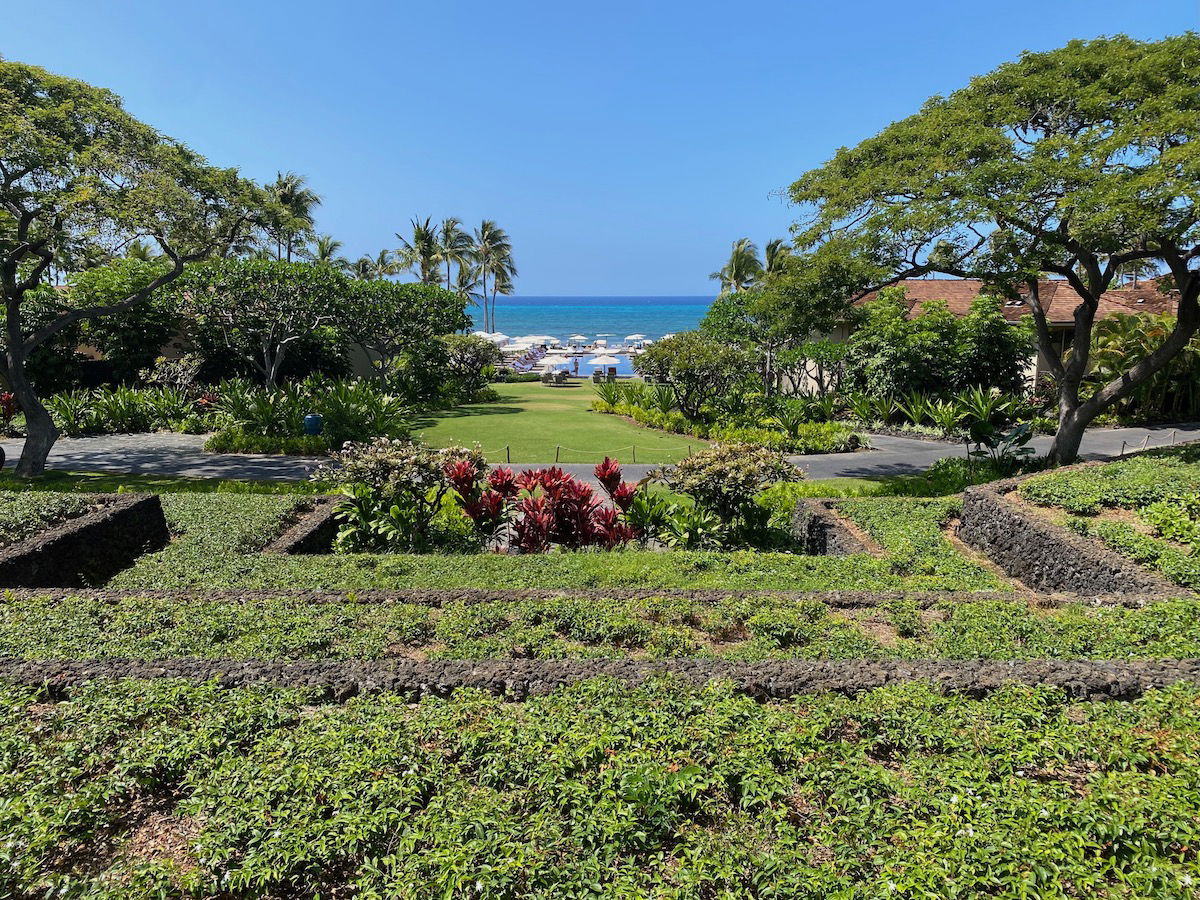 Reception is located in an open-air, elevated building. For that matter, just about everything at the hotel is open-air, from the restaurants to the gym. Aside from our room, we were never really indoors at the resort.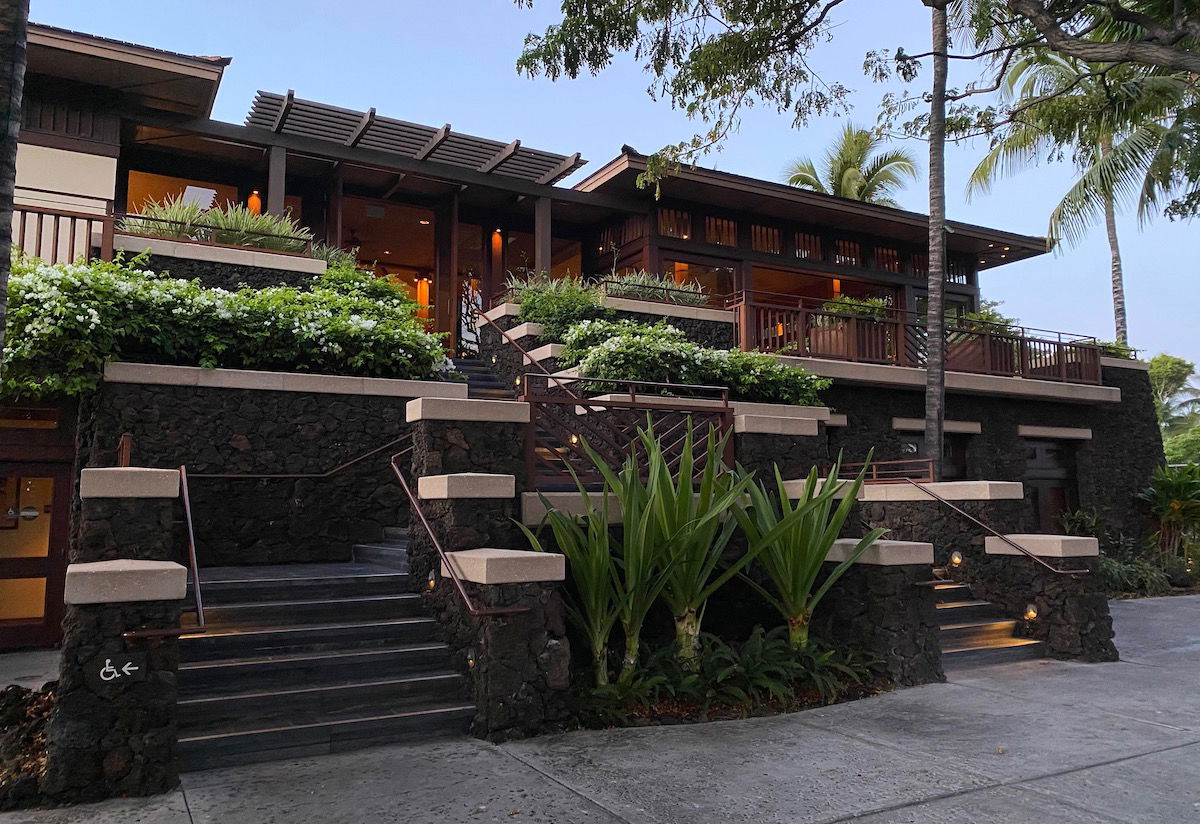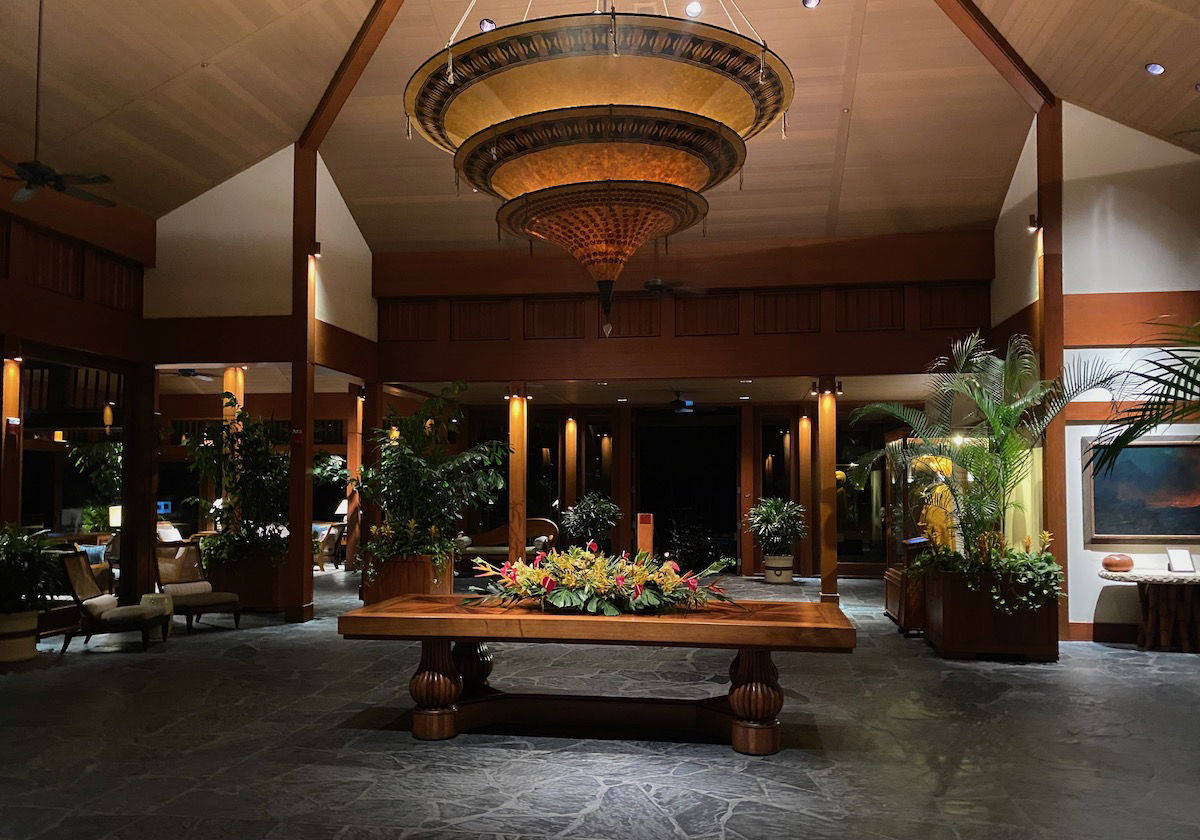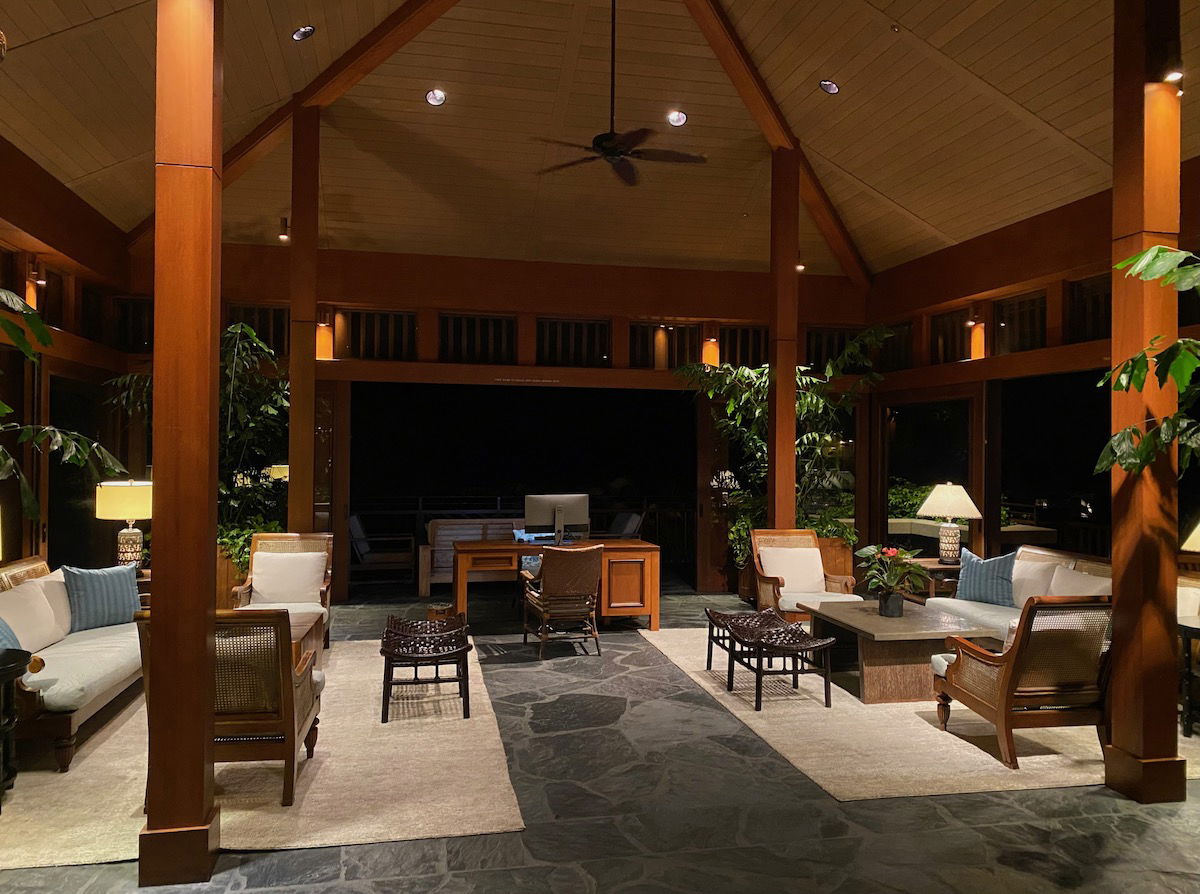 The check-in process was efficient, and we were offered mini-mango mai tais plus leis. Within a few minutes formalities were complete, and we were driven to our room in a golf cart.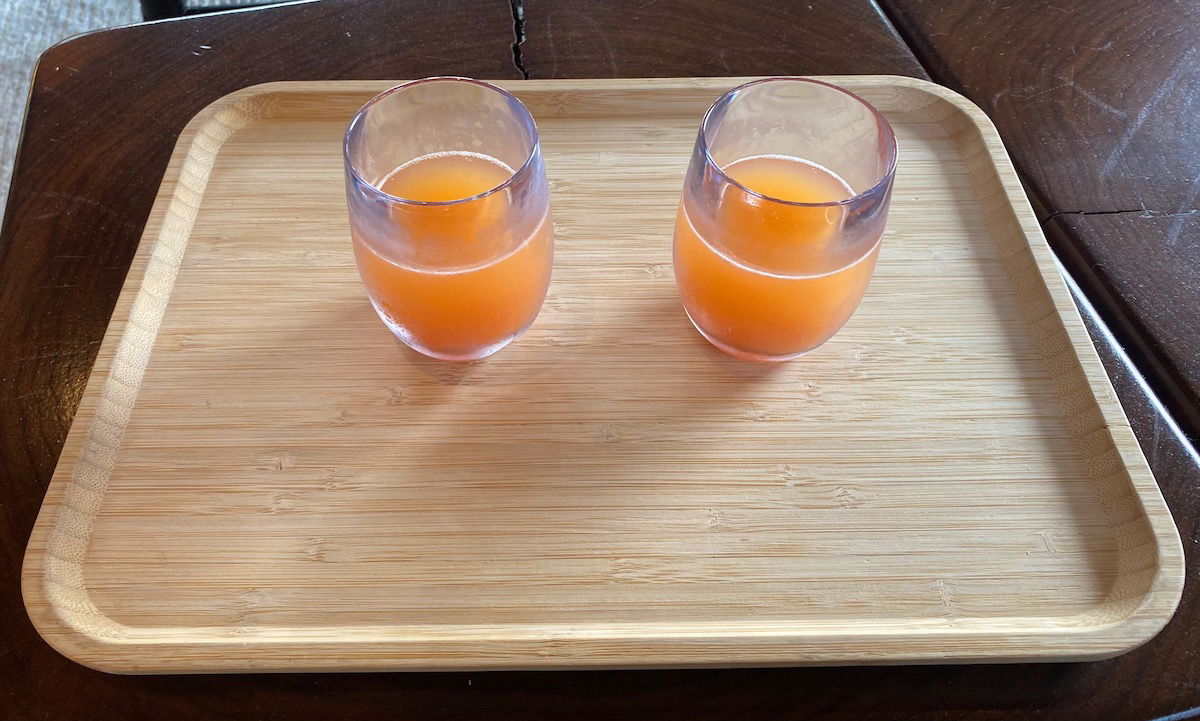 There aren't many reason to visit the lobby during your stay, unless you need help from the concierge, or want some complimentary coffee and snacks (tofu muffins and butter croissants), which are available in the morning.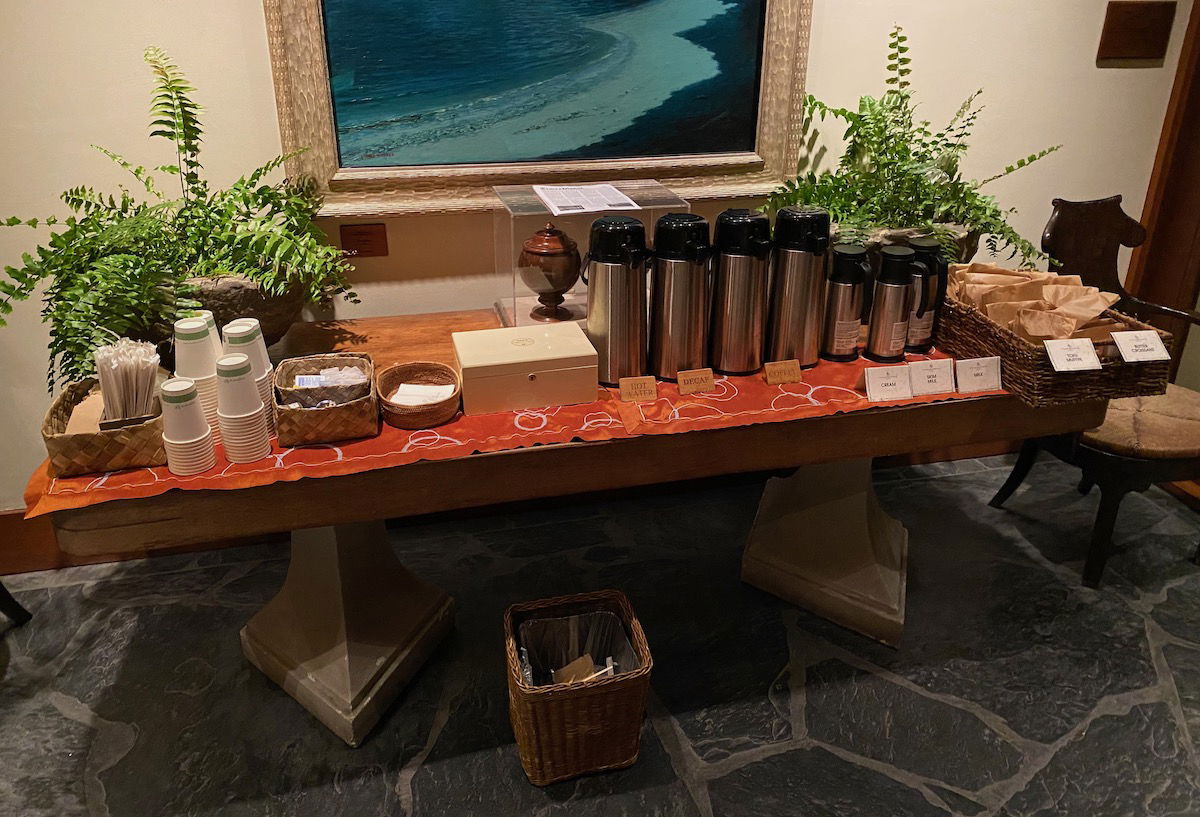 Four Seasons Hualalai Ocean-View Room
For our stay at the Four Seasons Hualalai we stayed in an ocean view room, marketed as being 635 square feet. That's the entry level room size, so accommodations are generously sized Rooms are generally around one of the four main pool areas, and each building typically only has four rooms, and isn't more than two stories tall.
We were staying near King's Pond, which I found to be an awesome part of the resort. You've gotta love how lush the property is, as the trees and plants are gorgeous.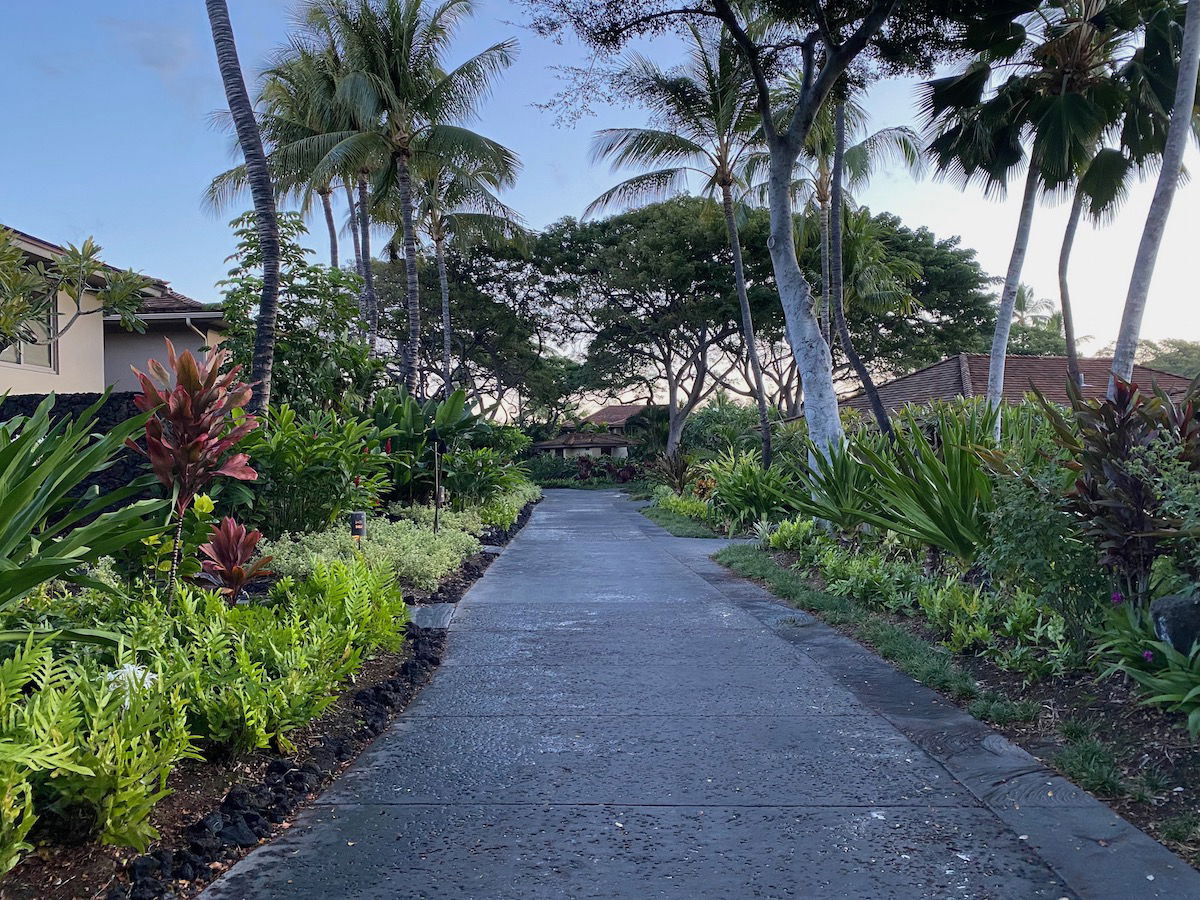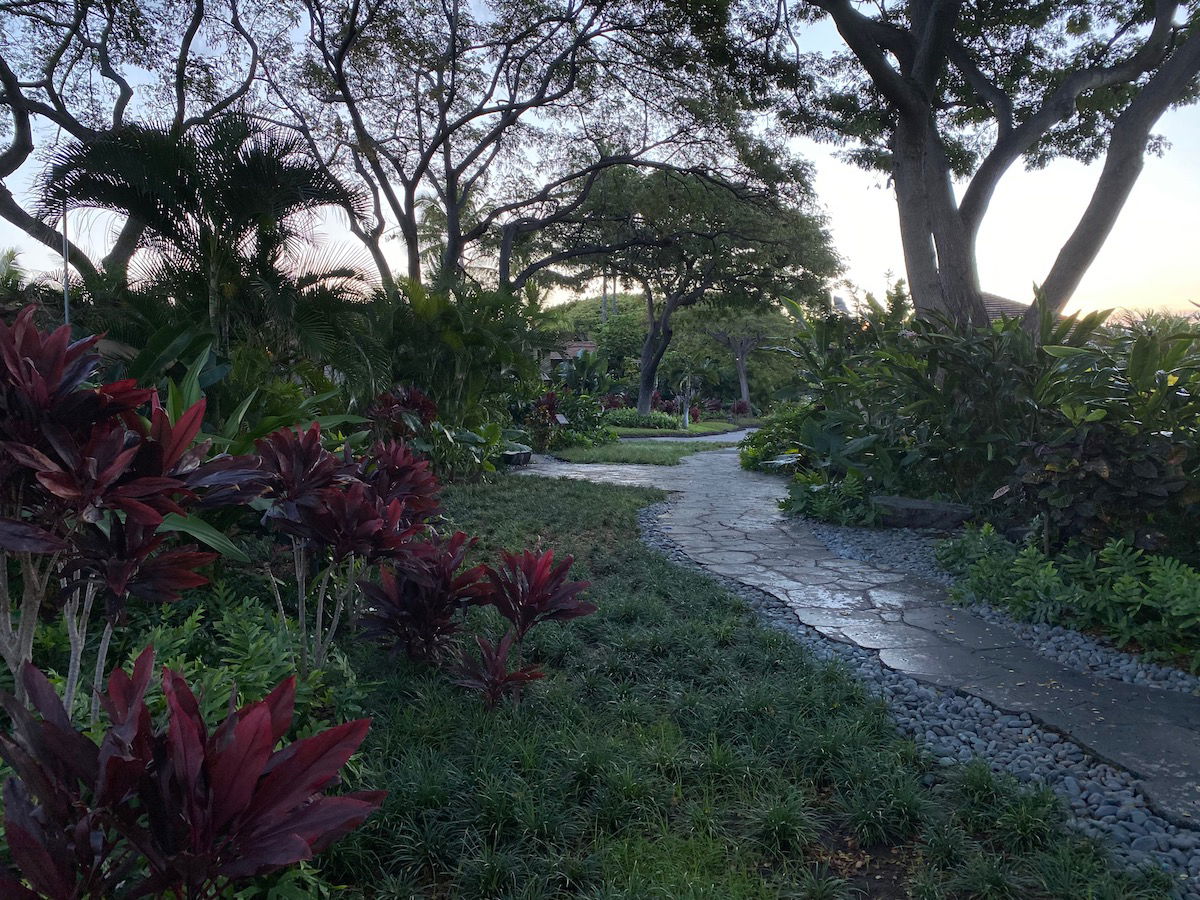 Specifically, we were assigned room 203, a ground floor room. As mentioned above, the Four Seasons Hualalai recently underwent a full renovation, and guest rooms are well done, as they're the perfect blend between being modern and having a sense of place. The main part of our room had a signature Four Seasons bed (the most comfortable in the industry), a couch with a coffee table, a desk, and a TV.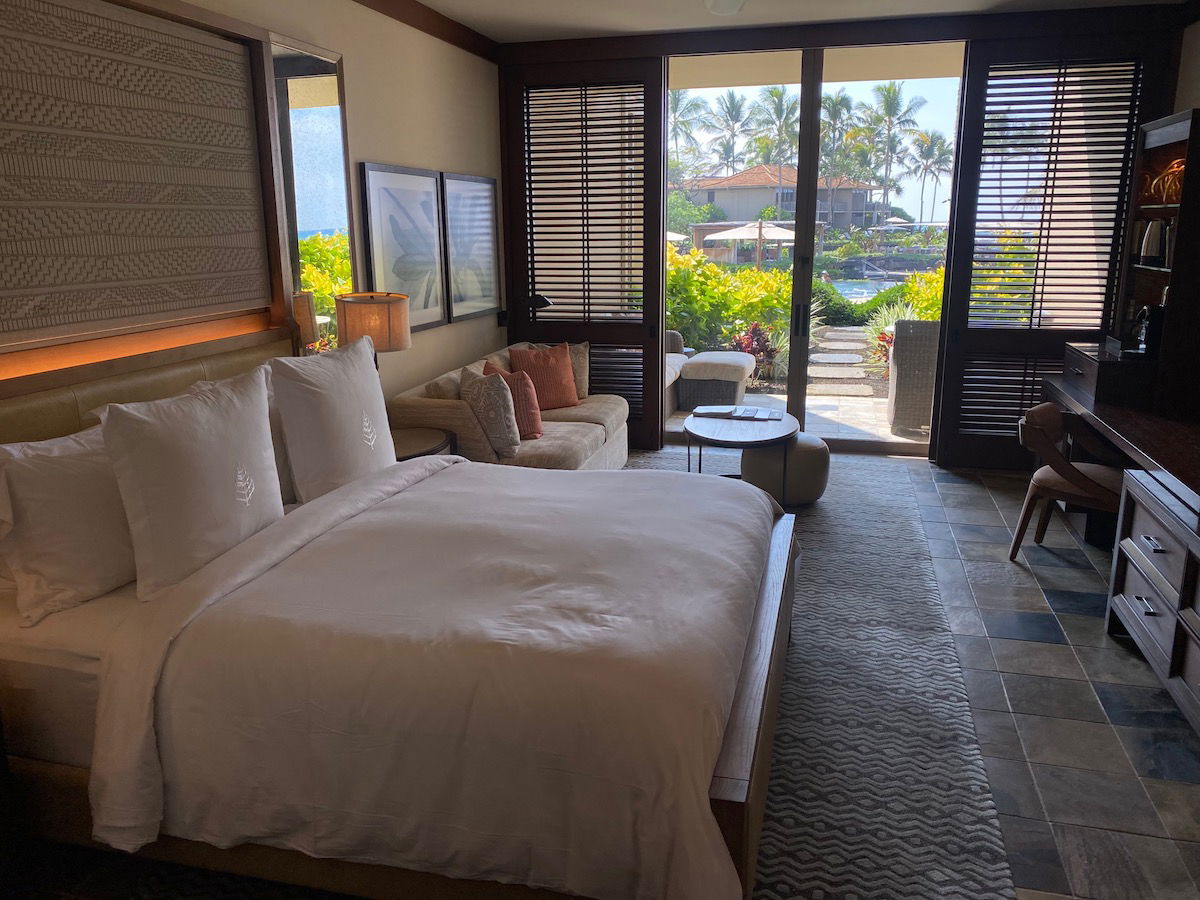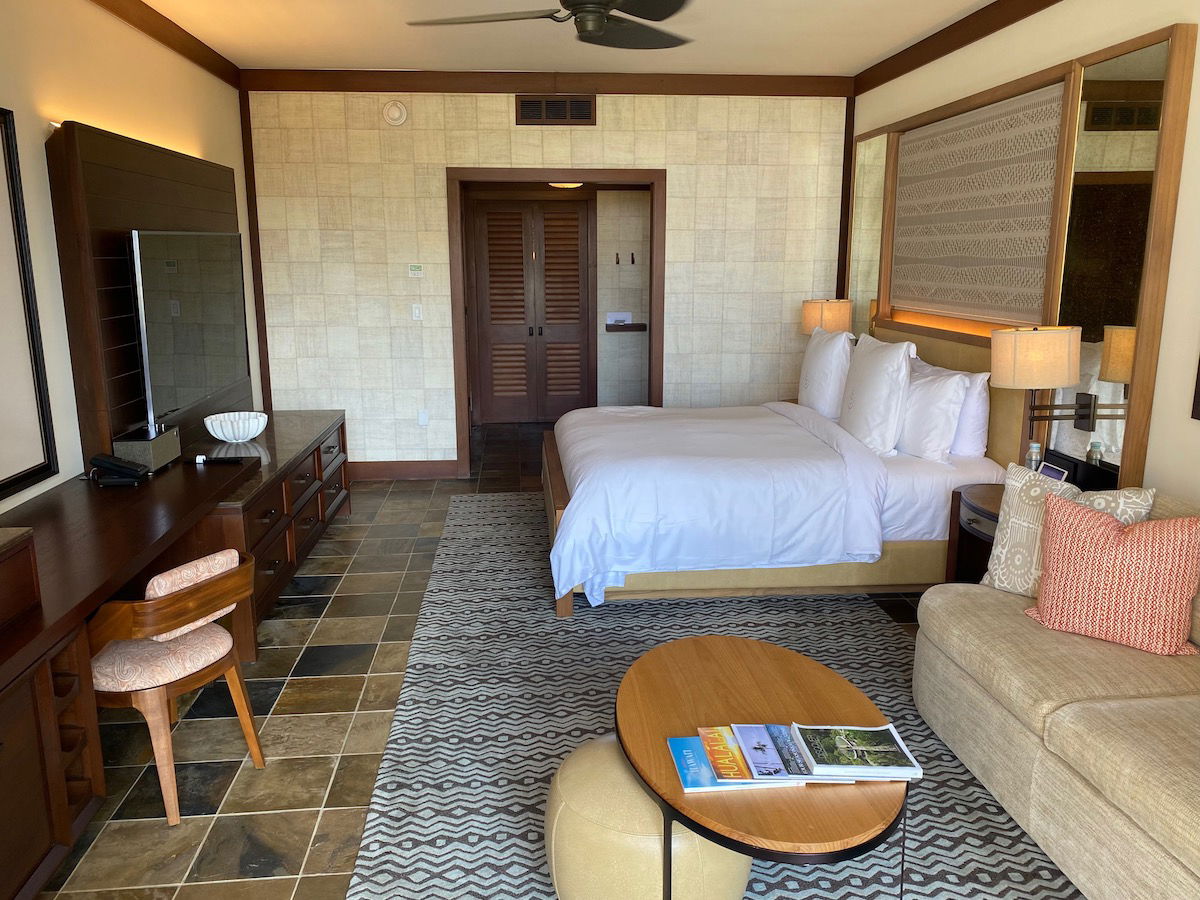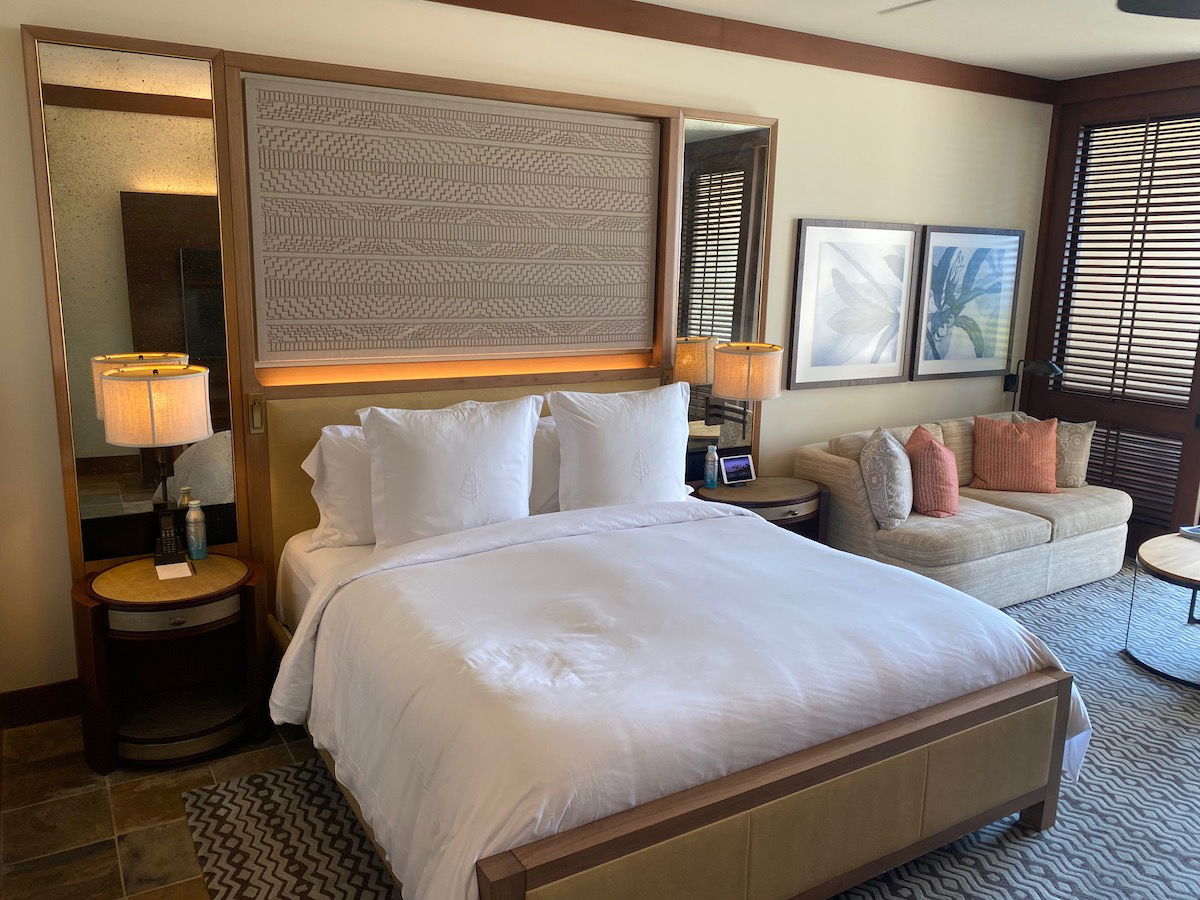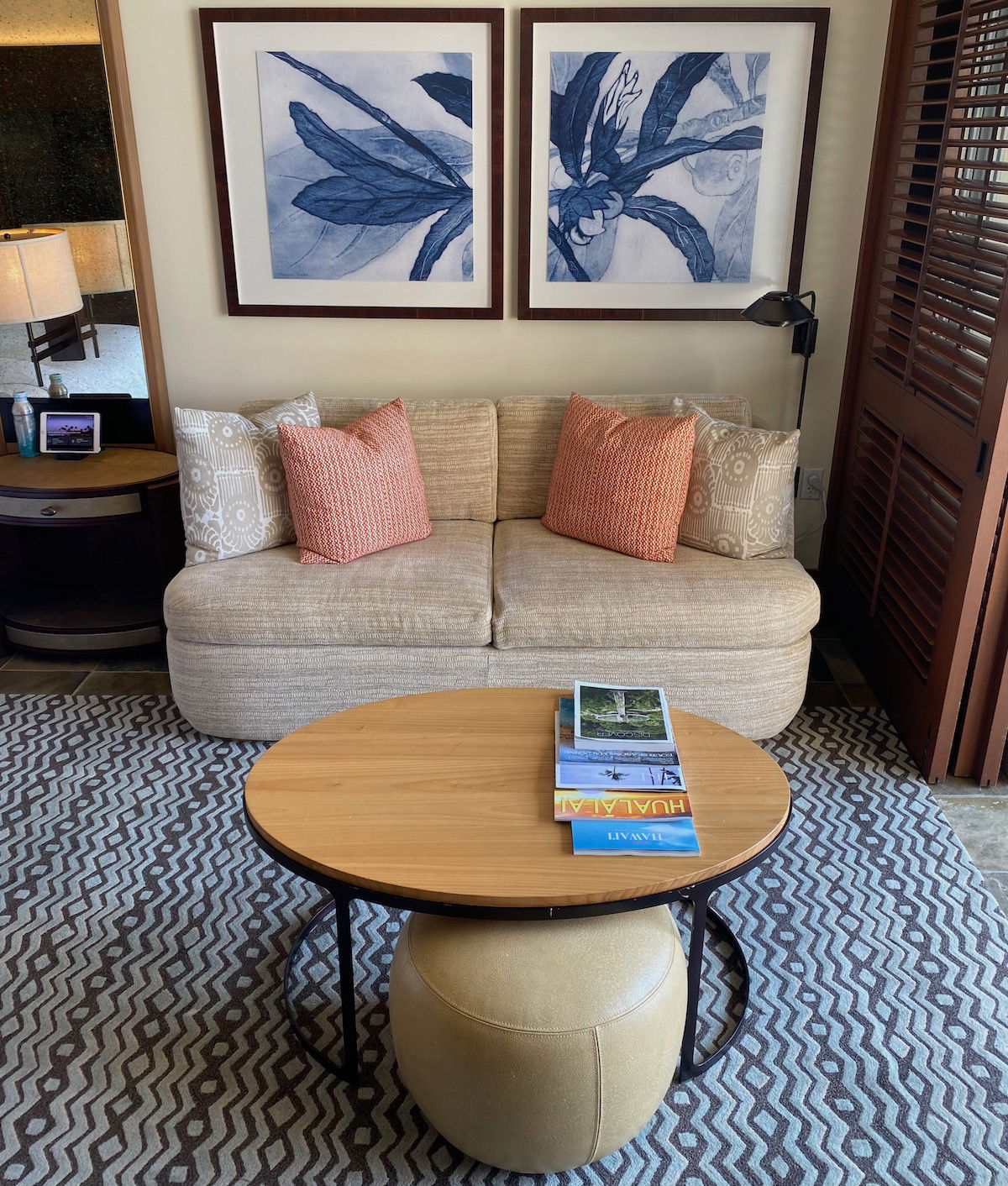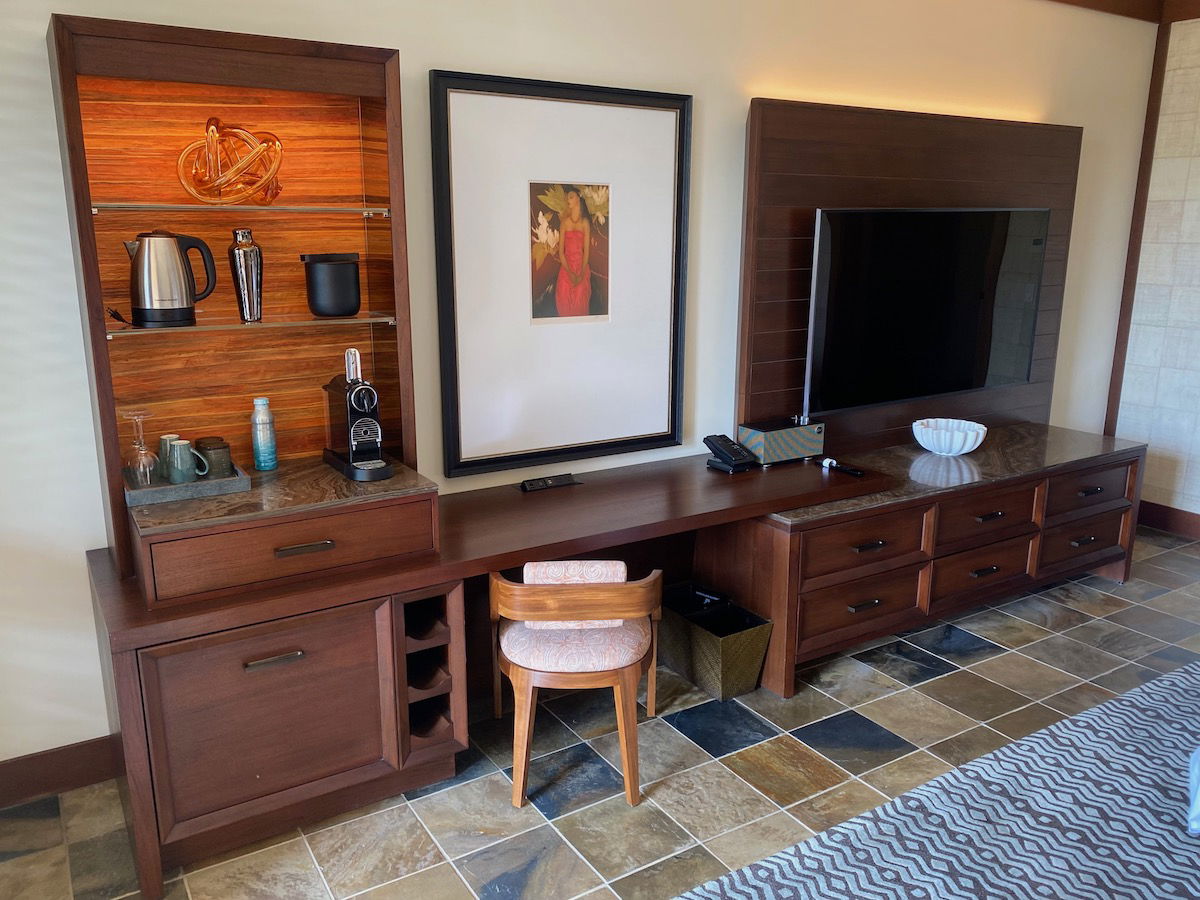 Near the TV was a Nespresso machine, a selection of tea, and a mini-fridge.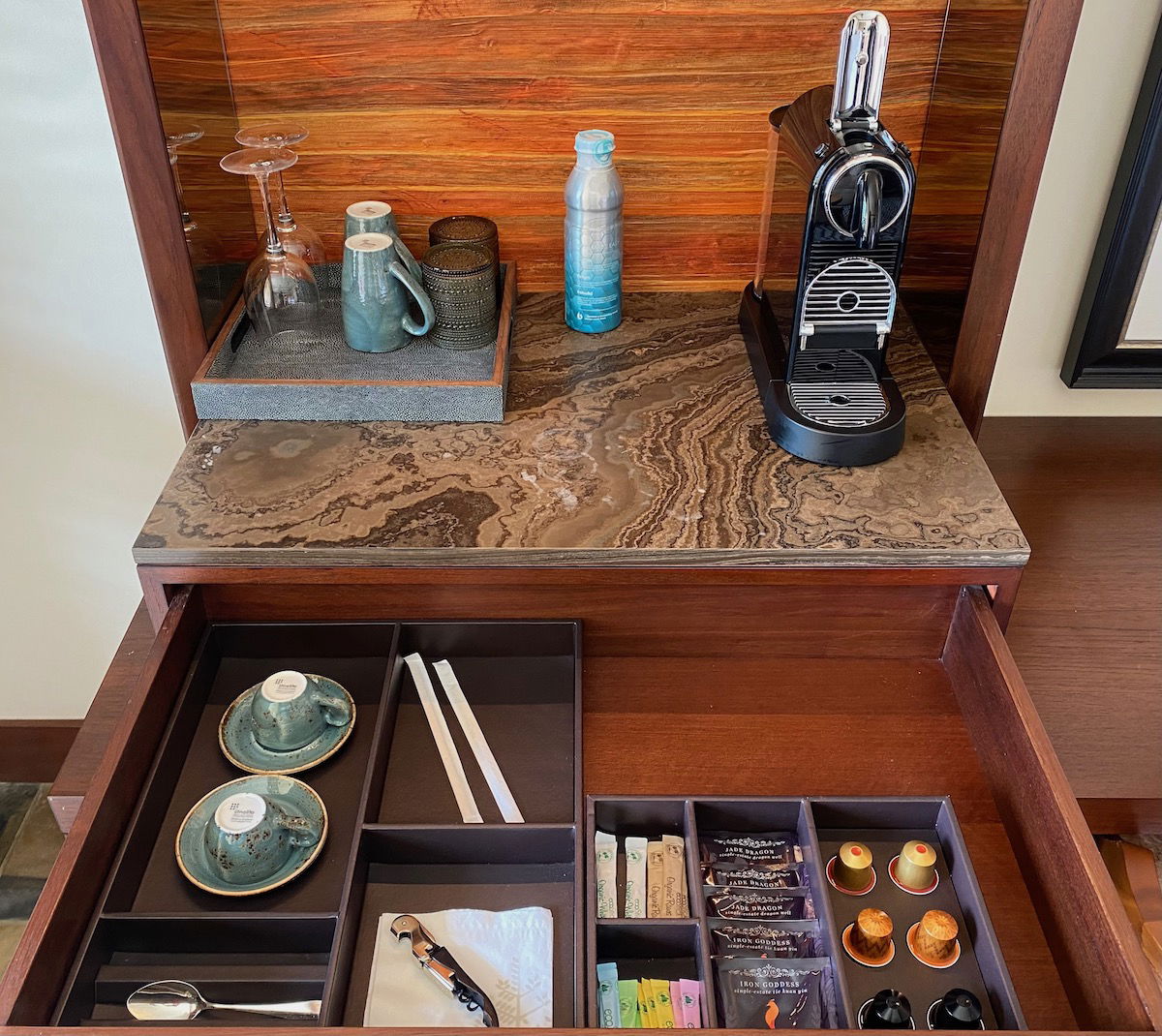 Back near the entrance was a large walk-in closet area, which is also where the safe was located. It's nice to see a large closet in a standard guest room, since I often have the tendency to otherwise just scatter my clothing all over the room.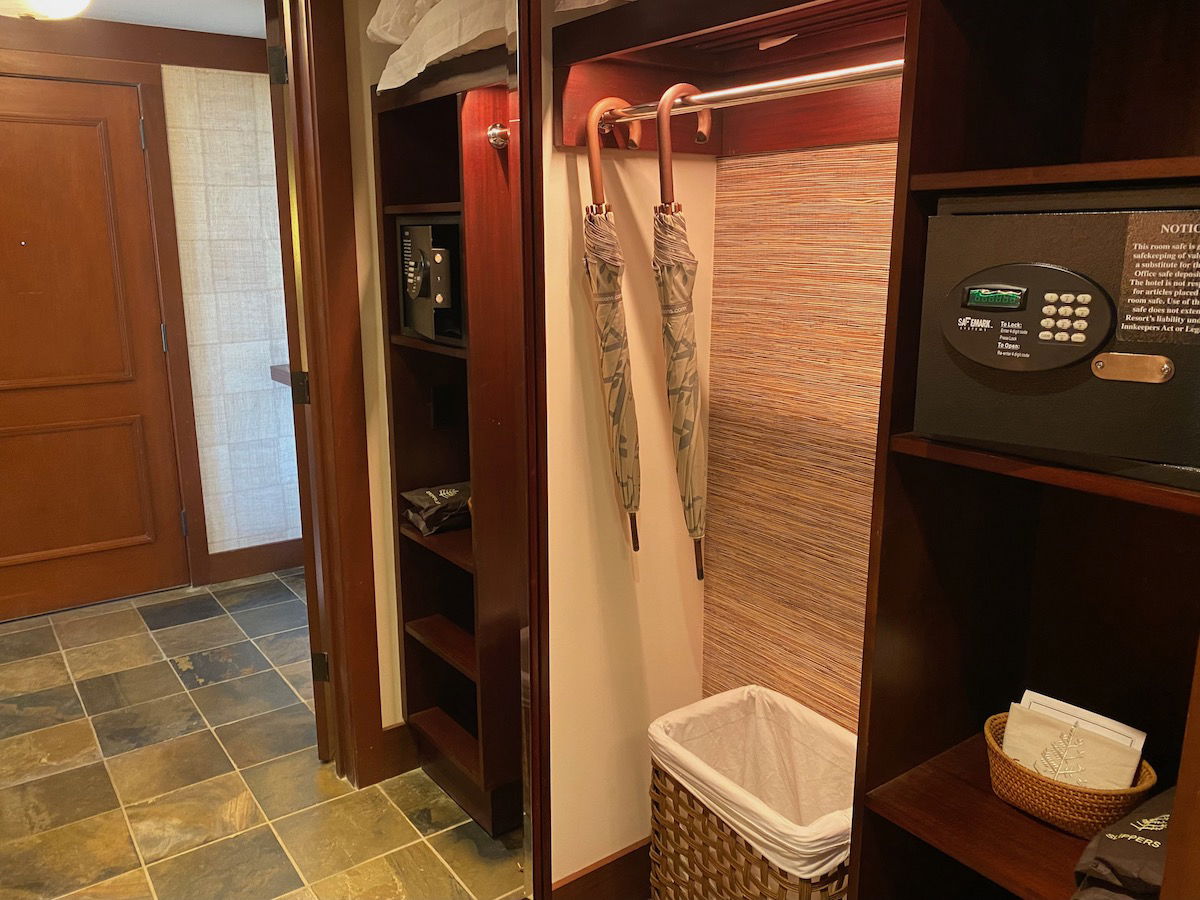 The bathroom was also huge for a standard room, and had double sinks, a bathtub, a toilet, a walk-in shower, and even an outdoor shower.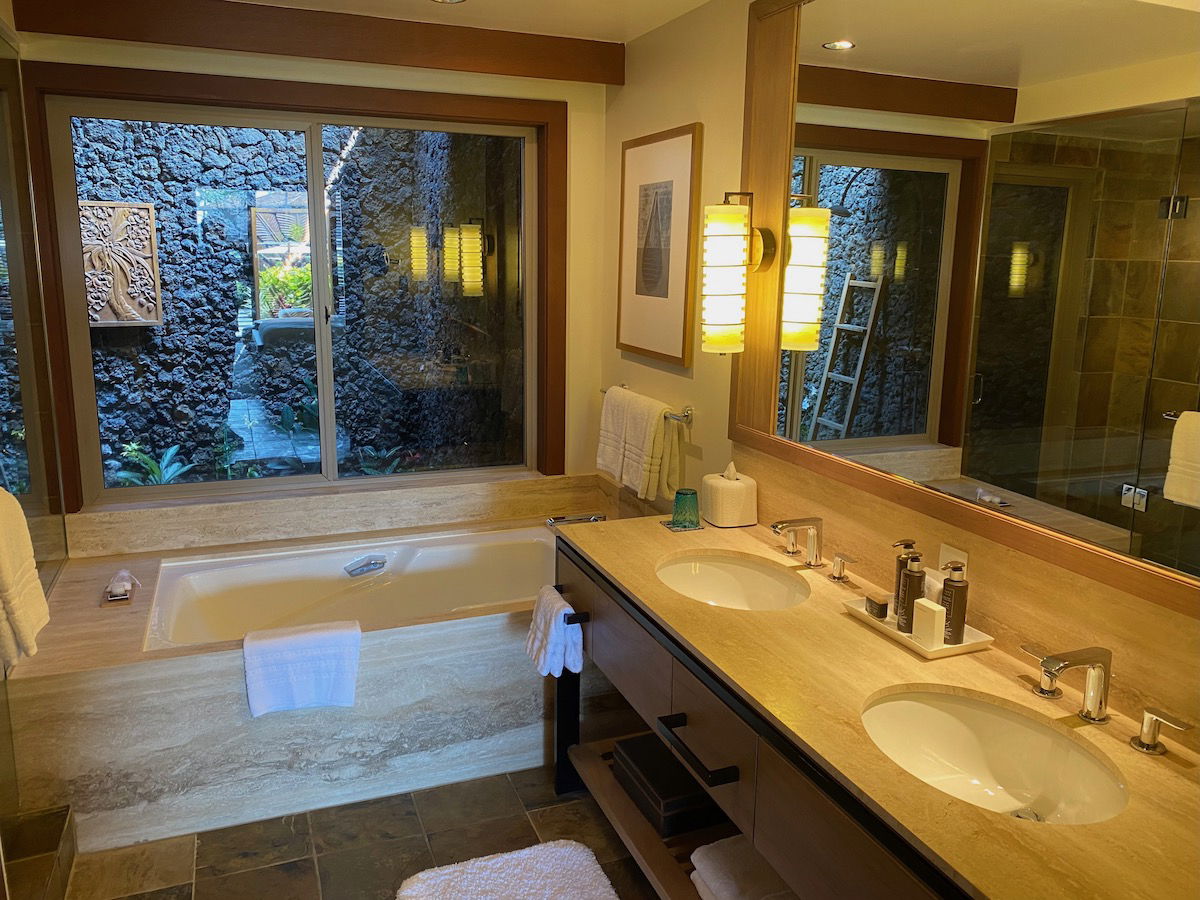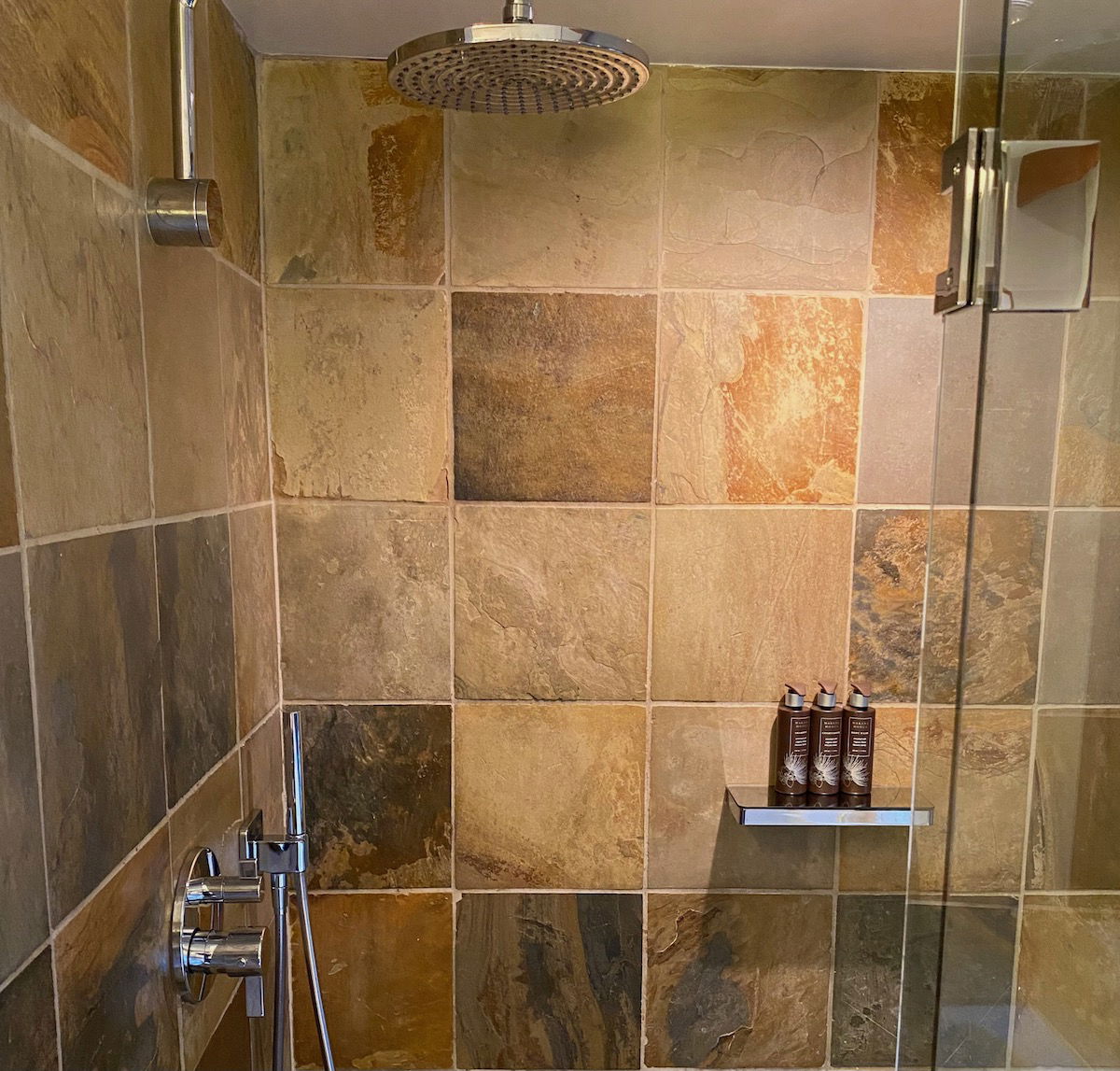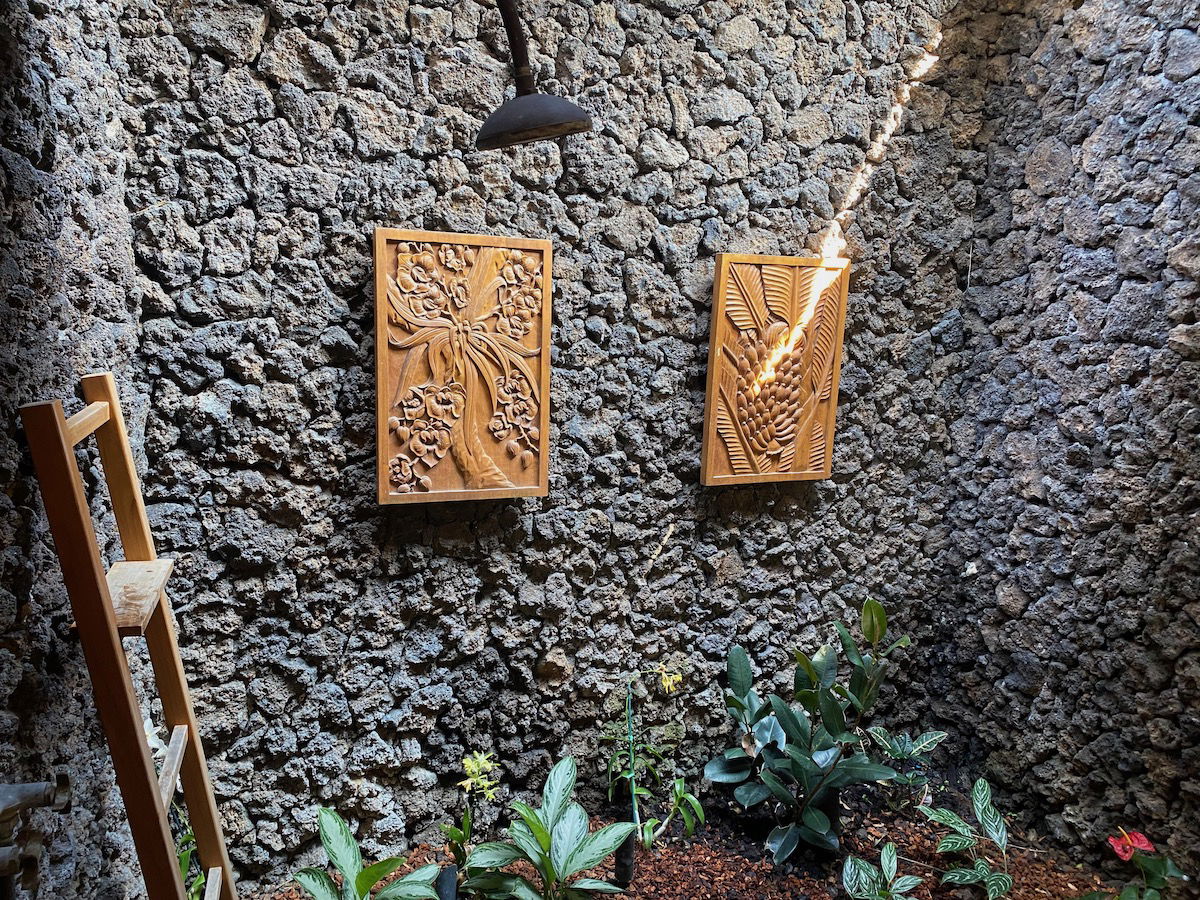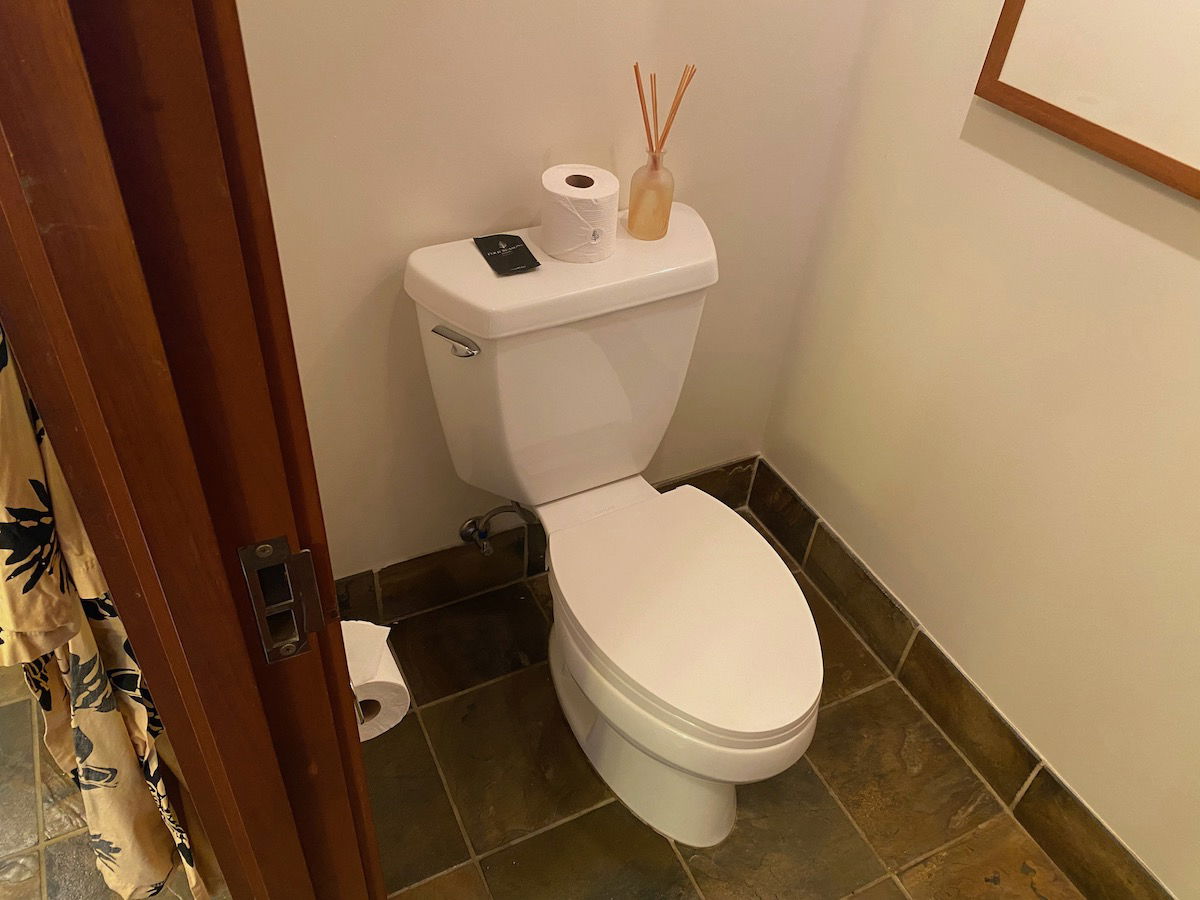 Toiletries were in reusable containers from Makana Honua. Not only did the products seem high quality, but these containers actually dispensed large amounts of the toiletries, which I otherwise often find to be an issue.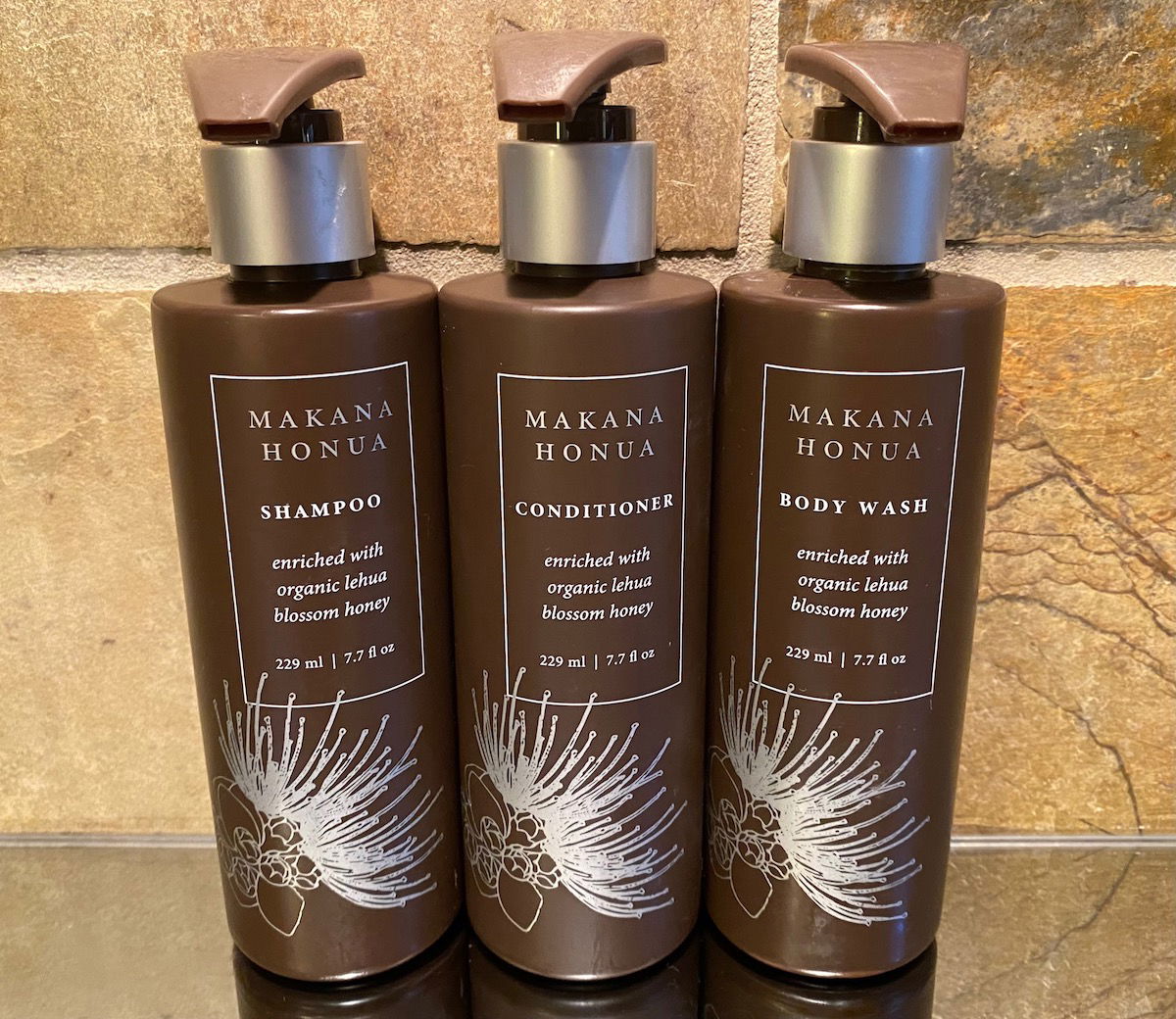 On the far end of the room we had a nice outdoor space with a loveseat and a dining table with two chairs. Our room faced King's Pond, and then the Pacific Ocean in the distance.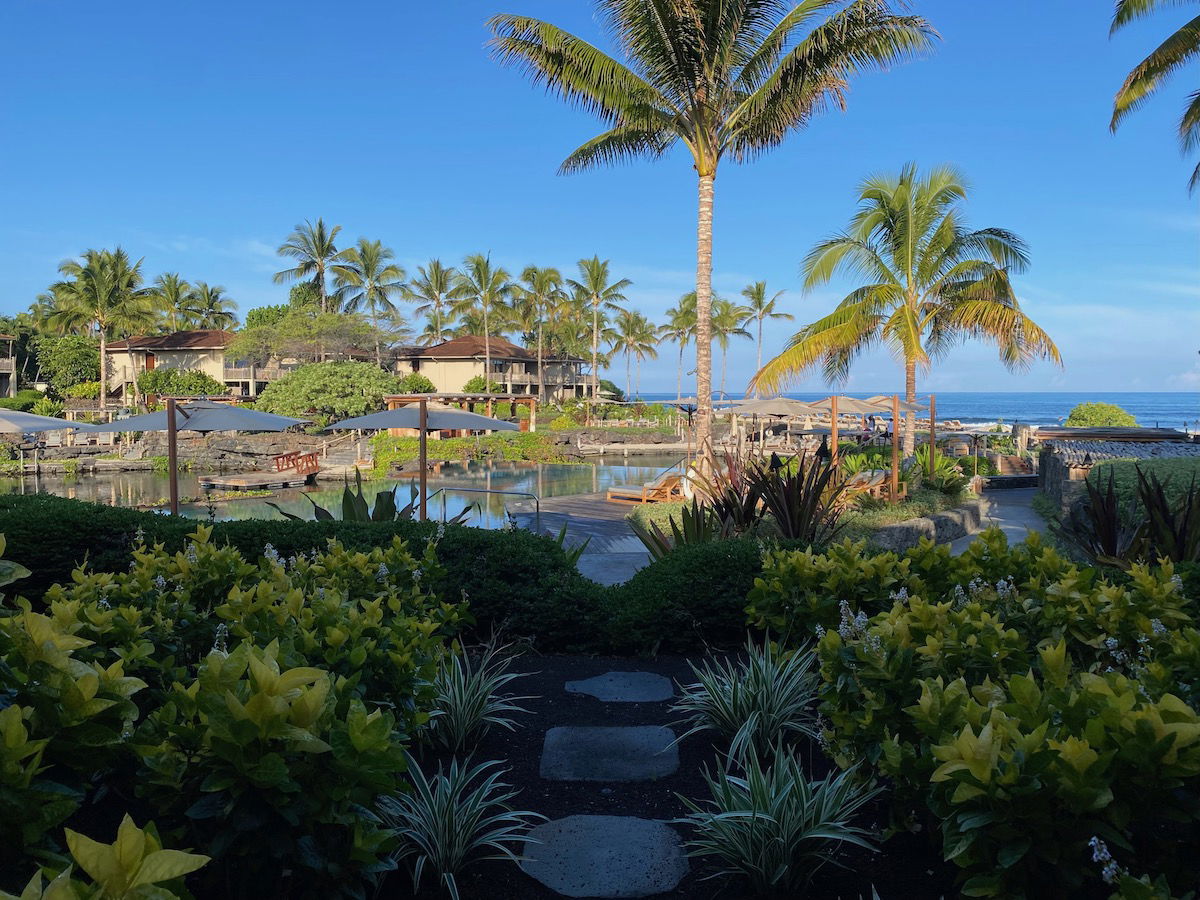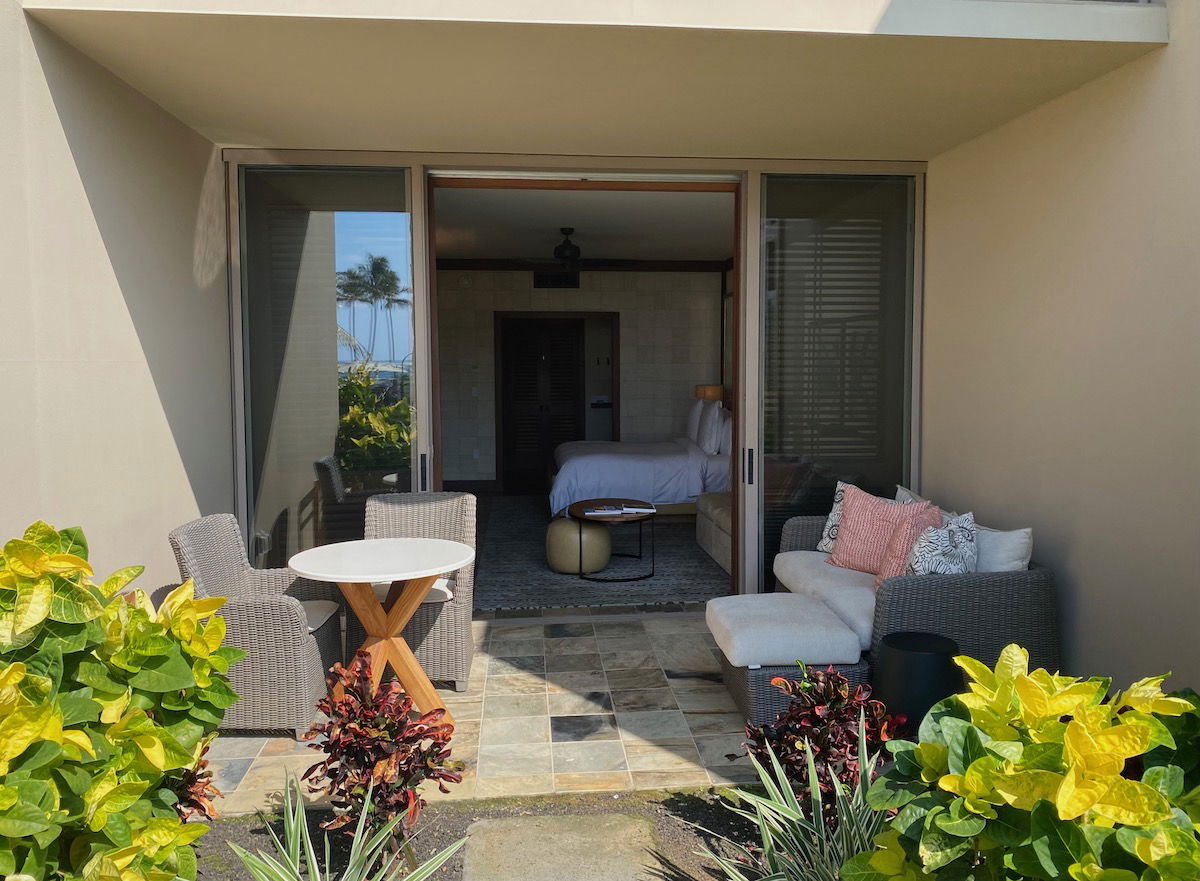 Upon arrival we were provided with a welcome amenity, consisting of sparkling water and all kinds of sweets. We would've probably been better off without the sweets, but yum.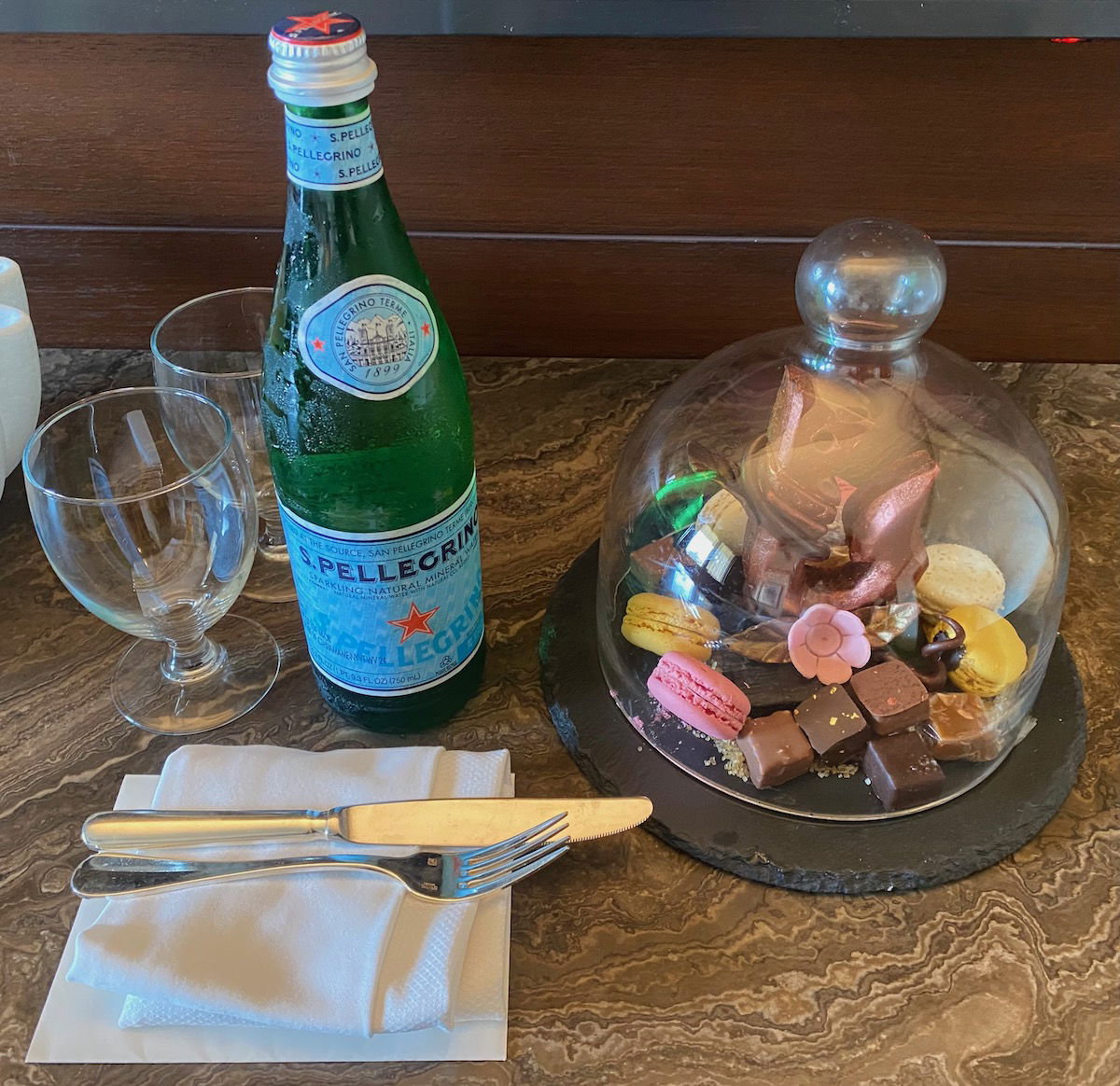 Wi-Fi in the room was fast and free, the air conditioning worked perfectly, and there was both daily housekeeping and turndown service.
Four Seasons Hualalai Ocean-View Superior Suite
During our stay we were able to see some of the premium room types, and I figured I'd share some pictures of that. To start we visited an ocean view superior suite, which is marketed as being 1,050 square feet. The suite had a living room, with a large couch that could be turned into a bed in case a family wishes to share the suite.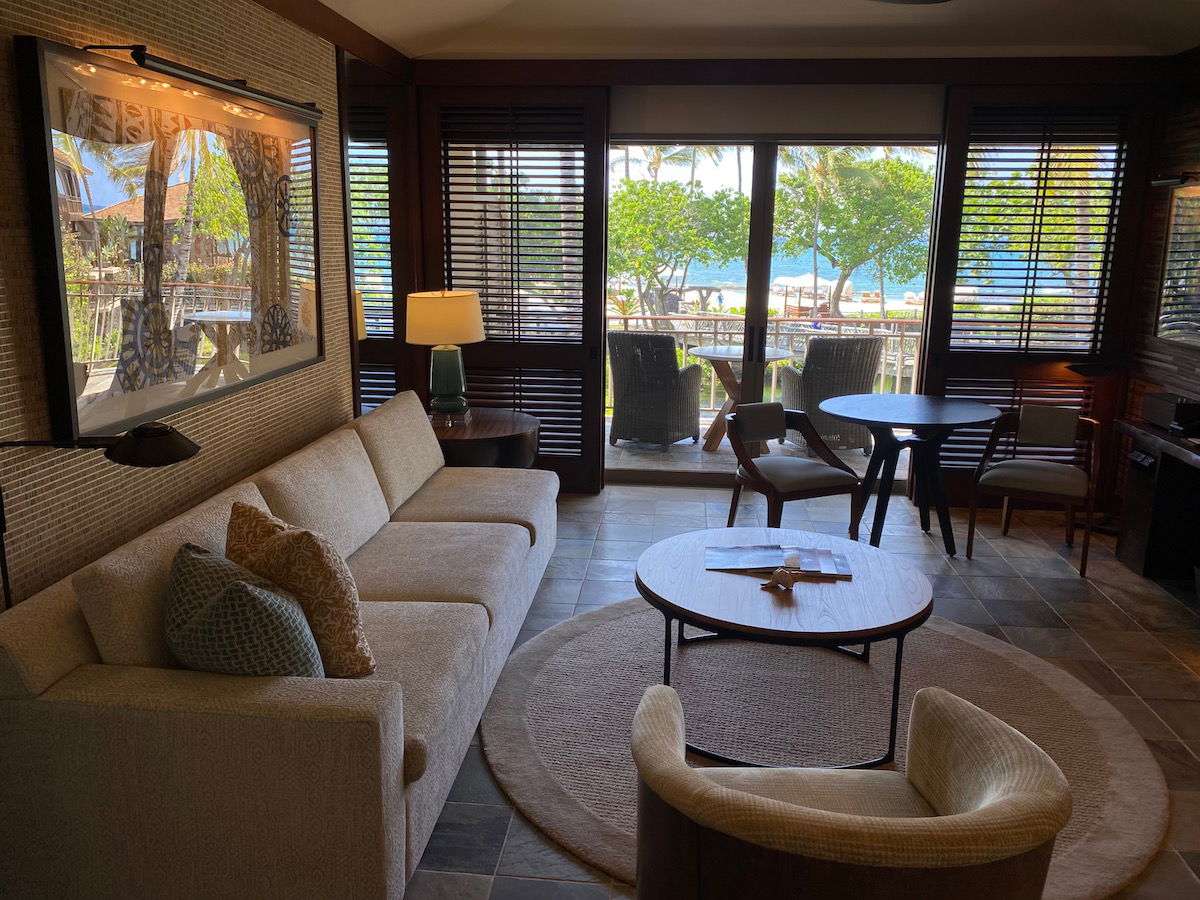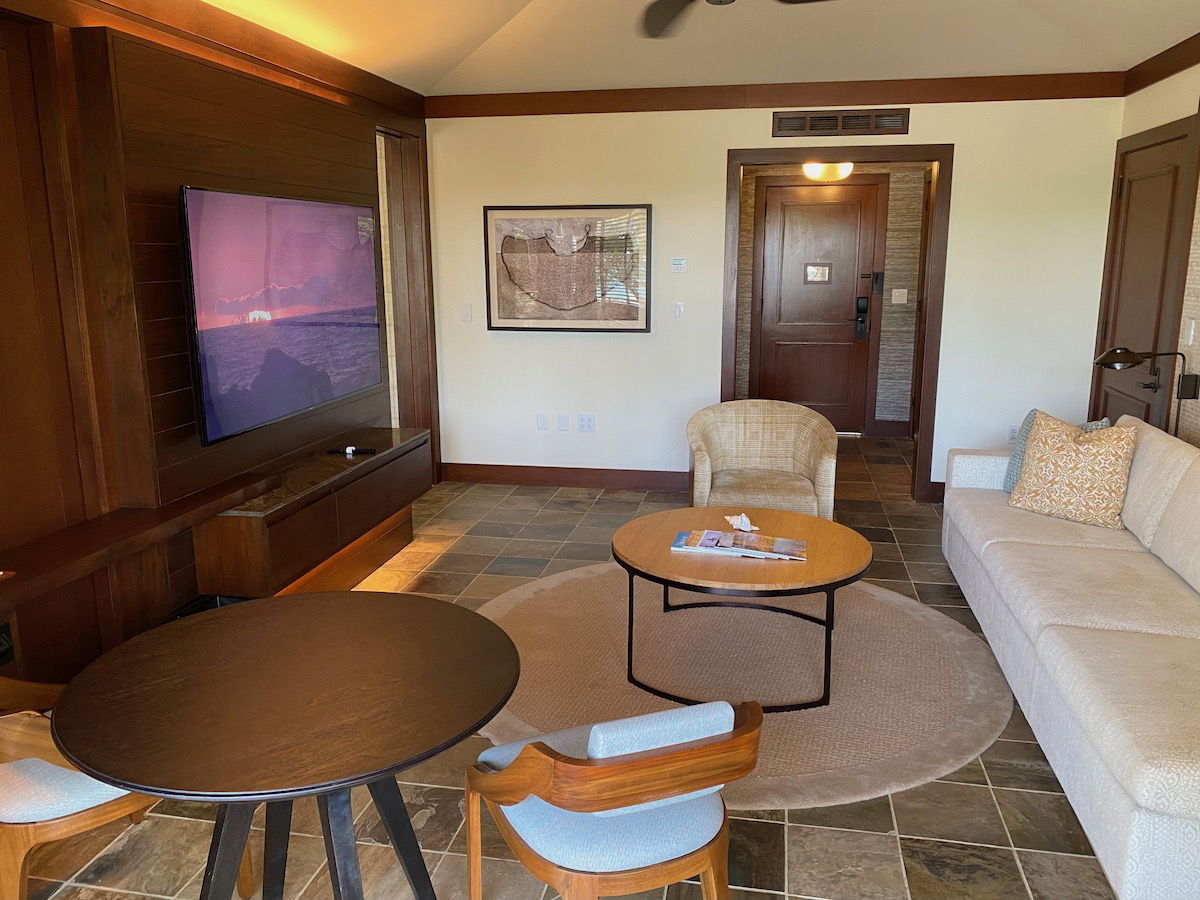 The bedroom was separated from the living room by a door.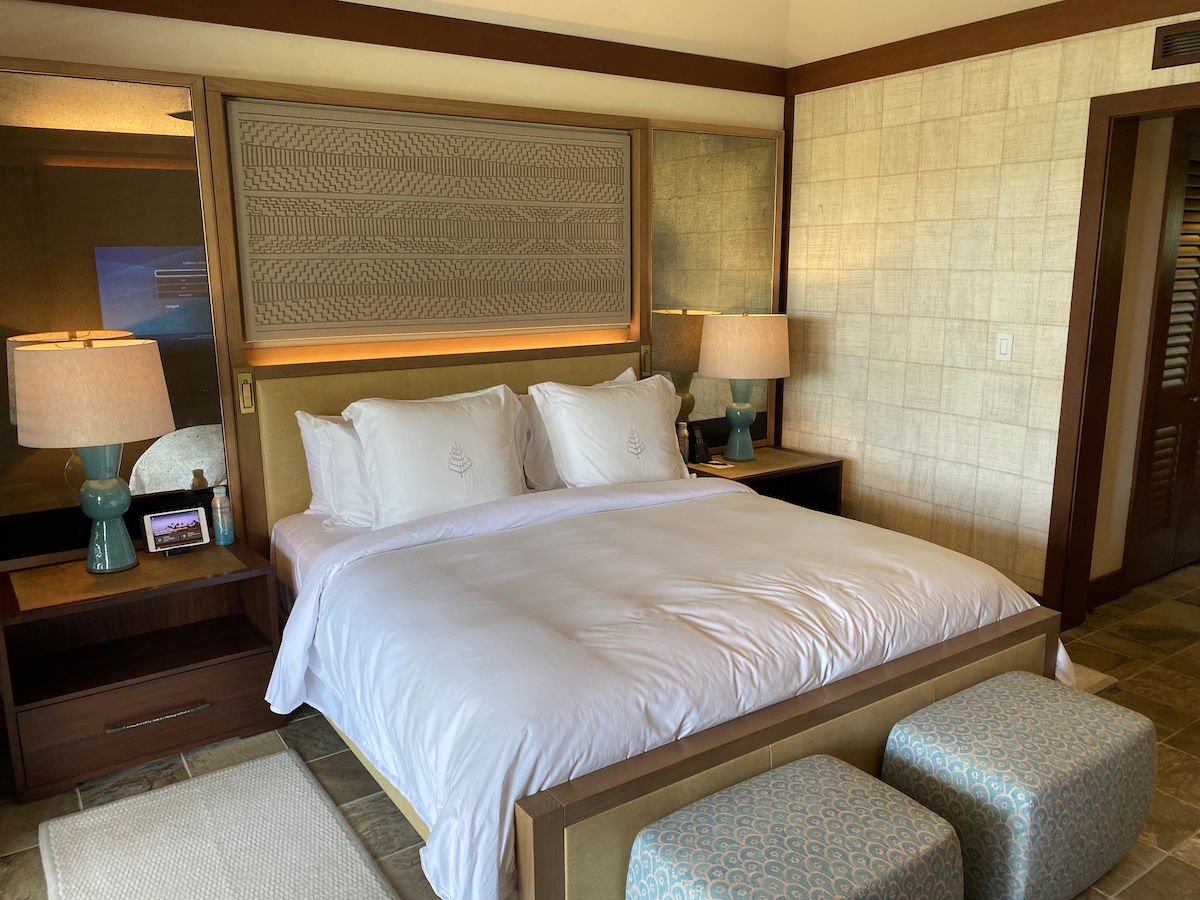 What's also impressive is that in addition to a full bathroom off the bedroom, there's a second bathroom off the living room that even has a shower.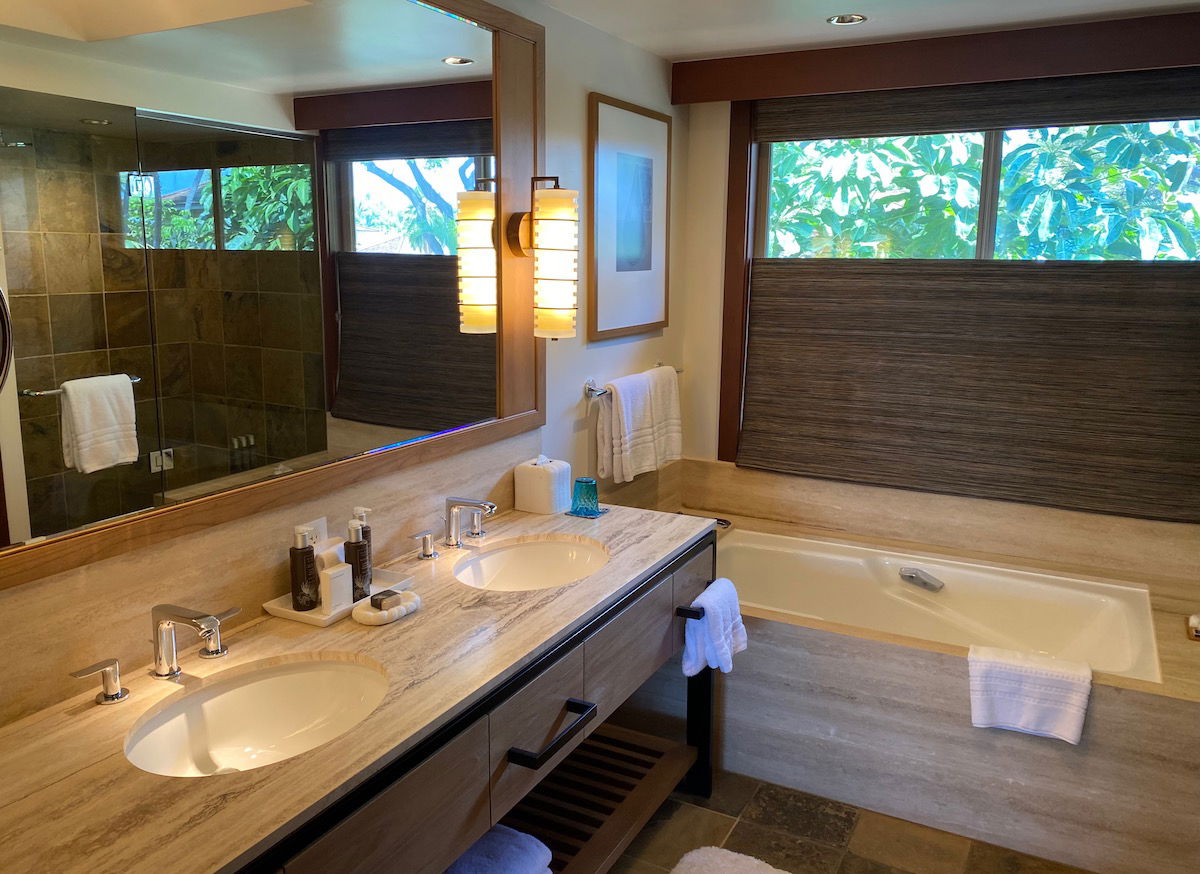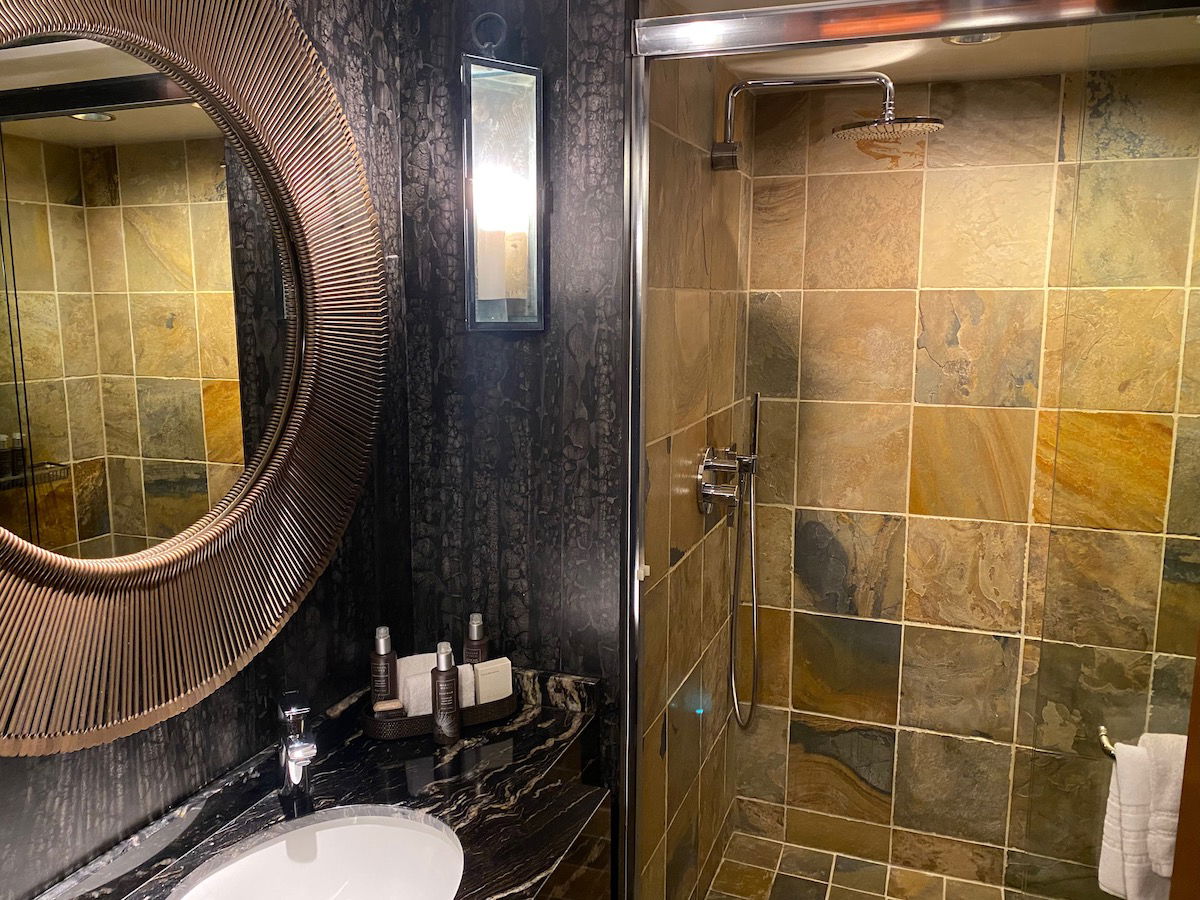 The suite also had a huge amount of outdoor space, with great views.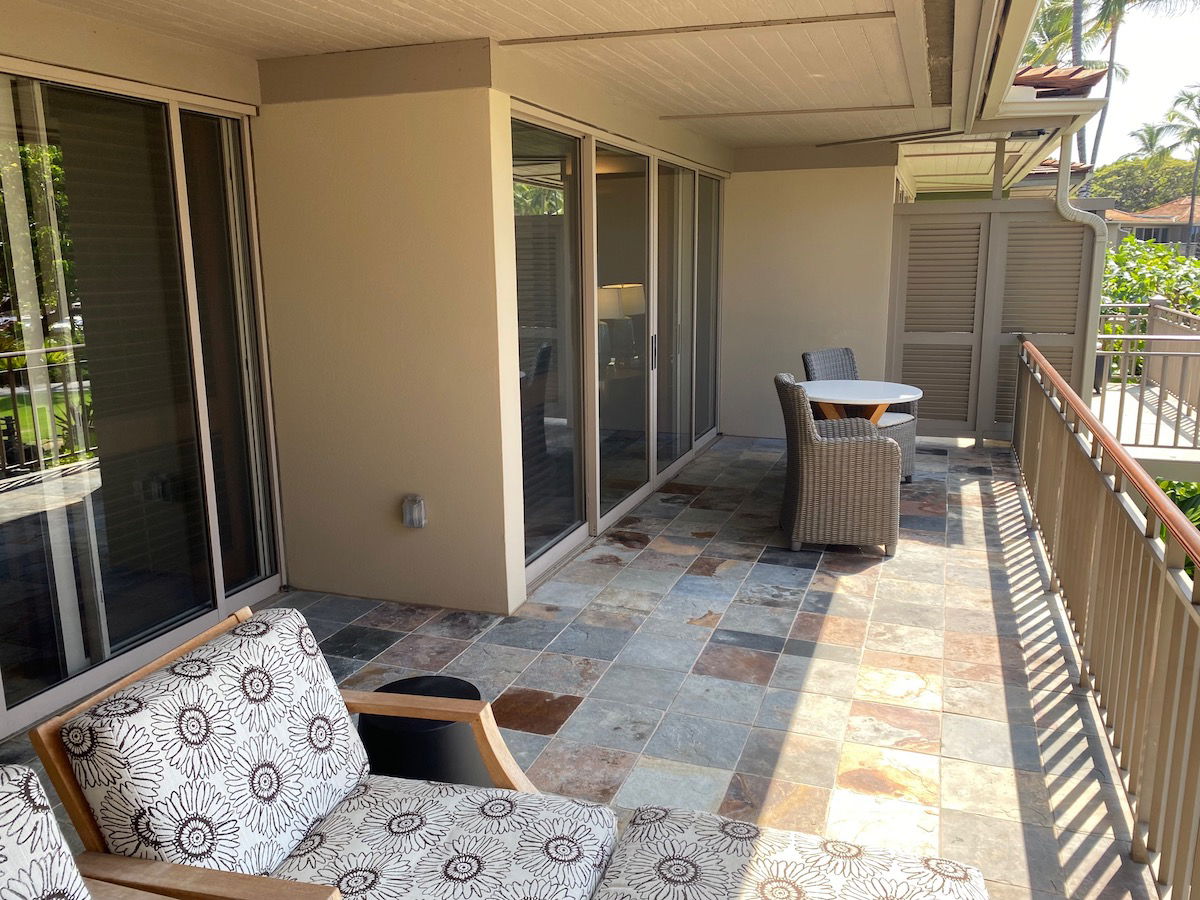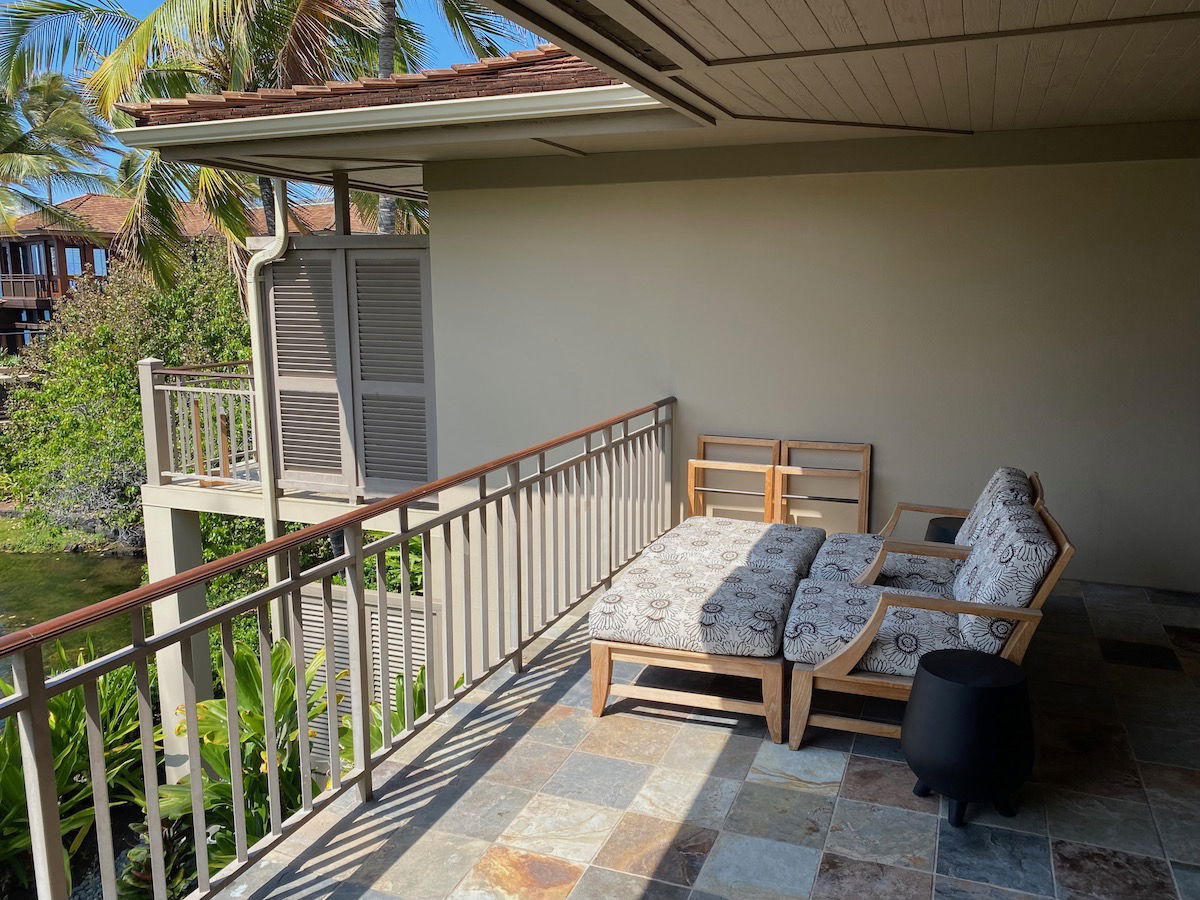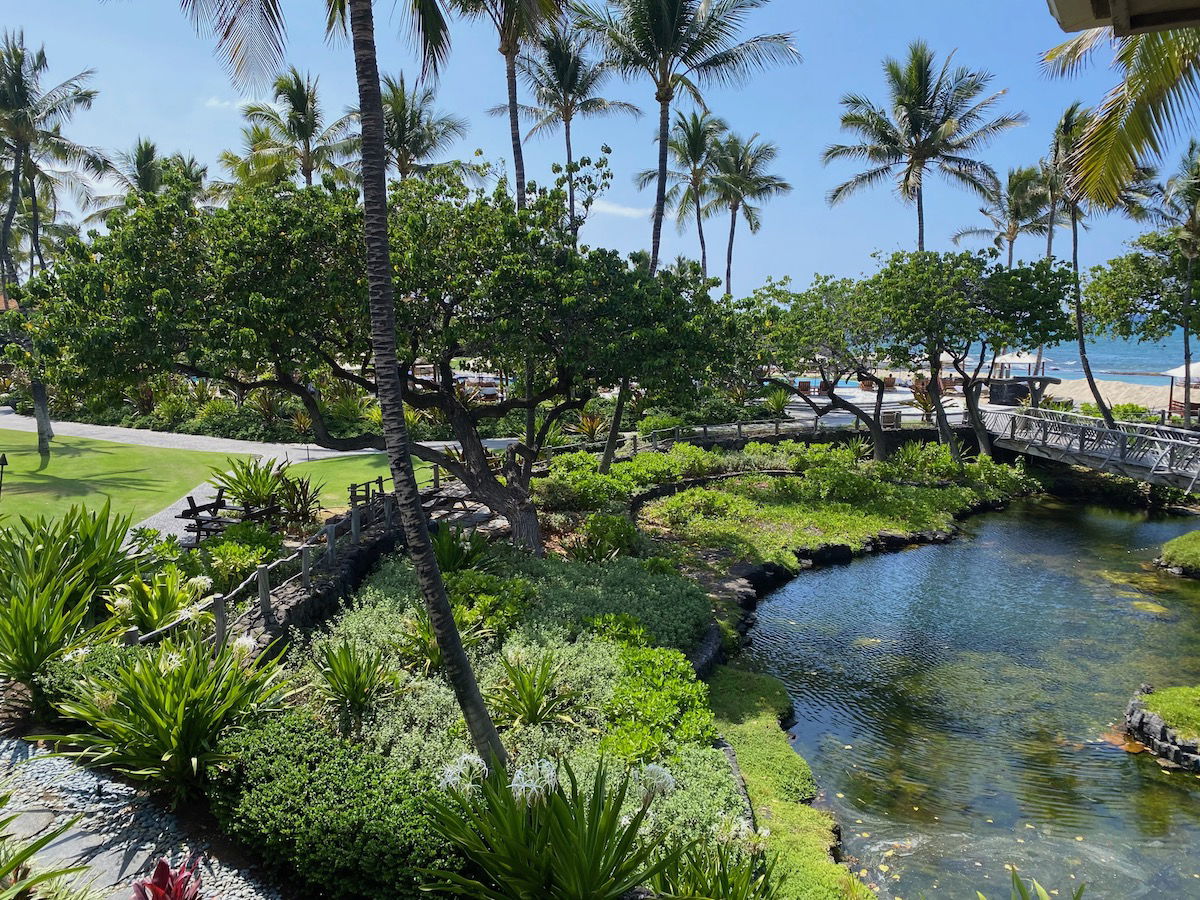 Four Seasons Hualalai Ho'onanea Villa
If you're looking for the best the Four Seasons Hualalai has to offer and price isn't a factor, the property has a few villas. We toured the Ho'onanea Villa, which features two bedrooms, but can feature up to three, by including an adjacent guest room.
The indoor space of the villa had a large living room, a dining area and wet bar, a kitchen, a master bedroom with a king bed, and a second bedroom with two queen beds.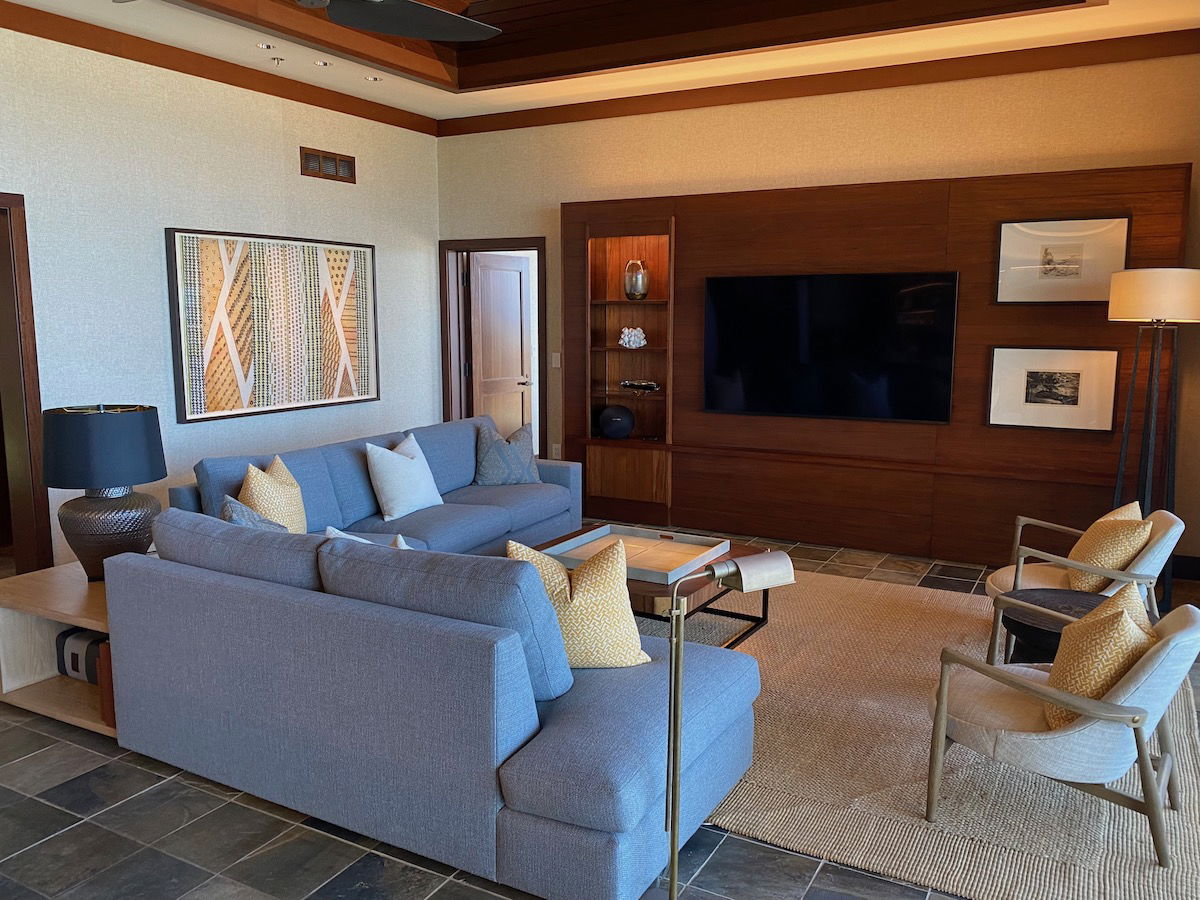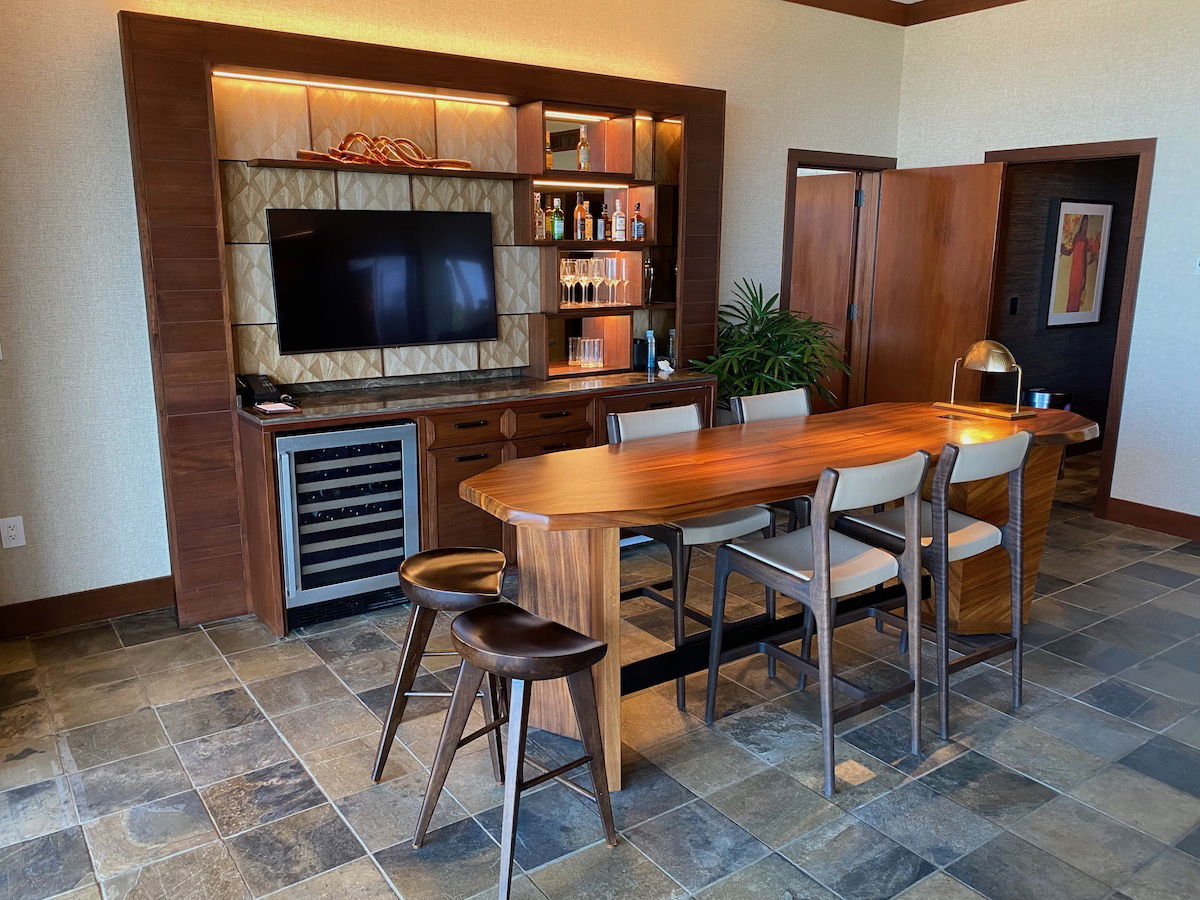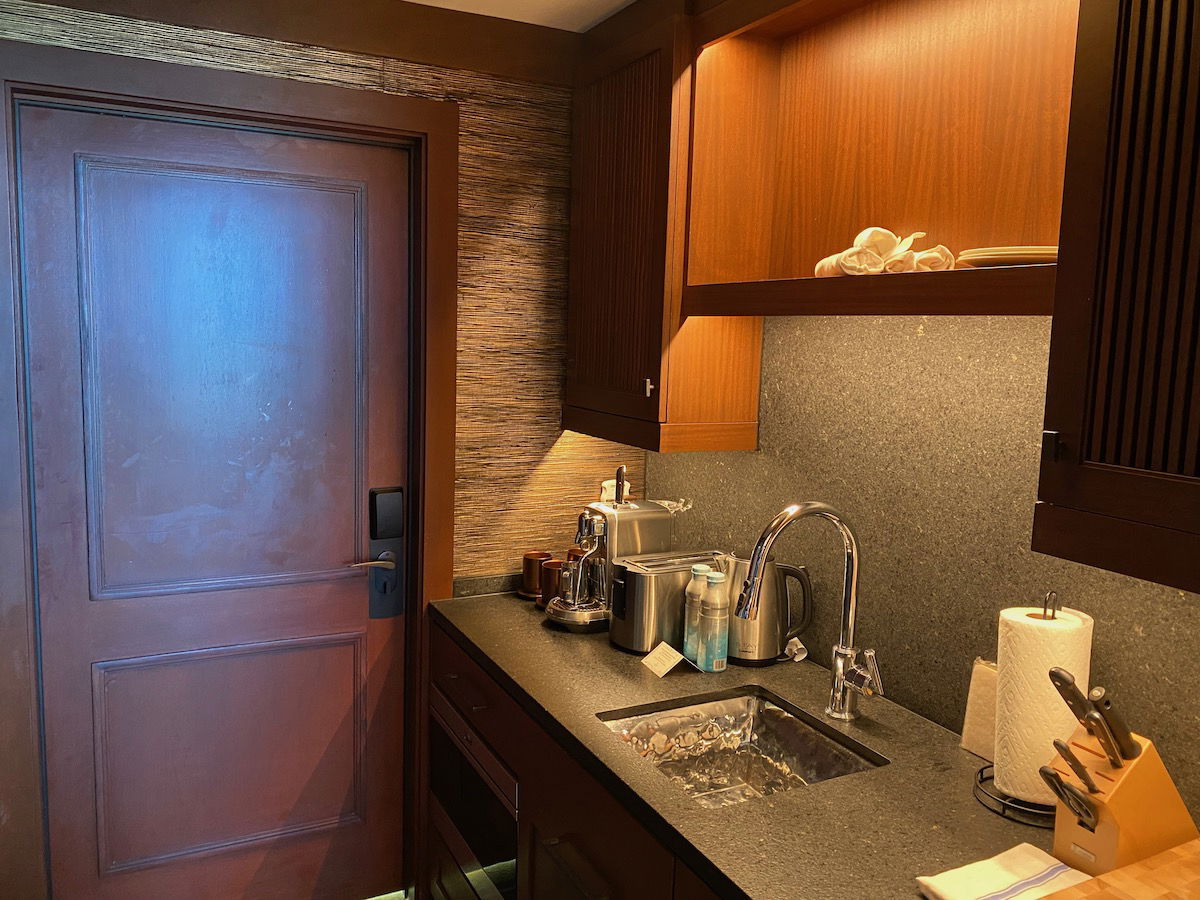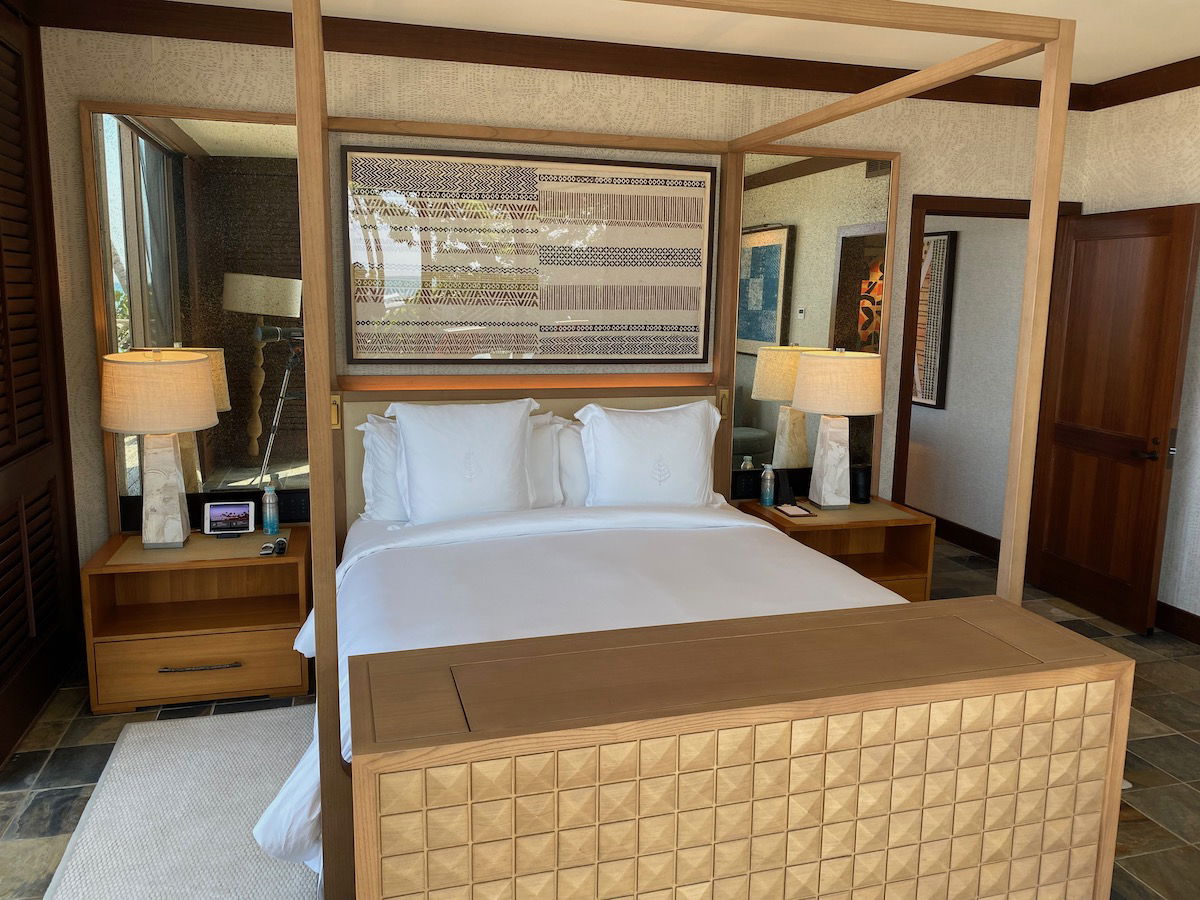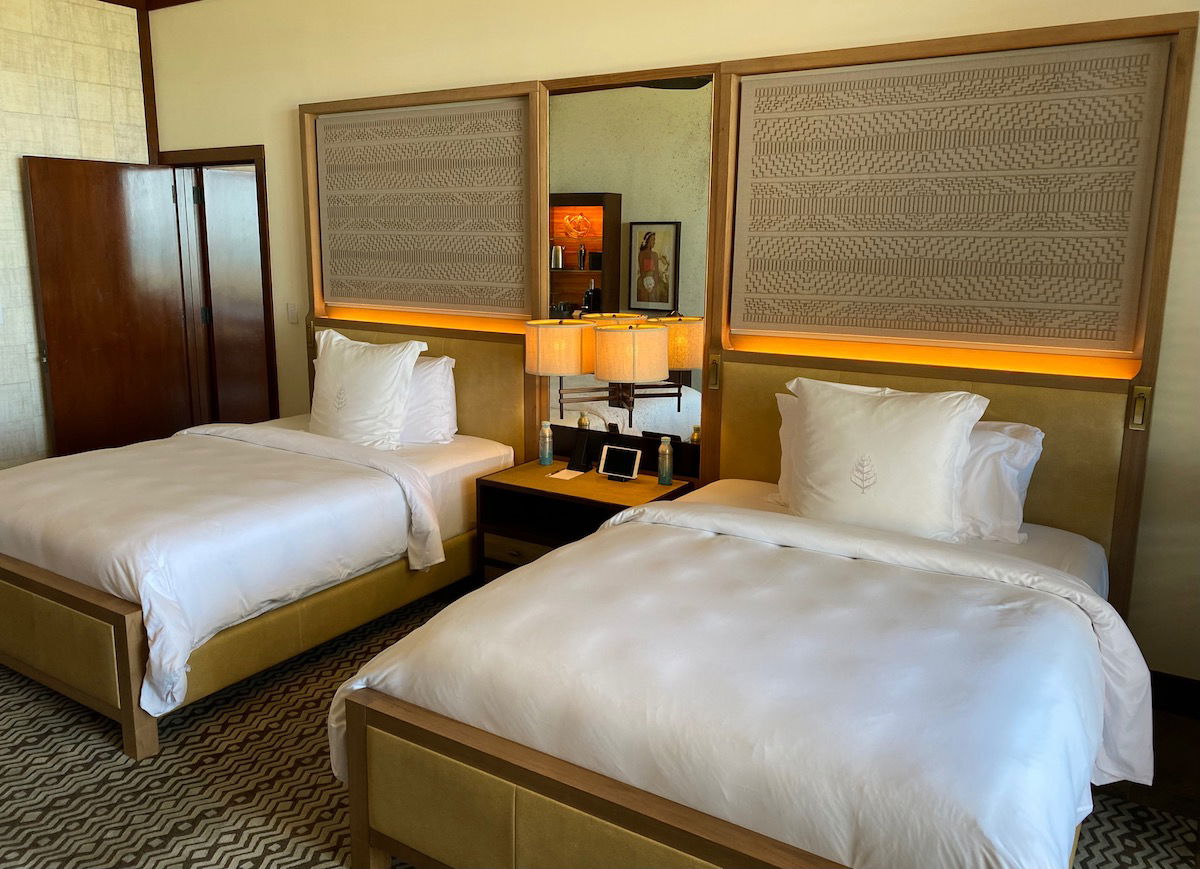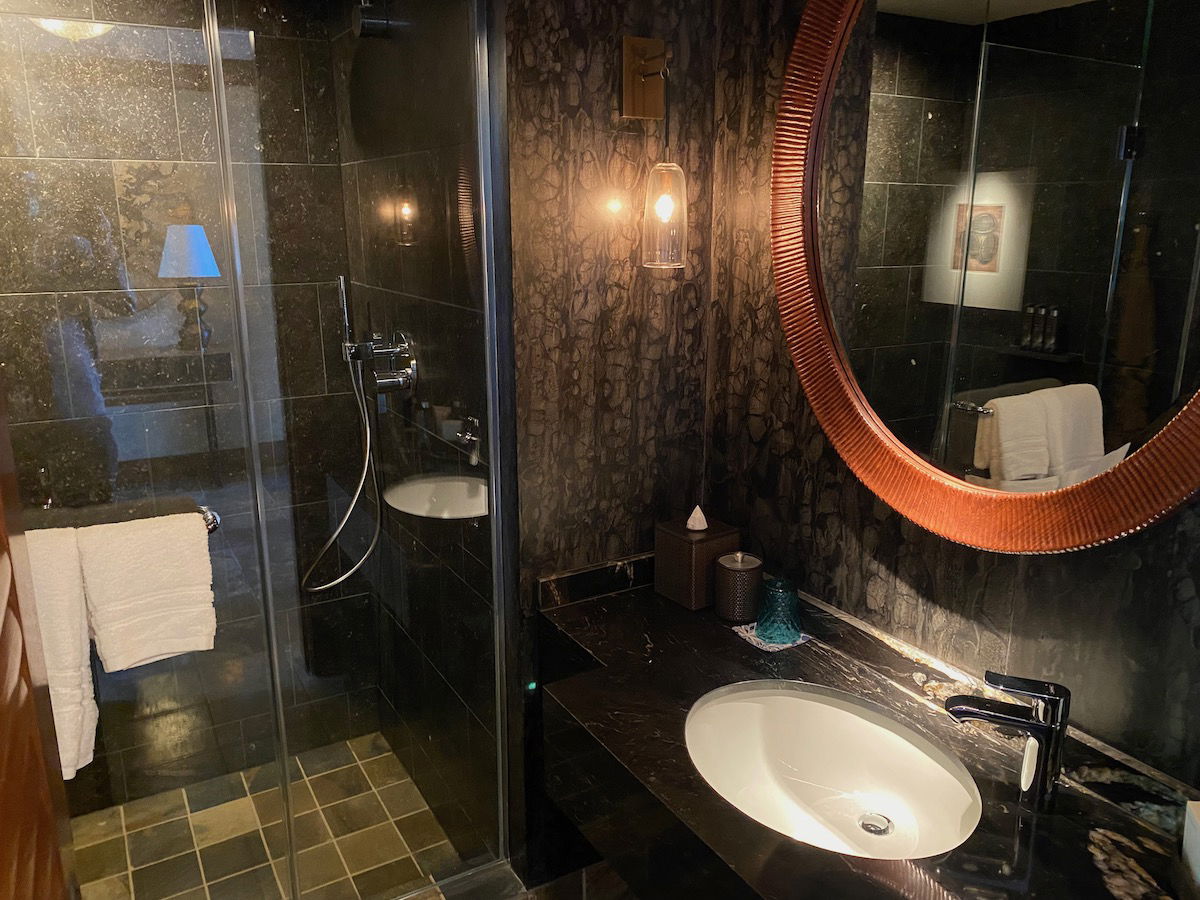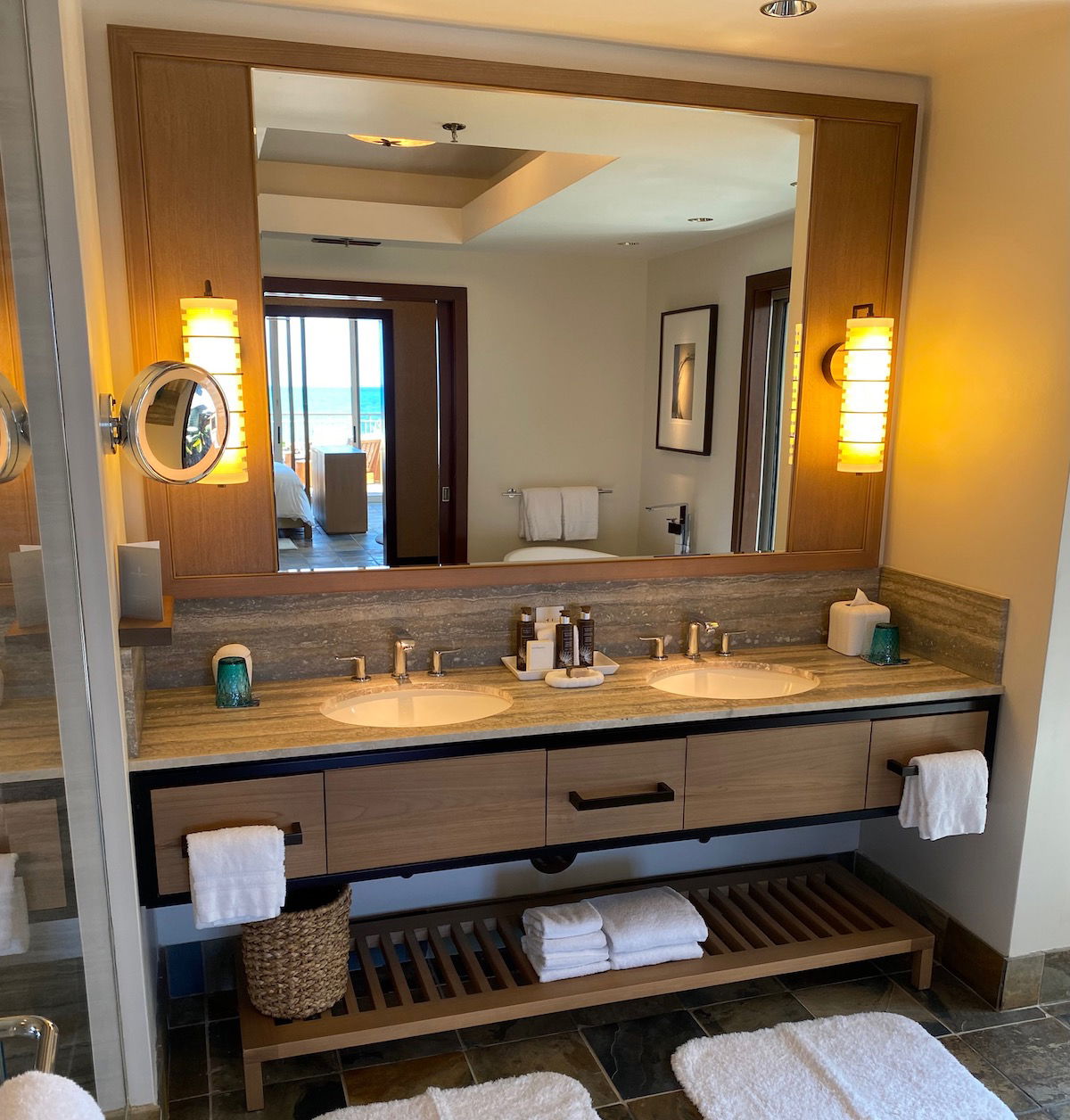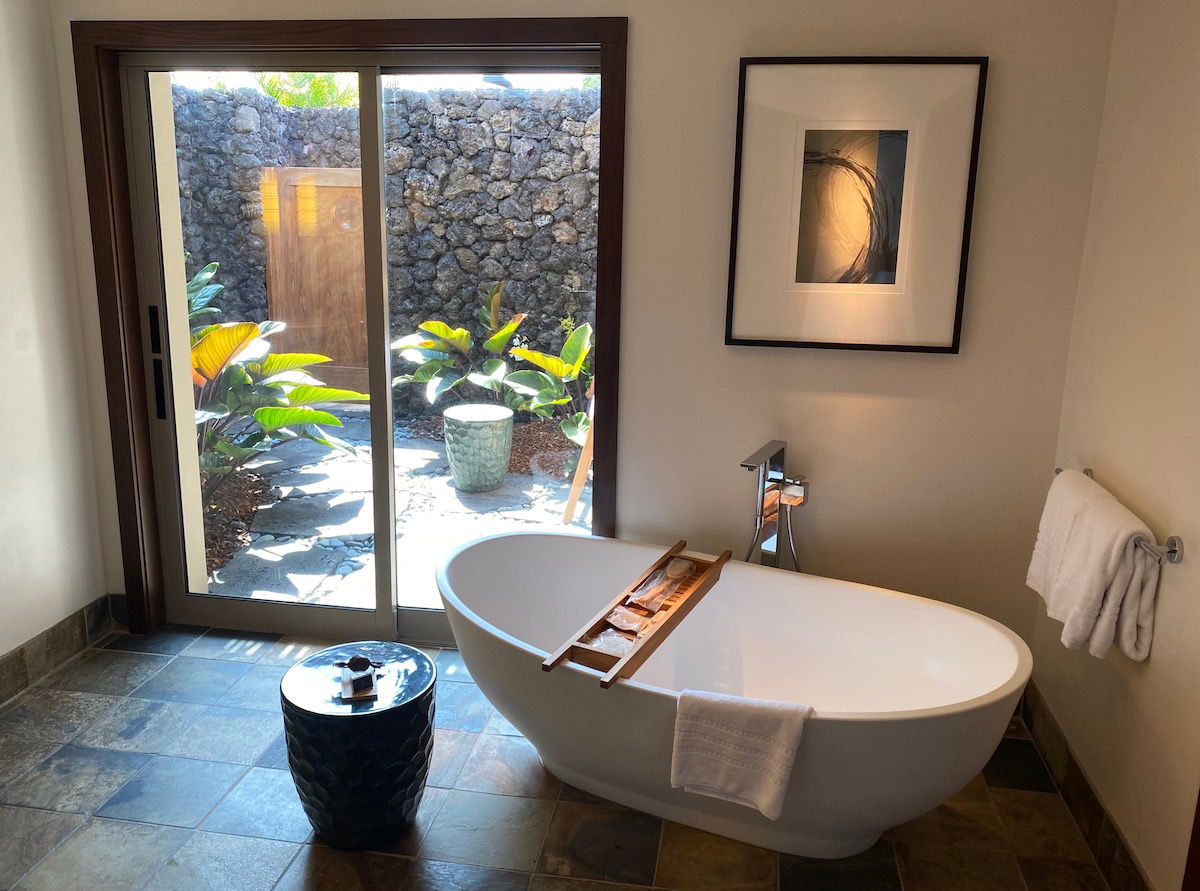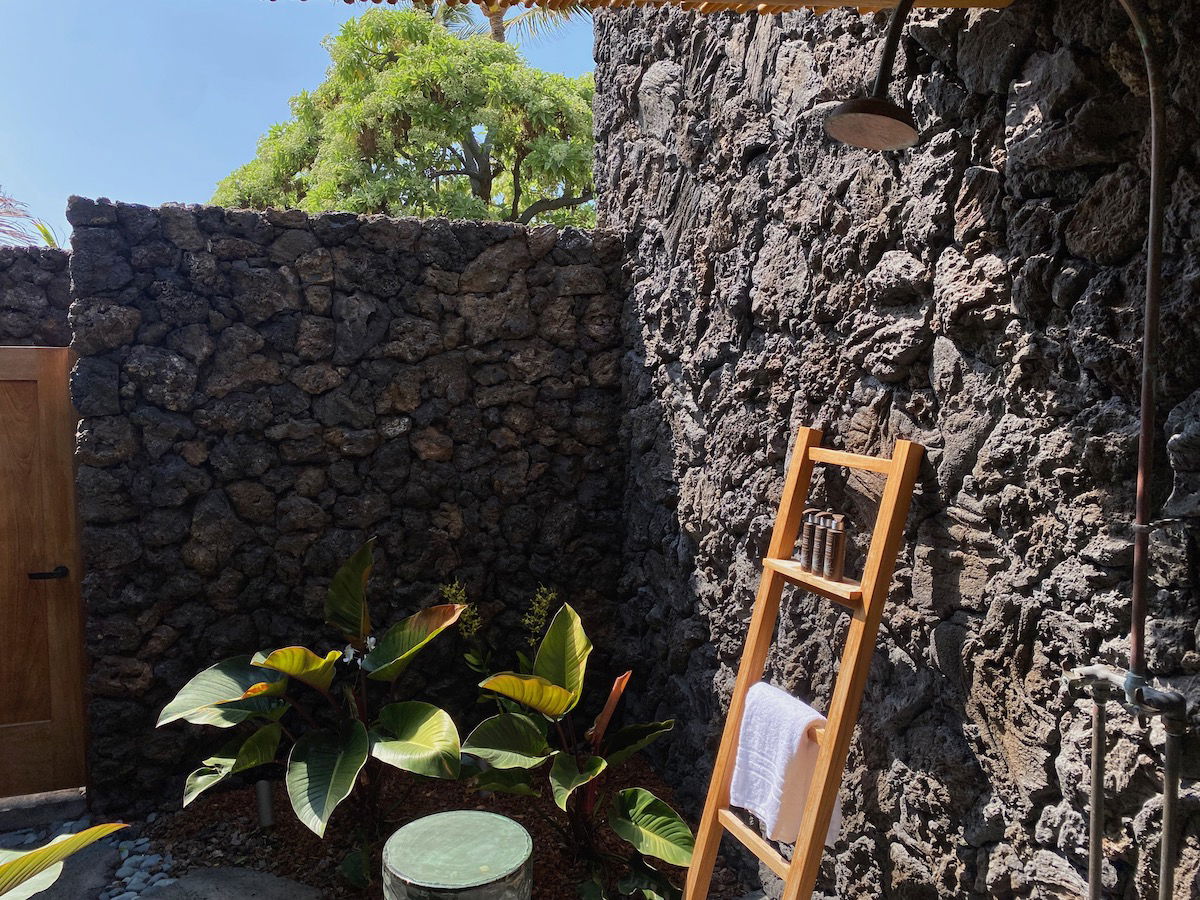 The outdoor space and views are no doubt the most impressive aspects of the villa, though, as there's a dining table, seating around a fire pit, and a pool, all with direct ocean views.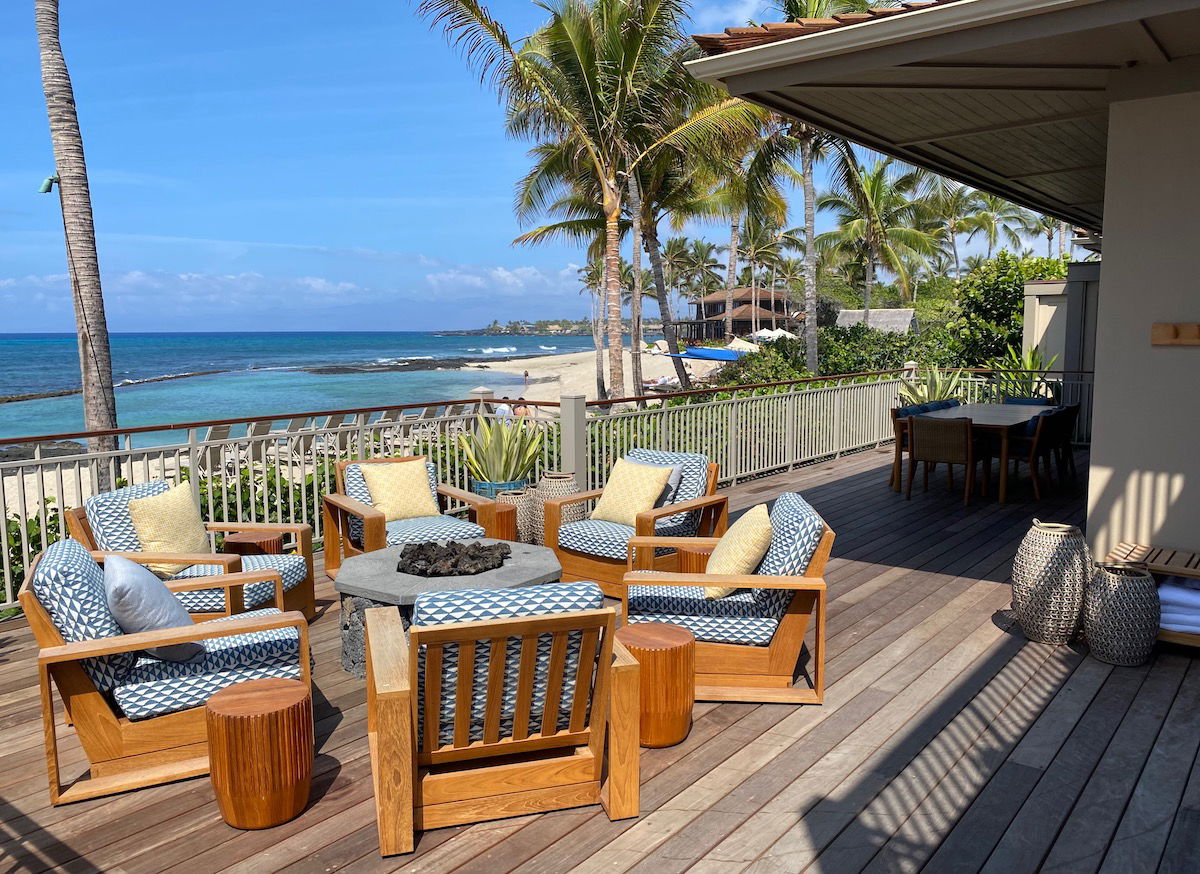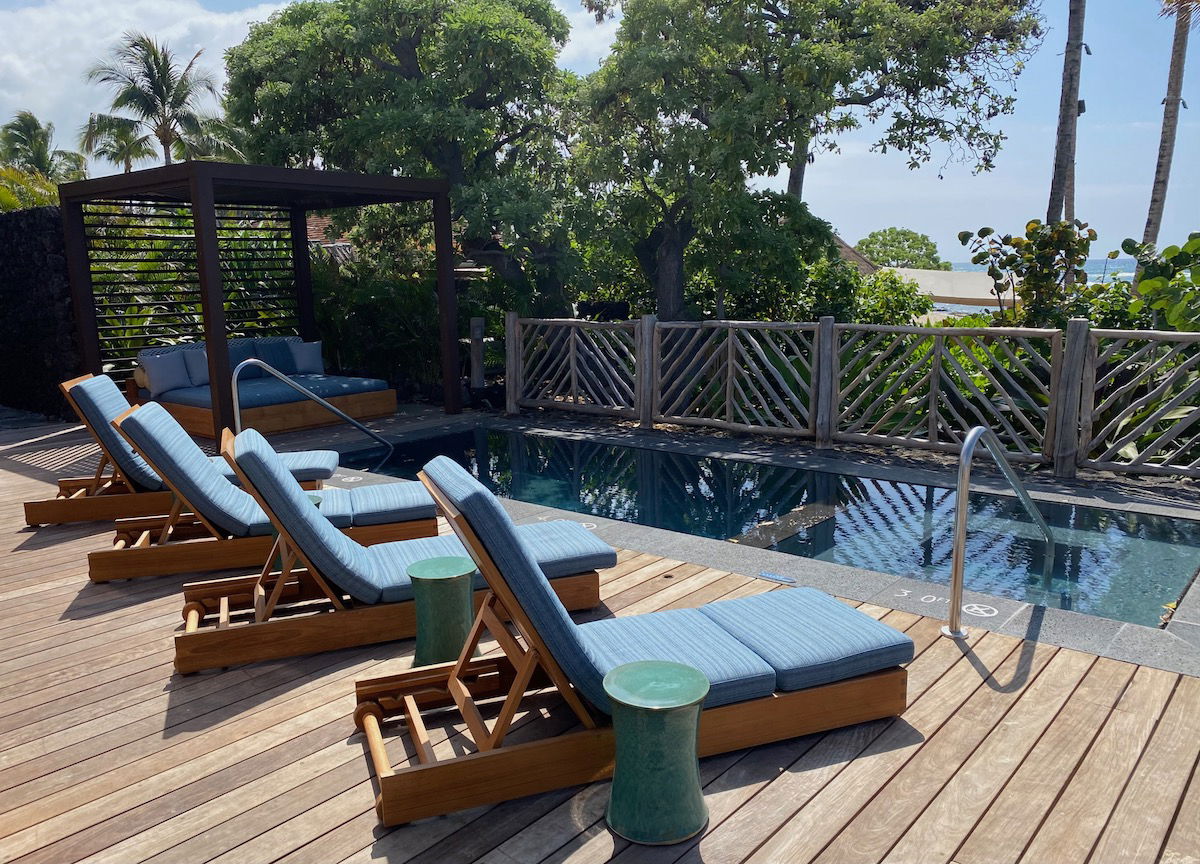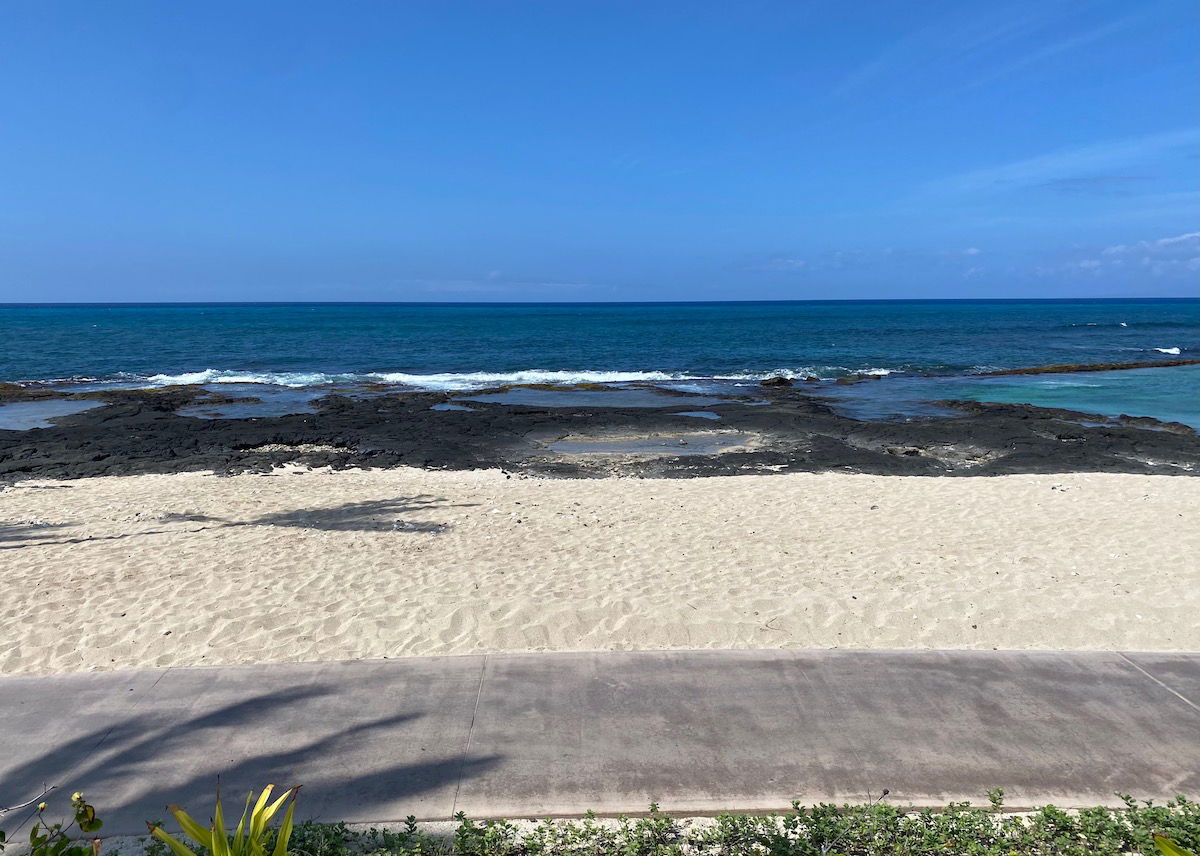 There's even a rooftop deck with additional seating.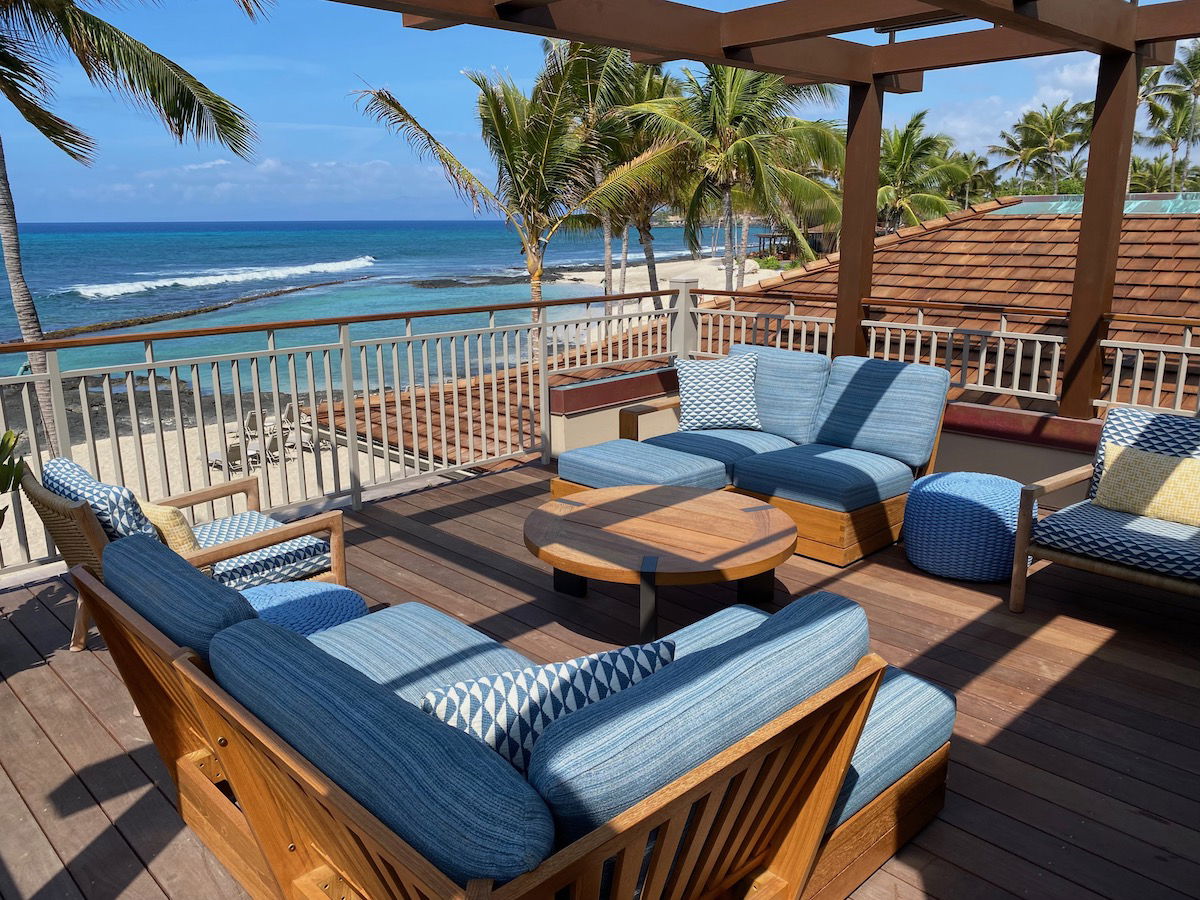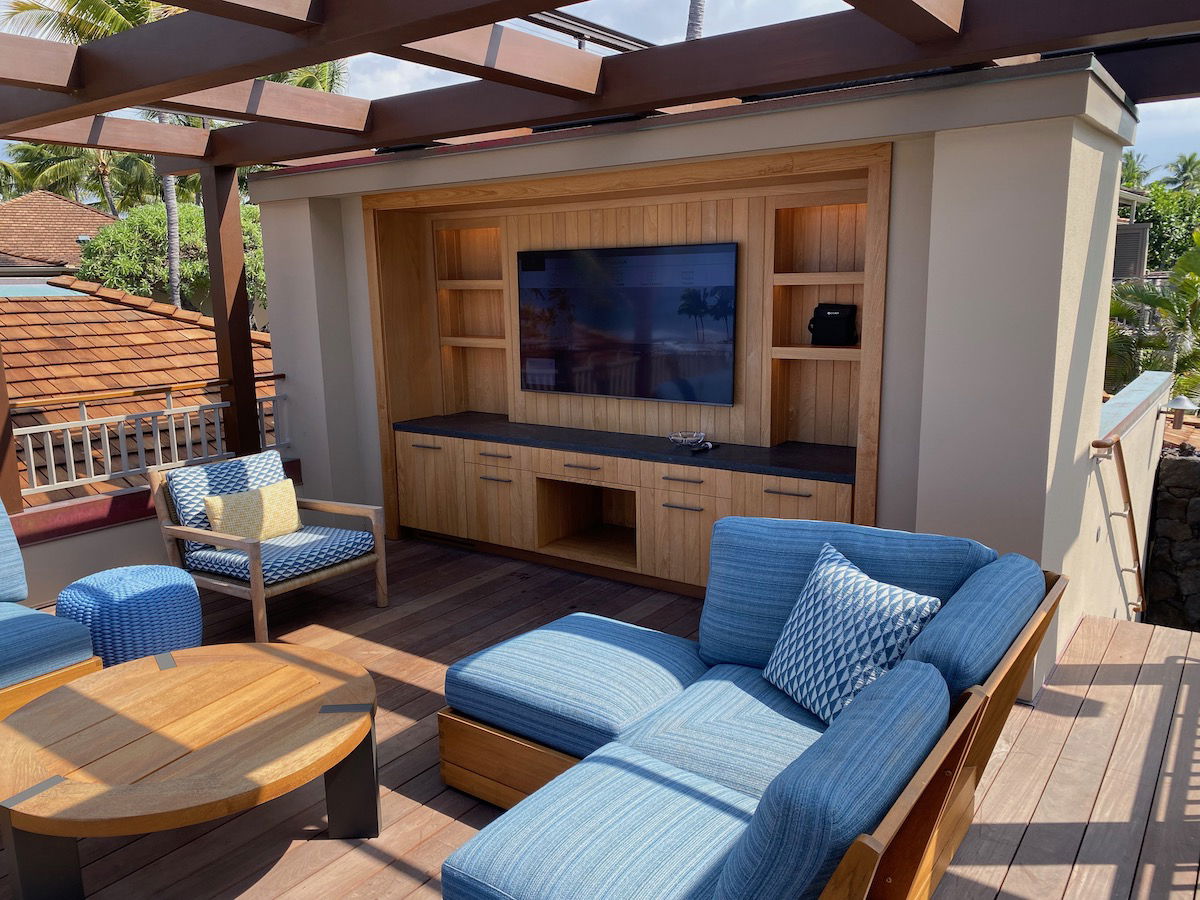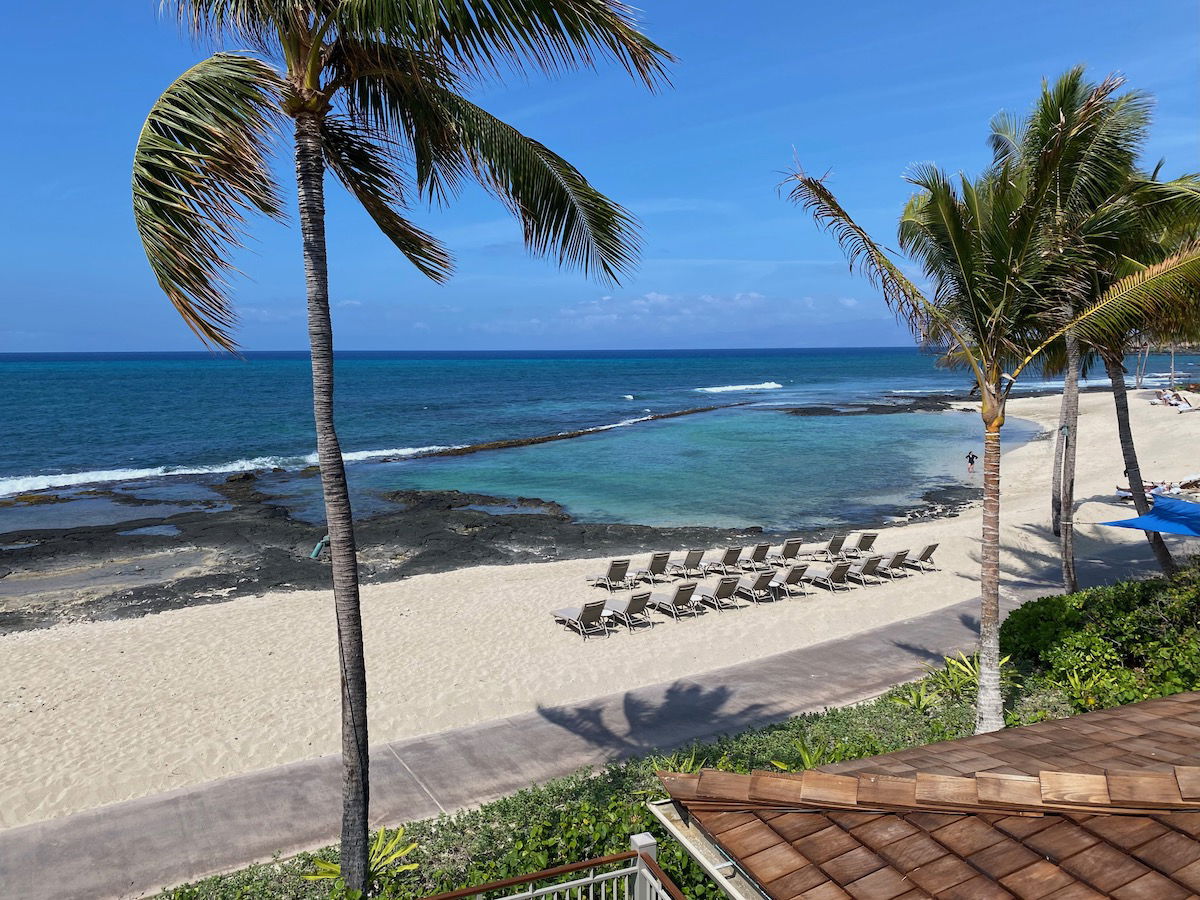 Four Seasons Hualalai pools
The Four Seasons Hualalai's pool game is very, very strong. The Four Seasons has a variety of pools, including:
The King's Pond and King's Pool
The Sea Shell Pool
The Palm Grove Pool
The Beach Tree Pool
The Lap Pool
The Ocean Pool
Let's go over each of them. At one end of the property you have King's Pond, which is a 1.8 million gallon "aquarium" that you can swim in. It's carved out of lava rock and has more than 1,000 tropical fish in it. There's also the Kumu Kai Marine Education Center here, where you can learn more about the marine life, as well as join daily early ray and fish feedings.
I'm kind of scared of water, to be honest (I know, I'm weird), but this is such a ridiculously cool way to be able to go snorkeling in a safe environment.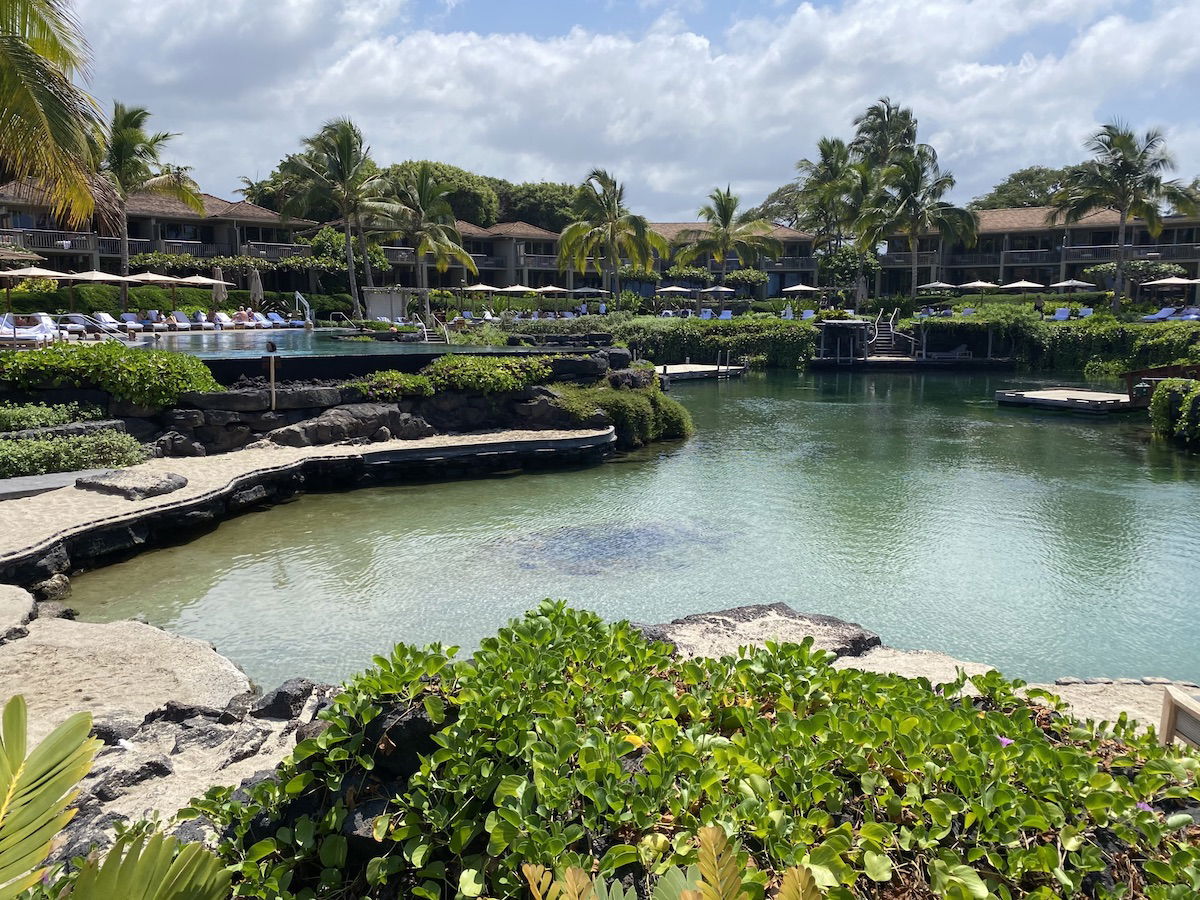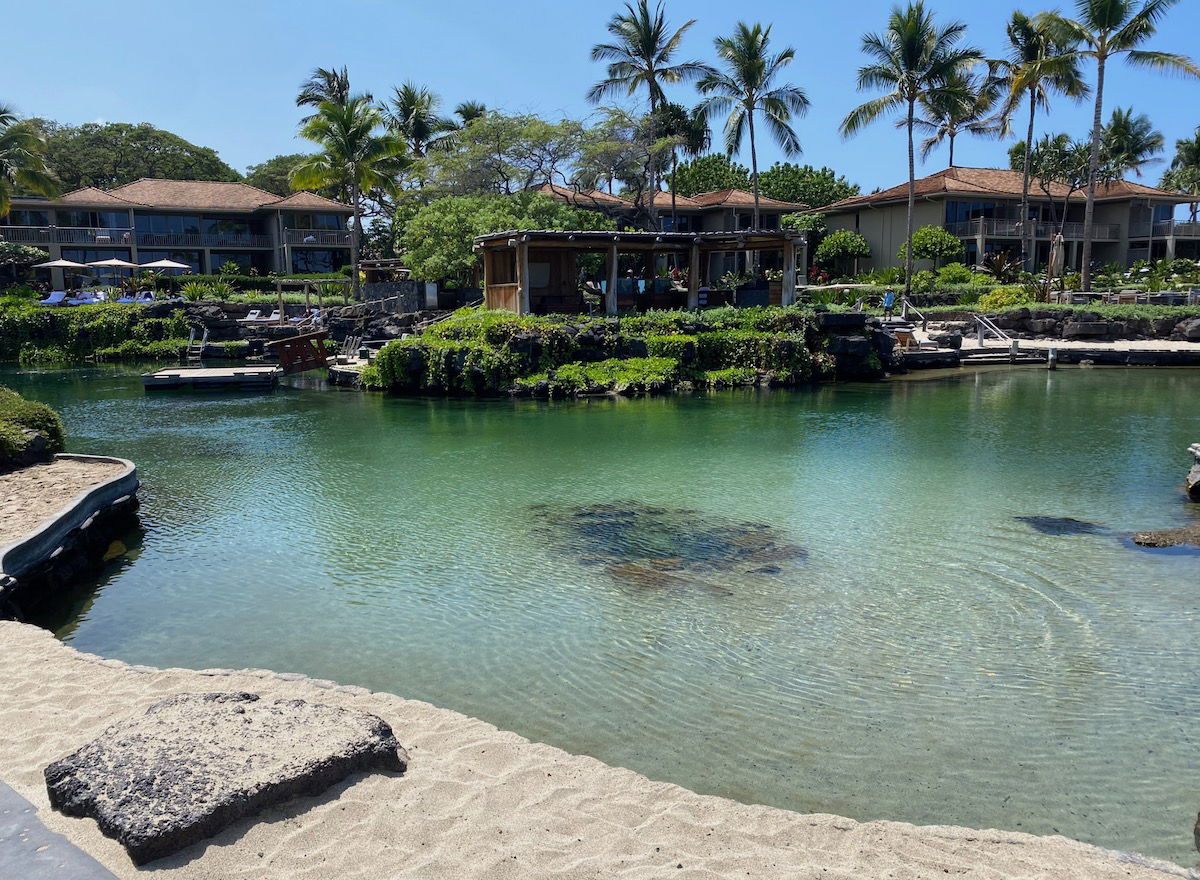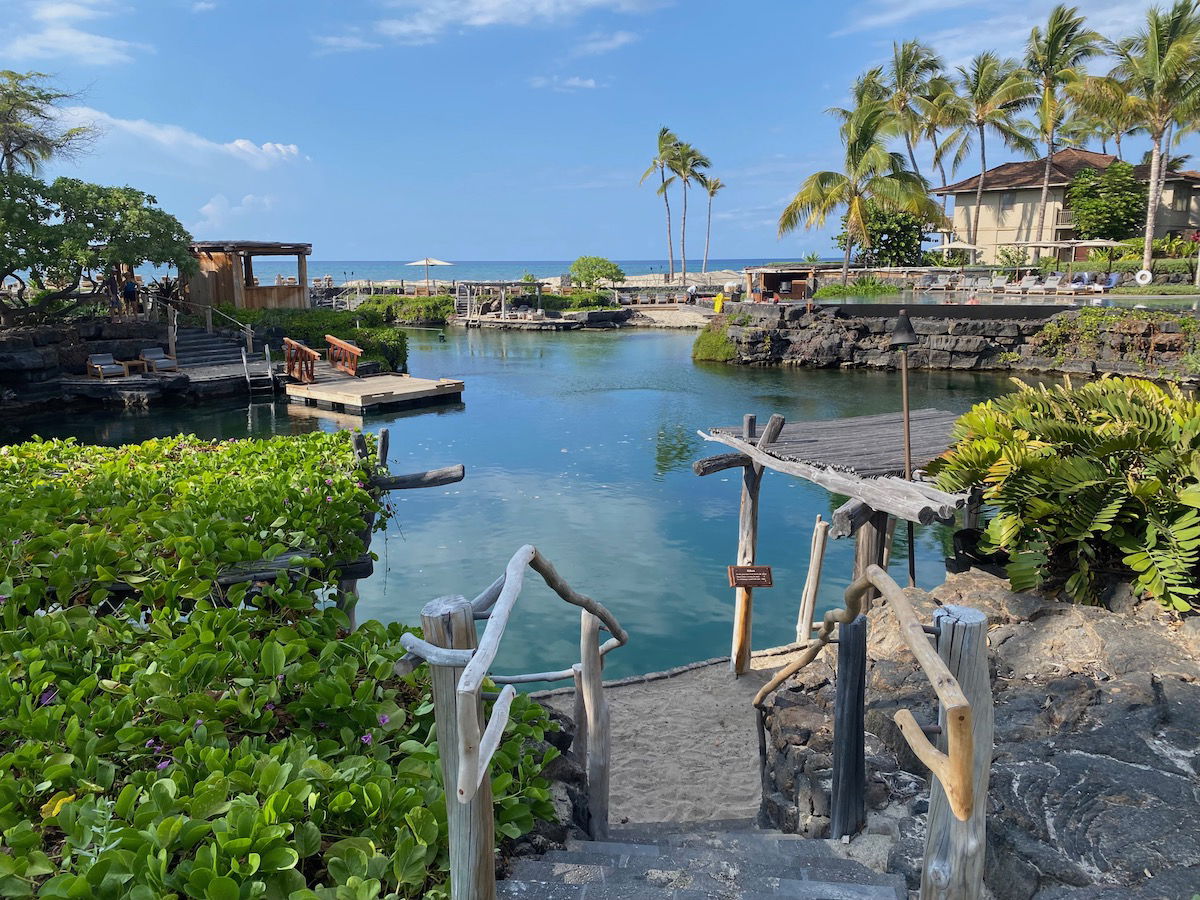 There's also ample seating around King's Pond, so it's pretty cool to lounge by an aquarium, rather than a pool.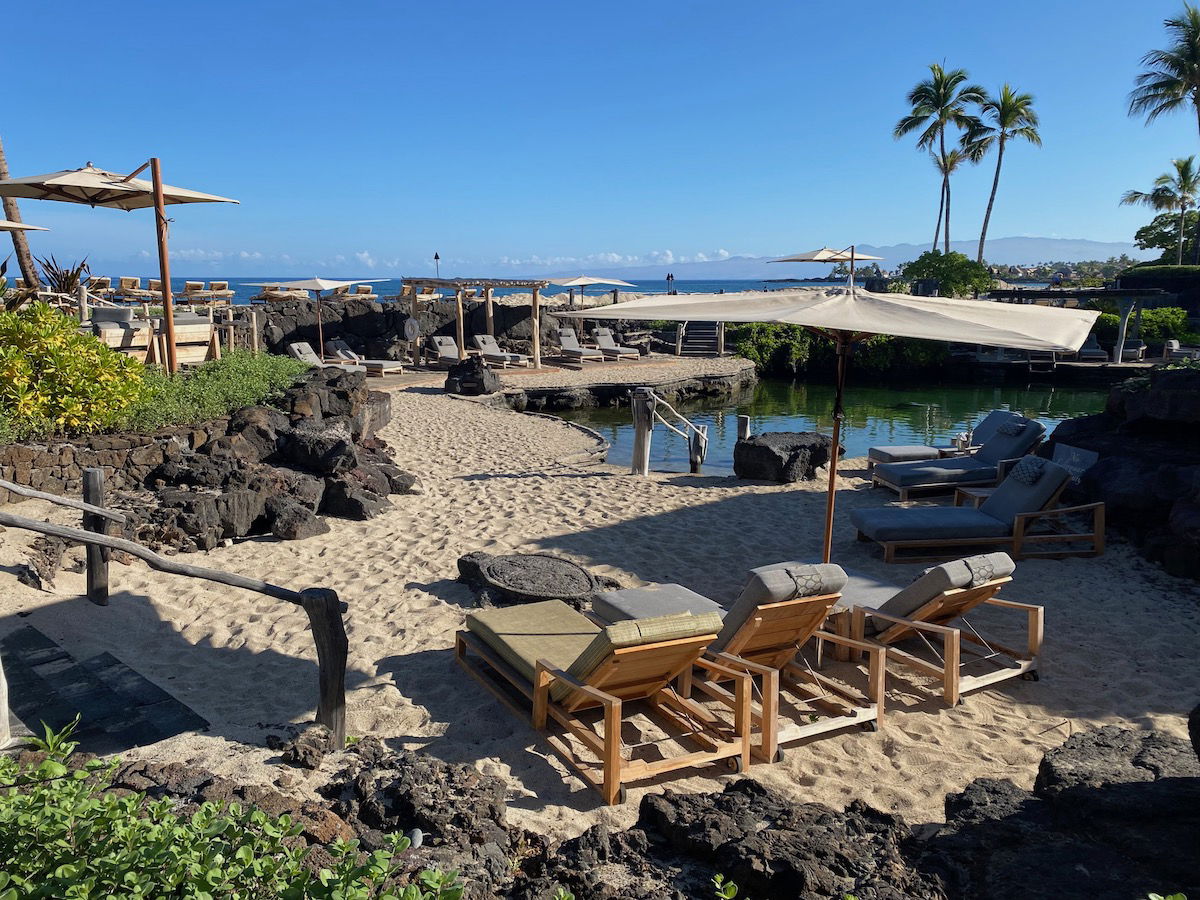 Immediately above King's Pond is King's Pool, which only opened during the pandemic. This infinity-edge pool overlooks King's Pond.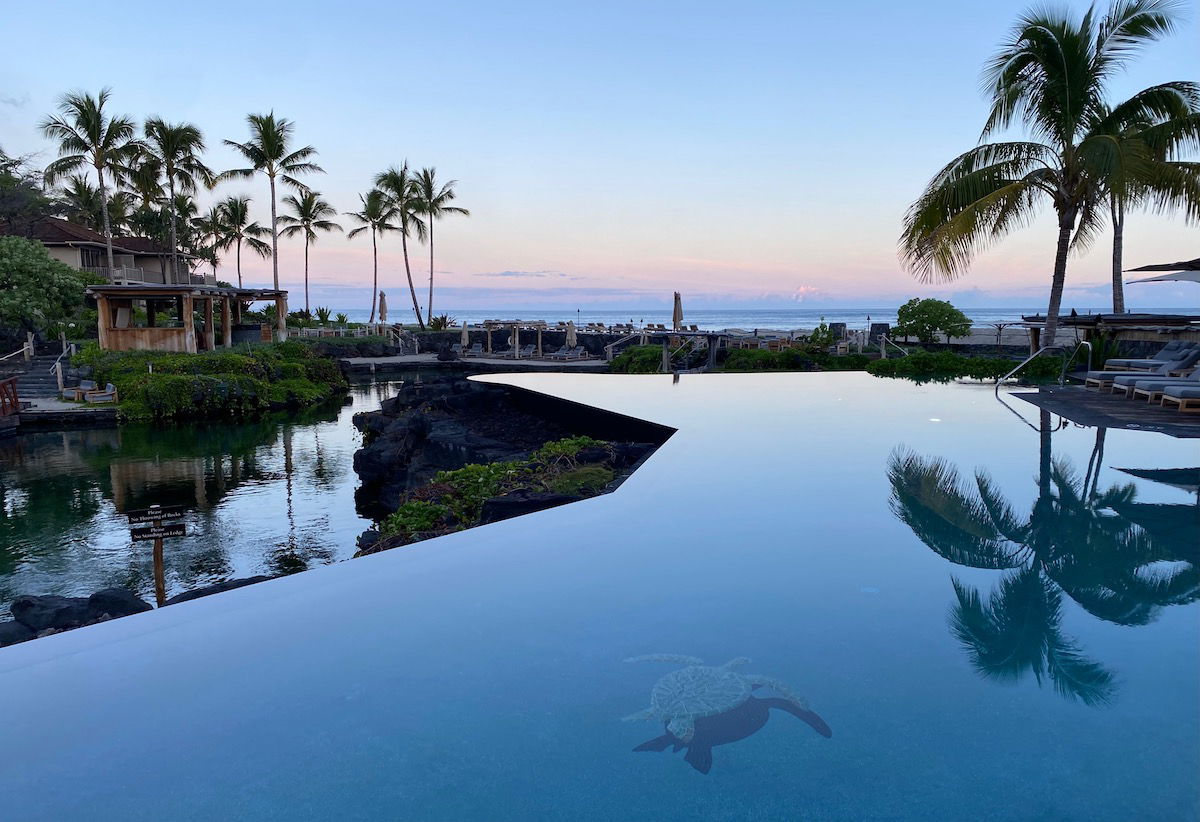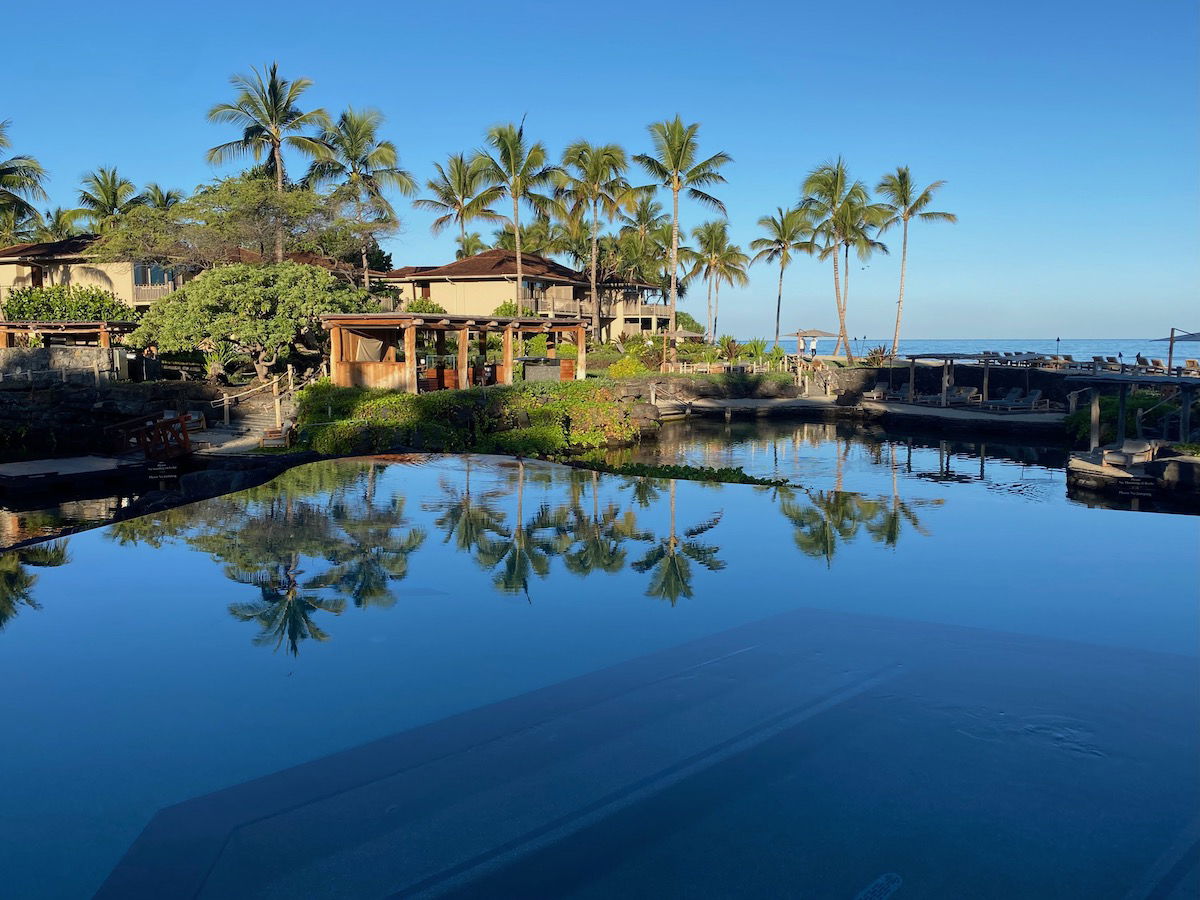 It's a very nice pool, and also two hot tubs, plus plenty of seating.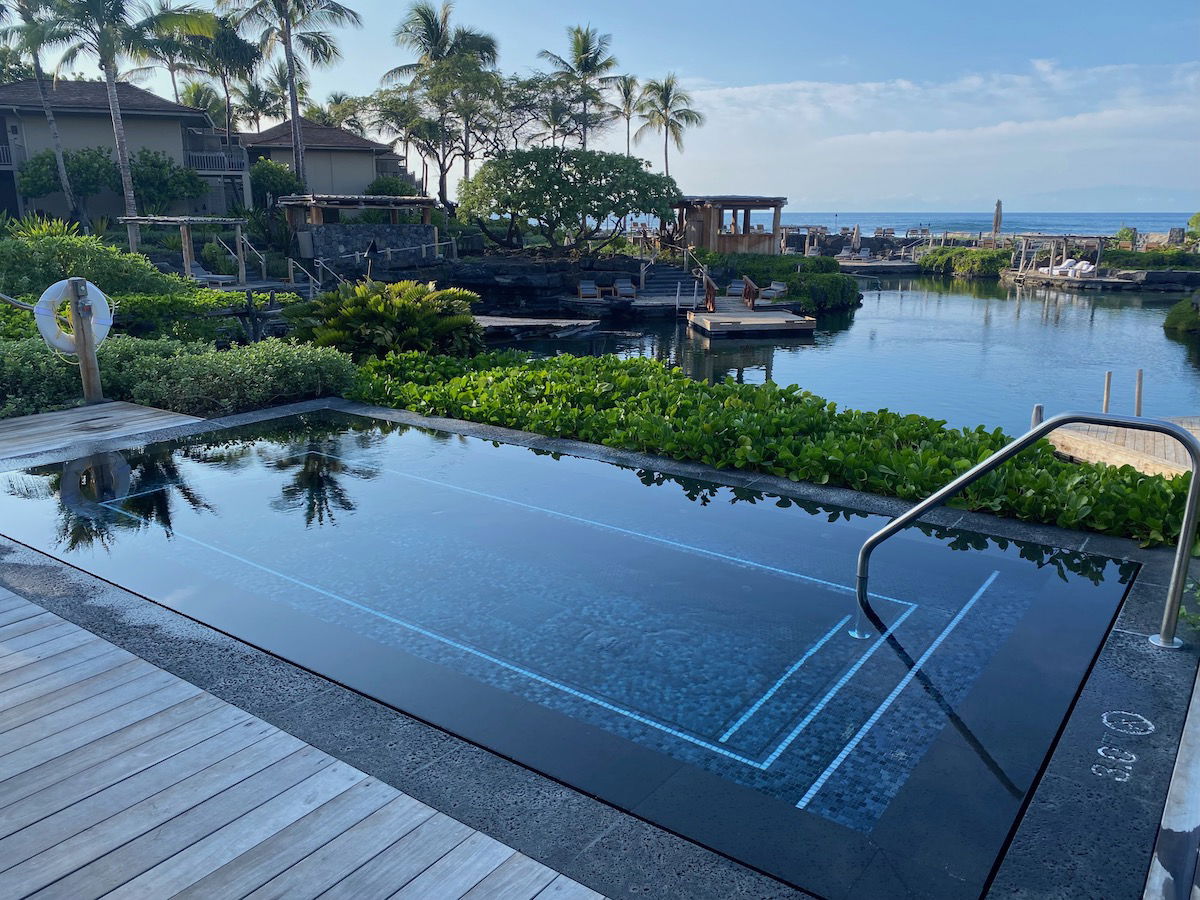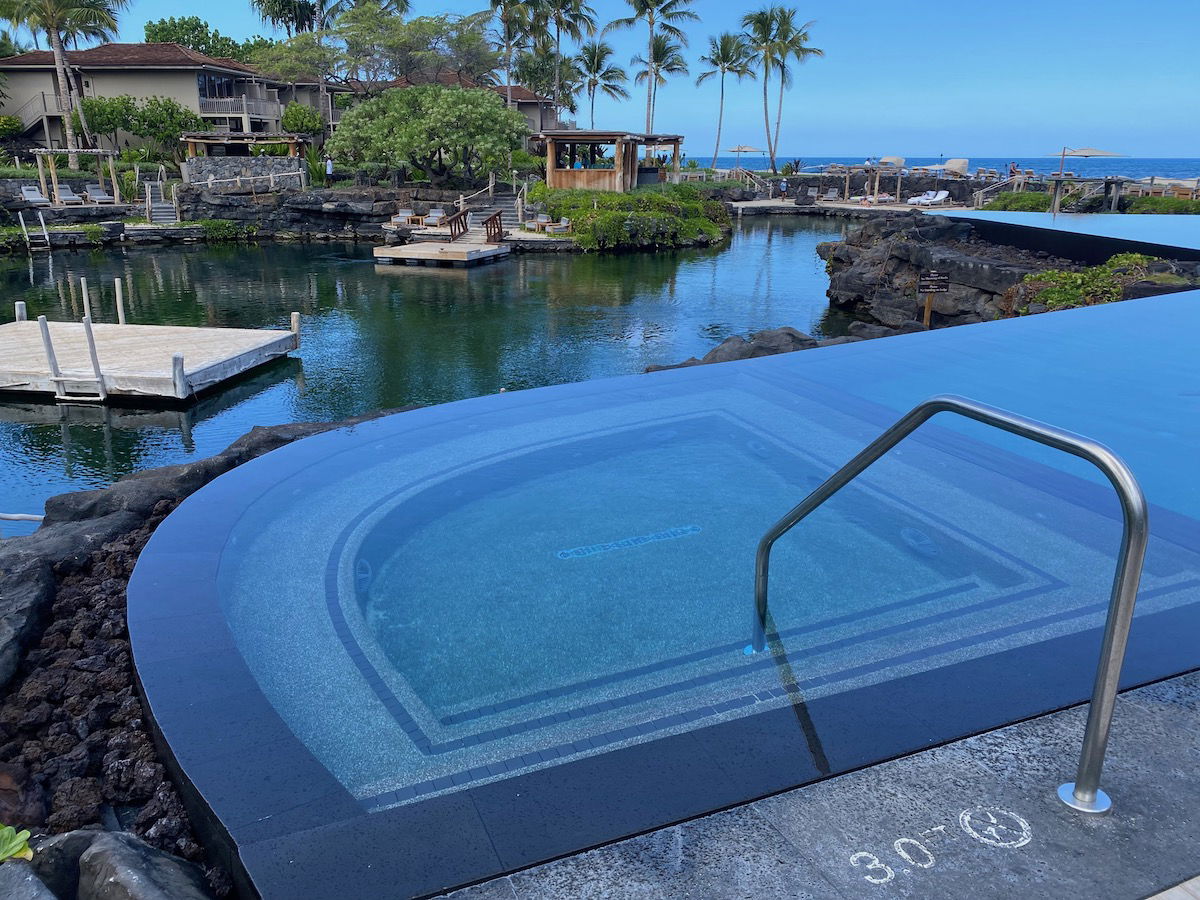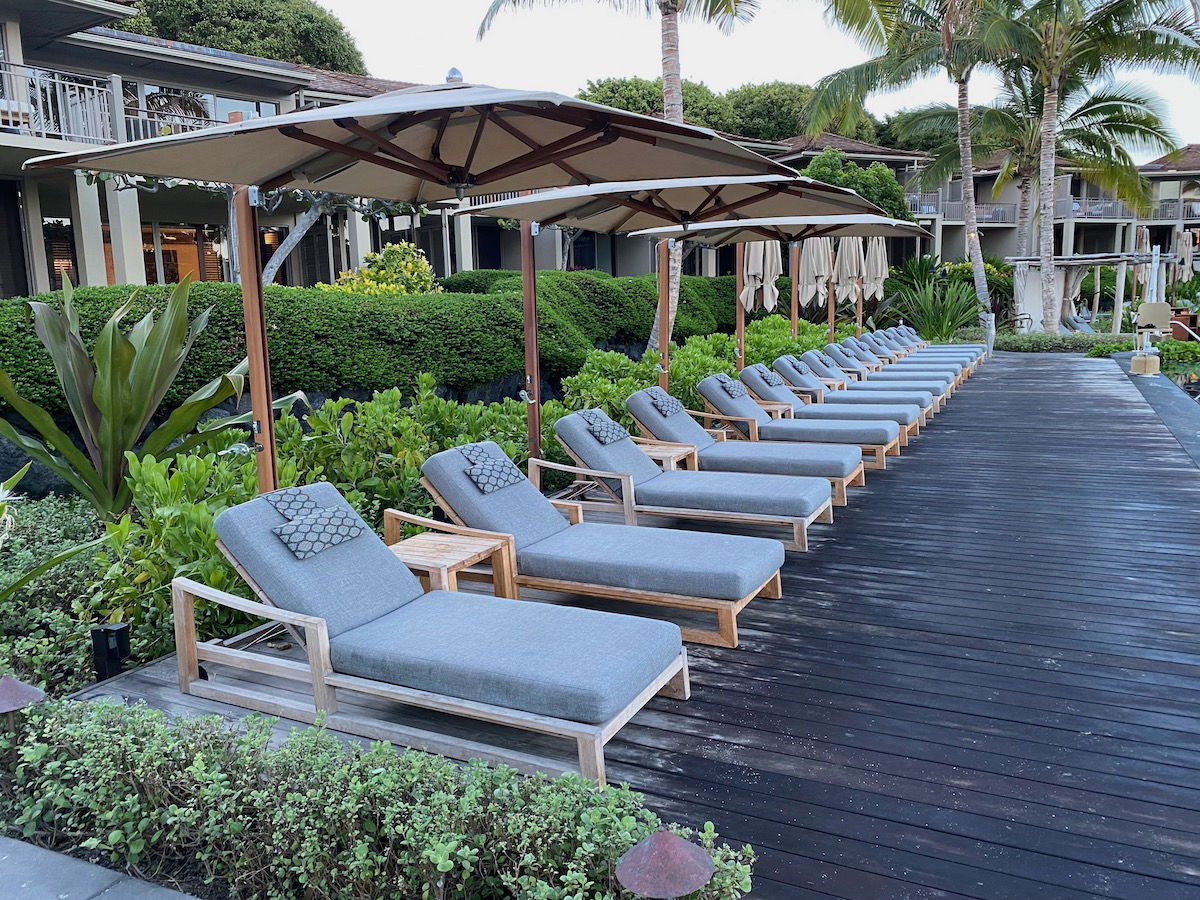 The next major pool at the Four Seasons Hualalai is the Sea Shell Pool, which is massive and also infinity-edge. This pool is specially designed for families.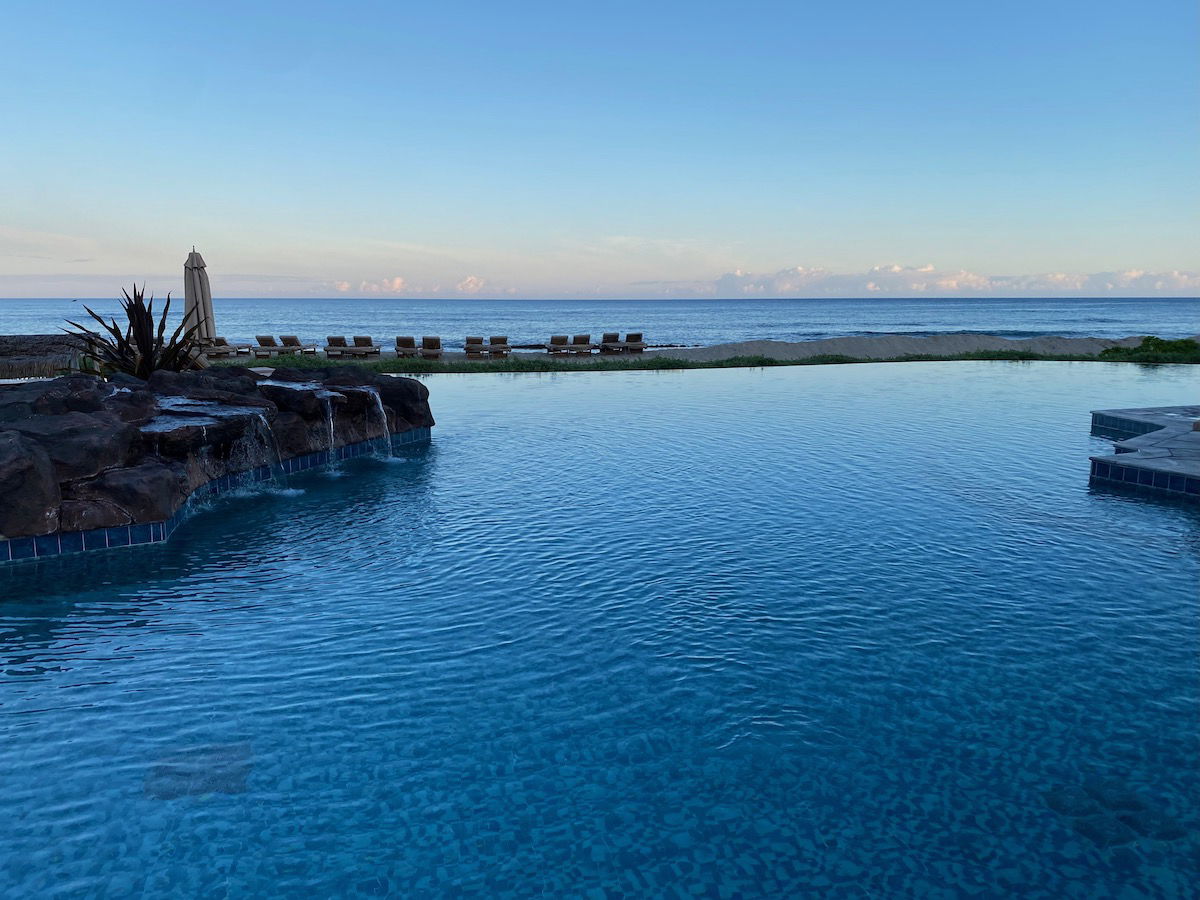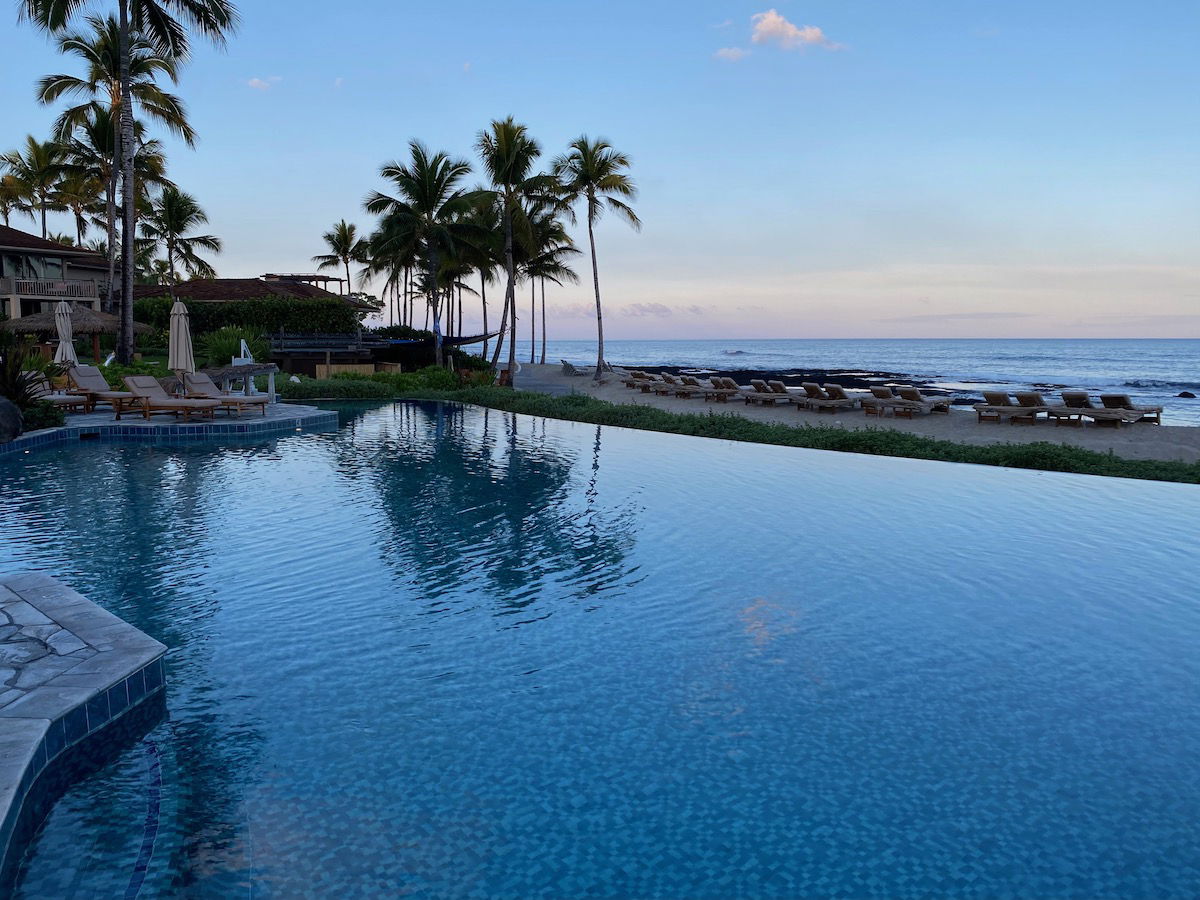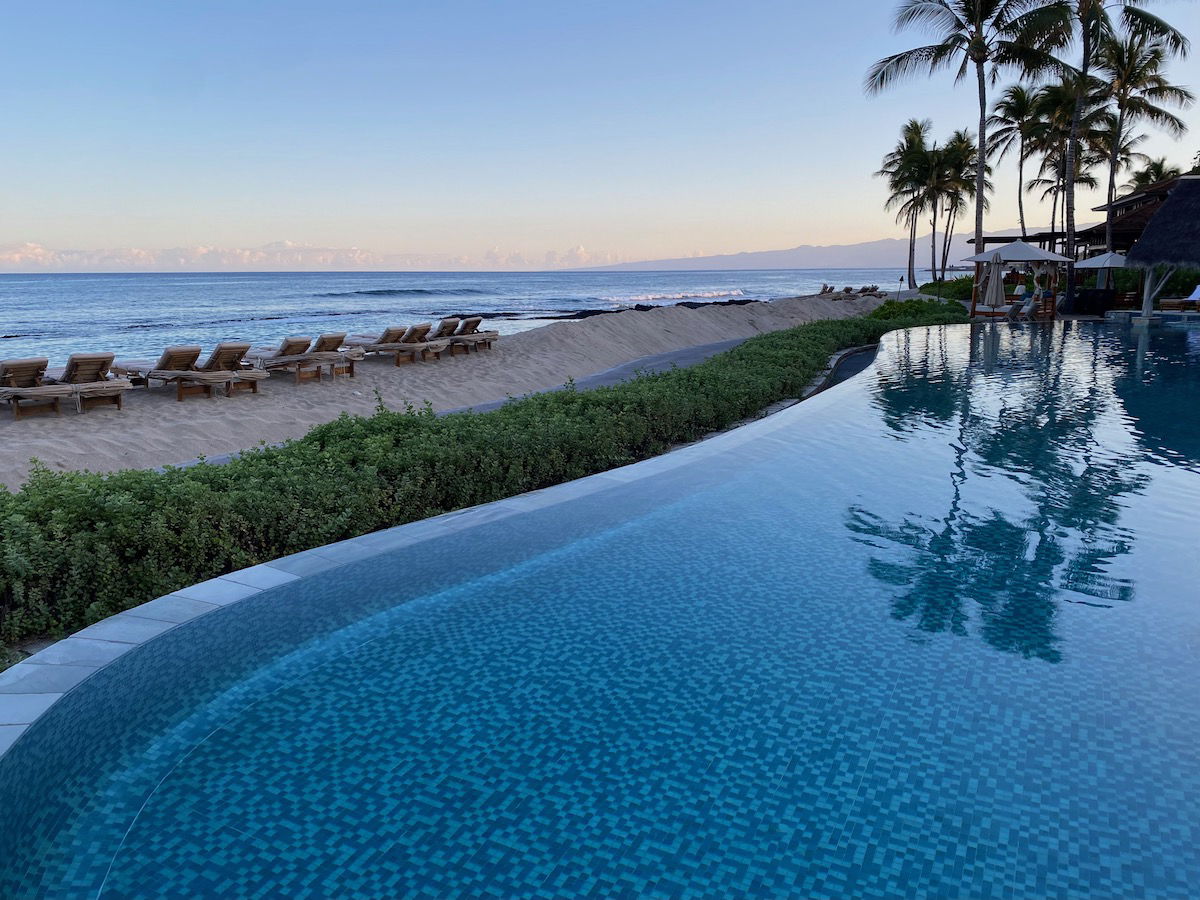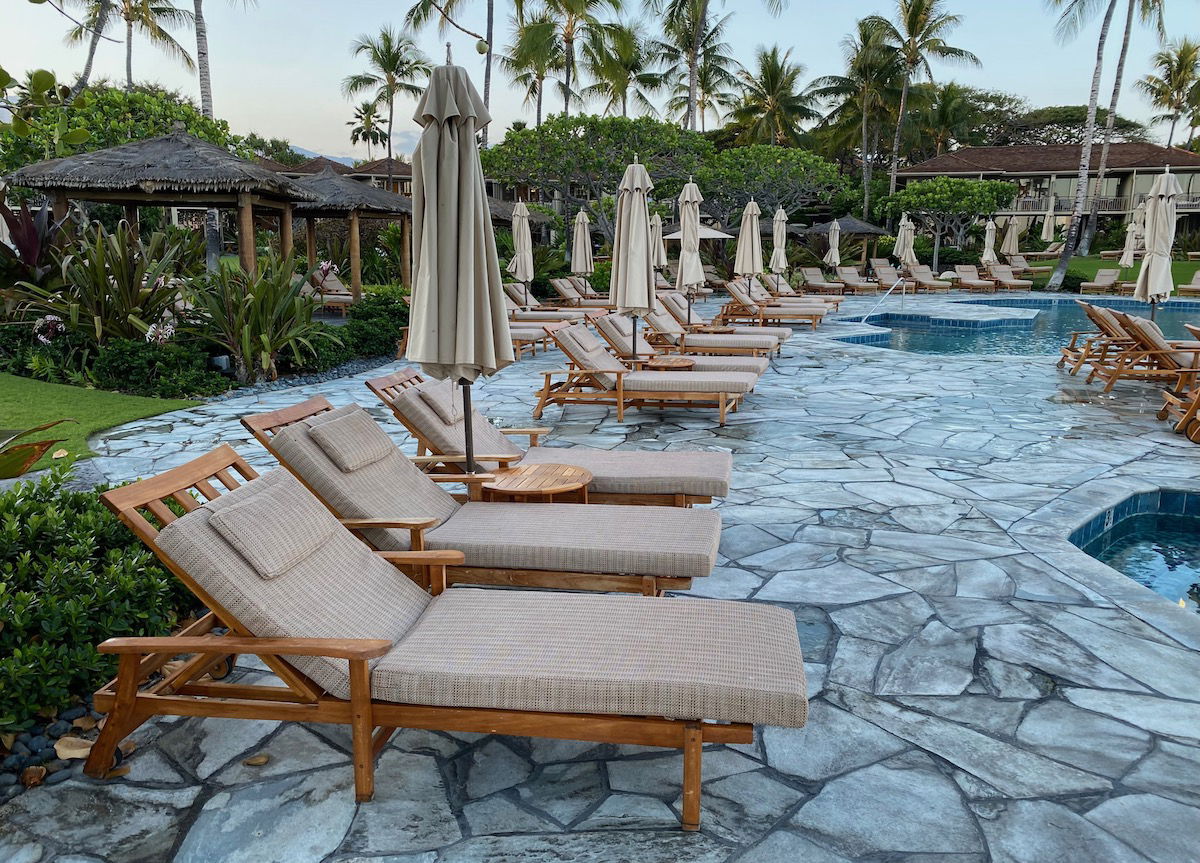 There's also a special pool for small children next to it.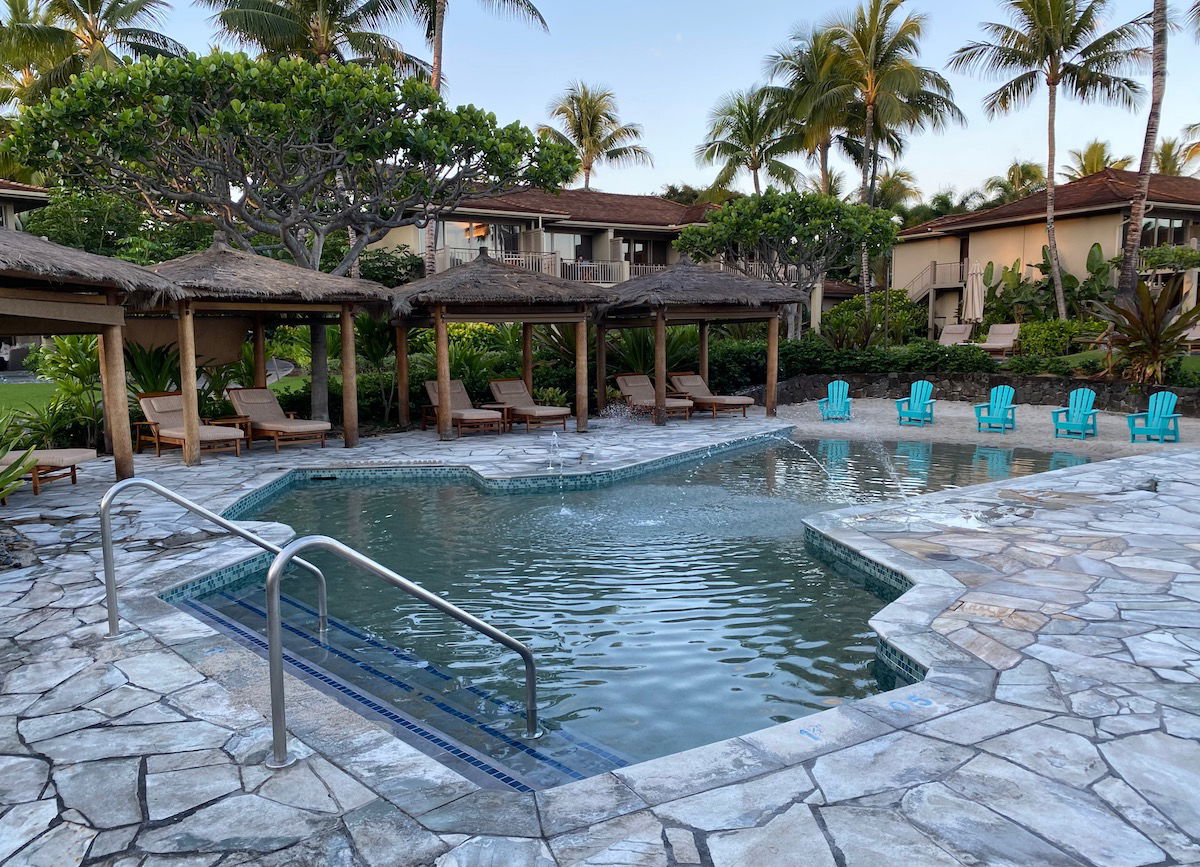 The next major pool is the Beach Tree Pool, which his a more traditional rectangular pool for adults. While the King's Pool was our favorite, the Beach Tree Pool was our second favorite thanks to the cabanas. The cabanas you see in the below pictures are available on a first come, first served basis at no extra cost, and they were a great place to hang out.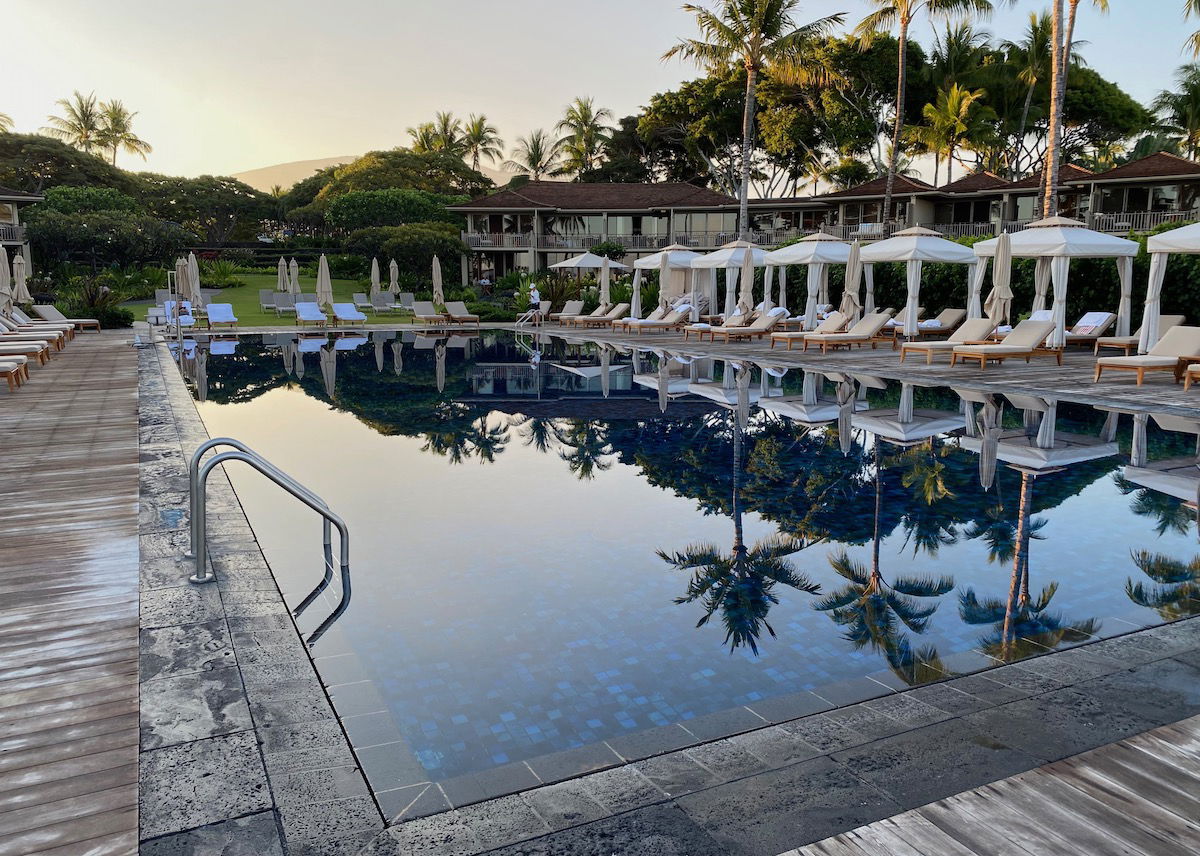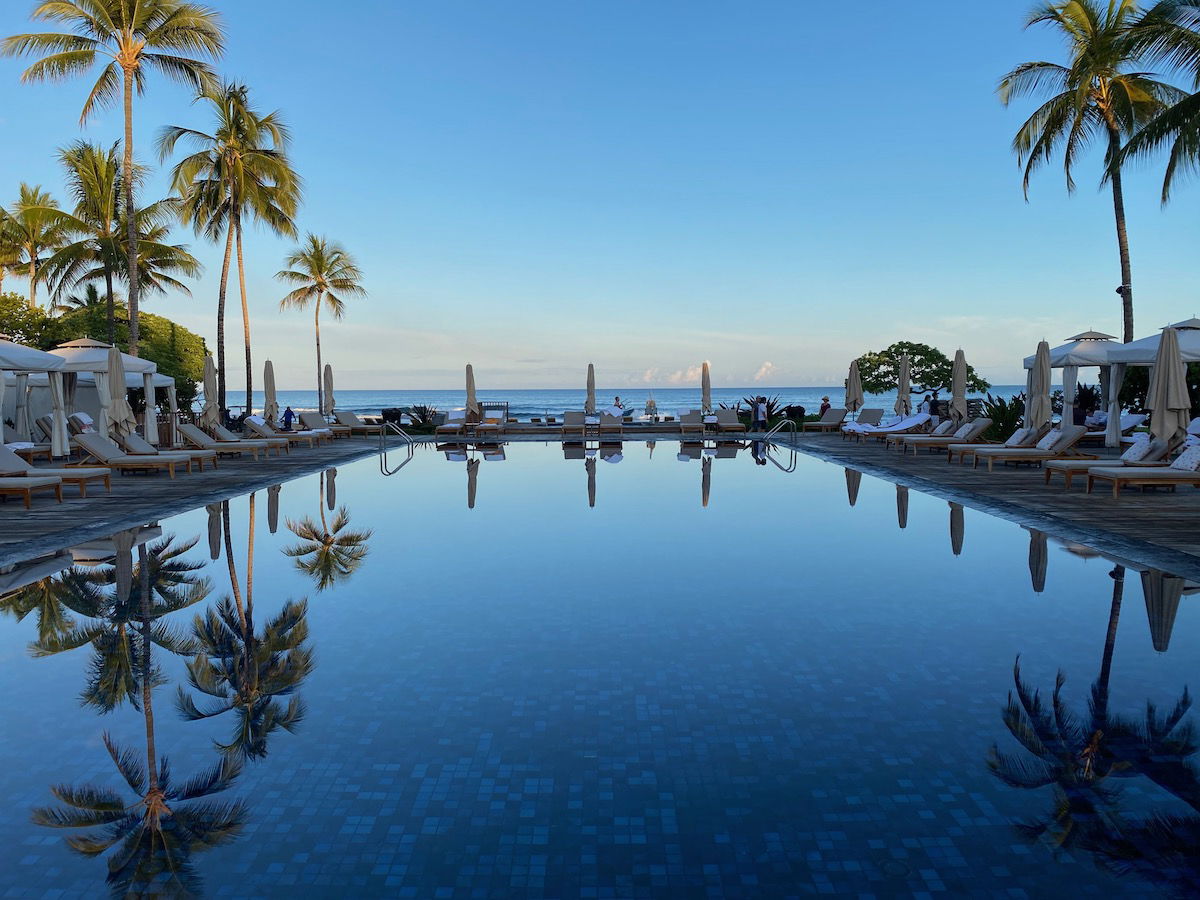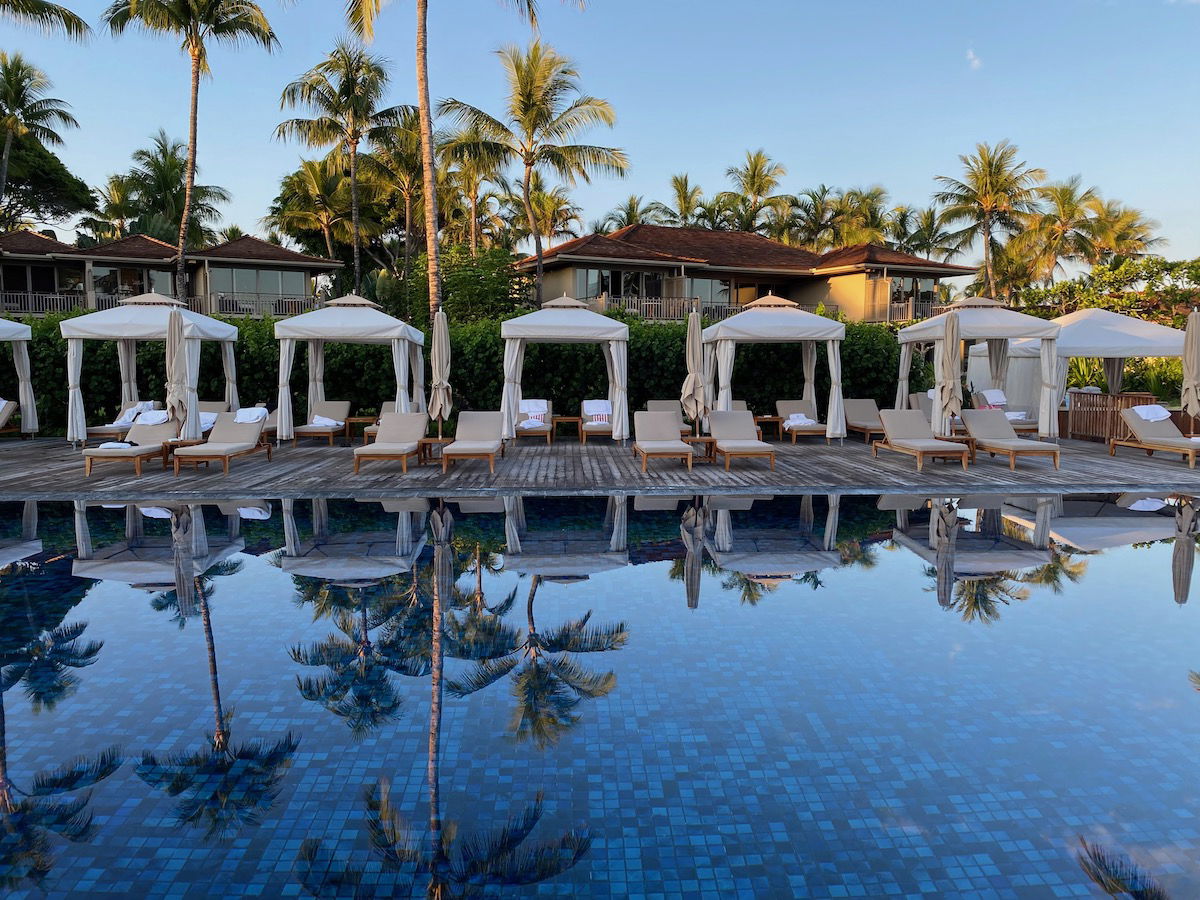 Next up was the Palm Grove Pool, which is an adults-only pool with a swim-up bar. I loved the view from this pool, with the palm trees overhead and the beach and ocean in the distance.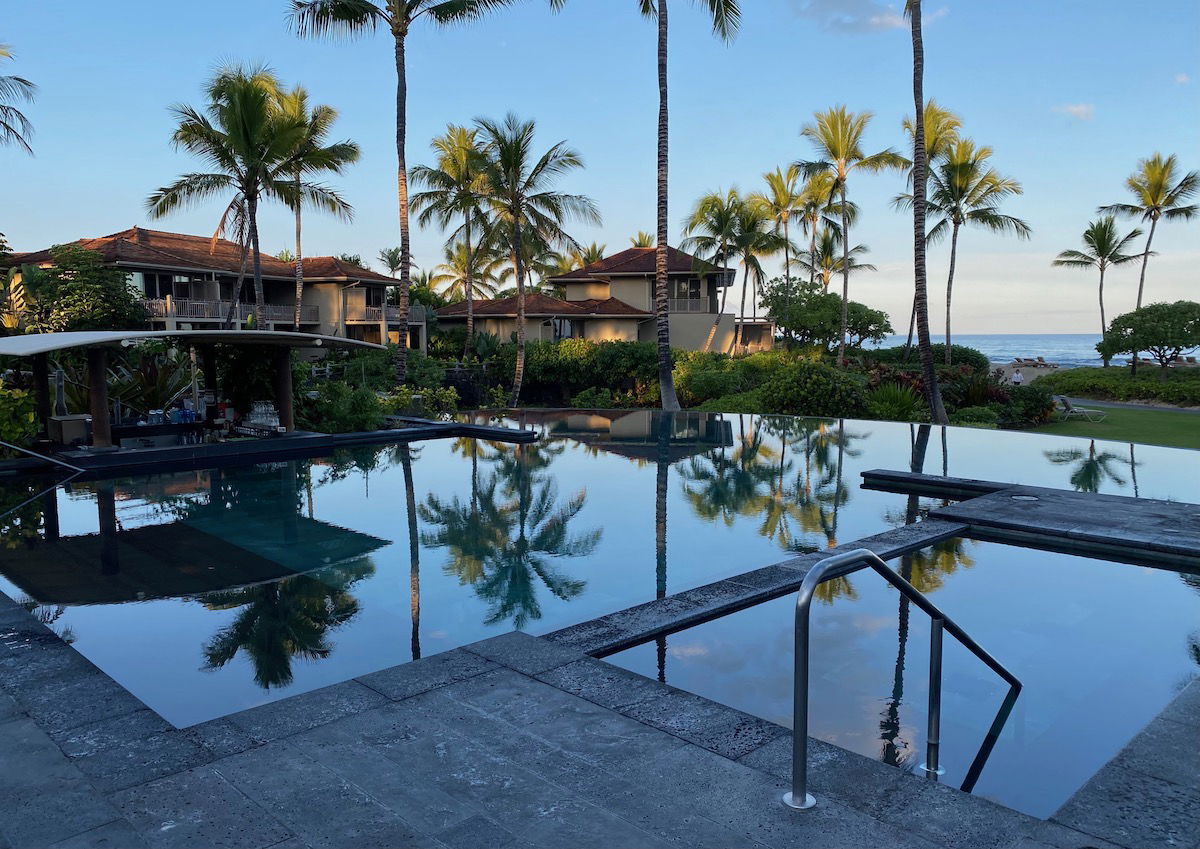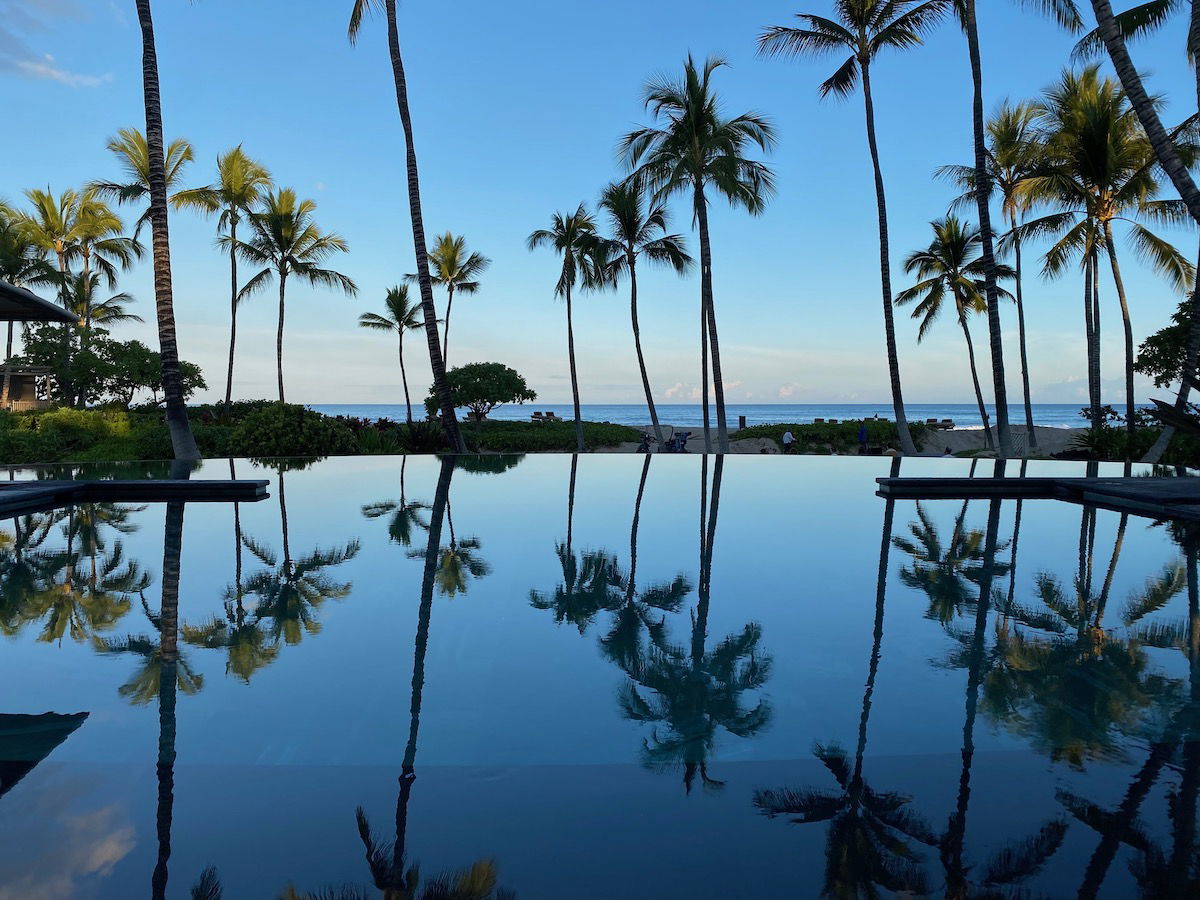 Then there was the lap pool, located near the fitness center and spa. This pool was a bit further away from the coast, and almost made feel like I was at a resort in Bali, or something.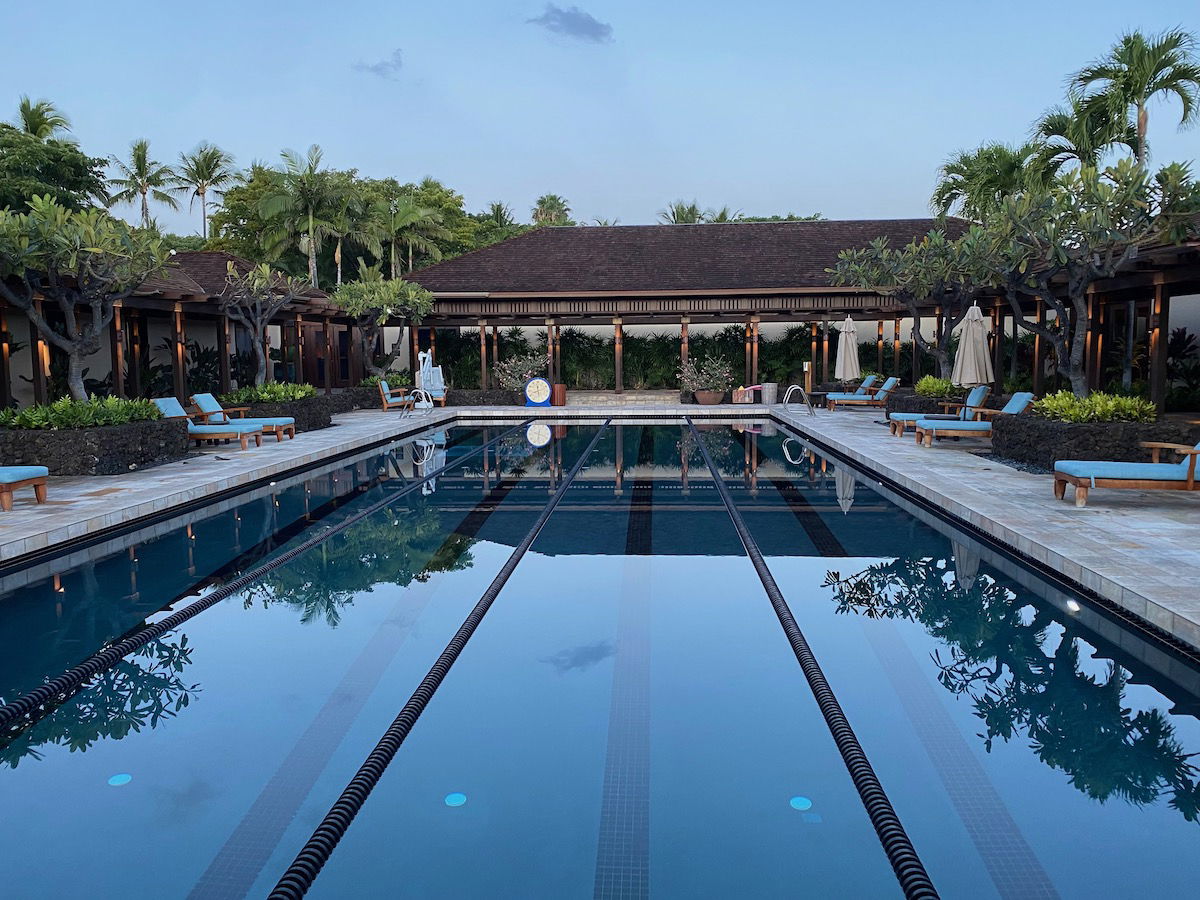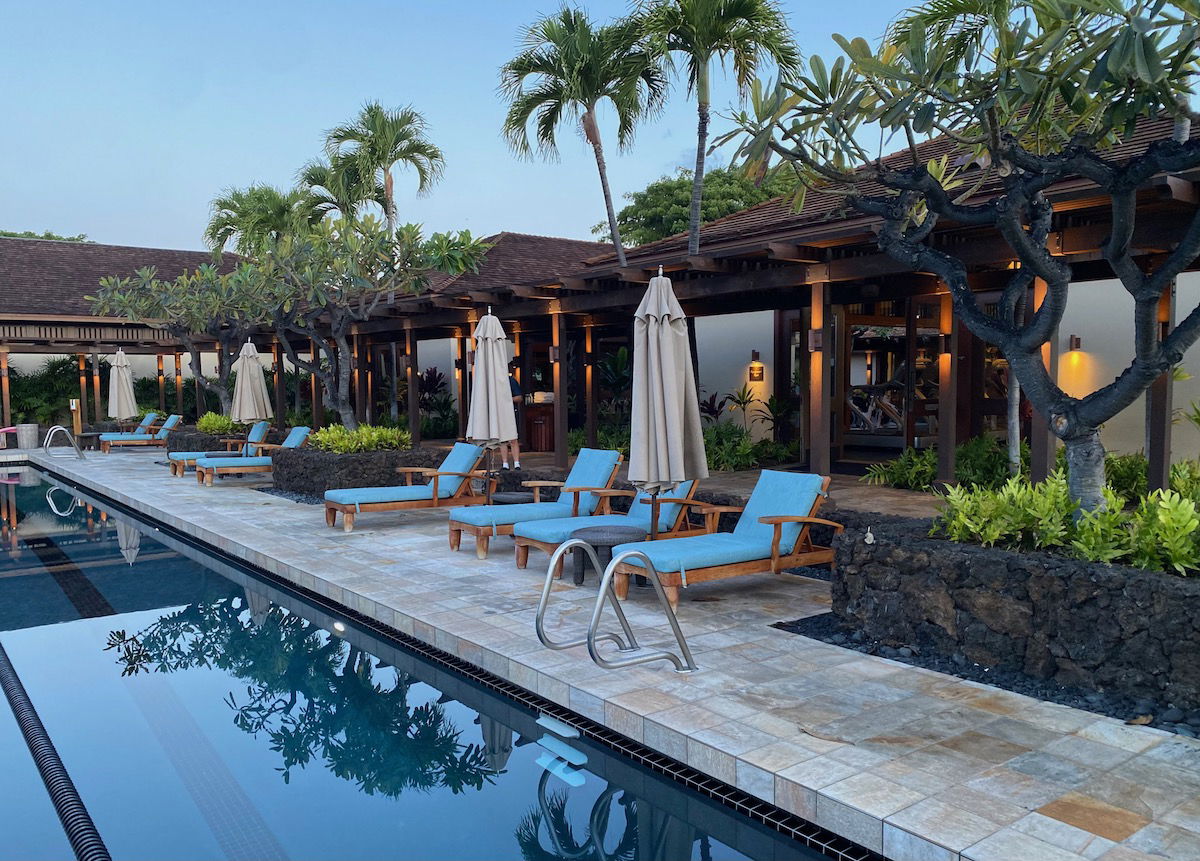 Regardless of which pool you choose to hang out at, there's very attentive service, including help with towels, food & drink service, complimentary water, etc. There's also sunscreen all over the resort.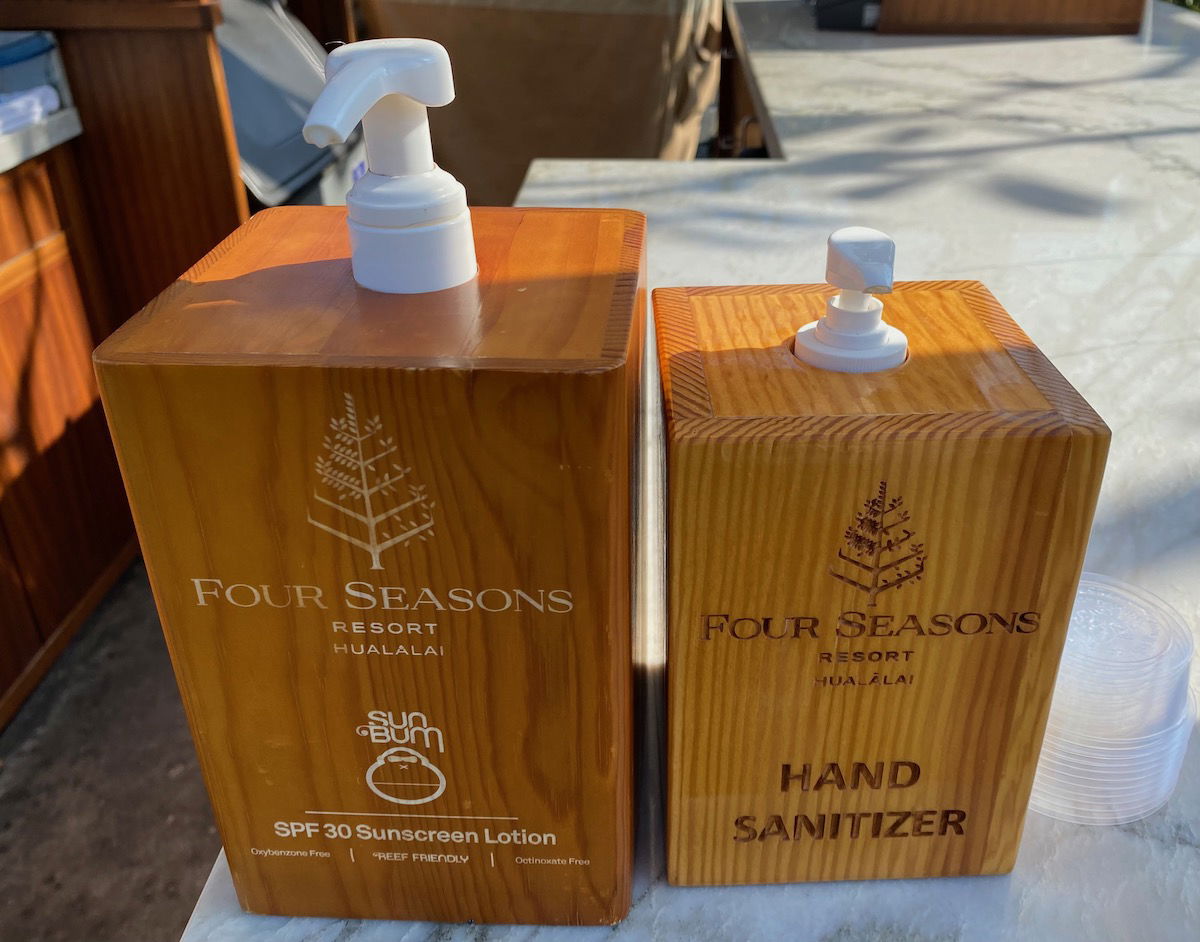 Four Seasons Hualalai beach
The Four Seasons Hualalai has an incredible amount of coastline, and there's a pathway along the entire beach. In some cases the beach is maybe 20 feet wide, while in other areas it's much wider. The beach area is gorgeous — it's swimmable, and I love the lava rock.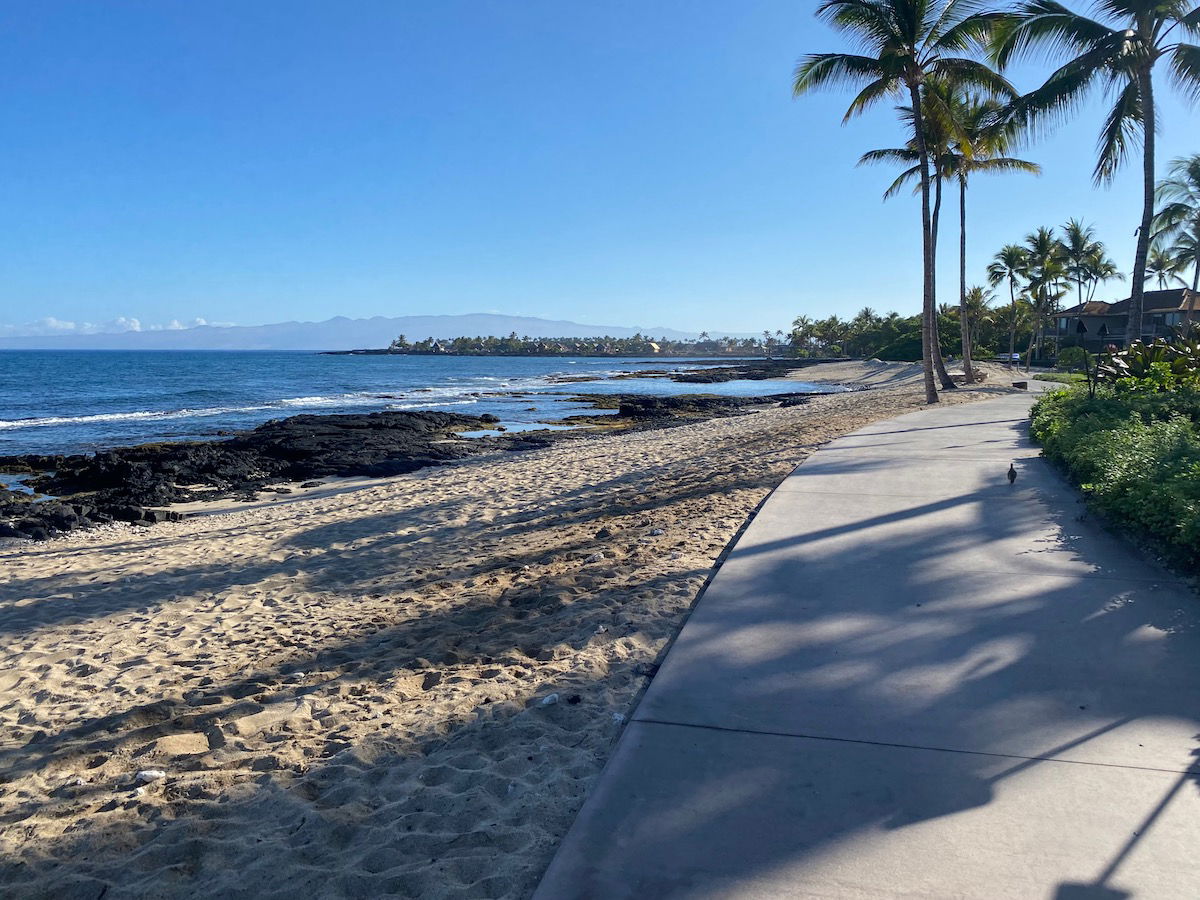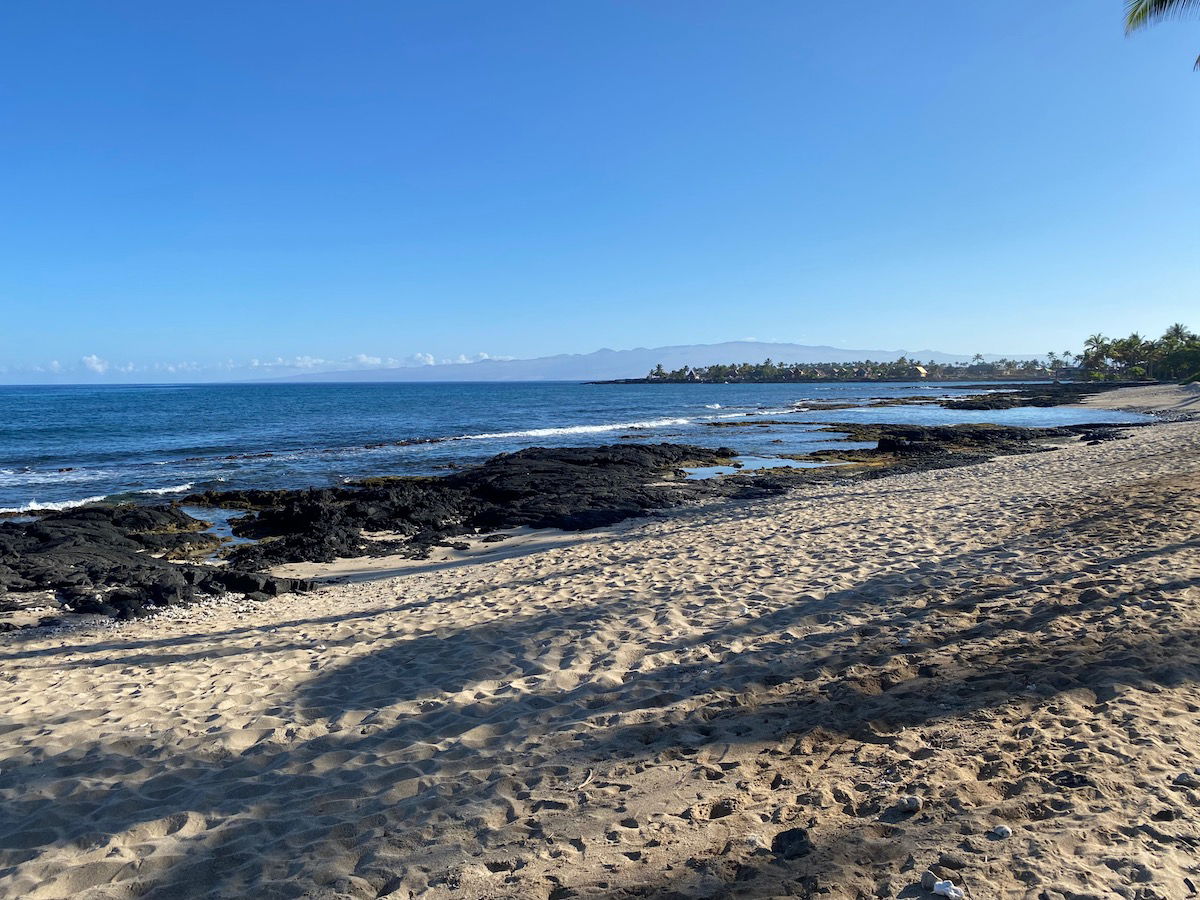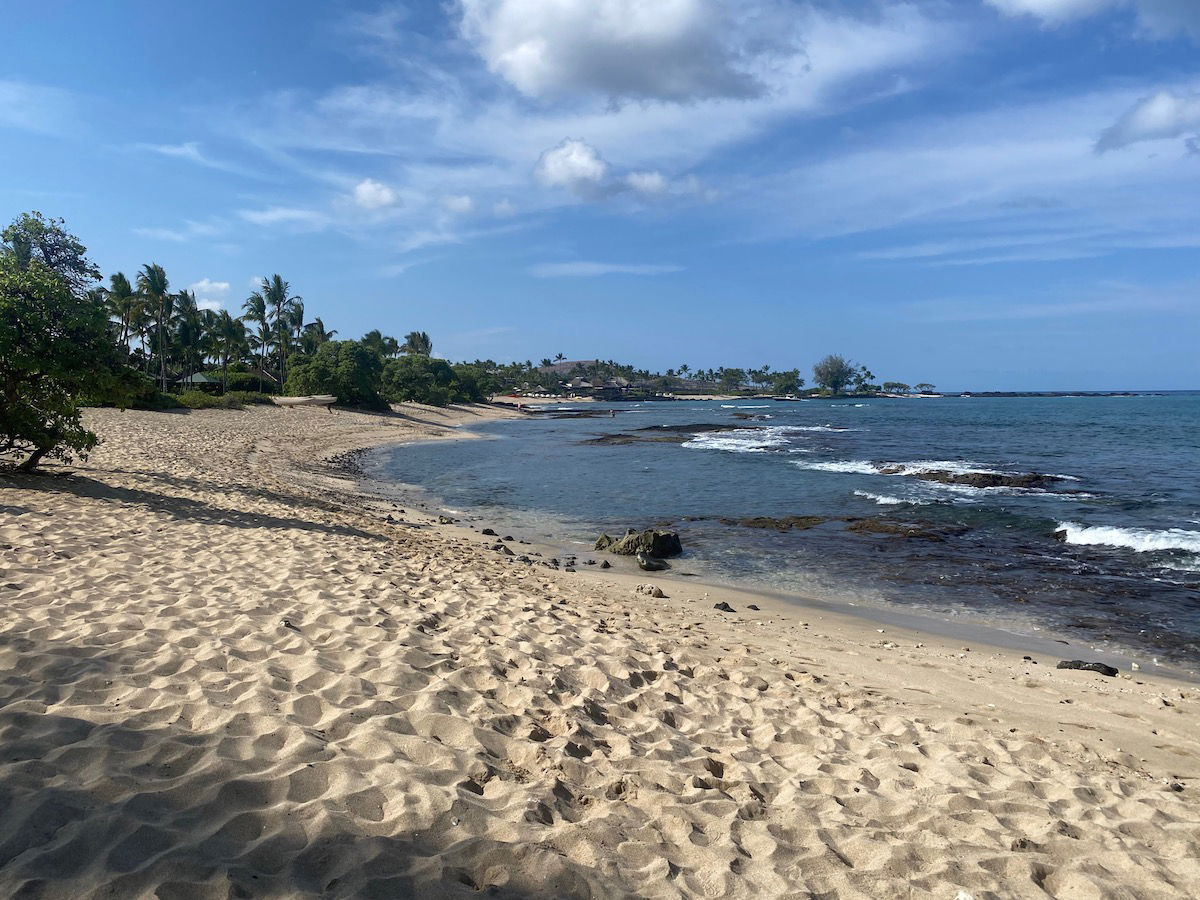 Speaking of pools, the Four Seasons Hualalai actually has one additional pool, called the Ocean Pool. You might think it's cheesy for the hotel to call the ocean a pool, but it's kind of true. As you can see in the below picture, a portion of the coastline has rocks around it, which essentially creates a calm, safe environment in which to swim. I'm usually not a fan of going in the ocean, but I made an exception for this.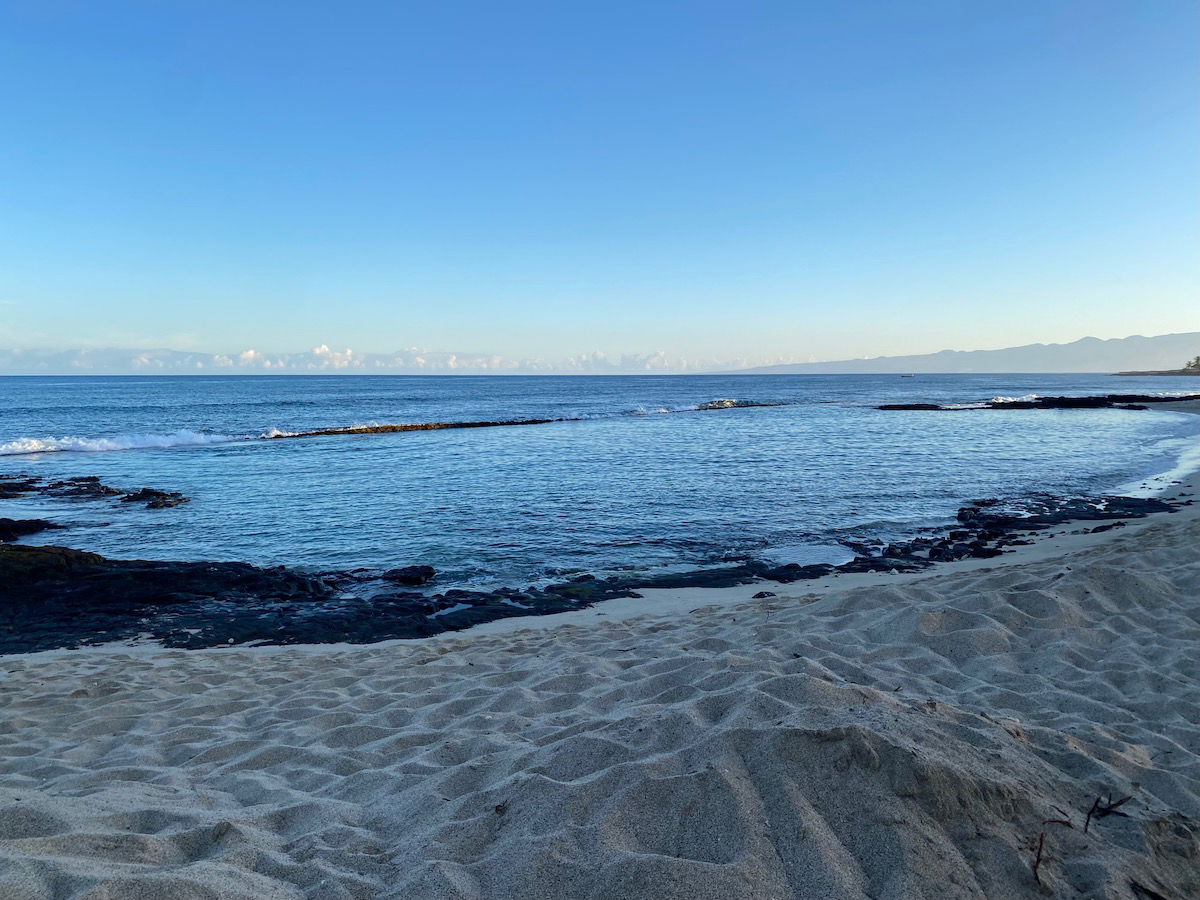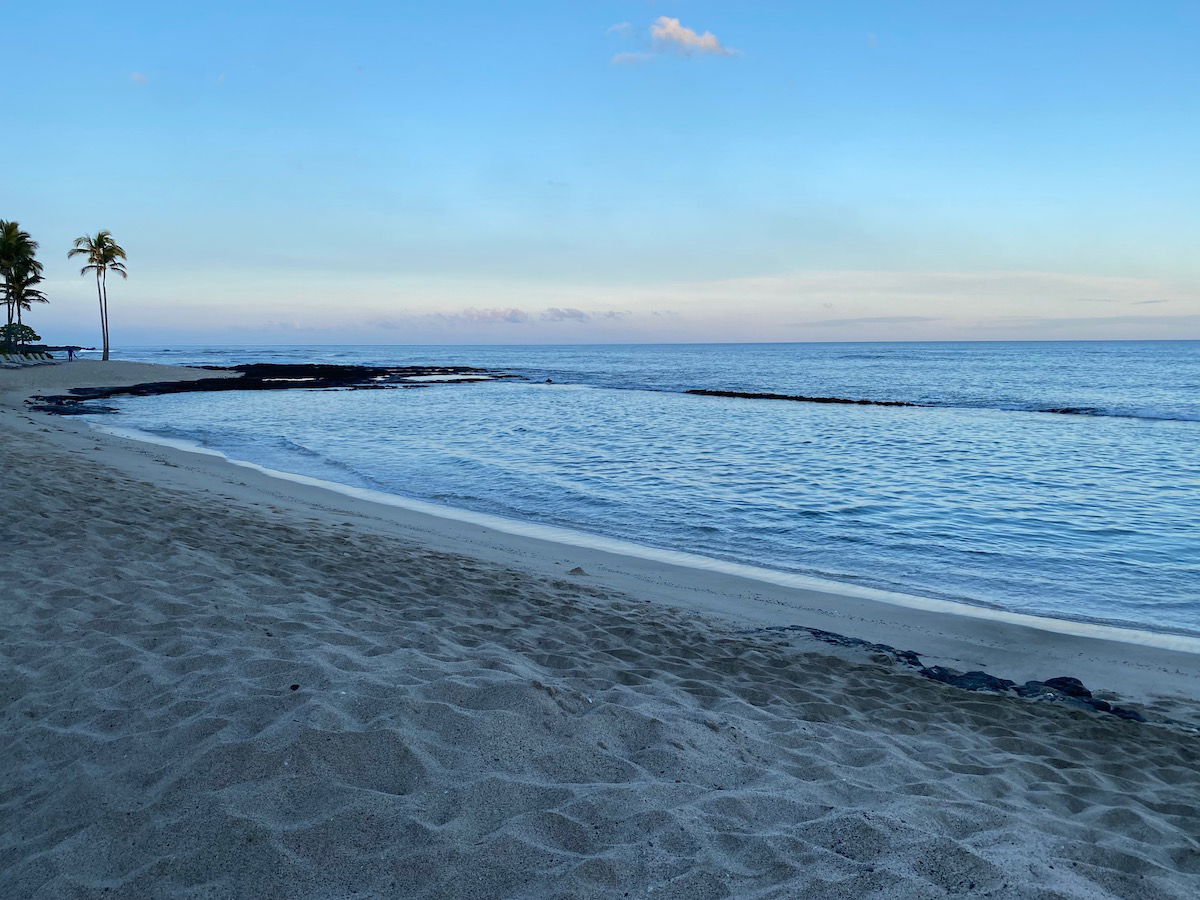 Speaking of the beach, we loved walking along the beach path, as the scenery was so varied. Below are just a few pictures.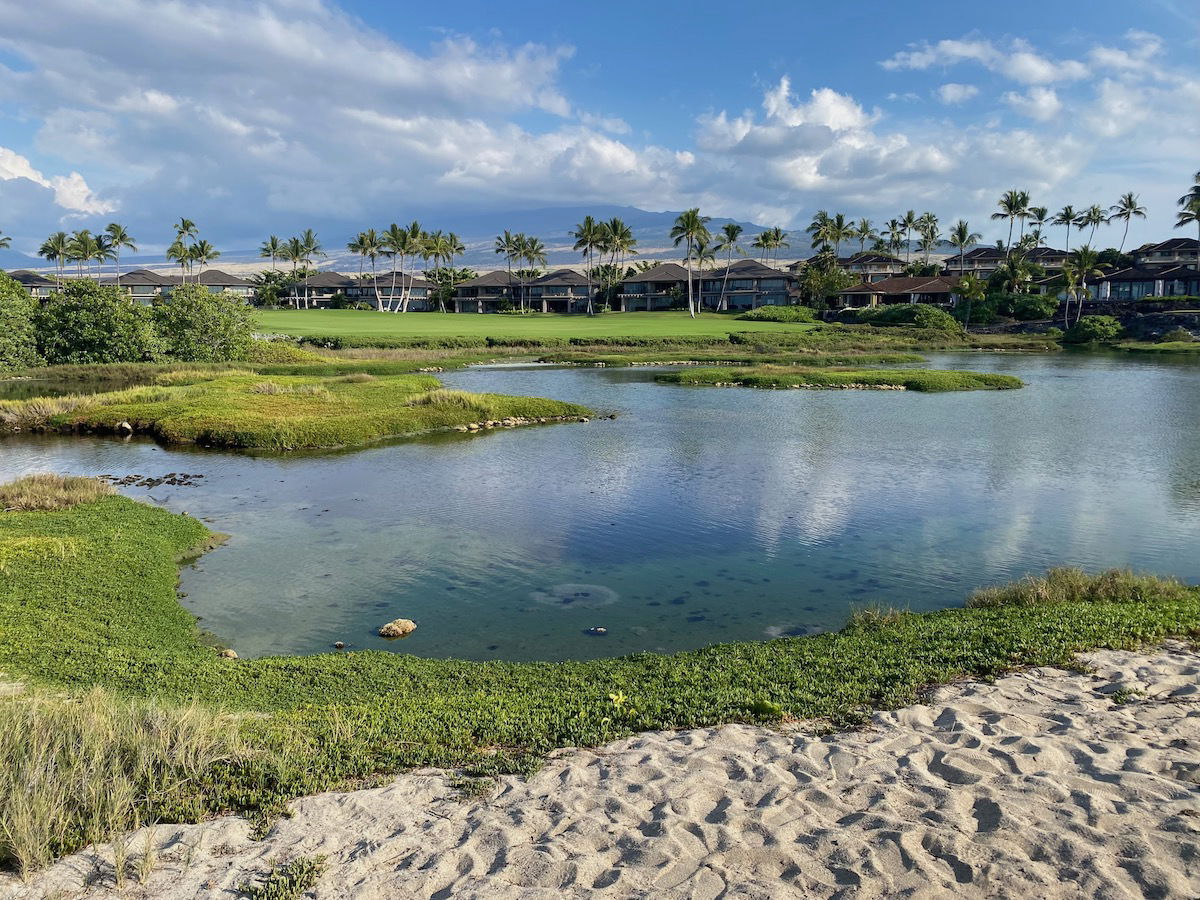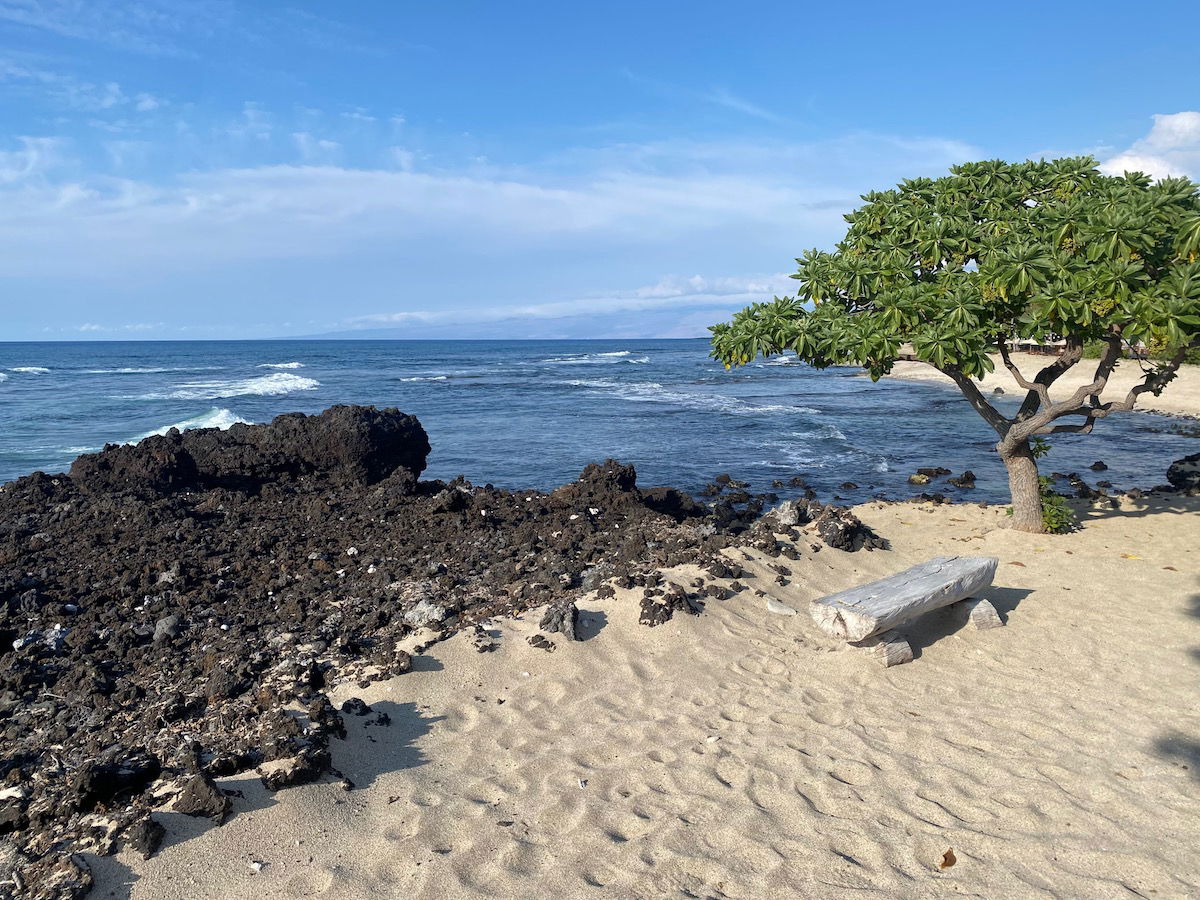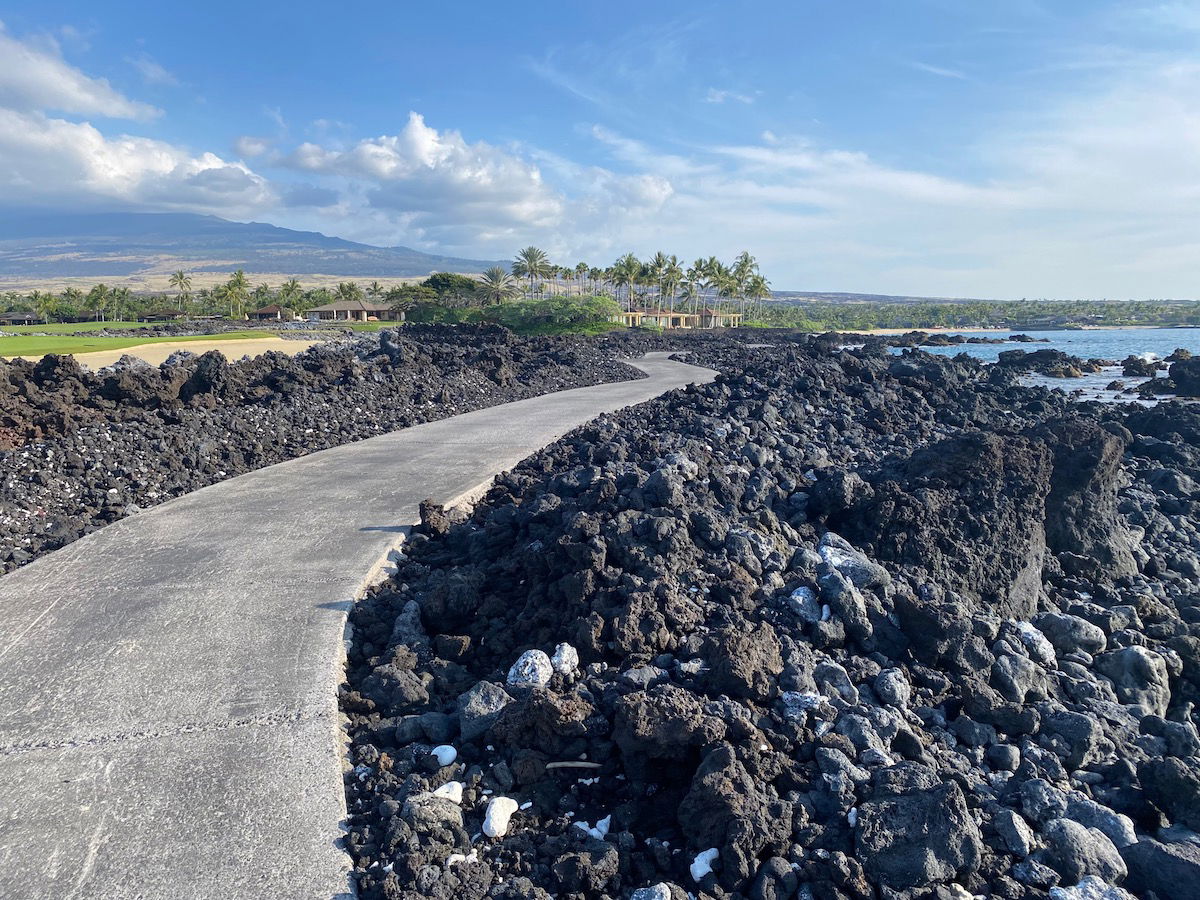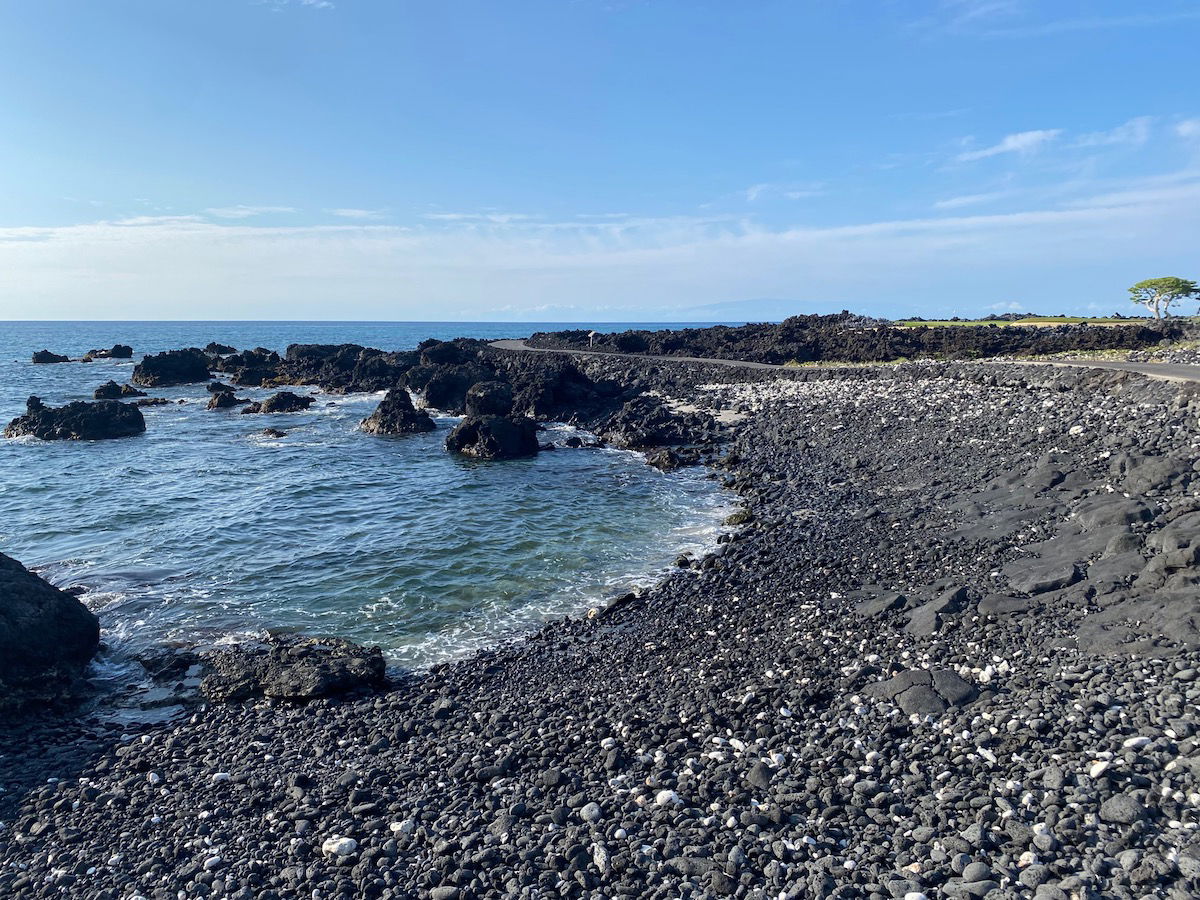 Four Seasons Hualalai gym
Four Seasons consistently puts effort into having great gyms, and this property is no exception. Actually, this property might just have one of the best hotel gyms I've ever seen anywhere. For one, the entire gym is an indoor-outdoor space, with doors wide open.
The center courtyard of the fitness complex has some exercise bikes.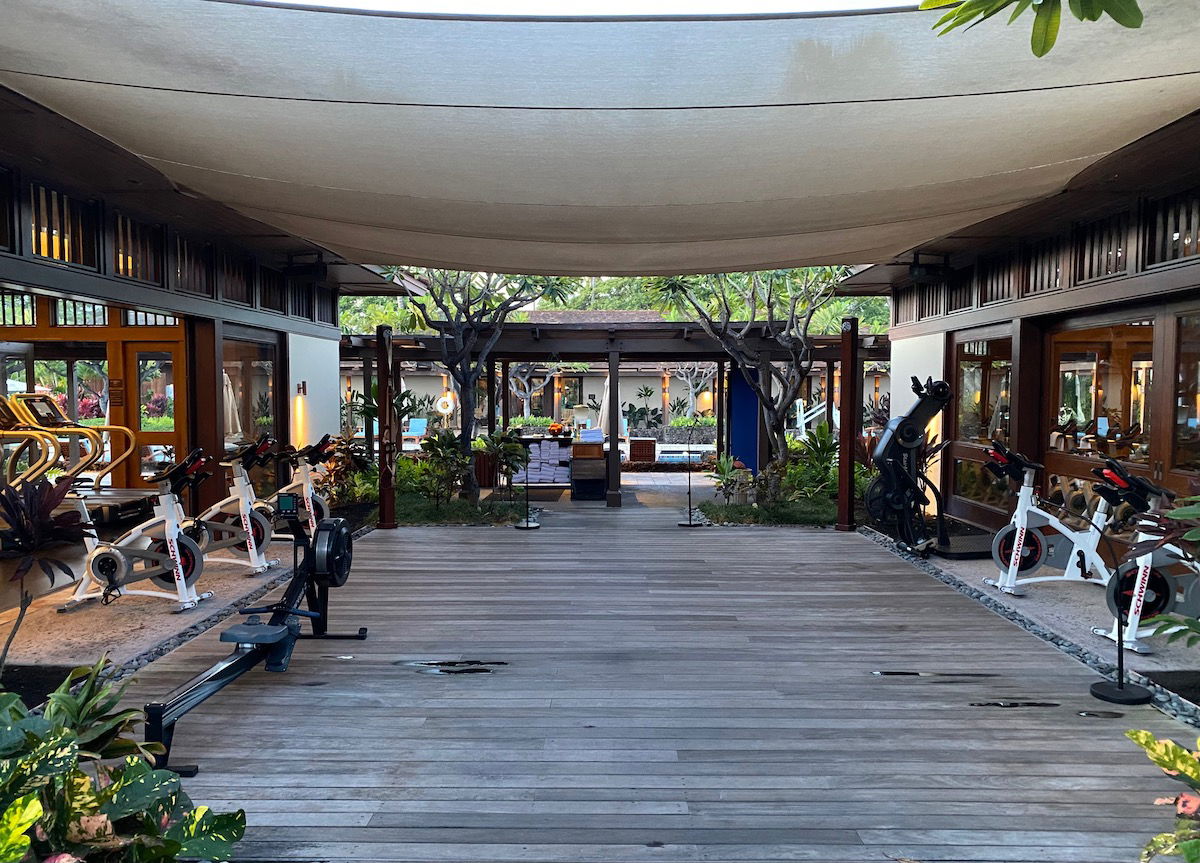 Then there's a room dedicated to cardio equipment.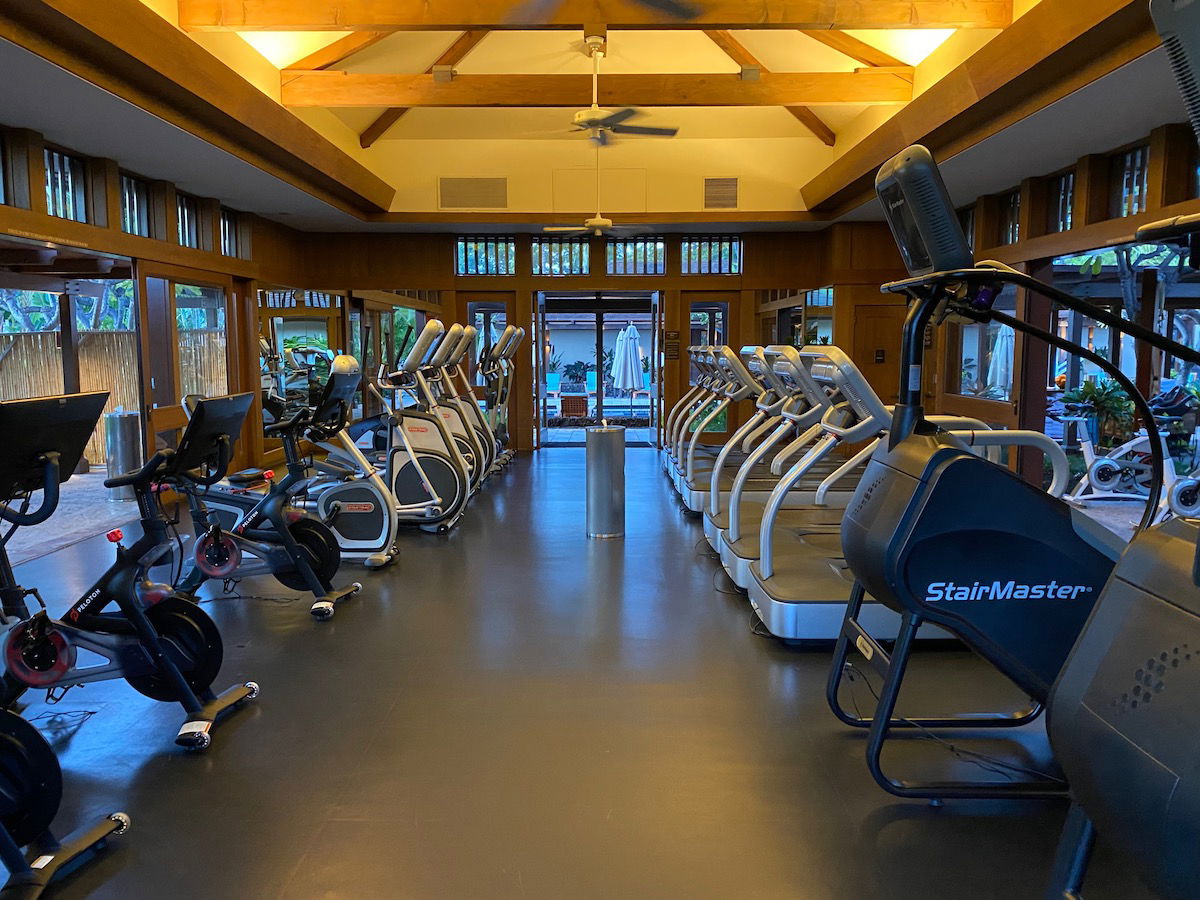 There's another room dedicated to free weights.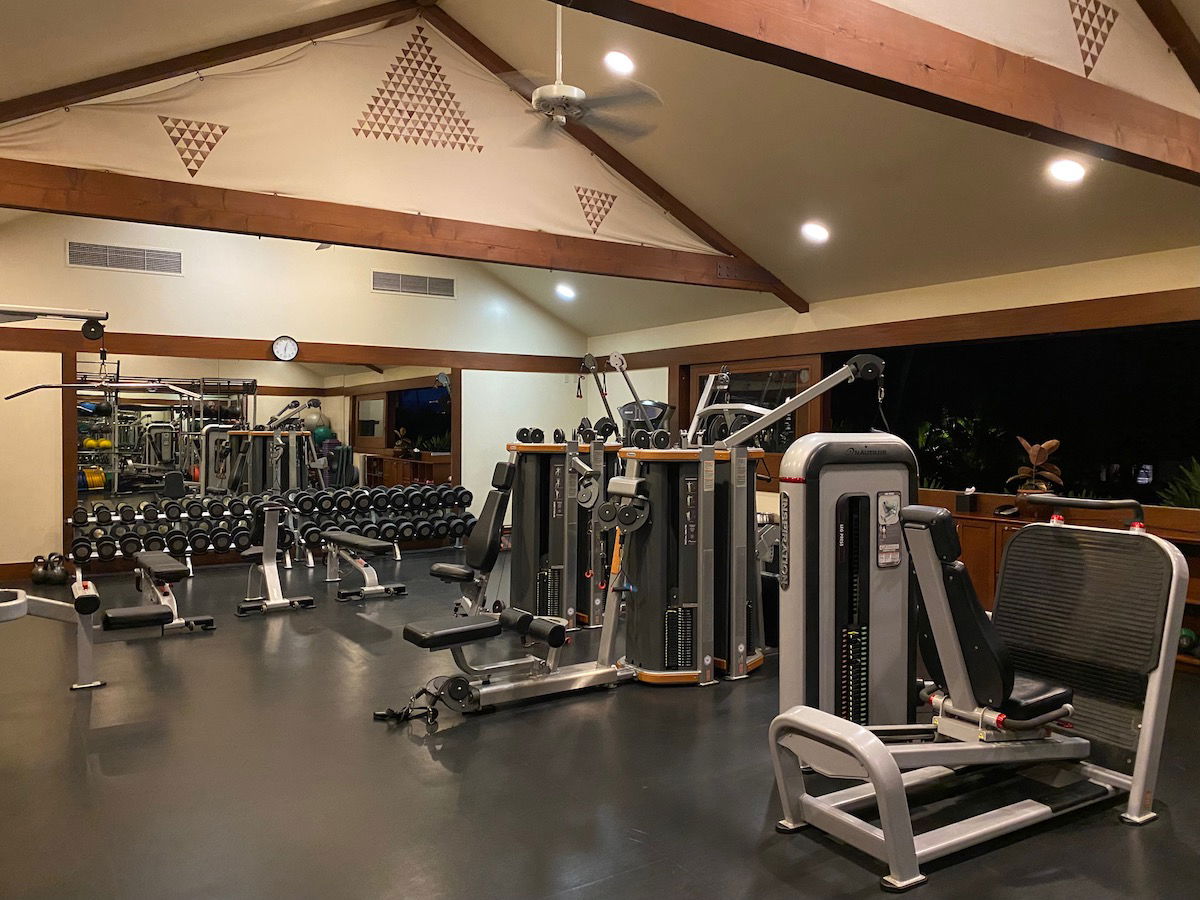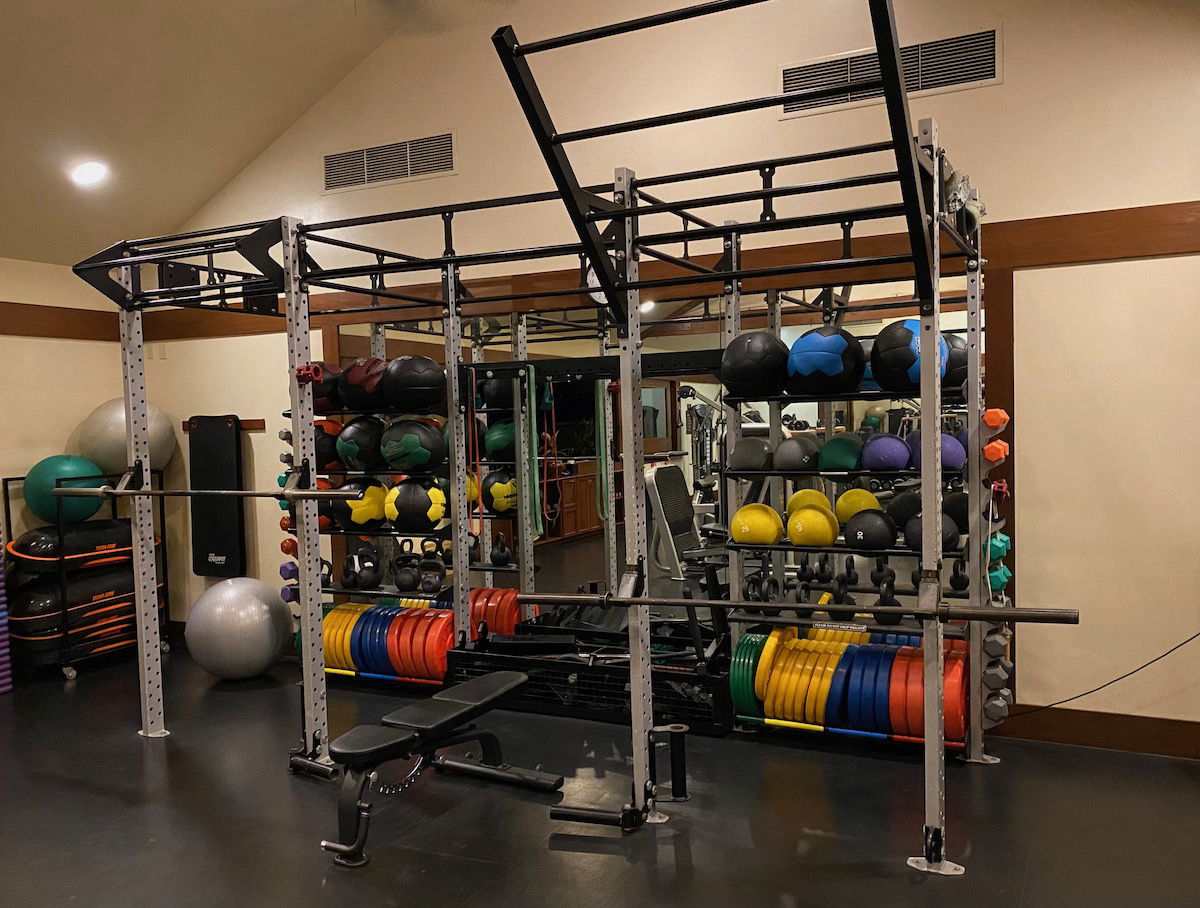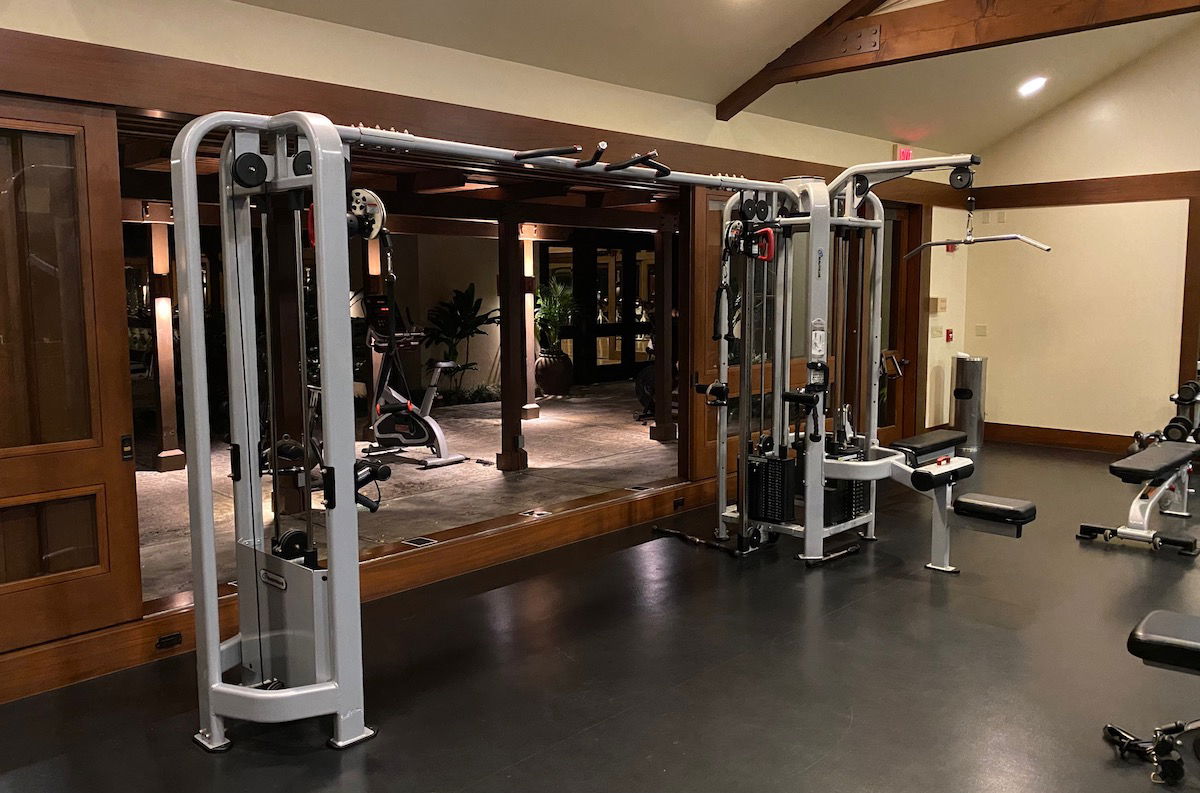 Then there's another room for fitness classes.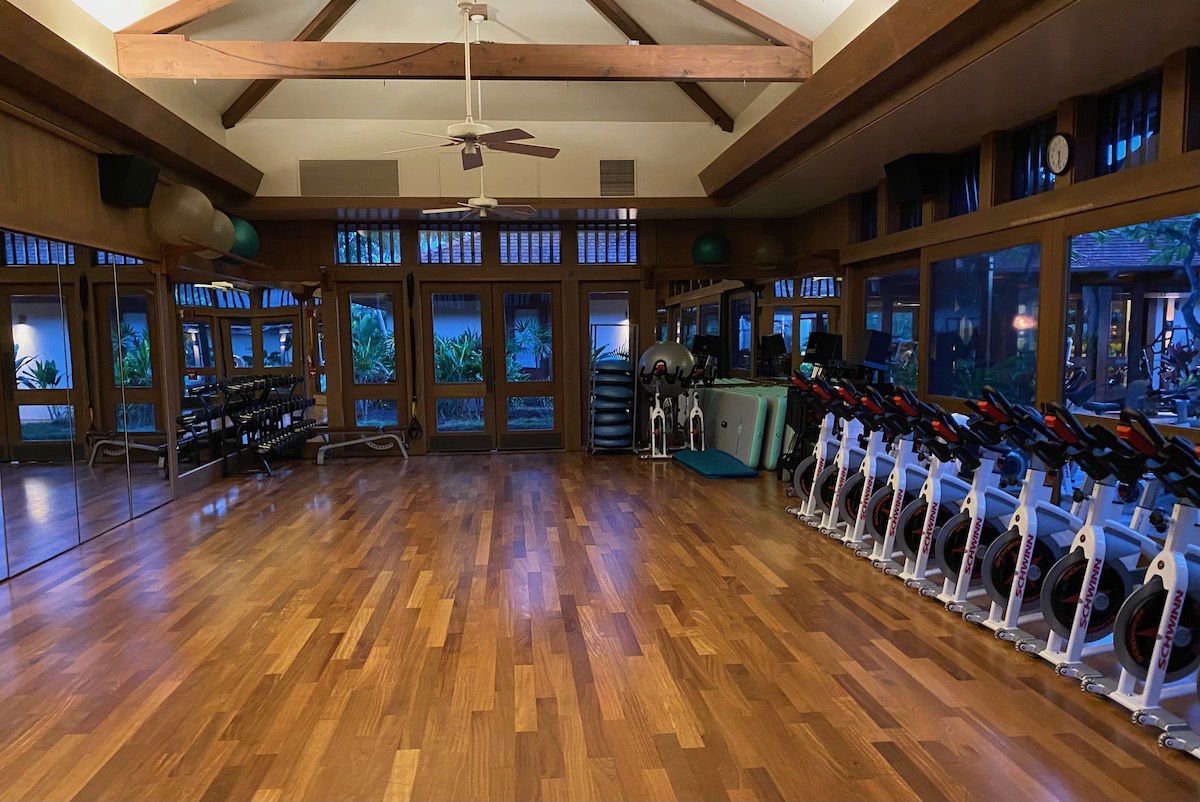 Then there's even an outdoor area with more cardio equipment.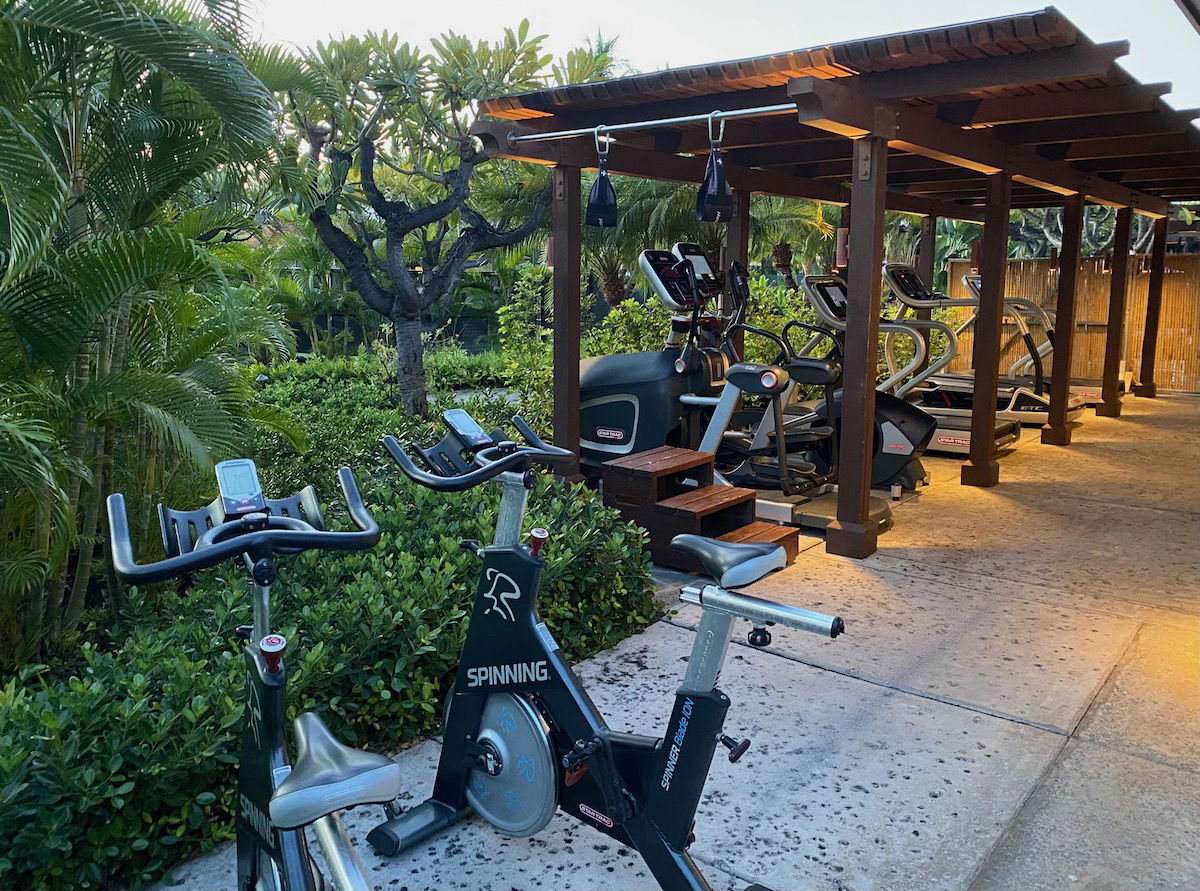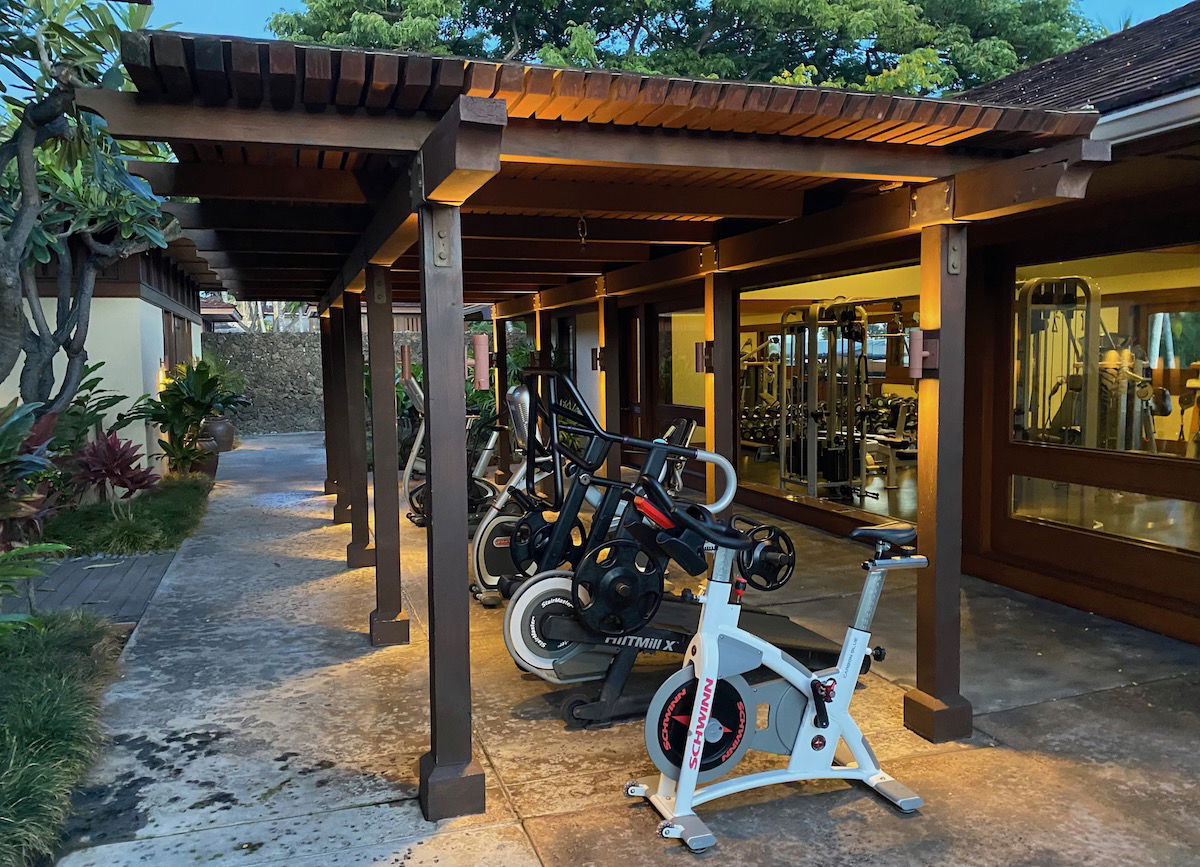 There's also a basketball court, plus several tennis courts.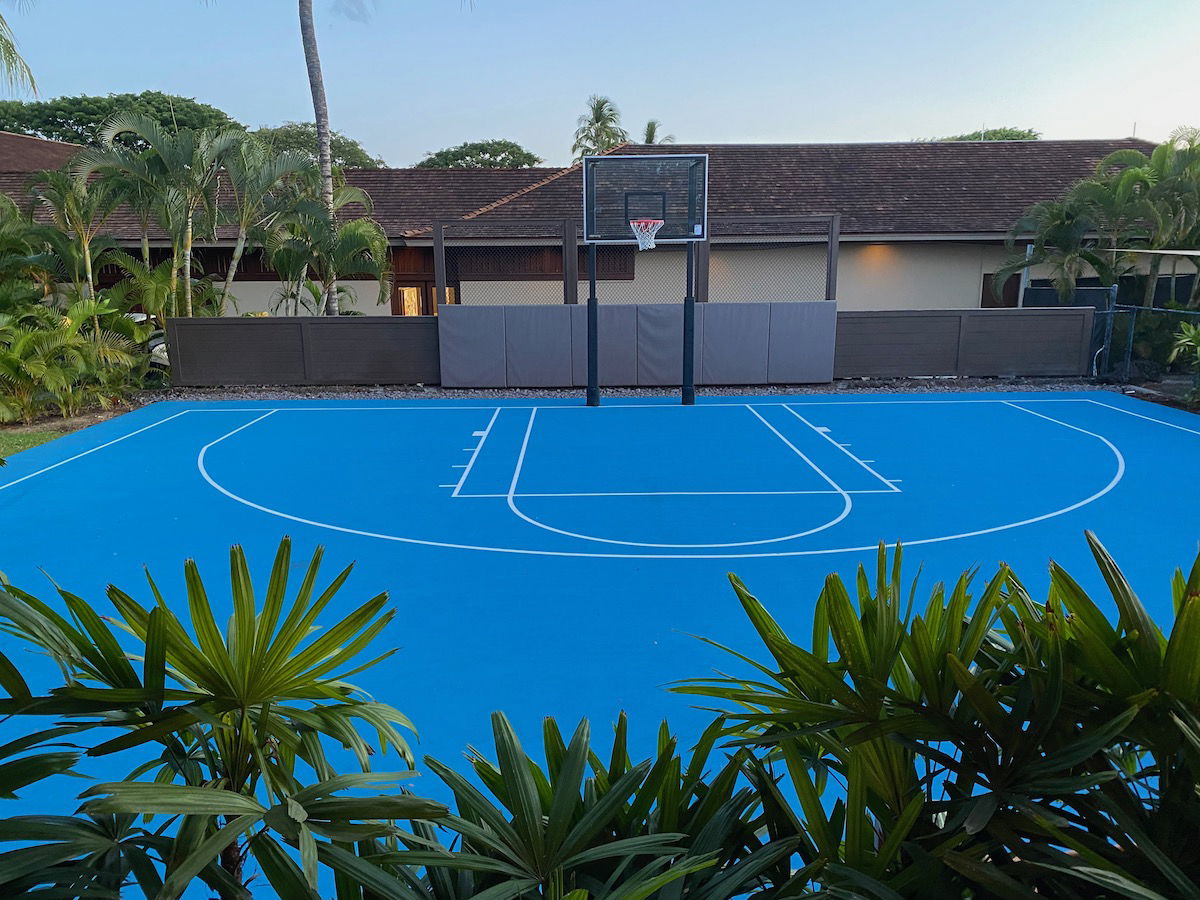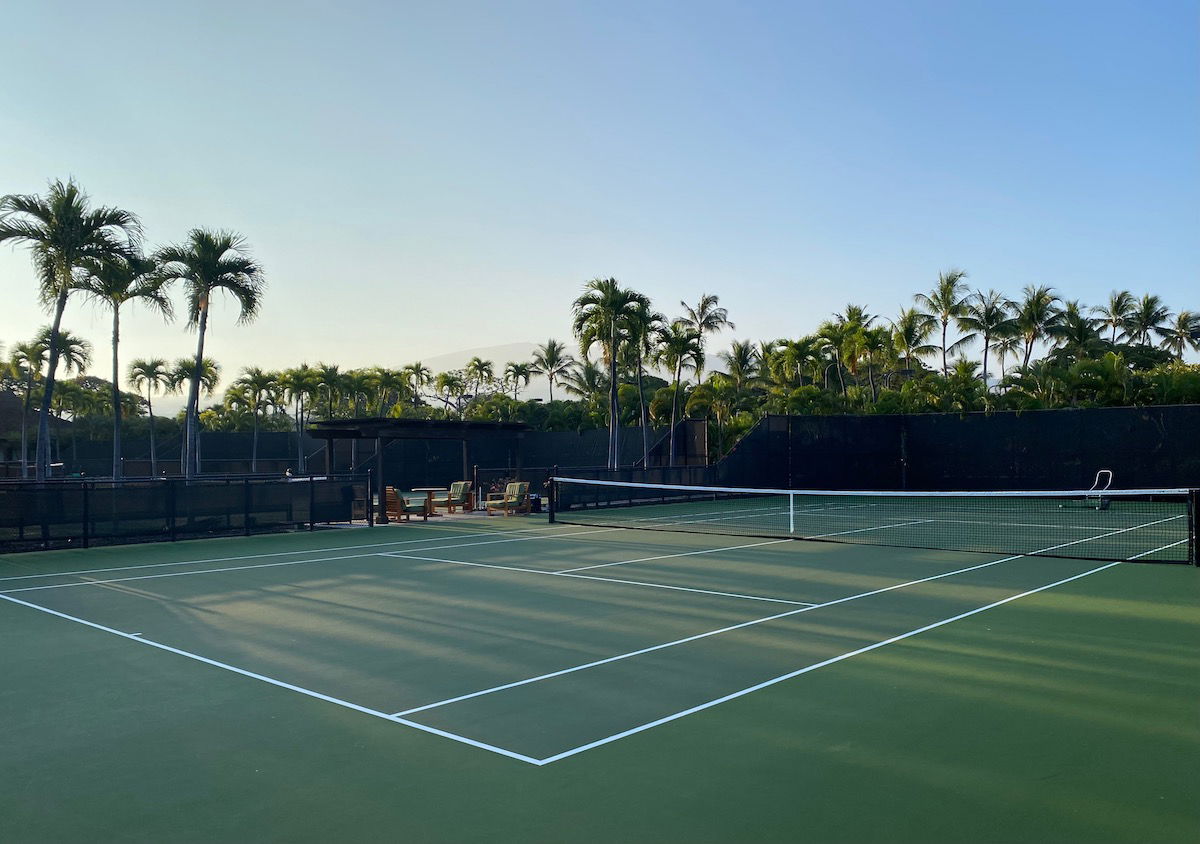 Four Seasons Hualalai spa
The Four Seasons Hualalai has an impressive spa complex, and you can find the treatment menu here. There's everything from massages, to facials, to salon services. Treatments are also largely performed in outdoor huts, which is pretty cool.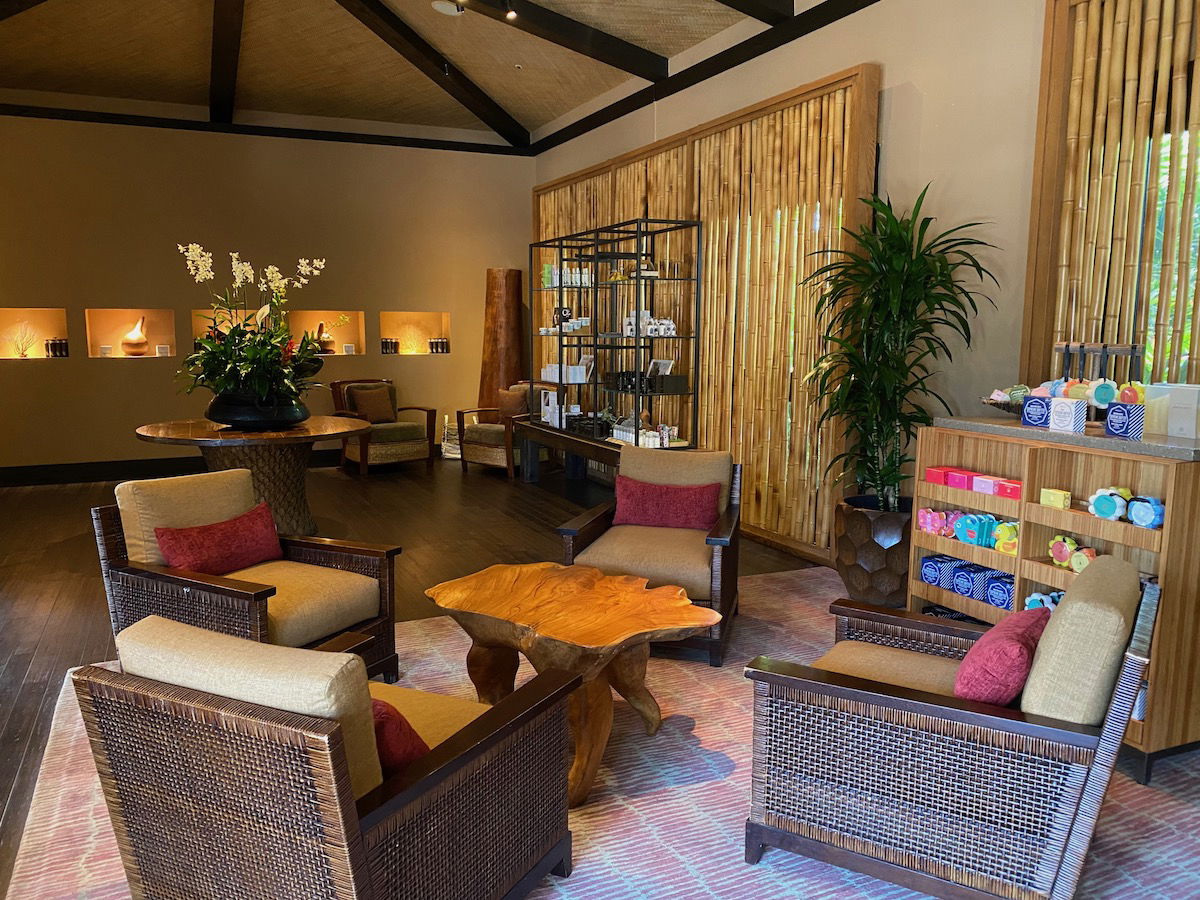 The spa also has a beautiful outdoor relaxation area.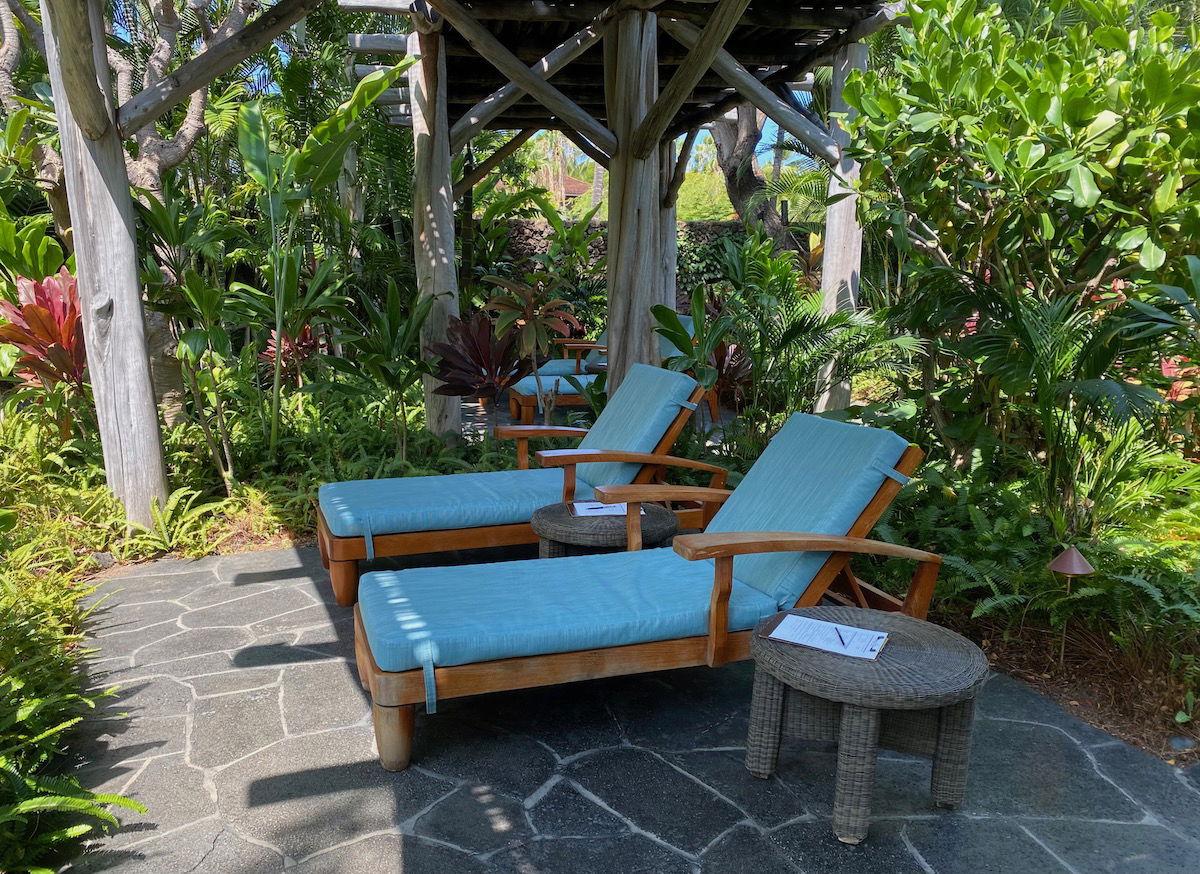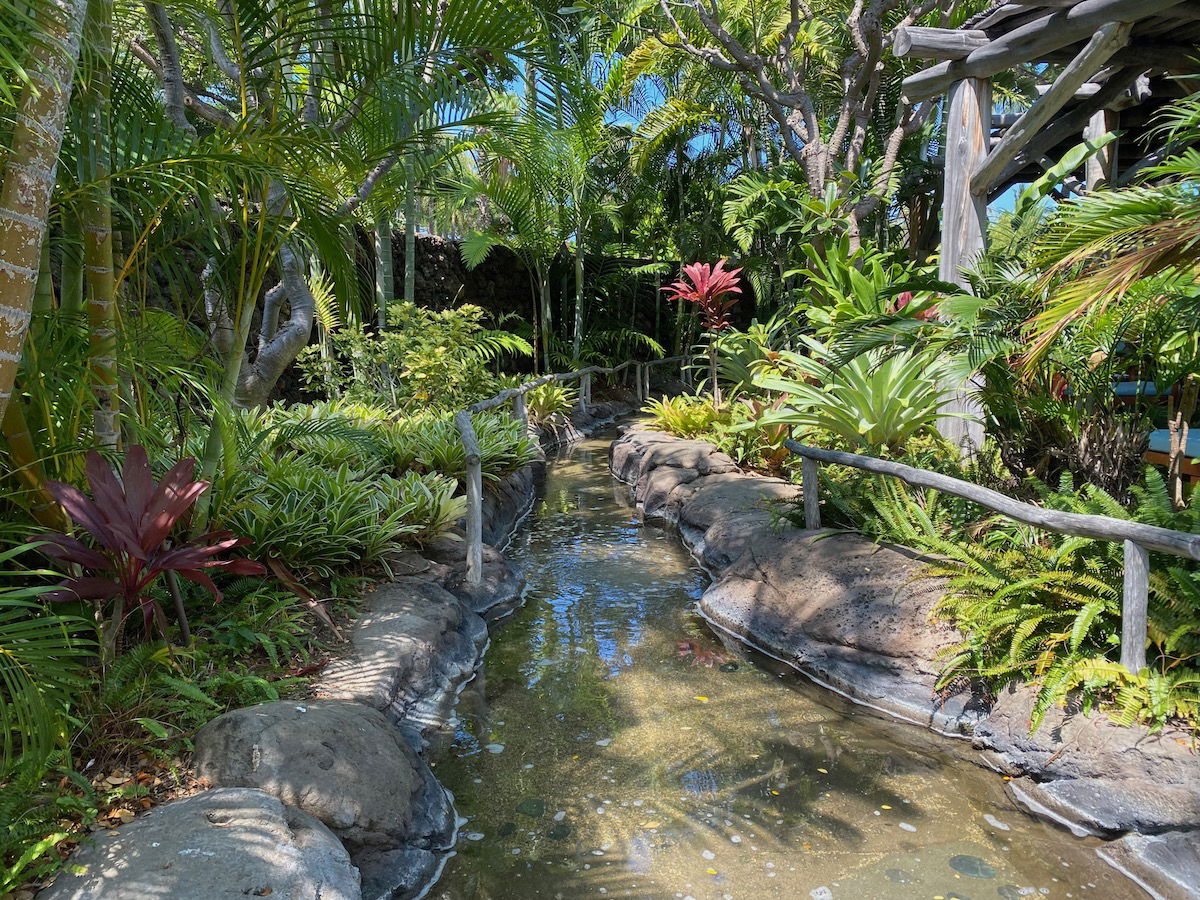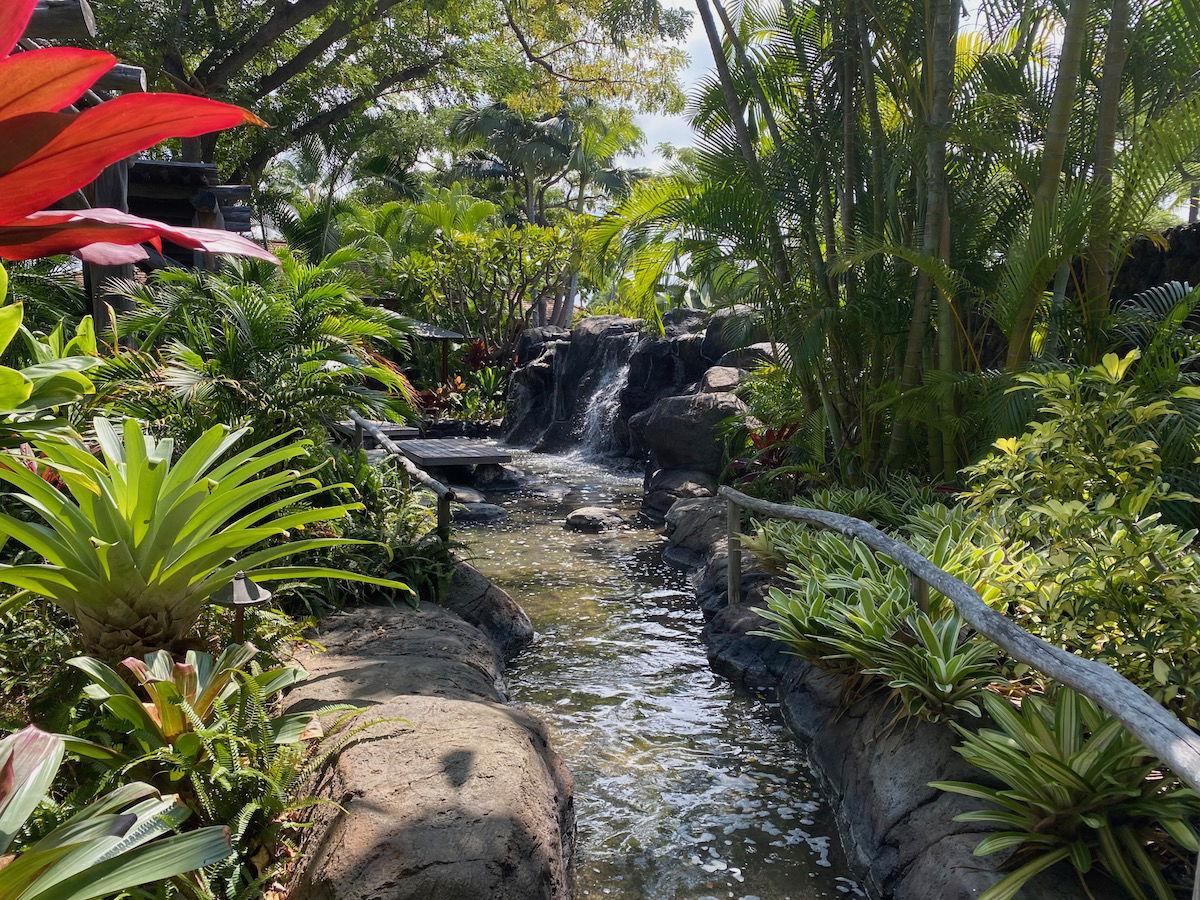 Four Seasons Hualalai Ulu Ocean Grill (breakfast & dinner)
Ulu Ocean Grill is the Four Seasons' breakfast restaurant, and it's also open for dinner. Breakfast is served daily from 6:30AM until 11AM, and you can find the breakfast menu here. For all practical purposes the entire restaurant is outdoors — while there's an indoor area, the glass doors remain open, so there's even a breeze indoors.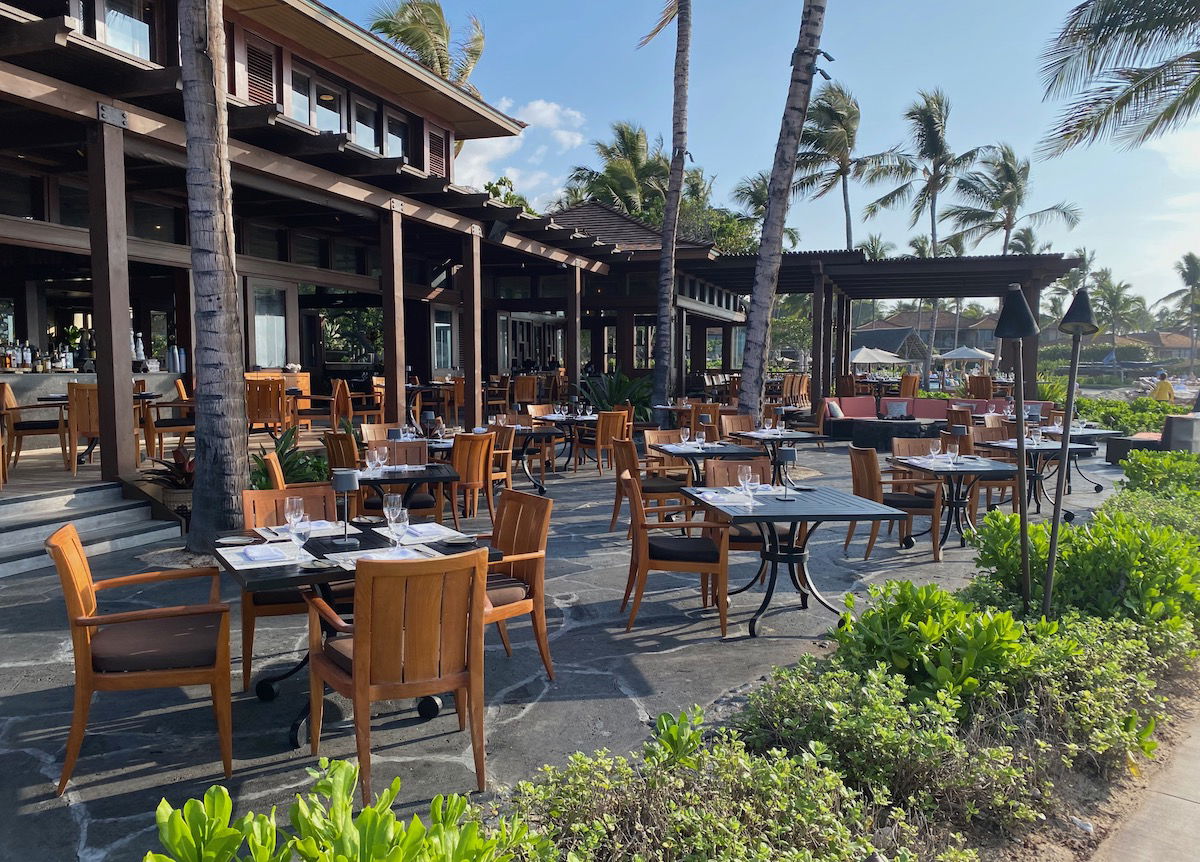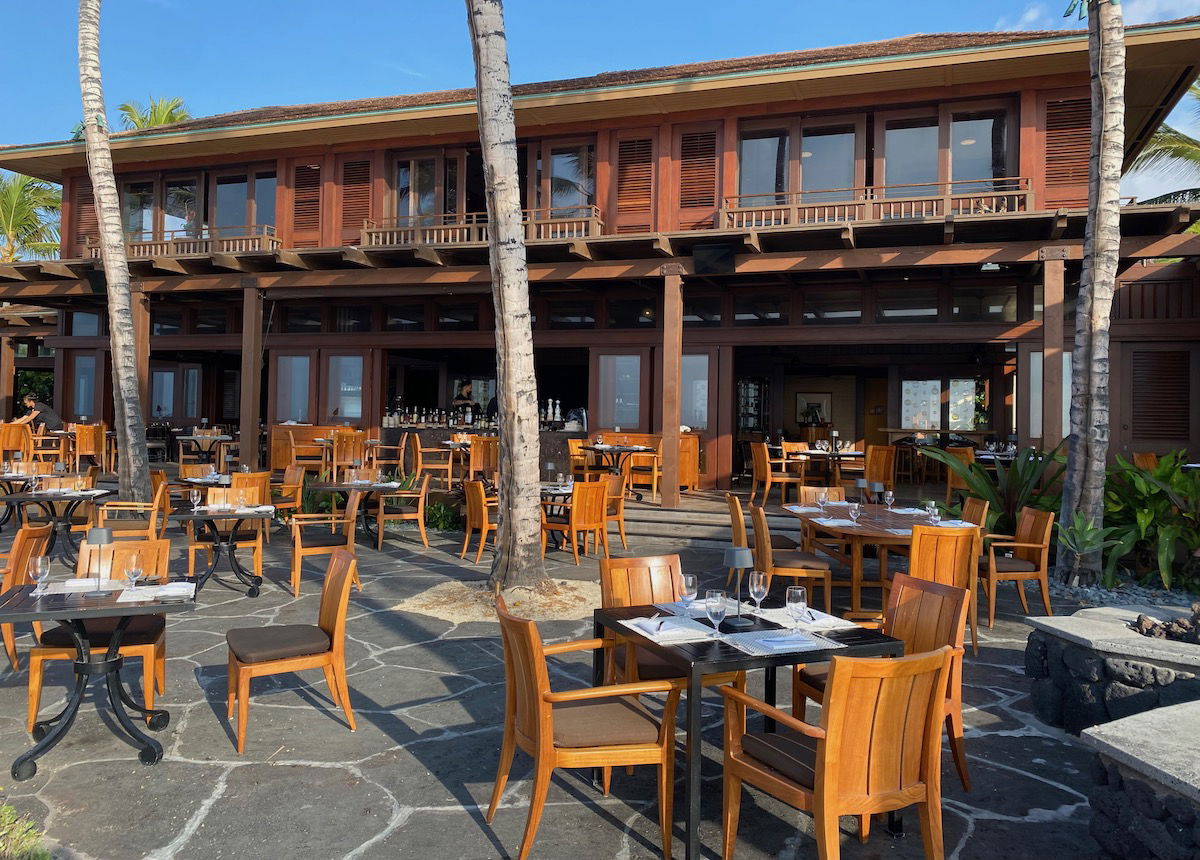 Breakfast is included for all guests booking via Four Seasons Preferred Partner, with the choice to dine in the restaurant or via room service. The hot and cold coffee were both very good, as were the smoothies.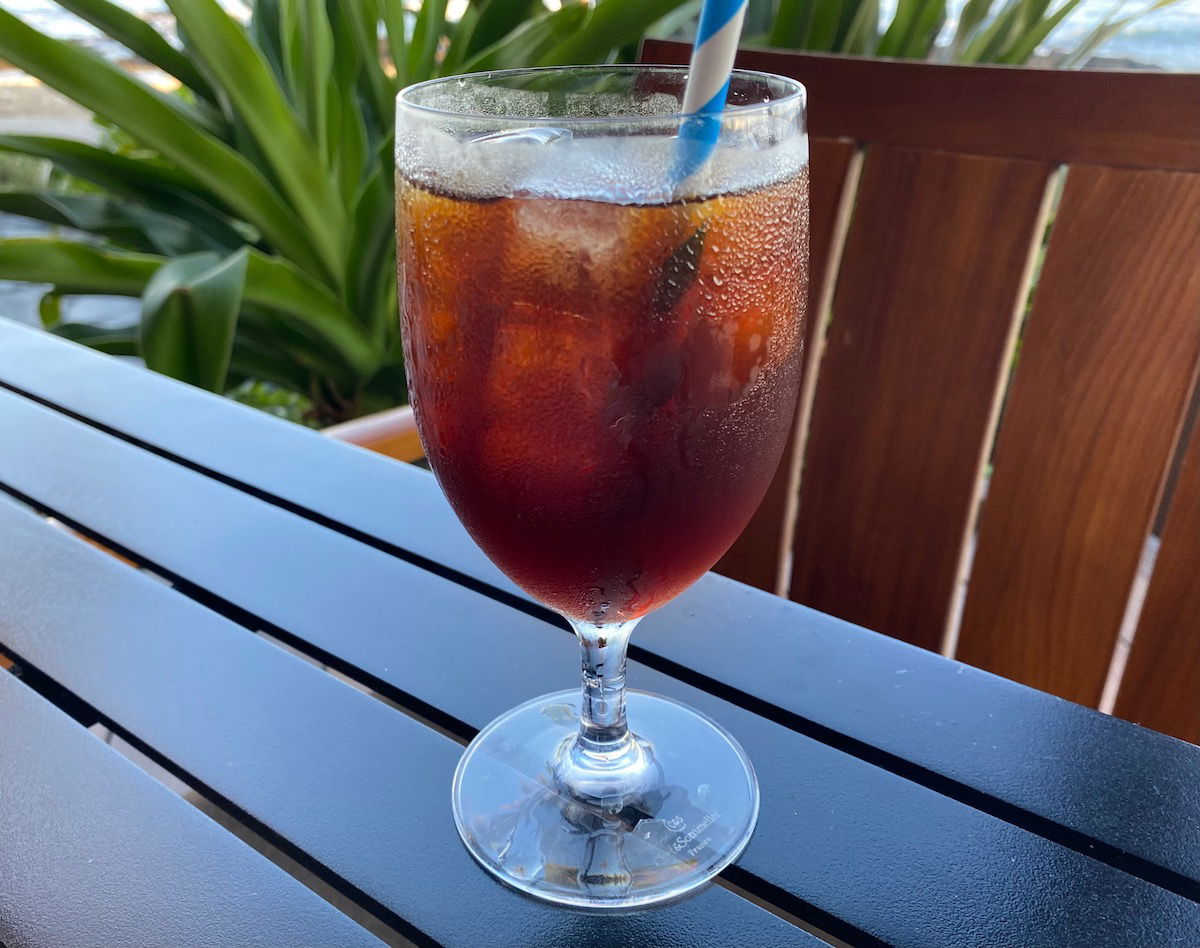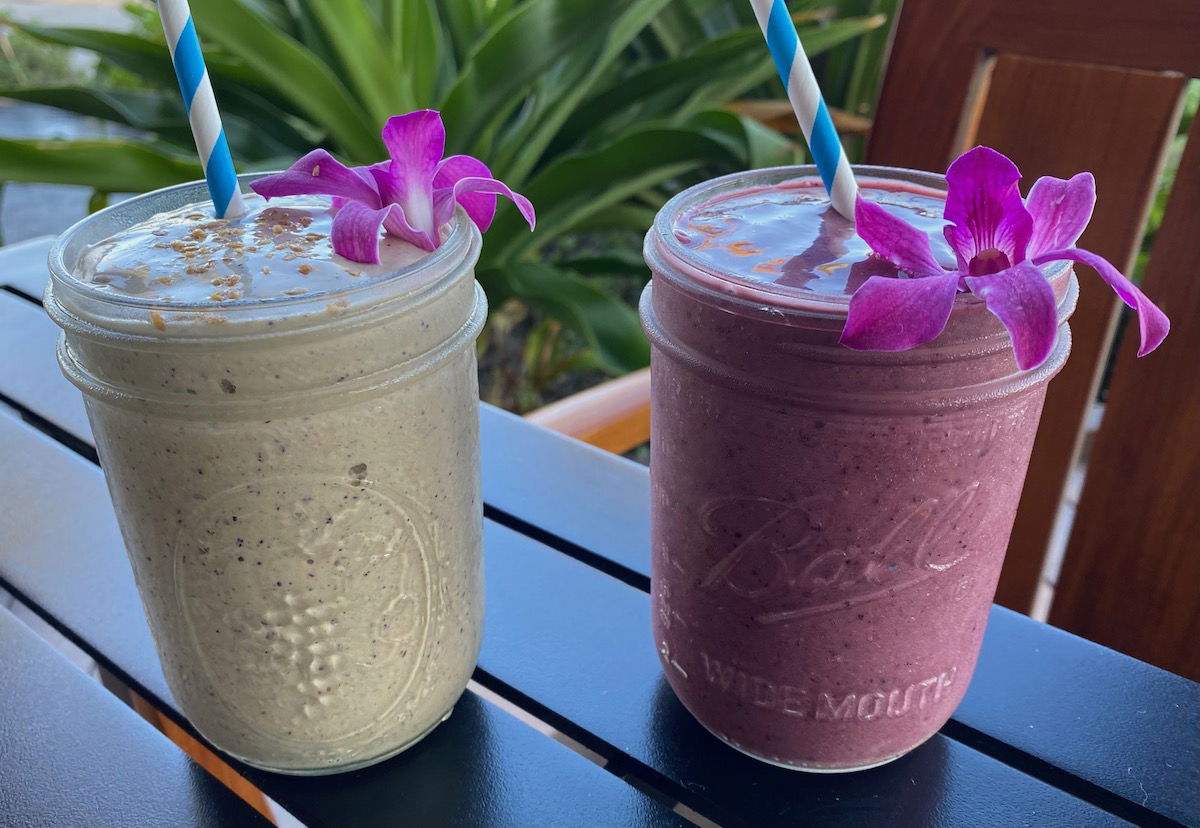 The Four Seasons has a breakfast buffet, and if you select this it includes made to order eggs, coffee, juice etc. The buffet was high quality and fresh, with everything from pastries, to fruit, to yogurt and cereal, to cold cuts and cheese, to dim sum, to egg dishes.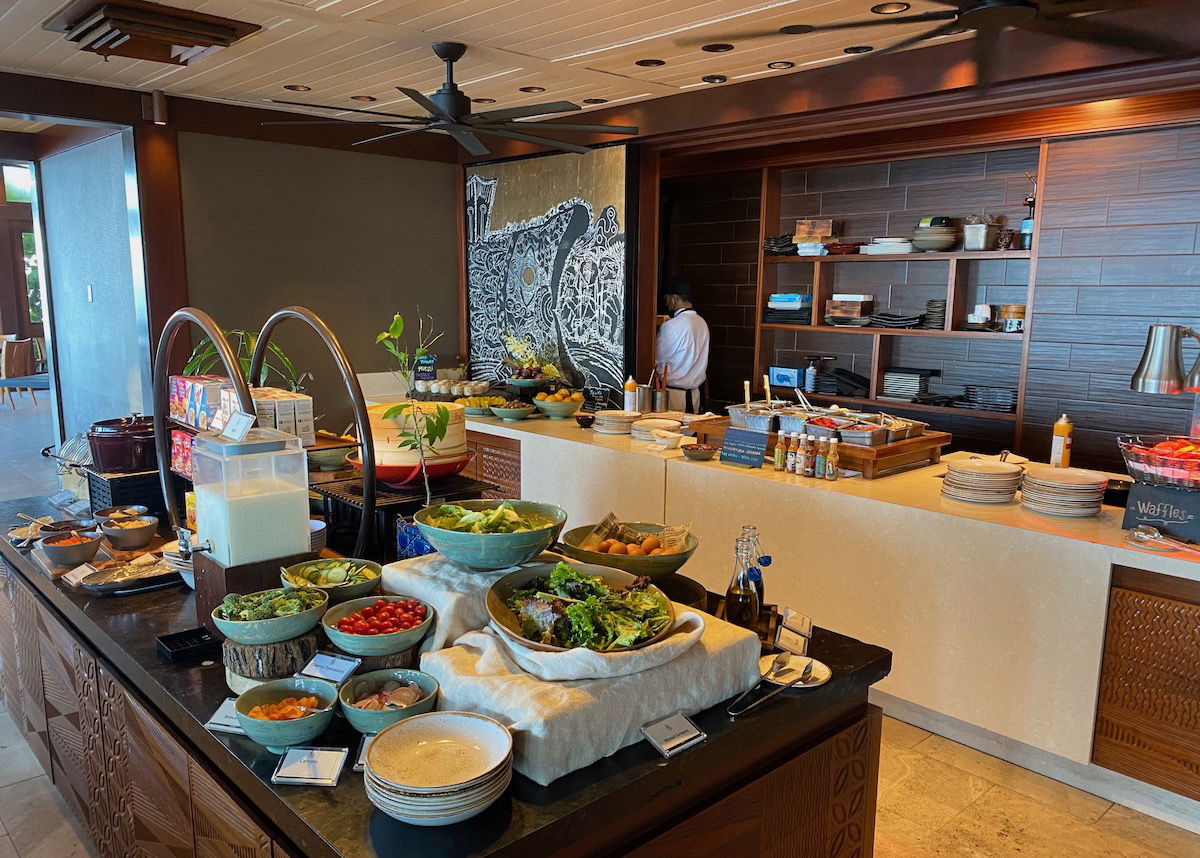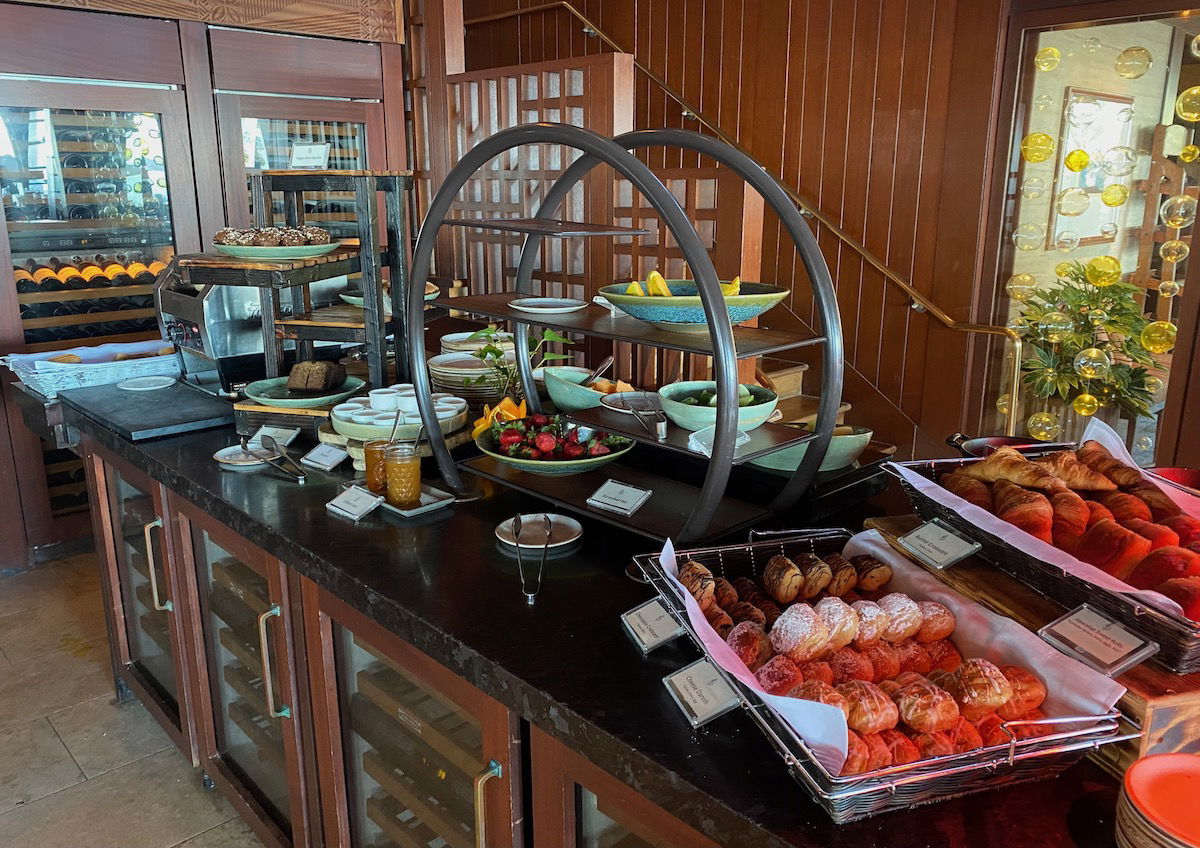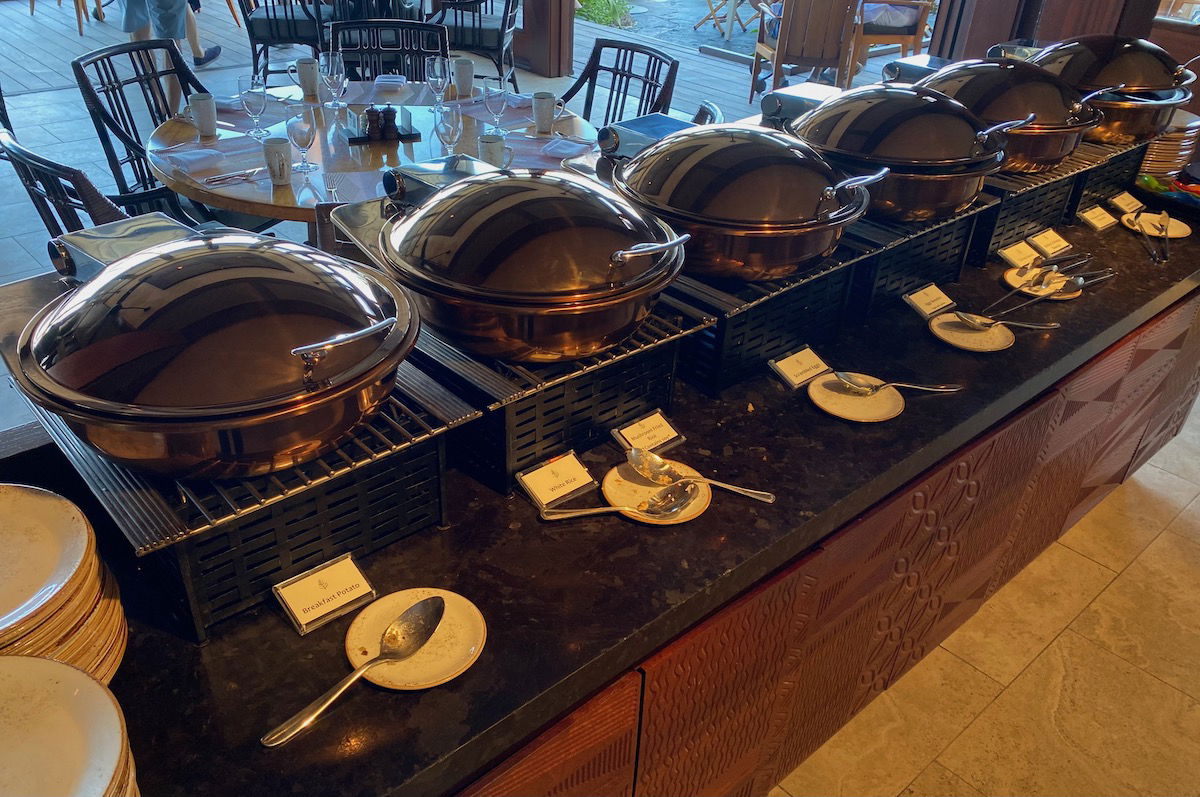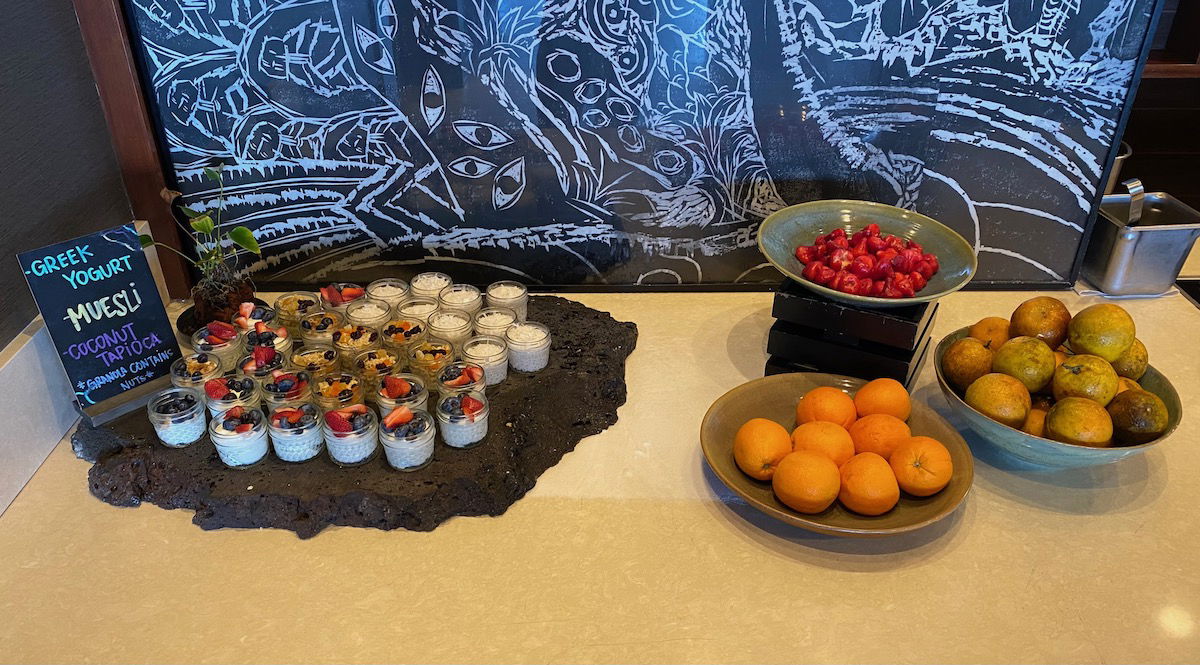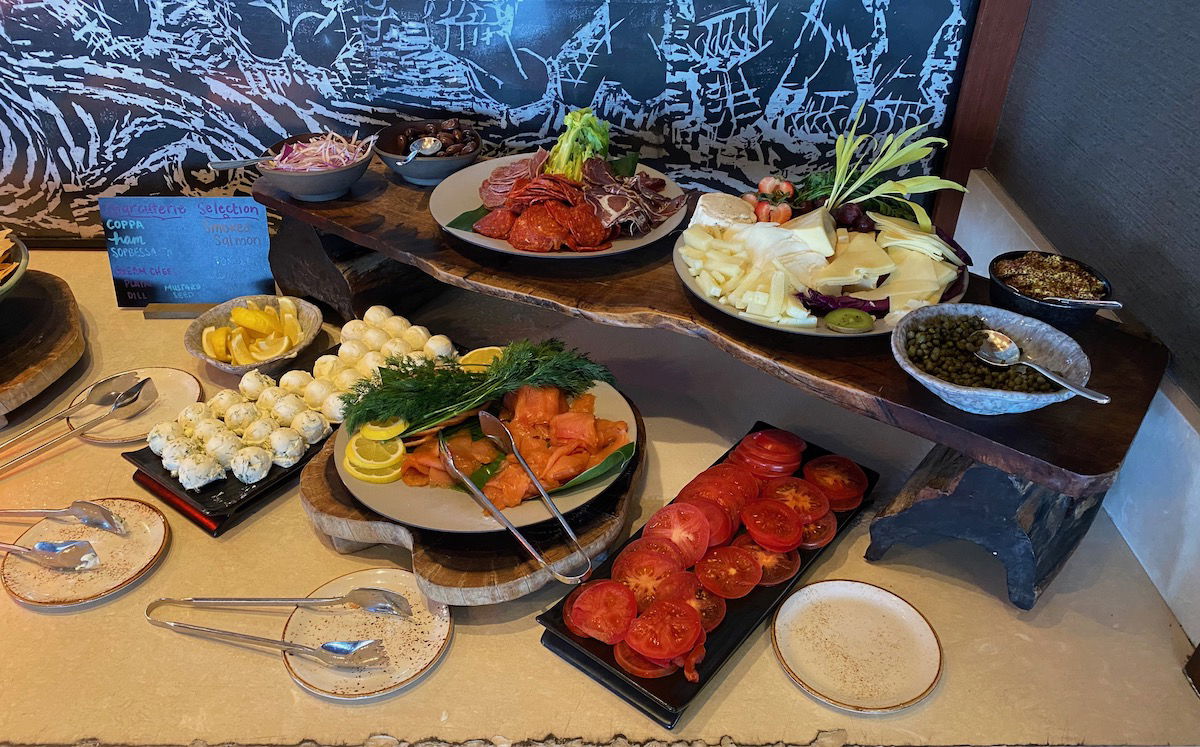 During our stay we also tried some of the a la carte items, like the acai bowl, breakfast burrito, and loco moco.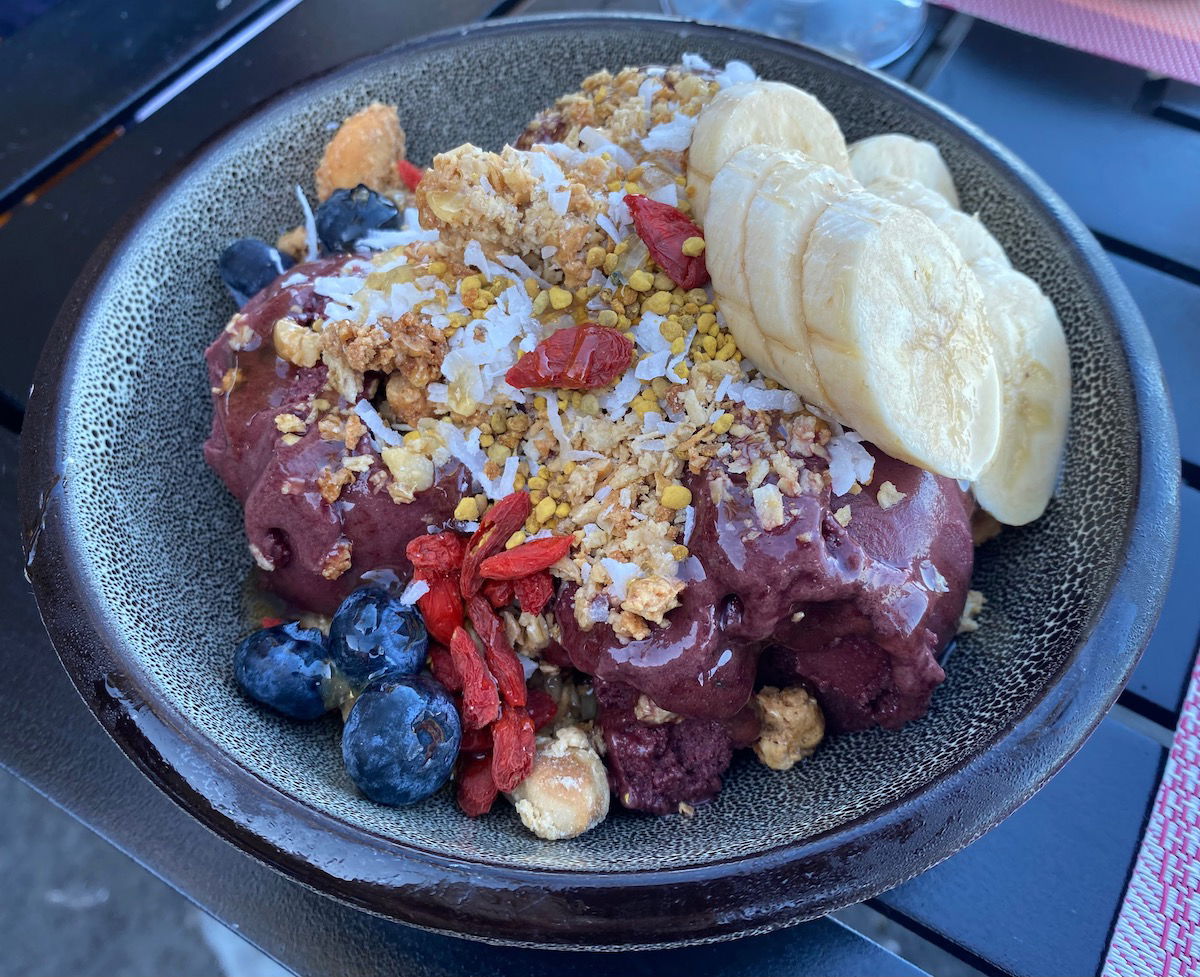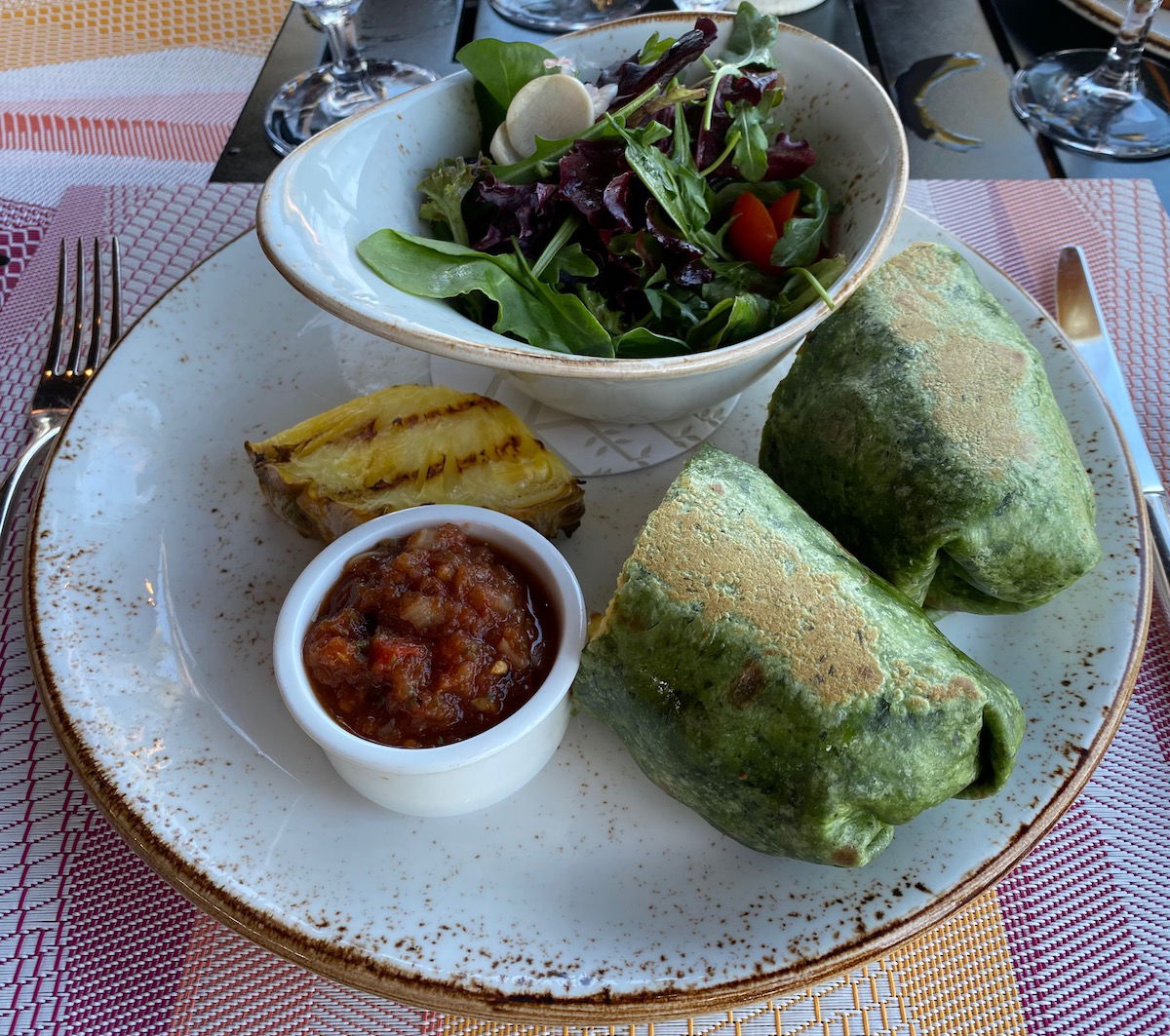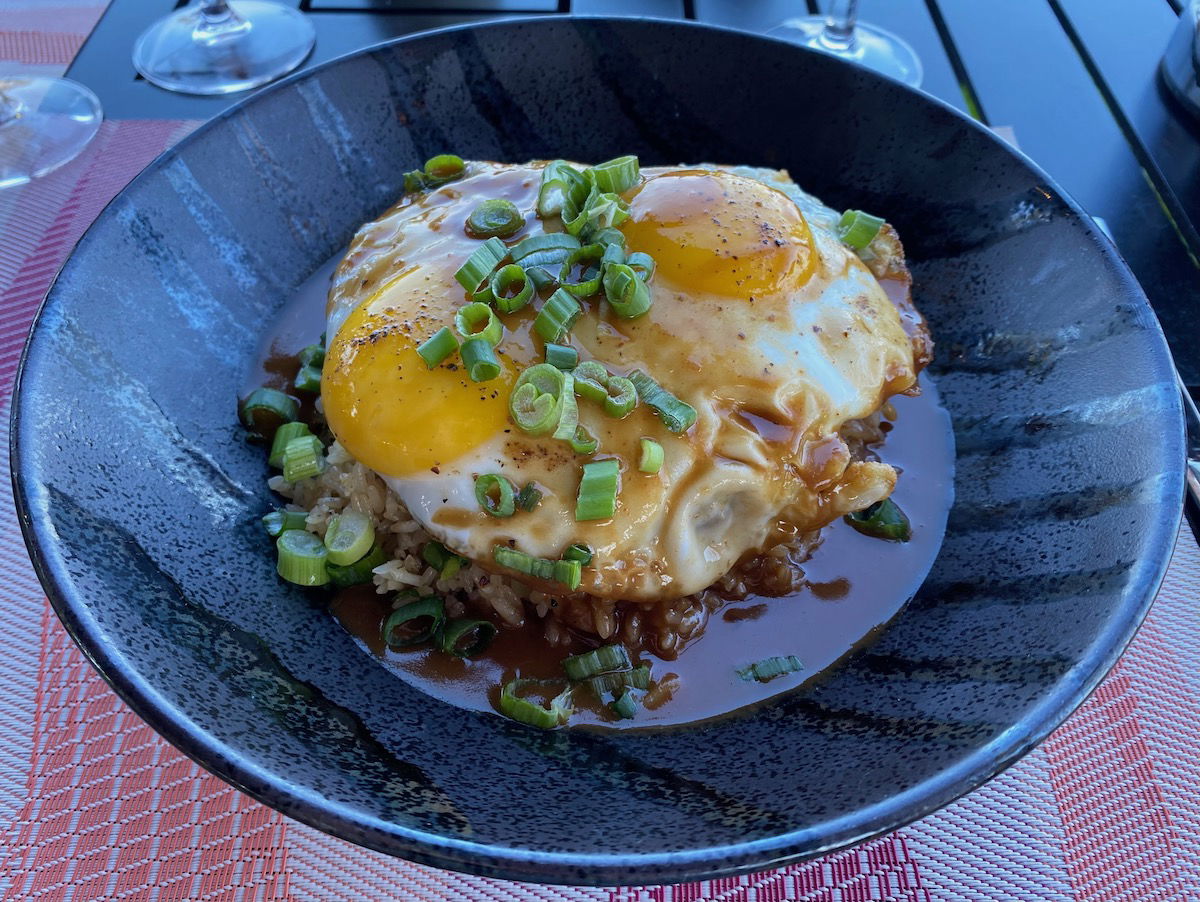 The food and service were both excellent, and it was just generally enjoyable to sit at breakfast and watch the waves crash.
In the evening, Ulu Ocean Grill serves dinner from 5:30PM until 9PM, and you can find the dinner menu here. The focus of this restaurant is described as the "flavors of Hawaii with Pan-Asian techniques." There's an emphasis on seafood and locally sourced ingredients, as 75% of the food served is from the Big Island.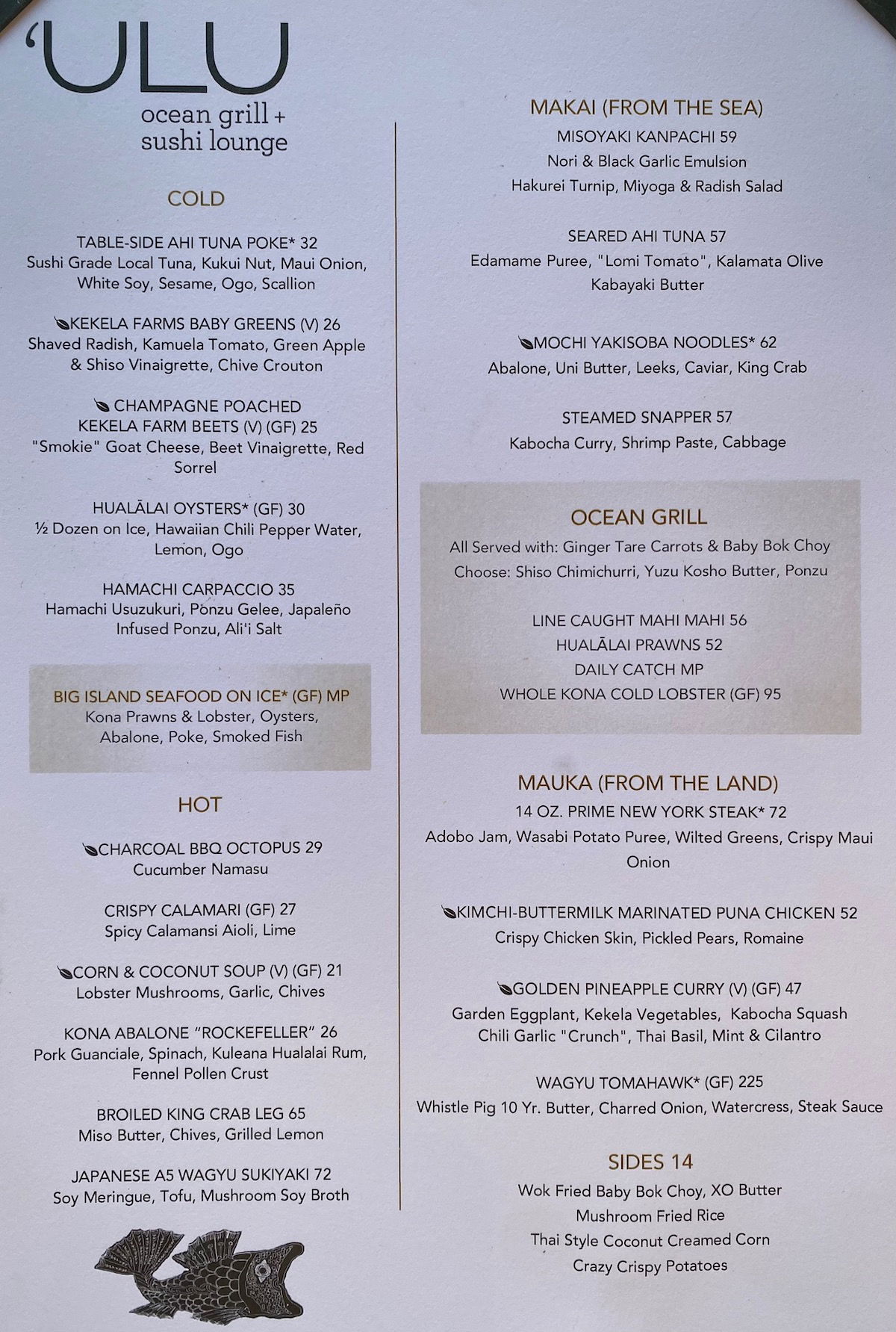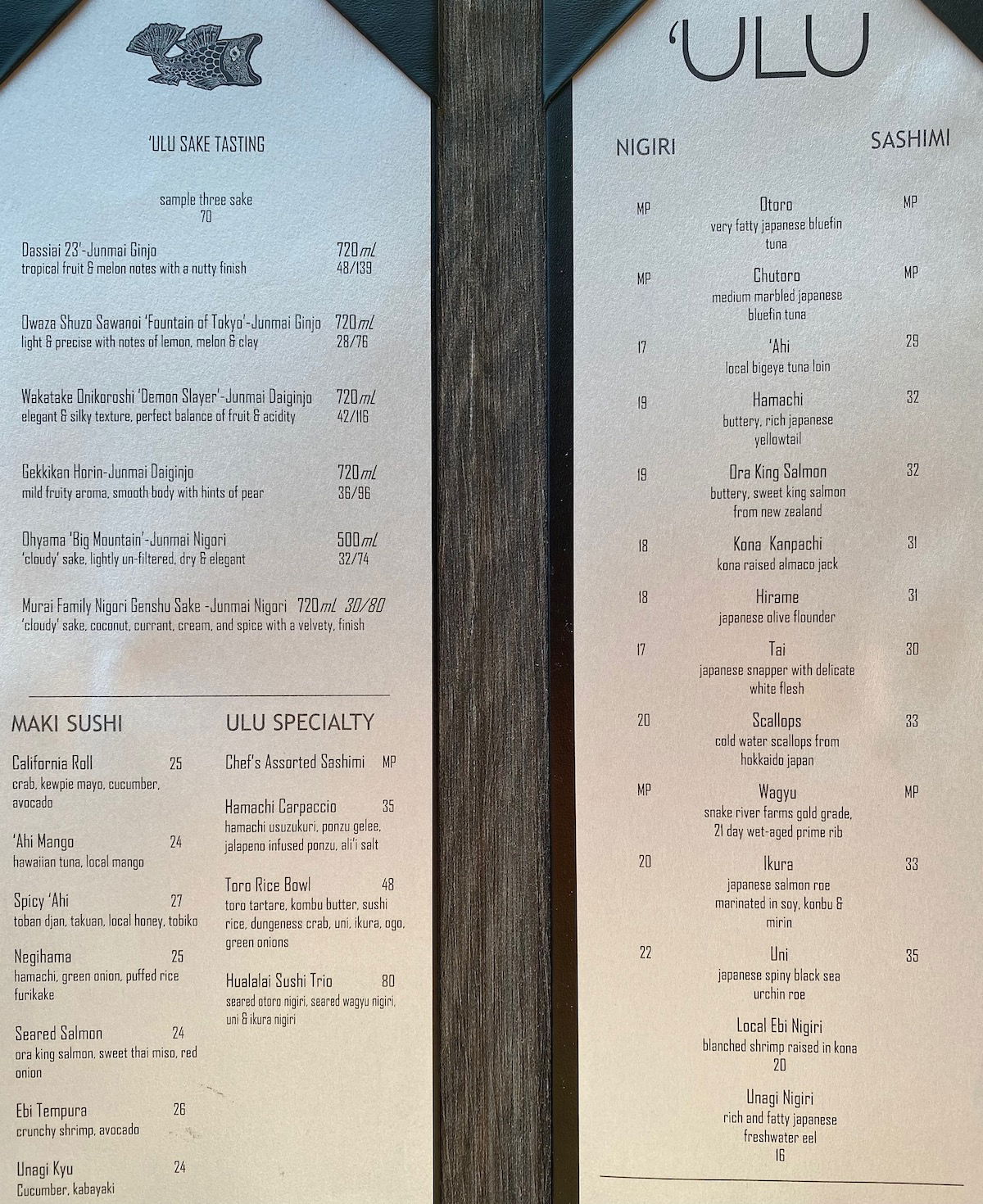 At the start of the meal we were offered a delicious loaf of taro bread.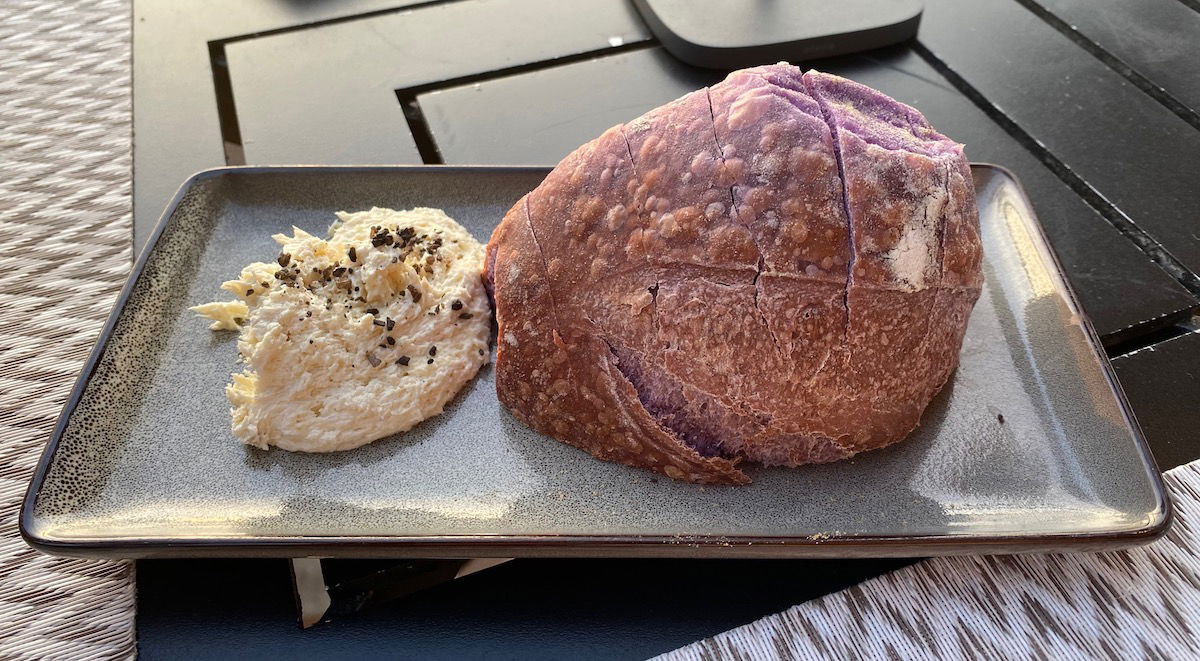 For dinner we ordered the crispy calamari, table-side ahi tuna poke, as well as some sushi rolls and nigiri.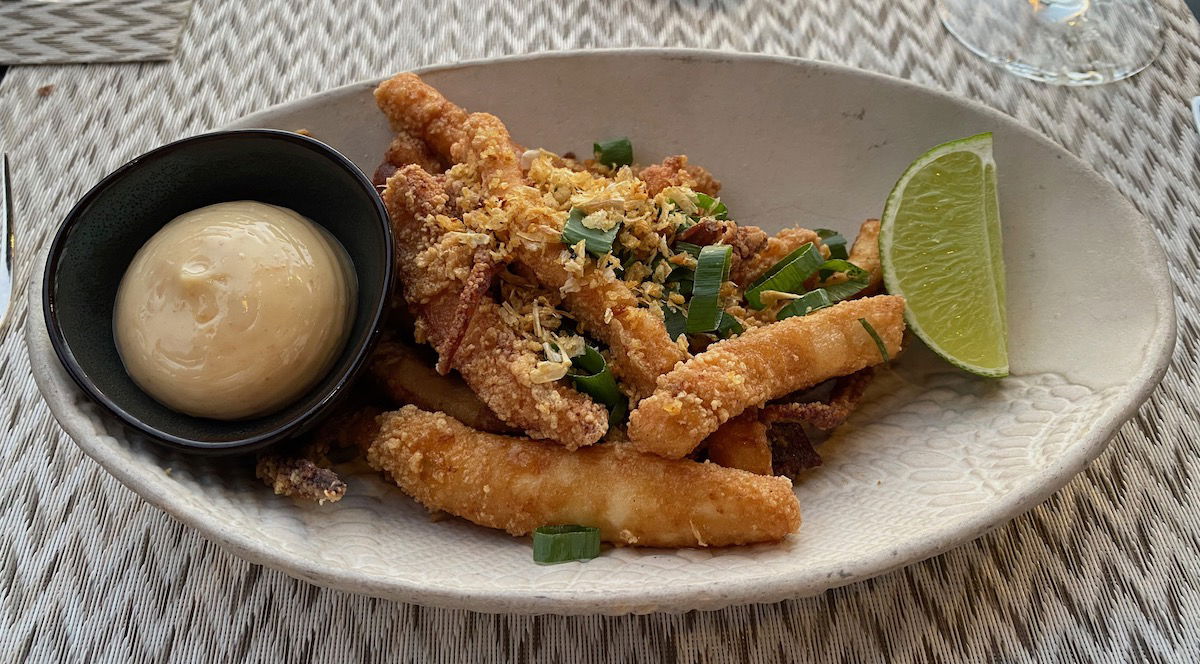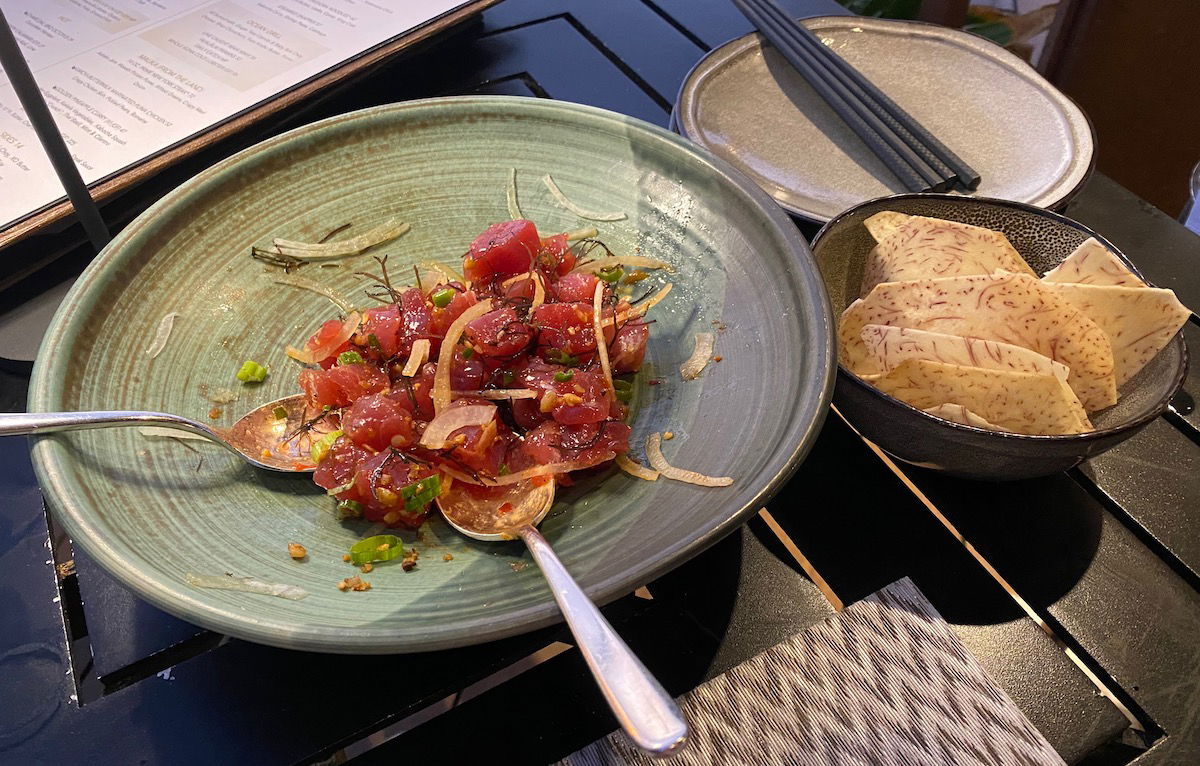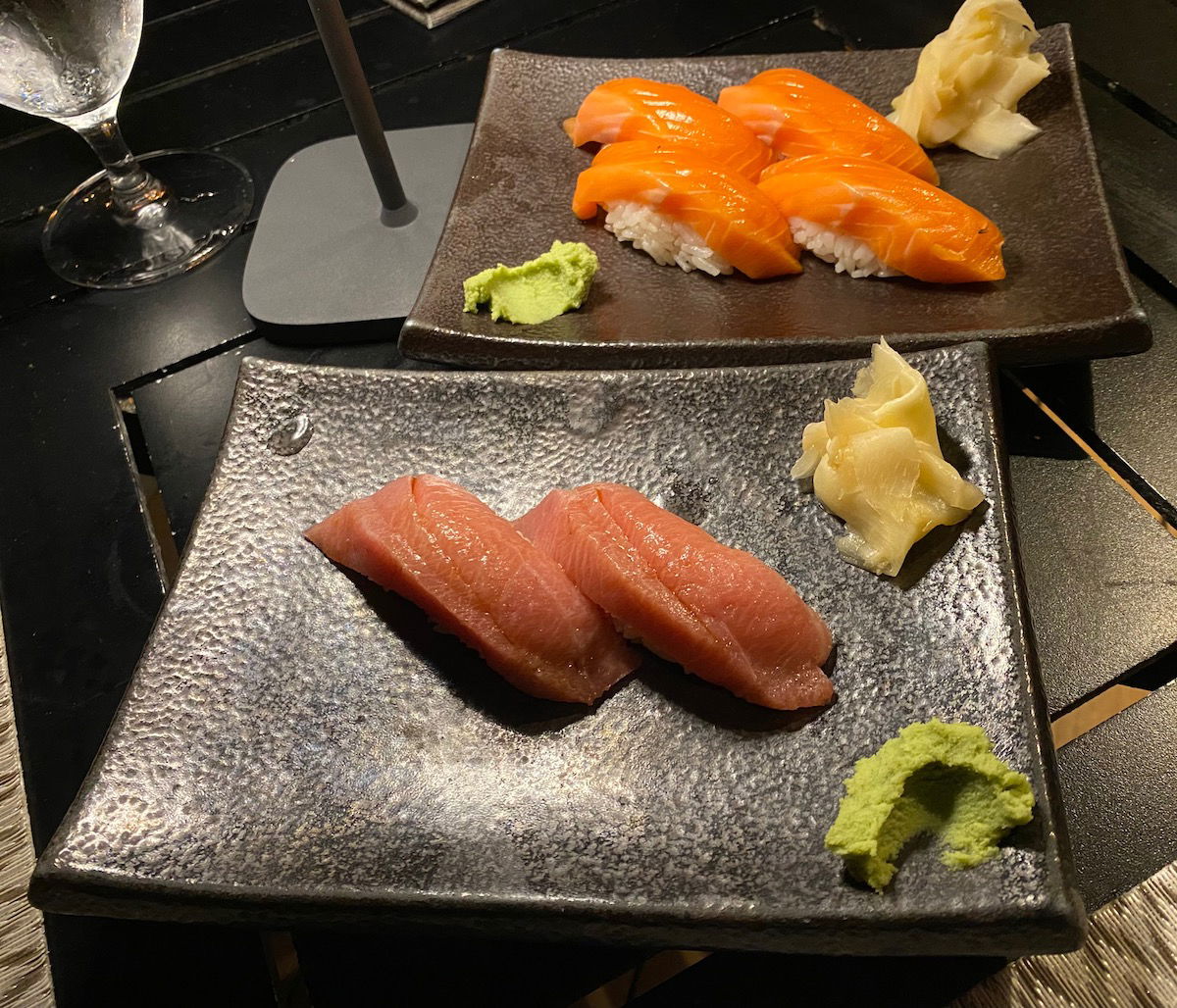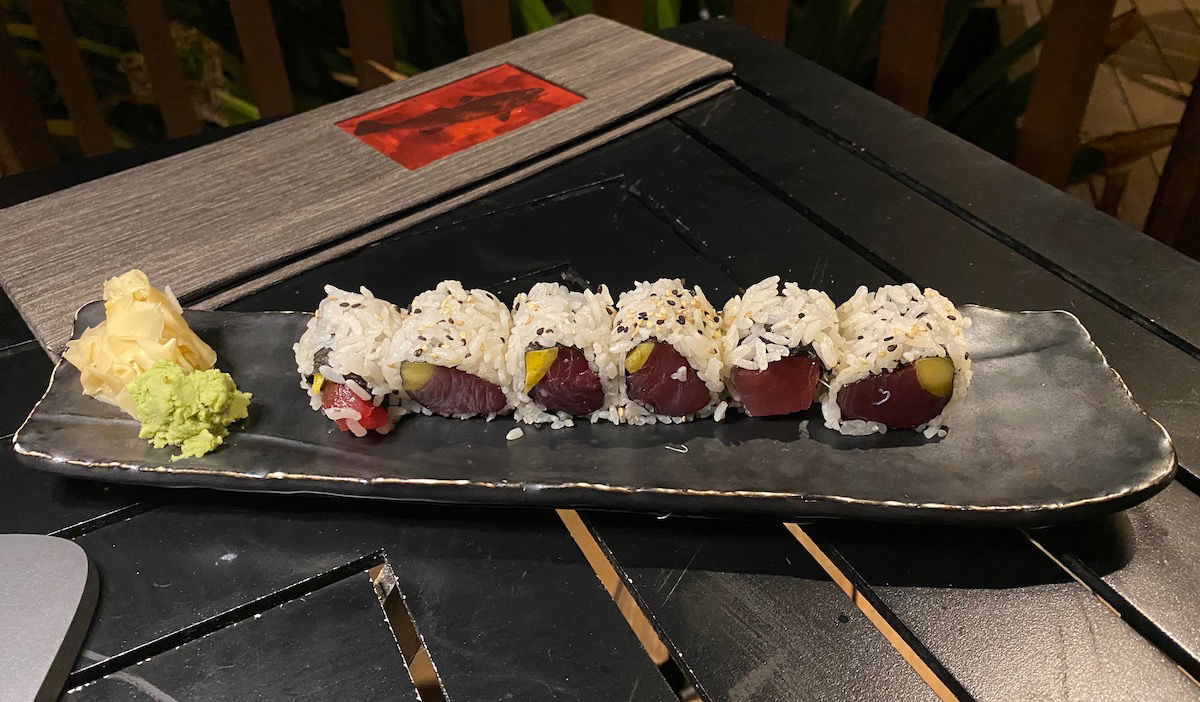 We also (over)indulged a bit with dessert, and had the shave ice and a chocolate souffle.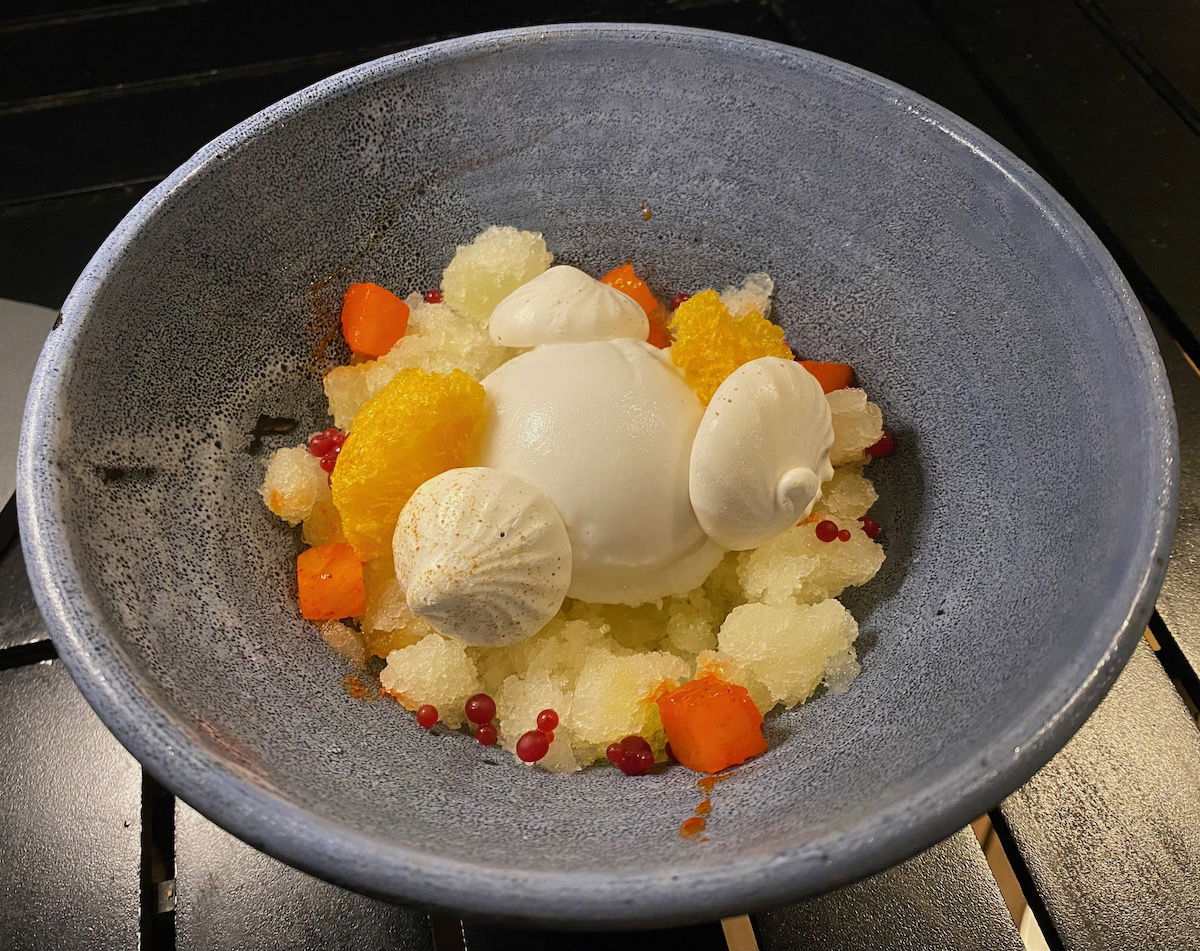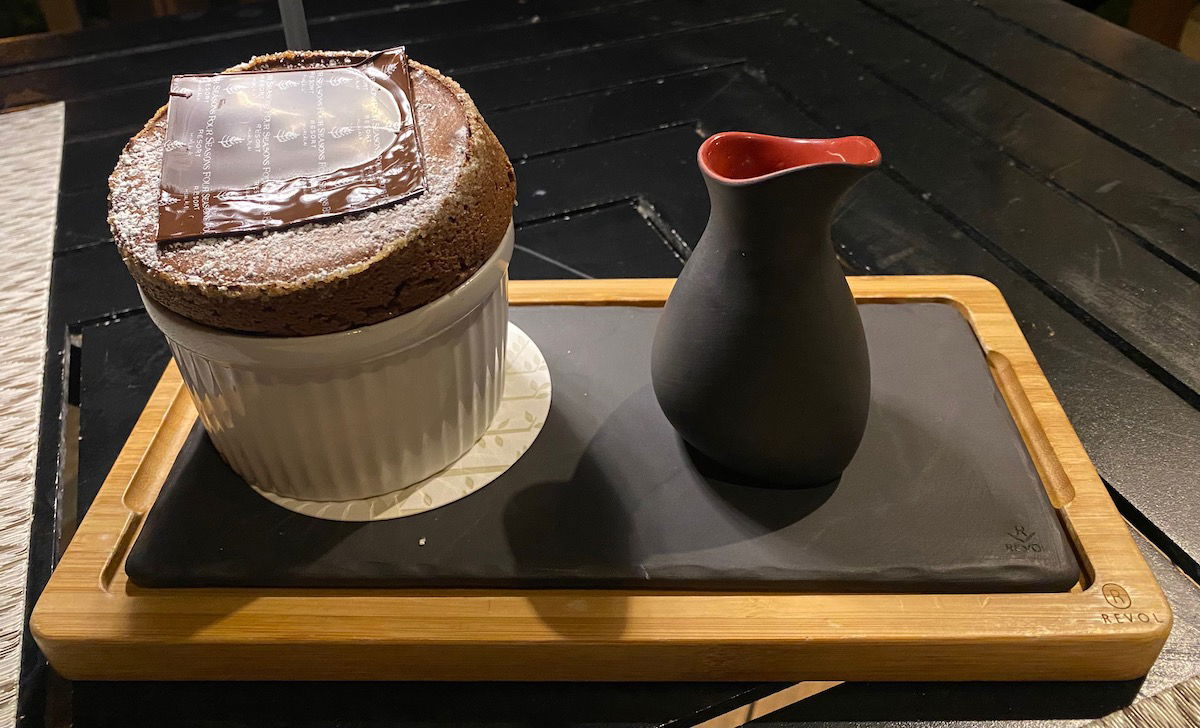 YUM! What an incredible meal, with service to match. And as if the dining experience wasn't good enough, take a look at the view from our table…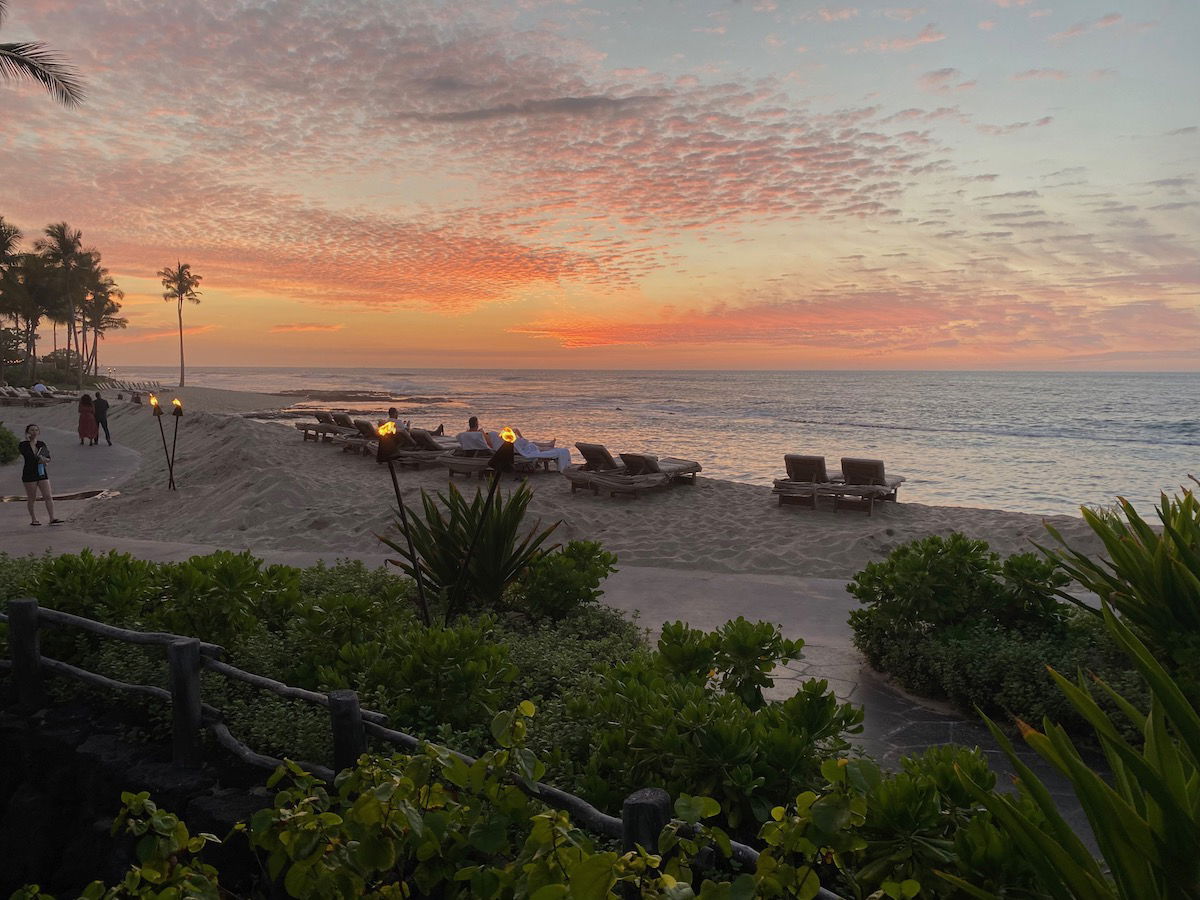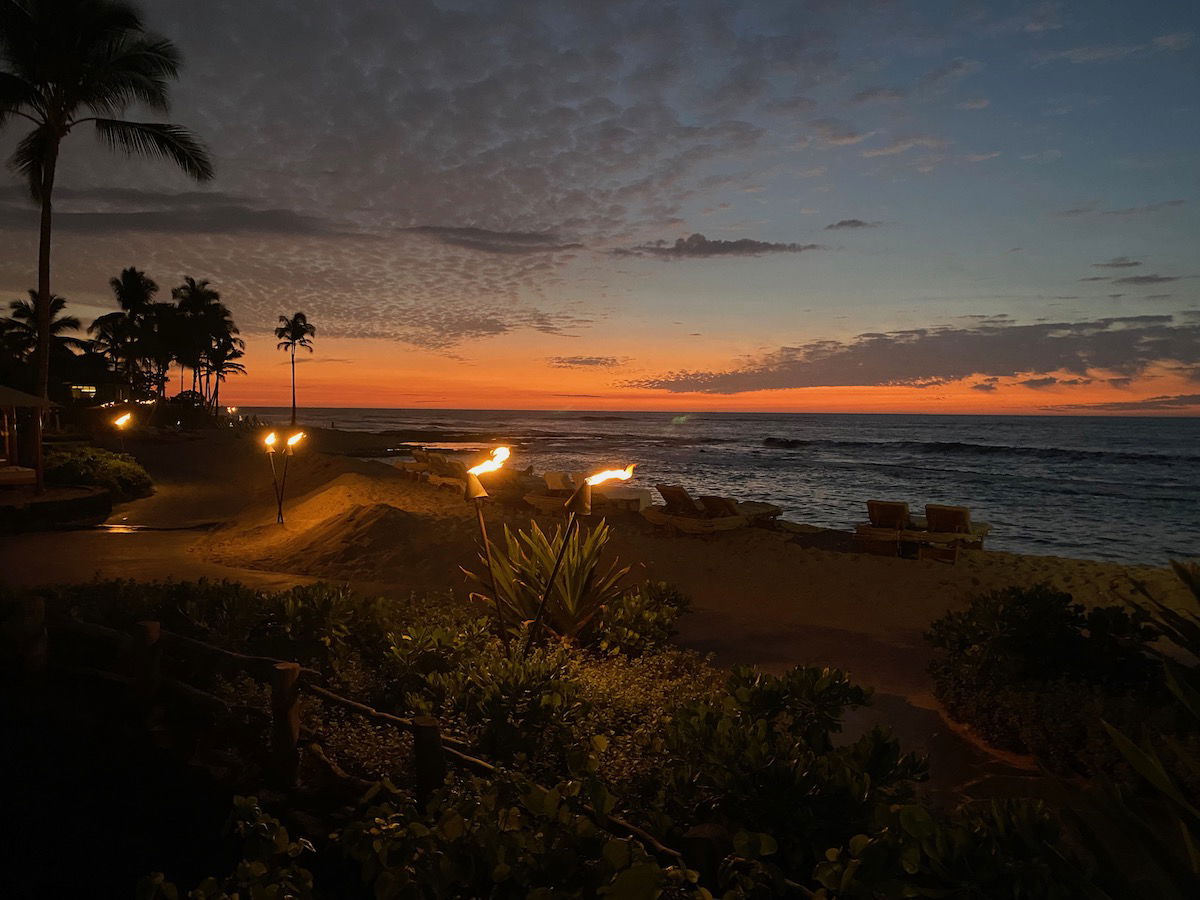 Four Seasons Hualalai Beach Tree (lunch & dinner)
Beach Tree is the Four Seasons' lunch and dinner restaurant, described as serving Californian cuisine with an Italian twist. The restaurant is fully open-air, and also has a bar area if you just want to order drinks.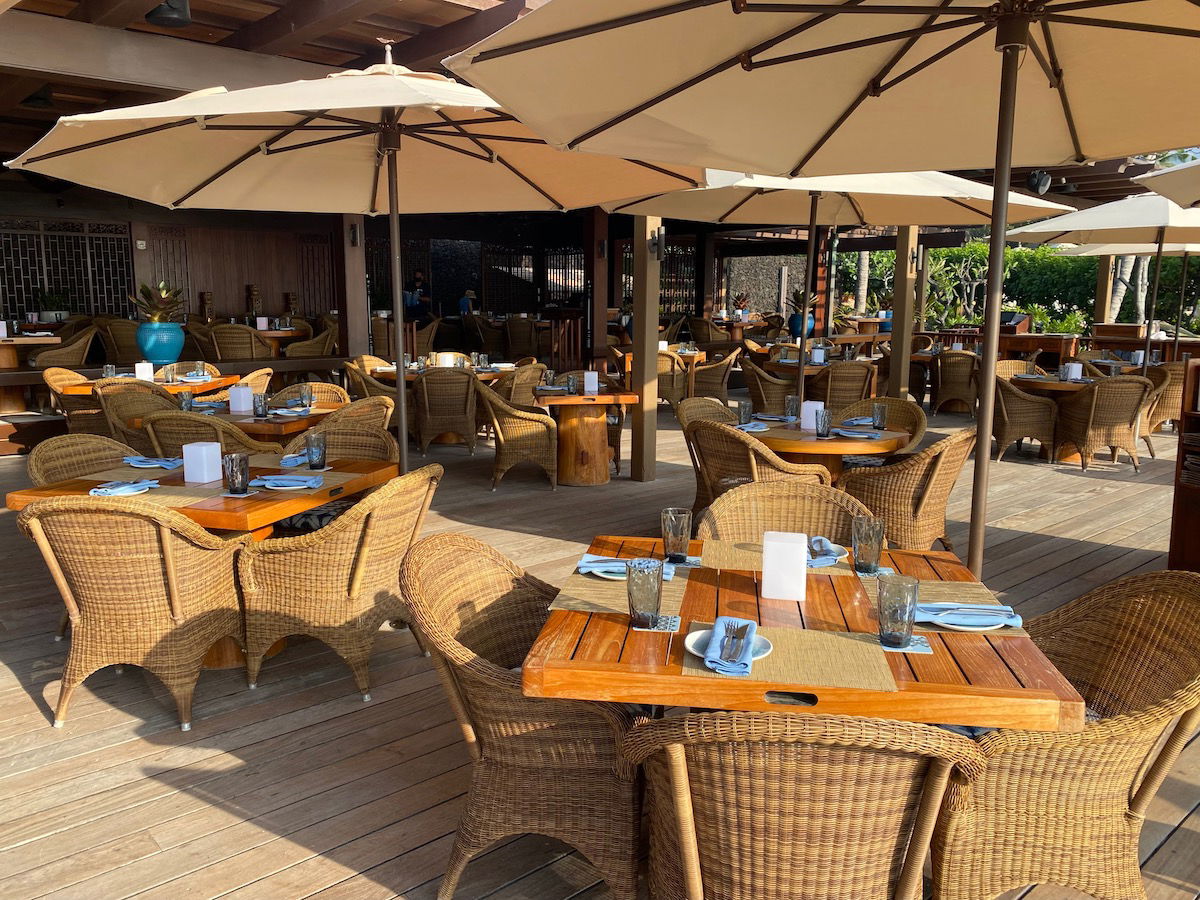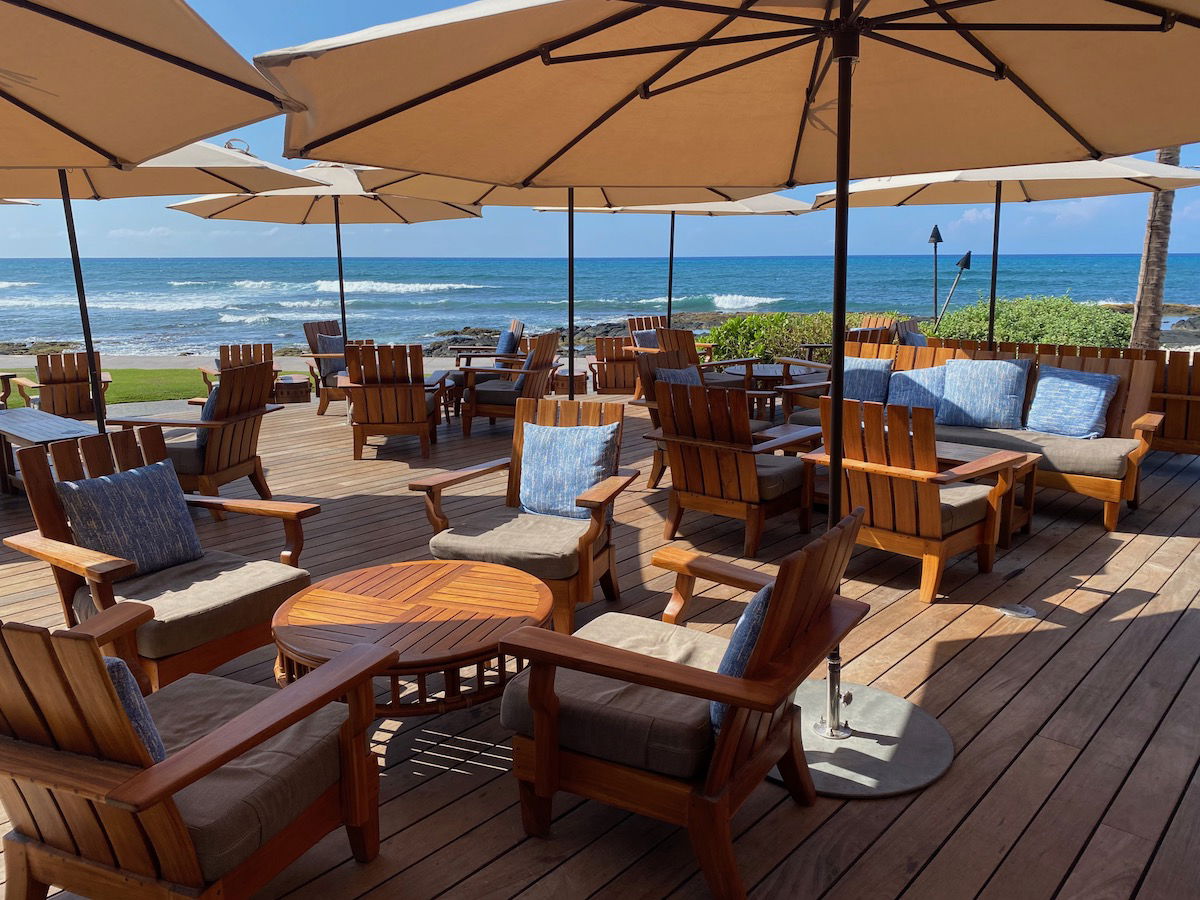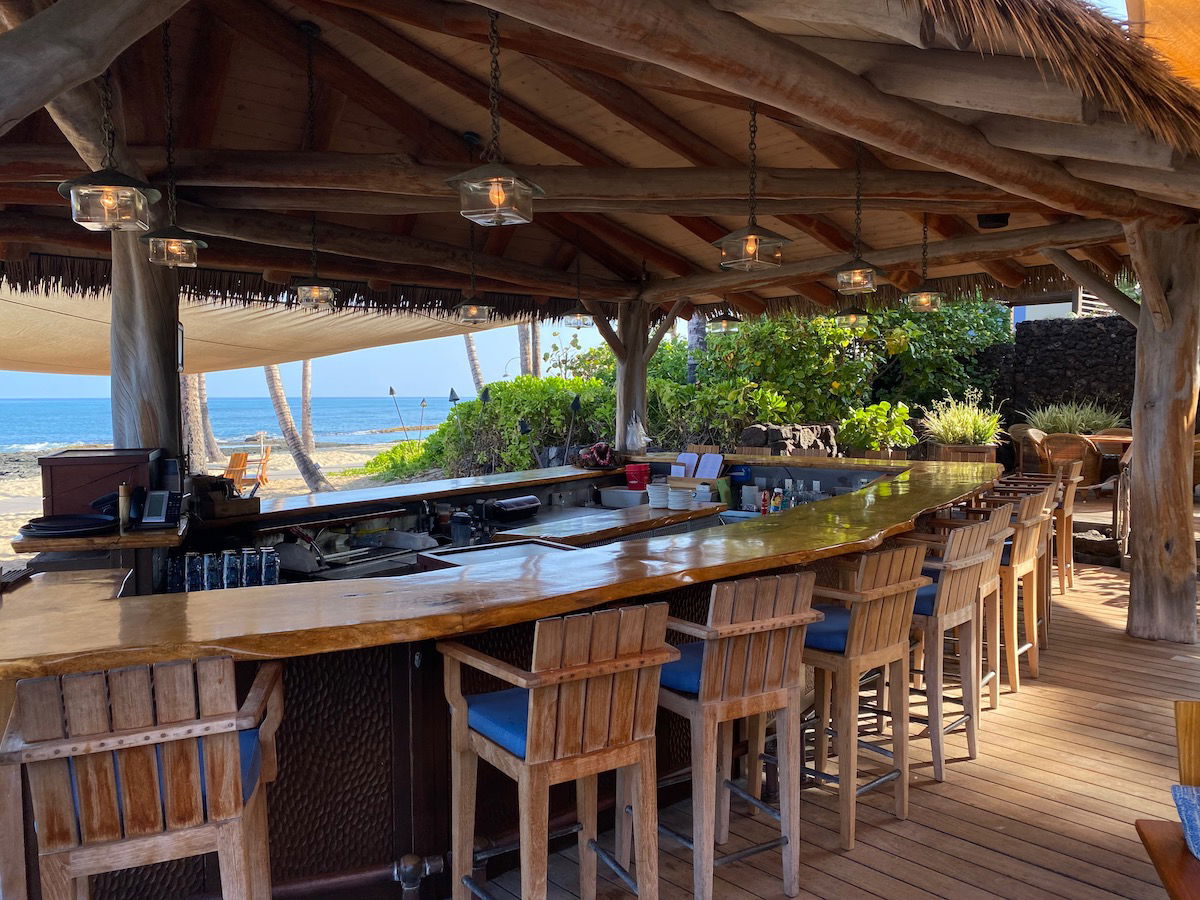 Lunch is served daily from 11:30AM until 3PM, and has everything from salads, to burgers, to pizzas, to poke bowls.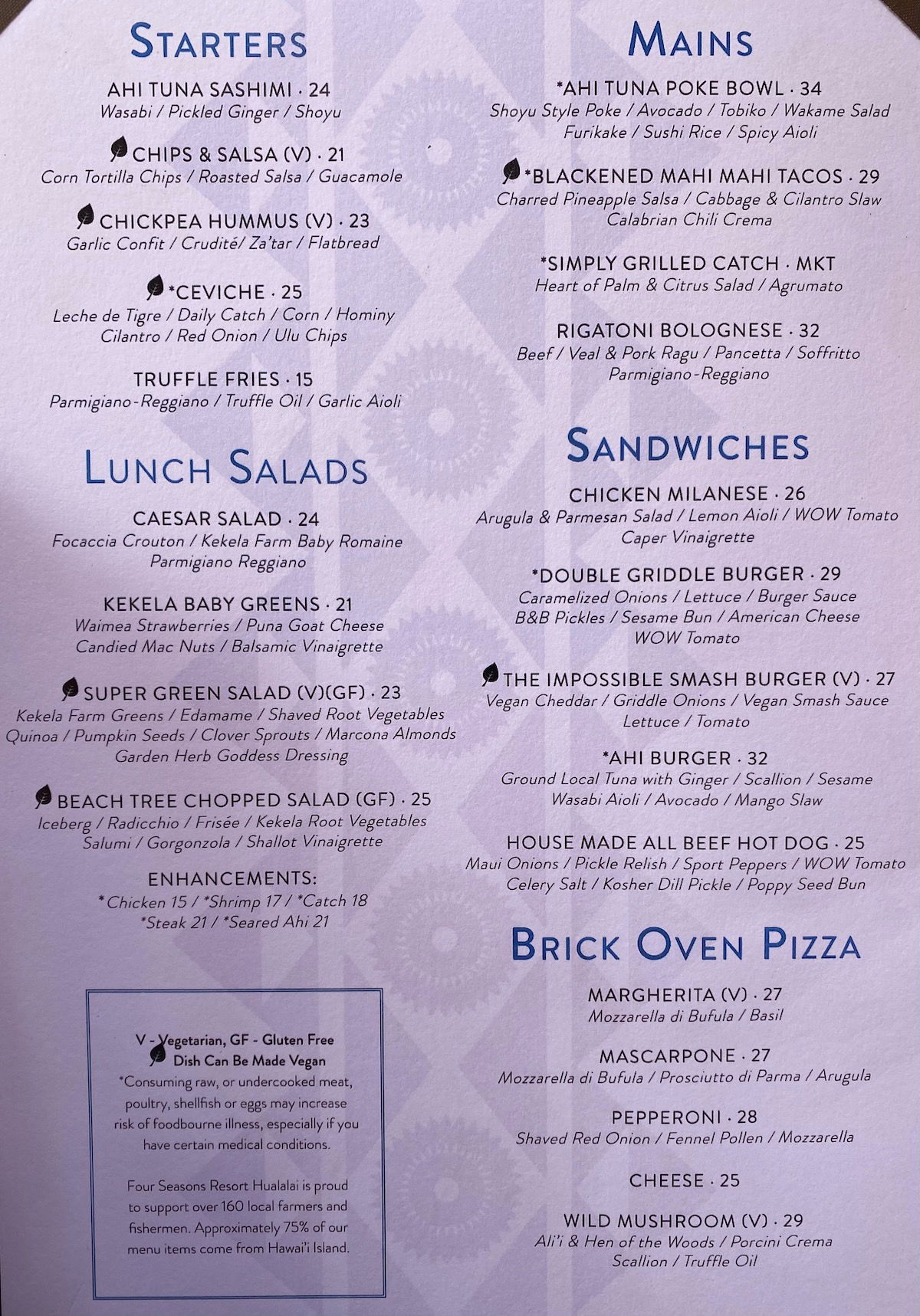 We ate here one afternoon and had a cobb salad with chicken and a vegan burger, and both were tasty.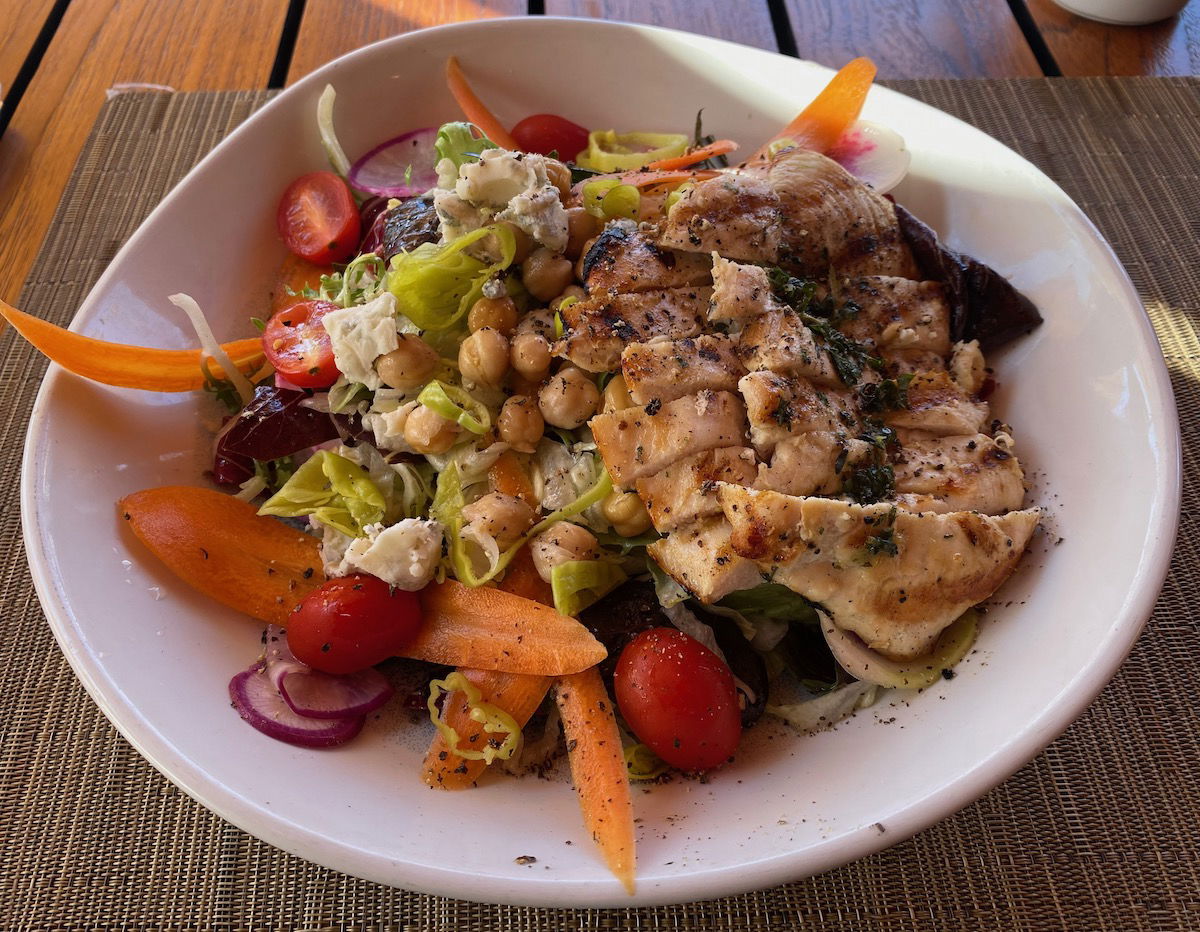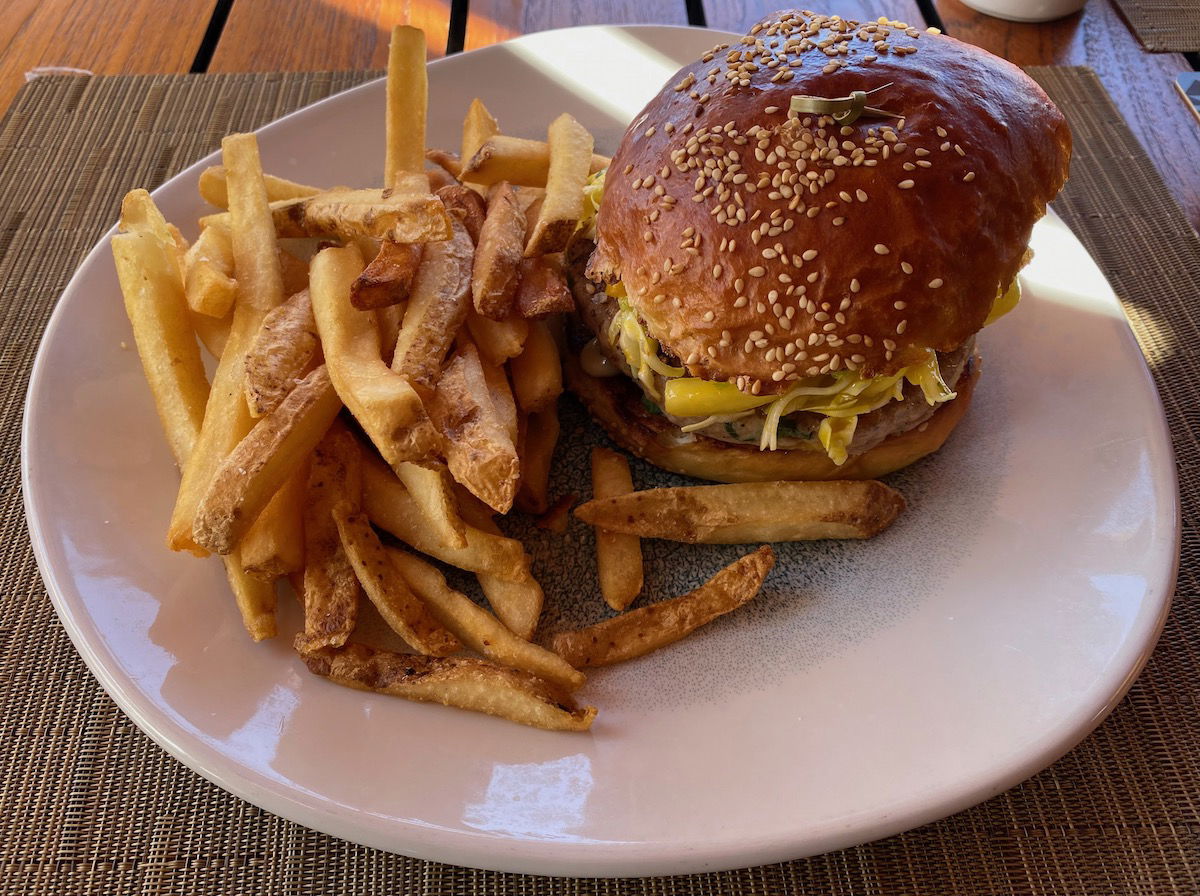 We came here for cocktails a couple of times, which were very good.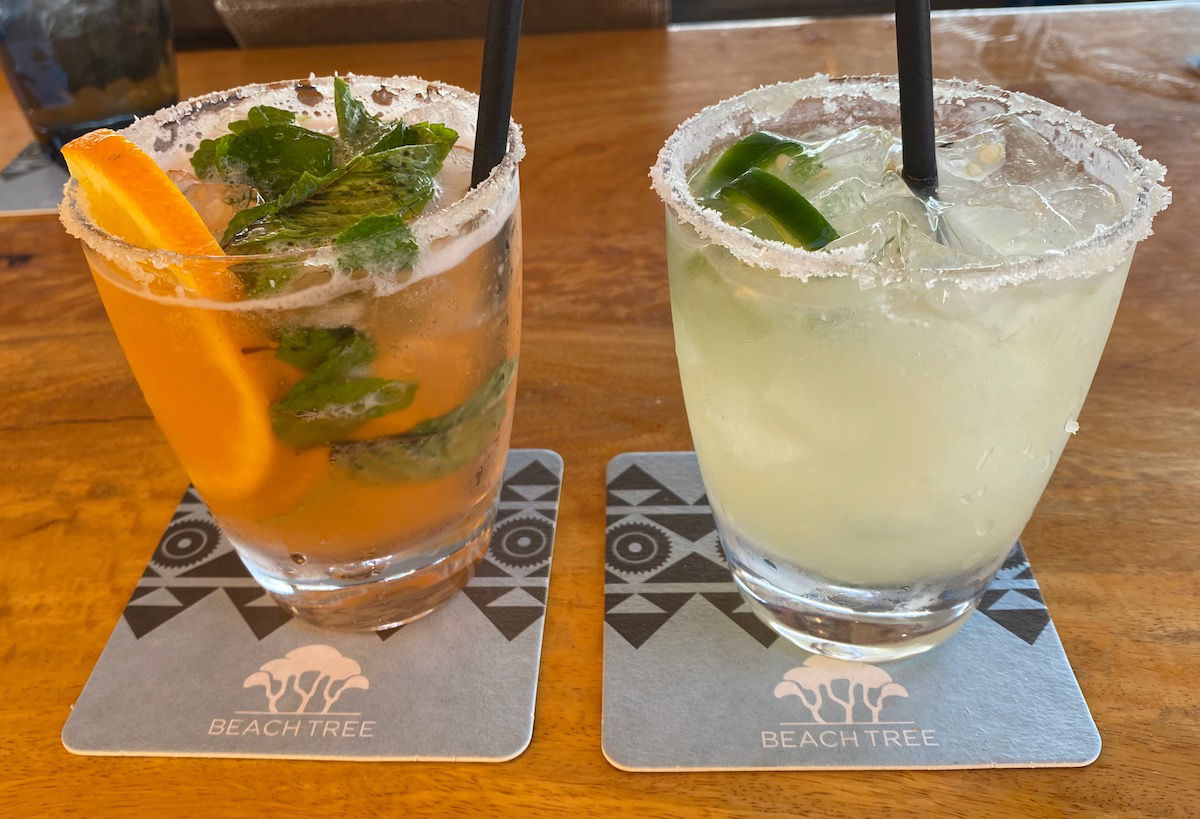 We had dinner here one evening, which definitely had more an Italian influence than the lunch selection.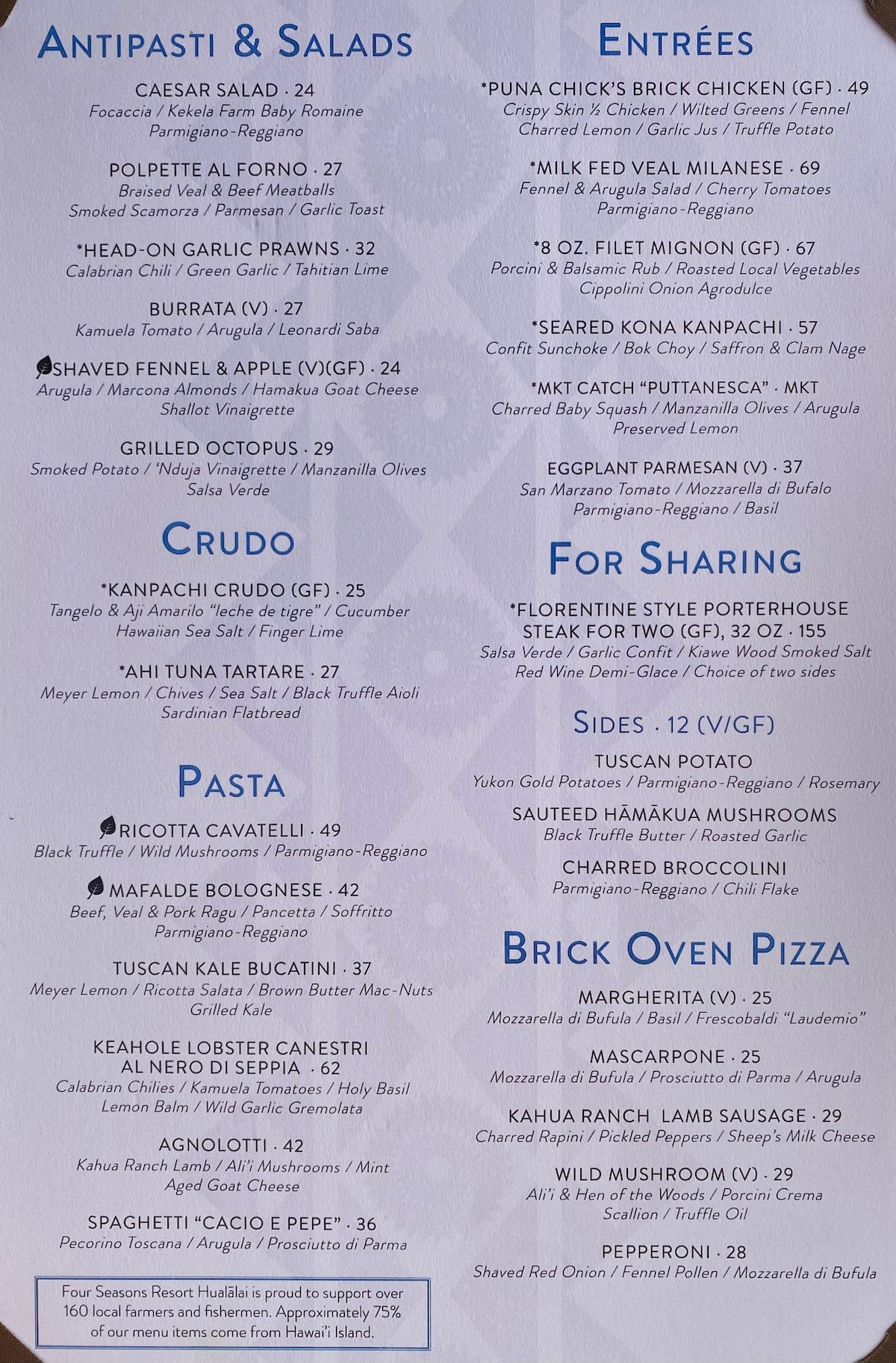 Our meal started with some homemade focaccia.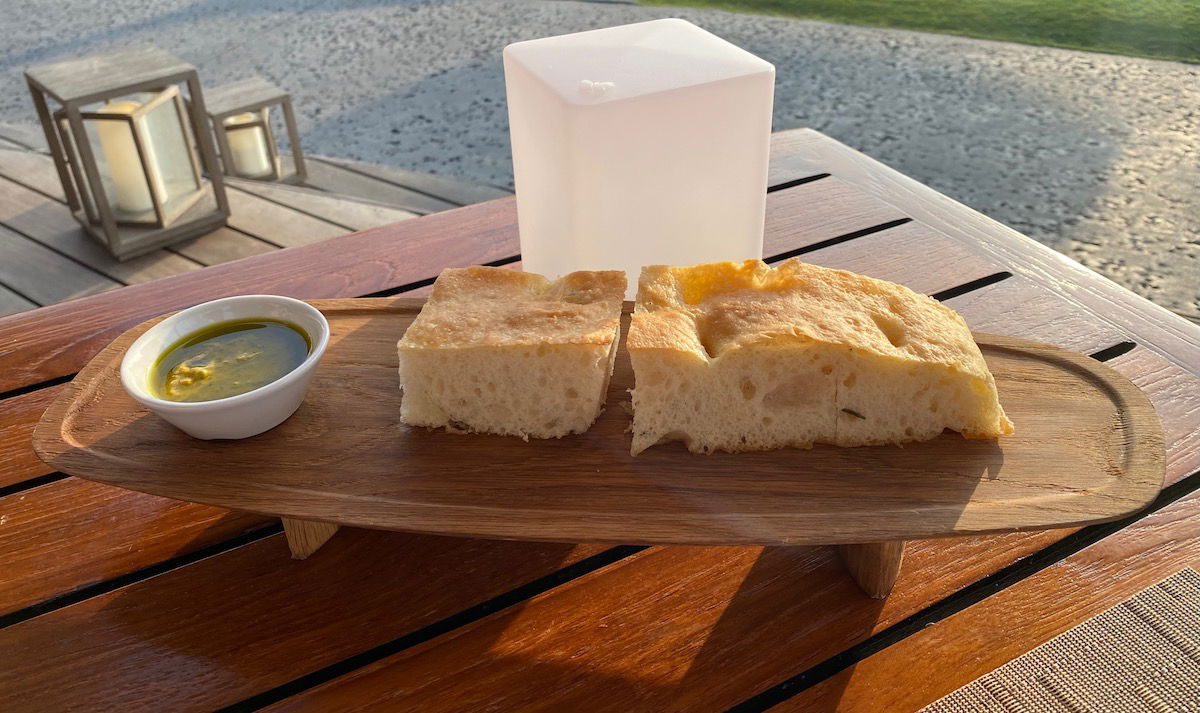 I ordered a dirty martini, while Ford had the hotel's twist on an aperol spritz.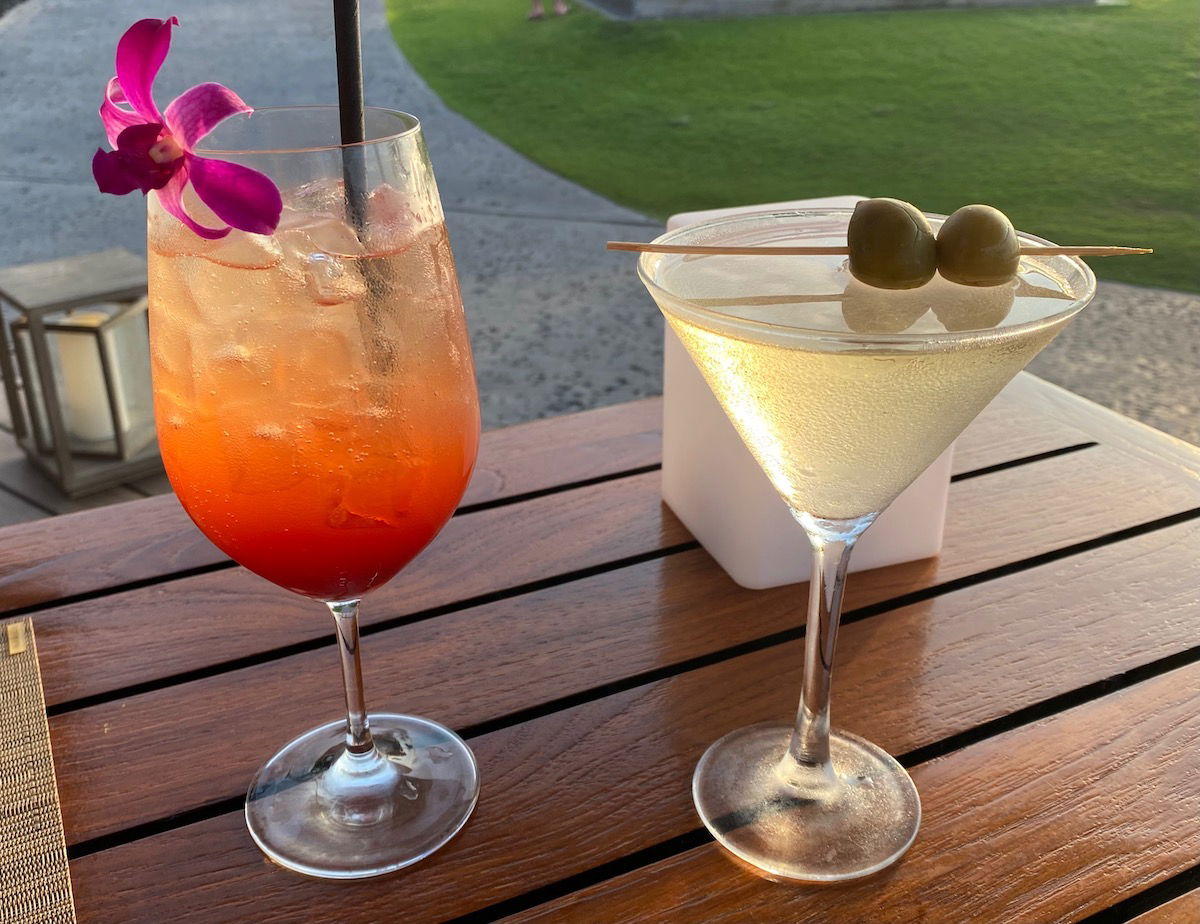 To start I had the tuna tartare, while Ford had the meatballs.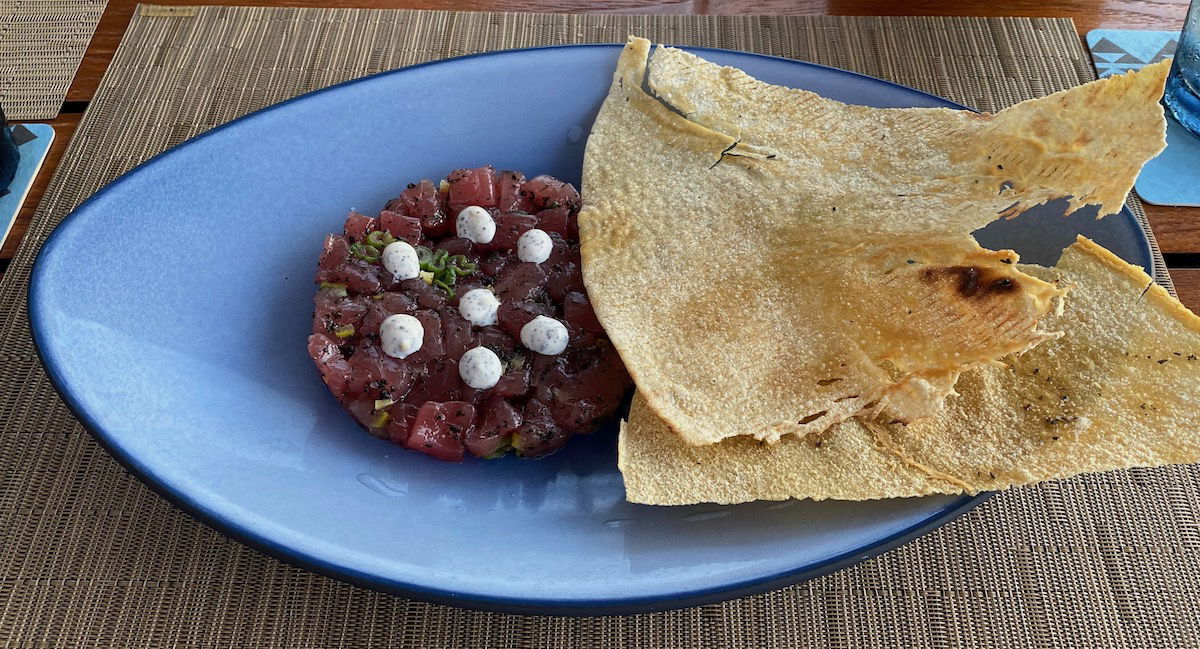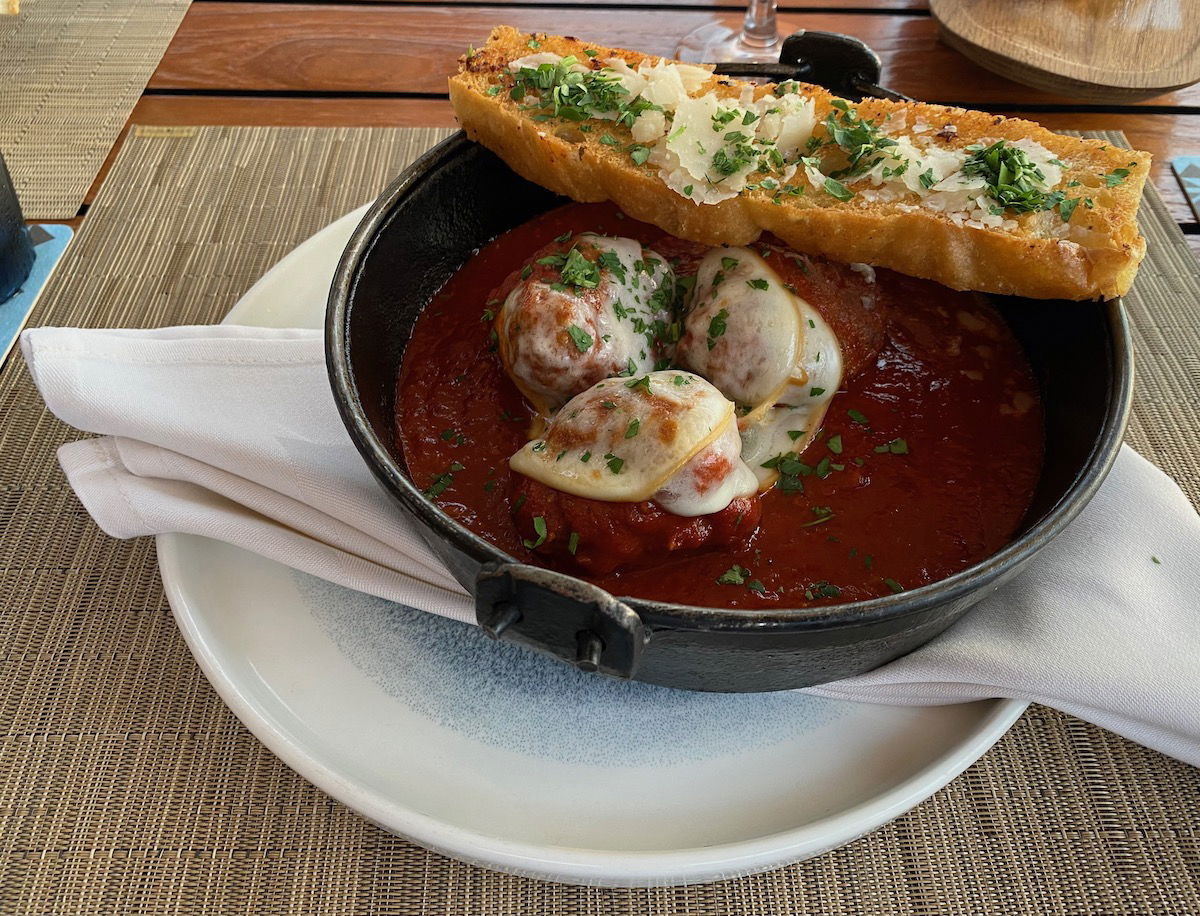 Then for our main courses I had the Kona kanpachi, while Ford had the market catch puttanesca.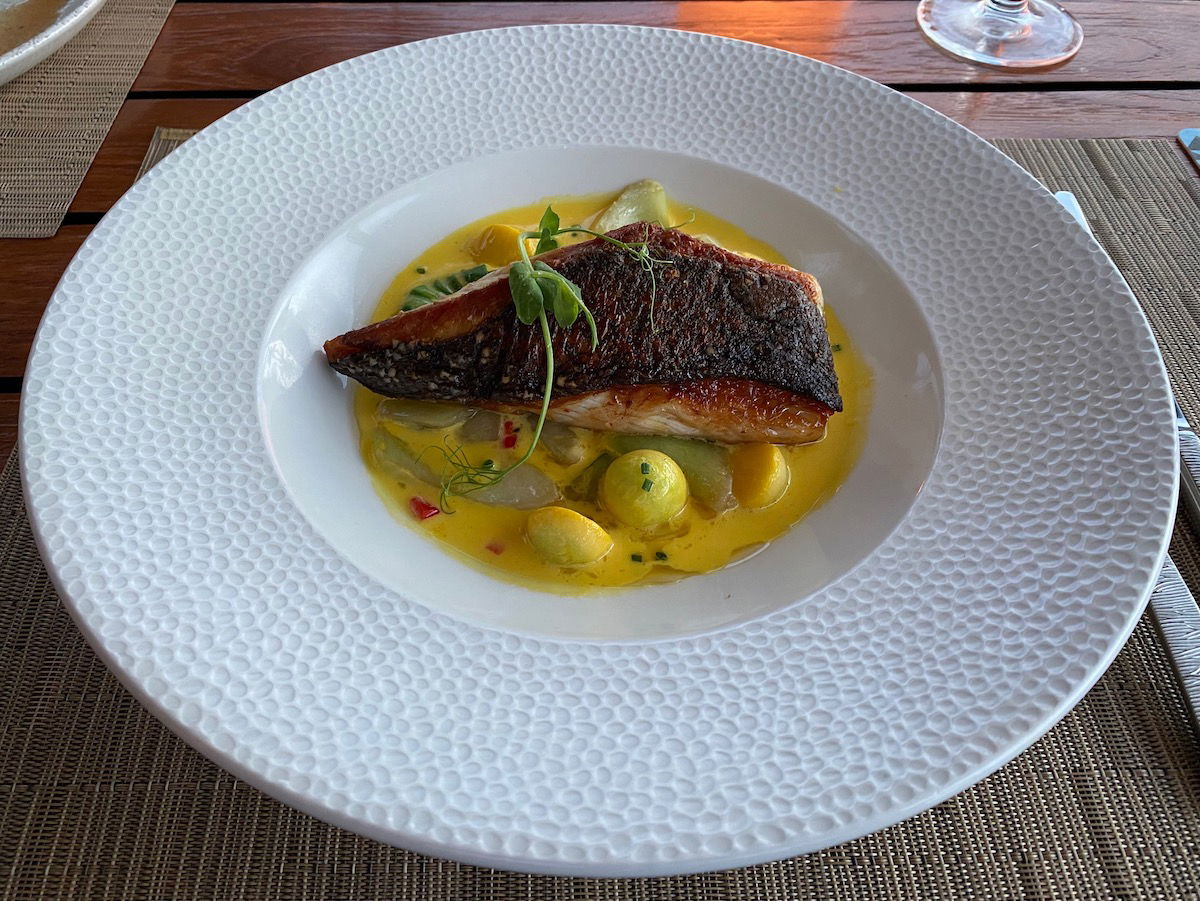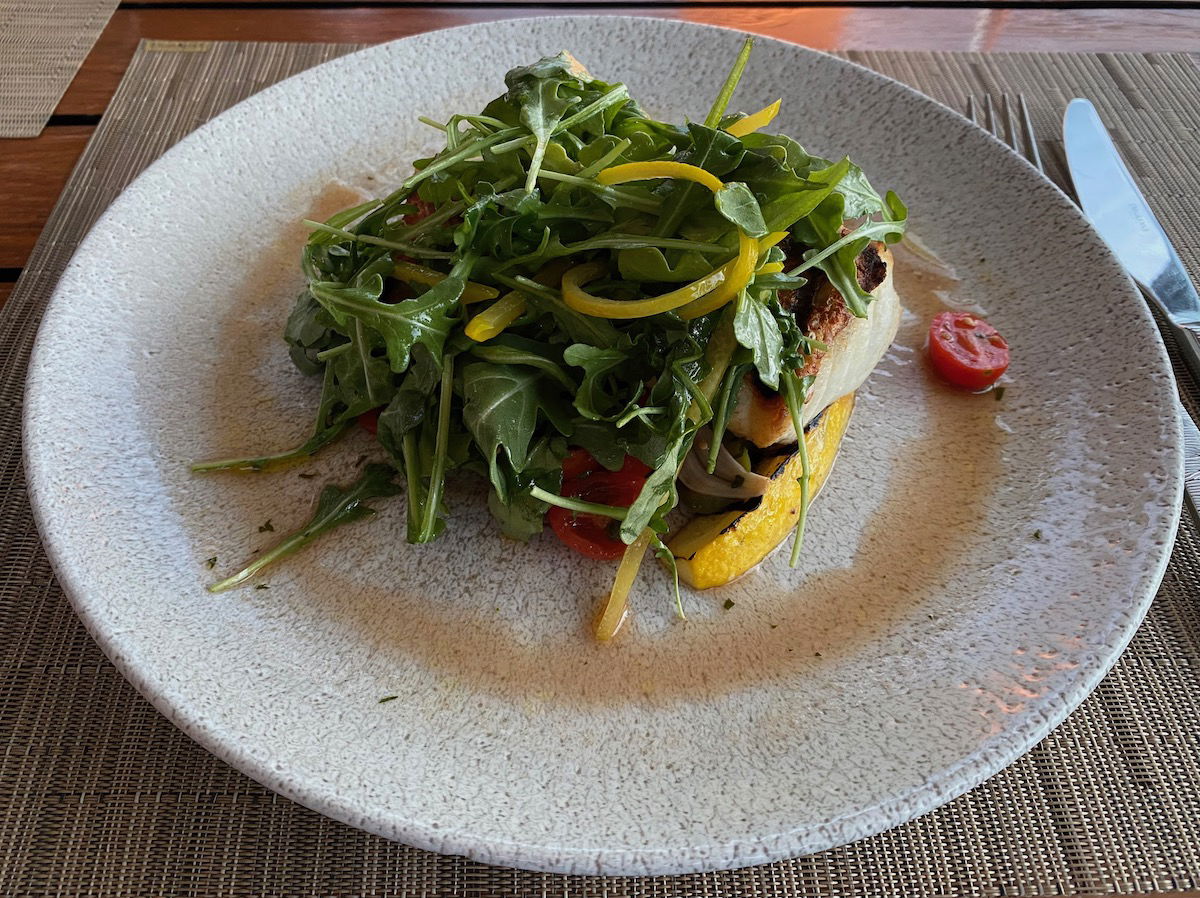 Again, the food, service, and sunset views were excellent. There was even live music at the restaurant, which we enjoyed.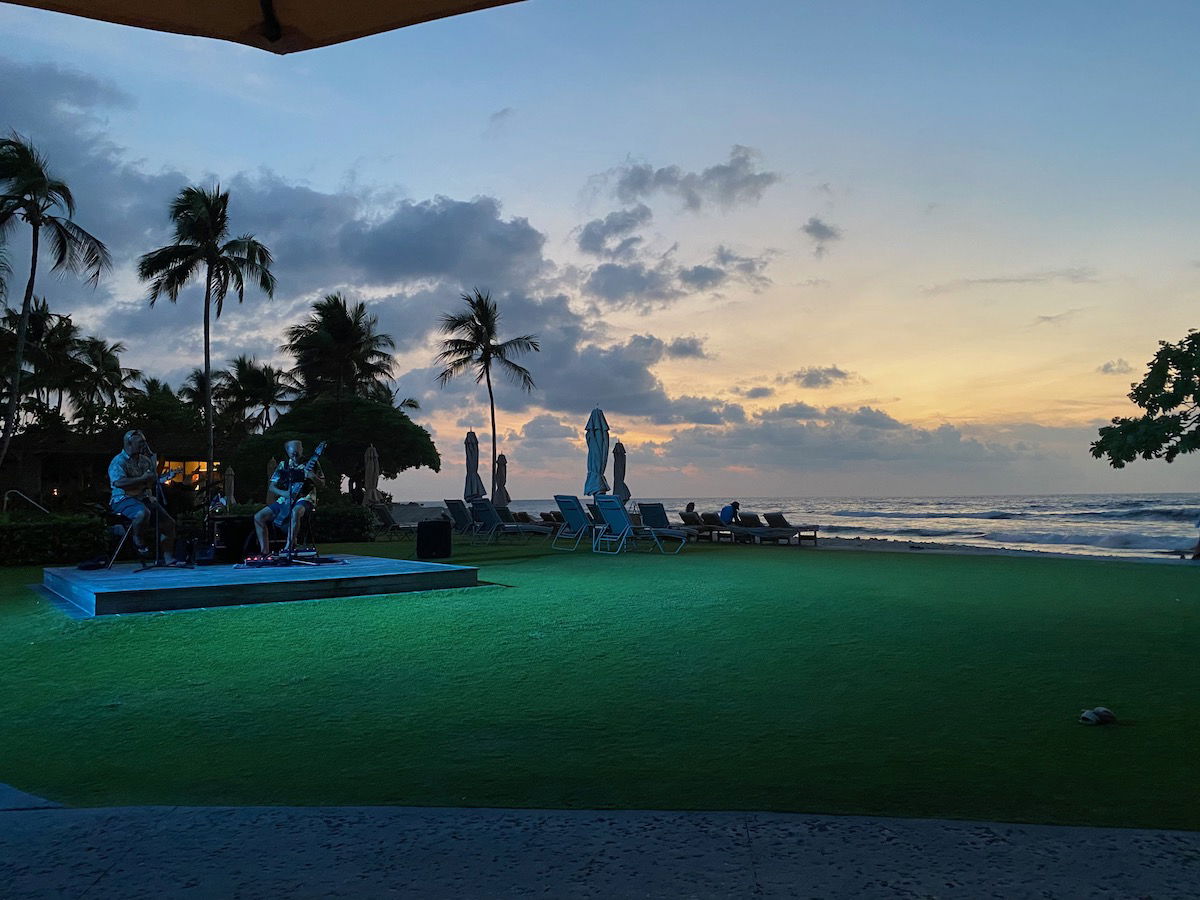 Four Seasons Hualalai Grille (dinner)
Hualalai Grill is the Four Seasons' steakhouse, and it's open for dinner from 5:30PM until 8:30PM. It's located near reception, so it's elevated a bit above the resort of the property, and offers a different kind of view.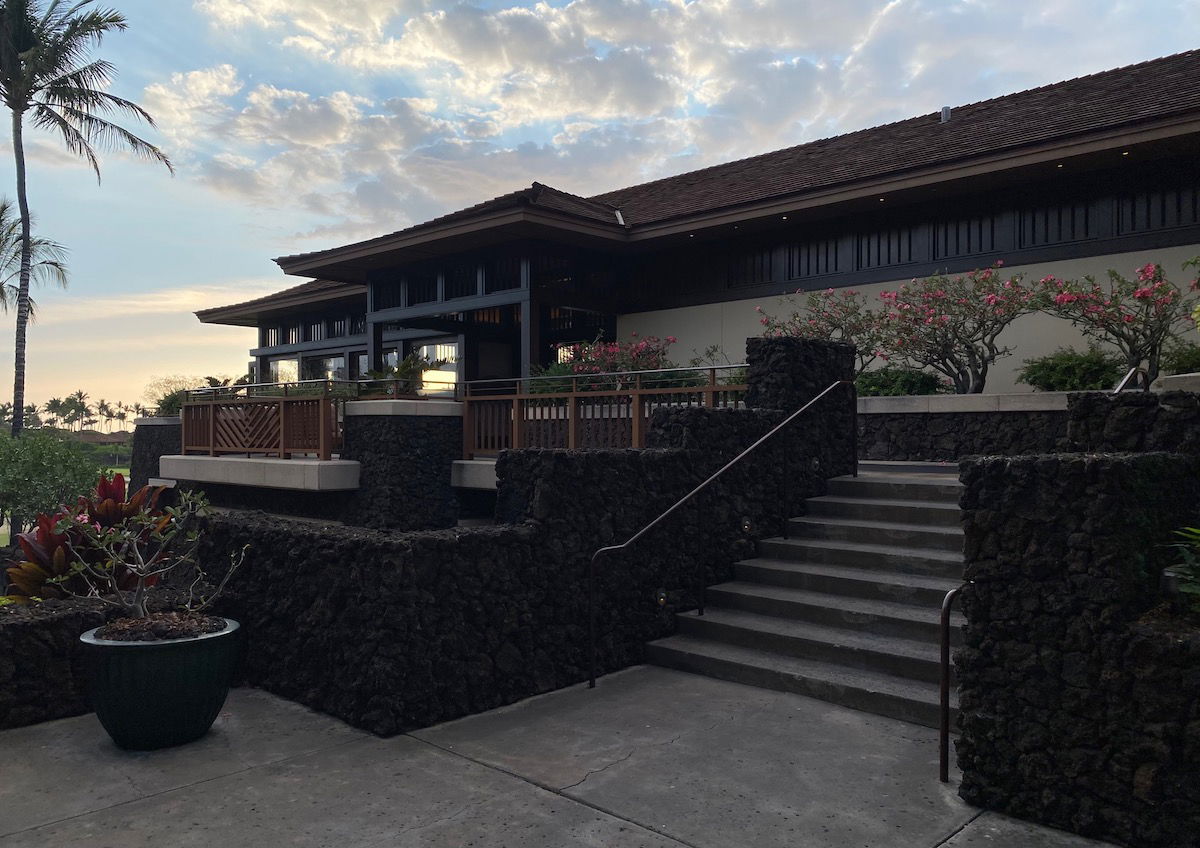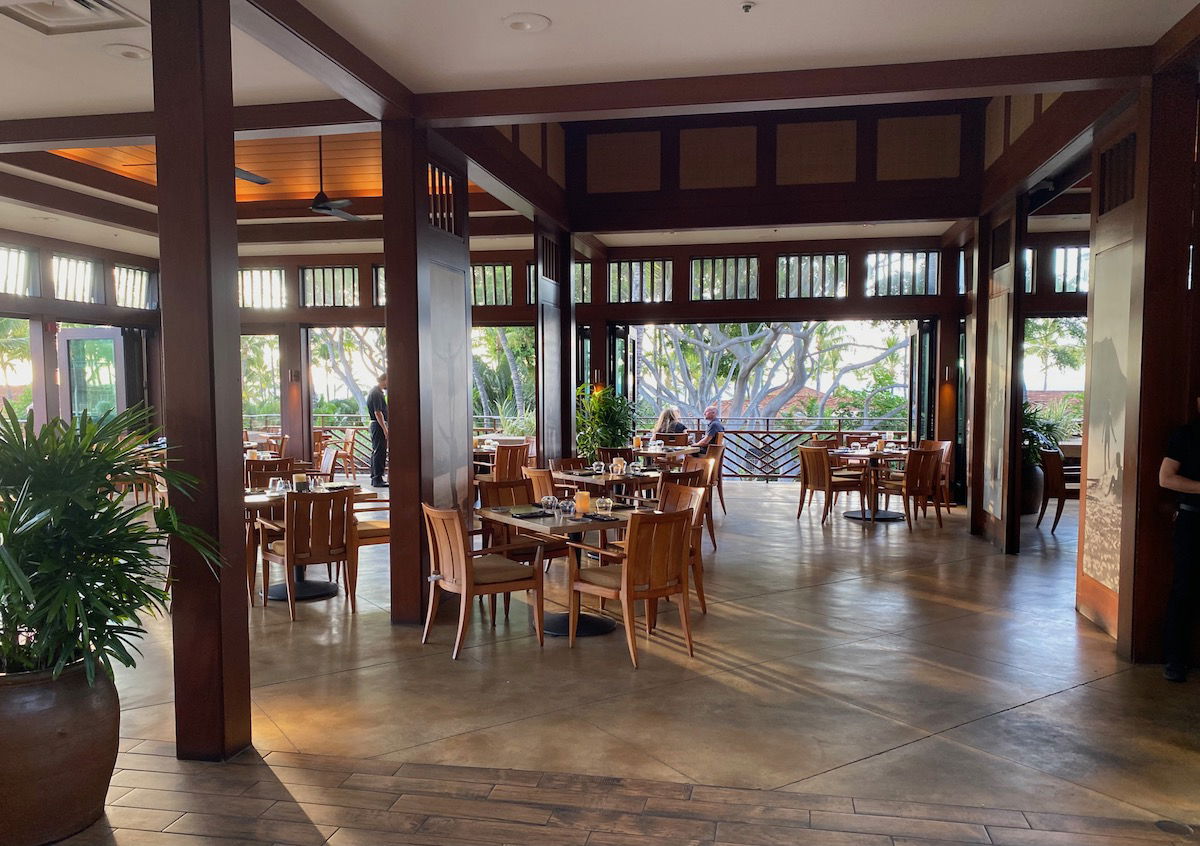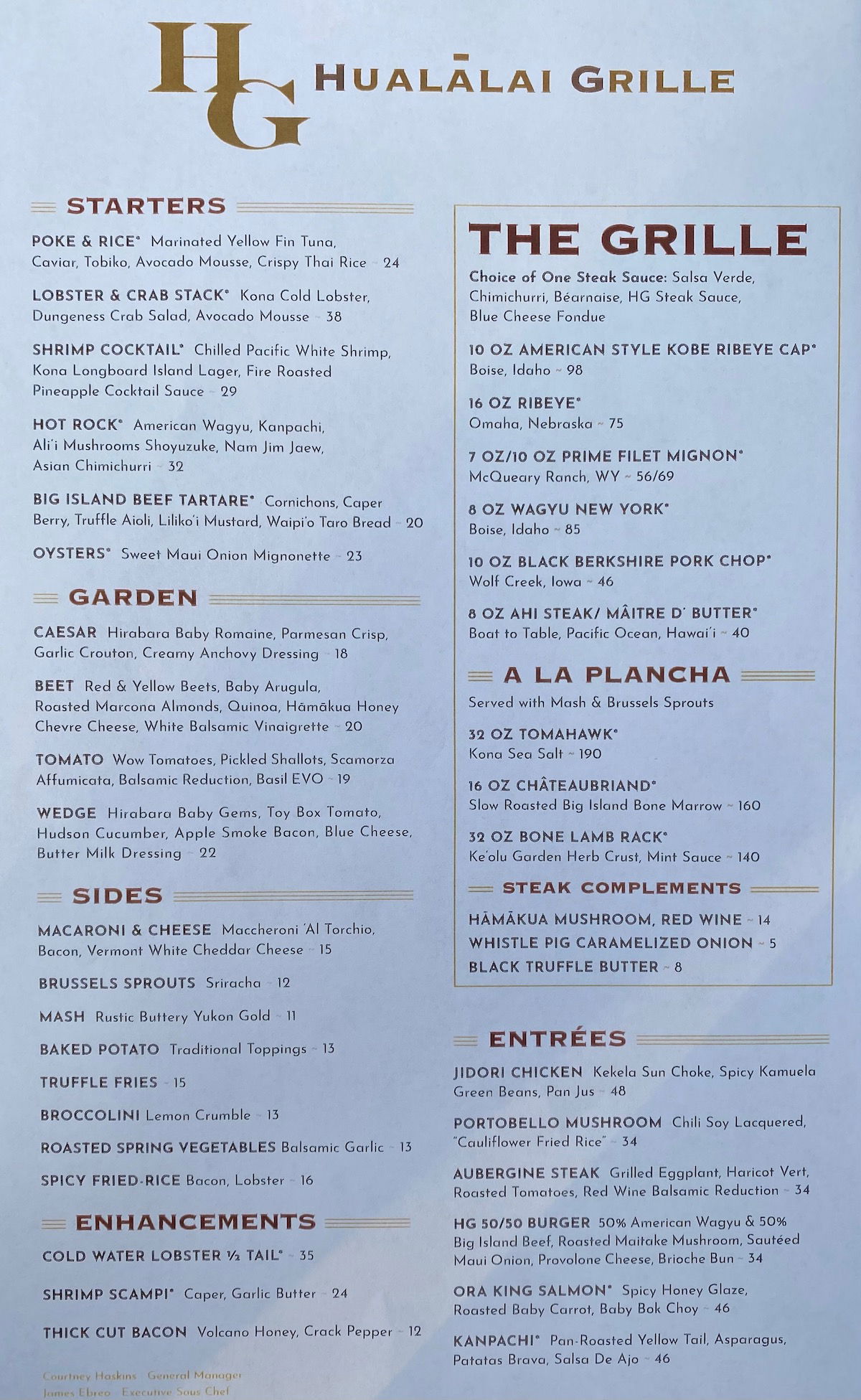 We were offered some warm rolls to start.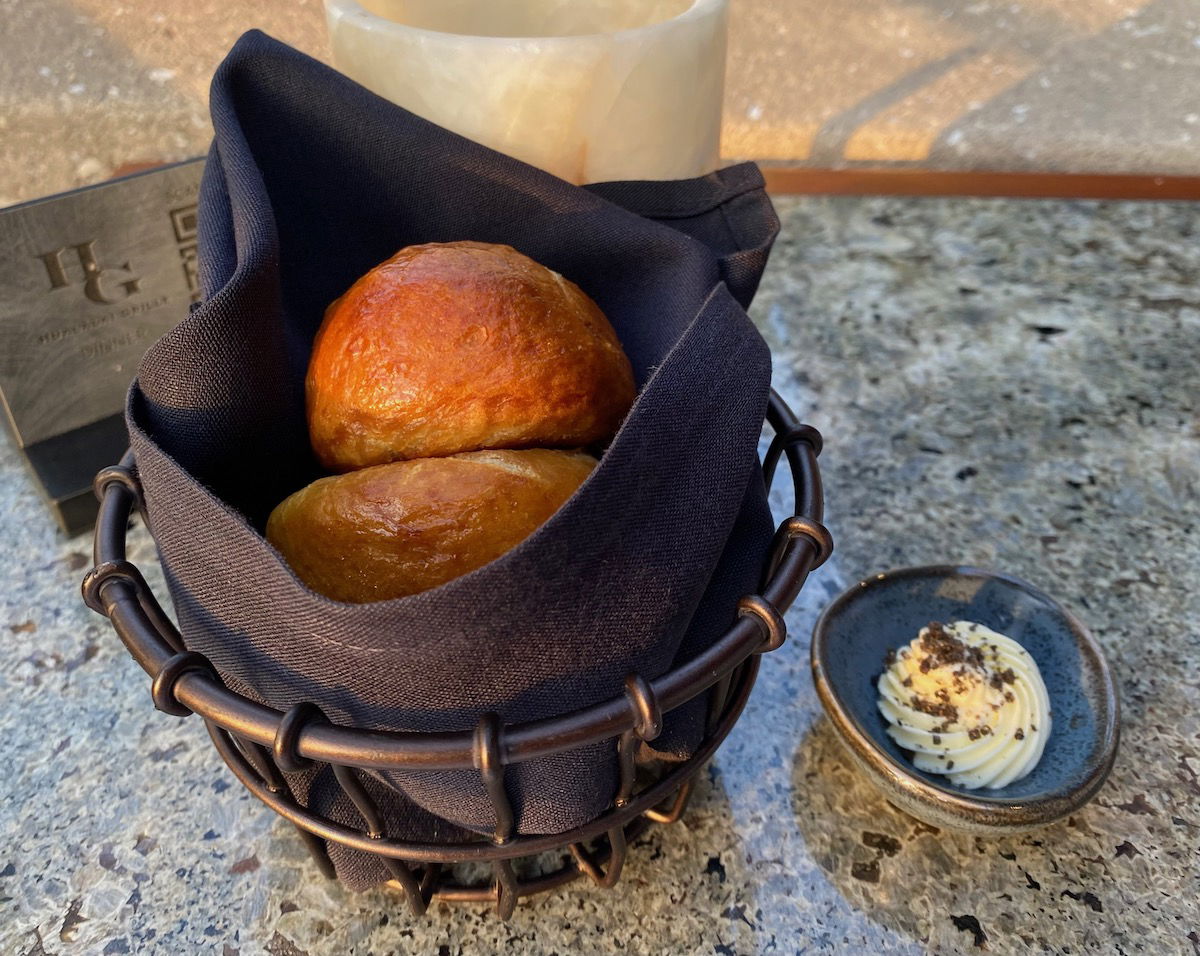 As appetizers I ordered the tomato salad, while Ford had the beet salad.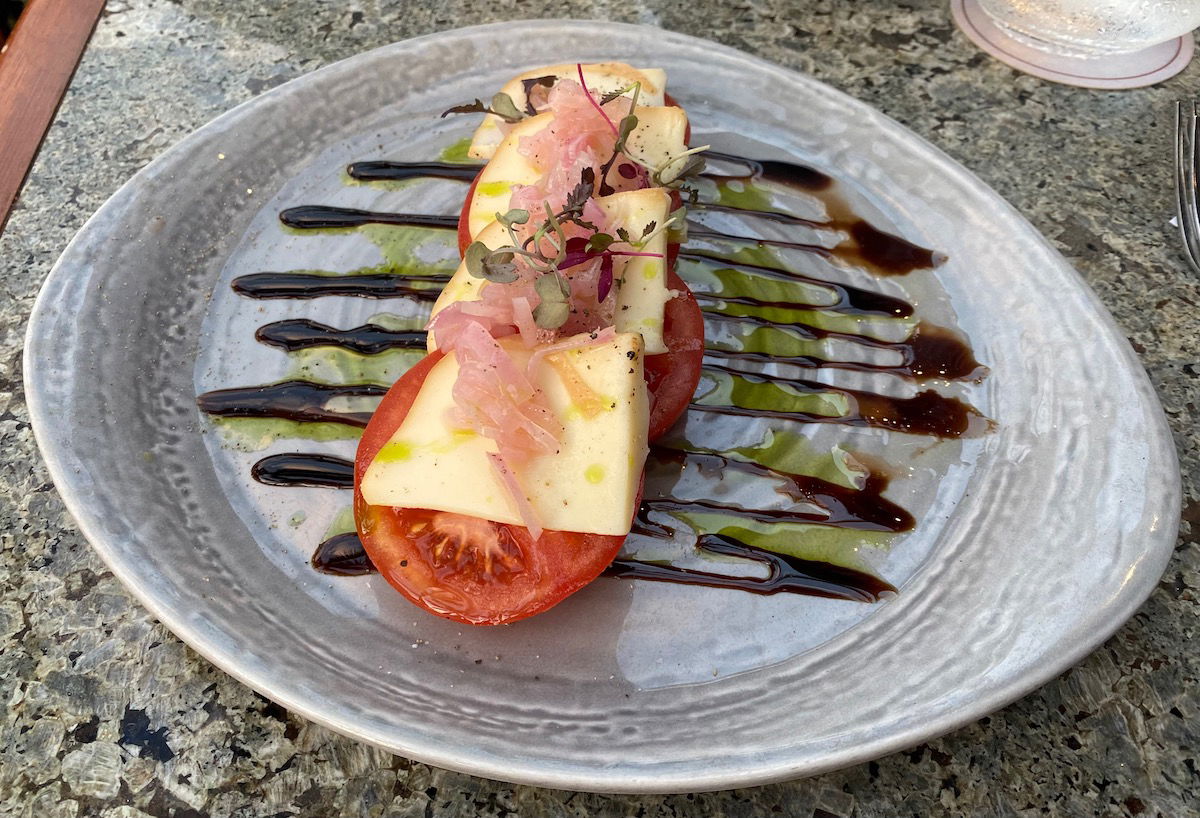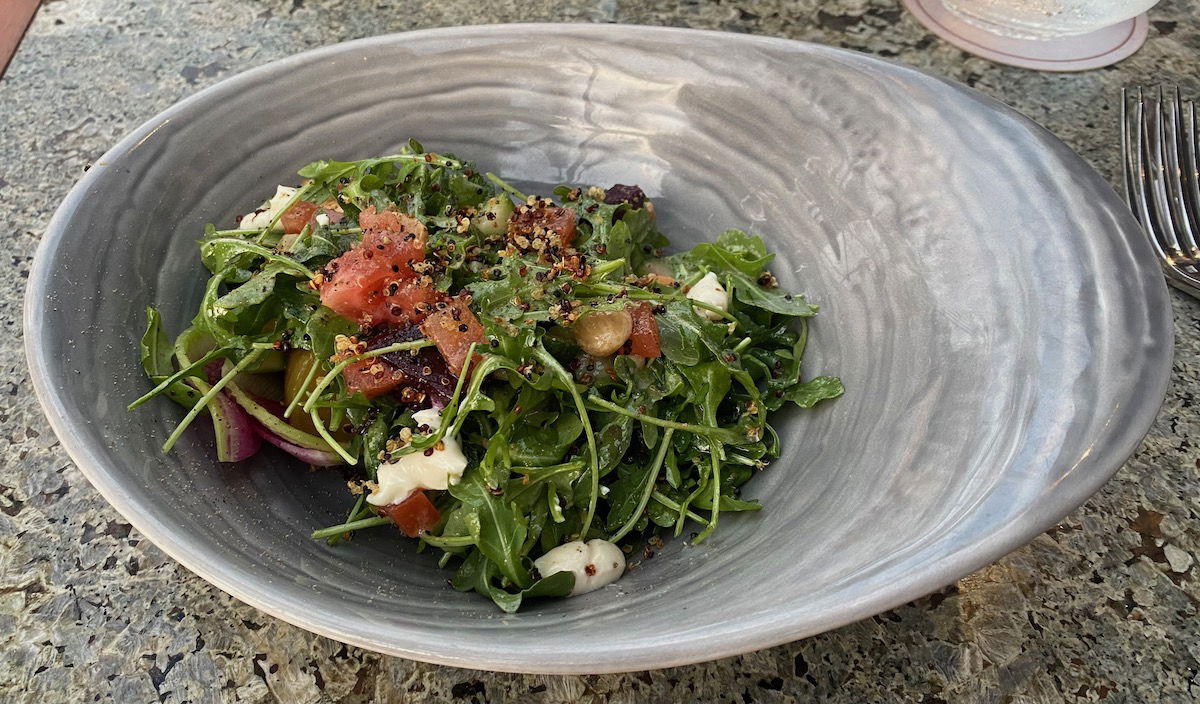 For our mains, I had the tuna steak, while Ford had the steak tartare. We also had a side of brussels sprouts and fries to go along with it.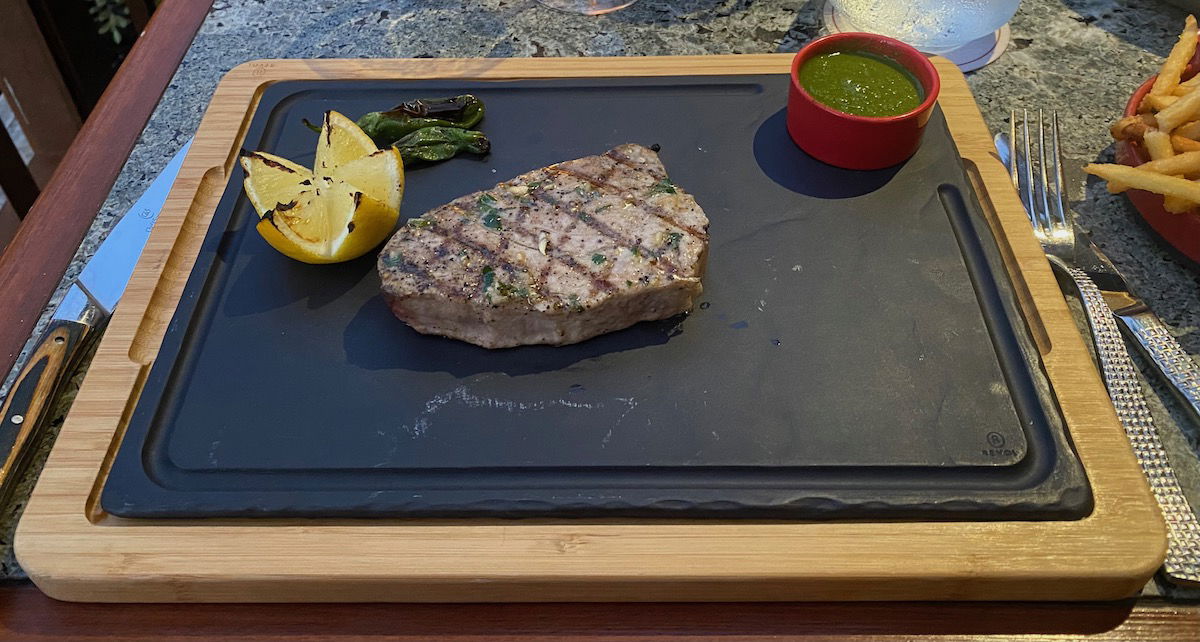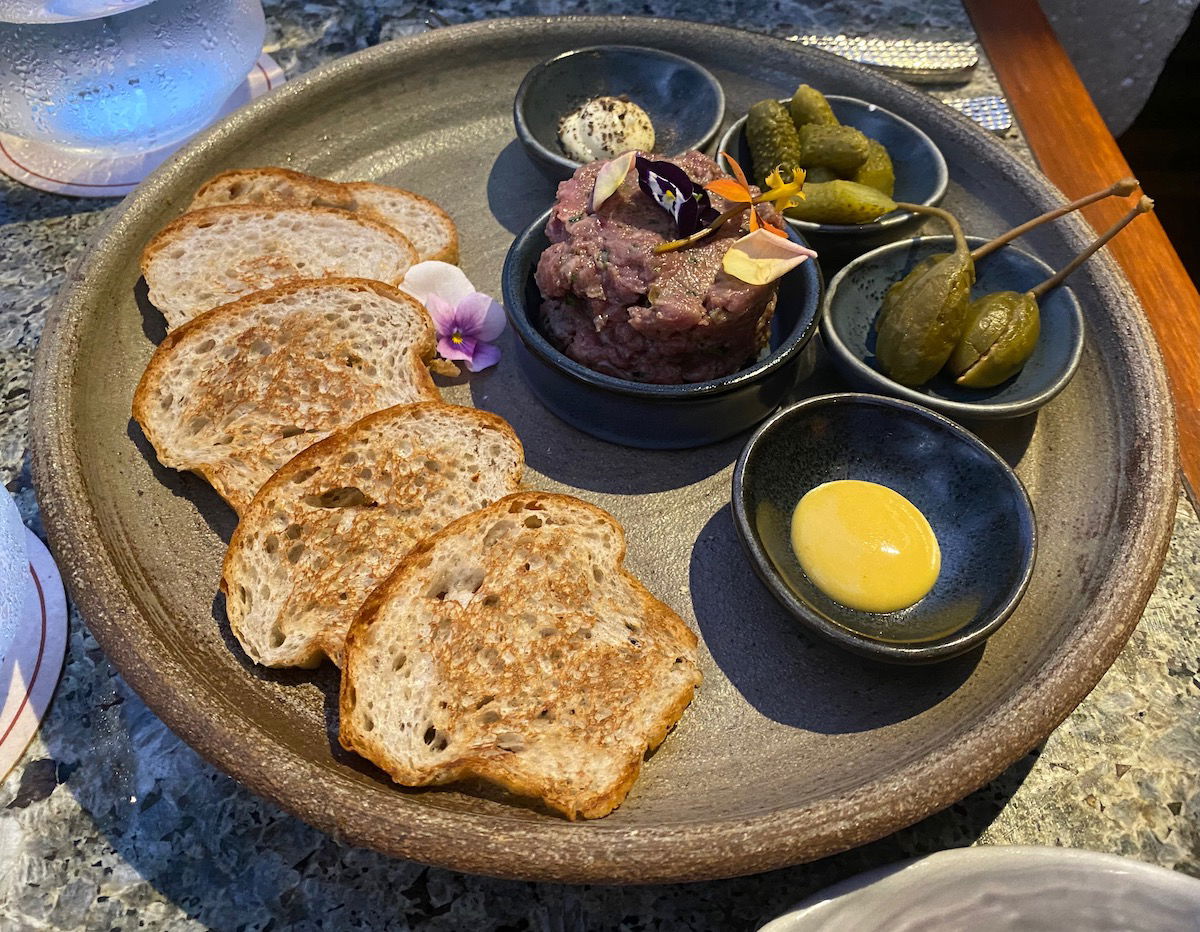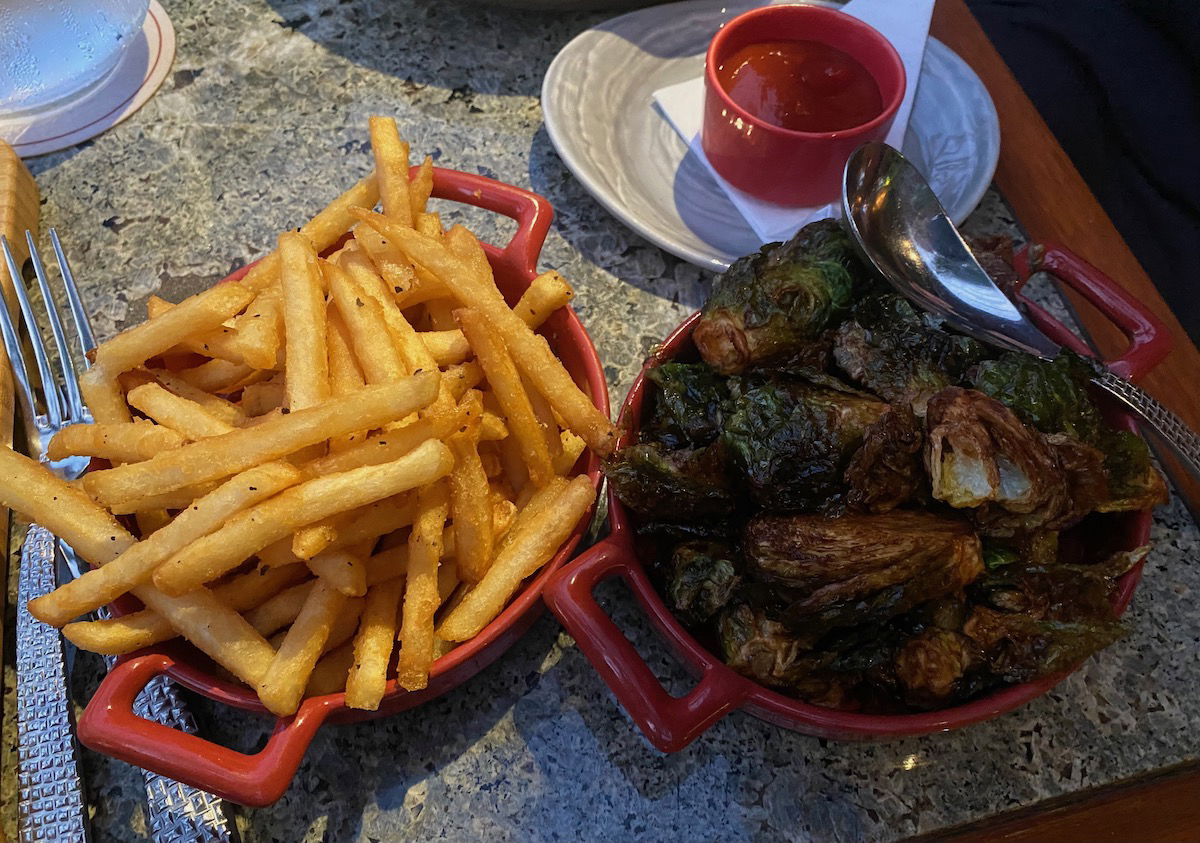 The meal was great, and personally I loved that the restaurant had a bit of local flair, as many luxury hotels just have chain steakhouses.
Four Seasons Hualalai Residents' Beach House (dinner)
Hualalai Residents' Beach House is the Four Seasons' last sit-down dining venue, and it's not as well known. That's because this restaurant is technically for residents of the Hualalai complex. However, hotel guests can make reservations on a space available basis the day of. We managed to get a reservation here the last evening.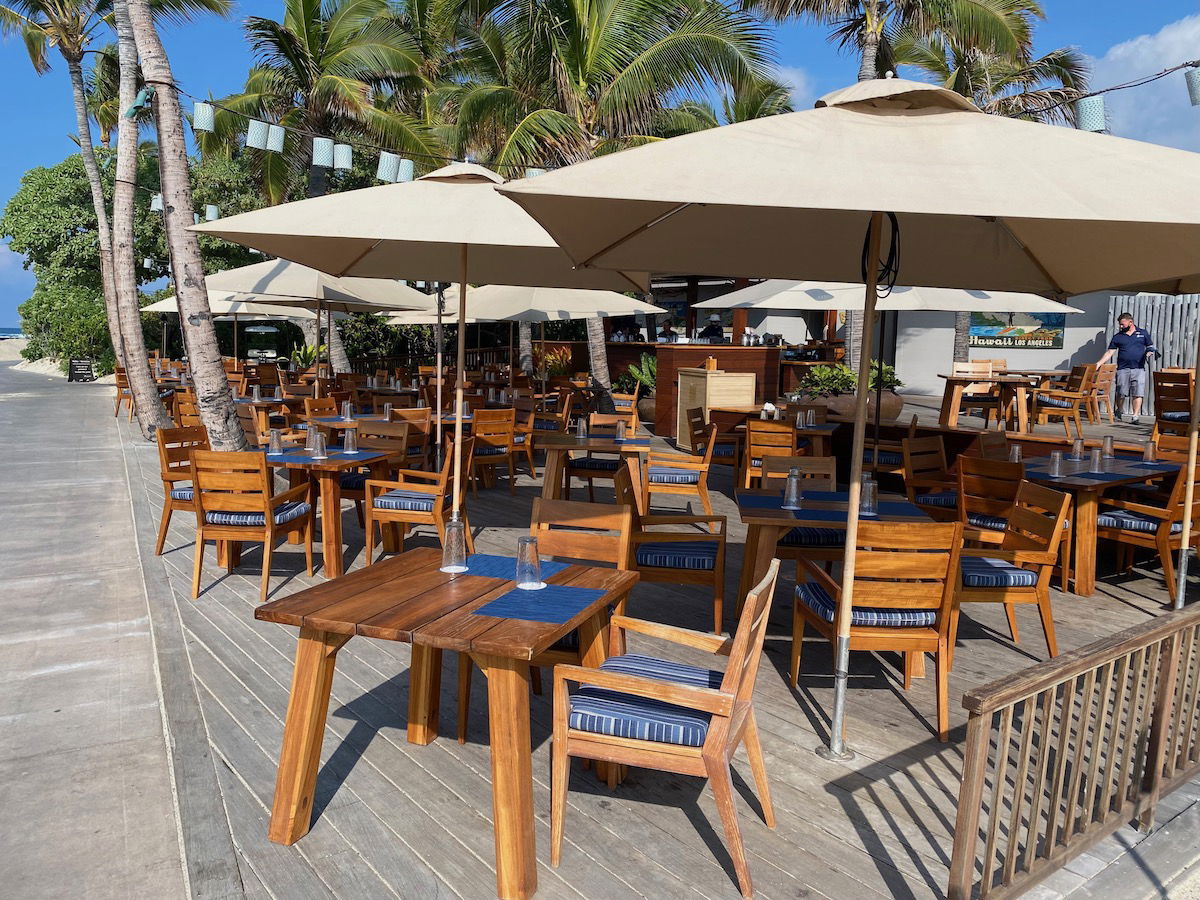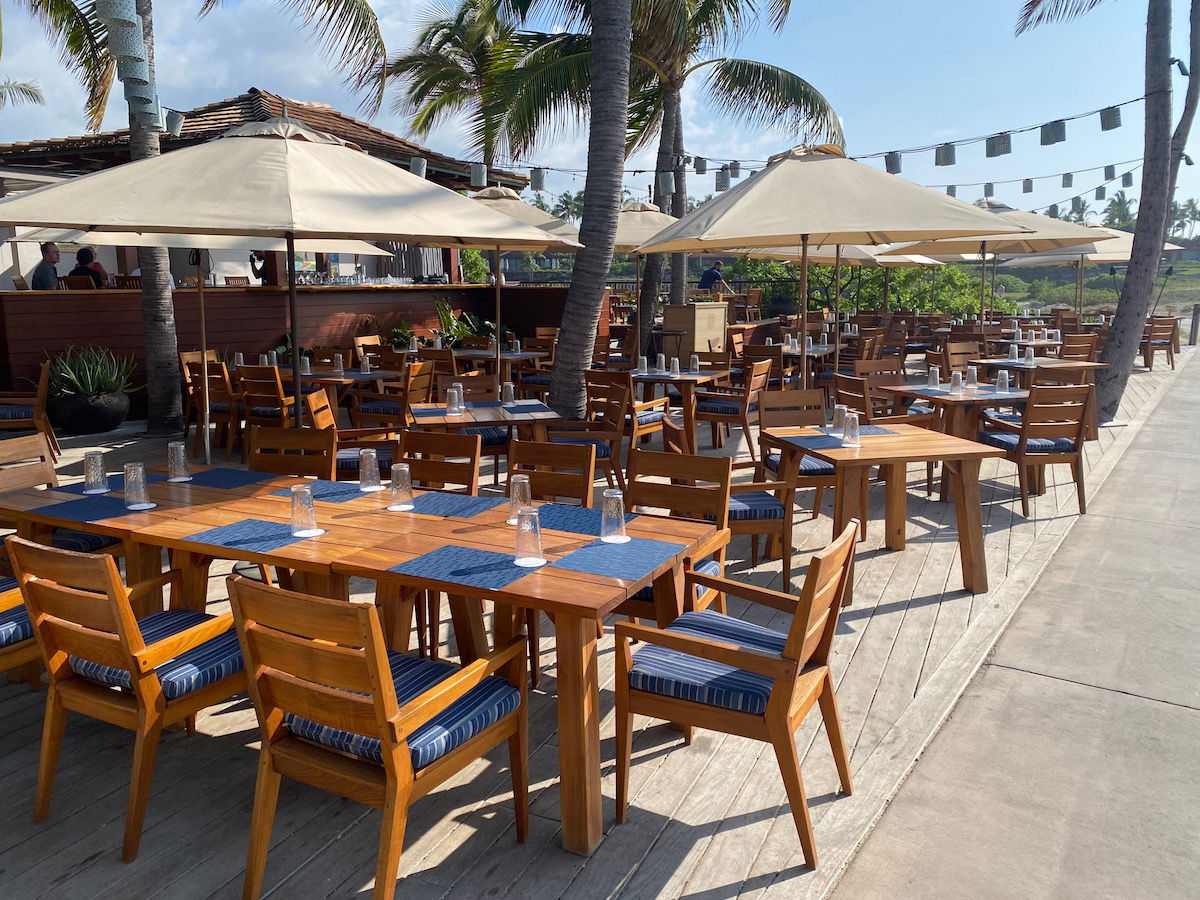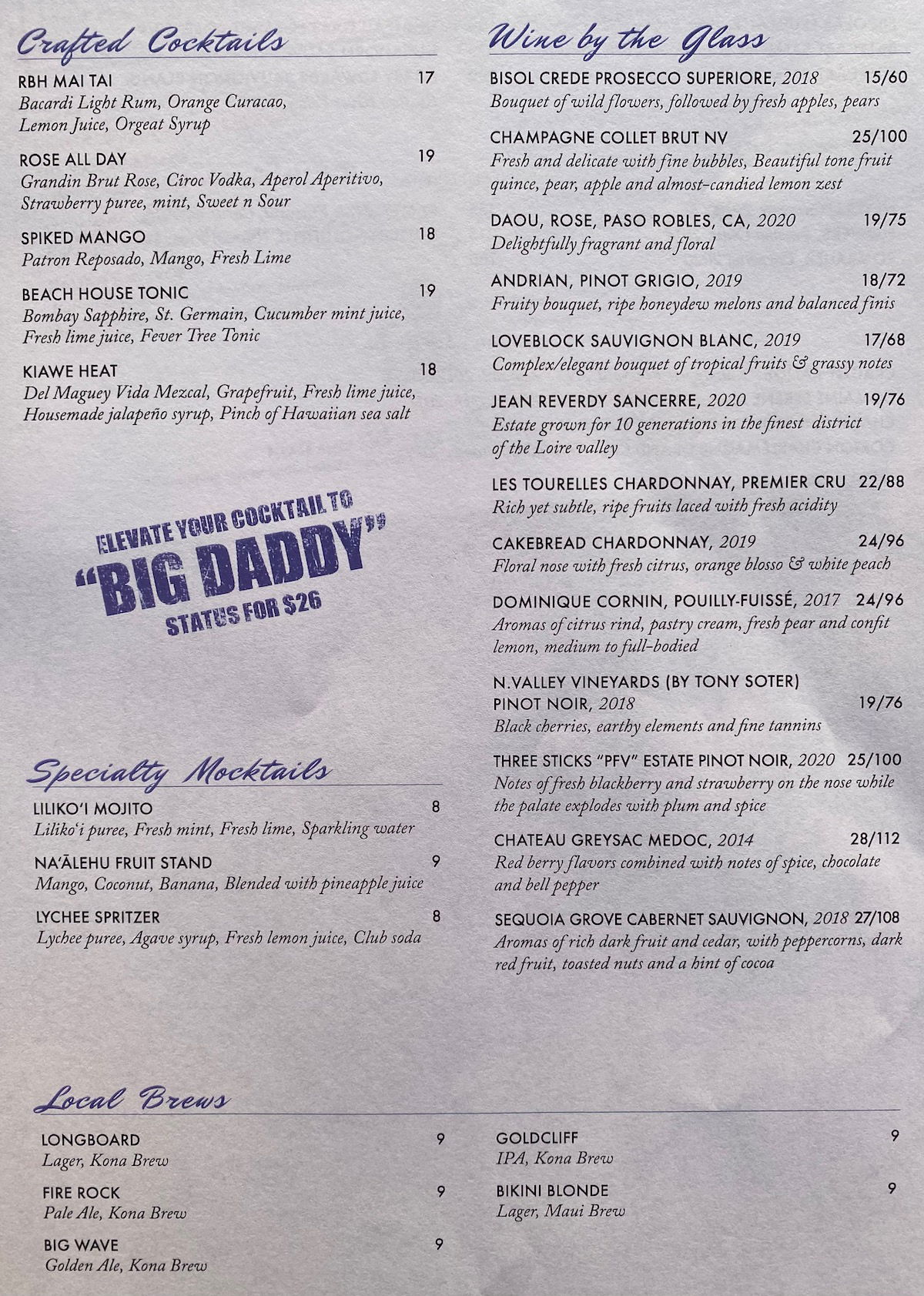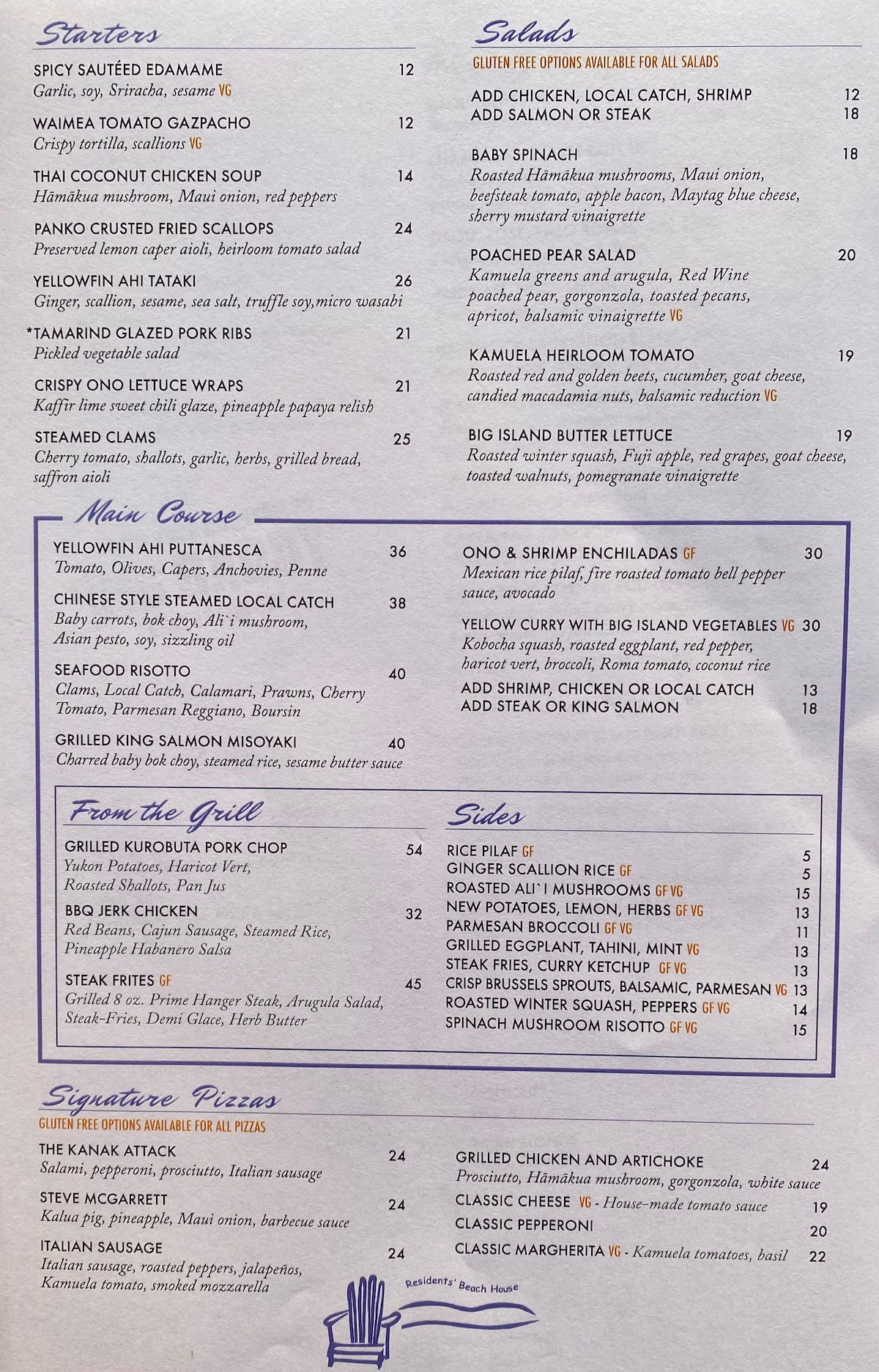 To drink we ordered the spiced mango cocktail, and we decided to upgrade our drinks to "BIG DADDY" status, because, I mean… how could you not with a name like that?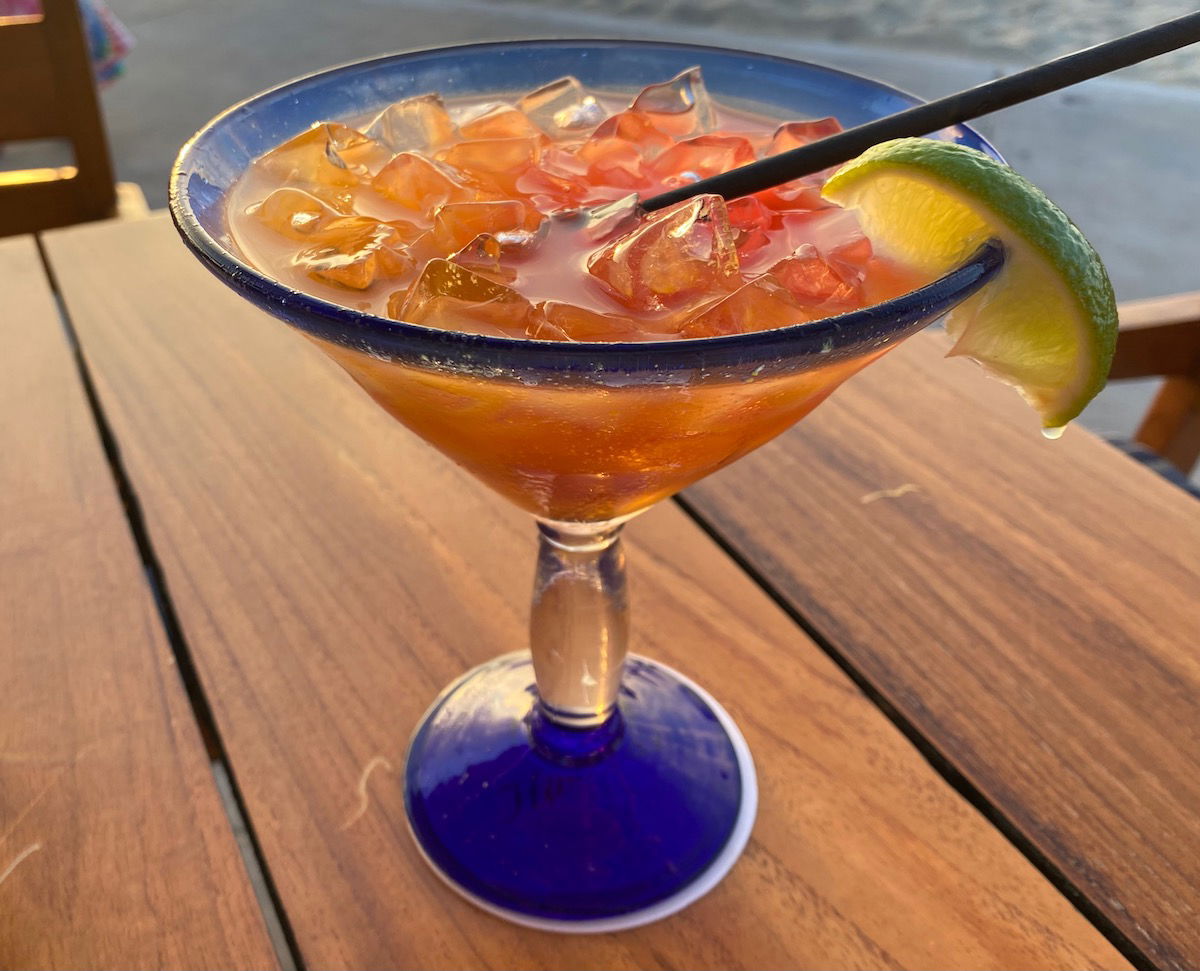 To eat we split the yellowtail ahi tataki, the heirloom tomato salad, and the yellow curry with vegetables.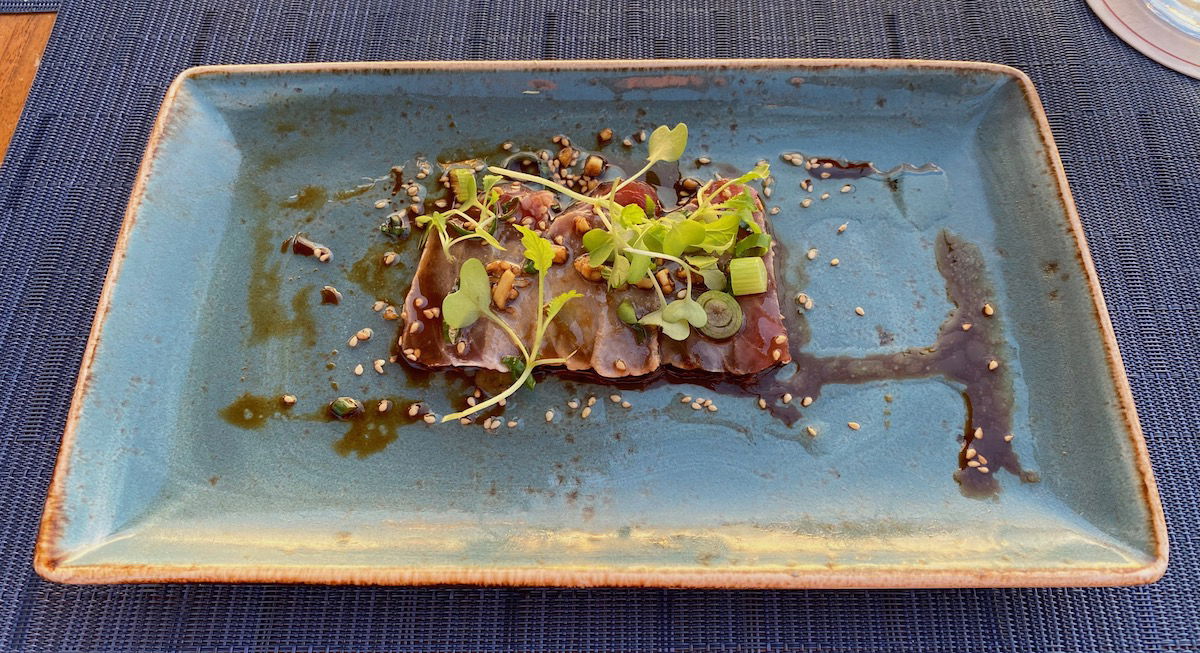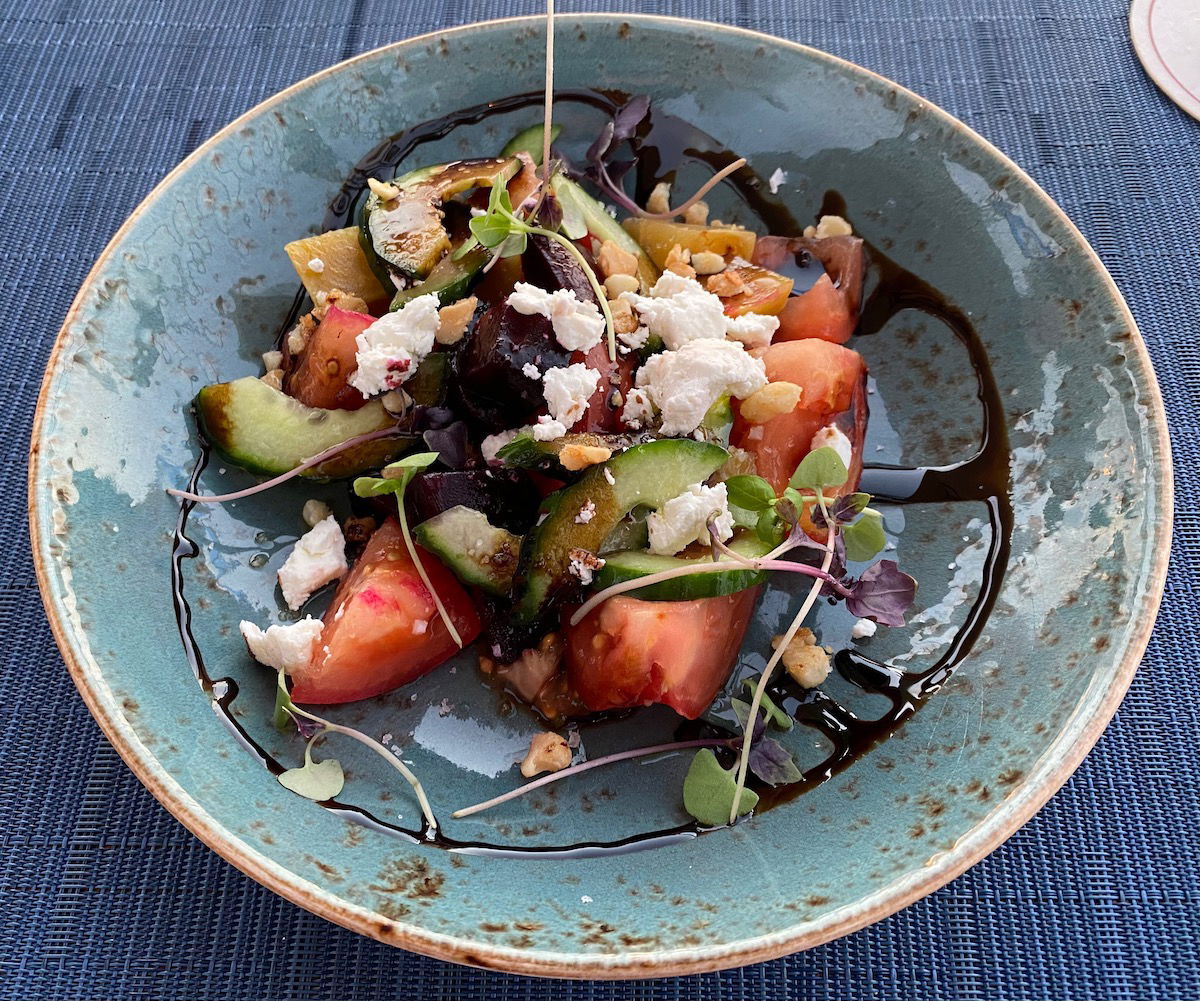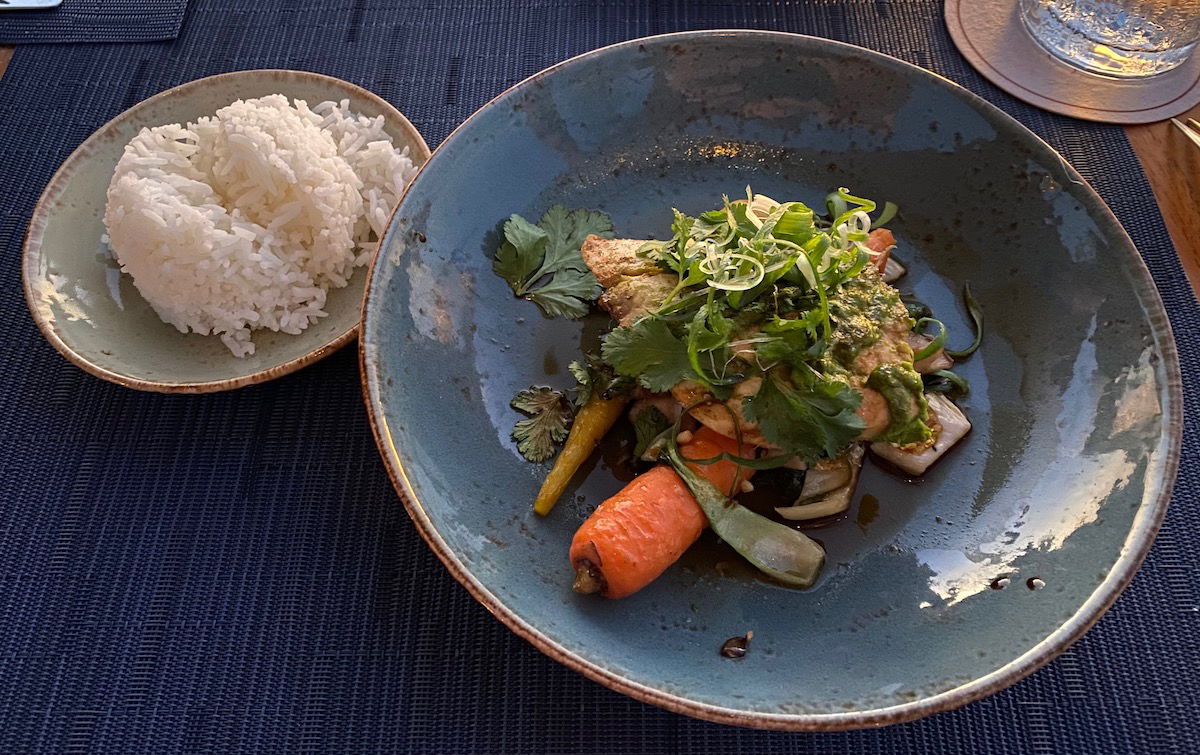 All our dining experiences on property were very good. If you're staying for an extended period then it's definitely worth trying to eat here one evening, though I also wouldn't say you're missing out if you don't dine here.
Four Seasons Hualalai Trading Company
In addition to the formal dining venues, the Four Seasons also has Hualalai Trading Company, open daily from 6:30AM until 6PM. Hualalai Trading Company has everything from souvenirs, to coffees, to prepared sandwiches, to acai bowls. So if you're just looking for something quick and casual, or you're headed out for a day of sightseeing, this is a good option.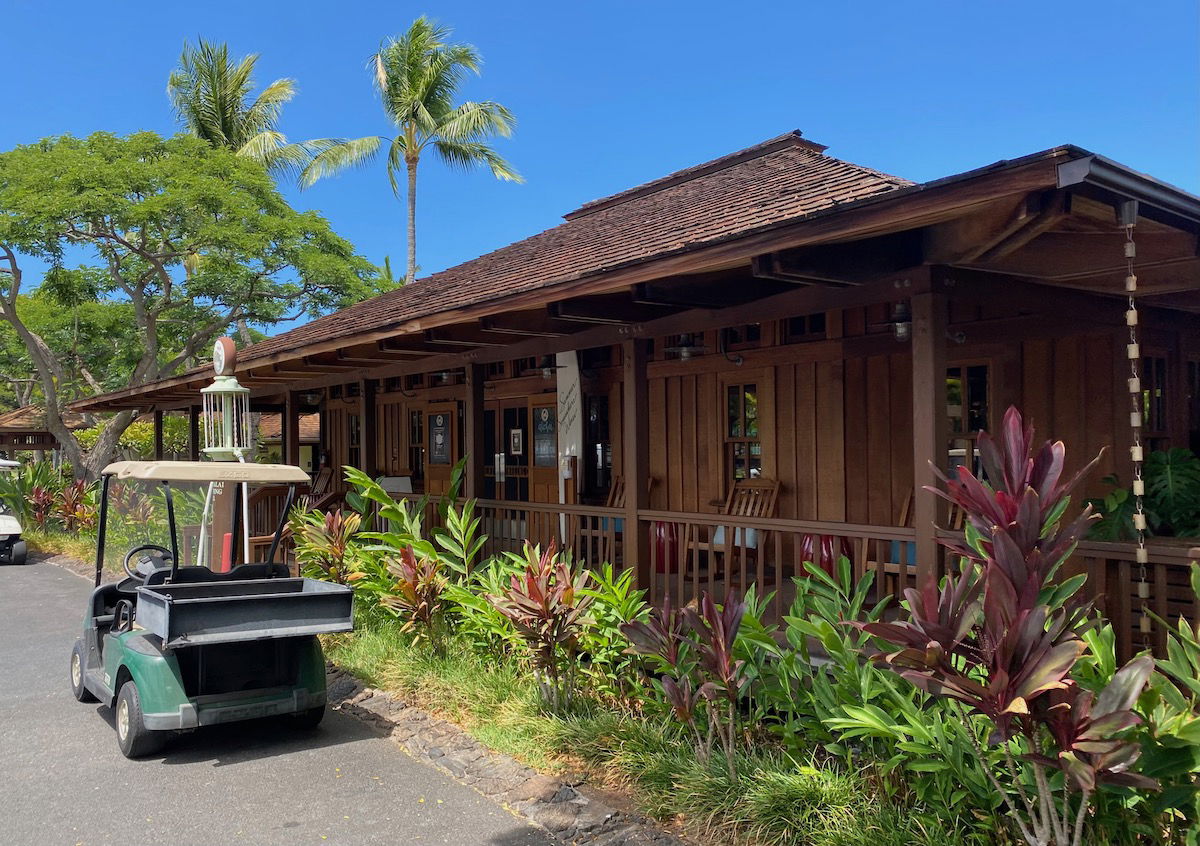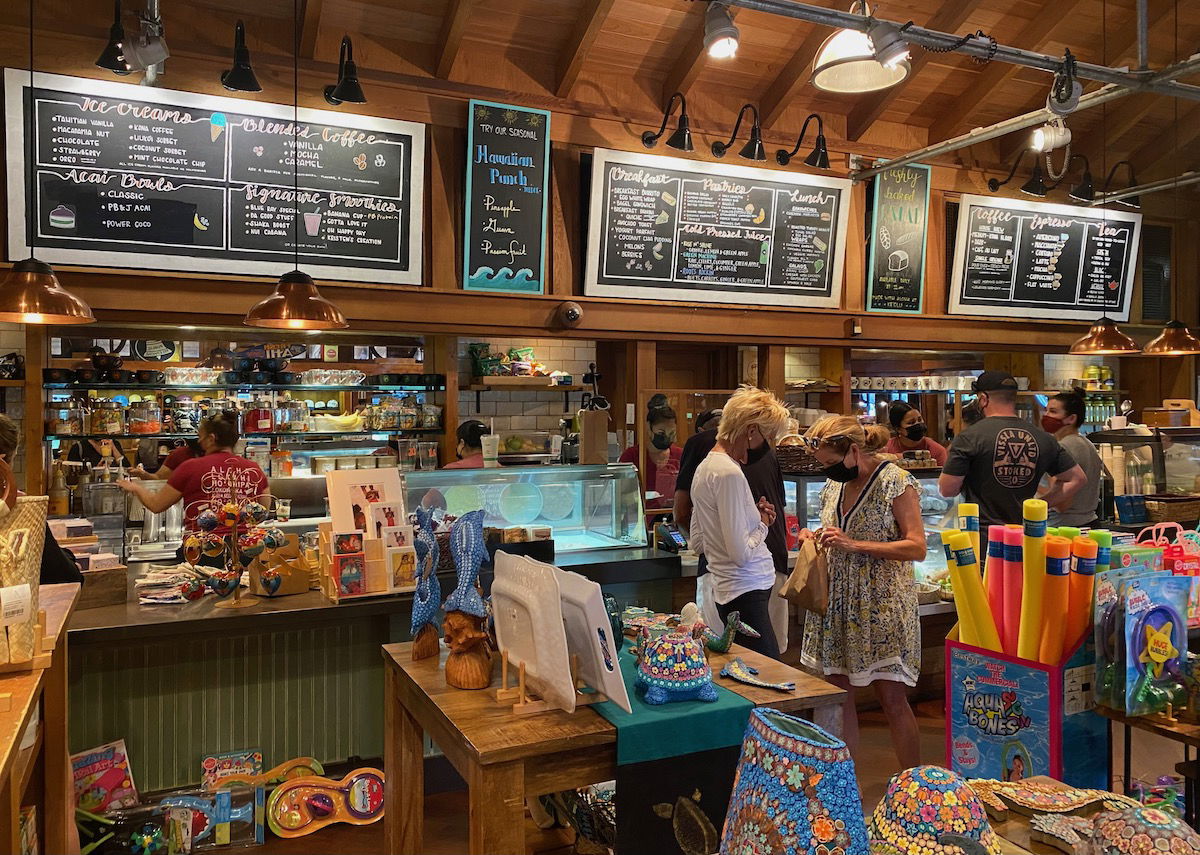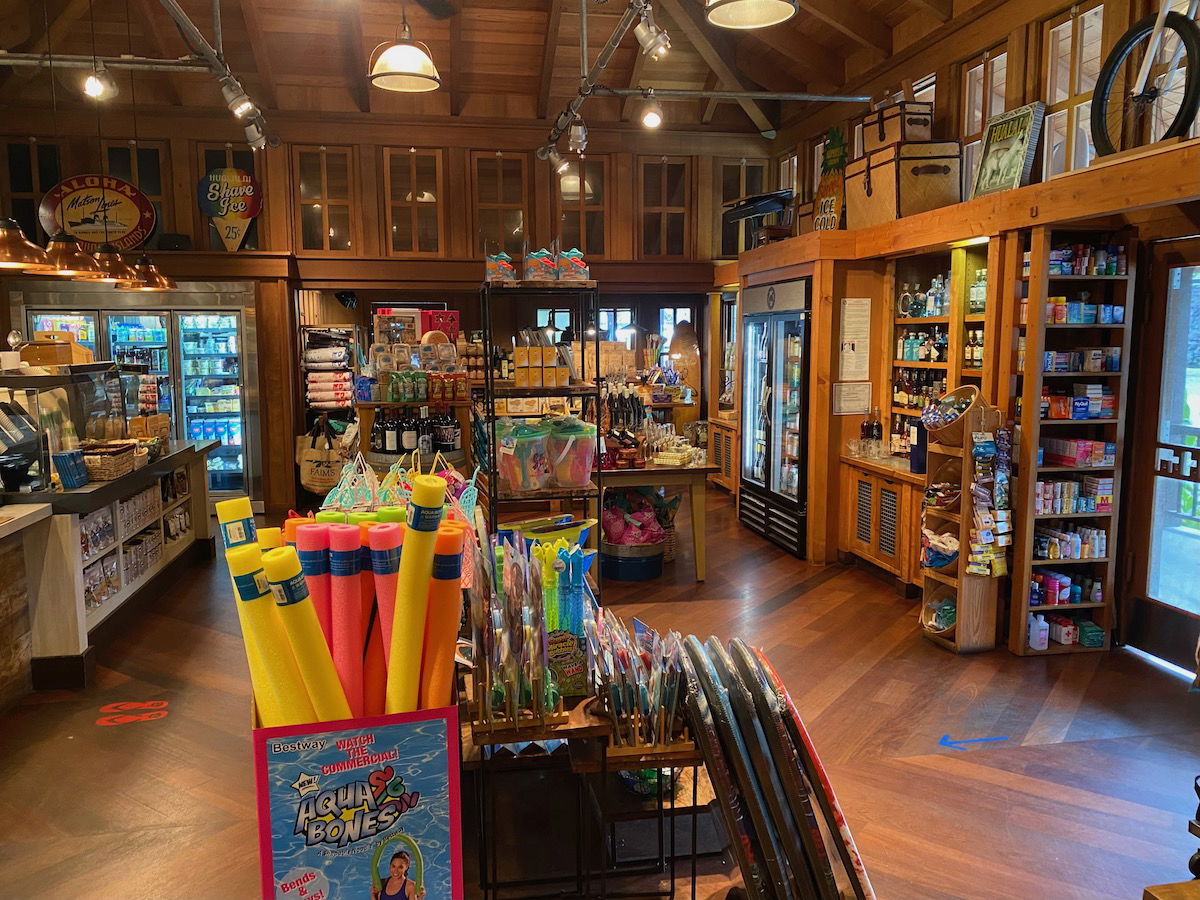 Four Seasons Hualalai complimentary laundry
The Four Seasons Hualalai has several washing machines and dryers throughout the property, which guests can use for free. This is something that's so simple yet so awesome, given how much hotels usually charge for laundry. Why can't this be more common at other resorts?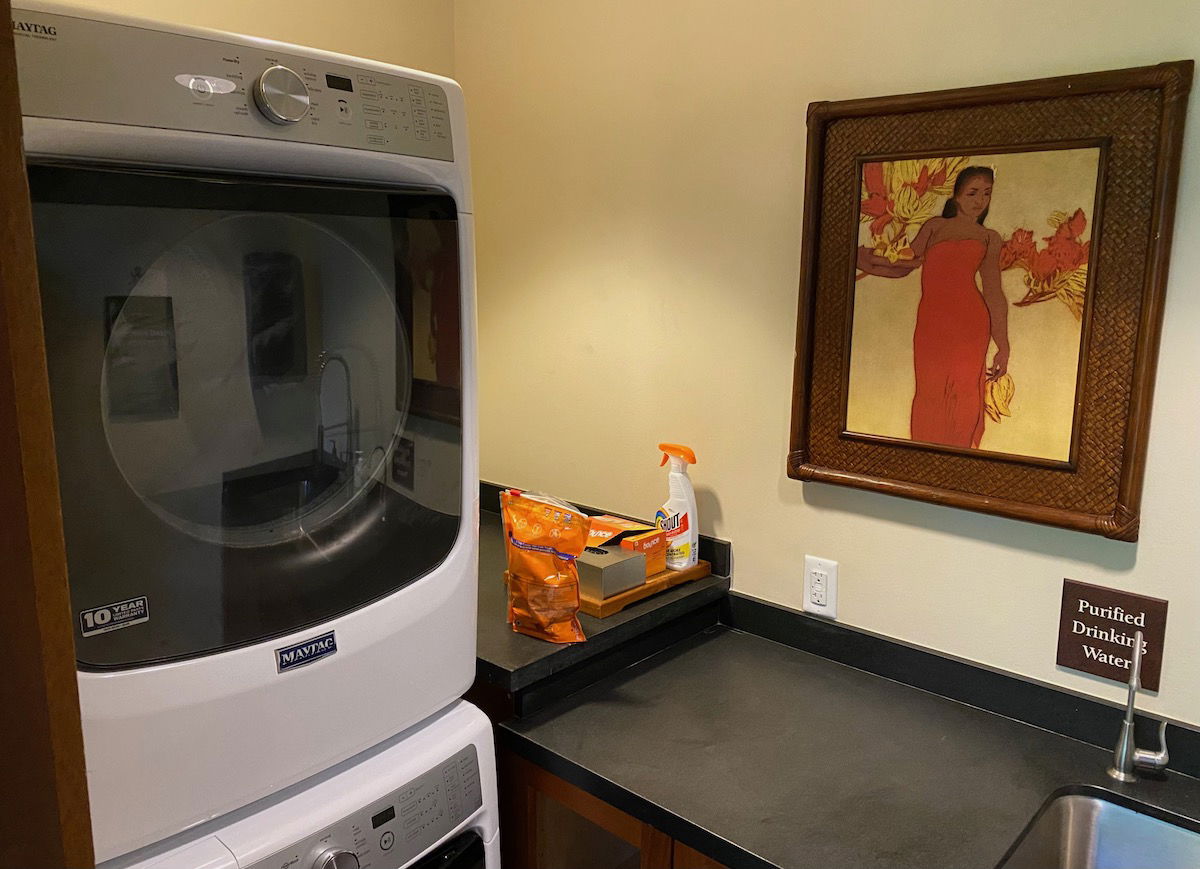 Four Seasons Hualalai service
Service at the Four Seasons Hualalai was flawless, but then again, that just seems to be the brand standard for Four Seasons. There are a couple of things that I appreciate the most about Four Seasons service.
First of all, service is consistently attentive and timely. When you use the Four Seasons app to message the hotel, they respond almost right away. When you ask to have your room cleaned, they show up within minutes. When you're sitting at the pool, they're constantly checking on you. There are simply few hassles to Four Seasons service, and they almost always get things right the first time.
What I equally love about service at Four Seasons is that the brand hires awesome, interesting, passionate people. You really feel like everyone on property wants you to have a great experience, from the restaurant servers, to the pool attendants, to the concierge.
I honestly have nothing but good things to say about the service we experienced at the resort.
Bottom line
Hawaii is such a gorgeous place, and the Four Seasons Hualalai might just be the best resort in the state. From the renovated and large rooms, to the seven different pools, to the four unique restaurants, to the perfect service, to the generally gorgeous setting, this is simply an amazing resort.
If you're a Four Seasons fan or love Hawaii and can swing staying at this property, you won't be disappointed.
If you've stayed at the Four Seasons Hualalai, what was your experience like?
EXTRA PERKS AVAILABLE
Enjoy breakfast, upgrades, & more
Want to take advantage of Four Seasons Preferred Partner benefits, including a space available room upgrade, complimentary breakfast, a hotel credit, and more? Contact Ford ([email protected]) for more details. He may even be able to help if you already have a stay booked.
Read Four Seasons reviews: Athens, Boston, Cap-Ferrat, Denver, Desroches Island, Fort Lauderdale, Hualalai, Lanai, Los Cabos, Madrid, Maldives at Landaa Giraavaru, Maui, Miami, Napa Valley, Naviva, Oahu at Ko Olina, Paris, Punta Mita, San Francisco at Embarcadero, Scottsdale, Seychelles, and Surfside
Learn about Four Seasons deals & offers: Anguilla, Athens, Atlanta, Austin, Bahamas, Bora Bora, Boston, Cap-Ferrat, Costa Rica, Dubai, Fort Lauderdale, Hawaii, Jackson Hole, London, Los Cabos, Maldives, Minneapolis, Nashville, Naviva, New York, Napa Valley, New Orleans, Orlando, Palm Beach, Paris, Philadelphia, Punta Mita, San Francisco, Santa Fe, Seattle, Sicily, Tamarindo, and Vail
Learn about Four Seasons basics: Four Seasons Preferred Partner, Four Seasons Private Retreats, Four Seasons Private Jet, Four Seasons travel agents, Four Seasons loyalty program, and maximizing value at Four Seasons