EXTRA PERKS AVAILABLE
Enjoy breakfast, upgrades, & more
Want to take advantage of Four Seasons Preferred Partner benefits, including a space available room upgrade, complimentary breakfast, a hotel credit, and more? Contact Ford ([email protected]) for more details. He may even be able to help if you already have a stay booked.
After visiting Cheval Blanc Maldives Randheli and Waldorf Astoria Maldives Ithaafushi, we decided to check out one last property while in the Maldives — Four Seasons Maldives Landaa Giraavaru. Four Seasons has quite the presence in the Maldives, between the two main resorts (Landaa Giraavaru and Kuda Huraa), the private island (Private Island at Voavah), and the yacht (Four Seasons Explorer).
Four Seasons Landaa Giraavaru is an excellent property. The resort has a private seaplane, villas were recently renovated (and are gorgeous), the food & beverage outlets were excellent (especially the beach club), and the service was friendly. If you're a Four Seasons loyalist, you'll no doubt love this resort.
That being said, the Maldives is a hyper-competitive luxury hotel market, and the competition is really strong. Independently this is an awesome hotel, but it's not quite to the level of Cheval Blanc, for example.
Four Seasons Maldives Landaa Giraavaru basics
The Four Seasons Landaa Giraavaru has 103 accommodations, including both overwater and beach villas. The resort is located in the the Baa Atoll UNESCO World Biosphere Reserve, so it's popular with snorkelers and divers.
The Four Seasons initially opened in 2006, but was largely renovated in 2015. Some renovations are still ongoing — all the water villas have been renovated, while this year renovations are being finished up for the beach villas. The Four Seasons has four restaurants, two shared pools, a spa, a gym, and a tennis court.
For context, below is a map that gives you a sense of the layout of the resort.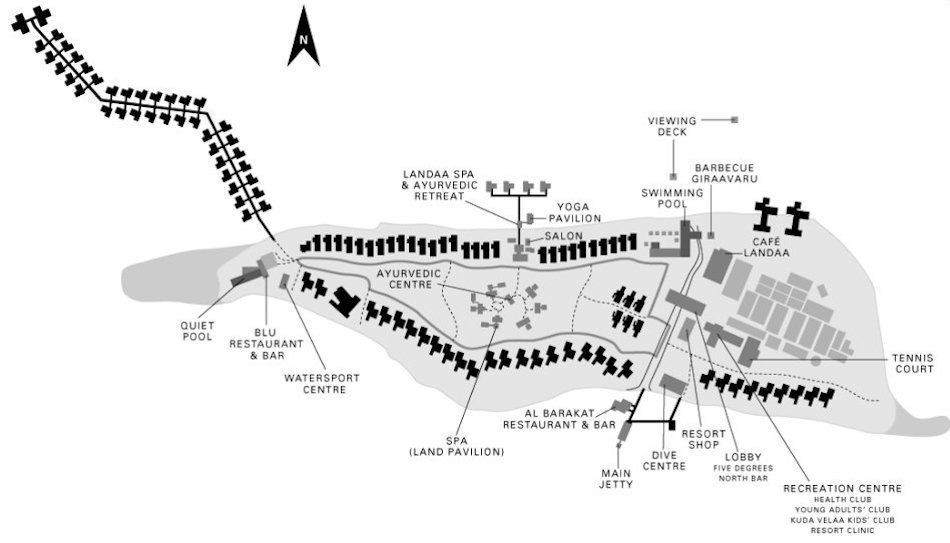 How to book the Four Seasons Maldives Landaa Giraavaru
For our dates in April, the nightly rate for a base room at the Four Seasons Landaa Giraavaru started at ~$2,500. Obviously the pandemic has greatly impacted pricing at luxury resorts, so rates are all over the place. In the off season this hotel is cheaper, and there are also some promotions that can potentially lower the rate. The pricing is in line with what other top properties in the Maldives are charging.
The best way to book any Four Seasons hotel is through a travel advisor affiliated with the Four Seasons Preferred Partner program. When booking through Preferred Partner you pay the same rate you'll find directly on Four Seasons' website, but you'll receive extra perks, including the following:
A room upgrade, subject to availability
Complimentary daily breakfast
A hotel credit to use during your stay
Four Seasons Preferred Partner is generally combinable with promotions being offered directly through Four Seasons, including advance purchase rates, free night offers, and more. Note that booking Four Seasons properties through Preferred Partner is better than booking through programs like Amex Fine Hotels & Resorts. Why?
With Preferred Partner you have the option of room service breakfast in place of restaurant breakfast
Upgrades are prioritized for Preferred Partner bookings, given that it's Four Seasons' own proprietary program (and the value of an upgrade can be significant)
You can combine Preferred Partner perks with virtually any rate on Four Seasons' website (other programs don't allow you to stack promotions in the same way)
You can't beat getting all of these extra perks just for booking through an eligible travel advisor. Ford is happy to help anyone book Four Seasons properties through Preferred Partner, and can be reached at [email protected]. He and his team don't charge any booking fees for Four Seasons properties.
Full disclosure — Ford got a travel agent rate for our stay. As always, all opinions expressed are my own.
How to get to Four Seasons Maldives Landaa Giraavaru
Four Seasons Maldives Landaa Giraavaru is located in the Baa Atoll, roughly a 30 minute seaplane ride north of Velana International Airport (MLE) and the capital city of Male.
You have a choice of seaplanes, as you can either fly with Trans Maldivian on a "standard" shared 15-seat Twin Otter, which might stop at other resorts. Alternatively, Four Seasons has its own specially branded Twin Otter, which is still operated by Trans Maldivian Airways. This has only eight seats, so it's significantly more comfortable.
Here's the current seaplane pricing, which is of course subject to change:
Flying the Four Seasons seaplane costs $710-960++ per person one-way, depending on the season
Flying the "regular" Trans Maldivian Airways seaplane costs $360-410++ per person one-way, depending on the season
The premium for flying the Four Seasons plane makes sense when you consider that the plane carries only a bit more than half as many people. Also note that many rates at the Four Seasons include transfers, and in many cases that's a significantly better value. So that's something to be on the lookout for, and it's also something your travel advisor could help crunch the numbers on.
Four Seasons Maldives Landaa Giraavaru airport lounge
We arrived at Male Airport after taking the yacht transfer from the Waldorf Astoria. We were greeted by staff from the Four Seasons, who first escorted us to the Four Seasons' main terminal lounge. Four Seasons has two lounges at the airport — one is for boat transfers (since the other Four Seasons property can be accessed by boat), while the other is for seaplane transfers.
We were first briefly escorted to the former lounge, while our check-in process was taken care of. The lounge is on the small side, but is comfortable, and has air conditioning, drinks, and snacks.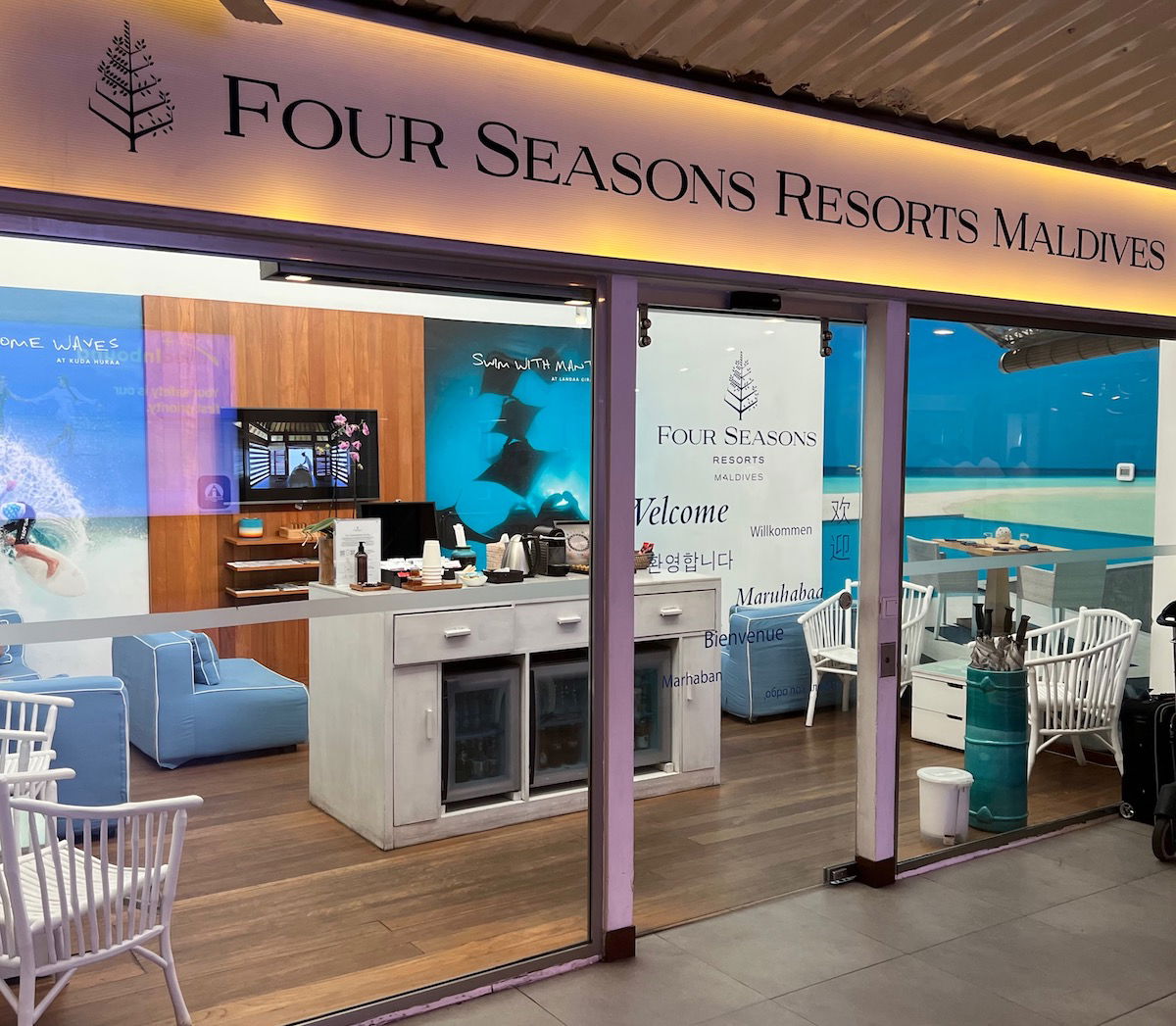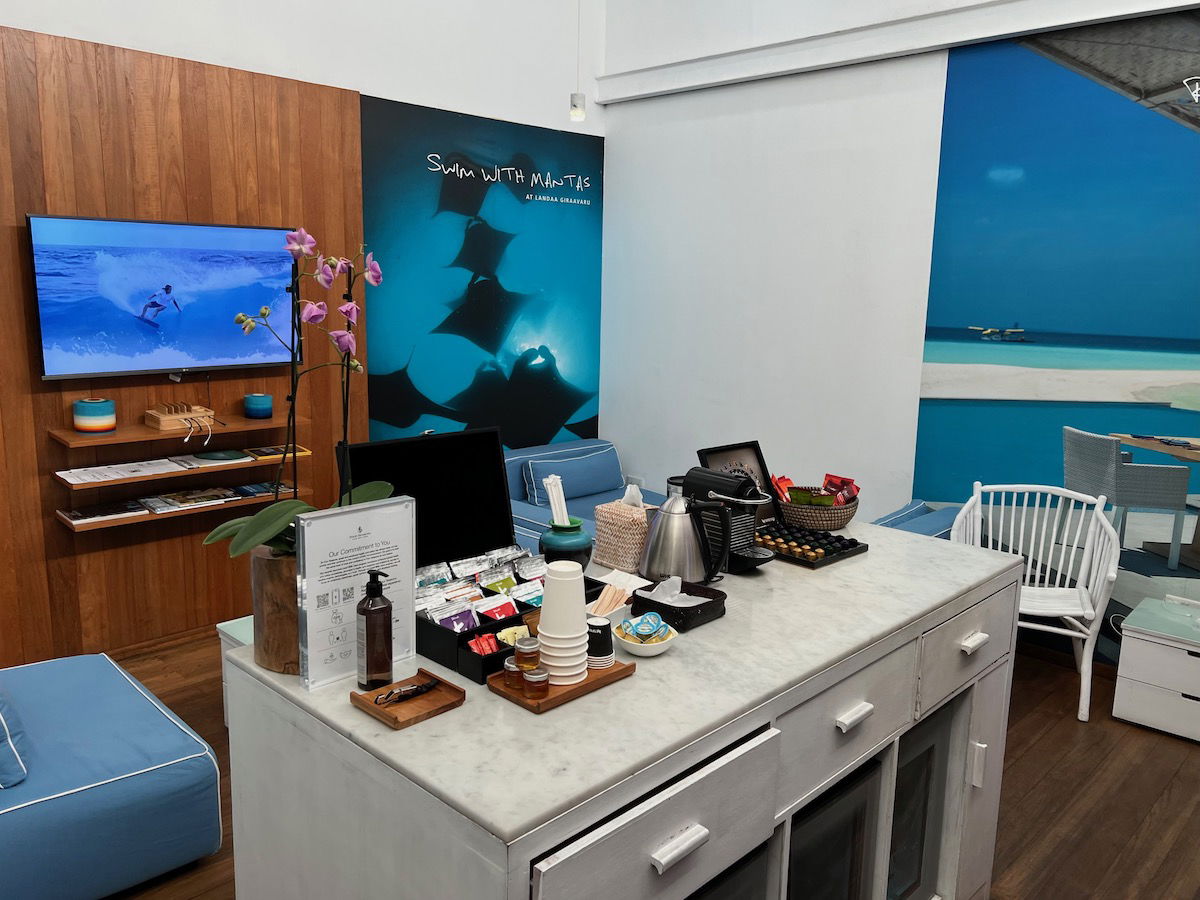 Within a few minutes we were driven to the seaplane lounge, ahead of our departure to the resort. The Four Seasons' seaplane lounge is much more spacious, with lots of natural light. The lounge had a selection of drinks and snacks, as well as bathrooms and a shower.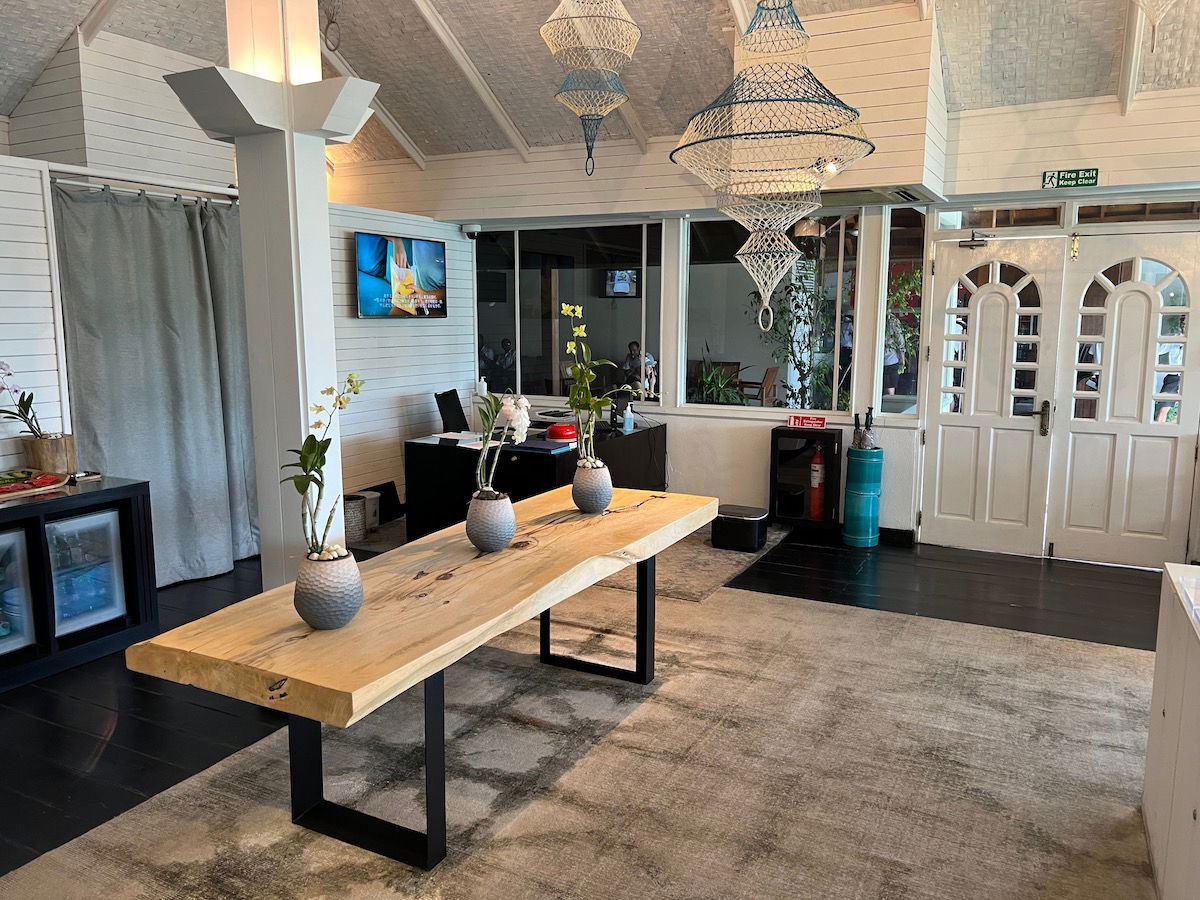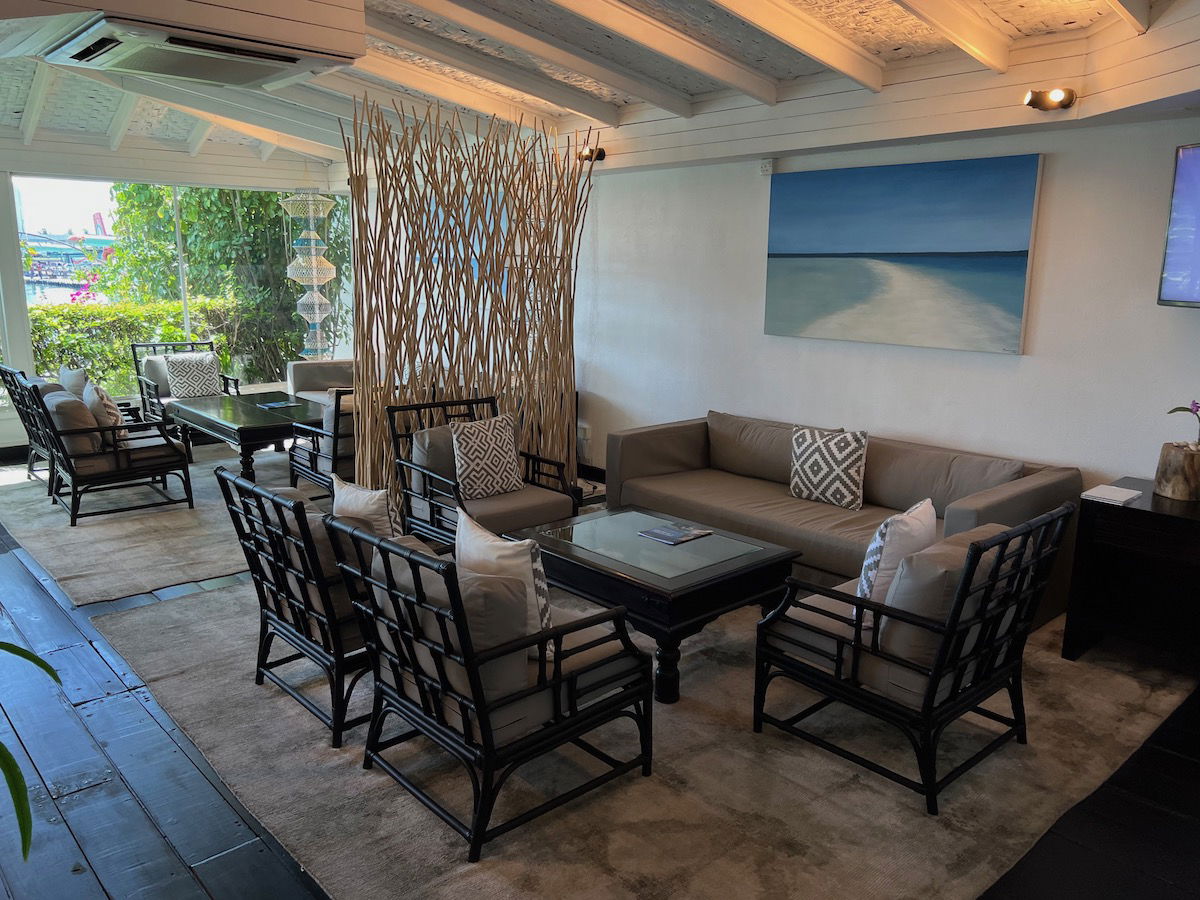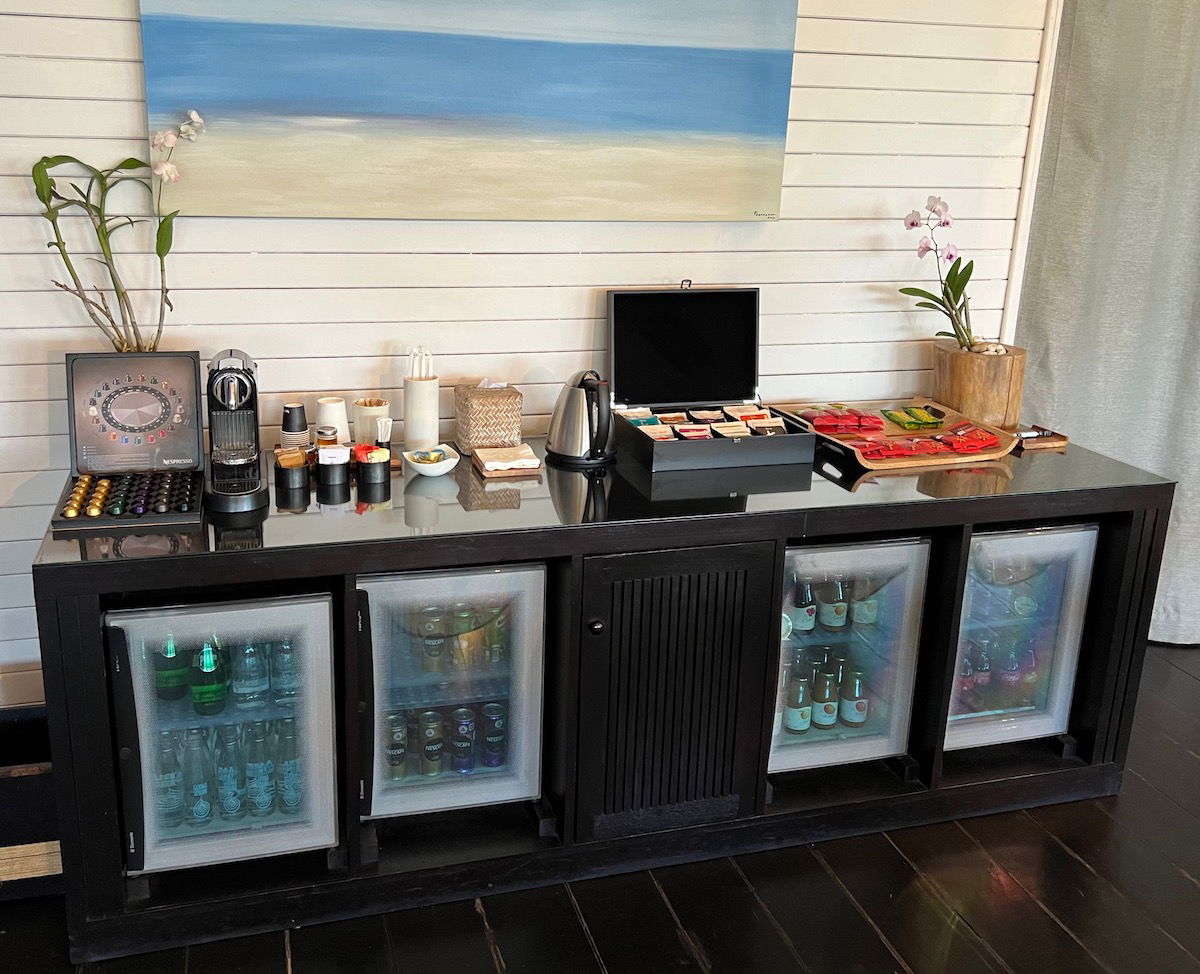 We only had about 10 minutes in the lounge before our flight to the resort was departing.
Four Seasons Maldives Landaa Giraavaru seaplane transfer
Four Seasons has a pretty epic Maldives seaplane, which is even nicer than the Cheval Blanc one. For one, what's not to love about the livery of this plane?! Four Seasons calls this the "flying triggerfish."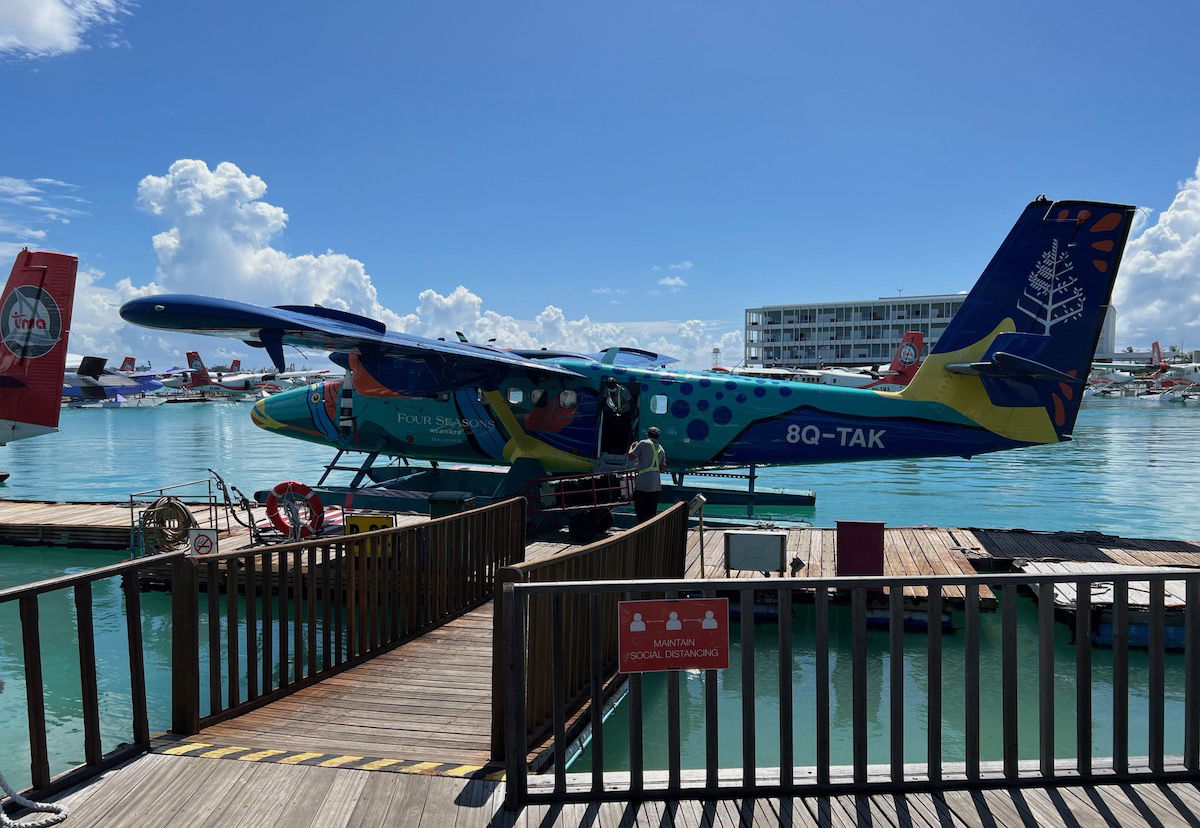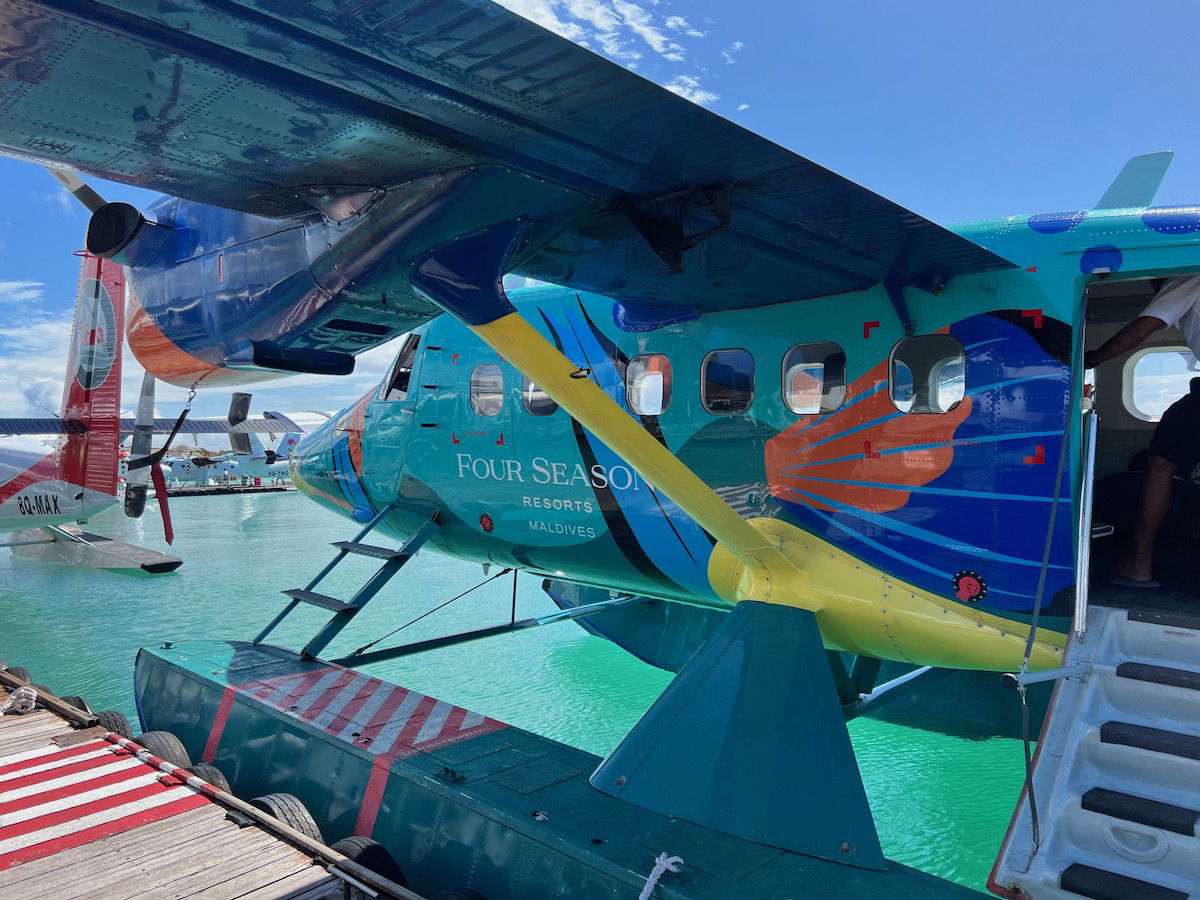 The plane is also comfortable, as it has just eight seats, spread across four rows in a 1-1 configuration. It's amazing how much more comfortable this is than your typical Trans Maldivian seaplane.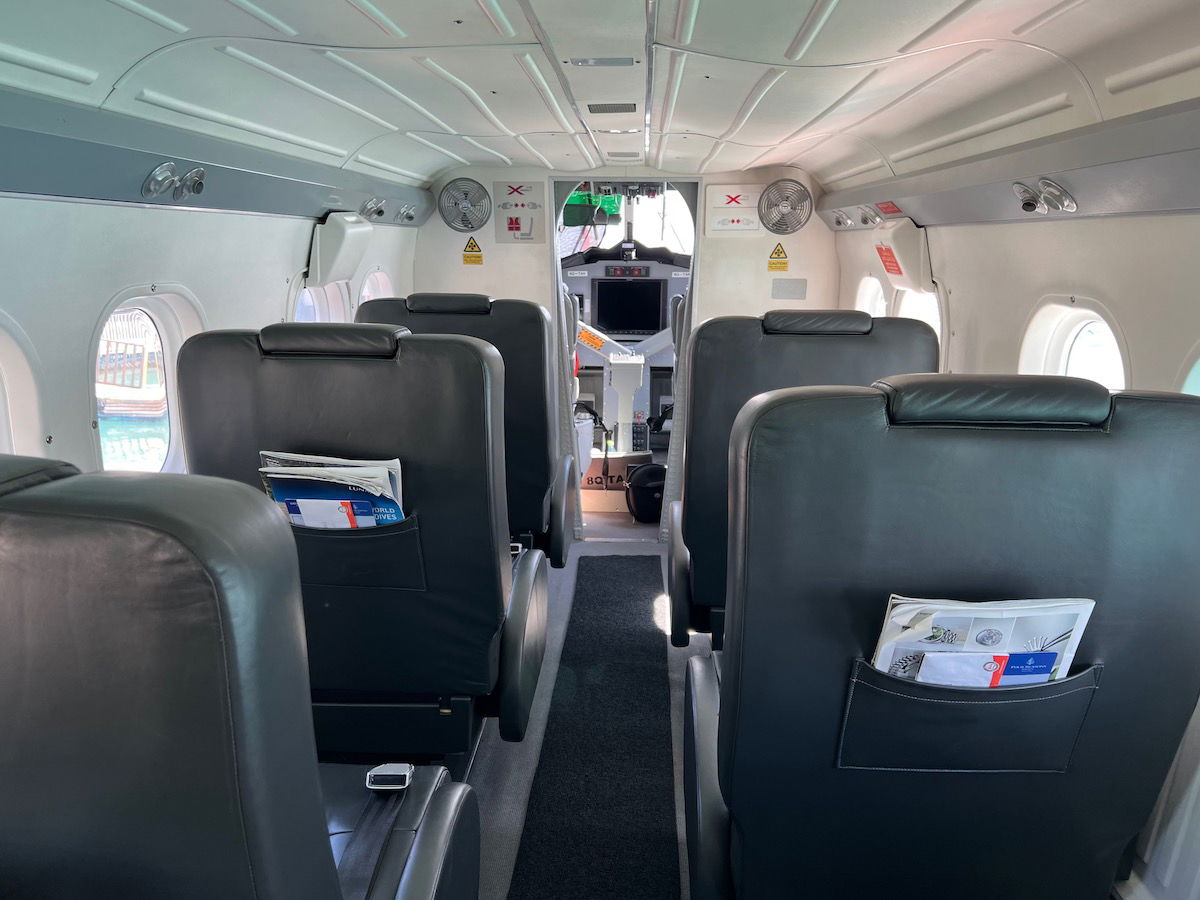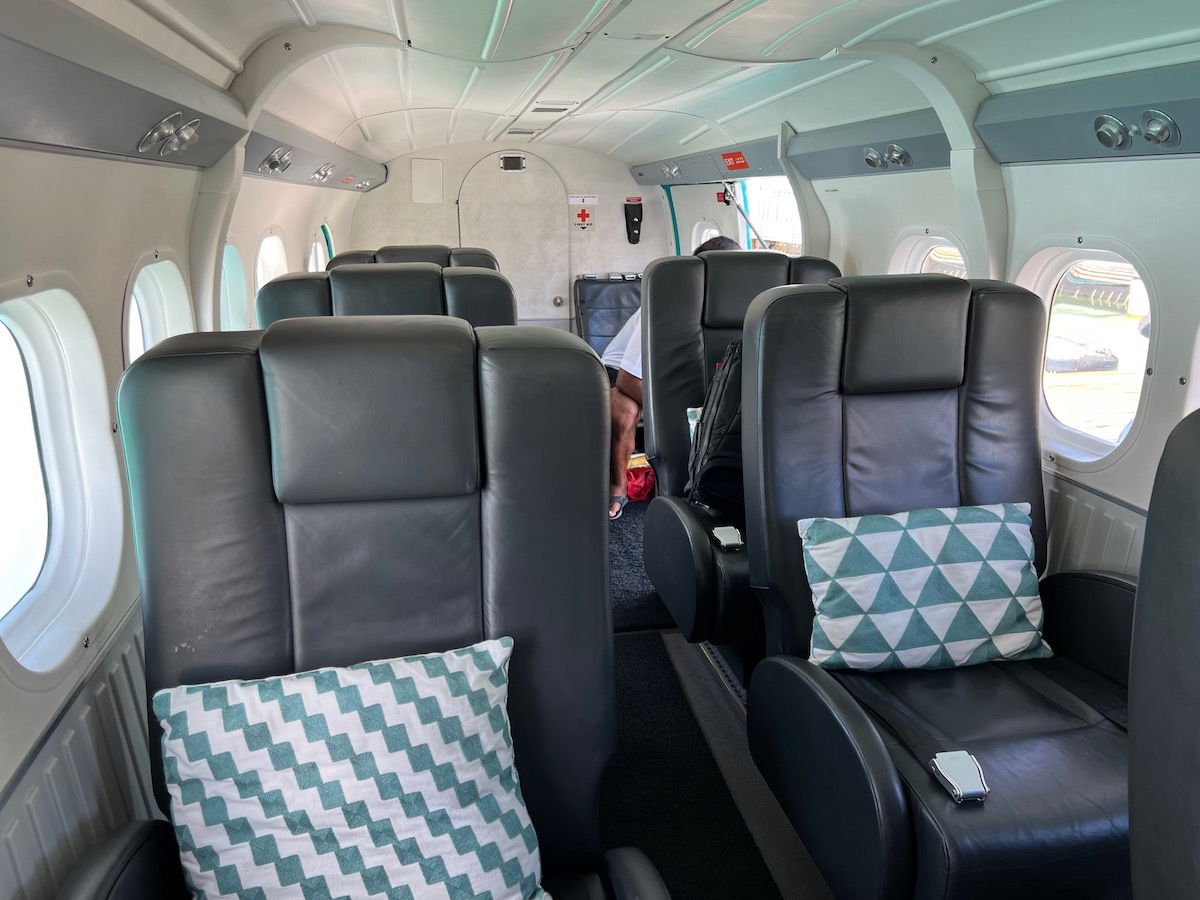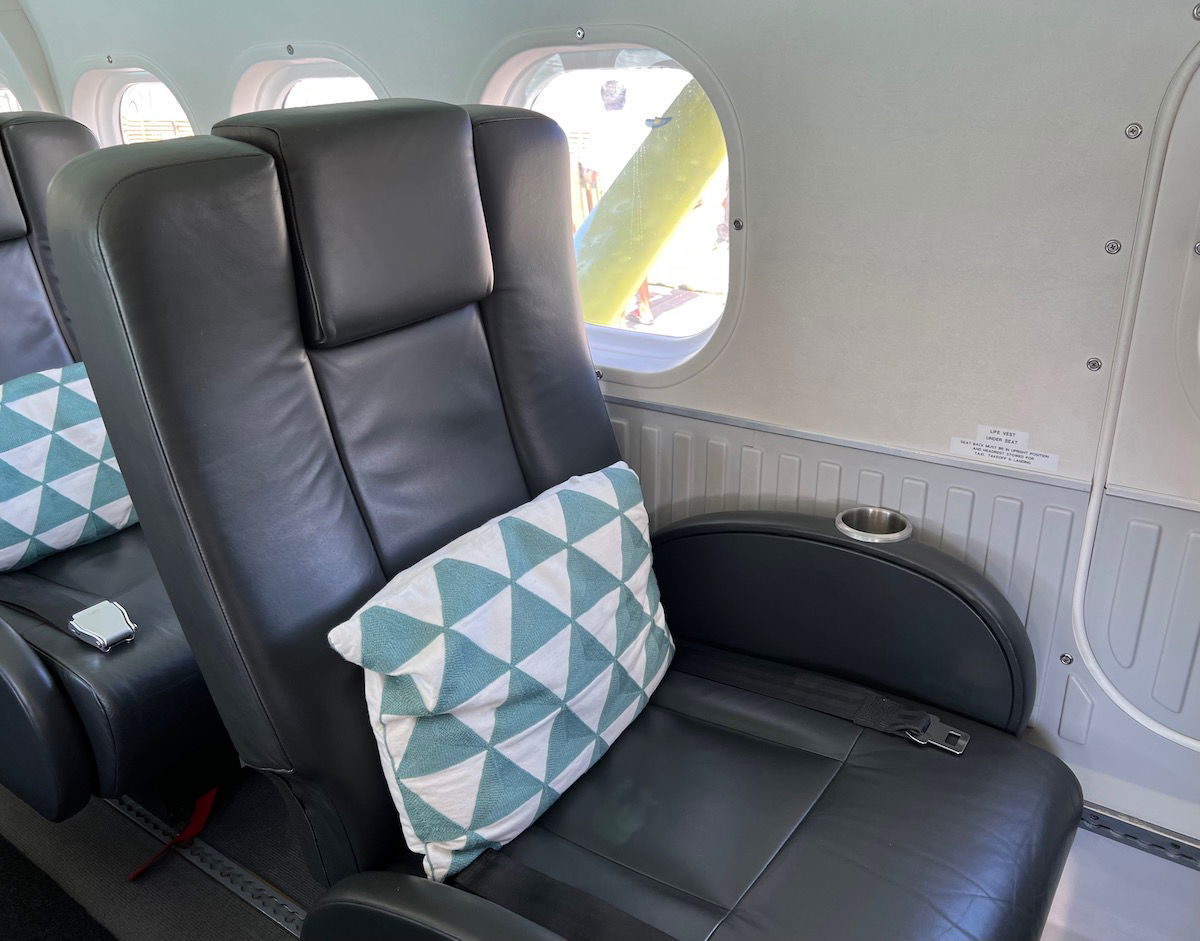 The plane even had updated cockpit displays, beyond what I've otherwise seen on any Trans Maldivian seaplanes.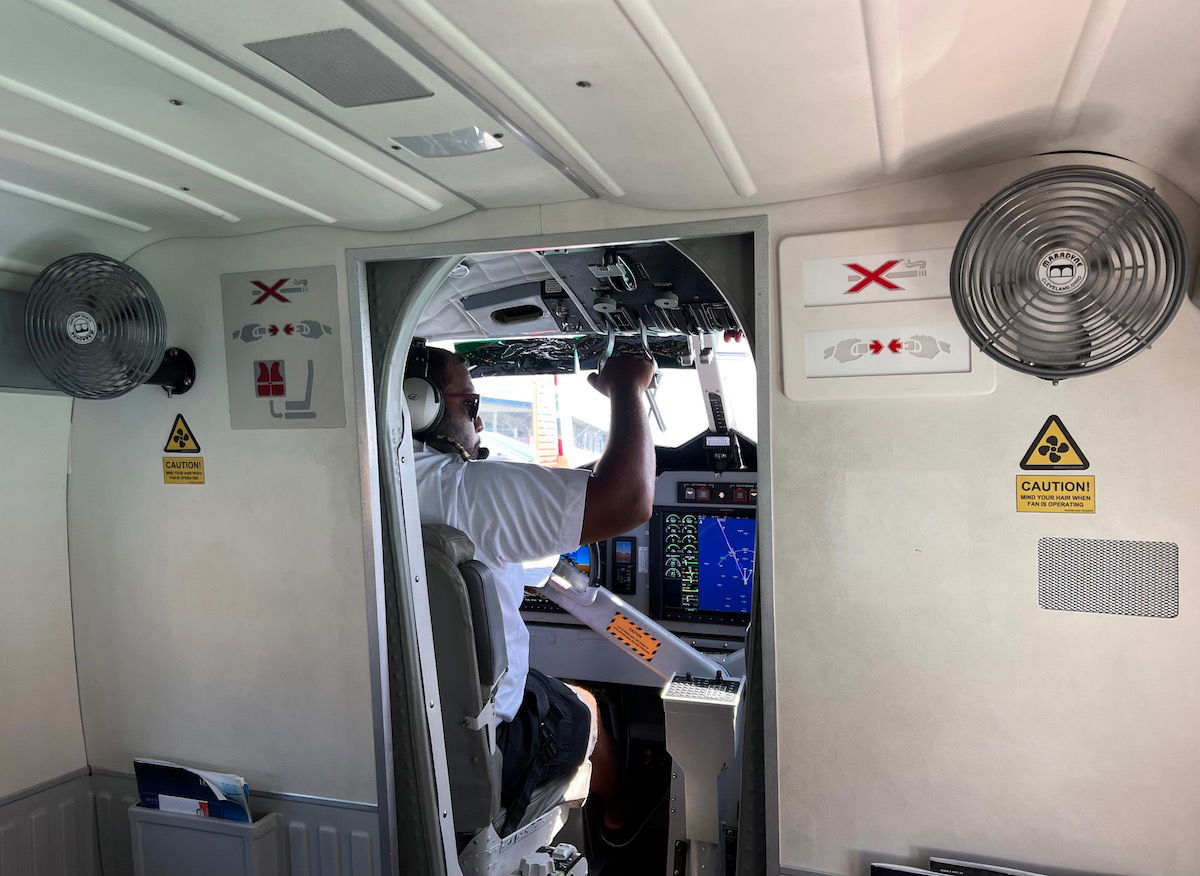 Our flight to the resort took just 30 minutes, and during the flight we were offered cold towels and bottled water by the employee in the cabin (who is responsible for luggage and helping with the arrivals and departure process).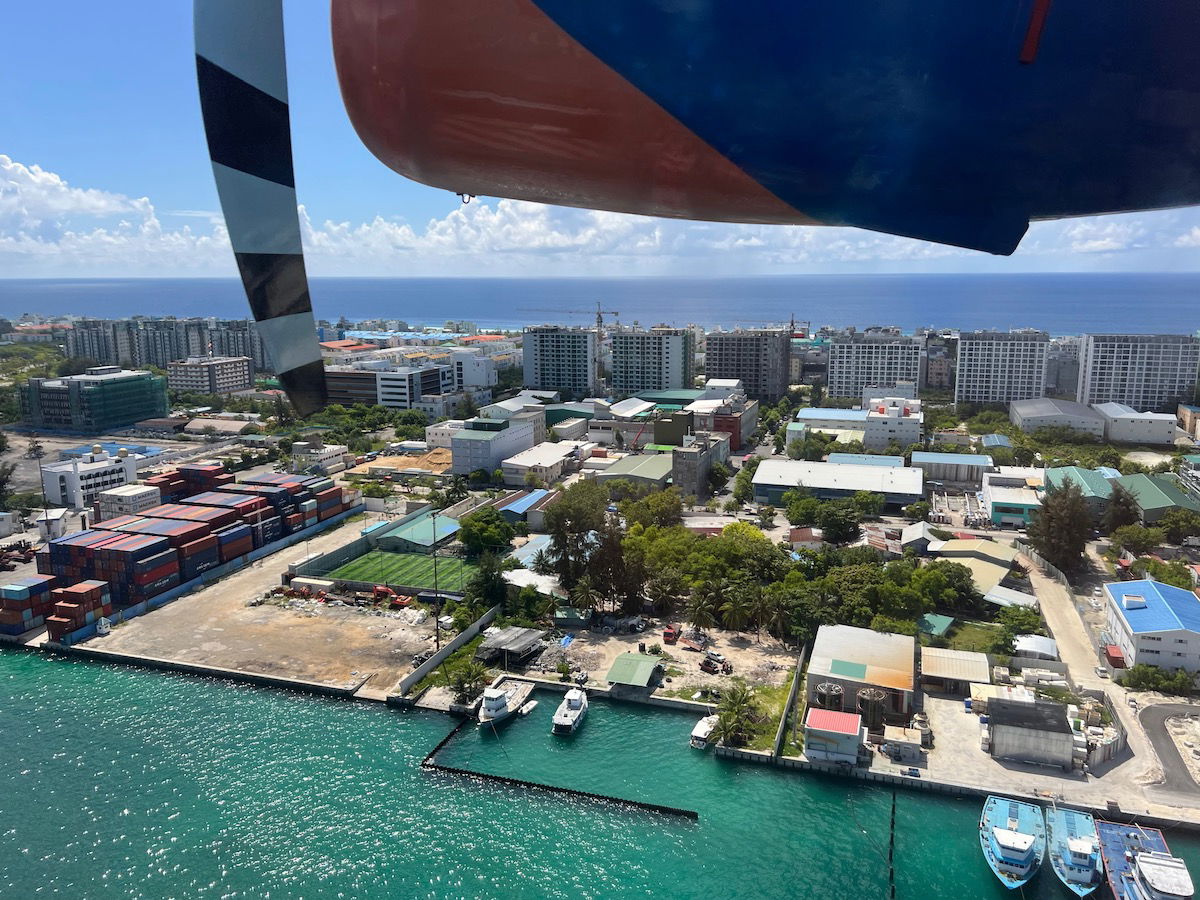 Below you can see Four Seasons Landaa Giraavaru — there are dozens of overwater villas on a zig-zag dock, and then the rest of the resort is on one main island.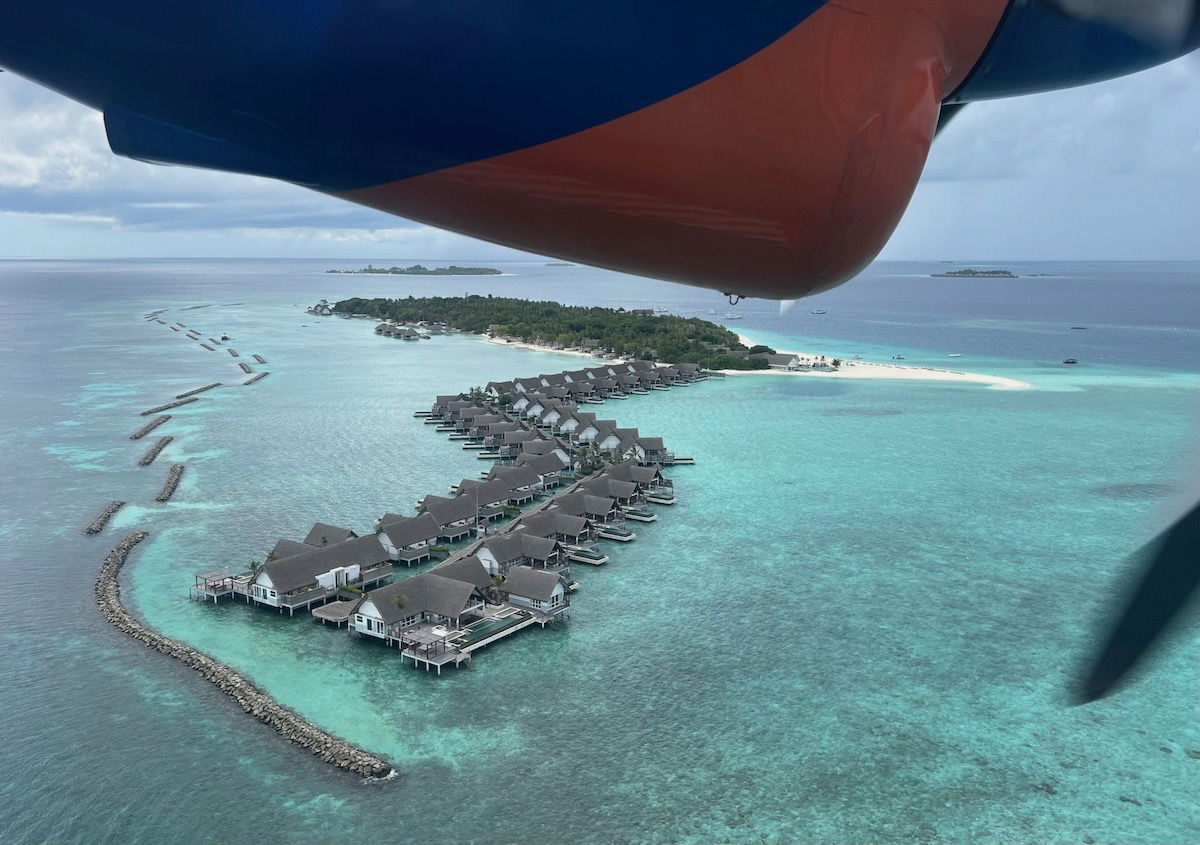 At most resorts, seaplanes just "dock" directly at the hotel, but that's not the case here, presumably due to the shallow water around the resort. Instead the Four Seasons has a separate dock several hundred meters from land, so the plane arrives there, and then you take a boat to the resort.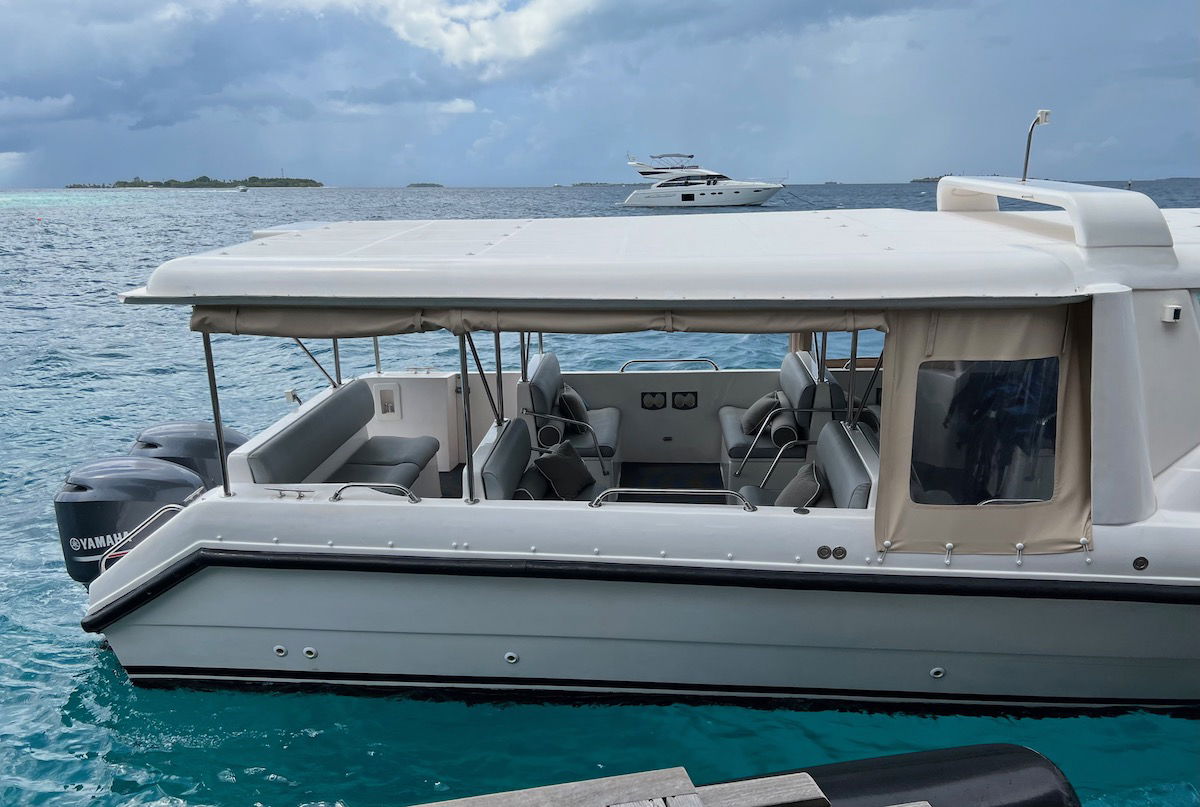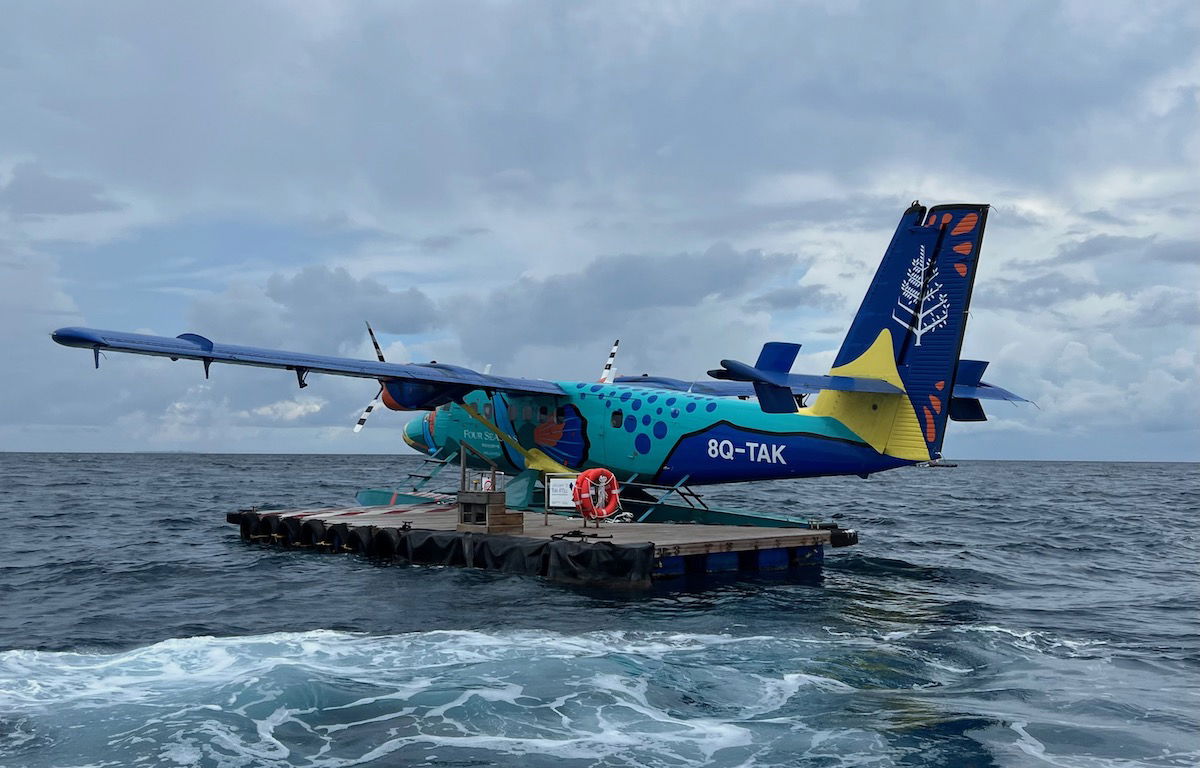 Four Seasons Maldives Landaa Giraavaru arrival
Once on the island, we were greeted by quite a few staff, and escorted to the open-air lobby via a long path.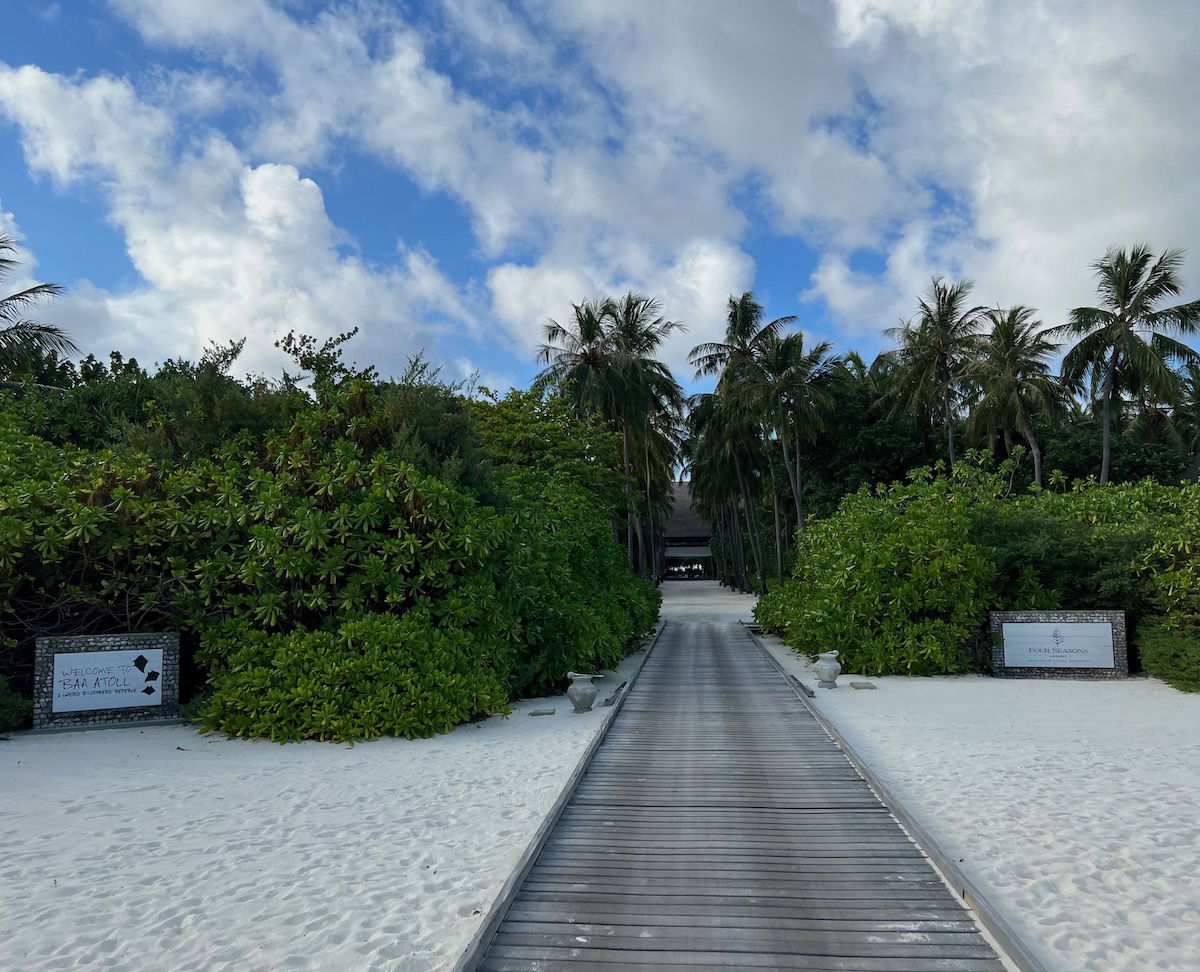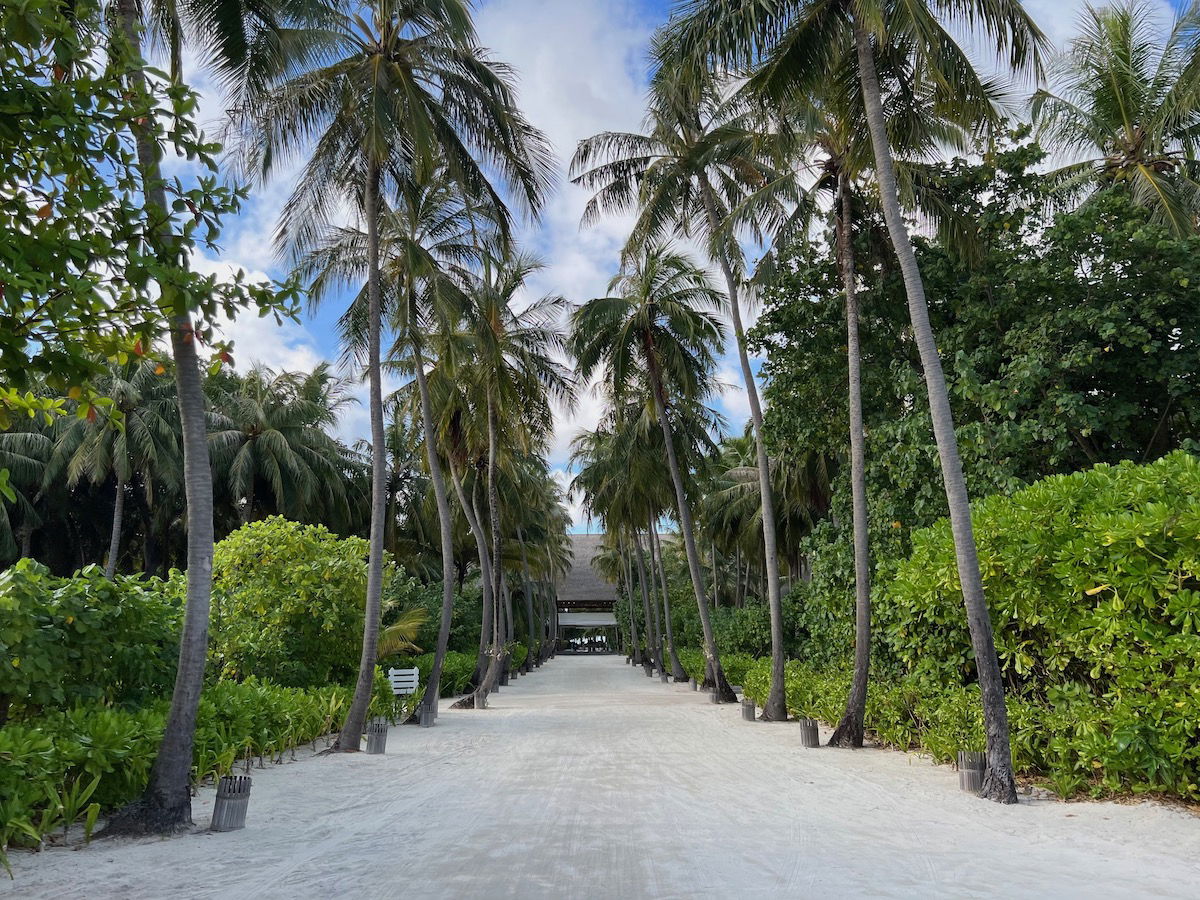 The arrivals experience was different than at the other resorts we stayed at in the Maldives, where we were appointed a single butler or concierge for the entirety of our stay, and they processed check-in at our villa.
At the Four Seasons there's no personal butler or concierge (though Four Seasons does have an excellent app for communicating with the front desk), and check-in was processed in the lobby rather than in the room.
The lobby had a formal reception desk, but we were just invited to have a seat in the comfortable open-air space, and were also offered fresh coconut water and cold towels.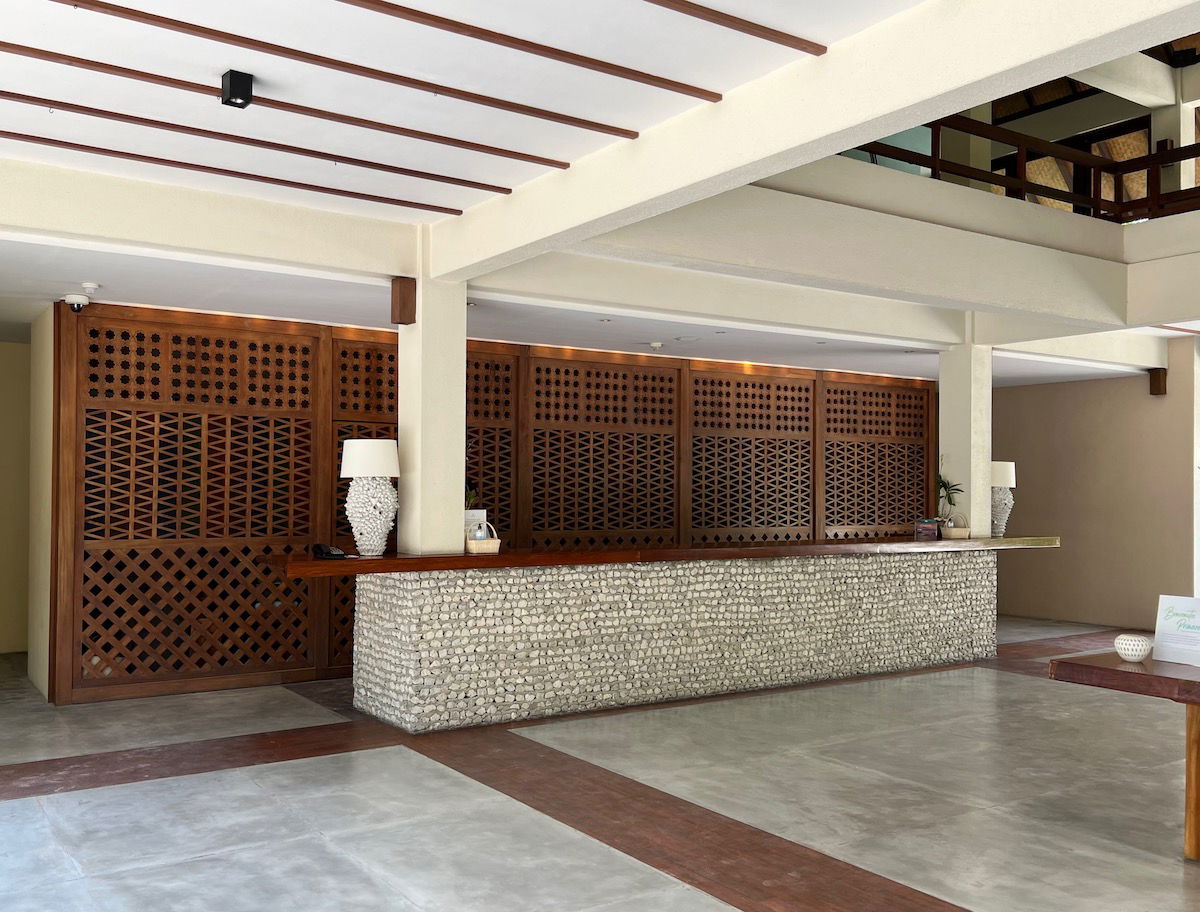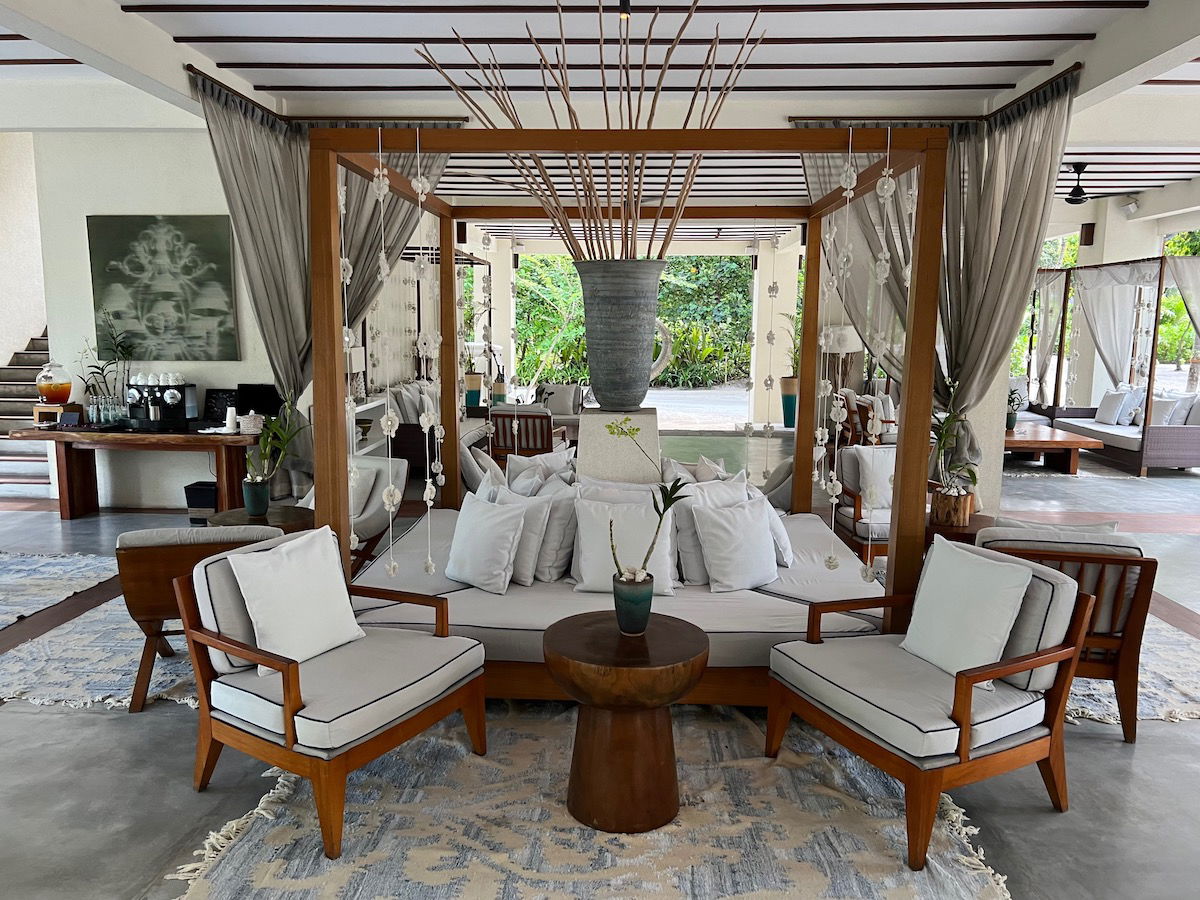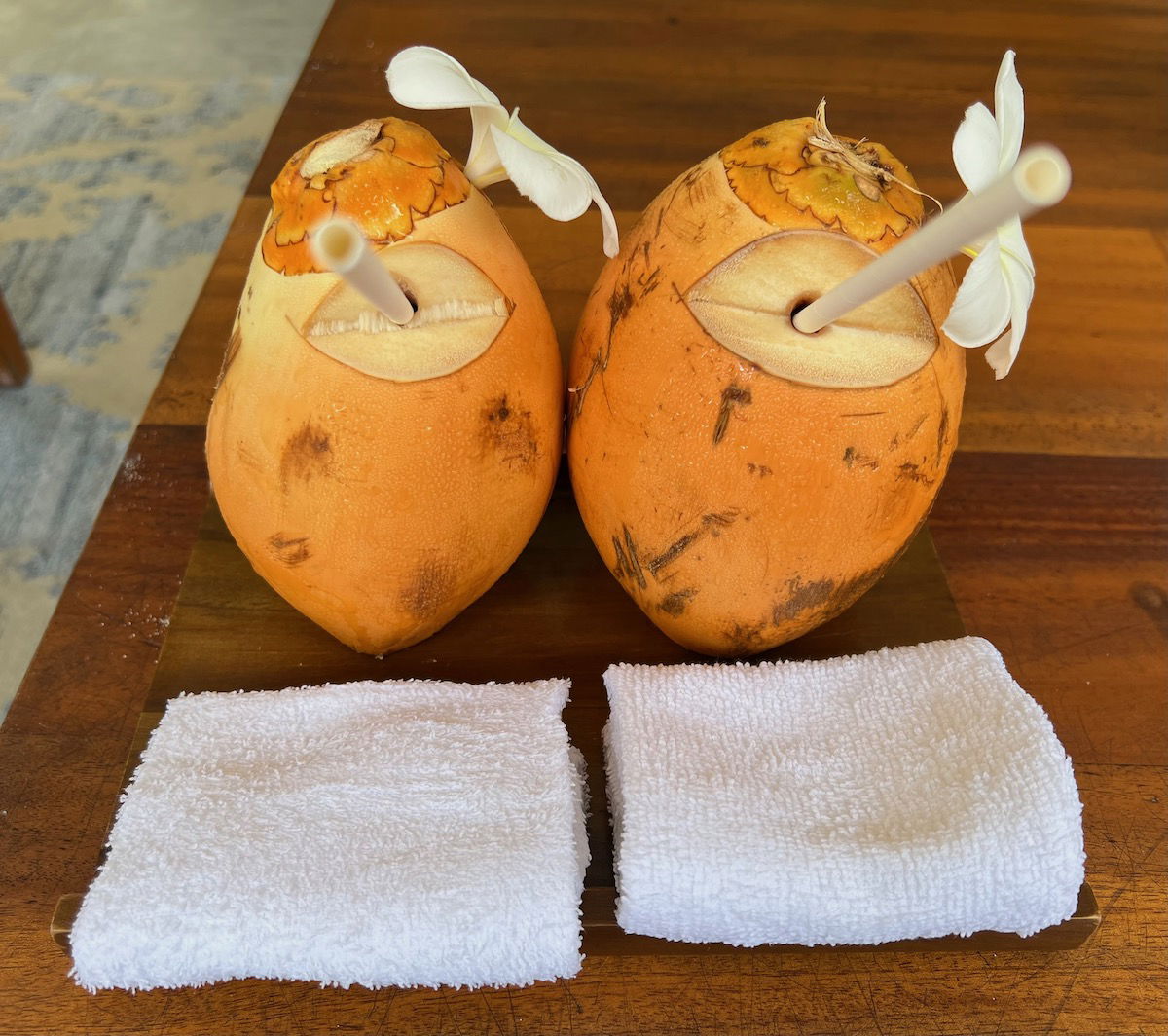 The lobby also has bottled water, iced tea, coffee, and hot tea.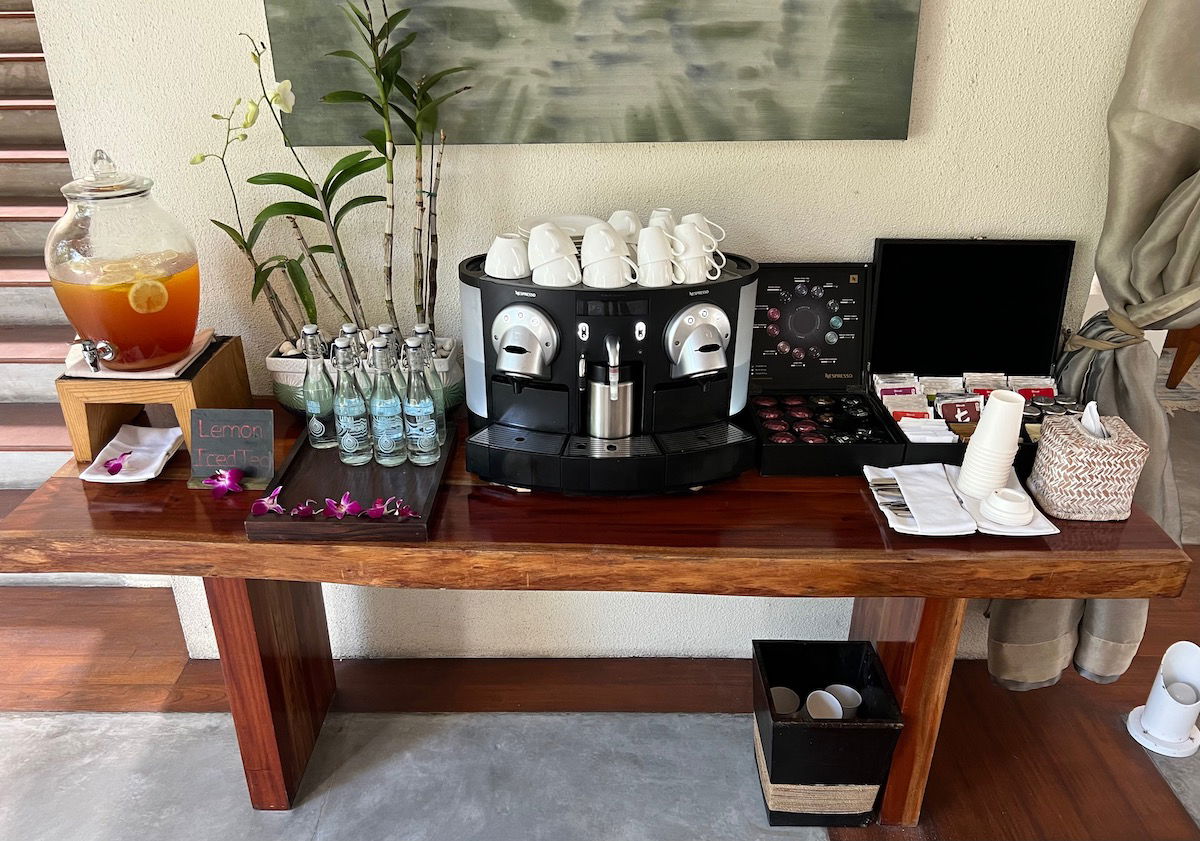 The second floor of the lobby has a game area, with pool tables and plenty of seating.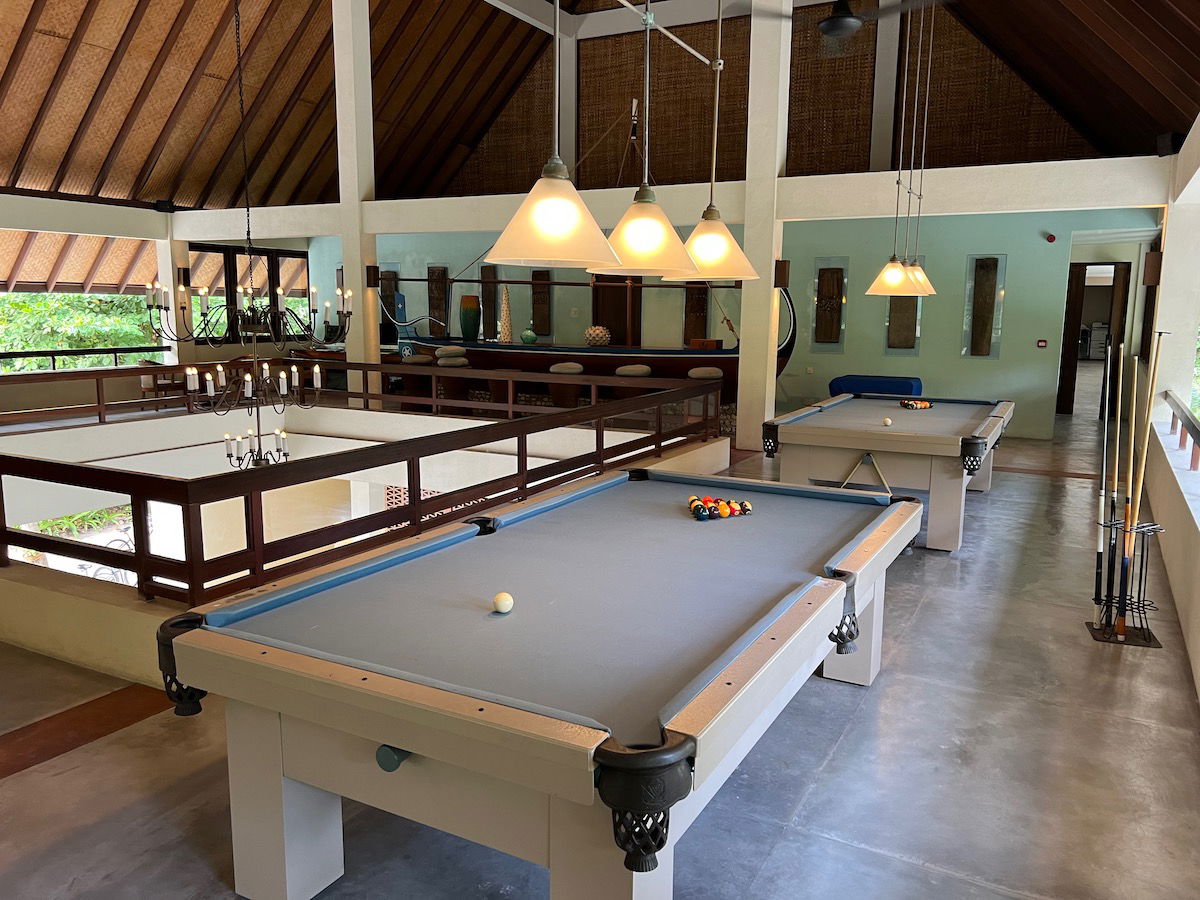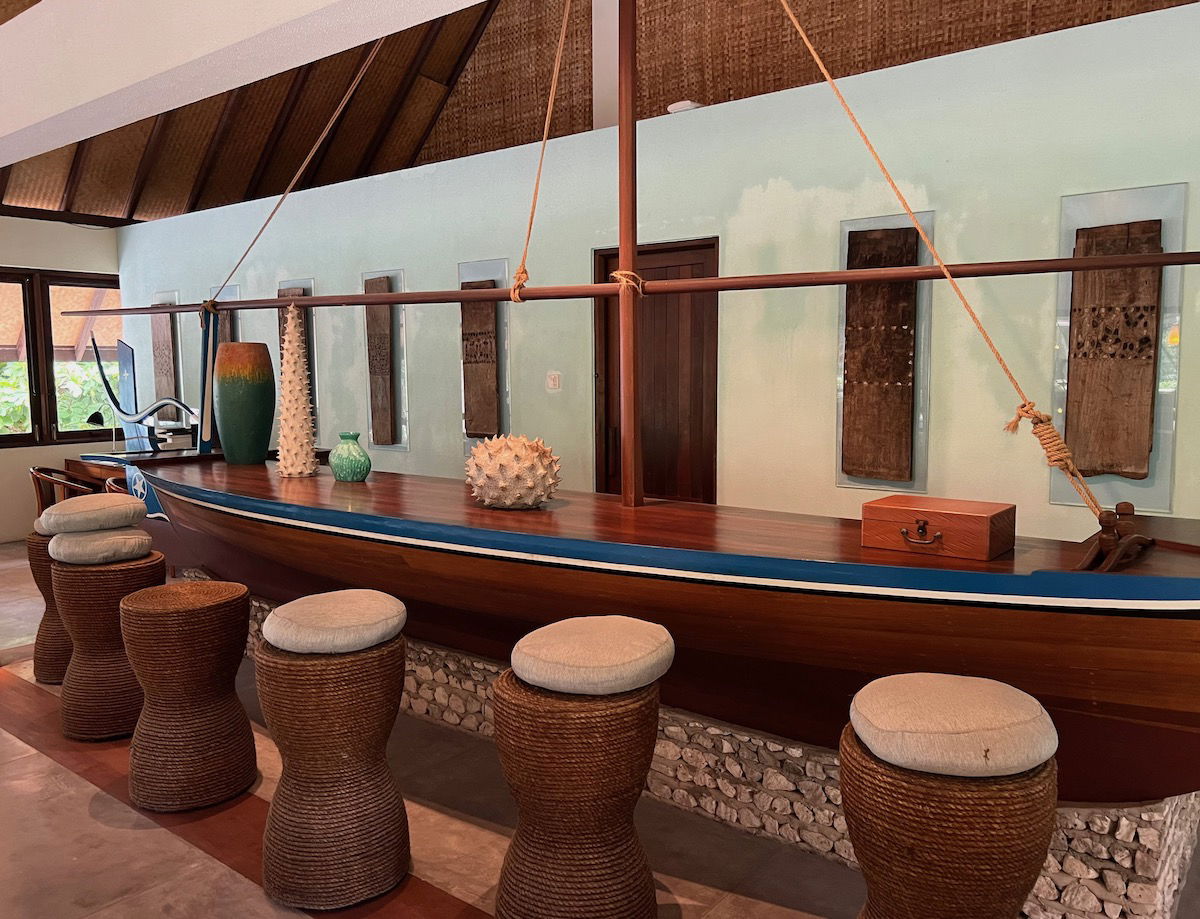 Within about 10 minutes we were driven to our villa.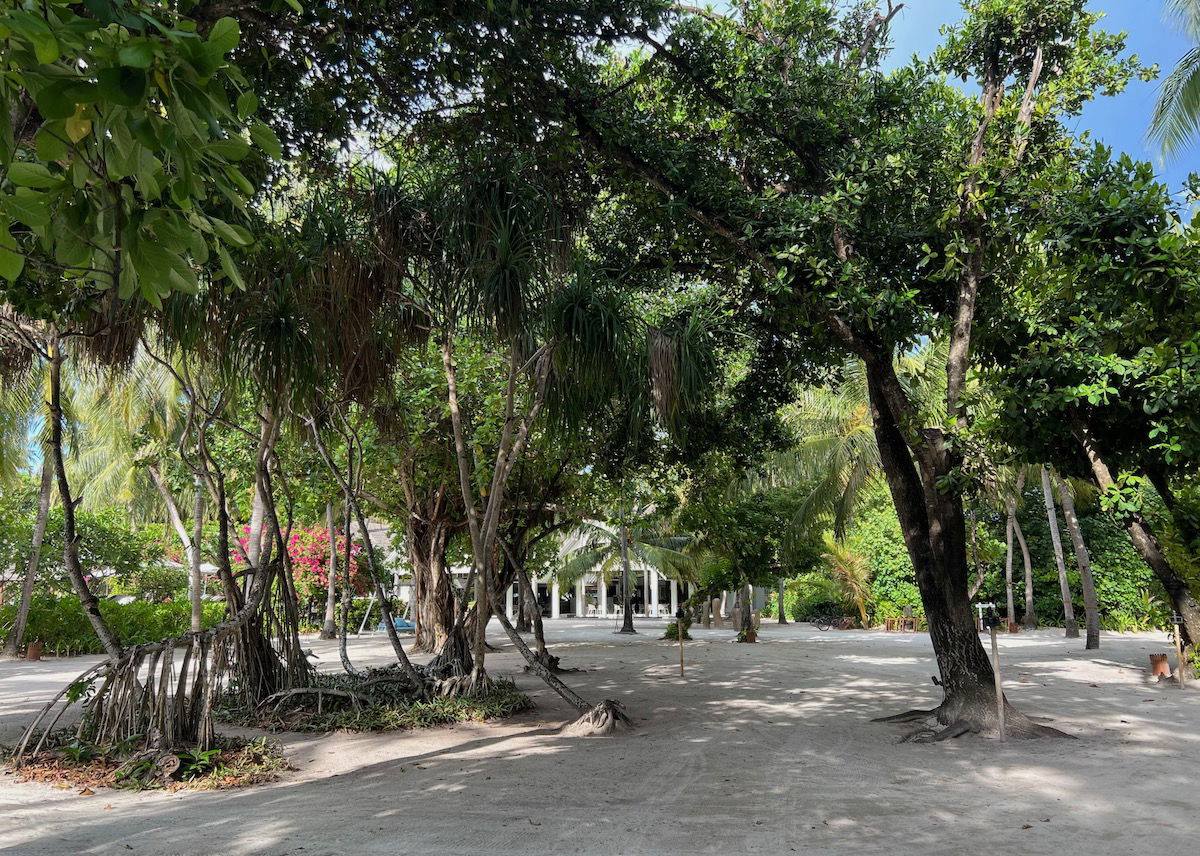 Four Seasons Maldives Landaa Giraavaru sunrise water villa with pool
We were assigned a sunrise water villa with pool, which is the entry level overwater villa (the sunset water villa with pool is more premium, and then there are both sunrise and sunset family villas, which are larger). To access the overwater villas, you first take the main path winding through the resort, and then you get onto the long jetty, which has 40 villas.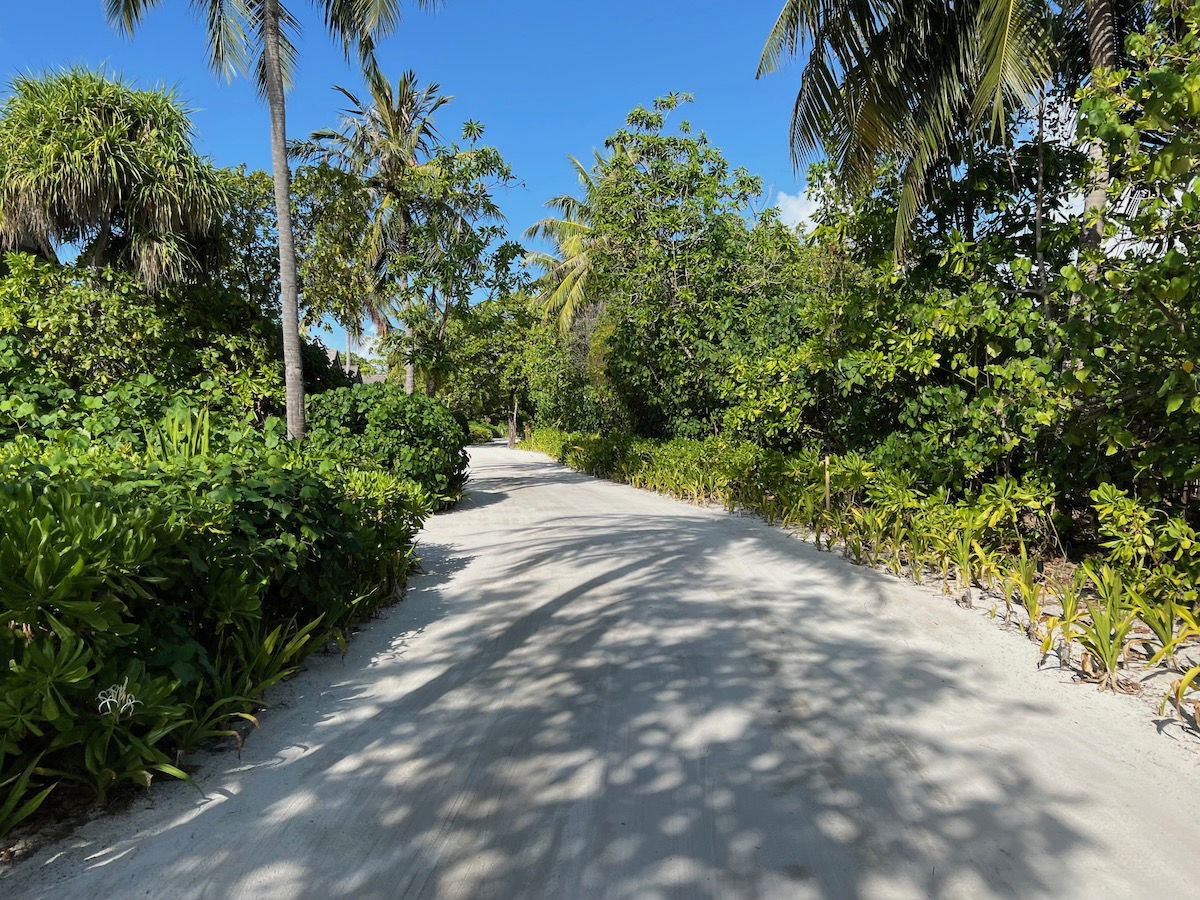 We were assigned villa 313, roughly halfway down the jetty.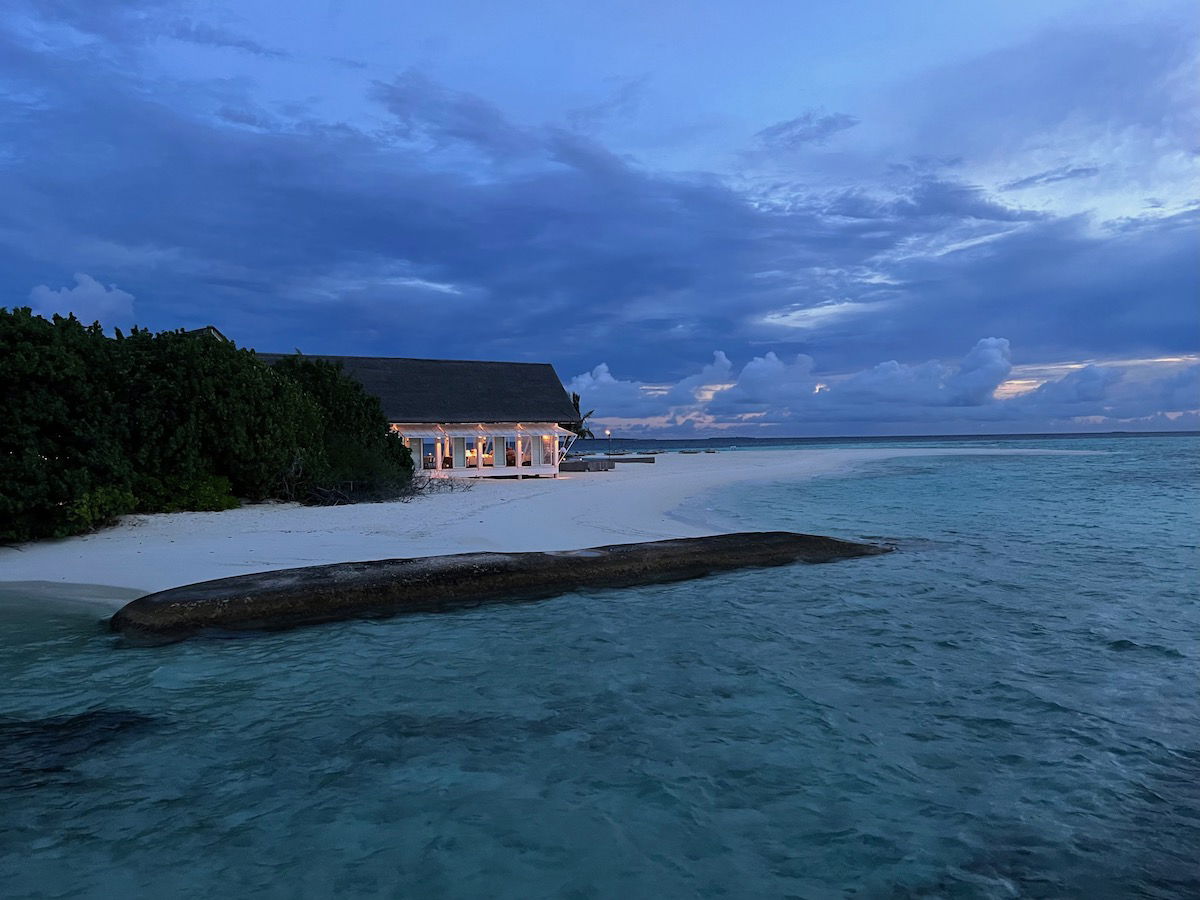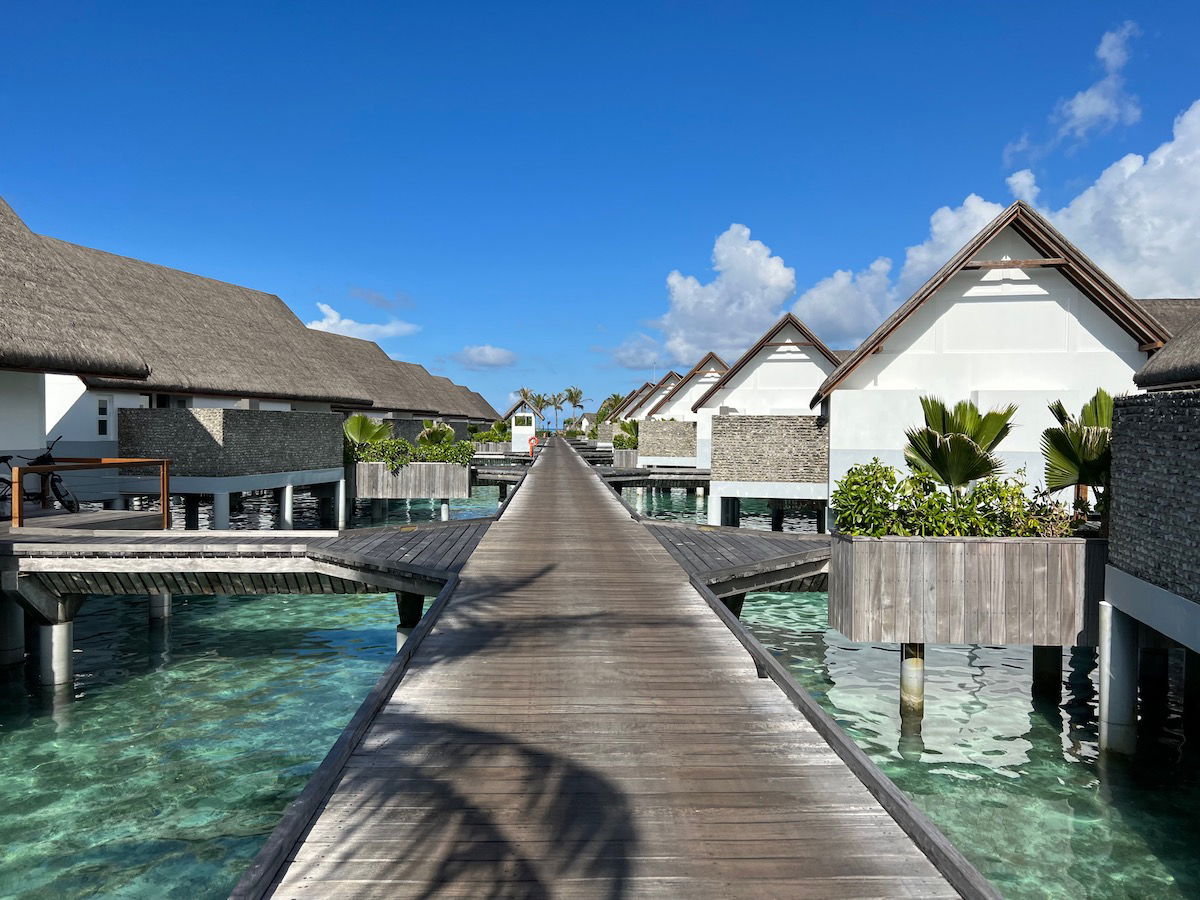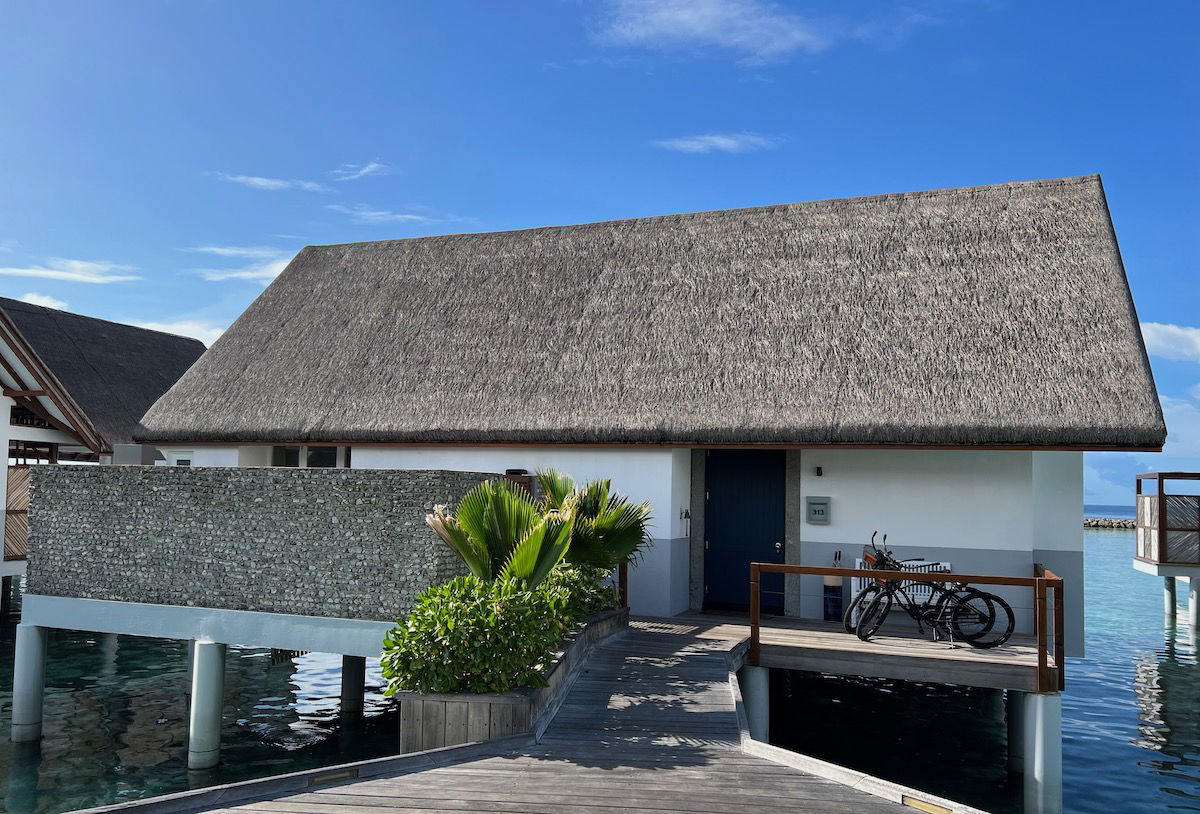 Waiting outside the villa were two bicycles. In addition to having the room number on the back, they also had our initials on the front.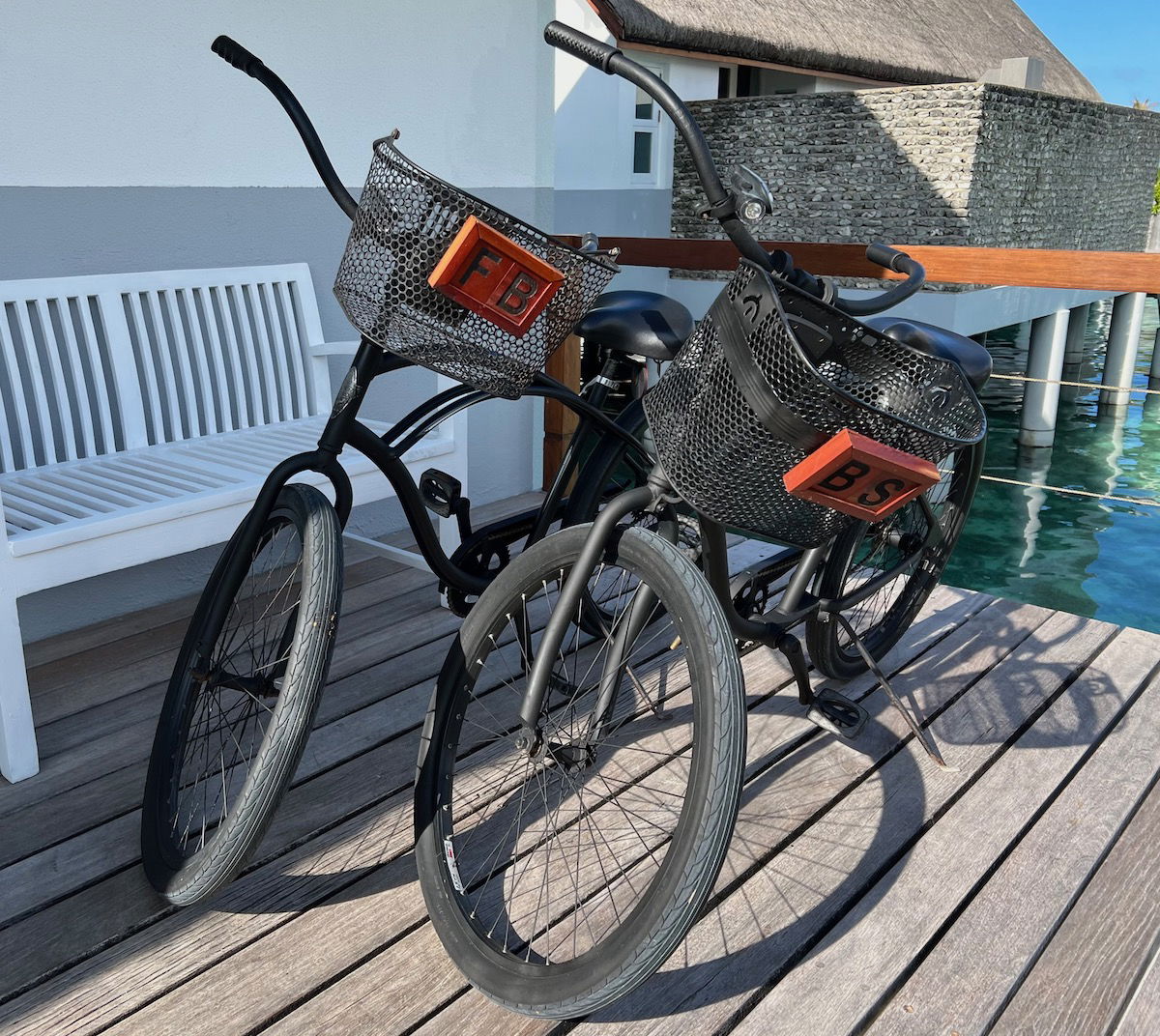 Standard villas at the Four Seasons Landaa Giraavaru have 969 square feet of interior space, so they're a good size. That being said, they're definitely more junior suites than full suites, in the sense that there's no door separating the living room from the bedroom.
The living room had a couch and a chair, as well as a dining table with two chairs. There was a TV near the center of the room, and a minibar along the far wall.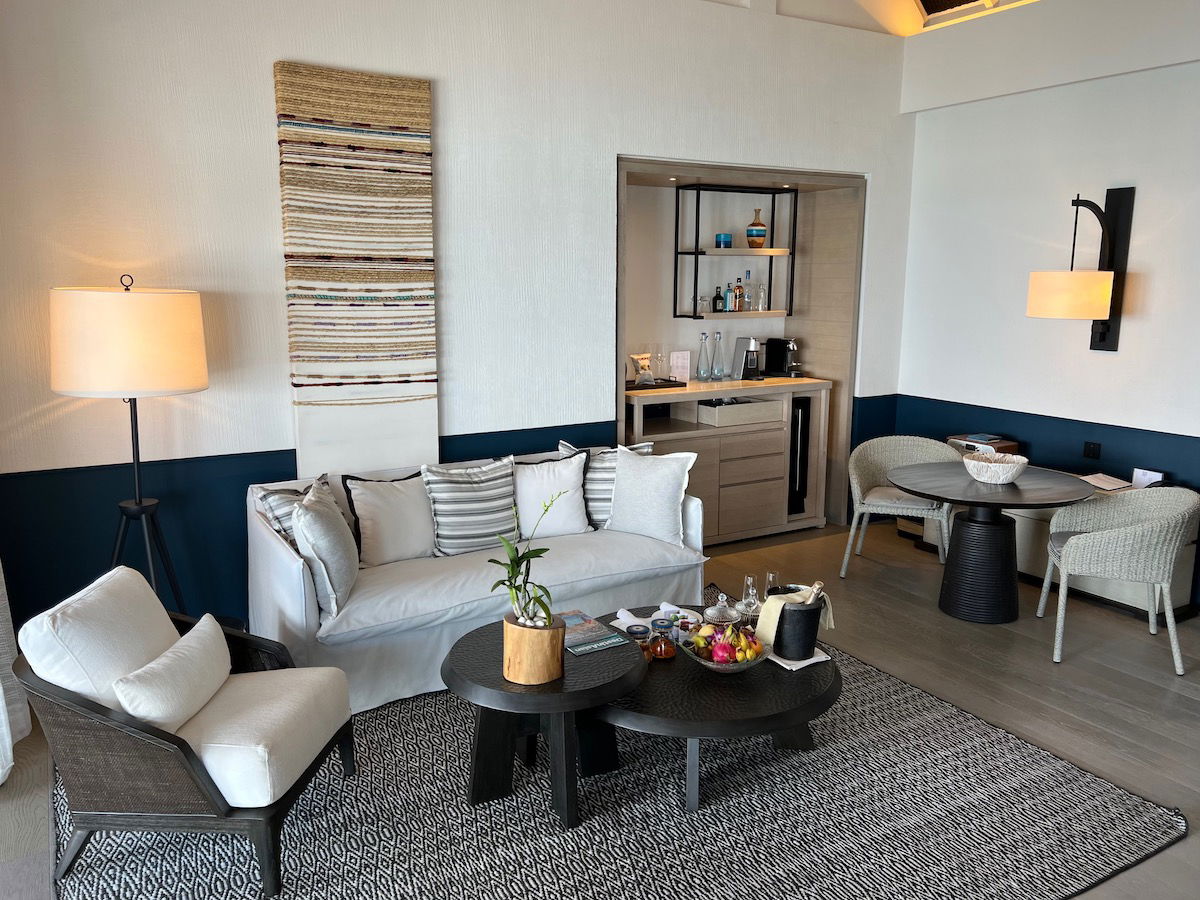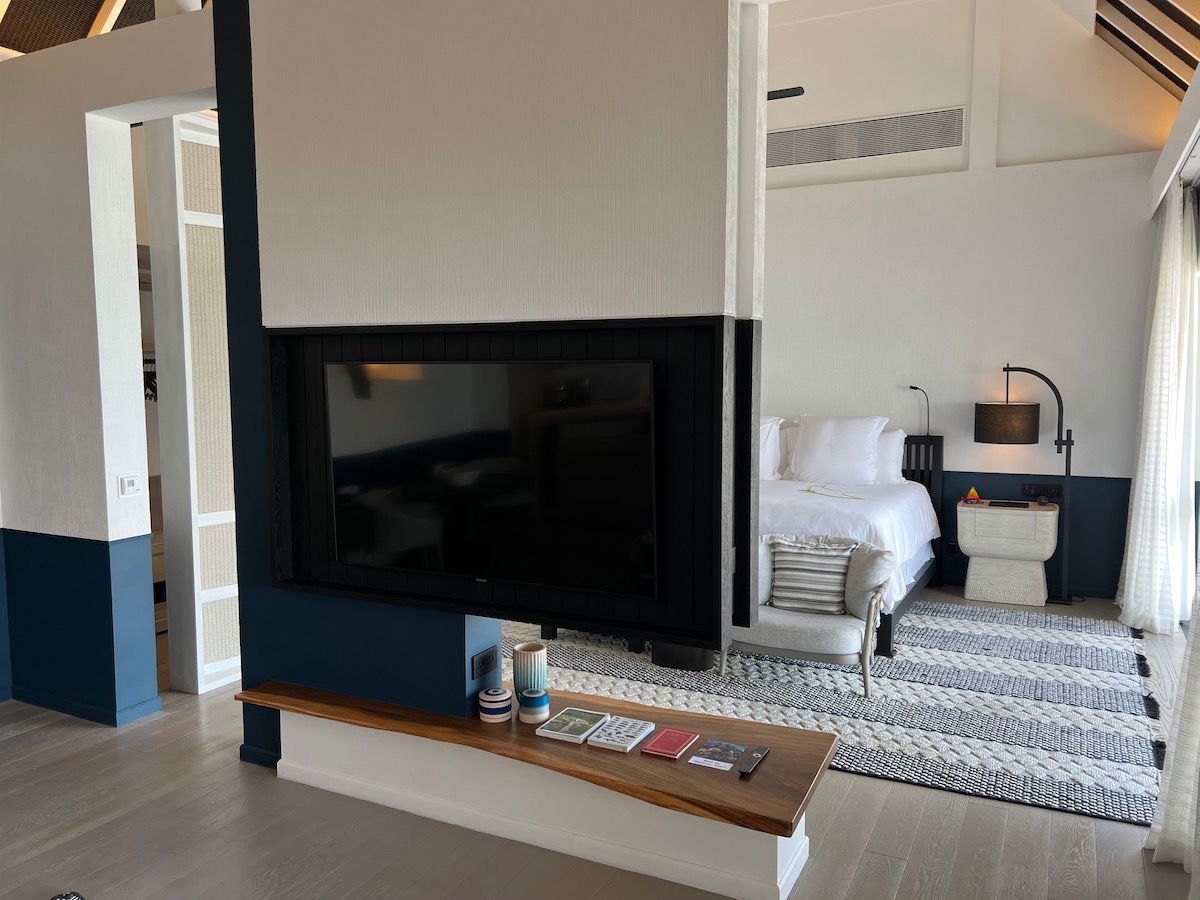 The minibar was well stocked, and had complimentary coffee and tea, plus a variety of drinks and snacks for purchase.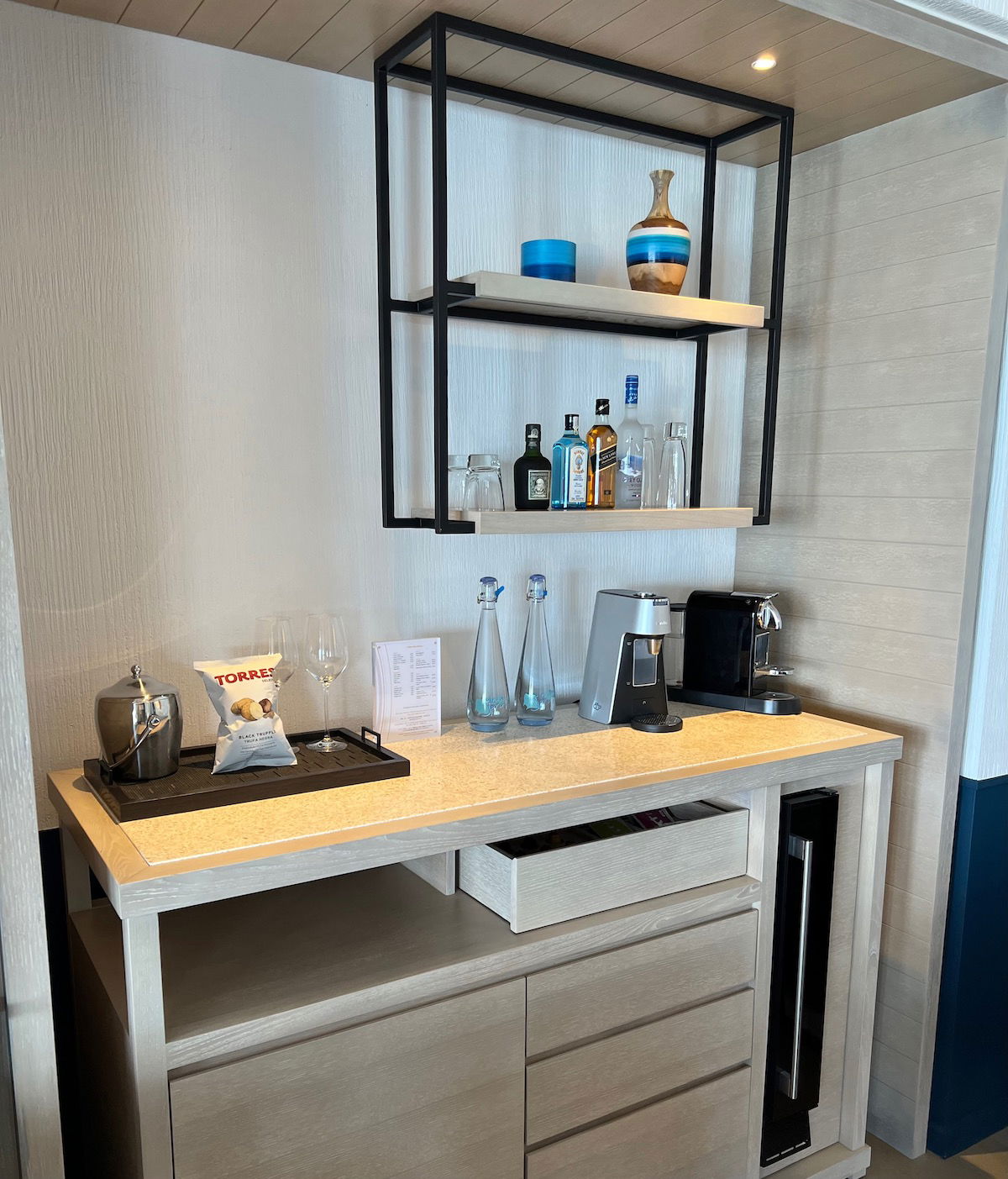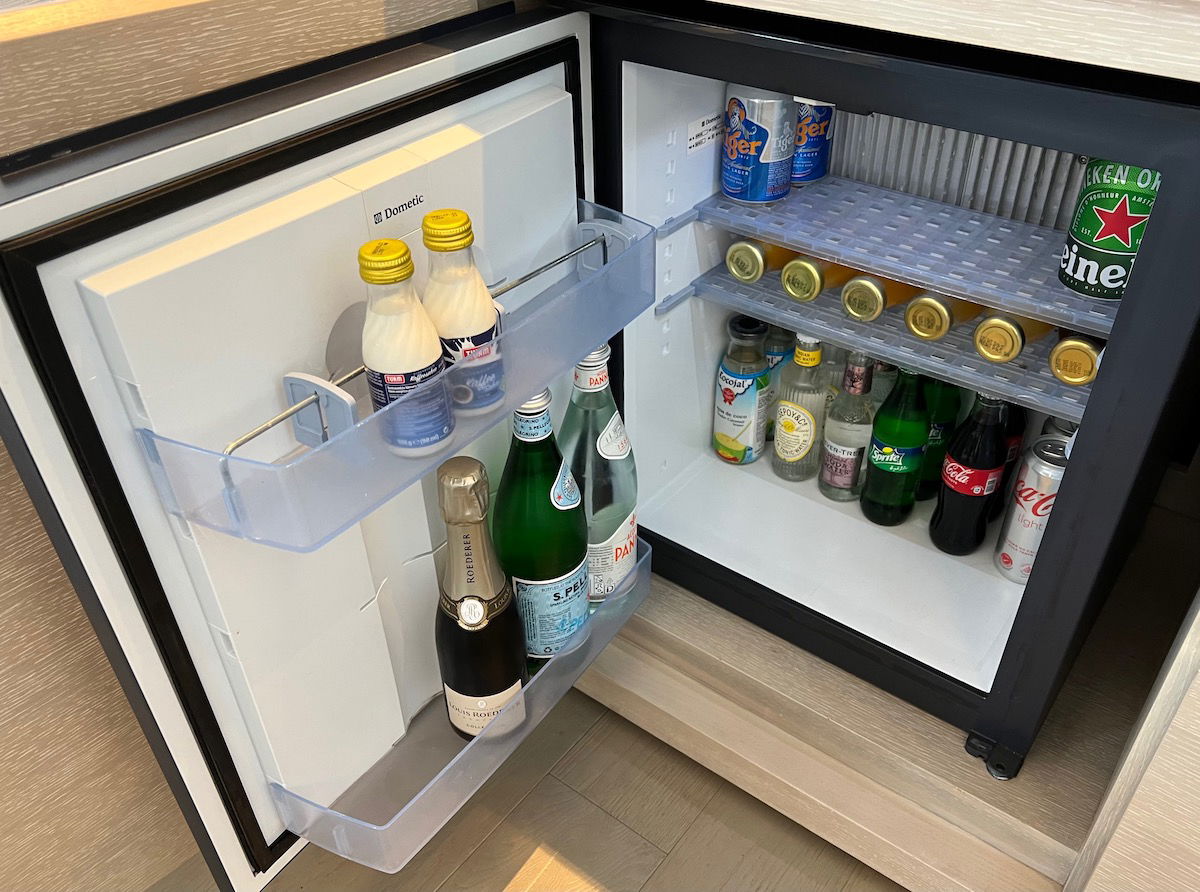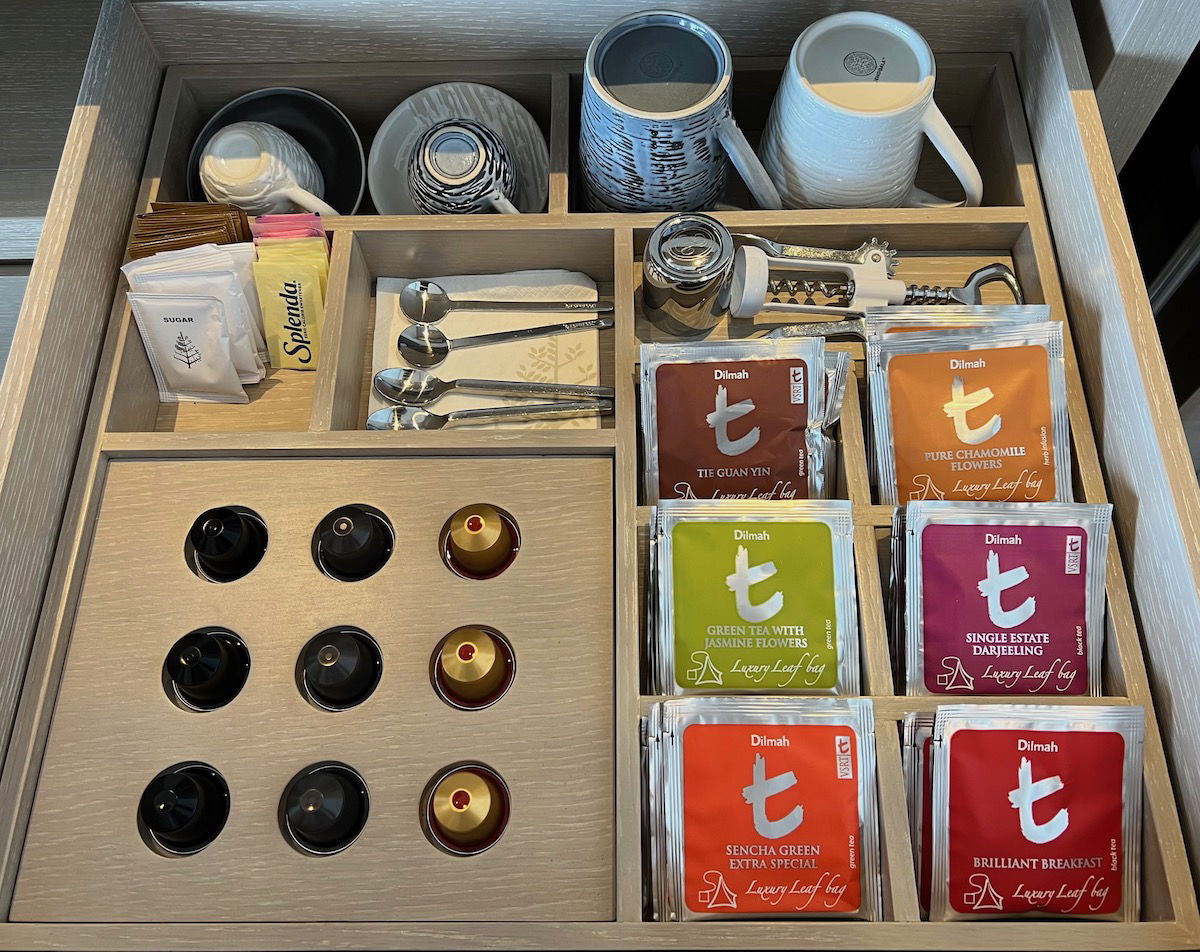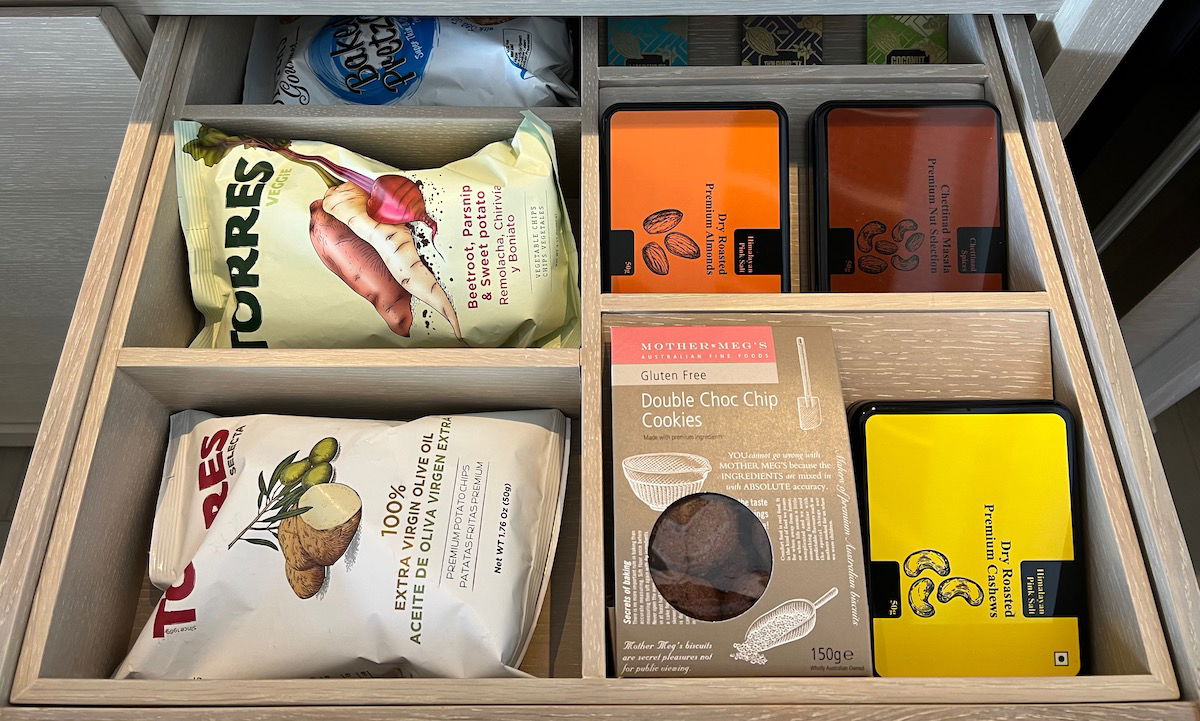 There was also a welcome amenity consisting of a fruit plate, some sweet and savory snacks, and a bottle of Duval Leroy Brut.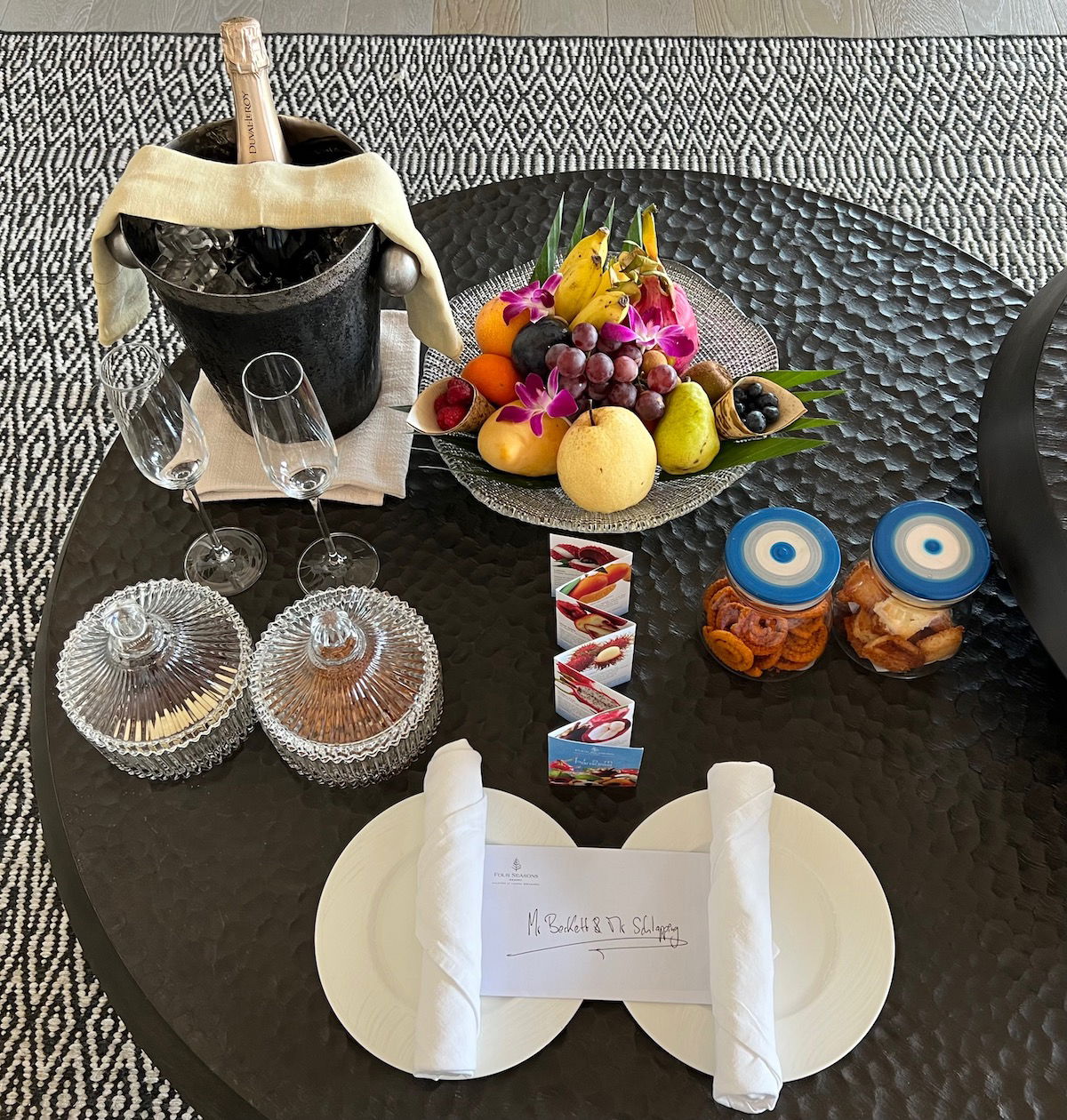 The bedroom featured your typical Four Seasons king bed (which is so comfortable), plus a couple of chairs at the foot of the bed.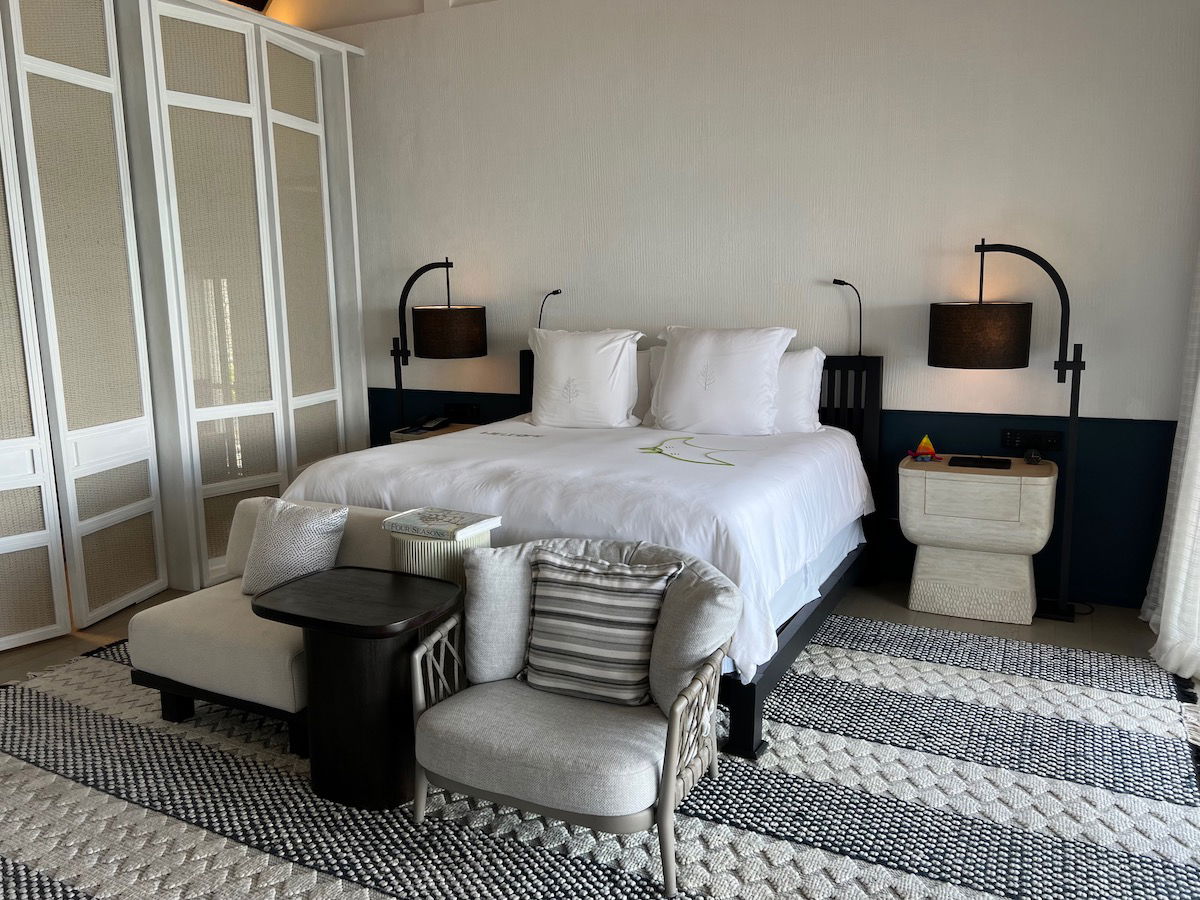 There was yet another TV along by the center of the room.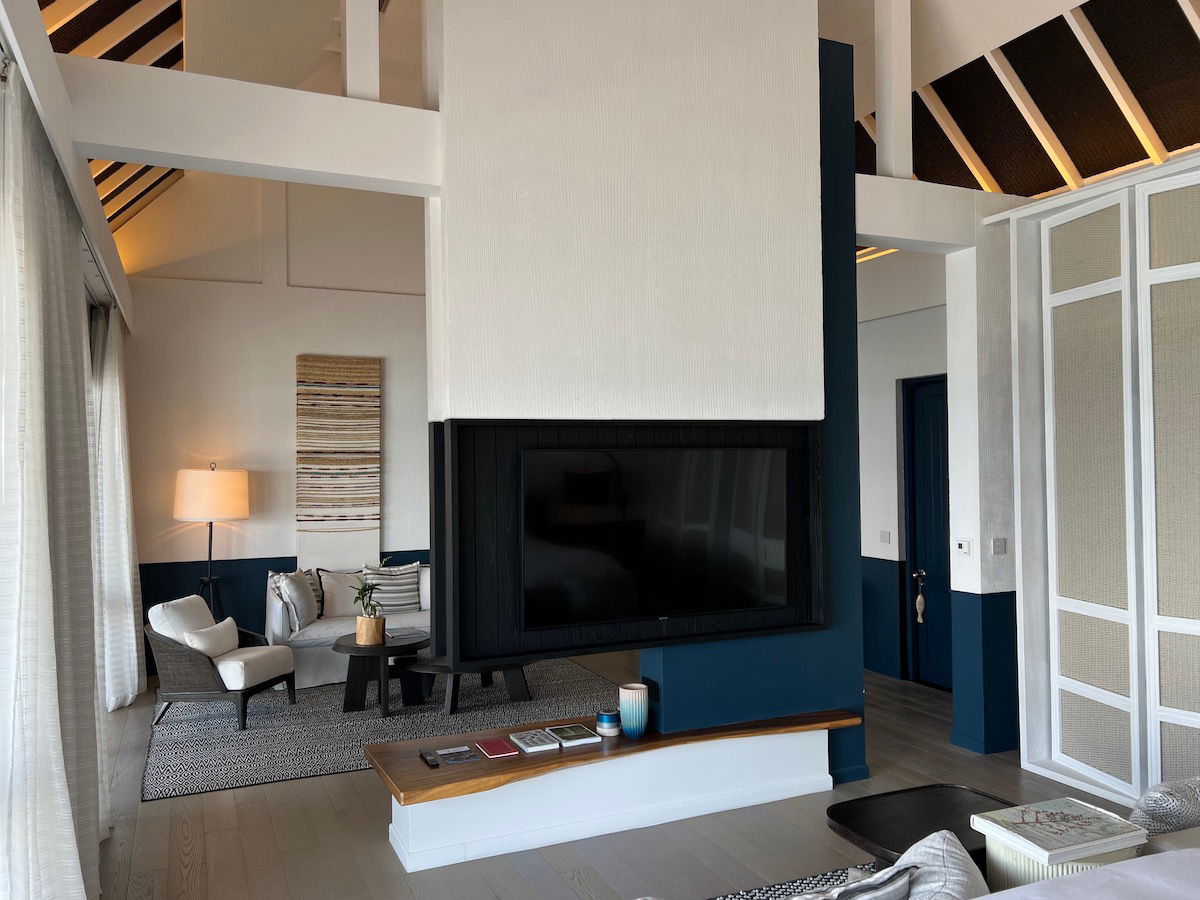 Next to the bed were three sets of doors that could be opened to access the closet and bathroom.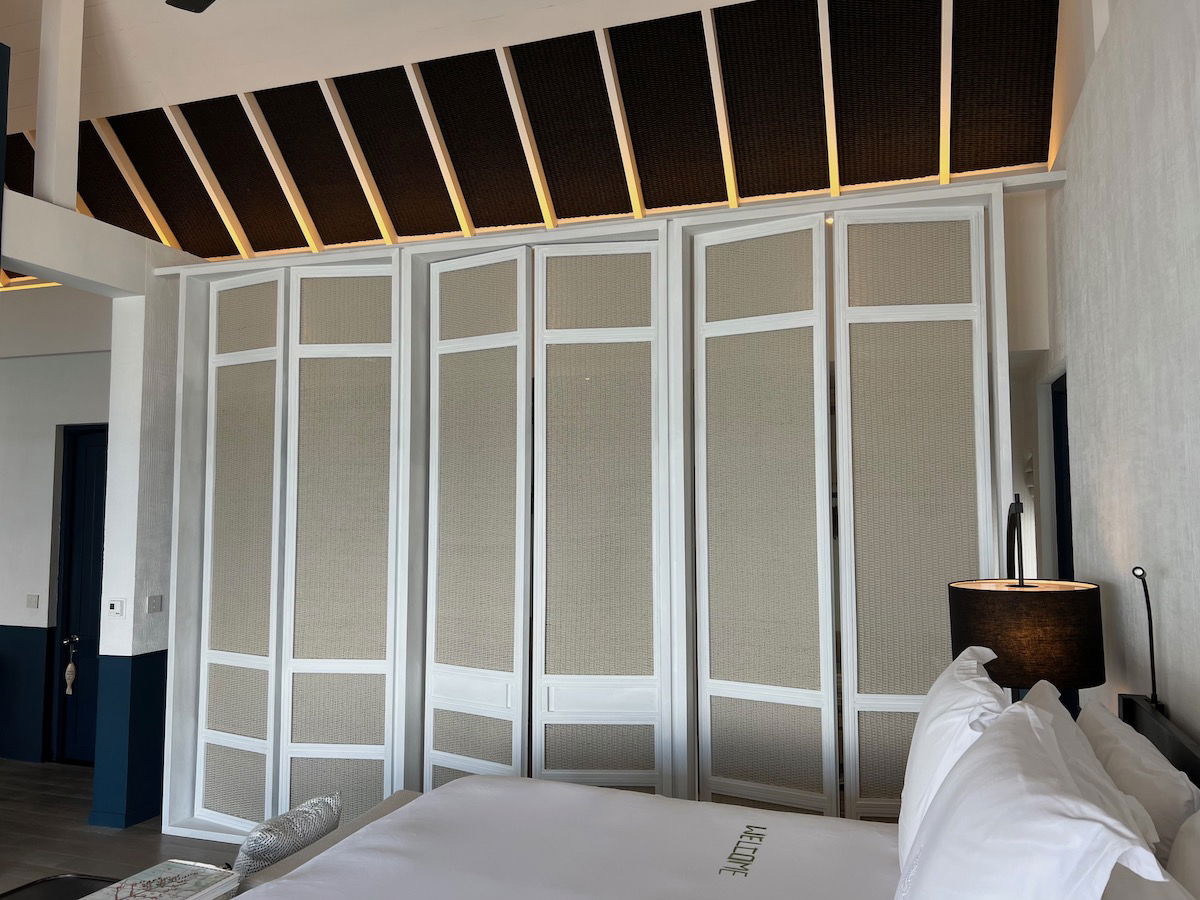 There was a large closet area, and then beyond that was the bathroom.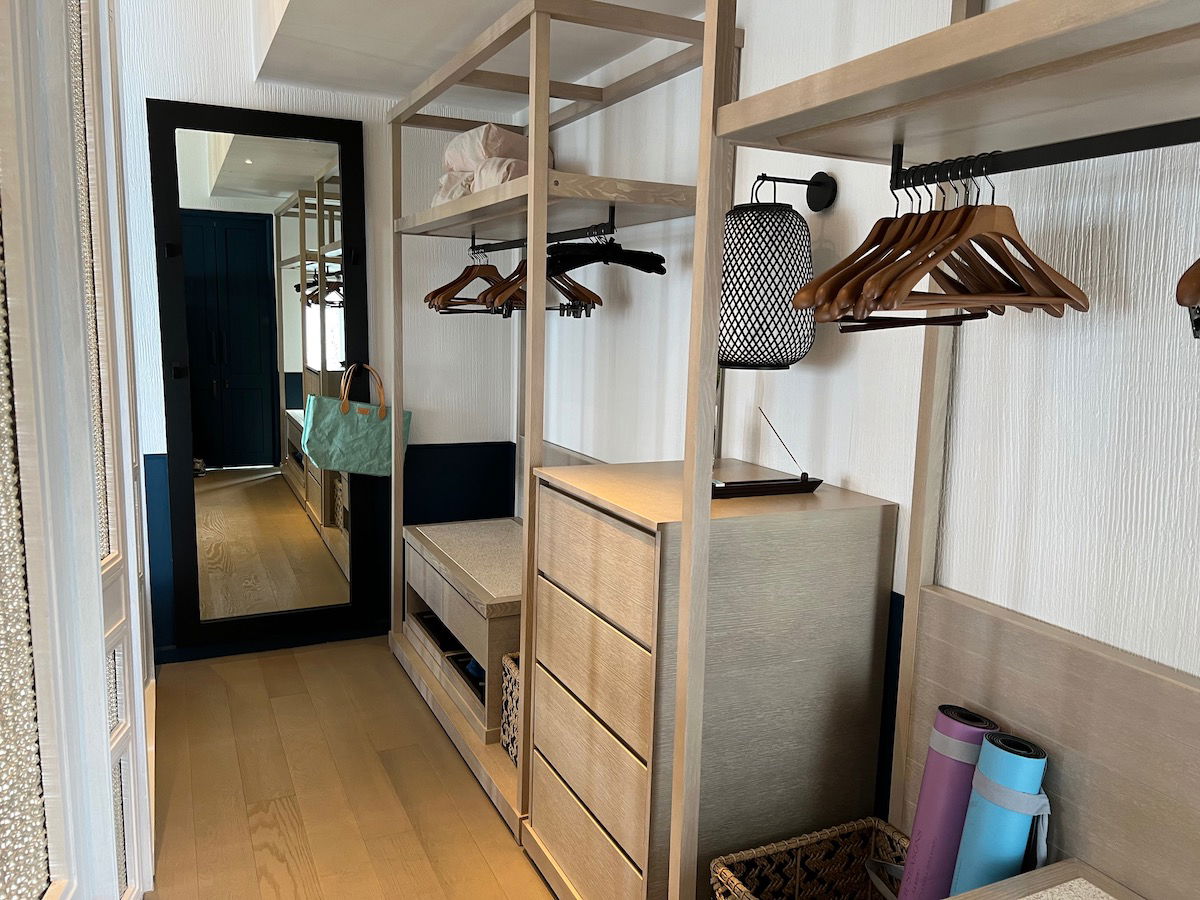 The bathroom was also large, and had double sinks, a vanity, a walk-in shower, a soaking tub, and a toilet and bidet.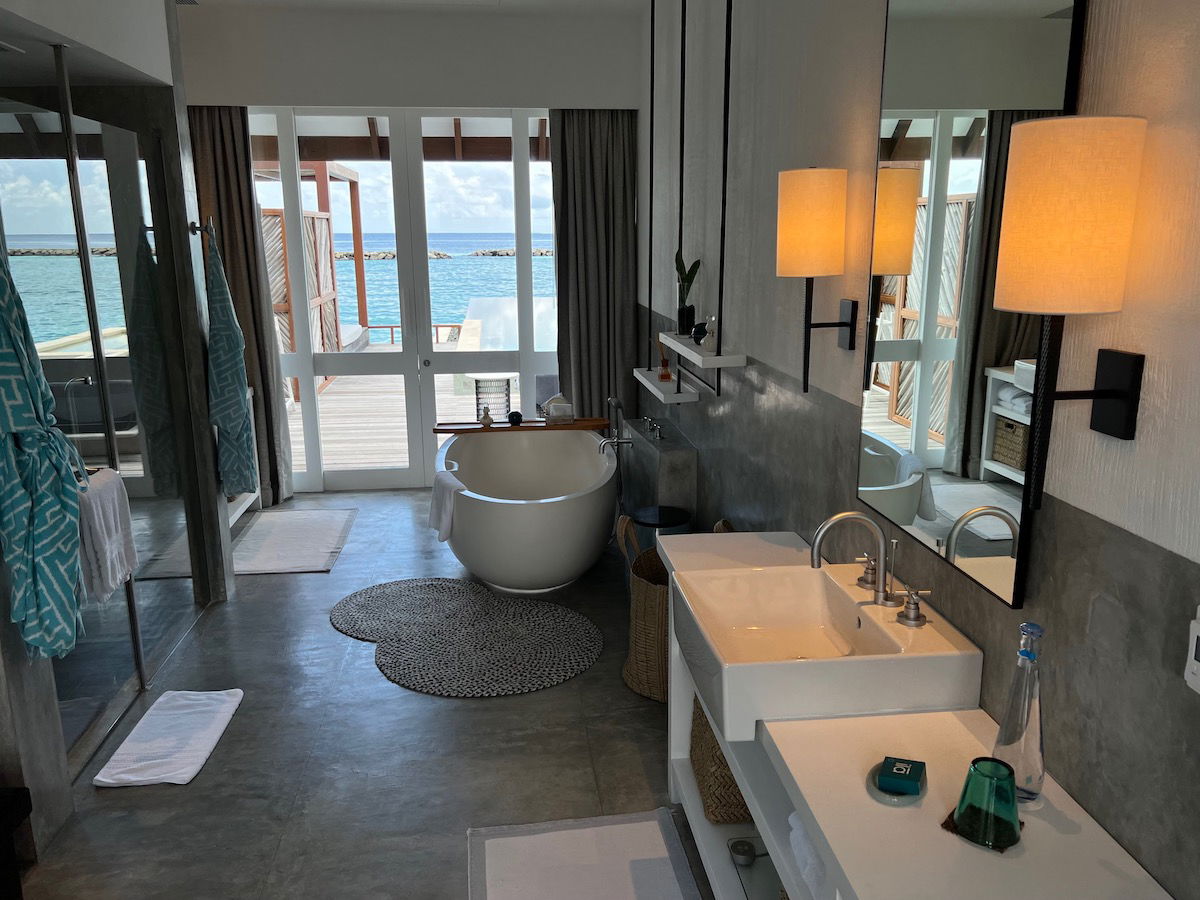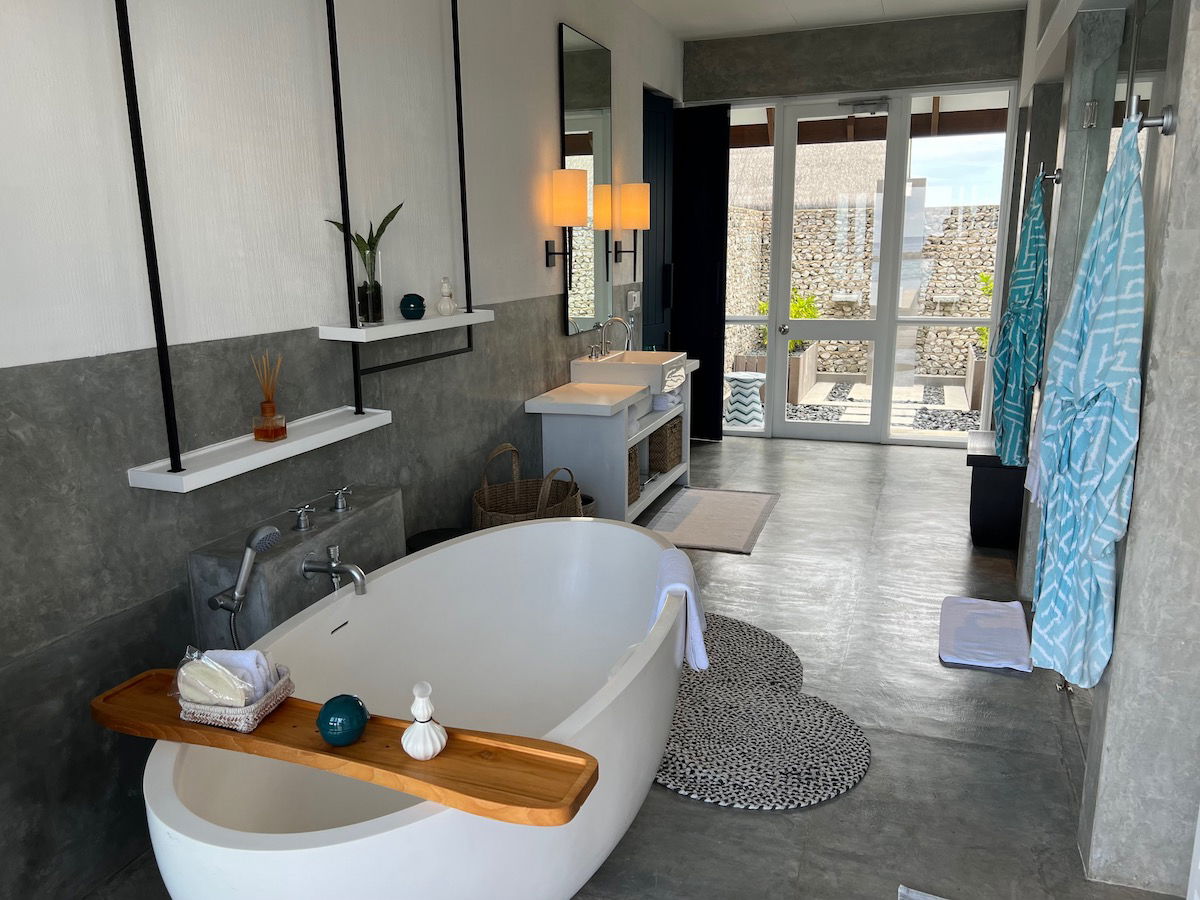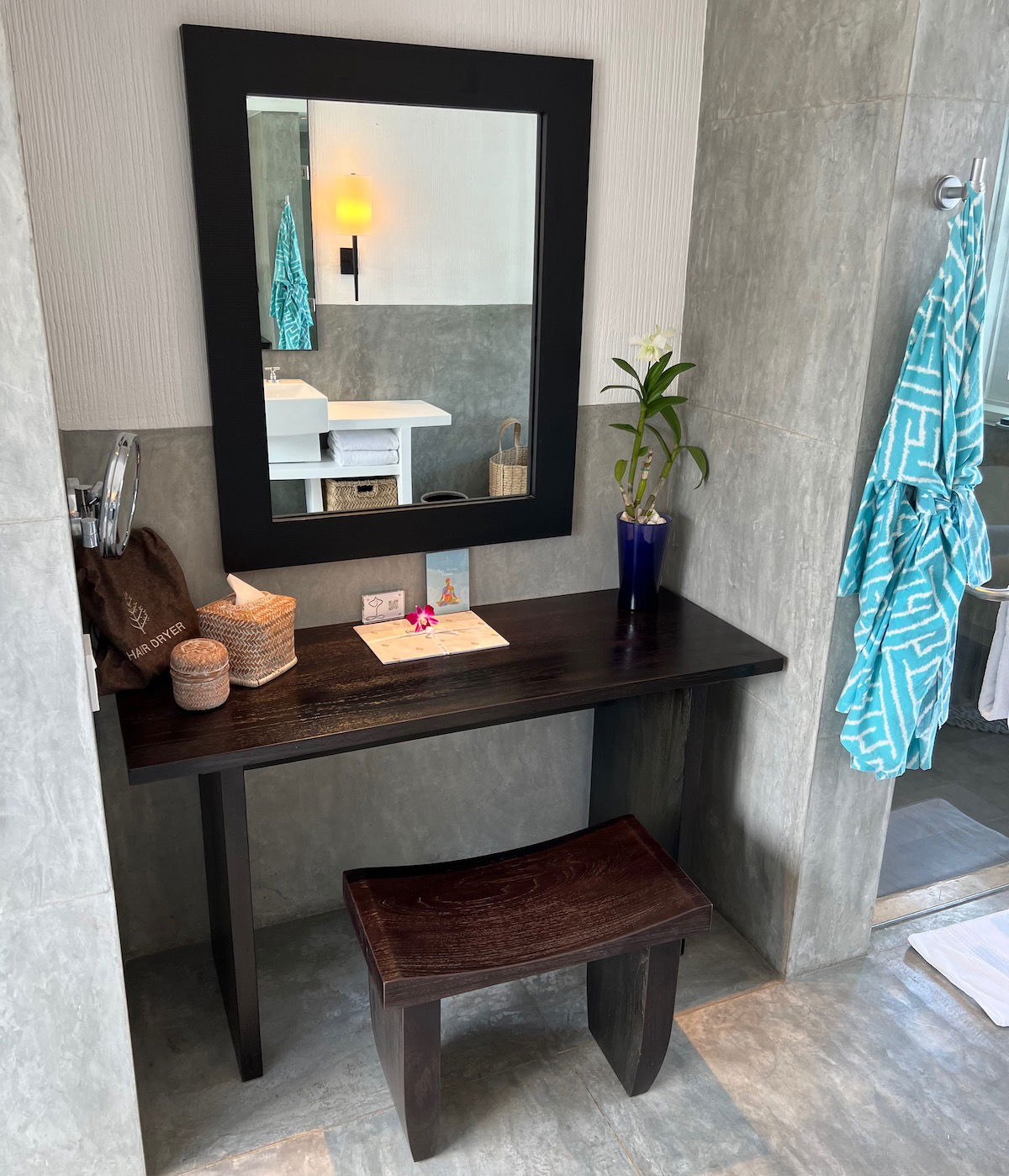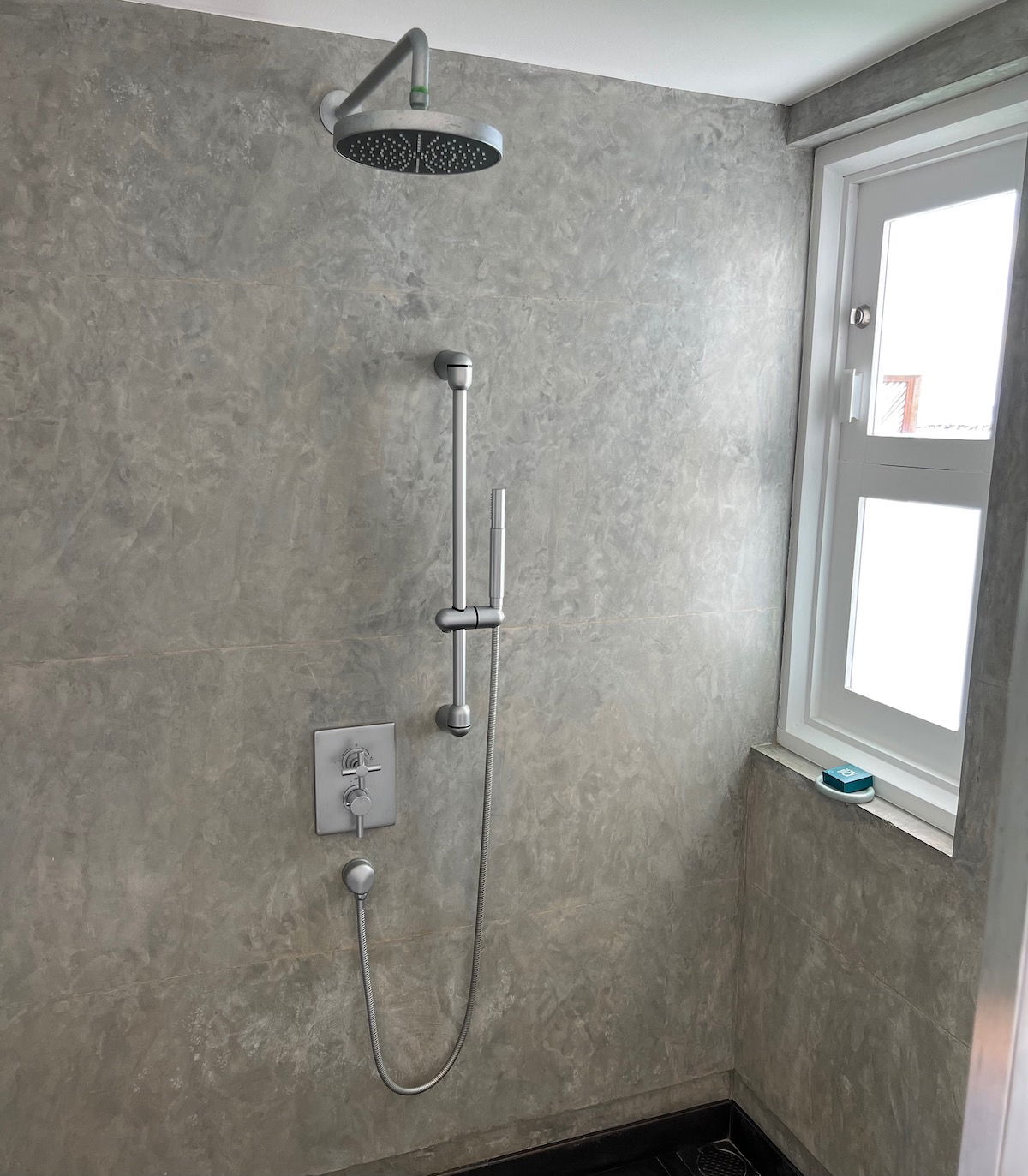 I love how the toilet area had a glass floor, in part, so that you can see the ocean from there.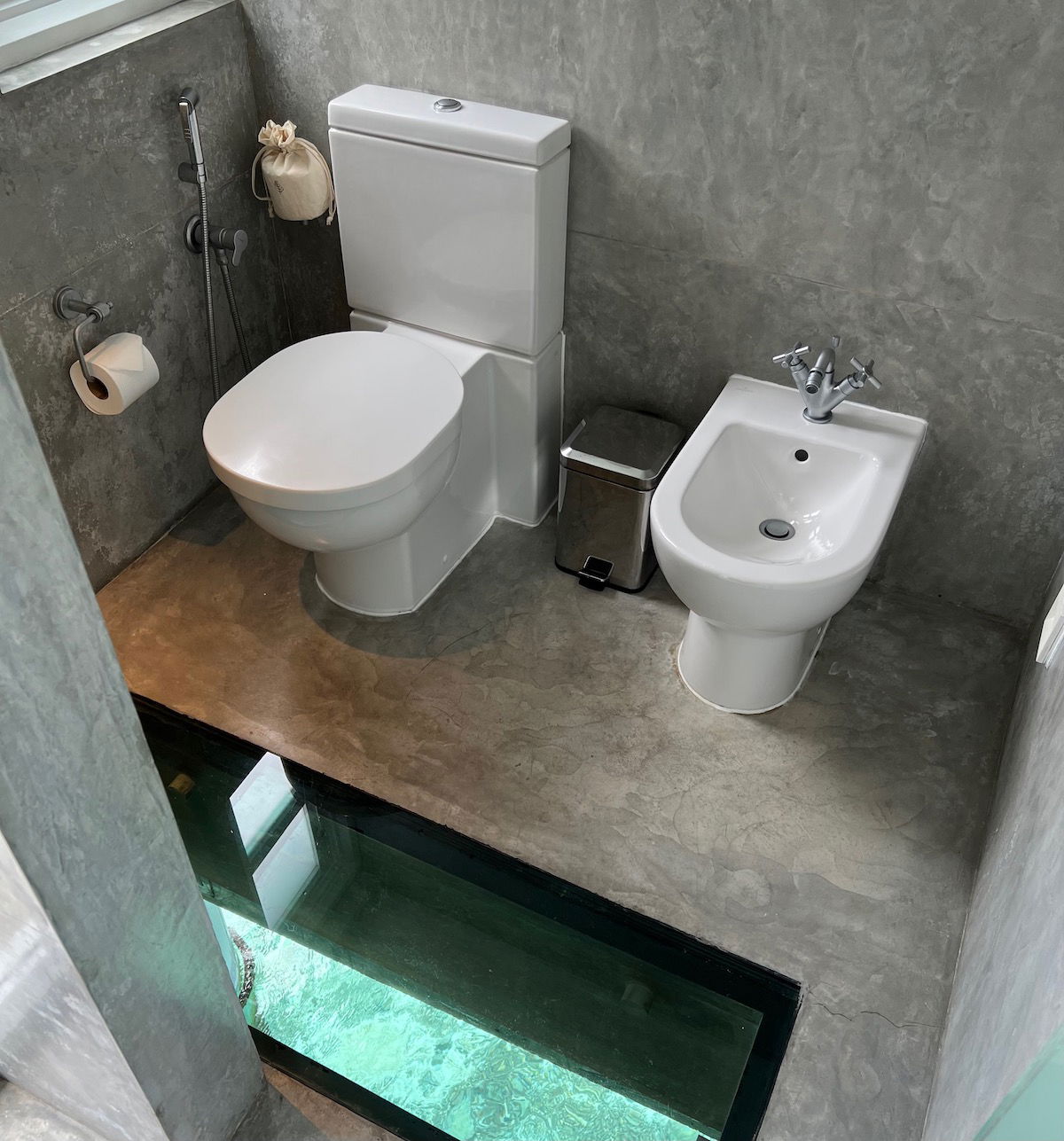 There was also an outdoor shower on the side of the villa closest to the jetty.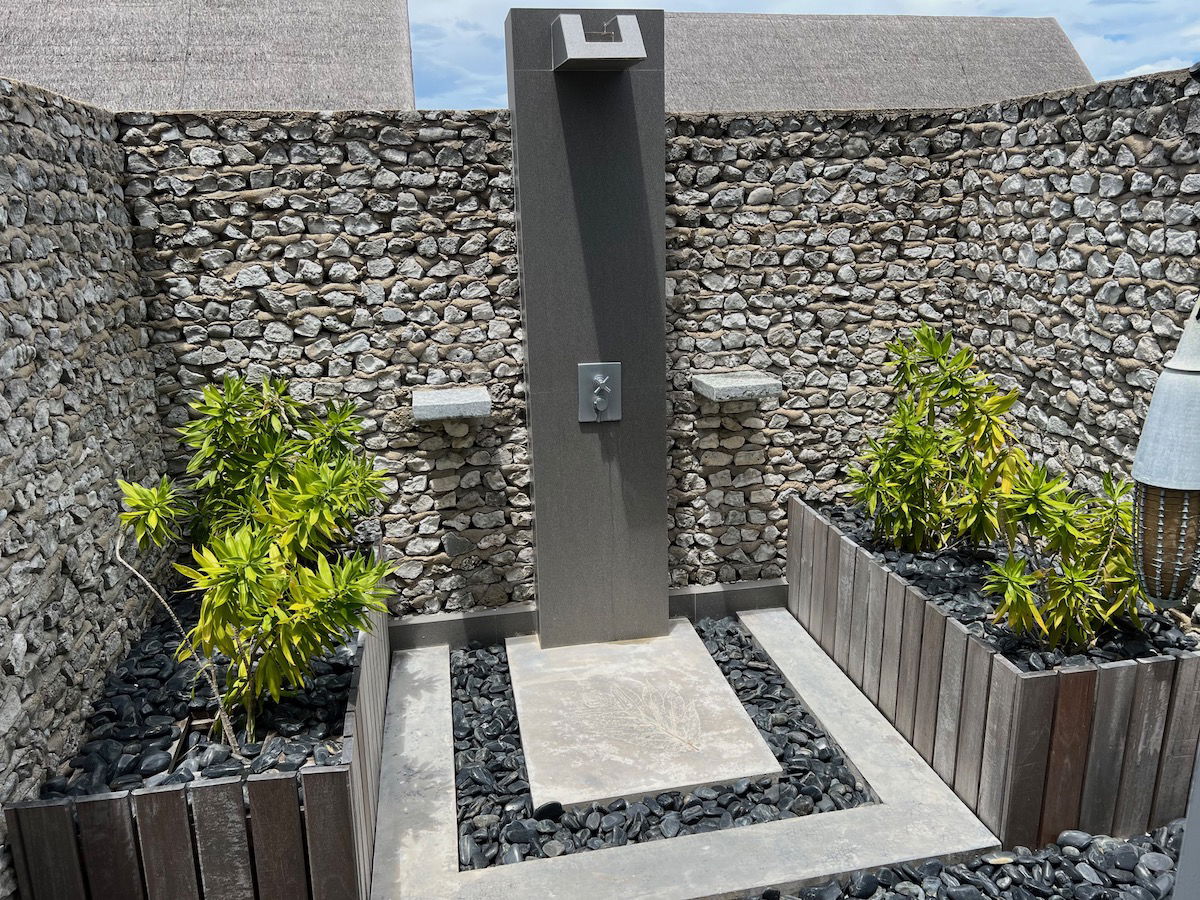 Wi-Fi in the room was fast and free, and I also appreciated that the air conditioning worked really well.
The outdoor space of the villa was even more impressive than the indoor space. There was a huge infinity-edge pool that extended out over the ocean, which was super cool visually.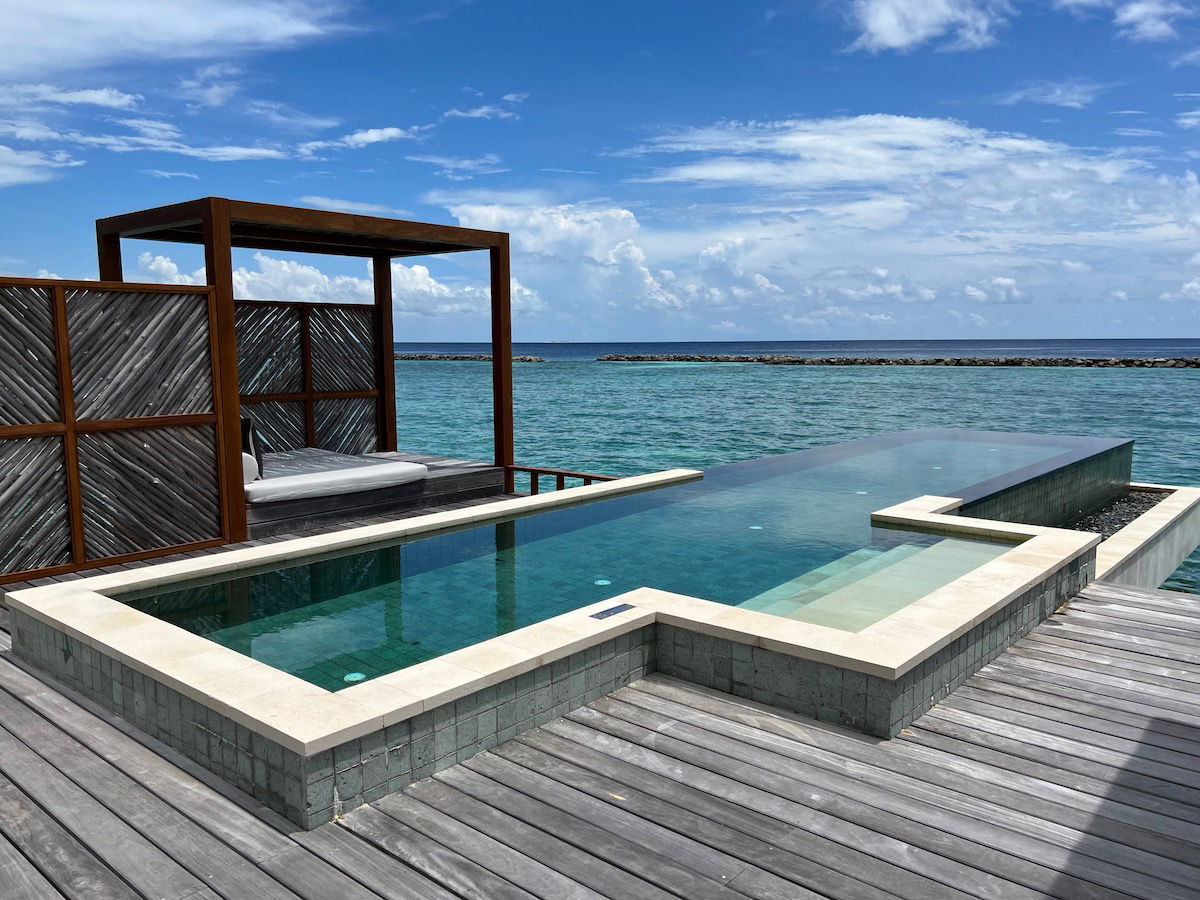 Most of the seating was covered, which is great, since it means you can enjoy this space during the day. The outdoor space had a swinging couch and a chair, and a dining table with two chairs and a bench.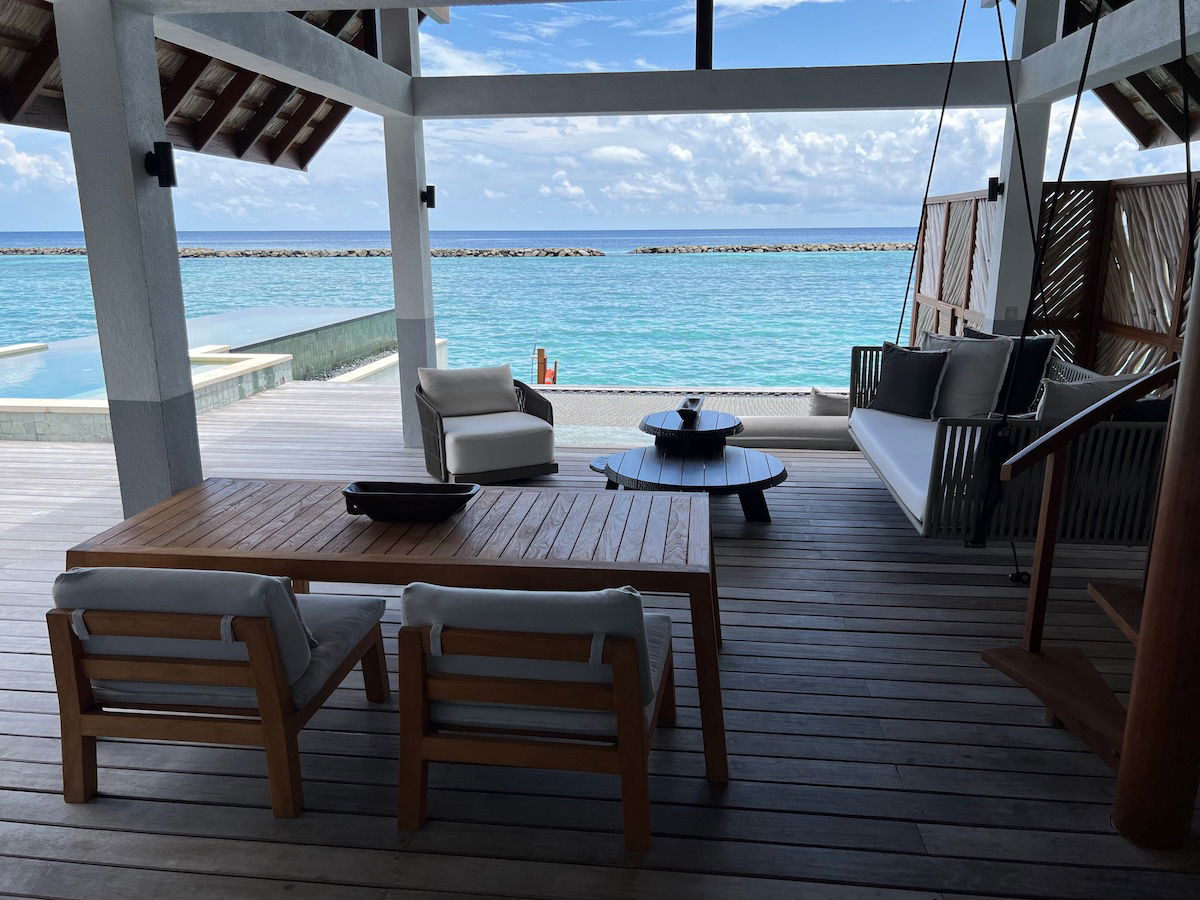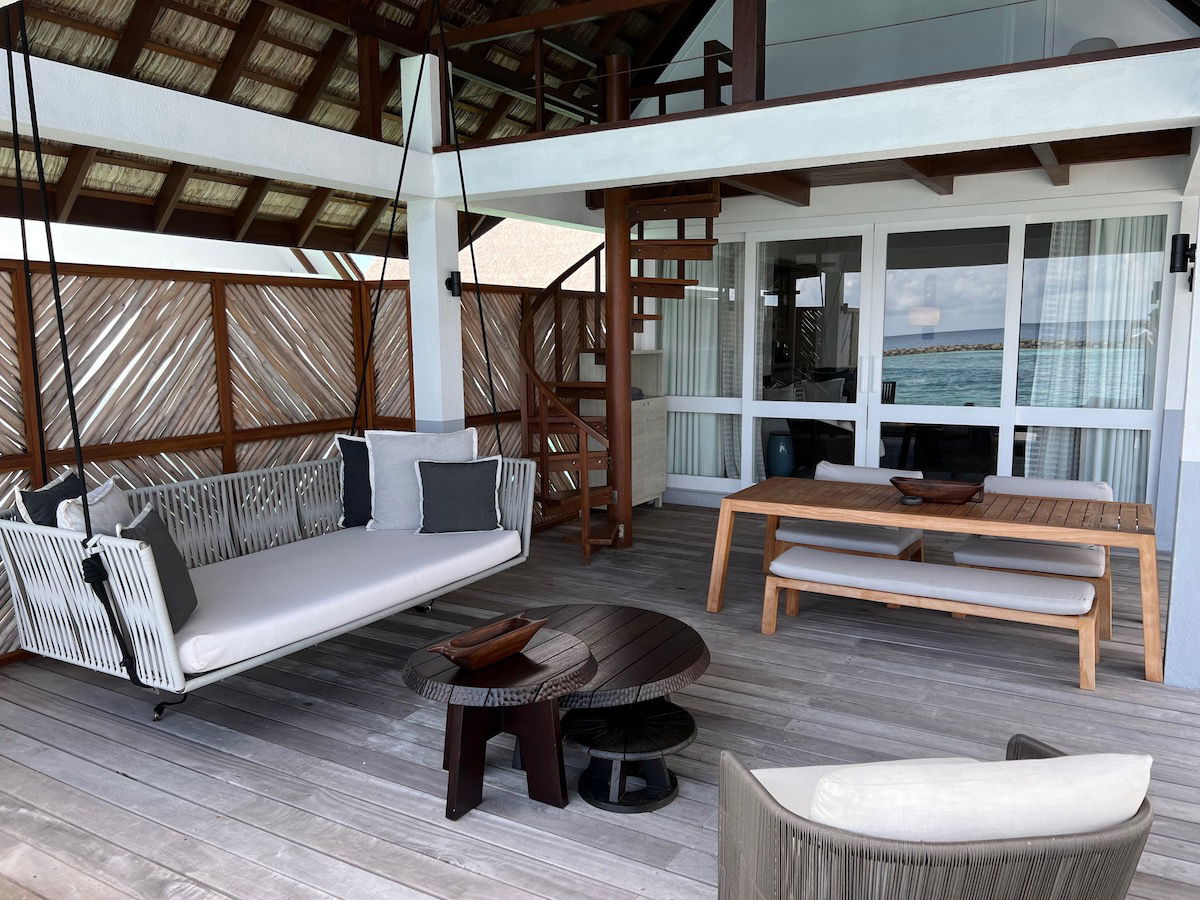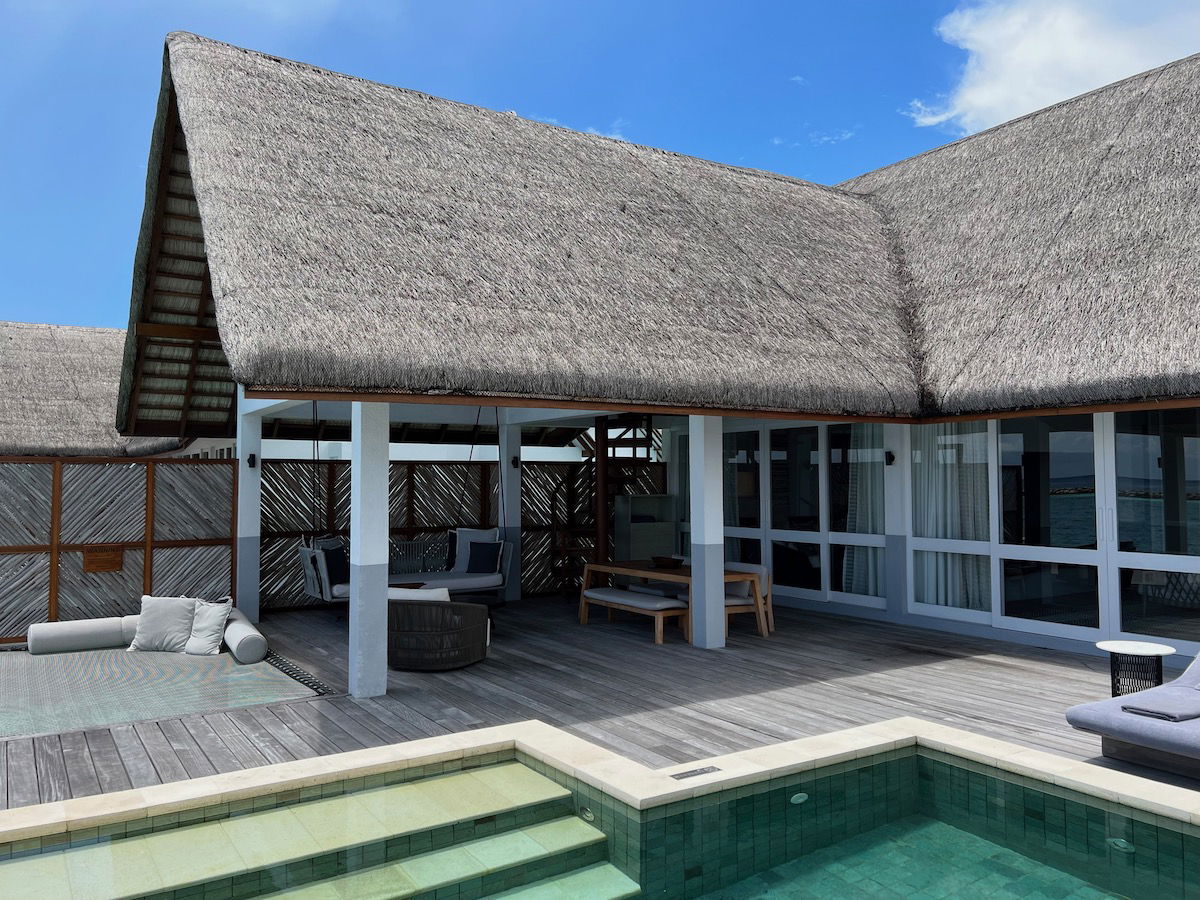 At the top of the spiral staircase was a loft area, which could be a fun place to hang out with a view of the entire outdoor space.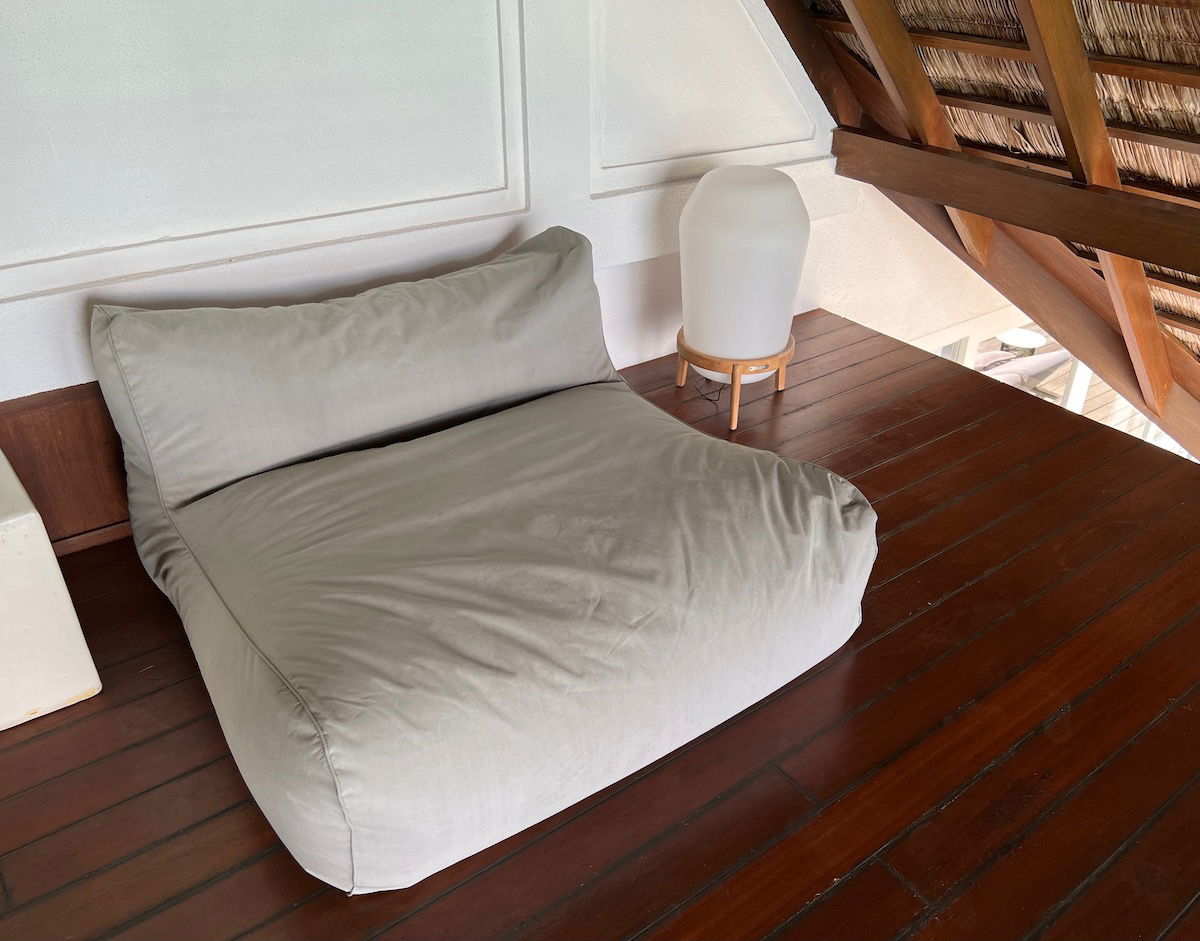 There was also a cool net you could relax in, with lots of pillows.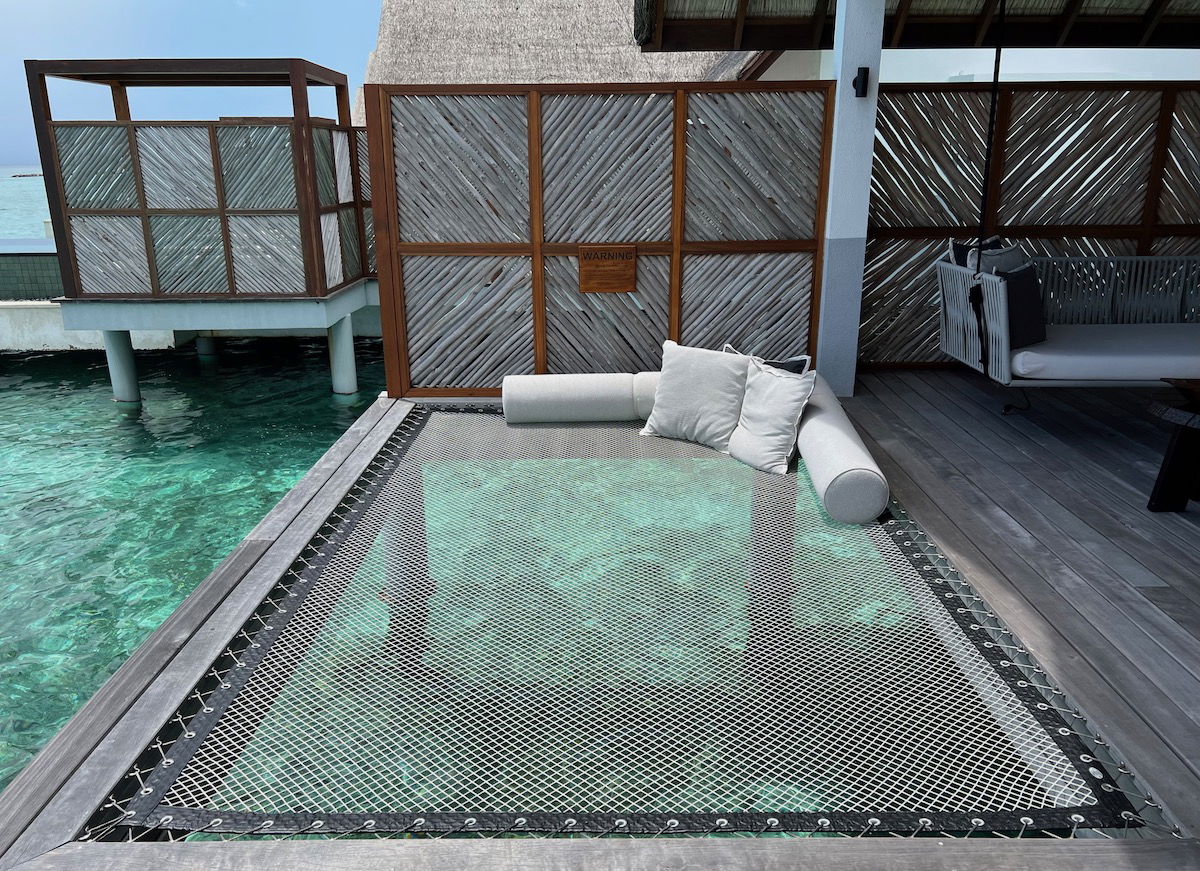 The outdoor space also had a couple of sun beds, as well as cushions in the shade.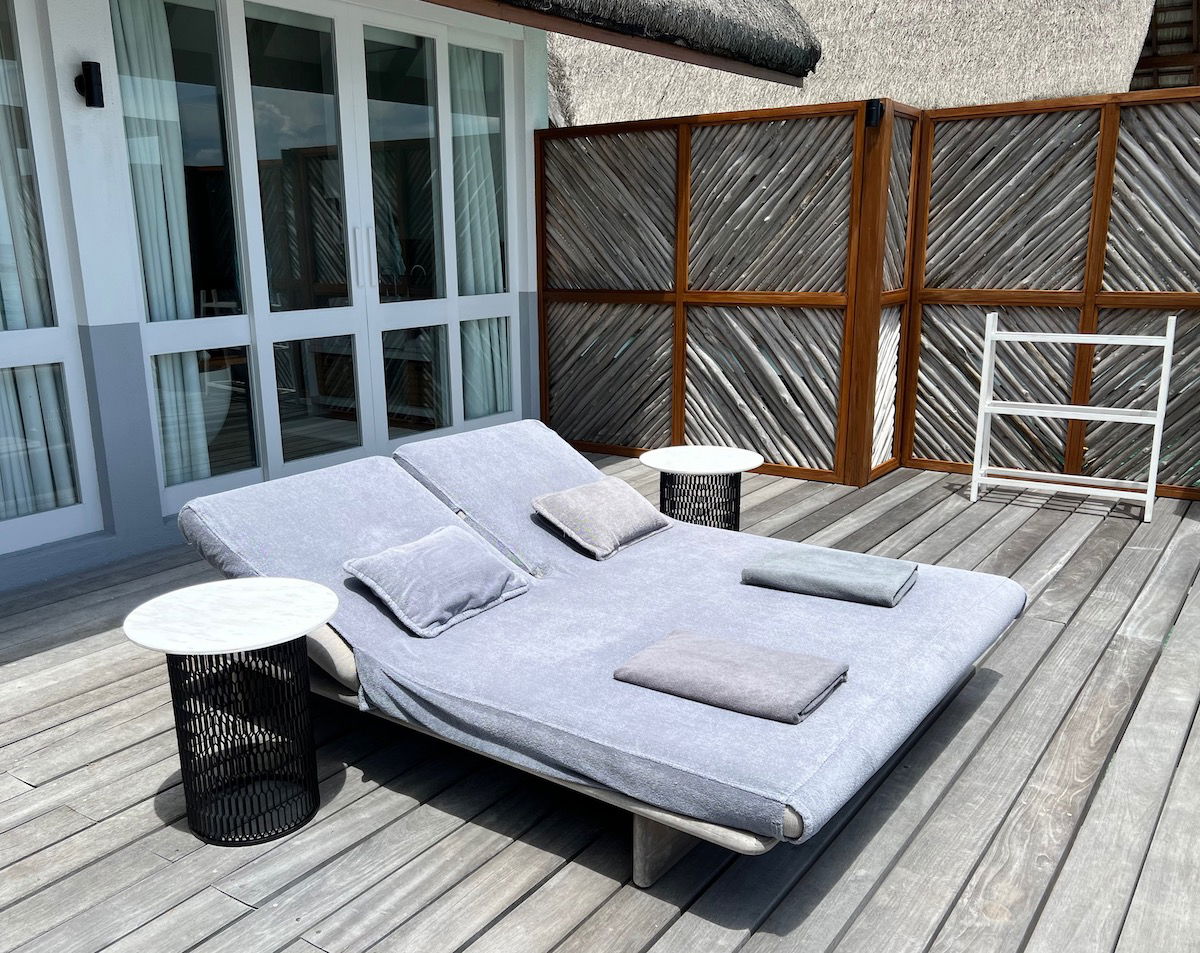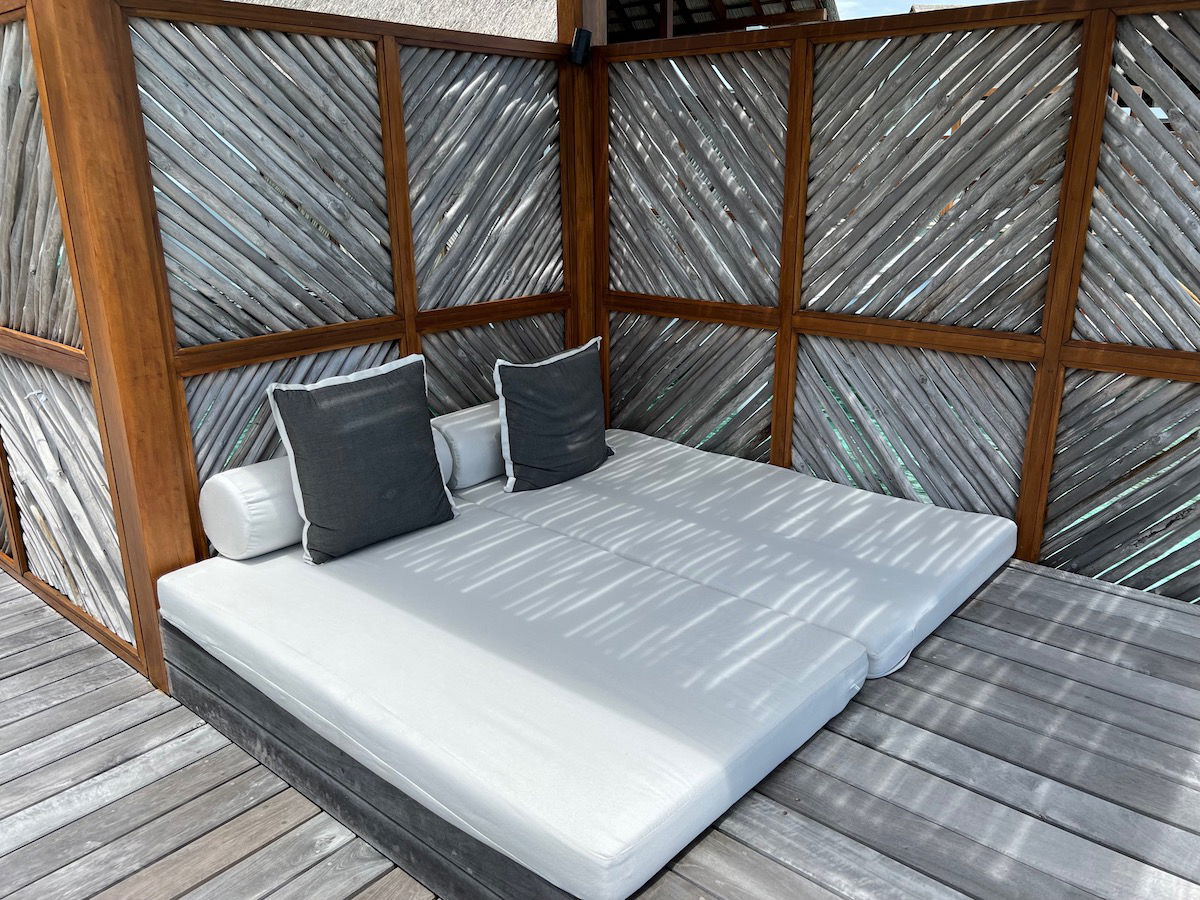 There were also stairs going directly into the ocean — the water around the villa was shallow and clear, and there was a seawall that also made it very calm.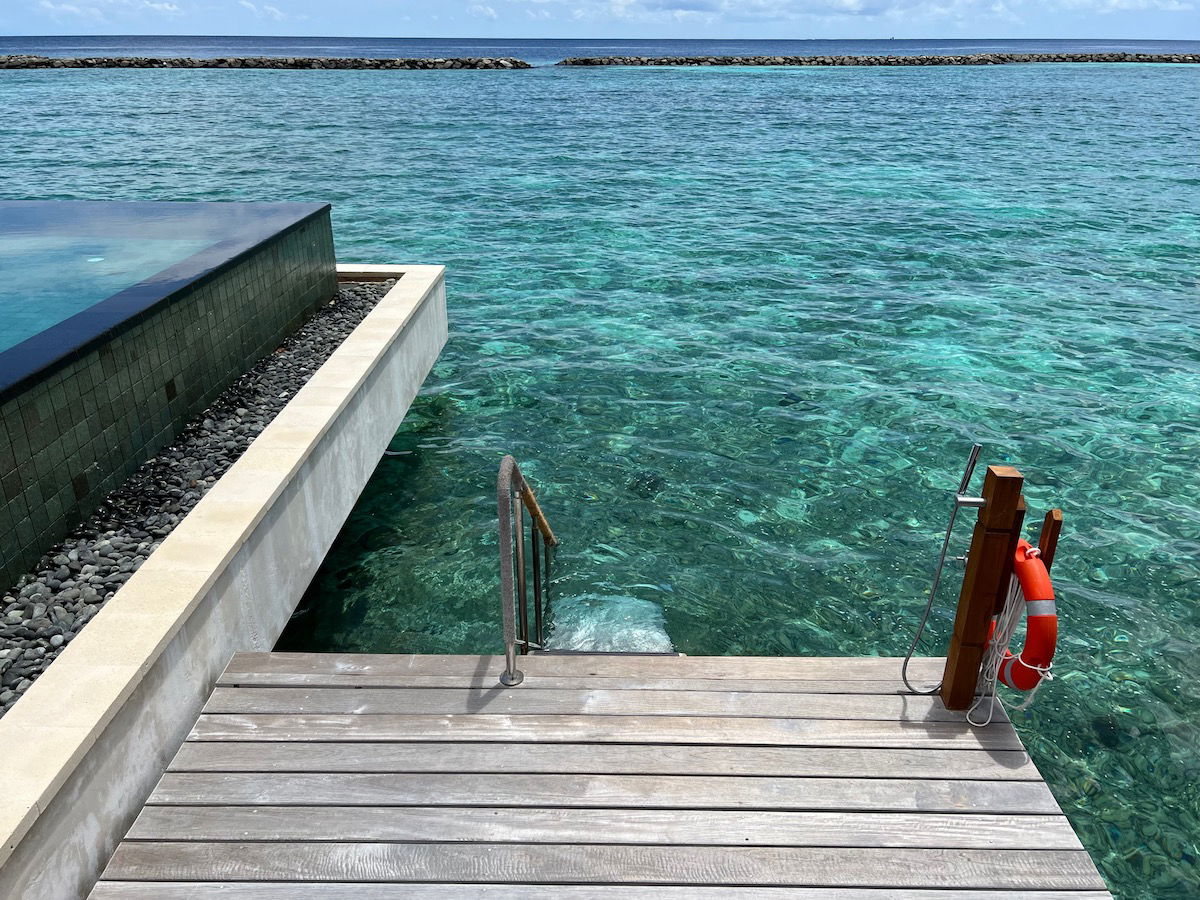 Even though we were staying on the "sunrise" side, the sunset views were still pretty epic.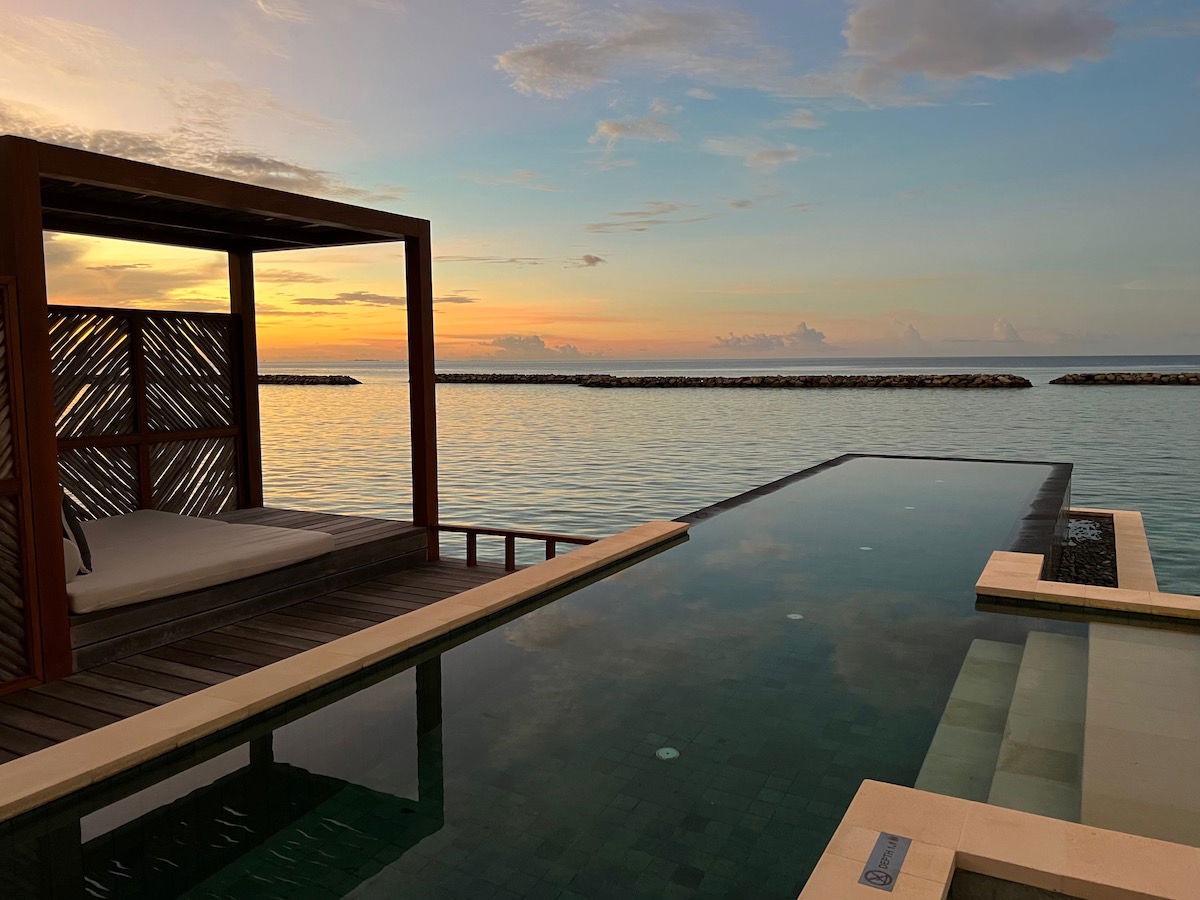 The room was refreshed twice per day, and as is typical at Four Seasons, the housekeeping attention to detail was incredible. Four Seasons properties pretty consistently put cleaning cloths next to computer screens and sunglasses, though this resort has the cutest ones I've ever seen.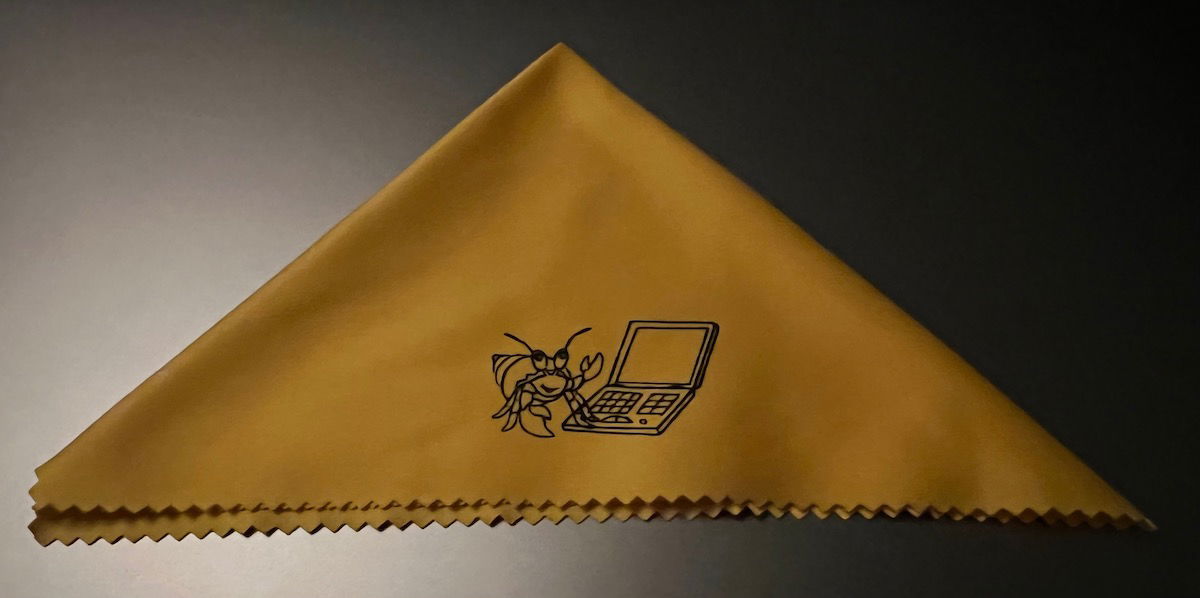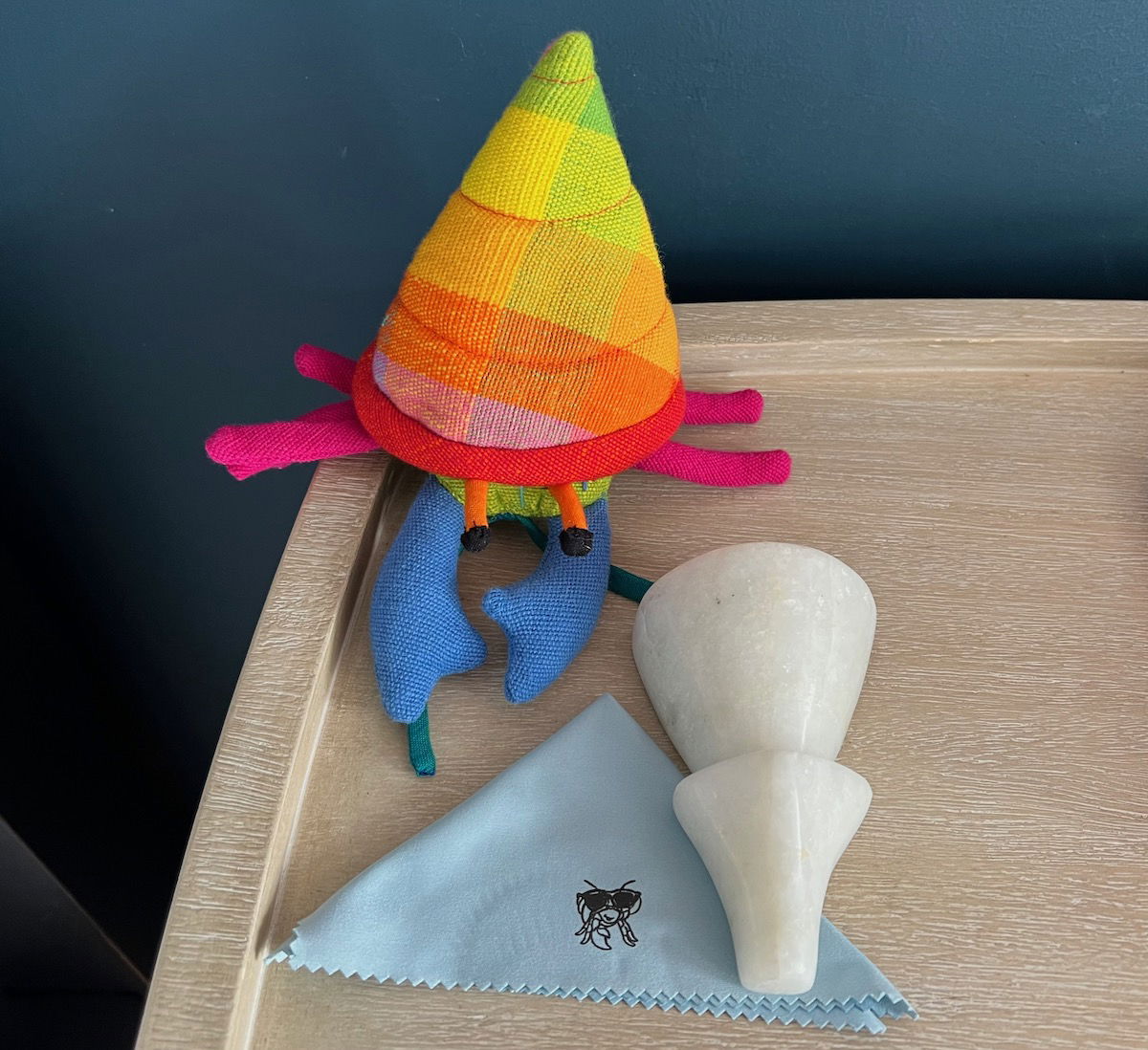 Four Seasons Maldives Landaa Giraavaru amenities & facilities
In the Maldives you're more or less "stuck" on the private island resort you choose to book, so what are the amenities like? While guests tend to spend a lot of time in their own villas (given that they're often over the water, and usually have amazing outdoor spaces), the resort still has plenty else to offer.
Four Seasons Maldives Landaa Giraavaru pools
The Four Seasons Maldives has three shared pools. The main pool is near reception, and it's 50 meters (or around 164 square feet), and was allegedly the first Olympic-sized pool in the Maldives. The pool has plenty of seating and even a swim-up bar, though I don't think I ever saw anyone use it (which is standard in the Maldives).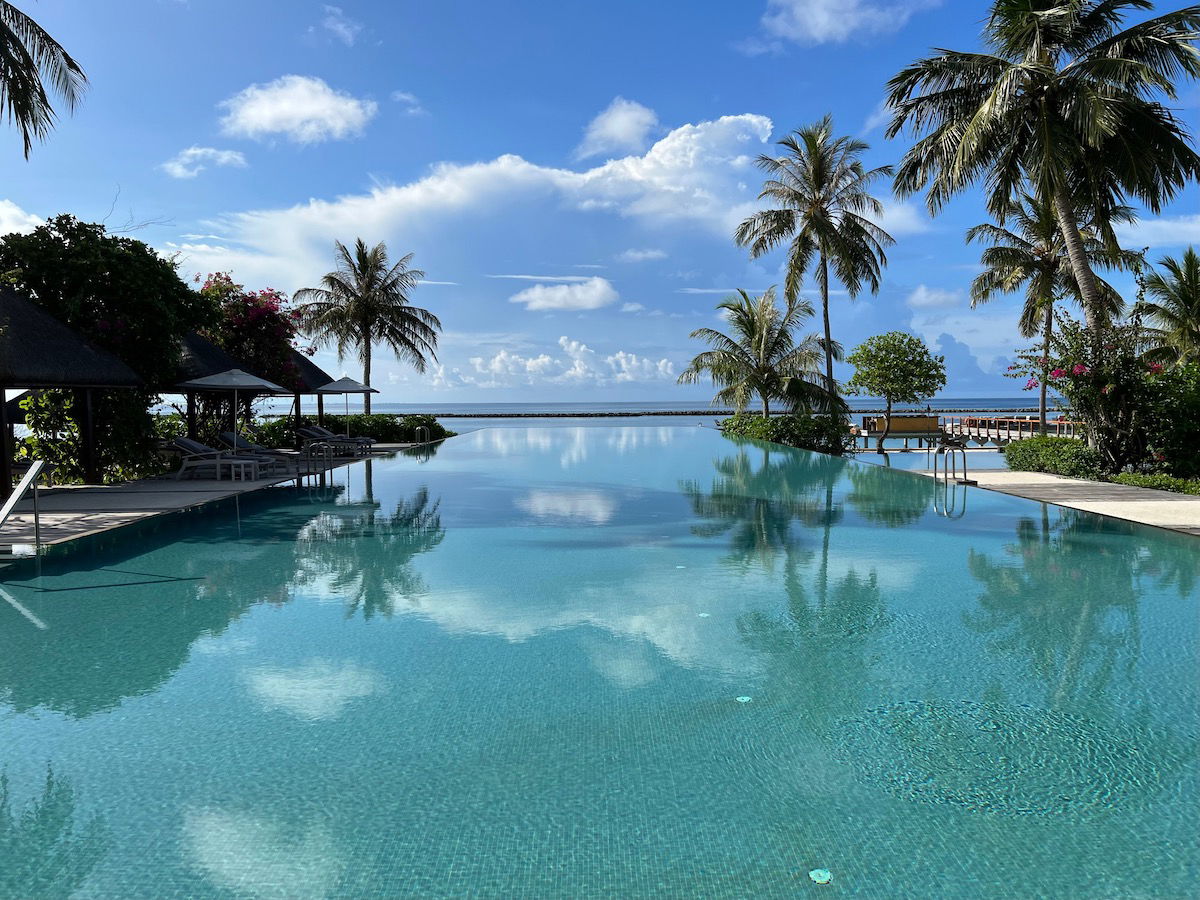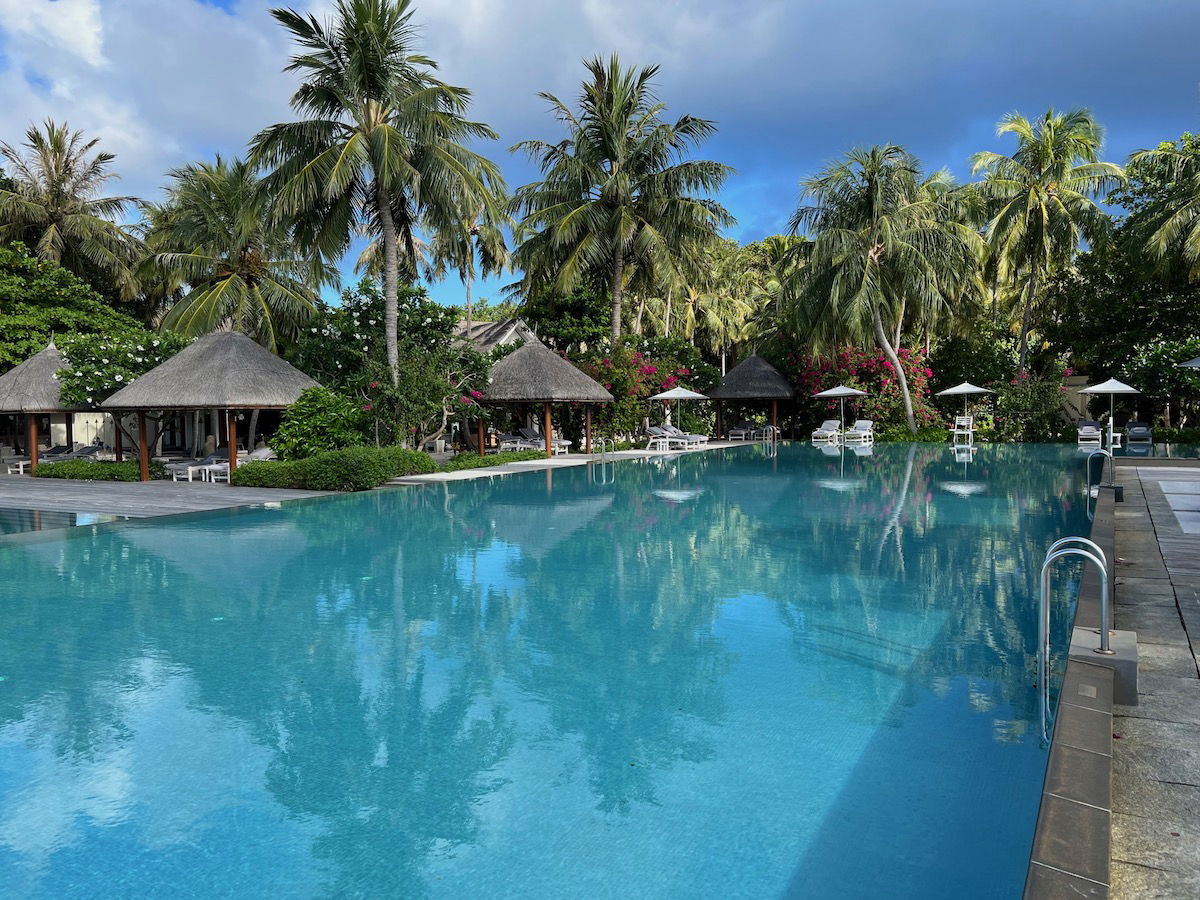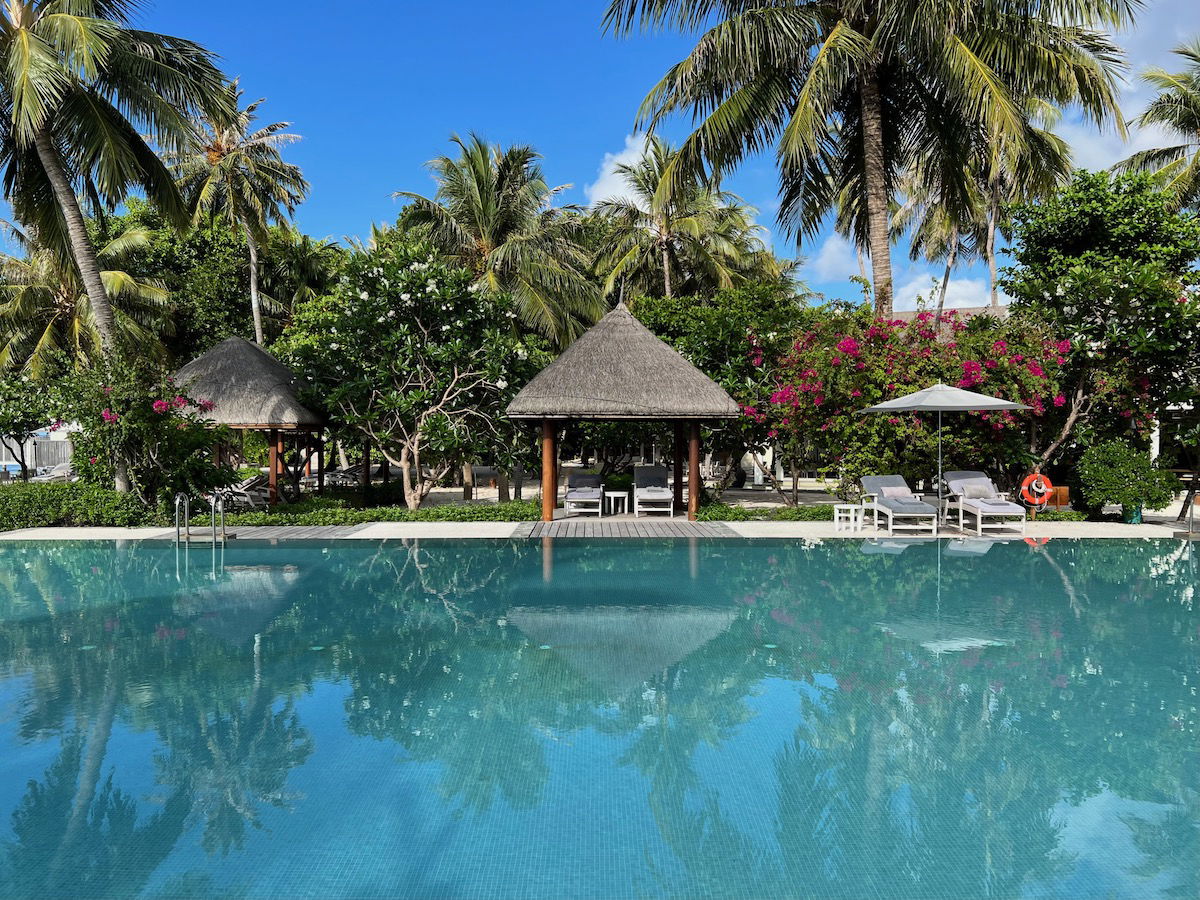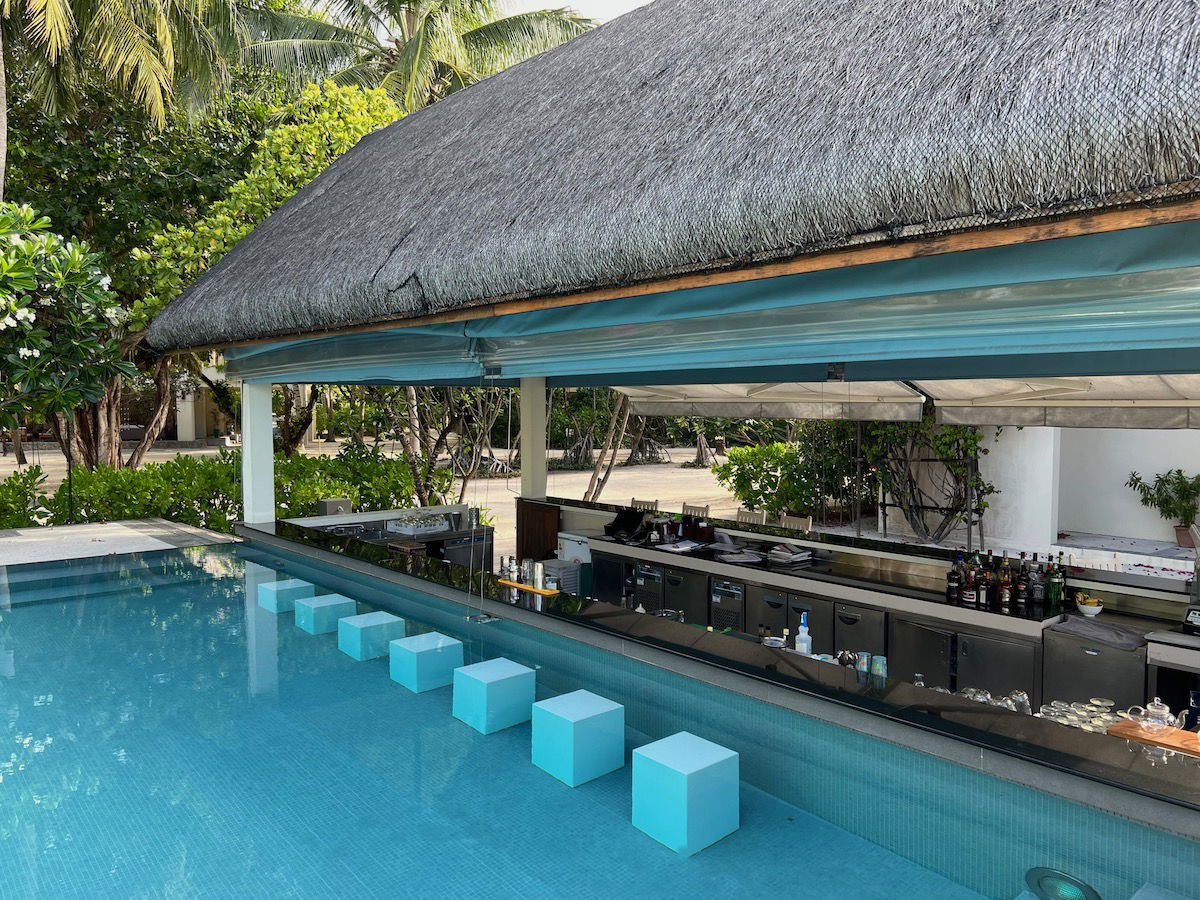 Immediately next to the main pool is a 20 meter (66 foot) saltwater pool.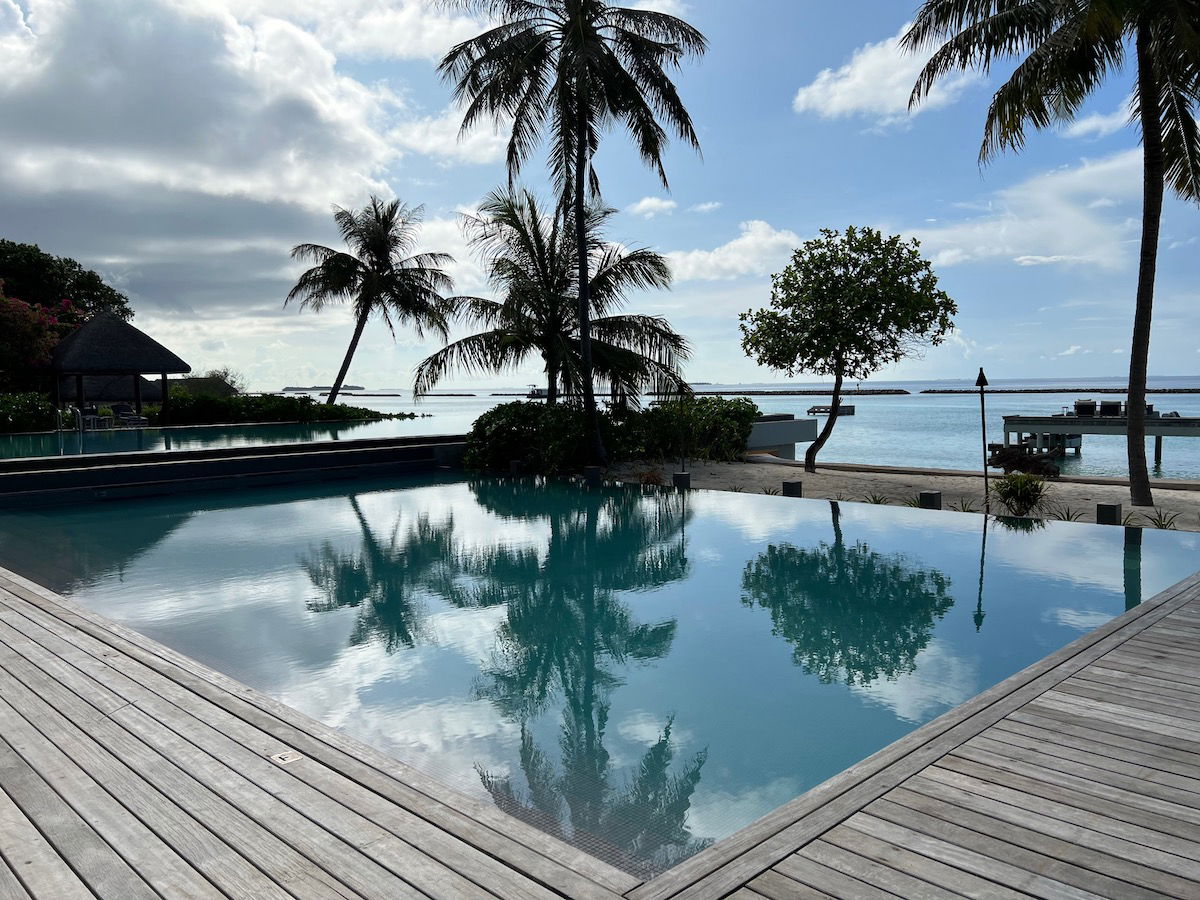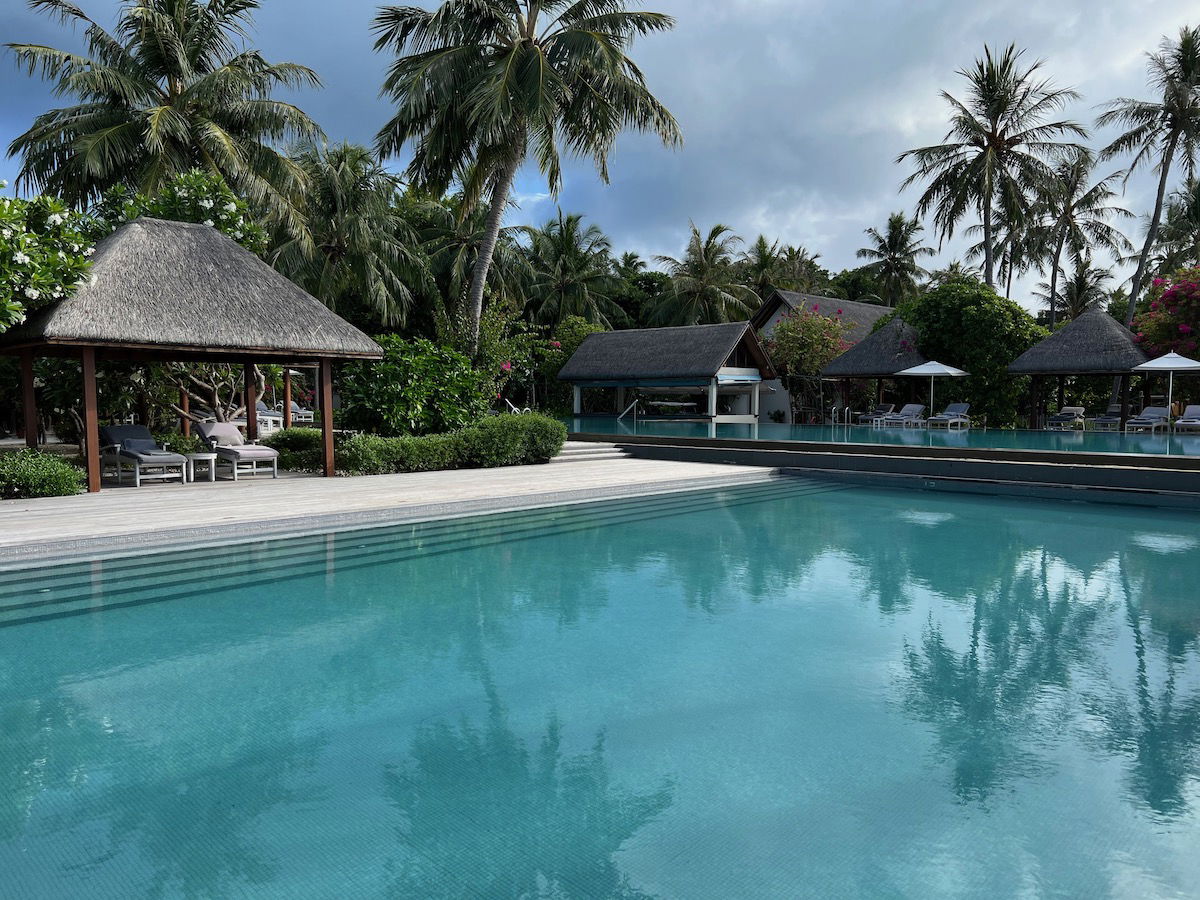 The resort also has Blu Beach Club (which I'll talk more about below, when I discuss dining), and this has yet another pool that's right on the beach.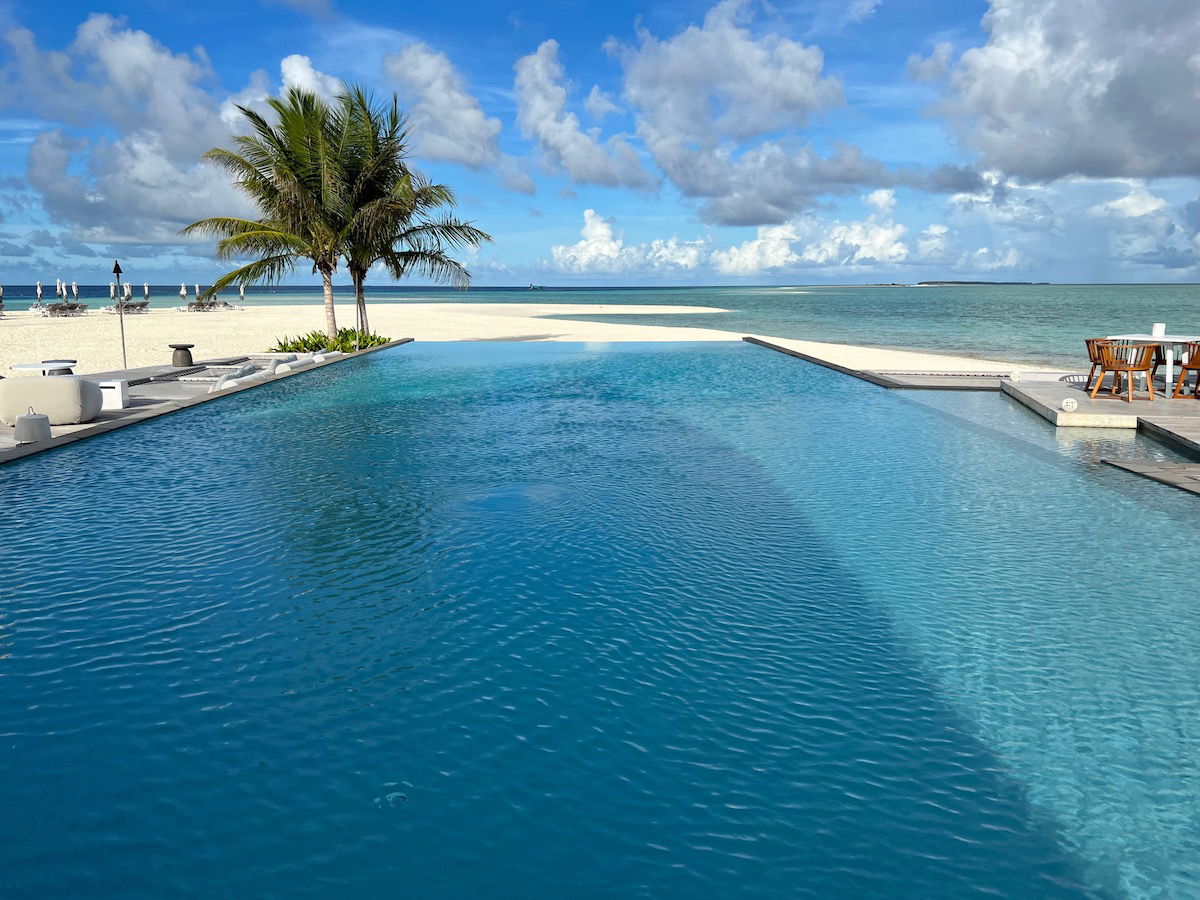 Four Seasons Maldives Landaa Giraavaru beach
Four Seasons Landaa Giraavaru has a legitimately large beach, which many properties in the Maldives lack. The water was calm and clear, the sand was powdery soft, and it was just generally great to be able to do some beach walking.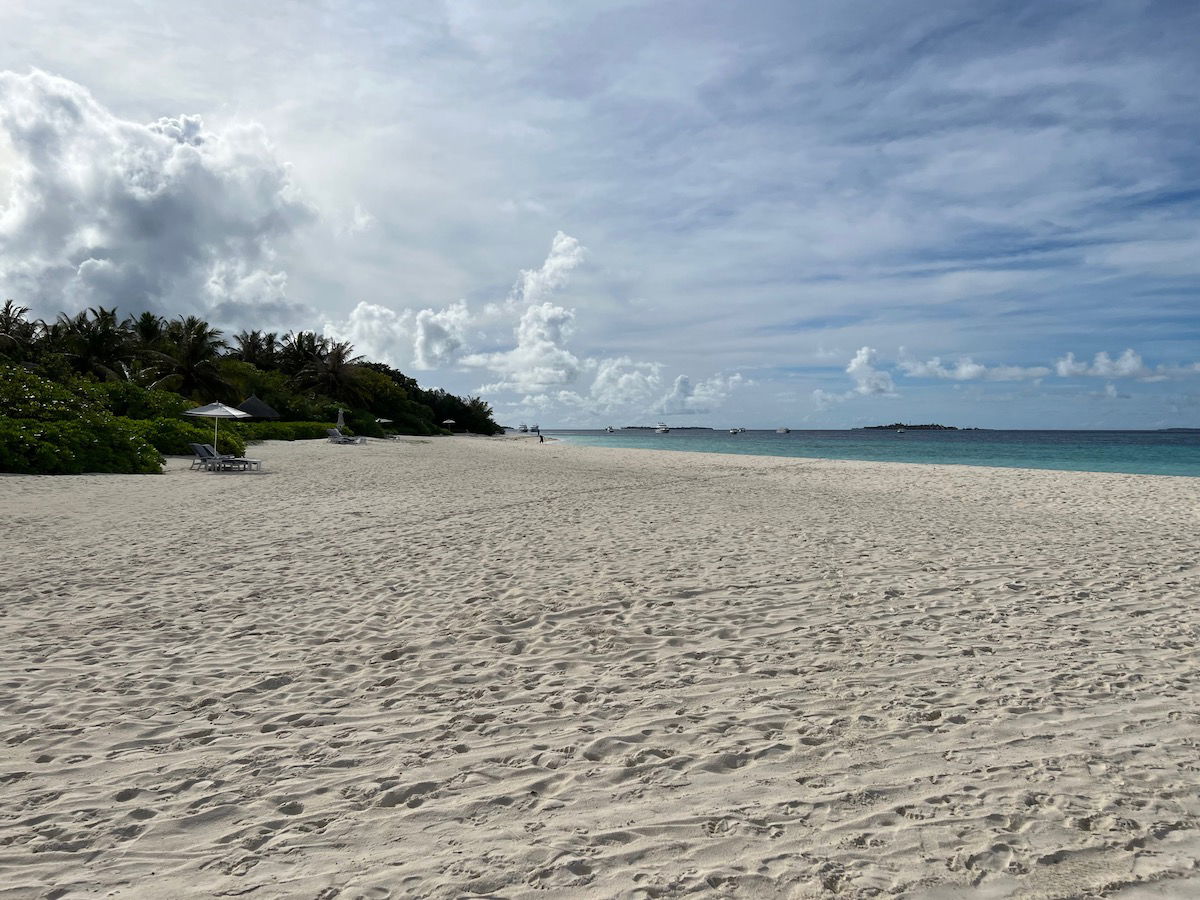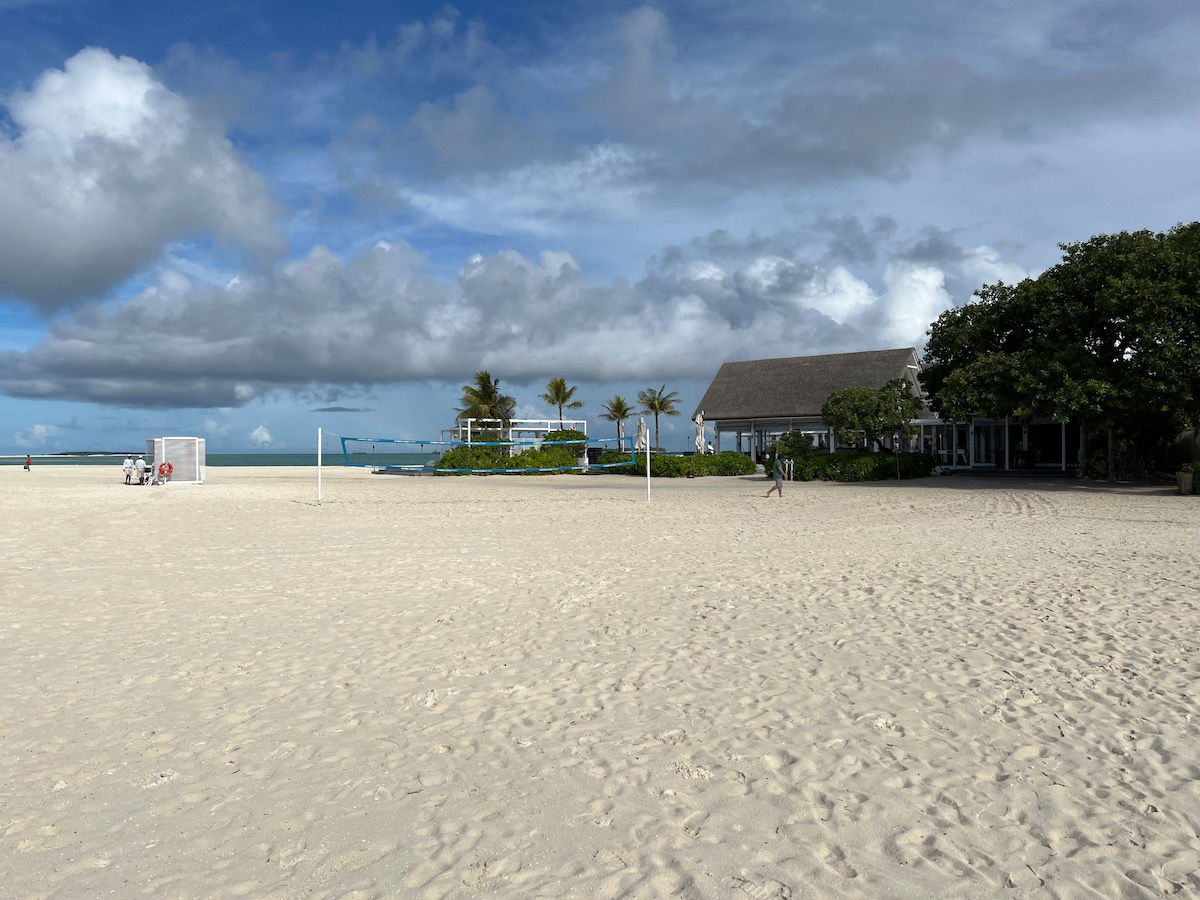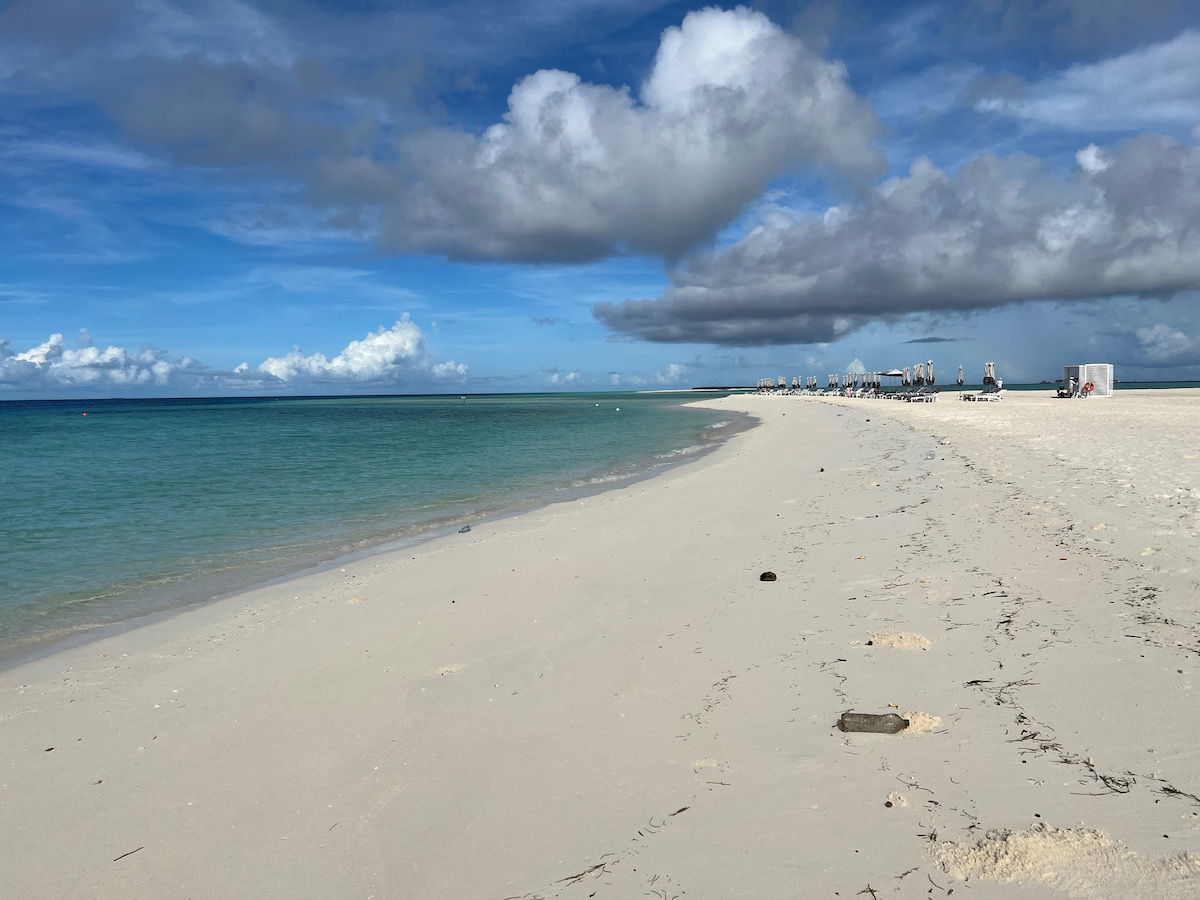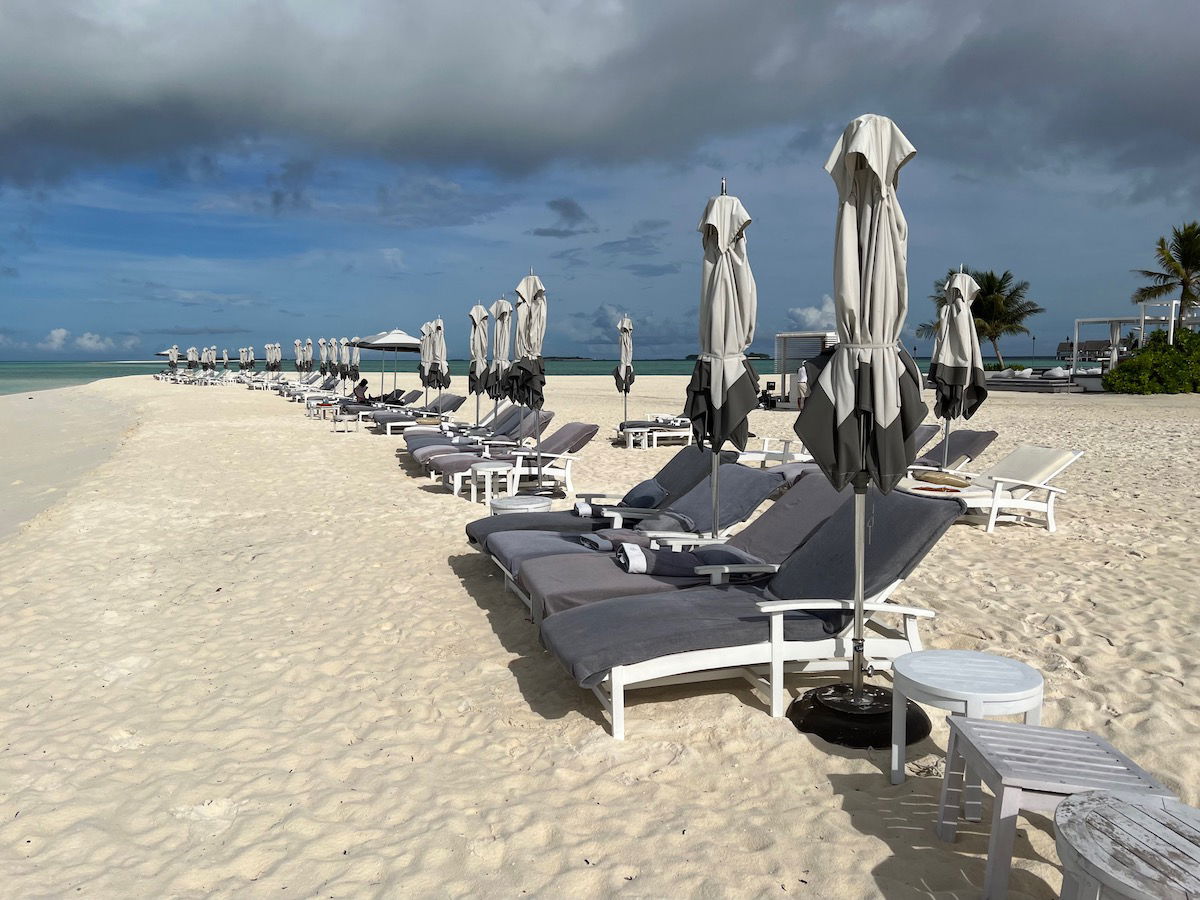 The water is so shallow that during low tide there's a sandbar you can walk to (past the sign you see below) without going more than knee-deep into the water.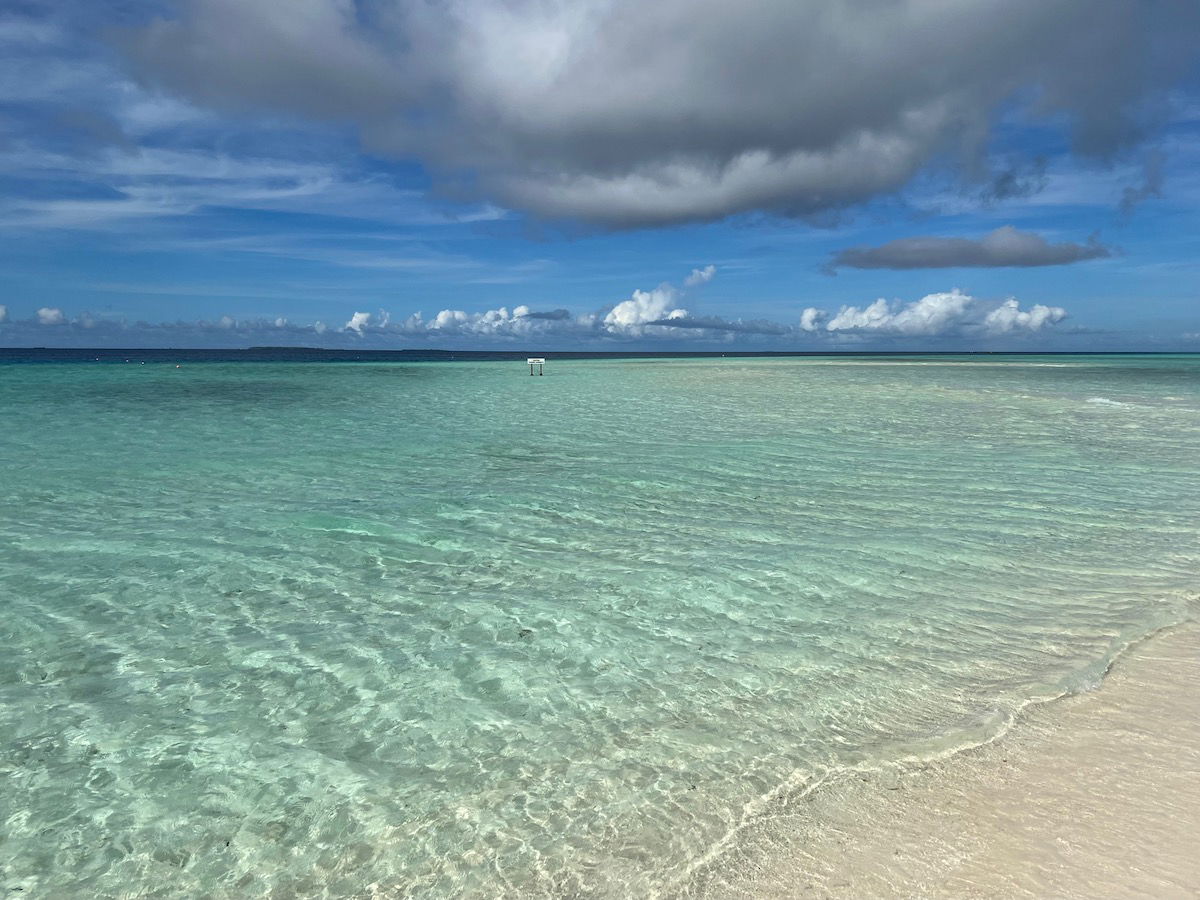 The resort also has all kinds of water sports, including both non-motorized and motorized options.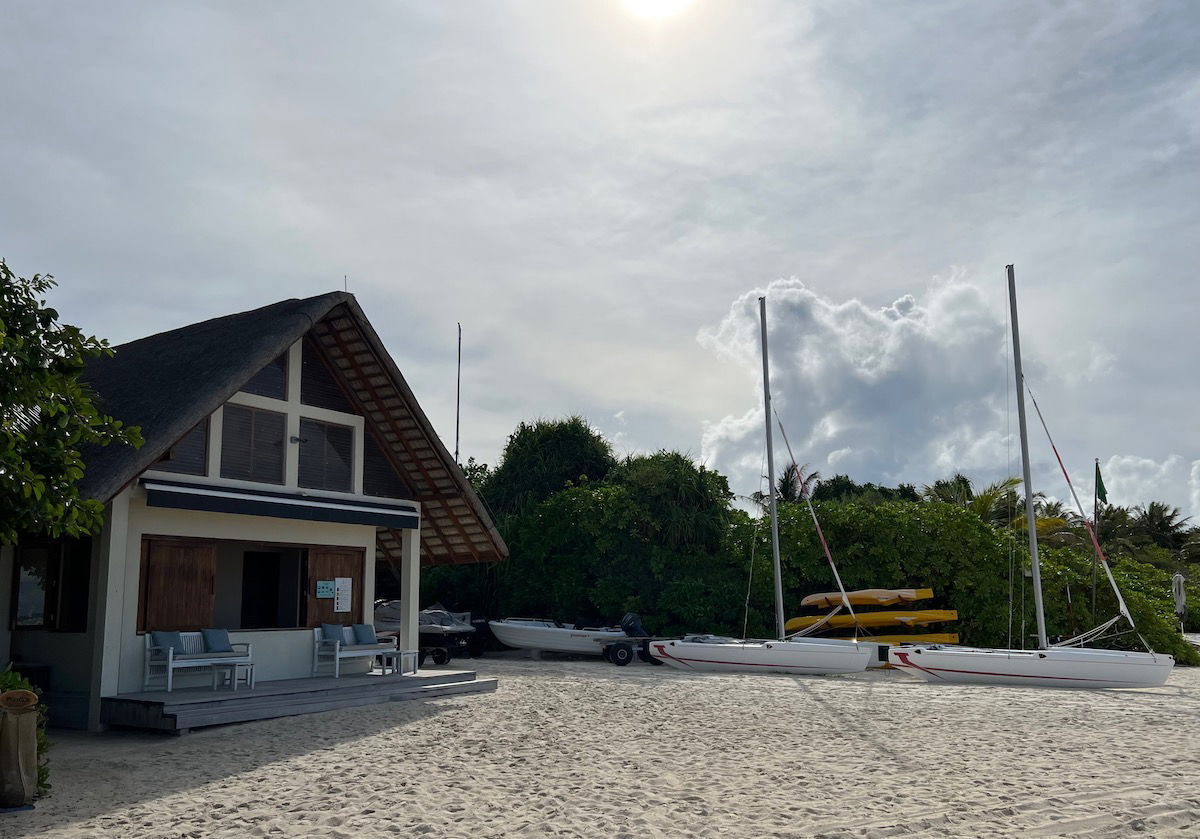 Four Seasons Maldives Landaa Giraavaru gym & tennis court
The Four Seasons has a 24/7 gym located near reception. It has a good variety of equipment, and we enjoyed using this around the middle of the day when it was otherwise hottest.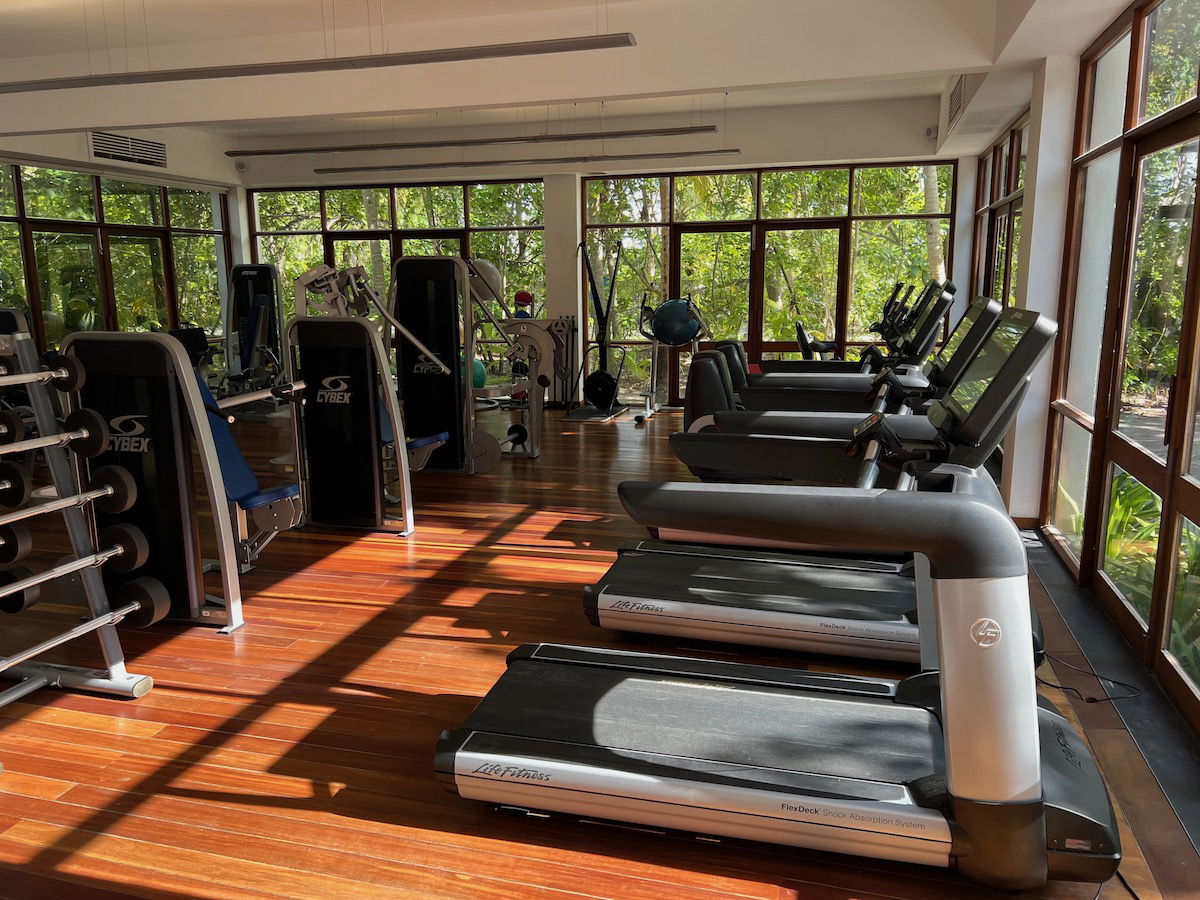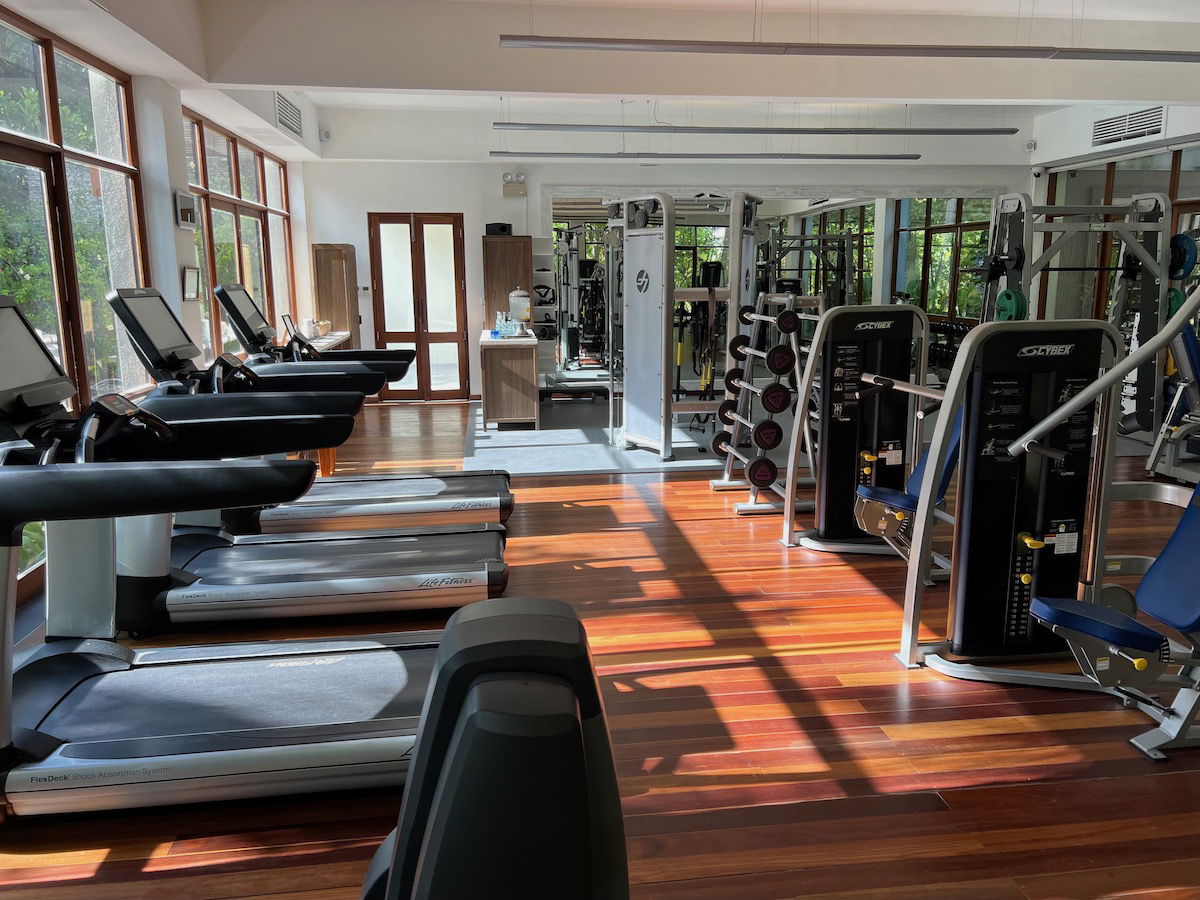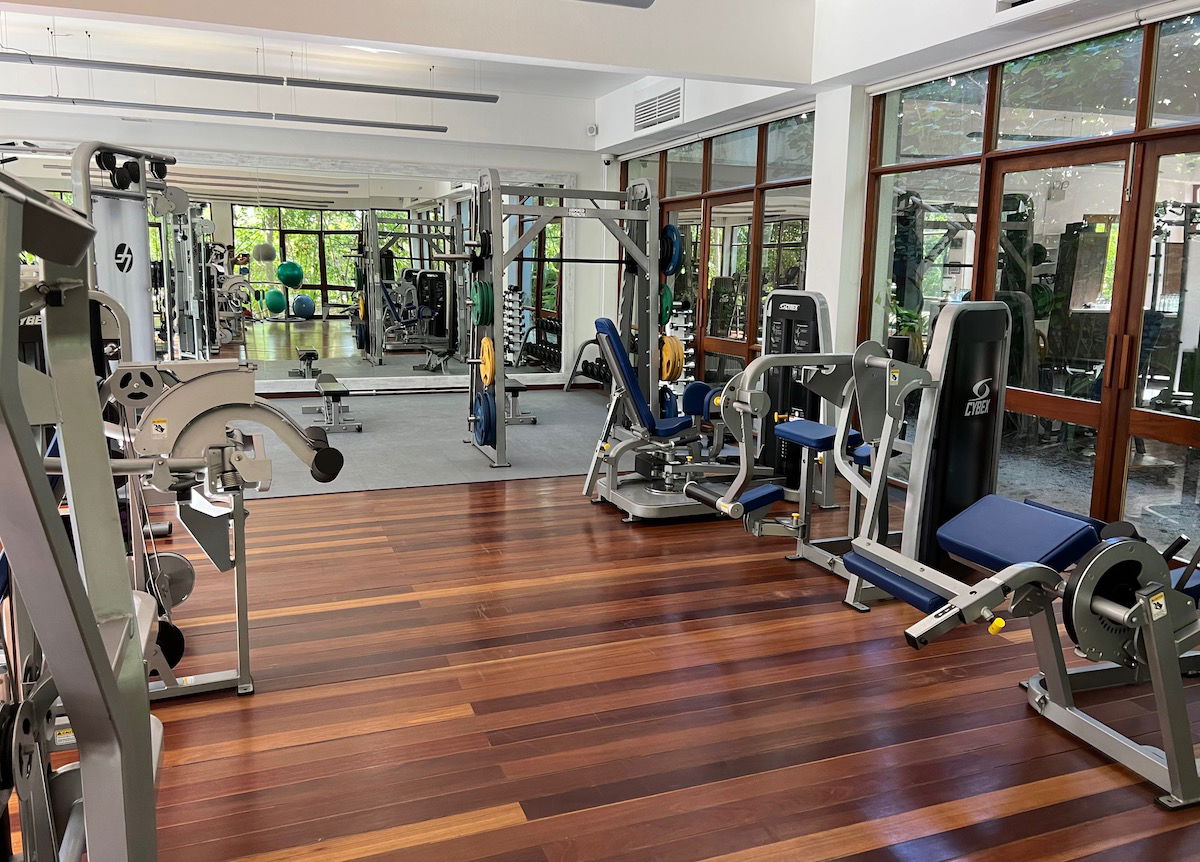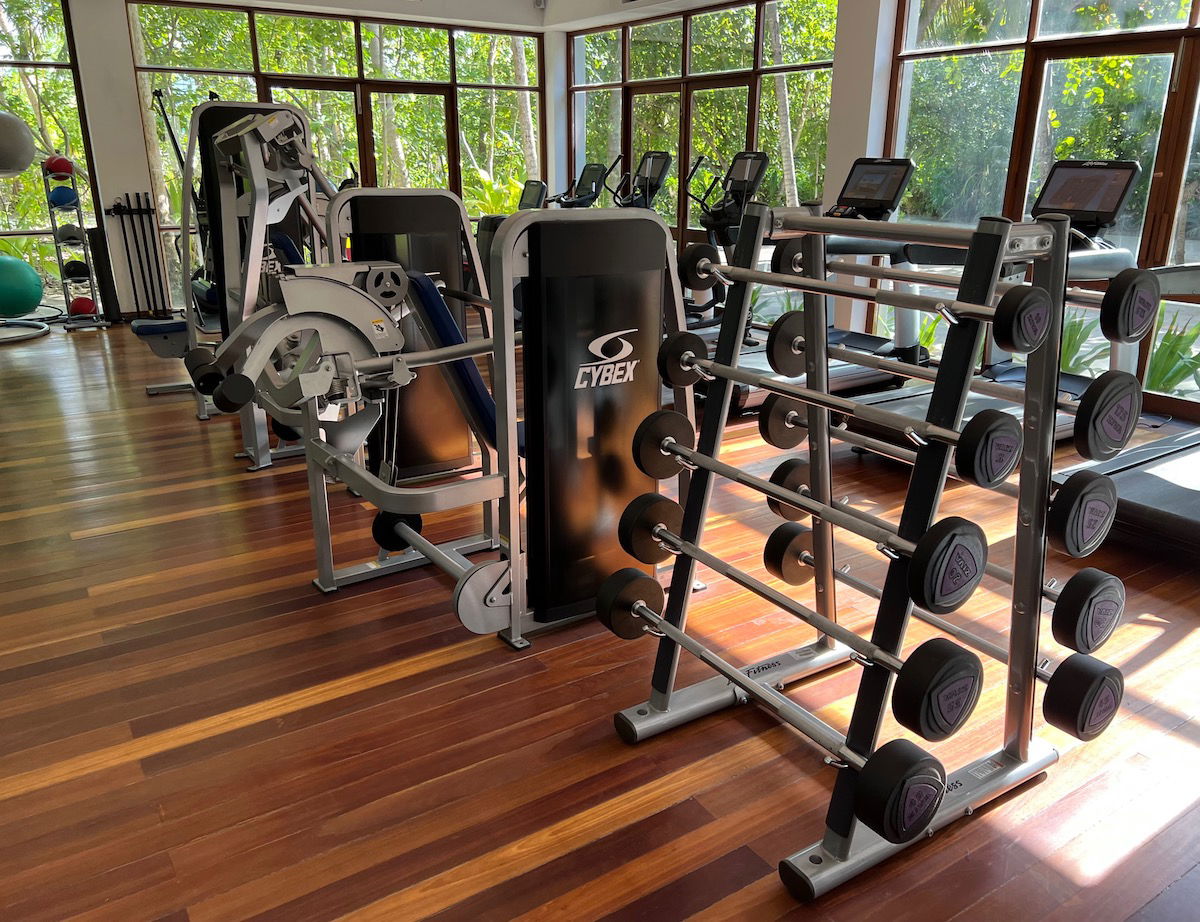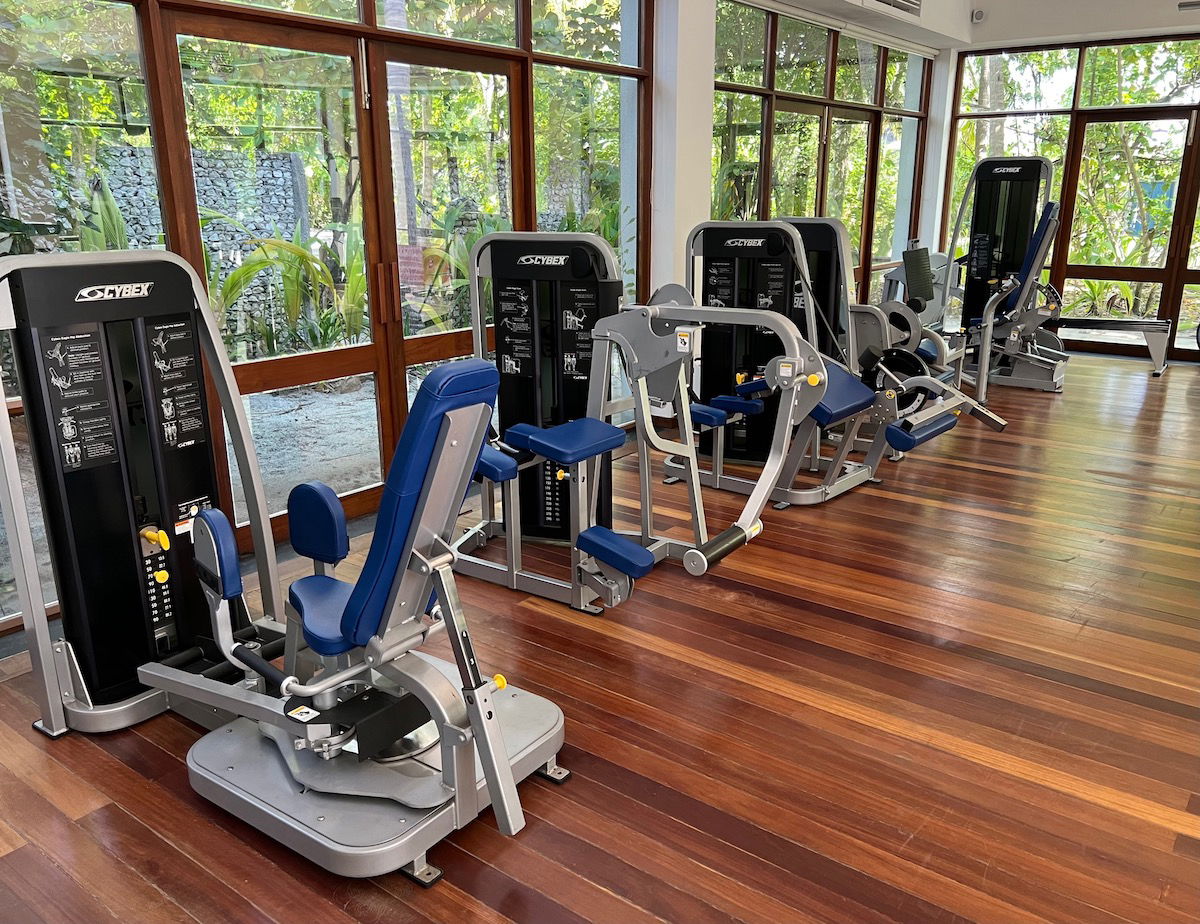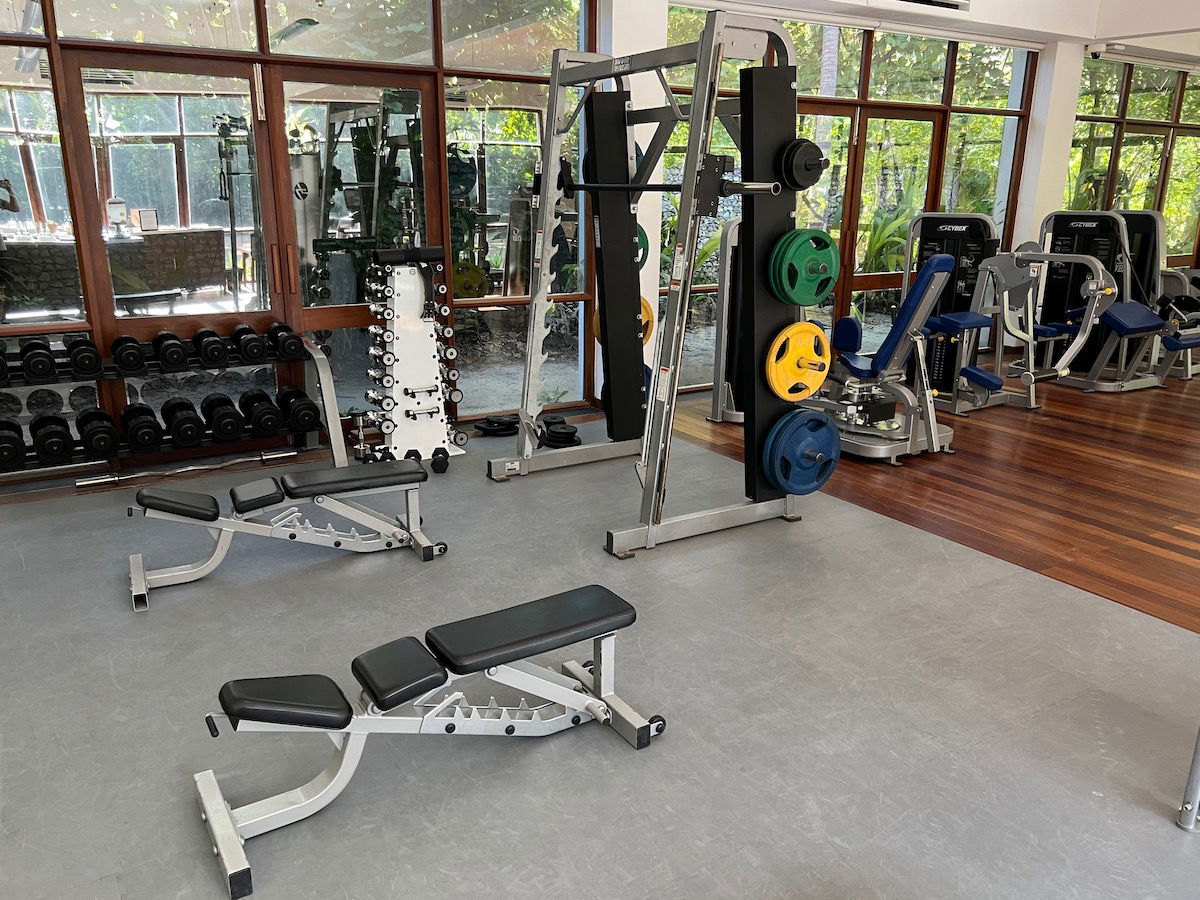 The resort also has a grass tennis court, which can be reserved. We were going to play the last morning, but unfortunately that got rained out.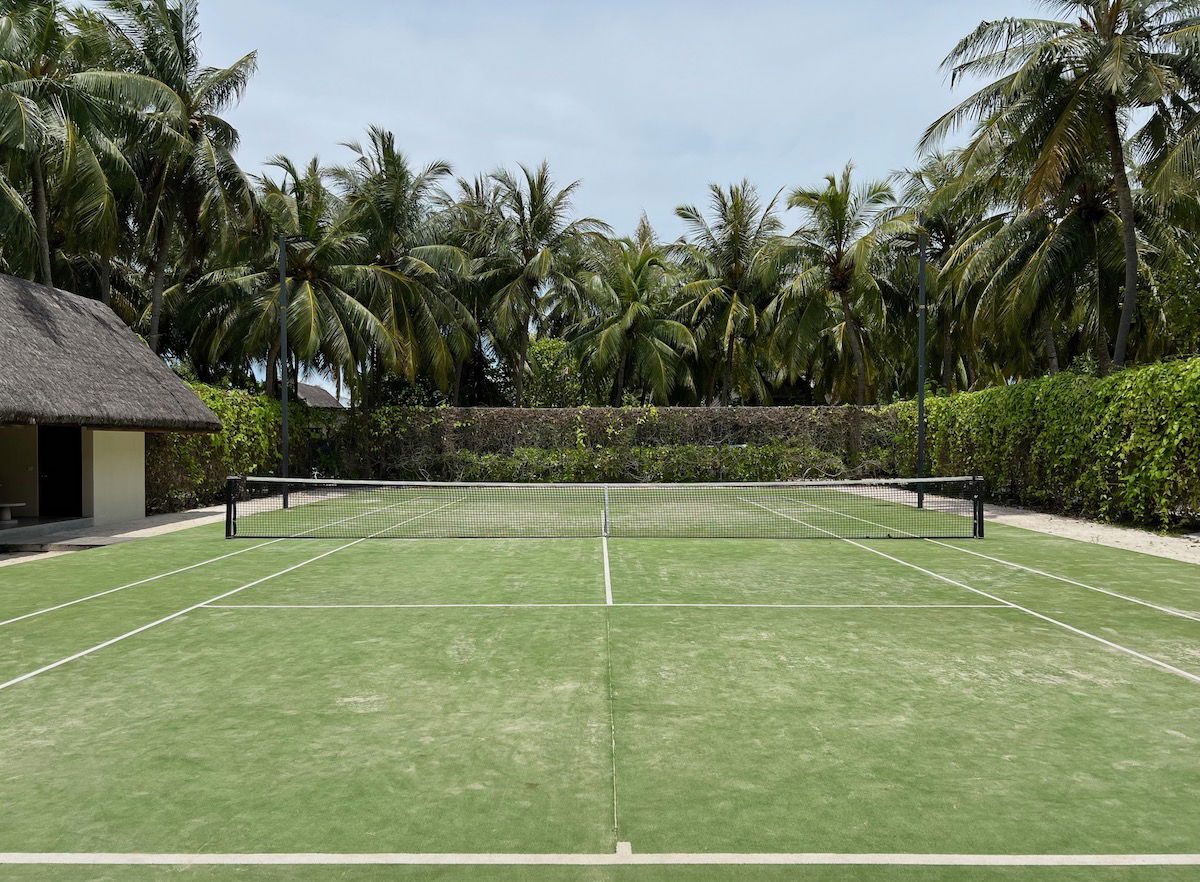 Four Seasons Maldives Landaa Giraavaru spa
The Four Seasons has the AyruMa Spa, open daily from 10AM until 9PM. You can find the treatment menu here. We didn't end up getting any treatments (as we were only at the resort for three nights), but it's an impressive spa complex, as it consists of three acres.
Treatments go beyond your typical massage and facial options, as the spa also does everything from acupuncture, to alignment rituals, to yoga therapy. The spa also has both treatments on land and over water.
Four Seasons Maldives Landaa Giraavaru restaurants & bars
Four Seasons Maldives Landaa Giraavaru has four main food & beverage outlets. Some have bars attached to them, and I'll talk about those with each individual venue.
Let me briefly summarize the dining options, and then below I'll cover each outlet in more detail:
Blu Beach Club is an all-day restaurant and beach club, serving Italian cuisine for lunch and dinner
Cafe Landaa is also an all-day restaurant, and it serves Asian food for lunch and dinner
Al Barakat is a dinner restaurant, and it serves Middle Eastern food
Fuego Grill is a dinner restaurant, serving seafood specialties
For what it's worth, there's a 10% service charge added to all on-property purchases, and then there's no further option to tip. So I appreciate that there's not a service charge and then a further request for a tip.
Four Seasons Maldives Landaa Giraavaru Blu Beach Club
Blu Beach Club was without a doubt my favorite venue at the Four Seasons, and I think this was my single favorite dining "concept" at any of the properties we stayed at in the Maldives. This is essentially a fun Beach Club where you can have food or drinks all day.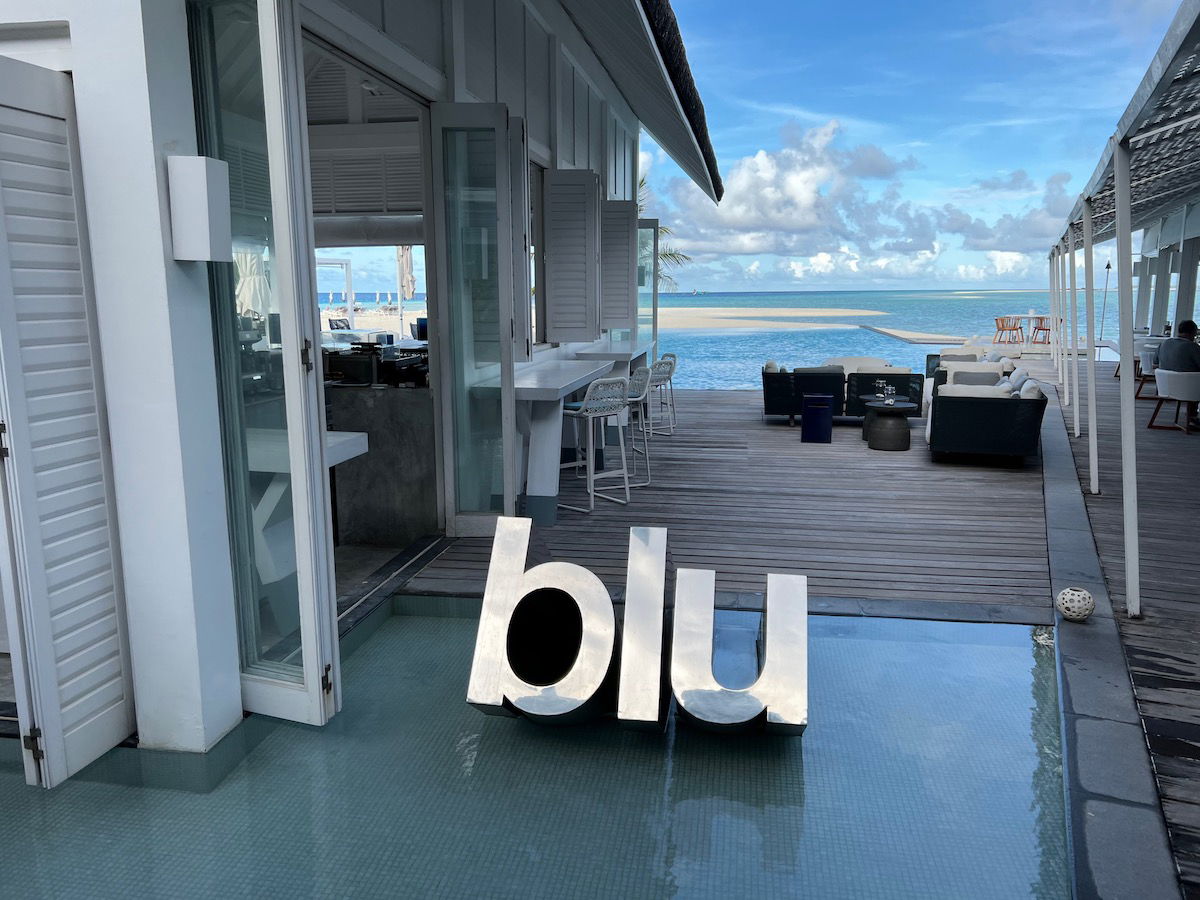 The beach club has a main open-air dining room where you can enjoy food or drinks any hour of the day.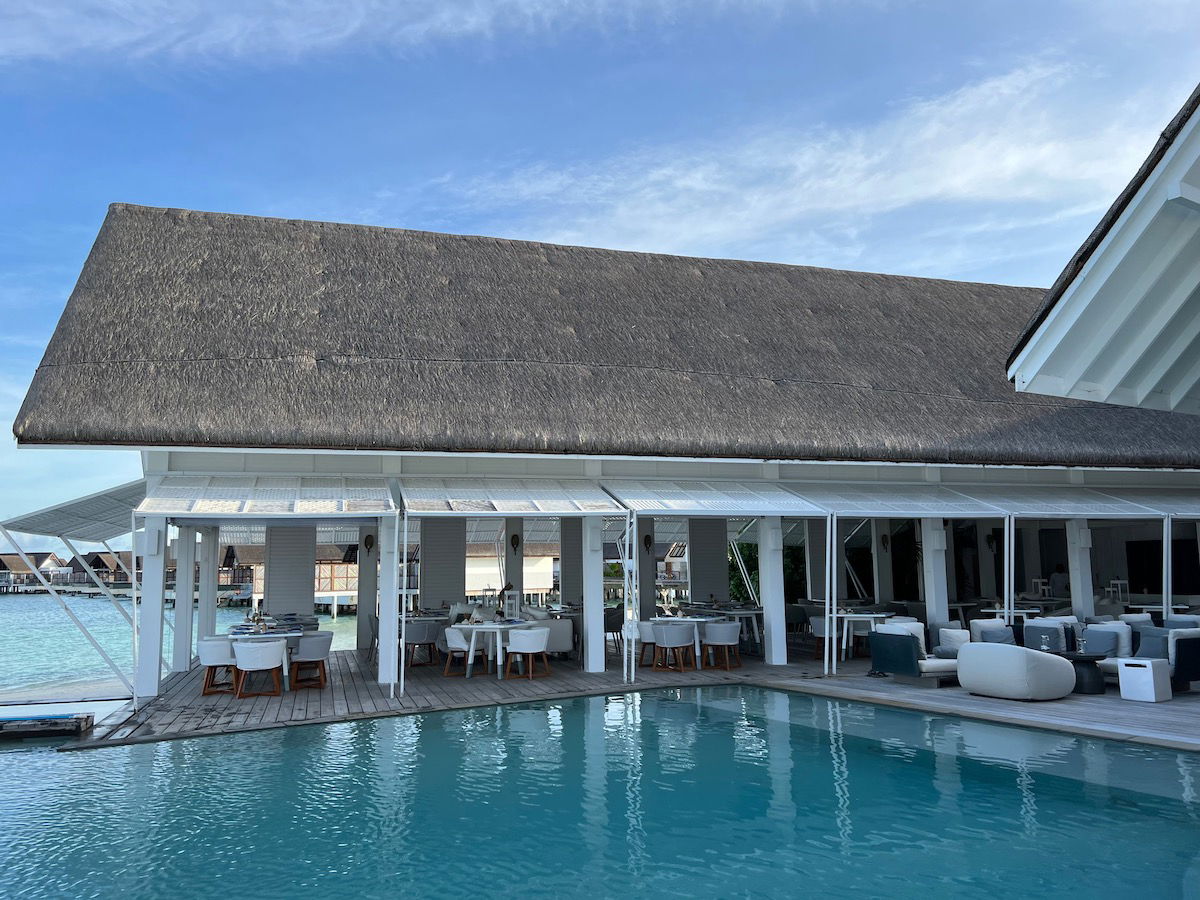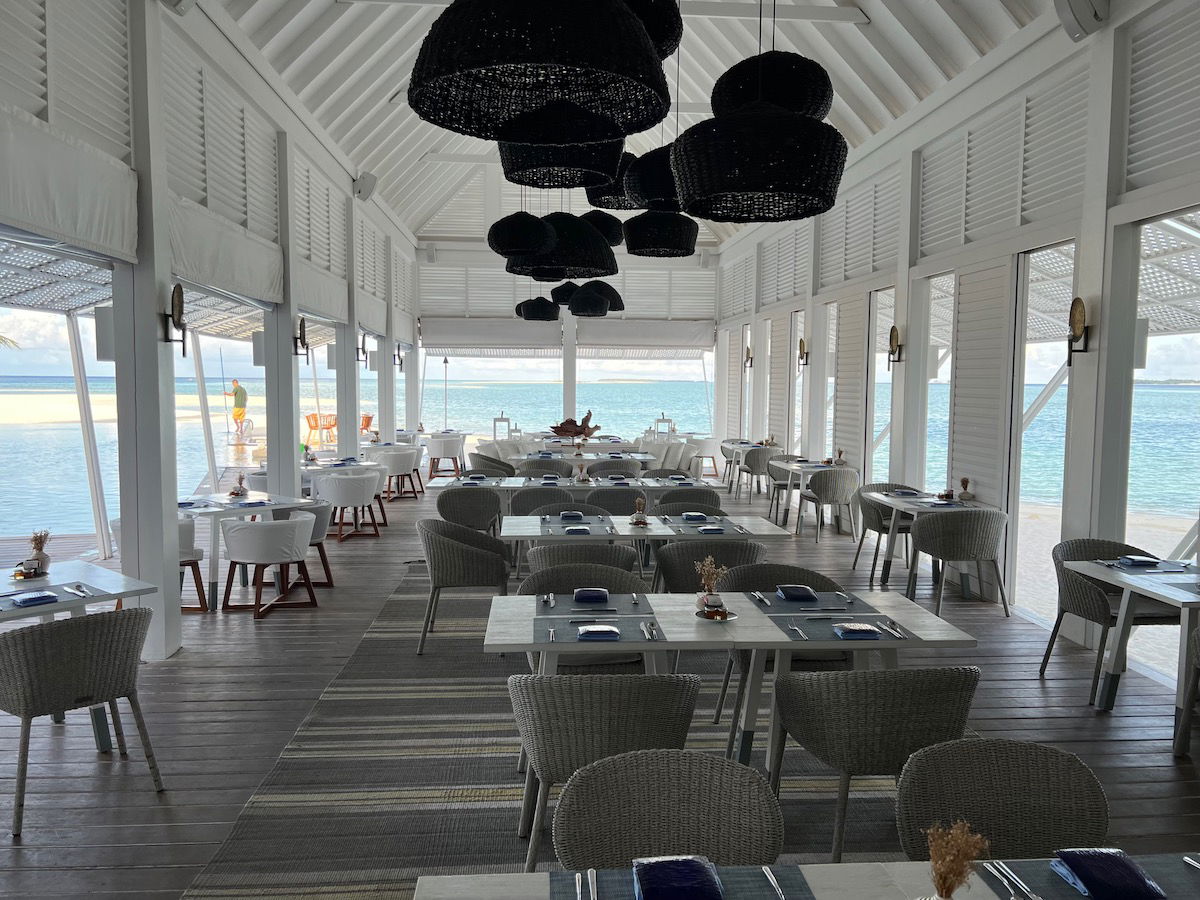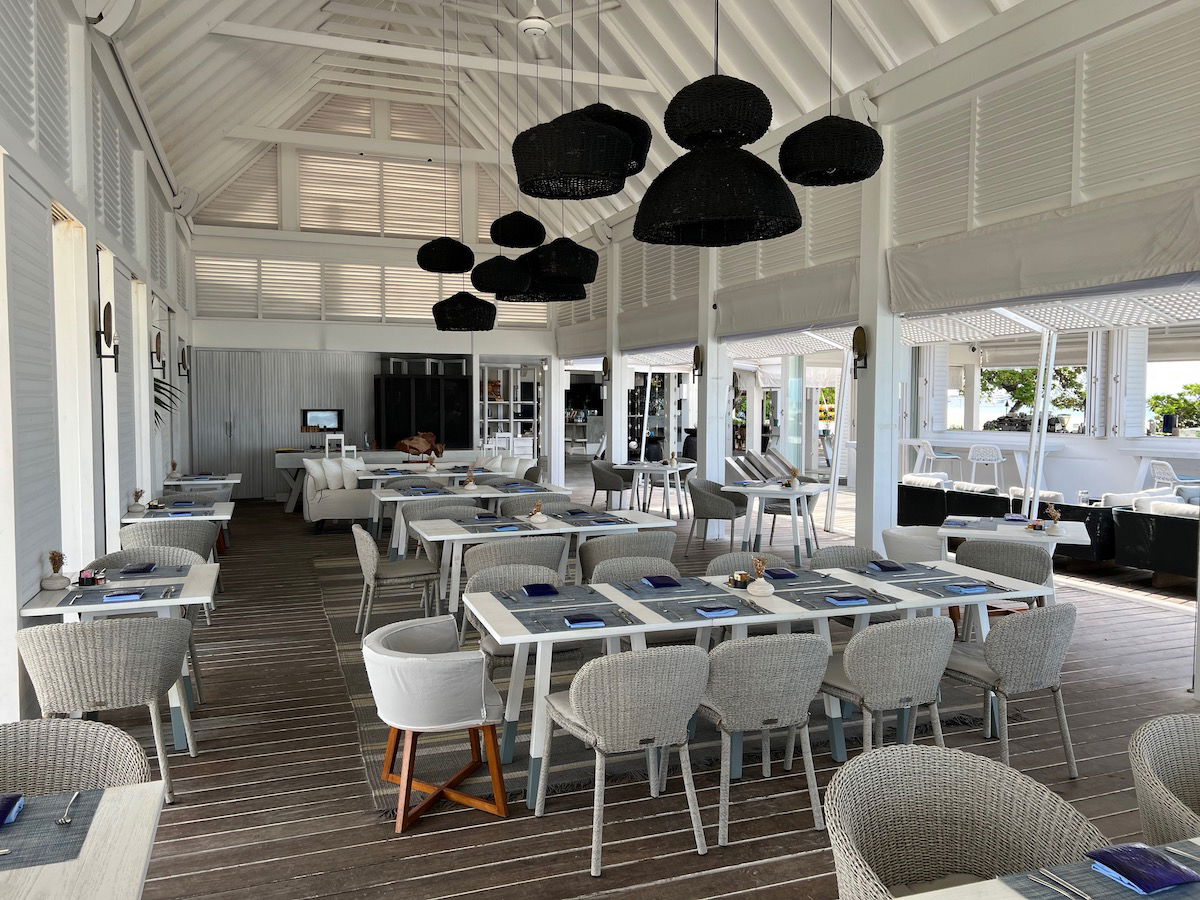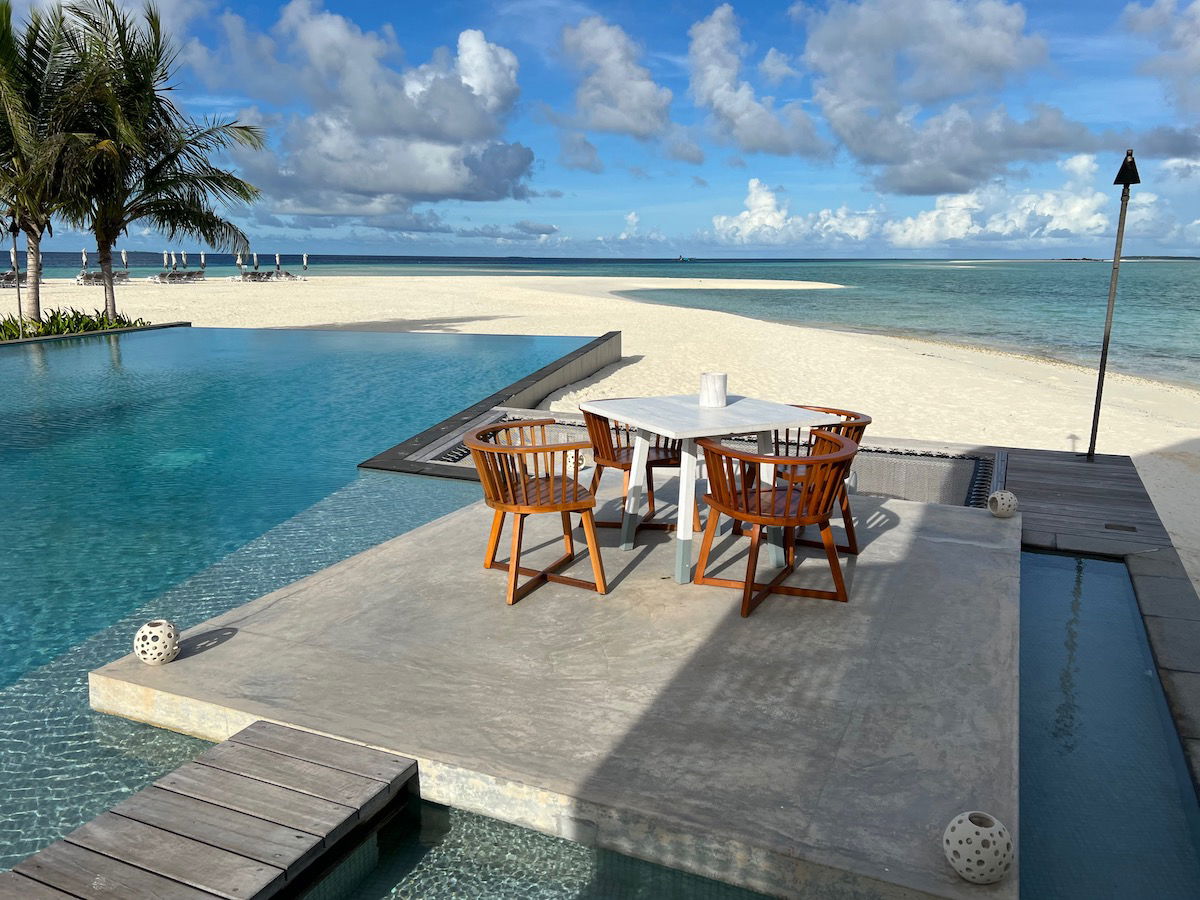 Beyond that, there are all kinds of other seating options, from cabanas, to a seating area with sand.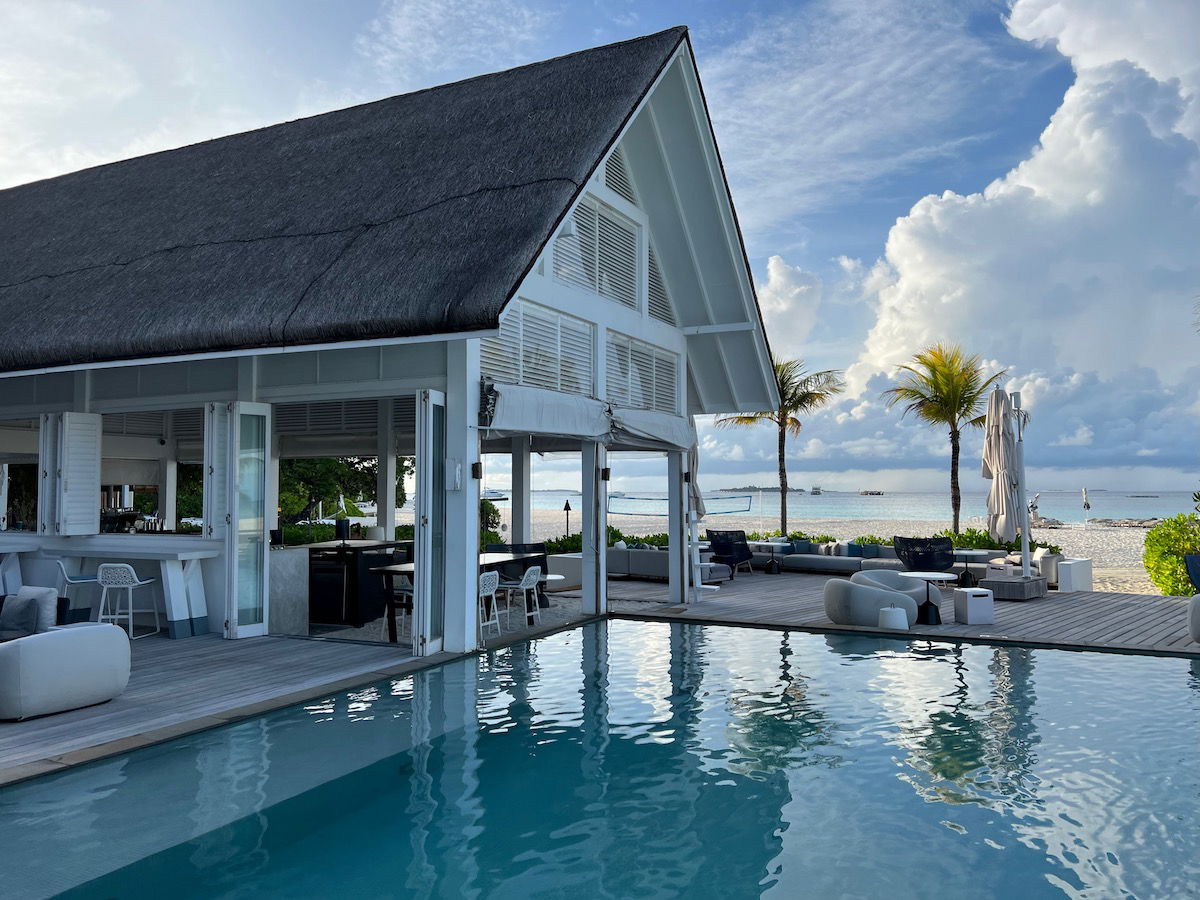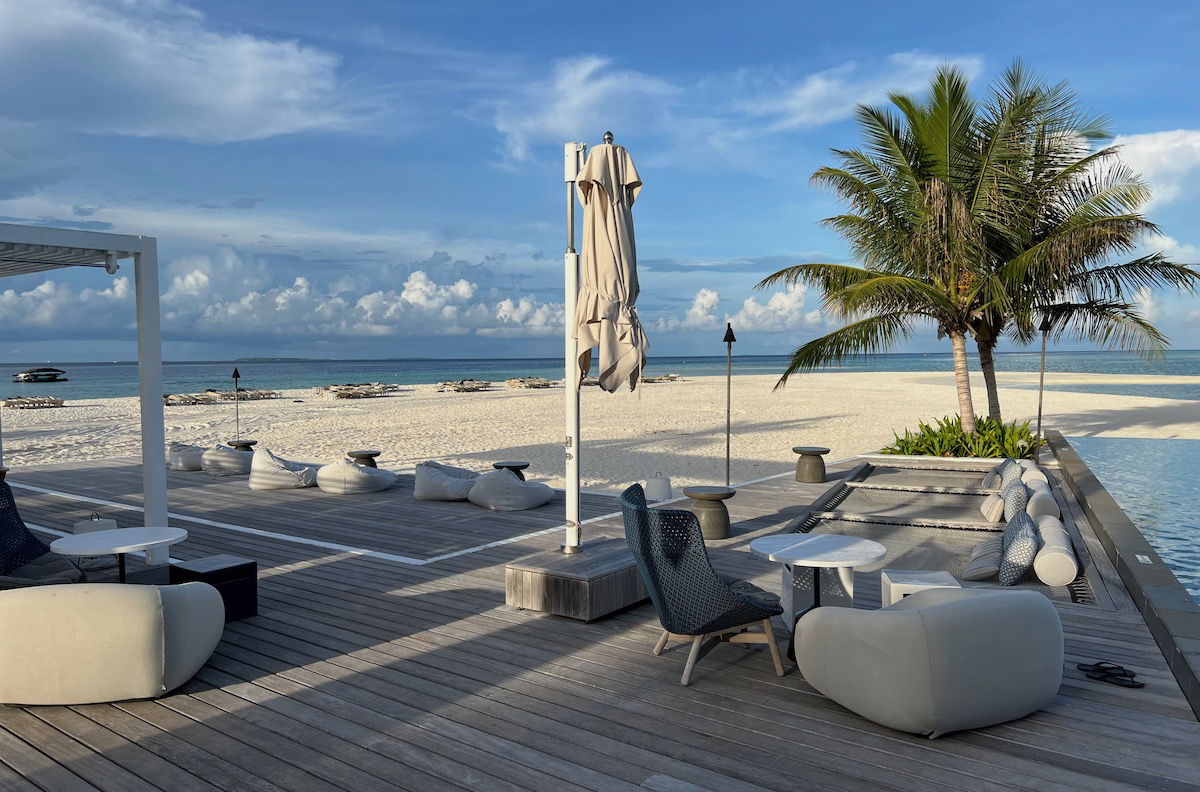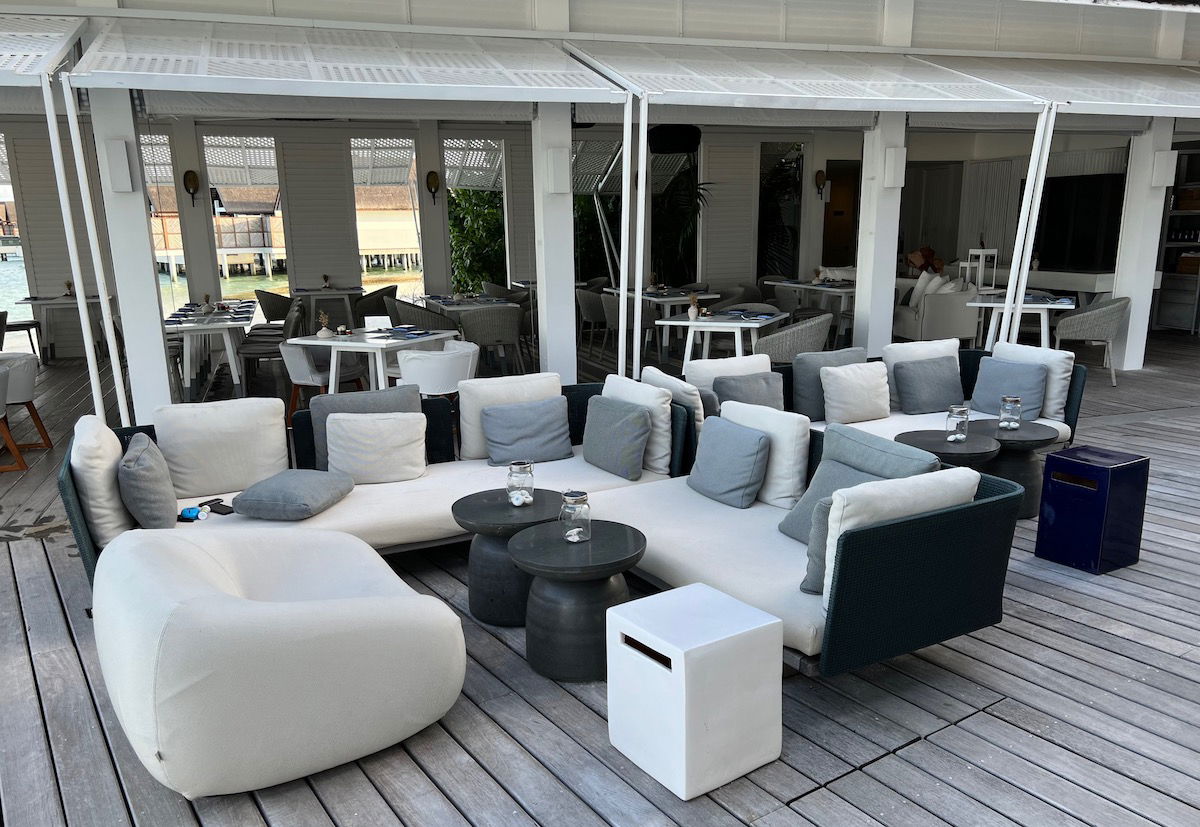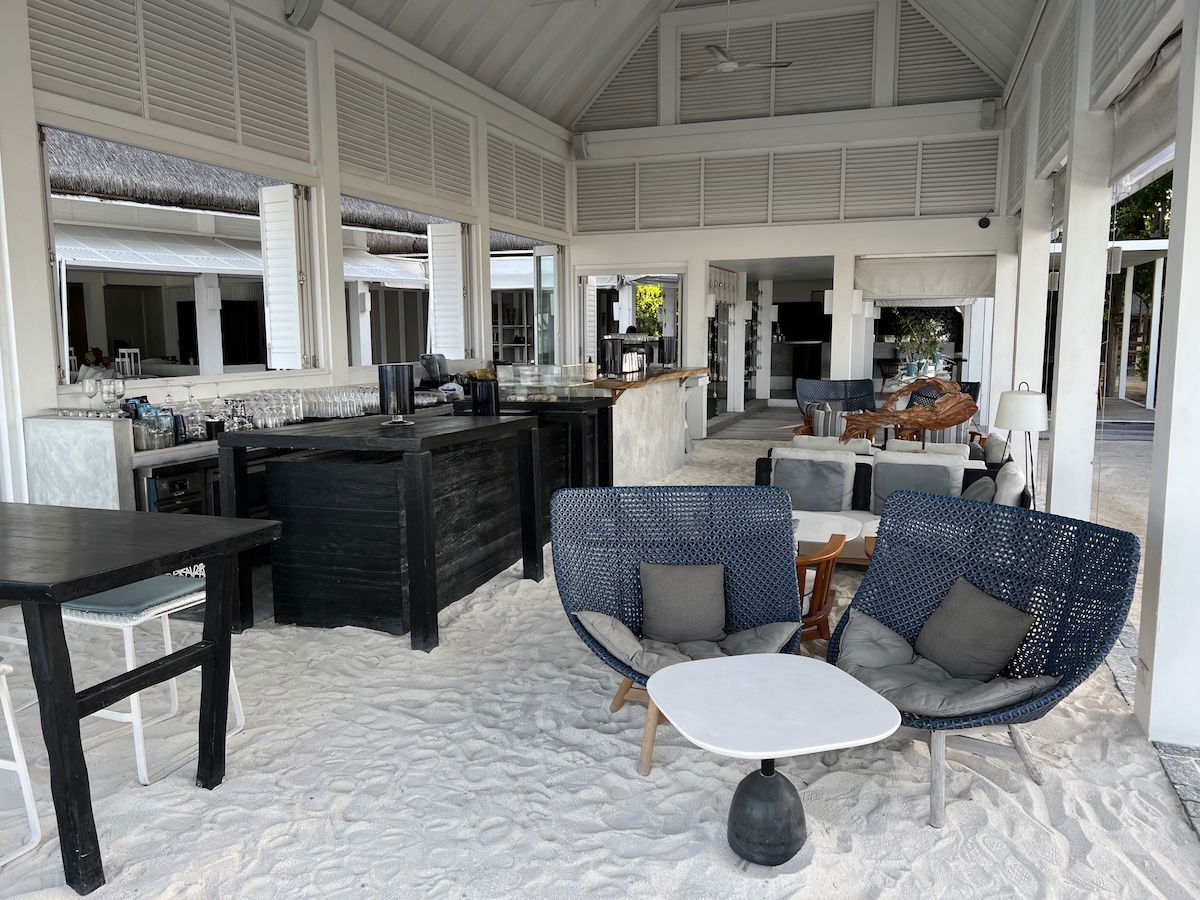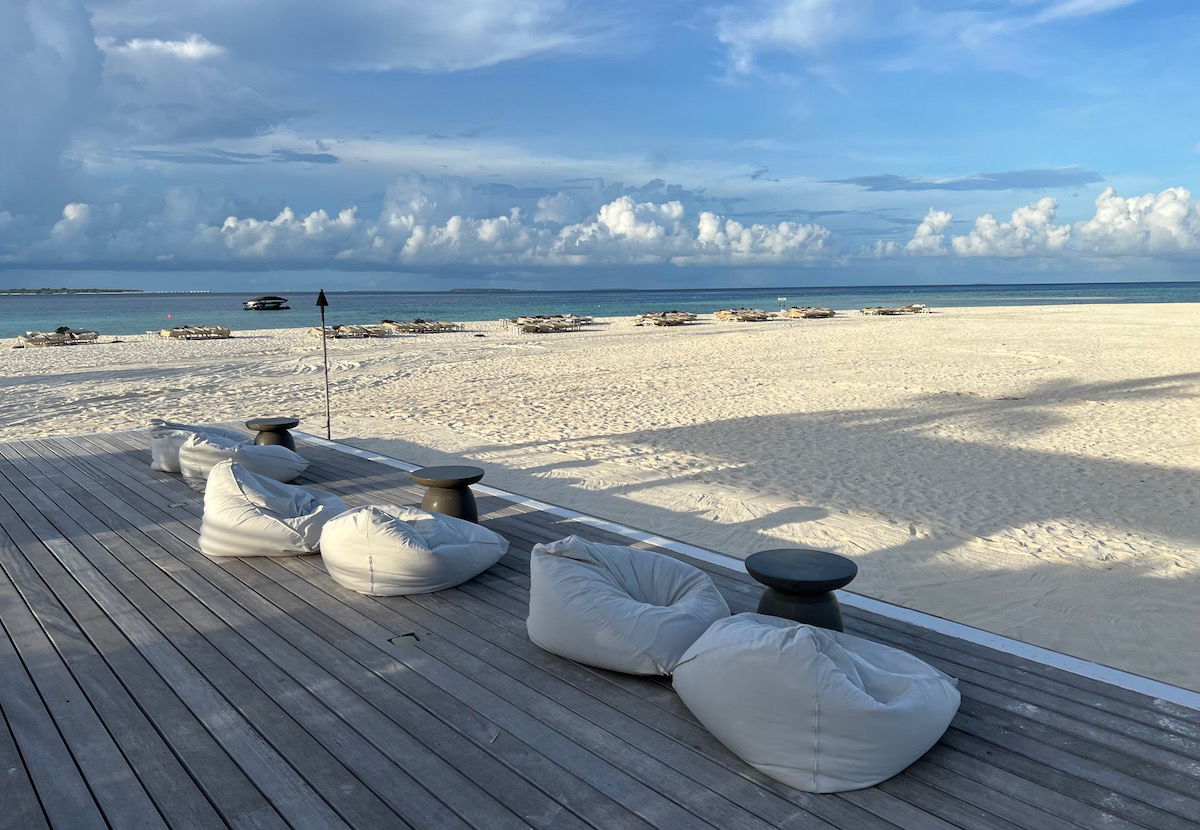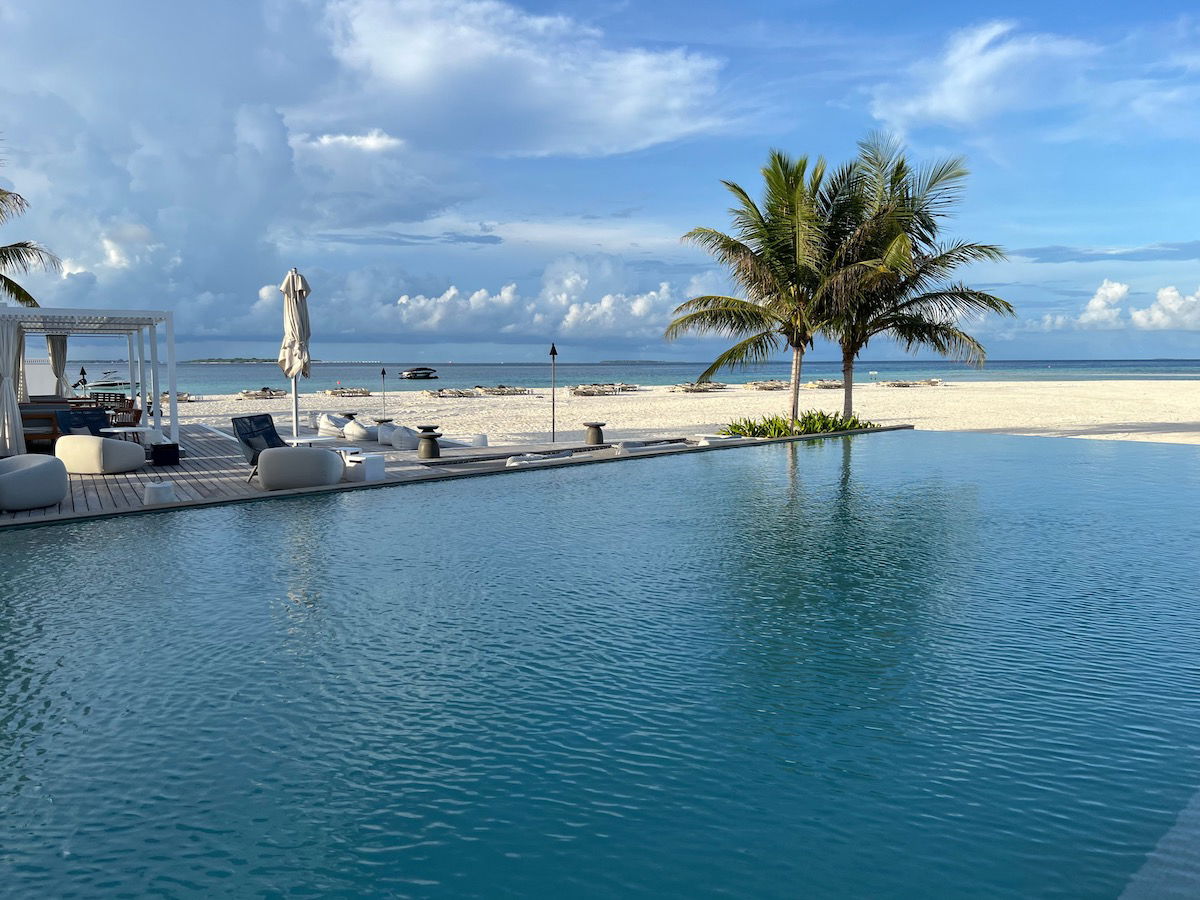 Guests can either have an a la carte breakfast at Blu Beach Club, or they can enjoy a buffet at Cafe Landaa. Below you can find the breakfast menu at Blu Beach Club.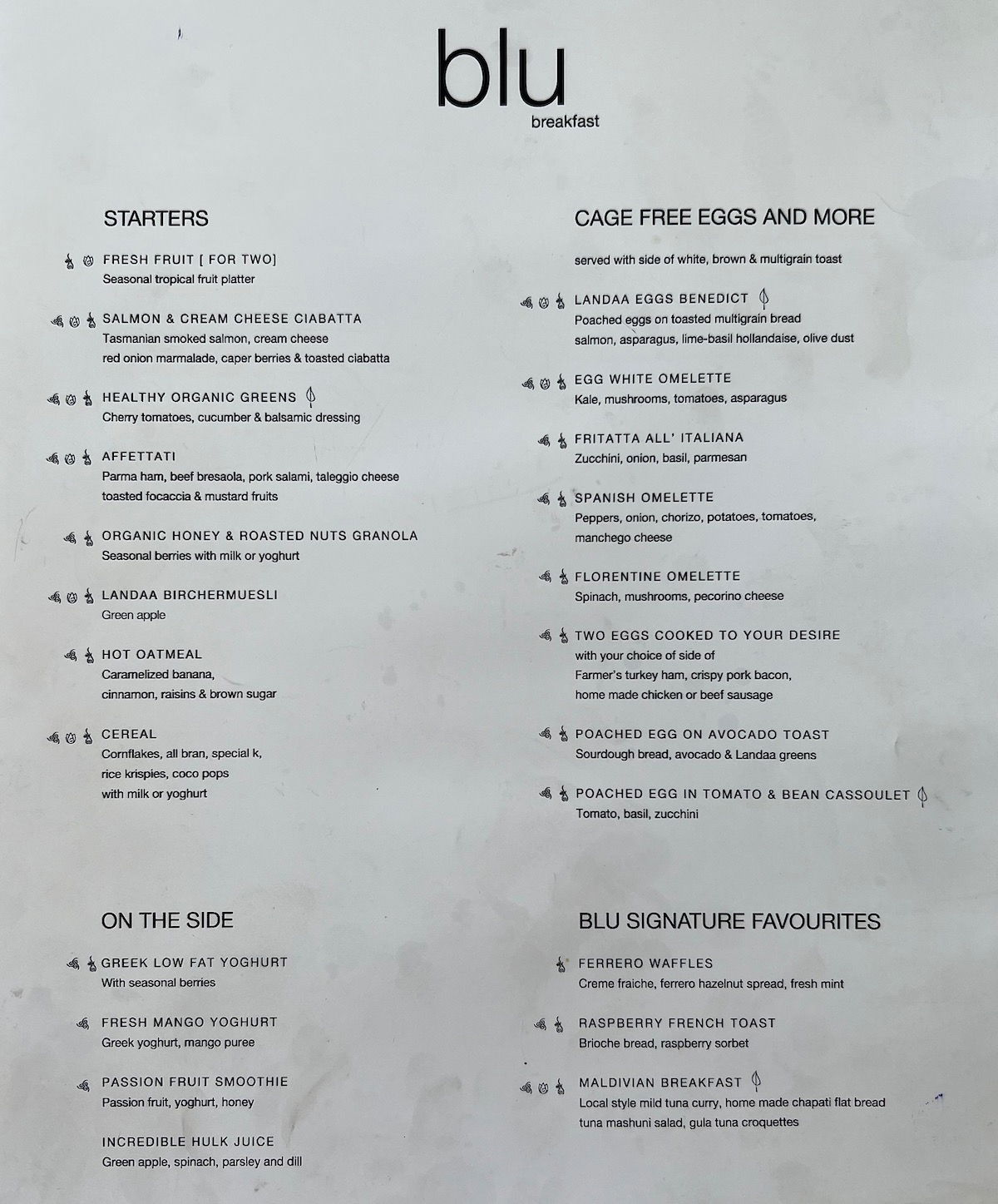 There were a variety of drinks, ranging from freshly squeezed juices to iced lattes.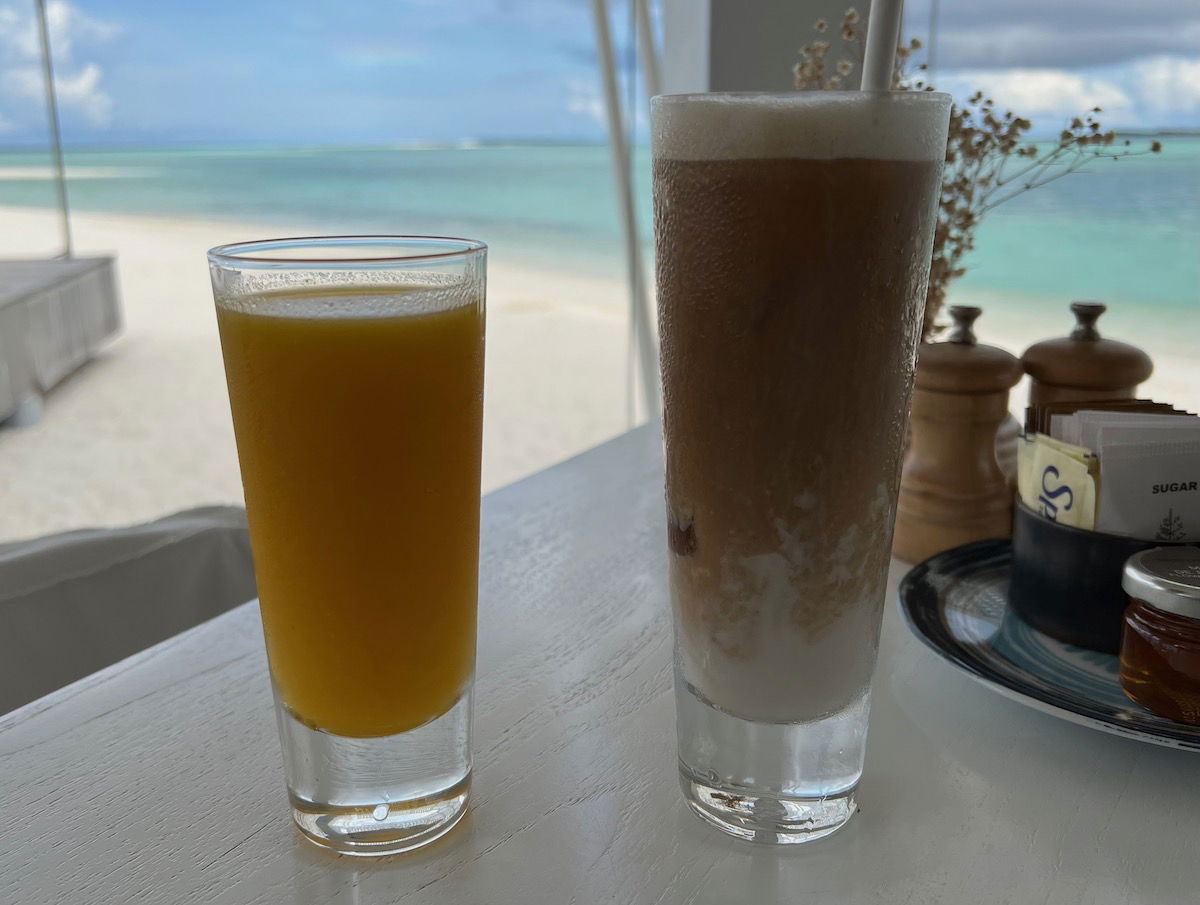 We were brought a bread basket with some pastries, muffins, and croissants.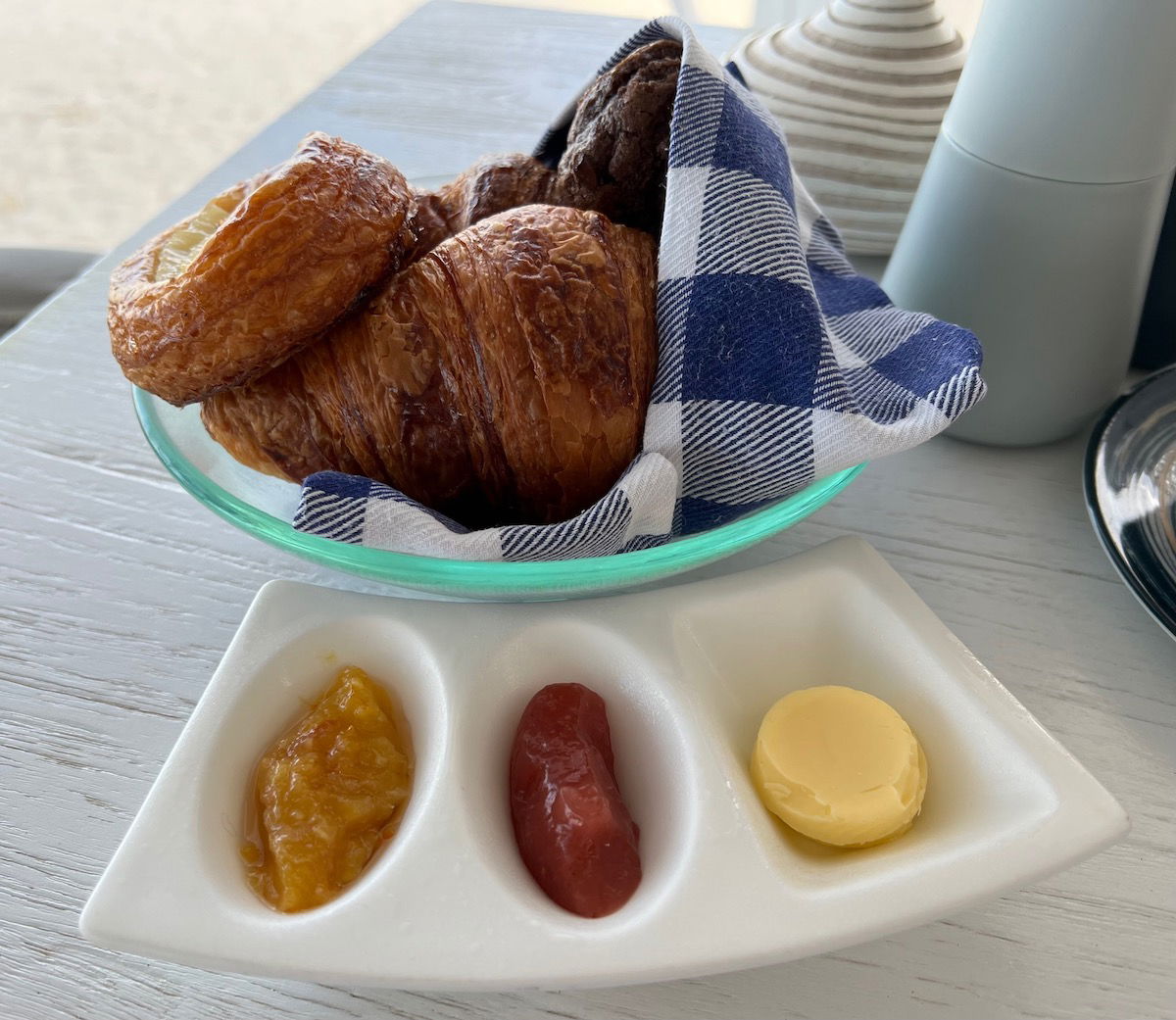 We ate here two mornings, and we tried several options, including the fruit plate, the homemade granola with berries and yogurt, the avocado coast, the Maldivian breakfast, and the raspberry french toast. The food here was unbelievably good.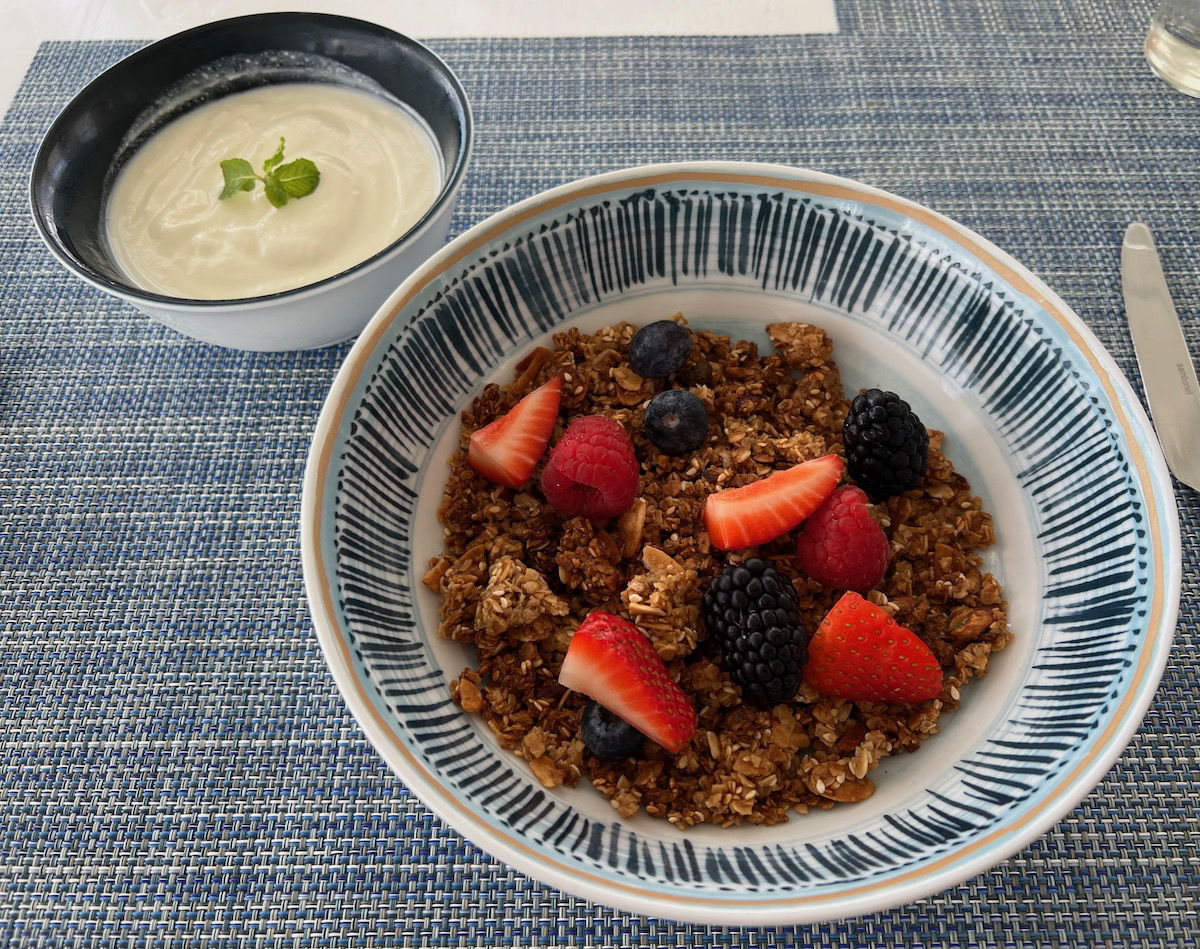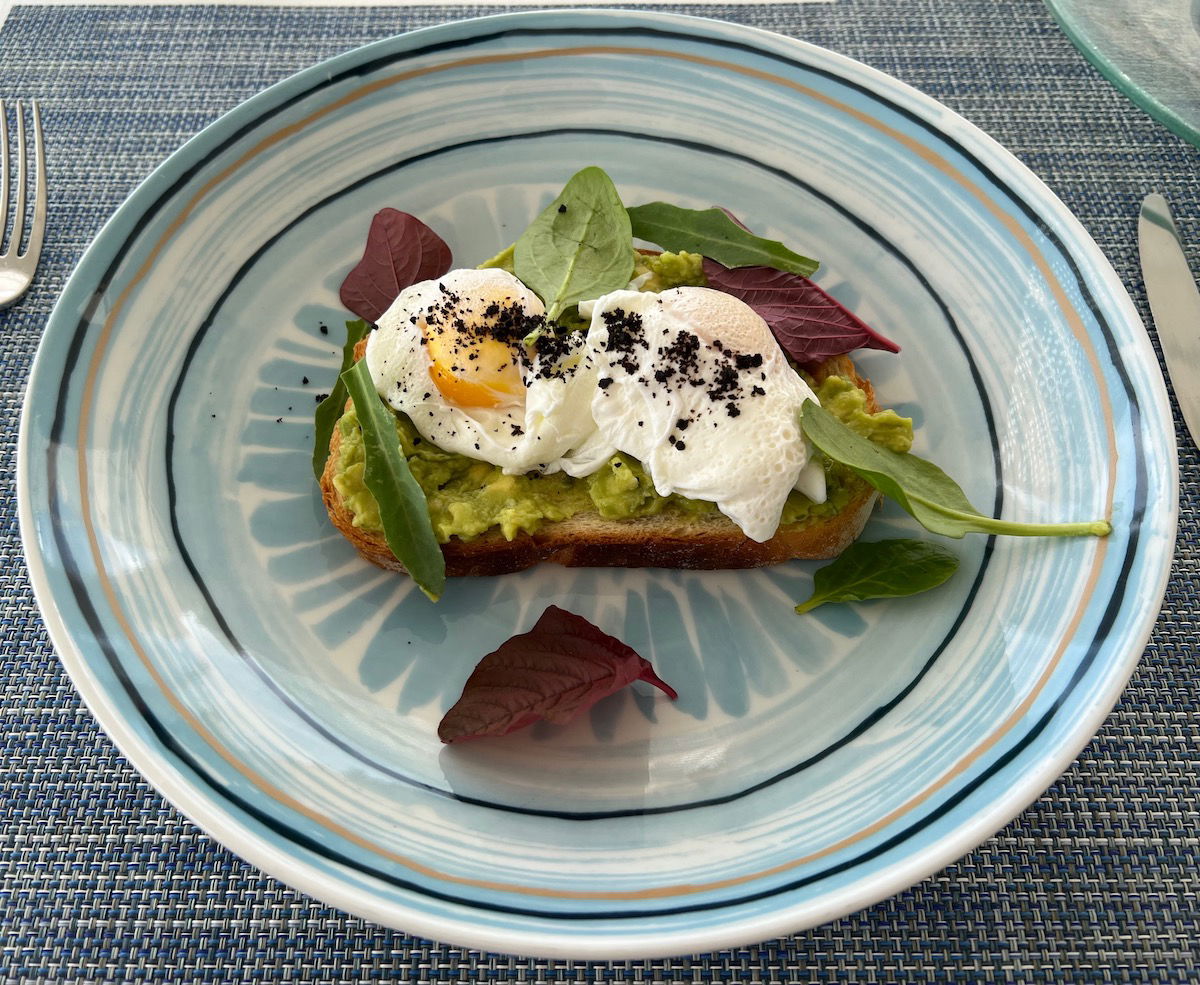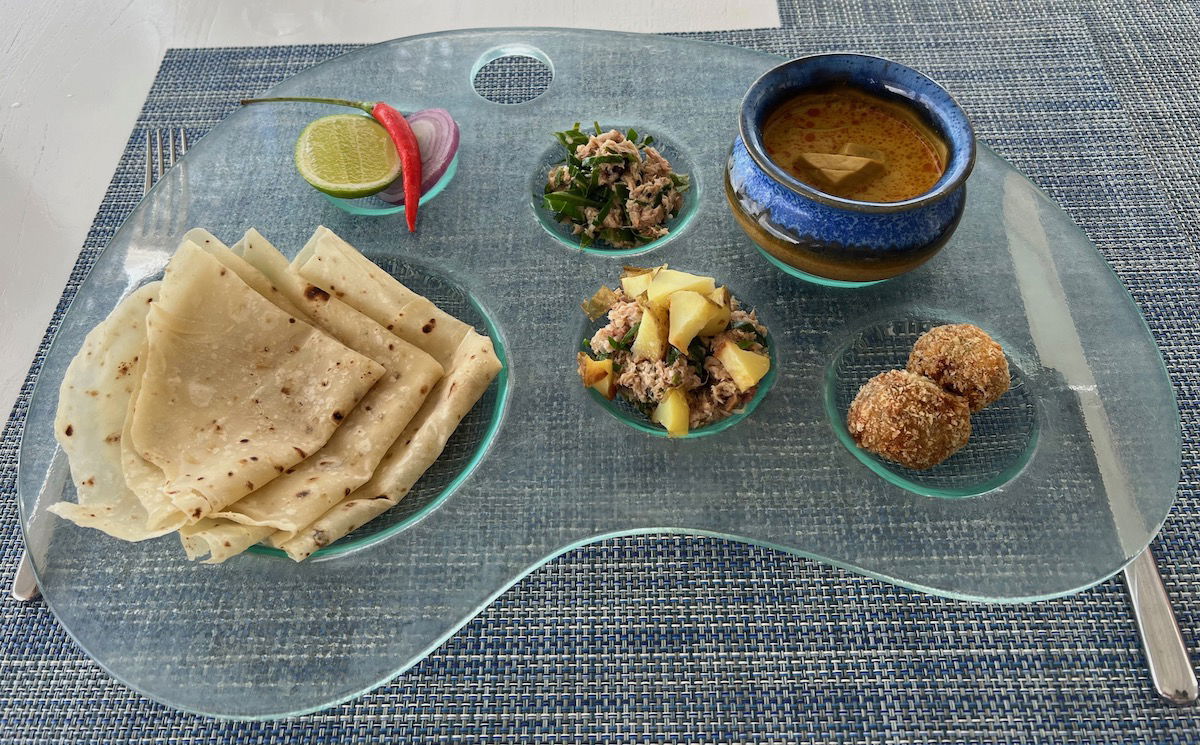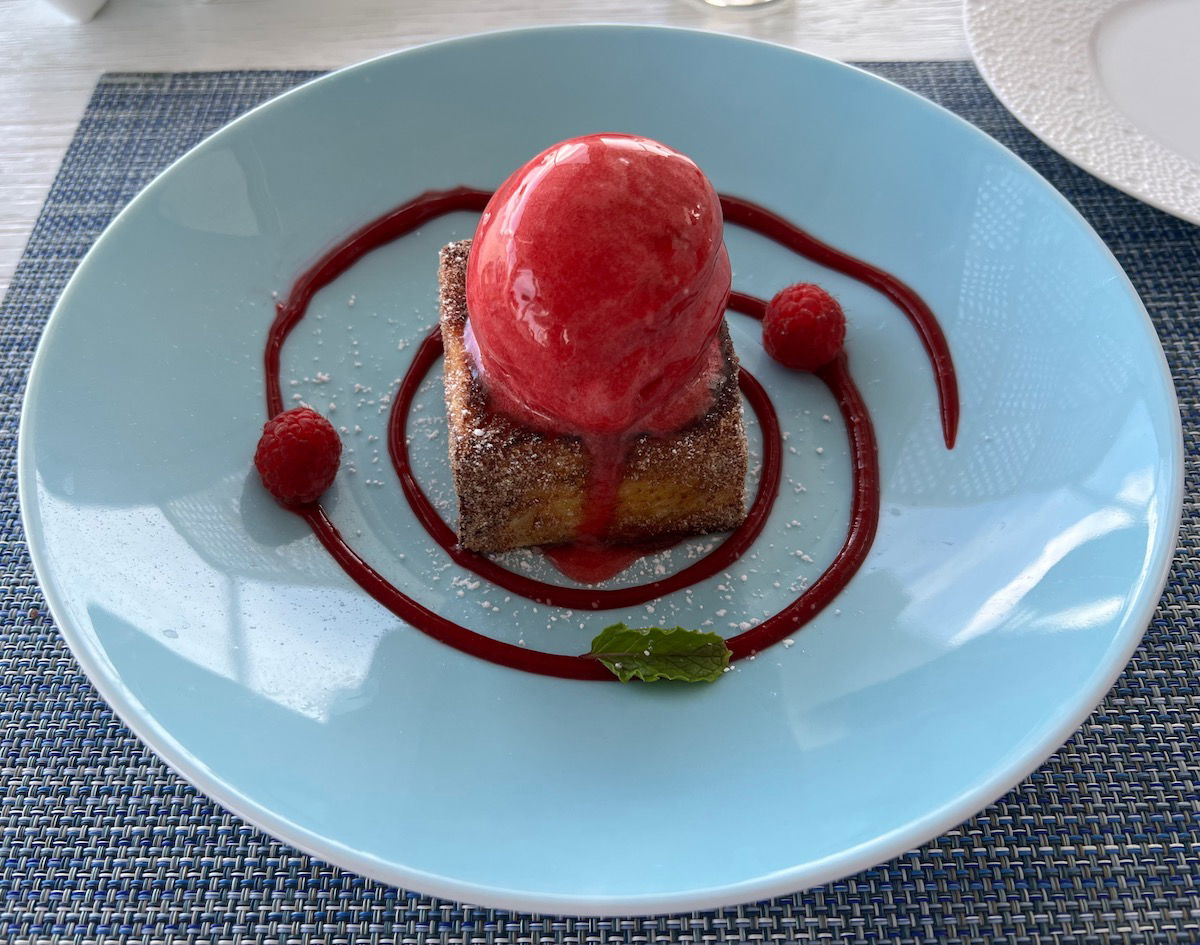 We also had lunch here one afternoon. You can order either off the more traditional Italian menu, or you can order off more of a beach menu, depending on what you're in the mood for.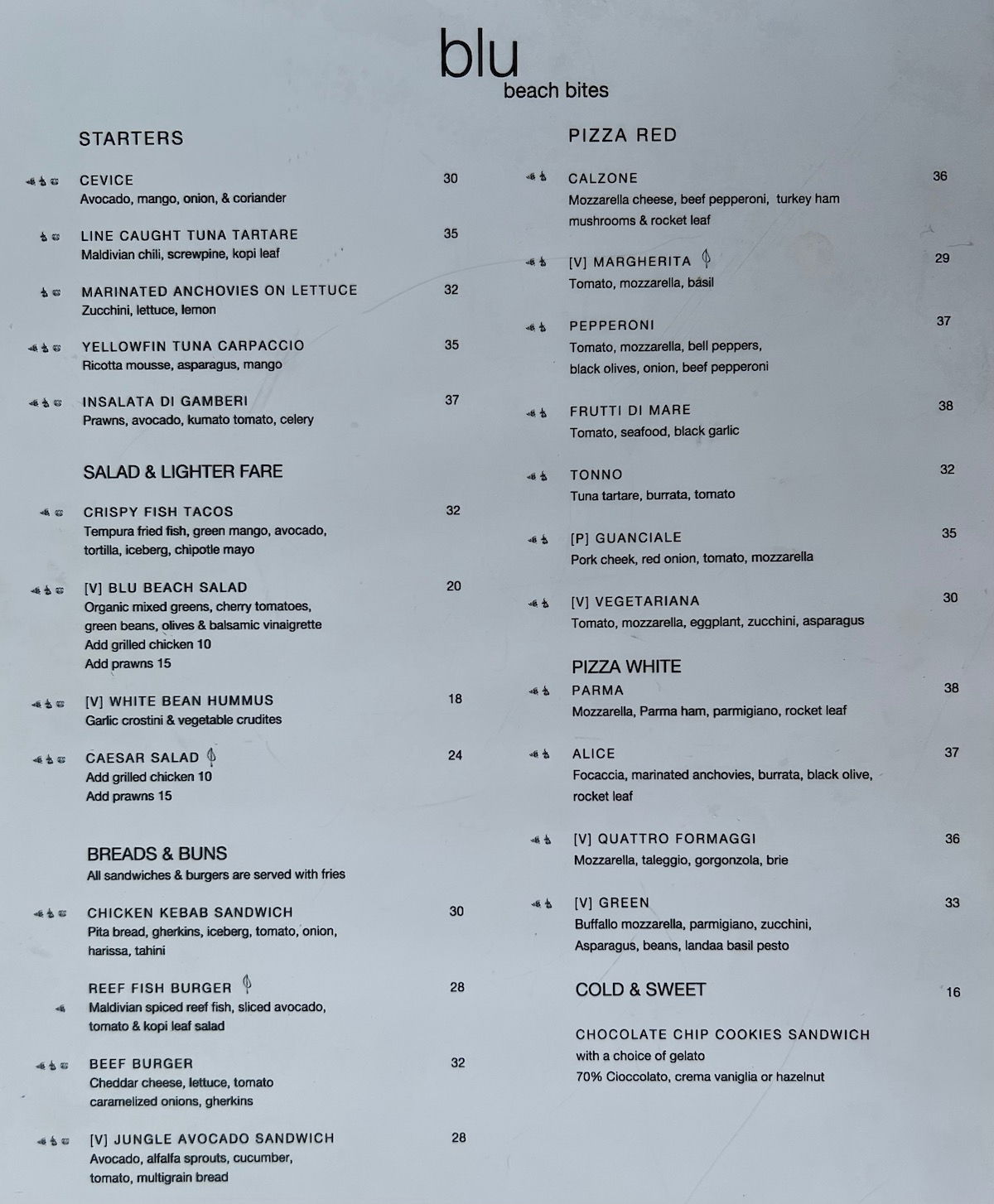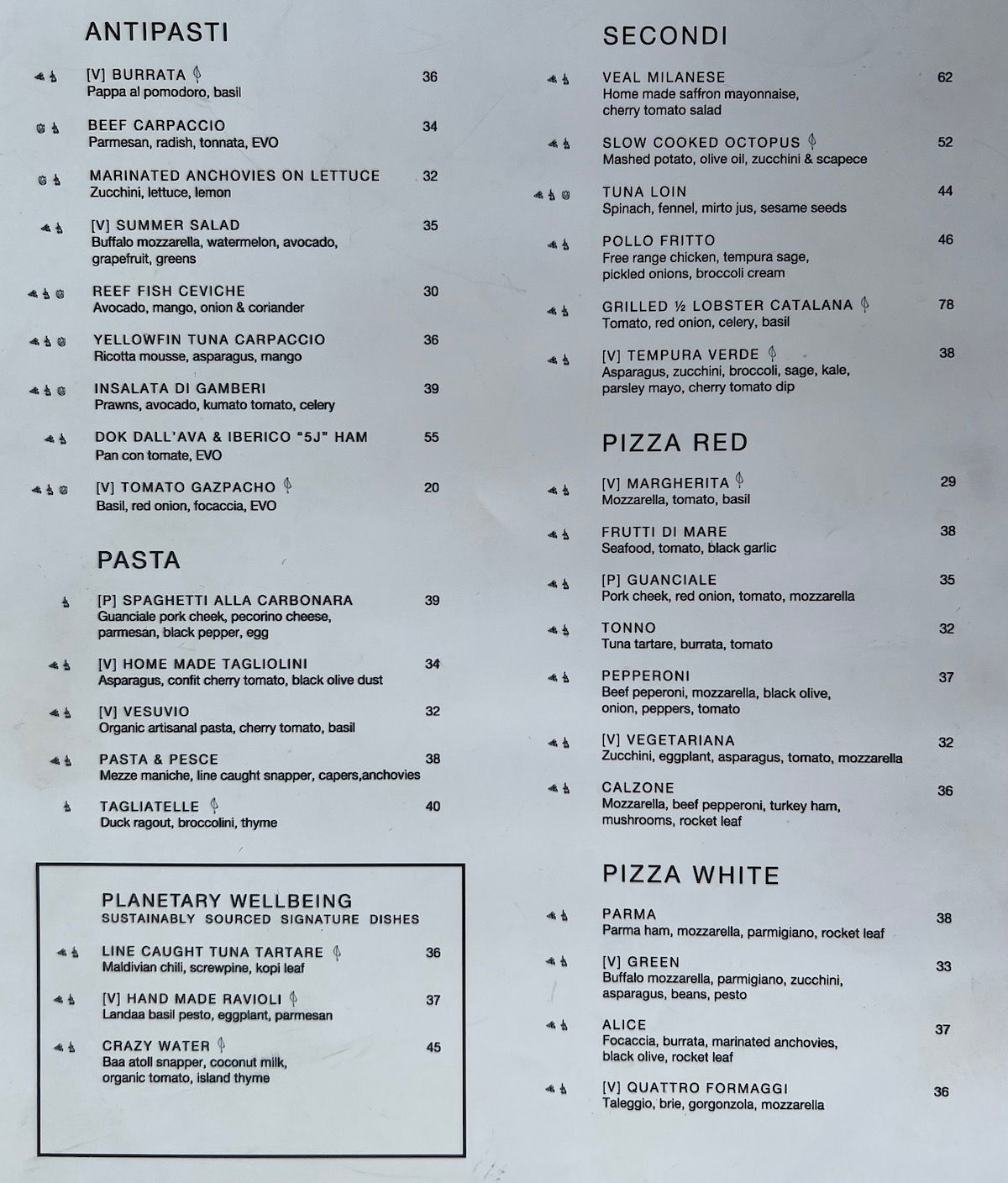 I'm a sucker for a good pizza, and Blu Beach Club has a proper pizza oven here, so I ordered a pizza margherita. It was excellent.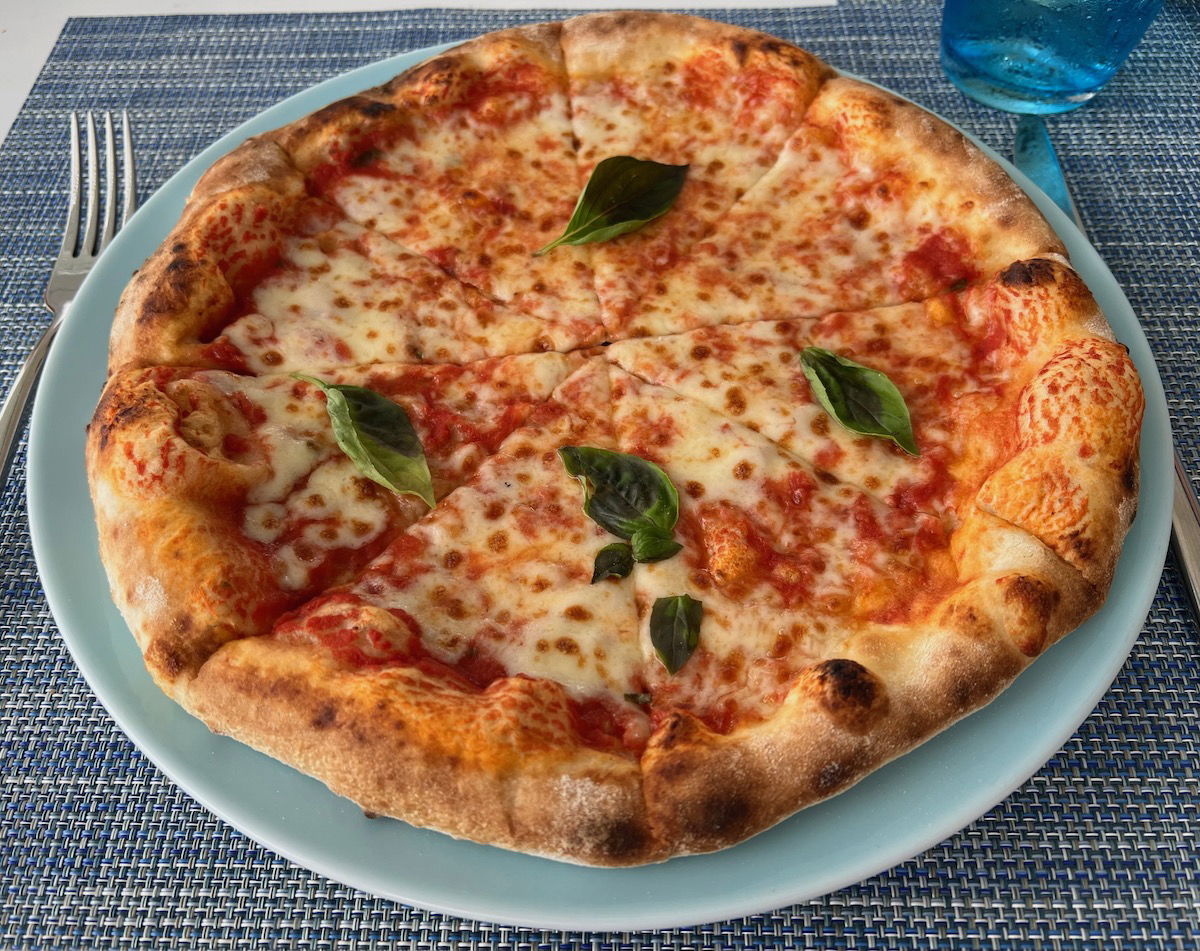 Four Seasons Maldives Landaa Giraavaru Cafe Landaa
Cafe Landaa is the other all-day dining restaurant, so we had breakfast there one morning. This restaurant is located near reception, and is fully covered but open air.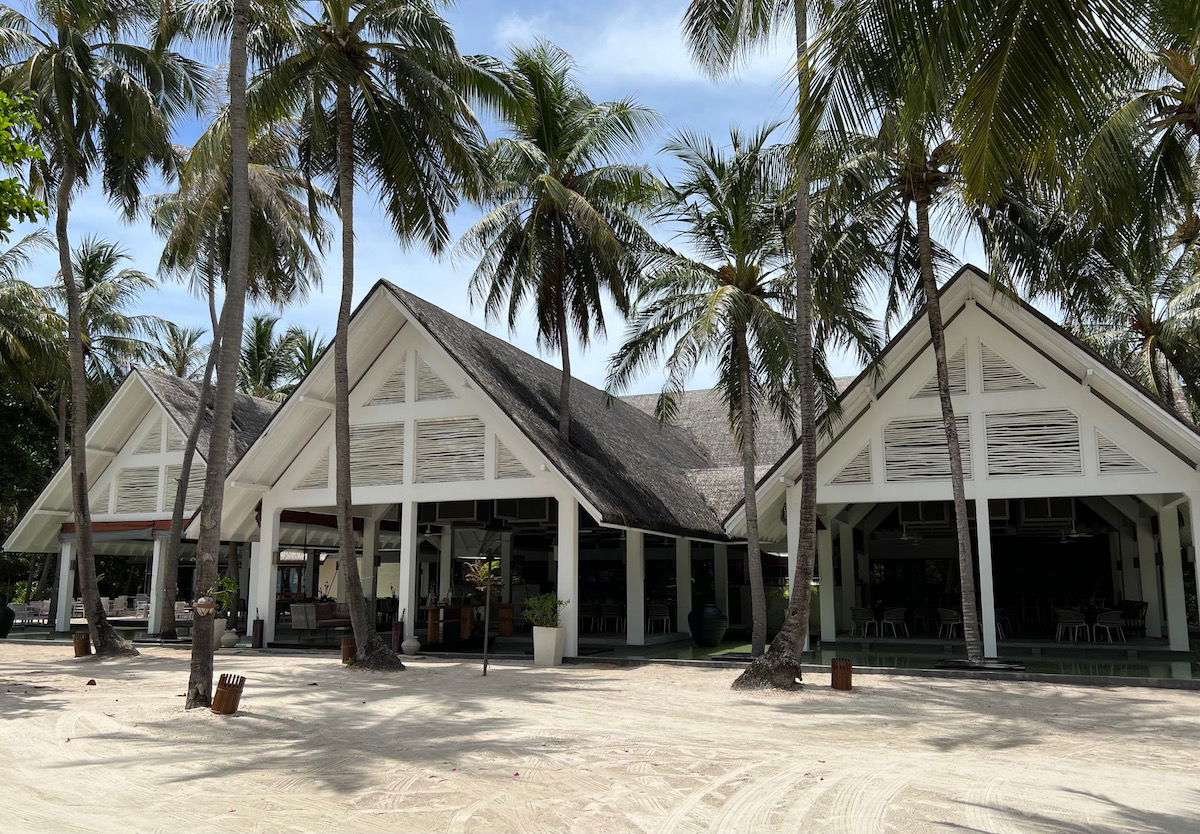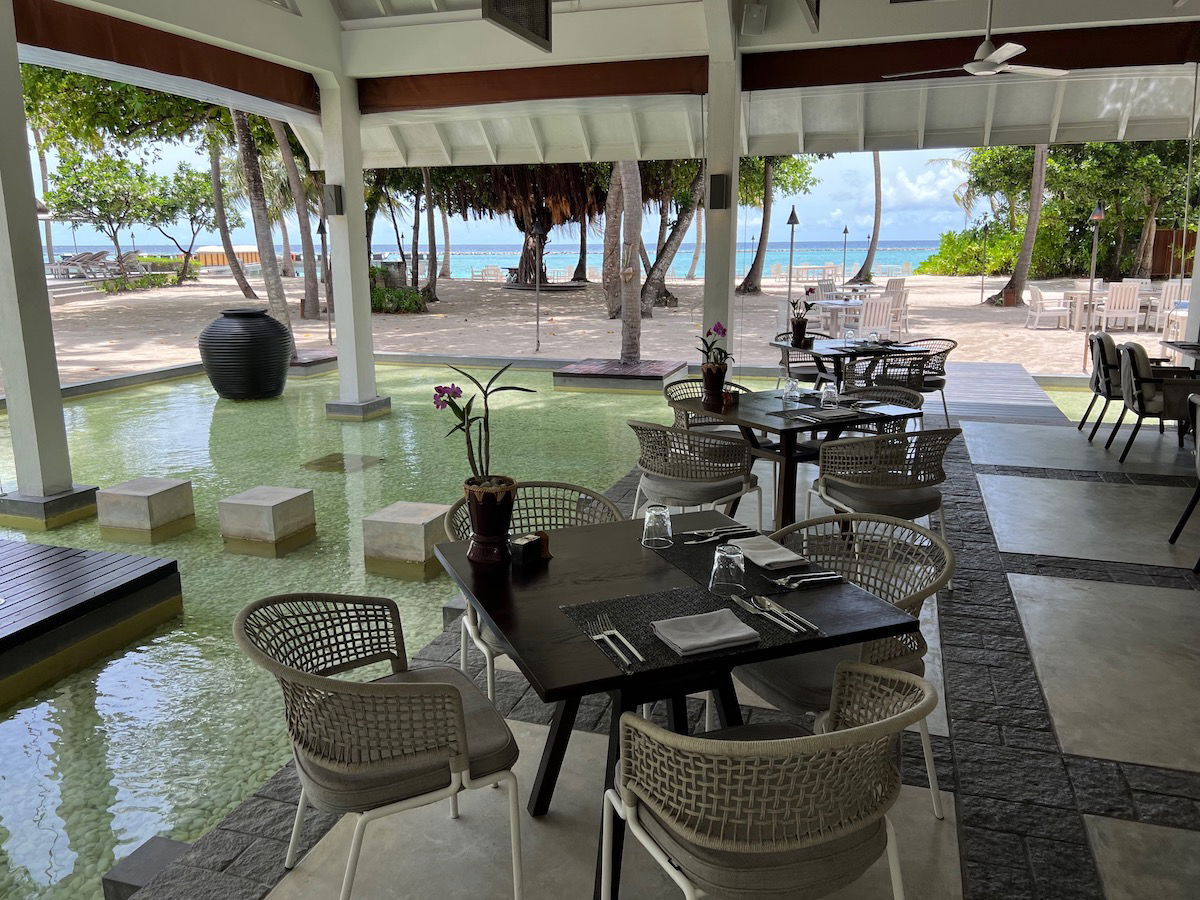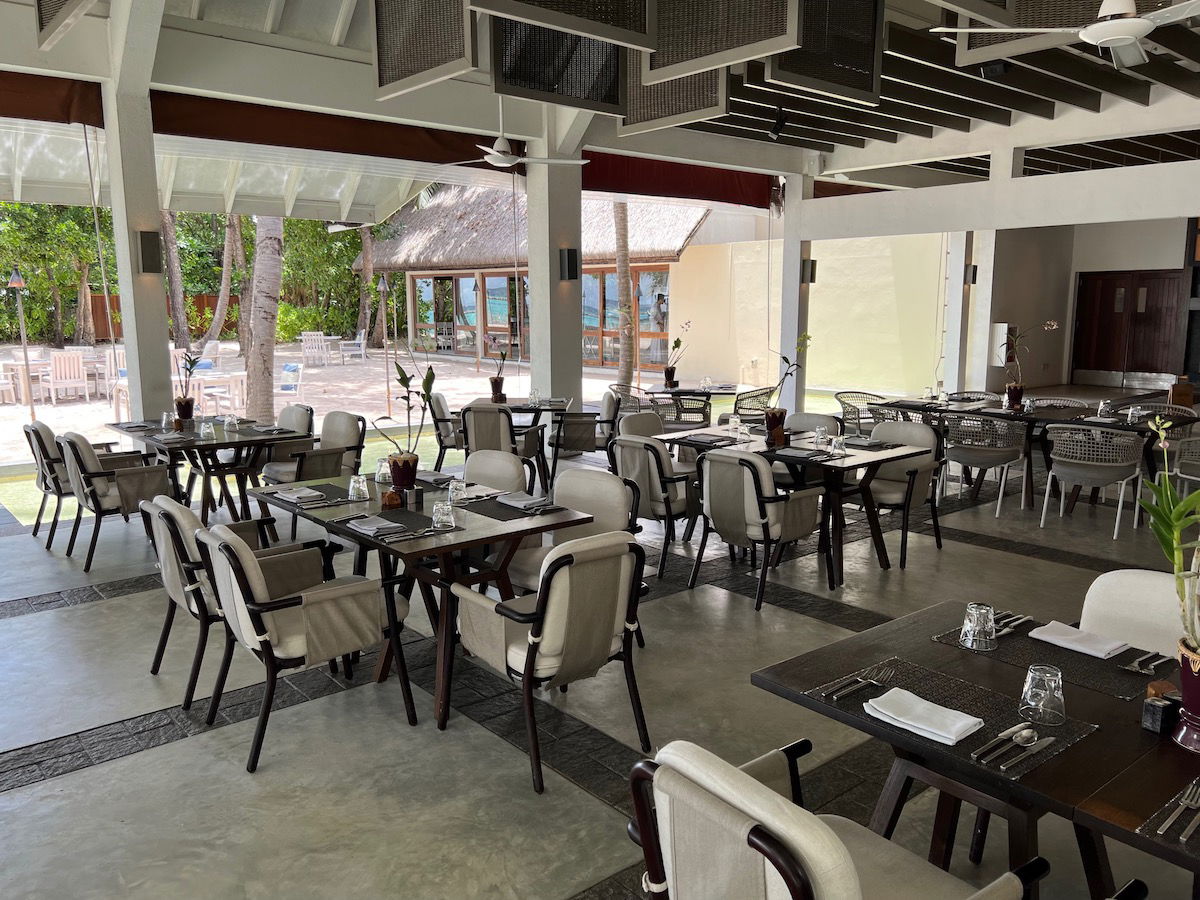 Breakfast here consists of an endless buffet, with everything from custom prepared fresh fruit, to pastries, to yogurt and cereal, to cold cuts and cheese, to various Asian and Western dishes. I'll let the pictures speak mostly for themselves.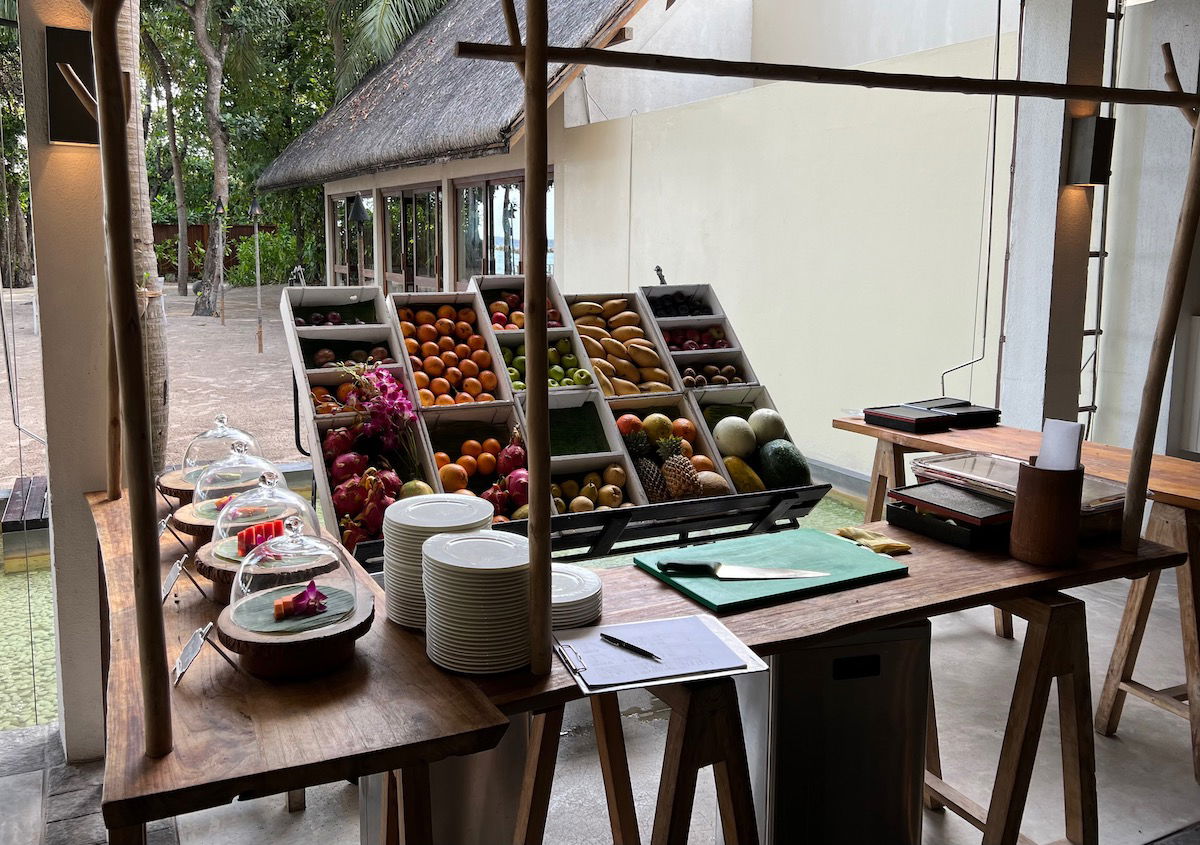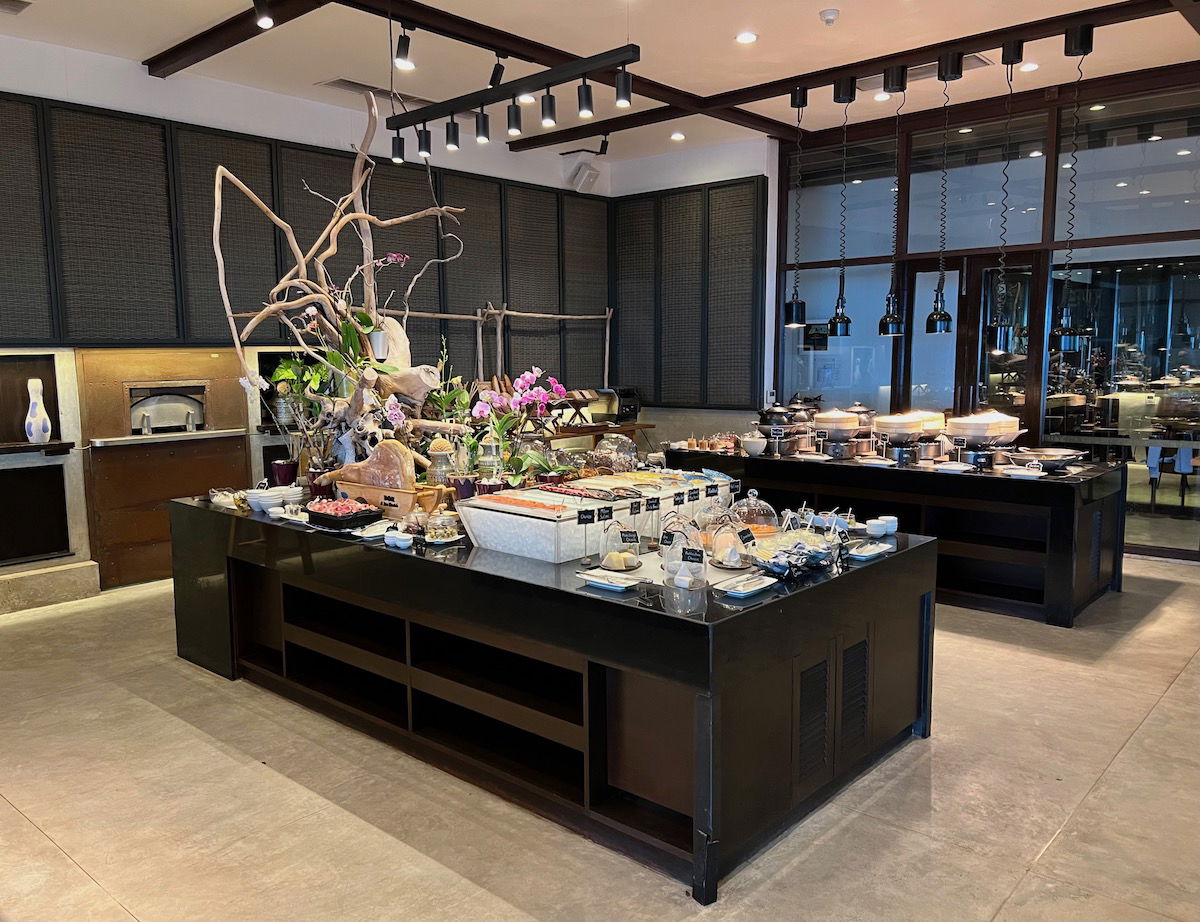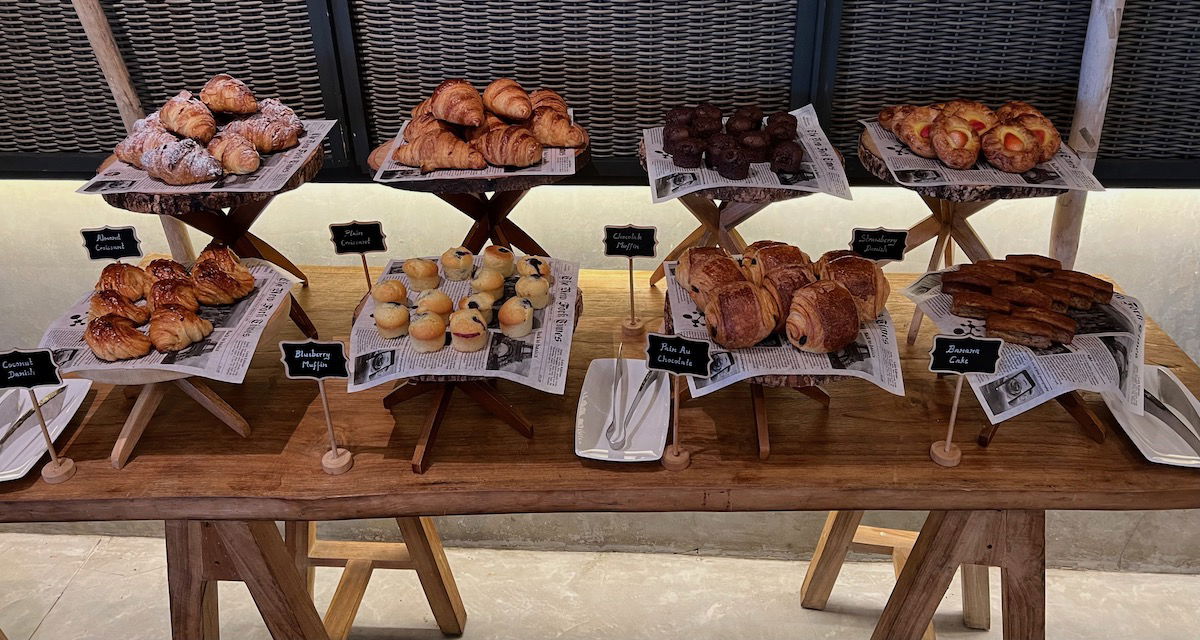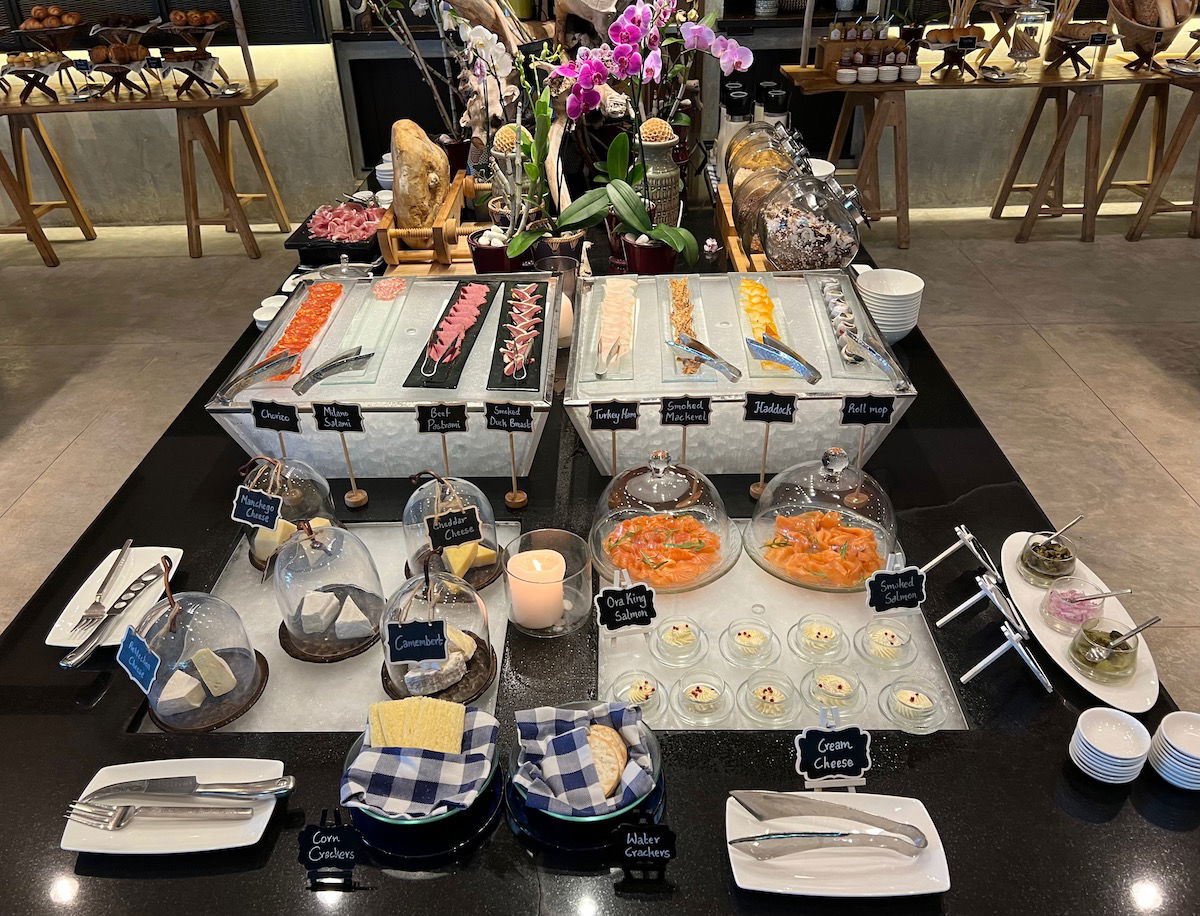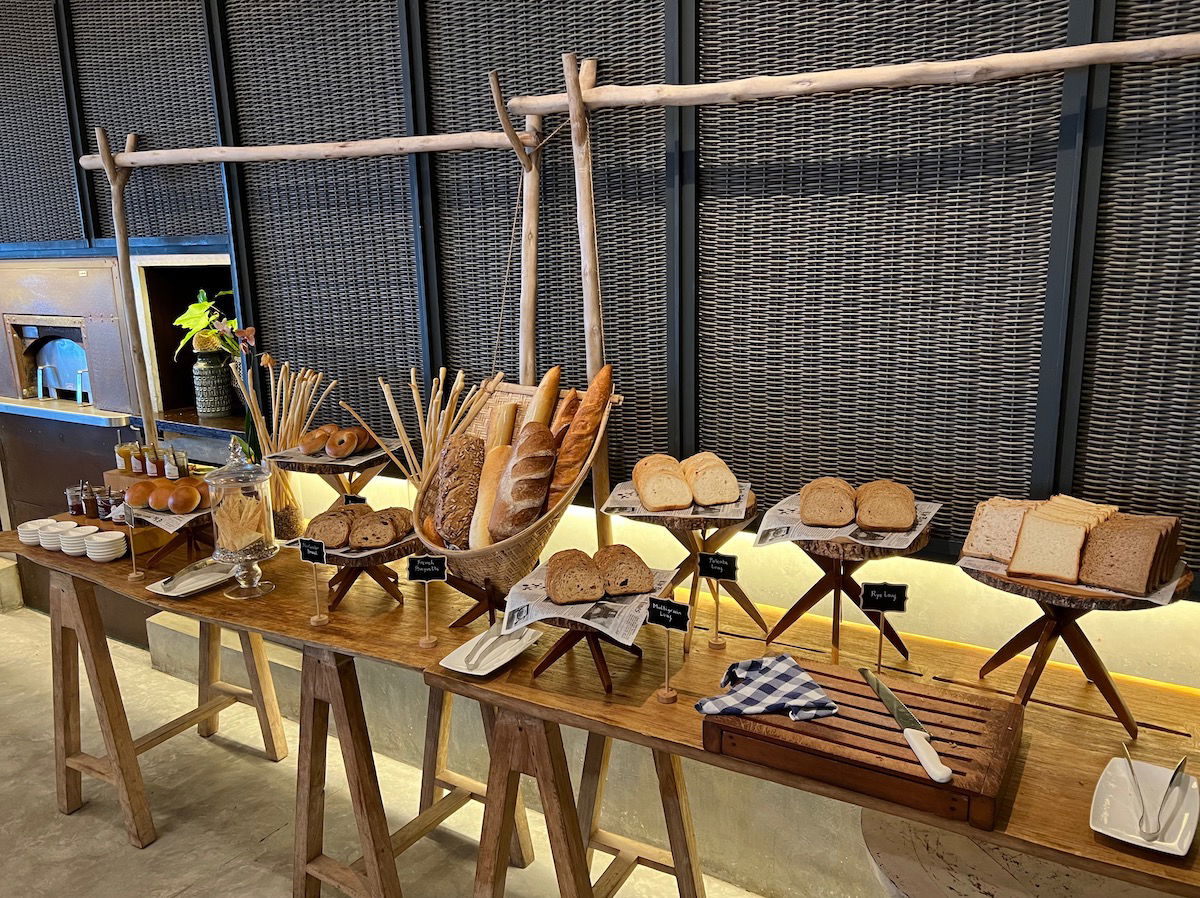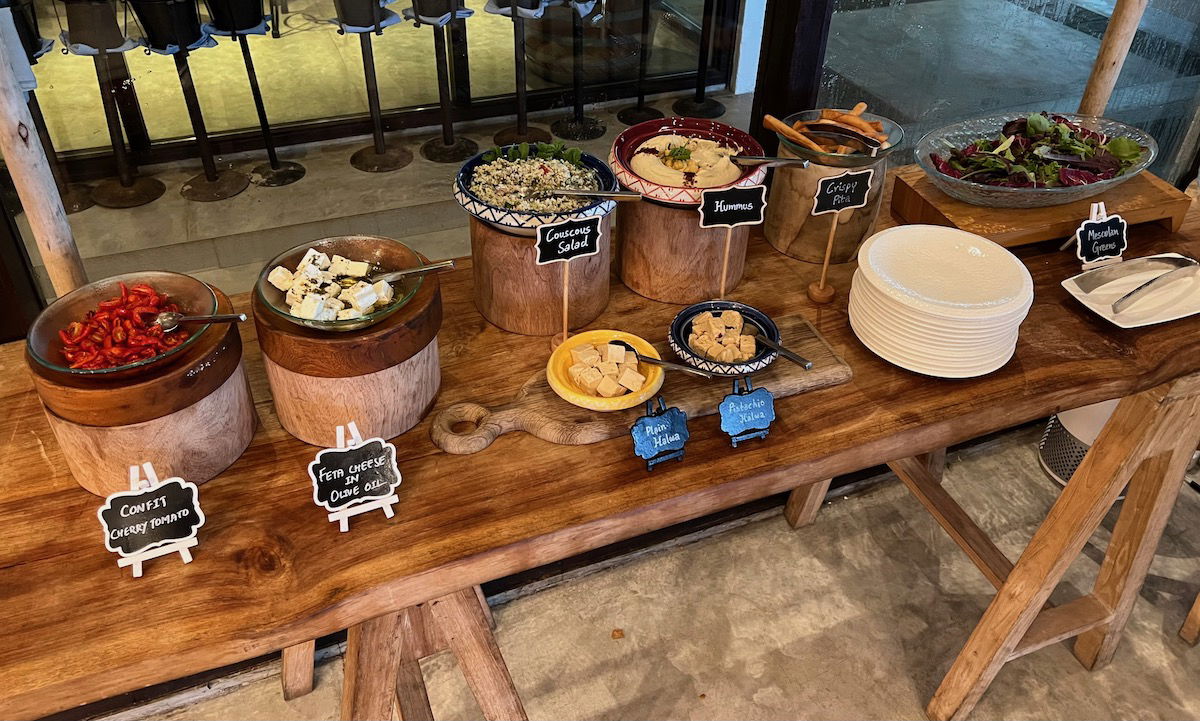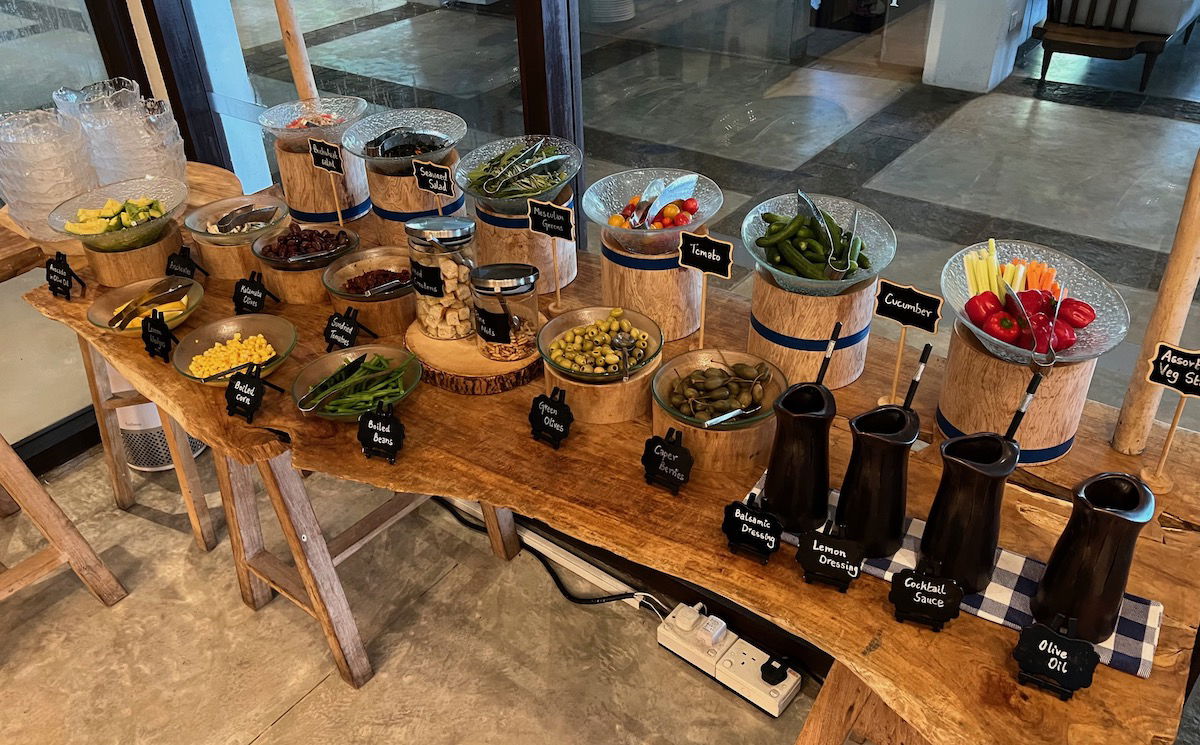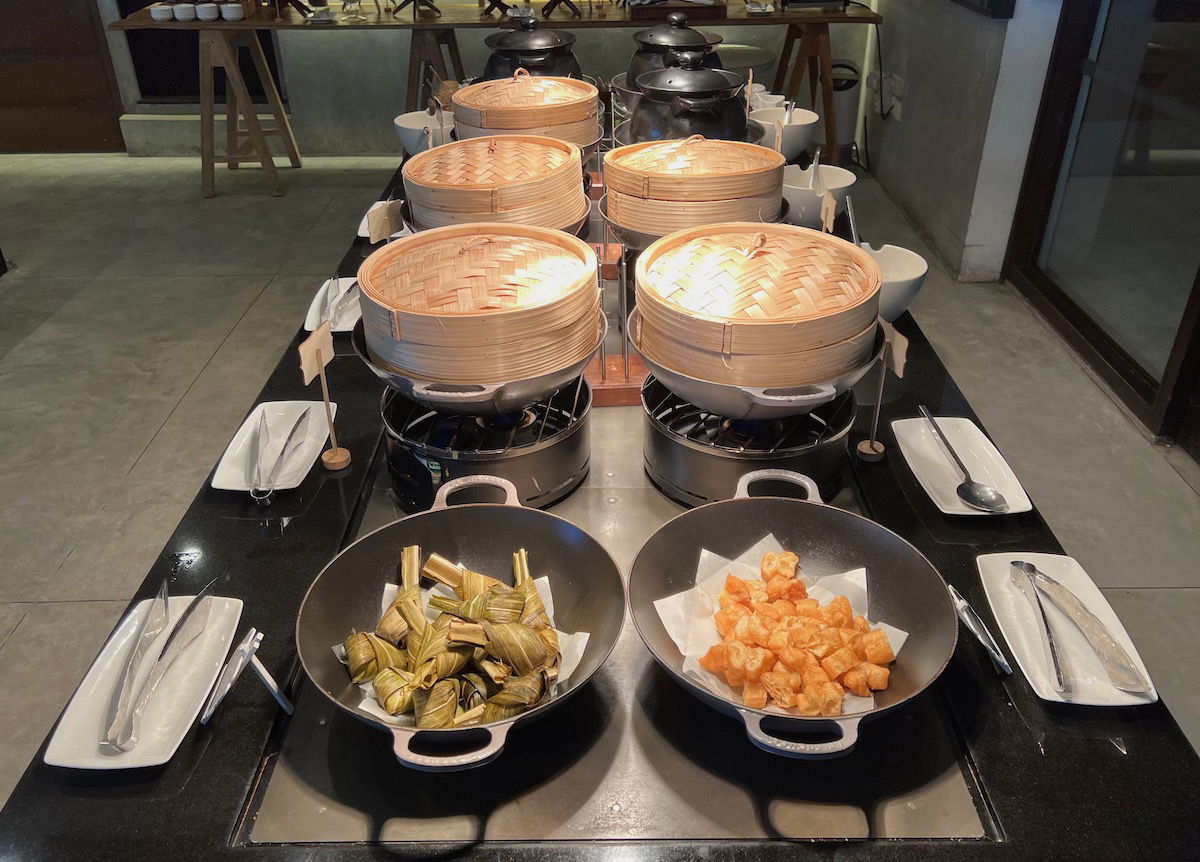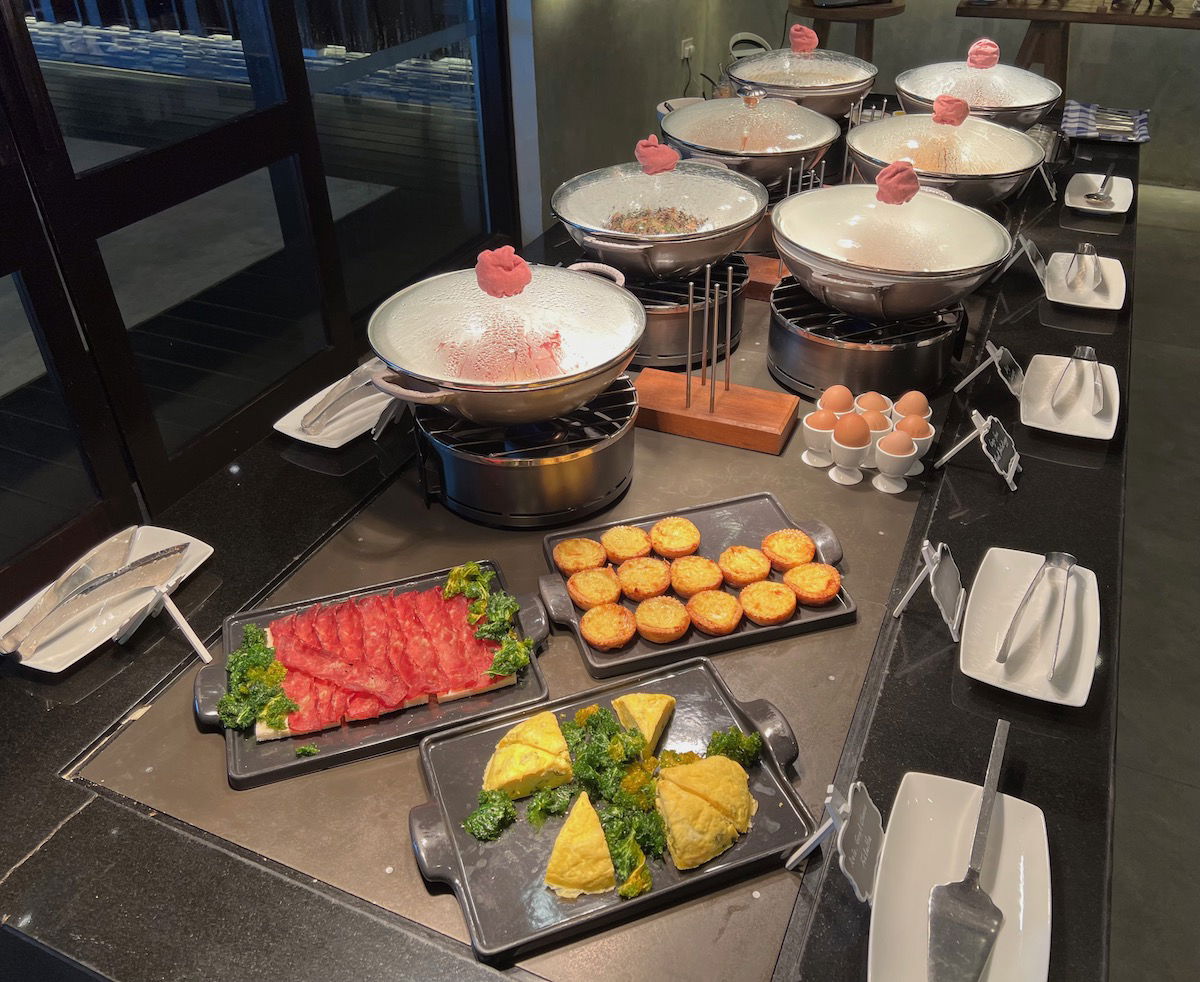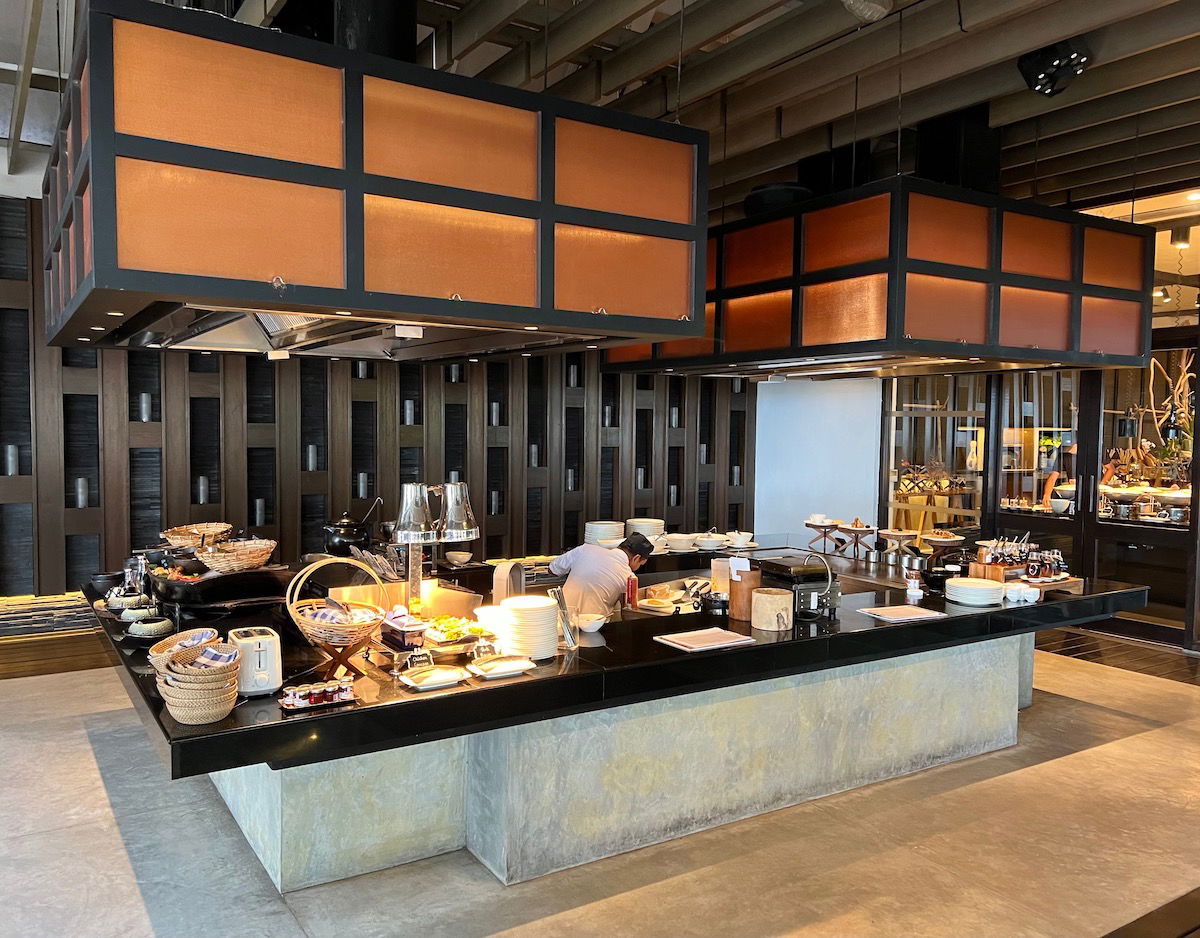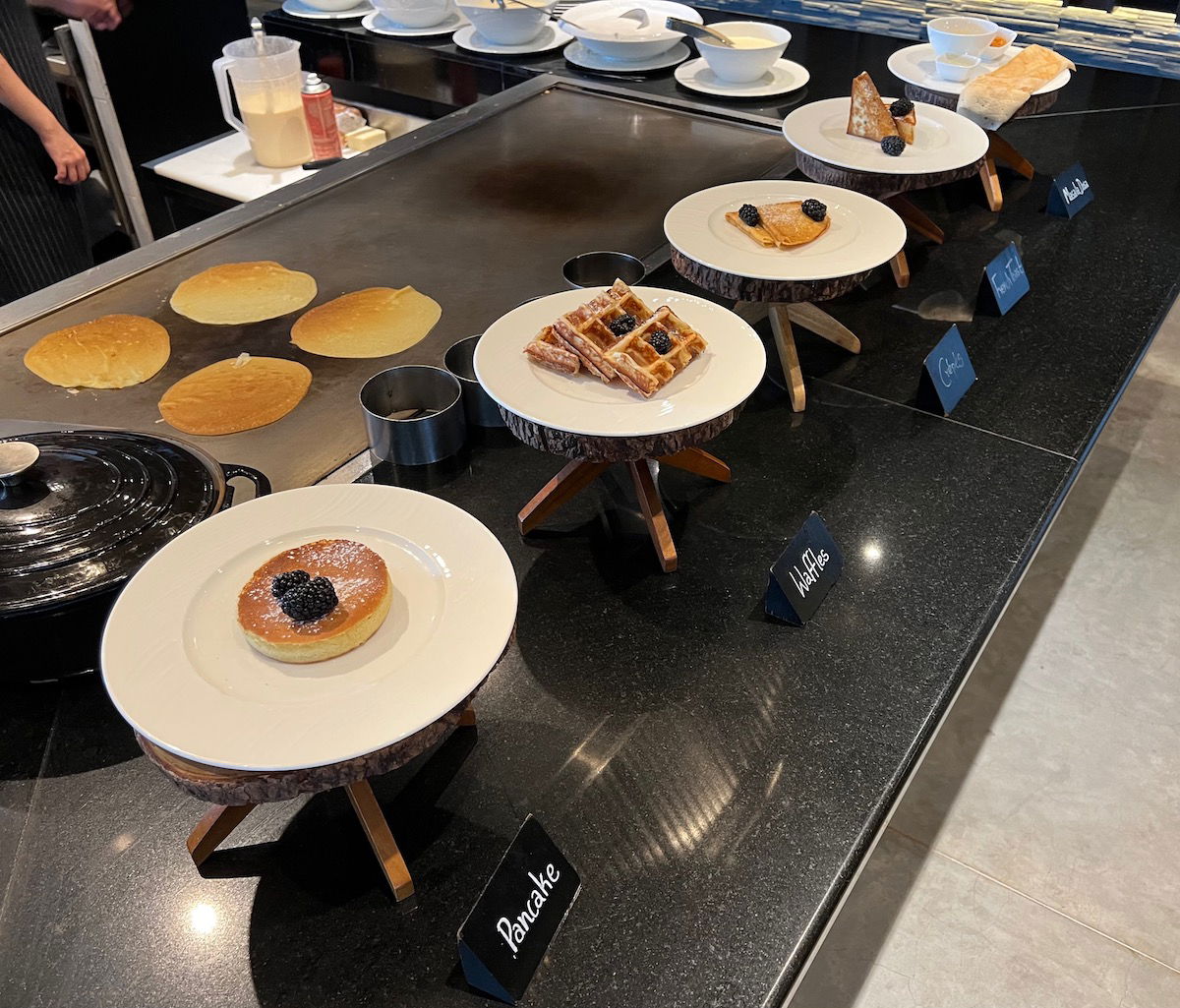 The breakfast was great, though personally I still preferred Blu Beach House for the ambiance, views, and food in general.
Cafe Landaa serves all kinds of Asian dishes throughout the day, and then in the evenings there are sometimes themed nights. We happened to eat there on a night where they had an Indian buffet. Ford and I love Indian food, so that sure worked for us. This entire space transforms beautifully at night, especially with the number of torches used to light out up the outdoors.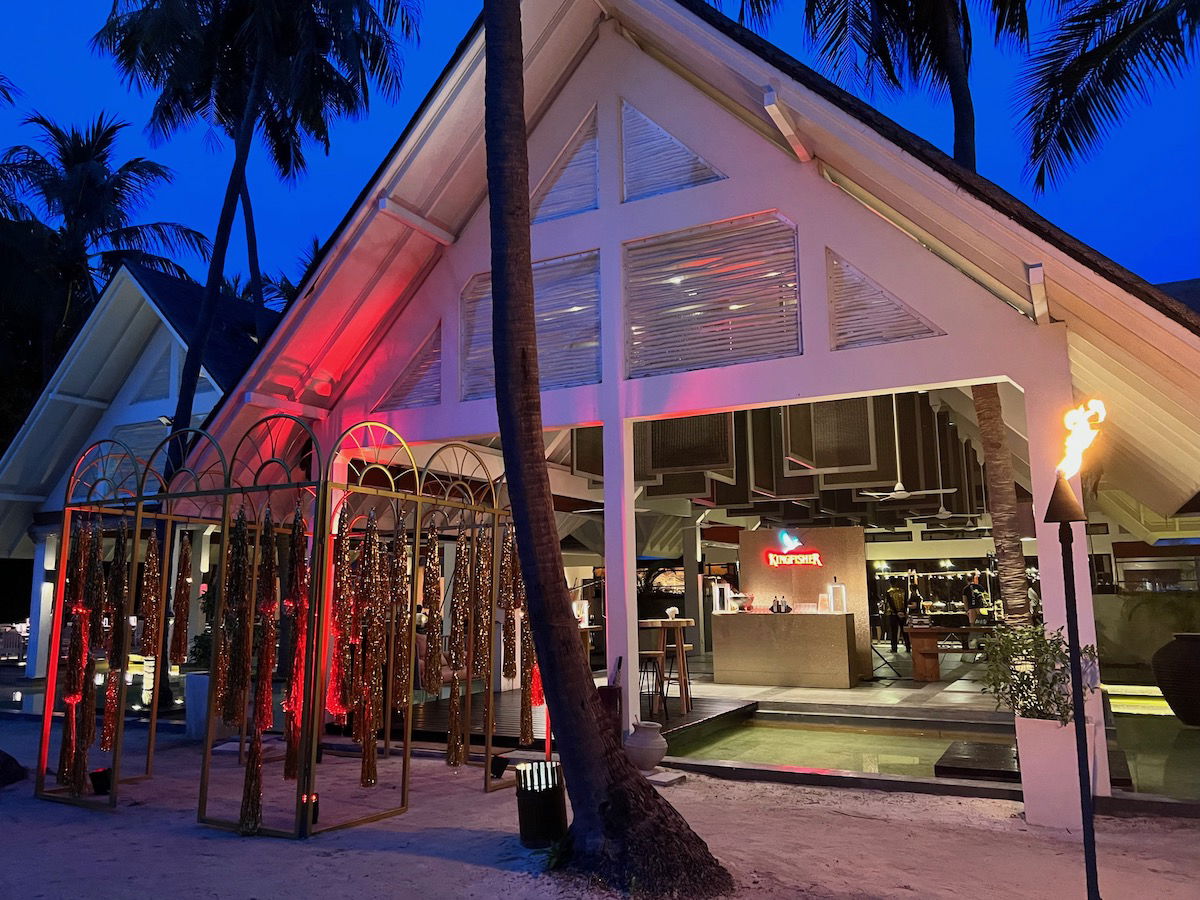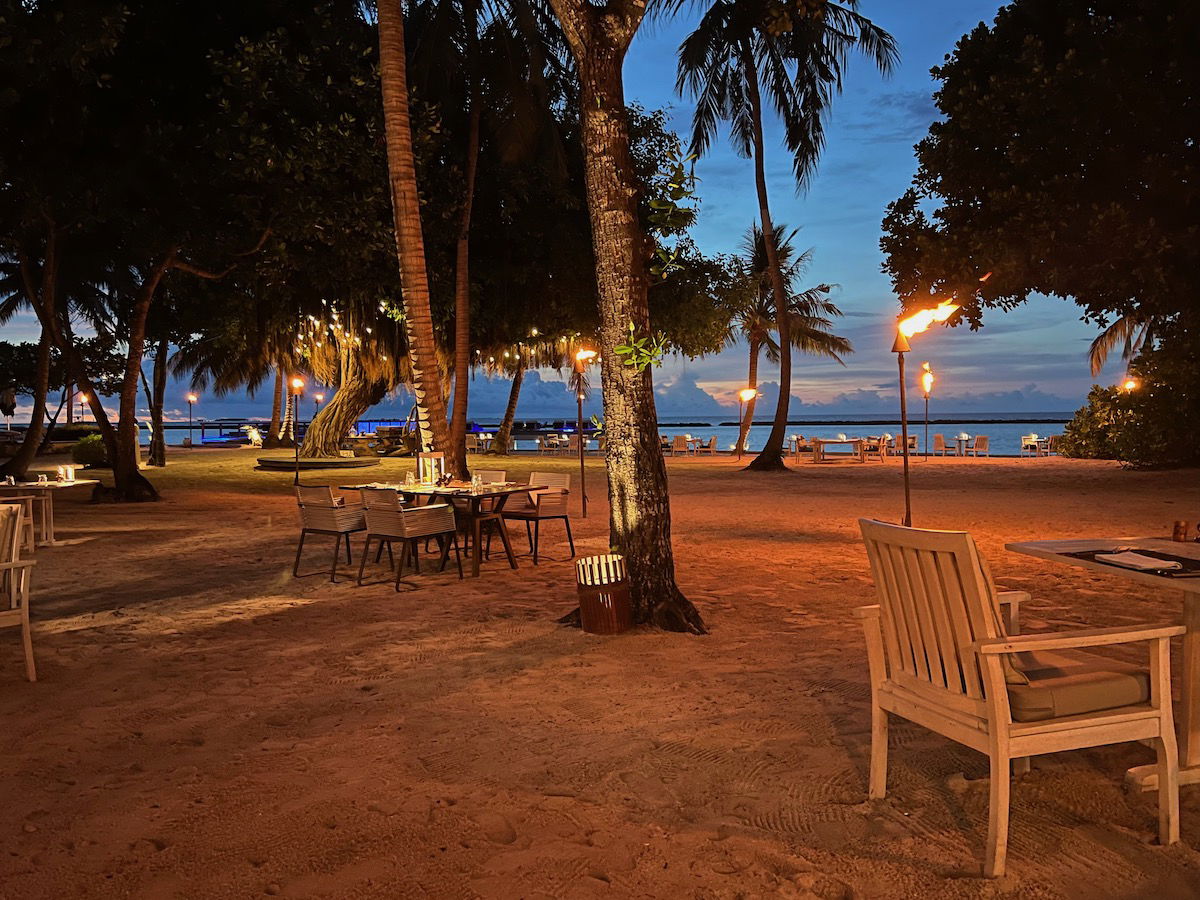 The dinner buffet was simply unreal.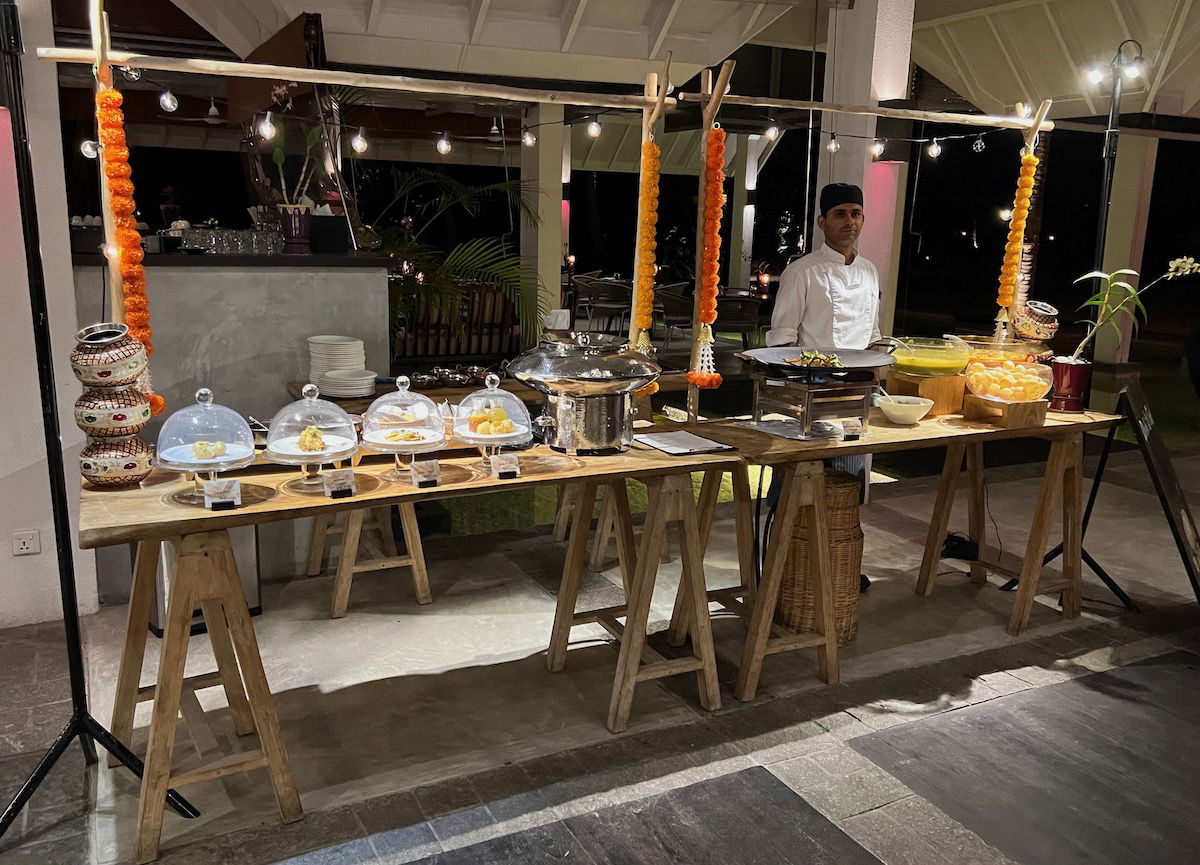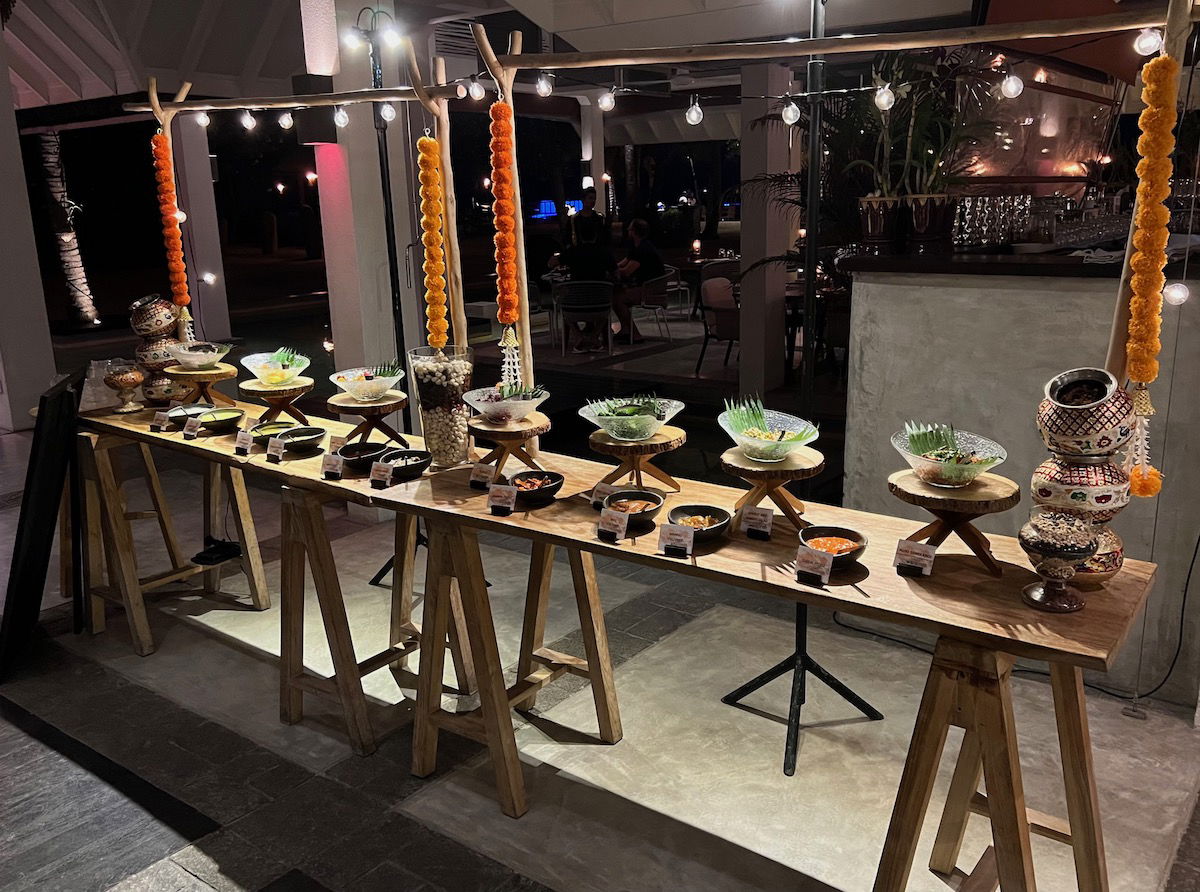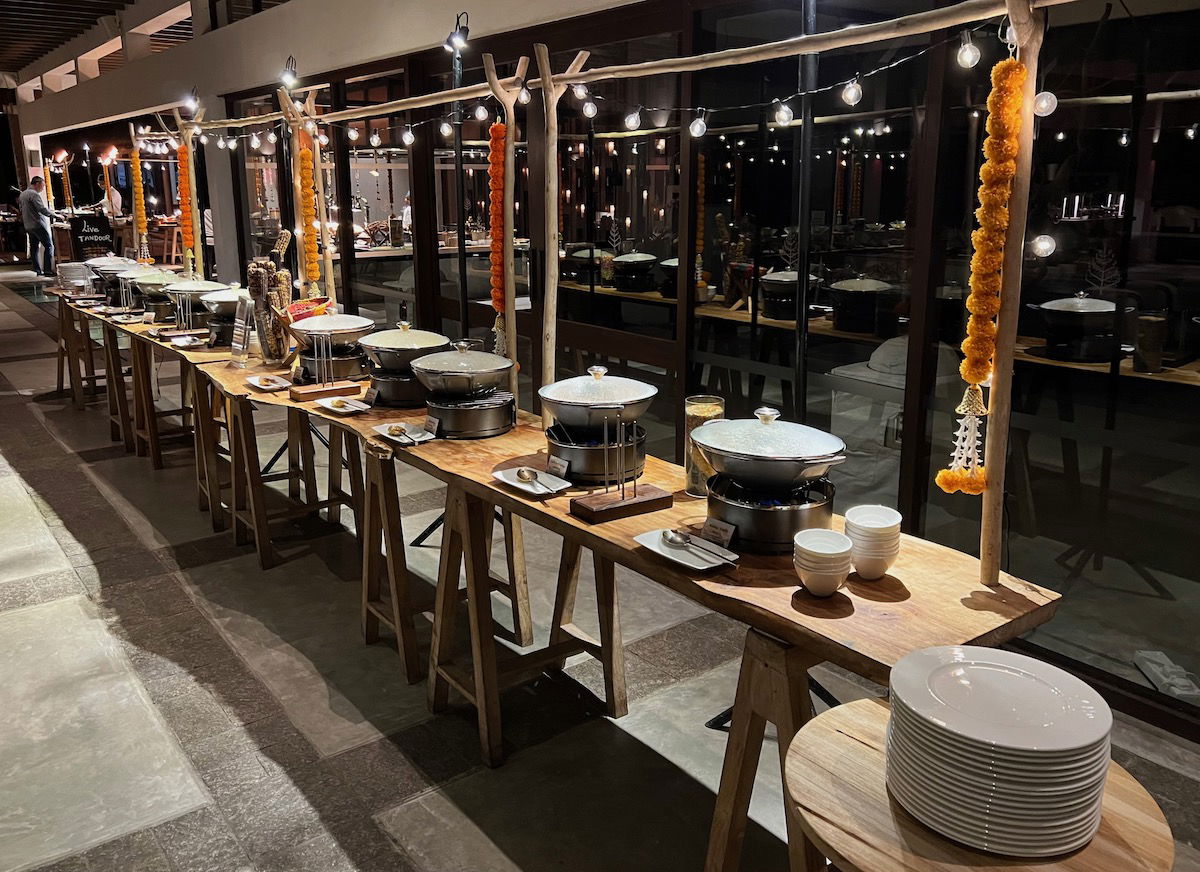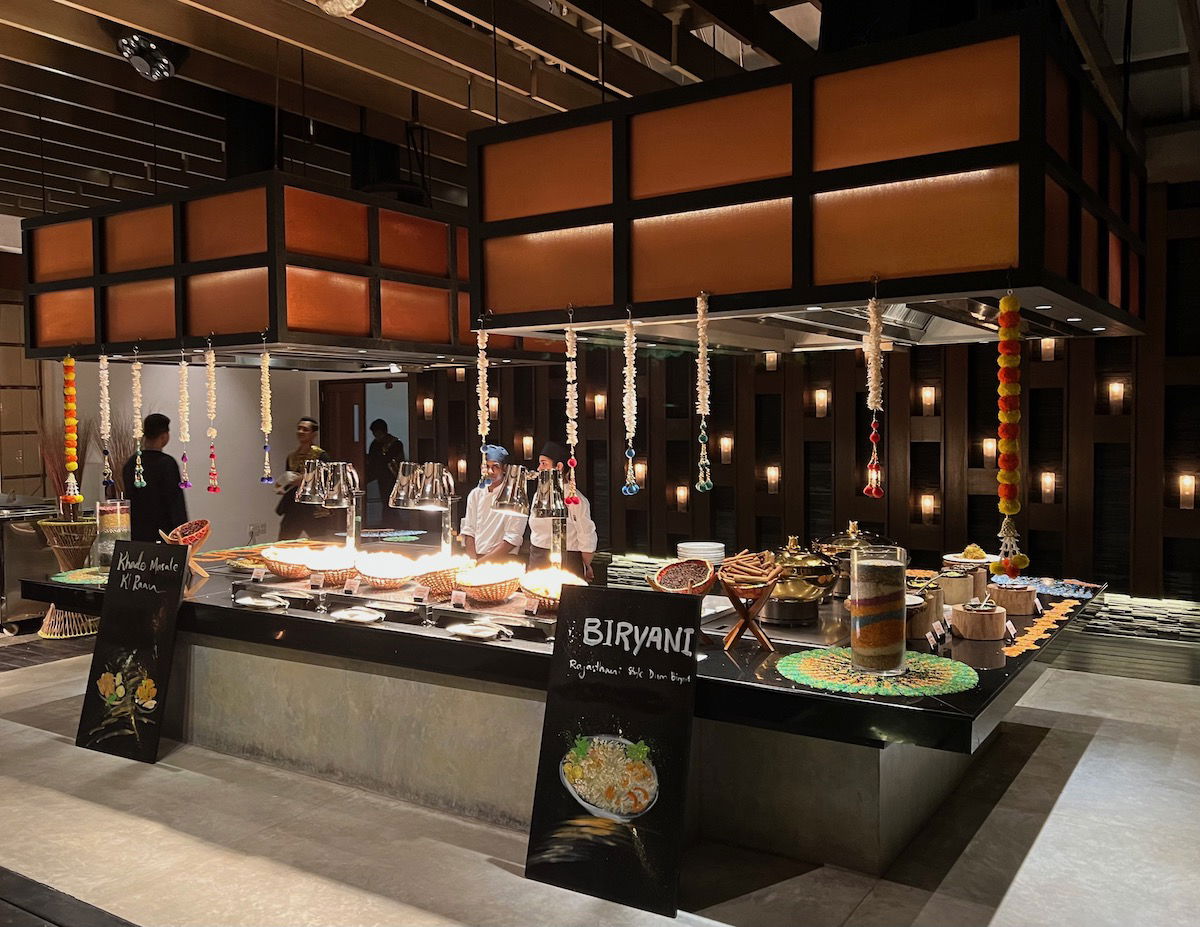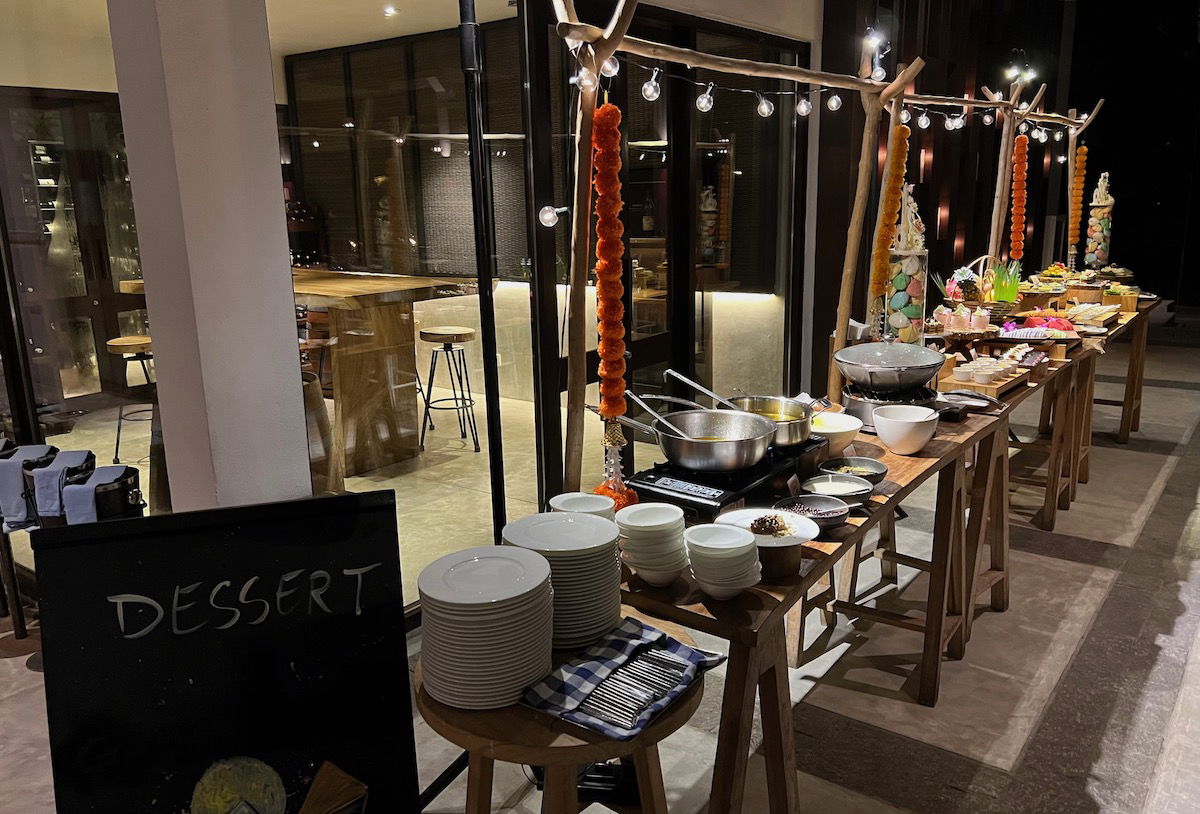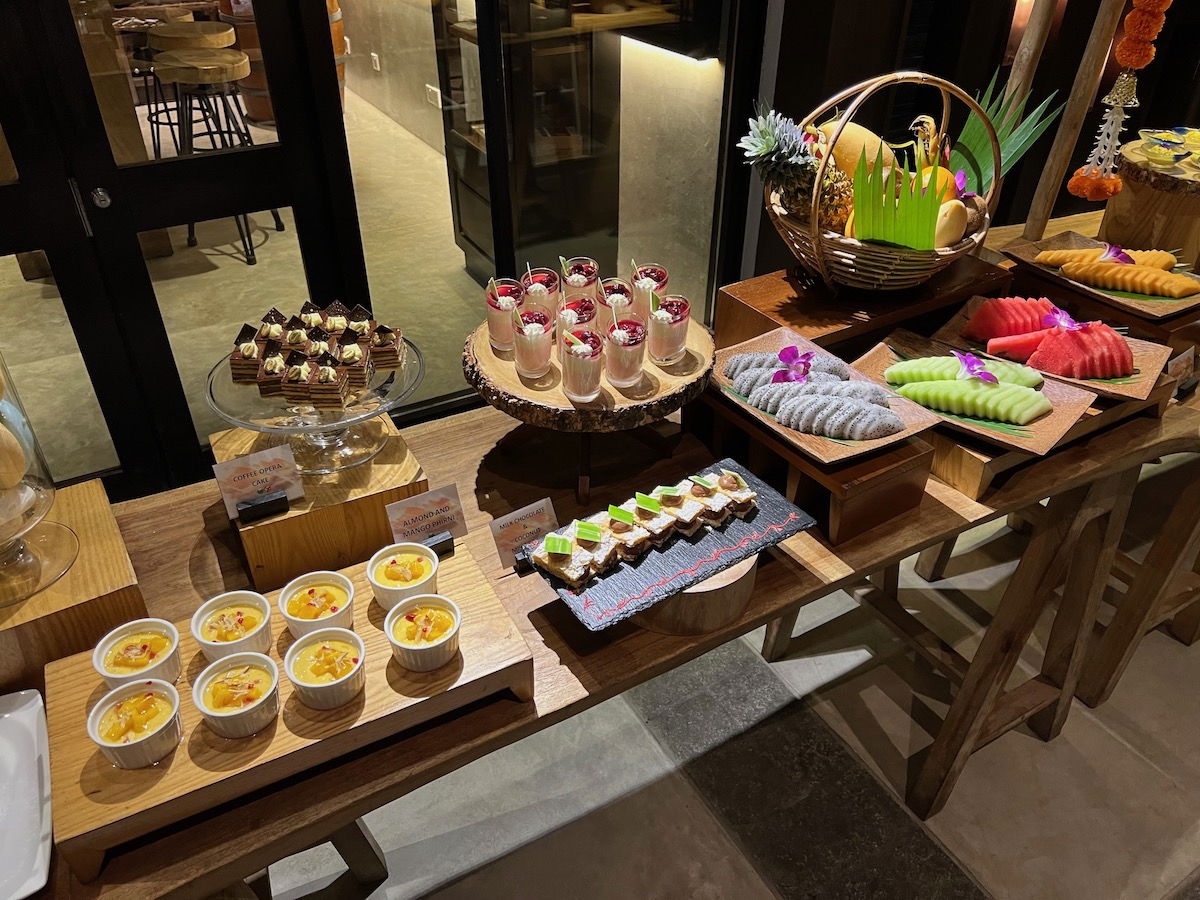 There was even some live entertainment, which added to the fun.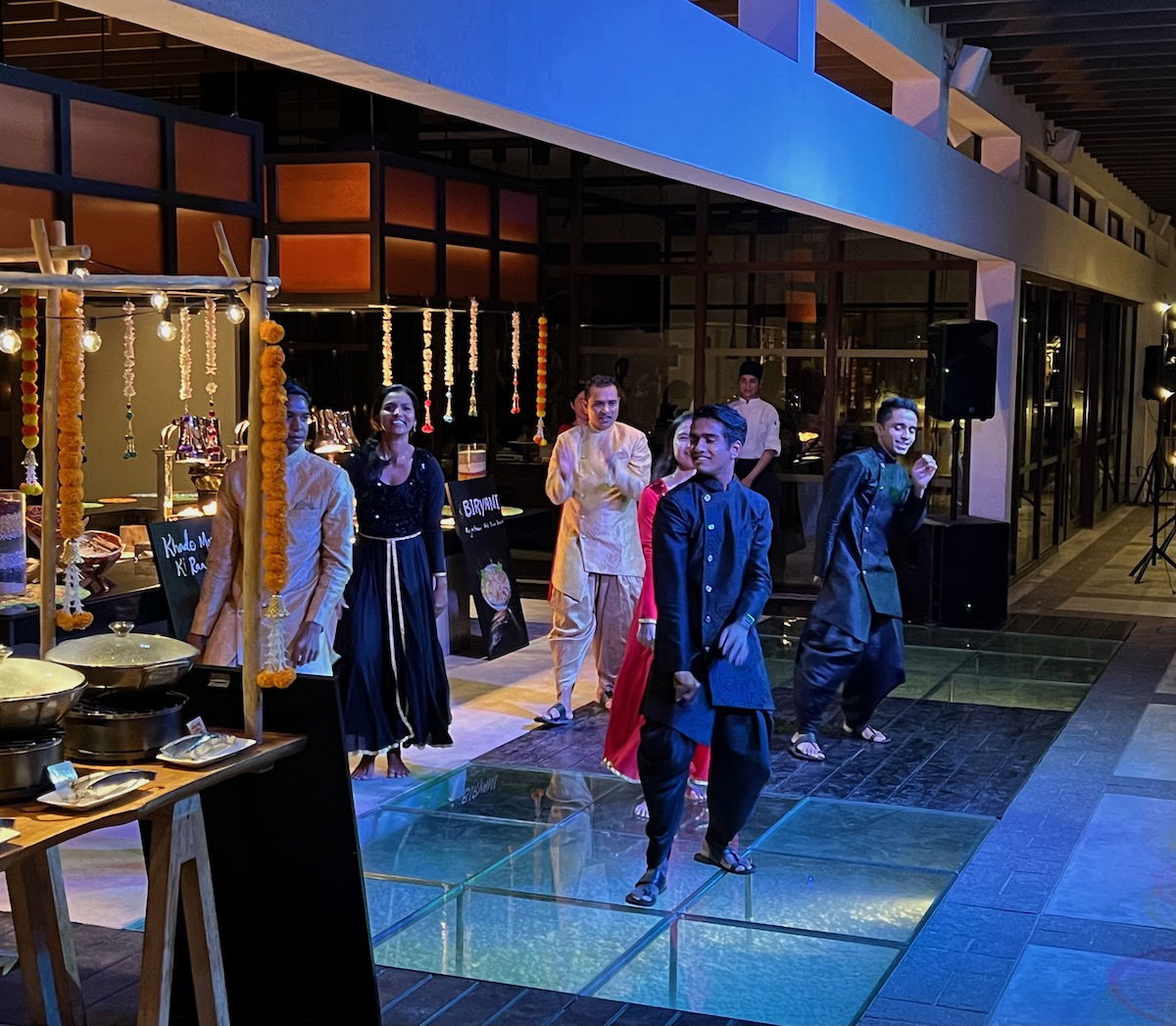 Four Seasons Maldives Landaa Giraavaru Al Barakat
Al Barakat is the resort's Middle Eastern restaurant, with flavors from Lebanon, Morocco, and Armenia. The restaurant is located over water near the arrivals jetty.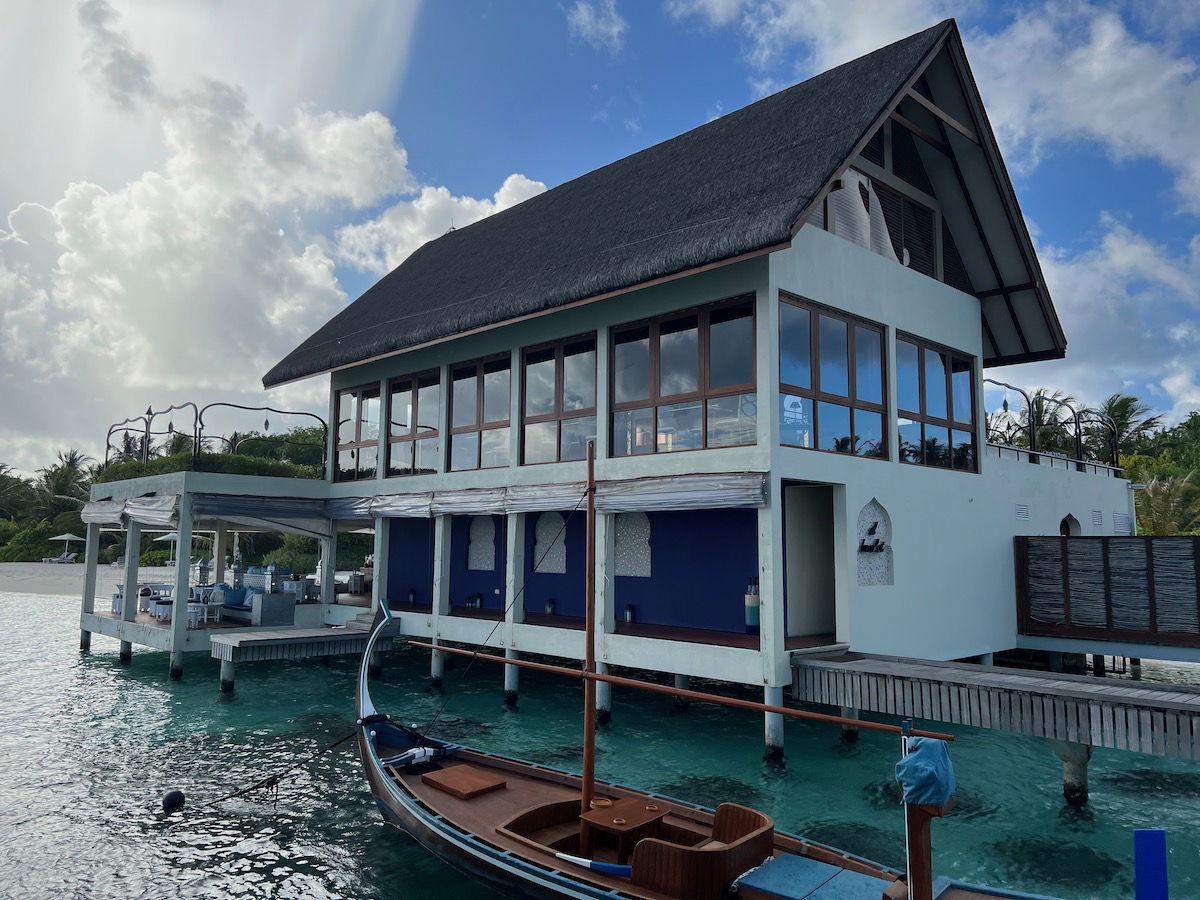 The restaurant has a bar area near the entrance, where you can enjoy a pre-dinner drink.
Then there's plenty of indoor and outdoor seating in the restaurant, depending on your preference.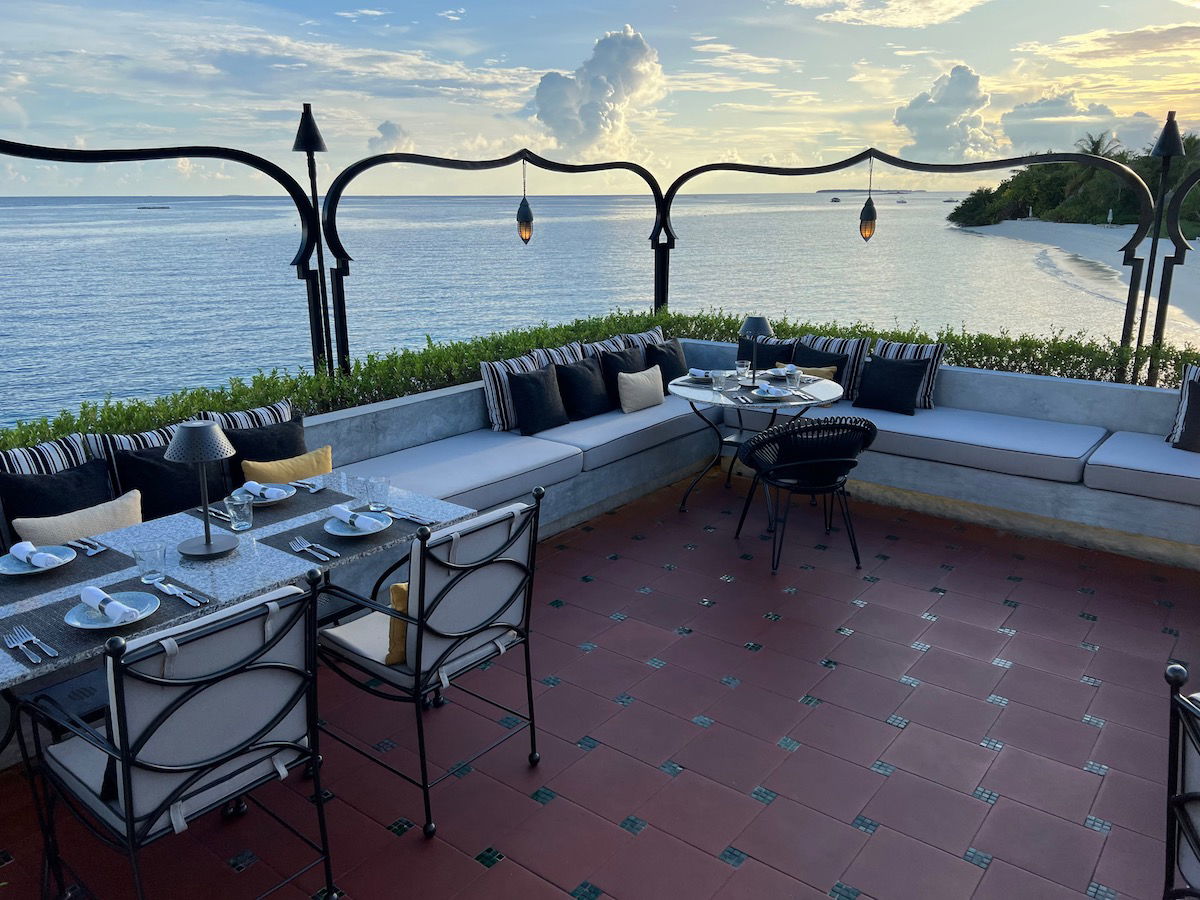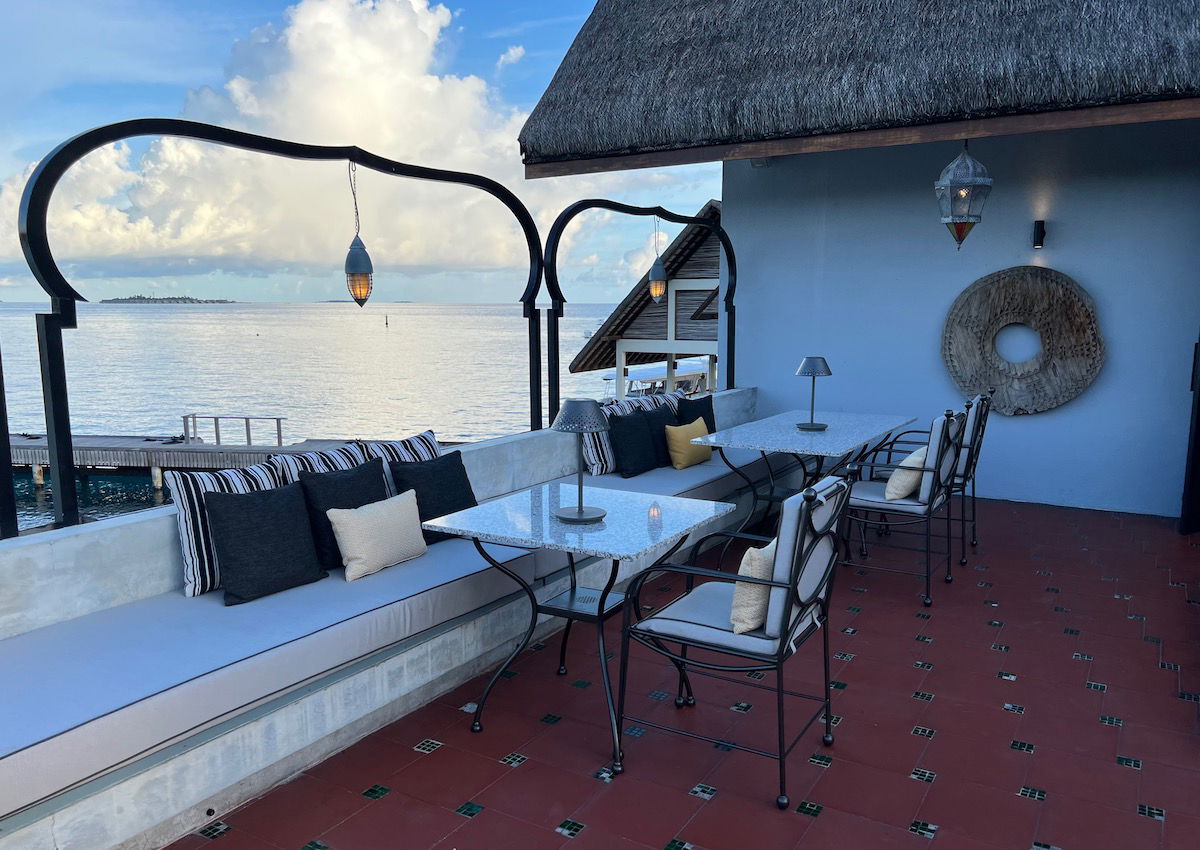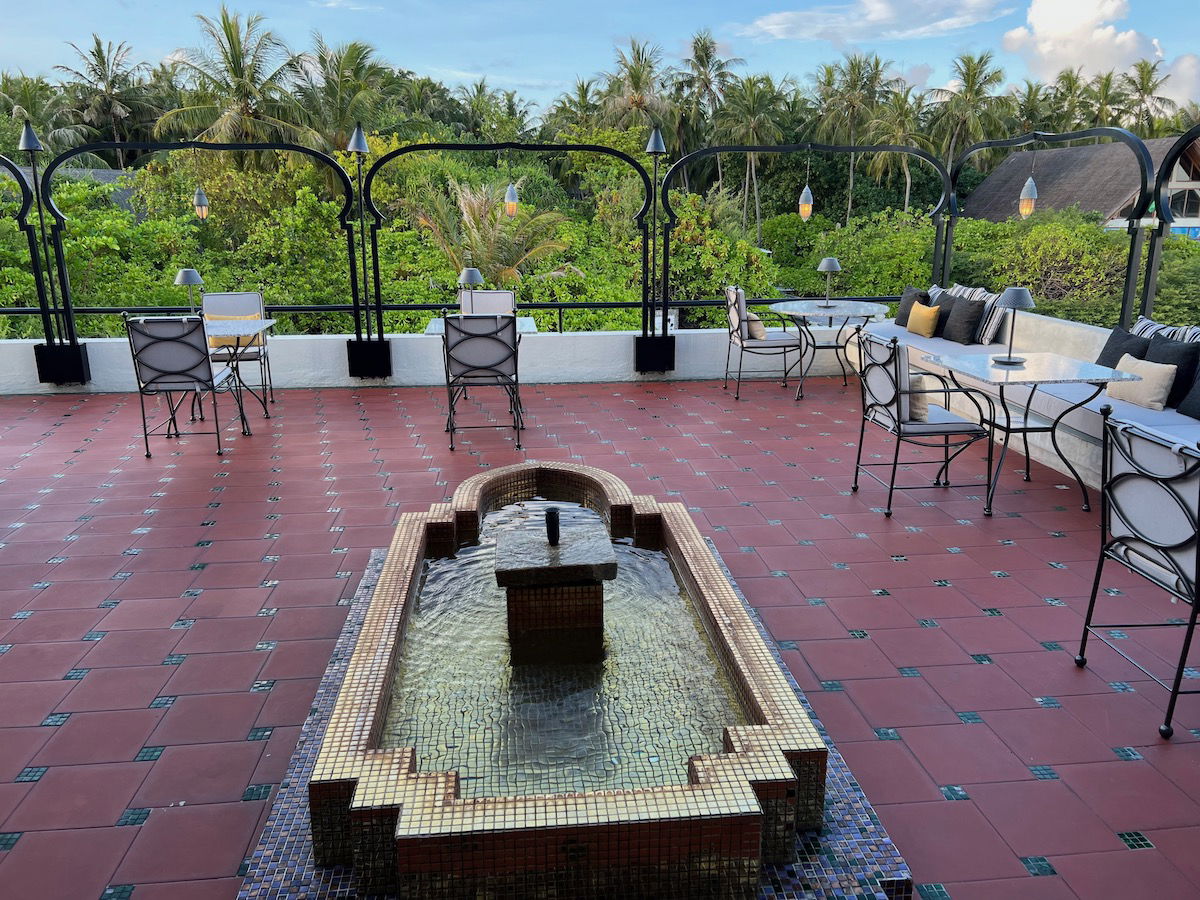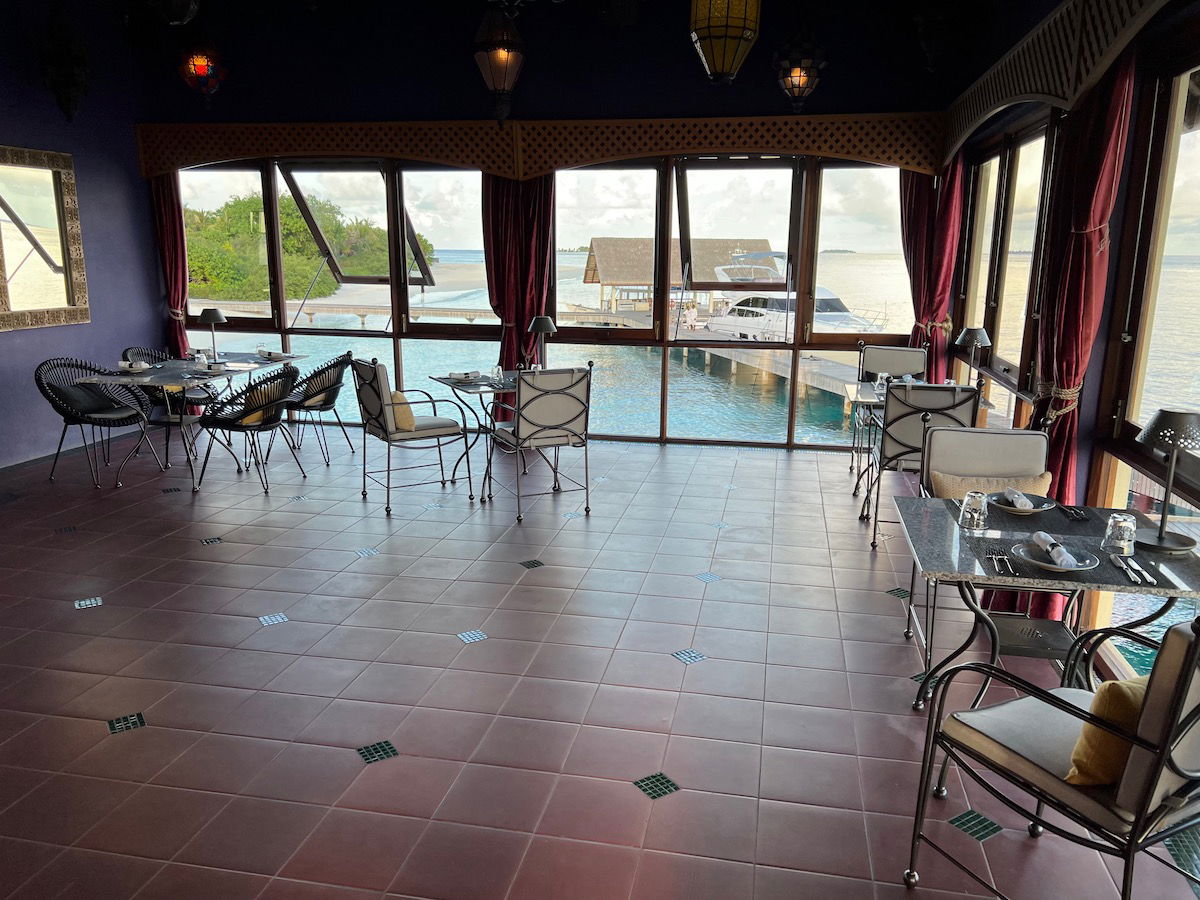 We started our meal with a couple of cocktails in the bar area, which were tasty, and were served with some snacks.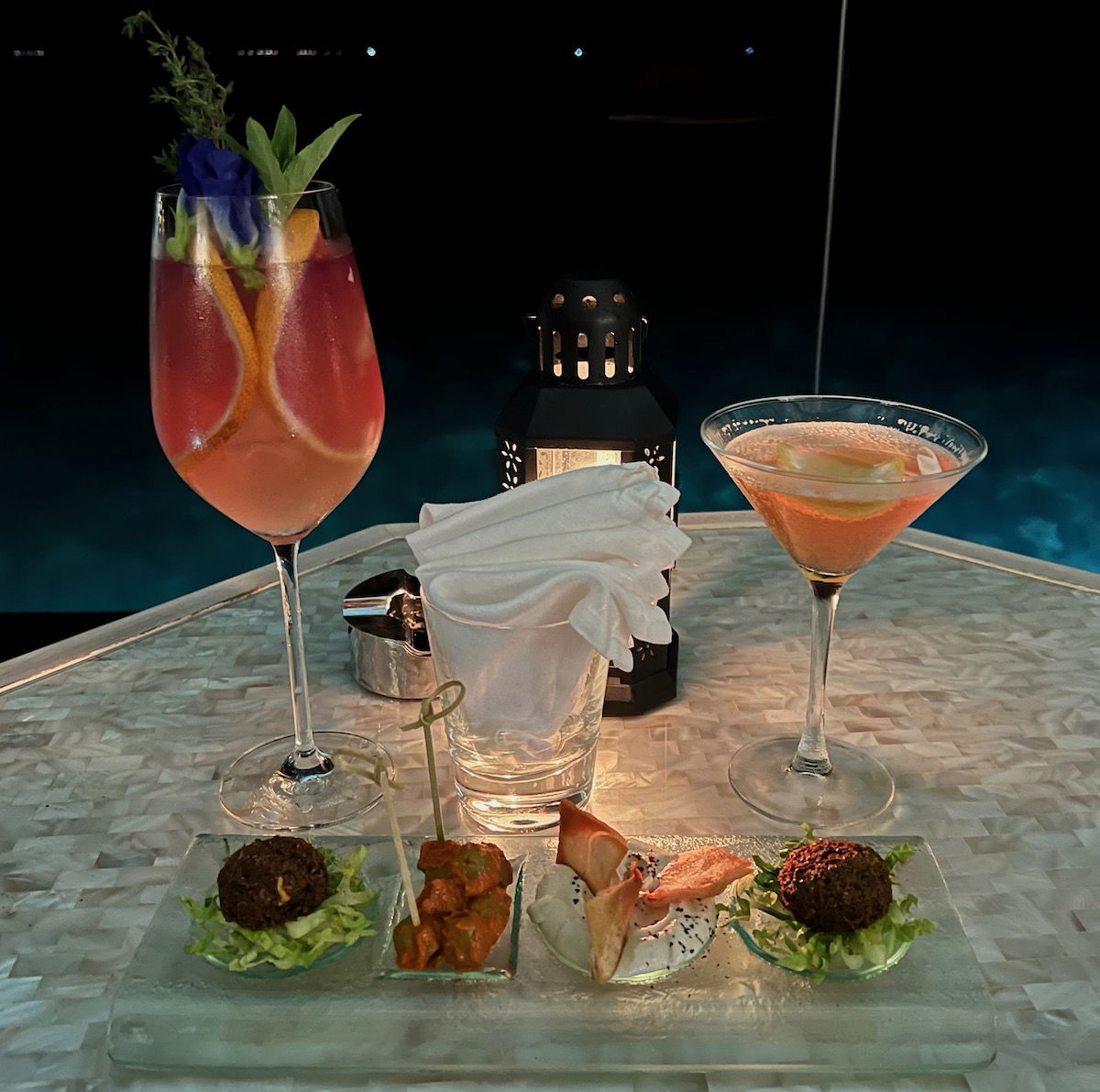 We eventually headed up to our table, where we were presented with a delicious-sounding set menu. We're just not huge fans of lamb chops, so they were happy to substitute prawns for that.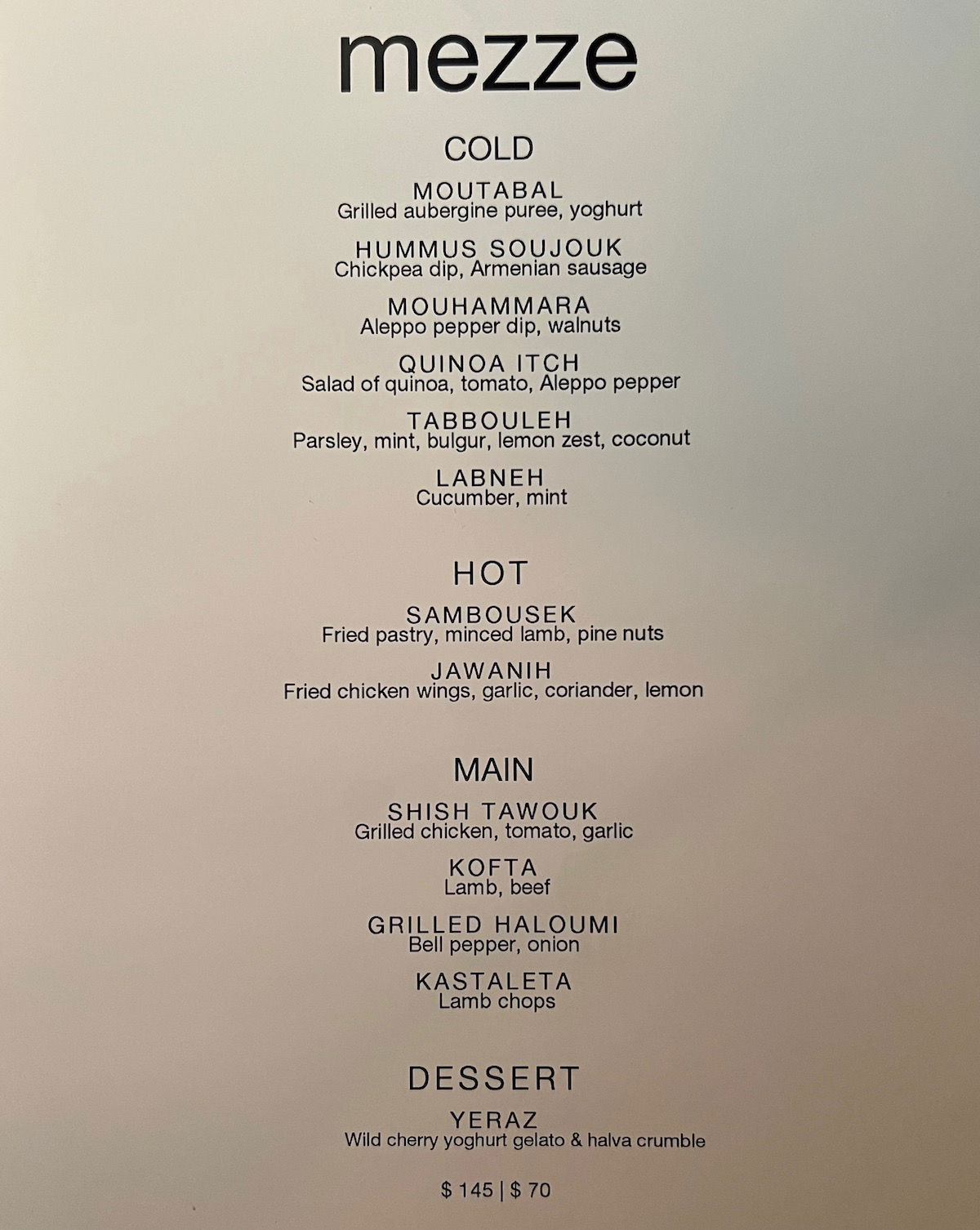 The meal started with some carrots and cucumbers with a dip.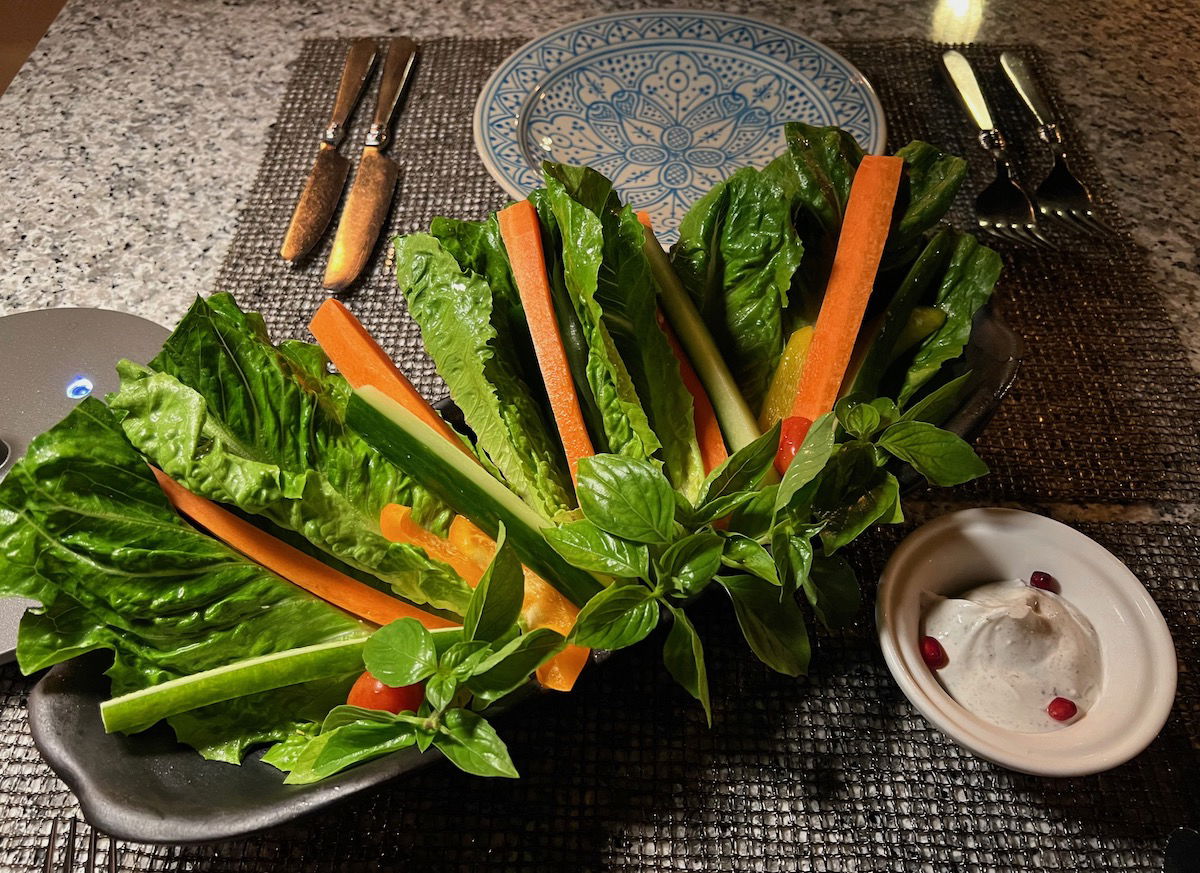 Next we were offered a variety of cold mezze, including moutabel, hummus soujouk, muhammara, quinoa itch, tabbouleh, and labneh.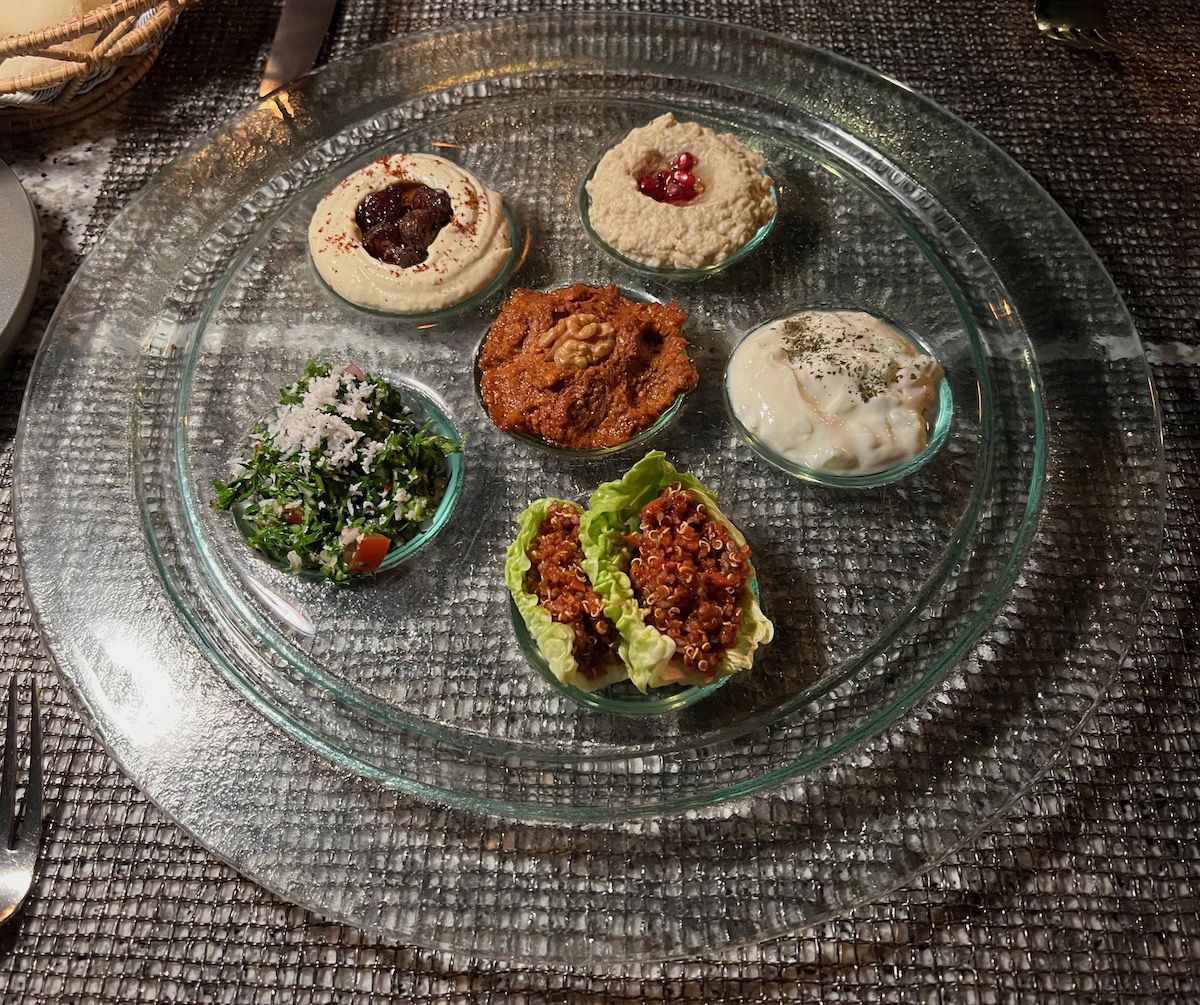 Next we were offered a selection of hot mezze, including sambousek and jawanih.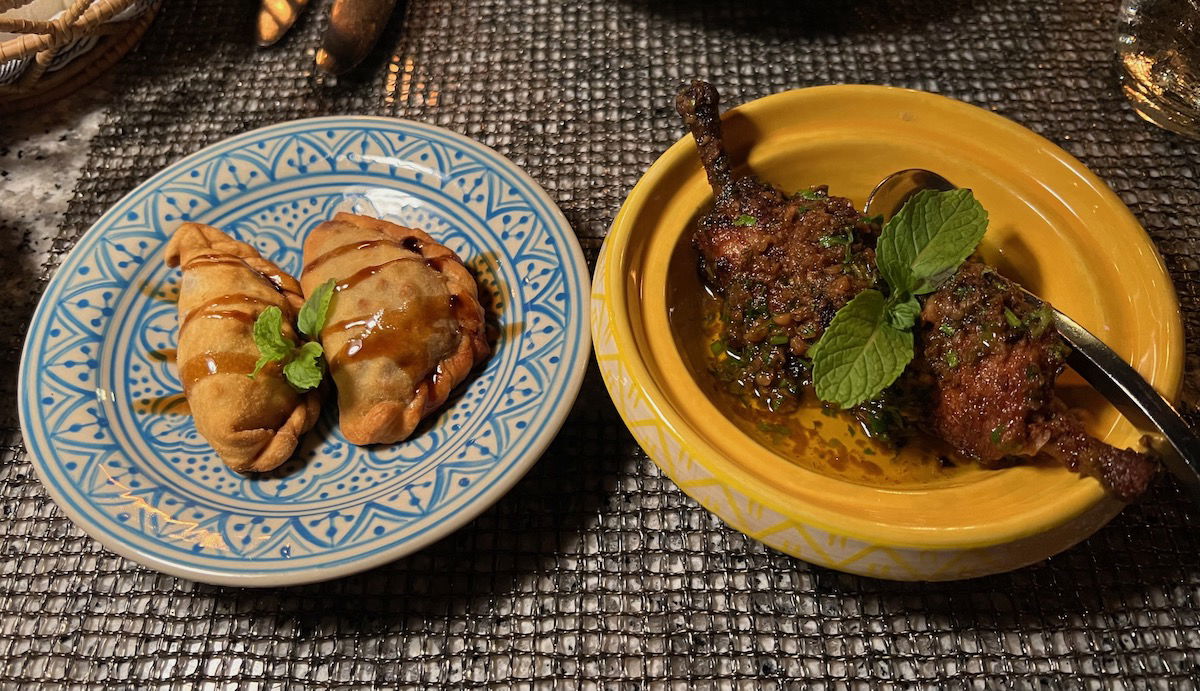 Next up were the mains, which included shish tawouk, kofta, grilled halloumi, and prawns.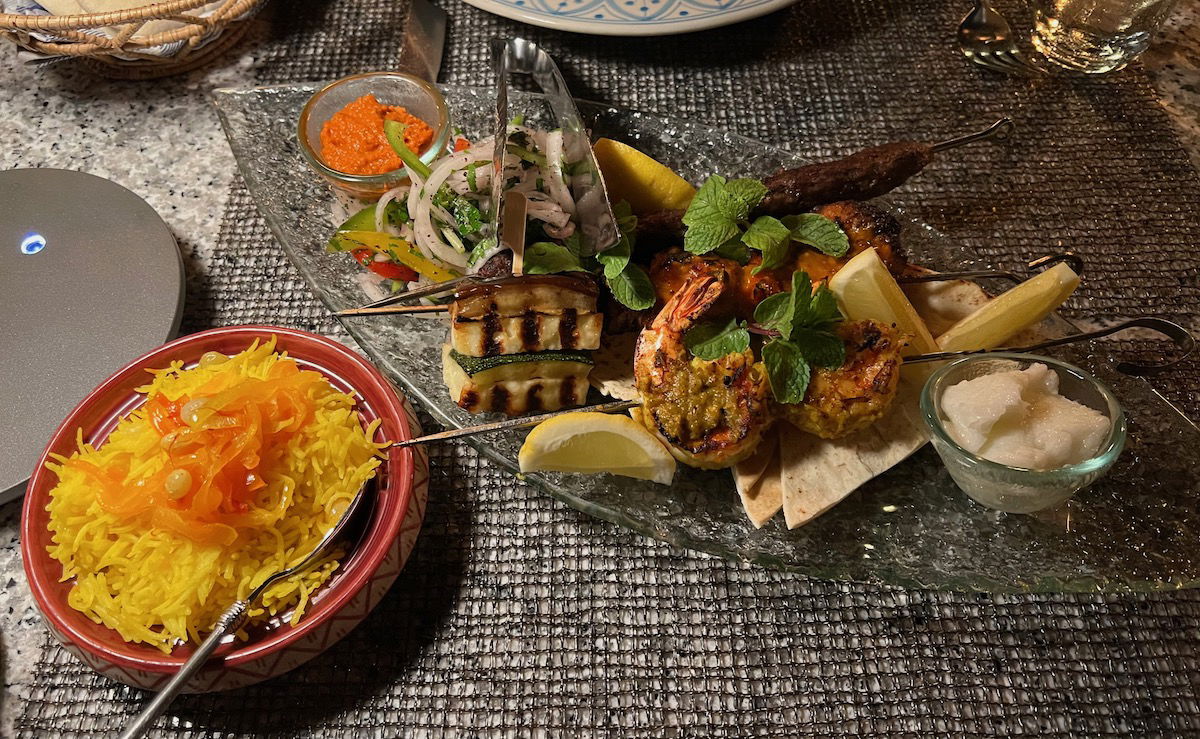 Lastly we were offered a wild cherry yogurt gelato with halva crumble, along with some tea.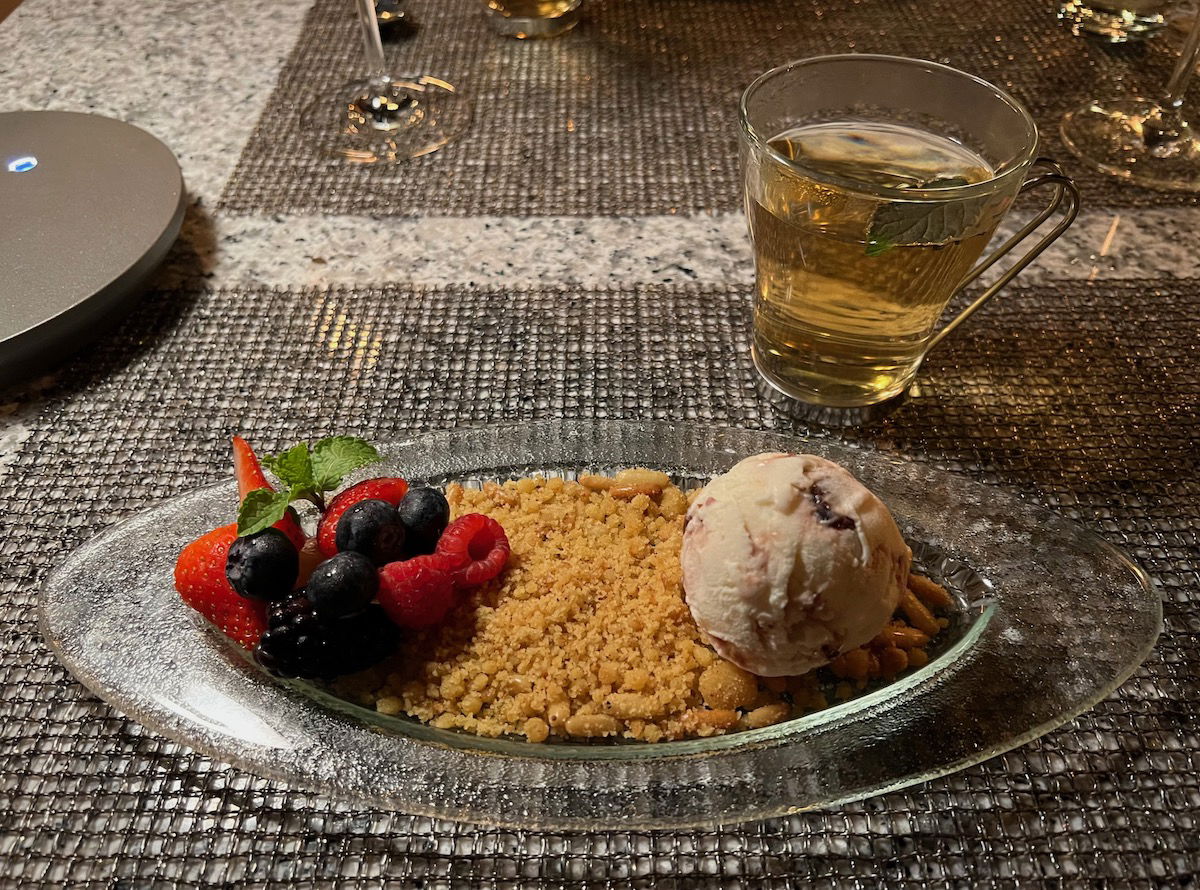 What an amazing meal!
Four Seasons Maldives Landaa Giraavaru Fuego Grill & Seabar
Fuego Grill is the resort's beachfront restaurant, which has at most a dozen or so tables.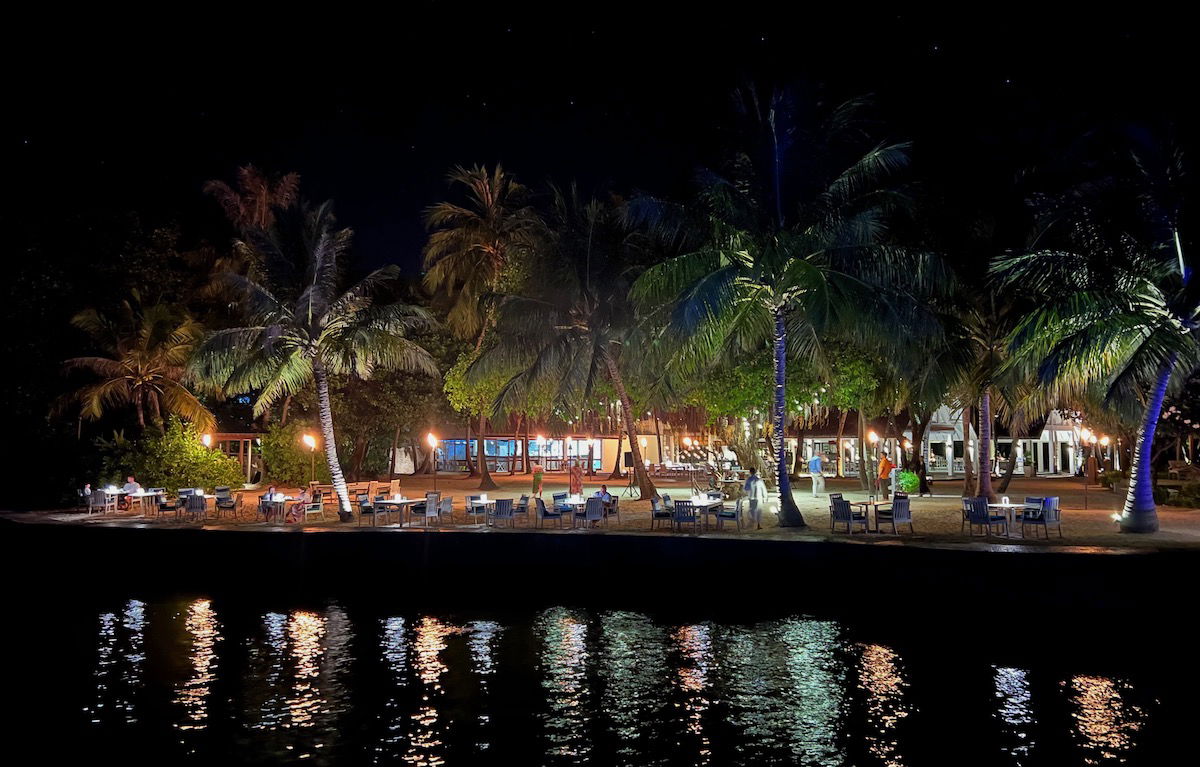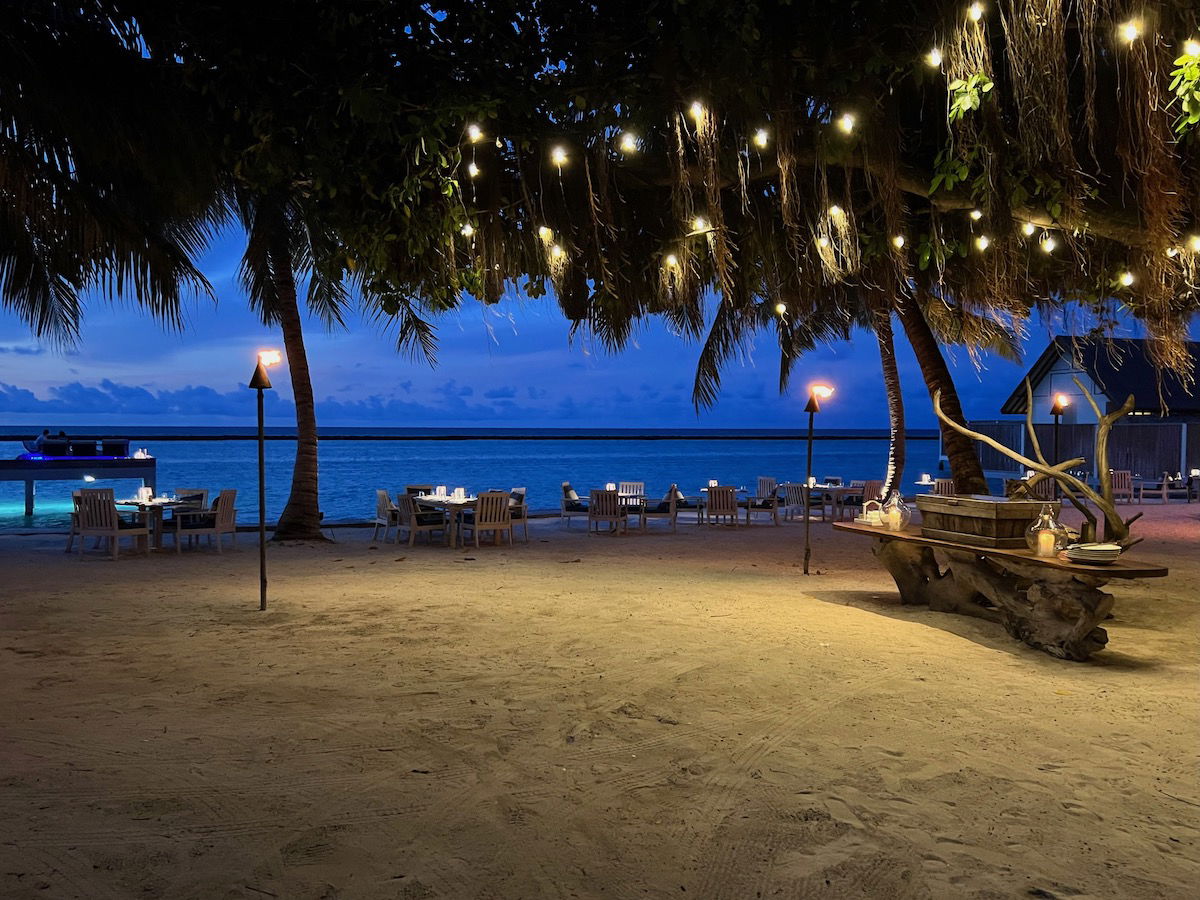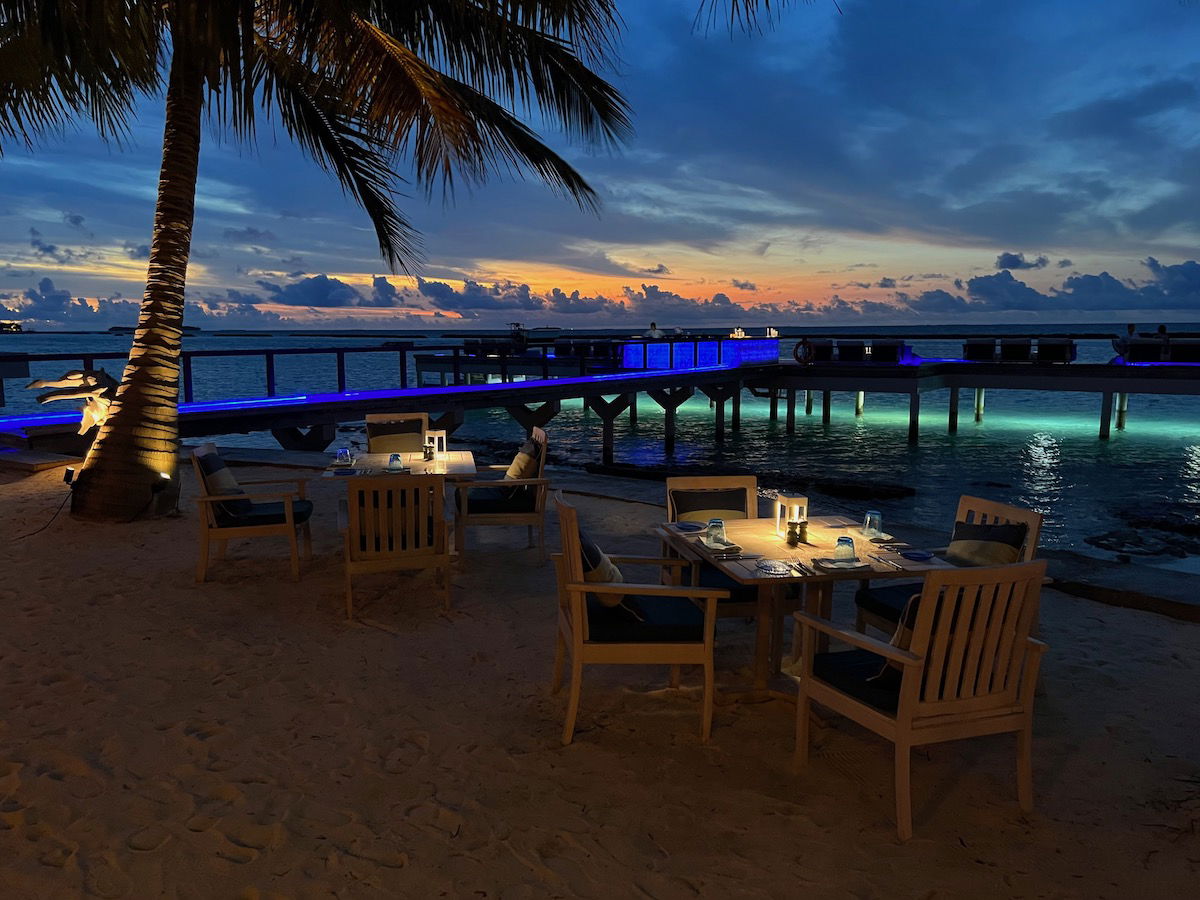 The restaurant is all about fresh seafood, so as you arrive you're shown the daily selection.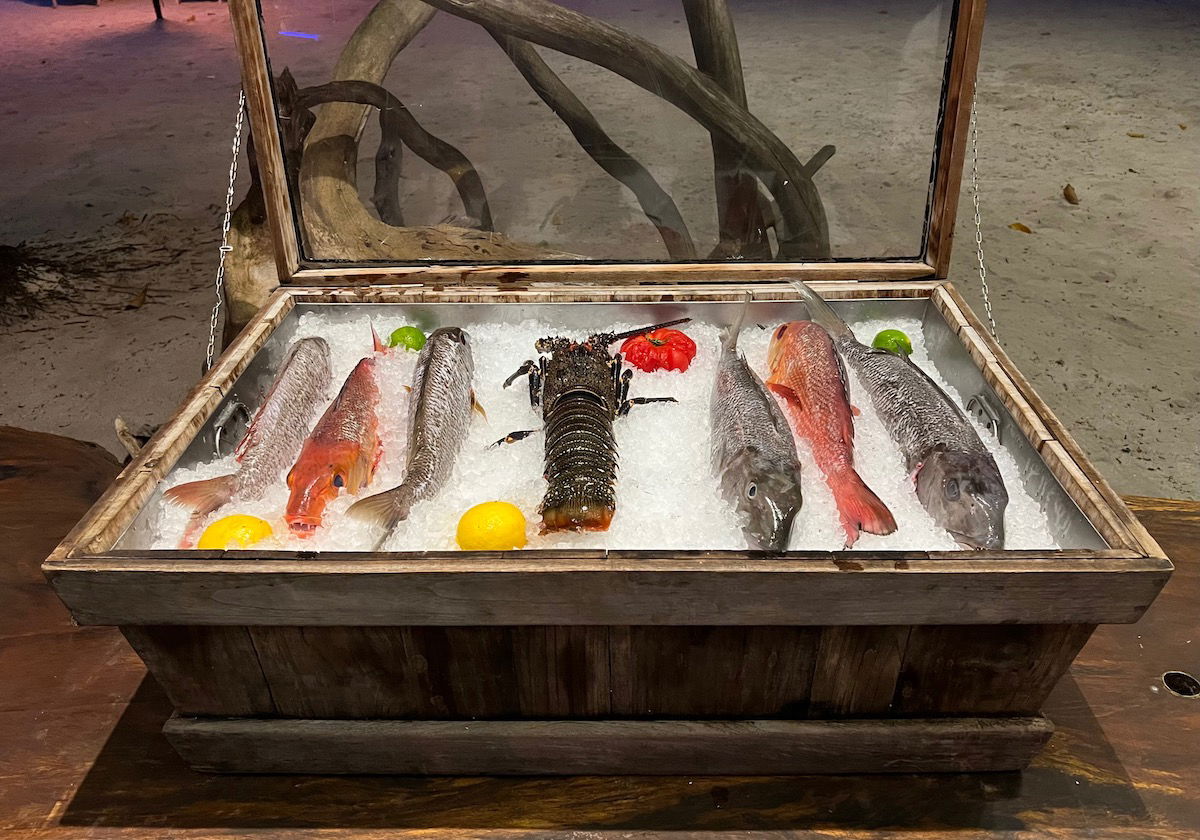 Below you can find the Fuego Grill dinner menu.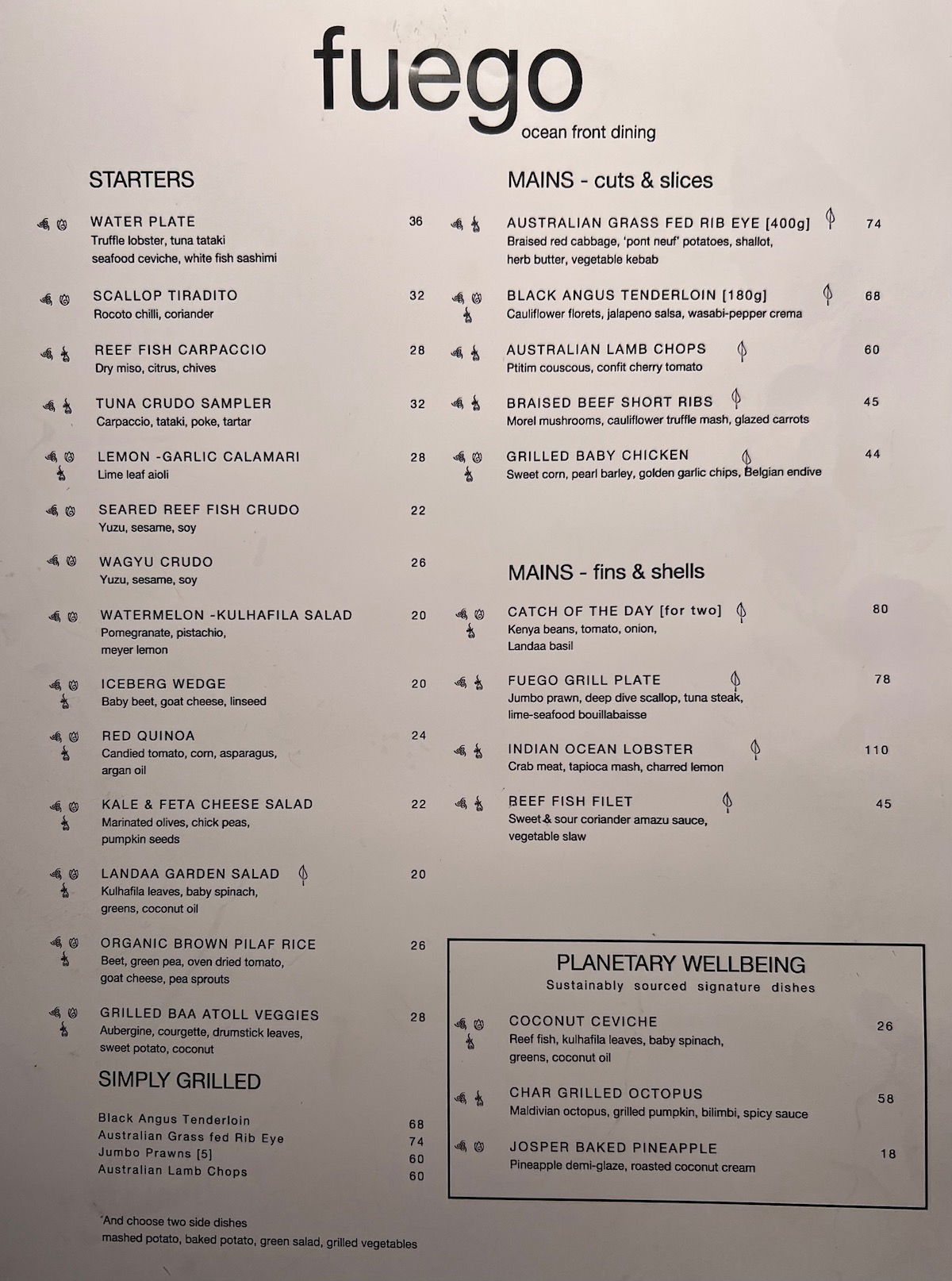 At the start of the meal we were offered a variety of bread with beetroot dip as well as olive oil and balsamic vinegar.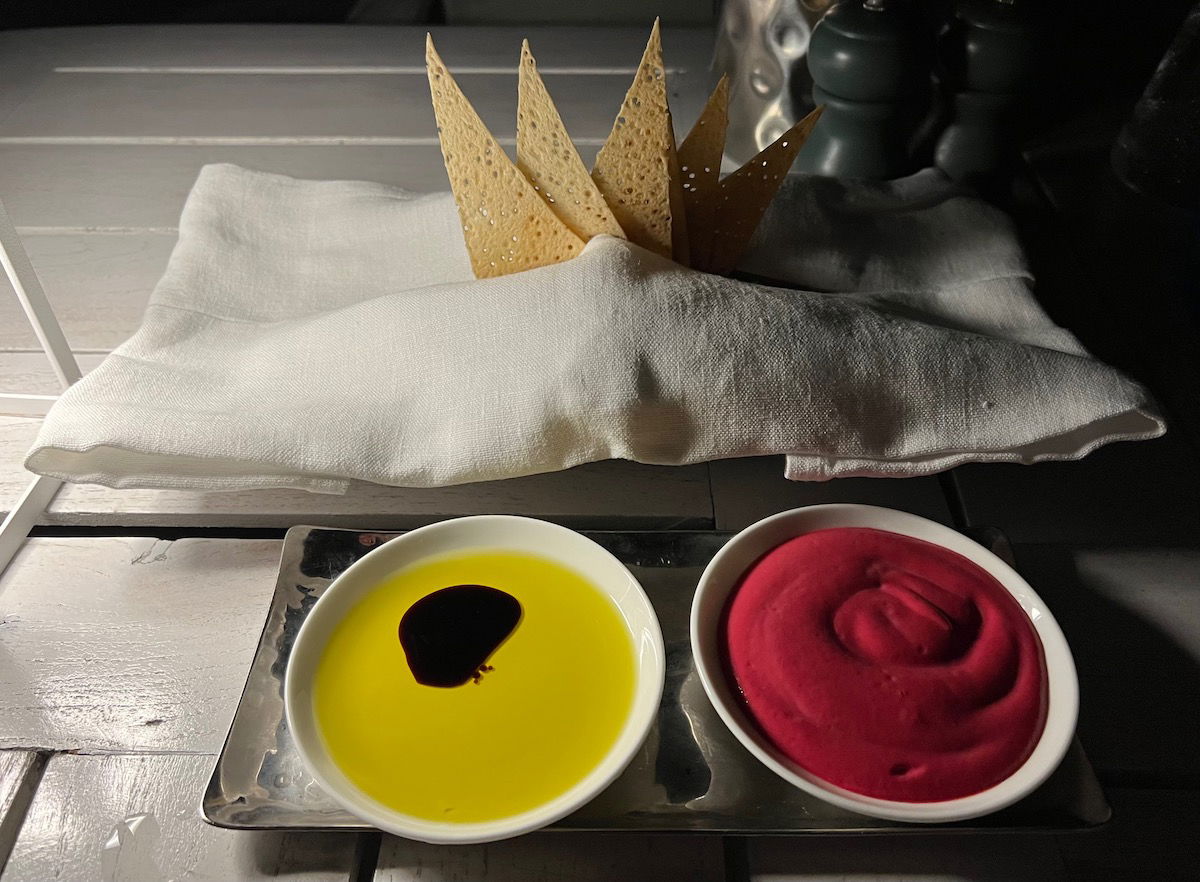 To start, I ordered the tuna crudo sampler, while Ford ordered the kale and feta cheese salad.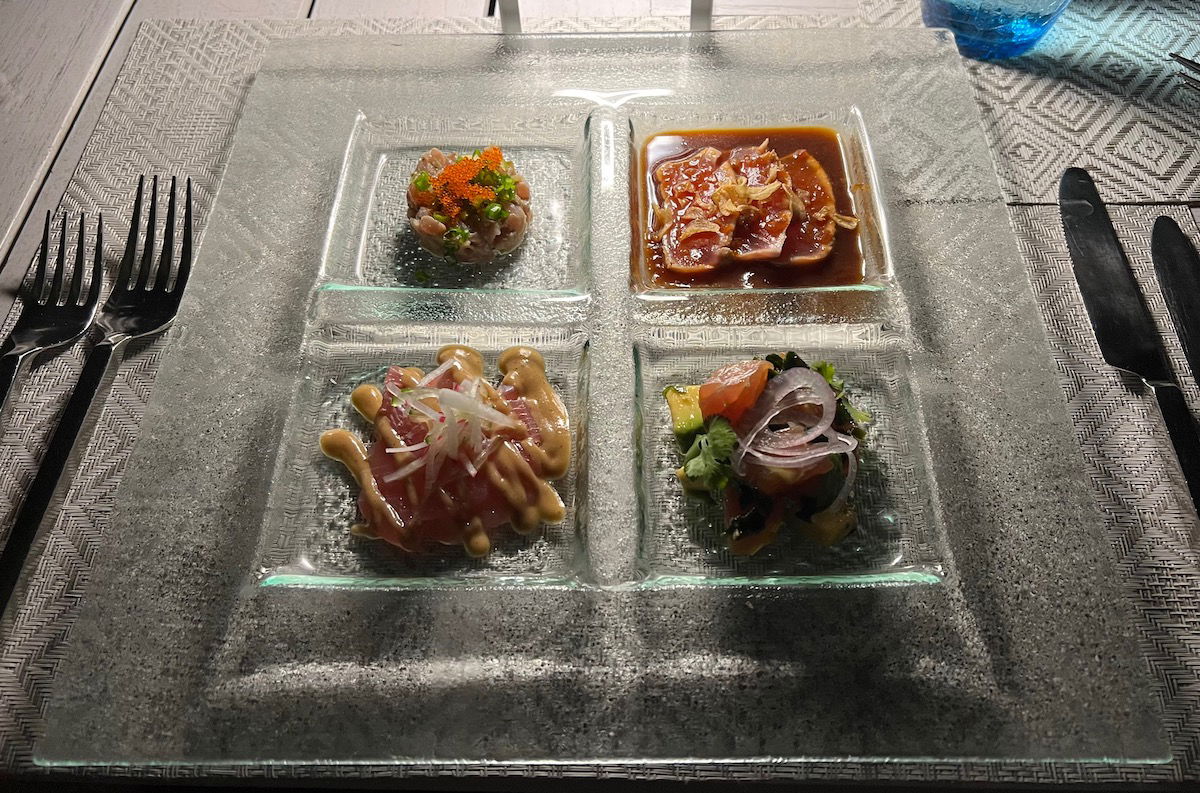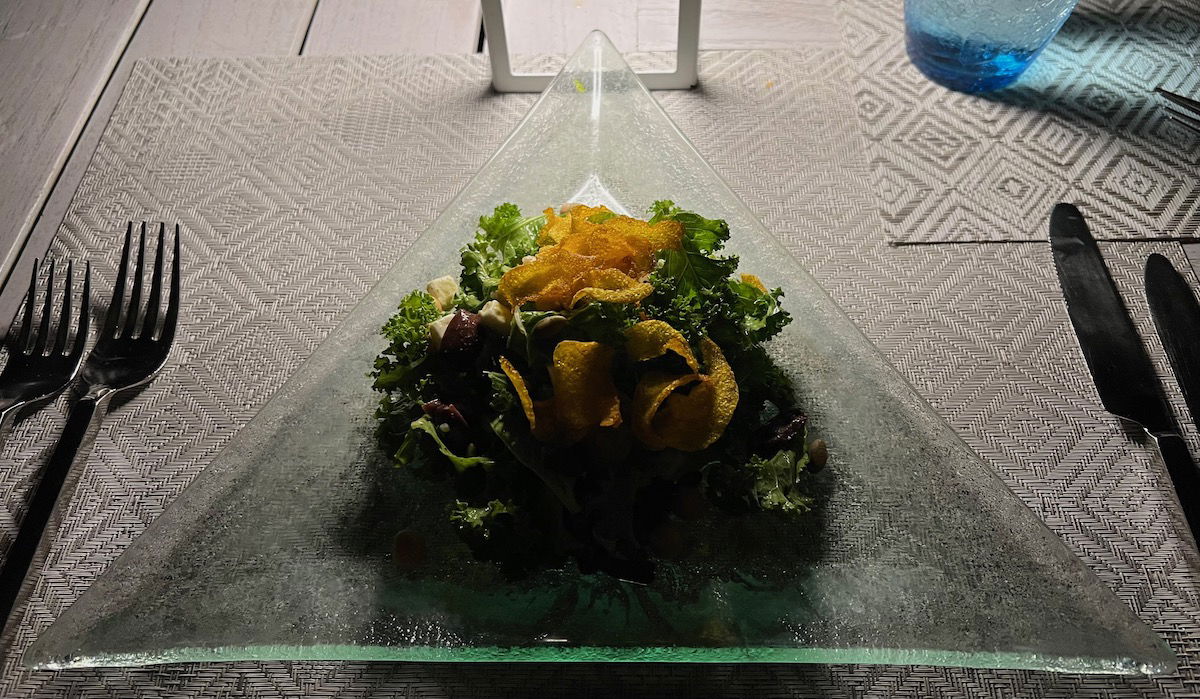 Then for the main, I had the Fuego Grill plate, while Ford had the reef fish filet.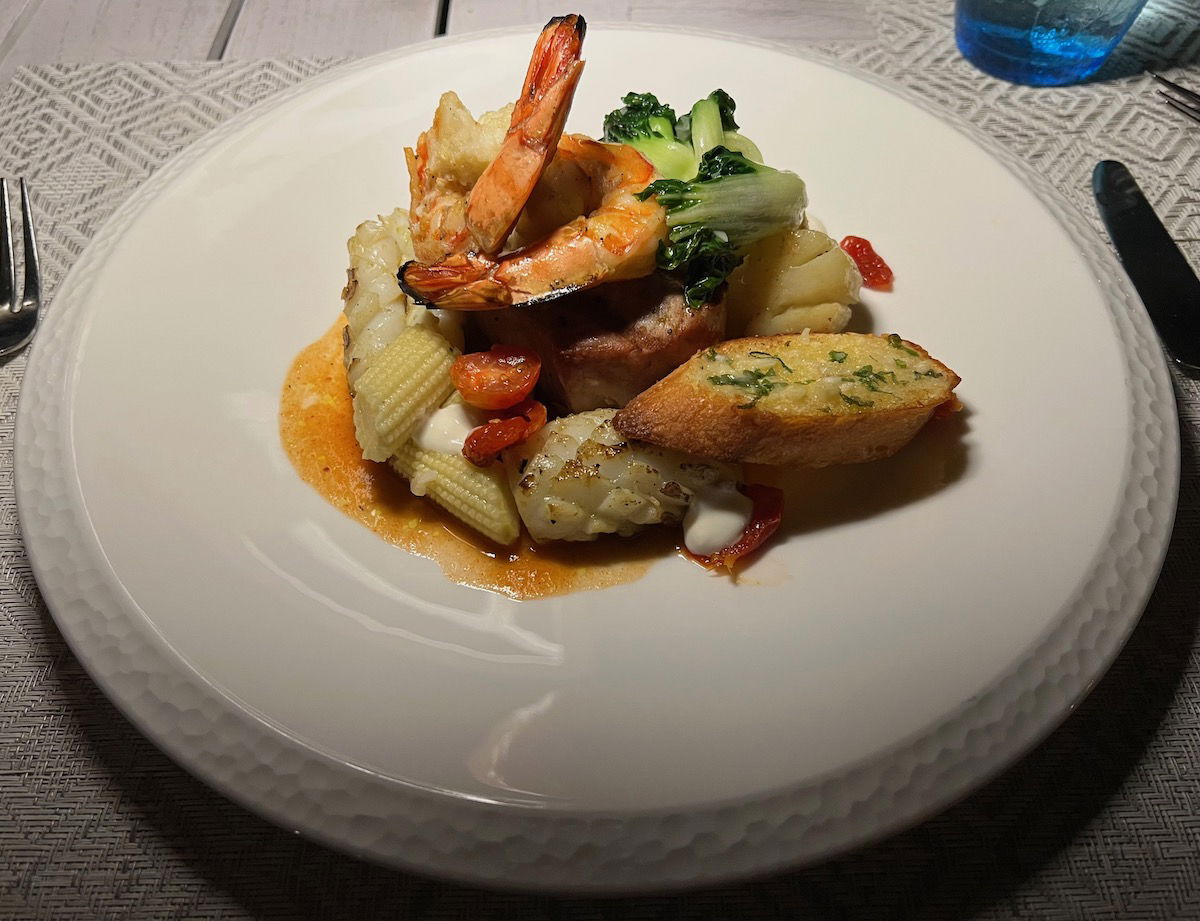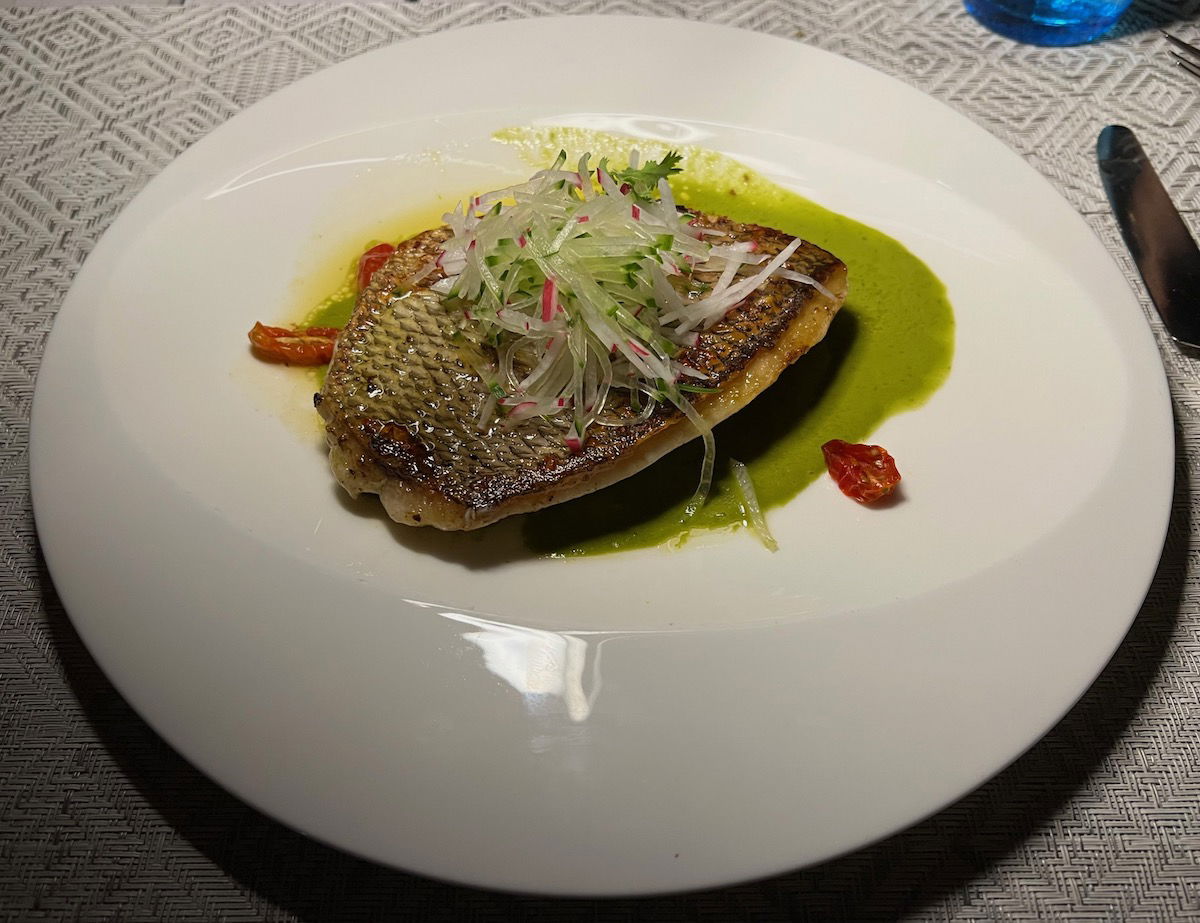 In addition to the restaurant, there's also Seabar, which is the bar located right next to Fuego Grill. This can be a great place to catch the sunset.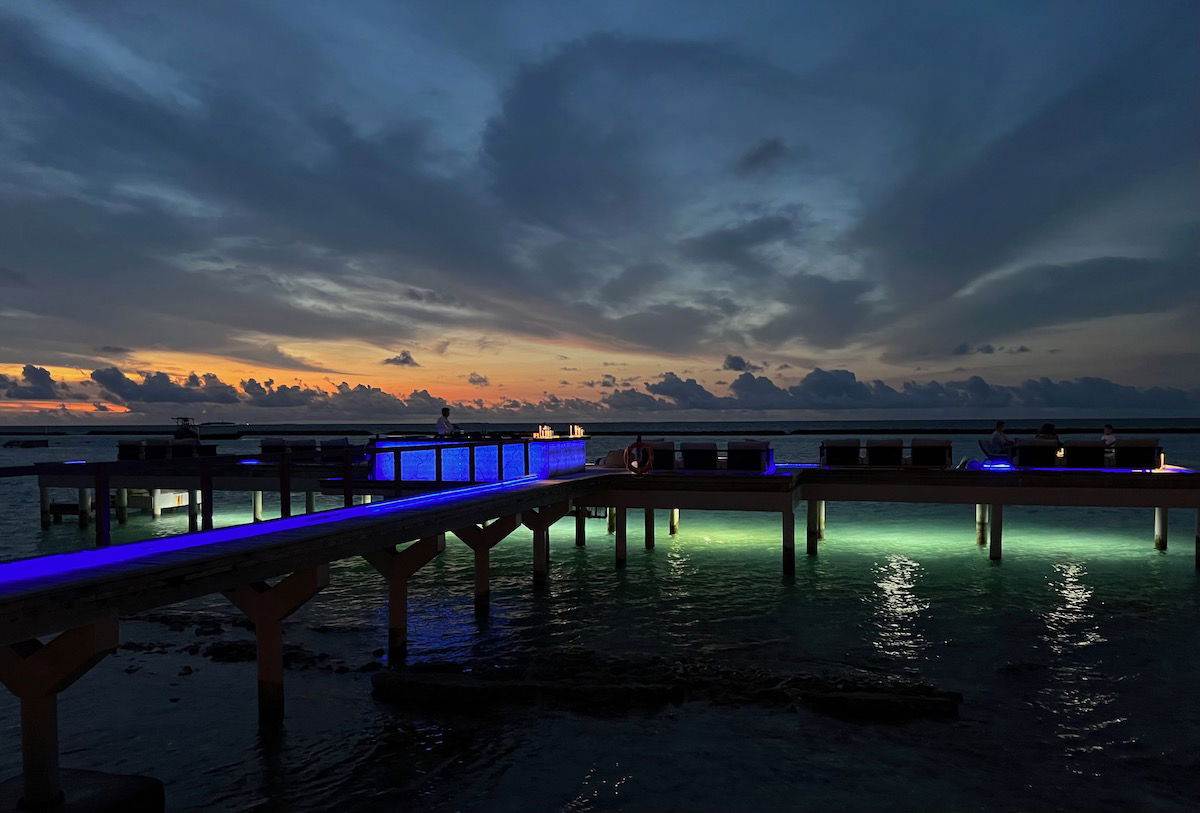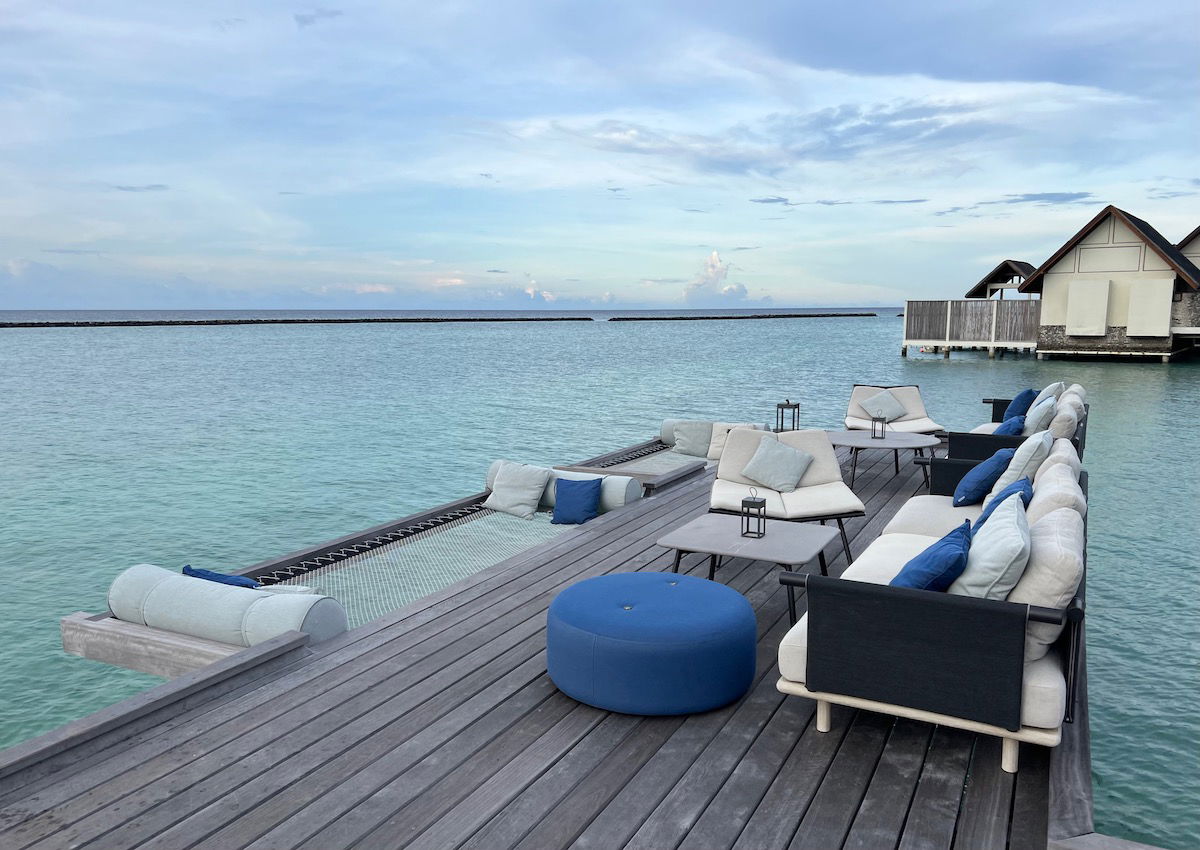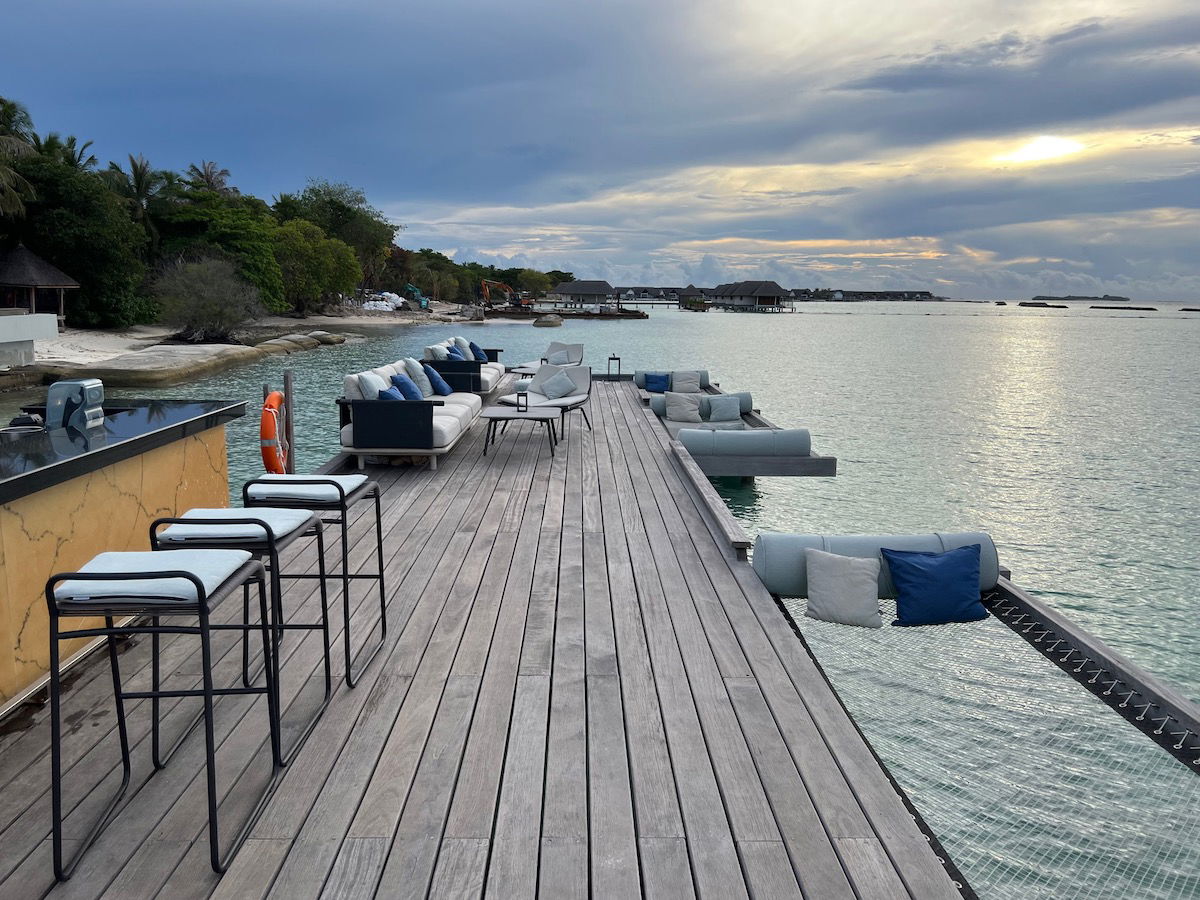 The best part? Every evening at 10PM there's a shark feeding, so it's cool to be able to see all the reef sharks up close.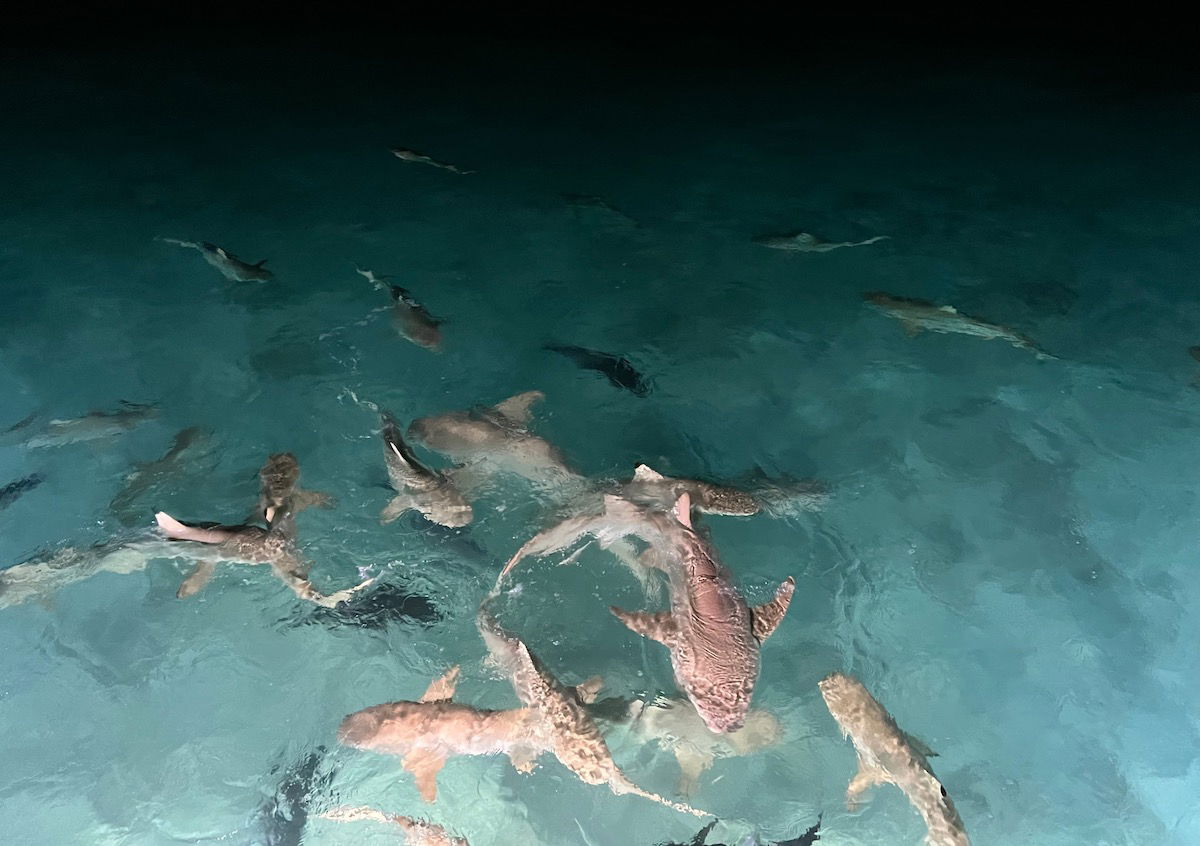 Four Seasons Maldives Landaa Giraavaru service
How was service at the Four Seasons Landaa Giraavaru?
Individually I found employees to be friendly and personable; they were all eager to help and take care of guests
I did find it a bit strange how the hotel doesn't appoint a concierge or butler to individual guests, unlike most of the other luxury properties in the Maldives, as it really is nice to have one point of contact
Furthermore, I'm not sure if the managers were just traveling, but there was no obvious manager checking on guests during our stay; contrast that to both Cheval Blanc and Waldorf Astoria, where a manager made an appearance at just about every meal
So service at the Four Seasons was good, but it didn't feel quite as cohesive or well organized as at Cheval Blanc, for example.
Bottom line
Four Seasons Maldives Landaa Giraavaru is an all-around excellent hotel. It has an incredibly comfortable private seaplane, great villas that were recently renovated, good food & beverage outlets (in particular Blu Beach Bar), and fantastic snorkeling (based on what I've heard), and the service you'd expect from a Four Seasons.
I can't imagine going to Four Seasons Landaa Giraavaru and being disappointed. At the same time, the Maldives has become one of the most competitive hotel markets in the world, and Four Seasons has a lot of competition.
How does this compare to the other two properties I stayed at? If money is no object, I definitely think Cheval Blanc is a step up from both Four Seasons and Waldorf Astoria, based on design, the general intimacy of the property, the attentiveness of service, etc. Between the Four Seasons and Waldorf Astoria, I'd choose the former if paying cash, but of course the benefit of the latter is that it can also be booked with points.
If you've stayed at a Four Seasons property in the Maldives, what was your experience like?
EXTRA PERKS AVAILABLE
Enjoy breakfast, upgrades, & more
Want to take advantage of Four Seasons Preferred Partner benefits, including a space available room upgrade, complimentary breakfast, a hotel credit, and more? Contact Ford ([email protected]) for more details. He may even be able to help if you already have a stay booked.
Read Four Seasons reviews: Athens, Boston, Cap-Ferrat, Denver, Desroches Island, Florence, Fort Lauderdale, Hualalai, Lanai, Los Cabos, Madrid, Maldives at Landaa Giraavaru, Maui, Megeve, Miami, Napa Valley, Naviva, Oahu at Ko Olina, Paris, Punta Mita, San Francisco at Embarcadero, Scottsdale, Seychelles, and Surfside
Learn about Four Seasons deals & offers: Anguilla, Athens, Atlanta, Austin, Bahamas, Bora Bora, Boston, Cap-Ferrat, Costa Rica, Dubai, Fort Lauderdale, Hawaii, Jackson Hole, London, Los Cabos, Maldives, Minneapolis, Nashville, Naviva, New York, Napa Valley, New Orleans, Orlando, Palm Beach, Paris, Philadelphia, Punta Mita, San Francisco, Santa Fe, Seattle, Sicily, Tamarindo, and Vail
Learn about Four Seasons basics: Four Seasons Preferred Partner, Four Seasons Private Retreats, Four Seasons Private Jet, Four Seasons travel agents, Four Seasons loyalty program, and maximizing value at Four Seasons