EXTRA PERKS AVAILABLE
Enjoy breakfast, upgrades, & more
Want to take advantage of Four Seasons Preferred Partner benefits, including a space available room upgrade, complimentary breakfast, a hotel credit, and more? Contact Ford ([email protected]) for more details. He may even be able to help if you already have a stay booked.
We had an extra night in Greece at the end of our trip due to the flight we booked (we found Emirates first class award space to Newark), so we decided to spend our last night at the Four Seasons Athens Astir Palace. The hotel wasn't at all what I expected, but not in a bad way.
Basics of the Four Seasons Athens, and why it surprised me
When most people consider a vacation in Greece, they typically think of visiting one of the popular islands. For most international tourists, Athens is just a place where you connect, and maybe spend a couple of days to see the sights. However, the Four Seasons Athens gives you a totally different perspective on the area.
The Four Seasons Athens opened in its current form in 2019, though the "Astir Palace" branding has significance — in reality this is a hotel dating back to 1958, though the property underwent a very expensive renovation prior to reopening in its current form. Amazingly enough, most recently this was a dual Westin and Luxury Collection property, so suffice to say the property has been improved significantly.
This is easily one of the most over-the-top Four Seasons properties I've been to. This isn't a hotel you stay at just because you want to go sightseeing, but rather it's a destination in and of itself. The hotel is located in the Athenian Riviera (specifically, in the Vouliagmeni area), and it's about a 30 minute drive to both Athens International Airport, and to the major sights of Athens.
The Four Seasons is on a sprawling 74-acre property, and you could vacation at this hotel for a week without getting bored. The hotel has over half a dozen restaurants, three private beaches, multiple pools, a spa and fitness center, and a generally fun vibe.
And while people will either love or hate this, I have to say that the guests at the Four Seasons Athens were probably the chicest I've seen anywhere in Greece. This hotel is a scene and seems to be a place for people to see and be seen. That being said, the property was still family friendly, so when I say "scene" I don't mean partying, but rather the amount of effort people put into their appearance, fashion, etc.
Book the Four Seasons Athens with Preferred Partner benefits
The primary reason we booked this hotel is because Ford is a Four Seasons Preferred Partner travel advisor (he books clients at Four Seasons more than any other brand). He has had a lot of his clients stay here, and it always helps to experience a hotel firsthand.
We paid the publicly available rate, and booked through the Four Seasons Preferred Partner program. When booking through Preferred Partner you pay the same rate you'll find directly on Four Seasons' website, but you'll receive extra perks, including the following:
A room upgrade, subject to availability
Complimentary daily breakfast, either in the restaurant or via in-room dining
A hotel credit to use during your stay
Four Seasons Preferred Partner is generally combinable with promotions being offered directly through Four Seasons, like a third or fourth night free offer.
Note that booking Four Seasons properties through Preferred Partner is better than booking through programs like Amex Fine Hotels & Resorts. Why?
With Preferred Partner you have the option of room service breakfast in place of restaurant breakfast (that's something a lot of people value)
Upgrades are prioritized for Preferred Partner bookings, given that it's Four Seasons' own proprietary program (and the value of an upgrade at a hotel like this can be significant)
You can combine Preferred Partner perks with virtually any rate on Four Seasons' website (other programs don't allow you to stack promotions in the same way)
You can't beat getting all of these extra perks just for booking through an eligible travel advisor. Ford is of course more than happy to help anyone book Four Seasons properties through Preferred Partner, and can be reached at [email protected] He doesn't charge any booking fees for Four Seasons properties.
As far as rates at the Four Seasons Athens Astir Palace go, they're all over the place. This is one of the rare resorts in Greece that's open year-round, and pricing is highly seasonal. In winter rates start at somewhere around 350 Euros per night for a standard room, while in the peak of summer rates can get as high as 1,400+ Euros per night for a standard room.
For our stay in early June we paid around 700 Euros for our one night stay, though at least it included a $100 hotel credit, breakfast, and an upgrade. Obviously that's not cheap, but like I said, Ford books a lot of Four Seasons hotels for clients, and it pays to be able to give advice based on firsthand experience.
Four Seasons Athens lobby & check-in
The Four Seasons Athens Astir Palace has two separate buildings with rooms, in addition to dozens of standalone cottages. There's the Arion complex and the Nafsika complex — we stayed in the former (typically entry level rooms are in that building), which is described as featuring "modernist architecture and retro-chic design."
While the building doesn't look that special when you drive up to it, it's a totally different story when you go inside.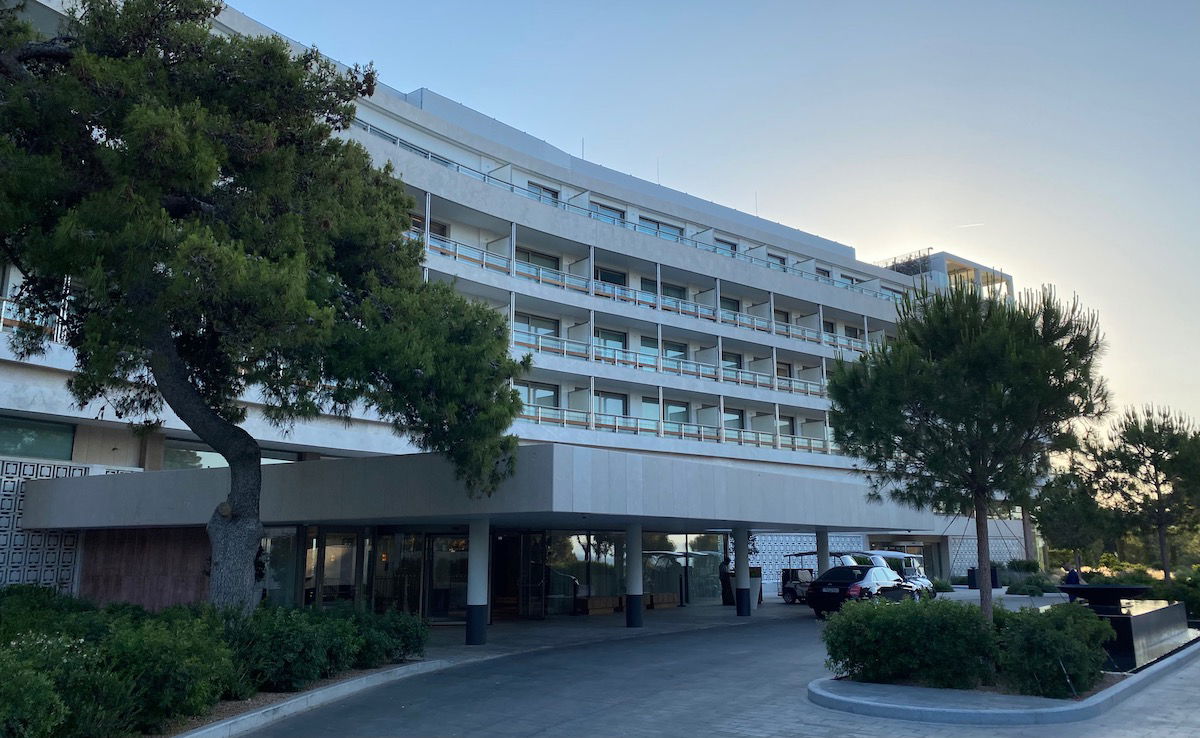 The interior was simply stunning — inside the lobby and to the right was reception, then straight ahead were the elevators and a beautiful flower arrangement, and then in the back of the lobby was a gorgeous bar.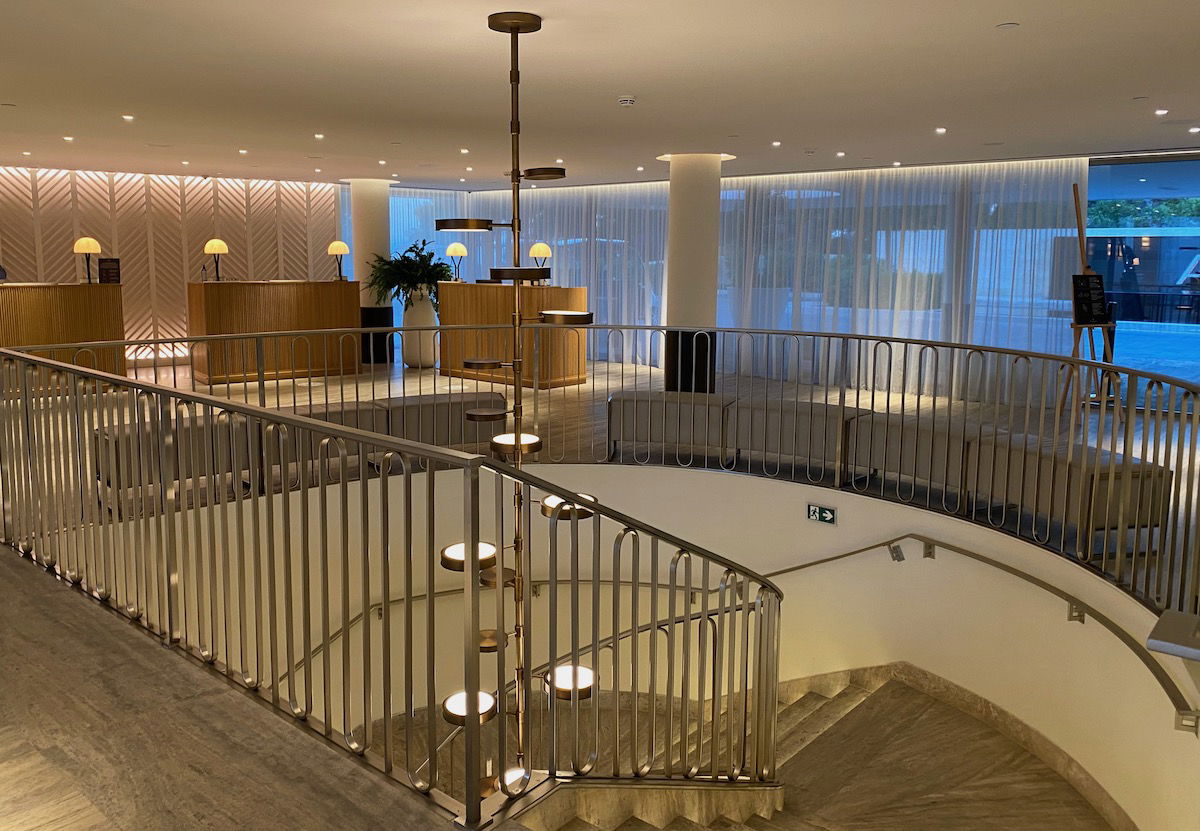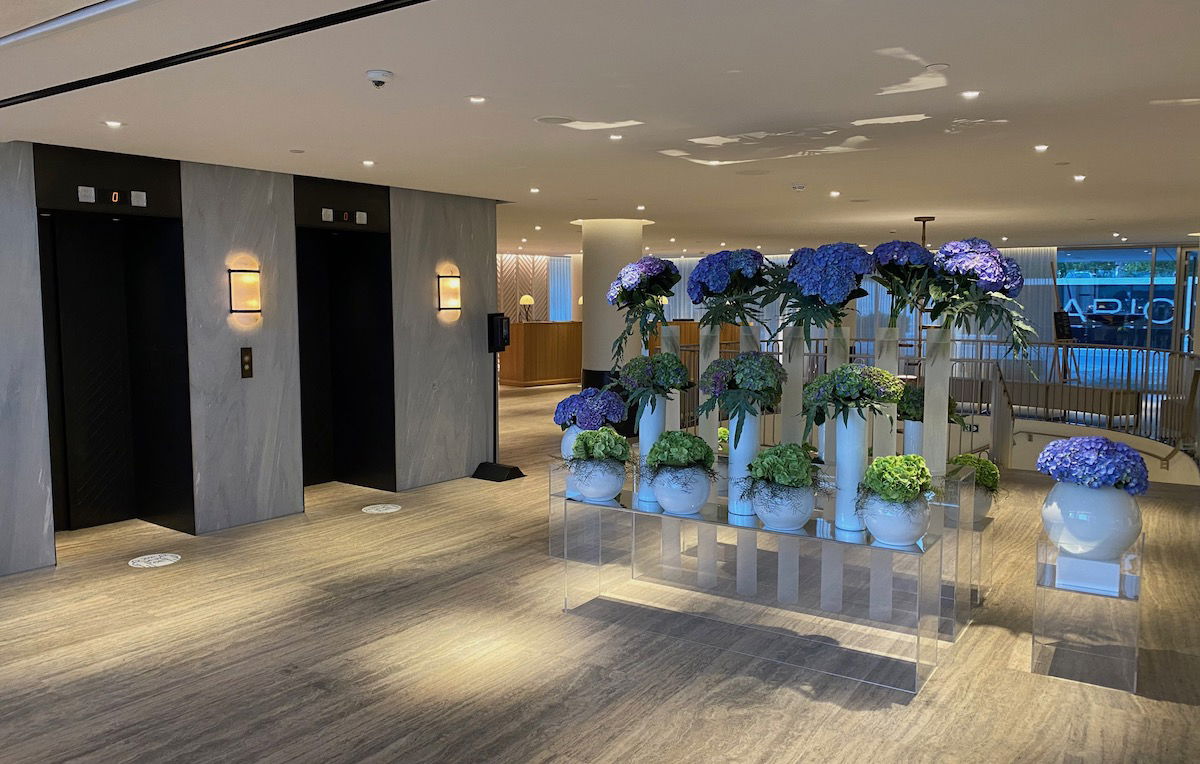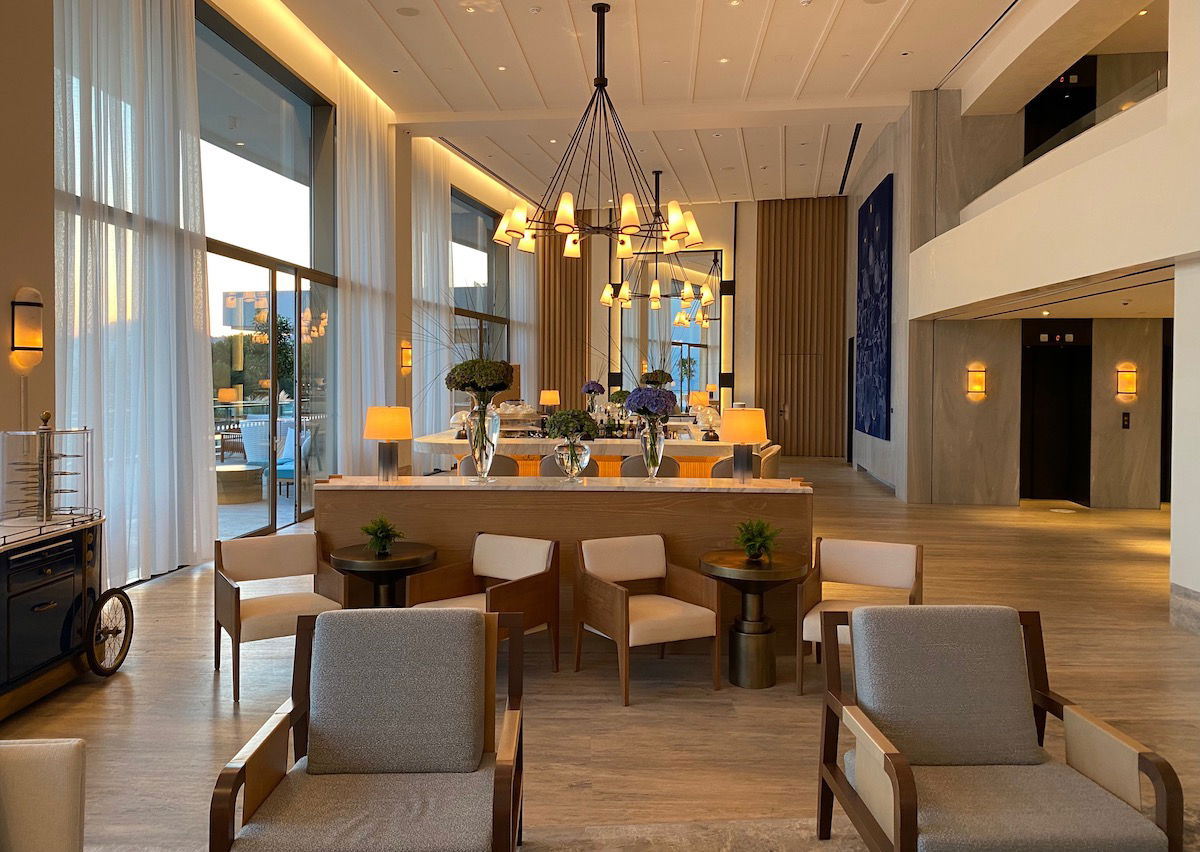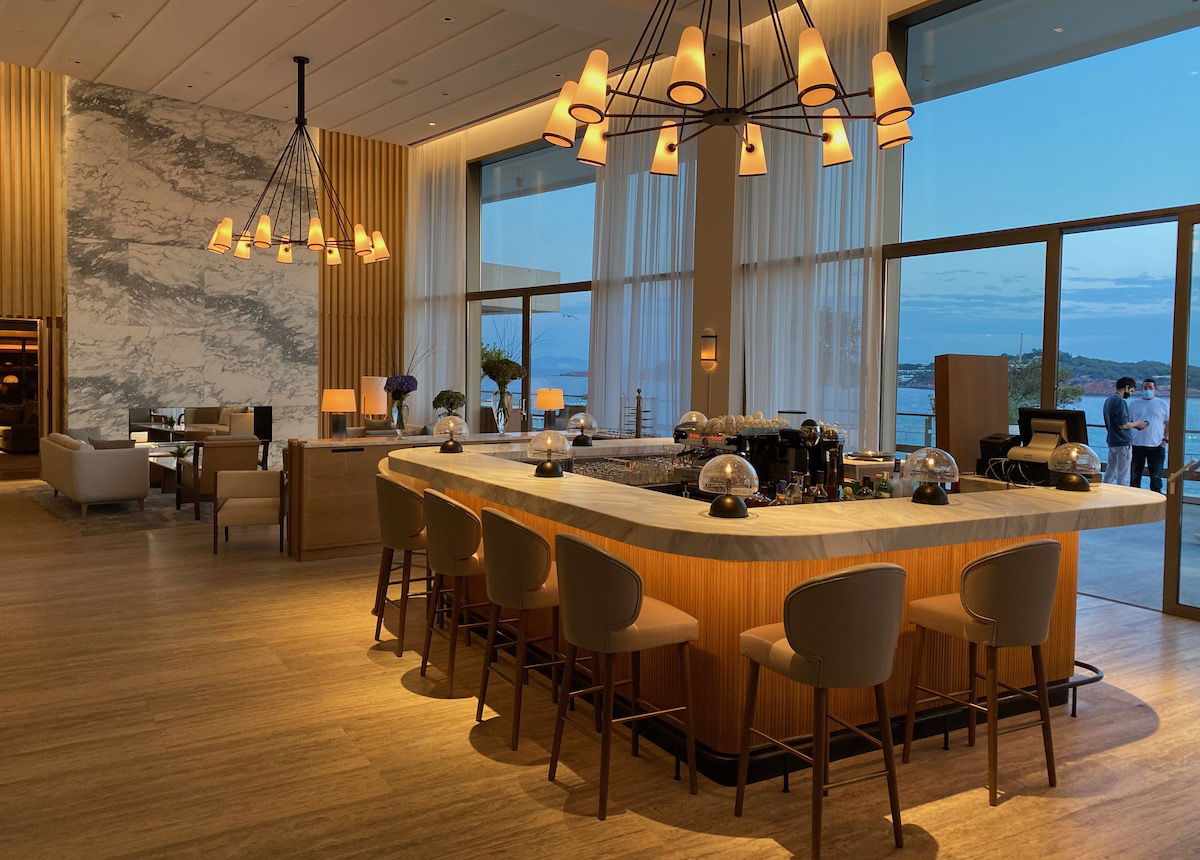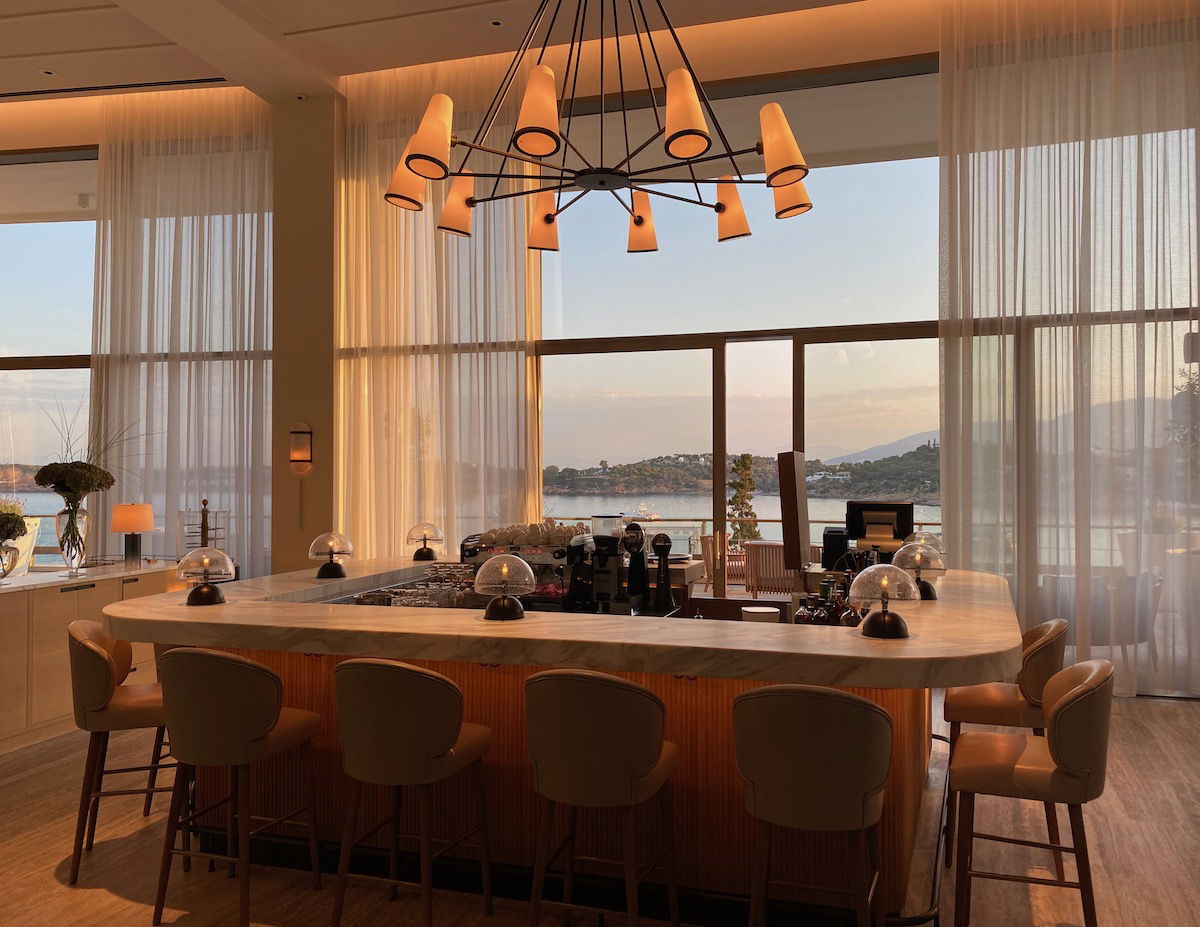 Our check-in process was quick and friendly. We had booked an Arion Pine-View Room, and were upgraded to an Arion Sea-View Room (which would cost over 200 Euros more per night if paying cash). We were also reminded that since we booked through Preferred Partner, we'd enjoy complimentary breakfast (in-room or via room service) and a hotel credit of $100 to use as we'd like.
Four Seasons Athens Arion Sea-View Room
We were assigned room 307, which was easy to access directly from the elevator by reception. Seriously, how gorgeous is the design of this hotel?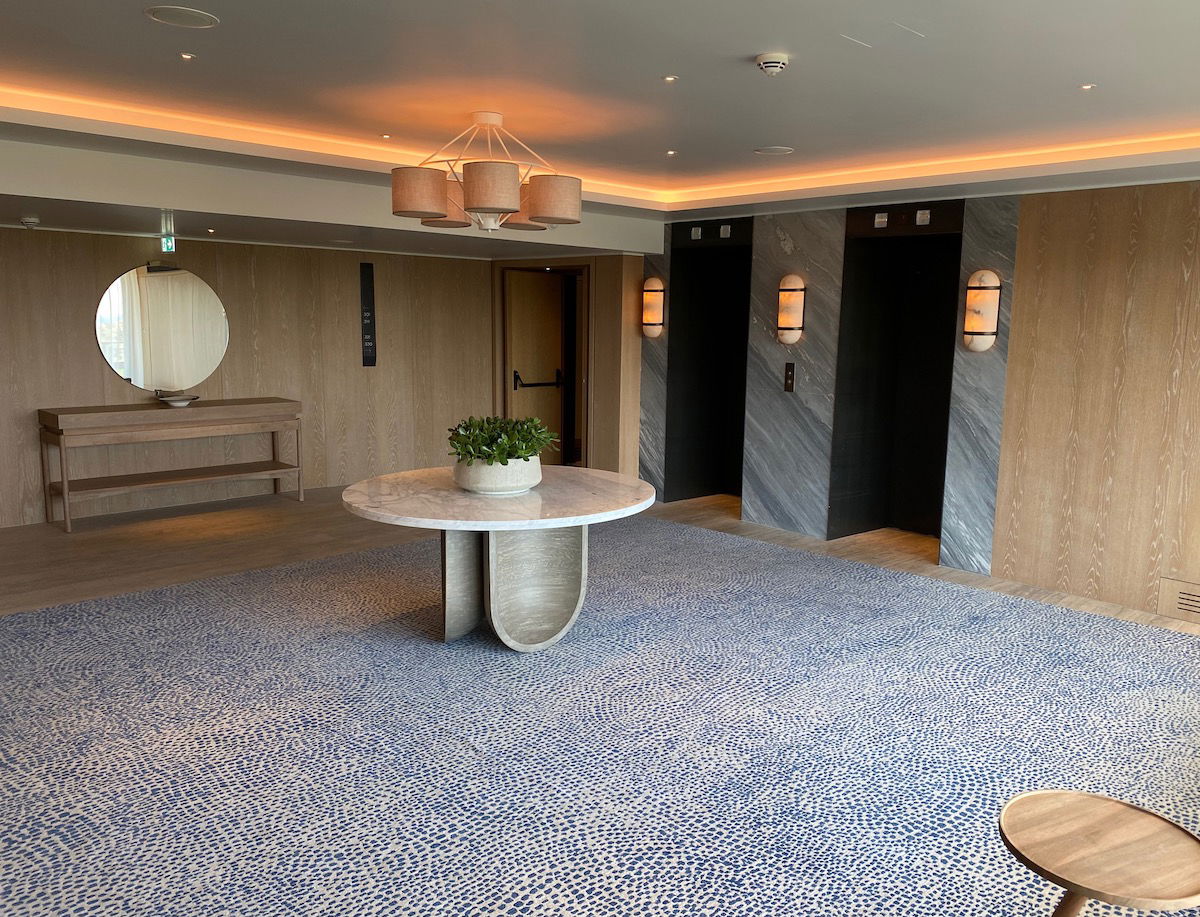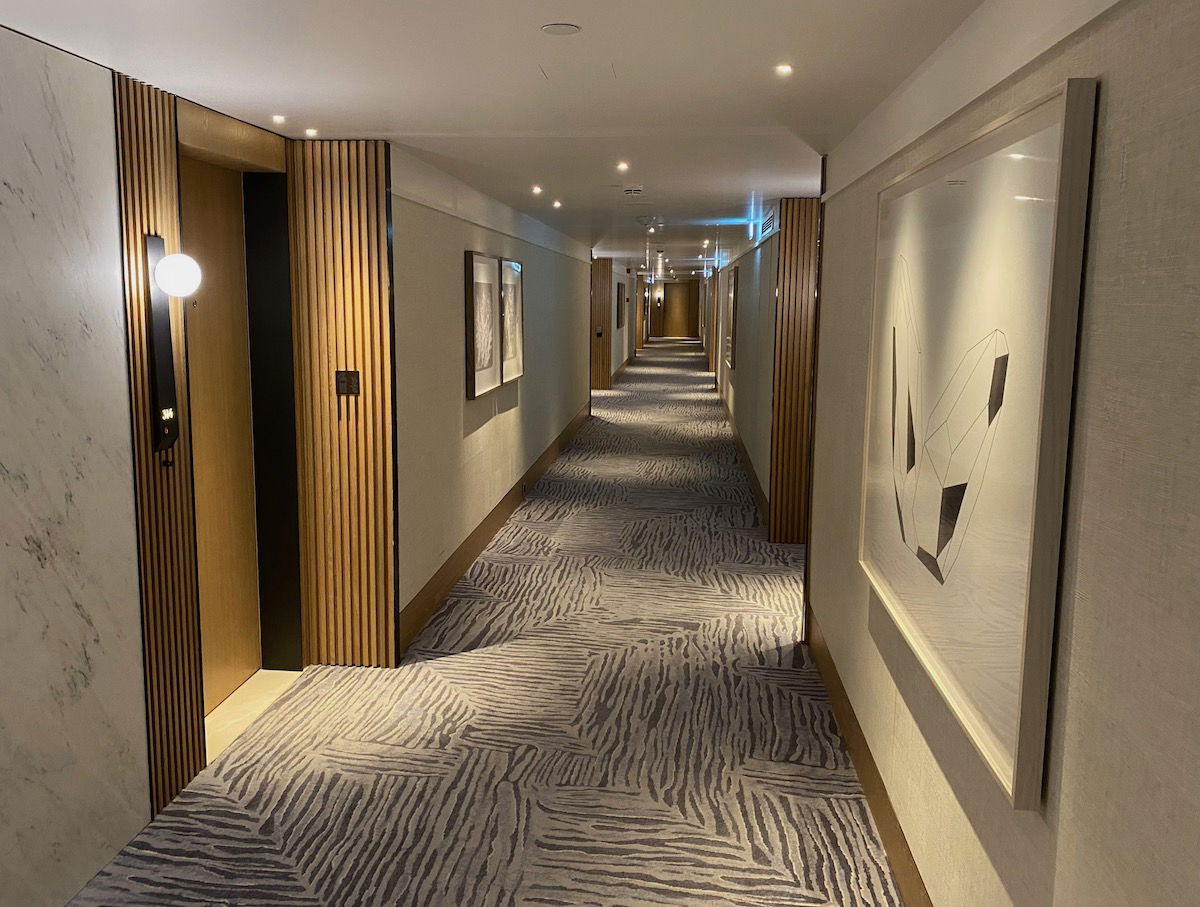 Our room was 430 square feet, which is small as rooms here get. I'm going to argue that this is the most well designed hotel room of this size that I've ever stayed in, and I'm curious if others agree.
There was an entryway with a (nearly) full length mirror right by the door.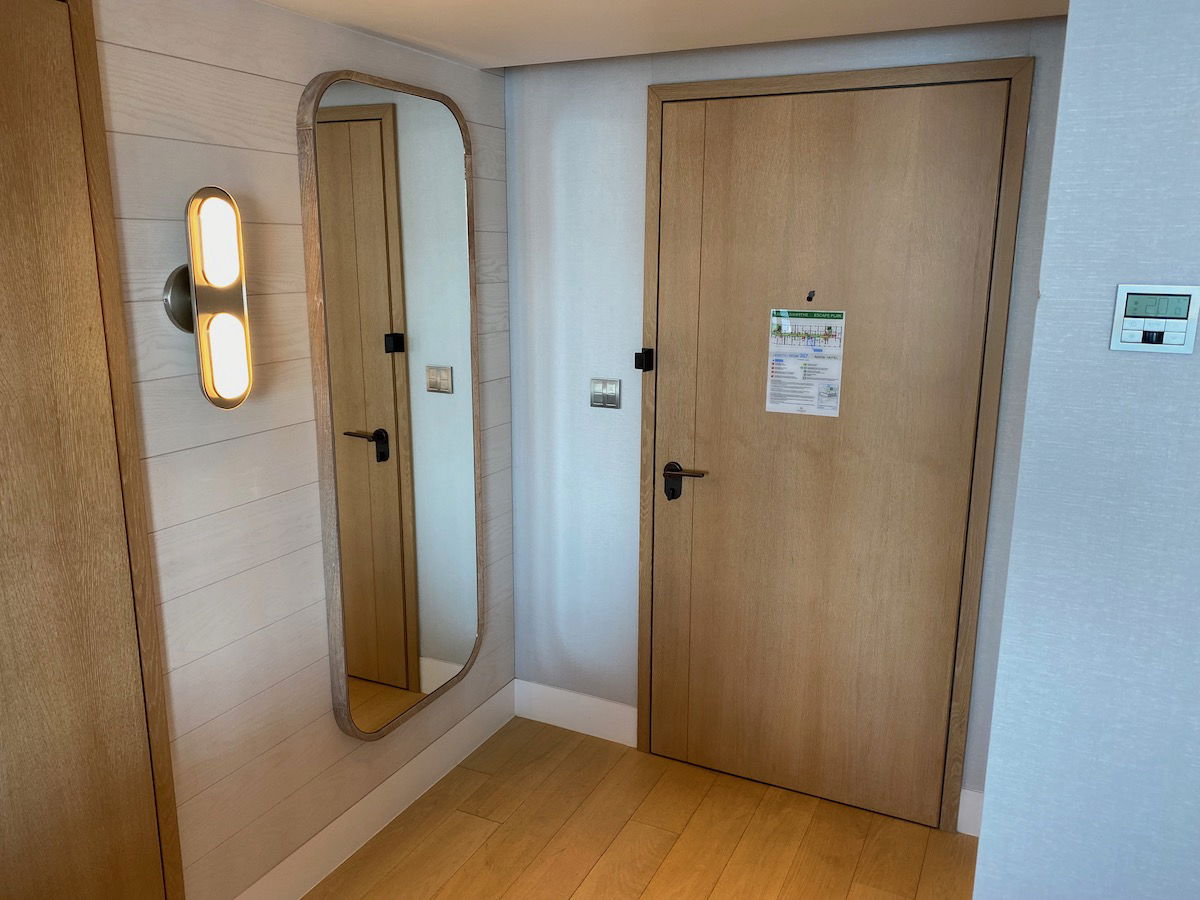 The centerpiece of the room was a king size, uber-comfortable signature Four Seasons bed.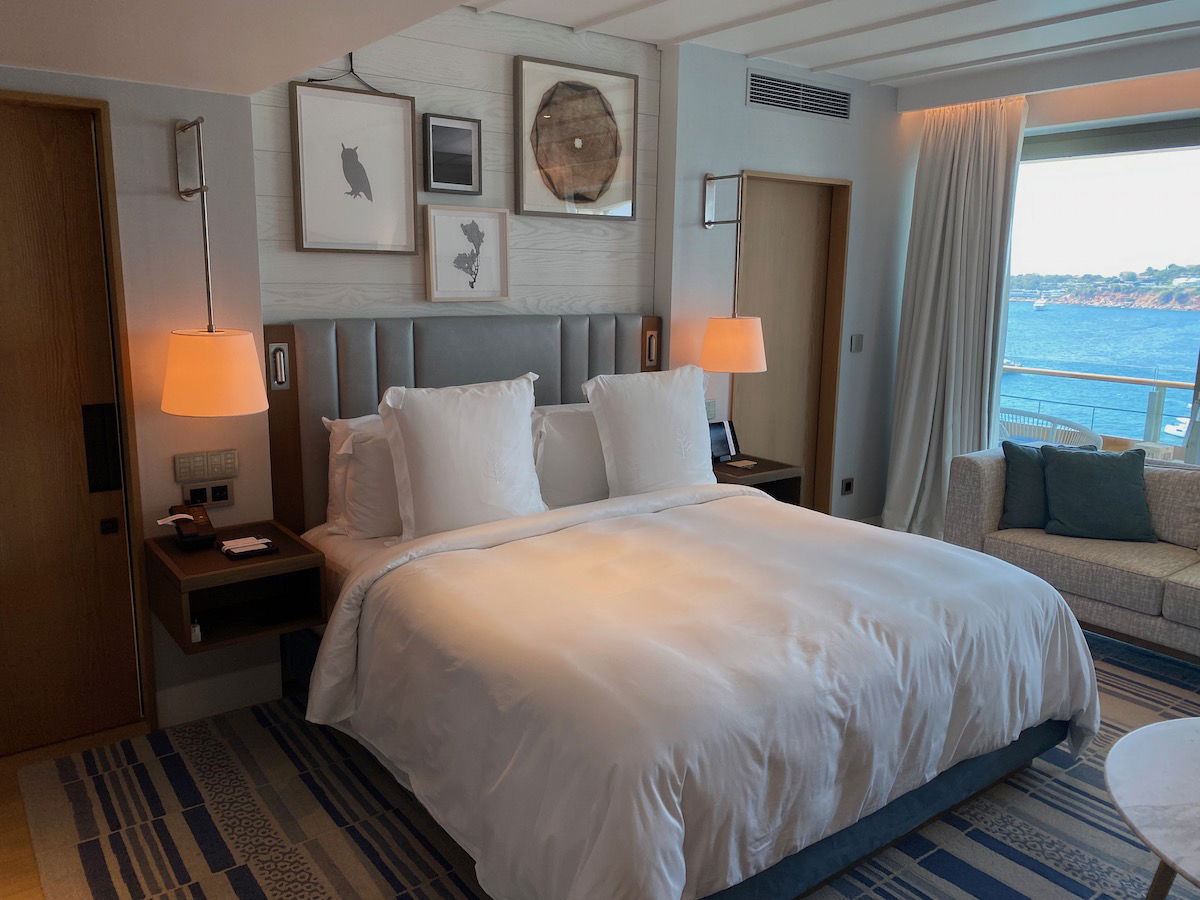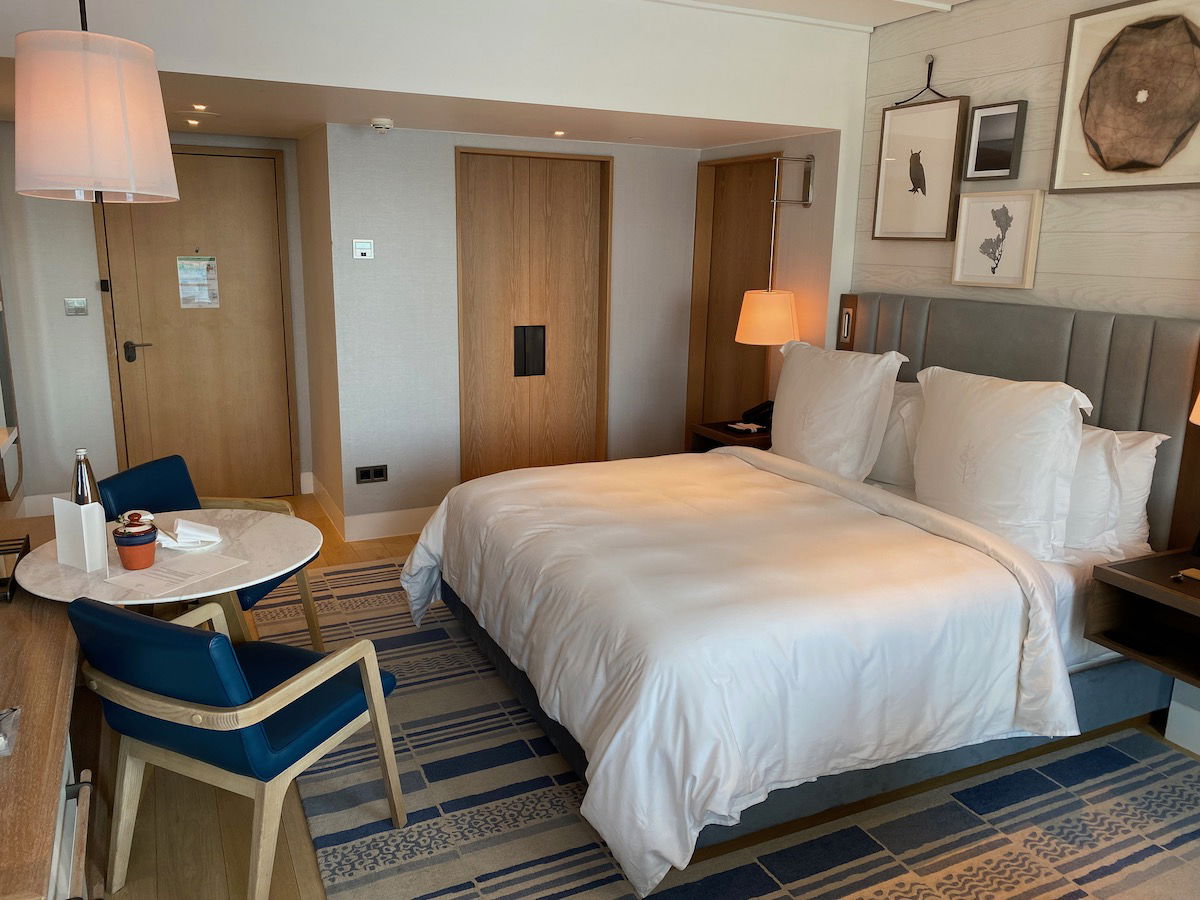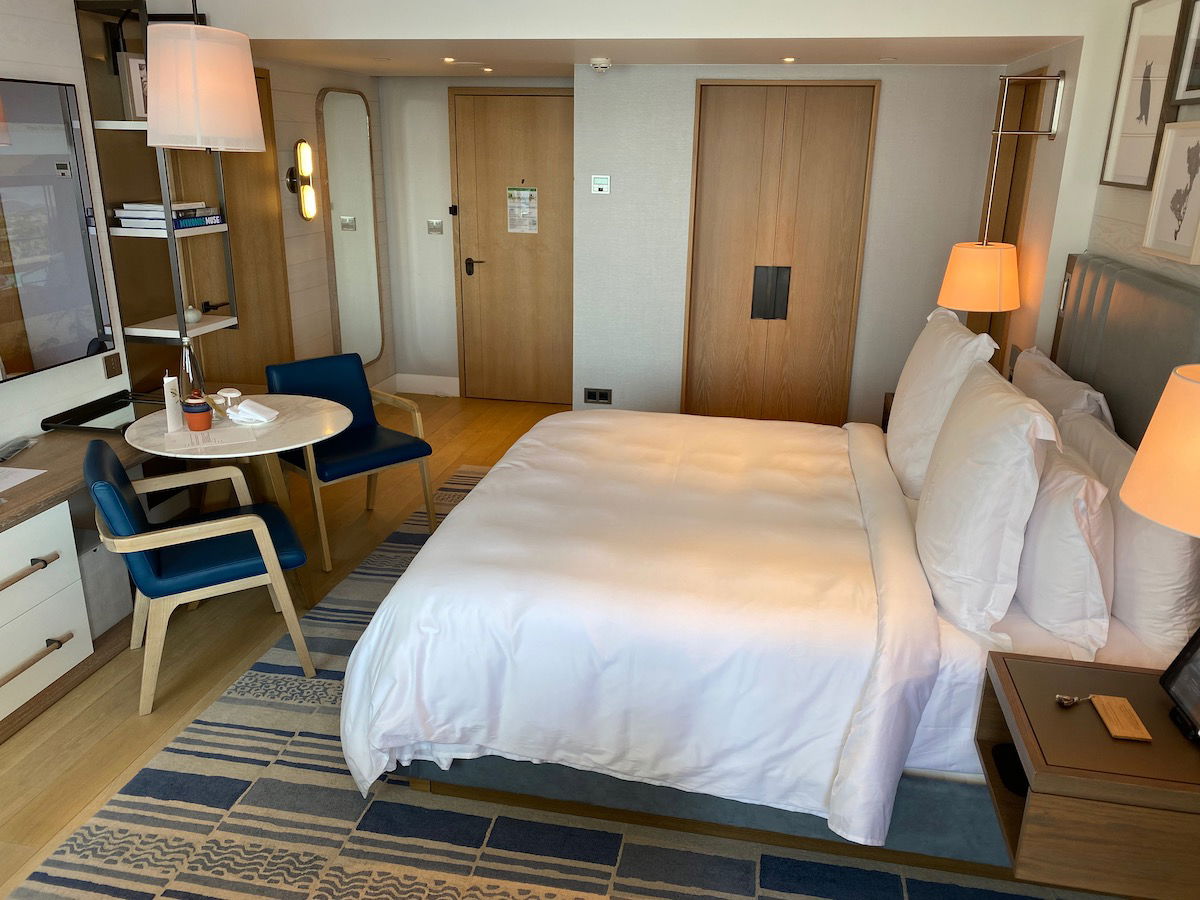 Across from the bed was a table with two chairs. I thought this setup was brilliant — typically for a standard room you'll either have no seating area or a small desk, but not a dining table. This table acted as a great desk, but could also be used as a dining table. Behind the table was a TV, which also doubled as a mirror of sorts.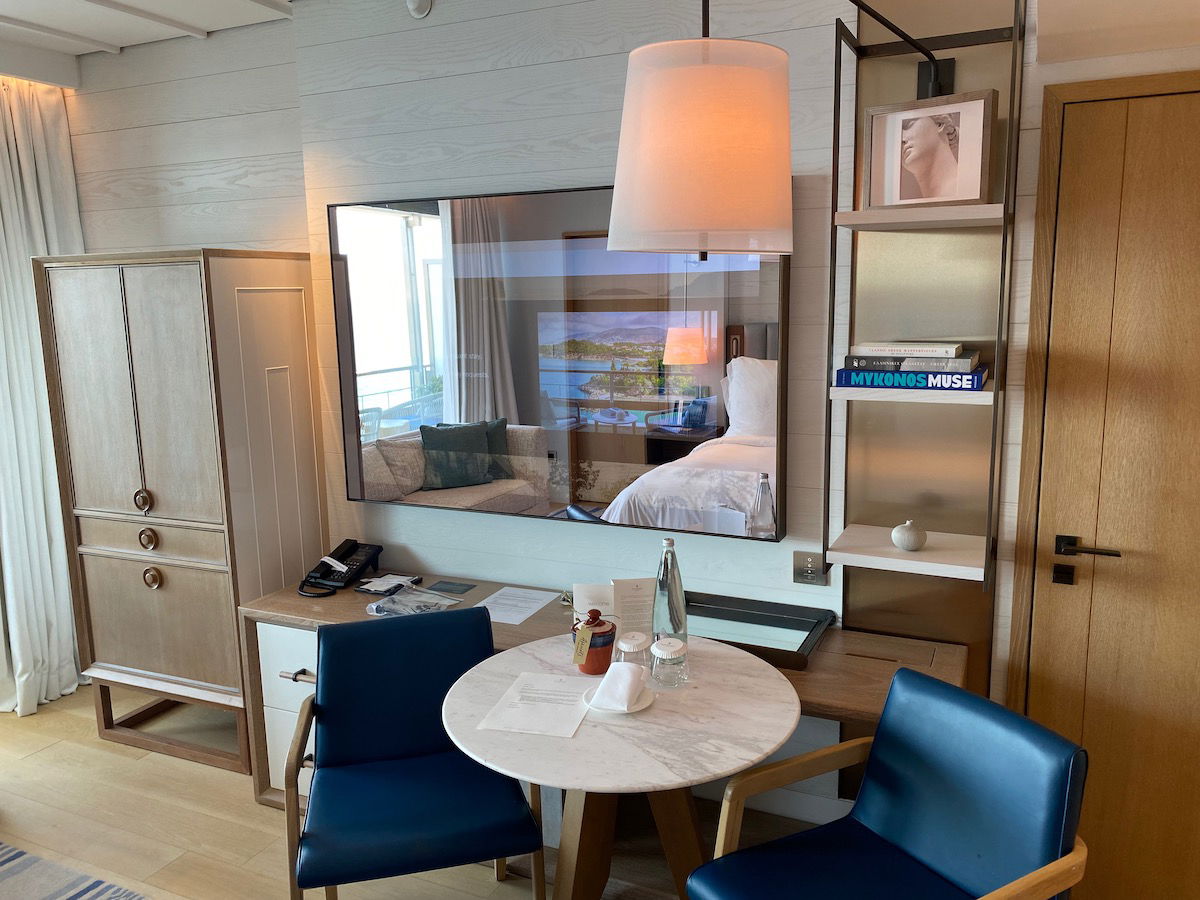 Waiting on the table was a welcome amenity, consisting of a bottle of water and some fruit (admittedly not the most exciting welcome amenity).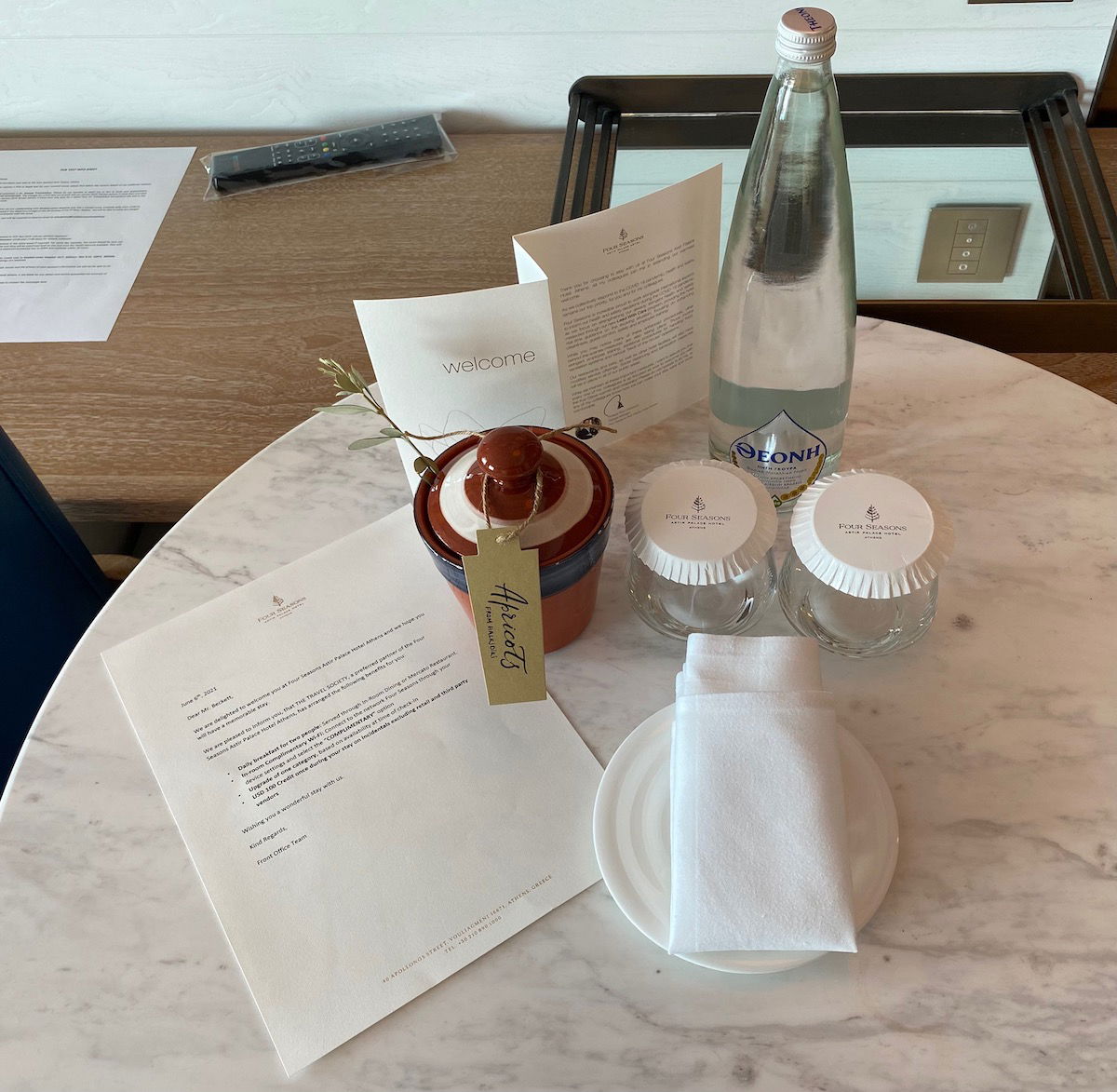 By the window was a loveseat, which also had a table to the side that could be moved around.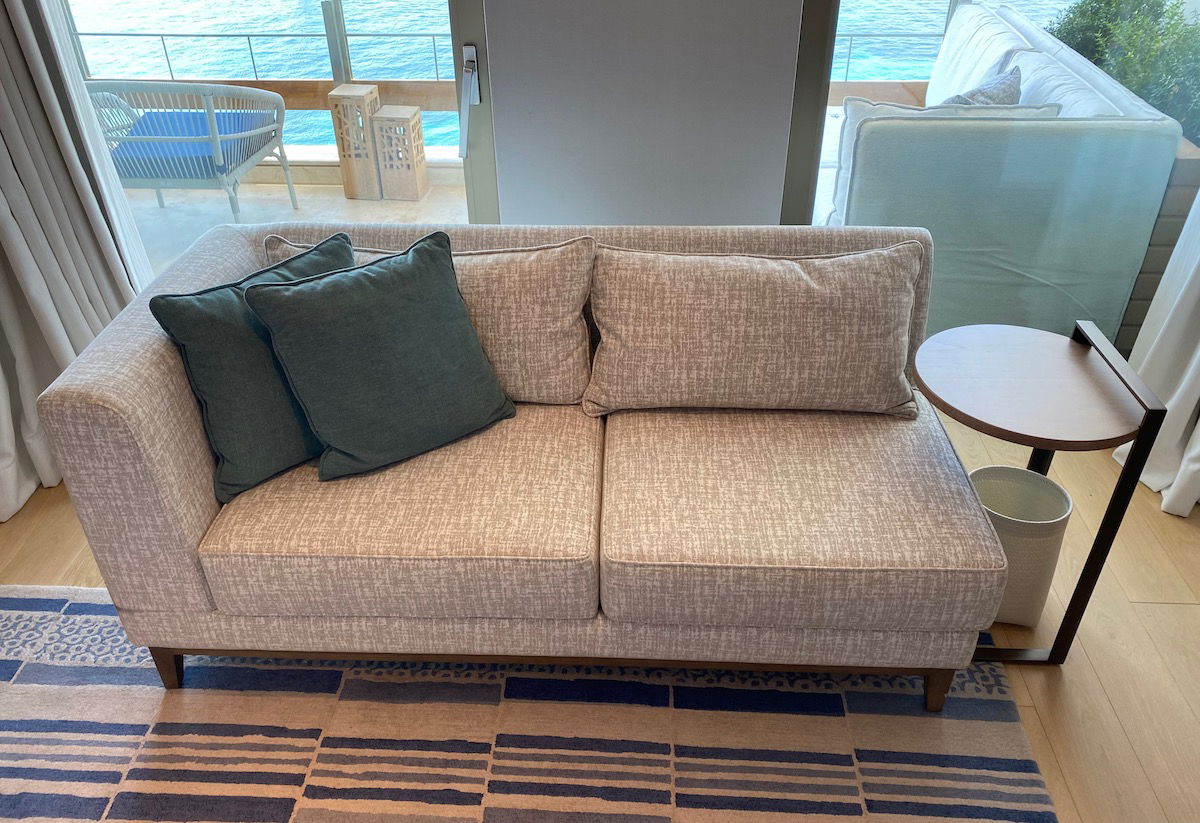 In the far left of the room was a display case which housed the minibar. This had a Nespresso machine, a kettle, and drinks and snacks.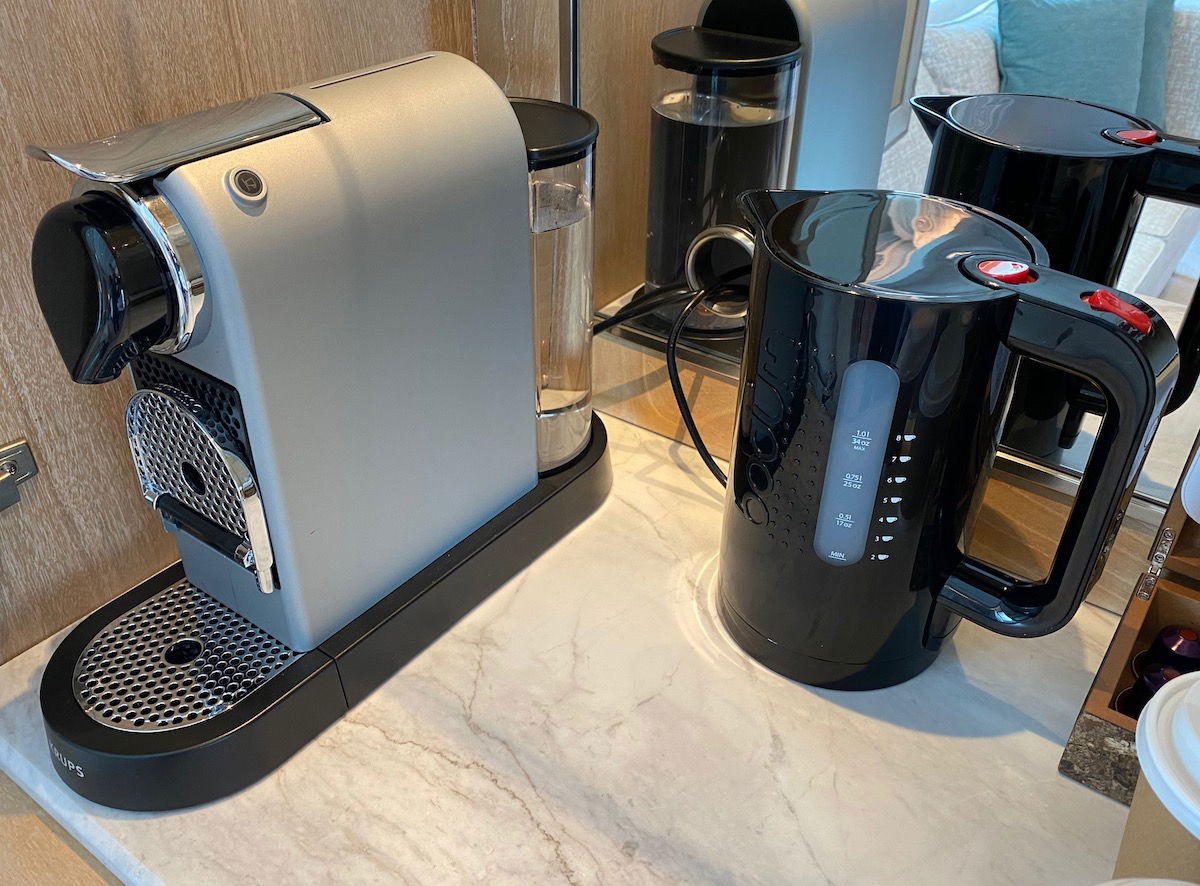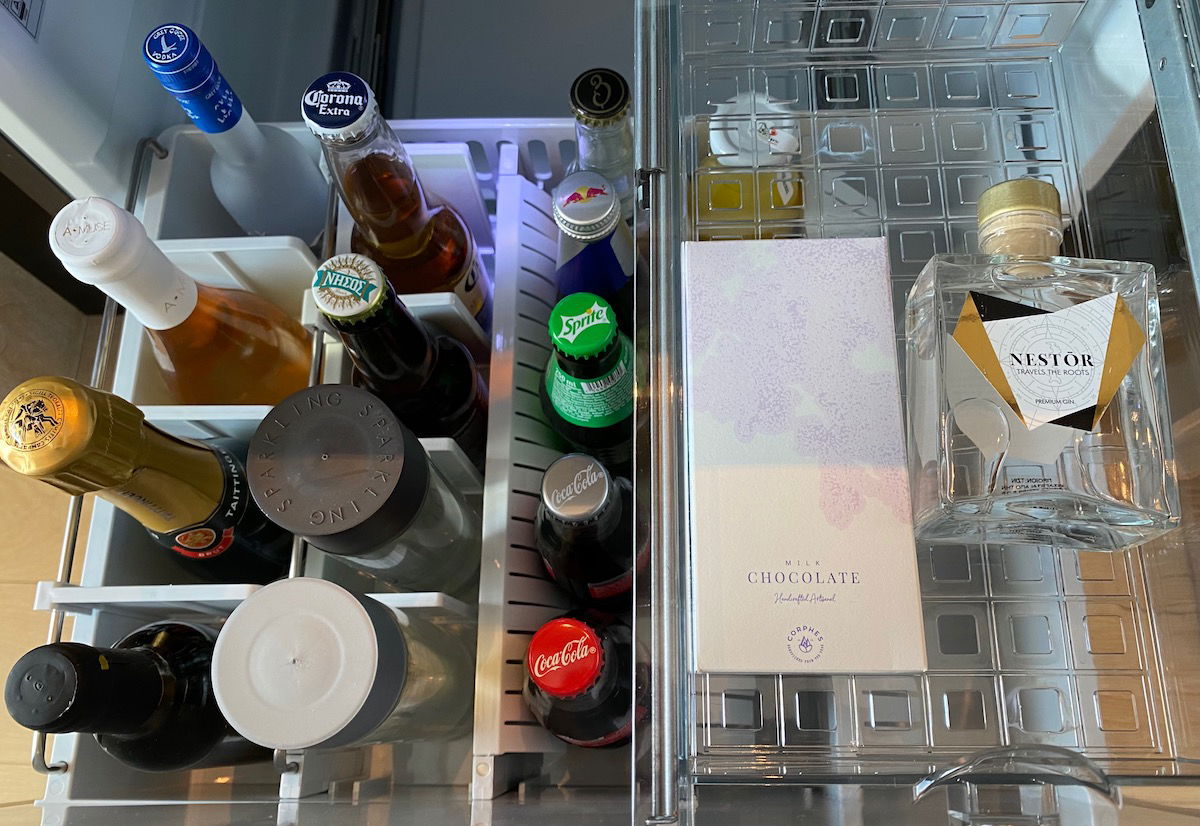 The bathroom was also well designed — it had double sinks, a walk-in shower, a toilet, and a soaking tub. It's not often you see both double sinks and a separate shower and tub in a standard sized guest room.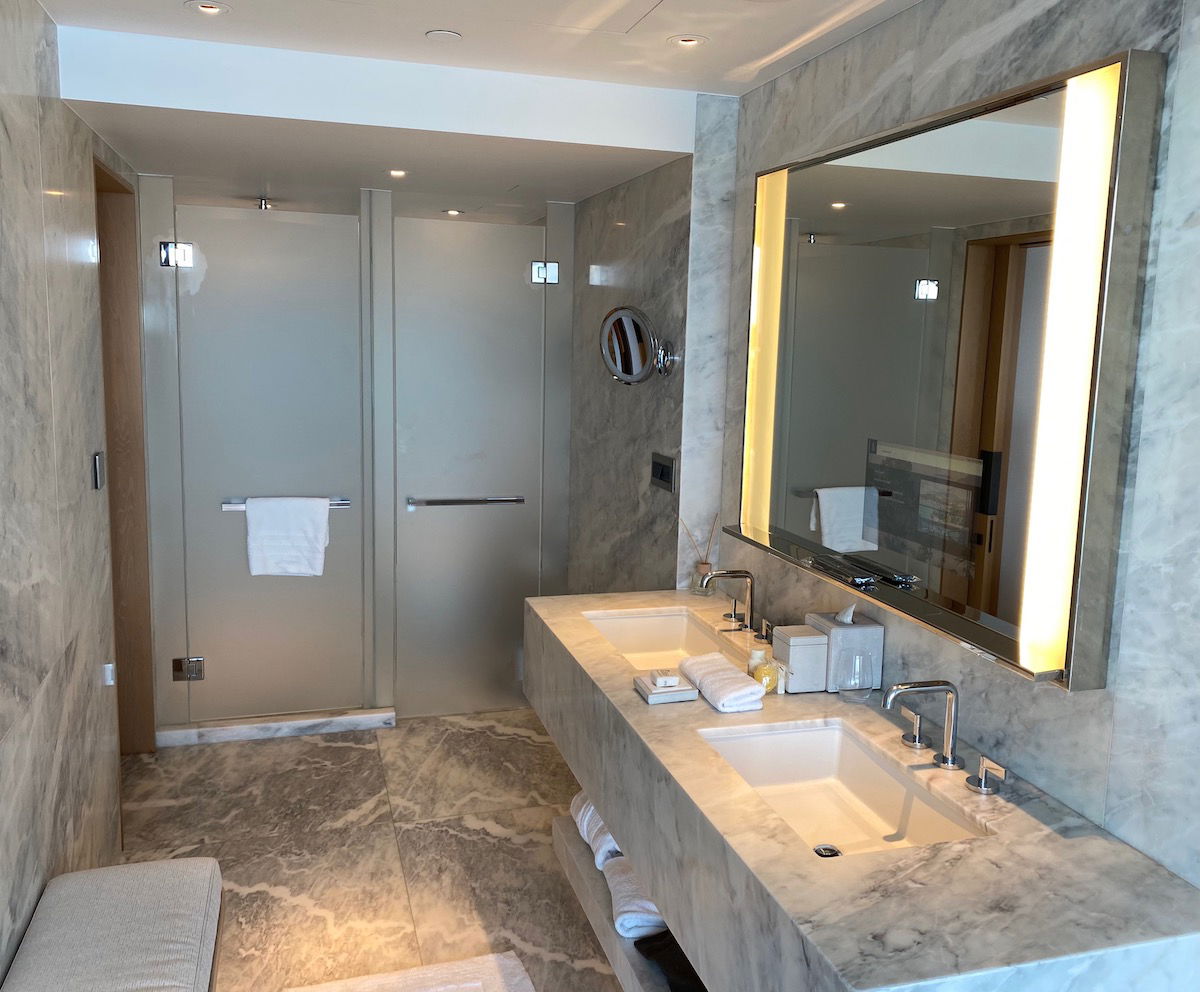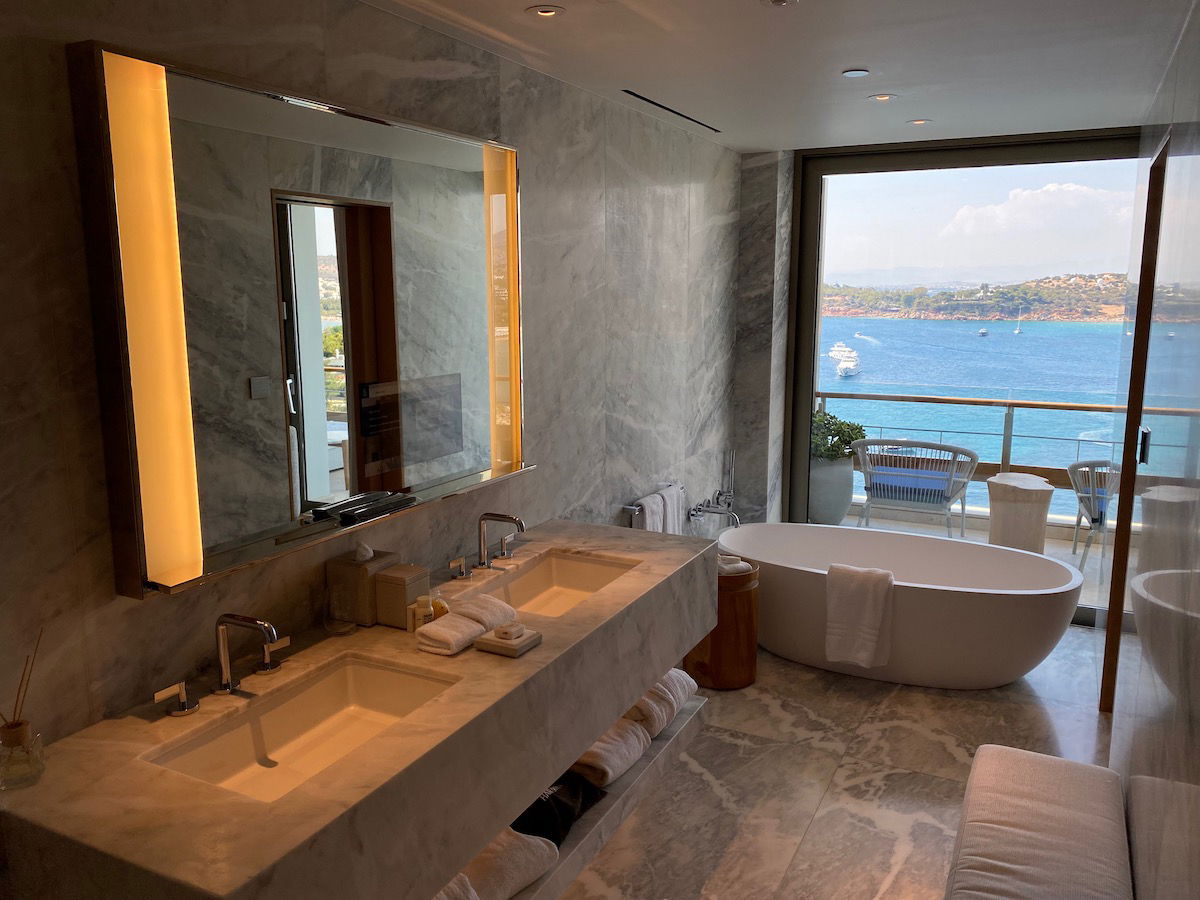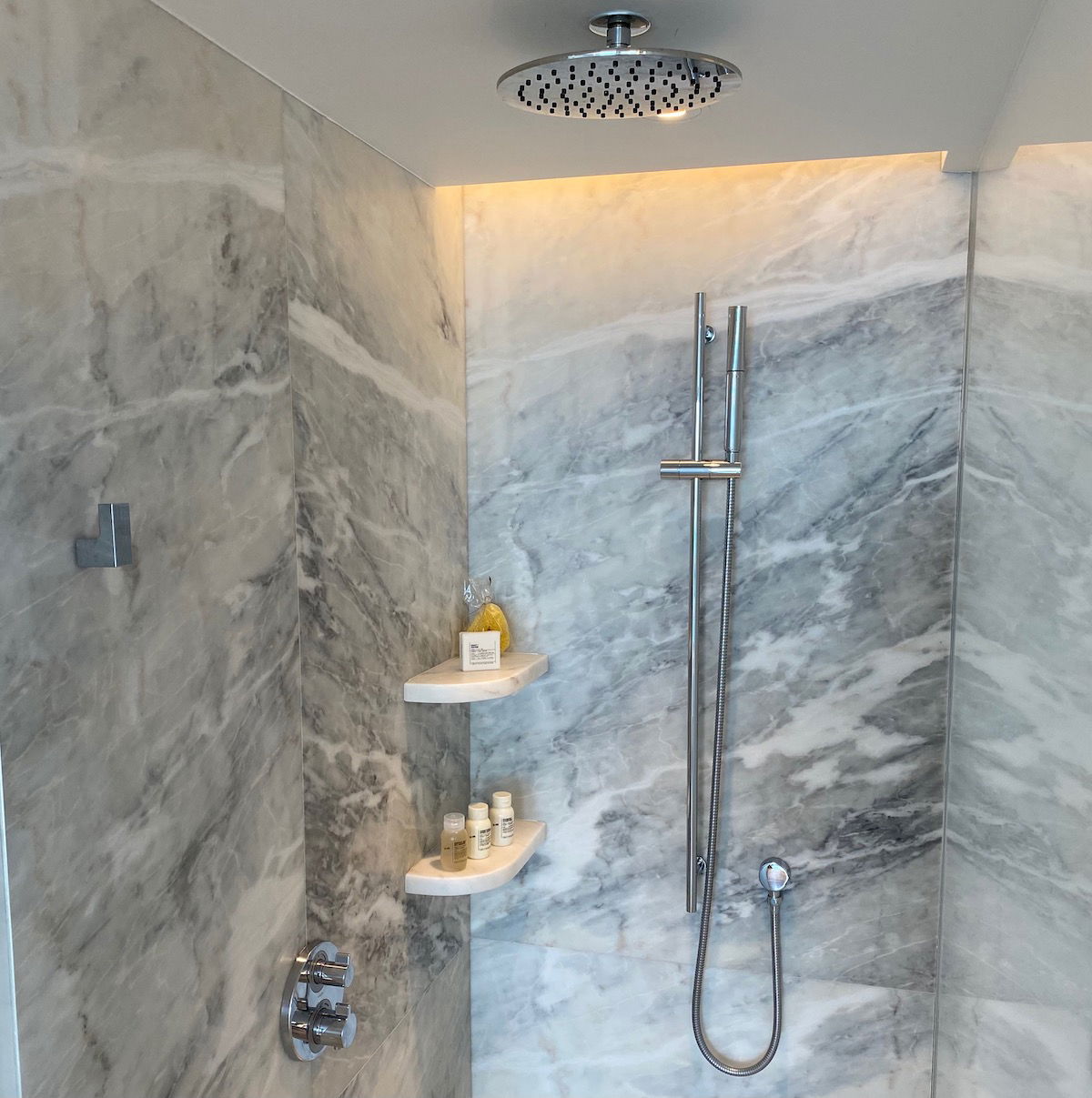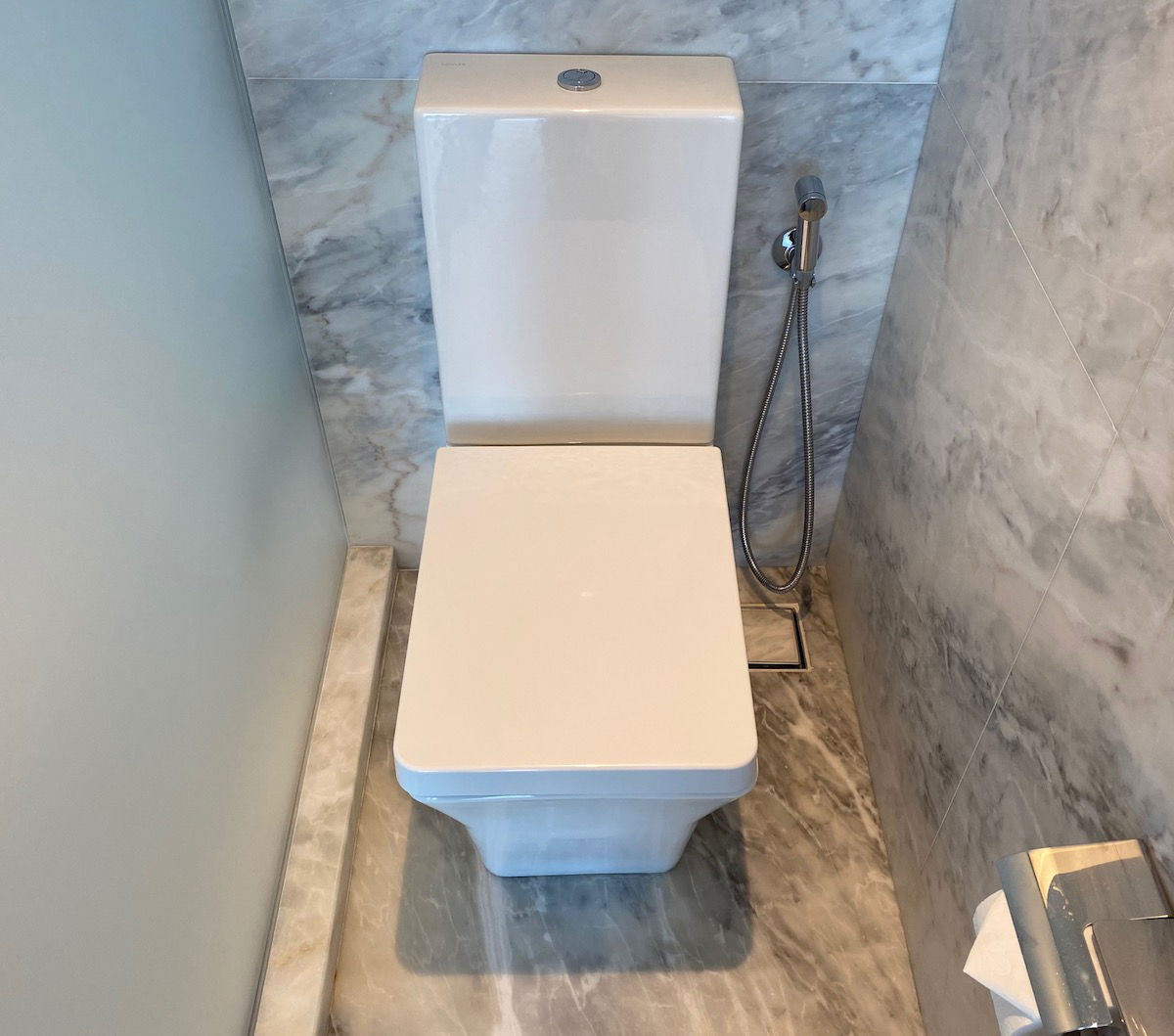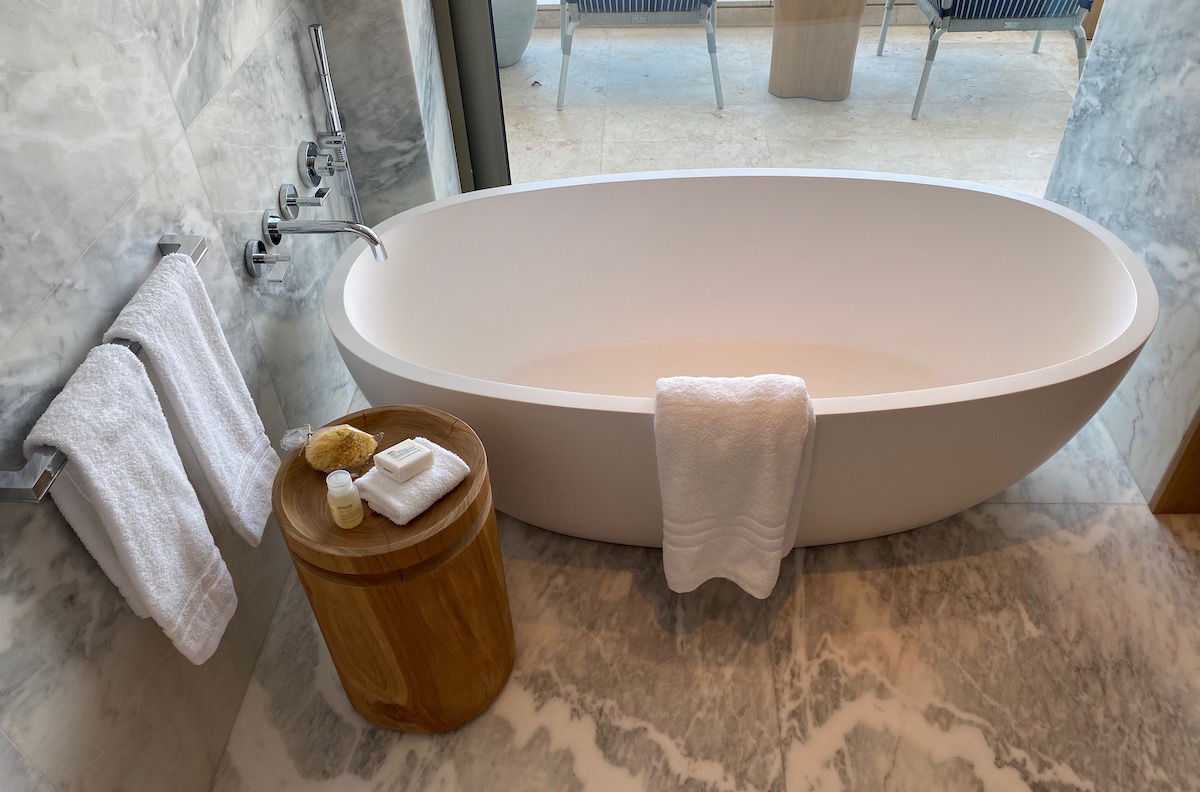 Toiletries were from Le Labo, and had a lovely scent.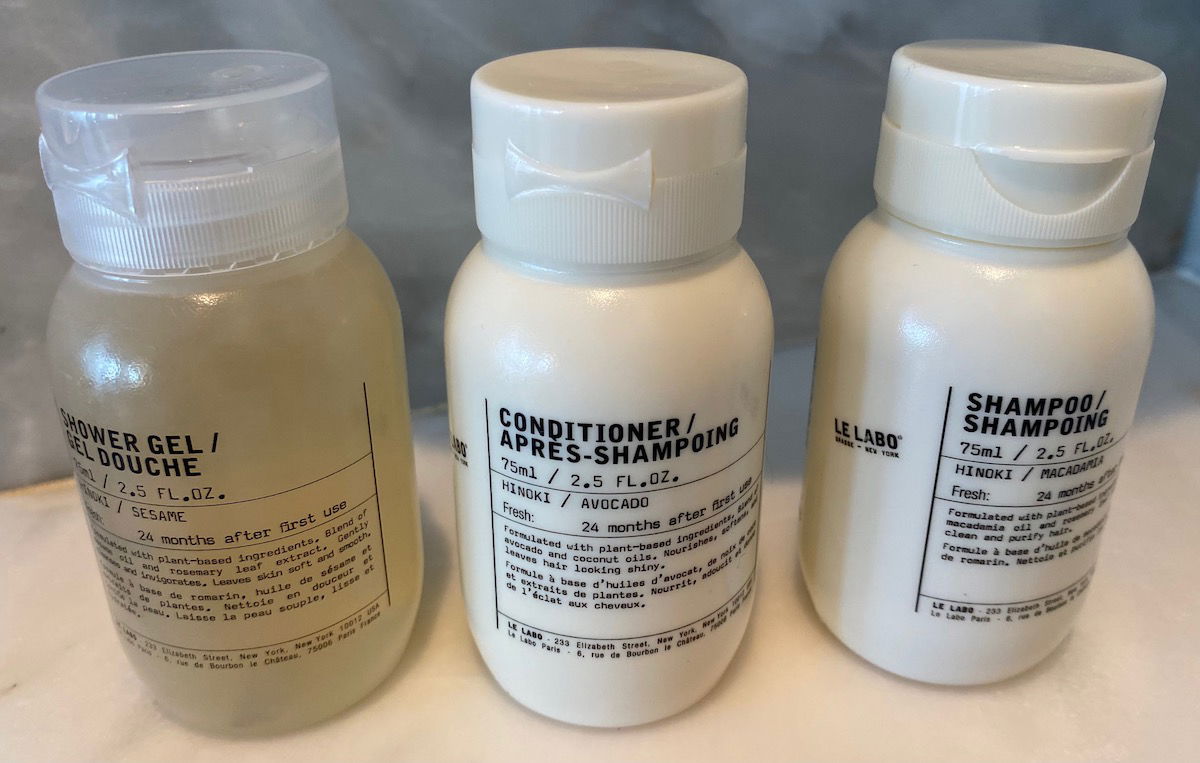 The room also had a patio, which had a loveseat, as well as two chairs.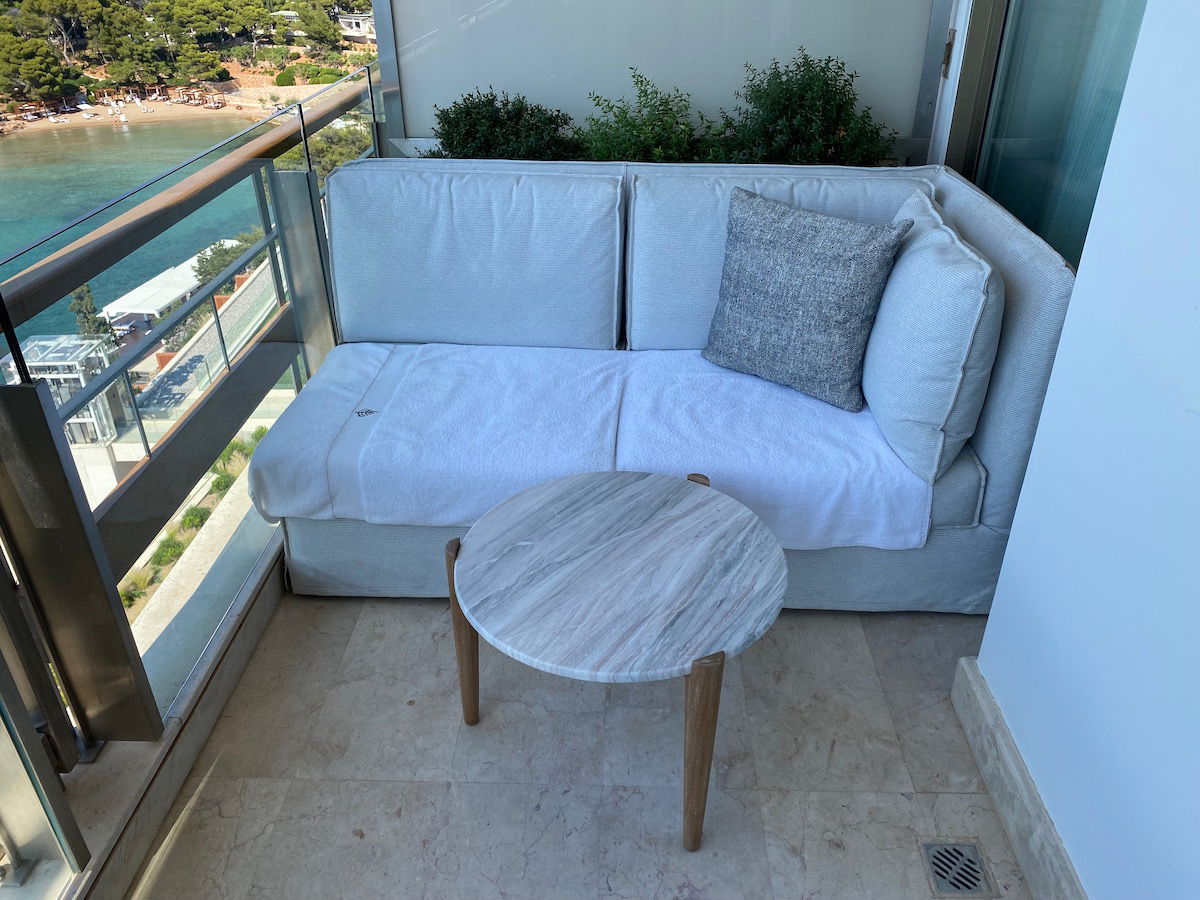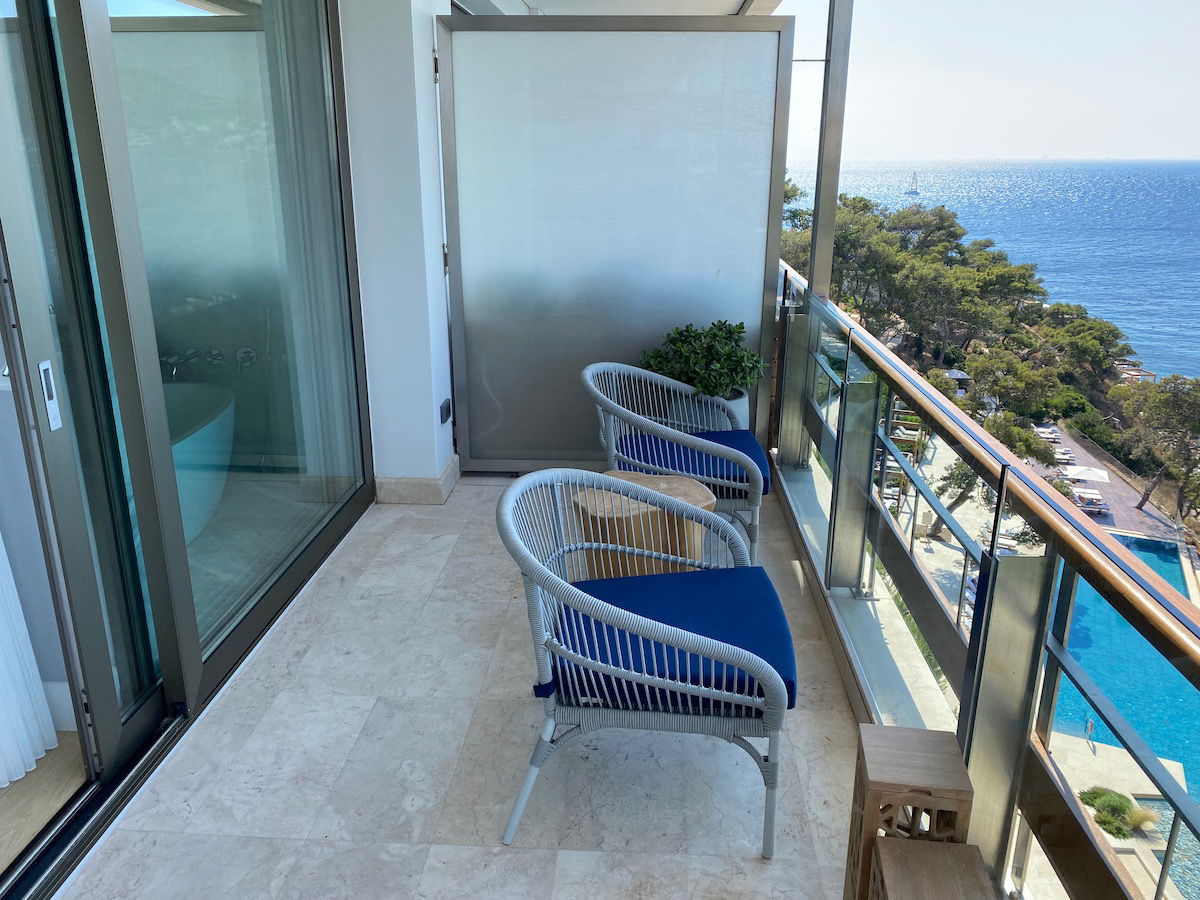 The view was picturesque, as the room looked out over one of the hotel's pools, the beach, and the sea (as you'd expect, based on the name).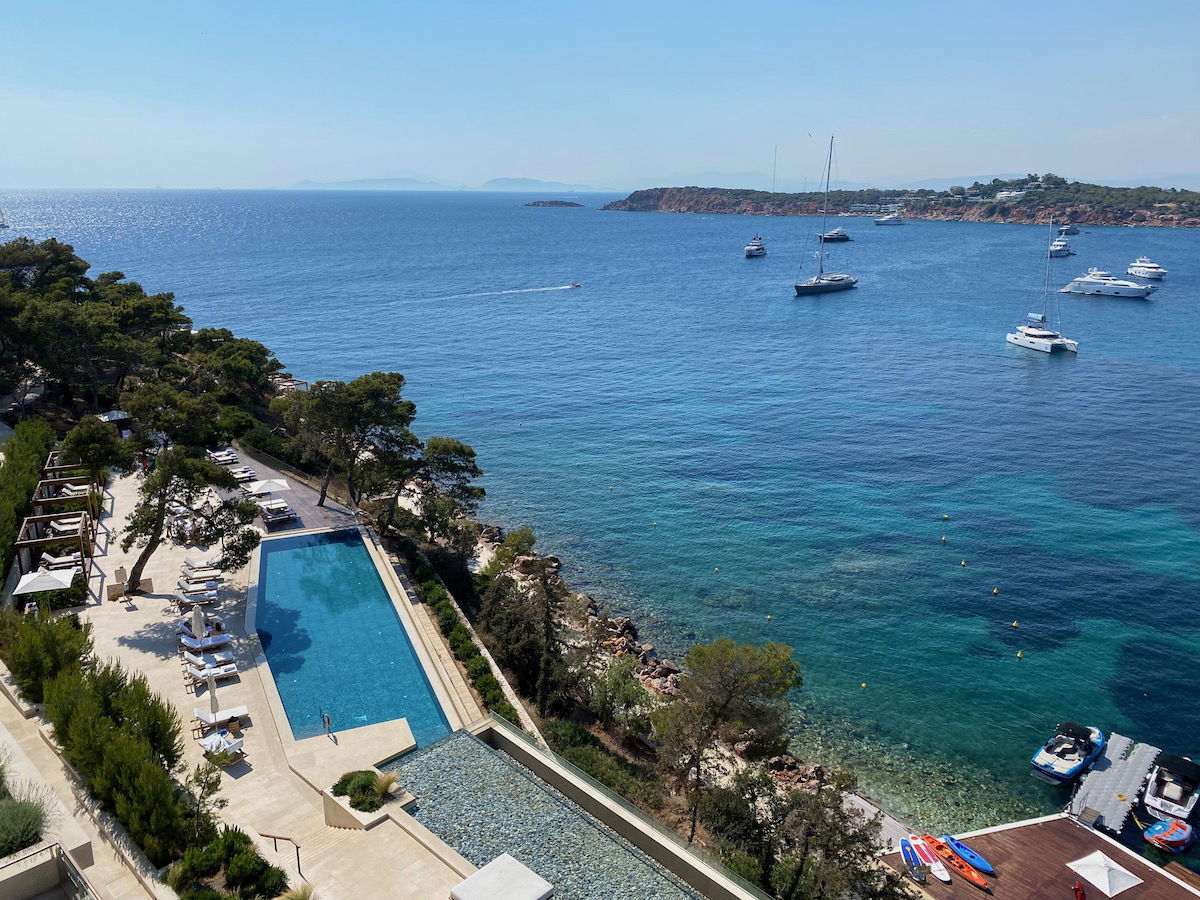 The below picture also gives you a sense of the size of this property, since everything you see around the "bay" below belongs to the property.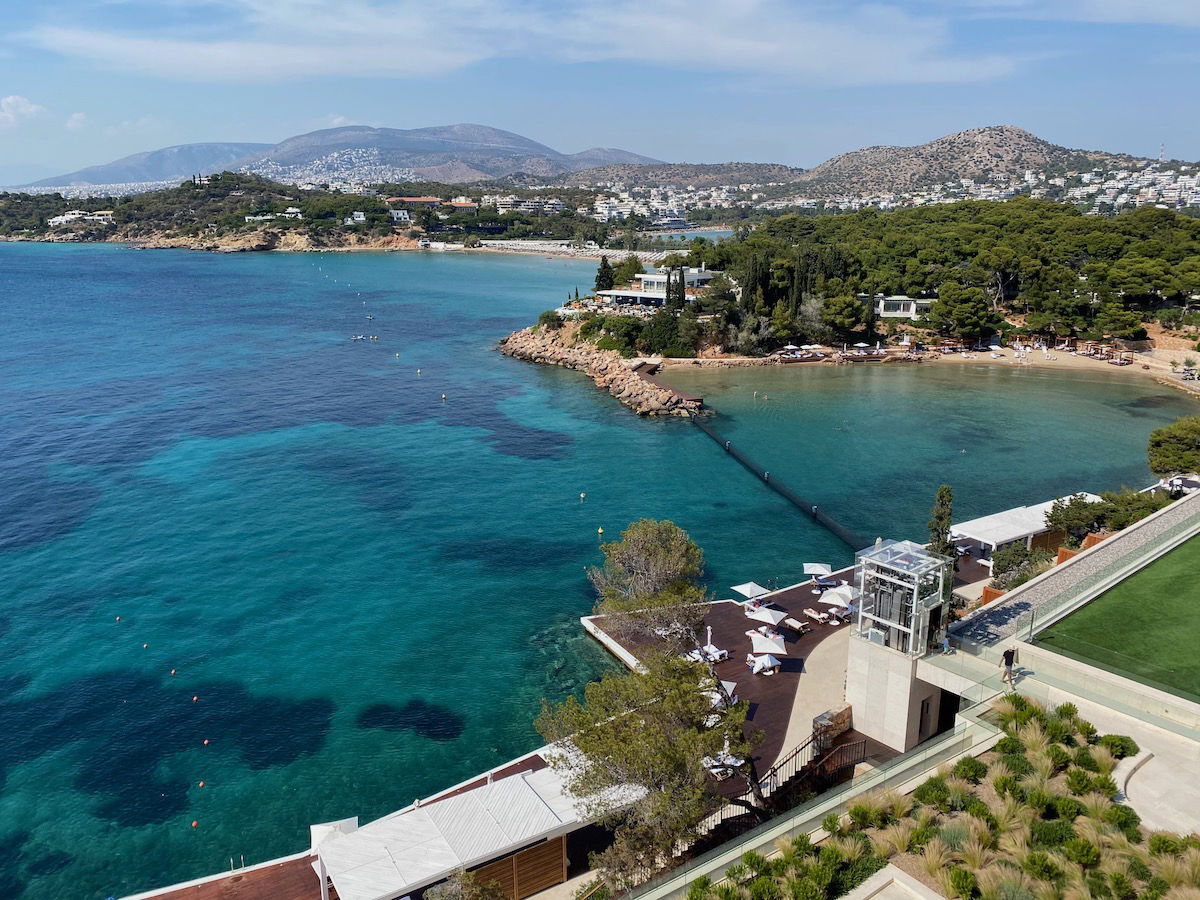 The sunset views from our room were also breathtaking.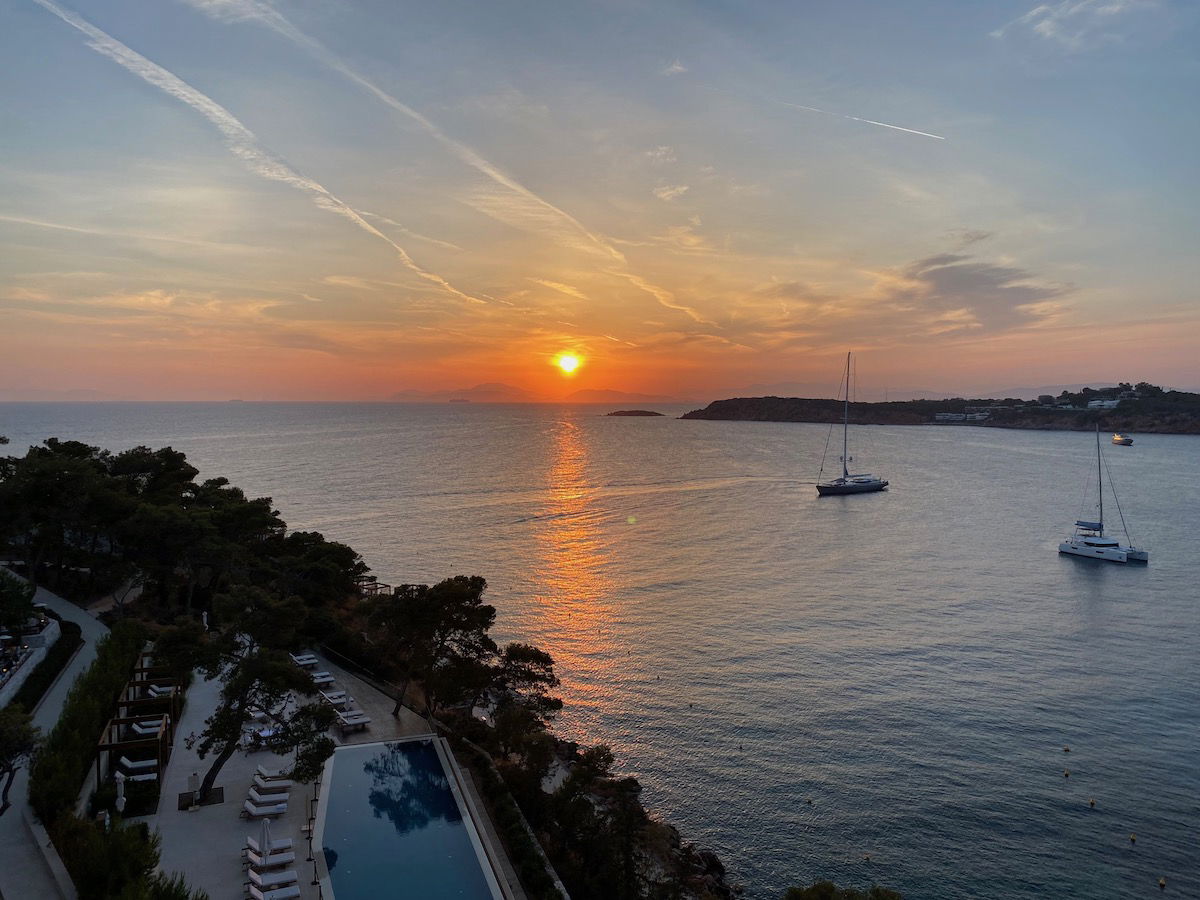 If there's a more functionally and beautifully designed 430 square foot room anywhere else in the world, I've yet to see it. It's not often you see a room this size have a proper dining table, a loveseat, double sinks, a separate tub and shower, etc.
Four Seasons Athens pools & beaches
The Four Seasons has three pools and a huge amount of beach and seafront space. Even though this hotel has 300+ rooms, guests have so much space to spread out. Most of the hotel's amenities are one level down from the Arion building, and you can get between these areas by stairs or elevator.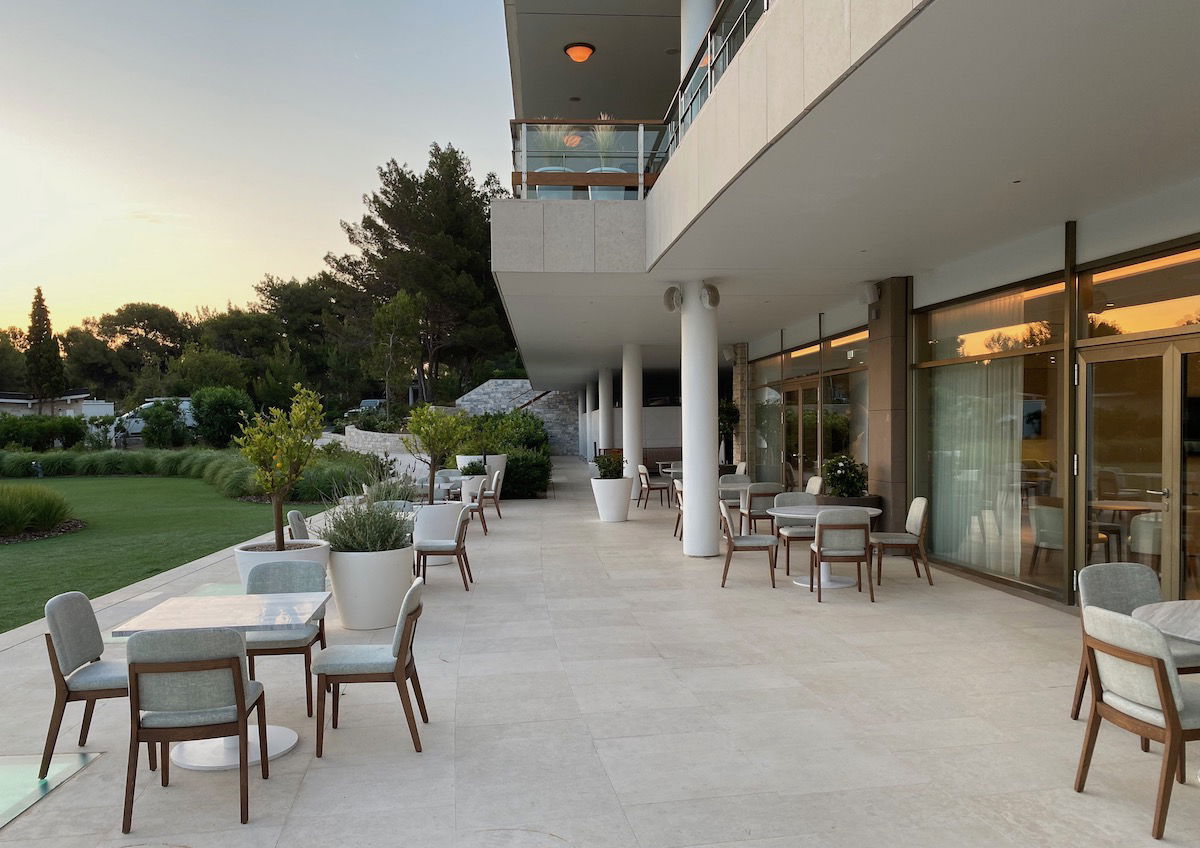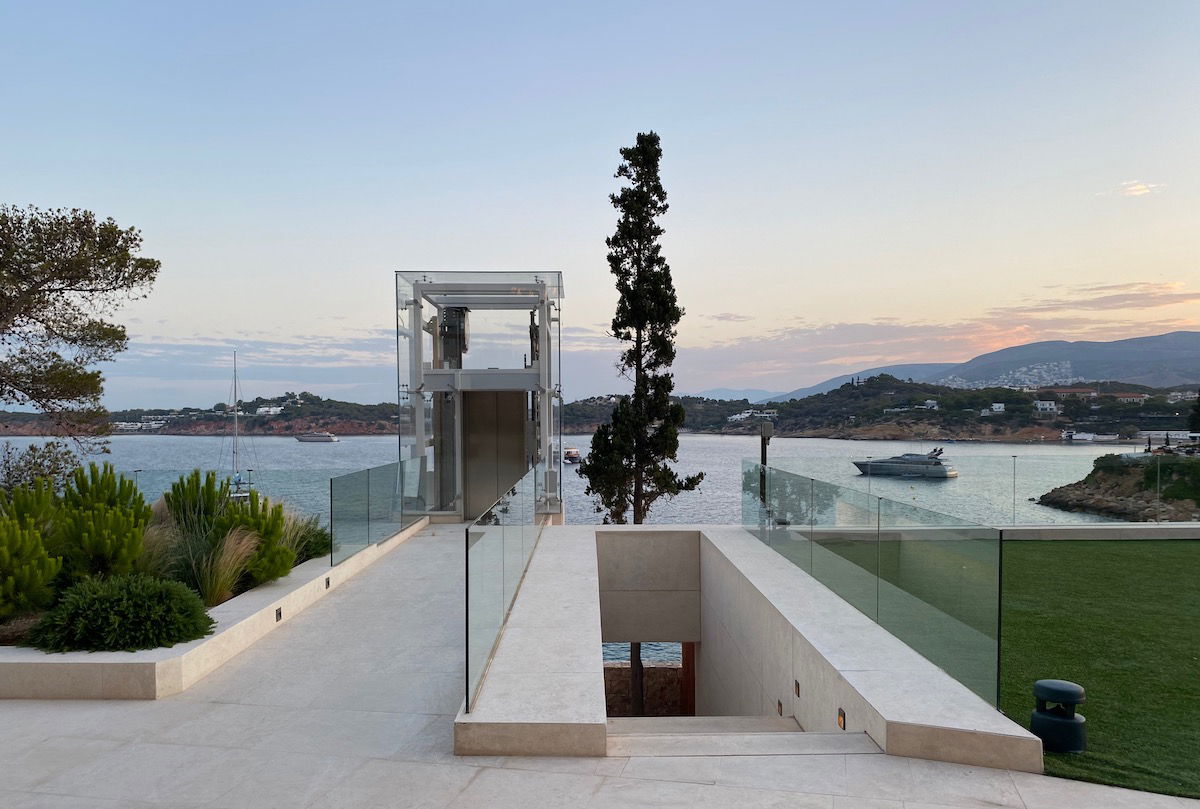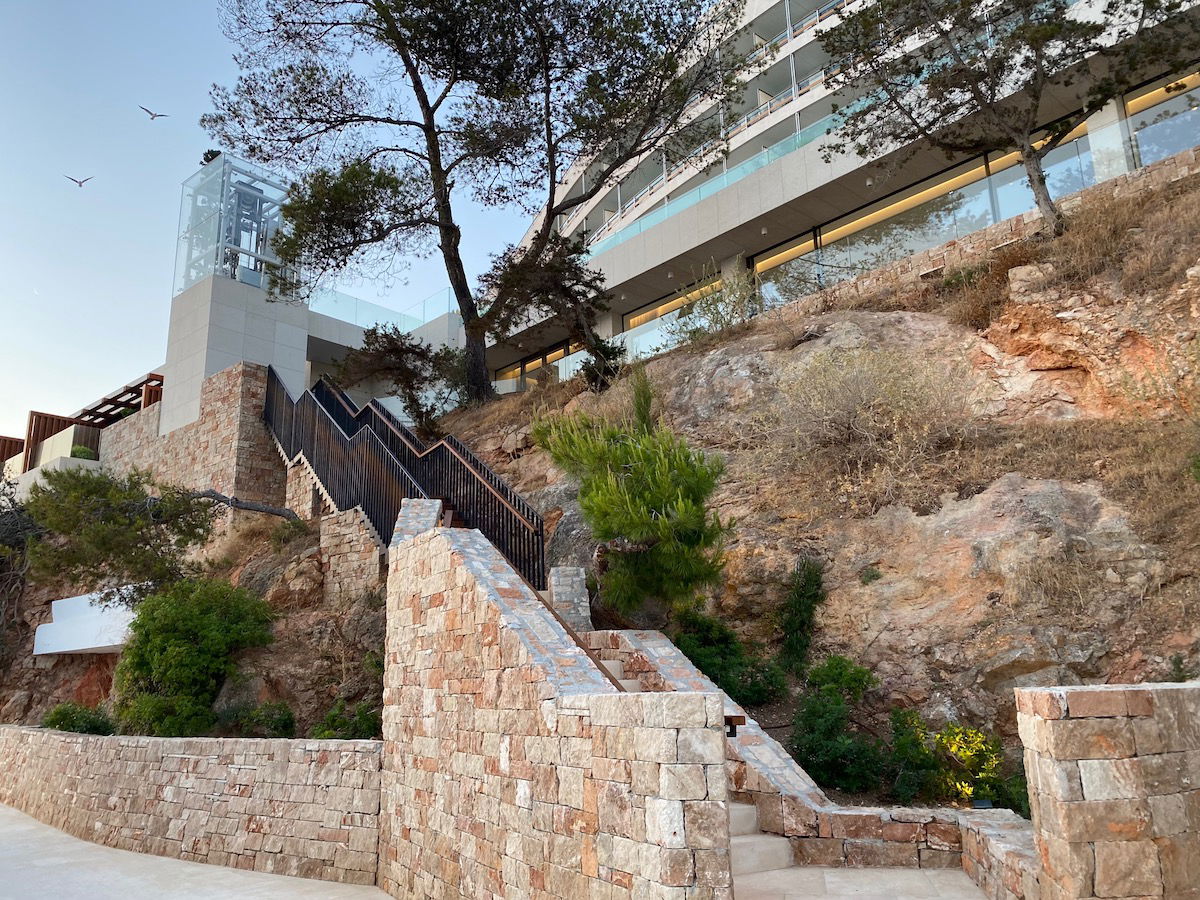 I love how the lounge chairs are largely arranged in one or two rows along the water, so that everyone can sit close to the water.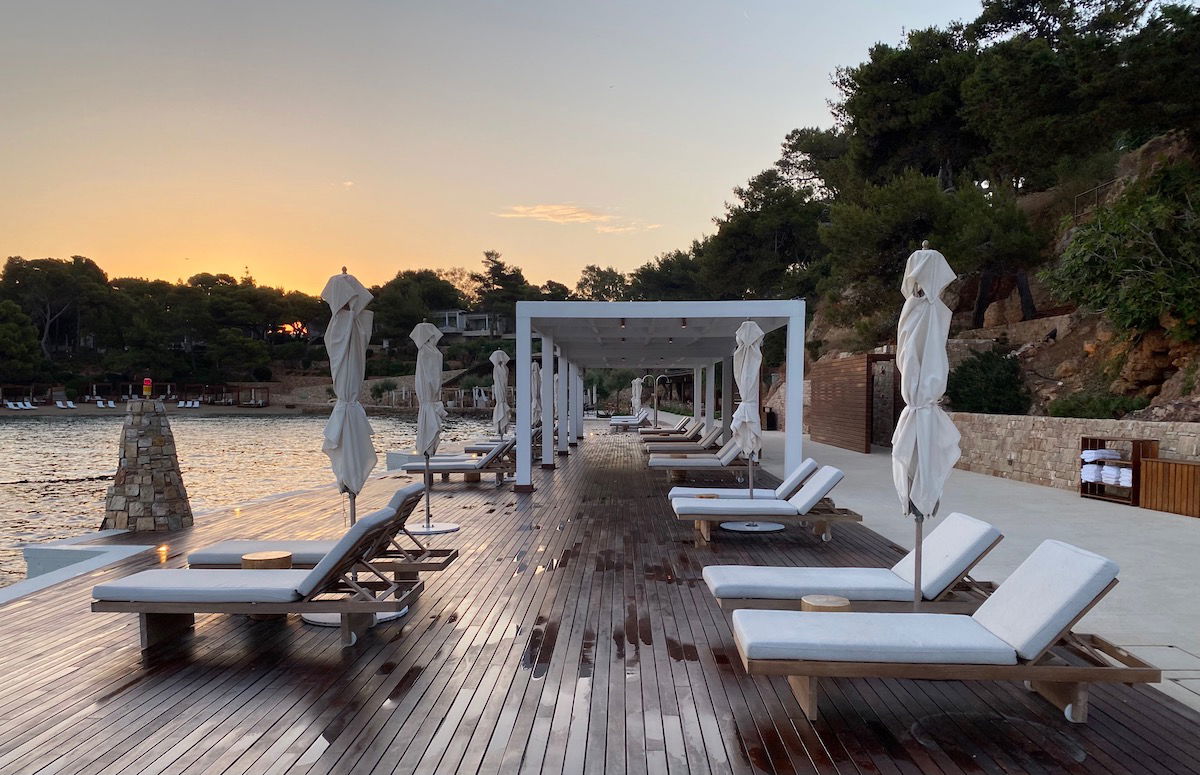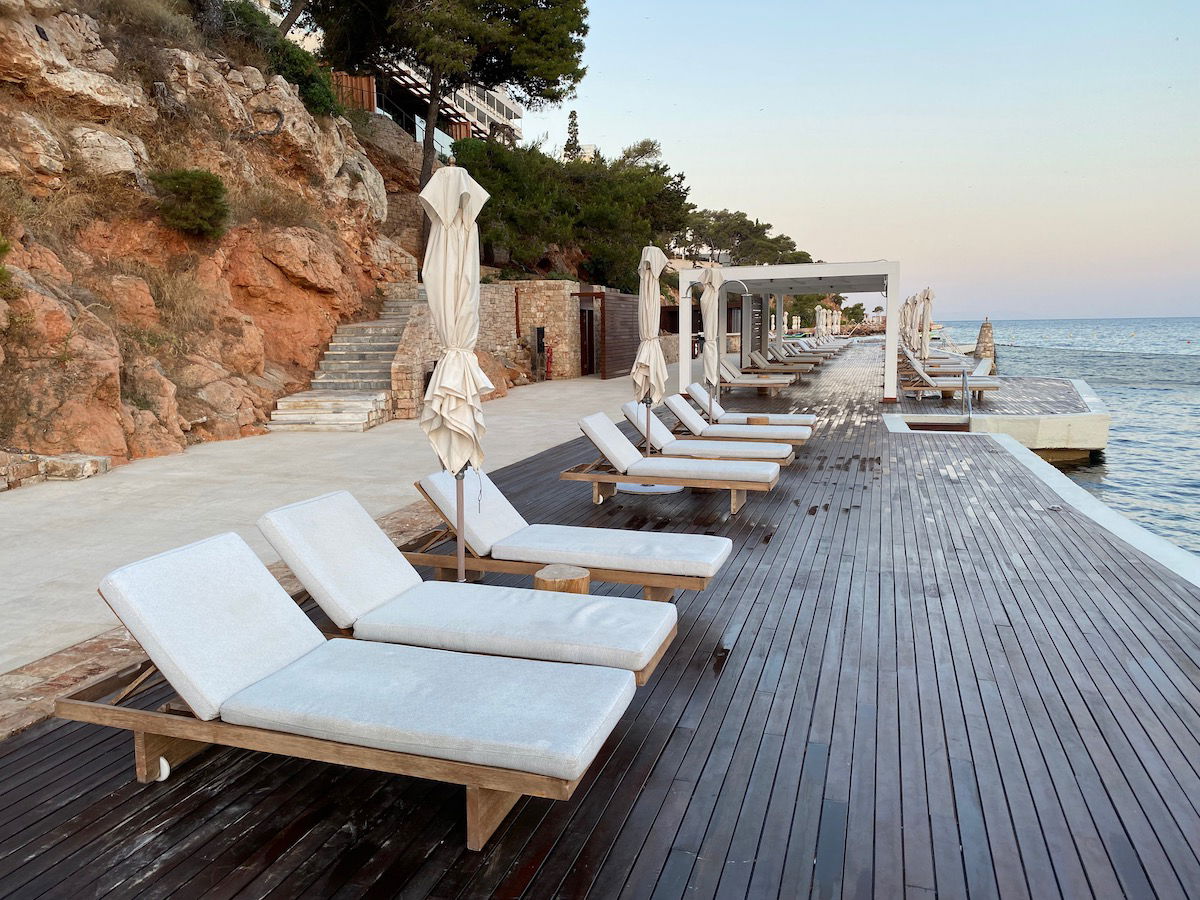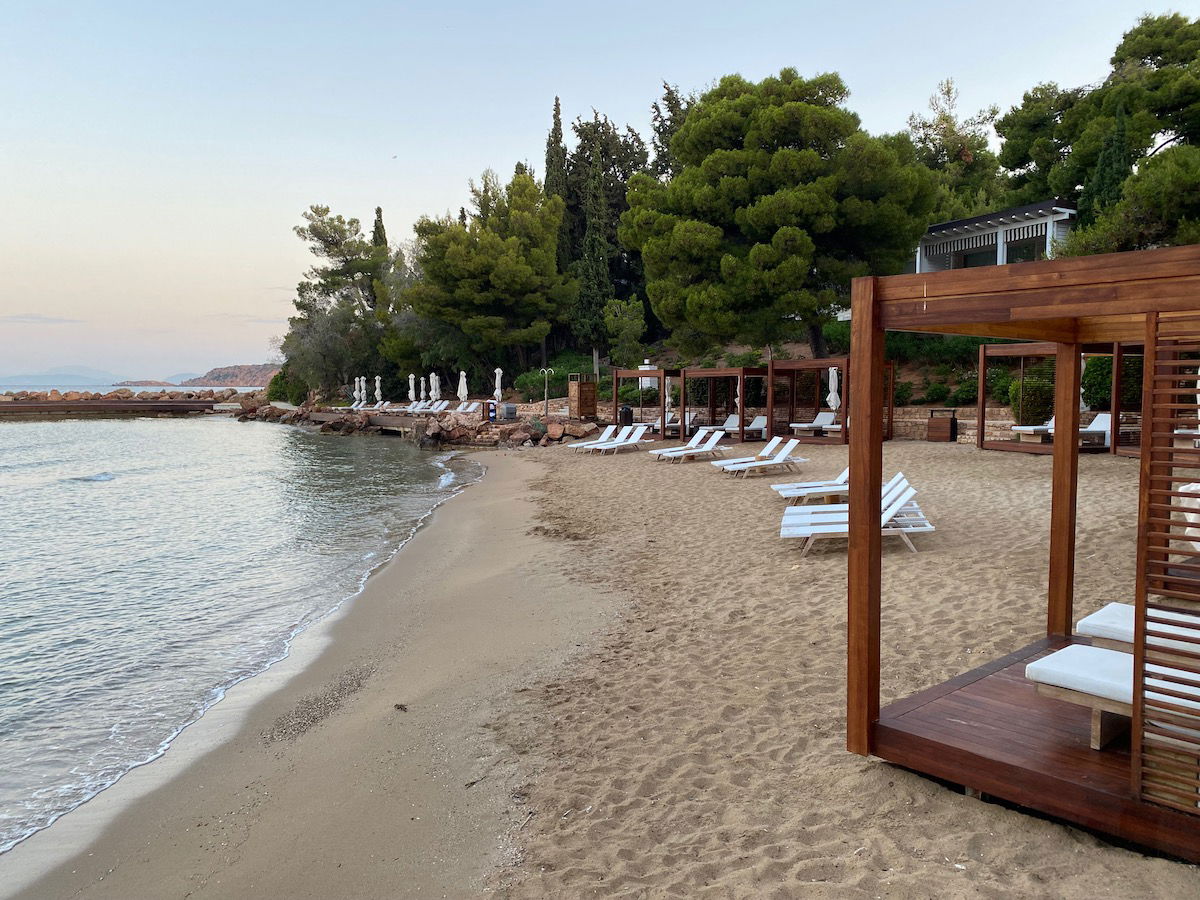 The hotel has a massive bay that's netted in, so you can safely go swimming there. Unlike other parts of Greece, the water tends to be quite calm.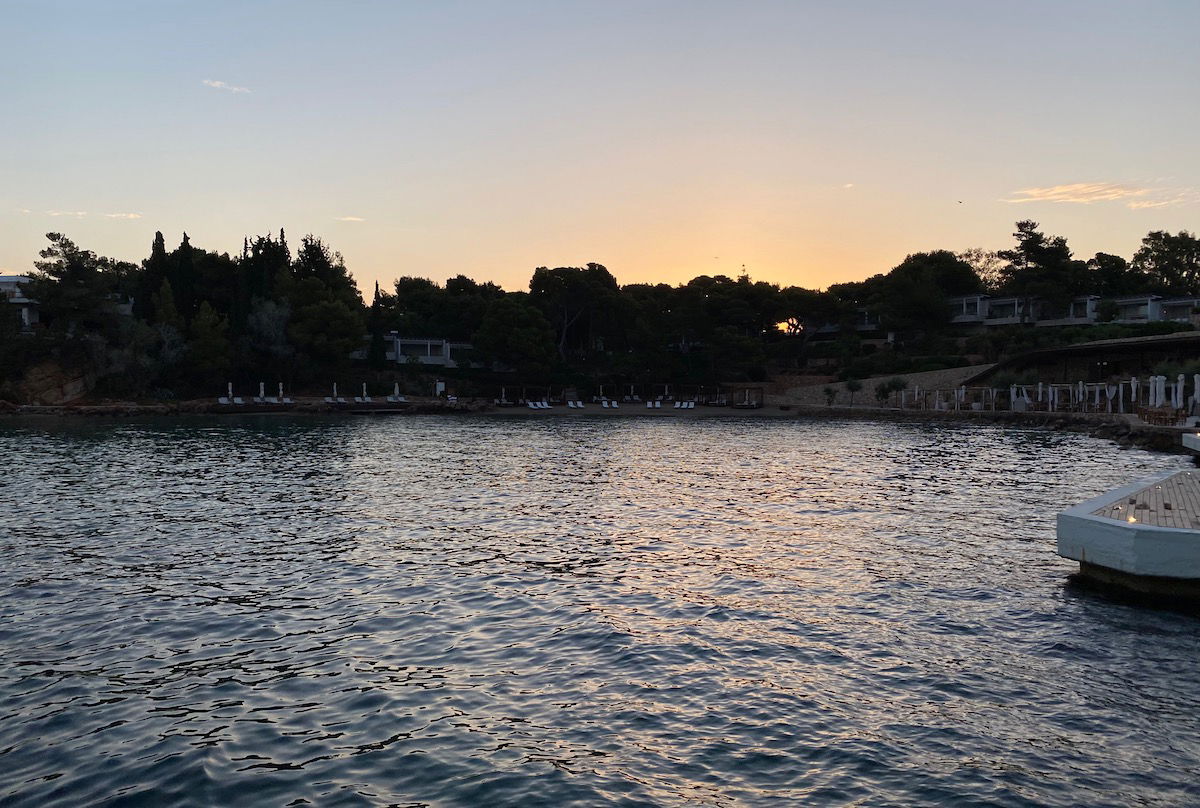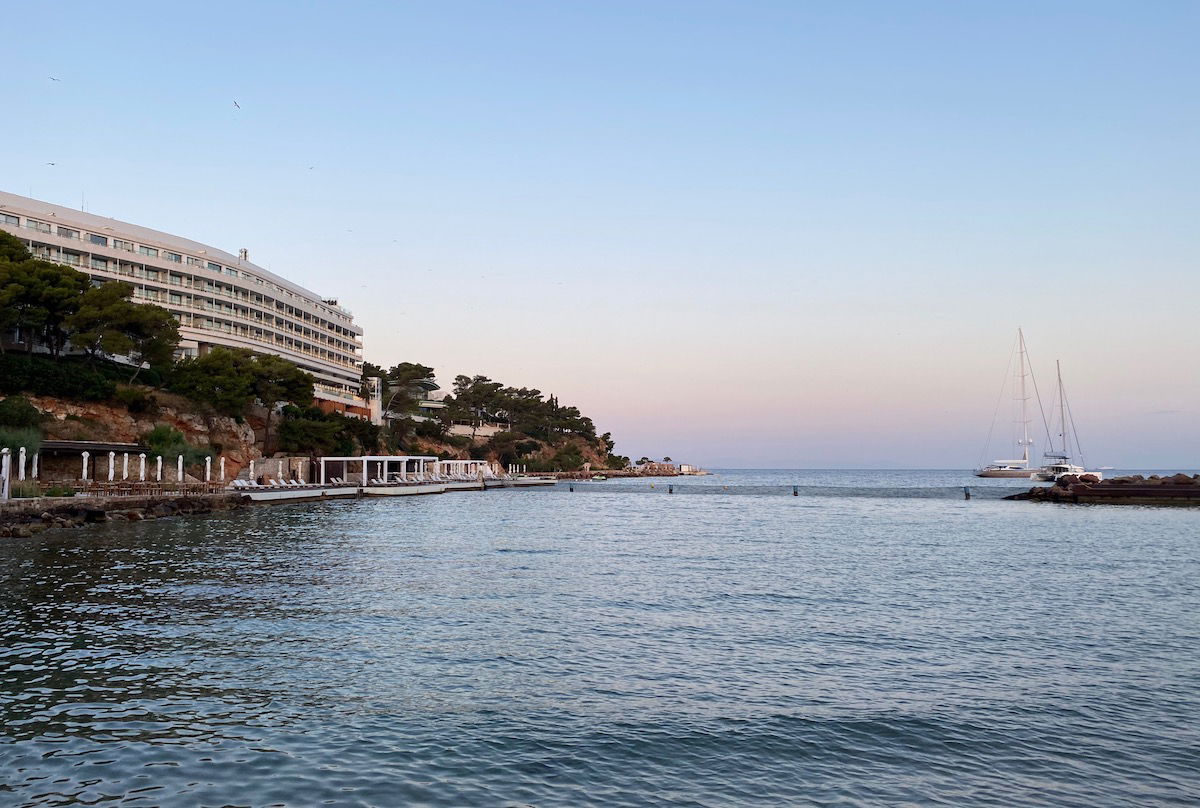 There's a long walkway connecting the Arion complex to the Nafsika complex, with the latter having the pools.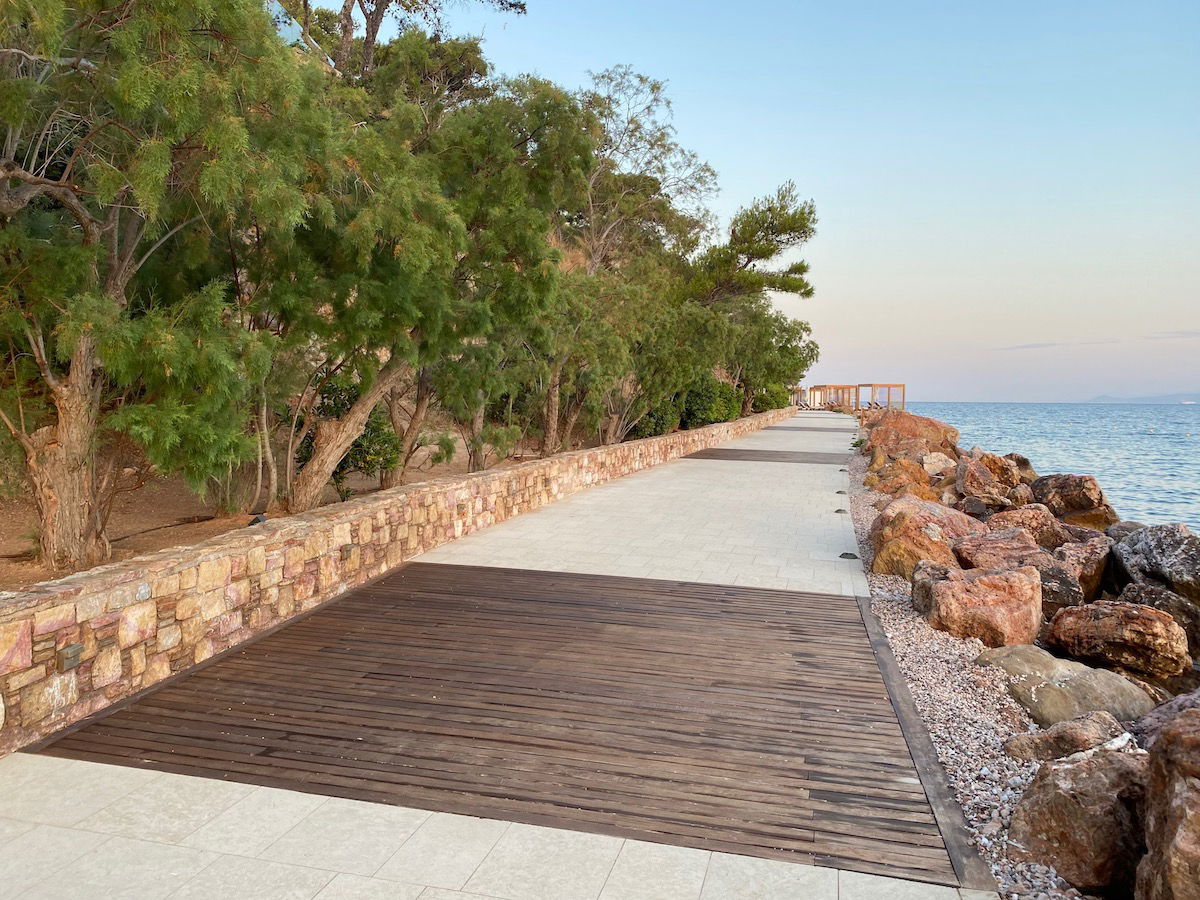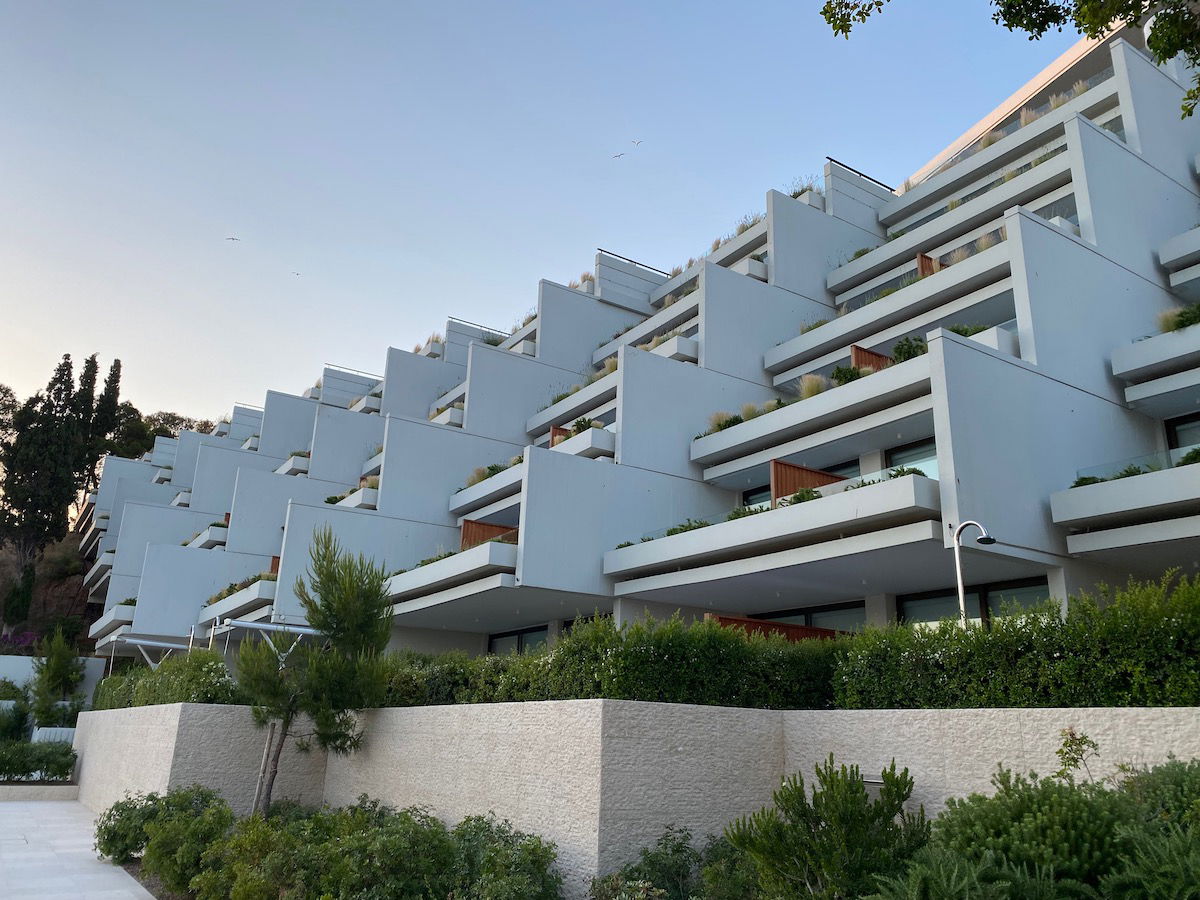 In the Nafsika complex there's plenty more waterfront seating.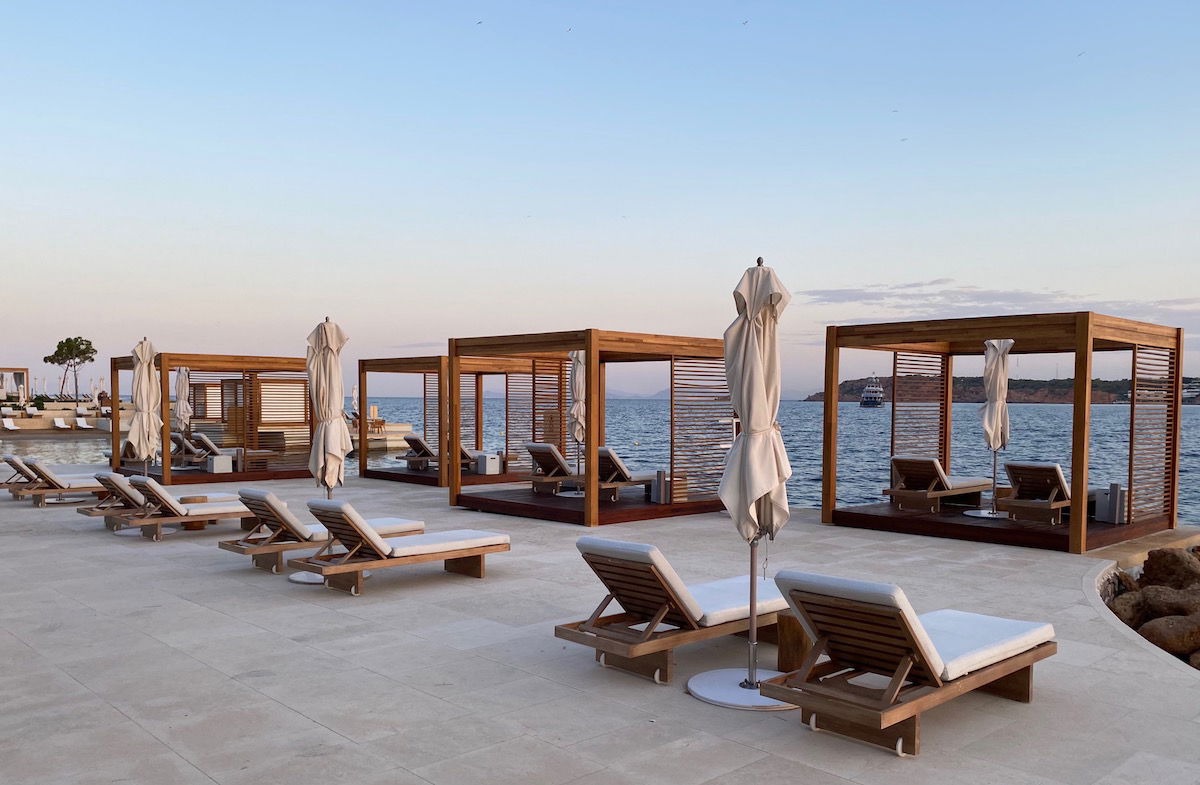 There's another netted in area for swimming.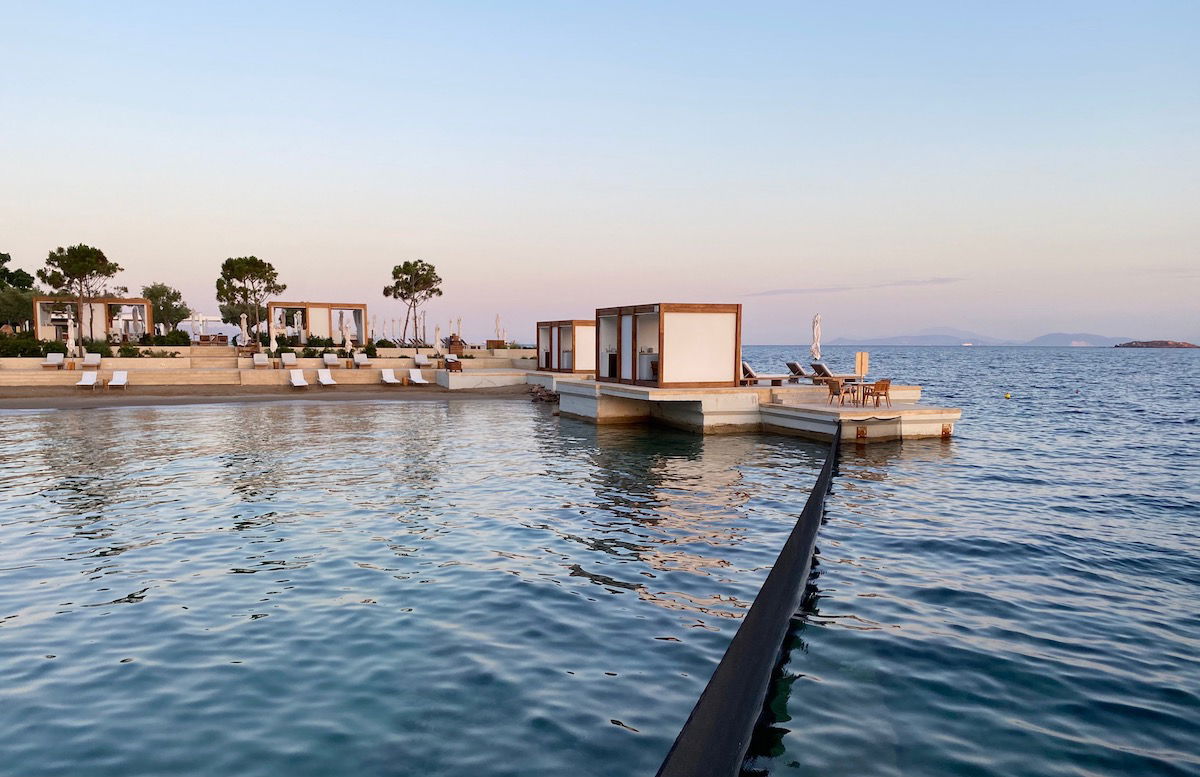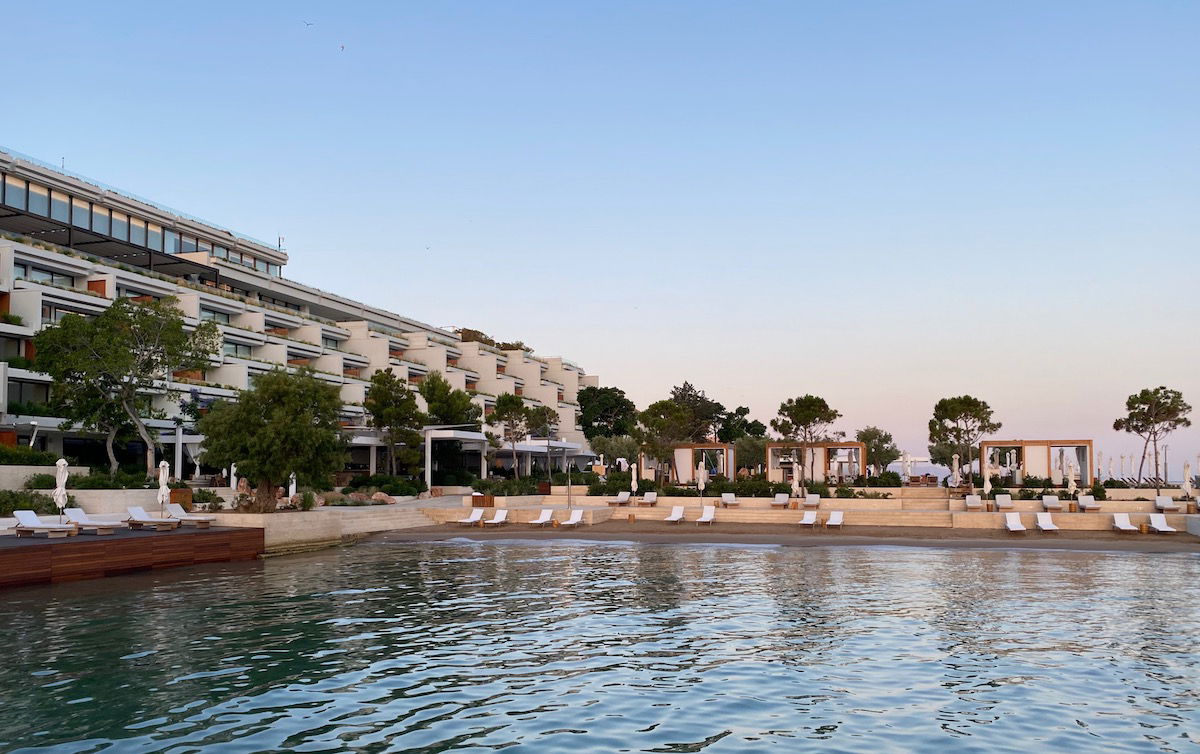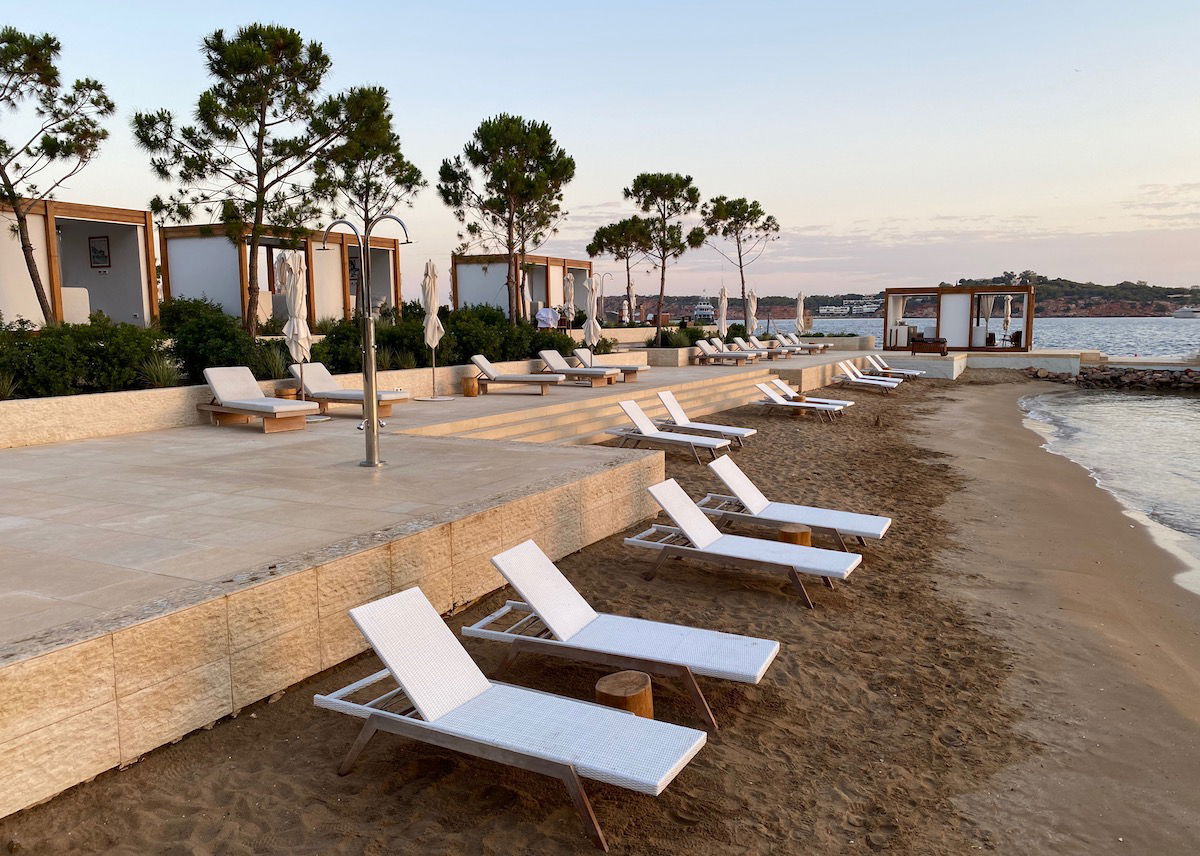 Also in this area is the largest of the pools, which is gorgeous.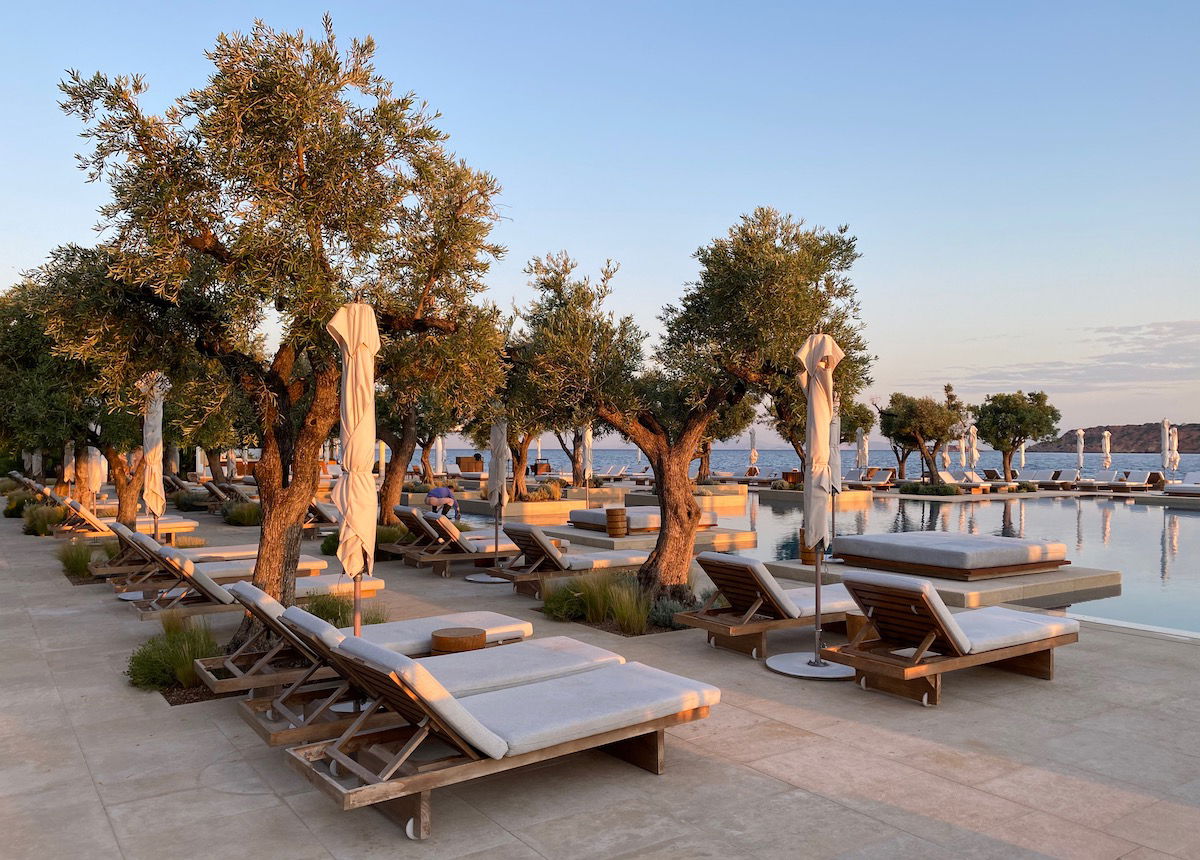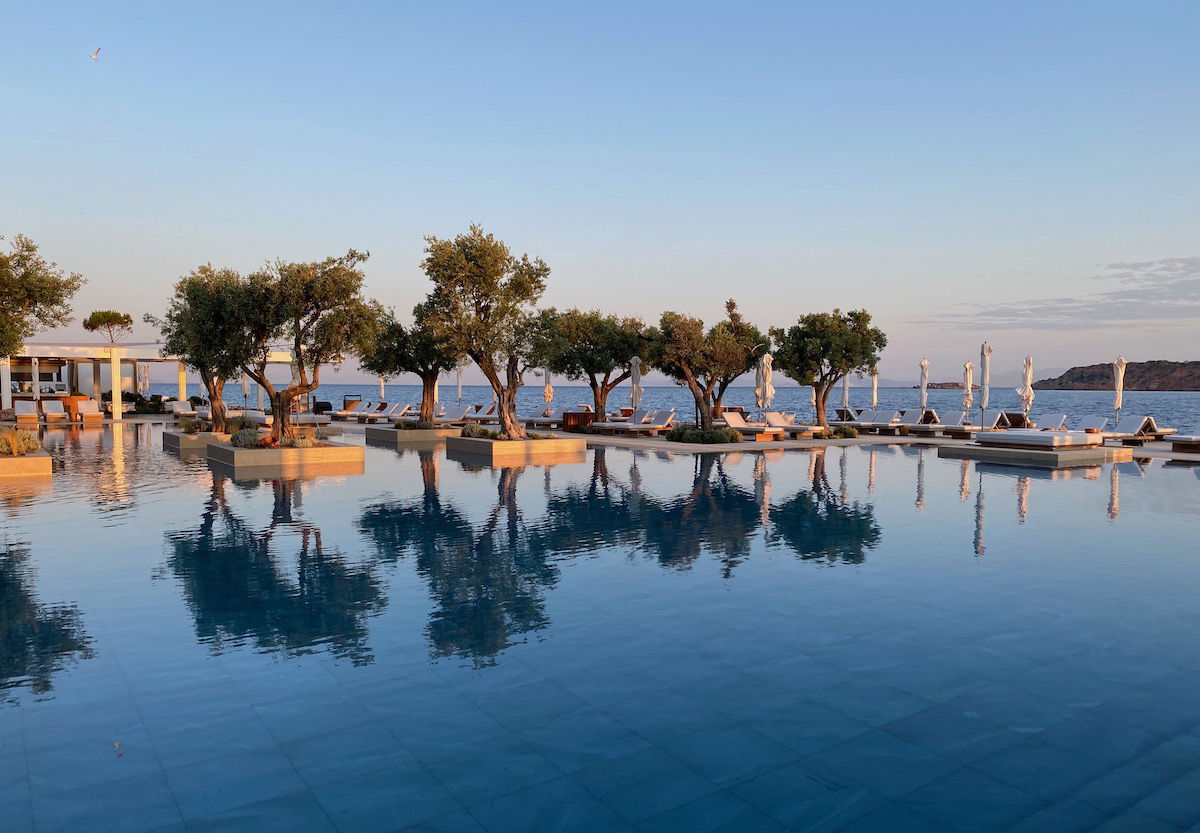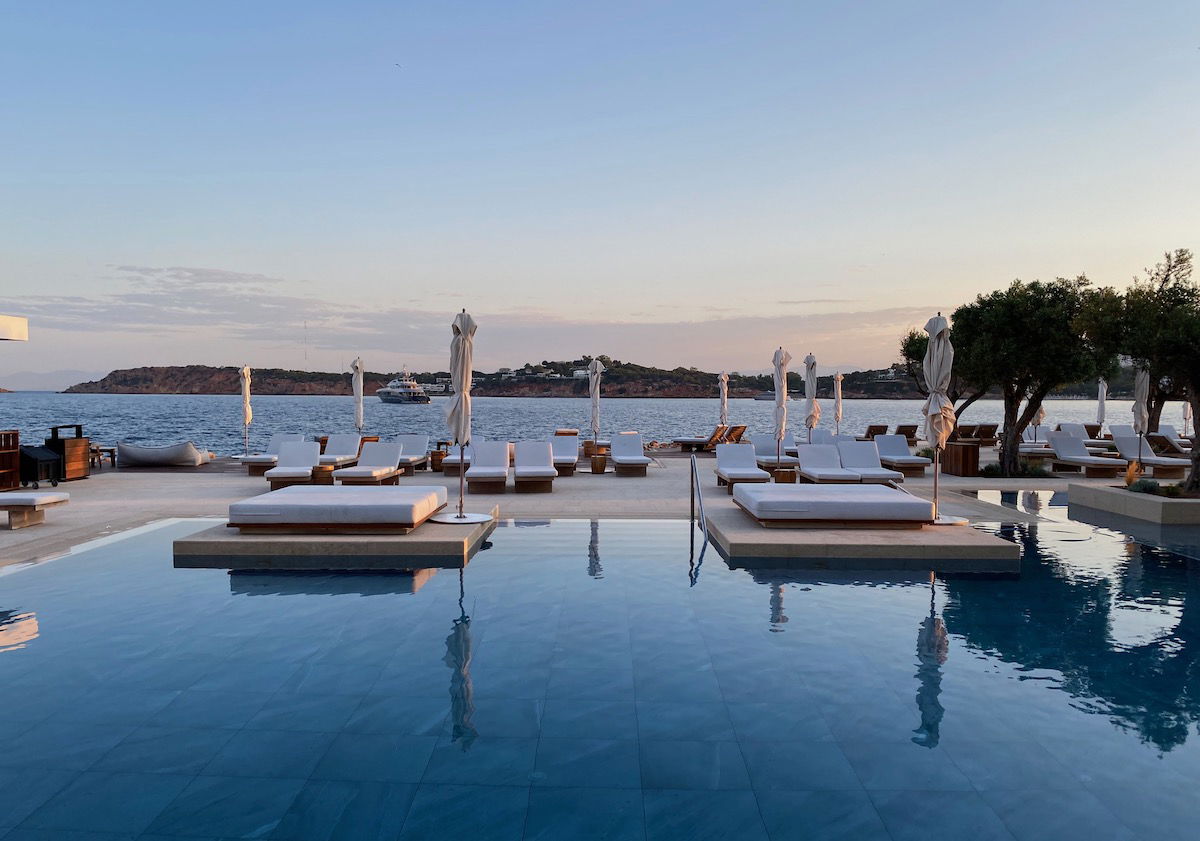 There's another pool that's elevated a bit, which is a bit smaller.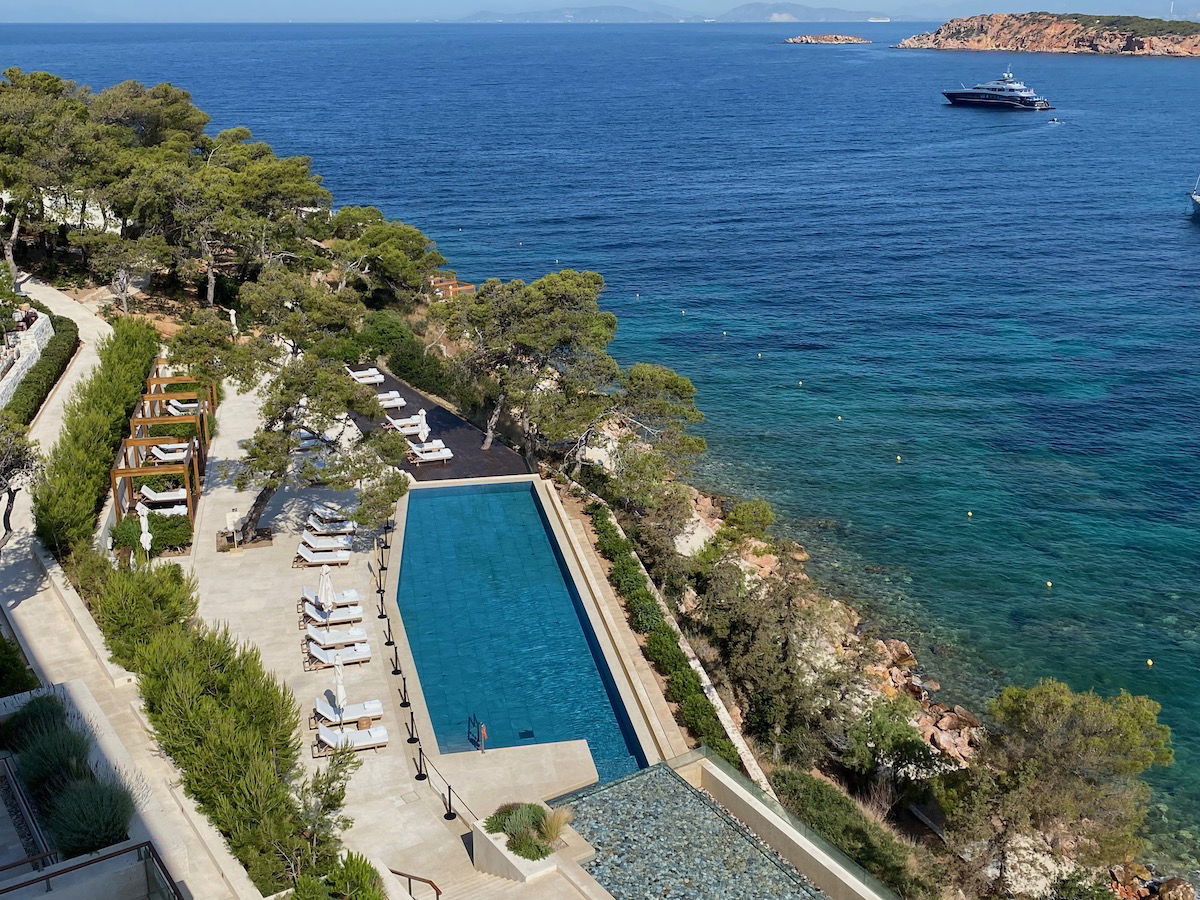 The above is only a portion of the pool and beach setup here, but hopefully it gives you a sense of the scale we're talking about.
Four Seasons Athens gym
Four Seasons properties consistently have excellent gyms, and this property is no exception. The gym is in the Nafsika complex, and is both huge and has cutting edge equipment.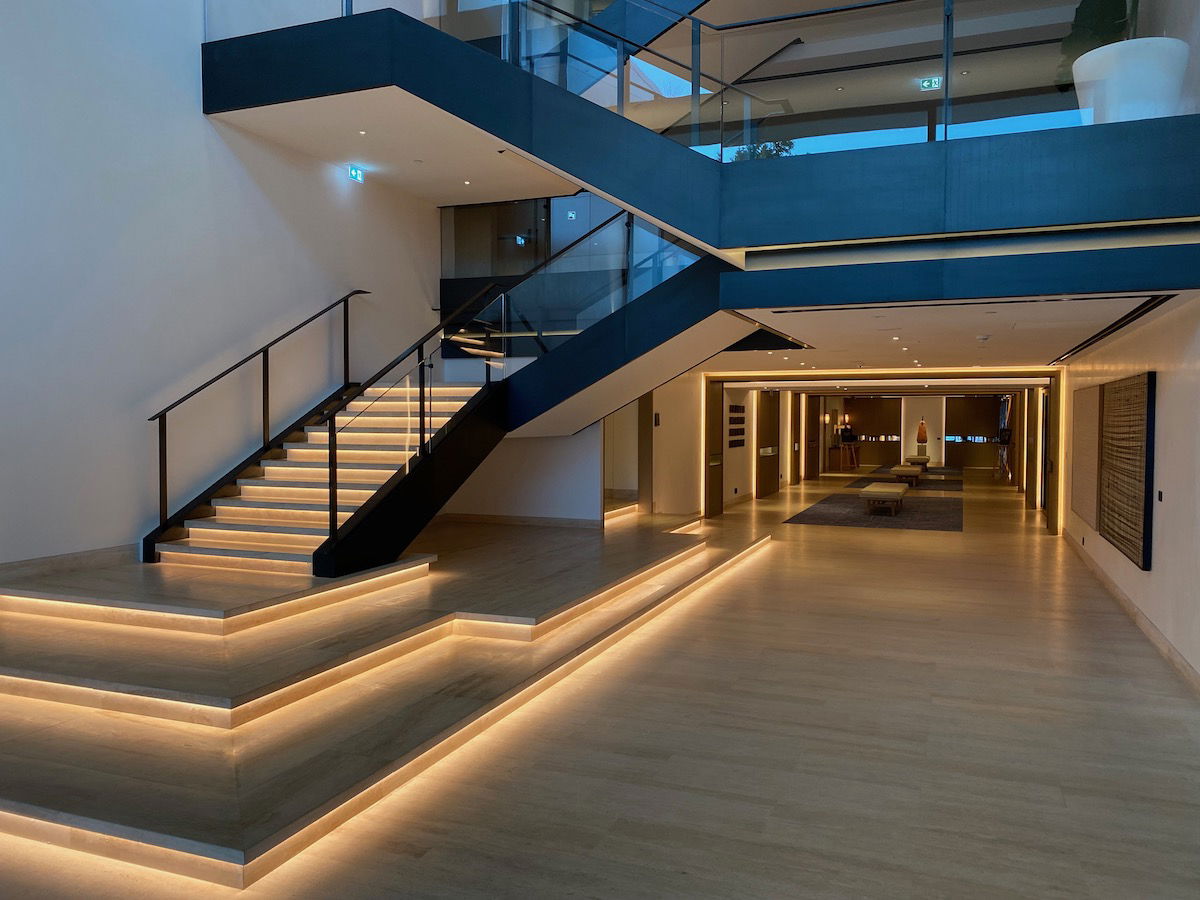 Seriously, is this a gym, or is this a gym?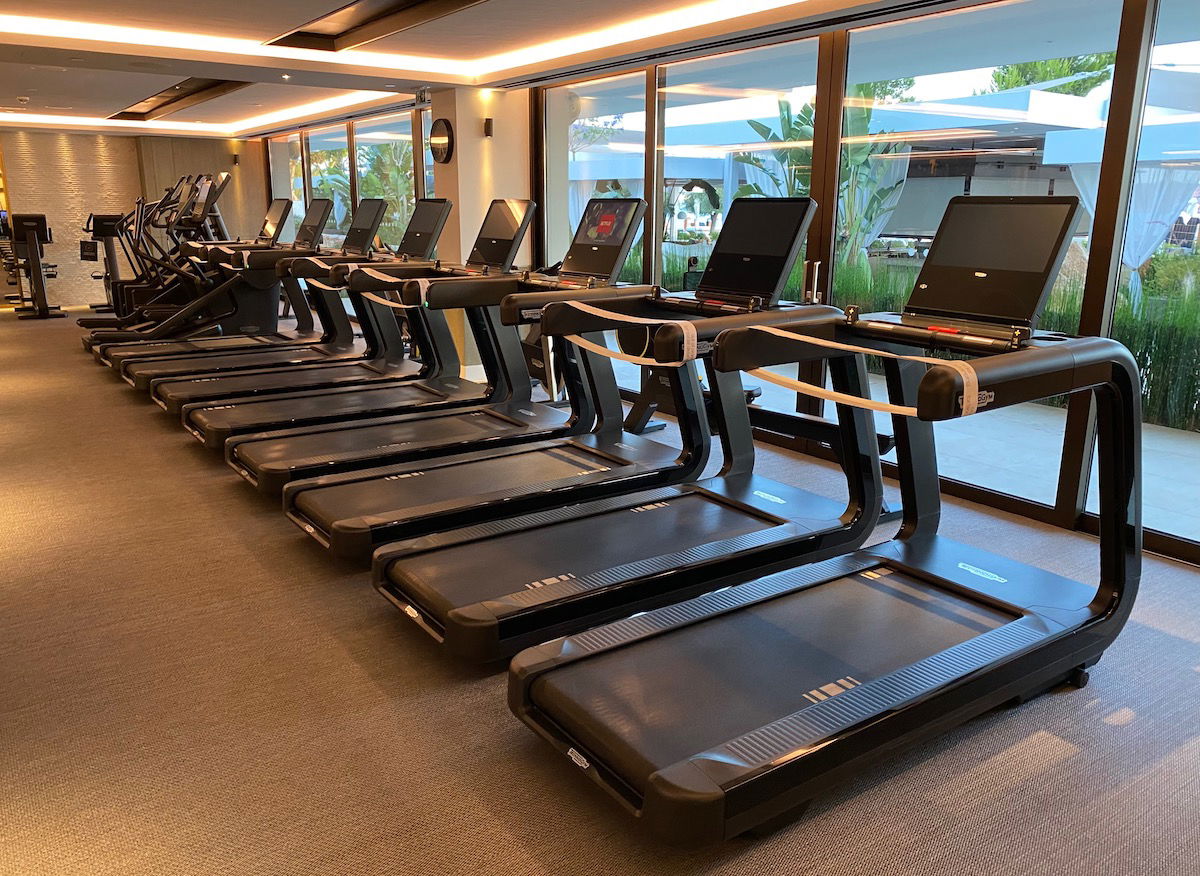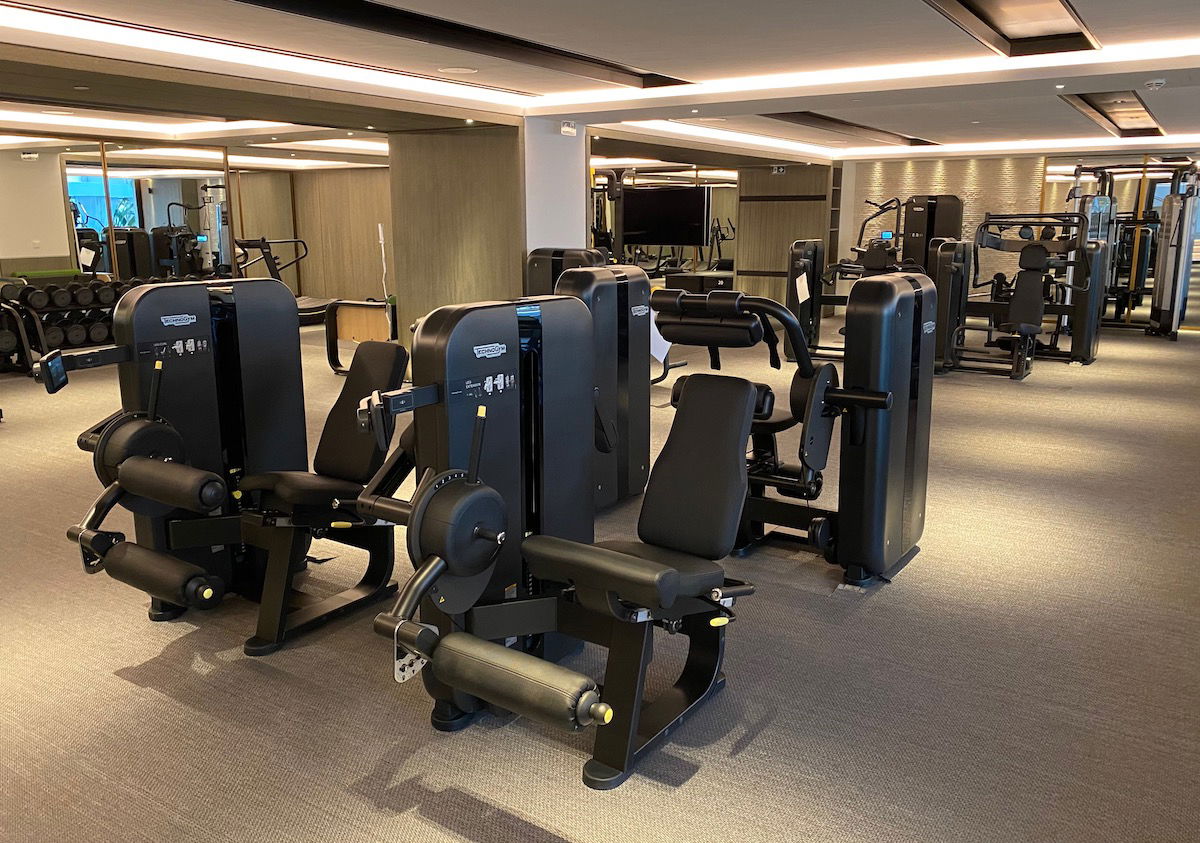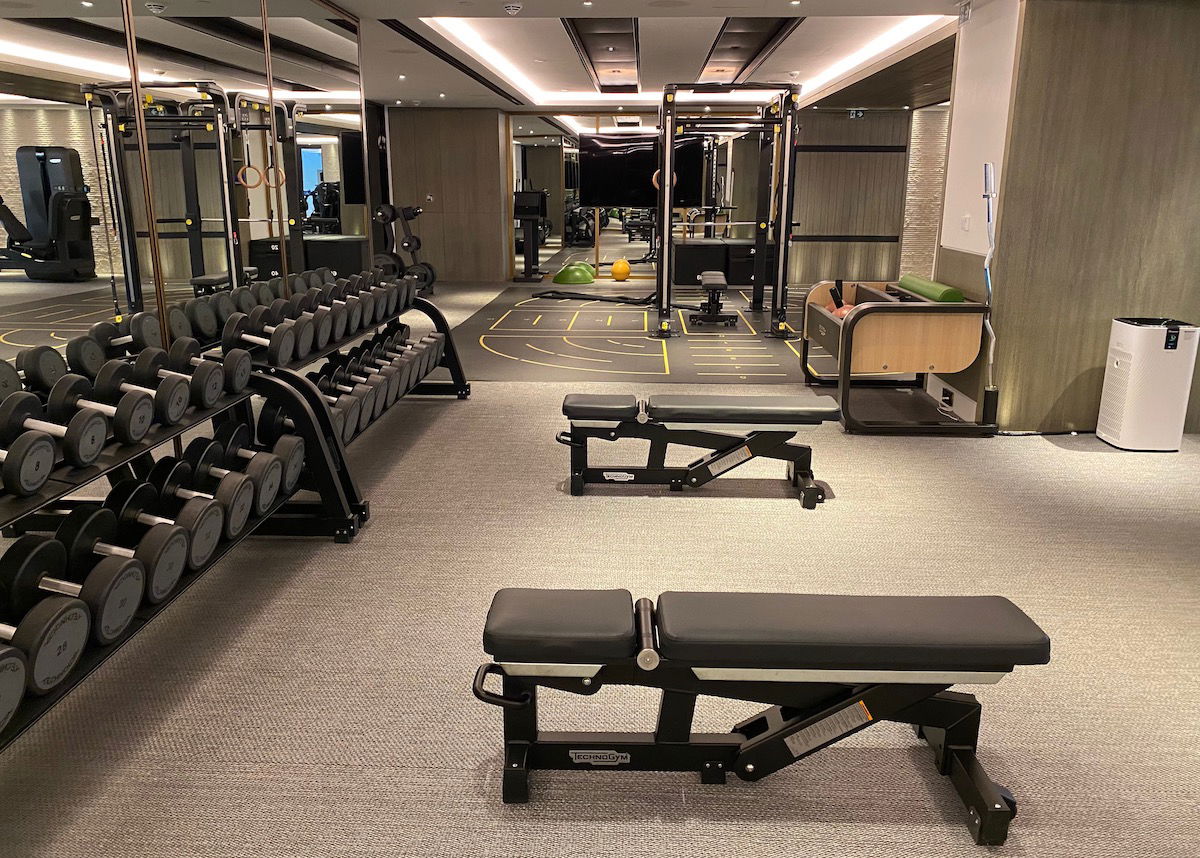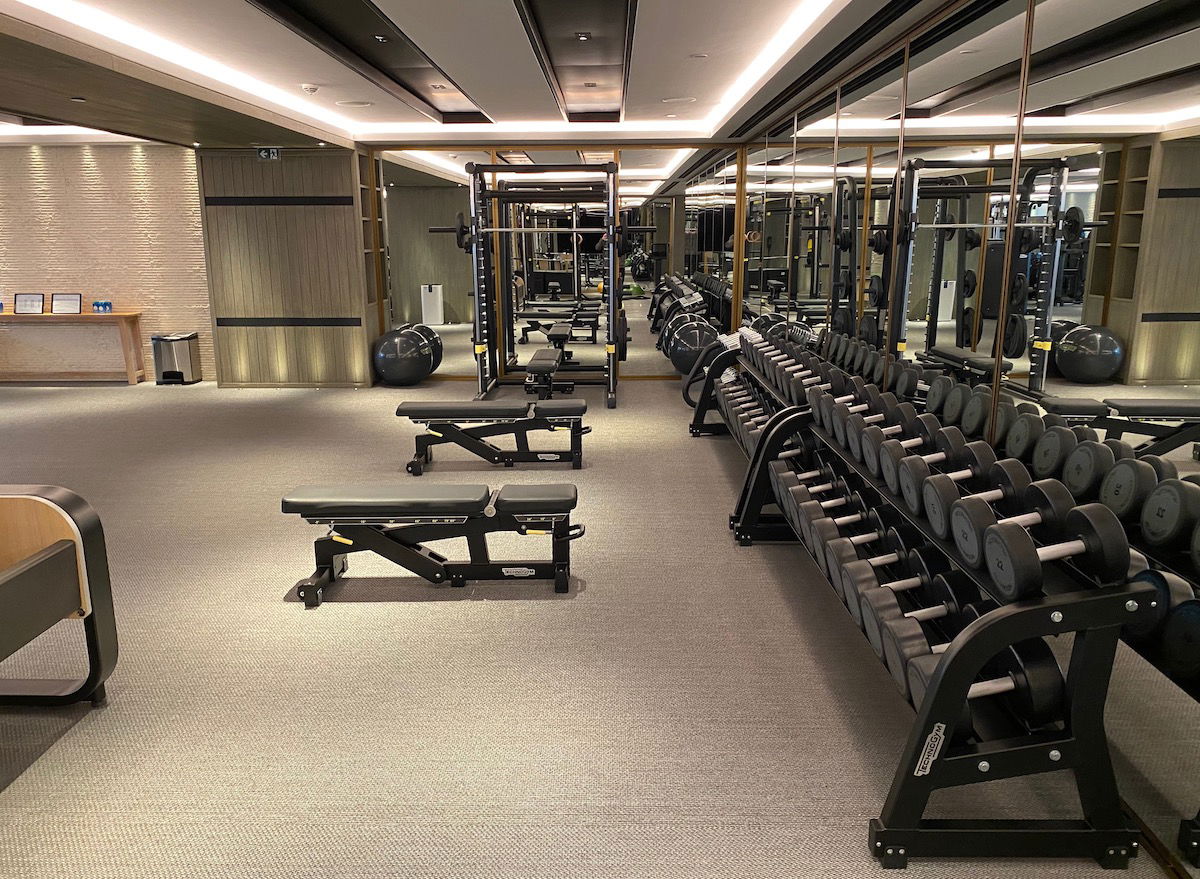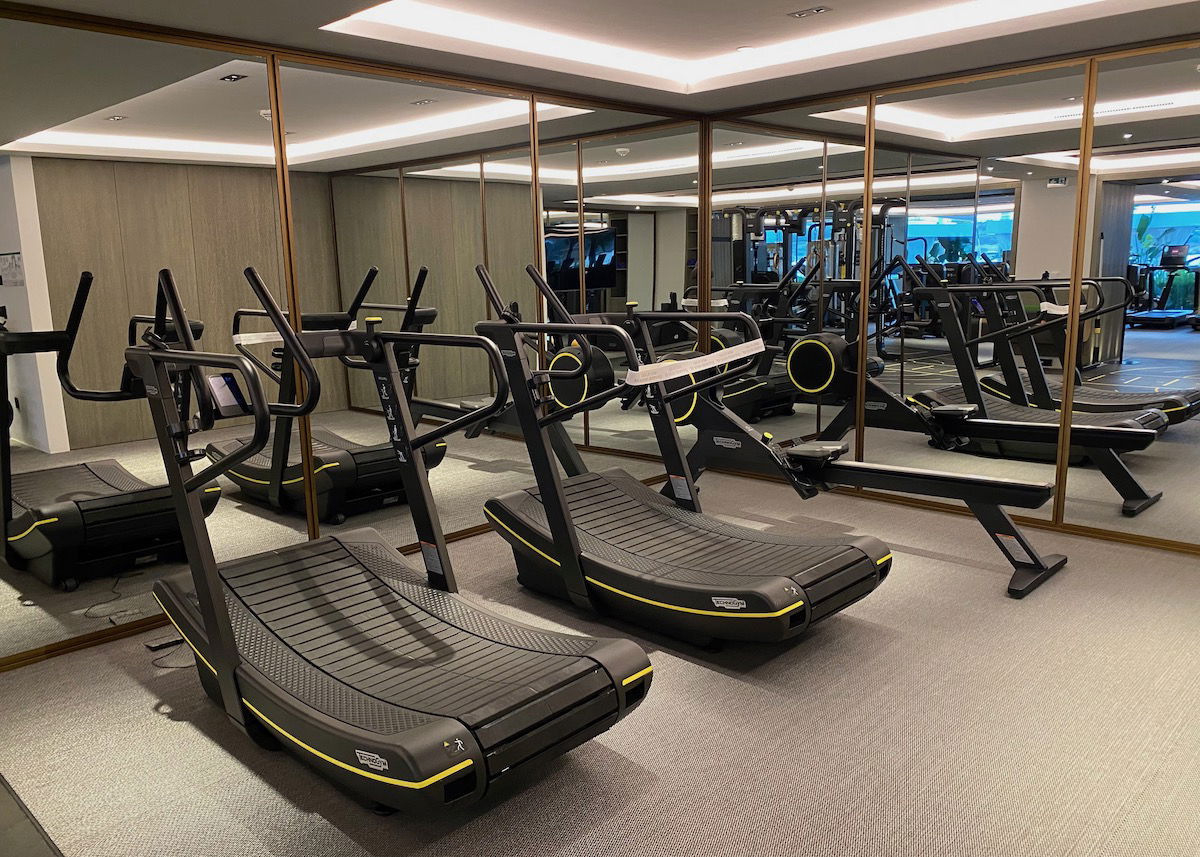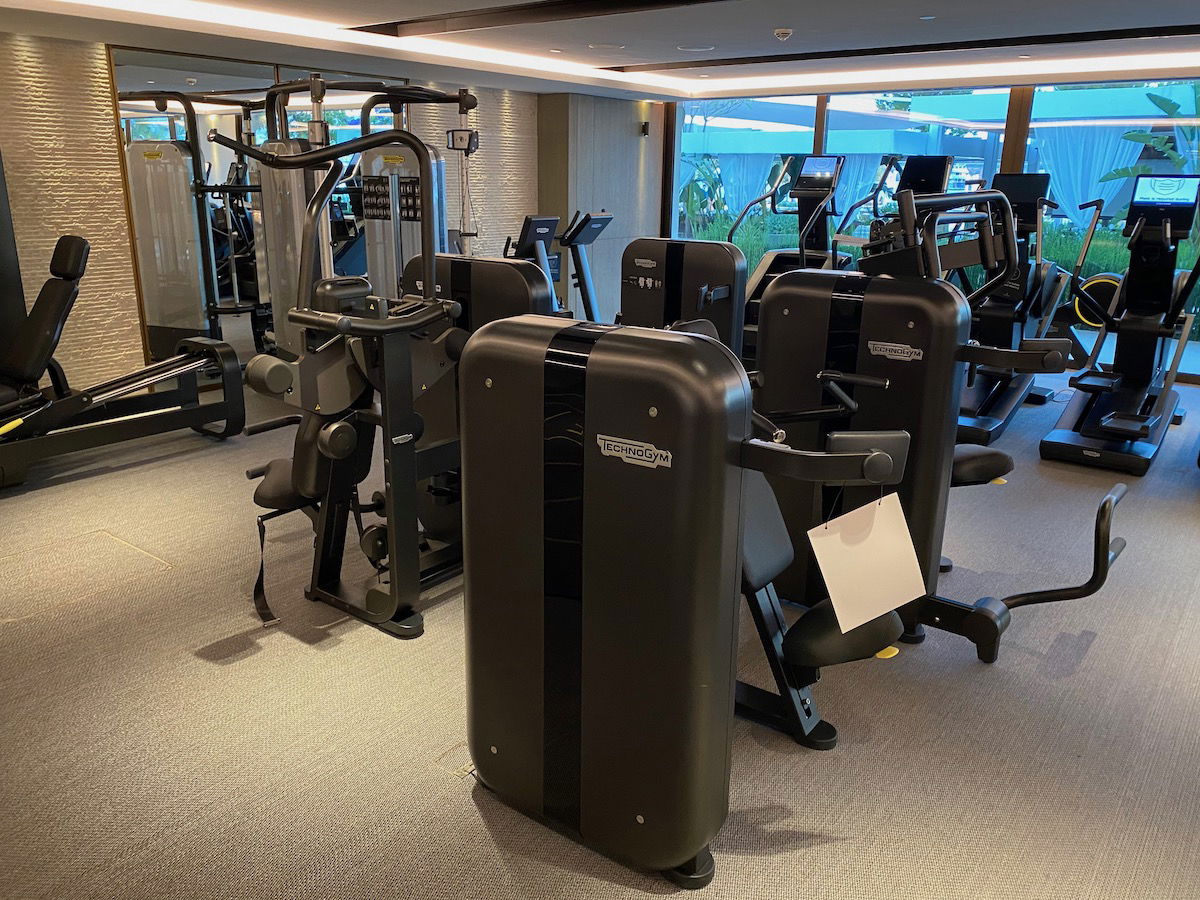 There was even some outdoor cardio equipment, which is always something I love to see.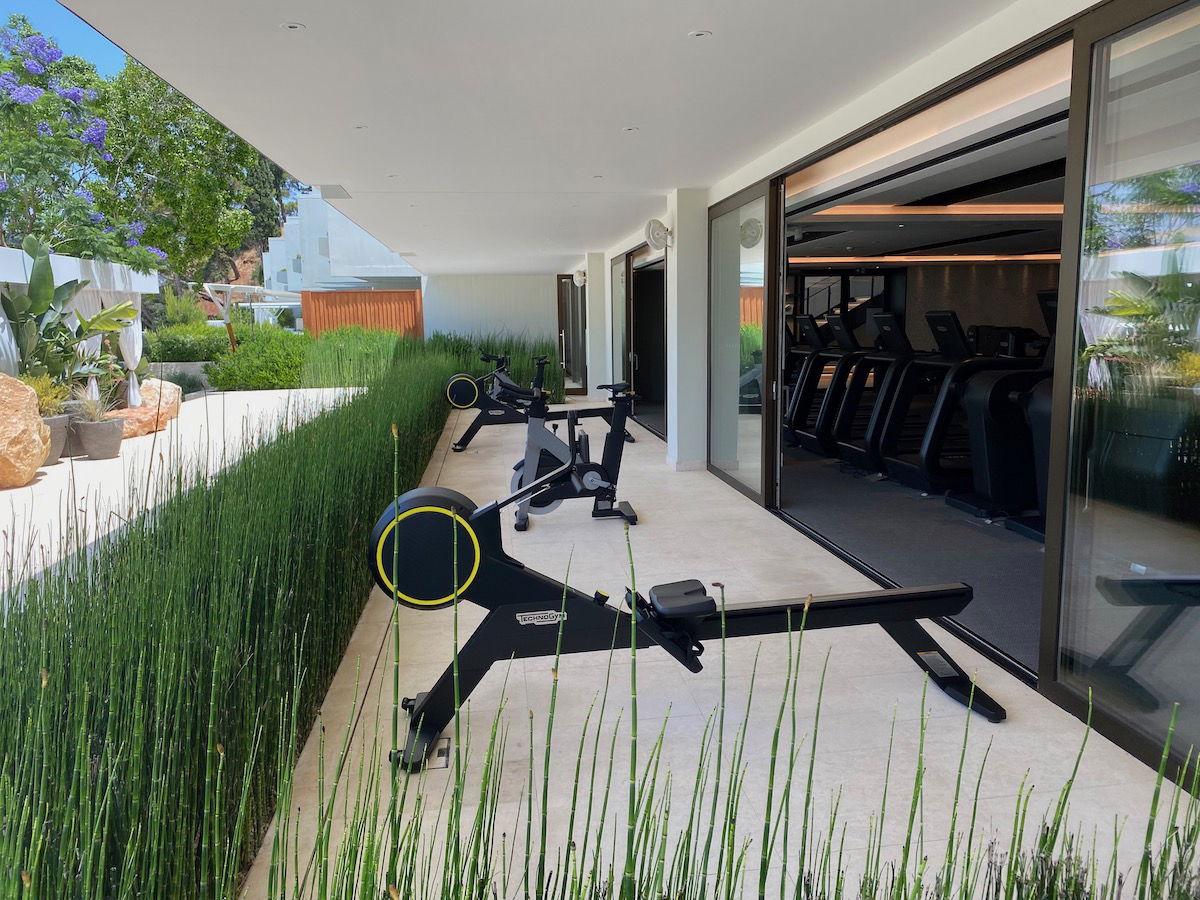 Four Seasons Athens breakfast at Mercato
Breakfast at the Four Seasons is served daily from 7AM until 11:30AM at Mercato. This is easily one of the best breakfast experiences I've ever had, both in terms of the setting, and in terms of the quality of the selection. Mercato is located in the Nafsika building, so it was cool to check that out as well.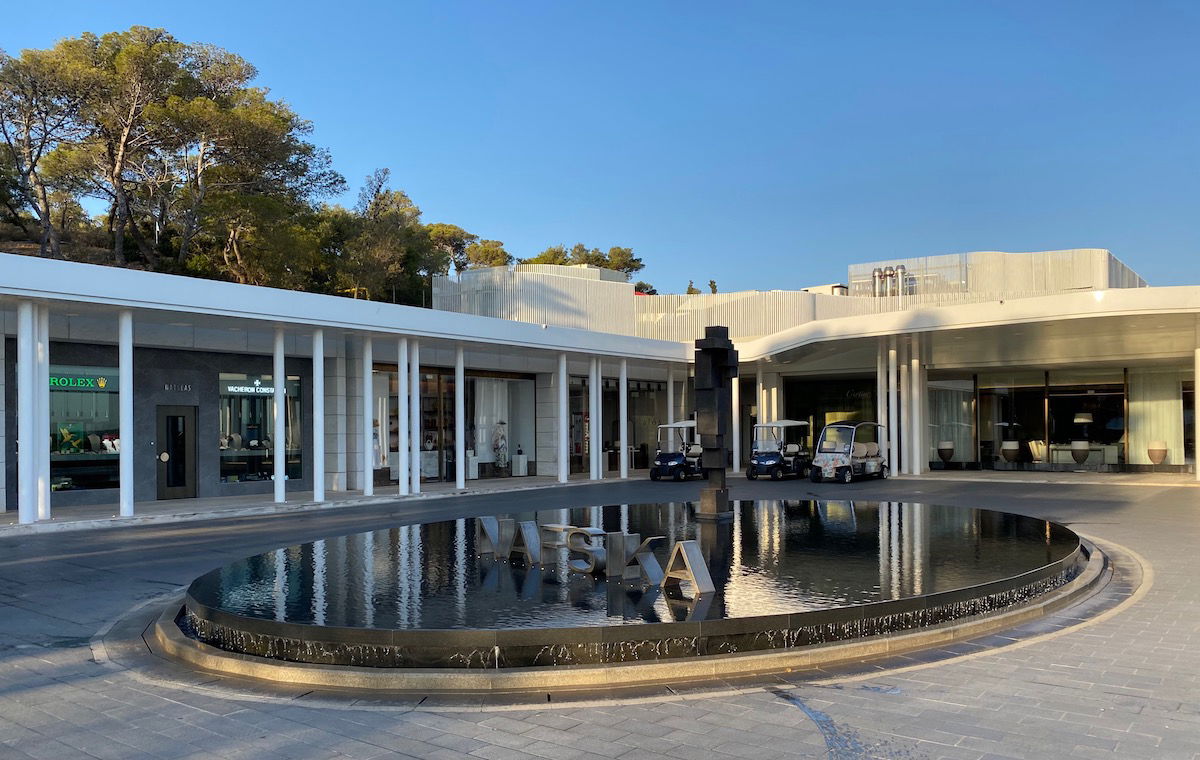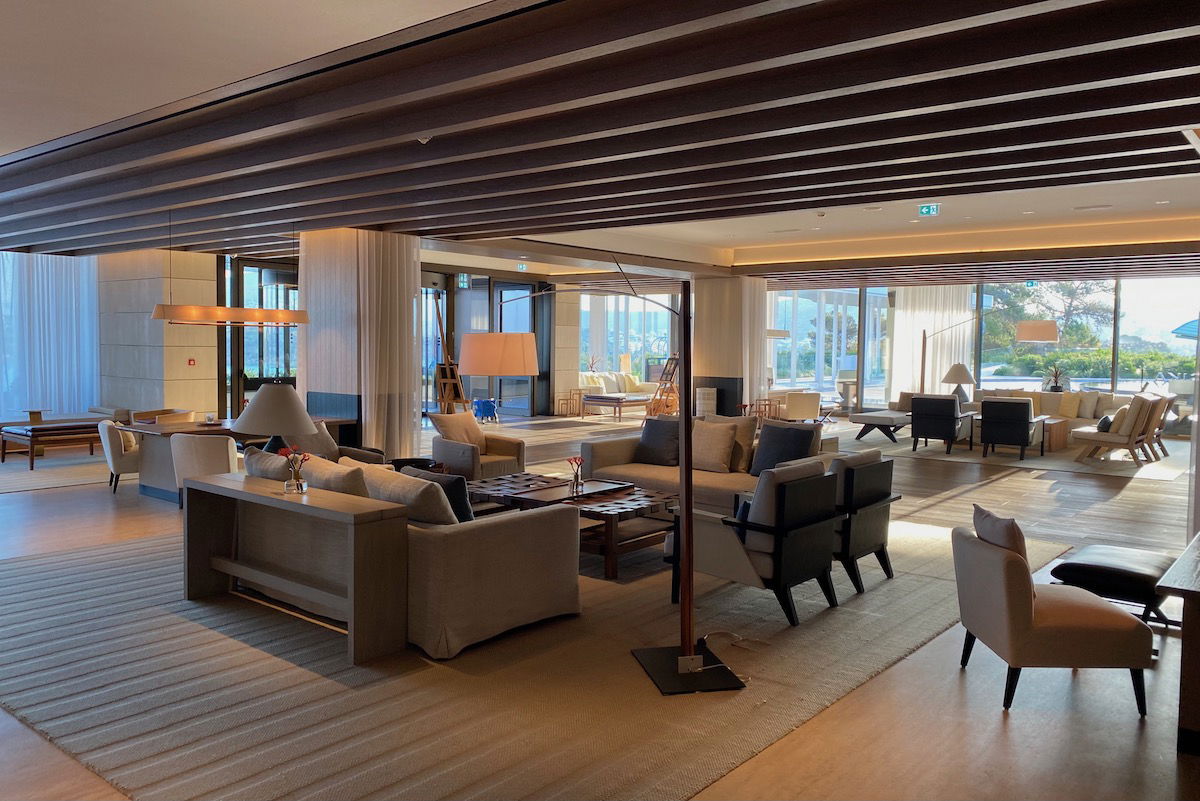 The design of Mercato was stunning, including the indoor and outdoor seating. Talk about an incredible terrace!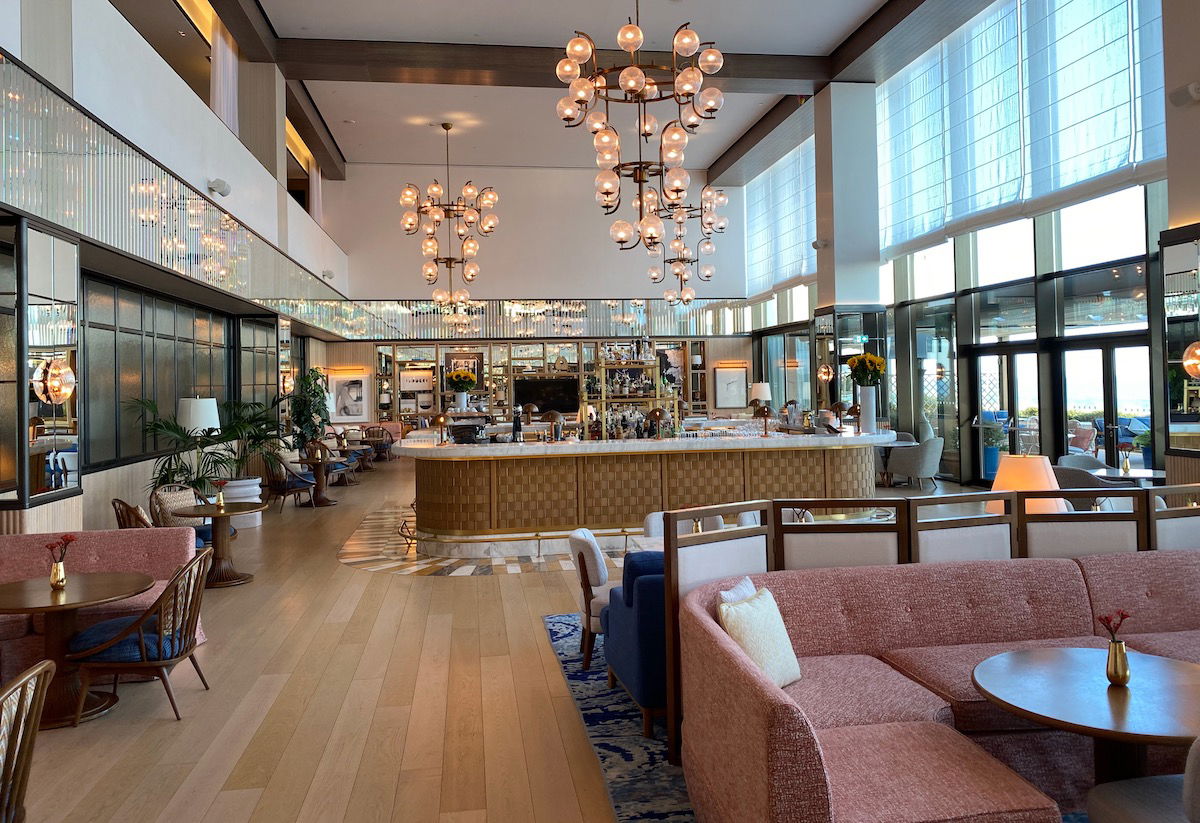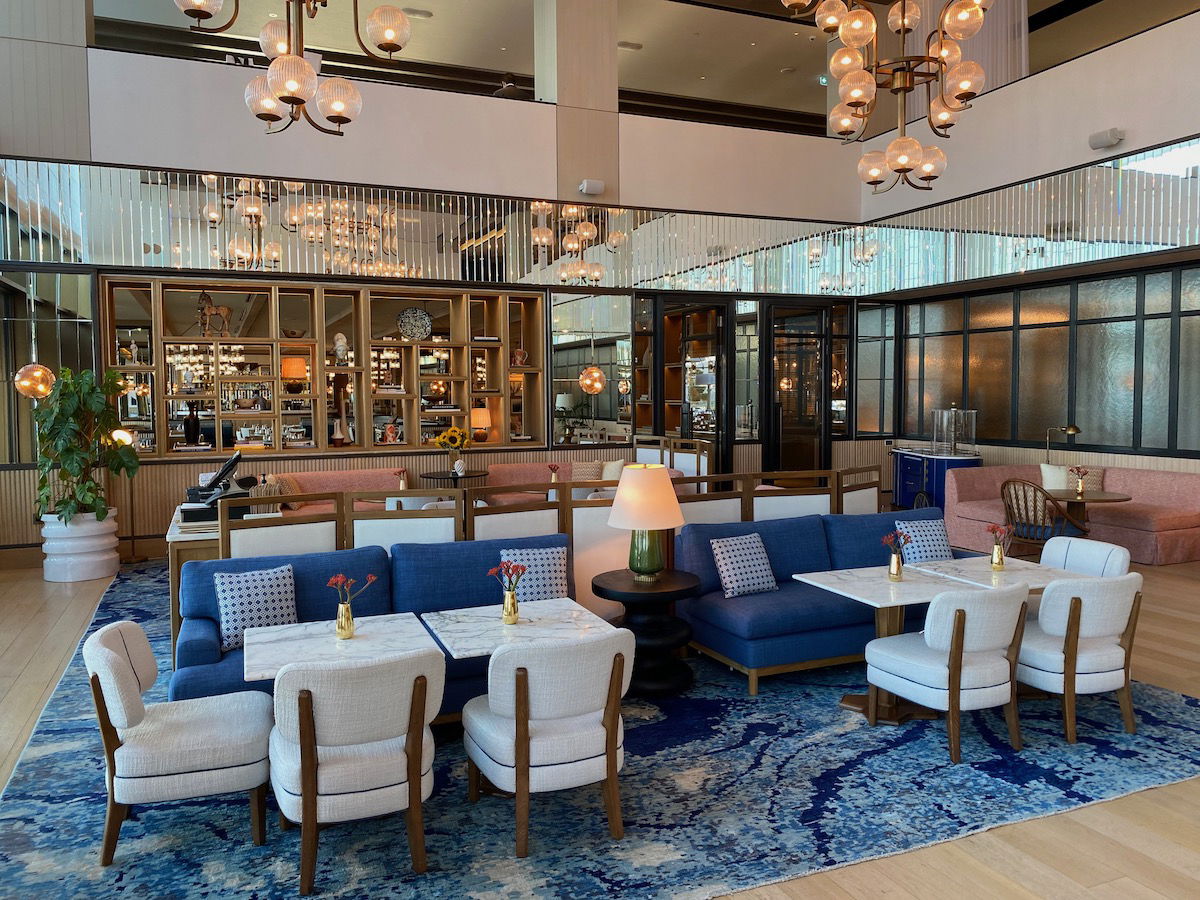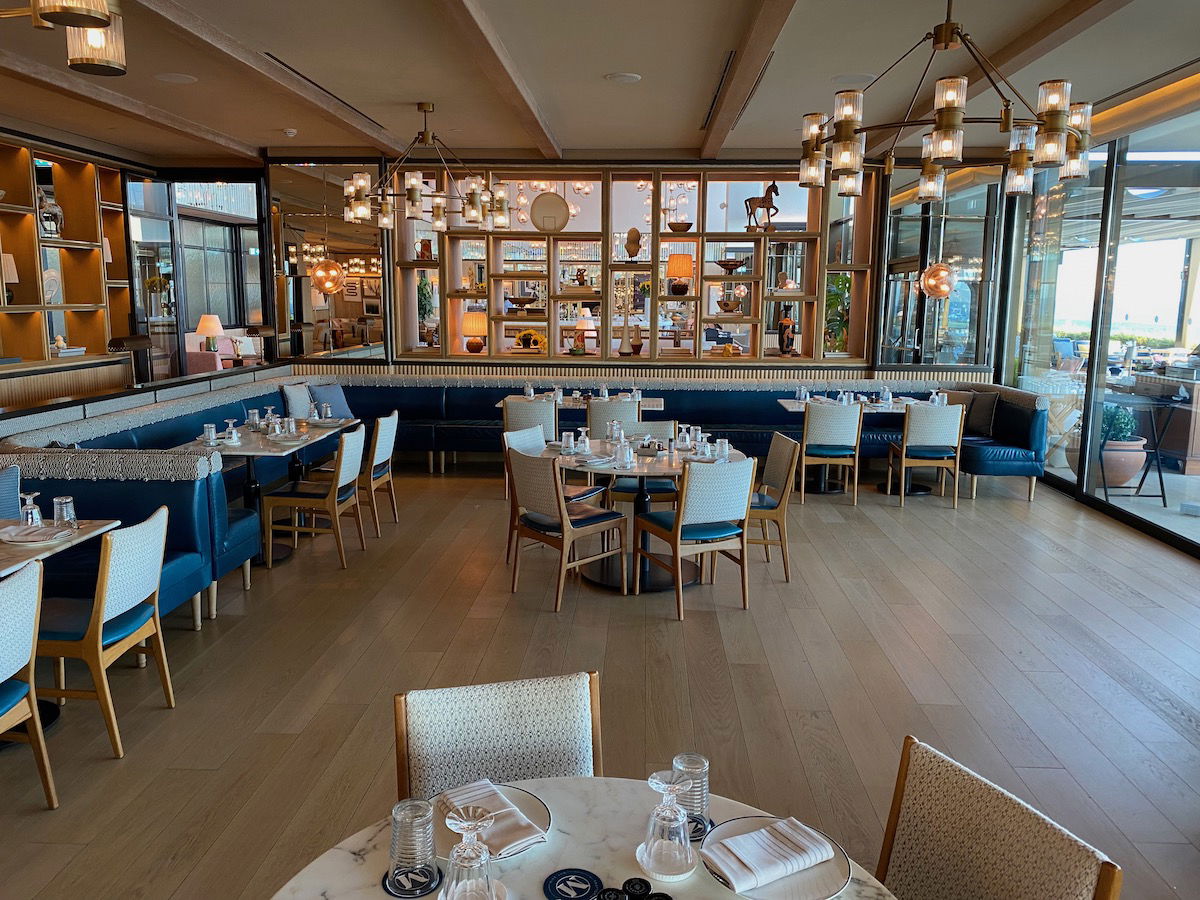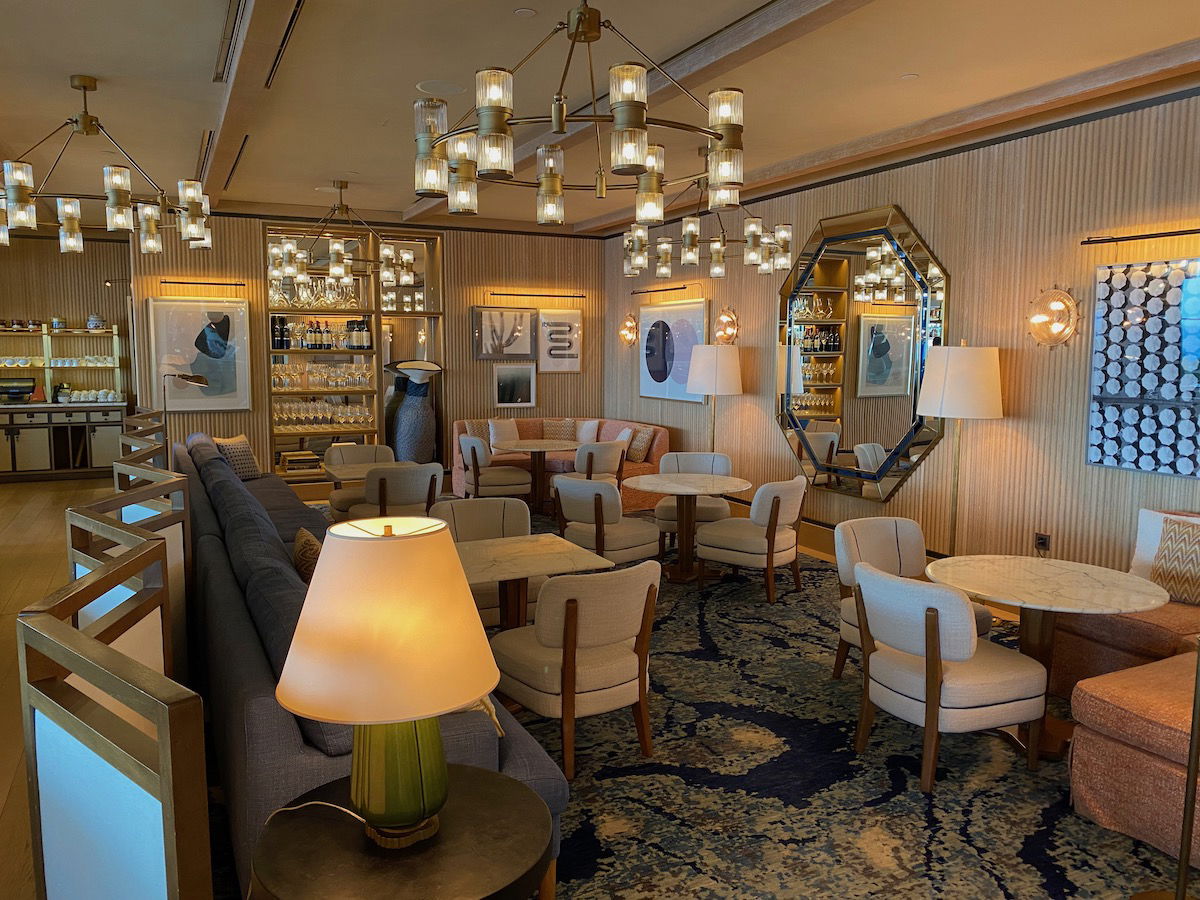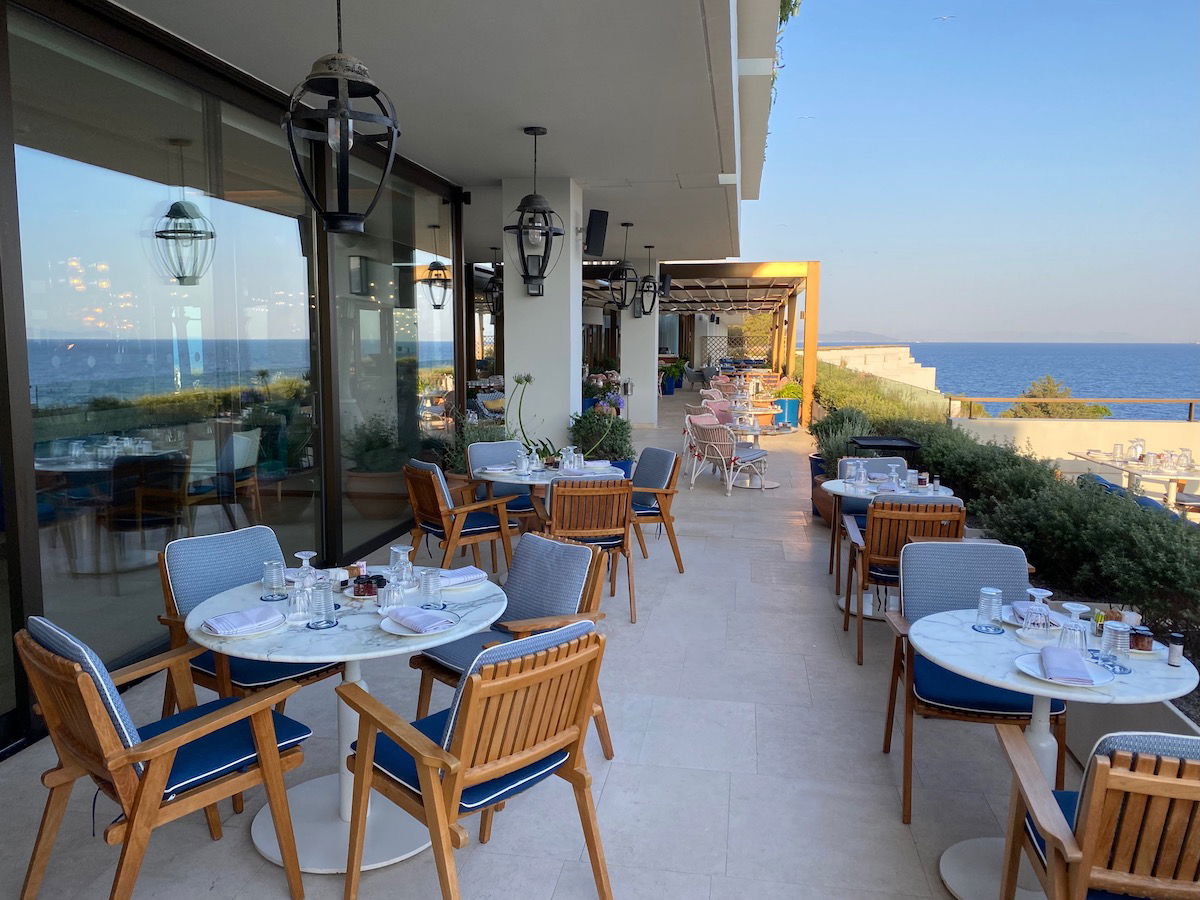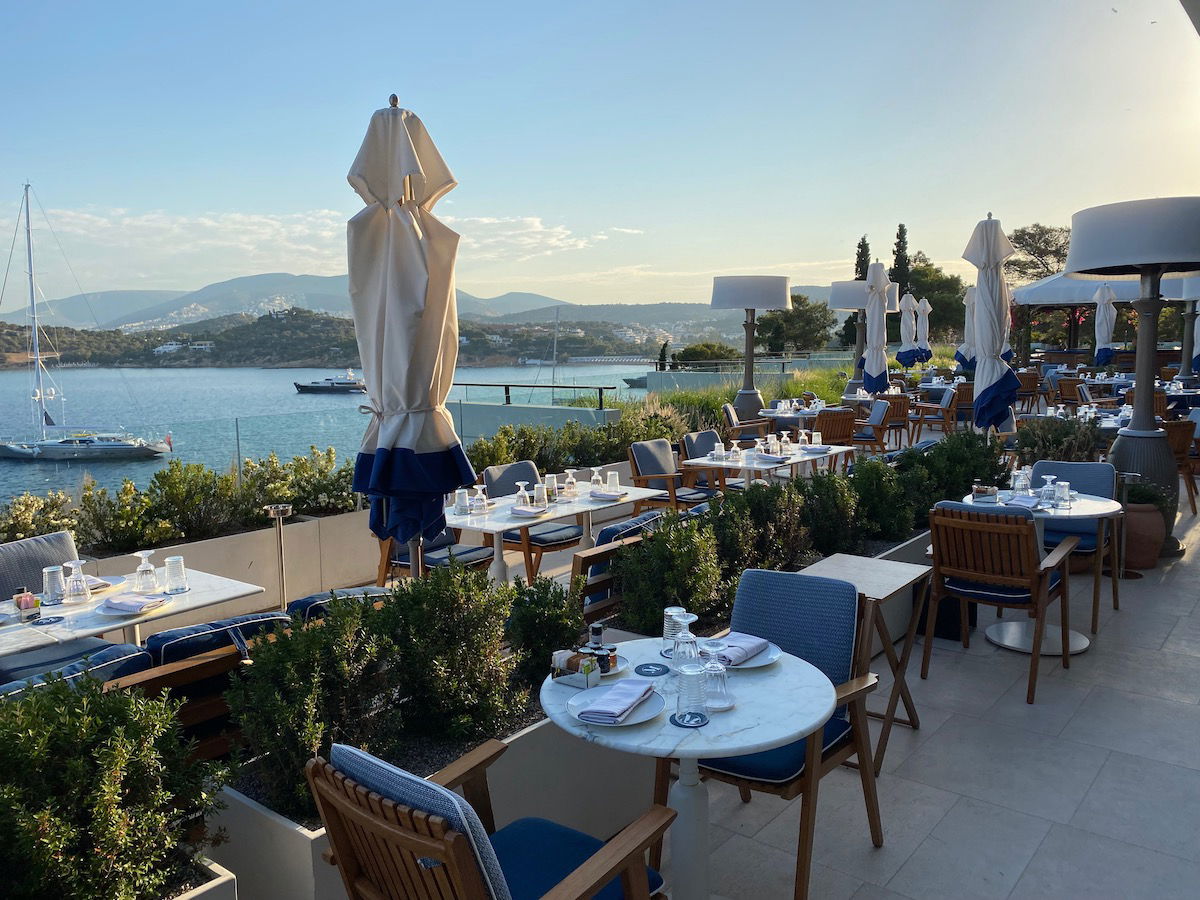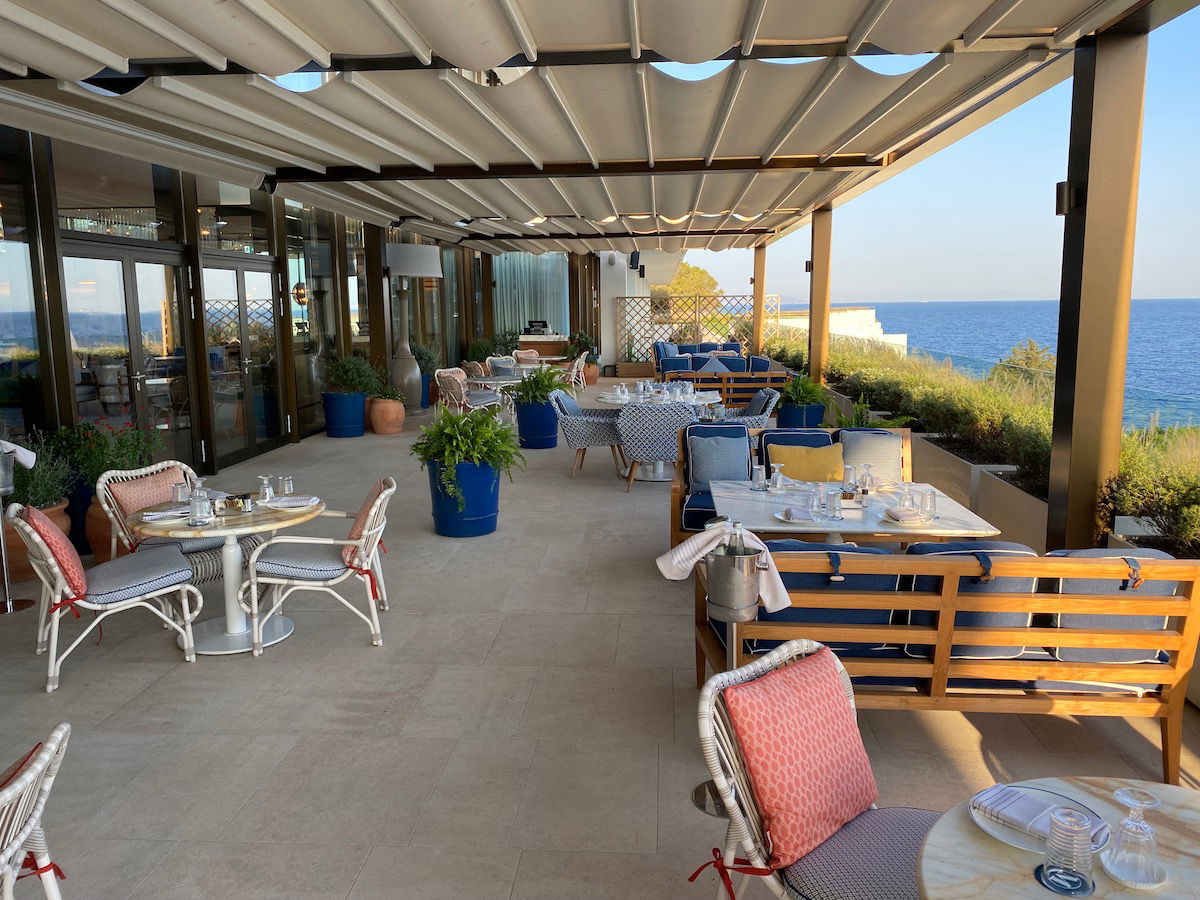 Breakfast at the Four Seasons included coffee of your choice, fresh juices, a snack tray, a buffet, and and a selection from the menu. Below is the menu.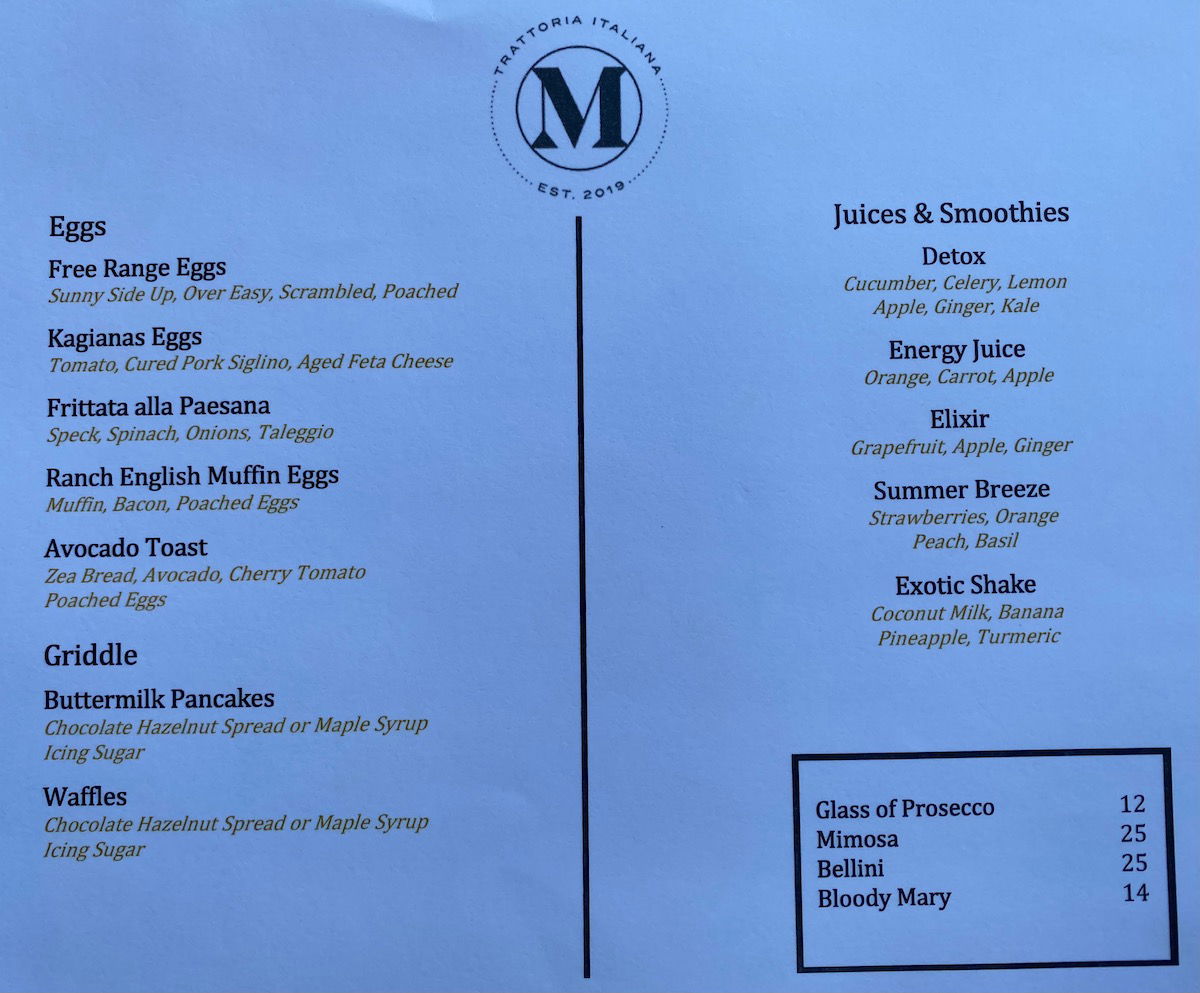 To start, we were brought a three-tier tray, consisting of pastries, fresh fruit, and a selection of bread.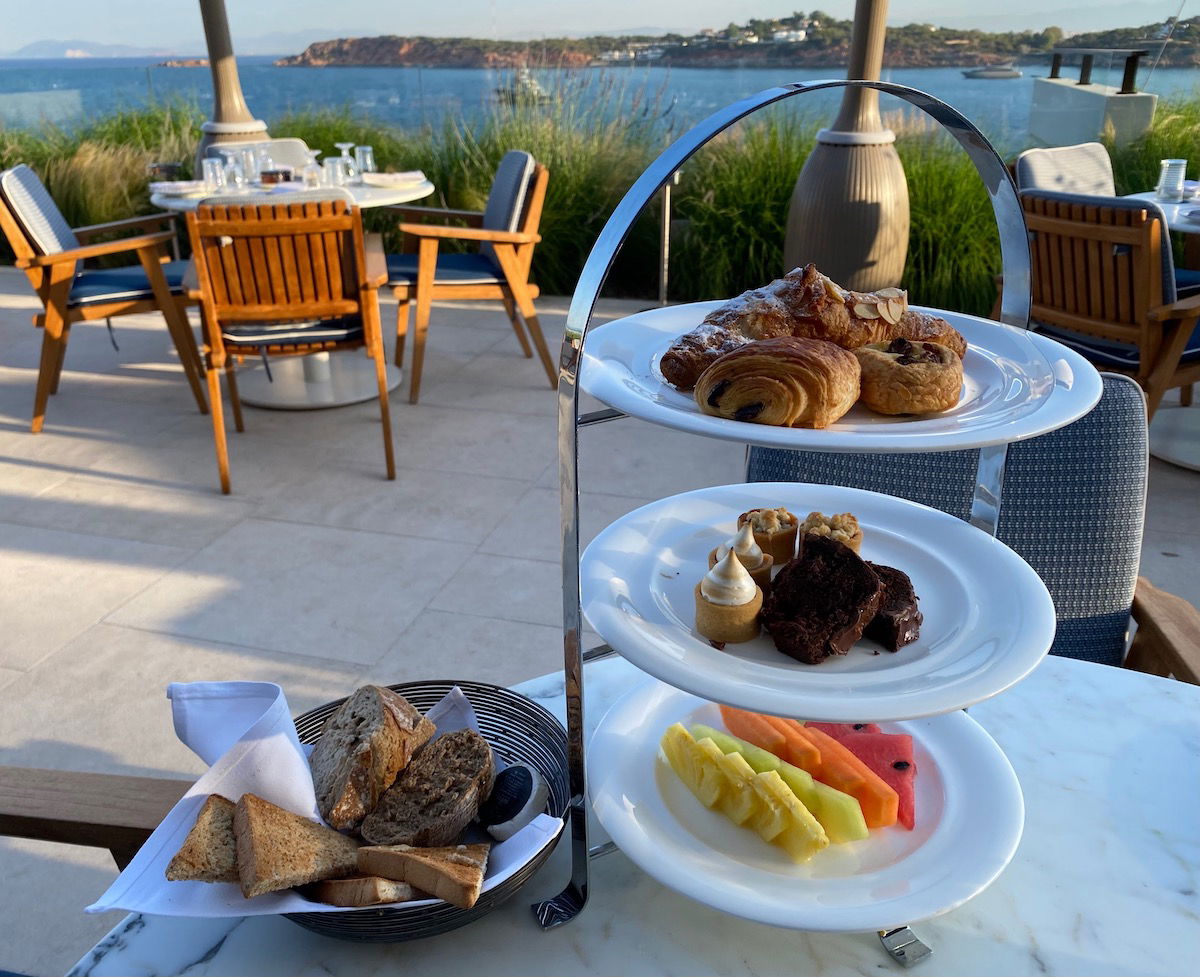 To drink I had a freshly squeezed orange juice and a freddo cappuccino.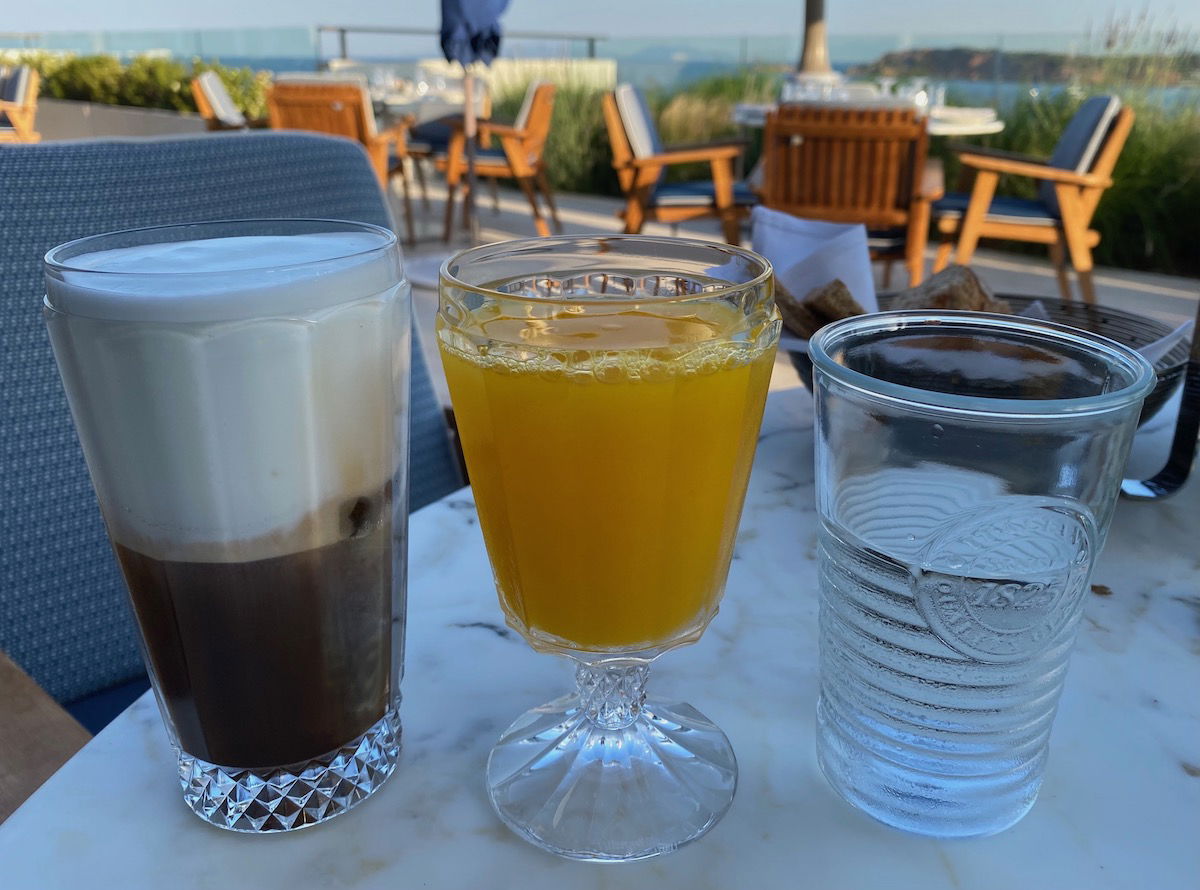 Next up was the breakfast buffet, which featured everything from pastries, to cereal and granola, to fresh fruit, to yogurt, to cold cuts, to some hot options.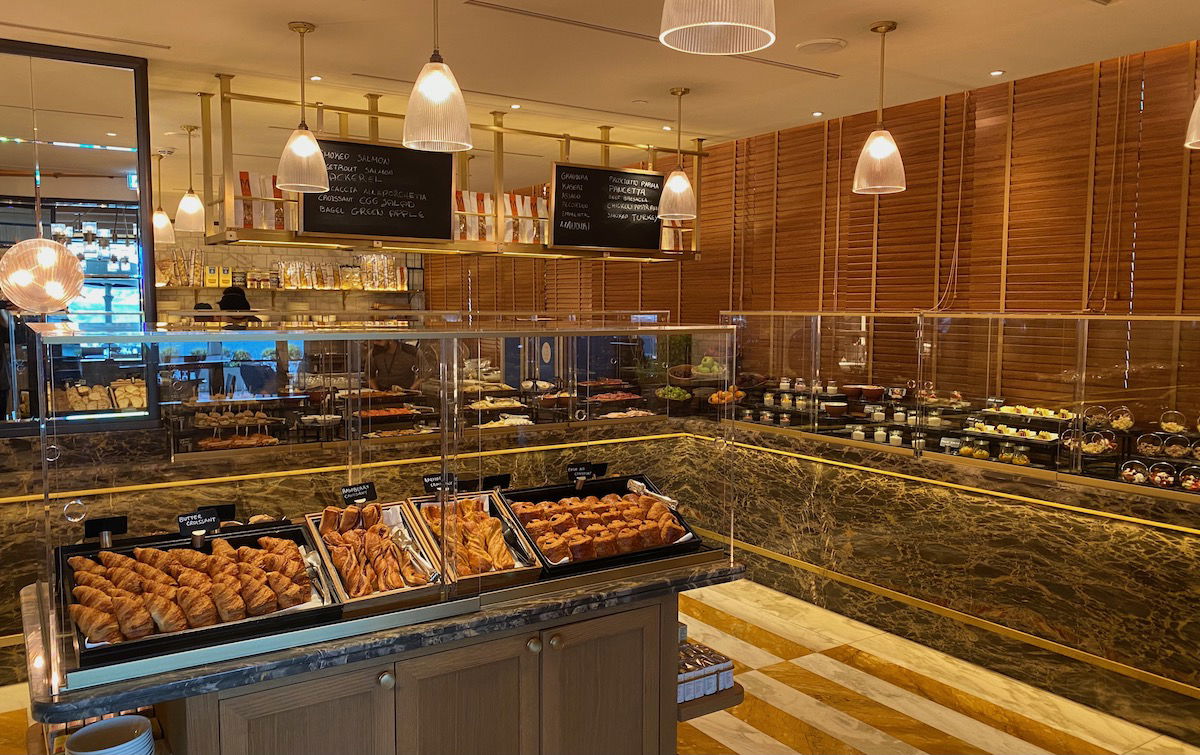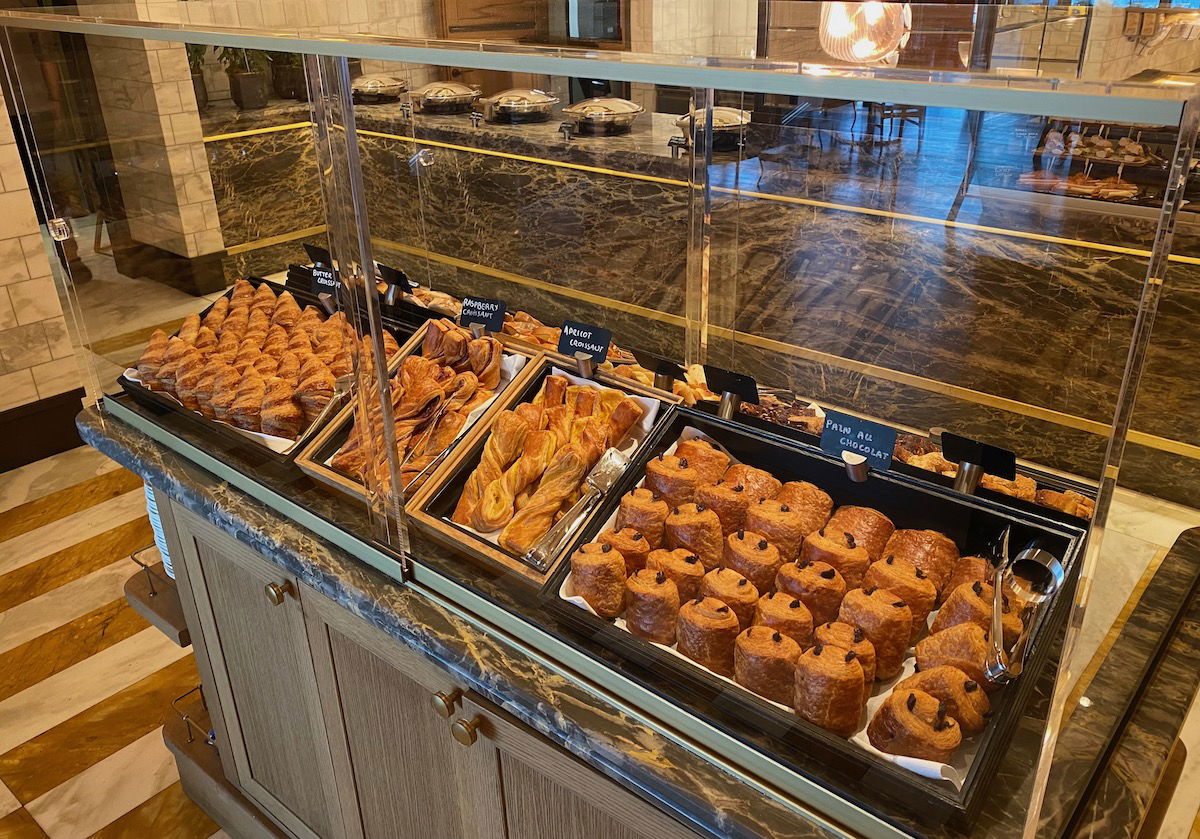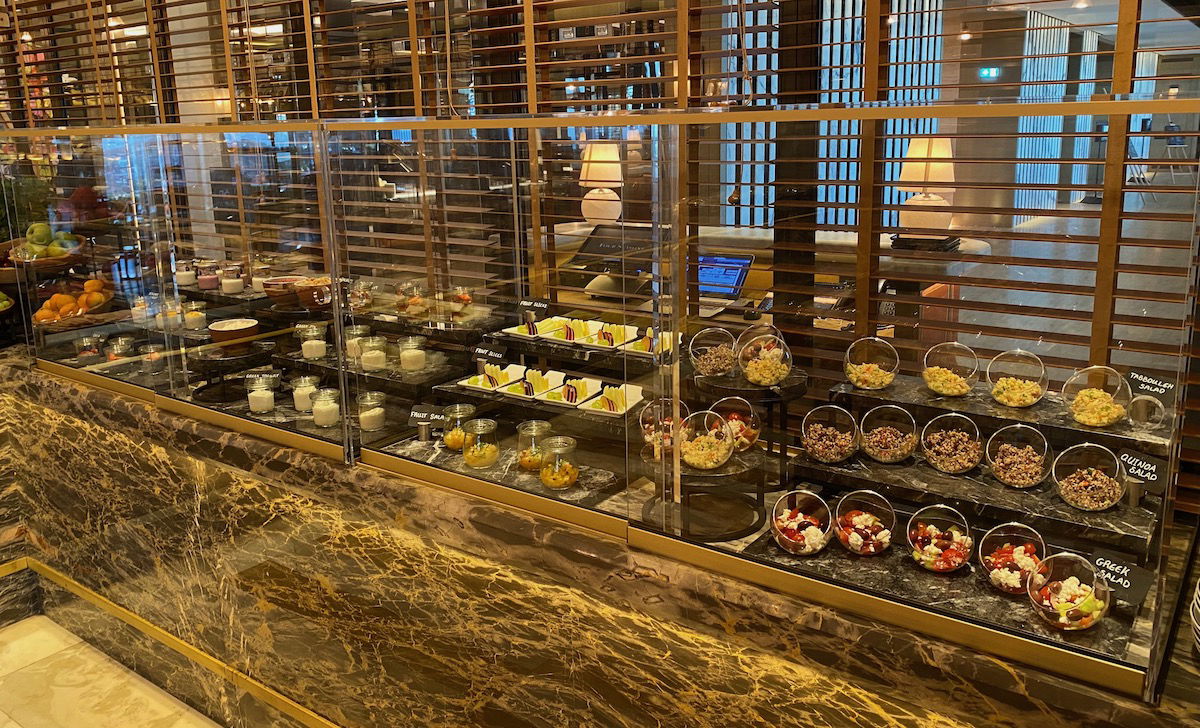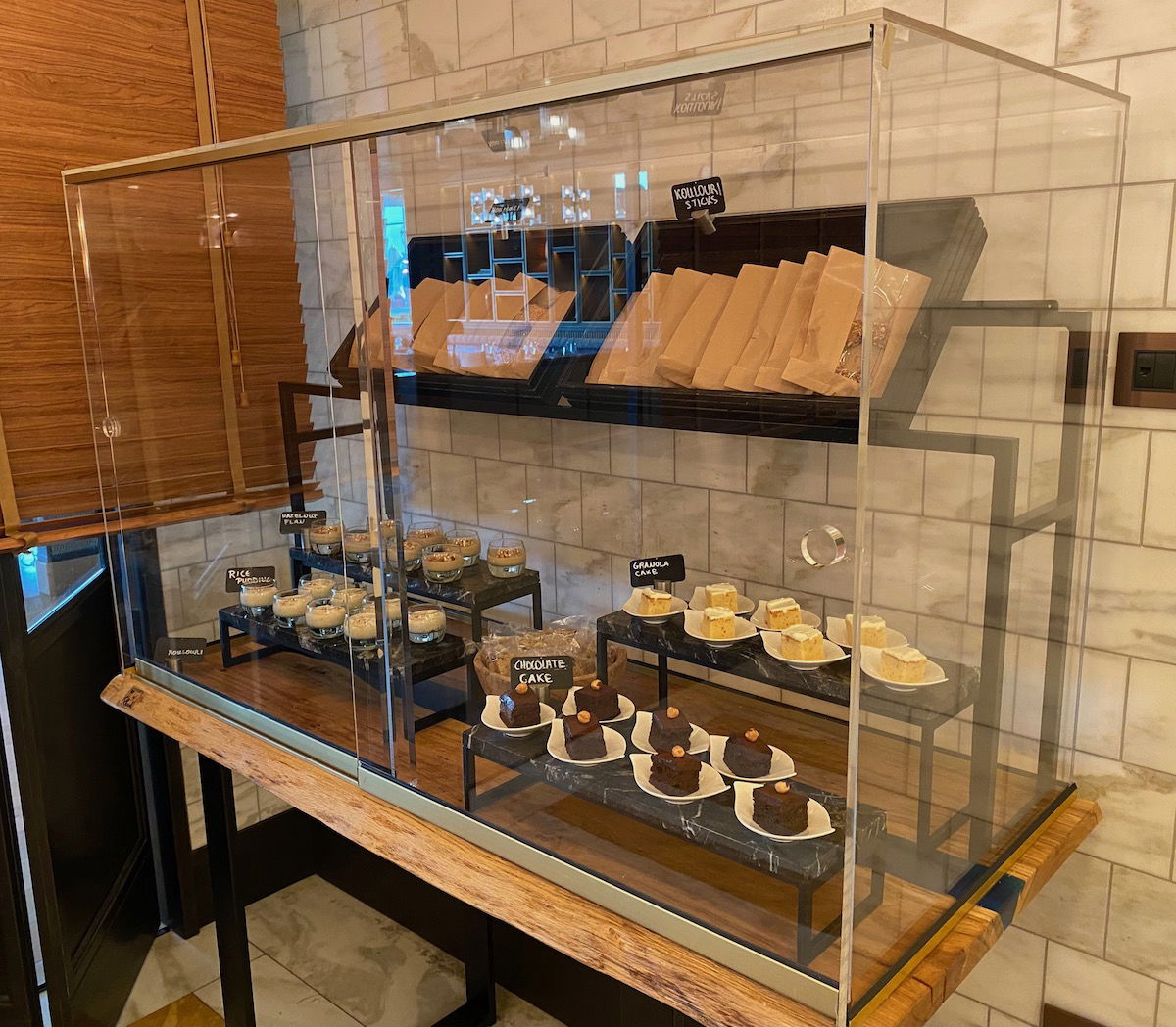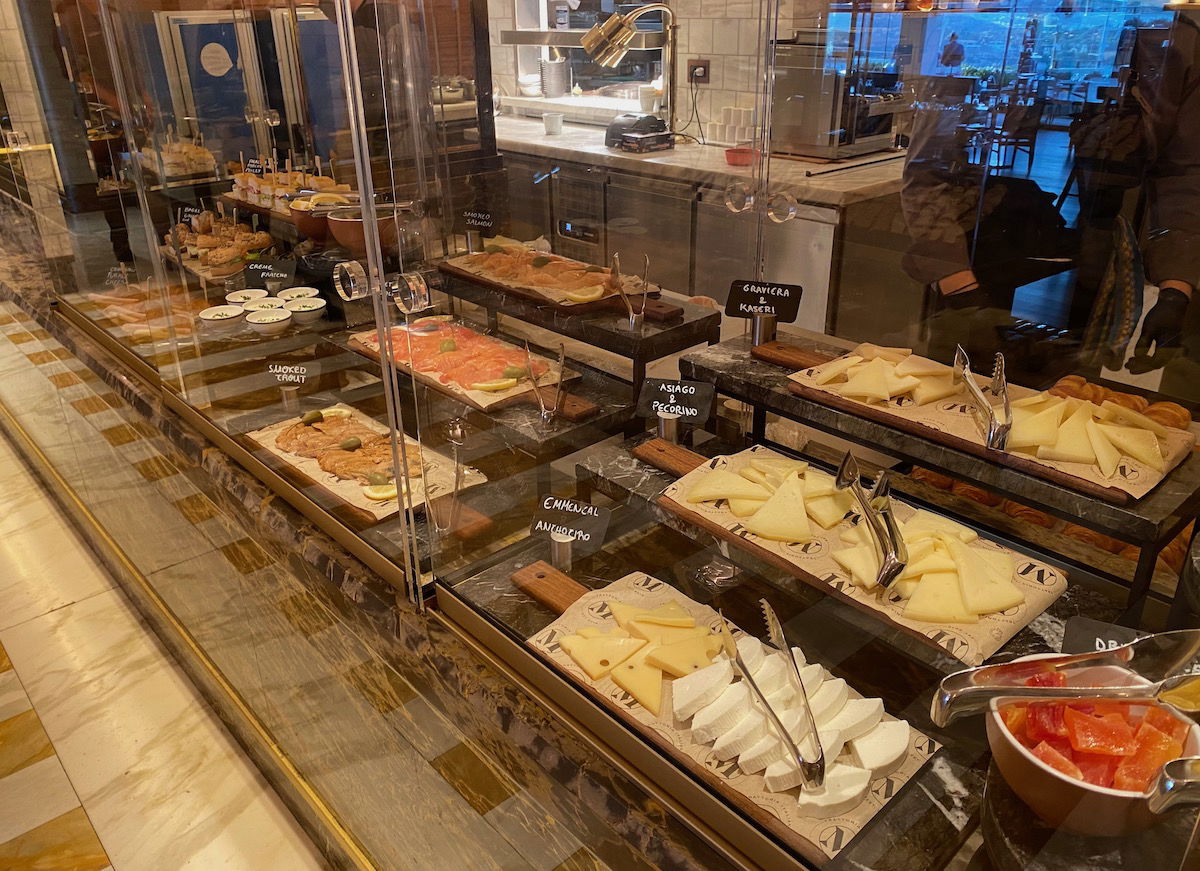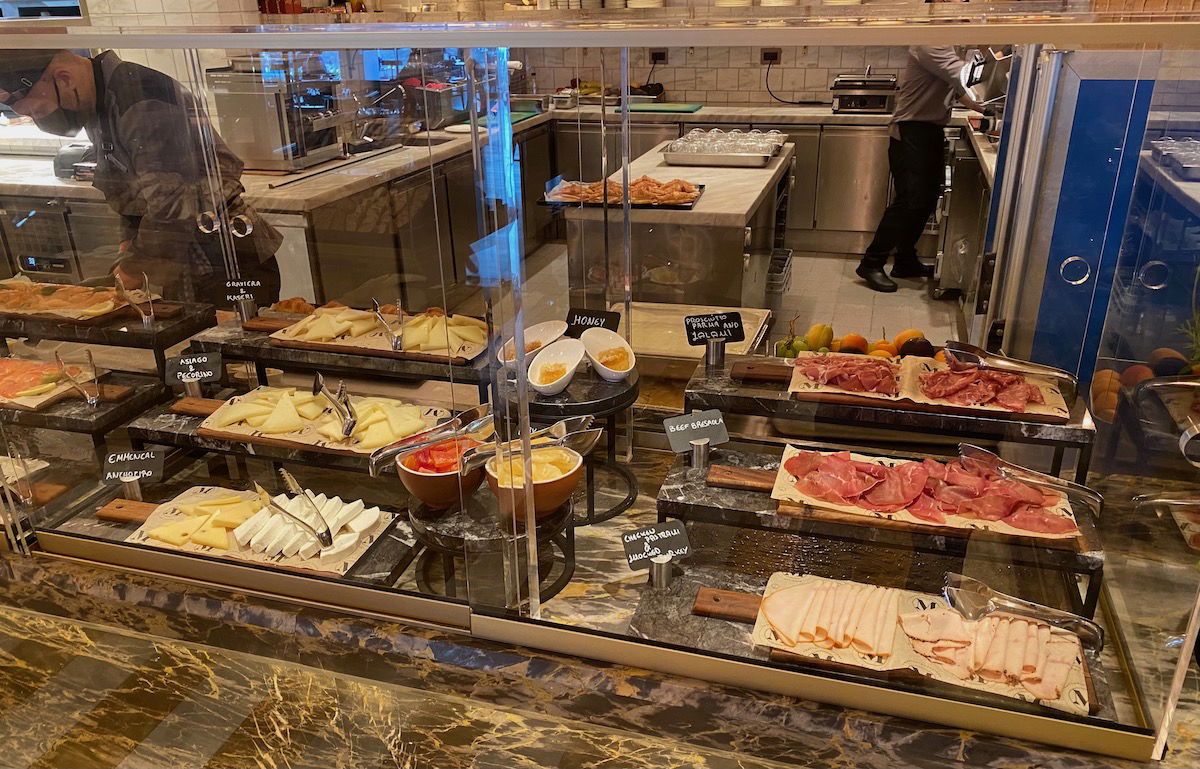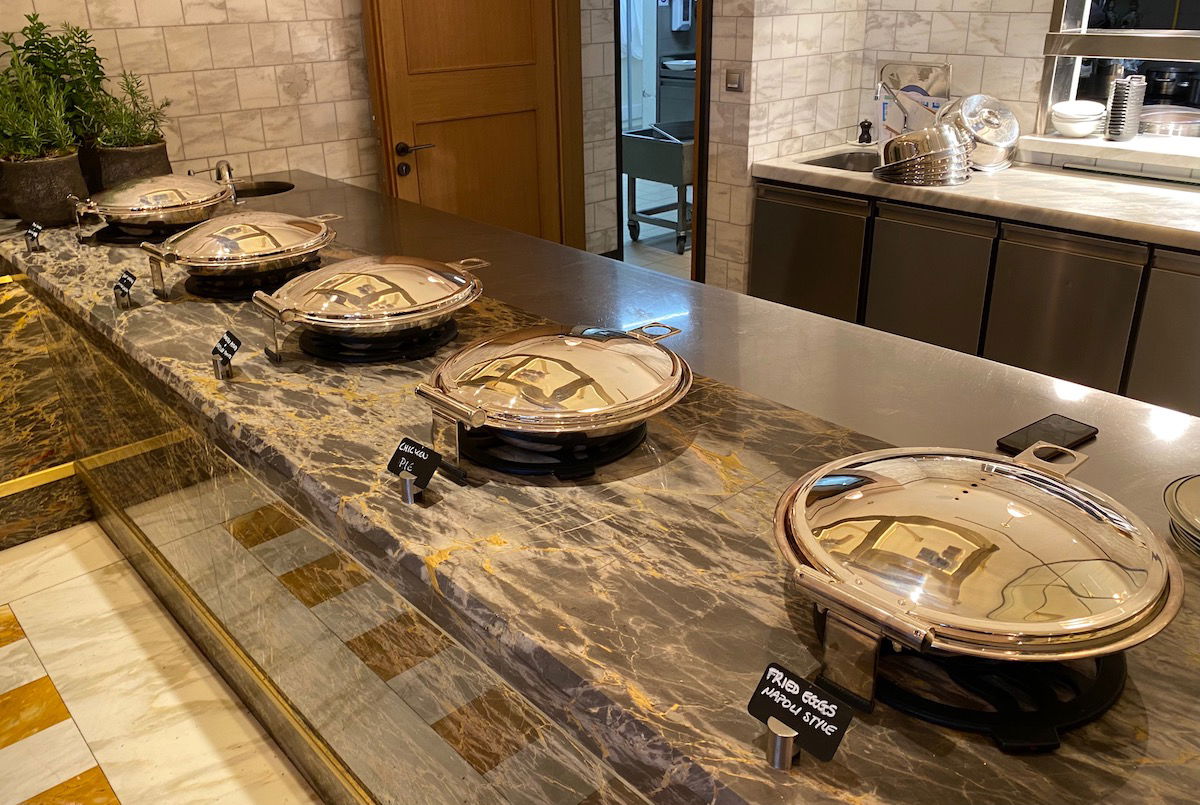 Then from the menu we ordered the avocado toast and the kagianas eggs.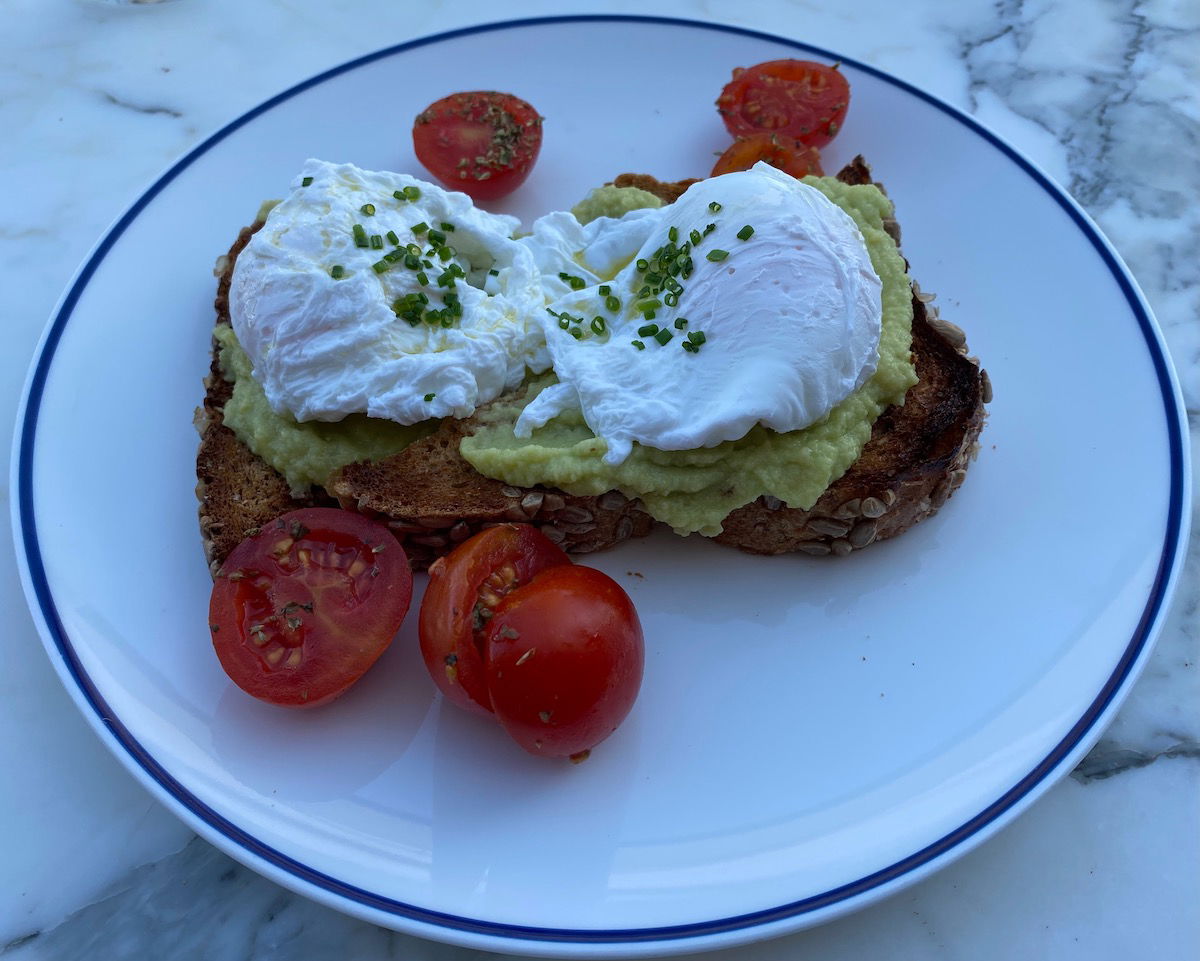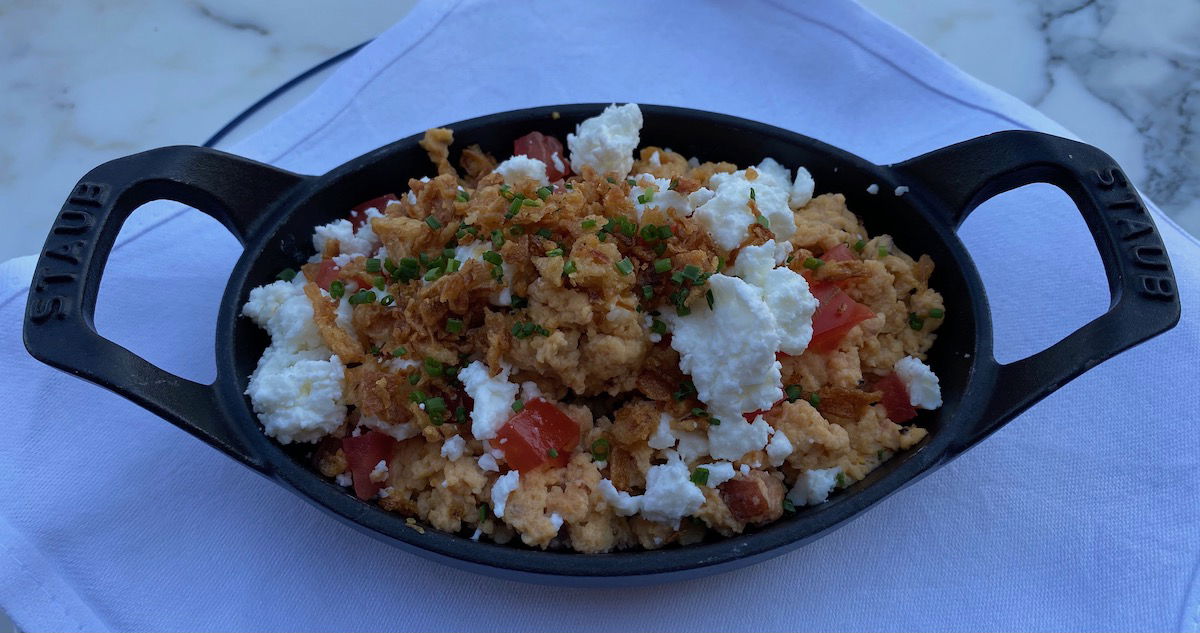 Not only was there a massive selection, but the quality was exceptional as well.
Four Seasons Athens lunch at Taverna 37
We had lunch at Taverna 37, which is the Four Seasons' beachfront restaurant that's open all day.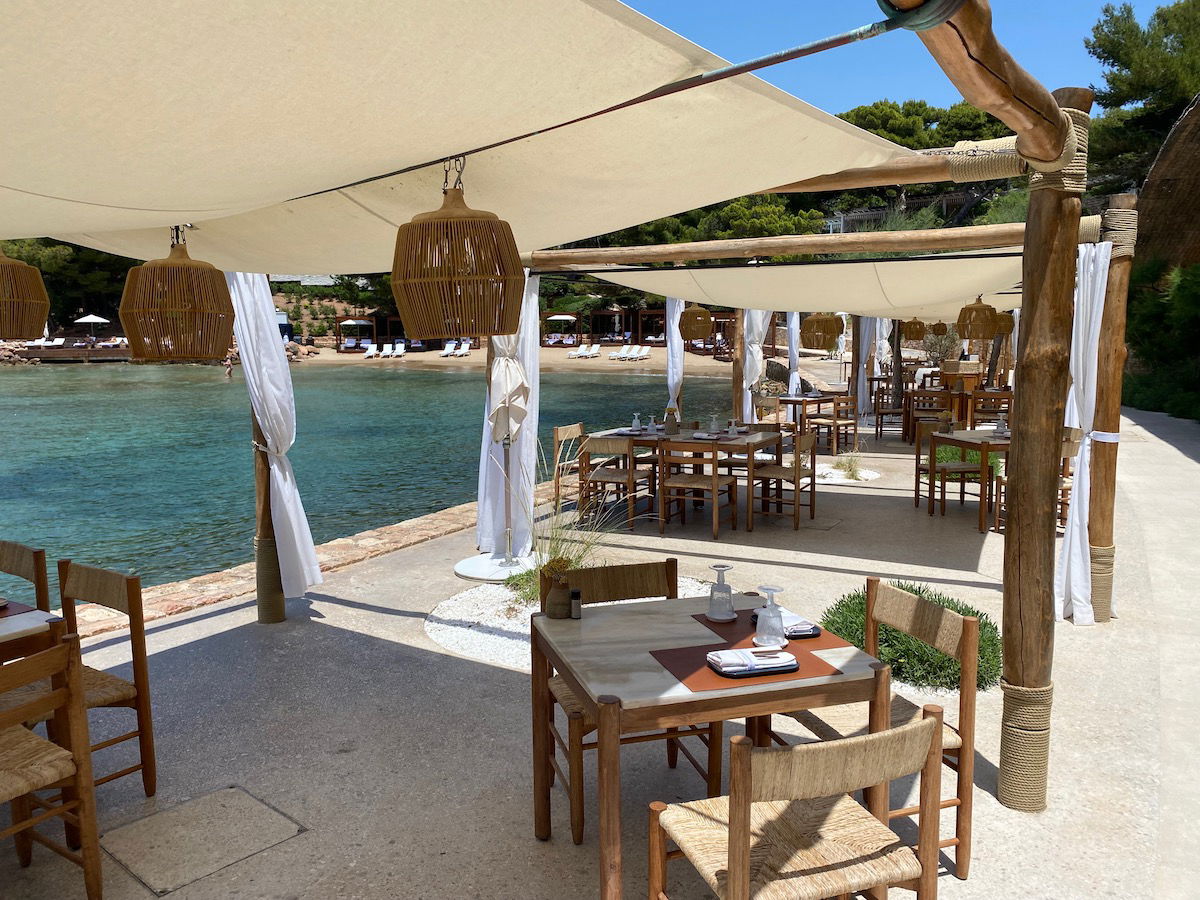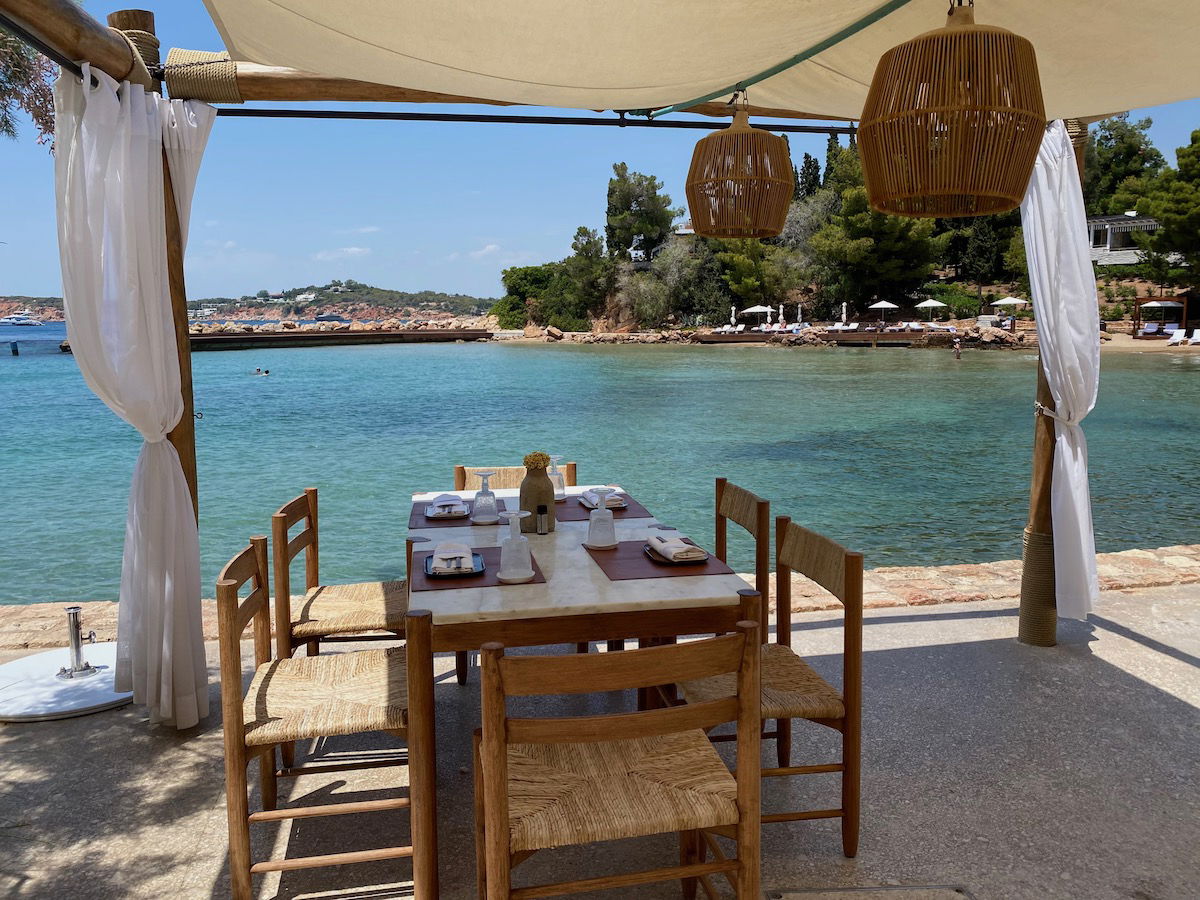 The restaurant has a Greek menu, which you can find below.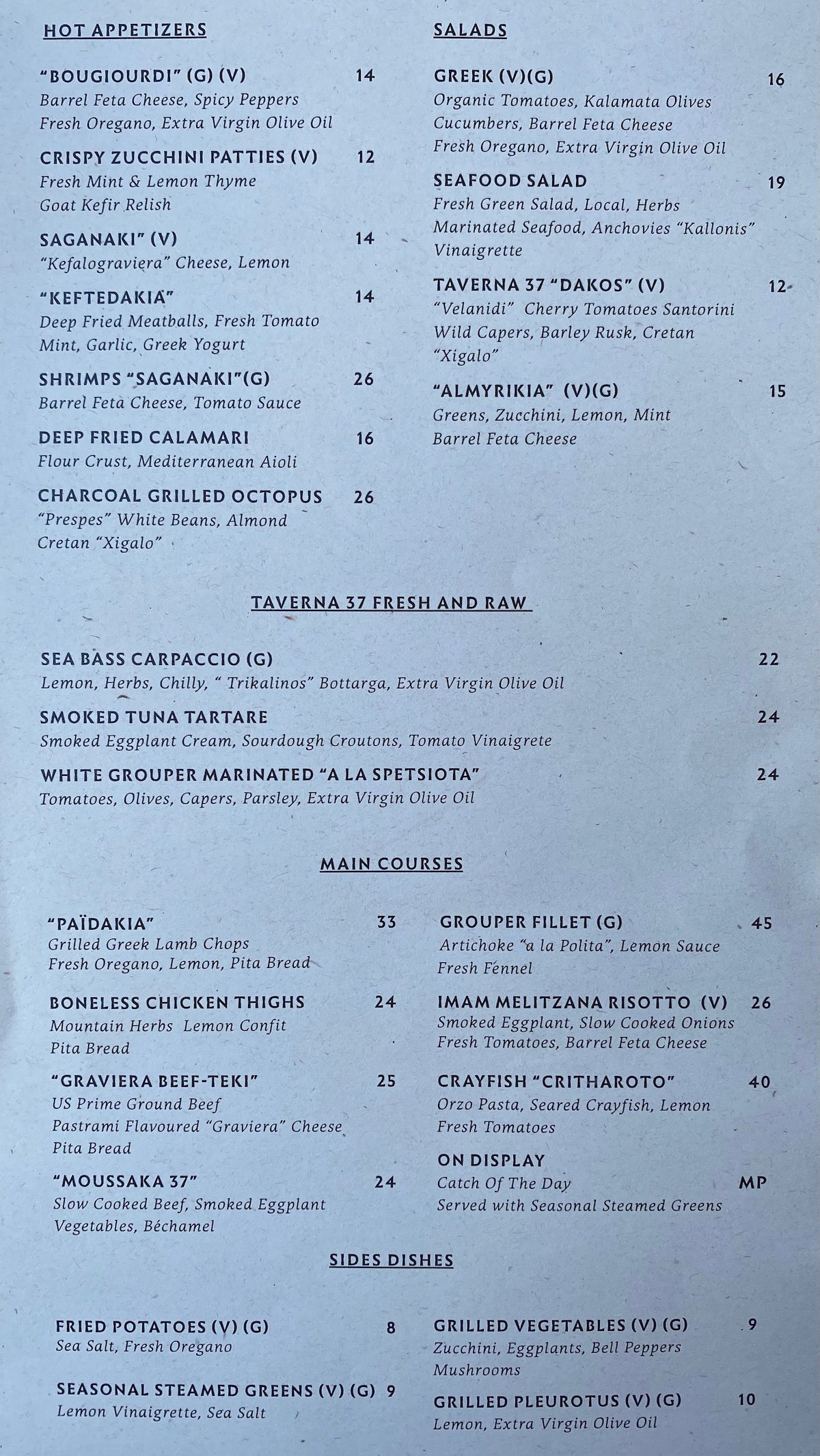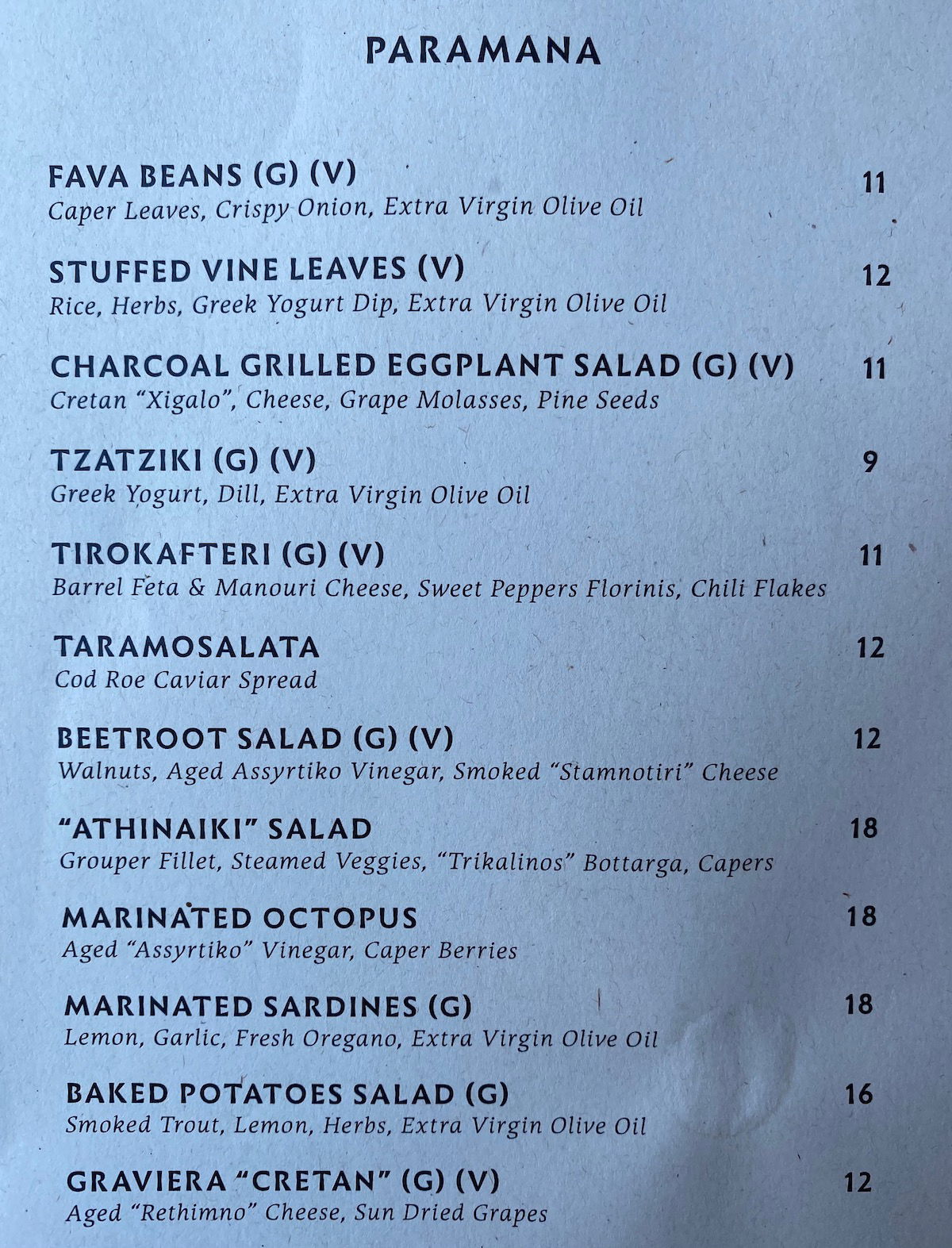 To eat we ordered some Greek spreads, a Greek salad, and a "Dakos" salad.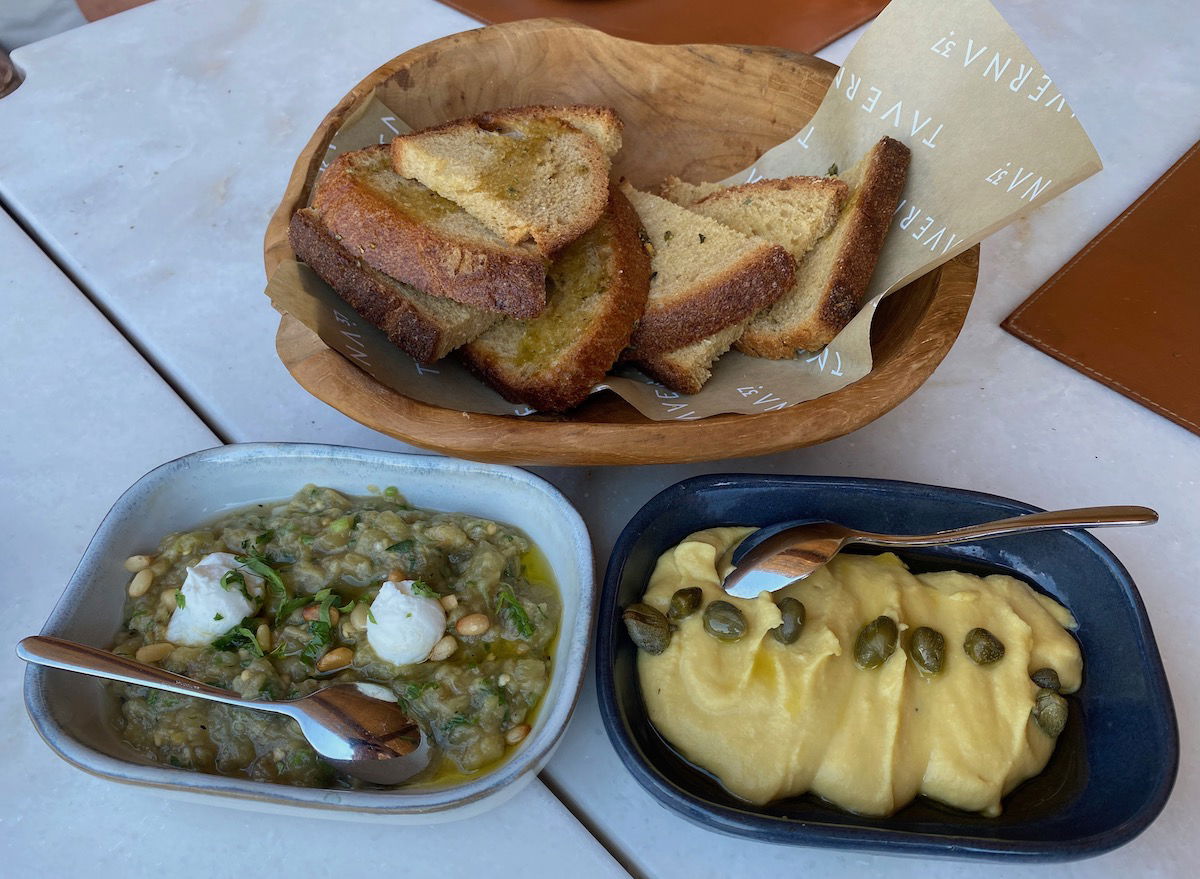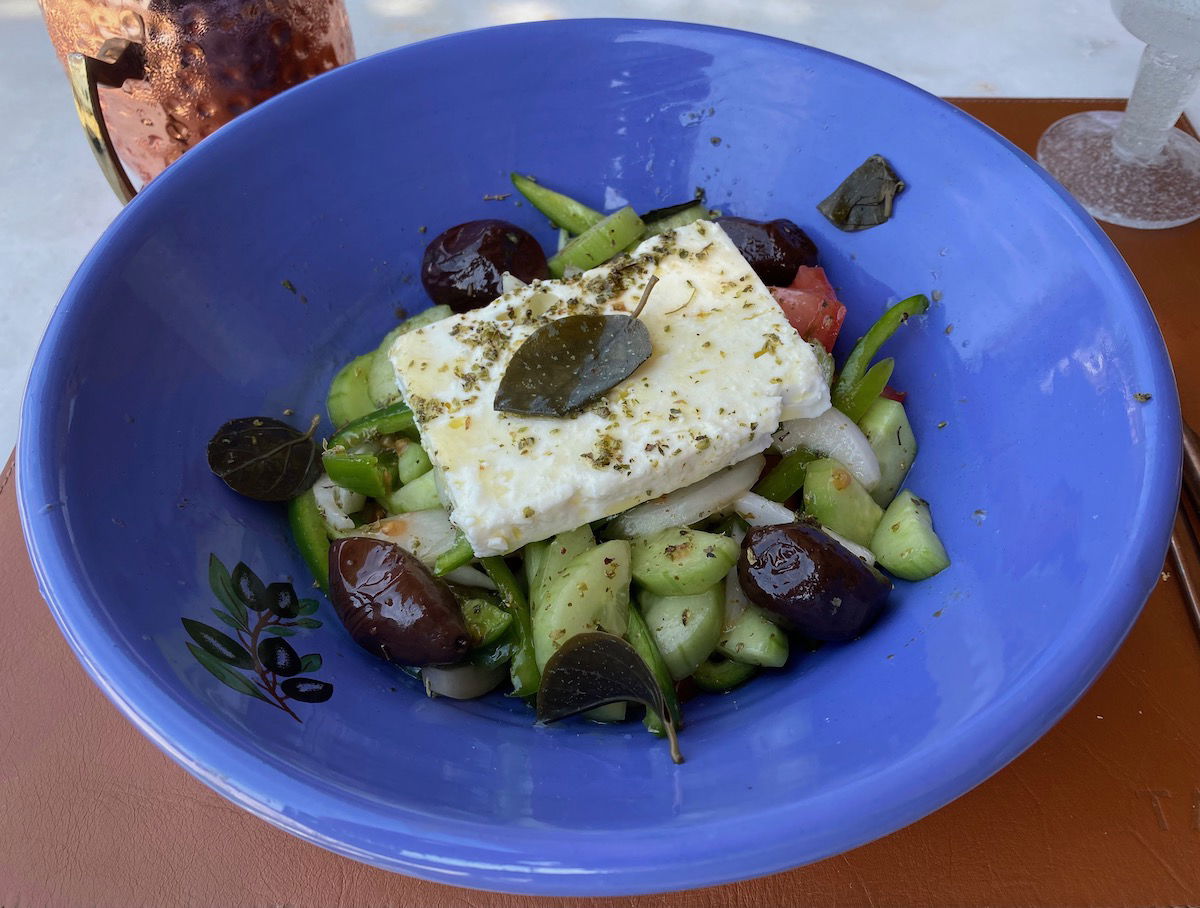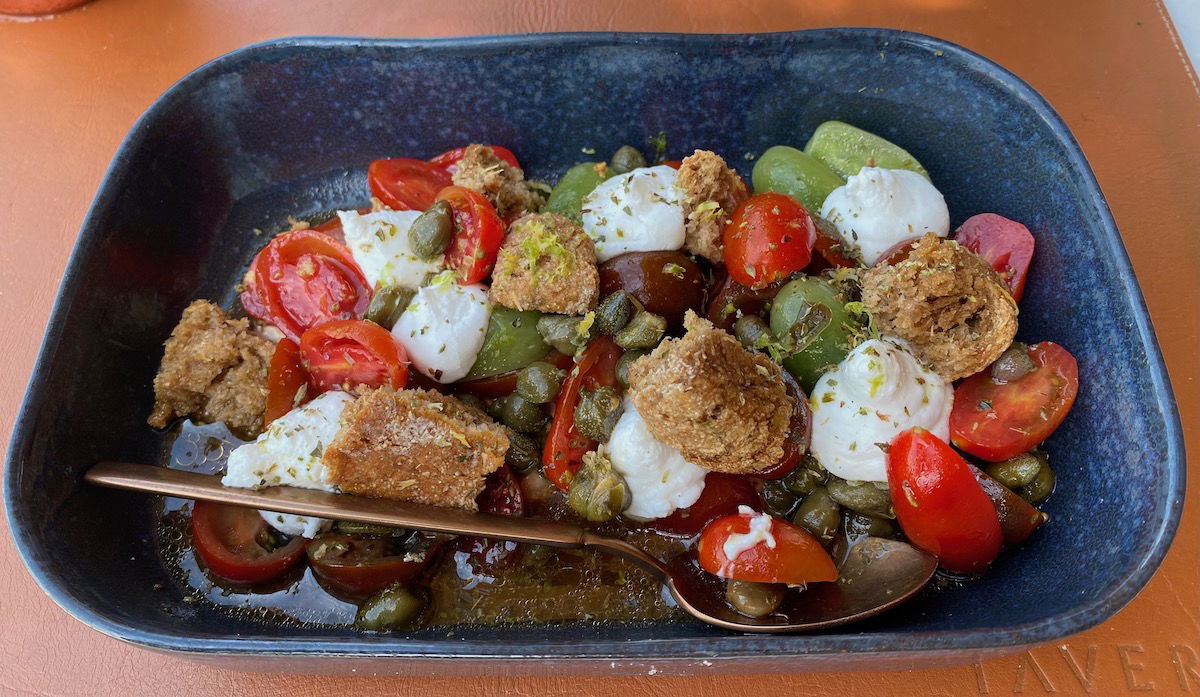 Four Seasons Athens dinner via room service
We had dinner via in-room dining. It had been a really long day, and we just wanted to go to bed early. The room service experience was great — the food arrived promptly, and the setup was as usual (many hotels have cut traditional room service, and instead serve it in to-go containers). On top of that, the food was excellent — the pizza I had was among the best I've had outside of Italy.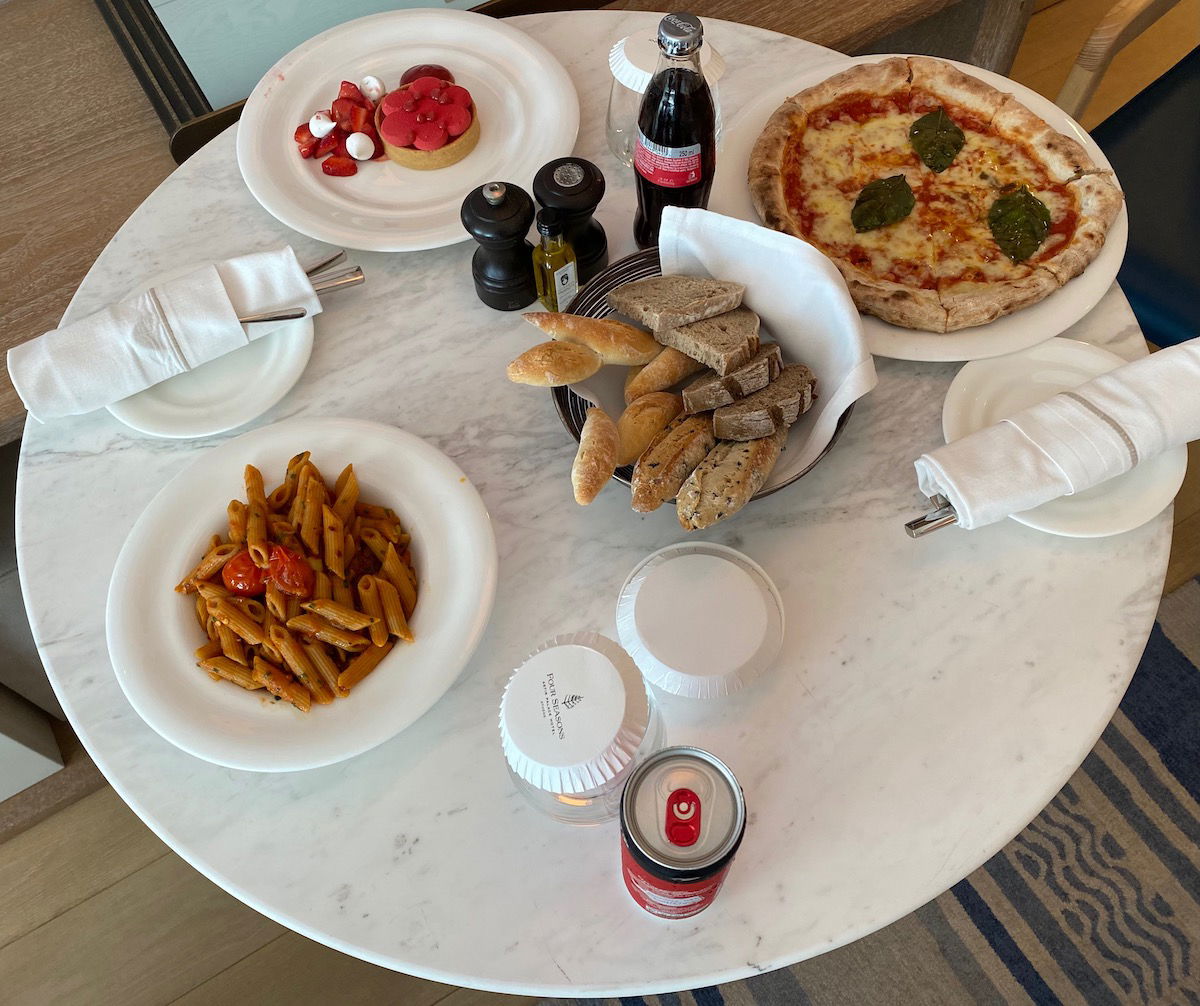 Bottom line
The Four Seasons Athens Astir Palace is a spectacular property that's a destination in and of itself, rather than just a place to stay if you want to go sightseeing. The hotel gives you the best of both worlds, as you have a historic hotel with a sense of place which has recently been renovated and taken over by Four Seasons.
The hotel has endless dining, pools, beachfront, etc. So while most people head to the Greek islands for their vacation, the Four Seasons is an amazing option as well, as the Athenian Riviera really seems to be a thing. Admittedly the hotel isn't cheap, though, with pricing varying greatly depending on the season. If you do book the hotel, make you sure do so through Preferred Partner, so you can get a room, upgrade, complimentary breakfast, and a hotel credit.
I'm sad we only spent a night here, since there's so much we didn't get to do.
Has anyone stayed at the Four Seasons Athens Astir Palace? If so, what was your experience like?
EXTRA PERKS AVAILABLE
Enjoy breakfast, upgrades, & more
Want to take advantage of Four Seasons Preferred Partner benefits, including a space available room upgrade, complimentary breakfast, a hotel credit, and more? Contact Ford ([email protected]) for more details. He may even be able to help if you already have a stay booked.
Read Four Seasons reviews: Athens, Boston, Cap-Ferrat, Denver, Desroches Island, Fort Lauderdale, Hualalai, Lanai, Los Cabos, Madrid, Maldives at Landaa Giraavaru, Maui, Miami, Napa Valley, Naviva, Oahu at Ko Olina, Paris, Punta Mita, San Francisco at Embarcadero, Scottsdale, Seychelles, and Surfside
Learn about Four Seasons deals & offers: Anguilla, Athens, Atlanta, Austin, Bahamas, Bora Bora, Boston, Cap-Ferrat, Costa Rica, Dubai, Fort Lauderdale, Hawaii, Jackson Hole, London, Los Cabos, Maldives, Minneapolis, Nashville, Naviva, New York, Napa Valley, New Orleans, Orlando, Palm Beach, Paris, Philadelphia, Punta Mita, San Francisco, Santa Fe, Seattle, Sicily, Tamarindo, and Vail
Learn about Four Seasons basics: Four Seasons Preferred Partner, Four Seasons Private Retreats, Four Seasons Private Jet, Four Seasons travel agents, Four Seasons loyalty program, and maximizing value at Four Seasons