To complete our outbound journey to the Maldives, we flew Emirates' Boeing 777-300ER first class from Dubai (DXB) to Male (MLE). I won't be fully reviewing this flight, since I've reviewed Emirates' "old" 777 first class before, and I don't want to be too redundant. However, I wanted to hit on a few of the highlights.
As a reminder, this was booked as part of a larger award itinerary, as we redeemed 160,000 Skywards miles per person to fly from Washington to Dubai to Male, with a stopover in Dubai (and of course the Washington to Dubai flight in Emirates' new 777 first class was the highlight).
A 4:20AM 4/20 birthday flight
When I saw award availability on this flight I felt like I had to book it. My birthday is April 20, and taking a 4:20AM flight on 4/20 is something that I couldn't really turn down. Admittedly traveling between the UAE and Maldives might not be the ideal way to celebrate this special time. 😉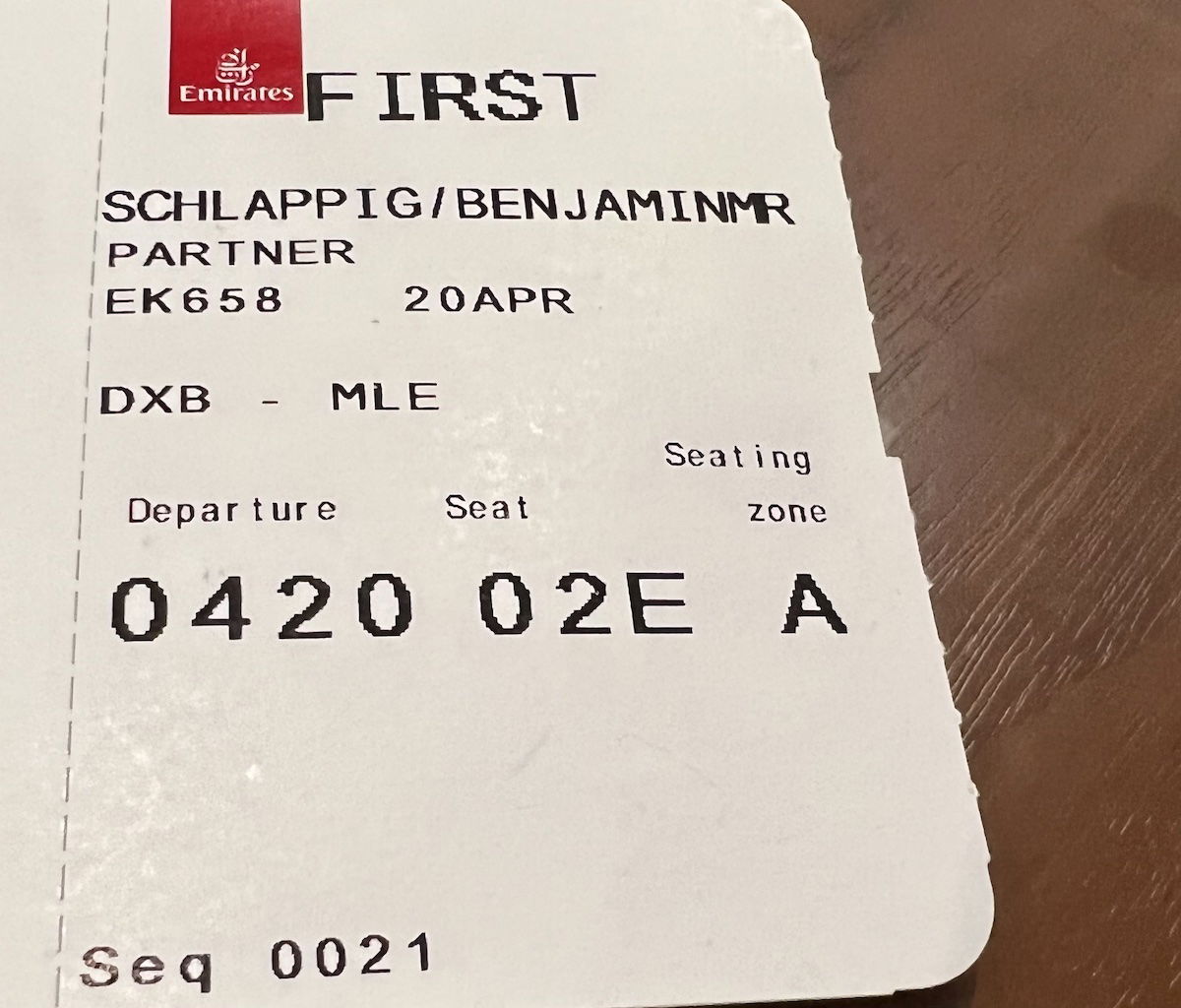 By the way, for those wondering about why my boarding pass says "PARTNER," I don't have an answer to that. I asked a friend at Emirates, and he said that sometimes award tickets show that.
I think "PARTNER" generally refers to employee staff travel, or at least that's the best explanation I've come up with. For example, when I entered the Emirates first class lounge, the agent had to confirm that I redeemed miles and wasn't on staff travel. Strange.
Exploring Dubai Airport Terminal 3 Concourse C
I've transited Dubai Airport Terminal 3 more times than I can count, yet somehow I had never (at least knowingly) flown out of Concourse C. We spent most of our time at the airport in the first class lounge in Concourse A, and the agent told us that it would be a 30-45 minute walk to our departure gate.
I'm a fast walker, so usually I massively cut those numbers, and assume it's more like 10-15 minutes. Nope, it ended up taking us around 25 minutes to get to the far end of Concourse C. How had I never flown out of there before?!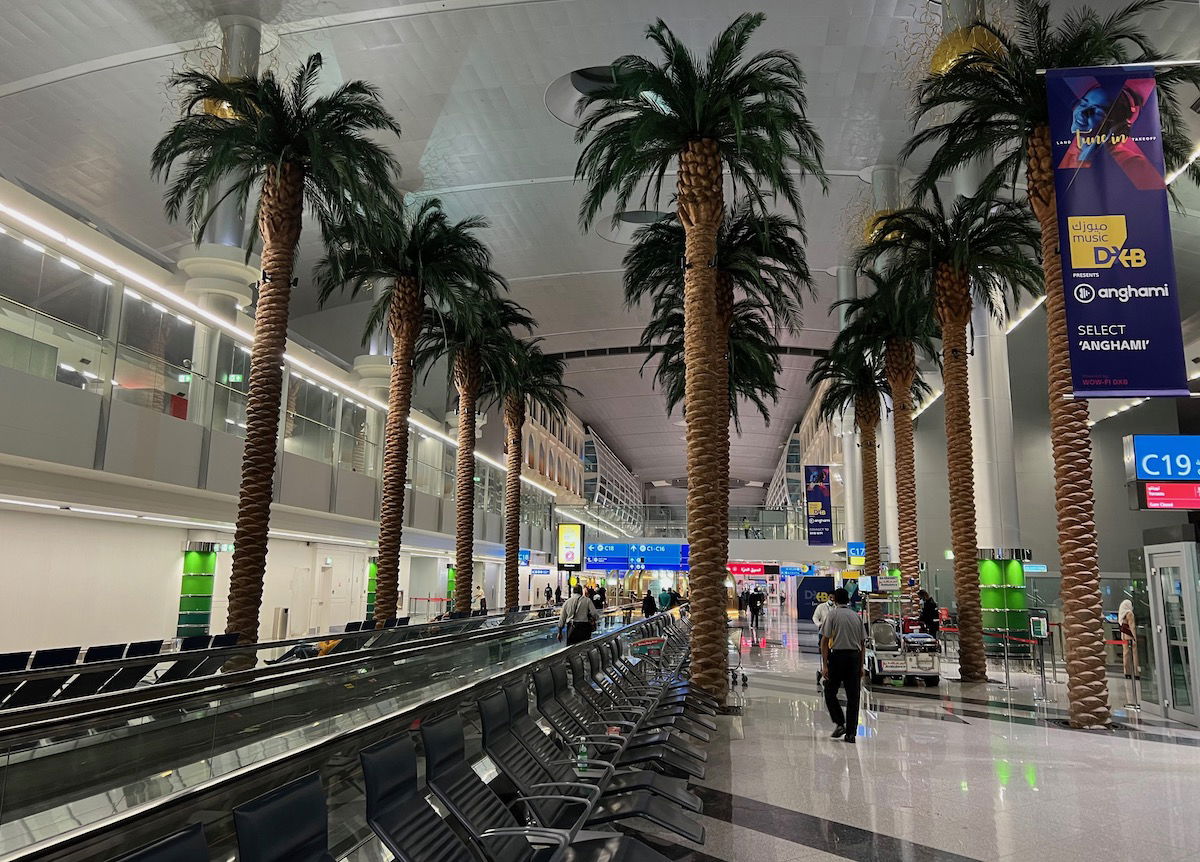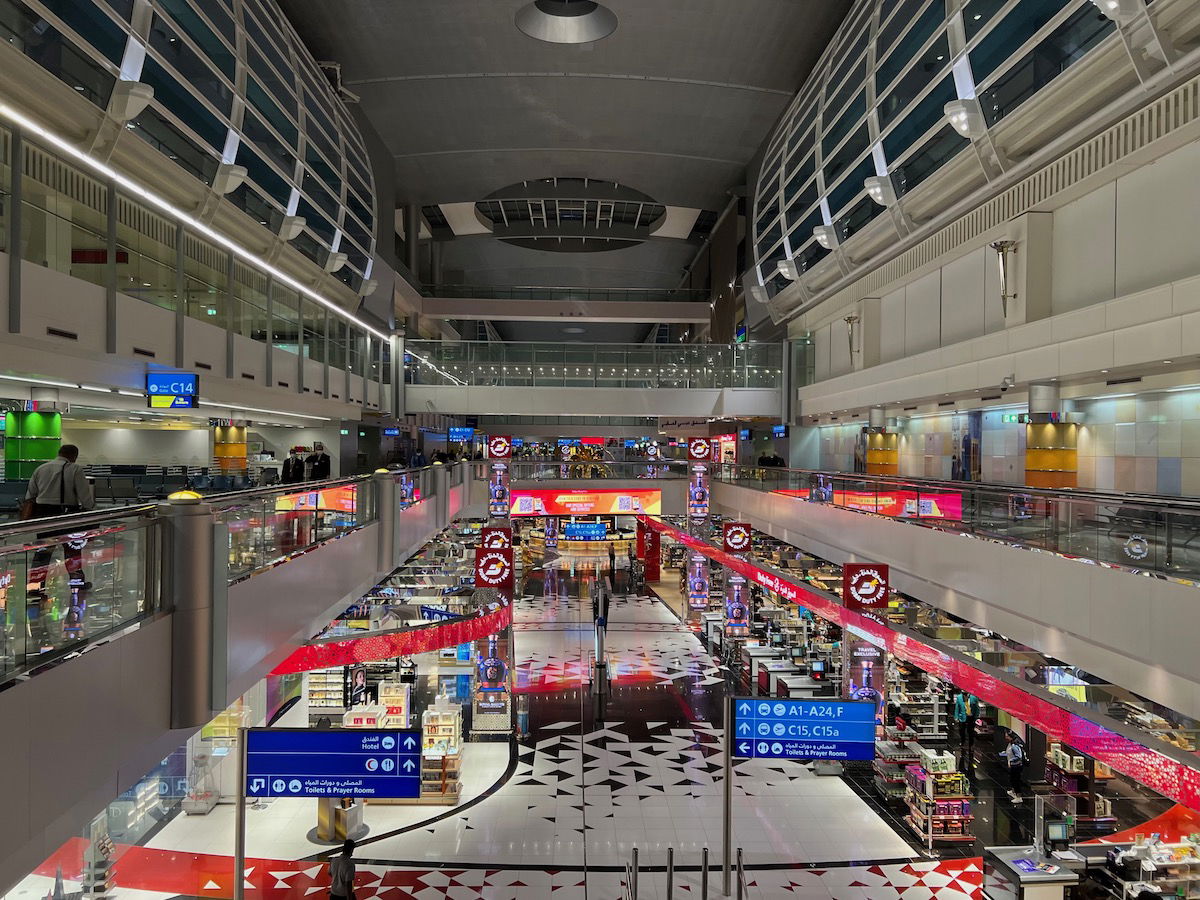 We also briefly stopped at the Emirates first class lounge Concourse C. I knew there was a Concourse B first class lounge (which I've reviewed before), but somehow I never know this lounge existed. And frankly that's probably for the better, because this lounge isn't impressive. Does this look like a random Priority Pass lounge, or a hub first class lounge for one of the world's best regarded airlines? Sometimes it feels like Emirates is really stuck in the past.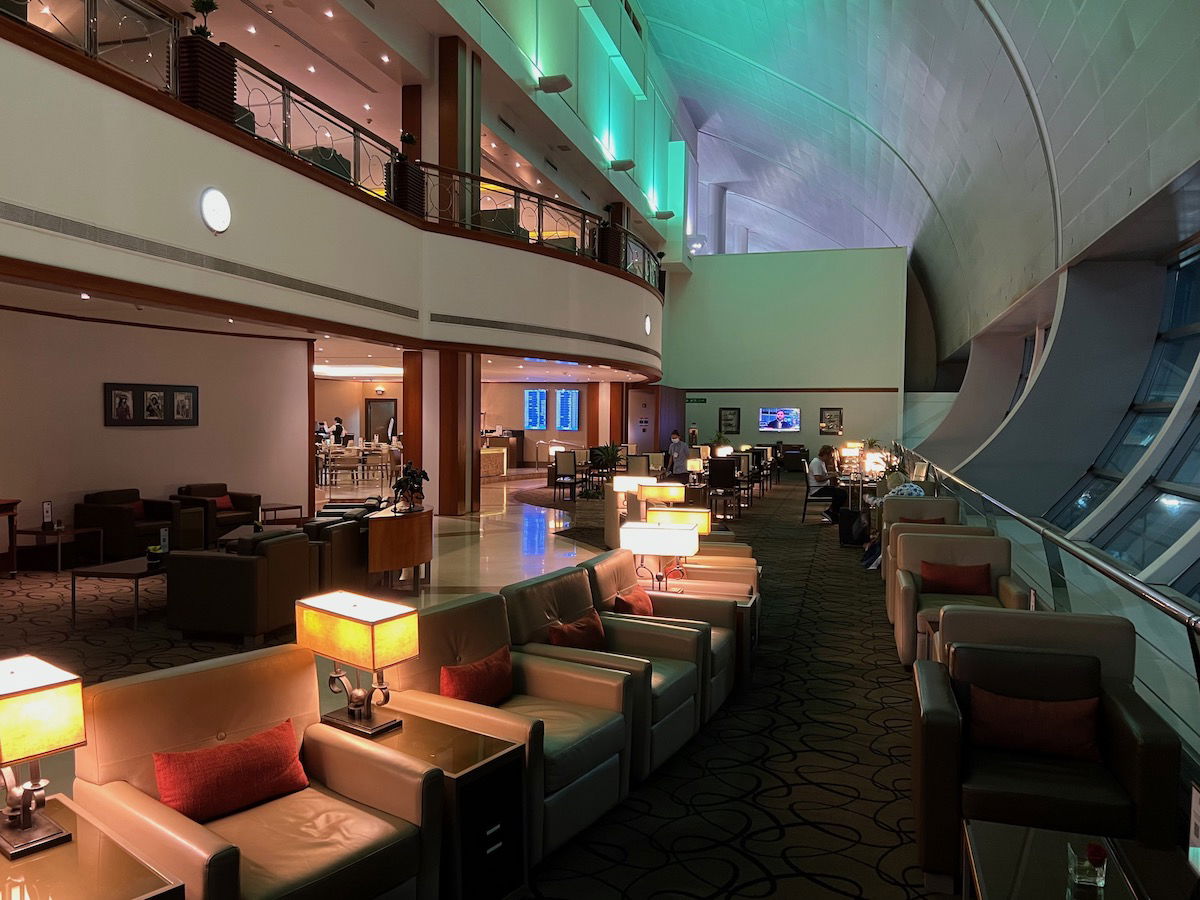 Anyway, boarding was scheduled to start at 3:35AM, 45 minutes before departure. Sure enough, that's exactly when first and business class passengers were invited to board.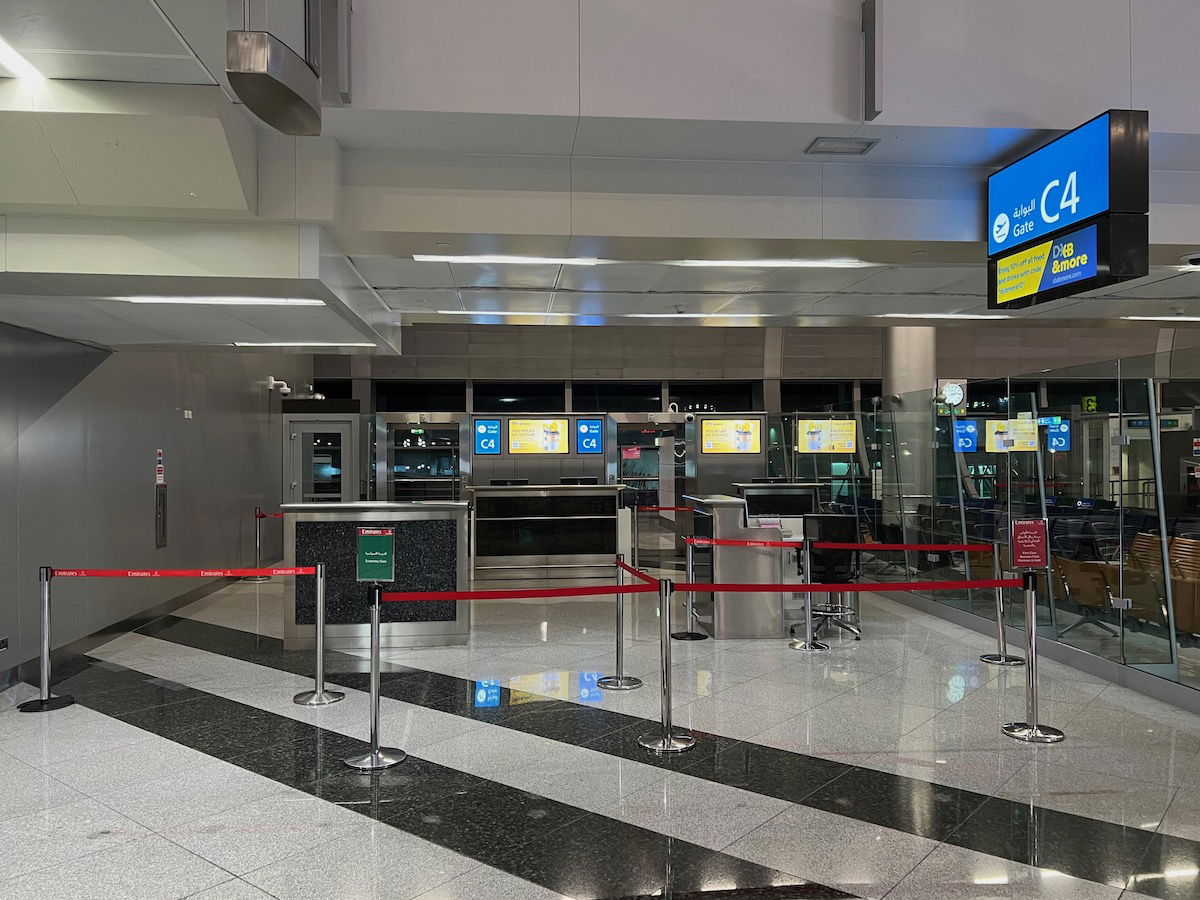 An impressive Emirates short haul first class flight
Our Emirates flight was scheduled to depart Dubai at 4:20AM and arrive in Male at 9:30AM, which is a 4hr10min block time (there's a one hour time change). The actual flight time was 3hr40min. What was the experience like? Very, very nice.
We were on one of Emirates' oldest Boeing 777s (A6-EBU, which is 15+ years old), and the cabin definitely felt a bit dated. The technology on some of Emirates' older 777s isn't as good as on the new ones, from the handheld tablets, to the resolution of the entertainment monitors.
Still, how awesome is this for a 3hr40min flight?!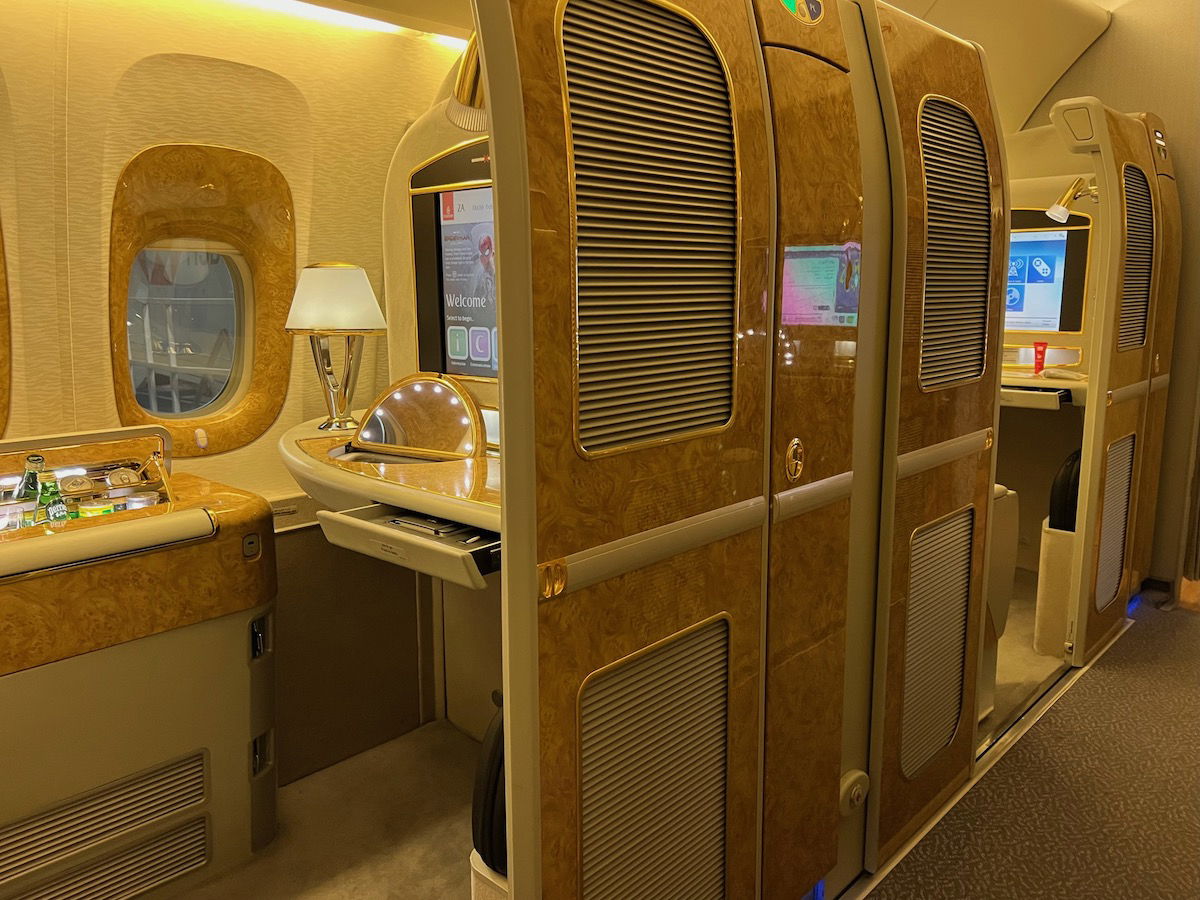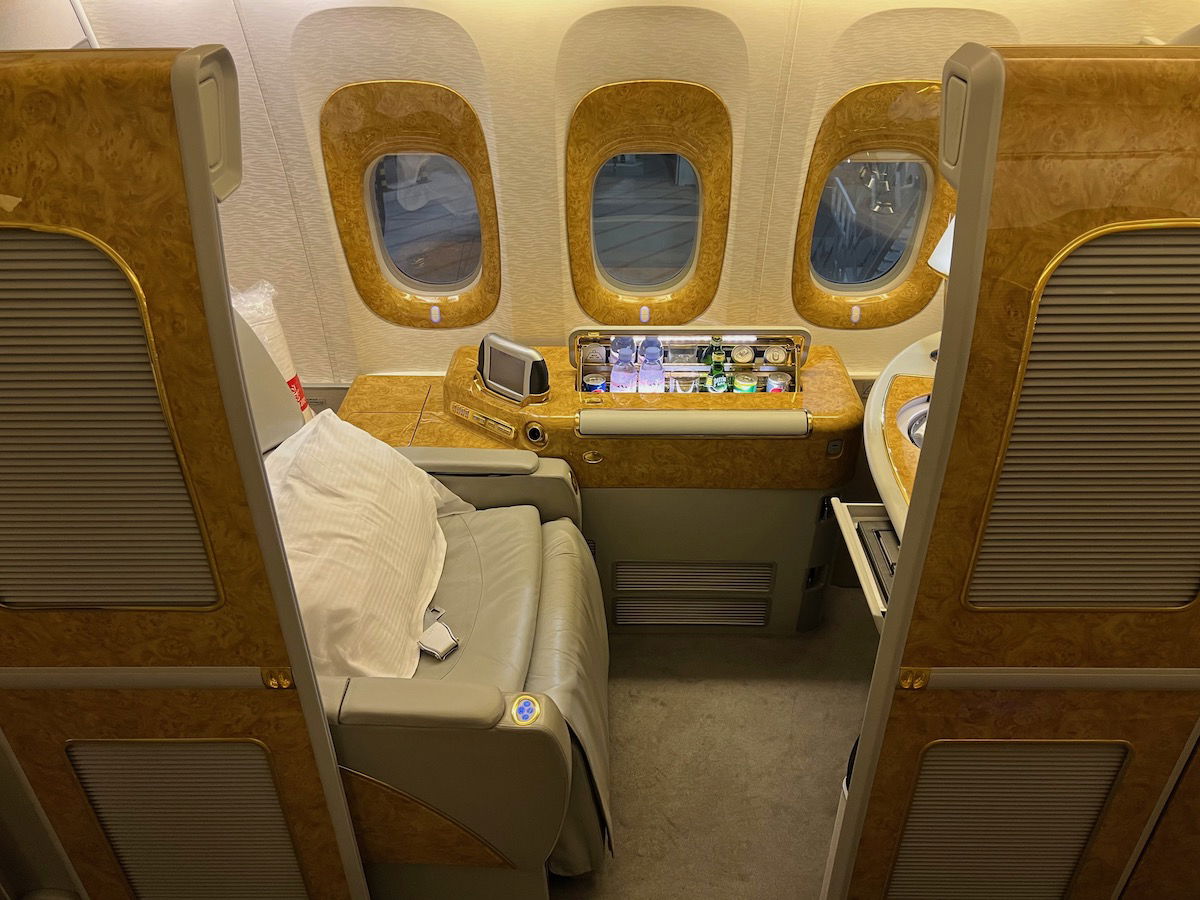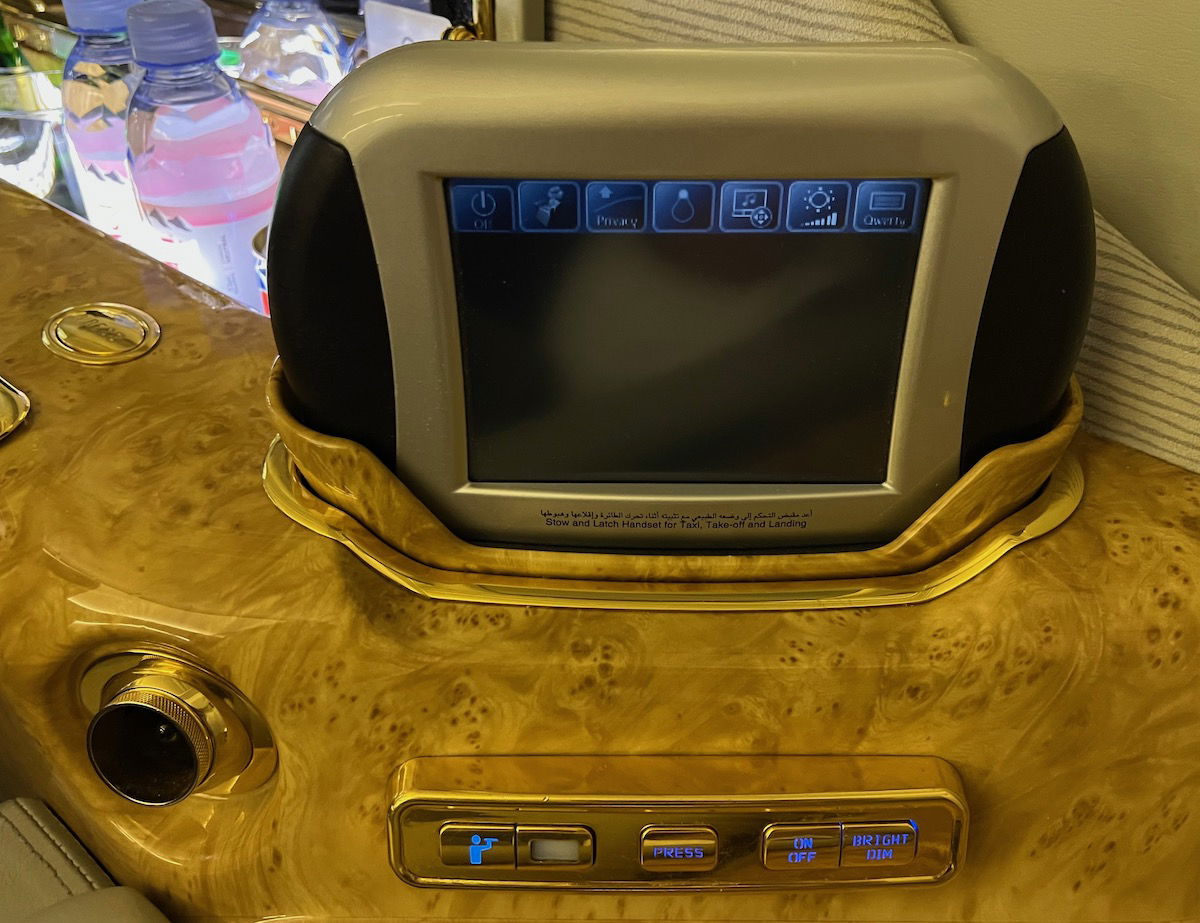 I assigned us the two center seats in the second row of first class. We were supposed to have the cabin to ourselves, but last minute one employee booked, and she was in 1A (Emirates captains, Emirates executives, and their families, get space available first class travel).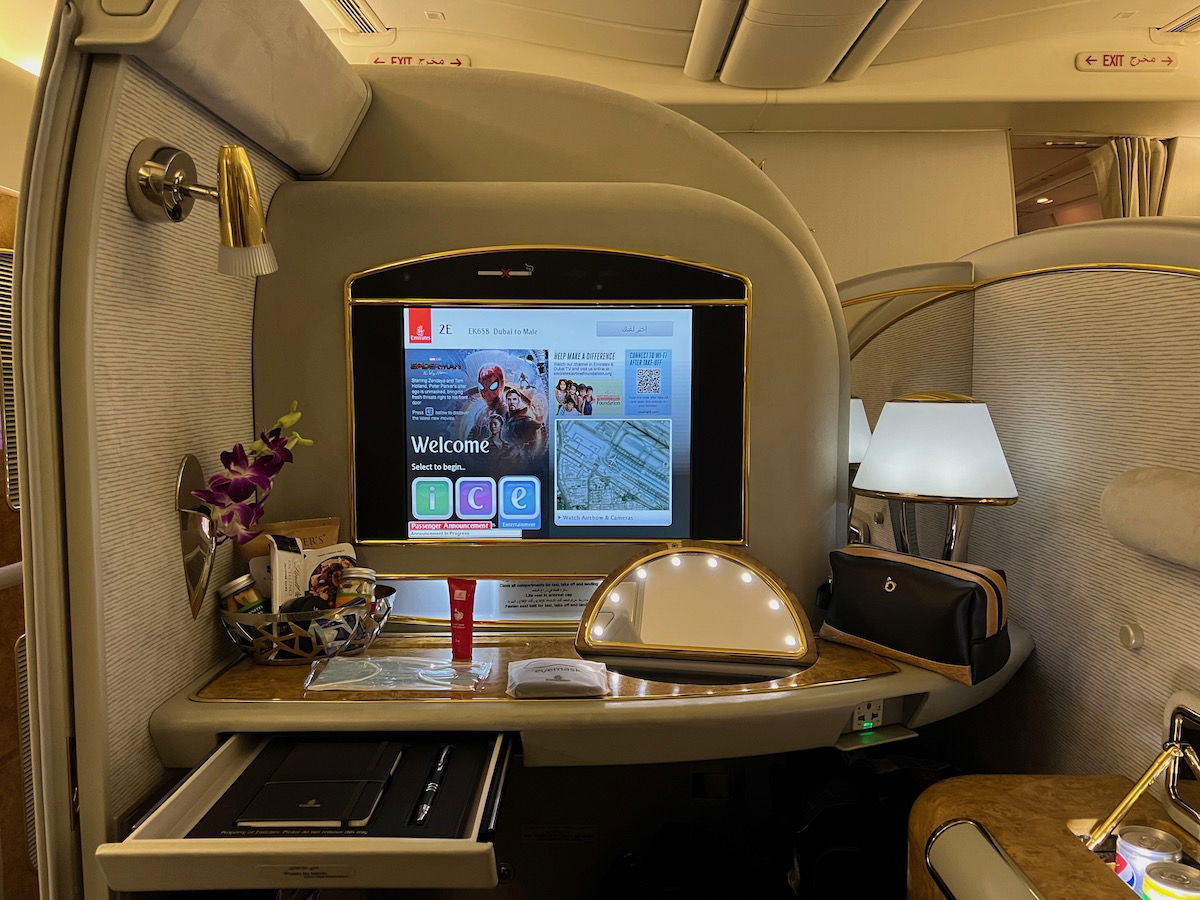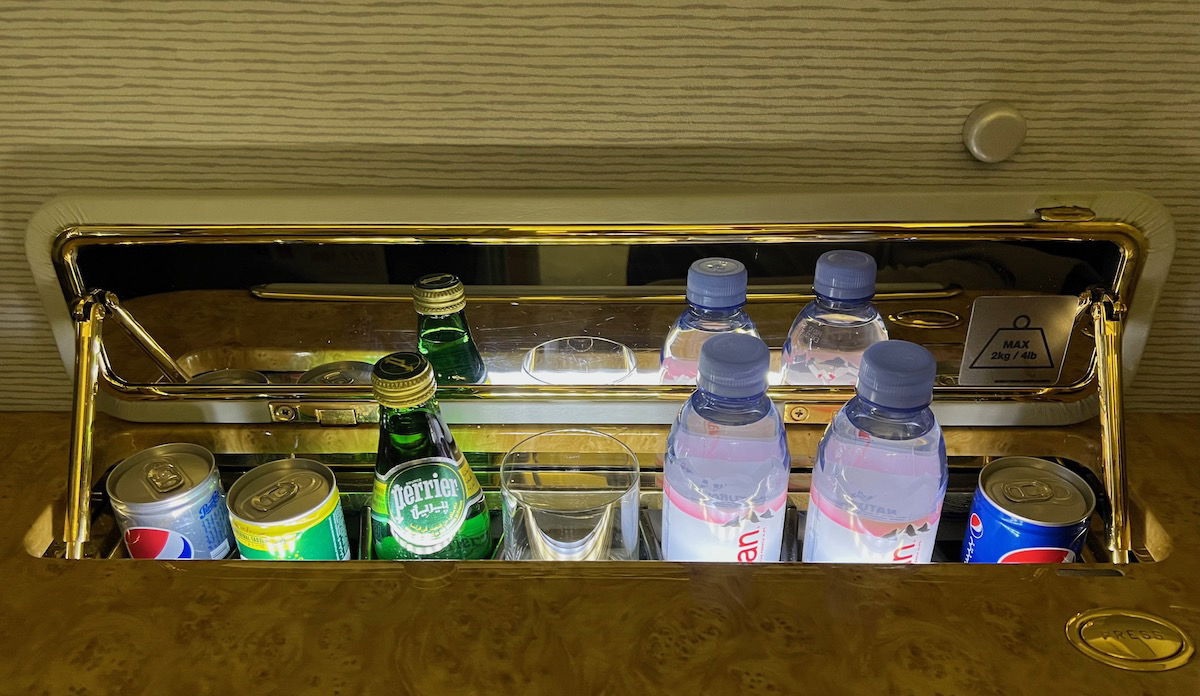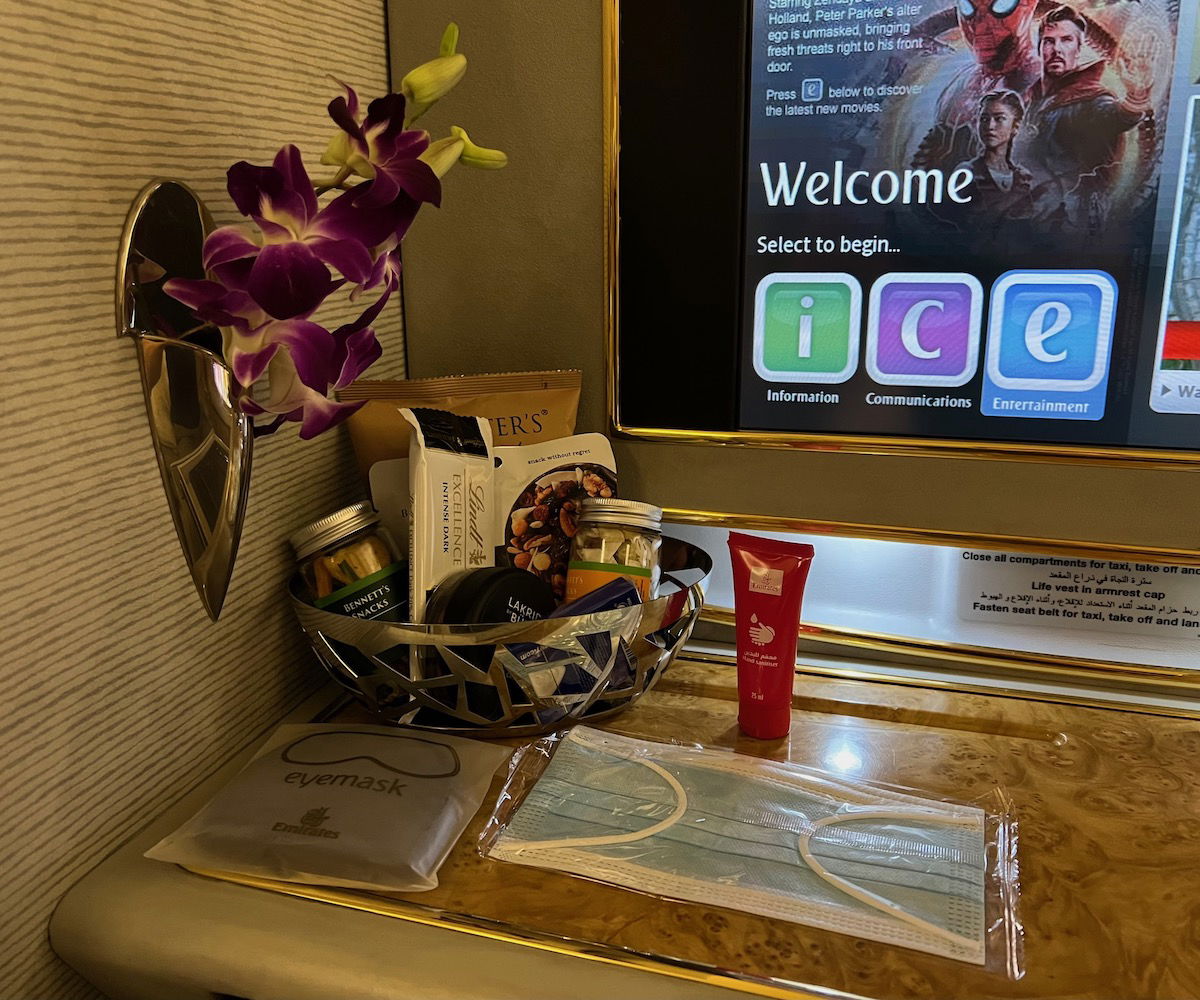 The two first class flight attendants and the purser couldn't have been lovelier — they were professional and by the book, unlike the crew we had on the last flight. Before takeoff they offered us pre-departure drinks, so we ordered some Dom Perignon (and we got a couple of refills).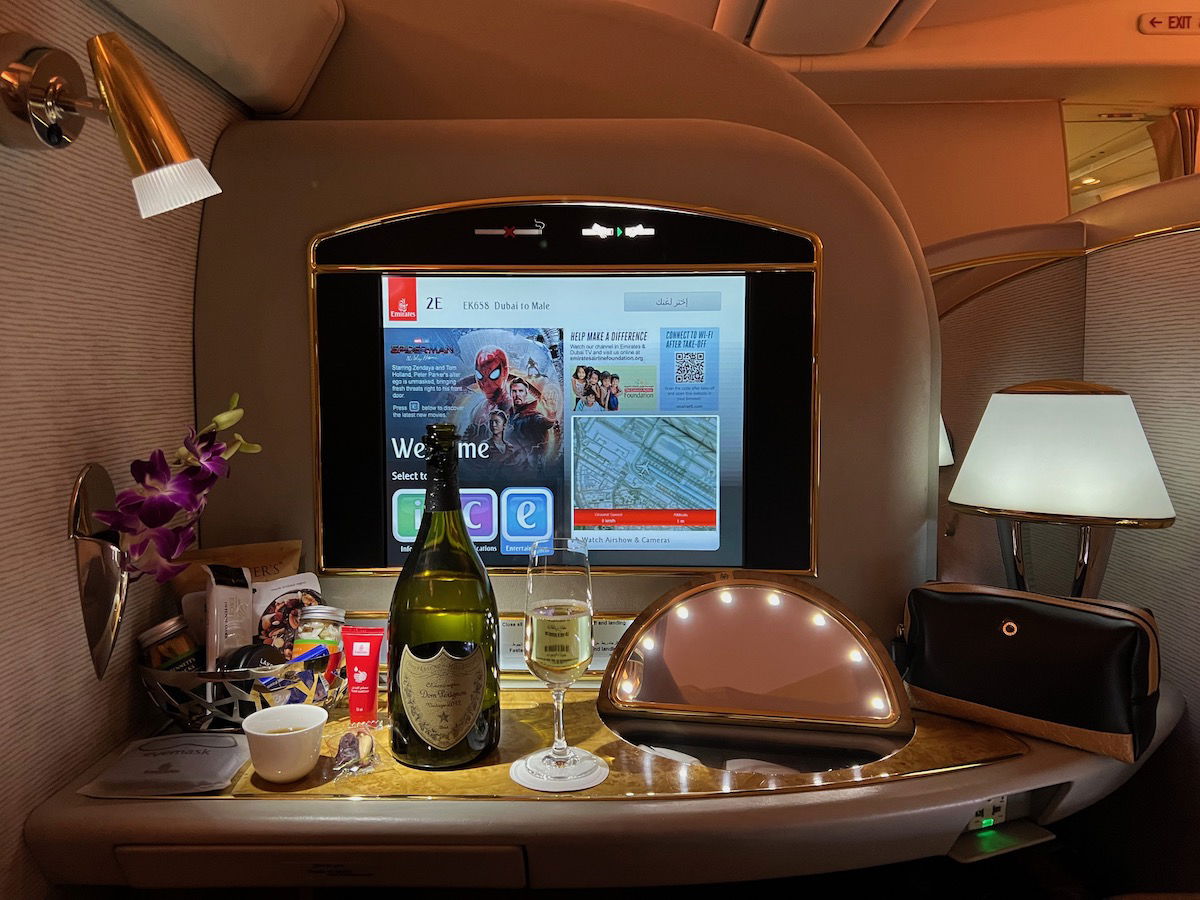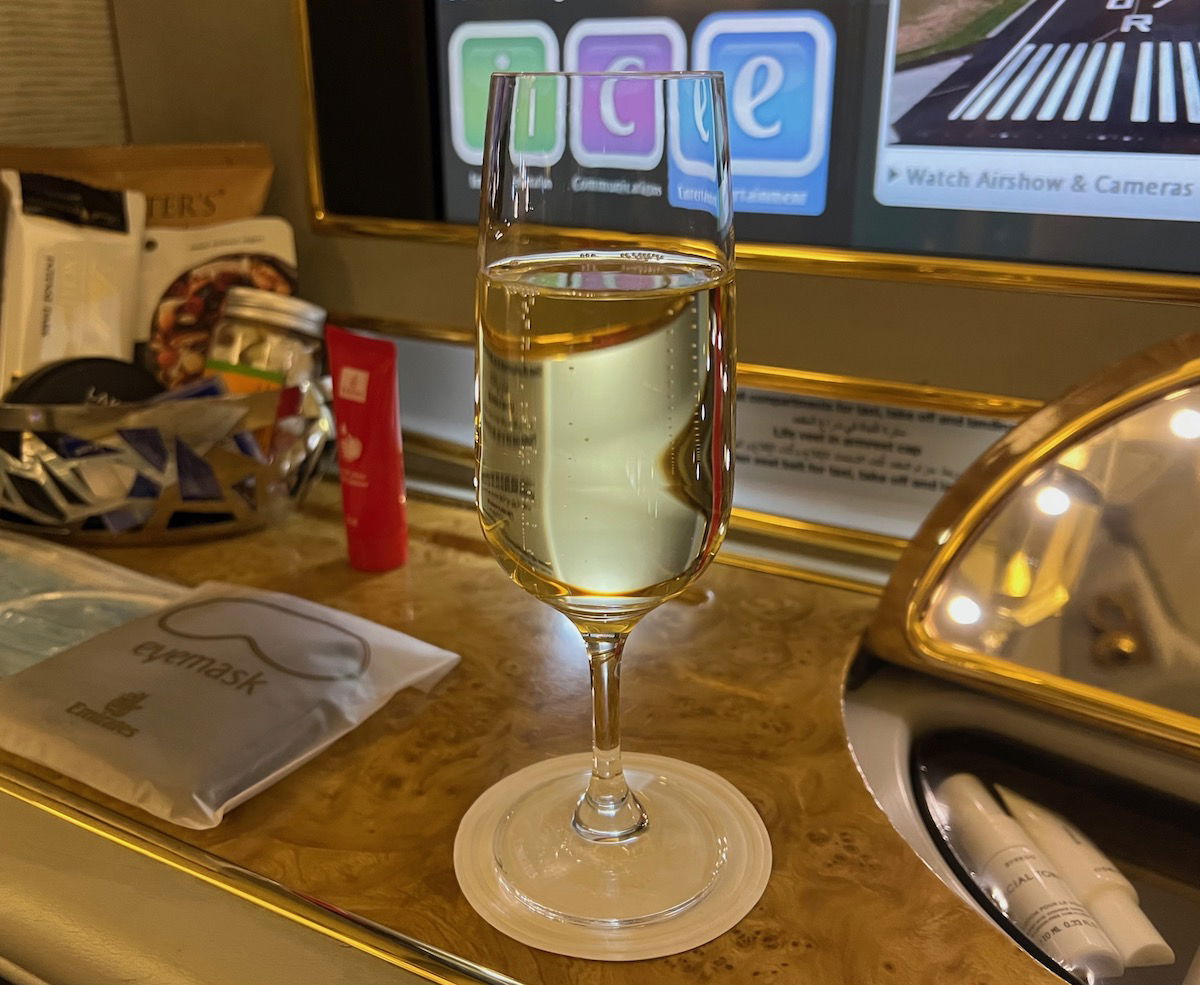 We were also offered Arabic coffee, dates, an amenity kit, pajamas, and slippers (these were identical to what we had on the long haul flight, so check out the previous review for all the contents).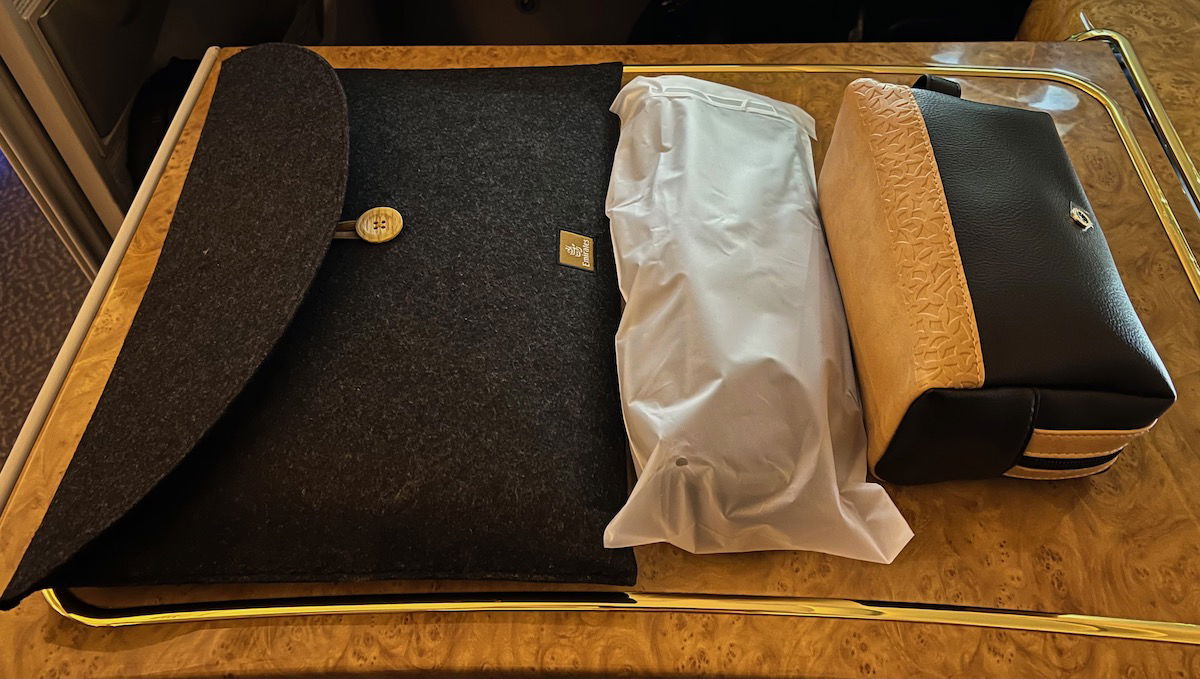 By the time we were airborne it was approaching 5AM, and we were super tired, since we hadn't slept that night. After takeoff we asked the crew to make our beds, and wake up as close to landing as possible while still being able to eat breakfast. Indeed they took care of the turndown service within 10 minutes of takeoff and dimmed the cabin lights, and we were off to sleep.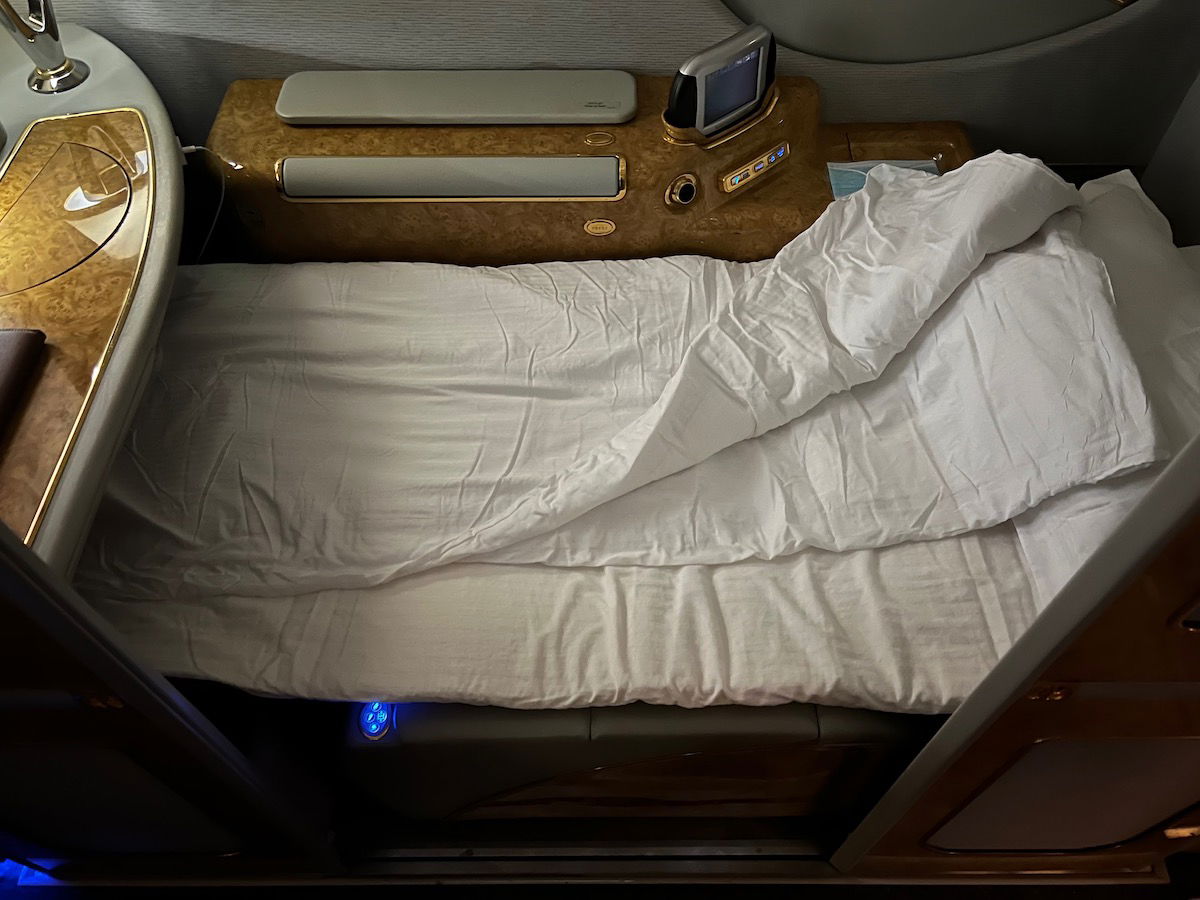 I sure do love how Emirates has "stars" on the ceiling, it's such a cute touch.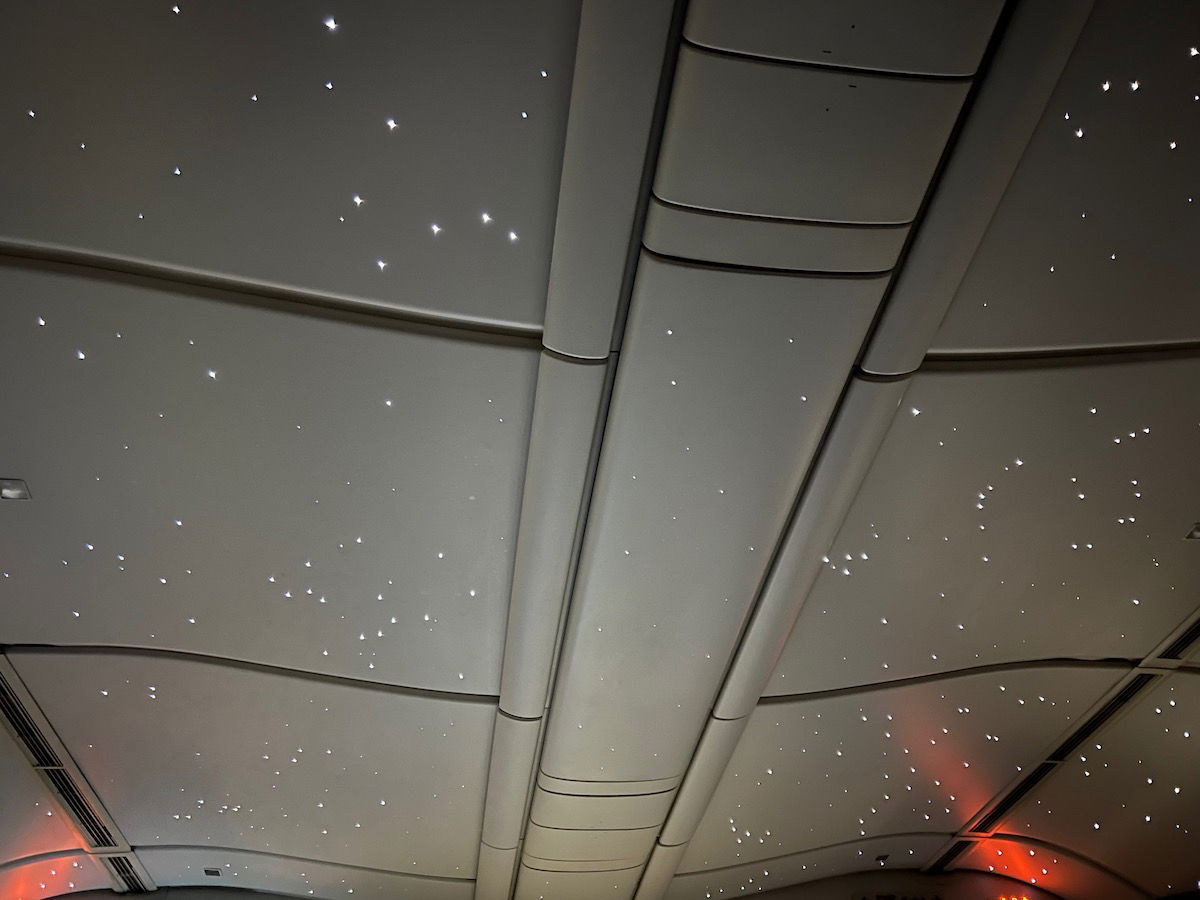 We slept for over two hours, which was much needed, and were woken up just over an hour before landing. Kudos to the crew for actually letting us sleep this long, because lots of Emirates crews will claim they can only serve a meal up to 90 minutes before landing.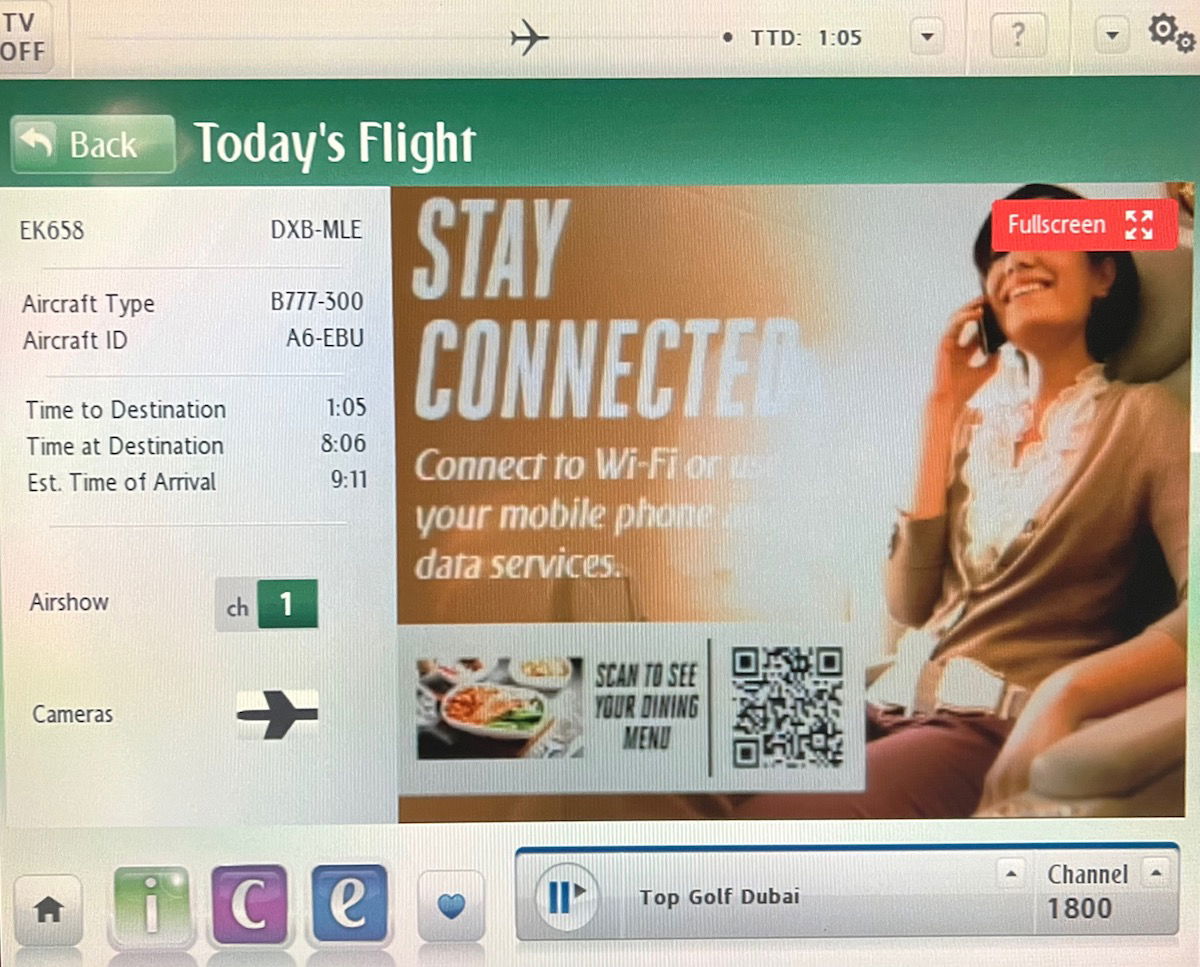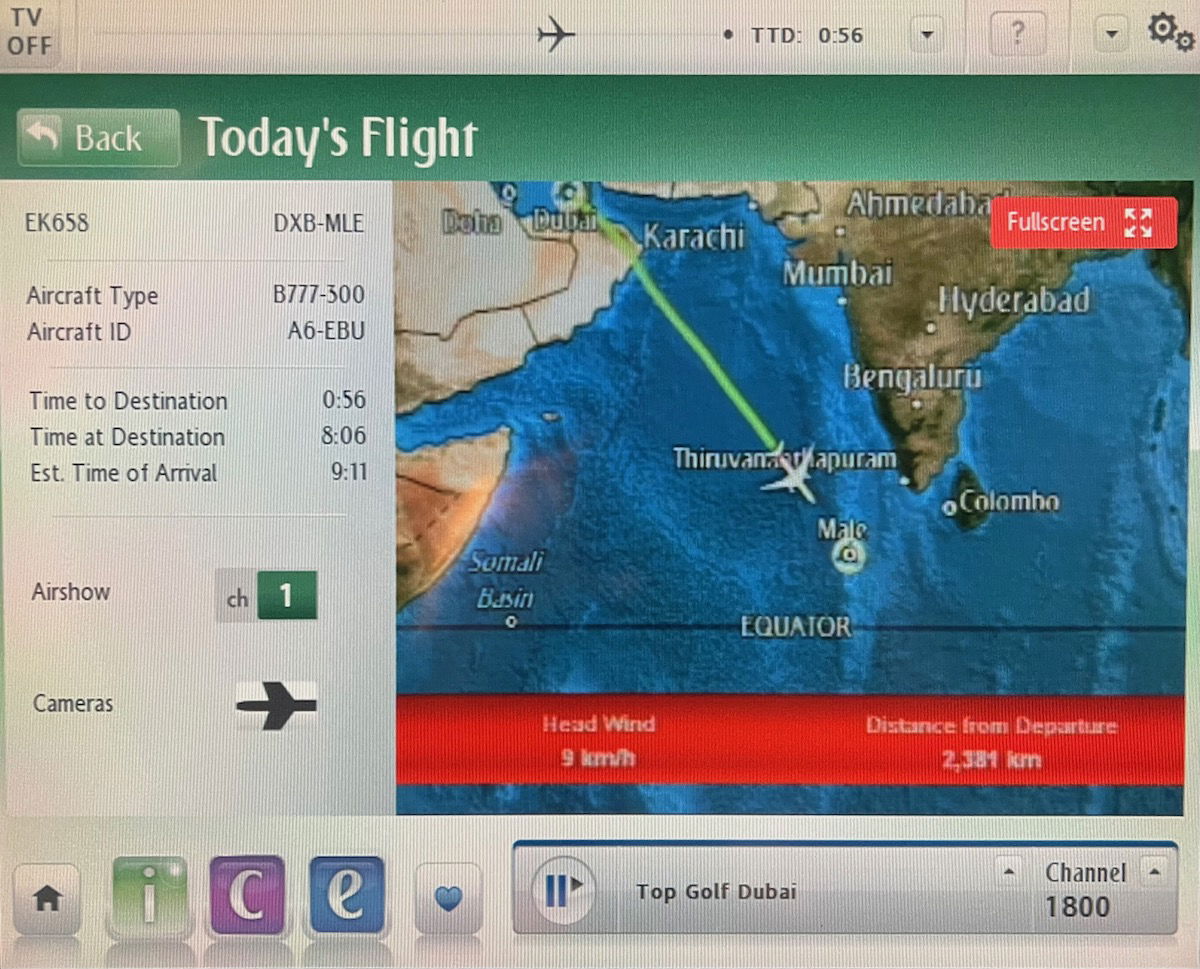 At that point breakfast was served. Emirates has a (relatively) simple menu on this flight, and there's just a breakfast option.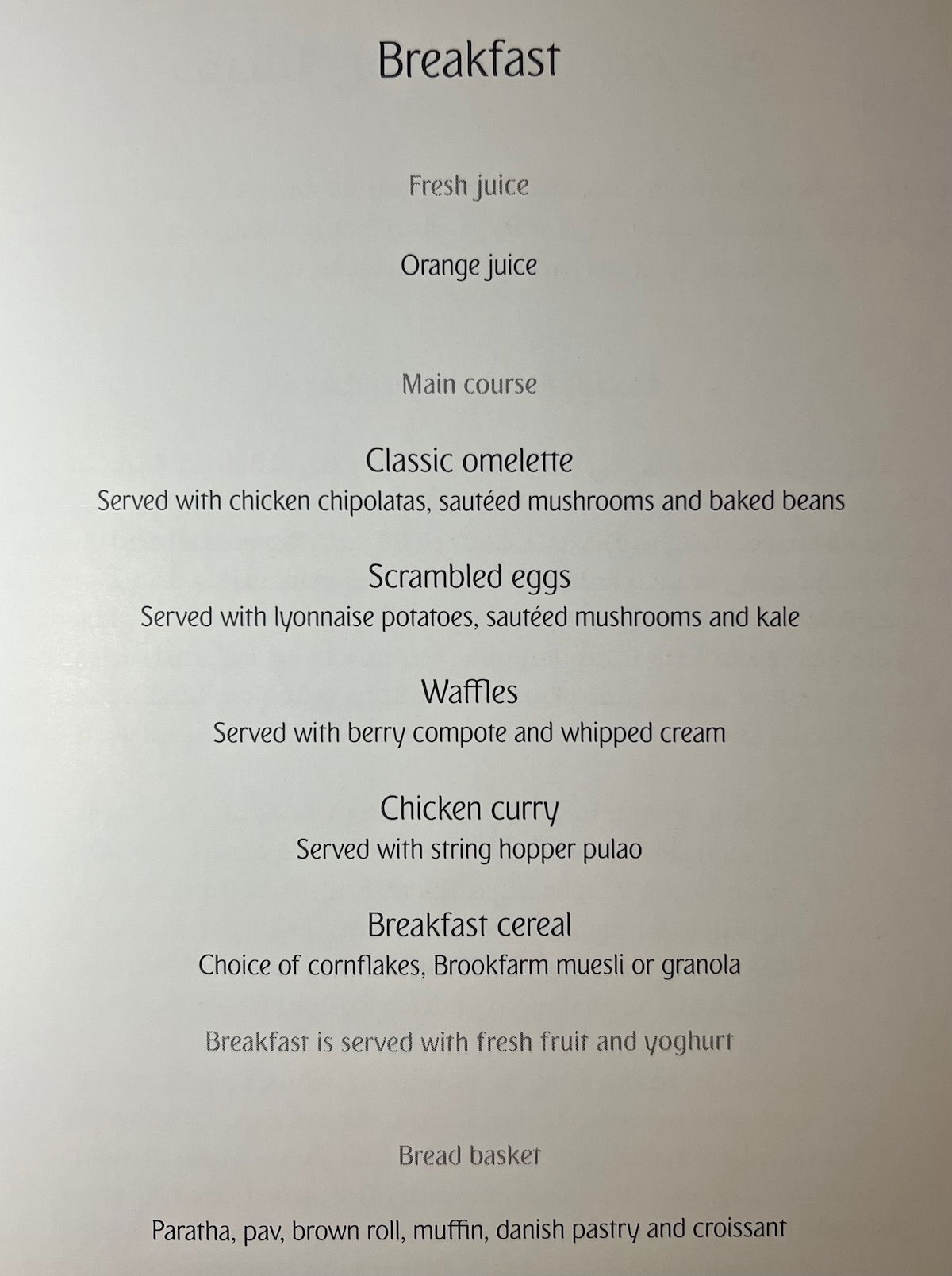 For those wondering, below is the wine list for this flight.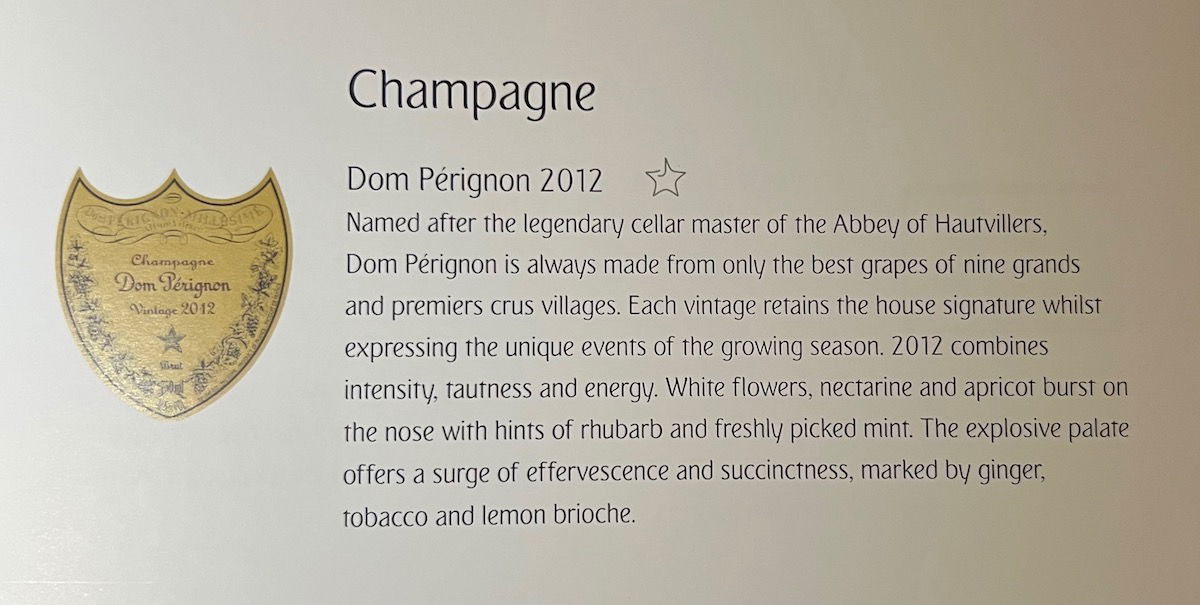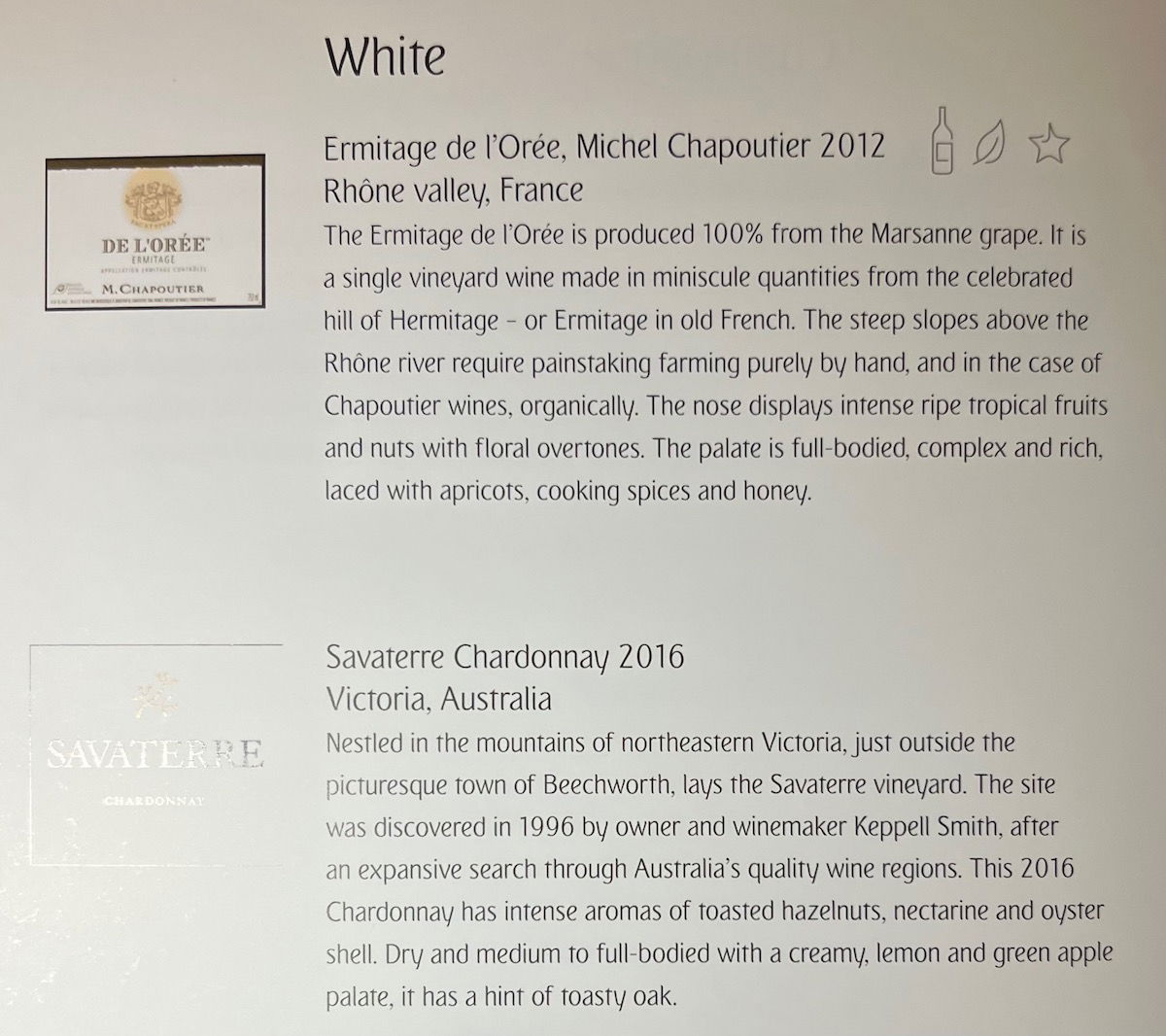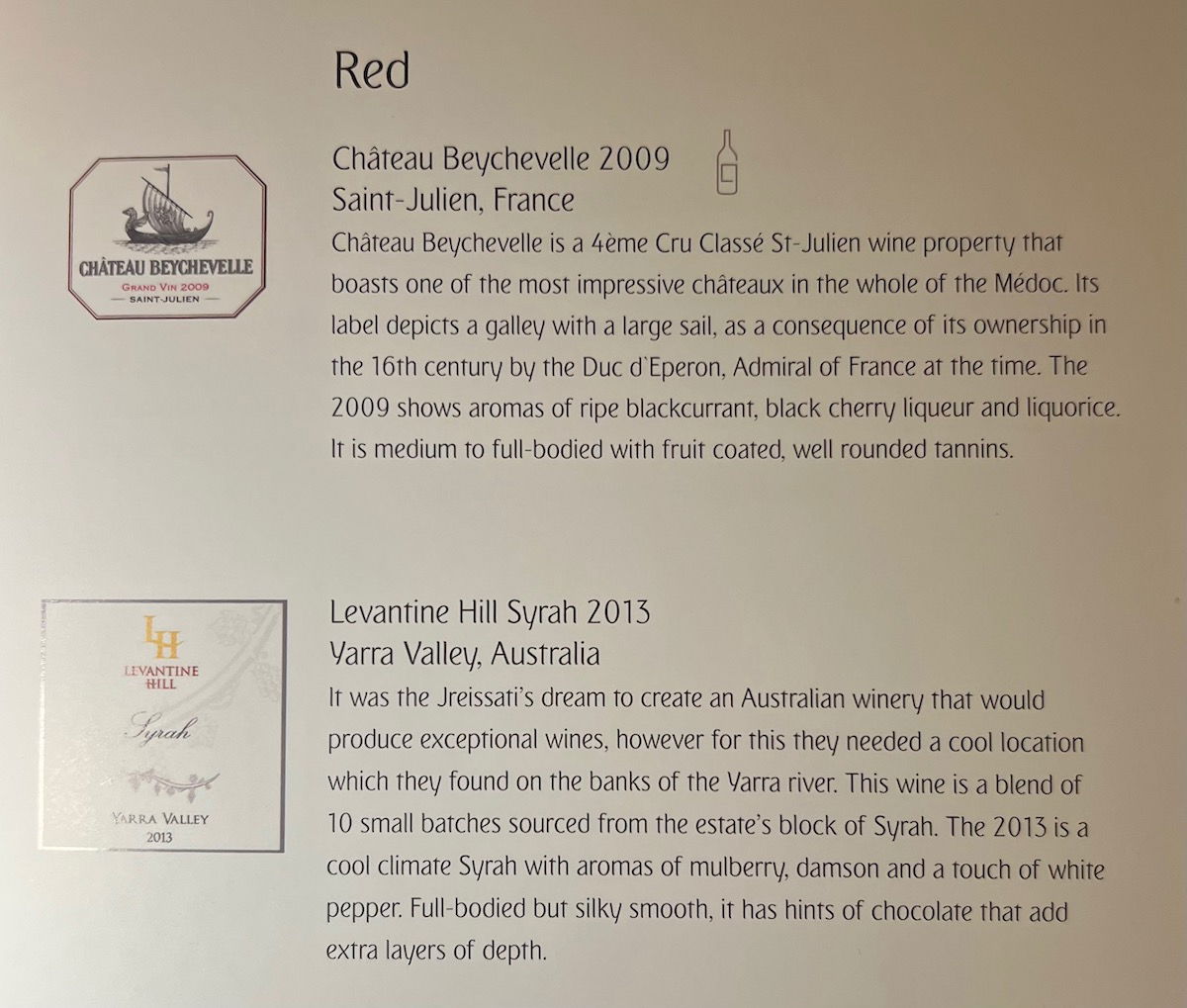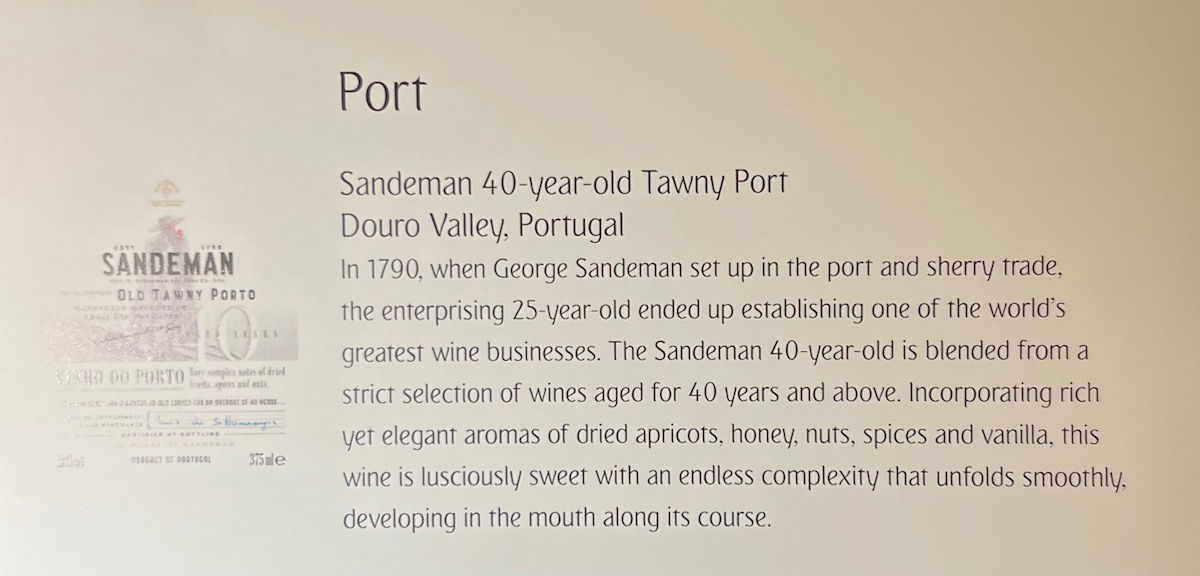 We weren't really hungry, but I figured I had to take some pictures for review purposes. It's always nice to be woken up with a cappuccino, which even (loosely) had the Emirates logo dusted on it.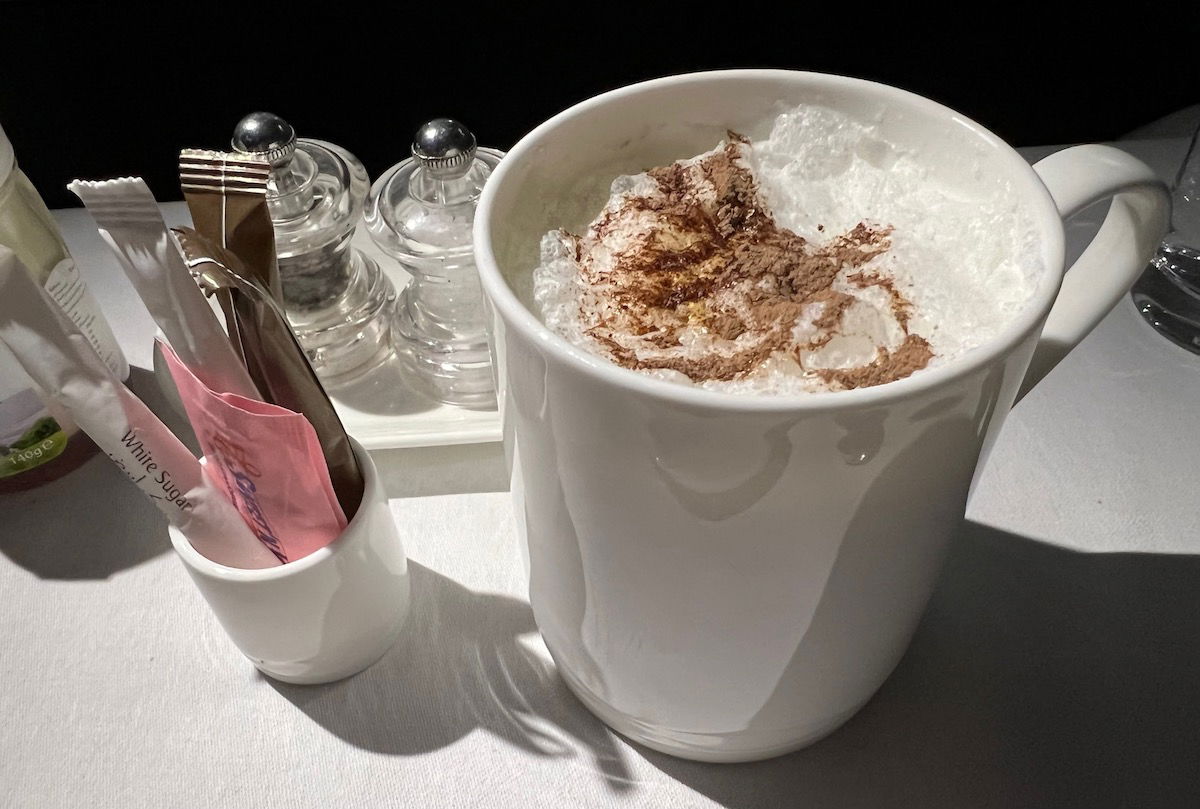 To start I was offered a fruit plate, some yogurt, and a selection from the bread and pastry basket.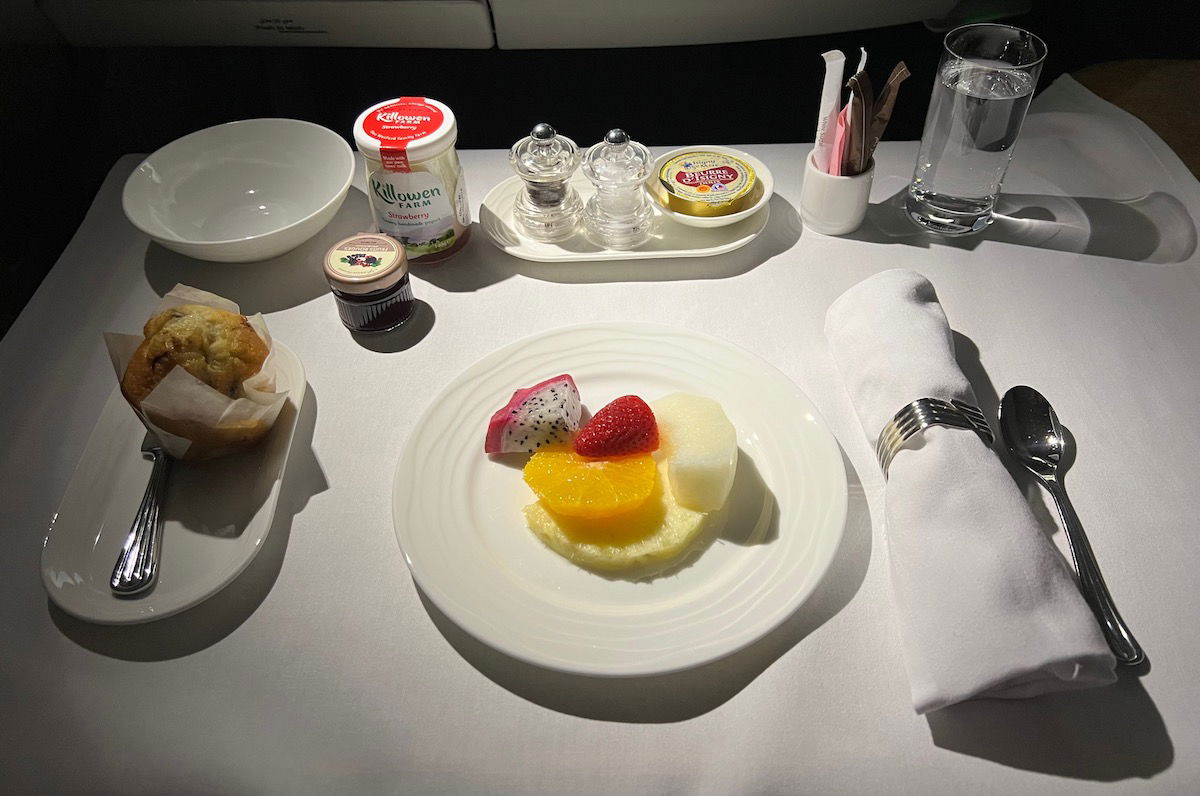 For the main course I ordered the scrambled eggs with potatoes, mushrooms, and kale.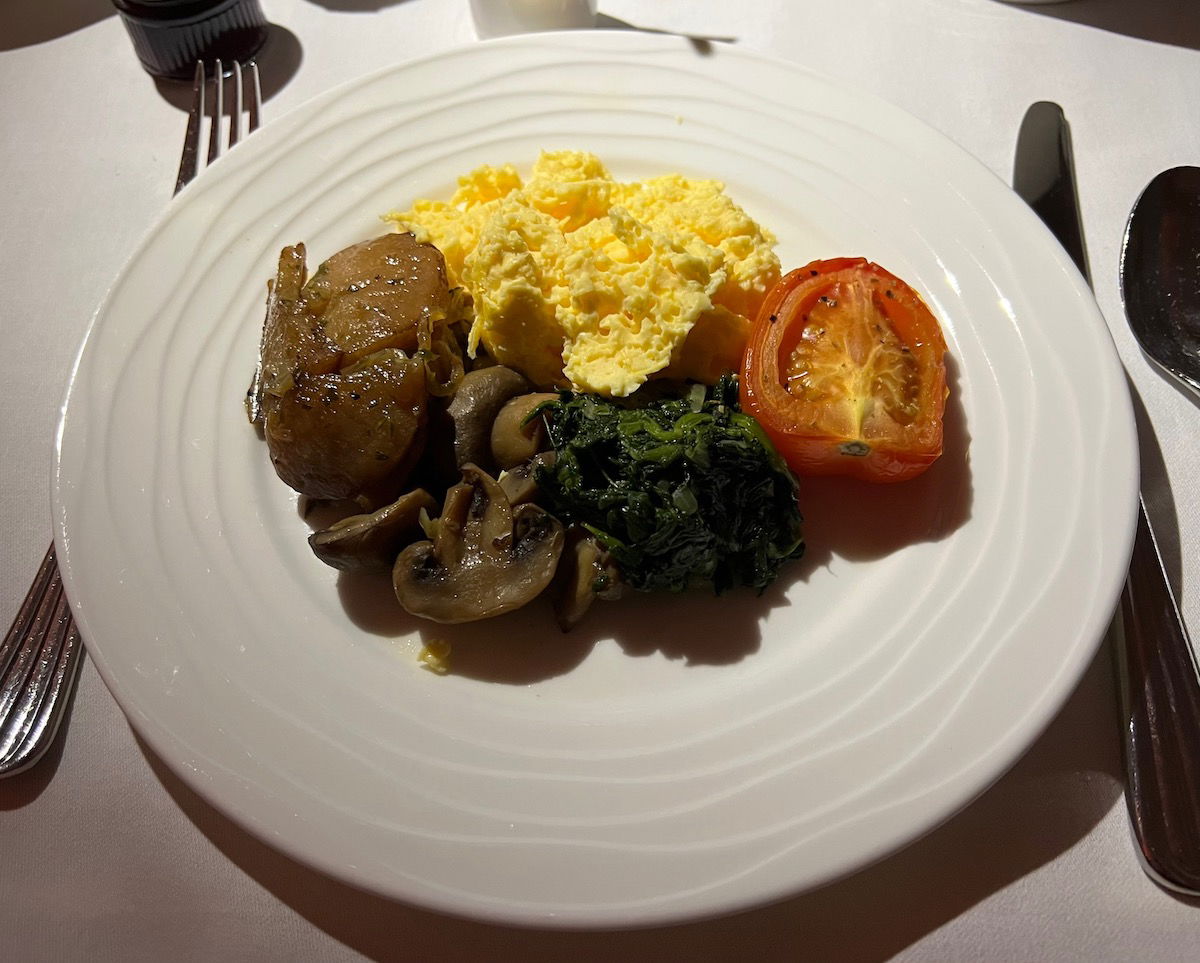 While hardly the most exciting Emirates first class meal, it was perfect for a flight like this.
Emirates first class birthday cake
As I recently wrote about, Emirates lets passengers order a birthday cake, and it doesn't cost anything extra if you're in first or business class. Since I was traveling on my birthday I figured I'd order one of these, not because I actually wanted or needed a cake, but because I wanted to report back on how this is being executed nowadays.
As we began our descent the crew brought this out — how beautifully presented! The crew even put some roses and wrote "wishing you a happy birthday" with melted chocolate, which they don't have to do.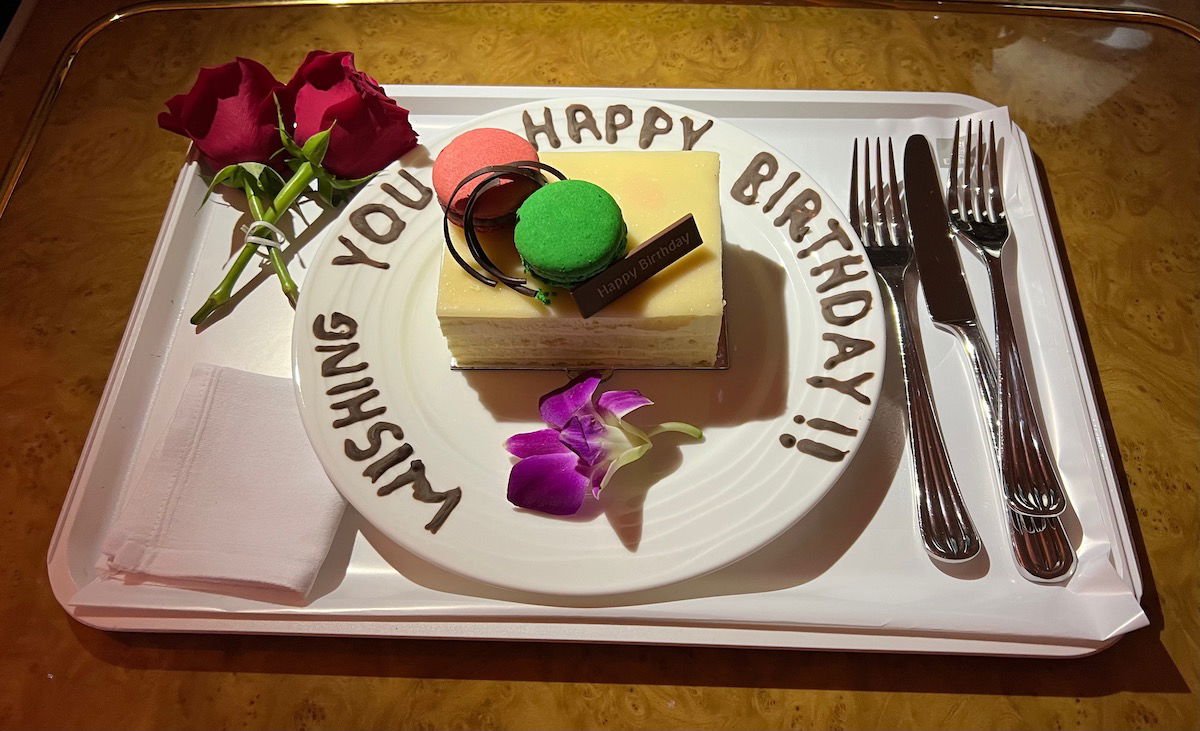 The crew also took a picture of us with the onboard Polaroid.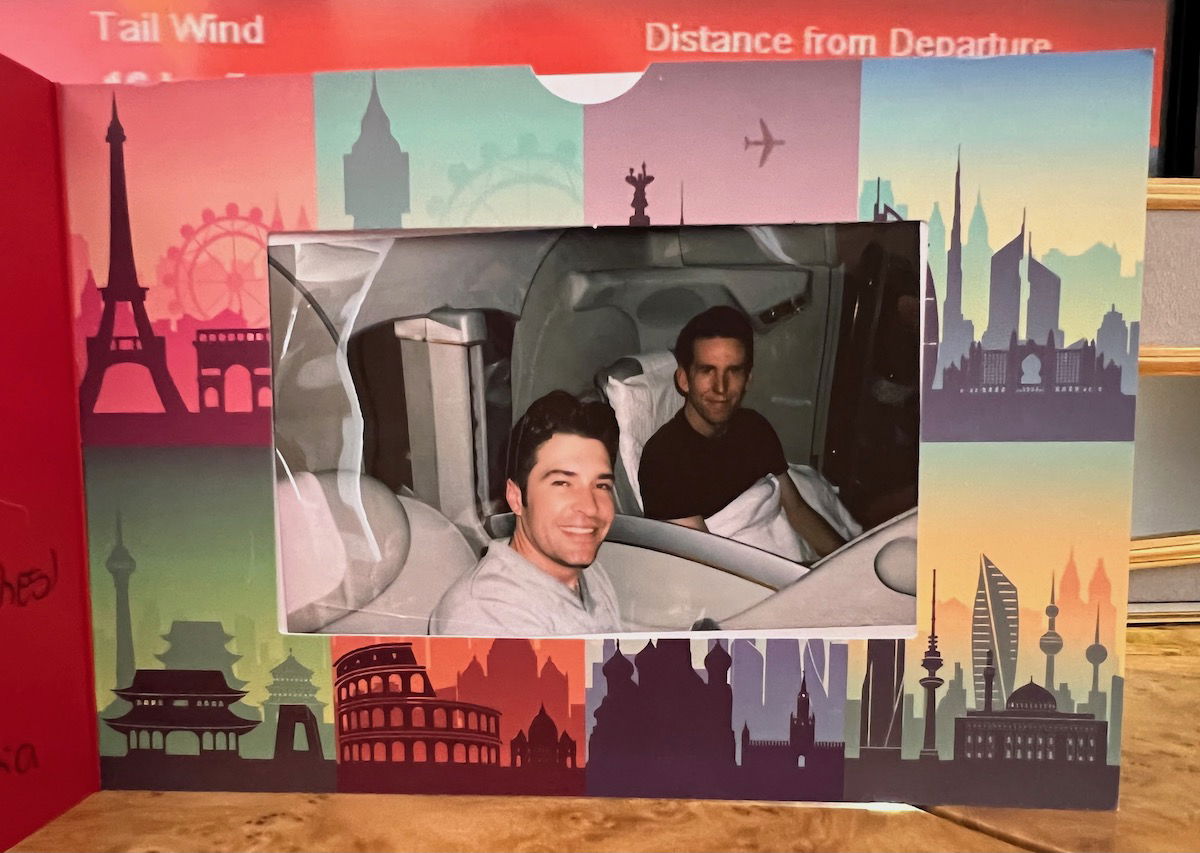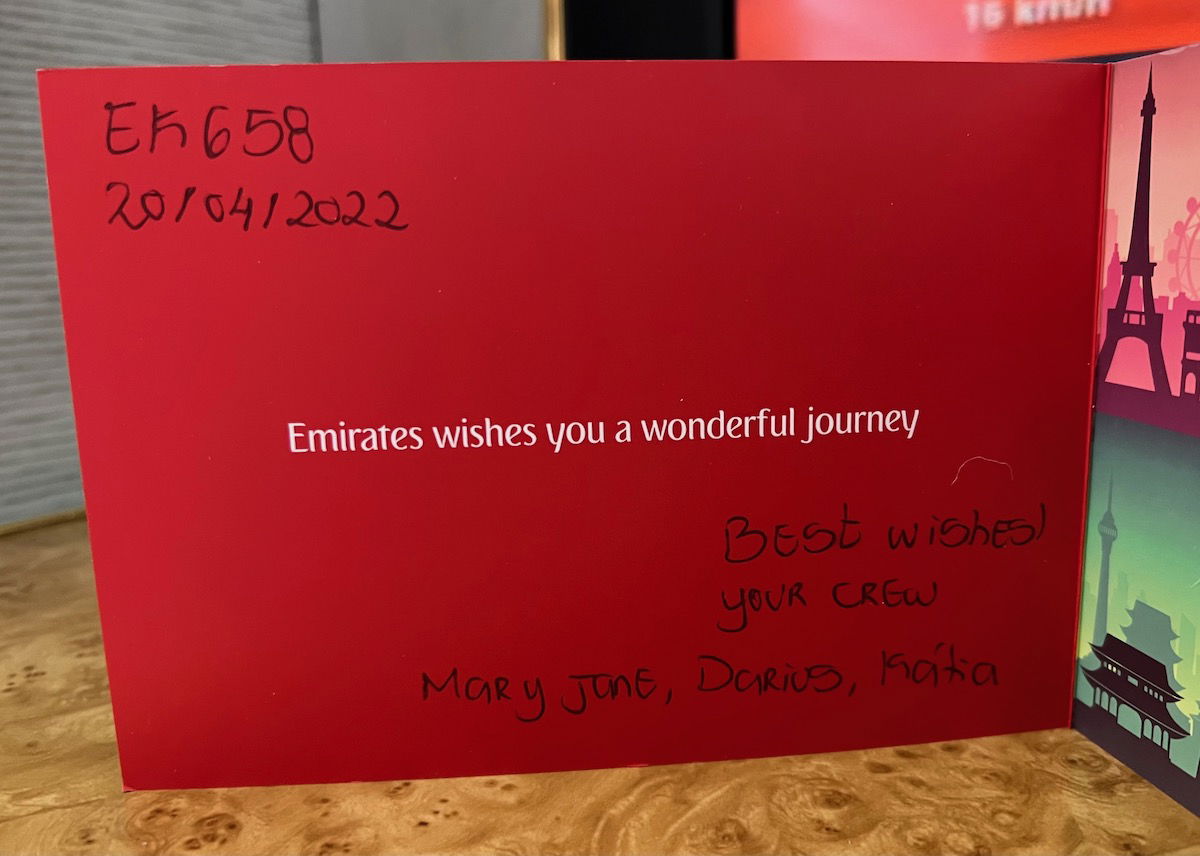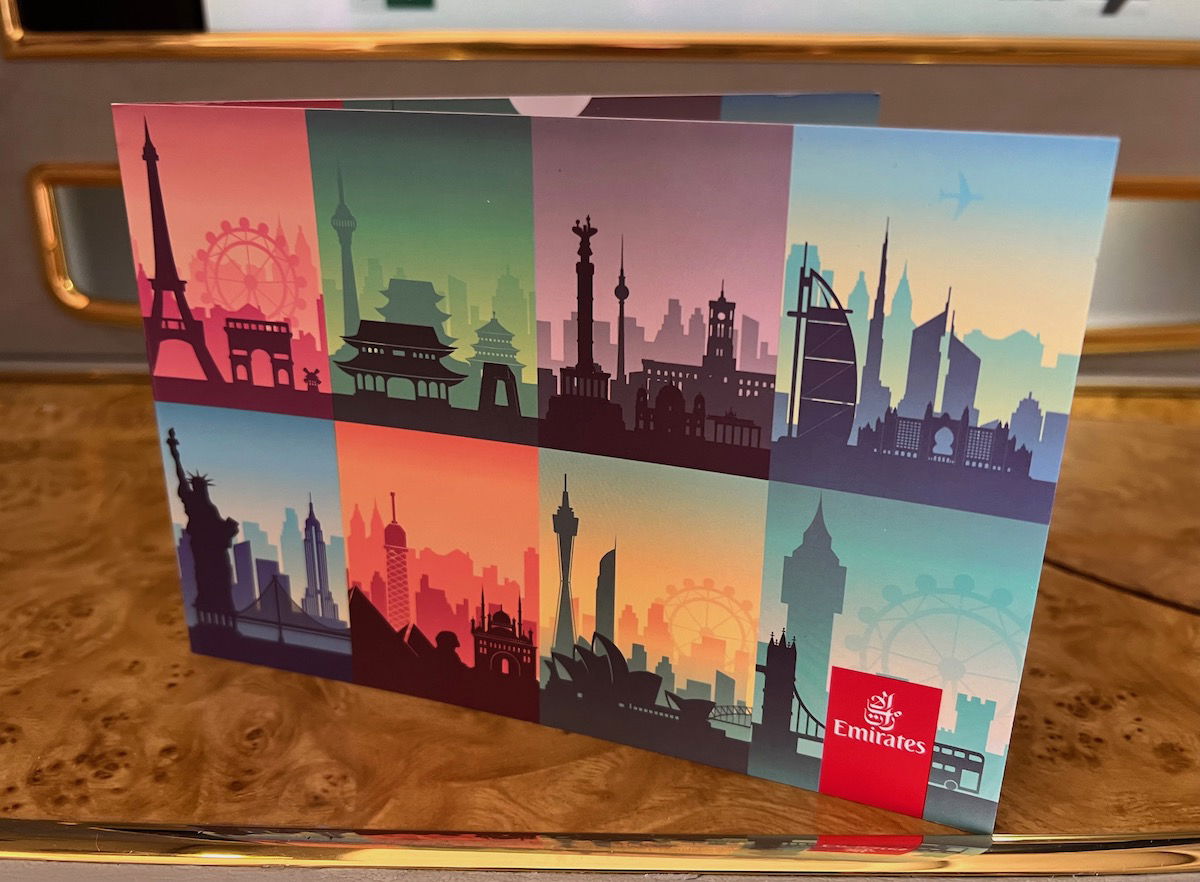 We only had a bite or two of the cake since we were full already, but the crew then packed it up in a to-go box. I felt bad not taking it with me, but realistically this wouldn't have ended well since we were going to take a seaplane in the sweltering heat. Never mind the fact that I'm not sure what the Maldives' policy is on bringing fresh food items into the country.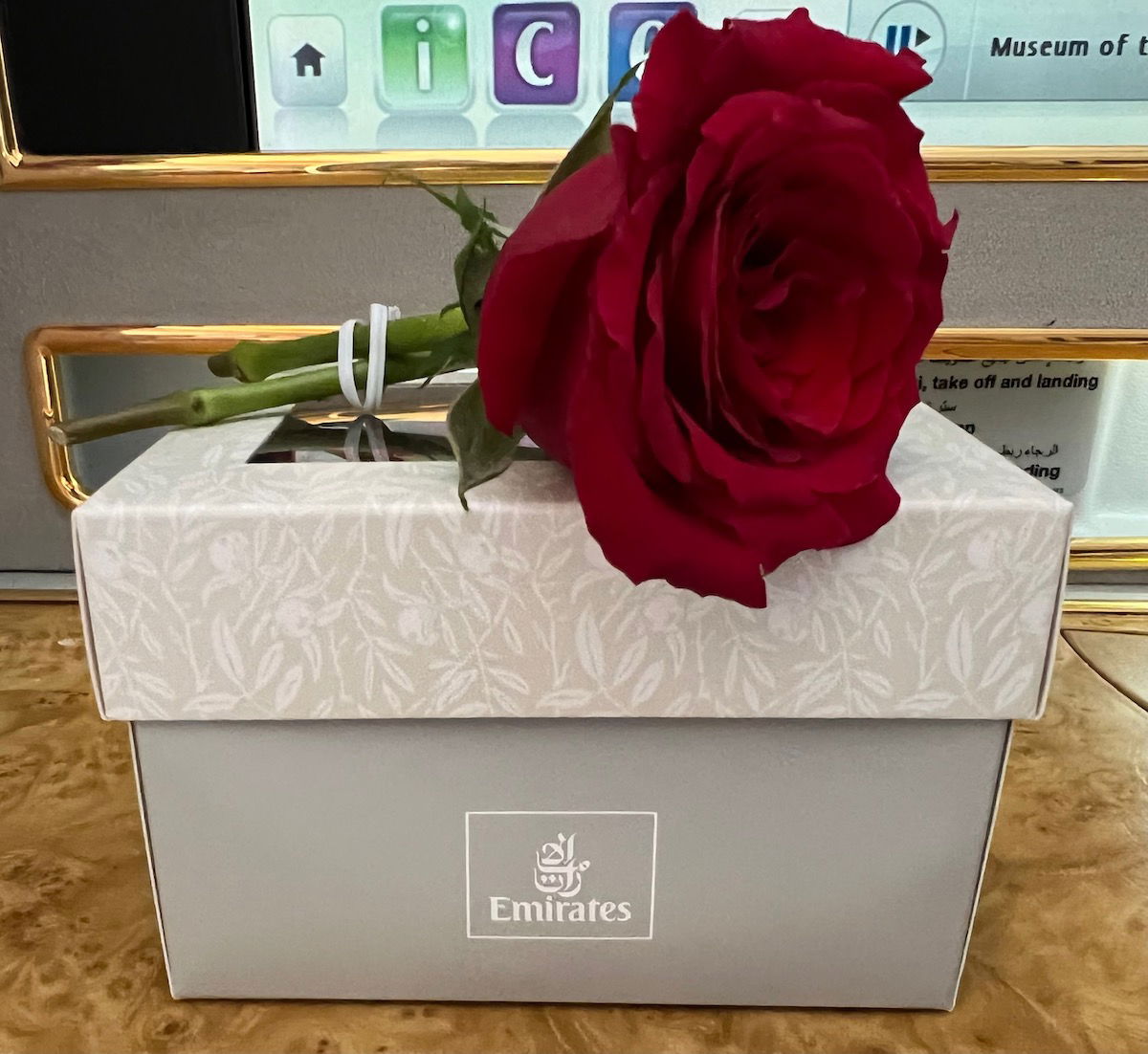 A beautiful approach to the Maldives
Flying into the Maldives is always a treat, as it's not often you get views like this when approaching a major international airport. I'll let the pictures speak mostly for themselves.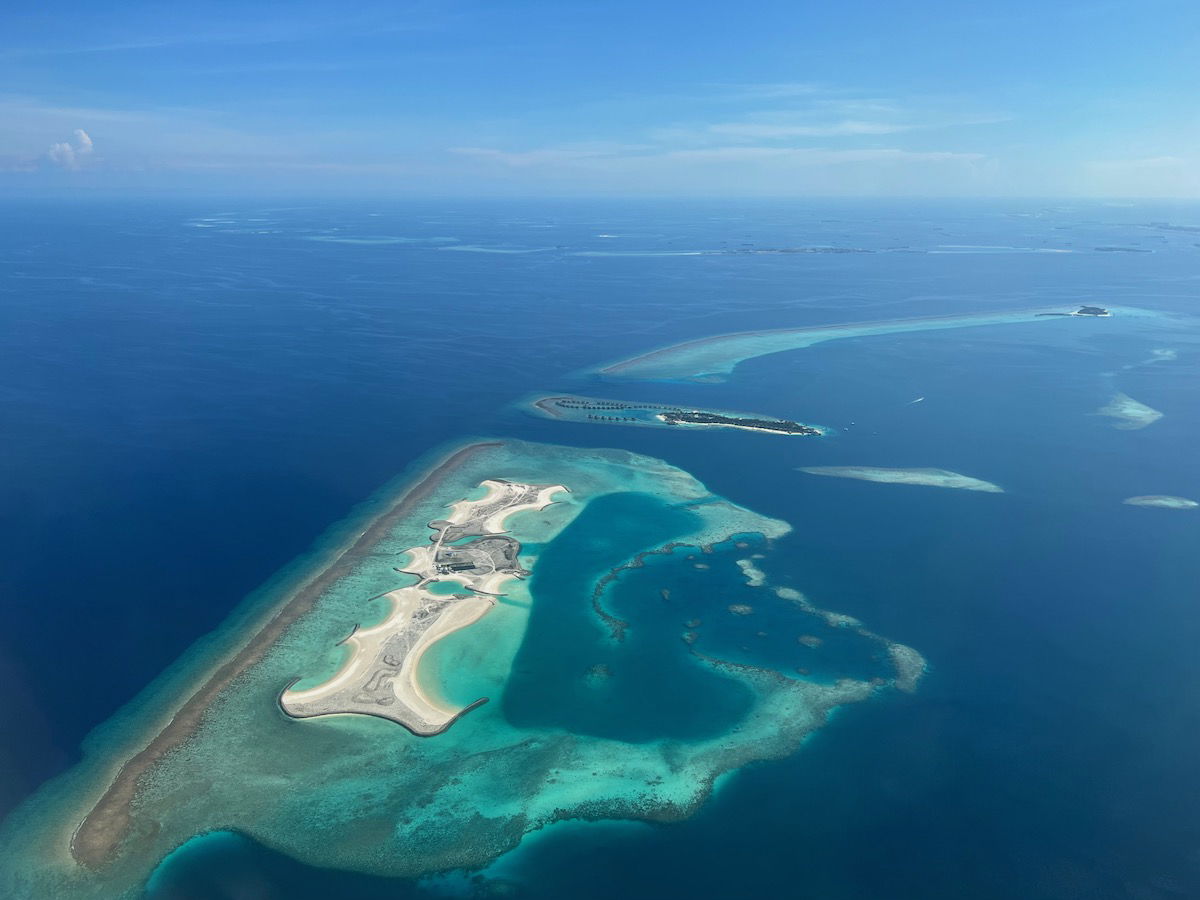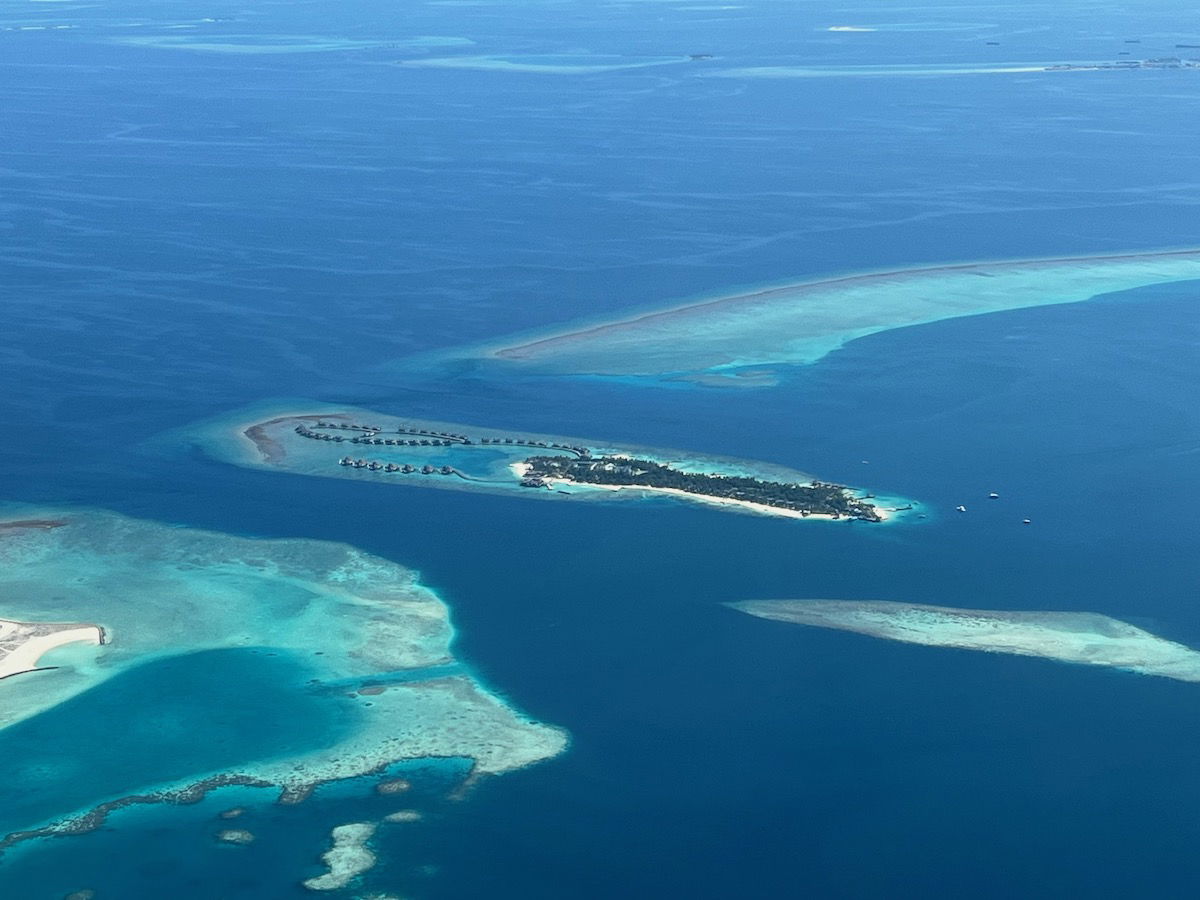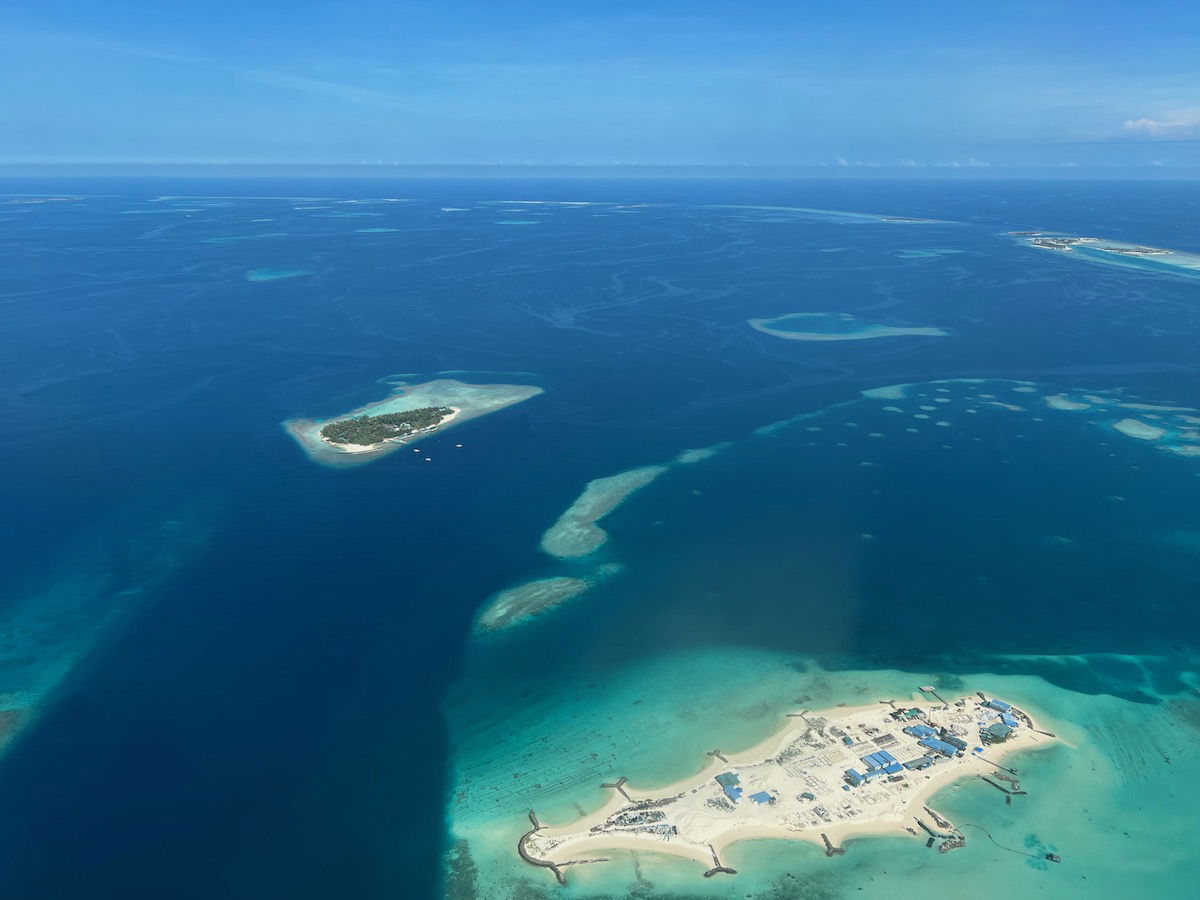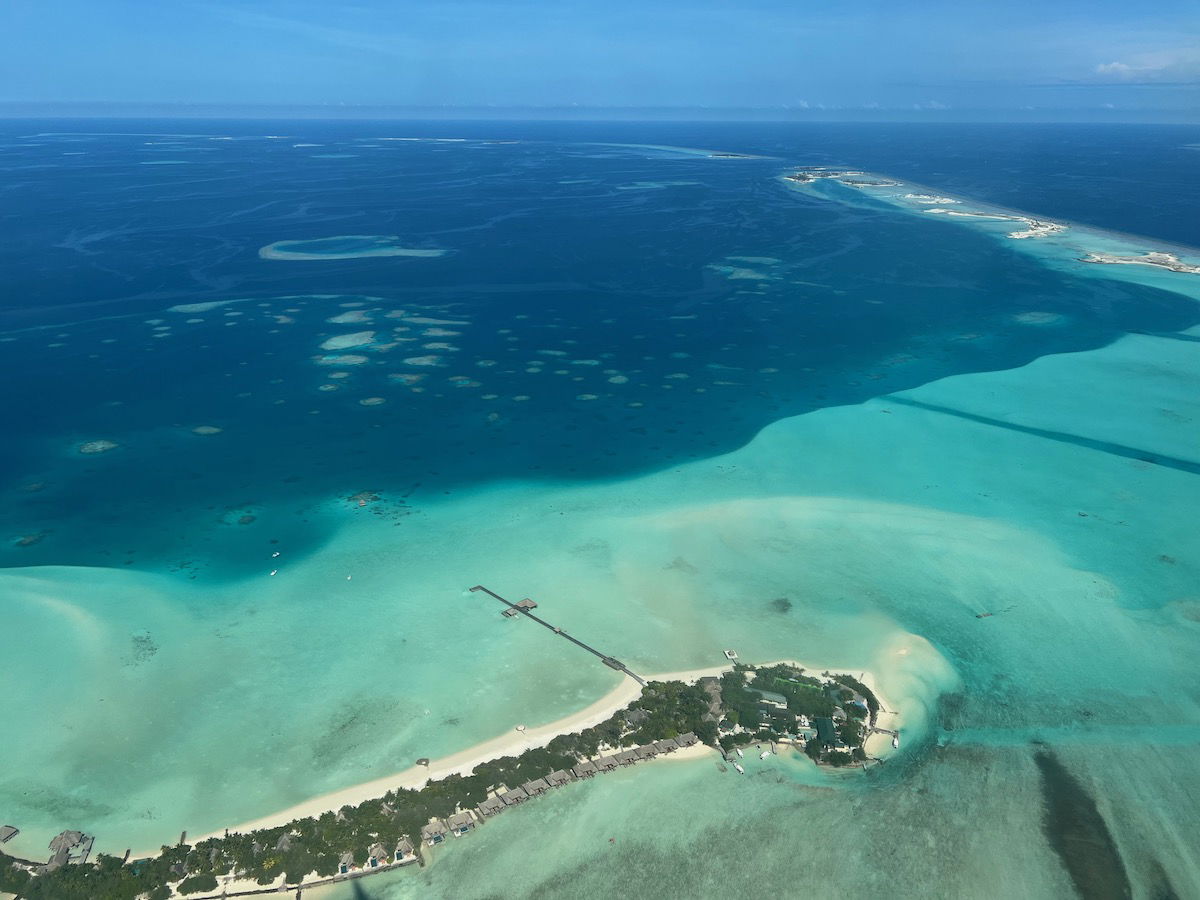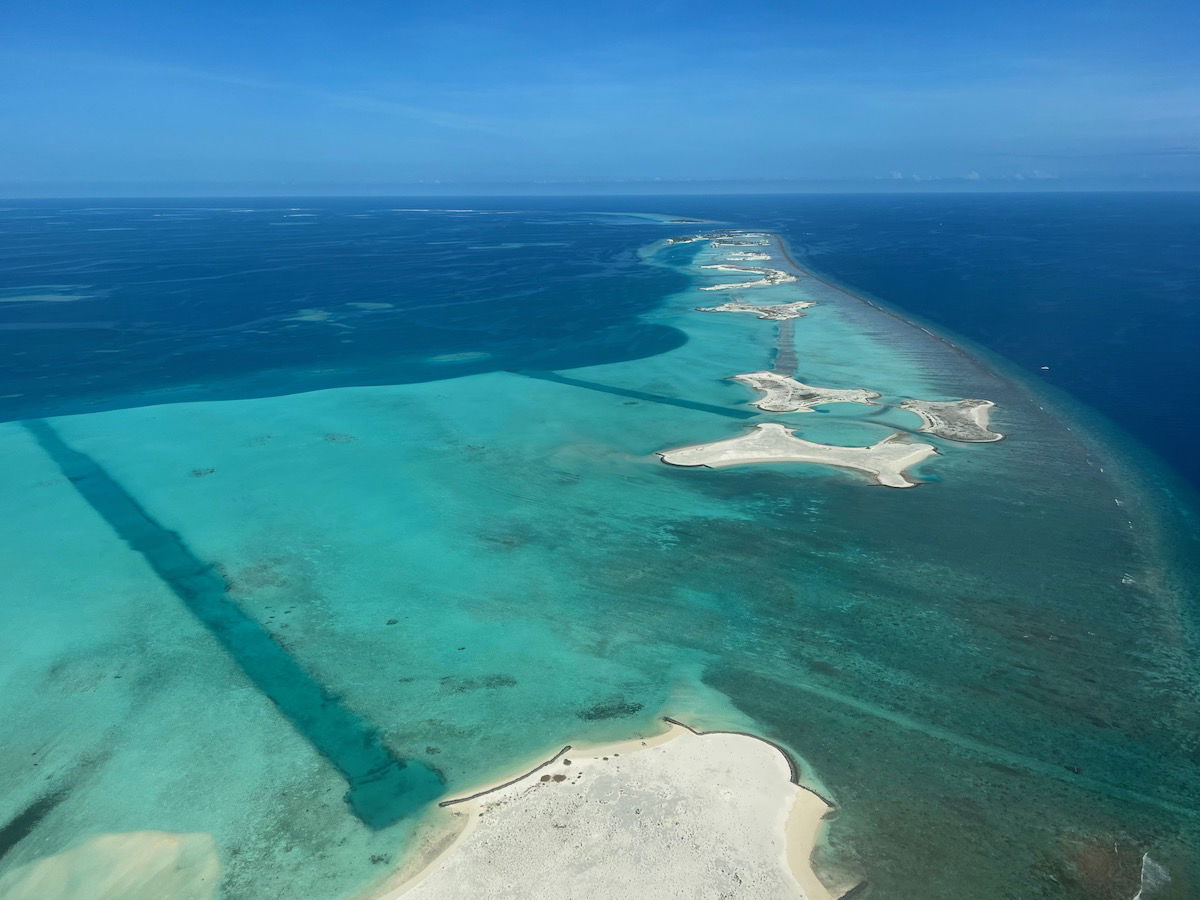 It was cool to finally see the Sinamalé Bridge (originally called the China-Maldives Friendship Bridge) open, connecting the capital of Male to the airport. This wasn't yet open the last time I flew to the Maldives (at the time you had to take a ferry), so it was cool to see. I still really need to visit Male sometime, because I'm sure it must be fascinating.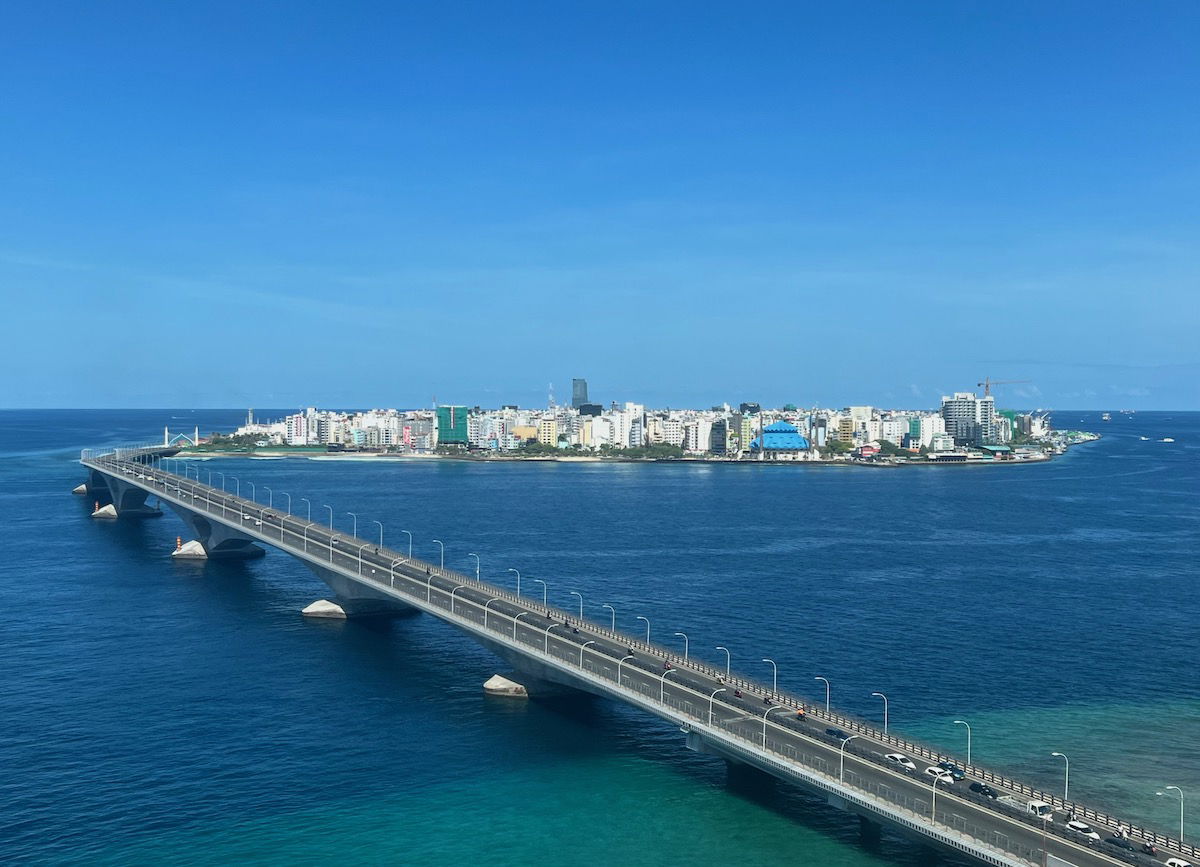 Male's Velana International Airport isn't very large, but it's amazing how many planes are parked here during the day, given that many planes arrive in the morning and leave in the evening. Qatar Airways alone had three planes on the ground, including two 777s.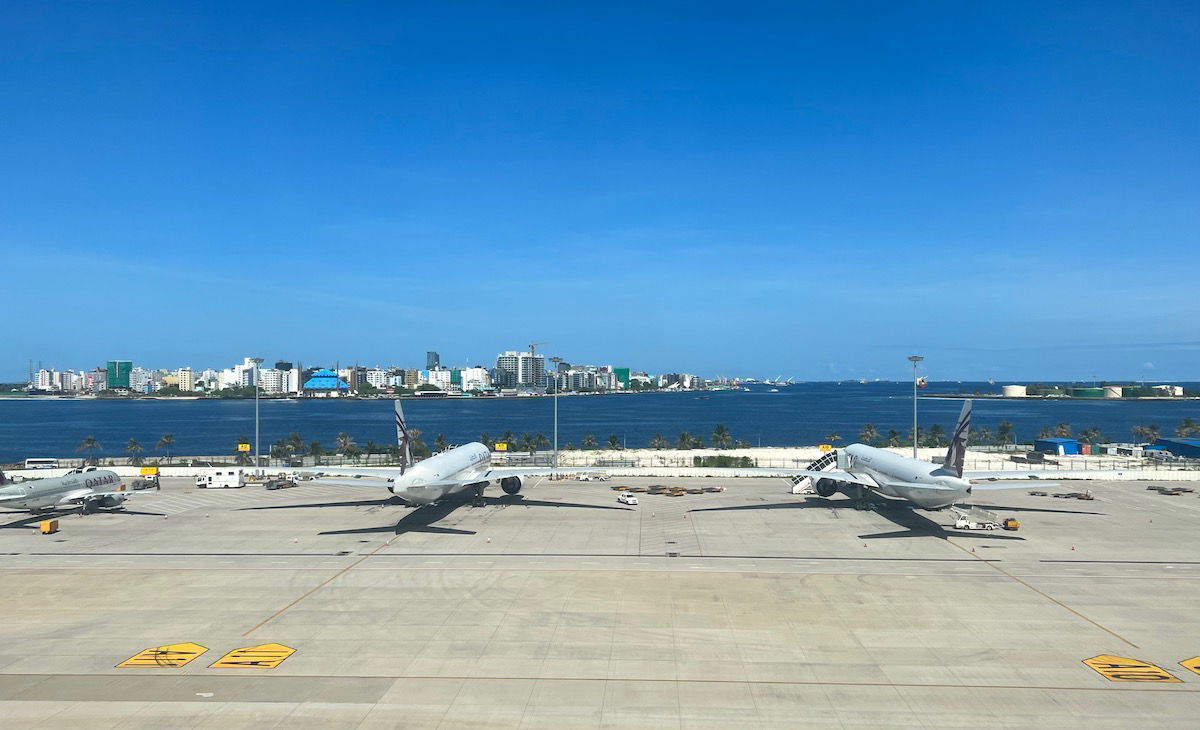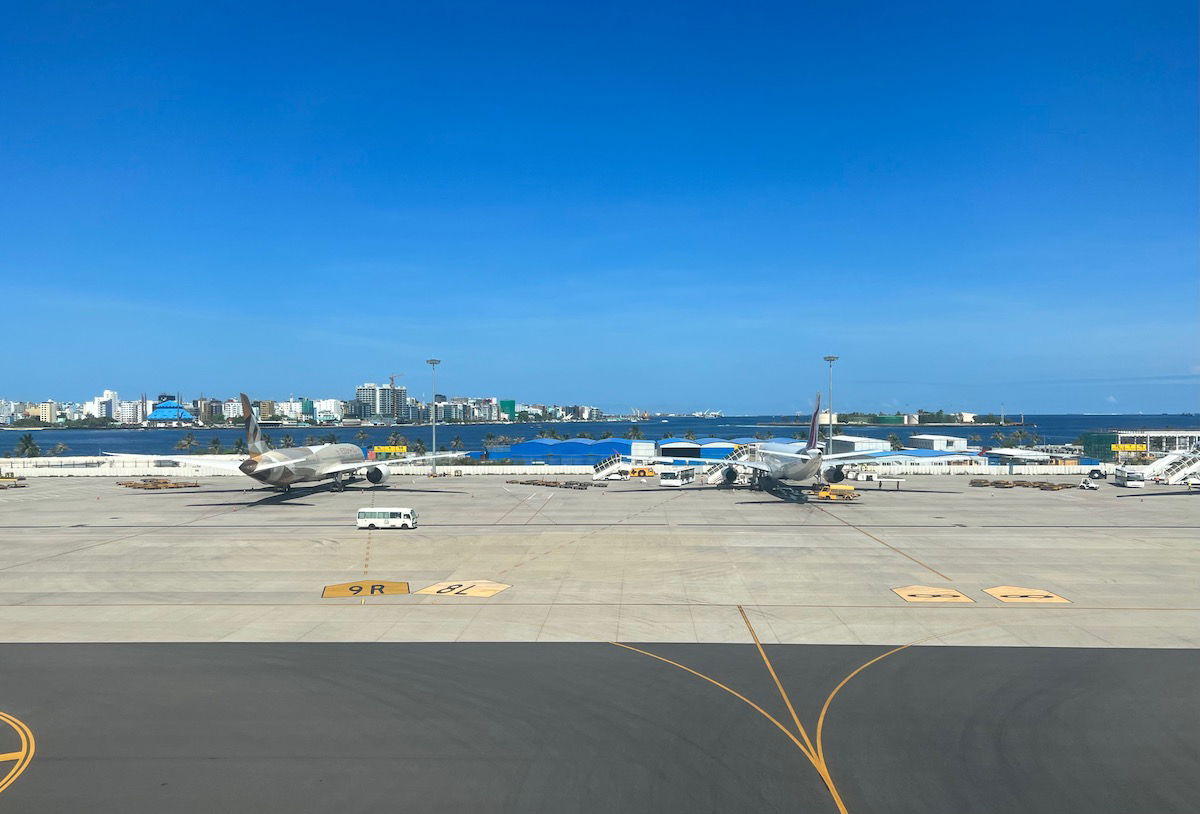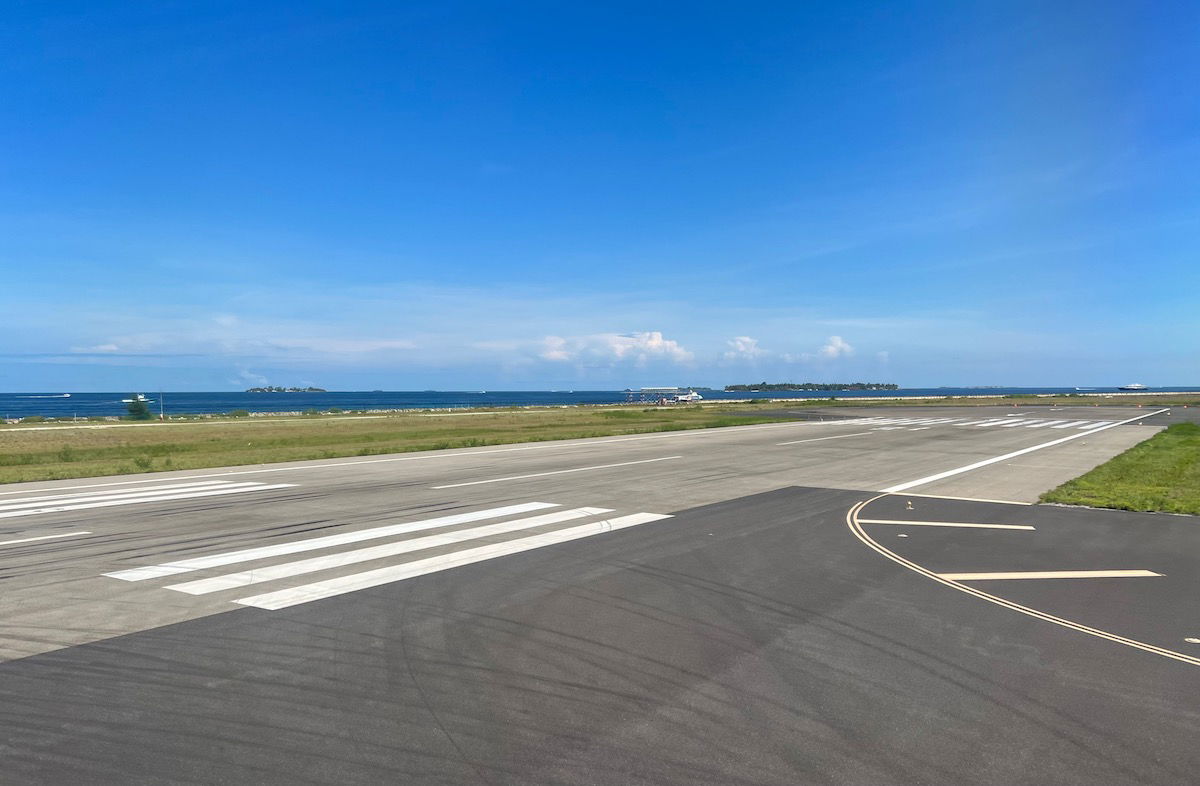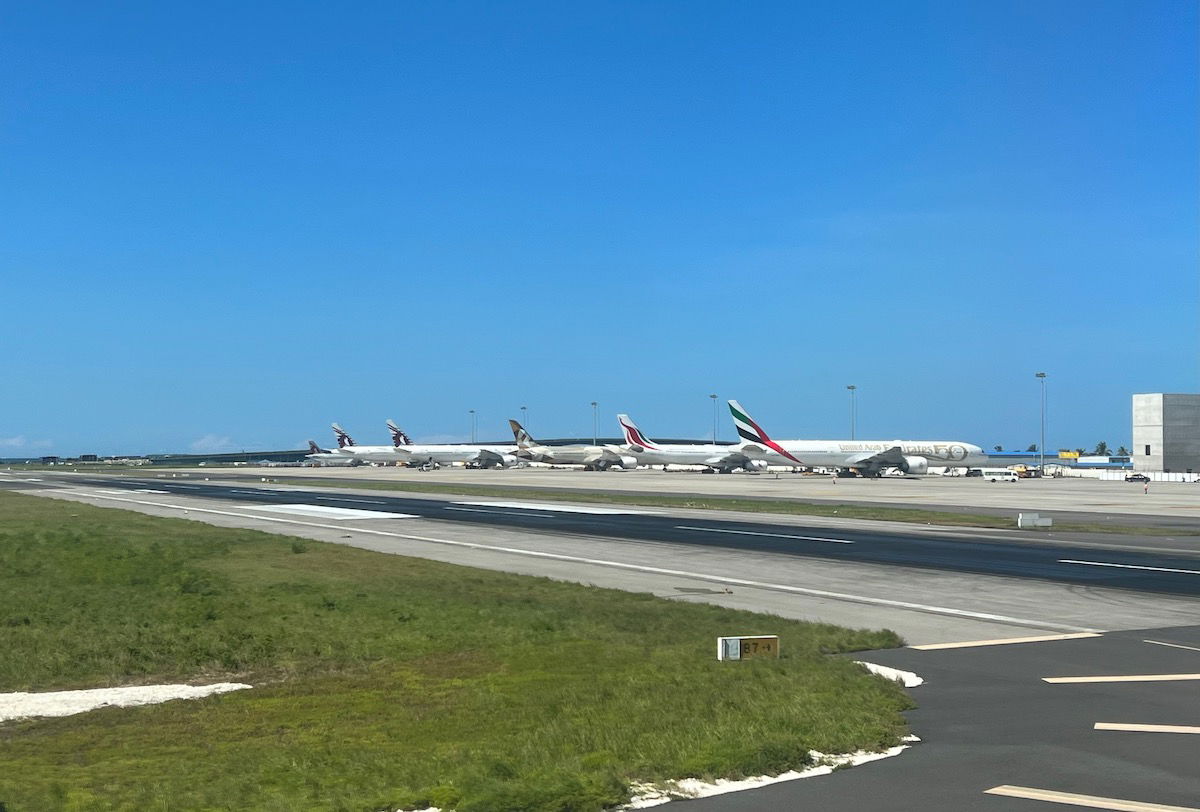 It's also fun to catch a glimpse of the seaplane terminal, since this is the primary way to get around to the further islands.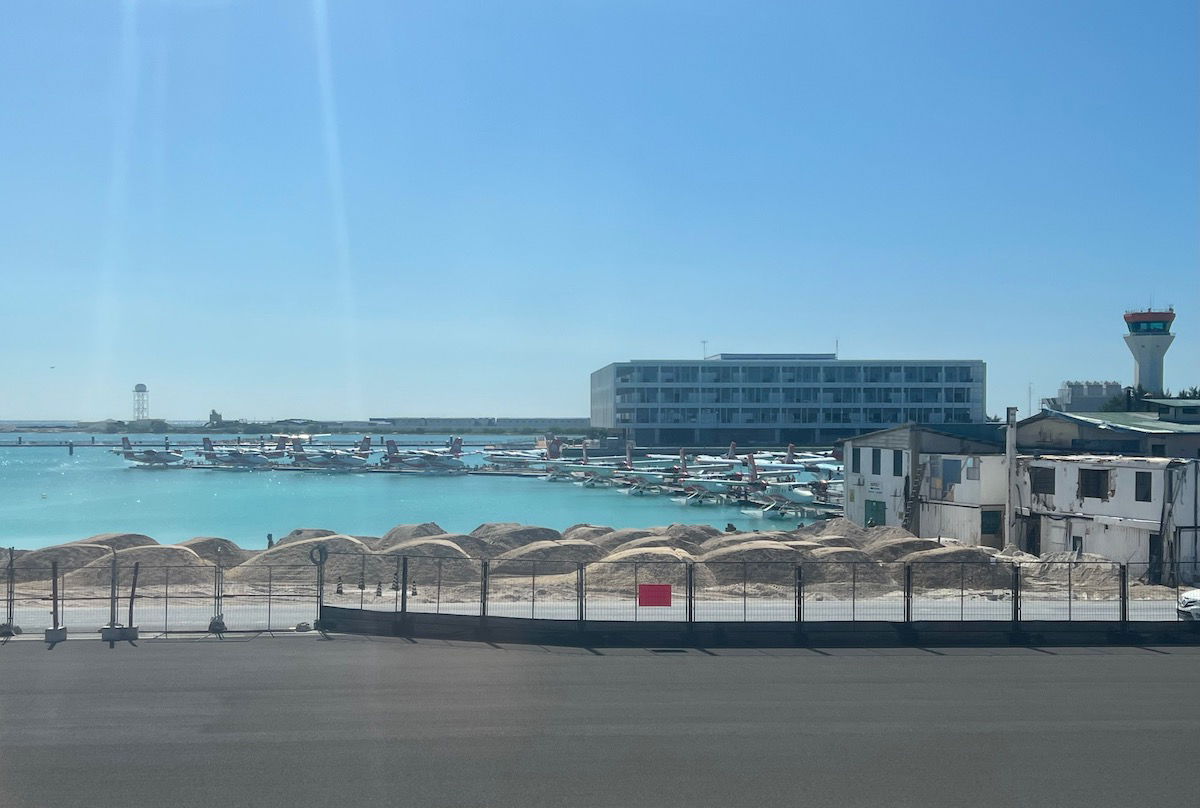 Velana International Airport is also undergoing some major work, and will soon have a new runway and terminal, which should be a game changer for the airport. It looks like significant progress is being made there.
We ended up parking at a remote stand next to another Emirates 777, which pushed back minutes after we arrived.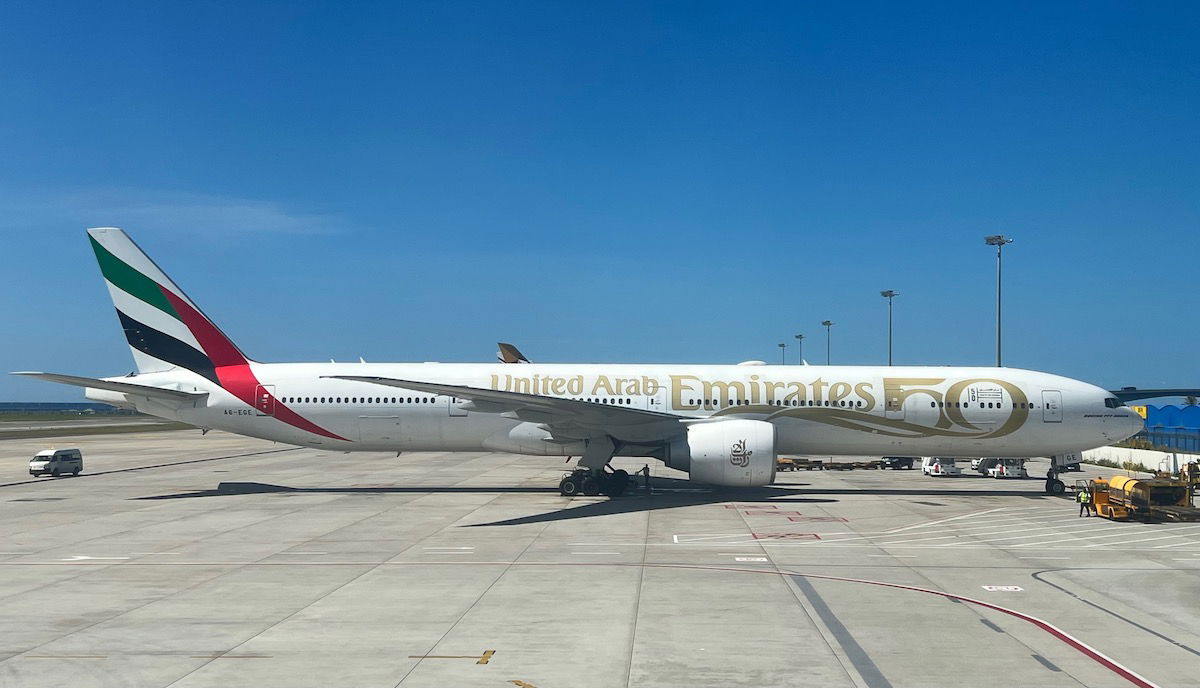 Upon arrival they set up two air stairs, and then we had to take a bus to the terminal. Fortunately there was no wait at immigration, so we were through in no time, and were on the way to our first resort.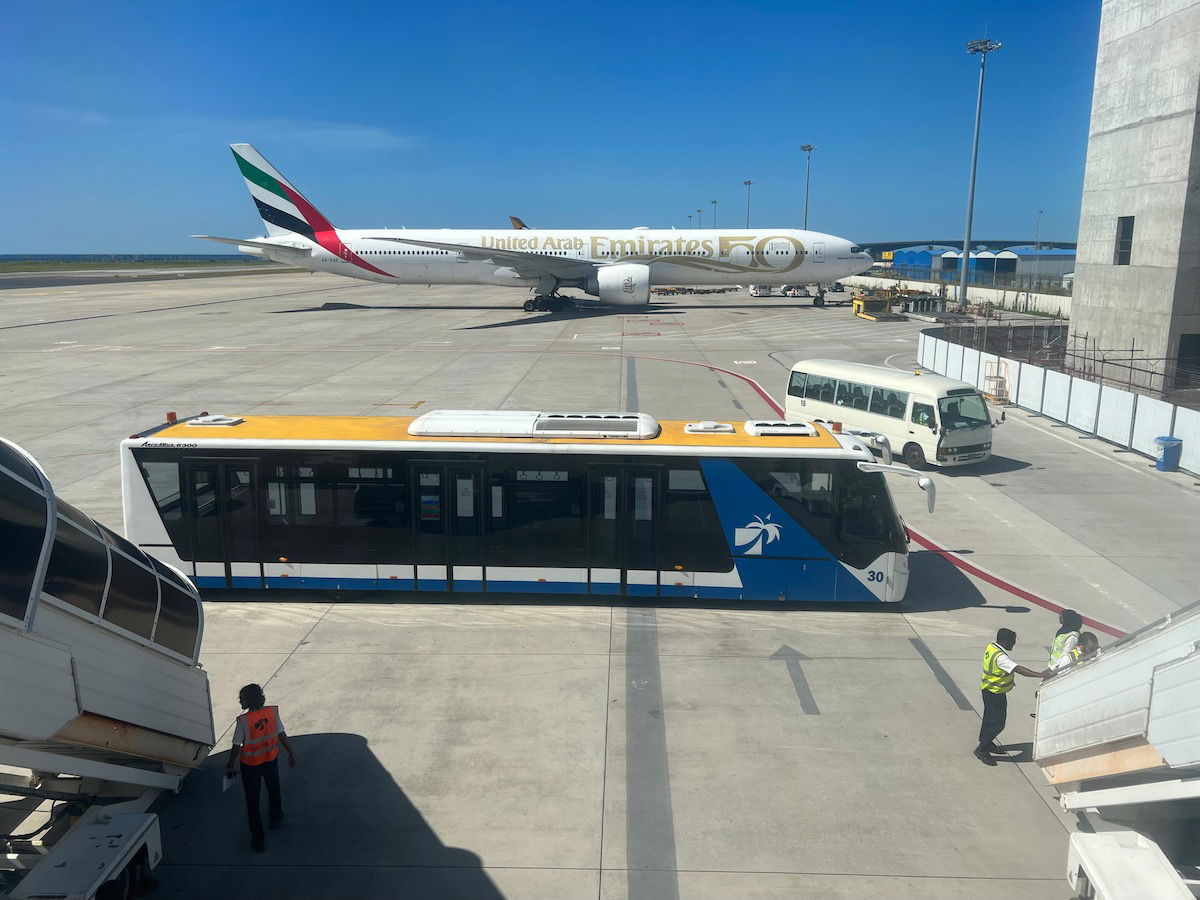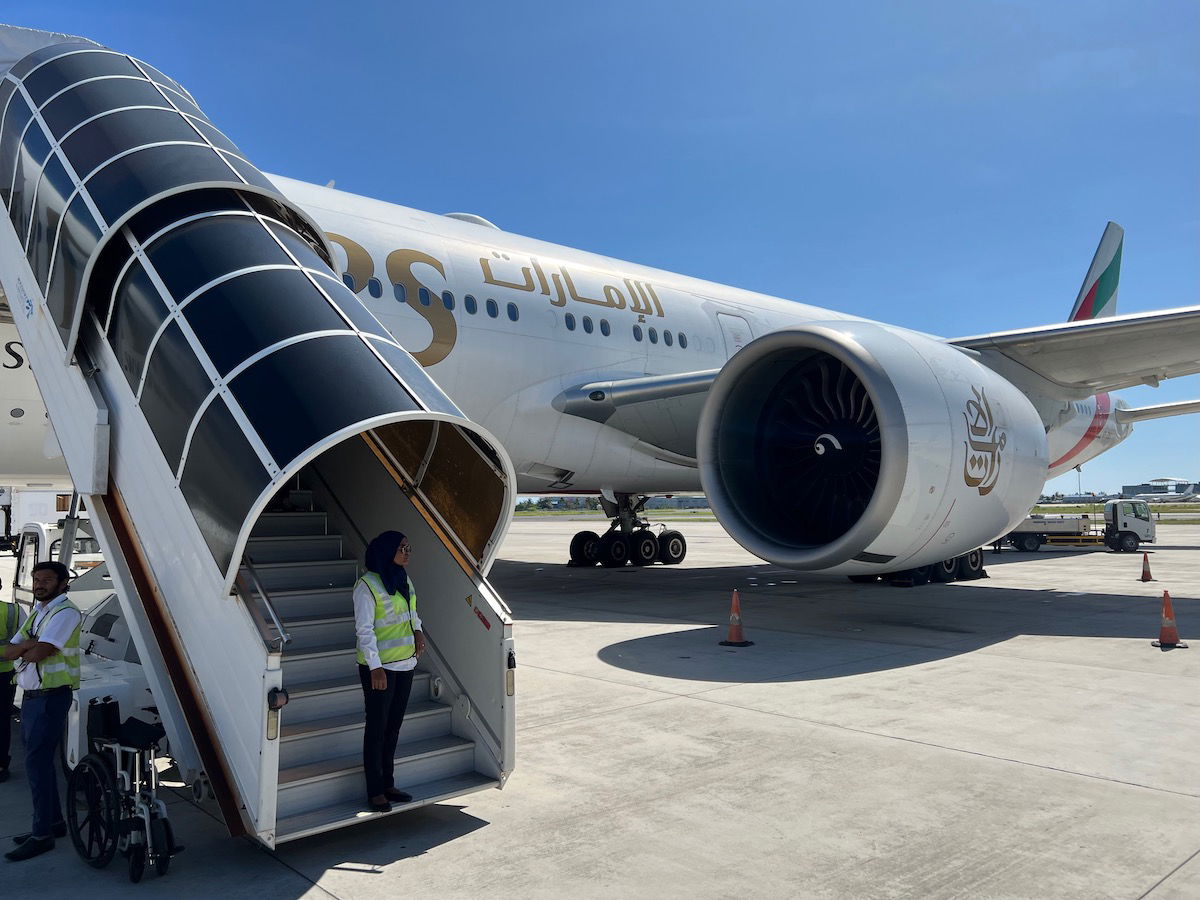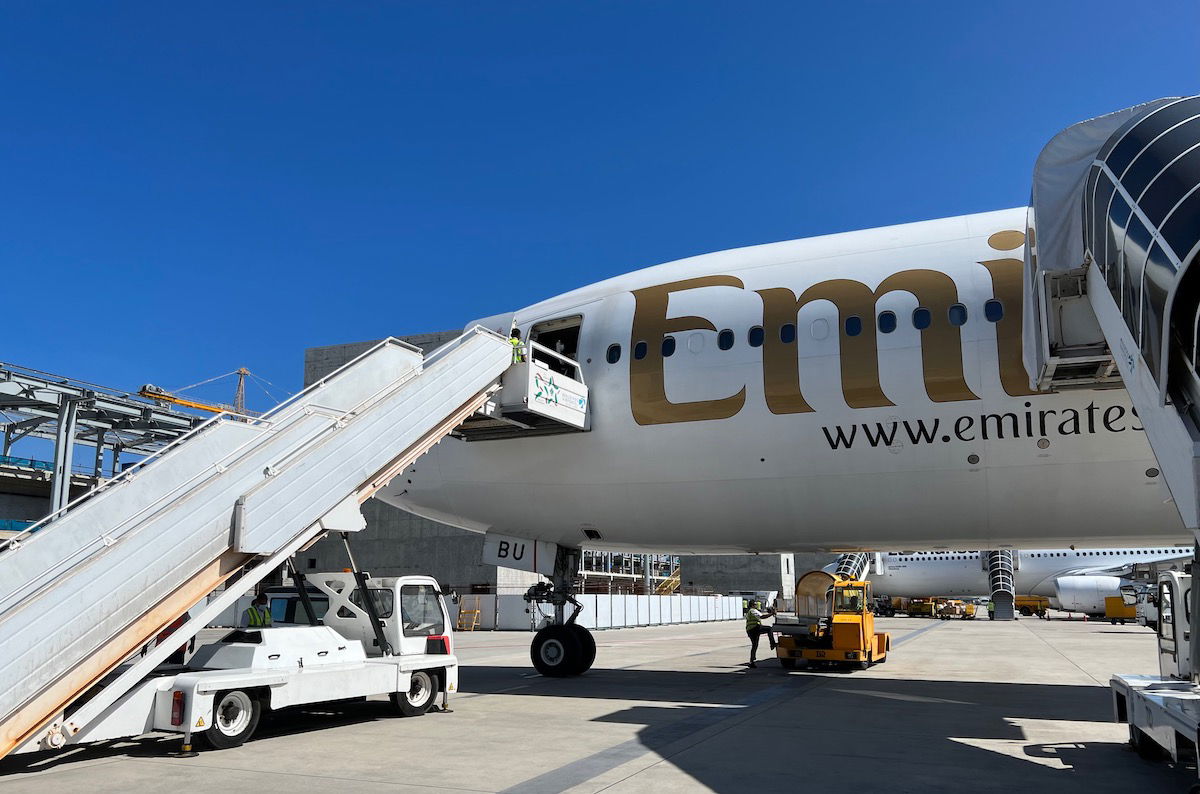 Bottom line
Emirates impresses with its short haul first class experience, as I can't imagine a flight like this being much better. A 4:20AM departure time isn't exactly ideal if you're not connecting from somewhere else, but I managed to get in a solid nap, had breakfast, and even enjoyed some Dom Perignon. On top of that, the crew on this flight was excellent, which made the experience all the better.
It's amazing how different a short haul premium cabin product is in different parts of the world, especially when you consider this flight is comparable in length to a Chicago to San Francisco flight, for example.
If you've flown Emirates' short haul first class, what was your experience like?