After flying Qatar Airways' 777-300ER first class from Male to Doha, and spending a couple of nights at the Park Hyatt Doha, it was time to return to the United States. Specifically, we flew Qatar Airways' Boeing 777-200LR Qsuites business class from Doha (DOH) to Dallas (DFW).
I've flown Qatar Airways' Qsuites before, on both the Airbus A350-1000 and Boeing 777-300ER, and was looking forward to checking out the 777-200LR, along with seeing how the product is holding up in general.
Qatar Airways continues to excel with its business class product, and this flight was no exception. From amazing seats, to endless amenities, to reasonably priced Wi-Fi, to dine on demand, Qatar Airways really offers an amazing passenger experience.
How I booked our Qatar Airways business class tickets
Qatar Airways business class is one of my favorite uses of American AAdvantage miles, so that's how I ticketed our flights. Specifically, I paid 70,000 AAdvantage miles plus $54.82 per person in taxes & fees to ticket the following flight:
05/04 QR731 Doha to Dallas departing departing 1:40AM arriving 10:05AM
Not bad for 16hr25min in one of the world's best business class products, eh?
Qatar Airways business class boarding
We spent a significant amount of time in Qatar Airways' Al Mourjan Business Lounge, which I reviewed in detail in the previous installment. Our flight was departing from gate C2, and was supposed to board at 12:55AM, 45 minutes before the scheduled departure time.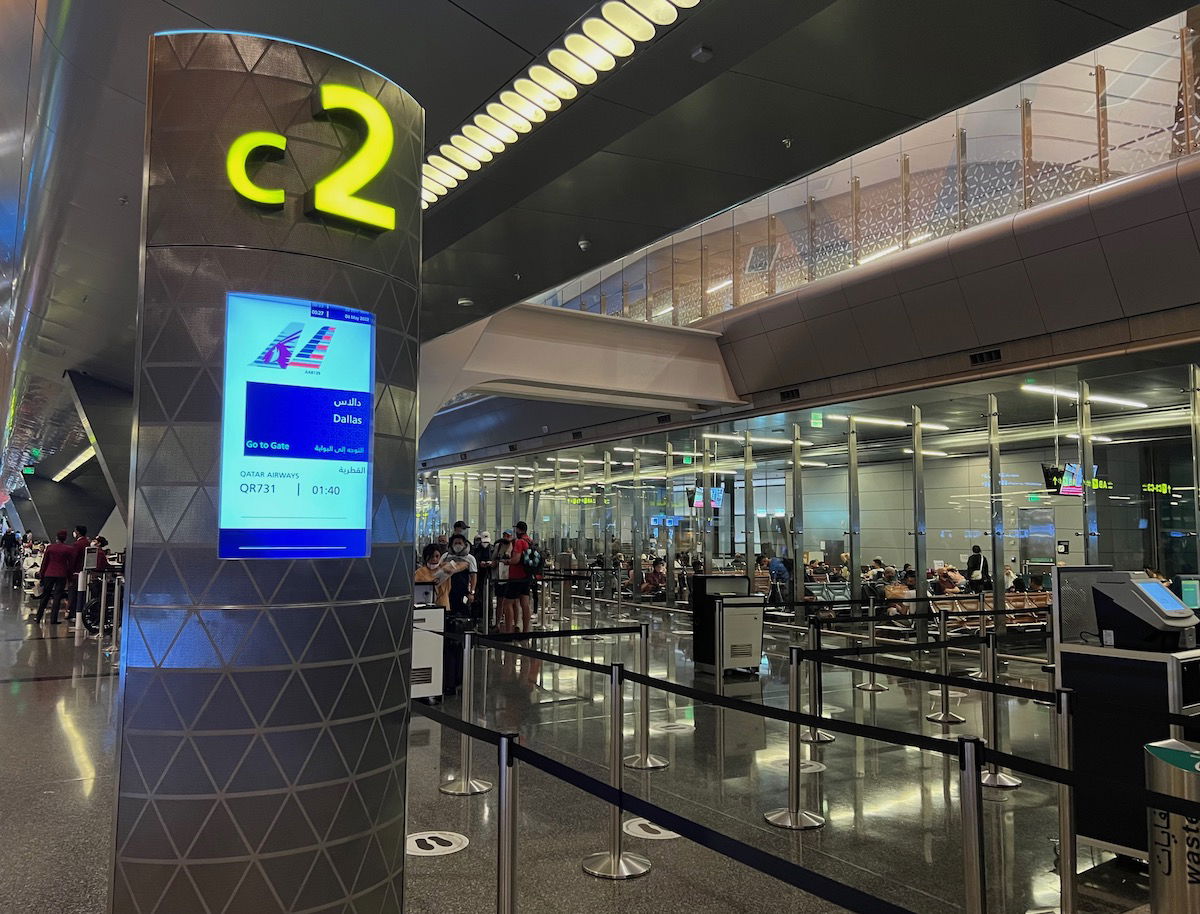 The whole gate situation for US-bound flights is quite chaotic. There are additional security checks for these flights, so first you have to line up so an agent can review your documents and see if you were selected for secondary screening (when you have an "SSSS" on your boarding pass). There are separate queues here for business class passengers.
After that, all passengers have to go through a security checkpoint, where bags are put through an x-ray and passengers have to walk through metal detectors.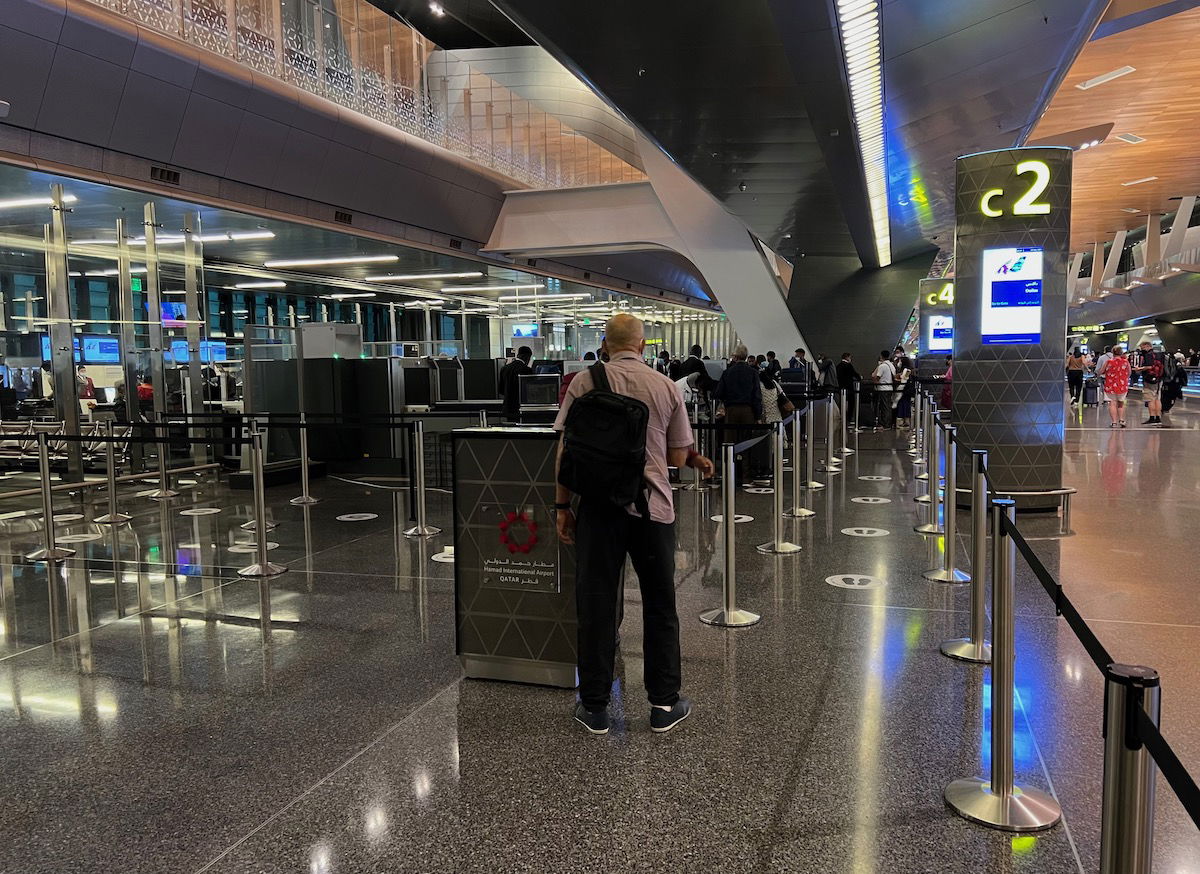 After you go through security your boarding pass is scanned, so you're considered boarded once you're in the sterile gate area.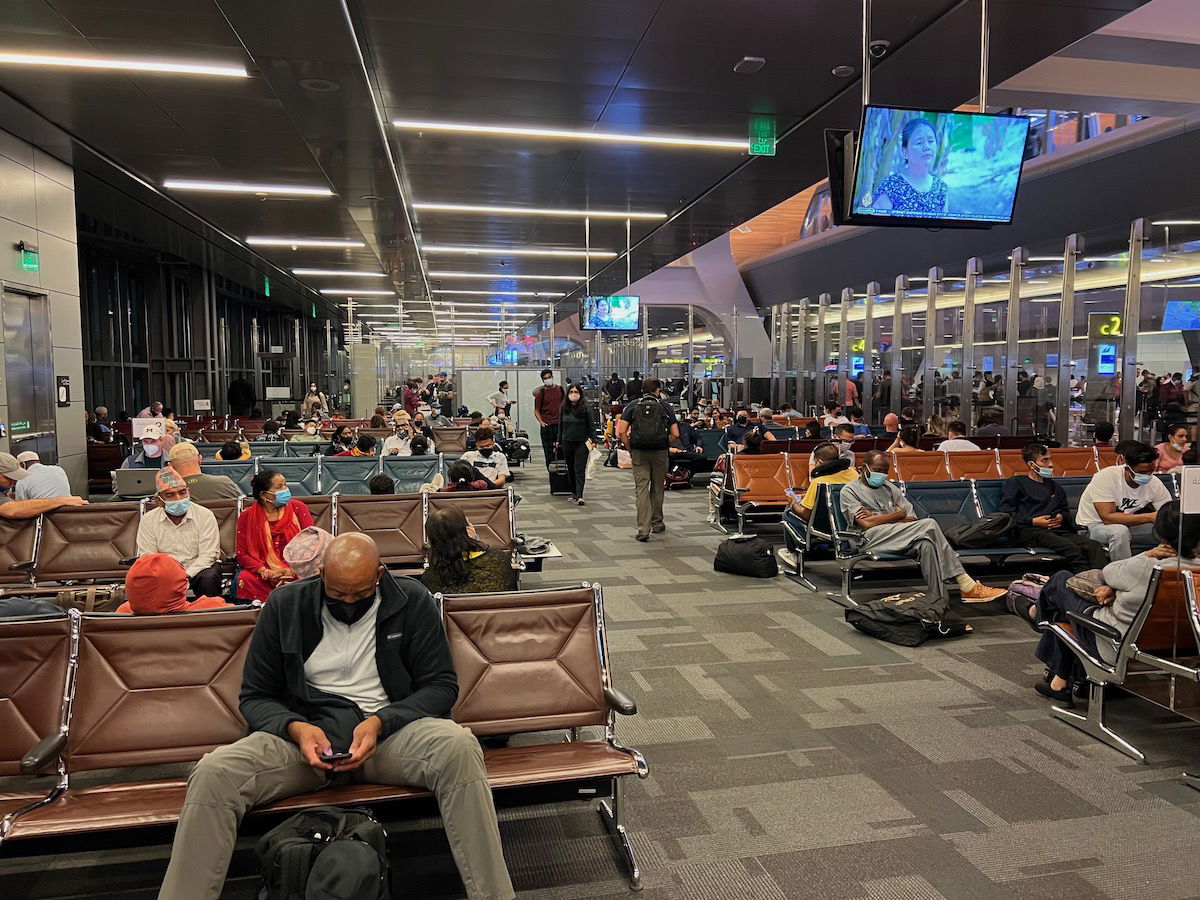 As expected, boarding started at exactly 12:55AM, with business class passengers being invited to board first.
Qatar Airways 777 Qsuites business class cabin & seats
Qatar Airways' Boeing 777-200LRs have 42 Qsuites business class seats, distributed over two cabins. Between the first and second set of doors are 24 business class seats, with six rows of seats in a 1-2-1 configuration.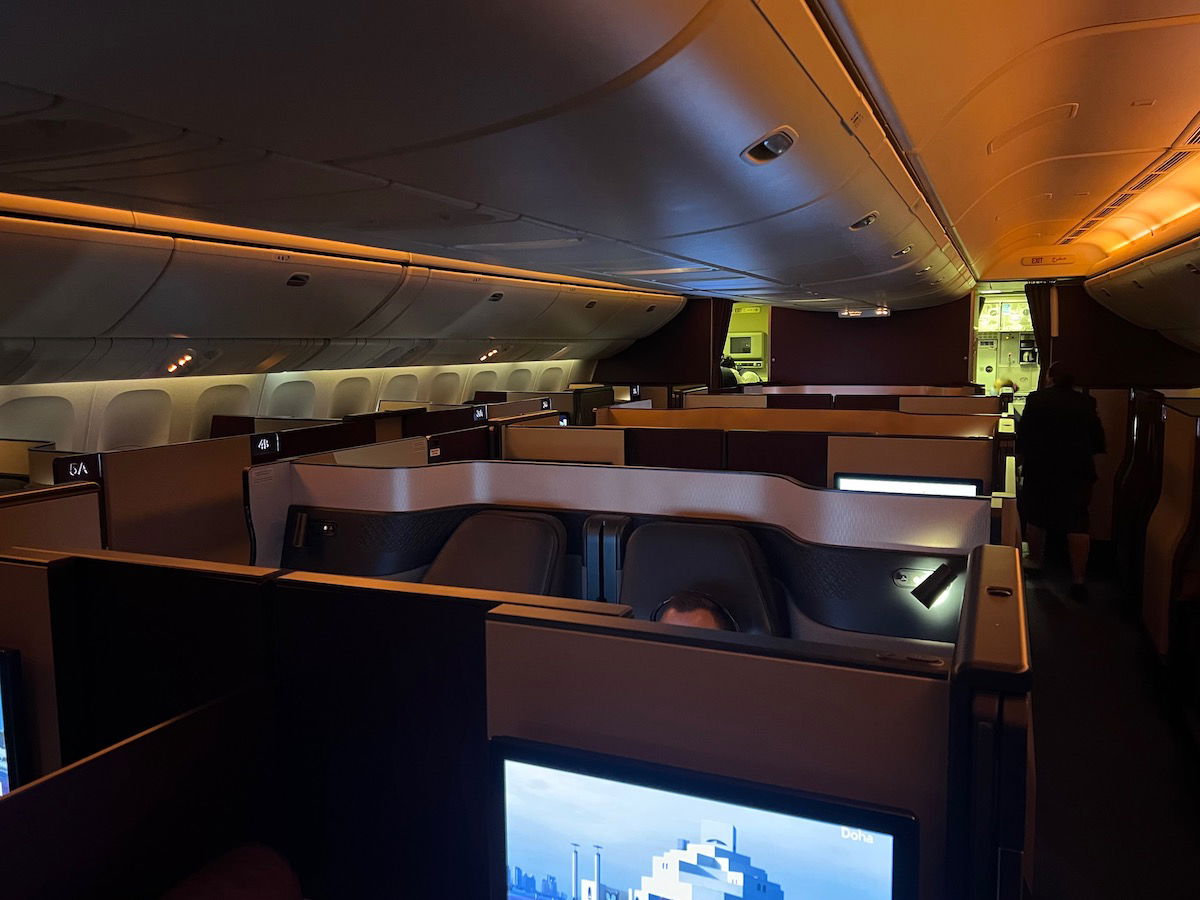 Then behind the second set of doors are another 18 business class seats, spread across five rows in a 1-2-1 configuration. I generally prefer to sit in the back of business class, so that's what we selected.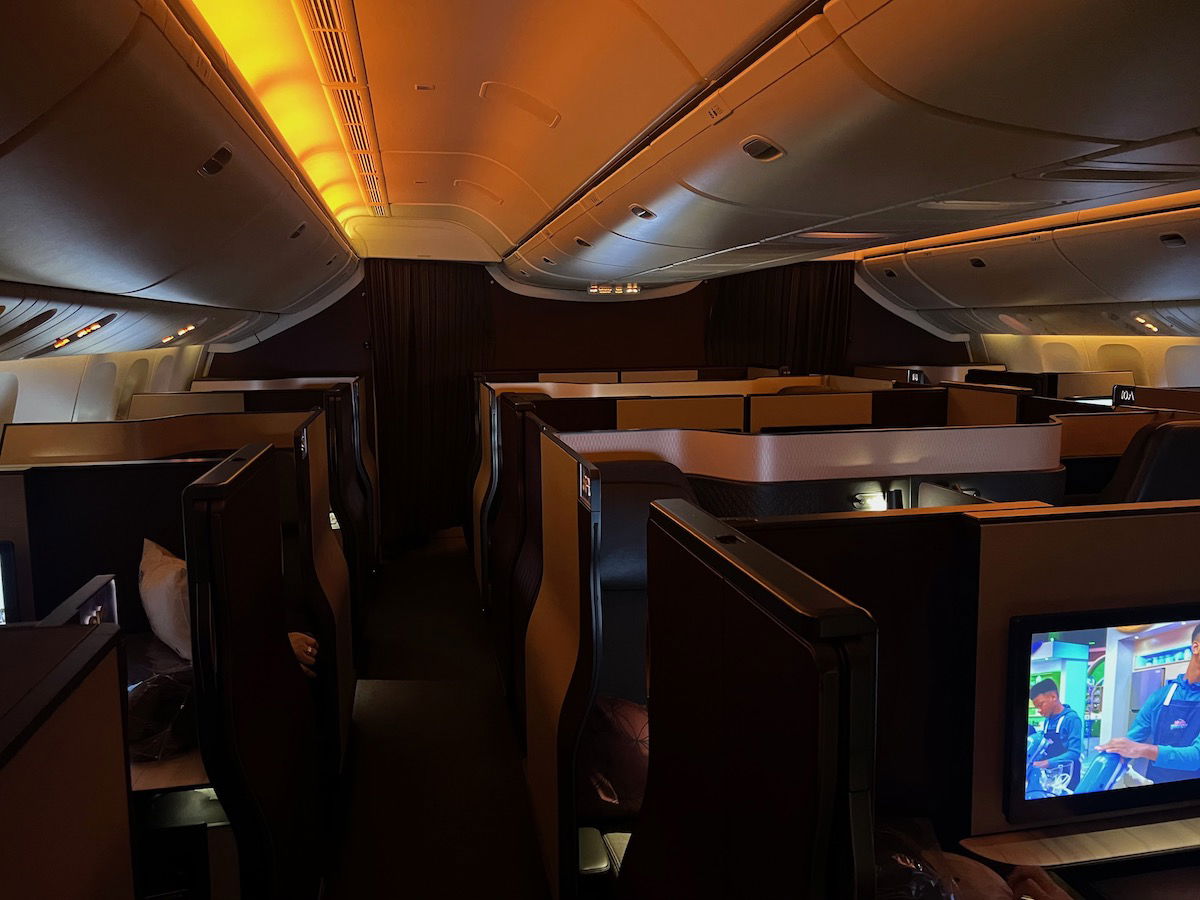 Qatar Airways' Qsuites business class configuration is staggered, so seats alternative between being forward and rear facing, and alternate between being closer and further from the aisle. If you select a window seat, I'd recommend choosing one of the rear facing seats (these are the "A" and "J" seats), since these are closer to the windows, and therefore the seats are also a bit further from the aisle.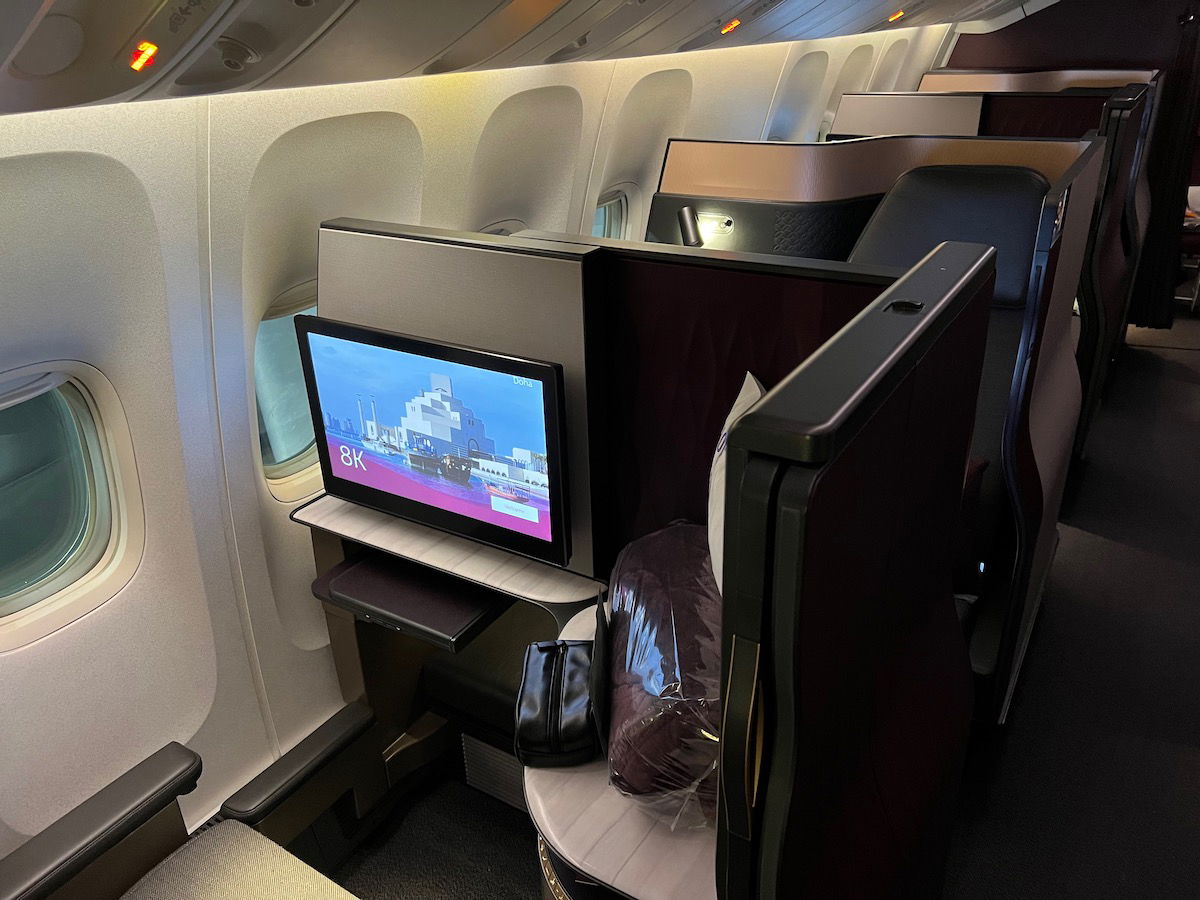 I had initially assigned us seats 8K and 10K, so that we'd both have "true" window seats. Even years after the product has been introduced, Qsuites continues to impress me for how comfortable and gorgeous the suite is. I also have to say that the suite is aging well, and I'm surprised by how few scratches and scuffs there are.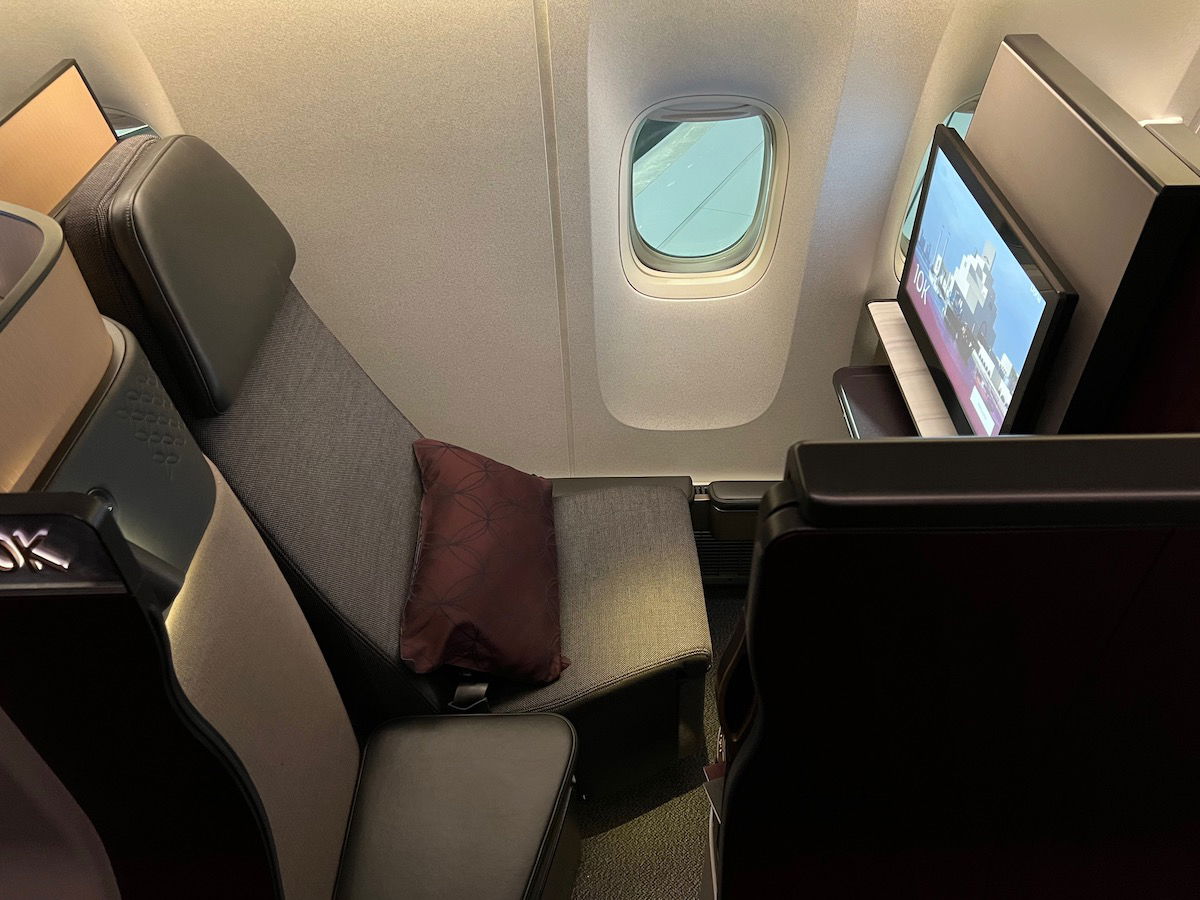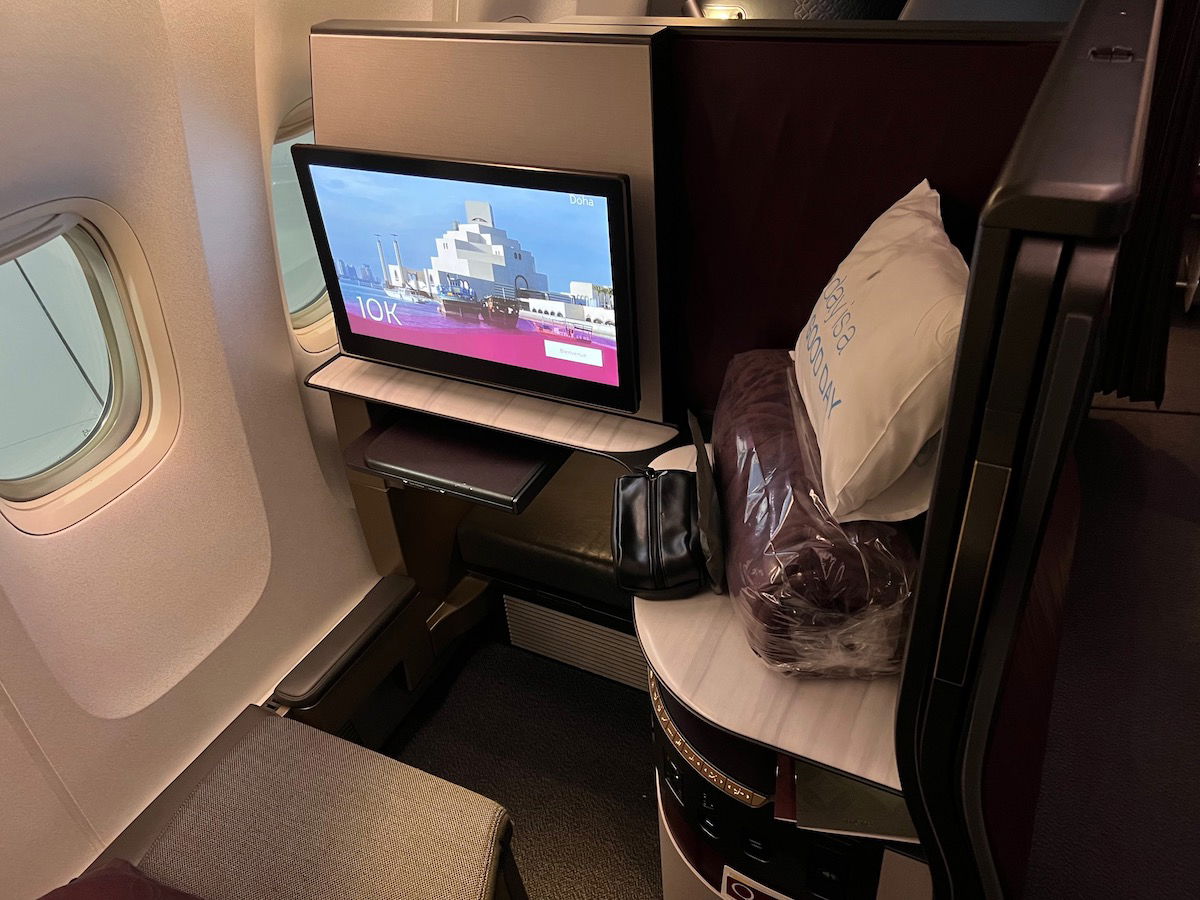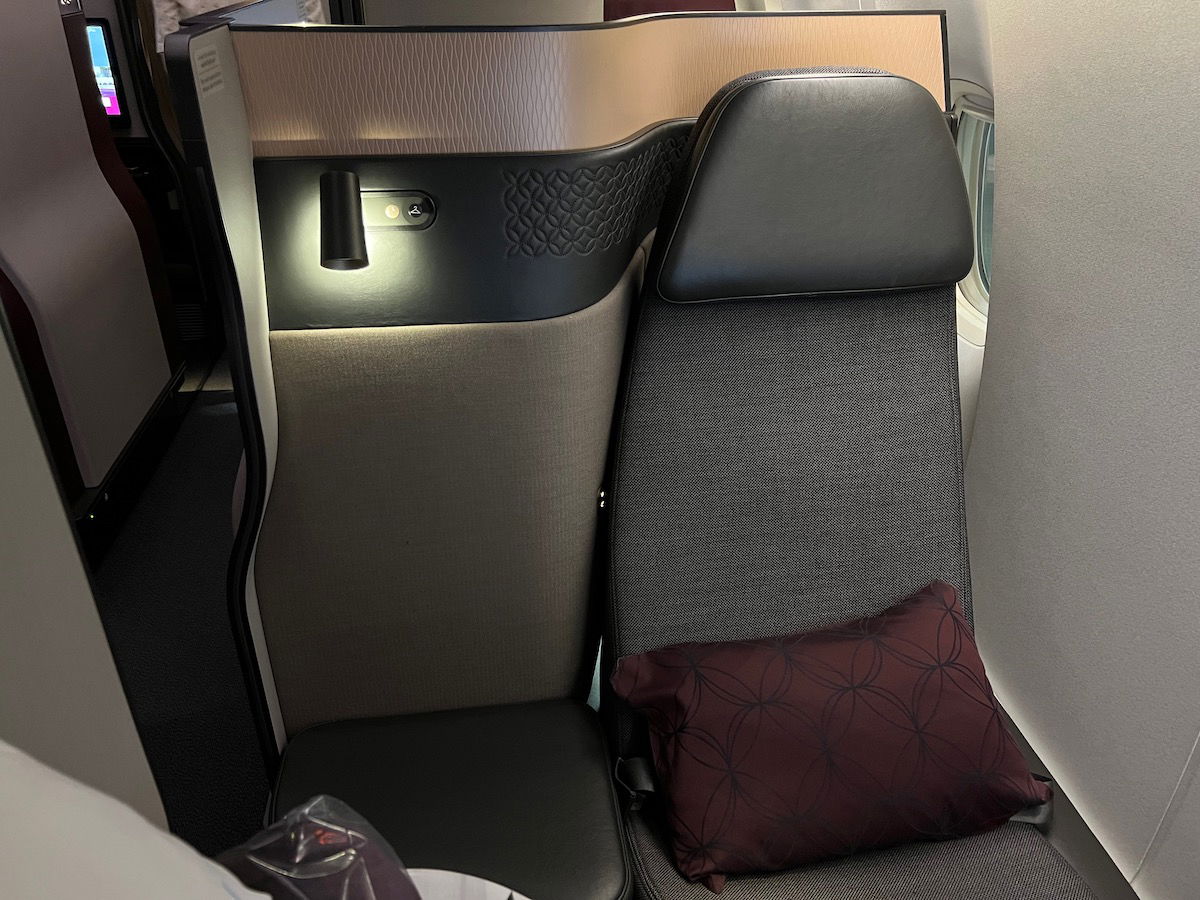 For what it's worth, the forward facing window seats (the "B" and "J" seats) are a bit closer to the aisle. While they're still great, the downside is that it's a bit harder to look out the window, and your head is also closer to the door, so some might find those seats to be a bit more claustrophobic. They're still great, though.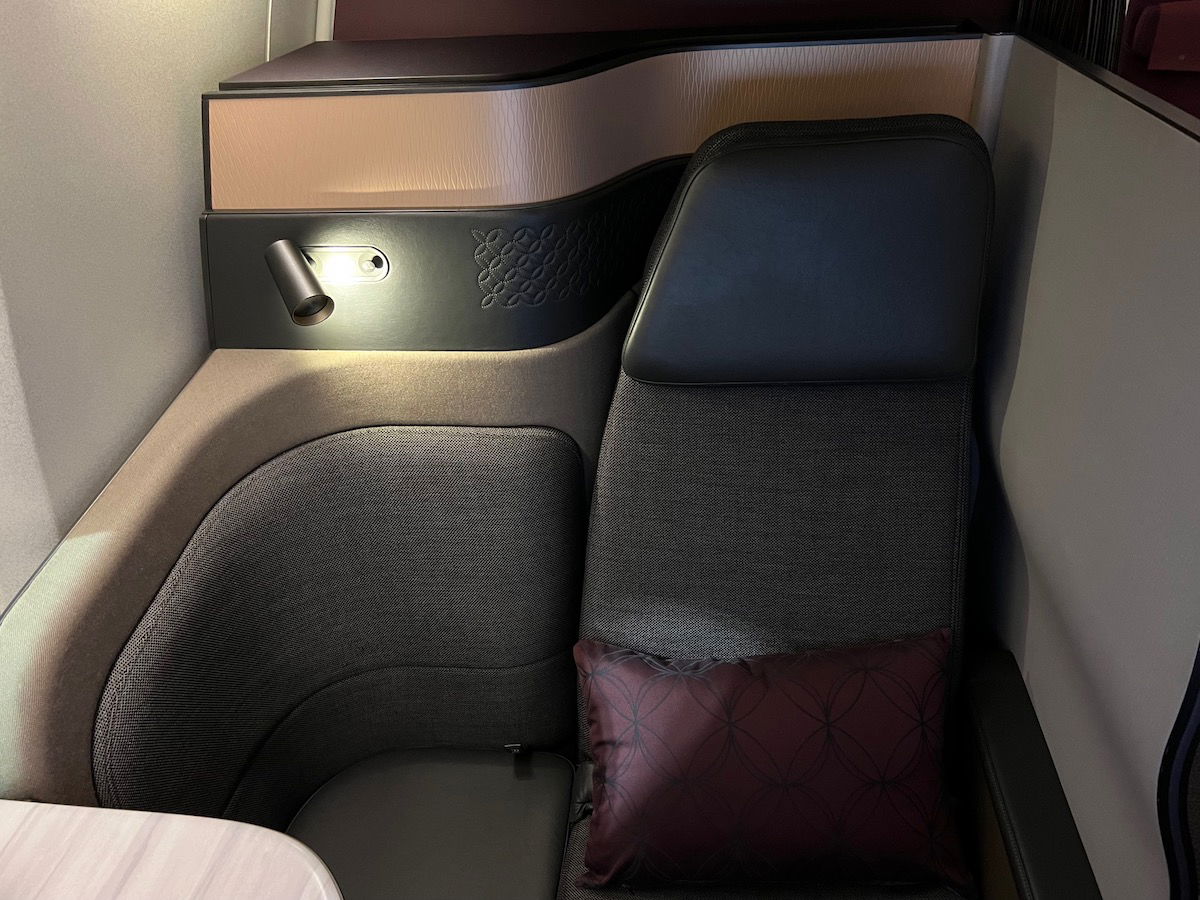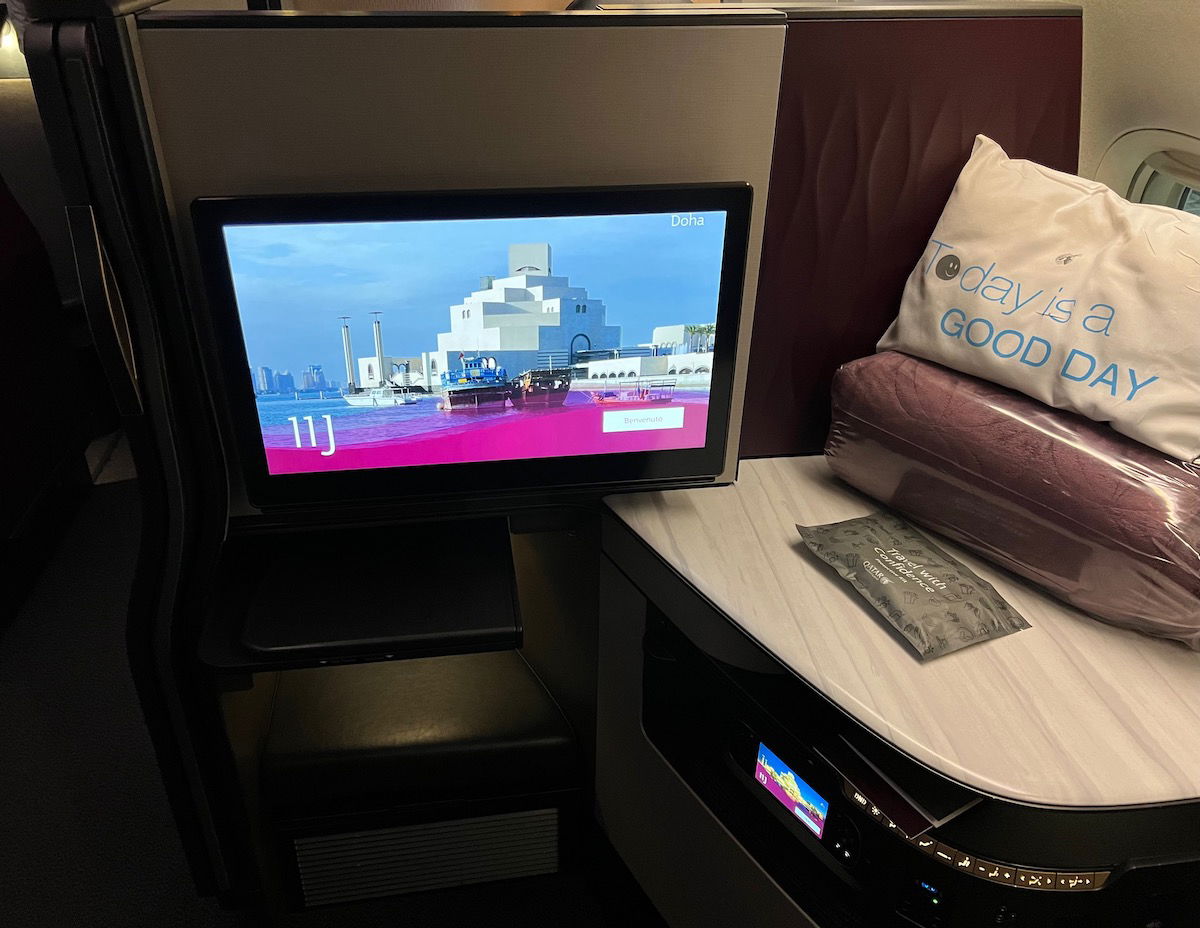 Qatar Airways' Qsuites layout is also innovative in the center section. The rear facing seats ("E" and "F") are closer to one another, so are often referred to as honeymoon seats.
Meanwhile the forward facing seats ("D" and "G") are closer to the aisle, so would be my least preferred seats. That's because they're further from one another but also don't have windows. One cool thing is that if you're traveling with a party of four, you can create a seat "quad," as four sets of center seats will turn into one big suite. Unfortunately this flight was too full to try that.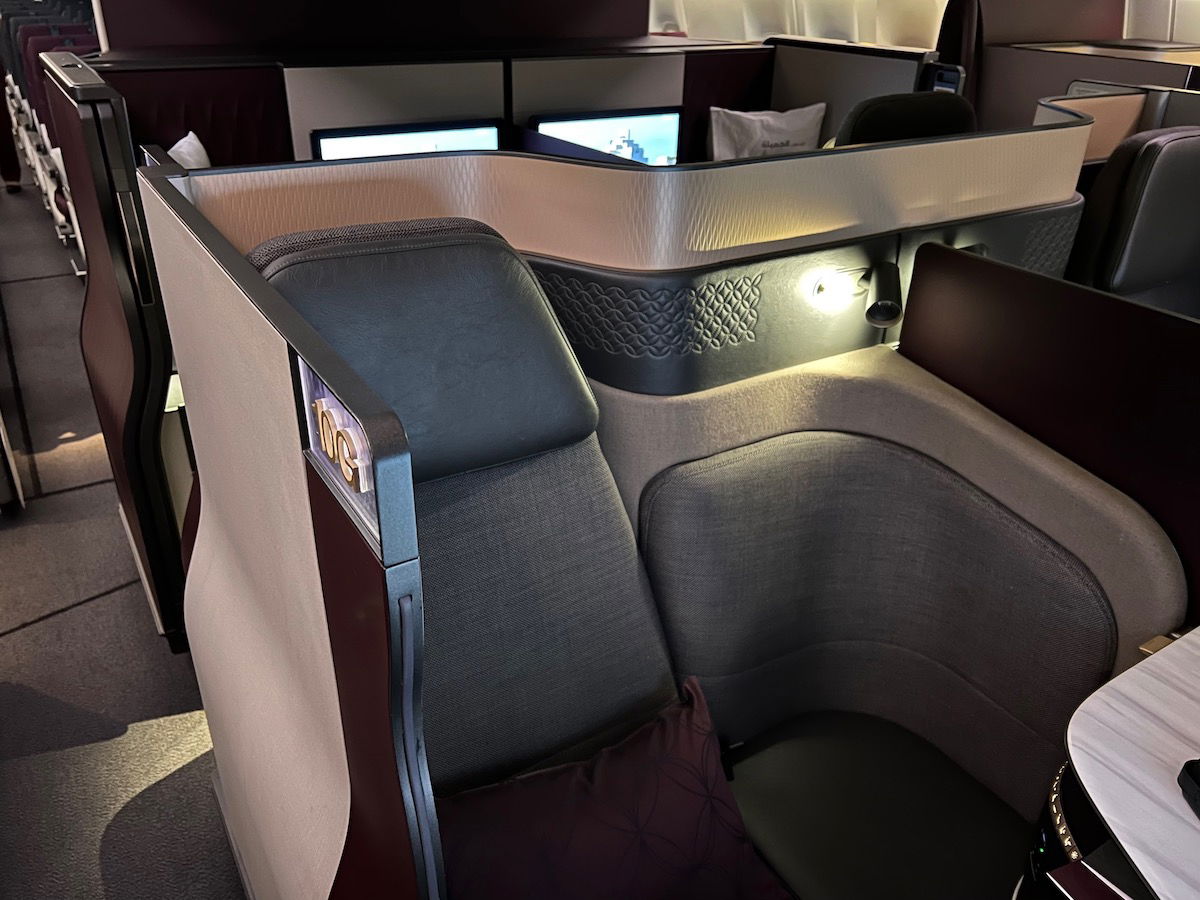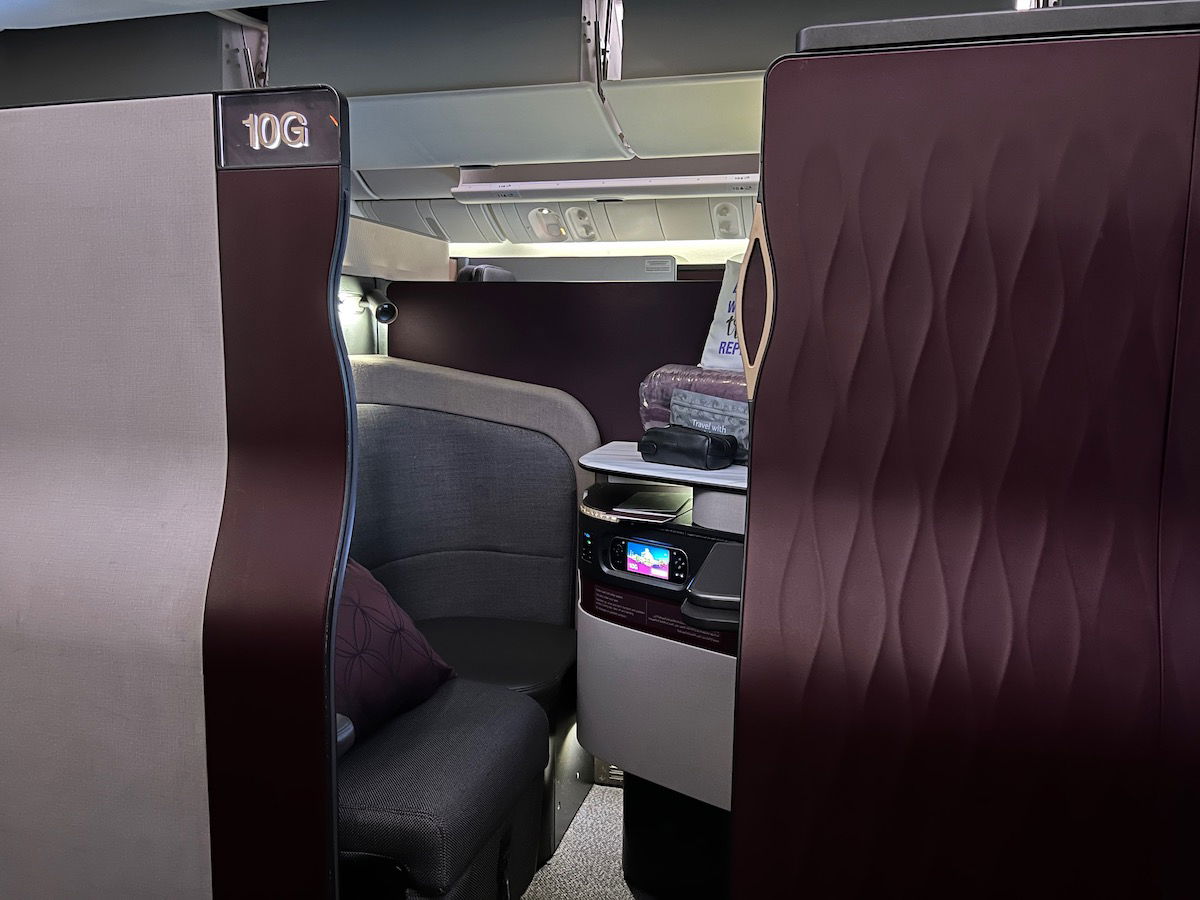 For this 16+ hour flight we decided it was best to just get two window seats. I'm not a good sleeper on planes, so I prefer to sit separately and not be blamed for waking Ford up when I can't sleep. 😉
Anyway, Qatar Airways Qsuites really is a spectacularly good product. It's not just that the seats offer so much privacy thanks to the doors, but also the attention to detail with the entire design. I love the huge personal television at each seat, plus the large counter to the side of the seat, where you can place things during the flight without using your tray table.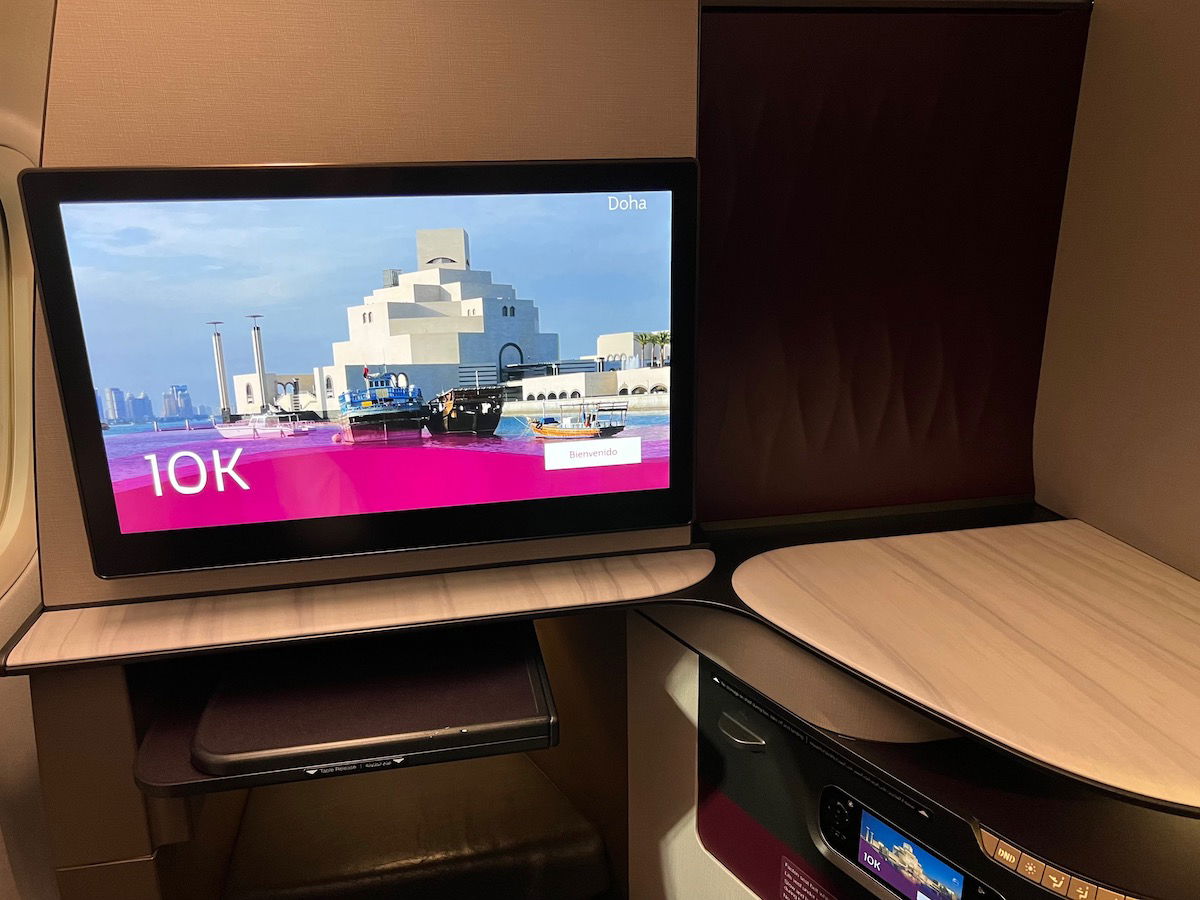 Underneath that counter are most of the seat's features, including the entertainment controller, AC and USB power outlet, all the seat controls, etc. This has to be one of the most well designed and organized airplane seat panels out there.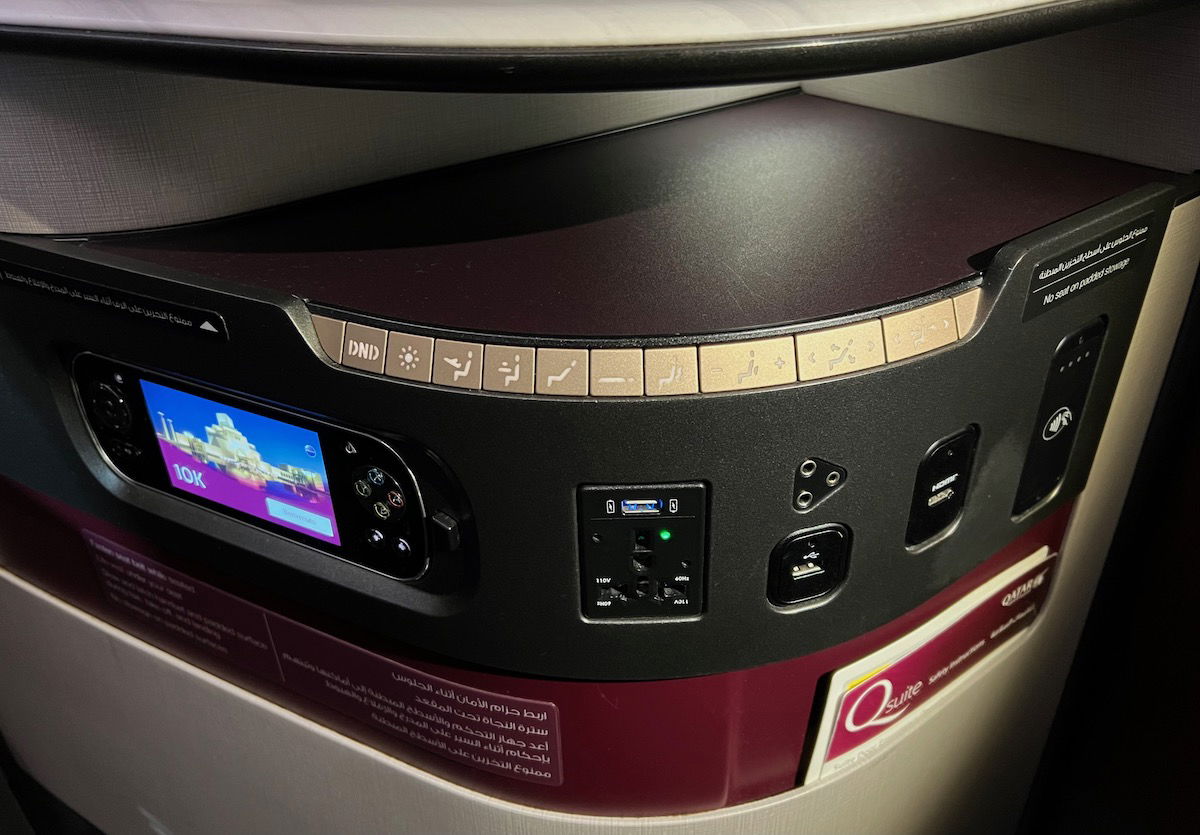 Then there's a fairly large storage compartment to the side of the seat, where you can store everything from a laptop to bottled water.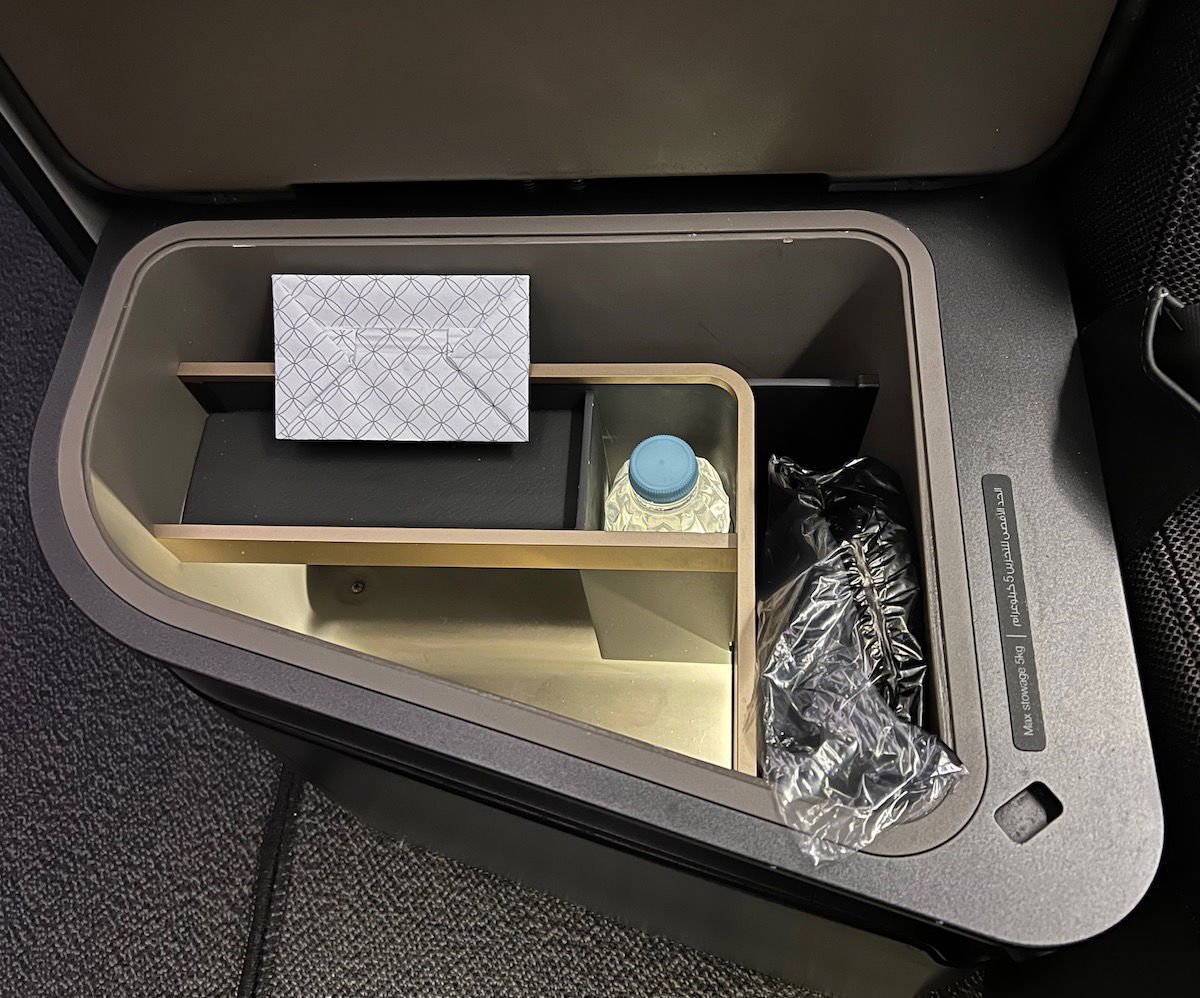 The tray table extends out from in front of the seat (over the footwell), and is large.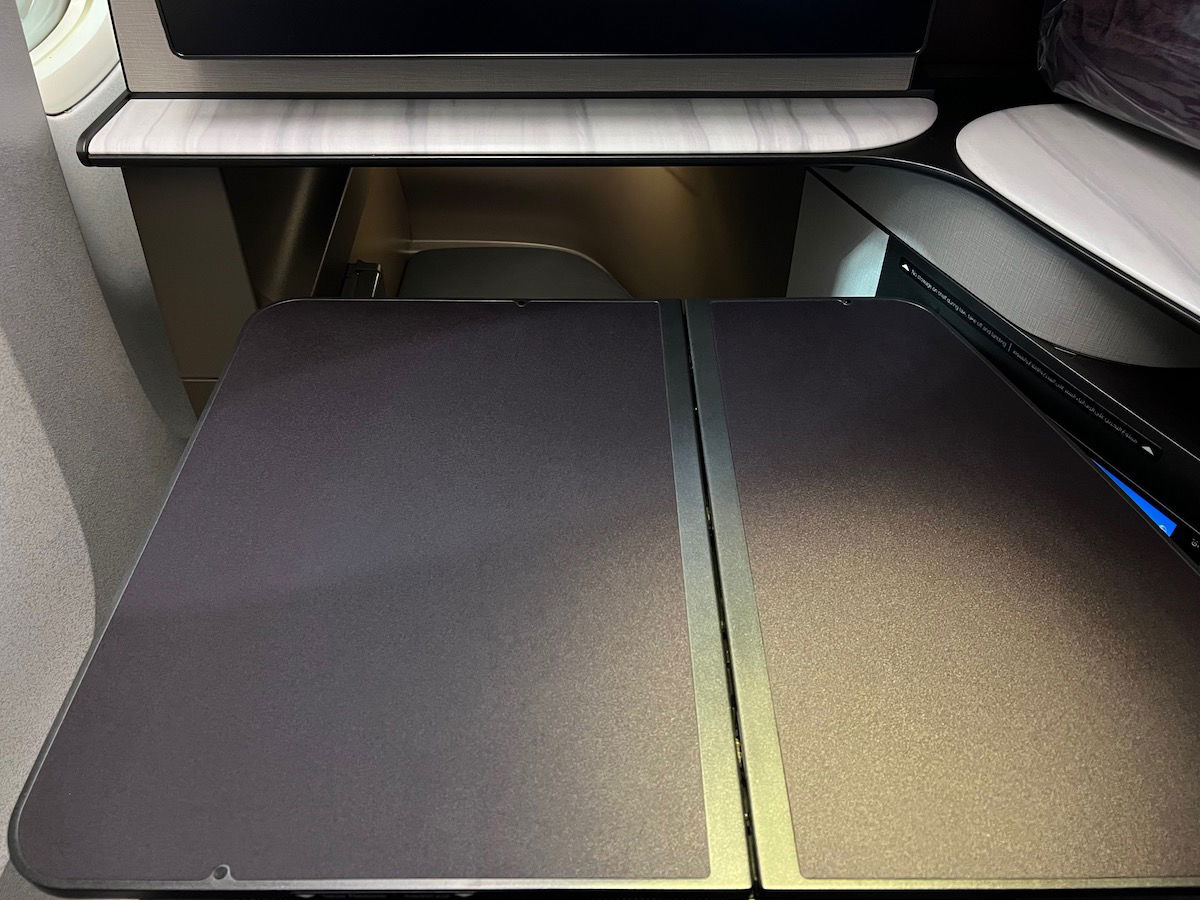 As far as the footwell goes, it's a good size, much bigger than you'll find in many staggered configurations. The only thing I'd note is that it can be easy to hit your knee on the tray table if you're not careful, though that's more of an issue when sitting up than when reclined, in my experience.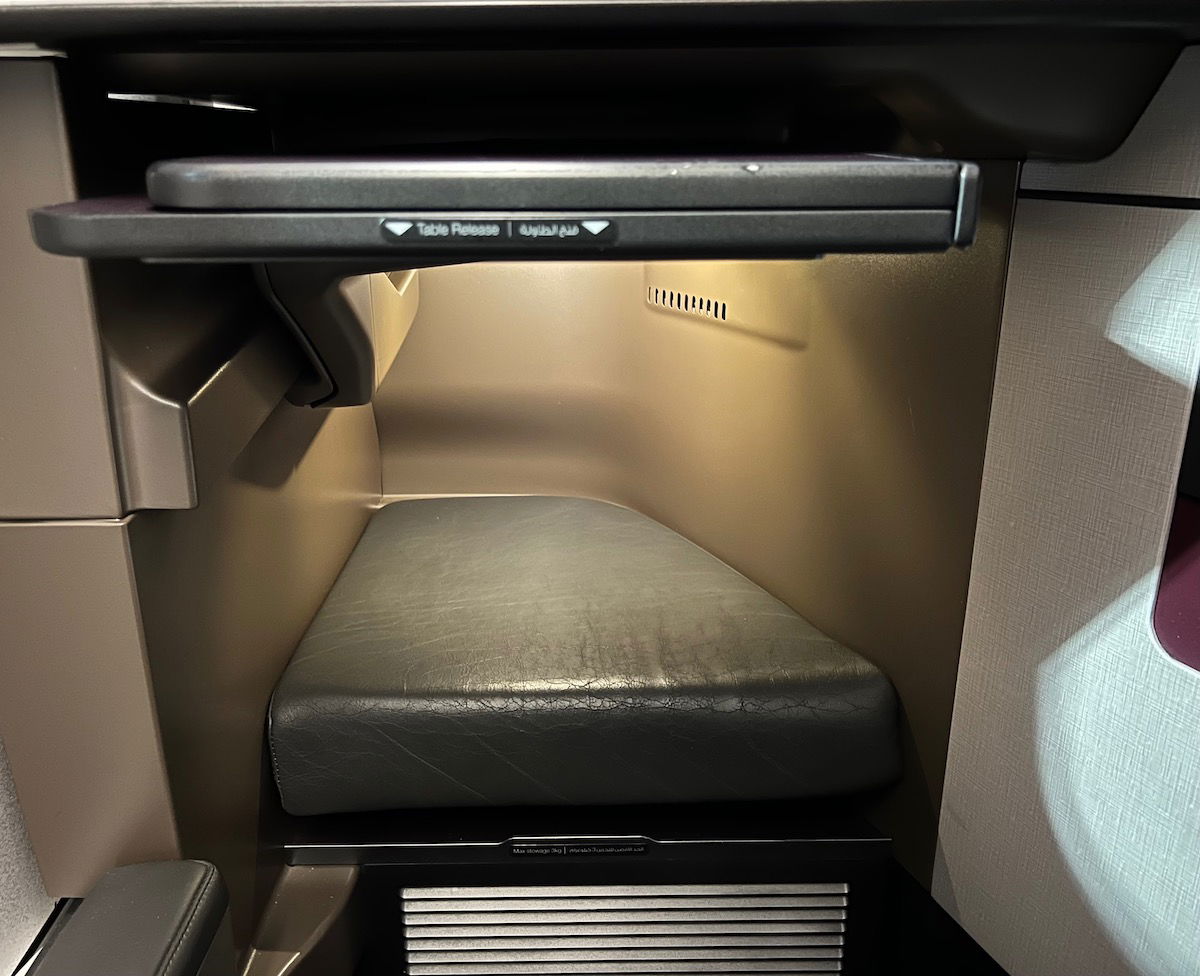 Then of course you have the door, which is a key feature of Qsuites. Among airlines that have doors on business class seats, I find Qatar Airways' to be the easiest to use. The doors easily slide open and closed, unlike some of the doors on other seats.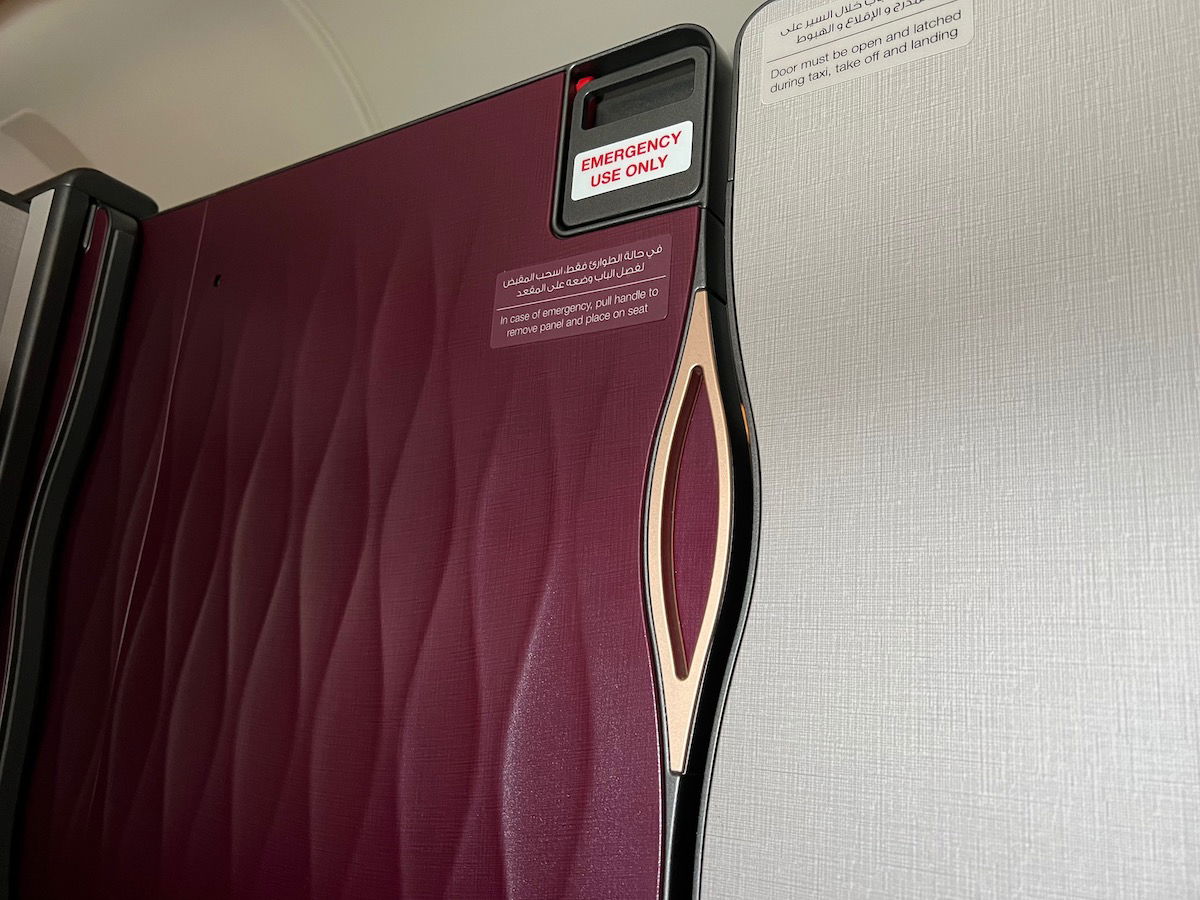 For those who haven't flown Qsuites, I should mention that these doors won't give you full privacy. Anyone could easily look over them if they wanted to. However, the doors do make the seat cozier, in my opinion, and give it a cocoon-like feel.
The last thing to note about the seats is that Qatar Airways has individual air nozzles on the Boeing 777-200LR, which is a feature I appreciate, as it helps with controlling airflow to the seat.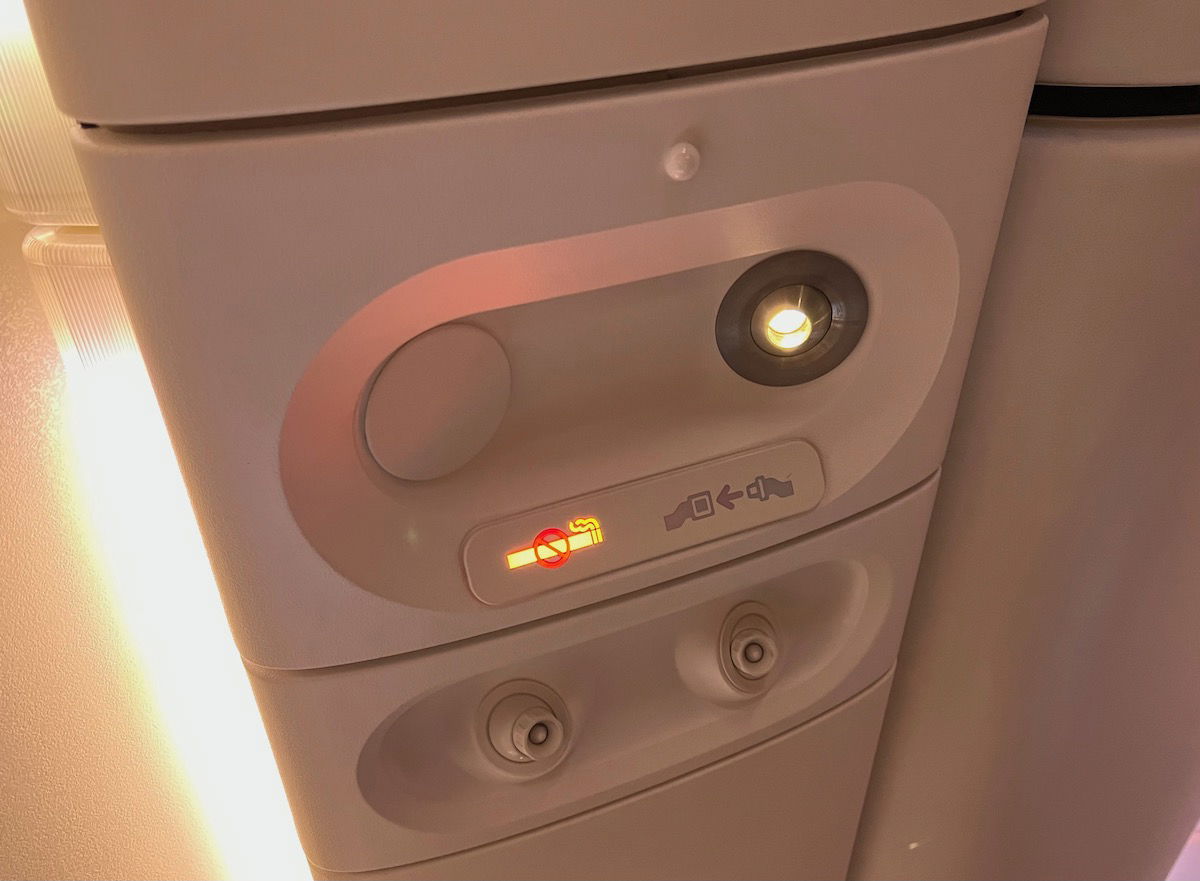 Qatar Airways 777 business class lavatories
Qatar Airways has four lavatories in business class on the Boeing 777-200LR, with two being at the front of the cabin, and two being between the two business class cabins. One very nice thing about this aircraft is that the two lavatories between the cabins are massive. Given how lavatories are getting smaller on many planes nowadays, that's a nice touch.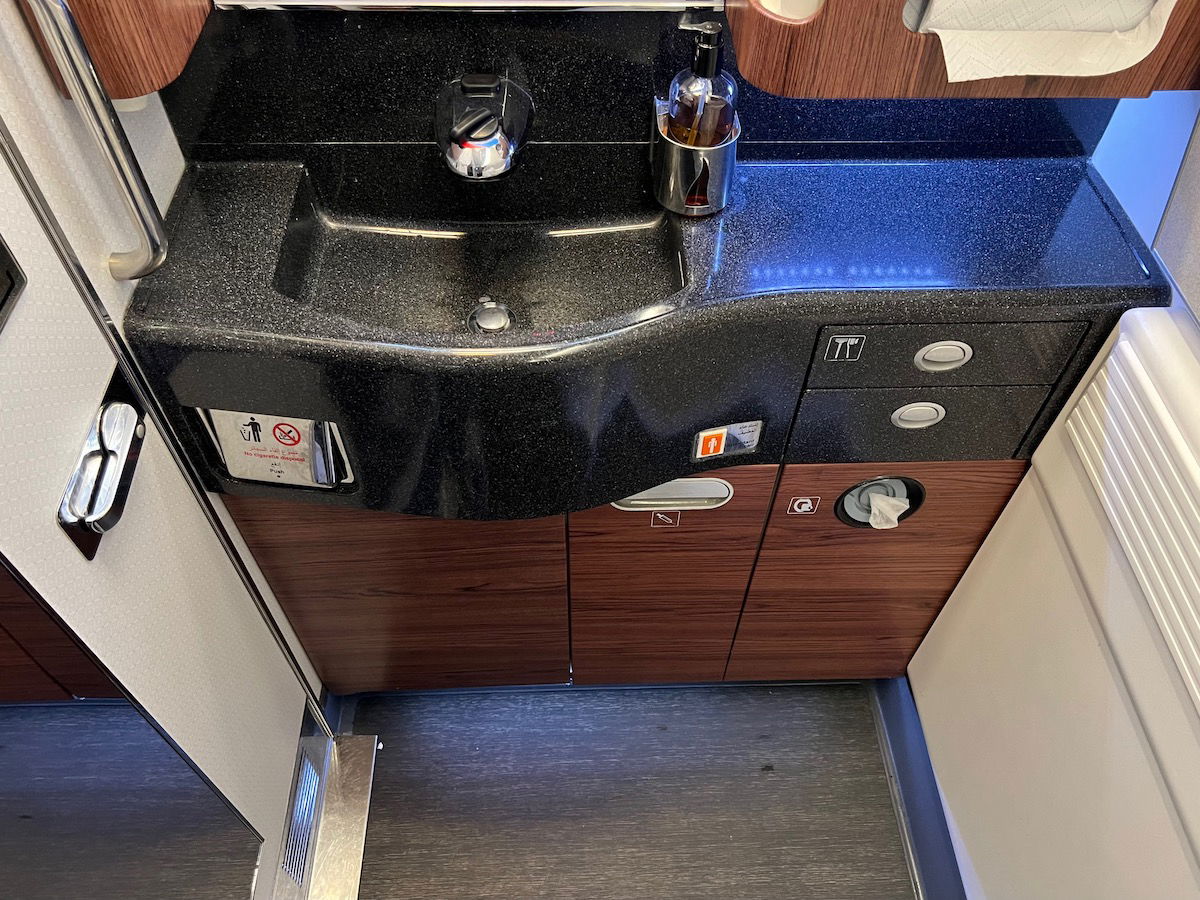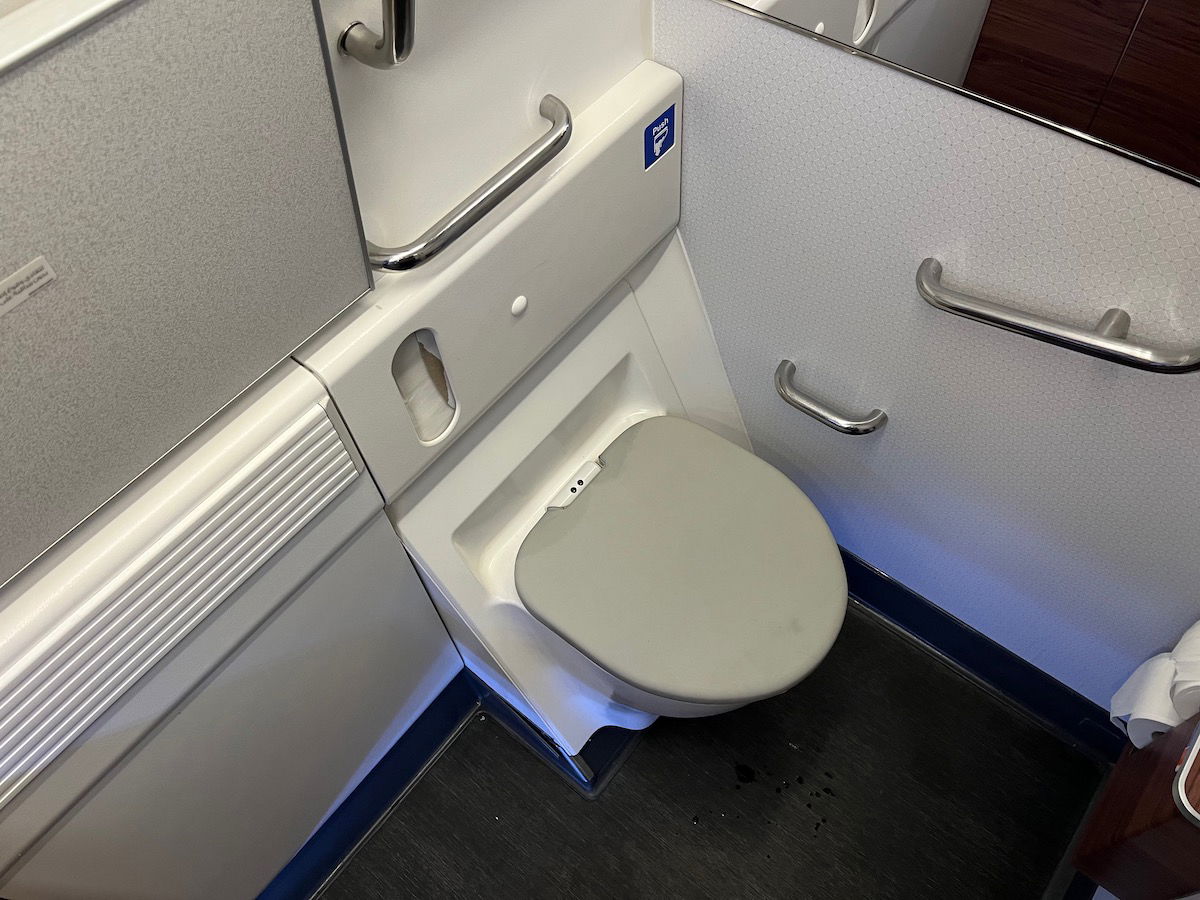 There were amenities in the lavatories, ranging from Diptyque toiletries, to dental and shaving kits.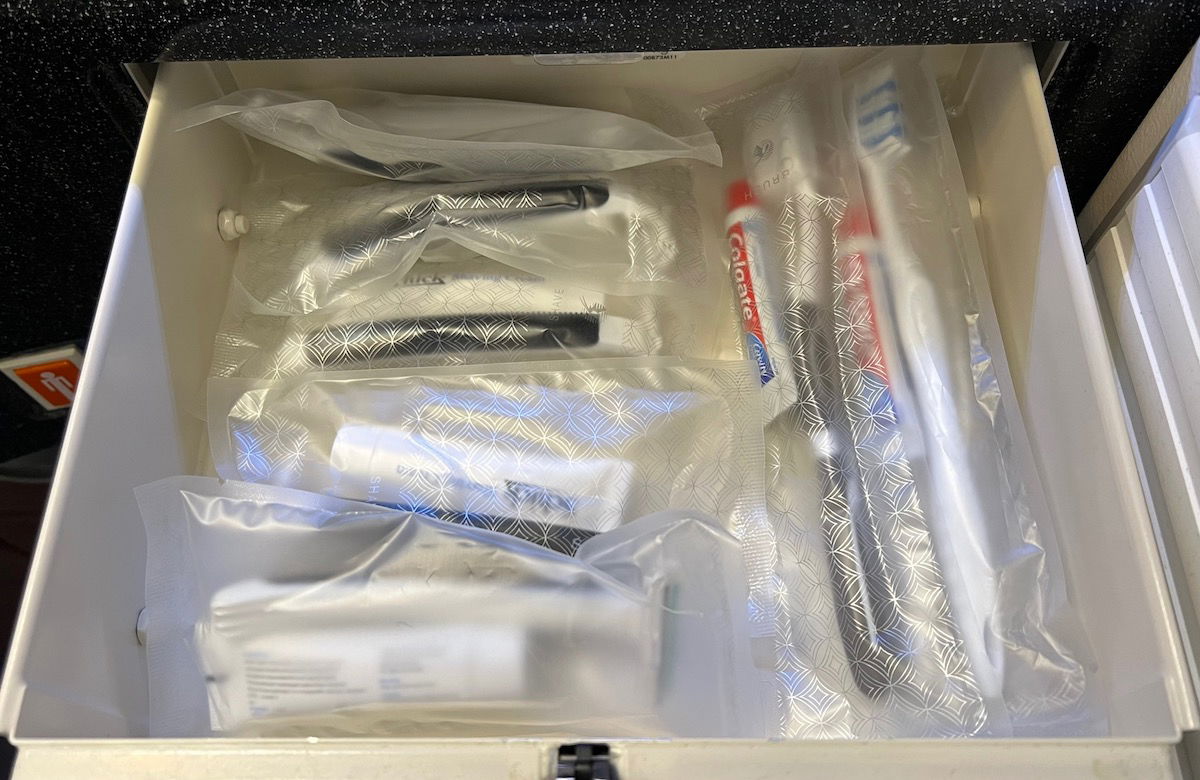 The crew did an amazing job keeping the lavatory spotless during the flight. It's amazing how even a new cover is put on the toilet seat after almost every use. Qatar Airways crews work harder than just about any other crews out there.
Qatar Airways business class amenities
Qatar Airways has endless amenities in business class, starting with excellent bedding. Waiting at each seat upon boarding were two pillows and a blanket. This is only part of the bedding — when it's time to sleep there's also a mattress pad, and the large pillow also gets wrapped in a white cover.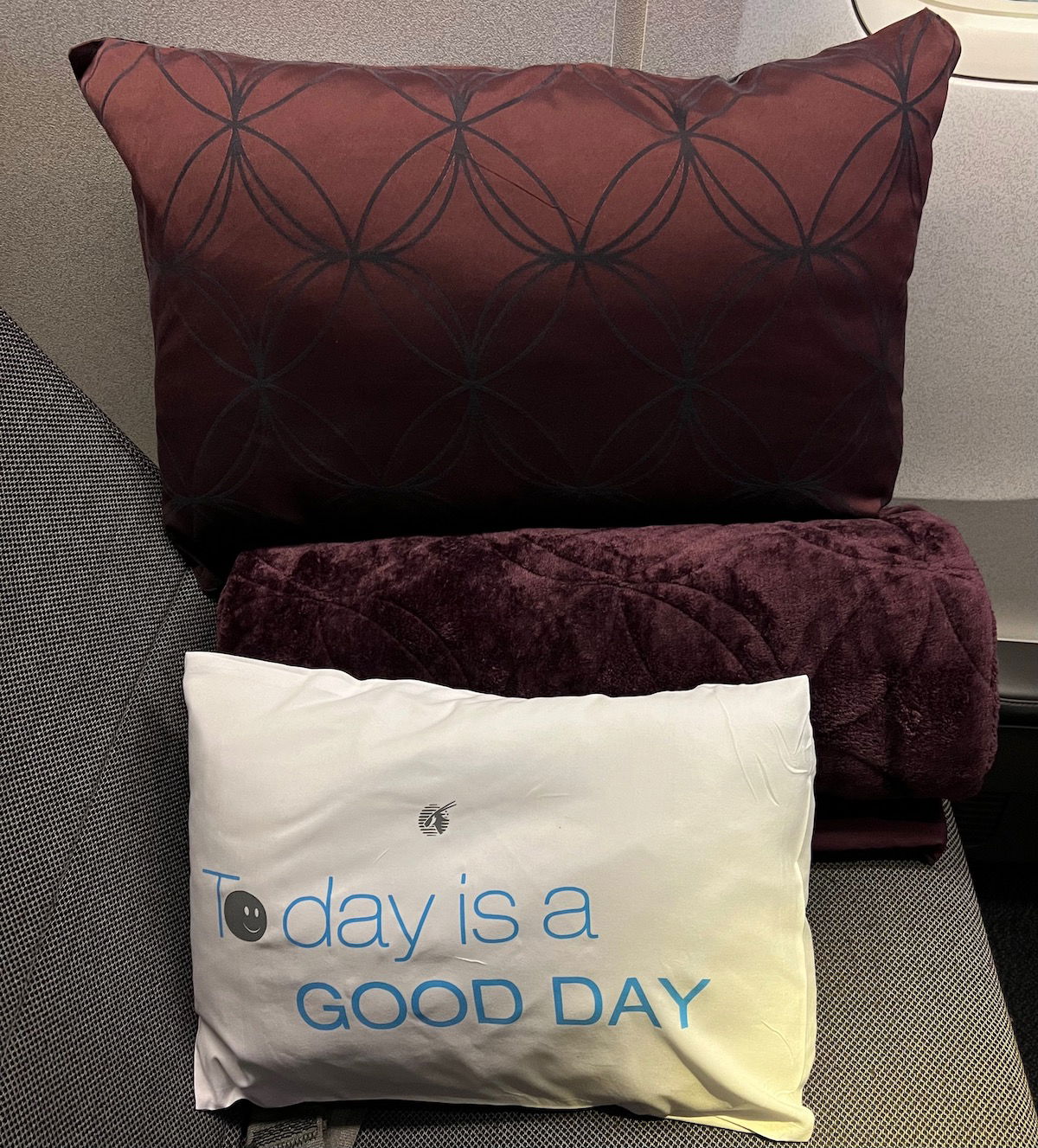 Then there was Qatar Airways' new Diptyque amenity kit, featuring socks, eyeshades, lip balm, body lotion, face cream, fragrance, and more.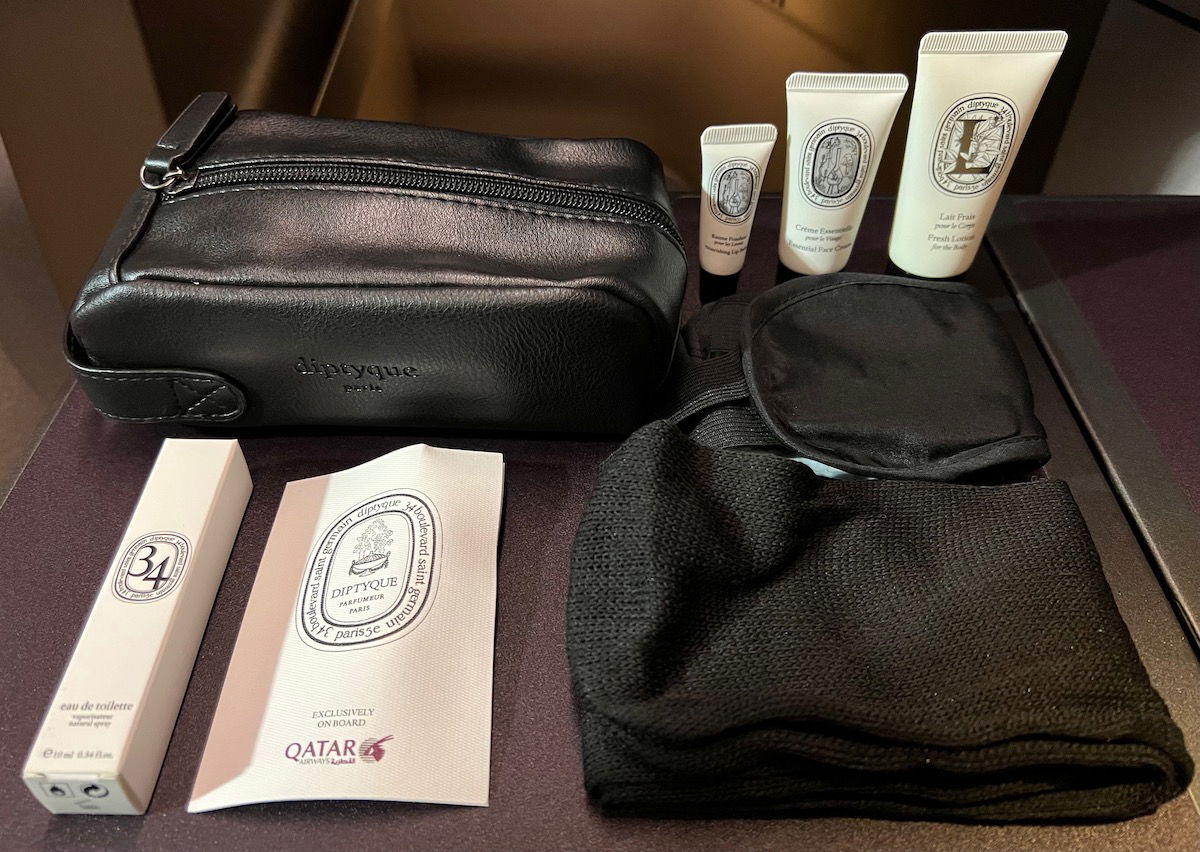 There was also a hygiene kit, with a face mask, gloves, and hand sanitizer.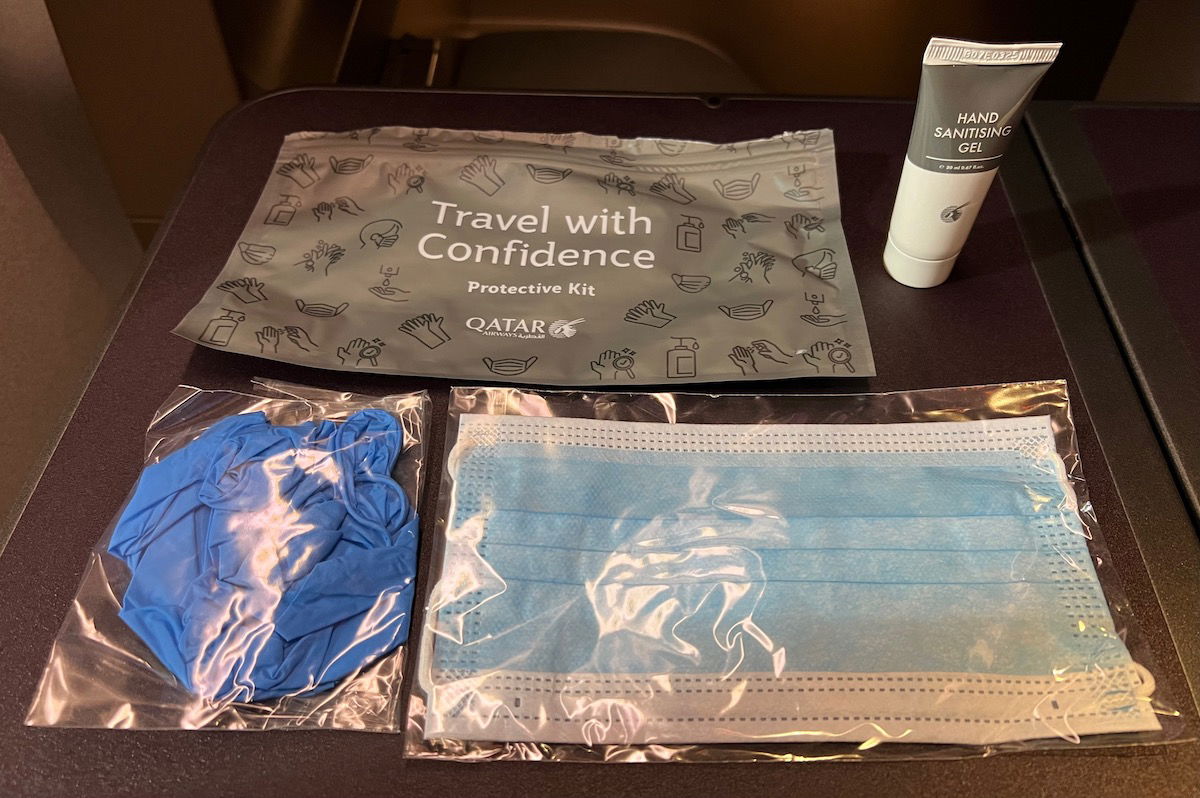 Shortly after settling in I was offered pajamas from The White Company, along with slippers. There aren't many airlines offering pajamas in business class, so that sure is a treat.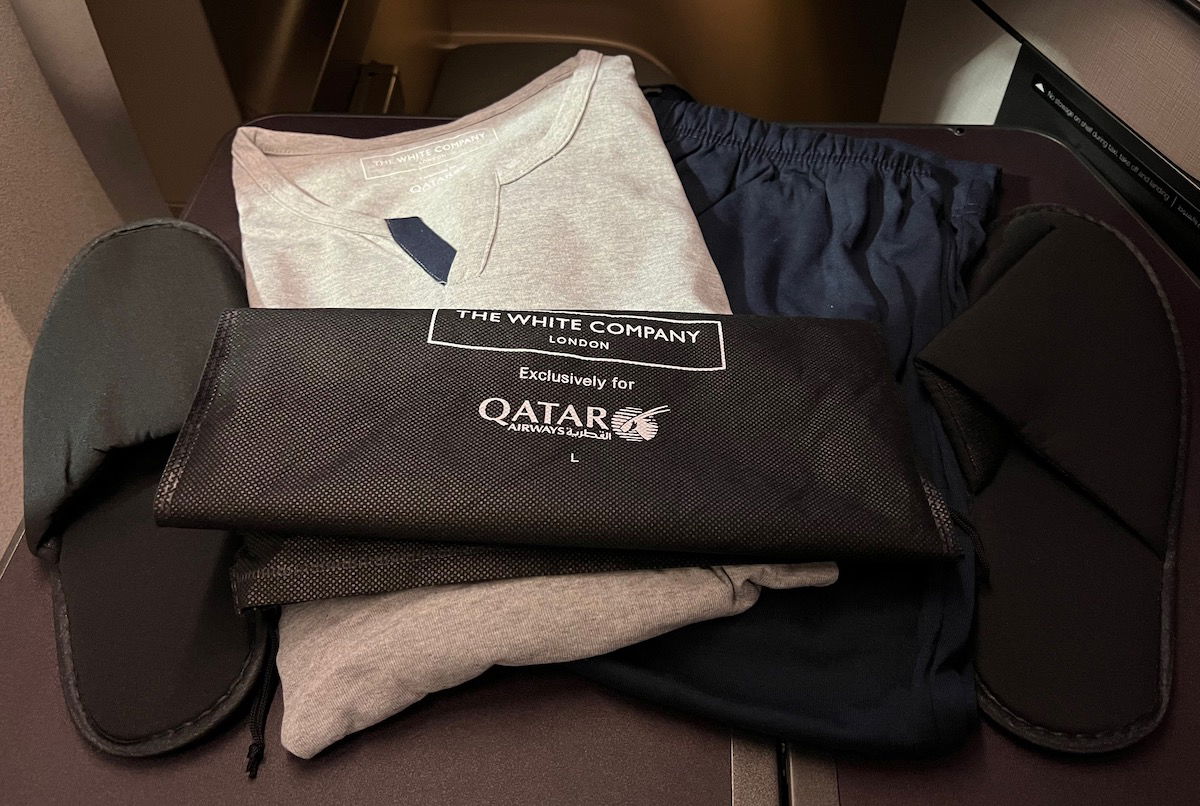 There were also noise canceling headphones waiting at our seats.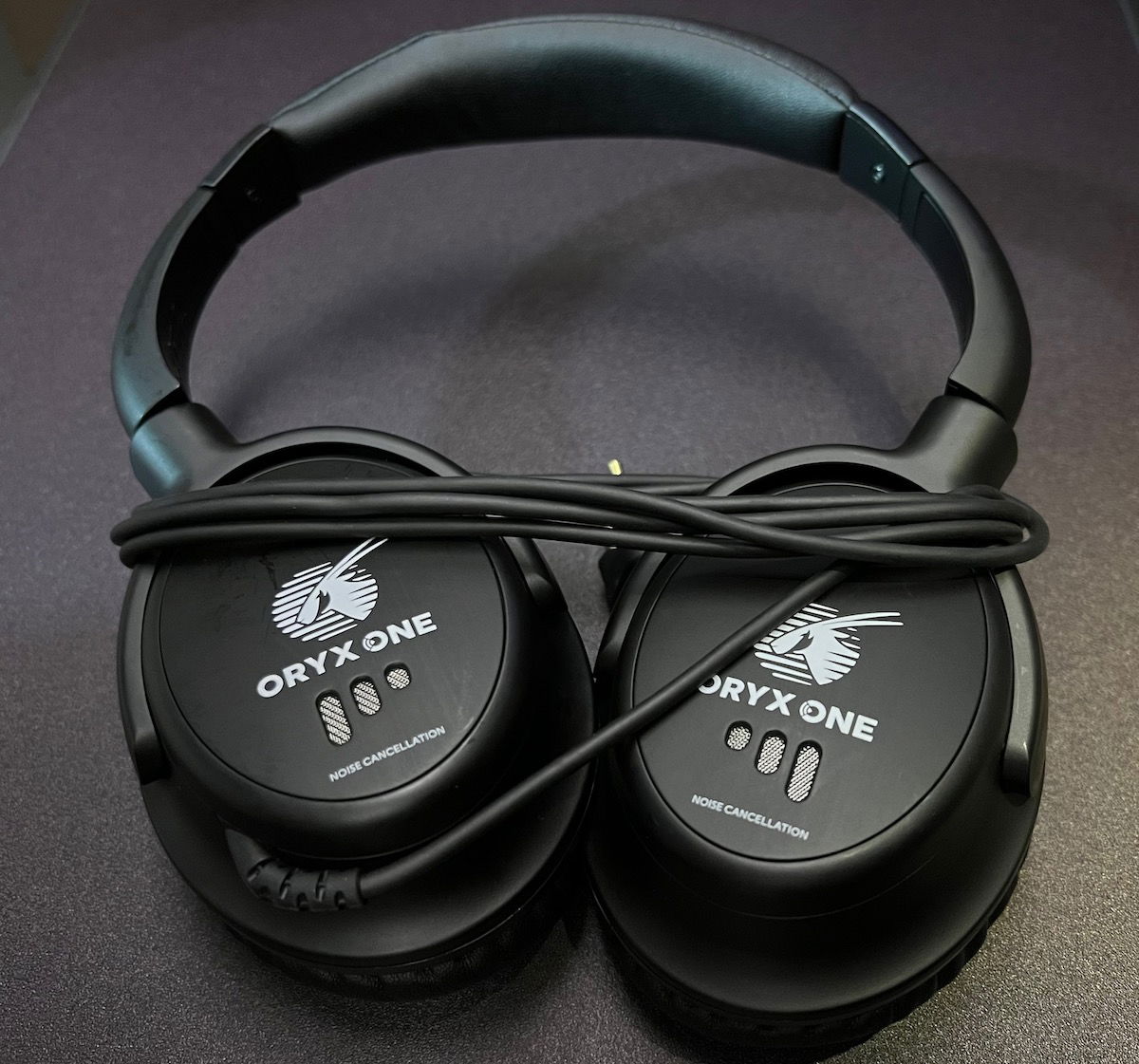 After settling in, one of the flight attendants came by to introduce herself and offer pre-departure beverages, plus the choice of a hot or cold towel. I ordered the signature lemon-mint juice and a cold towel.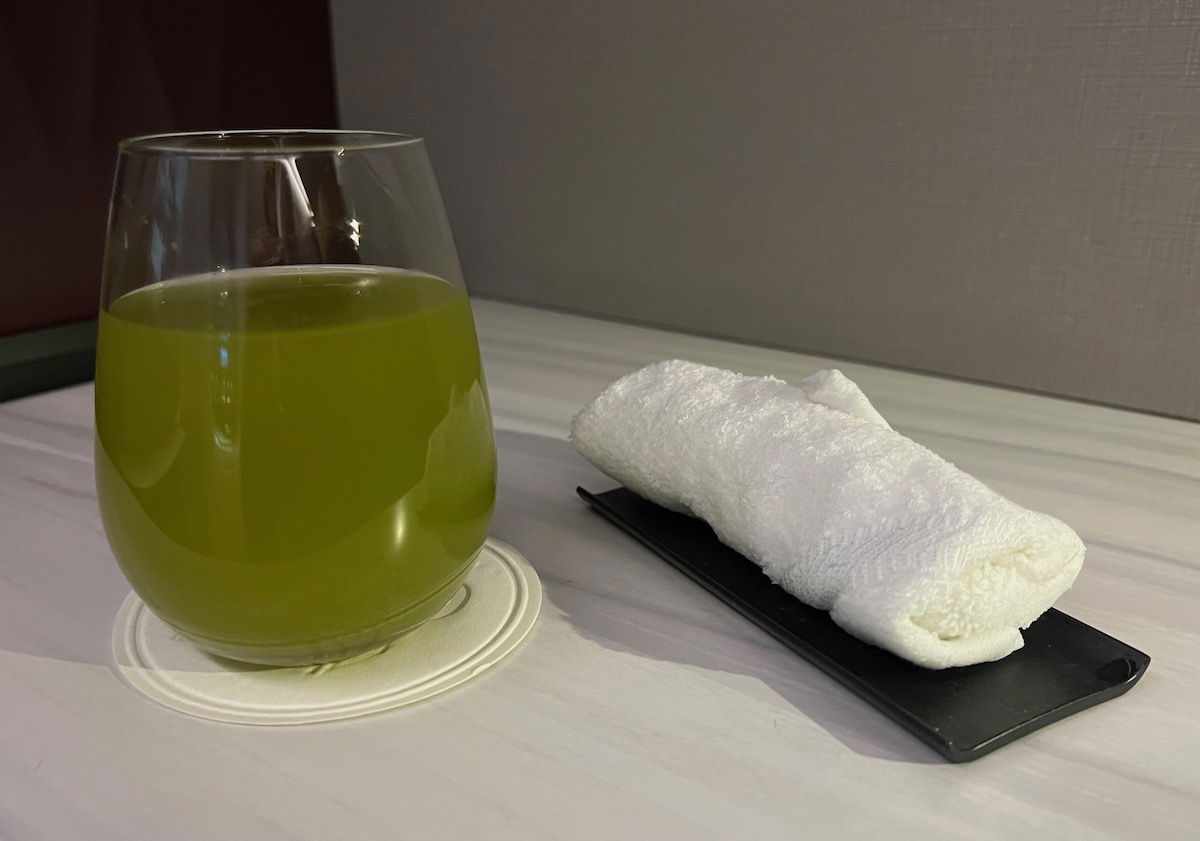 By the way, I love Qatar Airways' boarding music, from a local Qatari composer.
Qatar Airways departure from Doha & seat swap
Boarding wrapped up around 1:25AM, 30 minutes after it started. Economy was almost entirely full, while there were around 10 empty seats in business class. Around this time the captain came on the PA to announce our ridiculously long flight time of 16hr (in reality we ended up being in the air for 16hr18min — yowzers, this was a long one).
We didn't push back for 15 more minutes, and during this time we both decided to ask to change seats. As mentioned above, Ford and I were in seats 8K and 10K, and the guy seated in 9J didn't seem like someone we wanted to be stuck next to for the next 17 hours.
For one, I'm pretty sure the guy was drunk. Which, fair enough, as long as he's not being disruptive. But he was being disruptive. He whistled to Qatar Airways' boarding music for the entire boarding process, all while watching videos on his phone without headphones.
I'm not a great sleeper on planes, so I didn't want to end up sitting a foot from this guy and then be woken up hours later by him whistling, or something. Fortunately the crew was accommodating, and they moved us to seats on the other side of the cabin. I ended up in a forward facing window seat that was closer to the aisle, but that was worth it for peace and quiet.
Anyway, we pushed back at around 1:40AM, at which point the safety video was screened. We started our taxi around 10 minutes after that, and were airborne 15 minutes after that, a bit after 2AM. We had a very long takeoff roll and a gradual climb out.
Qatar Airways 777 business class entertainment & Wi-Fi
As we climbed out I browsed the exceptionally good Oryx One entertainment system. No matter how long a Qatar Airways flight is, you should never run out of things to watch.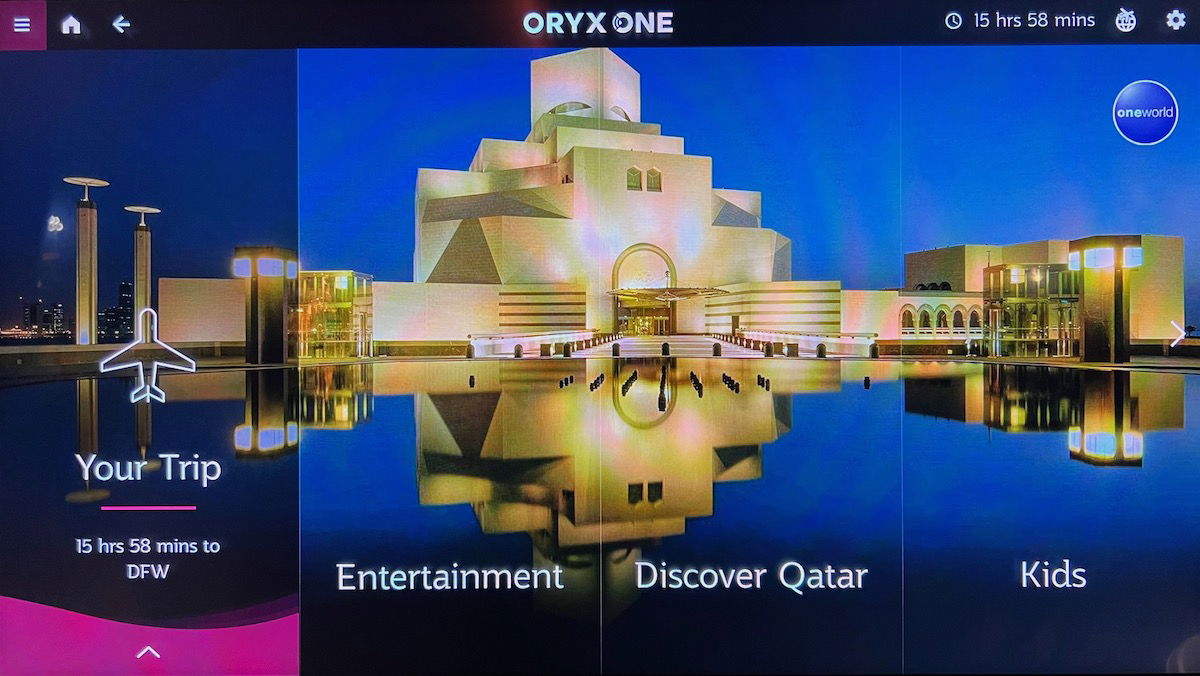 There were endless movies and TV shows across all kinds of genres.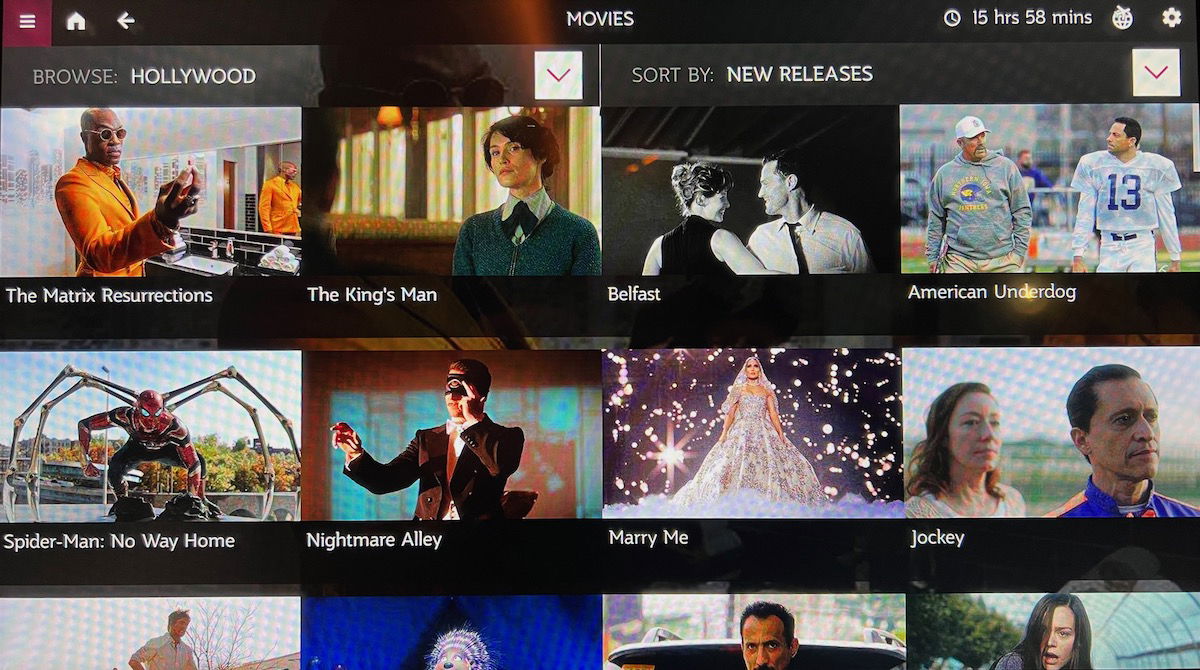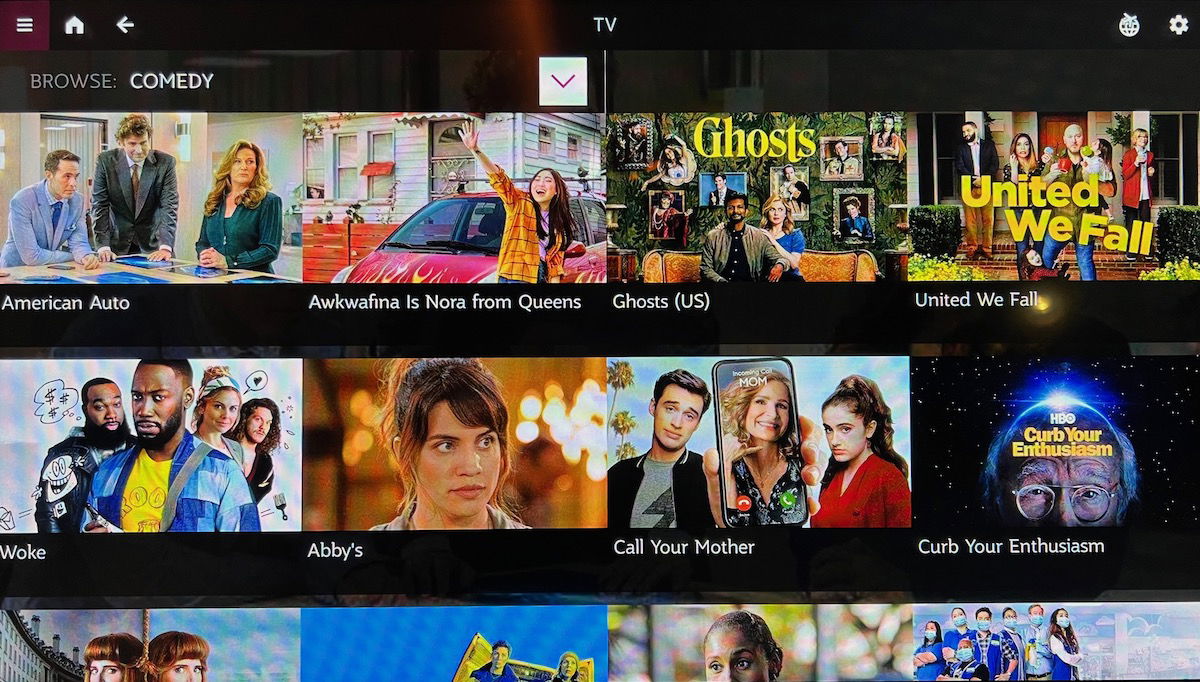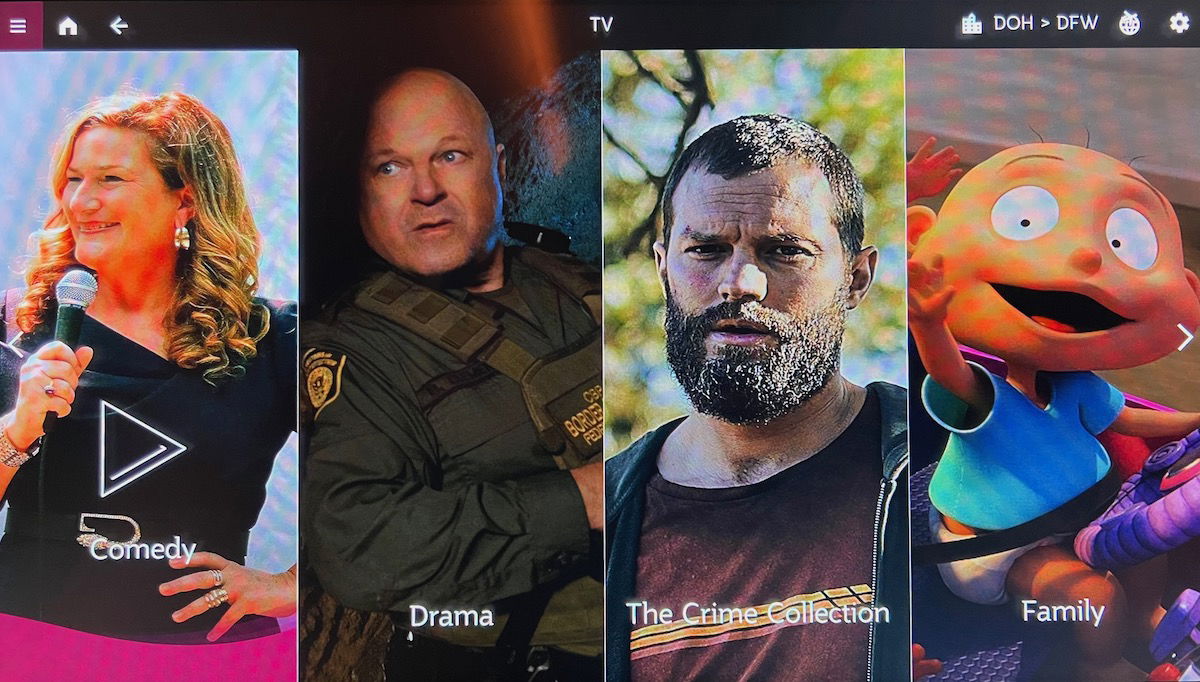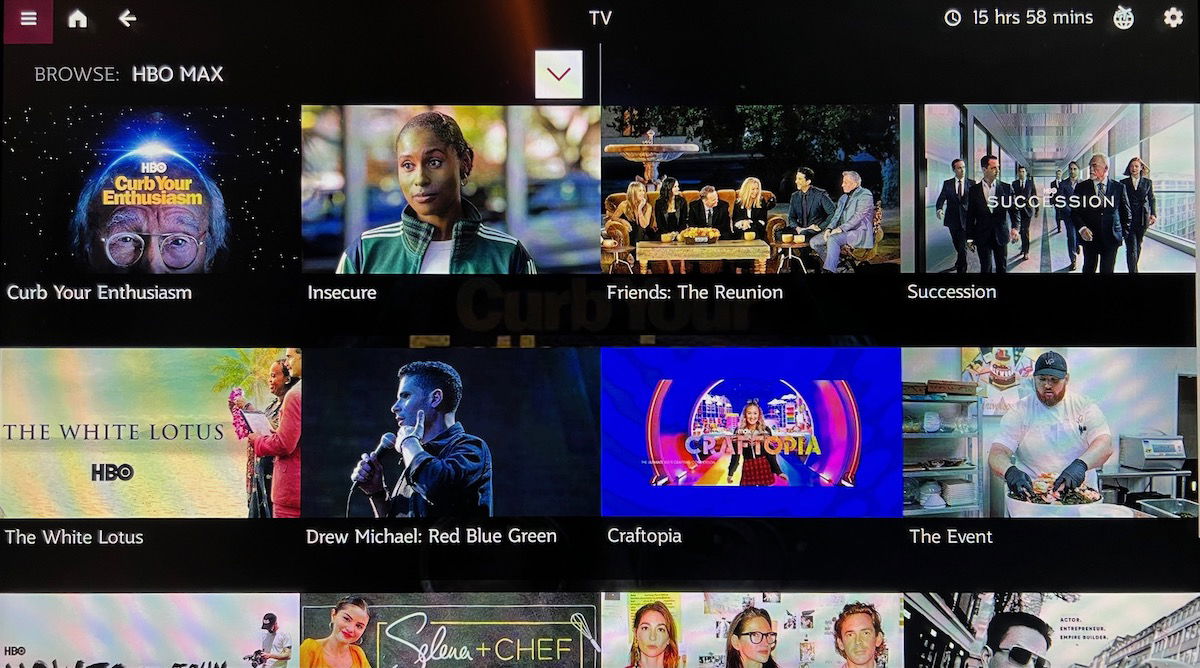 I'm not usually much of a TV-watcher on planes, but I was excited about the opportunity to watch Season 11 of Curb Your Enthusiasm. Somehow I hadn't seen it yet, and the entire season was available through Oryx One. I oh-so-appreciate how Qatar Airways typically has the whole season of a show, because it's quite annoying to find a show you want and then see that there's only one episode available.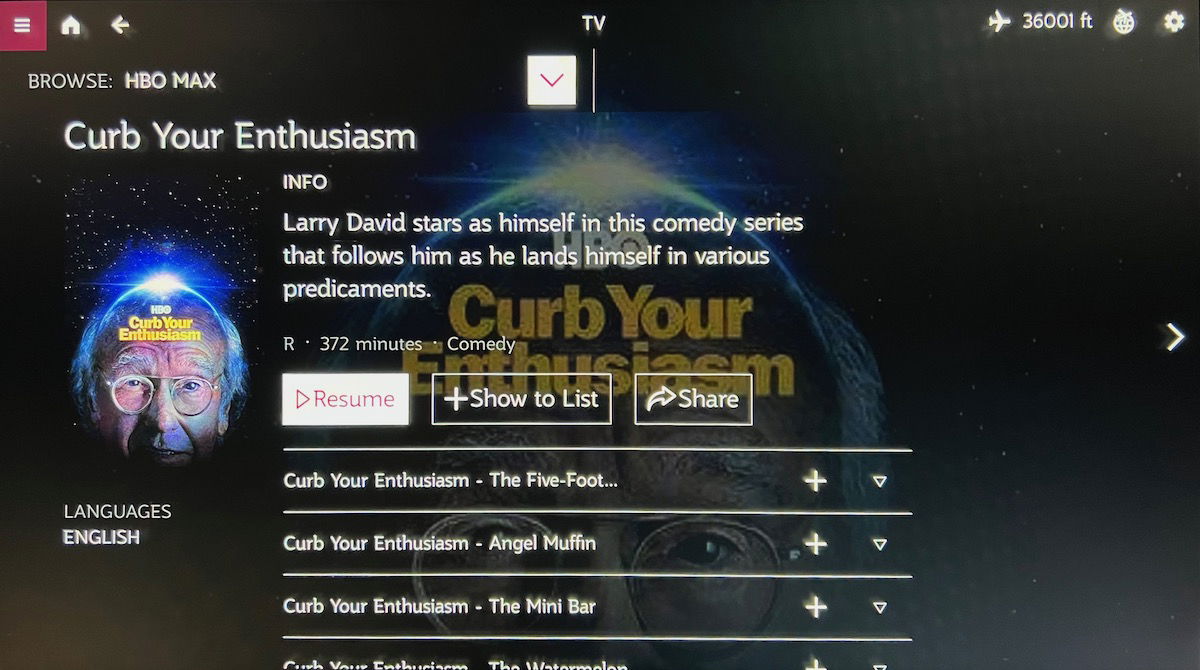 Typically my favorite feature of the inflight entertainment is the map feature. And while this plane did have that, Qatar Airways' 777s don't have the most modern interface. For one, there's no ability to customize the map view, but rather it just cycles through a bunch of different views. Furthermore, the map feature overwhelmingly just had ads and other notices, rather than primarily displaying the map.
I think this "issue" is 777-specific, as the A350s have a much better map feature.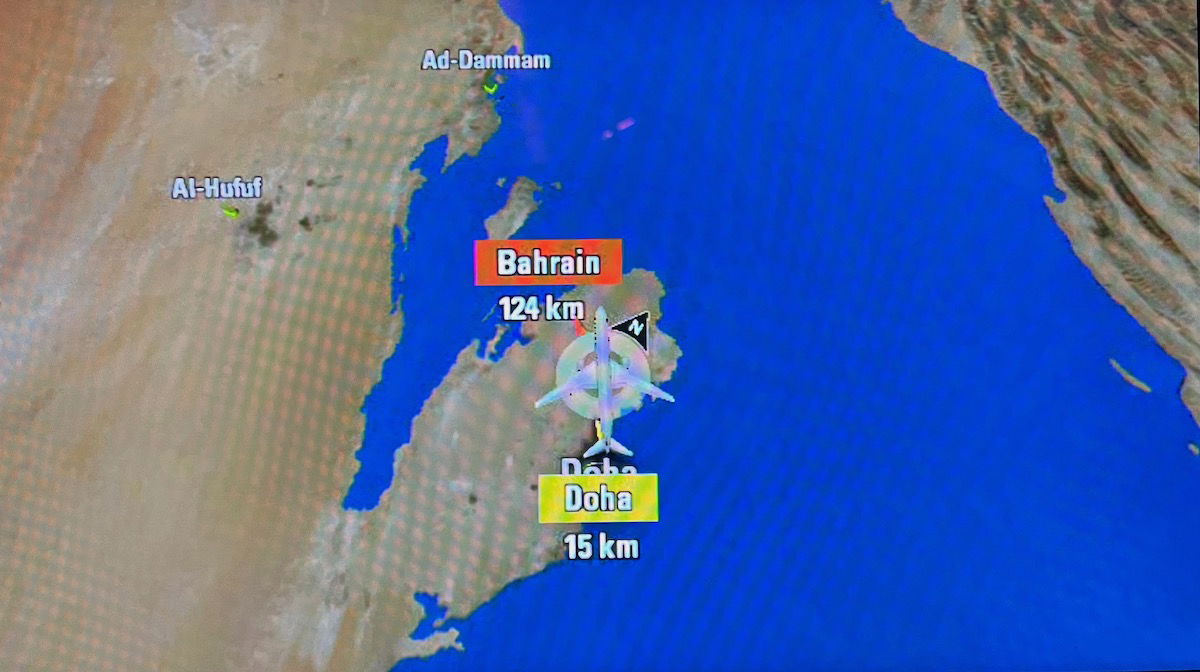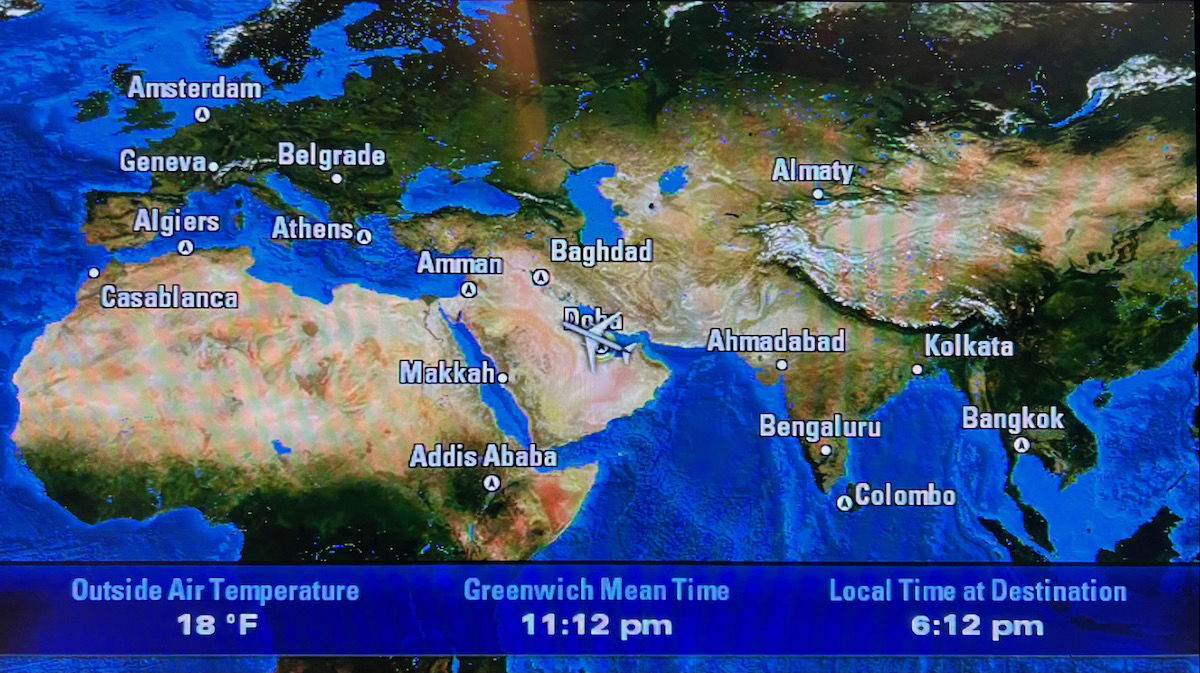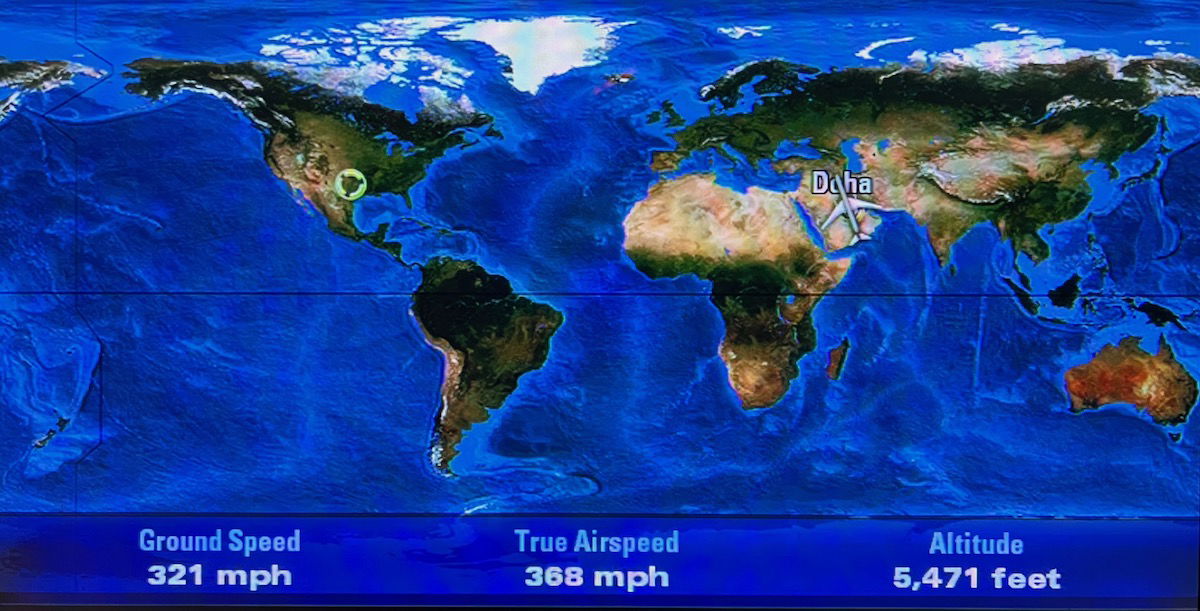 Qatar Airways also has "Super Wi-Fi" on its 777s. The airline charges just $10 for Wi-Fi for the entire flight with no data caps, which is unbeatable pricing.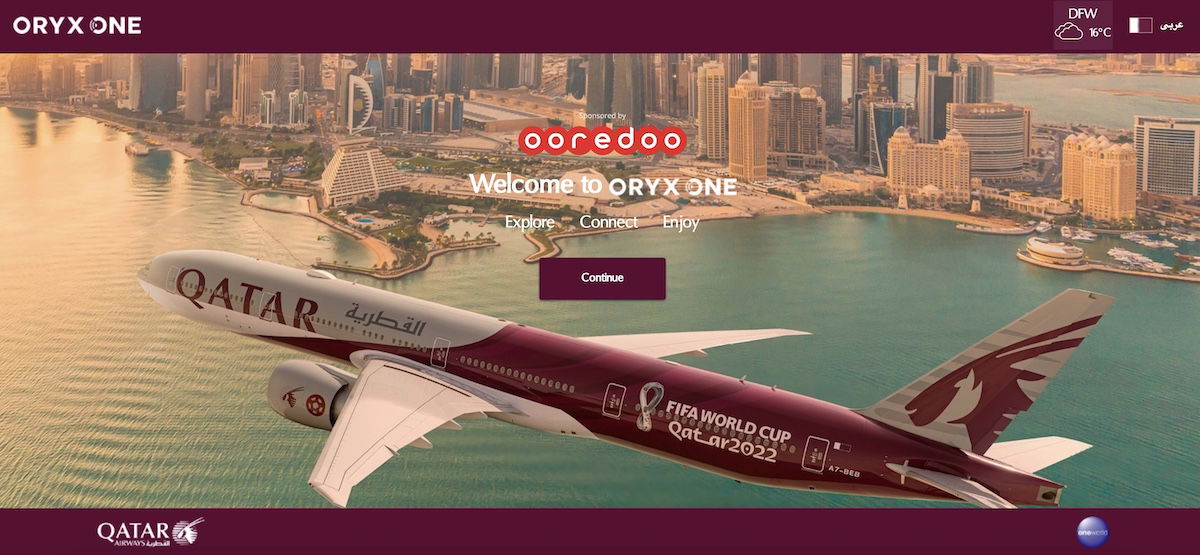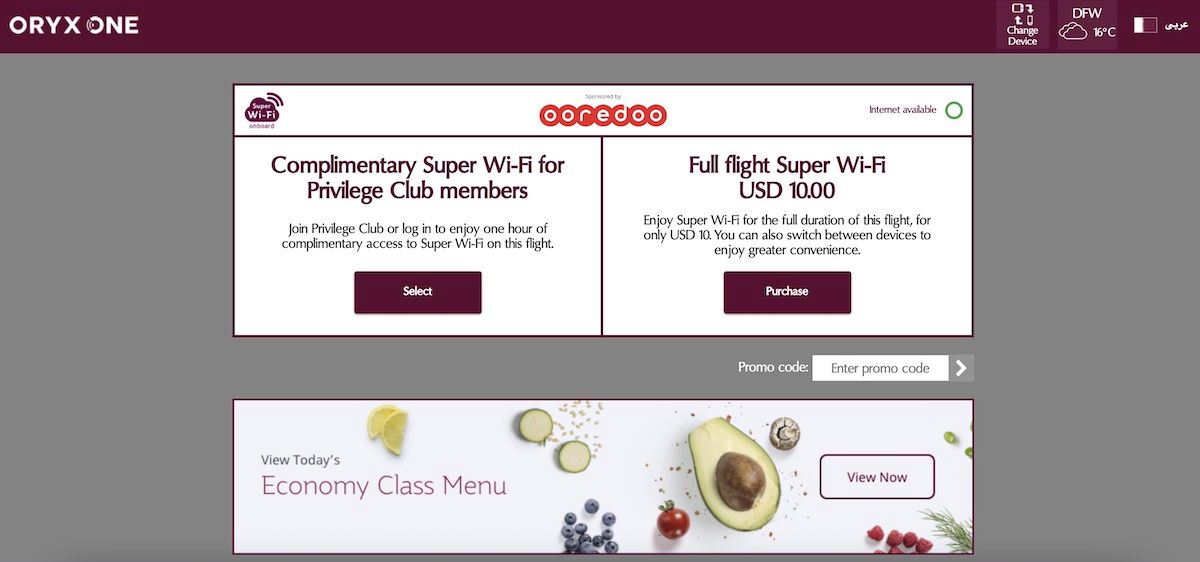 I've generally found Qatar Airways' Wi-Fi speeds to be among the best in the industry, though on this particular flight it wasn't very high speed. I'm not sure if it was just the routing we took, if there was something wrong with the antenna on this plane, or if the system just needed to be restarted. While the Wi-Fi was usable, I've had much faster Wi-Fi on Qatar Airways in the past.
Qatar Airways business class food & drinks
Qatar Airways offers a dine on demand concept in business class, so you can order whatever you'd like whenever you'd like. This is especially useful on a flight like this that departs in the middle of the night, where some people may wish to sleep after takeoff, while others may want to have breakfast, while others may want to have dinner.
If you don't plan on eating right away, it could make sense to reserve a couple of things for later in the flight so that they don't run out. While Qatar Airways doesn't consistently run out of food, a lot of people just eat much of the flight out of boredom, so by the end of the flight your first choice might not be available.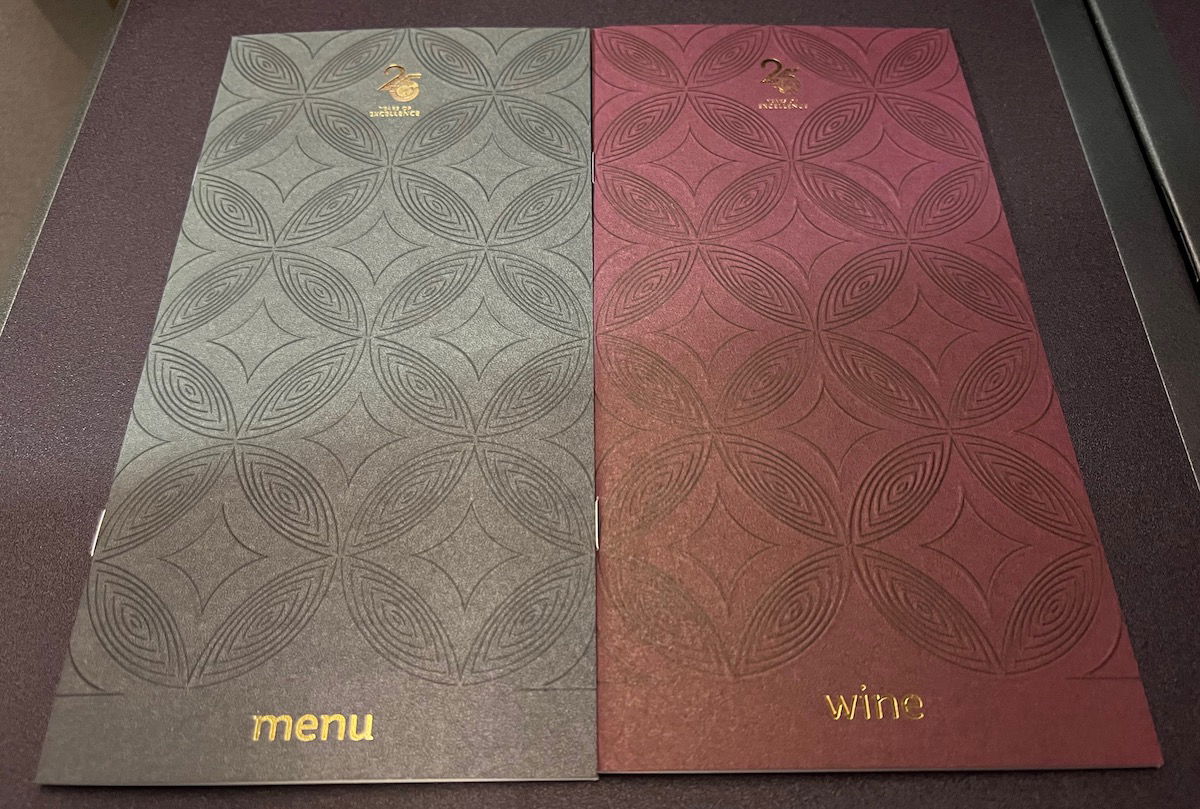 You can find the Qatar Airways business class food menu below.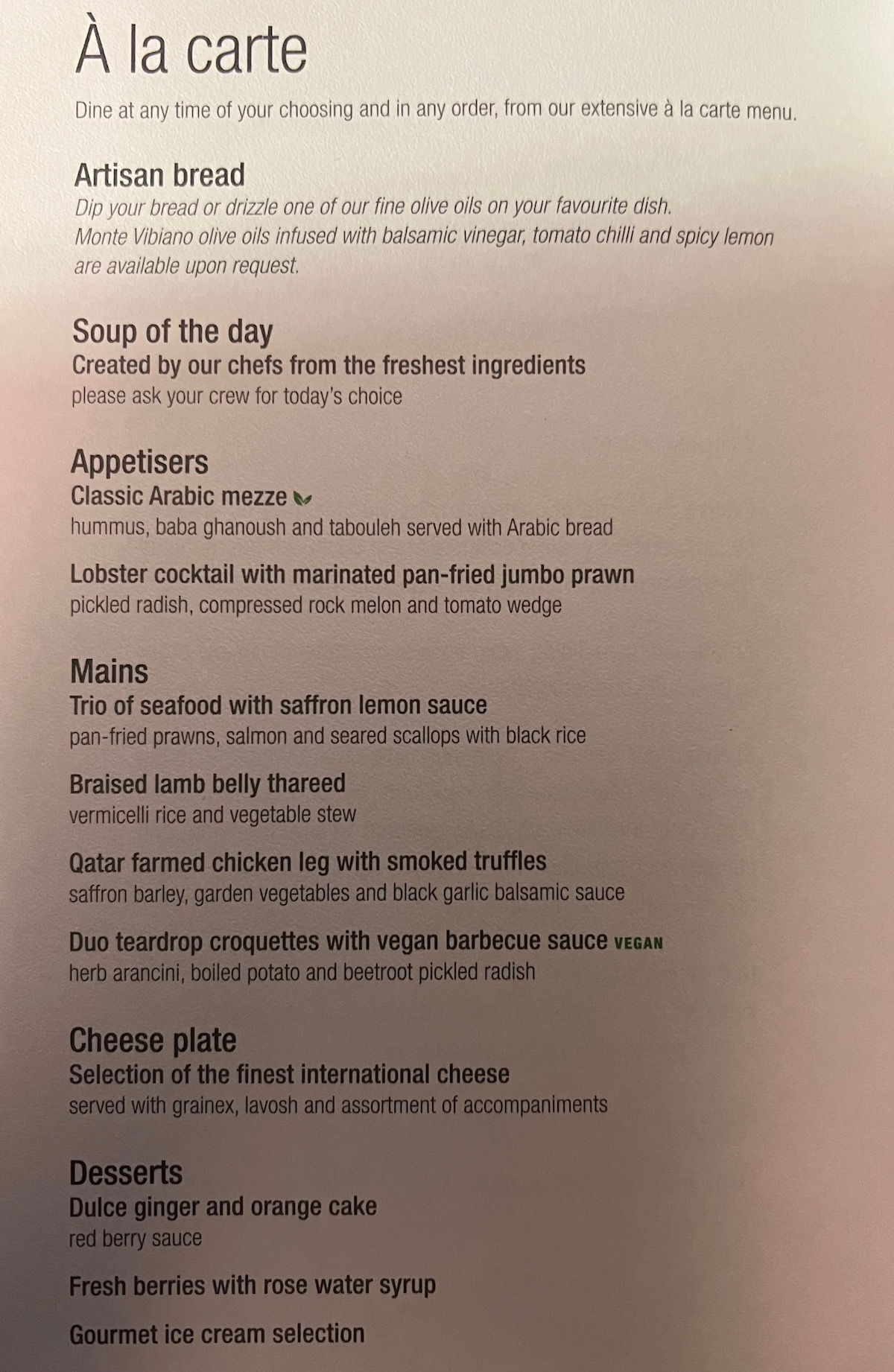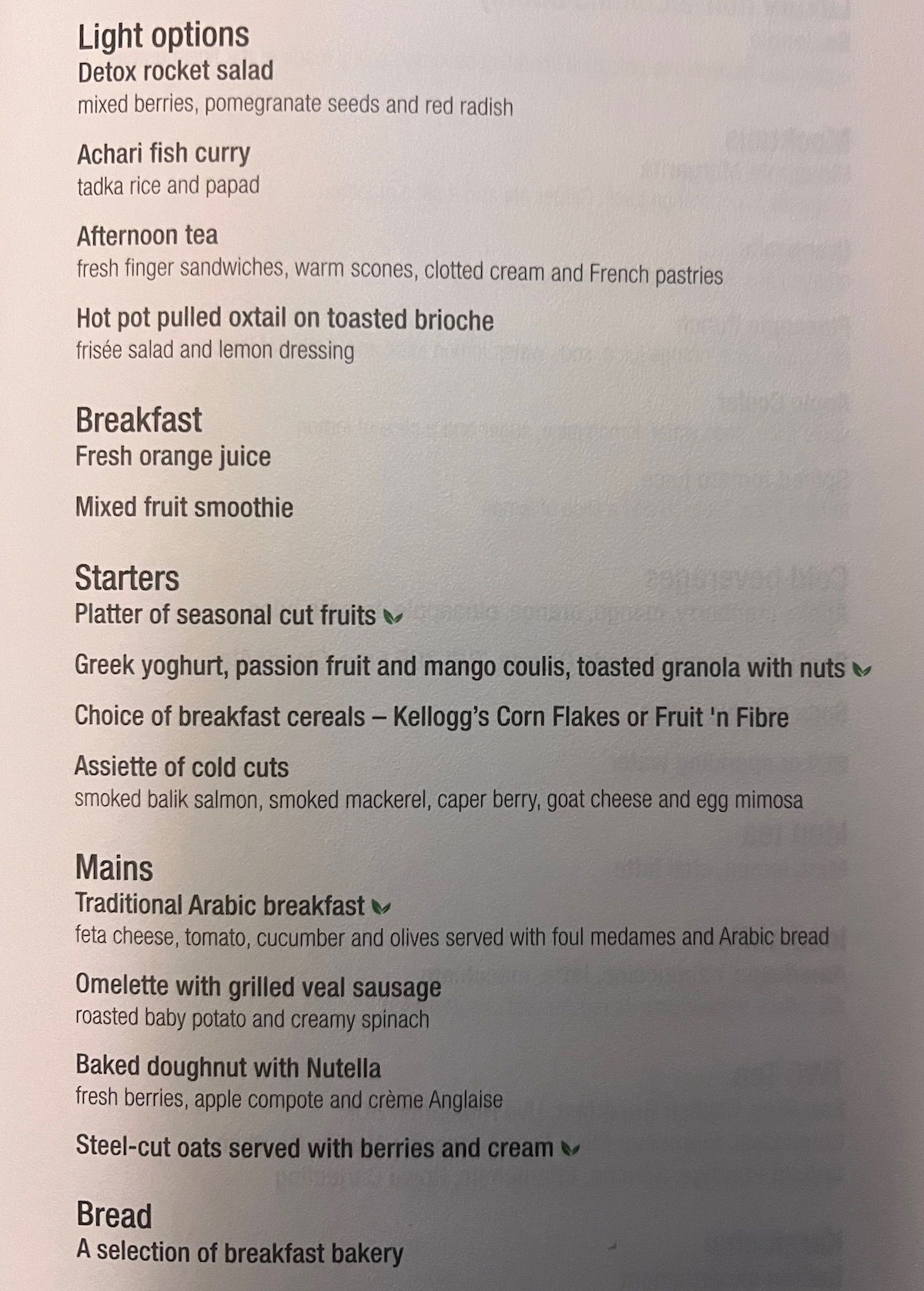 Then below you can find the beverage options. Qatar Airways' beverage selection really impresses me, from the number of wine options, to the cappuccinos, to the iced lattes.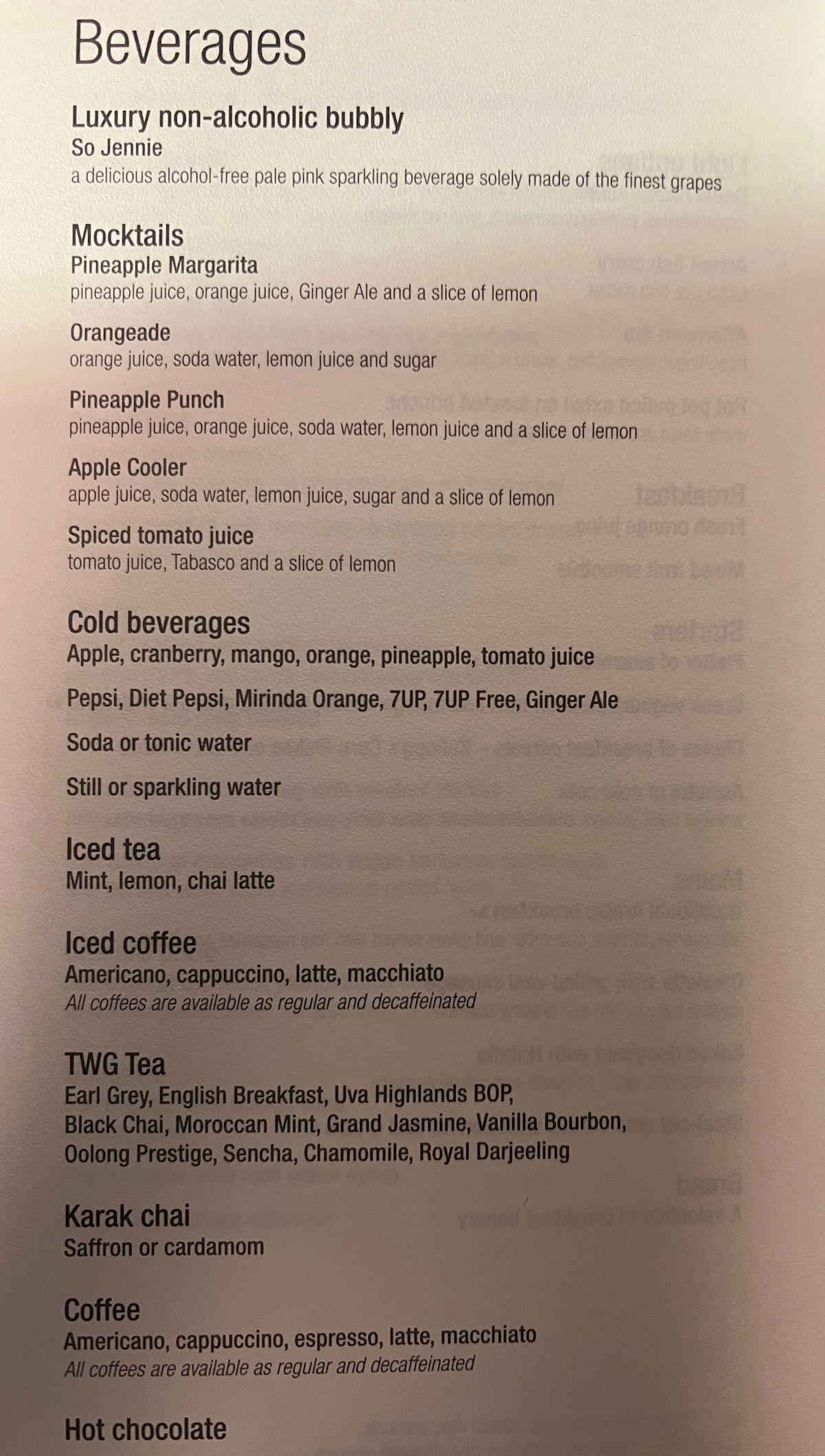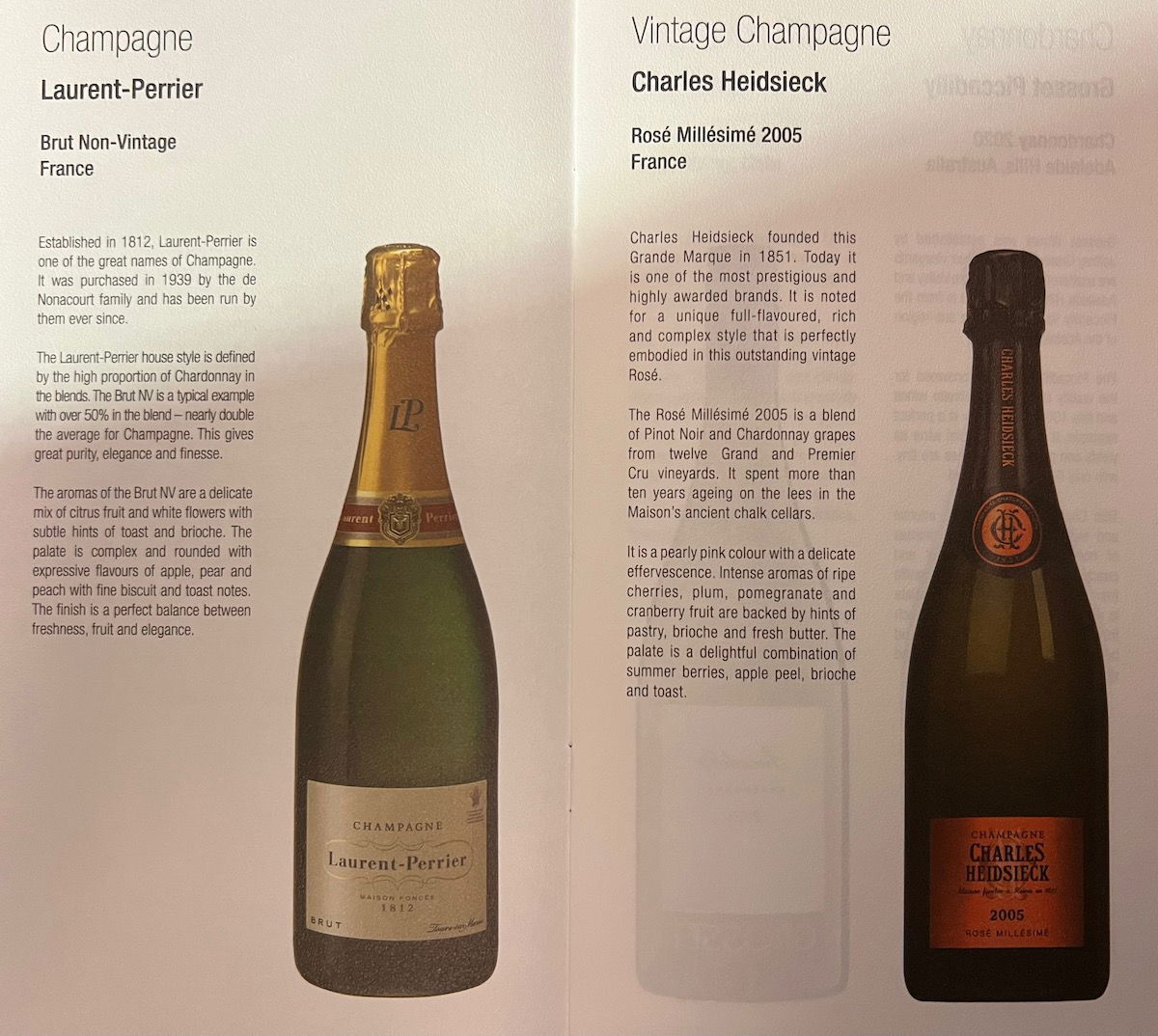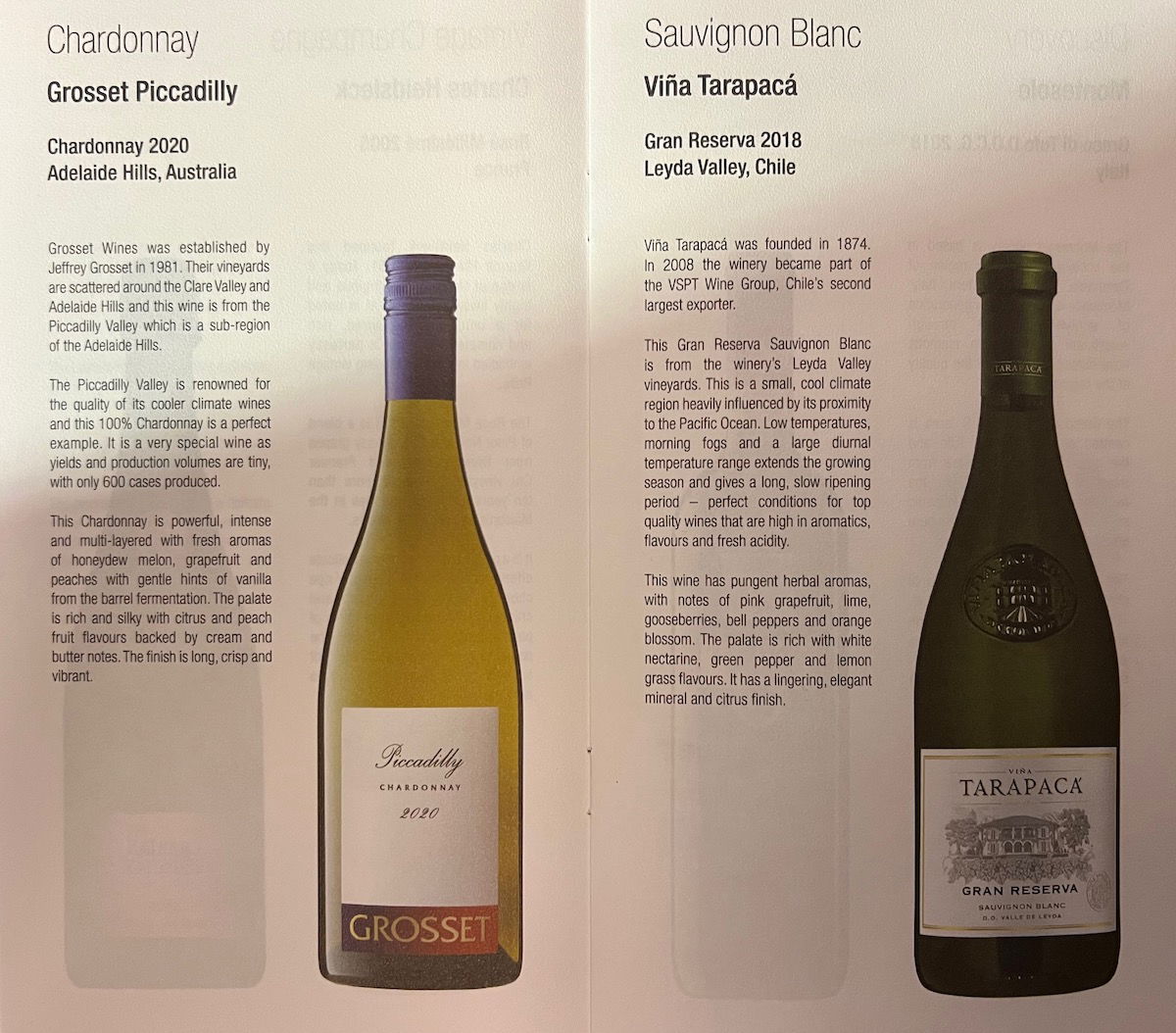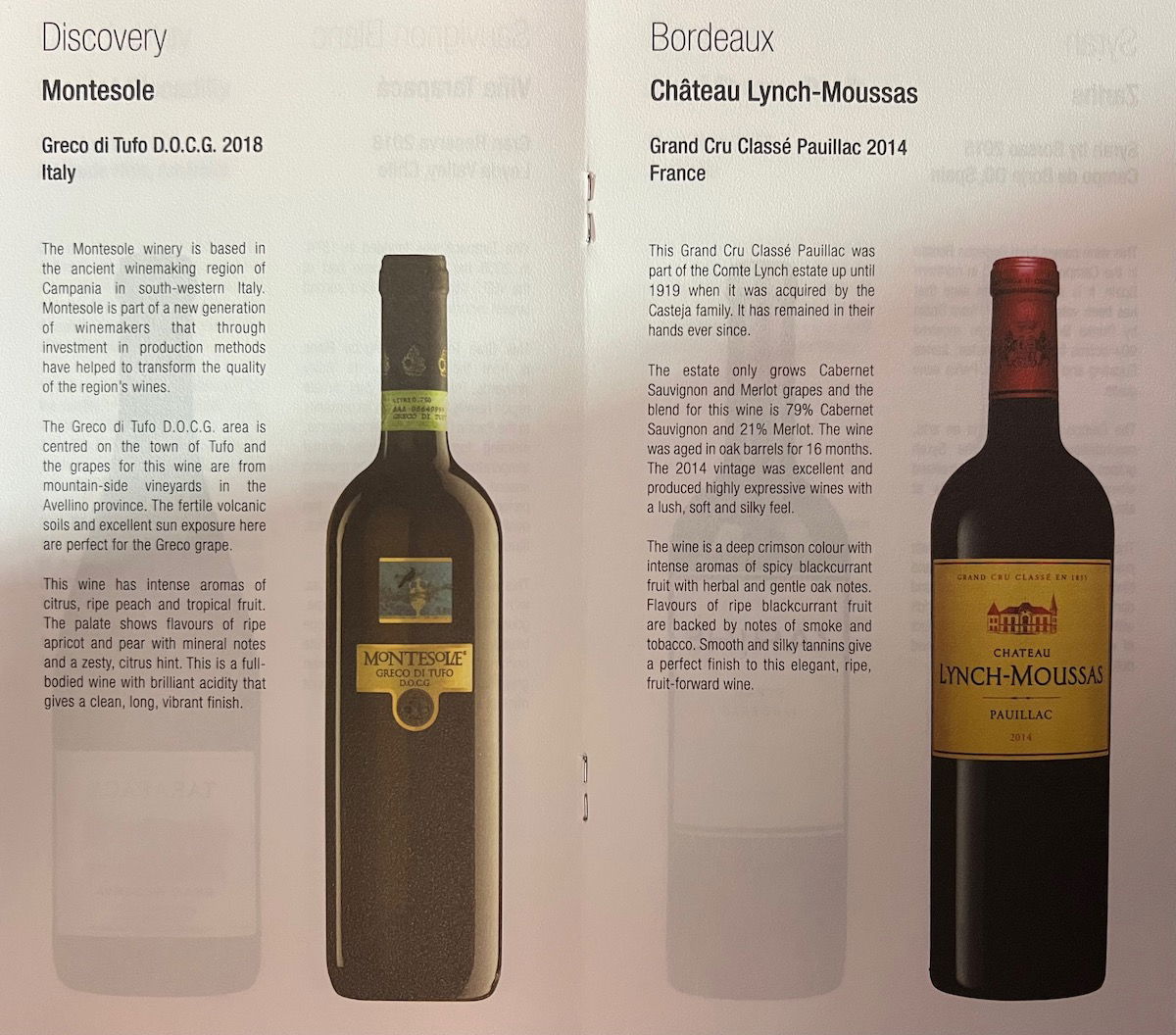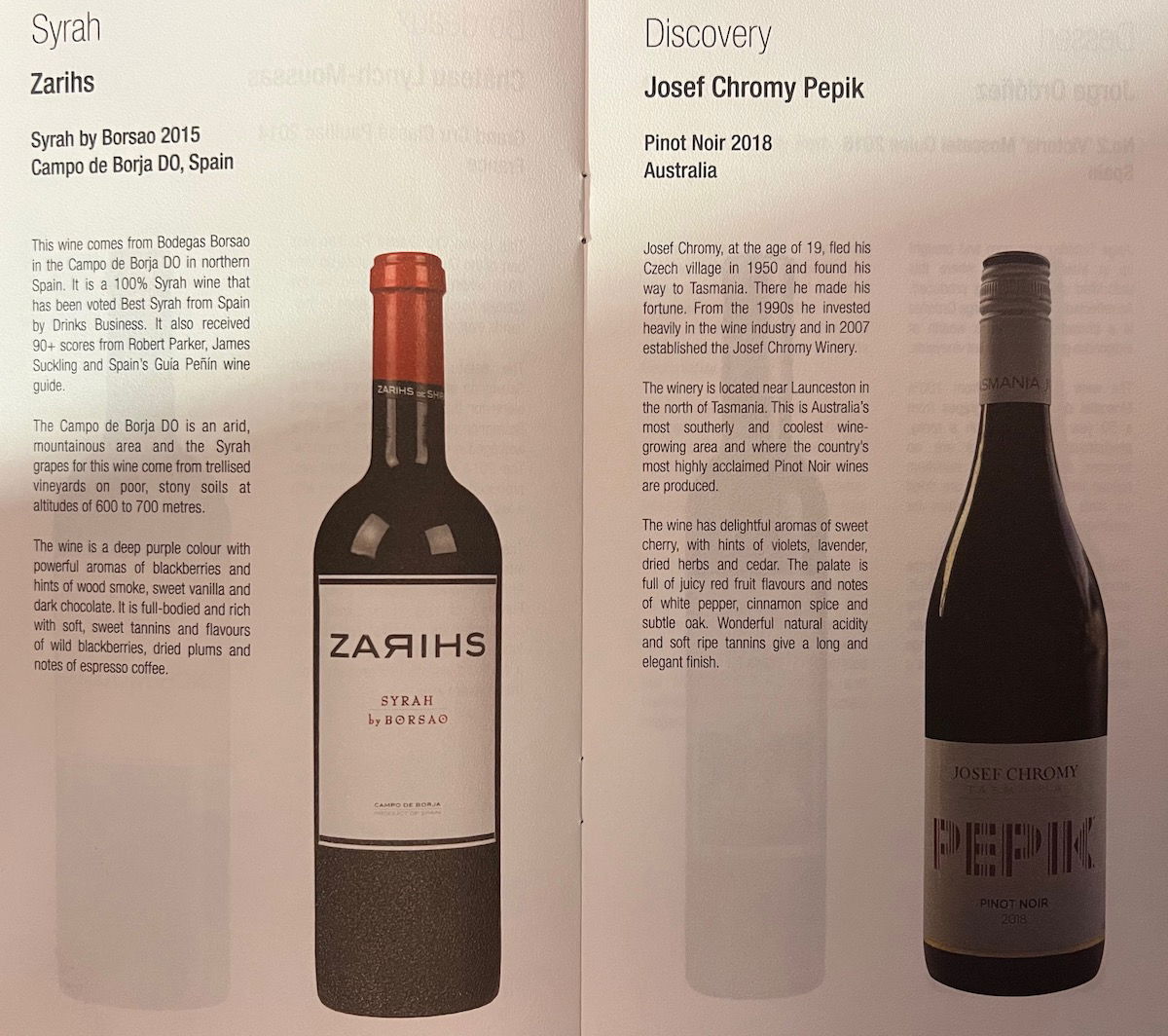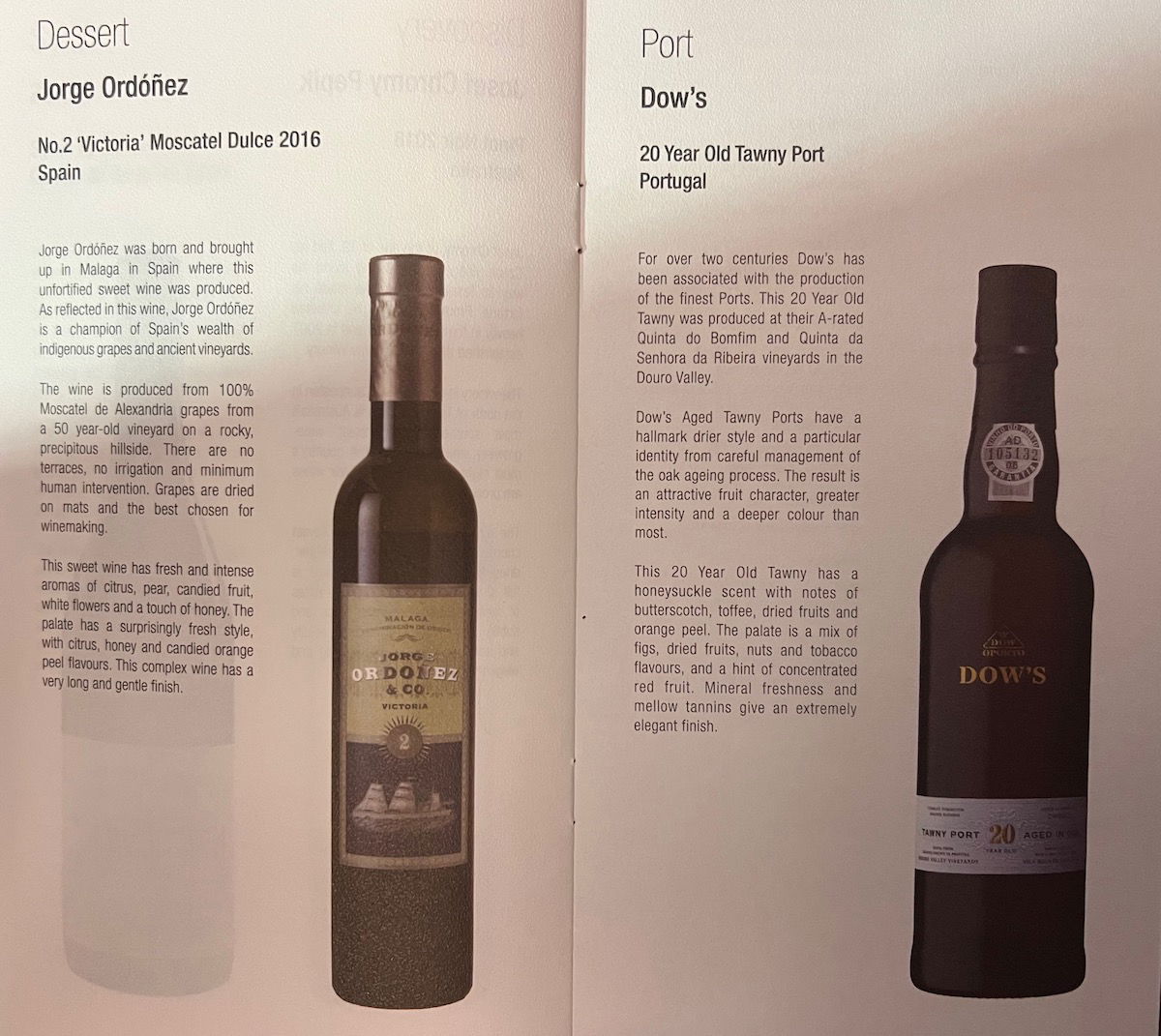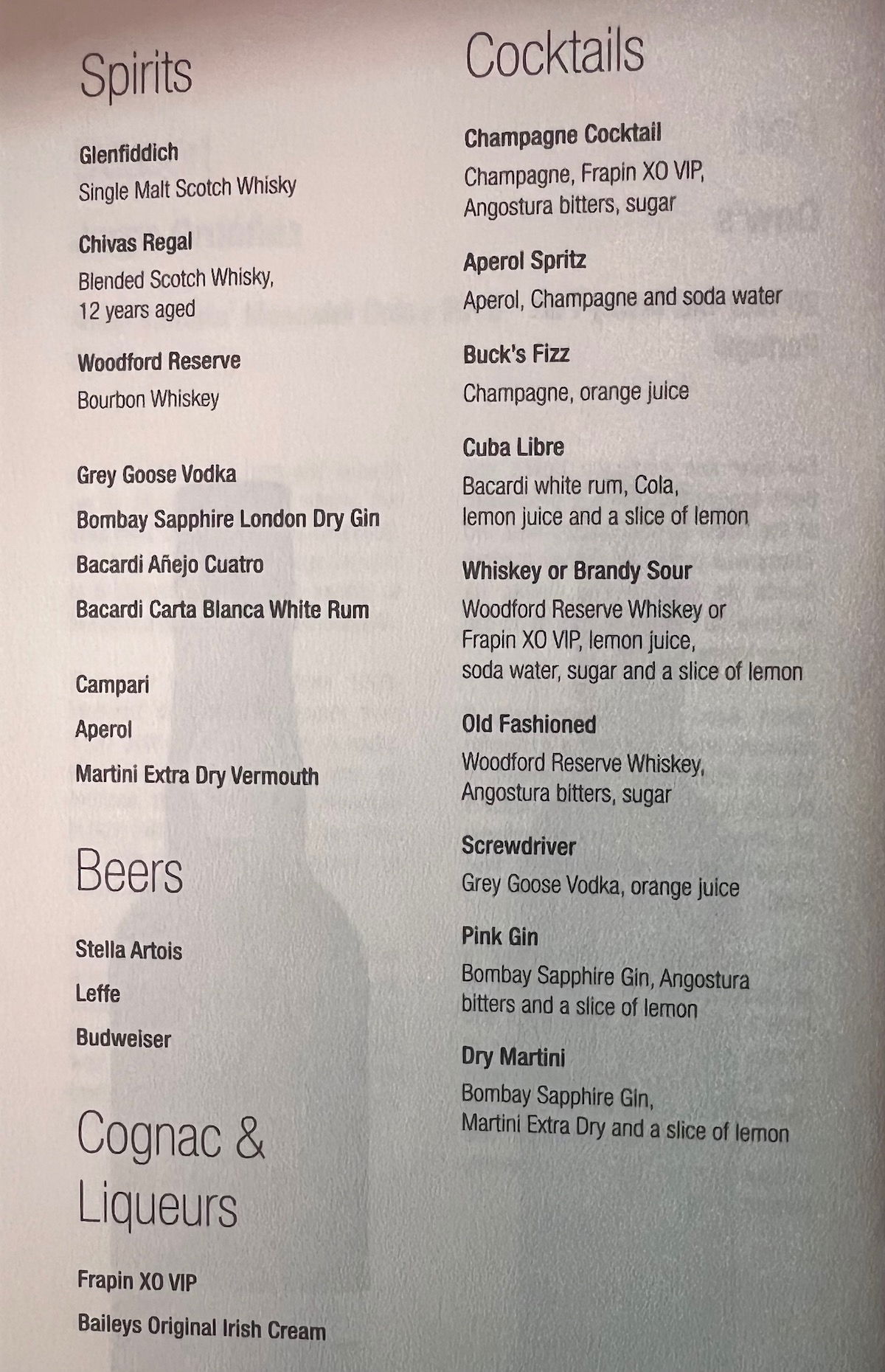 By the time we leveled off it was after 2:30AM. My plan was initially to go to sleep right after takeoff, though go figure I then got a second (or third?) wind. So I decided to order a light(ish) dinner. To start I ordered a glass of the Laurent-Perrier champagne, which was served with warm mixed nuts.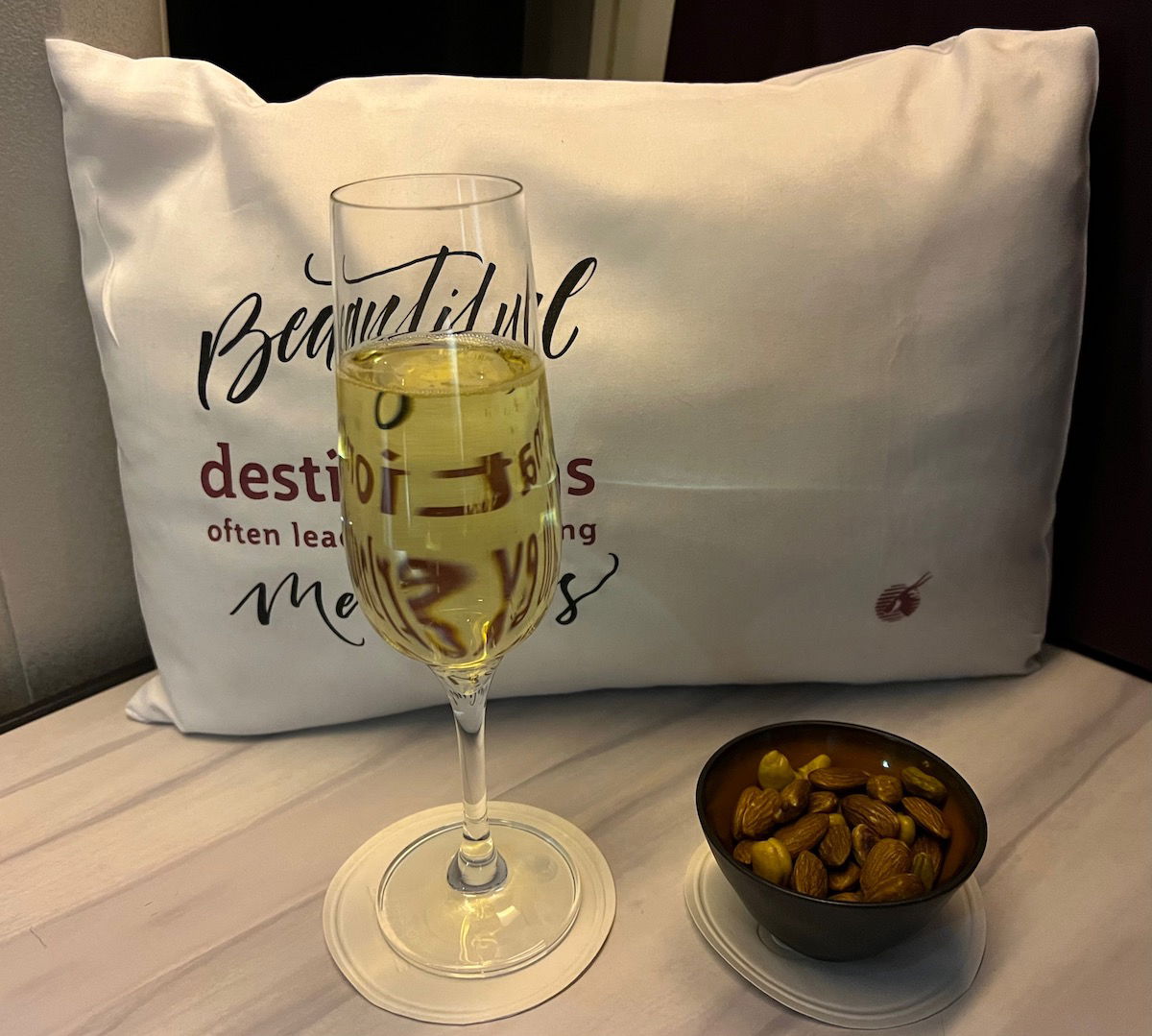 I then ordered the Arabic mezze with hummus, baba ghanoush, and tabouleh, served with Arabic bread. It was excellent as always. Interestingly Qatar Airways hasn't fully restored its pre-pandemic dining experience, which is to say that the meal was still served on a tray, rather than directly on the tray table. Personally I don't mind this one bit, because Qatar Airways crews stay busy, and this seems the most efficient.
I love Qatar Airways' presentation, from the water glasses to the fake candles.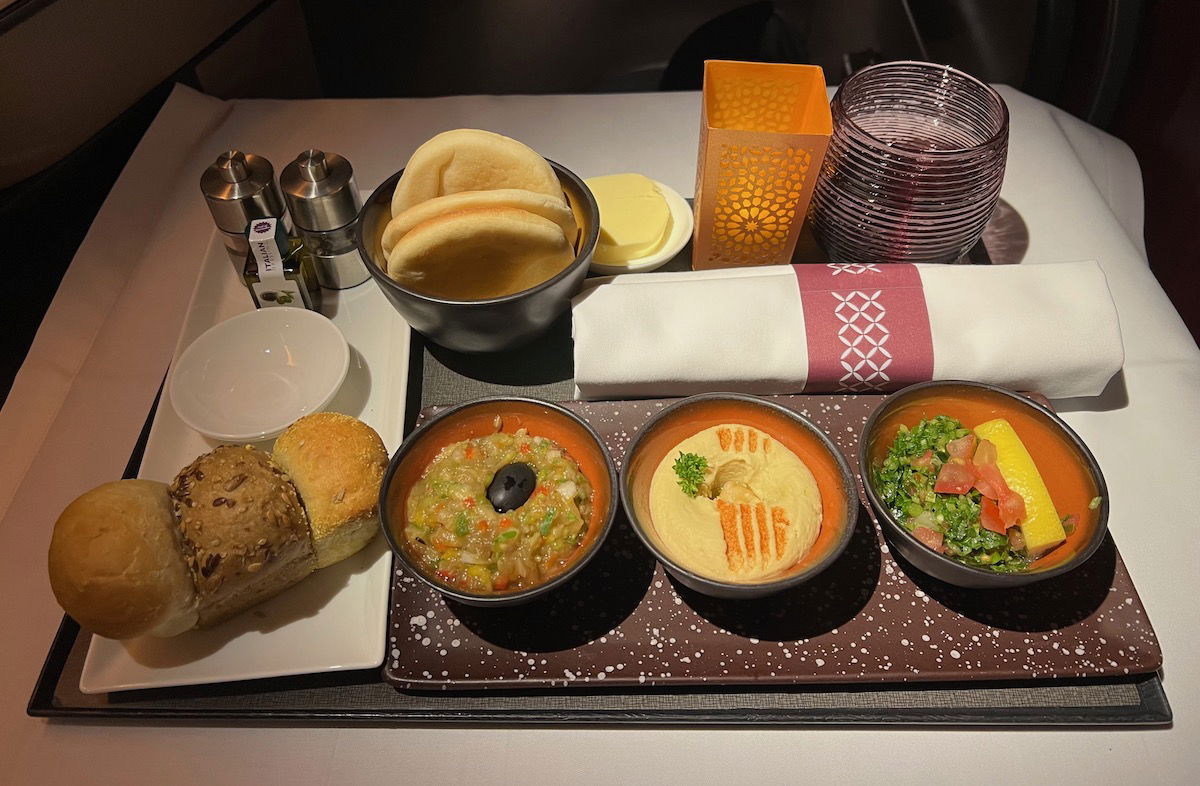 For my main course I ordered a vegan dish (the airline consistently has vegan options in business class), and specifically had the teardrop croquettes with vegan barbecue sauce. The dish was tasty, and just the perfect portion.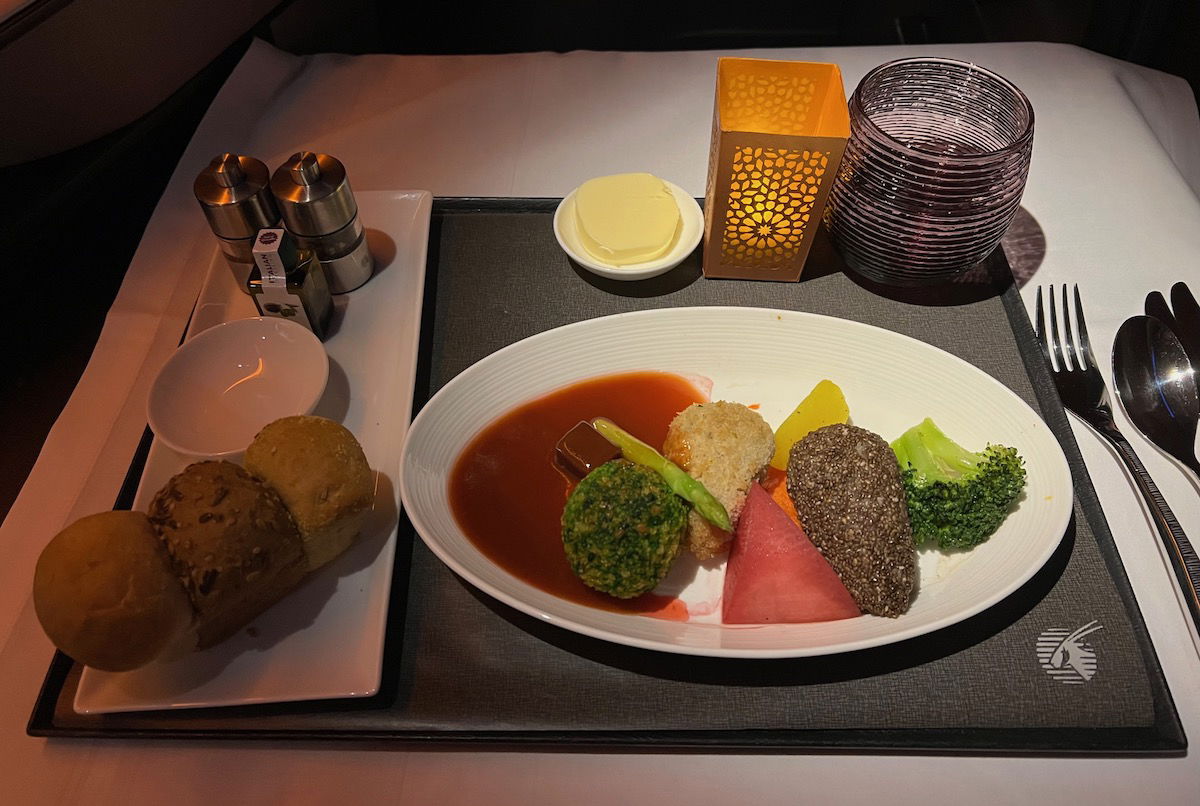 I took a nap after dinner, and later on the flight, while over Europe, I decided to order a cappuccino, which was served with some cookies.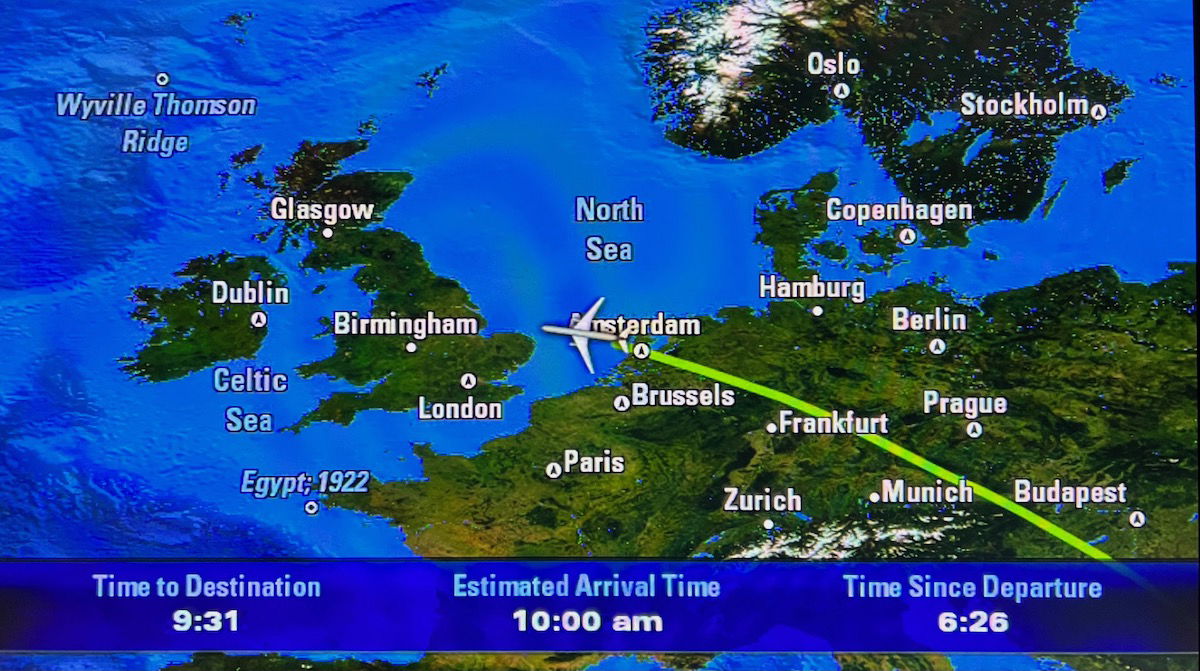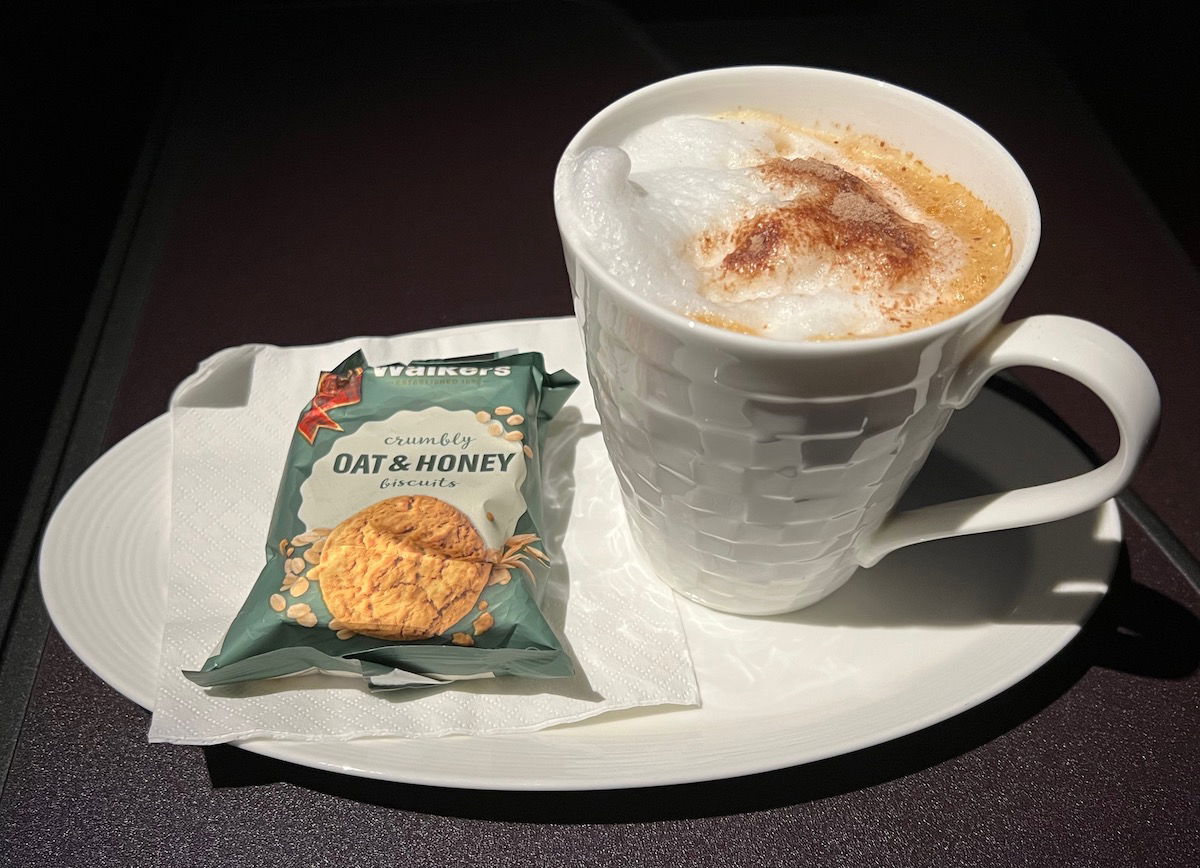 A couple of hours after that I decided to order breakfast. I ordered the Arabic breakfast with feta cheese, tomato, cucumber, and olives, served with foul medames and Arabic bread. I also ordered the greek yogurt with passionfruit and mango coulis, toasted granola, and nuts. The breakfast was excellent.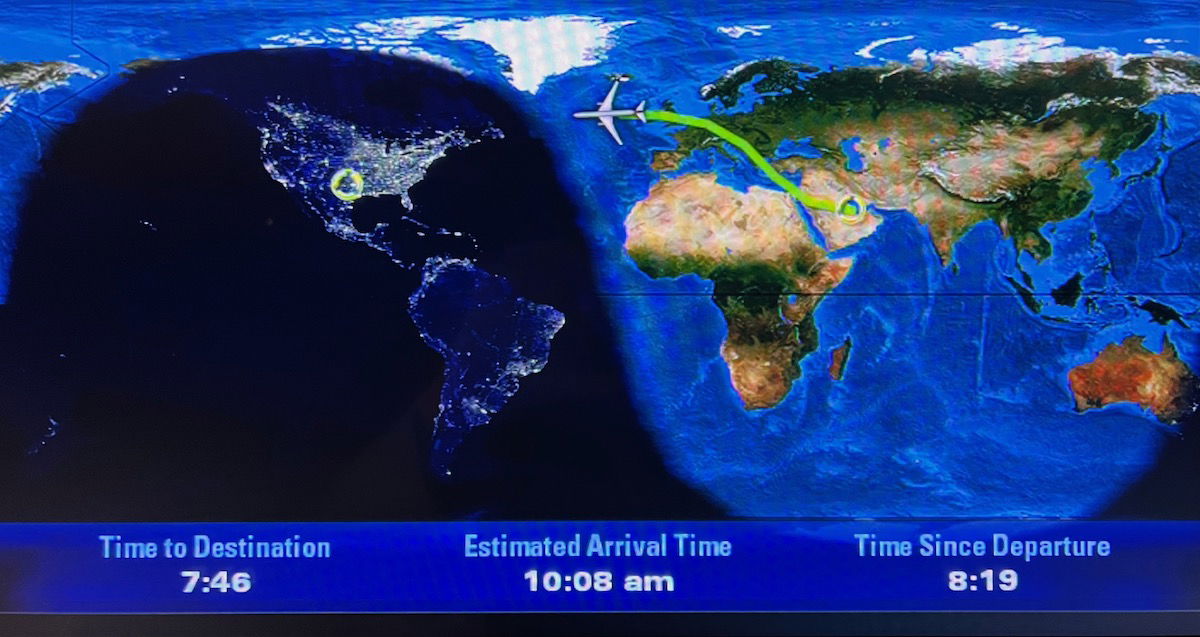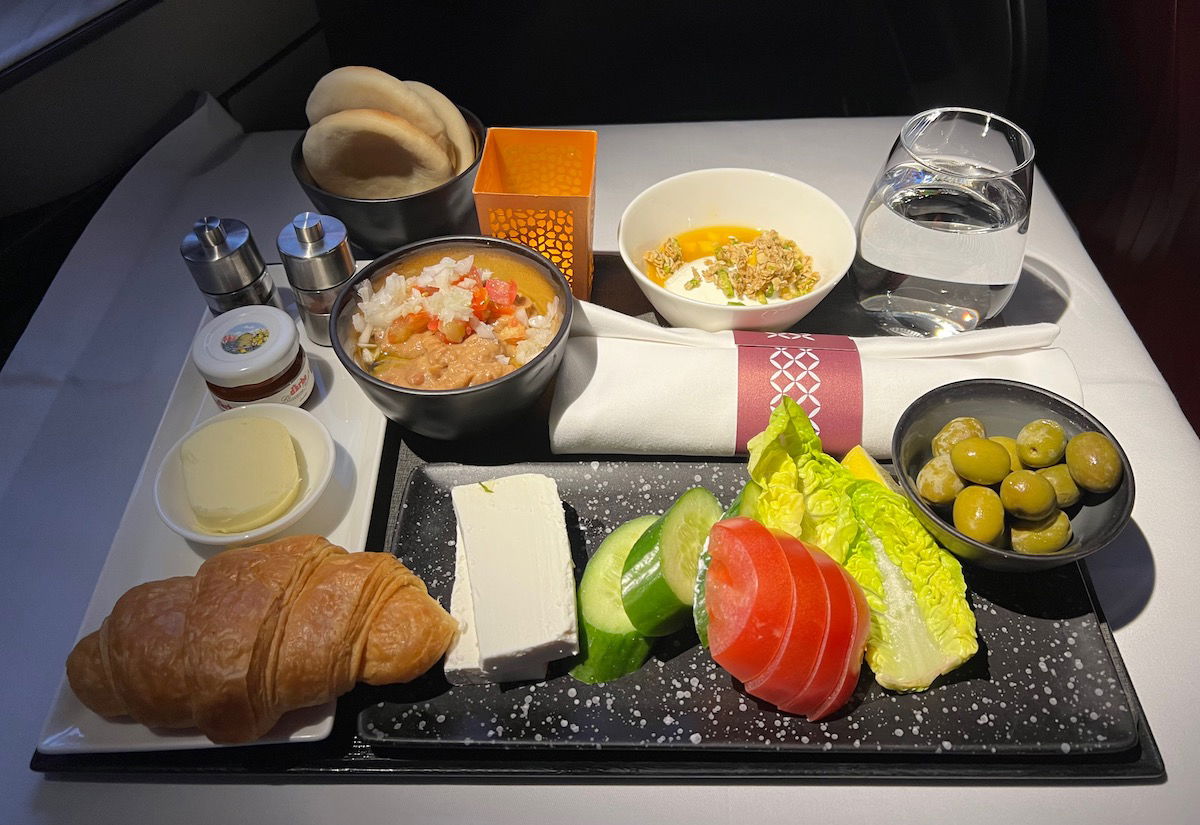 I also ordered an iced chai latte — yum!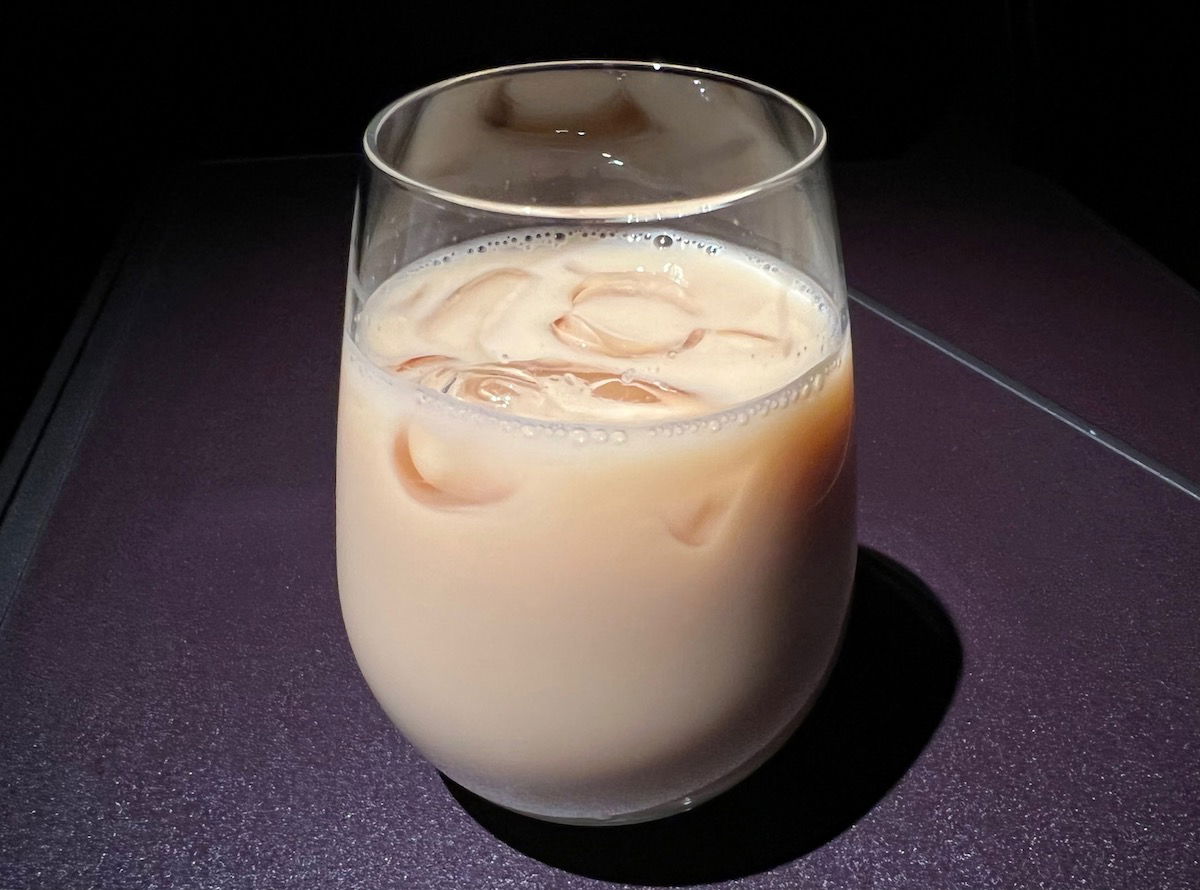 Then around two hours before landing I ordered a pre-landing meal, from the "light options" menu. Specifically, I had the fish curry with tadka rice and papad, which was probably the best thing I had on this flight.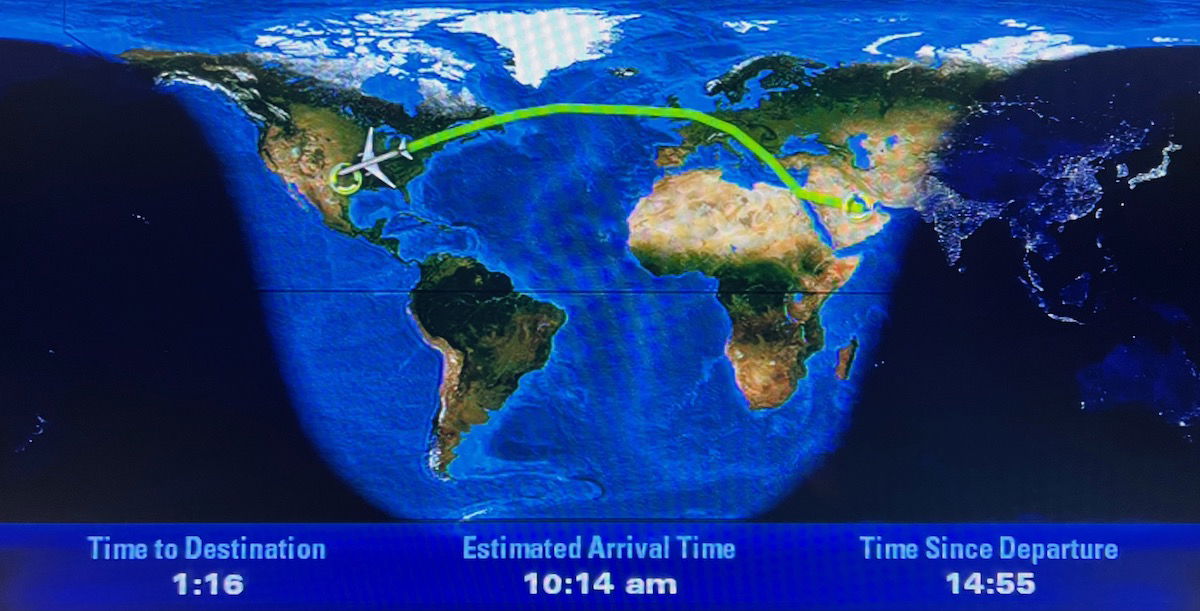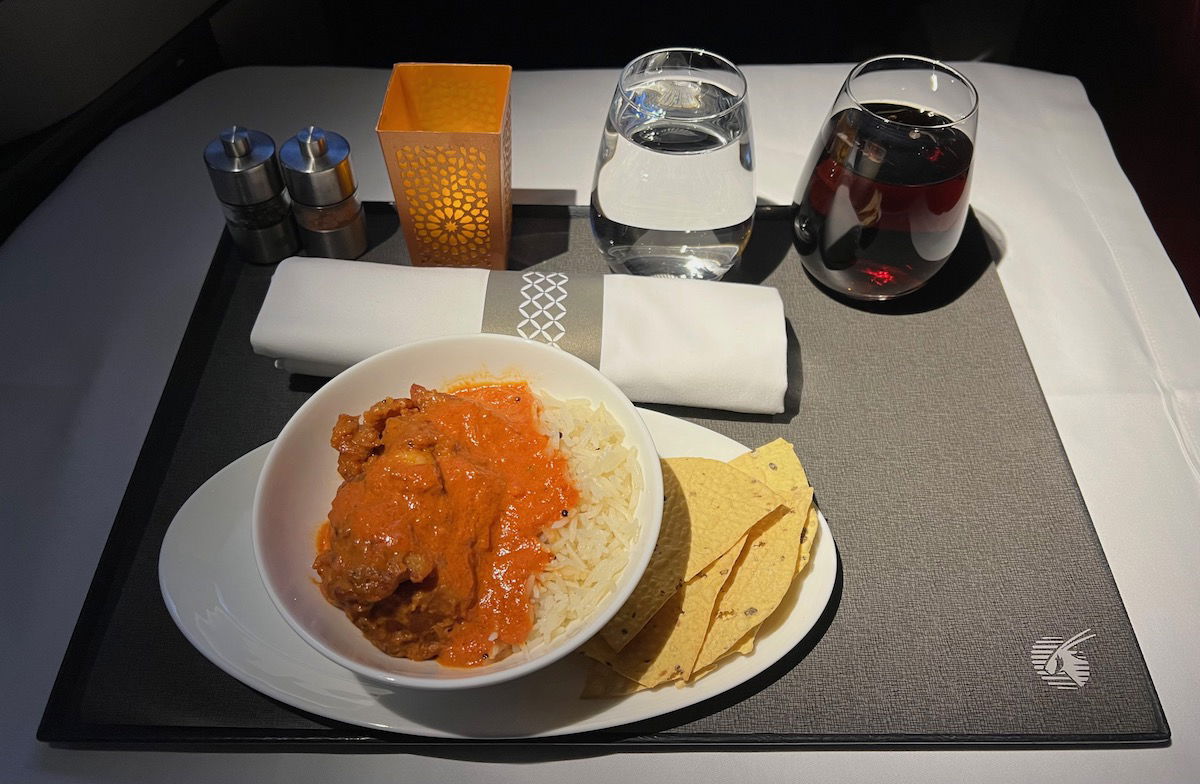 For dessert I ordered the fresh berries with rose water syrup.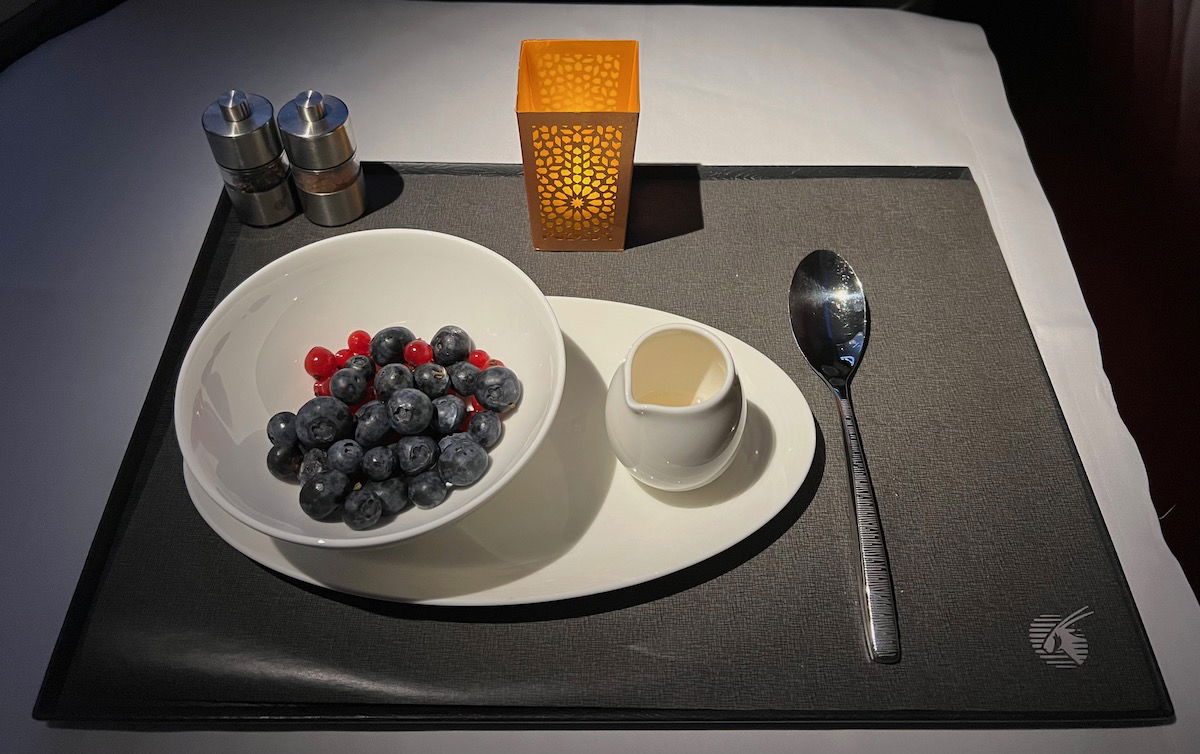 I also ordered one more cappuccino before landing, which was served with a warm towel and a box of chocolates.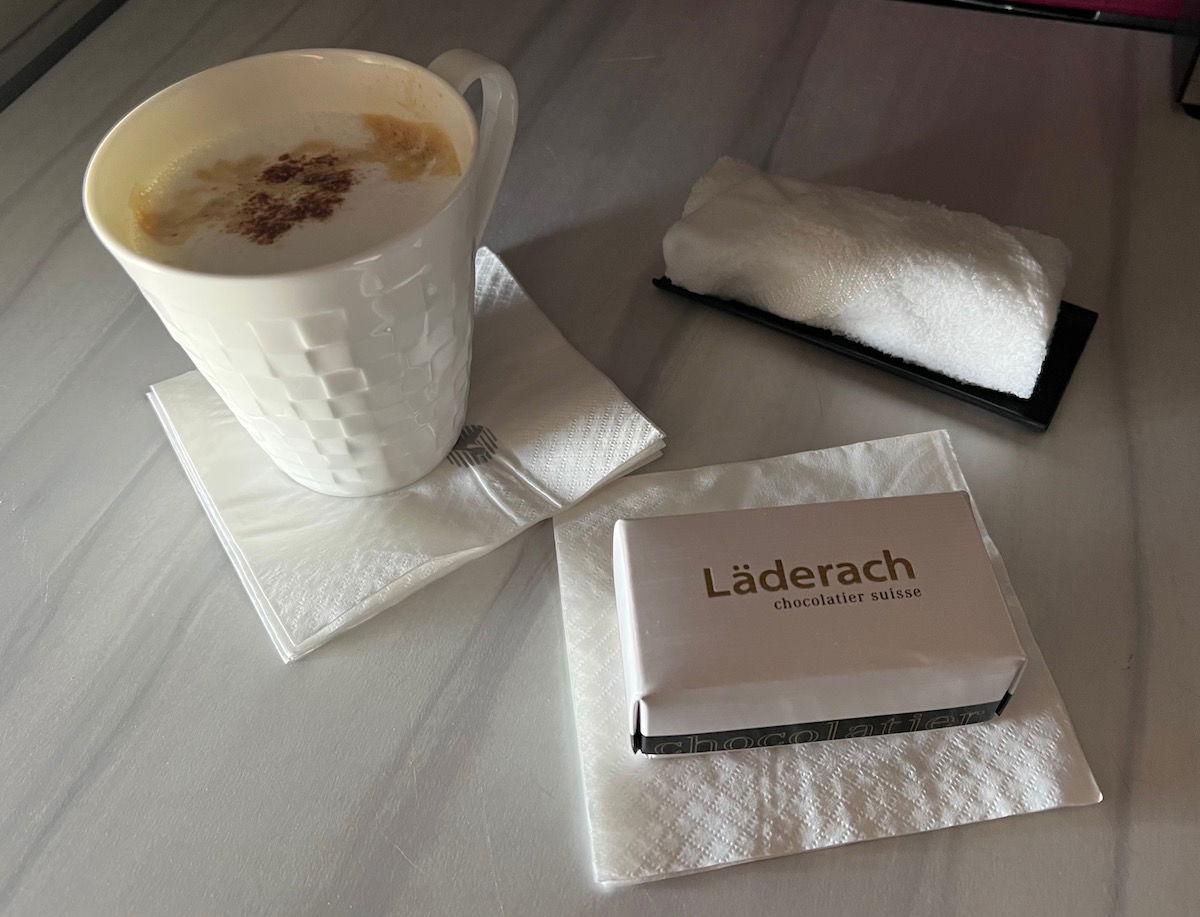 You certainly won't go hungry in Qatar Airways business class!
Qatar Airways Qsuites business class bed
Qatar Airways offers turndown service in business class. When it's time to sleep there's a mattress pad that's placed on your seat. It's essentially a cover that goes around the seat, so it can stay on regardless of whether or not you want your seat reclined. The crew also places a white sheet on the larger pillow, which is a nice touch.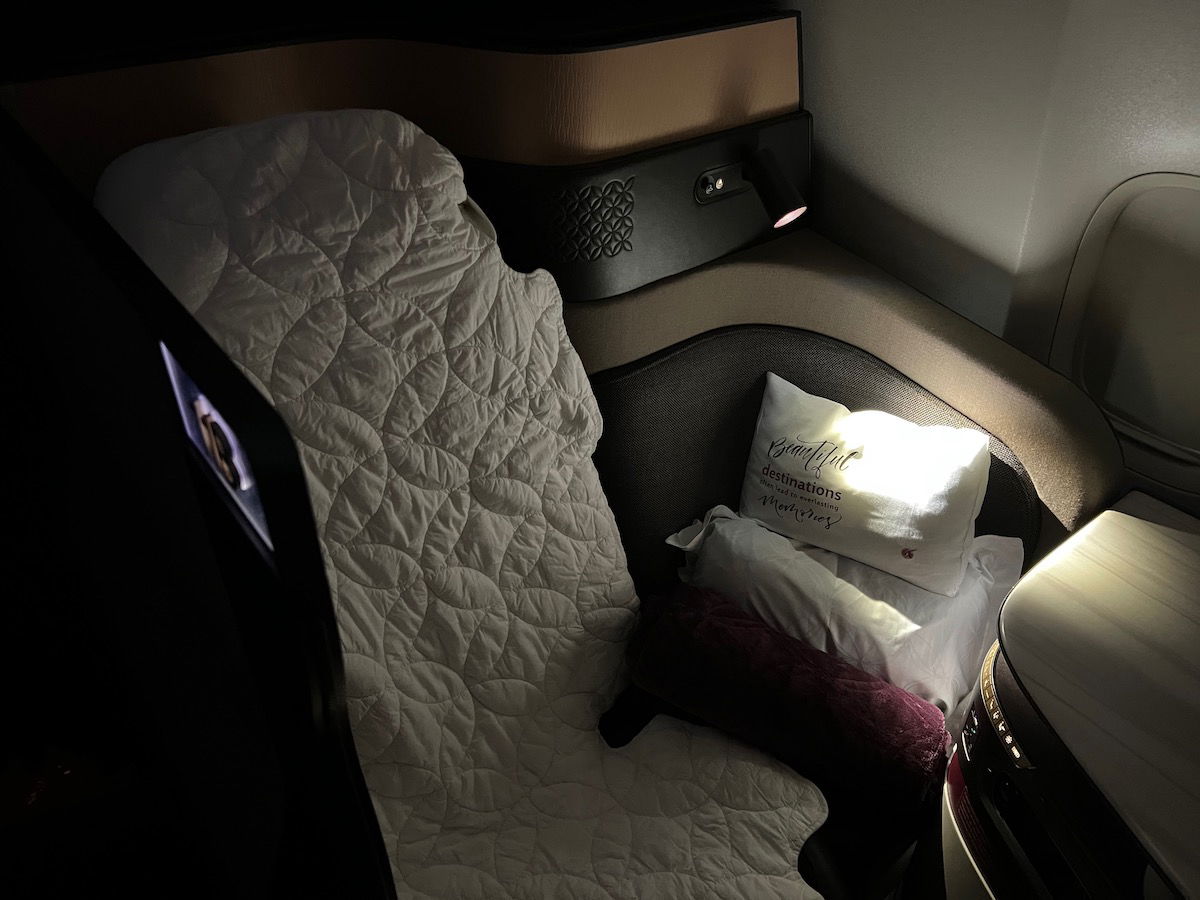 Personally I find the Qsuites beds to be comfortable for sleeping. It's super cozy to have a door, and it really makes the seat feel like a cocoon. Even with this incredible amount of comfort, I'm still an awful airplane sleeper, and I think I got maybe two hours of solid sleep. After that, I was up for the rest of the flight, despite several attempts to fall back asleep (admittedly ordering caffeine drinks probably didn't help with that). 😉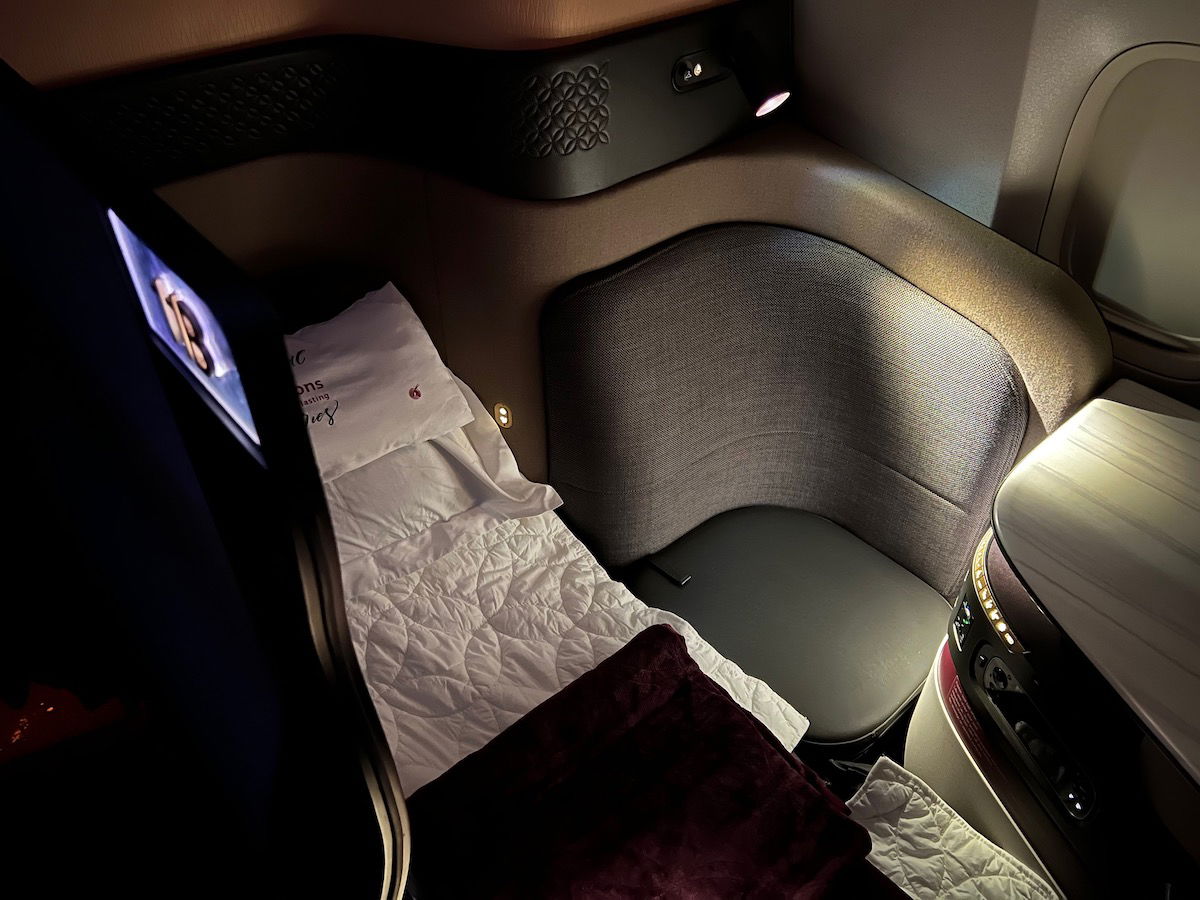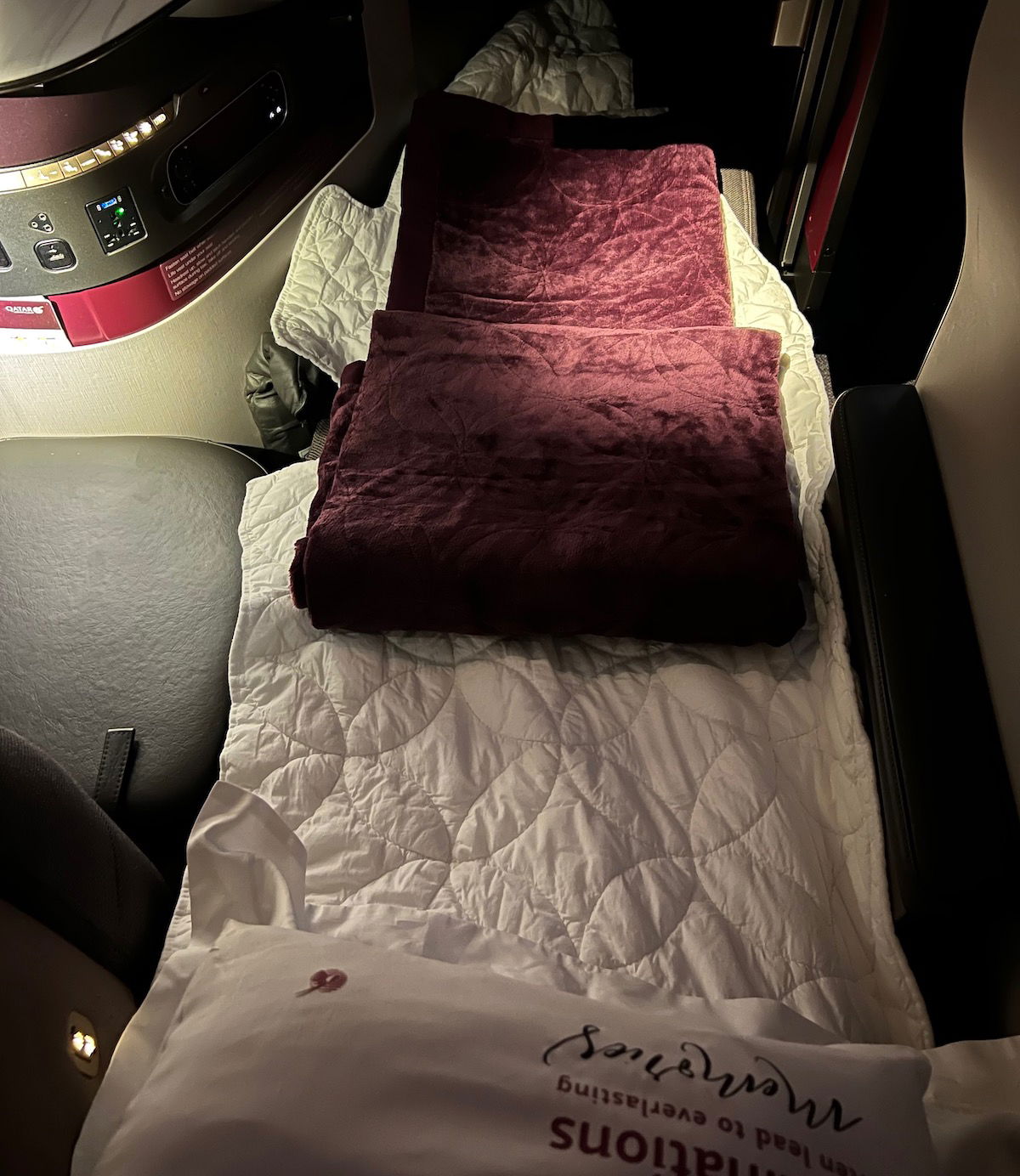 In my experience Qatar Airways consistently keeps cabins dark on long haul flights, given that everyone is on a different schedule and there's dine on demand. So on this flight the cabin was dark for 16+ hours, even though it was light outside for most of the flight.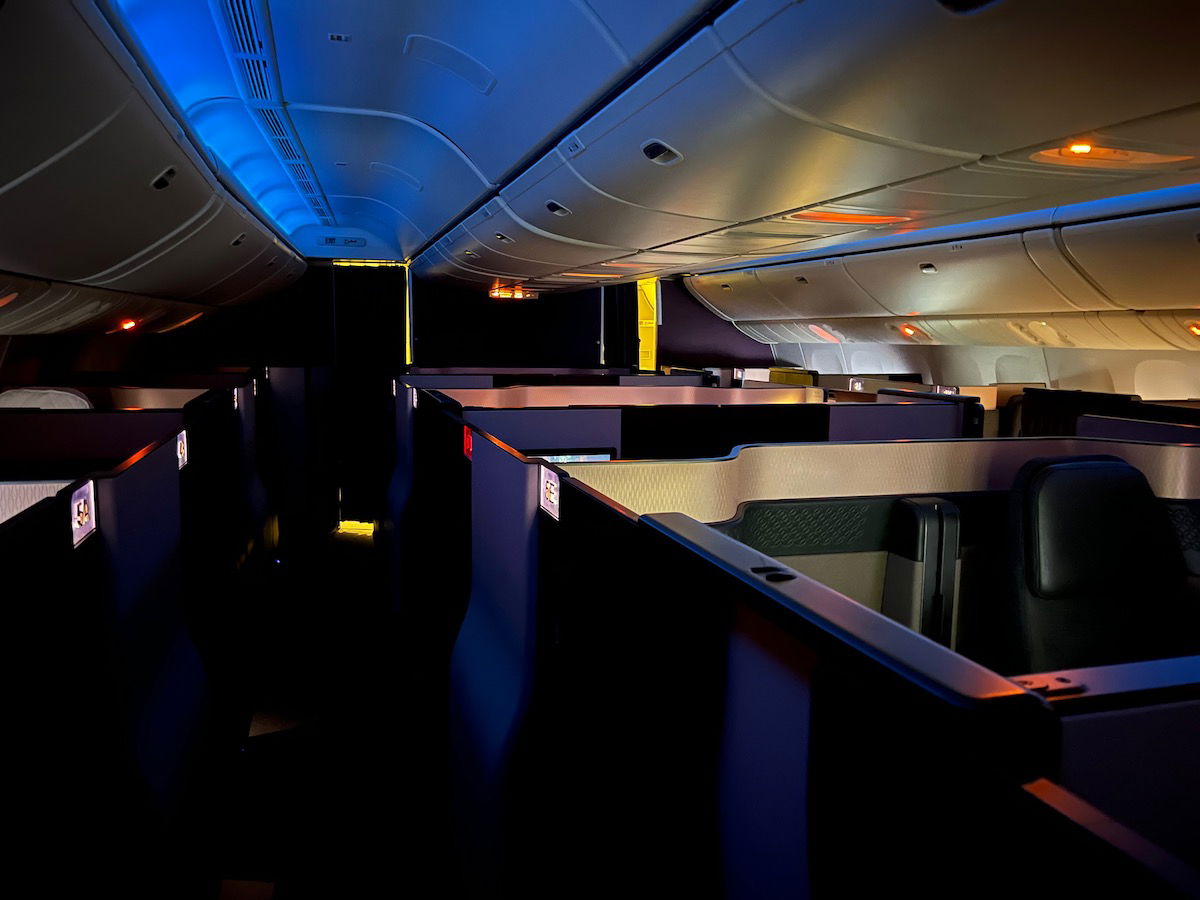 Even though I've done more than my fair share of flying over the years, taking flights like this and constantly looking at the map never gets old. Aviation is pretty darn amazing!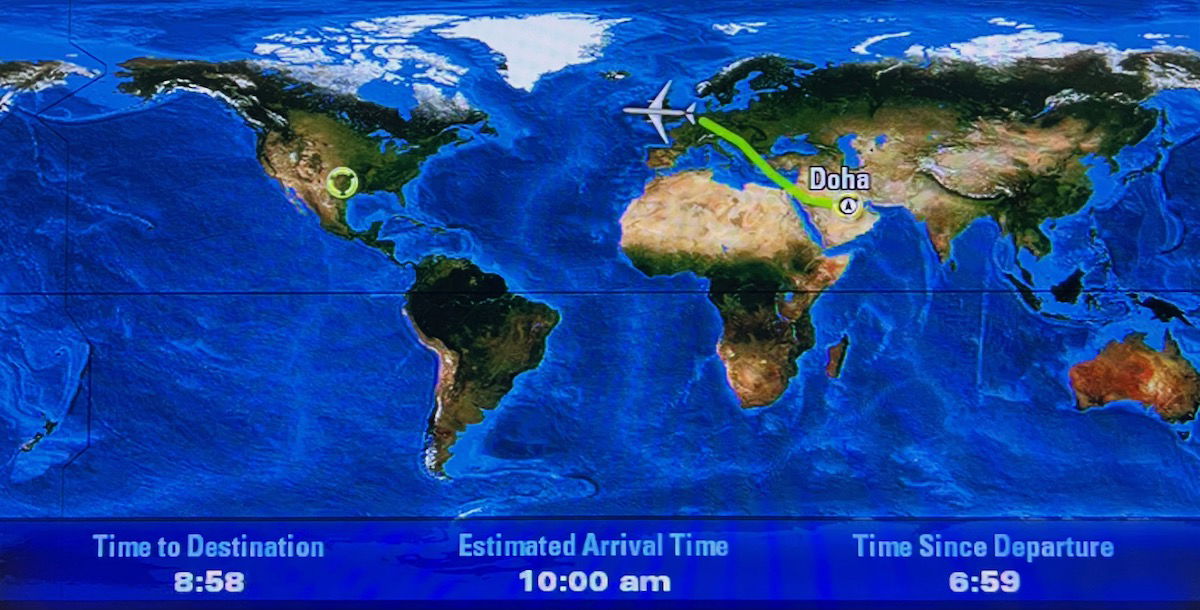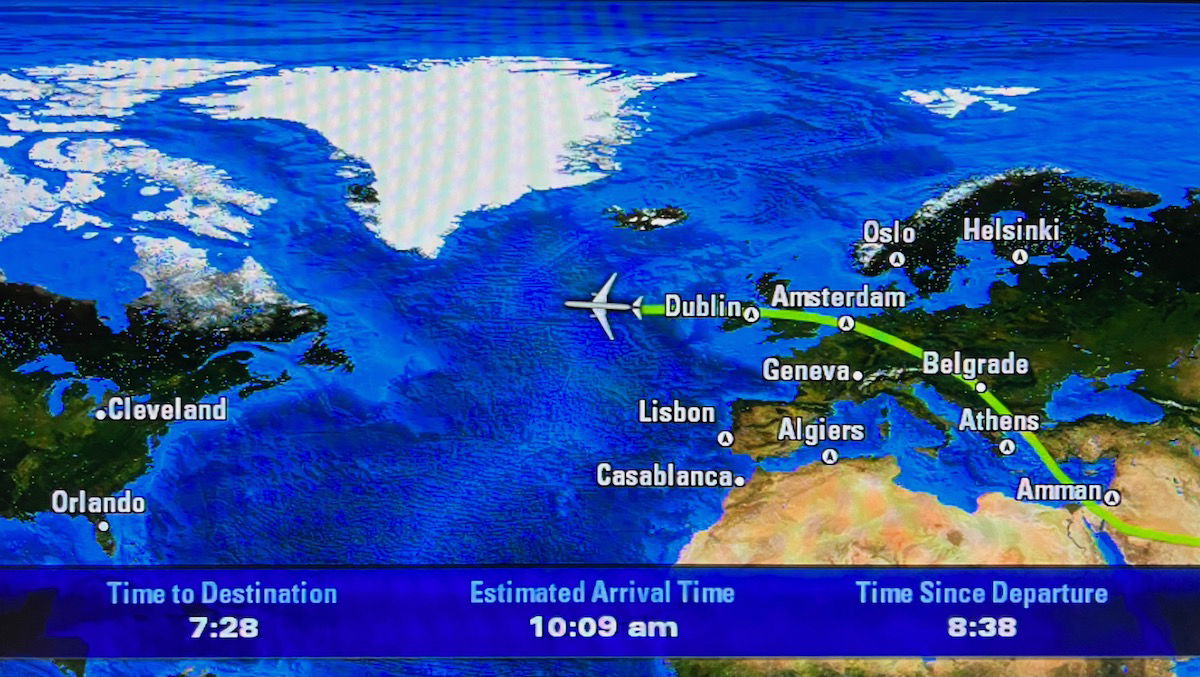 Also, am I the only person who loves Googling the random things listed on the map feature? How else am I supposed to learn about the Porcupine Bank?!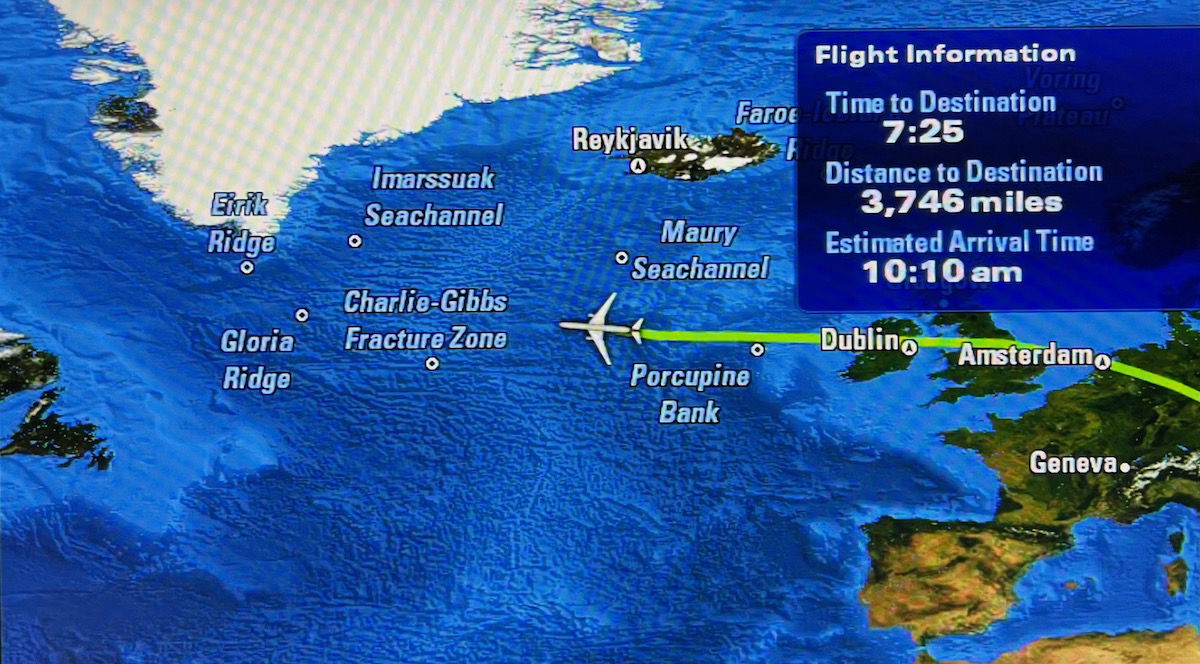 Qatar Airways business class service
Qatar Airways flight attendants are the hardest working in the industry, in my opinion. The level of service that Qatar Airways provides in business class is simply incomparable, and even on a 16 hour flight, it seems like they're hustling nonstop.
That's because passengers are constantly eating (given dine on demand), and Qatar Airways has so many service features other airlines don't have, from pre-departure drinks of choice, to turndown service, to cappuccinos, to constantly refreshing the lavatories, all of which take time.
The crew working this flight was efficient and friendly. Were they the most personable crew I've ever had? No. But I also feel like that's partly a function of them just being so busy that they don't really have time to slow down and develop connections with passengers.
I have to give a big shout out to Her (that was his name), the cabin manager, who was extremely professional. He greeted passengers after boarding, came around later in the flight to see how everyone was enjoying the experience, and also handled a difficult situation with ease.
Qatar Airways arrival in Dallas
After being on the plane for what felt like a week, the captain came on the PA at 9:35AM Dallas time to inform us that we'd be descending shortly, and should land in around 40 minutes. It was nice to open the window shades and finally see some daylight!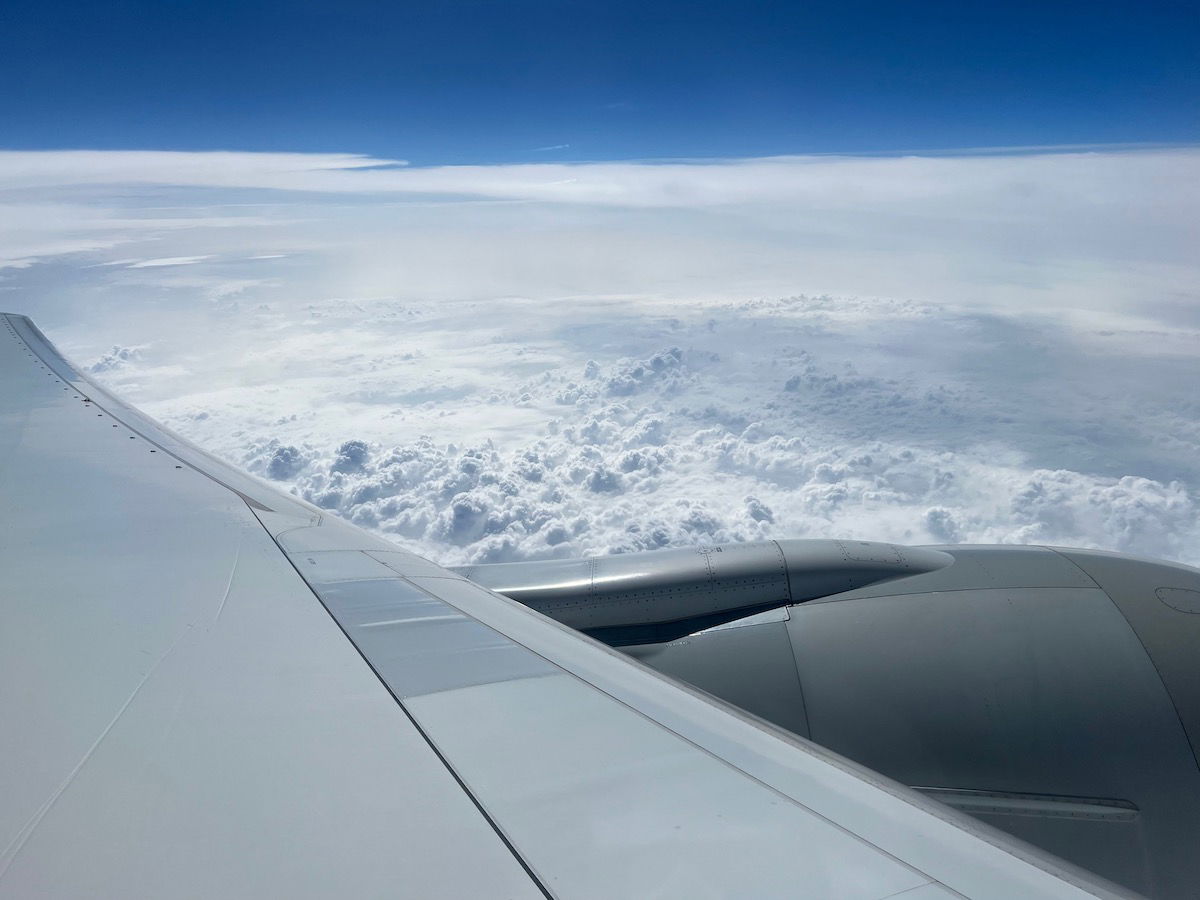 There was some drama during the descent, as a passenger tried to aggressively self-upgrade (he also did this during boarding, but not as assertively). I wrote about that in a previous post, so won't write more about it here. Kudos to the crew for how they handled the situation, and for calling the cops on this guy.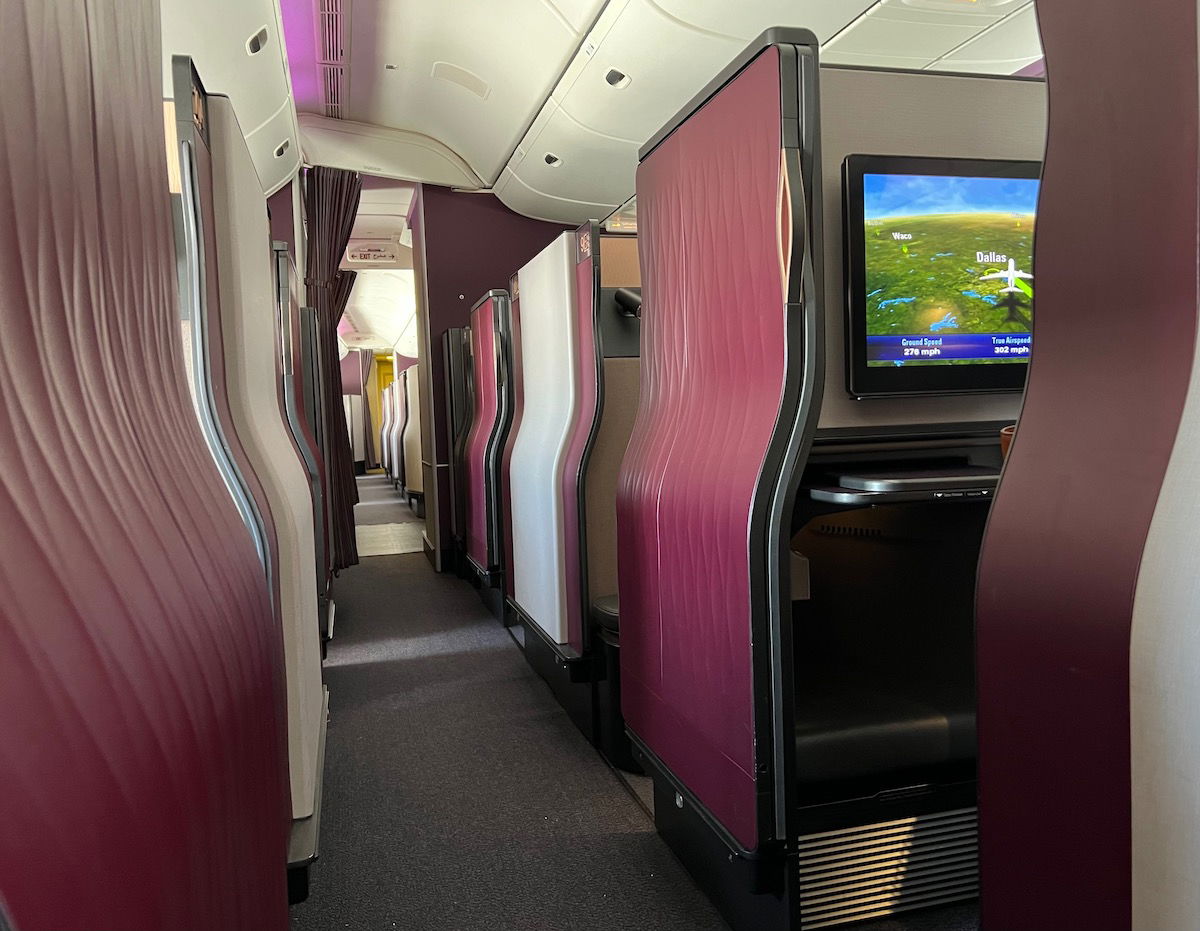 We touched down at DFW at 10:20AM, and from there had a roughly 15 minute taxi to our arrival gate.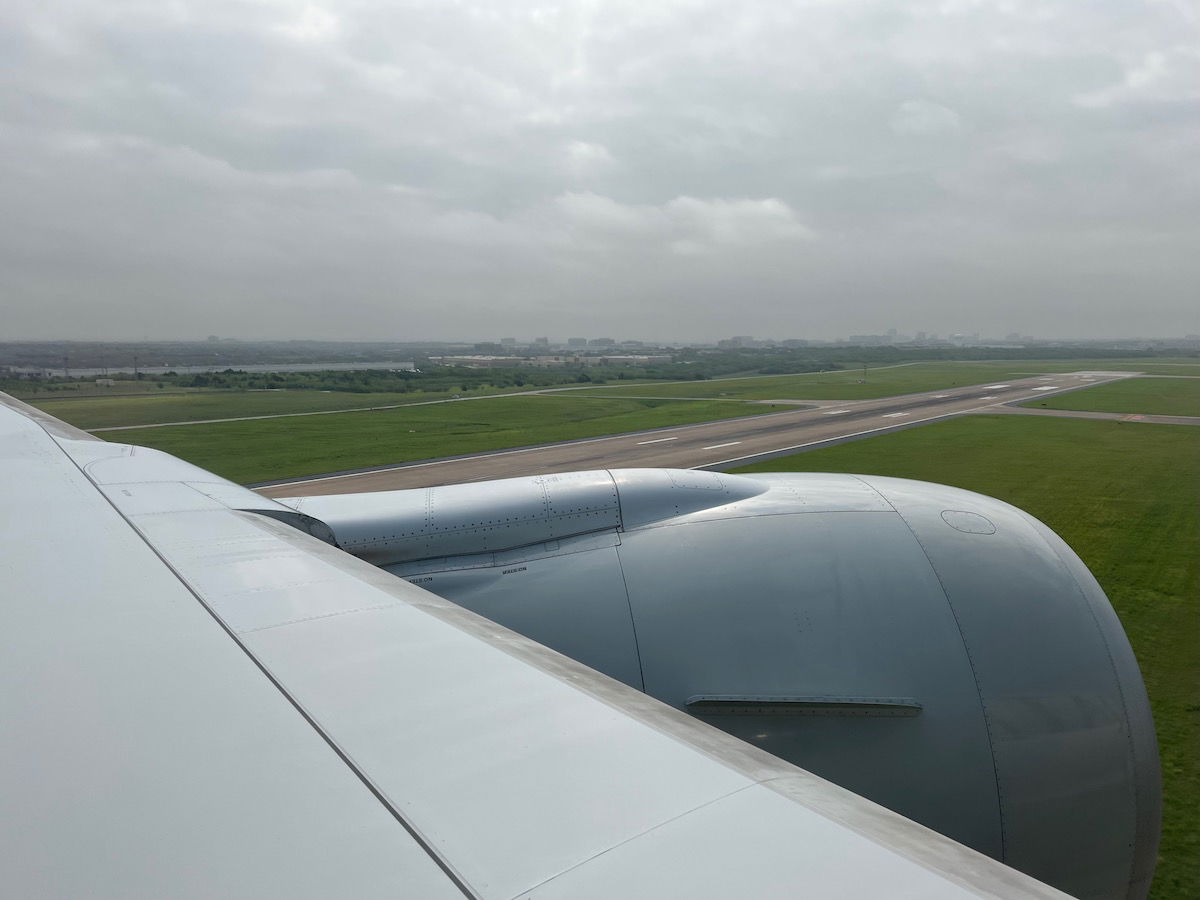 We pulled in at Terminal D, next to a Korean Air 787, Emirates 777, and Japan Airlines 787. We arrived around 30 minutes late due to the strong headwinds.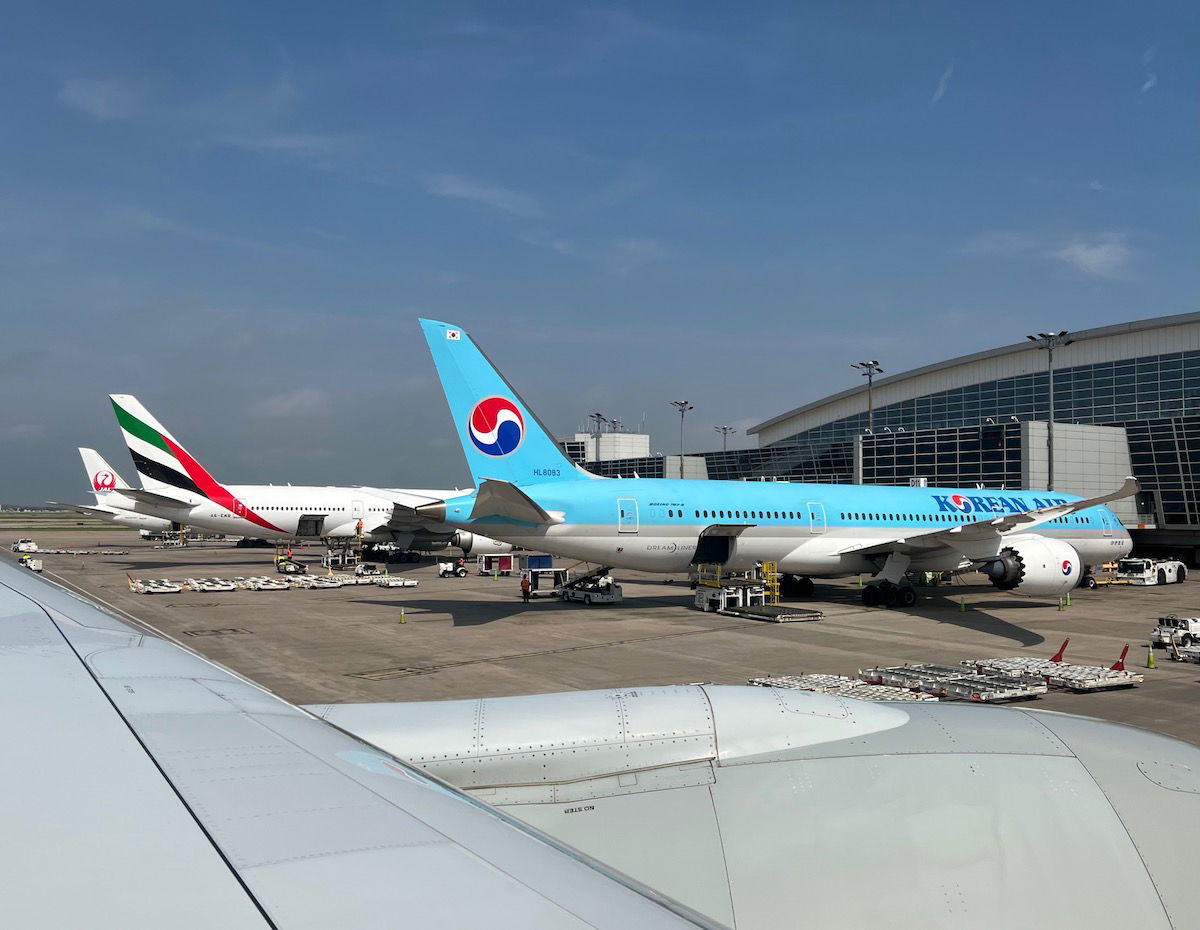 We cleared immigration in no time, and then headed back through security to fly back to Florida, rounding out an amazing trip.
Bottom line
Qatar Airways continues to set the standard for business class with Qsuites, both when it comes to the hard and soft product. From the comfortably designed suites with doors, to dine on demand, to endless entertainment and Wi-Fi, to top notch amenities, Qatar Airways has the most well rounded business class product in the world.
This was my first time flying Qsuites since the start of the pandemic, and I'm happy that the product is every bit as good as I remembered.
If you've flown Qatar Airways Qsuites, what was your experience like?