To return to the United States we flew Qatar Airways' Boeing 777-200LR Qsuites business class from Doha to Dallas. While the flight only departed at 1:40AM, we ended up heading to Hamad International Airport at around 4PM (when we had to check out of the Park Hyatt Doha), giving us plenty of time in Qatar Airways' Al Mourjan Business Lounge.
In this post I wanted to take review Qatar Airways' flagship business class lounge. The Qatar Airways Al Mourjan Lounge is spectacular, in terms of the design, amenities, food, and drinks. For most hours of the day the lounge is an oasis of calm, though there are some periods where this lounge gets slammed with passengers. So let's take a closer look at the lounge.
Qatar Airways Al Mourjan Business check-in Doha
A vast majority of passengers at Hamad International Airport are connecting rather than originating or terminating their travel in Qatar, so the check-in area is something that most passengers never see. When you pull up to the airport, there are dedicated first & business class check-in areas. There are porters outside willing to help with bags.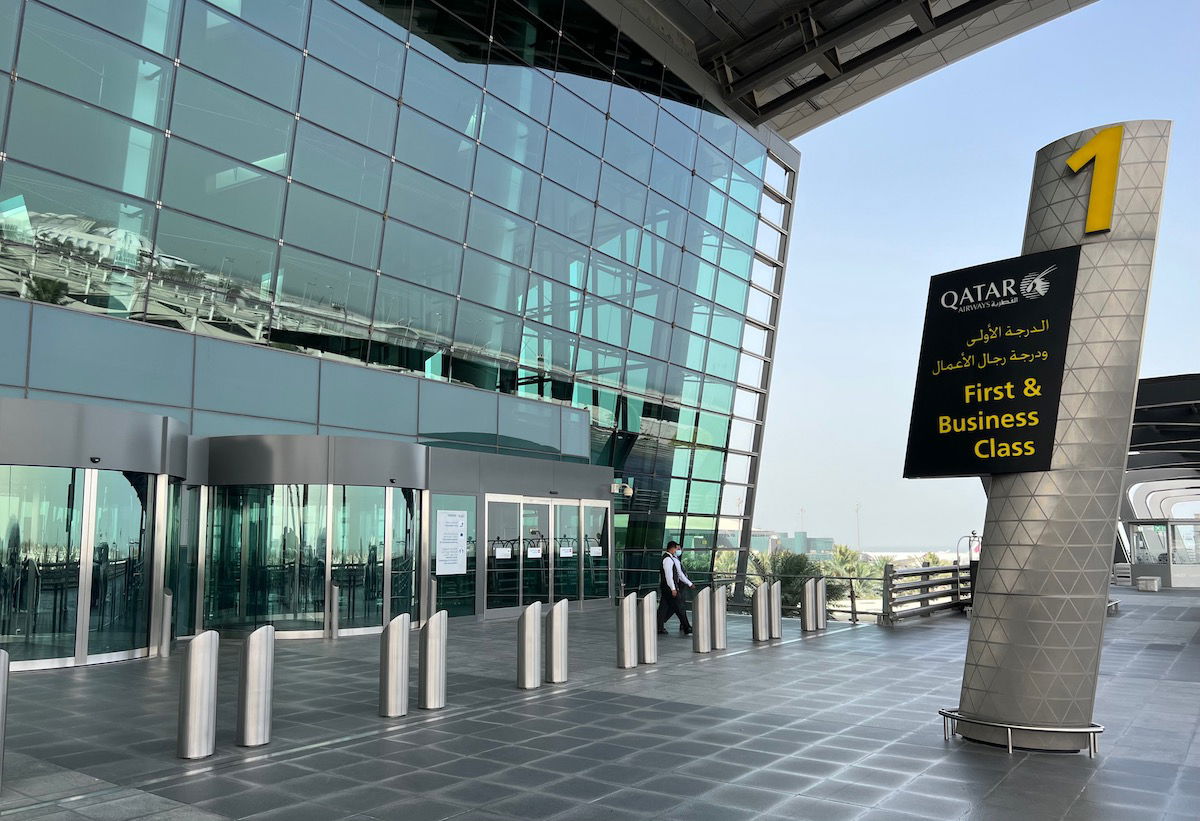 The check-in area of the terminal is quite grand, and never really crowded.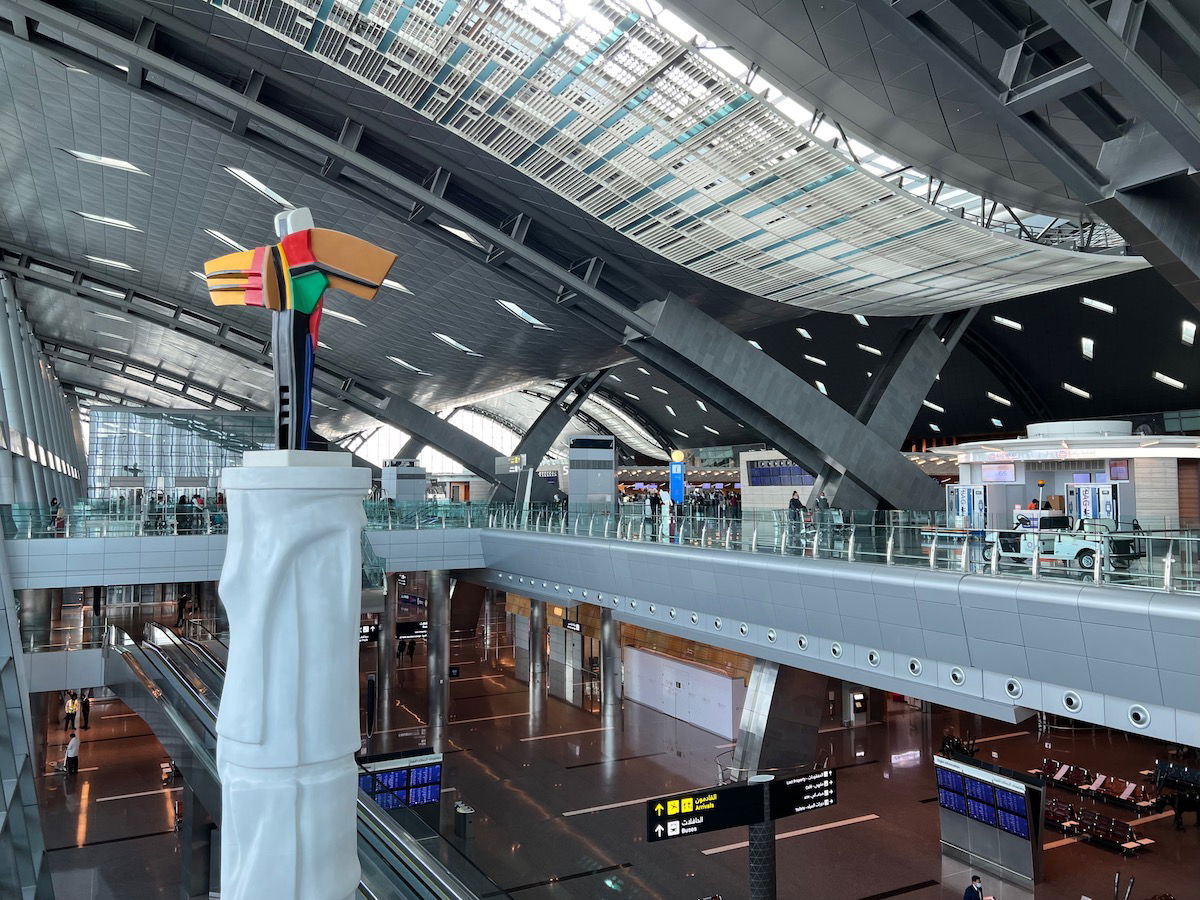 Inside the entrance to the terminal is the Al Mourjan Business check-in to the left, and the Al Safwa First check-in to the right.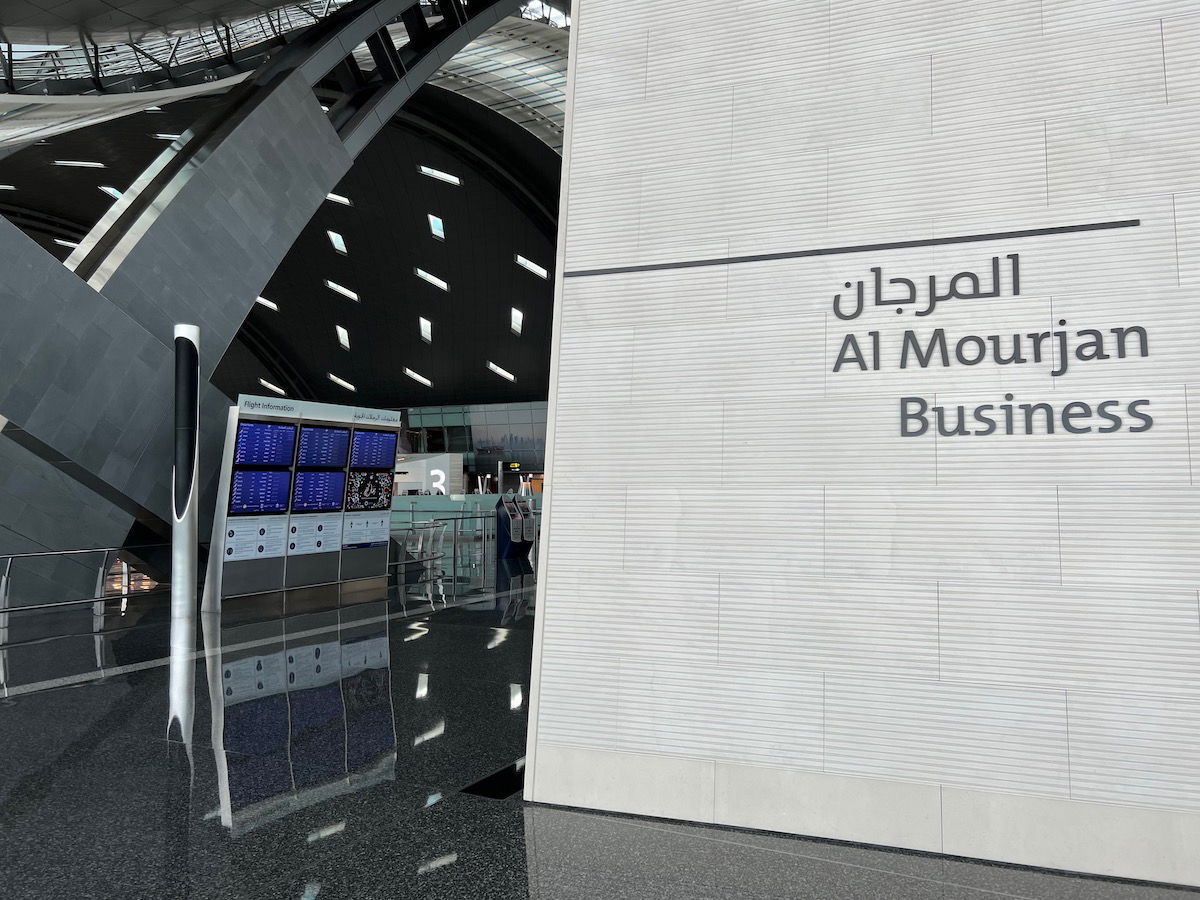 The check-in area is pretty nice, with partitions between each check-in counter, plus couches where you can hang out if you want.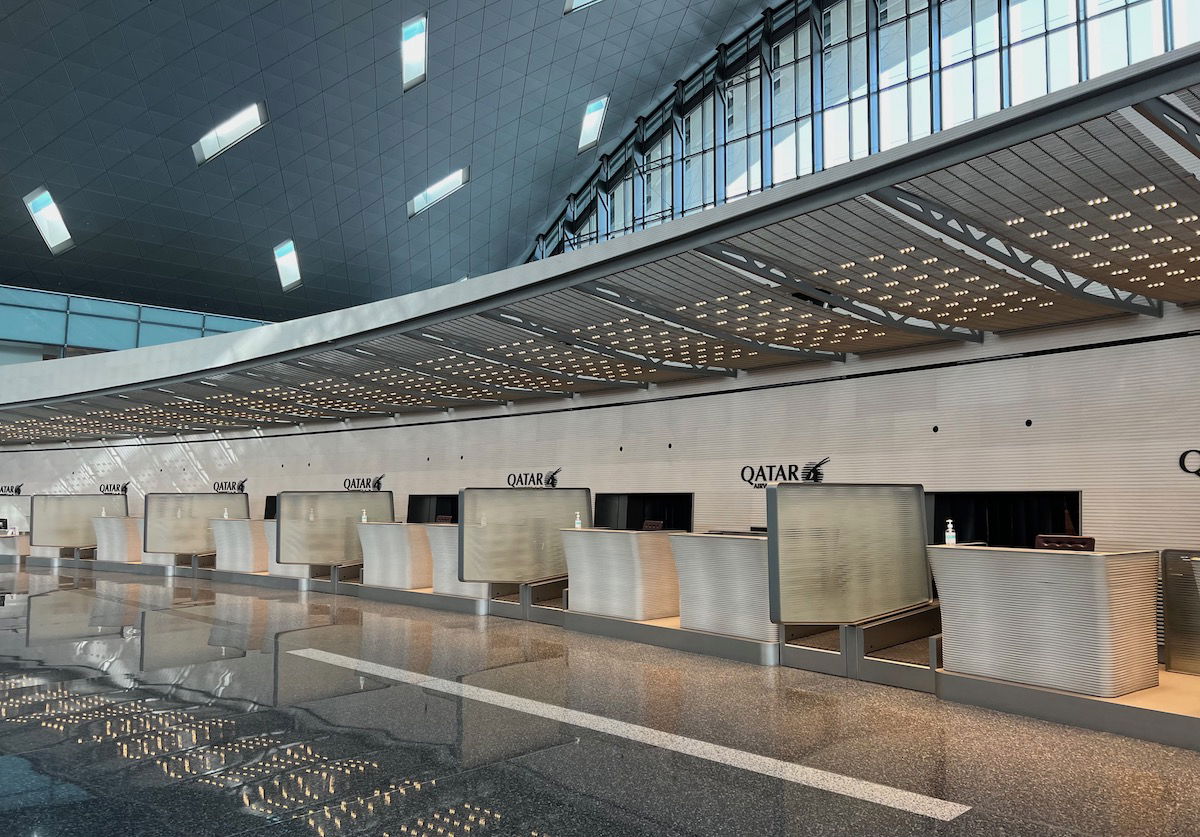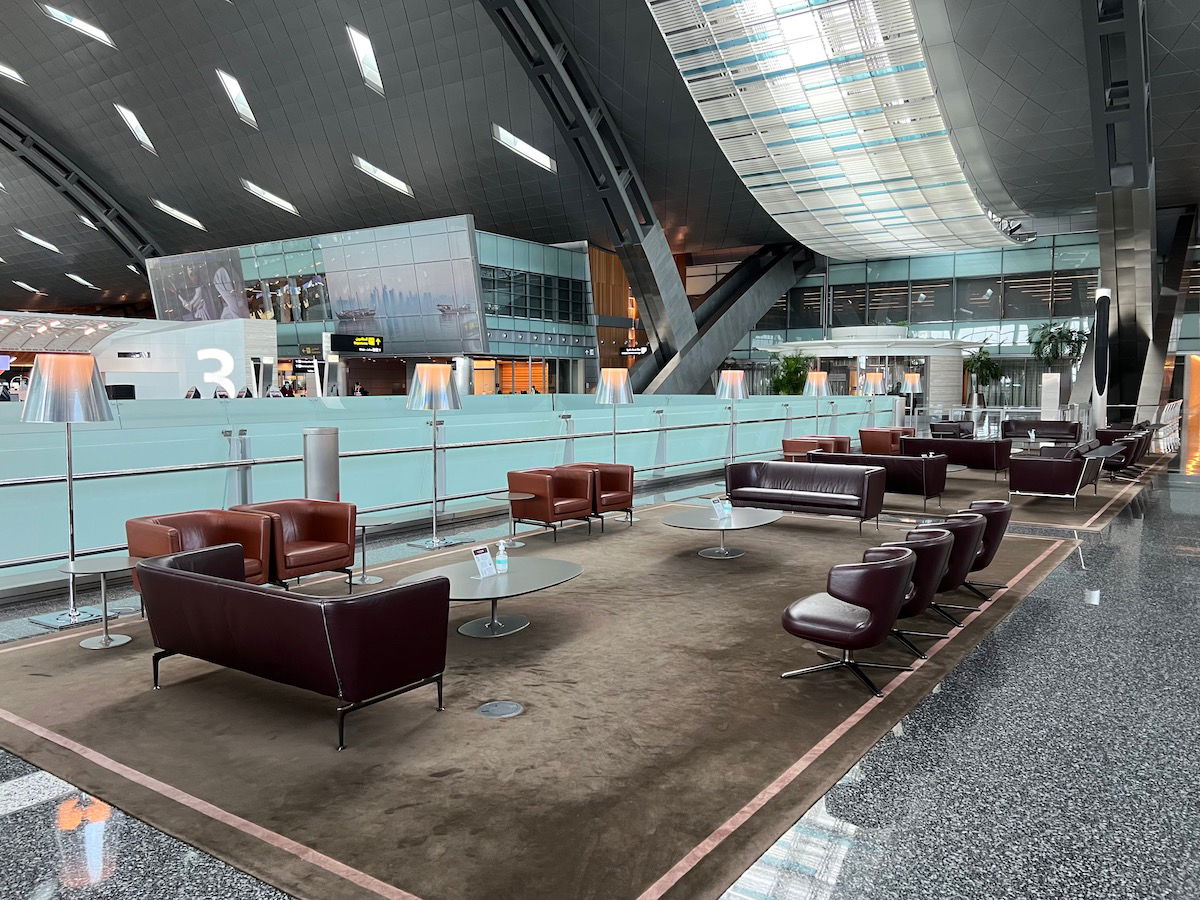 The employee checking us in was really friendly, but also really slow. For reasons I can't quite figure out, the check-in process took around 20 minutes. And it's not that she wasn't doing anything, but rather she was doing a lot of typing. I don't know if the system is just really inefficient, or what.
Soon enough we were issued our boarding passes, and headed straight for security and immigration. Fortunately that took about five minutes combined, as there were also dedicated premium channels.
Qatar Airways Al Mourjan Business Lounge Doha location
The Qatar Airways Al Mourjan Business Lounge is located airside (past security). Hamad International Airport only has one terminal, and the centerpiece of the terminal is the $6.8 million, 23-foot teddy bear. When you're facing the teddy bear, turn left in the direction of the A gates.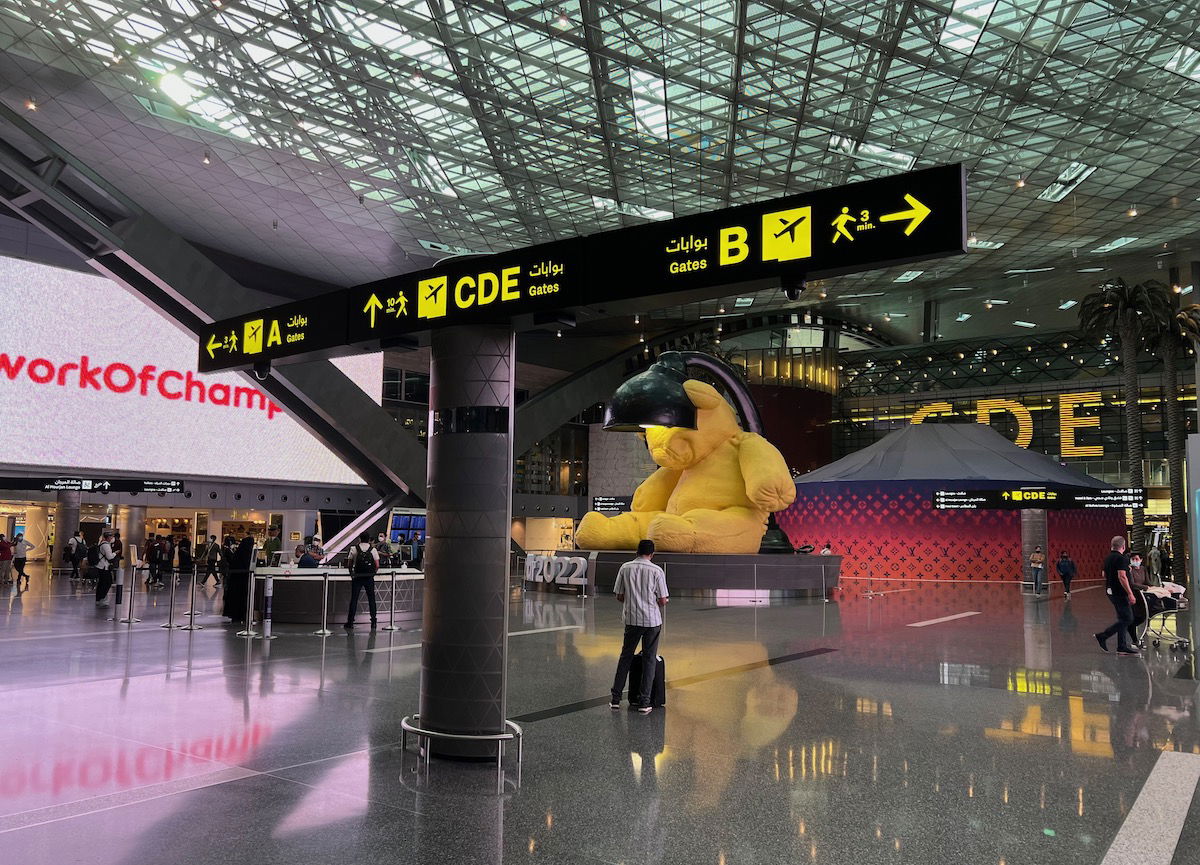 Once you turn left and are underneath the big screen, you should see signage pointing to the Al Mourjan Lounge.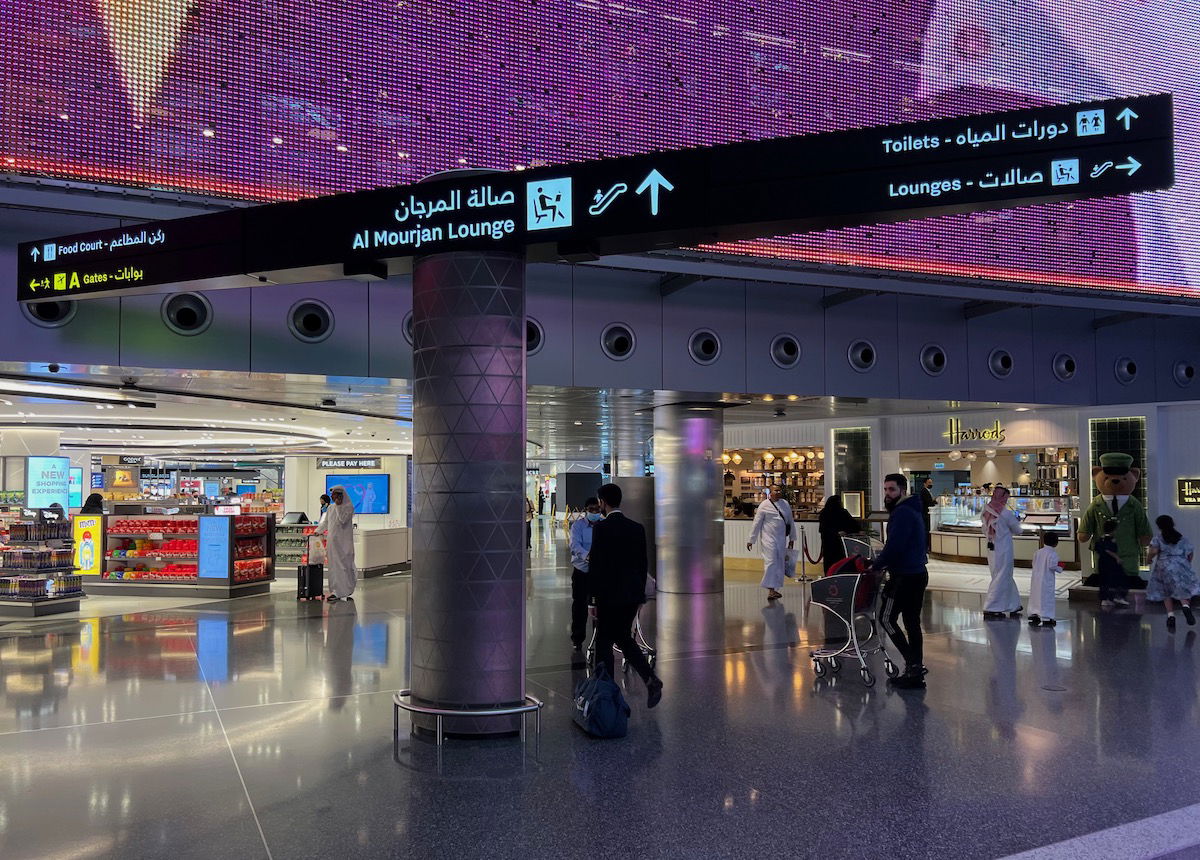 There's an escalator right there, and then you'll be admitted to the lounge at the base of the escalator, by the Qatar Airway staff member stationed there. While there's a reception desk at the top of the escalator, that's intended more for customer service.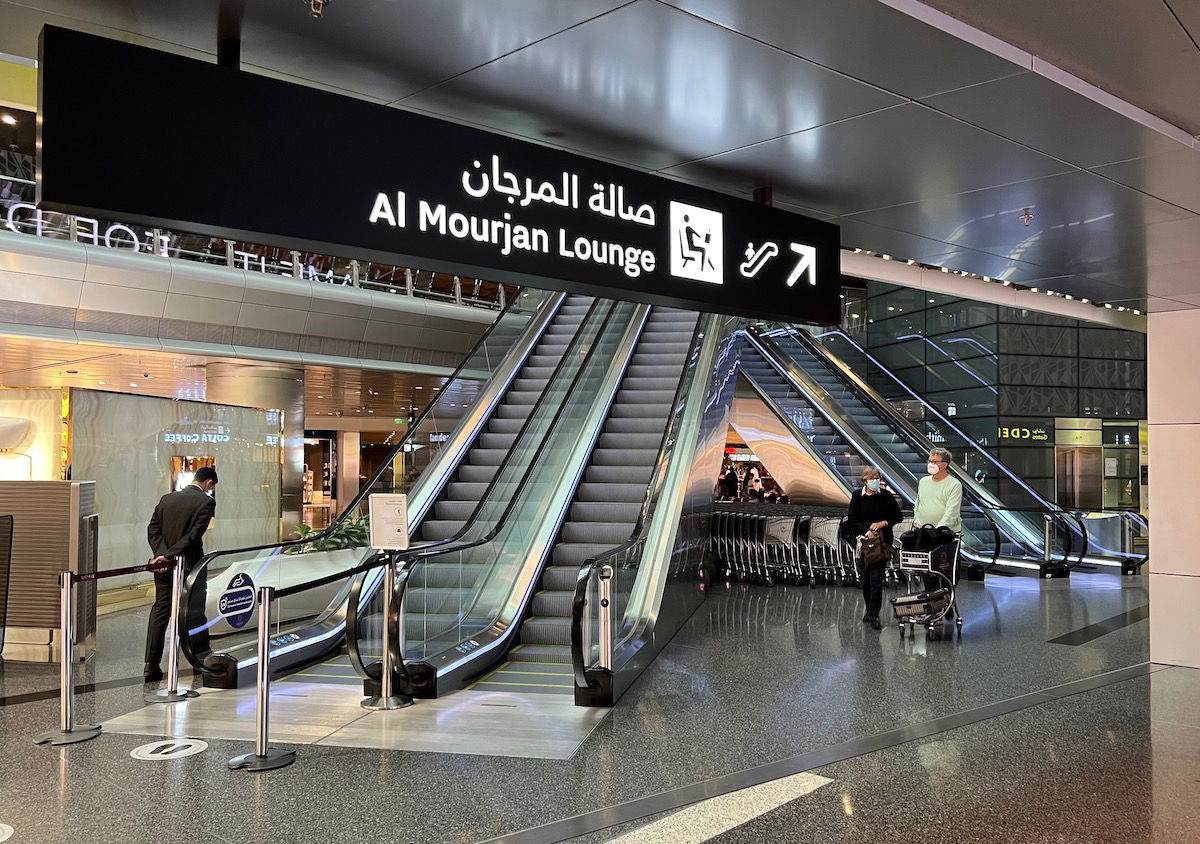 The Al Mourjan Lounge is two levels above the main area of the terminal.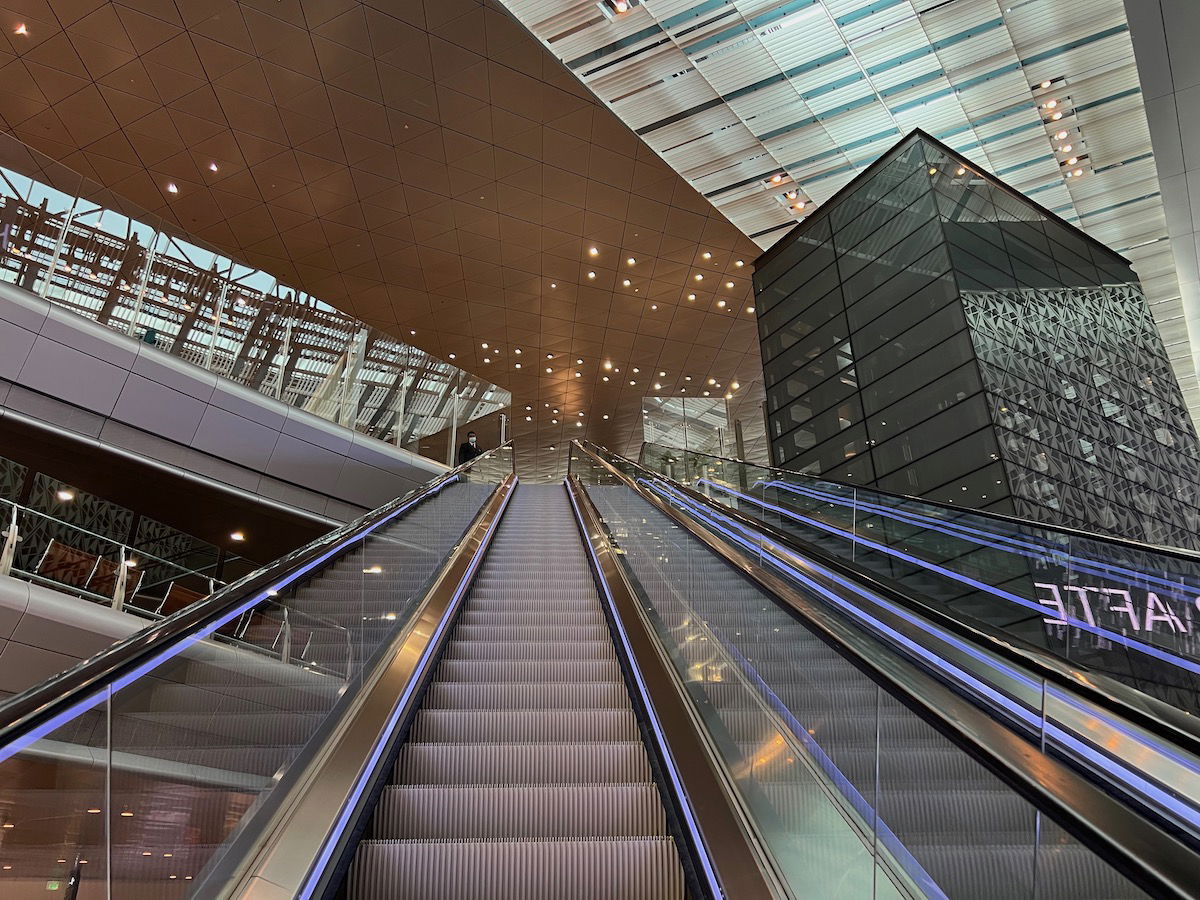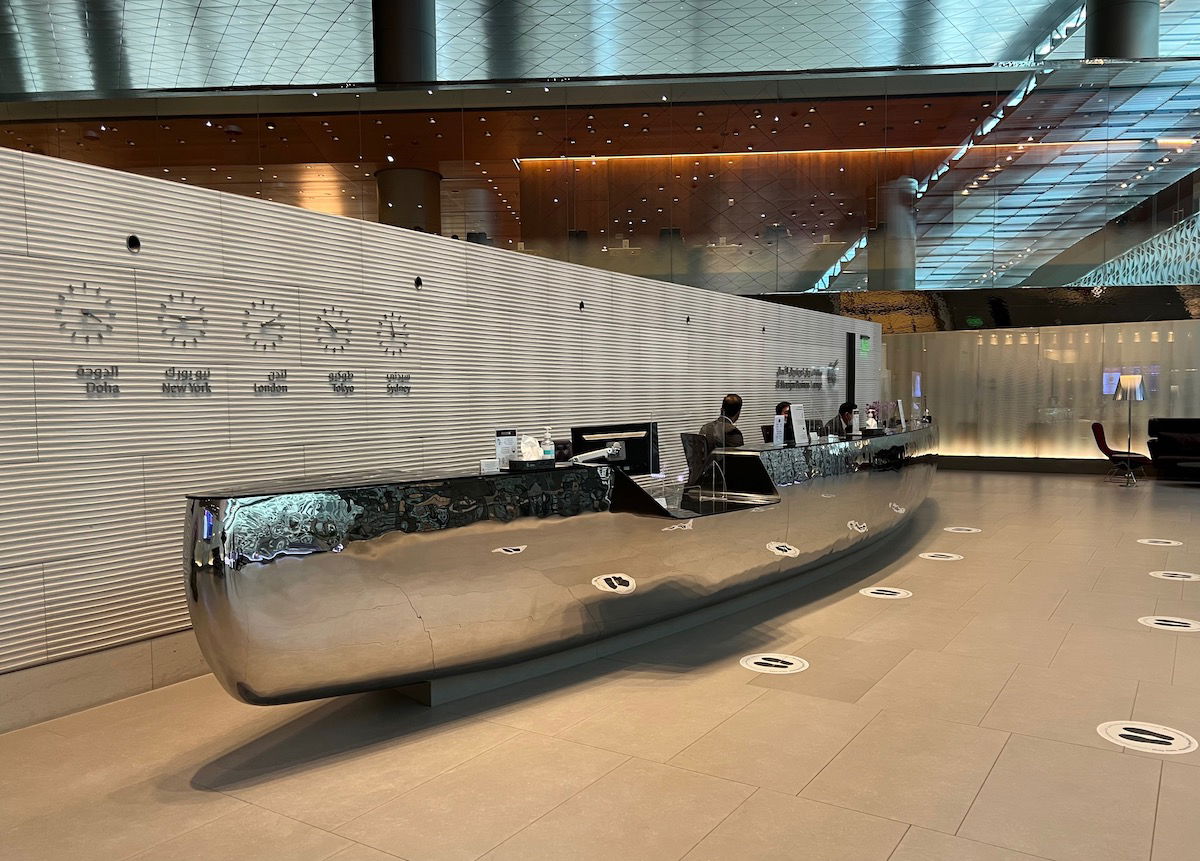 Qatar Airways Al Mourjan Business Lounge Doha hours & crowding
The Qatar Airways Al Mourjan Lounge never closes, as it's open 24/7, reflecting that Qatar Airways has flights all hours of the day and night.
I think it's worth mentioning that Doha is a heavily banked hub, which is to say that there are typically huge banks of flights that arrive around the same time, and then a huge bank of flights that leave one to two hours later. This is intended to minimize travel time for passengers, and maximize aircraft utilization.
For 18+ hours per day, the Al Mourjan Lounge is incredibly calm, peaceful, and empty. But then there are a few periods where it really fills up. In general you can expect that the lounge will be busiest from roughly:
5:30PM until 7:30PM
11PM until 1AM
5:30AM until 7:30AM
This of course presents an issue with judging a lounge. Admittedly most passengers are visiting the lounge over those limited hours, and during that time there may very well be a wait for the shower, wait for the dining area, and in general the lounge won't feel that calming.
Meanwhile for the rest of the day, this lounge is a haven of loveliness. So this is just something to keep in mind if visiting the lounge.
Qatar Airways Al Mourjan Business Lounge Doha entry requirements
The Al Mourjan Business Lounge is open to Qatar Airways and other oneworld business class passengers. There are some things to be aware of, though:
The Al Mourjan Lounge isn't open to oneworld elite members (including oneworld Emerald members), but rather they're directed to inferior lounges intended specifically for elite members
The Al Mourjan Lounge isn't available to Qatar Airways business class passengers traveling on "Lite" fares, which is Qatar Airways' "basic" business class offering (so you need to be traveling on an Elite, Comfort, or Classic ticket — note that award tickets are eligible for lounge access, regardless of which airline they're issued by)
Note that Qatar Airways economy class passengers, as well as Qatar Airways business class "Lite" passengers, can potentially purchase access to the Al Mourjan Lounge. This can be done when logging into your reservation online or at check-in. I believe the cost is generally 350 QAR (~$96) per person, though I can't guarantee that will consistently be the price.
Qatar Airways Al Mourjan Business Lounge Doha layout & seating
Qatar Airways' Al Mourjan Lounge is one of the largest airport lounges in the world, as it's ~10,000 square meters (~110,000 square feet). It's quite striking architecturally, between the really high ceilings and the open layout, which means you can appreciate the spaciousness of the lounge no matter where you are.
There's one main room in the lounge, which has most of the seating. There are truly endless seating options, and I'll let the pictures of the seating speak mostly for themselves.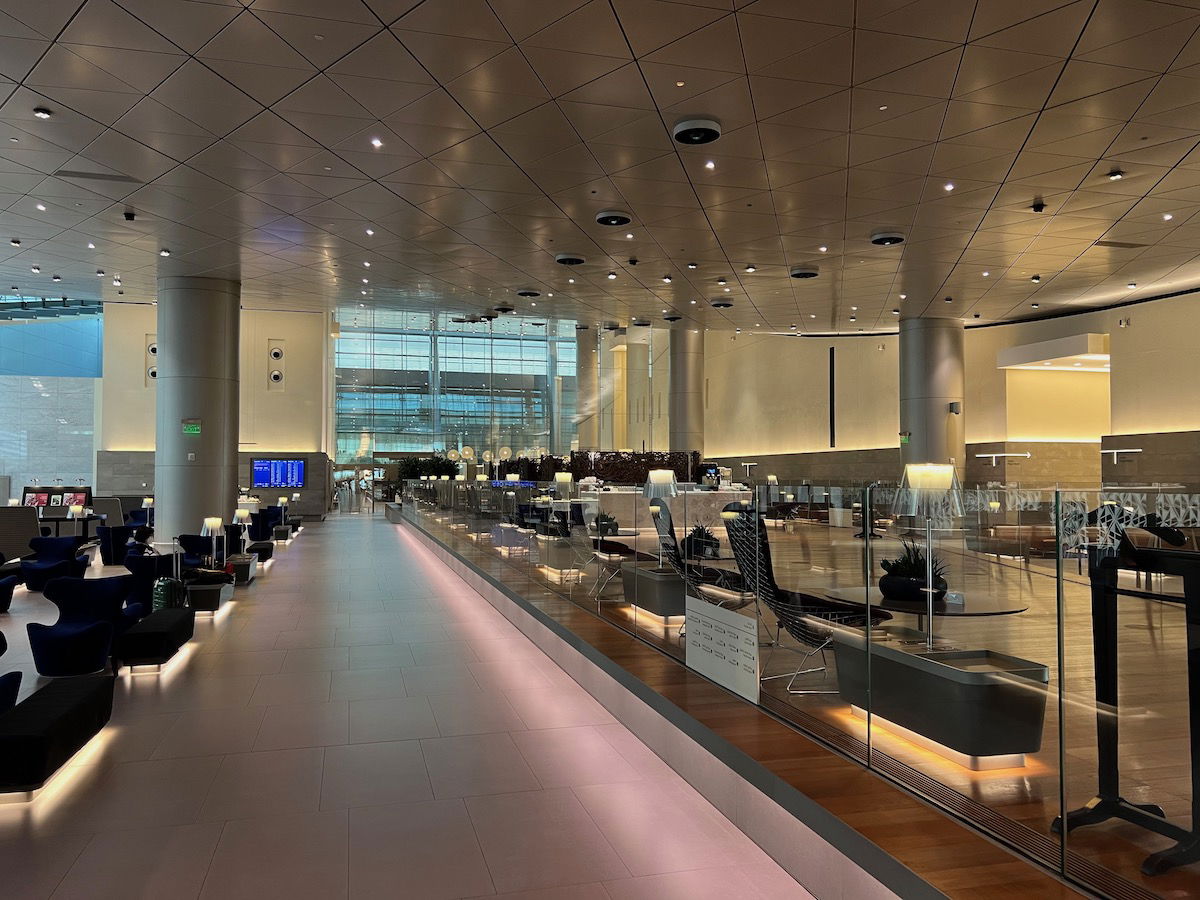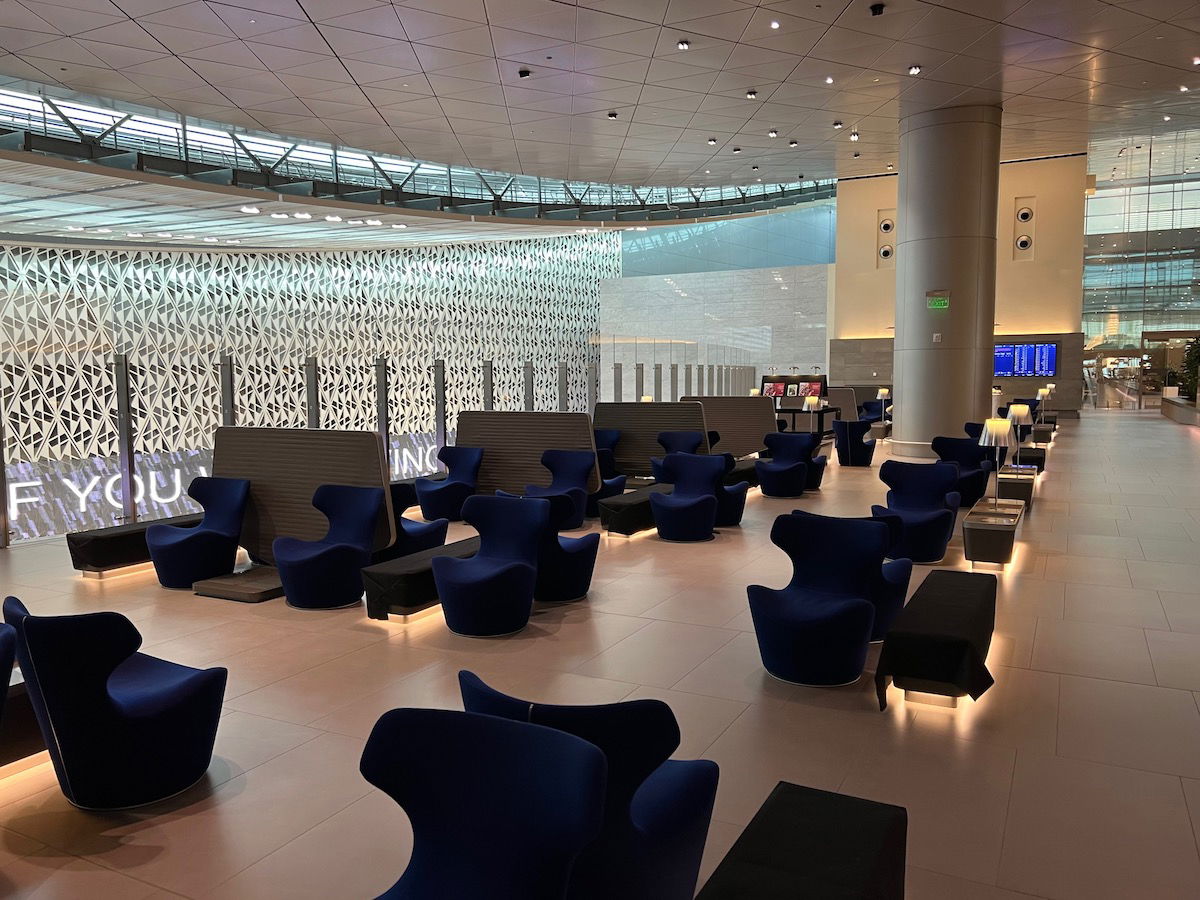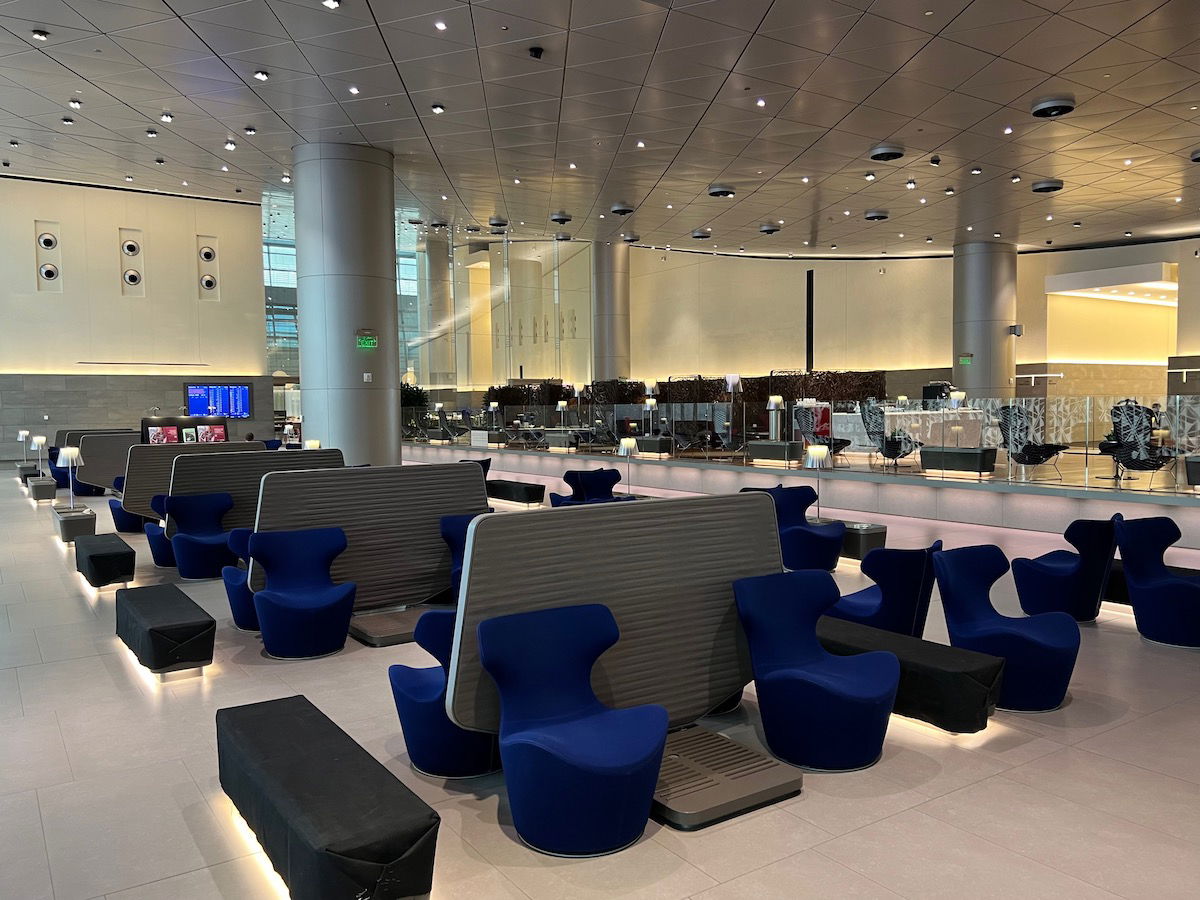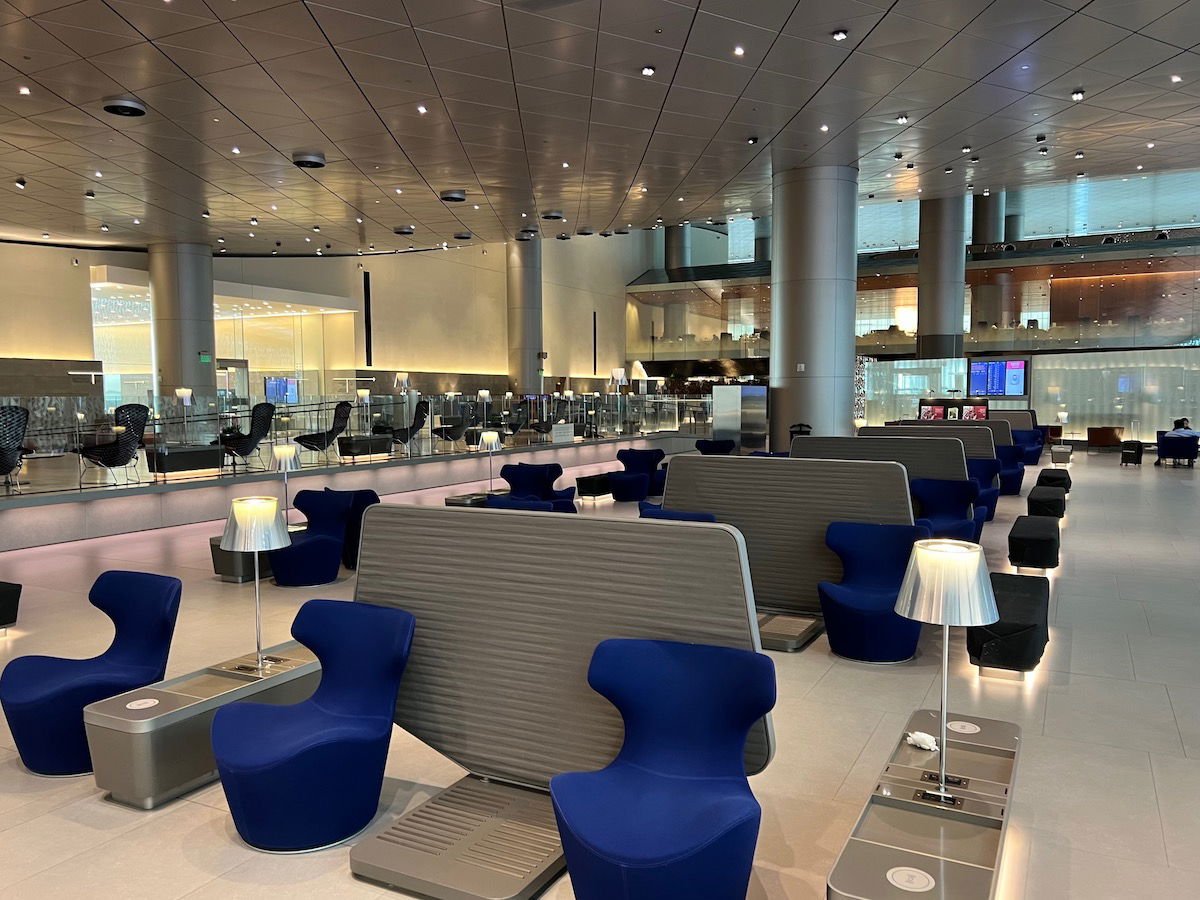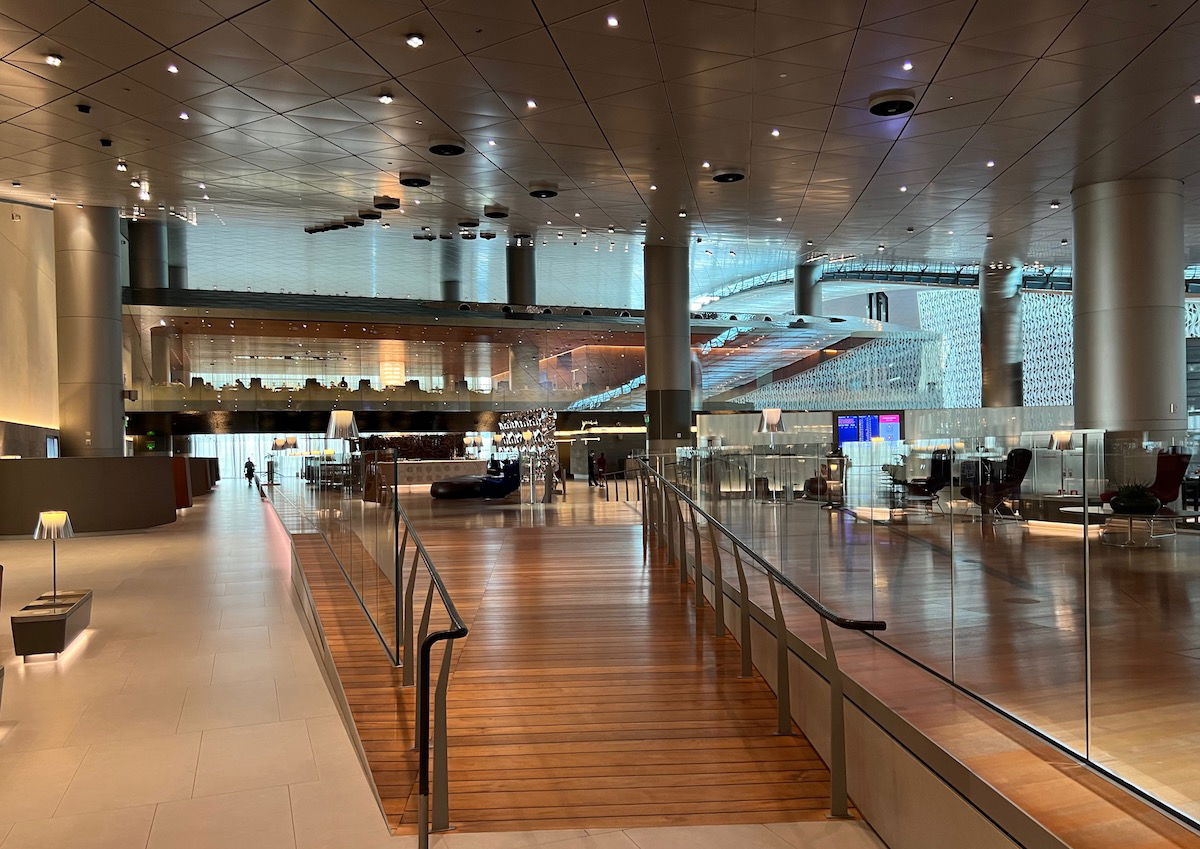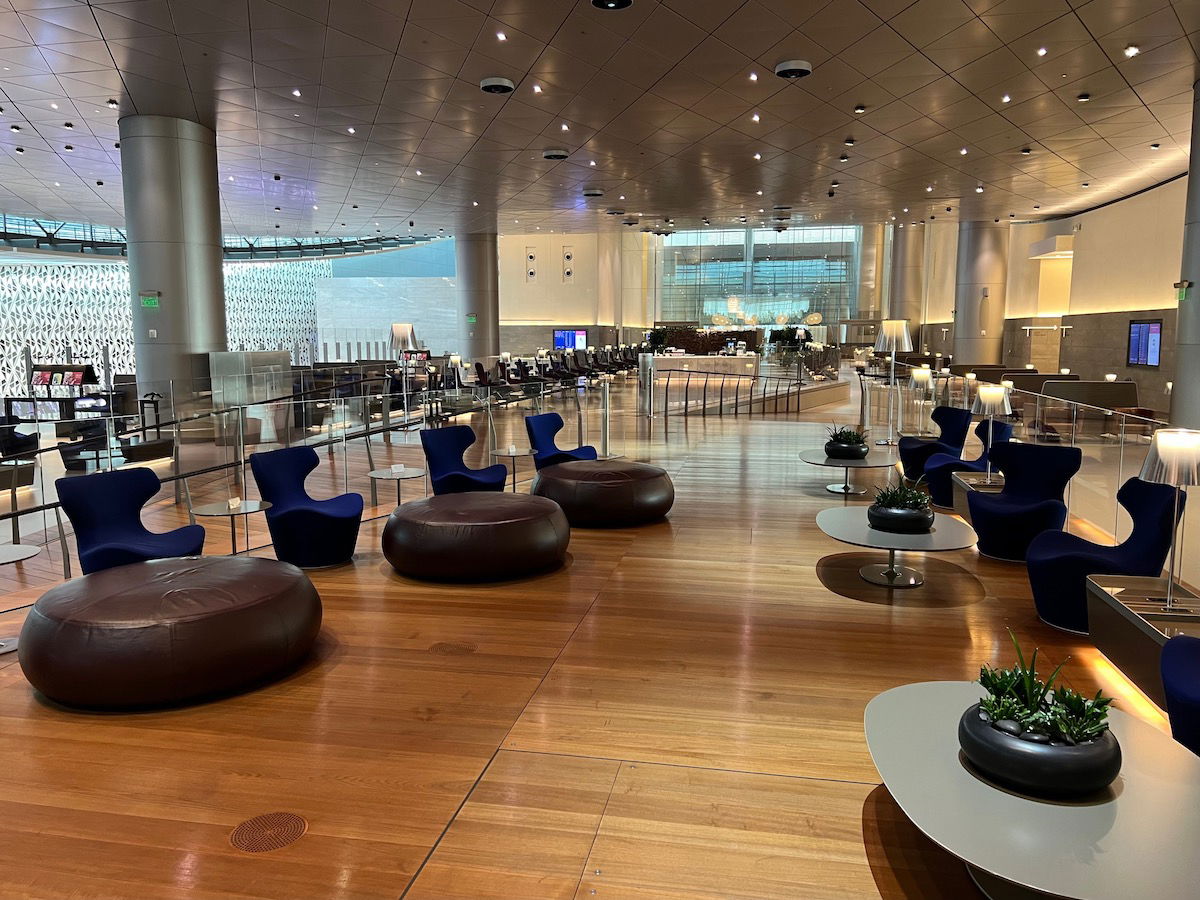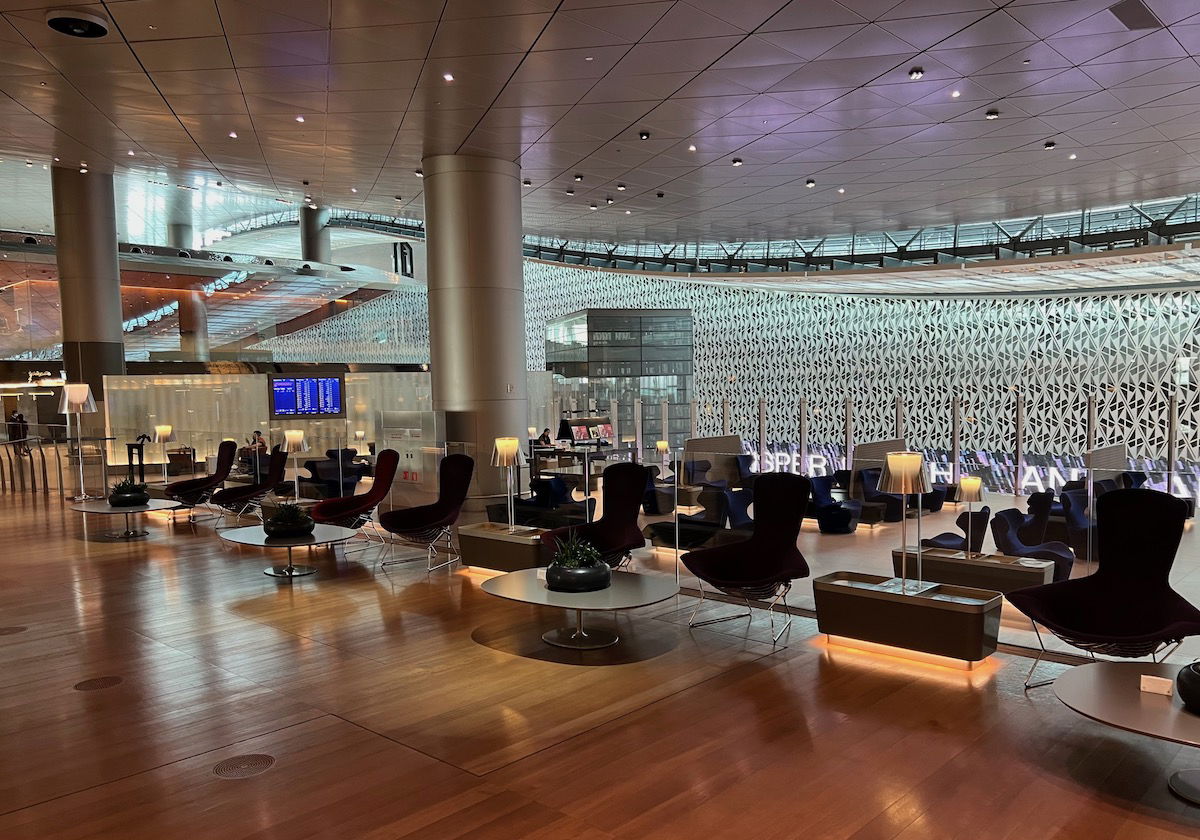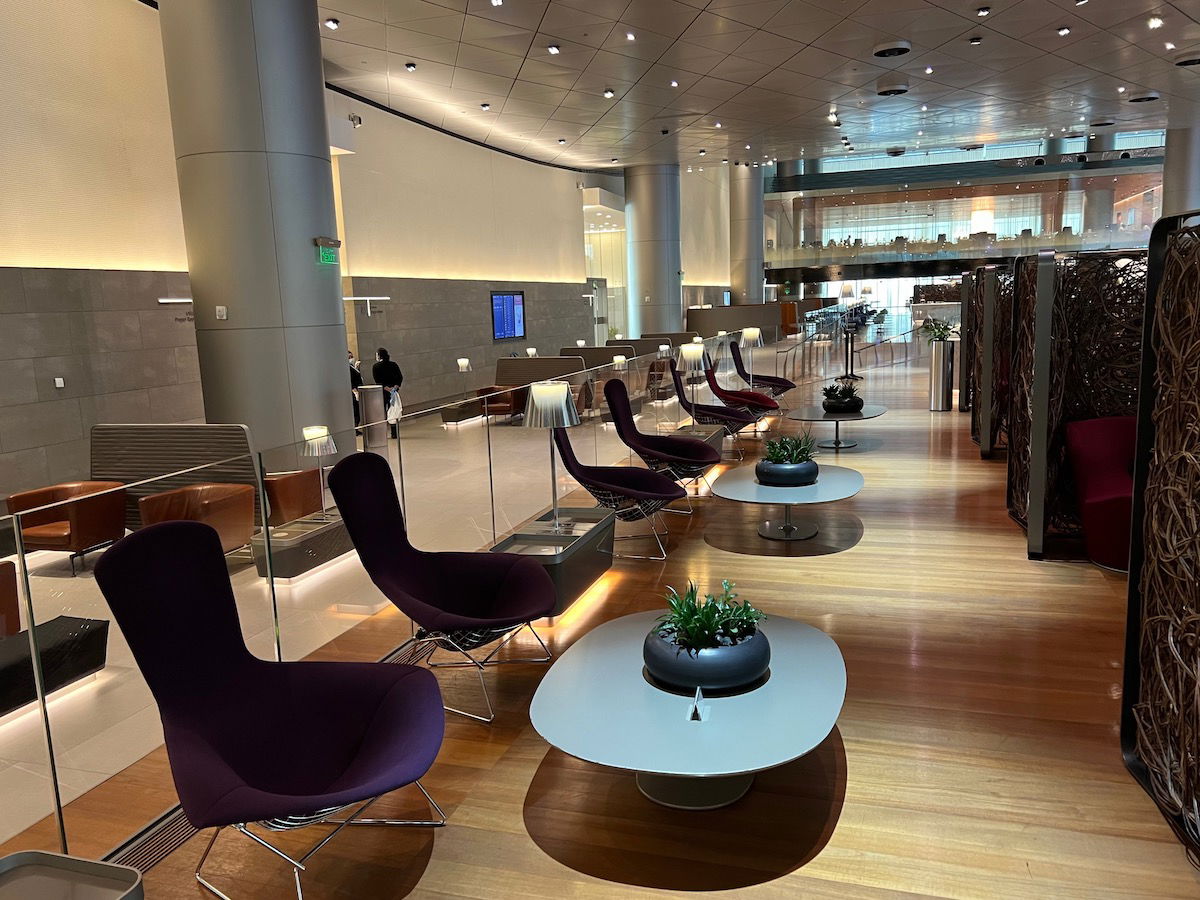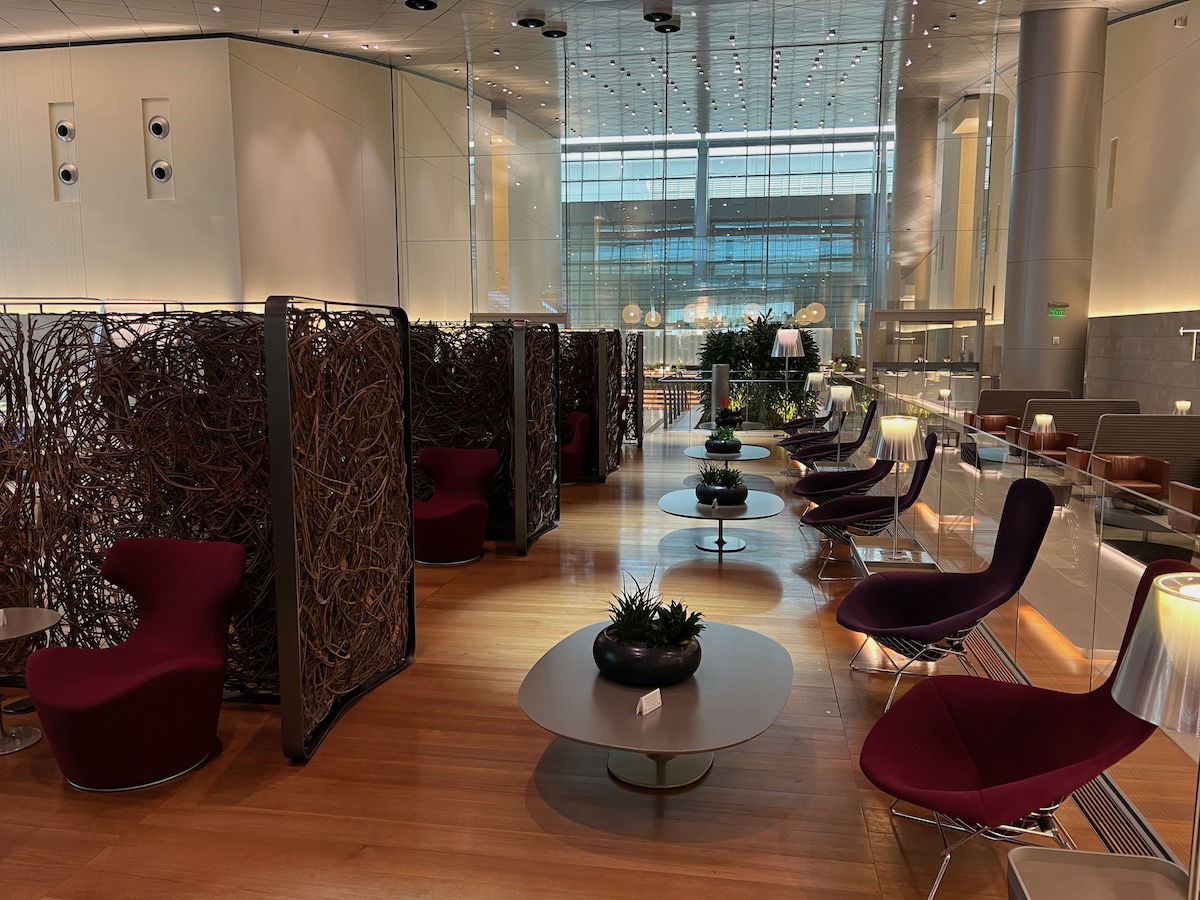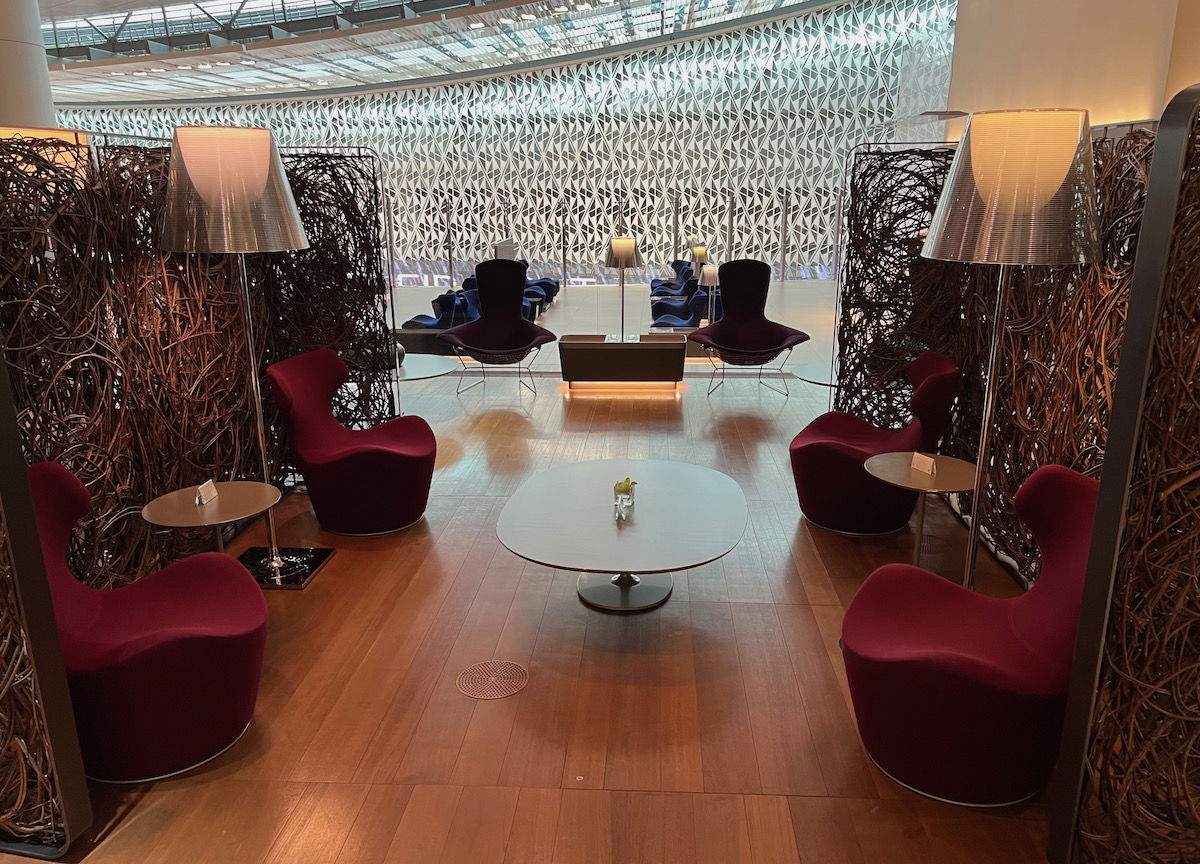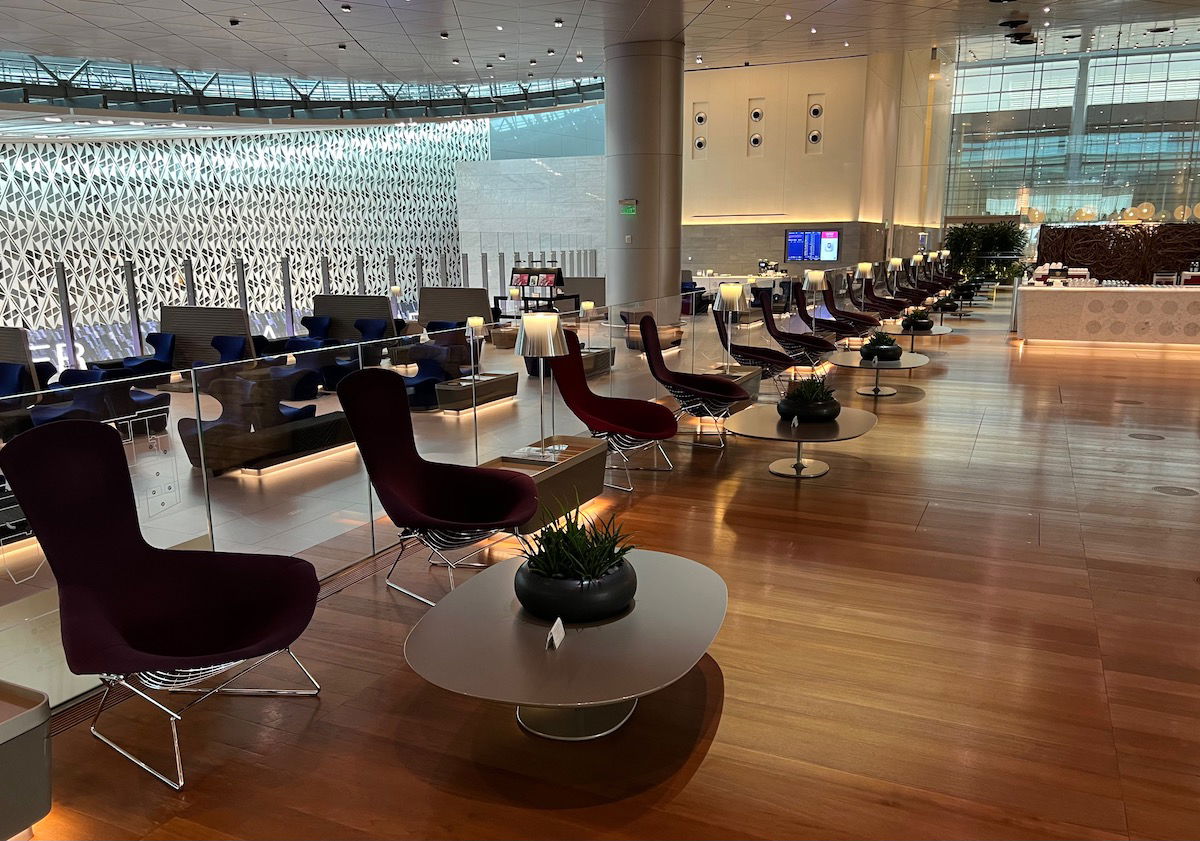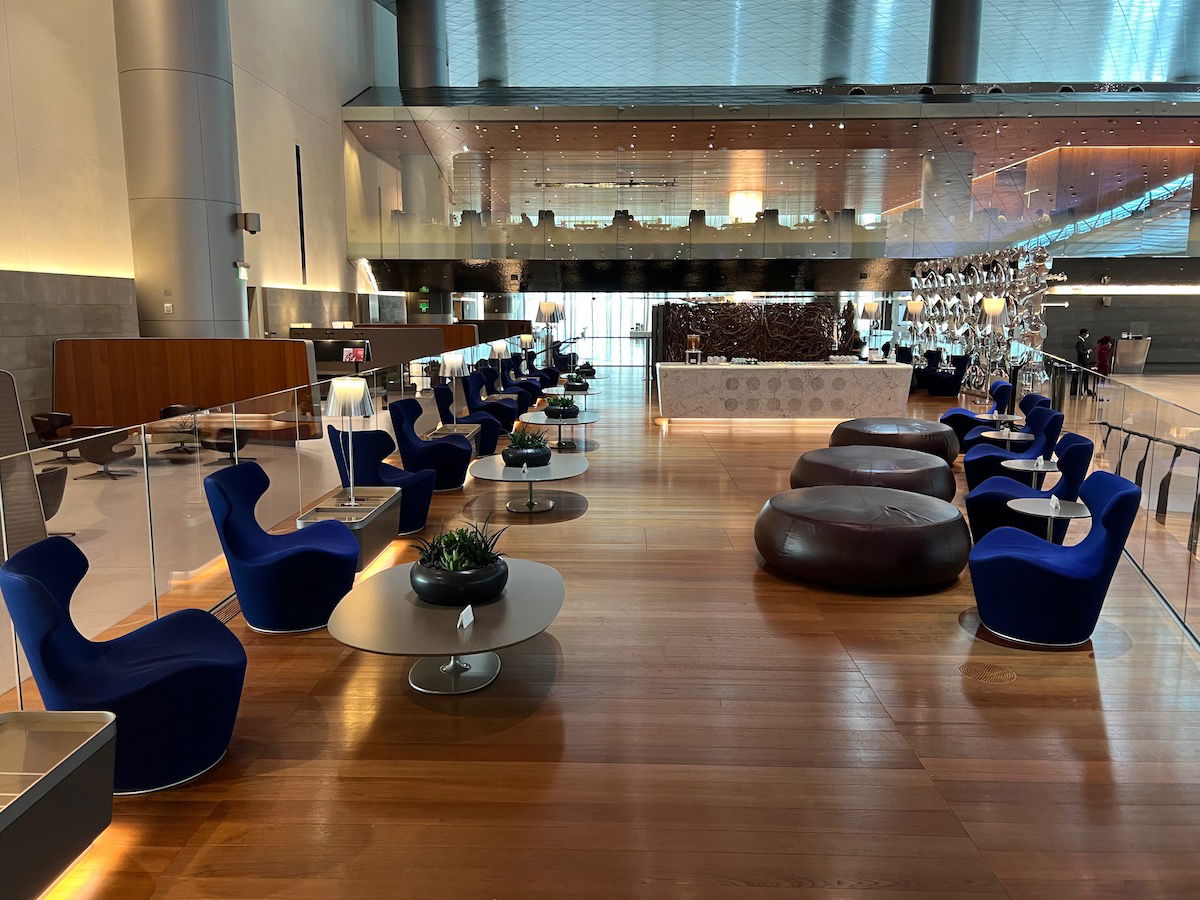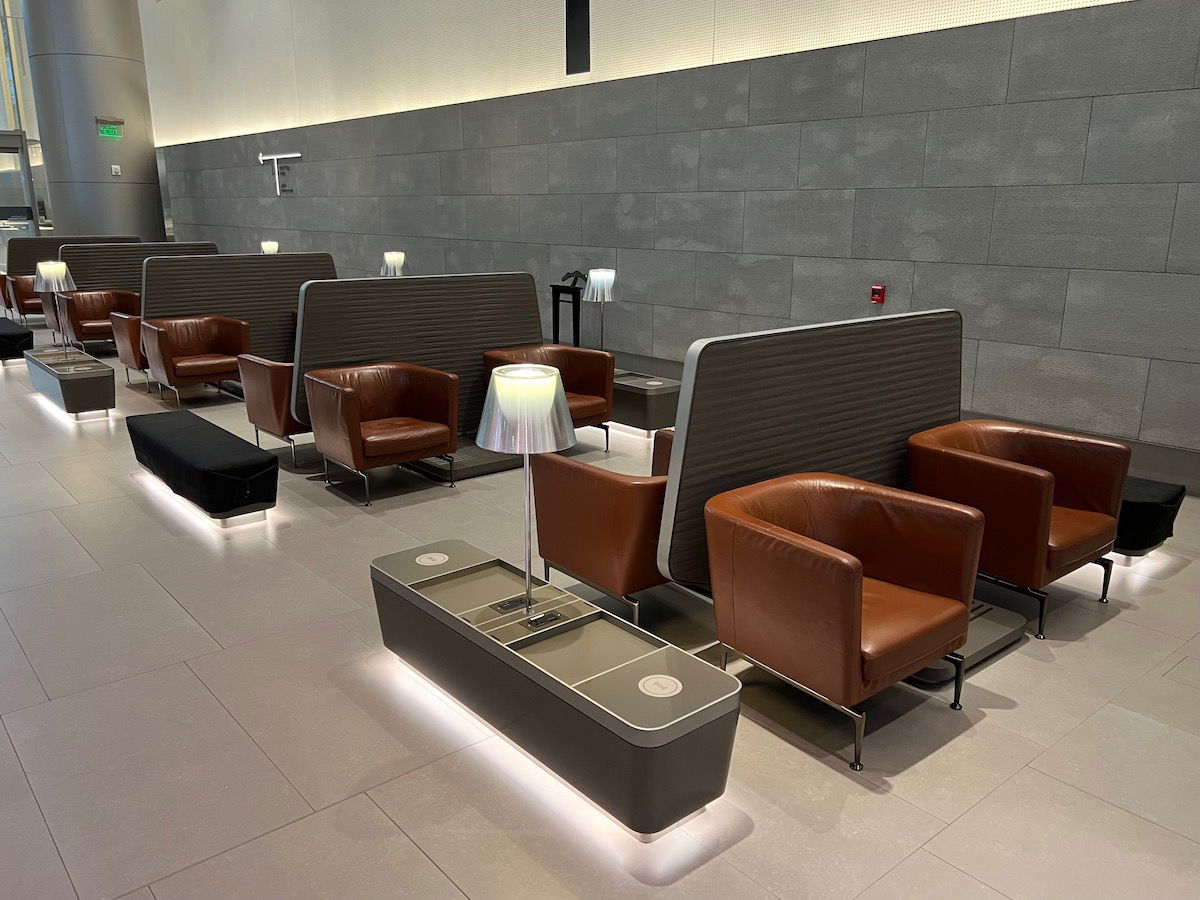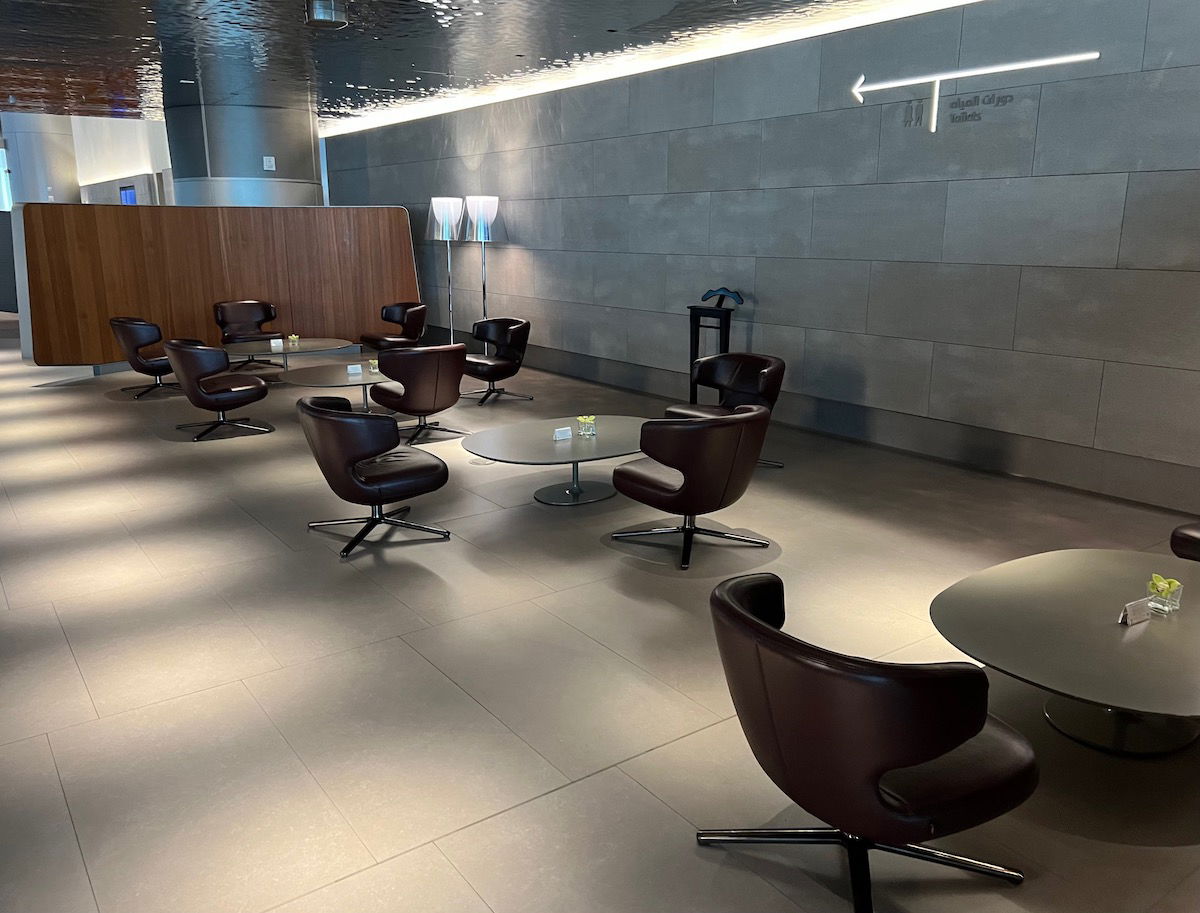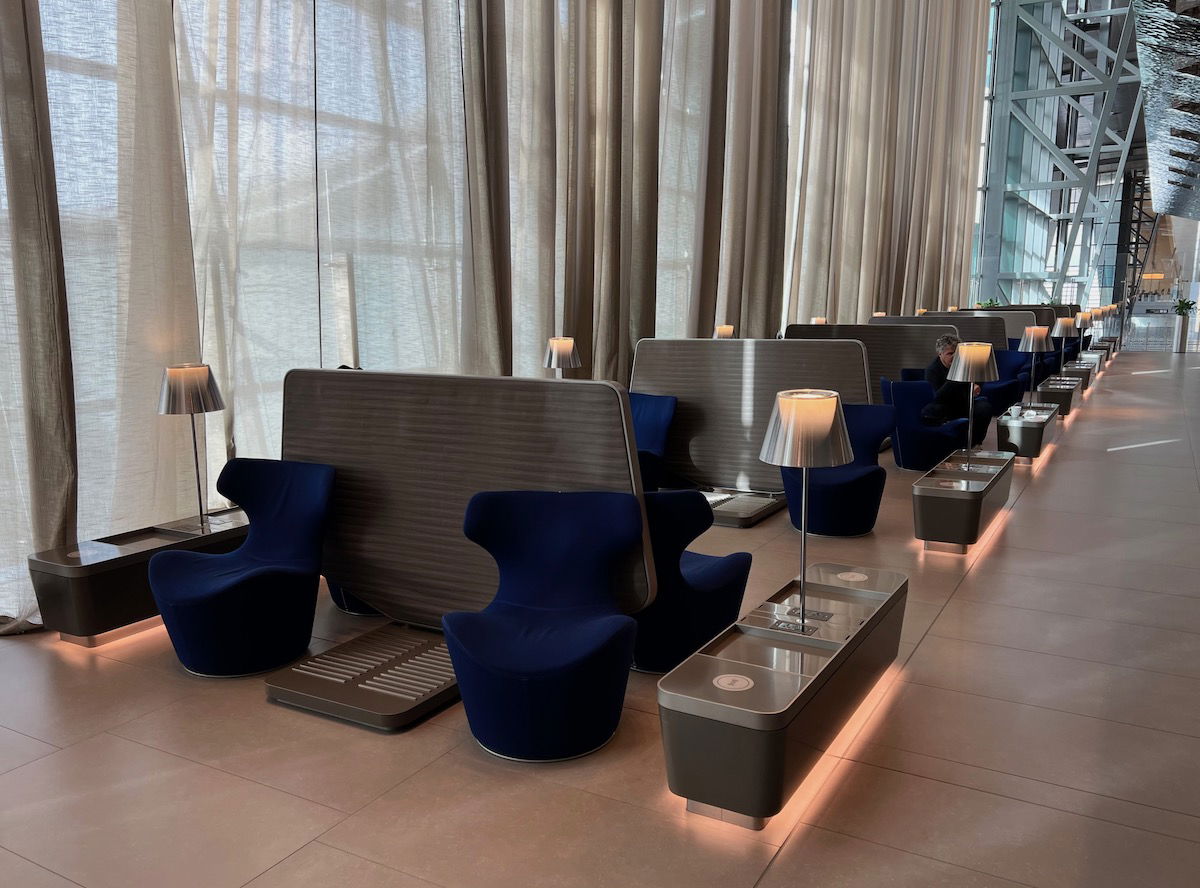 At the far end of the lounge is a water feature, which is pretty cool-looking. This is also near the staircase that leads up to the dining section.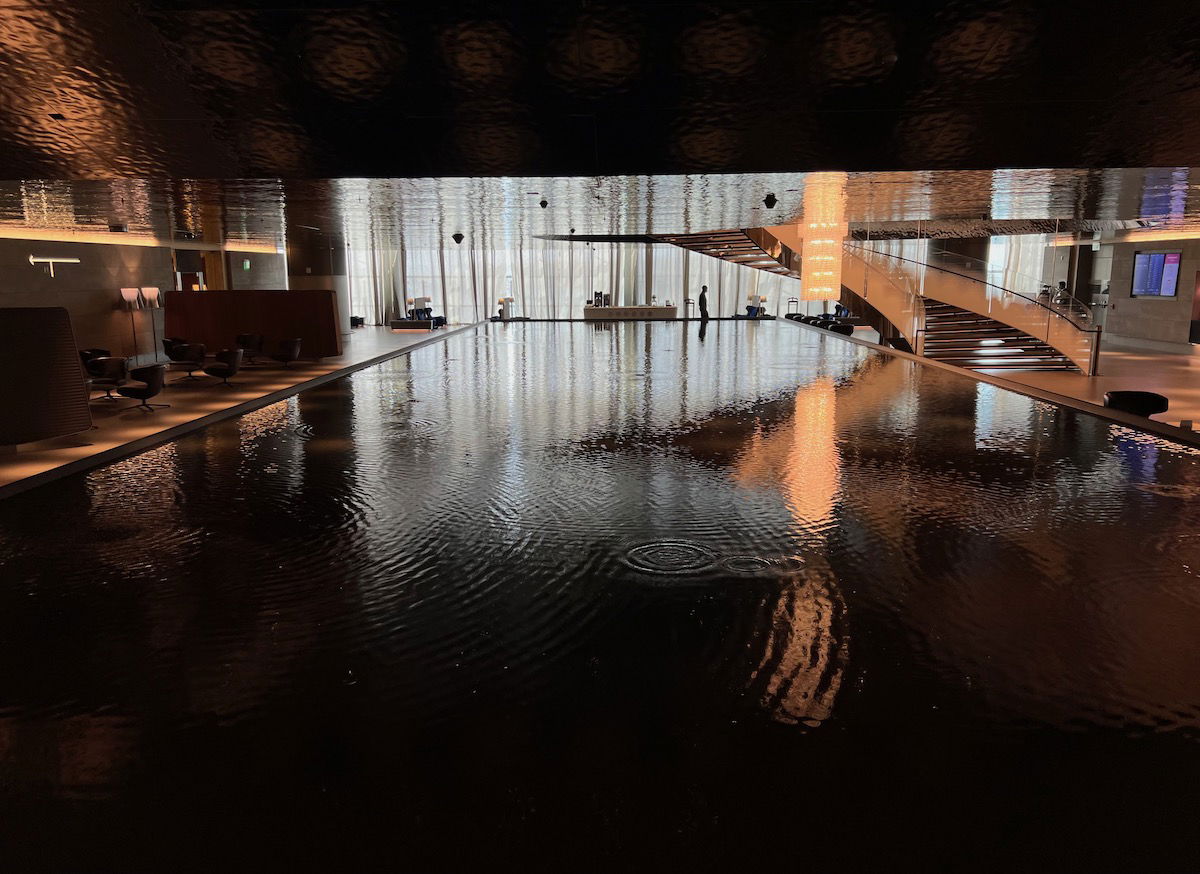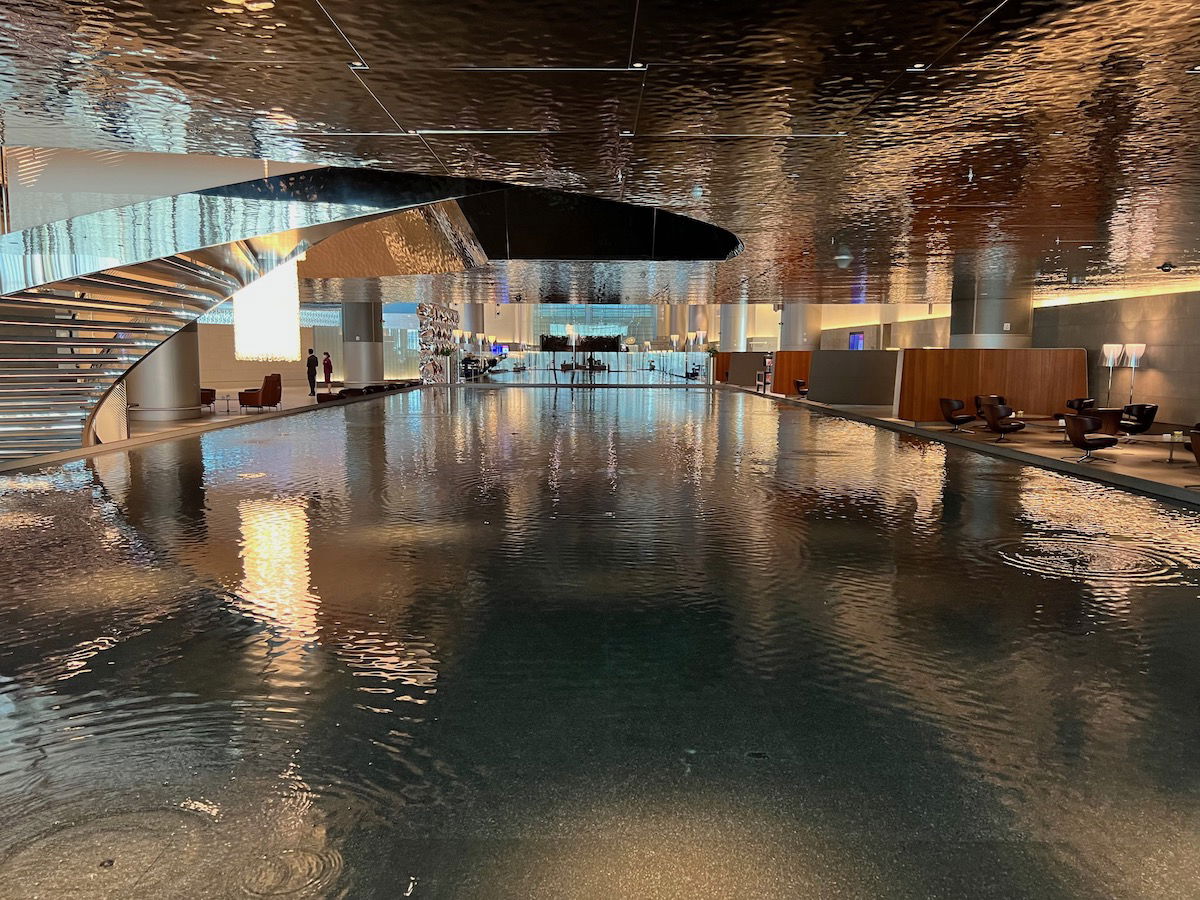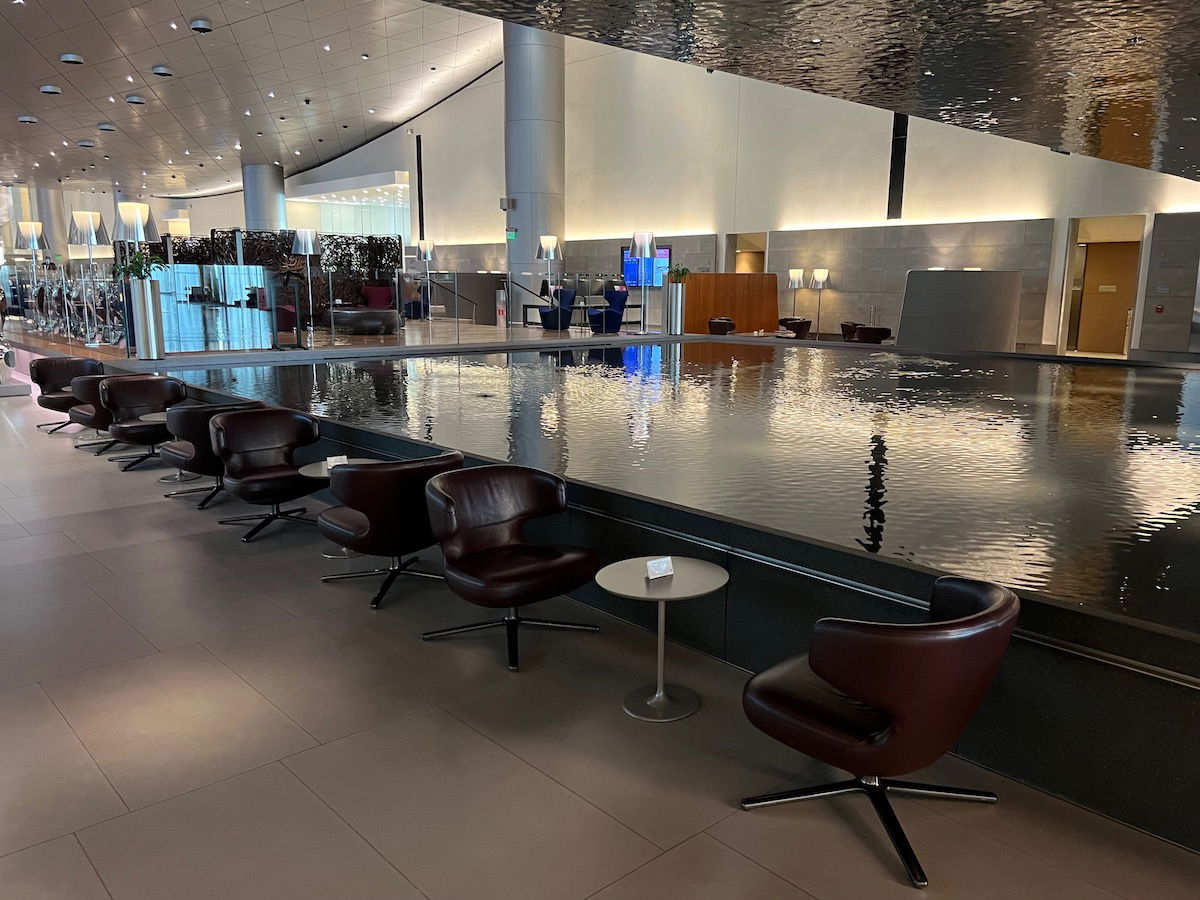 Over near the business center there's another seating area that's in a separate room, which has a bit more natural light, thanks to floor-to-ceiling windows.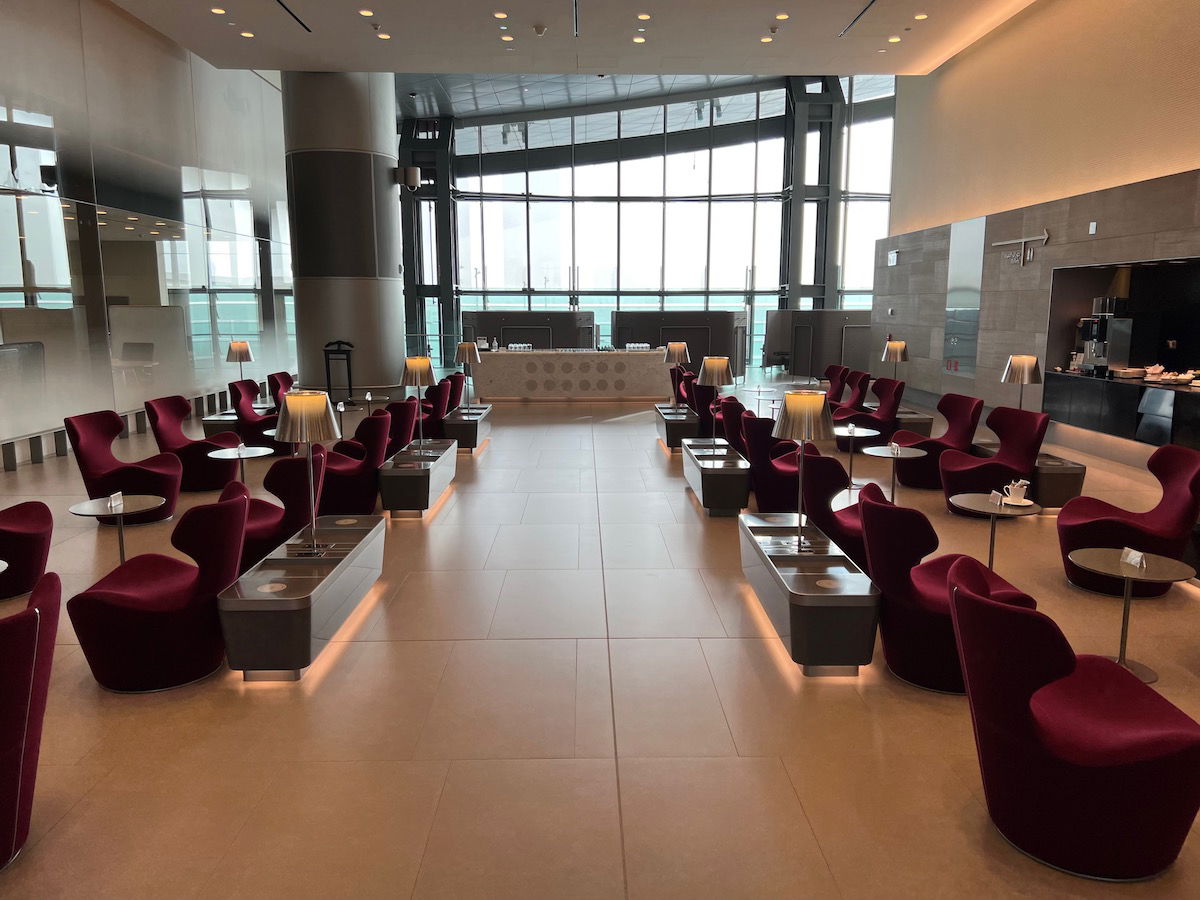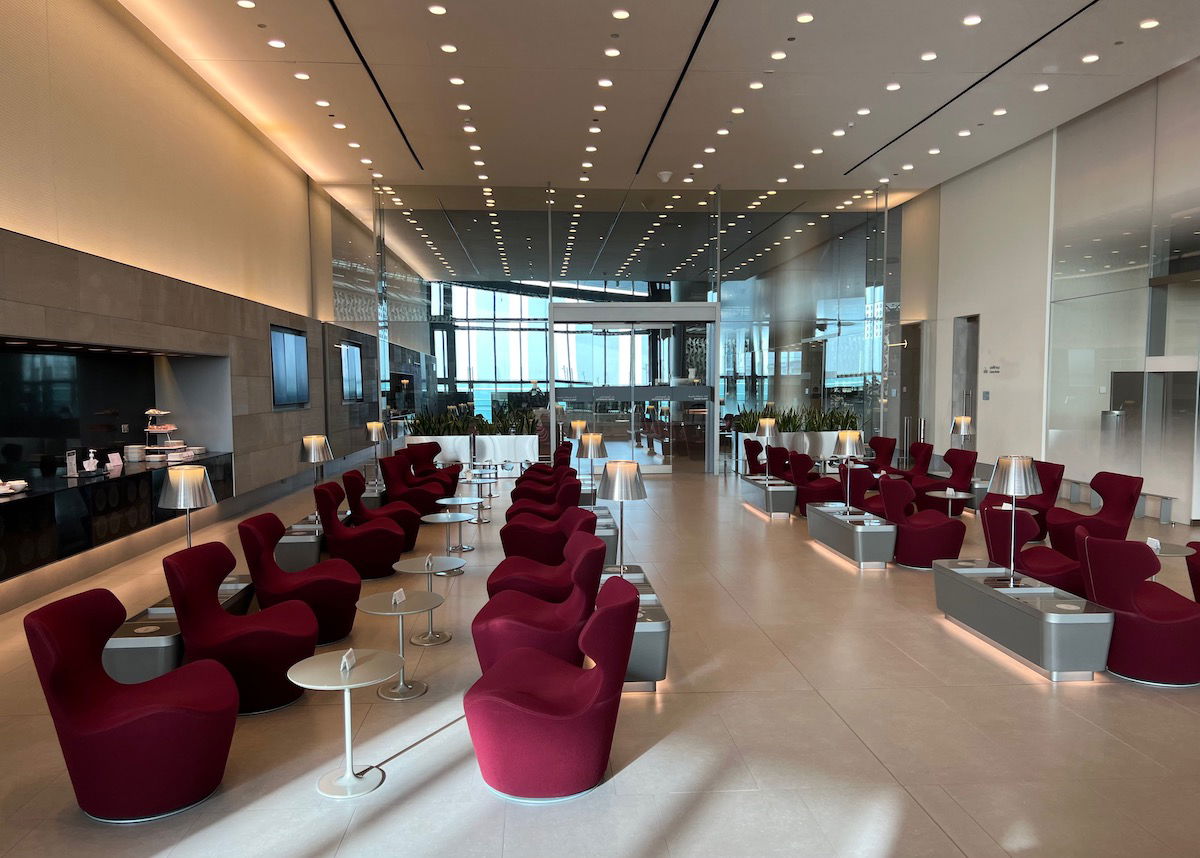 Qatar Airways Al Mourjan Business Lounge Doha food & drinks
The Al Mourjan Lounge has an impressive food & drink selection. The main dining area is on the second level of the lounge, which can be accessed via the staircase or elevators.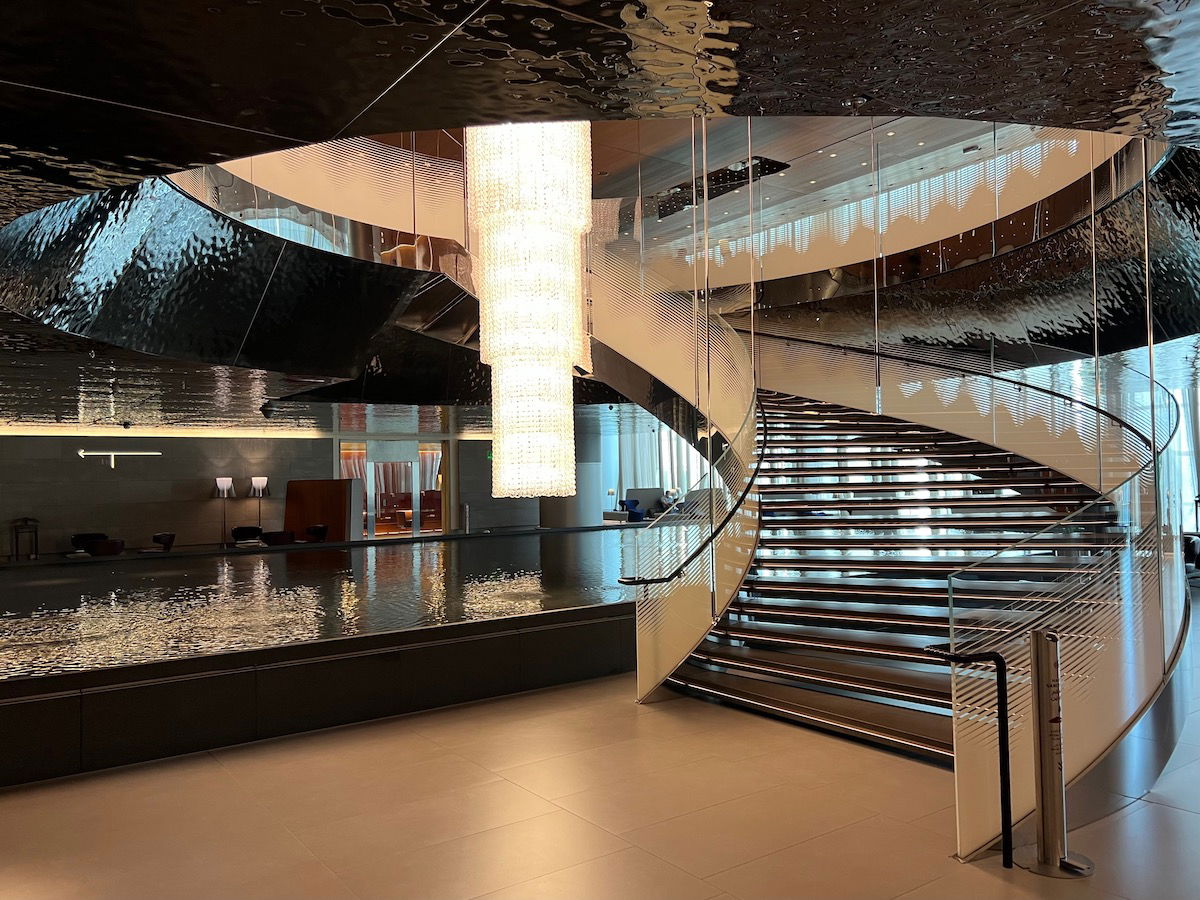 The restaurant area has plenty of tables, most of which seat two people. If you have the option, I'd recommend grabbing one of the tables overlooking the first level of the lounge, as those leather seats are much more comfortable, and are also a bit more secluded.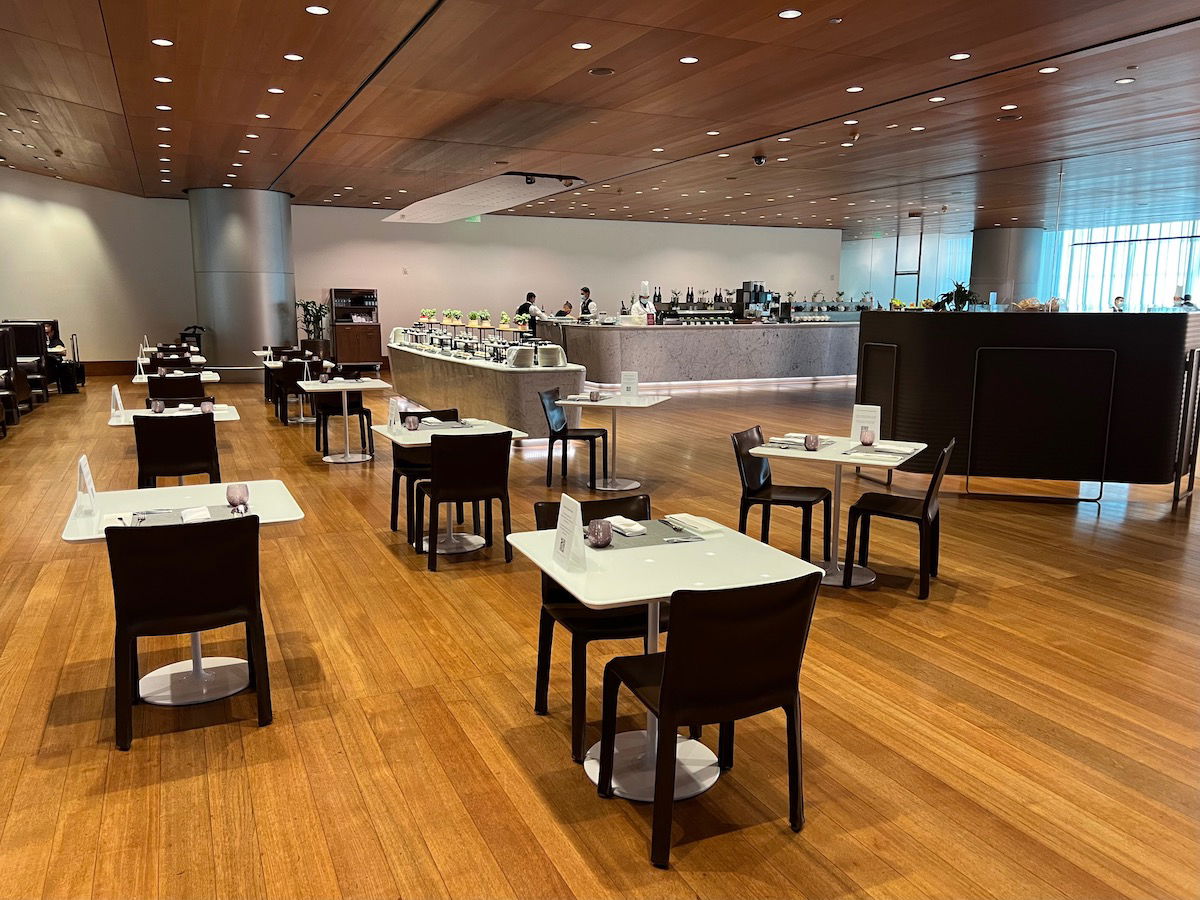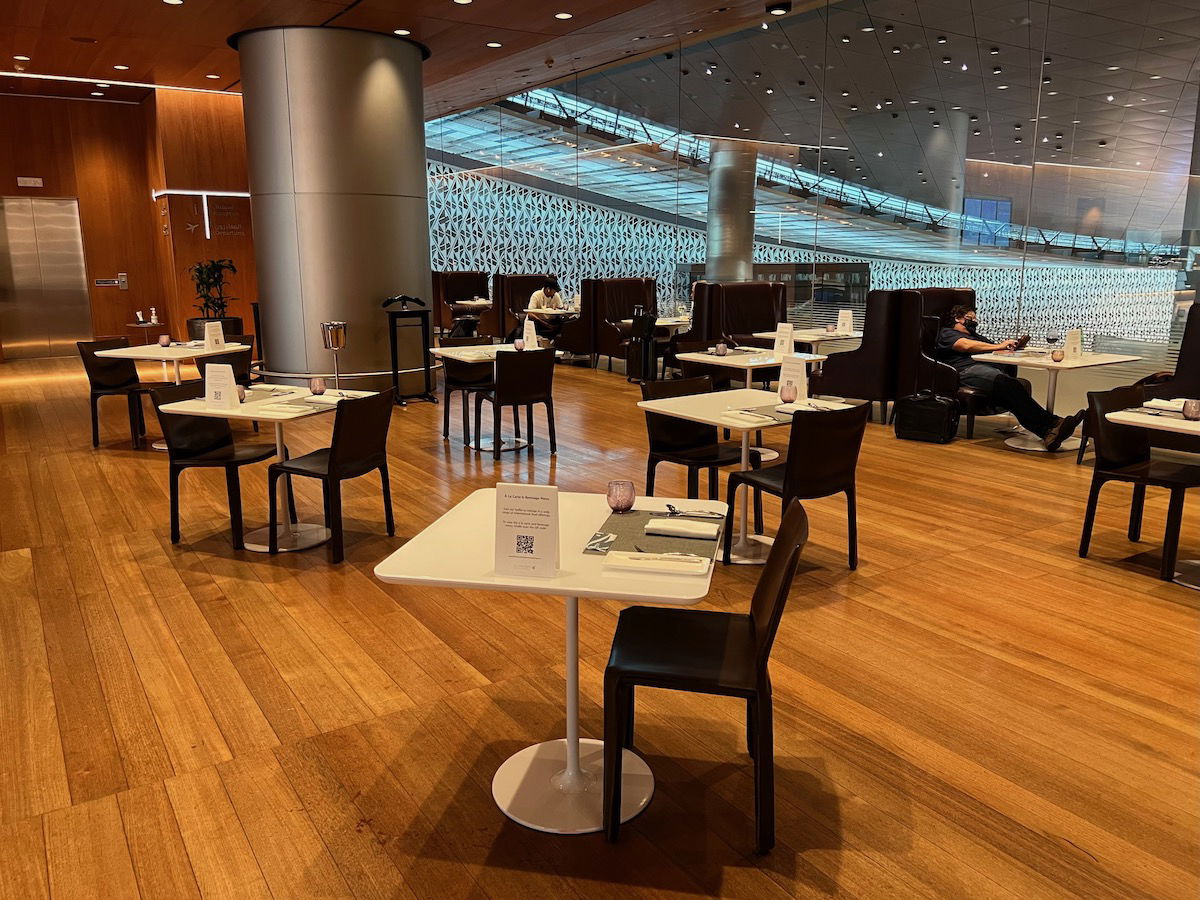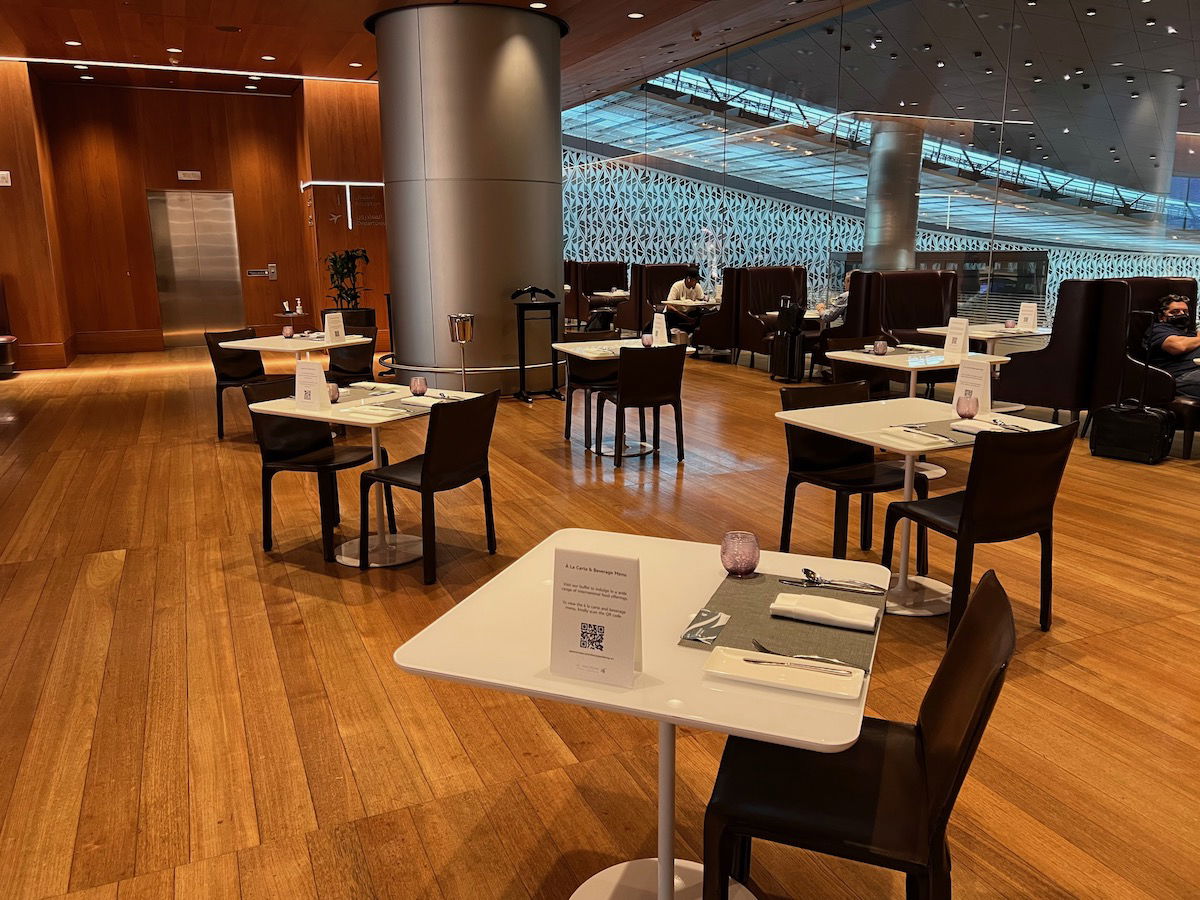 As far as the food goes, there's both a buffet, as well as an a la carte selection. You can find the Al Mourjan Business Lounge food & drink menu here. Drinks are served to tables from the bar, and there's an extensive selection of wine, beer, and cocktails.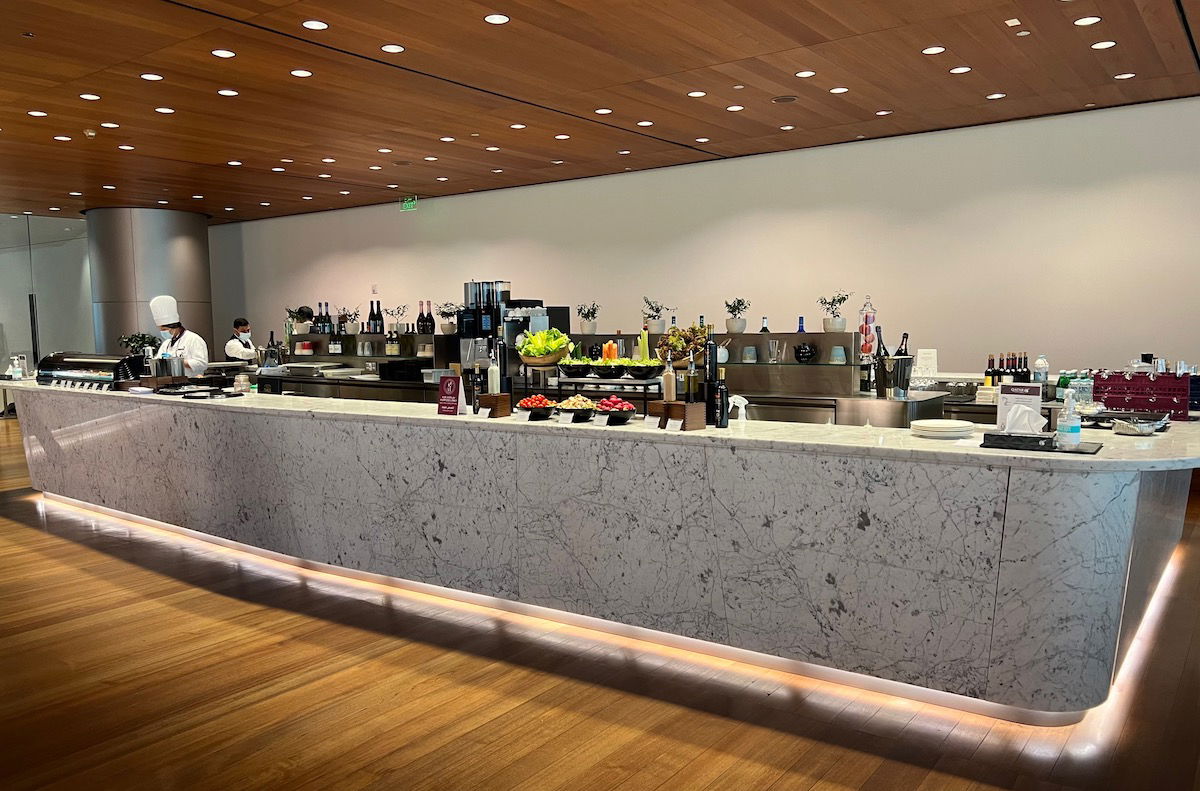 In terms of food, there are salads, sushi, several individually plated appetizers, and quite a few hot options as well. There's even a dessert buffet, with some pretty delicious options.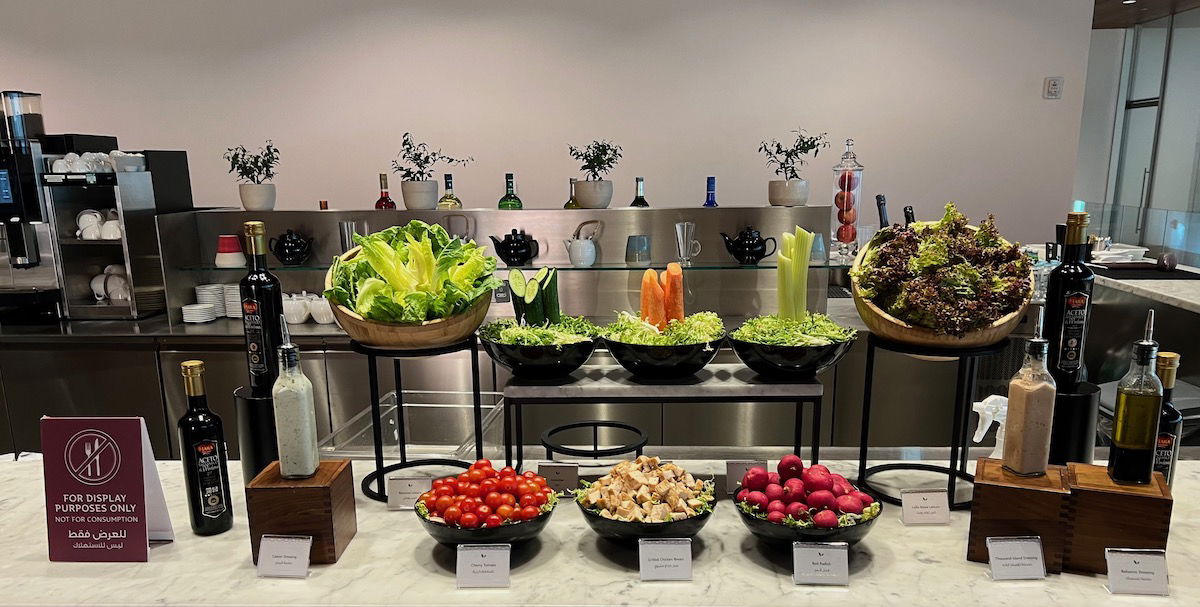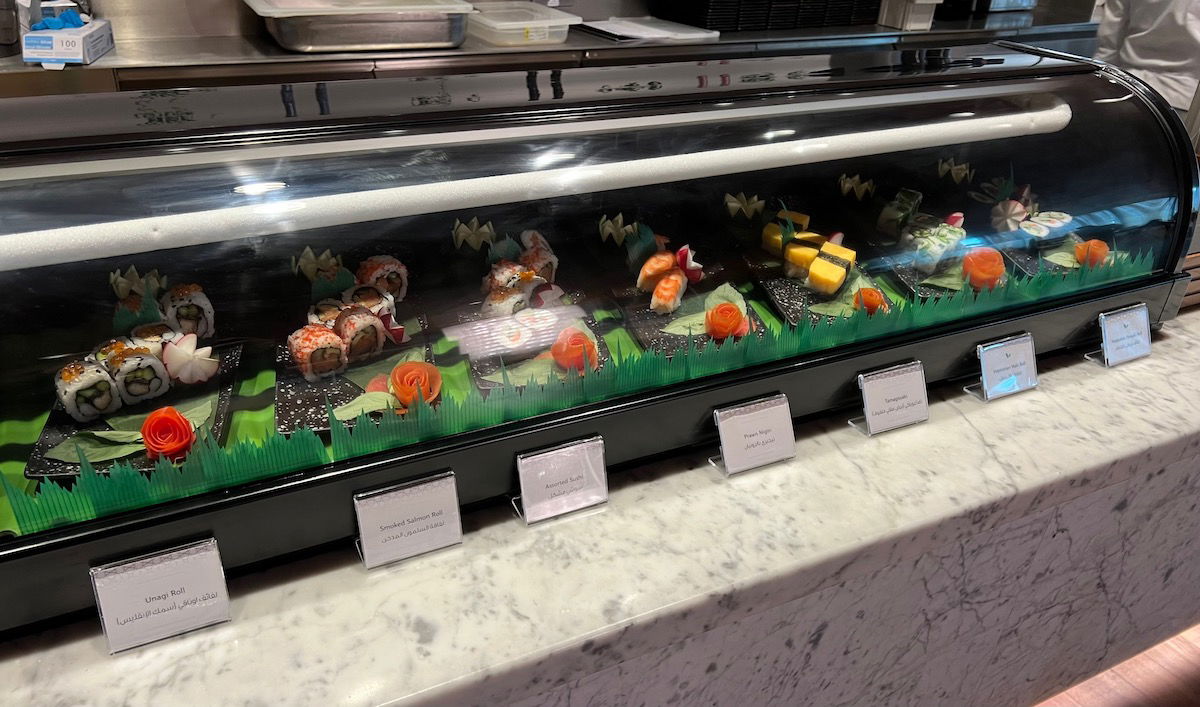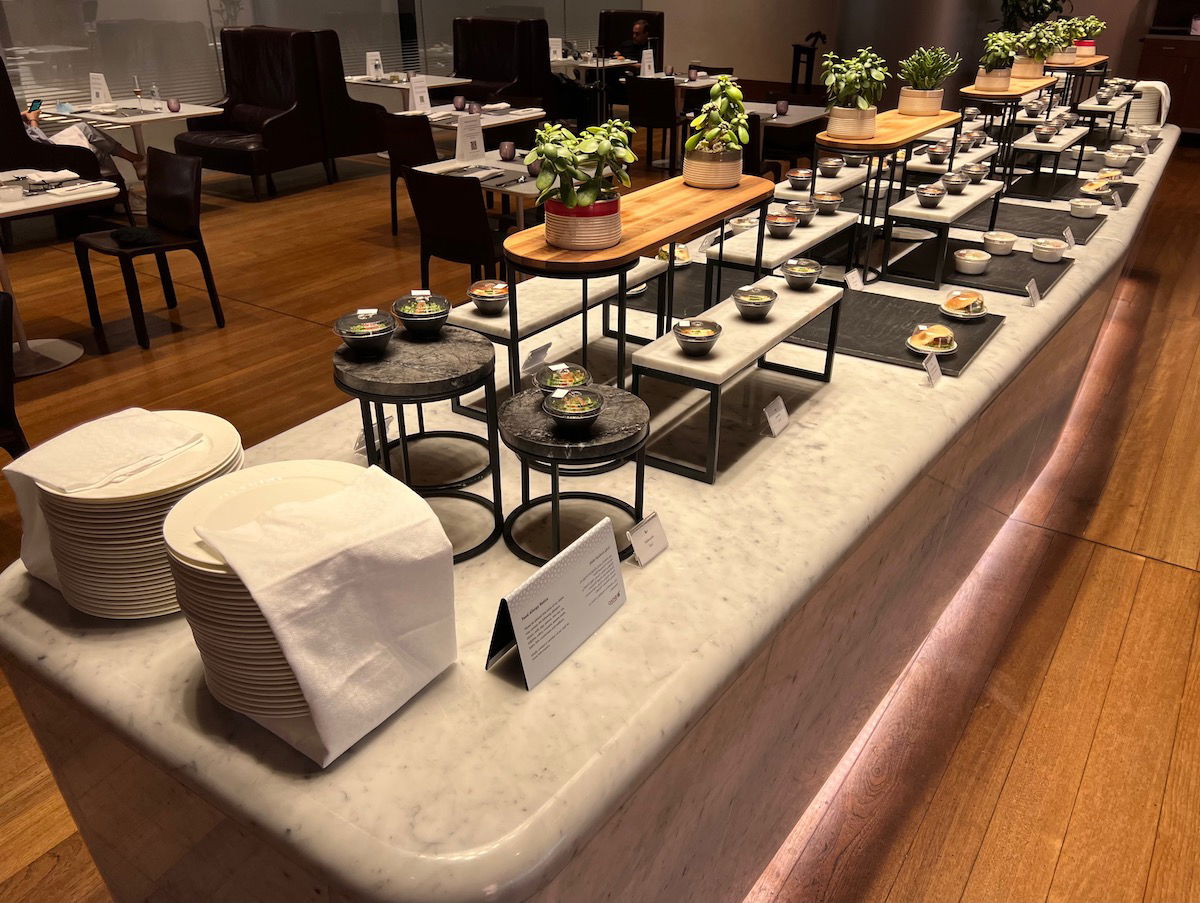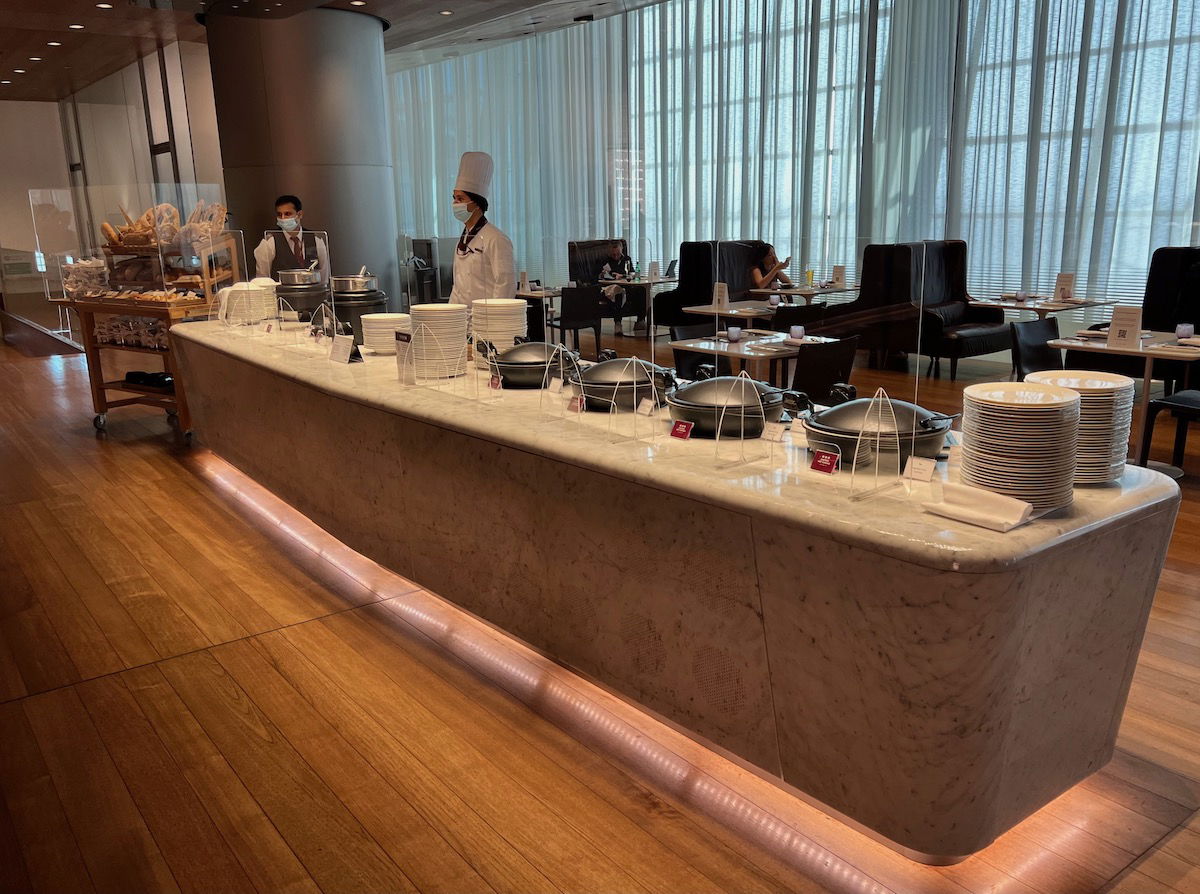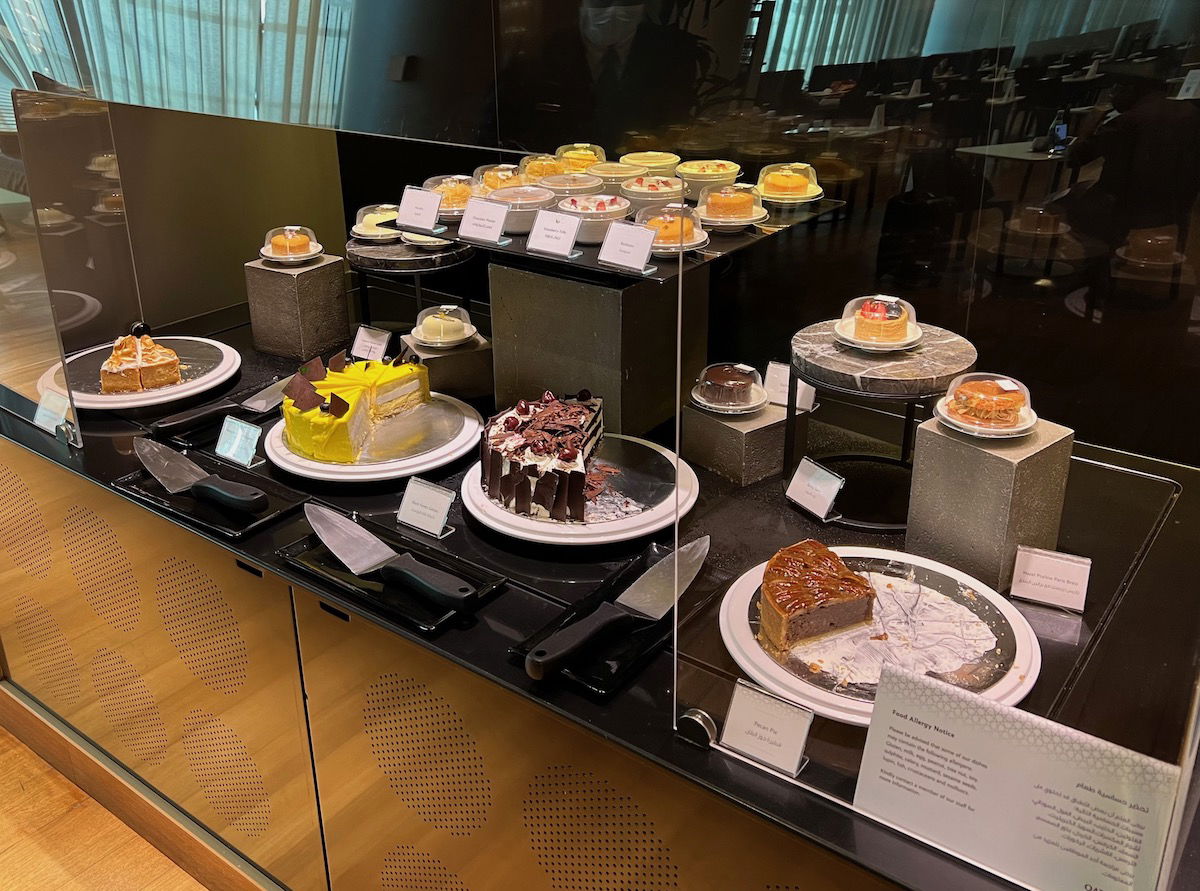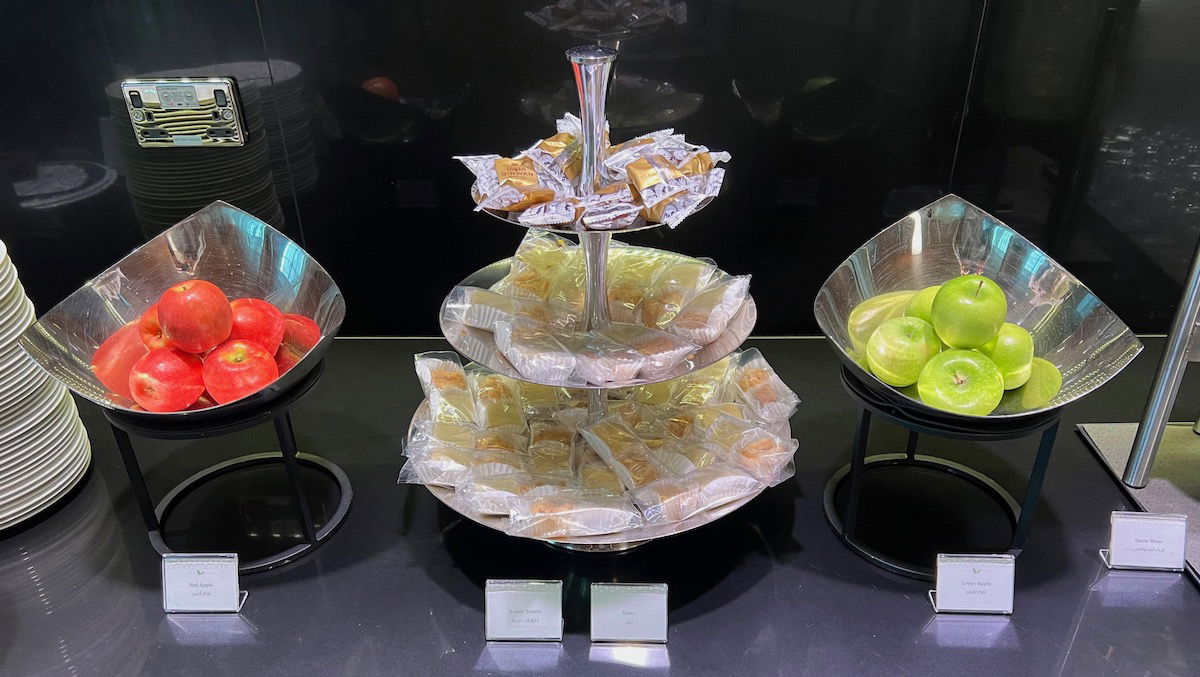 We decided to order a couple of things from the menu, including the gobi saag masala and chicken biryani.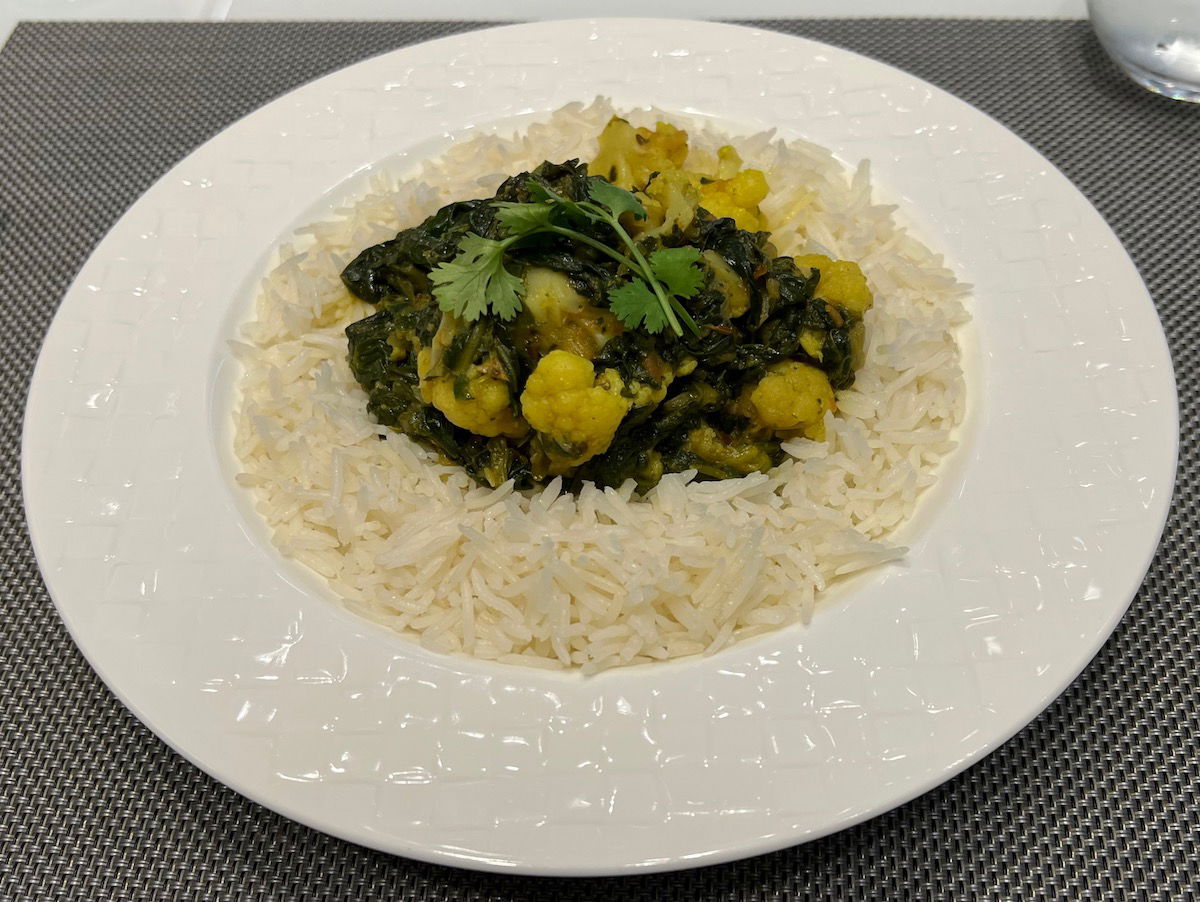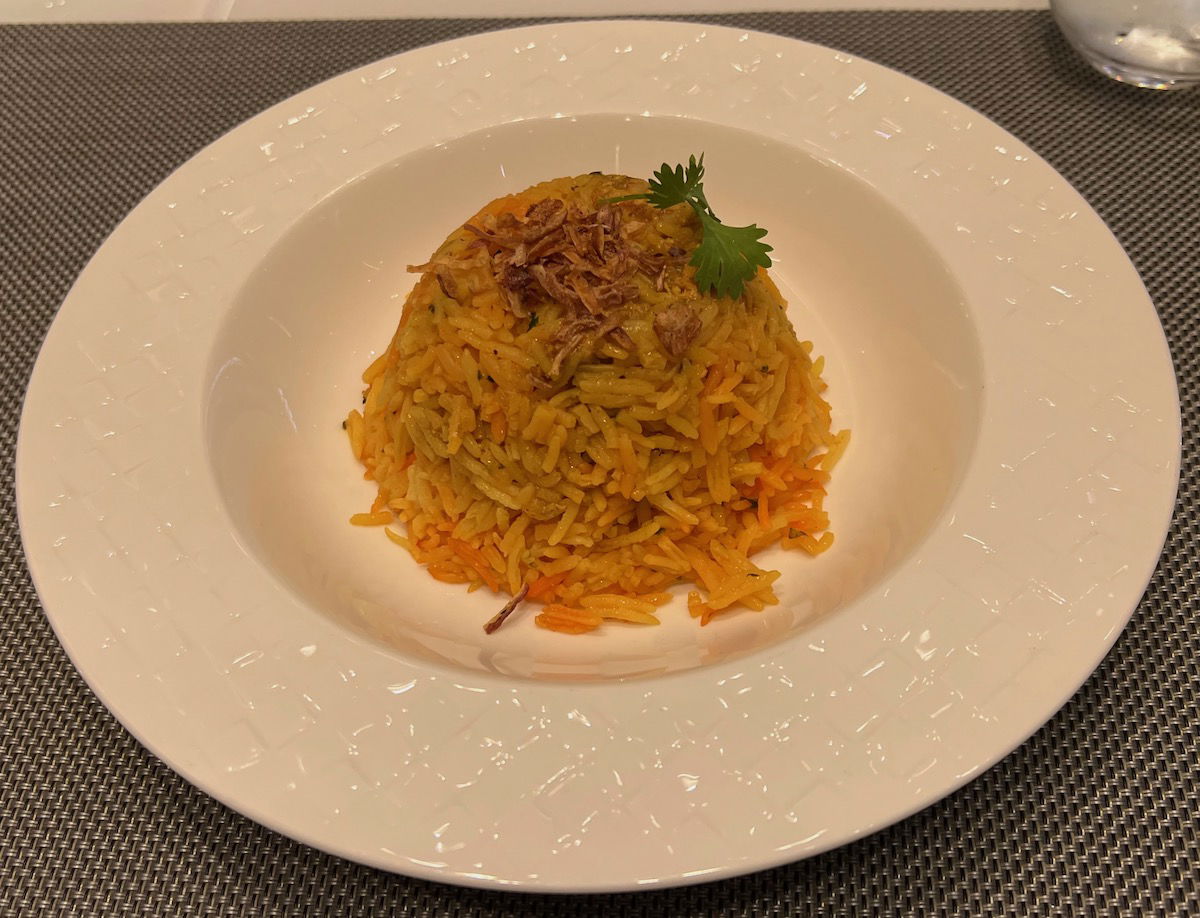 We also picked a couple of desserts from the buffet, and then I ordered an americano.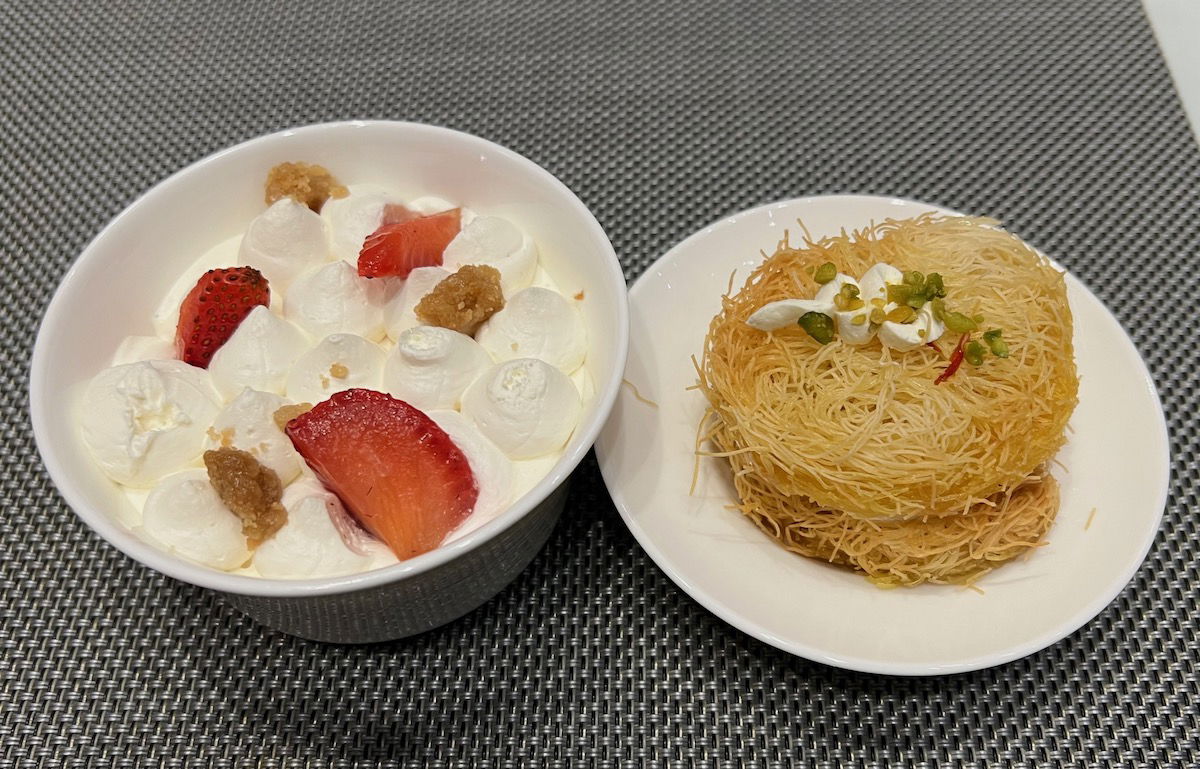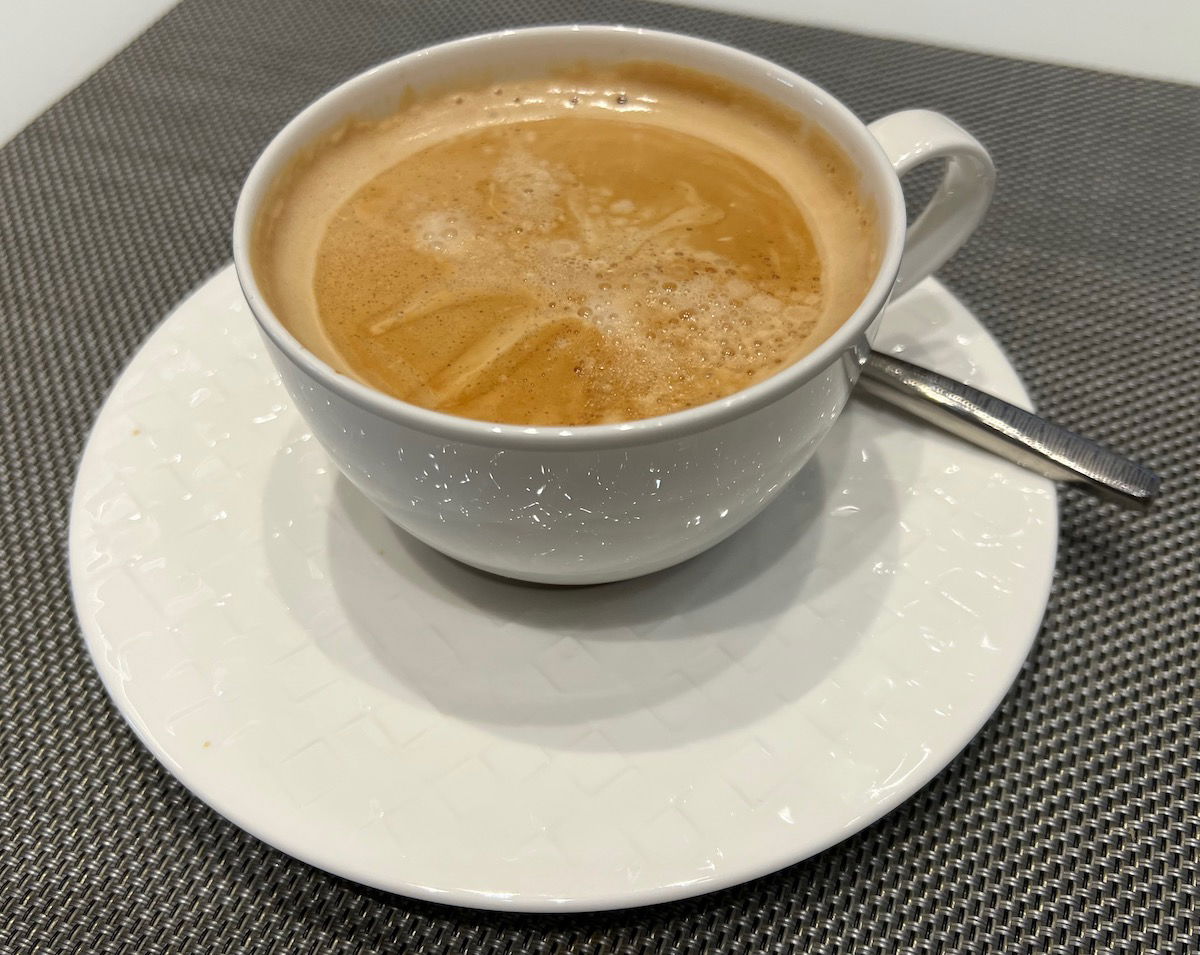 The food was excellent for a business class lounge, and since we dined during an off-peak time, service was attentive, and the restaurant overall had a pleasant atmosphere.
The Al Mourjan Business Lounge has a second dining area, which specializes in salads and sandwiches. This is located on the main level of the lounge, so if you enter the lounge just turn left and walk to the very end. This area of the lounge has both individual tables as well as communal tables, depending on your preference.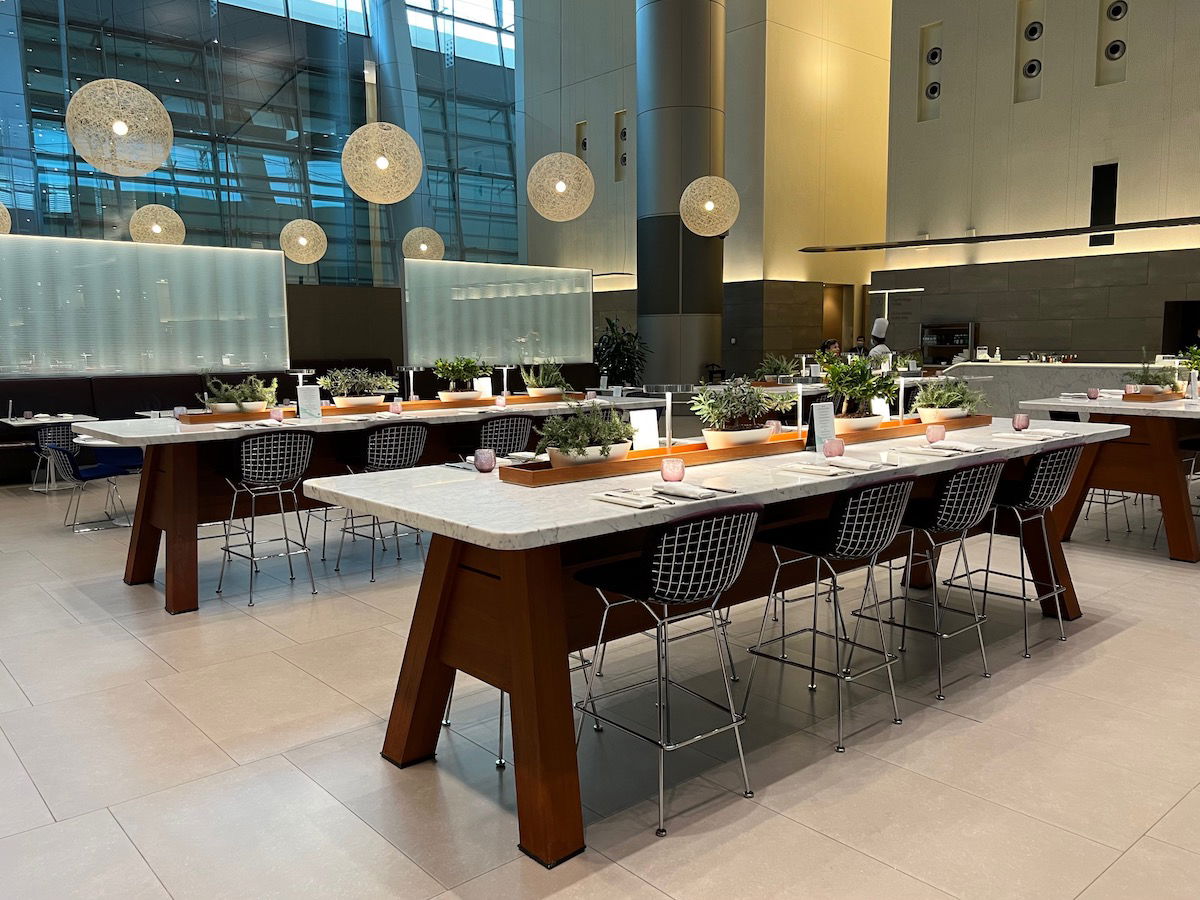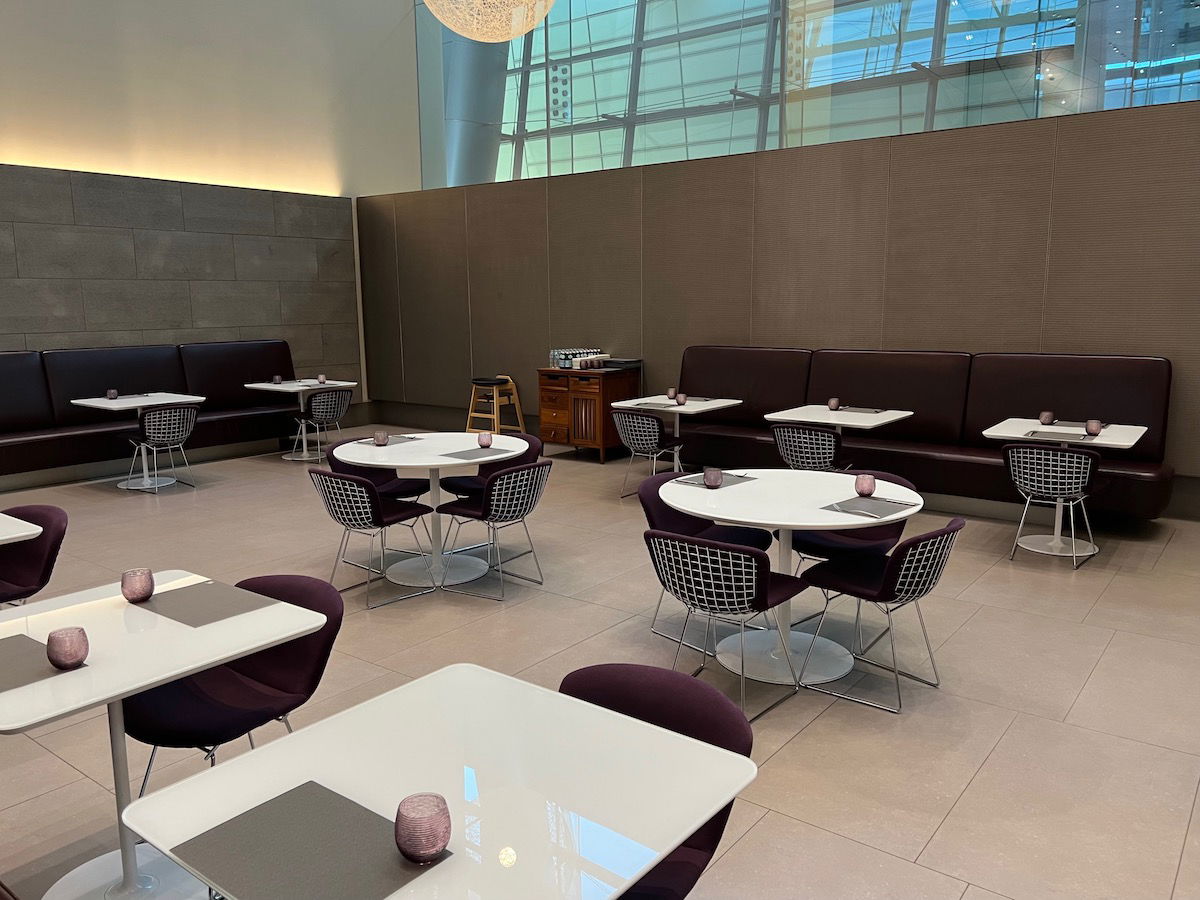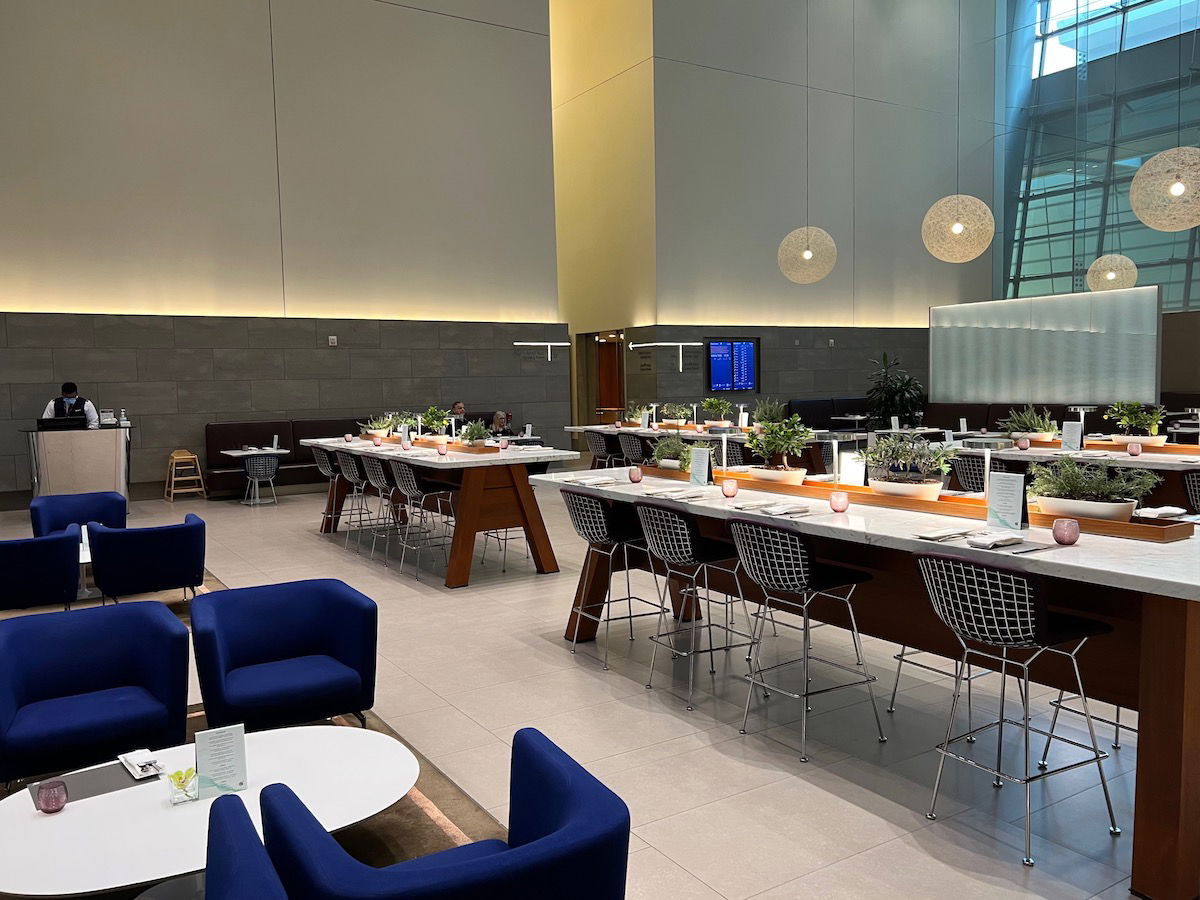 This area has a small buffet with some drinks and light appetizers.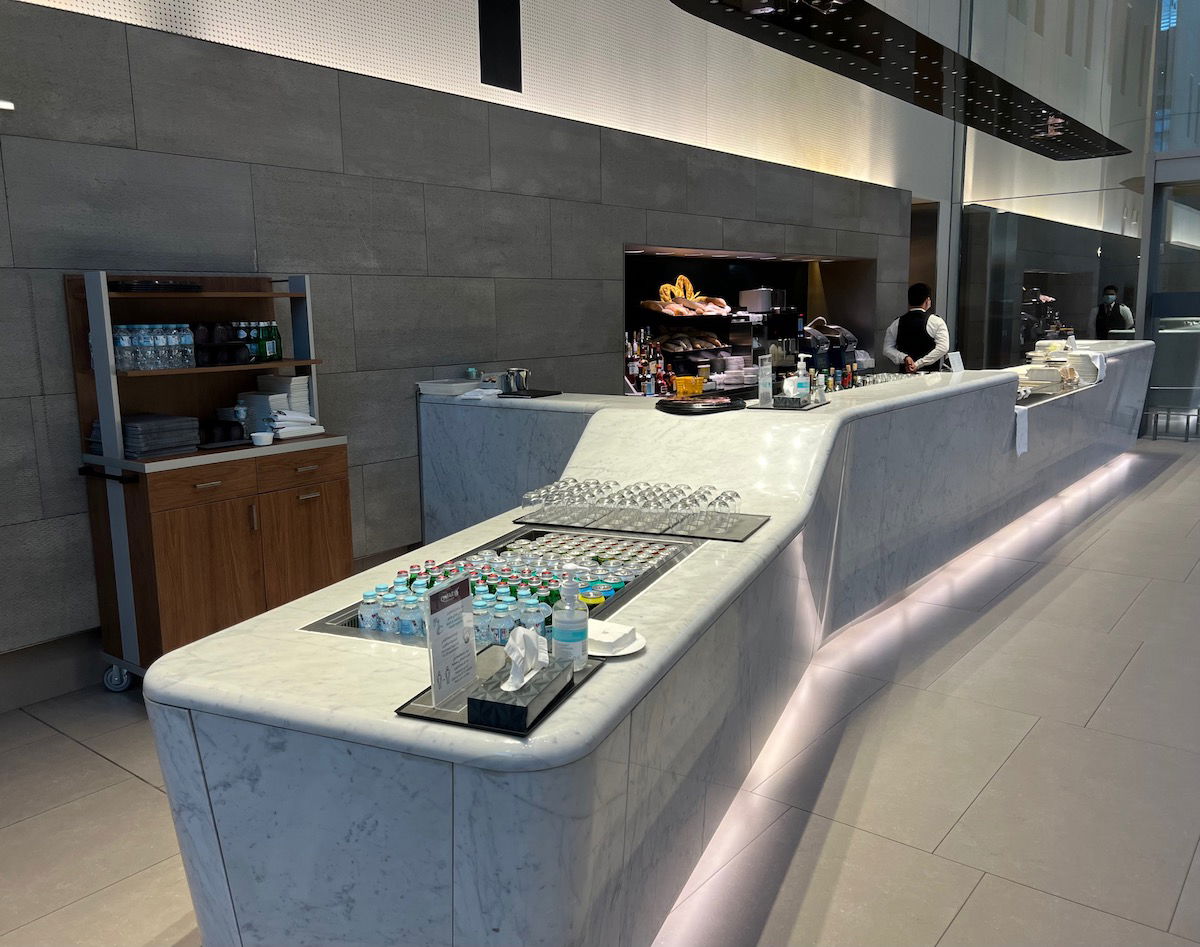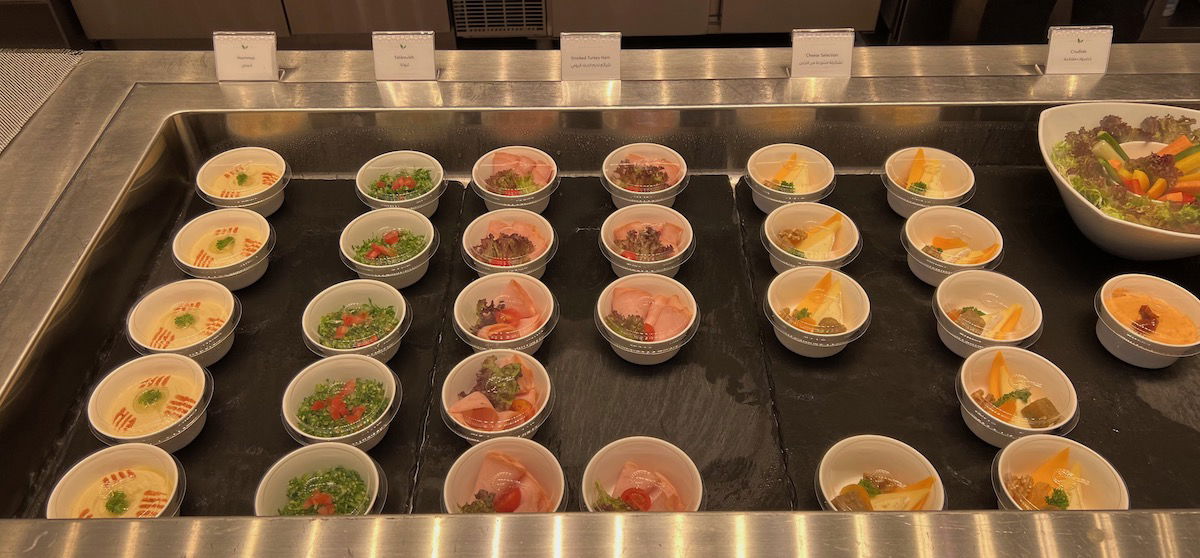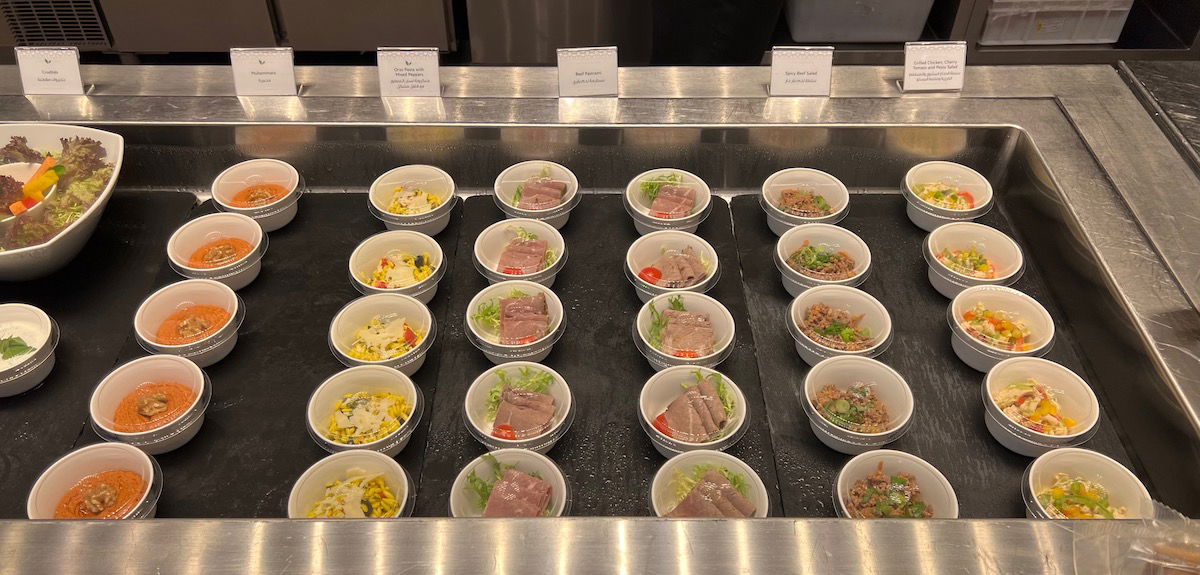 In addition to that, there's a menu with sandwiches, salads, and desserts.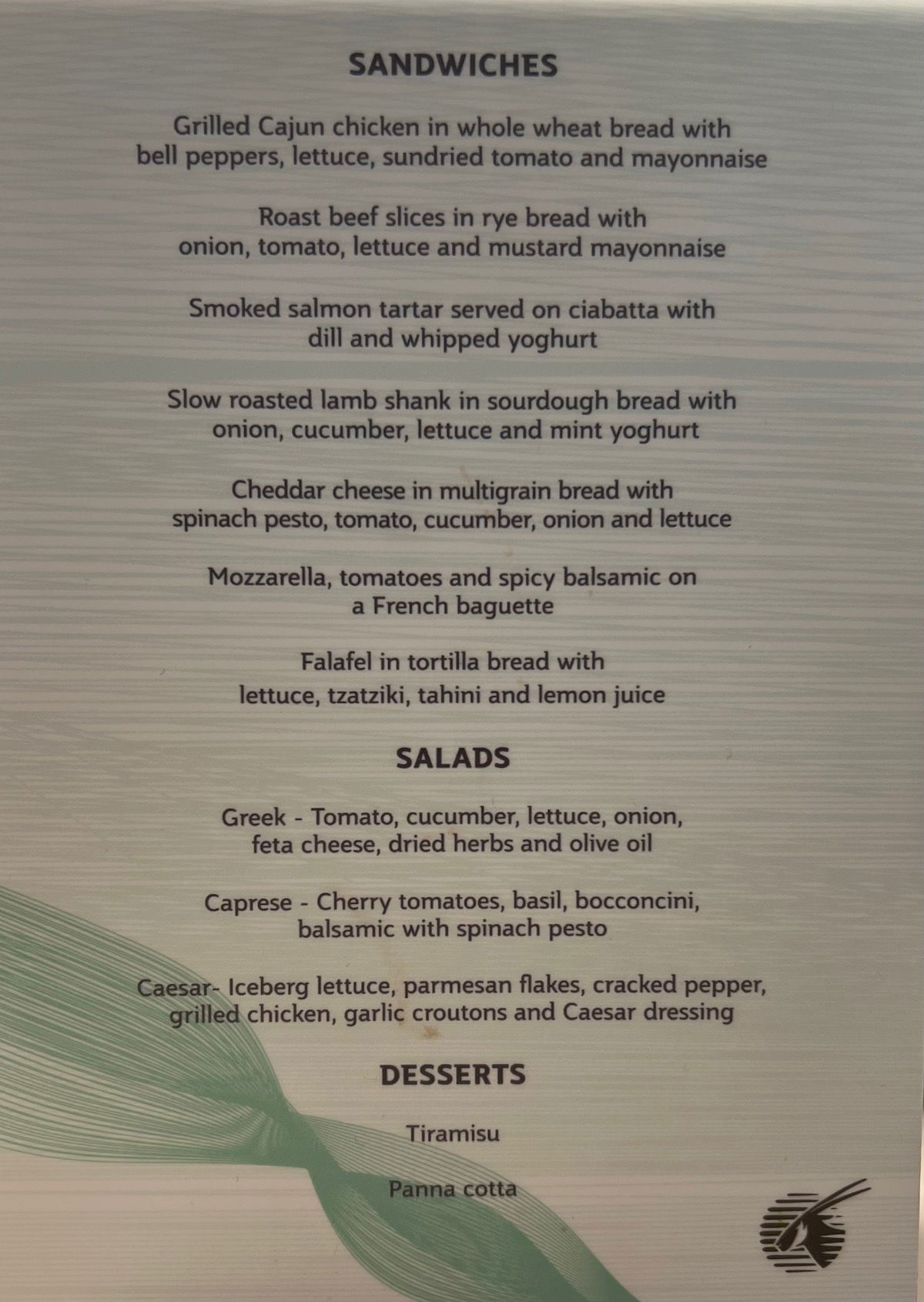 In addition to the two main dining areas, there are also a variety of drink stations throughout the lounge, which have water, soft drinks, and coffee. That's fine if you just want to hydrate, but if you want anything else you'll want to check out one of the dining areas.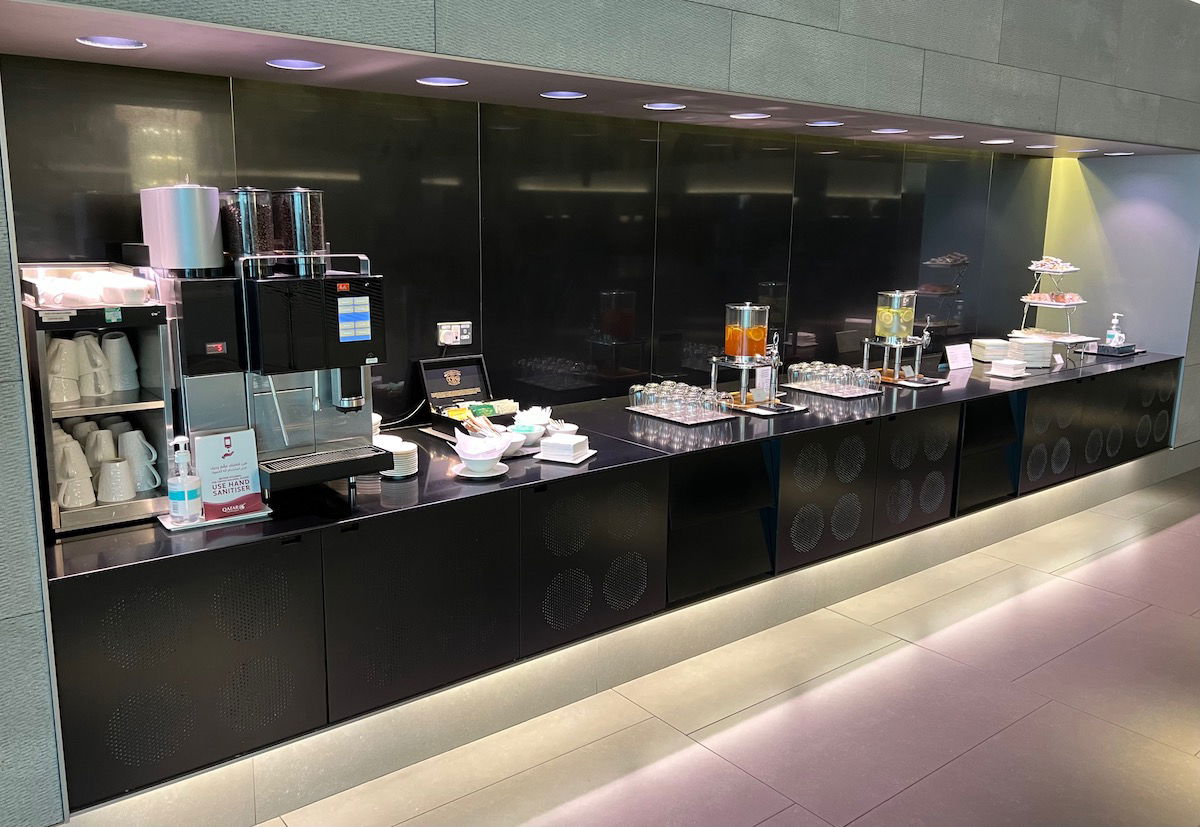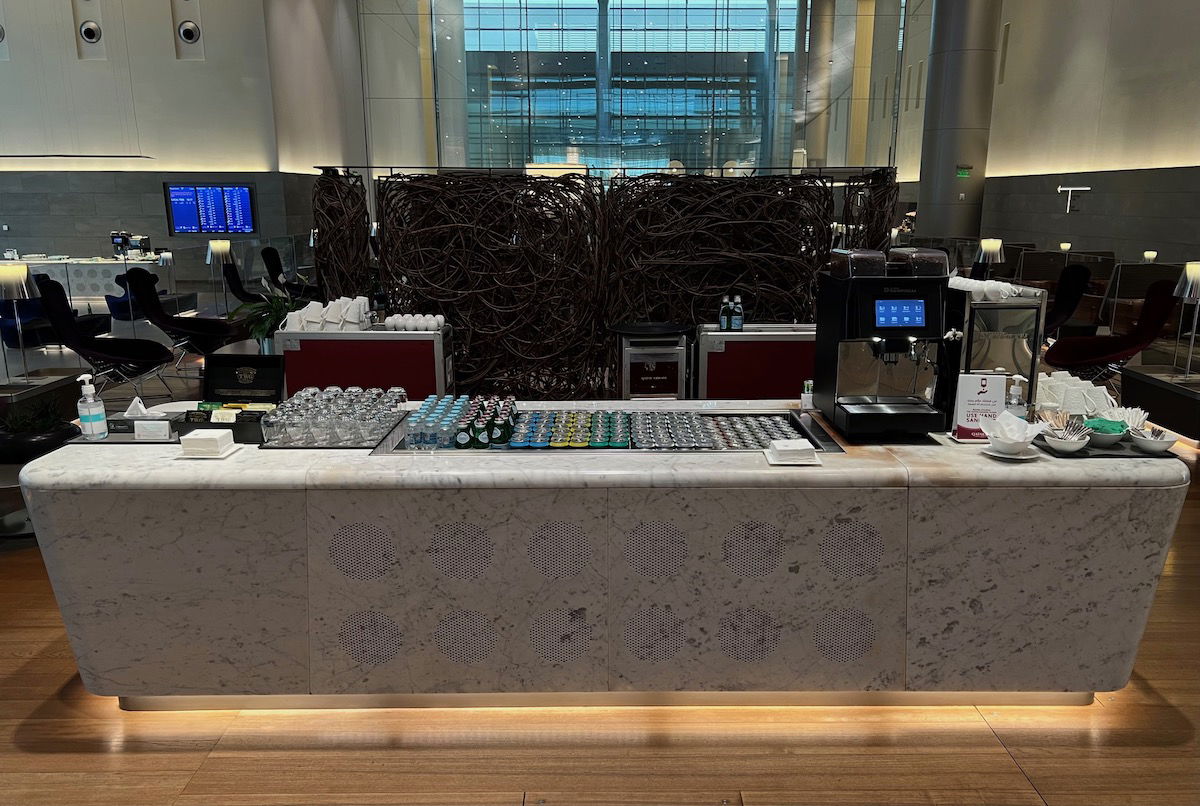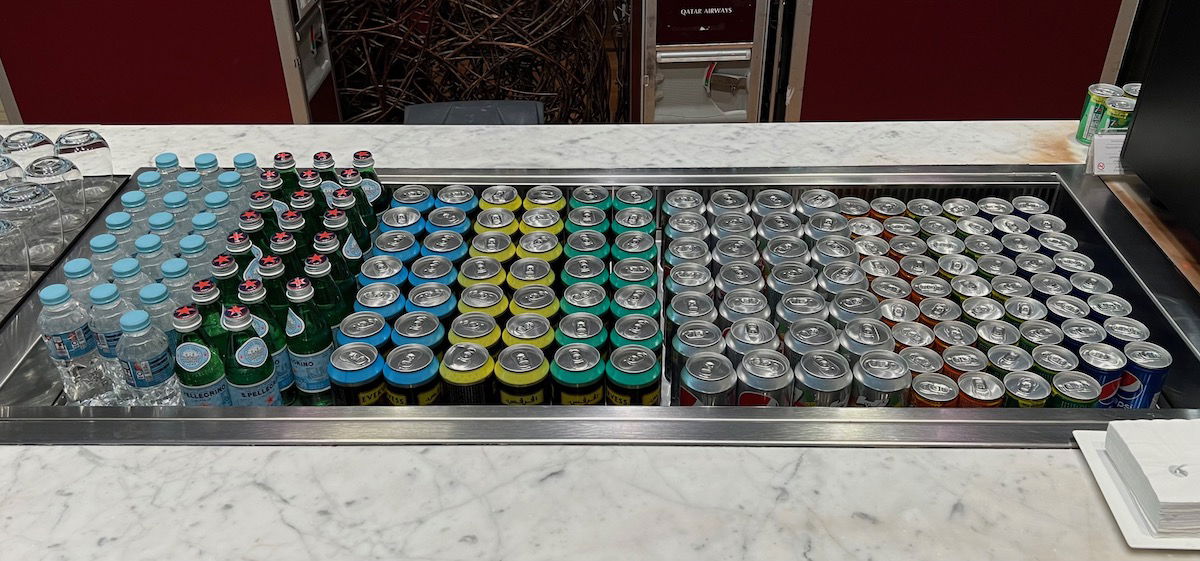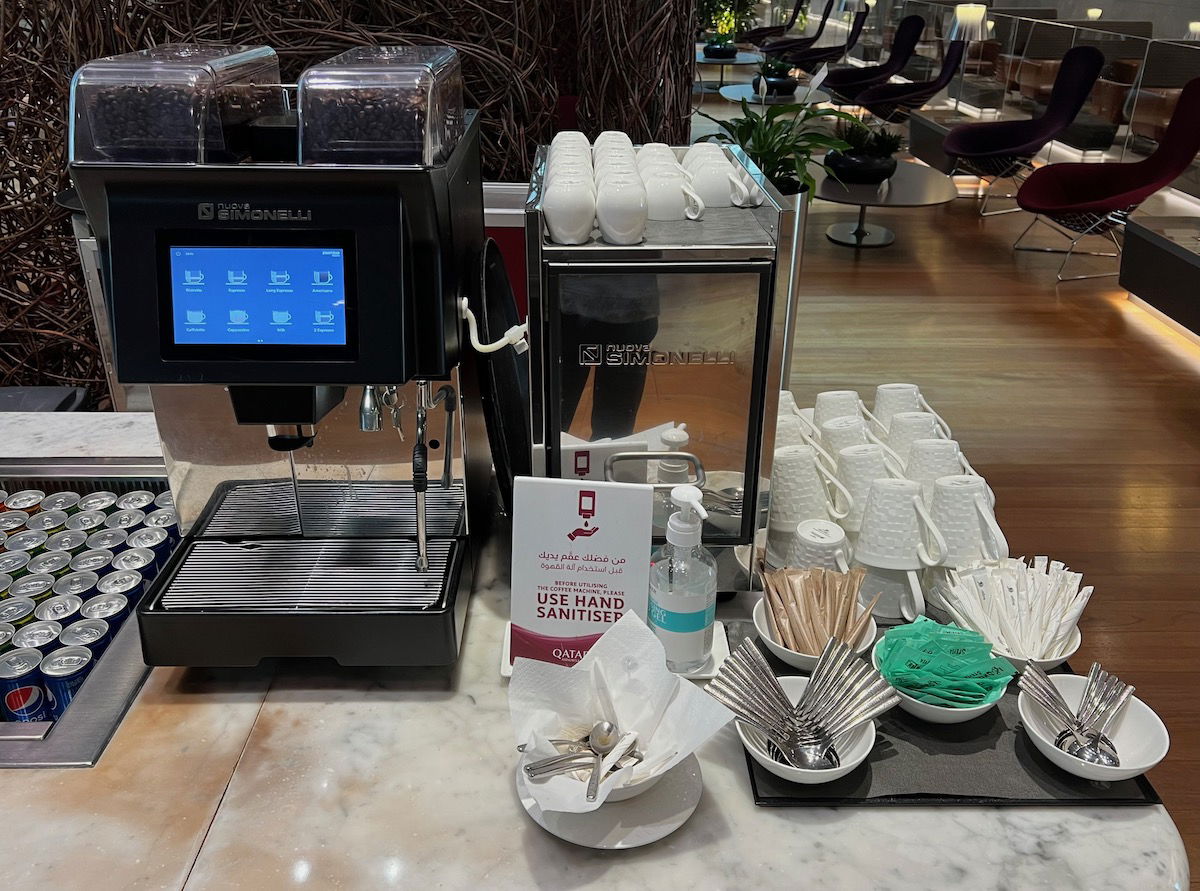 Qatar Airways Al Mourjan Business Lounge Doha nap rooms
Those with long layovers may appreciate the opportunity to get some rest during their layover, so the Al Mourjan Lounge has a couple of options for that. For one, the lounge has a dedicated rest area, which is located in the very back of the lounge, past the cafe dining area. You have to specifically know what you're looking for, or else you'd probably never stumble on it (which is good in terms of managing demand for this).
Essentially you can reserve what looks like a semi-private living room, with a couch and a chair with an ottoman. Each space has plenty of room to stretch out and relax, and there's a TV with a flight status monitor.
Note that this is a silent zone, and that's strictly enforced. So don't come here thinking you can make a phone call or watch something without headphones (okay, you shouldn't watch something without headphones anywhere in a lounge, but that doesn't stop people).
To take it a step further, this area is eerily quiet. Personally I'd almost prefer that they play some spa-type relaxing music, as you could hear a pin drop in this area. Or more realistically, you can hear other people snoring. So if you are going to relax here, I'd recommend bringing headphones.
If you have a long layover, it's possible to get one of these rooms for up to six hours, and they're available on a first come, first served basis.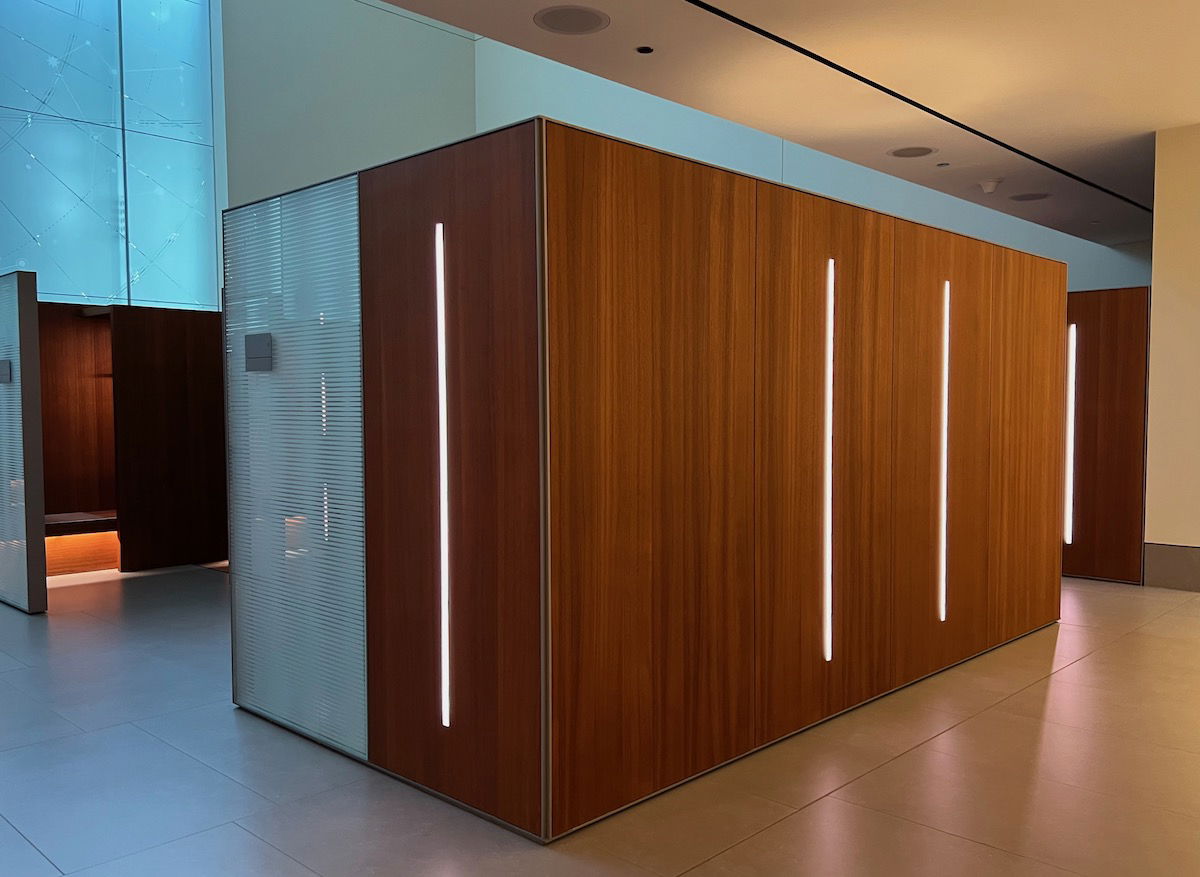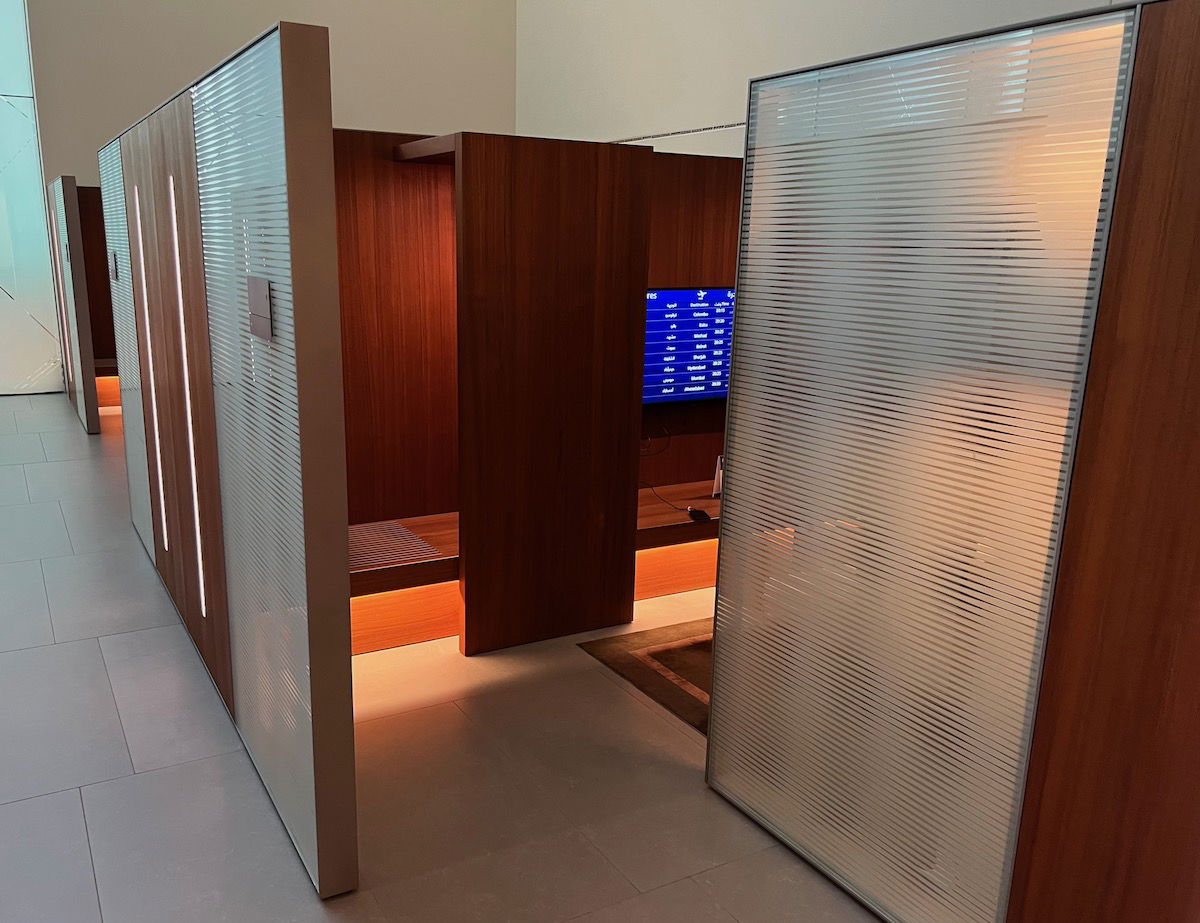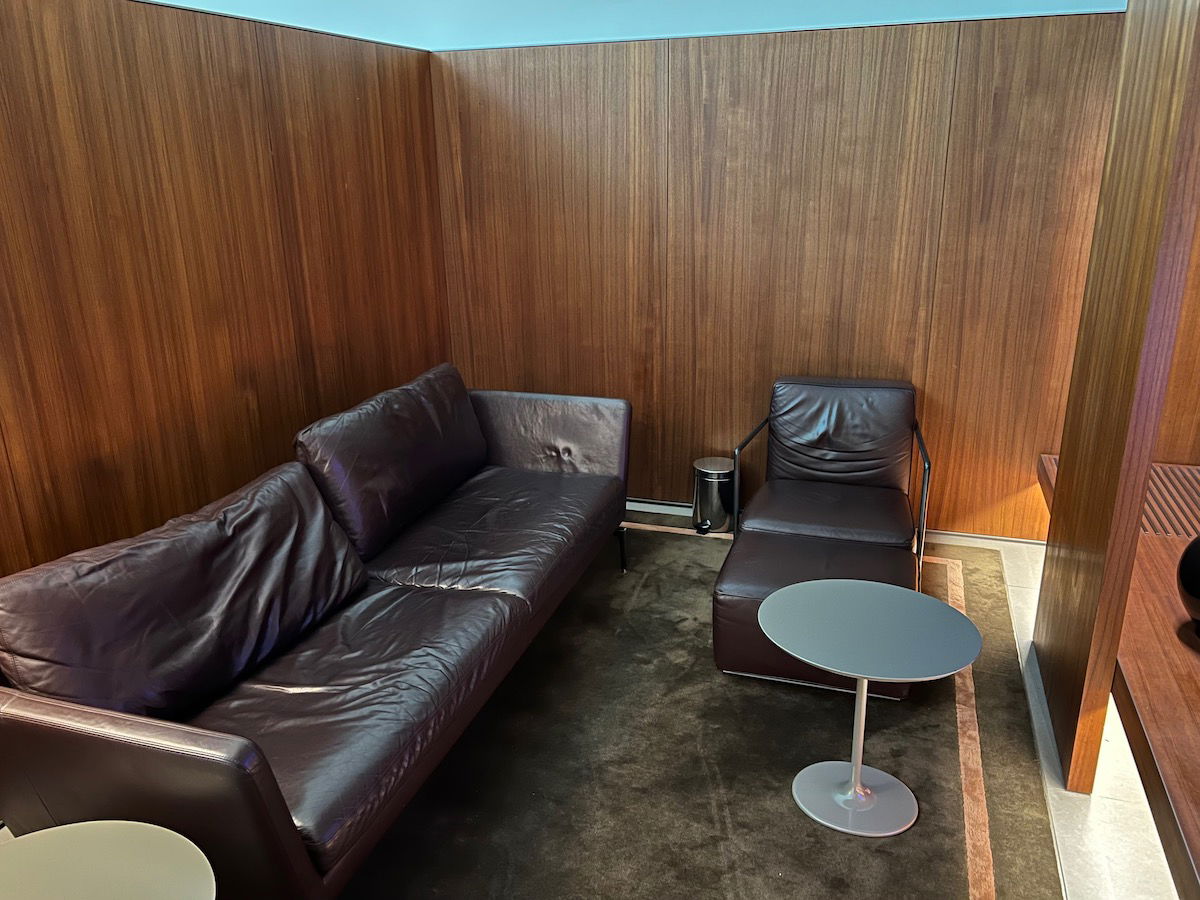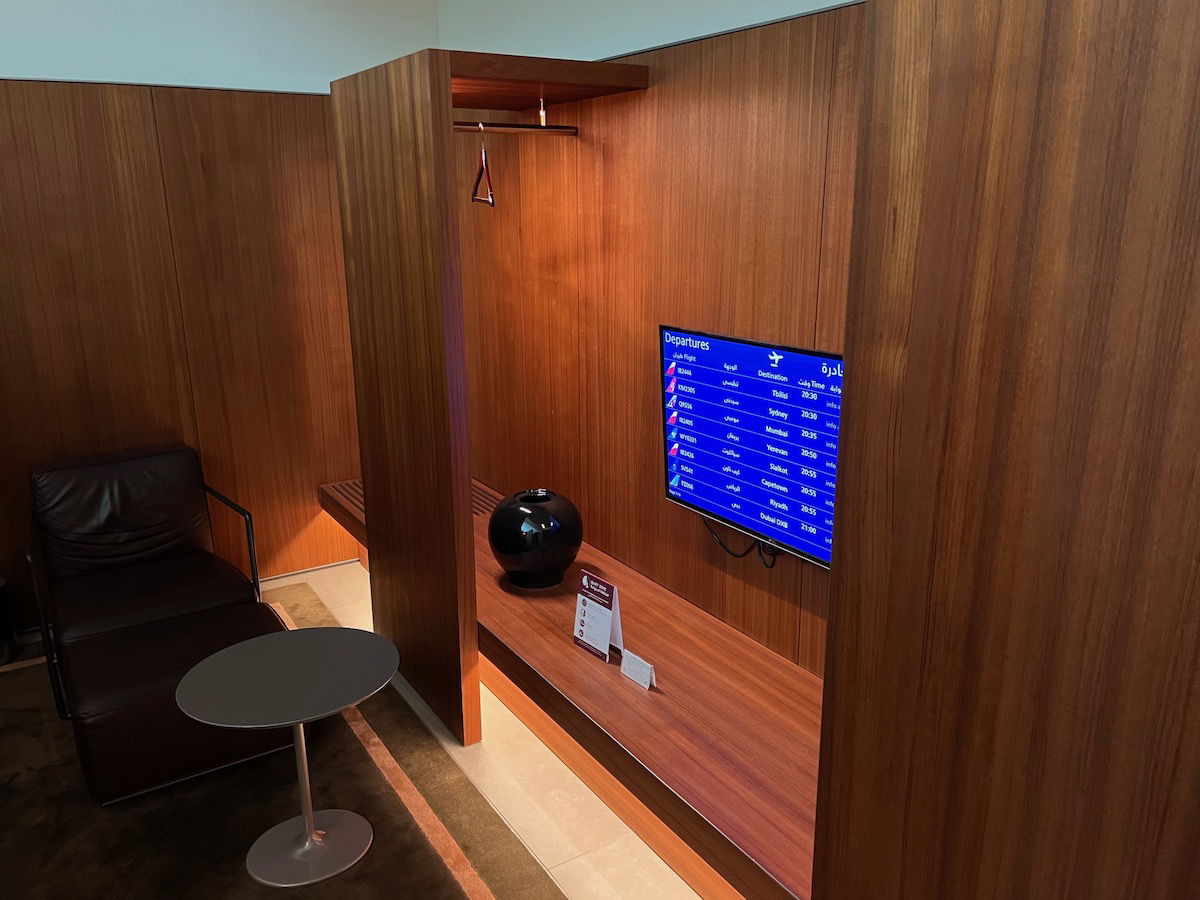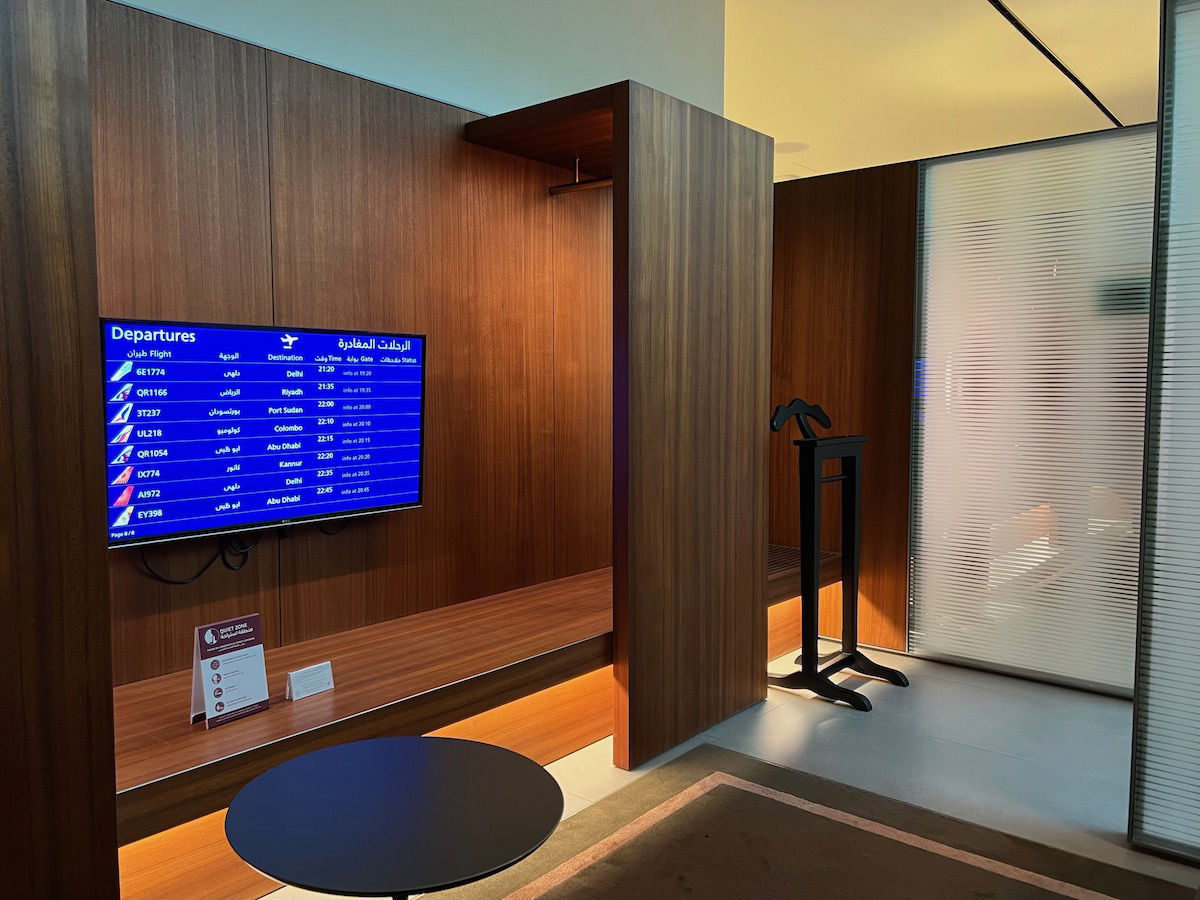 In addition to the main nap rooms, there's another area with semi-private pods inside the entrance to the lounge and to the right. There are dozens of these, and there's no need to reserve them or talk to anyone — you can just plop down on one of them. There also aren't any restrictions when it comes to noise in this area, for better or worse.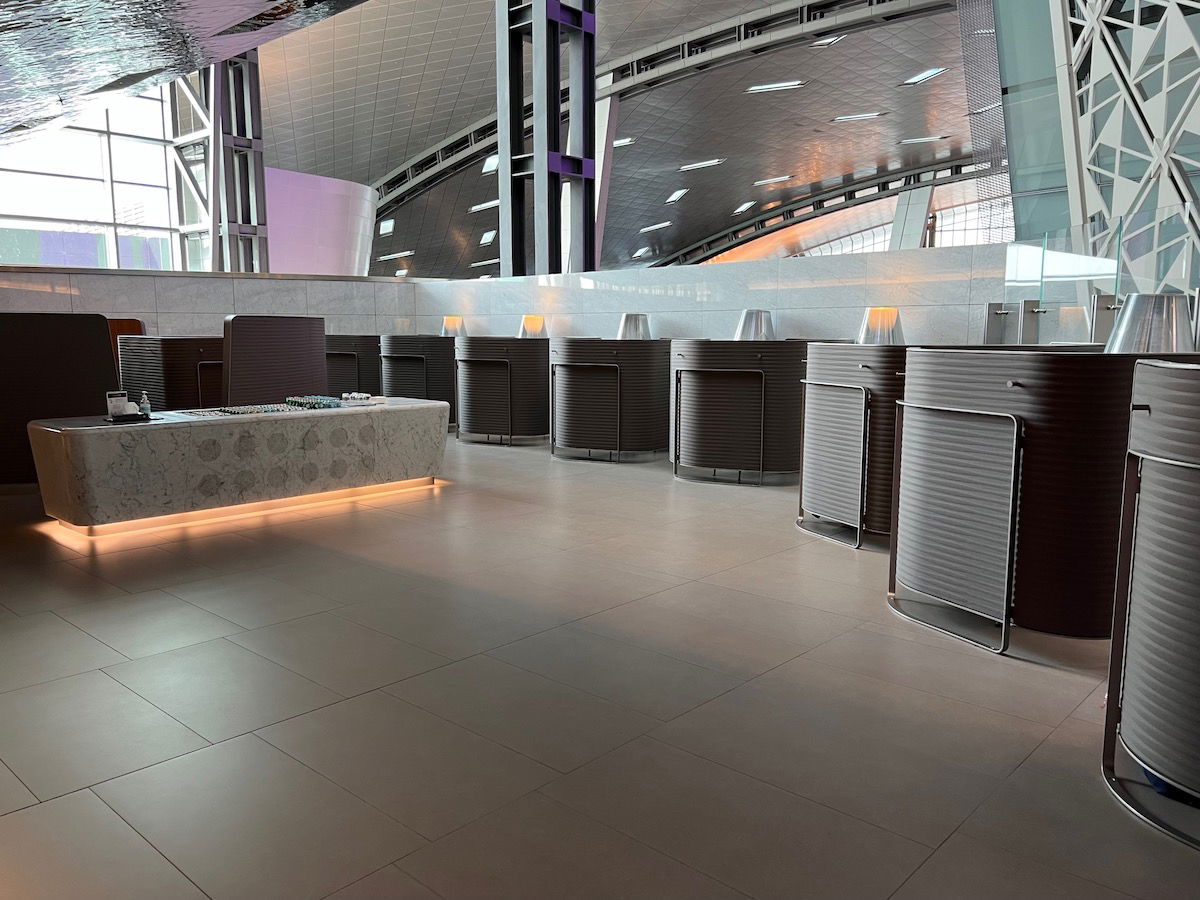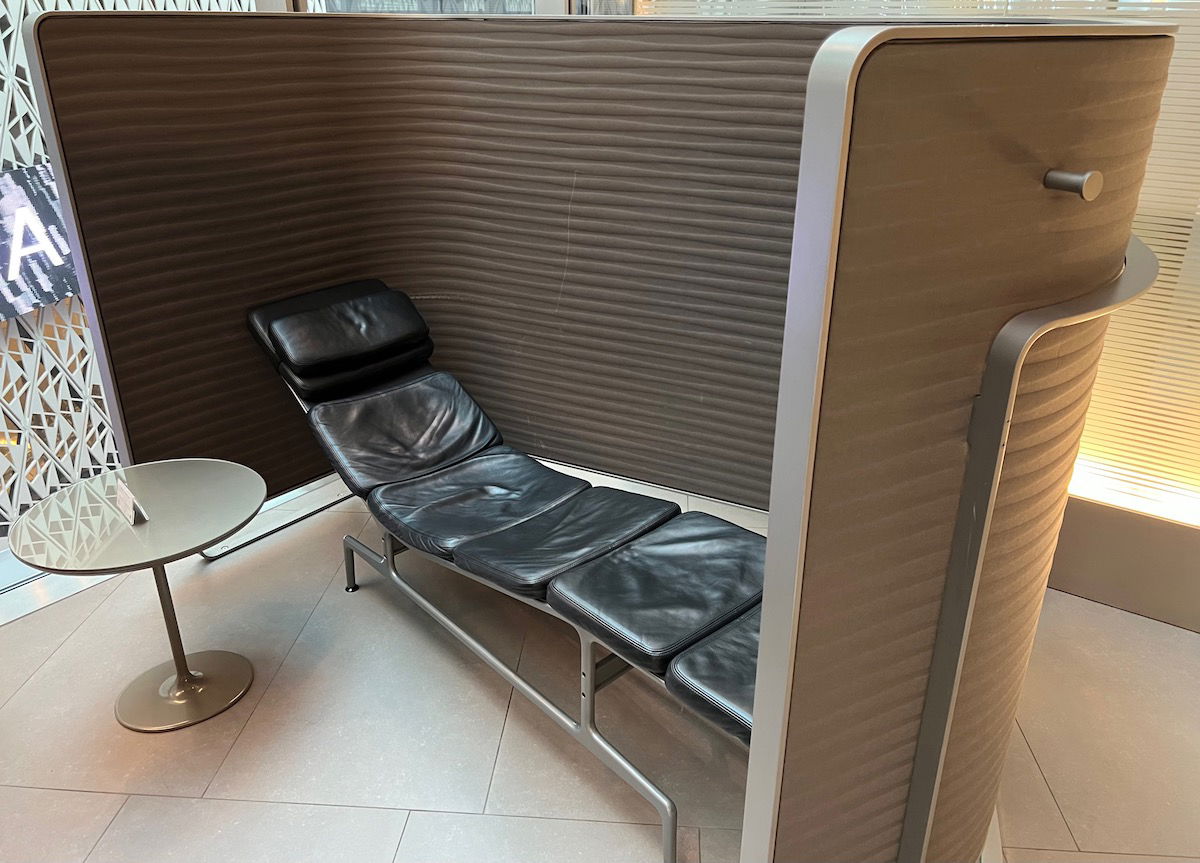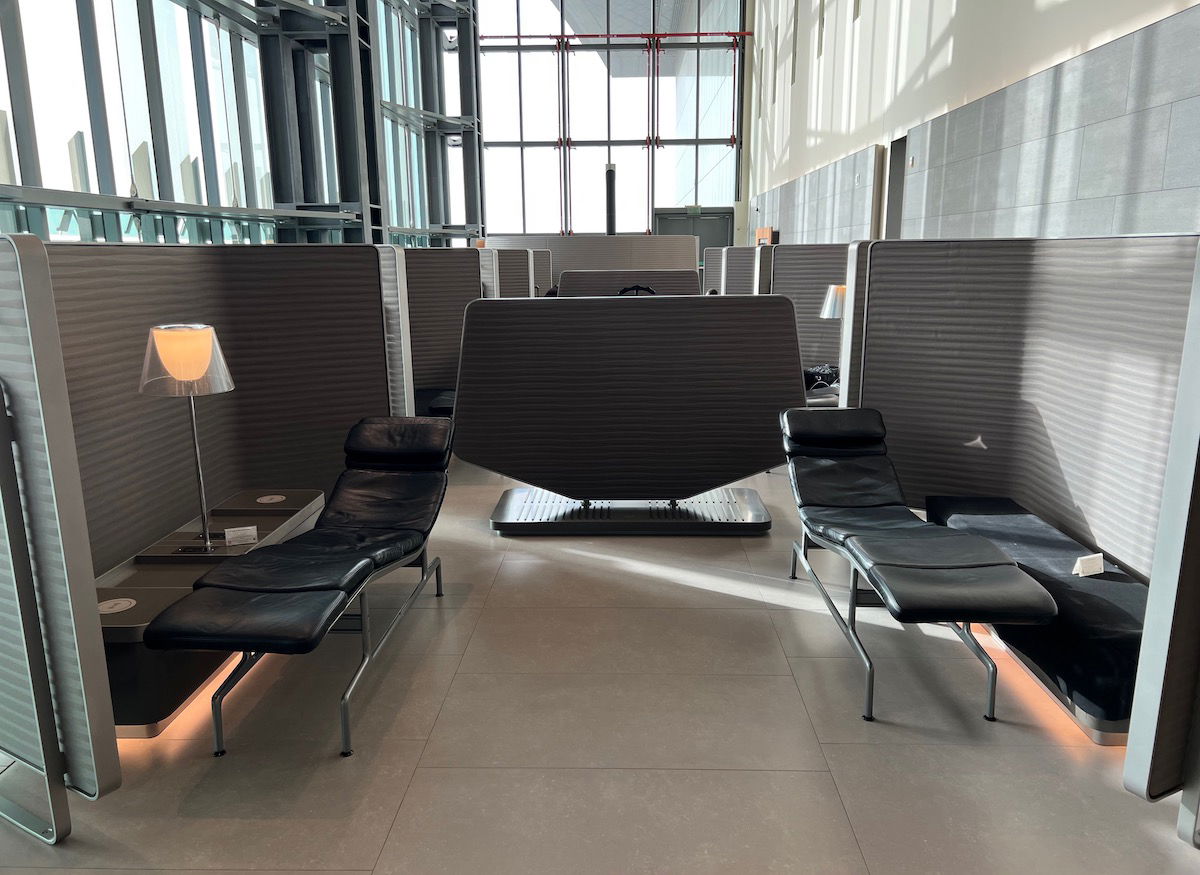 If you want to nap with a bit more privacy, there's a Sleep 'N Fly in the terminal, which accepts Priority Pass. I'll be reviewing that in the next installment.
Qatar Airways Al Mourjan Business Lounge Doha showers & restrooms
The Al Mourjan Lounge has shower rooms, which are also available on a first come, first served basis. Most of the day they should be readily available, while during peak hours there's often a wait to use these.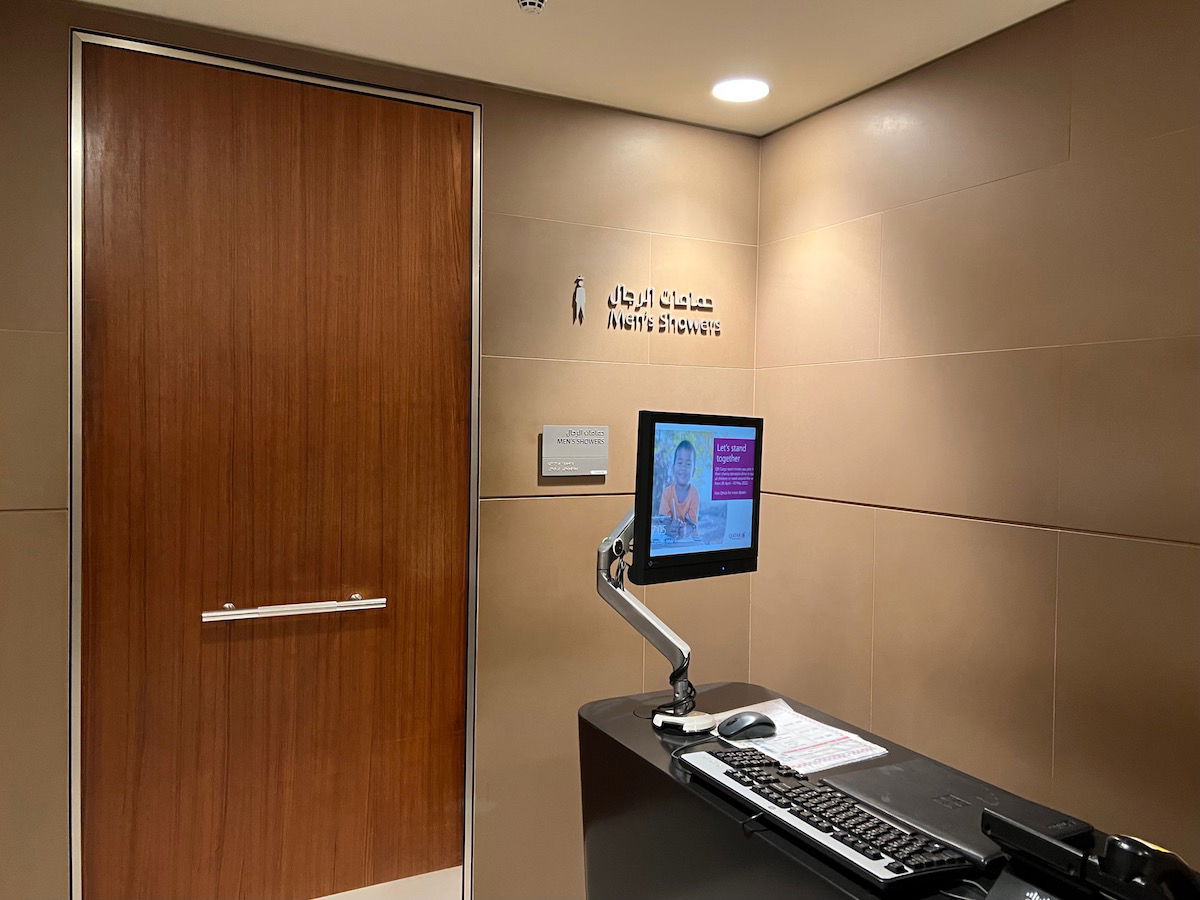 The shower rooms as such are pretty nice, with a separate sink, toilet, and walk-in shower.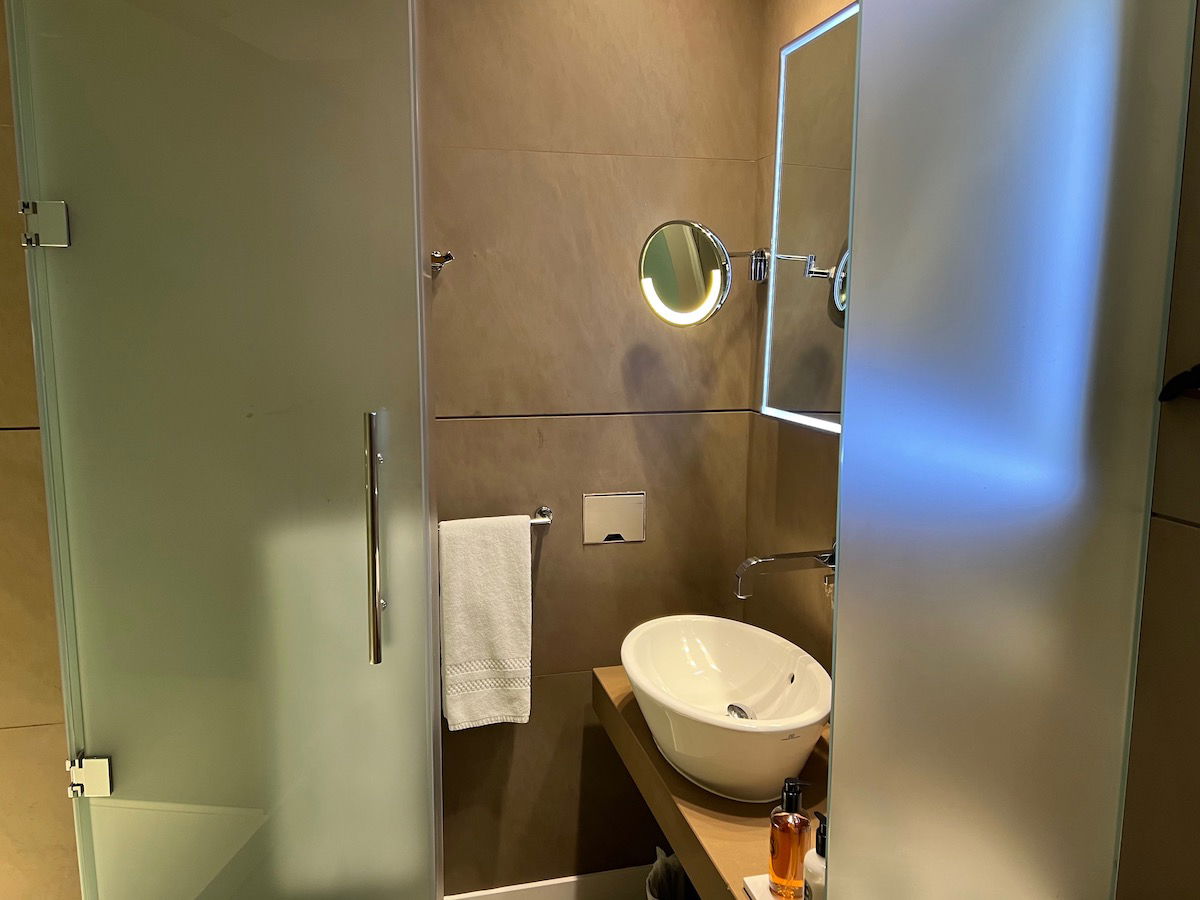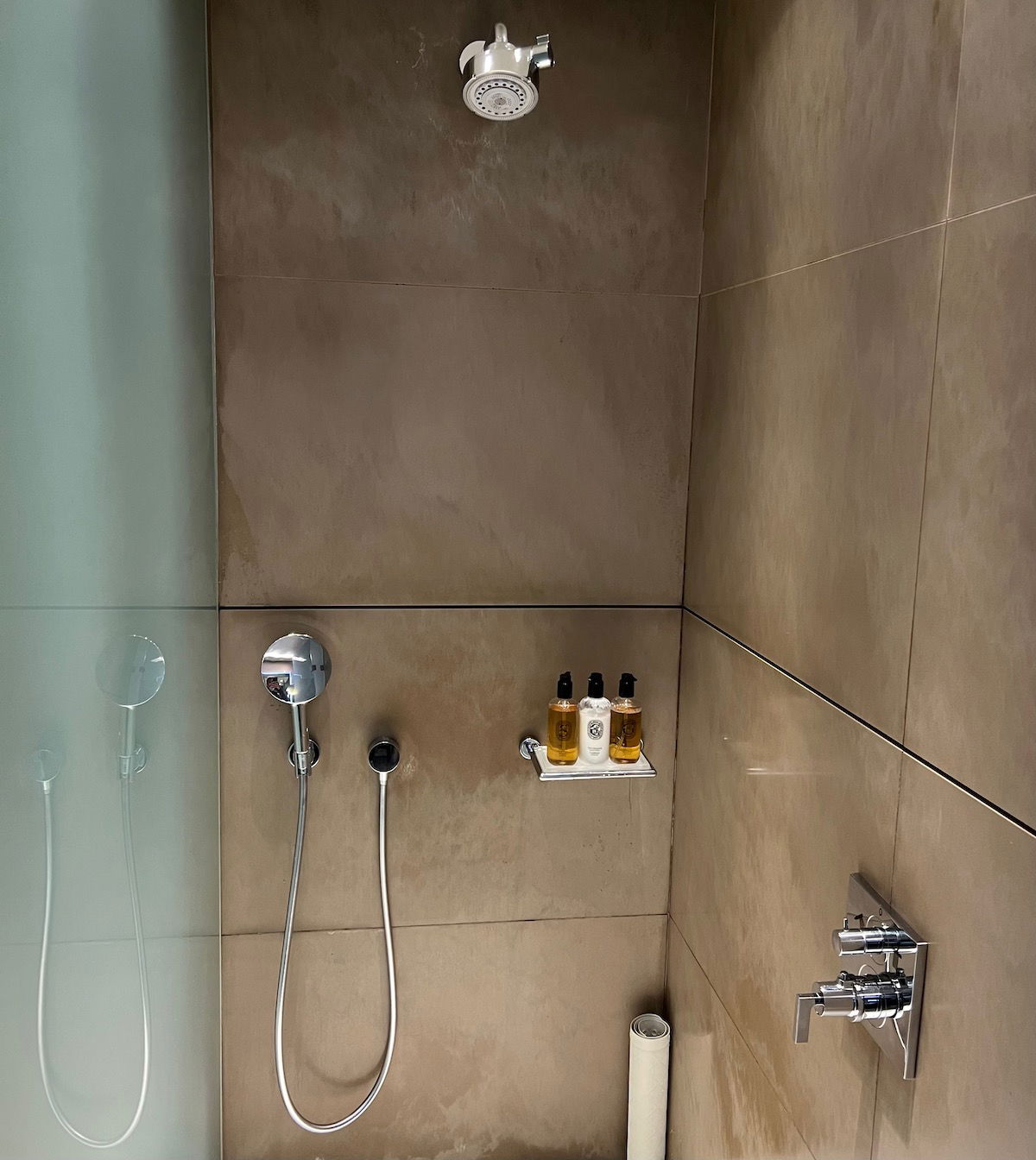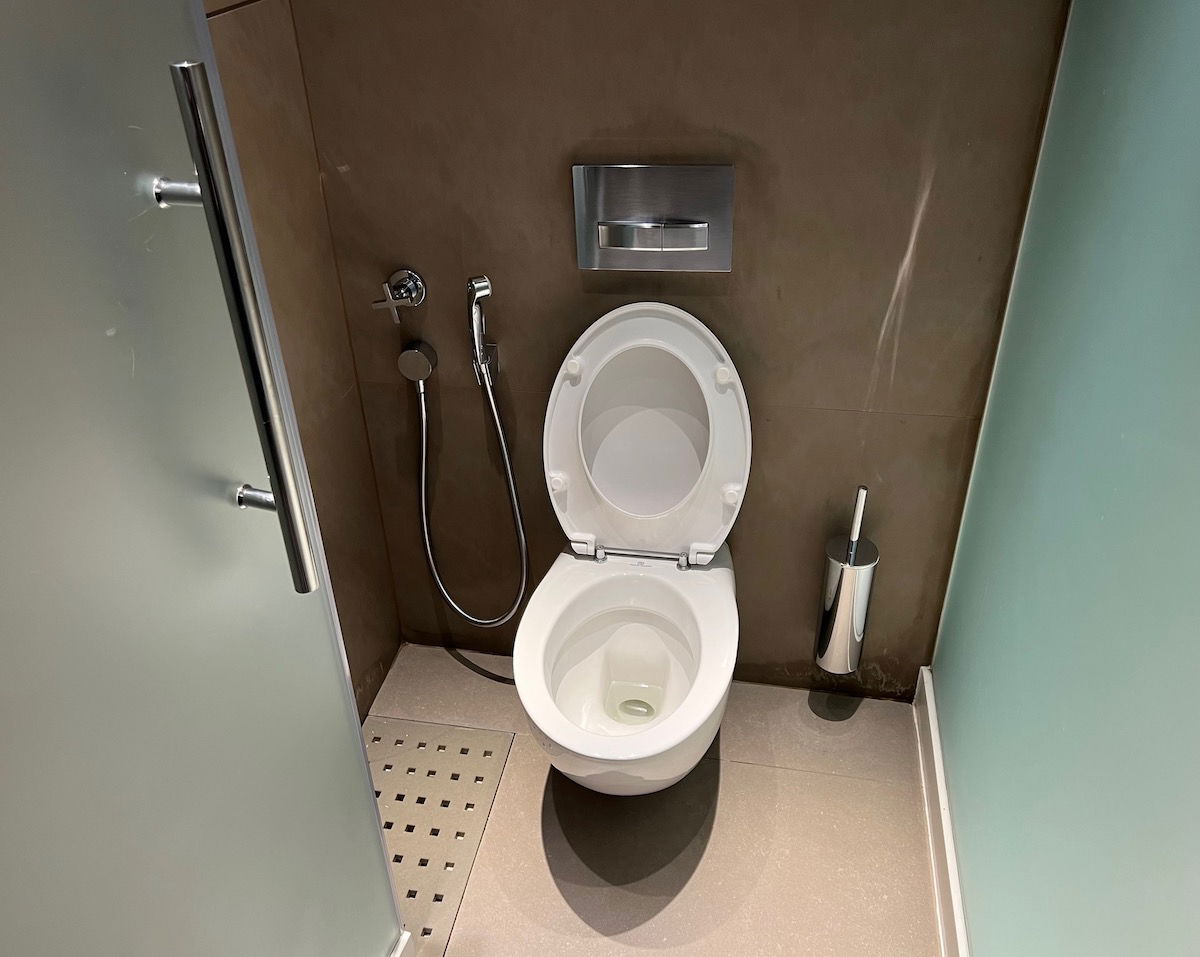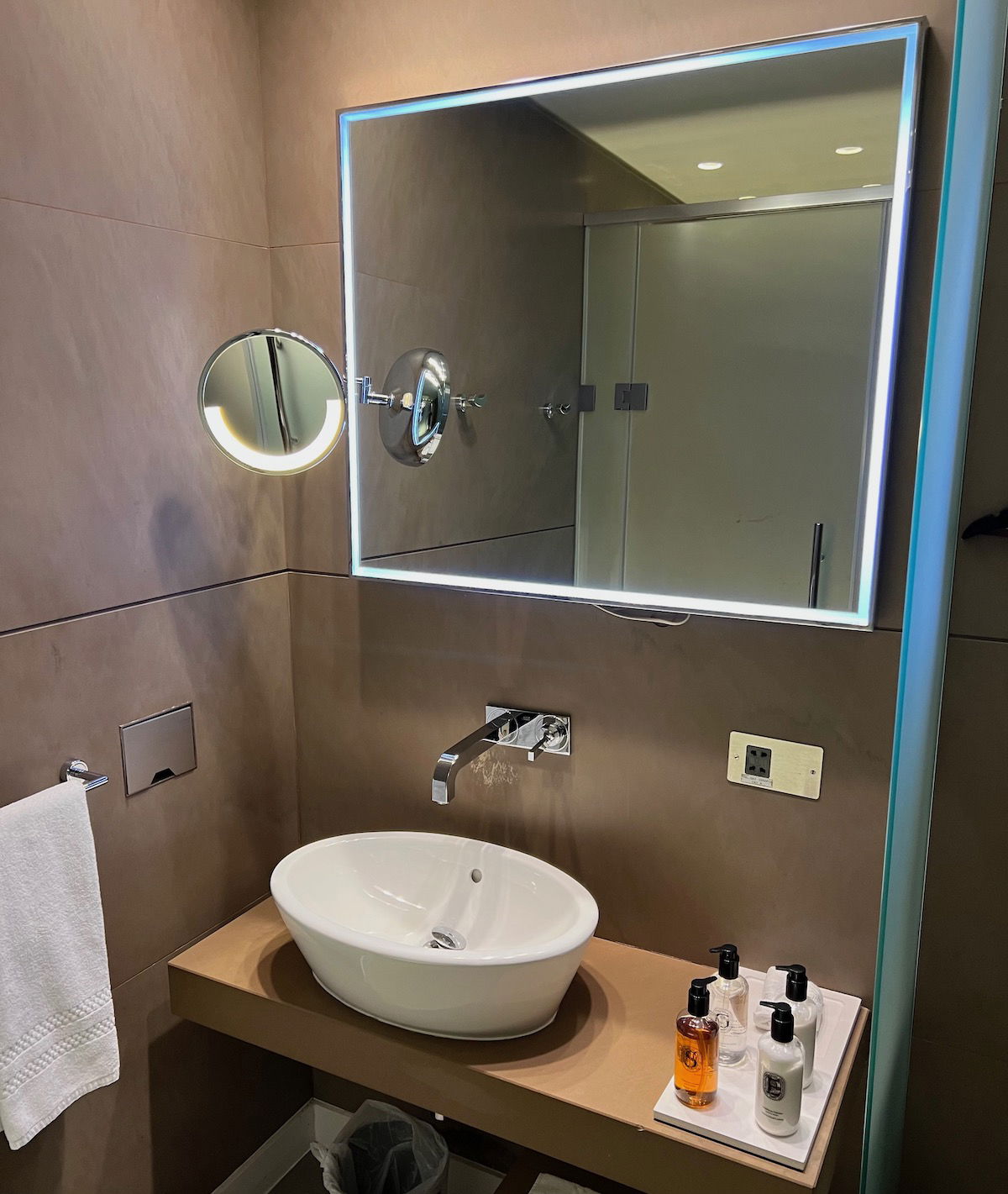 There are also Diptyque amenities, which are about as high end as they get.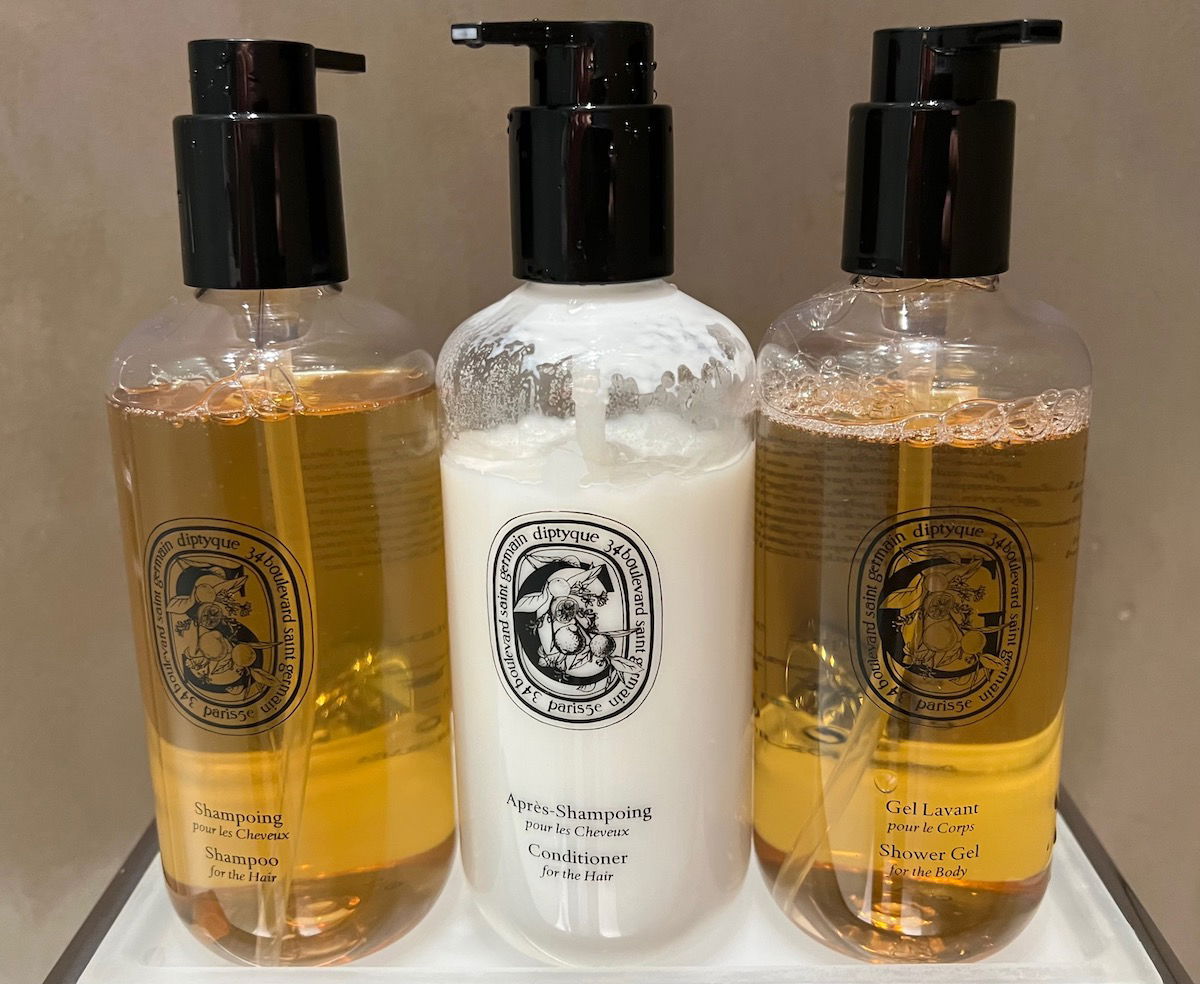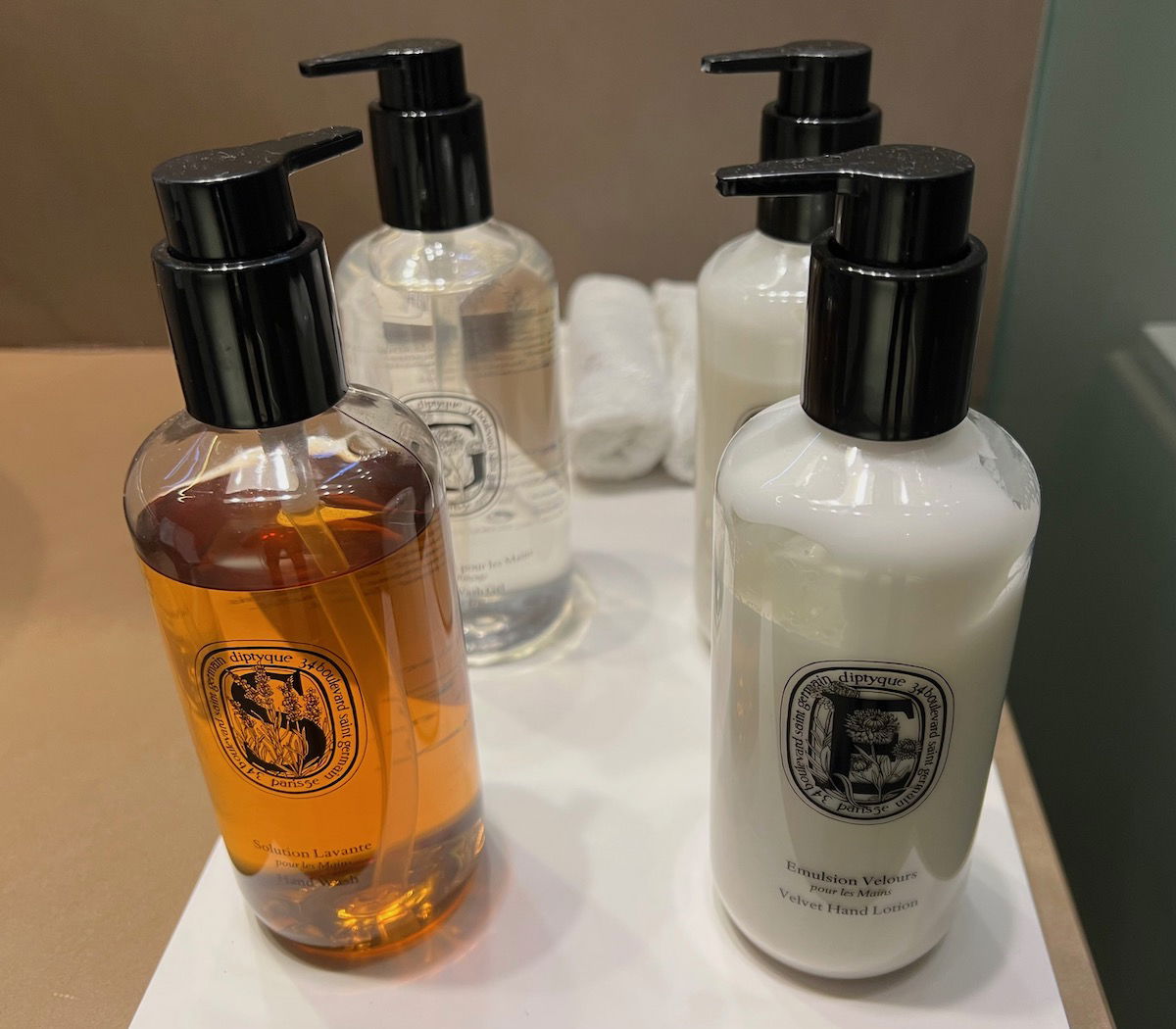 The major catch is that there's almost no air circulation in these rooms, so when you shower the suites basically turn into a sauna, even after the water is off. So I'd recommend taking a quick and not too hot shower.
In addition to the shower rooms, there are also several bathrooms throughout the lounge. These are very well maintained, as there's typically an attendant cleaning up after everyone.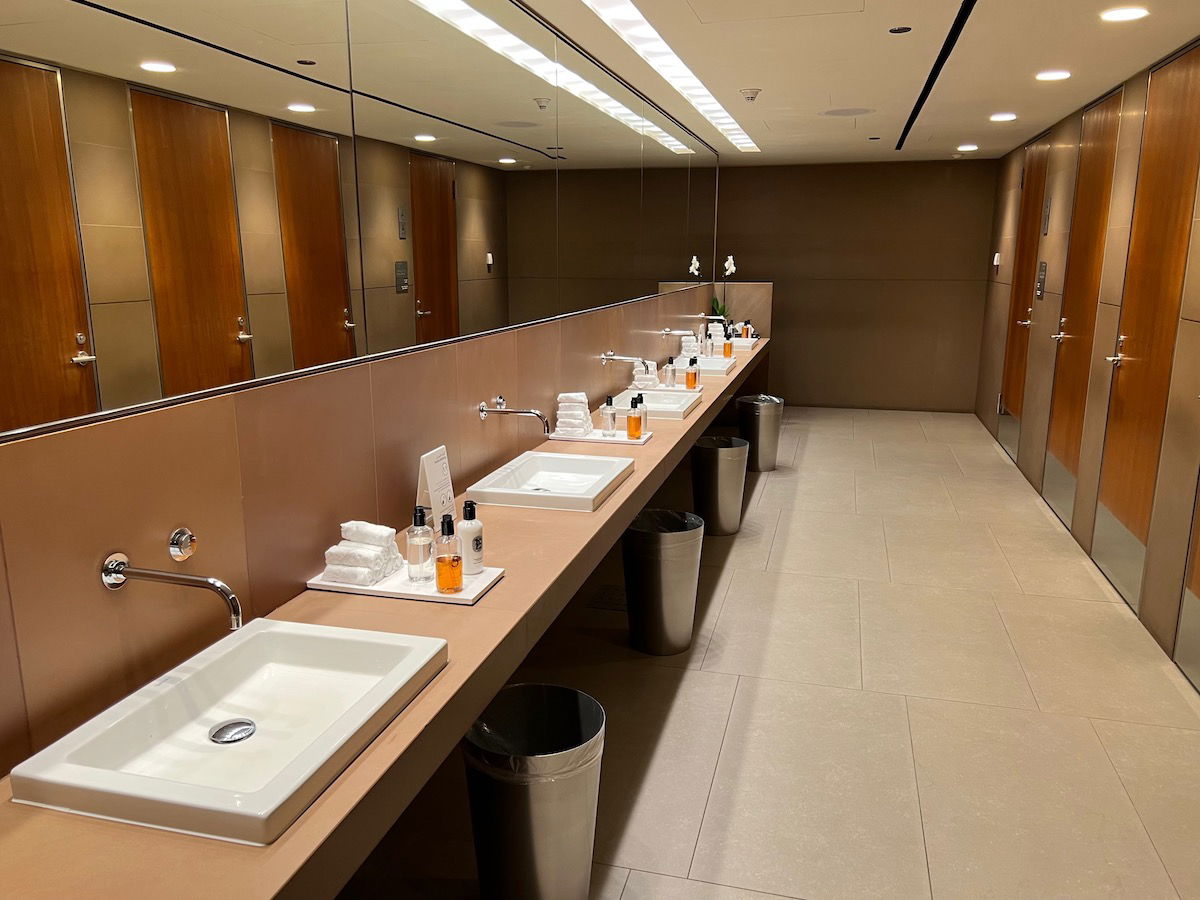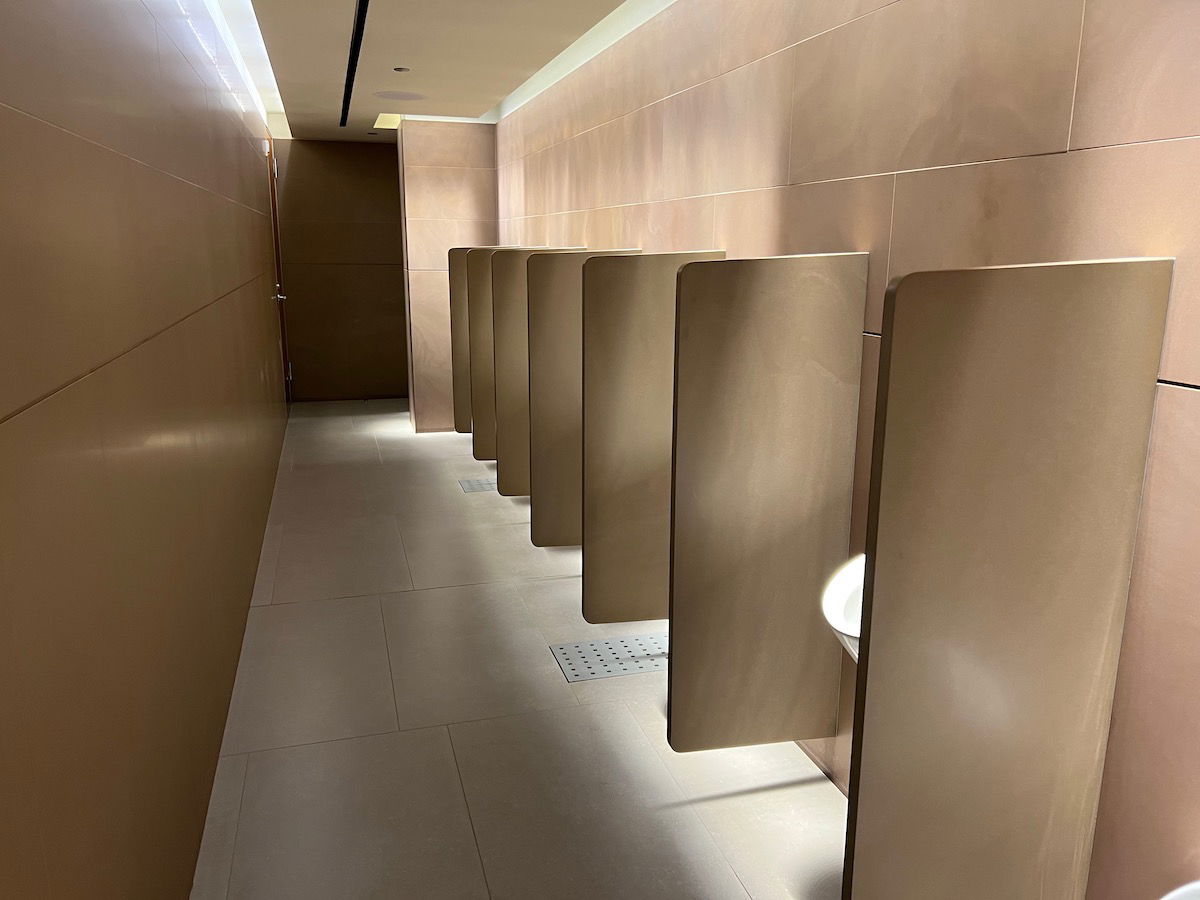 Qatar Airways Al Mourjan Business Lounge Doha business center
The Al Mourjan Lounge has a legitimate business center, more than you'll find in just about any other lounge. This has everything from printers, to workstations, to conference rooms, to PCs. It almost feels like a legitimate office or coworking space.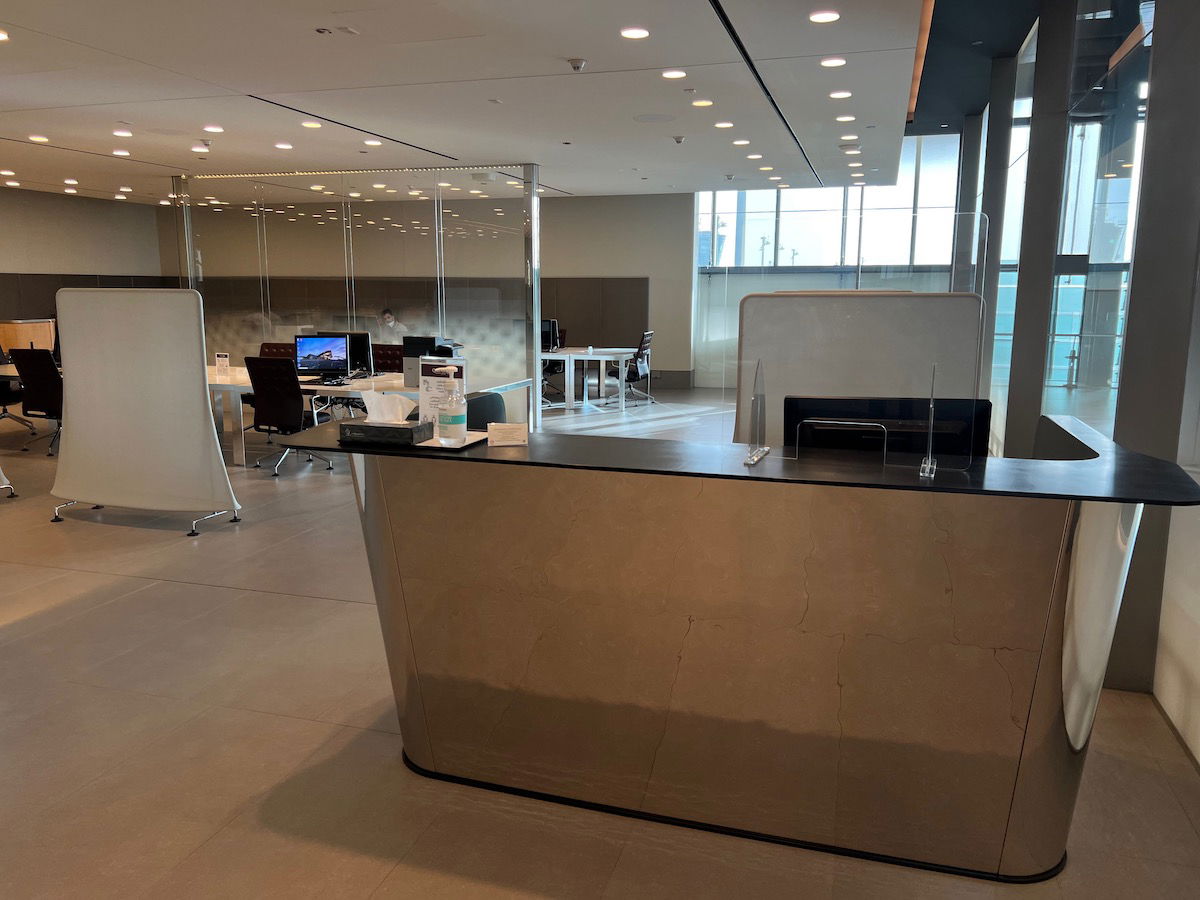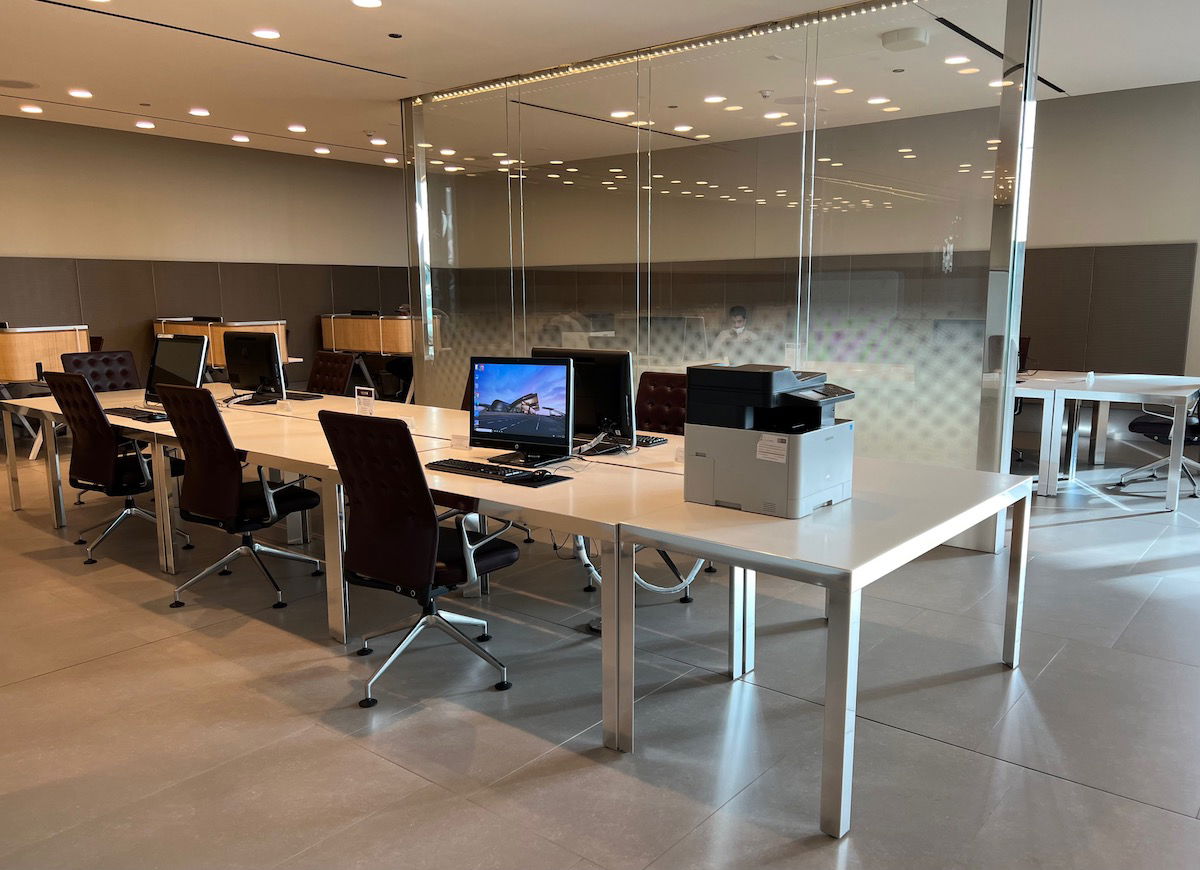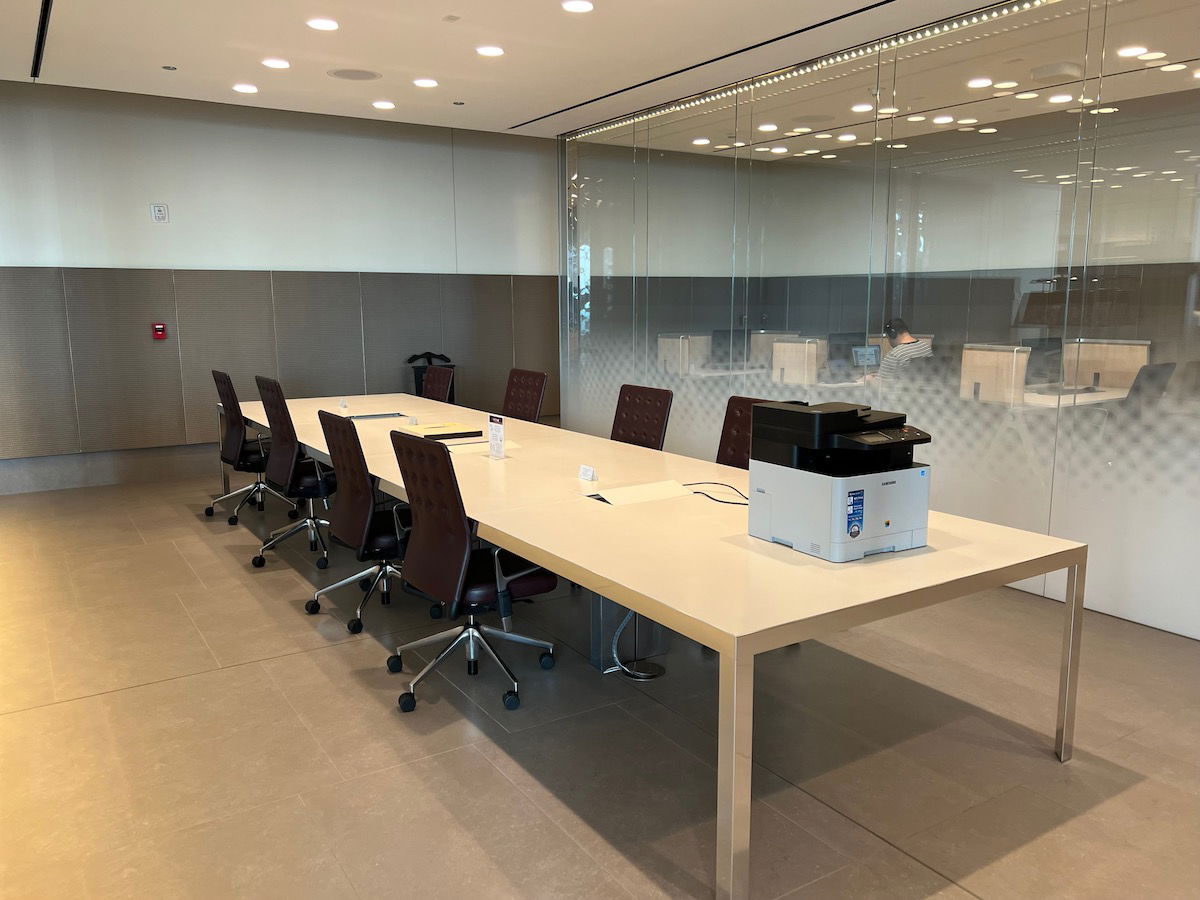 Qatar Airways Al Mourjan Business Lounge Doha game & kids rooms
The Al Mourjan Lounge has a few different rooms for kids, teens, and even gaming. I'll let the pictures speak for themselves, as I didn't use these.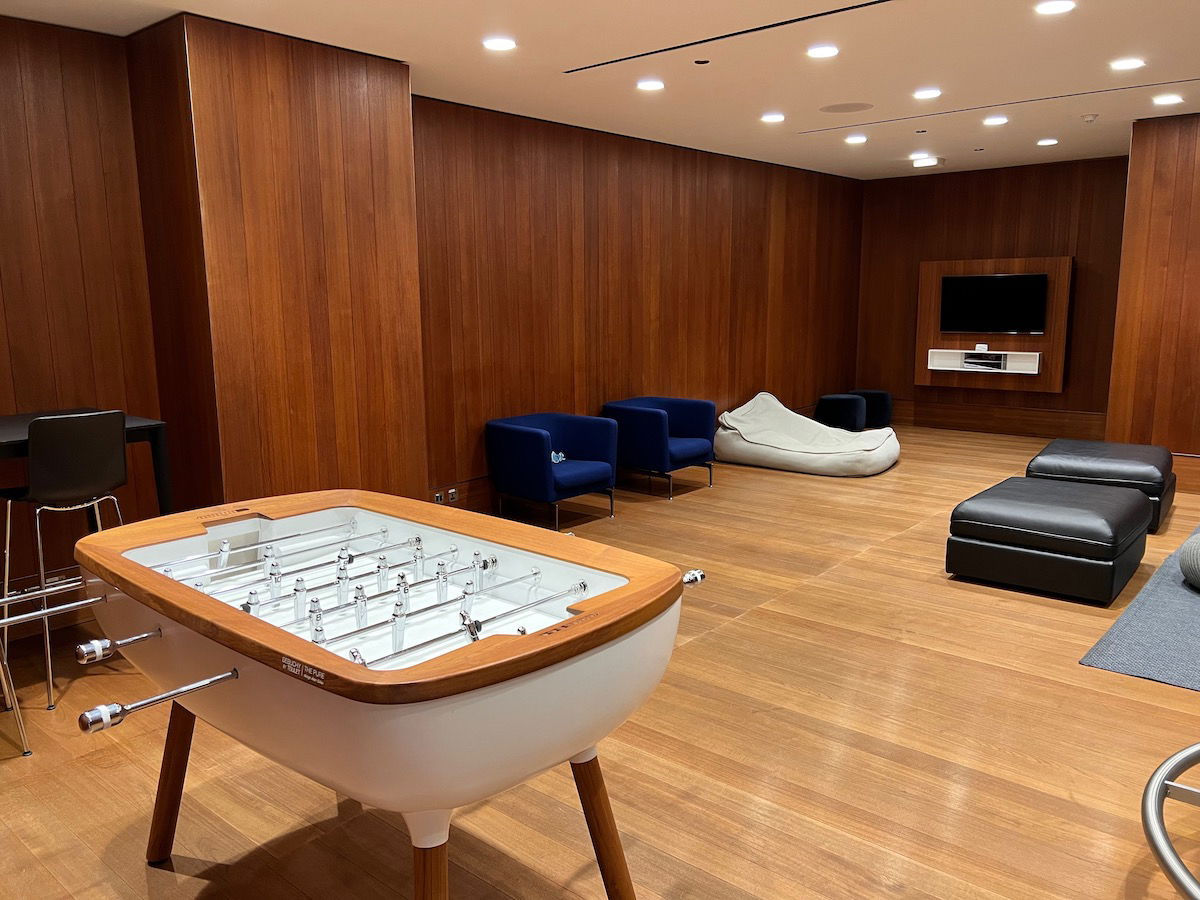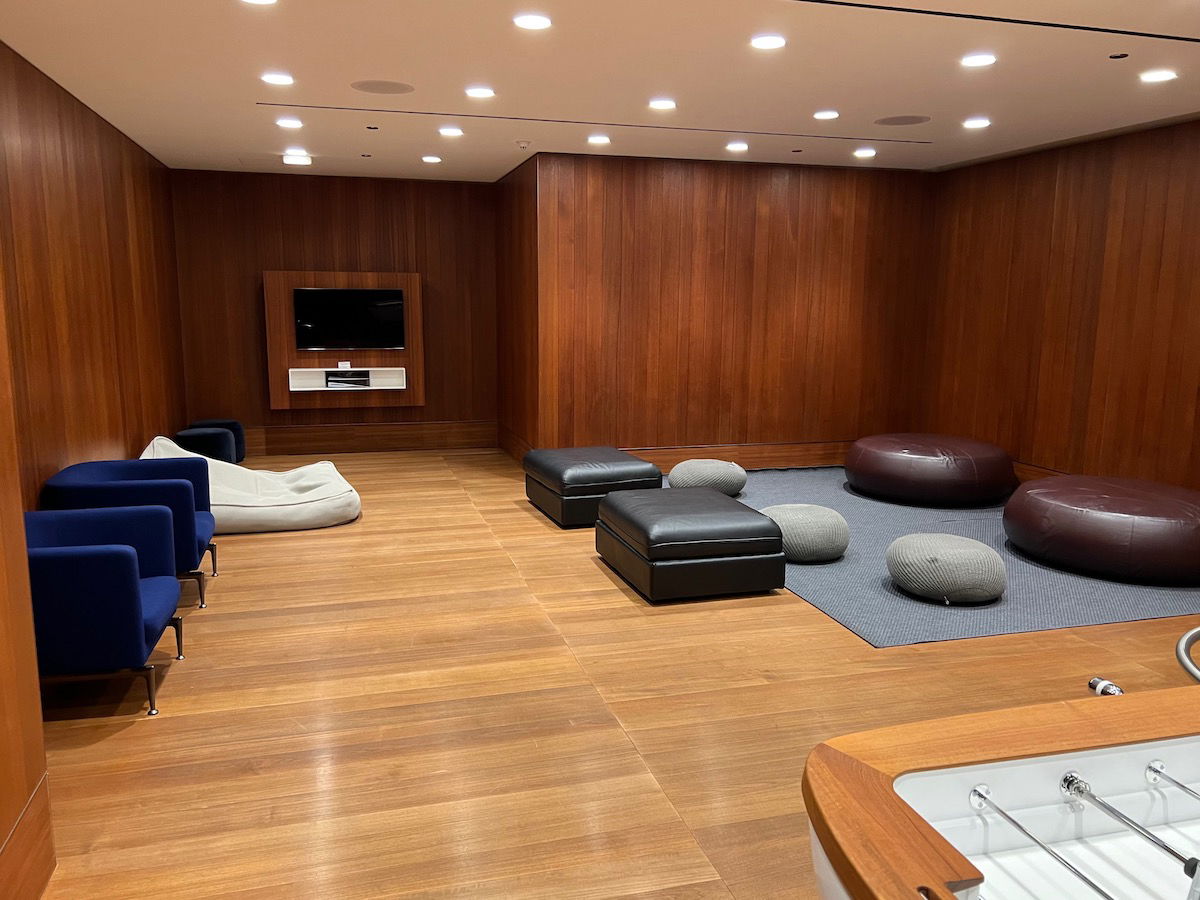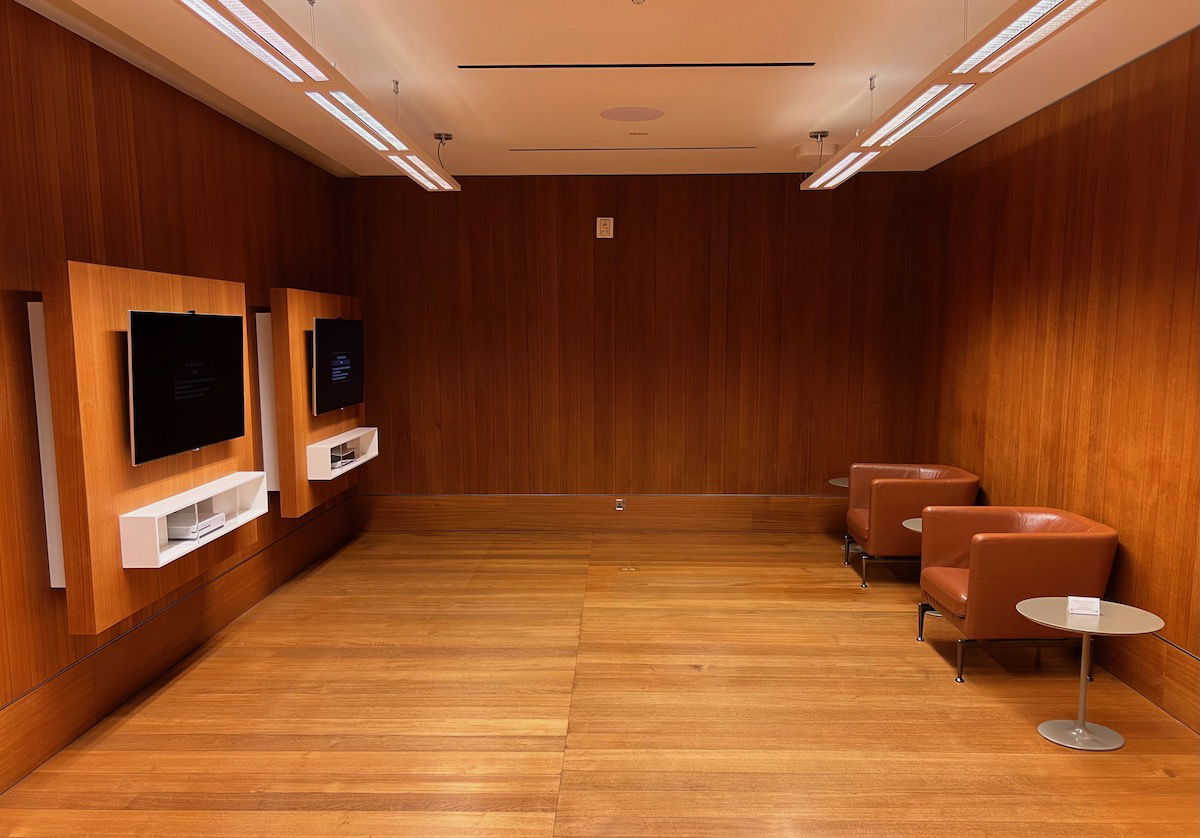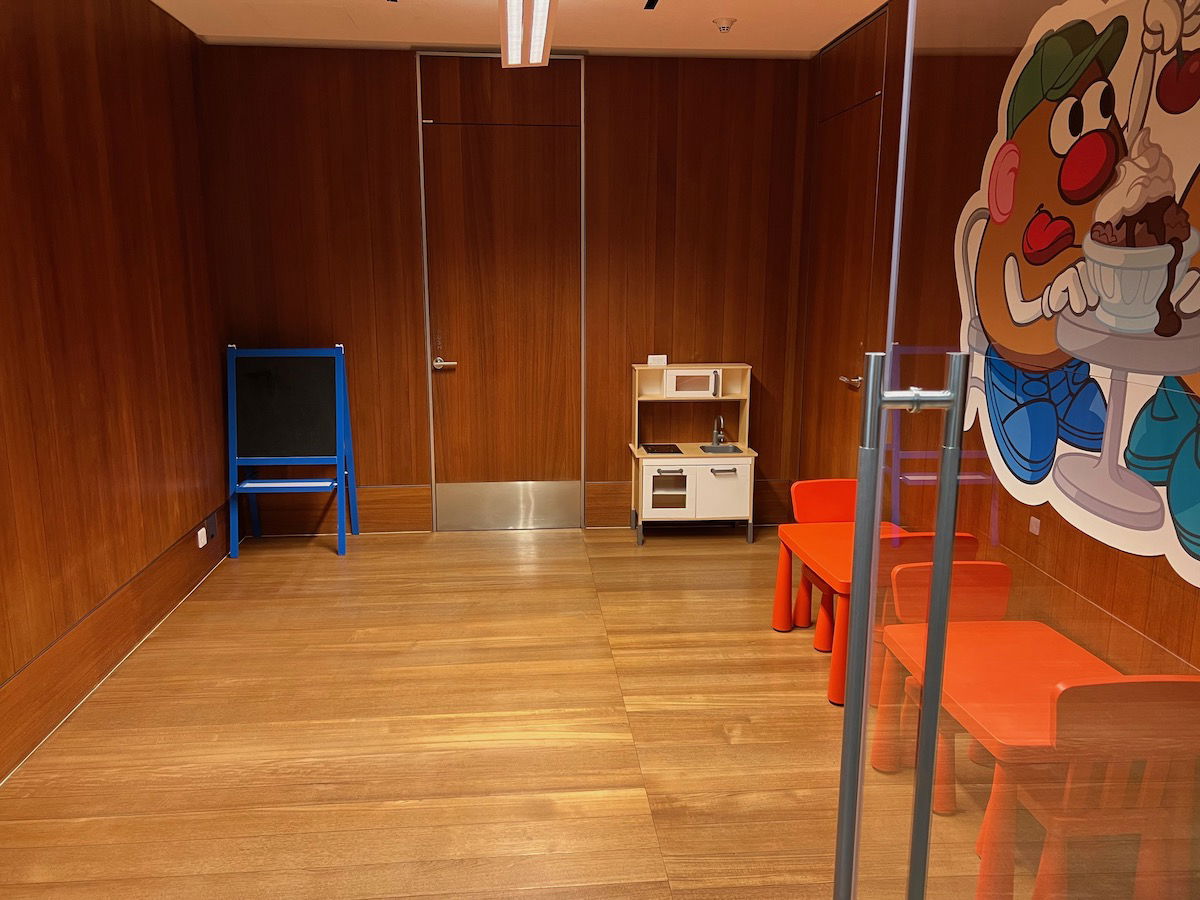 Qatar Airways Al Mourjan Business Lounge Doha smoking room
If you're a smoker, the Al Mourjan Lounge has a dedicated smoking room. While not as luxurious the cigar bar in the Emirates First Lounge Dubai, this should help any smoker get their fix between flights.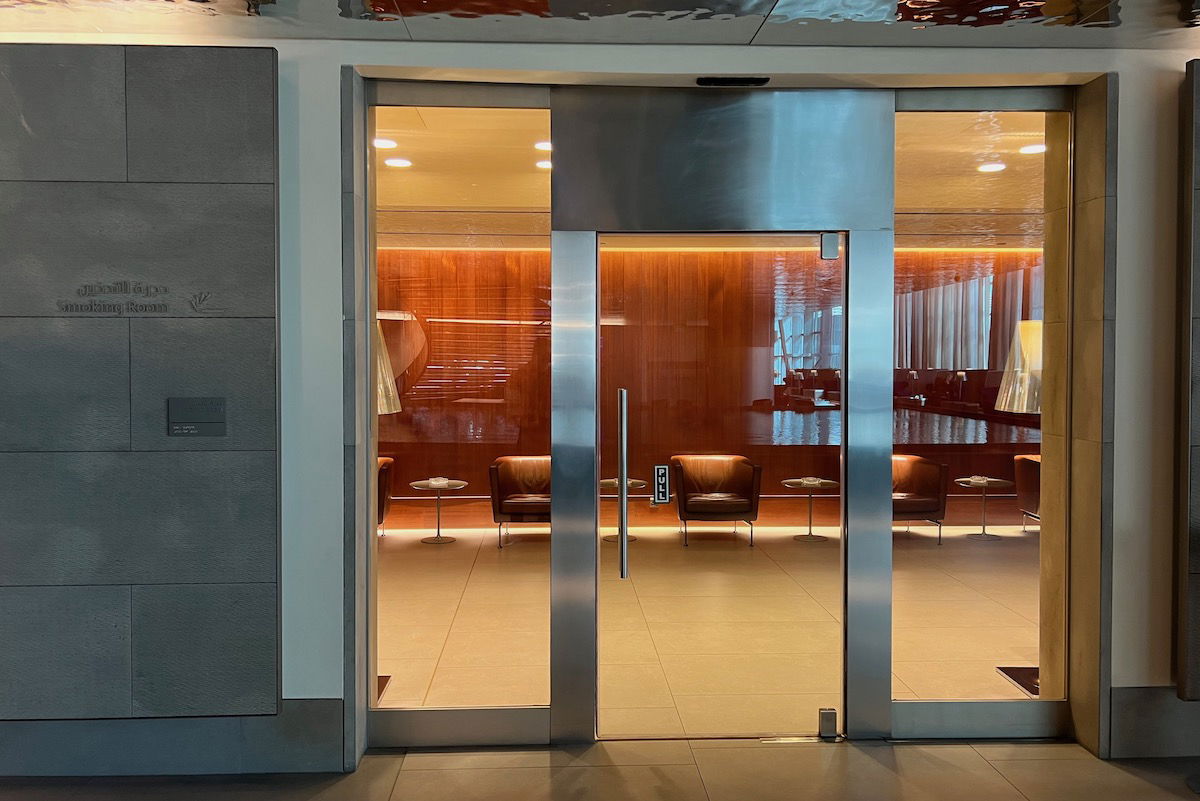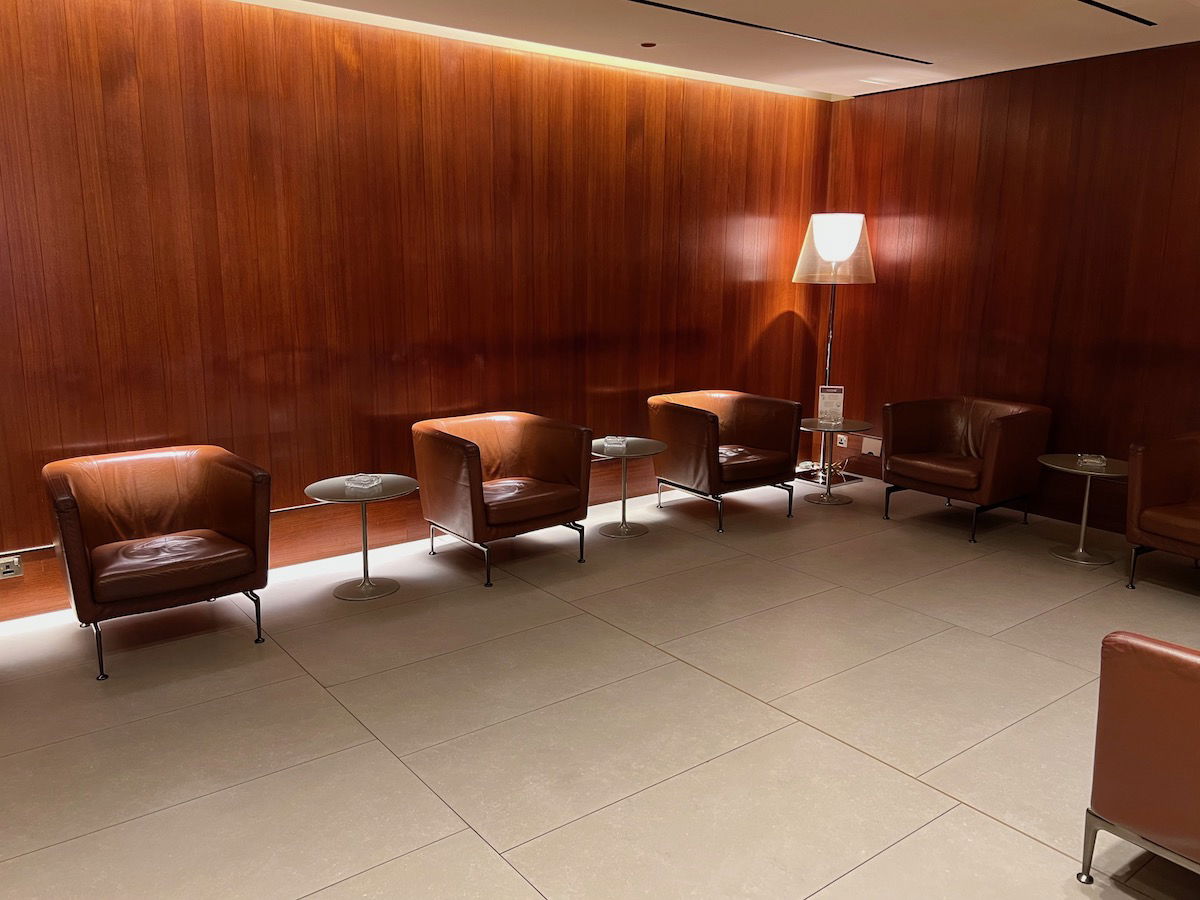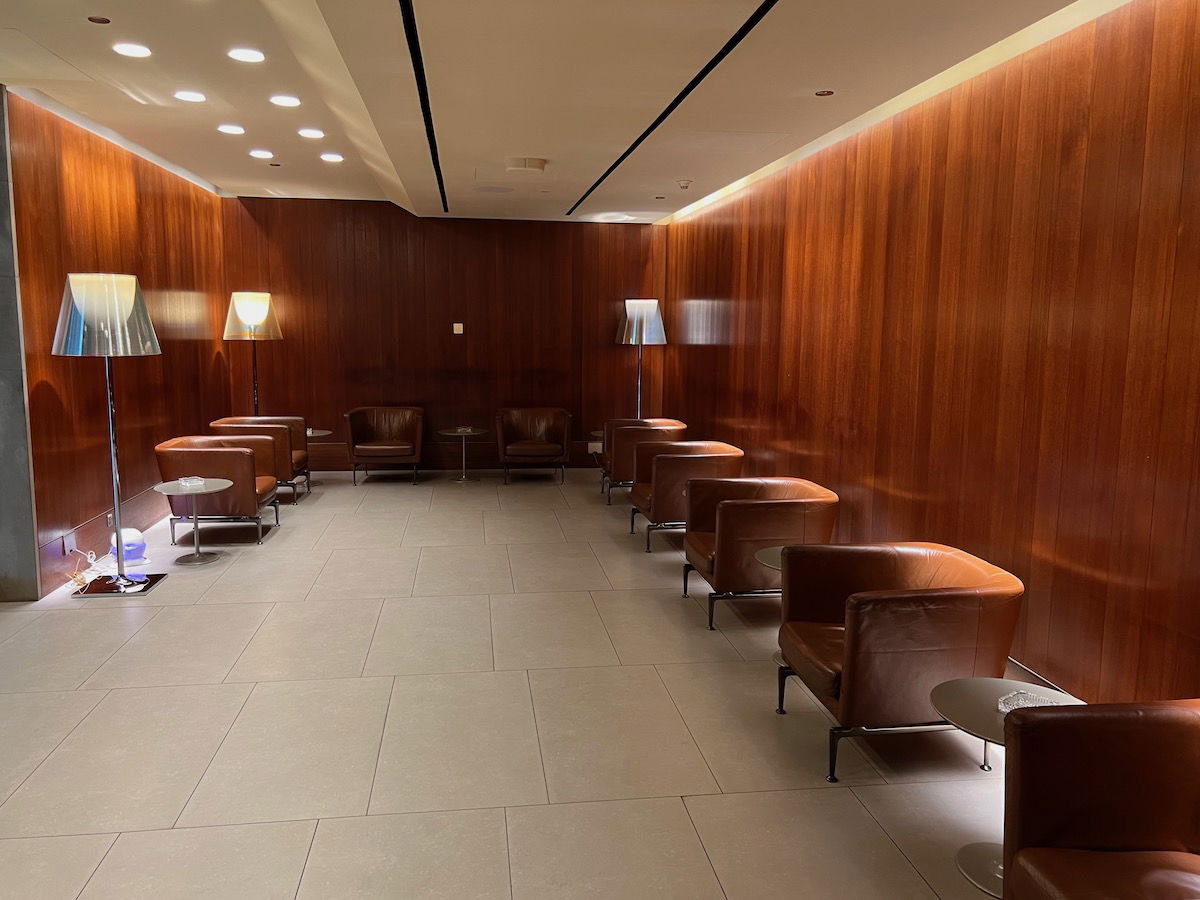 Qatar Airways Al Mourjan Business Lounge Doha lockers
The Al Mourjan Lounge has lockers, which are inside the entrance to the lounge and to the right. You can store your luggage here, though there's someone on staff to record your flight information, etc., presumably for security reasons, and so that stuff isn't left behind.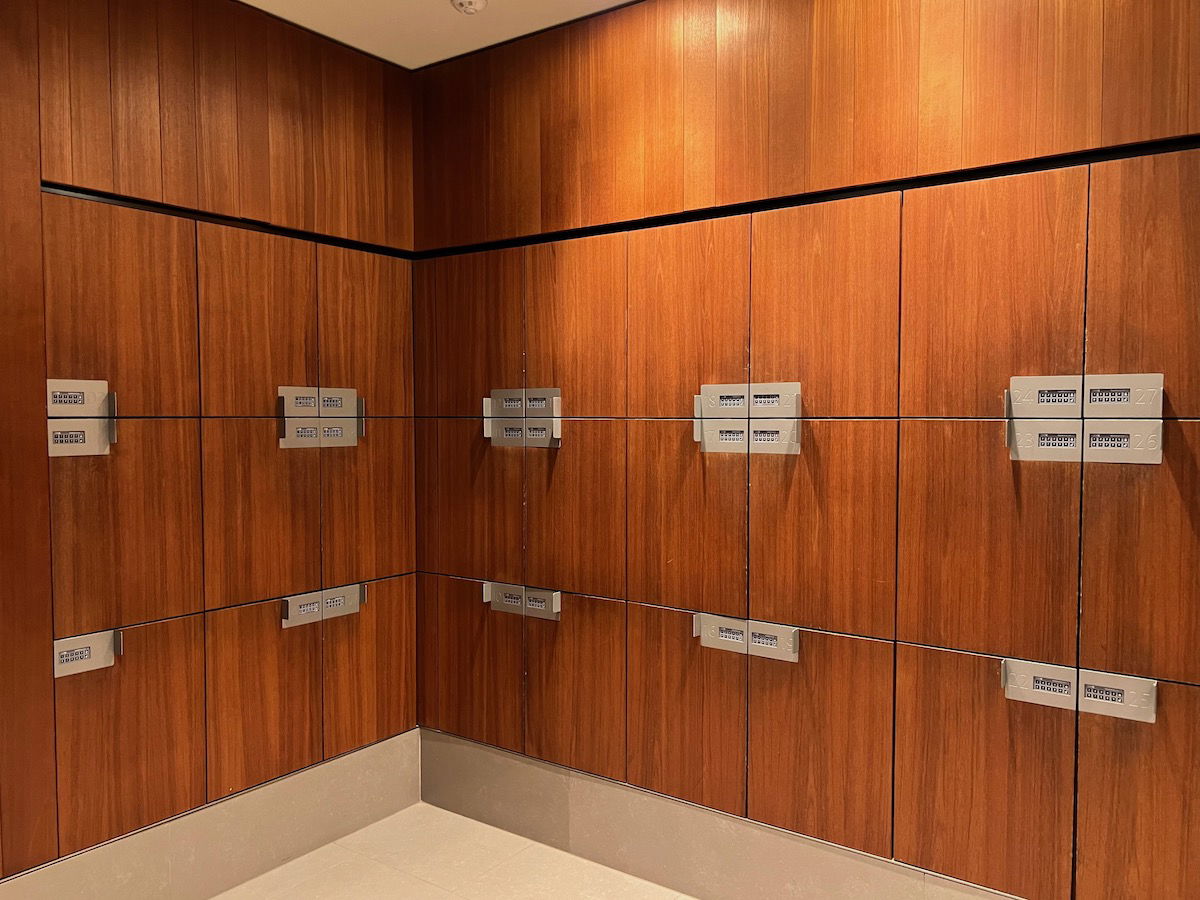 We found the luggage storage to be useful, since it makes it easier to freely roam around the lounge. Furthermore, given how much time we had at the airport, we decided to spend some time walking around the terminal, and it was nicer to do that without luggage.
Bottom line
The Qatar Airways Al Mourjan Lounge is excellent, and easily one of the best major business class lounges out there. The lounge has beautiful architecture, good food and drinks, nap rooms, shower rooms, a business center, and much more.
This lounge is simply on a different level when it's empty, which is most of the day. There's no denying that the lounge's vibe changes when it fills up, though, during one of the three main daily flight "banks."
If you've visited the Qatar Airways Al Mourjan Lounge, what was your experience like?