EXTRA PERKS AVAILABLE
Enjoy breakfast, upgrades, & more
Want to take advantage of Hilton Impresario benefits at no extra cost (when paying for your stay with cash), including a room upgrade, free breakfast, a hotel credit, and more? Contact Ford ([email protected]) for more details. He doesn't charge booking fees, and may even be able to help if you already have a stay booked.
I've been to Dubai more times than I can count, but this time decided to mix things up and stay in Dubai International Financial Centre (DIFC) for the first time. I'm really happy we did, because we stayed at the Waldorf Astoria DIFC for two nights, which we loved. I'd wholeheartedly recommend this hotel, and would return in a heartbeat.
You absolutely shouldn't stay here if you're looking for a beach or pool getaway (in that case the Waldorf Astoria Palm Jumeirah would be a better option). However, if you're like me and view Dubai more as a cosmopolitan city and want easy access to great restaurants, shopping, other attractions, and the airport, then the Waldorf Astoria can't be beat.
Booking the Waldorf Astoria Dubai DIFC
We booked our two night stay at the Waldorf Astoria DIFC though the Amex Fine Hotels & Resorts program. The rate was just under $300 per night, and for booking through Amex FHR we received several perks, including a room upgrade, free breakfast, a $100 hotel credit, and guaranteed 4PM late check-out.
On top of that, the Amex Platinum offers a $200 annual Amex Travel credit, so I was able to apply that toward this stay, which lowered my out of pocket even further.
I'm also a Hilton Honors Diamond member, so some of the perks (like free breakfast and an upgrade) were redundant. If not booking through Amex FHR, I'd recommend instead booking through the Hilton Impresario program, which offers largely similar perks.
For what it's worth, the hotel was charging 80,000 Hilton Honors points per night for the stay. Based on my valuation of 0.5 cents per point, paying cash was the better value.
Waldorf Astoria Dubai DIFC service
Usually I mention service at the end of my reviews, but in the case of the Waldorf Astoria DIFC, I can't help but start with that. I find that service in Dubai can be a mixed bag — it's generally well intentioned, but often not attentive or cohesive.
The Waldorf Astoria DIFC has the best service I've experienced at any hotel in Dubai, period. Literally every single employee we interacted with — from the front office staff, to housekeeping, to the restaurant staff — was exceptionally friendly and polished.
Everyone at the property basically had a "what else can I do for you?" attitude, and that was so refreshing to see. Just to give a few examples:
When we were in the elevator with hotel staff, we'd always be asked how our stay was going, and if there's anything they could do for us
The restaurant staff were all just so lovely, and at breakfast you didn't have to ask for a drink refill, but were offered one before your previous drink was half done
At check-out, we were asked the bravest question a front office employee can ask, which you only ask if you're genuinely looking to improve — "is there anything we could have done better?"
Everyone took such pride in the hotel and their jobs — for example, at Peacock Alley I loved the detail that the server went into in describing how the drinks were made
The housekeeping staff were extremely detail-oriented; for example, we drank all the water in the room the first day, so on the second day they left double as much bottled water in our room
The hotel treats Diamond members very well; we were offered a proactive suite upgrade, and when I asked about late check-out, we were proactively offered 6PM check-out at no cost
Waldorf Astoria Dubai DIFC location
As you may have guessed based on the name, the Waldorf Astoria is located in Dubai International Financial Centre. Don't be deceived by the name — this area isn't just interesting if you're in Dubai for business. Think of it more as being in the downtown area of the city, with great restaurants and walkability (by Dubai standards).
The hotel is within a 10 minute walk of all kinds of top restaurants, and just a 15 minute walk from the Dubai Mall. You're also just a 15 minute drive from Dubai International Airport (DXB), which is convenient if you're just planning a brief stopover in Dubai.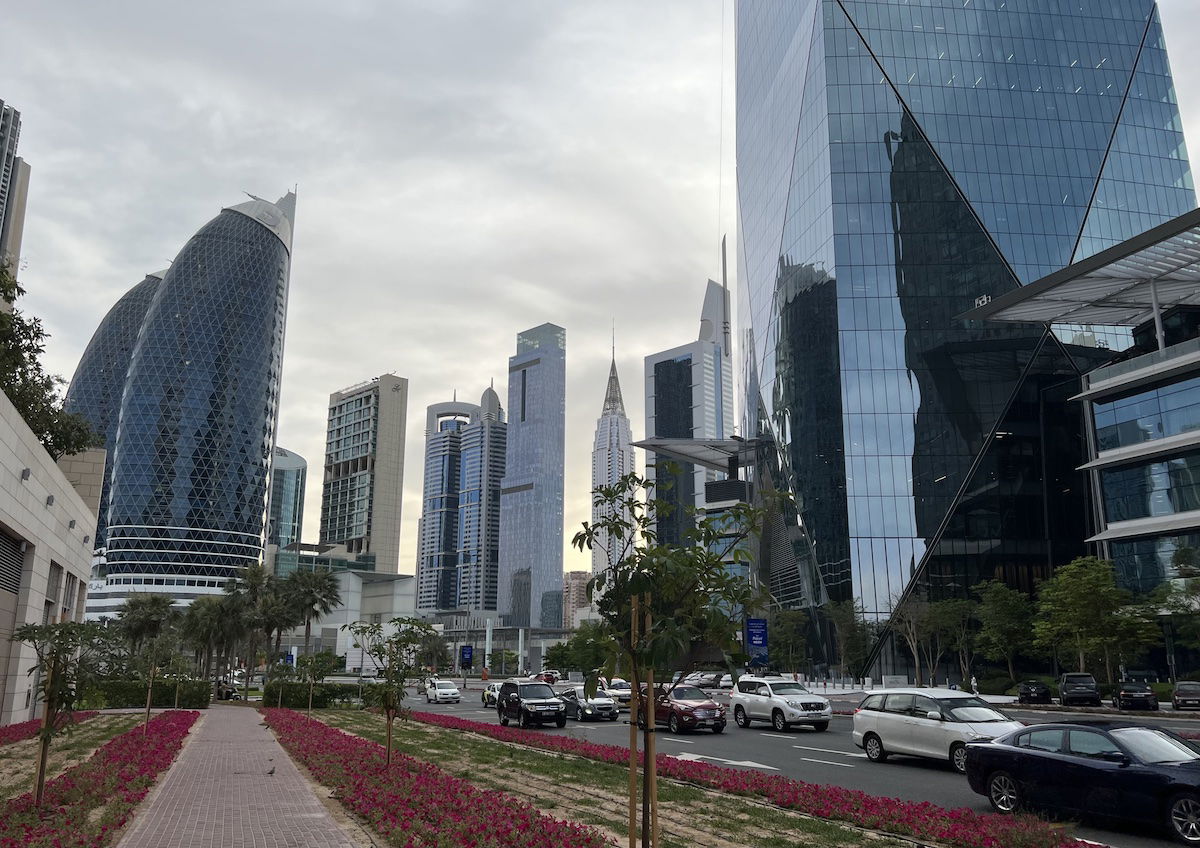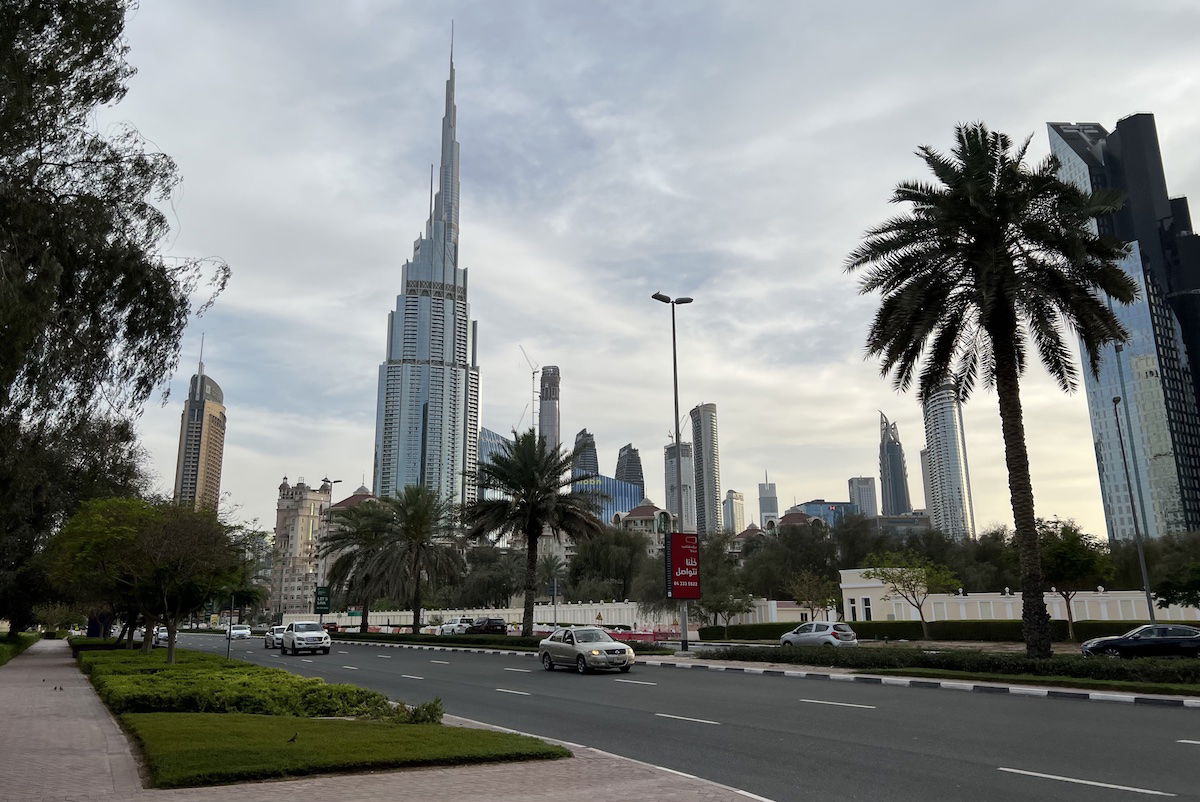 The Waldorf Astoria is located in a massive 56-floor mixed use development, with has the hotel, apartments (not in any way connected to Waldorf Astoria in terms of branding), and offices. Even though the building is massive, the hotel feels surprisingly boutique, especially given how many rooms it has.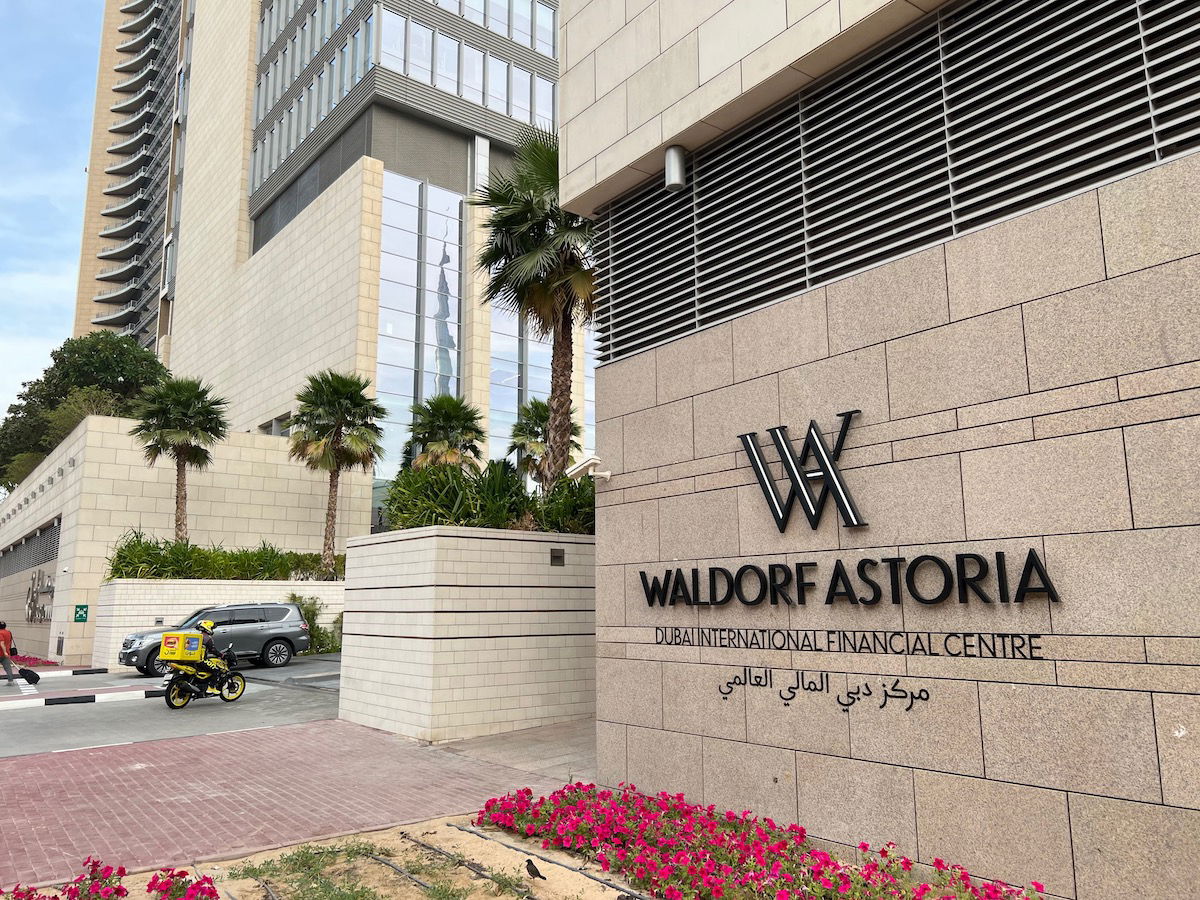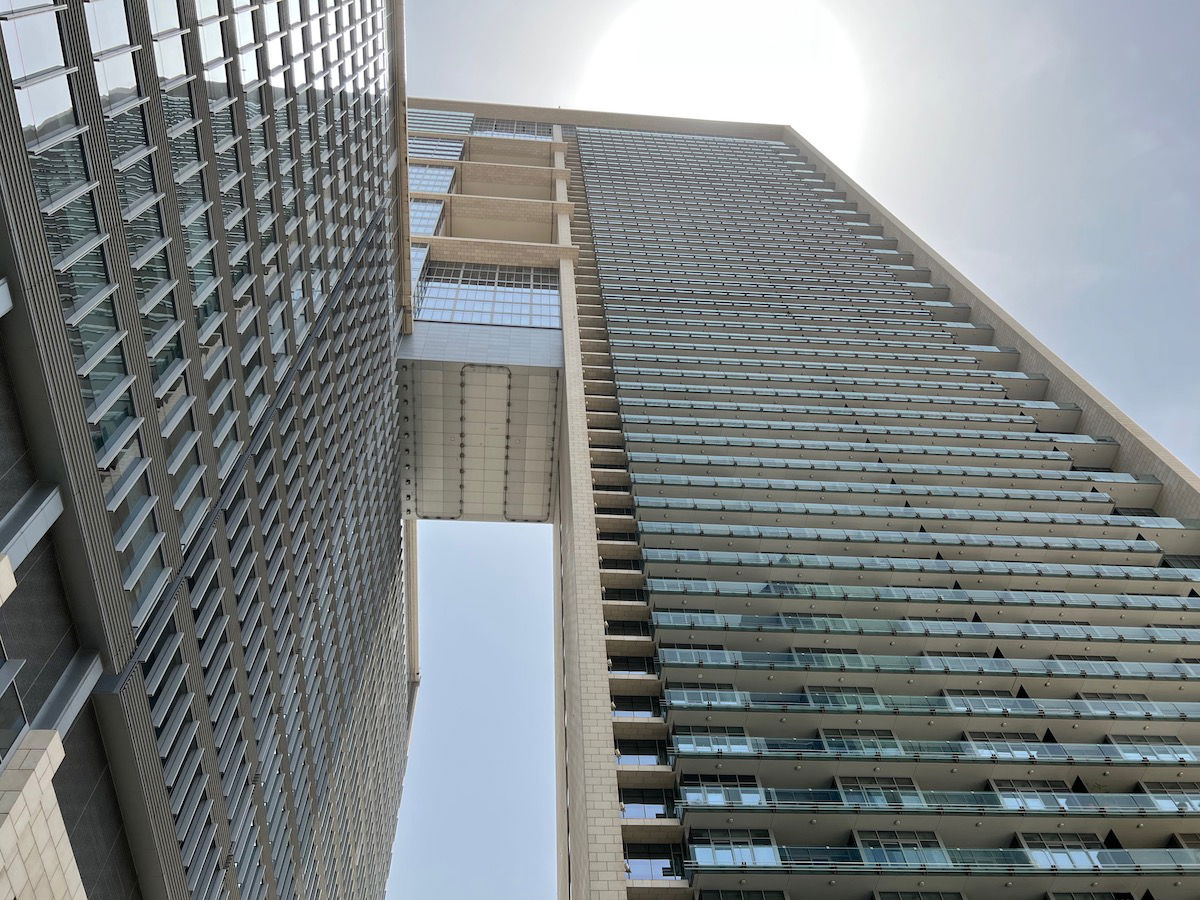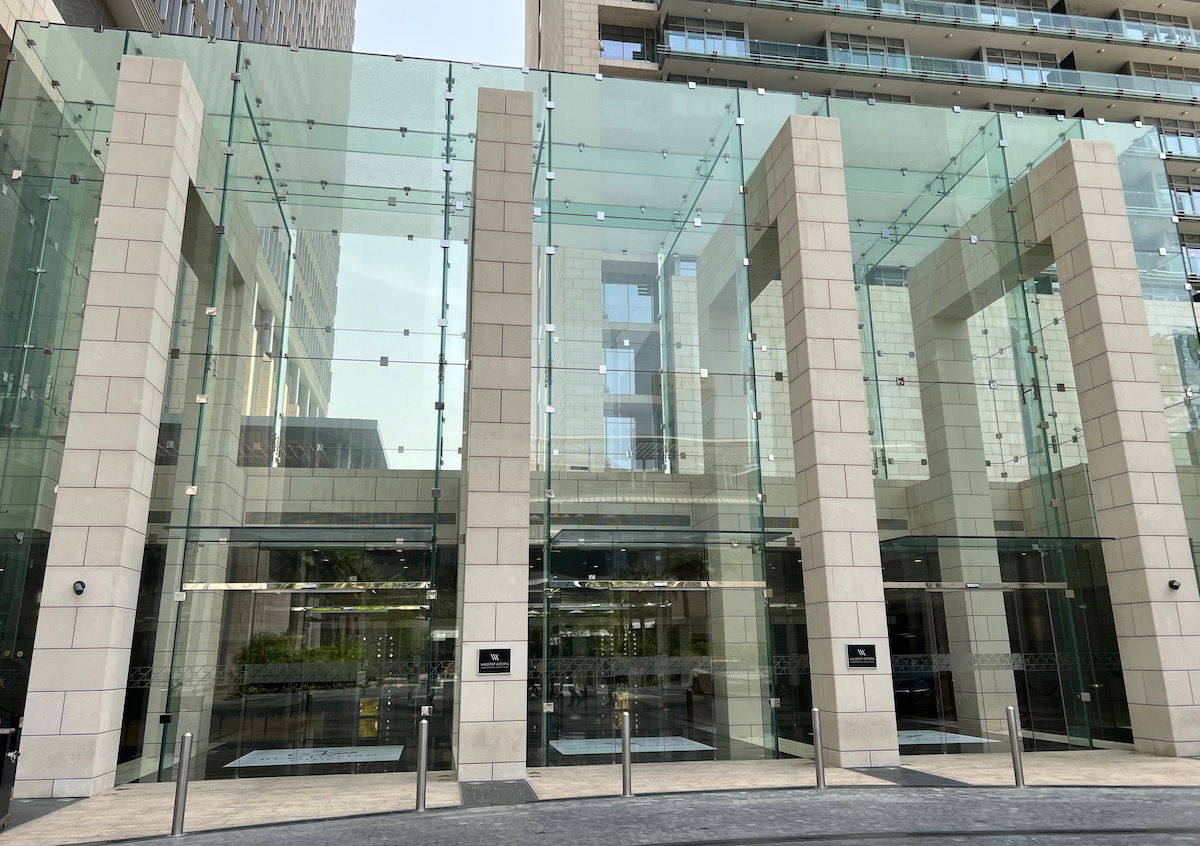 Waldorf Astoria Dubai DIFC lobby & check-in
The Waldorf Astoria DIFC's lobby is located on the 18th floor, and then rooms are located on the 27th through 55th floor. The hotel has 275 rooms, though as you can tell, there are fewer than a dozen rooms per floor. On the ground floor there are several hallways you have to walk through to get to the elevators leading to the 18th floor lobby.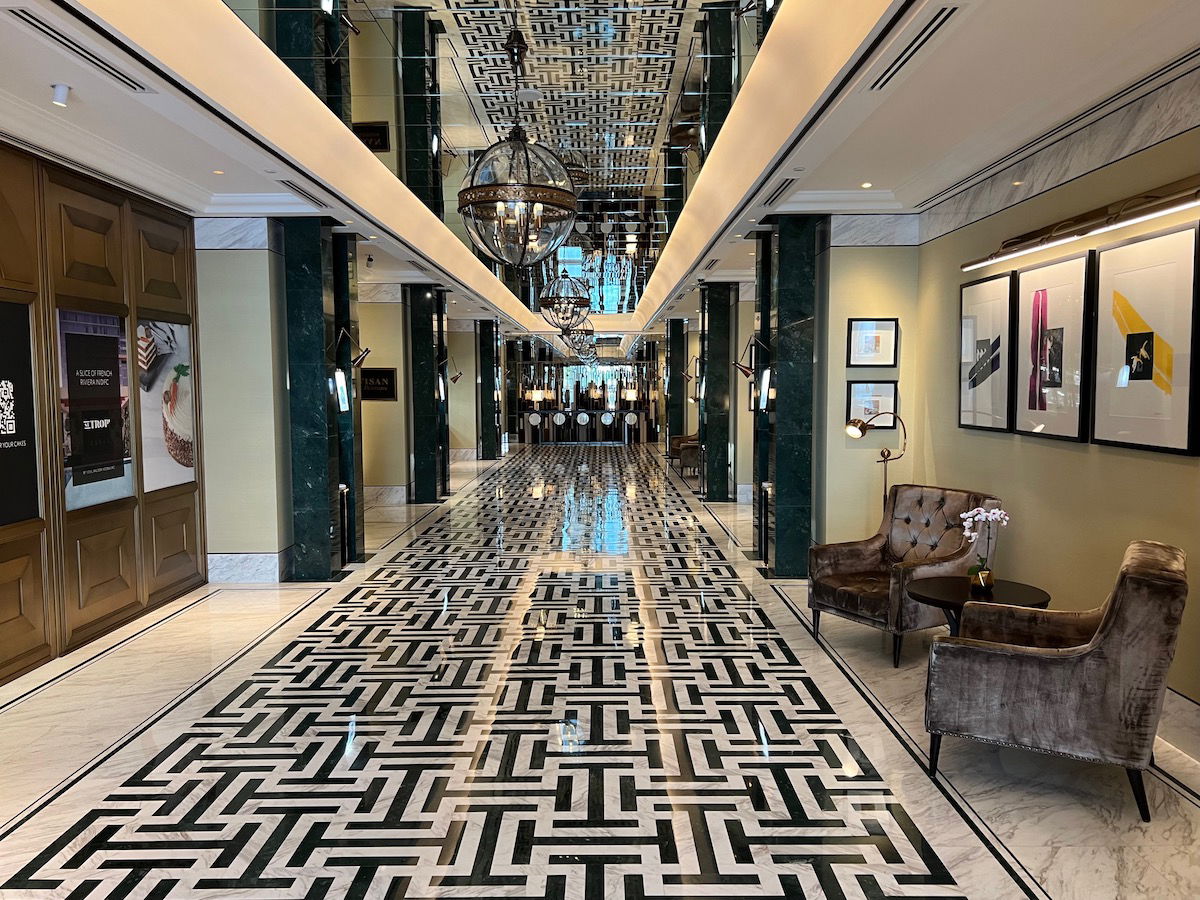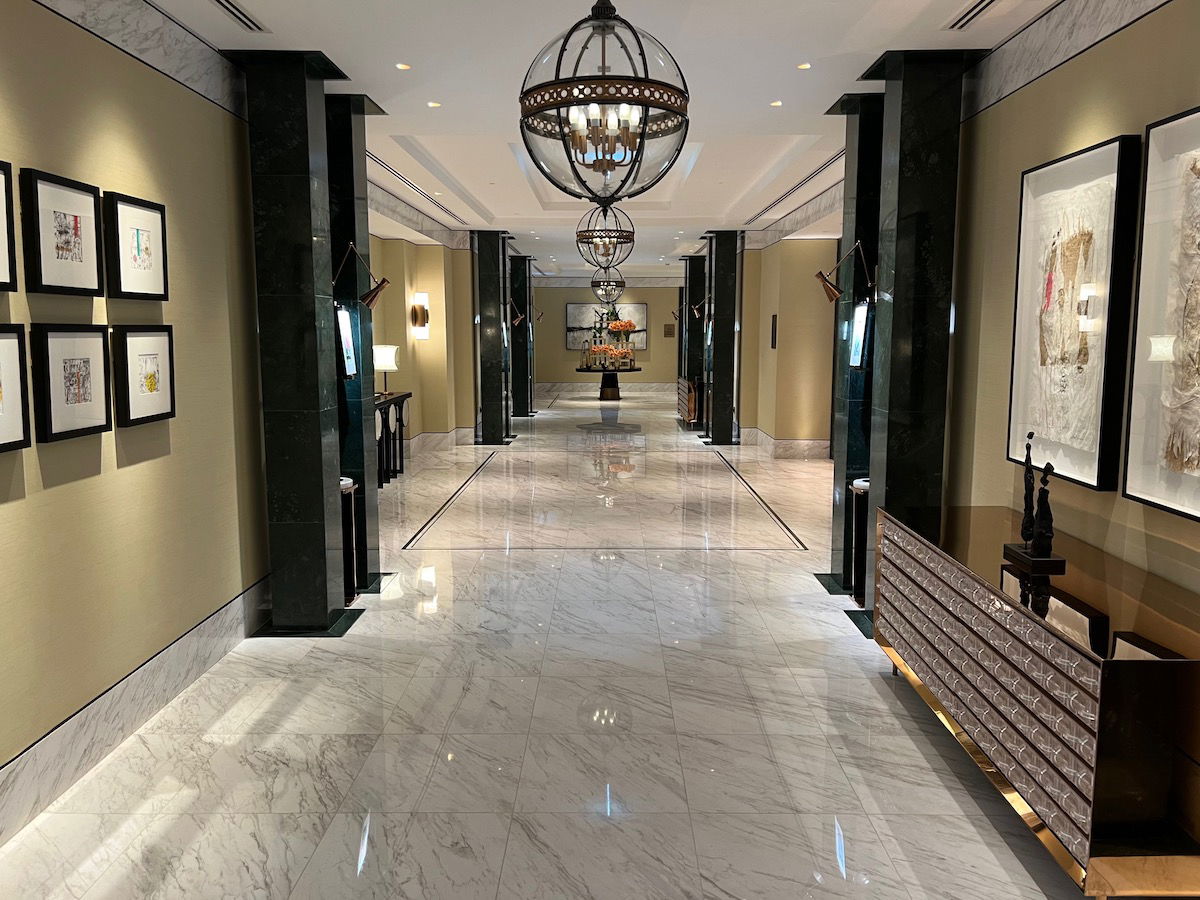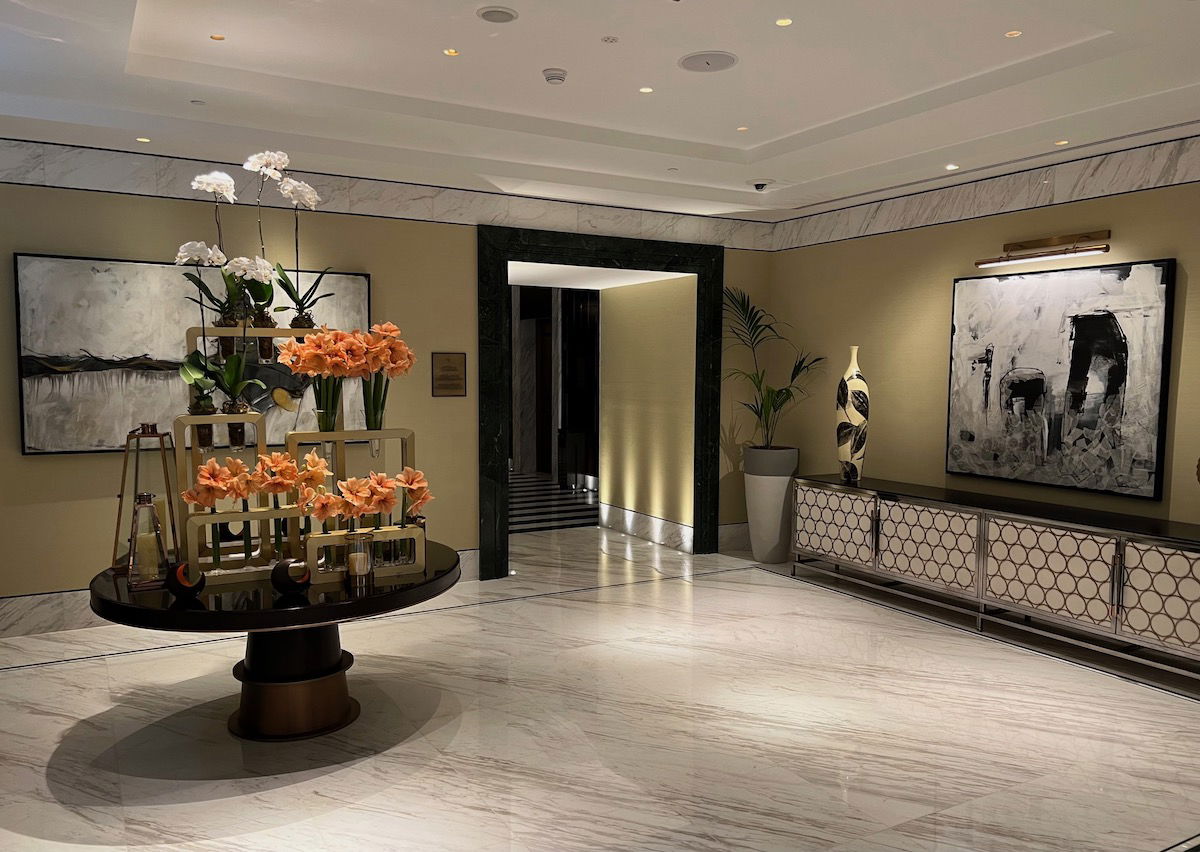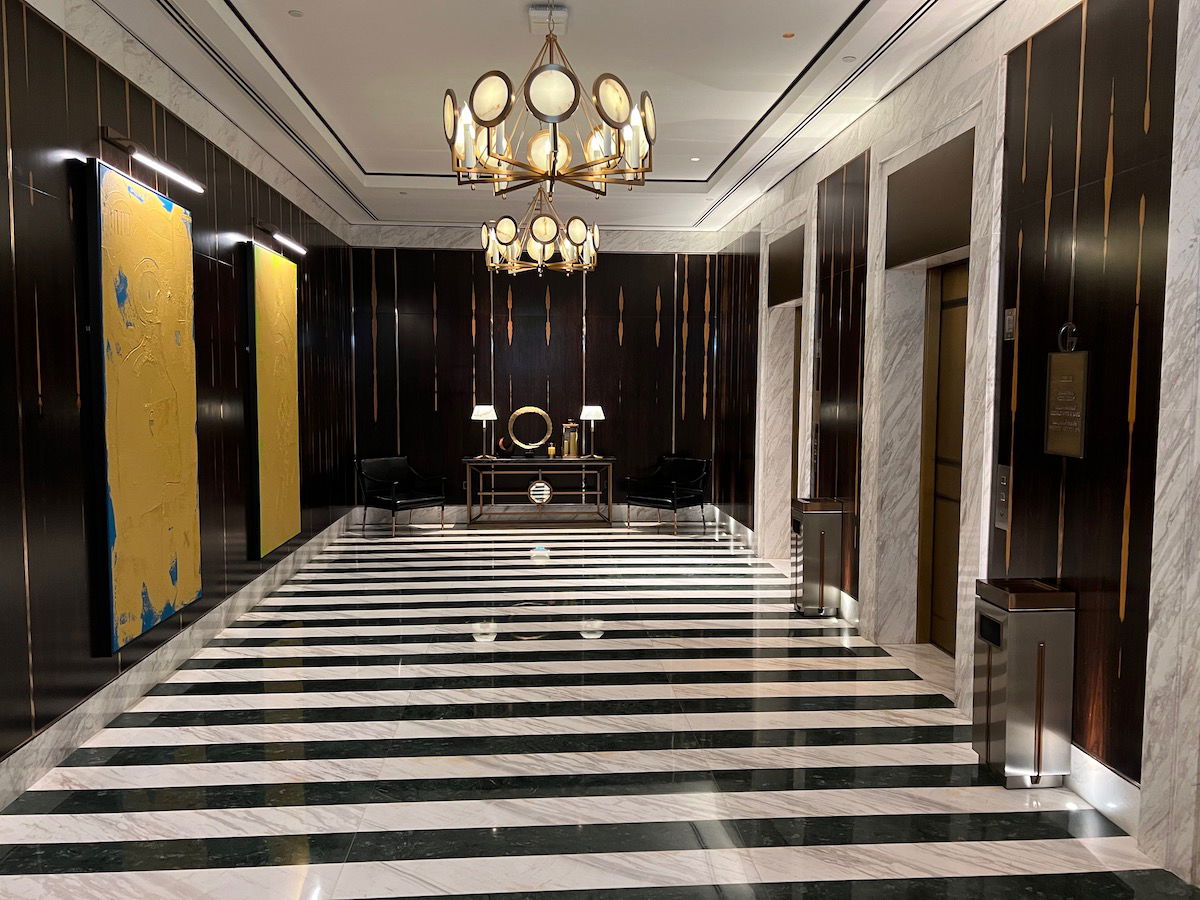 When you exit the elevator on the 18th floor, you'll find yourself in the gorgeous lobby. I loved the design of this hotel — it's elegant and modern without feeling gaudy. It also felt like no expenses were spared in the design, which seems pretty rare for newly opened hotels nowadays.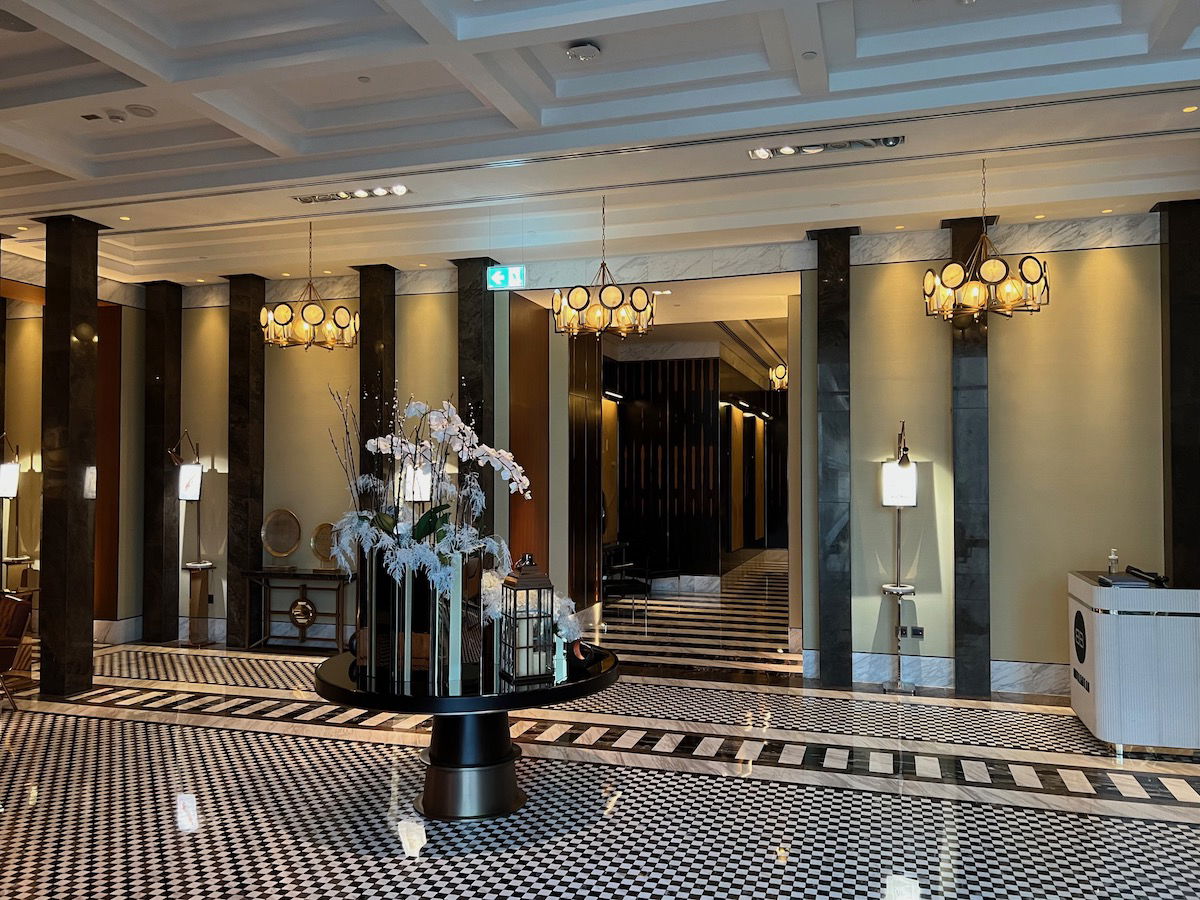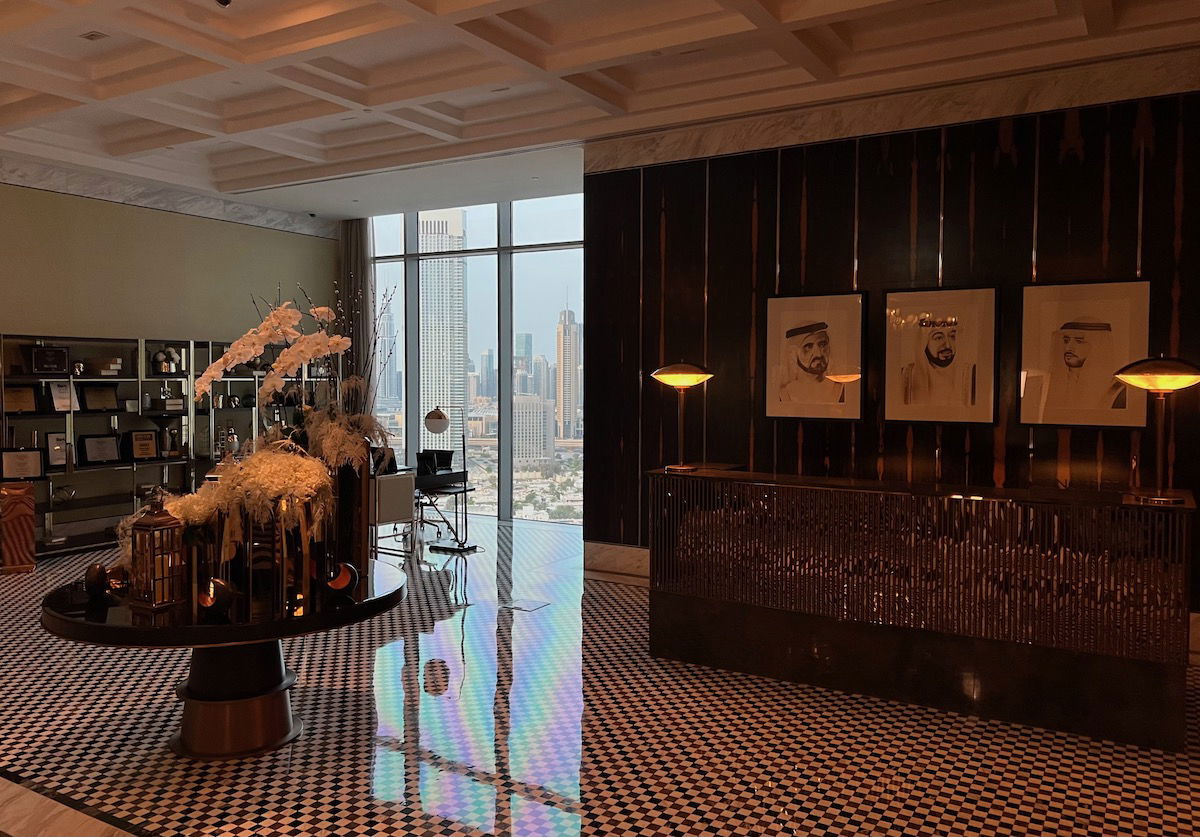 We arrived at the hotel at around 9AM, and were immediately helped at reception. The professional front office associate thanked me for being a Diamond member, and said that we had been upgraded to a suite, and that it was even ready for early check-in — woot!
Since I was traveling with Ford, I also appreciated the professionalism with which she addressed the bedding situation — "I have you booked in a room with one king bed, will that be okay?"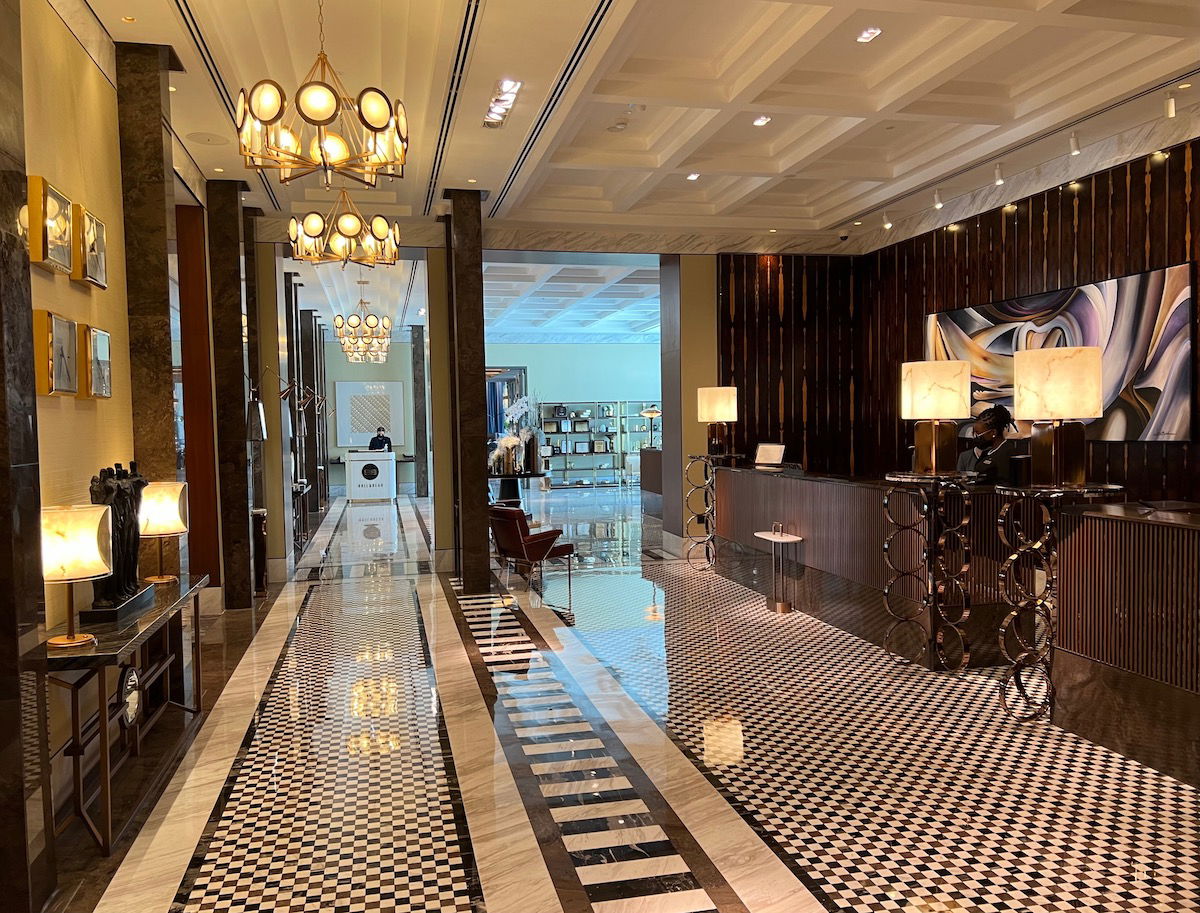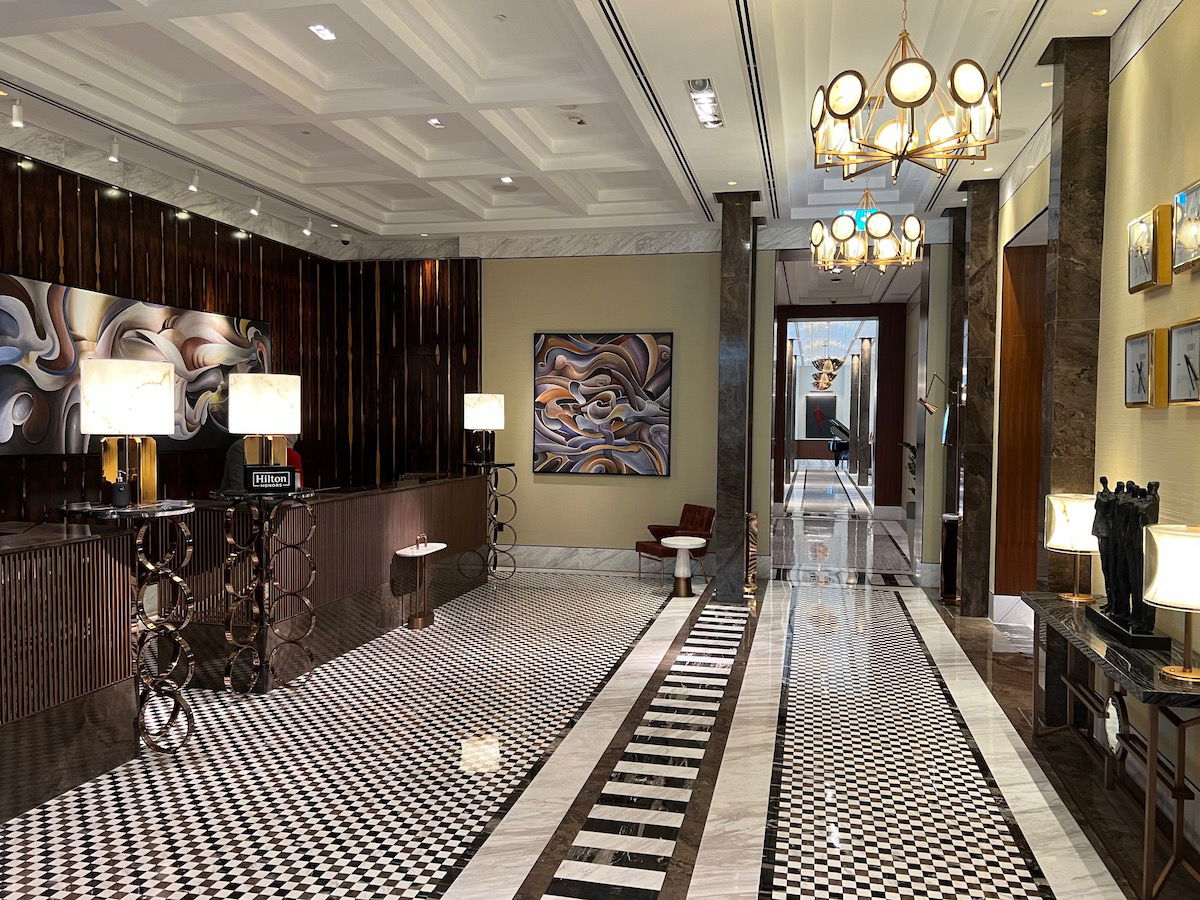 There are separate elevators leading up to the guest rooms, so within a few minutes we were in one of those headed to our room on the 41st floor. The elevators here are really fast.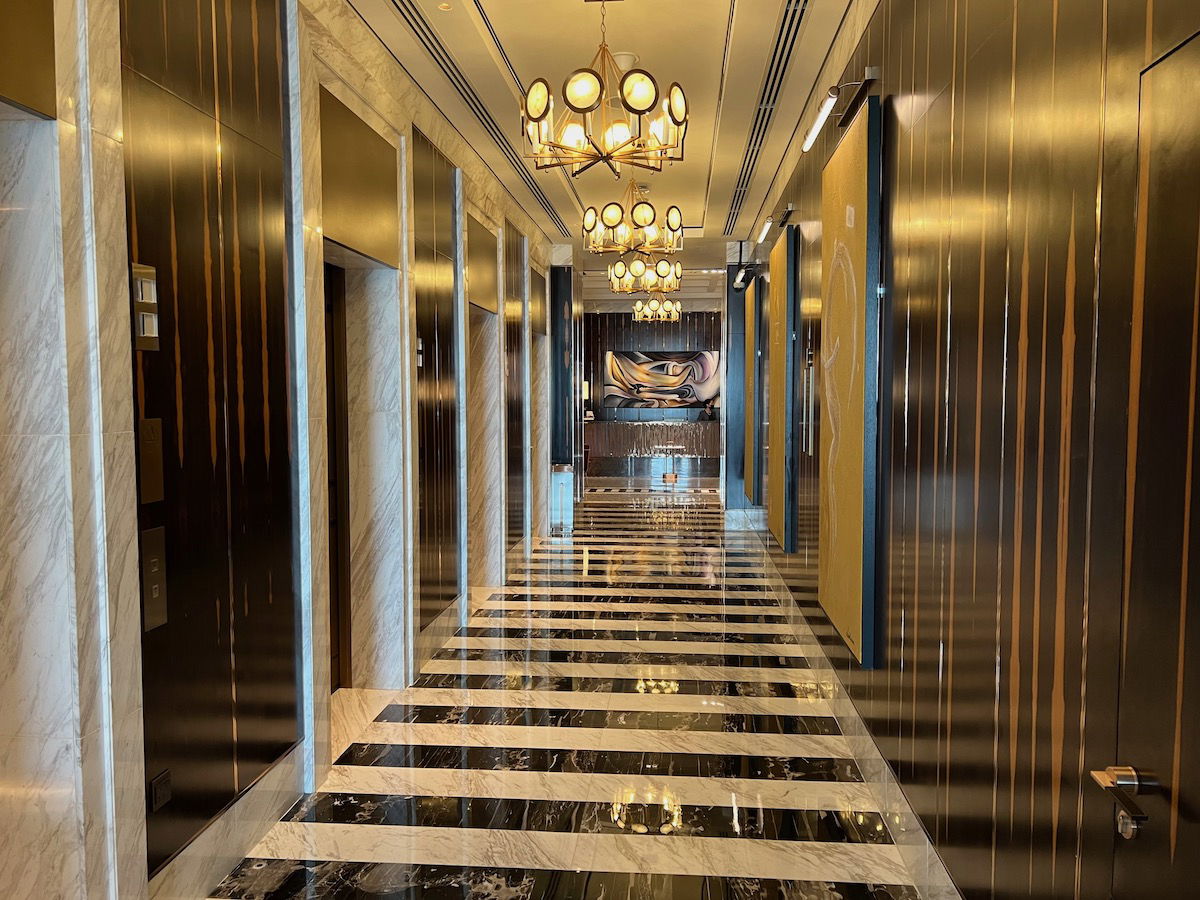 Waldorf Astoria Dubai DIFC suite
We were assigned room 4111, a king premier suite, which is the hotel's entry level suite. Unlike some other entry level hotel suites, this was one was legitimately huge, at 839 square feet, and had two separate rooms.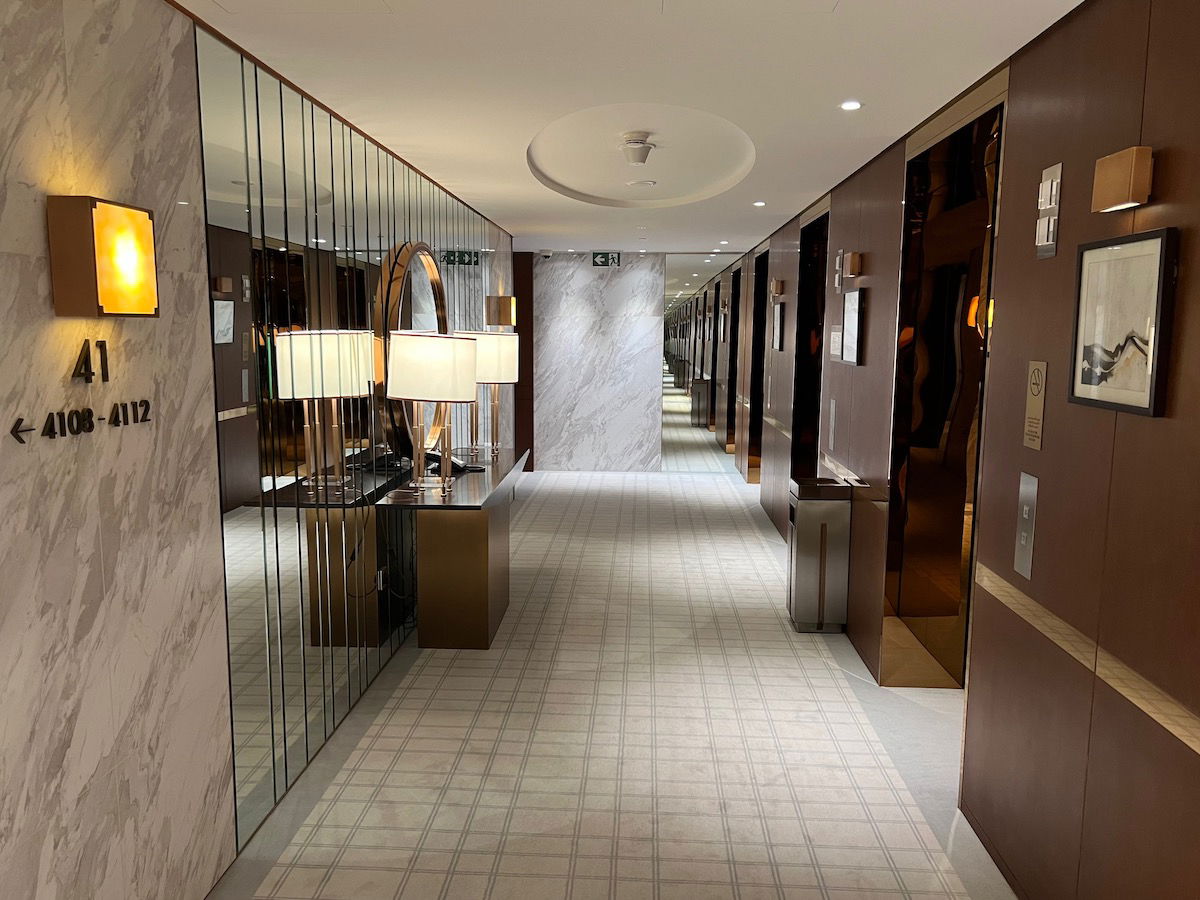 The suite featured a long entryway, with a mirror on the right, which had a half table and seat. Presumably this was more intended as art than as actual seating, as it looked pretty cool how the table was reflected in the mirror.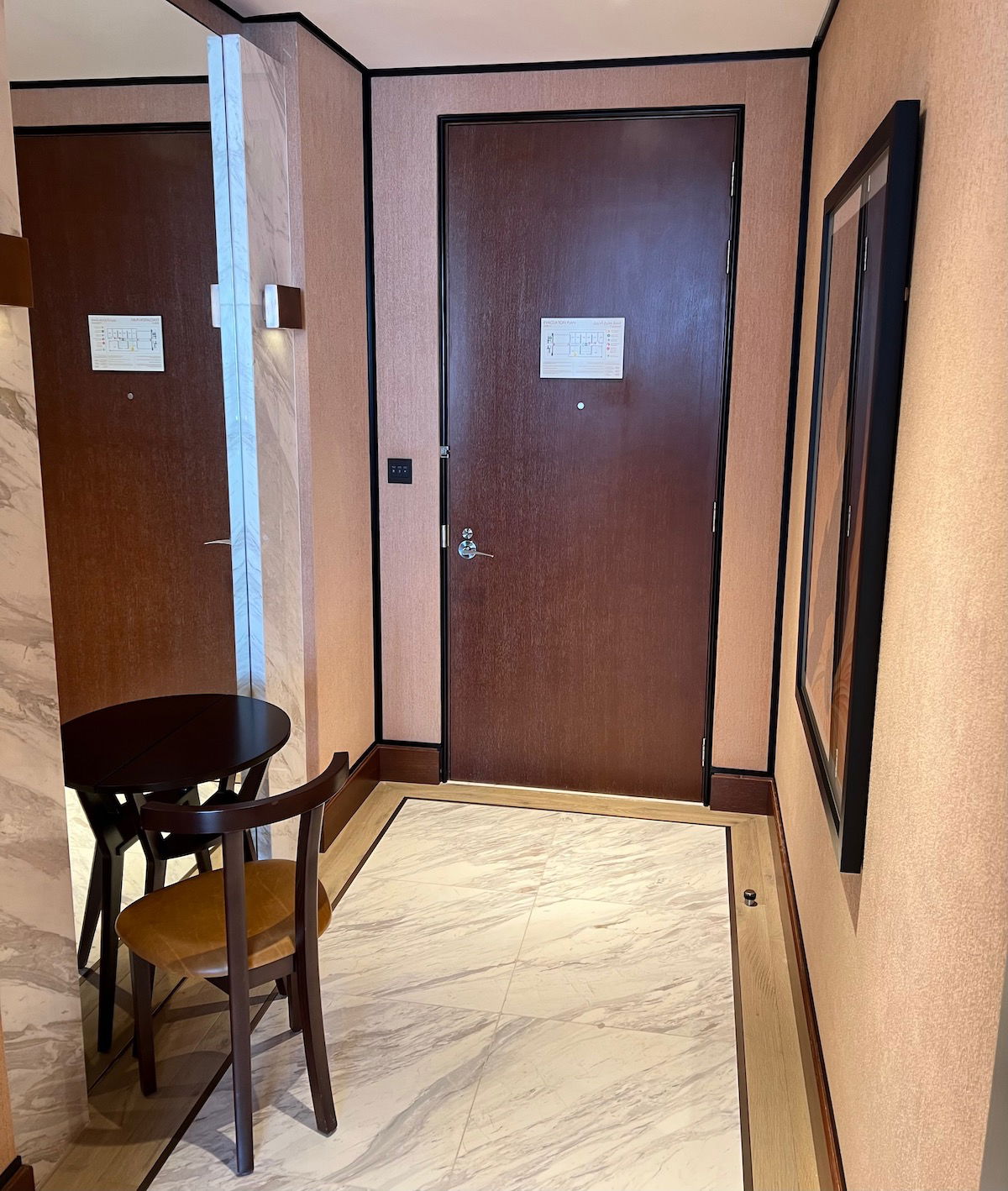 Down the hall was the living room, which had two couches, a coffee table, a desk with a chair, and a TV. I thought the suite was tastefully designed — it was modern and luxurious, but not in the typical Dubai way.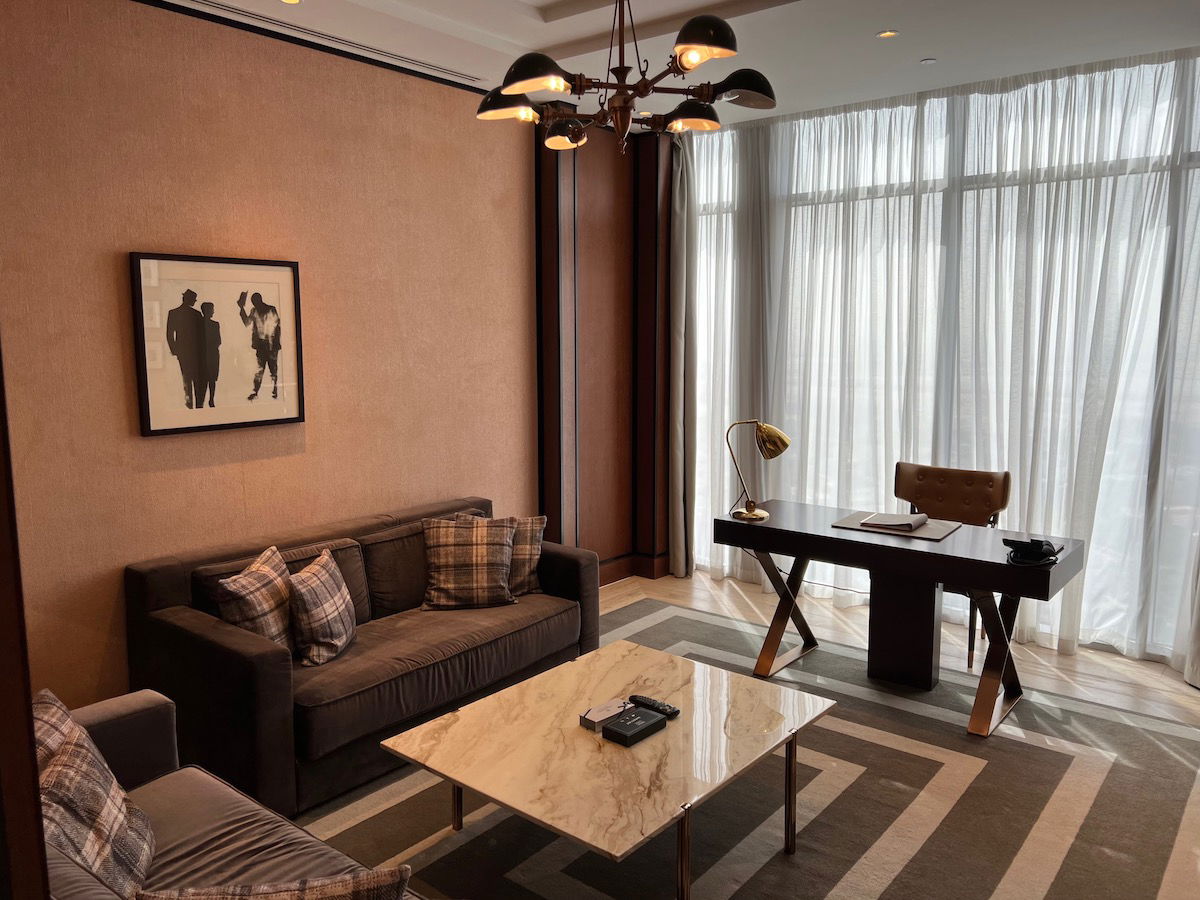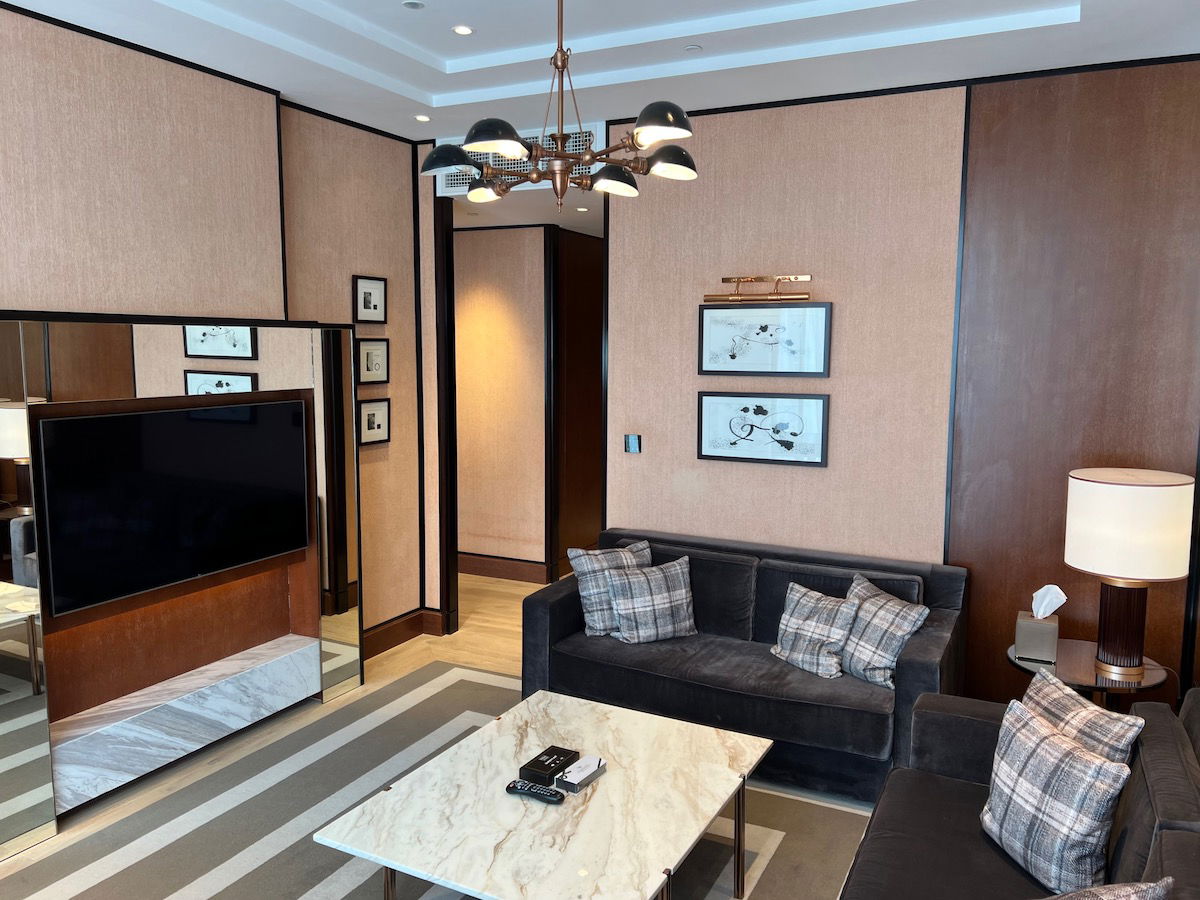 Waiting on the coffee table was a welcome amenity, consisting of a handful of dates.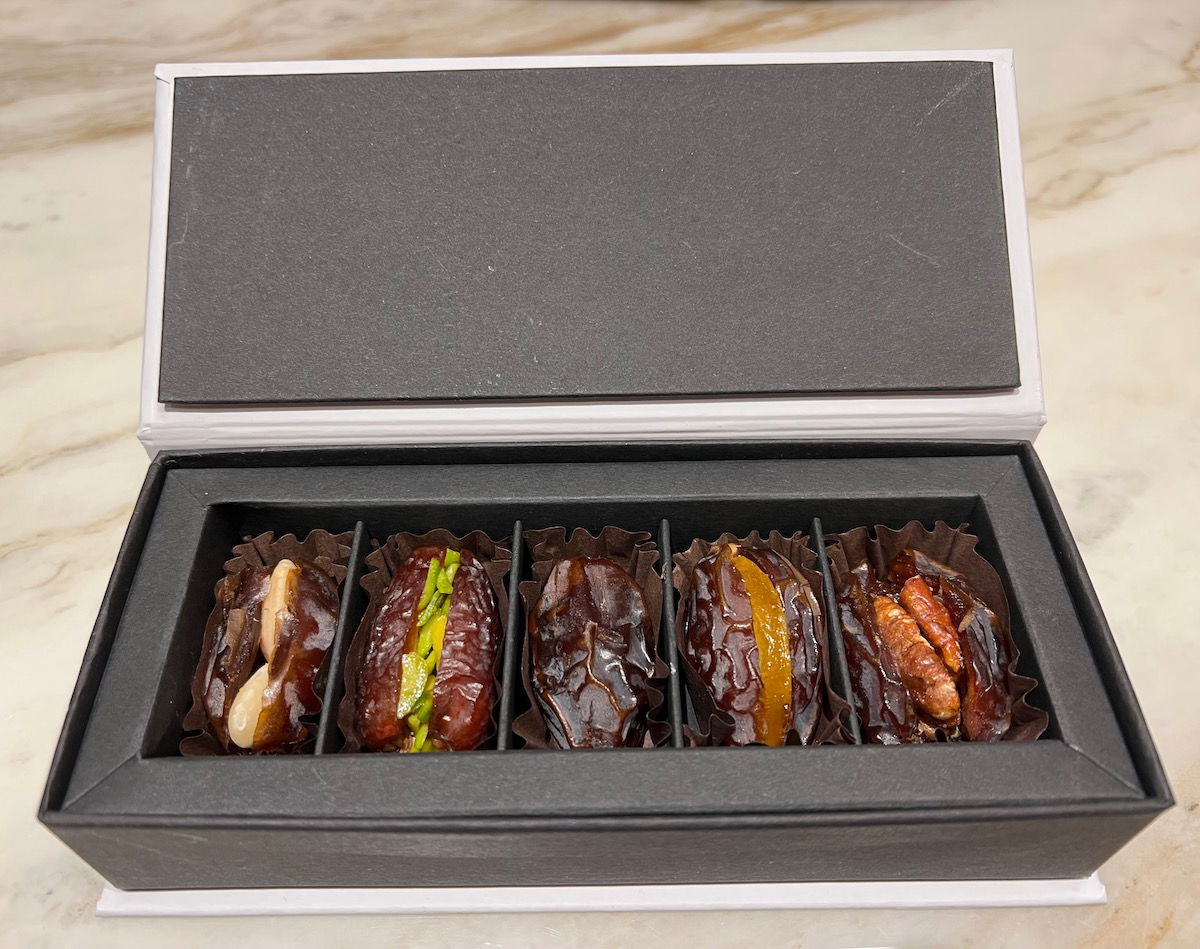 I appreciated having a dedicated desk, as this is something that's becoming increasingly rare in hotel rooms.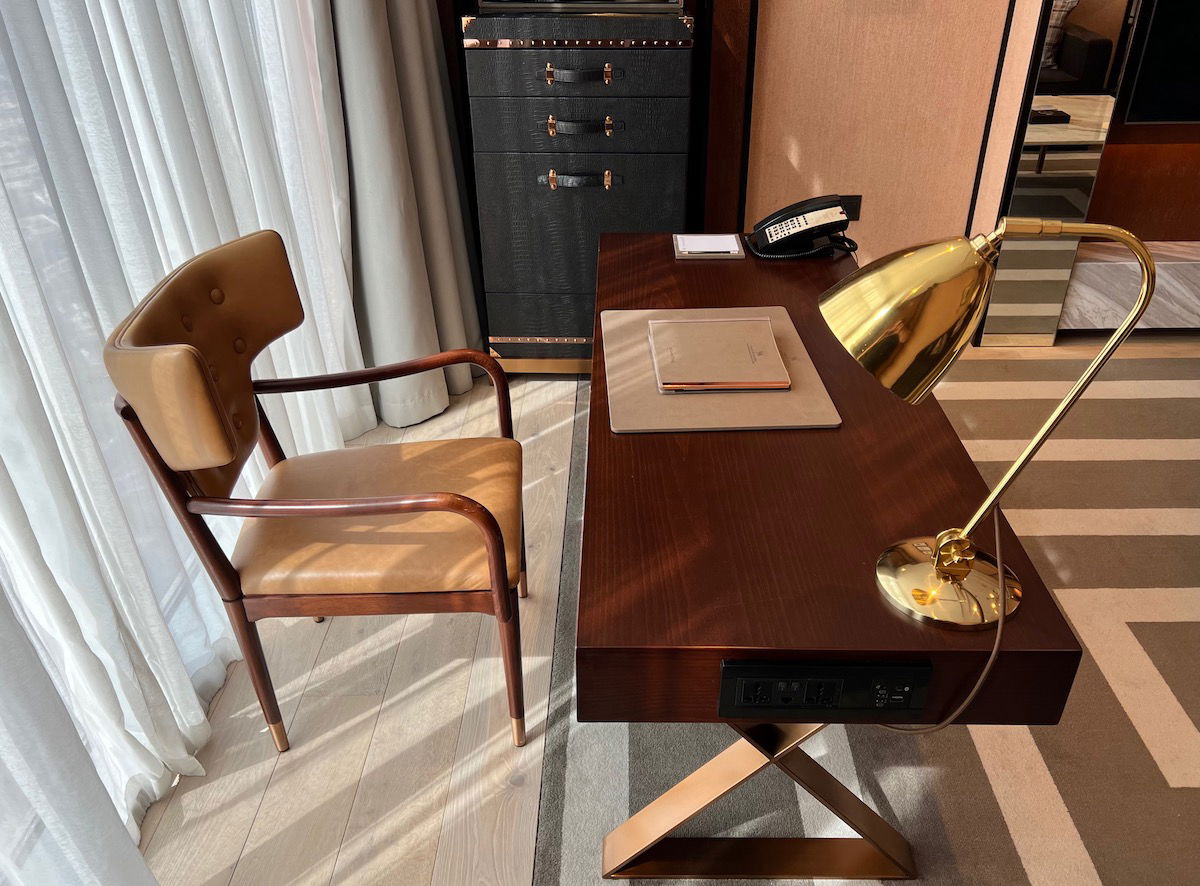 Next to the desk was a Nespresso coffee machine, kettle, water, and mini-fridge (though there were no drinks in it).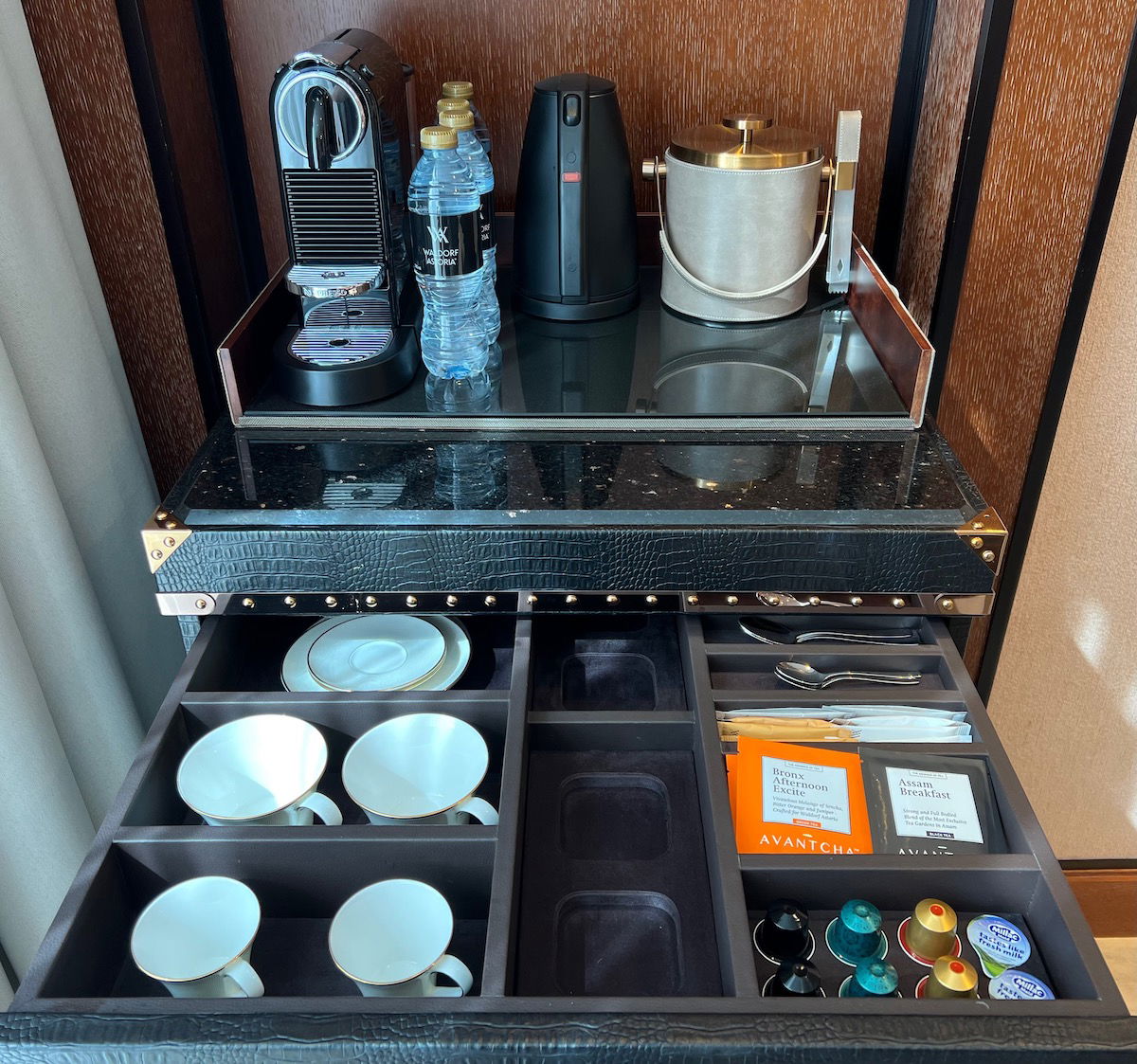 Down the hall was a half bath, with a toilet and sink.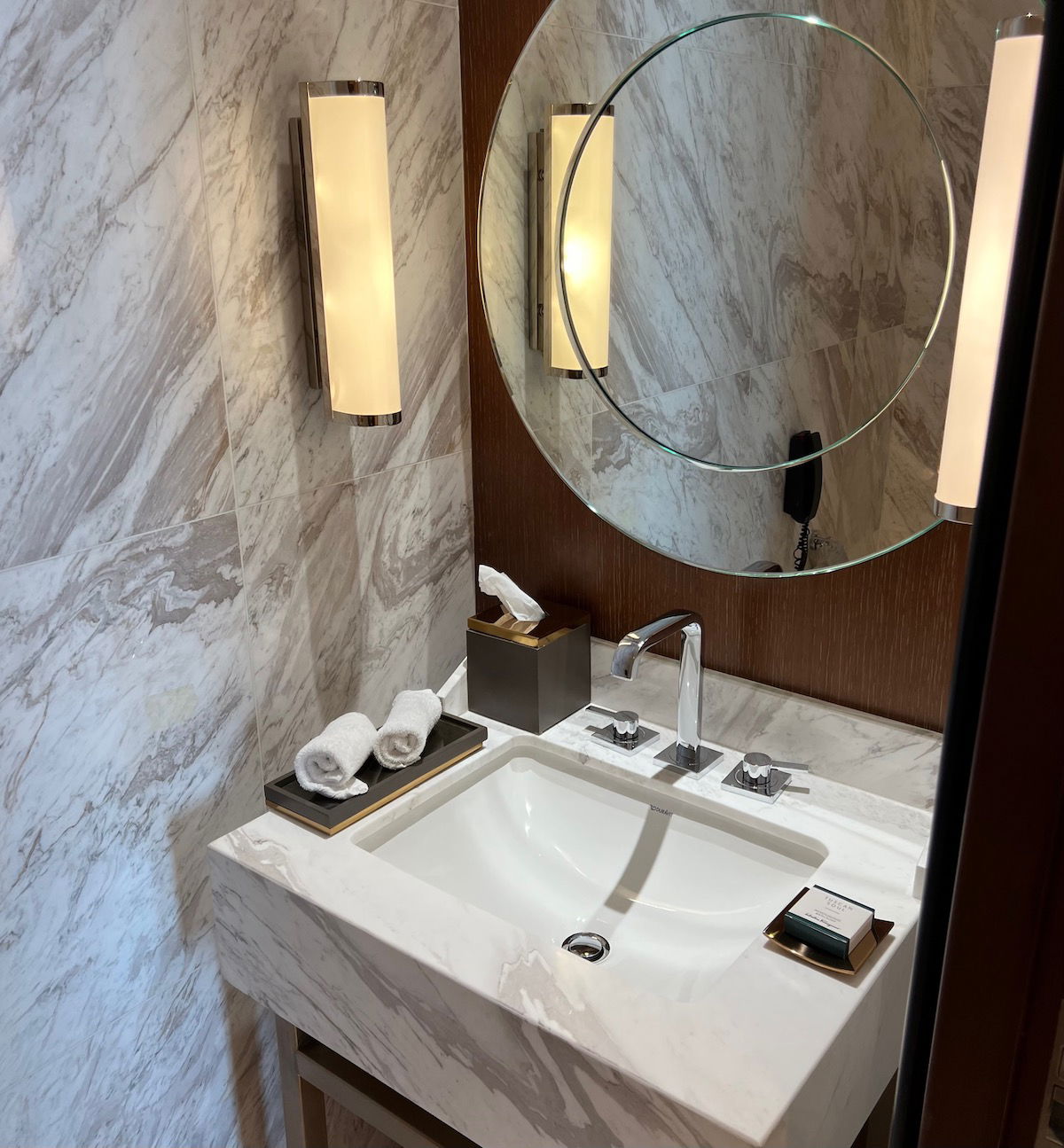 There was a door leading to the bedroom, which had a comfortable king size bed, a chair by the window, another desk and chair, and a wall-mounted TV.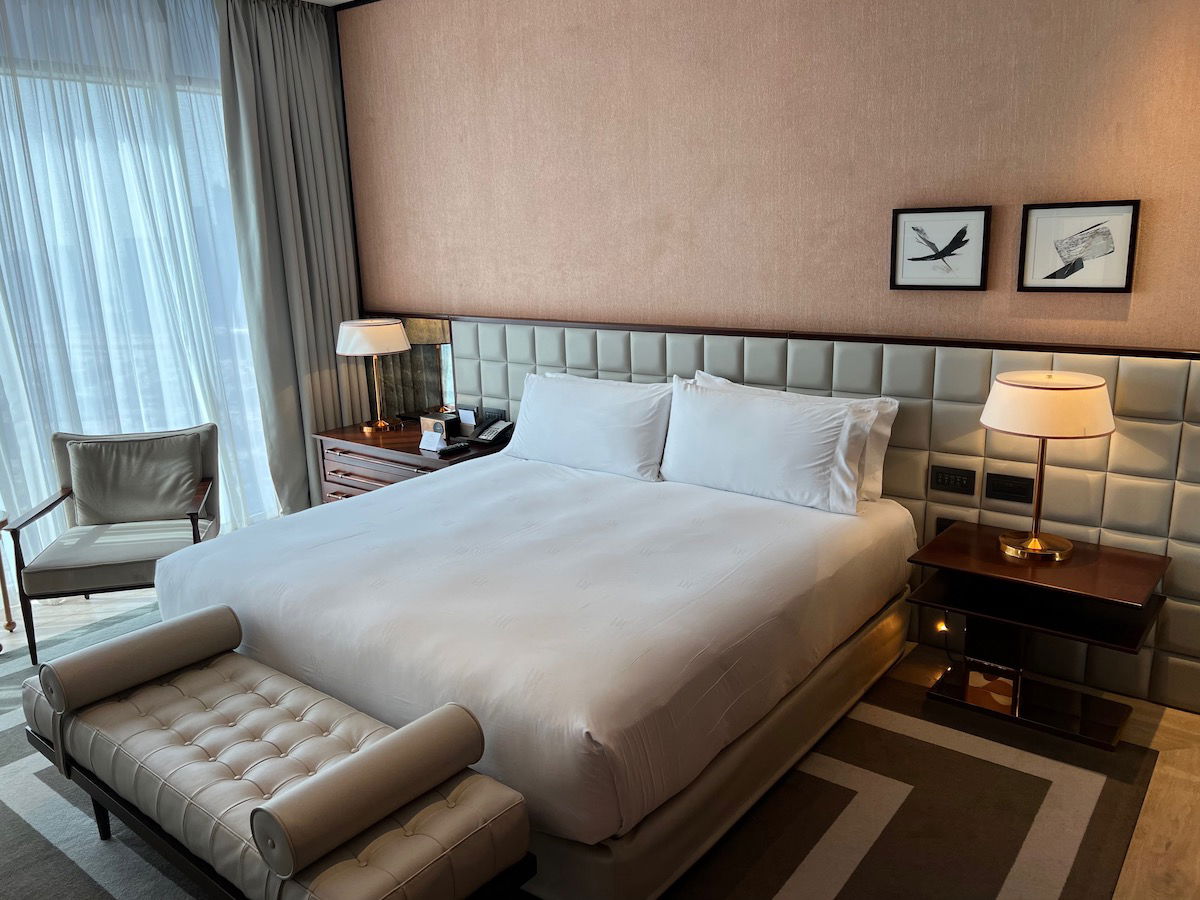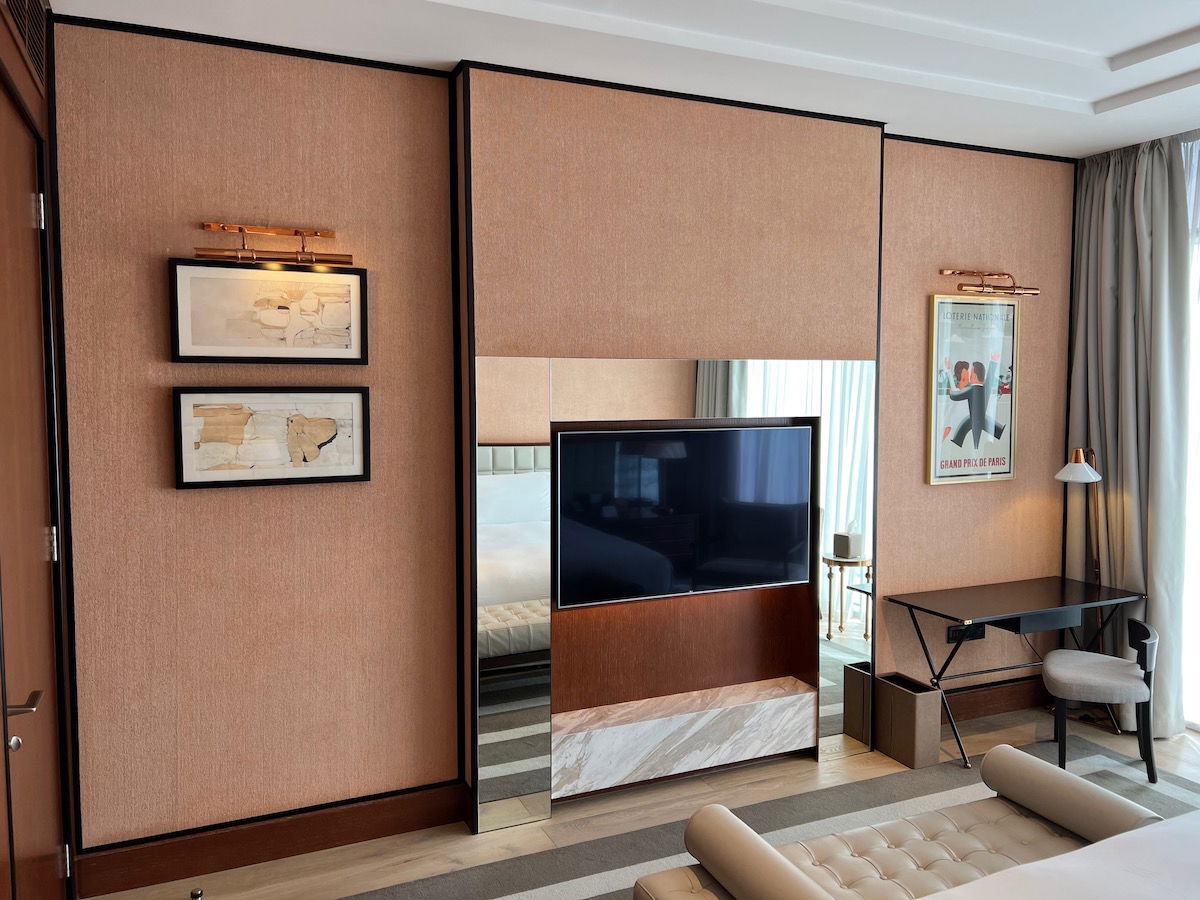 It was cool to be on a fairly high floor, though we were looking mostly toward the flatter part of Dubai, so there were no iconic sights.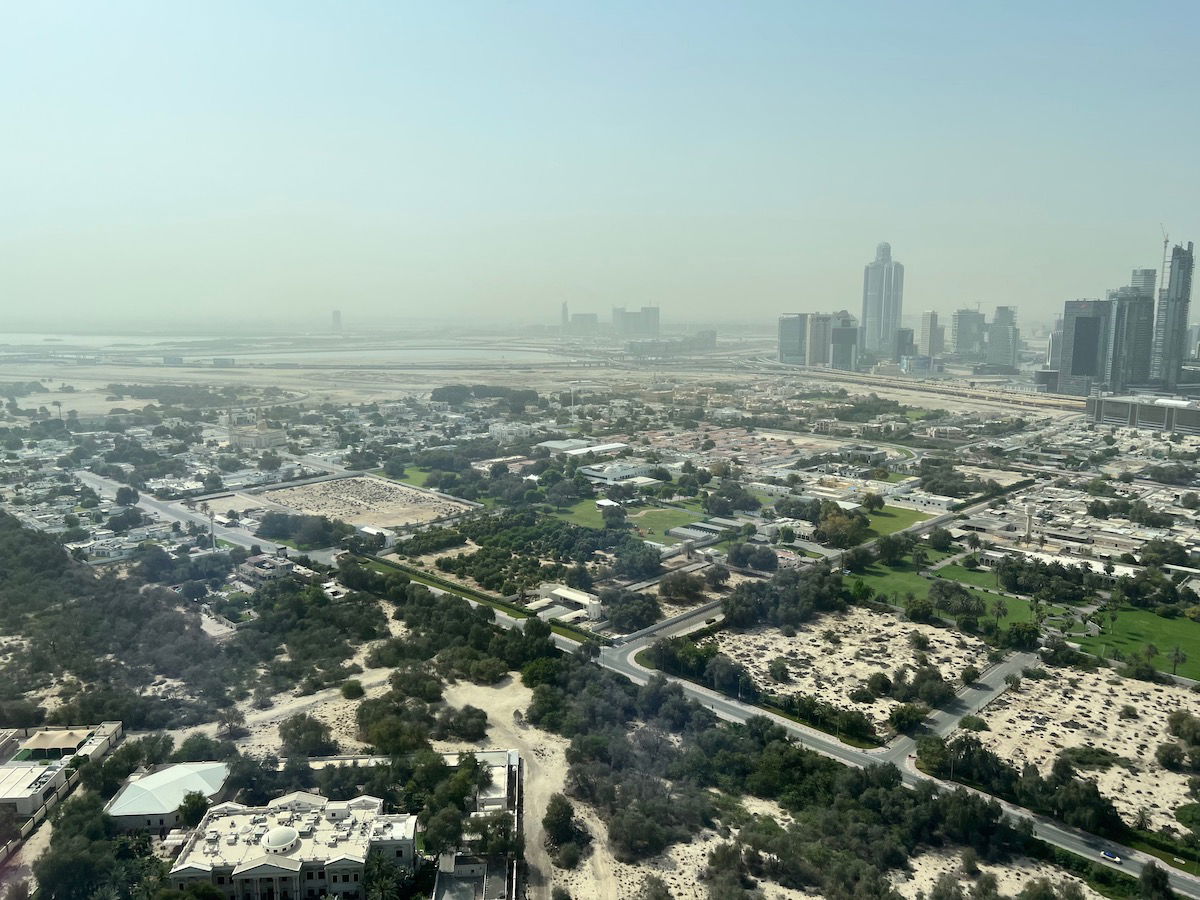 Connected to the bedroom was the bathroom, which had double sinks, a bathtub, a walk-in shower, and a toilet and bidet.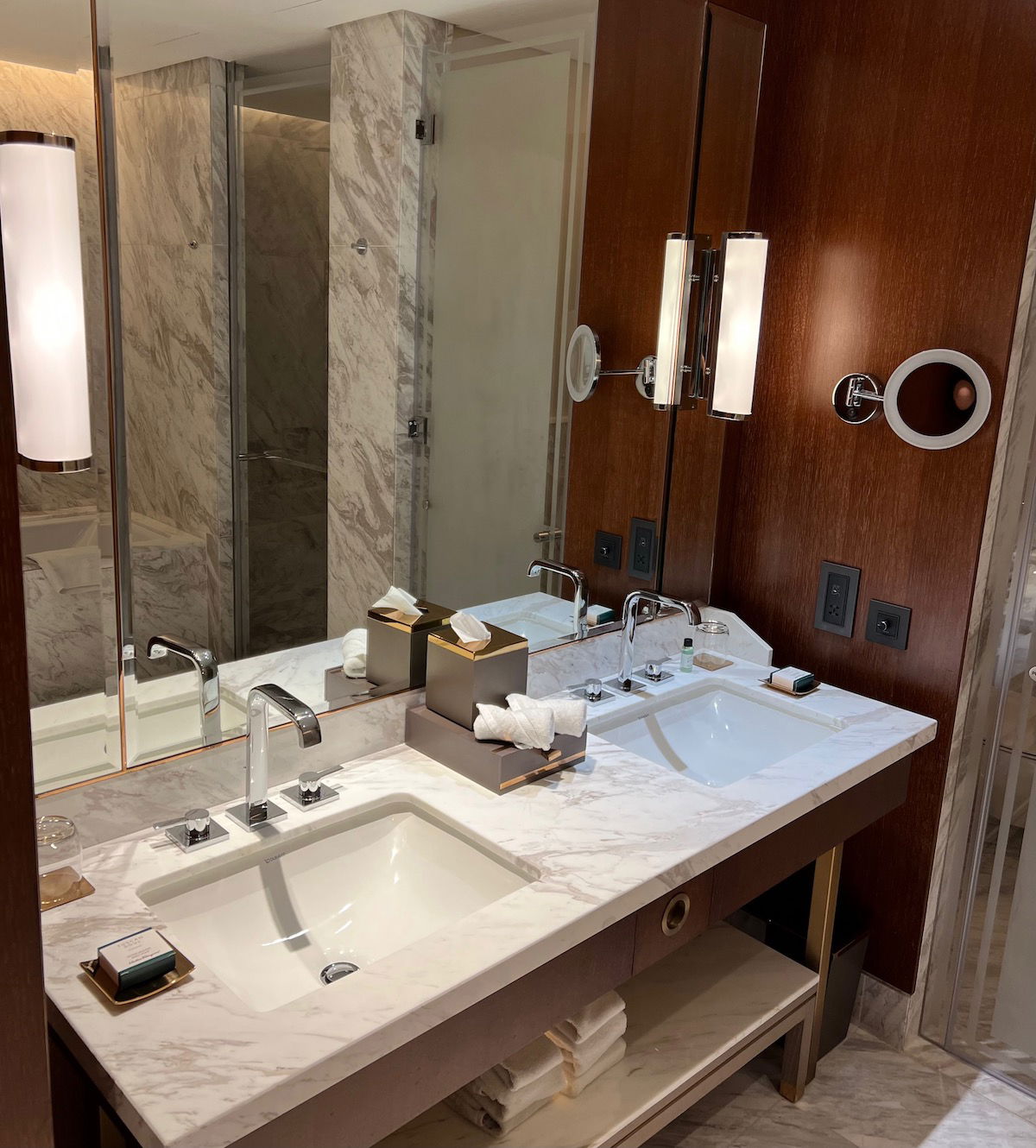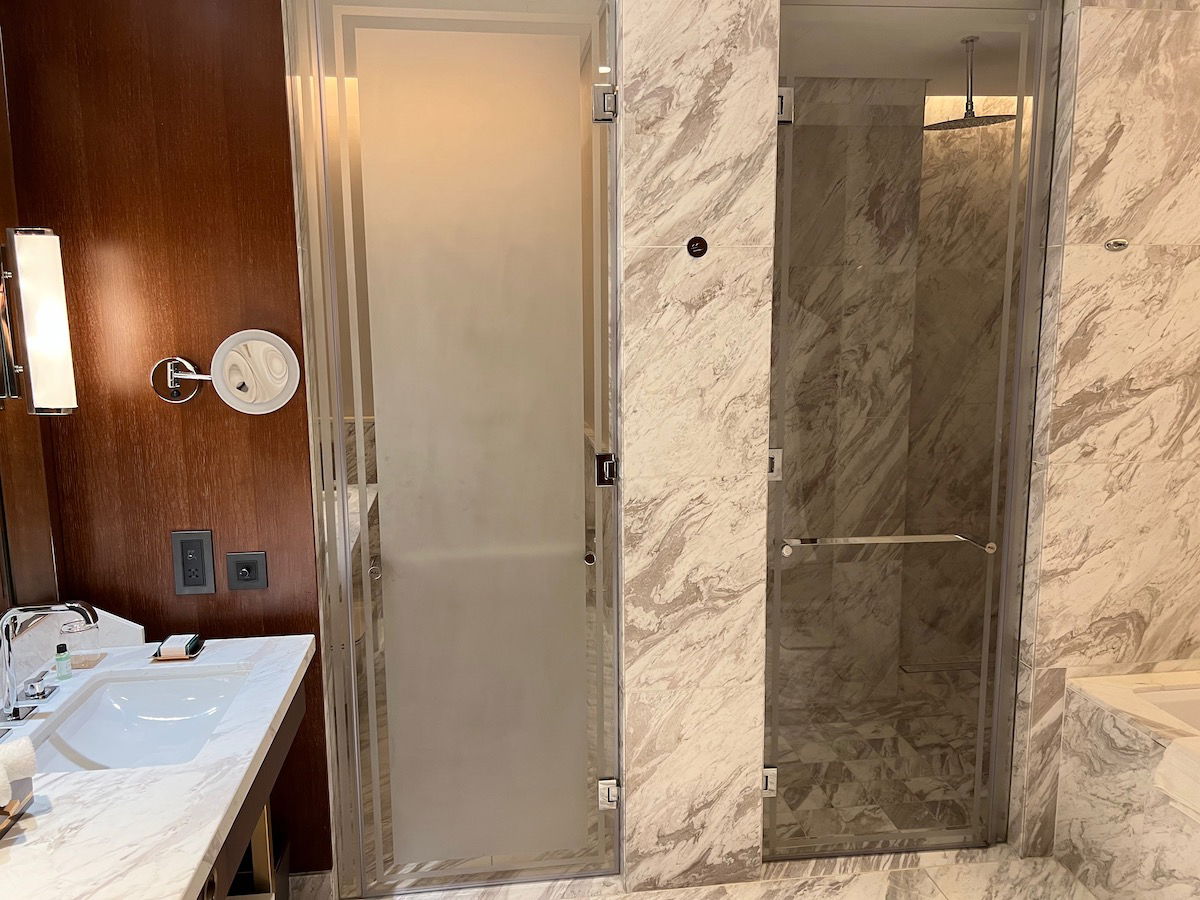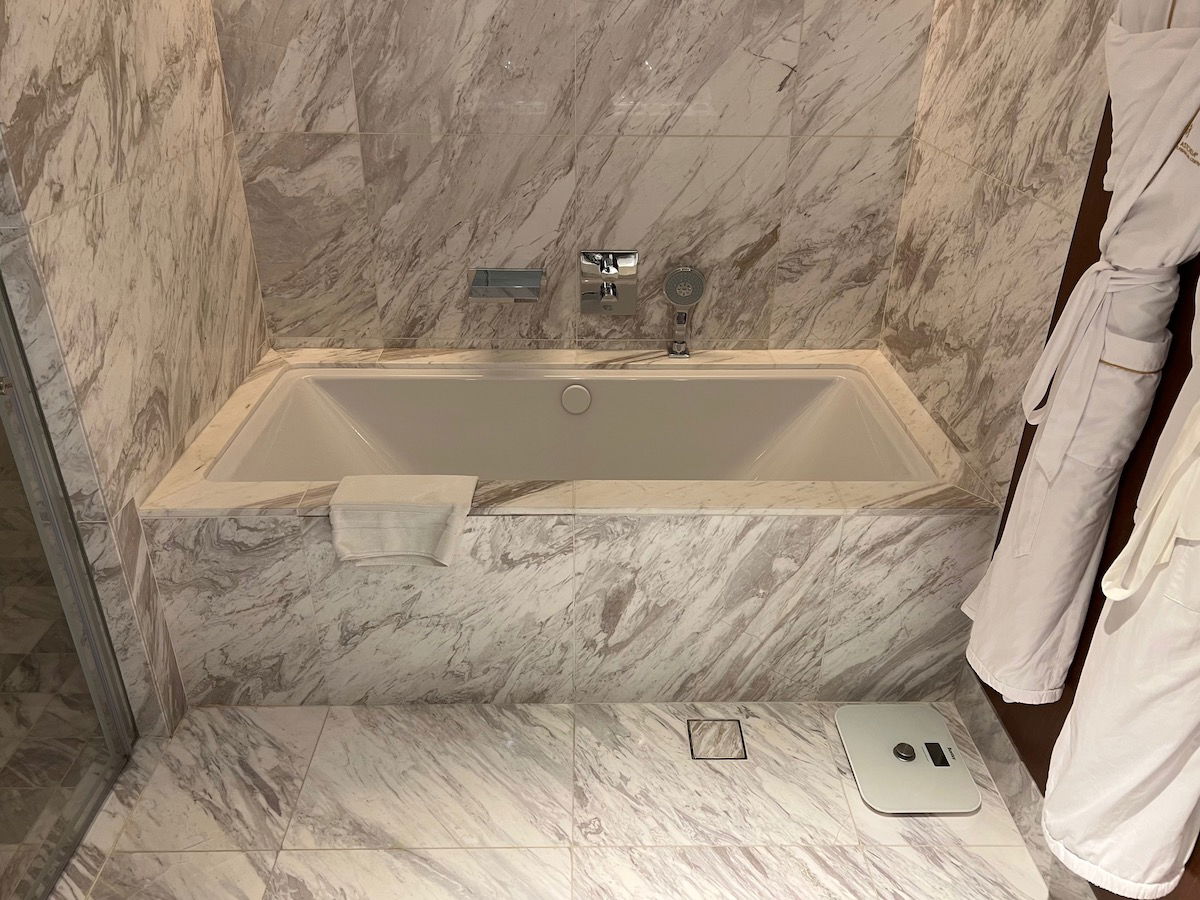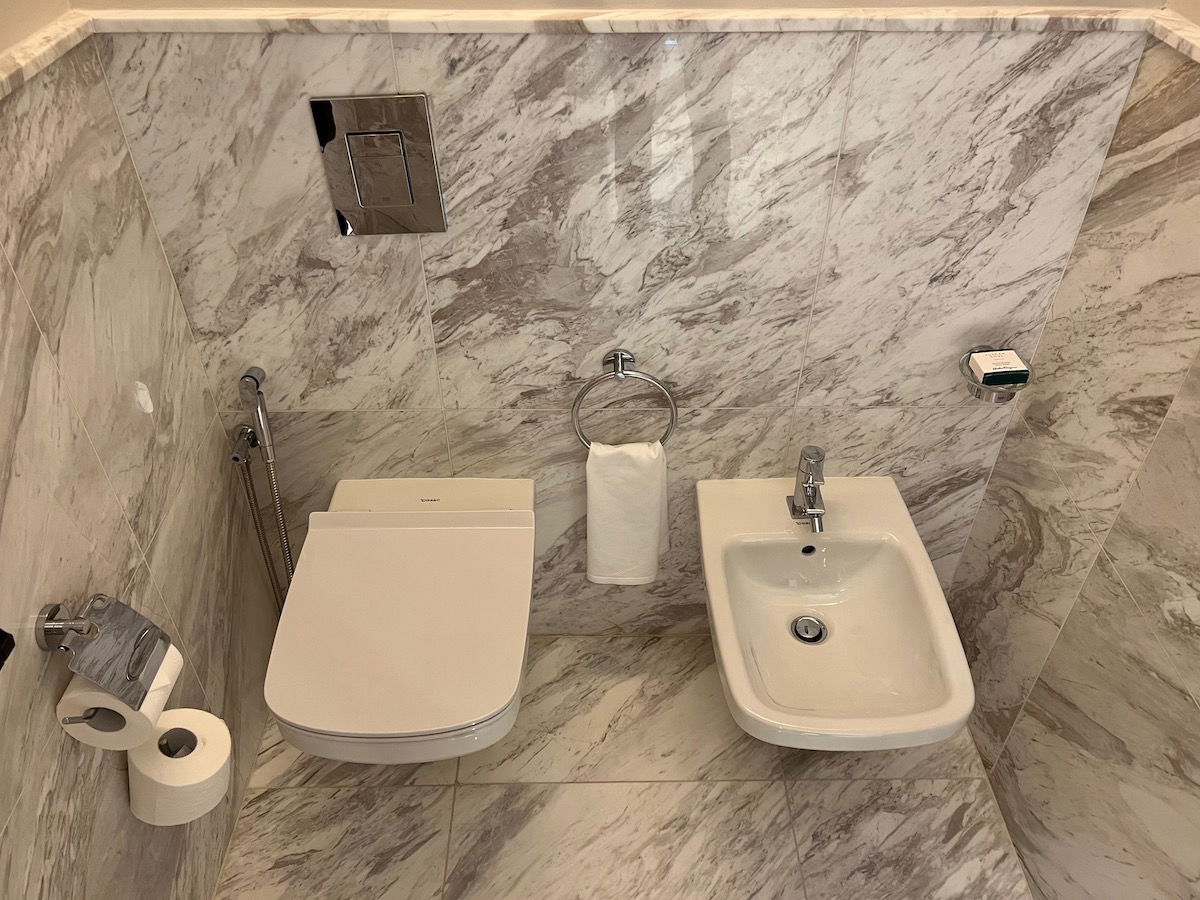 The shower was huge, and had two shower heads.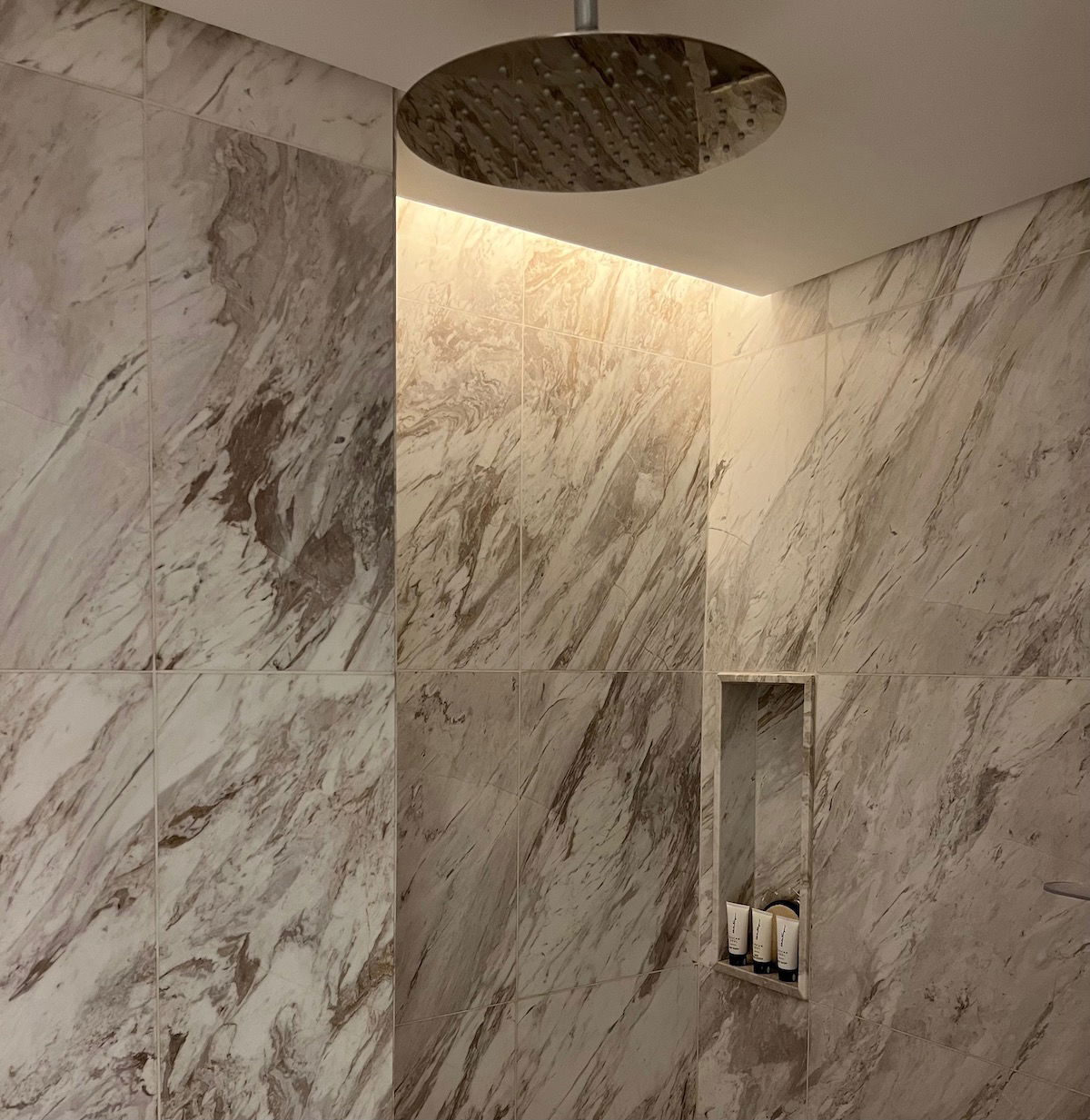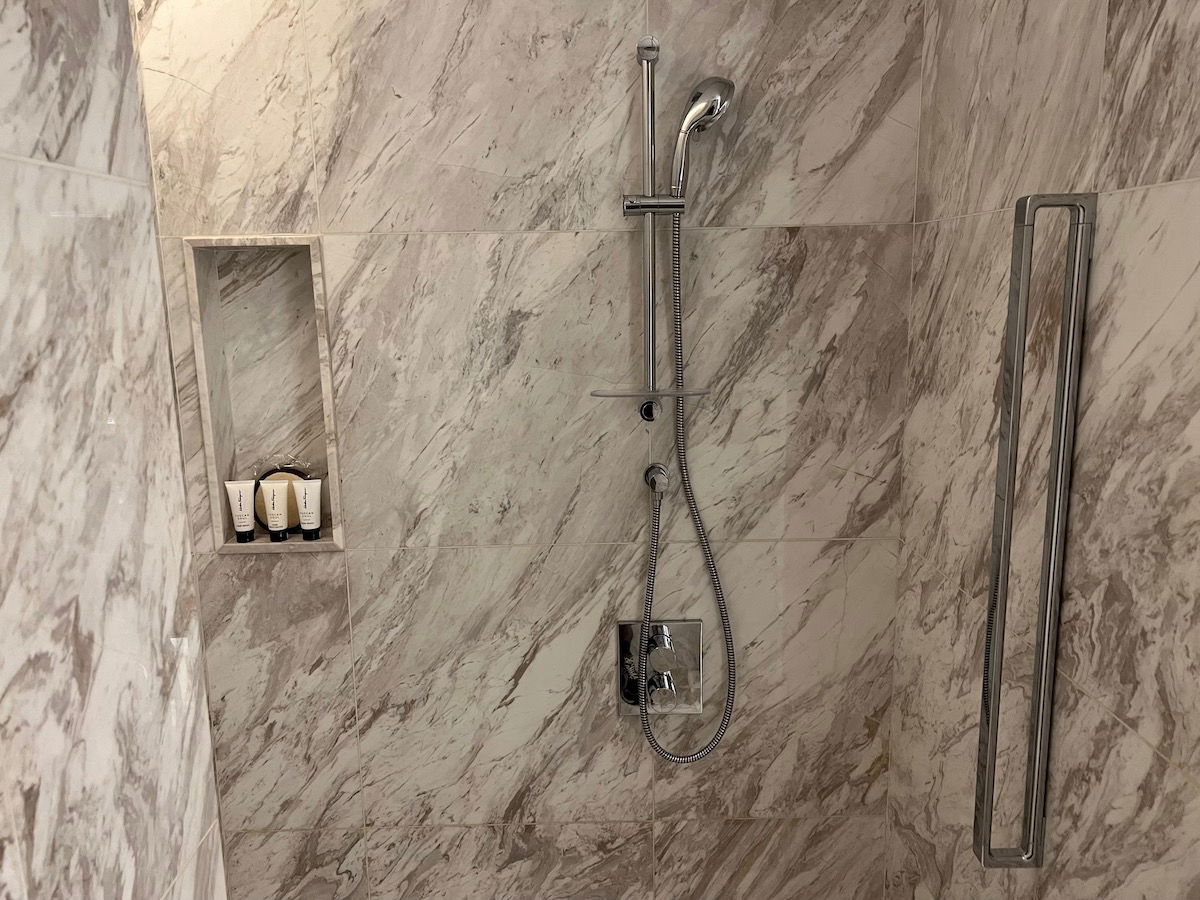 Toiletries were the Tuscan Soul collection from Salvatore Ferragamo, as is common at Waldorf Astoria properties.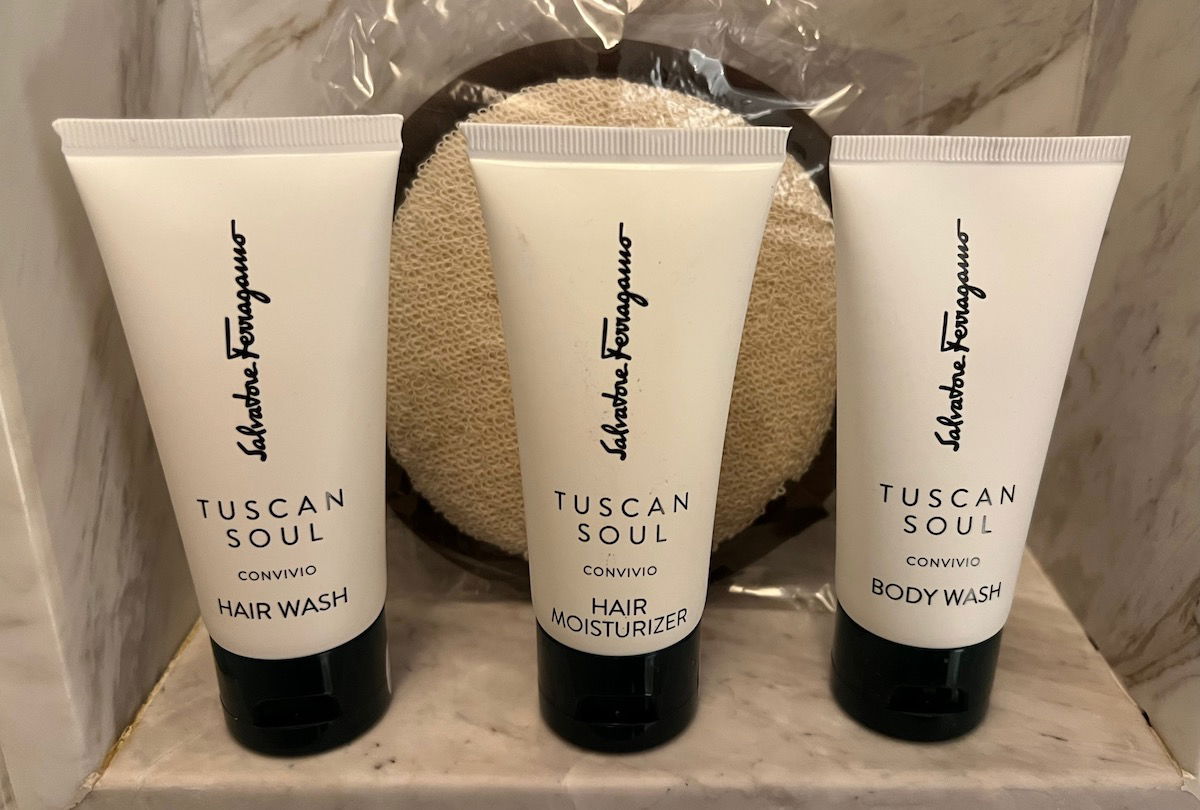 Wi-Fi in the room was fast and free, and there was daily housekeeping and turndown service. What an awesome suite, and in particular what a nice entry level suite to receive an upgrade to as a Diamond member.
Waldorf Astoria Dubai DIFC breakfast
Breakfast was served daily from 7AM until 11AM at Bull & Bear, the hotel's signature all-day dining restaurant on the 18th floor. In the evenings this is a steakhouse, as the restaurant is named after the original Bull & Bear at the Waldorf Astoria New York.
The restaurant is large and beautifully designed, with great views of the Dubai skyline.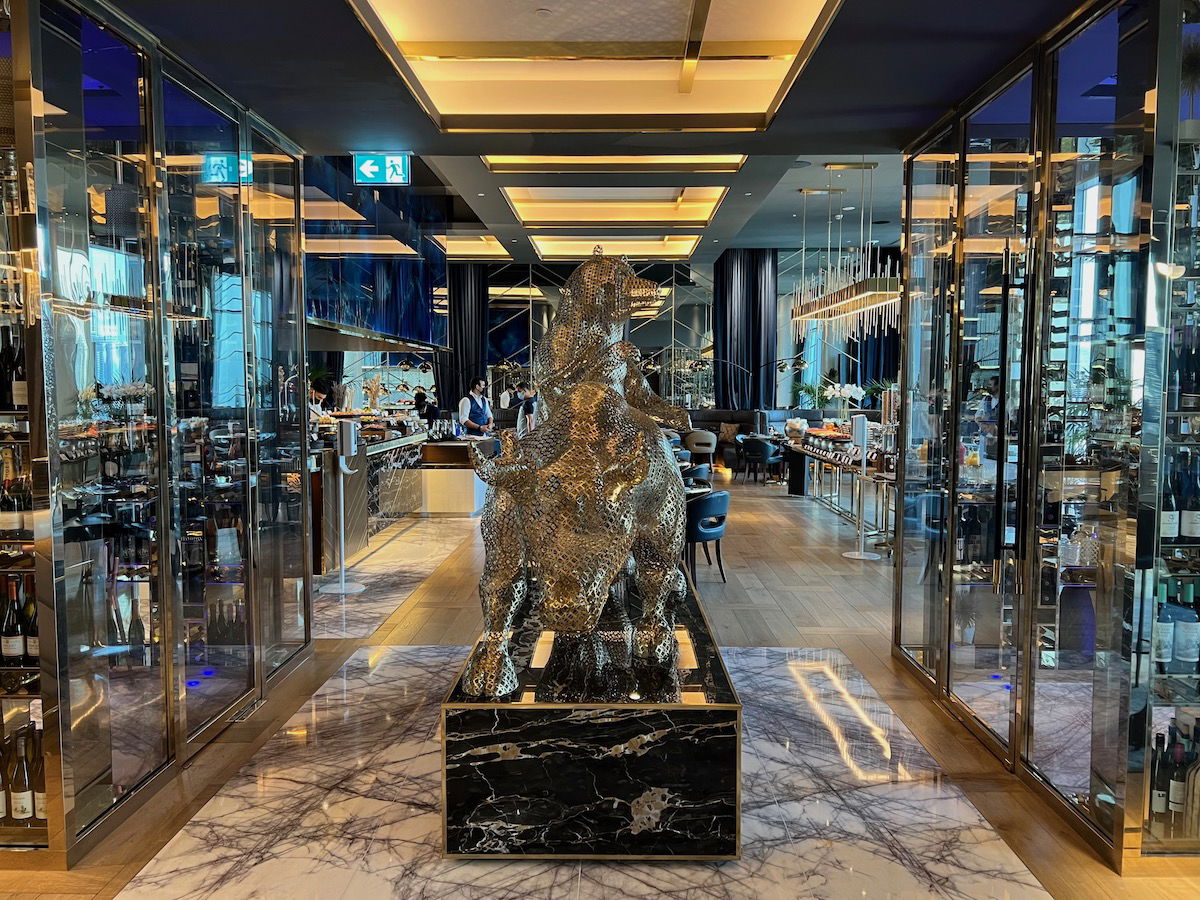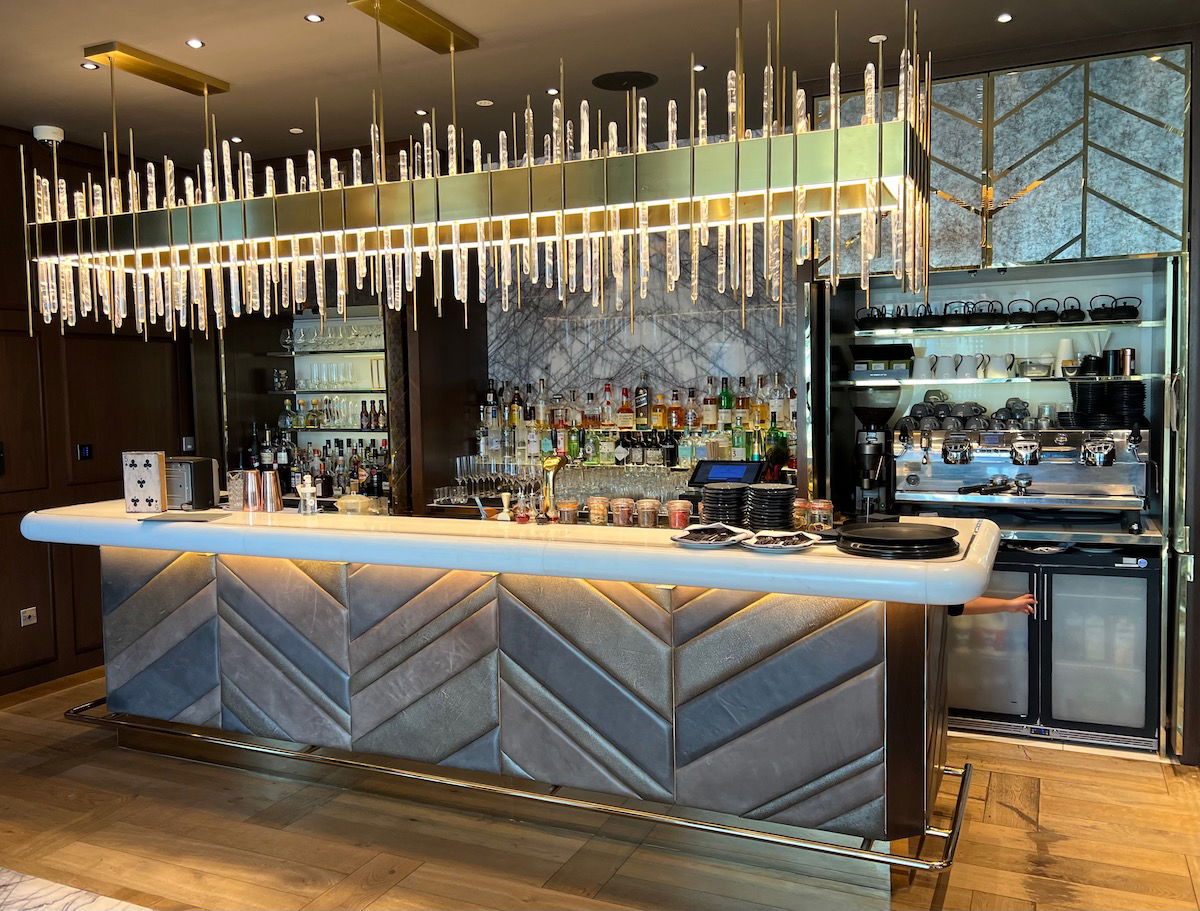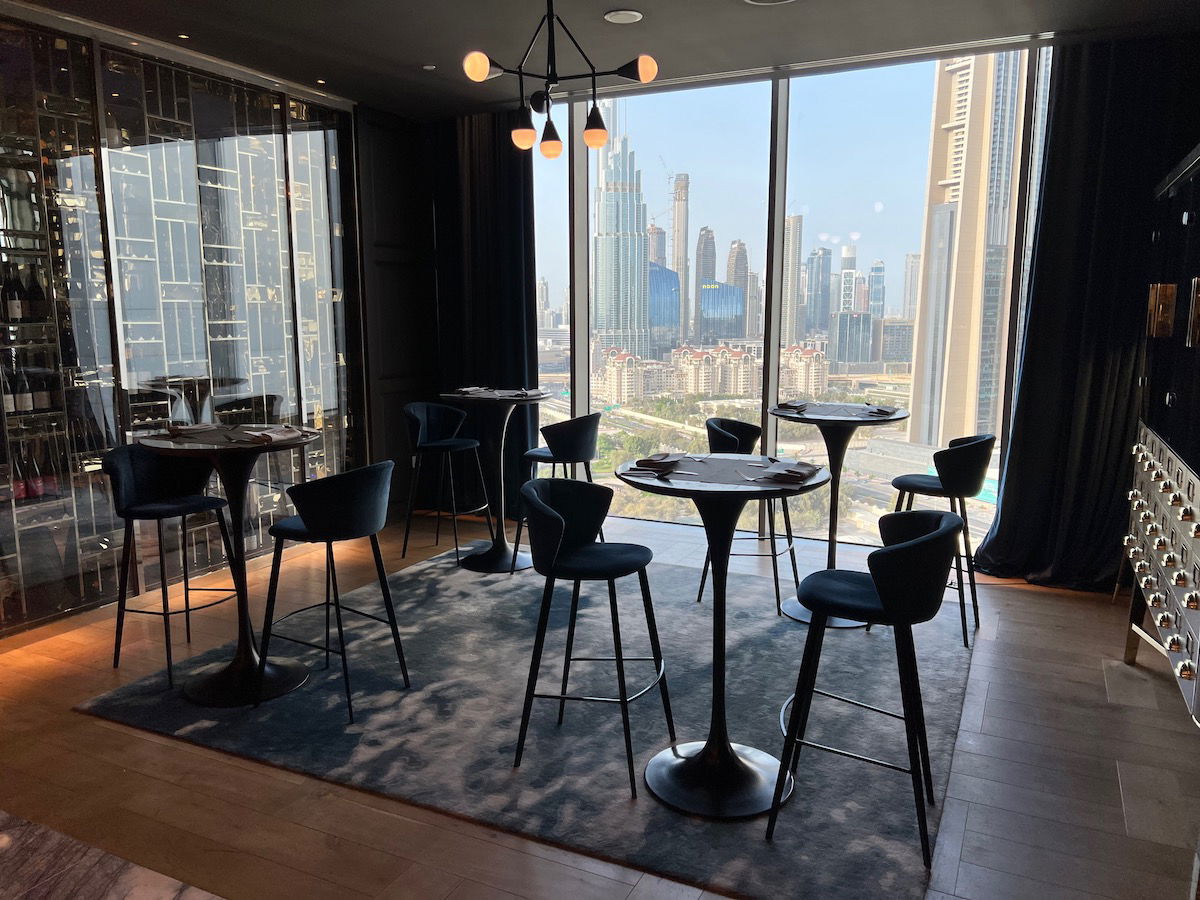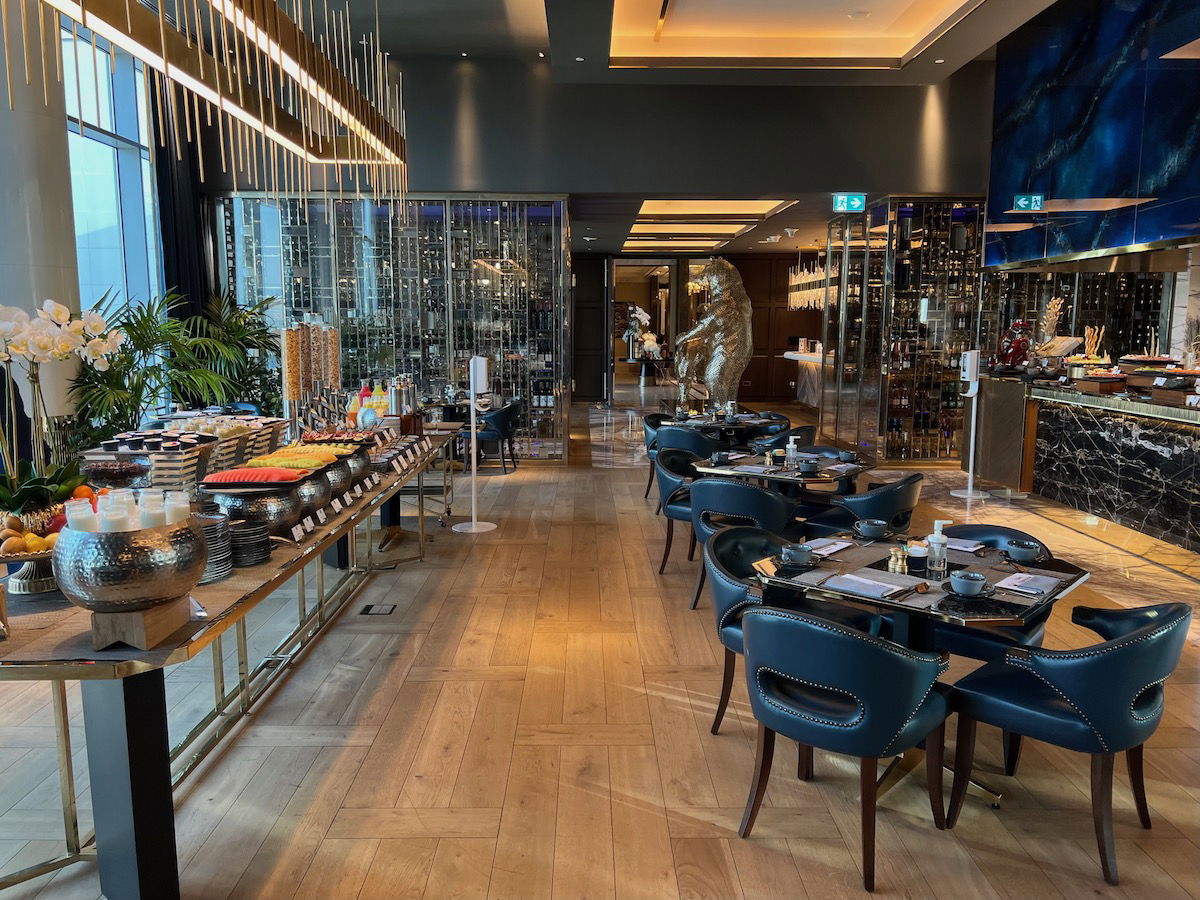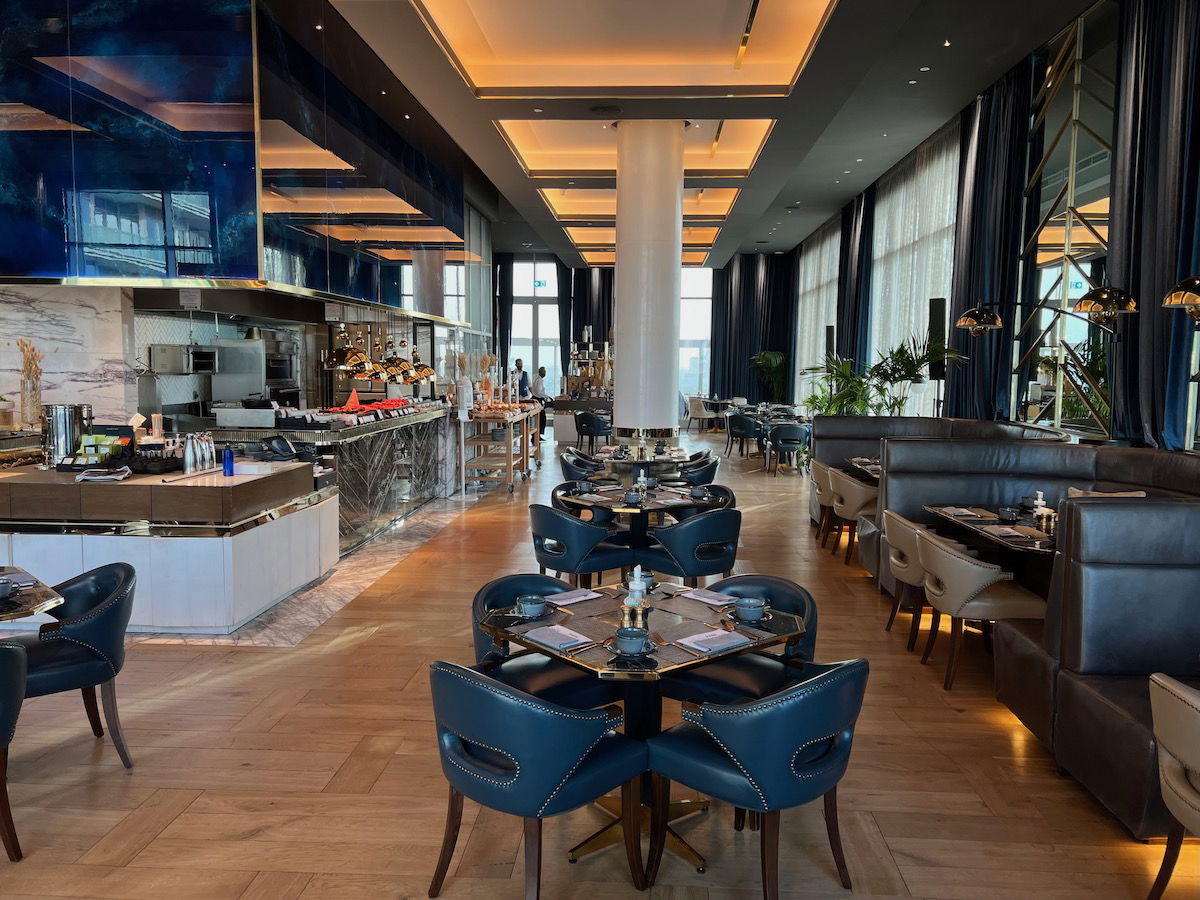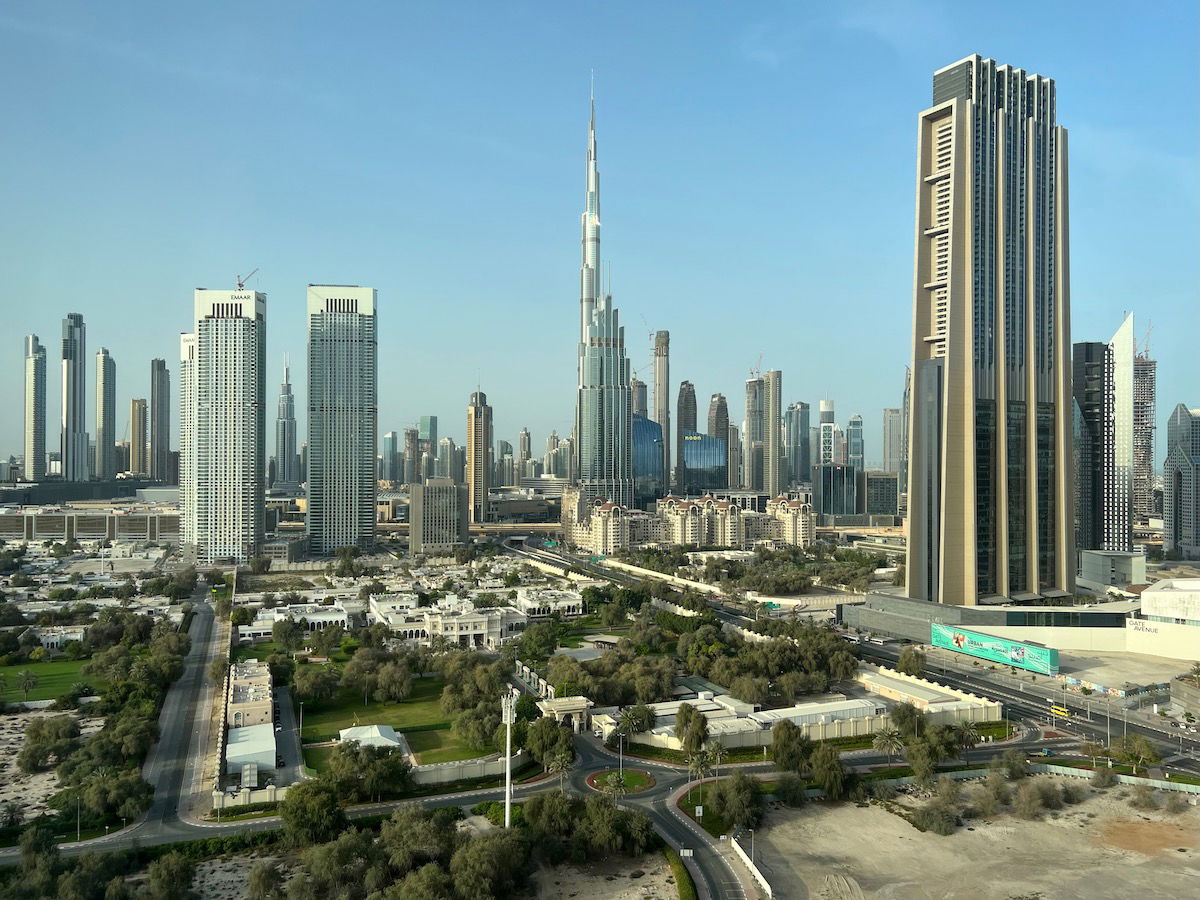 Breakfast here consists of a buffet, and then you can order dishes from a menu as well, and everything is included with the standard breakfast package here. I love hotels that let you mix & match buffet and a la carte options.
The buffet was exceptionally good, both in terms of the selection, and in terms of the quality. There weren't many hot options, but that was simply because those were mostly on the menu.
The buffet had several different fresh juices, and they were actually fresh, as you could tell based on the consistency, and the need to stir them. It amazes me how many other luxury hotels don't have any fresh juices, or at most just fresh orange juice.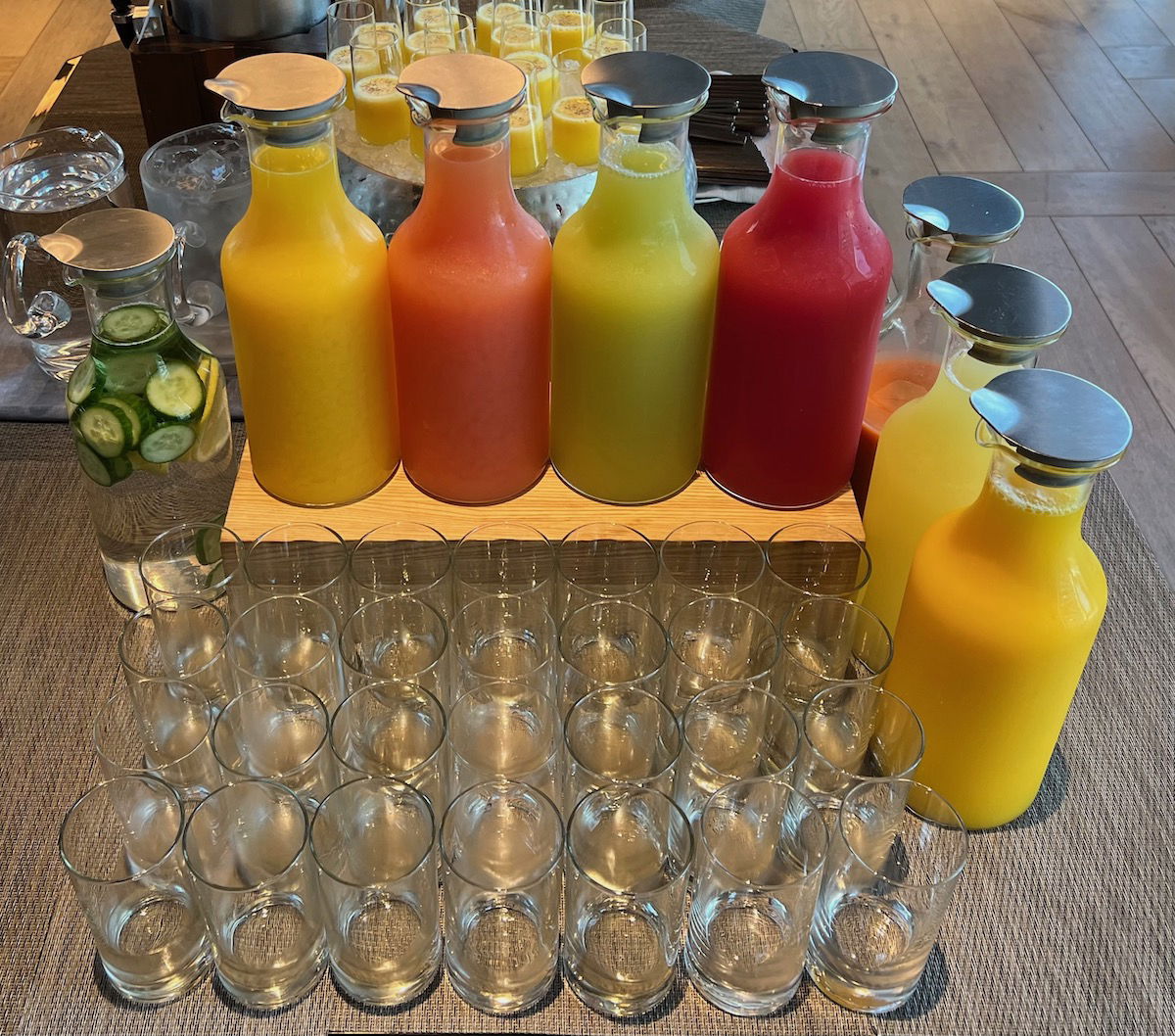 The buffet had everything from cereal, to fruit and yogurt, to cold cuts and cheese, to pastries and sweets, to all kinds of Middle Eastern specialities.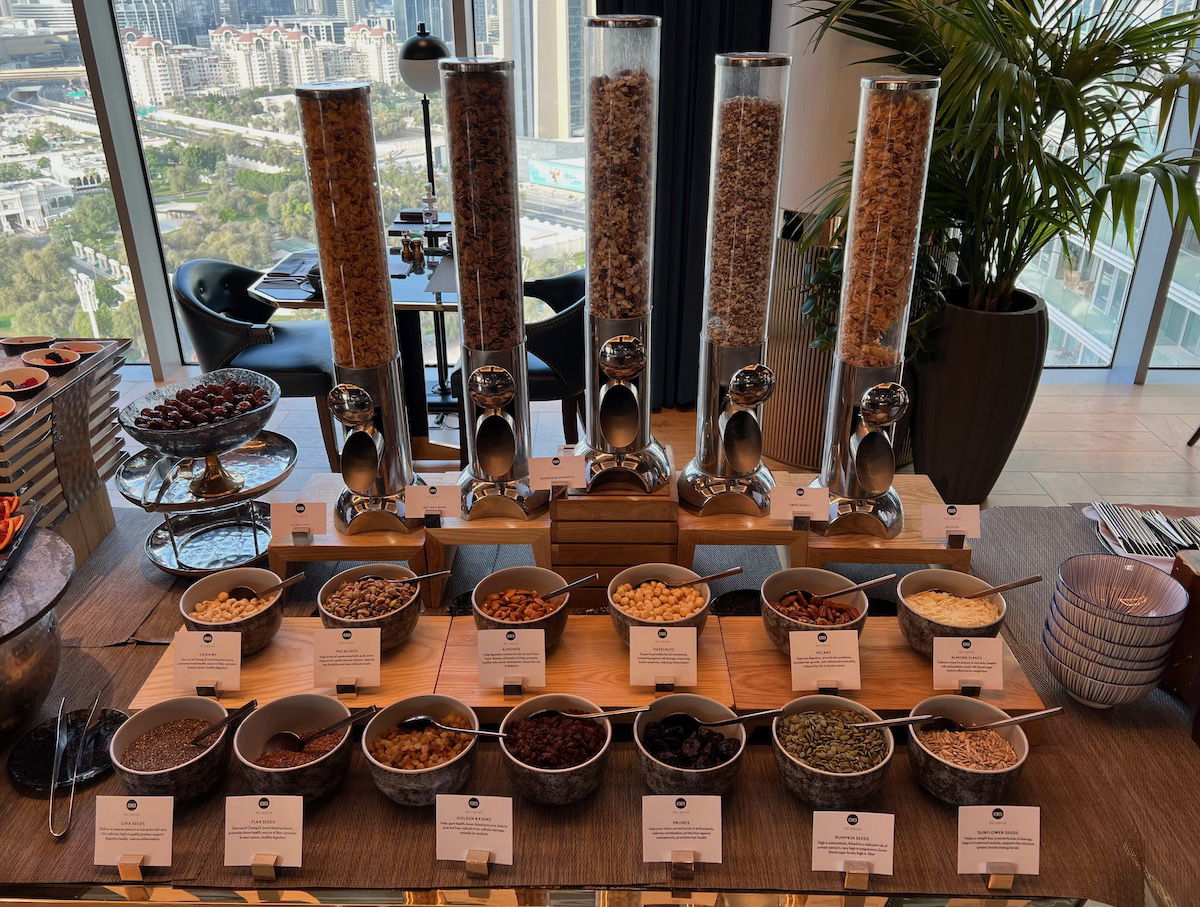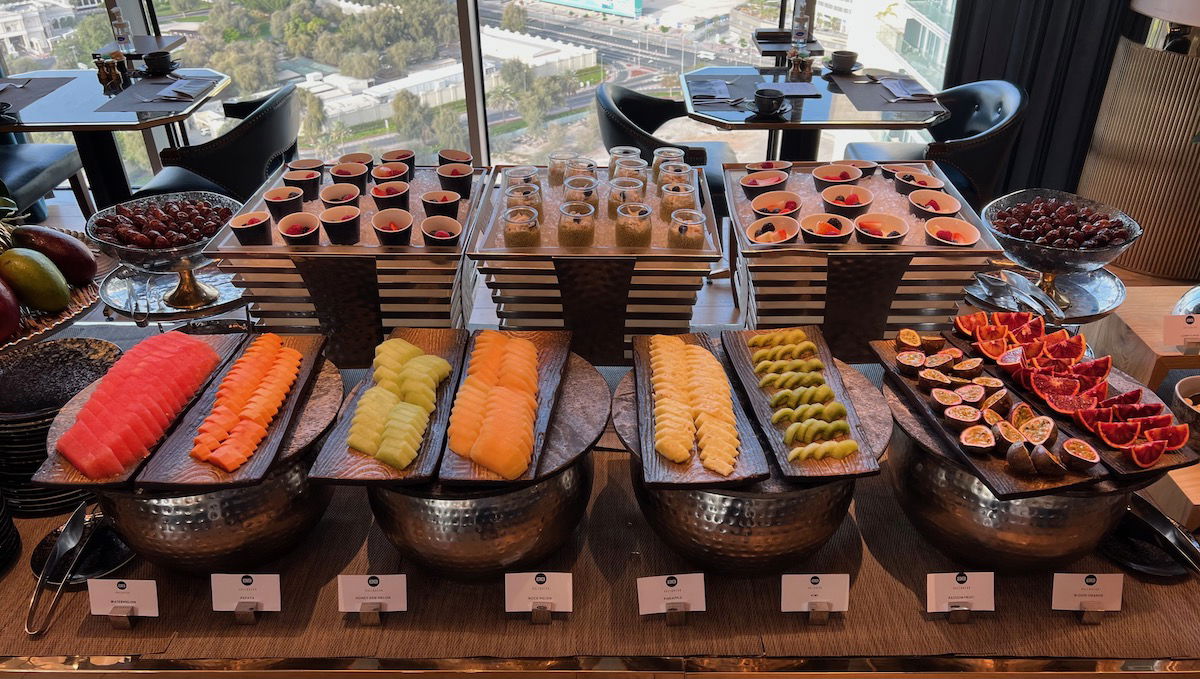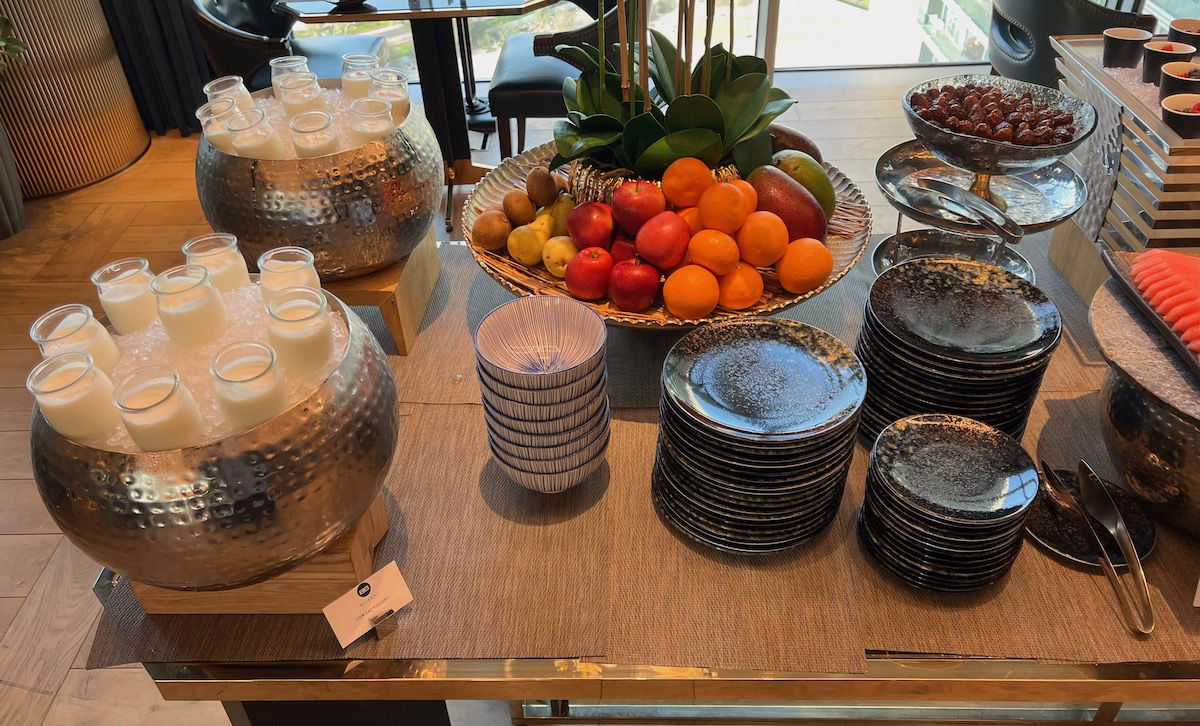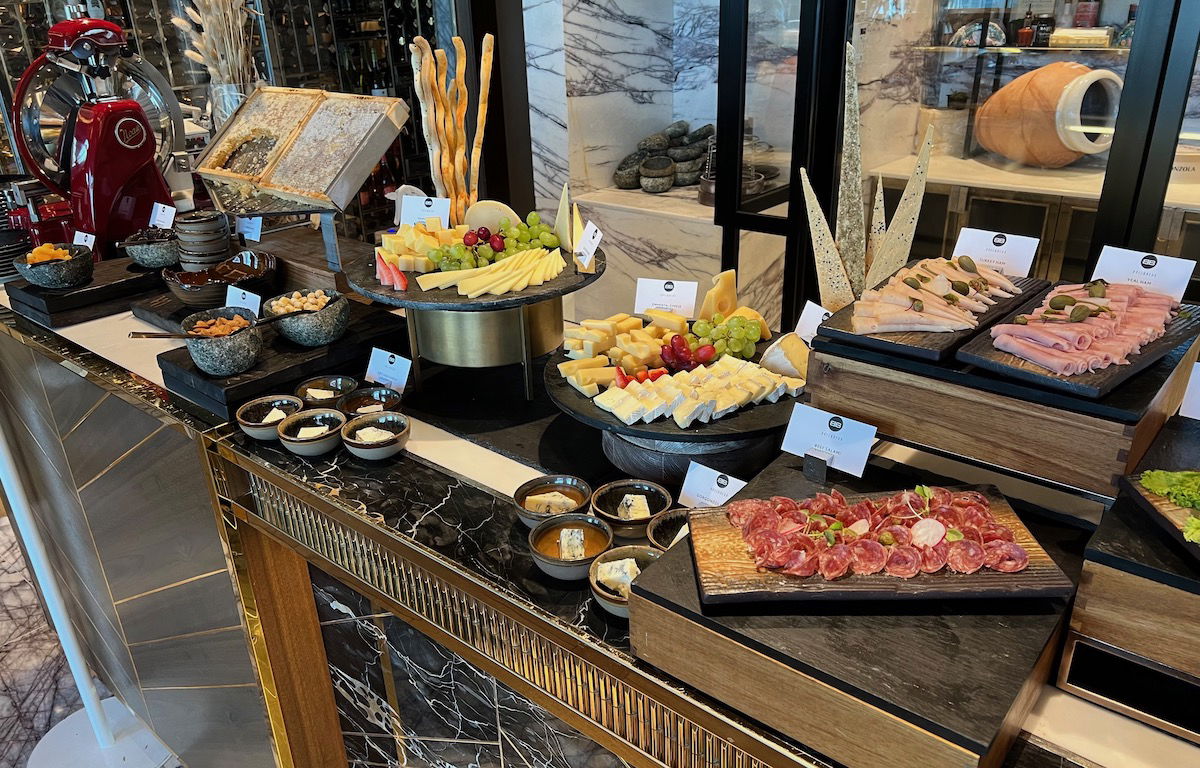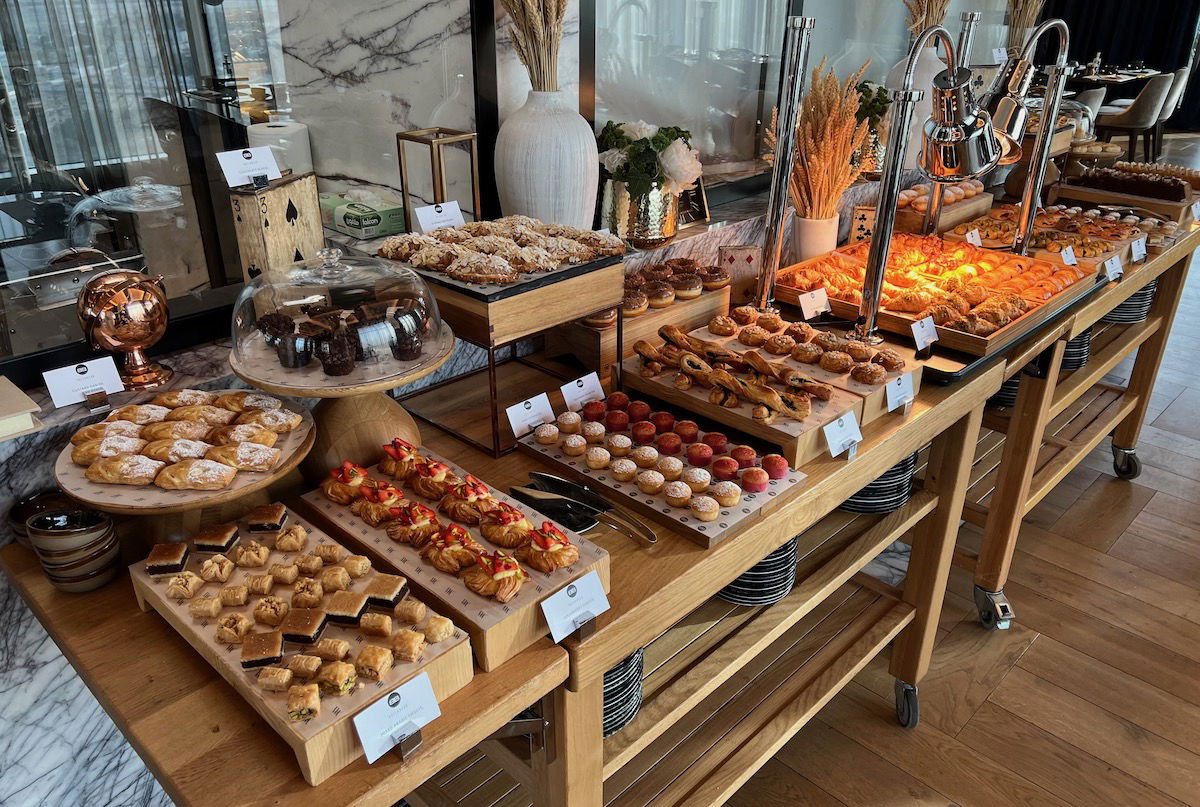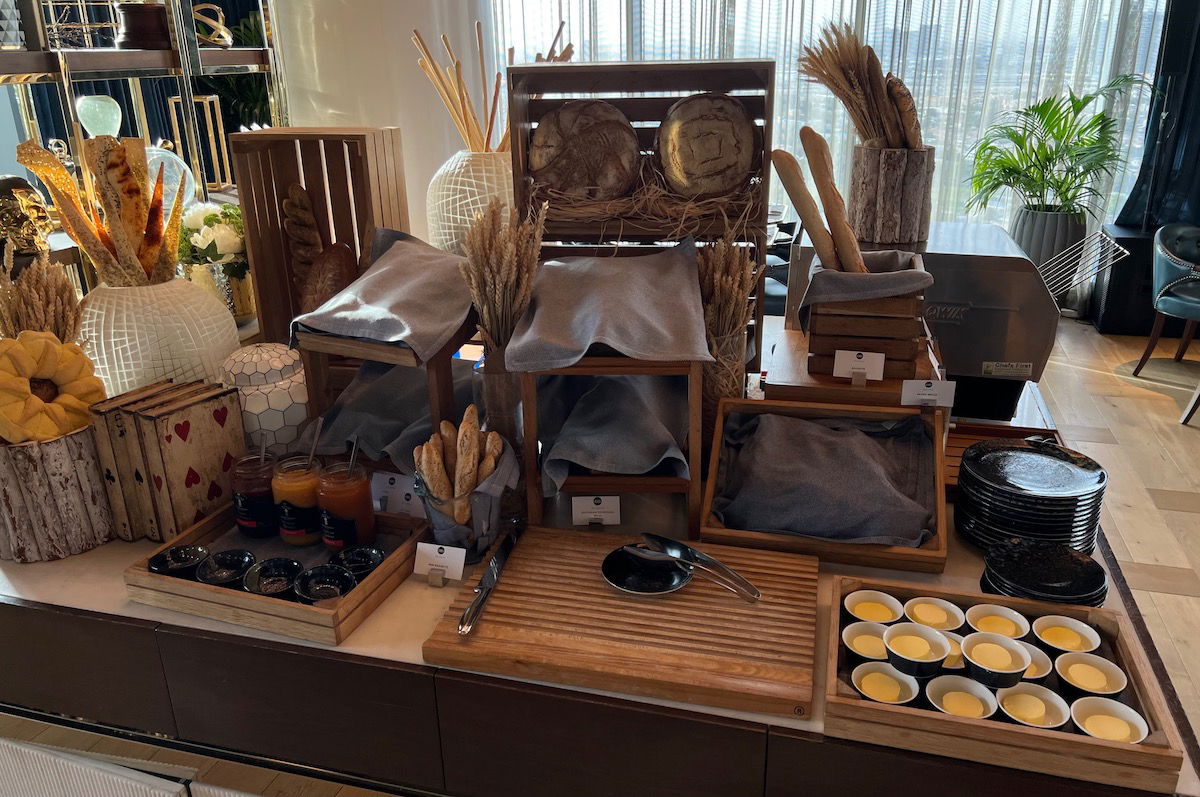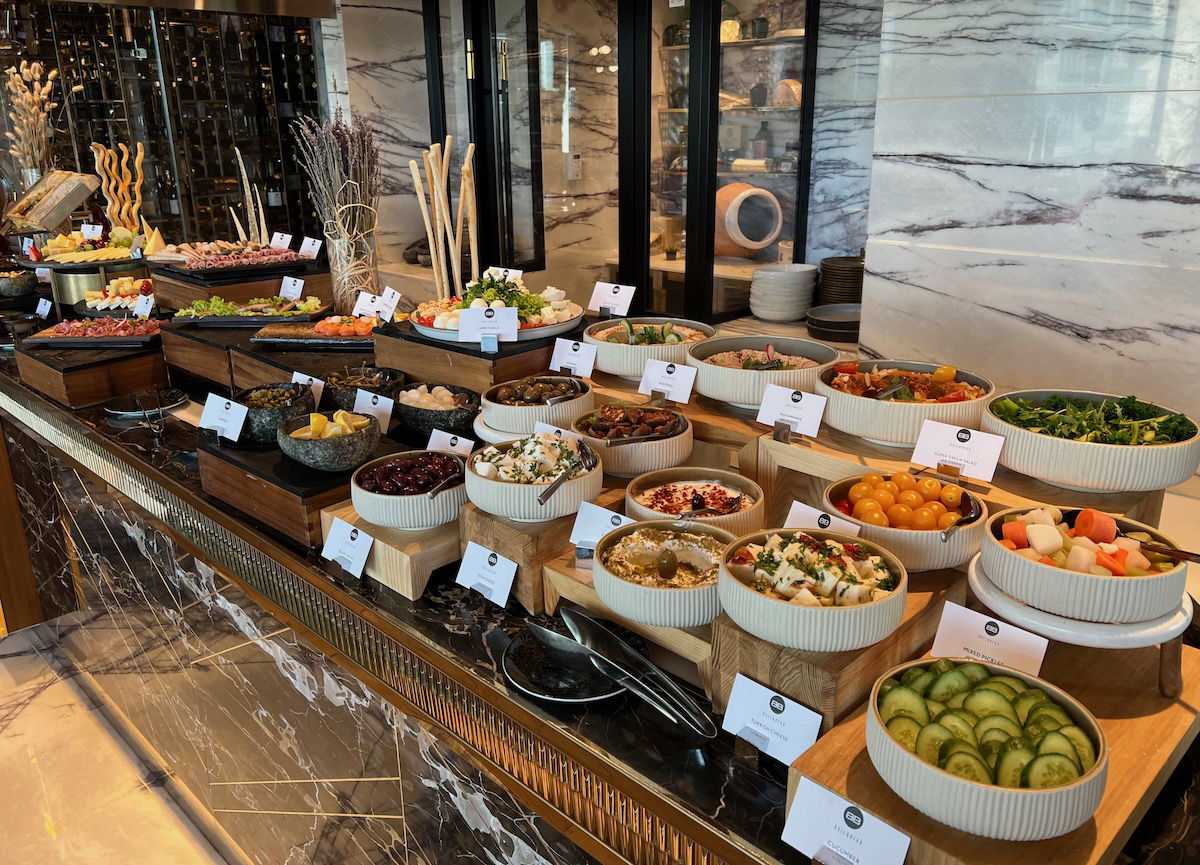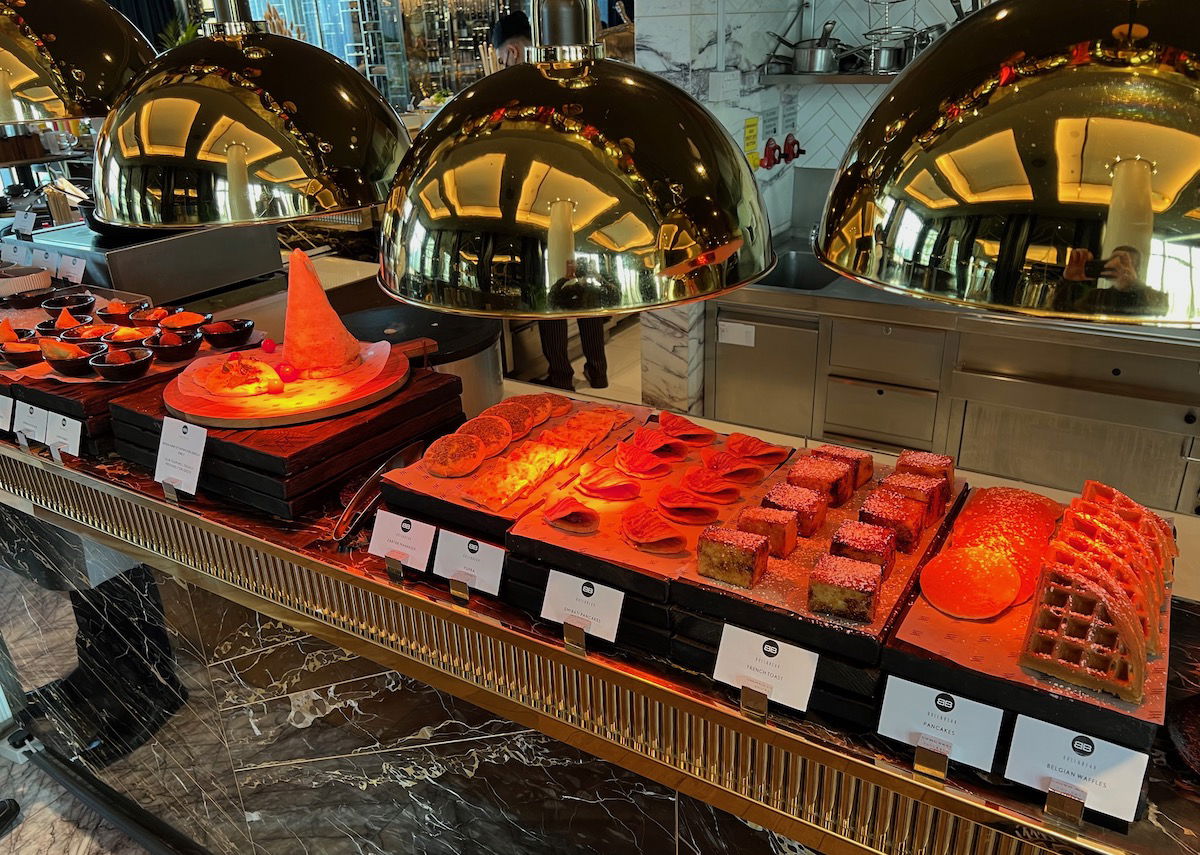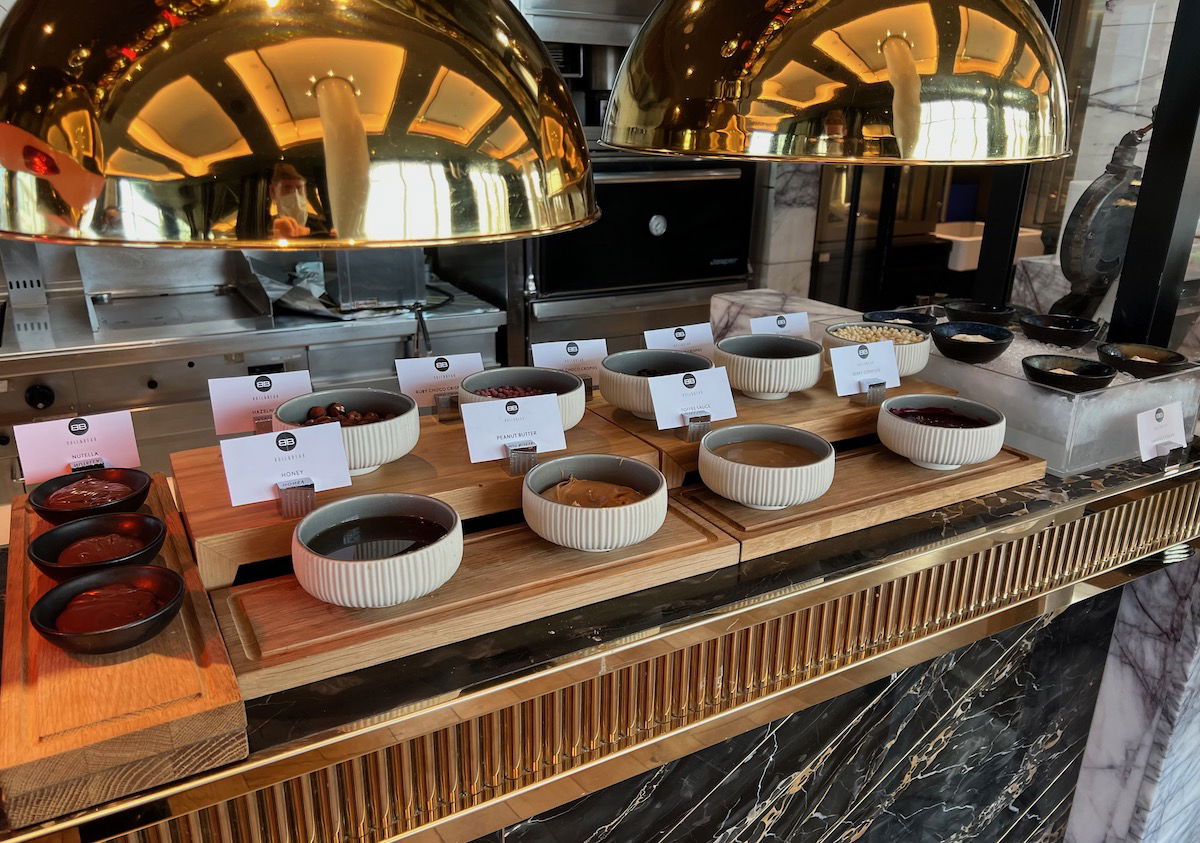 Yum, yum, yum. And best of all, there was quite a tantalizing menu as well.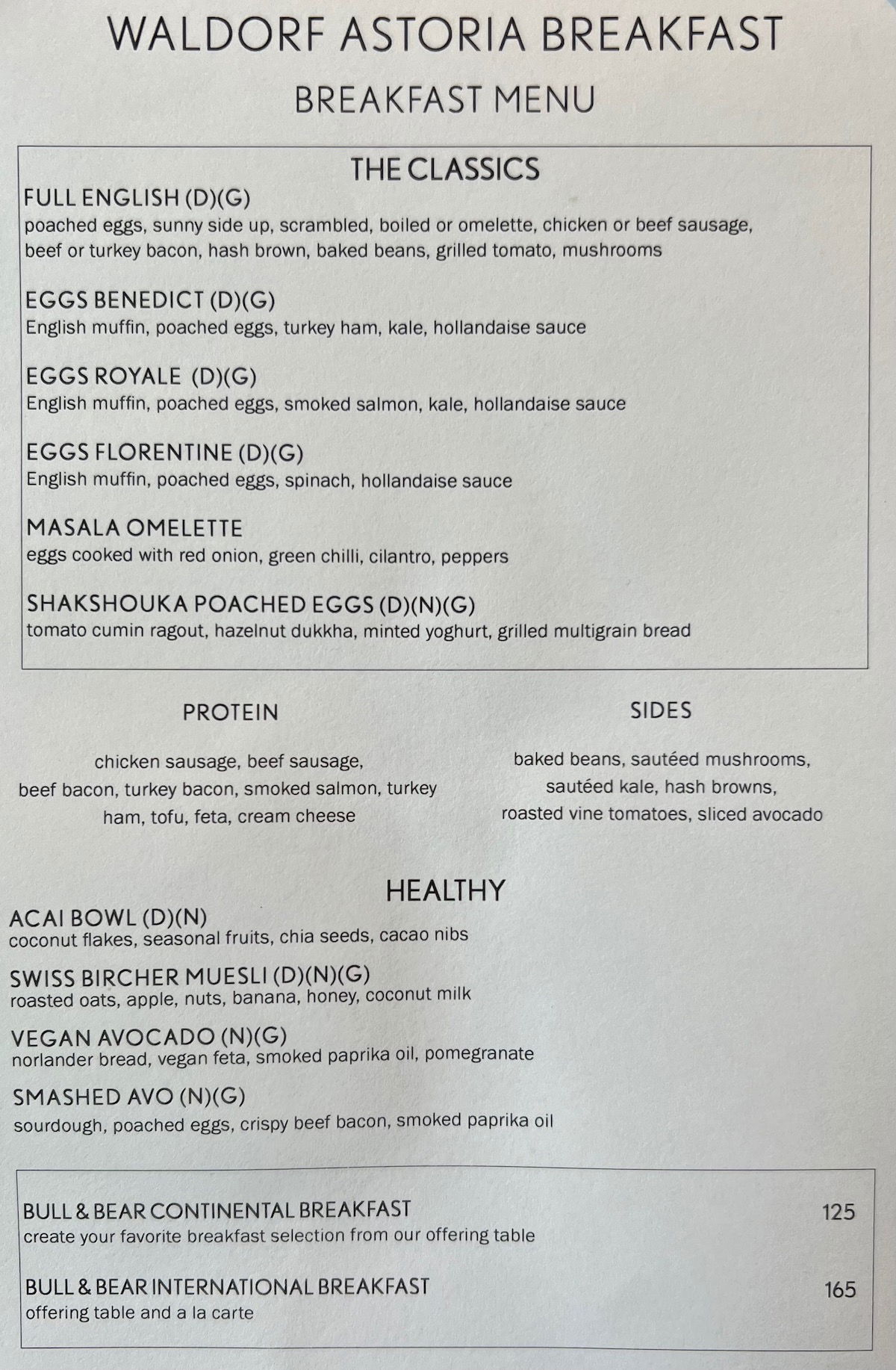 Over the course of our stay we tried the shakshouka (with a side of avocado), the smashed avo with salmon, and the masala omelet with a side of chicken sausage. All dishes were excellent.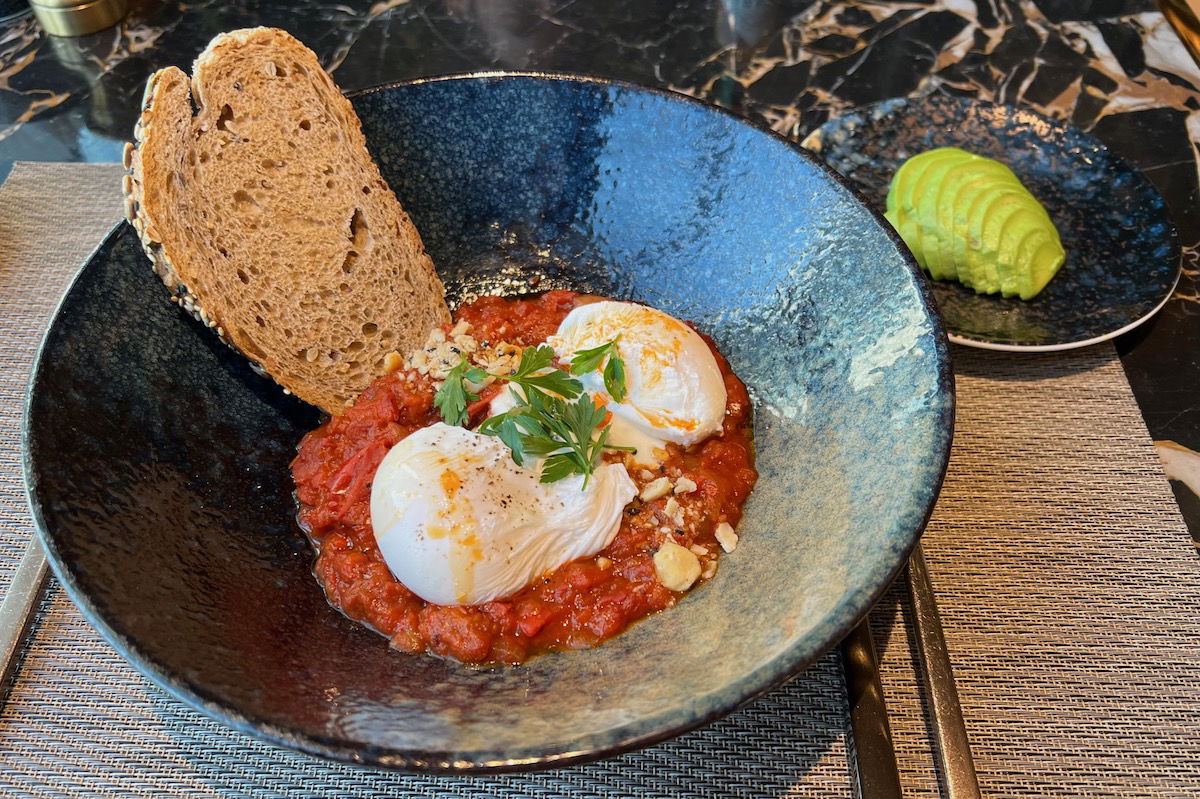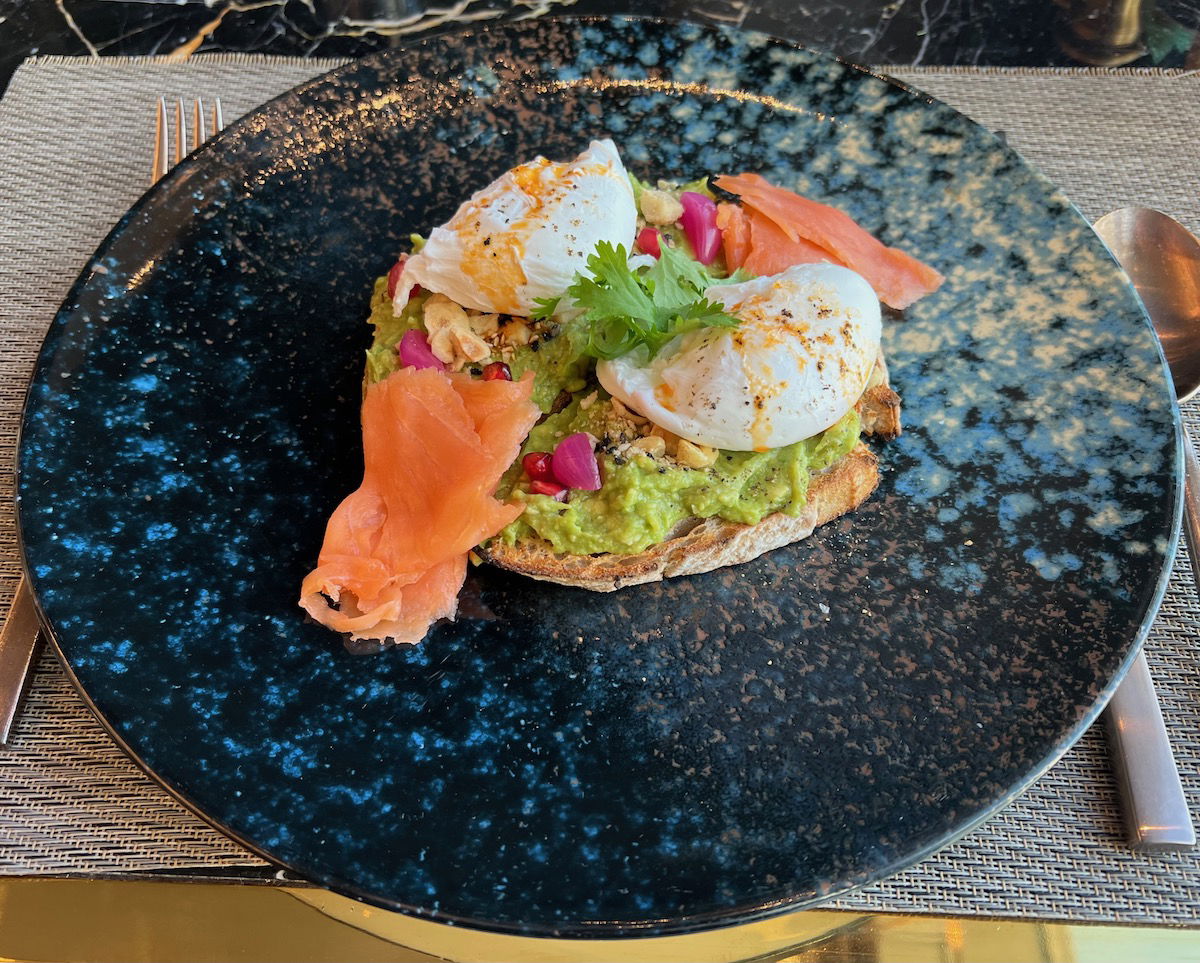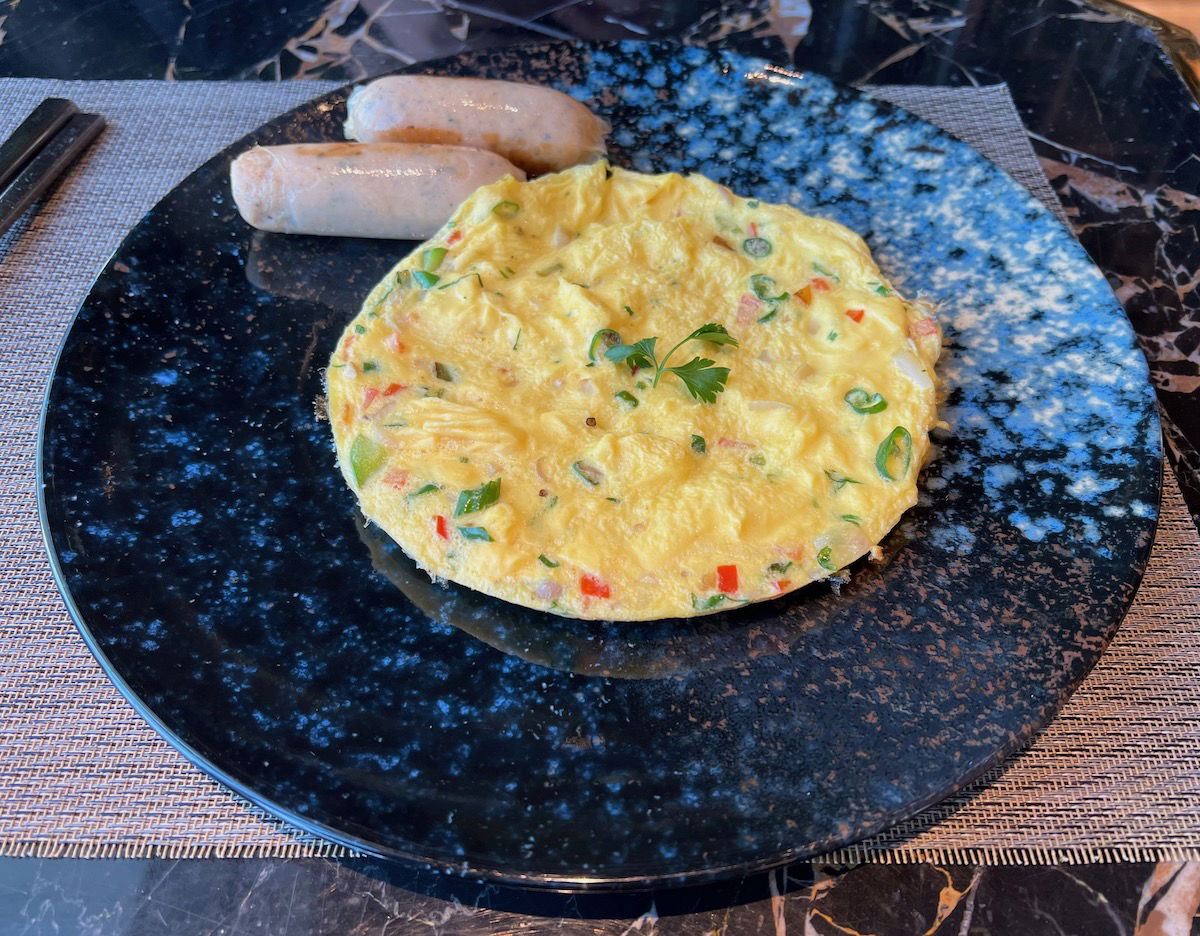 Also, there were a variety of barista-made coffee drinks available, and the cappuccino was exceptional, in terms of taste (it was oh-so-smooth) and presentation.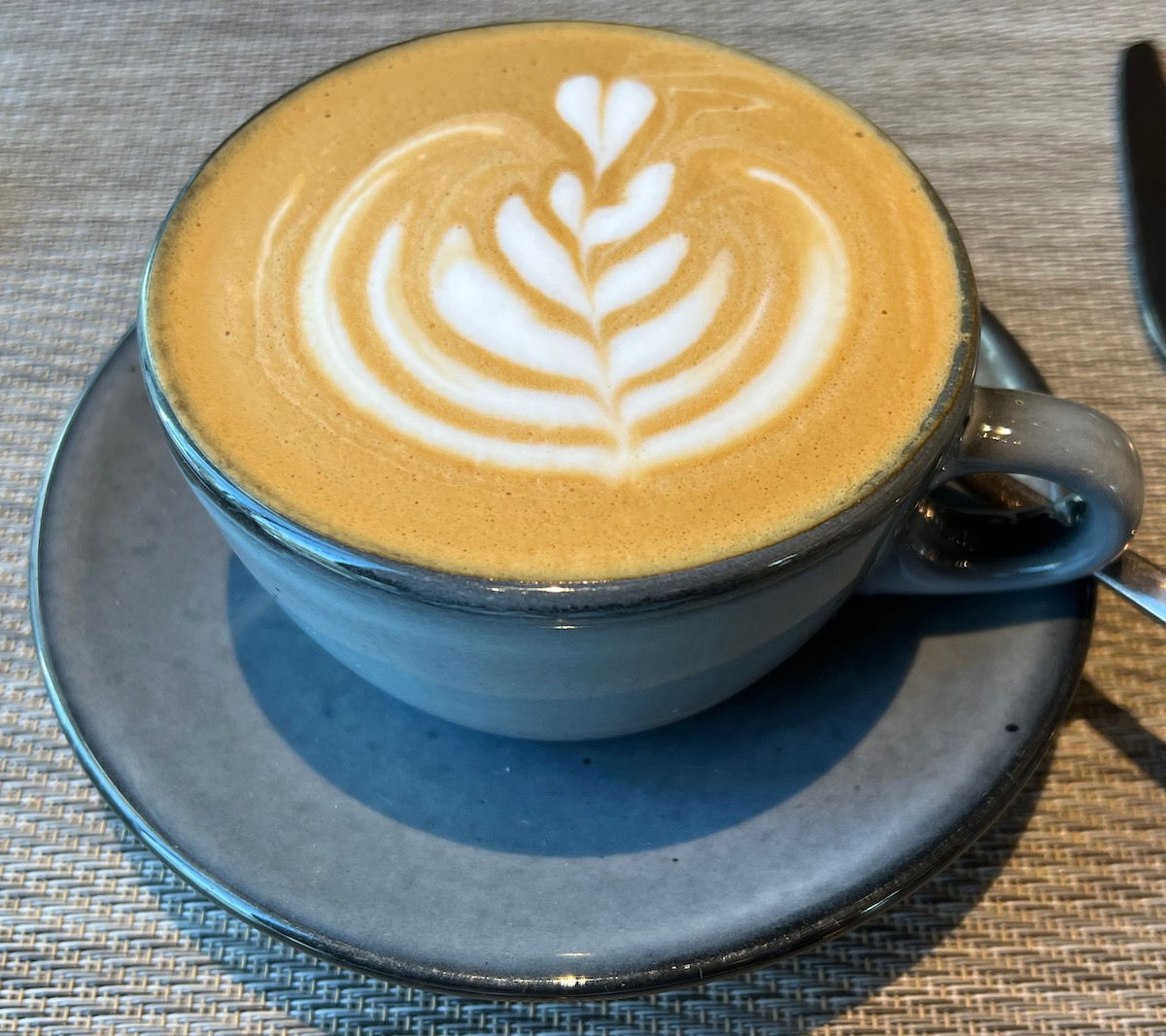 The iced lattes, fresh juices, and energizing boosts, were great as well.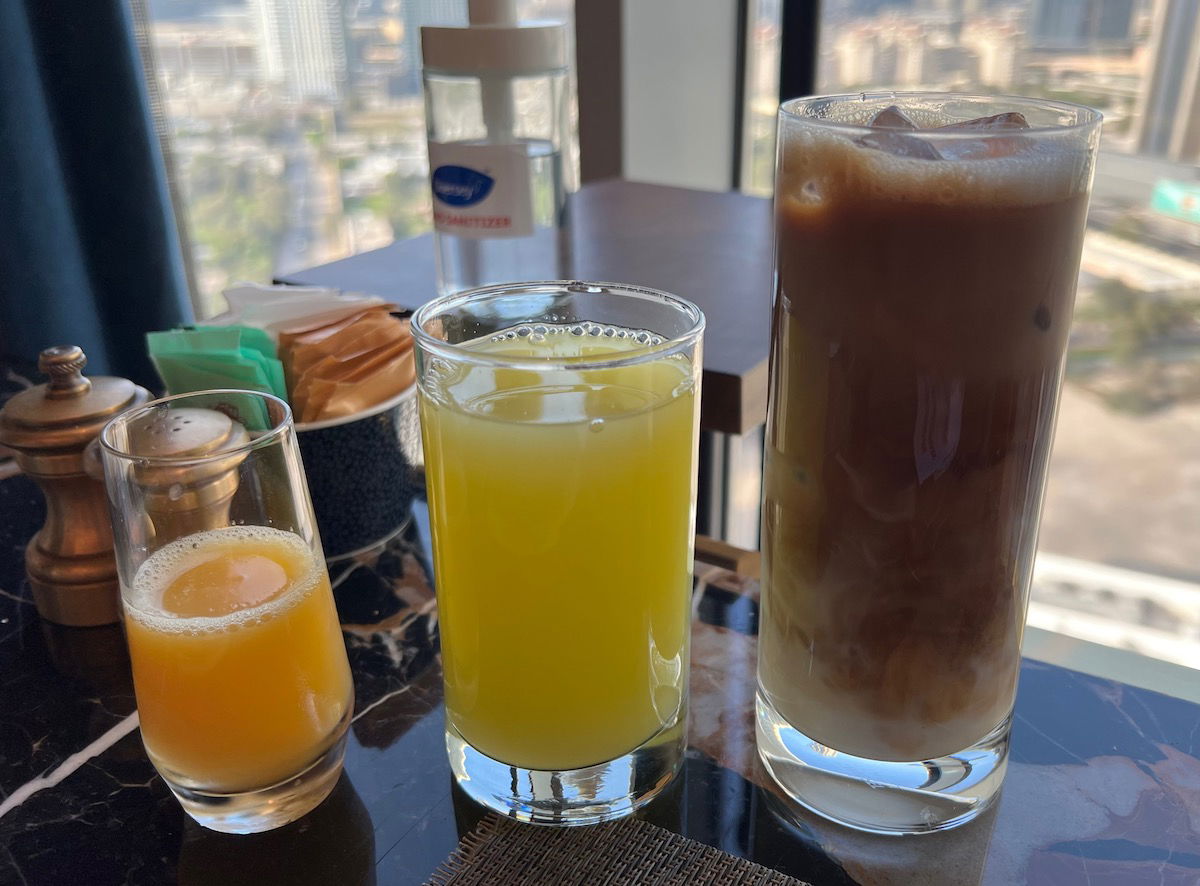 Waldorf Astoria Dubai DIFC Bull & Bear Restaurant (lunch)
Since we had a $100 credit to spend, we had lunch at Bull & Bear one day as well. Dubai has lots of "business lunches," which in general are a great deal. They're a good way to try a restaurant at costs that are much lower than dinner prices.
By the way, it's worth noting that the hotel offers 25% off food & beverages for Hilton Honors Gold & Diamond members. This is a standard offering at most properties in the UAE.
You can find the Bull & Bear business lunch menu below.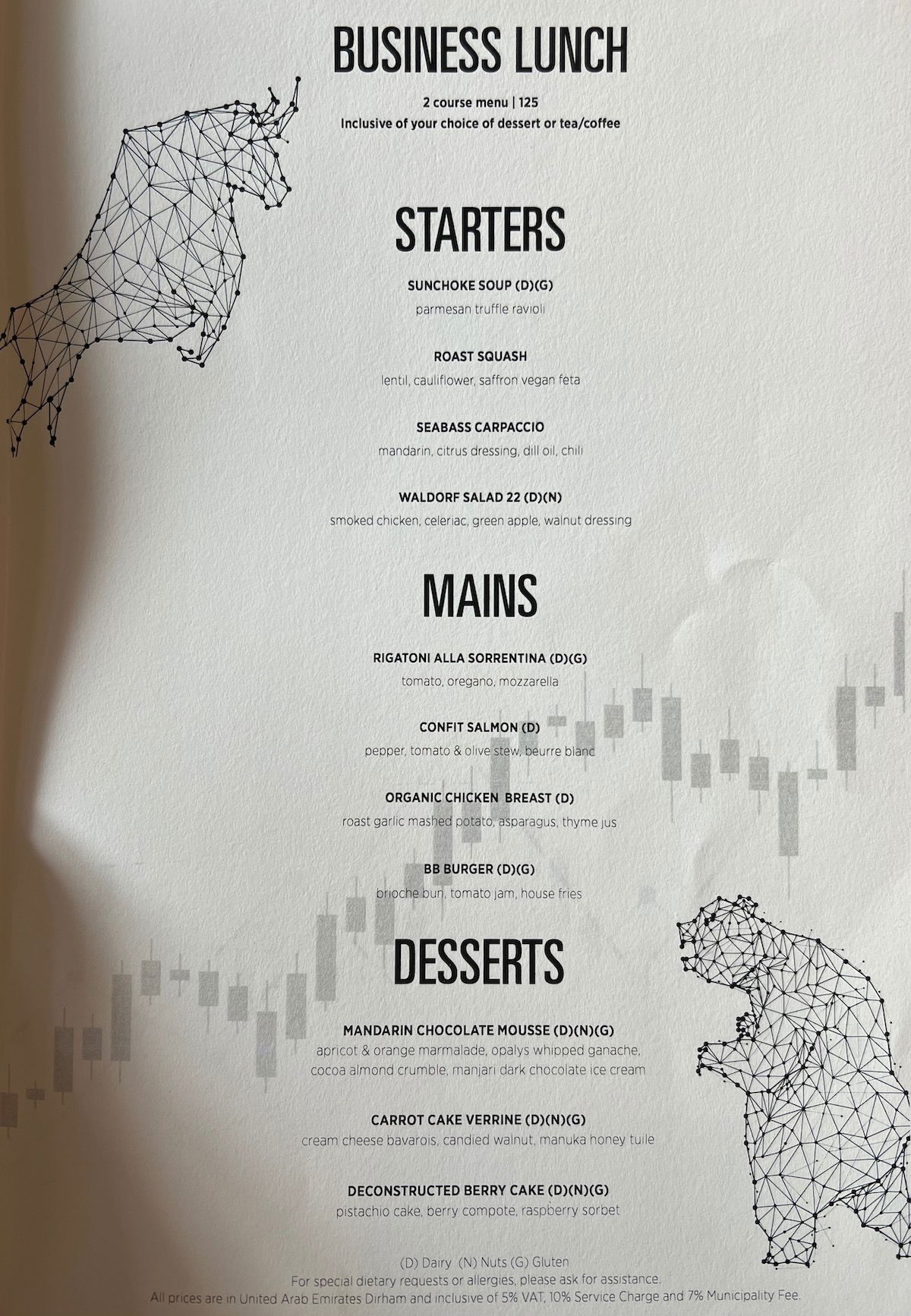 It was a treat to be served by the same employees who took care of us at breakfast (a special shoutout to Sanjay). The meal started with some delicious freshly baked bread.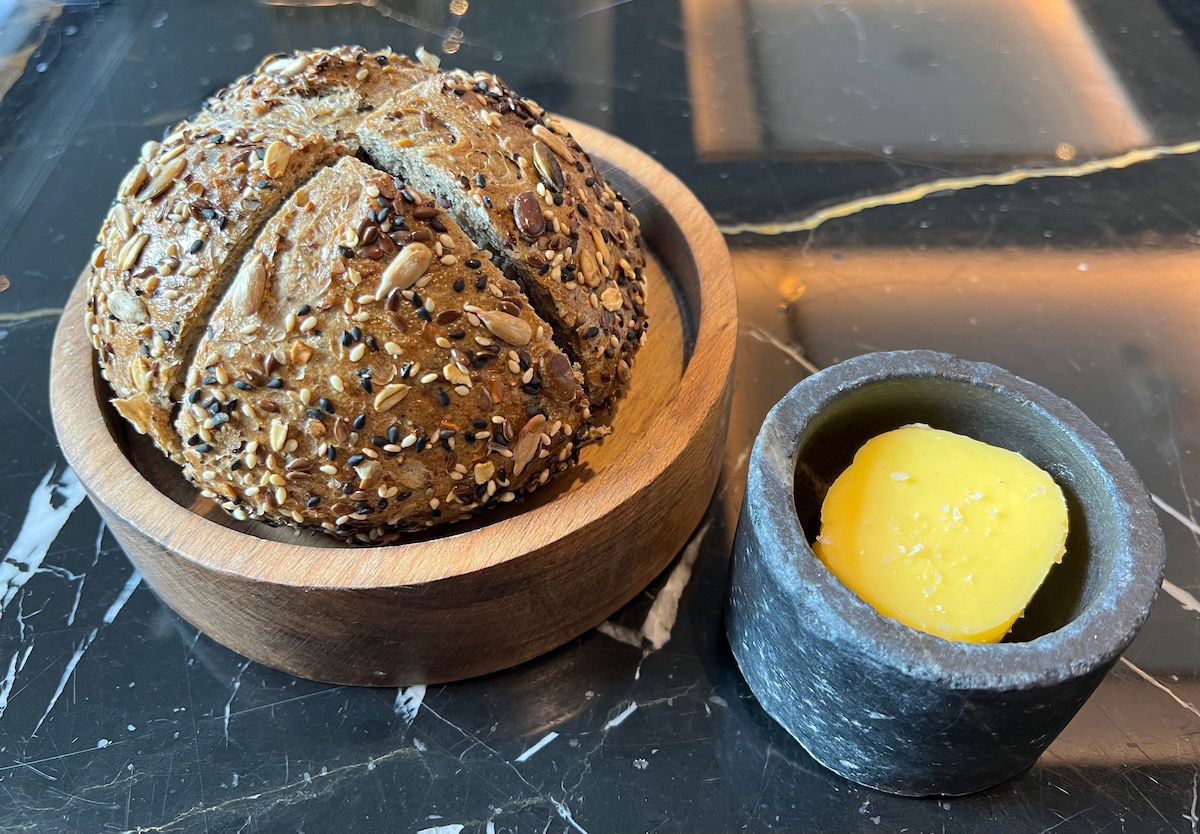 To start I had the Waldorf salad, while Ford had the roast squash.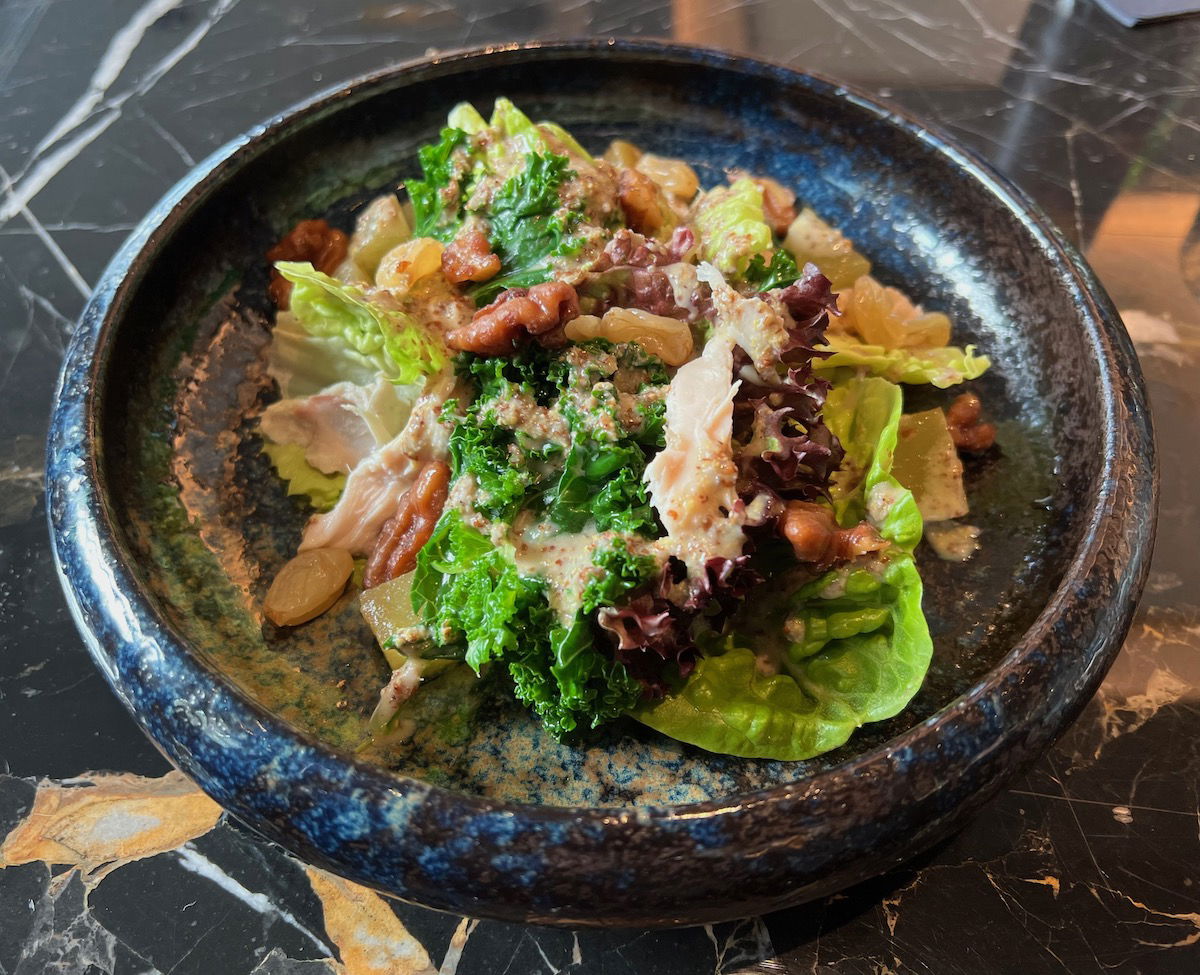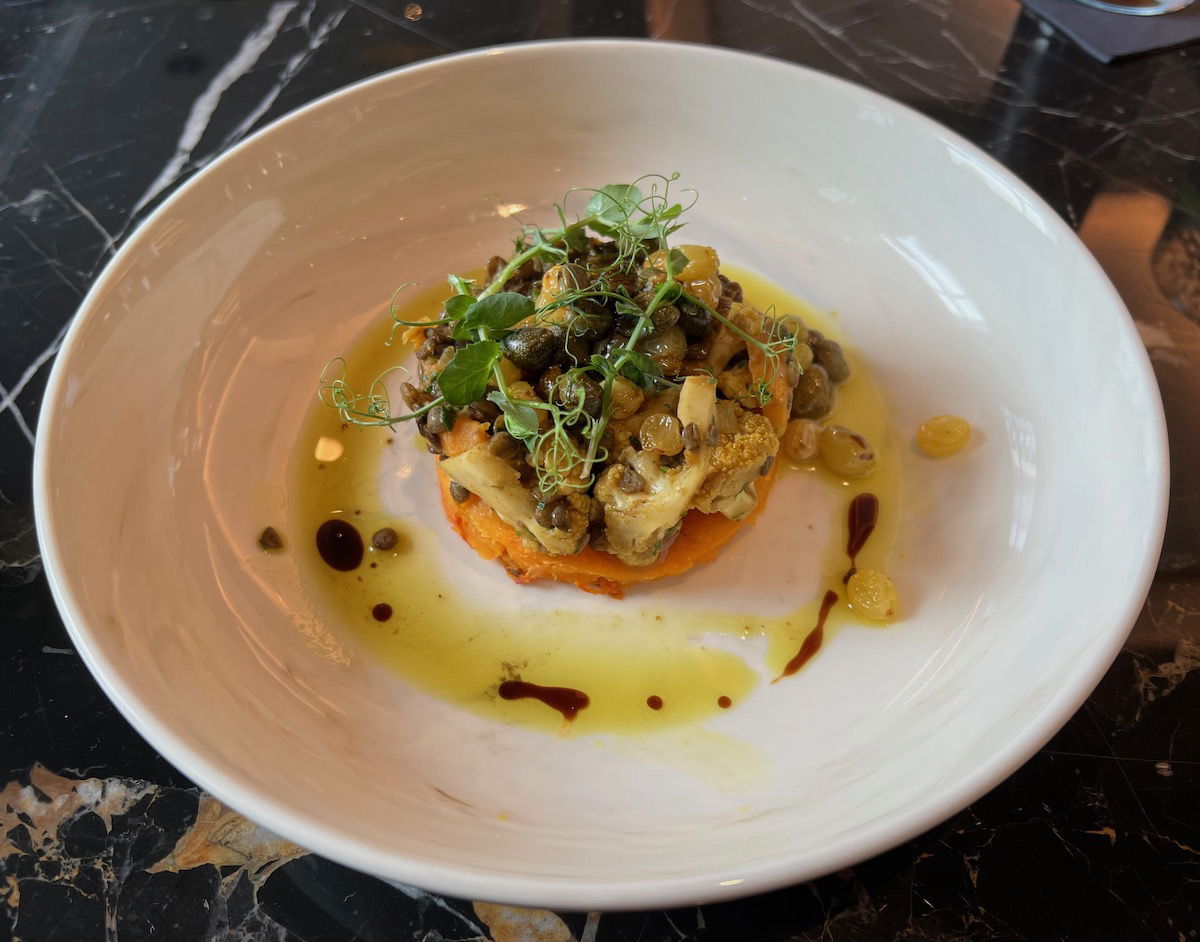 Then for our mains, Ford and I both had the confit salmon.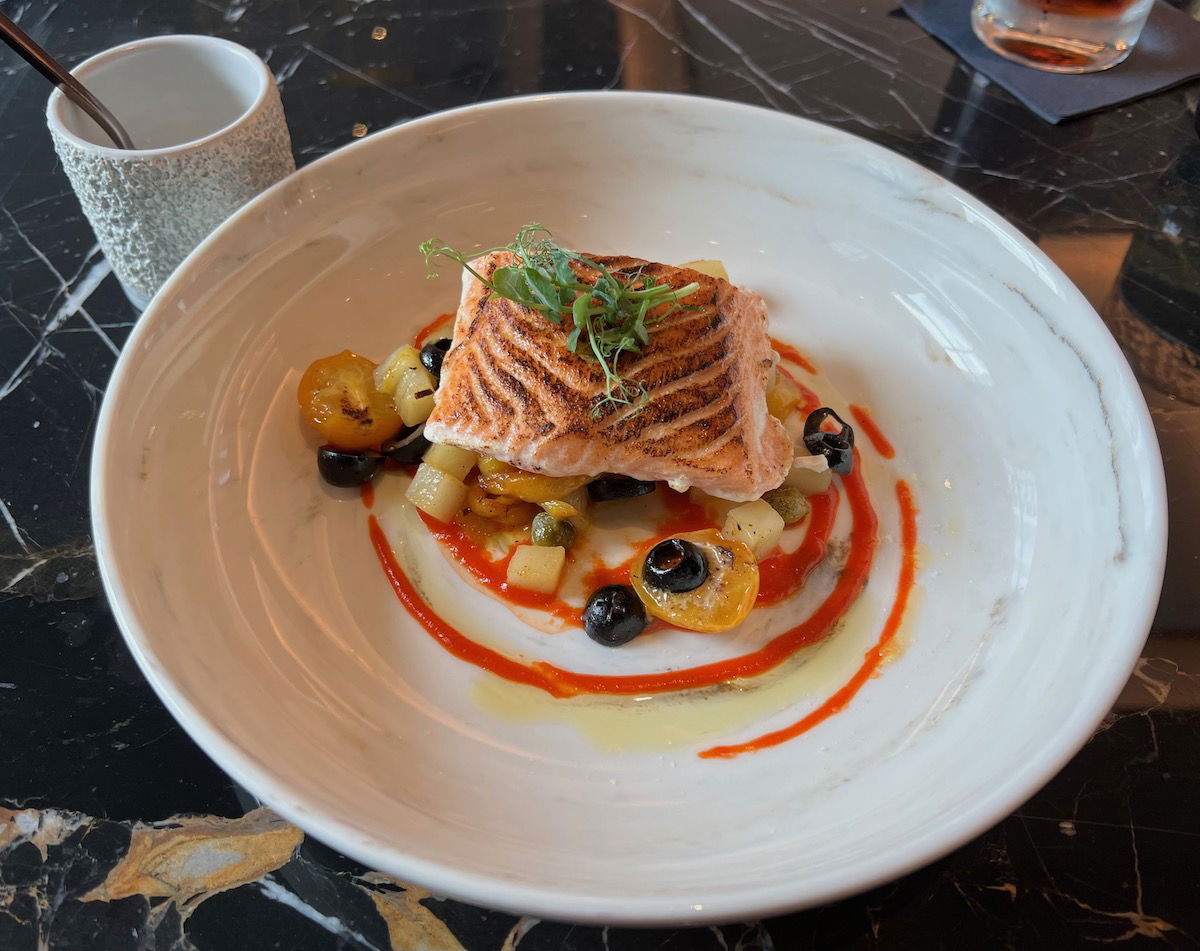 Then we could choose a dessert or coffee, and as tempting as the dessert options were, we can't eat nonstop, so we just had an americano.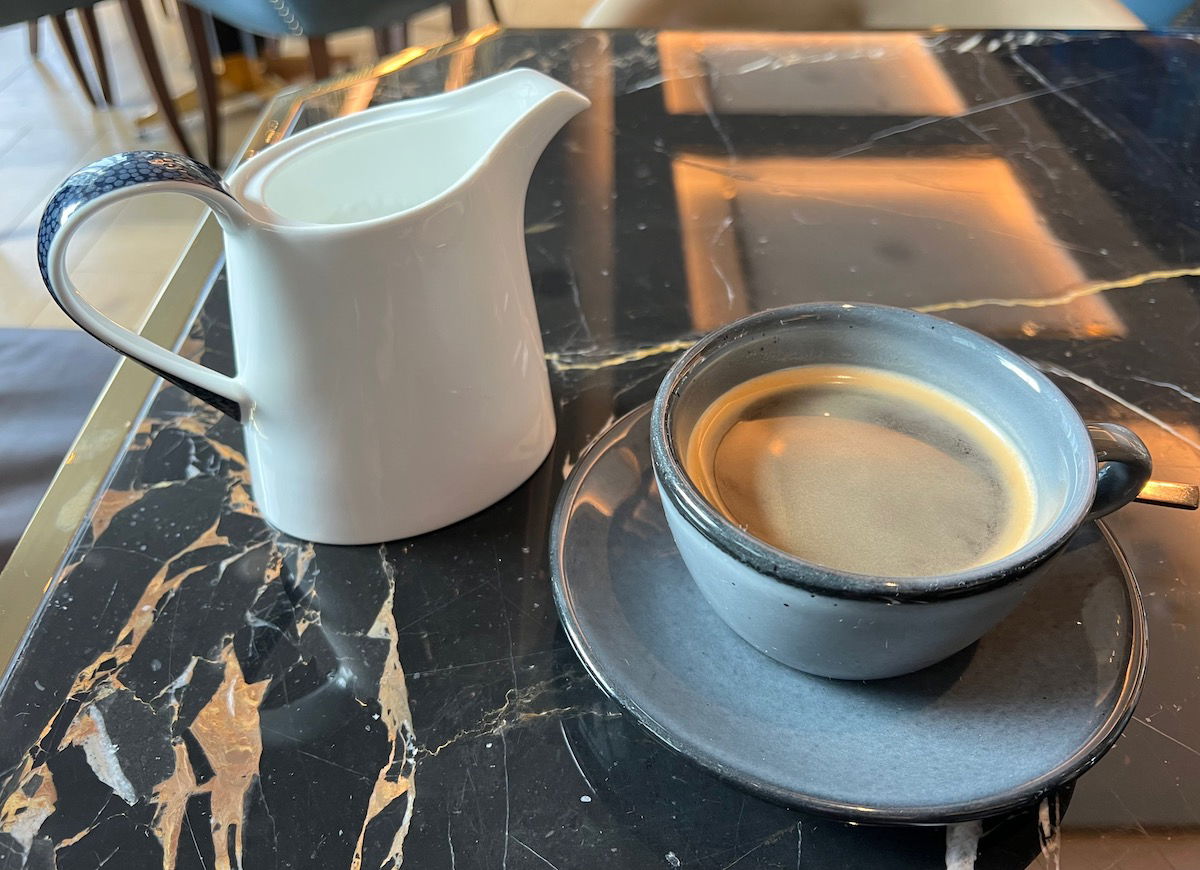 What a lovely meal!
Waldorf Astoria Dubai DIFC Peacock Alley
Also on the 18th floor was Peacock Alley, which is the signature bar and lounge that you'll find at all Waldorf Astoria properties. It's open all day, and was elegant and a nice place to sit and get some work done.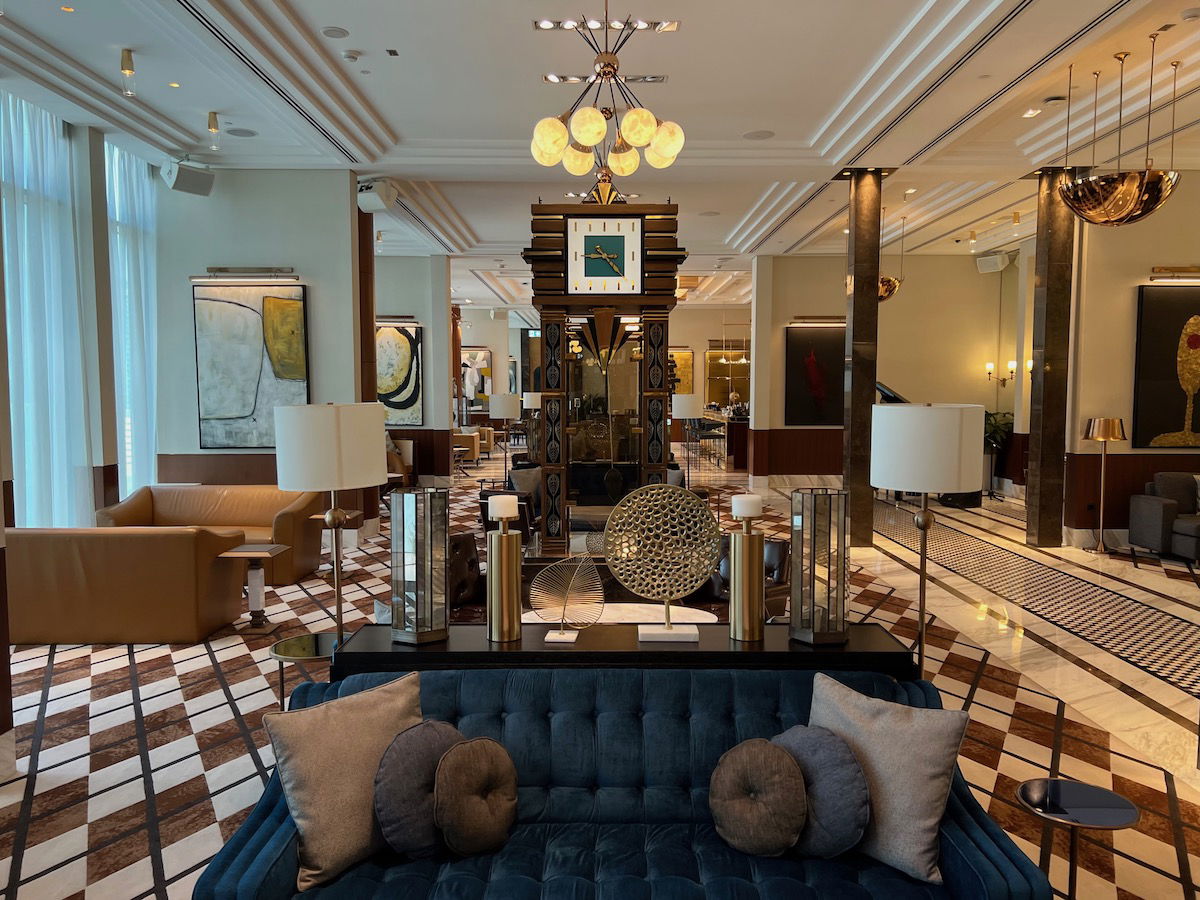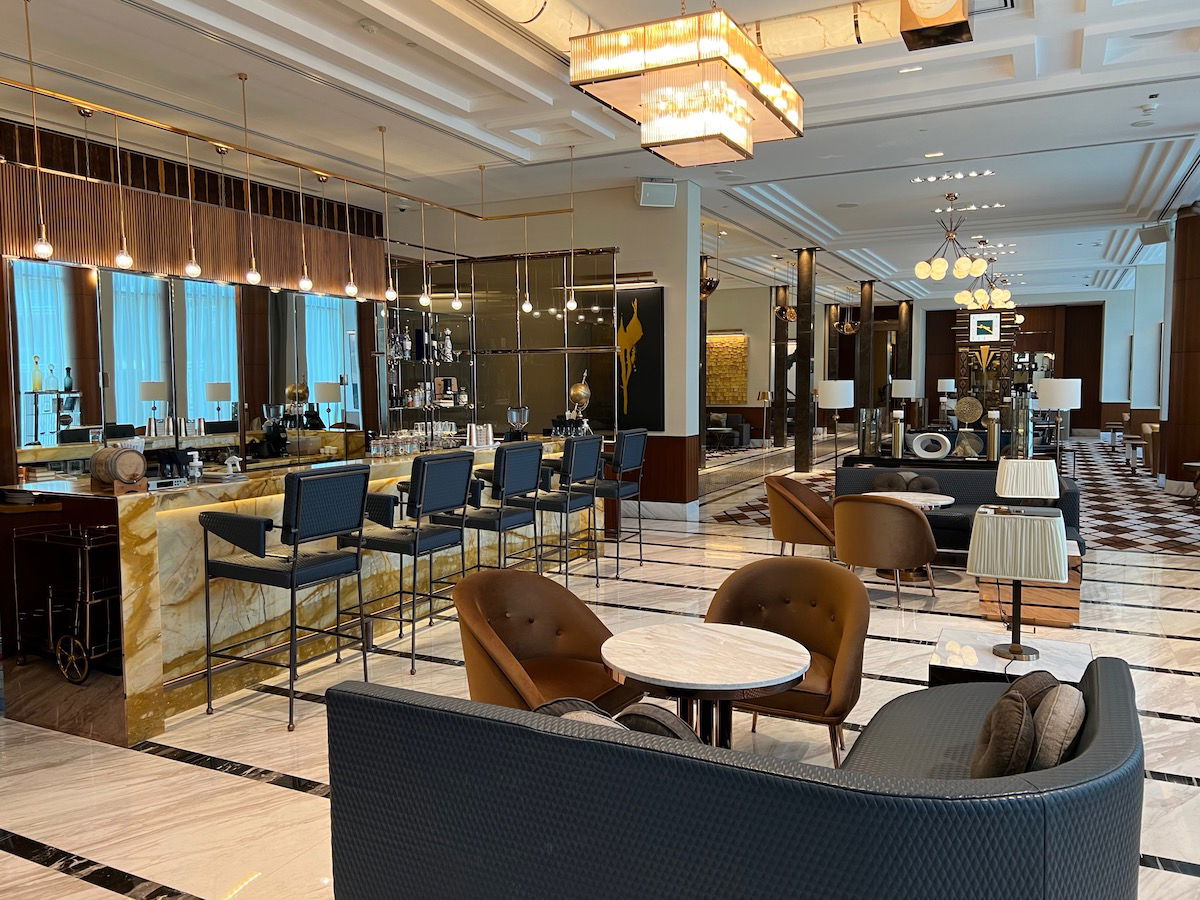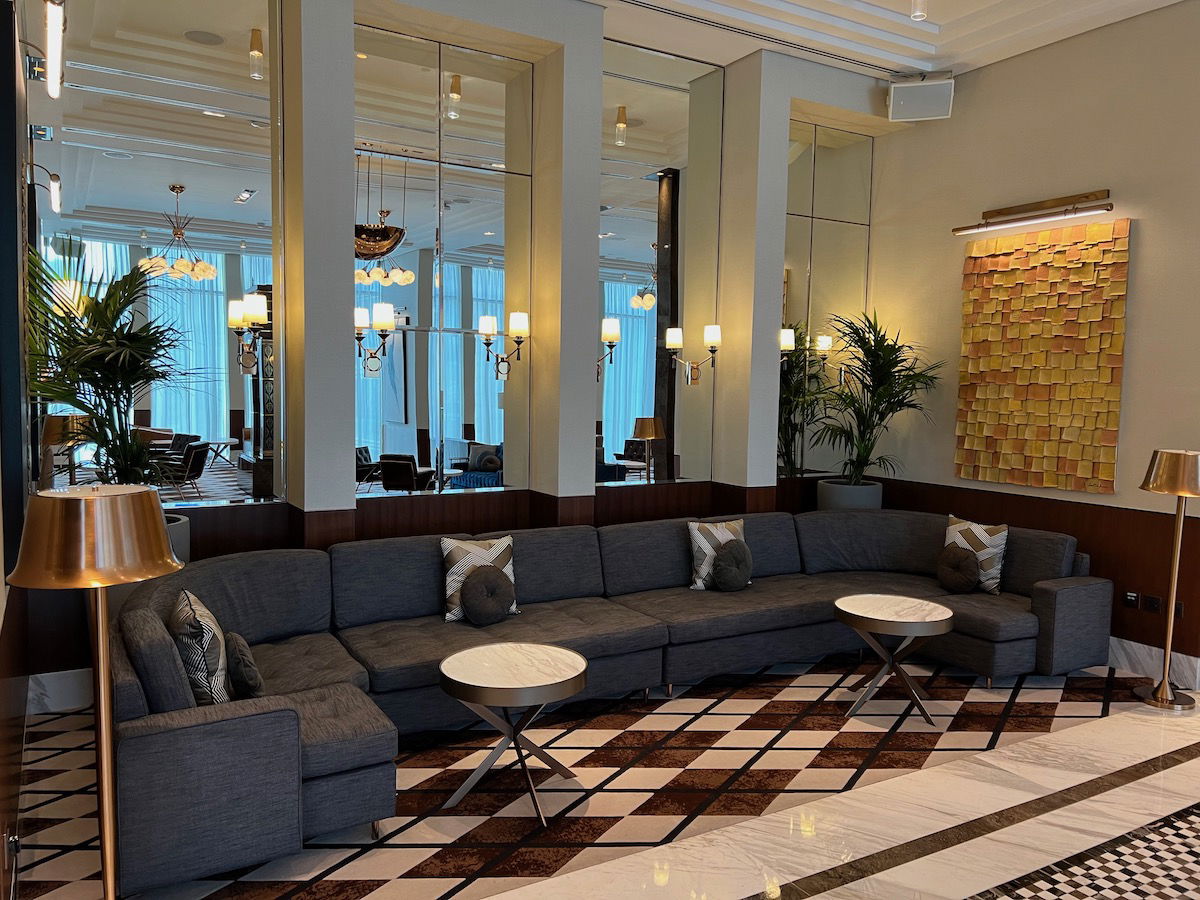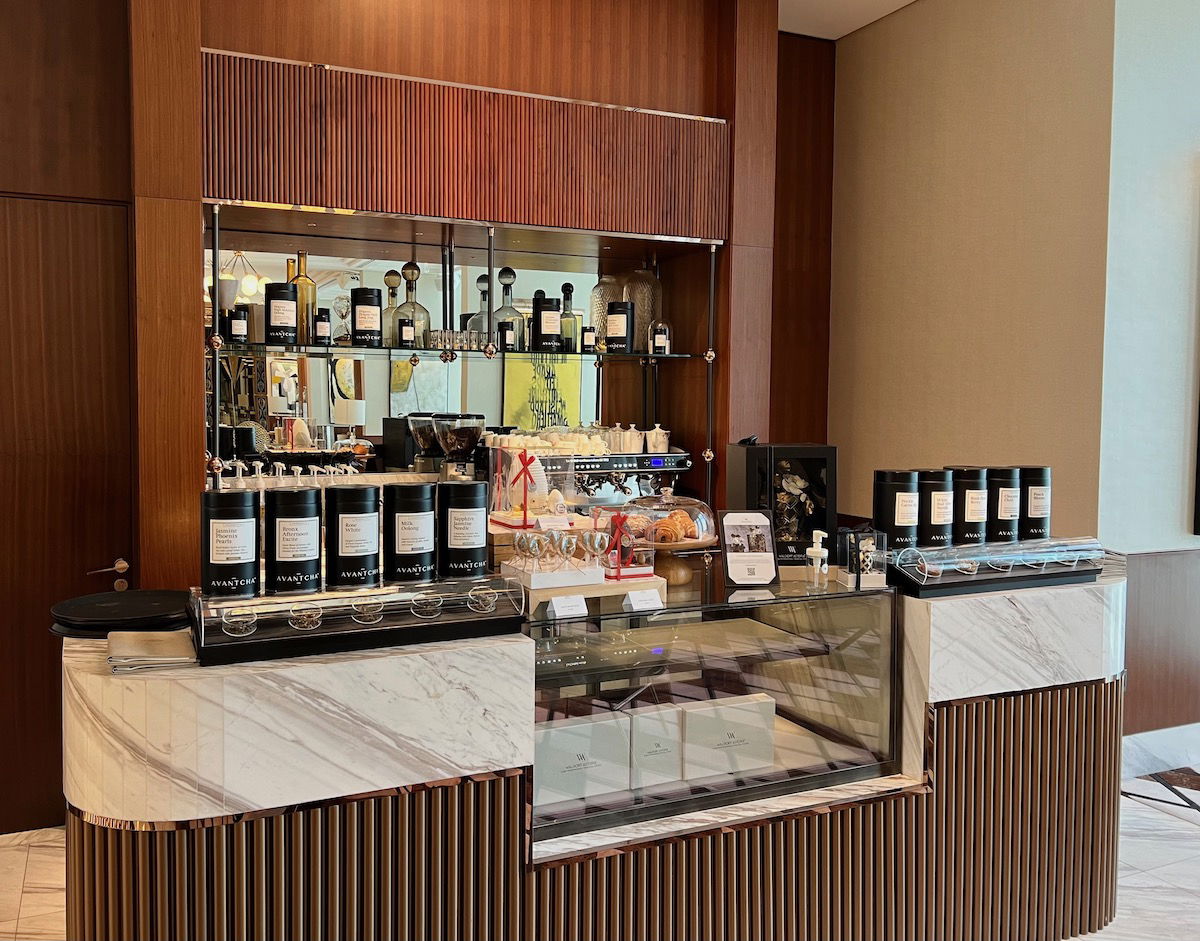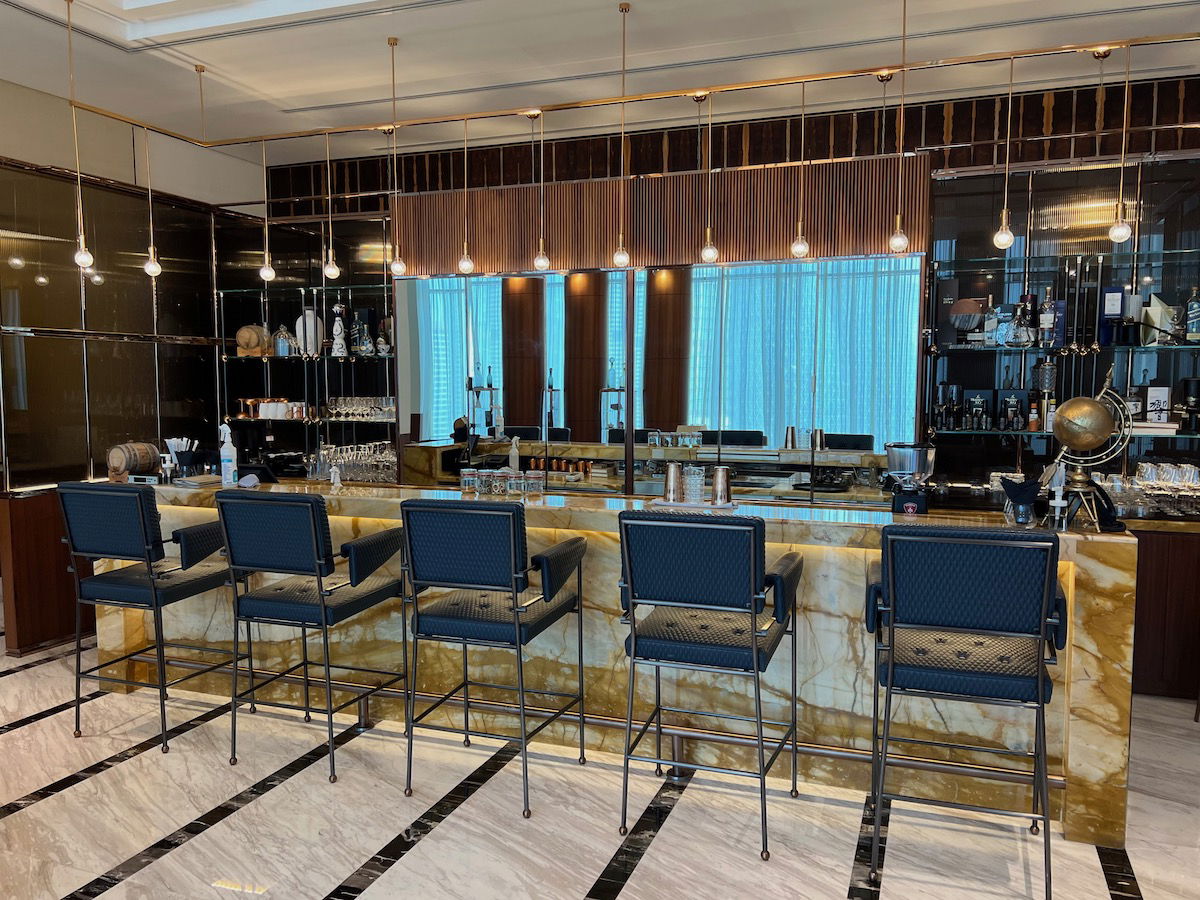 In the back of Peacock Alley was a cigar lounge, which even had a variety of cigars for purchase. I know this is something that my dad would love, so I'll keep this in mind the next time I return to Dubai with him.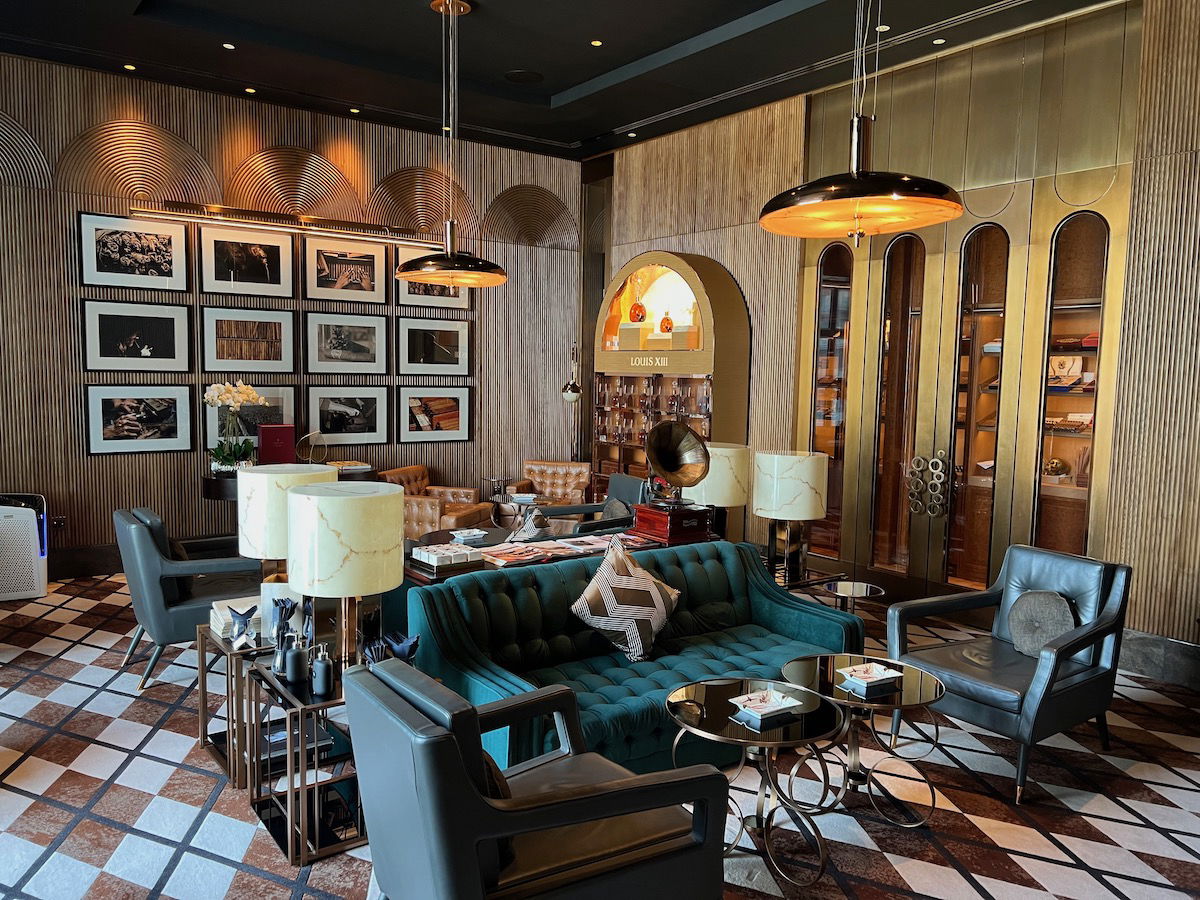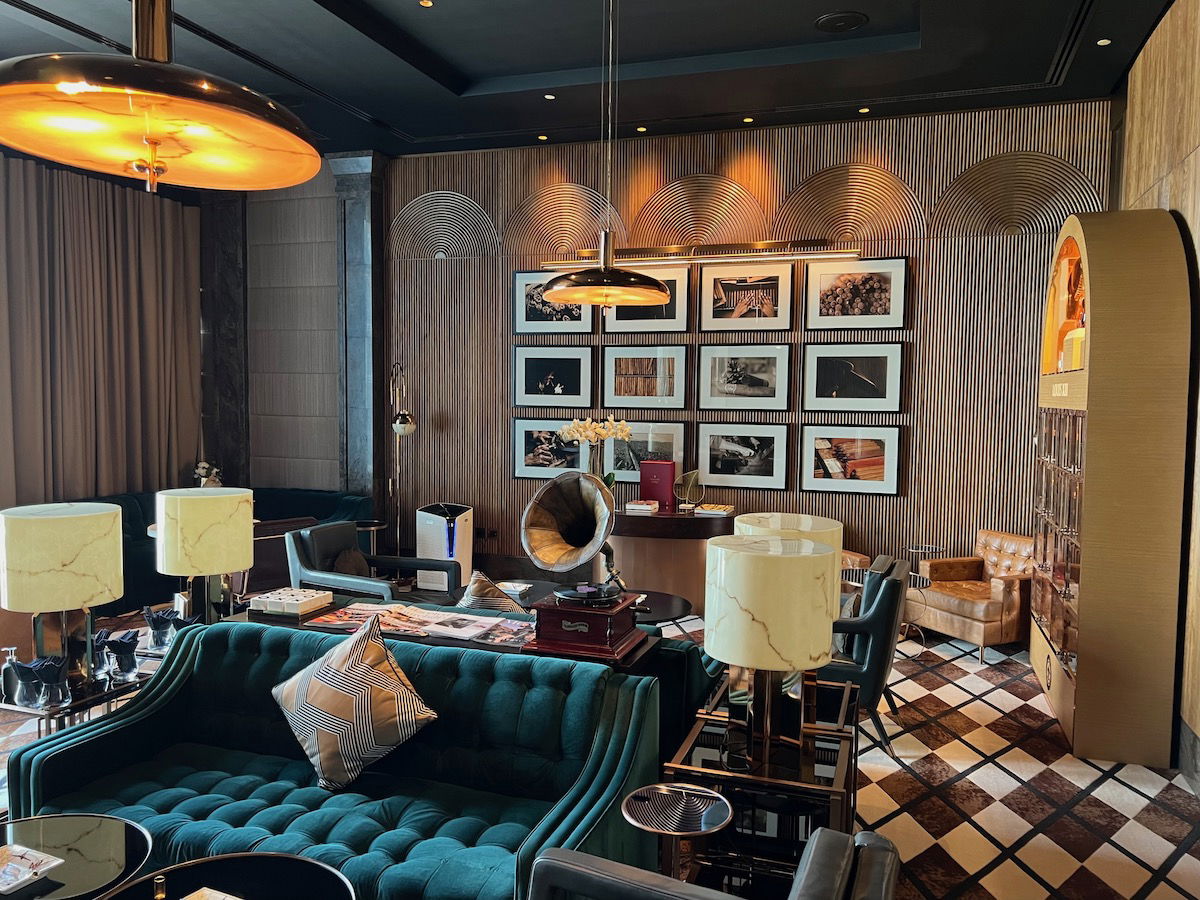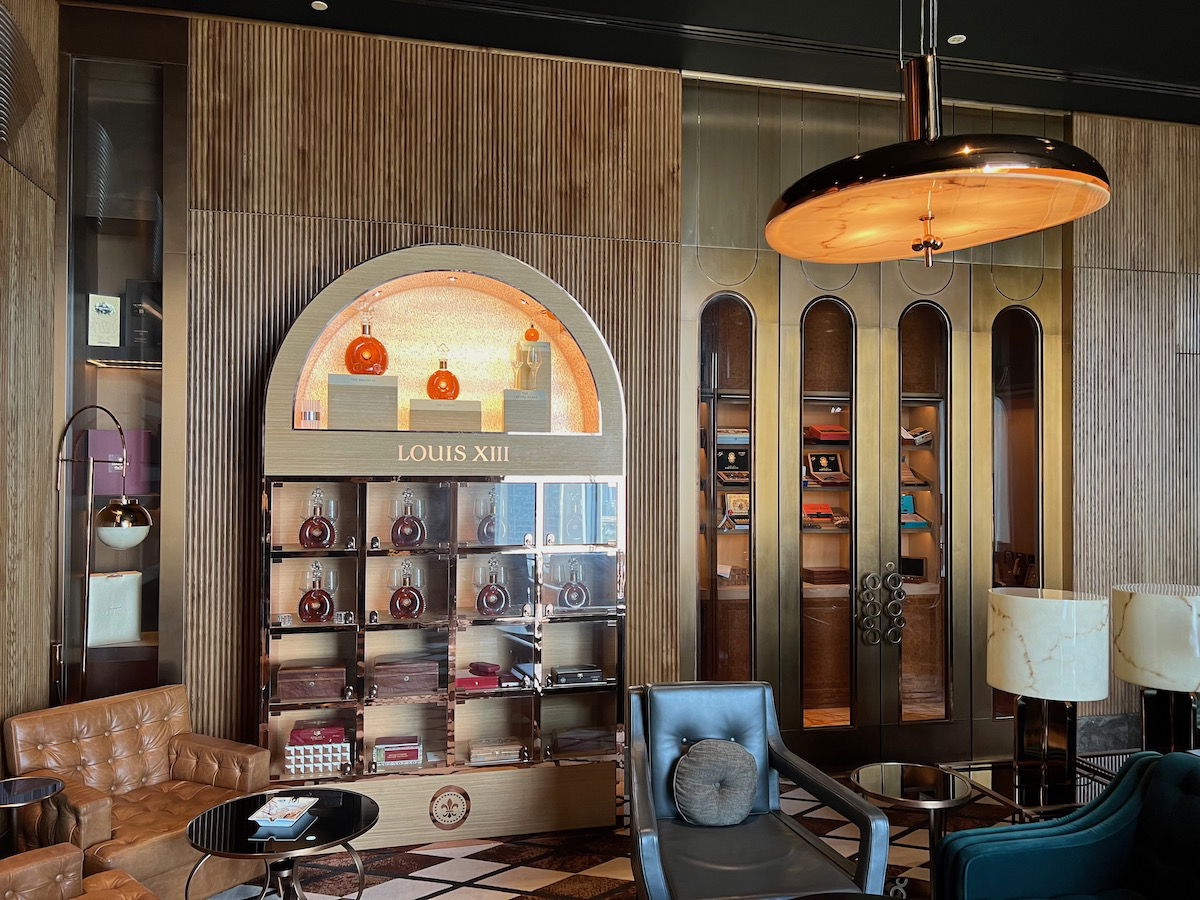 We had drinks here our first evening before dinner, and you can find the Peacock Alley menu here. We had the Sean Connery and Frank Sinatra (as you can see, the cocktails have interesting names), and they were served with spicy cashews.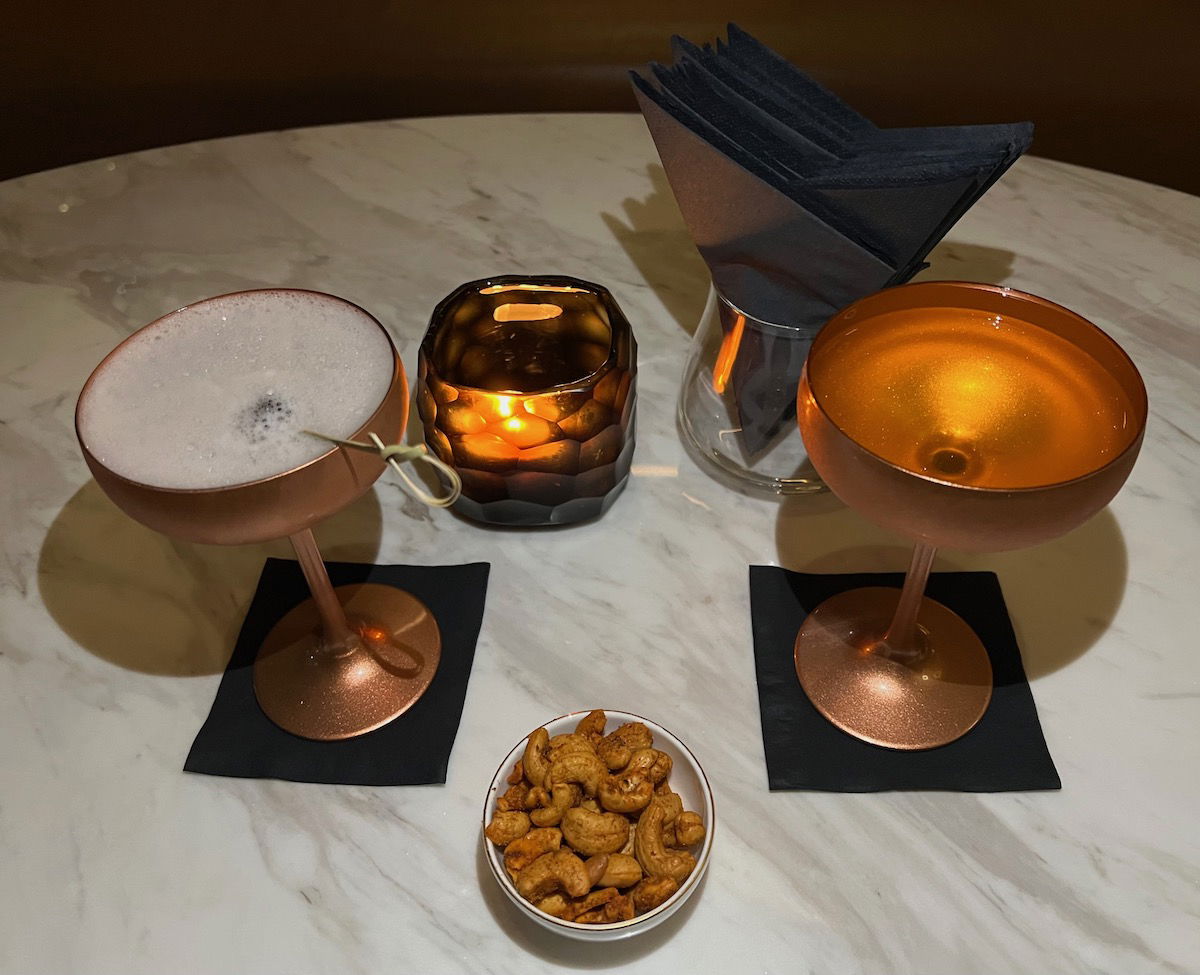 The views of Dubai at dusk were pretty great too.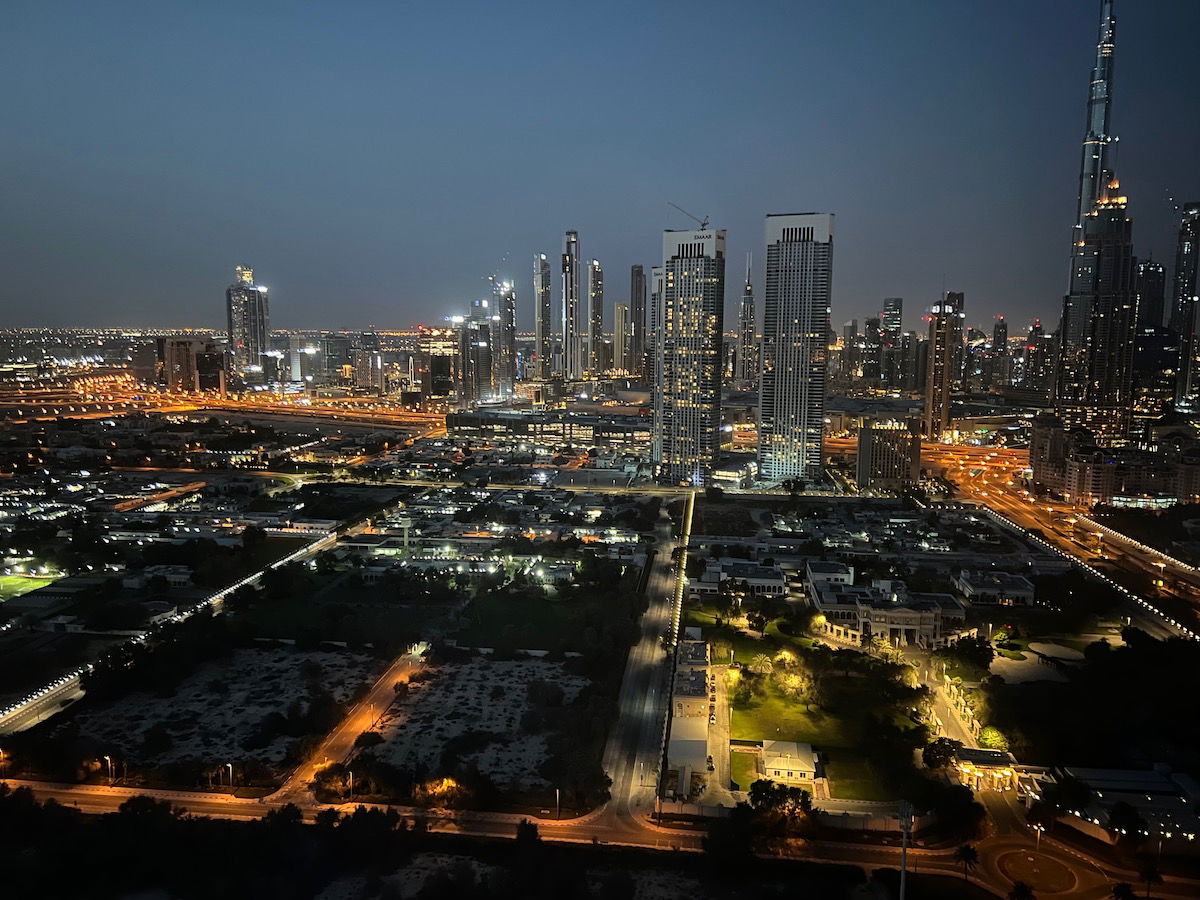 Waldorf Astoria Dubai DIFC pool & St. Trop
Also on the 18th floor is the Waldorf Astoria's pool. For a city hotel this is a solid area, as there was a pool, hot tub, plenty of seating, and even a pool bar, named St. Trop. However, if you're looking to oil yourself up and get a tan, this isn't the hotel for you (both because the deck isn't huge, and because the beams above the pool limit the amount of sun you'll get, which makes this area more appealing to me, but others will disagree).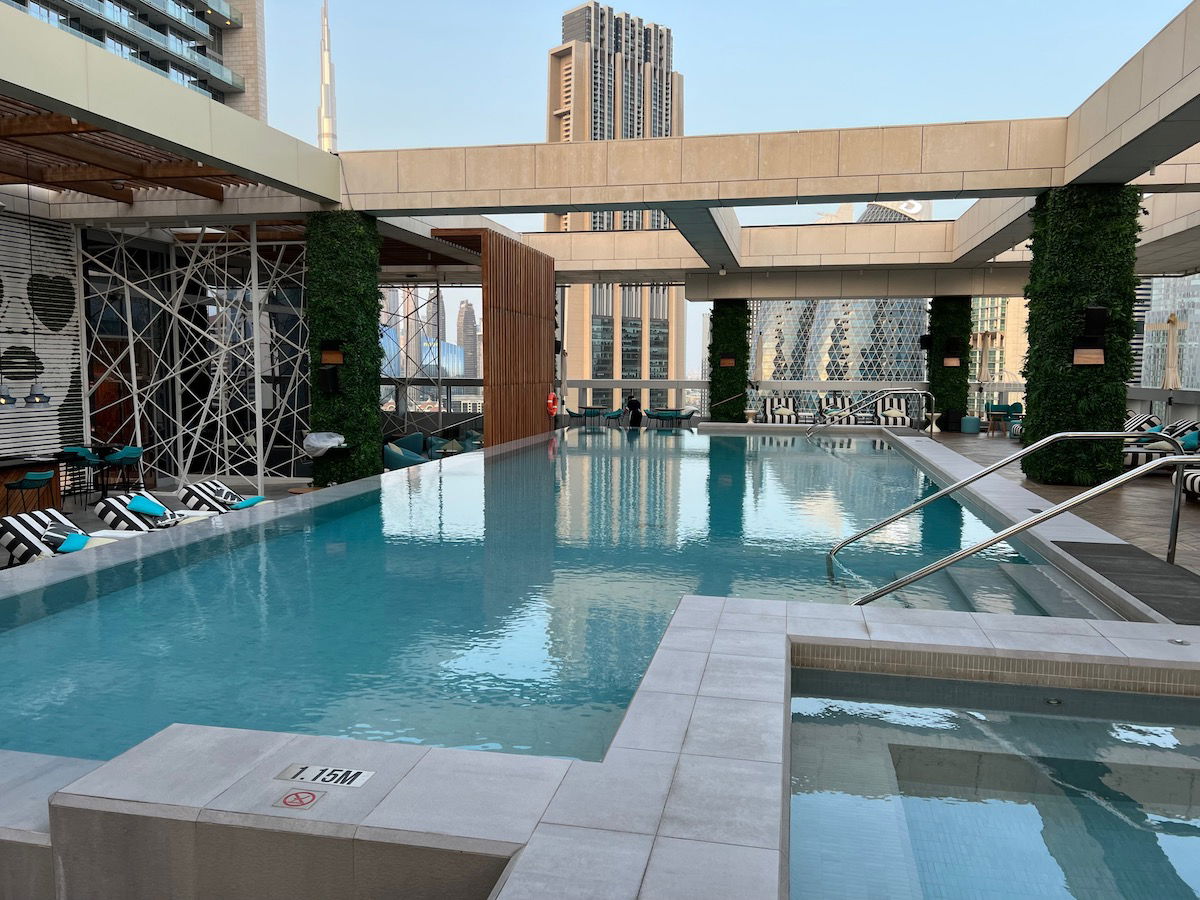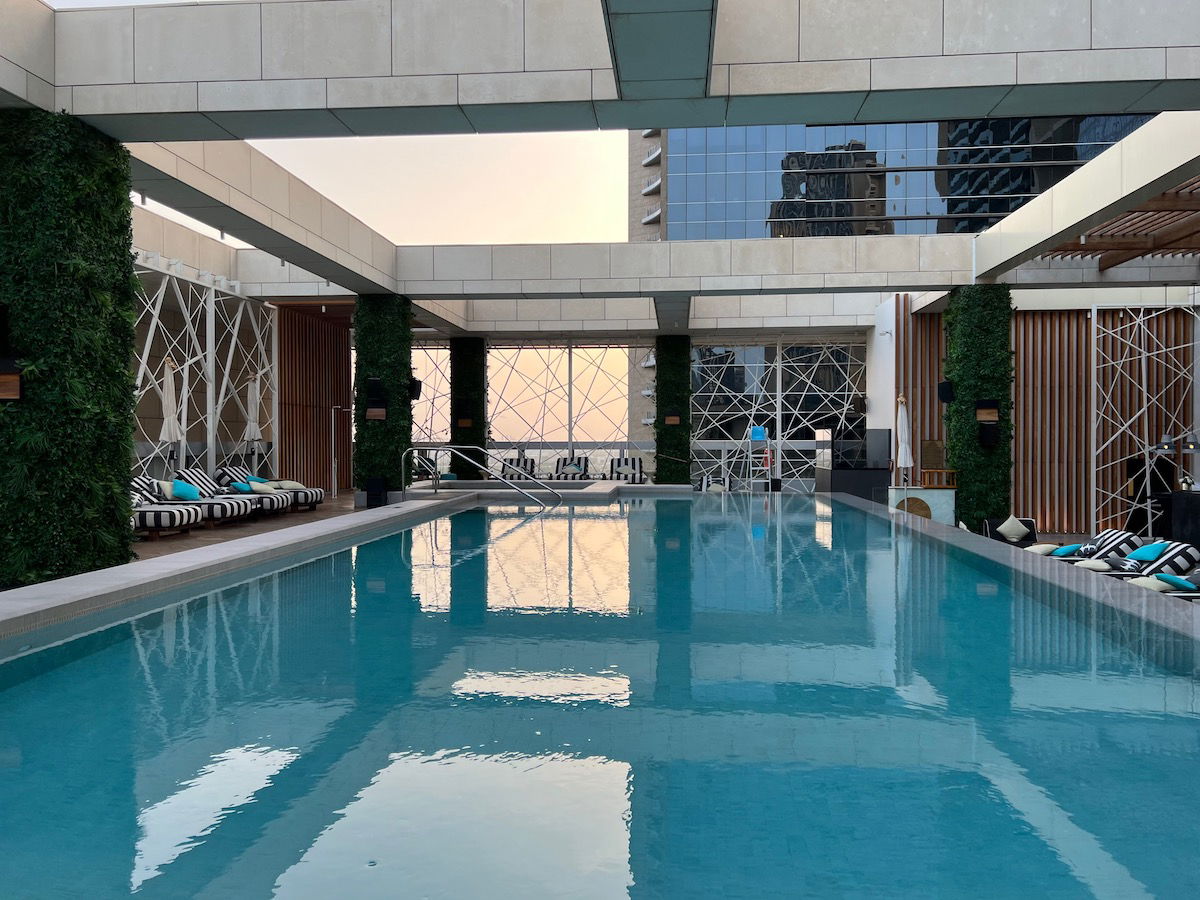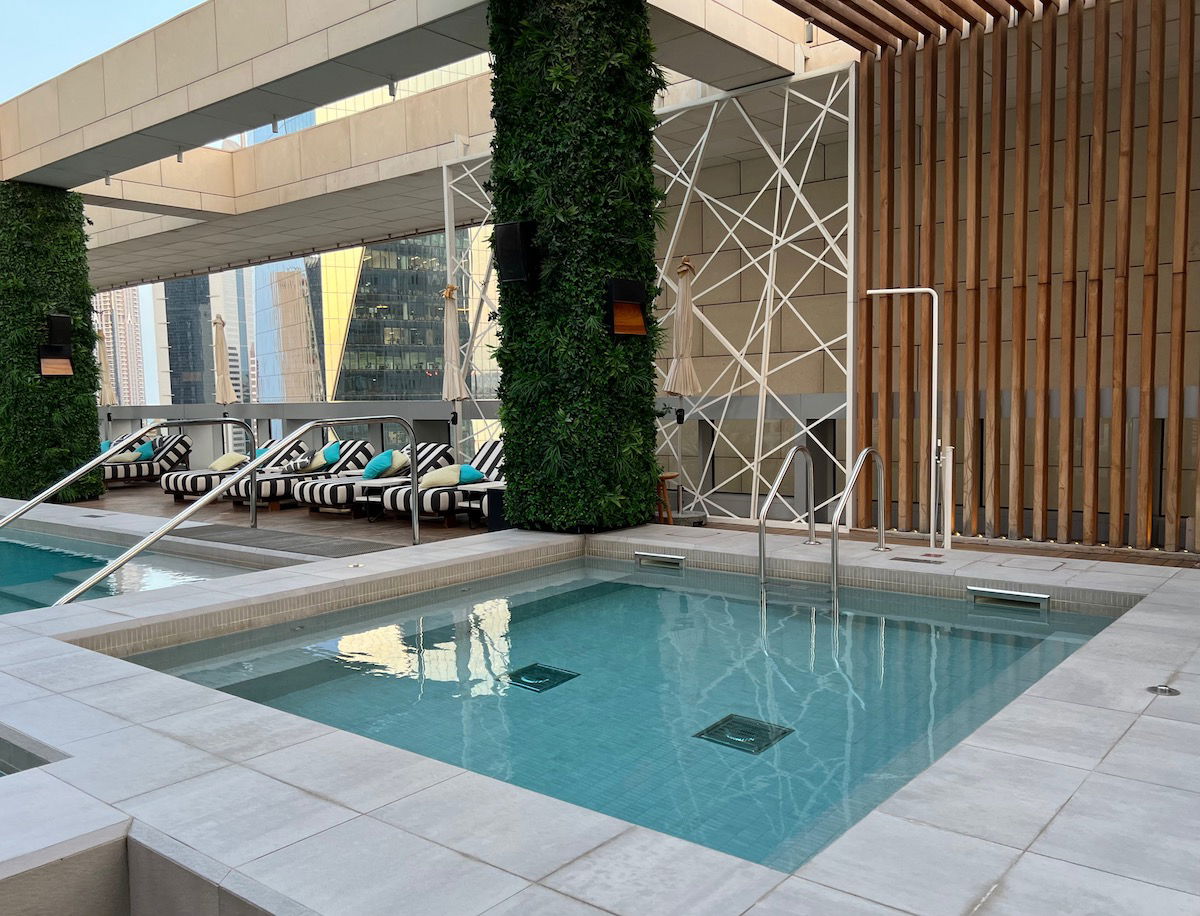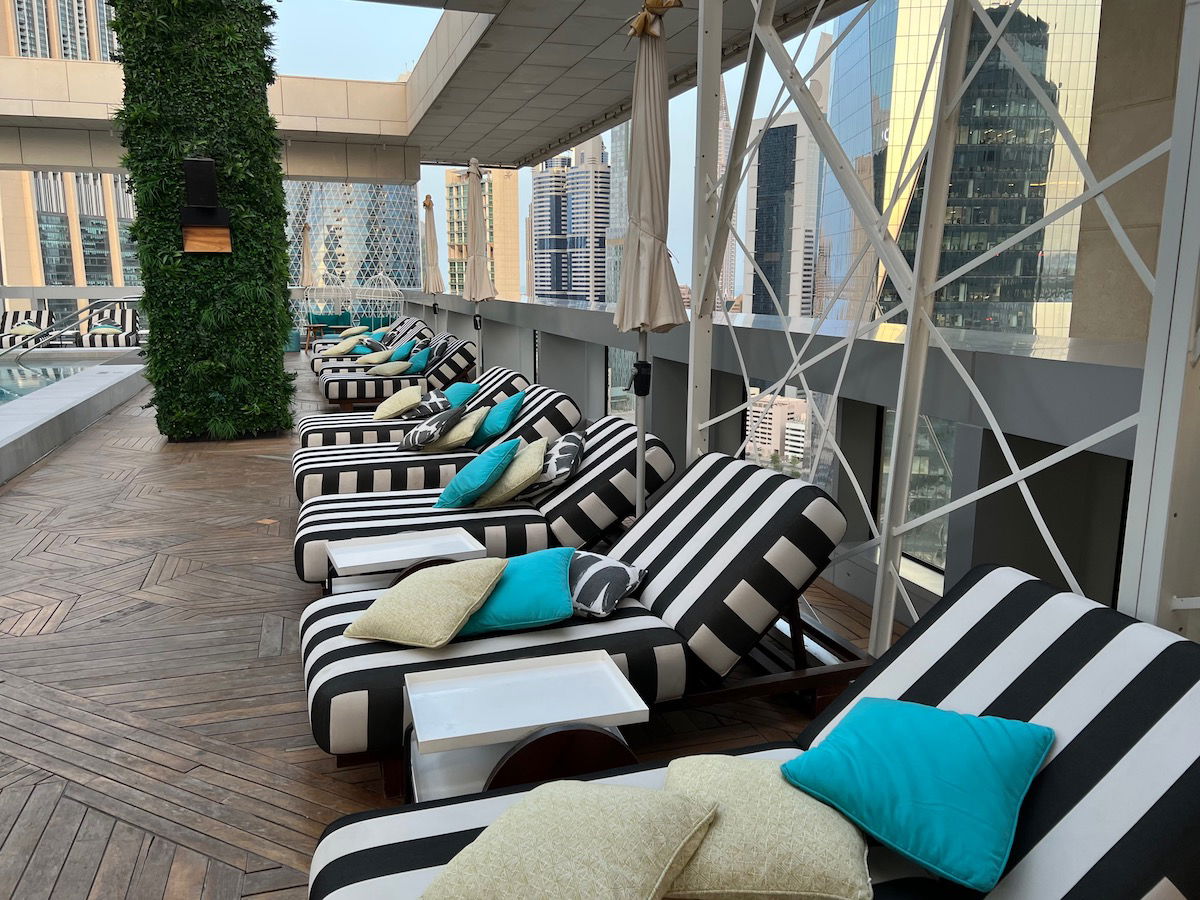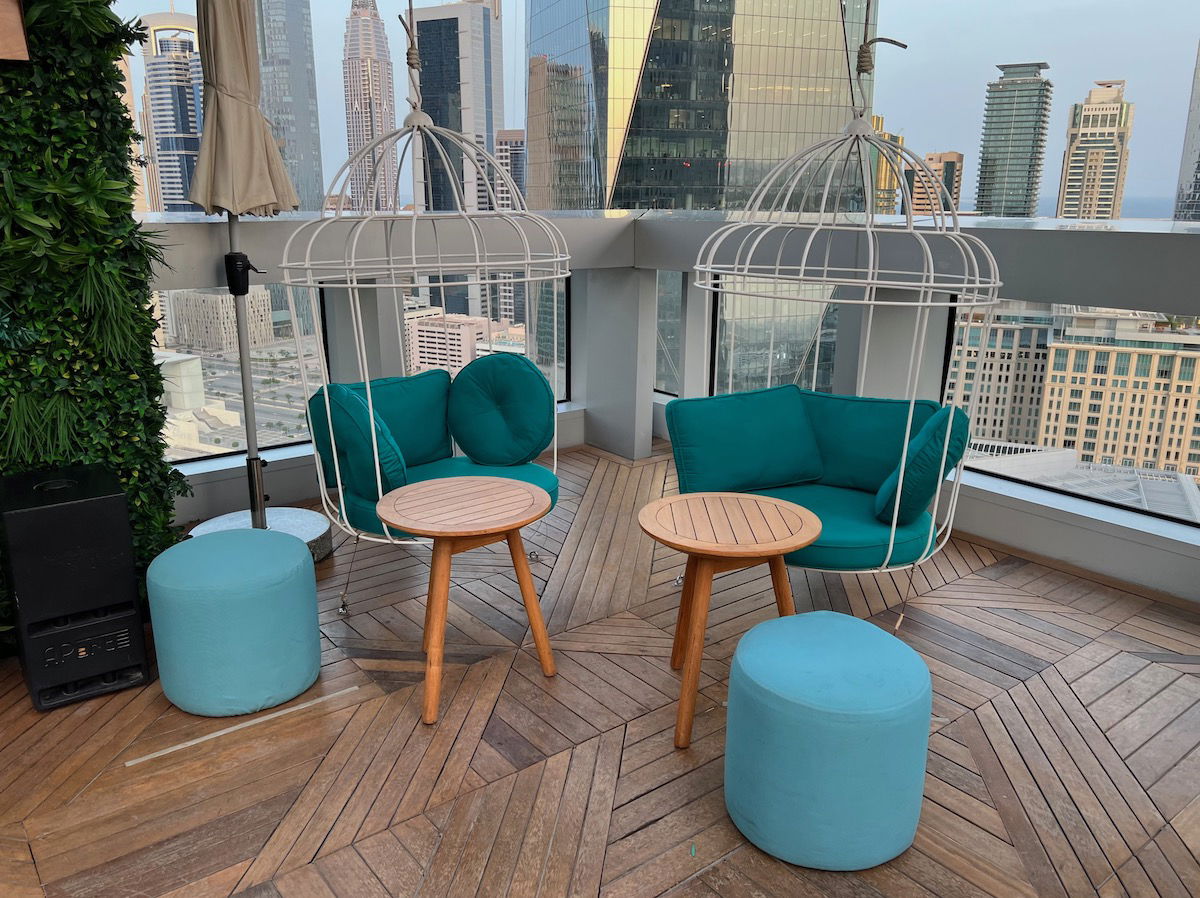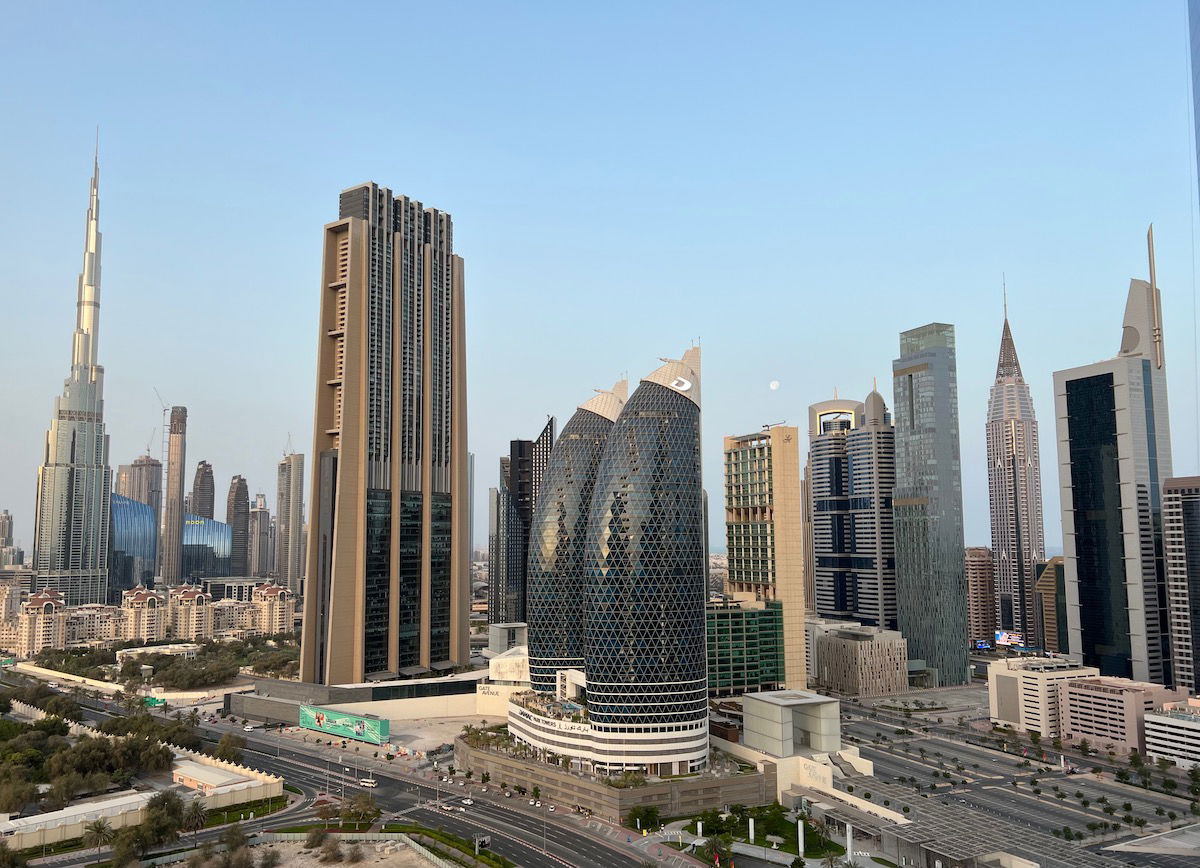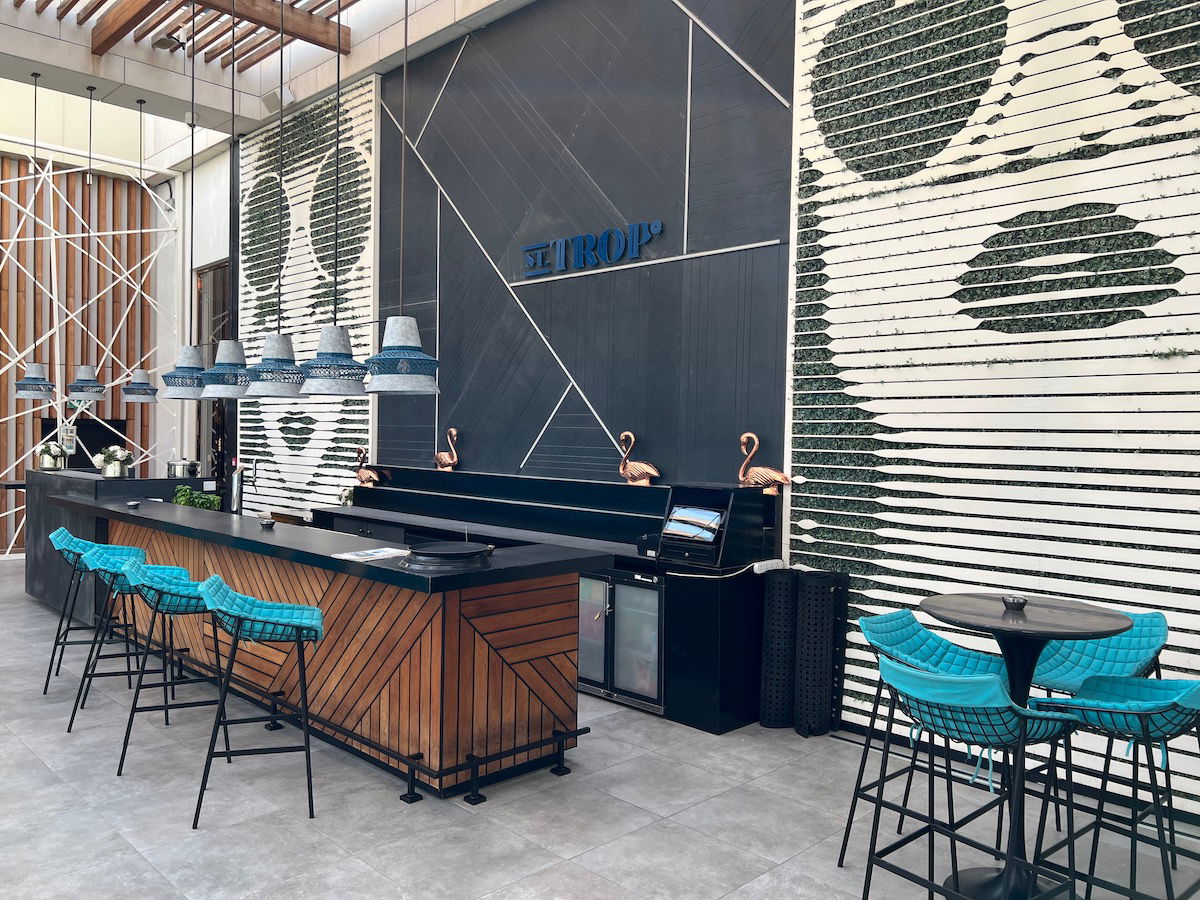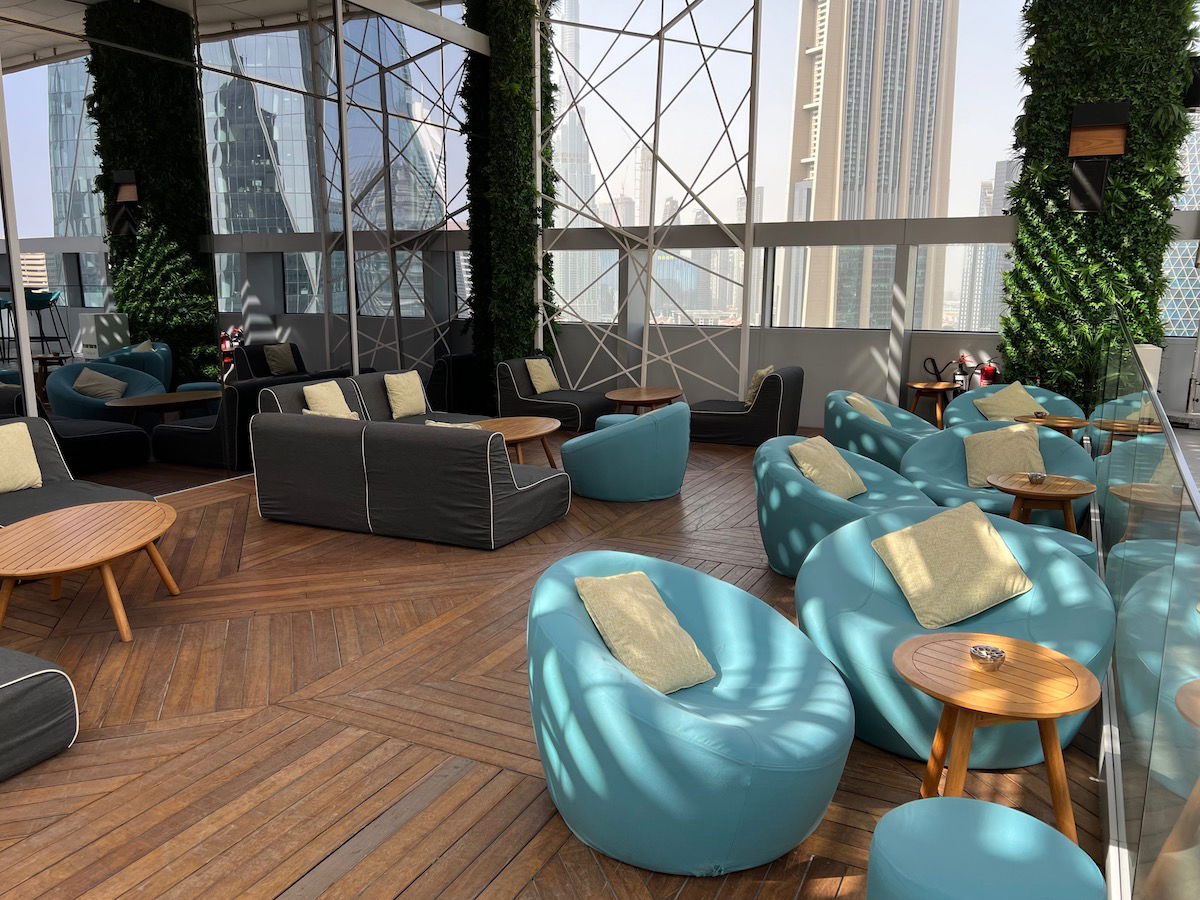 While we didn't eat or drink anything here, you can find the St. Trop pool bar menu below.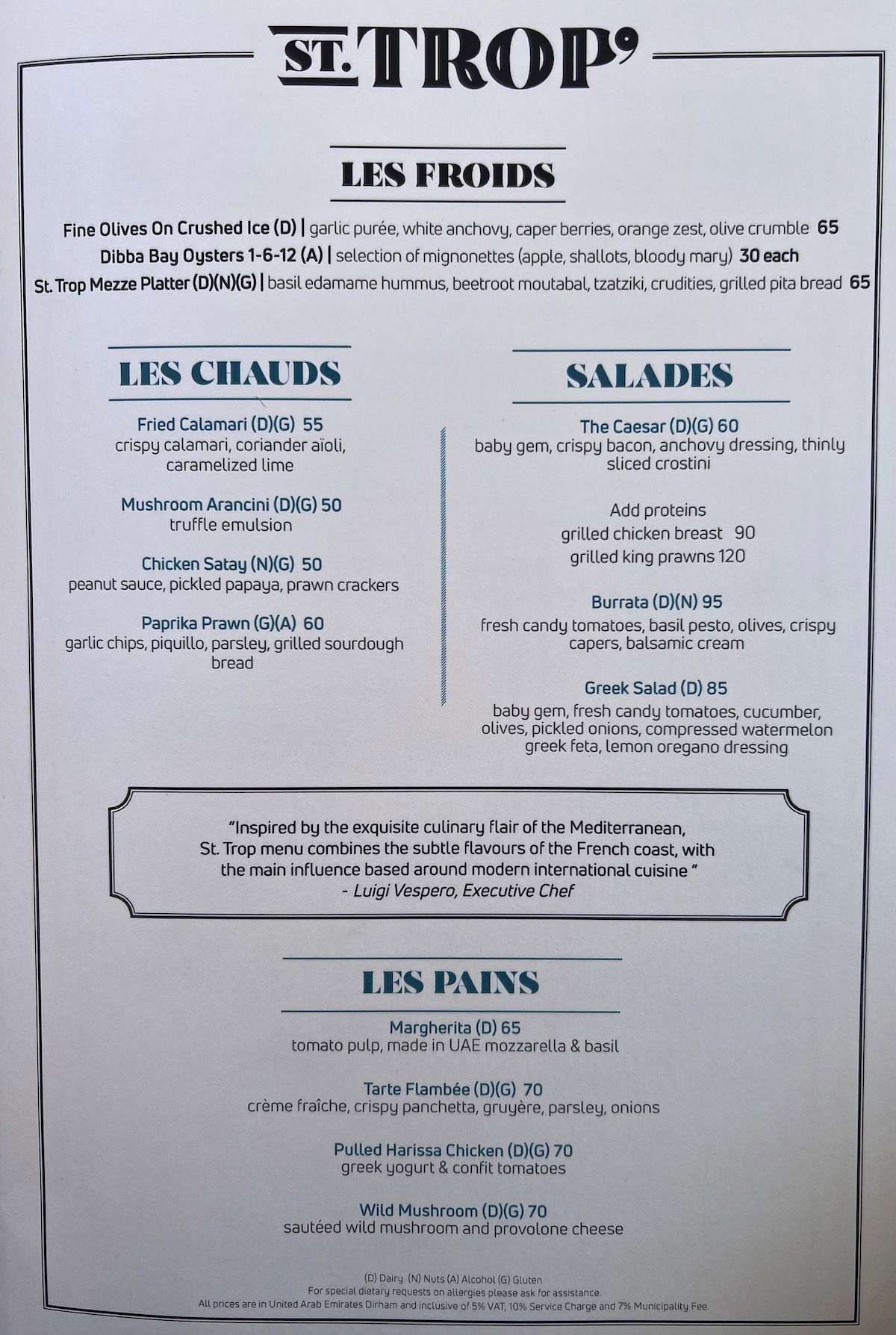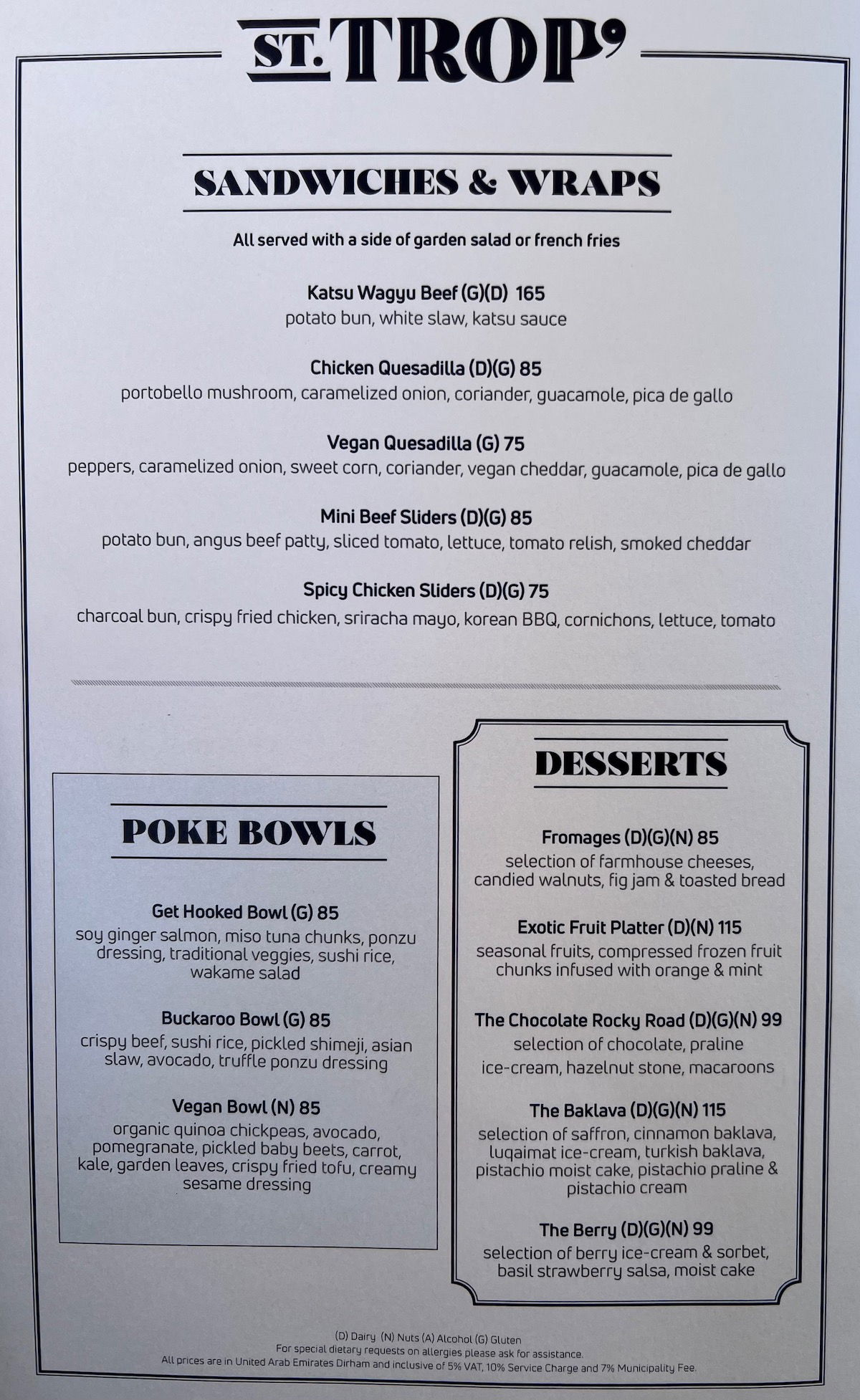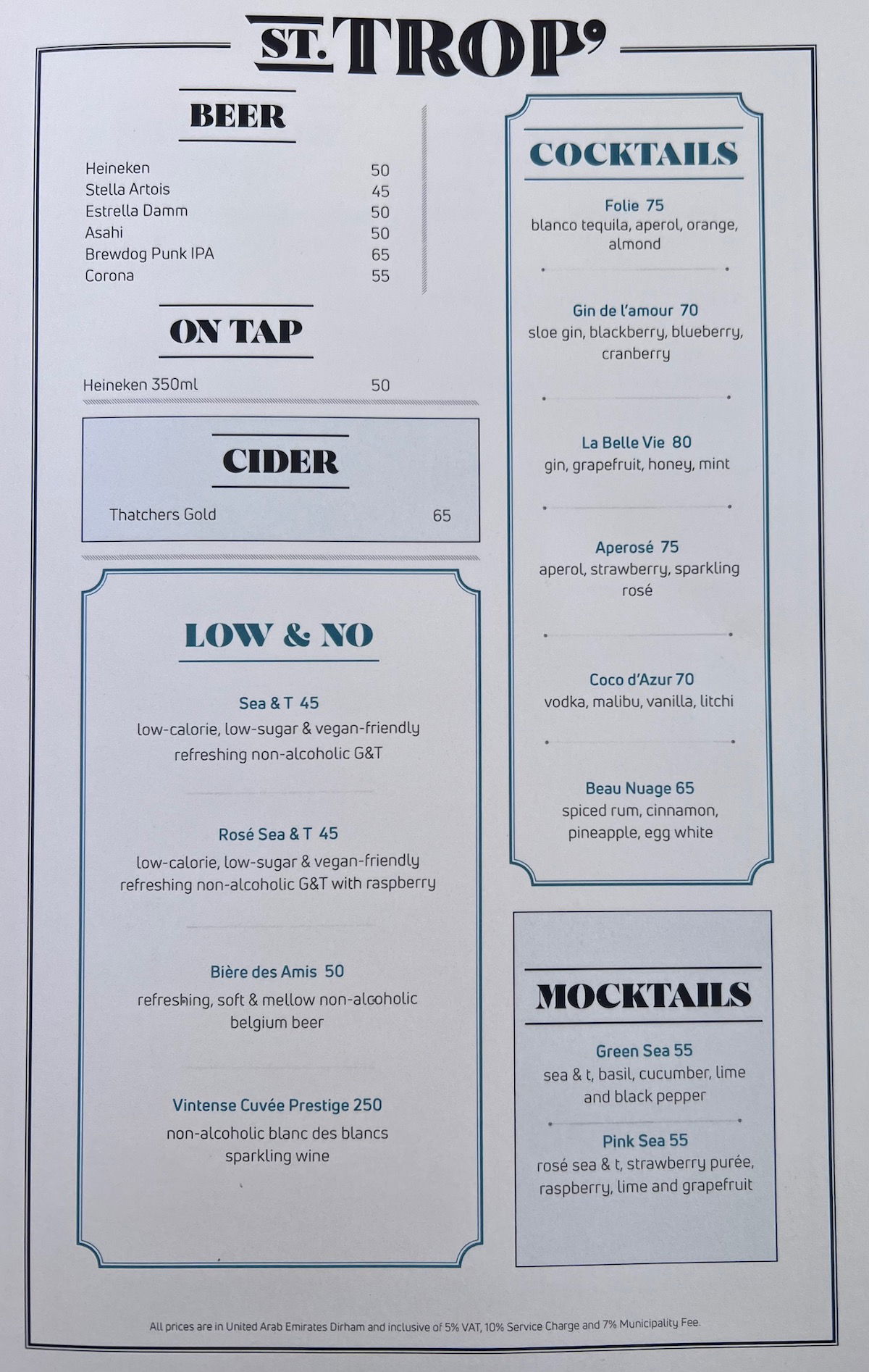 Waldorf Astoria Dubai DIFC gym & spa
The Waldorf Astoria DIFC has a spa, though we didn't get any treatments, so I can't speak to the quality of that.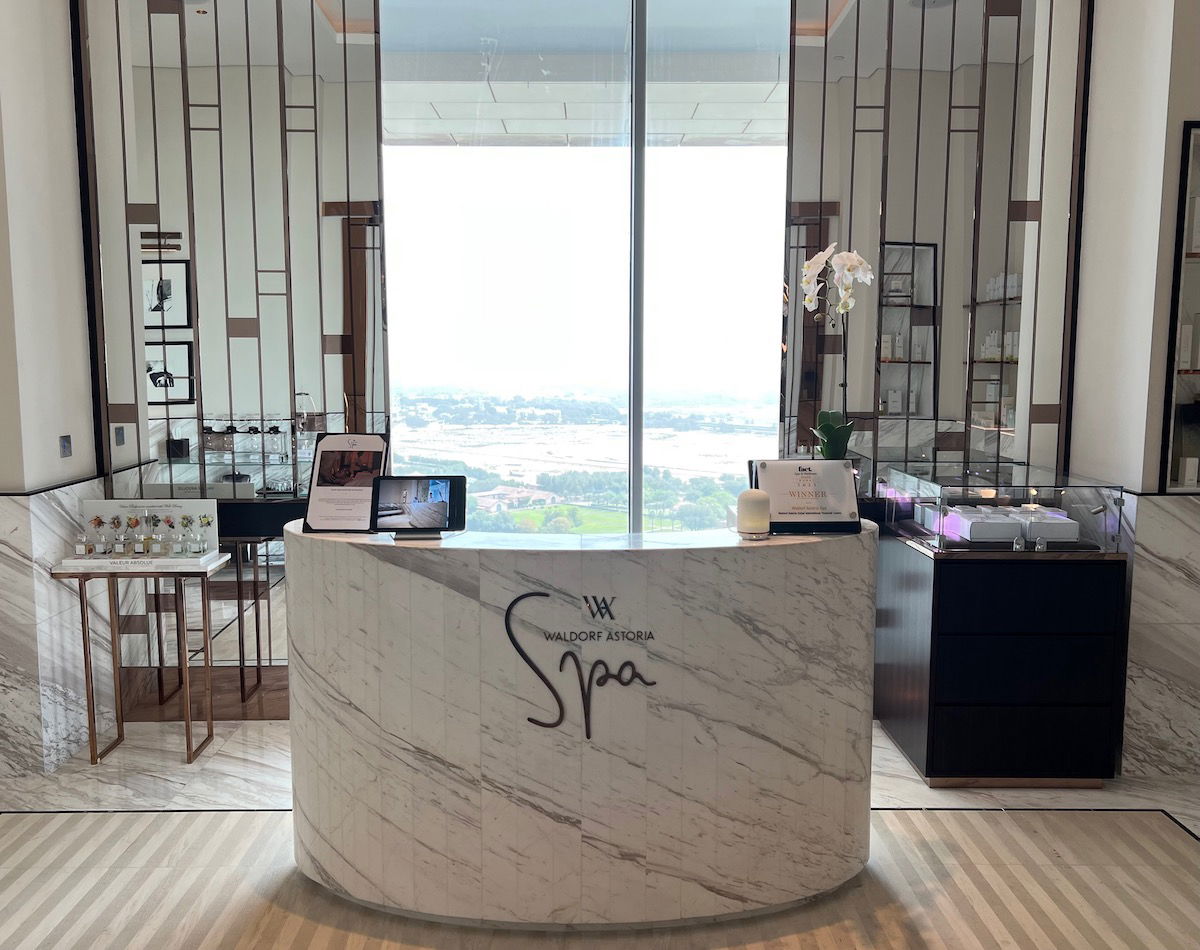 There was also a 24/7 gym, which we used a few times, and appreciated.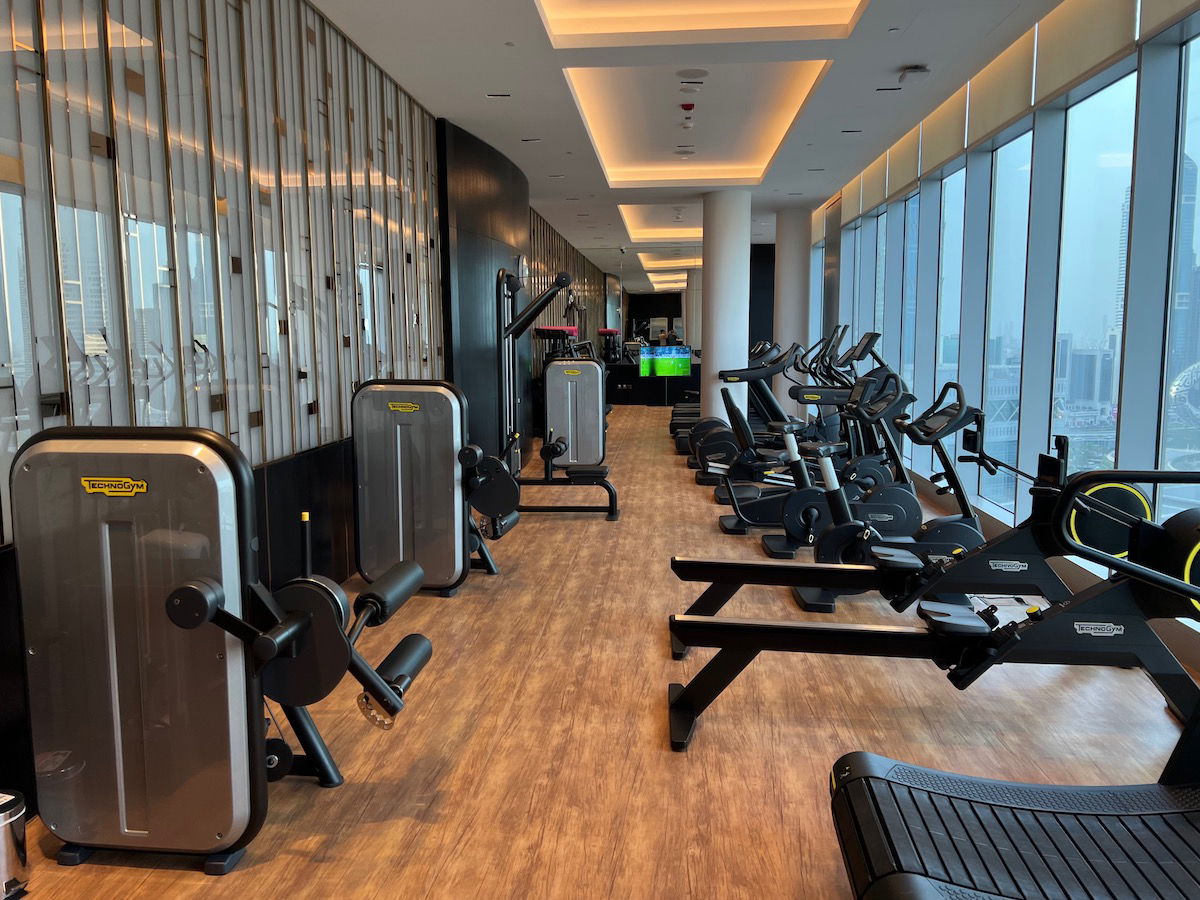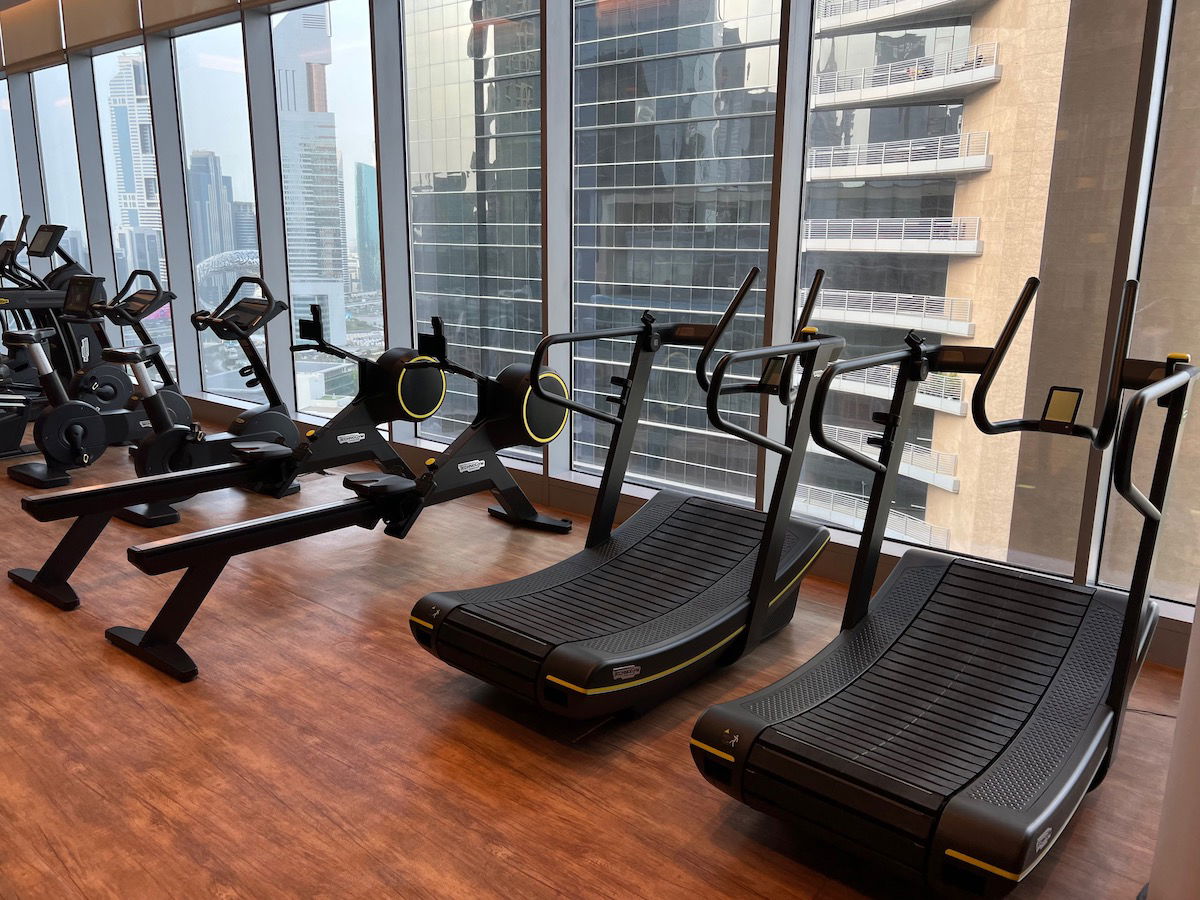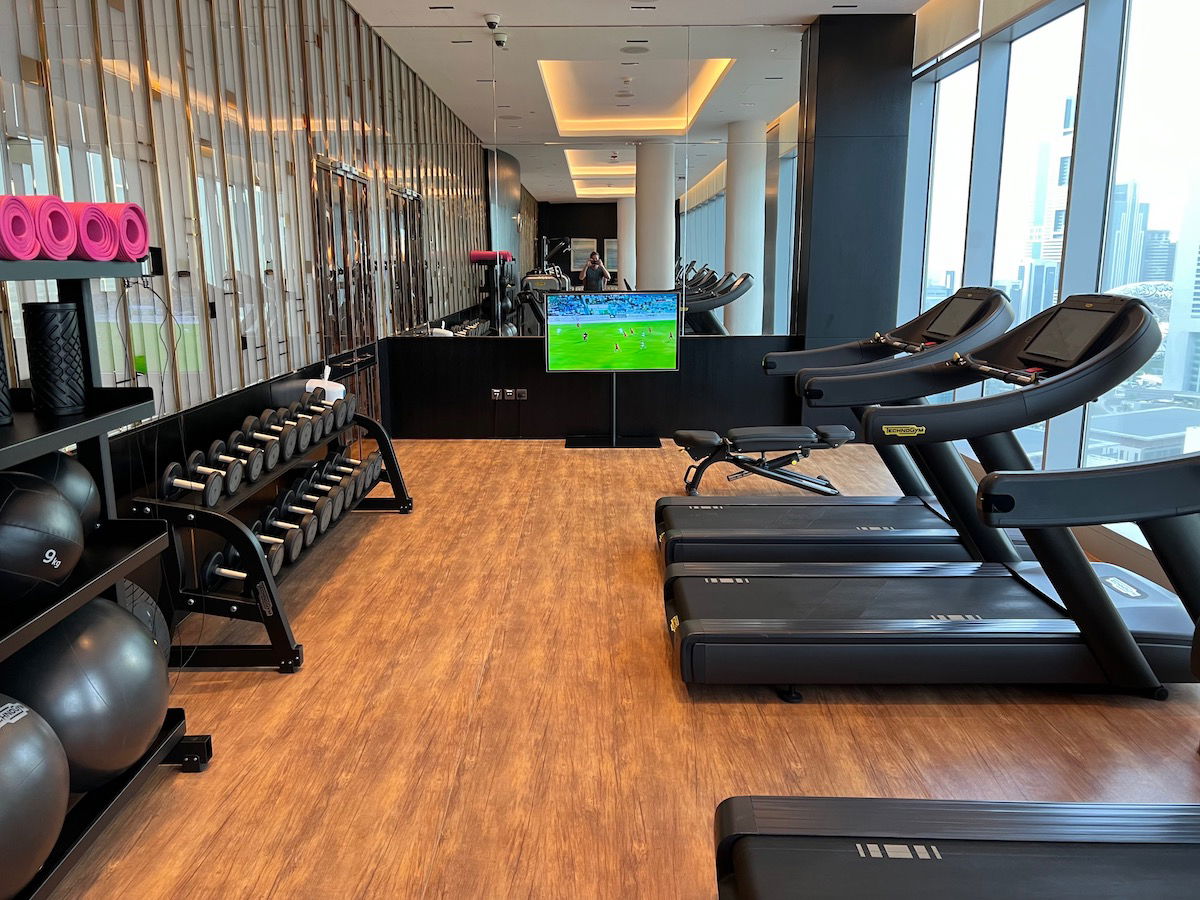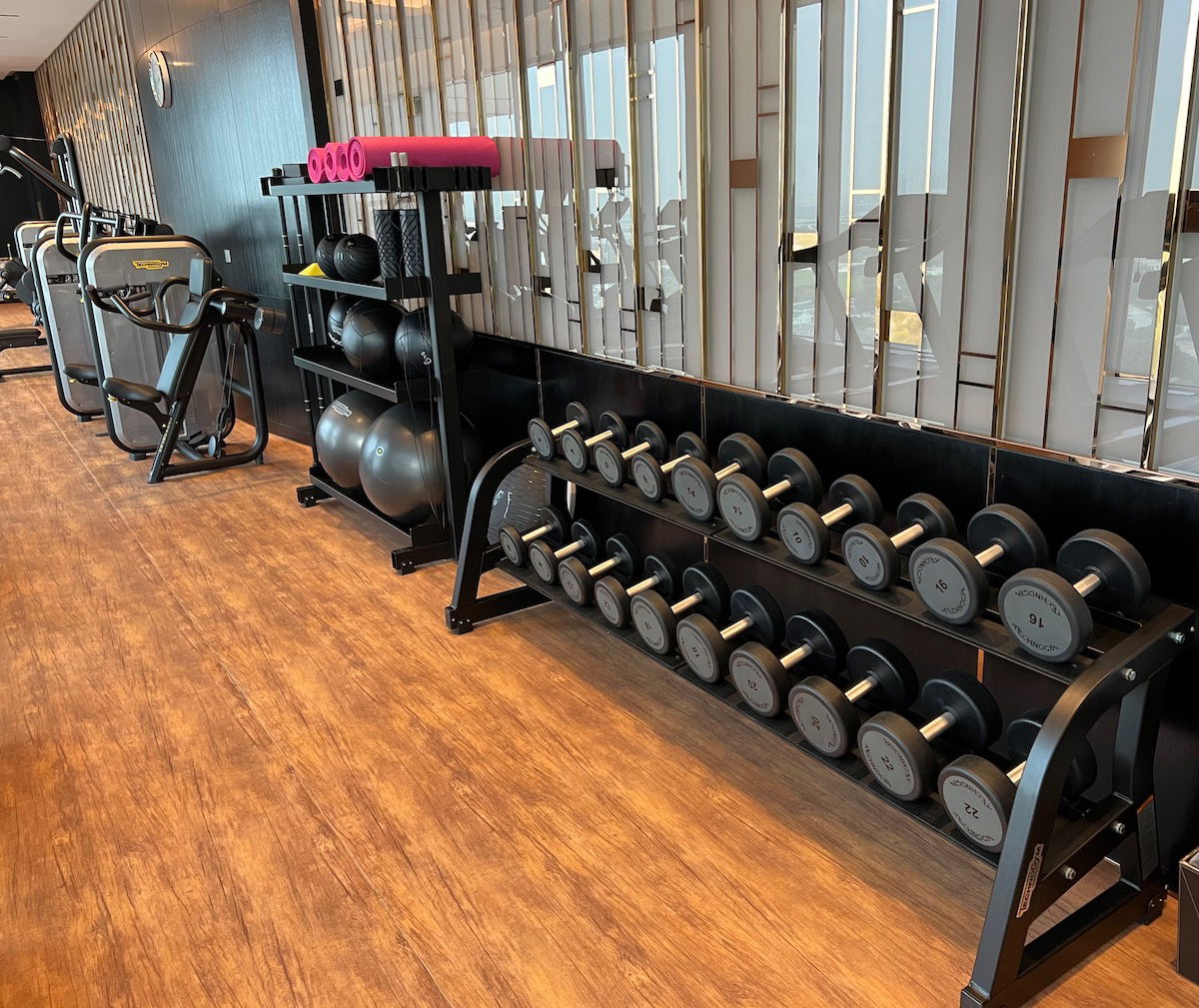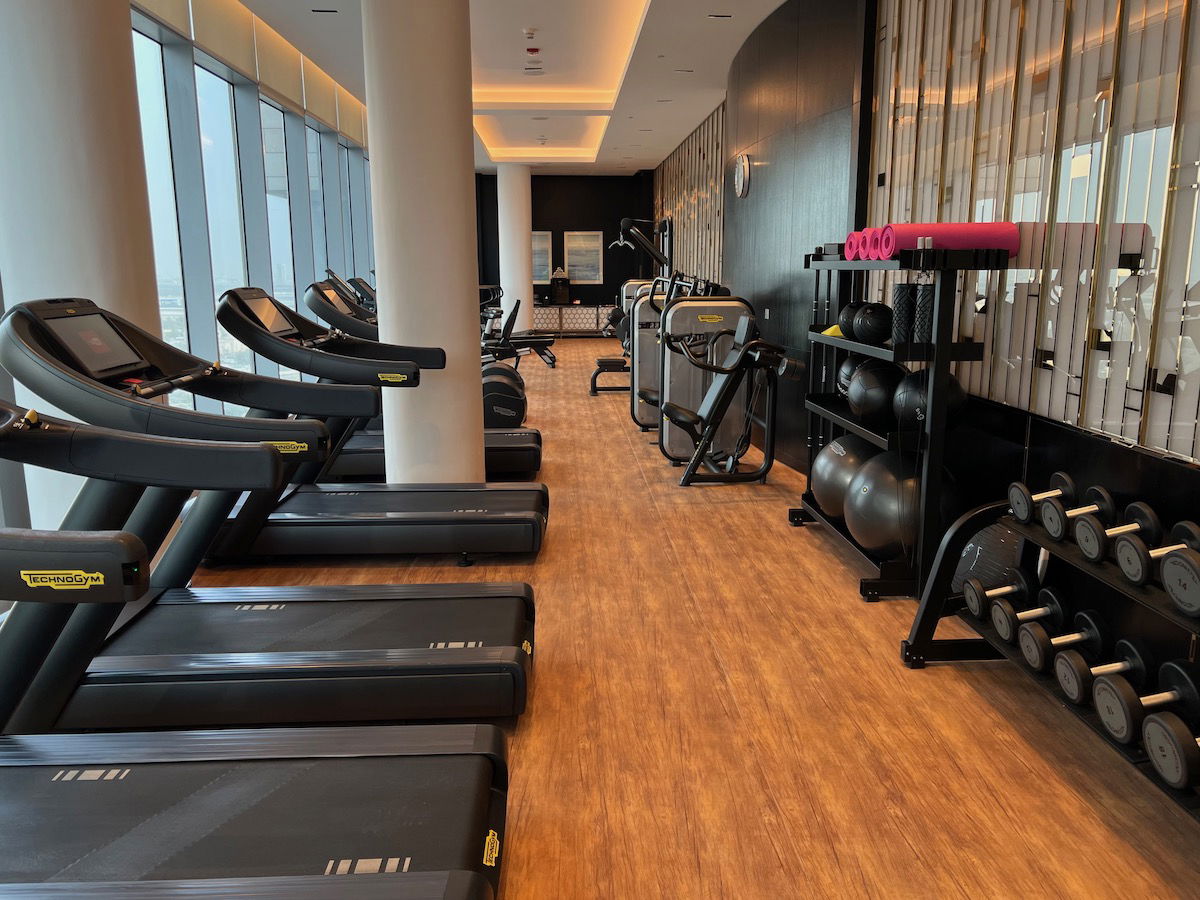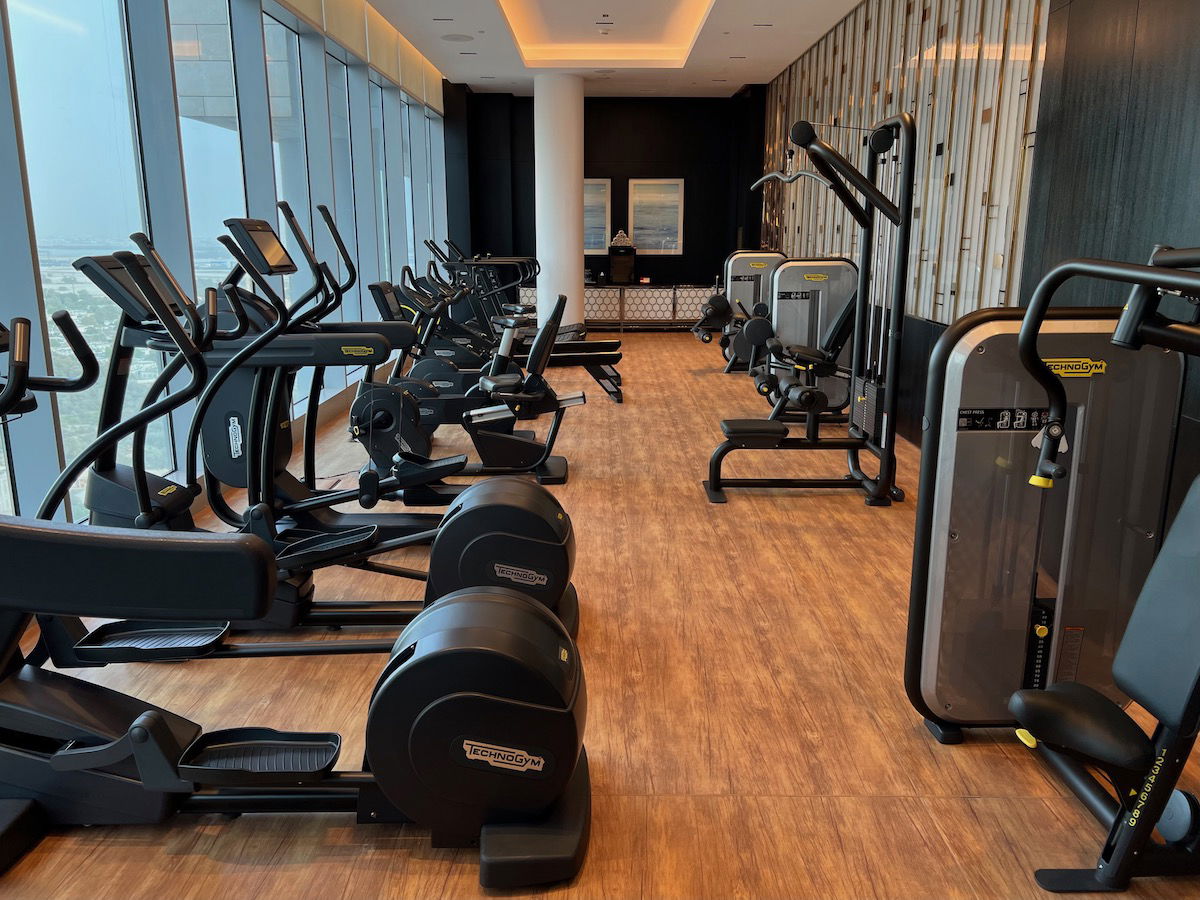 Bottom line
The Waldorf Astoria DIFC greatly exceeded my expectations. Some readers had recommended this property for the great service and excellent Hilton Honors Diamond recognition, and I'm happy I listened, because they were spot on. The Waldorf Astoria has the best service I've experienced in Dubai, we got a generous suite upgrade, the breakfast was exceptional, and I loved being in DIFC.
If you're going to Dubai and are looking for a city hotel rather than a beach resort, I can't recommend this hotel enough. For that matter, the Waldorf Astoria brand is really growing on me, and I think it might just be my favorite points brand now. I've actually had more consistently great experiences with Waldorf Astoria than St. Regis, and have also enjoyed my stays in Amsterdam, Beverly Hills, and Los Cabos.
I also just generally loved being in DIFC, so the next time I visit Dubai I plan to review other hotels in the area, like the Ritz-Carlton and Four Seasons. If anyone has any other similarly good recommendations, I'd of course love to hear them.
If you've stayed at the Waldorf Astoria DIFC, what was your experience like?