I'm currently in the Maldives, and to get here I flew Emirates from Washington to Male, and I had a stopover of a couple of nights in Dubai. In this post I wanted to talk about Emirates Skywards' stopover policy on award tickets, since I figure it's something that some OMAAT readers might find to be useful.
Does Emirates allow stopovers on award tickets?
Emirates Skywards does allow stopovers on award tickets, though the type of stopovers that are allowed vary based on the type of award you're booking:
If you book a Flex Plus award (in economy class, business class, or first class), you're entitled to one stopover on a one-way award, or two stopovers on a roundtrip award
If you book a Saver award (in economy or business class), you're entitled to one stopover on a roundtrip award
Note that this policy applies specifically to travel on Emirates when booking through the Skywards program. Furthermore, the stopover needs to be in Dubai — you'll find that pricing is different if you try to have a stopover on a fifth freedom route (like in Athens or Milan).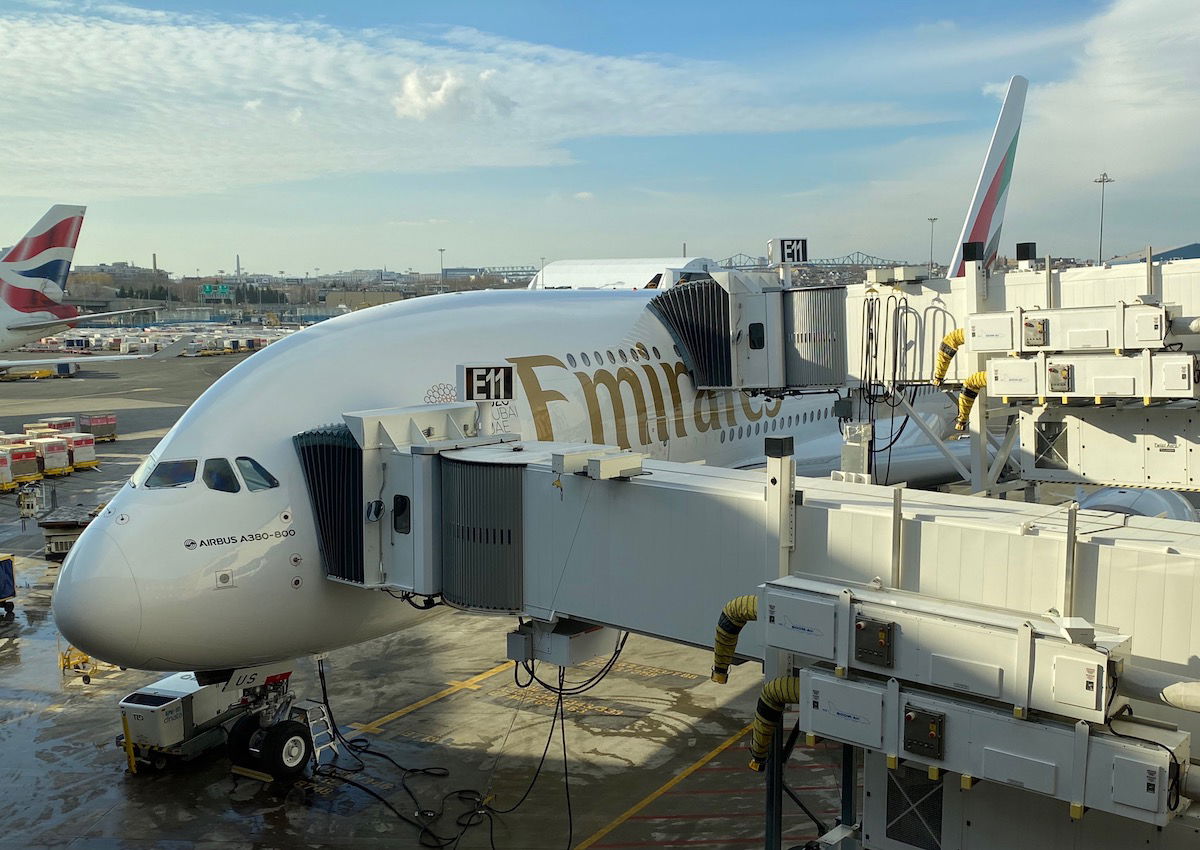 Which Emirates awards allow stopovers?
For those confused by the distinction between Saver and Flex Plus awards, let me explain. These are different award fare classes, and as you'd expect, Saver awards require the fewest miles, while Flex Plus awards require more miles. However, in some situations (like when traveling one-way), Flex Plus awards are the only option.
To expand on that:
In first class, all awards book into Flex Plus, regardless of whether they're one-way or roundtrip
In business class, one-way awards automatically book into Flex Plus, while roundtrip awards can book into Saver or Flex Plus
In economy class, one-way awards automatically book into Flex Plus, while roundtrip awards can book into Saver or Flex Plus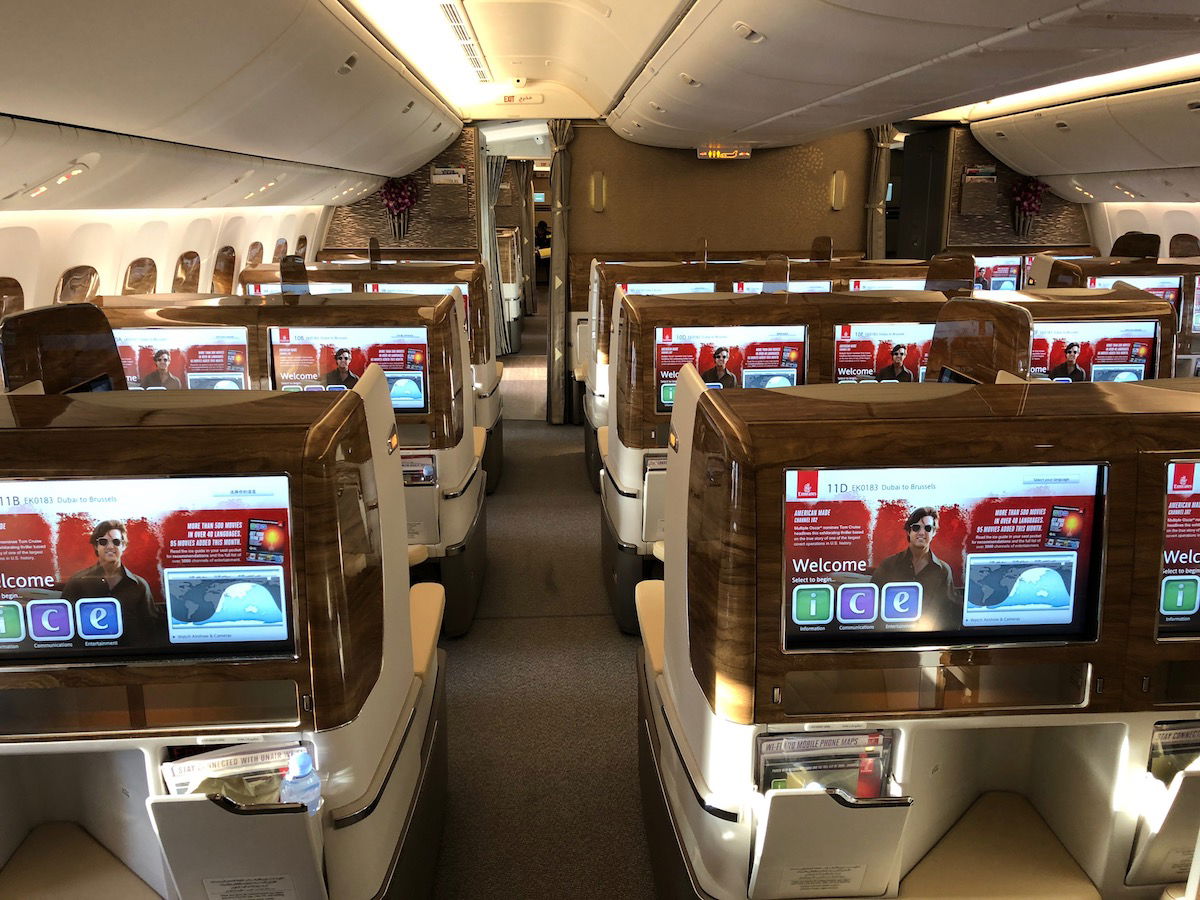 Since all Emirates Skywards one-way awards book into Flex Plus, this means that you are allowed a stopover on a one-way Emirates award, regardless of which cabin you book. You can find all the mileage requirements with the Skywards miles calculator tool.
You can enter your origin and destination, and whether you're traveling one-way or roundtrip, and you'll see how many miles you can expect to pay by cabin, subject to award availability.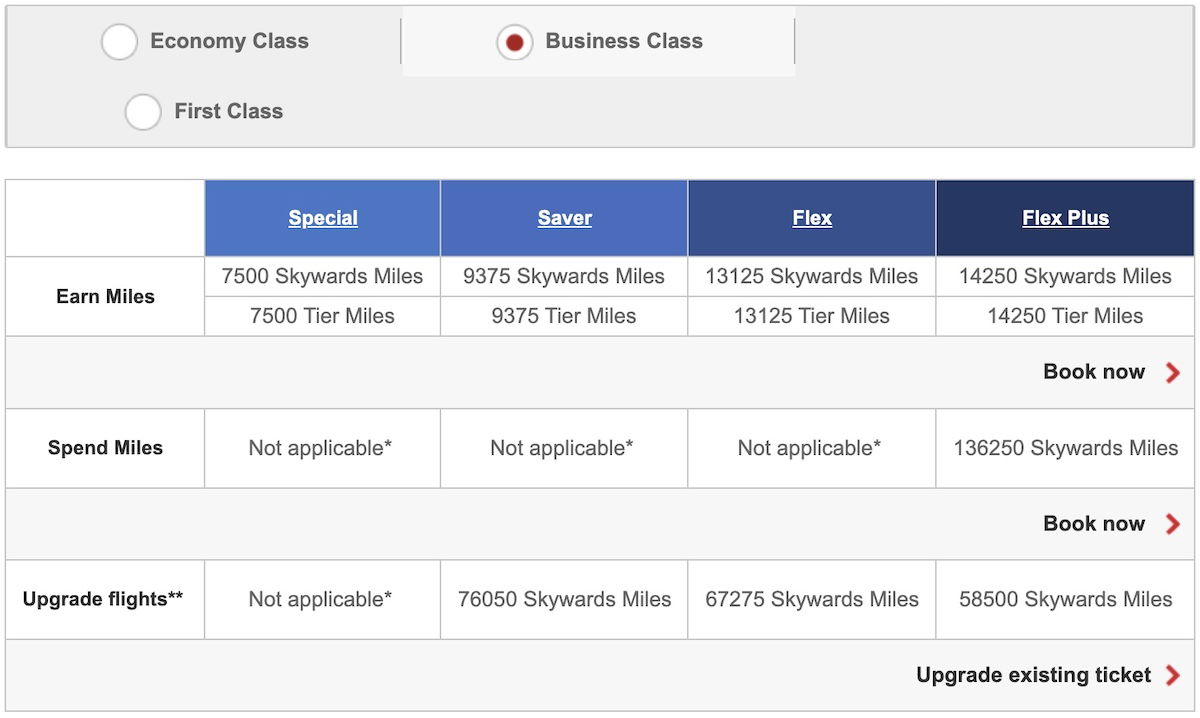 How do you book an Emirates award with a stopover?
If you're traveling roundtrip, it's easy(ish) enough to book a stopover, as you can do so directly on Emirates' website. When you get to the flight search page, click the section that reads "Advanced search: multi-city, promo codes, partners."

There you'll see the advanced search option, which lets you enter multiple segments separately. Hopefully everything prices out correctly.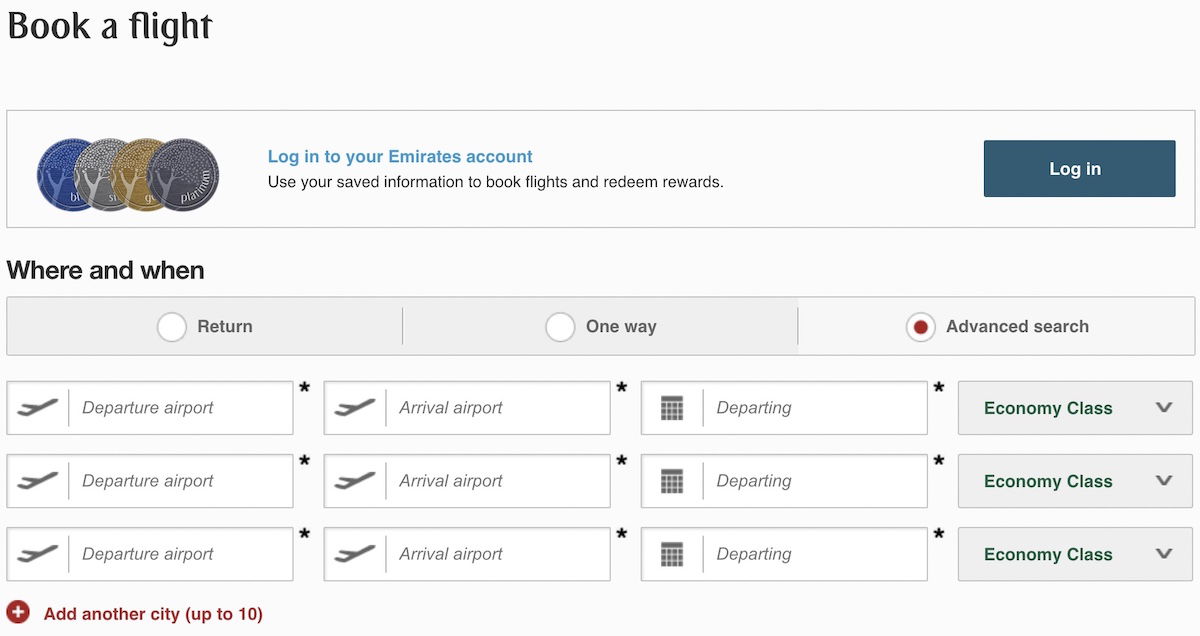 What about stopovers on one-way awards? Well, you have to book those by phone, so you'll want to call up Emirates Skywards support. I recently booked one of these awards for myself for the first time, and had a mostly positive experience. It seems like Skywards agents are well trained on how to book stopovers while charging the correct price.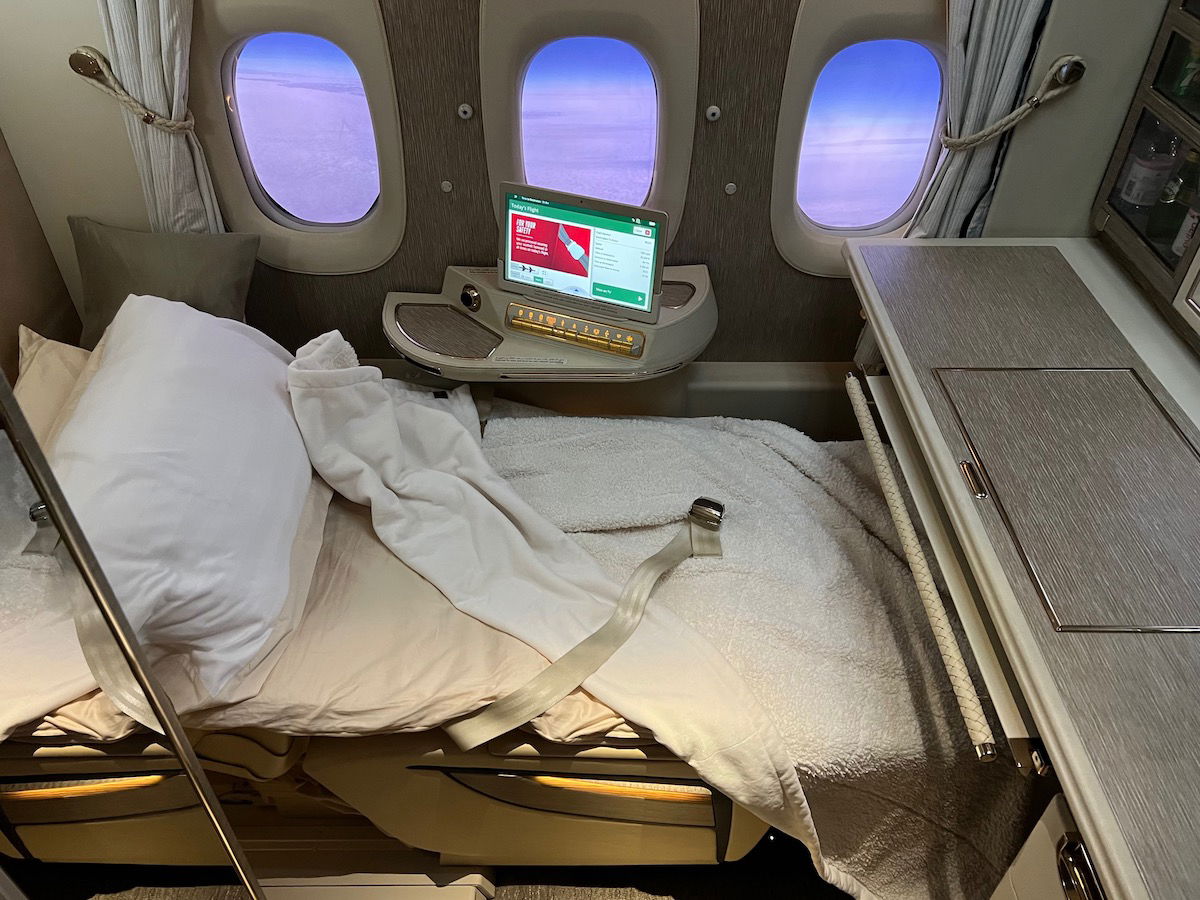 My experience booking a stopover on an Emirates award
The process of phoning up Emirates Skywards to get a stopover on a one-way award is fairly straightforward. But I figured I'd share my recent experience, which pleasantly surprised me.
Emirates doesn't release all that much first class award availability in advance. In our case, award availability opened from Washington to Dubai in Emirates' new first class a few days before departure, so I locked that in immediately on Emirates' website, at the cost of 136,250 Skywards miles per person.
Emirates had no first class award availability from Dubai to Male, so our plan was to book a separate award ticket from Dubai to Male via another city, either on Qatar Airways or Gulf Air.
However, the same morning as our Washington to Dubai flight was scheduled to depart, two first class award seats opened from Dubai to Male a few days later.
I was wondering how complicated of a process this would be — would they be able to add the second segment and reprice the award, or would I need to cancel the existing booking and rebook the whole thing (which isn't a risk I was willing to take)? Well, fortunately the former was the case:
I phoned up Emirates Skywards, and gave the representative my confirmation number
I explained I wanted to add a Dubai to Male segment after having a stopover in Dubai
The agent immediately understood what I was requesting, and quoted me the mileage difference (23,750 miles per person, since a Washington to Male award would cost 160,000 miles)
There was no change fee, but I was on the hook for the difference in taxes and carrier imposed surcharges
Now, this is where the situation gets a bit strange. It was four hours before departure, and the agent said that she needed to have "the back office" reissue the ticket, and she'd call me back soon to collect credit card details. I found this to be an odd system, and reminded her my flight was departing soon.
Long story short, I didn't hear back within 30 minutes, and was planning to head to the airport soon. So I phoned up Emirates Skywards again. This time I got a fantastic agent, who quickly took responsibility for the situation. And while there were some technical issues, within 20 minutes the ticket was reissued correctly.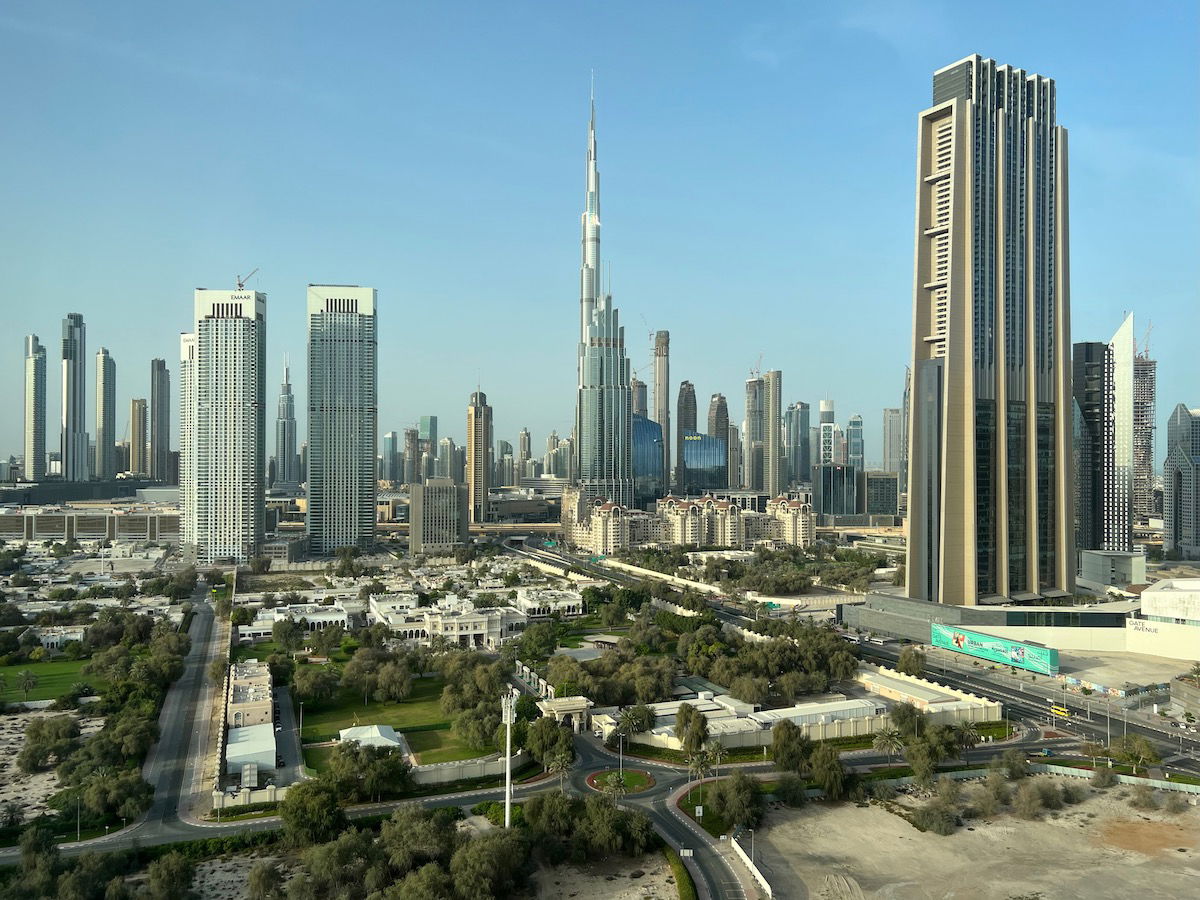 Bottom line
All Emirates Skywards one-way awards allow a stopover in Dubai, given that they book into the Flex Plus fare bucket. This is an awesome feature that isn't widely known, given that there's no way to do this online.
The good news is that agents are pretty good at handling this by phone, and you can even modify an existing one-way awards to add a stopover, should award availability open up later. You'll just pay the difference in miles.
Ultimately the Skywards program is the best way to book first class award travel on Emirates. While award pricing isn't low, and while surcharges are quite high at the moment, the ability to have a stopover in Dubai for no extra miles is a great feature.
If you've booked a stopover on a one-way Emirates Skywards award, what was your experience like?