EXTRA PERKS AVAILABLE
Enjoy upgrades, resort credits, & more
Want to take advantage of Virtuoso benefits at no extra cost, including a room upgrade, a resort credit, and more, all while paying the lowest rate? Contact Ford ([email protected]) for more details. He doesn't charge booking fees, and may even be able to help if you already have a stay booked.
We spent our first three nights in the Maldives at Cheval Blanc Randheli. For those not familiar, Cheval Blanc is the boutique hotel group owned by LVMH (which stands for Louis Vuitton Moët Hennessy), and the brand currently has five properties. We stayed at Cheval Blanc Paris last October and were amazed by the property's design, so we were curious to check out one of Cheval Blanc's most popular resorts, which I've almost universally heard good things about.
All I can say is… WOW. Cheval Blanc Maldives is probably the most impressive resort I've ever visited. You expect this resort to be gorgeous, given that Cheval Blanc is owned by LVMH. But what amazed me most was the attention to detail with literally everything. This resort is style and substance, plain and simple.
Even if you're not someone who would usually not stay at propoerties like this, I hope readers can enjoy this review for the "hotel porn" element, if nothing else, like my recent review of Les Airelles Courchevel. In the next installment I'll be reviewing Waldorf Astoria Maldives Ithaafushi, which is a points property, and I think y'all will find the comparison to be interesting.
Cheval Blanc Maldives basics
The 46-villa Cheval Blanc Maldives is simply over the top and then some. While many resorts in the Maldives are on a private island, Cheval Blanc is on six private islands, because why wouldn't it be? I mean, heck, there's an island dedicated just to the spa.
While resorts in the Maldives are generally luxurious, Cheval Blanc really takes it to the next level, from its private seaplane, to each villa having a 12.5 meter pool, to Le 1947 serving a 12-course tasting menu that will make you forget that you're in the middle of nowhere.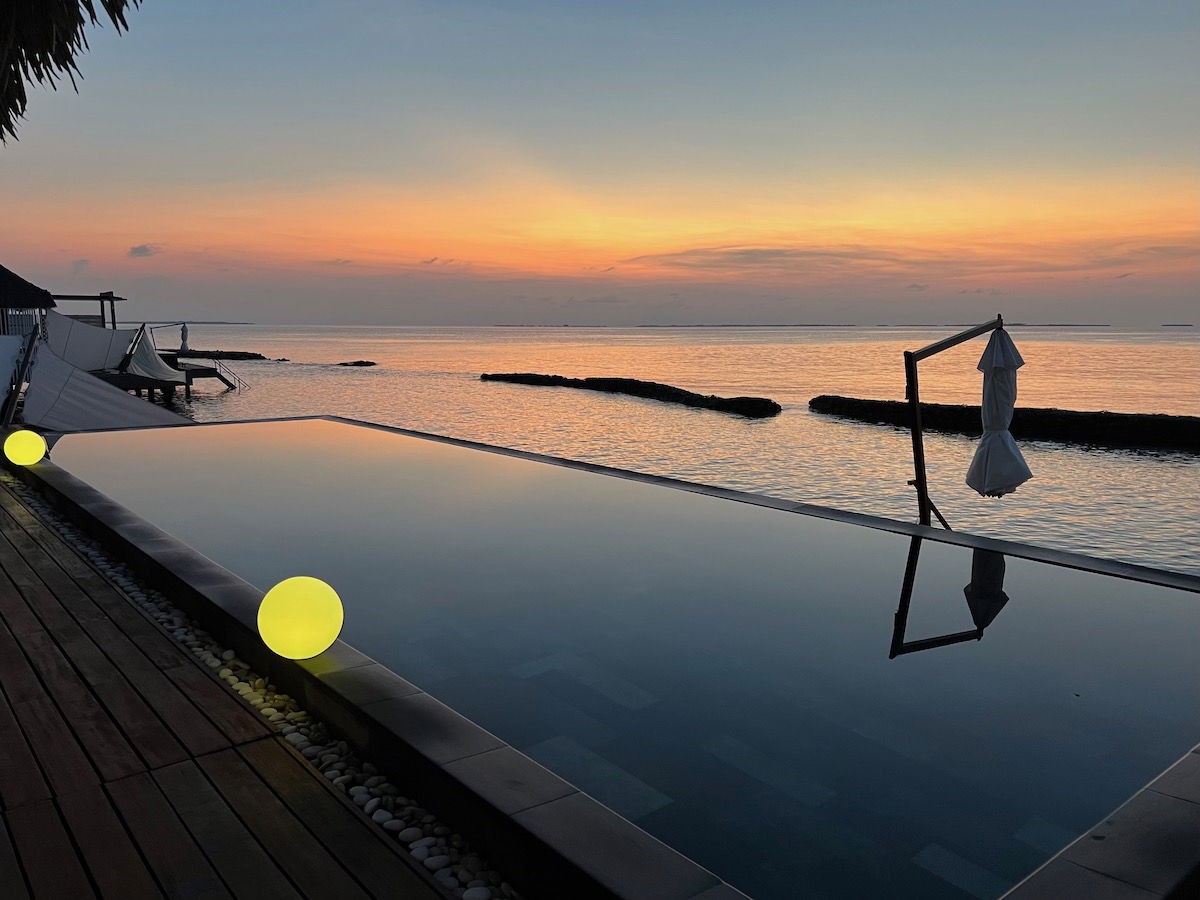 Booking Cheval Blanc Maldives
In general luxury hotel rates are through the roof nowadays, and that's very much true in the Maldives as well. For our dates, rates at Cheval Blanc Maldives started at $2,600 per night (only marginally more than cash rates at the Waldorf Astoria).
The hotel does have a "stay seven pay five" promotion, which lowers the rate a bit more for those staying longer (and frankly if you're visiting and can swing it, I'd absolutely recommend doing seven nights).
Cheval Blanc Maldives typically has consistent rates between booking channels, so you won't find a better rate than what you'll get on Cheval Blanc's website. However, it makes sense to book through a travel advisor affiliated with Virtuoso, as you'll pay the same rate, and will receive several value-add perks, including the following (and these can be combined with most promotions being offered by the property):
Upgrade on arrival, subject to availability
$150 USD food & beverage credit to be utilized during stay in any of the resort's restaurants, bars or for room service
Early check-in/late check-out, subject to availability
Note that while full breakfast is also typically a Virtuoso amenity, all rates at this hotel include breakfast. Ford is of course more than happy to help with Cheval Blanc bookings, and can be reached at [email protected]. He can also answer any questions you may have about the property, including the difference between villa types, etc.
In the interest of full disclosure, Ford got a travel advisor rate for our stay at the property, though all opinions expressed are my own.
How to get to Cheval Blanc Maldives
Cheval Blanc Maldives is located in the Noonu Atoll, to the north of Velana International Airport (MLE) and the capital city of Male. The easiest way to get there is by seaplane, as the flight takes around 40 minutes.
You have a choice of seaplanes, as you can either fly with Trans Maldivian on a "standard" shared 15-seat Twin Otter, which might stop at other resorts. Alternatively, Cheval Blanc has a specially branded Trans Maldivian plane, which has just nine seats.
Here's the current seaplane pricing, which is of course subject to change:
Flying the Cheval Blanc seaplane costs $1,610-2,050++ per person, depending on the season
Flying the "regular" Trans Maldivian Airways seaplane costs $1,085++ per person
Transfer costs across the board in the Maldives are steep, so this isn't unusual. For example, the Waldorf Astoria Maldives charges $730++ per person for the short speedboat ride between the airport and resort.
Cheval Blanc Maldives Lounge Male Airport (MLE)
We arrived at Male Airport on Emirates, and were met by a friendly representative from Cheval Blanc. She escorted us to a waiting SUV and drove us to Cheval Blanc's lounge in the seaplane terminal. Most of the Maldives' top hotels have lounges here, though Cheval Blanc's is particularly stylish.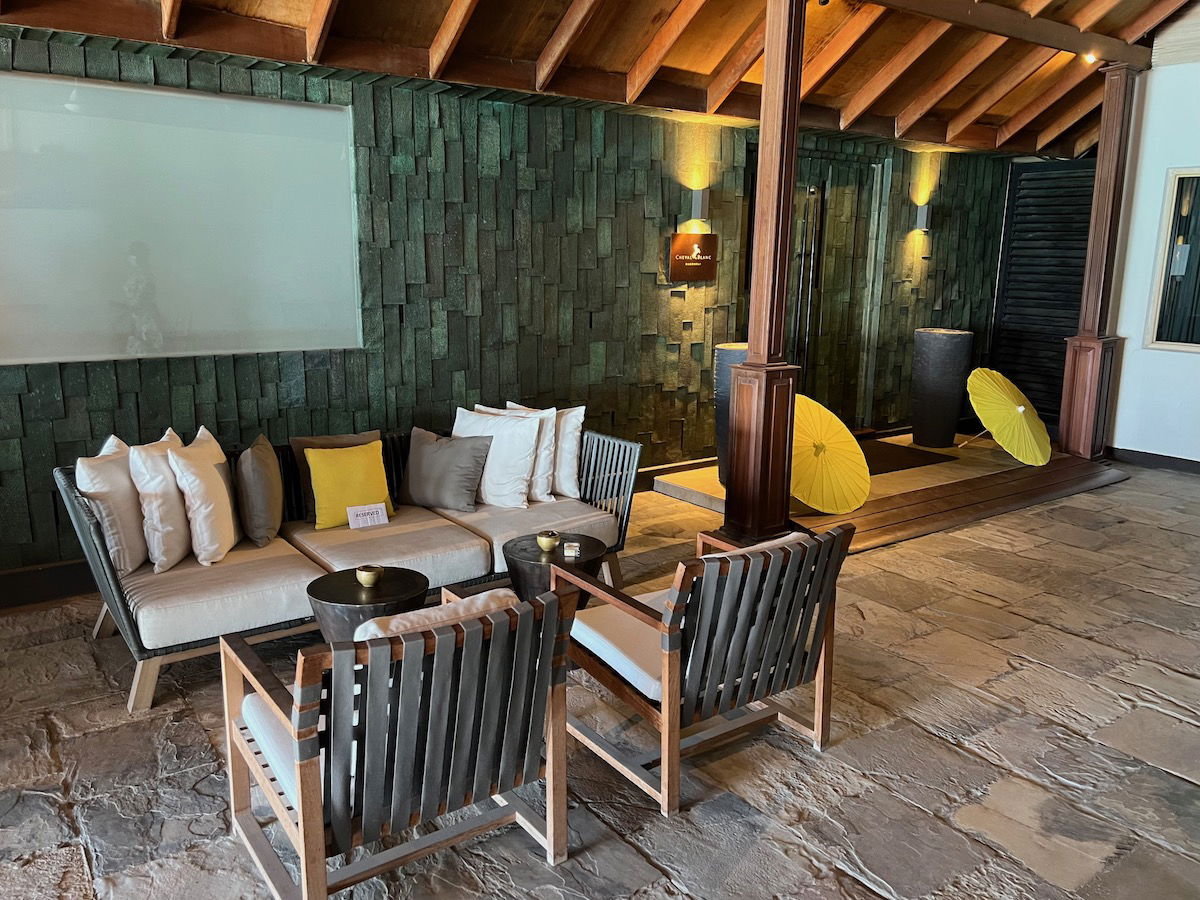 The lounge had plenty of seating, a special room for kids, a shower room, and an extensive menu with snacks, coffee, and fresh juices.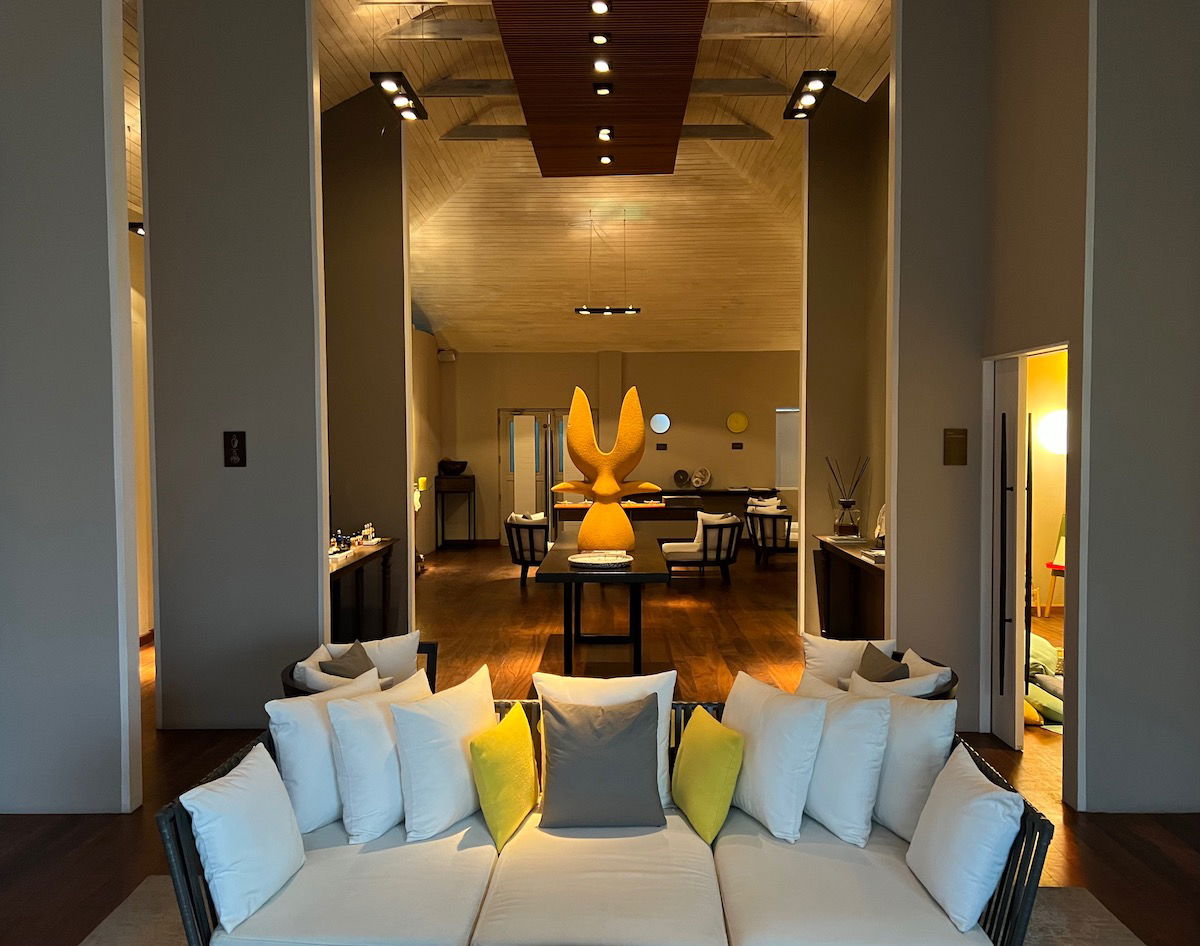 Given Cheval Blanc's connection to LVMH, there were also a variety of high-end samples fragrances and samples in the lounge, including from Dior and Guerlain (which runs the Cheval Blanc spa).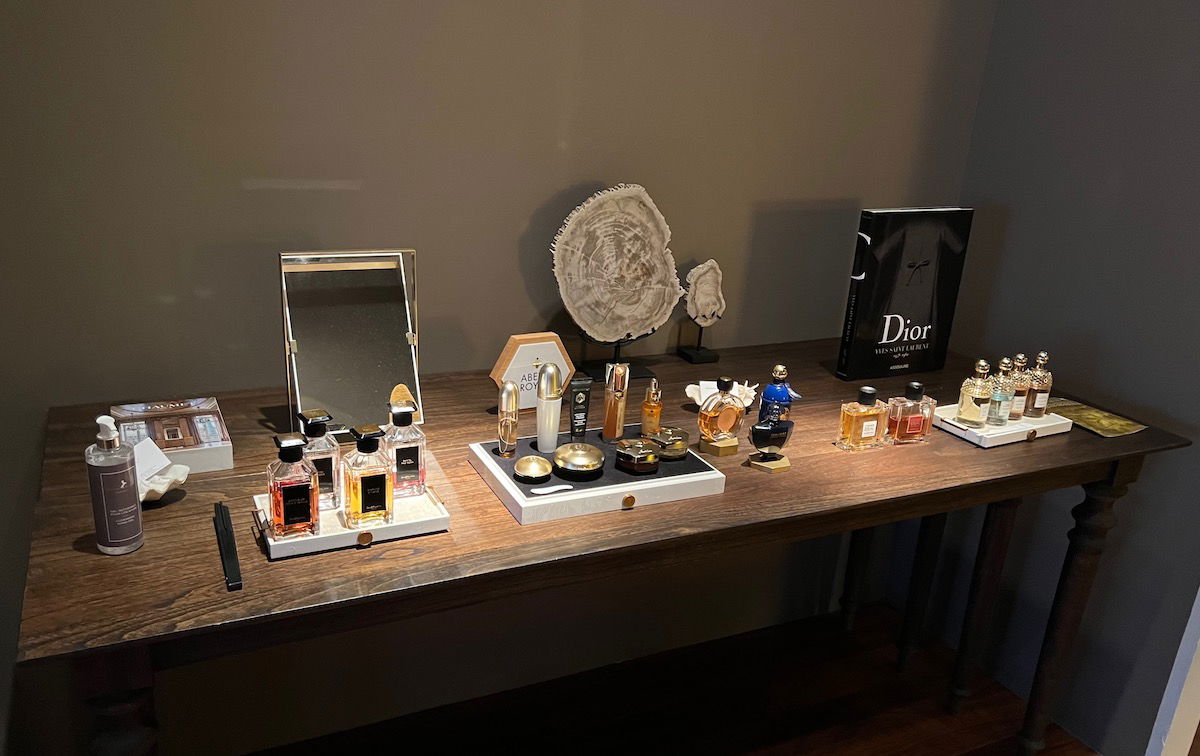 Within an hour it was time to fly to fly to the resort!
Cheval Blanc Maldives seaplane
We had the opportunity to fly Cheval Blanc's seaplane between the airport and resort. How cool-looking is this plane?!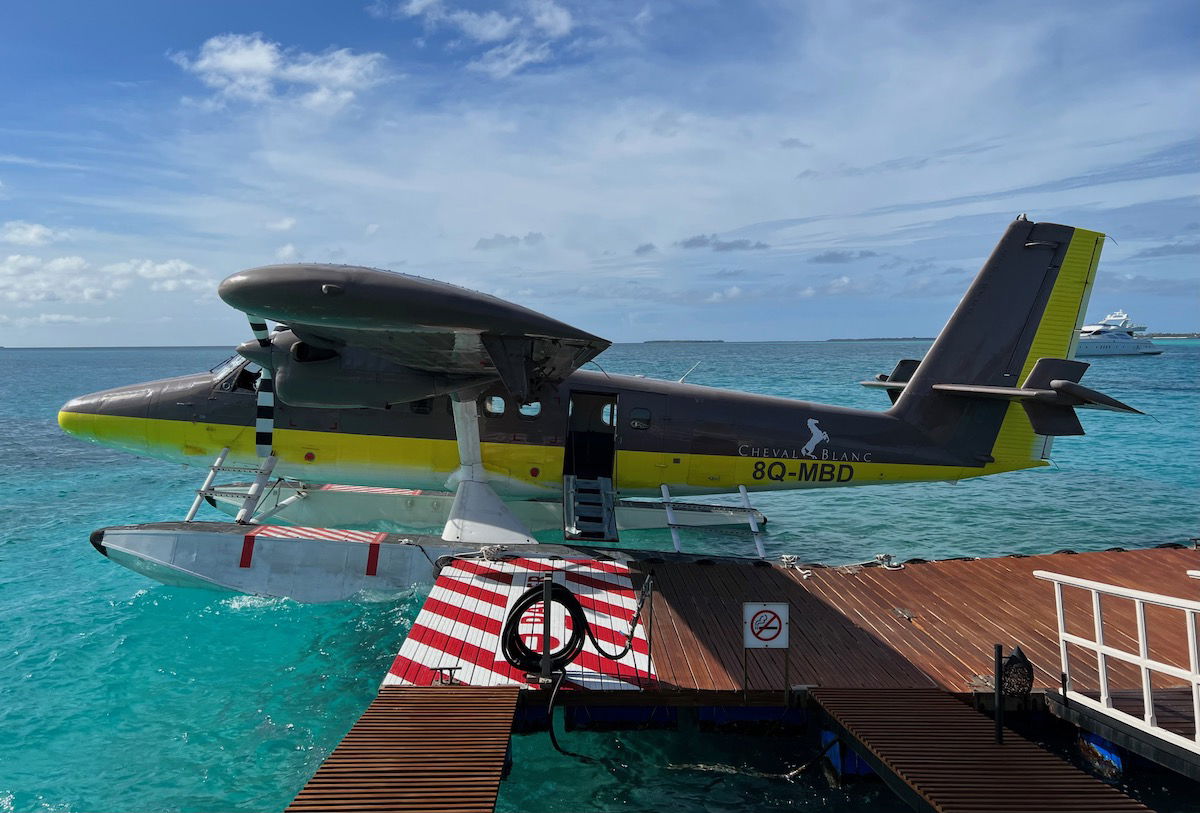 This plane feels more like a private jet than your typical seaplane — there are three sets of seats facing one another, and then a bench with three seats. It's certainly a more comfortable way of getting to the resort.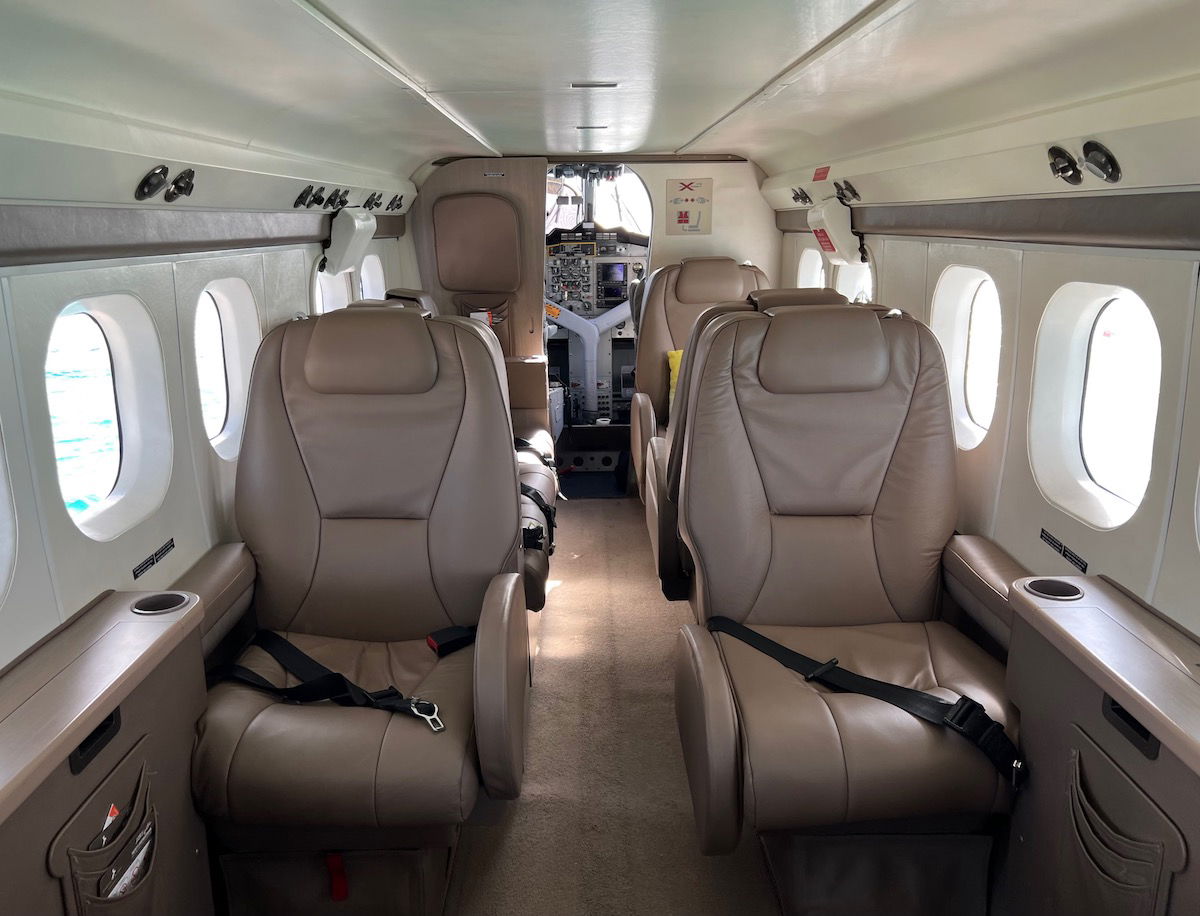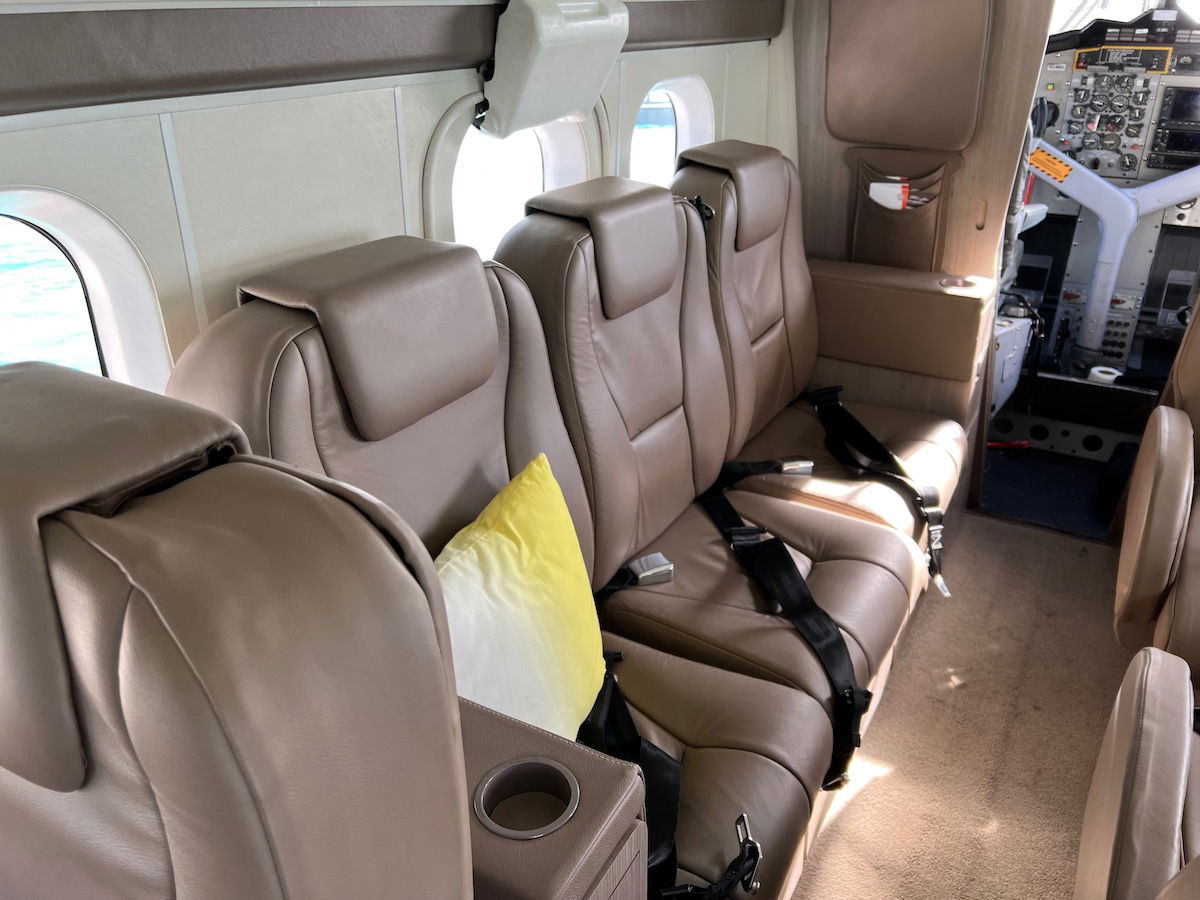 As an aviation geek, flying within the Maldives is so fun, since the views are amazing, and you can watch everything going on in the cockpit.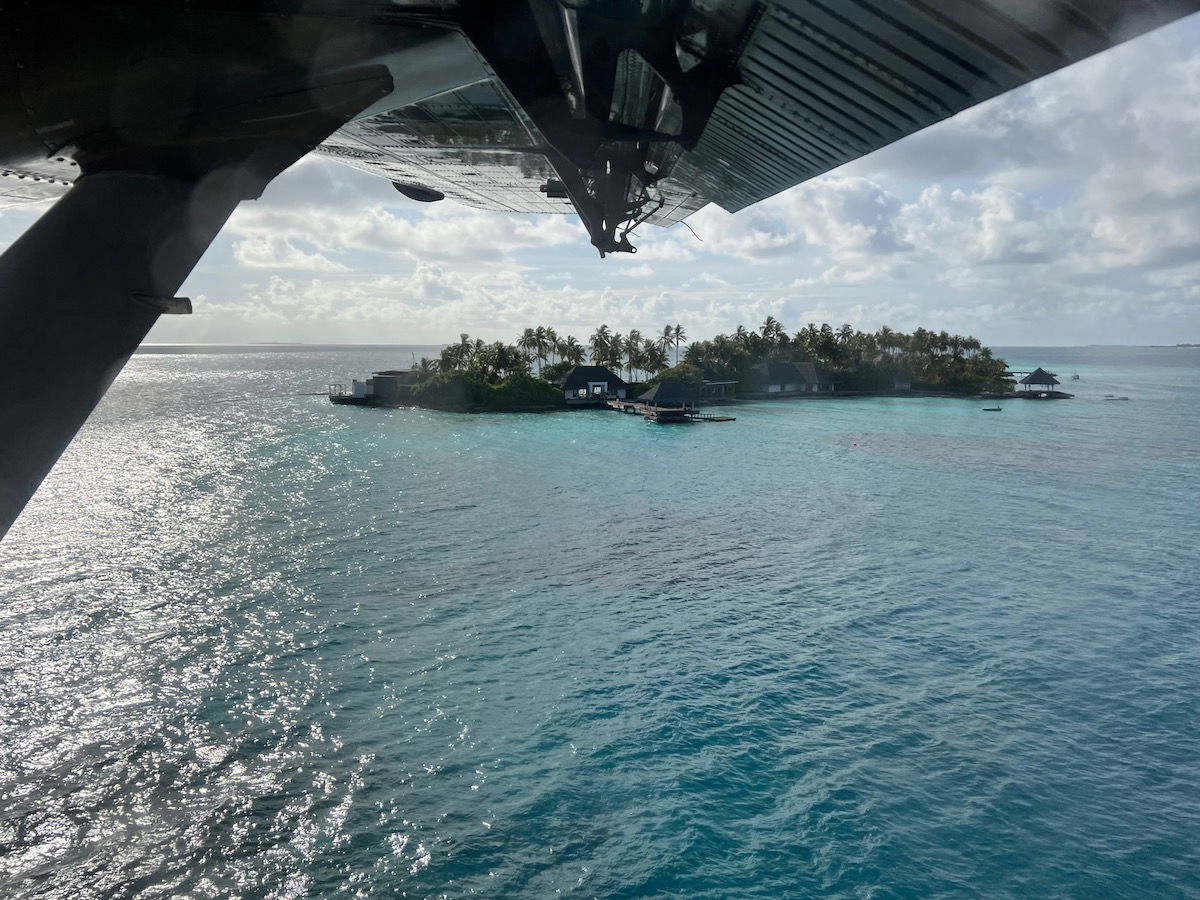 Cheval Blanc Maldives arrival
Upon arriving at Cheval Blanc's jetty, we were warmly welcomed by the resort manager, Sebastien, and our Majordome (the French word for "butler"), Ashra. Each guest is appointed a Majordome, who is responsible for looking after them for the entire stay, and making arrangements as necessary. Each Majordome is assigned at most a few rooms, so they really go great lengths to look after you throughout your stay.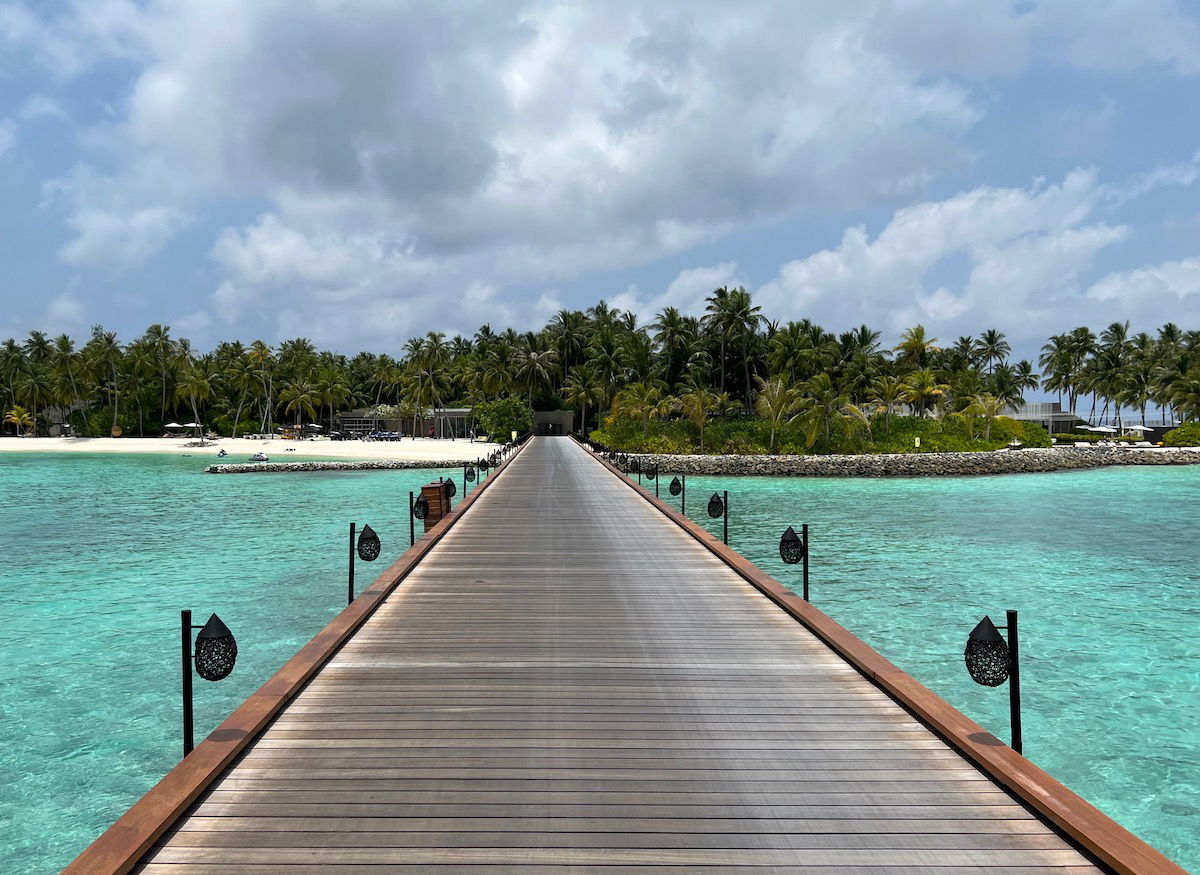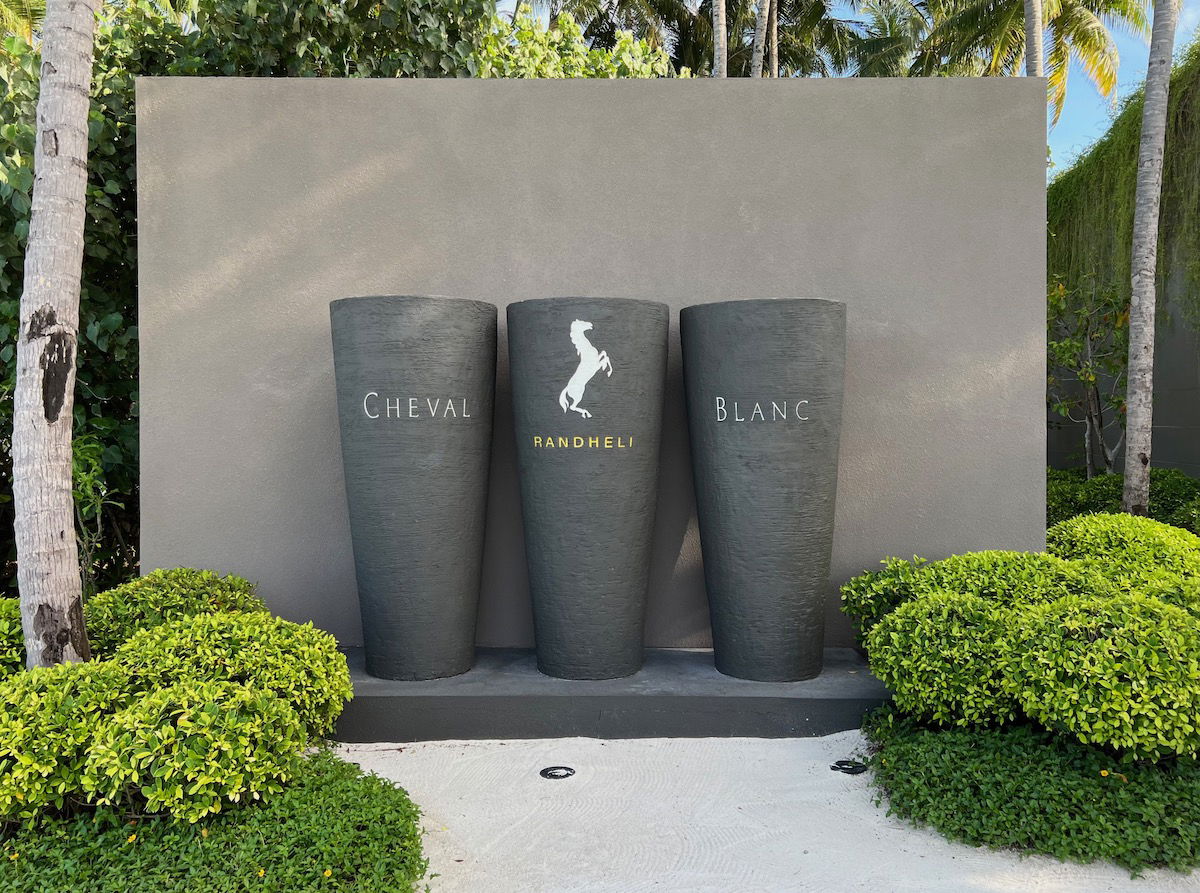 On the arrival jetty, Cheval Blanc has an air conditioned room for guests to wait in while staying cool, but fortunately we could head straight to our villa, where our check-in would be processed.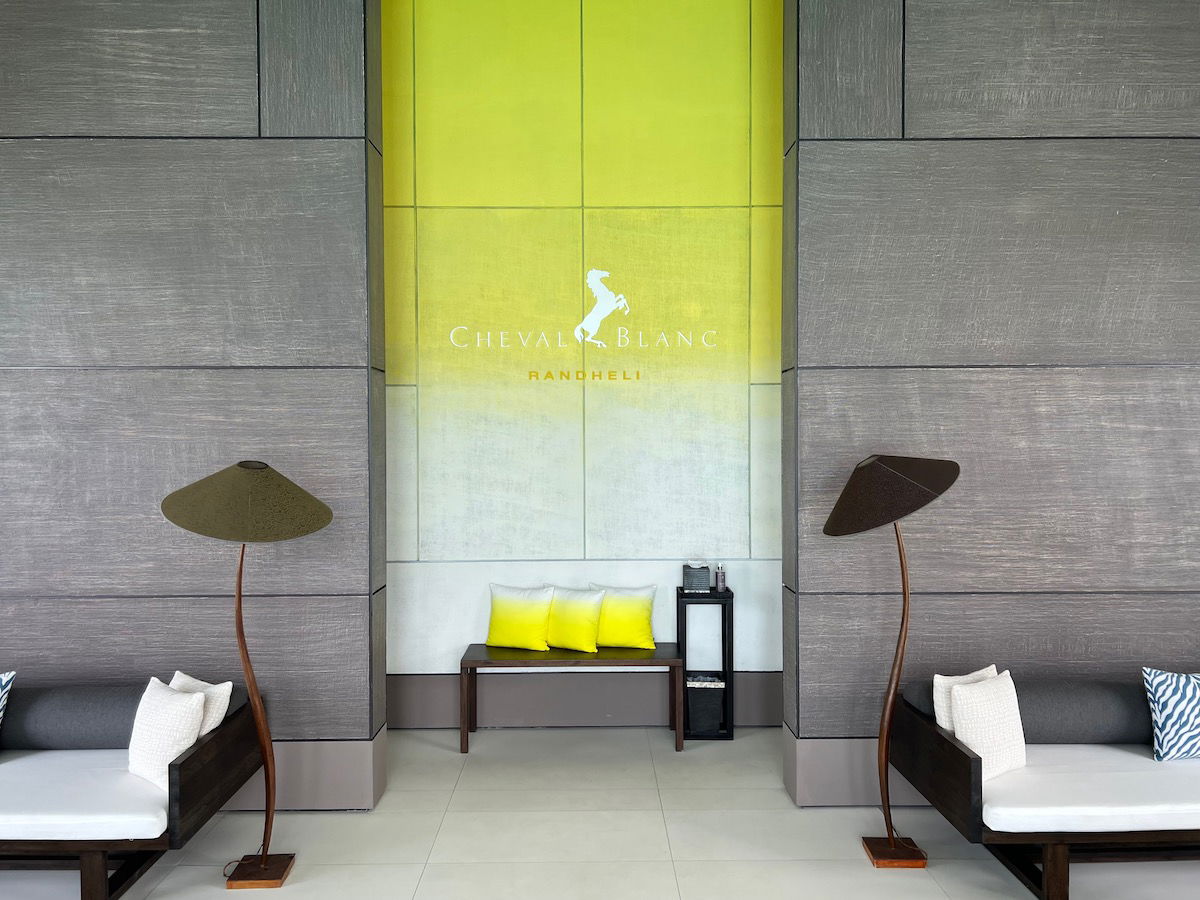 Cheval Blanc Maldives property layout
Maybe it's best to start with a general overview of Cheval Blanc's layout. The resort is spread across six islands. Three of these islands are connected by bridges, while the other three have to be accessed by boats:
The main island has 16 villas, plus most of the restaurants, the fitness center, the pool, the kids club, etc.
The second island is connected by a bridge, and has 11 villas
Then third island is connected to the second island, and has the remaining villas
The fourth island is the spa island and can only be reached by boat; it's dedicated to wellness, and has spa treatment rooms, a spa restaurant, and a pool
The fifth island is a roughly 2.5 acre private island, and can only be reached by boat; it has four bedrooms, a 25-meter pool, etc.; obviously this can't be accessed if you don't book the island
The sixth island was acquired years after the resort opened, and can only be reached by an even longer boat ride; it has tennis courts, a jungle bootcamp, and is generally unspoiled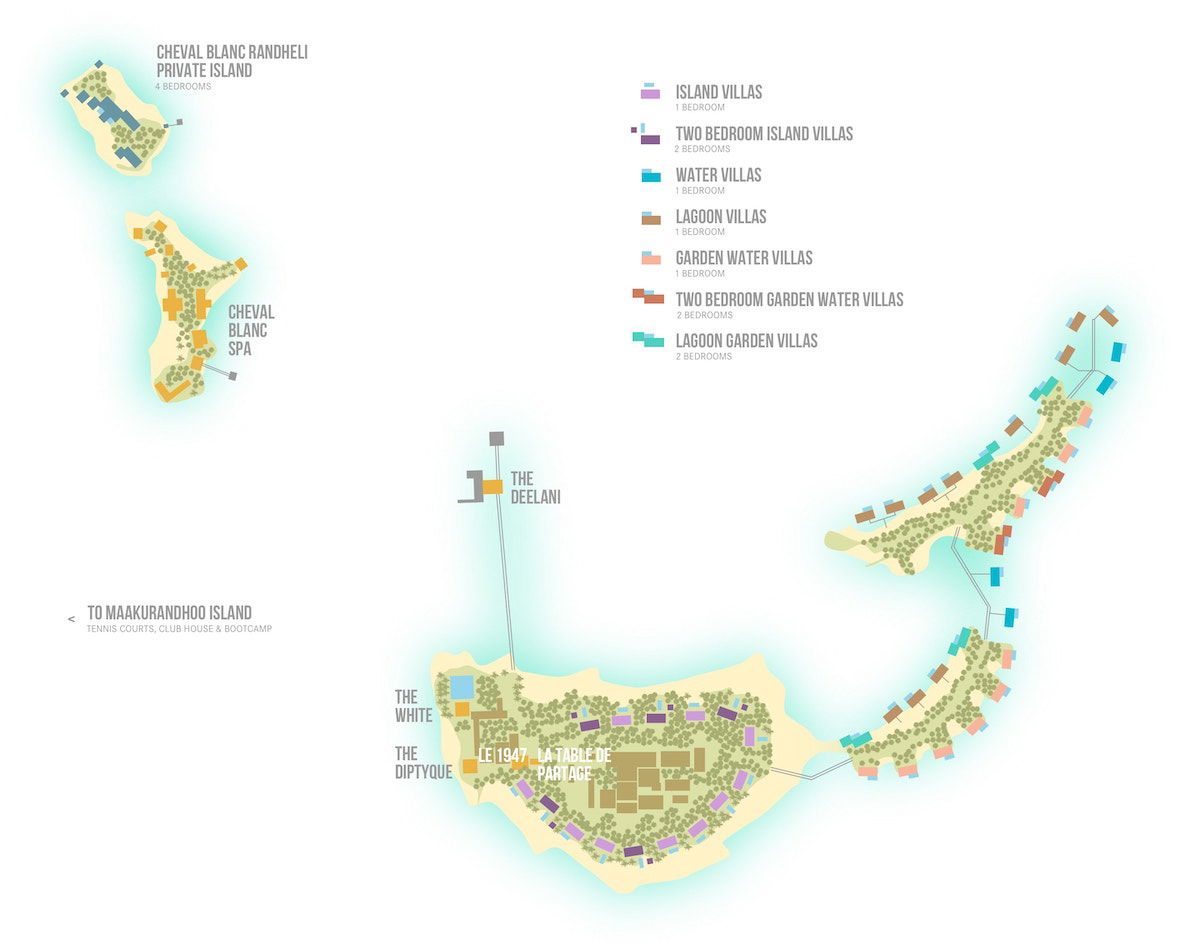 You can get between the three main islands either by foot, by bike, or by golf cart. Speaking of which, how cool are Cheval Blanc's golf carts?!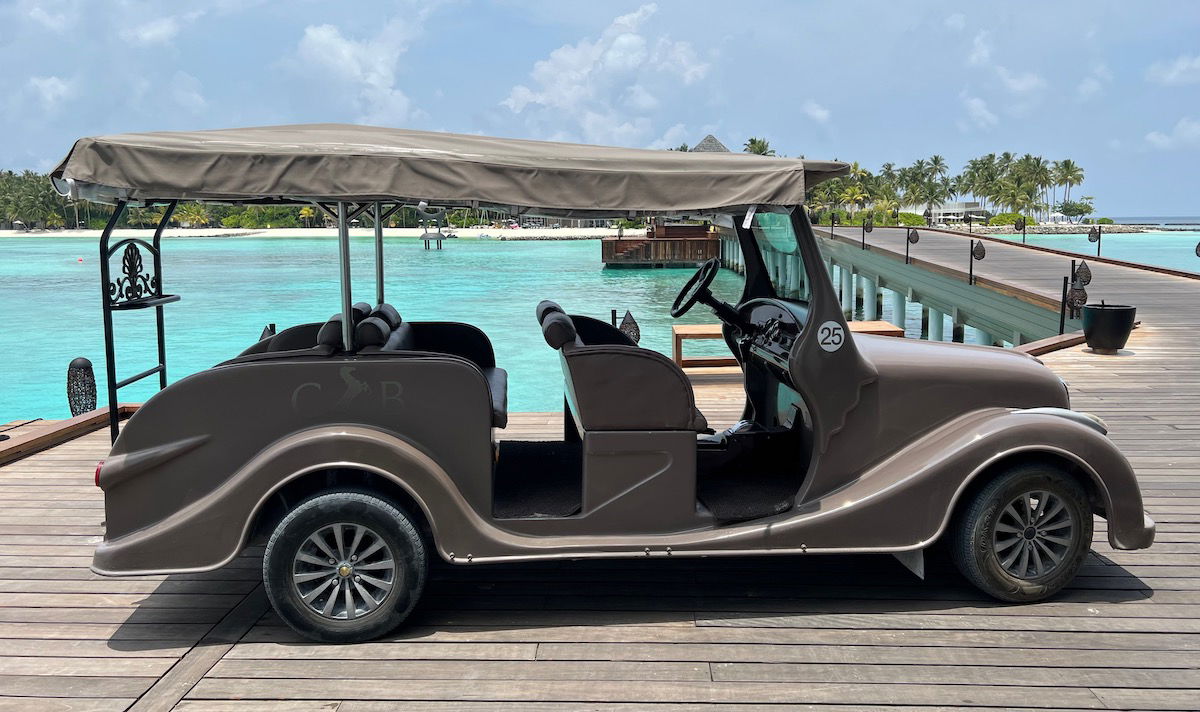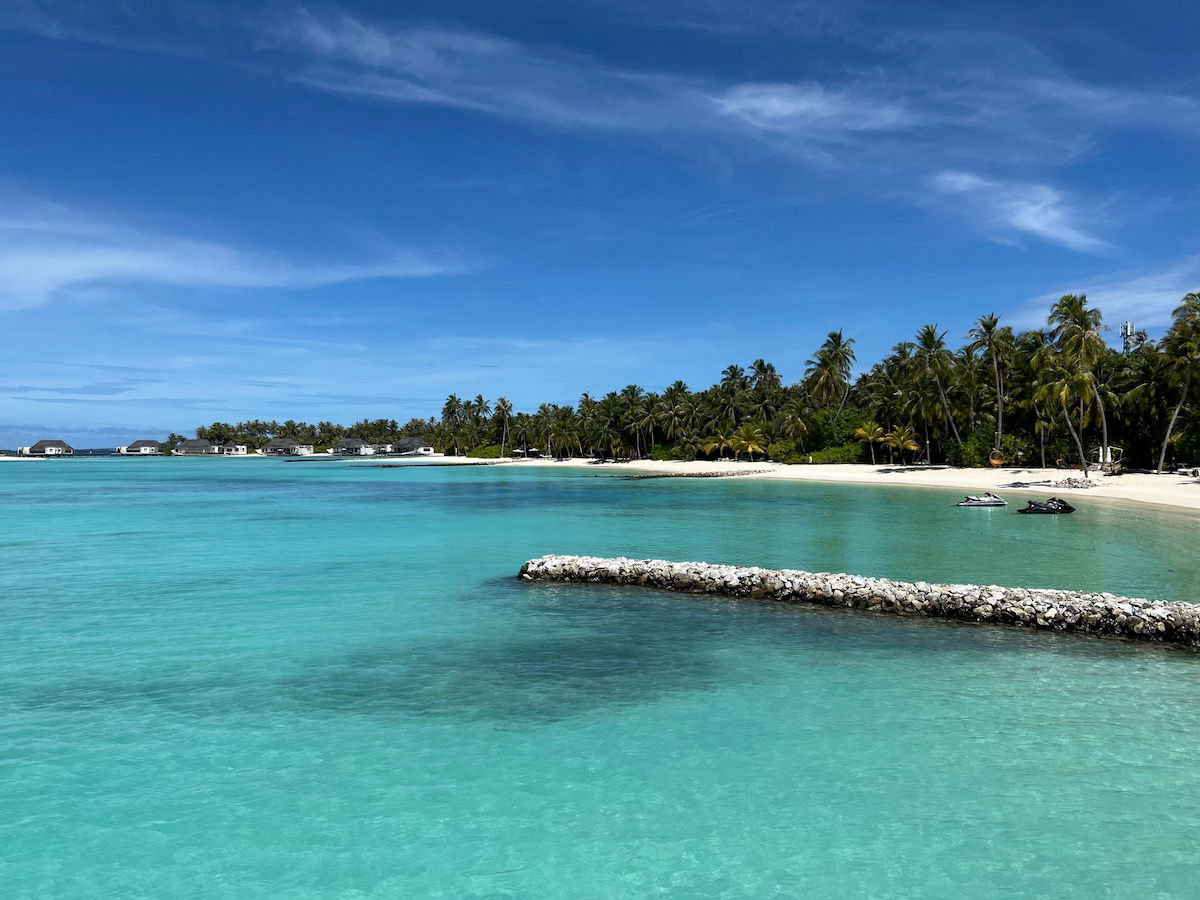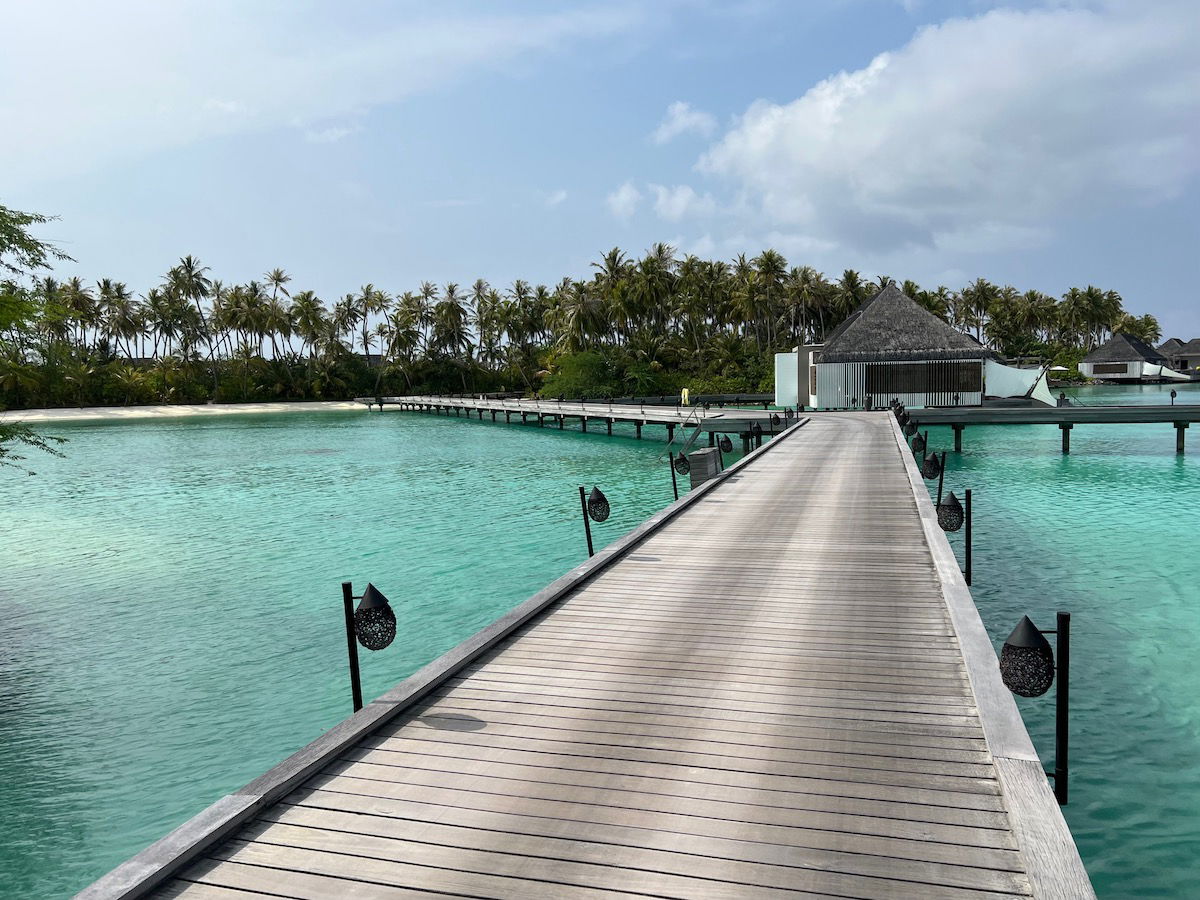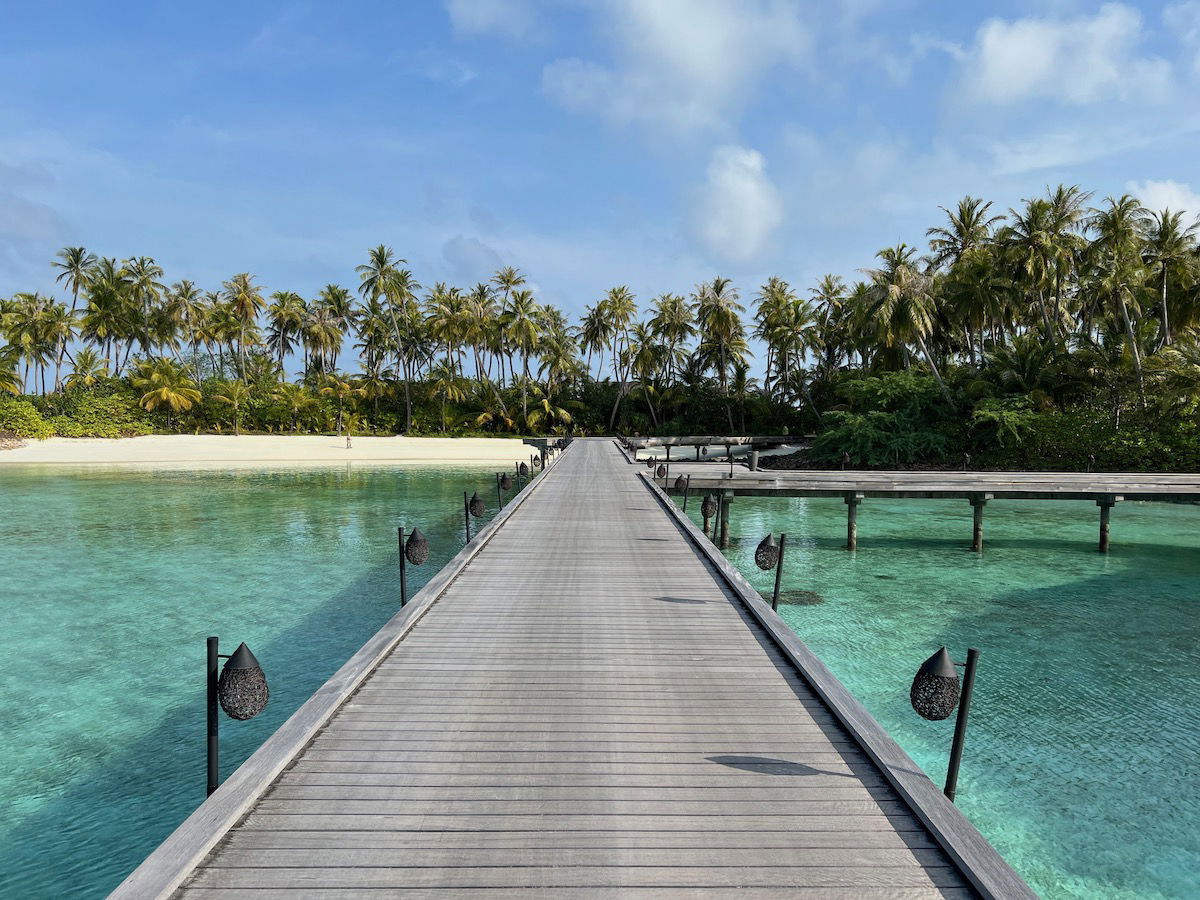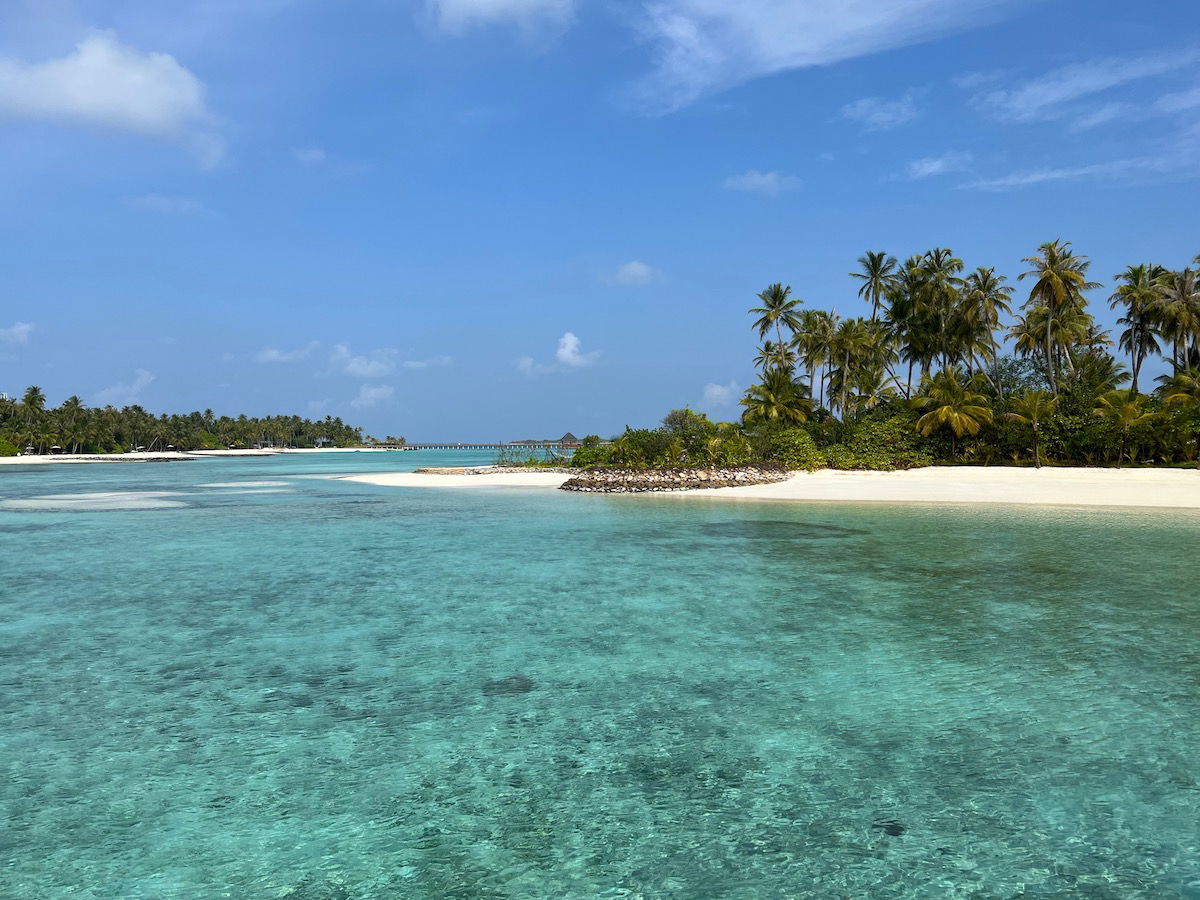 Cheval Blanc Maldives lagoon garden villa
We were assigned villa 39, a lagoon garden villa on the third island.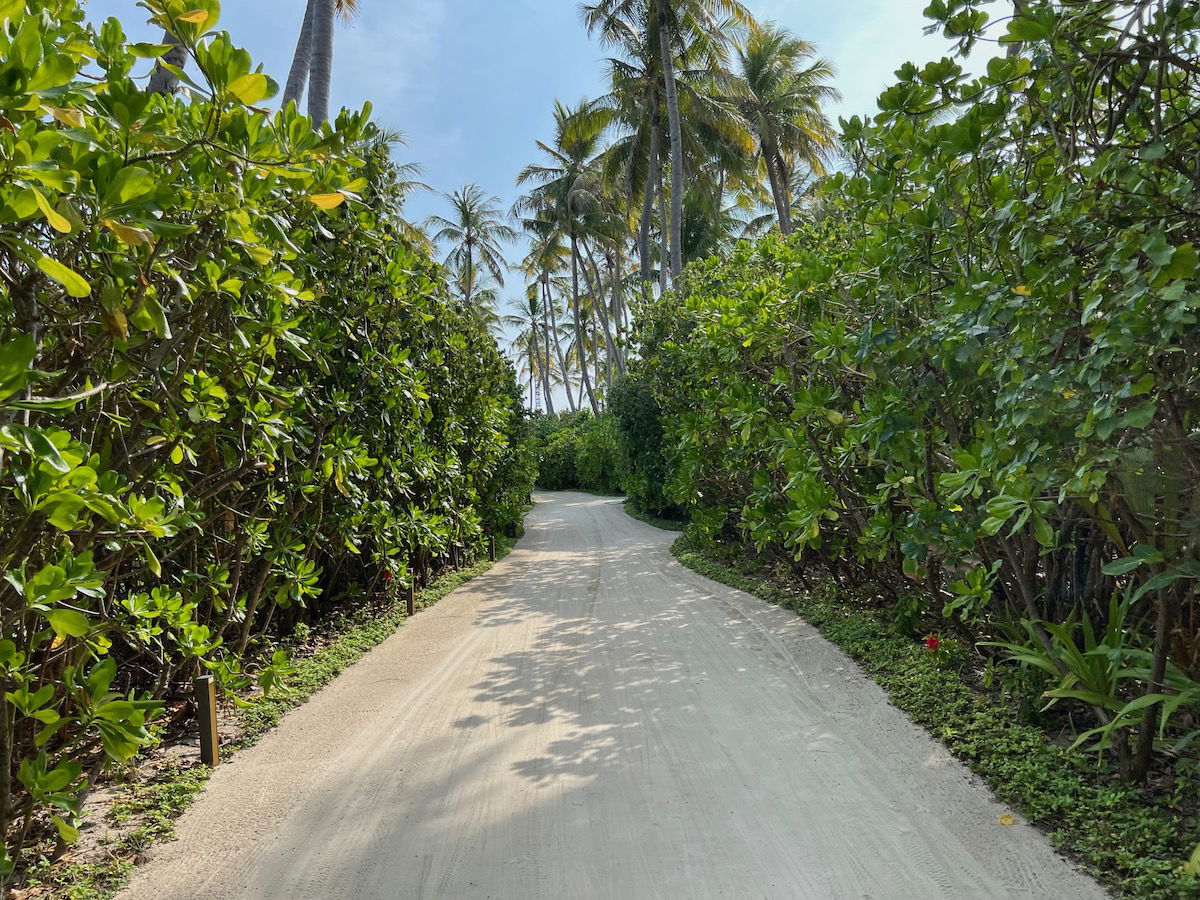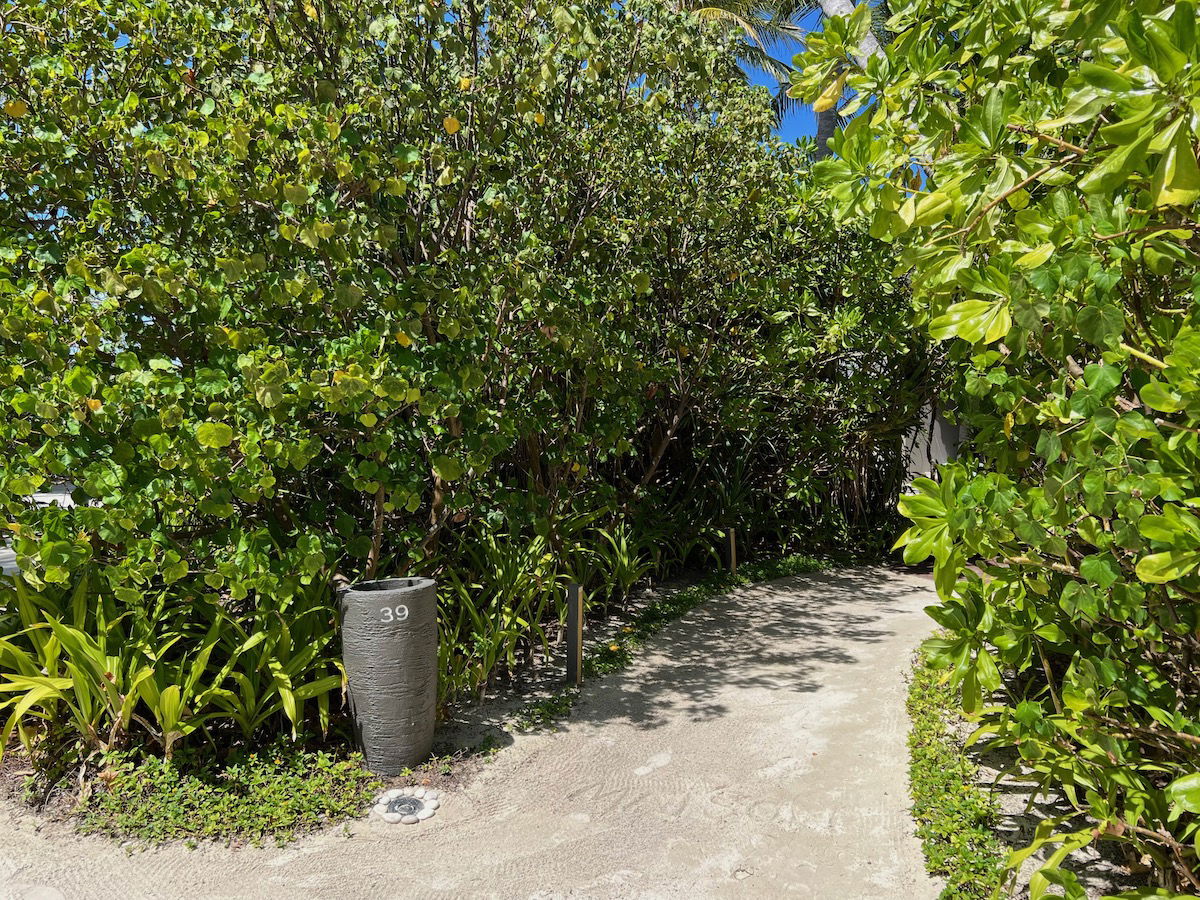 Entry level villas at Cheval Blanc Maldives are 240 square meters (~2,580 square feet), so they're massive. There was a path leading to the entrance to our villa, where there were two bikes parked.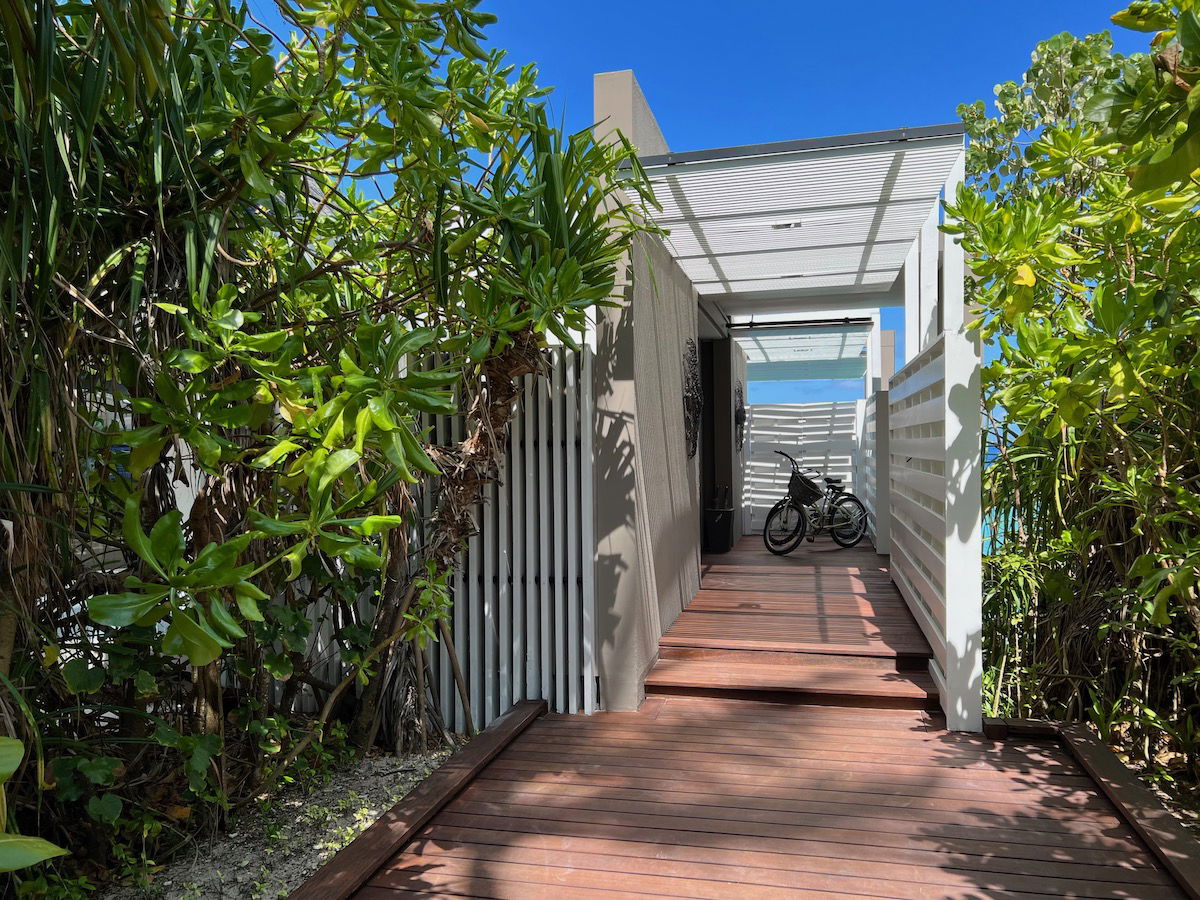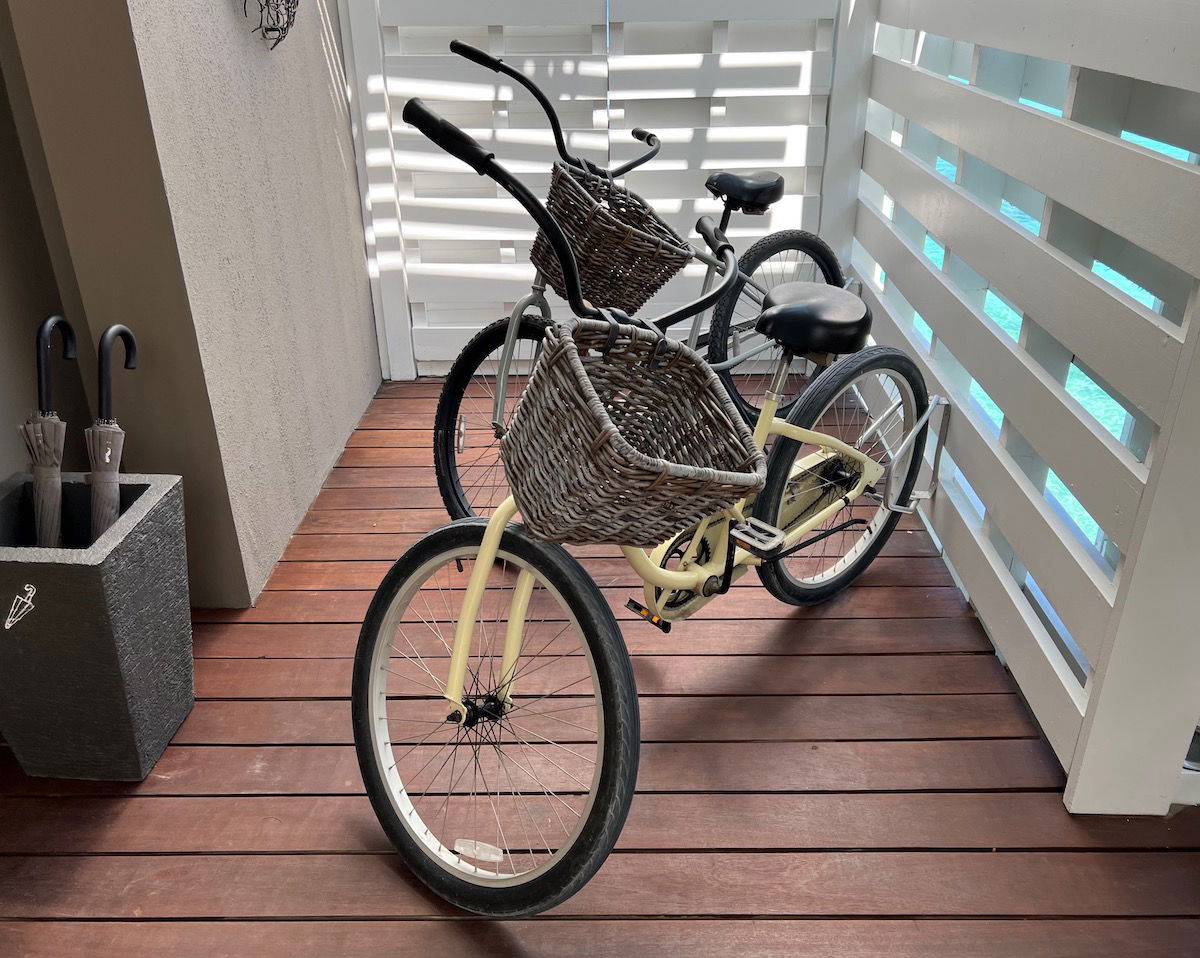 These villas… WOW! I loved the open concept, where you could see the living room, bedroom, and bathroom, to fully appreciate just how big the villa is. However, you can also turn those huge vertical slats (or whatever you want to call them) 90 degrees, so that each room has privacy.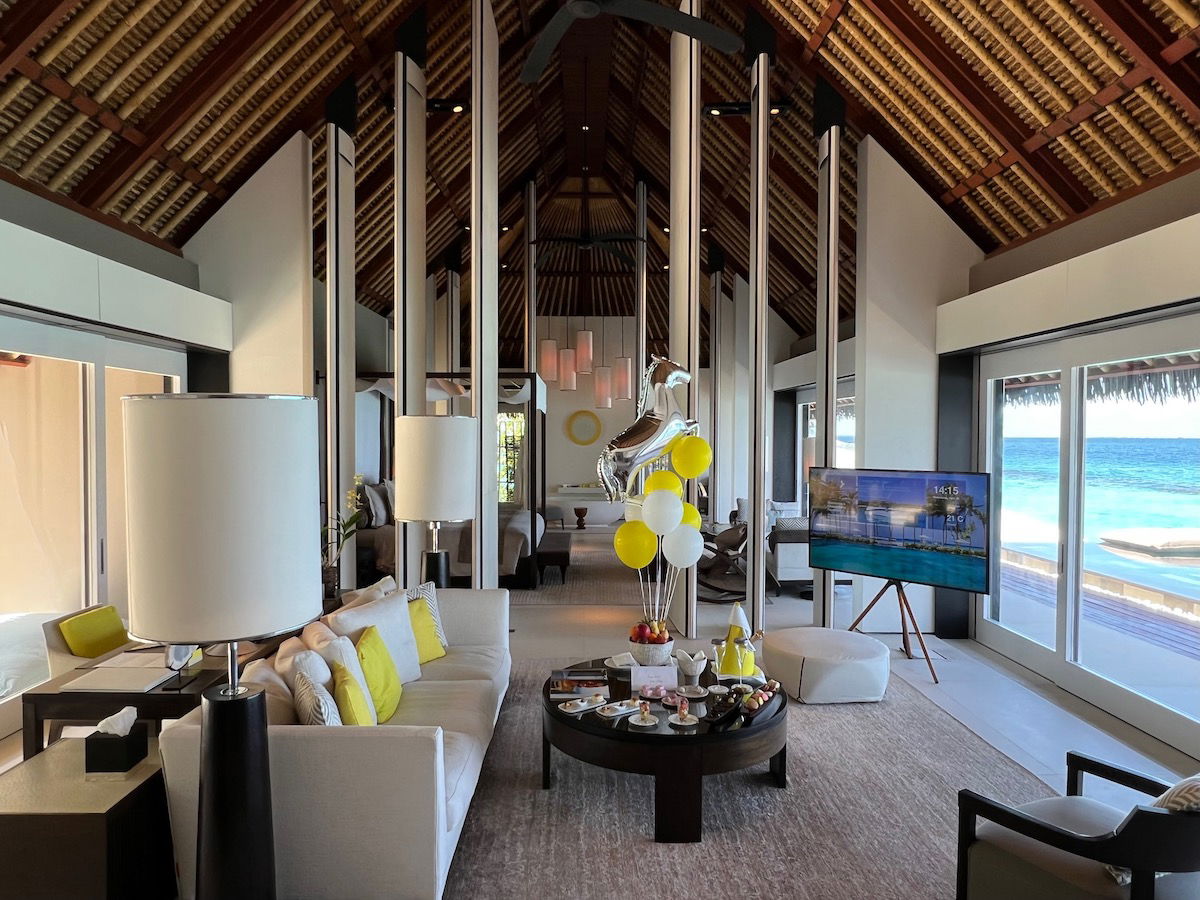 The living room featured a sitting area that had a couch and chair, and then behind that was a proper desk.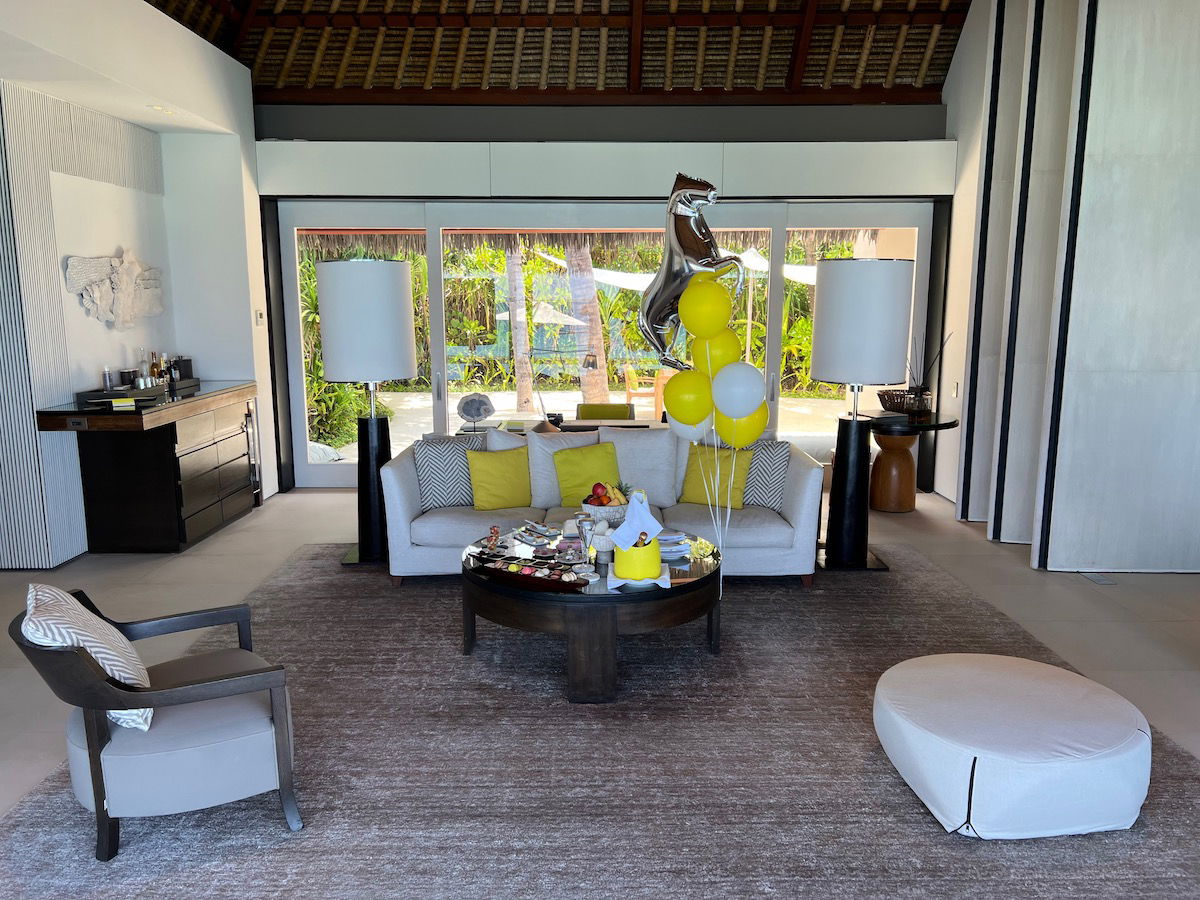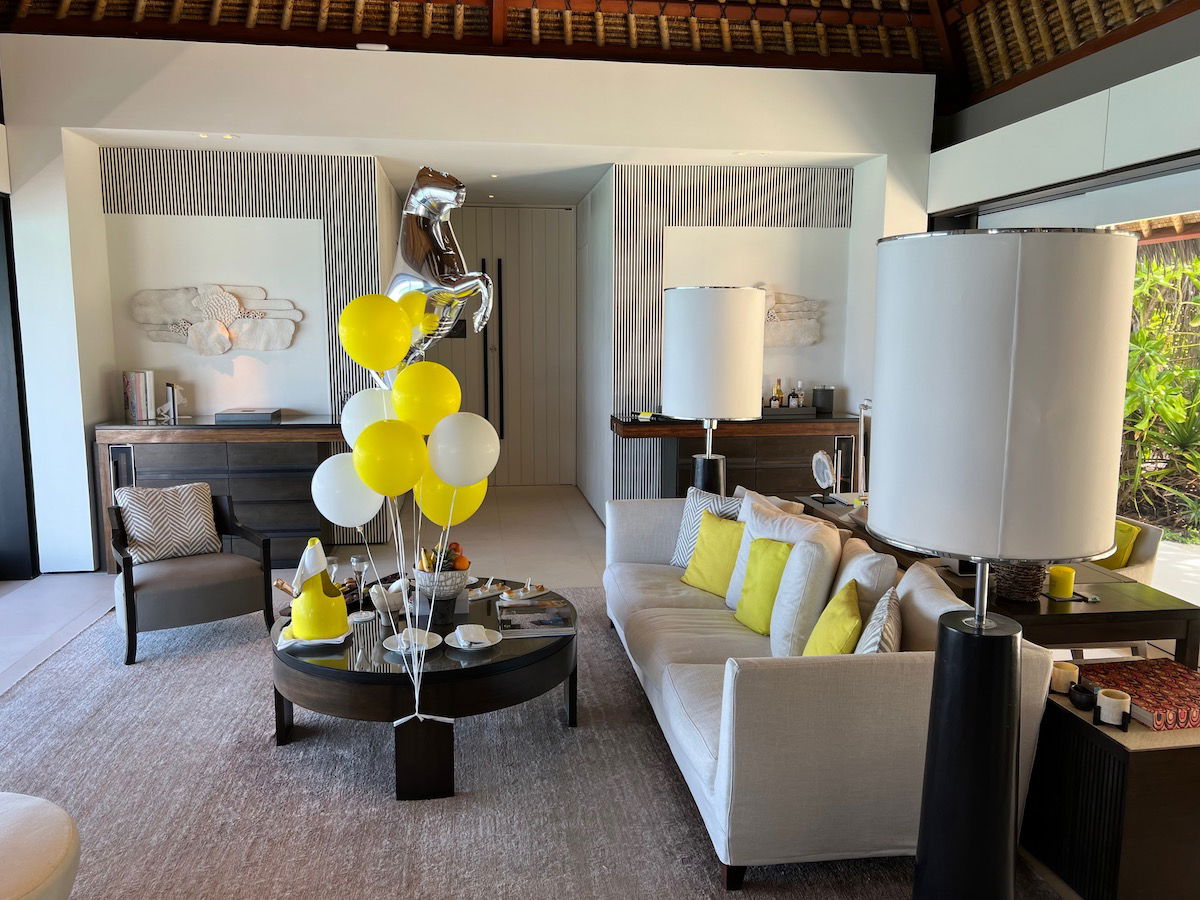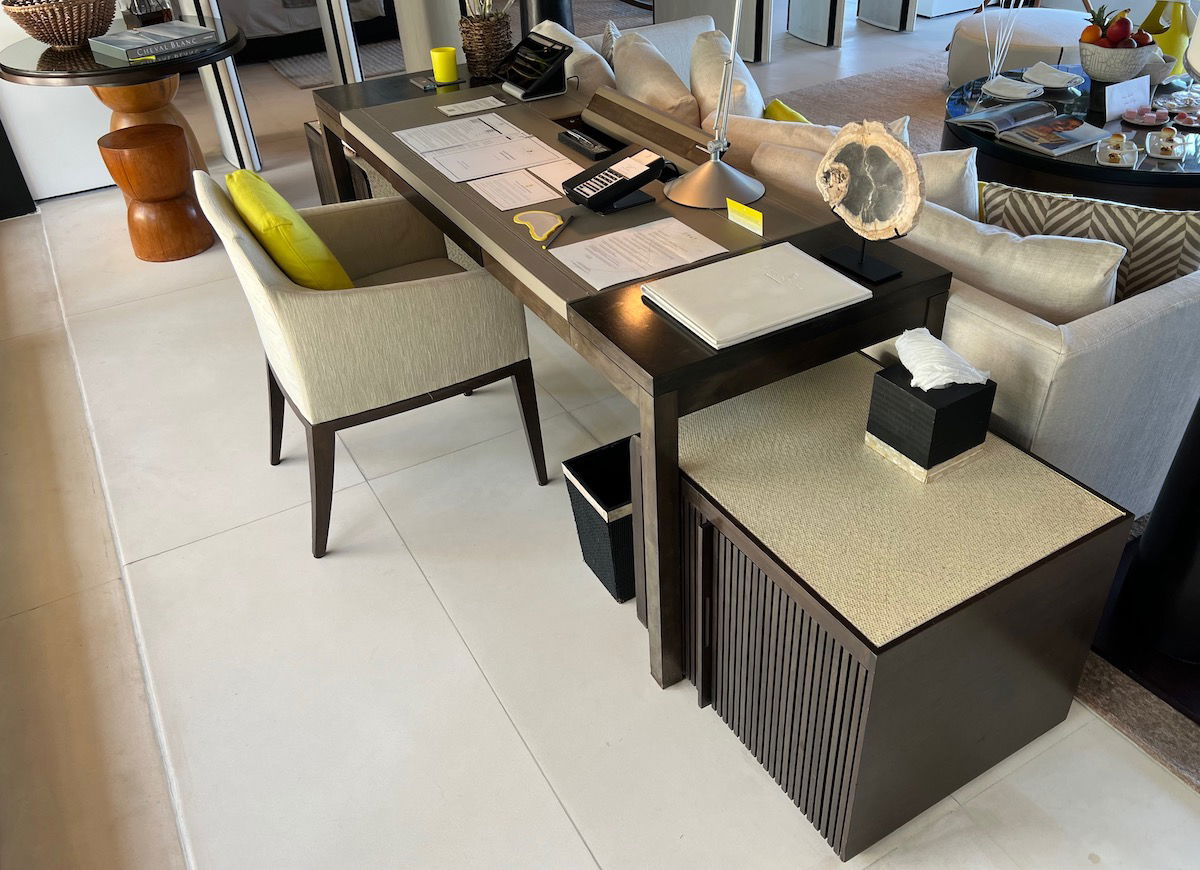 Waiting on the living room coffee table was one of the most generous welcome amenities we've ever received, with seemingly endless snacks, and a bottle of Ruinart. For what it's worth, as far as I know the only special treatment here were the balloons (since it was my birthday on check-in day), but this is otherwise the standard welcome amenity.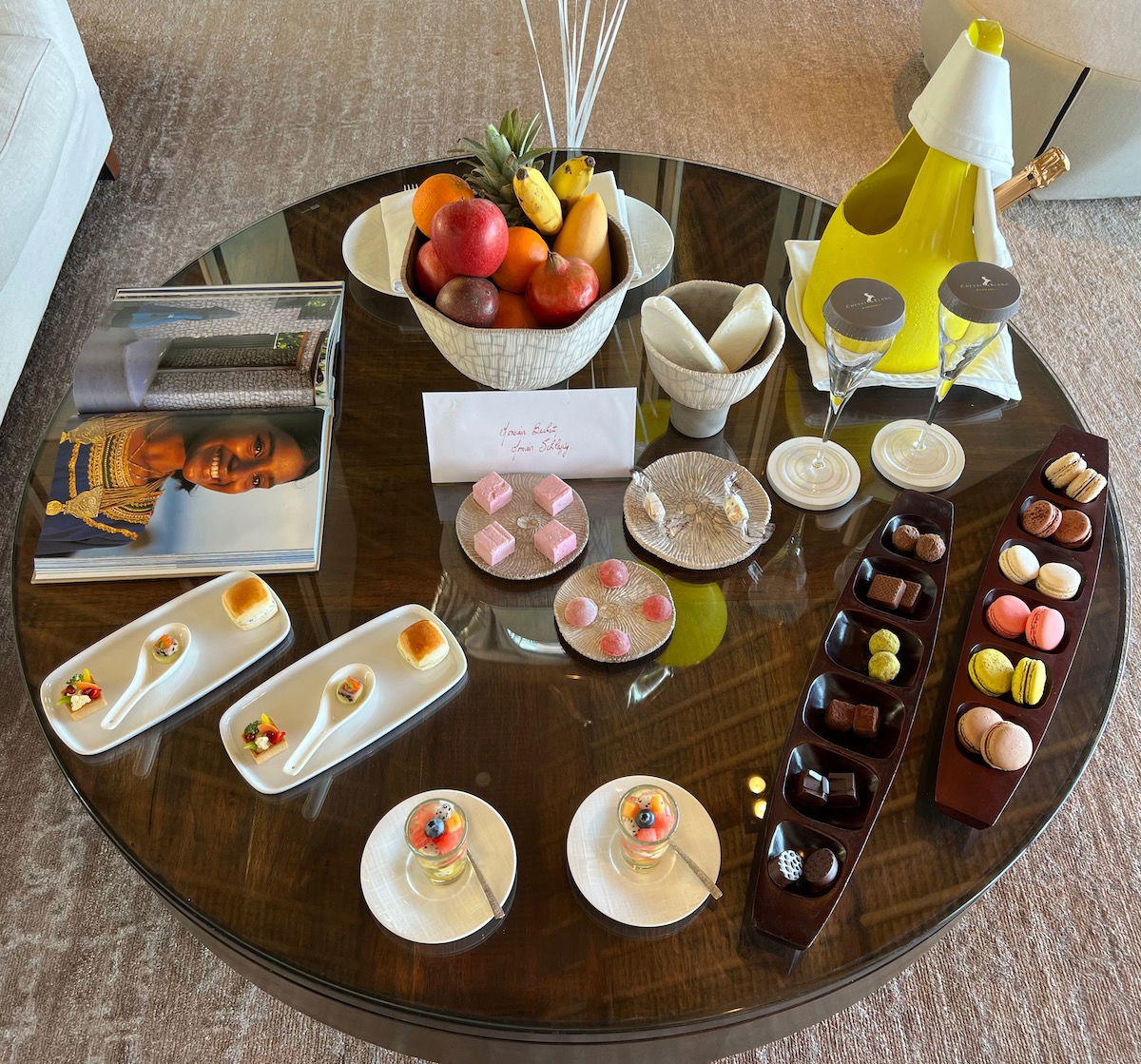 Along the wall closest to the entrance was the minibar. Non-alcoholic drinks and snacks are complimentary, which is a nice touch, especially since the selection was extensive.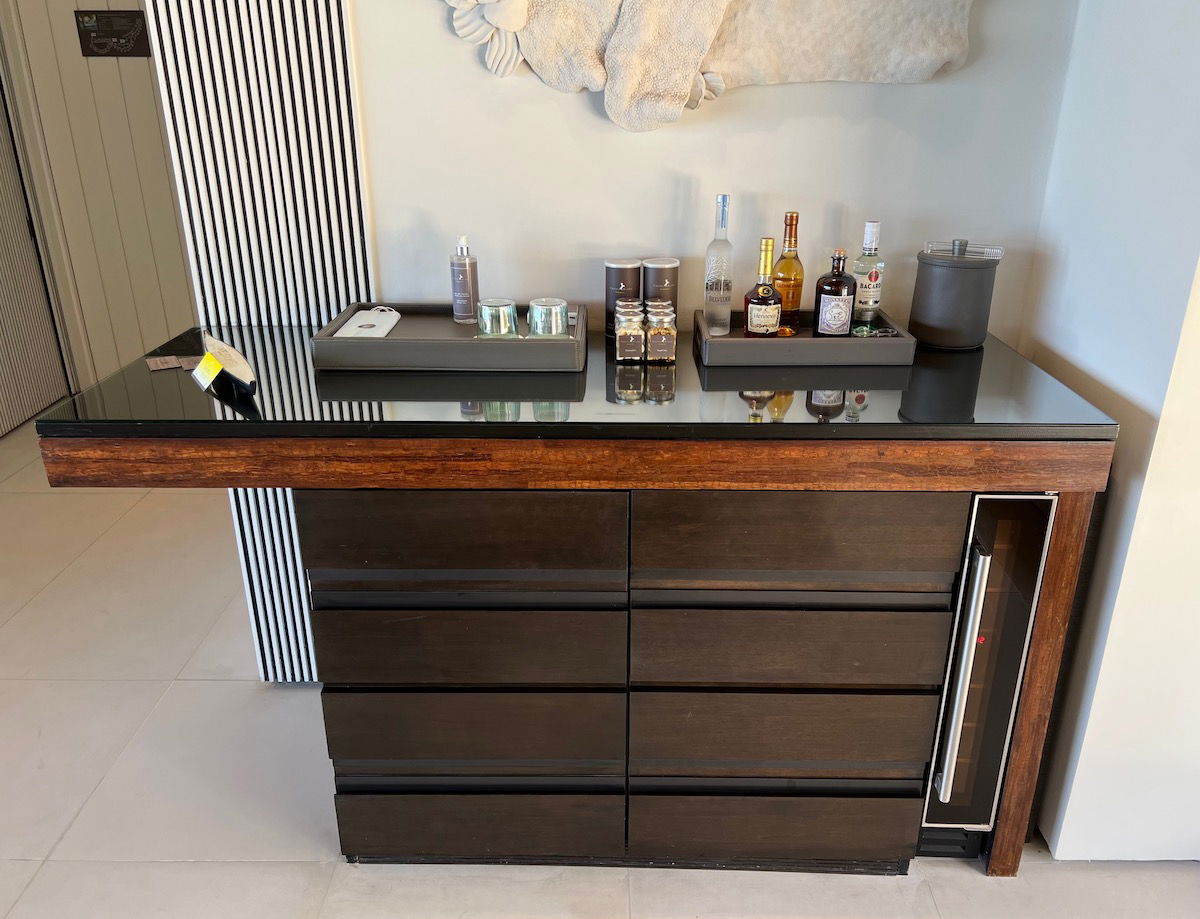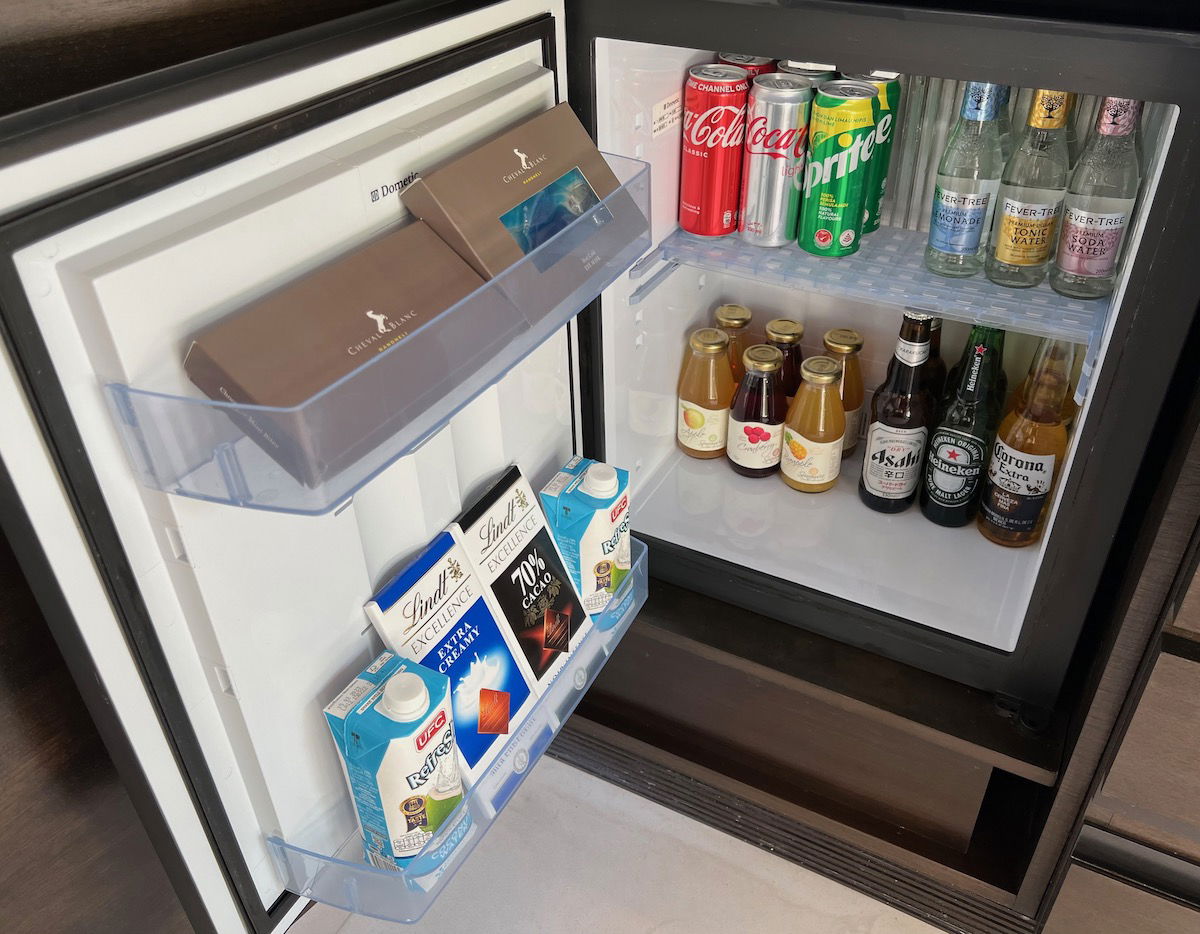 Next up was the bedroom, which had a four-poster bed with a comfortable mattress and soft sheets.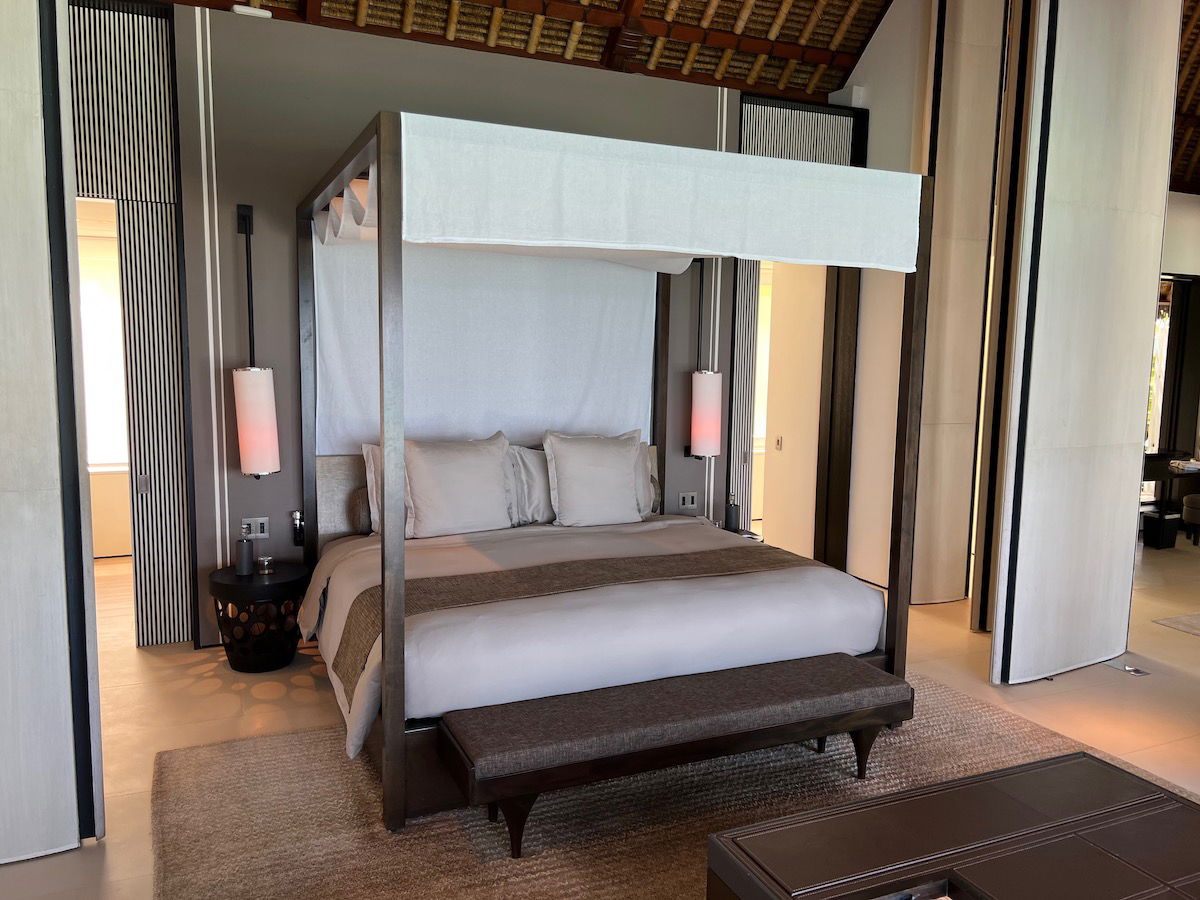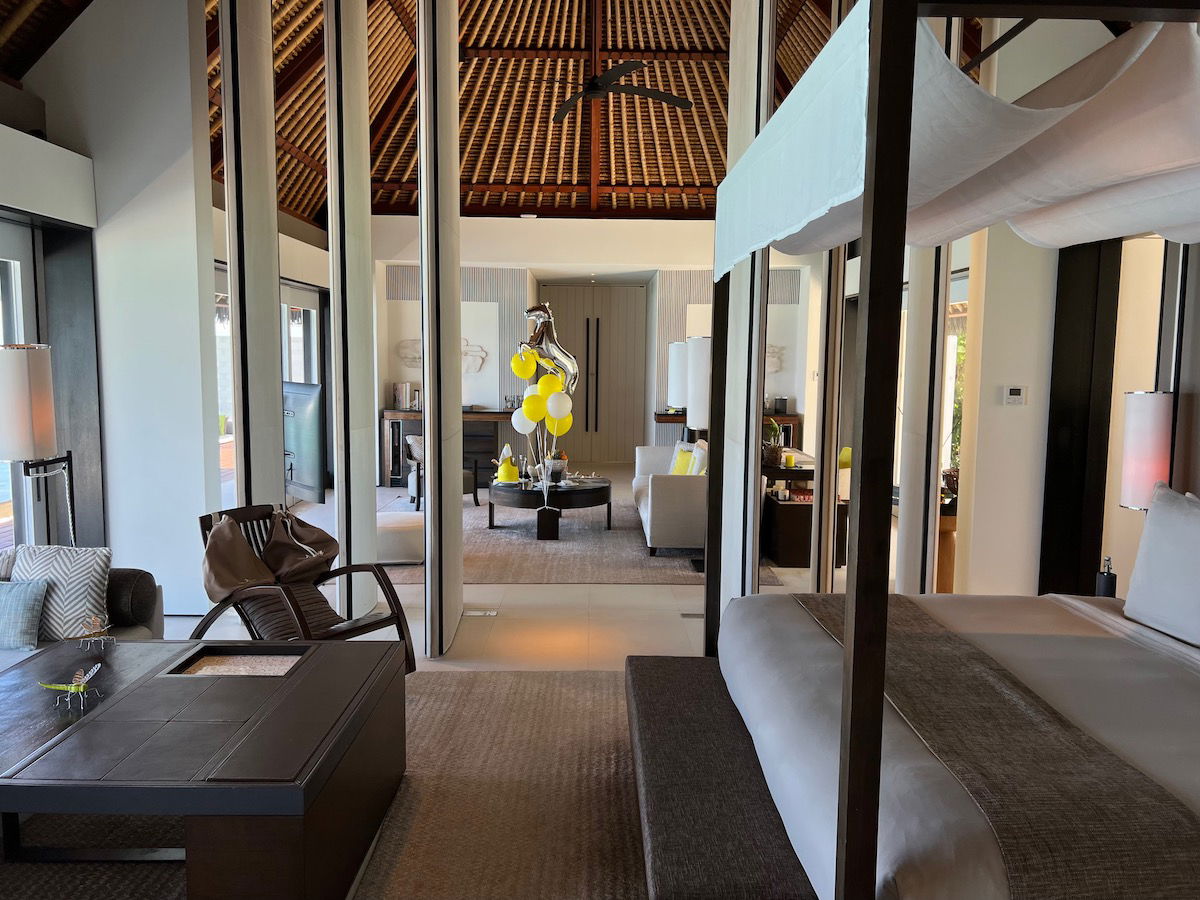 There was also a sitting area with a daybed and rocking chair.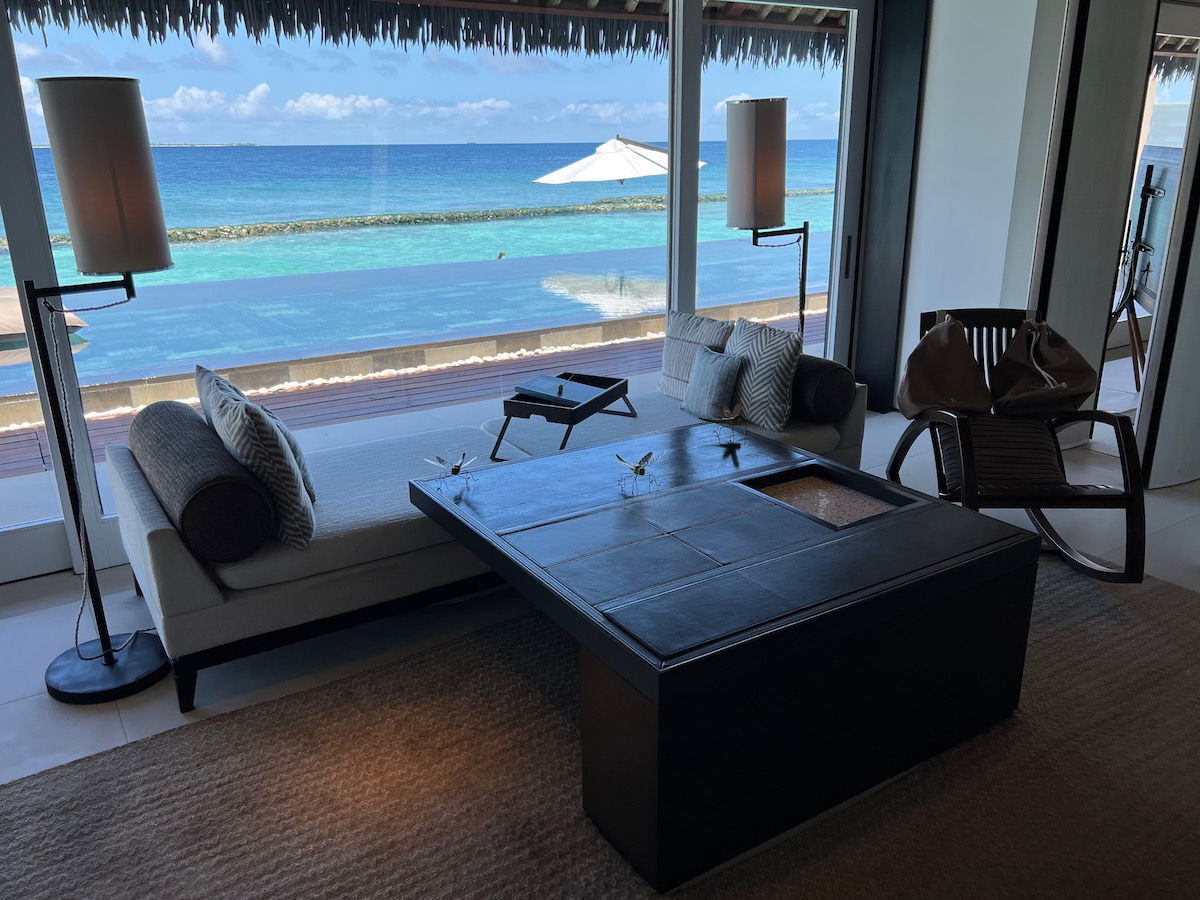 Next up was the bathroom, which had a soaking tub, two sinks (one on each side of the bathtub), a giant walk-in shower, and a toilet in a separate room with a sink.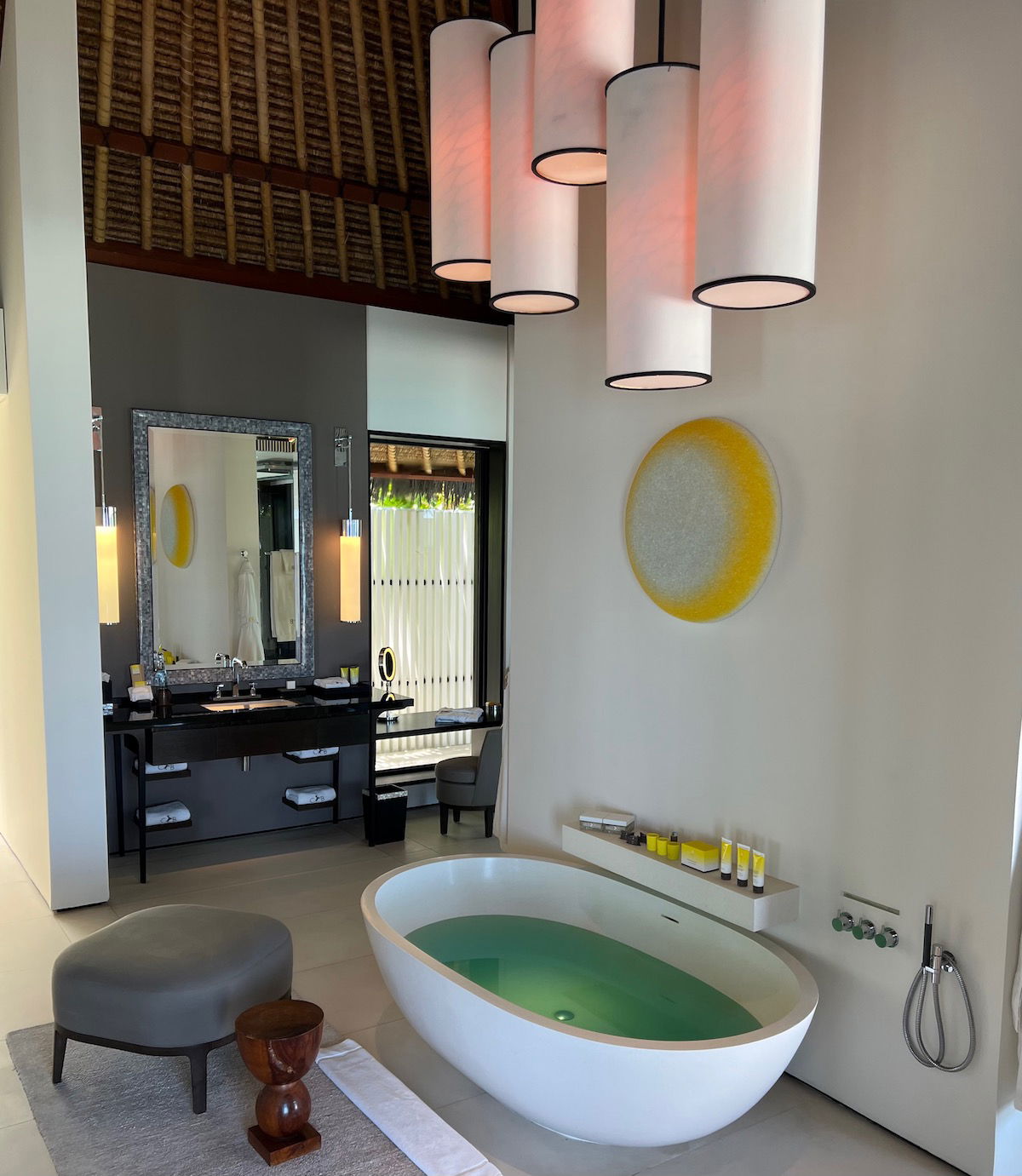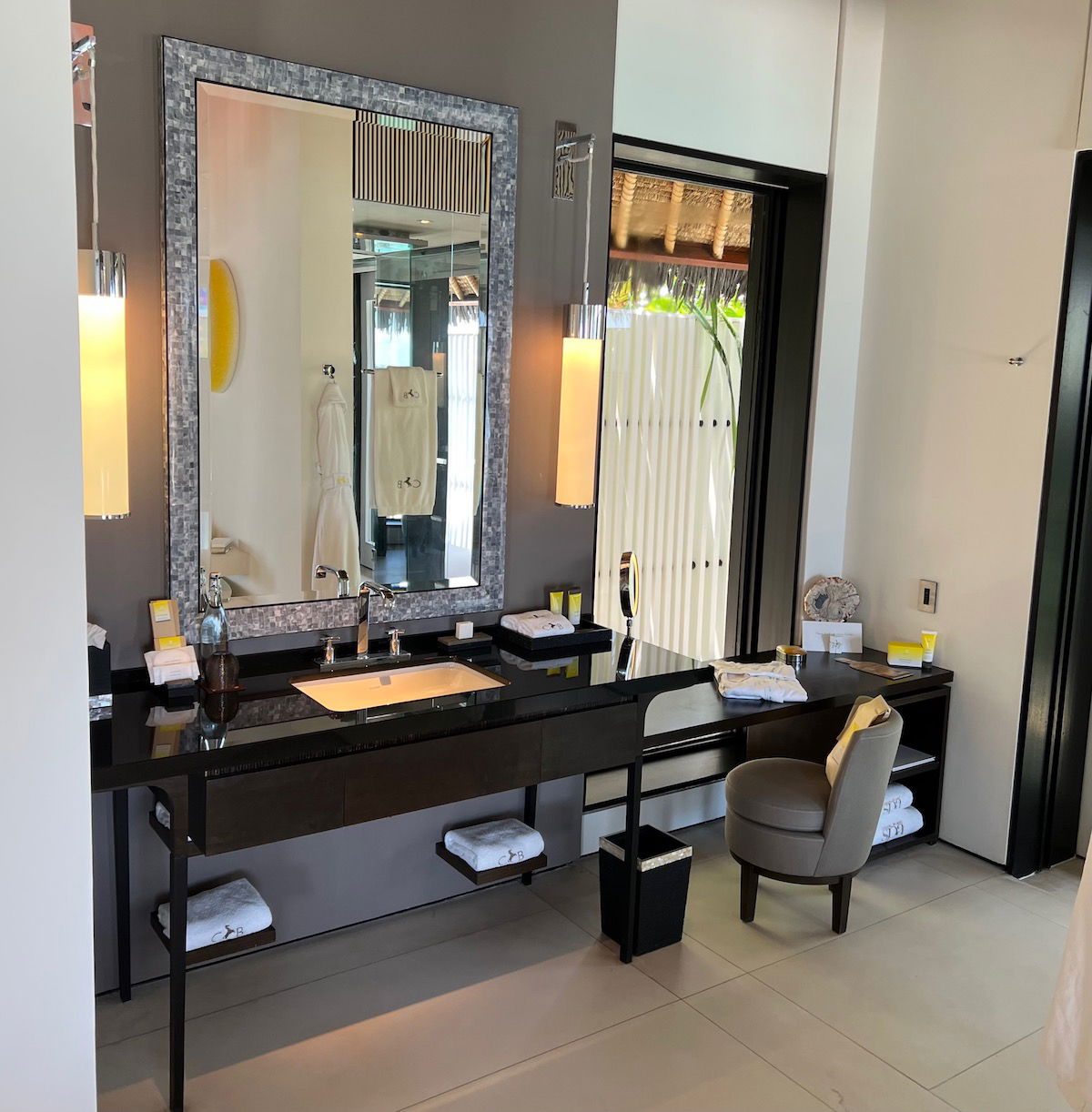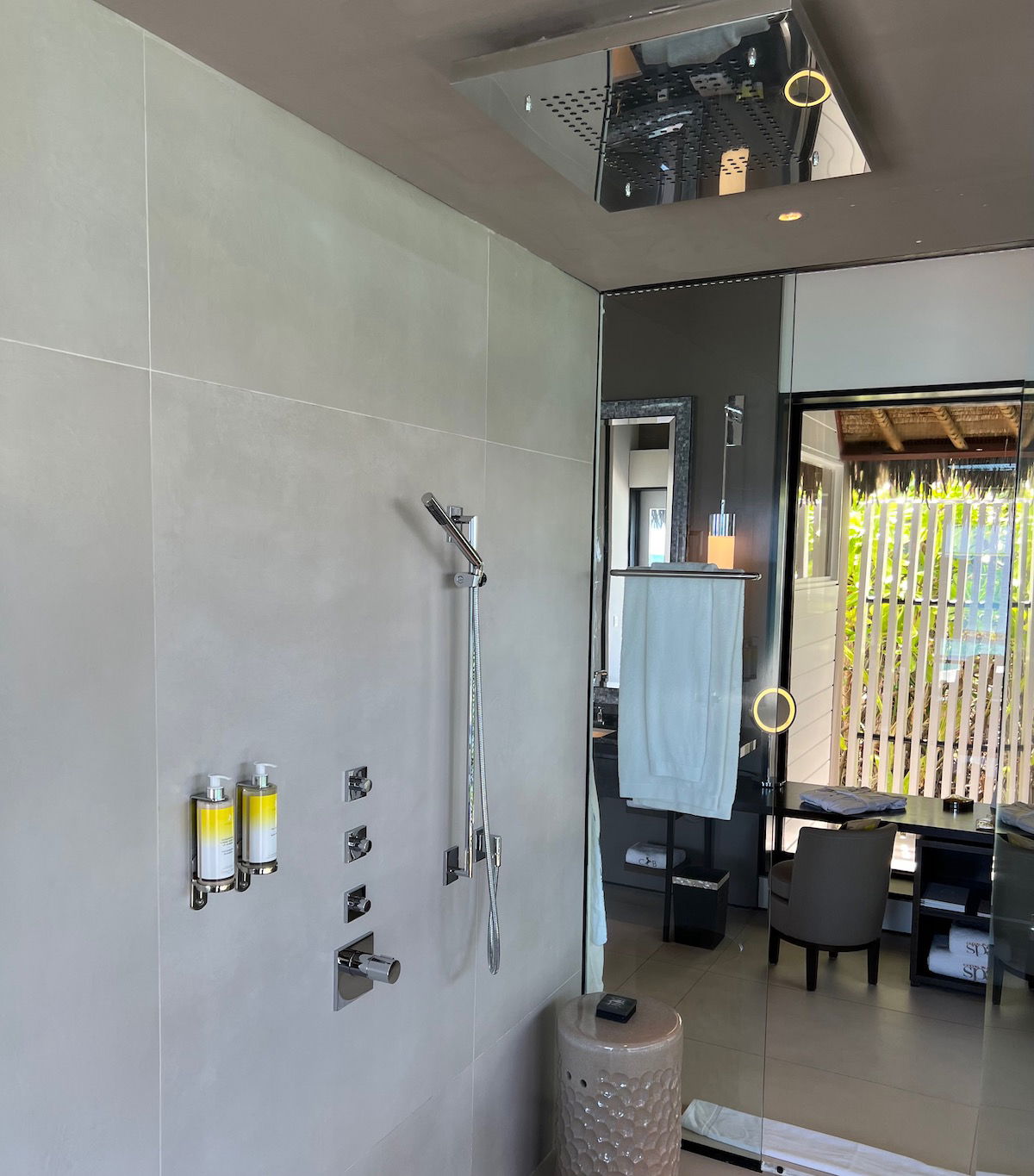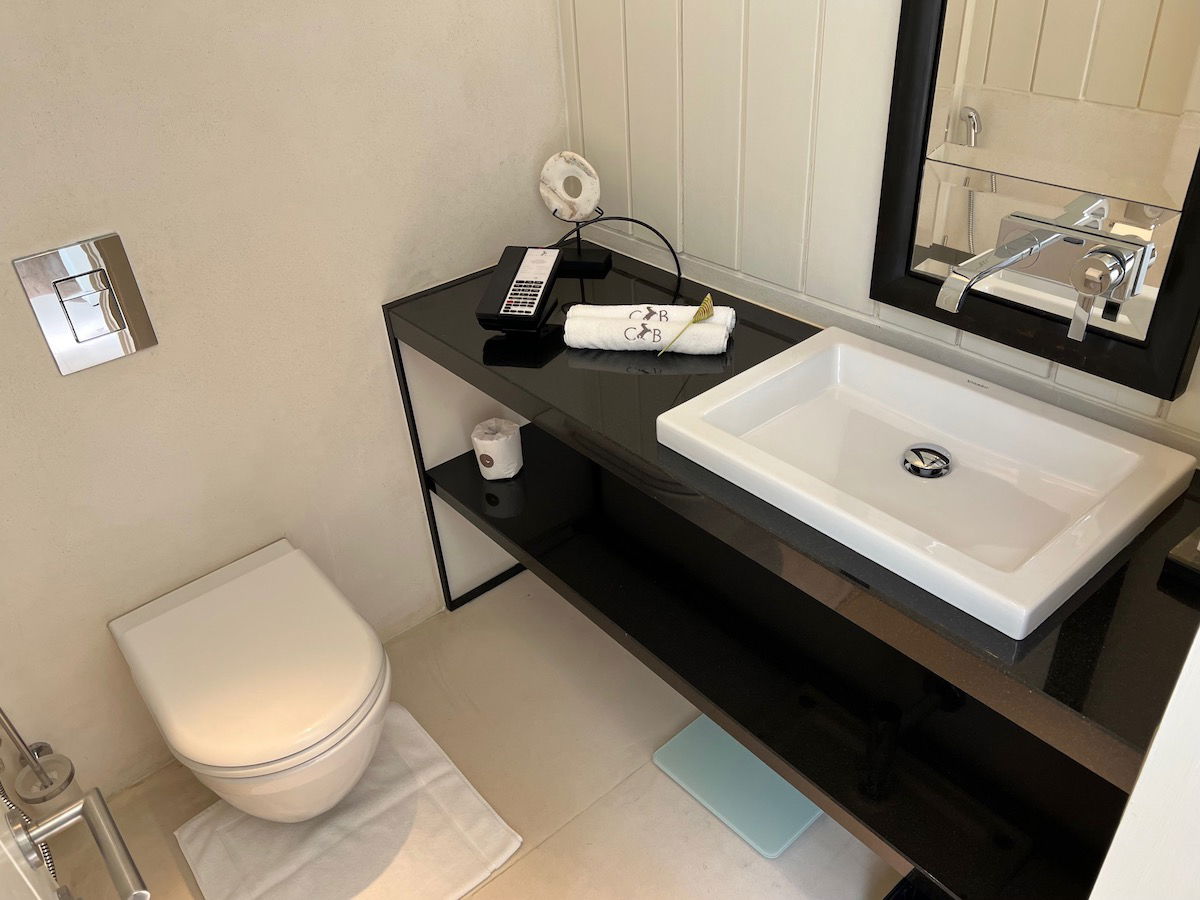 The selection of amenities was endless, just like at Cheval Blanc Paris.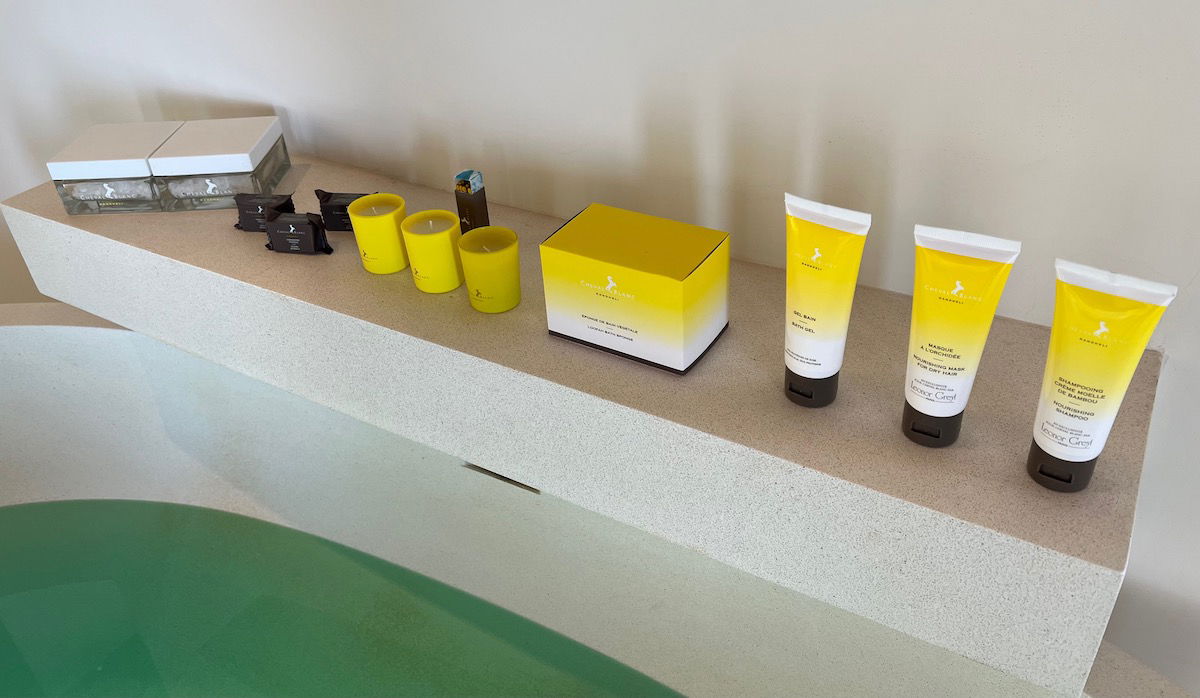 Behind the bathroom was a huge closet area, which was basically the size of hotel rooms in some cities.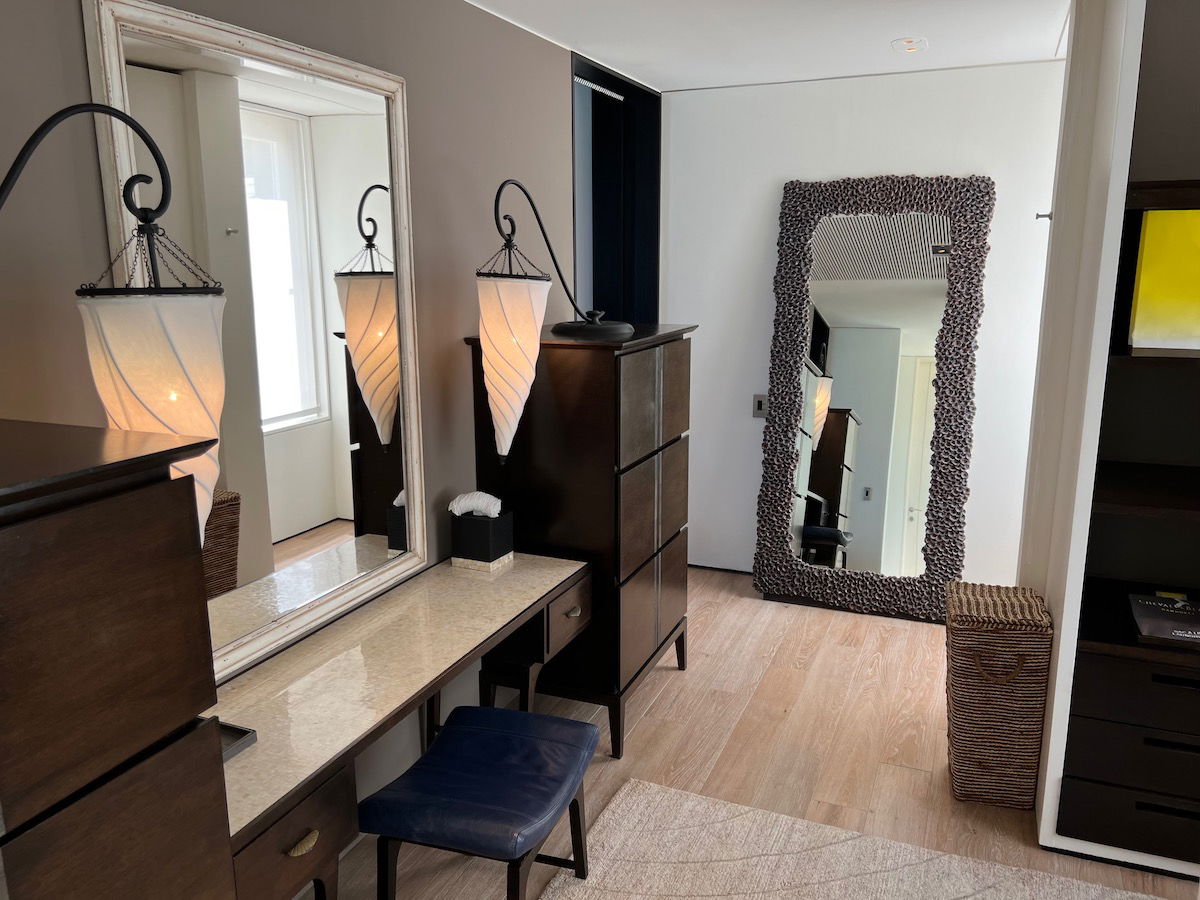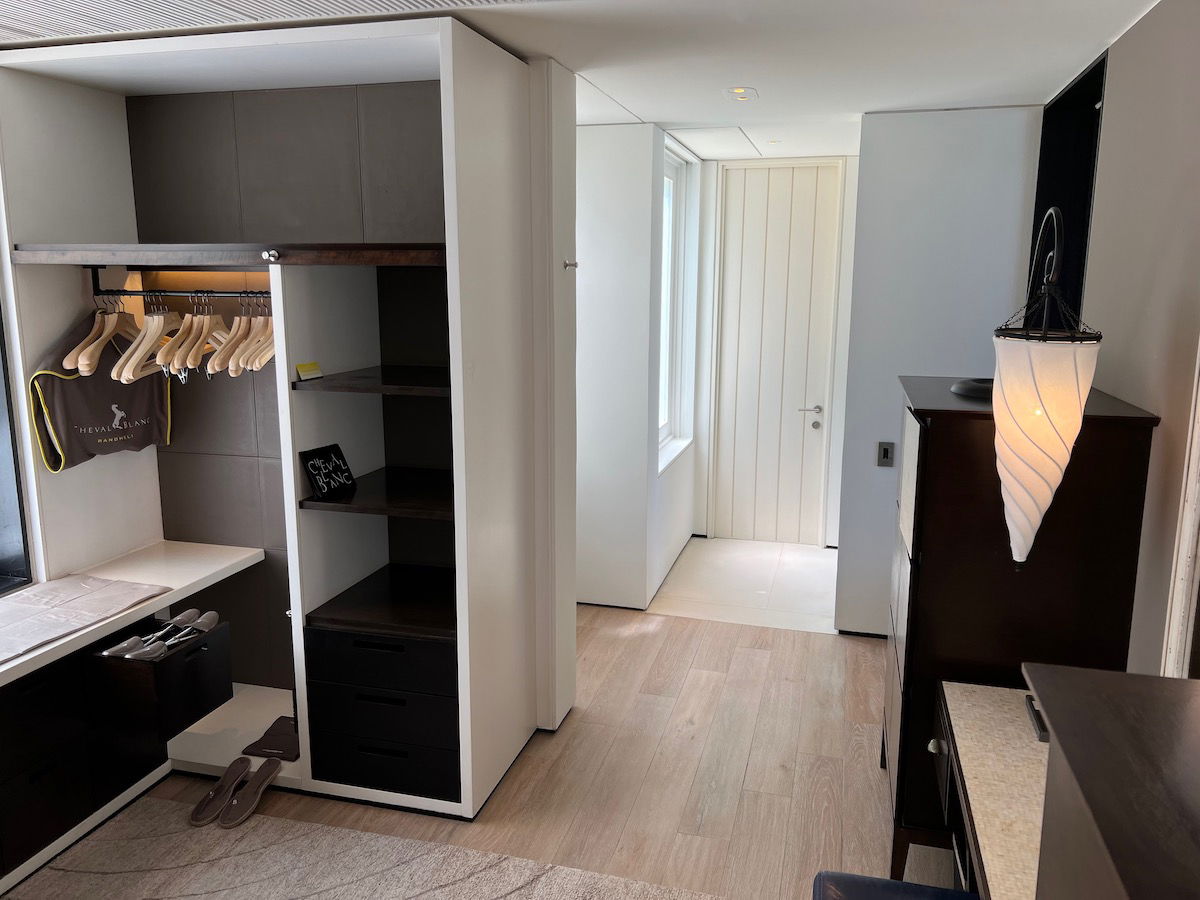 But wait, there's more! Back near the entrance was a wall with a hidden door leading to a kitchen, which is where the coffee machine and tea kettle were located. There was also a fridge, microwave, sink, etc., but I can't imagine these get all that much use.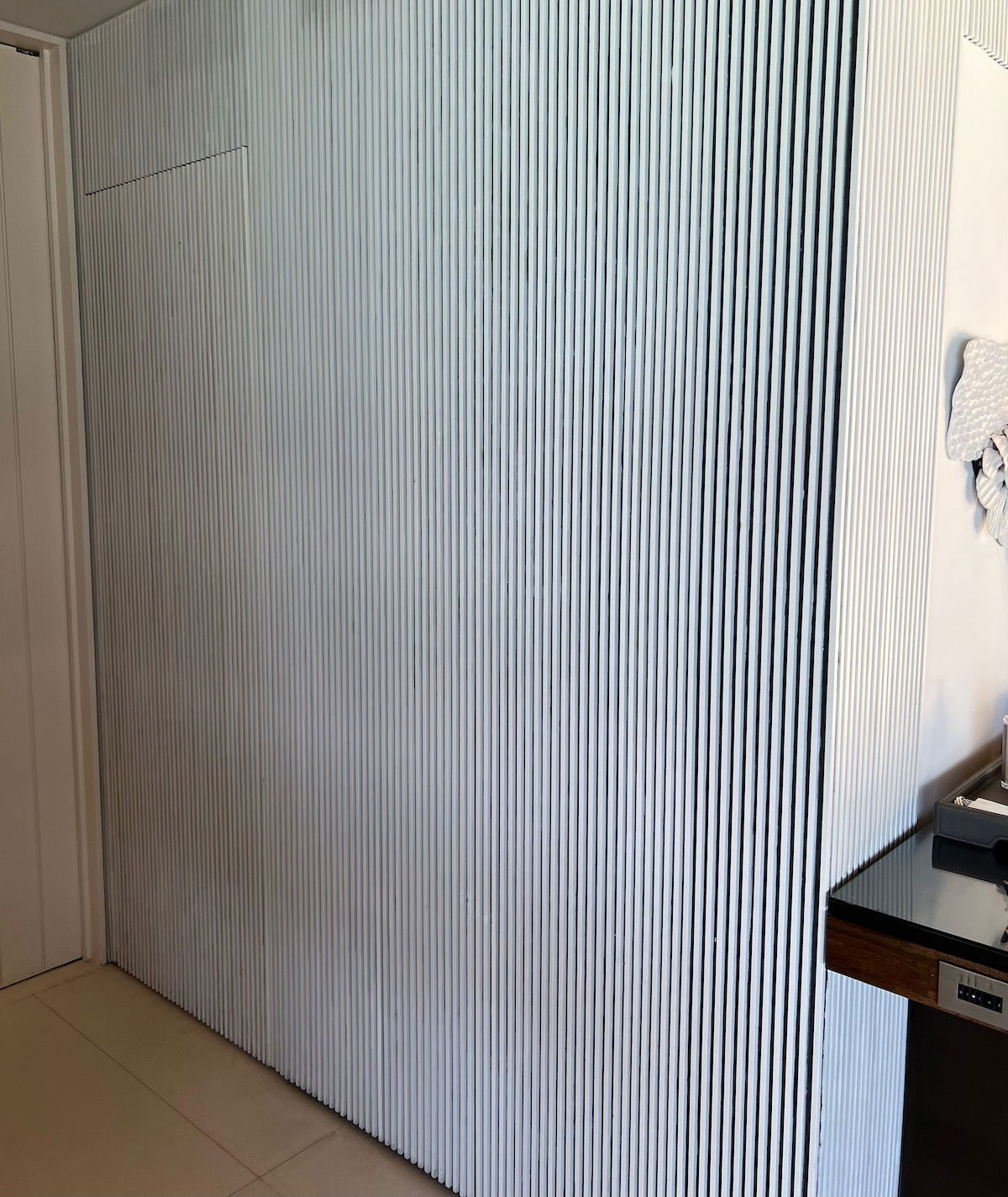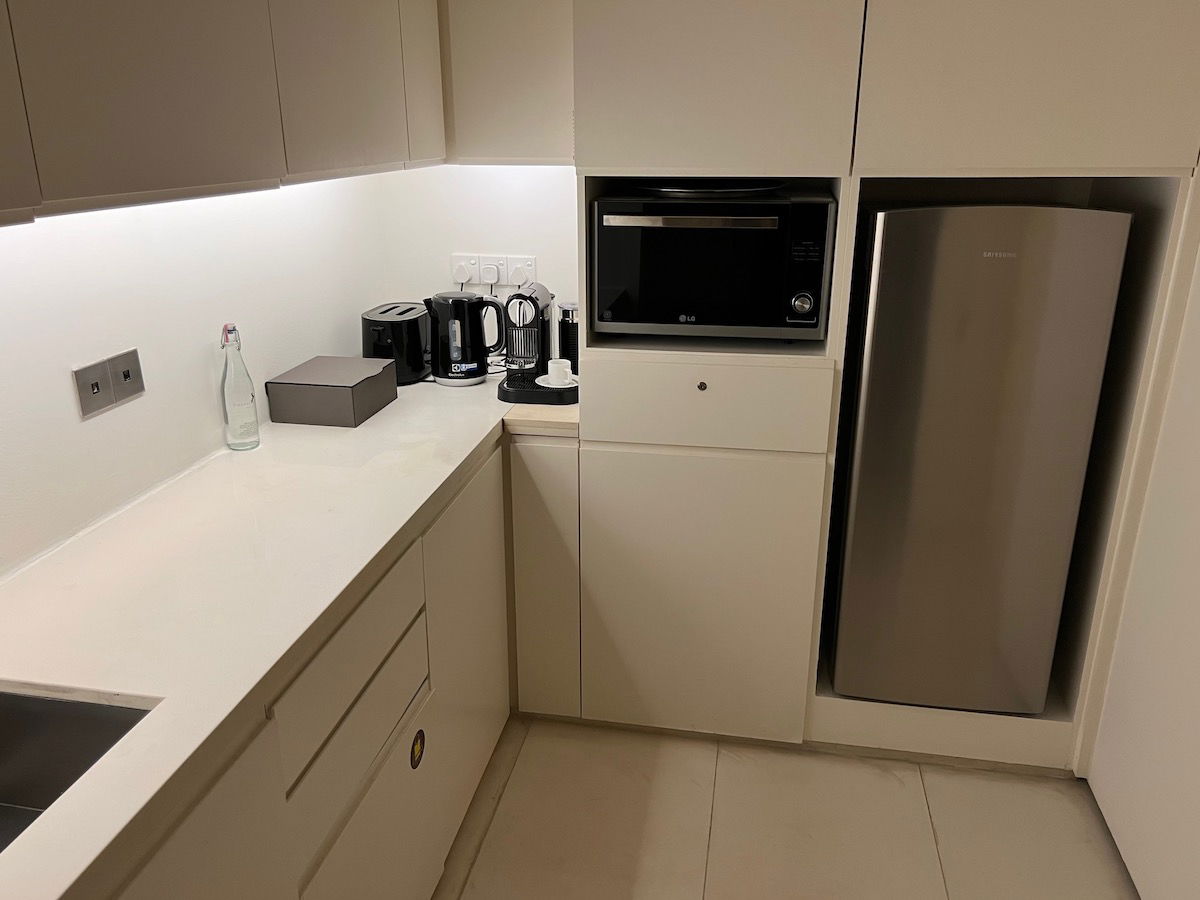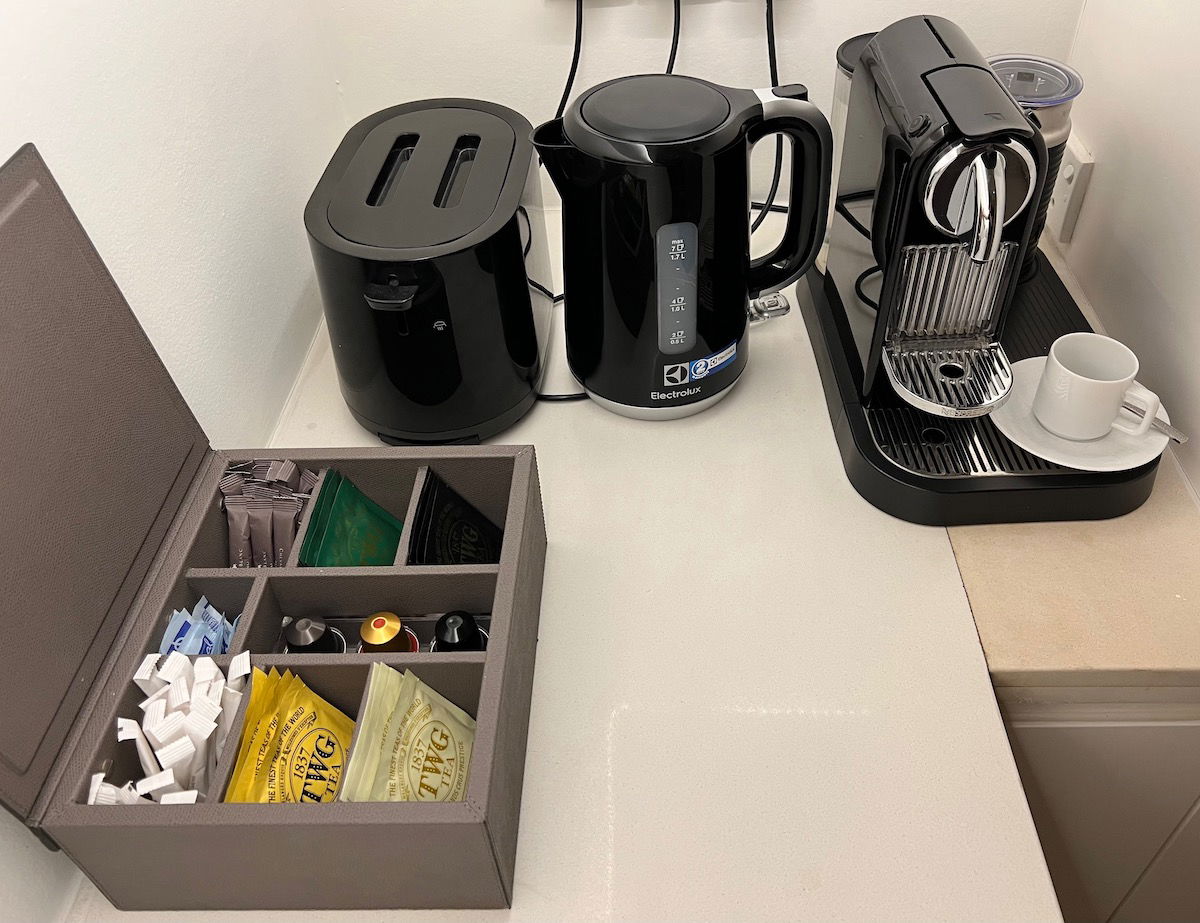 "Hidden" in the wall on the opposite side of the entrance was a second bathroom, intended primarily for those coming from the outside area. What a thoughtful feature to have.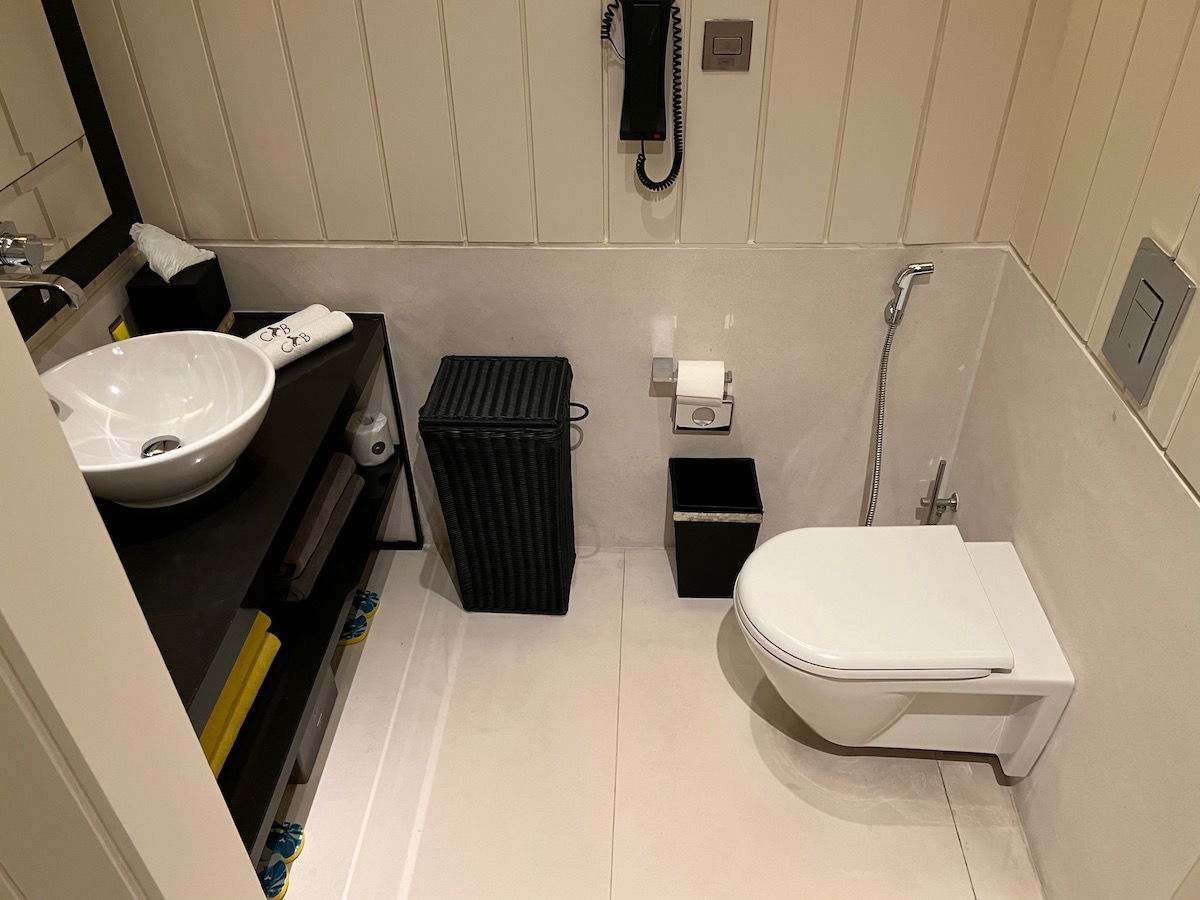 Virtually all the room's functions, from the air conditioning to the blinds, were controlled by an iPad. I'm often skeptical of this kind of technology, since I find it sometimes doesn't work well. The execution here was flawless.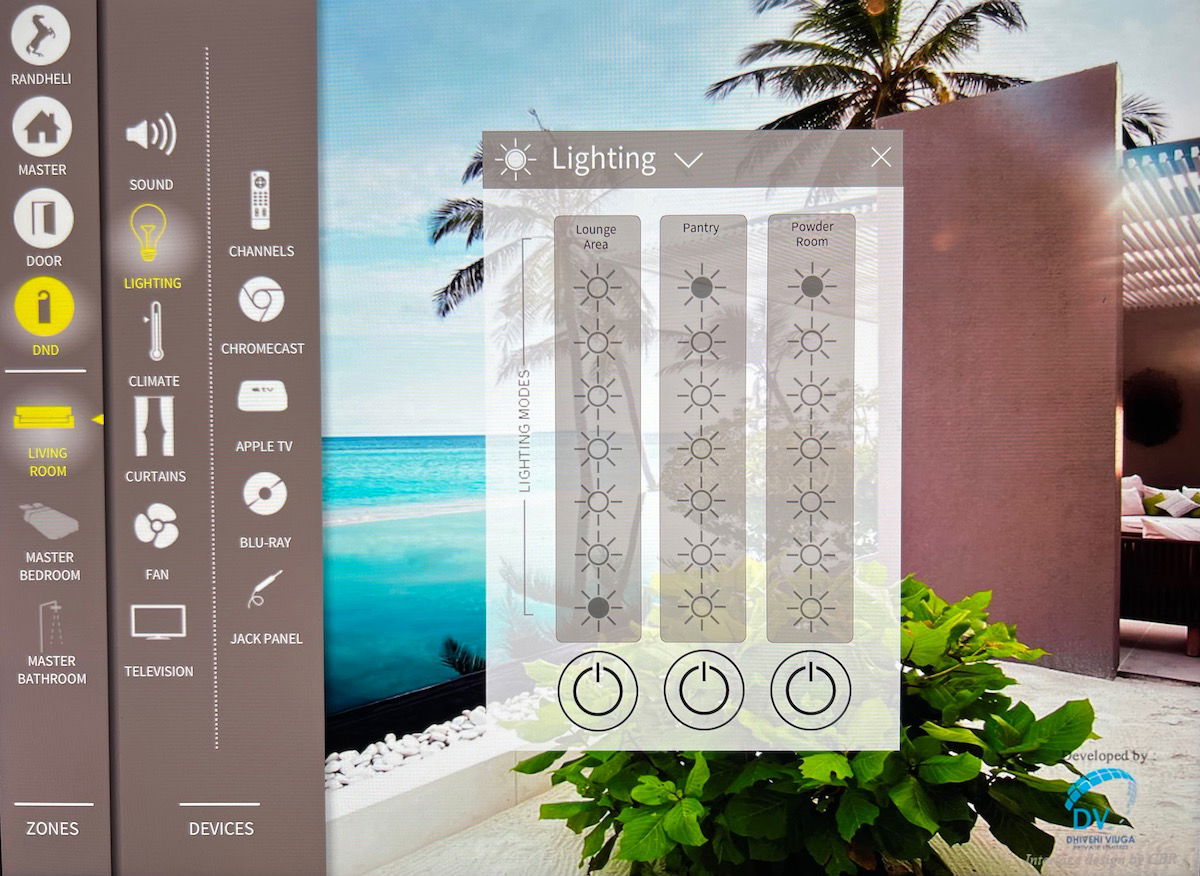 As if the indoor area wasn't impressive enough, the outdoor area was at least as impressive. Each villa here features a 12.5 meter (~41 foot) pool. Usually it's a treat to get a plunge pool in an overwater villa, let alone a pool of this size.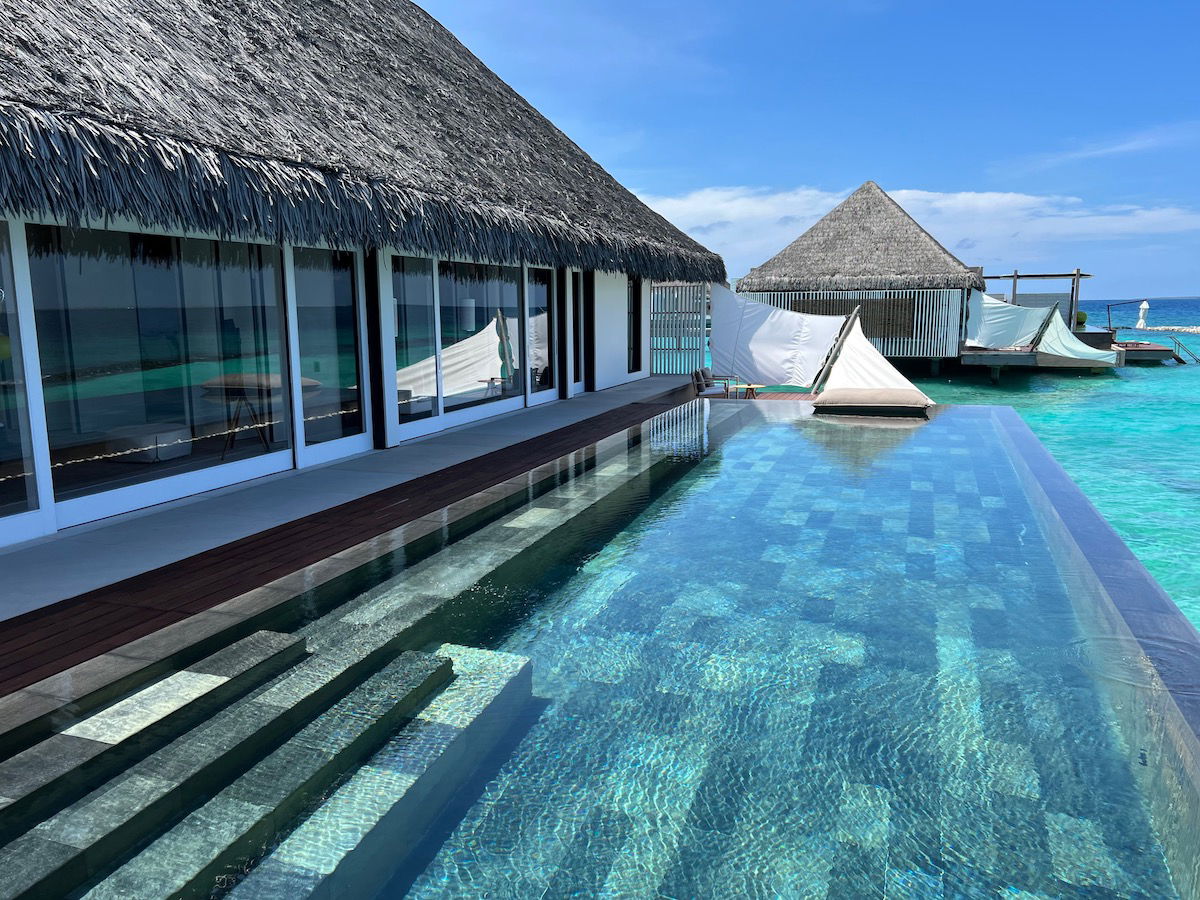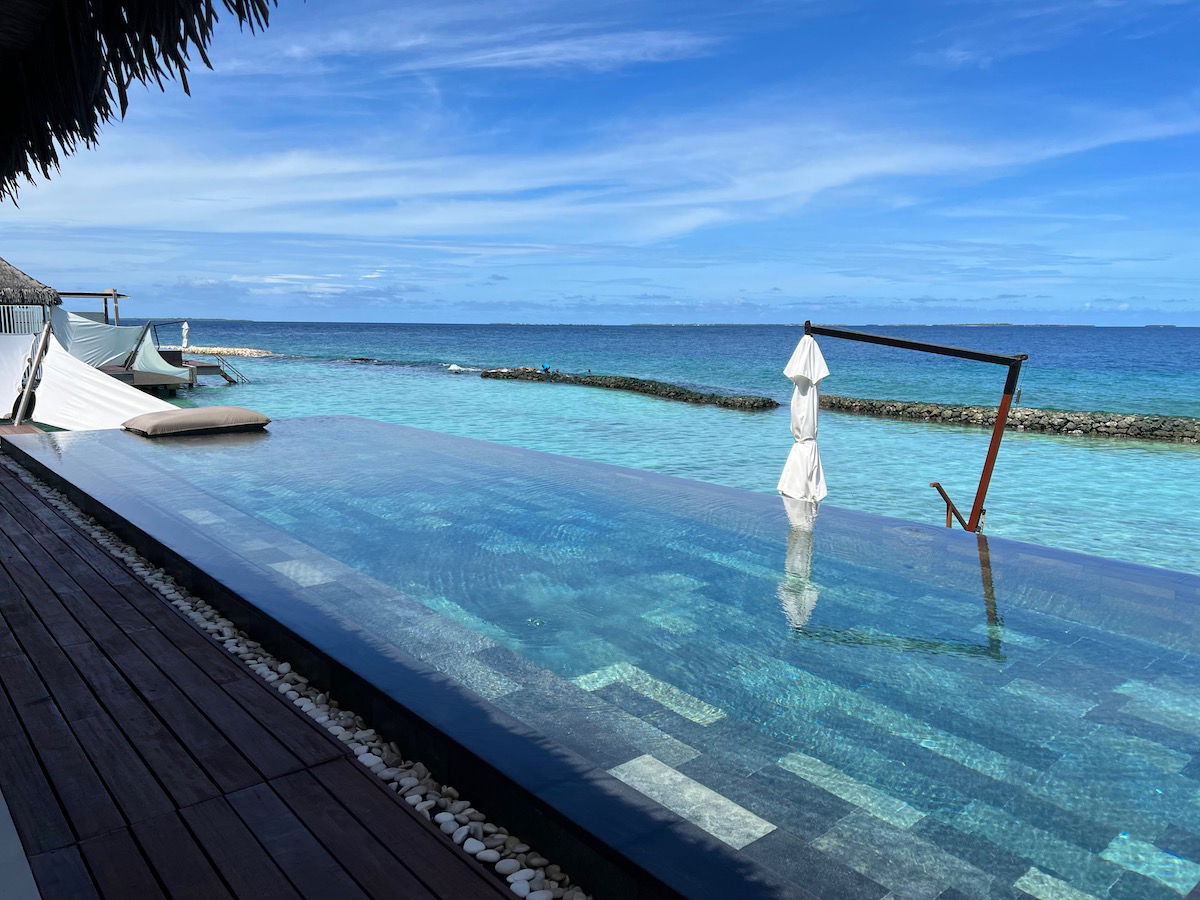 The outdoor space also had a sitting area large enough for dining, two sun beds, two chairs, and an outdoor shower.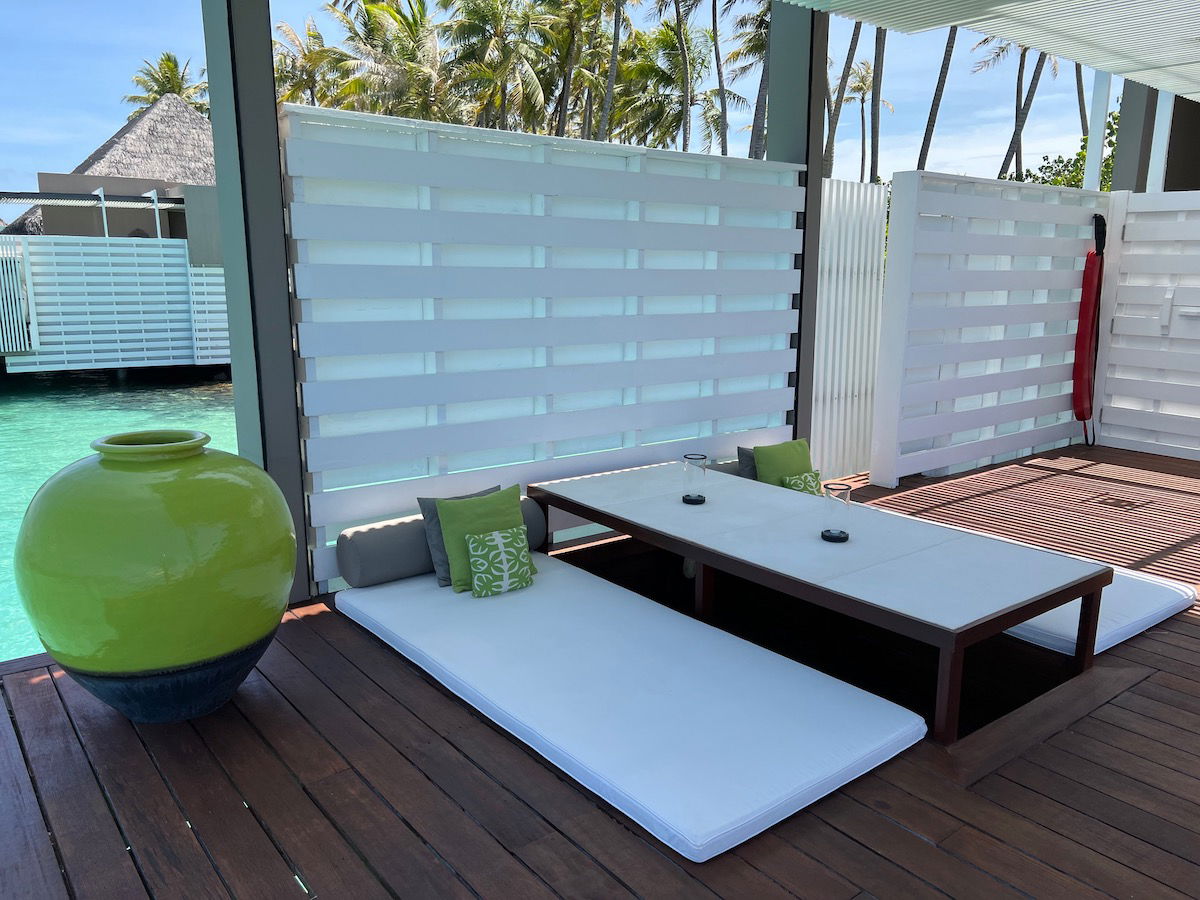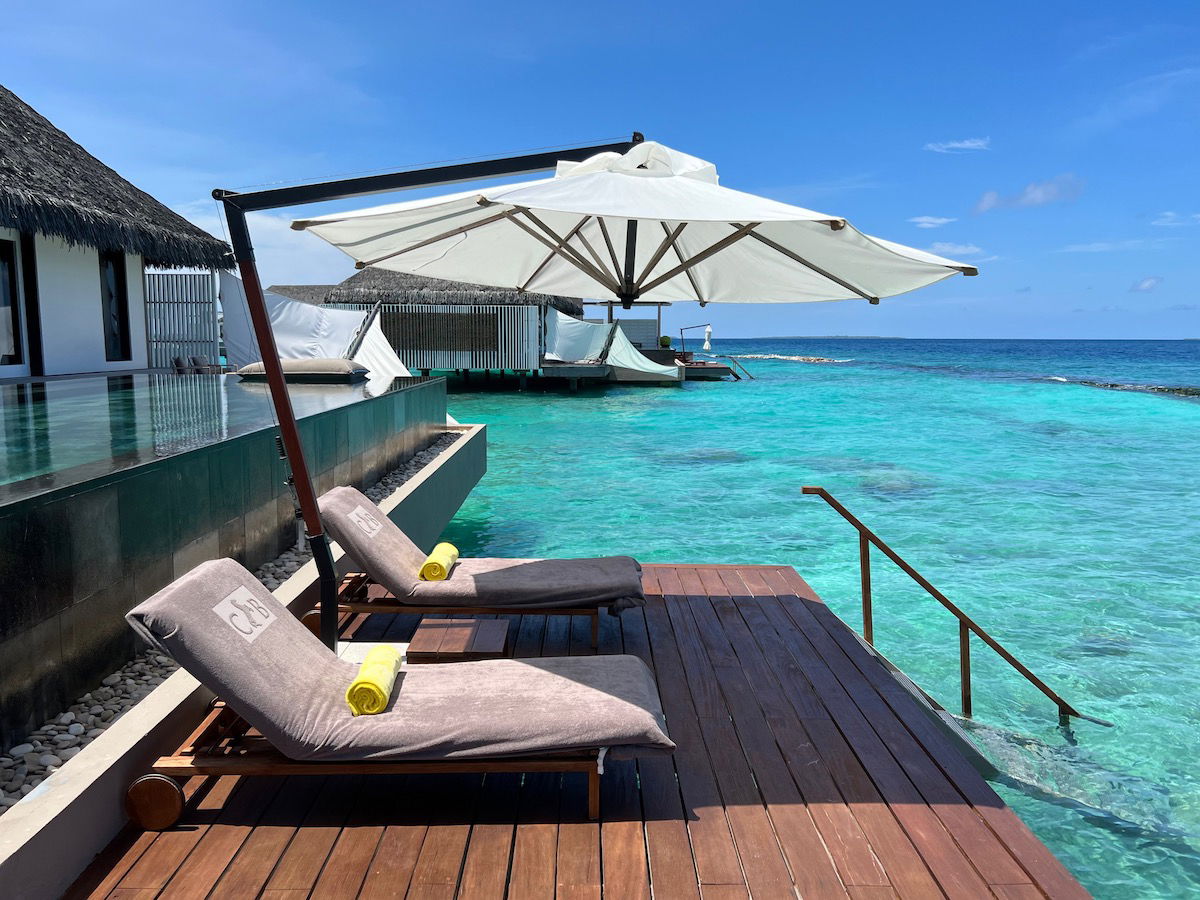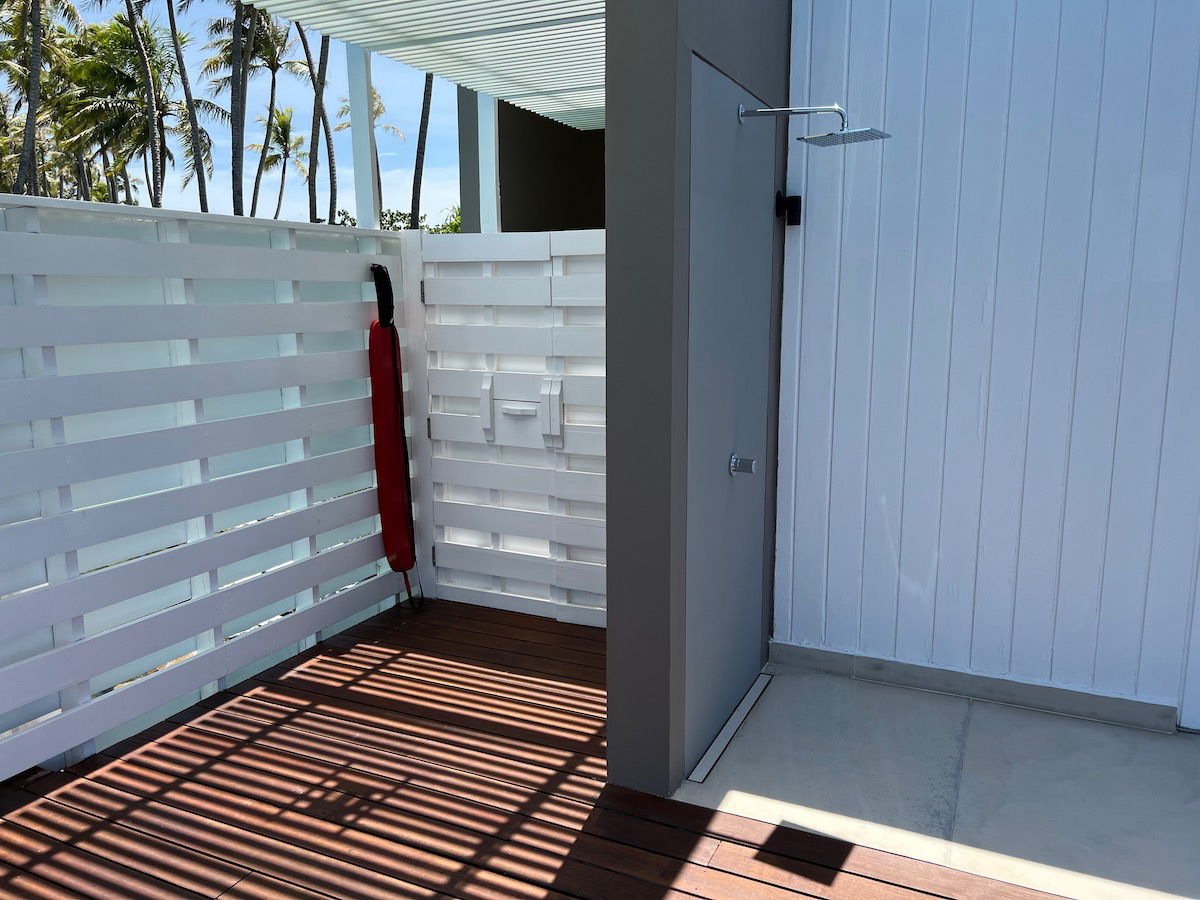 There are also stairs offering direct access to the ocean. The water around the villas is shallow, and it's also especially calm thanks to a seawall that was built around these villas.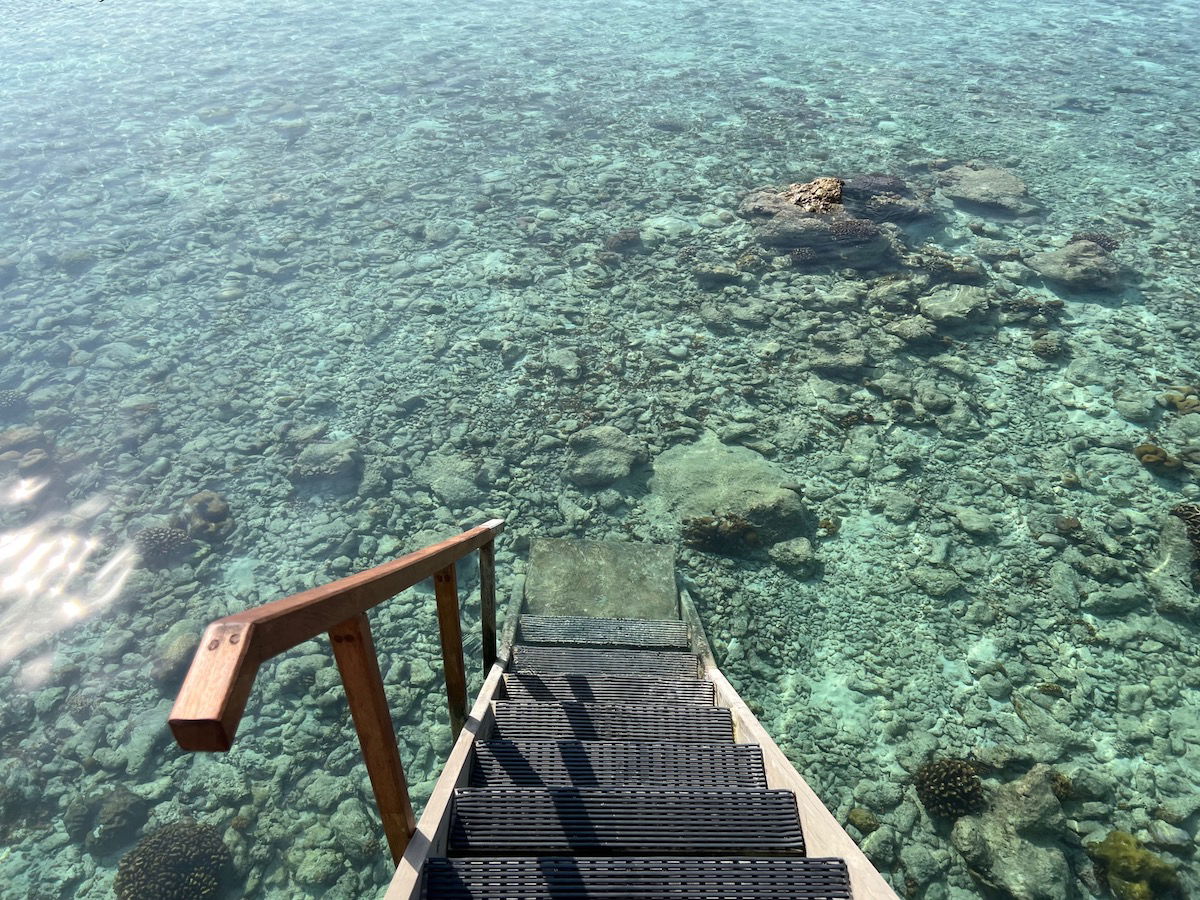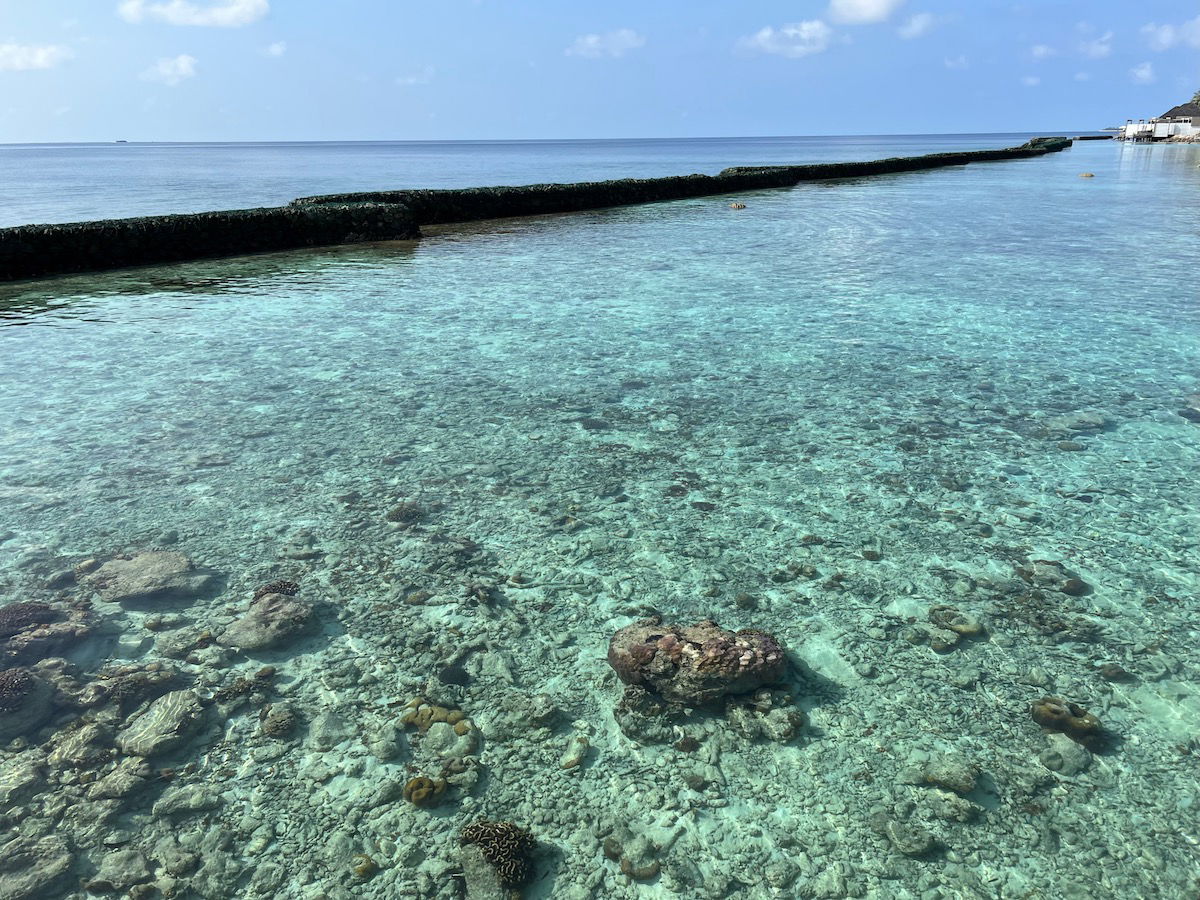 In addition to the outdoor space behind the villa, there was also a garden in front of the villa, which had a covered dining table. It's pretty cool to have a villa that's essentially overwater and has direct access to the sea, while also having a garden area.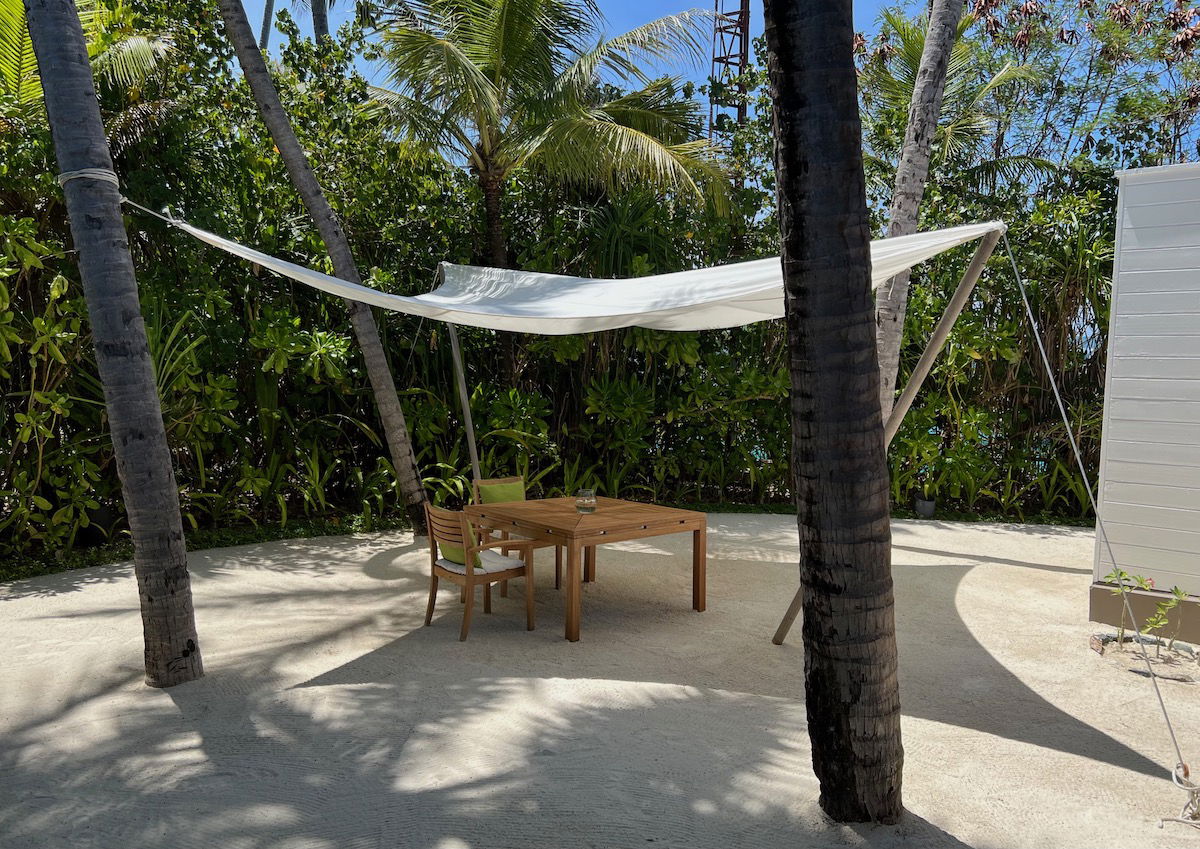 Cheval Blanc Maldives amenities & facilities
Some people are worried if they'll get bored when traveling to the Maldives, especially since you're generally confined to one resort. Of all the resorts I've visited in the Maldives, Cheval Blanc had the most to offer, and I imagine you could stay here for one week and still not have experienced everything.
Not even accounting for the amazing dining outlets (and you could really spend all day here just eating), there's everything from pools and beaches, to a spa, to tennis courts, to water sports, to a surf simulator, and much more. Let's go over some of the highlights.
Cheval Blanc Maldives pool & beach
Cheval Blanc's biggest pool is located on the main island — it's huge and there's plenty of seating around it, though I never saw a single guest use it. After all, why would you use a "shared" pool, when you can instead use your 40+ foot private pool?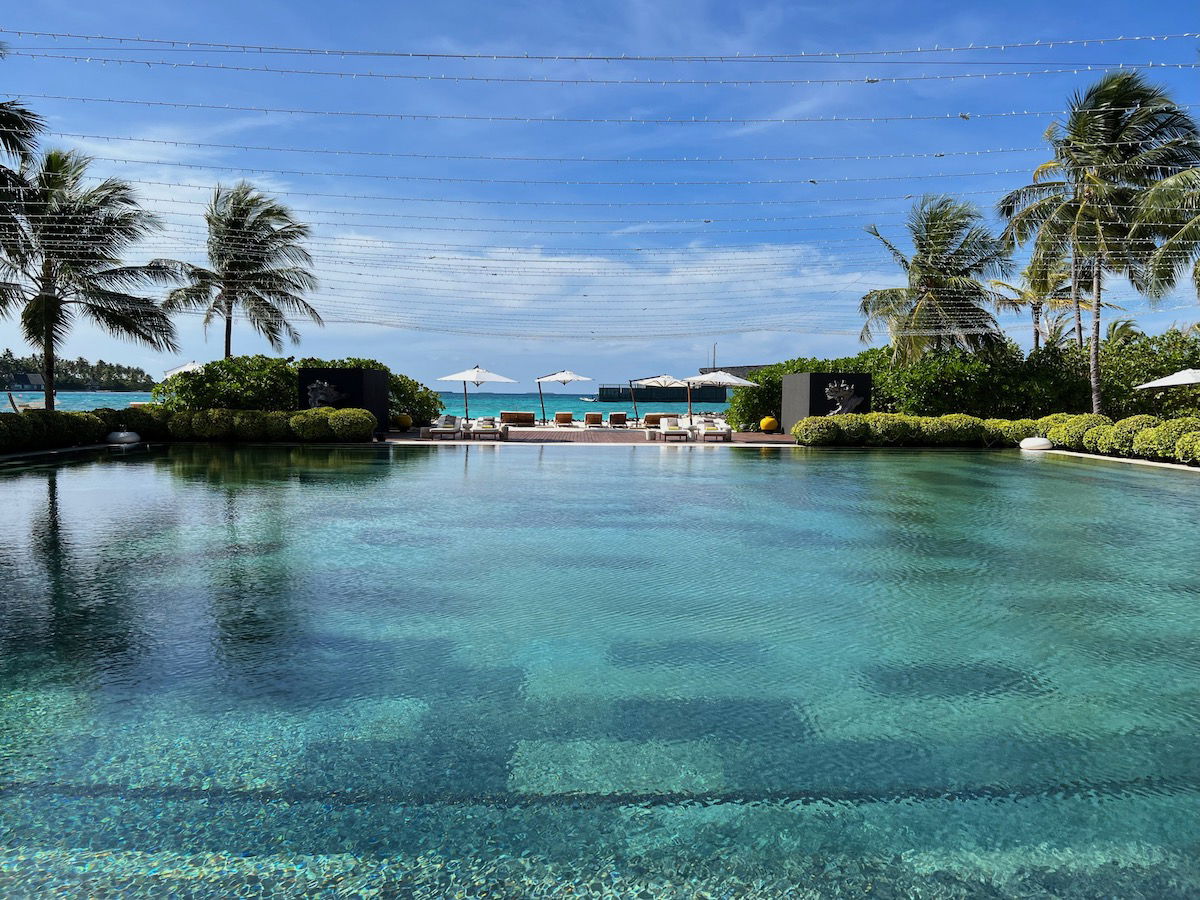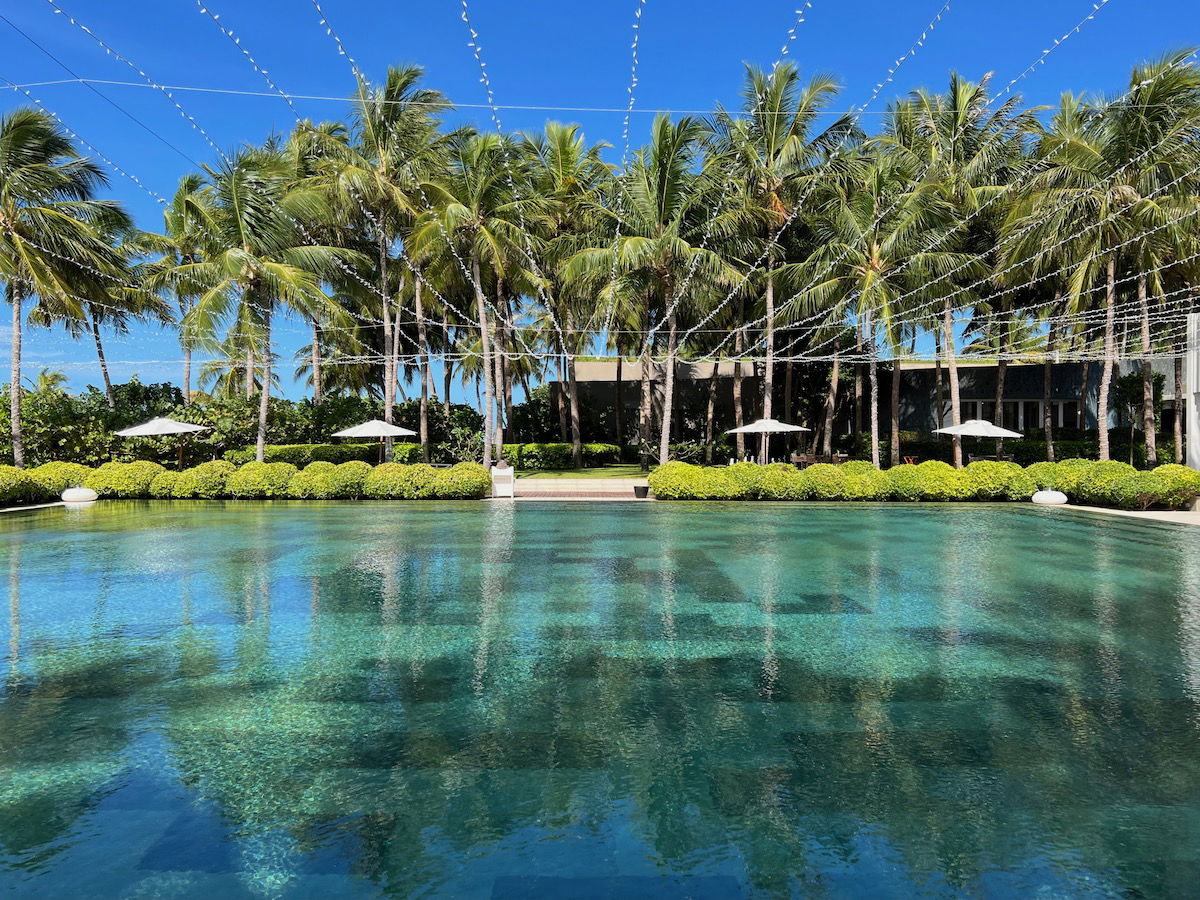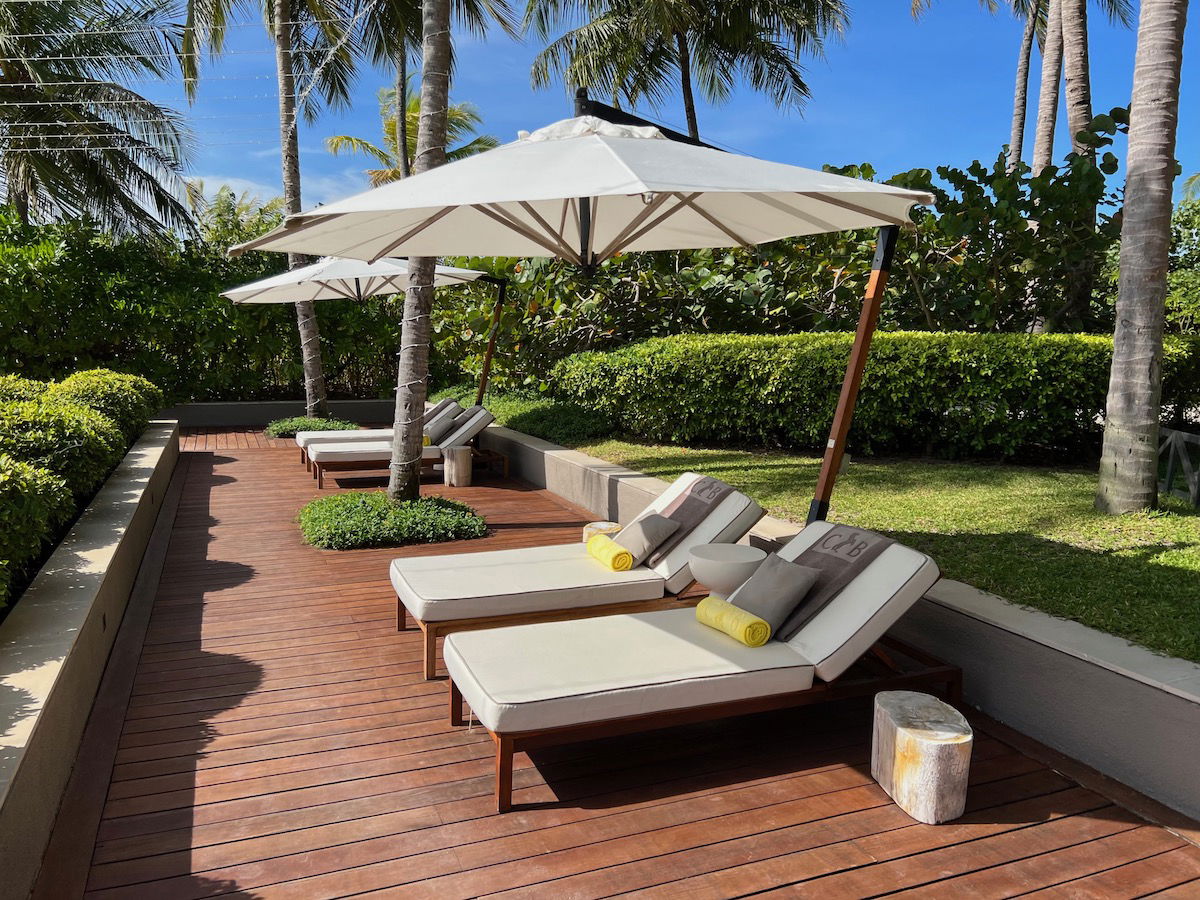 The pool was beautiful during the day, at sunset, and even at night.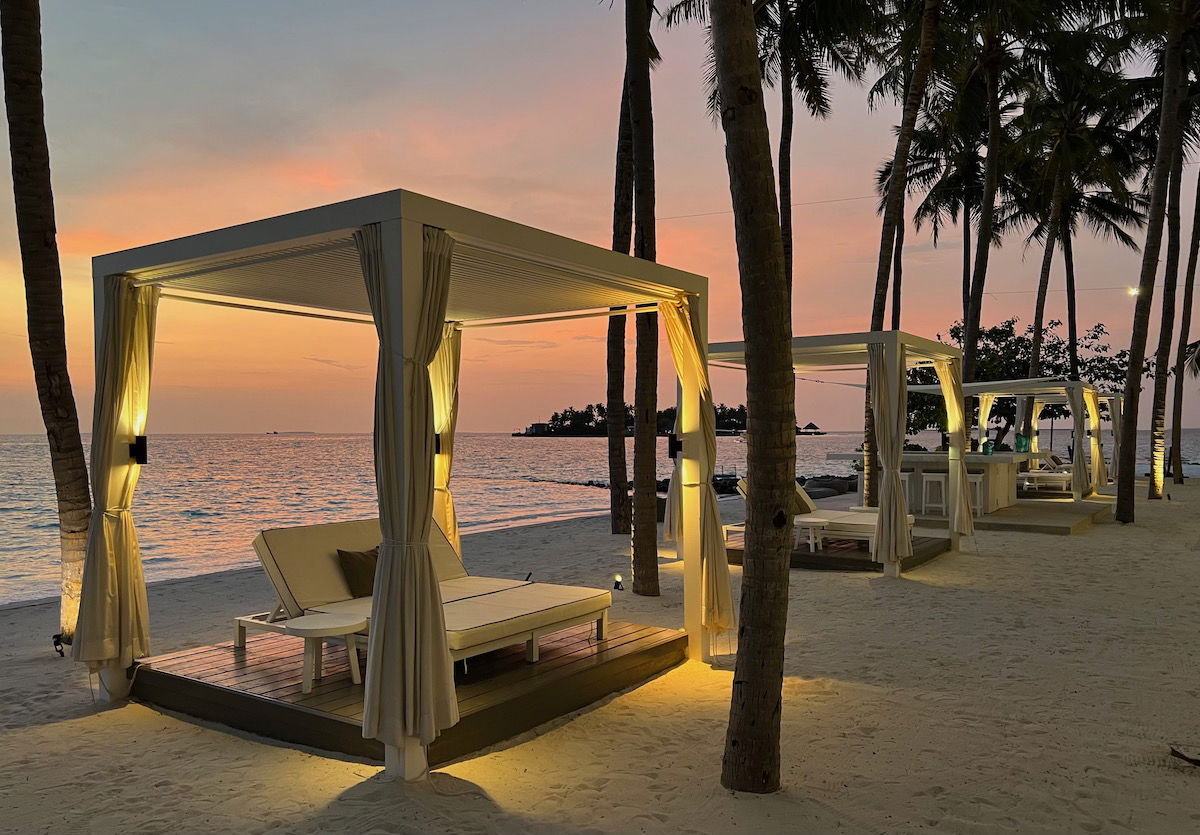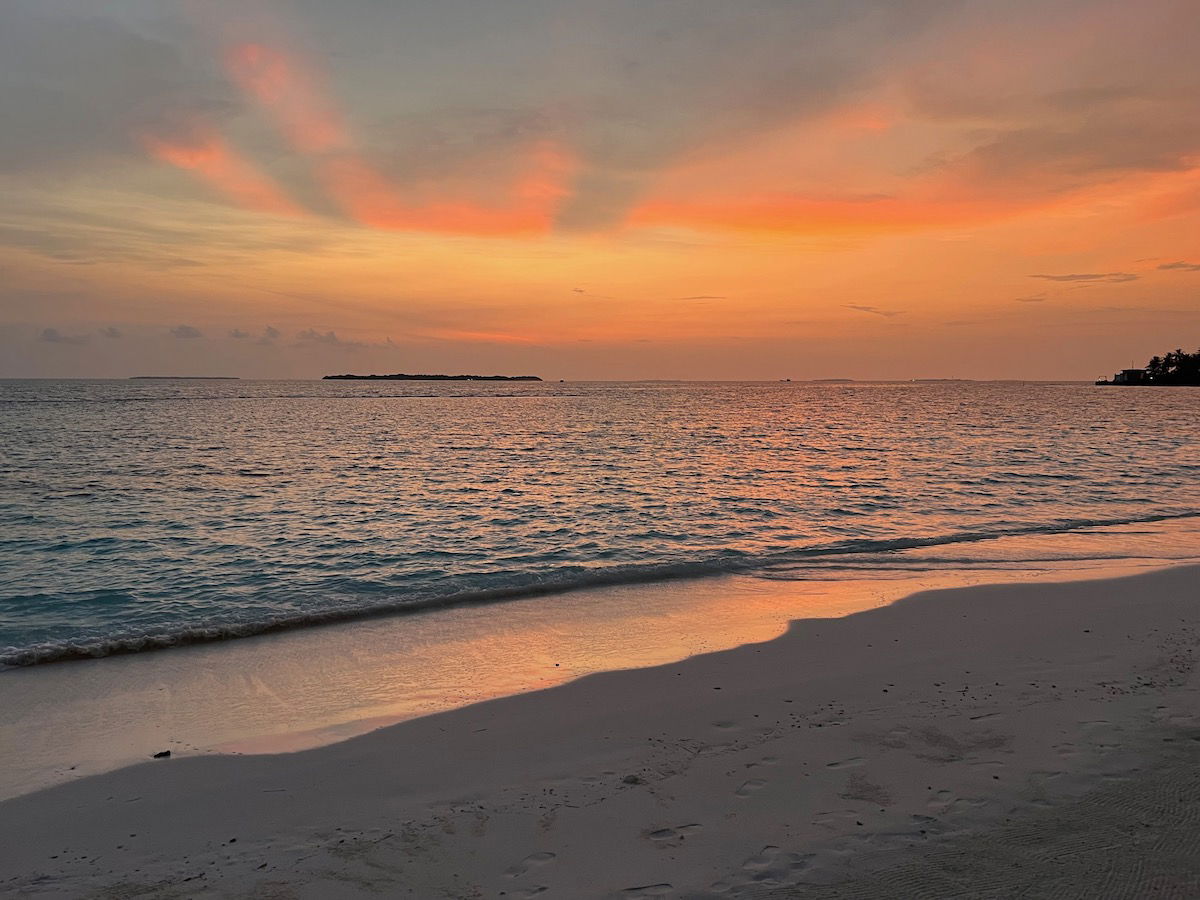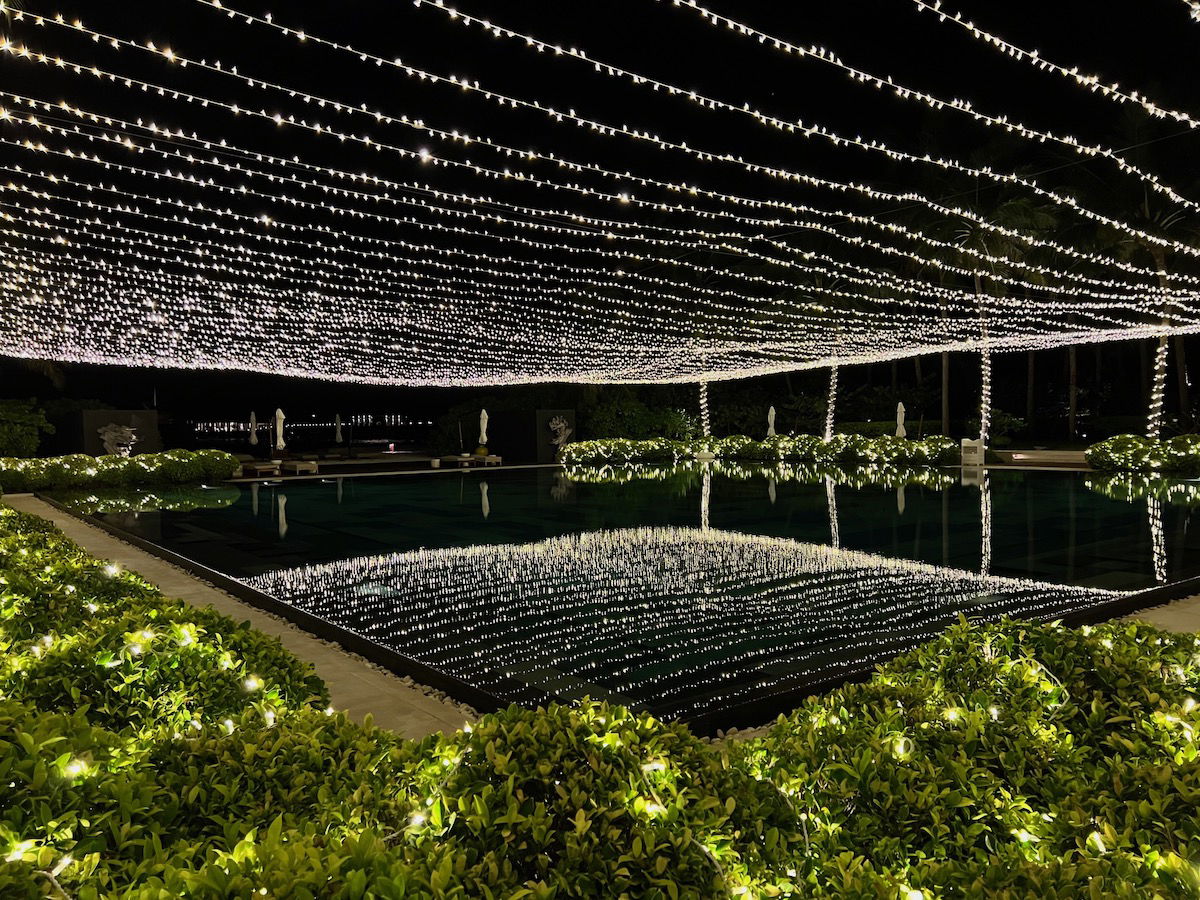 The resort also has plenty of beachfront. There's a small beach near the main pool, and on top of that there are little stretches of beach on each of the islands, so you can really hang out in whichever area you'd like.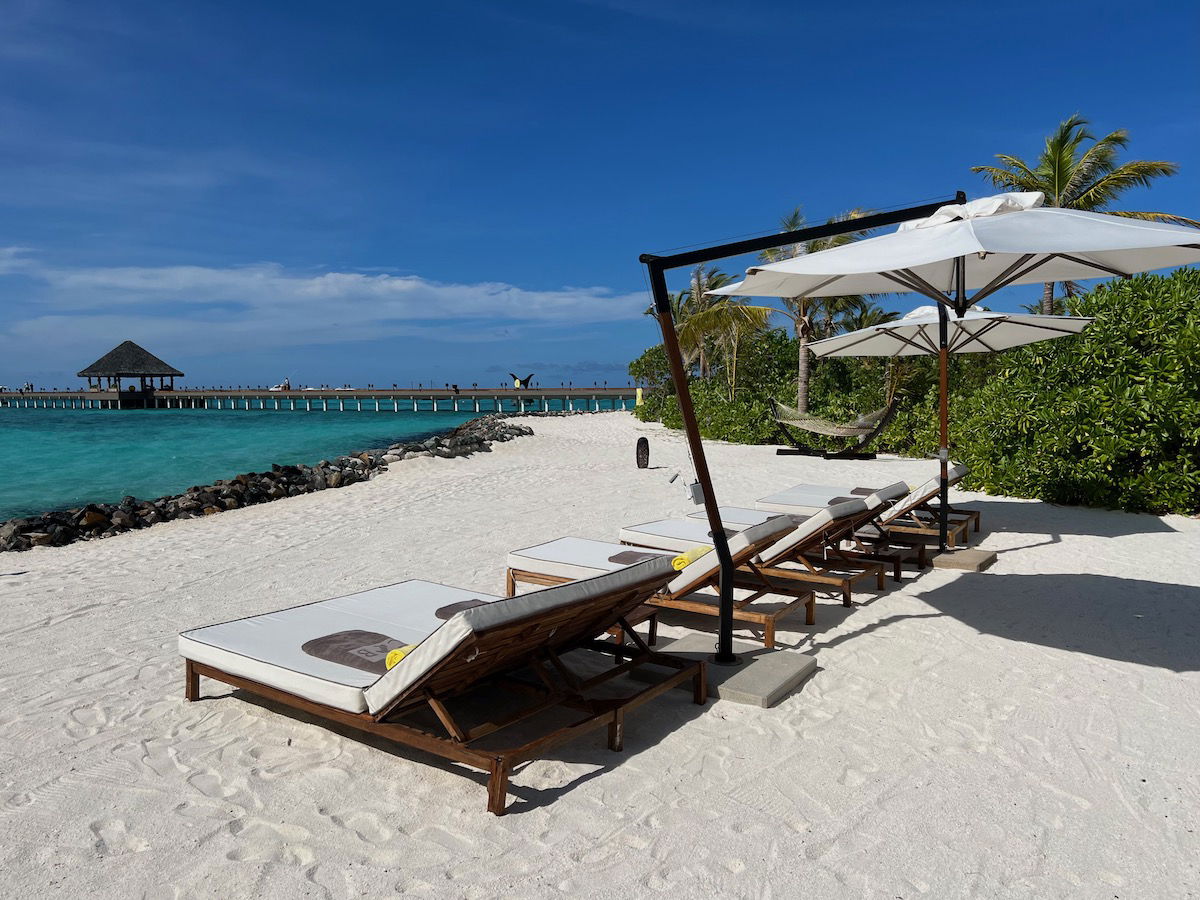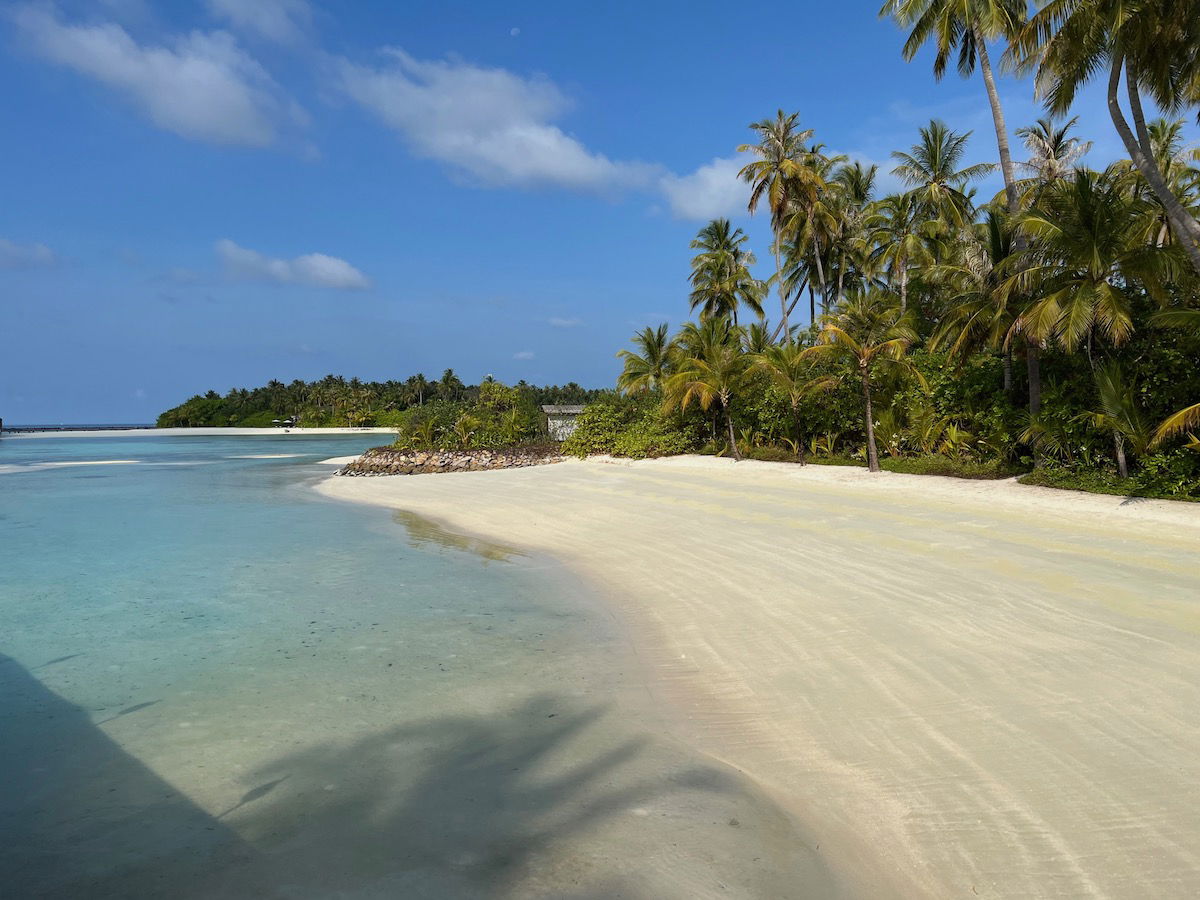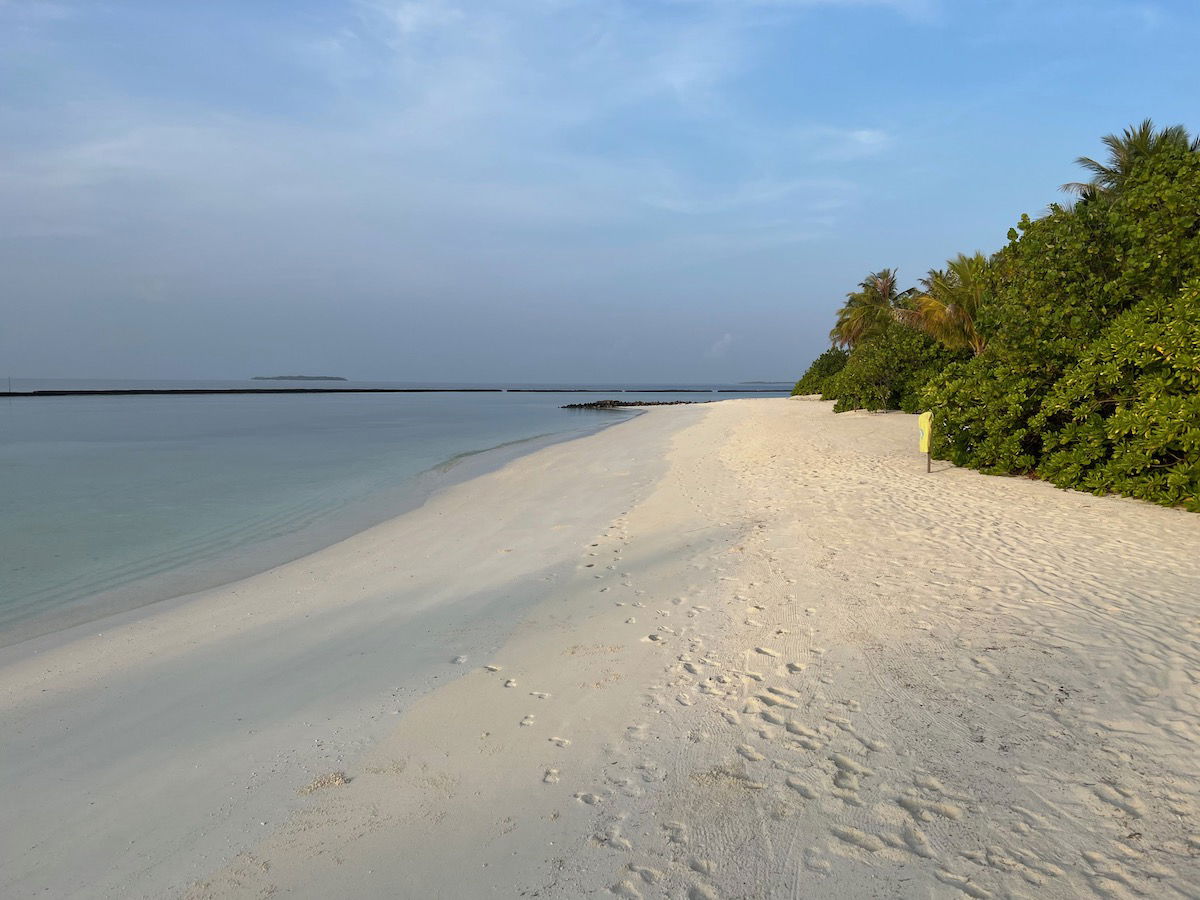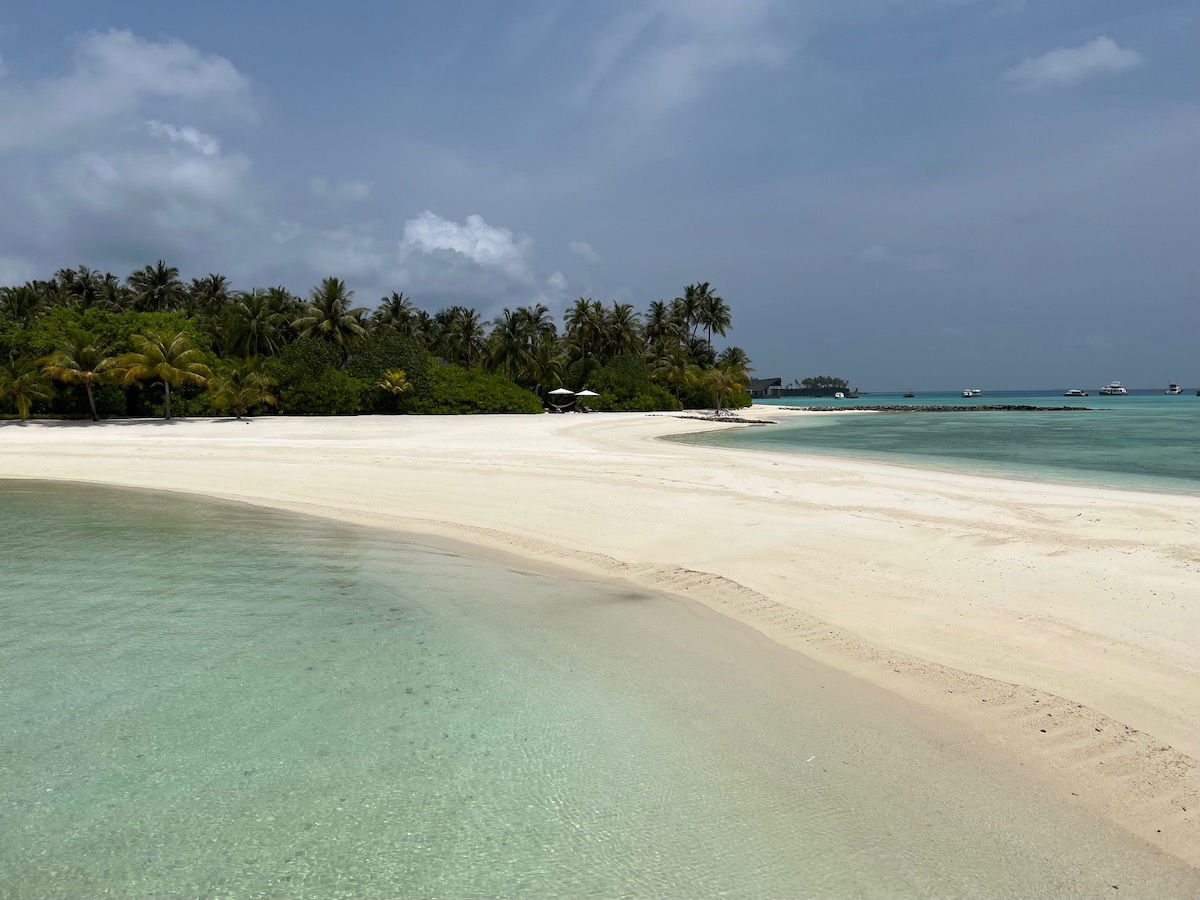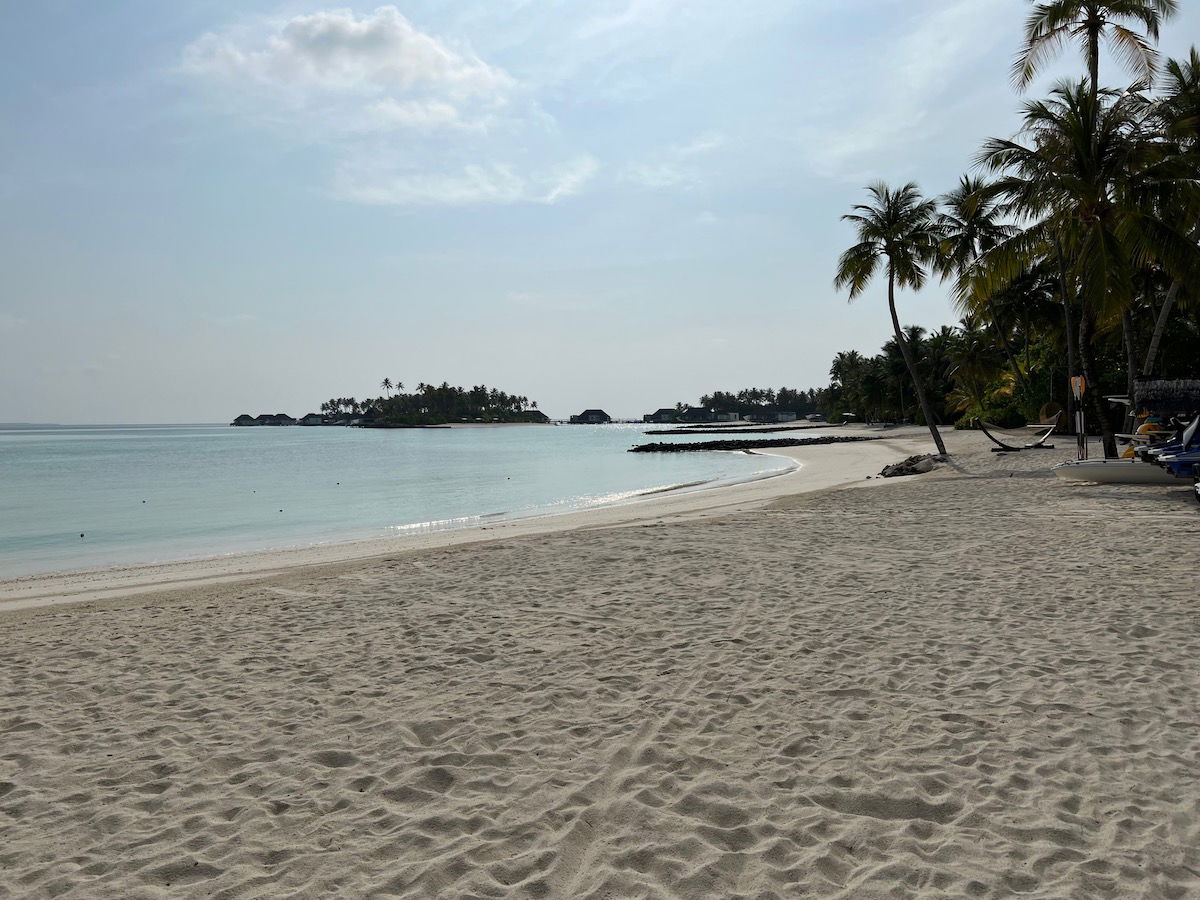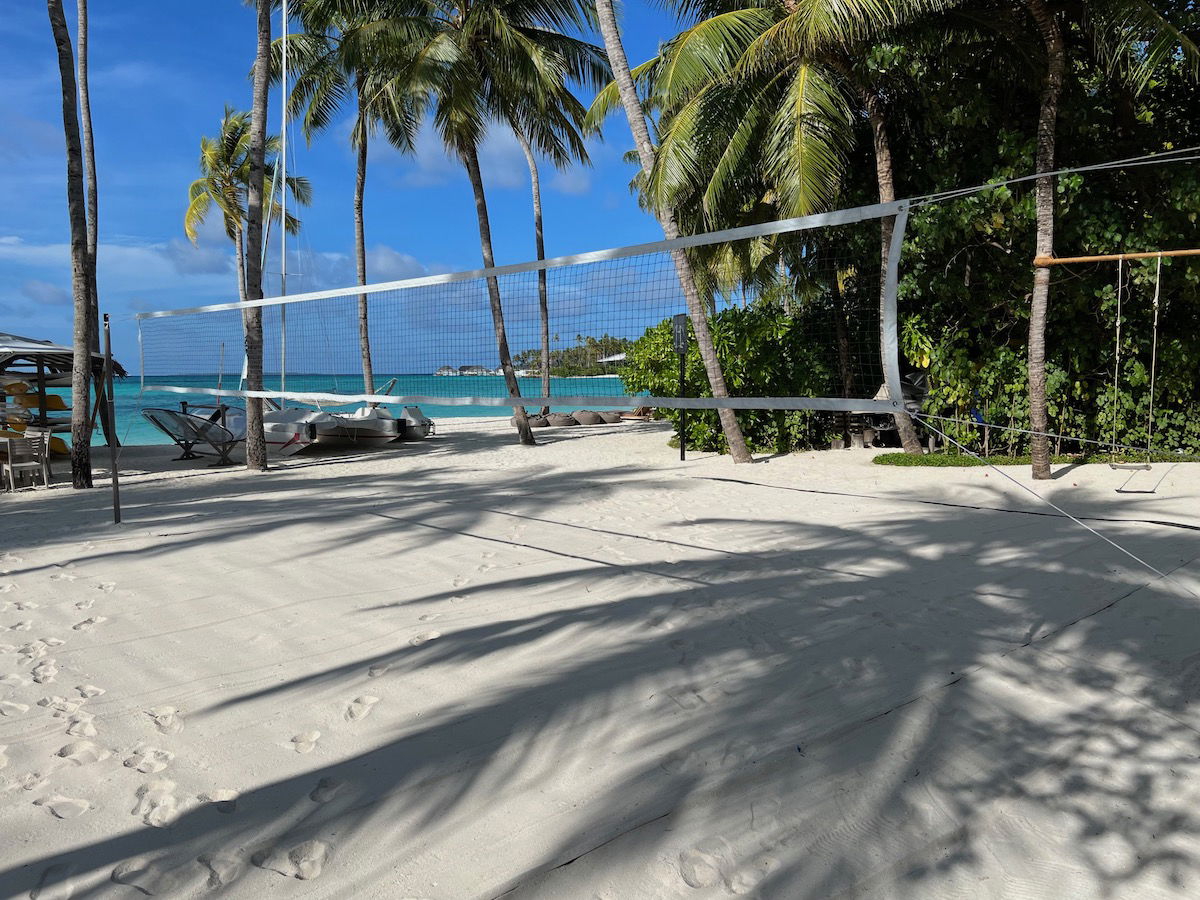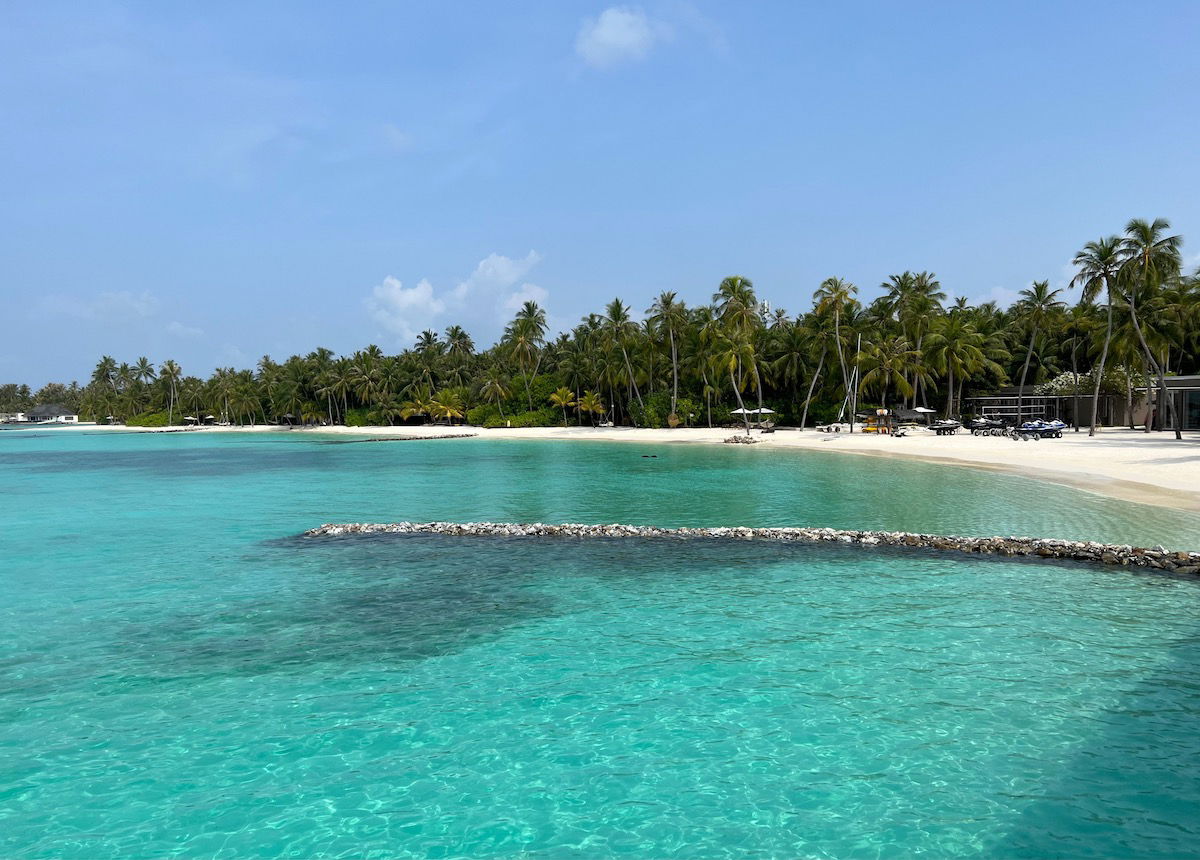 Cheval Blanc Maldives water sports & surf simulator
Cheval Blanc Maldives has an impressive number of water sports, from jet skis, to eFoils, to kayaks, to wind surfing.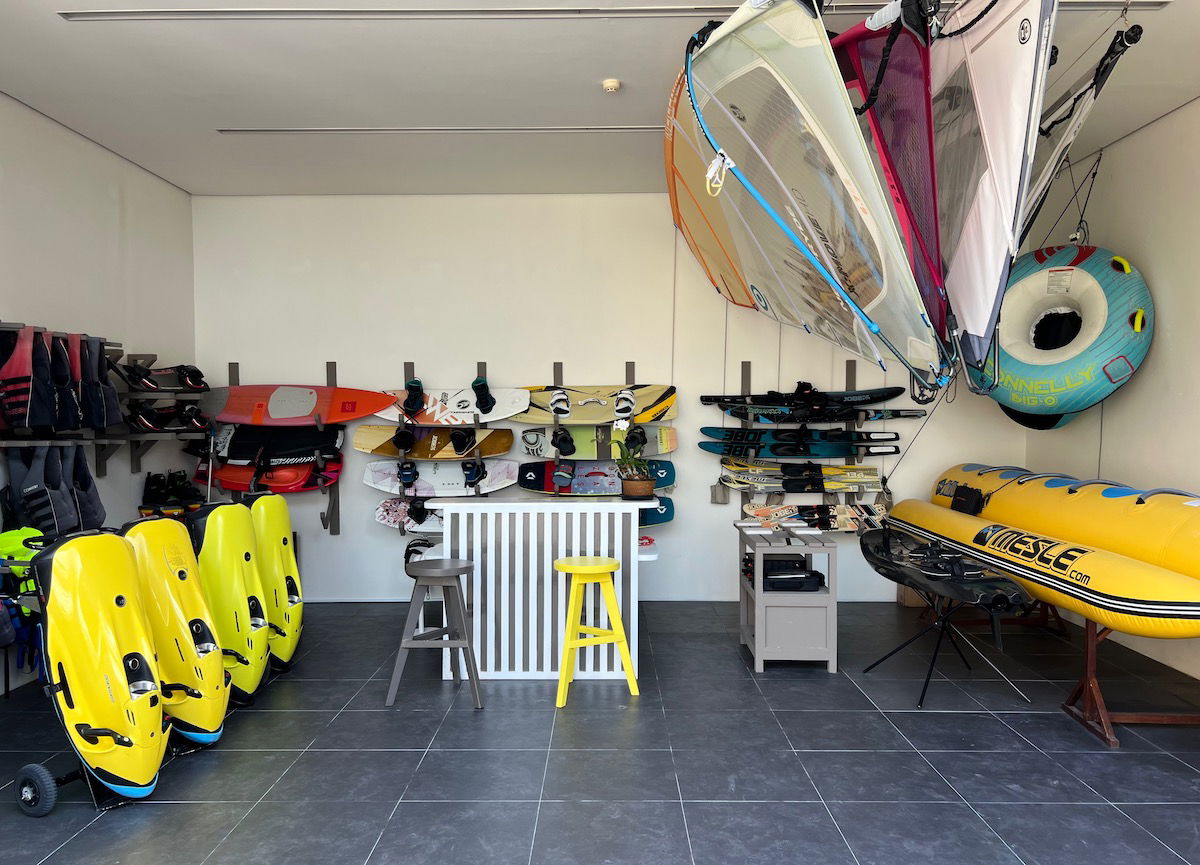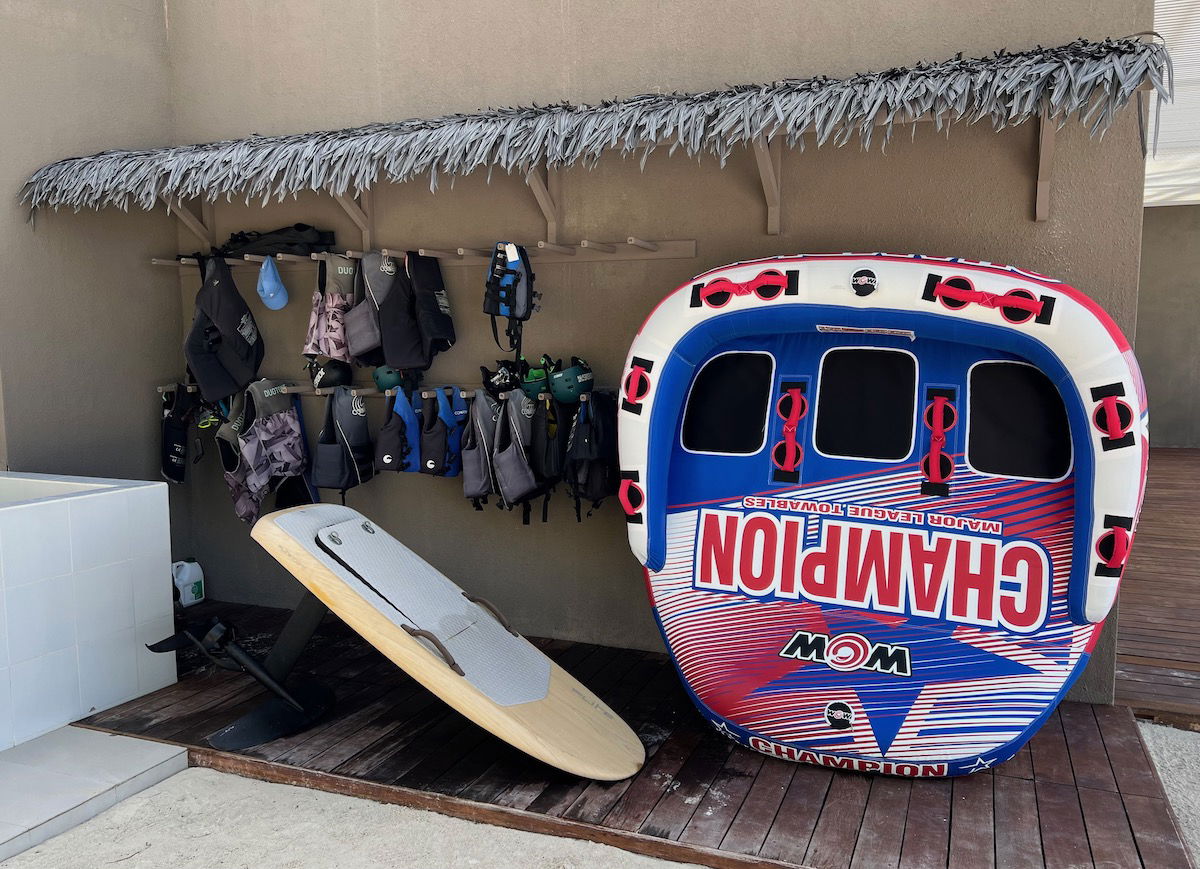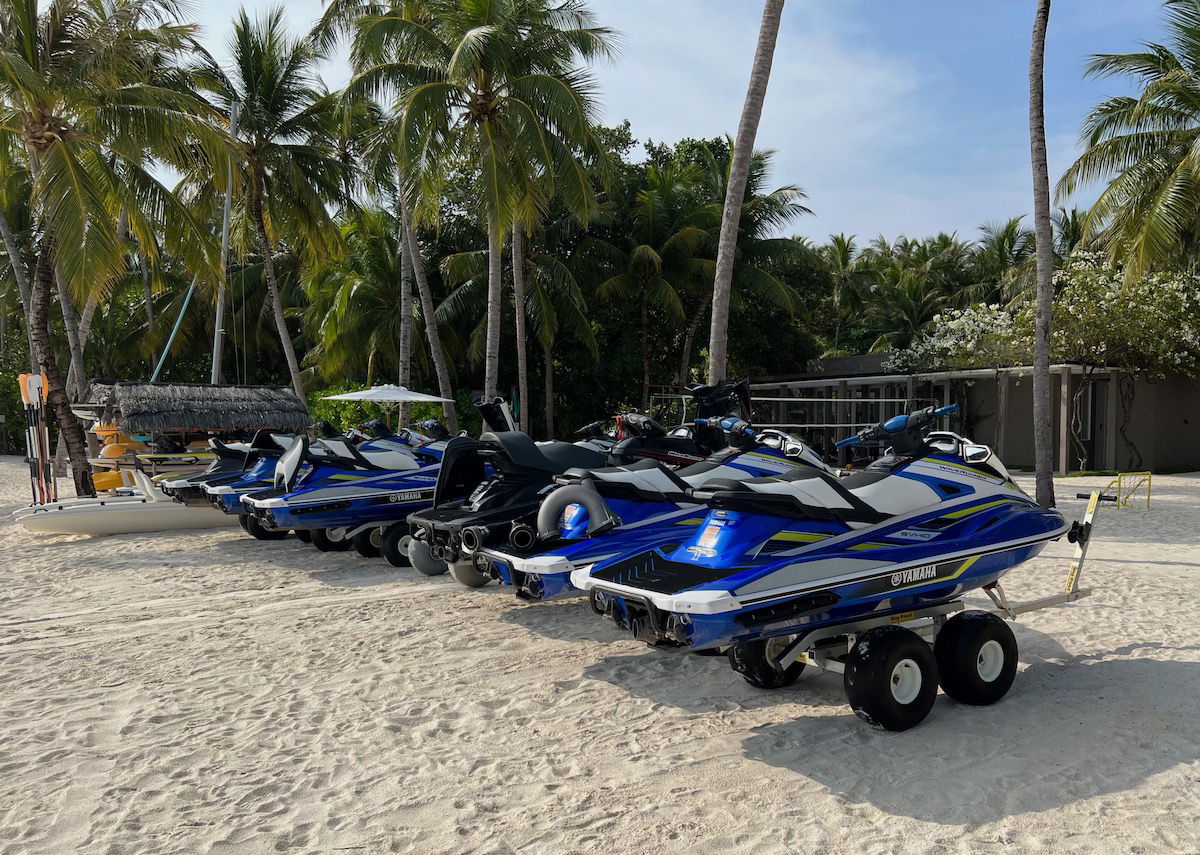 The resort even has a surf simulator, which you wouldn't expect to find on a private island in the Maldives.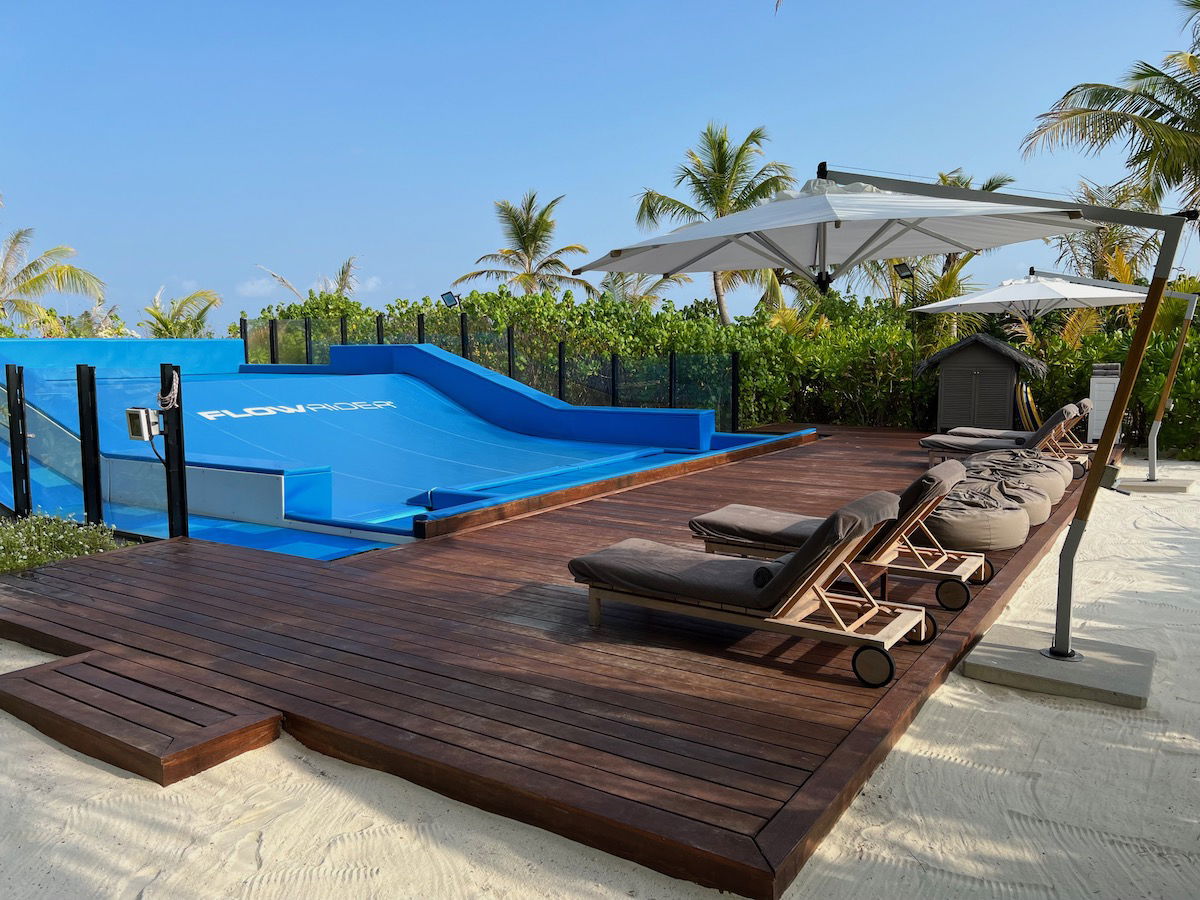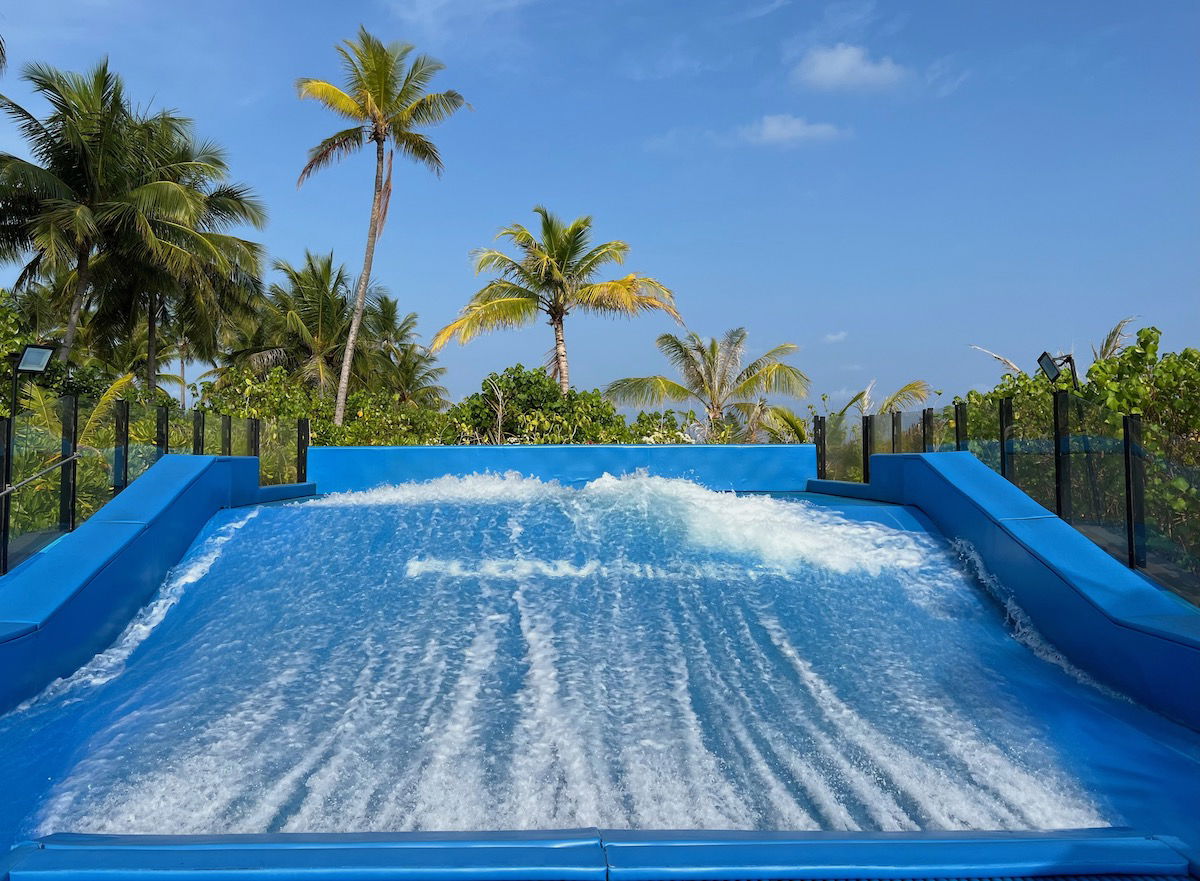 Cheval Blanc Maldives concept store
While it's normal for resorts in the Maldives to have a gift shop, Cheval Blanc takes it to the next level. Given LVMH's ownership of Cheval Blanc, the hotel has the biggest concept store you'll find on any private island in the Maldives. There are even some designer items and collaborations that are exclusively available here.
So you'll find more than just hats and Cheval Blanc branded t-shirts here…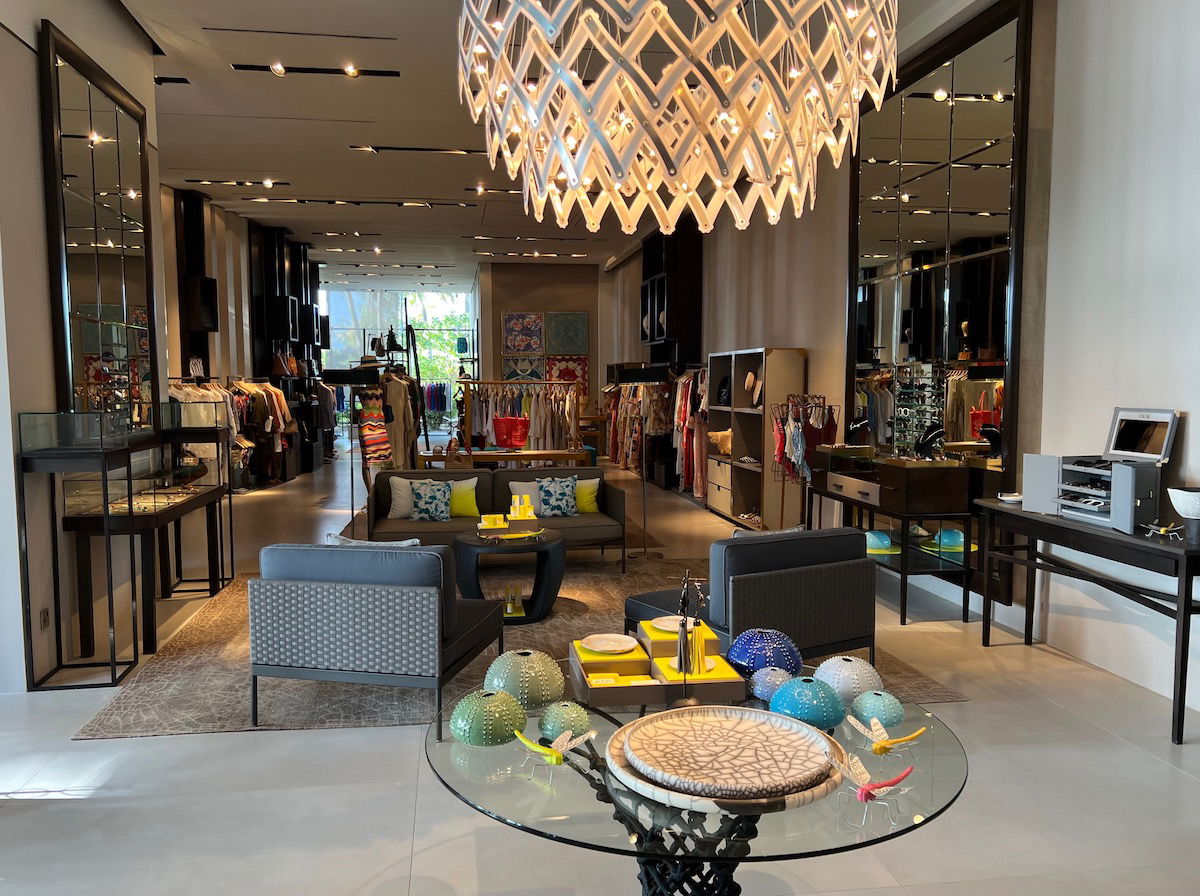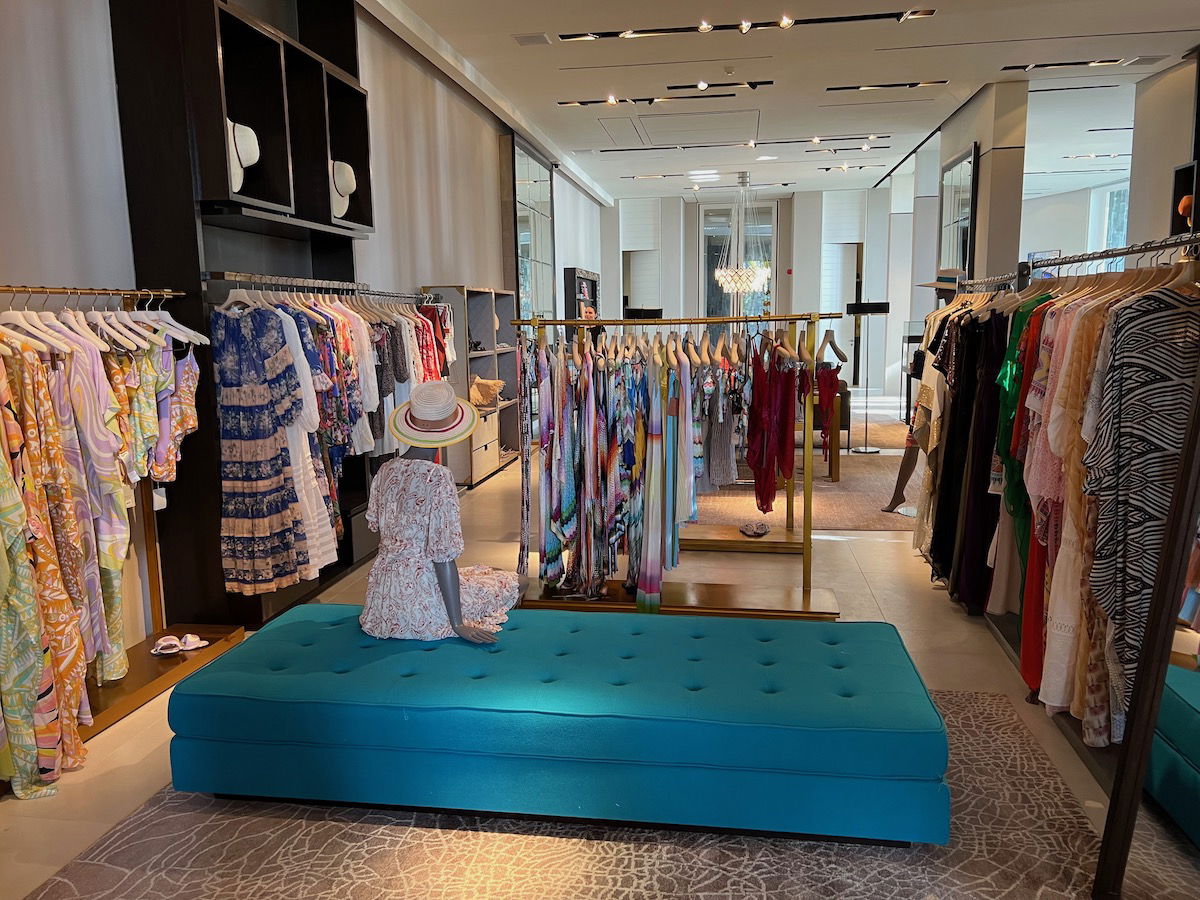 Cheval Blanc Maldives spa island
Cheval Blanc's Guerlain-branded spa is on a private island, which is just a short ride on a traditional dhoni boat from the three islands that are connected by bridges. You can visit the spa island any time you'd like, and the boats are always available to take you between the islands.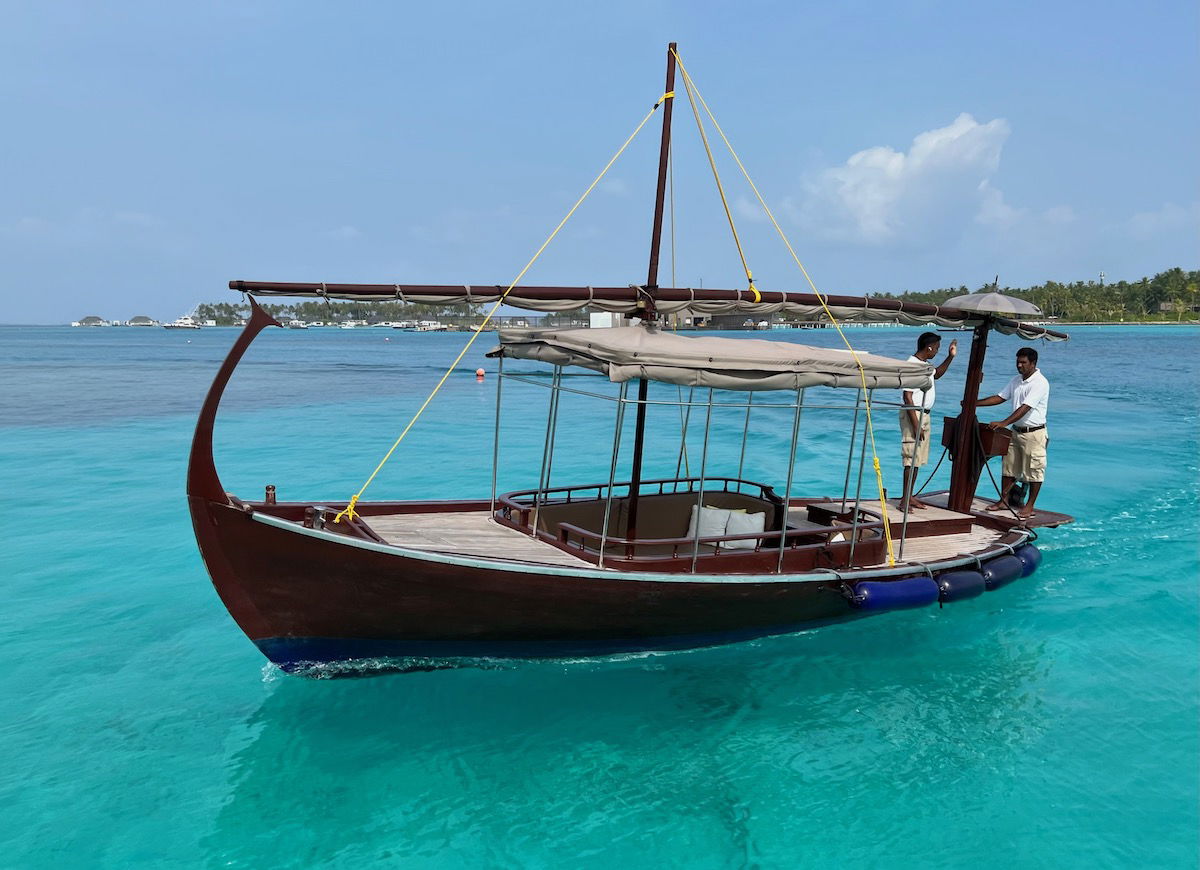 The spa island in and of itself is the size of some private islands in the Maldives.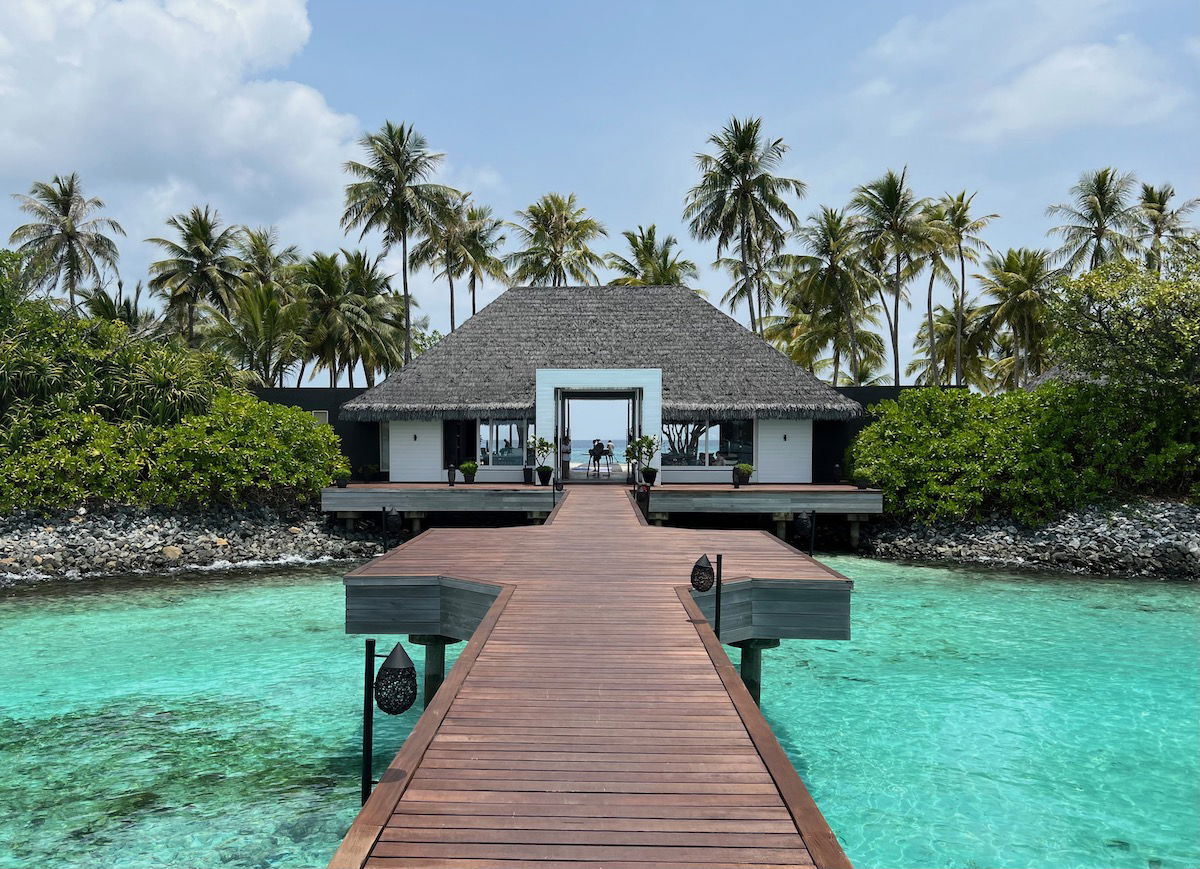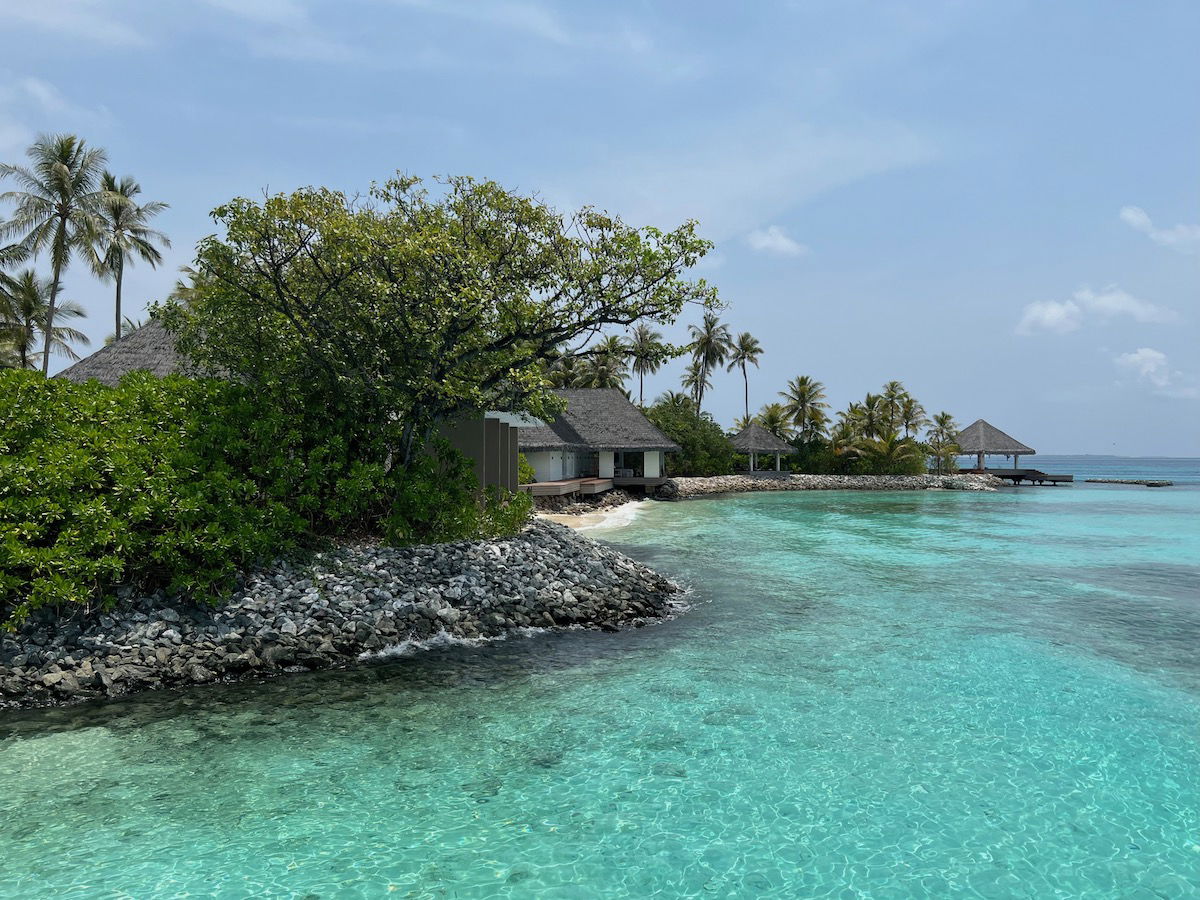 When you arrive on the private island, there's the spa reception area. The spa has a variety of treatment options, and you can find the spa menu here.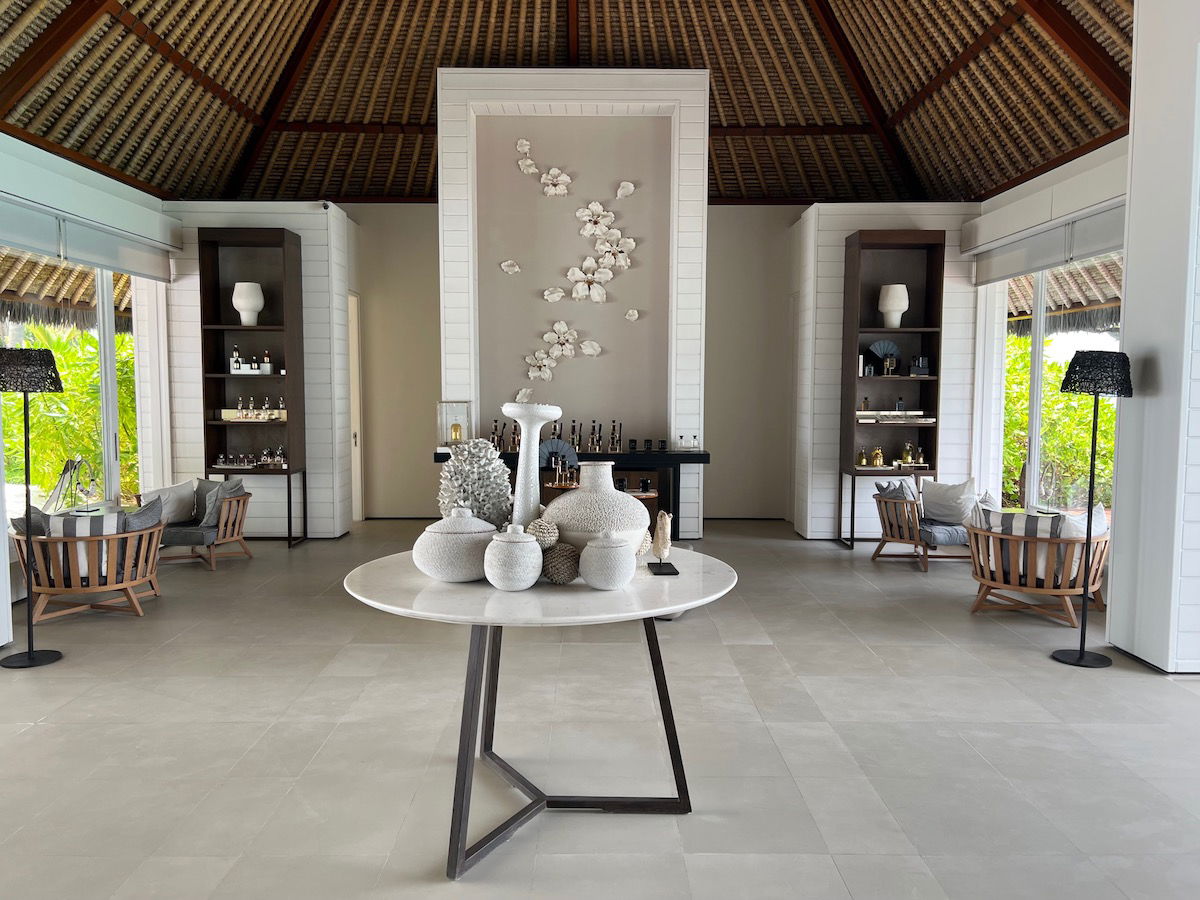 Then there's a spa pool, which is apparently a great place from which to watch the sunset (though we never made it there in the evening). We did hang out here one afternoon, and we had the pool to ourselves.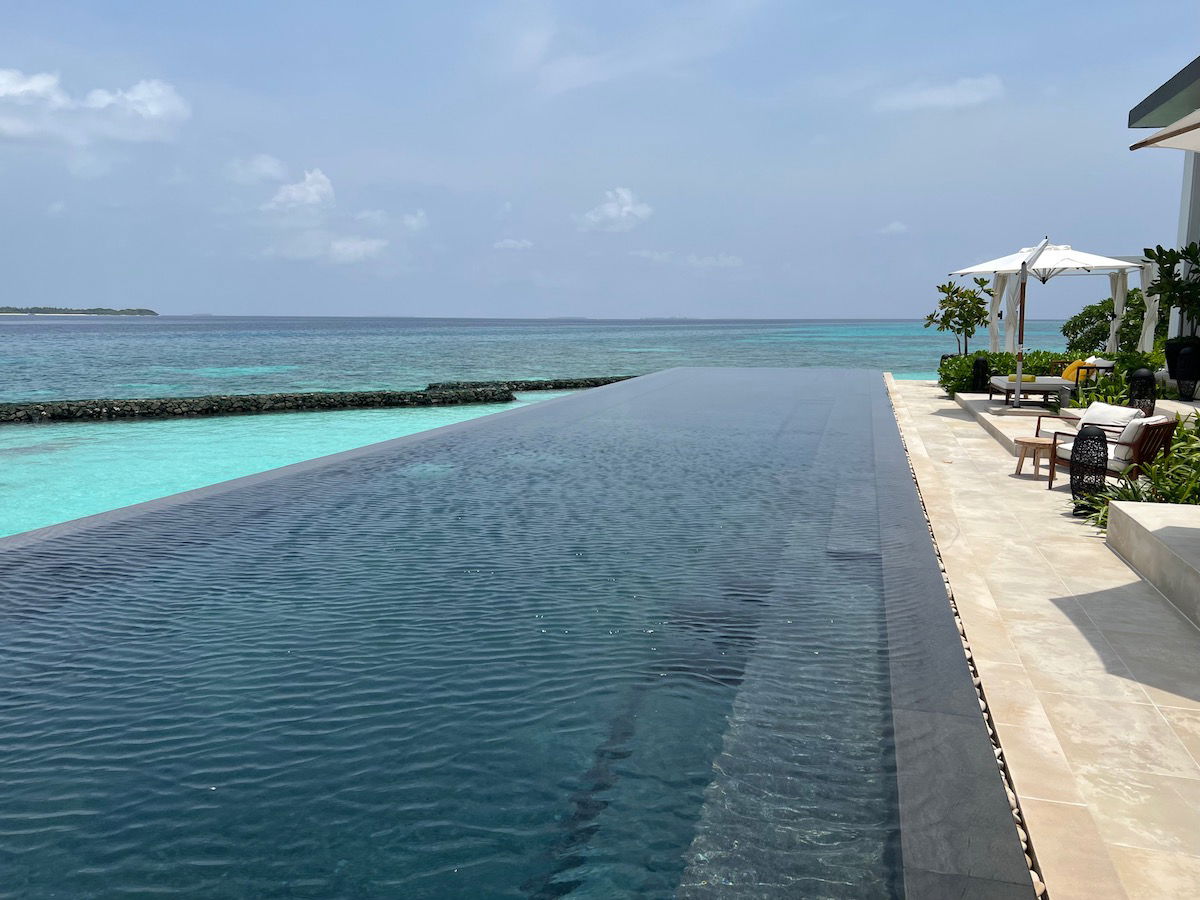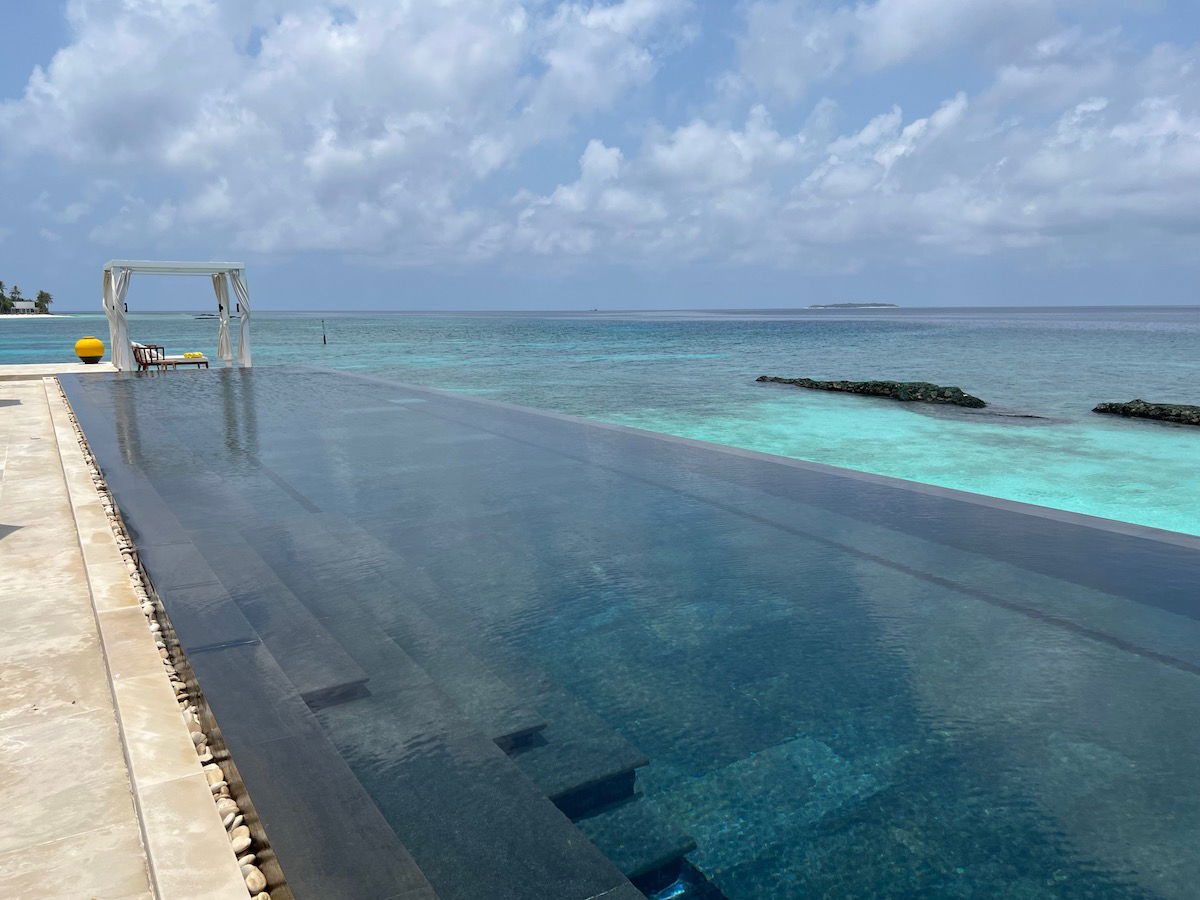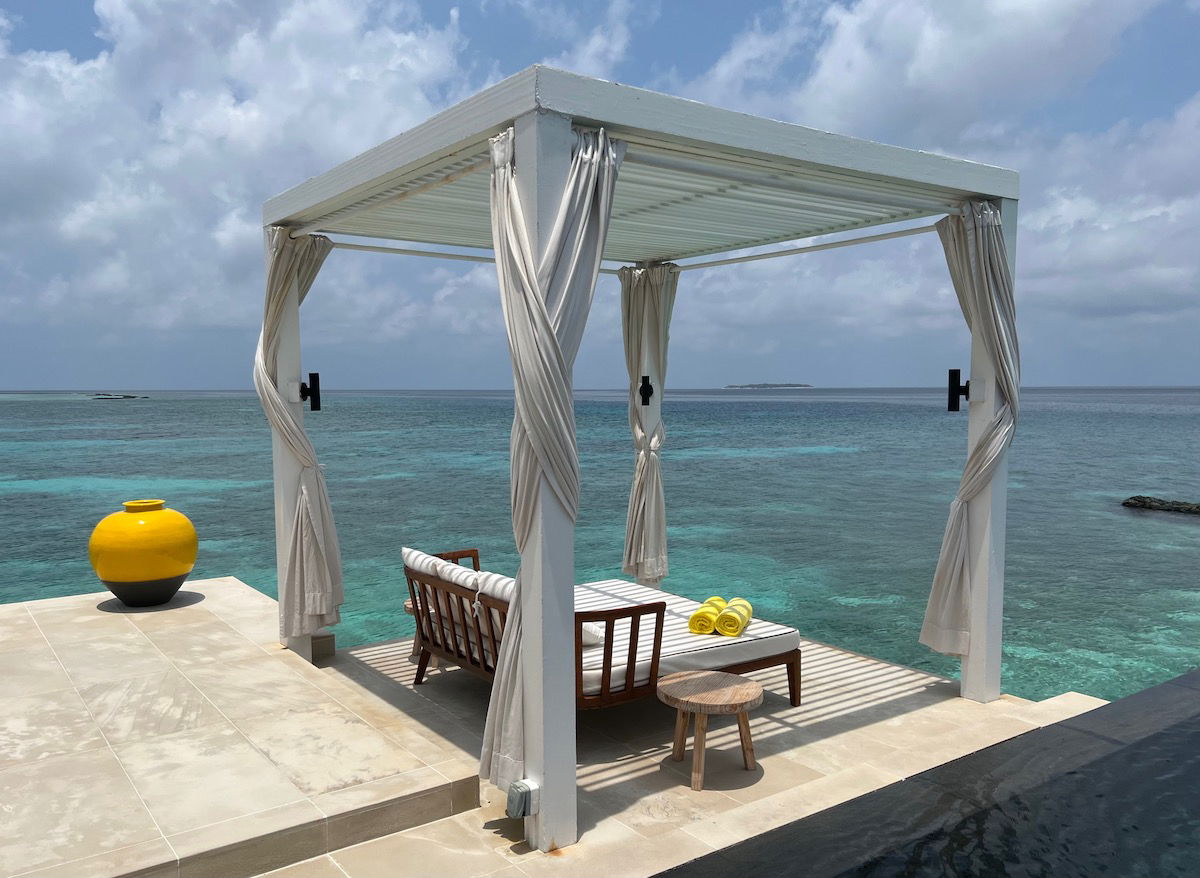 The spa has four single treatment villas, two couples villas, Thai massage and yoga pavilions, and a hammam, steam room, and cold plunge pool.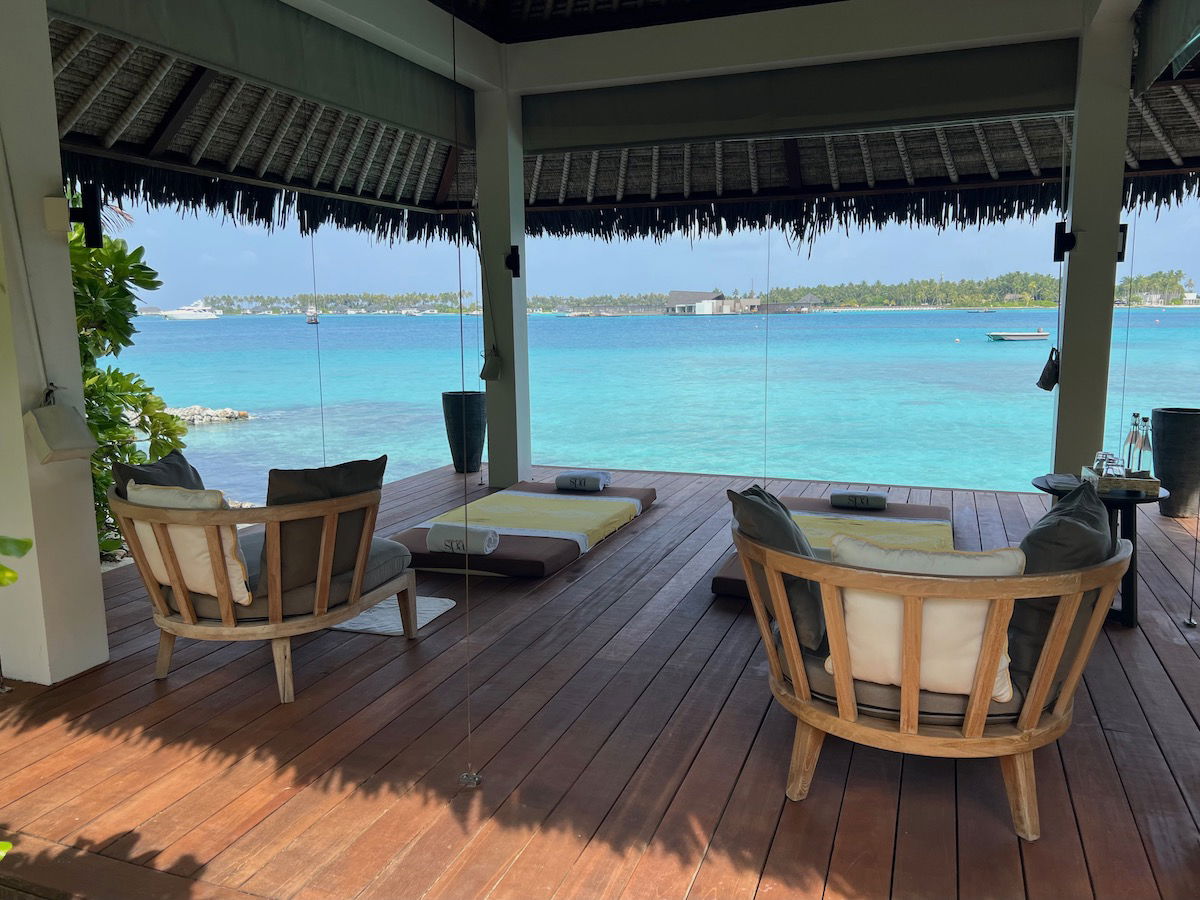 The treatment villas are all secluded and beautiful, with ocean views, indoor and outdoor showers, terraces, and more.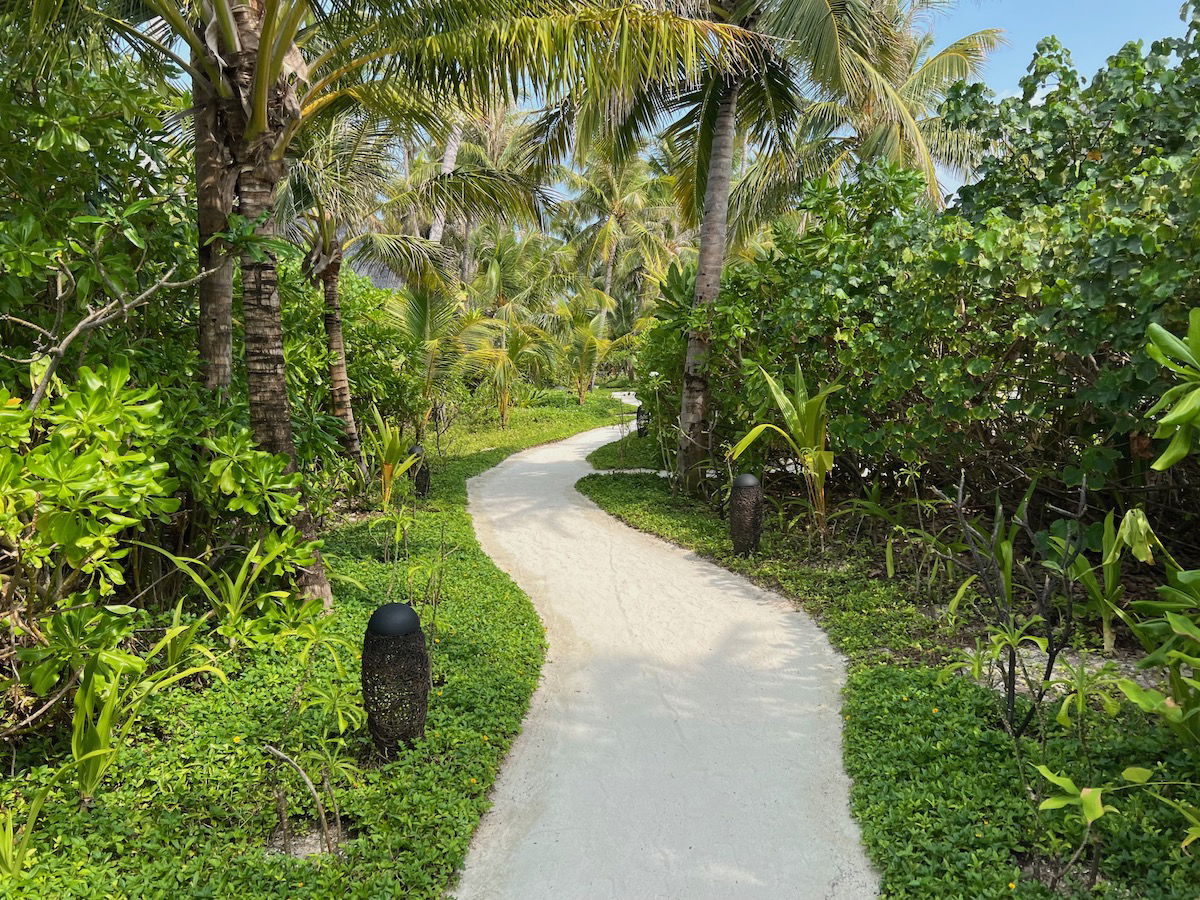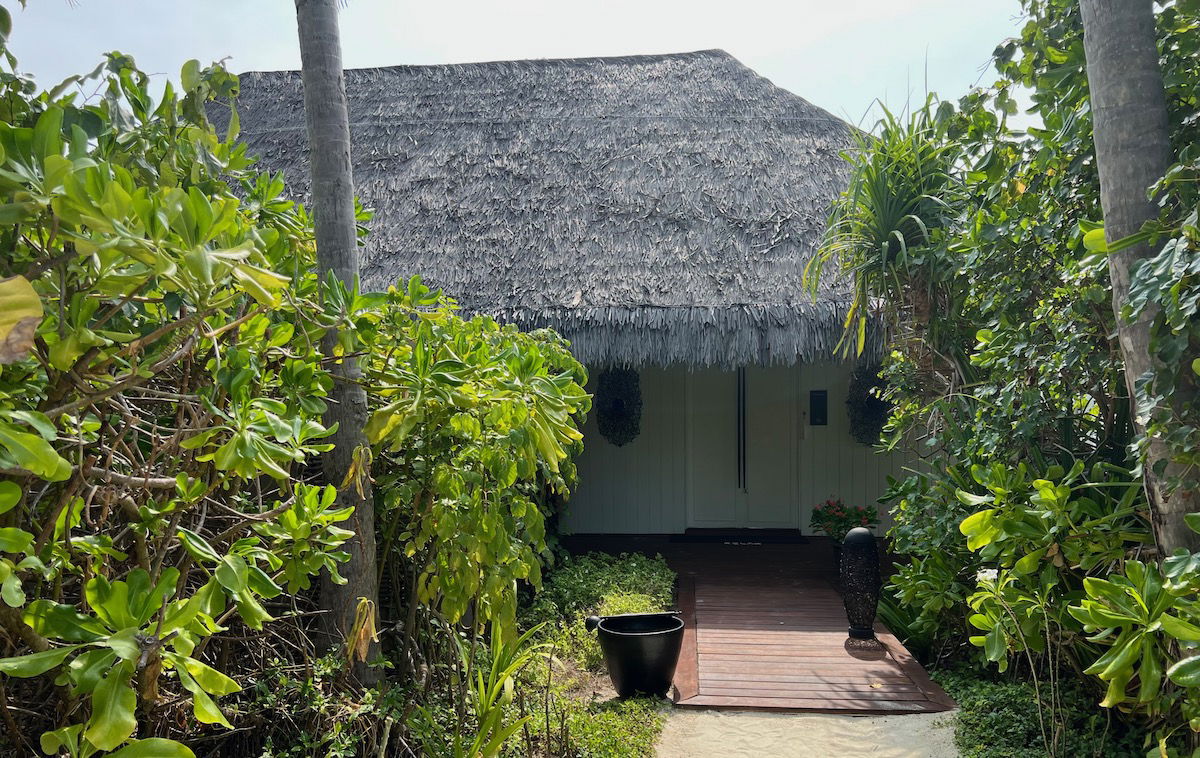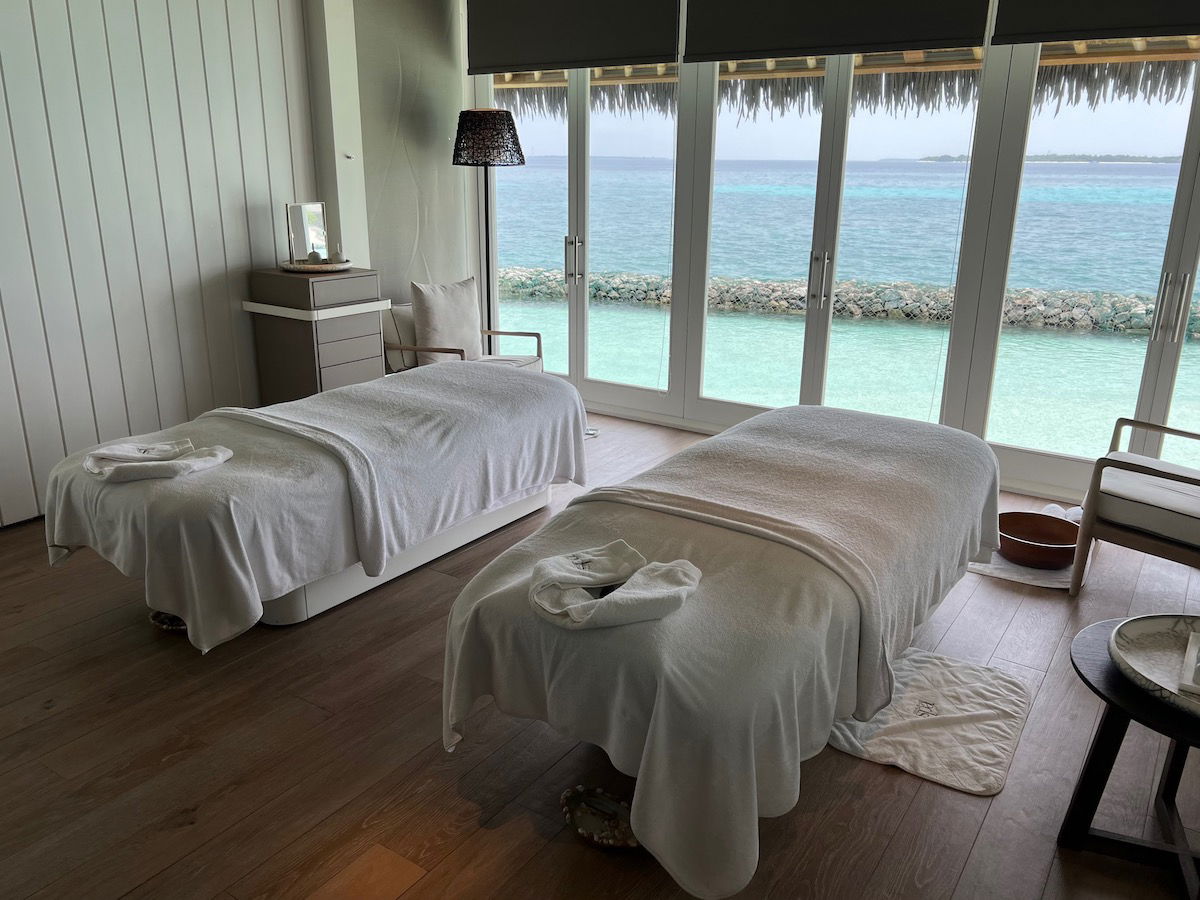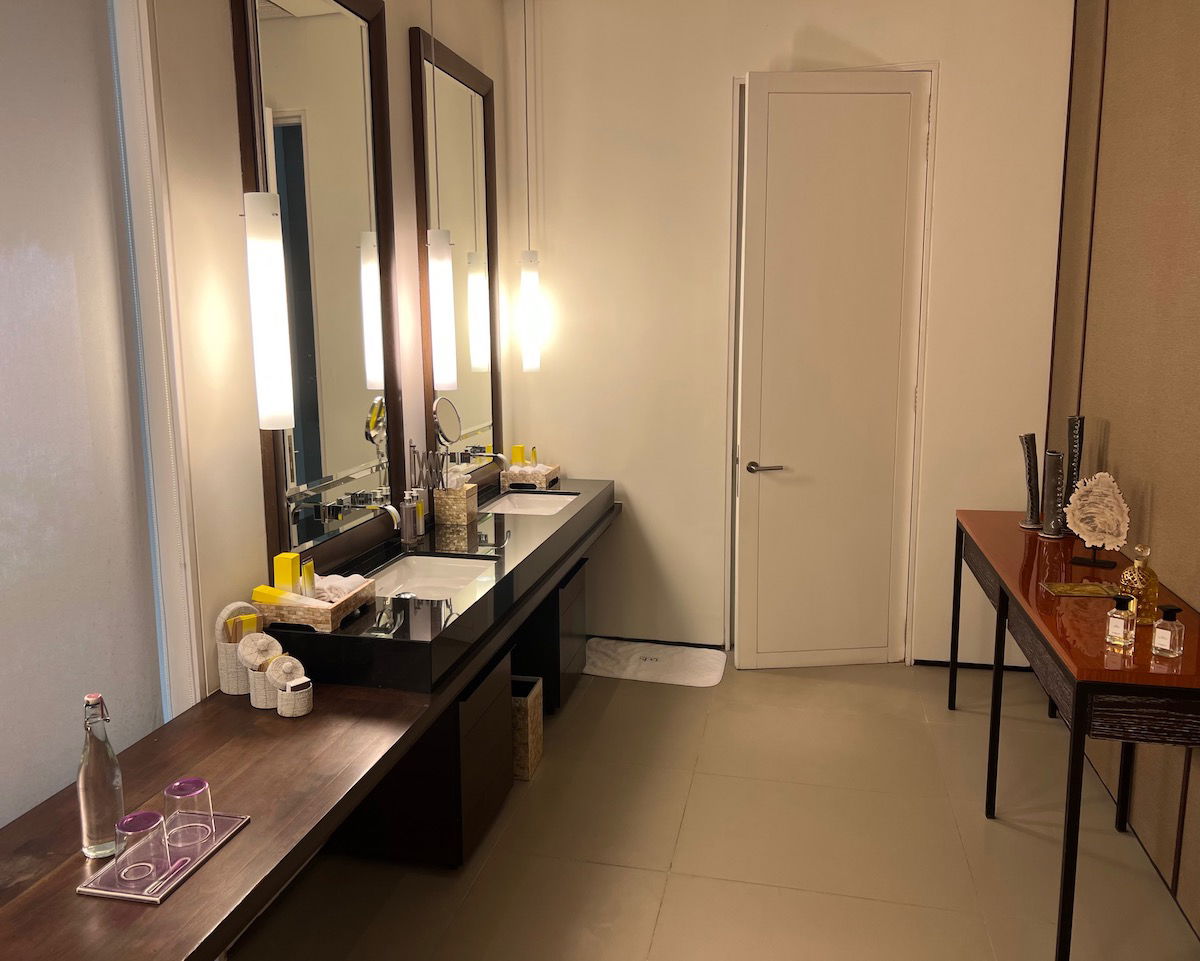 Cheval Blanc Maldives tennis & jungle bootcamp island
When Cheval Blanc Maldives first opened in 2013, there were "only" five islands. Now there are six islands, as the property purchased an additional island that's a bit further away. This island is mostly untouched, and will make you feel like you're on "Survivor," or something.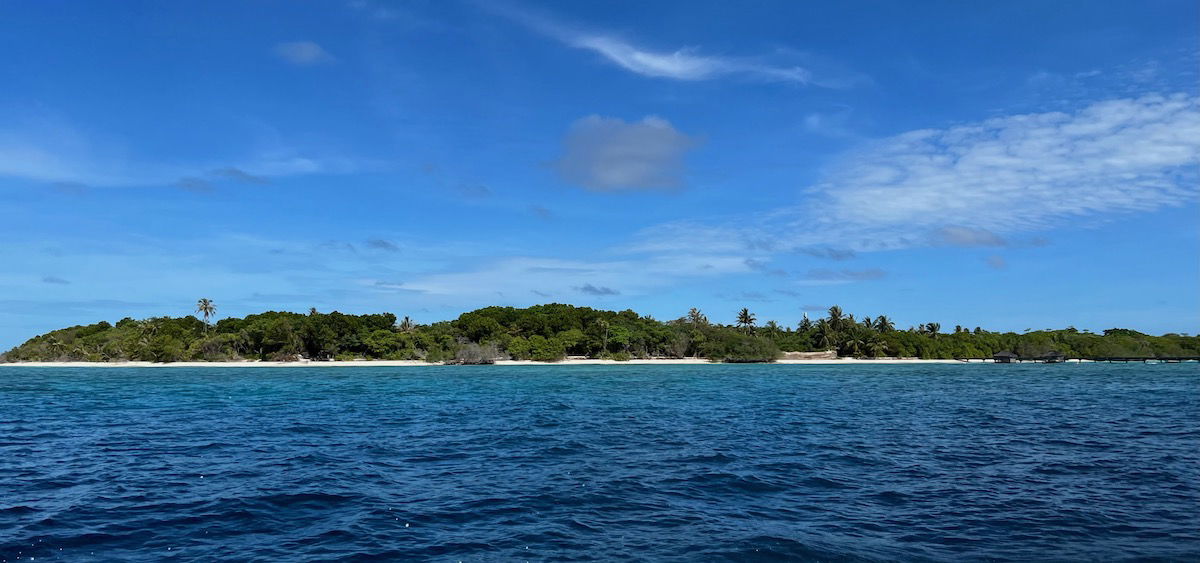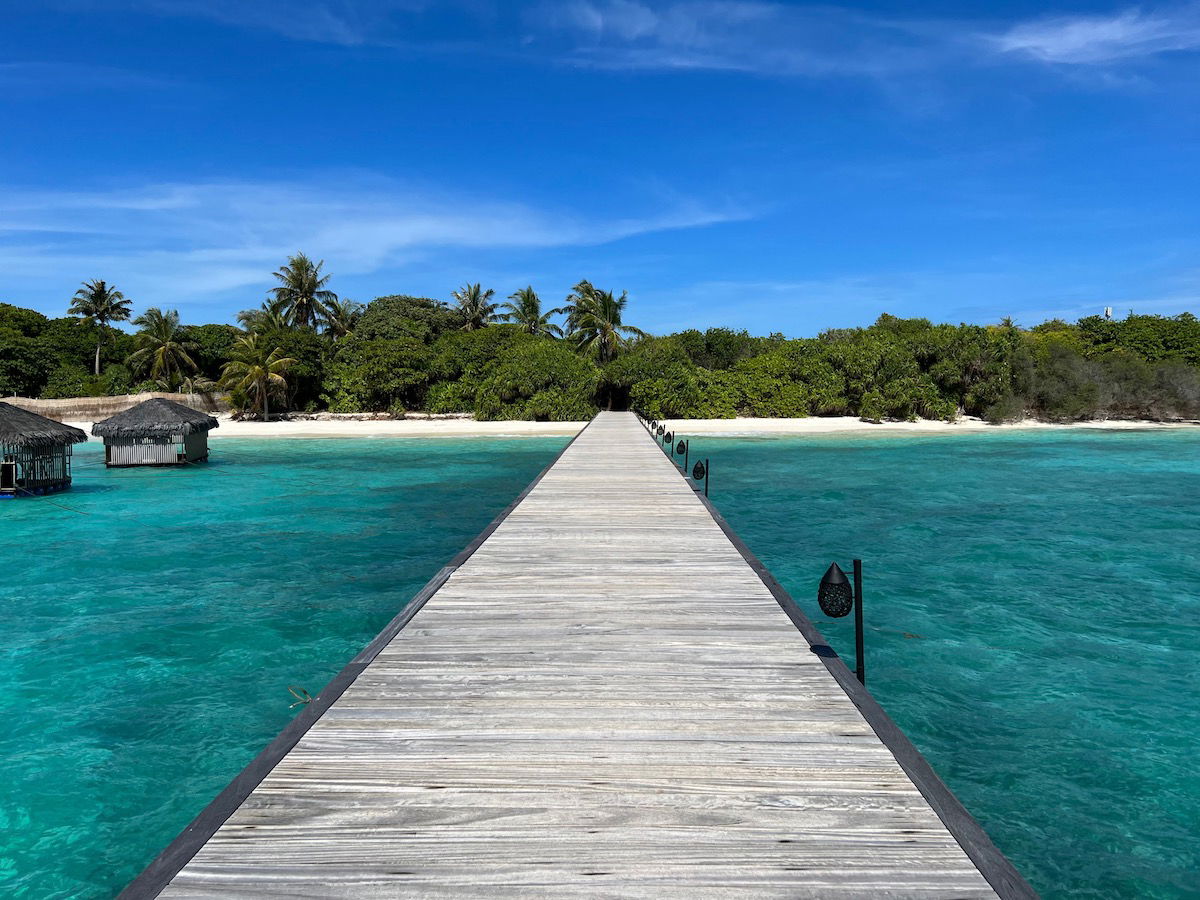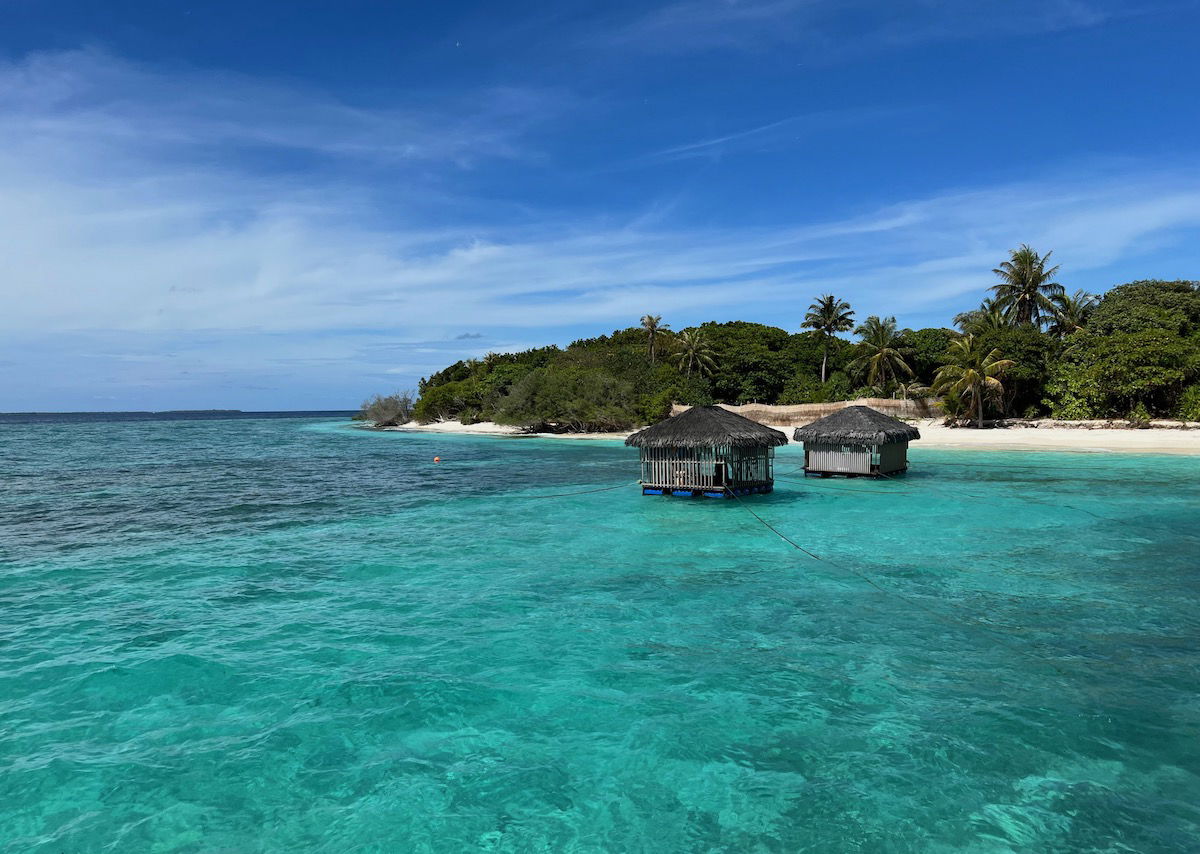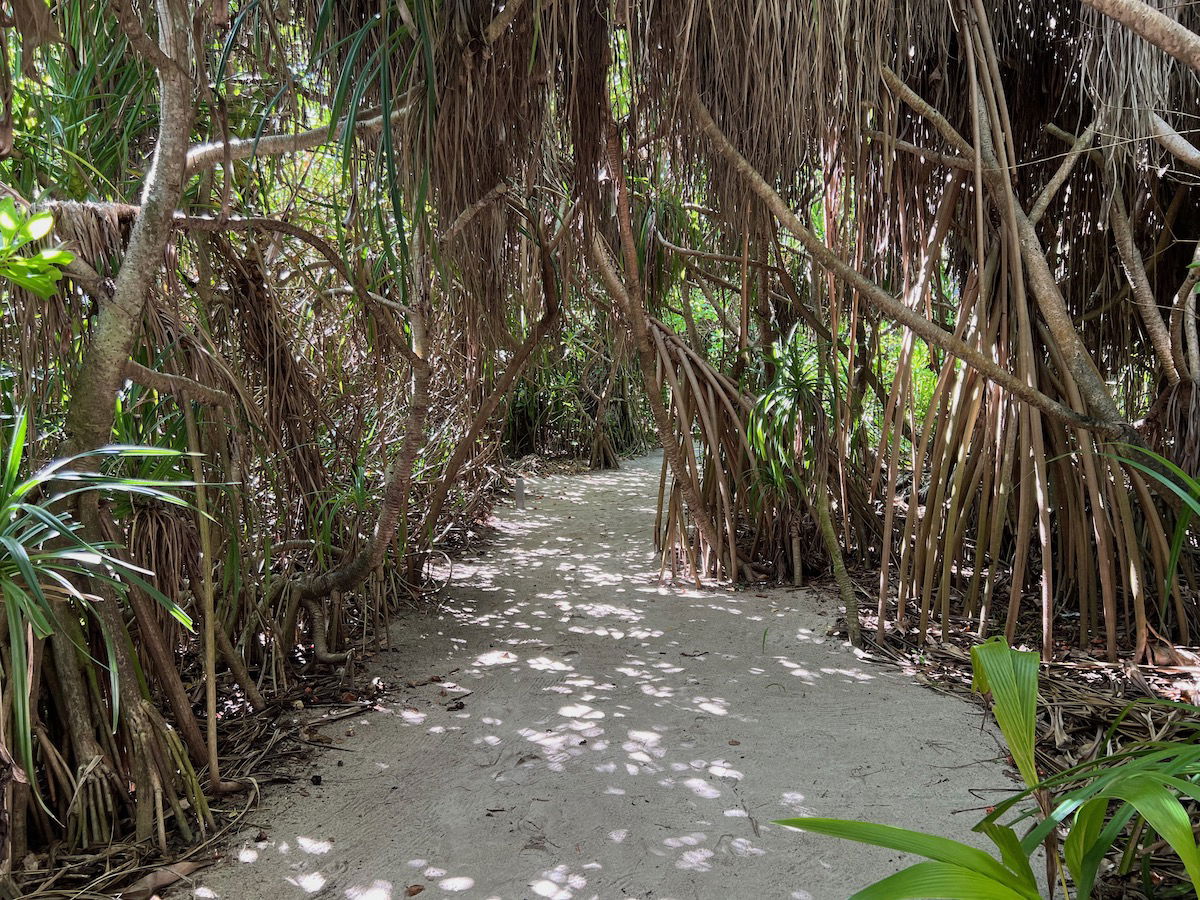 The primary amenity on this island is two tennis courts, including a hard court and grass court.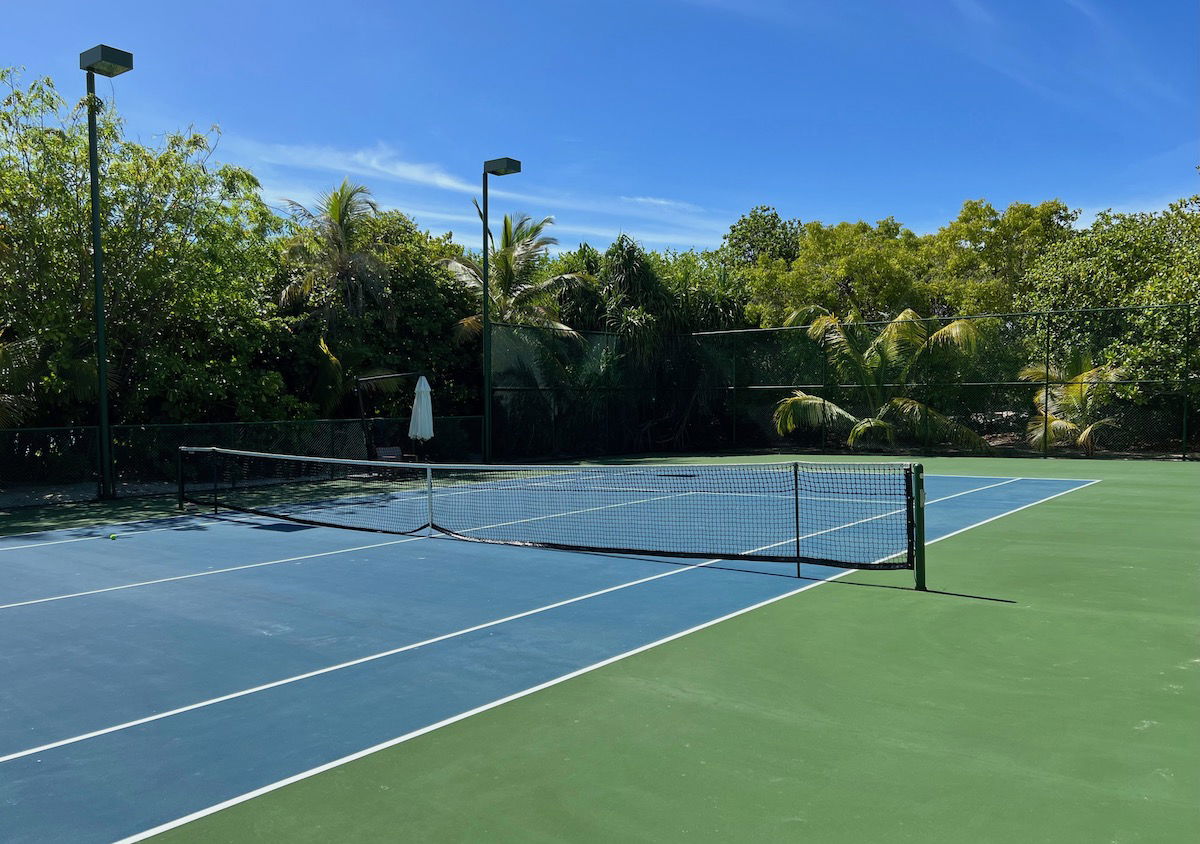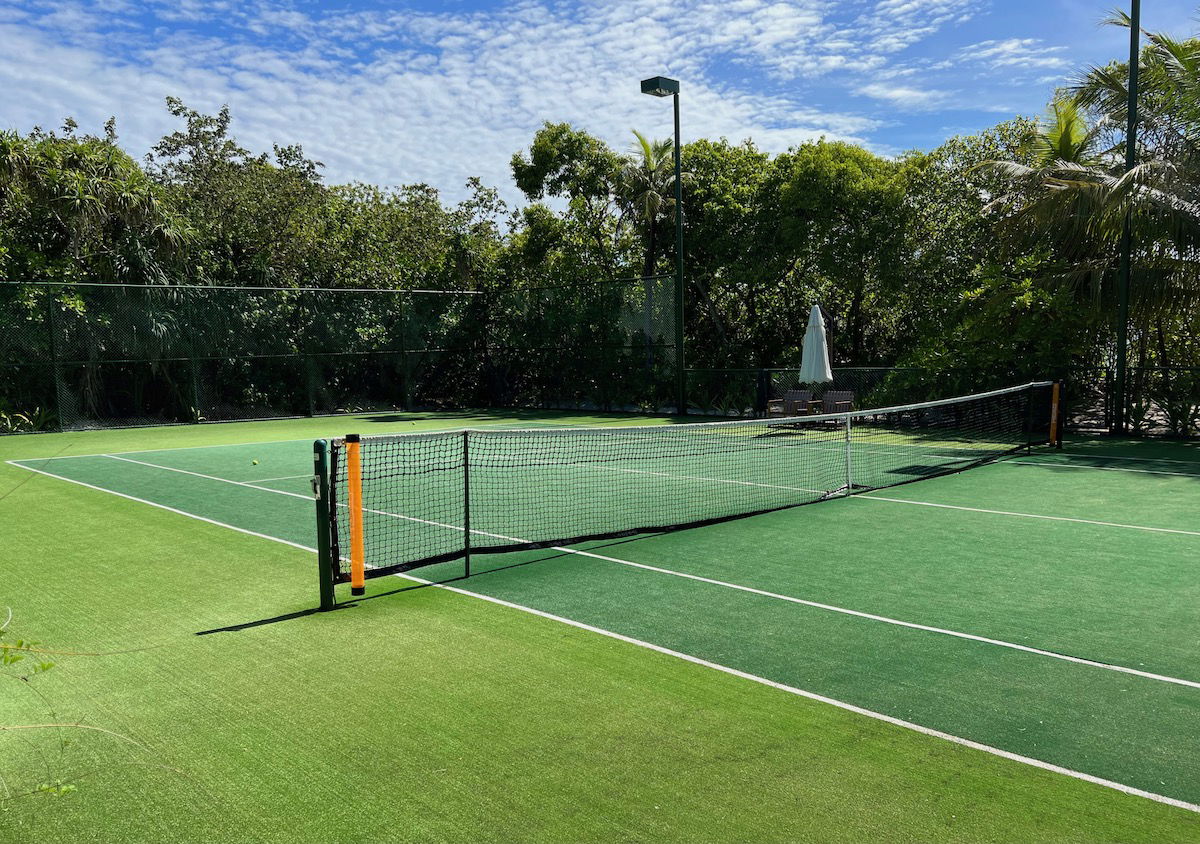 There's also a jungle bootcamp. We were going to take a class on our departure morning, but it ended up getting canceled due to weather, unfortunately.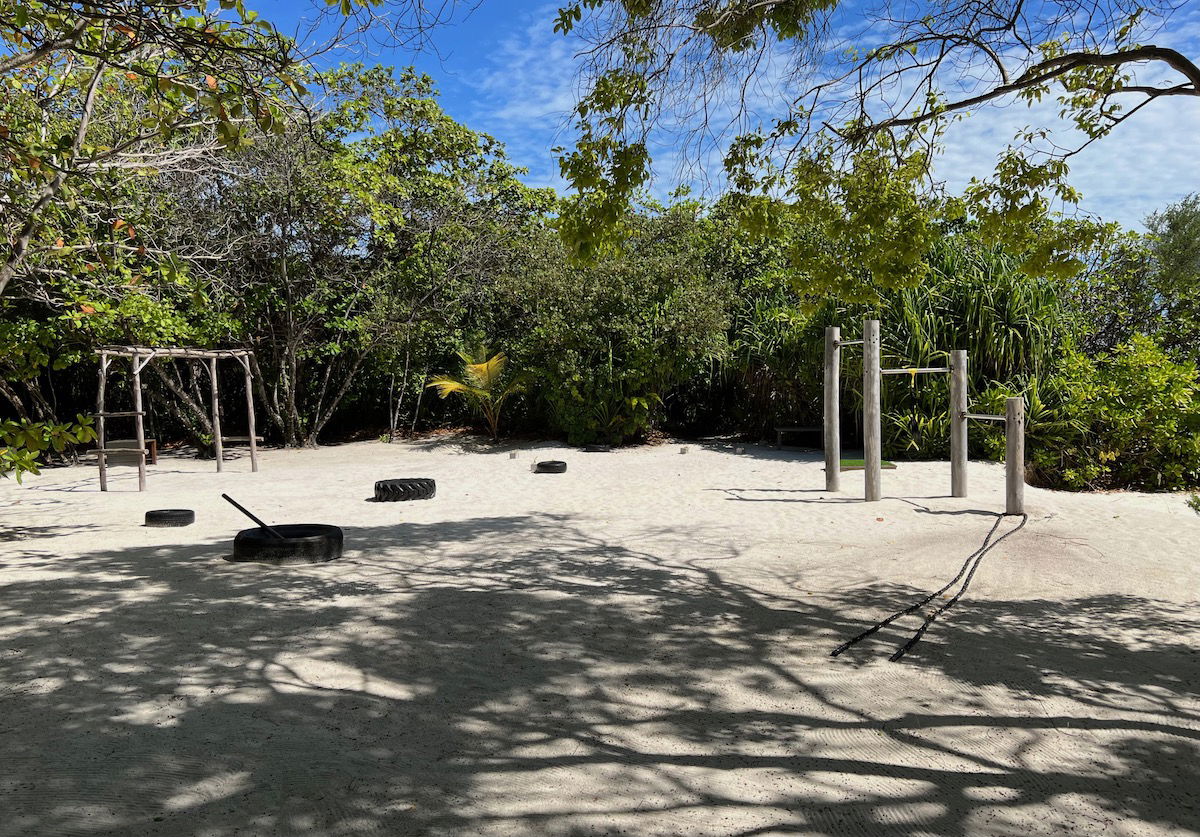 Cheval Blanc Maldives gym
Cheval Blanc Maldives has a gym on the main island, with a trainer on hand. This is every bit as good as a gym you'd find at a top city hotel, so you don't have to make any fitness sacrifices while here.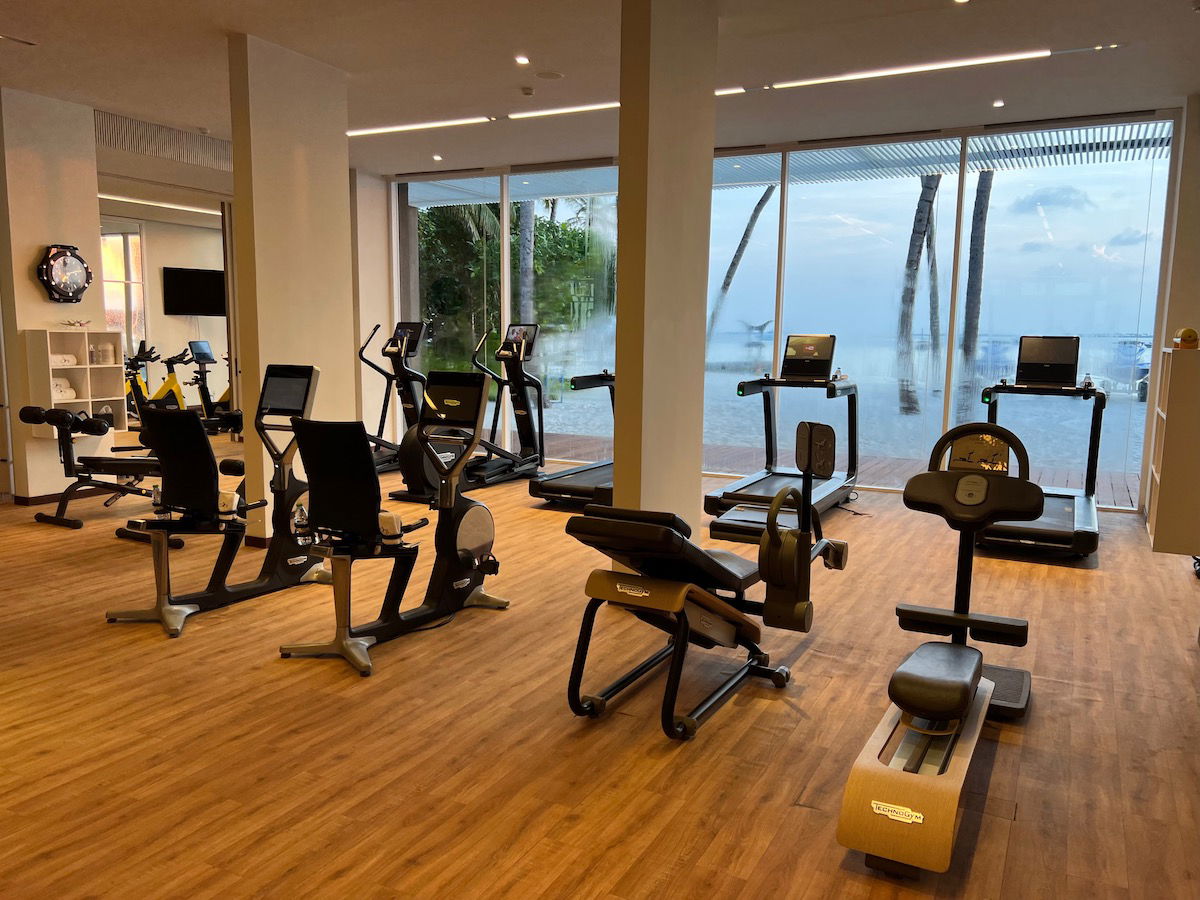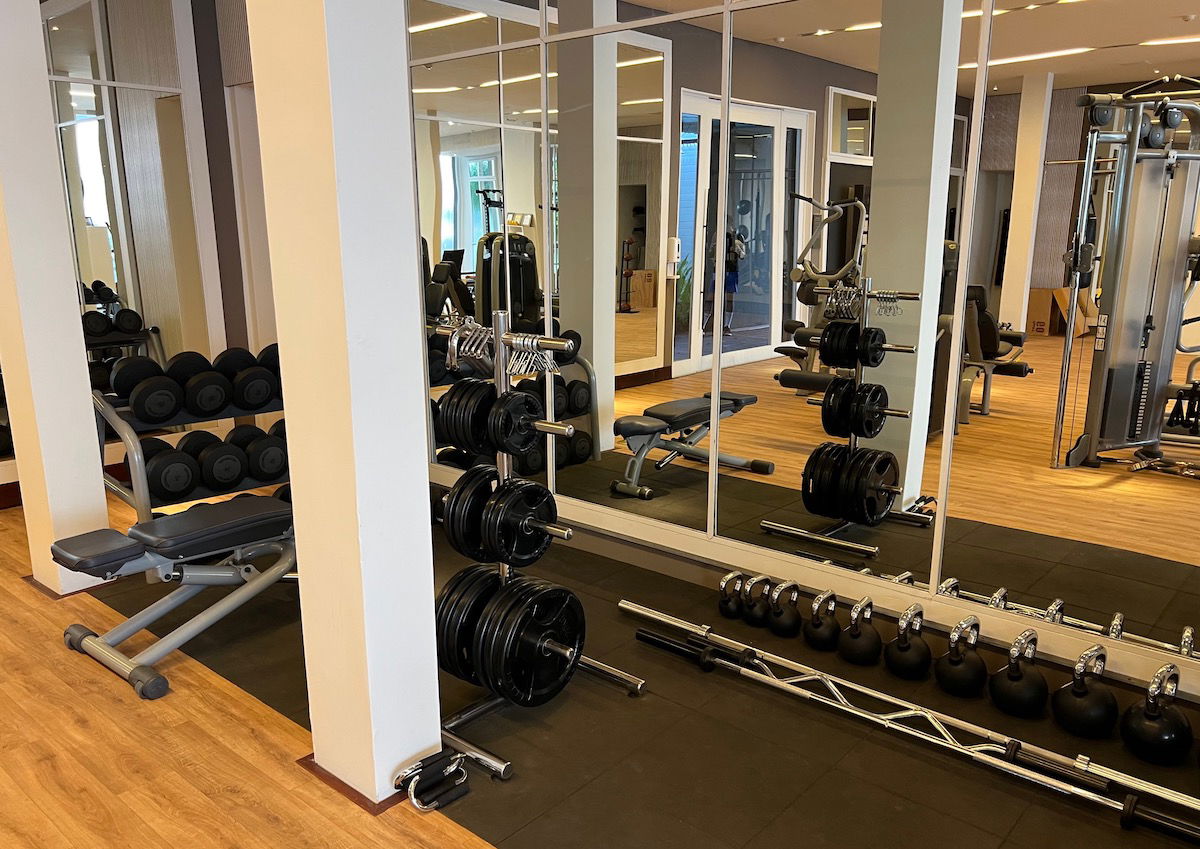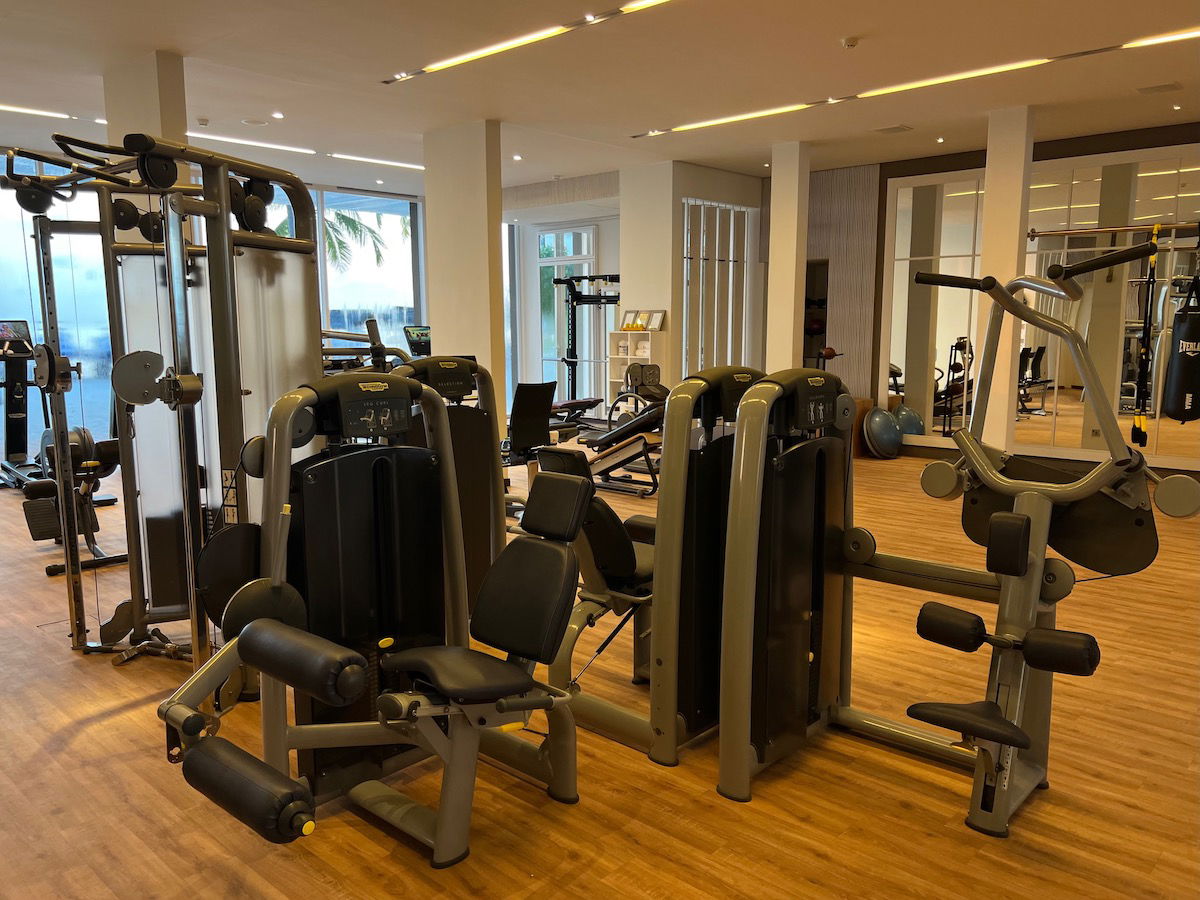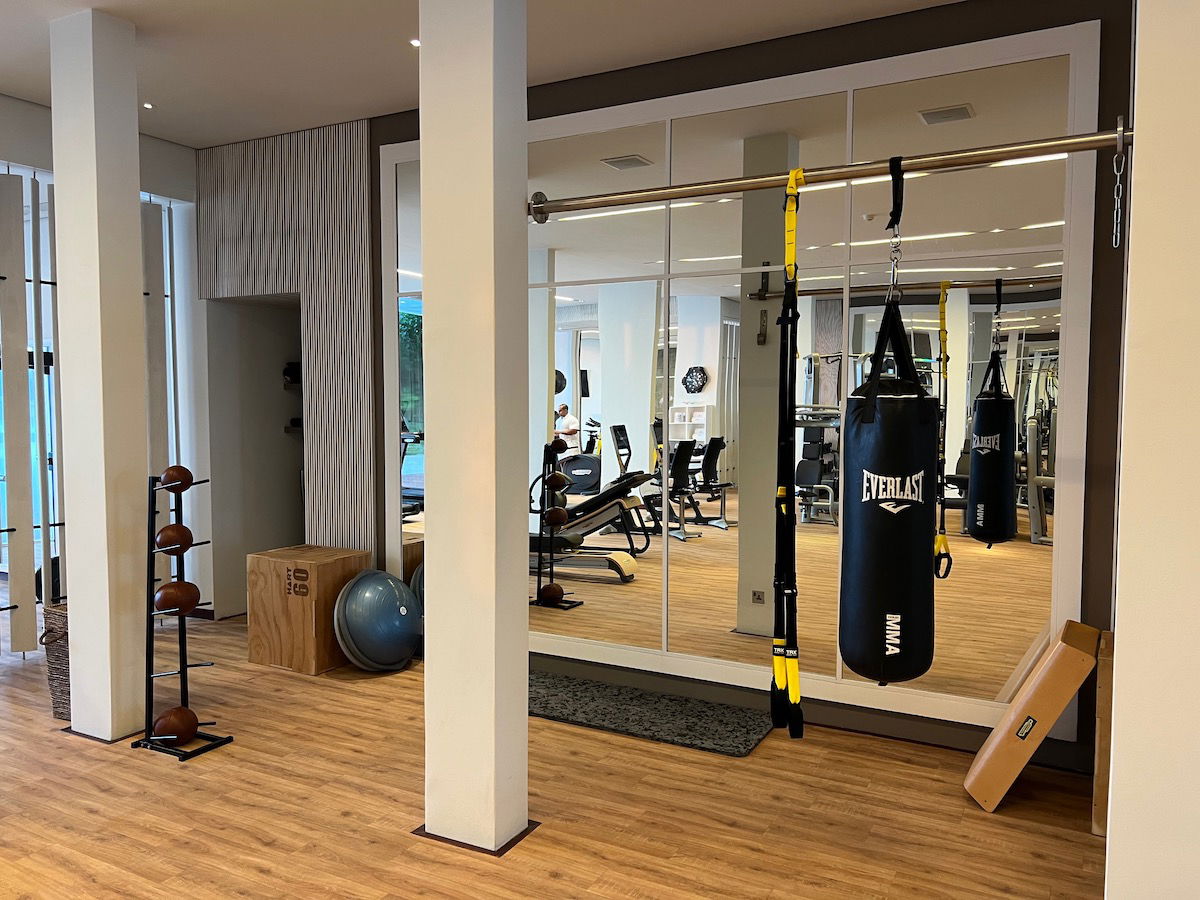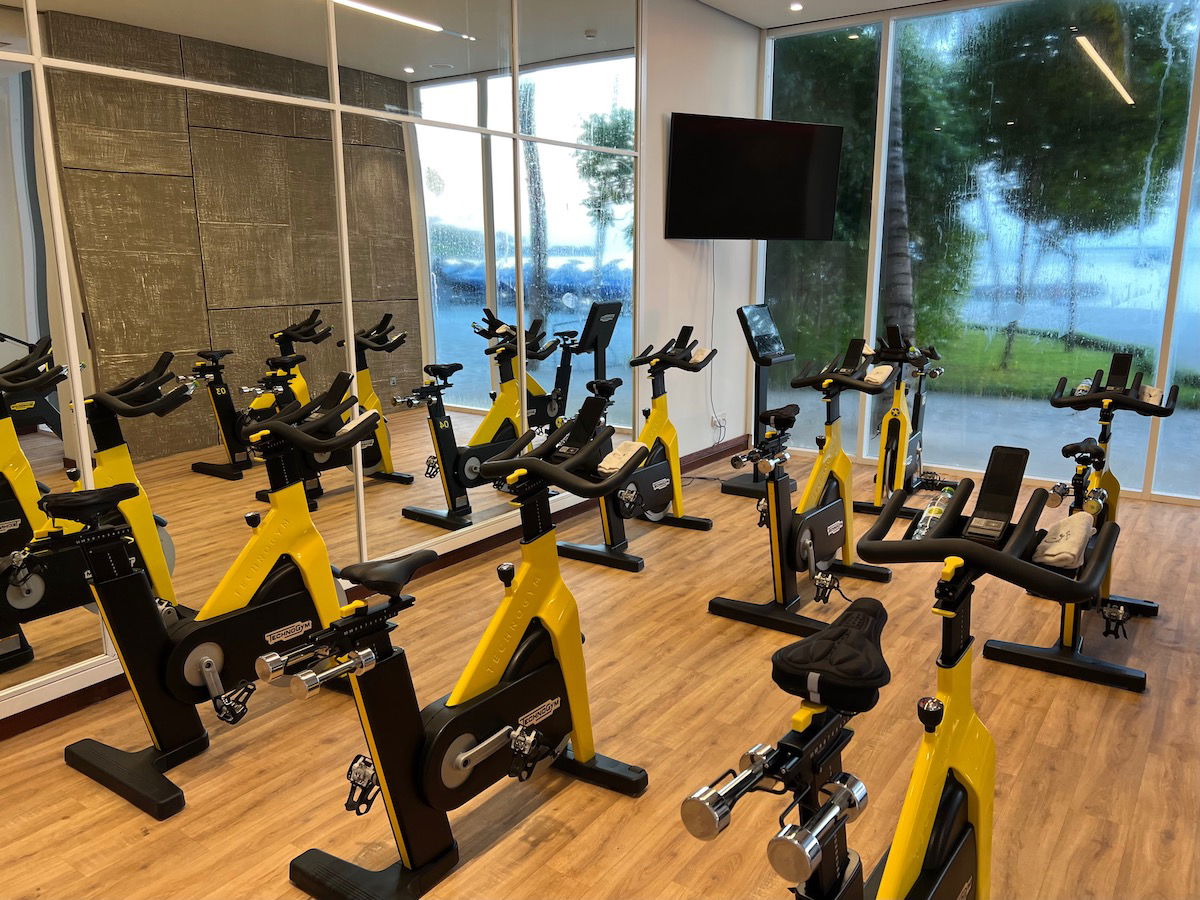 Cheval Blanc Maldives kids & teens club
Okay, I'll admit I'm no expert on kids clubs, but in my effort to see just about everything on the island, I visited the kids club as well. The Maldives is increasingly becoming a family destination rather than just a couples destination, and that's reflected in the property's kids club.
My gosh, this place made me want to be a kid again. I'll let the pictures speak for themselves, but suffice it to say that this isn't your average private island kids club.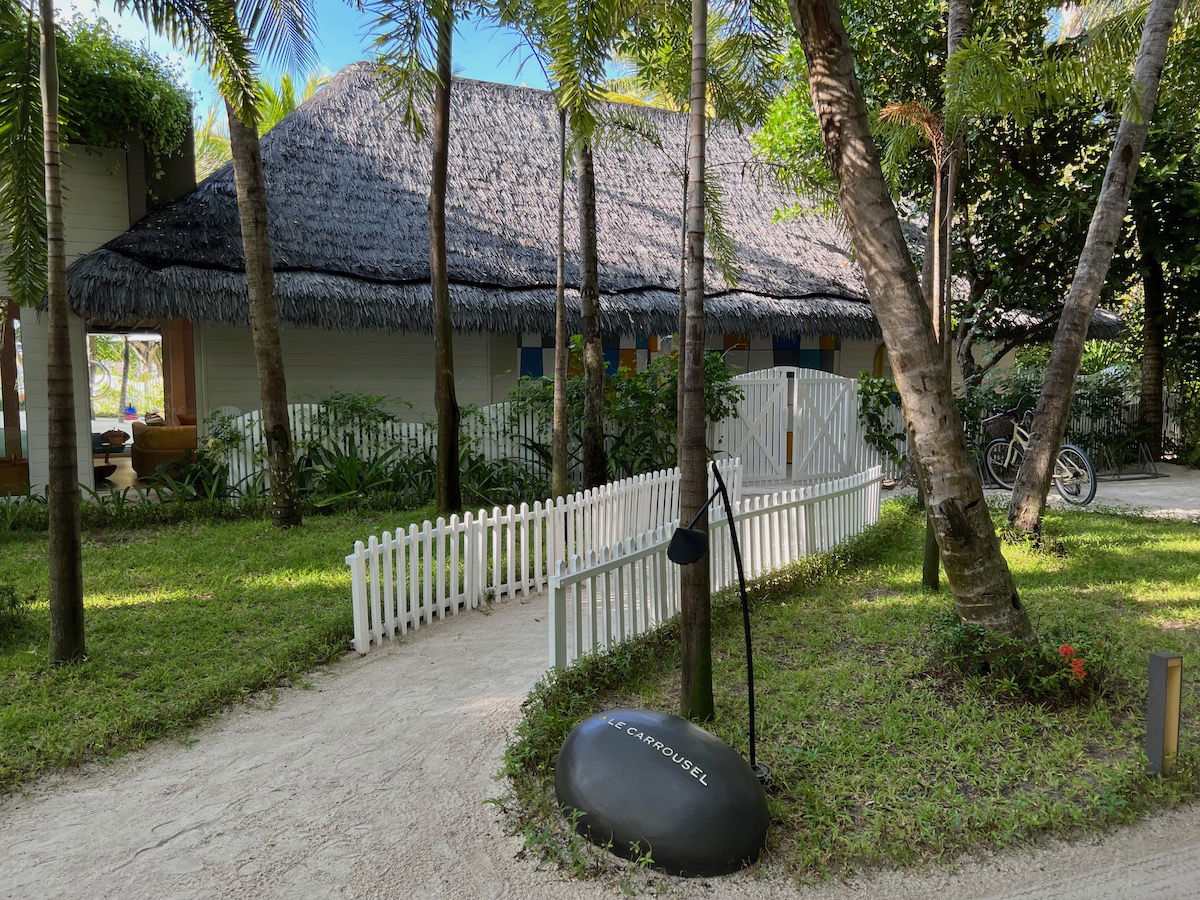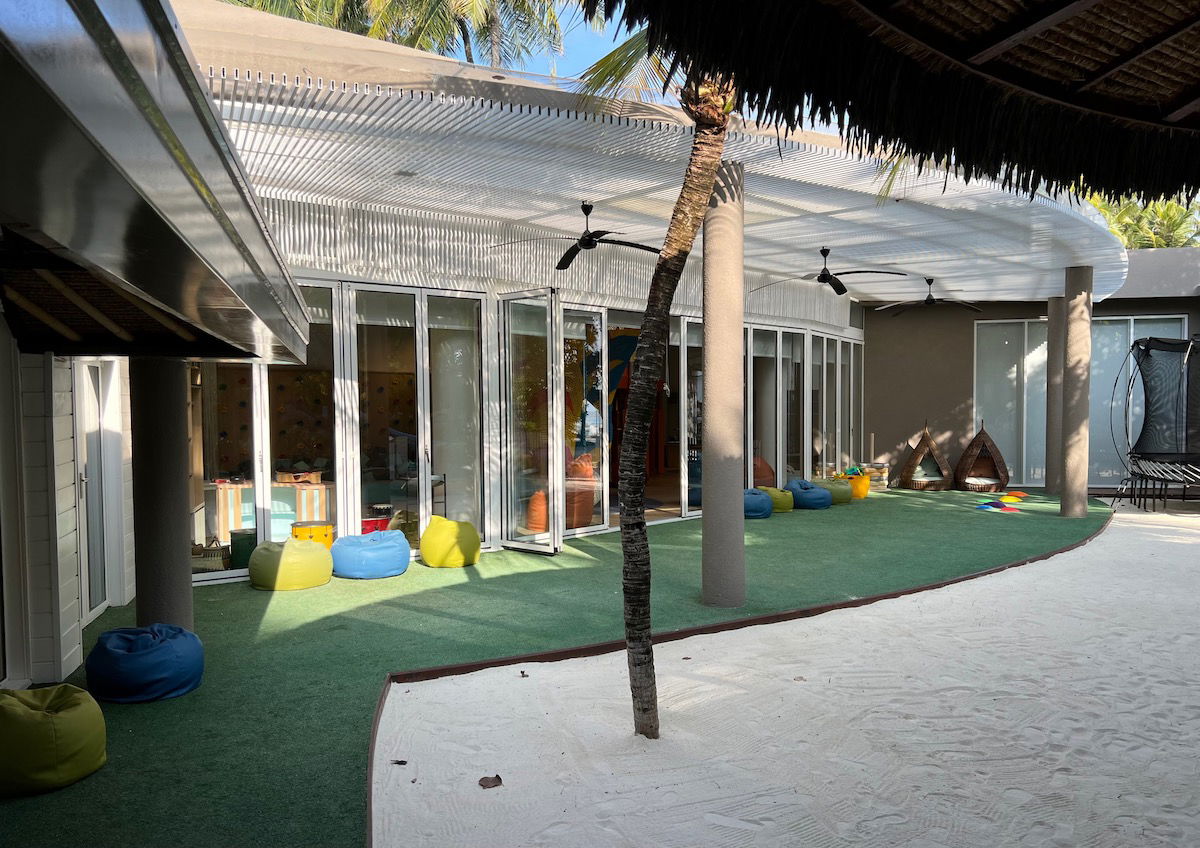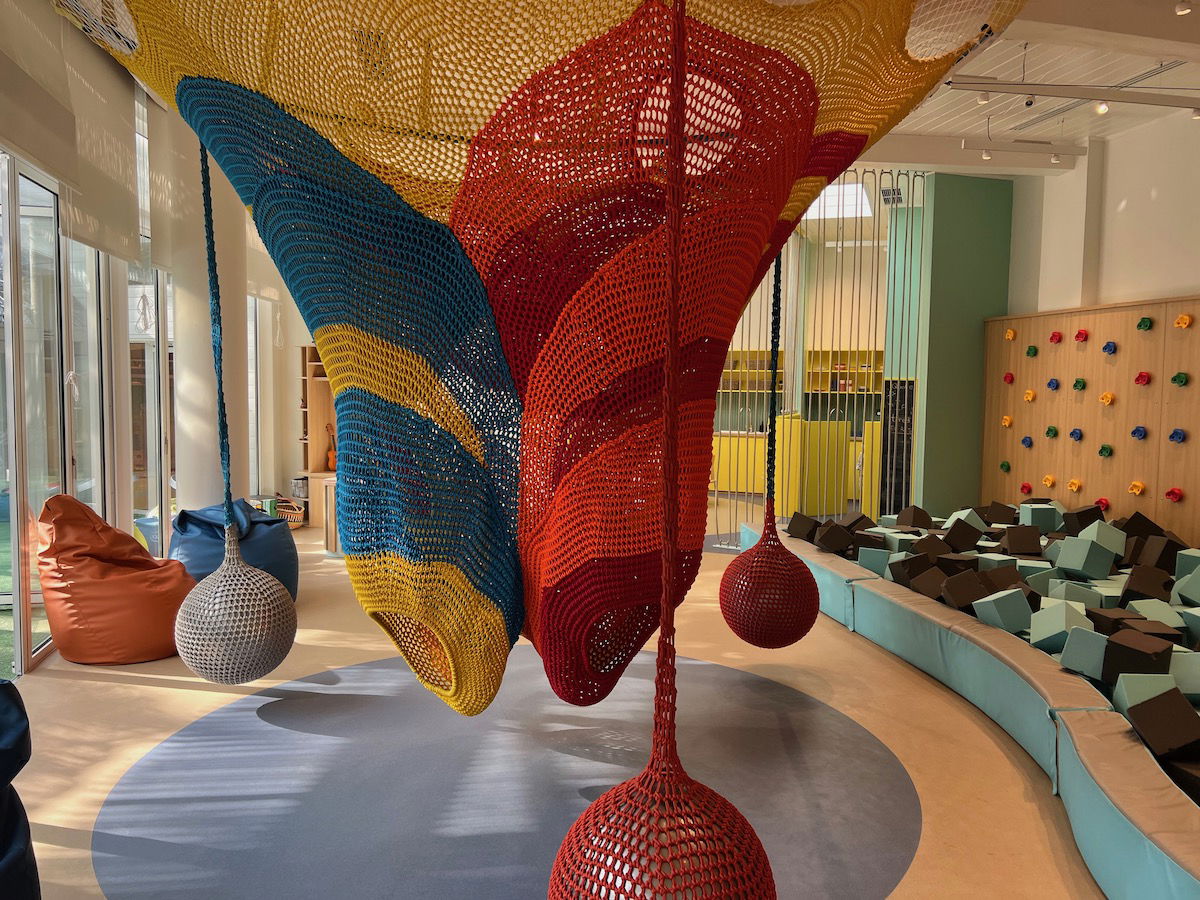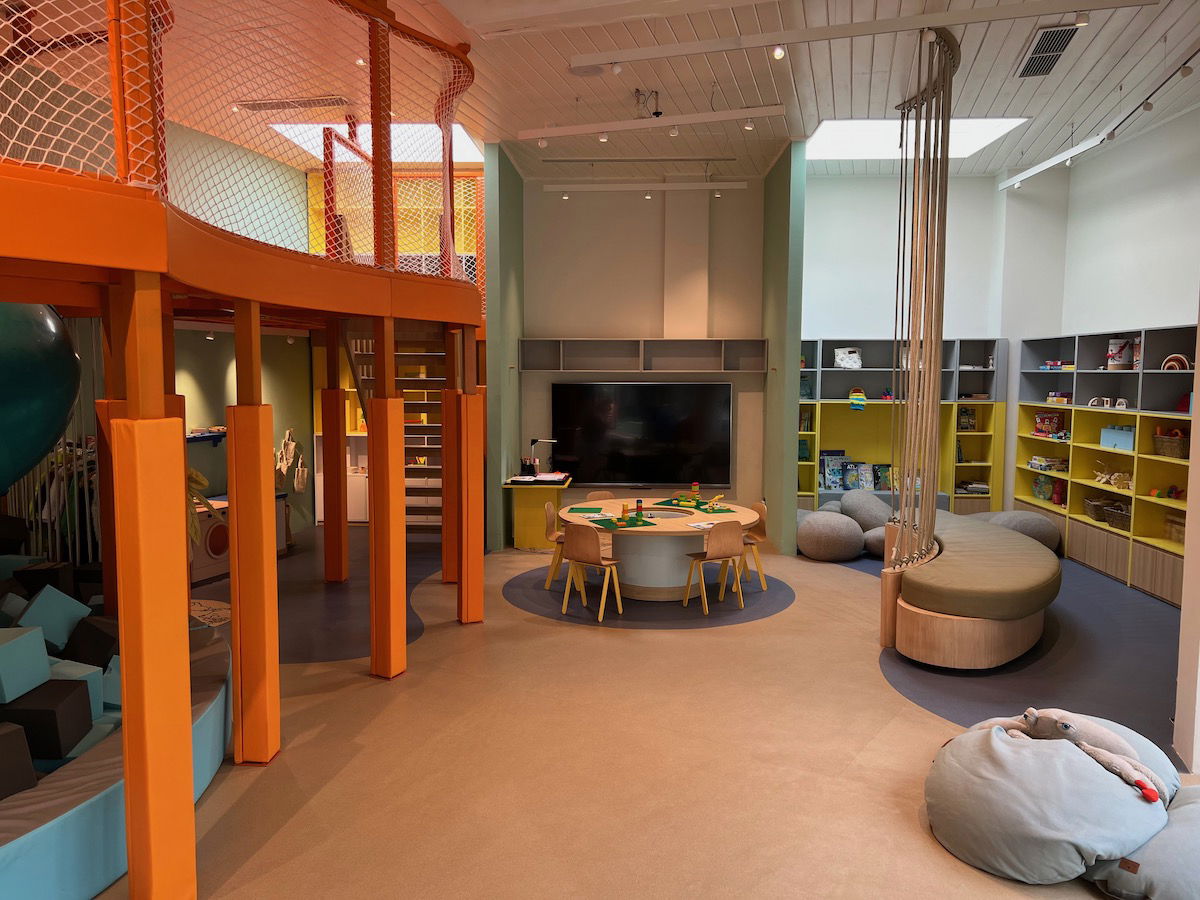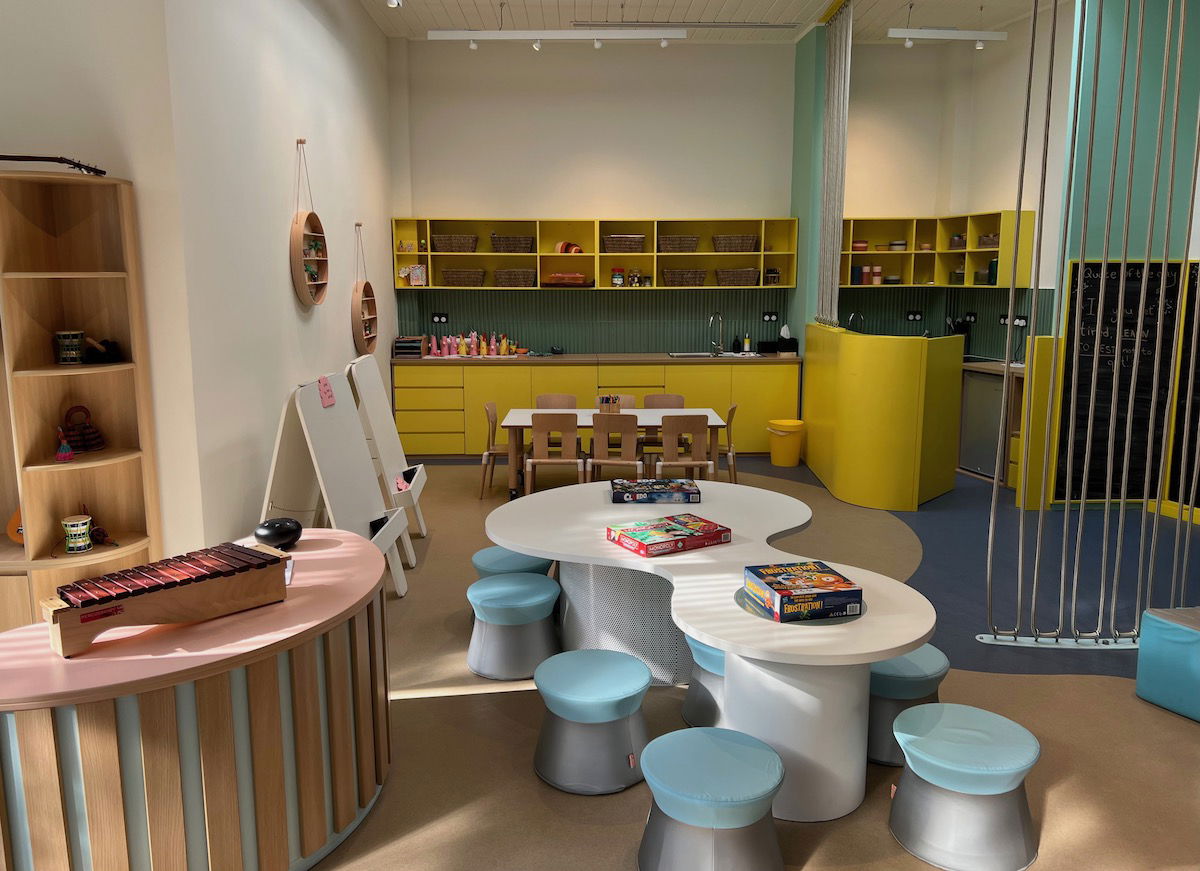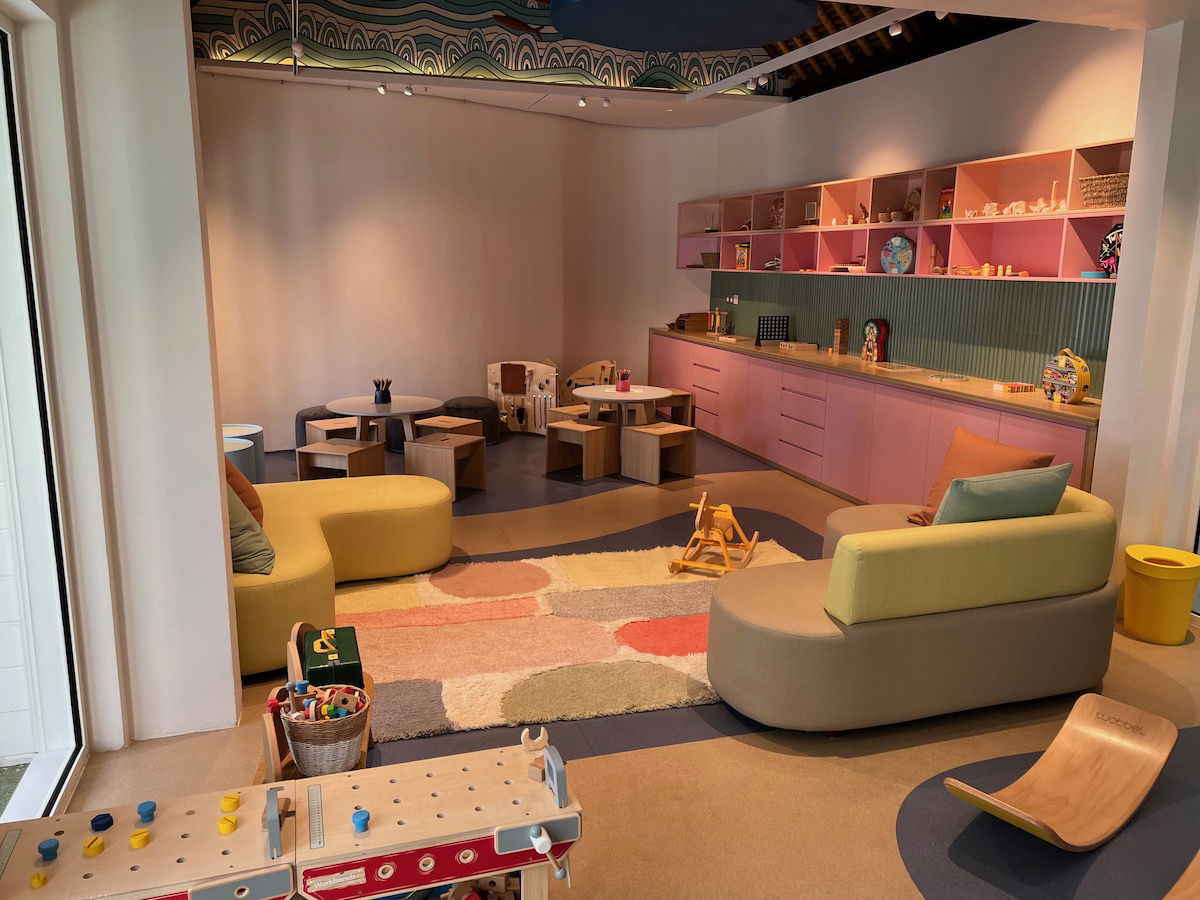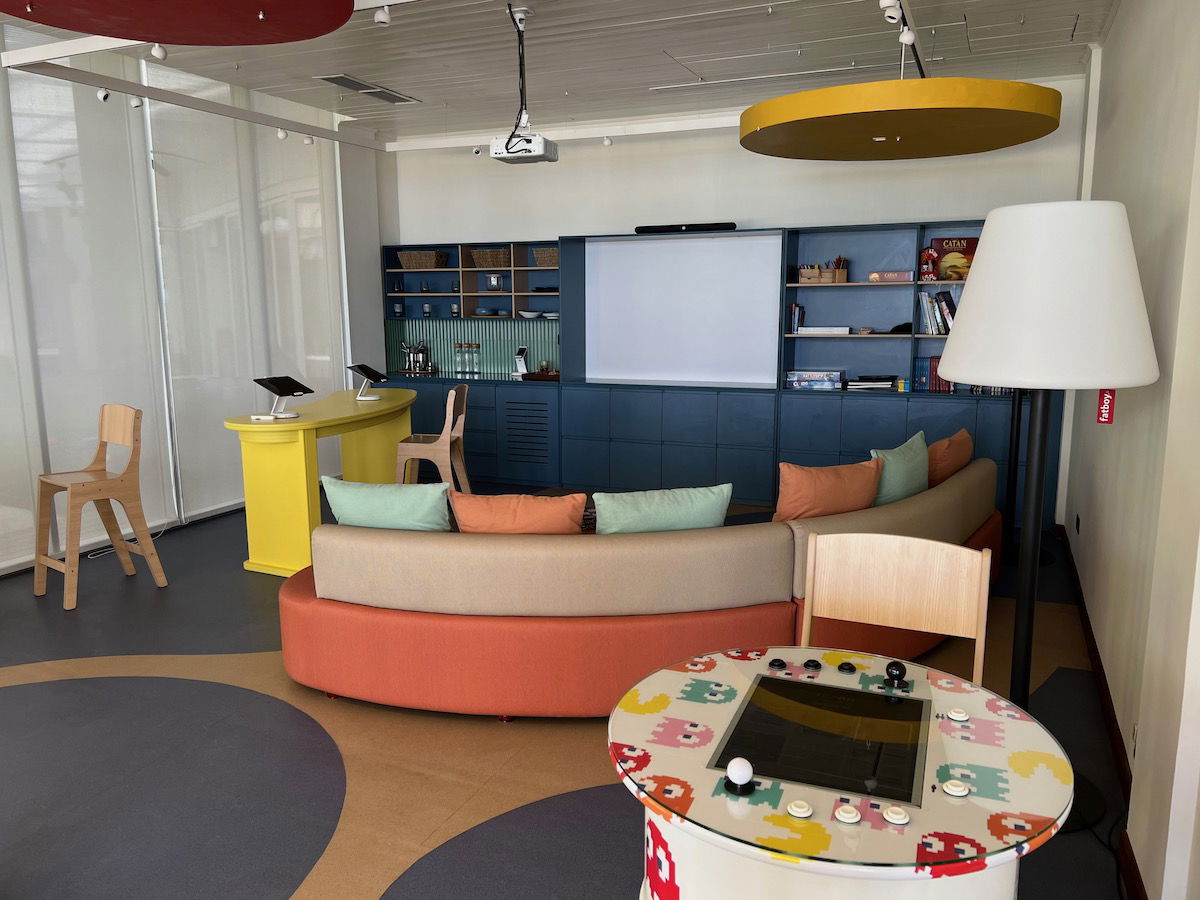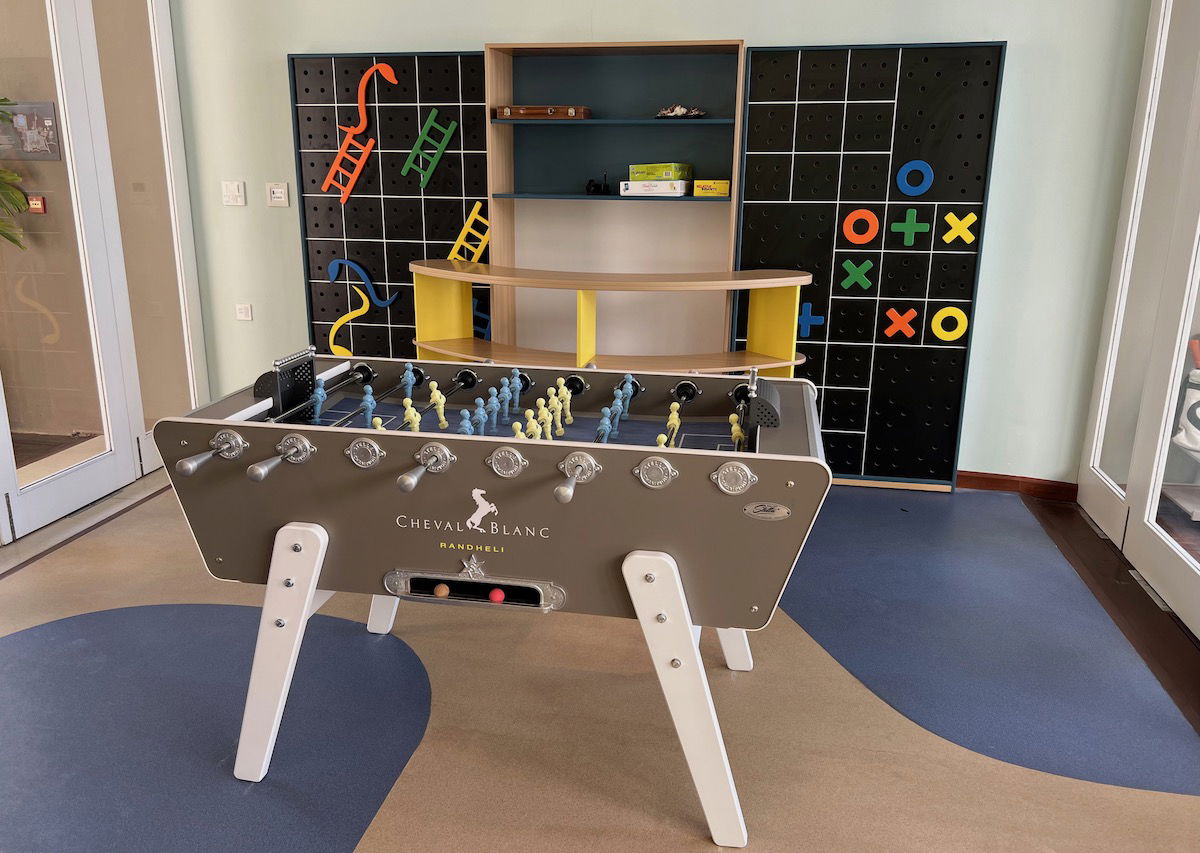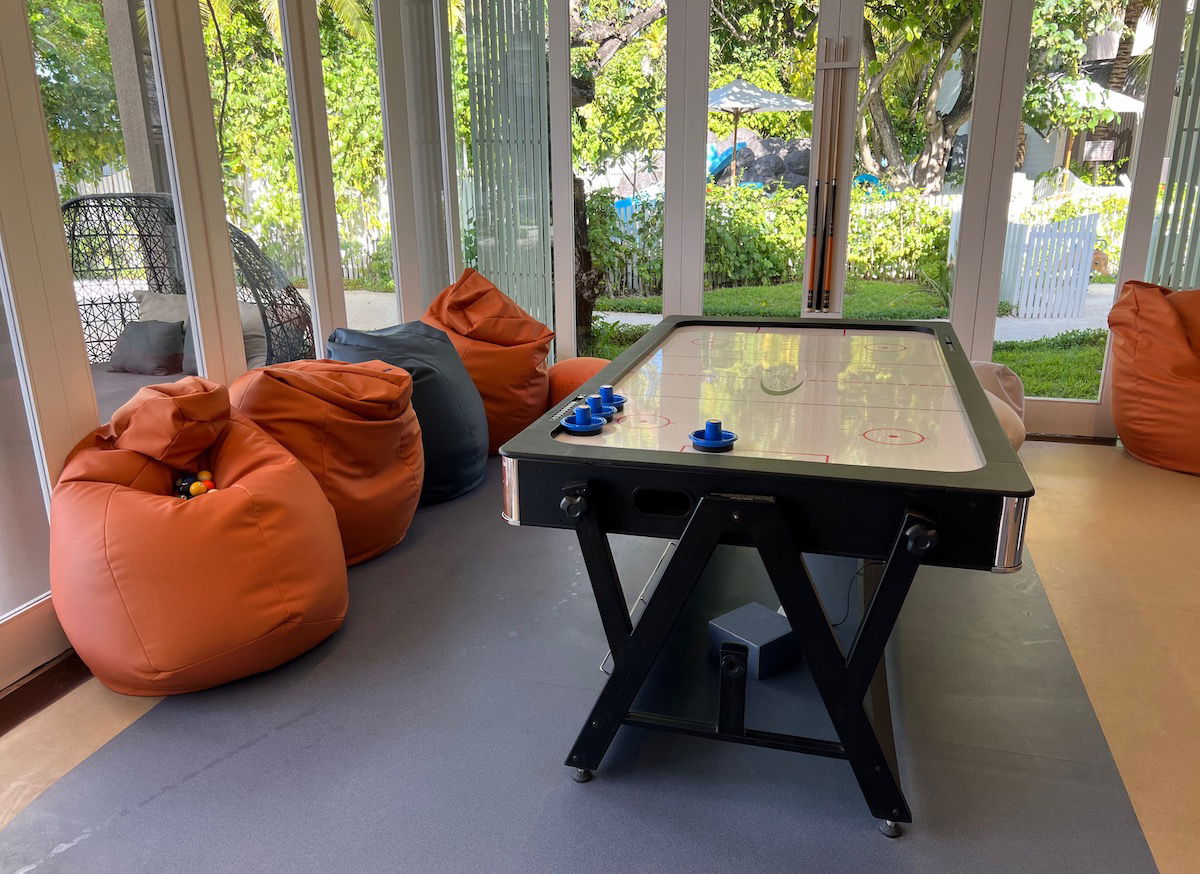 Cheval Blanc Maldives dining
The variety of dining options at Cheval Blanc Maldives is remarkable, especially when you consider there are just 46 villas:
There's White Bar & Restaurant, which are marketed separately, but are in the same area; White Bar is open for lunch, dinner and all-day drinks, while White Restaurant is open for breakfast, lunch, and dinner
There's Le 1947, which is open for dinner; Le 1947 serves a 12-course tasting menu, and it's an offshoot of Cheval Blanc Courchevel's three Michelin star restaurant
There's Diptyque, which serves dinner; this is an Asian restaurant with a couple of unique concepts, including teppanyaki
There's Deelani, which is open for lunch and dinner; this is an Italian restaurant
There's Spa Bar, which is open for lunch; this has a focus on healthy and light dishes
On top of that you have 24/7 in-villa dining, plus La Table de Partage (essentially a private dining area where you can have a custom meal).
Let's get into each of these main outlets in a bit more detail.
Cheval Blanc Maldives White Bar & Restaurant
White Bar & Restaurant is right next to the hotel's main pool. White Restaurant has plenty of seating, with the pool and beach on one side, and a pond on the other side.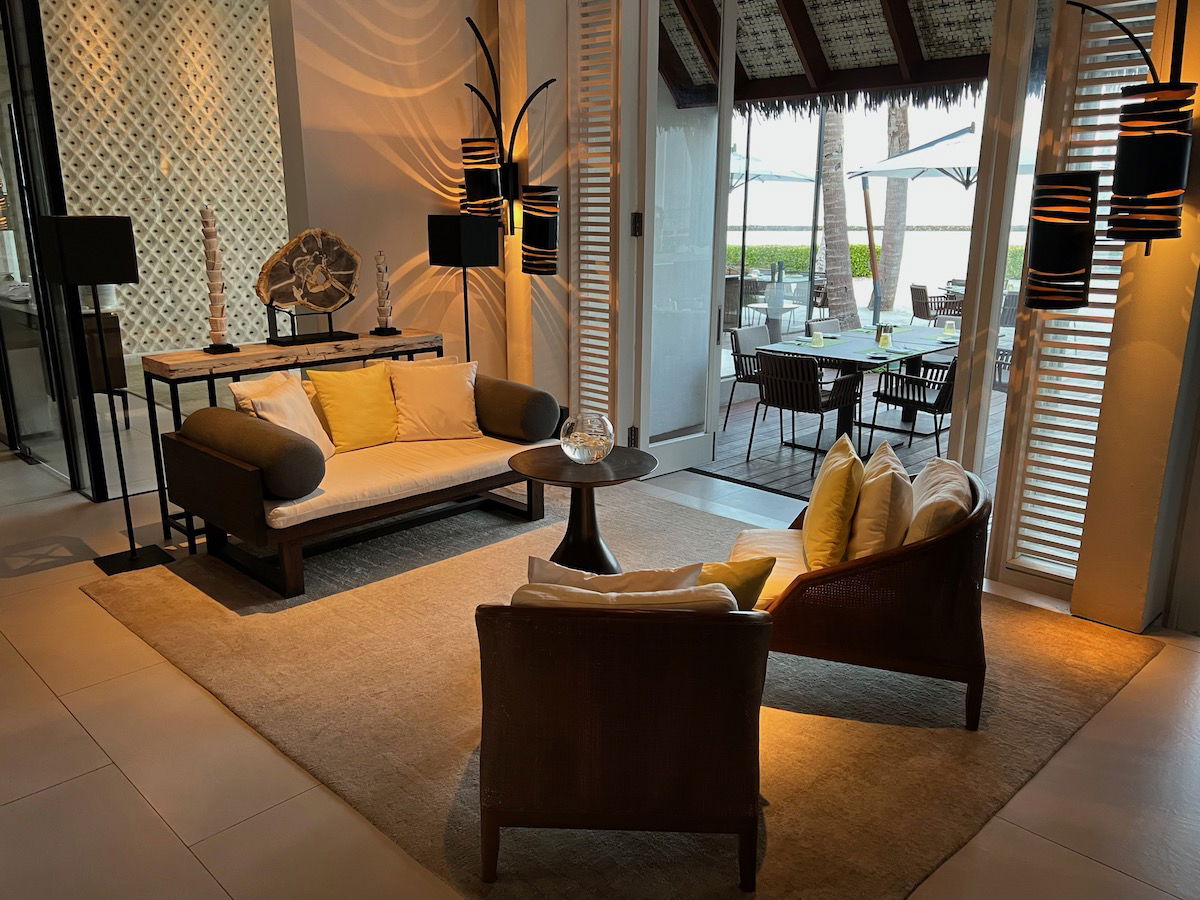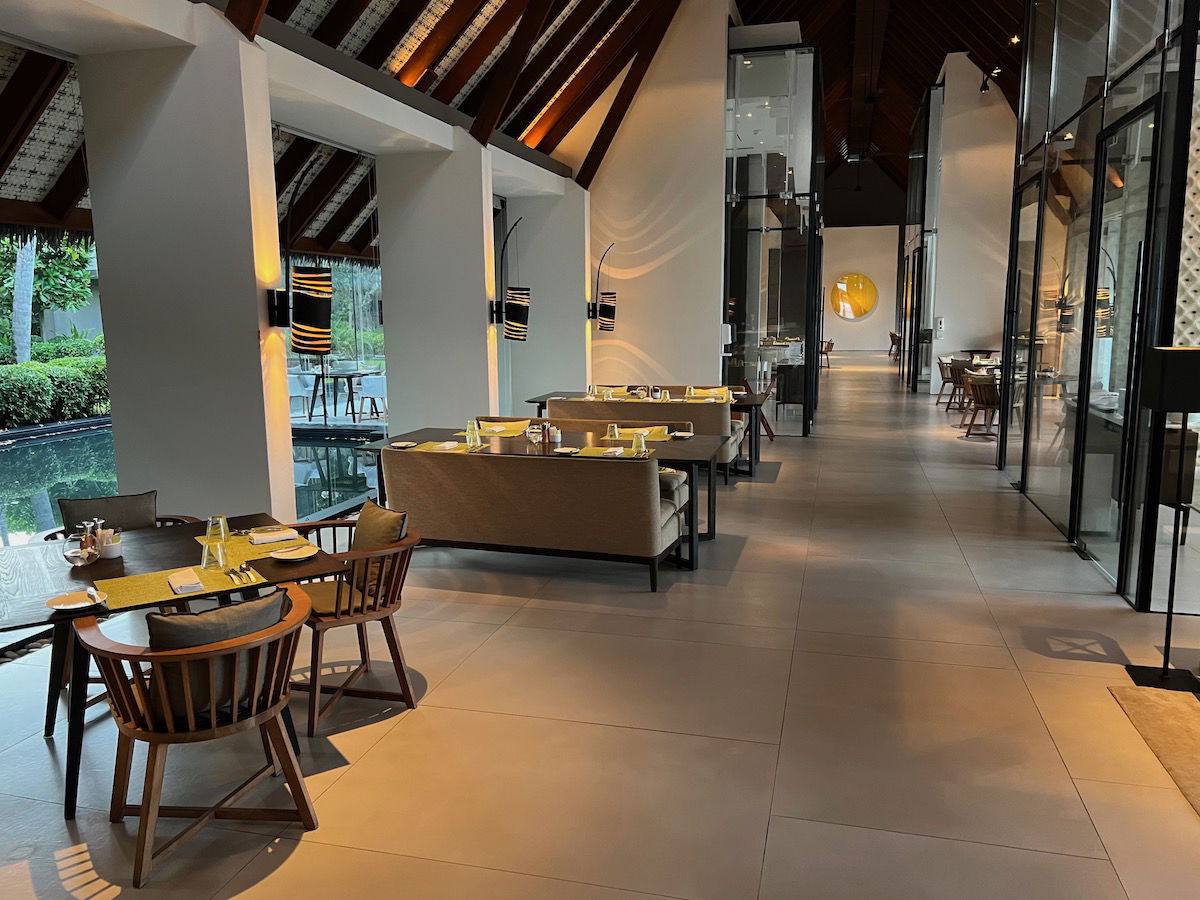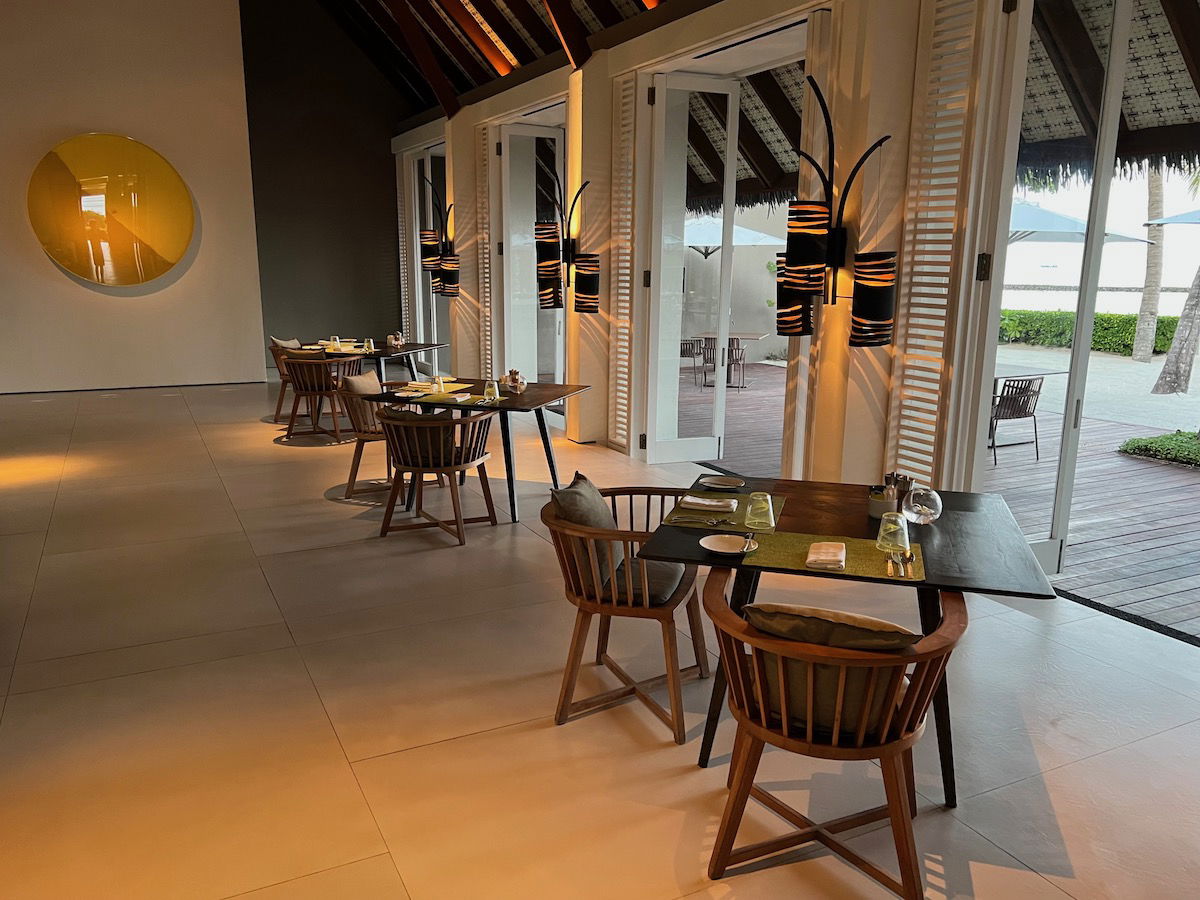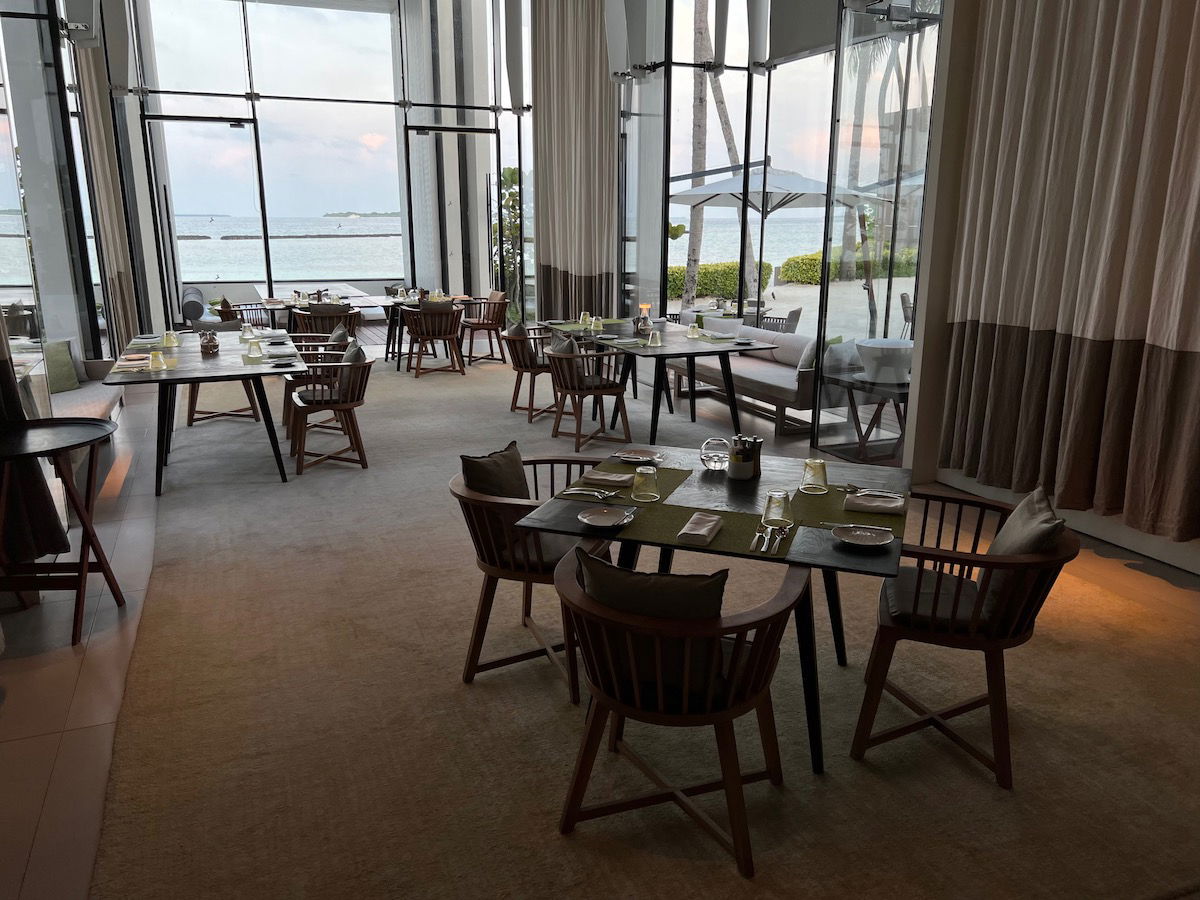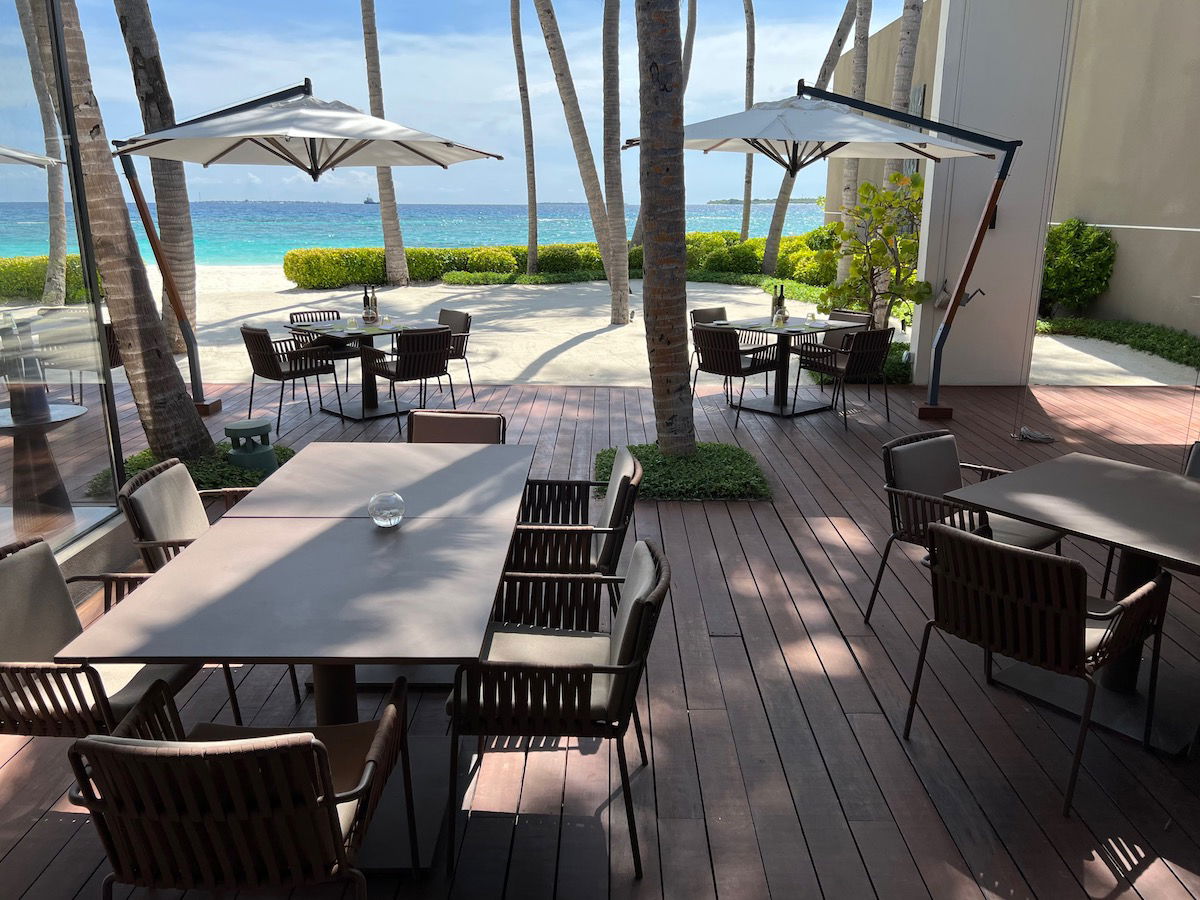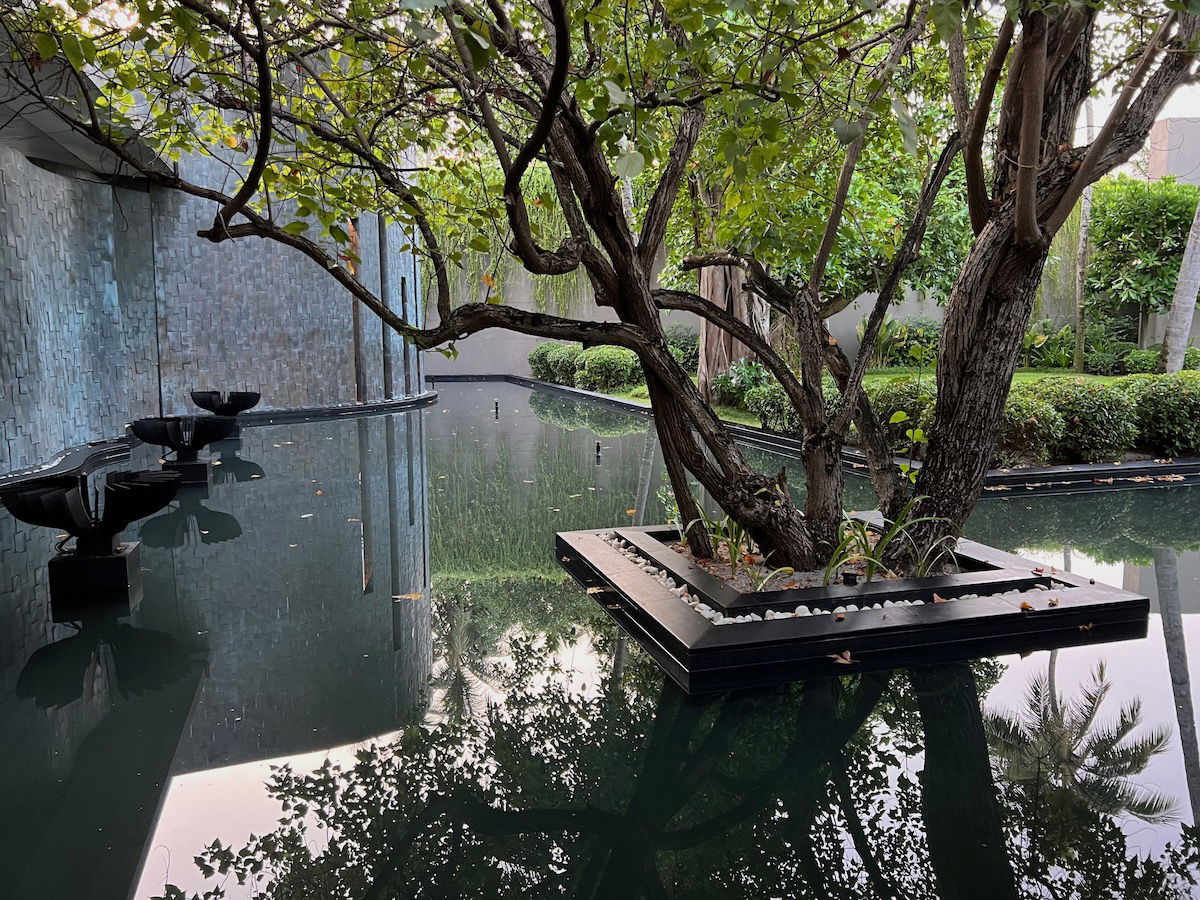 All rates at Cheval Blanc Maldives include breakfast, and you can either dine in the restaurant between 7AM and 11AM, or anytime in your villa. If you dine in the restaurant, there's a small buffet intended to supplement the menu, with fresh fruit, freshly baked pastries, cereal, etc.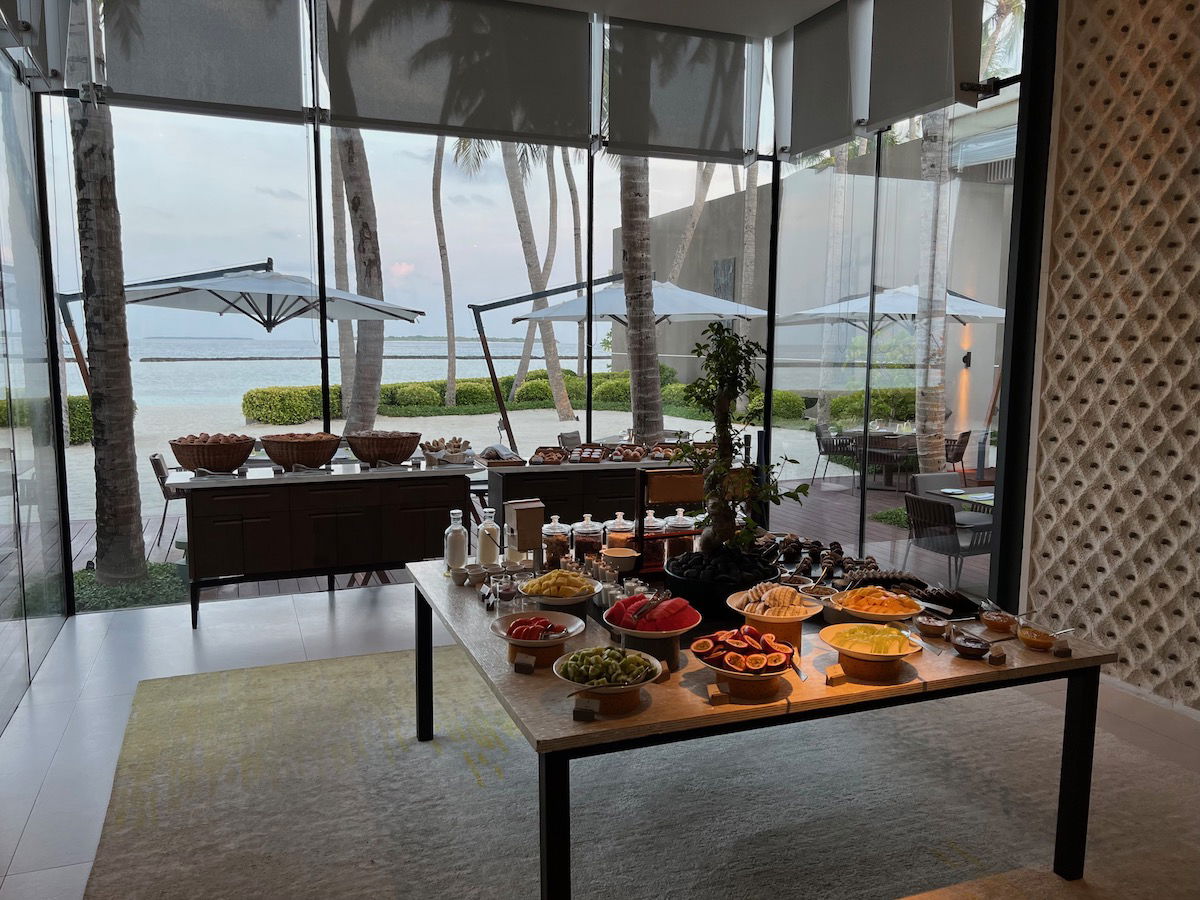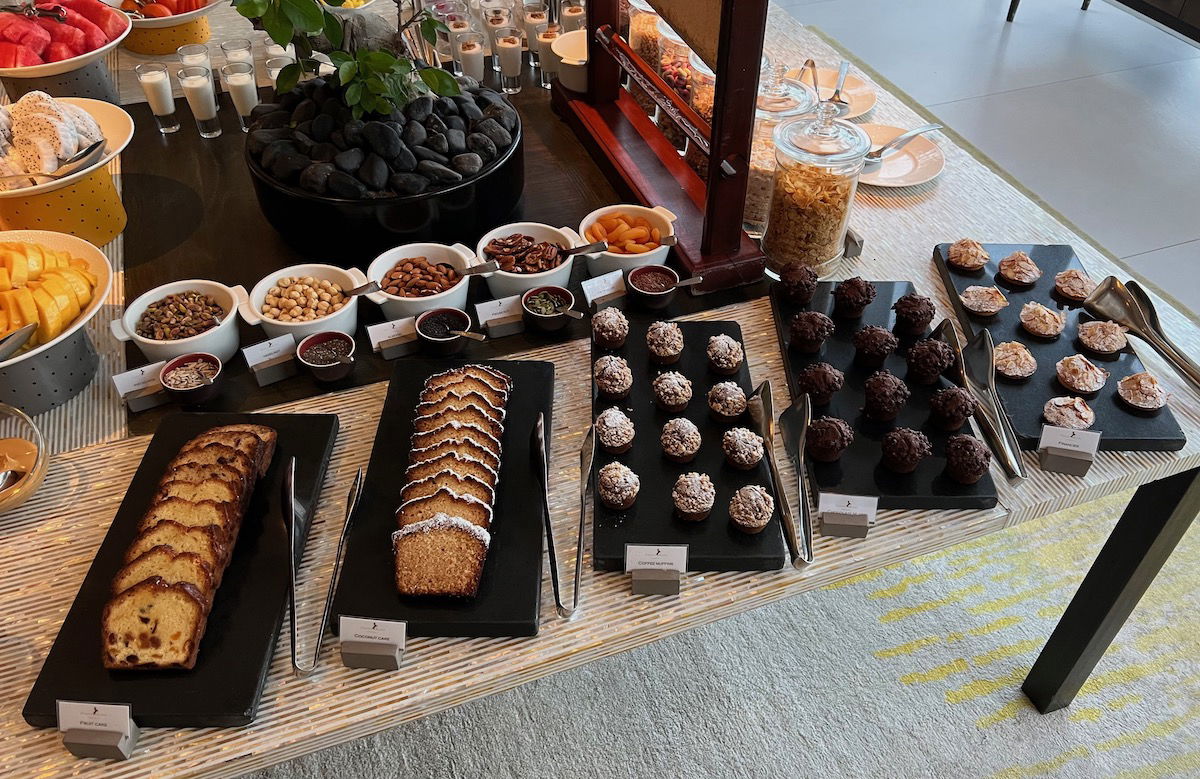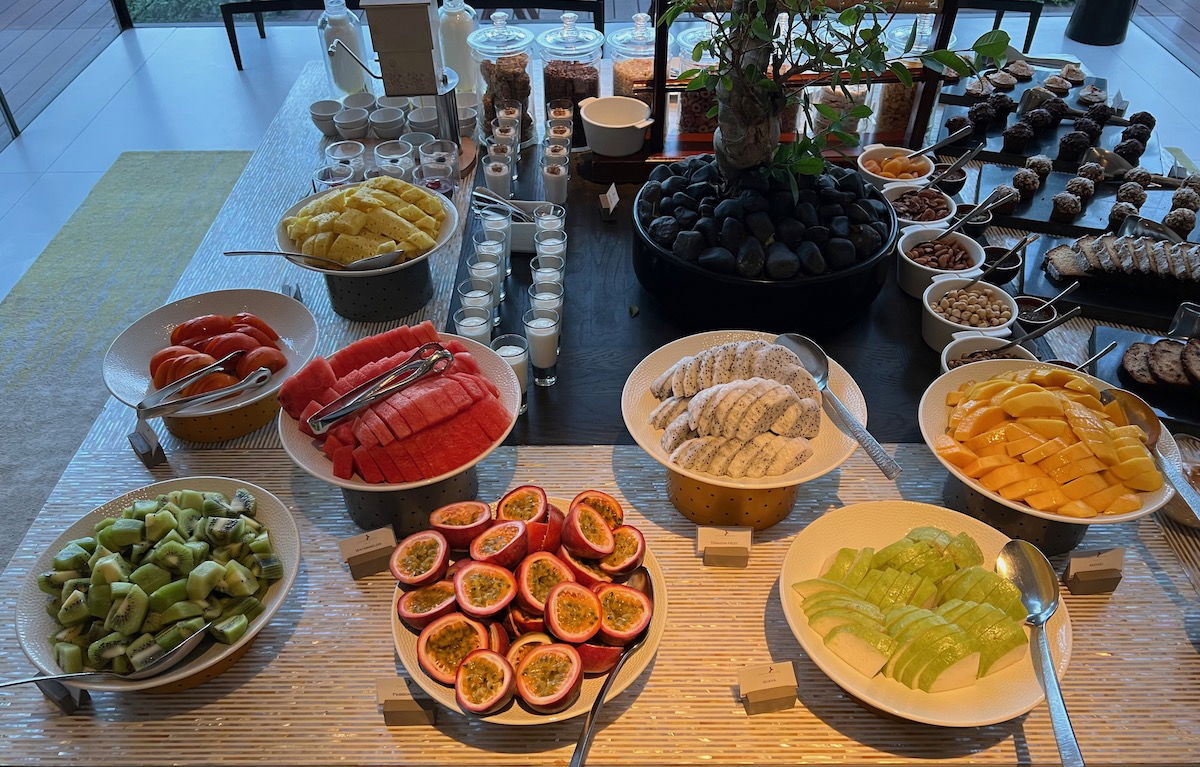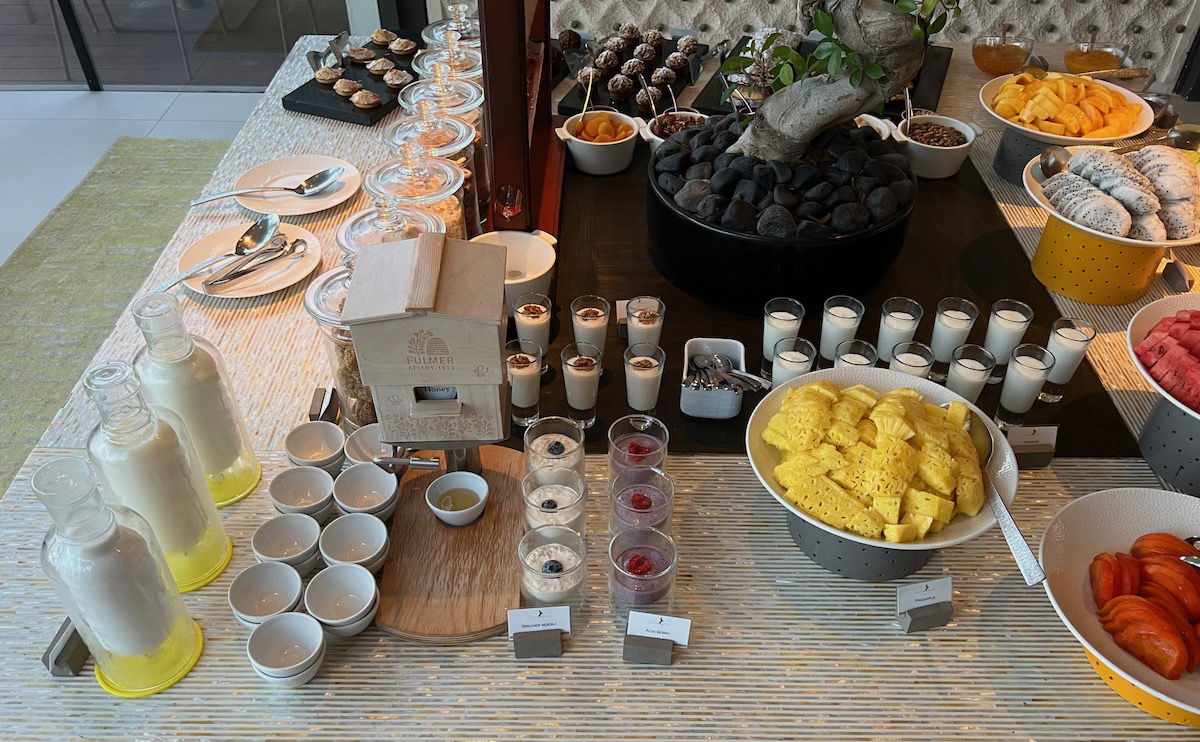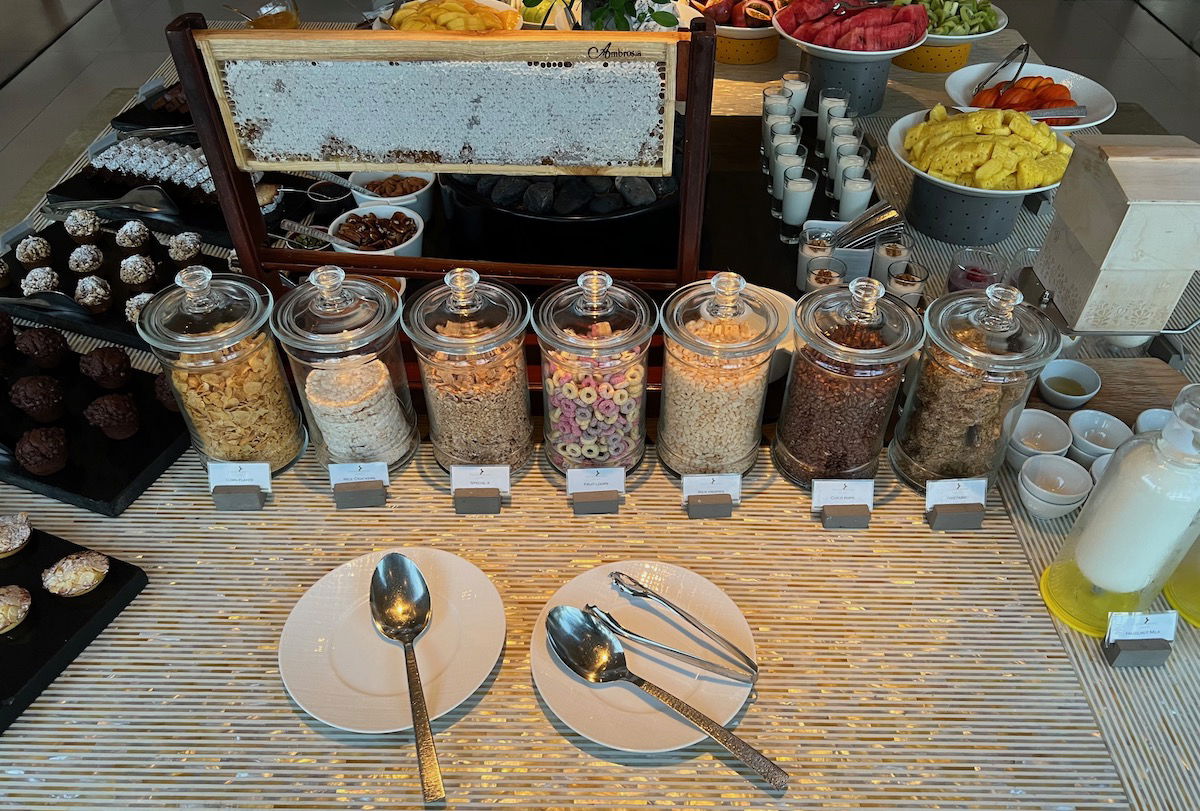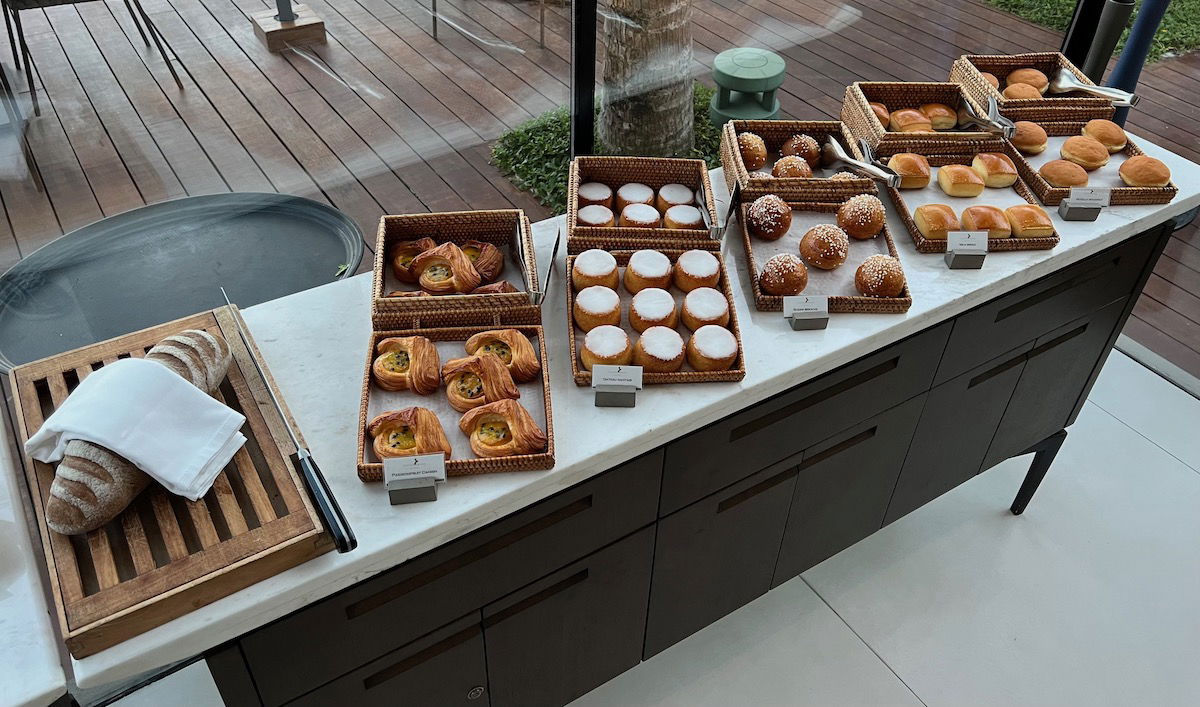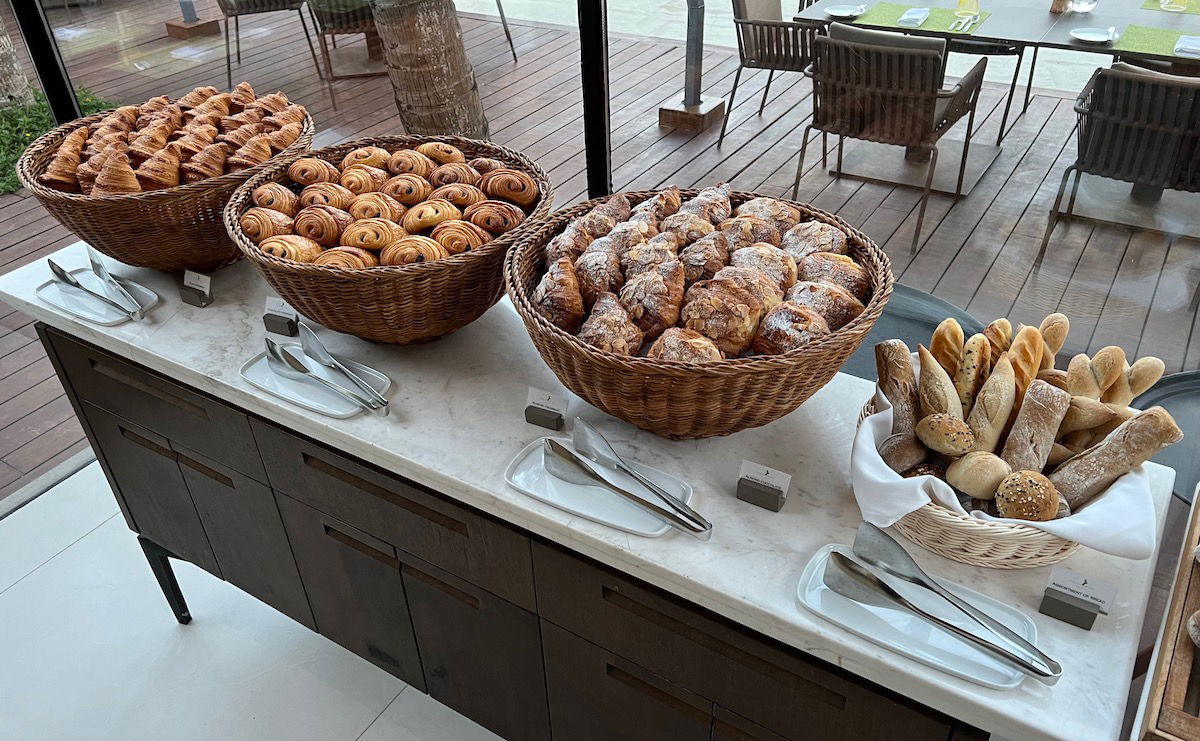 Beyond that, the hotel has what's probably the most unbelievable breakfast menu I've ever seen. It was 17 pages long. Yes, 17 pages. The menu had everything you could imagine (and lots of things you couldn't, like avocado juice), and you could order as much as you wanted. We loved the freshly squeezed juices, smoothies, and iced lattes.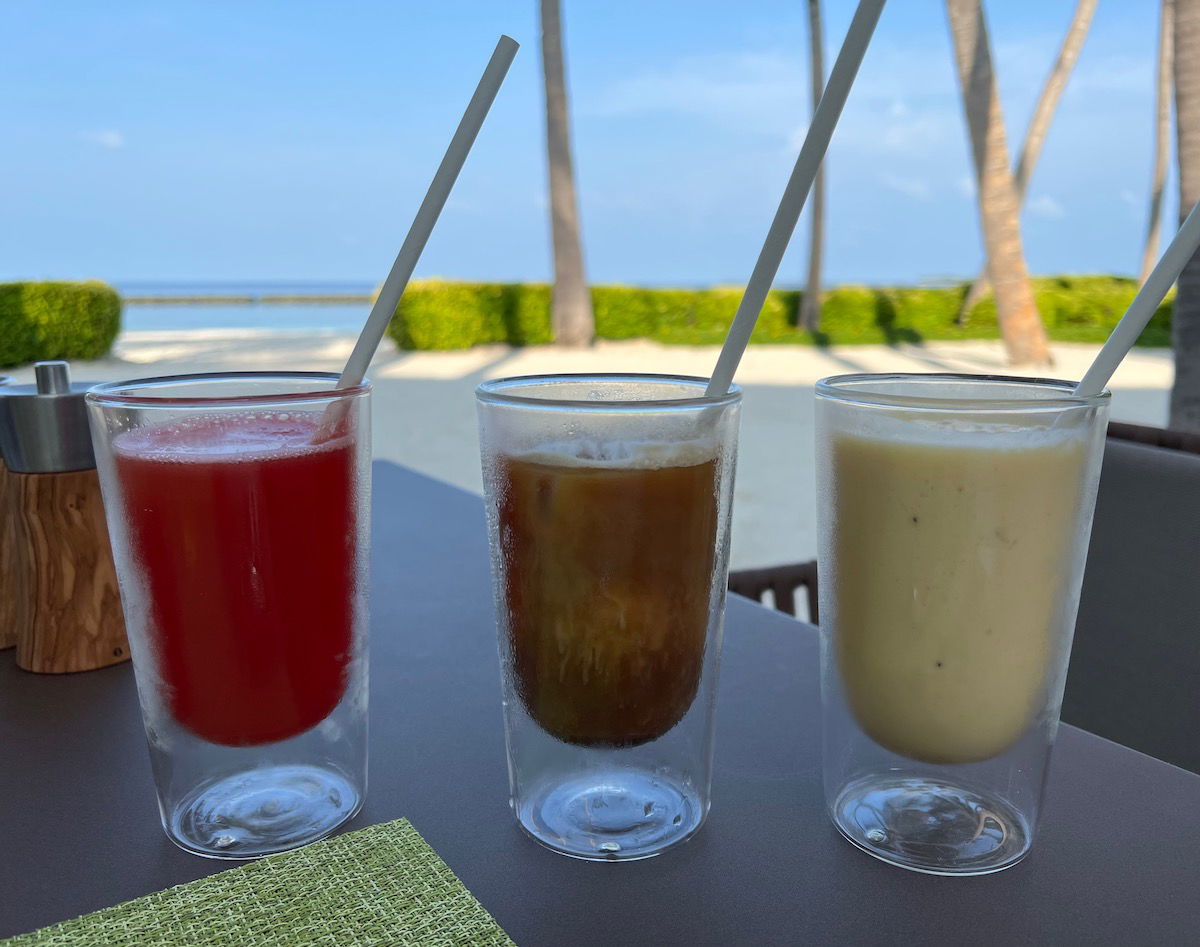 The food quality was top notch, from the fattoush salad, to the tuna mashuni, to the tuna kulhimas, to the avocado toast, to the shakshouka.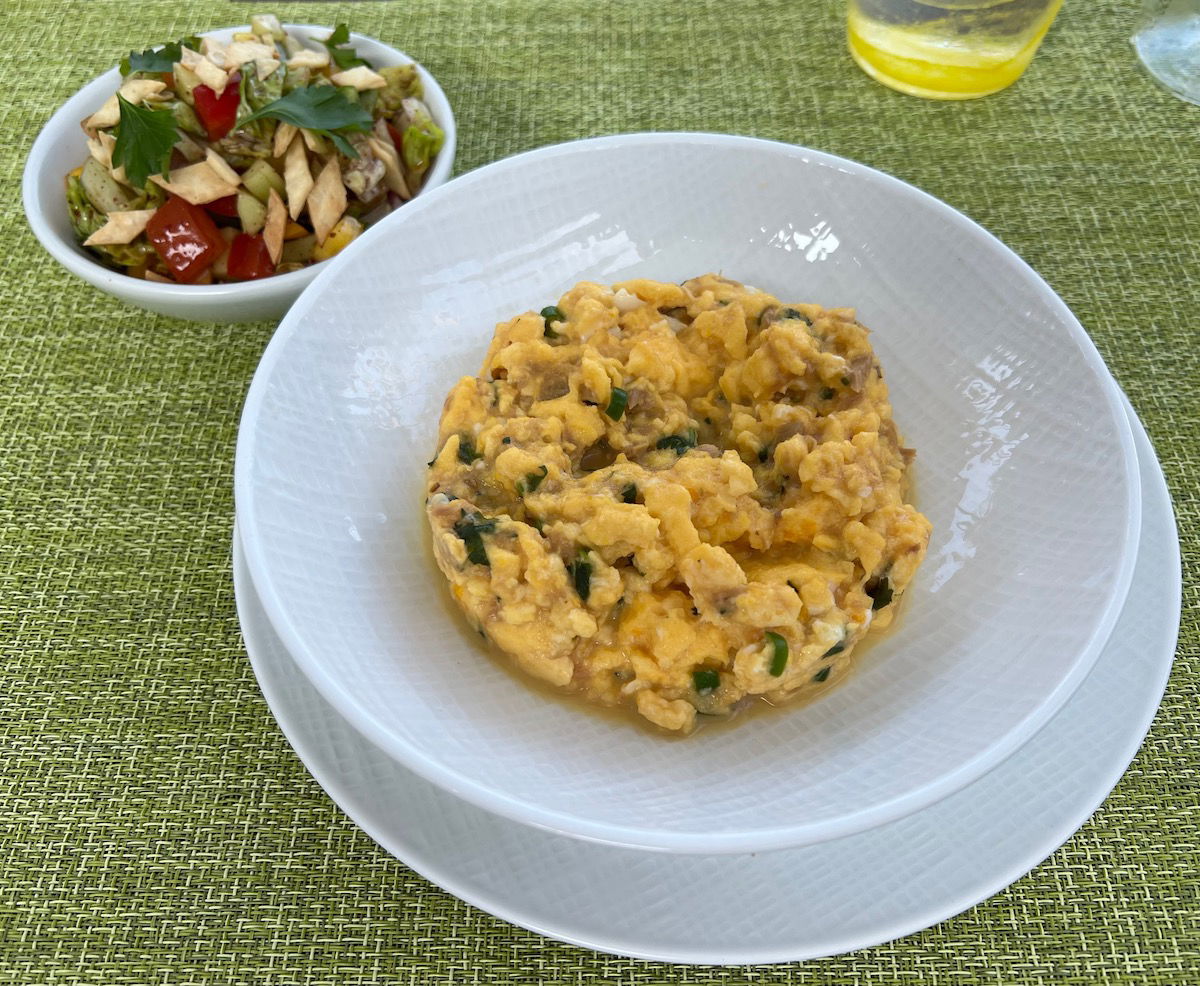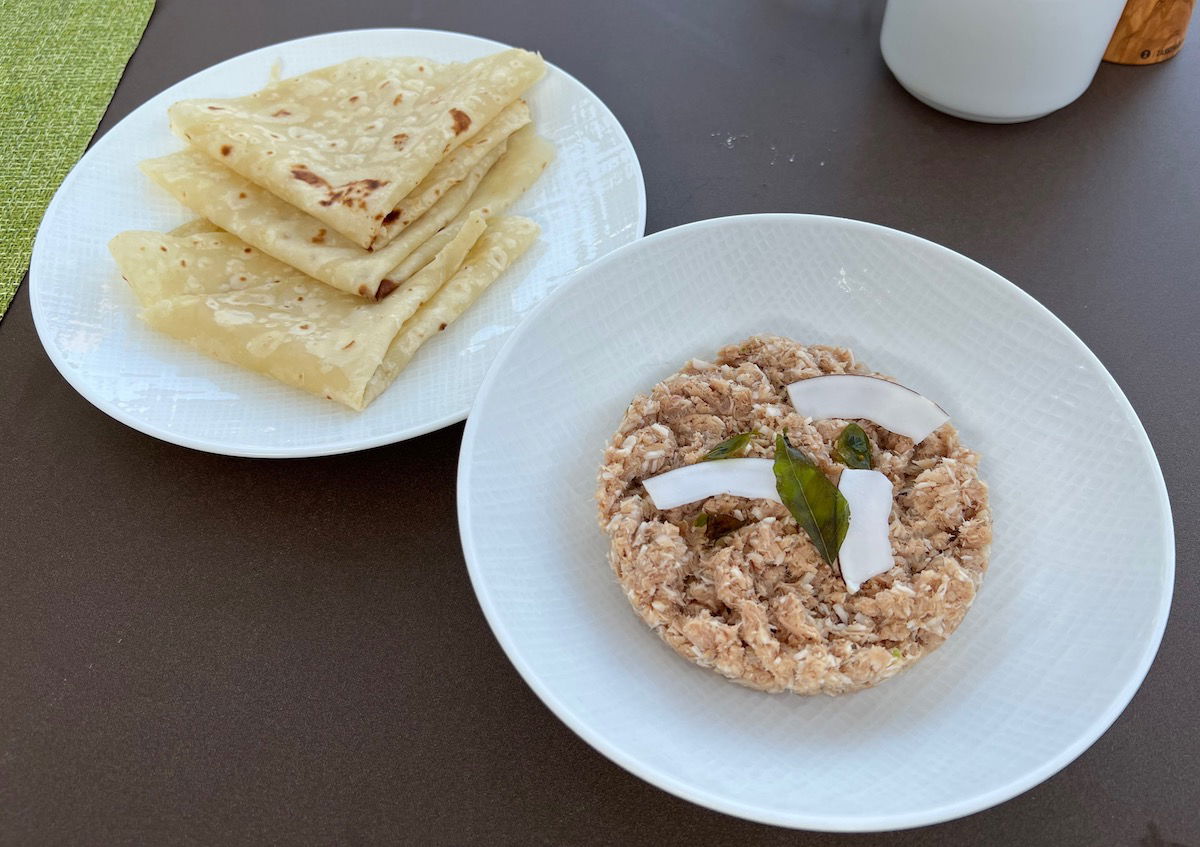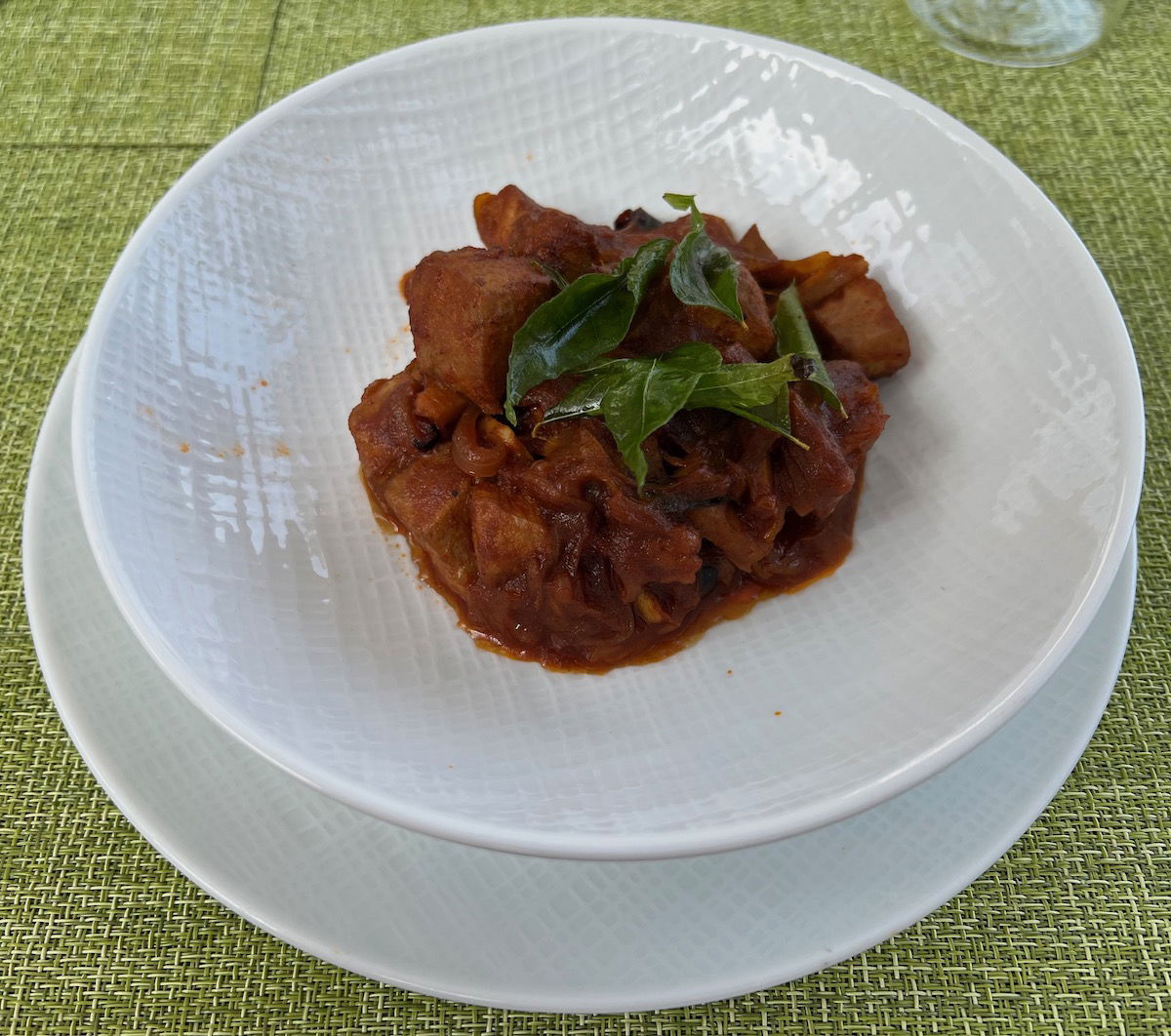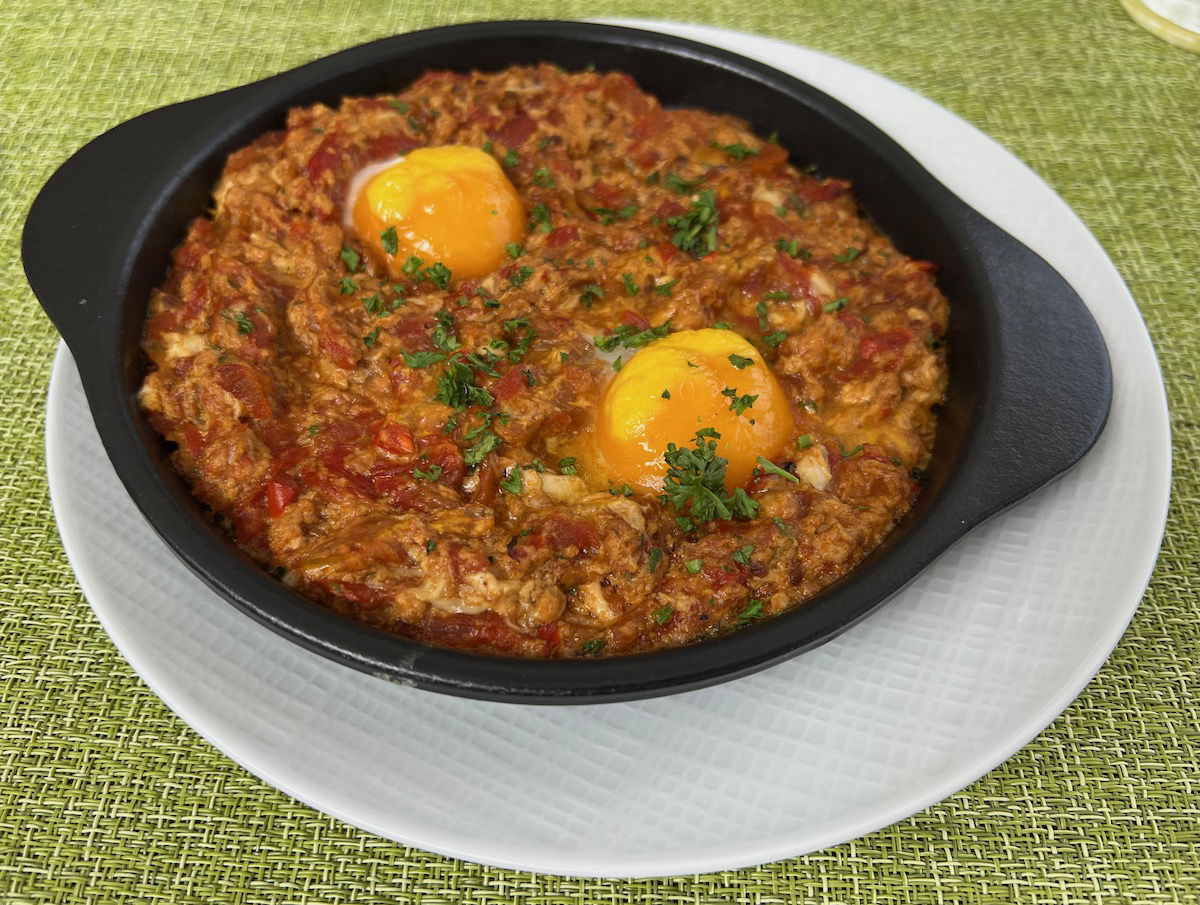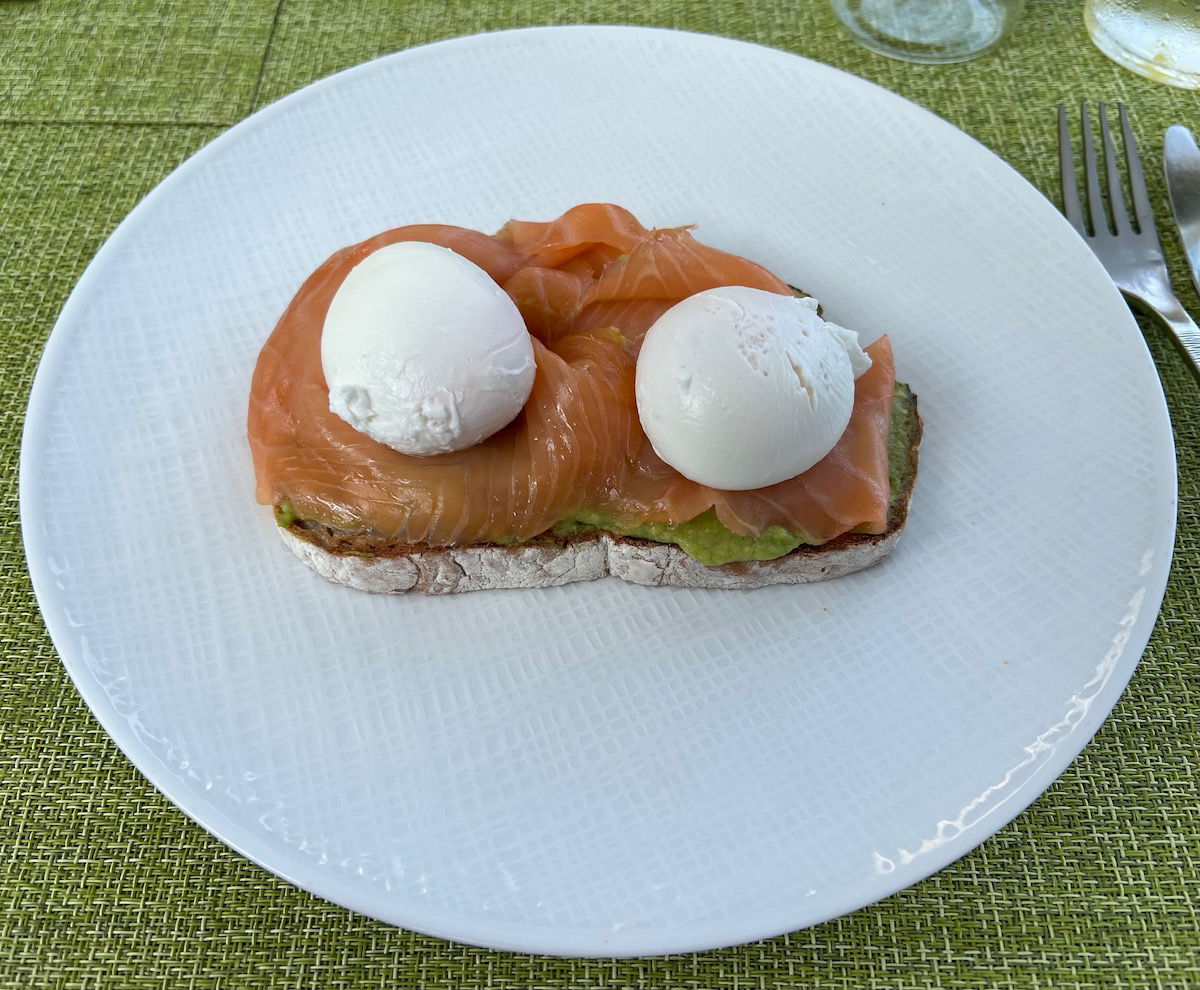 There was even a featured pastry of the day, and one day we couldn't resist after we saw another table order it. It was a strawberry croissant, and it was the most amazing thing ever. The picture doesn't do justice to its size, as it must have been a good 8″ (and I'm not doing the typical math where people add several inches).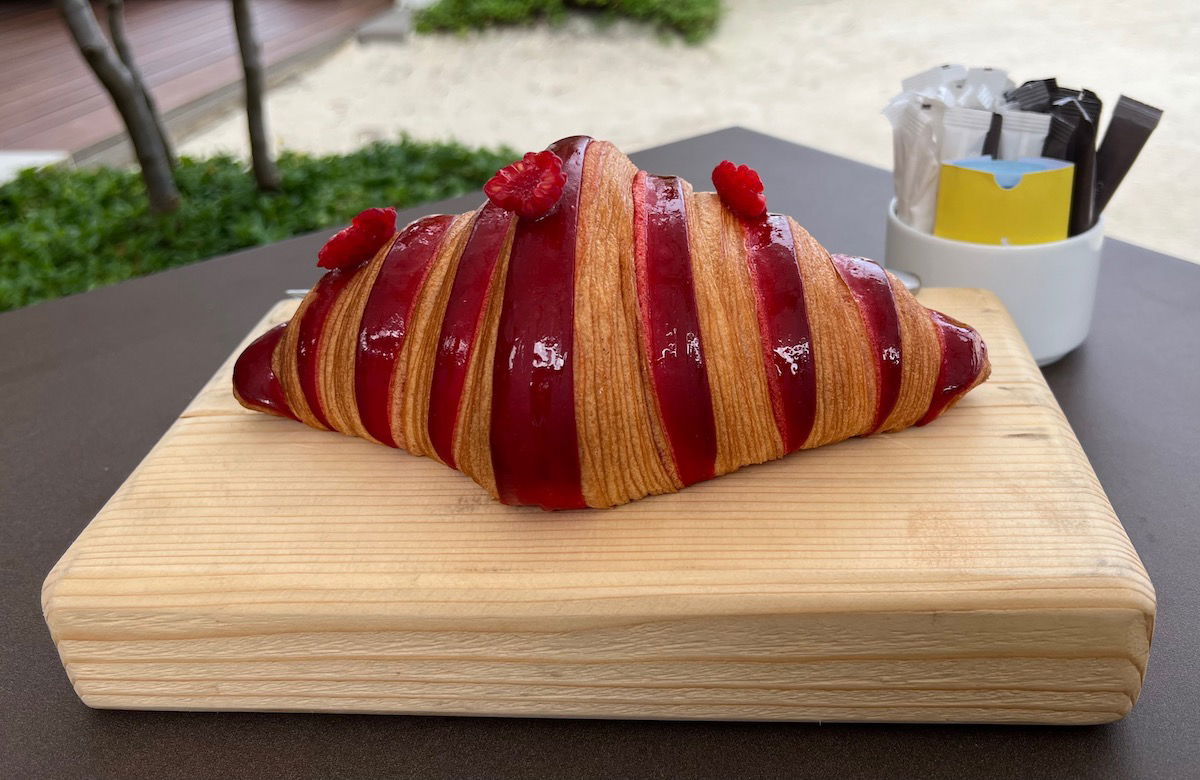 In addition to White Restaurant, White Bar is right by the pool, with plenty of outdoor seating and a DJ in the afternoons.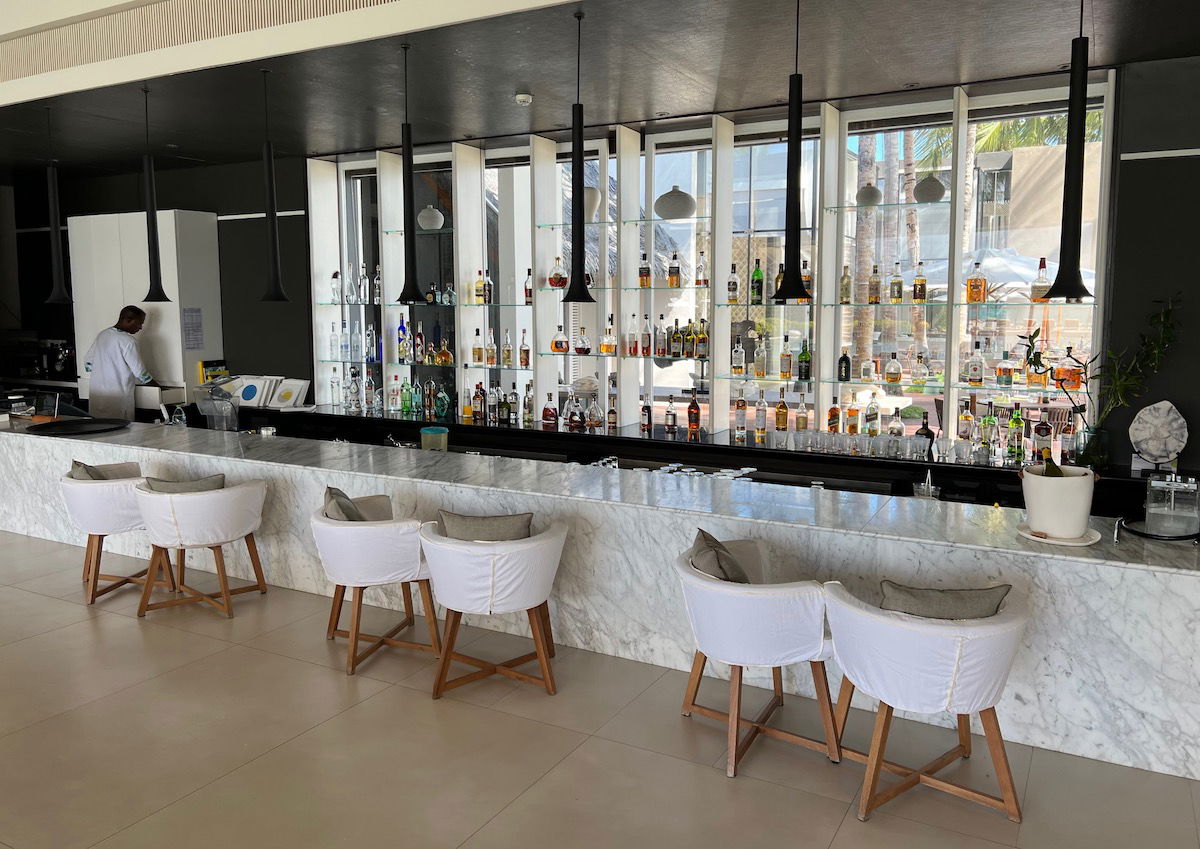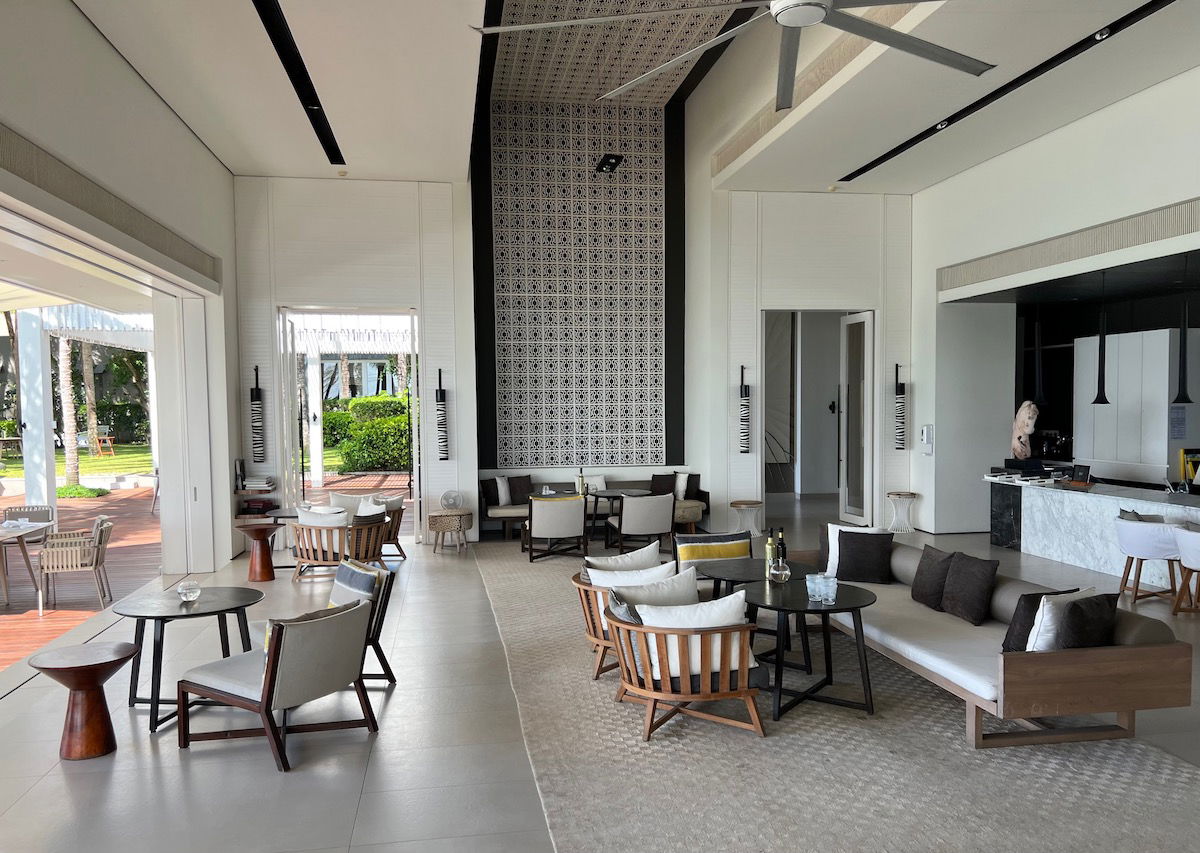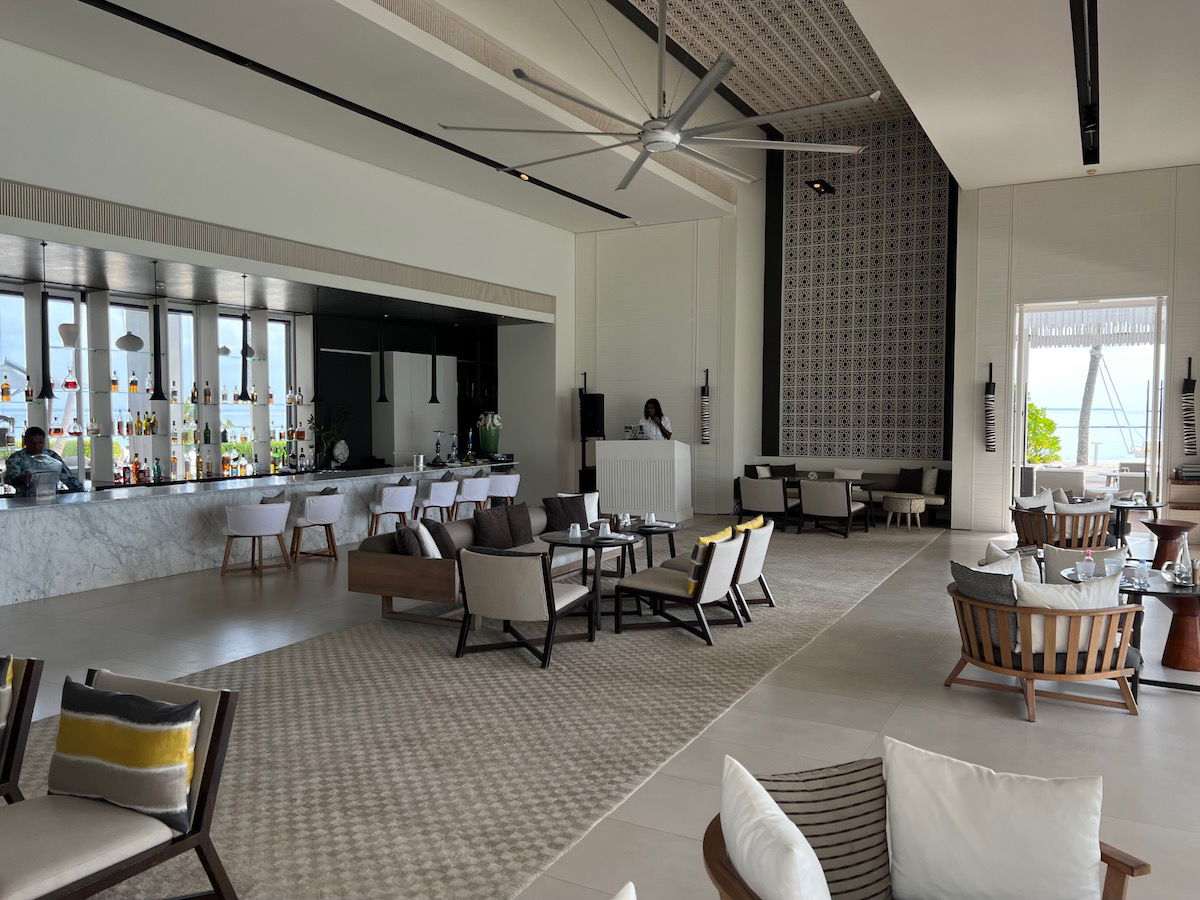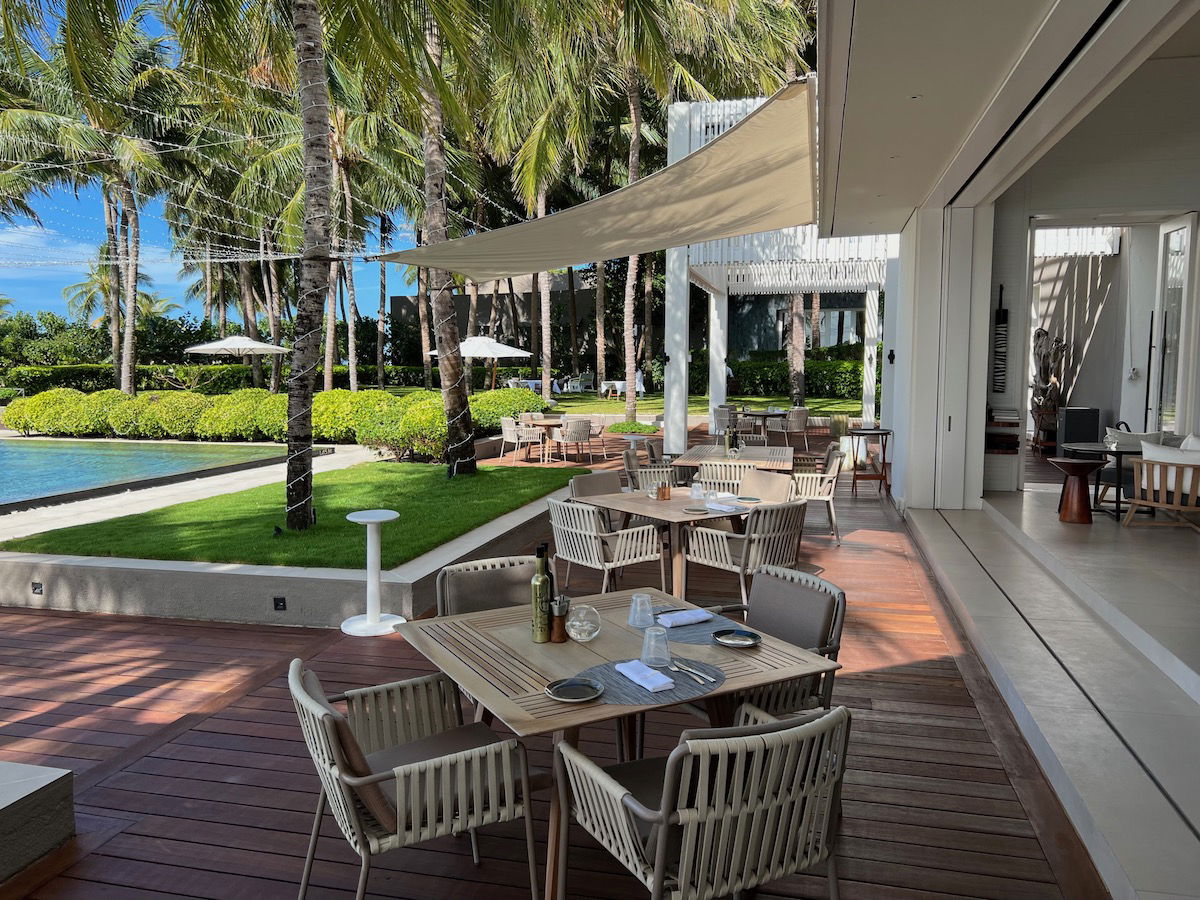 White Bar served a varied lunch menu, with everything from salads, to sushi, to sandwiches, to a variety of Asian dishes, to pizza. We had a marinated tuna poke bowl, yellowfin tuna tacos, a few pieces of sushi, a poached prawn salad, and some profiteroles.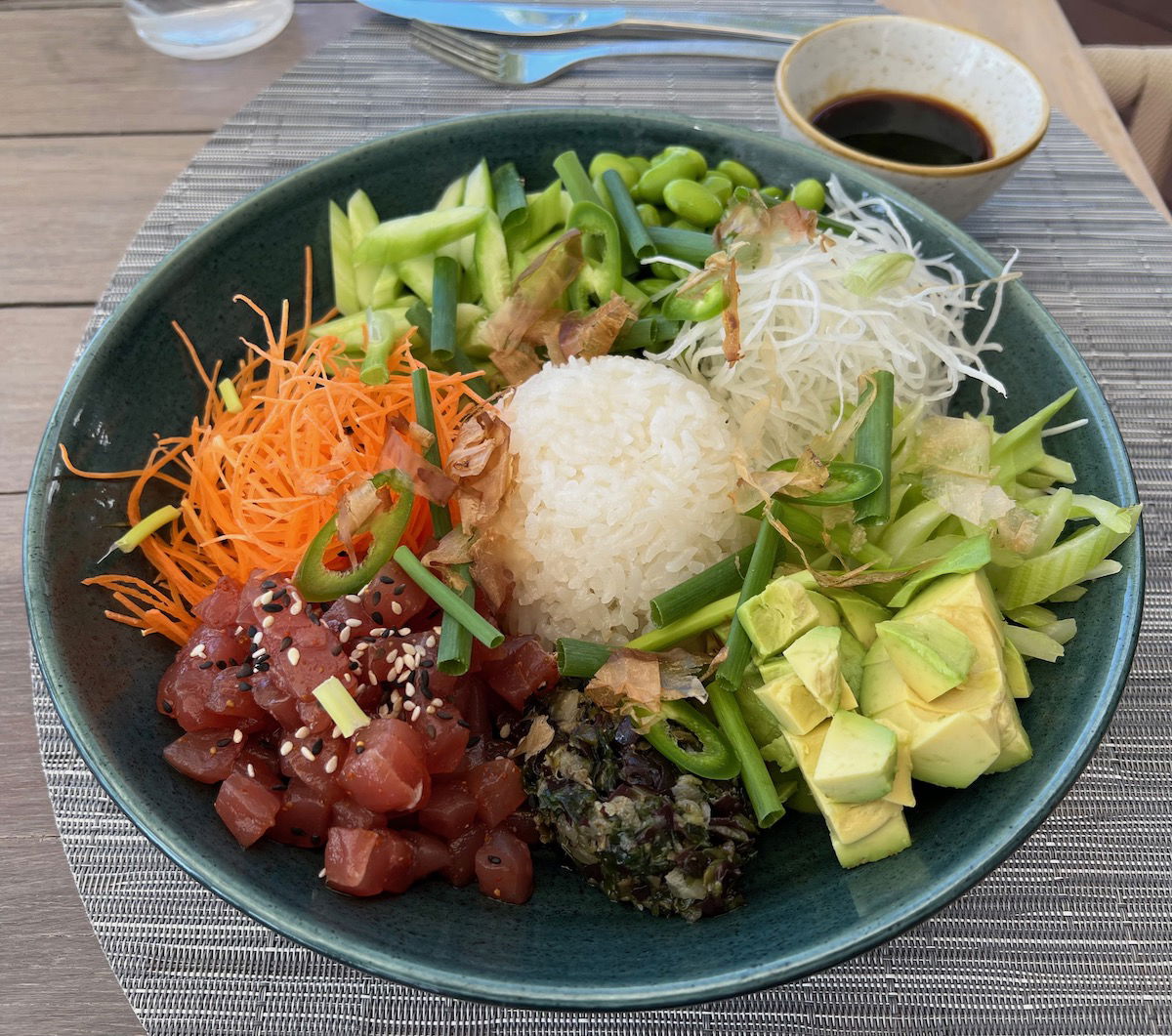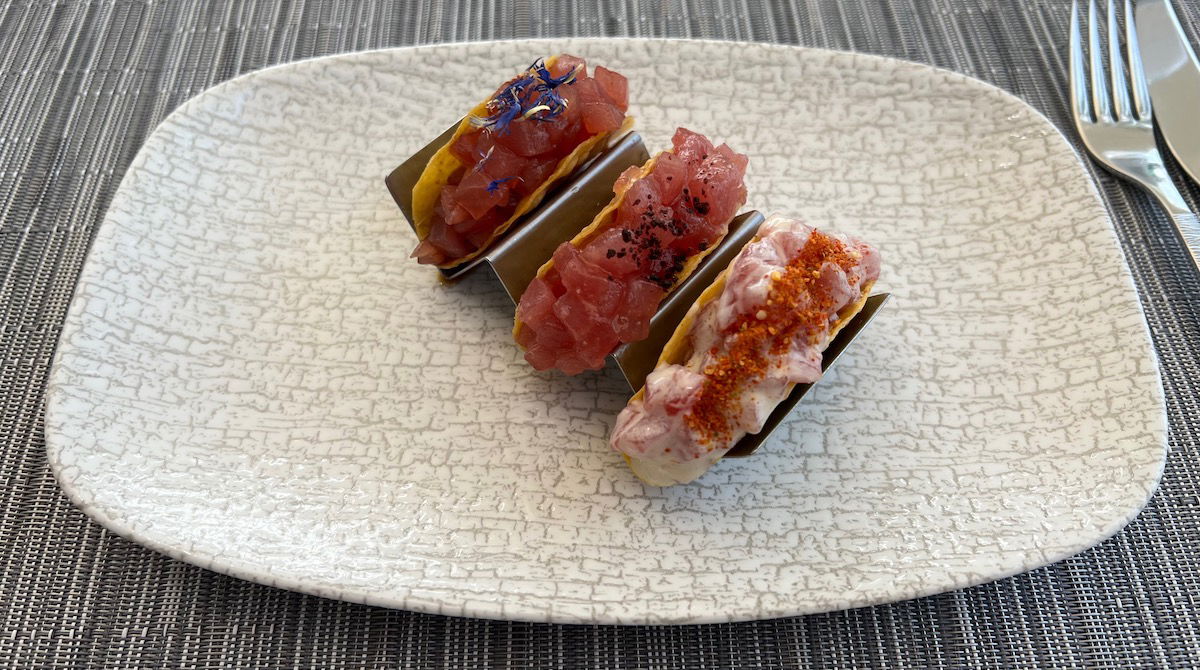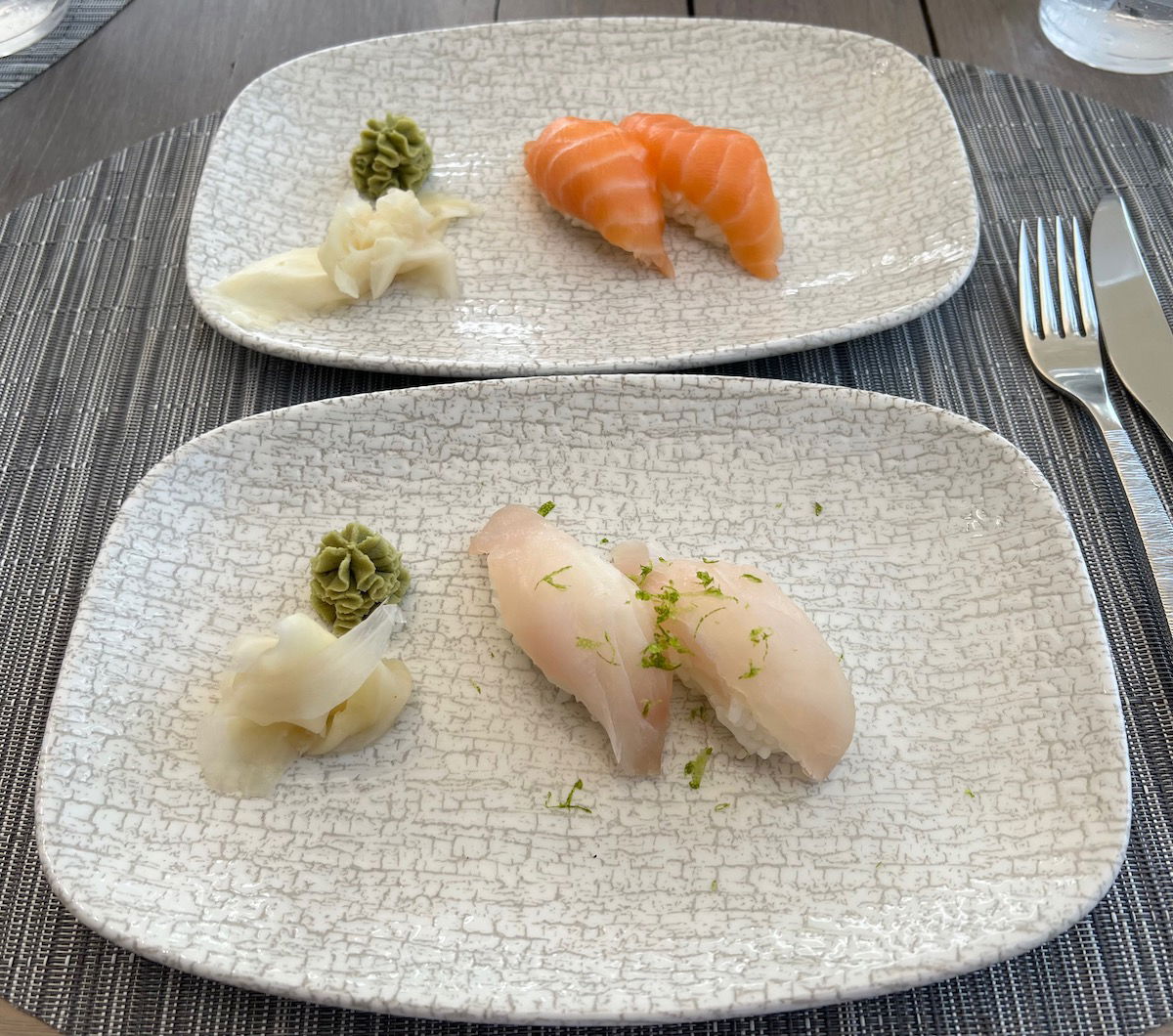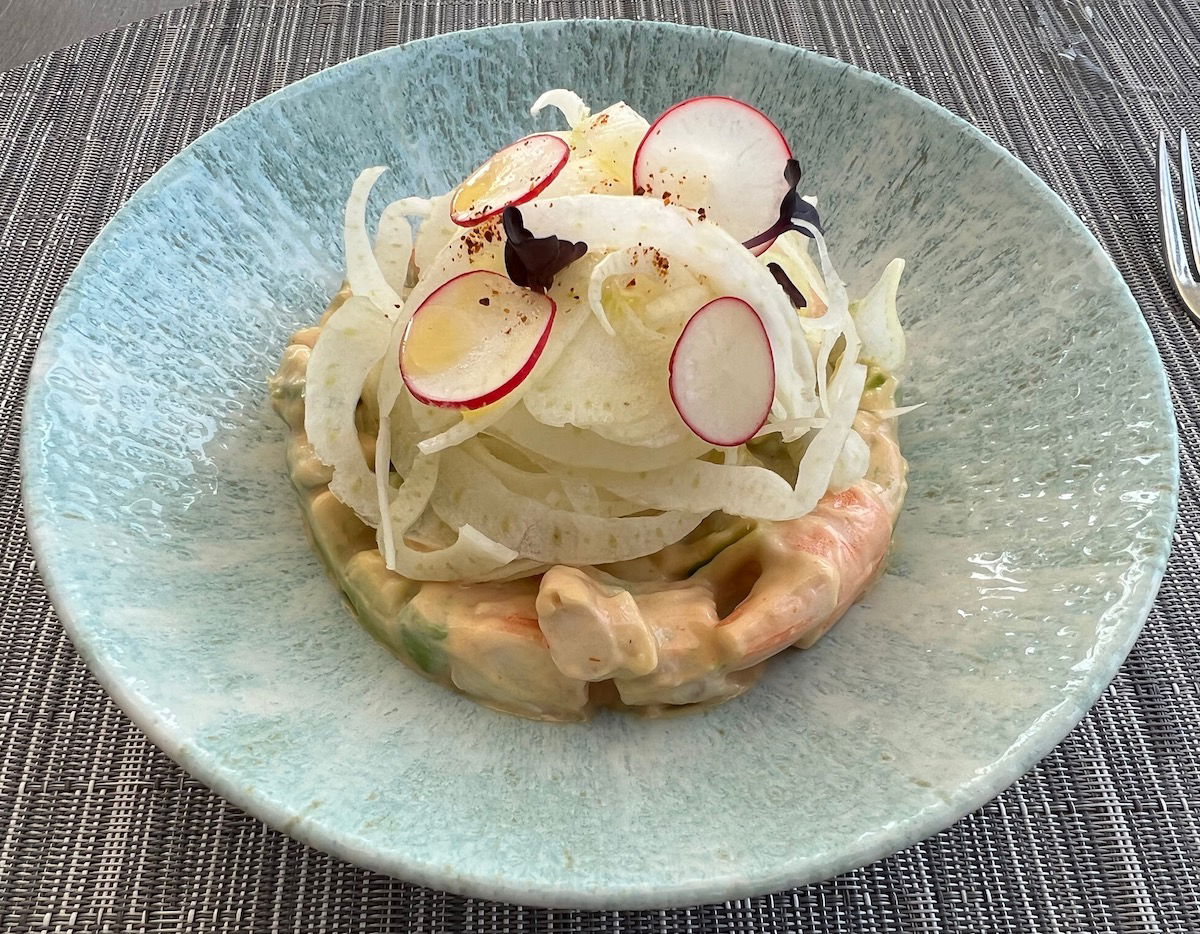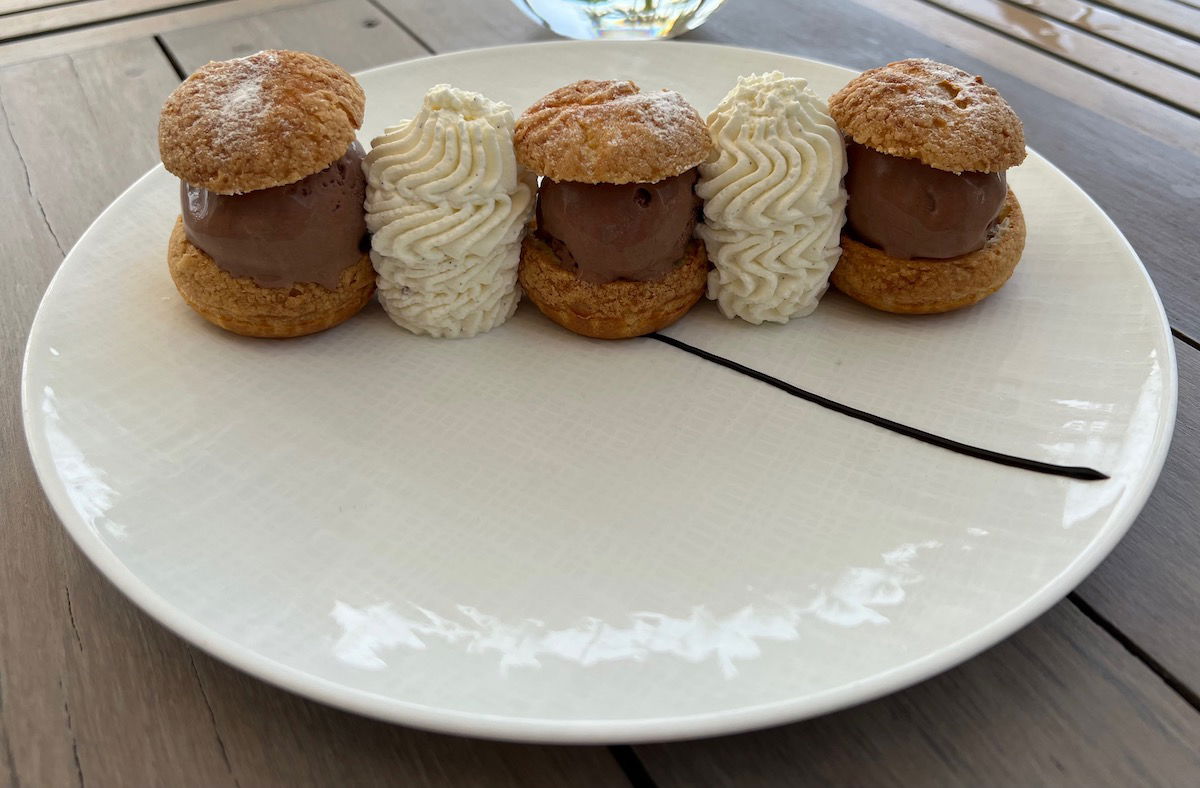 Cheval Blanc Maldives Le 1947 Restaurant
On our first evening (my birthday) we had dinner at Le 1947, the resort's signature restaurant. As mentioned above, this is based on Cheval Blanc Courchevel's Le 1947, which has three Michelin stars. For better or worse, this restaurant will completely make you forget that you're on a private island in the middle of the Indian Ocean, as you don't expect this caliber of food or this type of ambiance (or air conditioning!).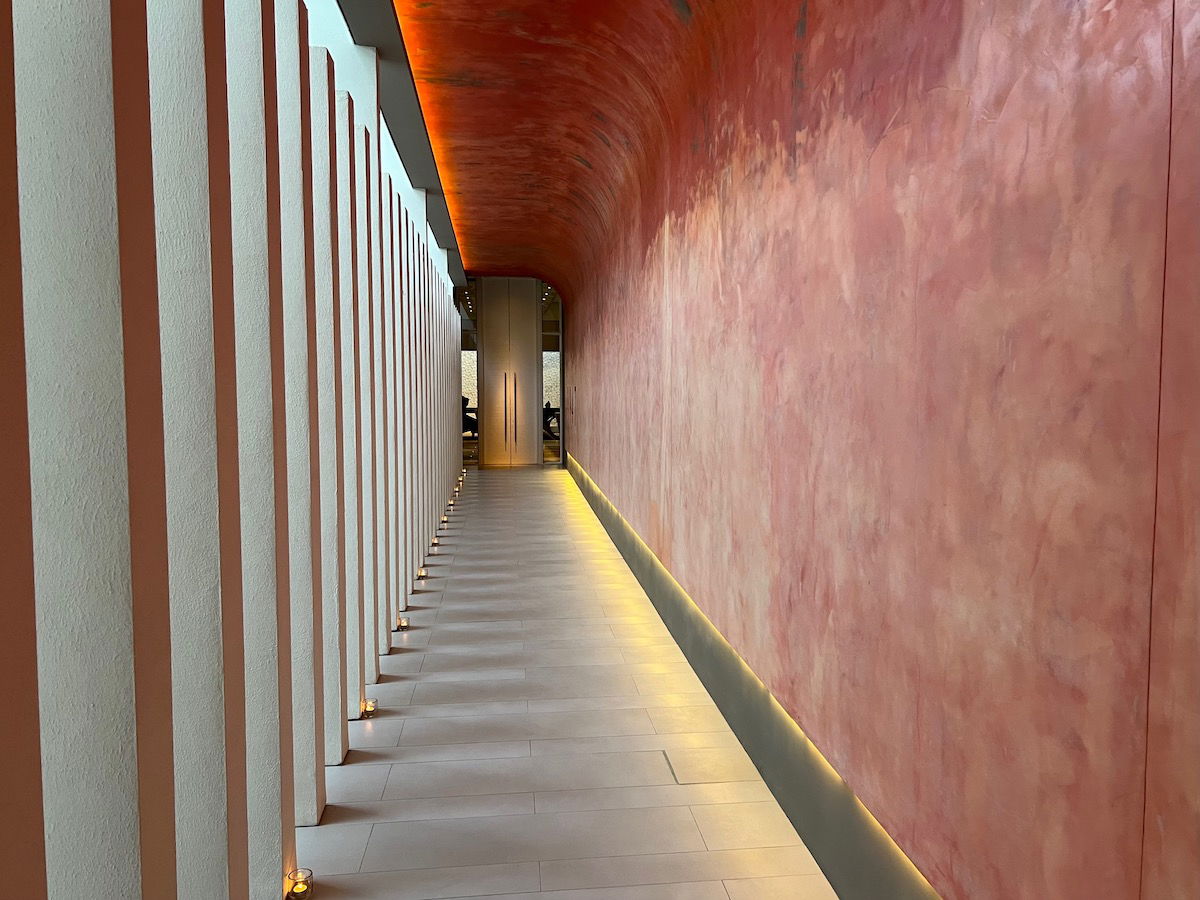 The restaurant has a lounge area, where you can enjoy a pre-dinner drink.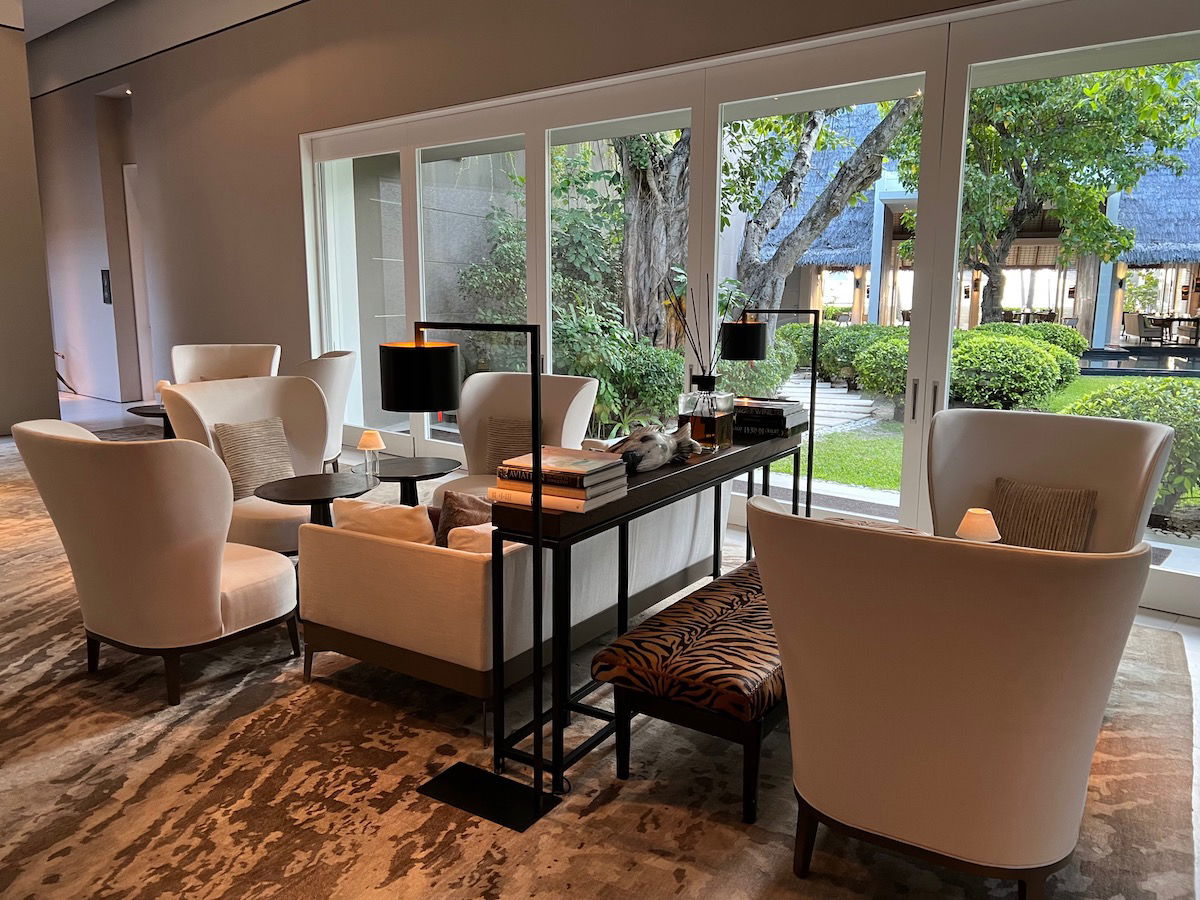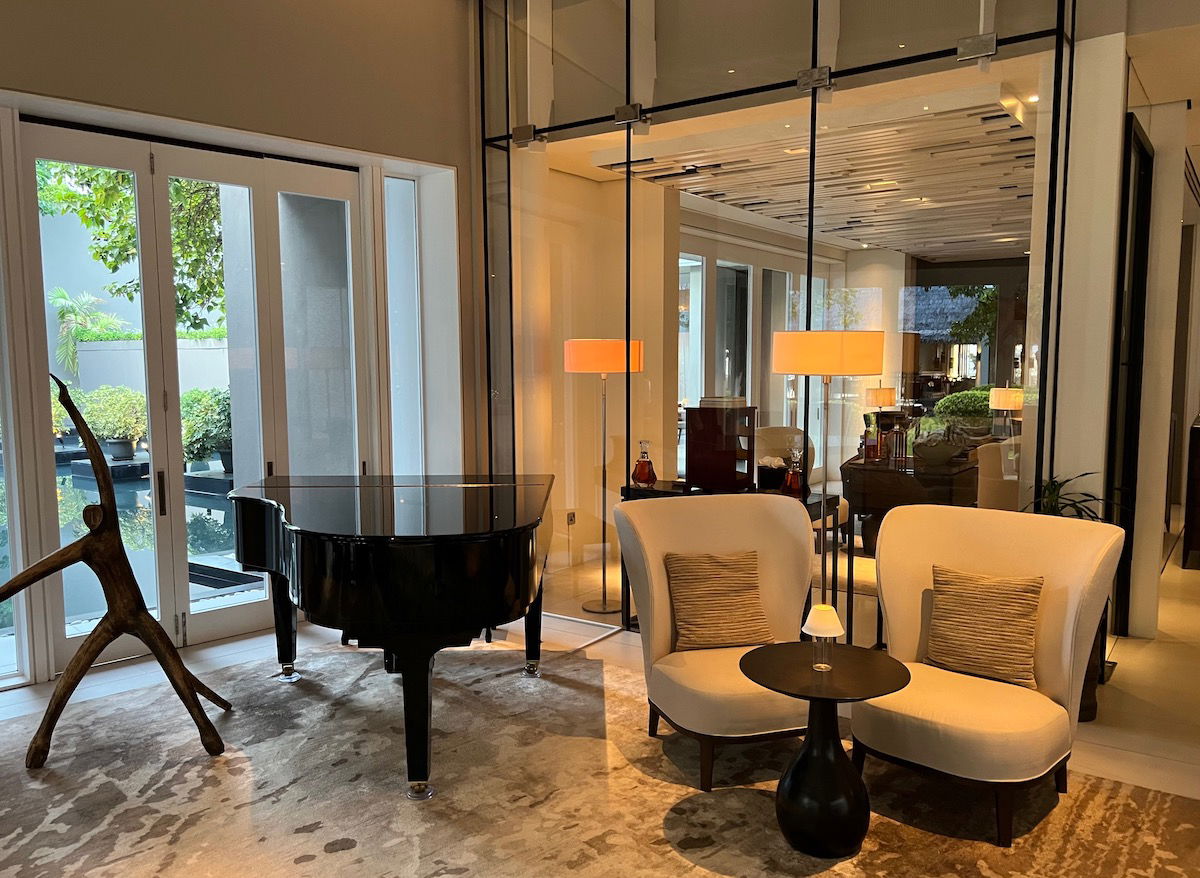 There's even a cigar room and wine cellar you can sit in.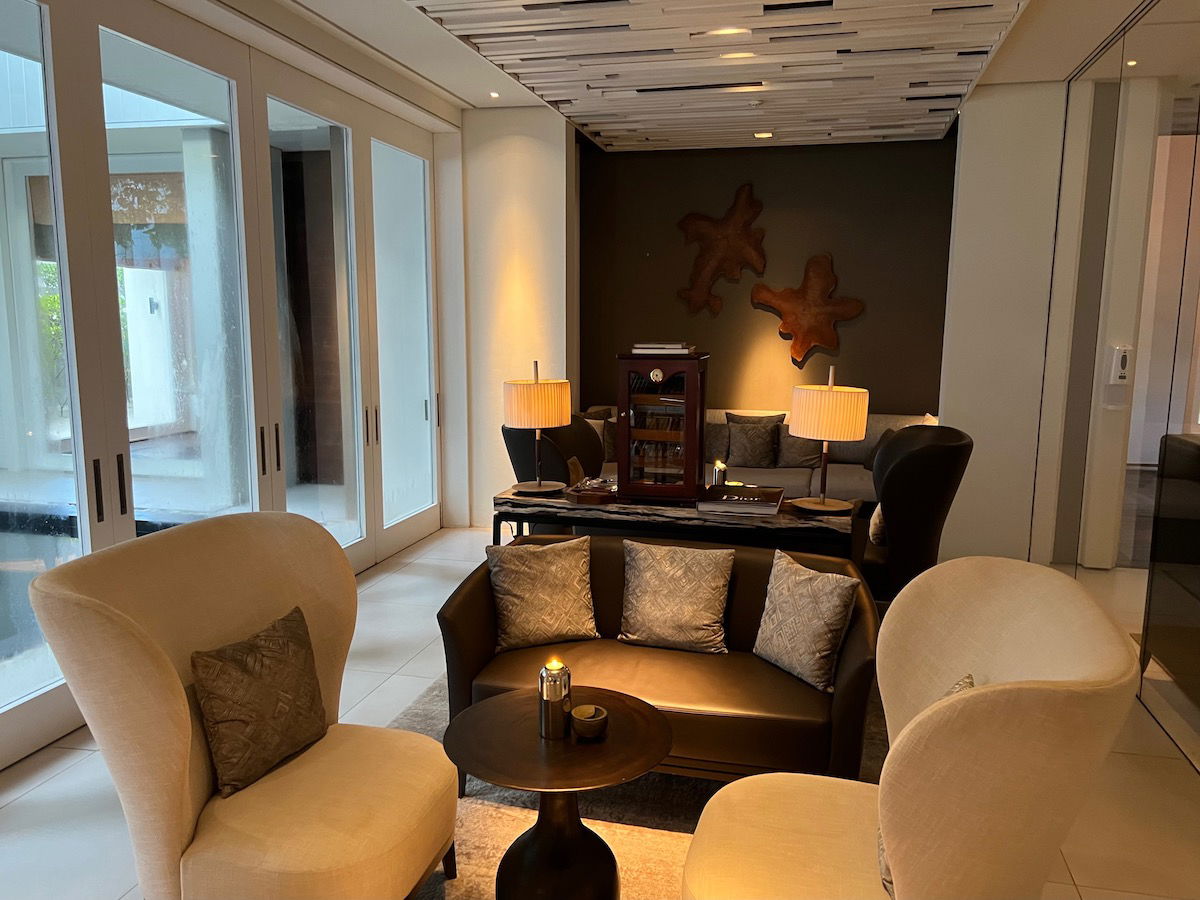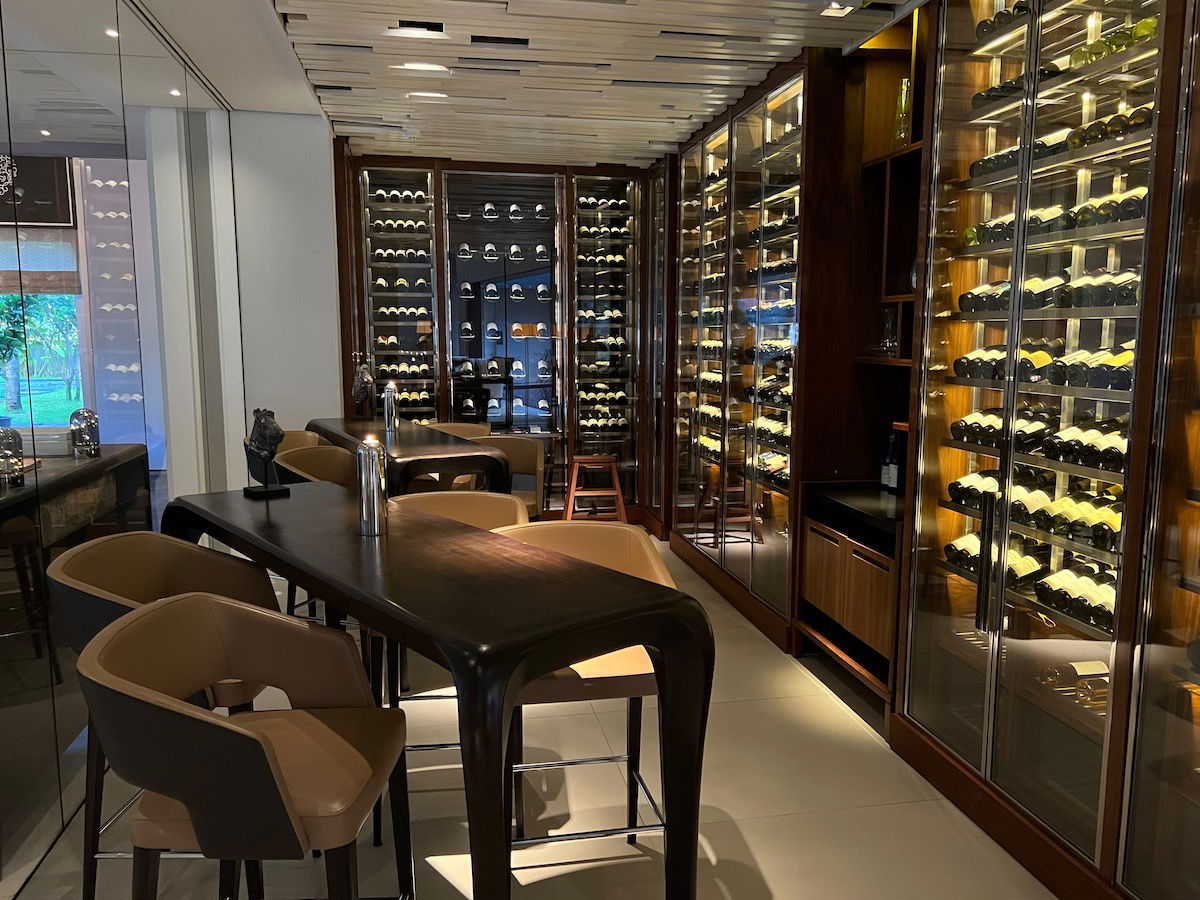 Then the restaurant as such has just seven tables, with four offering a huge amount of privacy (as they're surrounded by curtains and windows).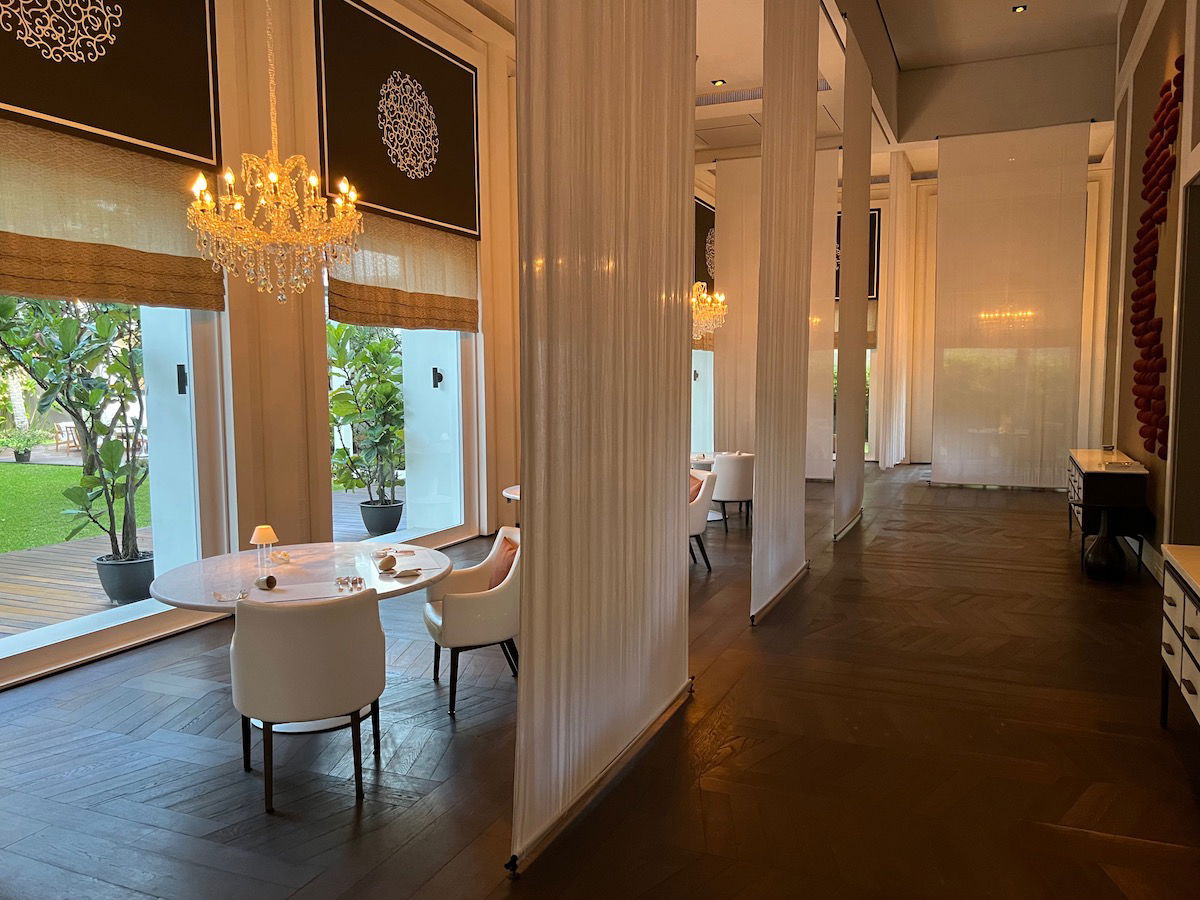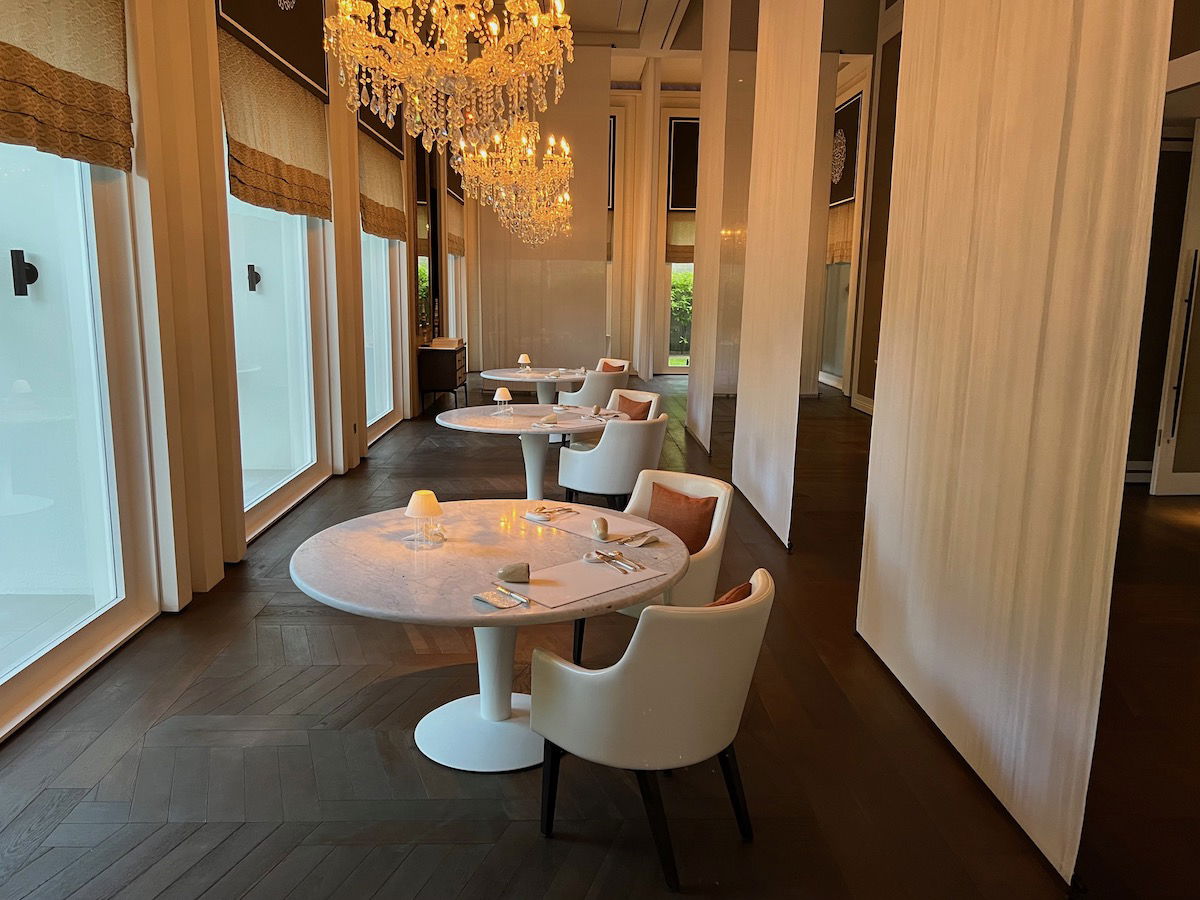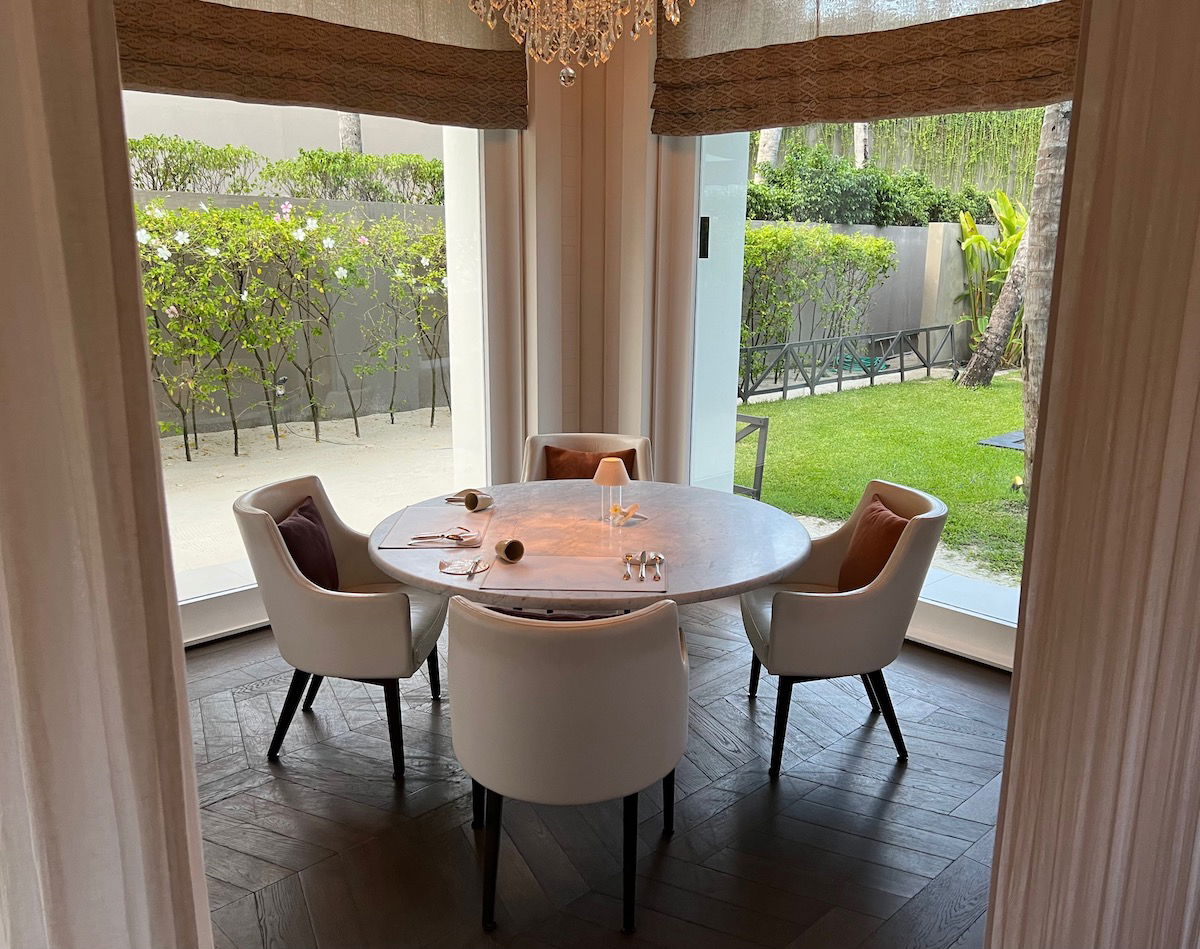 The menu constantly changes, and you can make requests based on dietary restrictions and preferences. You can find our menu below. At $340++ per person this was obviously a splurge, but frankly probably not more than you'd pay for a meal of this caliber in a city. So that's impressive when you consider how much more expensive it must be to source many materials here.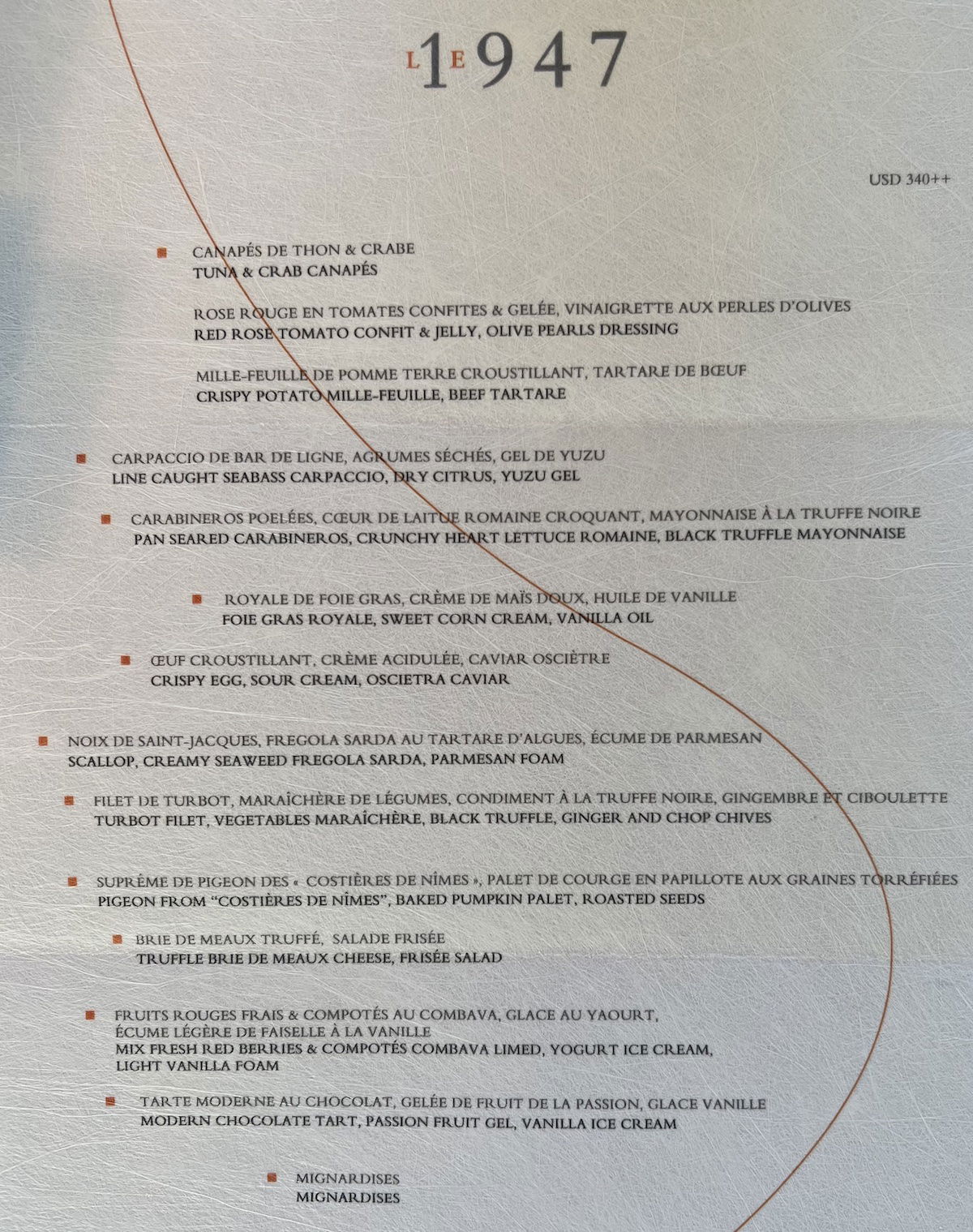 We started our evening in the lounge, where we ordered some cocktails.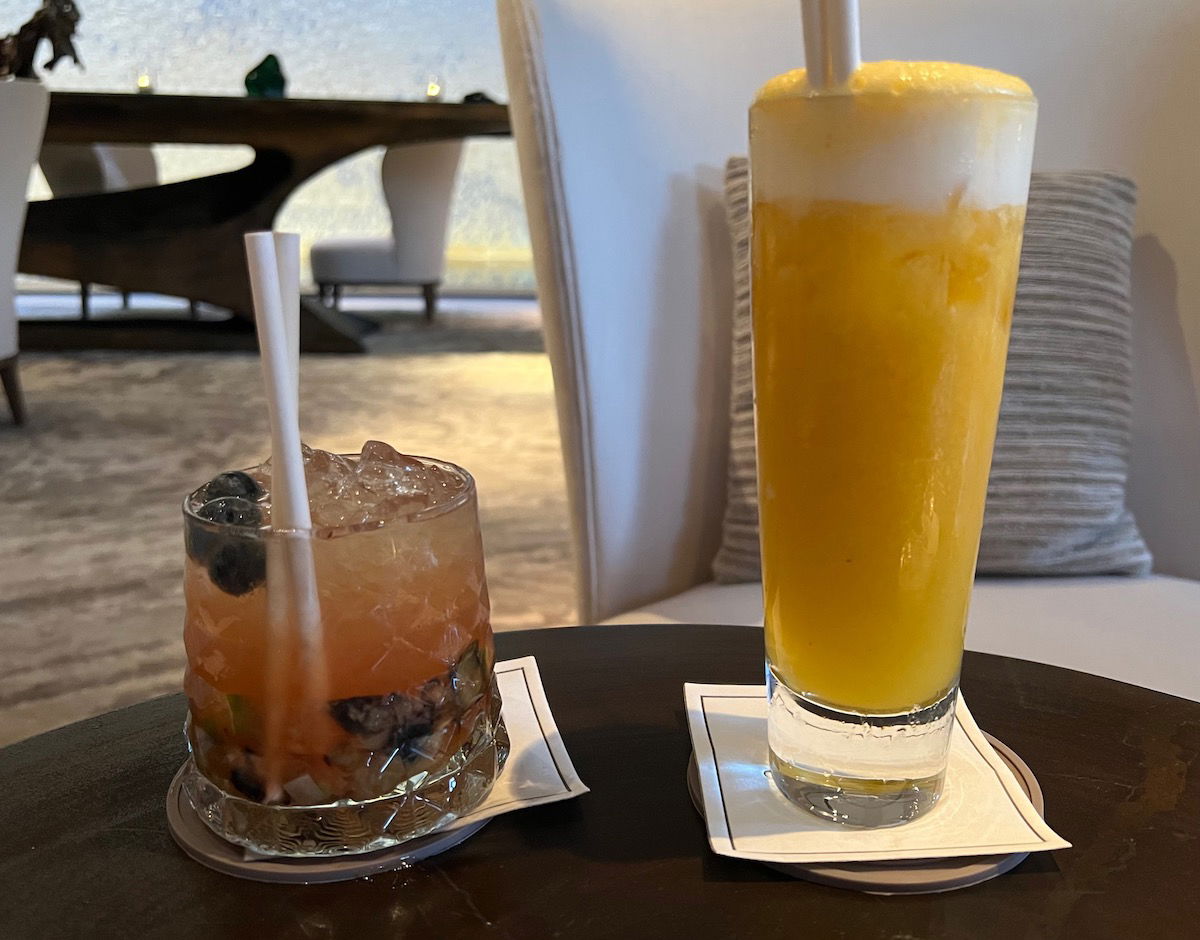 We were also served the canapés here, which included tuna & crab, red rose tomato confit & jelly with olive pearl dressing, and crispy potato mille-feuille with beef tartare.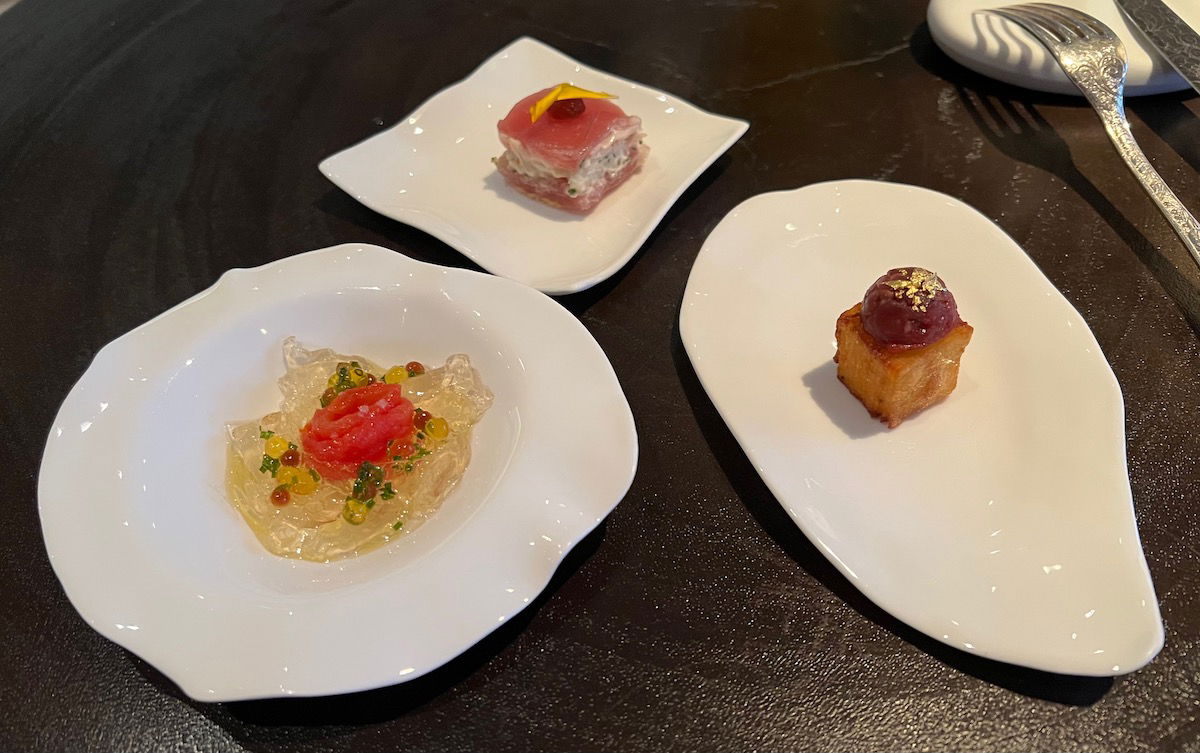 After that we moved to our table — what a setting!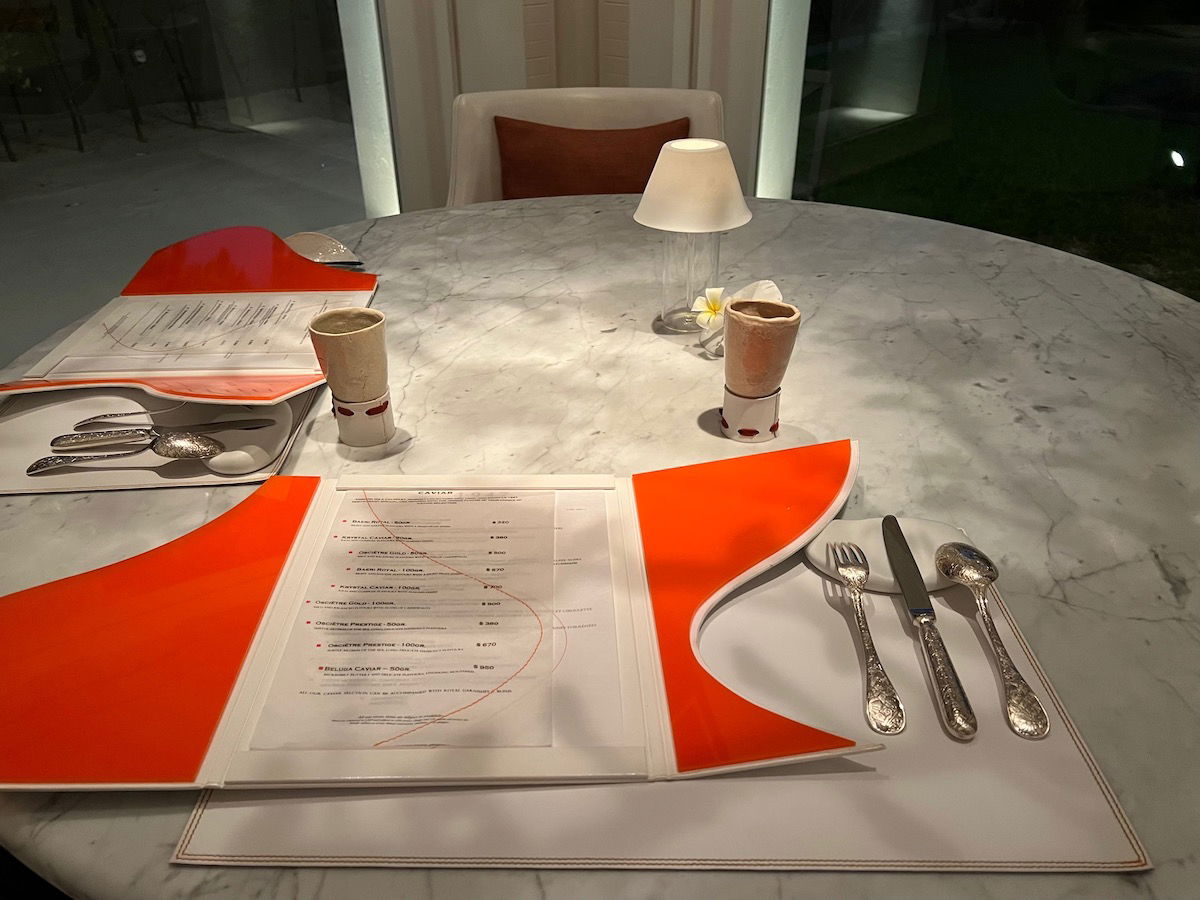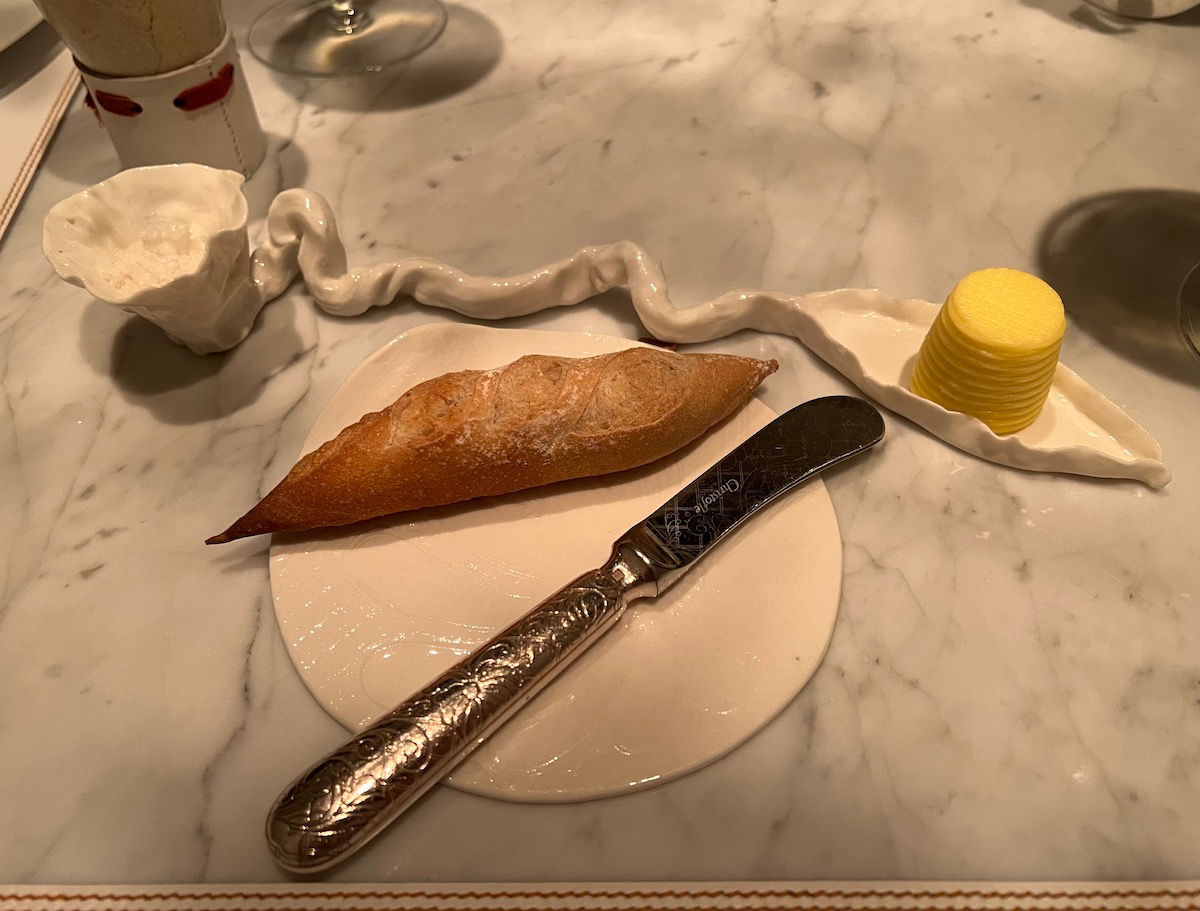 First up at the table was line caught sea bass carpaccio with dry citrus and yuzu gel, and a healthy serving of caviar with gold leaf.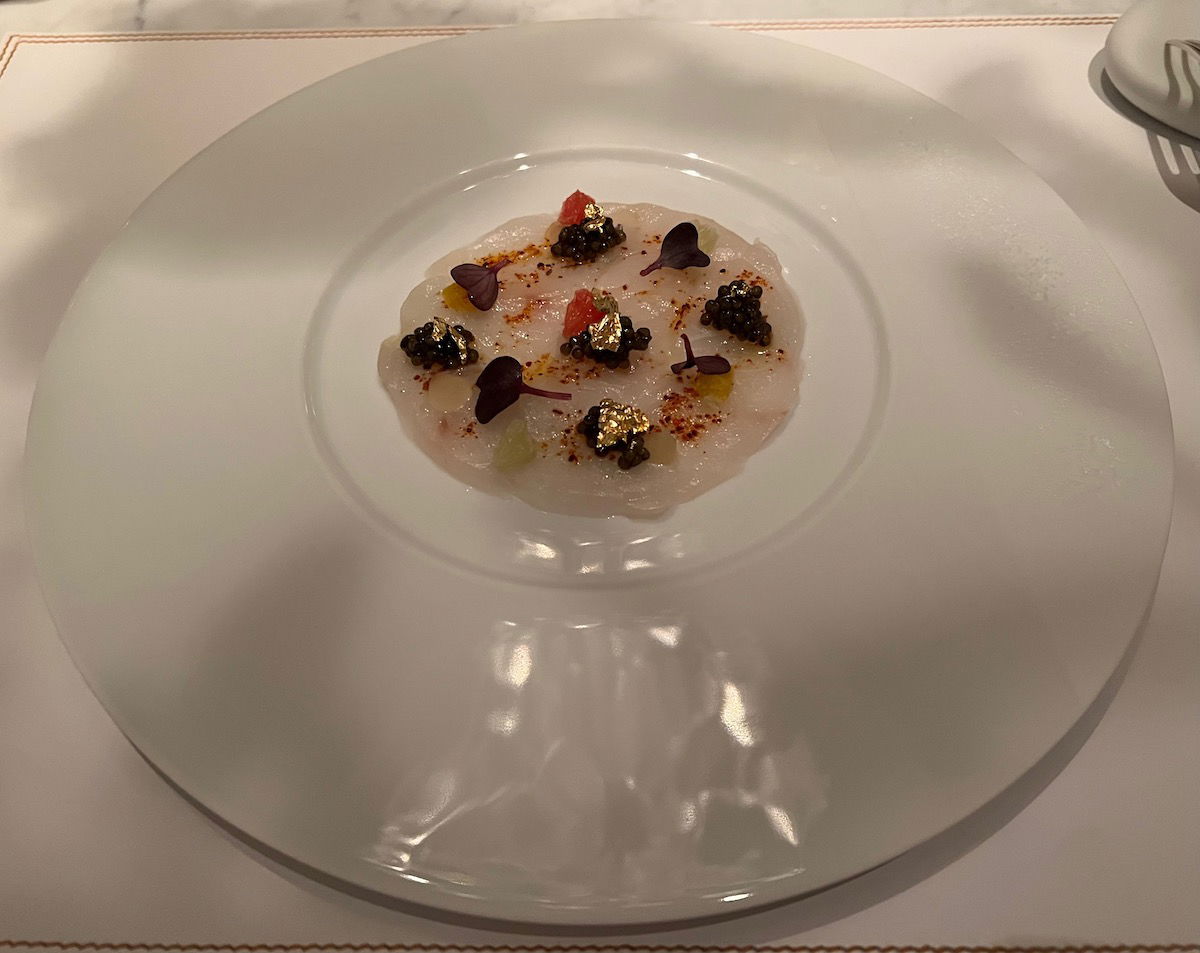 Next up was pan seared carabineros with crunchy heart lettuce romaine and black truffle mayonnaise.
Then there was foie gras royale with sweet corn cream and vanilla oil.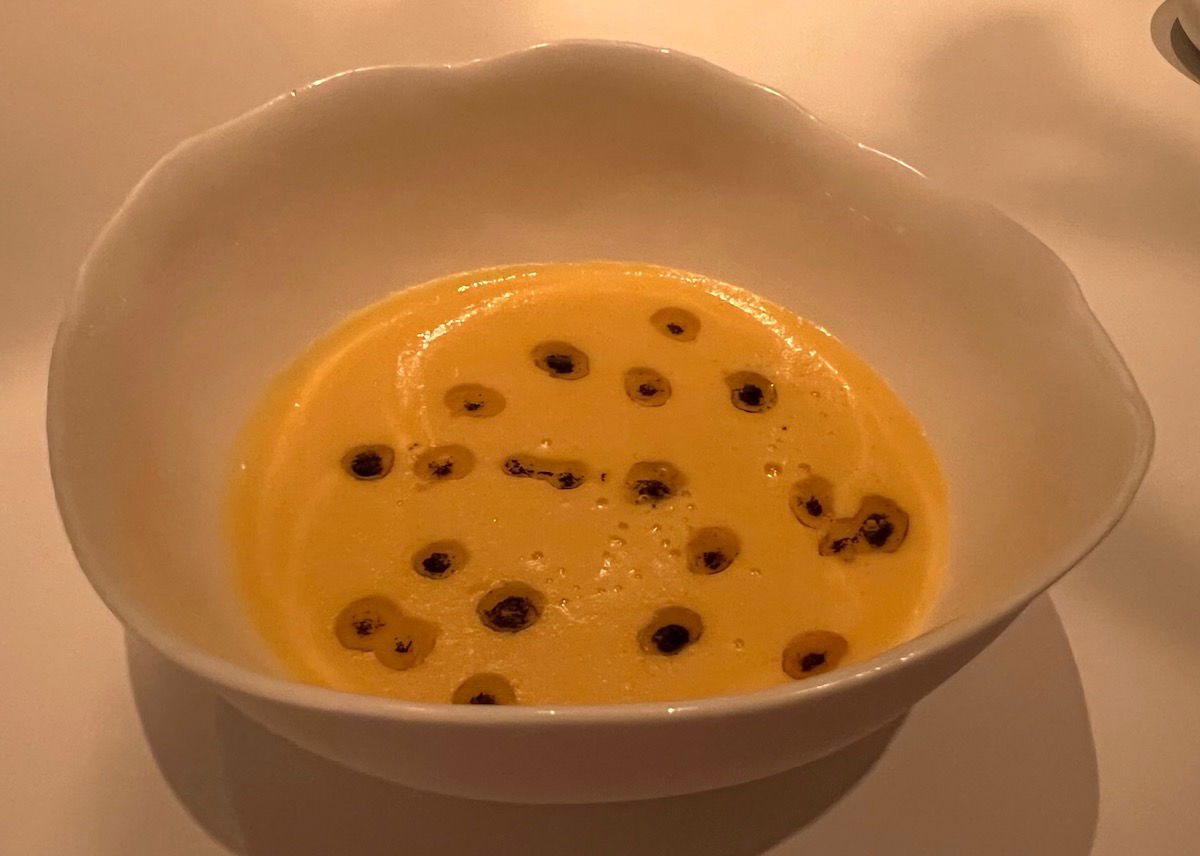 Then there was crispy egg with sour cream and another very generous portion of caviar. Also, look at the effort that goes into the presentation here!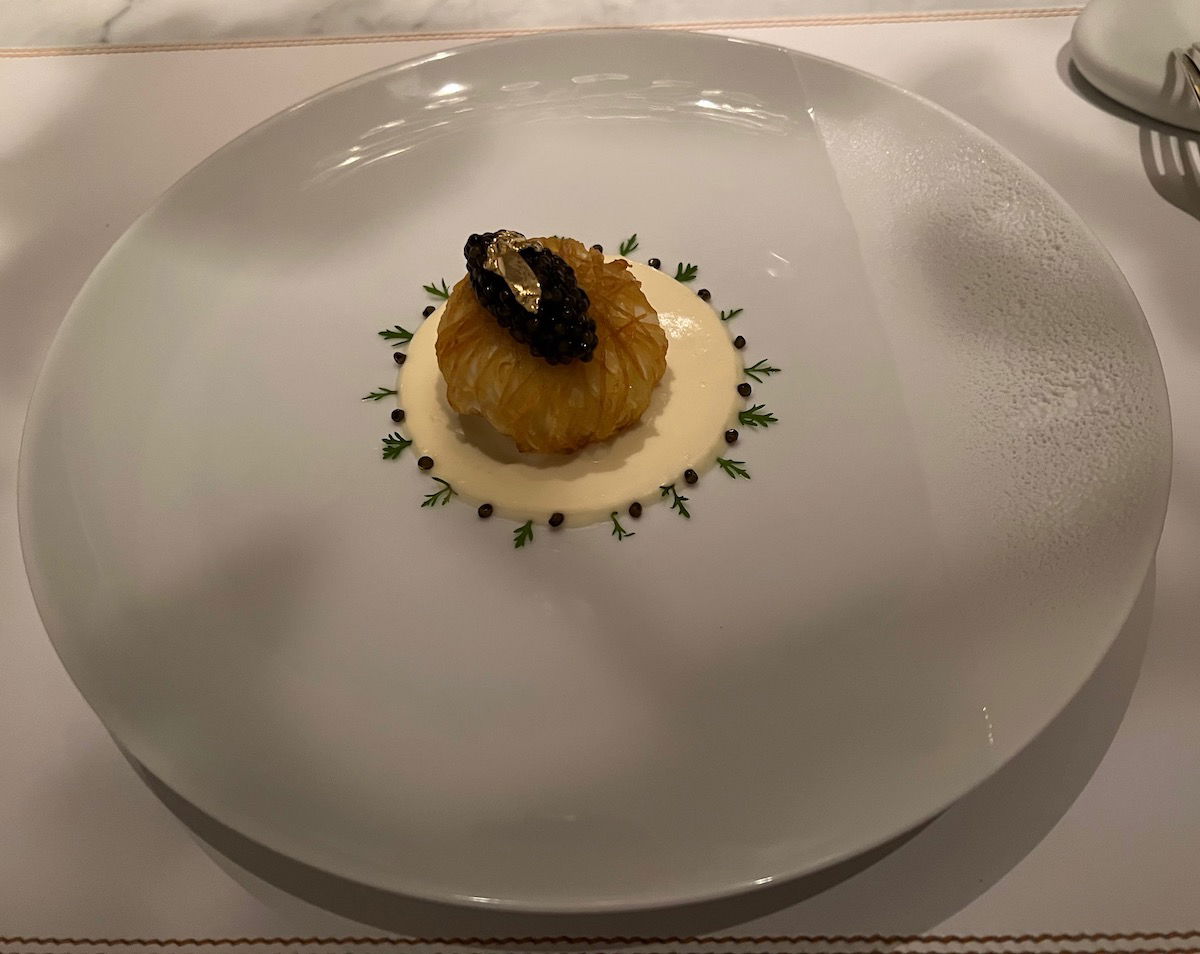 Then there was scallop with creamy seaweed and parmesan foam.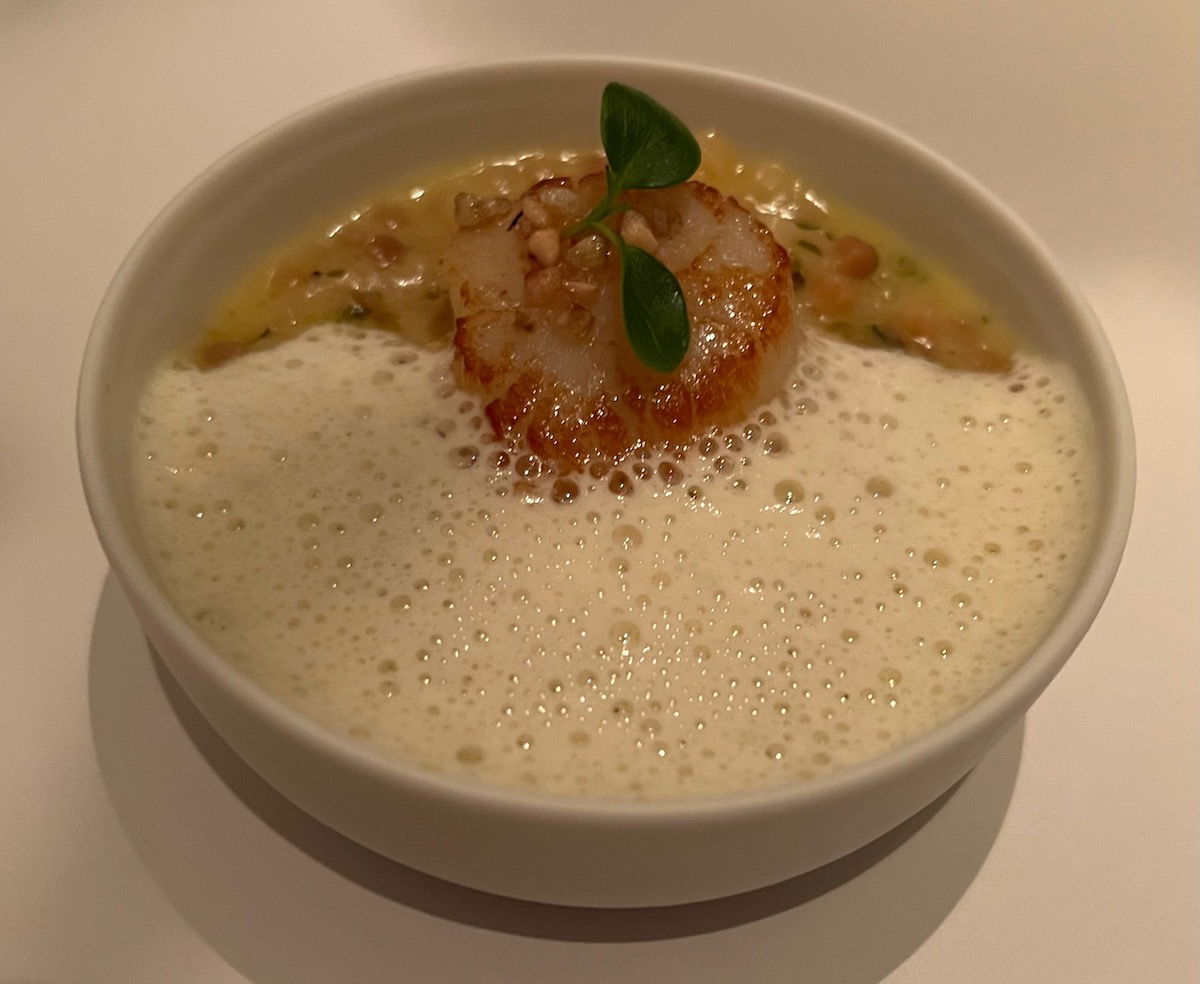 Next was the first of two main courses, which was a turbot filet with vegetables, black truffle, ginger, and chives.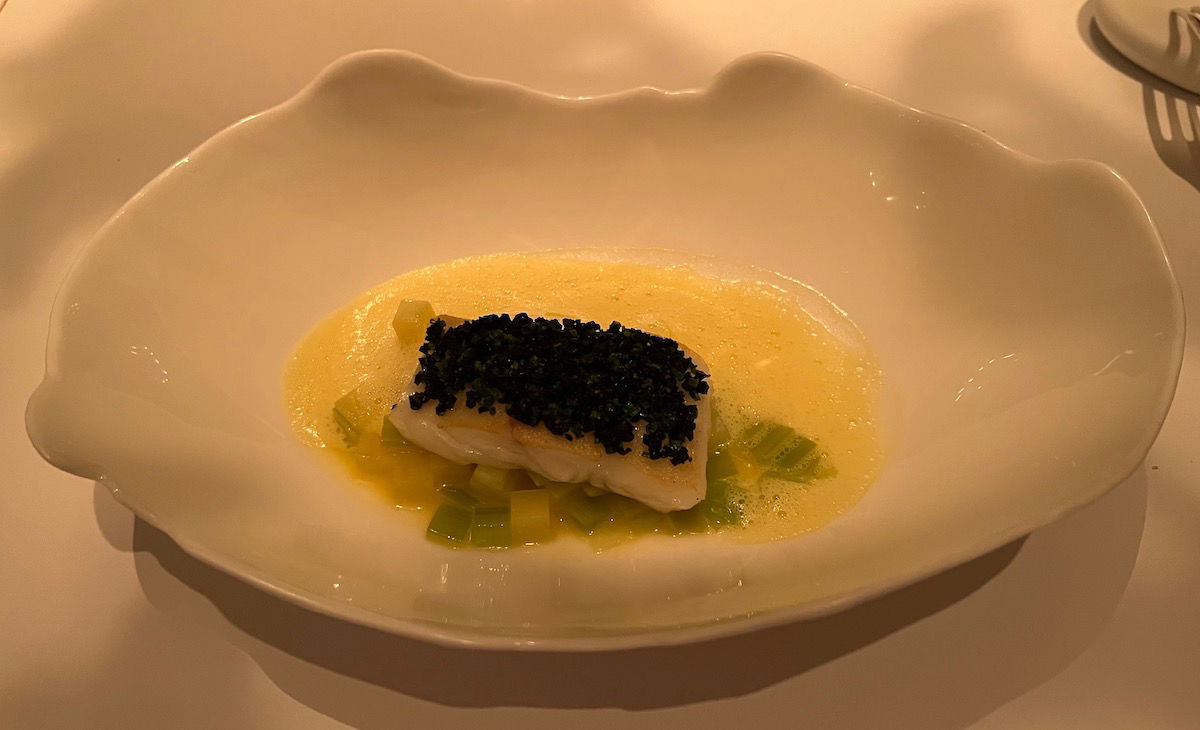 Then there was pigeon with baked pumpkin palet and roasted seeds.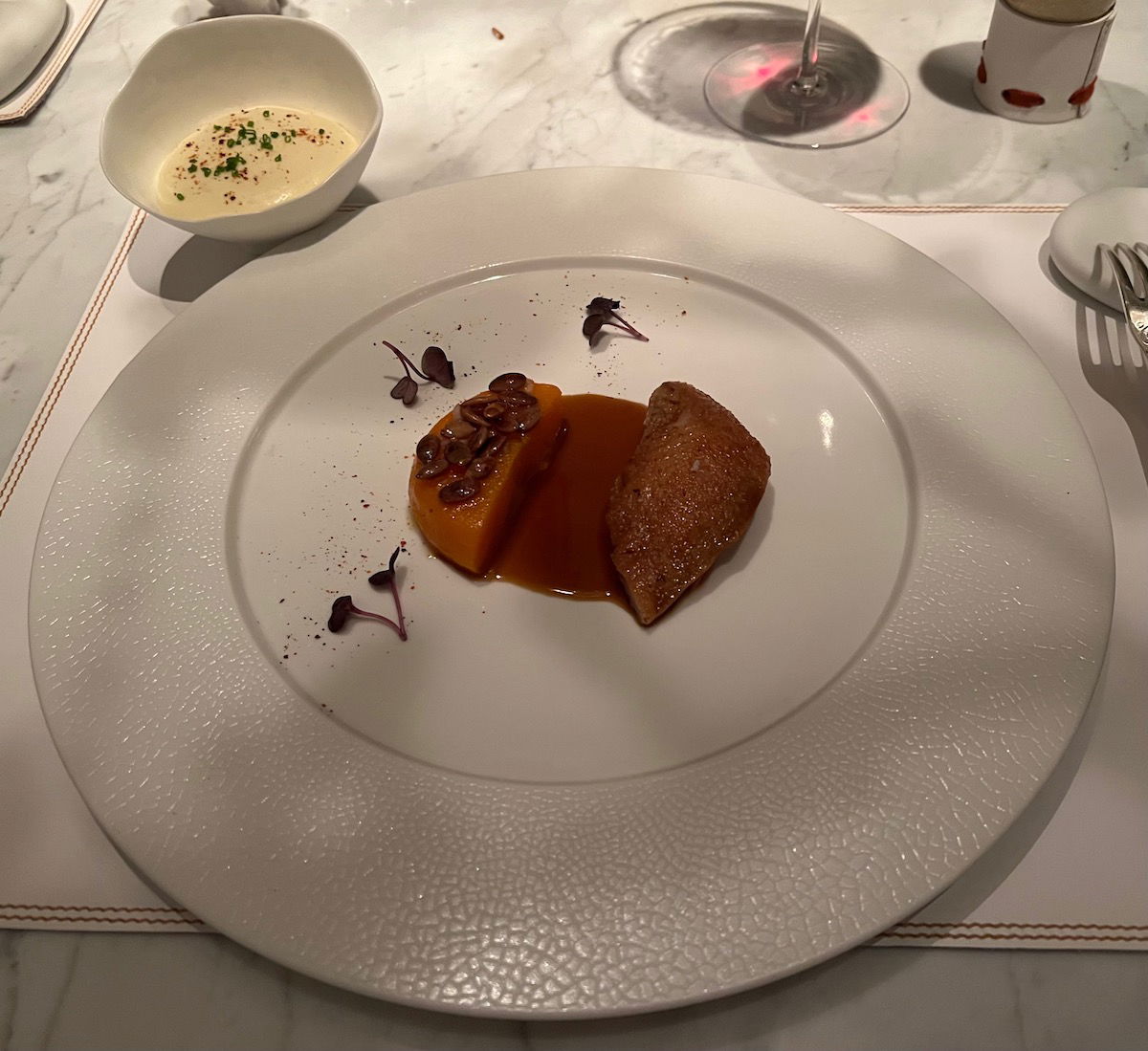 Next up was a truffle brie with frisée salad.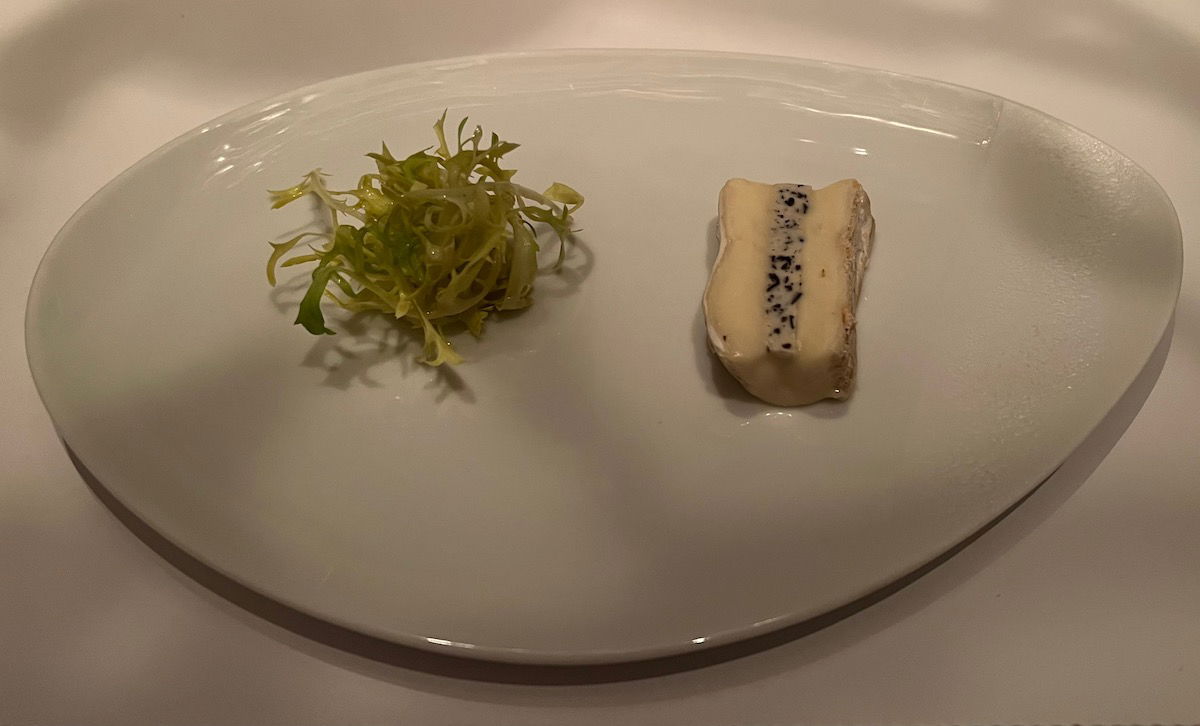 Then there was dessert, which consisted of fresh red berries and compotes with yogurt ice cream and vanilla foam.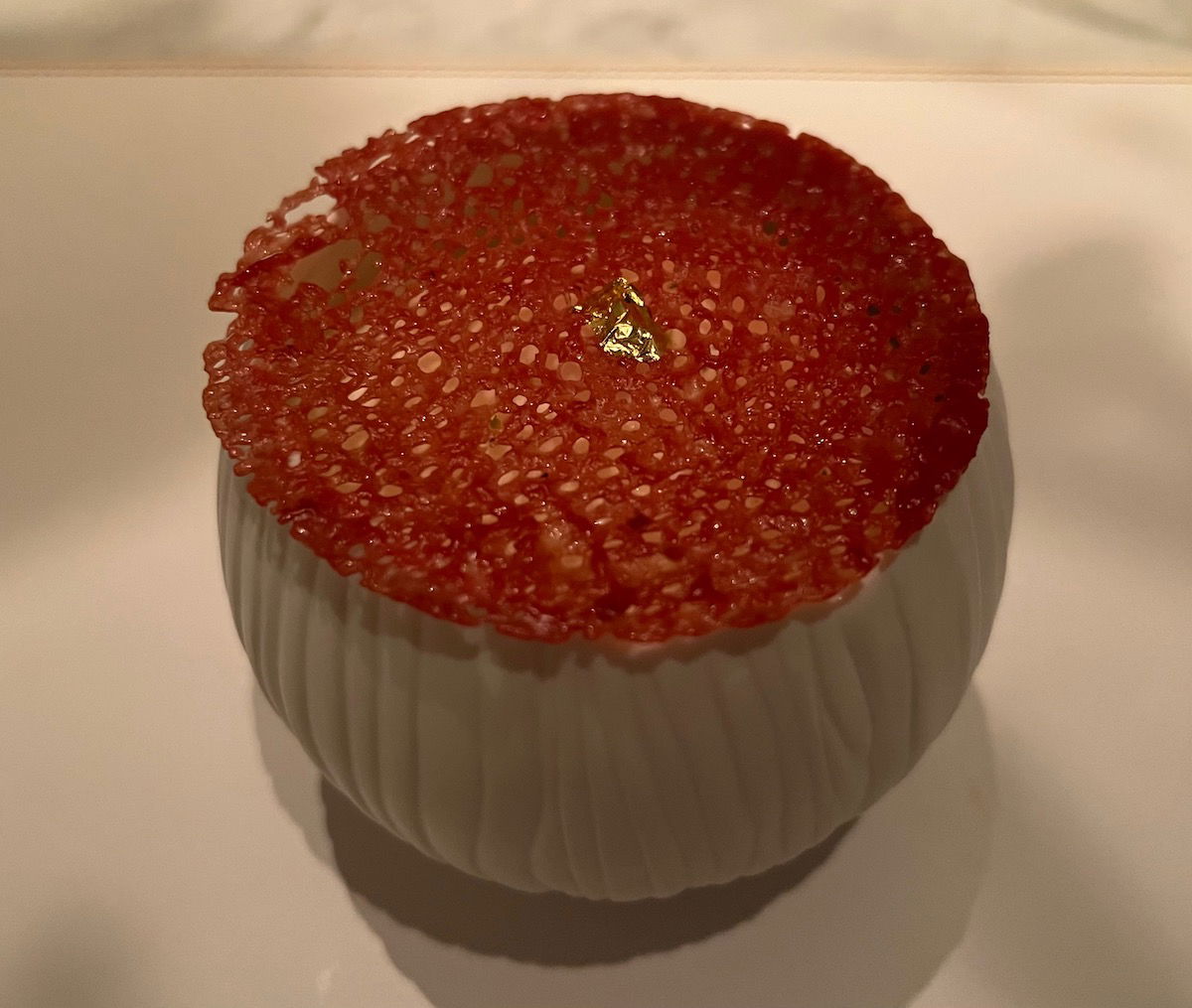 Next up I was brought a birthday cake with ice cream, as if we needed any more food.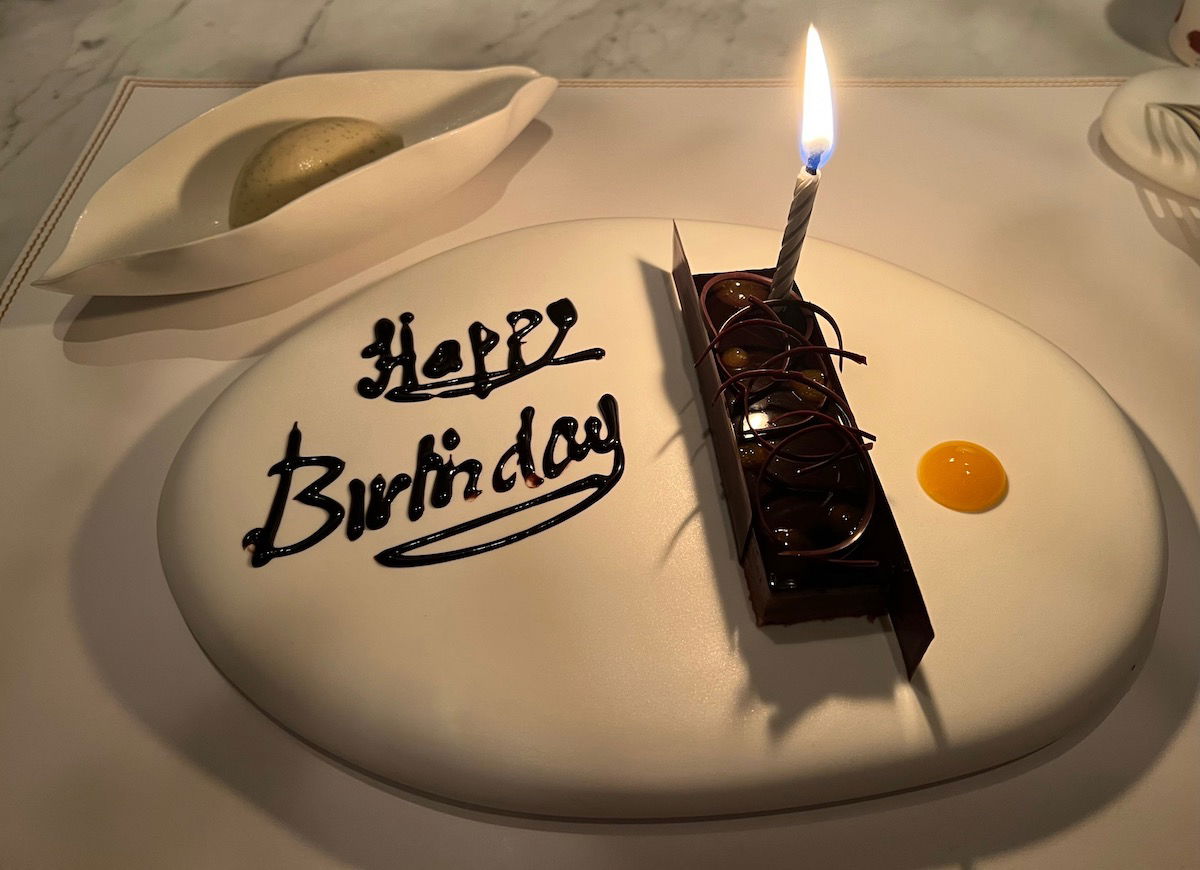 Then to finish off the meal we were offered mignardises.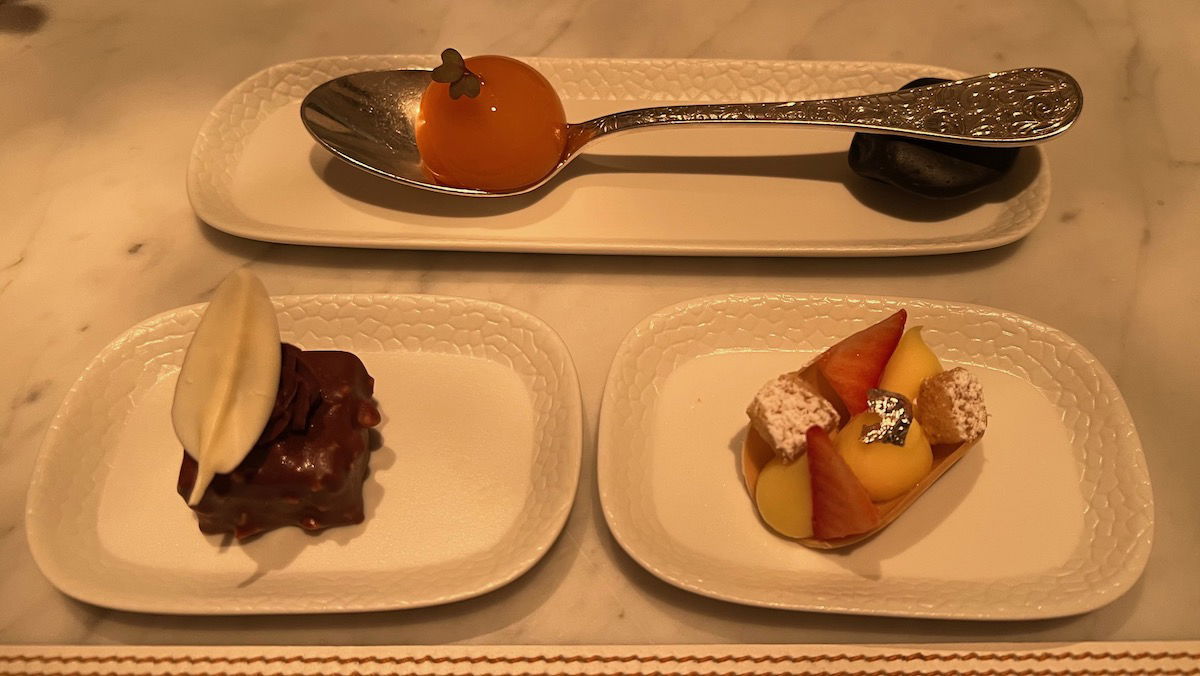 And as if that wasn't enough, when we returned to our room there was a box of nine chocolates, intended as a "last sweet touch" of the meal.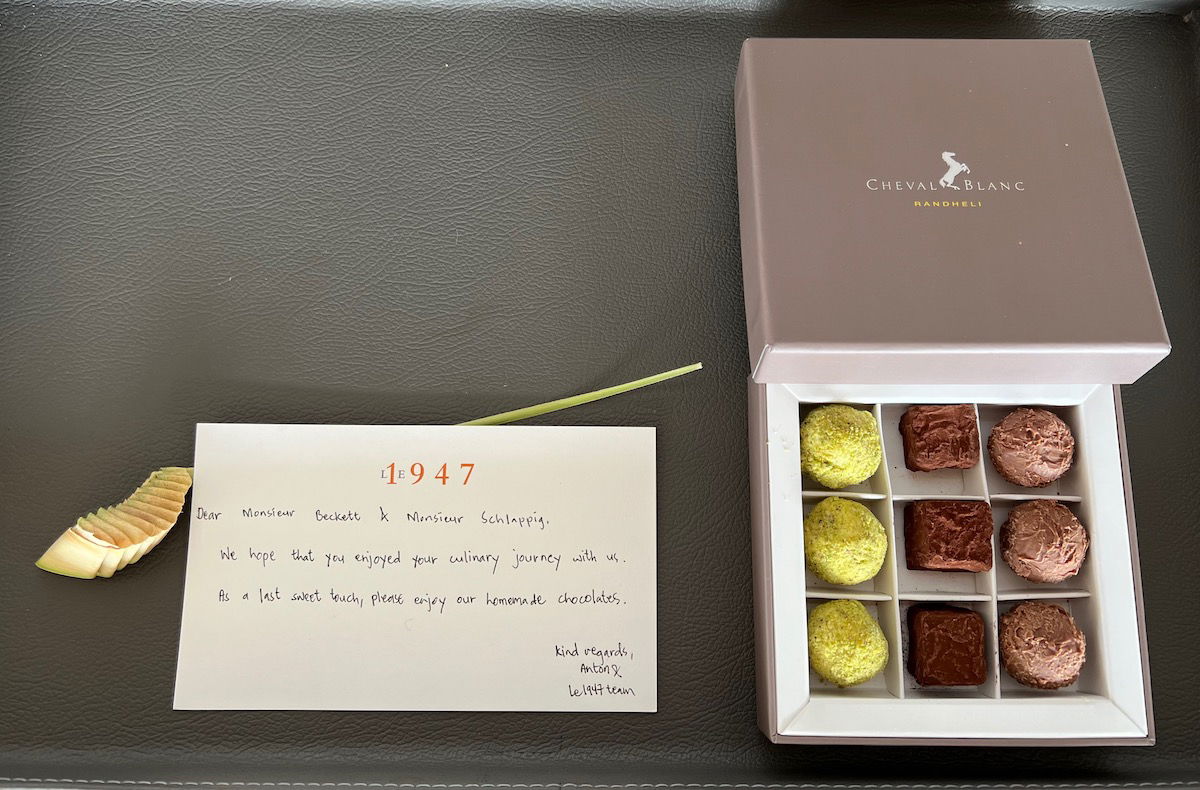 I can't say enough good things about the dining experience, from the quality of the food, to the service, to the ambiance. While forgetting that you're in the Maldives on your first night might not seem ideal, this was such a unique experience you won't find at many resorts.
Cheval Blanc Maldives Diptyque Restaurant
On our last evening we had dinner at Diptyque. No, this isn't a collaboration with the luxury candle company, but rather it's named after the French word "diptyque," meaning "in two parts" (or something like that). That's because the restaurant serves both Japanese and East Asian cuisine, with one counter focused on each kind of cuisine.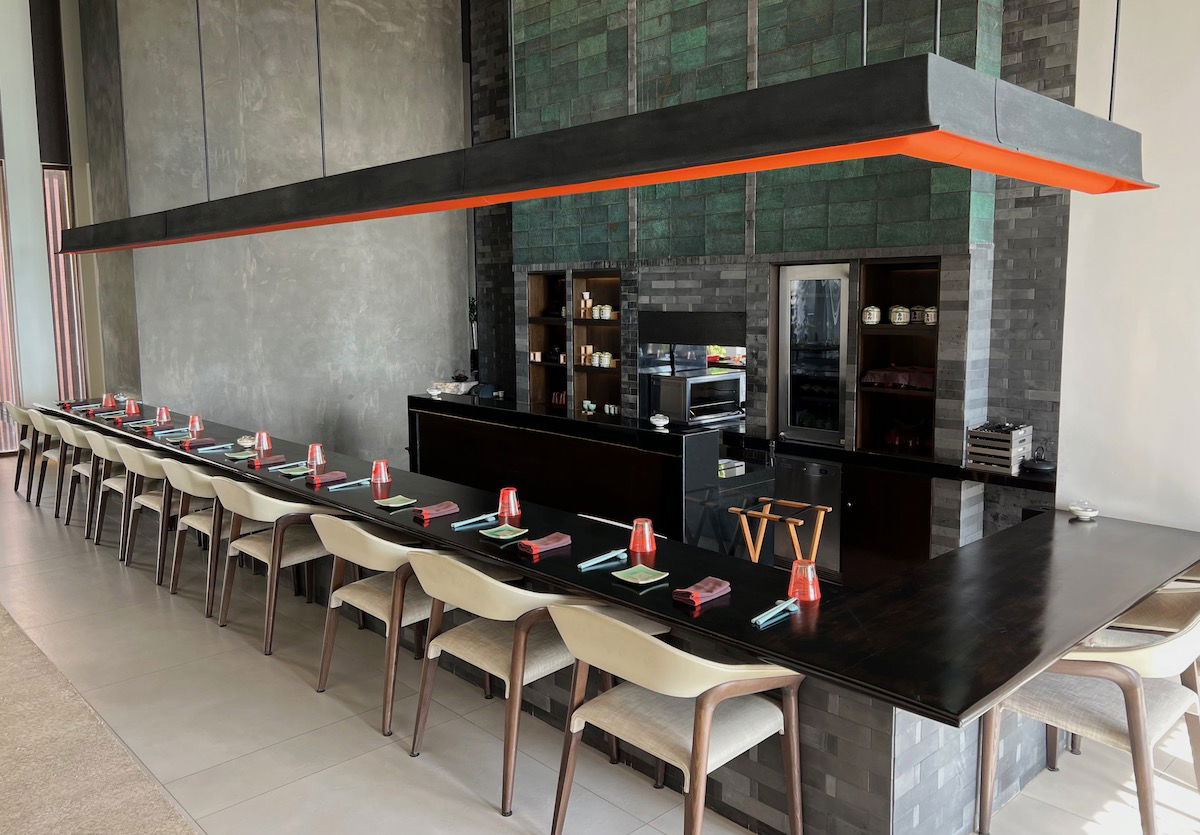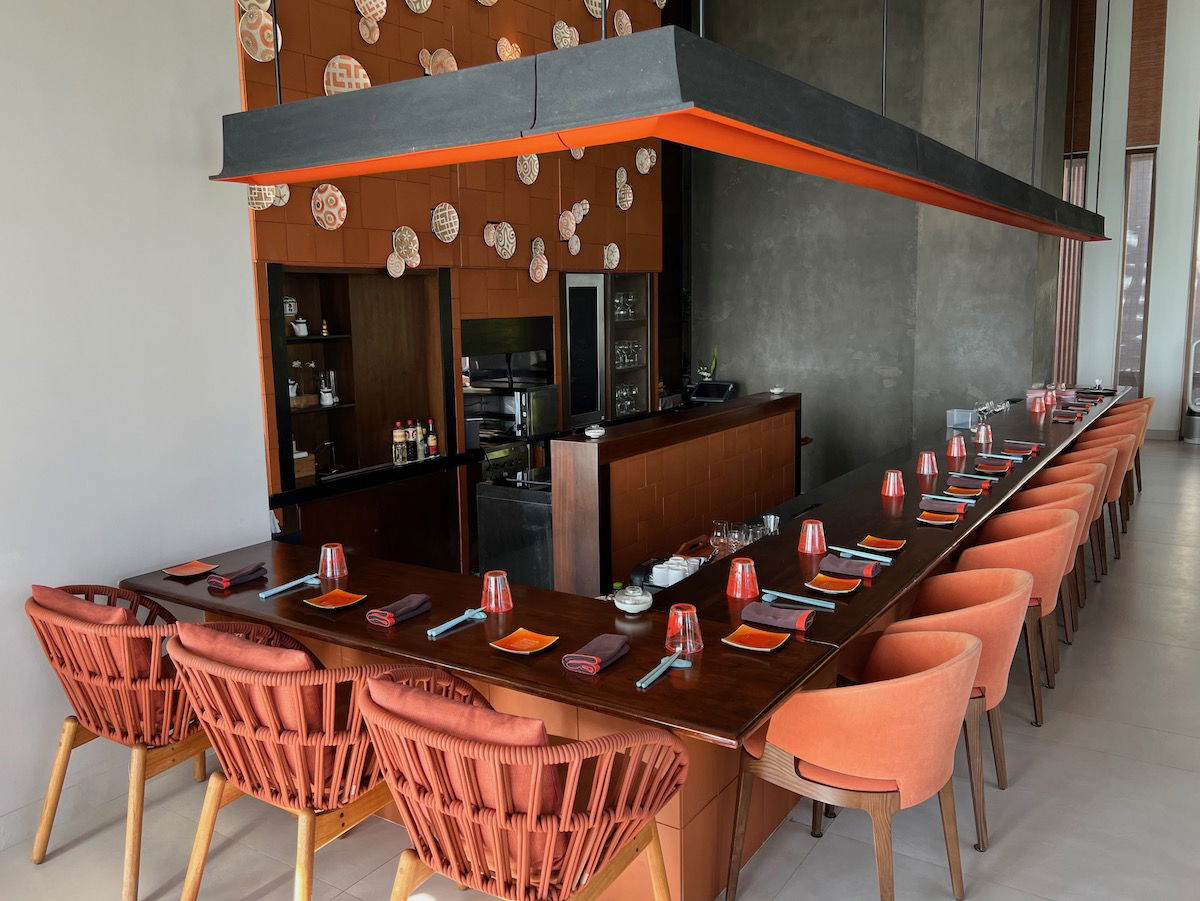 In addition to the indoor counters, there was also an outdoor teppanyaki area, where we dined.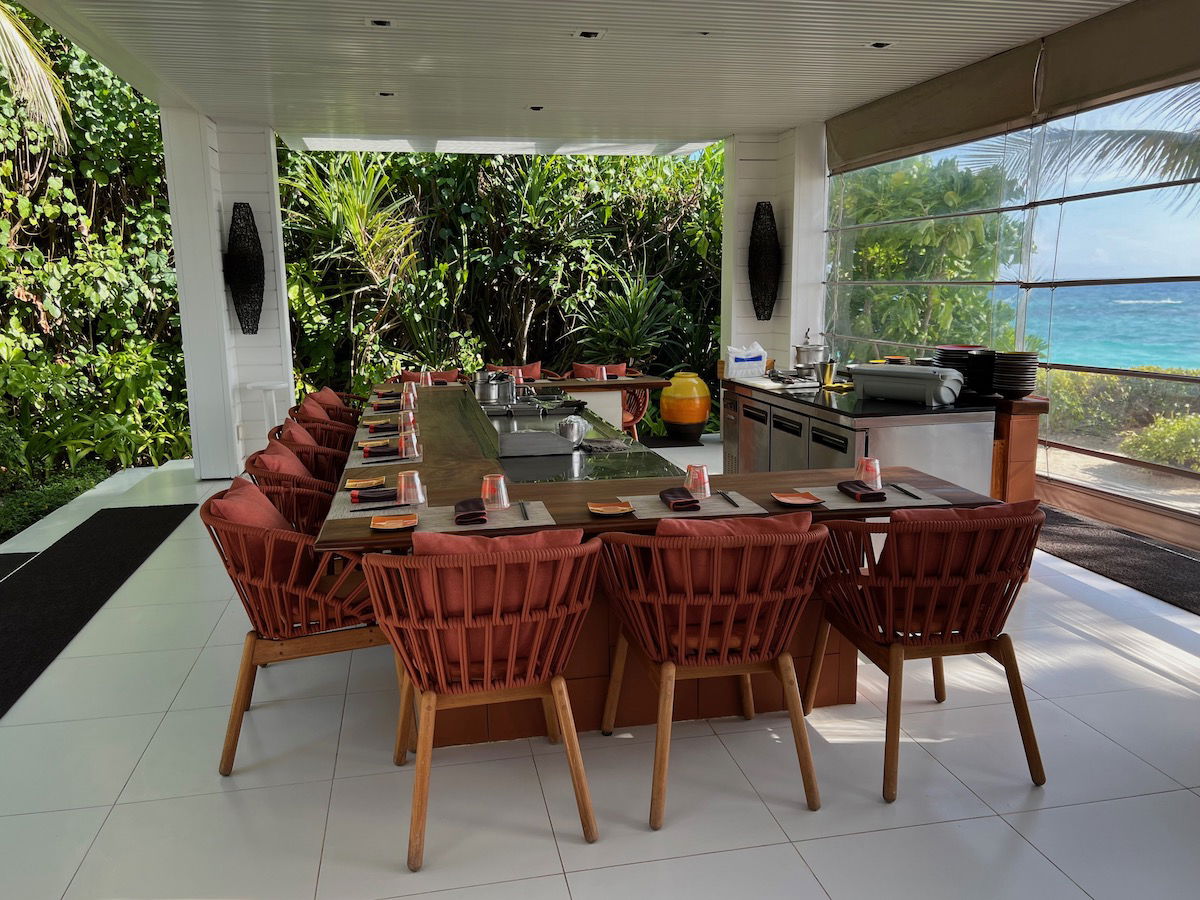 The teppanyaki restaurant gives diners the choice of an eight or 10 course set menu, and we went with the former.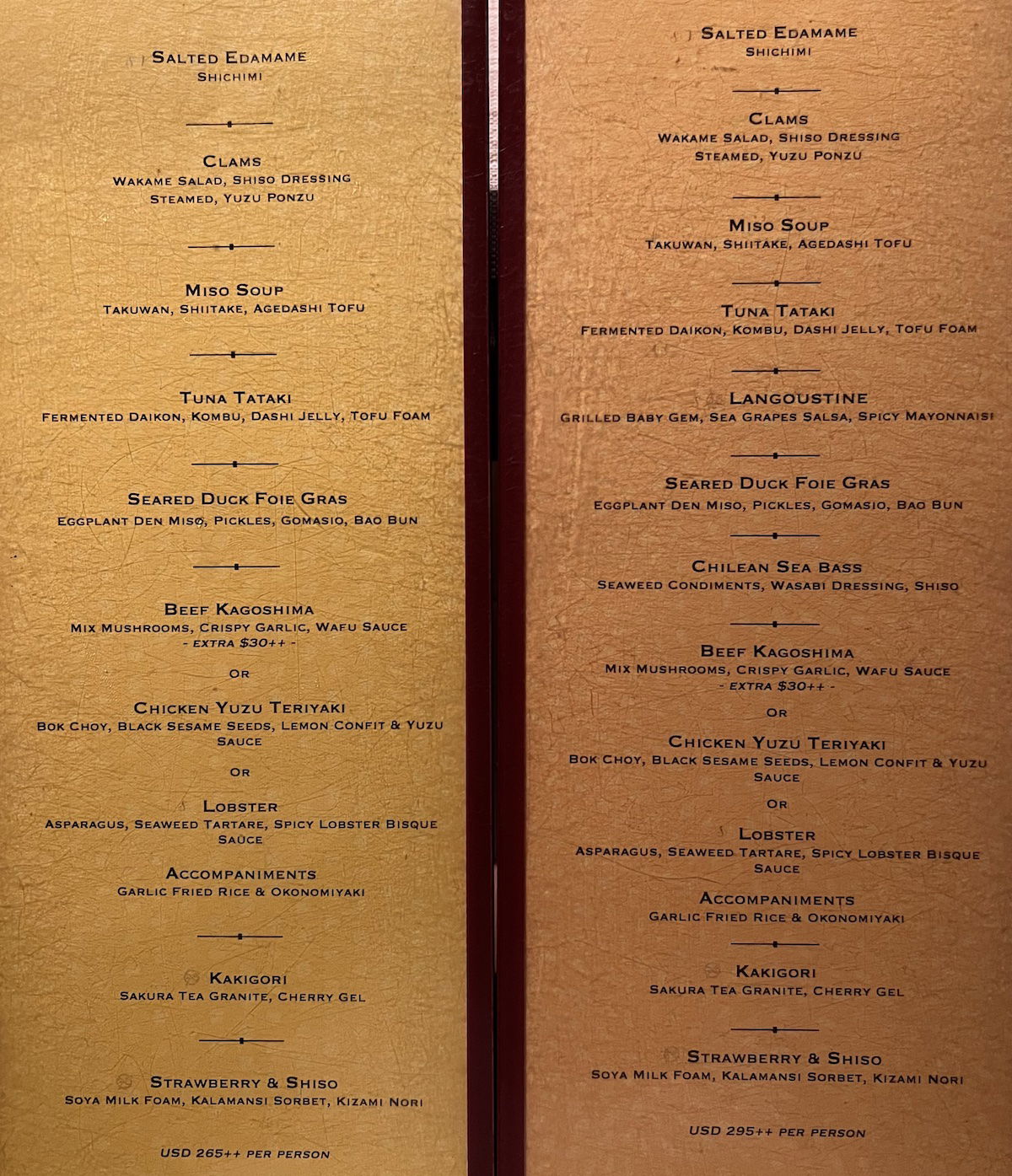 As much as I love Benihana, I have to say, this was a step up from your typical teppanyaki experience. The meal started with salted edamame.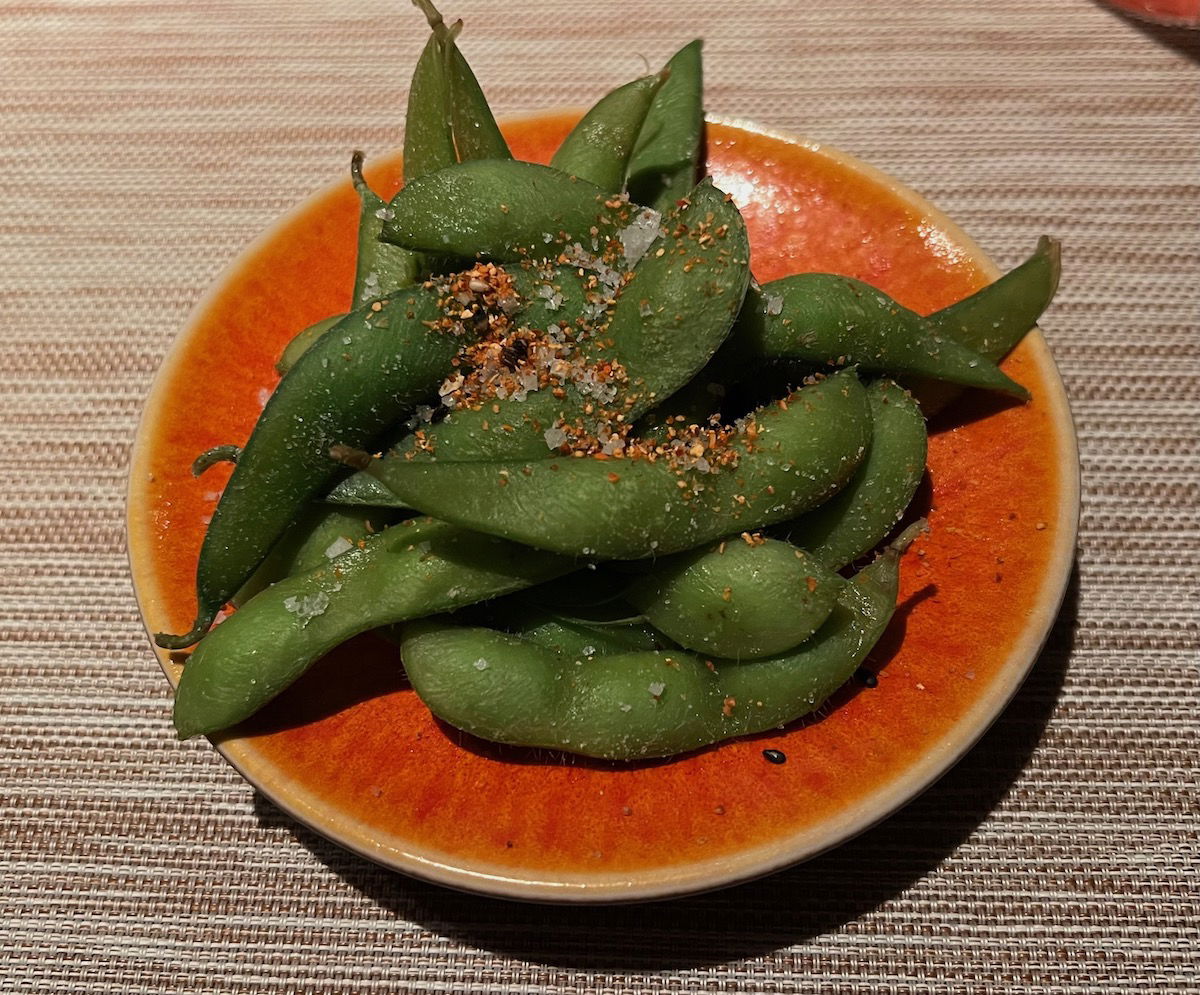 The second course was clams with wakame salad, shiso dressing, and yuzu ponzu.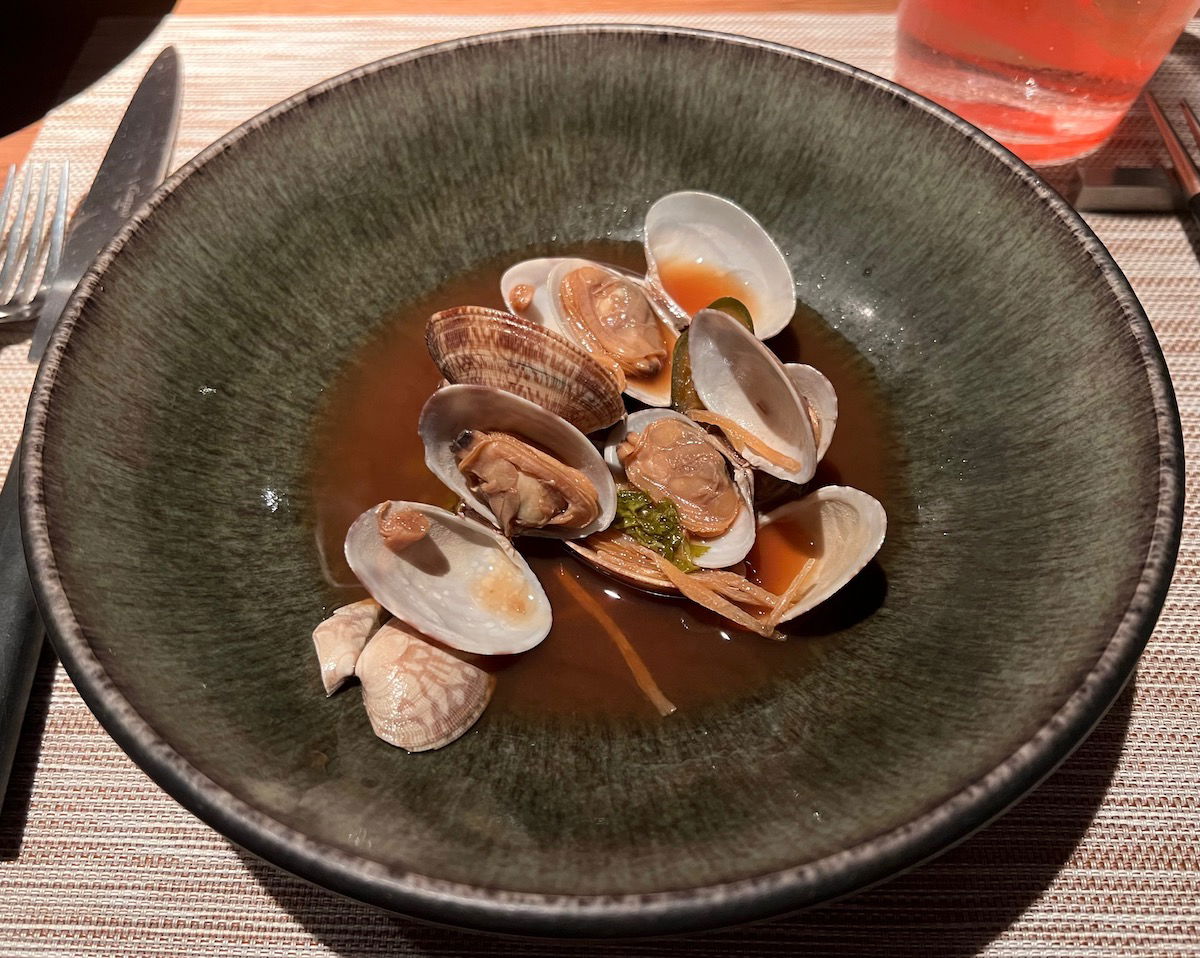 The third course was a miso soup.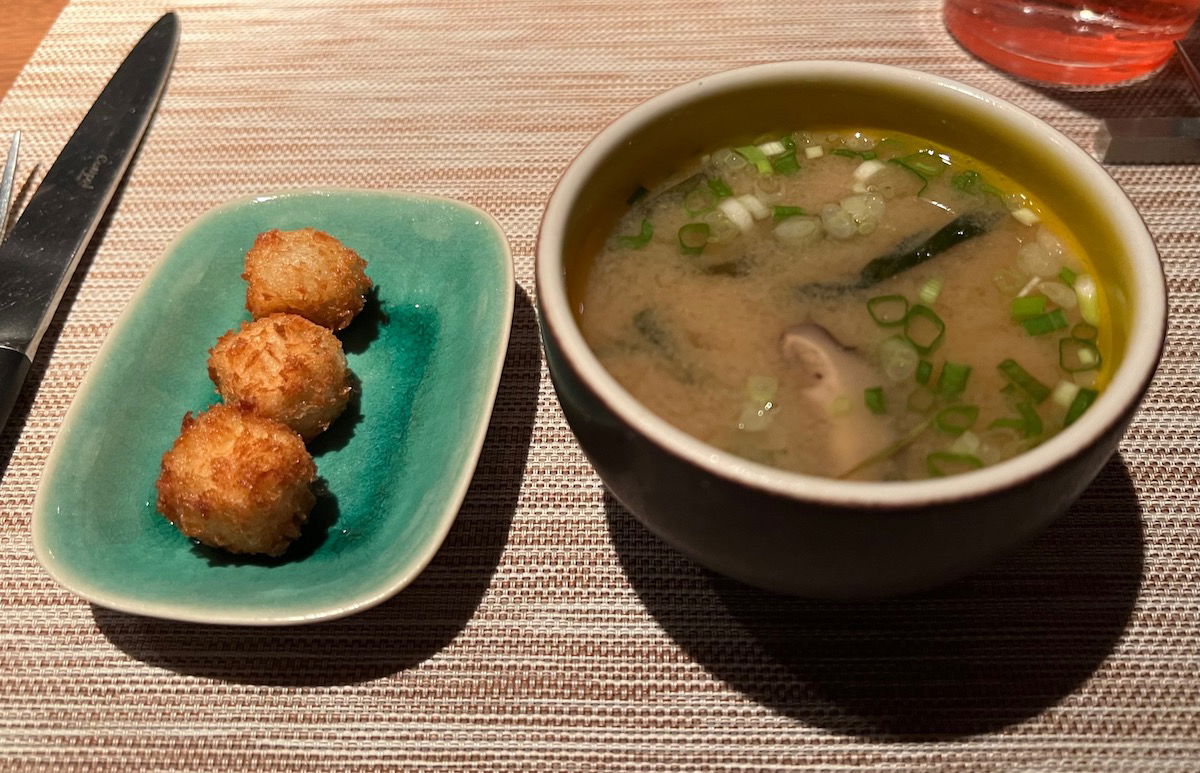 The fourth course was tuna tataki with fermented daikon, kumbu, dashi jelly, and tofu foam.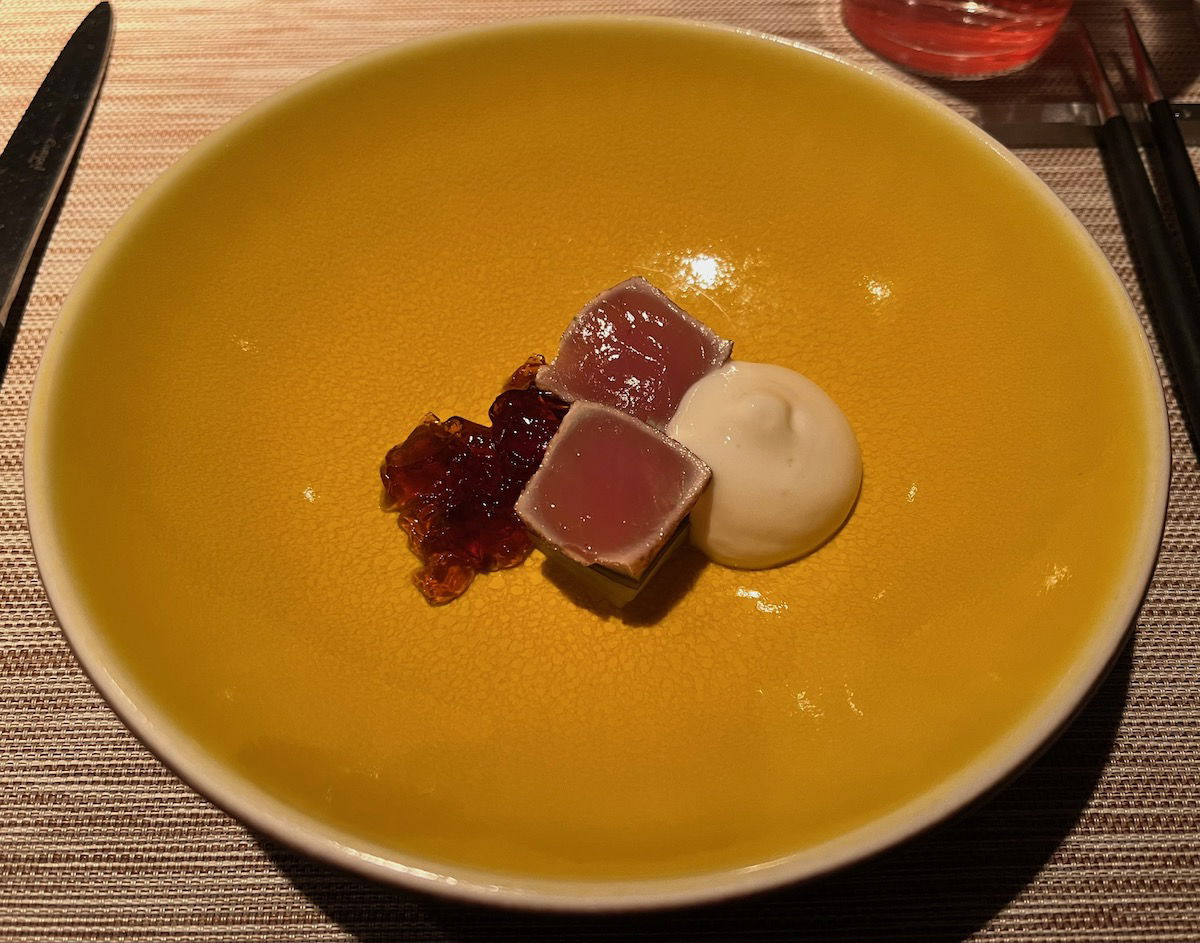 The fifth course was seared duck foie gras with eggplant miso, pickles, gomasio, and a bao bun.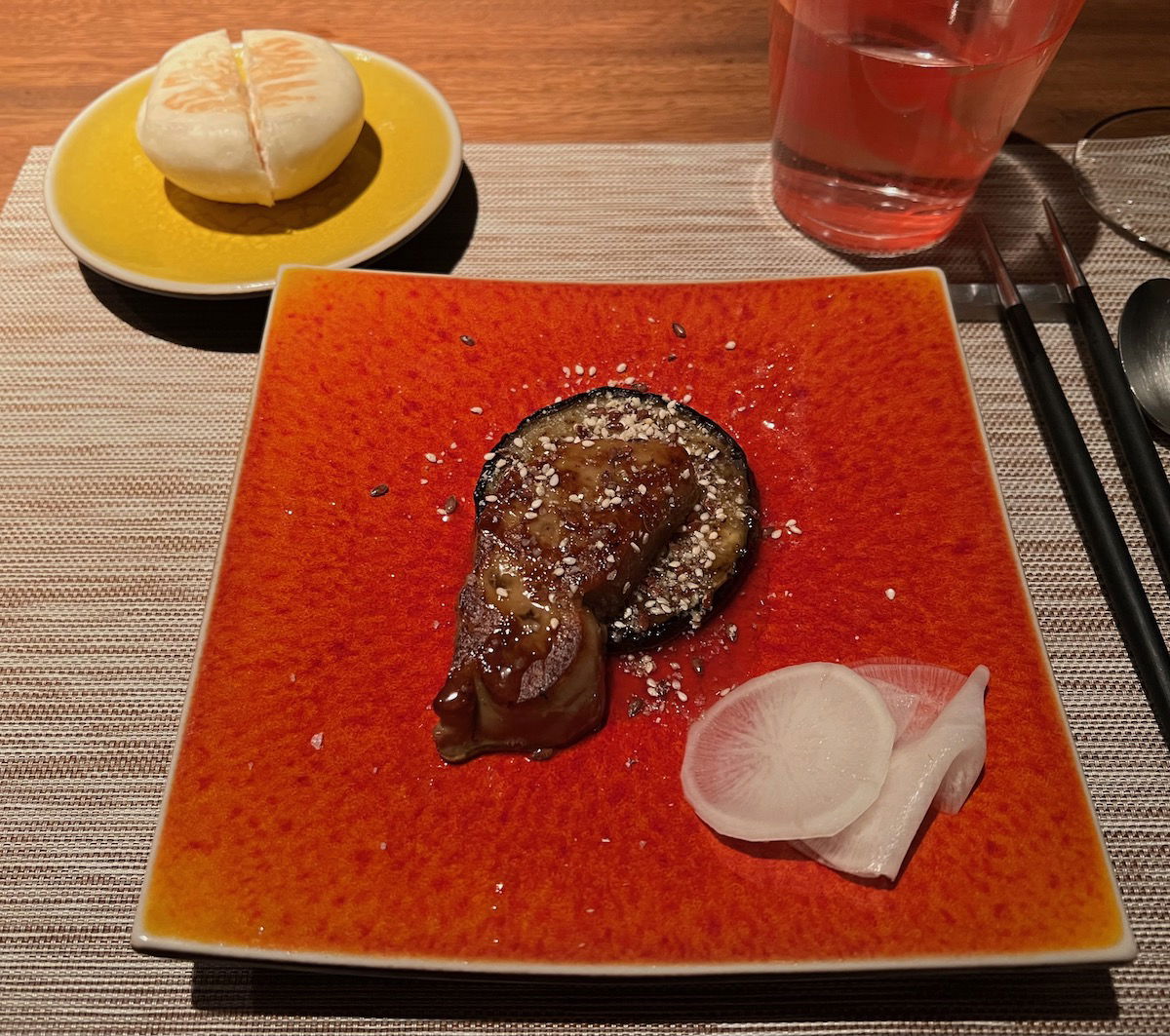 The sixth course had three choices. I ordered the lobster with asparagus, seaweed tartare, and spicy lobster bisque sauce.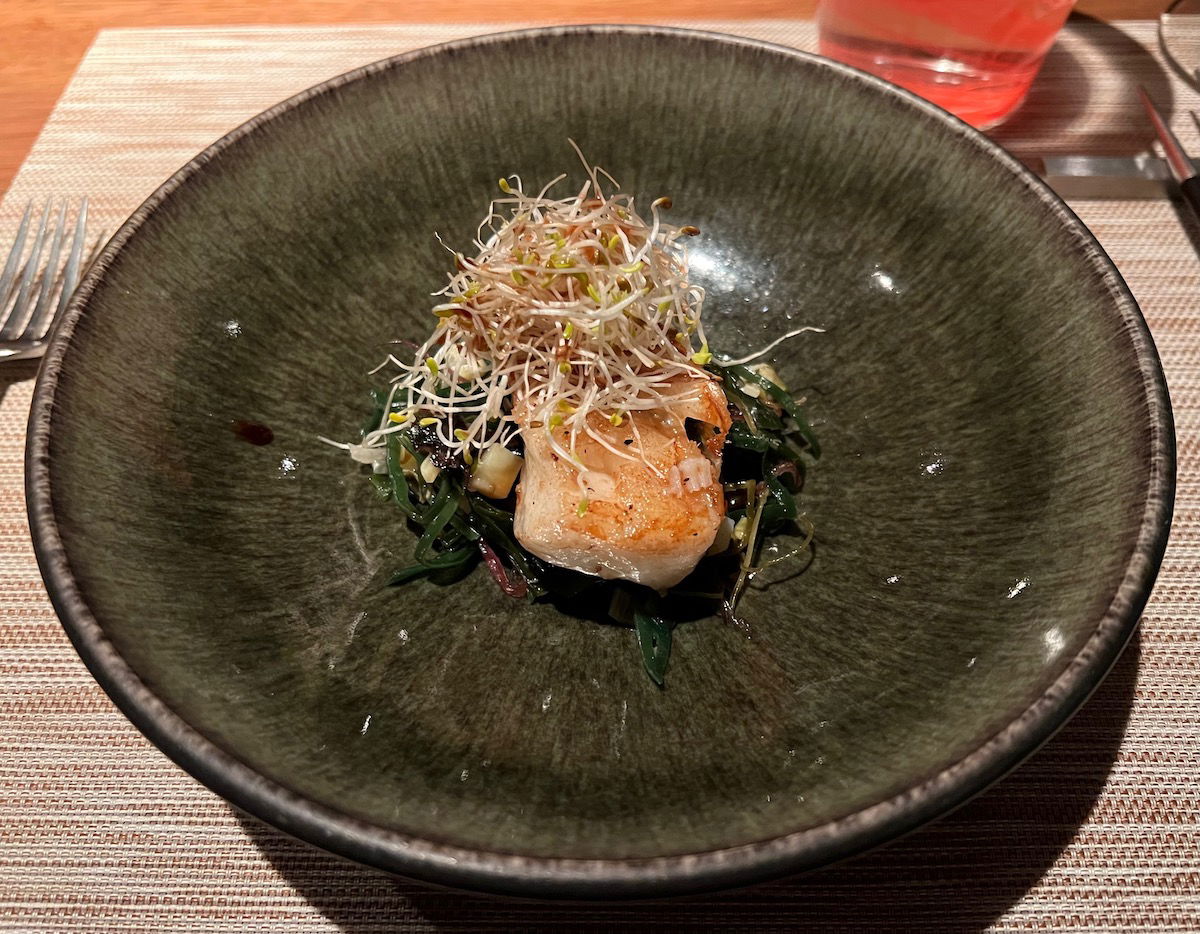 Ford, meanwhile, had the chicken yuzu teriyaki with bok choy, black sesame seeds, lemon confit, and yuzu sauce.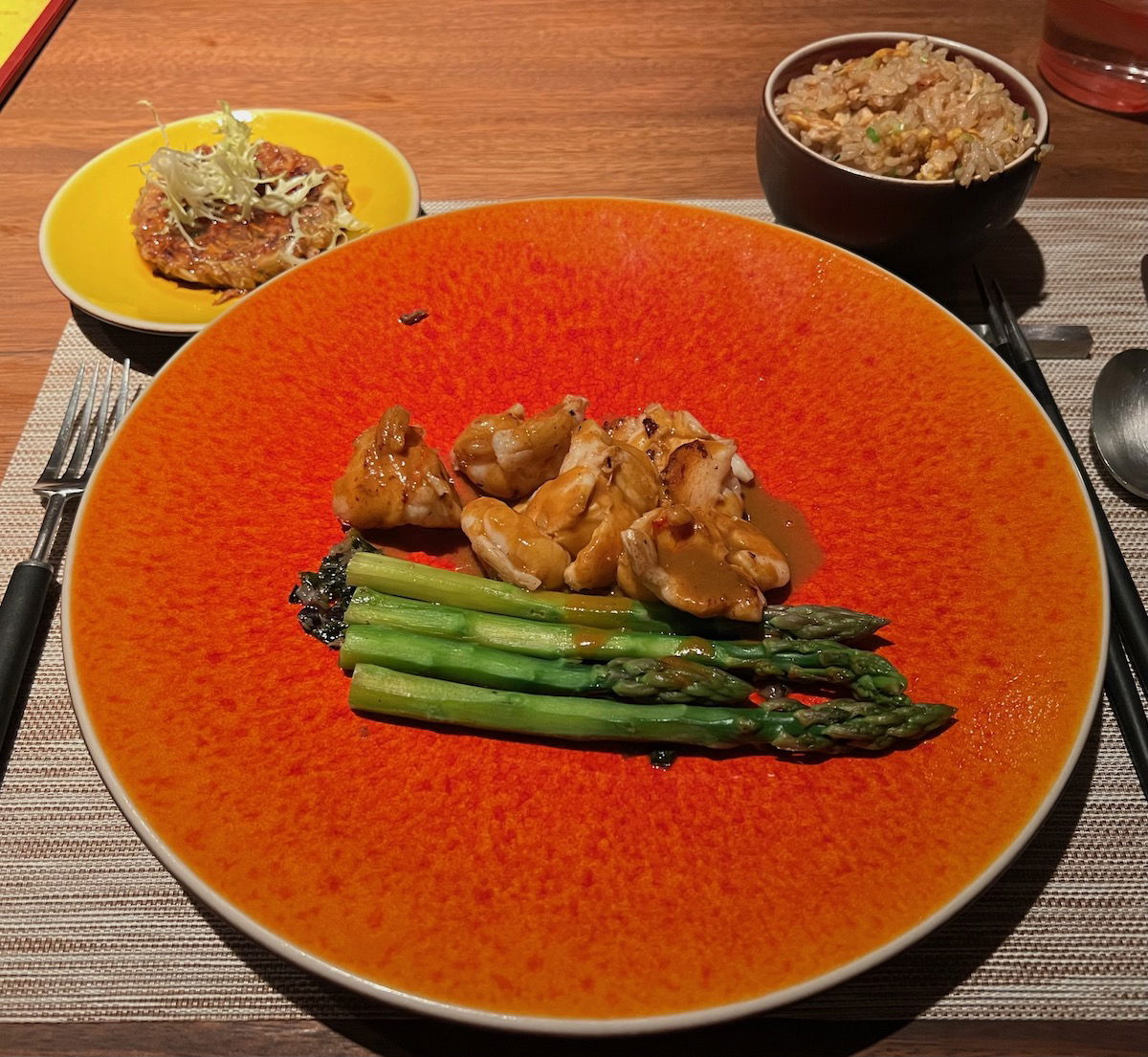 The seventh course was a palate cleanser of sorts, consisting of sakura tea granite with cherry gel.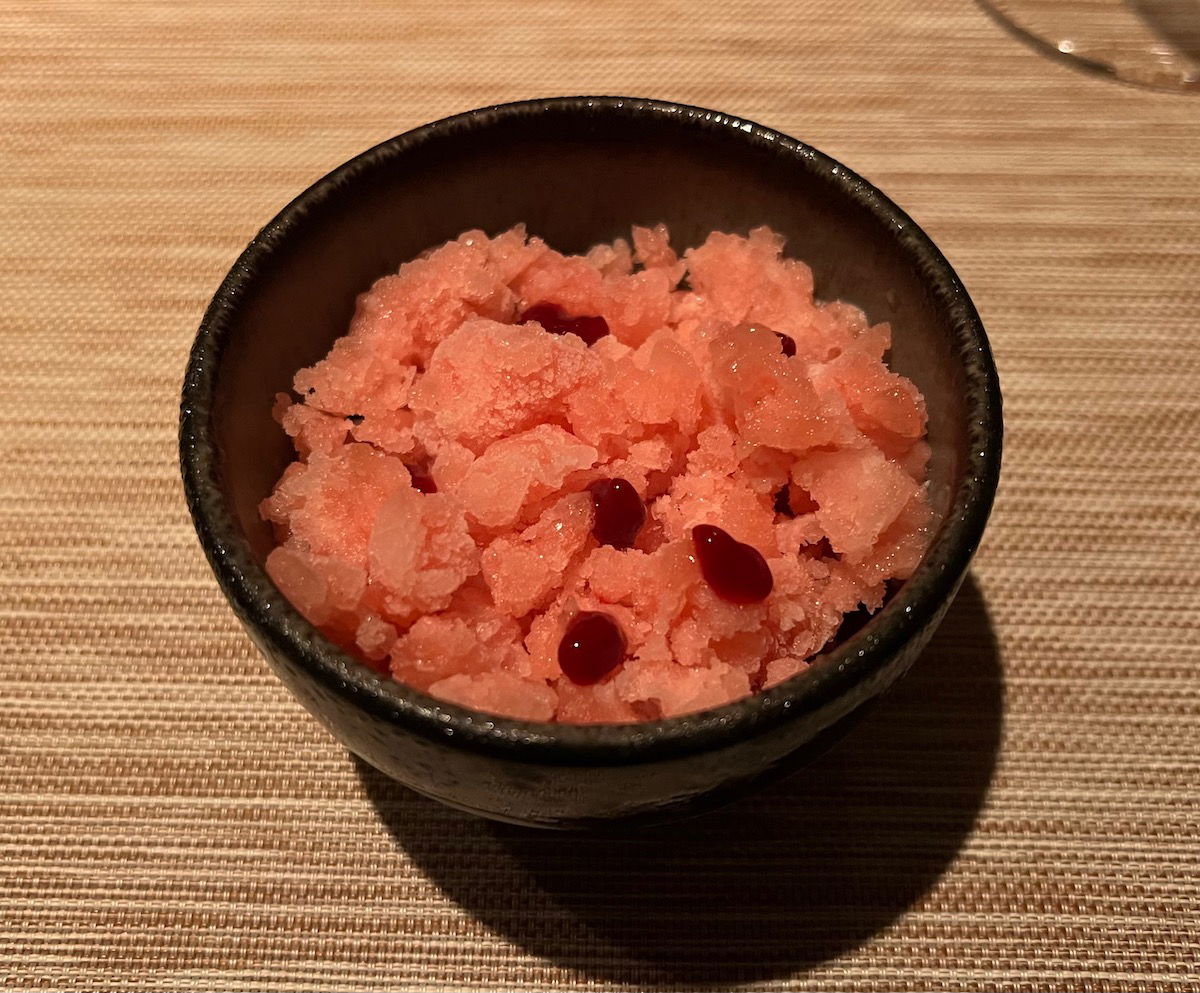 The eighth course was strawberry and shiso with soya milk foam, kalamansi sorbet, and kizami nori.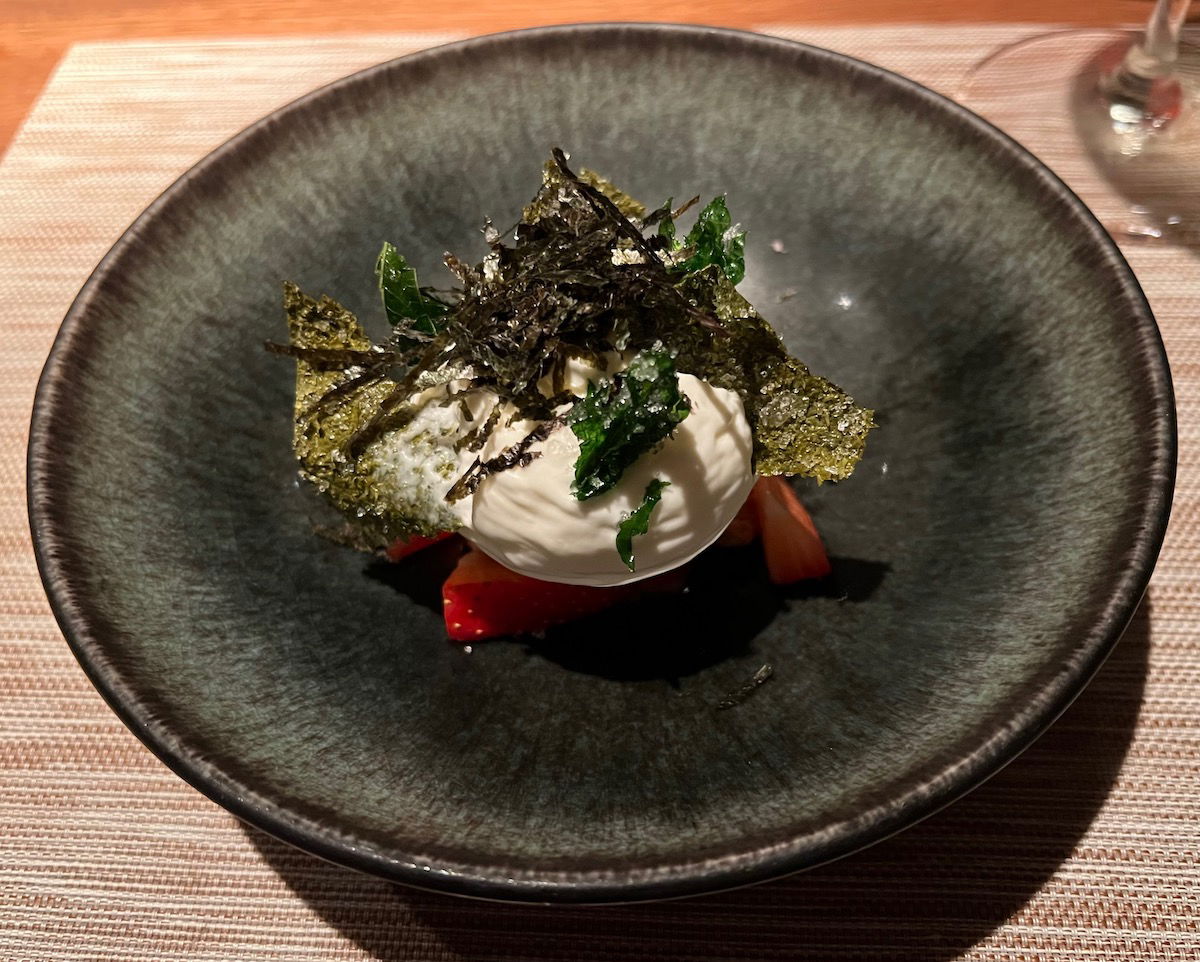 Again, this was an unbelievably good dining experience.
Cheval Blanc Maldives Deelani Restaurant
On our second evening we had dinner at Deelani, Cheval Blanc's Italian restaurant. This is located at the very end of the arrival jetty, so it has great water views (we even saw a few sharks from our table at dinner).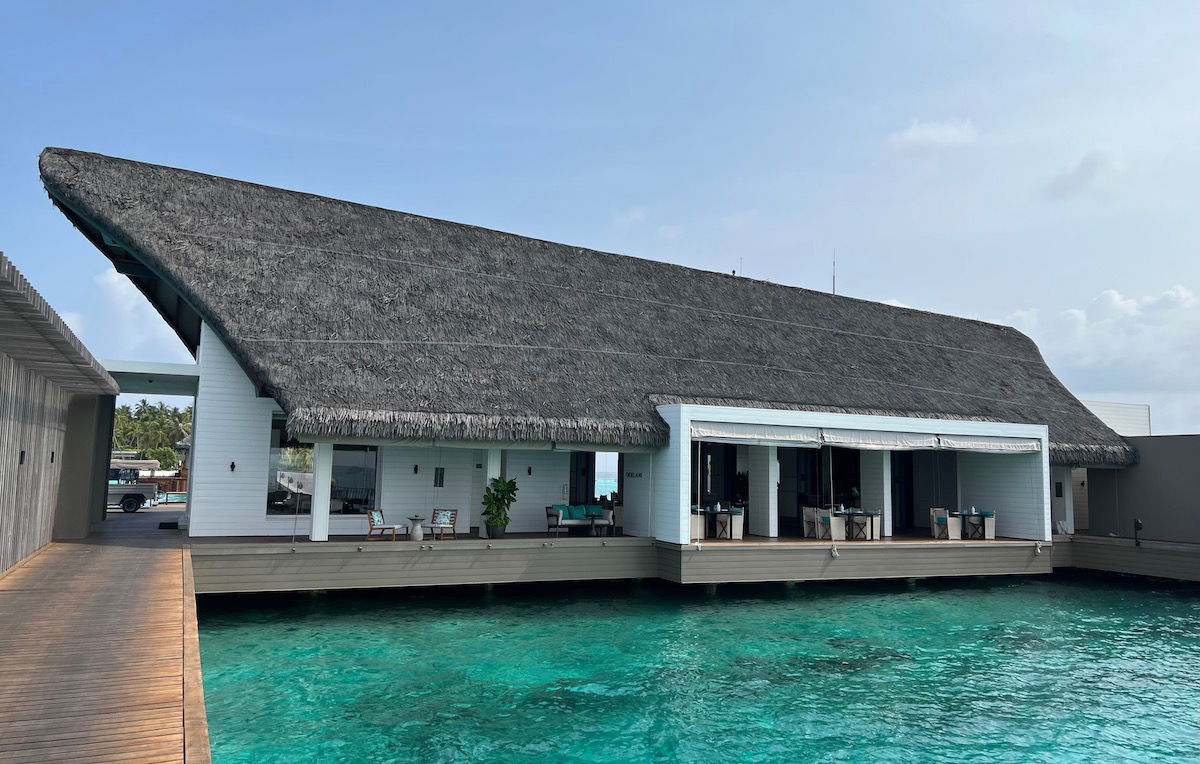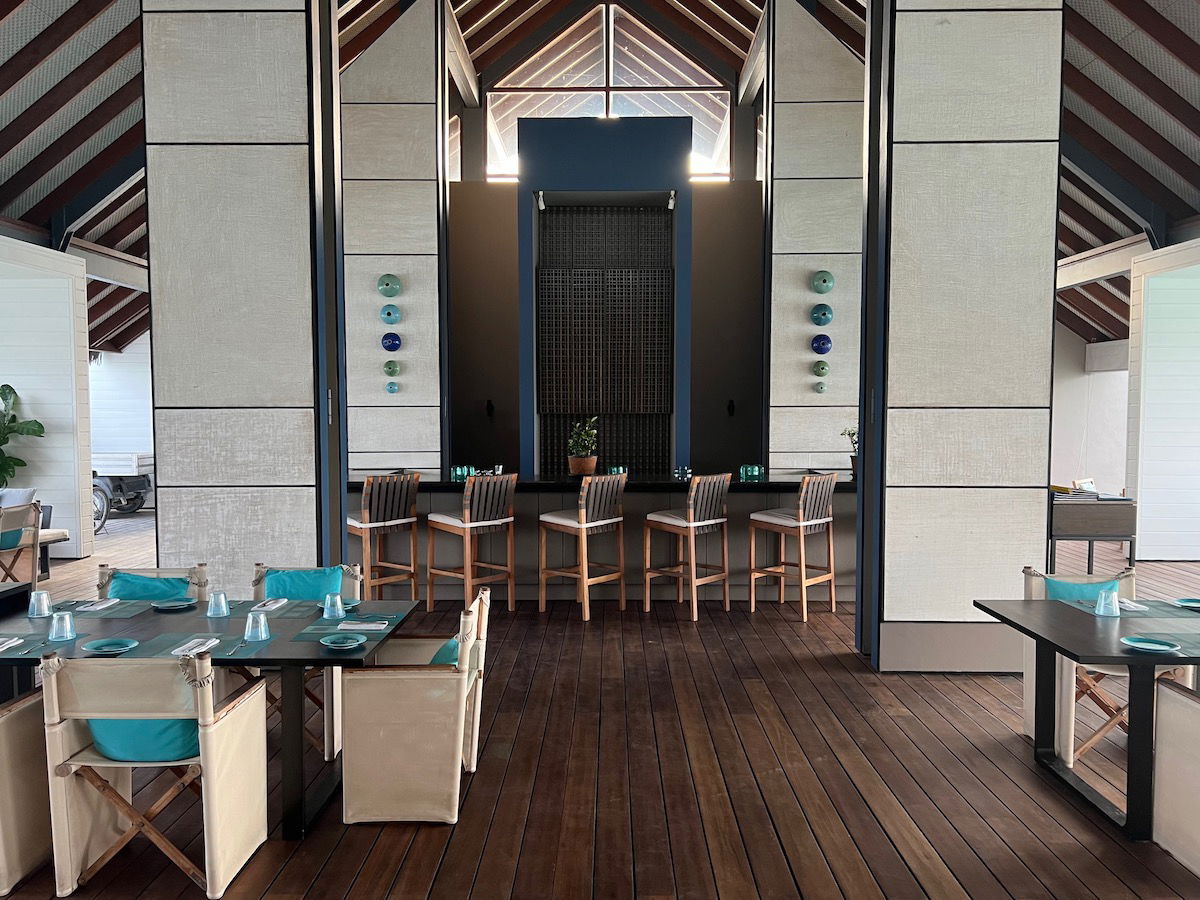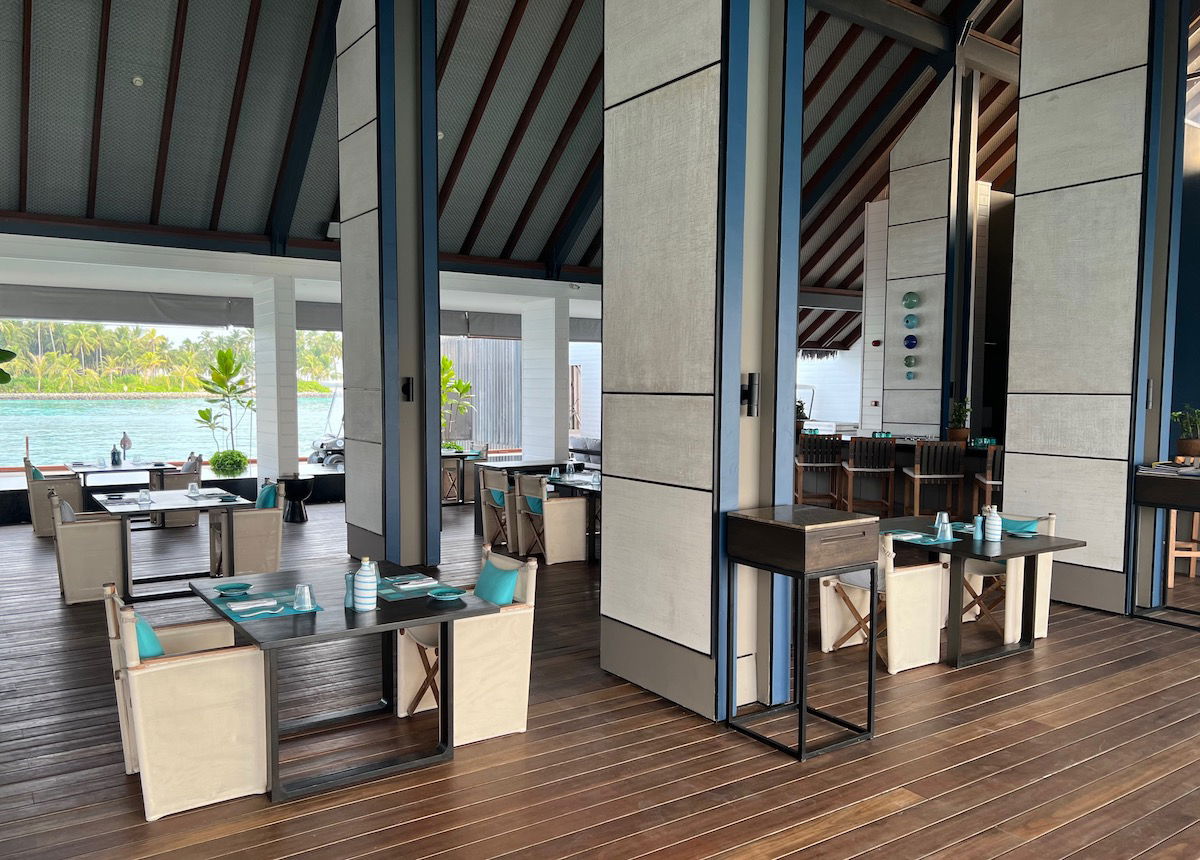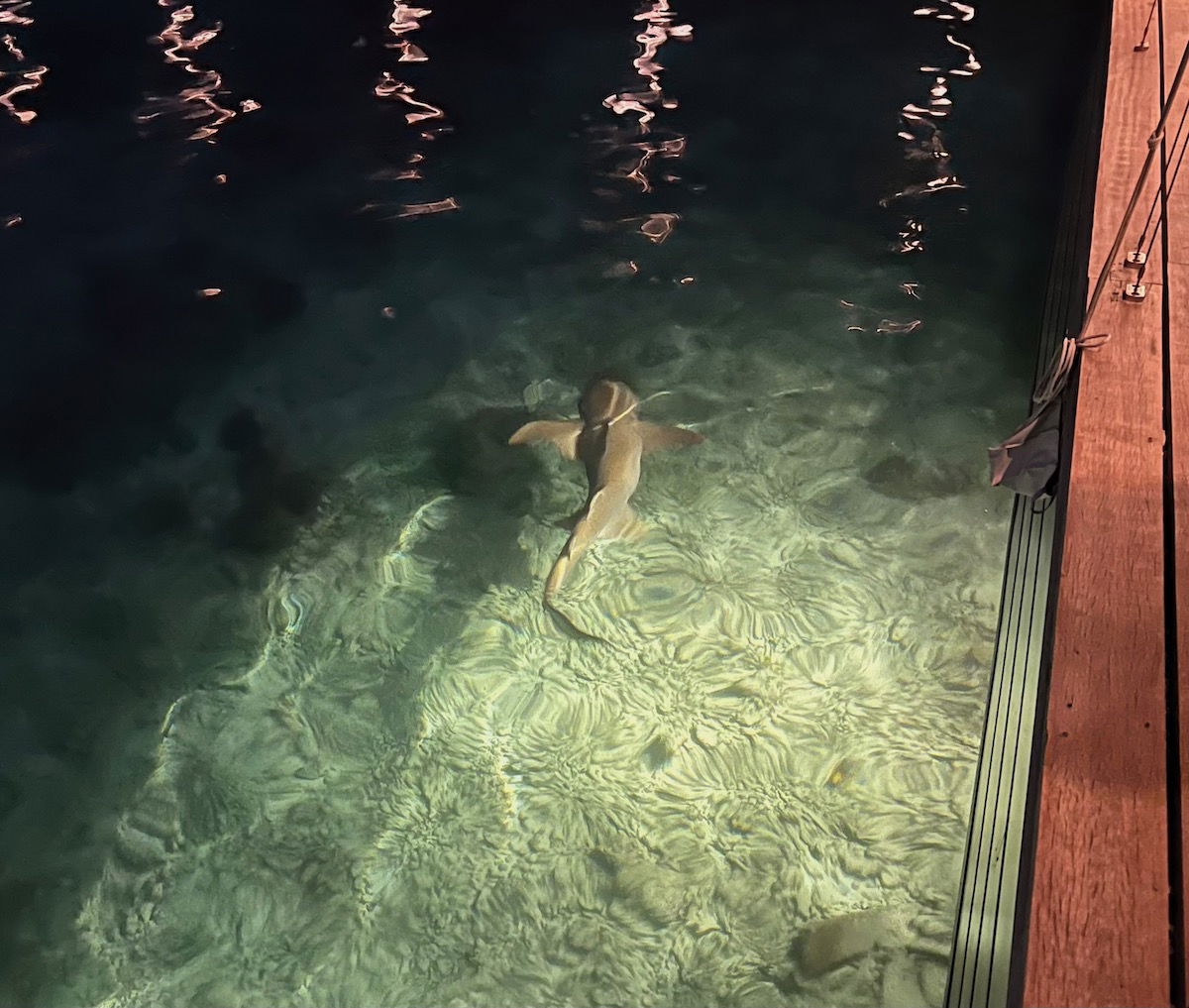 The meal started with a huge basket of freshly baked bread.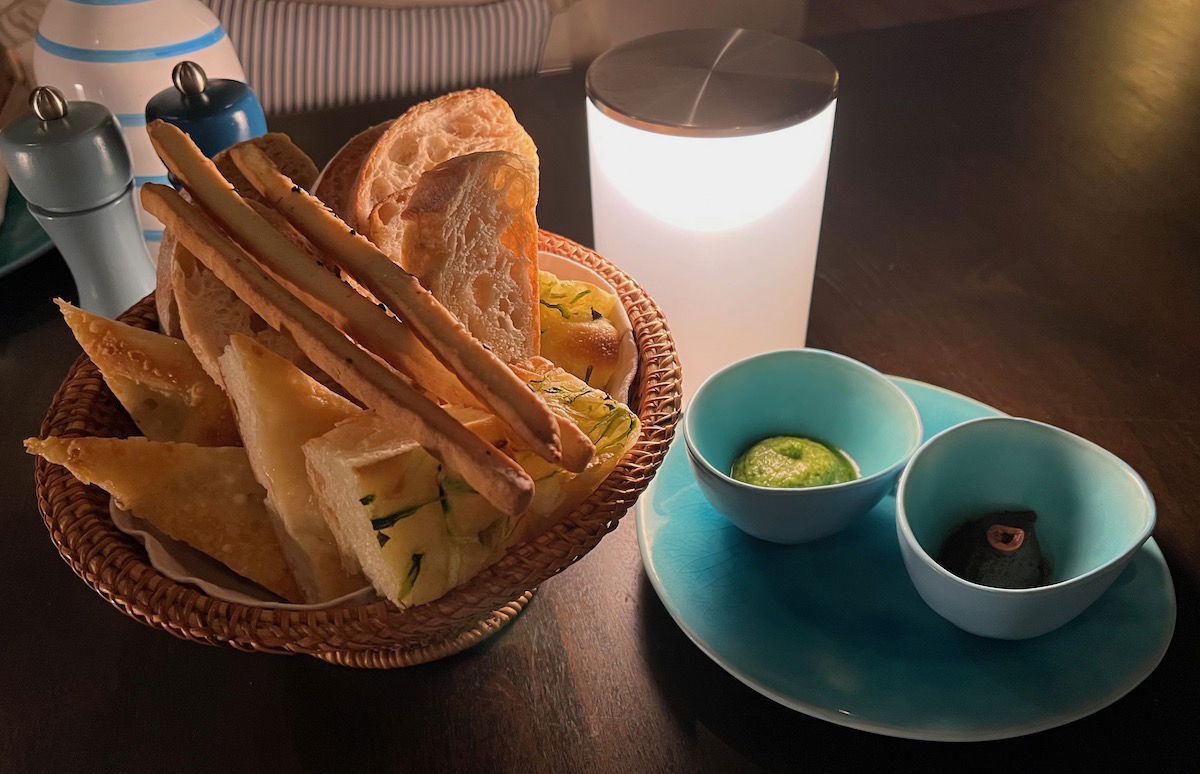 Then to start we had tuna tartare and calarmi.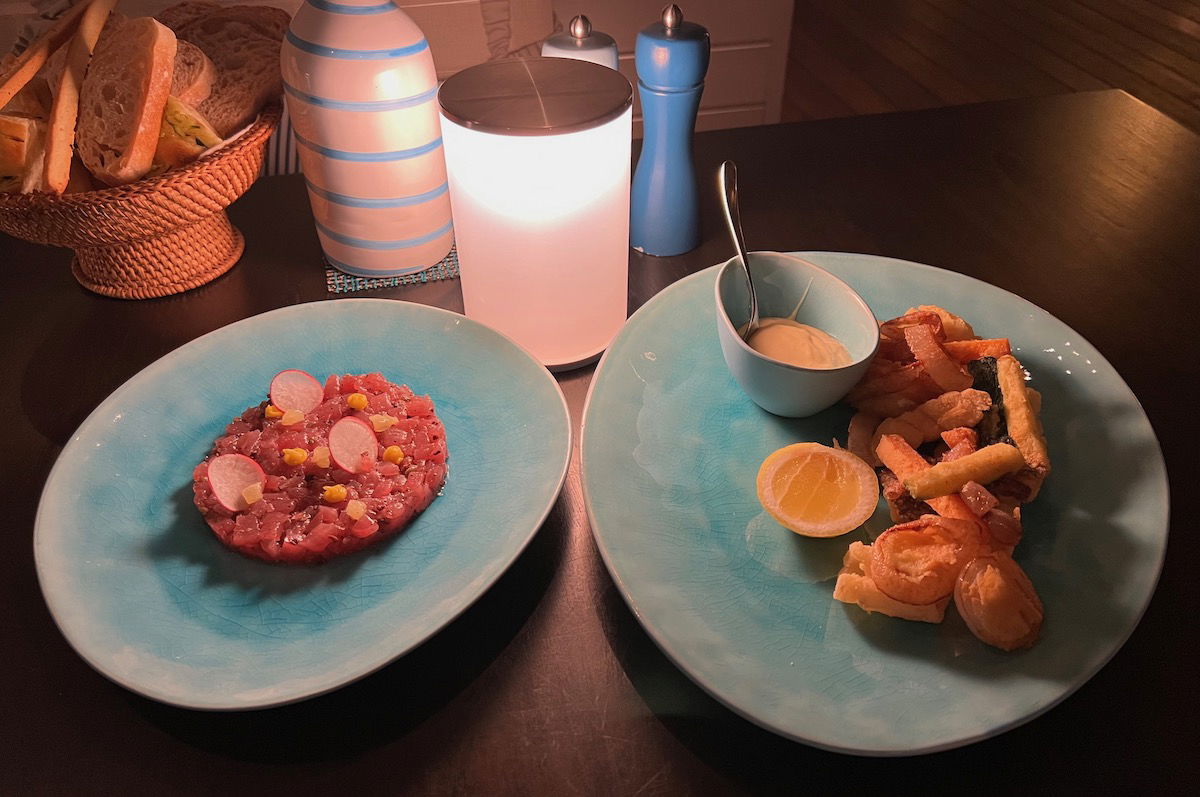 For mains, I had gnocchi, while Ford had the fish of the day.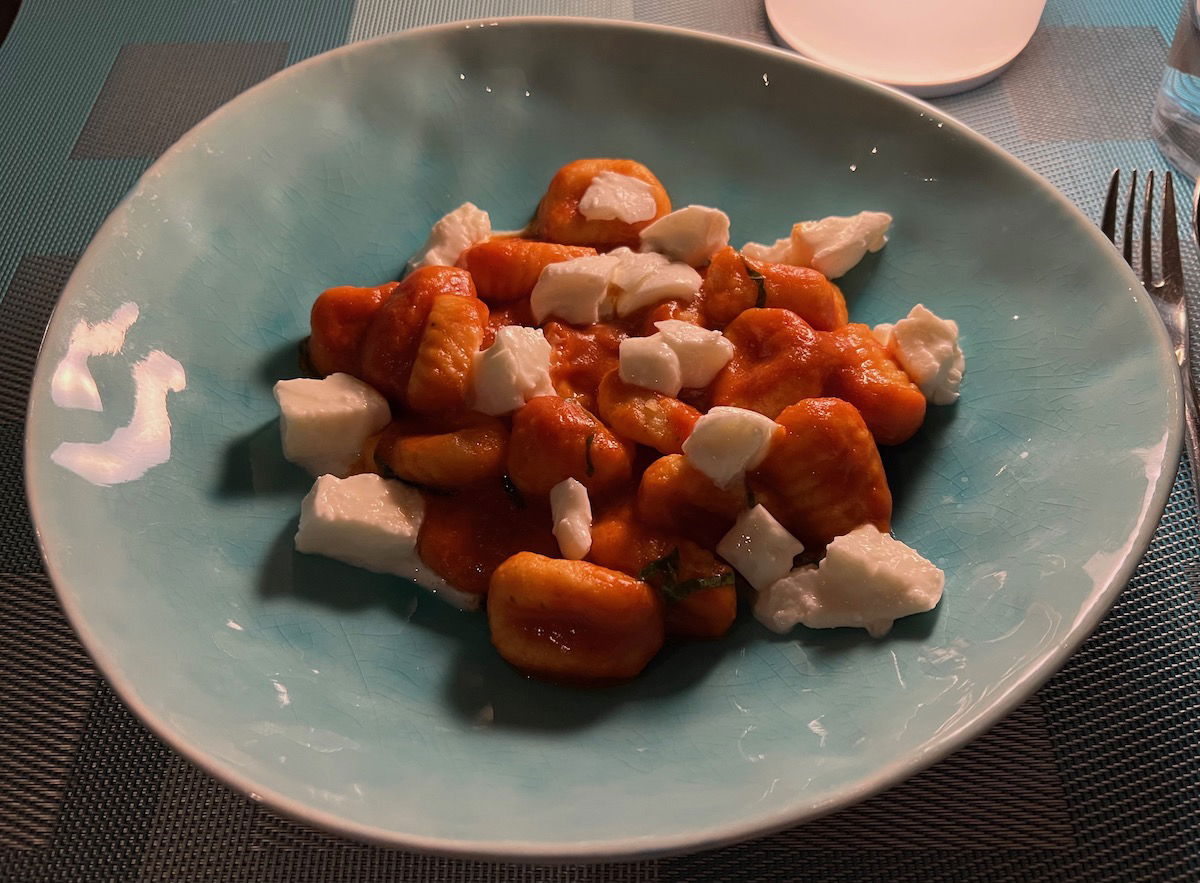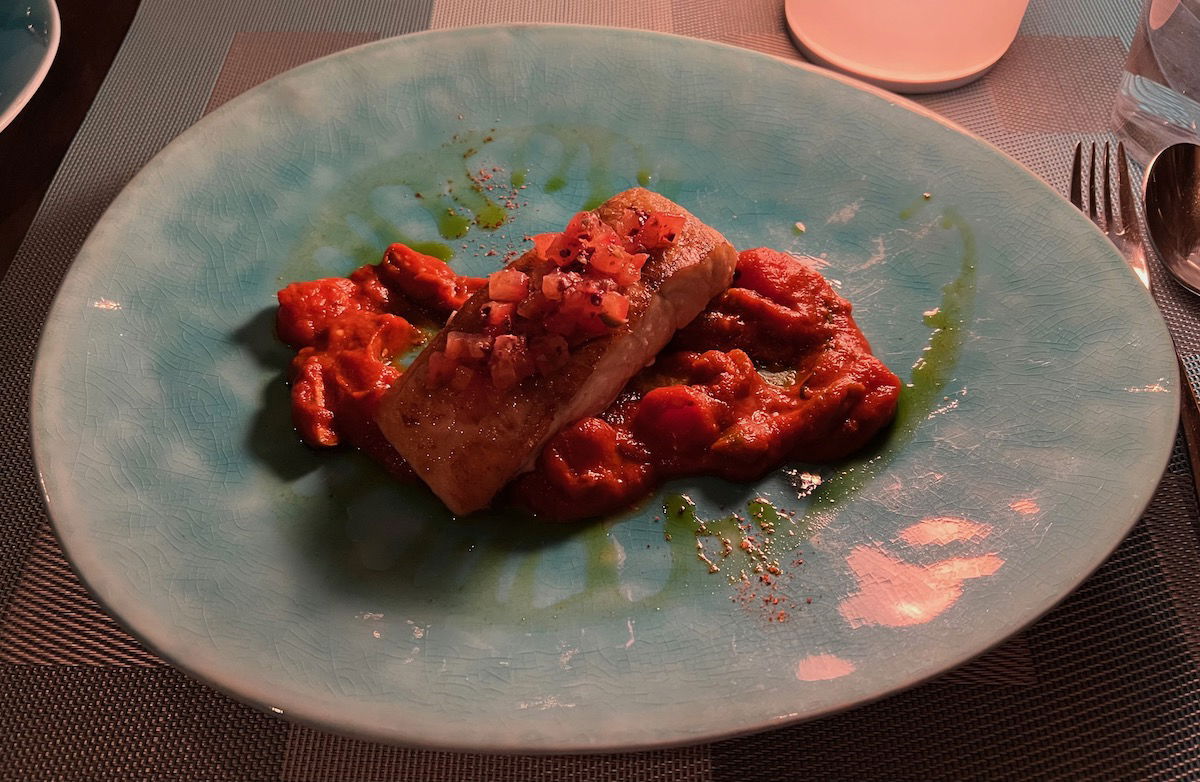 The gnocchi rivaled some of the best I've had outside of Italy.
Cheval Blanc Maldives Spa Bar
Spa Bar is the resort's lunch restaurant that's located on the spa island, and it has a unique dining concept. This is a small restaurant, as it has just a couple of tables, plus a few sets of chairs with side tables overlooking the pool (you can also be served food at the pool).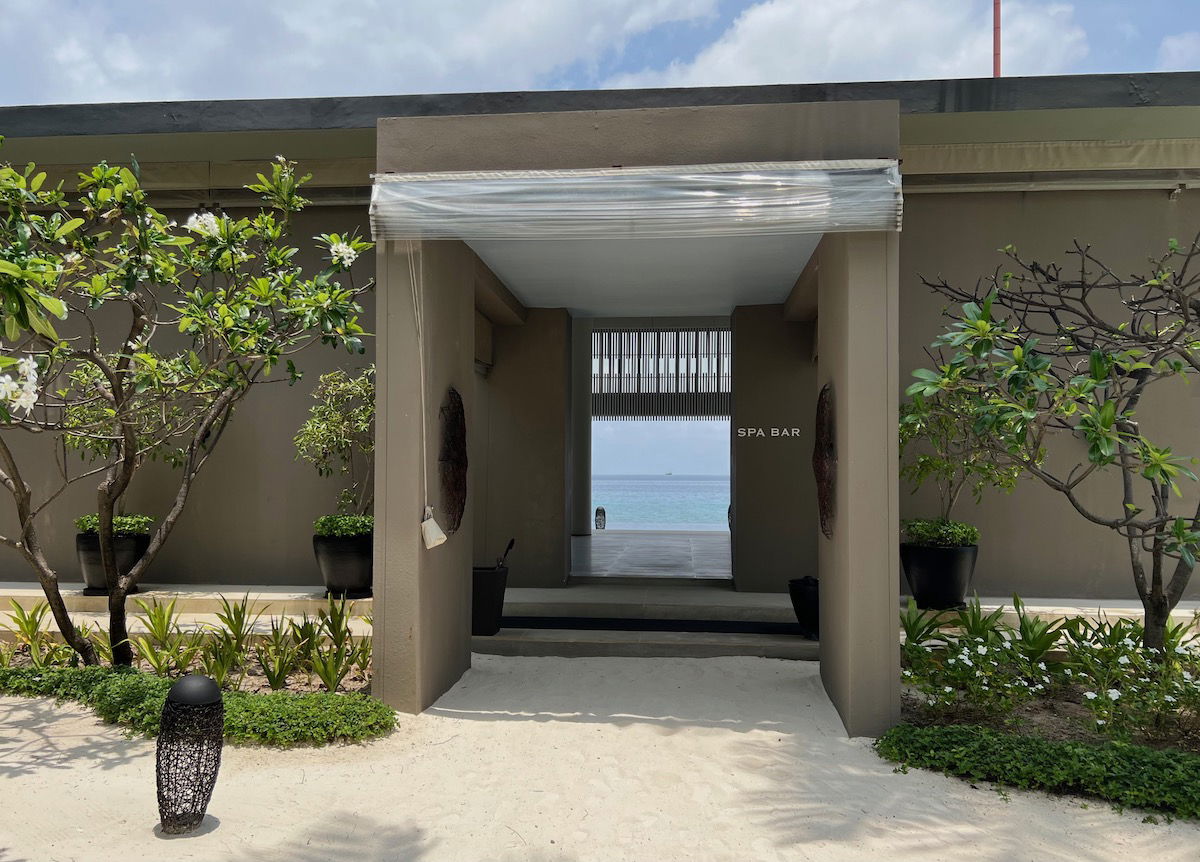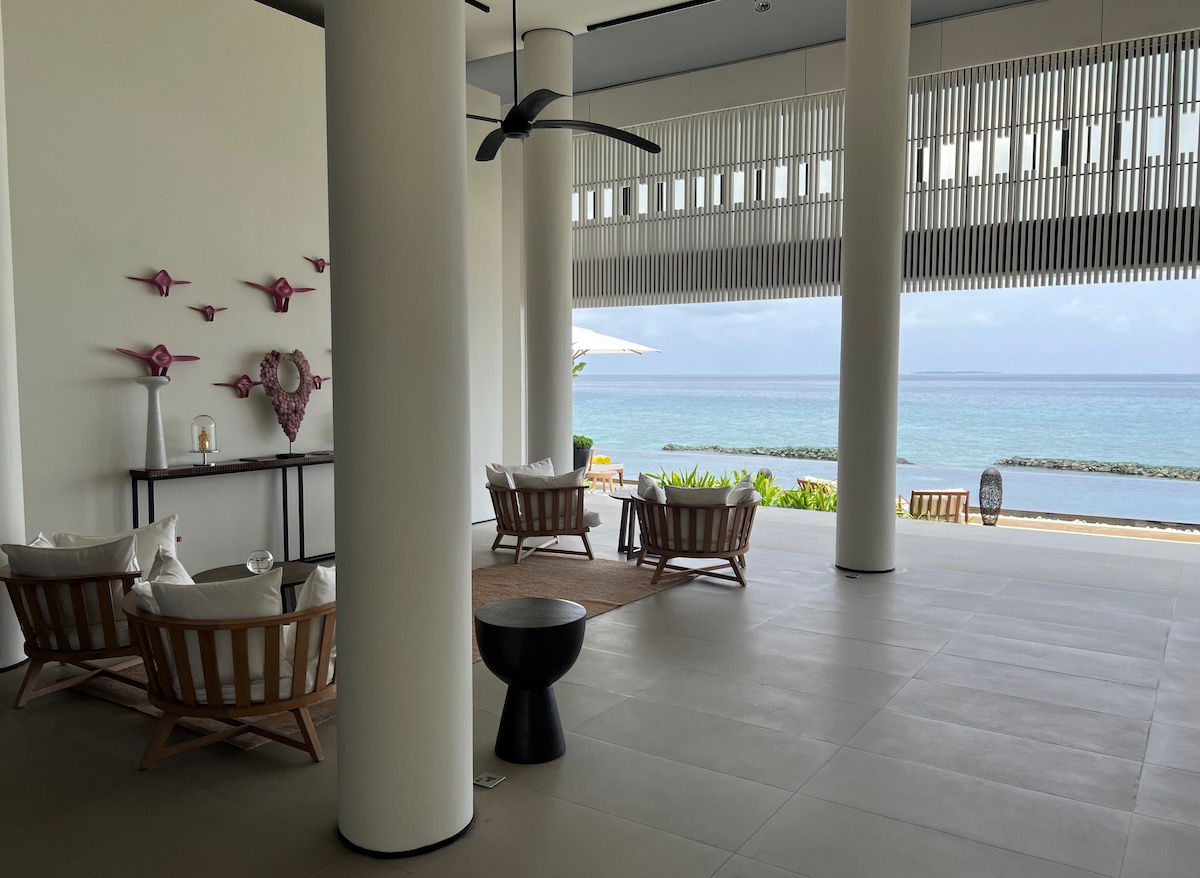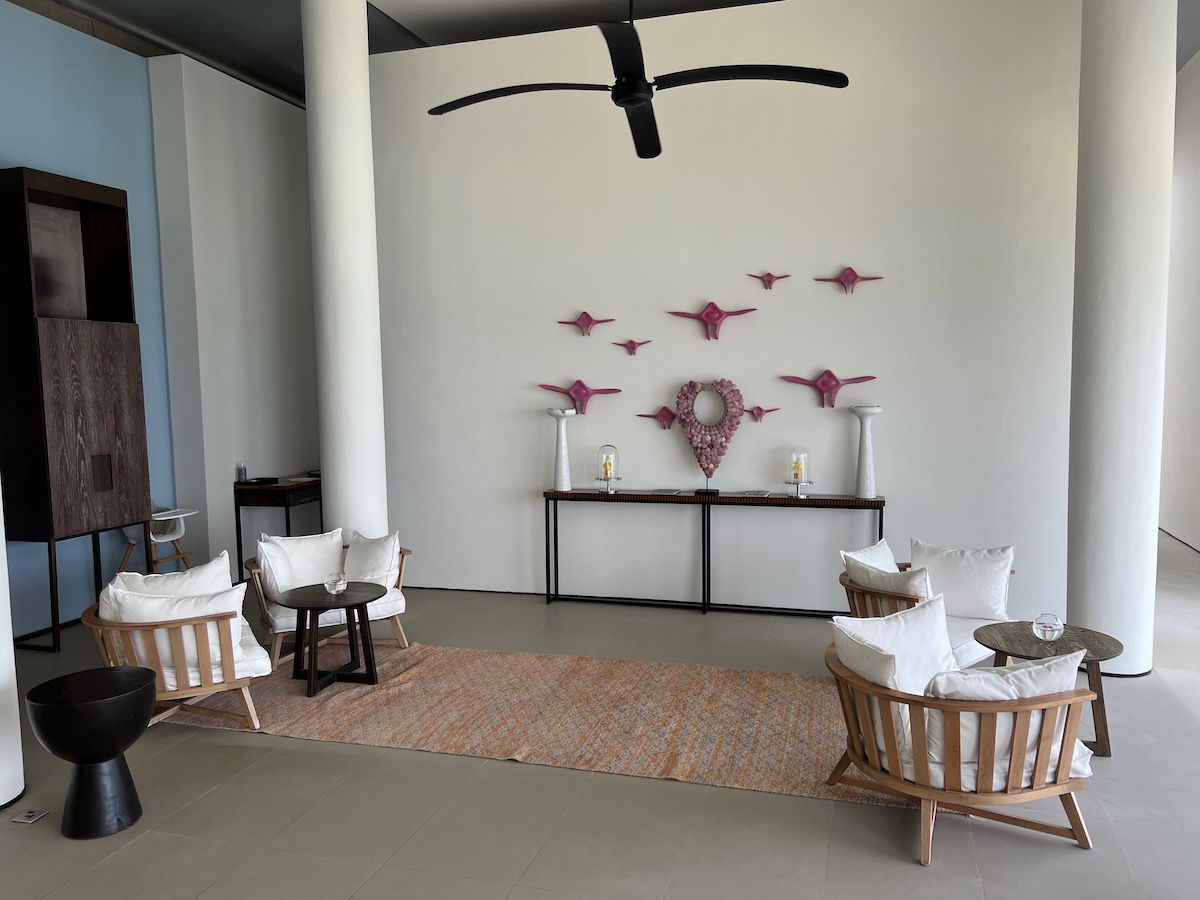 A lot of restaurants claim to be healthy, and then serve burgers and club sandwiches. But this place is actually healthy, which sure was a treat between all the other overly indulgent meals we had. There's a huge menu of fresh juices, so we tried a couple of those.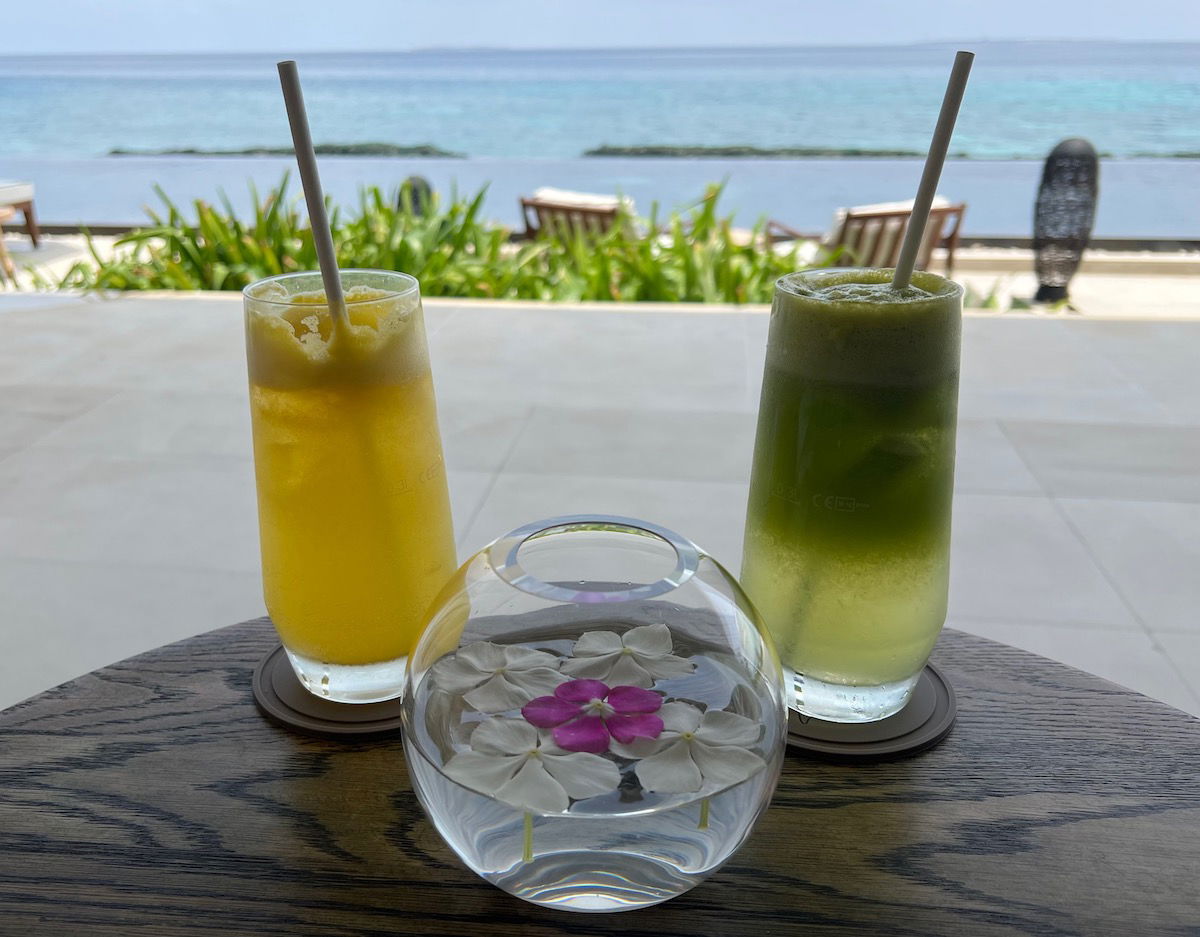 To eat, I ordered the rock lobster spring rolls, while Ford had the zucchini, green papaya, and pumpkin spaghetti with pomegranate and Thai dressing.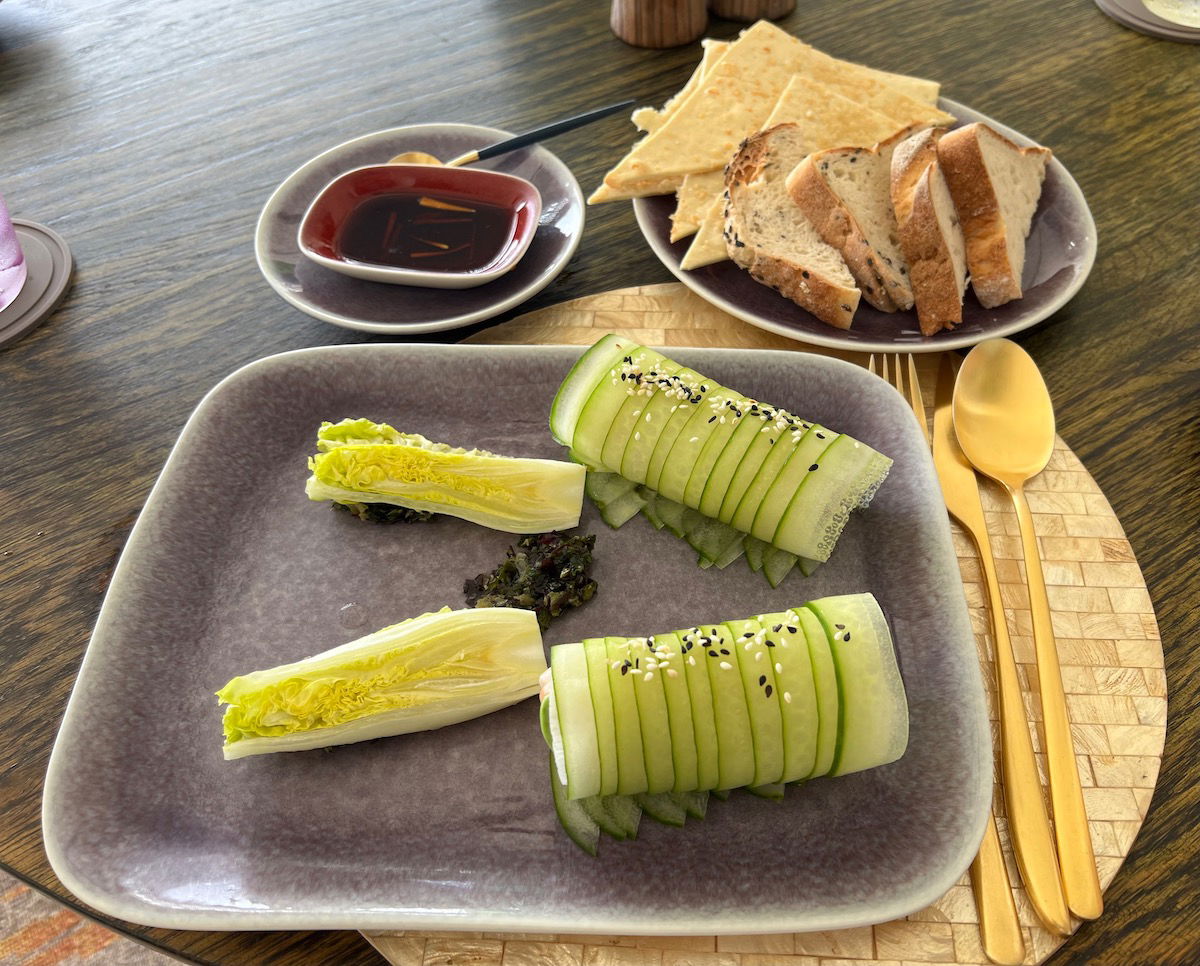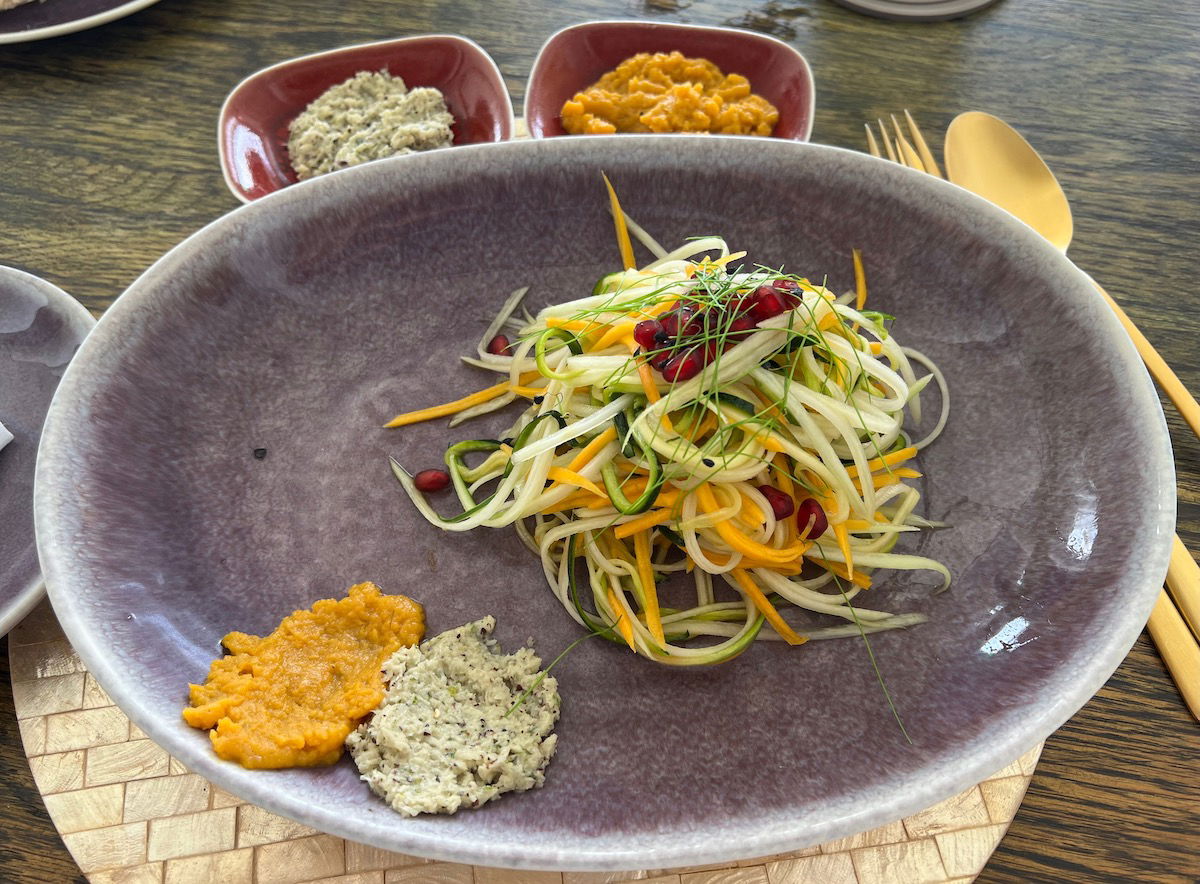 We also had some dessert (admittedly a bit less healthy), as I had some mochi, while Ford had sorbet.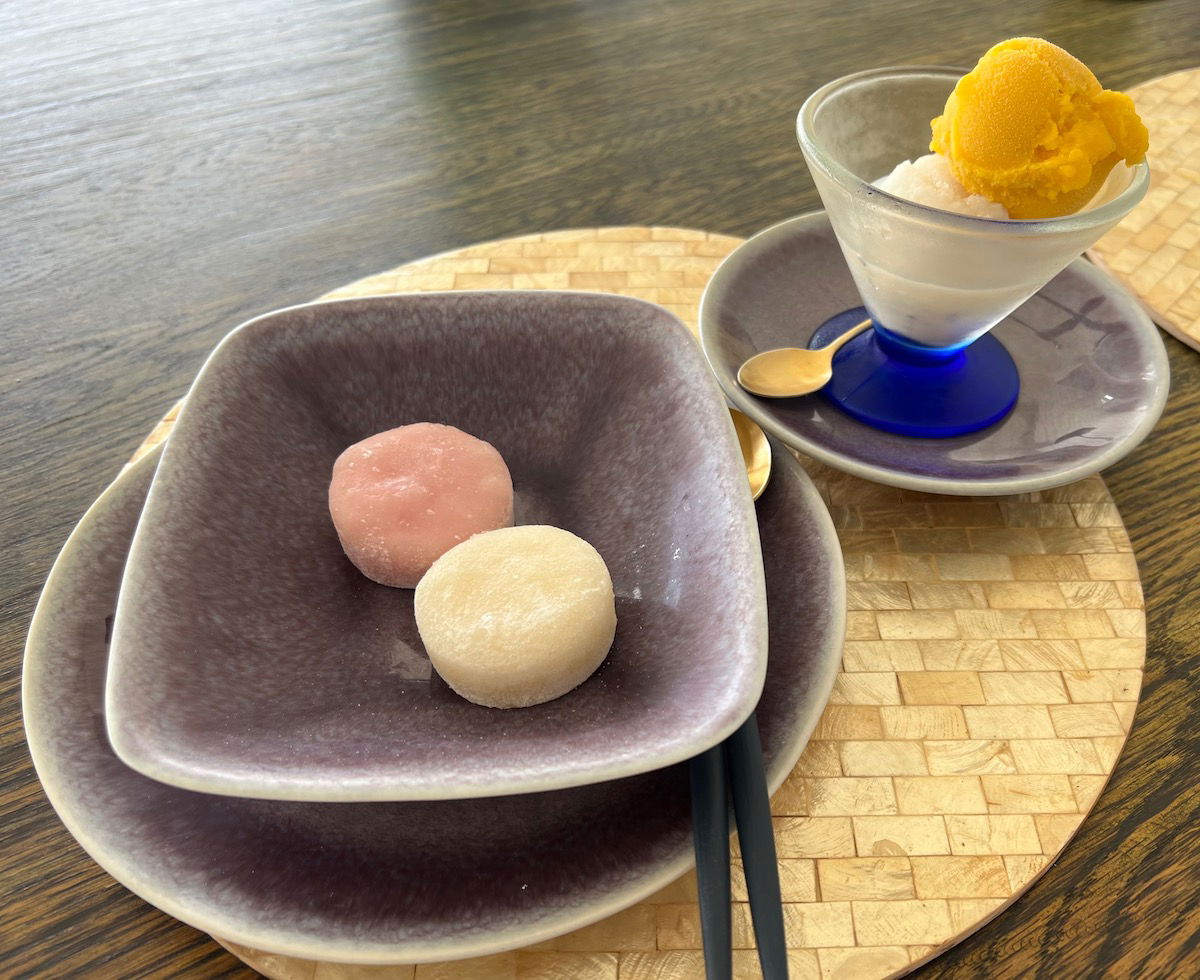 Cheval Blanc Maldives service
Service in the Maldives can be hit-or-miss, though we had the best service we've ever had in the Maldives at Cheval Blanc:
Across the board, it's clear that Cheval Blanc hires for personality, and virtually every employee we interacted with was personable and genuinely wanted guests to have a good time
Our Majordome, Ashra, was a superstar; she was so friendly, and responded to us by WhatsApp within minutes regardless of the time of day
The resort manager as well as food & beverage manager were extremely hands on, and checked on guests at just about every meal
I also want to talk a bit about the level of attention to detail at Cheval Blanc Maldives. Sometimes you stay at a hotel and wonder if the person who designed the experience has ever stayed at a hotel before. At Cheval Blanc Maldives, conversely, you wonder if there's anything they didn't think of when designing the property and service.
The amount of attention to detail that went into just about everything is what really sets this apart.
Let's start with the villa. For example, the sheets were changed every day. How do you know? Well, because they alternate the colors of the sheets every night just to remind you. 😉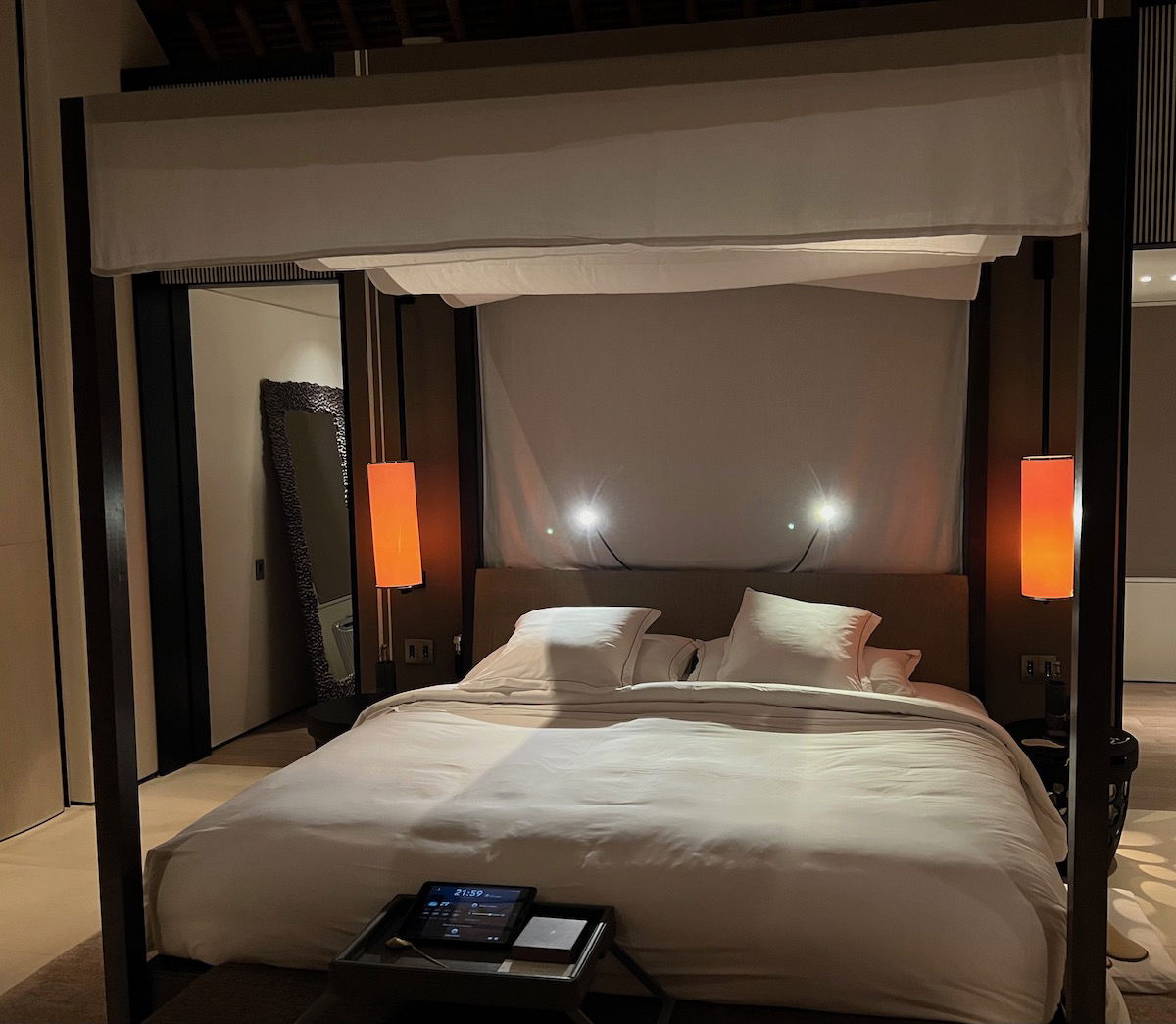 There's a cute little canoe with sand near the entrance to the room, and every day a different message was written in it.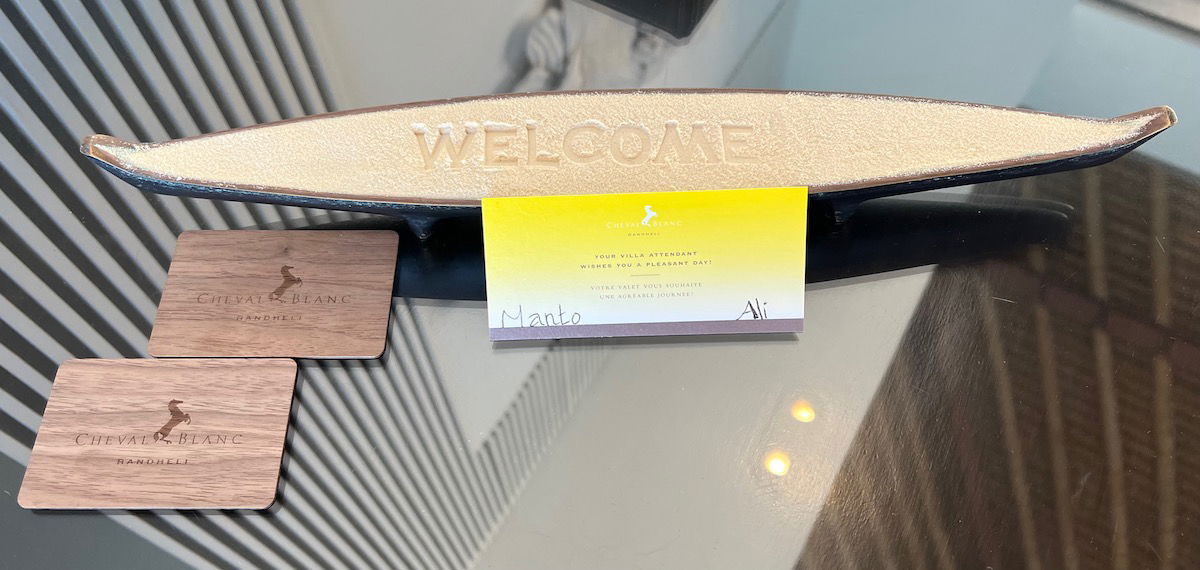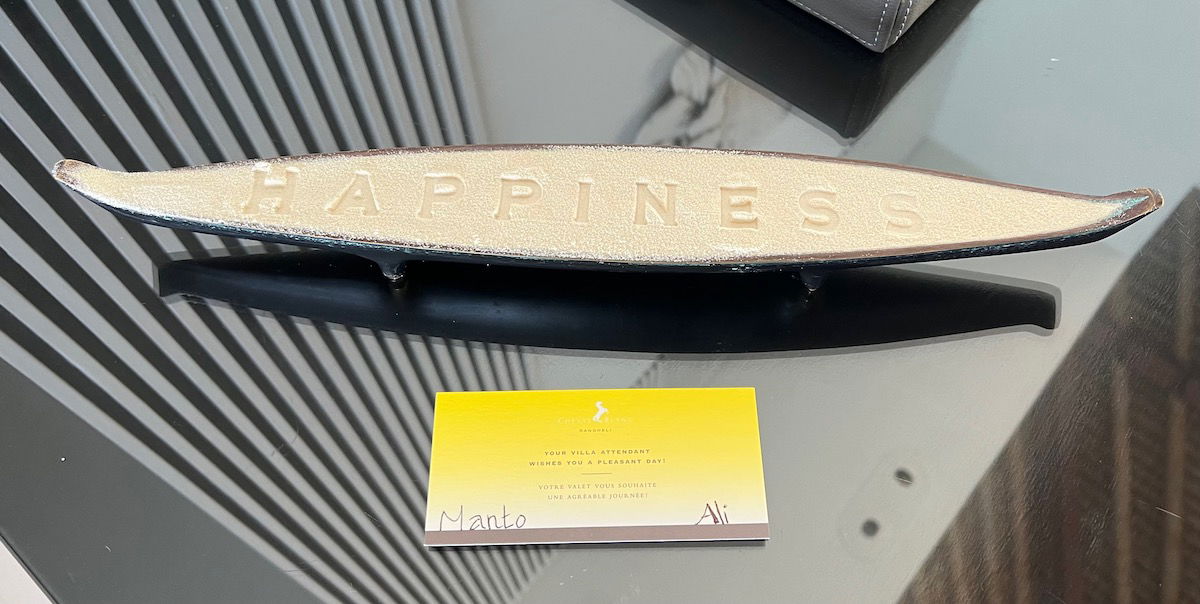 For that matter, multiple times per day there were also messages written in the sand leading up to the villa.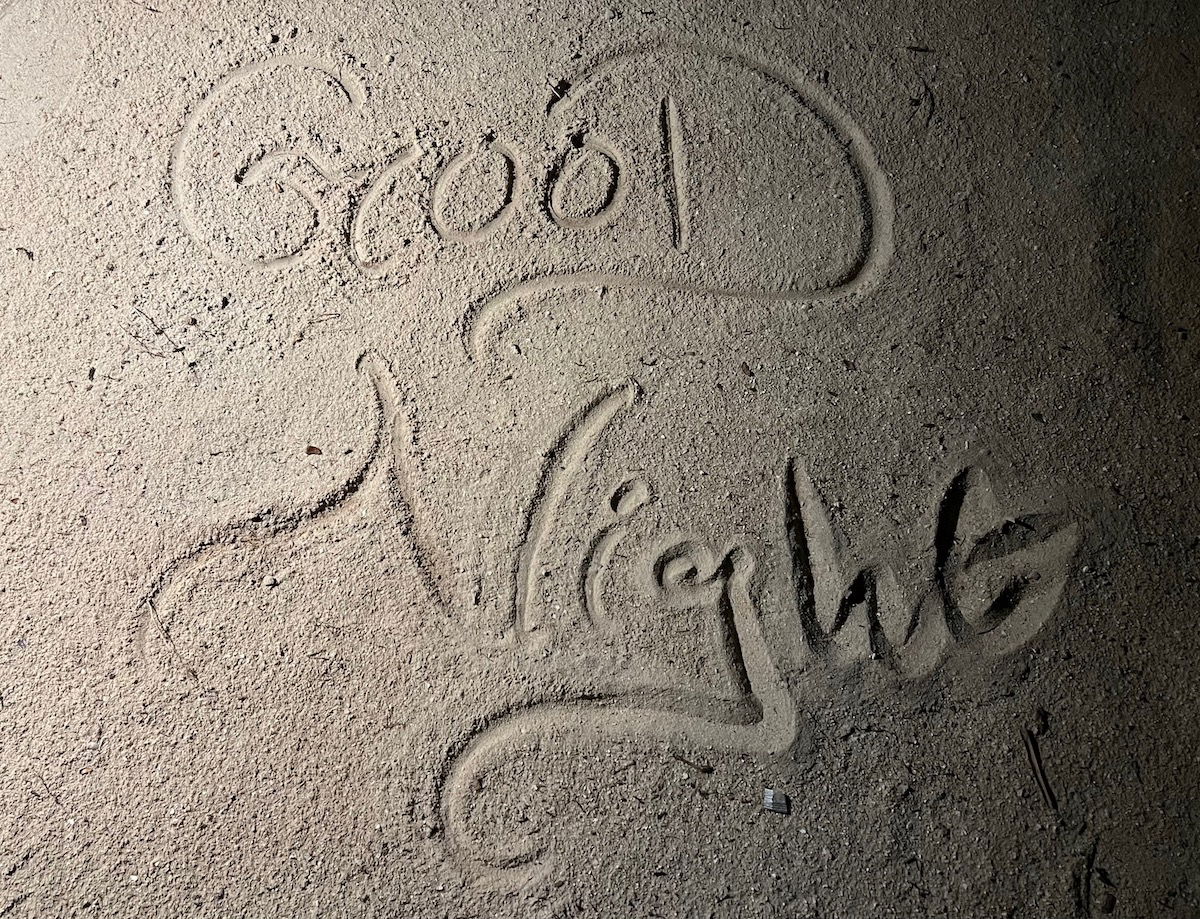 And speaking of message, since it was my birthday, "HAPPY BIRTHDAY" was written in shells in front of the door.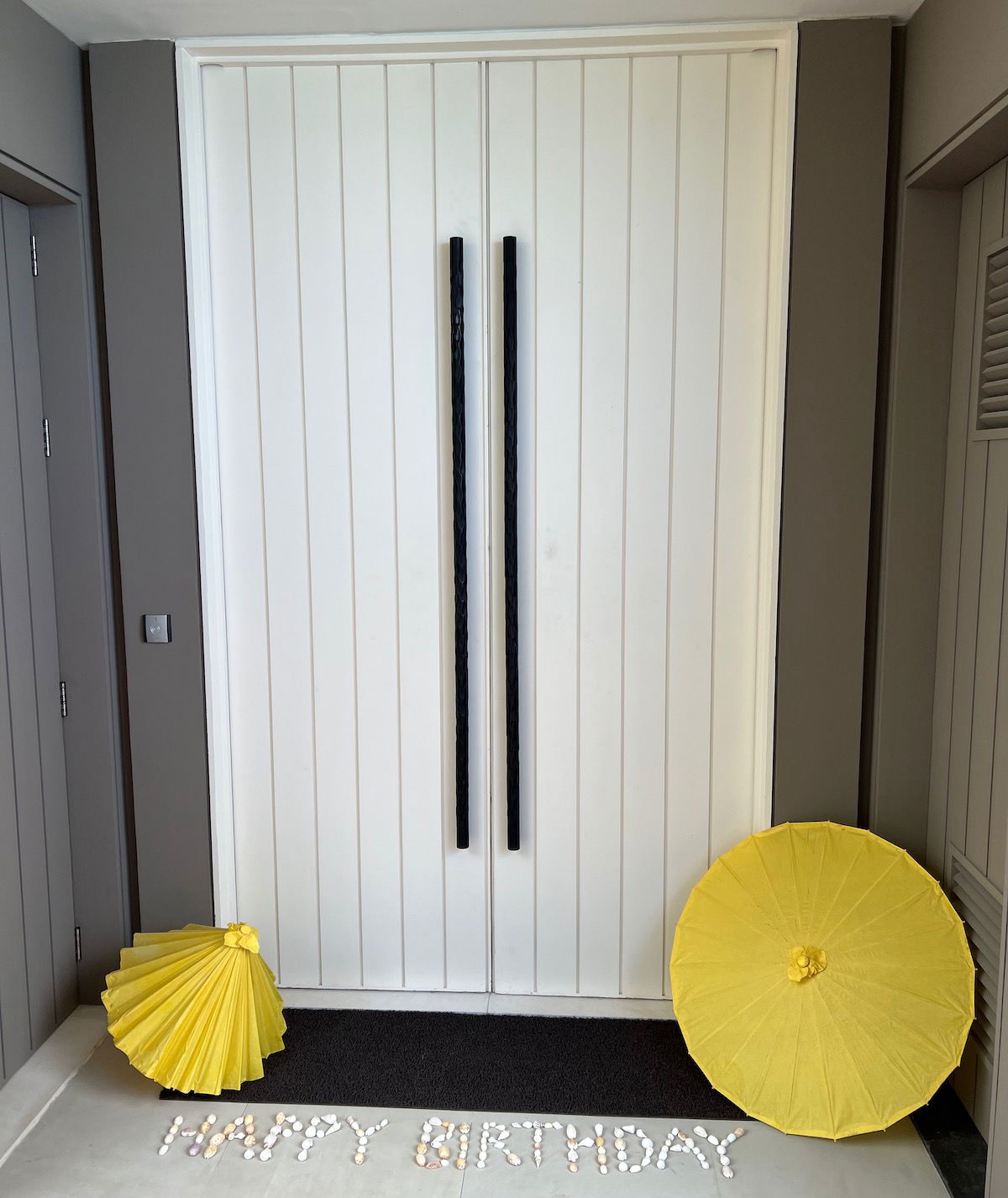 Also, the number of little gifts and goodies in the room reminded me of Cheval Blanc Paris, with endless toiletries, candles, and other surprises.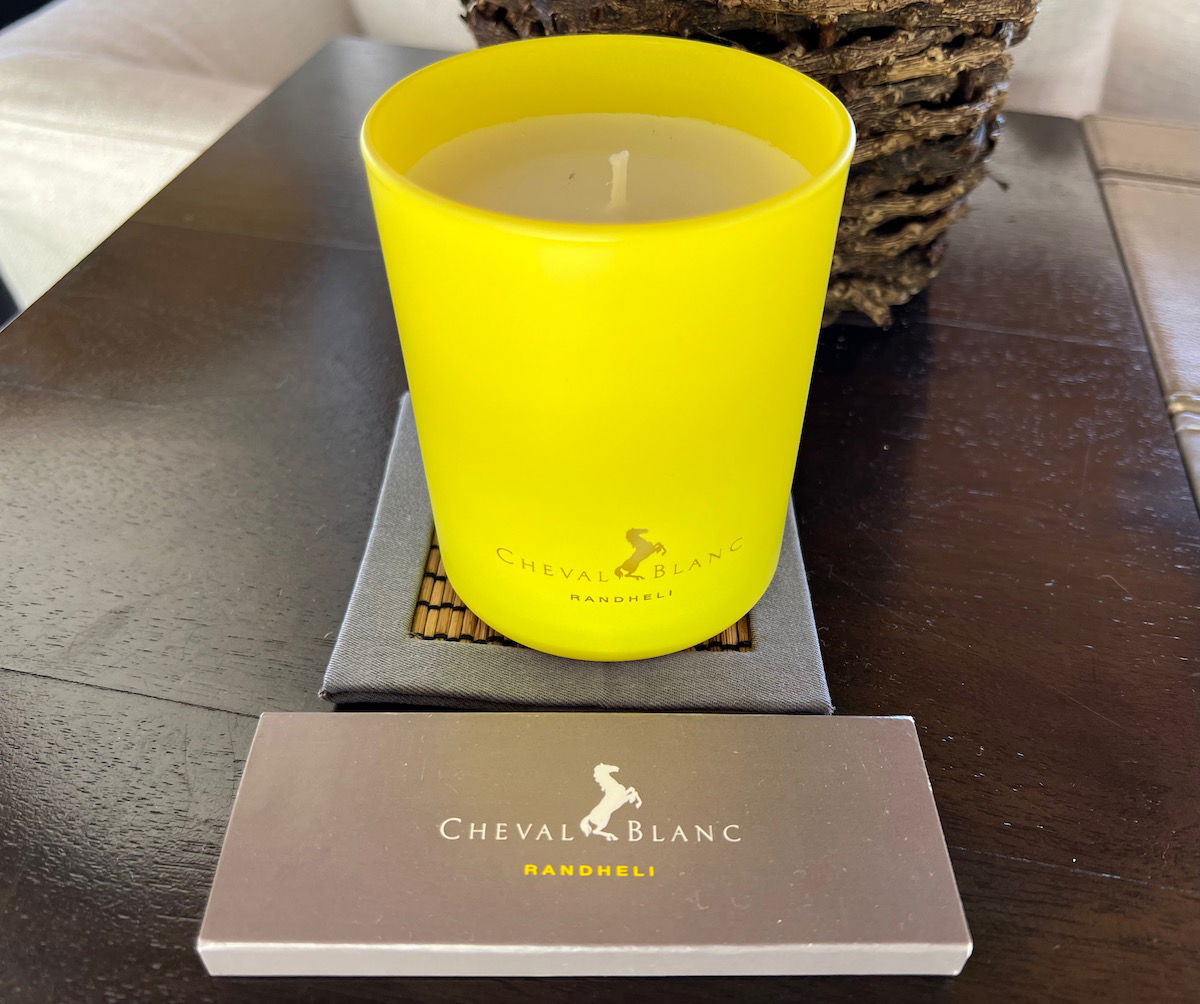 I loved how even thought was put into the in-room notepad, as it was in the shape of an island.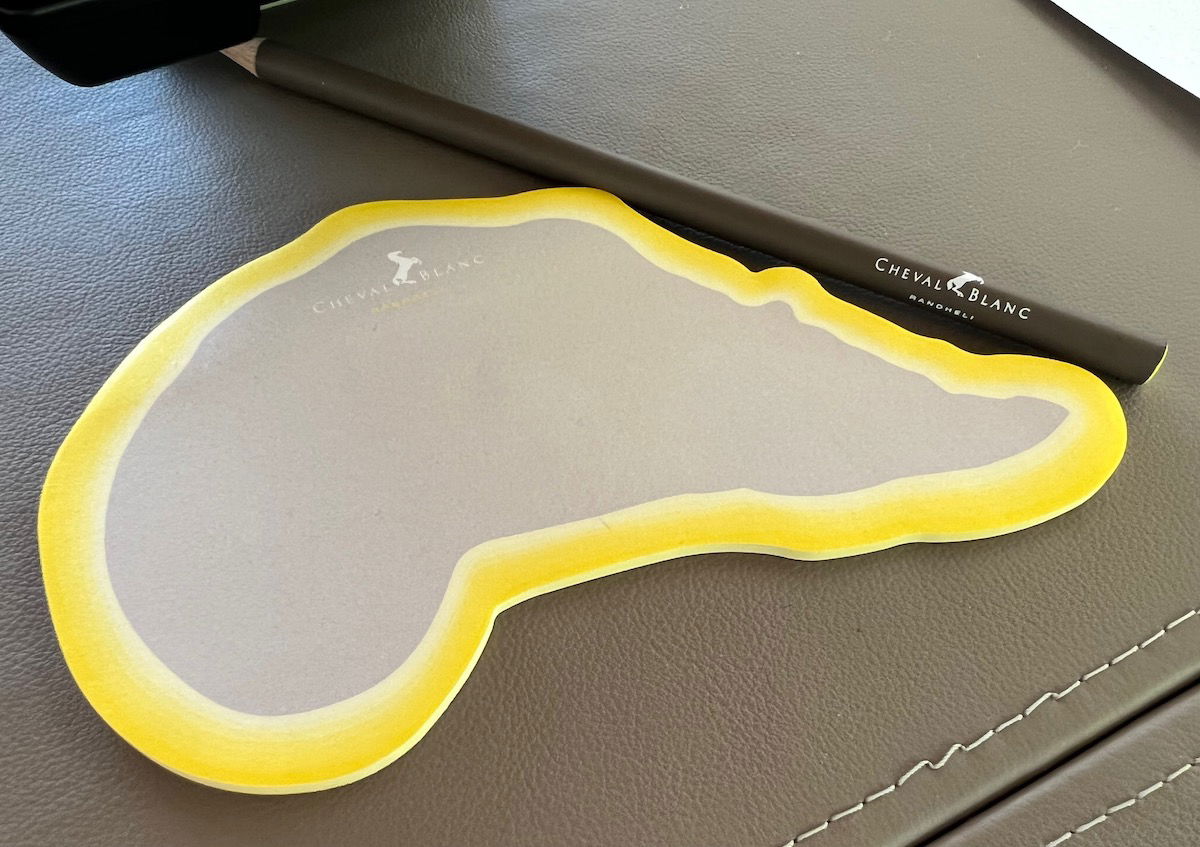 I feel like just to prove that they put thought into everything, the hotel offers complimentary dry cleaning, laundry, and pressing services, for your arrival attire, up to three pieces. This means your travel clothes can be "fresh" and enjoyed for the rest of your stay.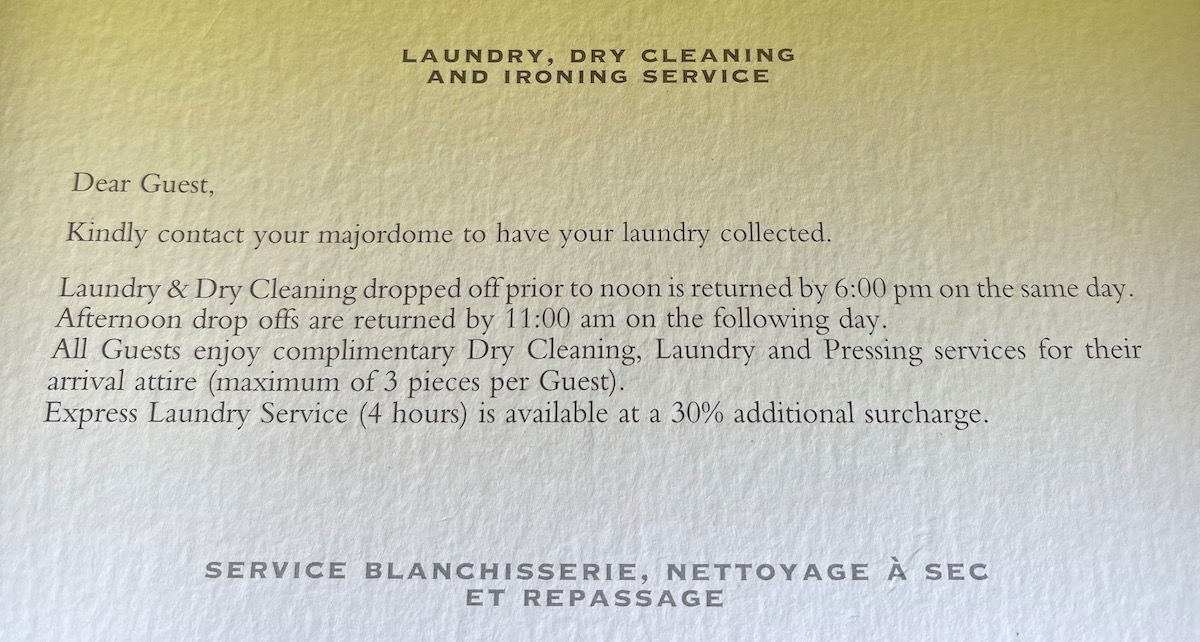 There was a similar attention to detail in public areas. One small example is that you're offered a refreshing towel just about everywhere you go. Each time it's brought out on a tray, and then each outlet has a signature fragrance that's sprayed on it. Unbelievable.
Bottom line
Cheval Blanc Randheli is regarded by many as being the best hotel in the Maldives, and now I understand why. It's certainly my favorite island resort I've ever stayed at. This resort is jaw-droppingly beautiful, from the six islands as such, to the stunning facilities. To top it all off, the resort has impeccable service and the most impressive food & beverage program I've seen at any secluded resort.
If you love luxury hotels and are considering a trip to the Maldives, I'd highly recommend Cheval Blanc if you can swing it.