After a couple of nights in Dubai, it was time to fly Emirates first class from Dubai to Male. As is often the case in the Middle East, our flight was departing at an ungodly hour — 4:20AM.
Rather than paying for a hotel for an extra night, we instead checked out of our hotel at 6PM, had dinner with a friend, and then headed to the airport at around 9PM. Thanks to our jetlag, it actually wasn't bad at all.
This also allowed us to spend an extended amount of time in Emirates' first class lounge, which I hadn't visited in years. I continue to have mixed feelings about this lounge. It's the biggest first class lounge in the world, and impressive for its size. The staff, food, and wine in the lounge are also all great. But there's not a whole lot that feels luxurious about the lounge otherwise, if you ask me.
Let's get into the review…
Emirates first class check-in Dubai
Our friend dropped us off at the airport at around 9PM at the dedicated first & business class check-in area. It was deserted at the time, given that most Emirates passengers are connecting, and beyond that there wasn't a bank of departing flights for several more hours.
The below is the dedicated premium check-in area. Yep, it's huge.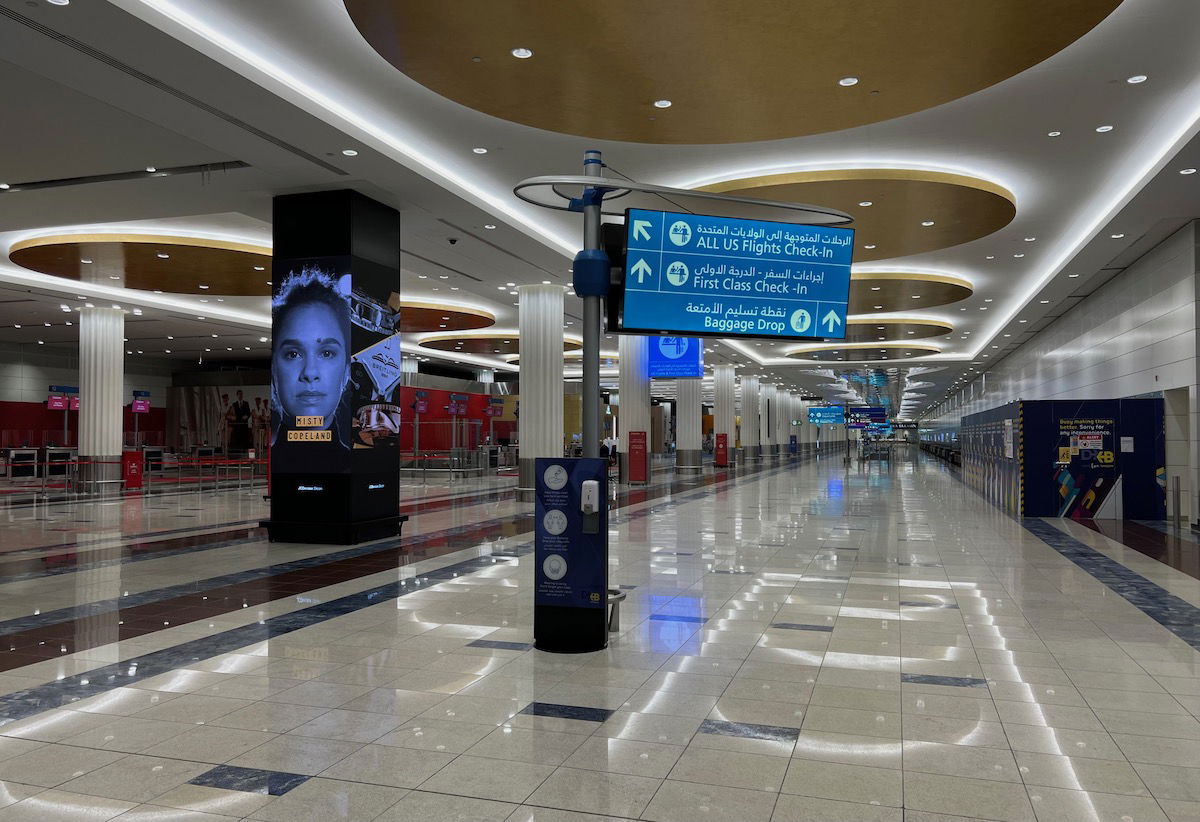 We headed to the first class counter, where we were checked in for our flight to Male within minutes.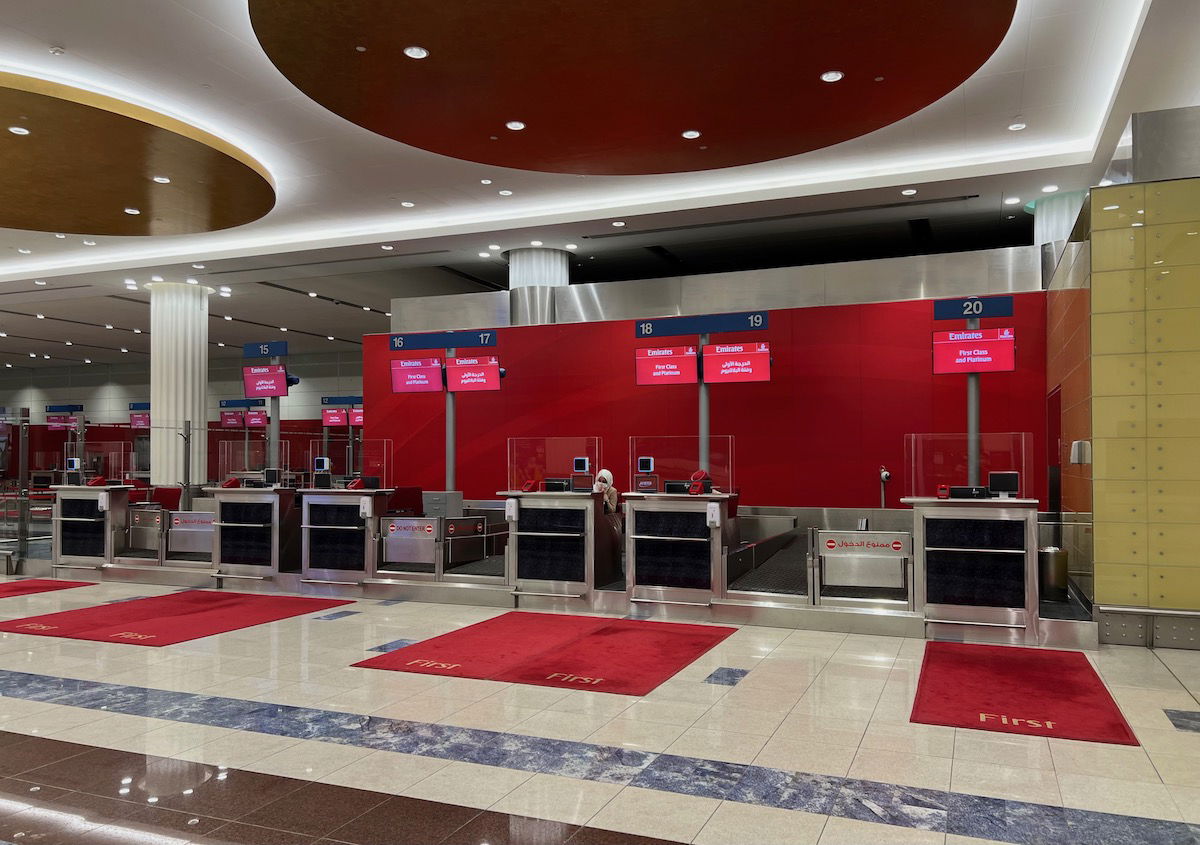 There's also a dedicated premium departures experience. All passengers can use the Smart Gates to go through the exit immigration process, and then after that is the security checkpoint, where there was also no line.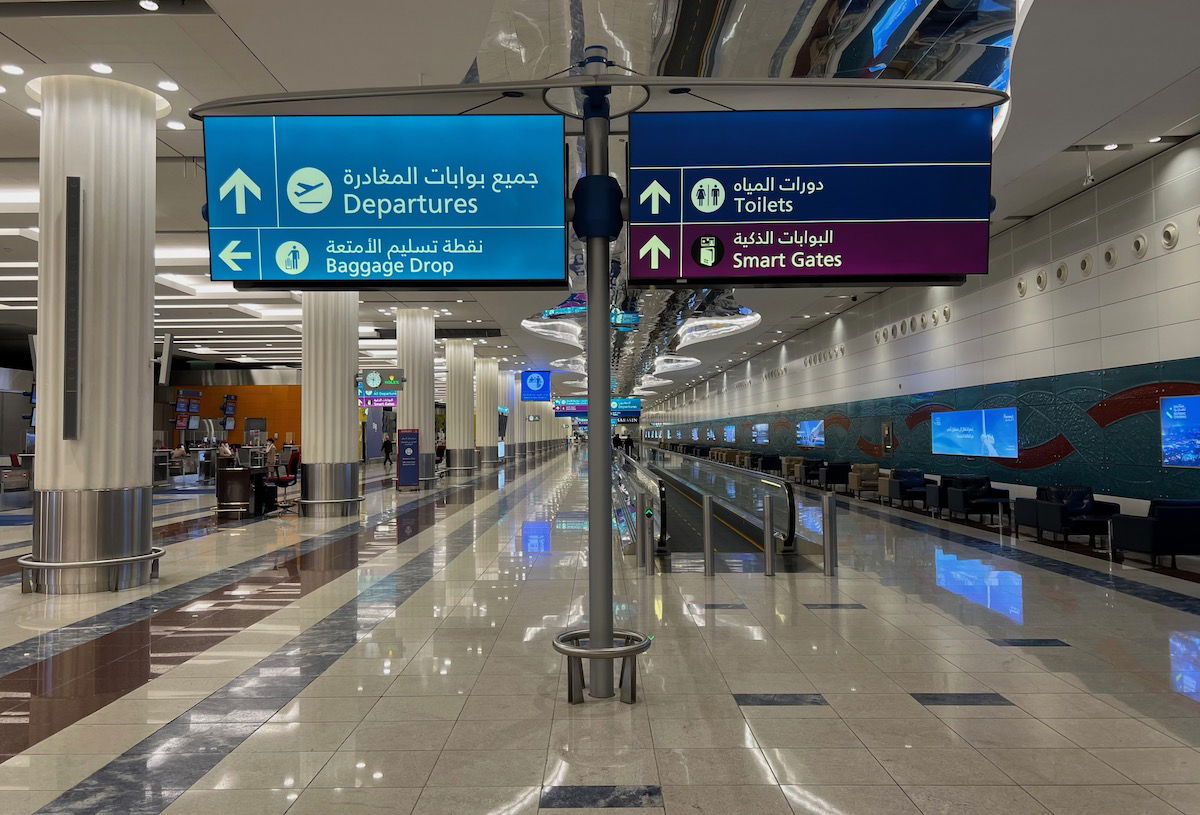 Emirates first class lounge Dubai location
Emirates has three first class lounges at Dubai Airport, though the most impressive one is in Concourse A. All Emirates gates are connected airside, so regardless of where your flight departs from, you can use any of the first class lounges.
Once through security we followed the signage toward Concourse A, which requires taking a train.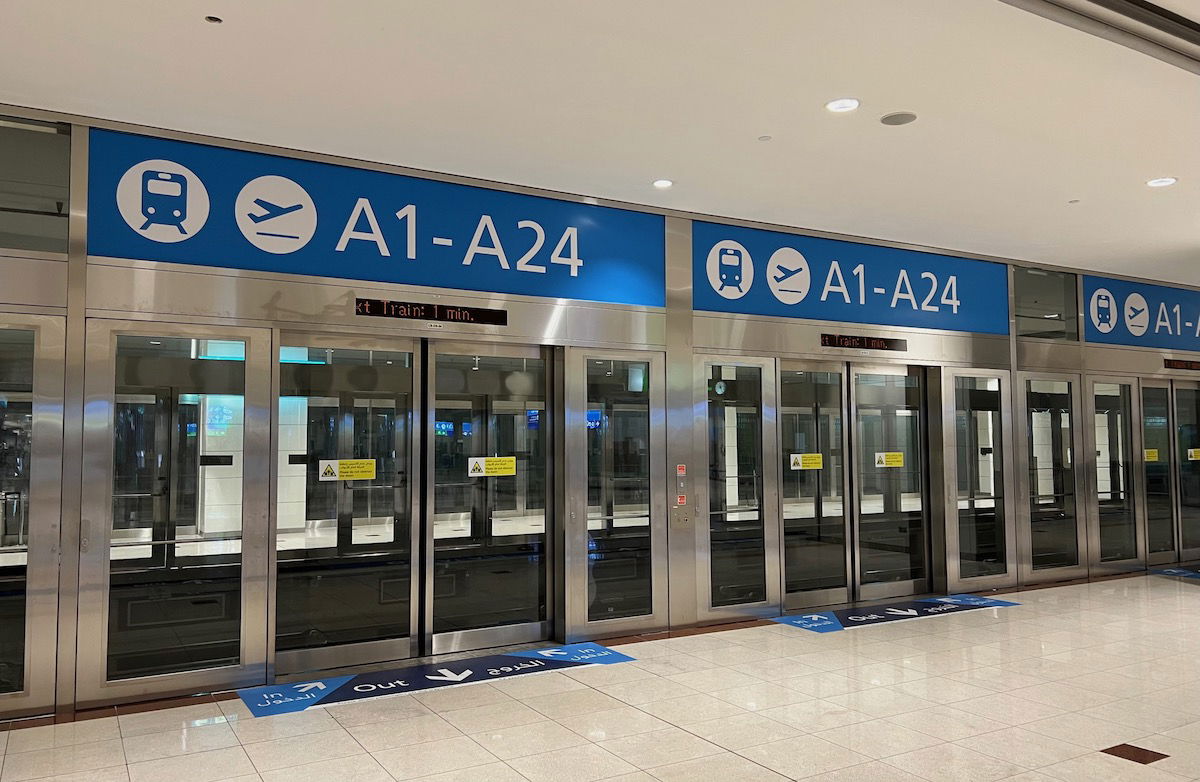 This isn't just some train that takes you a few hundred yards, but instead it's quite a long distance, and you almost feel like you're in a subway in a city.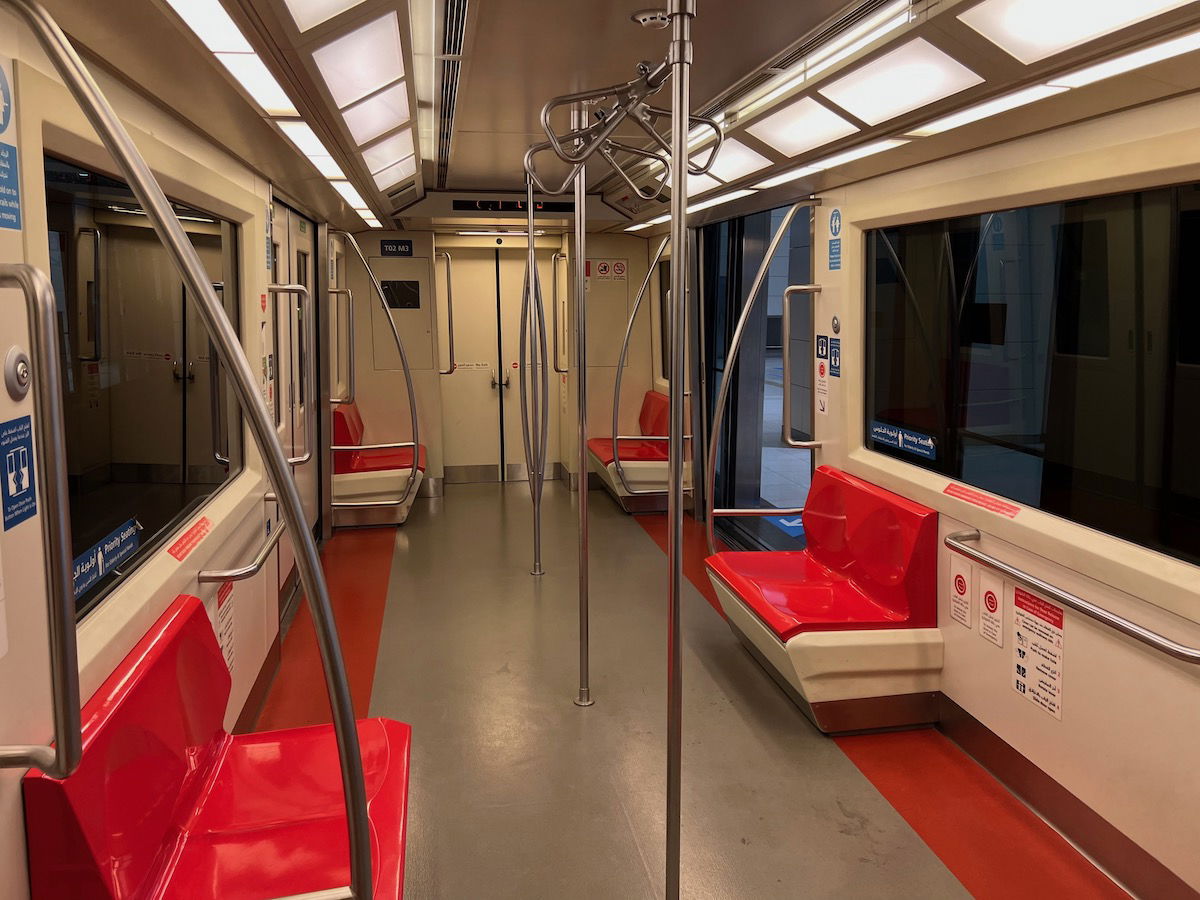 Once done with the ride, you can either take the escalators or elevators up to the main terminal level.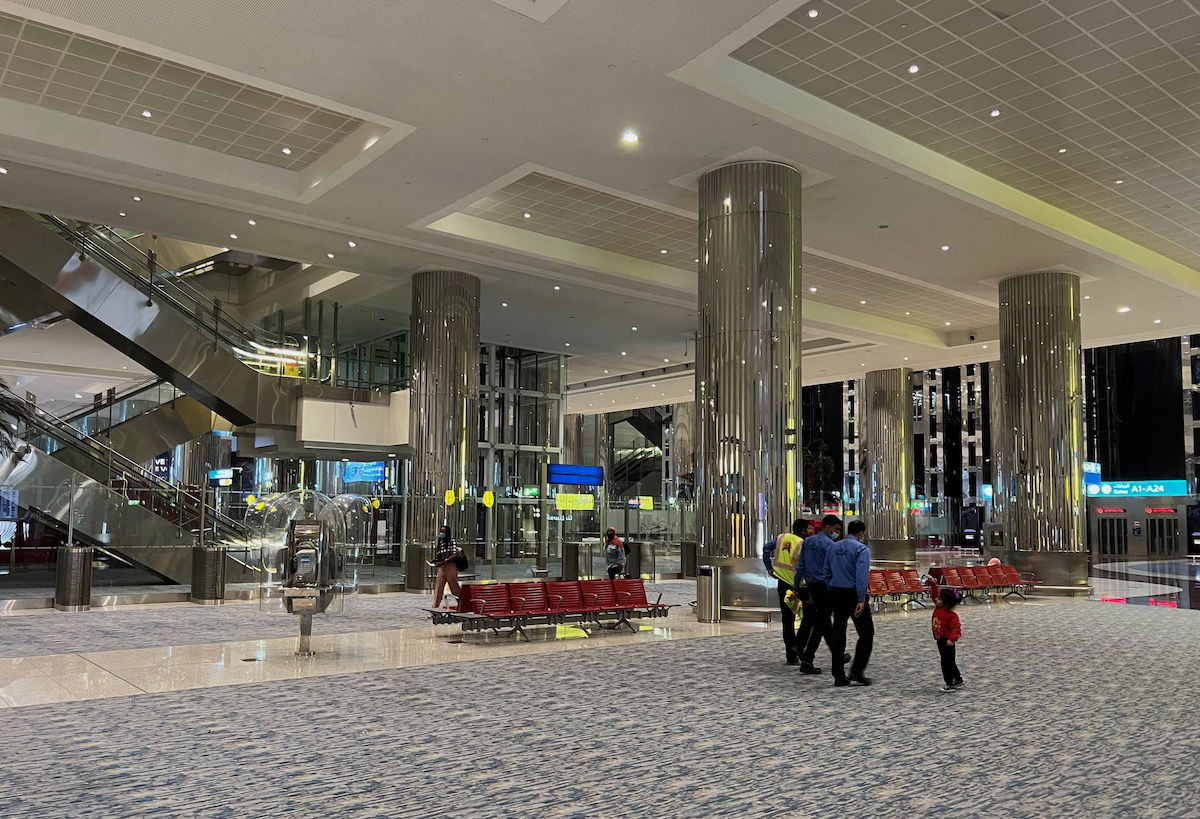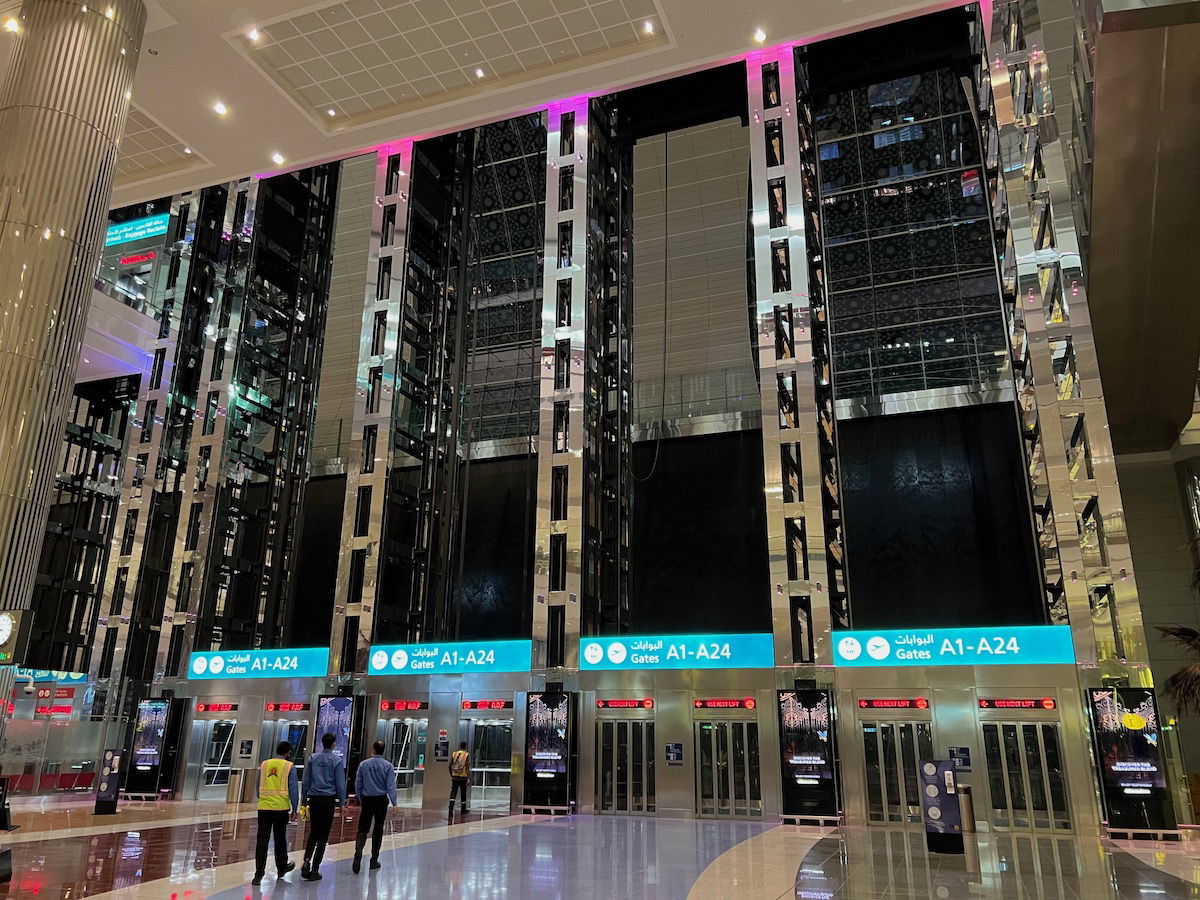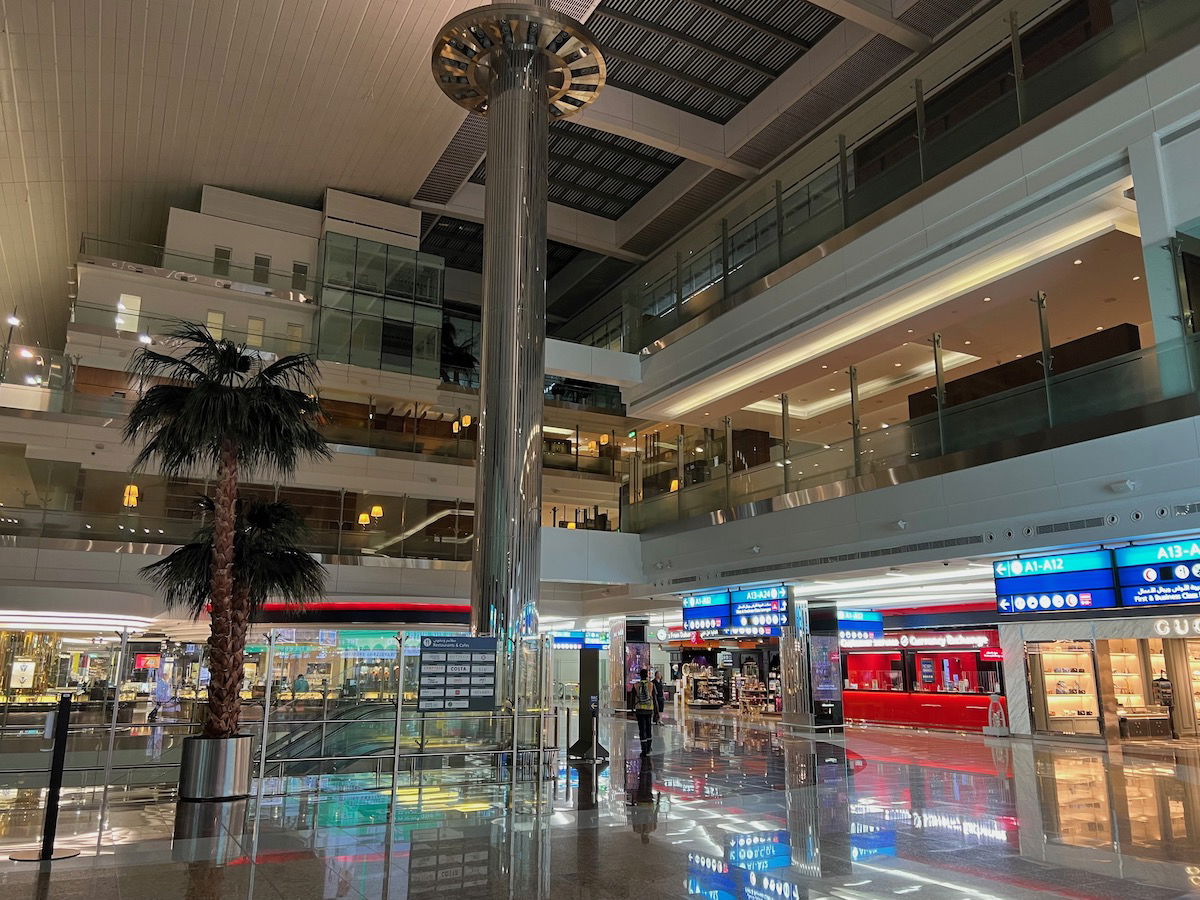 Once on the main terminal level, the entrance to the lounges is straight ahead, and there's signage reflecting that.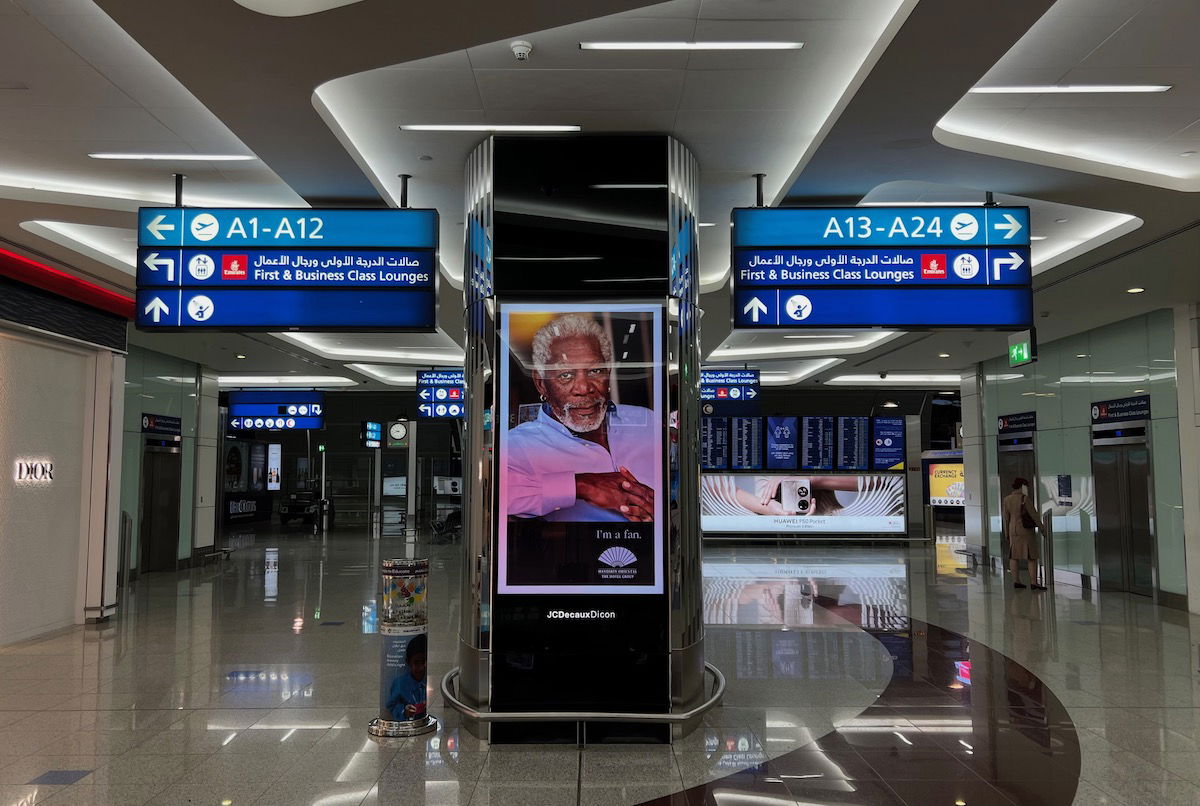 The first class lounge is one level above the concourse, while the business class lounge is two levels above the concourse. We were admitted once our boarding passes were scanned, though were reminded that our flight would be departing from another concourse, so we should leave plenty of time.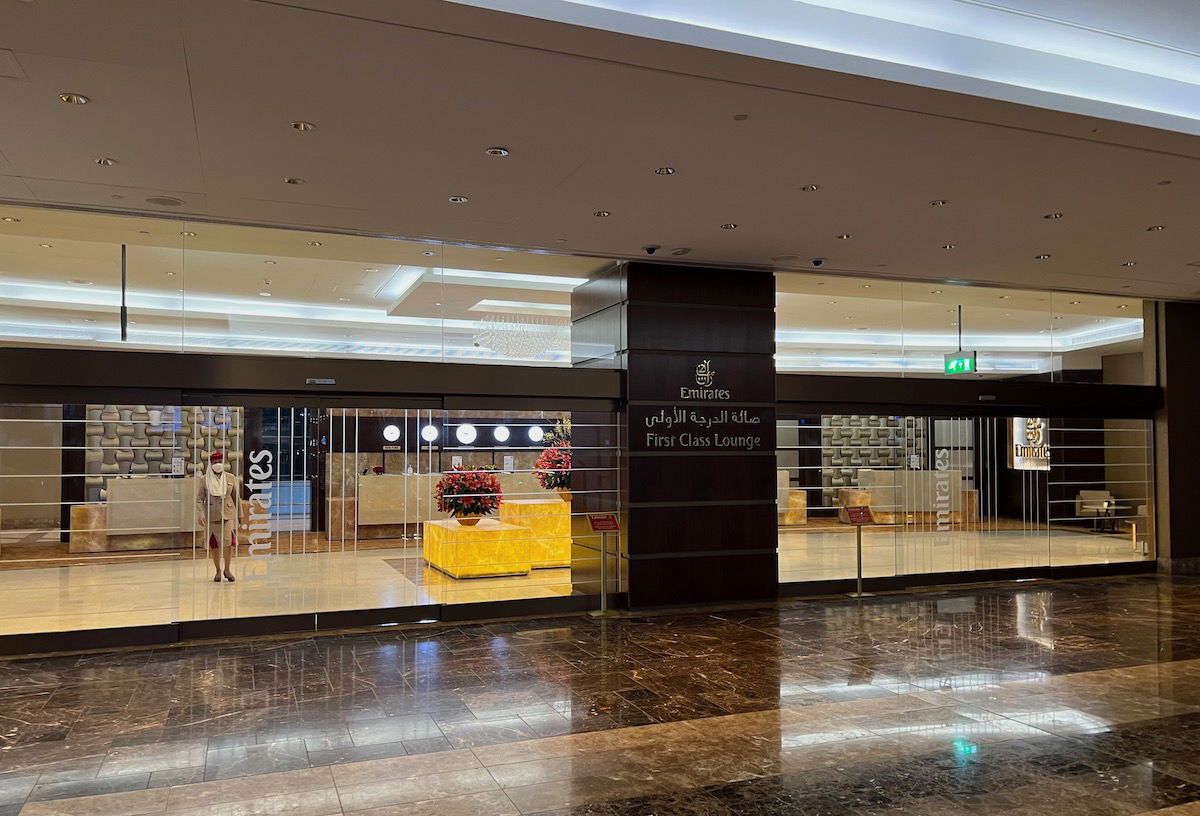 Emirates first class lounge Dubai hours & entry requirements
The Emirates first class lounge is open 24/7, reflecting that Emirates has flights all hours of the day and night. In terms of entry requirements, the Emirates first class lounge is open to the following passengers:
Emirates first class passengers
Emirates Skywards Platinum members
Access can be purchased — if you're in Emirates business class, you can "upgrade" for $150 ($125 if you're a Skywards member), or if you're in Emirates economy class, you can buy access for $300 ($250 if you're a Skywards member)
Emirates first class lounge Dubai seating & layout
Emirates' first class lounge in Concourse A is absolutely massive, at over 100,000 square feet. It's by far the biggest first class lounge in the world, and one of the biggest airport lounges in the world, period. The lounge spans the entire length of the concourse, as it's just one floor above. The only difference is that there's an "atrium" of sorts where you can walk in the terminal but can't walk in the lounge.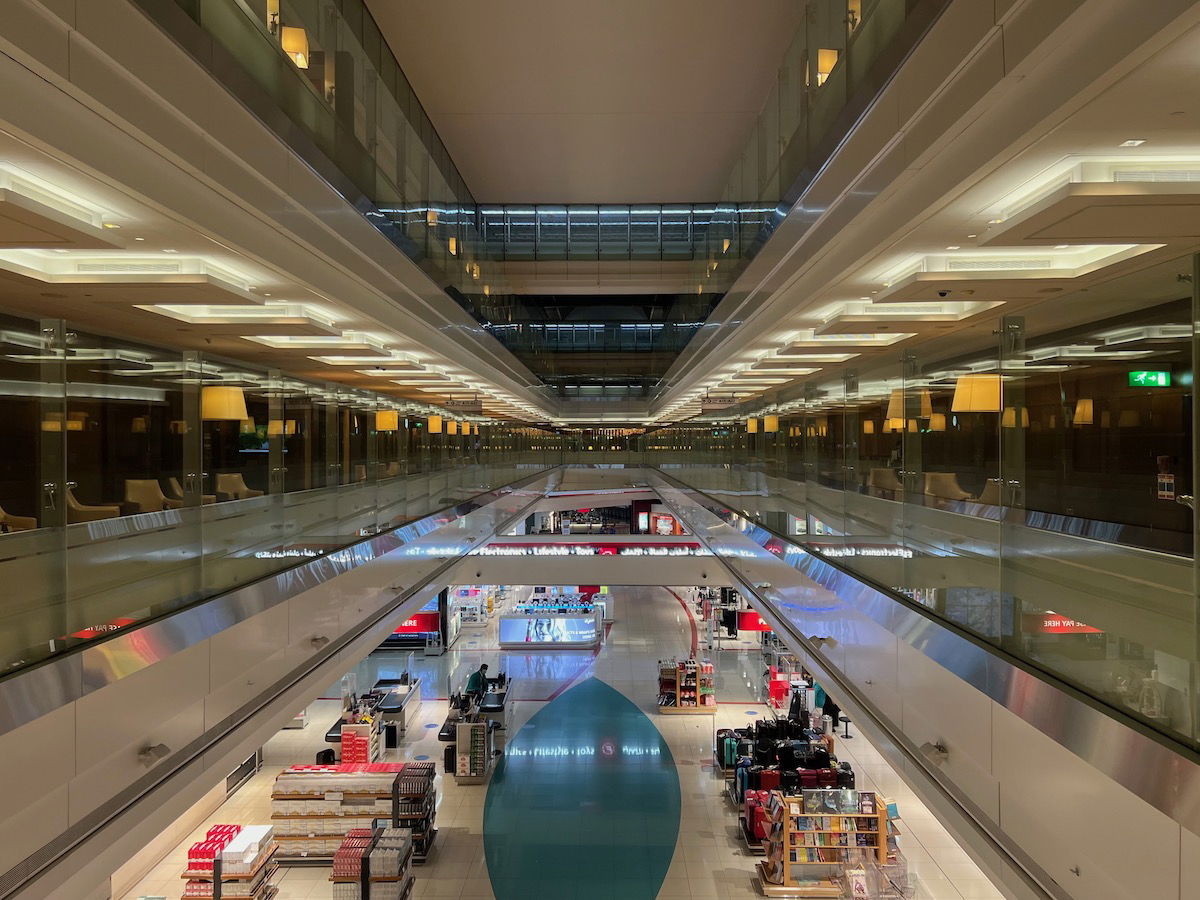 The benefit of the size of this lounge is that you can board your flight directly from the lounge. Just as the terminal has 24 gates, so does the lounge.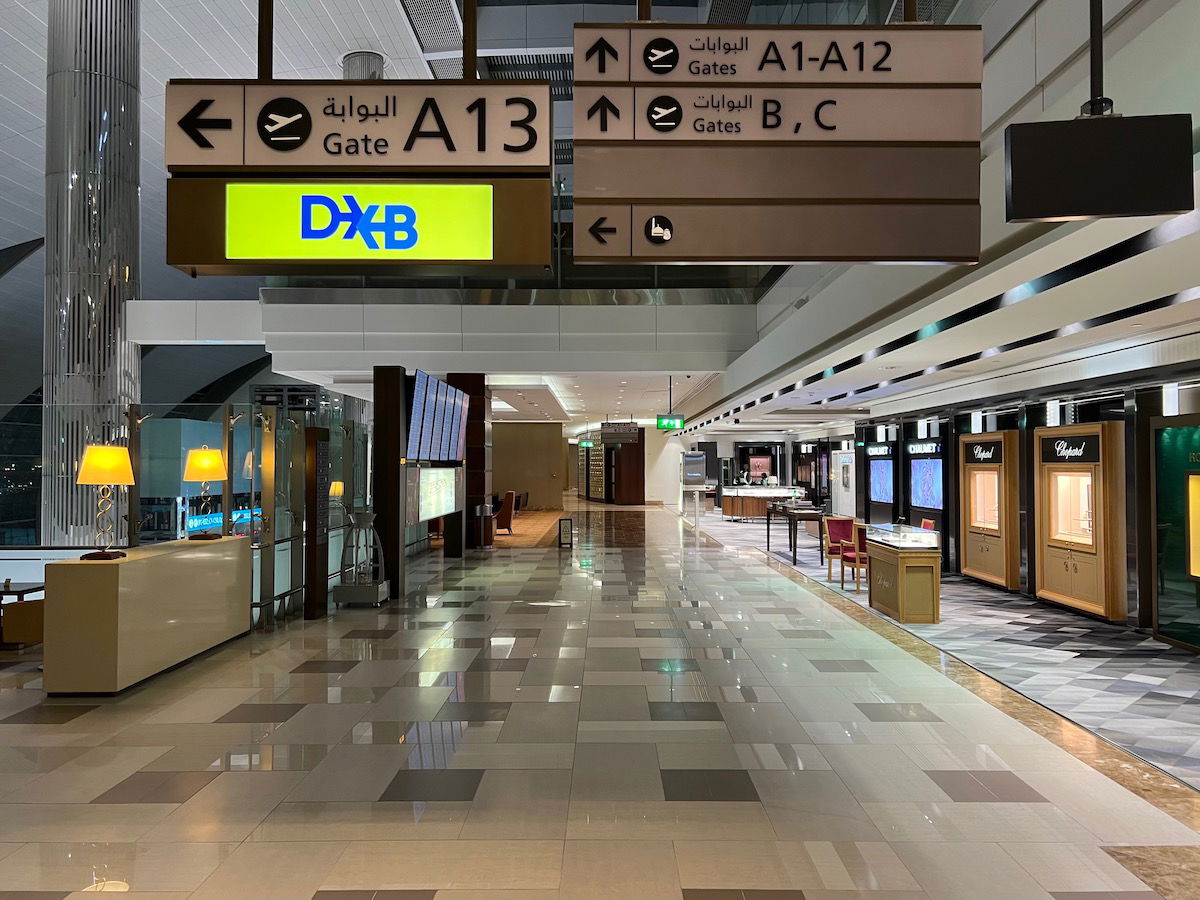 You just have to find your gate number, and then there's a "podium" where your boarding pass will be scanned. You'll then just take an elevator directly down to the jet bridge. Unfortunately our flight was departing from Concourse C, so we had to walk there (and it's a really long walk).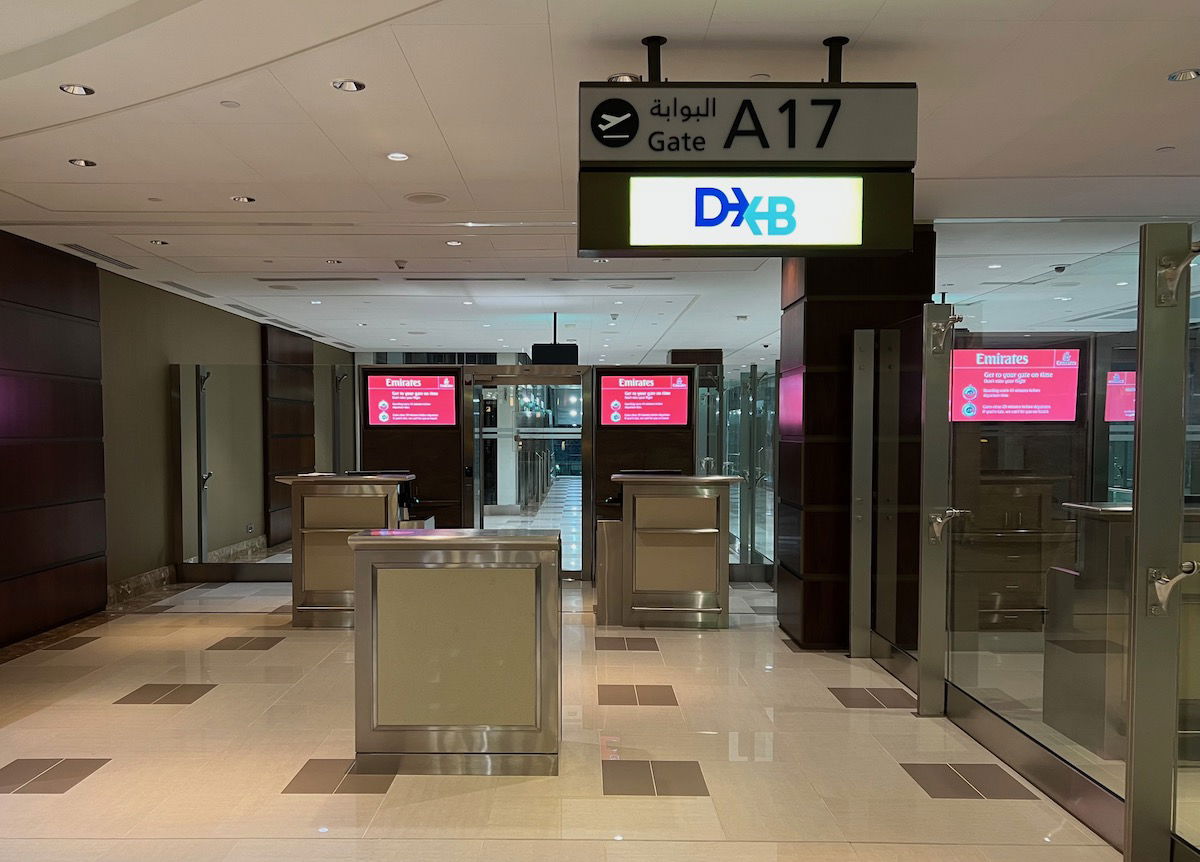 The lounge is so big that there are several maps throughout the lounge, in the event that you're lost or looking for a certain amenity.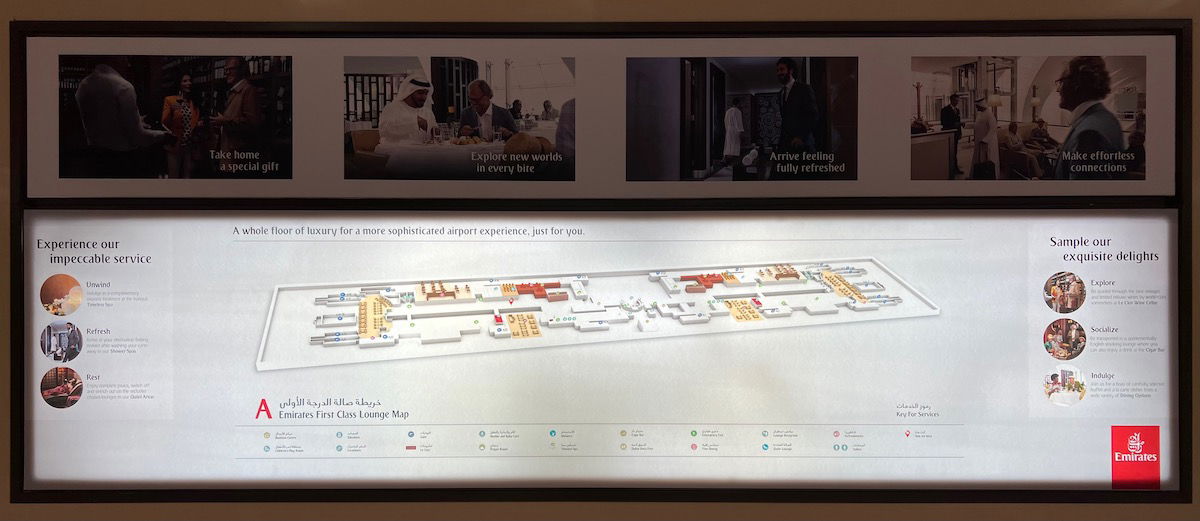 Anyway, there are long walkways connecting all parts of the lounge, and it's at least easy to stay generally oriented. The entrance to the lounge is at the halfway point, so in one direction you have gates A1-12, and in the other direction you have gates A13-24.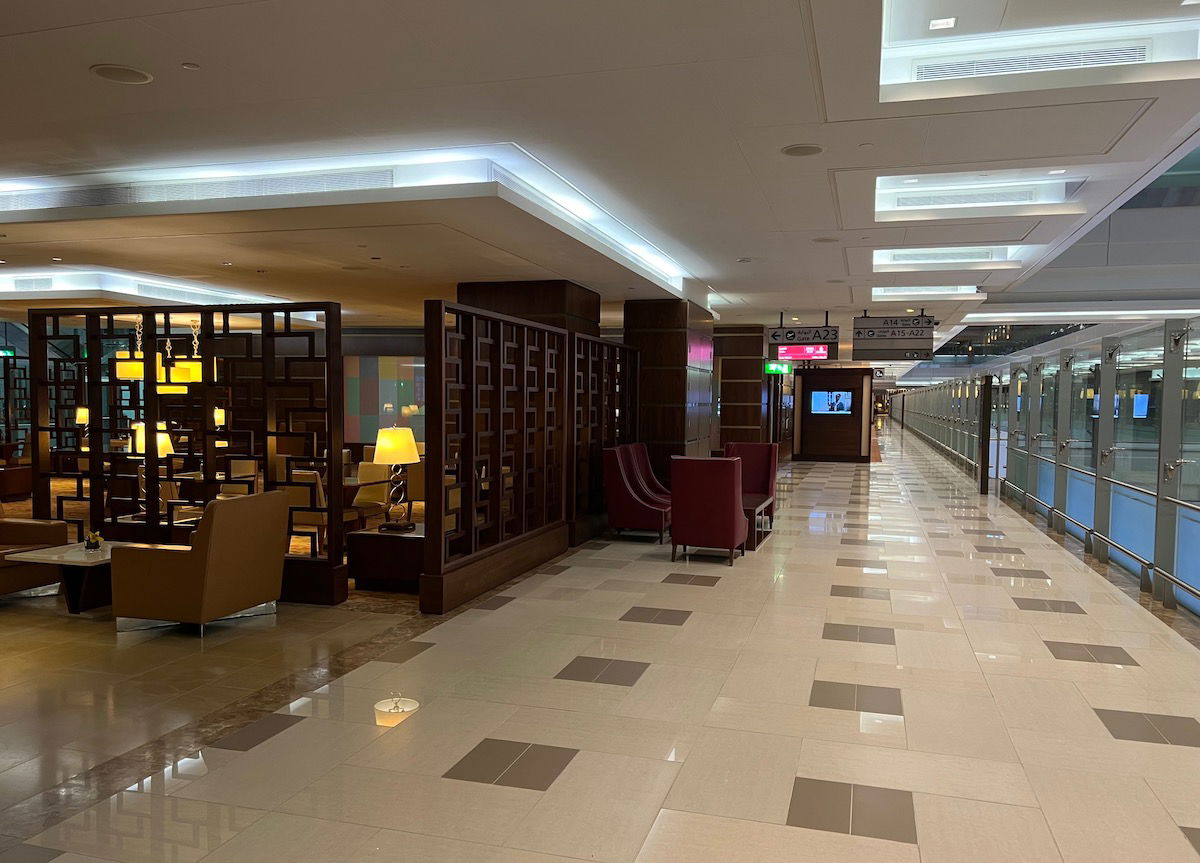 The issue with having a lounge of this size is that it's just void of character. There's nothing cozy or intimate about the lounge, and you just have endless seating. Like, truly endless seating — football fields worth of seating, to the point that you can't help but wonder why there are so many seats.
It's weird, because Emirates is known for its over-the-top blingy interiors. And while I'd never want my home decorated that way, there's a certain charm to it when flying with the airline in moderation. Yet that's also missing in this lounge. Instead you just kind of feel like you're in a nice funeral home waiting room, or something. Ford described the decor of the lounge as a taupe nightmare, and I'd tend to agree.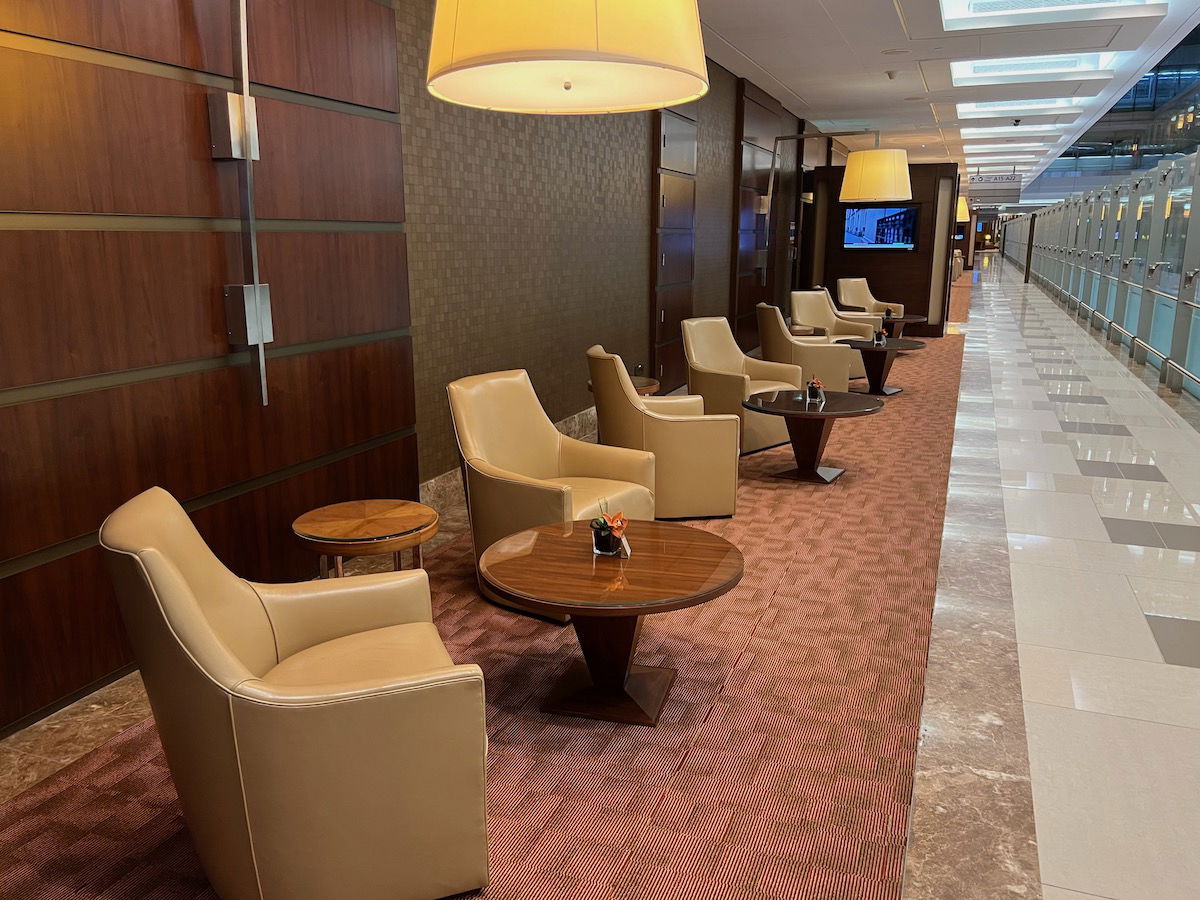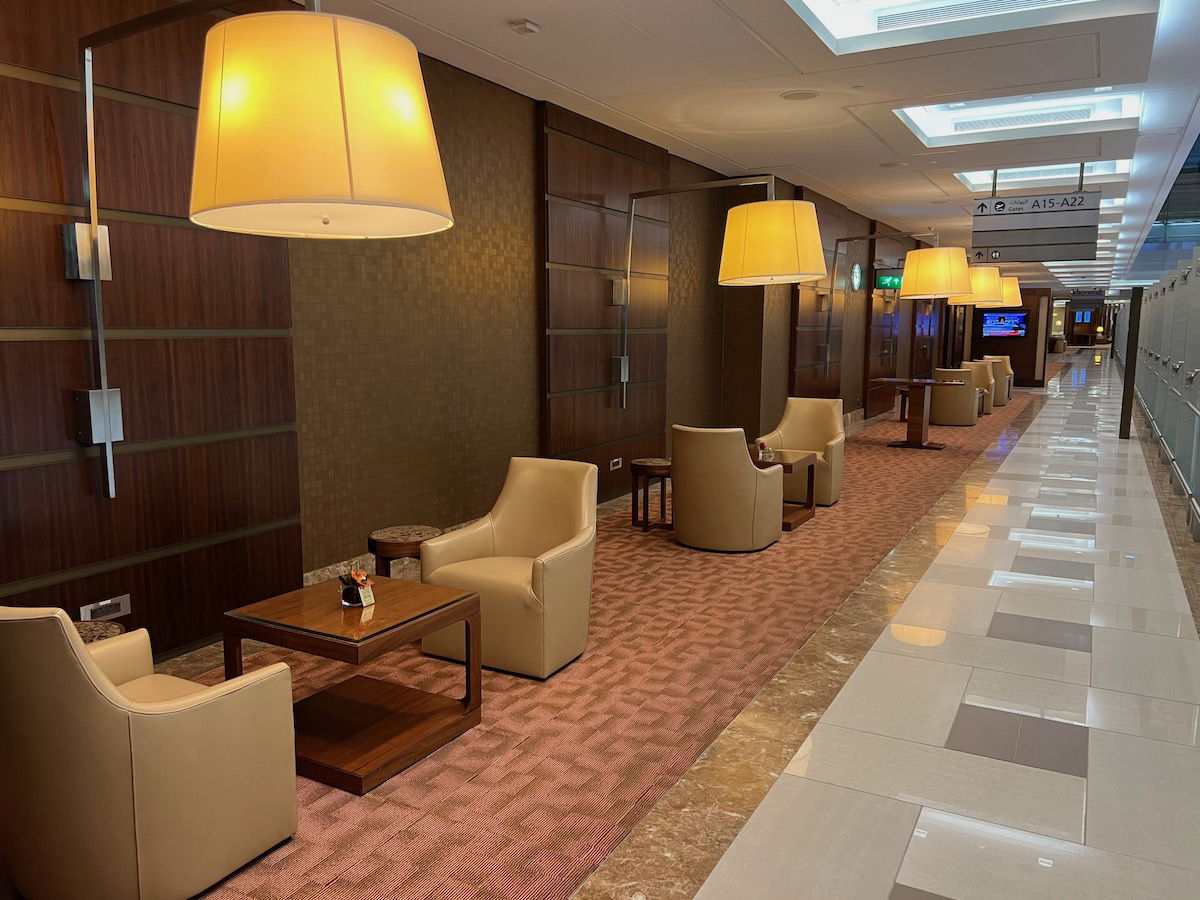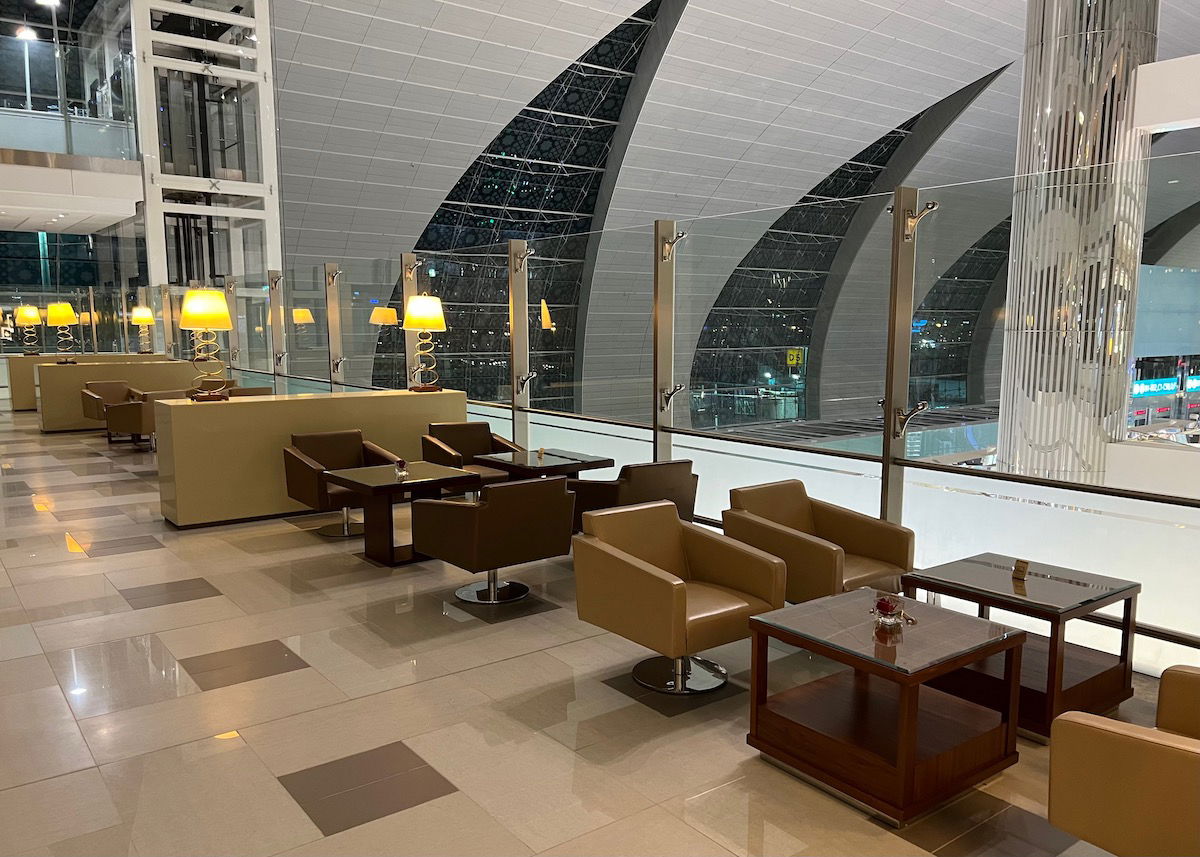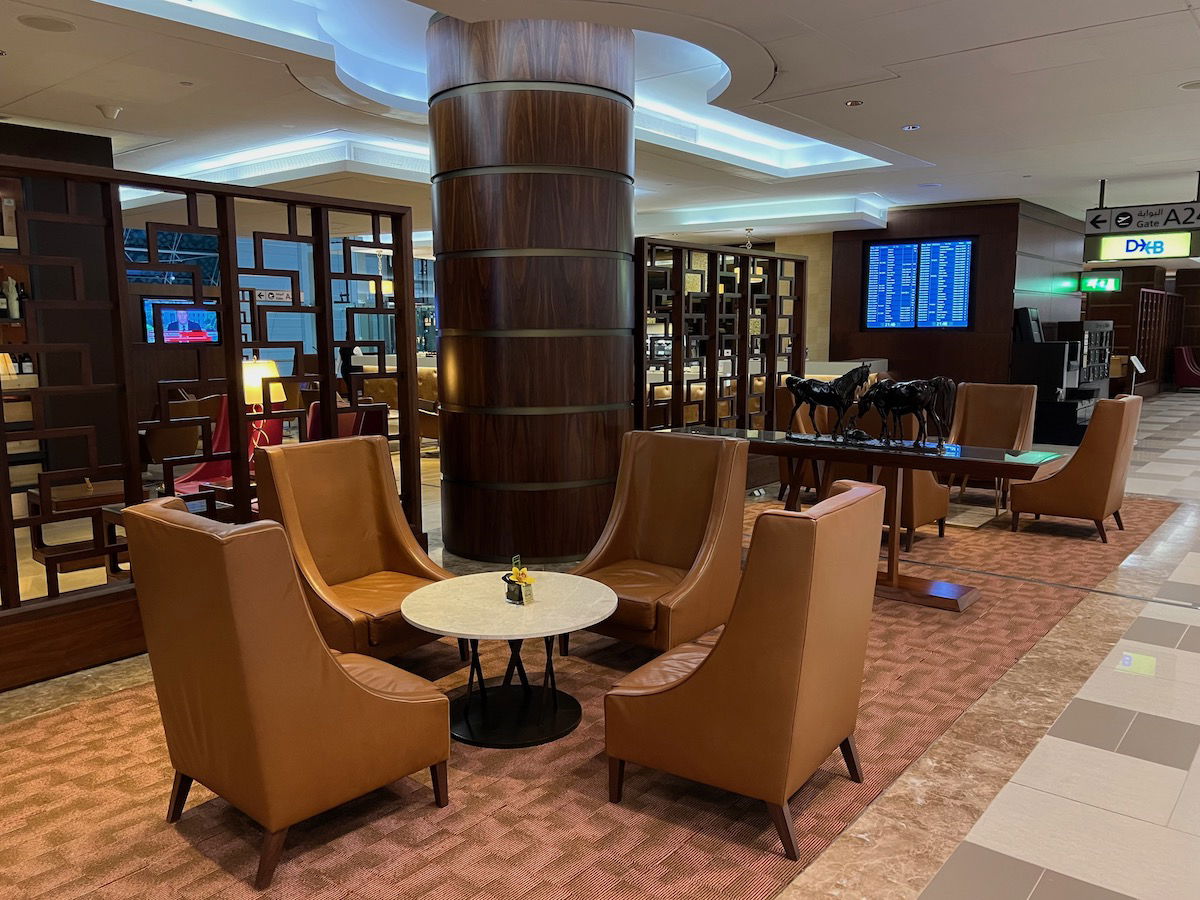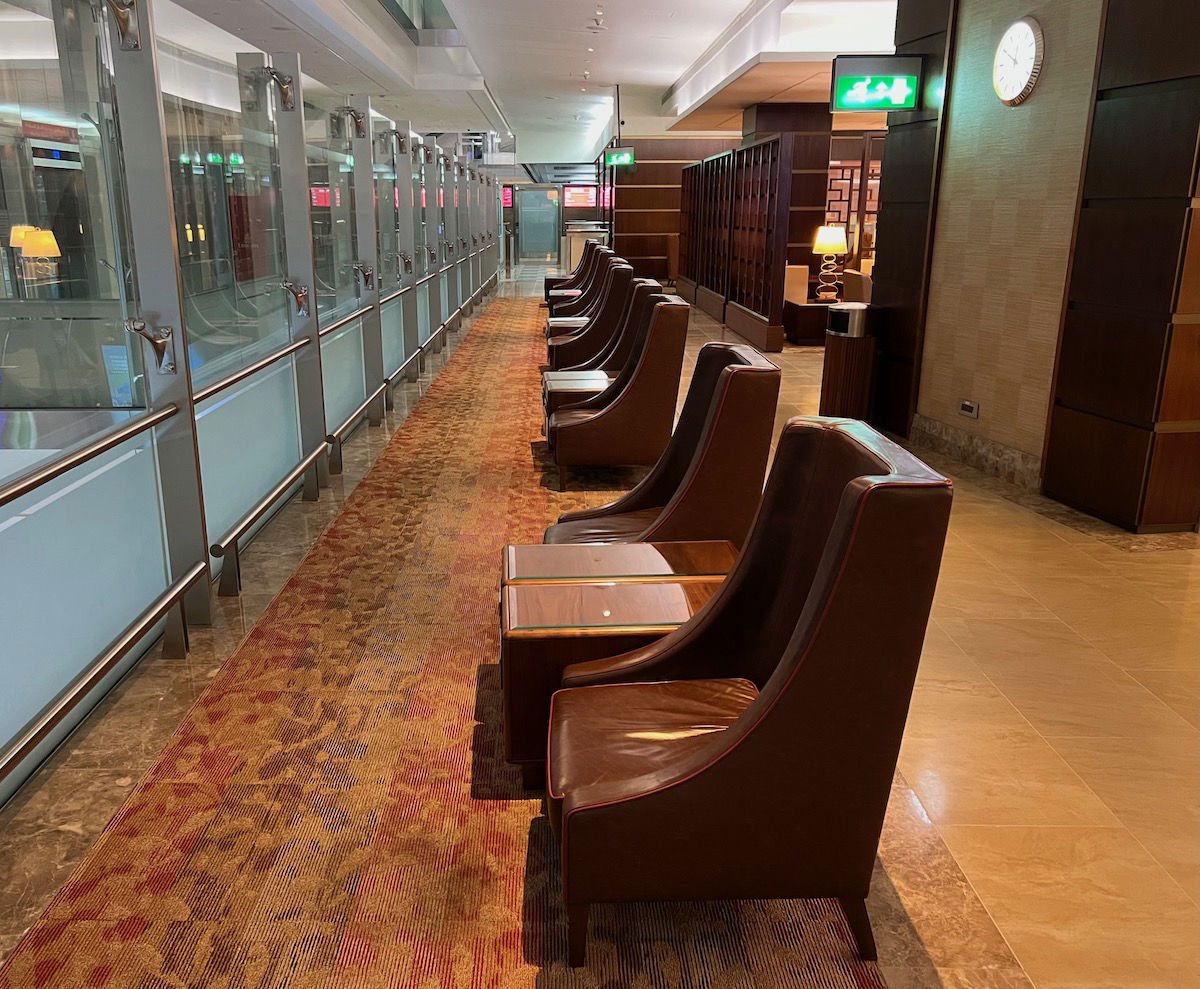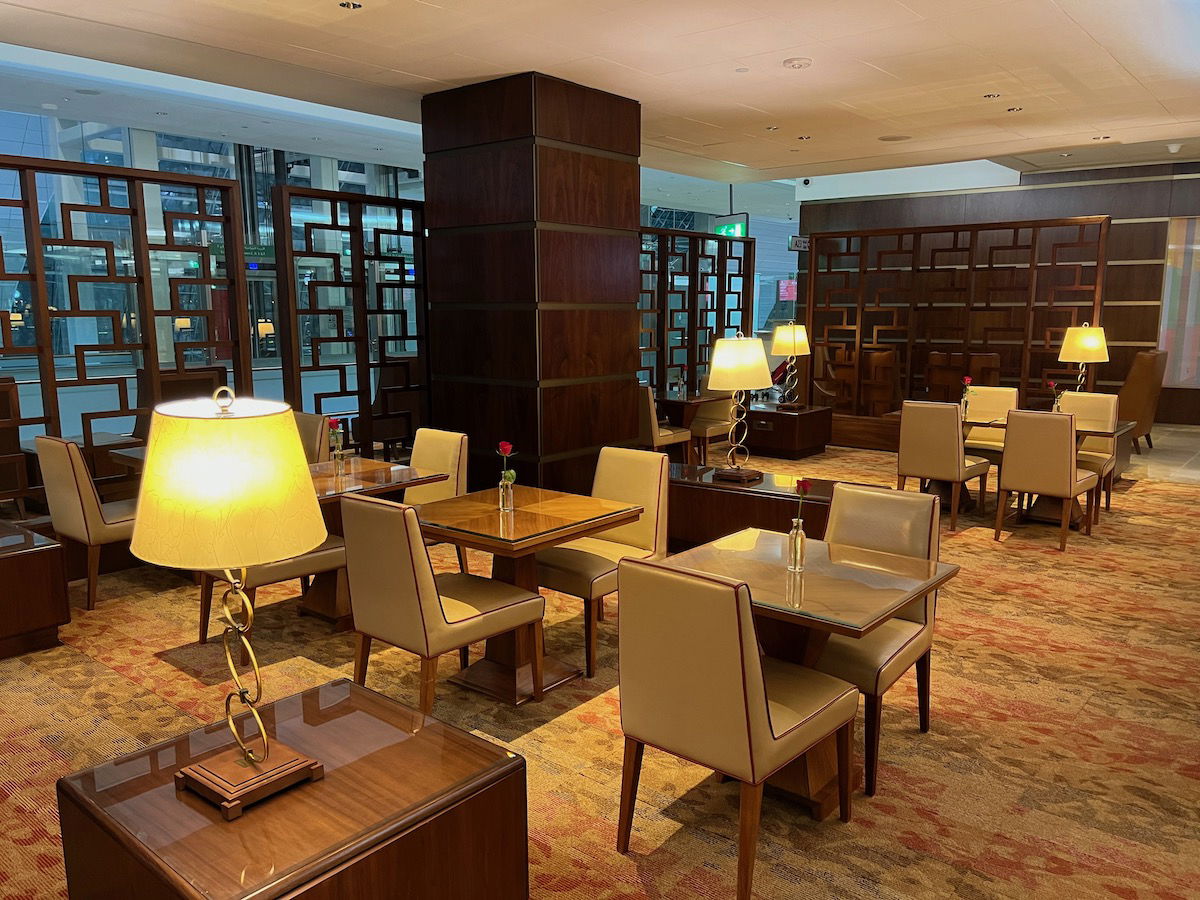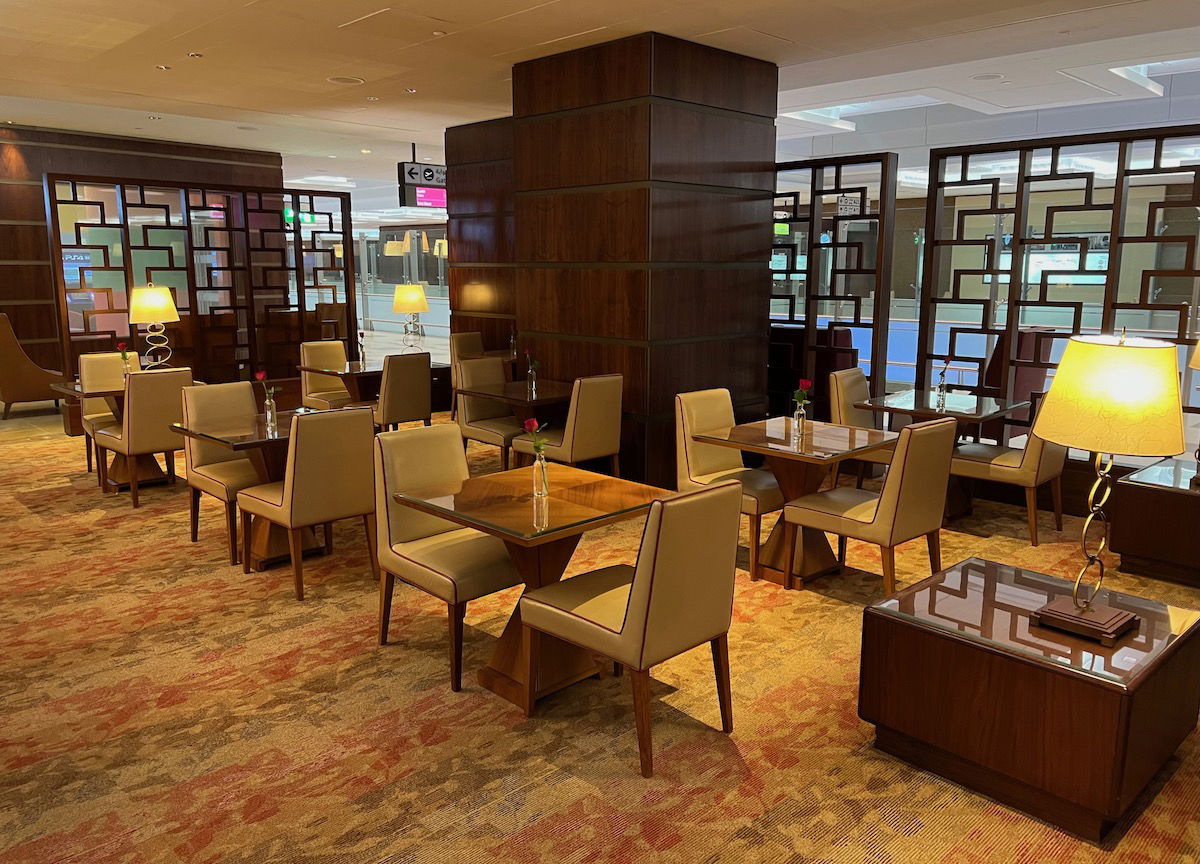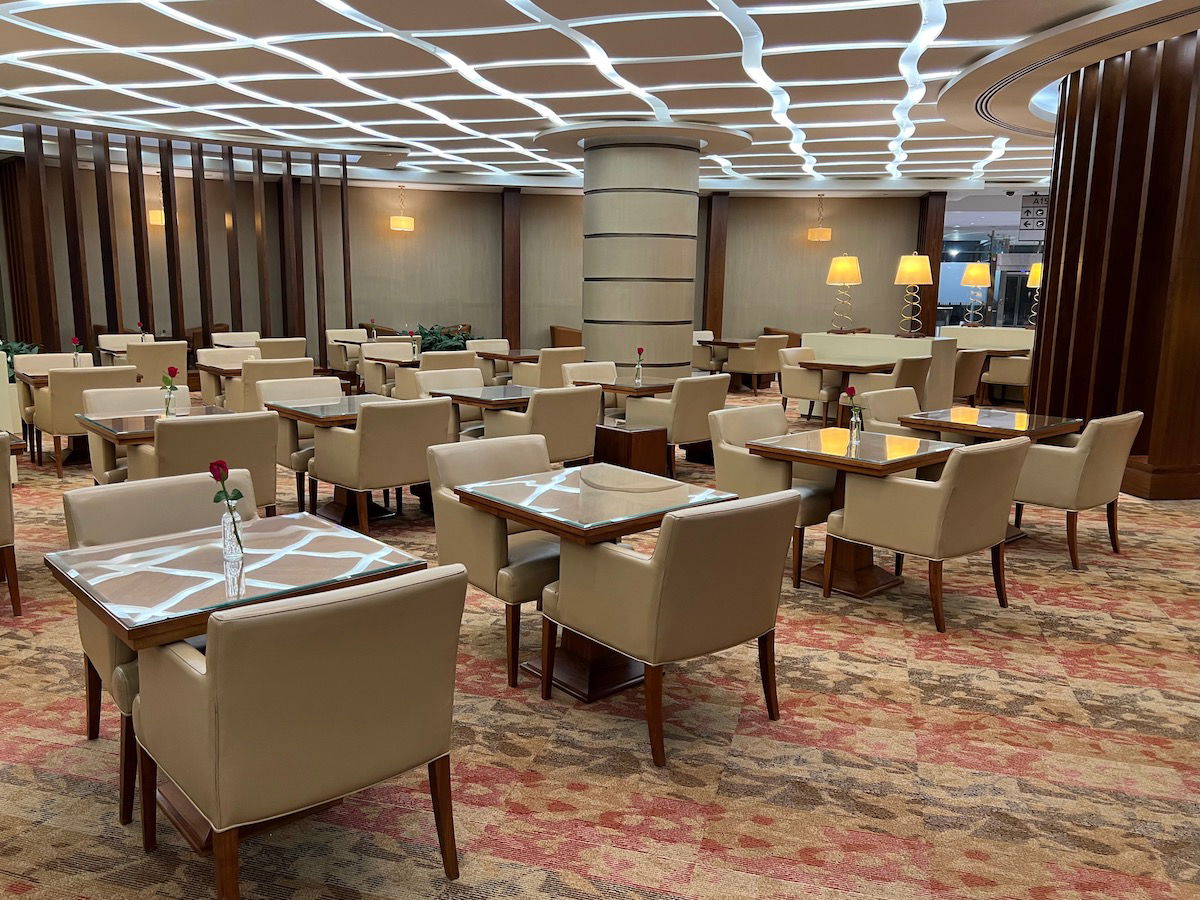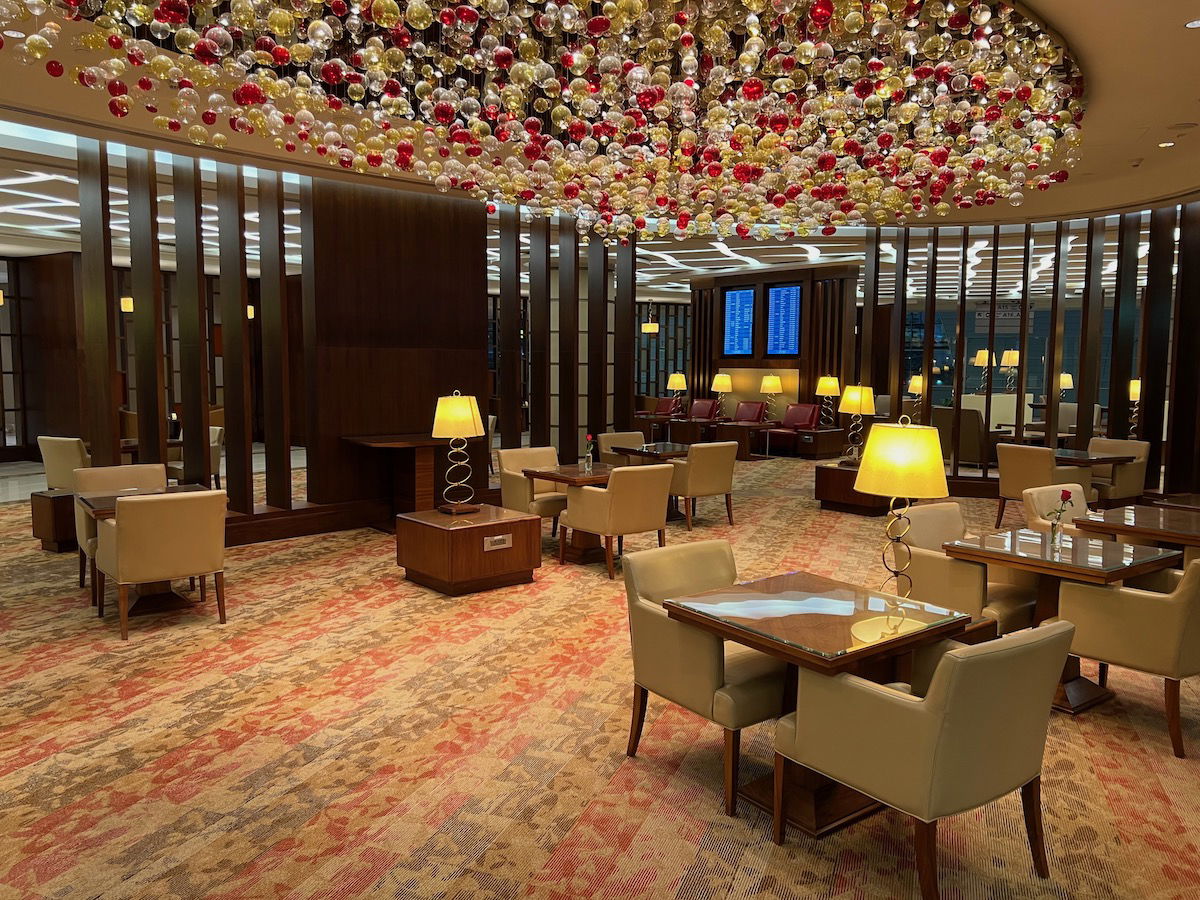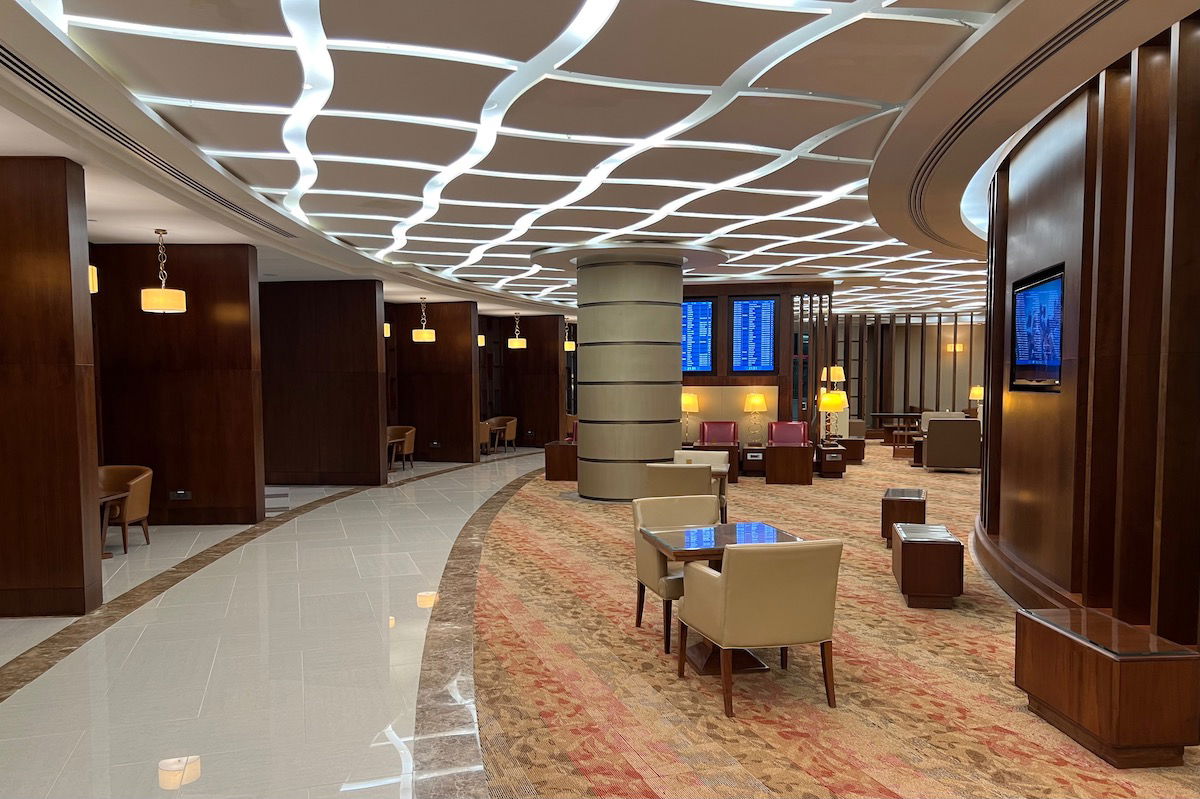 I also want to point out that during my visit roughly half of the lounge was closed. So yeah, the above is just a small sampling of the seating in half of the lounge.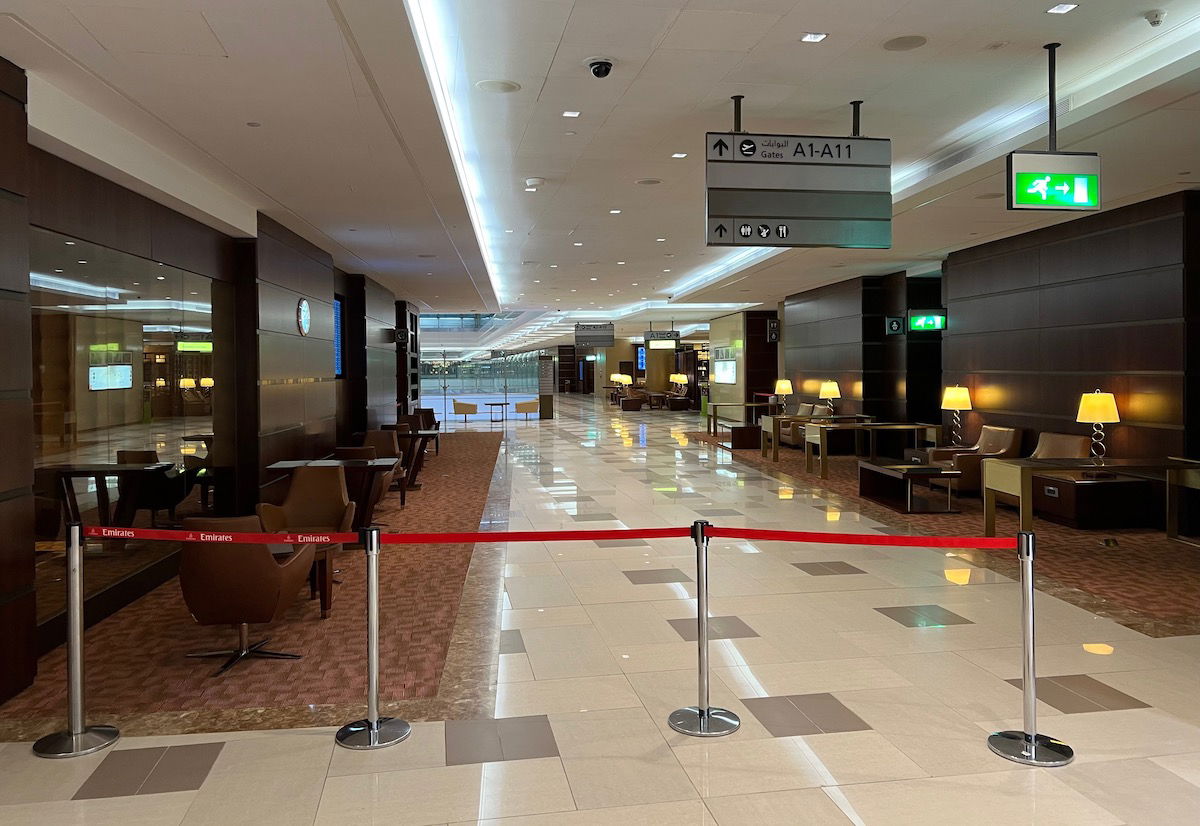 Emirates first class lounge Dubai restaurant
One of the strong points of the Emirates first class lounge is the dining selection. While there are several food & beverage stations, there's one main restaurant area that has both a buffet and a la carte dining.
The dining area has plenty of seating, and the entire experience feels restaurant quality. The lounge serves breakfast from 4AM until 11AM, and lunch and dinner from 11AM until 4AM, and you can find the full menu here.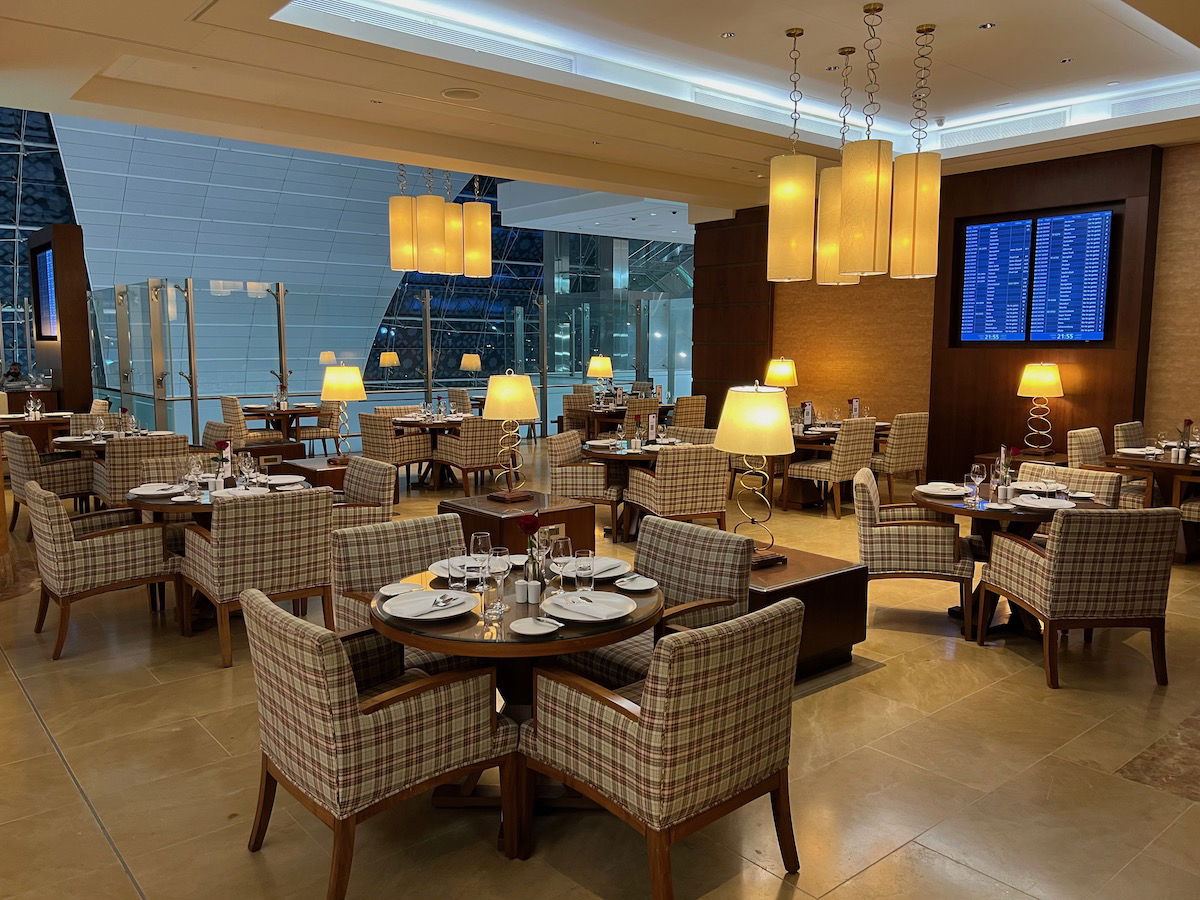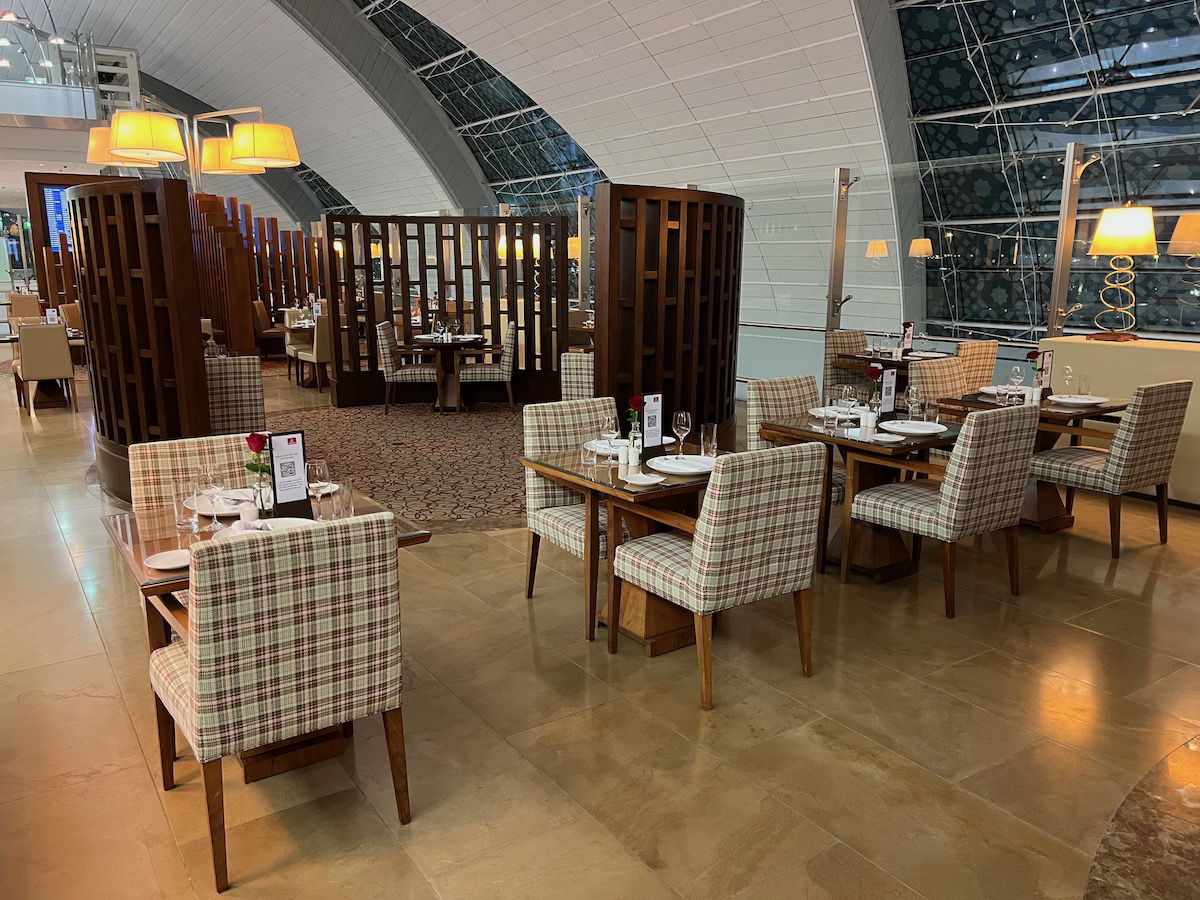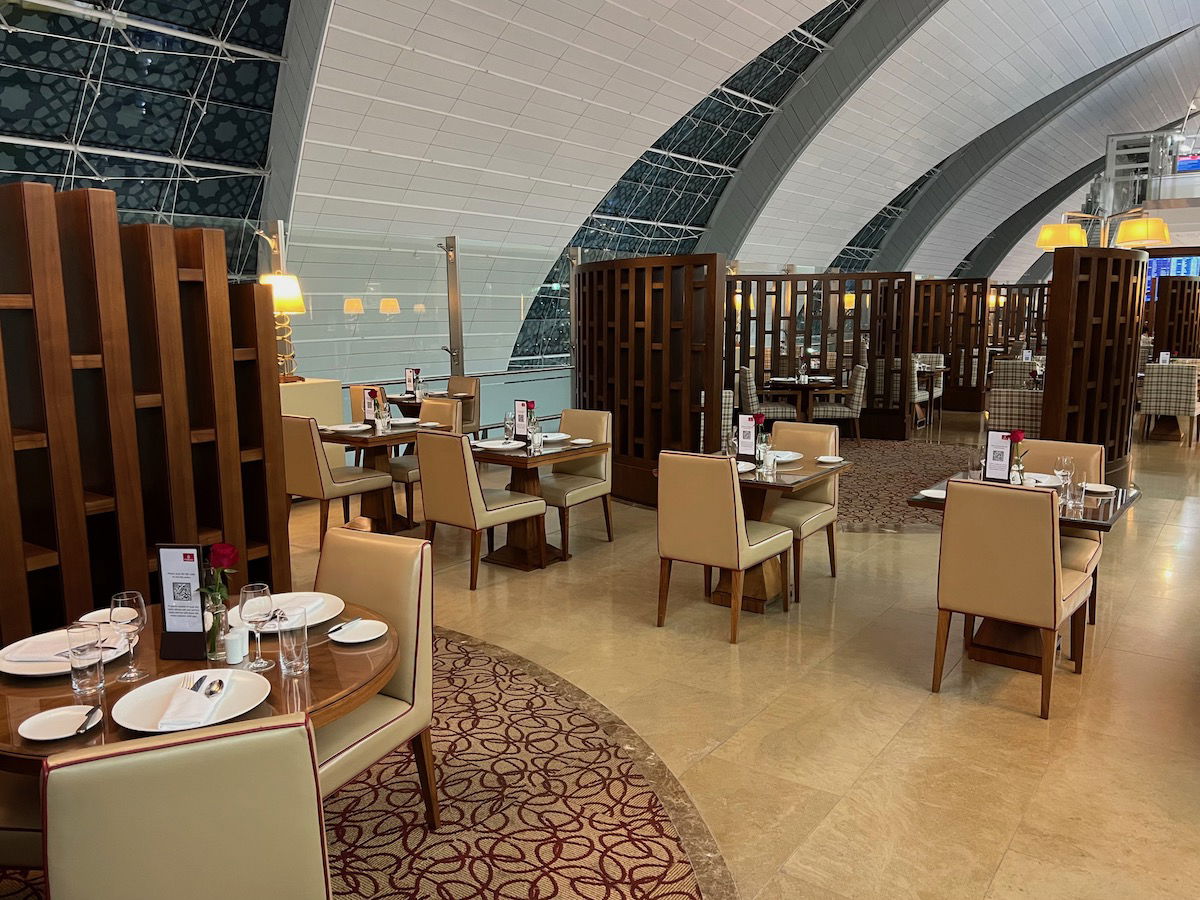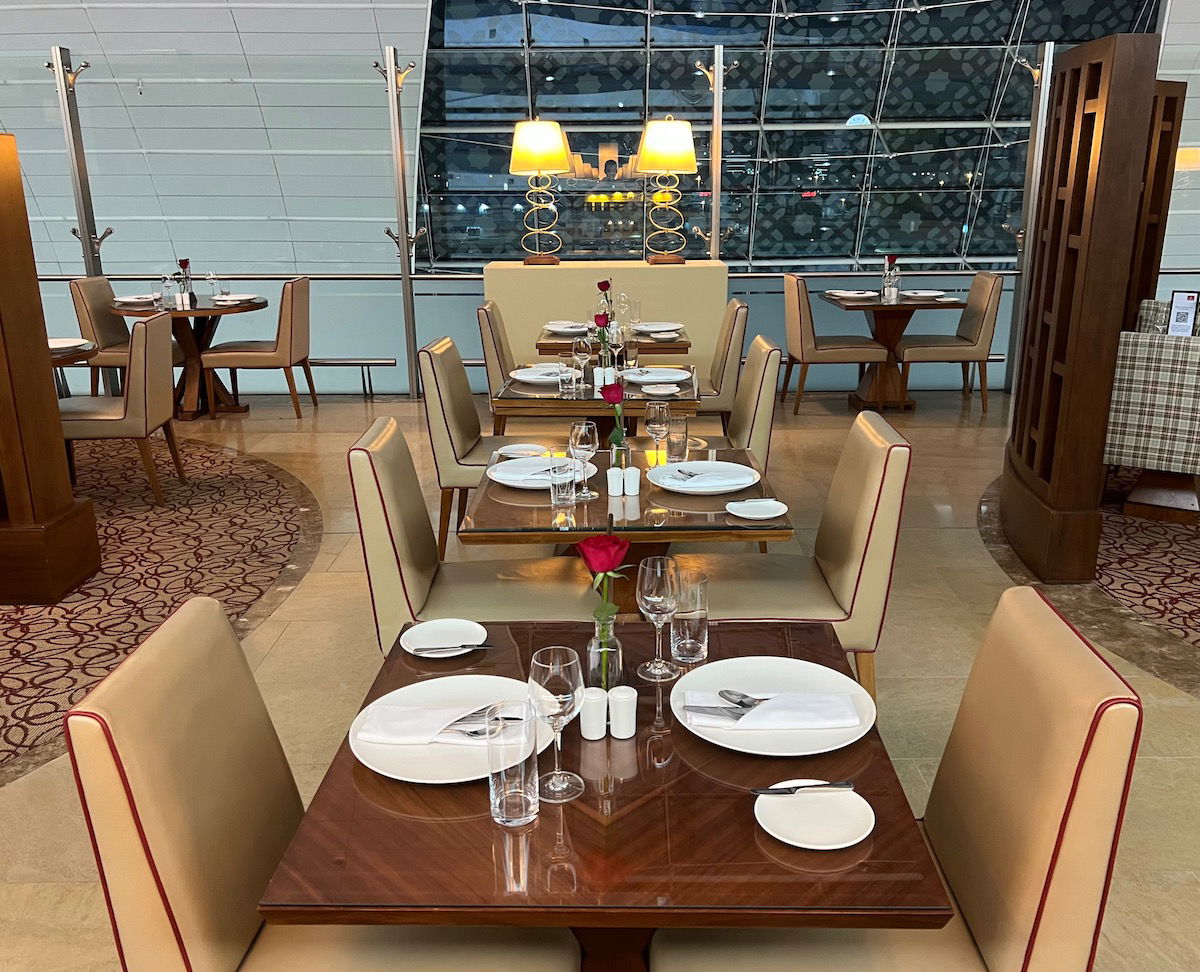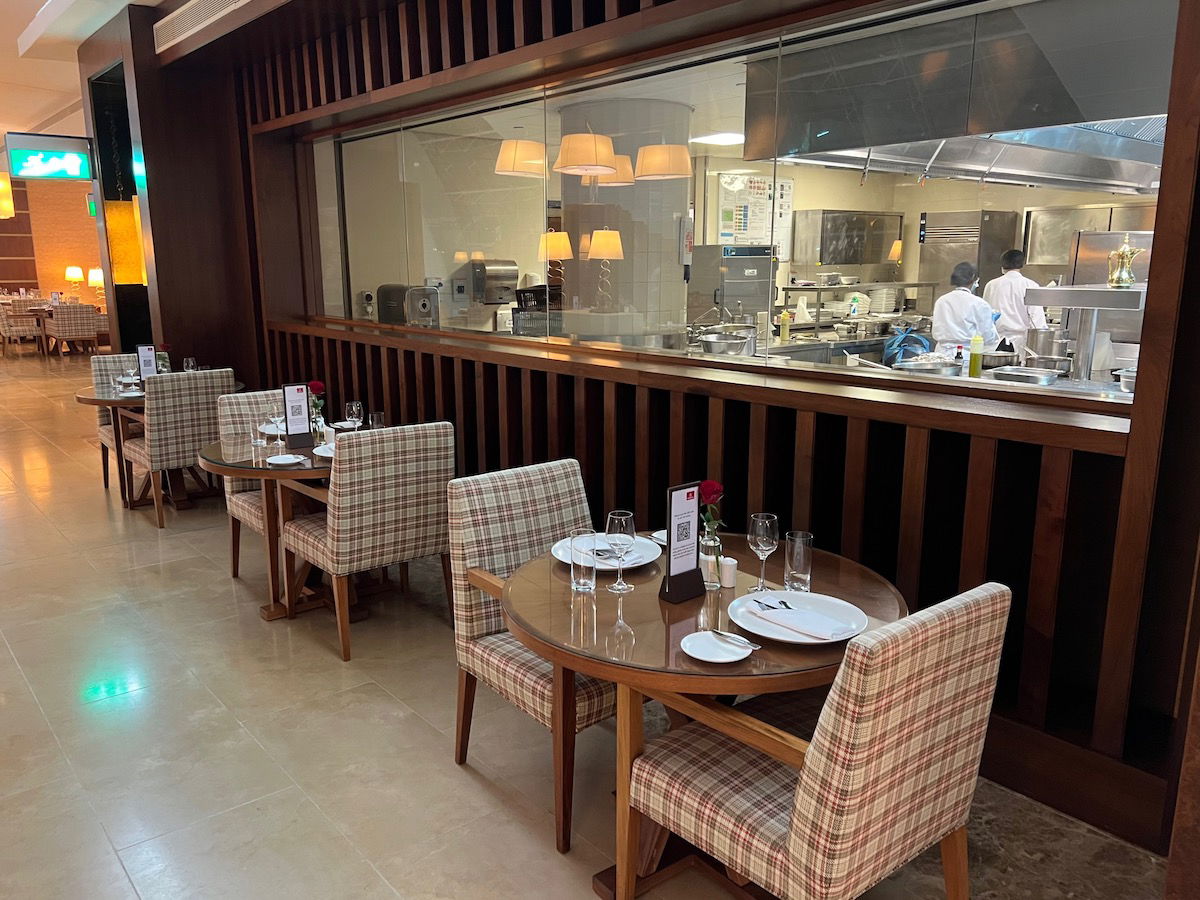 There's a fairly decent buffet, with a selection of cold starters, hot mains, desserts, coffee, and tea.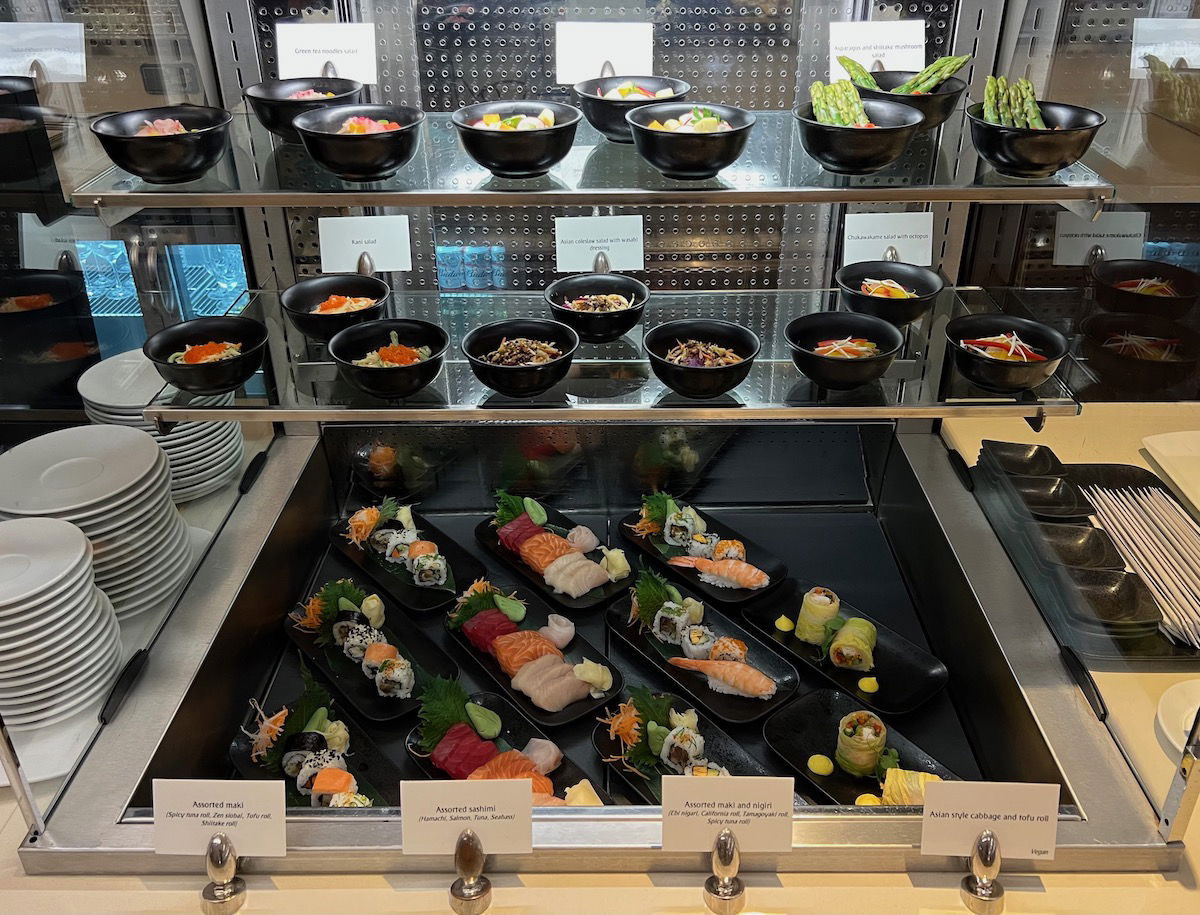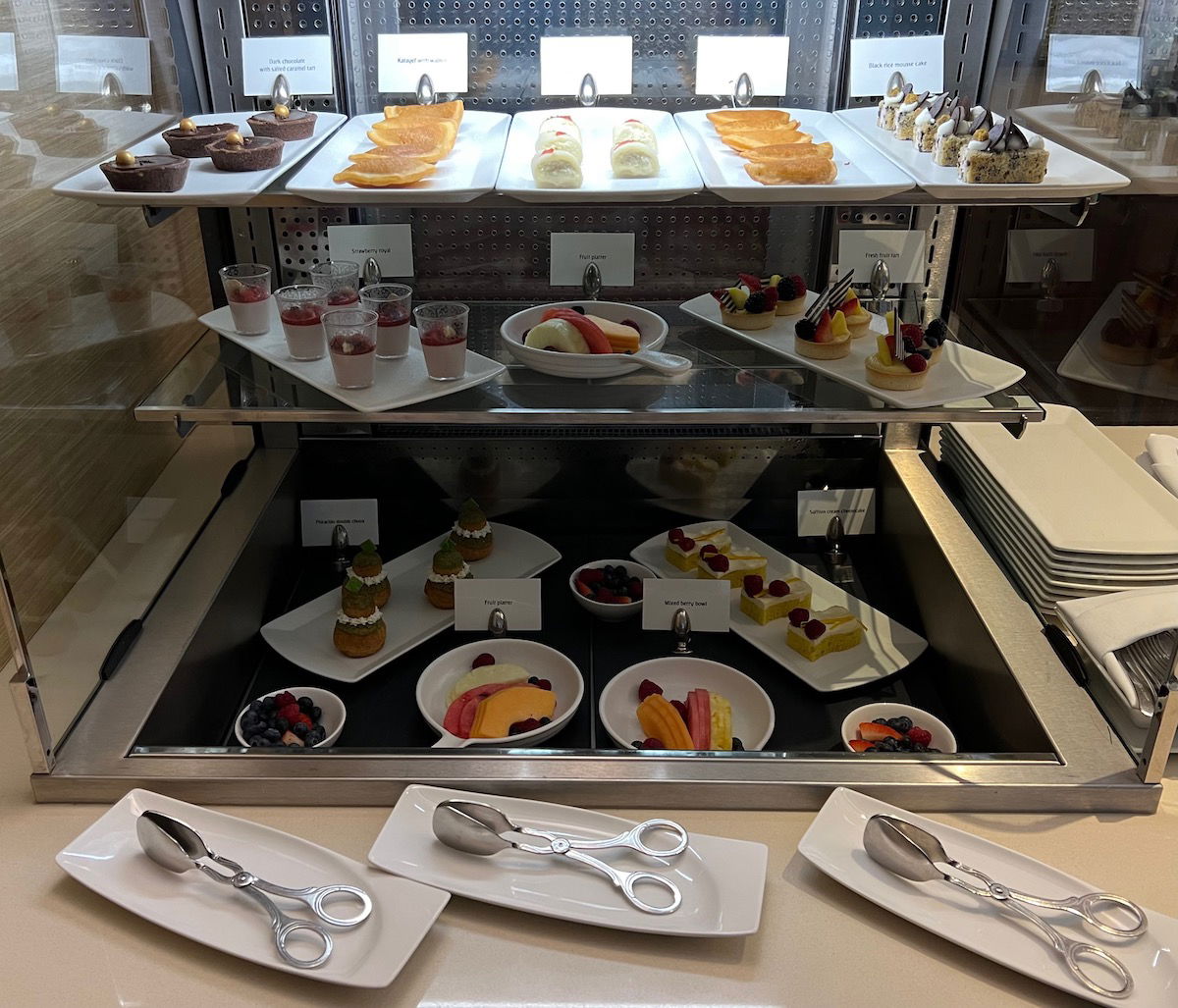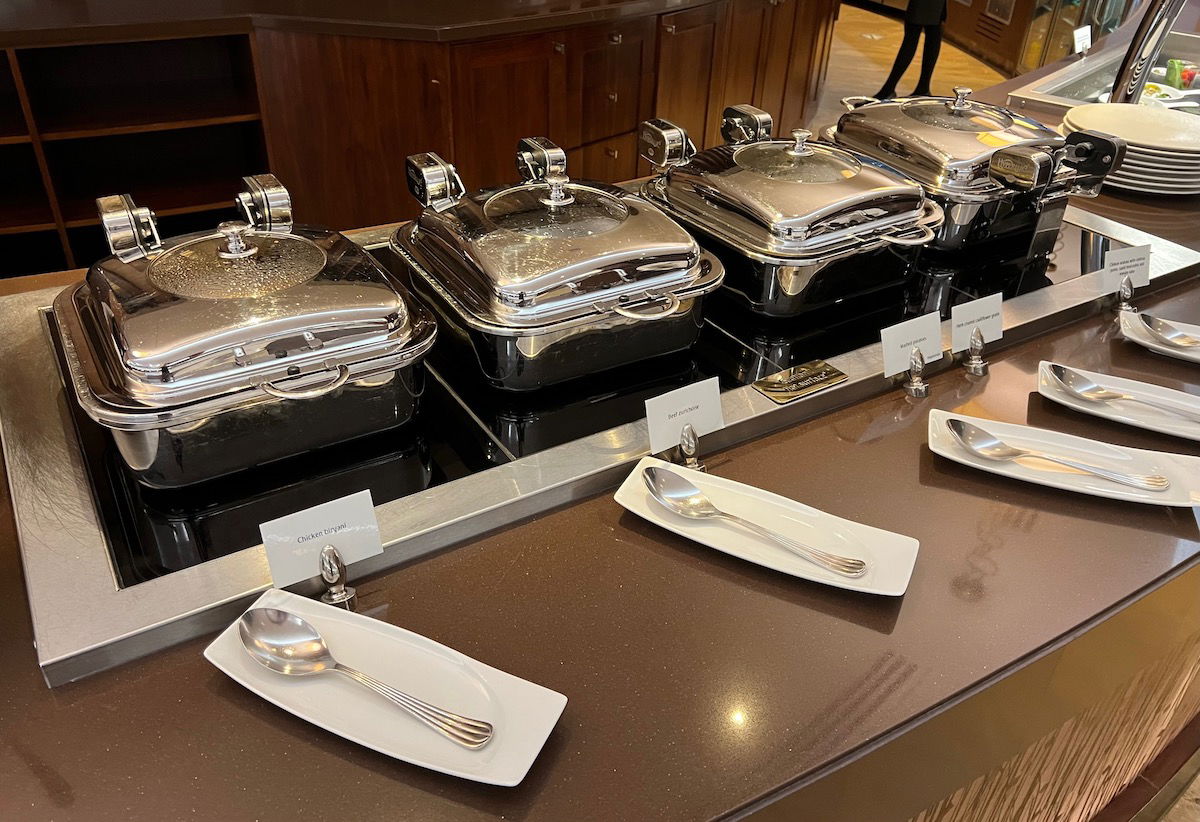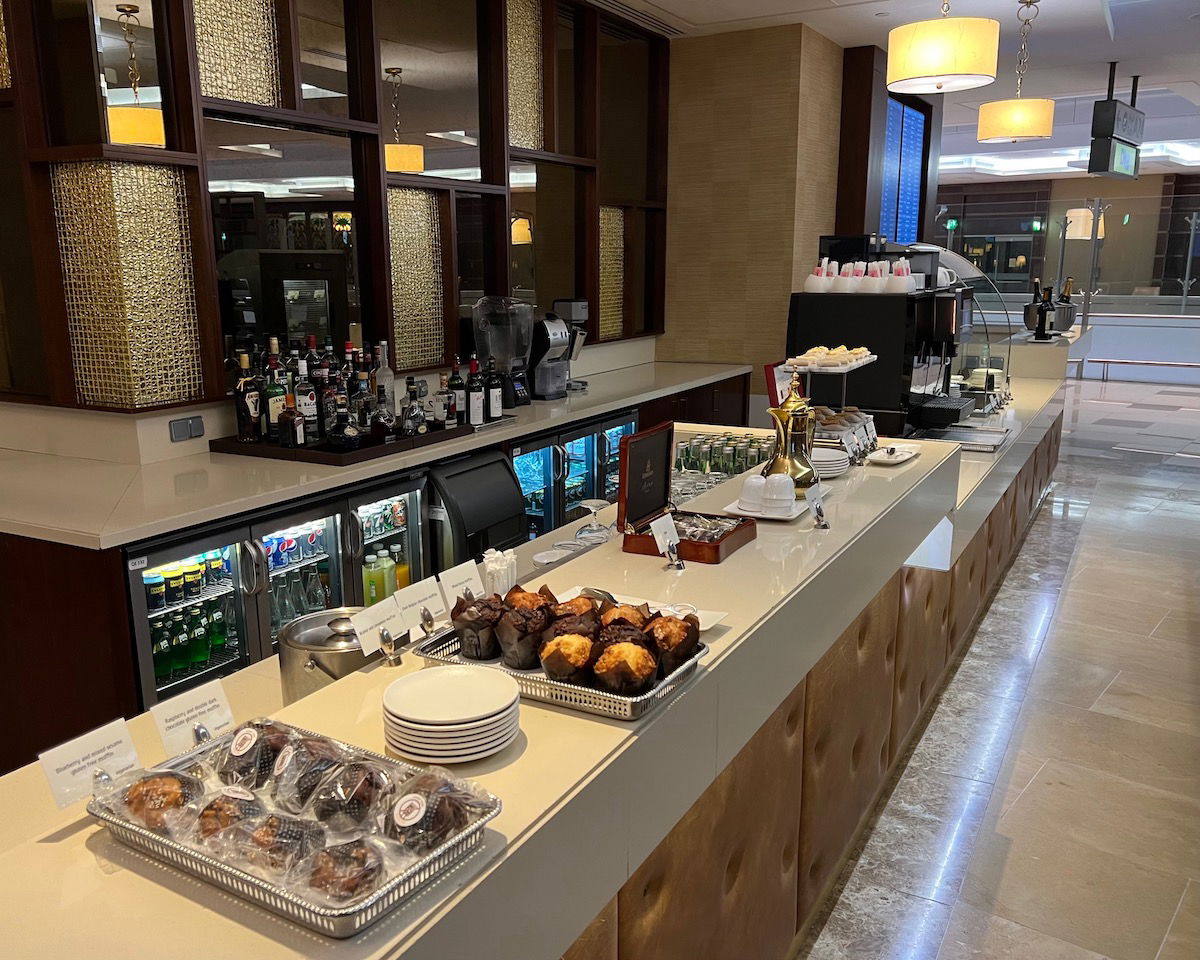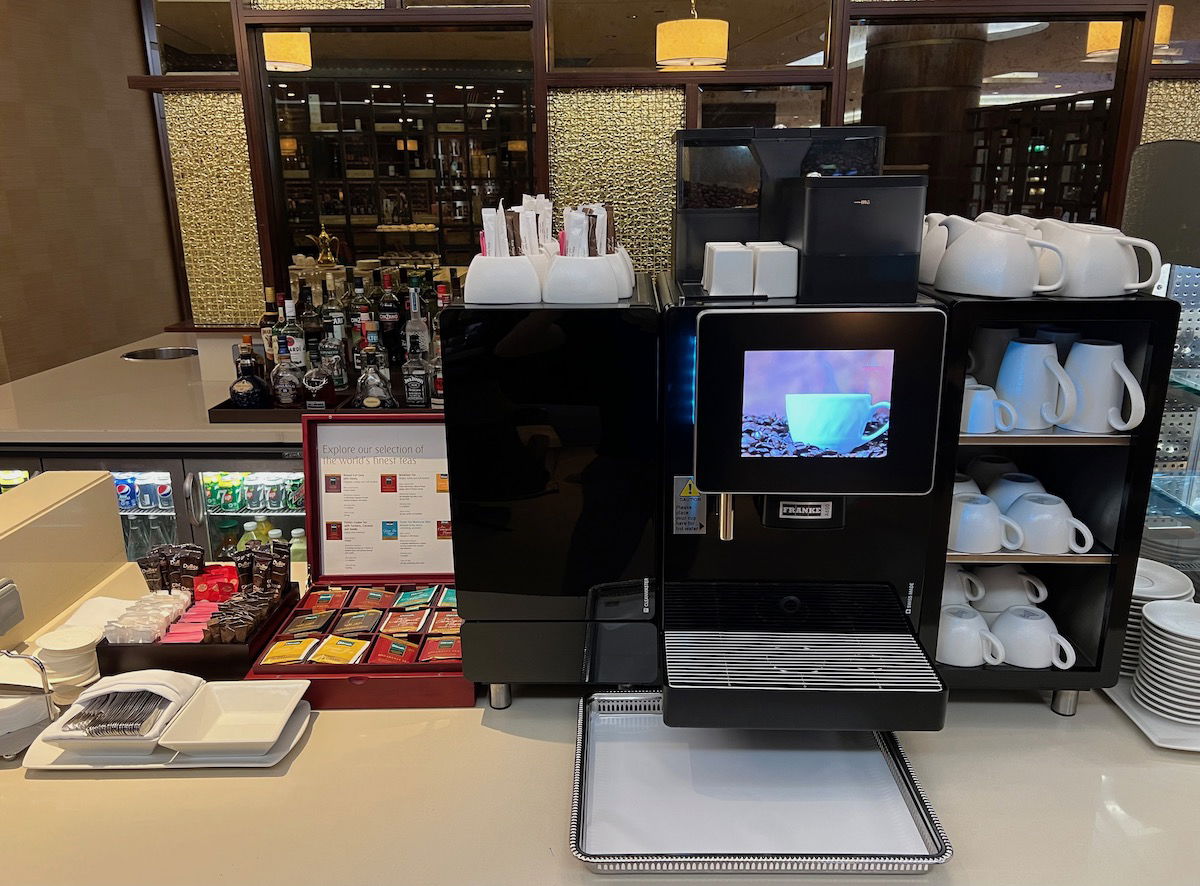 I think the much more appealing option is the a la carte selection. The staff in the restaurant are lovely and incredibly attentive. Once seated, we were brought a bread basket.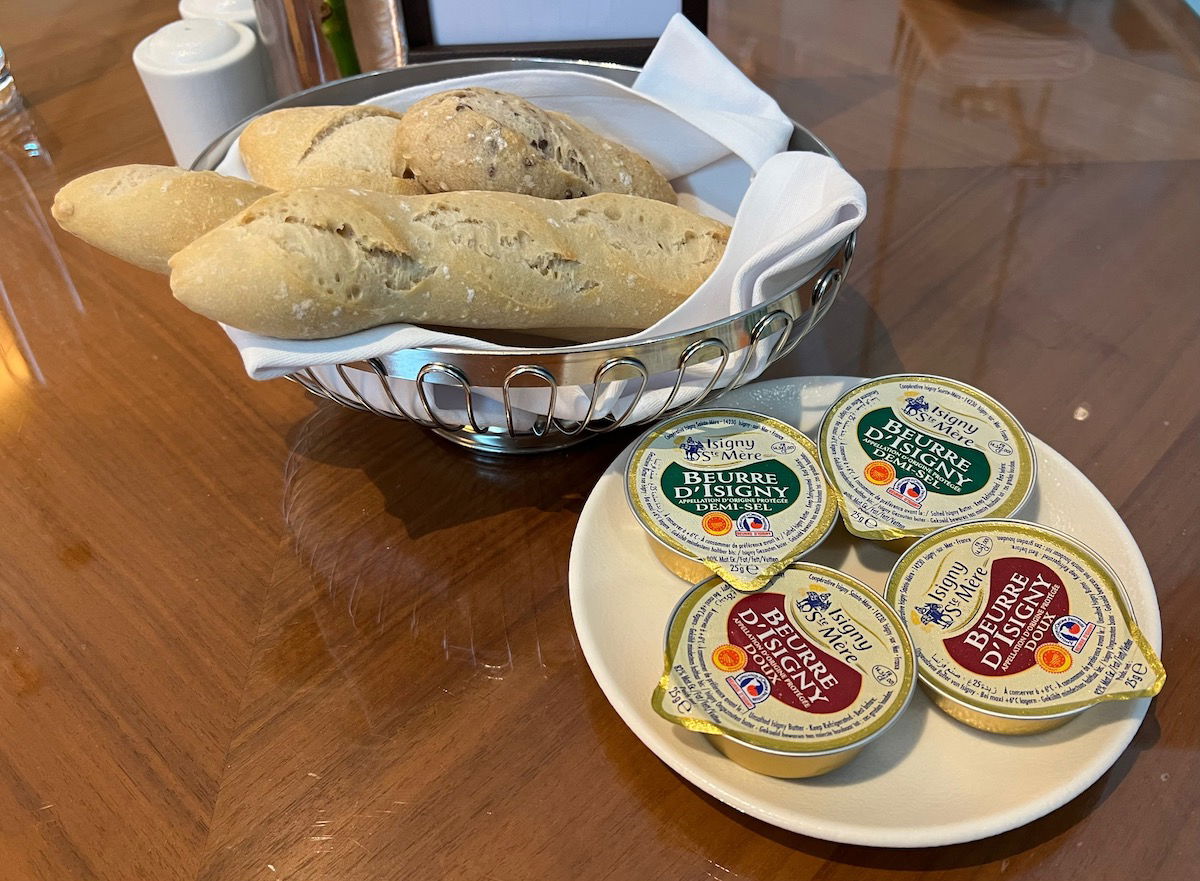 To start, we split a hamachi poke bowl, which was tasty.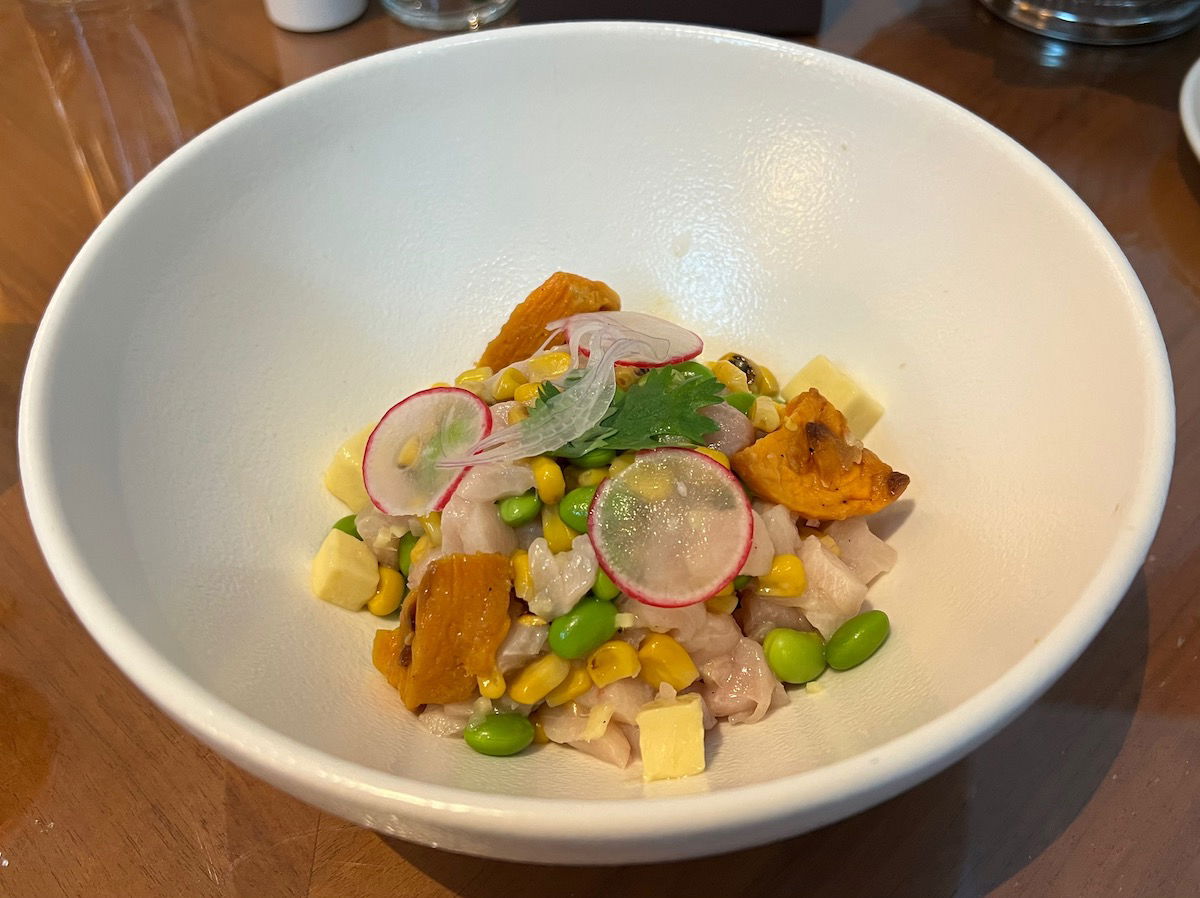 Then for our mains, I ordered the green burger, while Ford had the chicken biryani.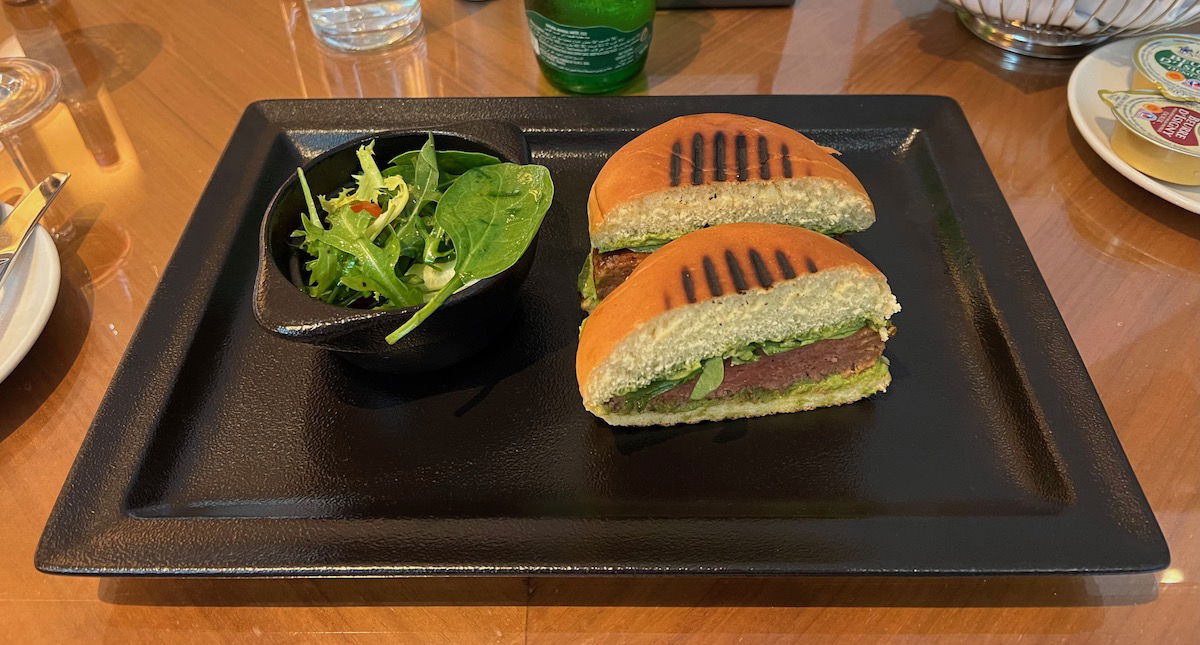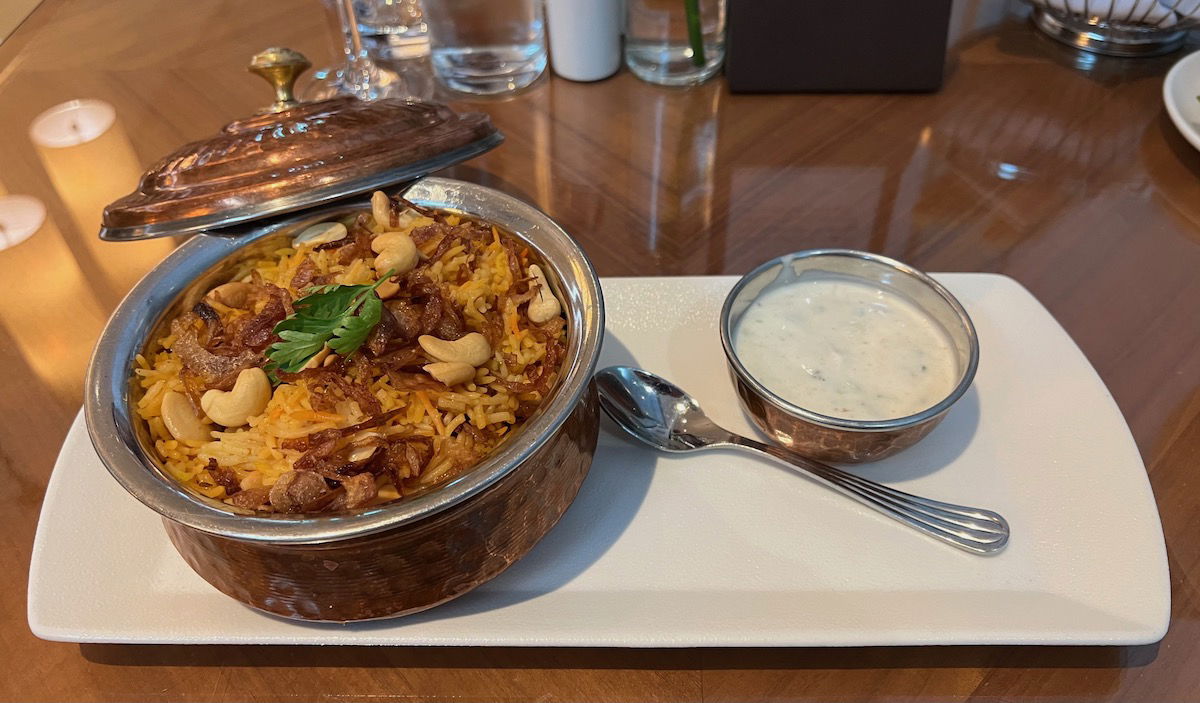 For dessert we split the Middle Eastern tres leches cake. I loved the presentation, as there was "smoke" coming from the dish as it was served to us.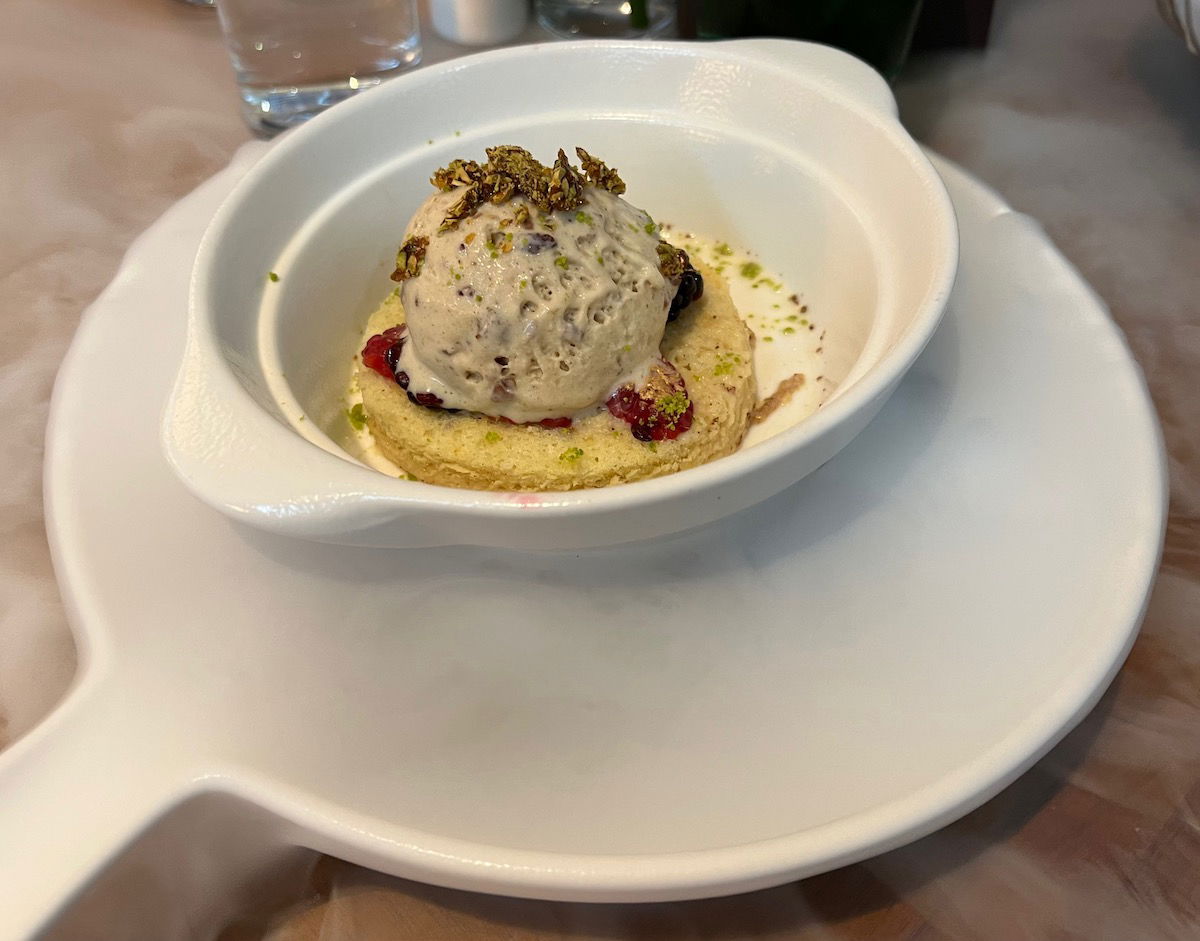 The staff here were all invested in making sure guests have a nice experience, and the food is good quality. My one point of feedback would be that I wish the Emirates first class lounge had barista-made espresso drinks. The business class lounge has a partnership with Costa to provide barista services, so you'd think this lounge could also have decent coffee drinks.
I'd note that in addition to the lounge, there are several self-serve food & drink stations throughout the lounge, with cold appetizers and desserts, coffee, and a selection of wine.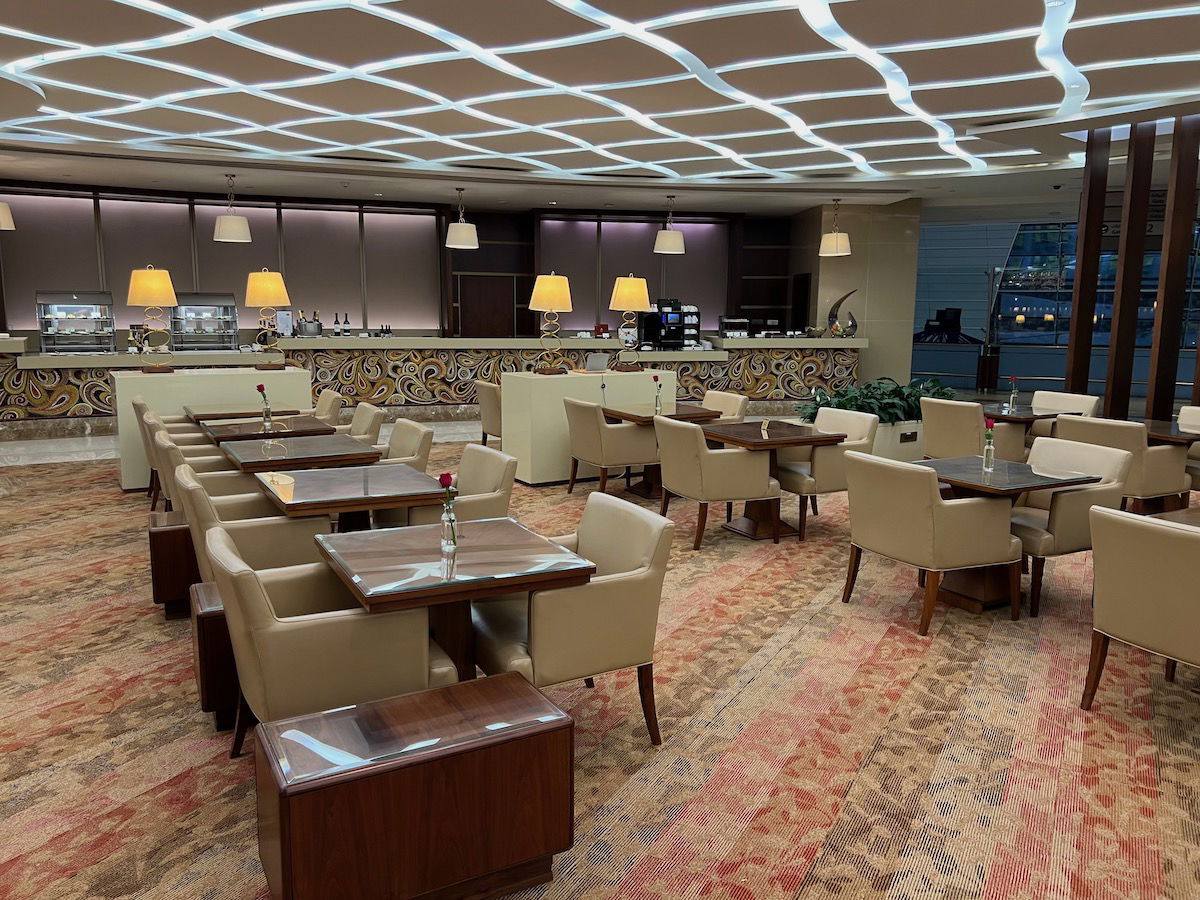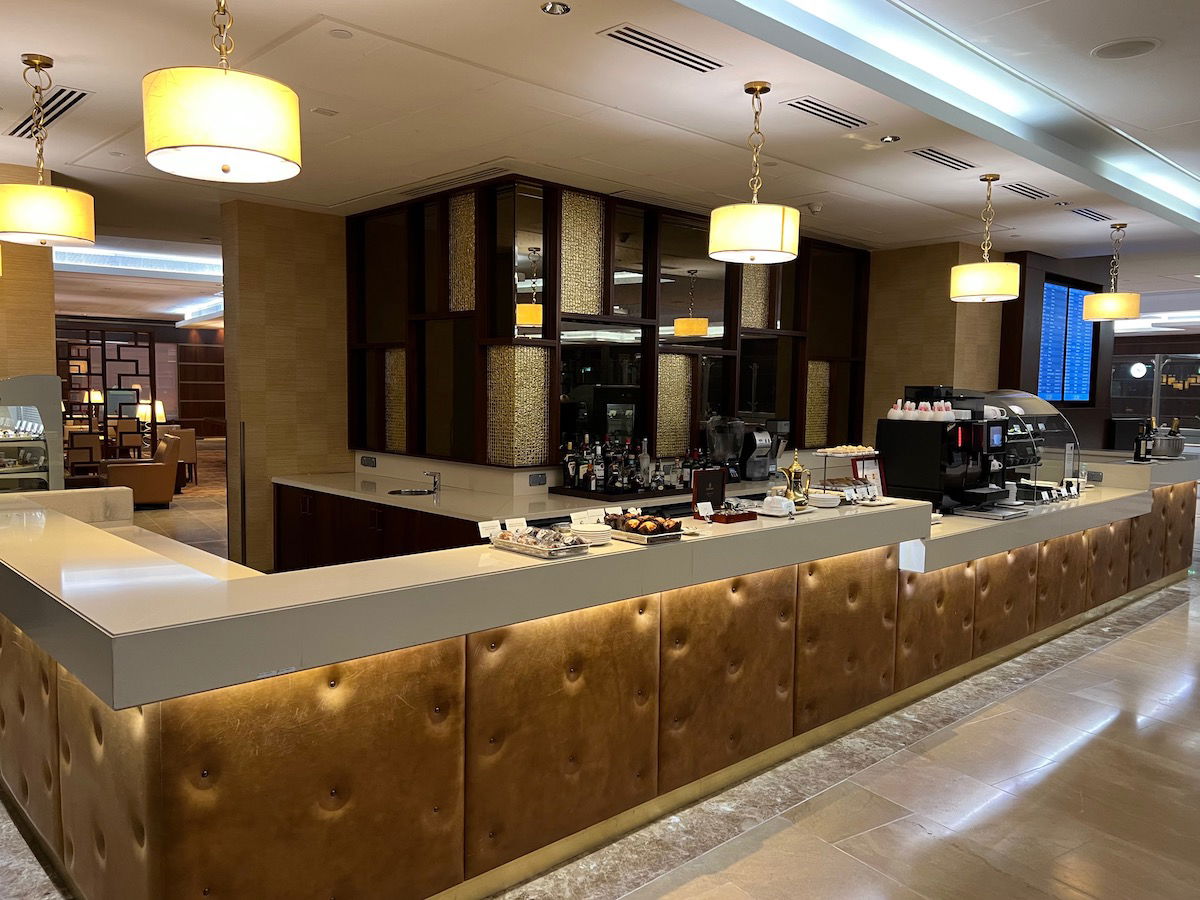 Emirates first class lounge Dubai wine selection
If you have time to kill in the Emirates first class lounge and are into wine, I'd highly recommend taking part in the Emirates wine scavenger hunt. Why? Because you might find some ridiculously good wine, but it'll take some searching. Let me explain
The only wine that Emirates consistently has is the first class lounge is Moet champagne; this is of course decent, but not as good as the Dom Perignon you'll be served onboard
Emirates has invested over half a billion dollars in its wine program, so Emirates has some pretty spectacular wines onboard
While some wines are specifically for the first class lounge, Emirates also places many leftover bottles of wine from onboard in the first class lounge
So sometimes you'll find a ridiculously good bottle there, it just takes some searching
Last year I wrote about how you can expect to just randomly find some $500+ bottles of red wine in the lounge, but there might just be one or two bottles at a random self-serve food & beverage station
With time to spare, Ford and I went on a wine scavenger hunt, whereby we went to all the drink stations in the lounge and then looked up the wines. Unfortunately it wasn't a good night for this game, it seems, as the selection wasn't too exciting.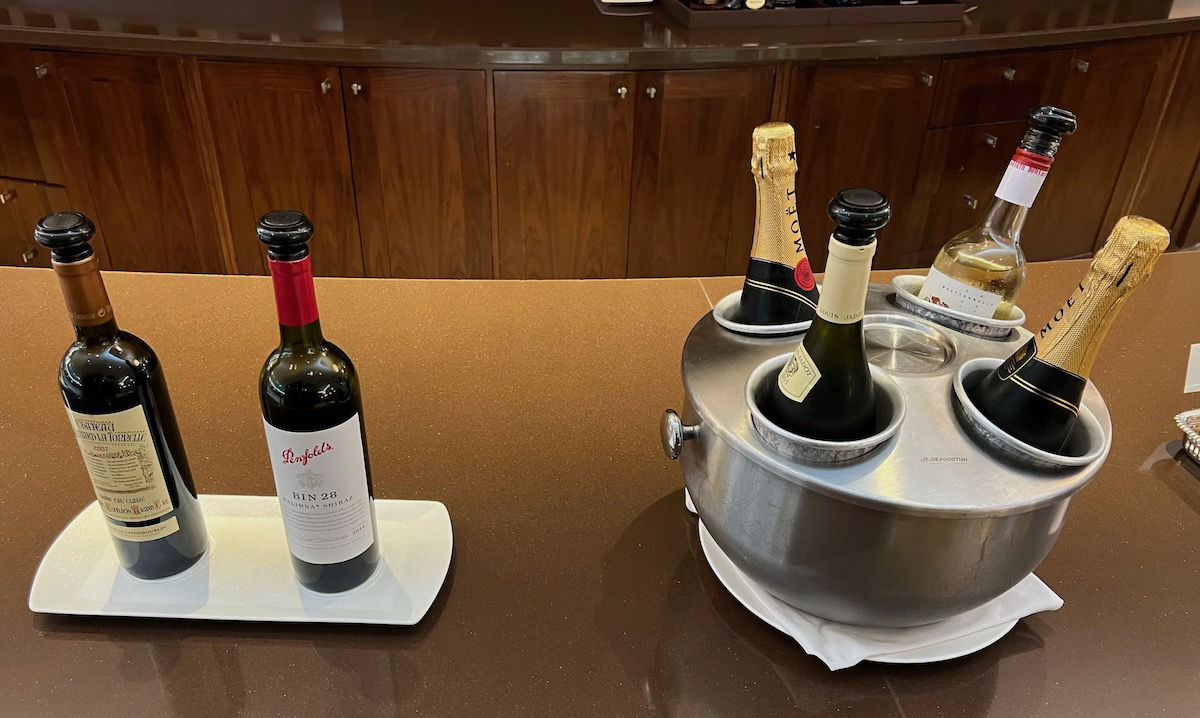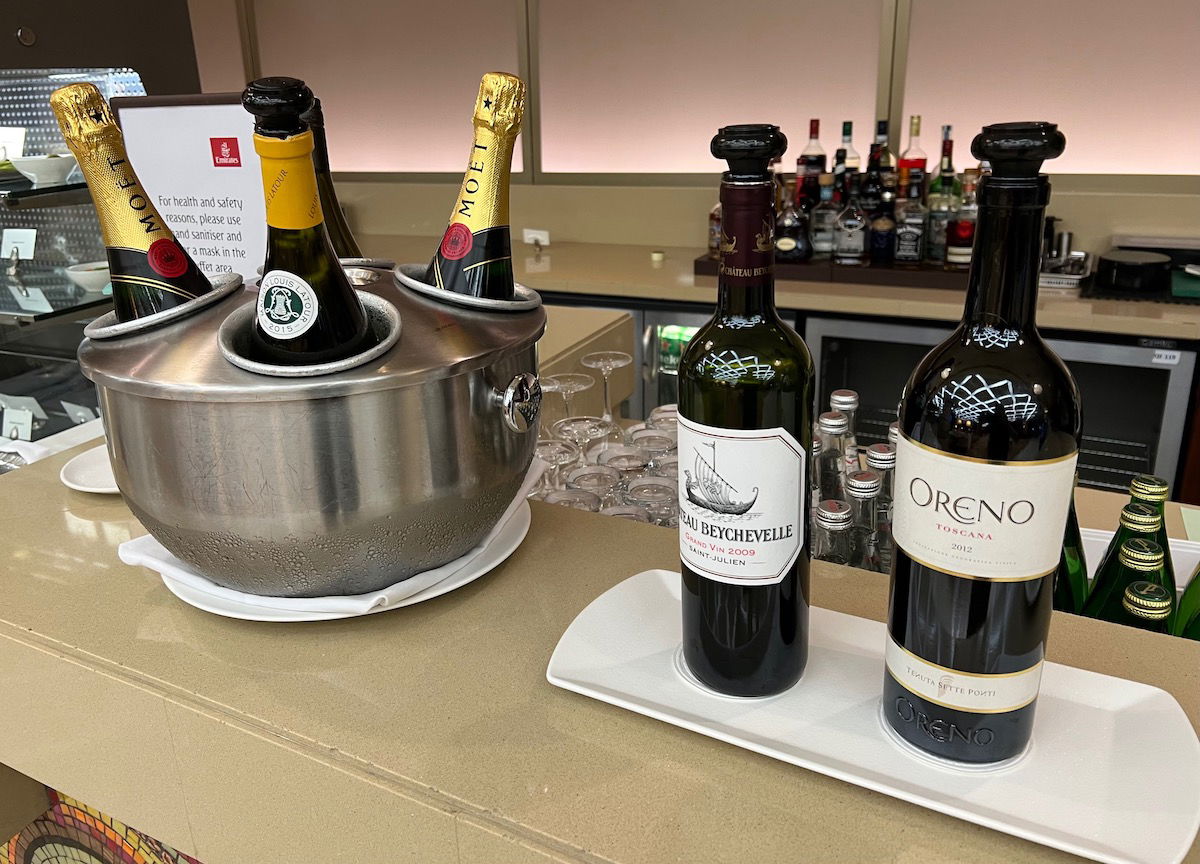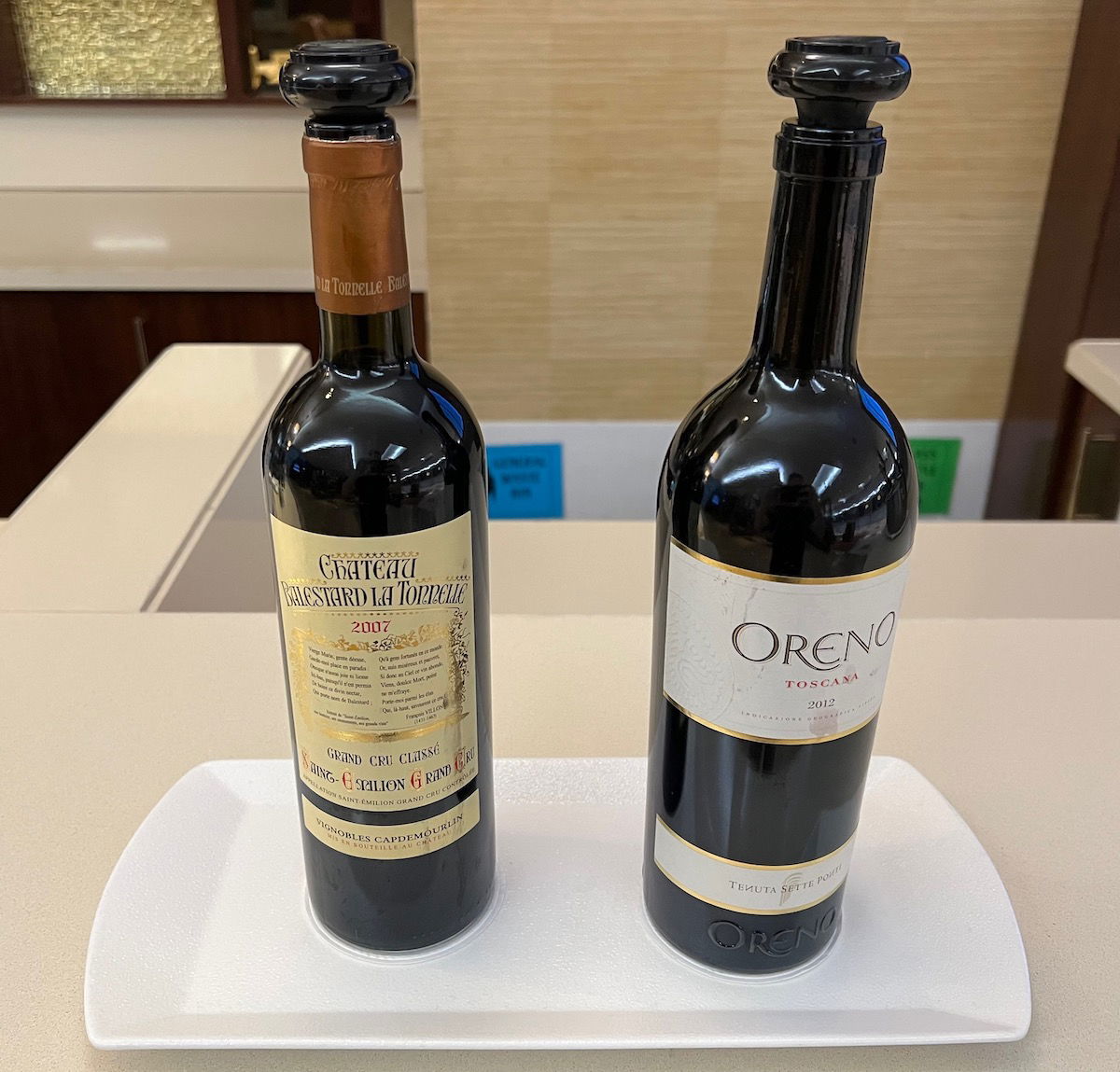 In terms of price, the most expensive we came across was a bottle of 2009 Chateau Beychevelle. We had a glass just for fun, but weren't fans, to put it mildly.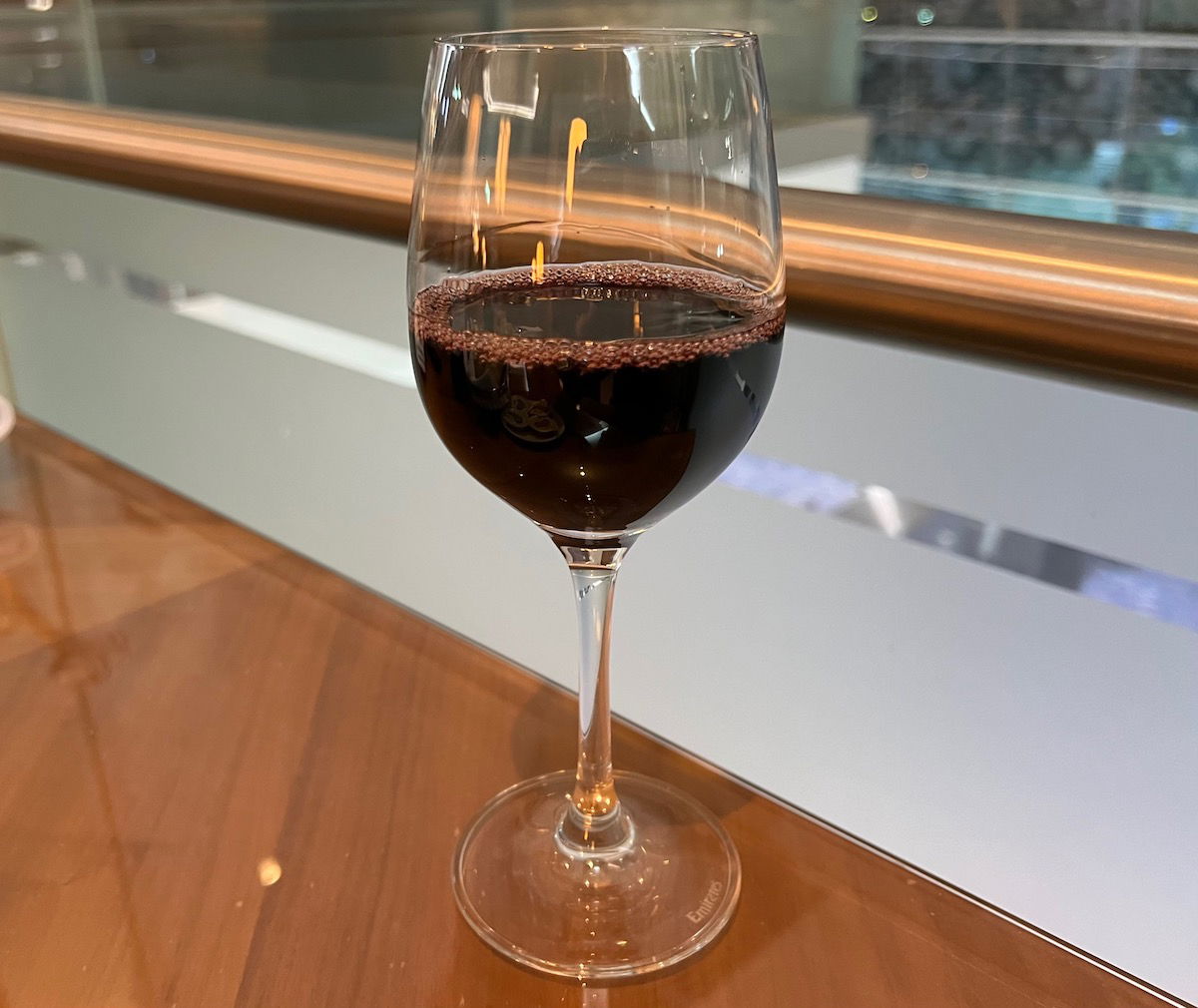 Anyway, if you're into wine, it's always worth having some fun in the lounge…
Emirates first class lounge Dubai nap & rest area
The Emirates first class lounge Dubai has a quiet area that can be used as a nap room. There are some day beds as well as chairs with ottomans, and each seat has a blanket and some eyeshades.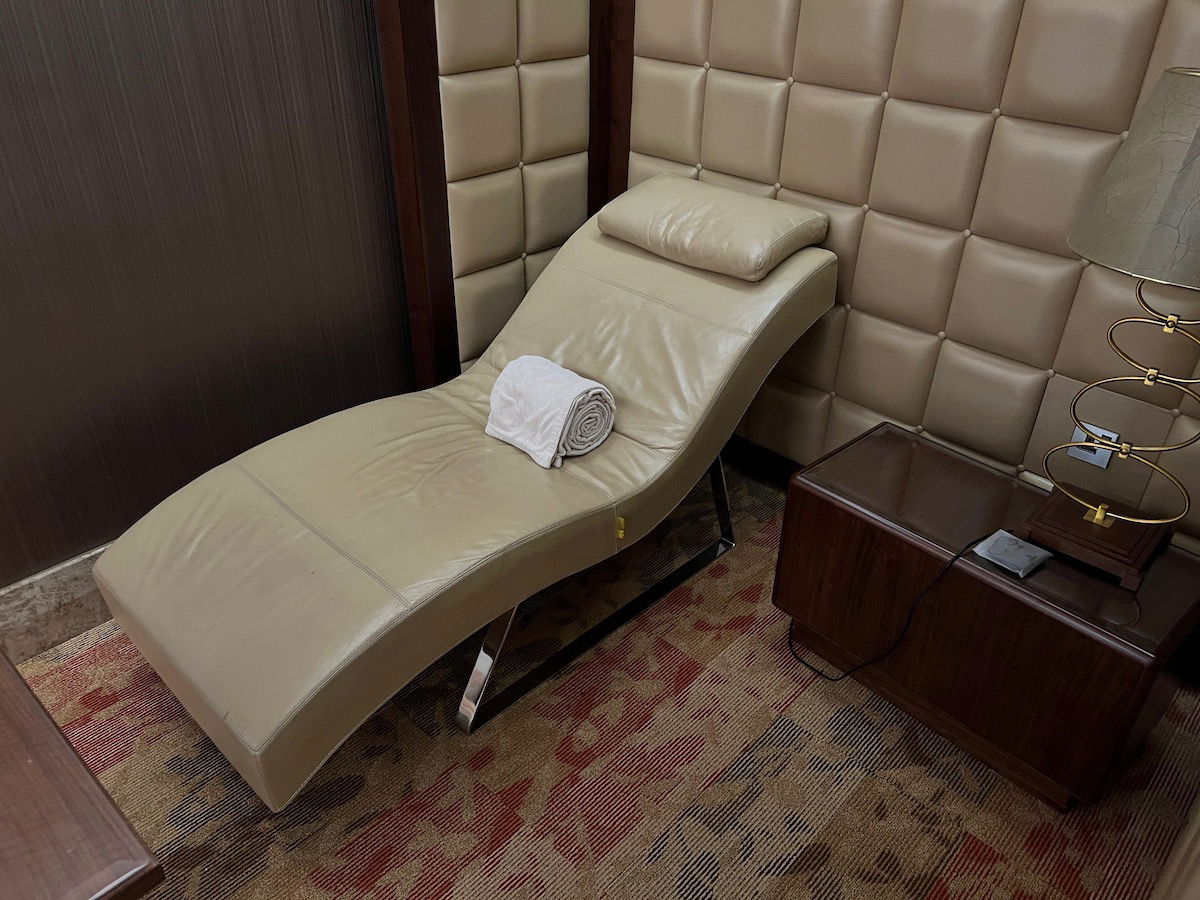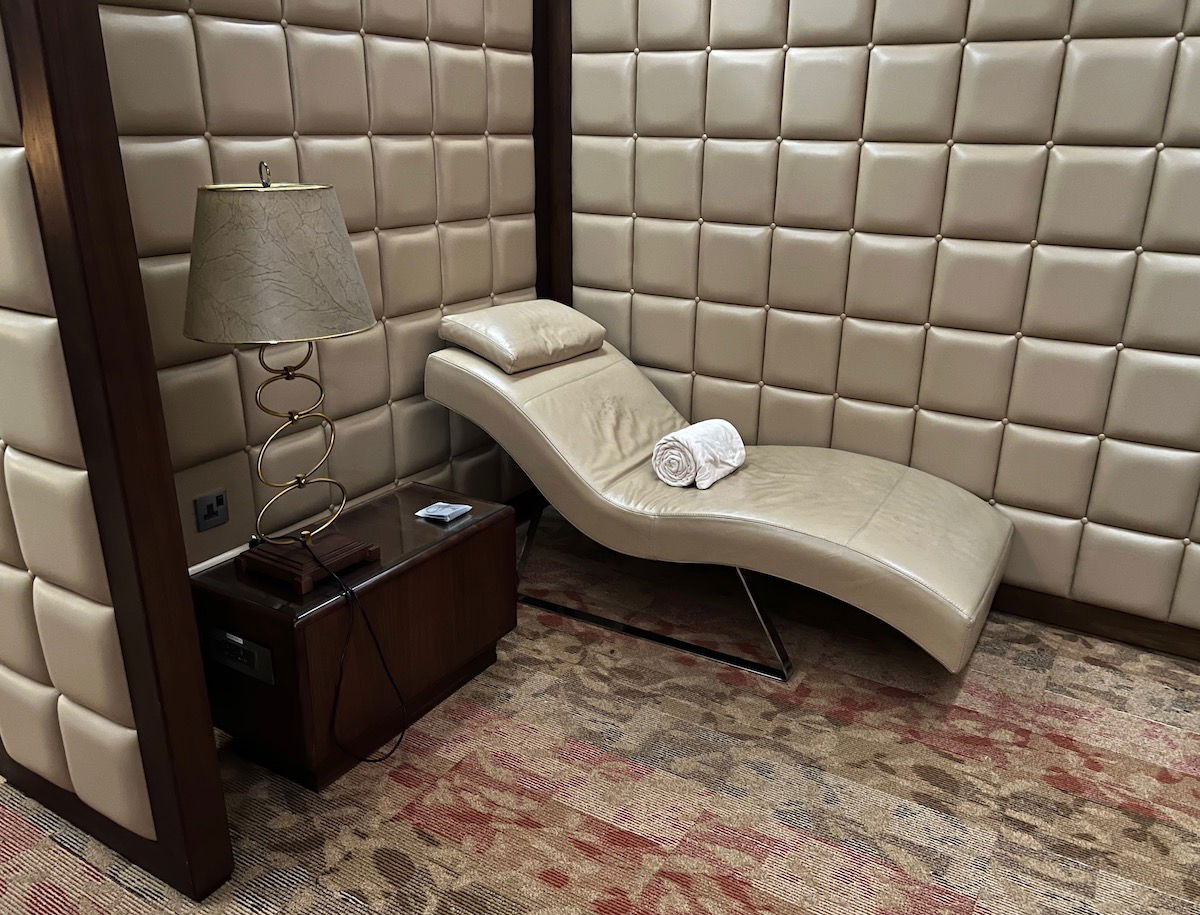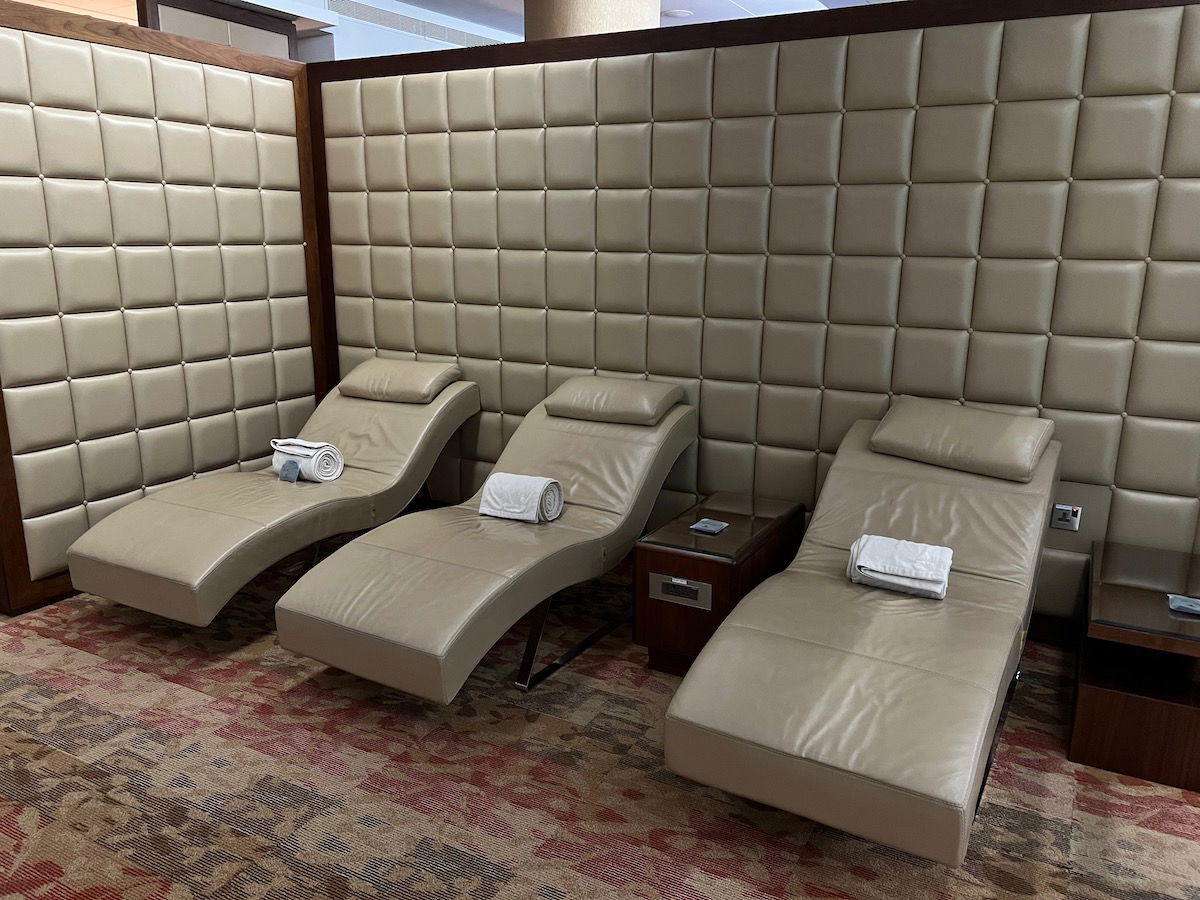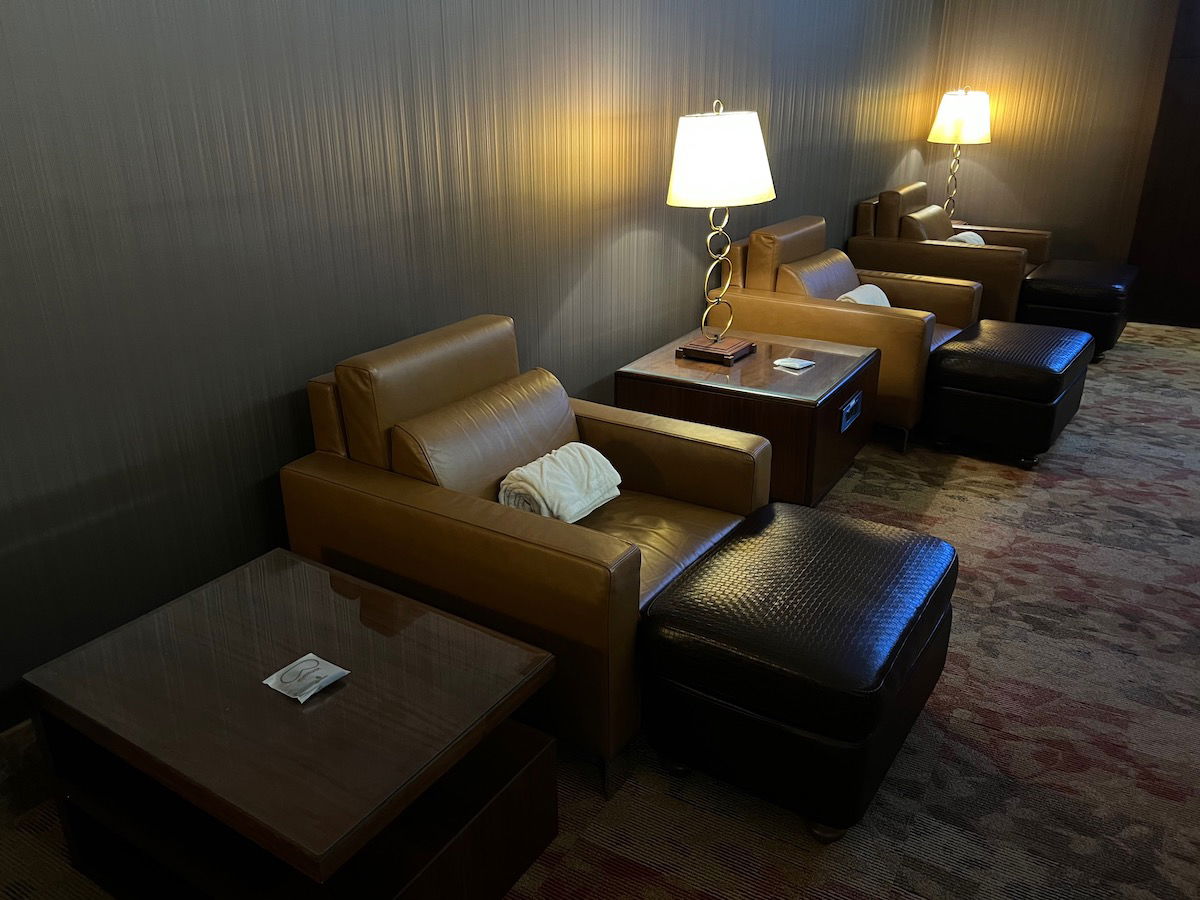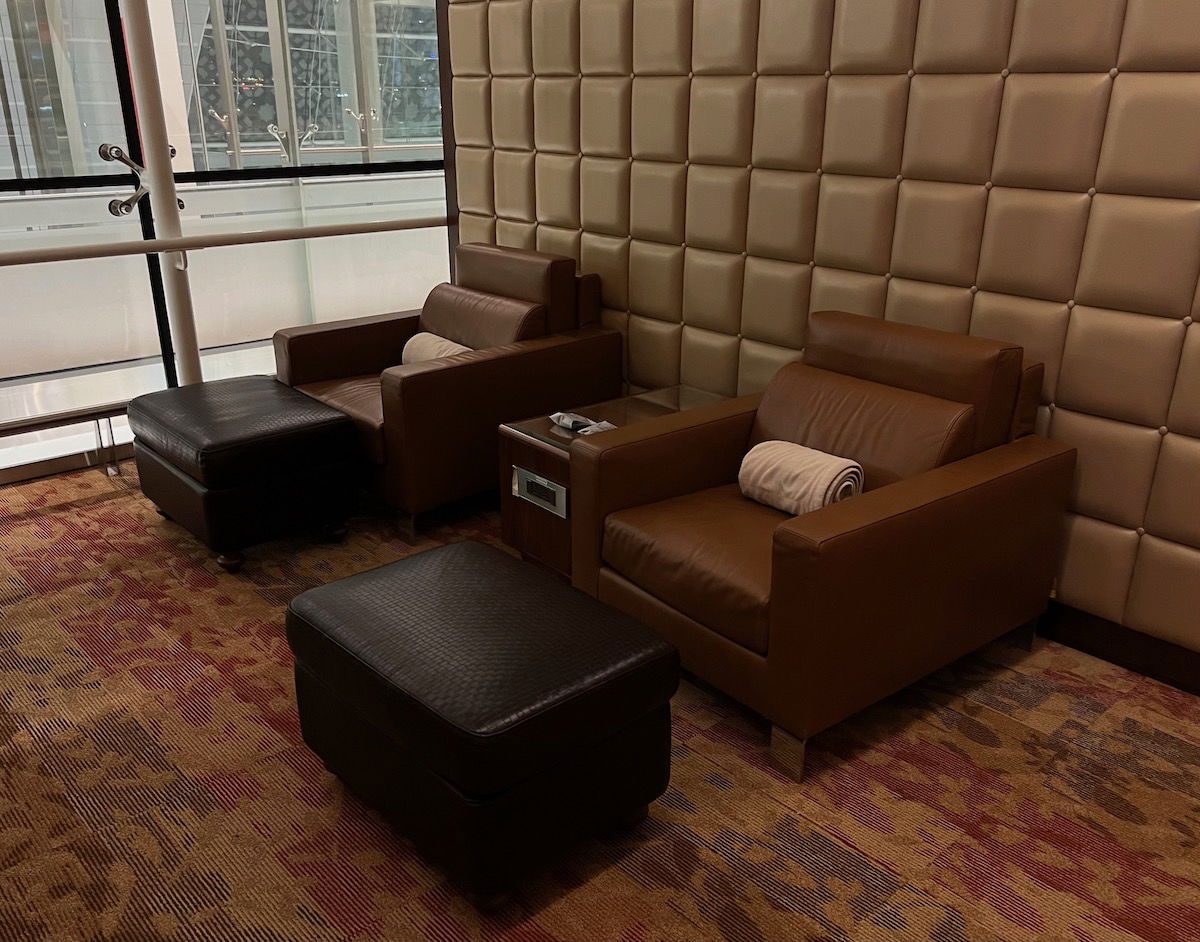 If you have a longer layover, keep in mind that Emirates has a stopover program, whereby you can get a free hotel if you have a layover of at least six hours (there are some terms associated with this, though those are the basics). With a long layover, that would be much more comfortable.
With a lounge of over 100,000 square feet, I don't get why Emirates couldn't have put some real private bedrooms in this lounge as well, though? For example, the Turkish Airlines lounge Istanbul has bedrooms for business class passengers, so you wouldn't think that would be a big ask for a lounge this size designed for first class passengers.
Emirates first class lounge Dubai cigar bar
Smokers will certainly appreciate the cigar bar in Emirates' first class lounge. I know my dad loved this place when we visited for his last "round" birthday. For that matter, when I texted him from the lounge, this was the first thing he brought up.
While some lounges have small smoking rooms, this is a proper, "dignified" cigar bar.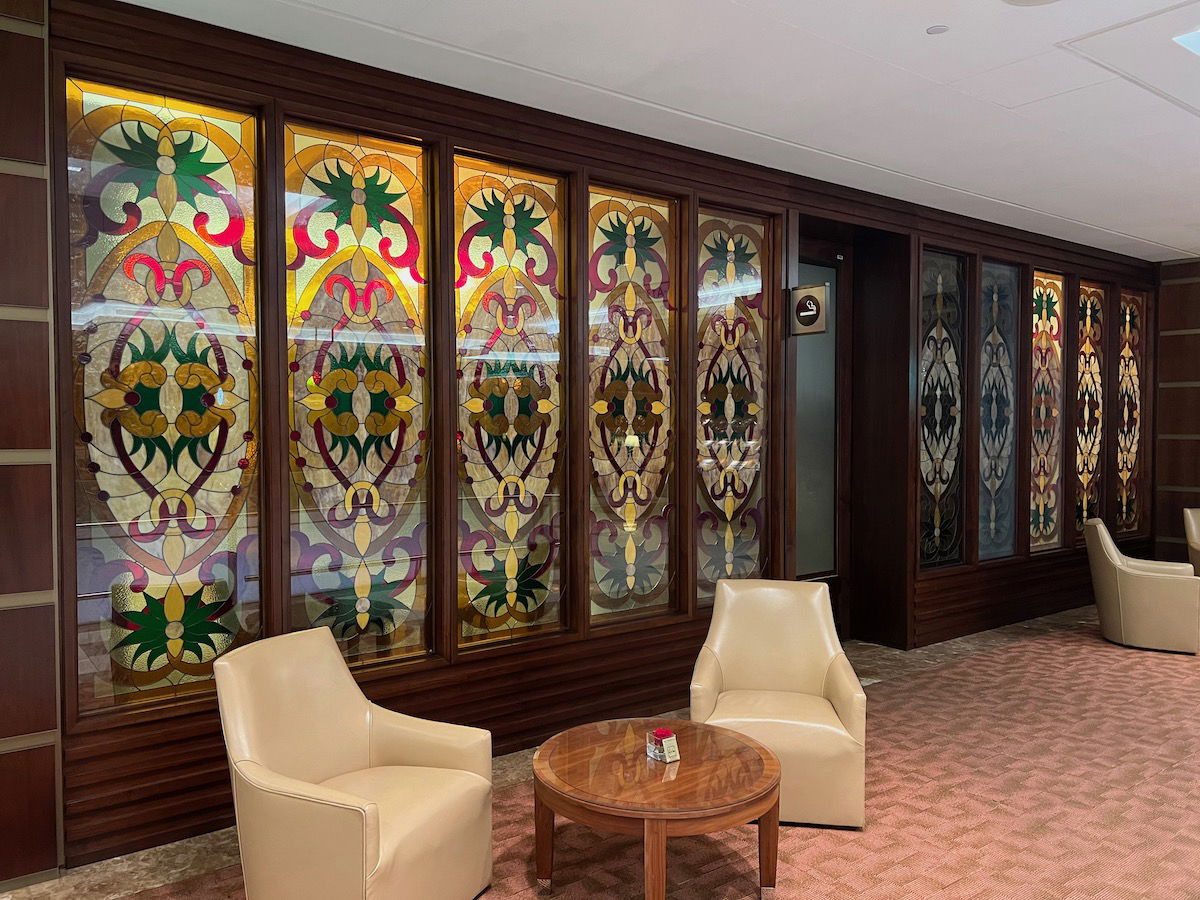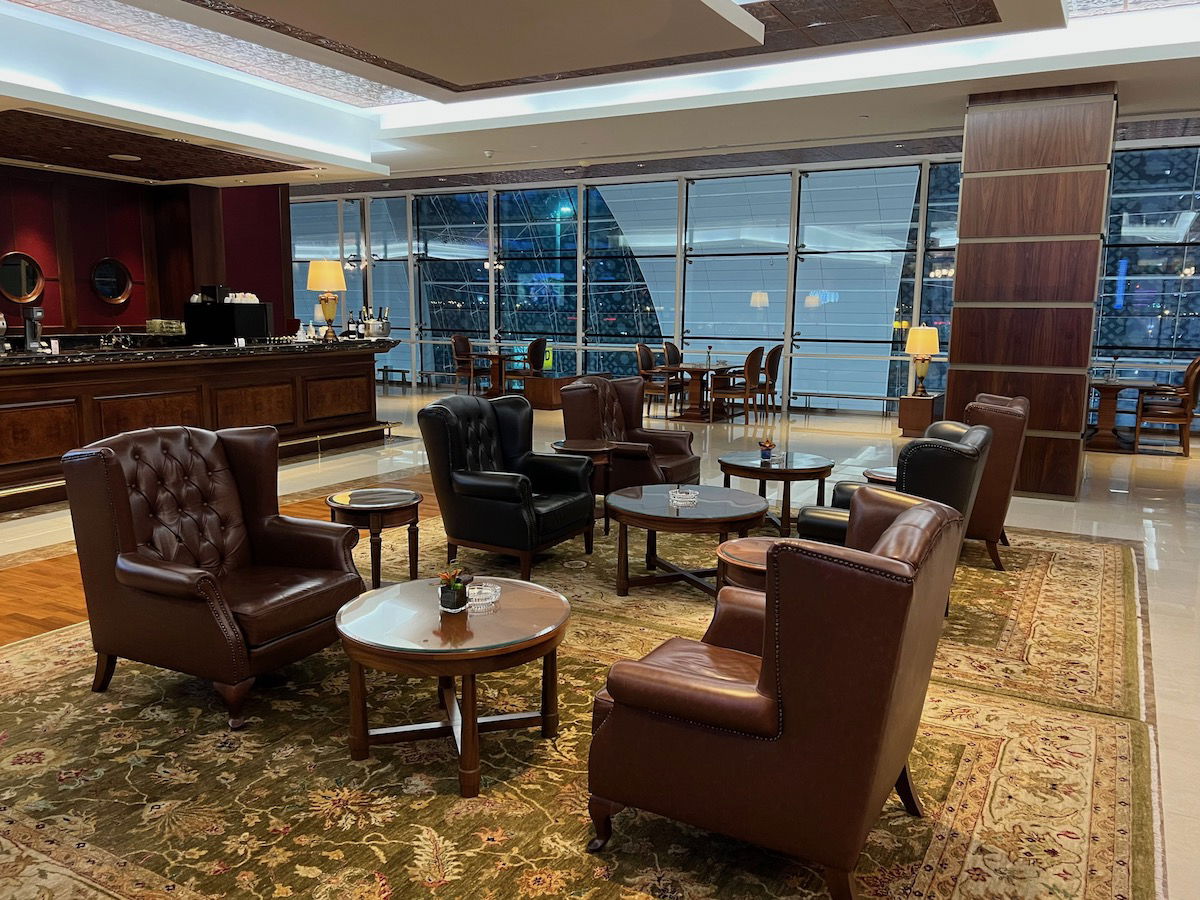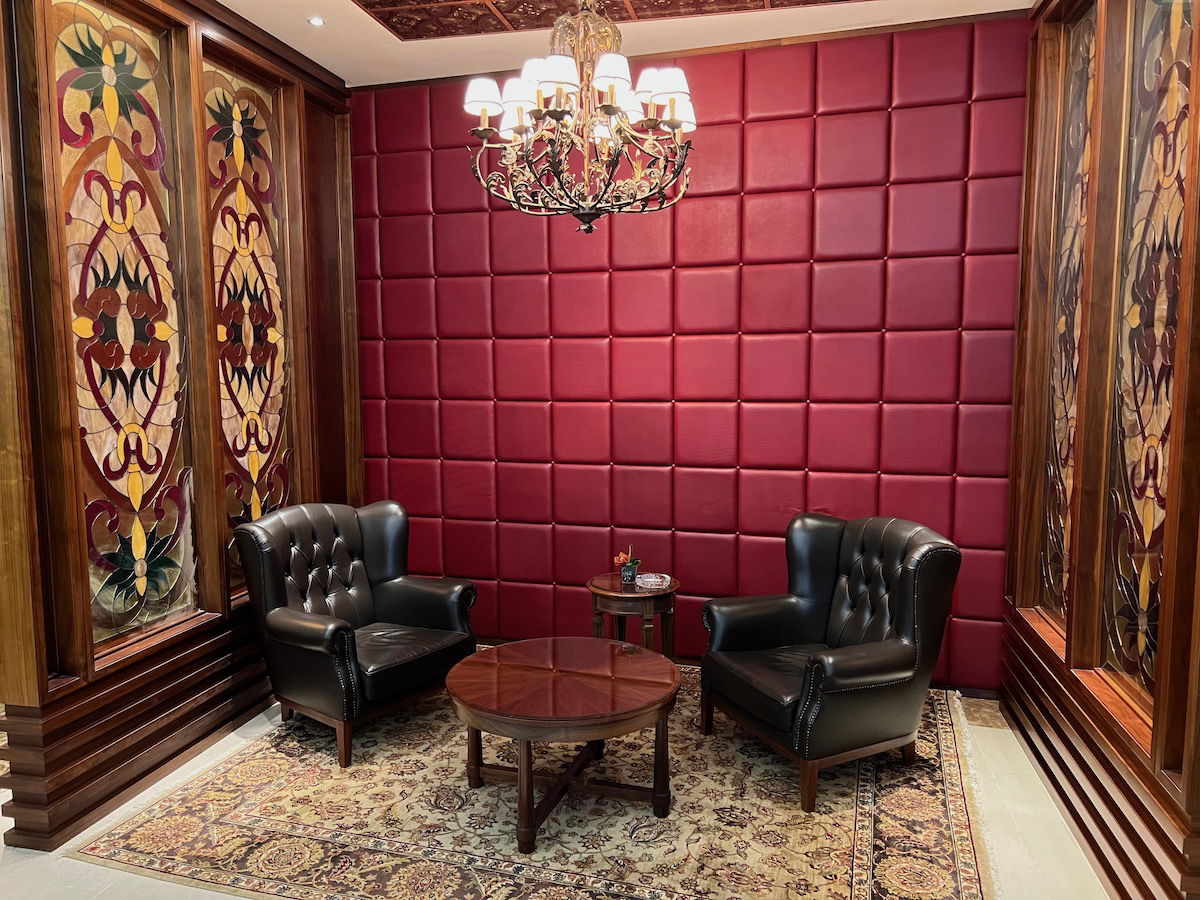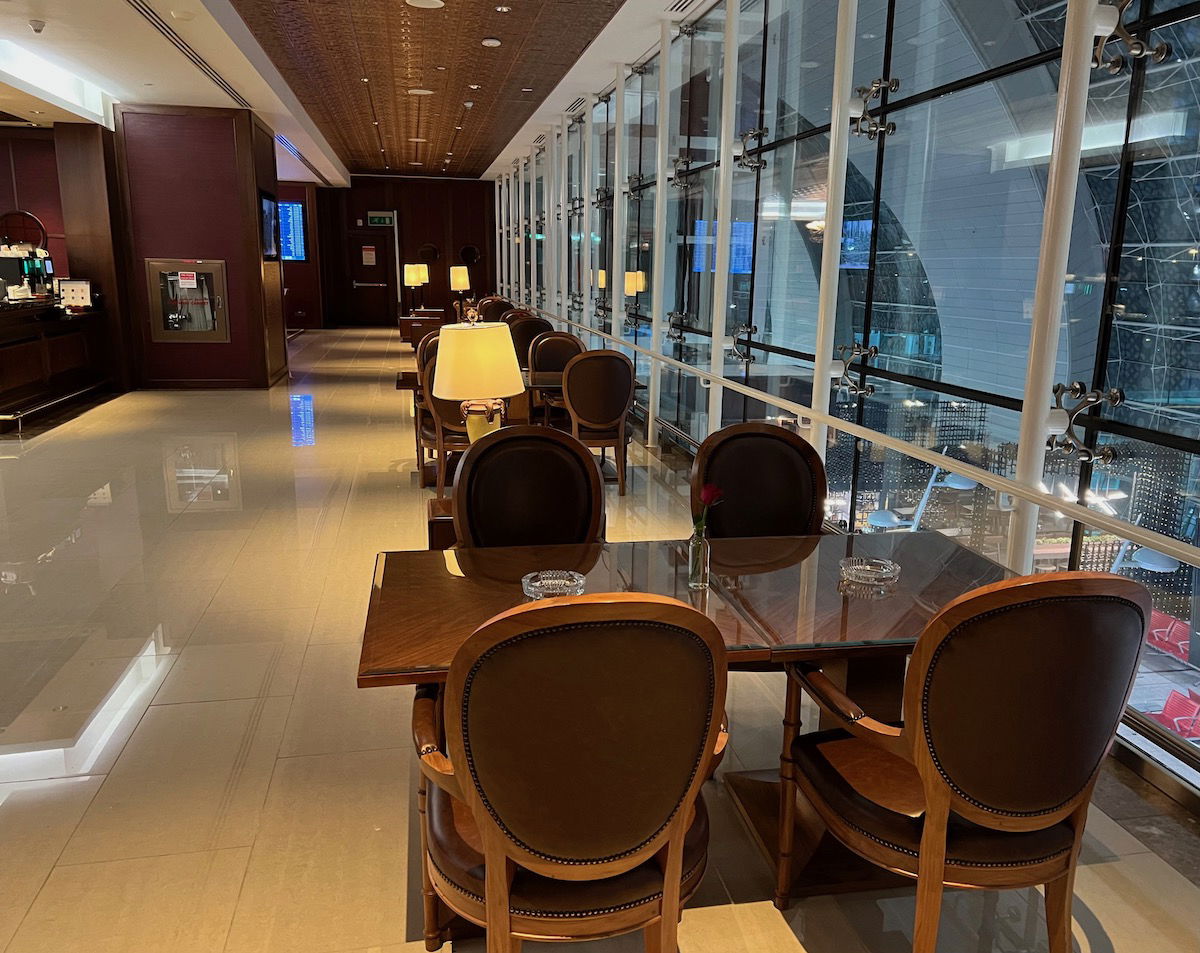 Emirates first class lounge Dubai business center
The Emirates first class lounge Dubai has a business center with cubicles, PCs, and even meeting rooms. Given how spread out the lounge is, it tends to stay quiet, so I've never used this area. But some might find it to be a good place to get some work done.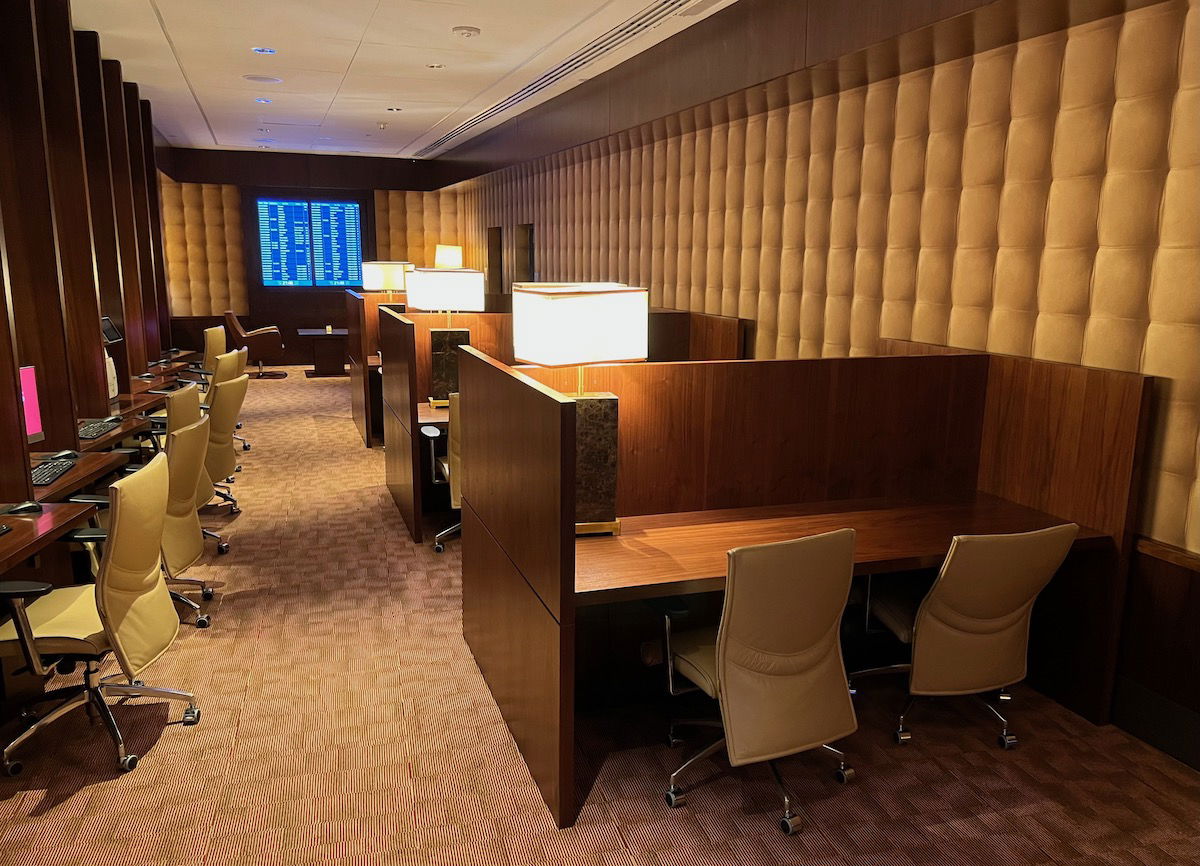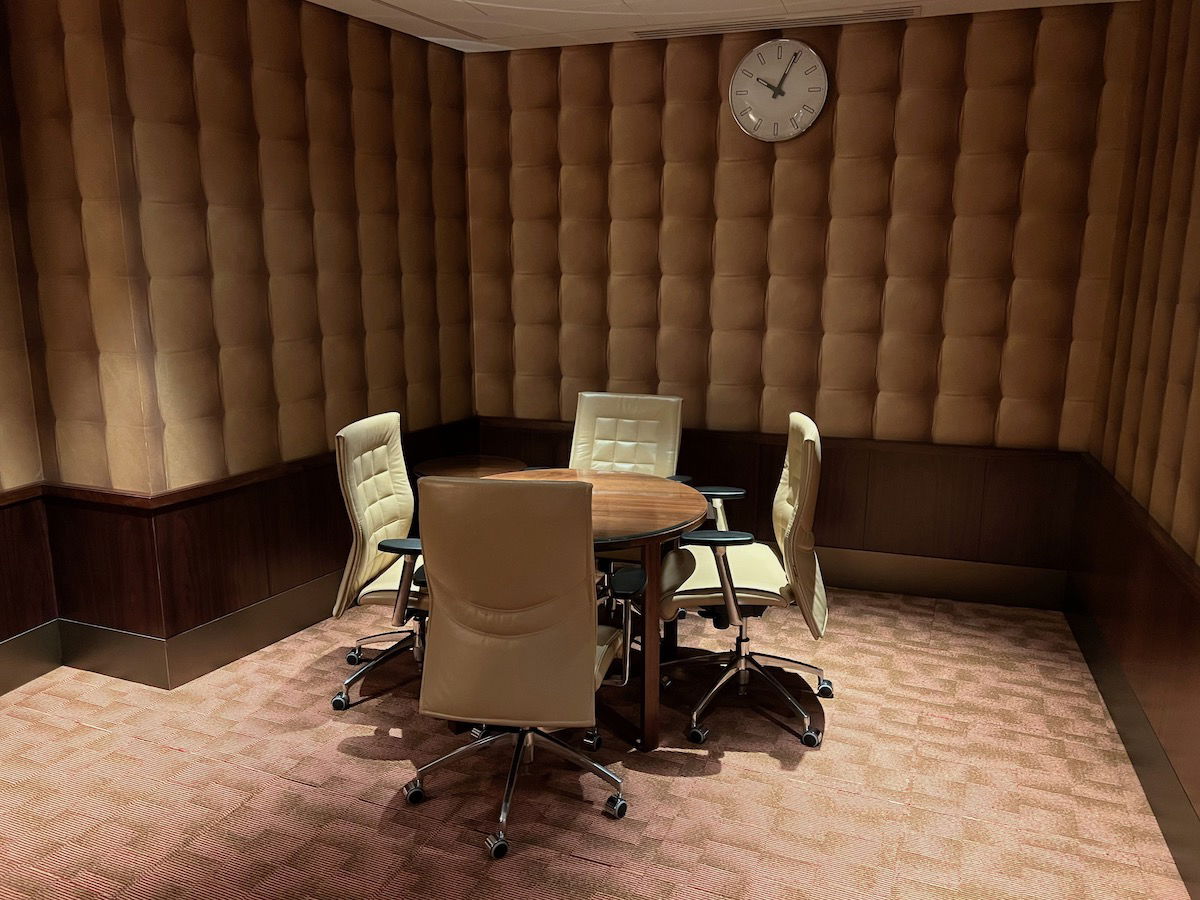 Emirates first class lounge Dubai showers & bathrooms
There are bathrooms throughout the Emirates first class lounge, which are constantly cleaned by lounge staff.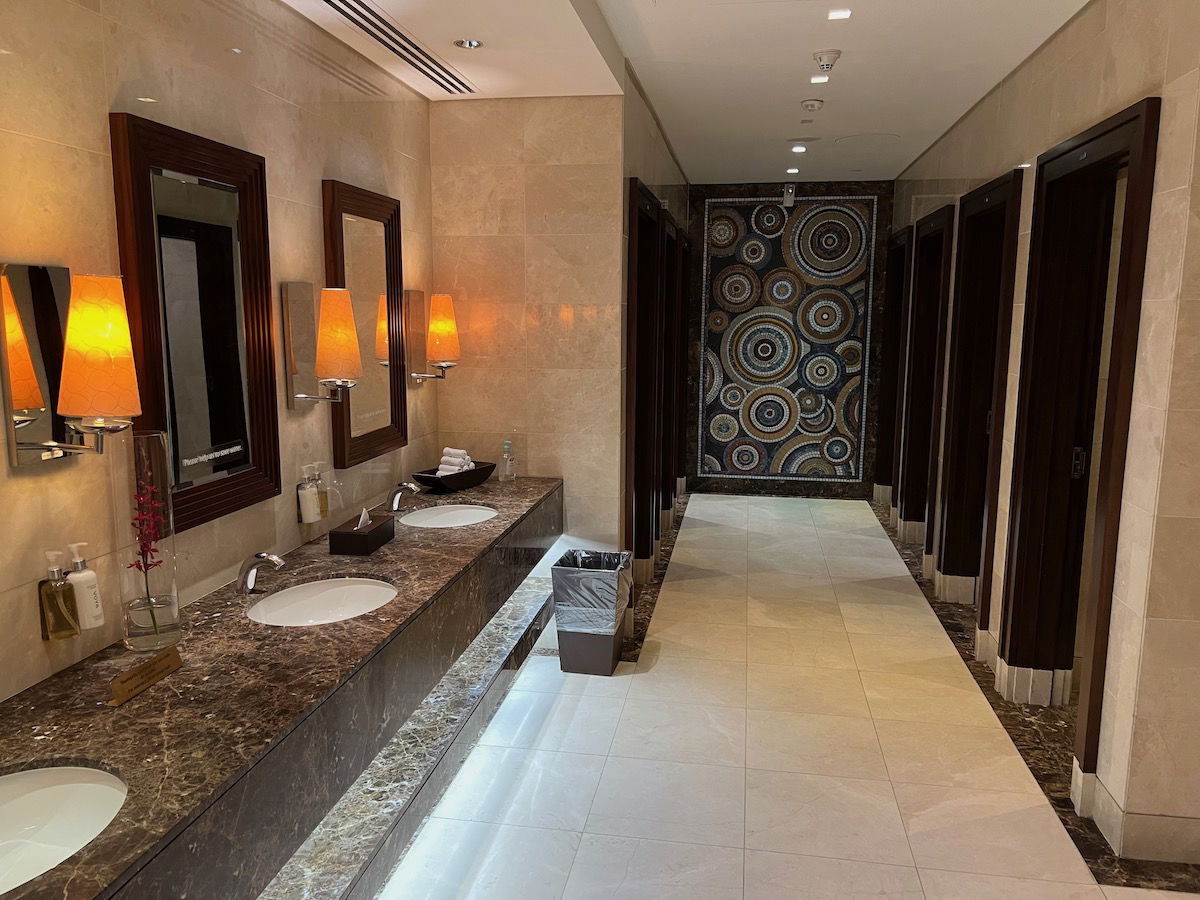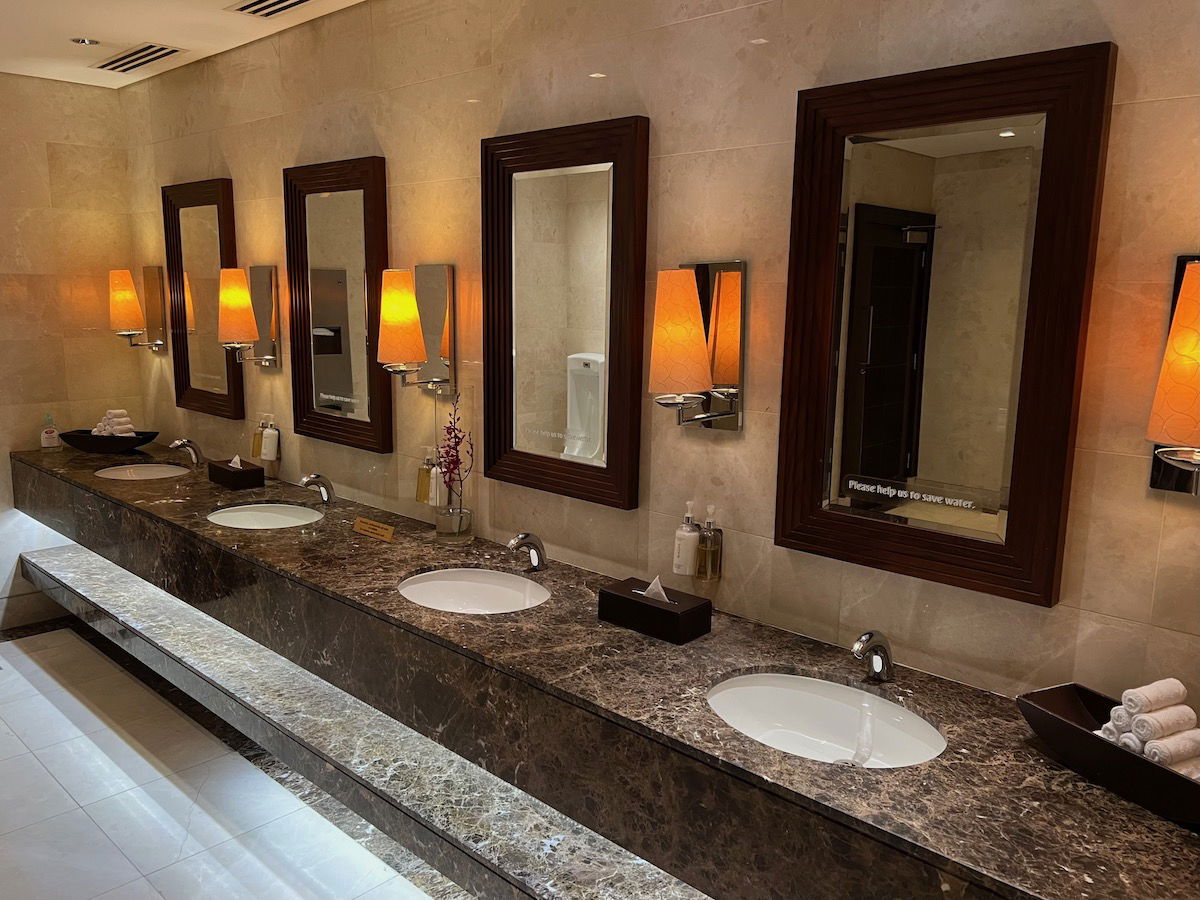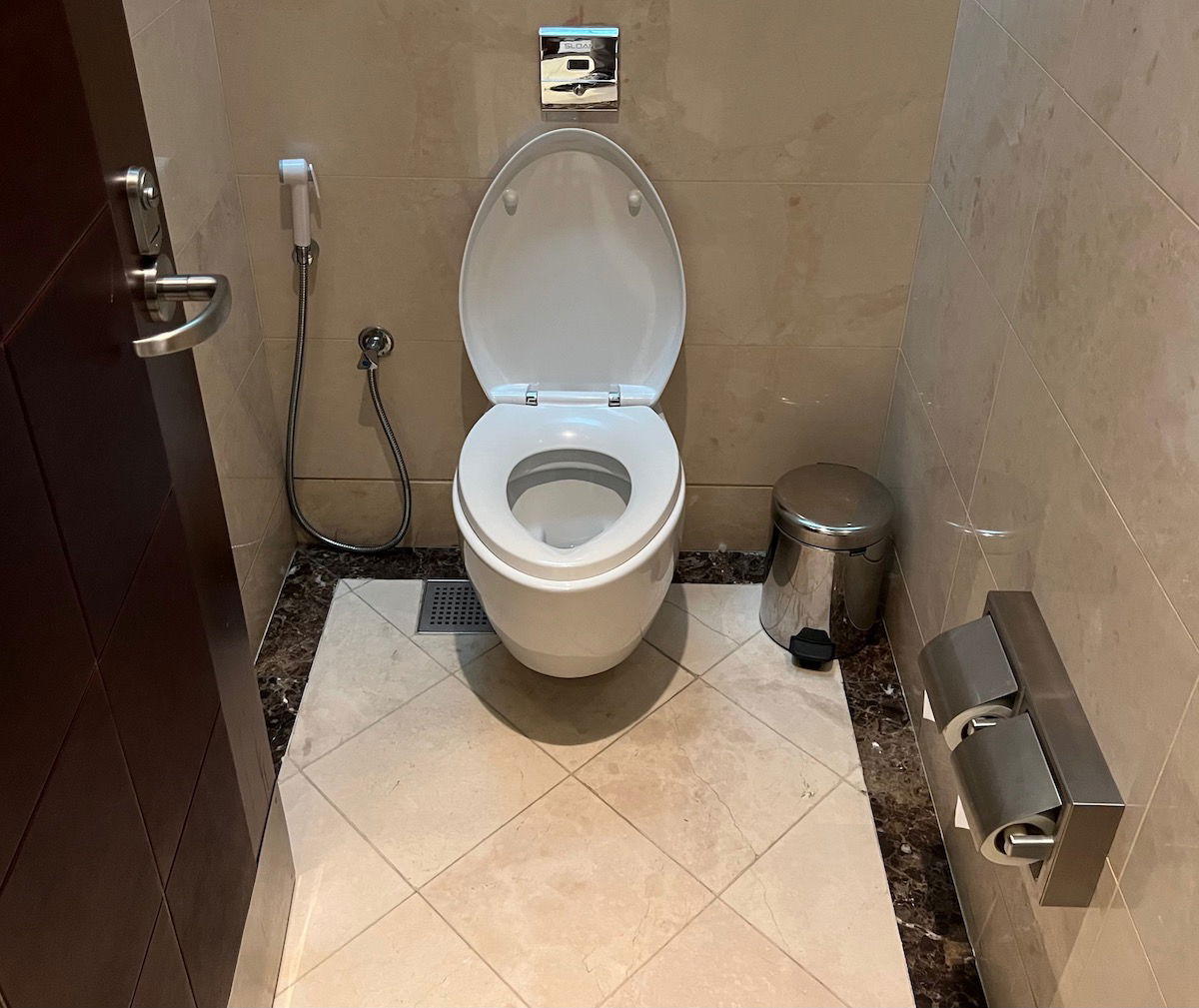 There are also some shower suites, which are typically pretty readily available.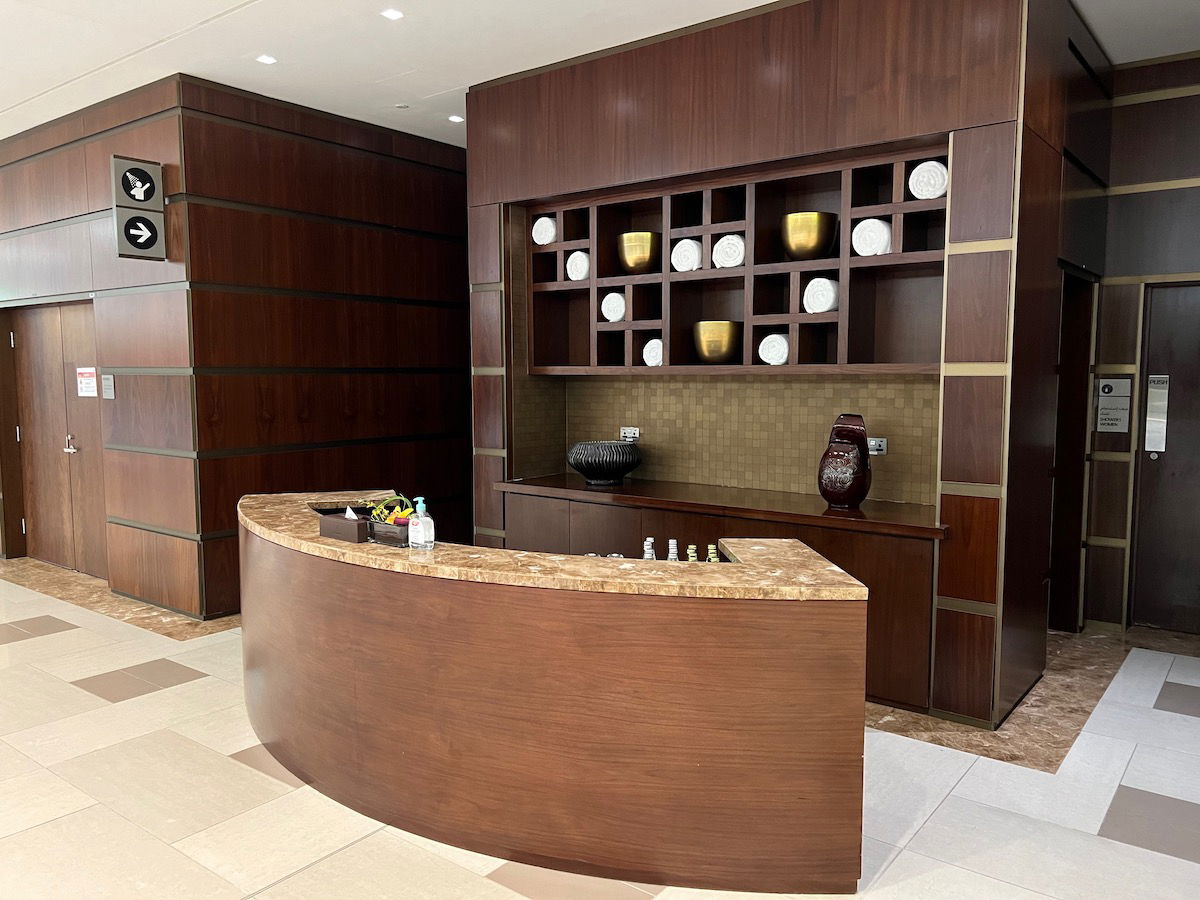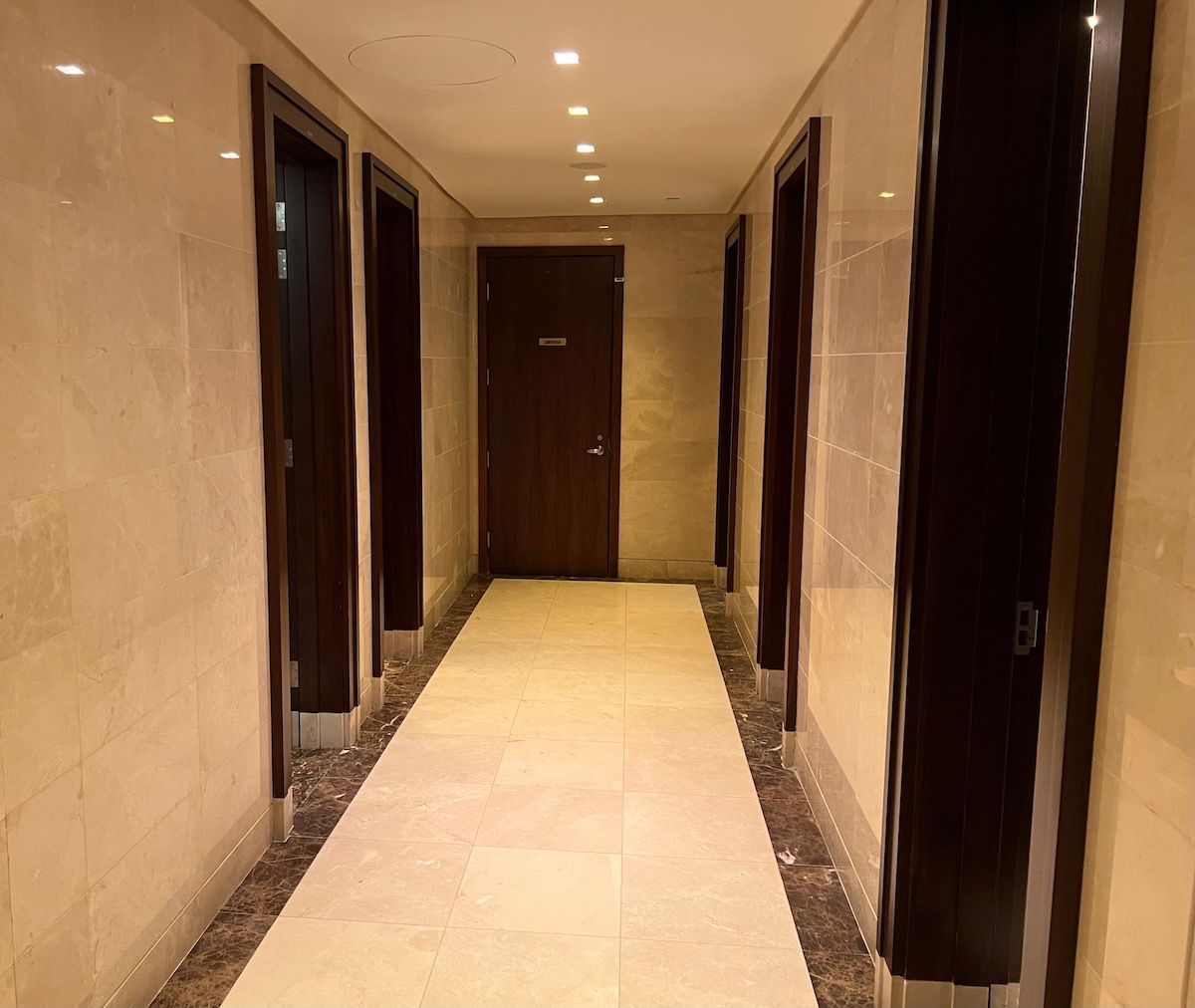 Each shower suite has a walk-in shower, toilet, and sink. While there are more luxurious shower suites out there, these have all the basics.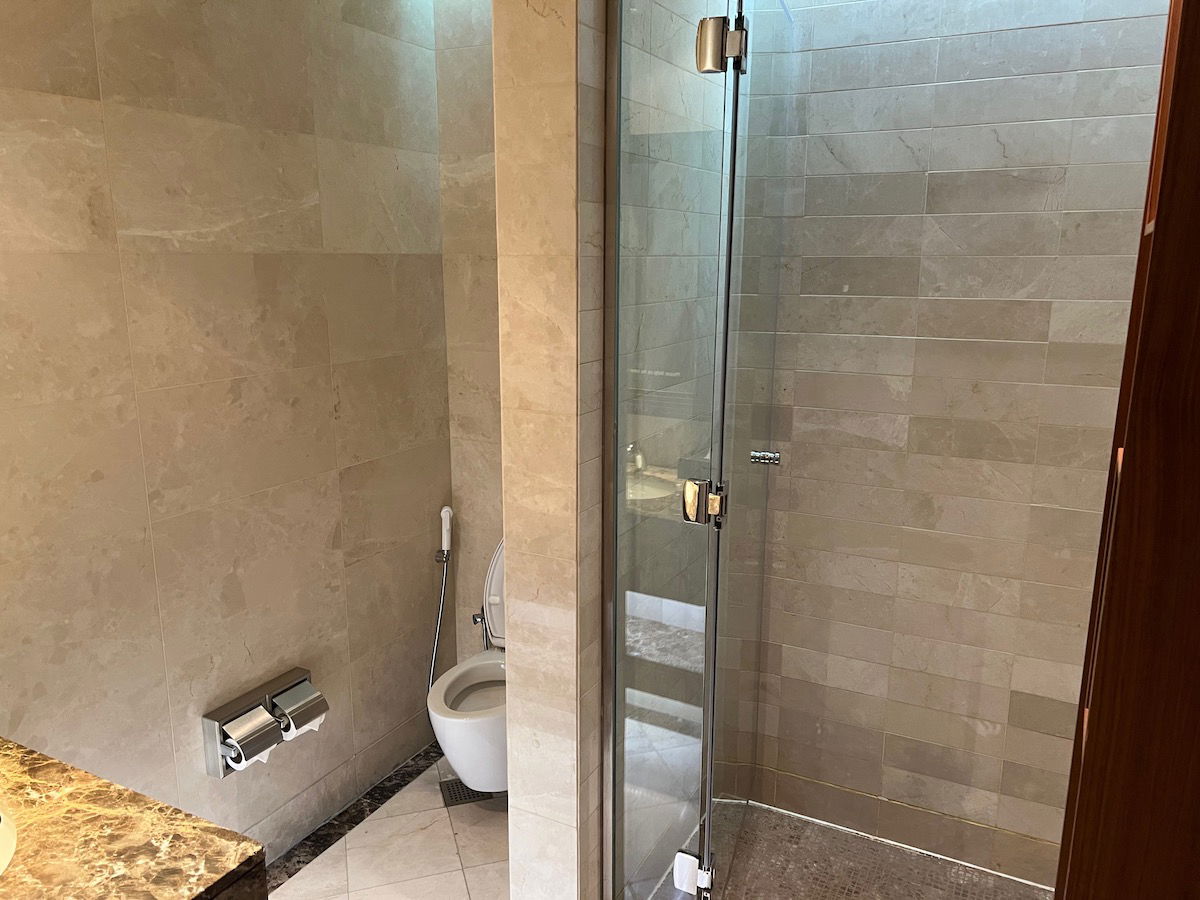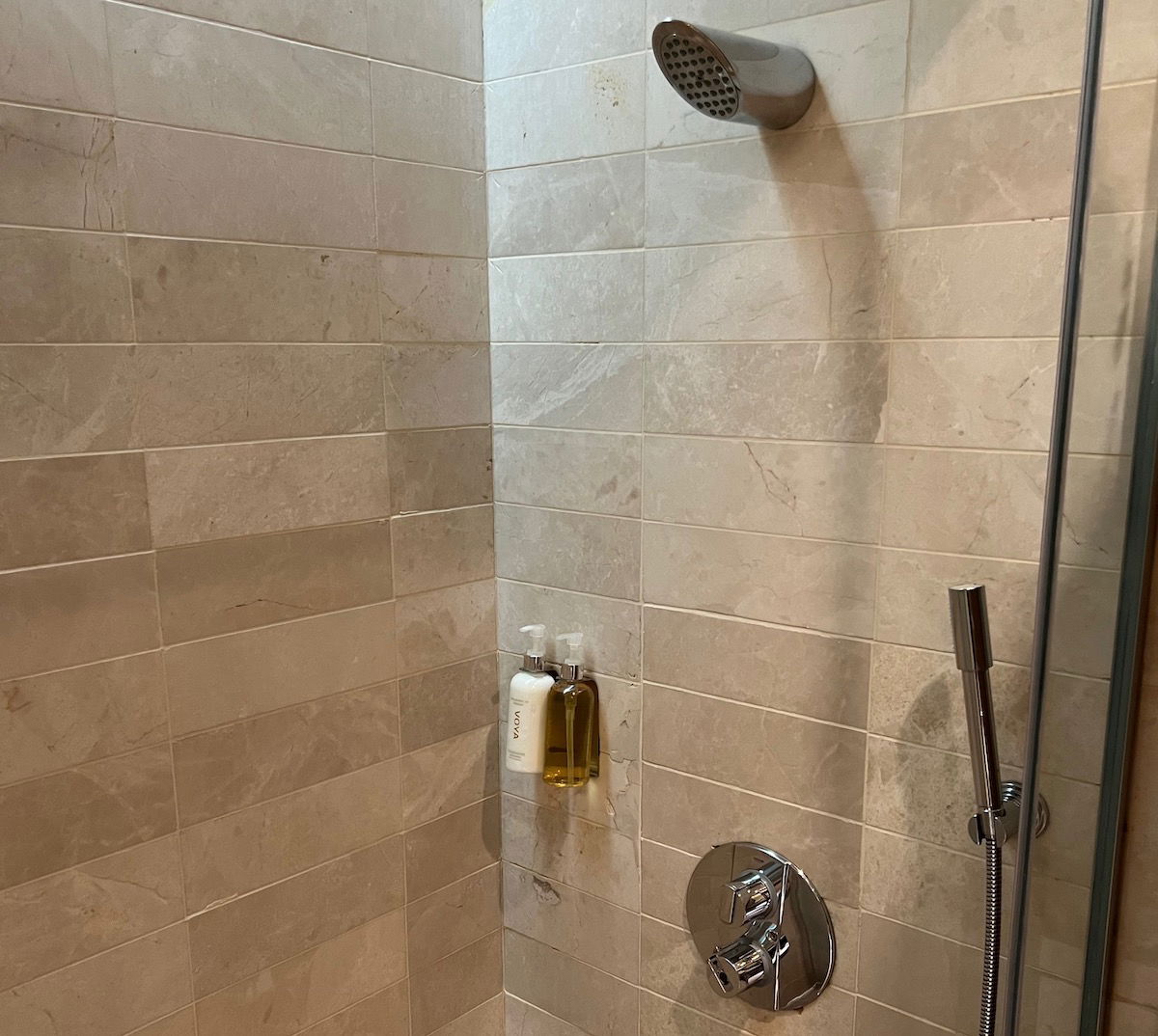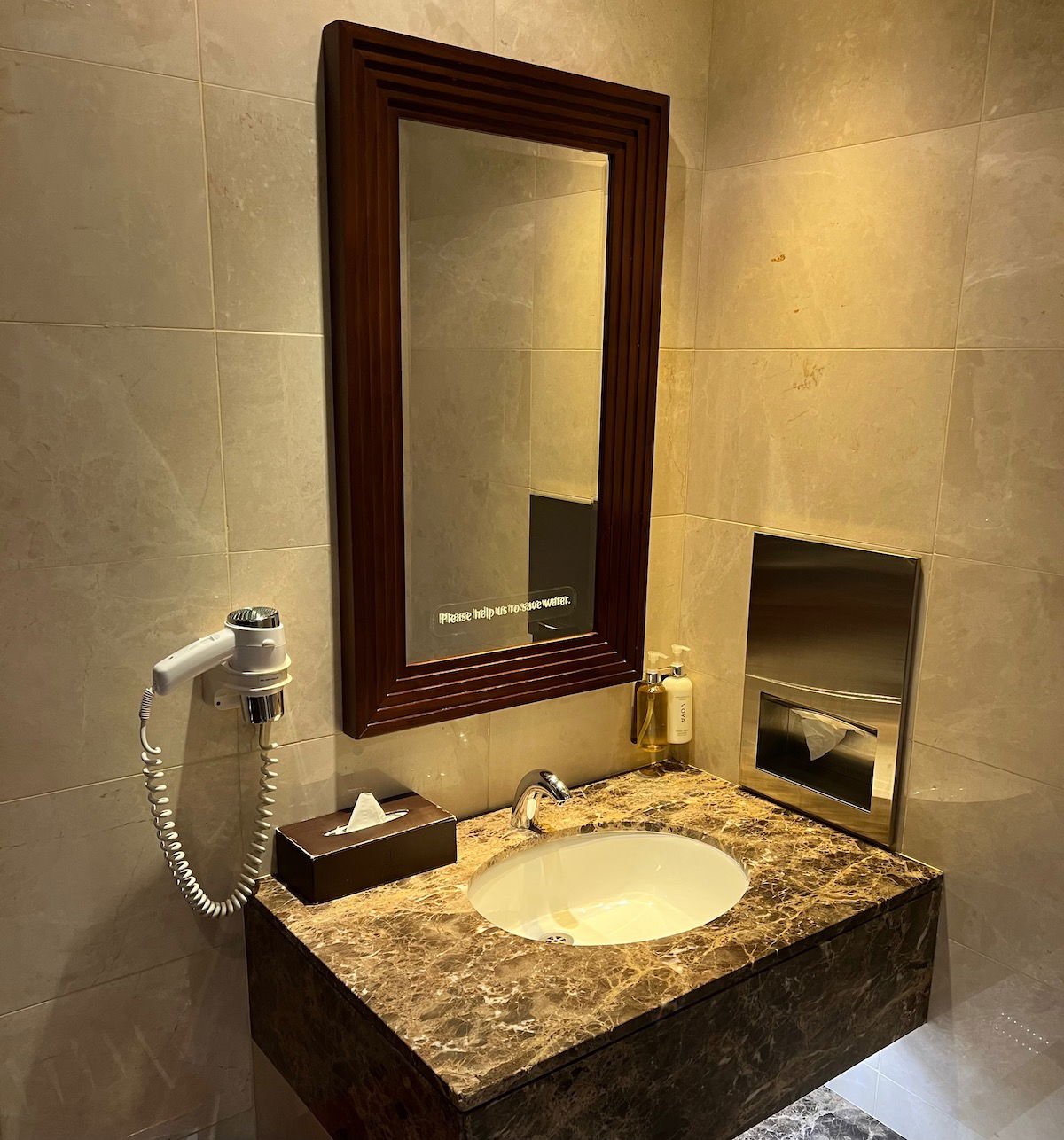 Emirates first class lounge Dubai duty free shopping
Since the Emirates first class lounge is the size of a concourse, it also has amenities similar to what you'd expect to find in a concourse, including extensive duty free shopping. From jewelry, to alcohol, to sweets, there's not an airport lounge in the world that features more shopping.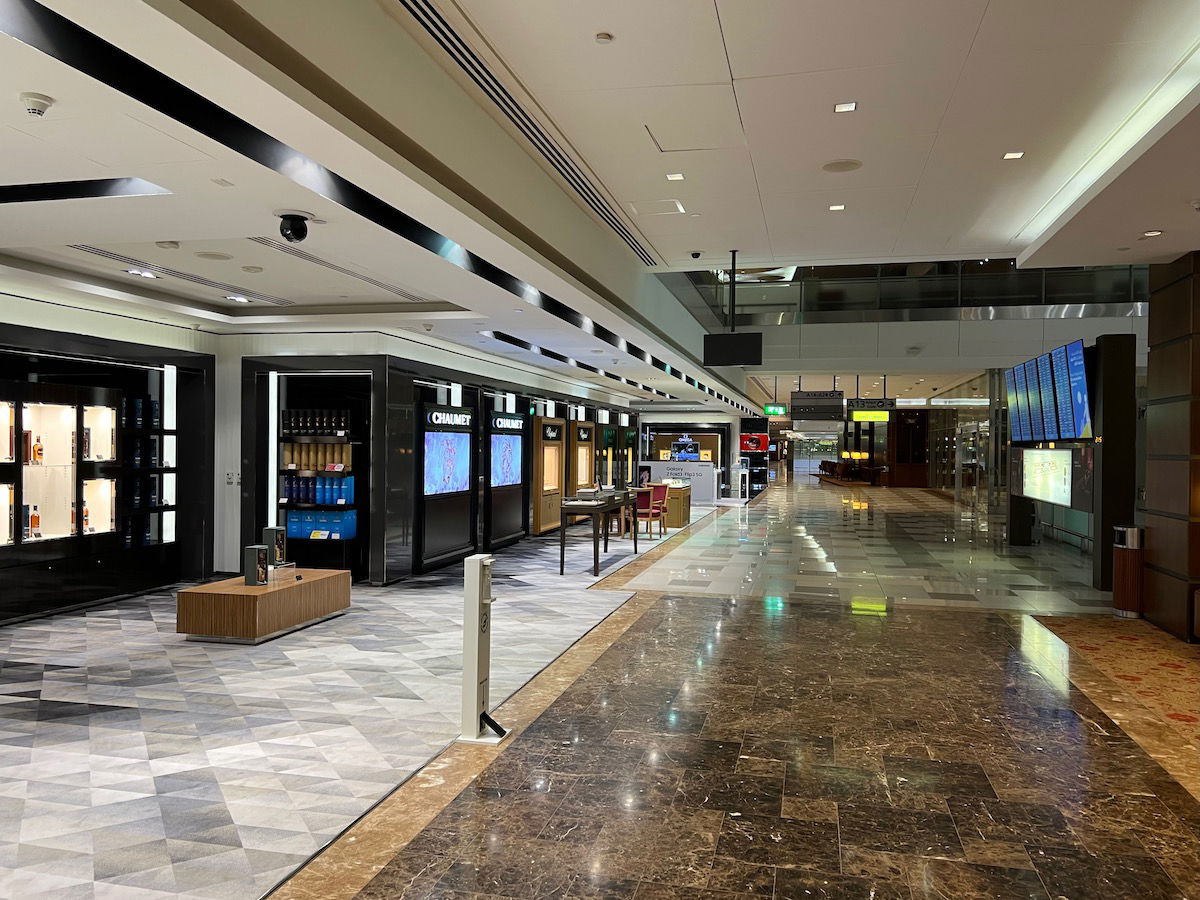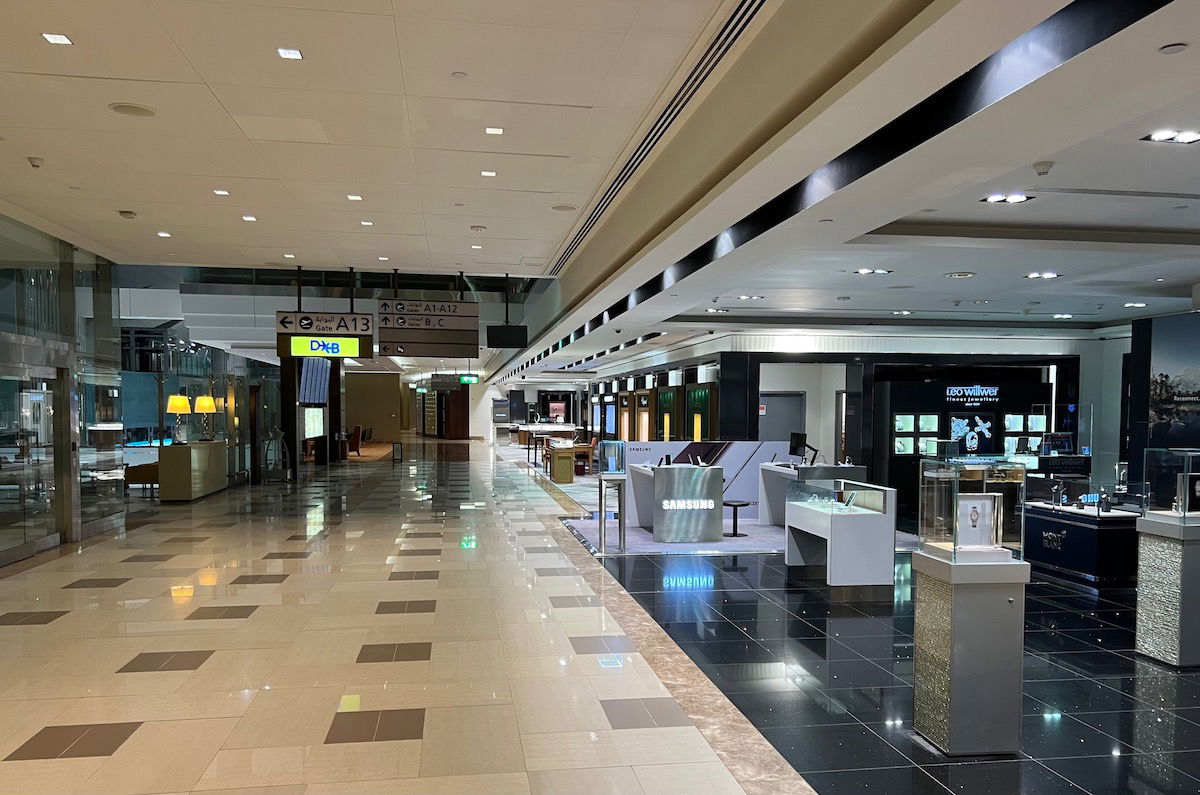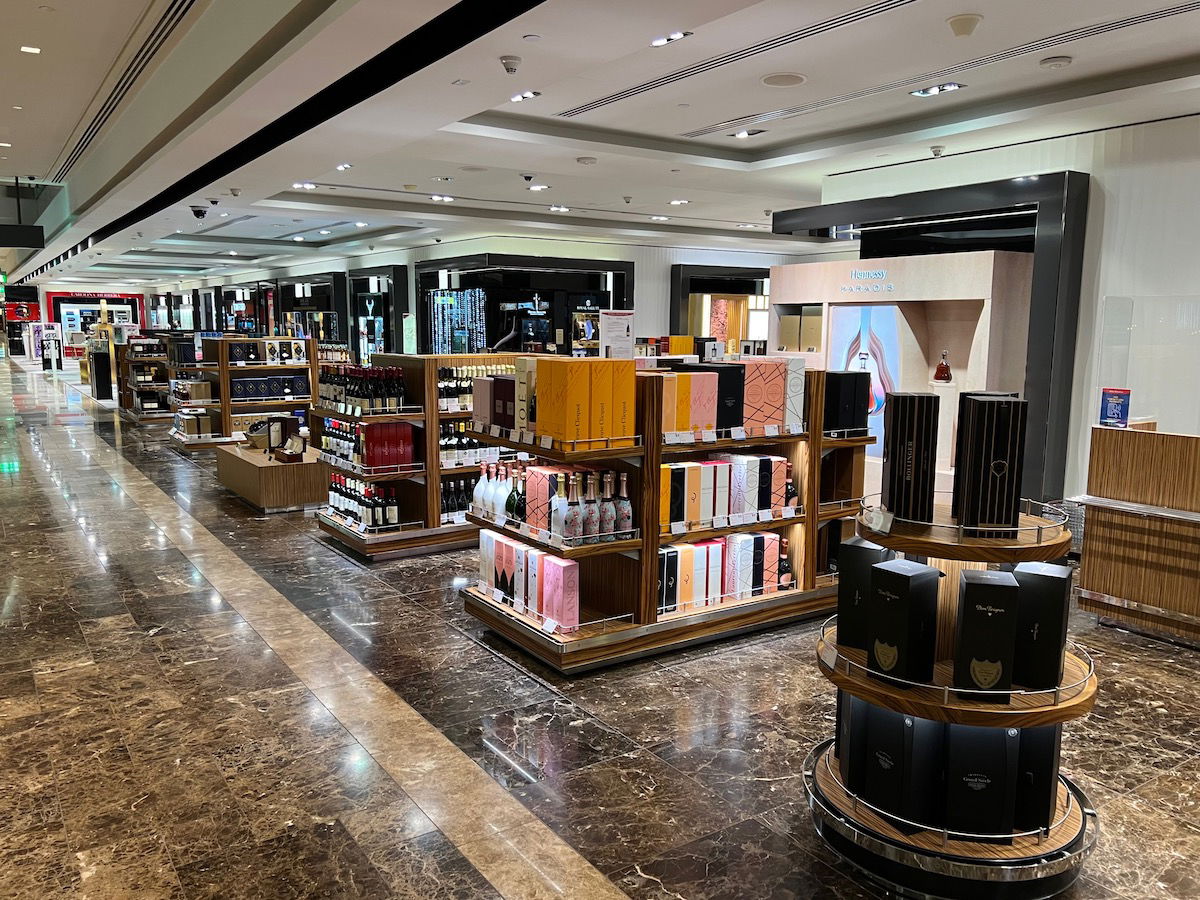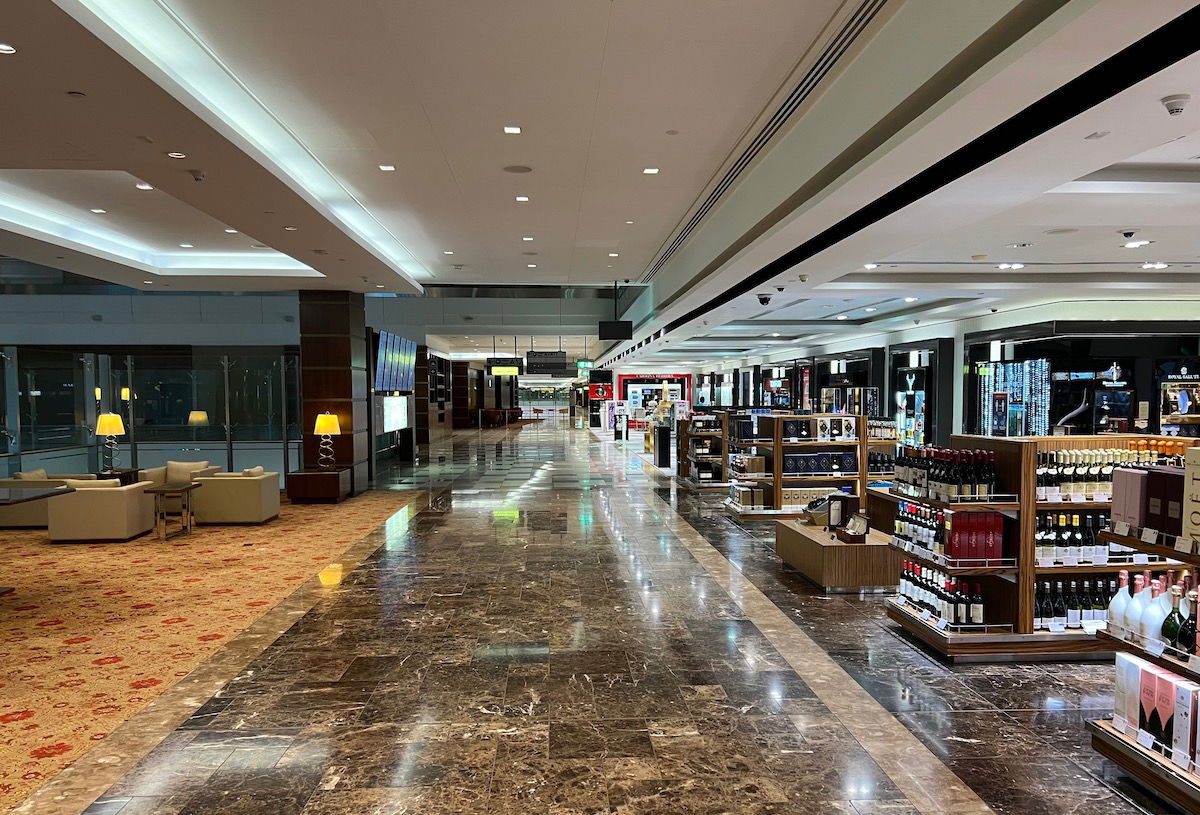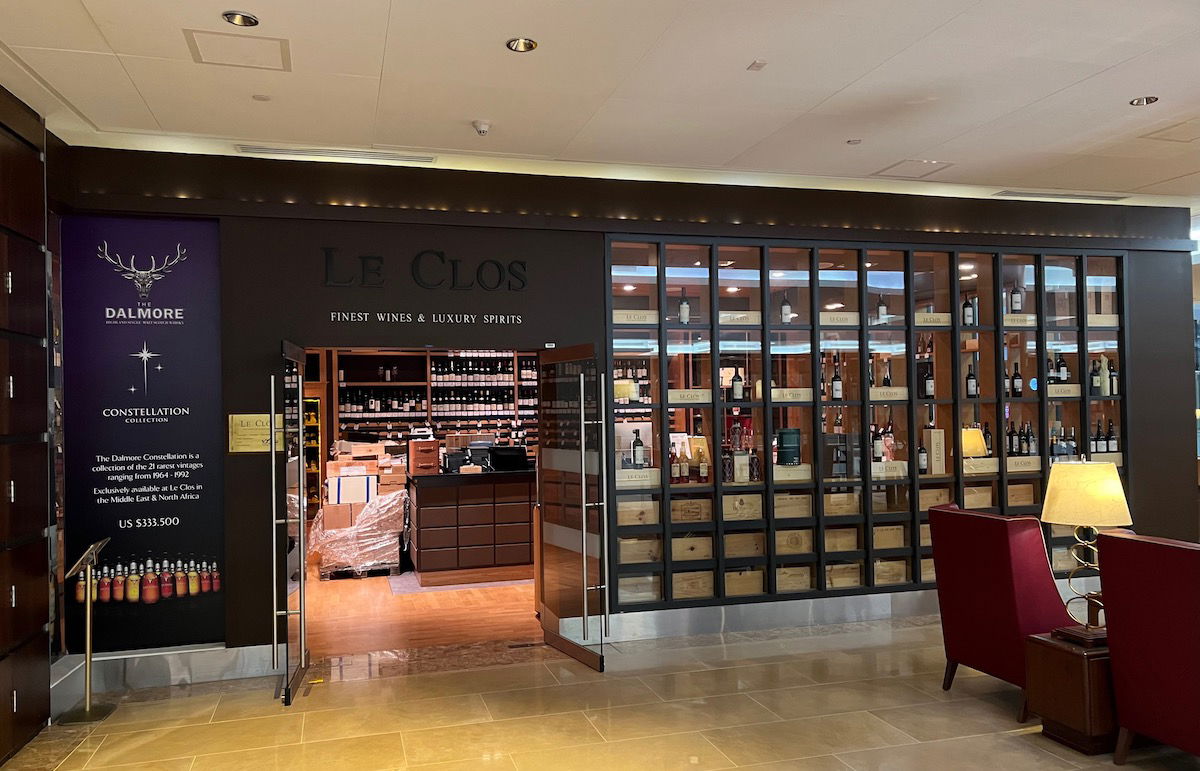 Emirates first class lounge Dubai Timeless Spa
Emirates has a partnership with Timeless Spa, offering complimentary spa treatments for first class passengers. The spa isn't inside the lounge, but rather is right next to the entrance to the lounge (as it's also open to non-premium passengers). There are actually two Timeless Spas — one outside the first class lounge and one outside the business class lounge (currently only the latter is open).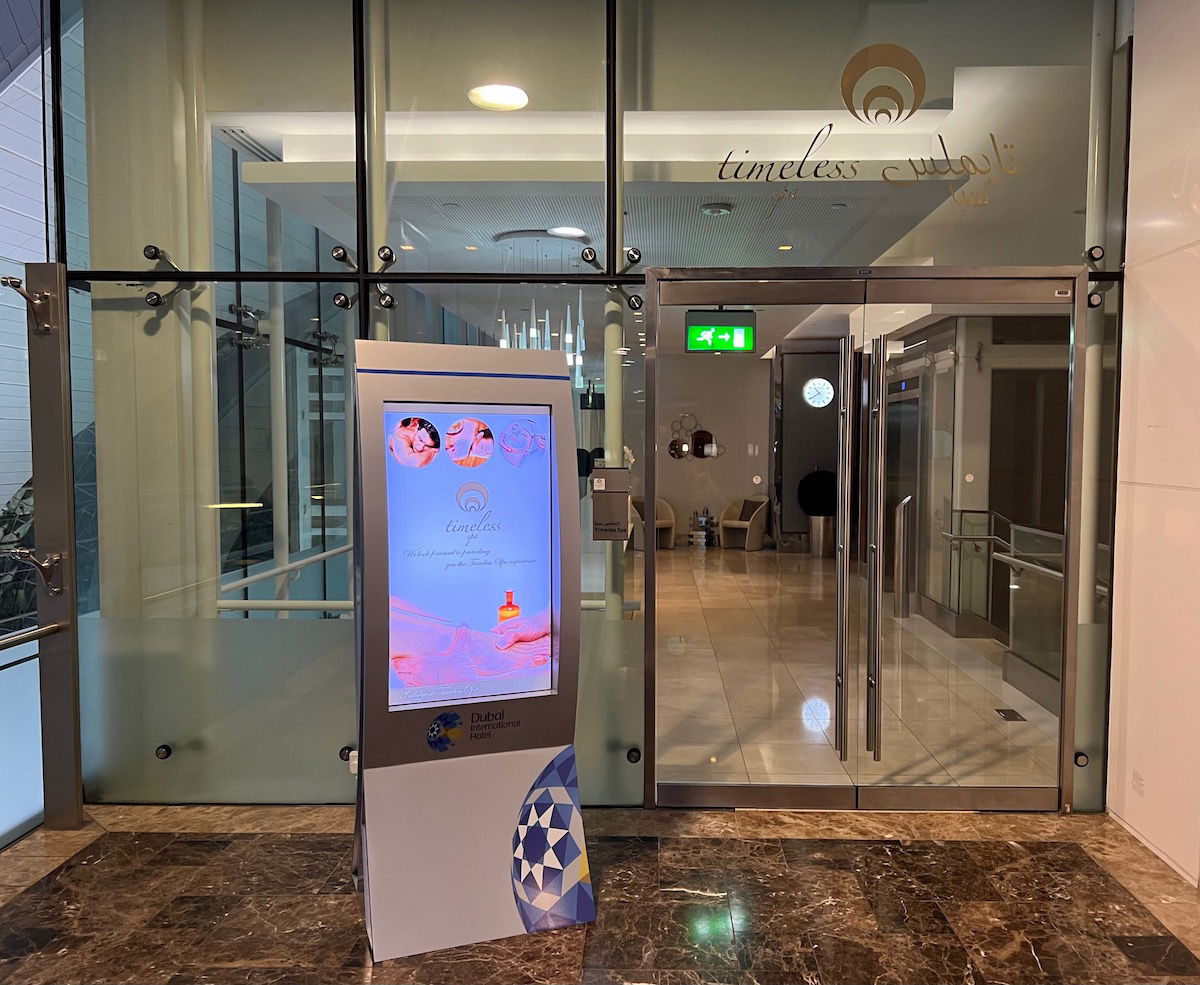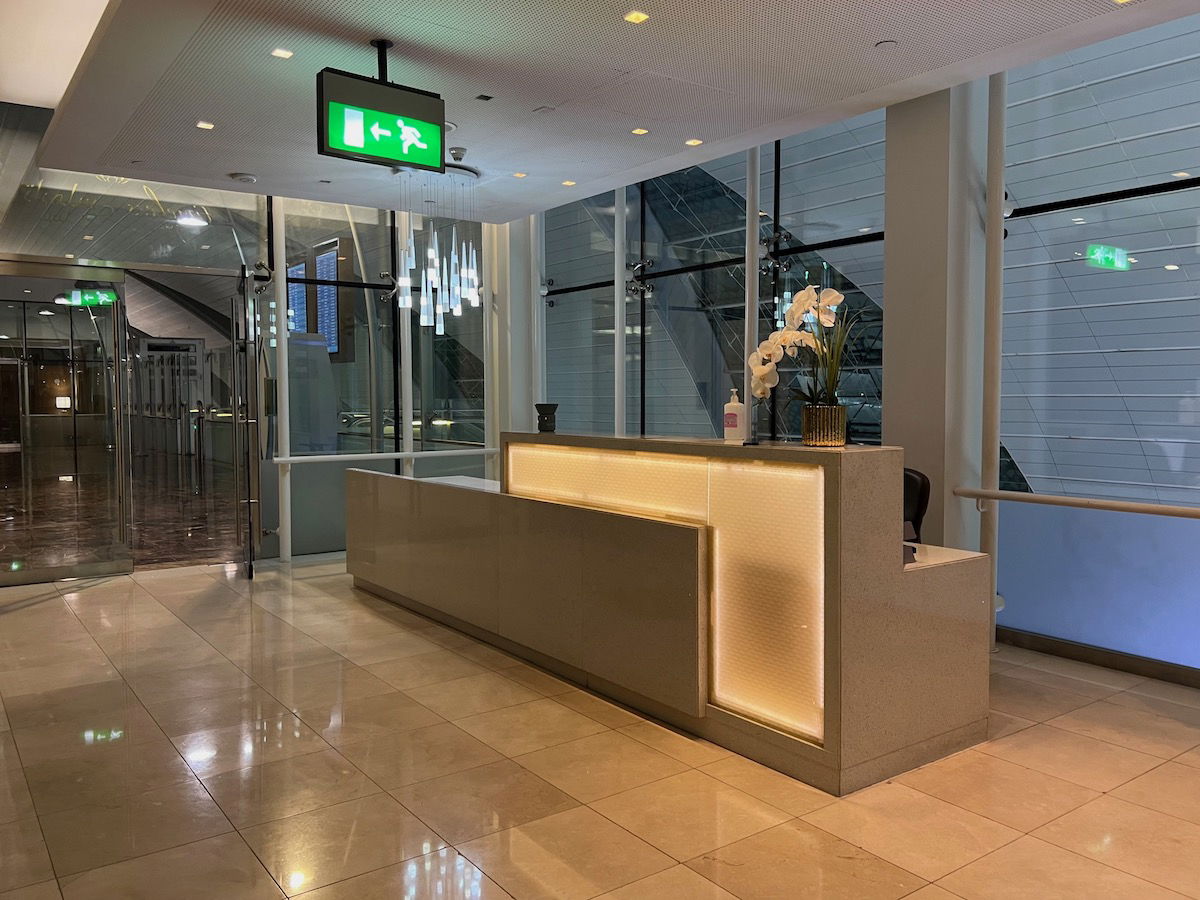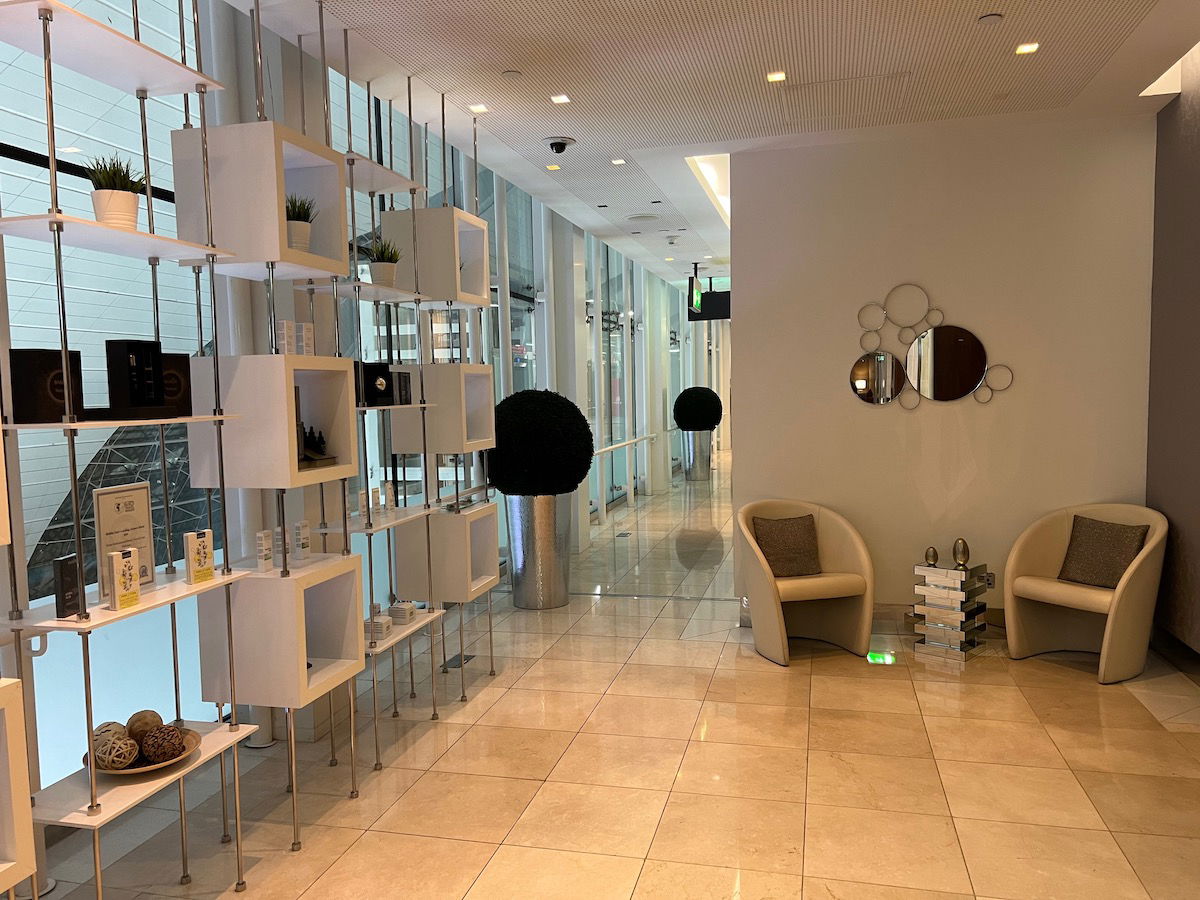 Emirates first class passengers can choose from four complimentary treatments, including:
A de-stress back massage
Leg & foot reflex therapy
Indian head massage
Thai body stretch
Soothing hand massage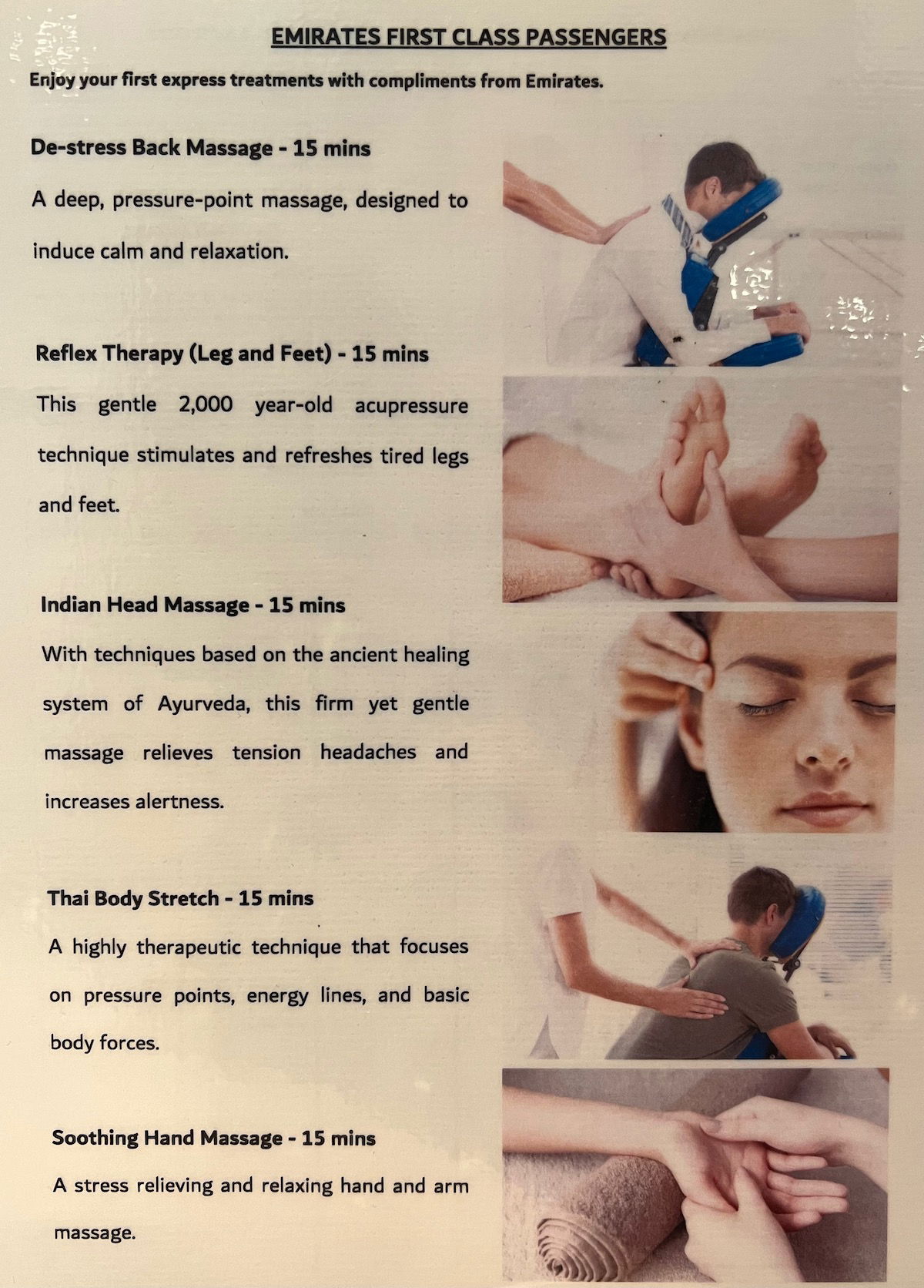 In addition to that, there are a variety of paid treatments that anyone can book.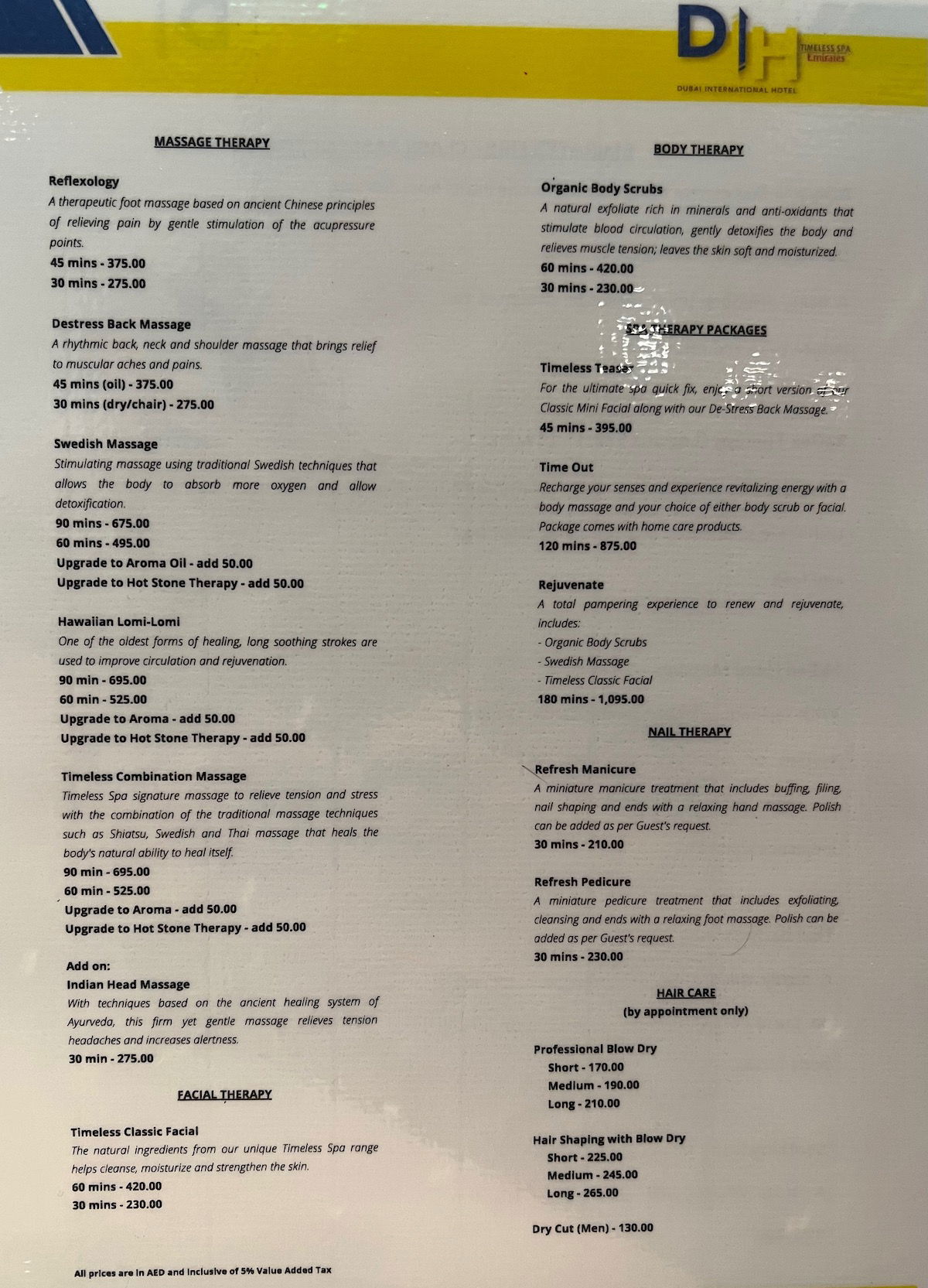 I certainly don't want to look a gift horse in the mouth, but the current execution of this almost makes me wonder why they bother:
There was one person working in the spa, so Ford and I couldn't even get a 15 minute treatment at the same time
I asked for the hand massage, which ended up being more of a back massage in one of those chairs that you lean into, with maybe a minute spent on each hand
There's nothing spa-like about the experience — there was no music, no tea or refreshing towel, and the spa is really sterile
Like I said, it's nice that this is offered at all, but it seems like there are some low cost changes that could be made to have this be an actually nice experience that's memorable, rather than something you do and then forget five minutes later.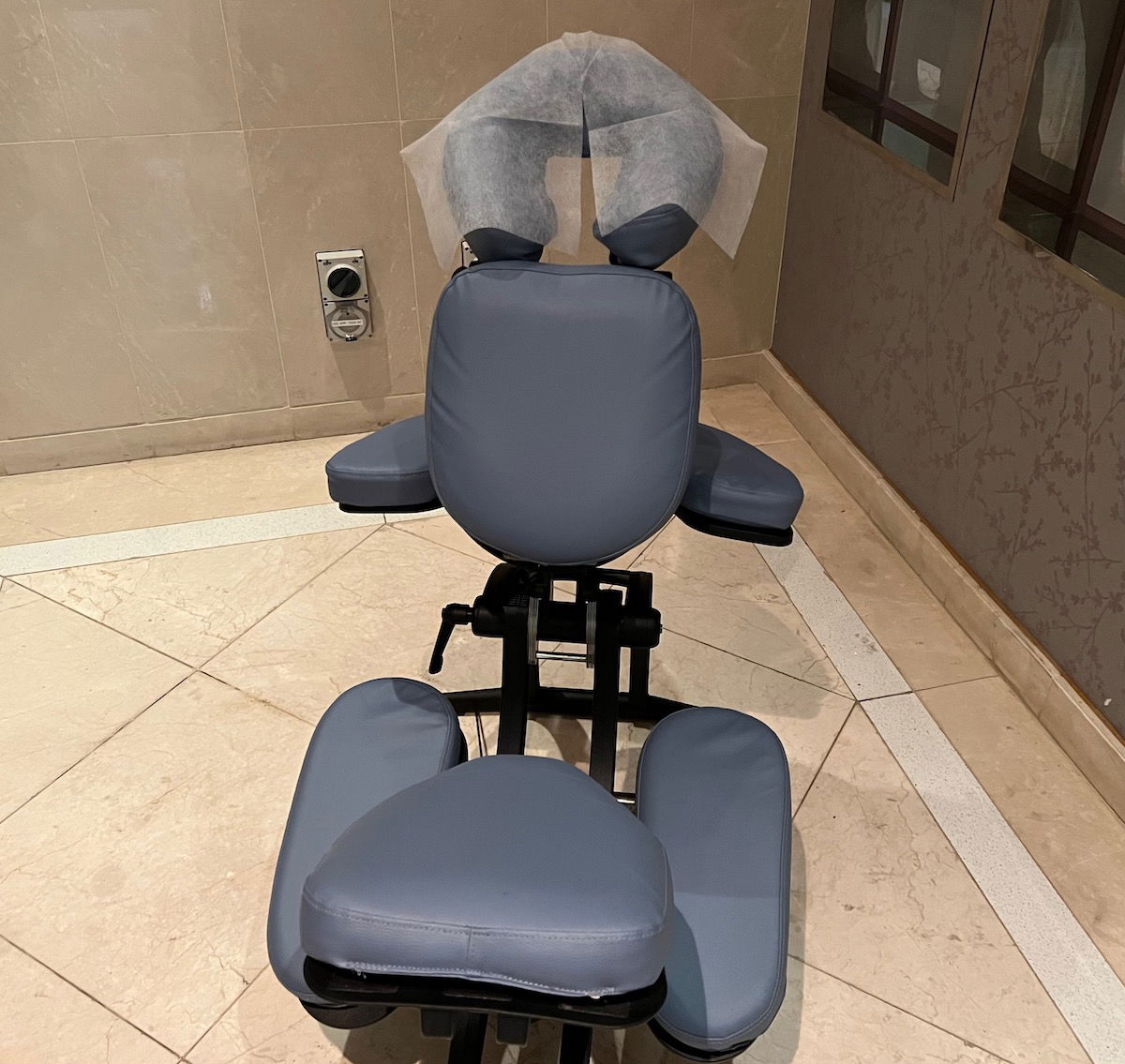 Emirates first class lounge Dubai shoe shine
One really nice feature of the Emirates first class lounge is the shoe shine service.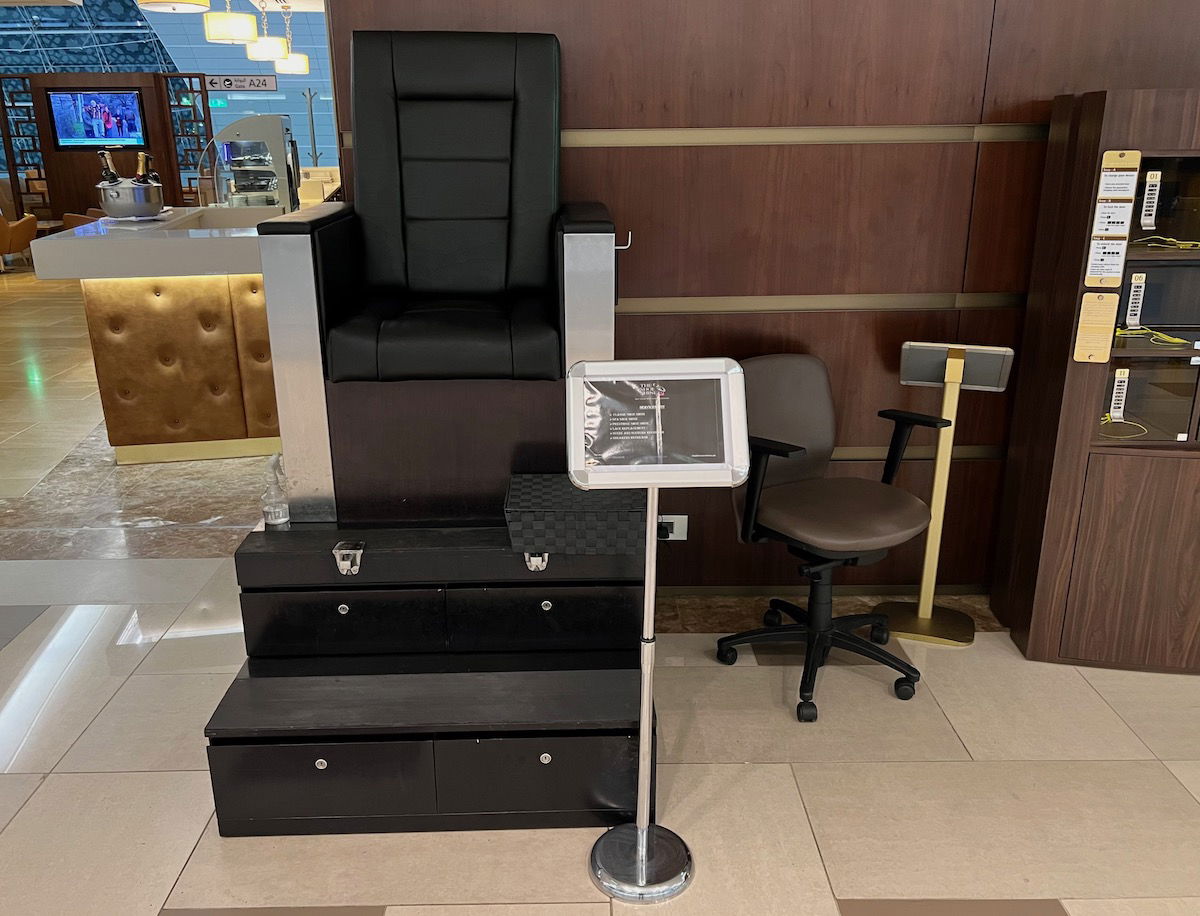 The cool thing is that this isn't just a traditional shoe shine for someone traveling in business attire, but there are several options, including a sneaker refresh. I had my sneakers cleaned, and they looked like new after the awesome shoe shine guy was done with them. So this is something to keep in mind if you're passing through the lounge.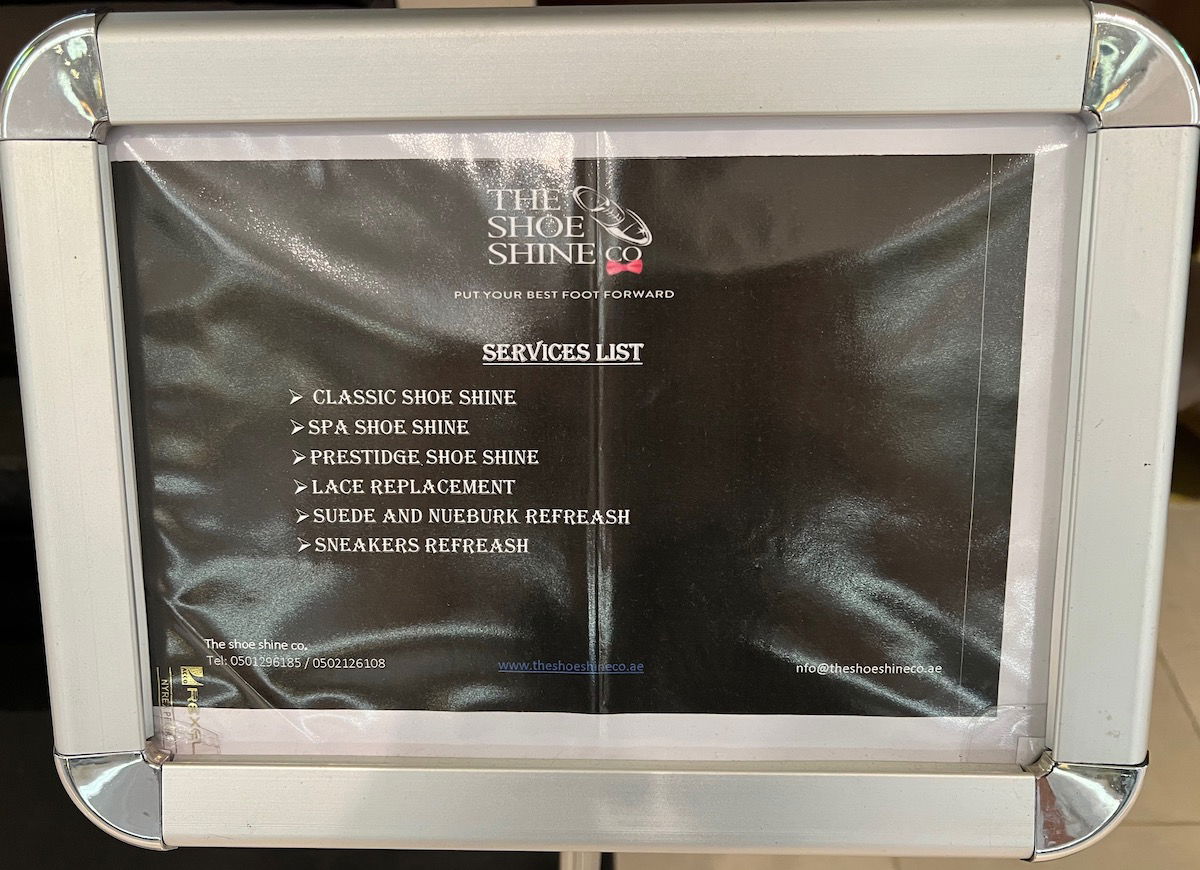 Bottom line
There's a lot to love about the Emirates first class lounge Dubai — it's the largest in the world, it has friendly staff, the restaurant is solid, it has a cigar lounge and endless other amenities, and you can board your flight directly from the lounge.
Beyond that, though, this has to be one of the most sterile and least cozy and chic first class lounges in the world. It kind of feels like you're in a waiting room the size of a terminal, and I feel like the space could have been utilized better to add amenities like bedrooms, a gym, a better spa, a coffee shop, etc.
While this lounge continues to rank on my list of the world's first class airline lounges, it's not at the top…
If you've visited the Emirates first class lounge Dubai, what was your impression?