To kick off our trip to the Maldives, we flew from Washington to Dubai in Emirates first class. Emirates uses the Air France-KLM Lounge as its contract lounge at Washington Dulles (IAD), so I wanted to review the lounge in this post. The lounge underwent a major renovation in 2019, so I was curious to check it out.
Air France-KLM Lounge Washington Dulles location & hours
The Air France-KLM Lounge Washington Dulles is located in Concourse A. All gates are connected airside at Washington Dulles. Since we were originating there, we first went through the check-in hall, which I kind of love for how retro it is.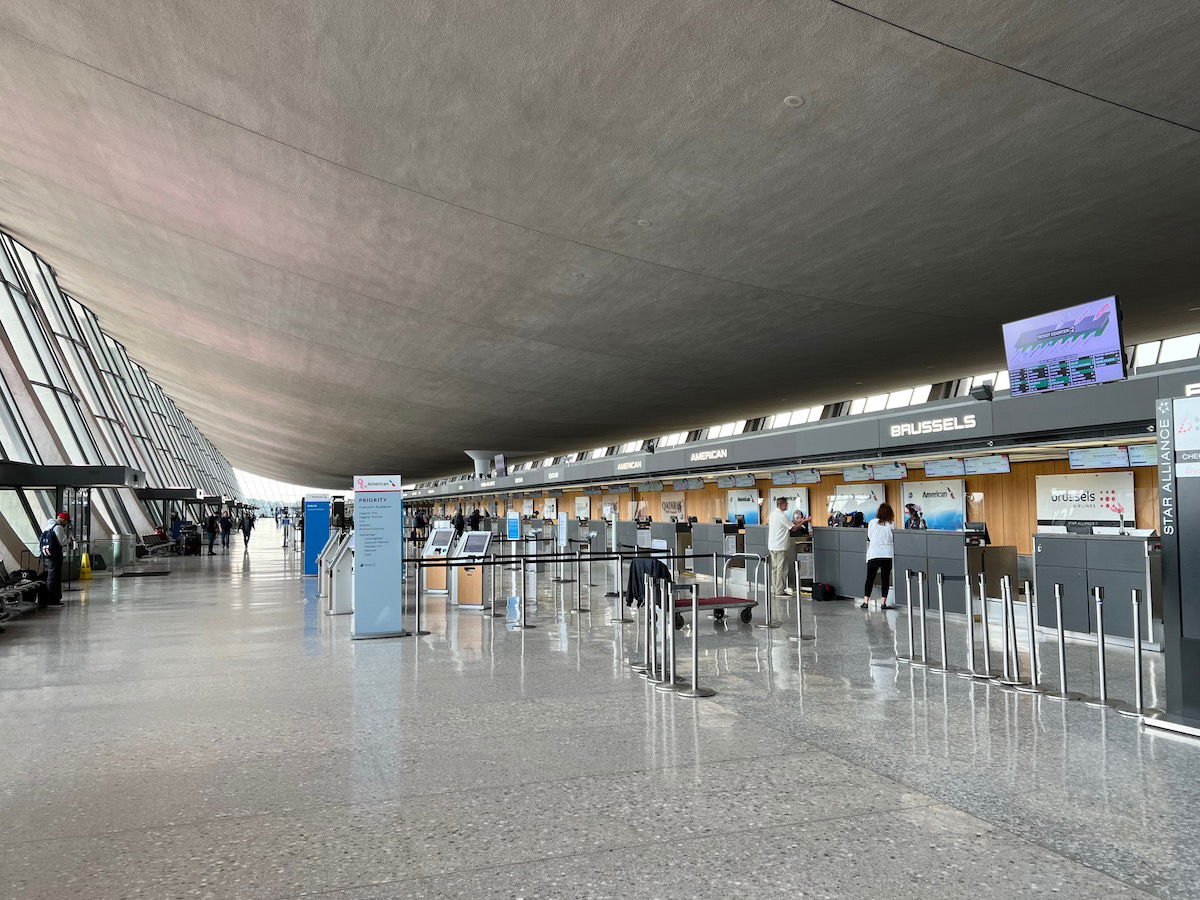 Security was quick, and we then took the train to Concourse A, where we arrived within a few minutes.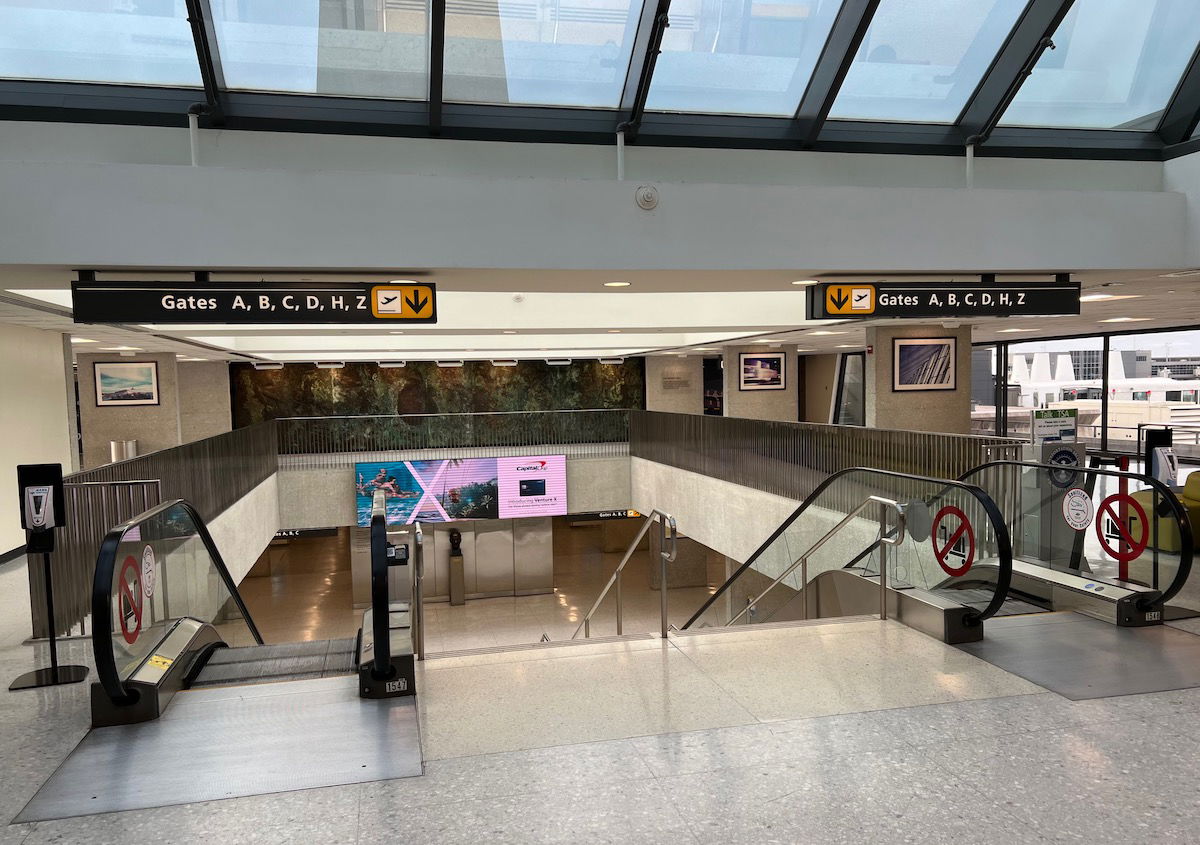 I tend to think that Concourse A & B at Washington Dulles is one of the nicer terminals in the United States, which I suppose isn't saying all that much.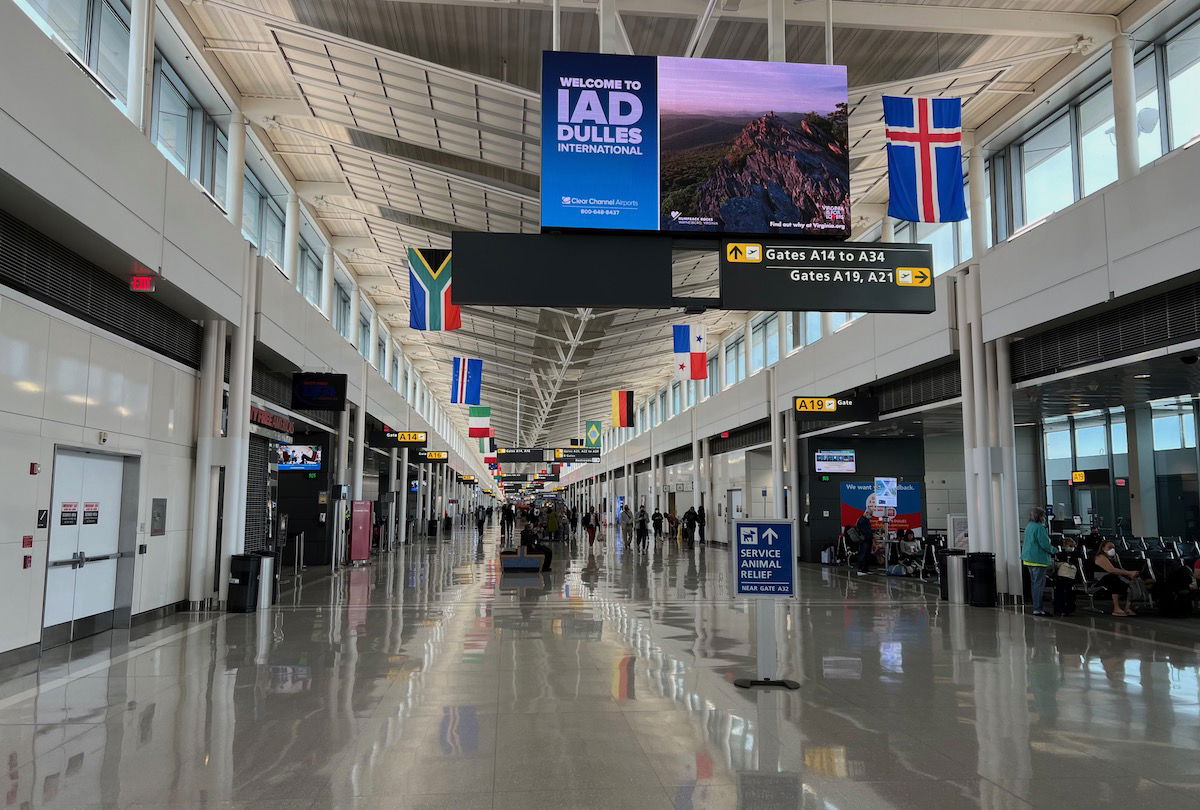 The Air France-KLM Lounge was located opposite gate A22, right across where our flight was departing from.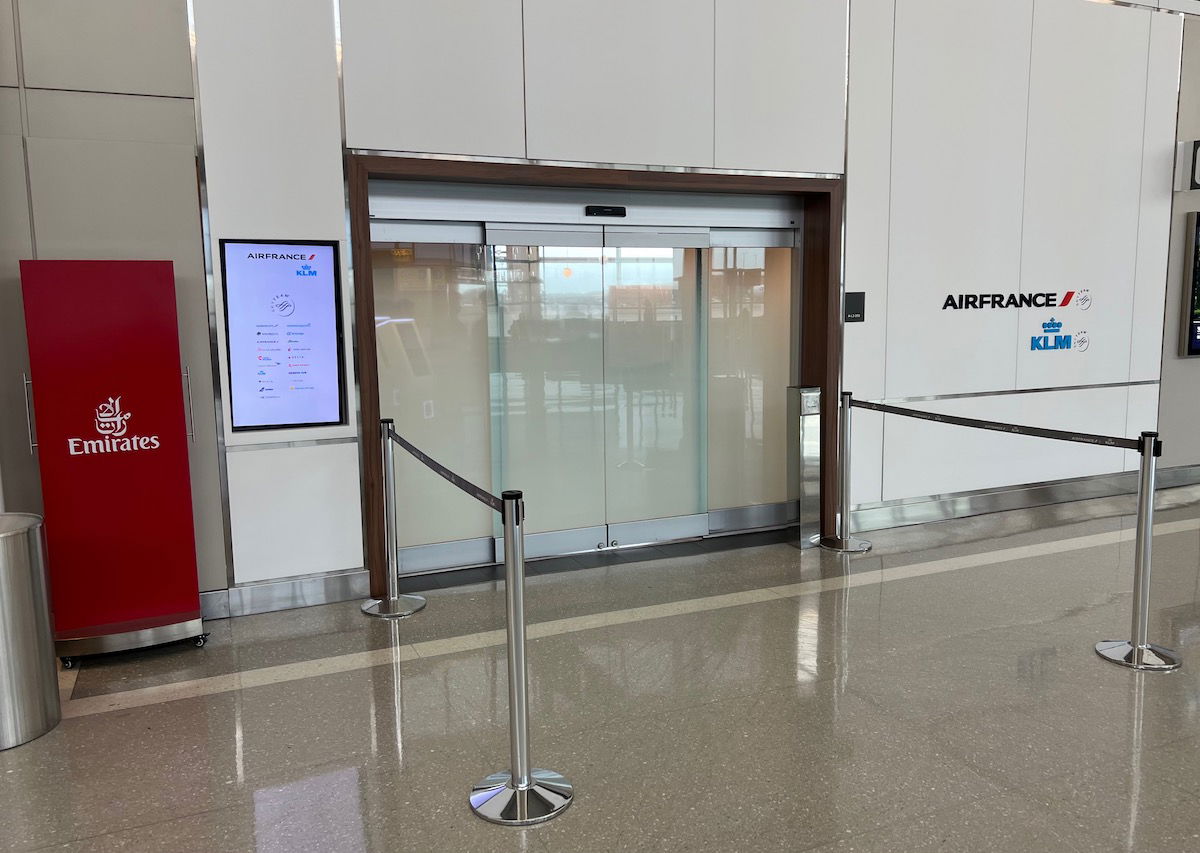 At the moment the Air France-KLM Lounge Washington Dulles is open daily from 8AM until 9PM, though hours do vary seasonally.
Air France-KLM Lounge Washington Dulles entry requirements
In the evenings the lounge is primarily used by Air France-KLM passengers, and as you may have guessed, the service is significantly enhanced during that time. Meanwhile for the rest of the day this is primarily used as a contract lounge.
The most common way to access the Air France-KLM Lounge is through Priority Pass. There are of course many premium credit cards offering Priority Pass memberships. The lounge can be accessed by Priority Pass members for up to three hours.
On top of that, some airlines, including Emirates, use this as their contract lounge. In this case we could simply enter with our Emirates boarding passes.
Air France-KLM Lounge Washington Dulles seating & layout
The Air France-KLM Lounge is ~6,600 square feet, so it's a decent size, but not huge when you consider how many people Priority Pass lounges in the United States tend to attract. The lounge has one main room, with plenty of natural light thanks to the floor-to-ceiling windows.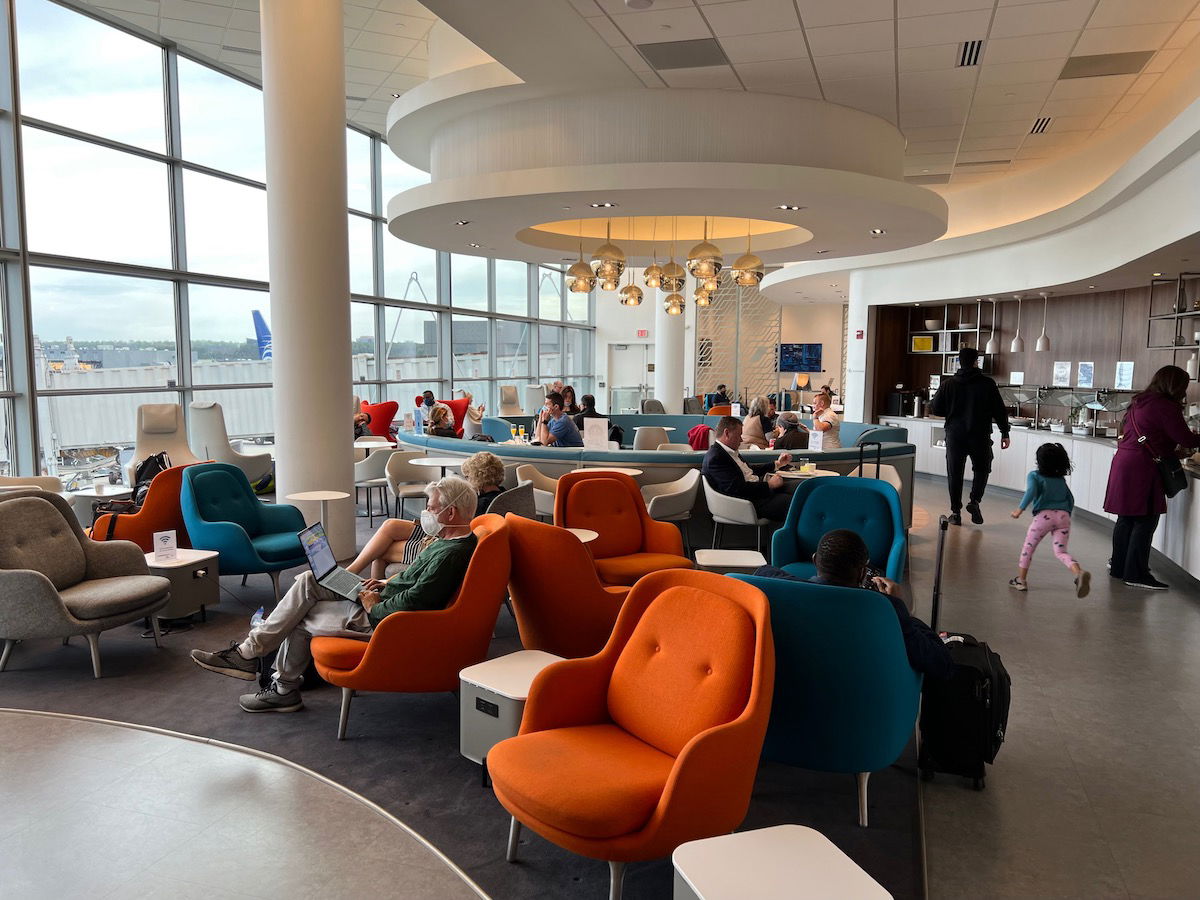 I like how the seating is distributed, as there are seats in rows facing one another, seats facing the windows, and then there's a circular area with some cafe-style seating. As you can see, the lounge was pretty crowded during our visit.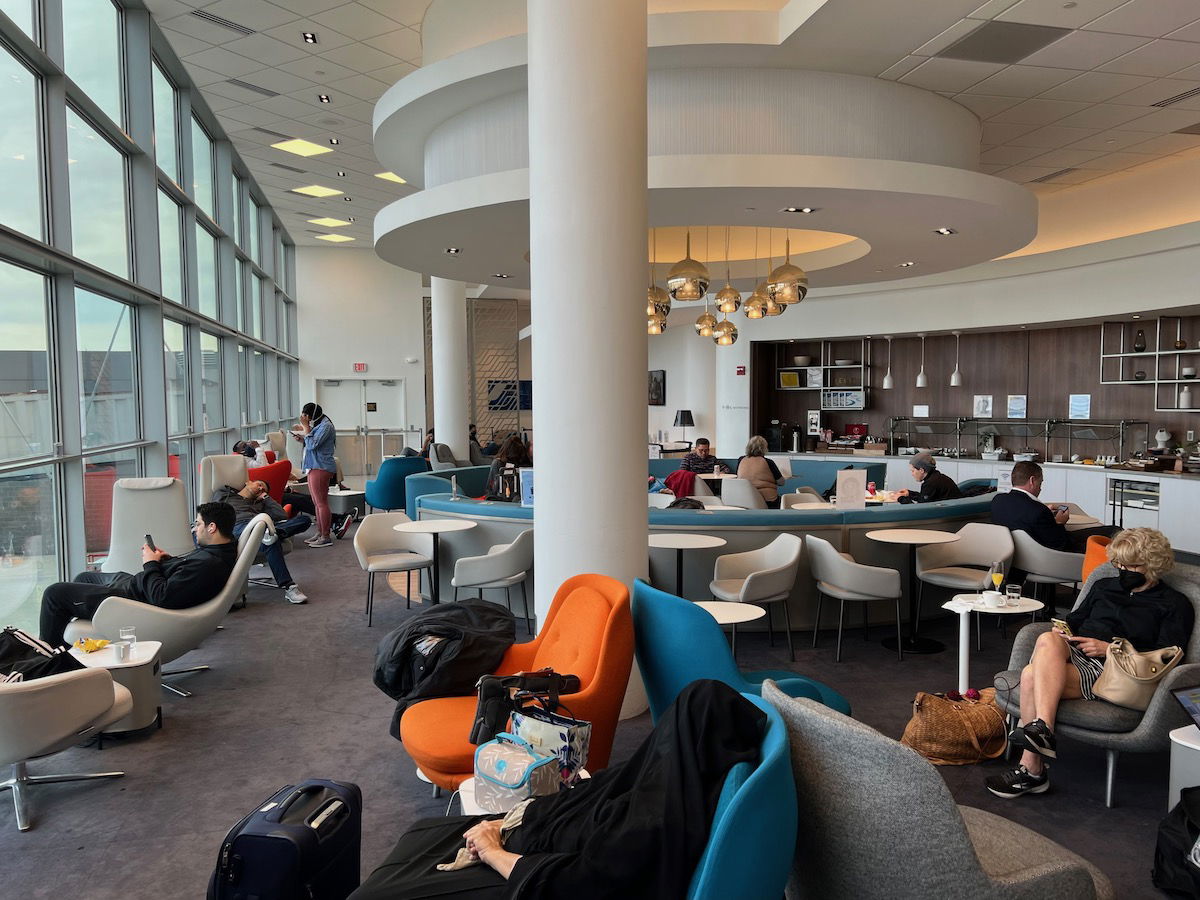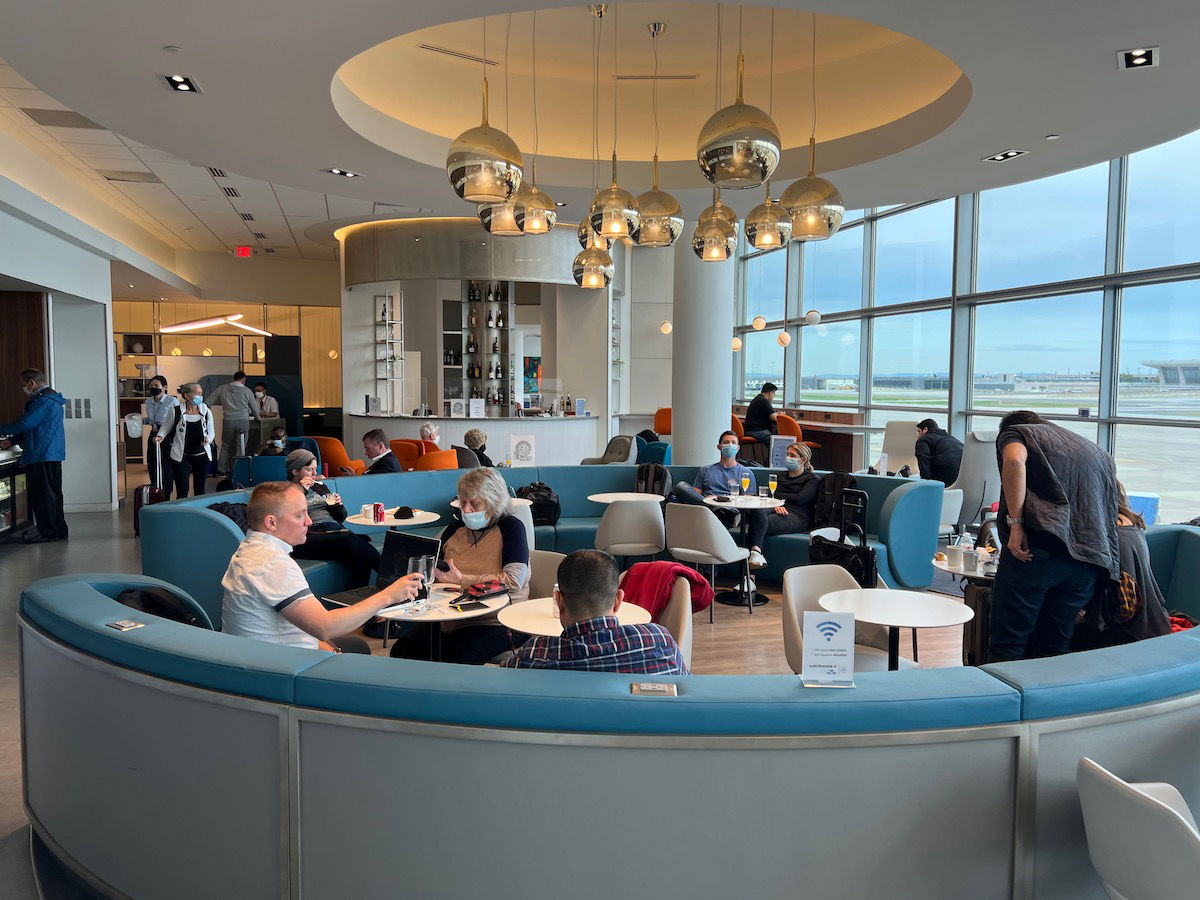 Fortunately there seemed to be an area that others didn't realize existed, at least initially. Behind the reception desk and to the left is a room with a bunch of tables. In the evenings this is used as a pre-flight dining facility for Air France passengers. It's also open during the day, but there was no one sitting there, so this is where we sat.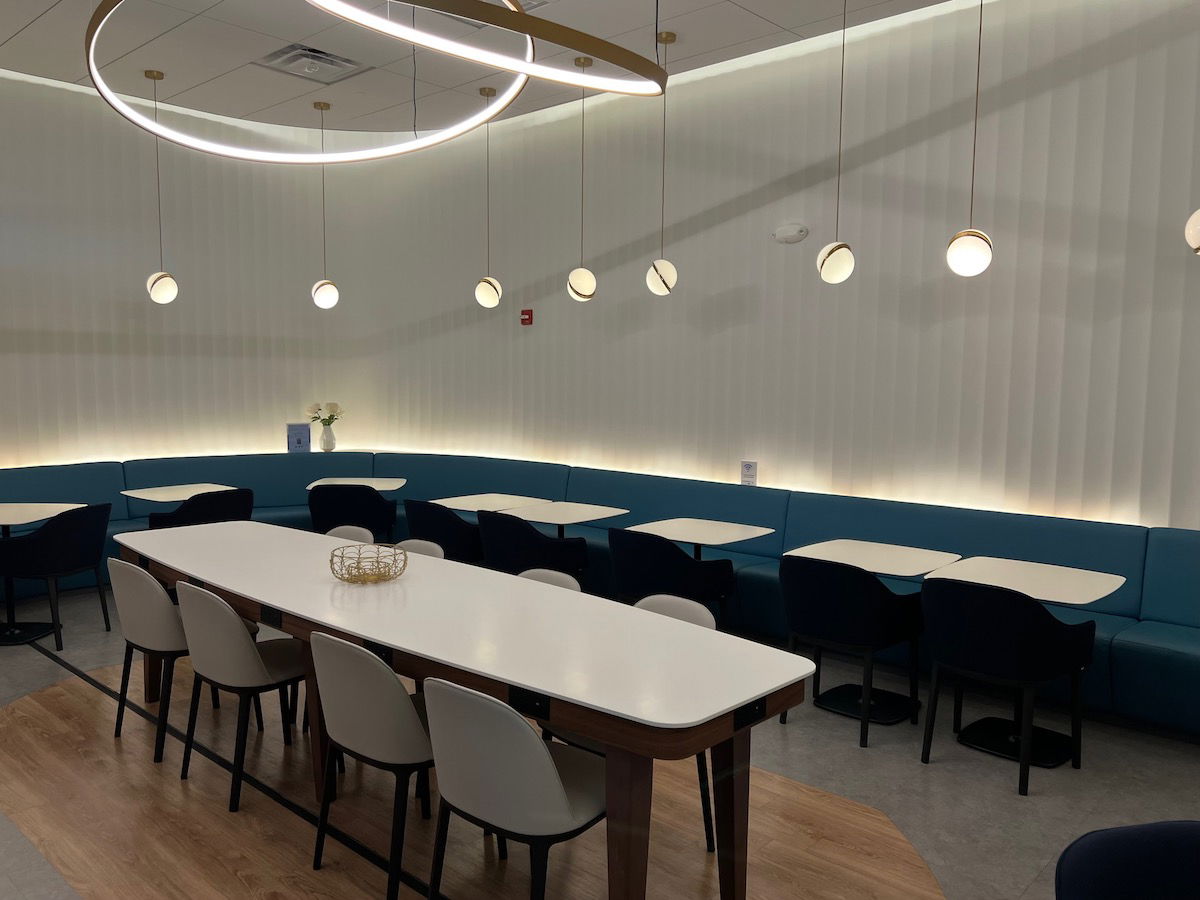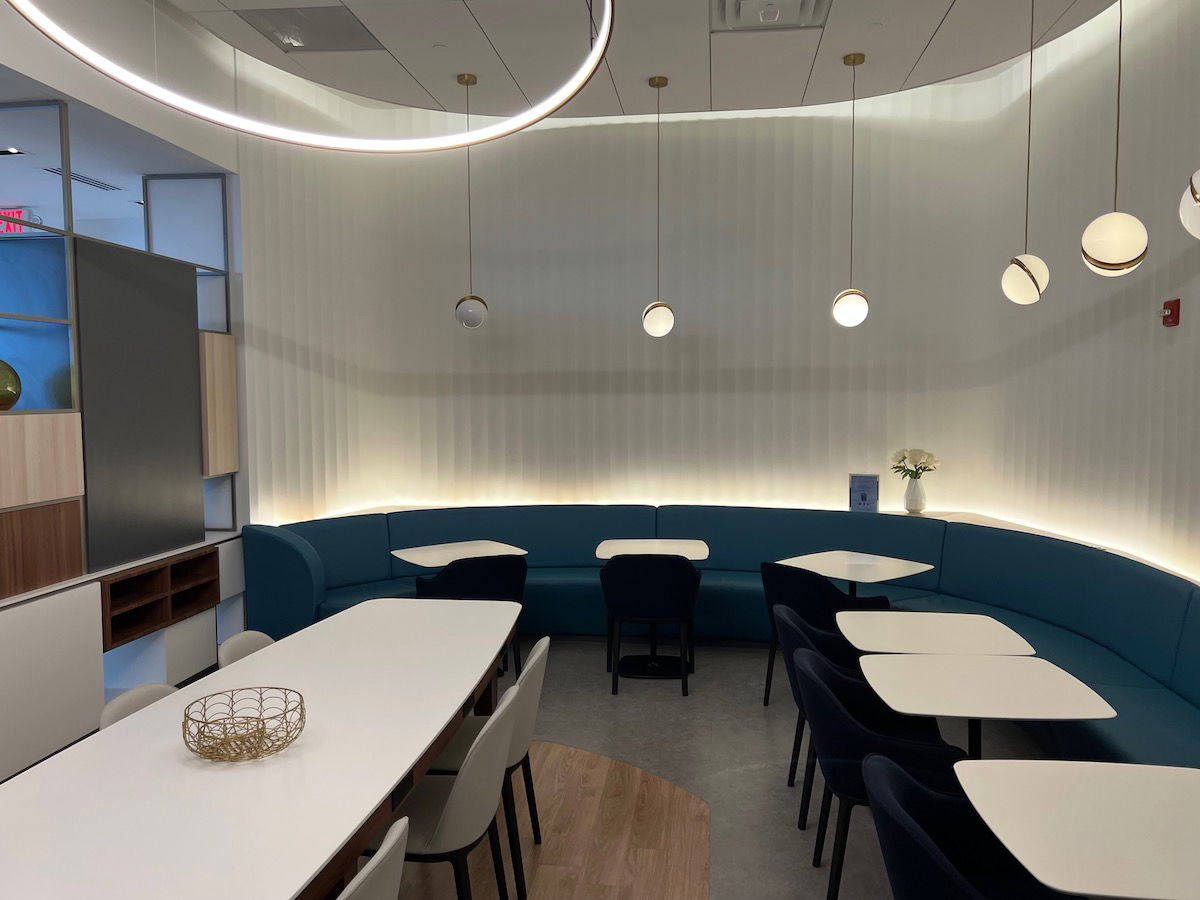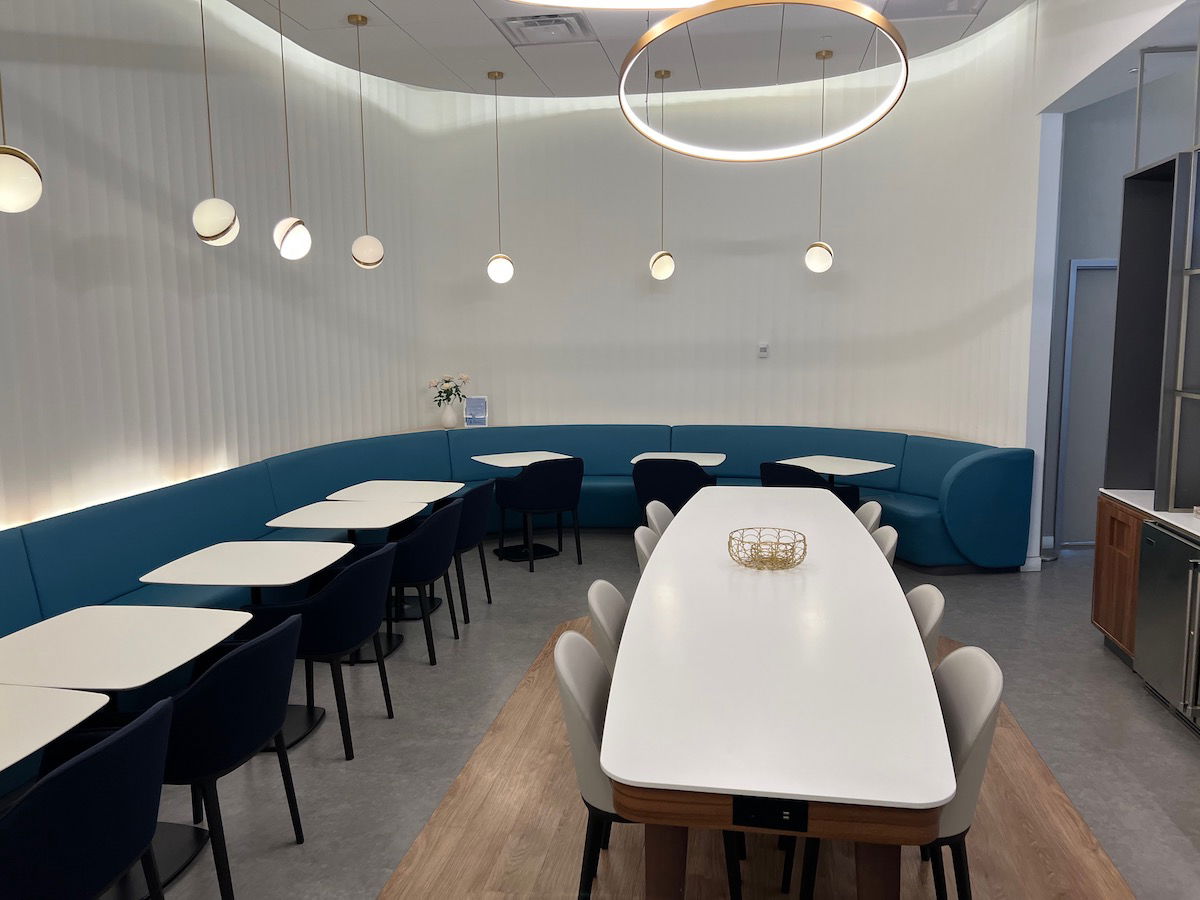 The lounge also has an elevator that leads to the lower level. However, that was closed during our visit. I'm not sure if that opens in the evenings when Air France-KLM flights depart, or if travel just hasn't recovered to the point that it's needed. The lower level is a bit smaller than the main level, but at least adds some extra capacity.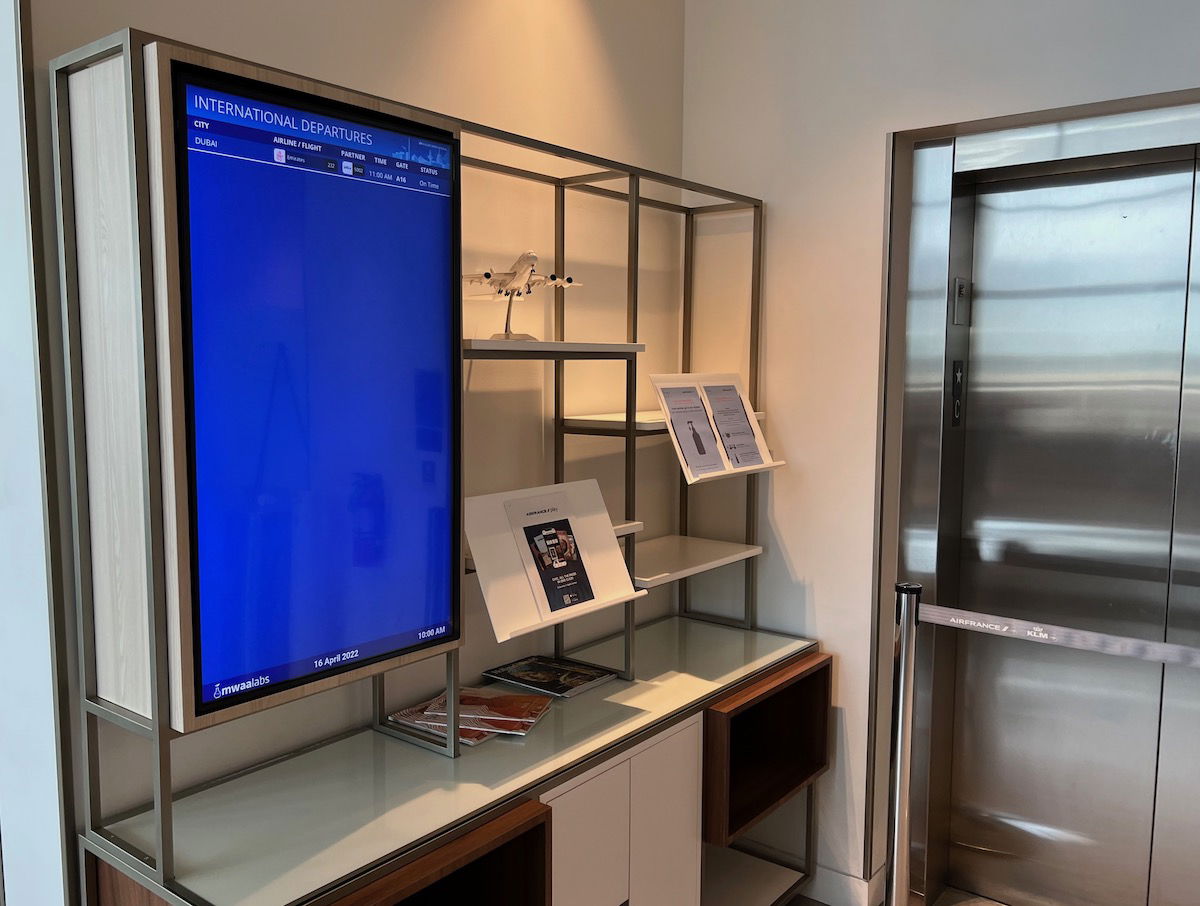 As mentioned above, the main level has floor-to-ceiling windows, with great views of the taxiway.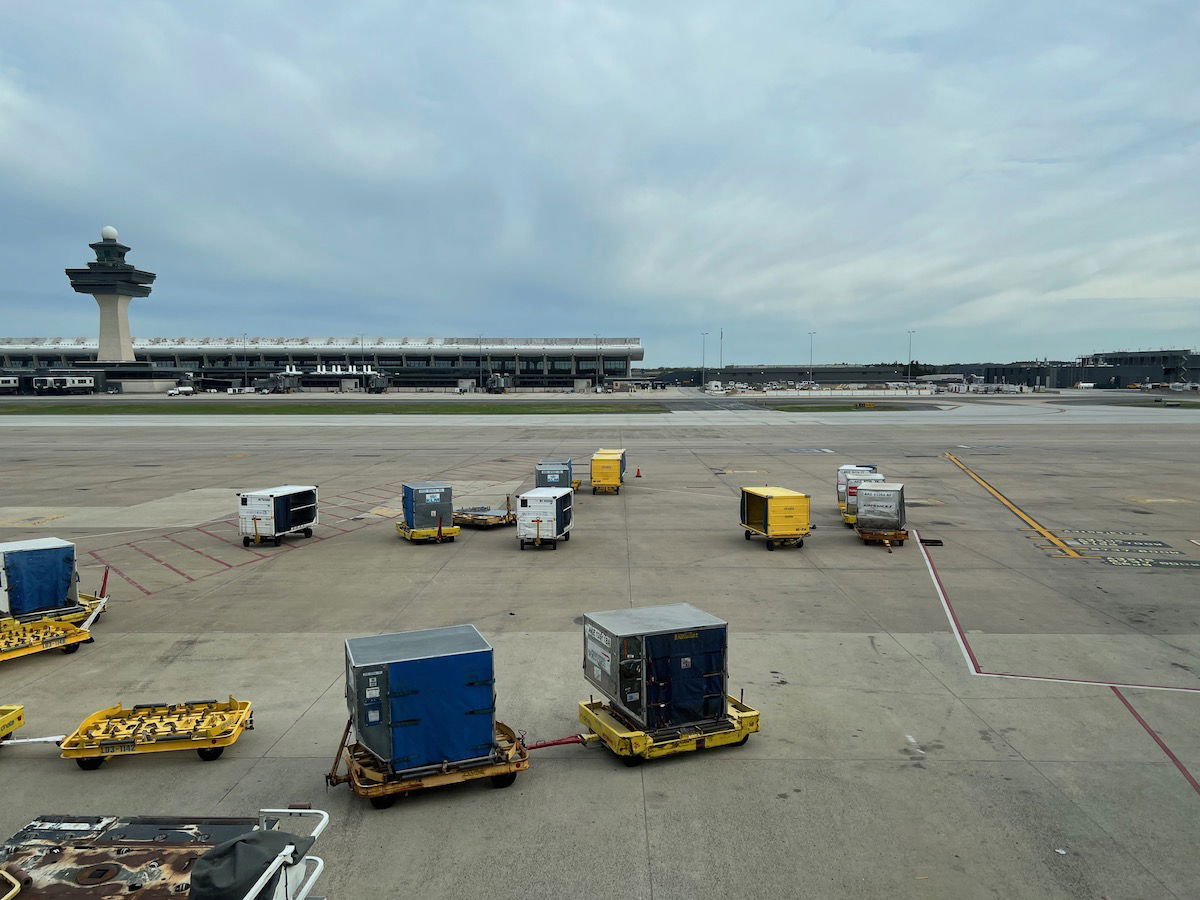 We sat in the lounge for about 45 minutes. Eventually the area where we sat started to fill up. A lady seated a couple of tables over from us started to cough nonstop. After about 10 minutes we decided to just roam the terminal and get some steps in.
Air France-KLM Lounge Washington Dulles food & drinks
As is standard for contract lounges, the catering varies depending on who the passengers are. I imagine that in the evenings prior to Air France-KLM departures, the selection is improved considerably. However, without an incentive to spend much on Priority Pass passengers, catering was definitely scaled back.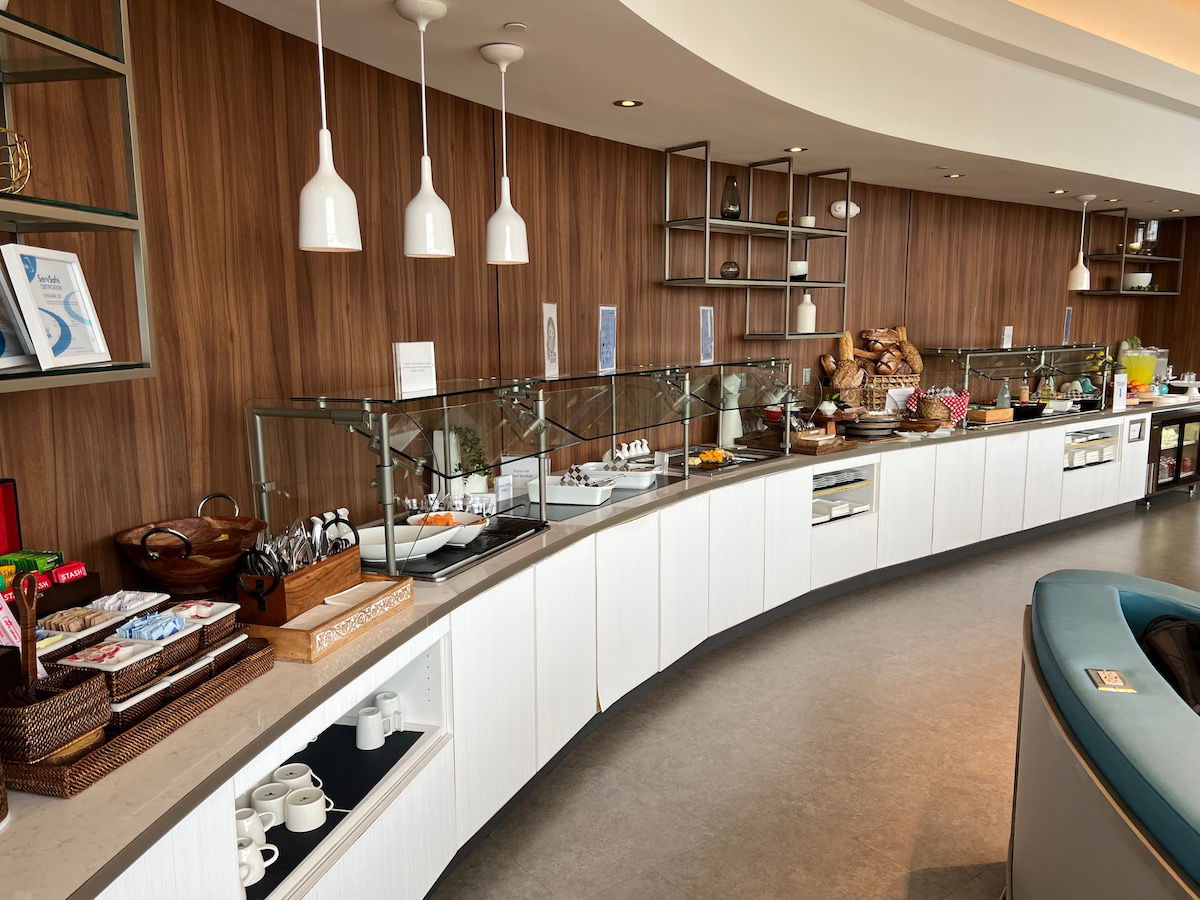 The food selection for our morning visit included fresh fruit, yogurt, two types of french fries (lol…), cheese, bread, veggies, finger sandwiches, and some sweets.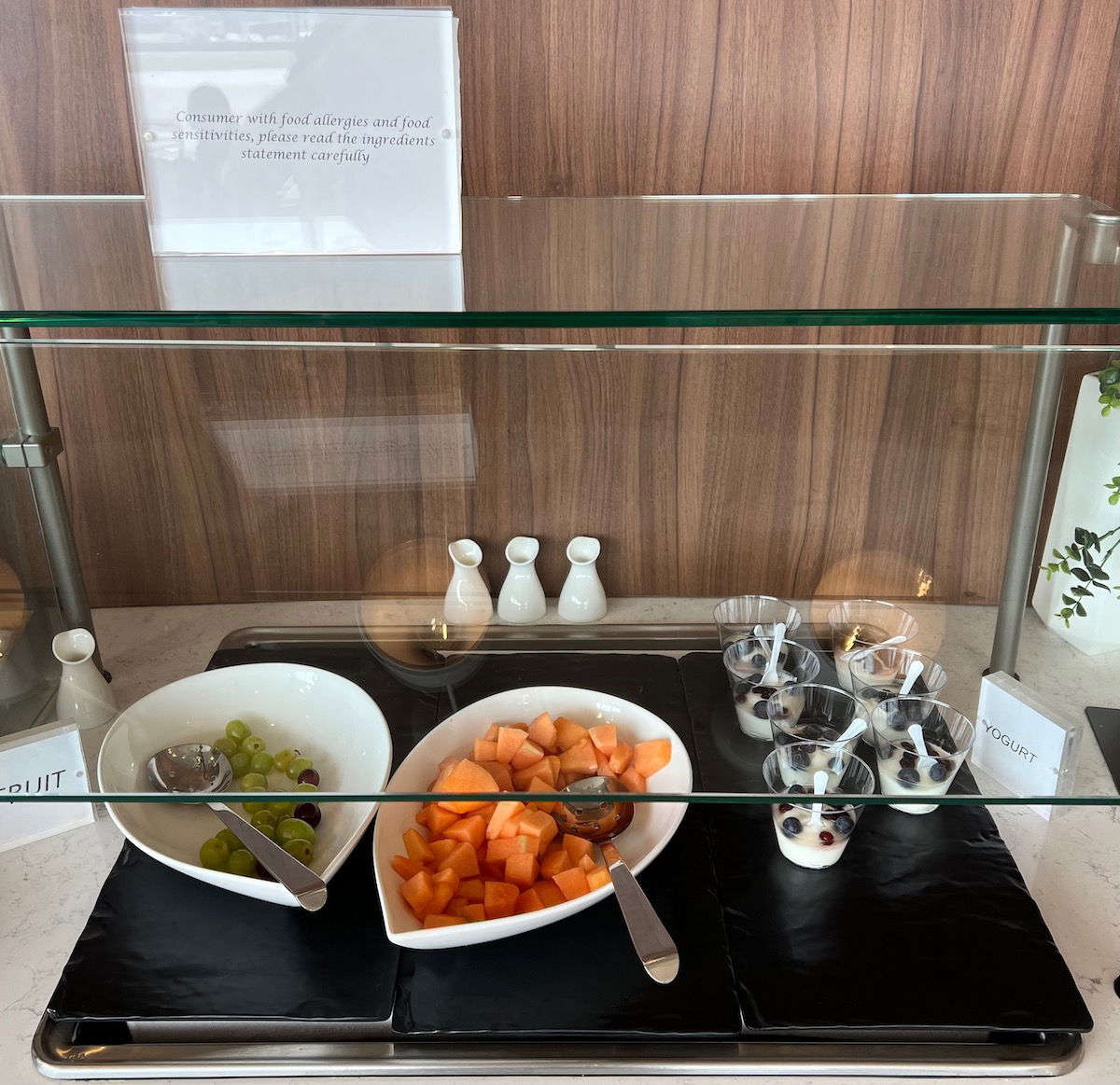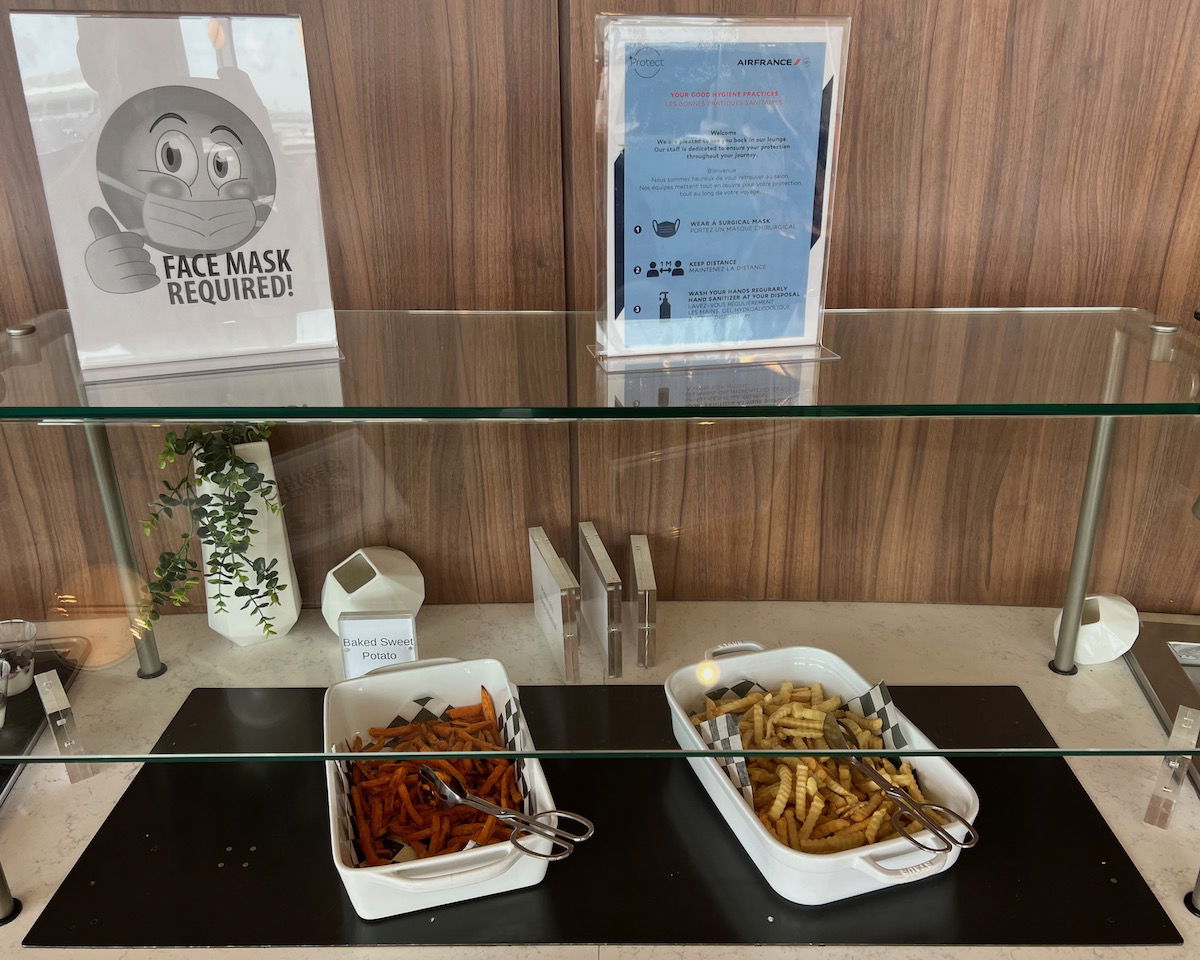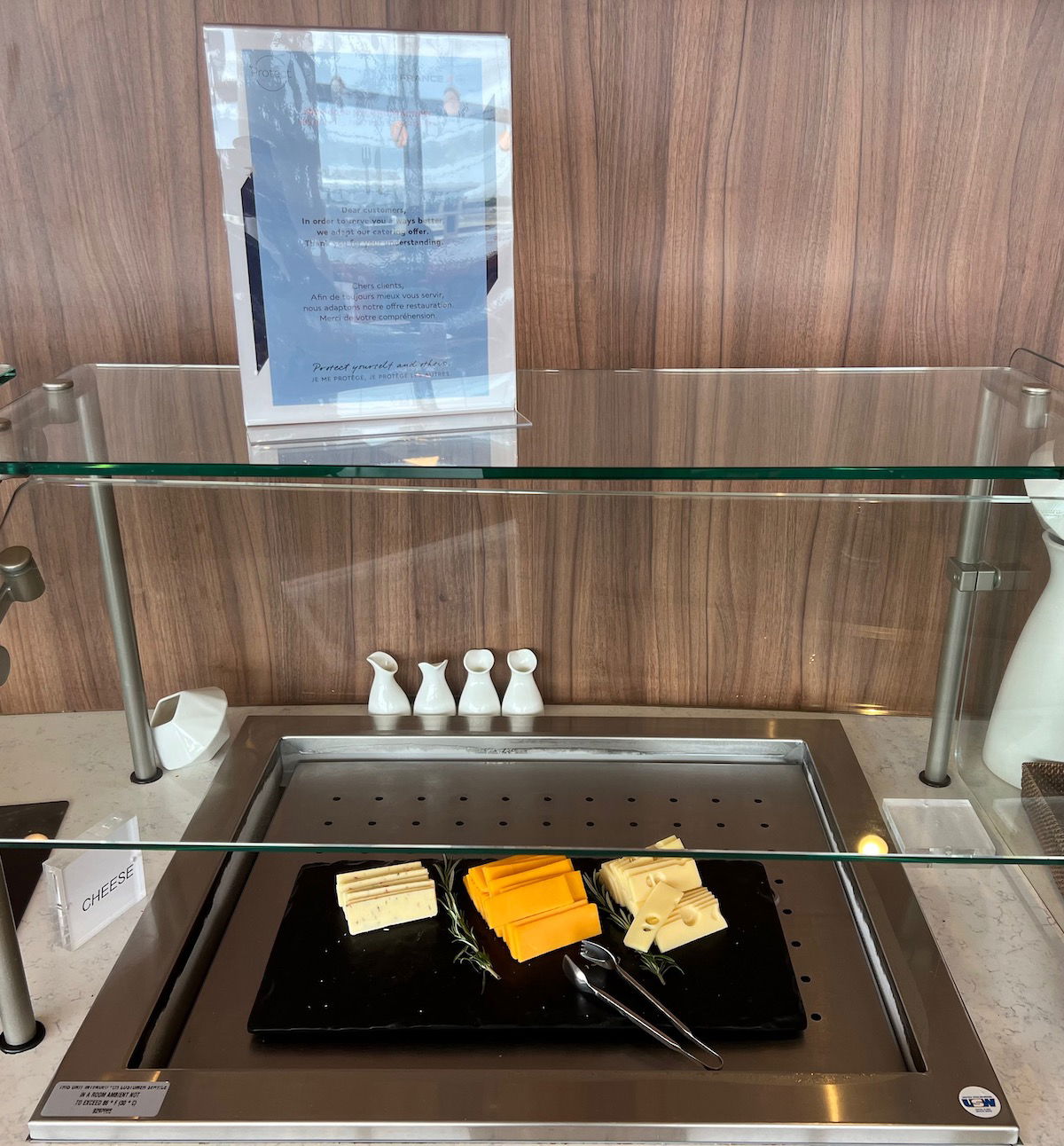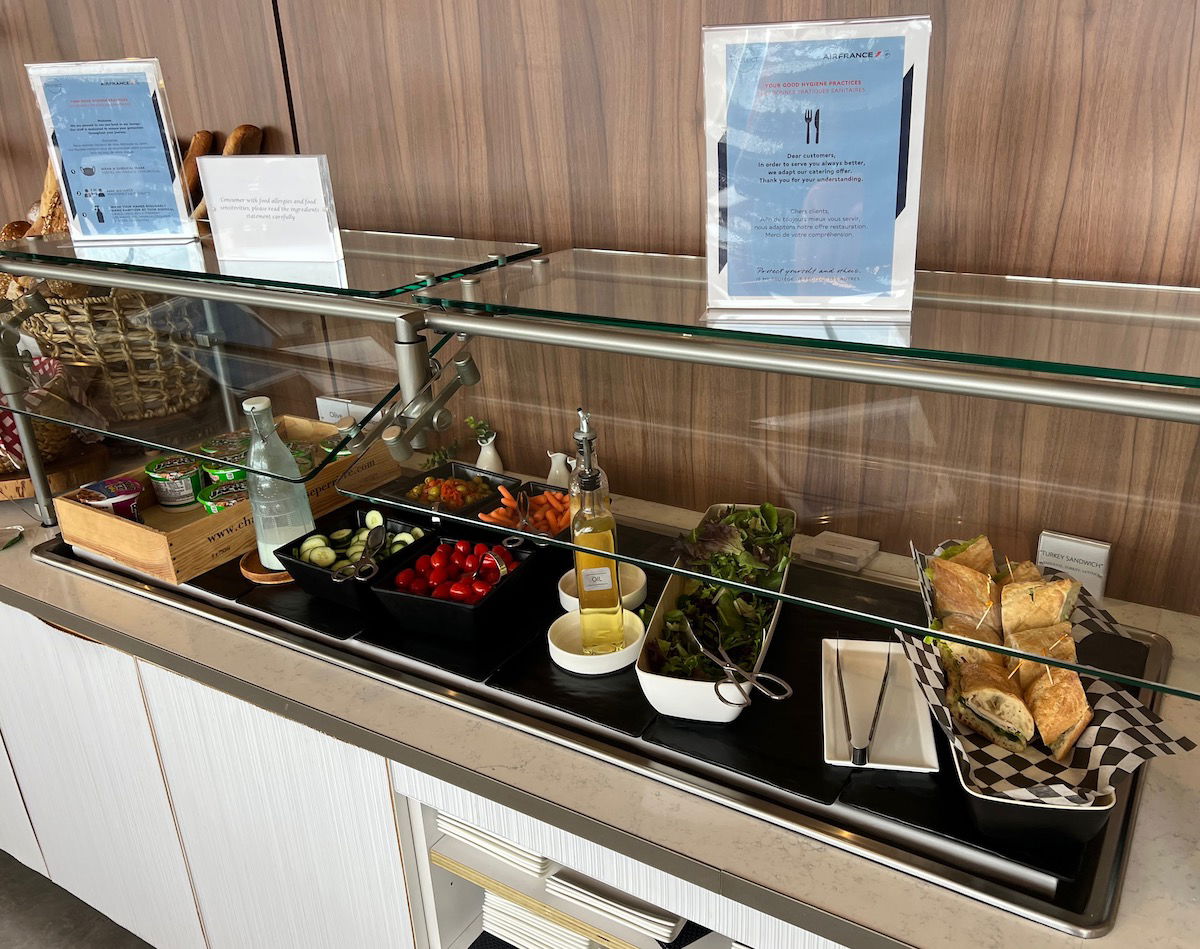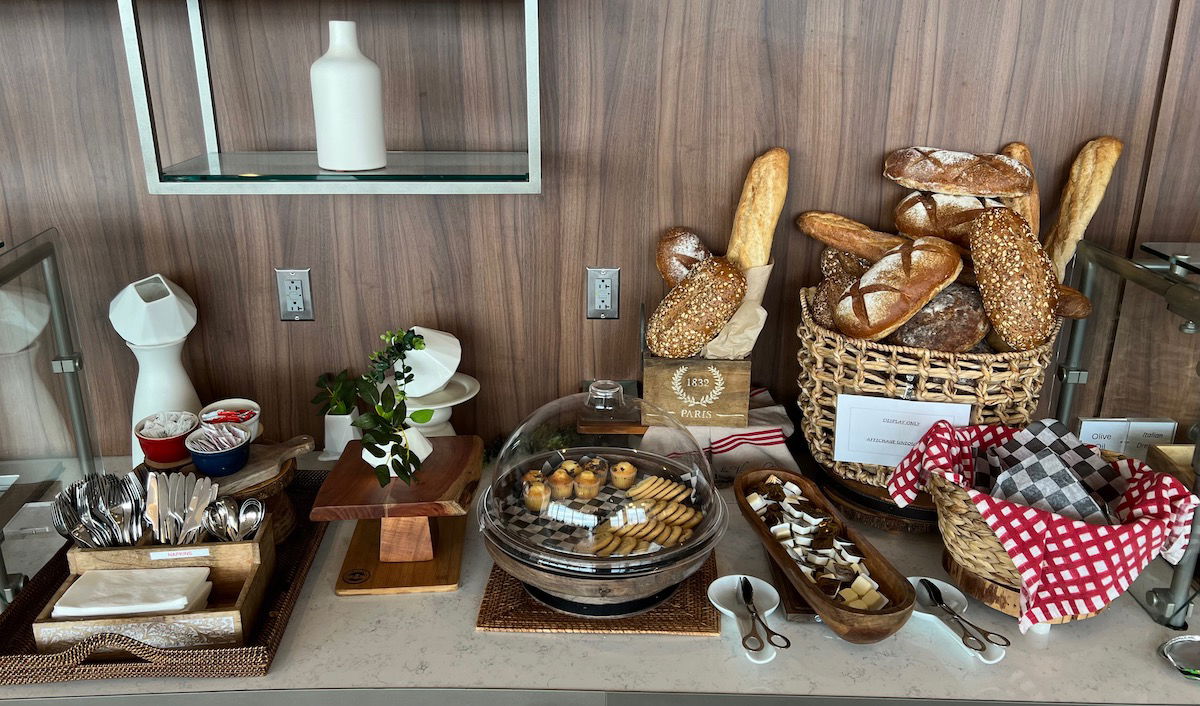 To drink there was water, soft drinks, coffee, and tea.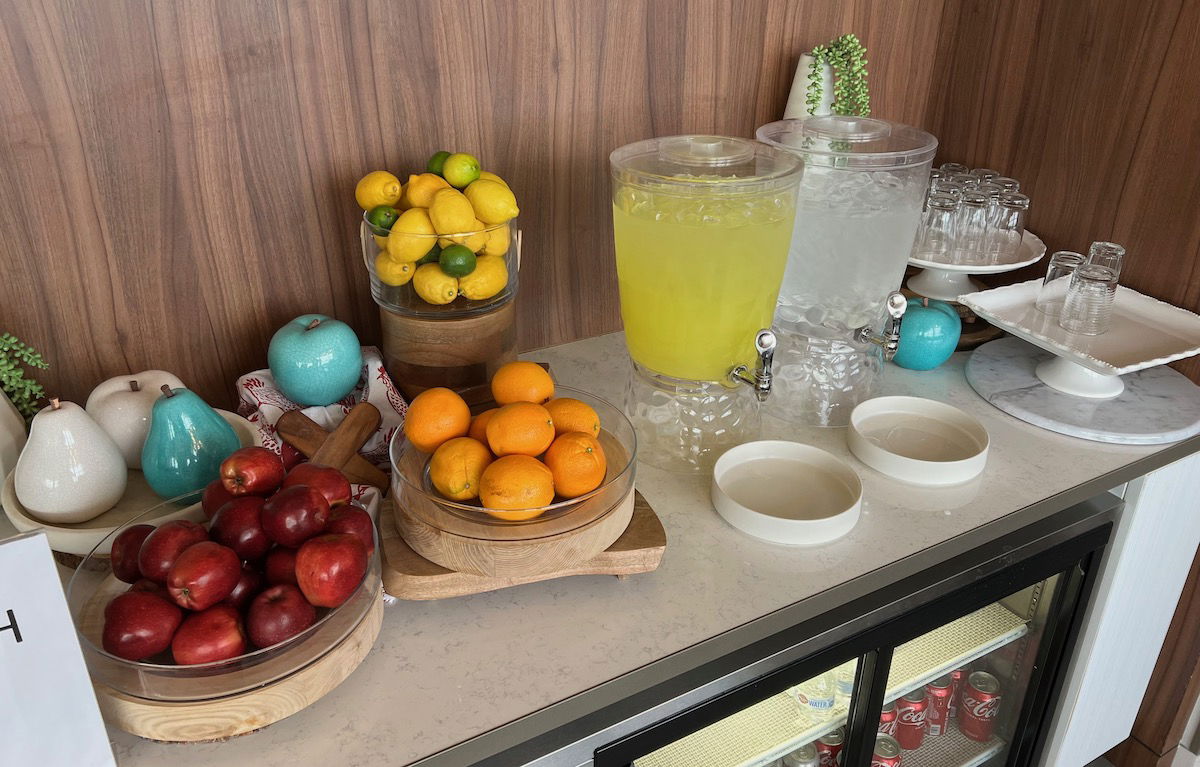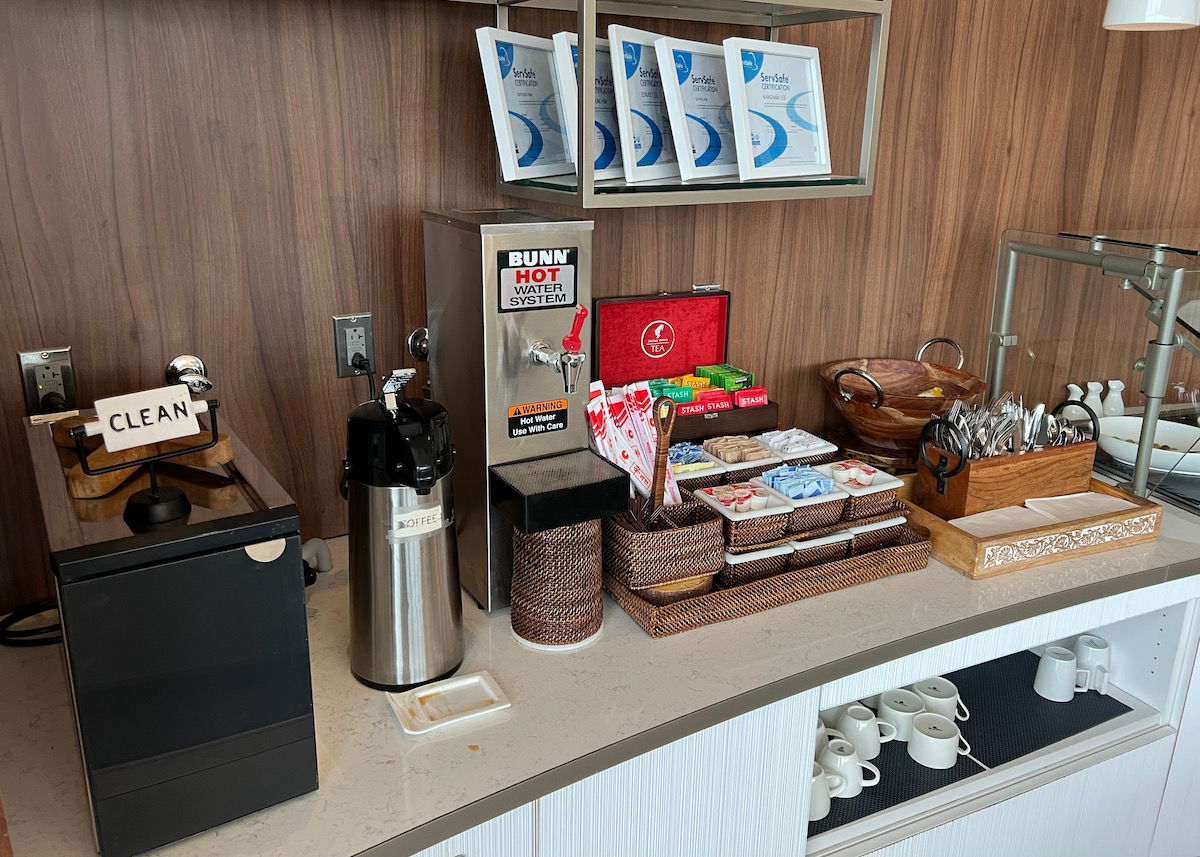 Alcoholic drinks were served from the bar area. There was a sign indicating that liquor wasn't being served at the moment.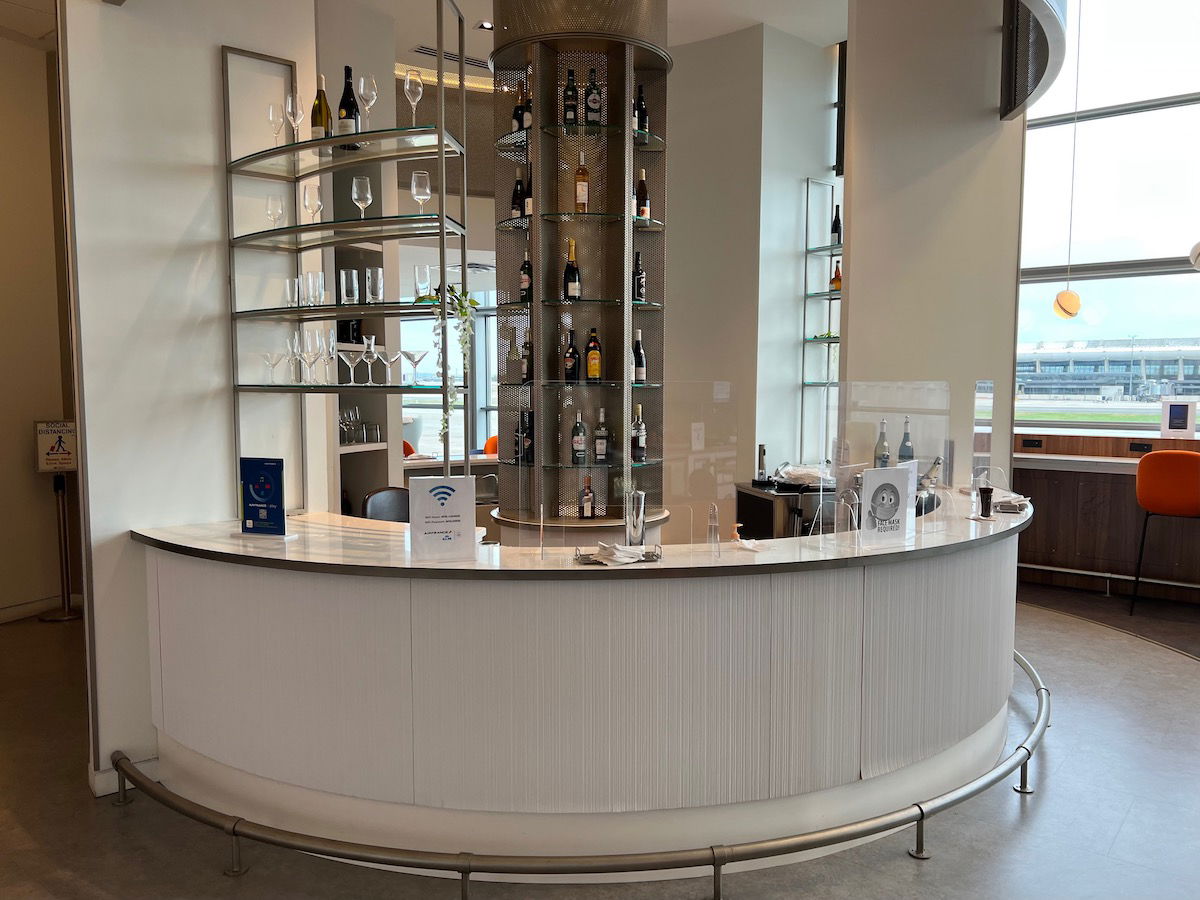 Rather there was just one white wine, one red wine, and one champagne. Rather generously, Taittinger was on offer. From a cost control perspective, I find it a bit strange to serve Taittinger but not basic liquor.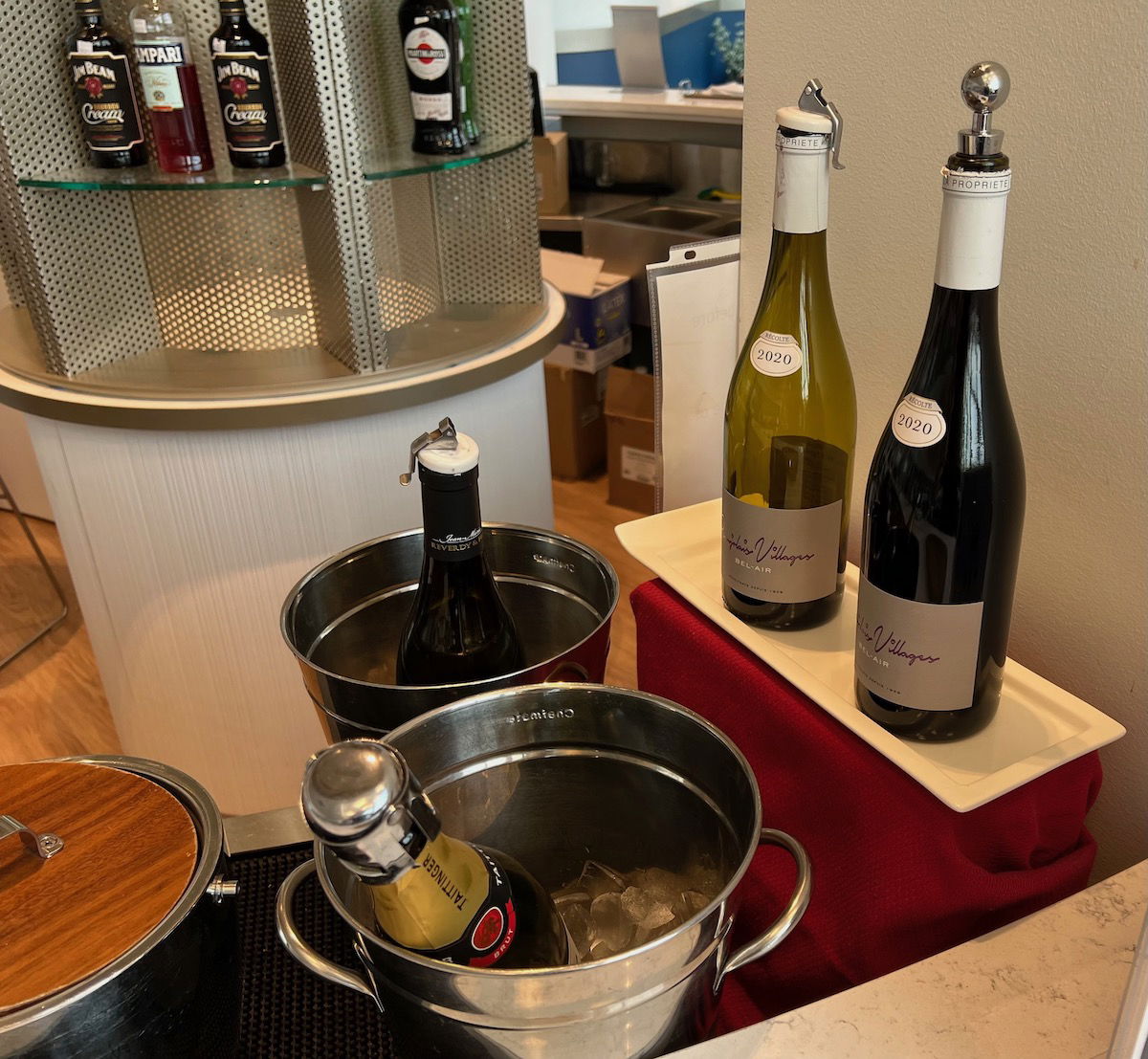 We just consumed several bottles of water and nothing else, since we weren't about to spoil our hunger or "thirst" prior to our Emirates first class flight.
Air France-KLM Lounge Washington Dulles bathrooms & shower
In the back of the Air France-KLM Lounge were the bathrooms. The bathrooms are pretty basic, and the one for men had two stalls and one urinal. There was also a shower suite, but it wasn't available when we visited.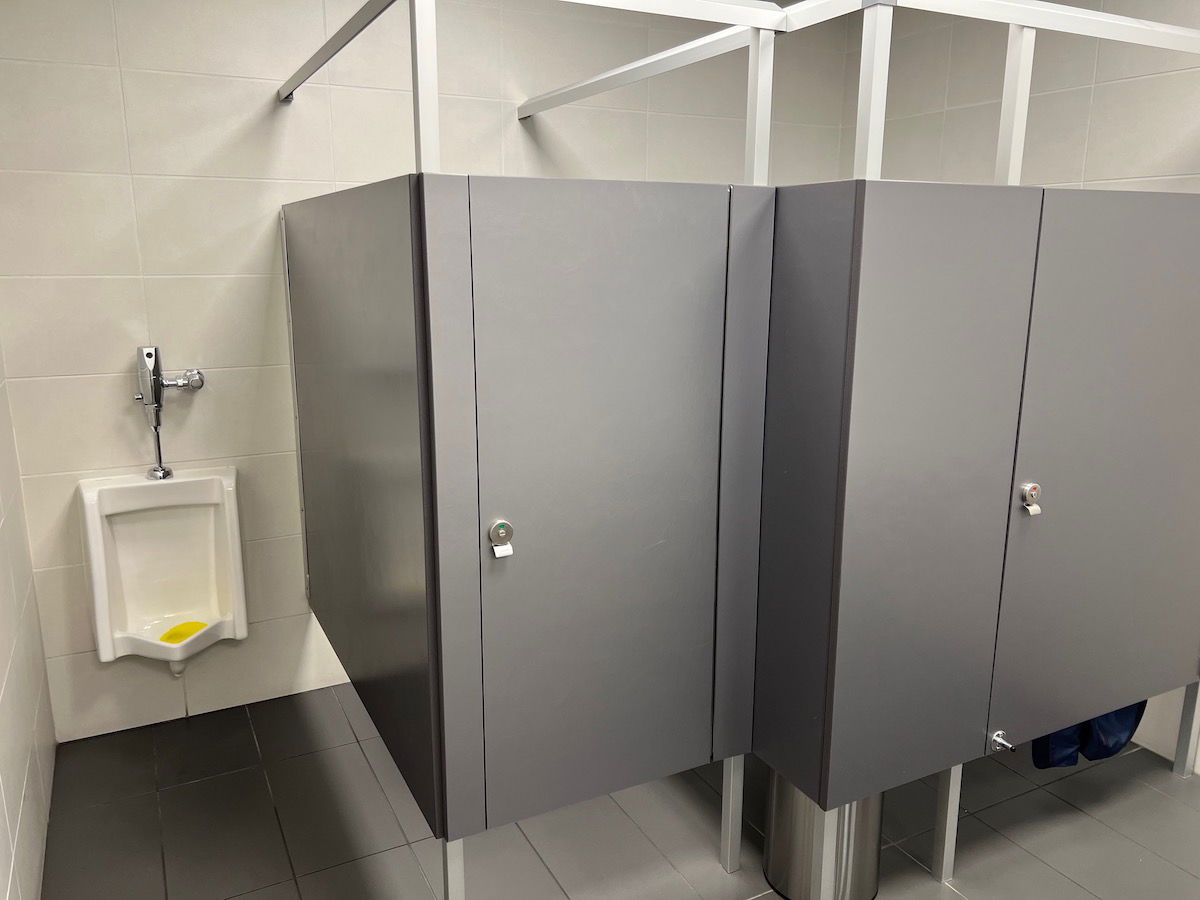 Bottom line
The Air France-KLM Lounge Washington Dulles served its purpose. The lounge had a modern design with lots of natural light, which is always appreciated. As is standard when a lounge is open to Priority Pass members, the food selection wasn't amazing, though complimentary Taittinger was available.
In the evenings this lounge offers pre-flight a la carte dining for Air France business class passengers, but obviously that didn't apply here.
If you've visited the Air France-KLM Lounge IAD, what was your experience like?