To kick off our trip to the Maldives, we flew Emirates' spectacular "new" first class from Washington to Dubai. While the product was introduced in late 2017 (over four years ago), only nine planes feature these cabins, and they fly a very limited number of routes.
I reviewed Emirates' new first class shortly after it launched, but only on the (fairly) short flight between Dubai and Brussels. I was looking forward not only to seeing how this product was holding up (given that I rank it the best in the world), but also putting it to the test on a much longer flight.
This flight was simply incredible — we had the cabin to ourselves, but there were also some service "quirks."
How I booked our Emirates first class tickets
Often I lock in award tickets pretty last minute, given that airlines tend to release lots of award seats as the departure date approaches. We had a date where we needed to be in the Maldives, though I was surprised by how few award flight options there were.
Fortunately a few days before departure, one really awesome option popped up in first class. I booked the following, with both segments in first class:
04/16 EK232 Washington to Dubai departing 11:00AM arriving 8:10AM (+1 day)
04/20 EK658 Dubai to Male departing 4:20AM arriving 9:30AM
Okay, I'm not going to lie, the 4:20AM departure on 4/20 had me giggling (and that also happens to be my birthday).
The itinerary cost 160,000 Emirates Skywards miles plus $817 in taxes and carrier imposed surcharges per person. Now, a few things to note:
Emirates recently increased fuel surcharges significantly, so I hated paying those, but I figured for the Emirates first class experience it would be worth it (especially when you consider British Airways charges similar amounts for a one-way business class ticket from New York to London, and there's no opportunity to recoup that with caviar and Dom Perignon) 😉
Emirates allows free stopovers on one-way Flex Plus awards, so we could get that stopover in Dubai for a couple of nights for "free"
What made this most exciting was that Washington to Dubai is the one route to the United States currently featuring Emirates' new first class, and at the time of booking no one else was even booked in the six seat cabin (and indeed we ended up having the cabin all to ourselves)
The great thing about Emirates Skywards is that the miles are quite easy to come by. Skywards is transfer partners with all major transferable points currencies, including Amex Membership Rewards, Capital One, Chase Ultimate Rewards, and Citi ThankYou.
Emirates first class check-in, lounge, & boarding
For what it's worth, we had flown to the area the night before, and spent the night at the Hyatt Regency Dulles Airport. Sadly our Tampa to Washington flight was significantly delayed, and we had a very short night, or else I would have reviewed the hotel. So this is where we'll start…
We arrived at Washington Dulles at around 8:30AM for our 11AM flight to Dubai. While the check-in hall was pretty empty overall, the Emirates check-in area was packed.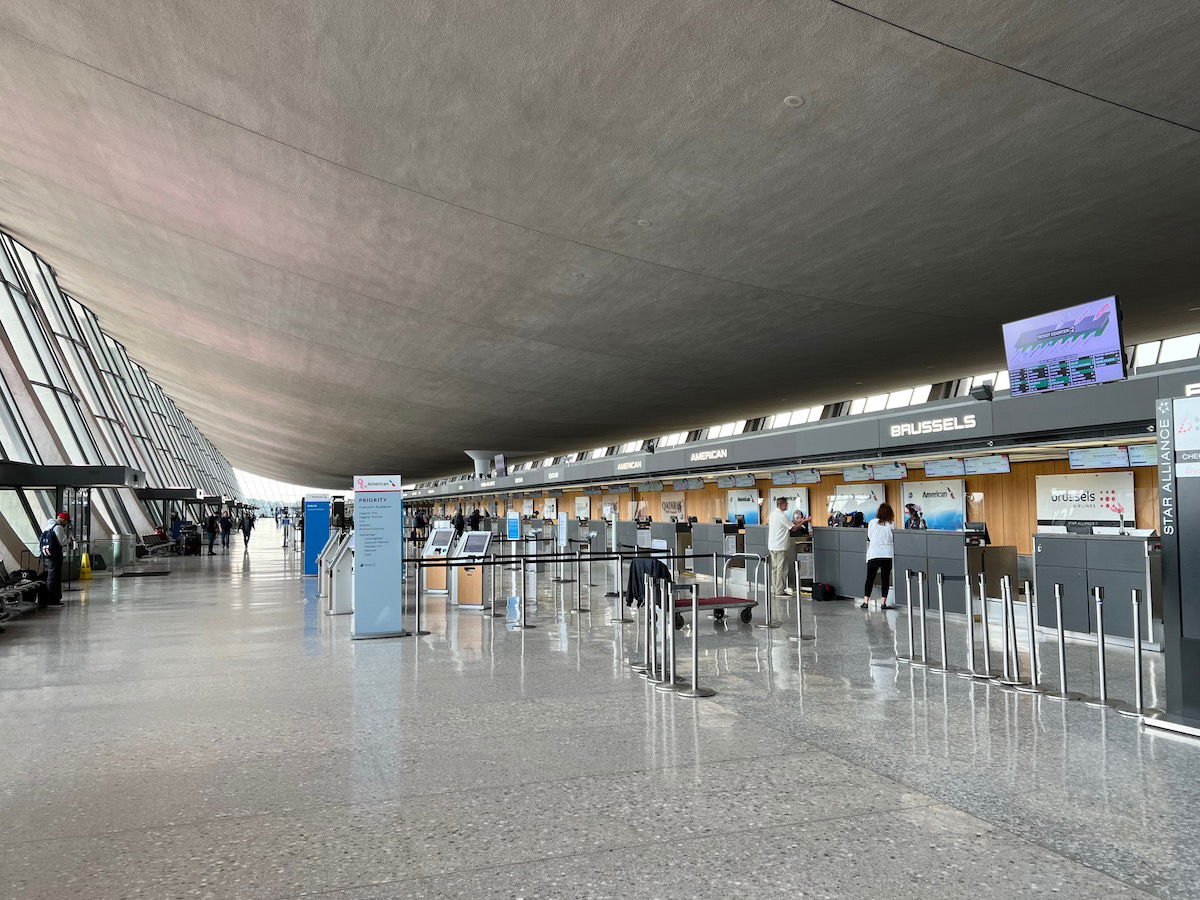 There were lots of people in the economy line, though no wait in the first and business class line. We were helped immediately, and within a couple of minutes we were issued boarding passes to Dubai. It's so nice that there's no longer a testing requirement for vaccinated travelers to Dubai, so we just had to show our vaccine cards.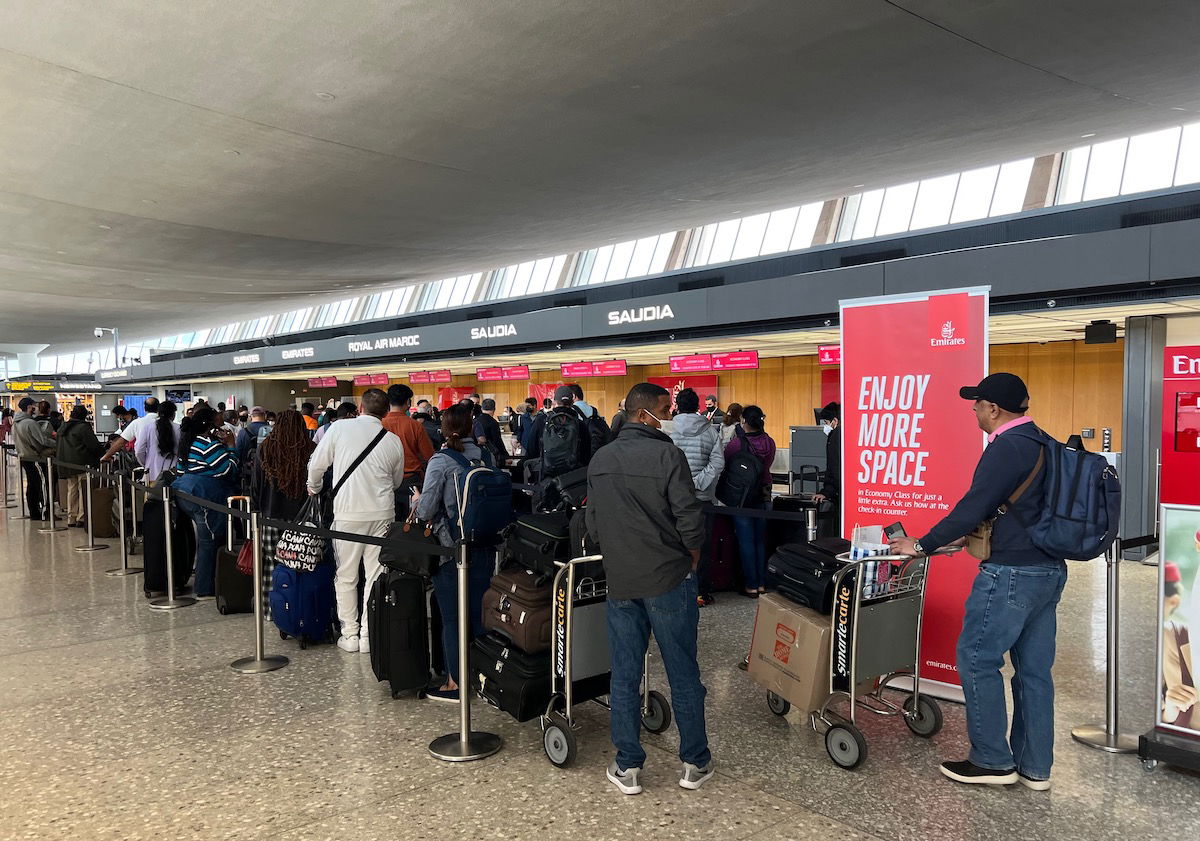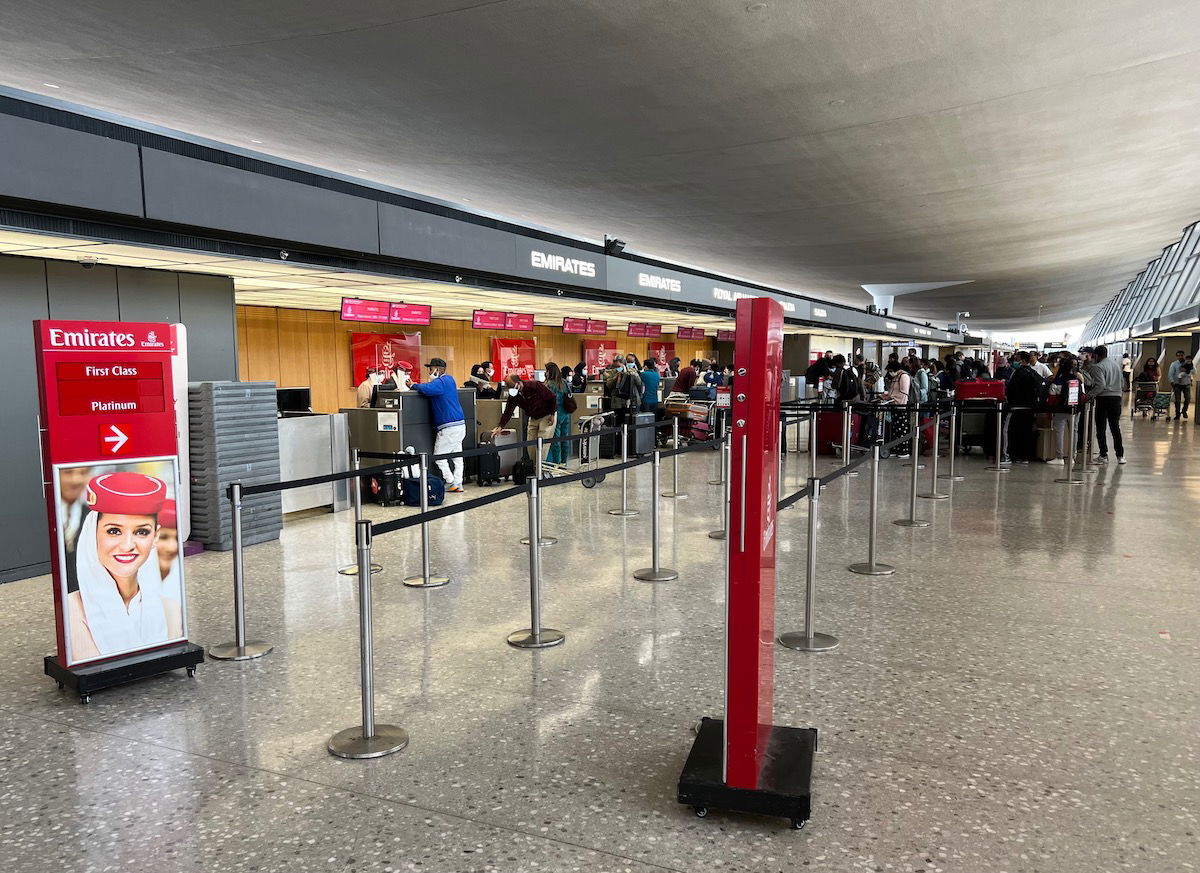 Emirates uses the Air France-KLM Lounge Washington Dulles as its contract lounge, which I reviewed in a separate post. Our flight was departing from gate A20, though premium passengers boarded via gate A22 (the airline uses two separate gates for boarding, which ultimately lead to the same jet bridge).
While looking at the plane, I couldn't help but notice the registration code — A6-EQI — this was the same plane involved in the "incident" that happened in December 2021, on the same route in the other direction (from Dubai to Washington).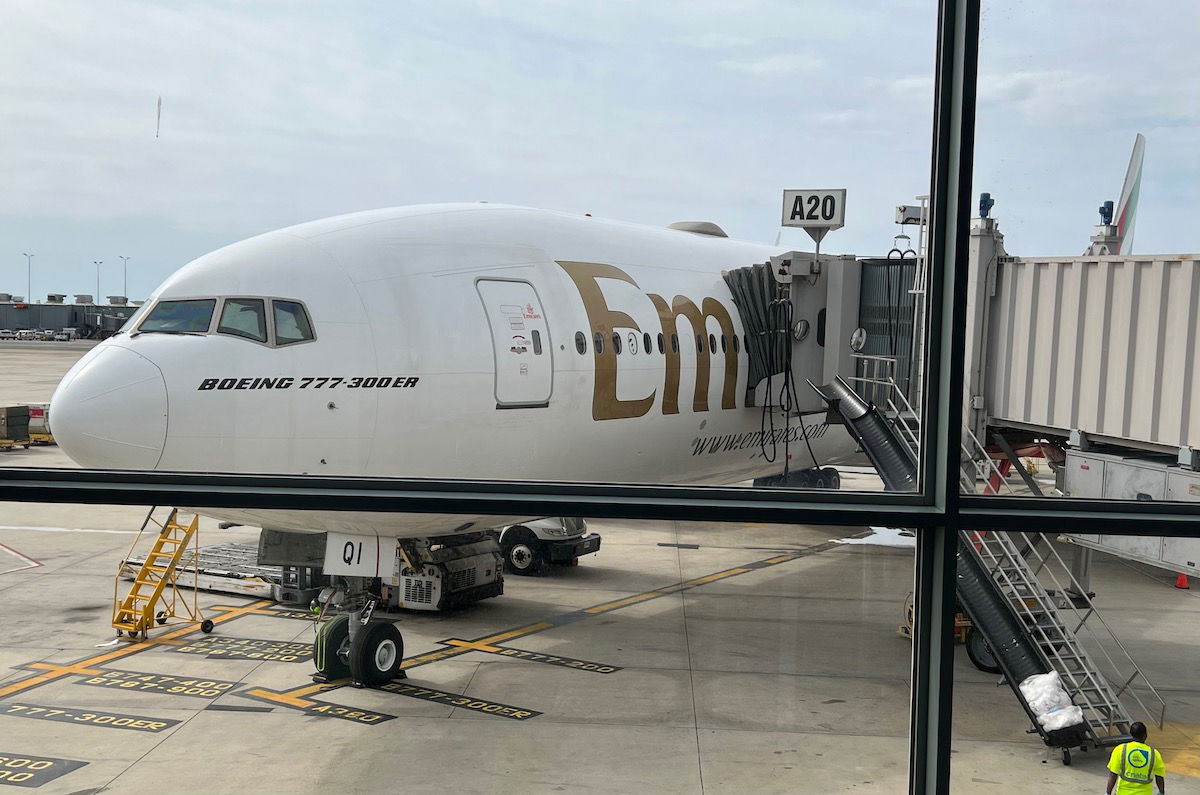 Our flight was scheduled to board at 10:30AM (30 minutes before departure), but that ended up being delayed because the inbound aircraft was a bit late. The whole boarding process was chaotic, largely due to lack of communication from the ground staff.
At 10:40AM boarding began for those needing extra time, then Zone C was invited to board, then Zone D was invited to board, and then at 10:55AM all premium passengers were invited to board at once. If you're going to board economy before first & business class, it would at least be nice to explain that, so that there's not confusion.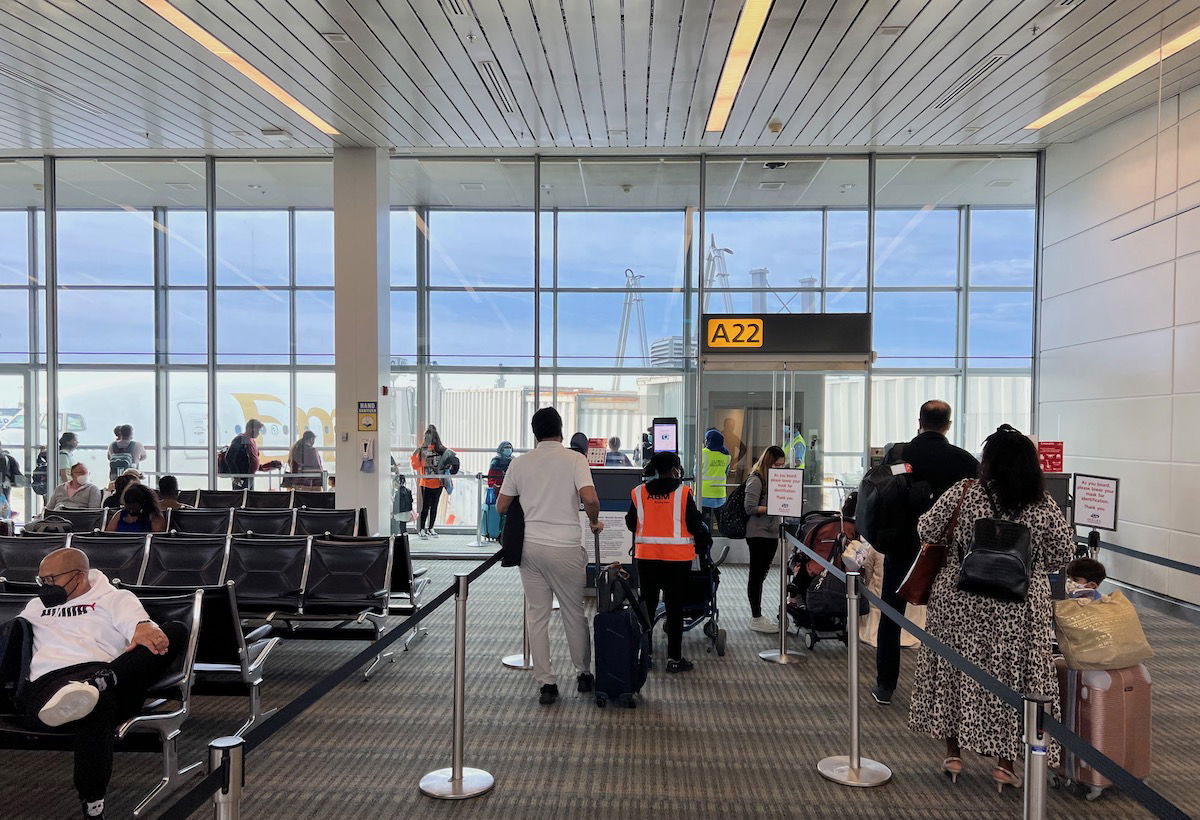 Emirates new 777 first class cabin & seats
We boarded through the second set of doors, where we were greeted by one of the supervisors and then escorted to our seats in first class. I had assigned us seats 2F & 2K, so we went to the far aisle, and then turned left.
To the left of the second set of doors are two rows of business class, in a 2-3-2 configuration. While Emirates' "new" 777s have a slightly updated business class, it's not much better than Emirates' standard (disappointing) 777 business class.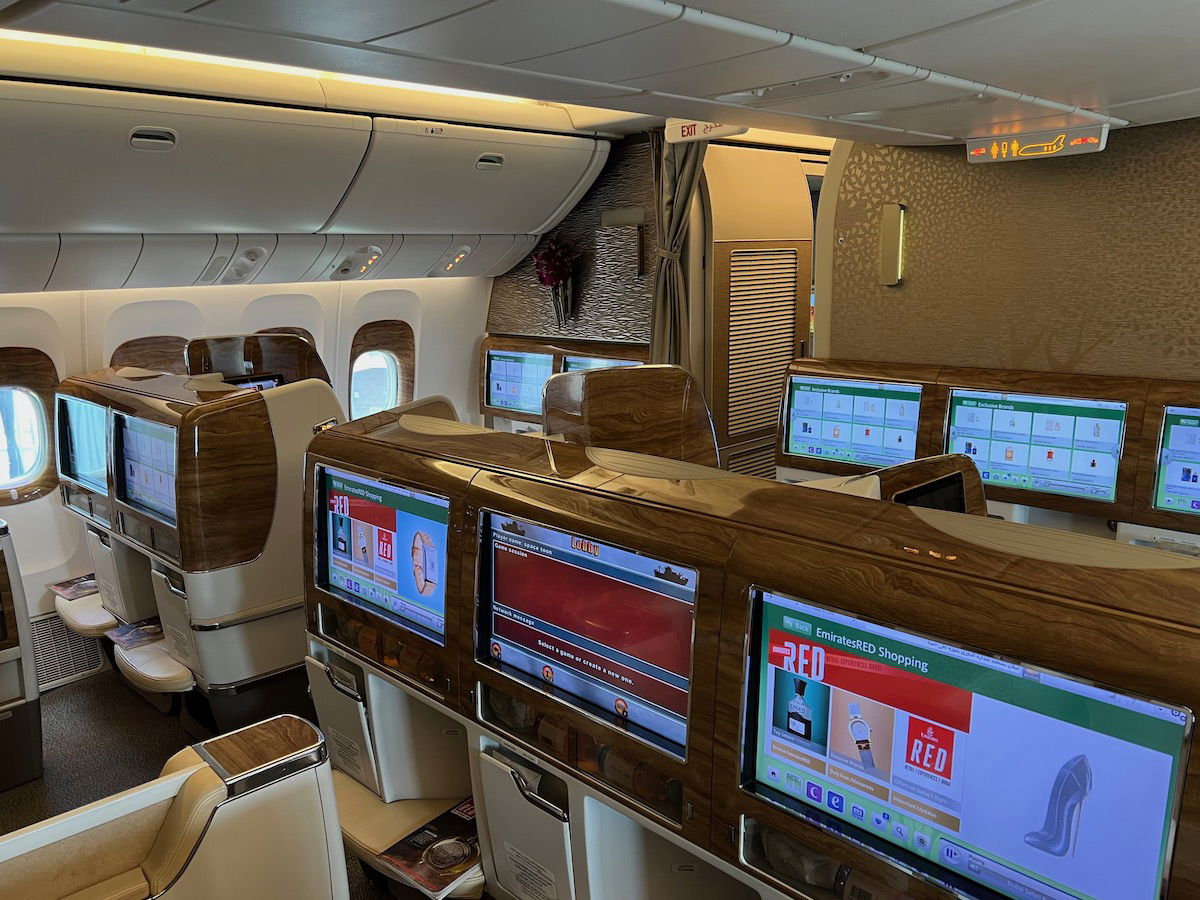 Emirates' latest Boeing 777 first class, on the other hand, is simply incredible. The cabin consists of just six seats, in a 1-1-1 configuration. The suites are enclosed floor-to-ceiling, so they offer a level of privacy beyond what you find in your "standard" first class suite.
The way the configuration works, you have two window seats on each side. Then the center seat in the first row opens up to the left aisle, while the center seat in the second row opens up to the right aisle. So if you're traveling together and want to be as close to your companion as possible, I'd recommend selecting 1A & 1E or 2F & 2K. Personally I'd prefer row two, since the suites in row two are a bit more spacious due to the curvature of the plane.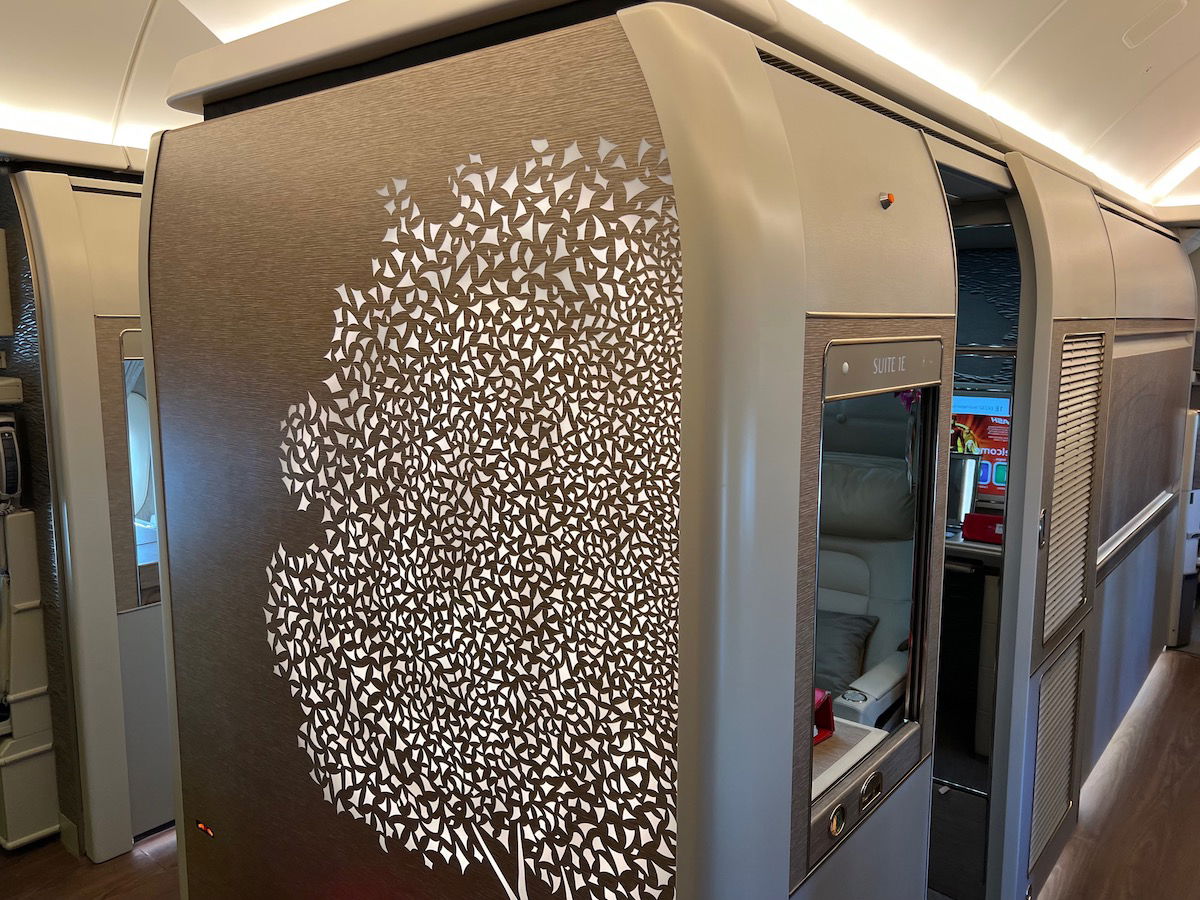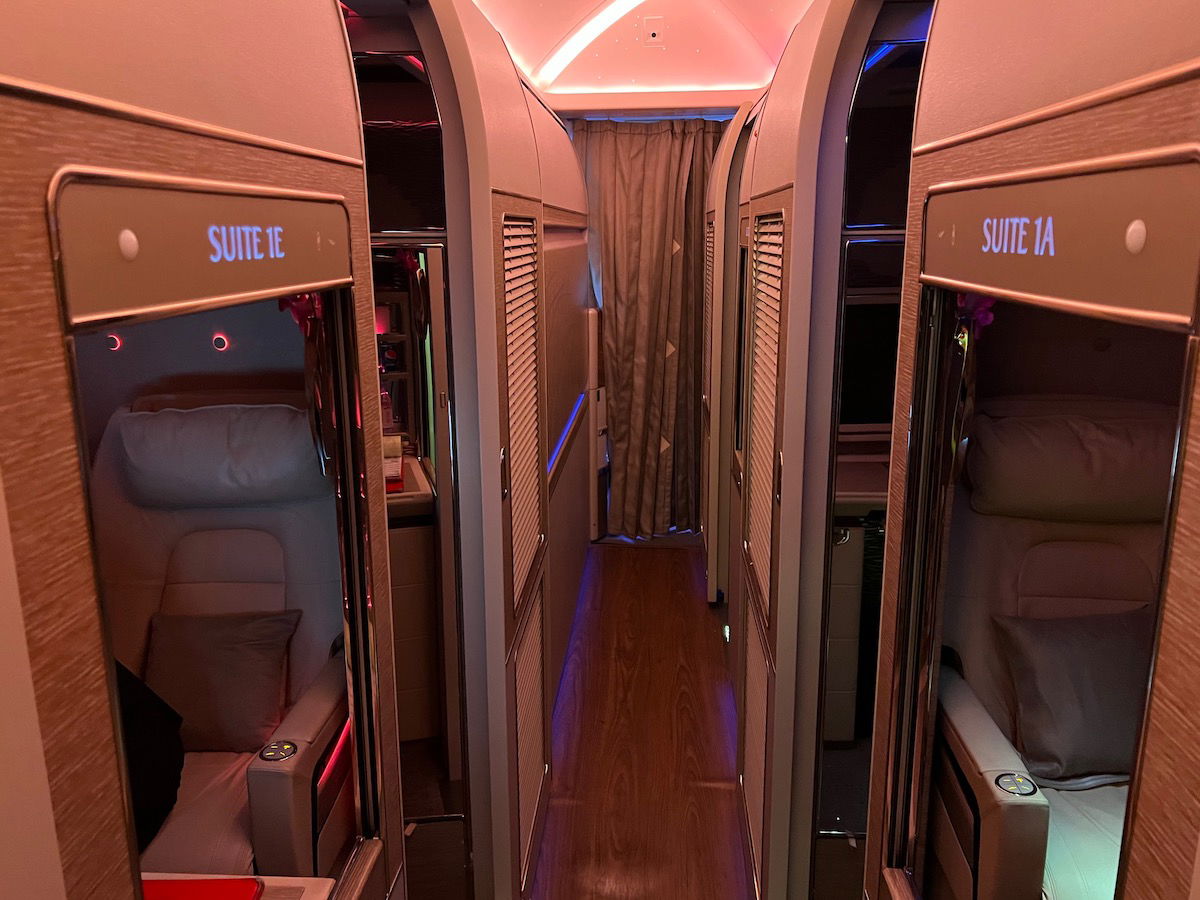 Our flight started on a strange note. As mentioned above, I had assigned us seats 2F & 2K (and crews can see seat assignments on their tablets, so the crew should have known that). Yet when I arrived at seat 2F, there was a bunch of stuff already in the suite
So I looked for the flight attendant…
"Hi, I think this is my seat?"
"Oh, you don't want to sit in a window seat?"
"No, I'd like to sit here, please, if that's okay."
"The window seats are much better, you don't want that?"
"I'd really like to try the virtual windows, as I did a window seat the last time I flew this configuration. We also want to sit as close to one another as possible."
"Are you sure? Okay…"
She then proceeded to spend a couple of minutes removing all of her stuff from the suite and instead putting it in a different one. It sort of reminded me of when I flew Saudia first class from Dubai to Riyadh, and was accused of taking "the supervisor's seat" (which also happened to be my assigned seat).
After the flight attendant removed her stuff from the suite, she set it up mostly as it should be, and then said "oh, I forgot something." She ran and got the duty free magazine, and didn't just place it at my seat, but gave us both a duty free sales pitch that rivals the American Airlines inflight credit card sales pitch.
She talked about how many amazing things there were in the catalogue, and in particular about all the perfumes. She also claimed that Emirates was having its biggest duty free sale ever, and that everything was 20% off, but only for 24 more hours. As it turns out, none of that was true — apparently the prices listed already reflected all the savings, yet oddly my flight a few days later had exactly the same pricing.
Ford and I both looked at one another and said that we better buy something onboard if we want to get good service. Anyway, odd start, but back to the gorgeous first class cabin…
Last time I flew Emirates' new first class I sat in a window seat, so Ford took that seat this time (in this case, 2K). It was as I remembered, though the leather is definitely looking a bit more stretched out and worn than when the product was introduced. Furthermore, there are supposed to be binoculars at the seat, but the crew didn't put those out (this wasn't the most "by the book" crew, to put it mildly).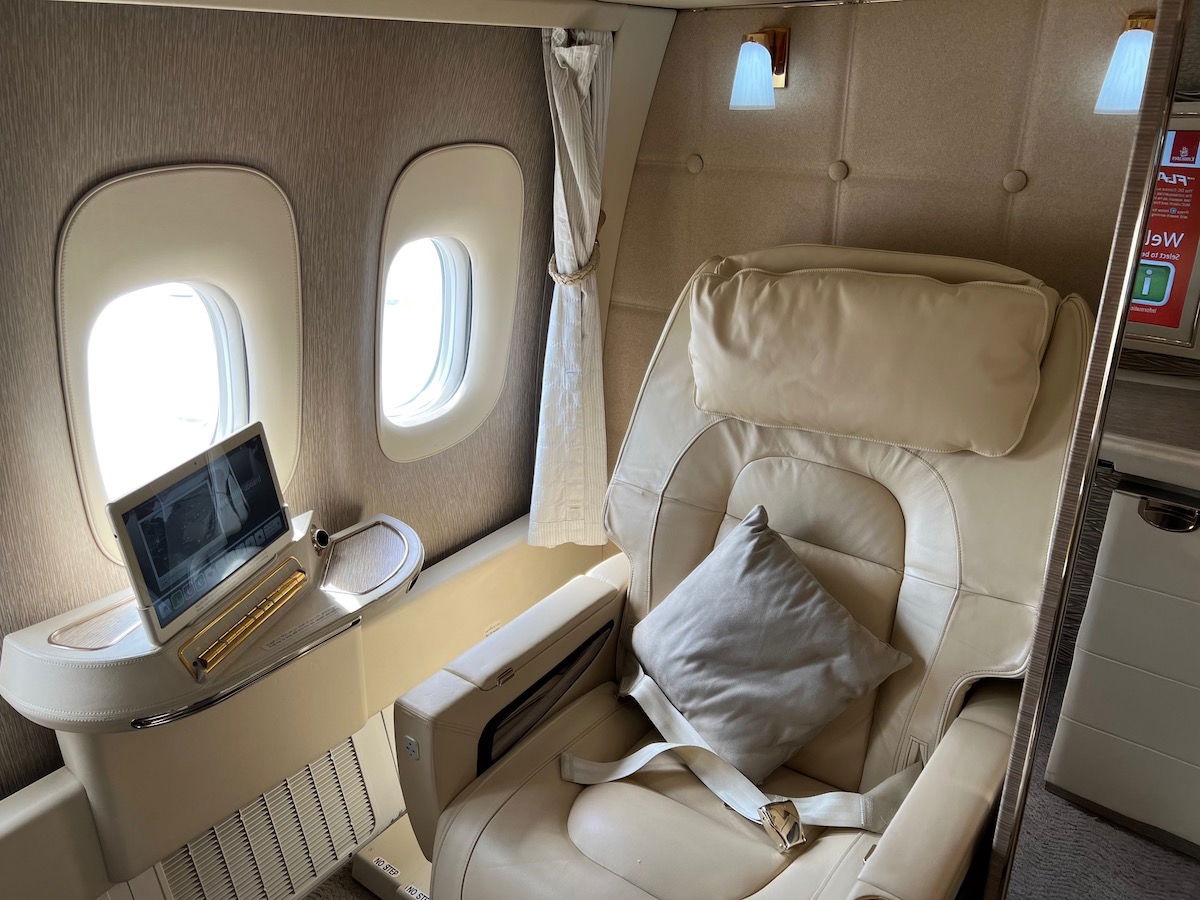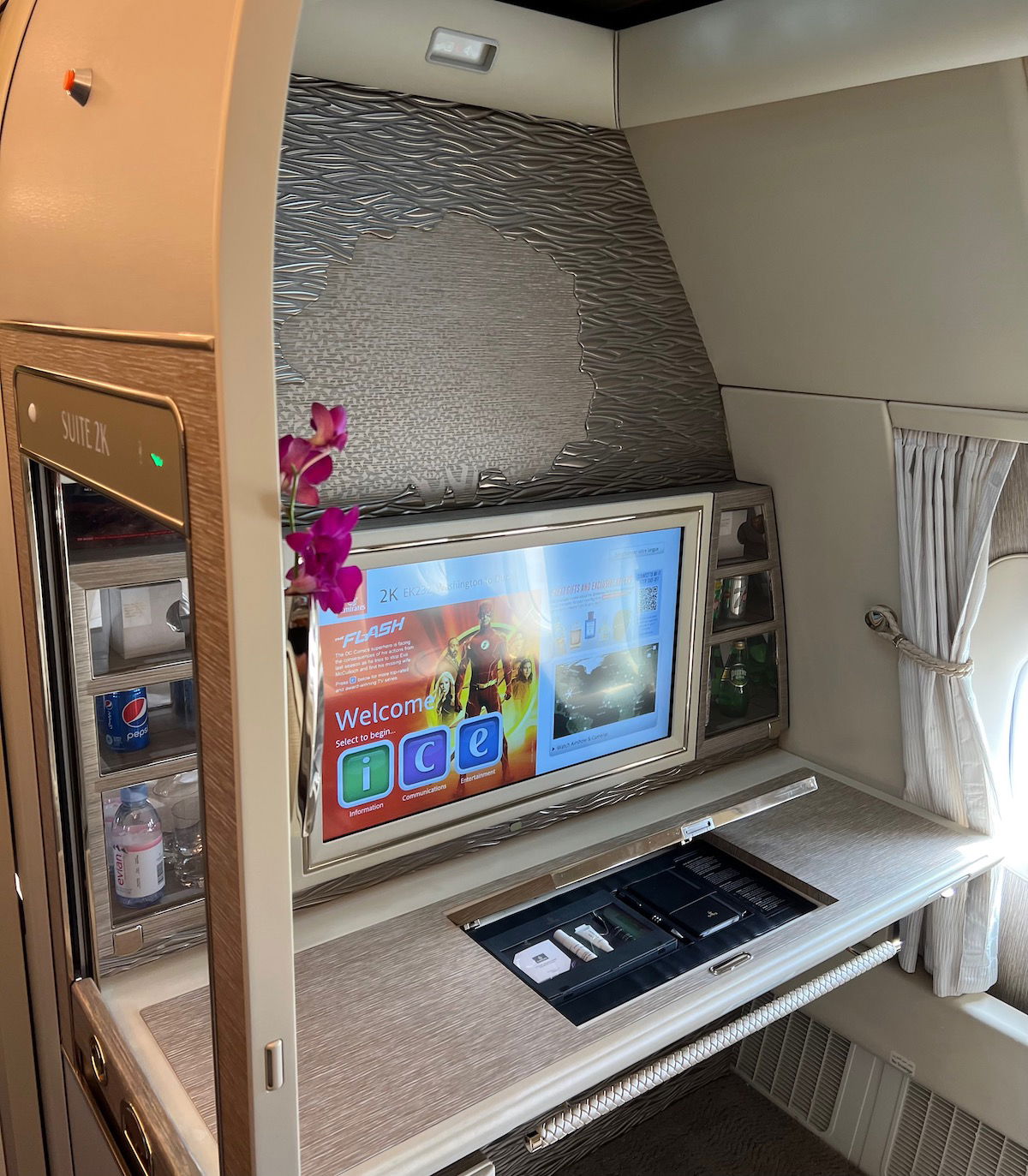 I assigned myself the center seat, 2F. It's rare that I'd voluntarily choose a center seat, but in Emirates' new first class I make an exception. Why? Because the center seats are a bit more spacious (due to the curvature of the fuselage along the window seats), and most importantly because of the ridiculously awesome virtual windows.
There's so much to love about this product, from the privacy to the endless gadgets. Emirates' new first class is definitely a product where the iPhone wide angle camera comes in handy. As you can see, each suite almost feels like an enclosed train compartment, or something. The seat finishes are inspired by Mercedes-Benz.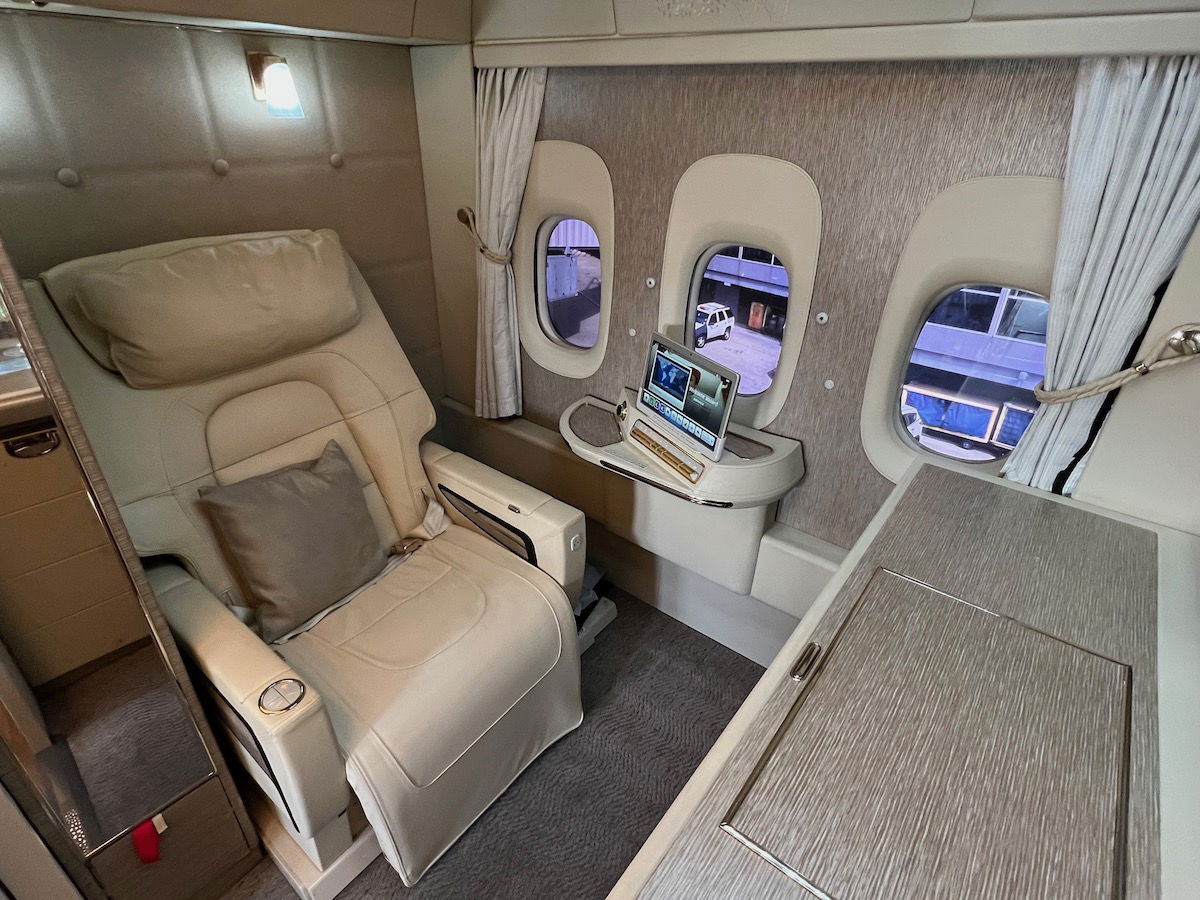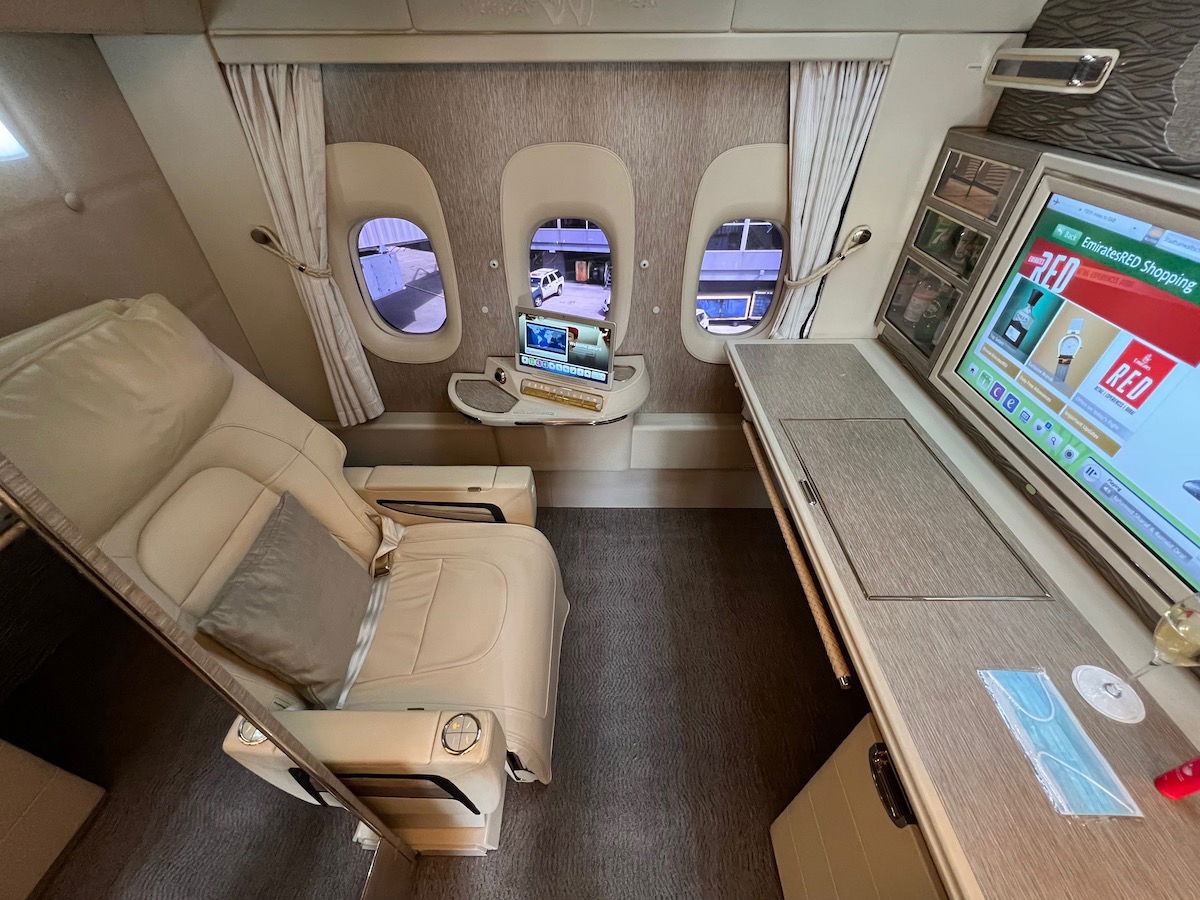 Each seat has a 32″ high definition touchscreen TV, which is about as good as a personal entertainment screen on a plane will get.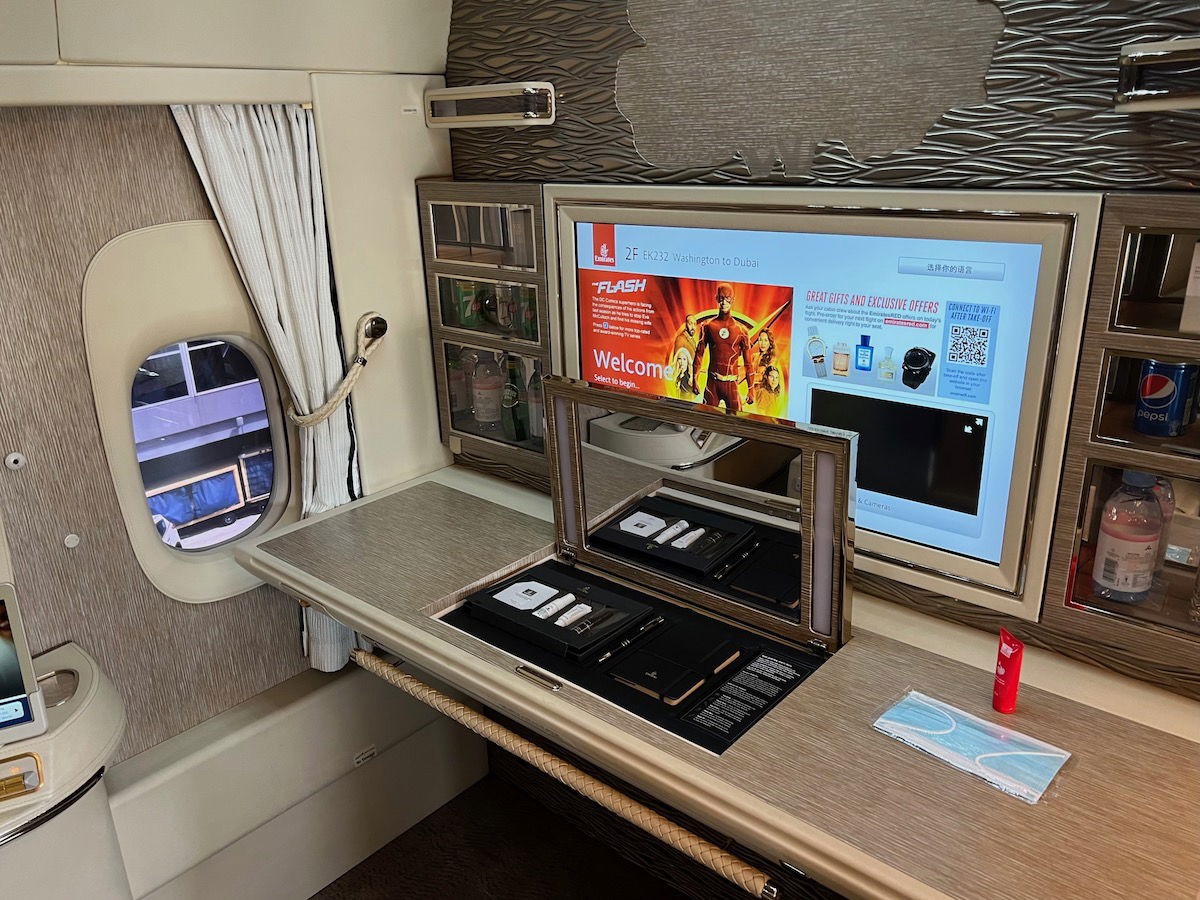 On each side of the TV is a minibar, containing a variety of drinks and some snacks.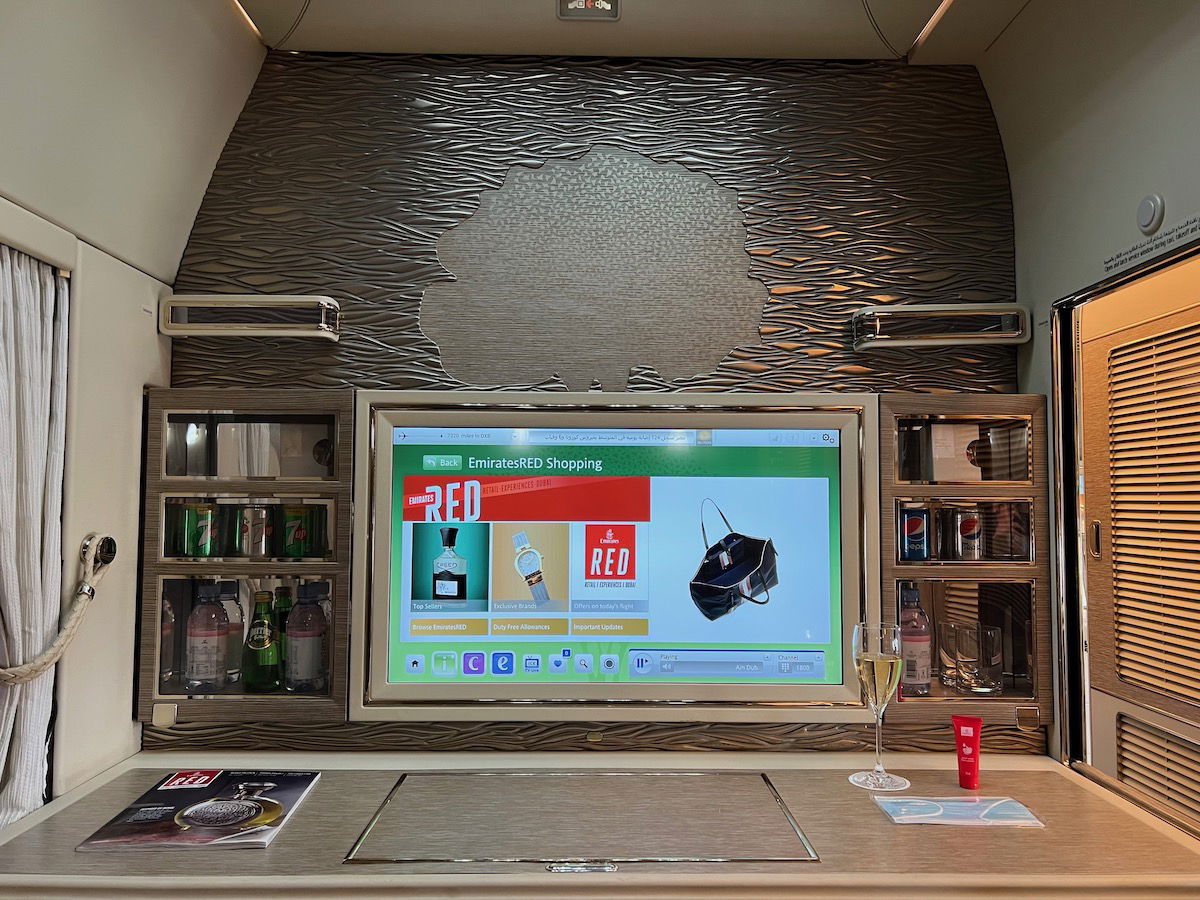 Immediately in front of the TV is a vanity, which has a mirror, a writing kit, and some creams. This can be folded down when you're not using it, so that the TV isn't obstructed.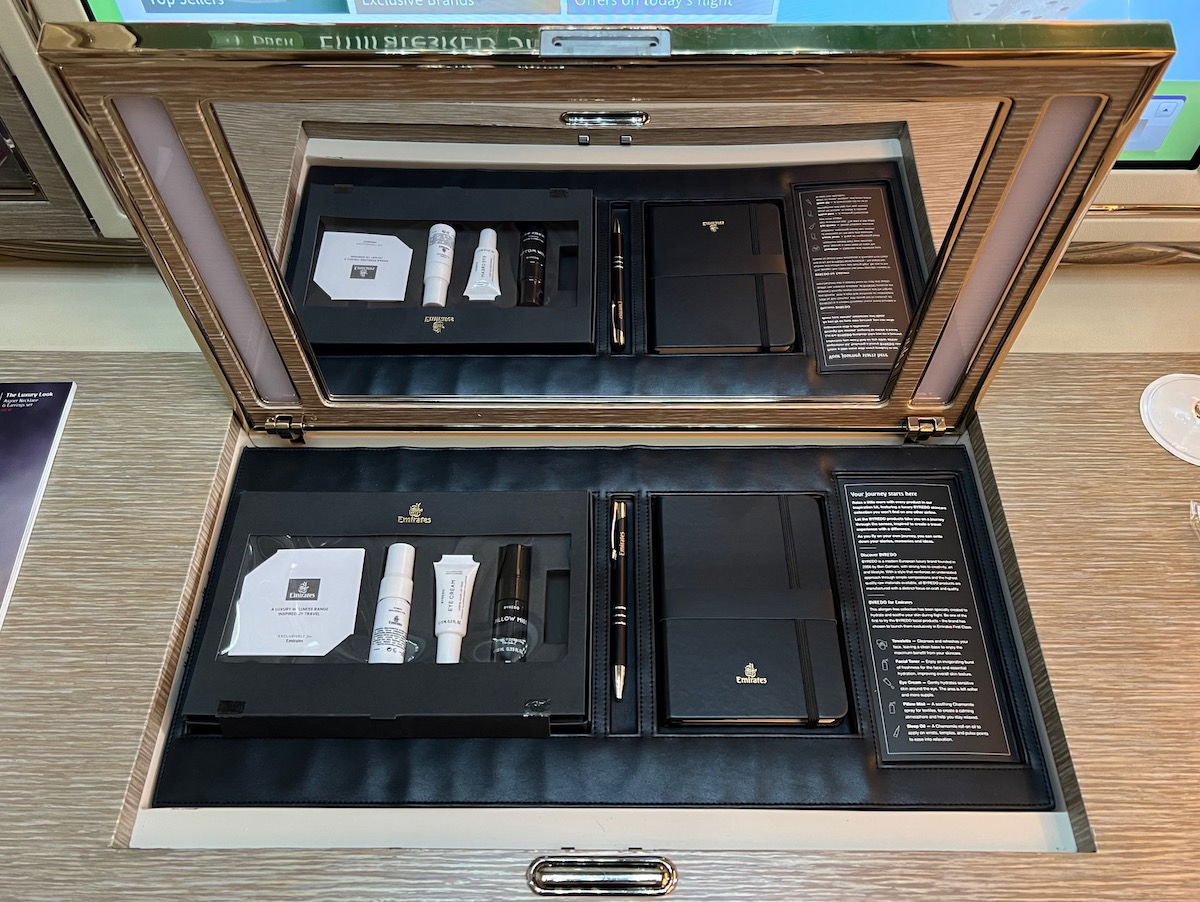 The tray table can be extended from underneath the TV, and easily slides in and out.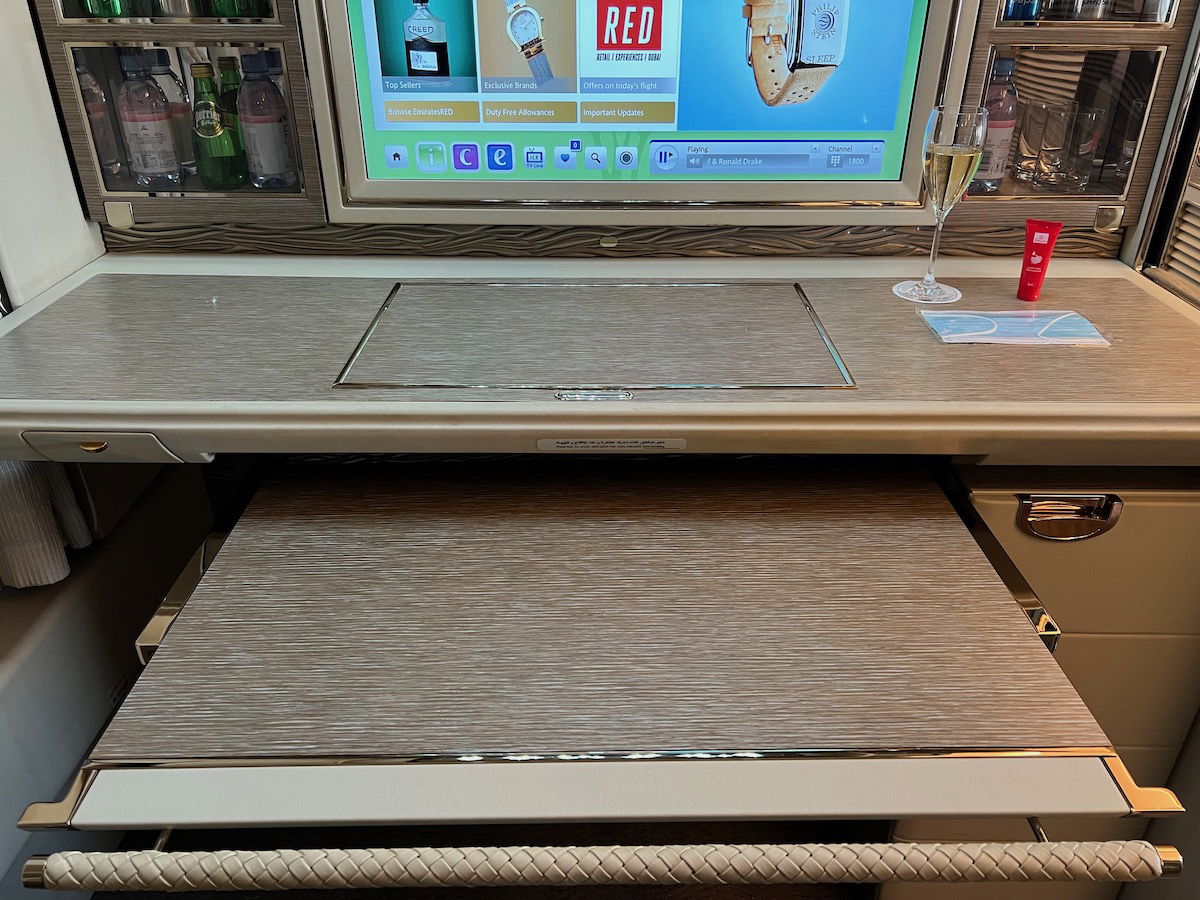 To the left side of the tray table are AC, USB, and HDMI outlets.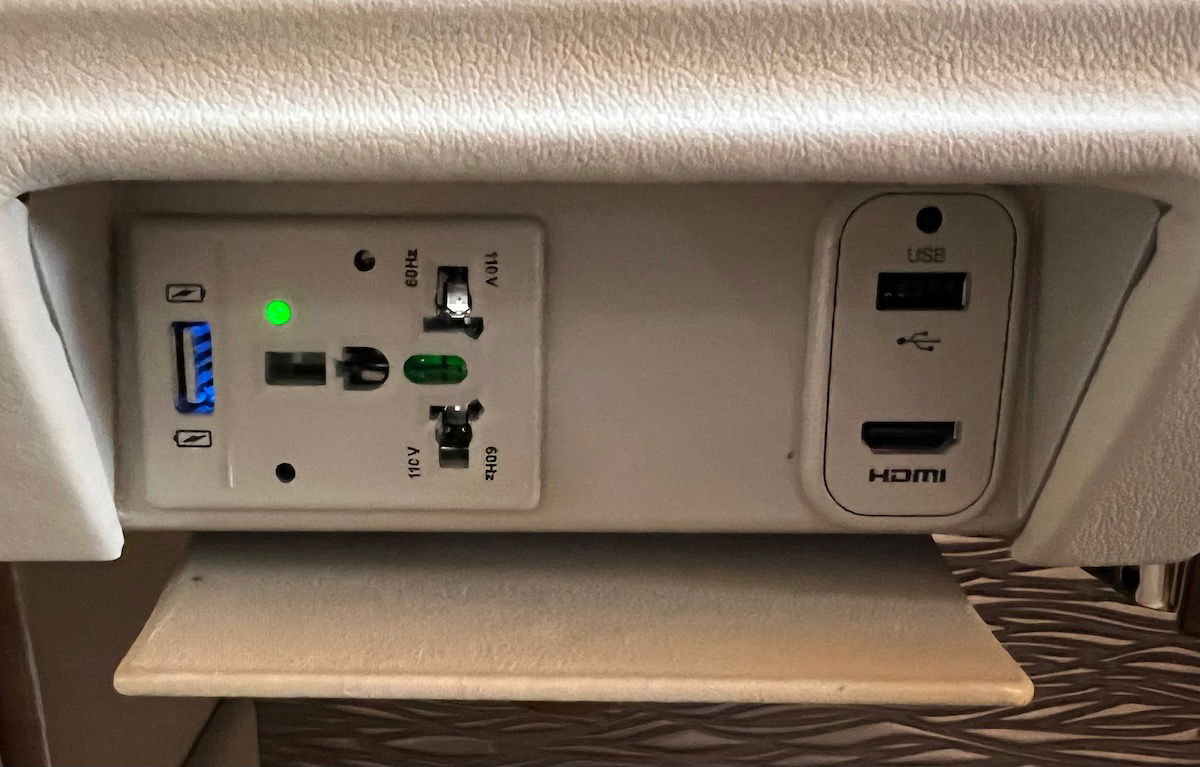 Then to the left of the seat is a large tablet that can be used to control just about everything — you can use this to select your preferred entertainment, to order room service, to control lighting in the suite, etc.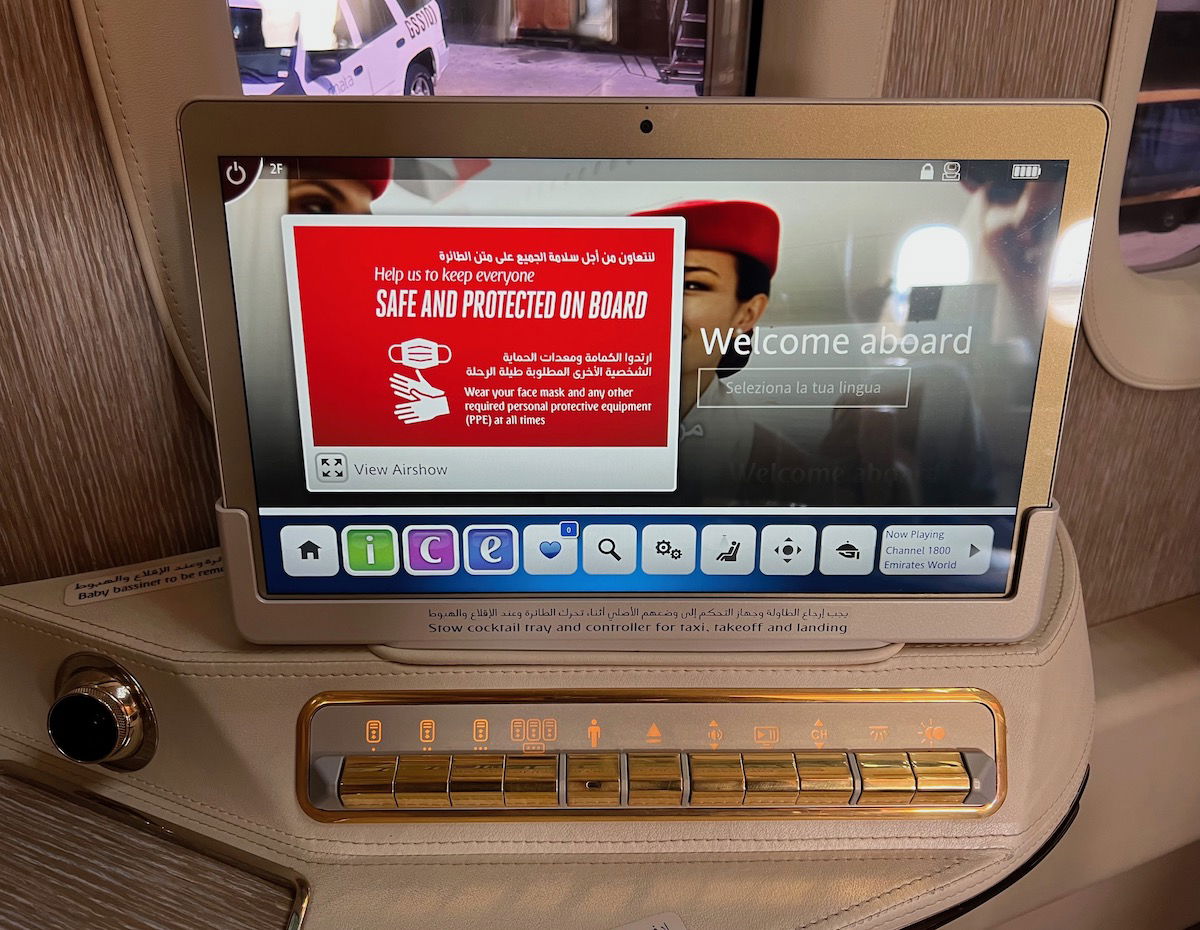 That's right, you can "call room service" from your tablet, including being able to video call the crew to place an order, if you'd like.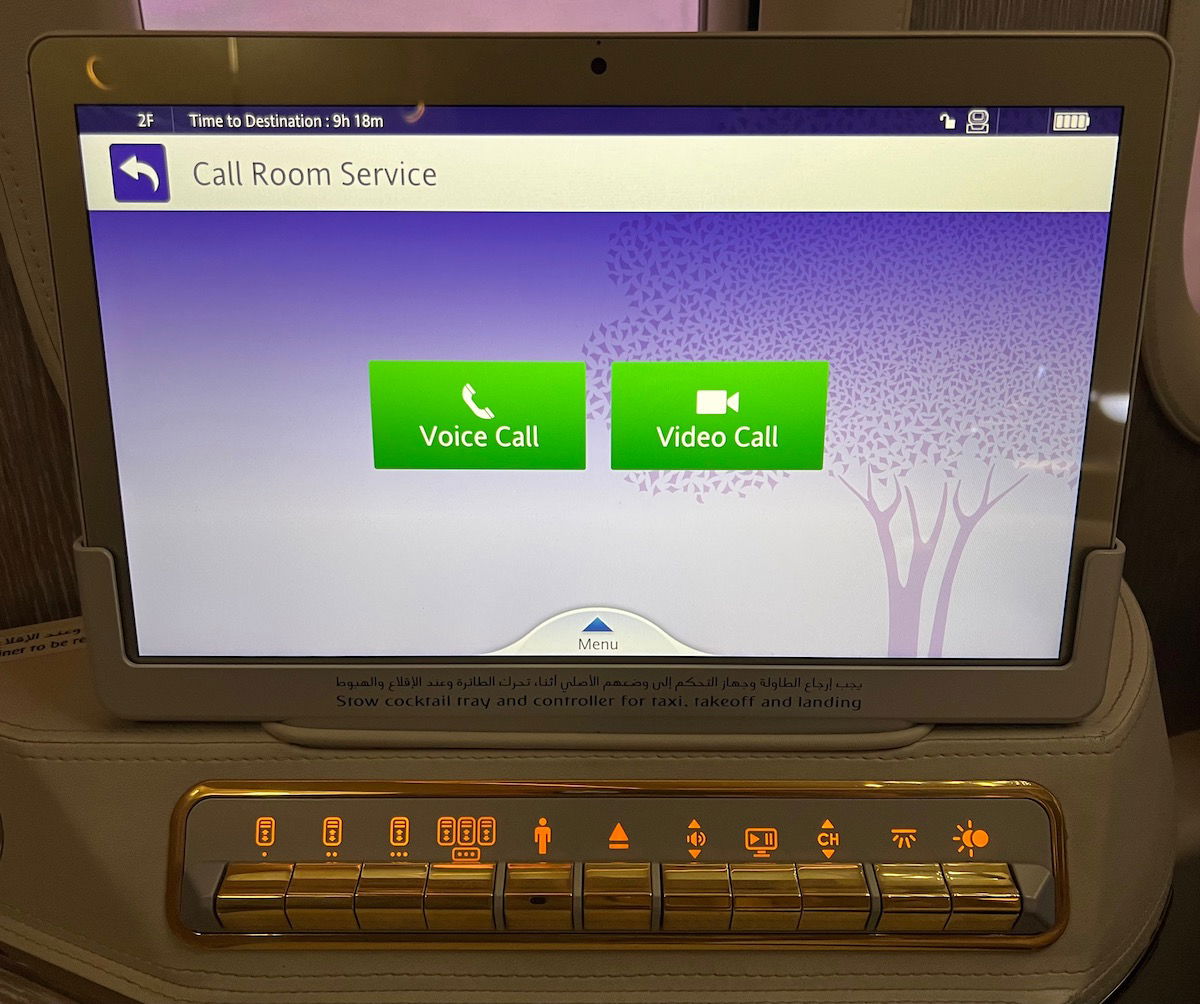 What's also fun about that tablet is that you can track your flight on there while you're watching a movie or TV show on the main screen.
Underneath the table are the seat controls, allowing you to control the window shades, lighting, and more.
Also in the left armrest is another entertainment controller. I'm not sure exactly why this is needed, since the screen itself is touchscreen, and then there's also the tablet. It's not often you a see a triple redundant inflight entertainment feature!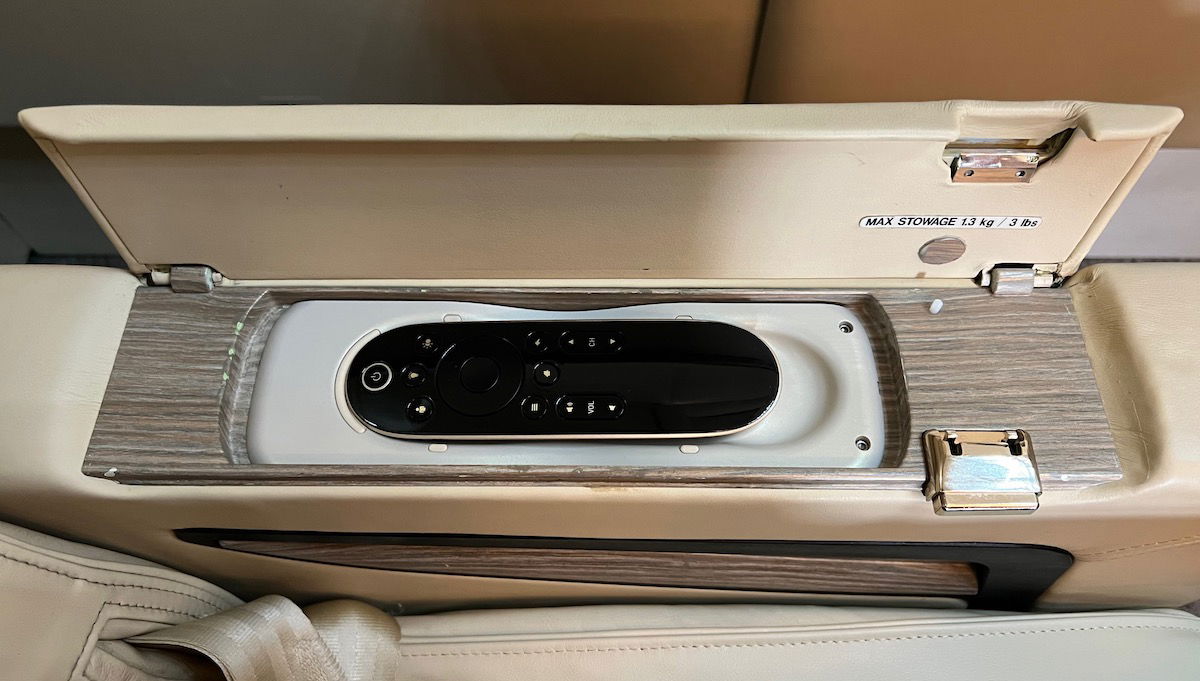 On the right armrest are some basic seat controls, where you can choose from a few seating pre-sets.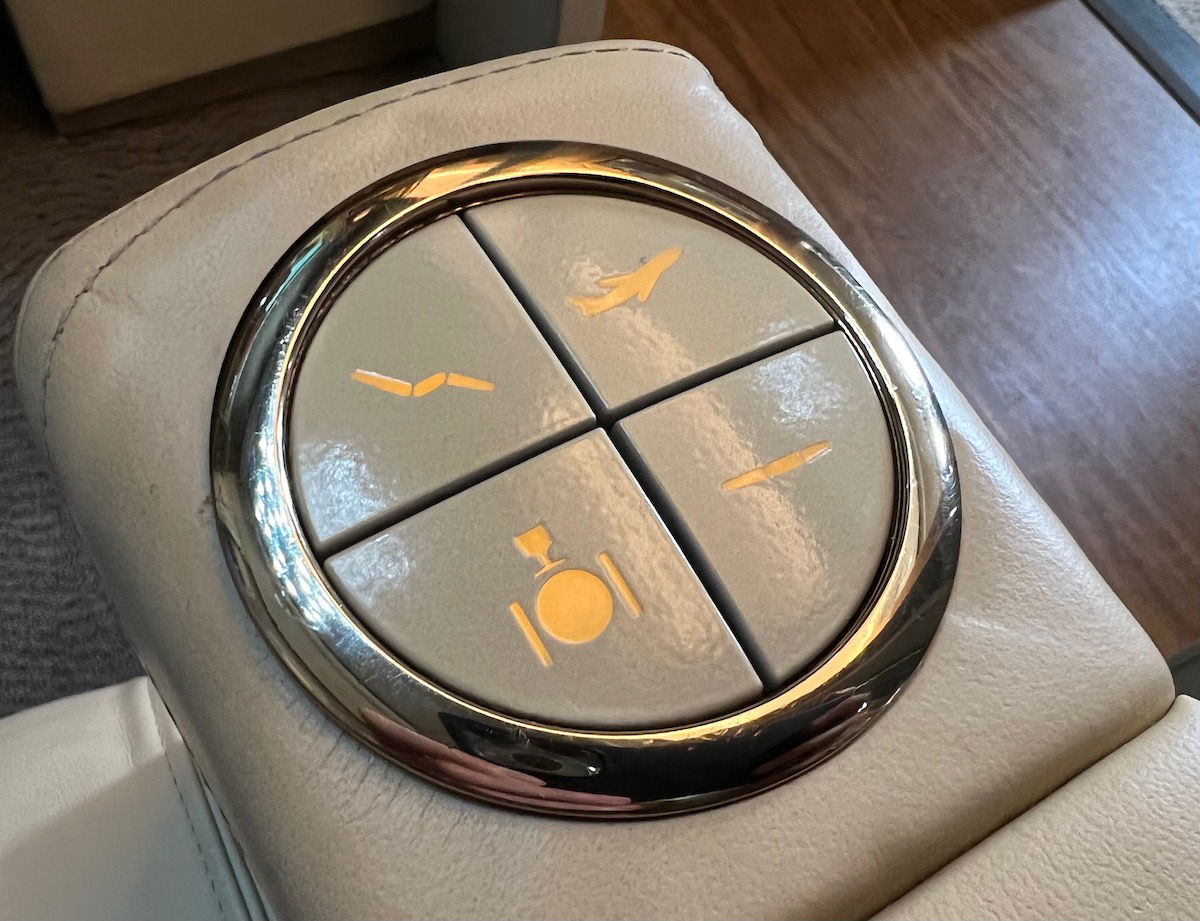 On the right side of the seat is yet another monitor, which controls many of the suite functions. This allows you to control the lighting, the color, and the temperature in the suite. It also allows you to choose the "do not disturb" mode, and to see if the lavatory is occupied.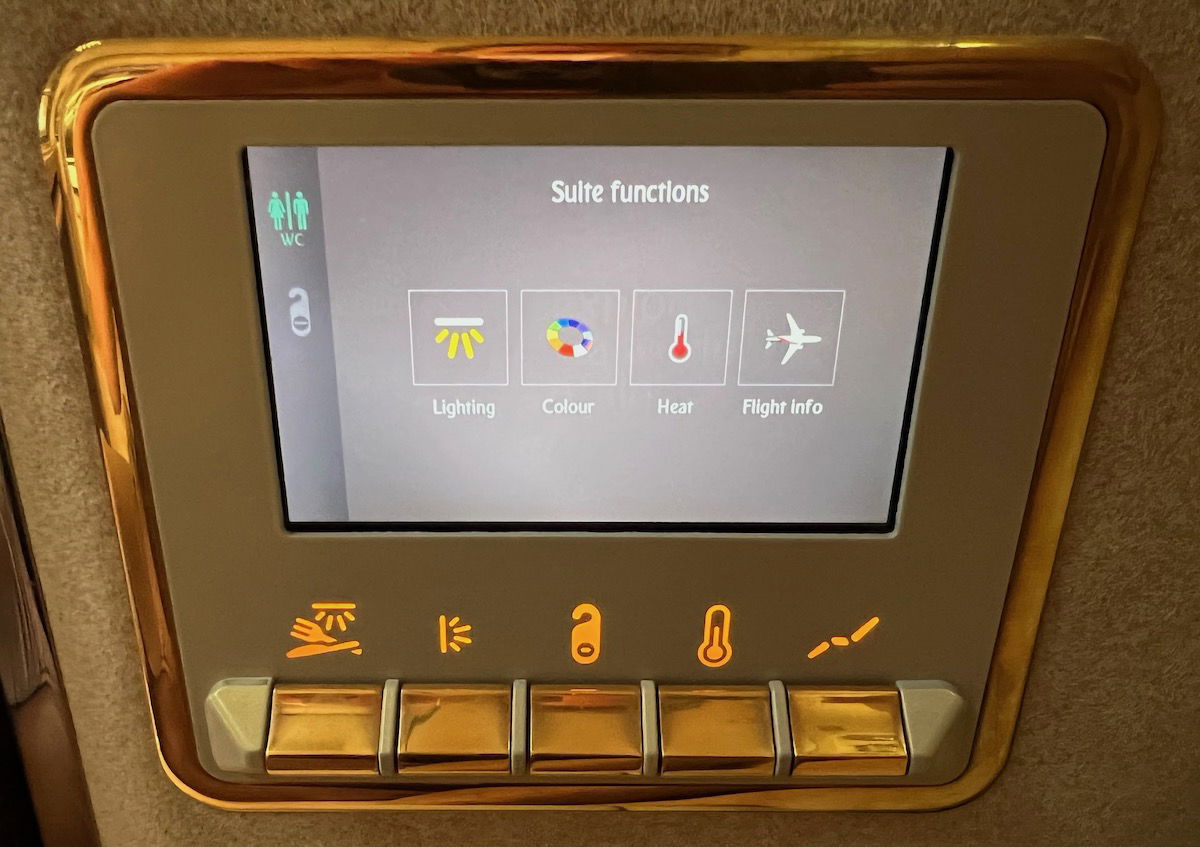 When it comes to the temperature controls, you can't turn on air conditioning, but you can turn the heat up or down. I always just turn it down all the way, and then thanks to the multiple air nozzles in the suite, the temperature and airflow are great.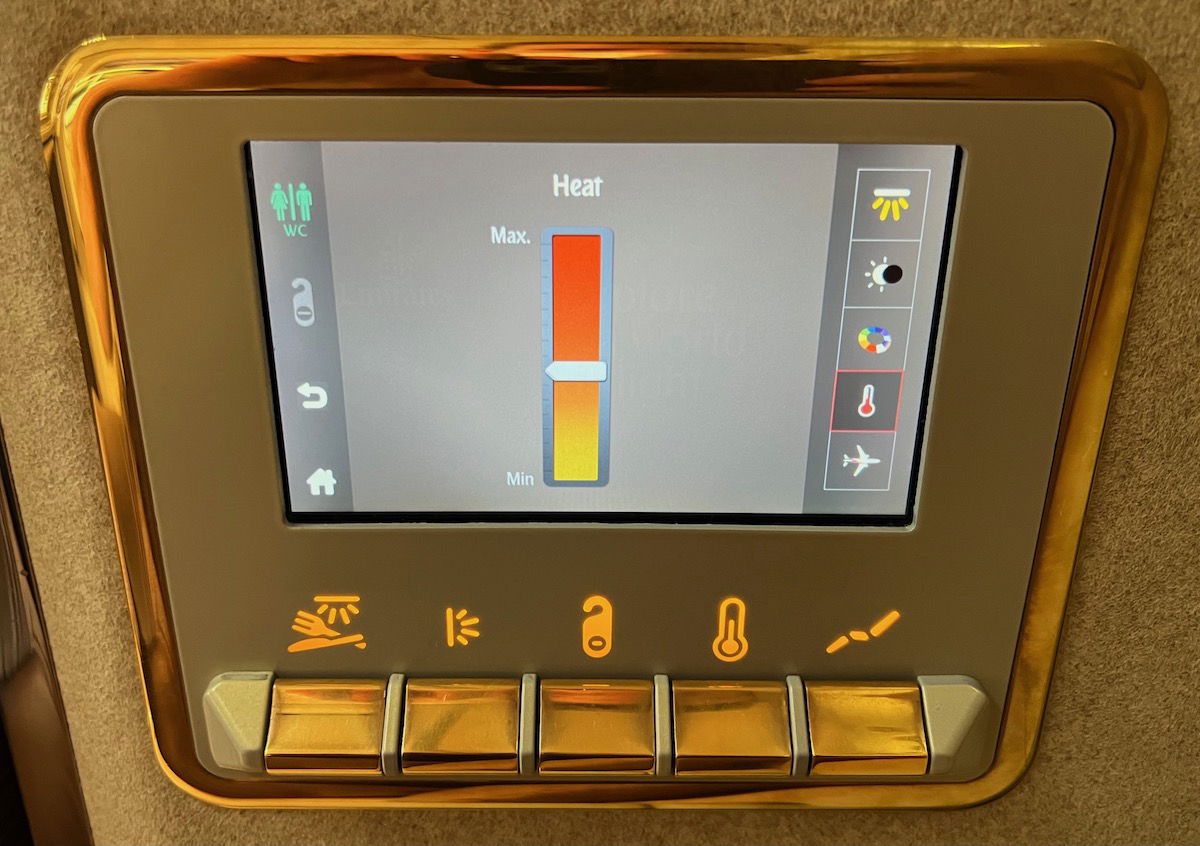 Then you can also choose your own mood lighting, which impacts much of the "trim" lighting.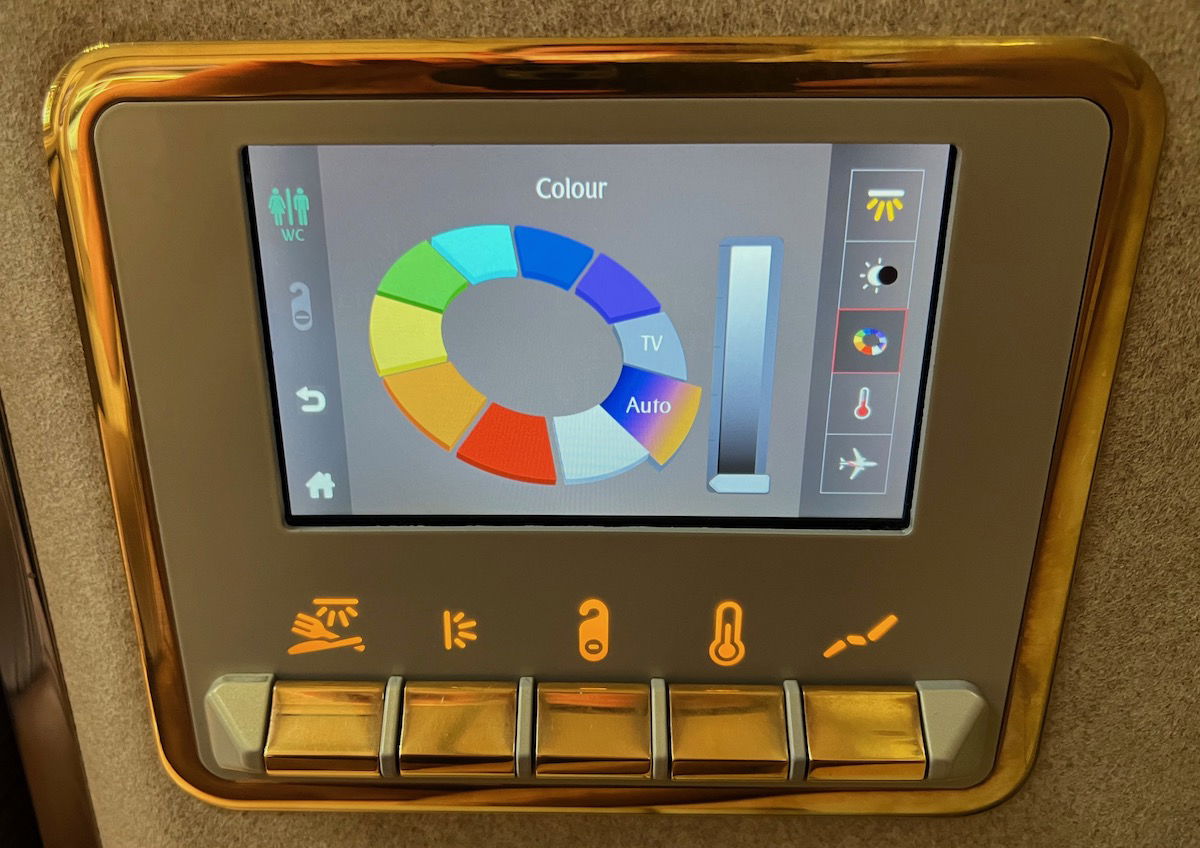 How cool is this?!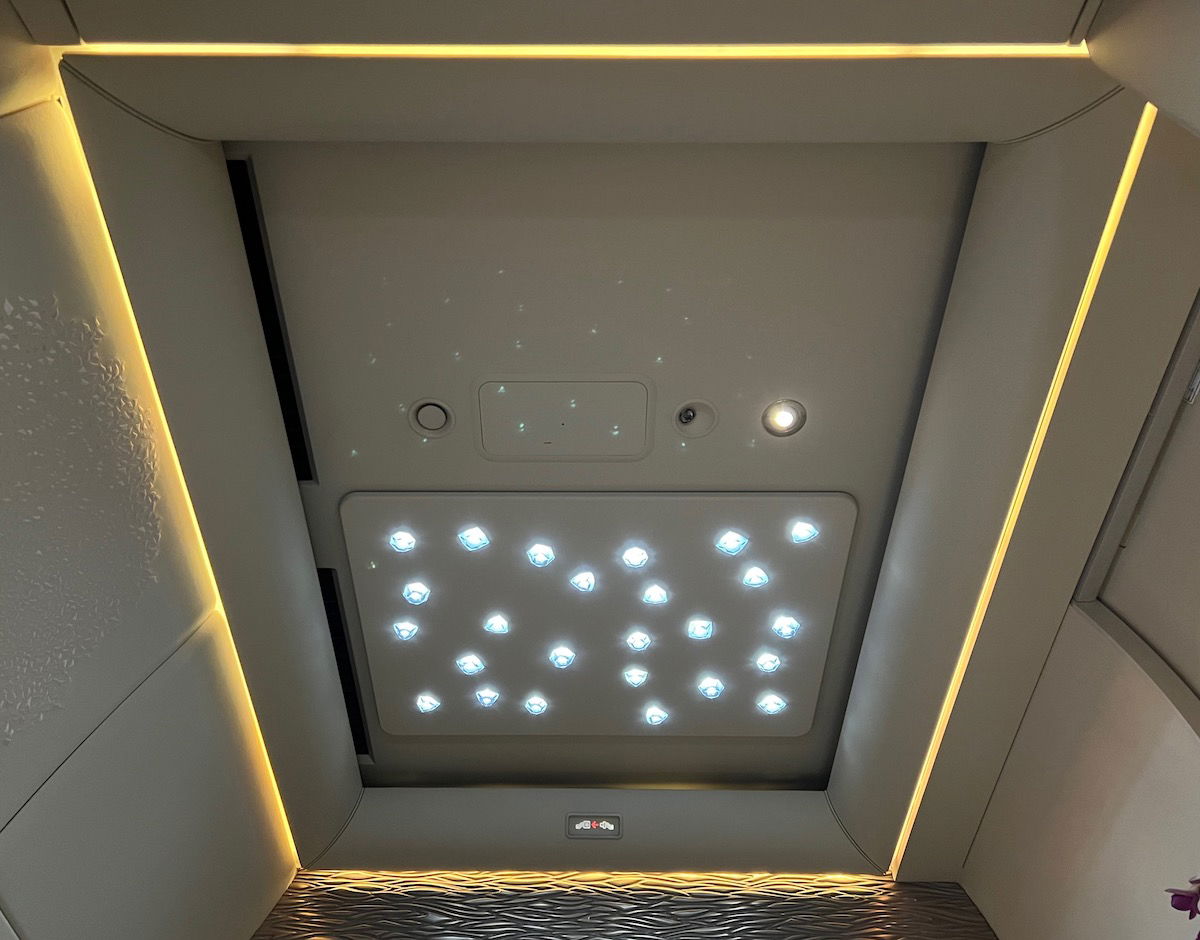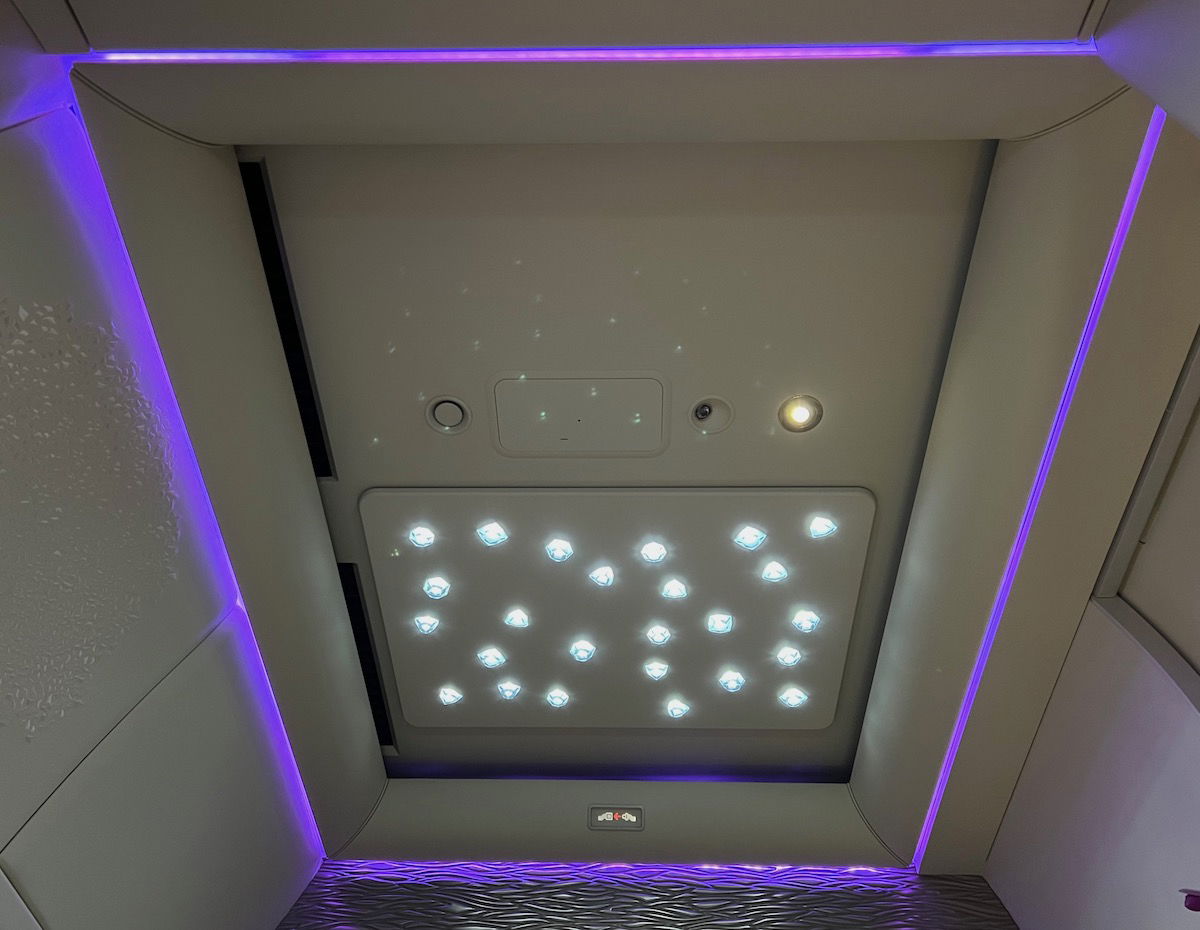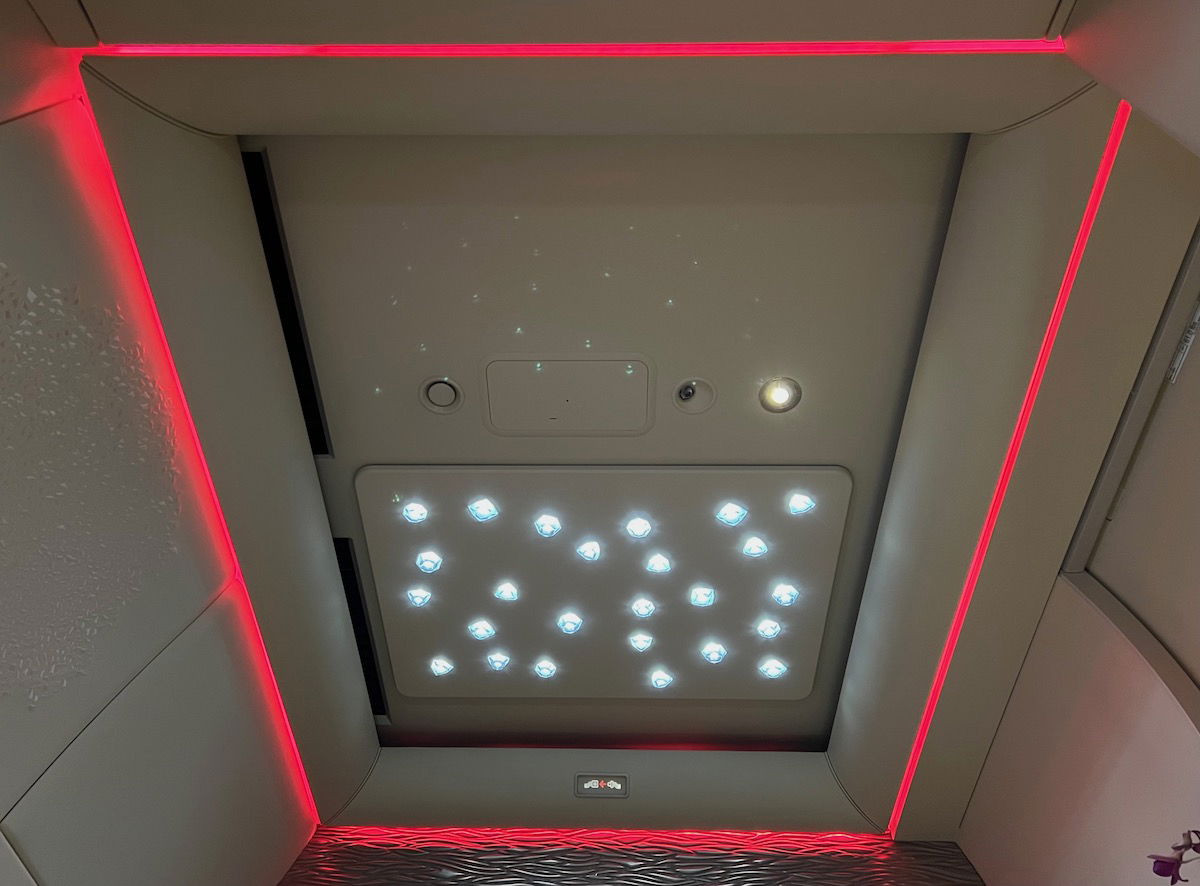 The Emirates first class suite also has a good amount of storage. At the front right of the seat is a huge compartment that can fit a standard size carry-on bag.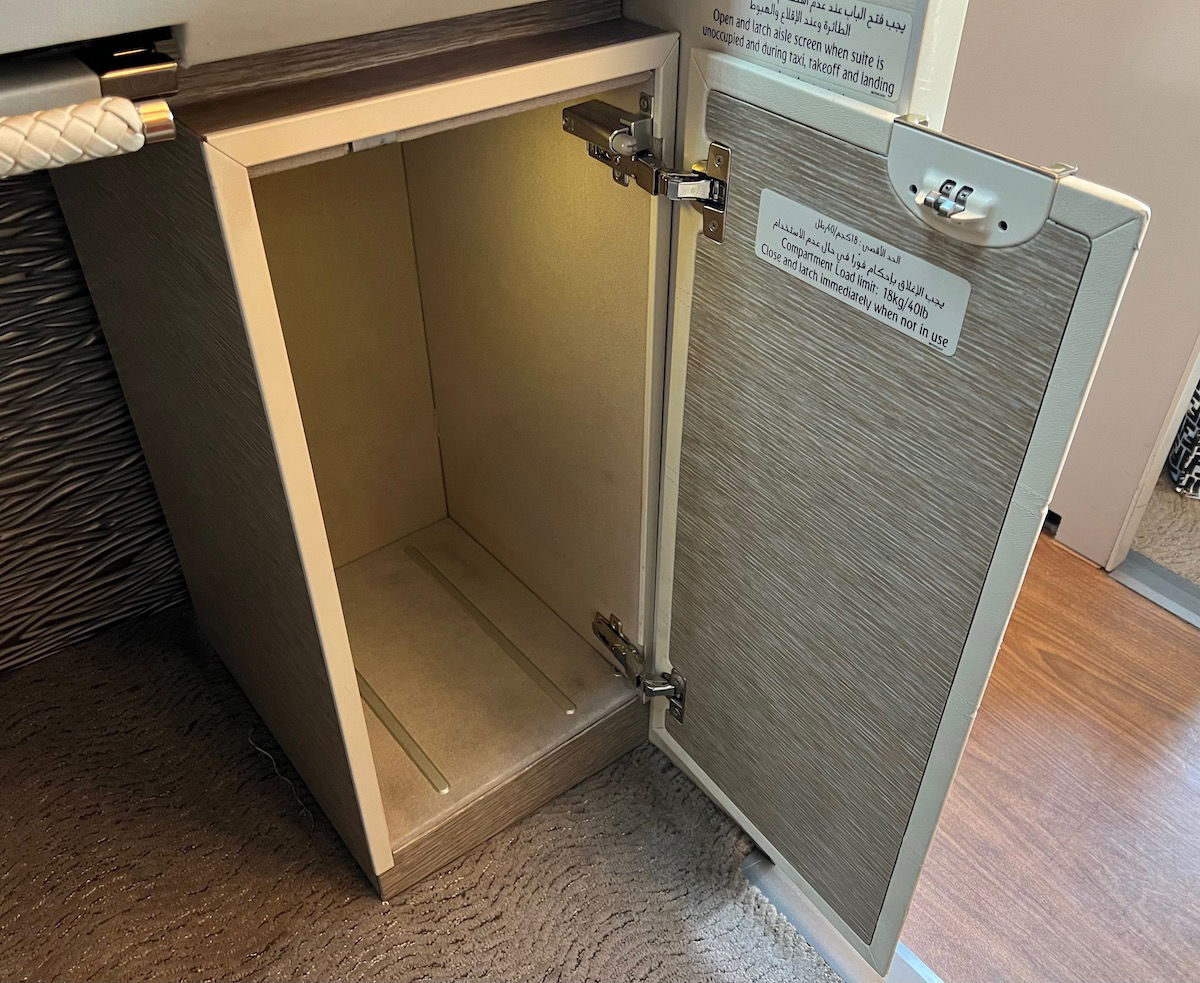 Then in the back right of the seat is a closet, where you could hang clothes, or store smaller bags.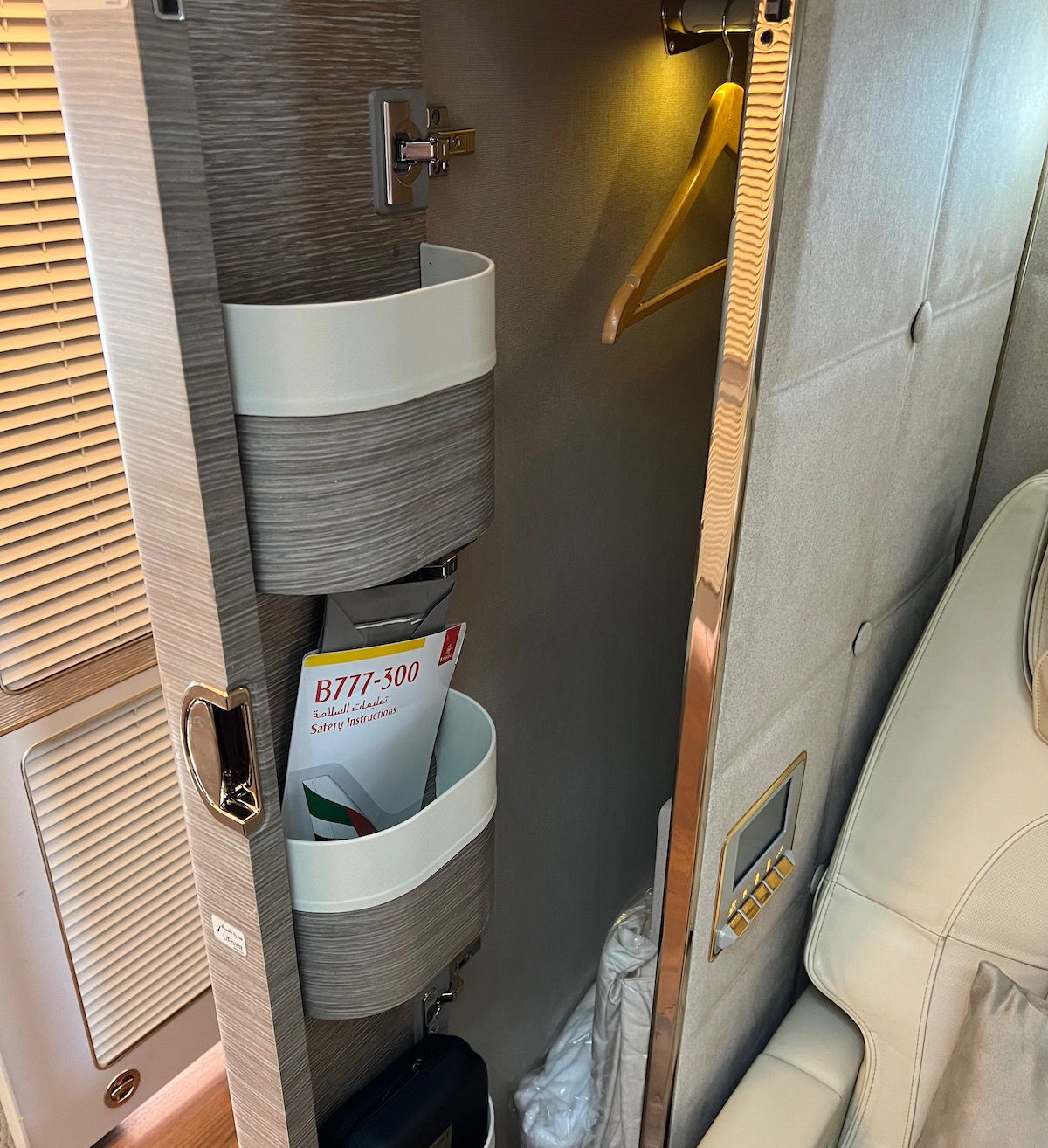 I'll talk more about the virtual windows in a bit, but you've gotta love how there are even "curtains" in front of the virtual windows.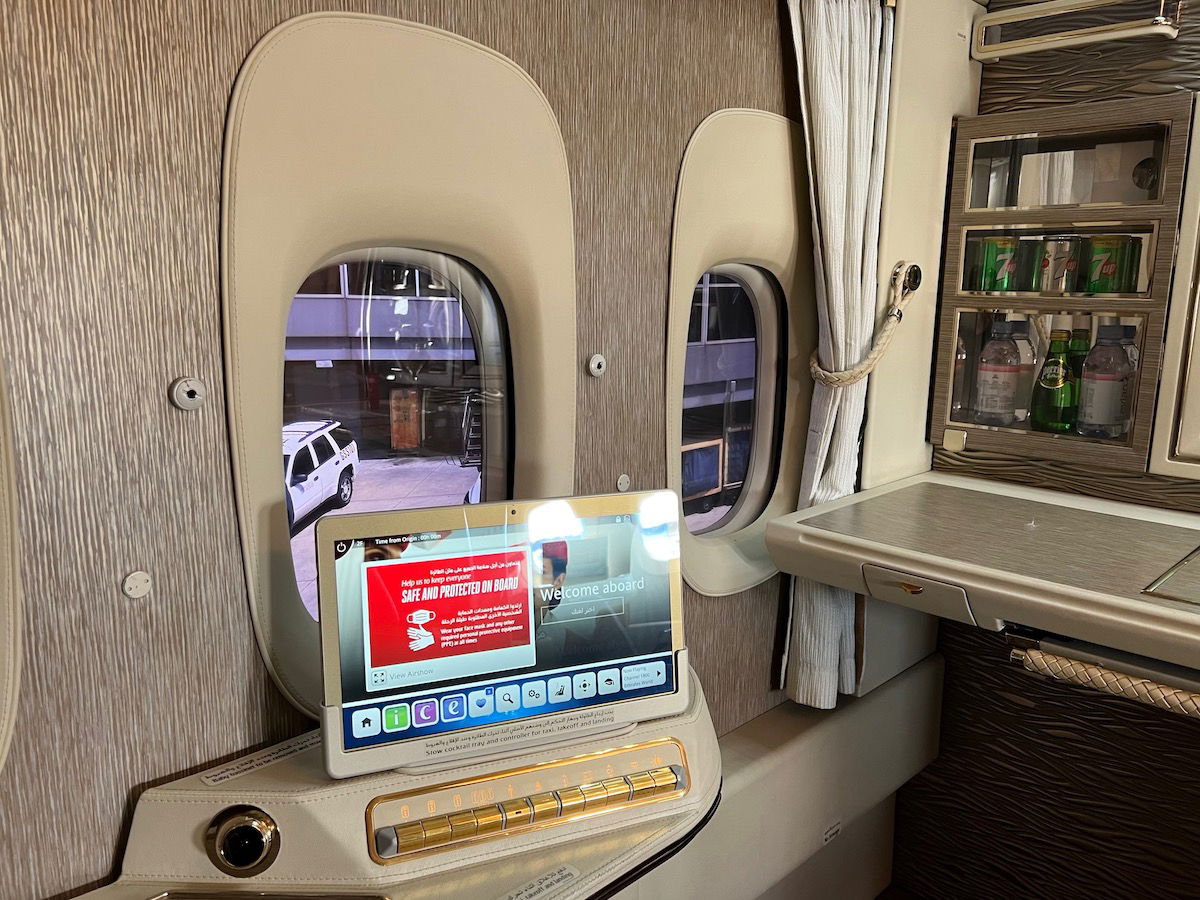 I'd note that in addition to the standard sliding door, there's also an opening at the front of the seat that can be opened or closed. In theory the crew could serve food & drinks through that opening, for those passengers who want privacy (typically for religious reasons).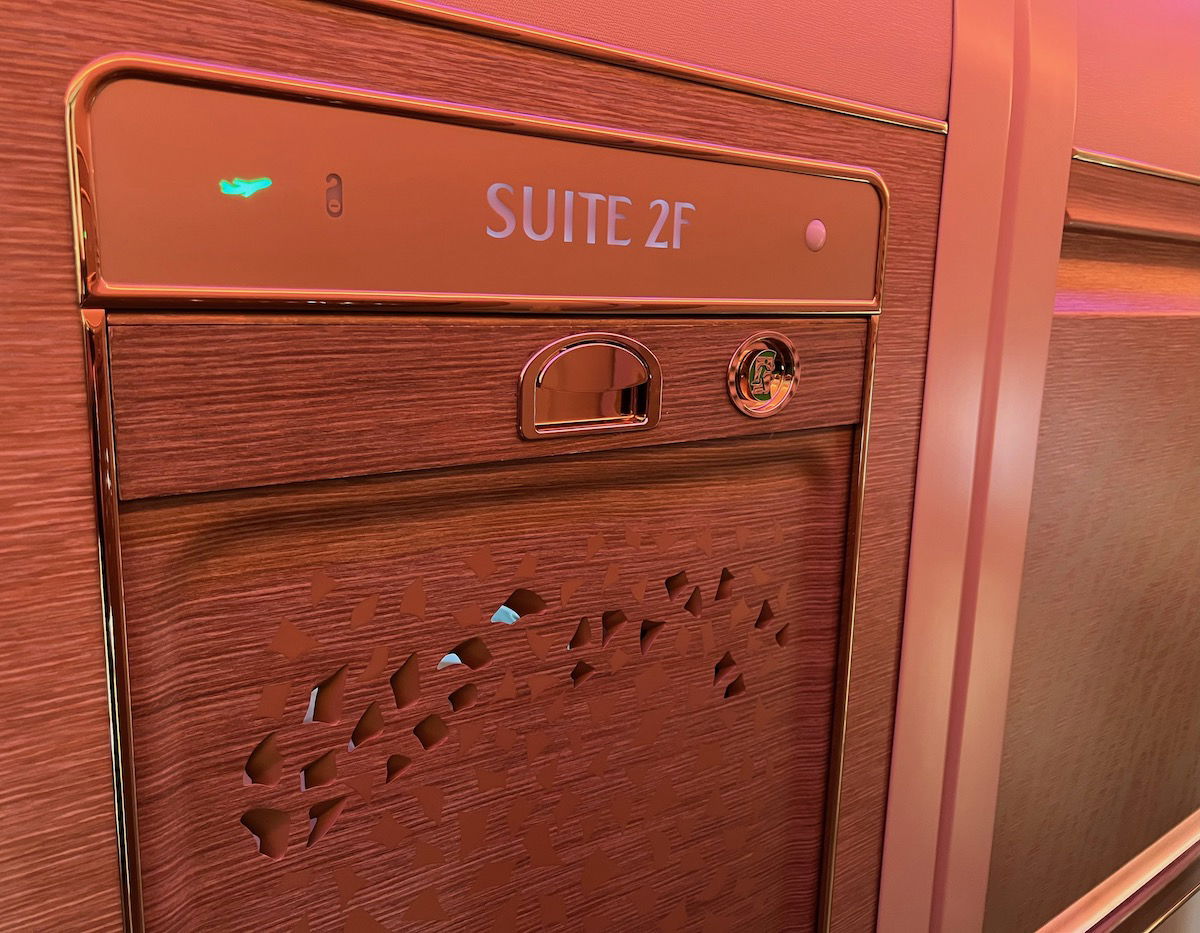 Emirates' new first class is simply spectacular. I find this to be the single best first class product in the world, as the space is just so well utilized.
I should mention that admittedly this product isn't ideal if you're traveling with someone, since you can't really sit or dine together. Ford and I were seated across from one another, and with our doors both opening we could definitely talk, though we had to raise our voices a bit.
Emirates new 777 first class bathrooms
One major downside of the 777 compared to the A380 is the bathroom situation (and this is of course very much a "first world problem"). While Emirates' A380s have shower suites, the 777 just has two first class bathrooms that are pretty standard. One is a fairly decent size.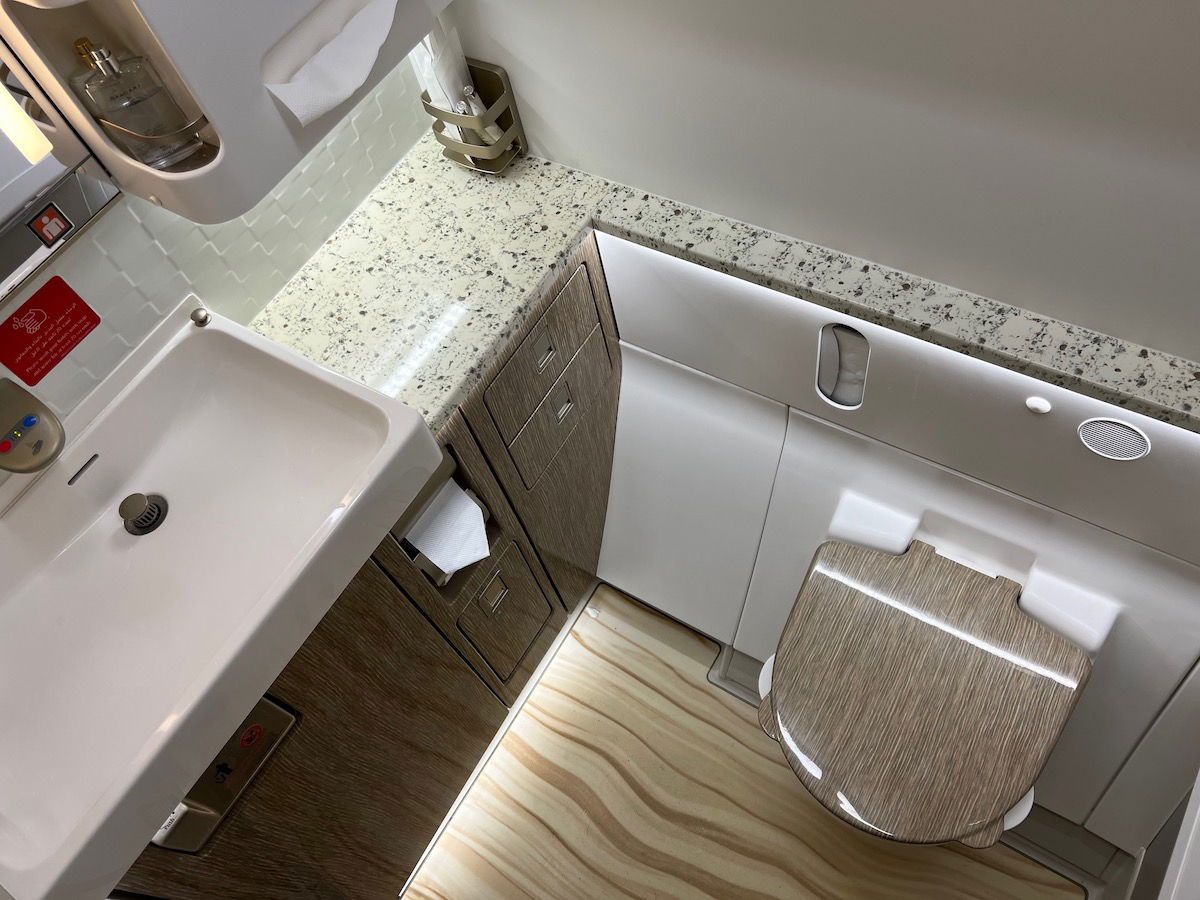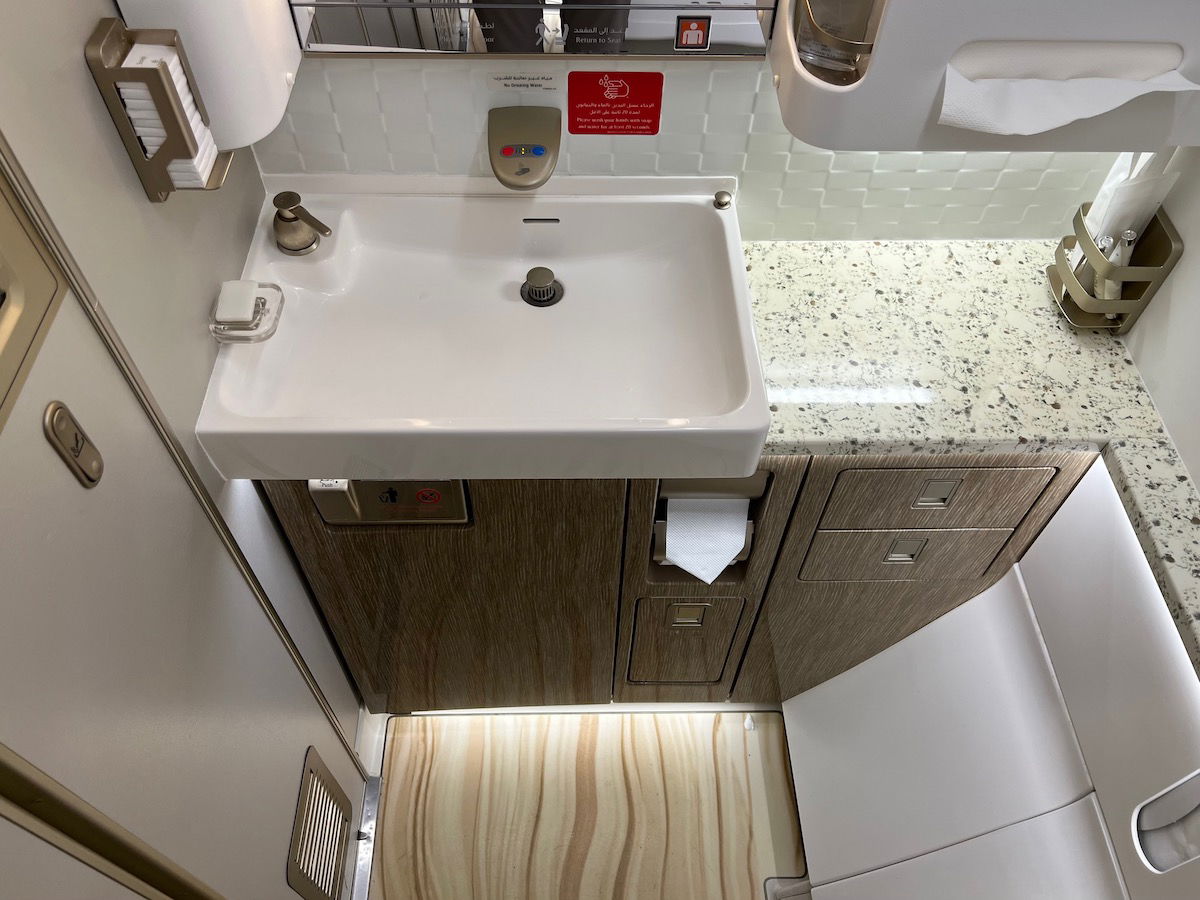 It's kind of funny to me how there are single-use soap bars, especially when there's also liquid soap.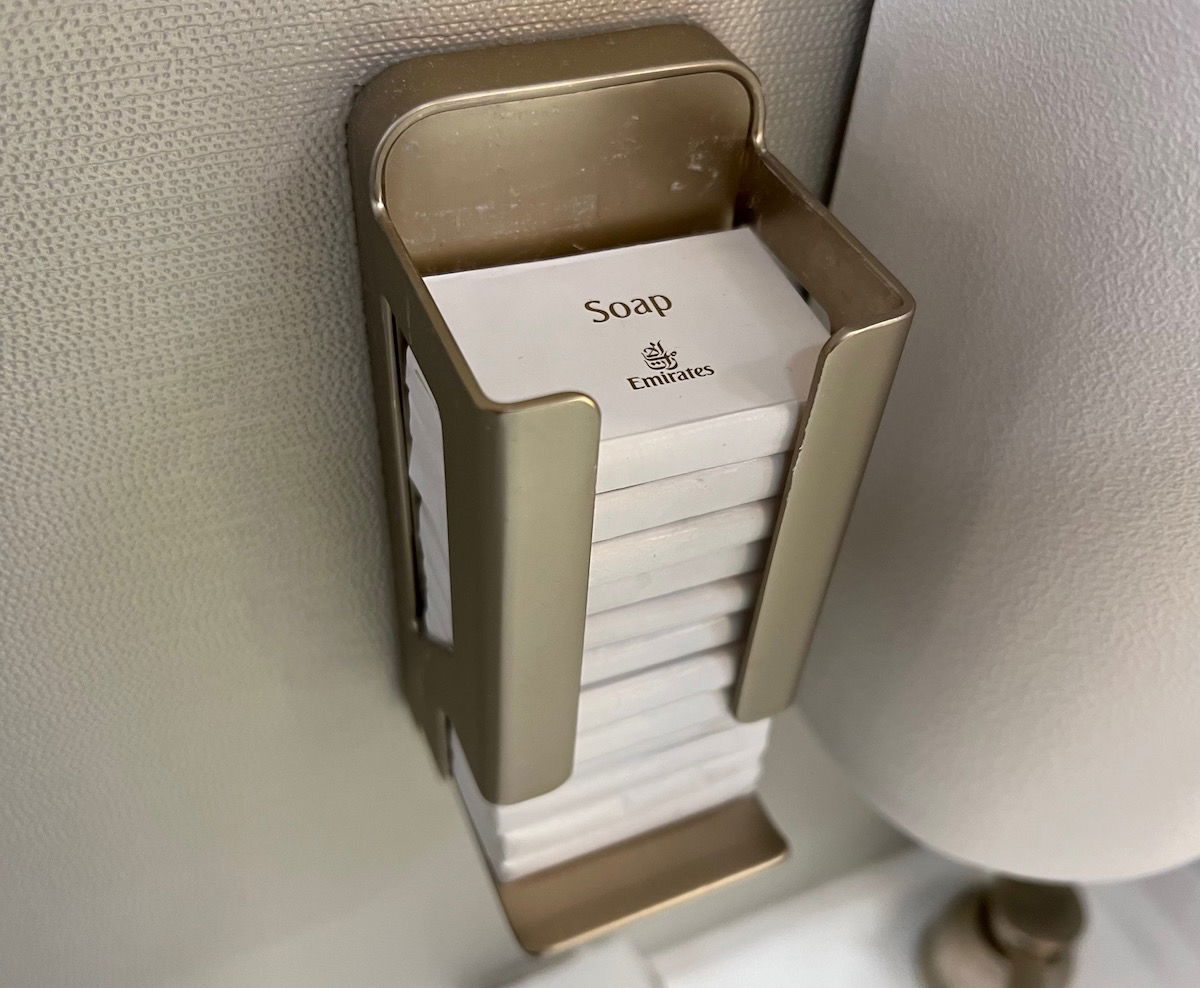 There are also some BVLGARI fragrances.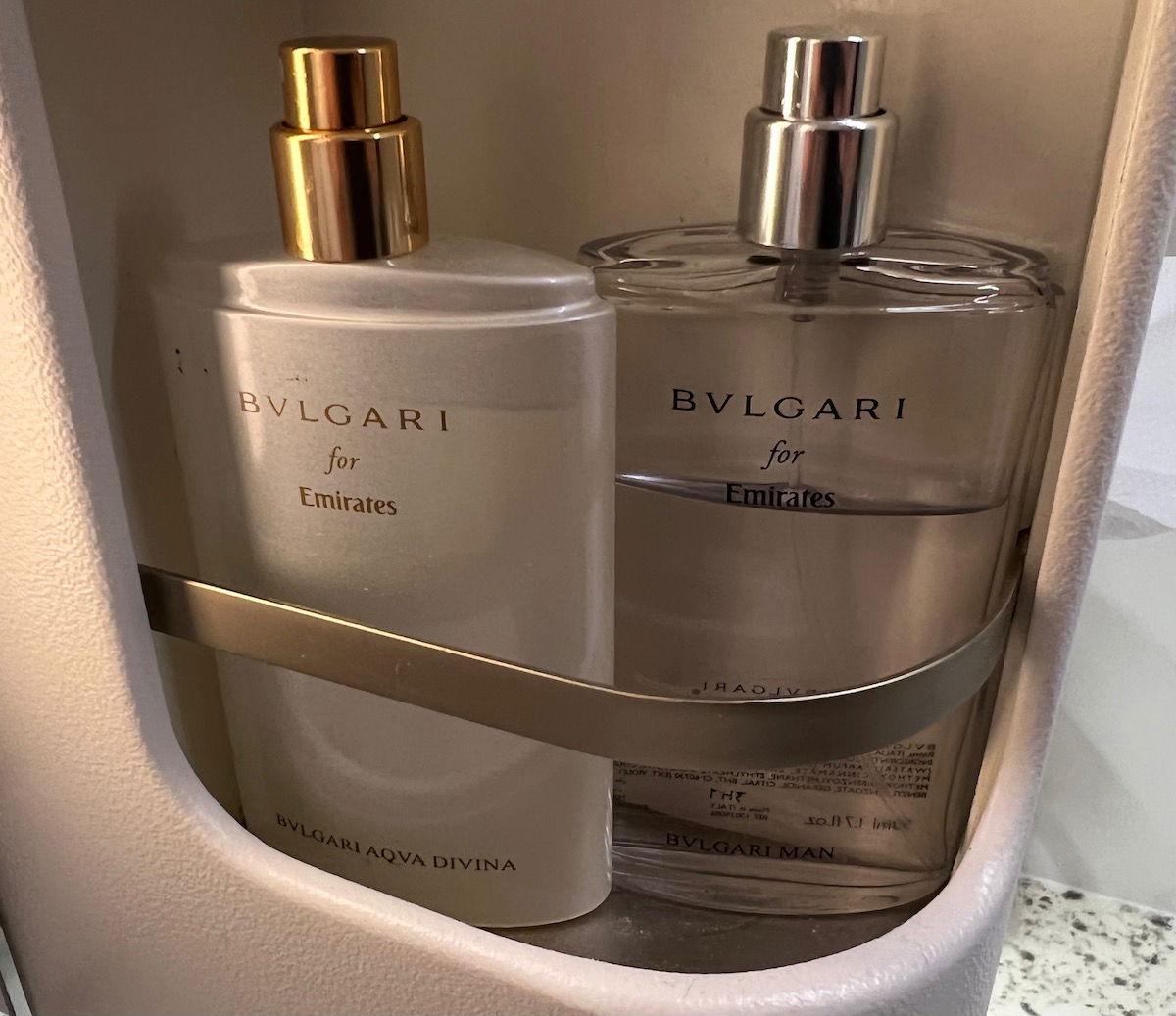 The other bathroom is a bit smaller, and it's the bathroom that crews are generally supposed to use.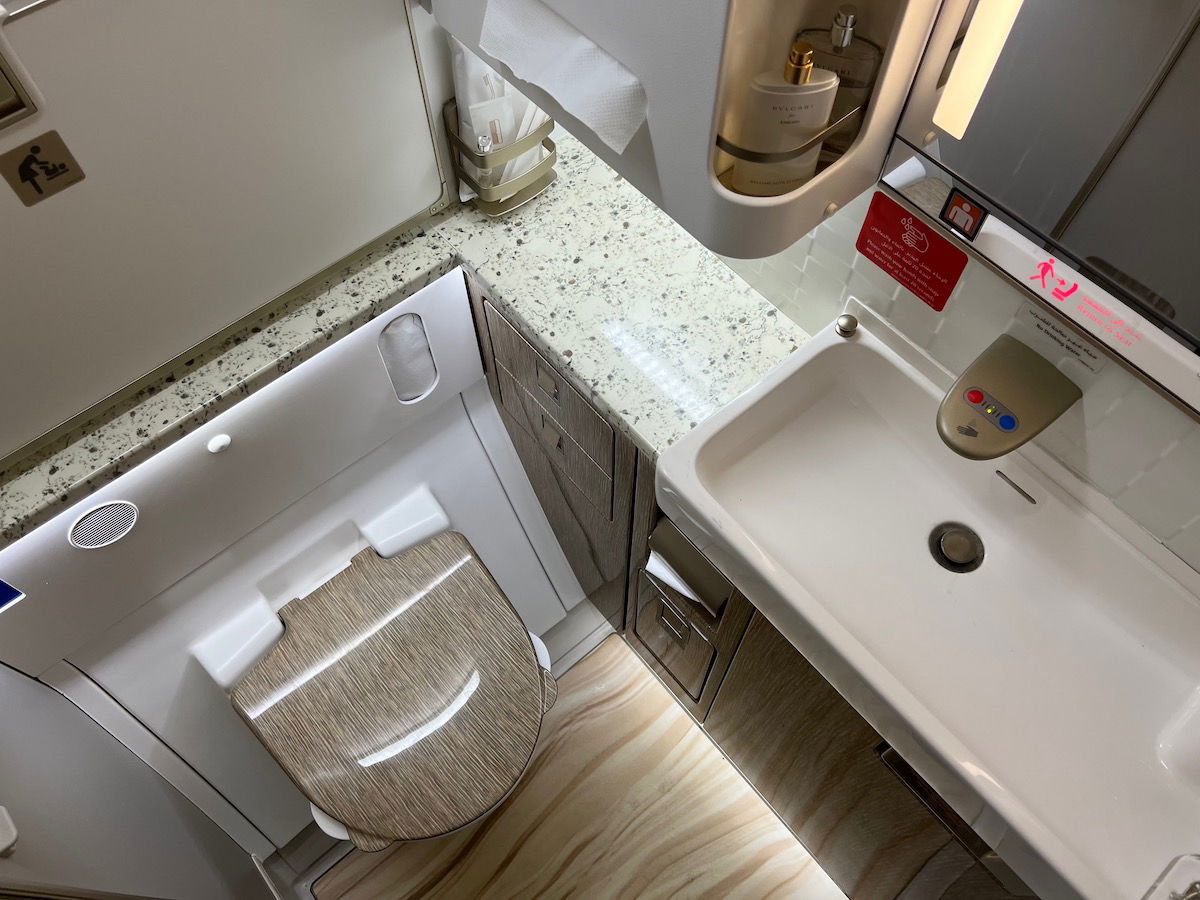 Emirates first class amenities
After settling in and getting our duty free sales pitch, we were offered pre-departure drinks. While Emirates serves Dom Perignon in first class, this is only available after takeoff when departing the United States, since Emirates doesn't want to pay the taxes for serving it on the ground. So Veuve Clicquot is instead served on the ground. I had one glass, though wanted to pace myself. There was also a face mask and some hand sanitizer at each seat.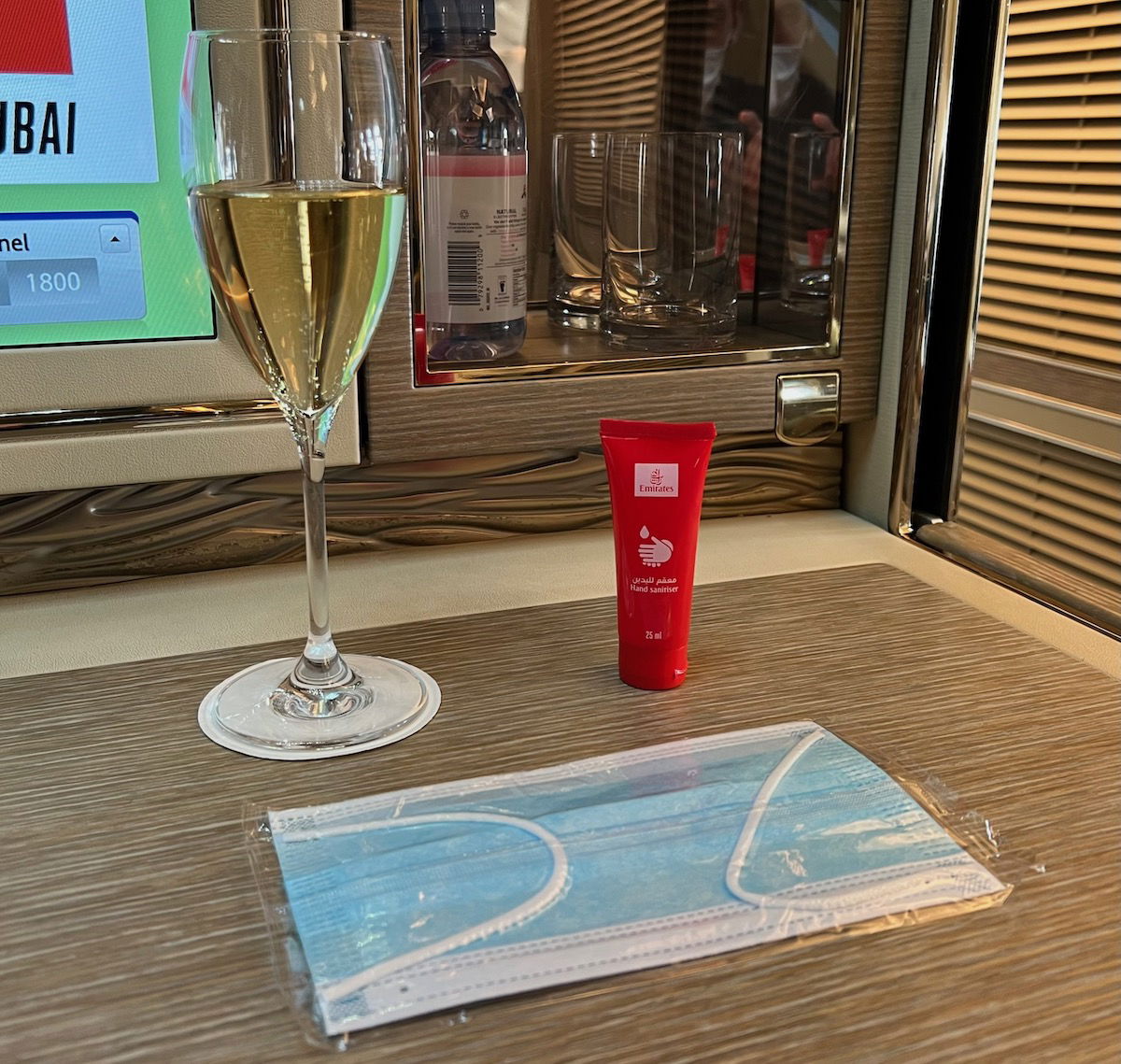 We were then offered the standard Emirates first class amenities. This includes Emirates' (allegedly) moisturizing pajamas, slippers, and eyeshades.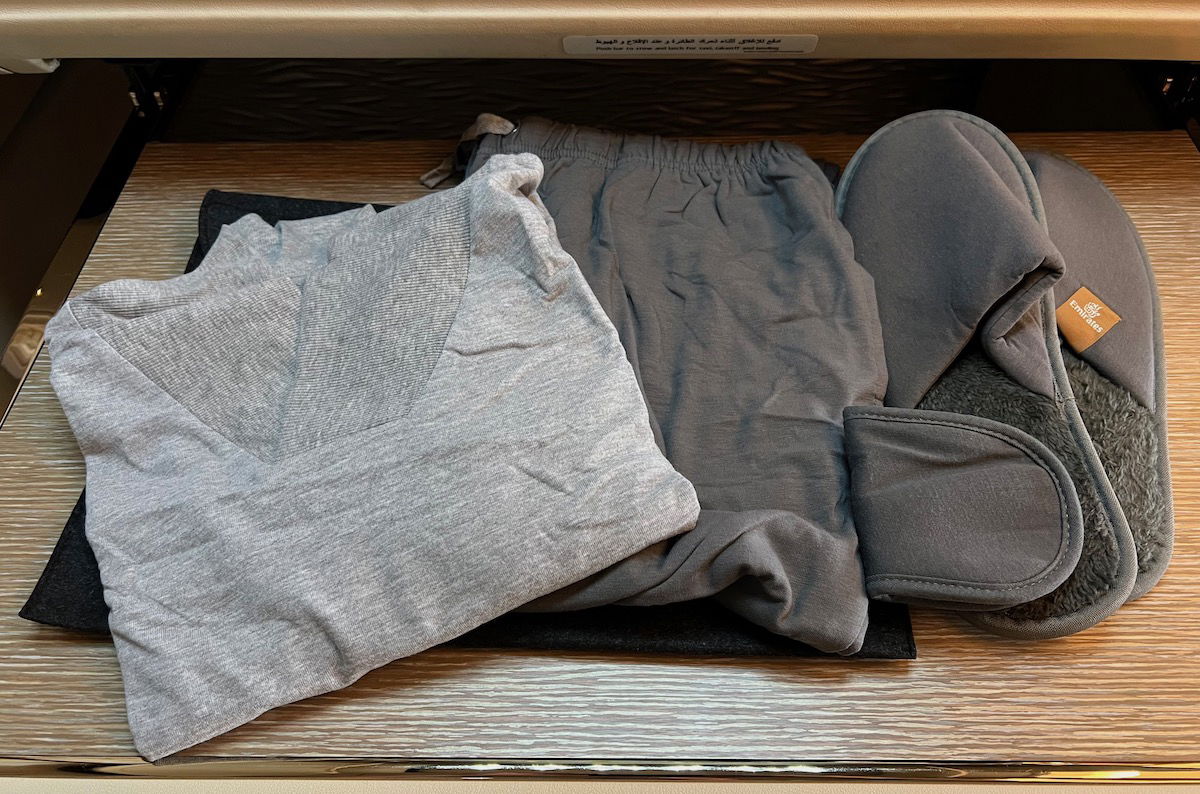 Then there was the BVLGARI amenity kit, which was very well stocked, and had everything from a shaving kit, to a dental kit, to a comb, to several kinds of lotion.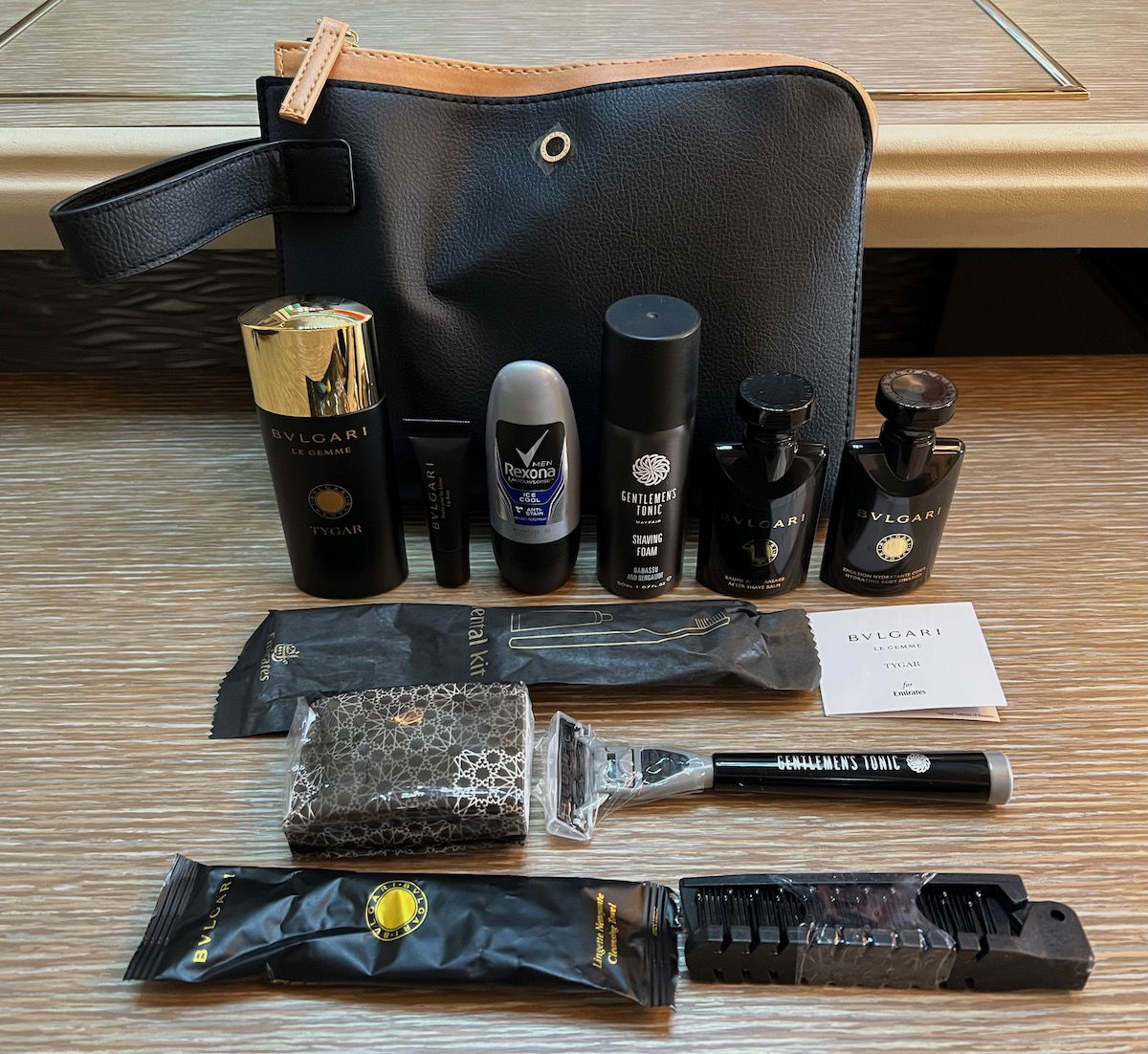 Also waiting in our suite upon boarding were noise canceling Bowers & Wilkins headphones.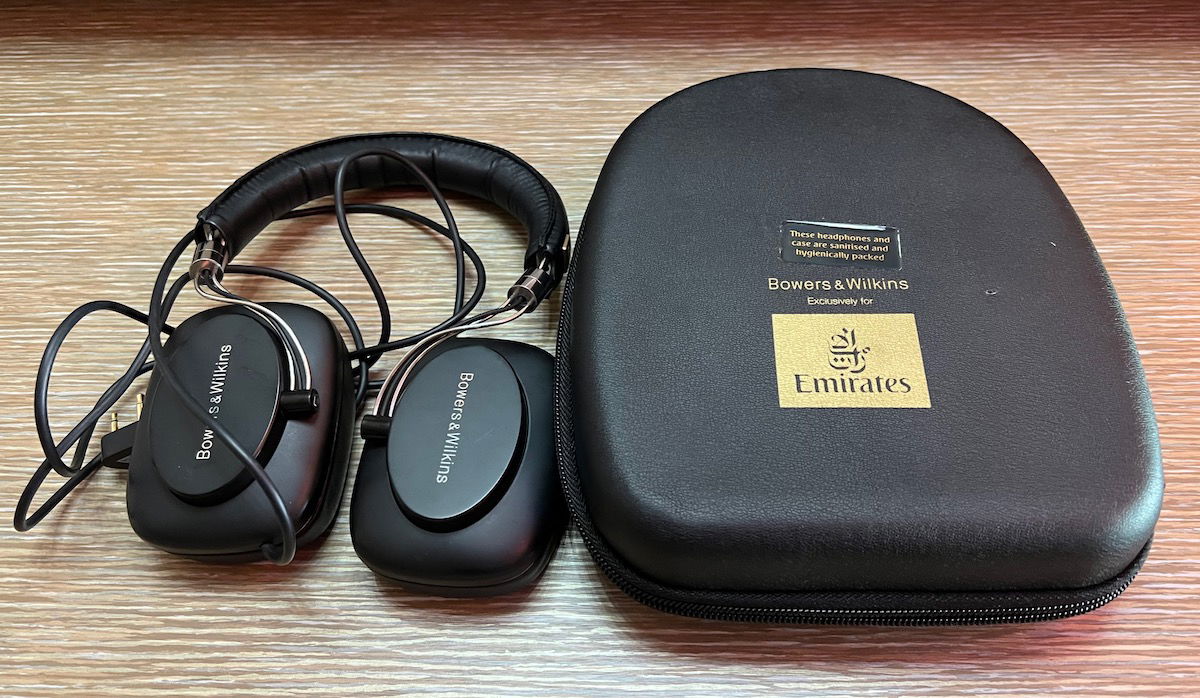 Toward the end of boarding we were offered Arabic coffee, dates, and warm towels. For dates, there was the choice between plain, almond, or orange.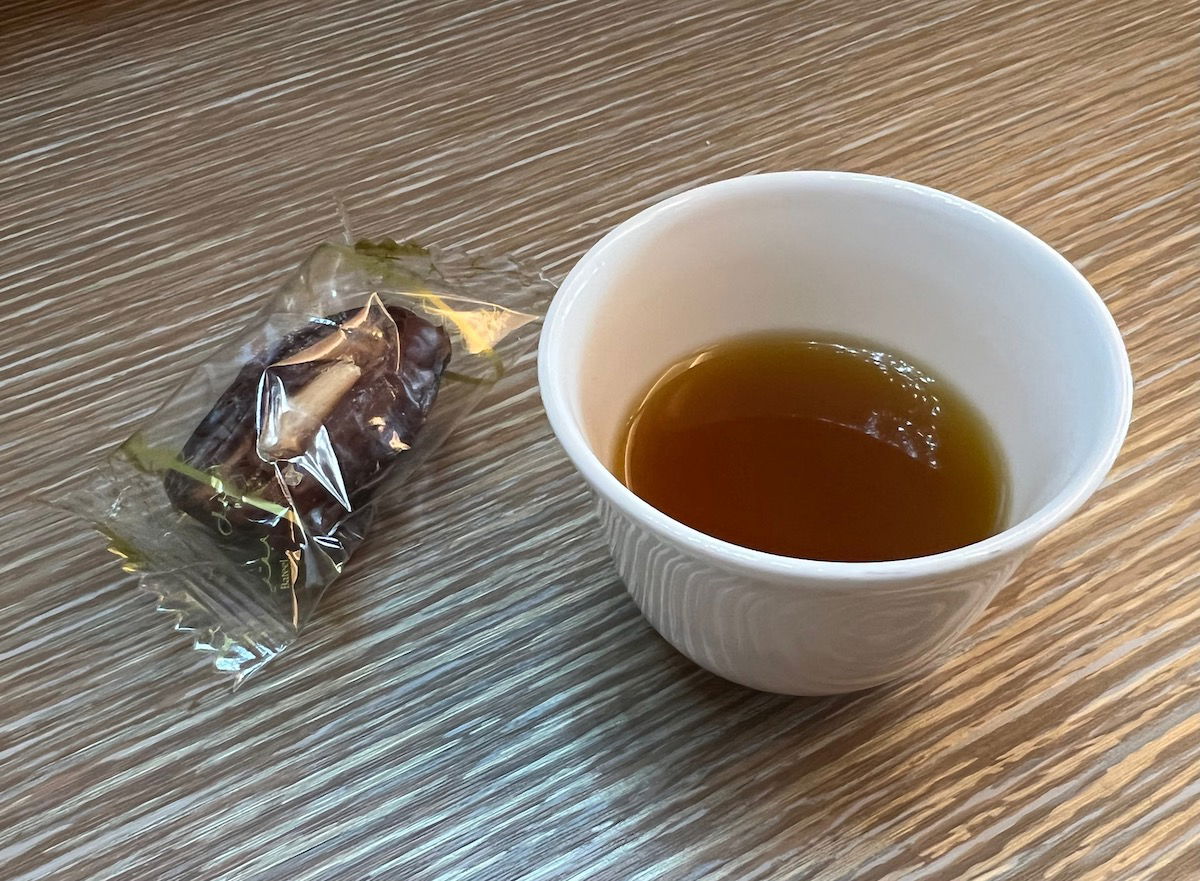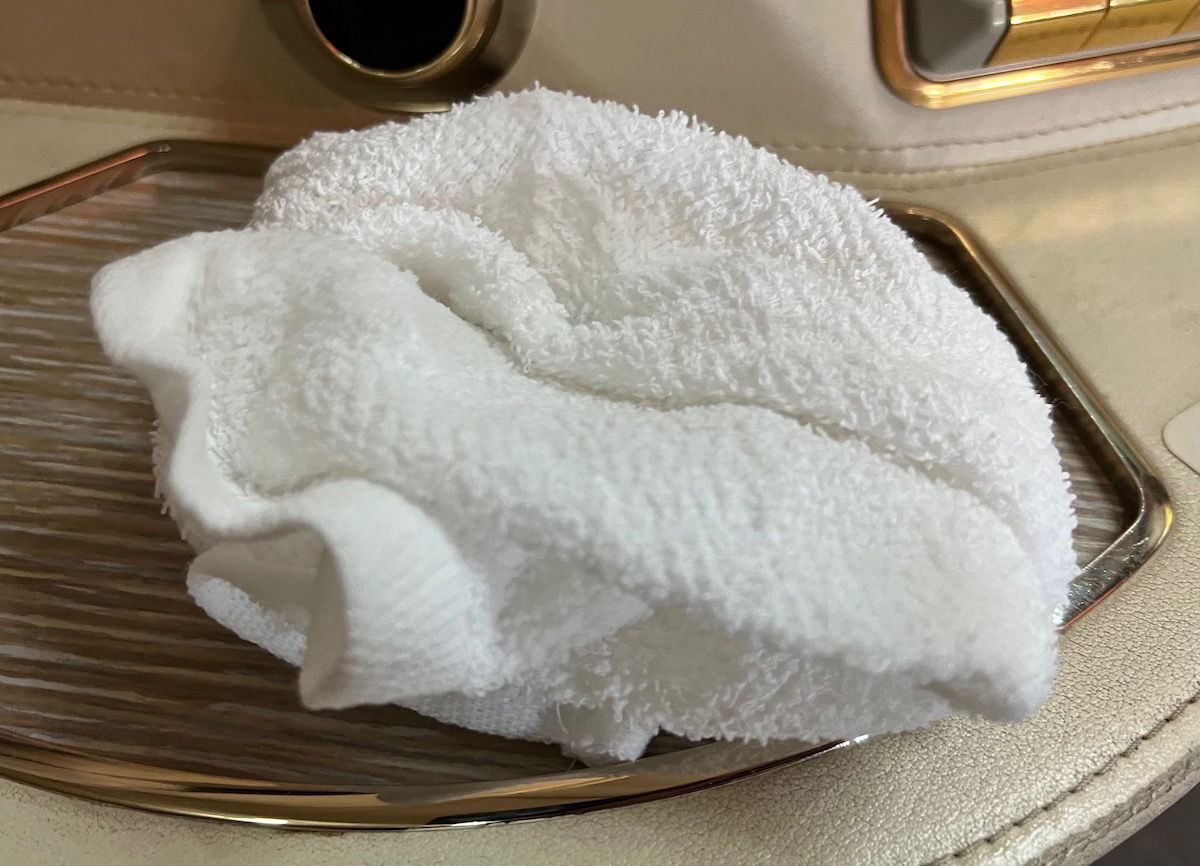 Emirates departure from Washington Dulles
At 11:15AM boarding was complete, and we were thrilled that we had the first class cabin all to ourselves (even though the flight was full in business class and mostly full in economy class).
At this point the captain made his welcome aboard announcement. It was an international crew up front, as the pilots were from South Africa, Greece, Canada, and Moldova. One of the captains informed us of our flight time of 12hr30min, and our cruising altitude of 35,000 feet. He apologized for our late departure, but said they'd try to make up some time enroute.
We started our pushback at 11:20AM, at which point the safety video was screened. This was my first time sitting in a middle seat in Emirates' new first class, and therefore was my first time really experiencing Emirates' virtual windows.
Emirates' two center first class suites on the new 777s have virtual windows (in row one they're on the right, in row two they're on the left), and they're so darn cool. Thanks to cameras on the side of the plane, the windows show exactly what you'd see if you were seated in a window seat.
It's unbelievable how realistic they are, and I actually preferred these to real windows:
It can be hard to take pictures out of real window seats due to glare, while that's not an issue with these seats
When it's time to sleep, you can make the cabin truly dark, with zero light seeping through
There's the general novelty of, I don't know, looking at FAKE WINDOWS ON A REAL AIRPLANE!
My eyes were glued to the windows even more than they'd usually be, which is saying something.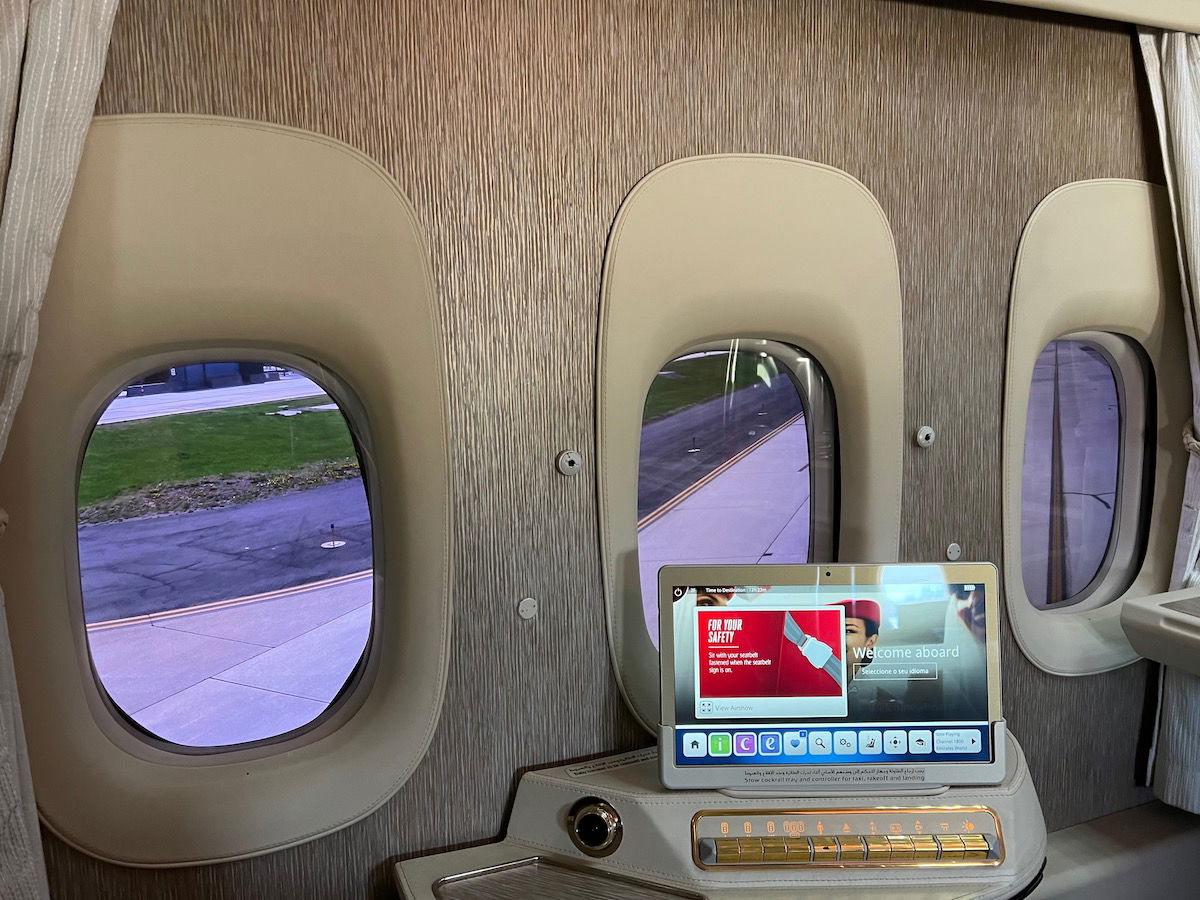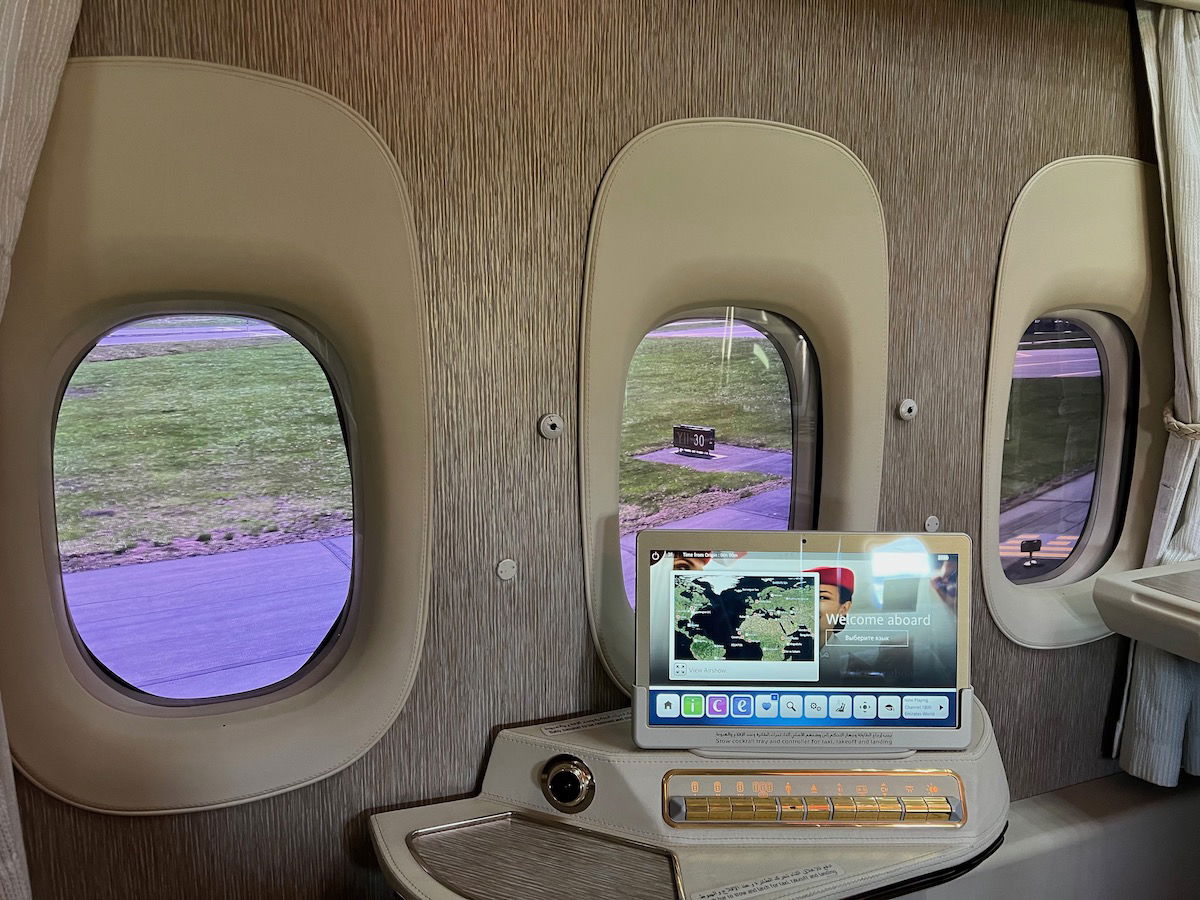 By 11:35AM we were cleared for takeoff from runway 30. We had a long takeoff roll (not as long as on that Dubai to Washington flight… too soon?), and a gradual climb out.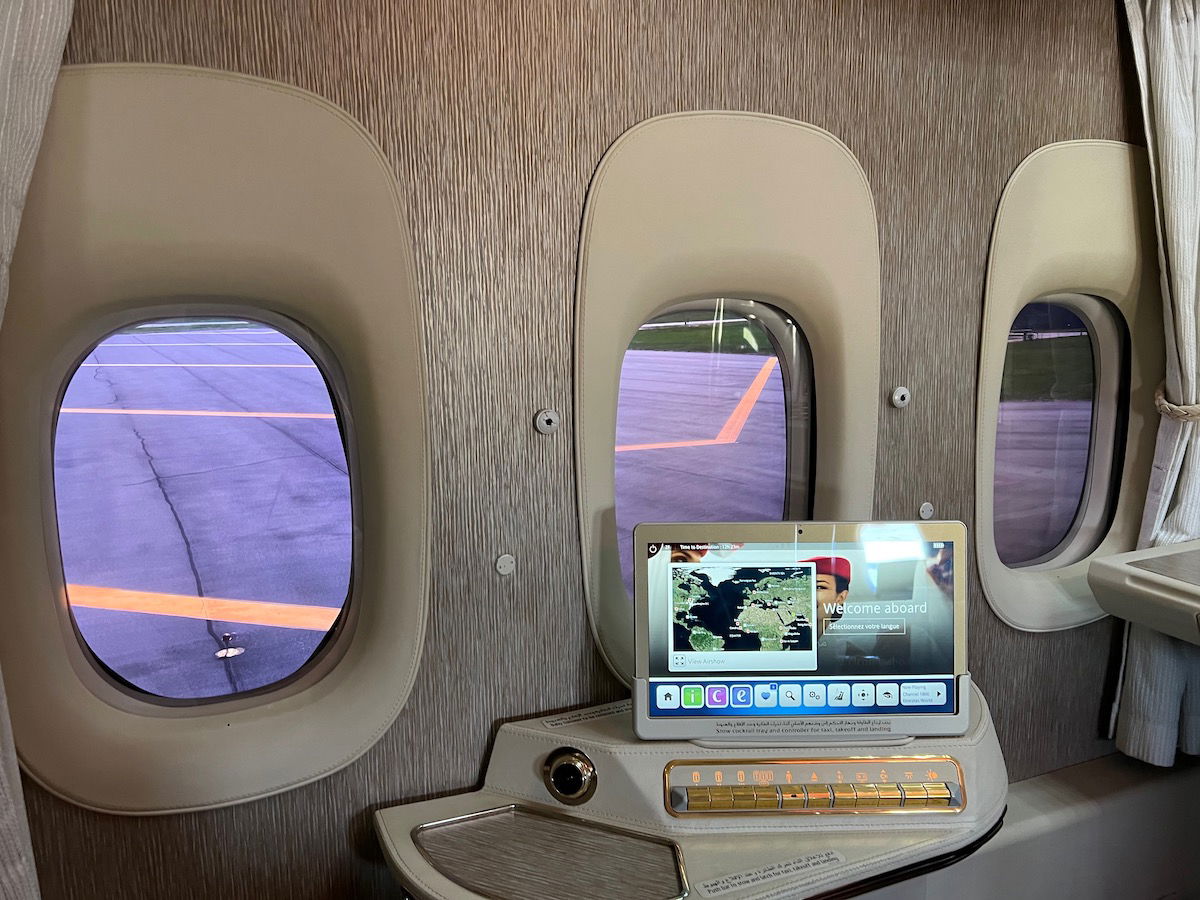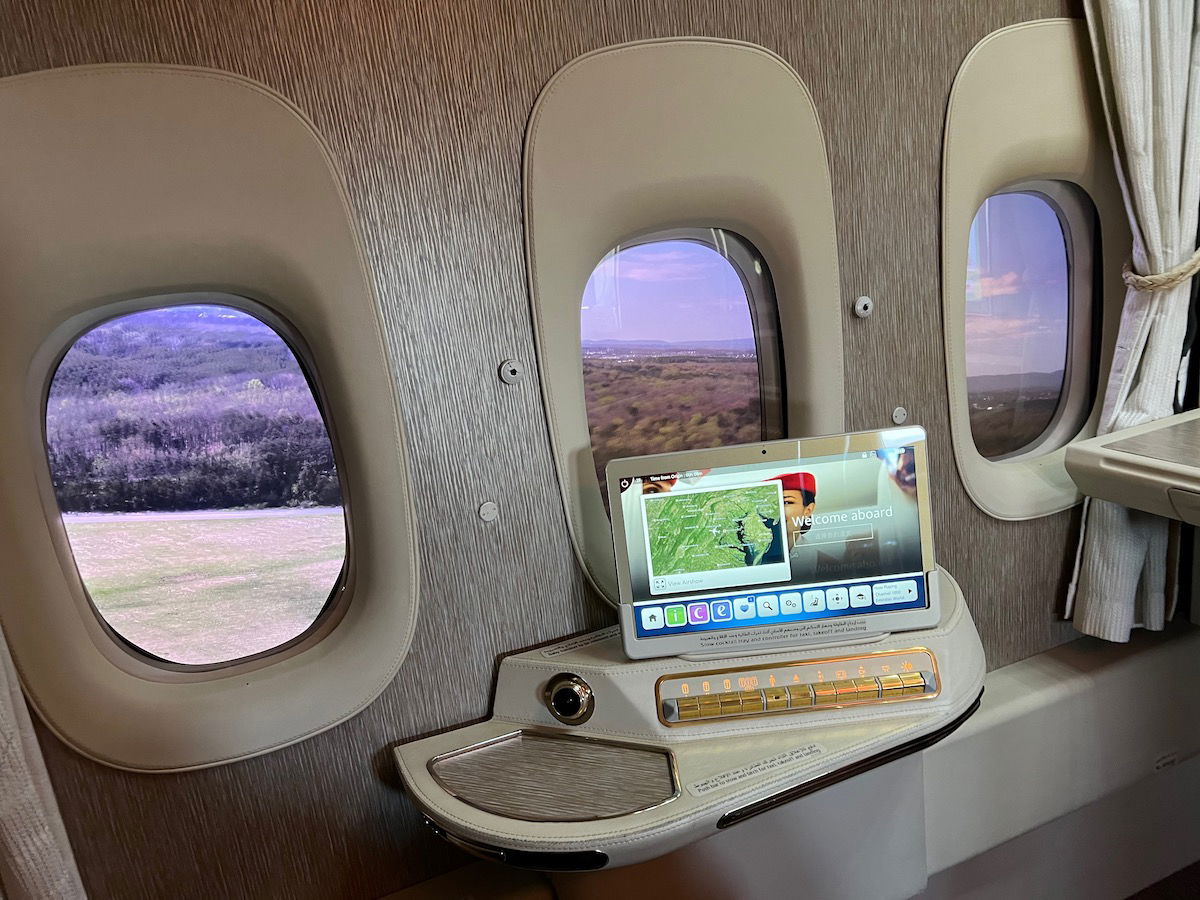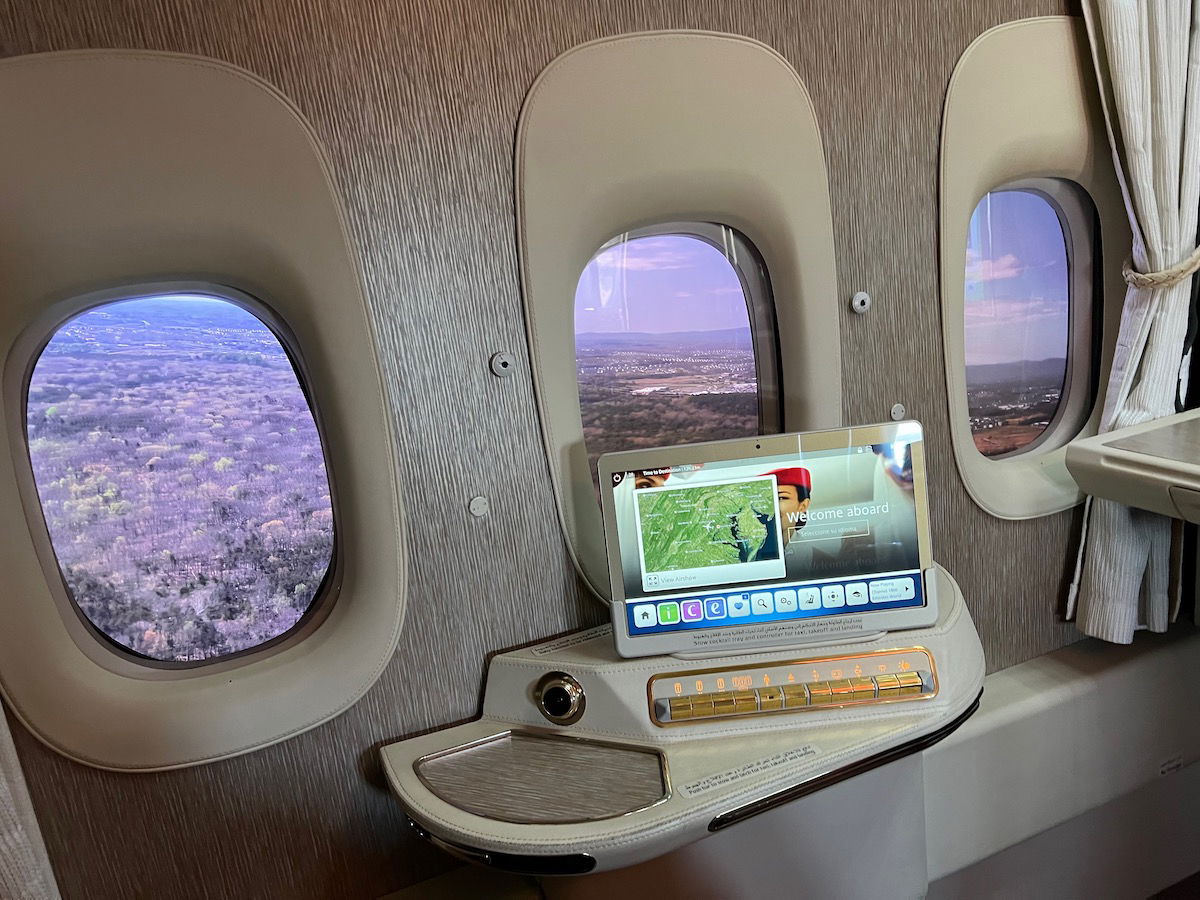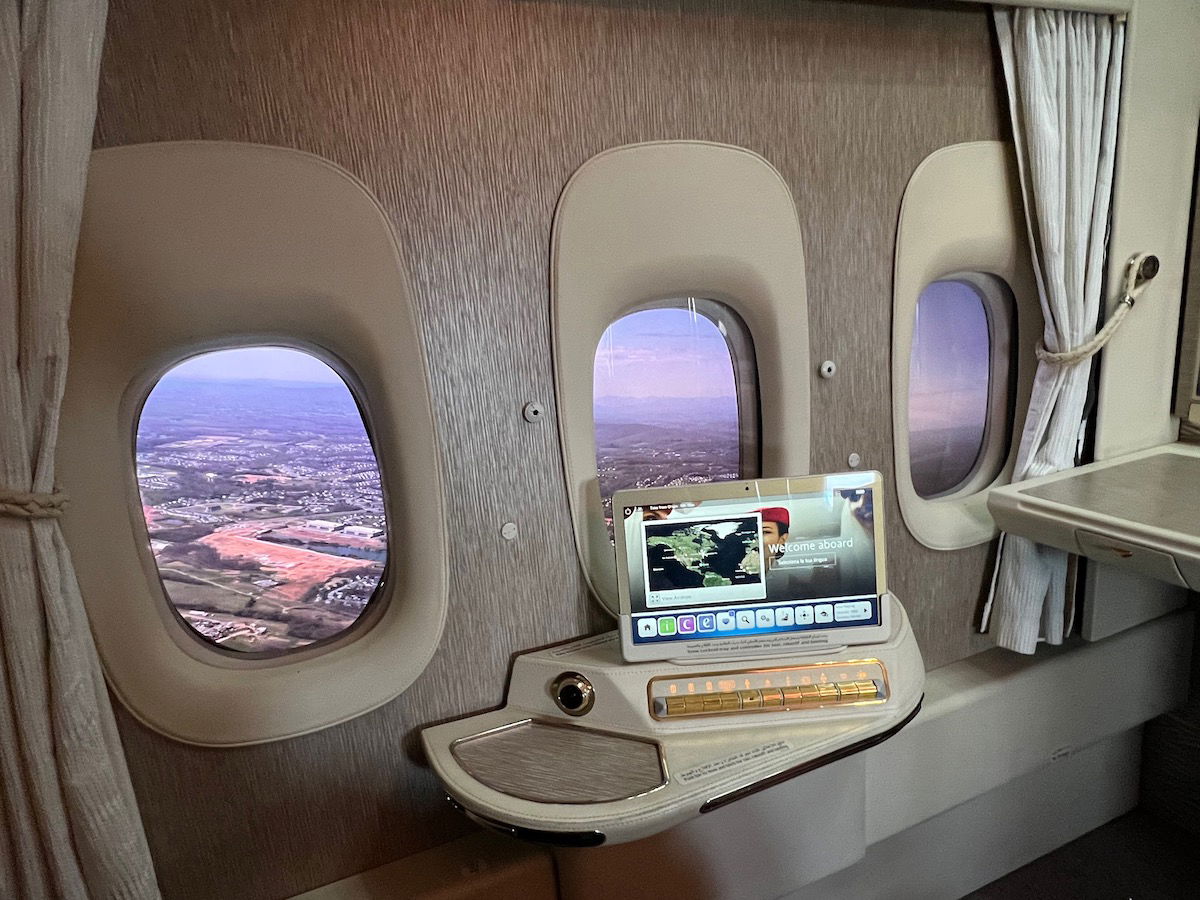 The seatbelt sign was turned off about 10 minutes after takeoff.
Emirates 777 first class entertainment & Wi-Fi
Emirates is known for its incredible ICE entertainment system (with "ICE" standing for information, communication, and entertainment). The entertainment selection is truly endless, whether you're looking to watch movies or TV shows.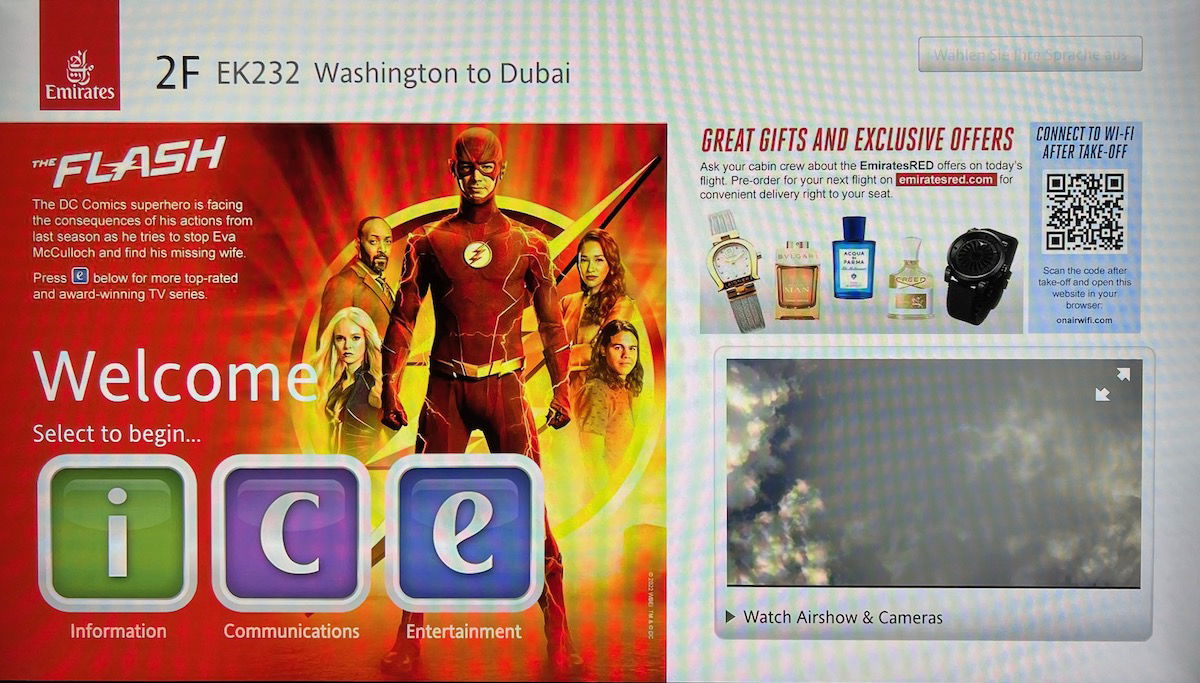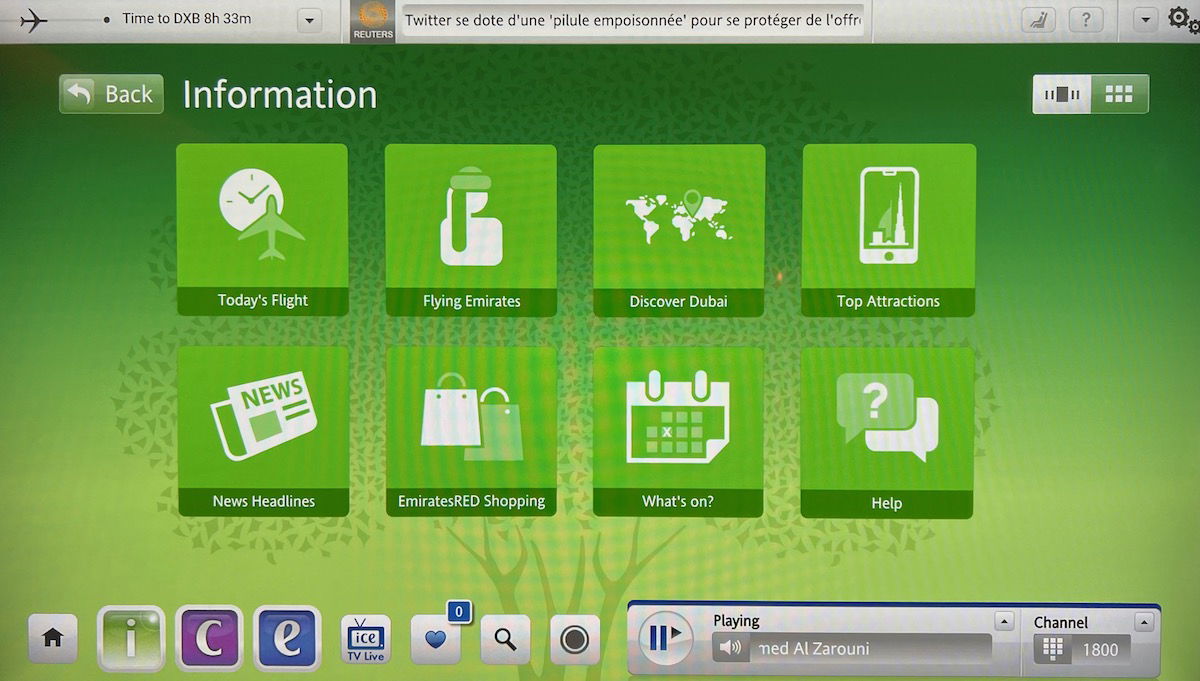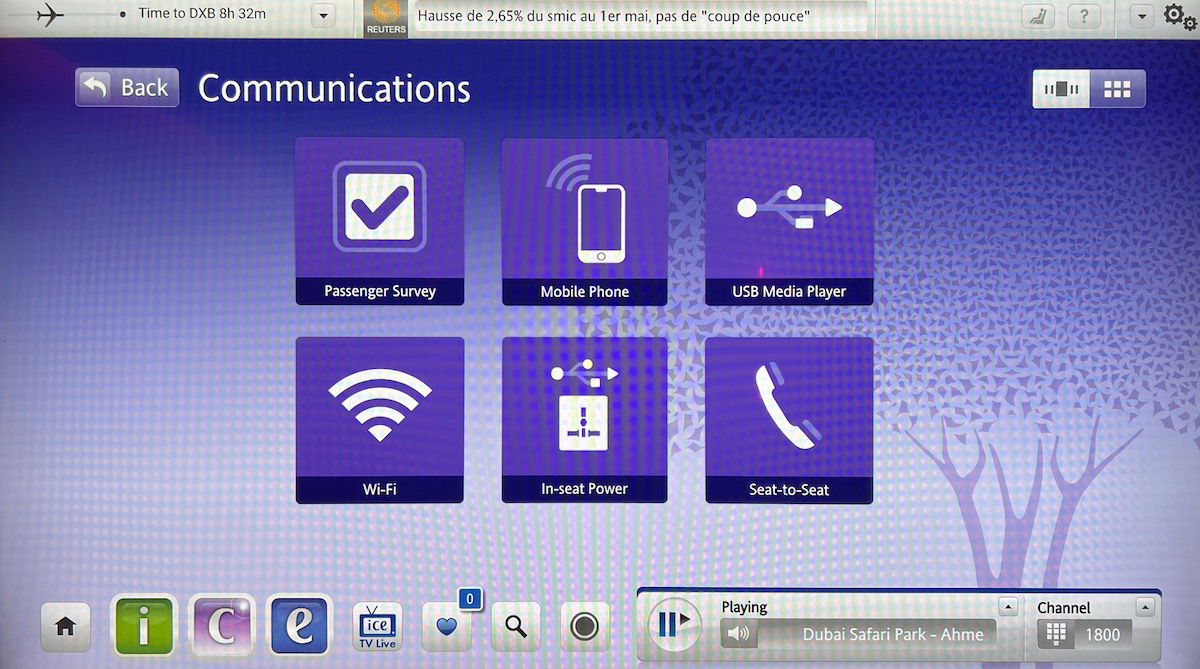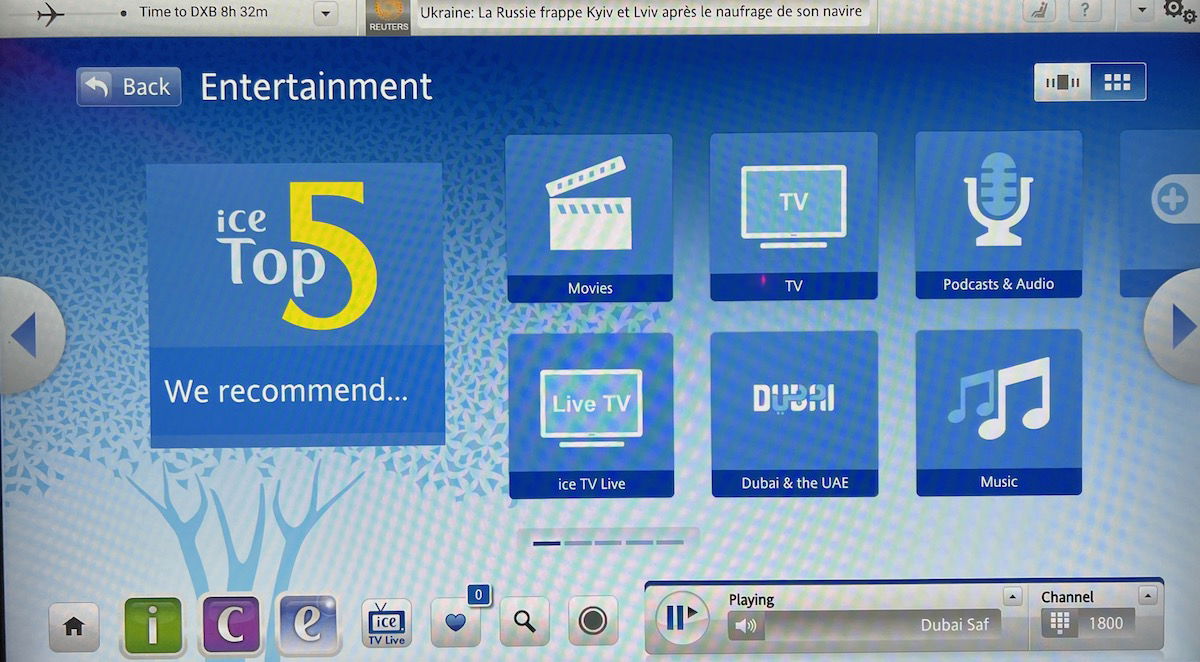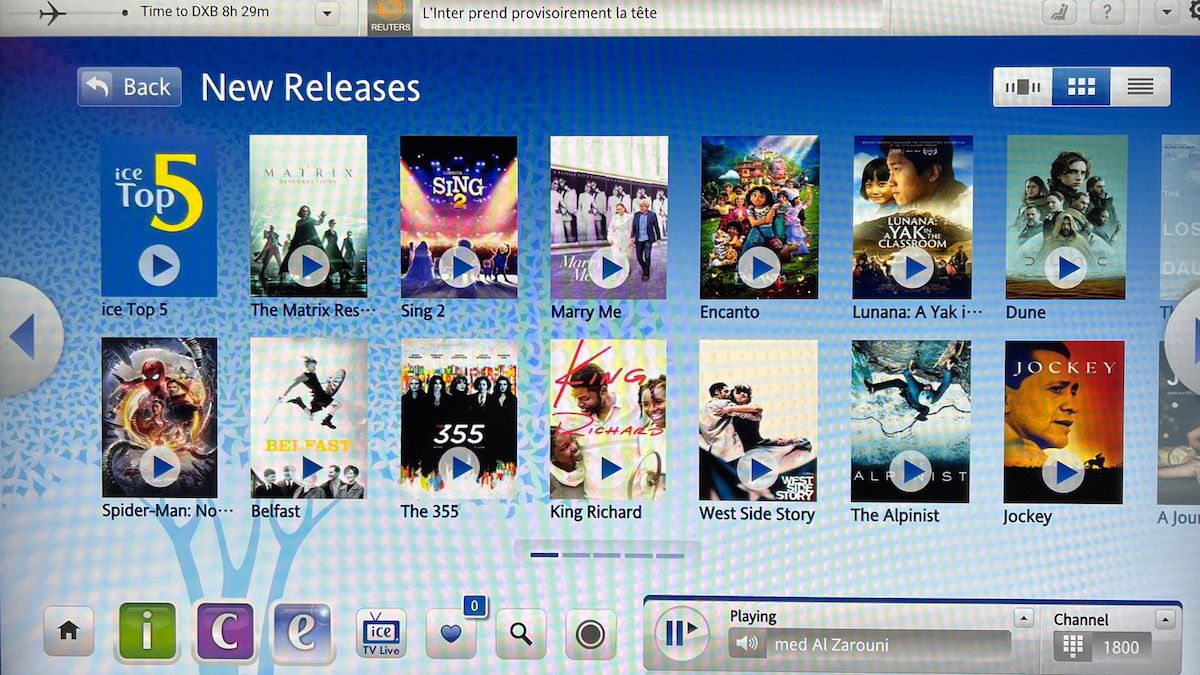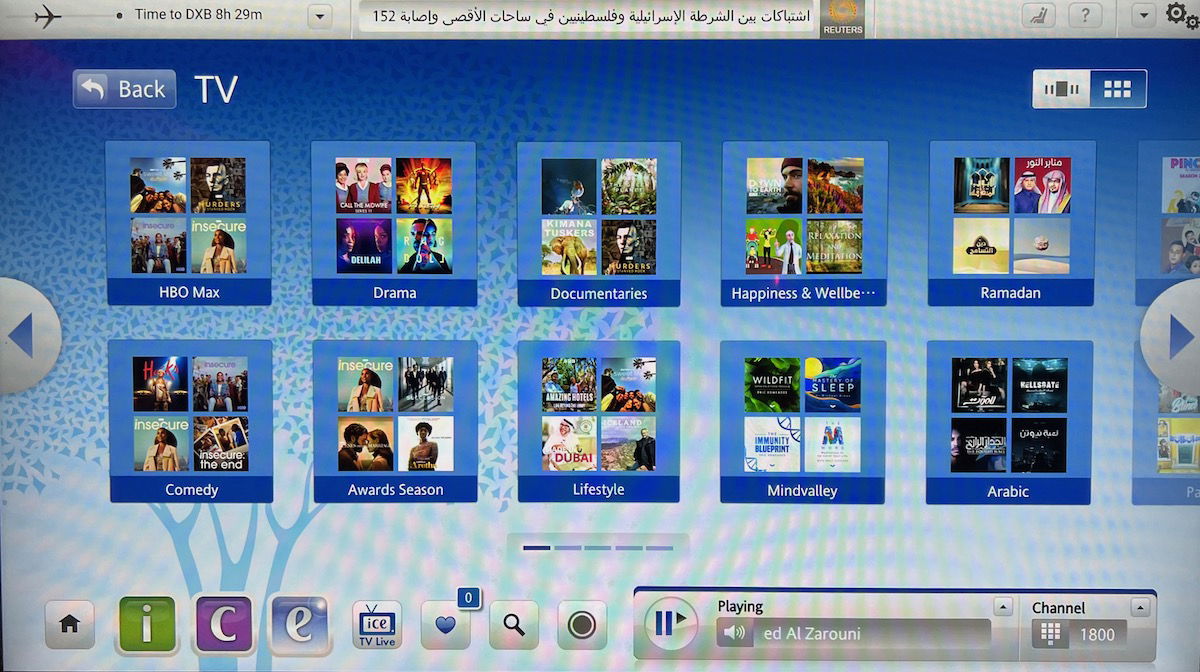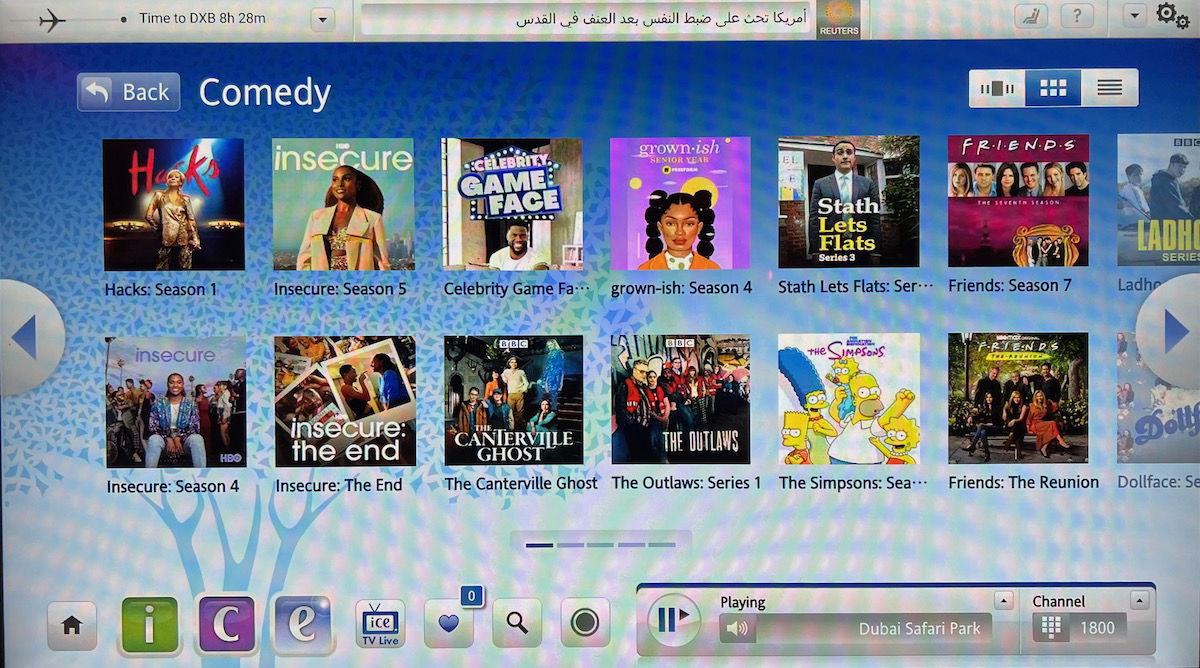 As an avgeek, my favorite part of Emirates' entertainment system is of course tracking the progress of the flight.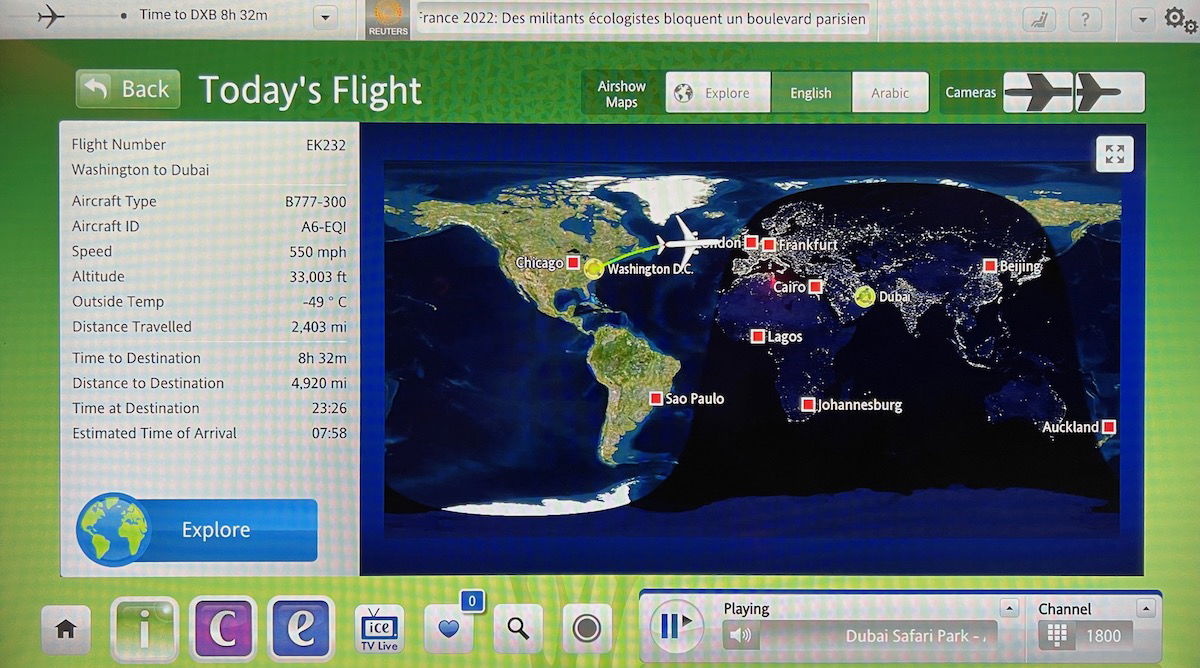 While not as cool as the tail camera you'll find on A380s, Emirates' 777s do have a nose camera, which can be fun to watch during takeoff and landing.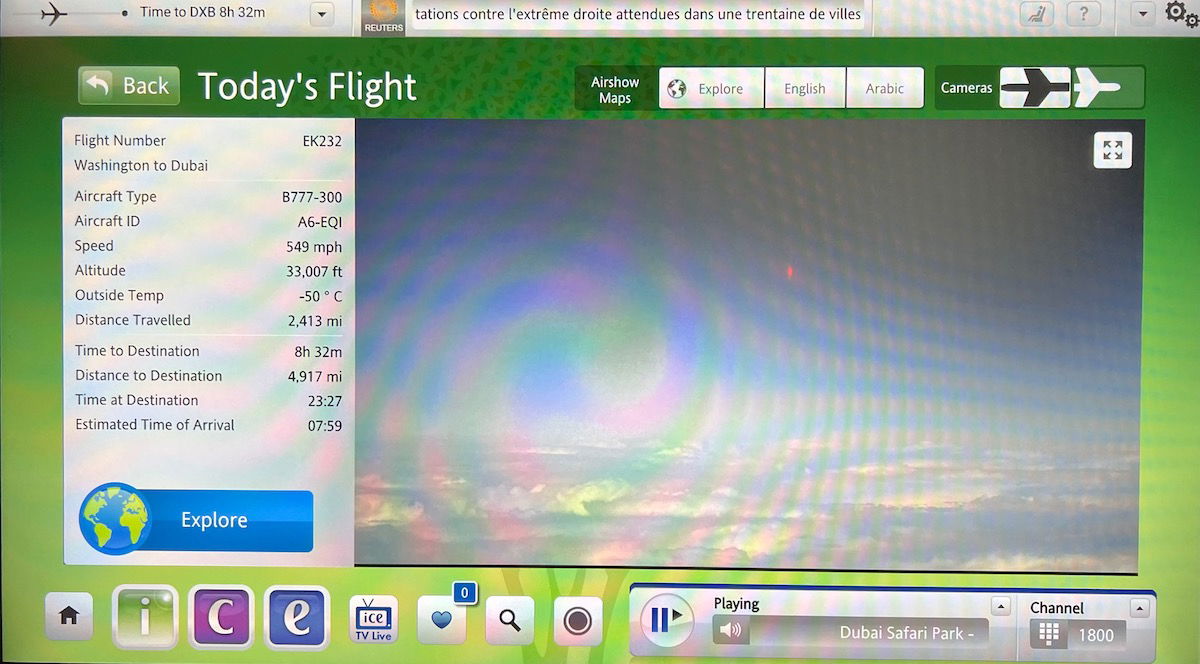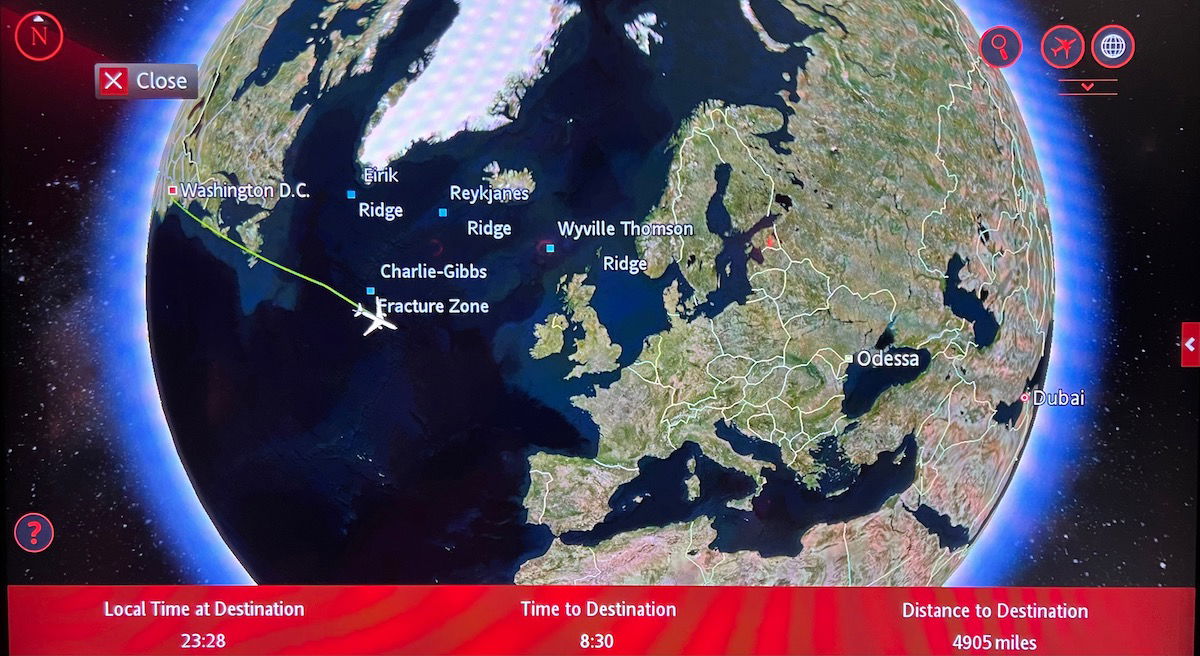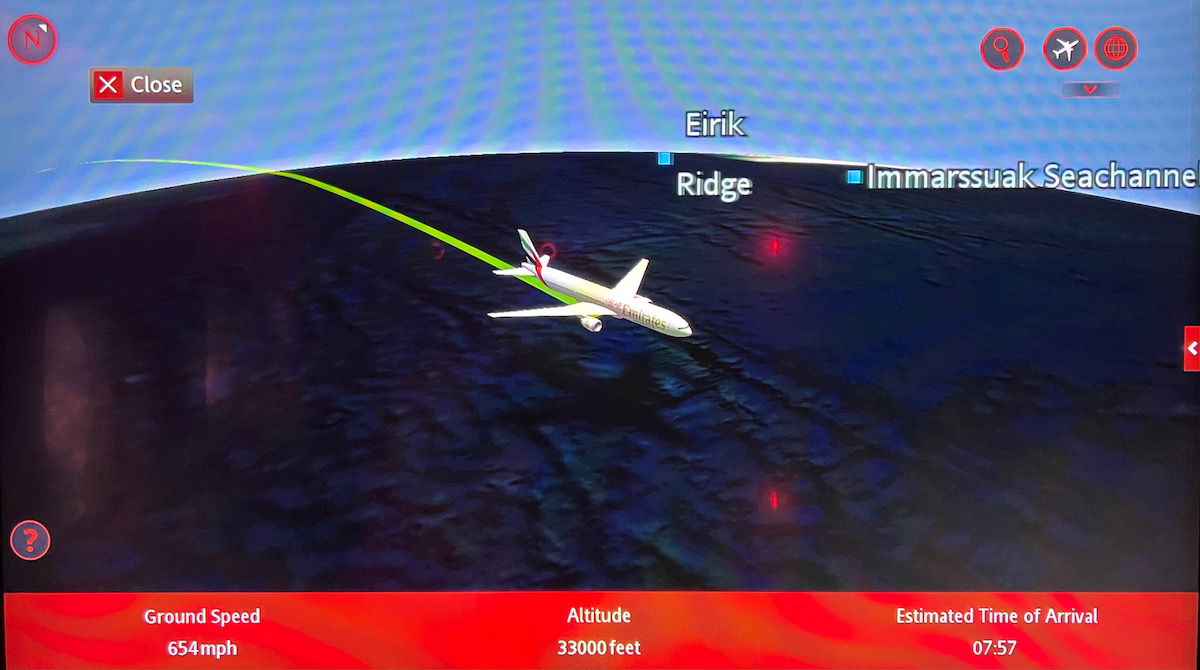 Emirates also has Wi-Fi on its Boeing 777s, powered by OnAir. The pricing is as follows:
An unlimited Wi-Fi pass with no data caps costs $19.99 (or $11.99 if you're buying an additional pass)
An unlimited messaging pass with no data caps costs $5.99 (or $2.99 if you're buying an additional pass)
A 30 minute pass with no data caps costs $6.99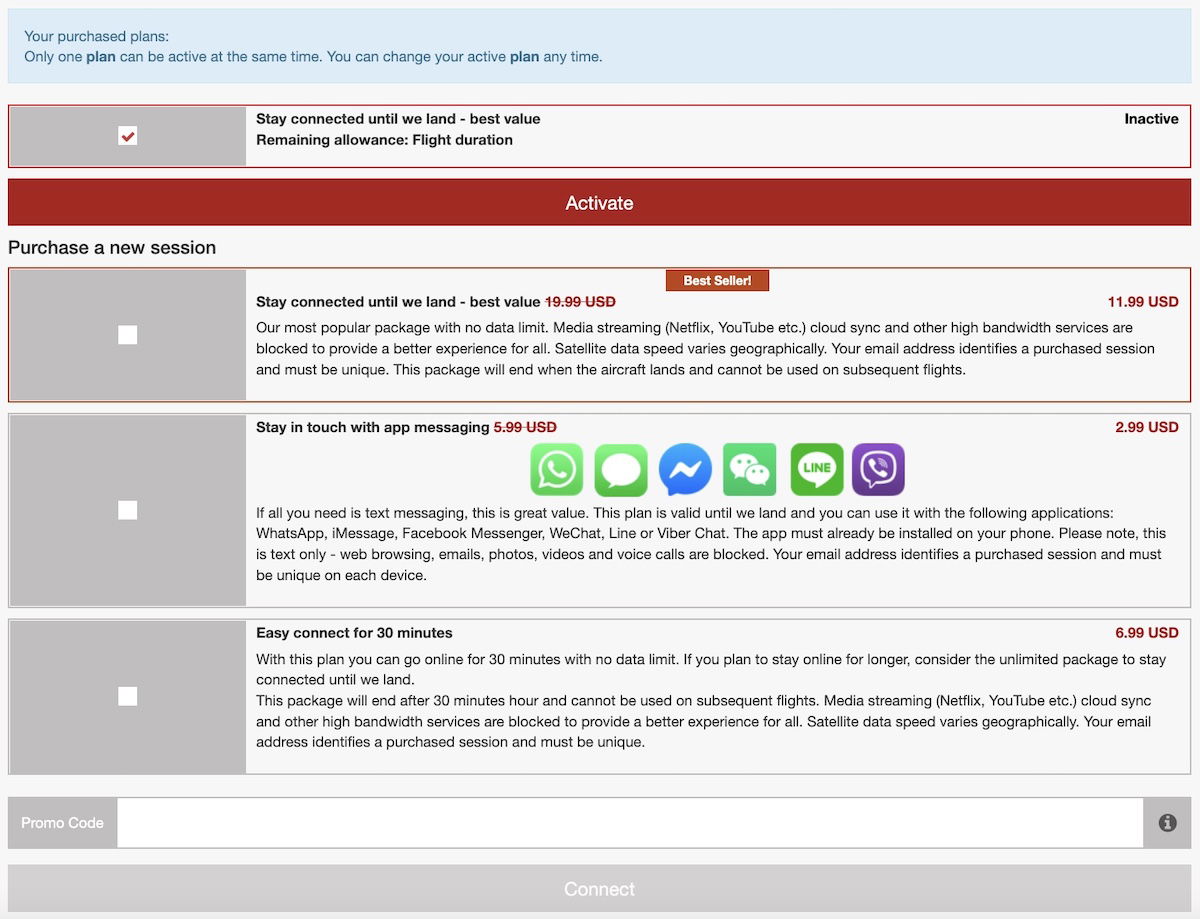 Fortunately Emirates offers free Wi-Fi to first class passengers who are also Skywards members (and you can switch between devices). So make sure you have your Emirates Skywards number on your reservation so that you can get free Wi-Fi when you connect. I find it a bit strange that Emirates charges non-Skywards members traveling in first class, though I guess the airline wants to incentivize people to join the loyalty program.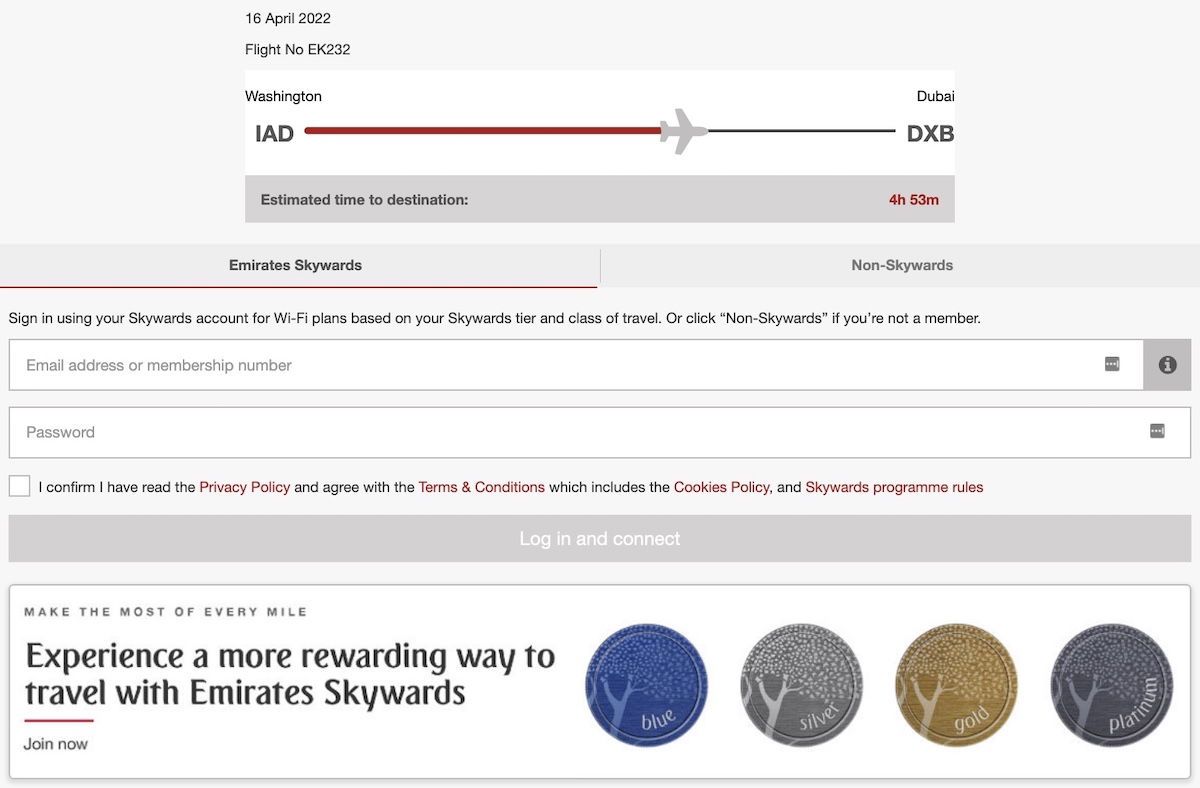 The bad news about Emirates Wi-Fi is that it's slow. OnAir is about as slow as inflight Wi-Fi gets. The good news is that data isn't split between quite as many people on the 777 as on the A380, so the Wi-Fi wasn't totally unusable. But I also wouldn't plan on being all that productive when flying Emirates, assuming you're relying on data.
Emirates first class menu & wine list
About 15 minutes after takeoff, the purser passed through the cabin to give us greet us and present us with the menus. That was one of the few interactions we had with her. Typically the purser greets passengers before takeoff and again prior to landing, but that didn't happen here.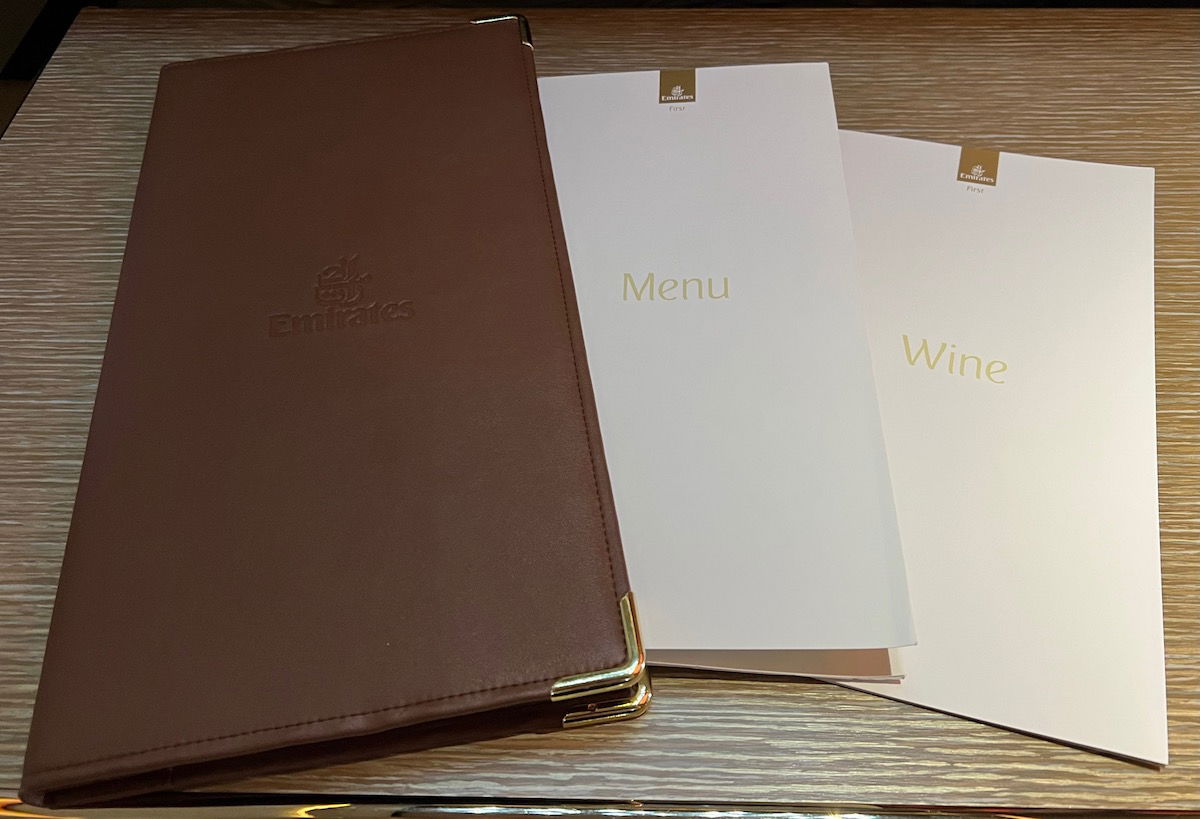 Emirates has a dine on demand menu in first class on long haul flights, and on this flight food options included breakfast, lunch & dinner, and then a light bites selection. You can find the menu below.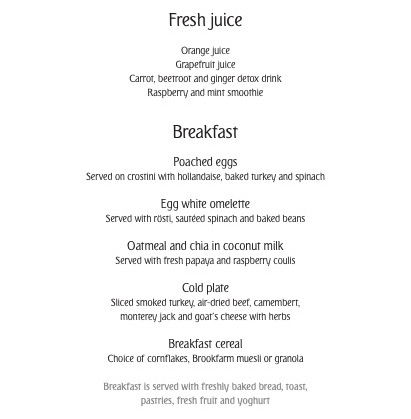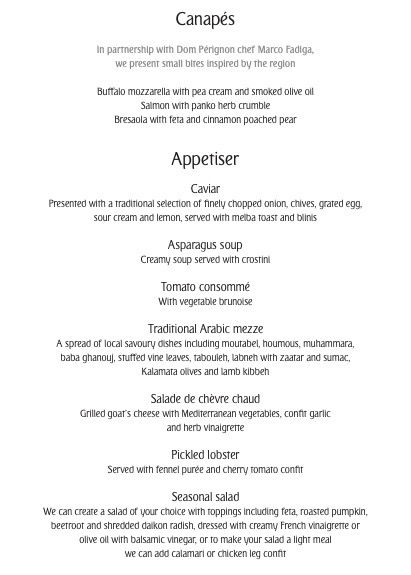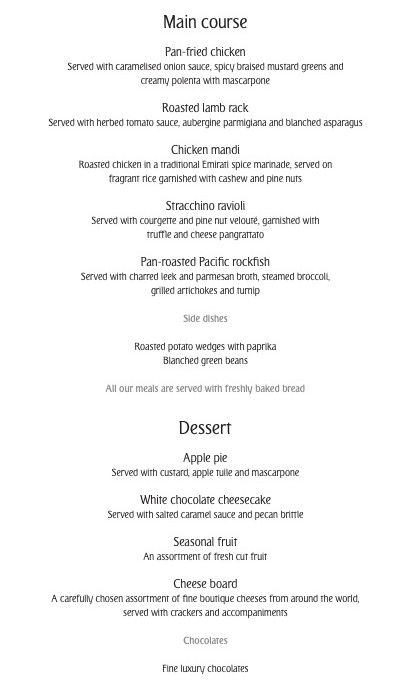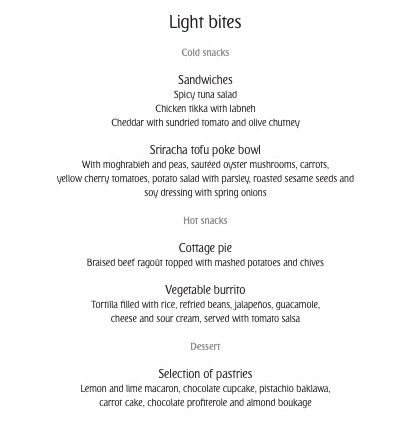 You can find the juice, soft drink, cocktail, and mocktail list below.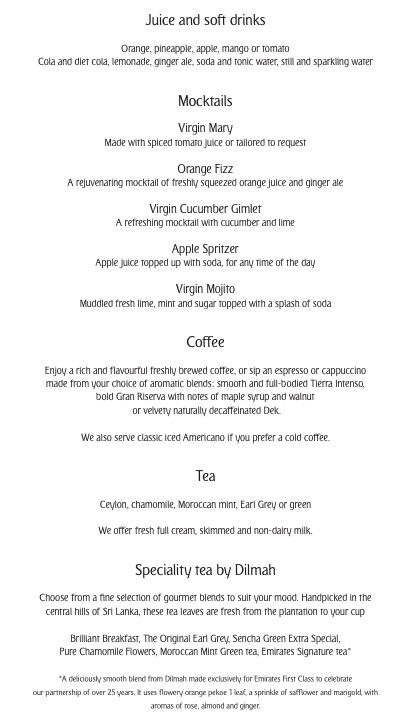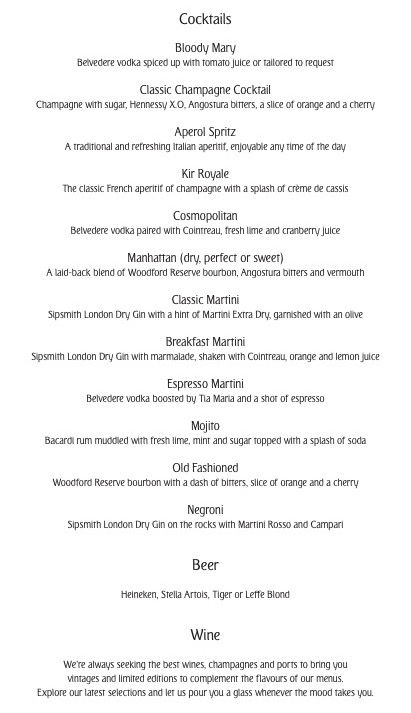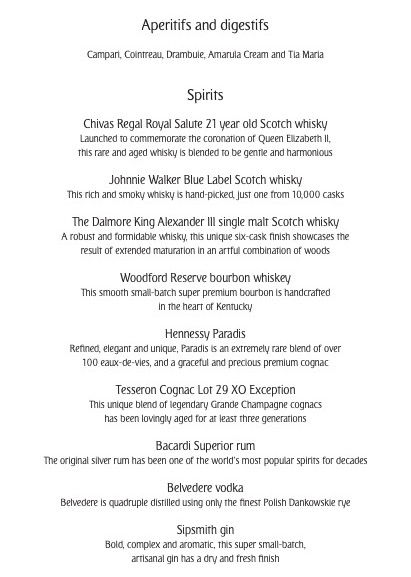 Then below you can find the wine list.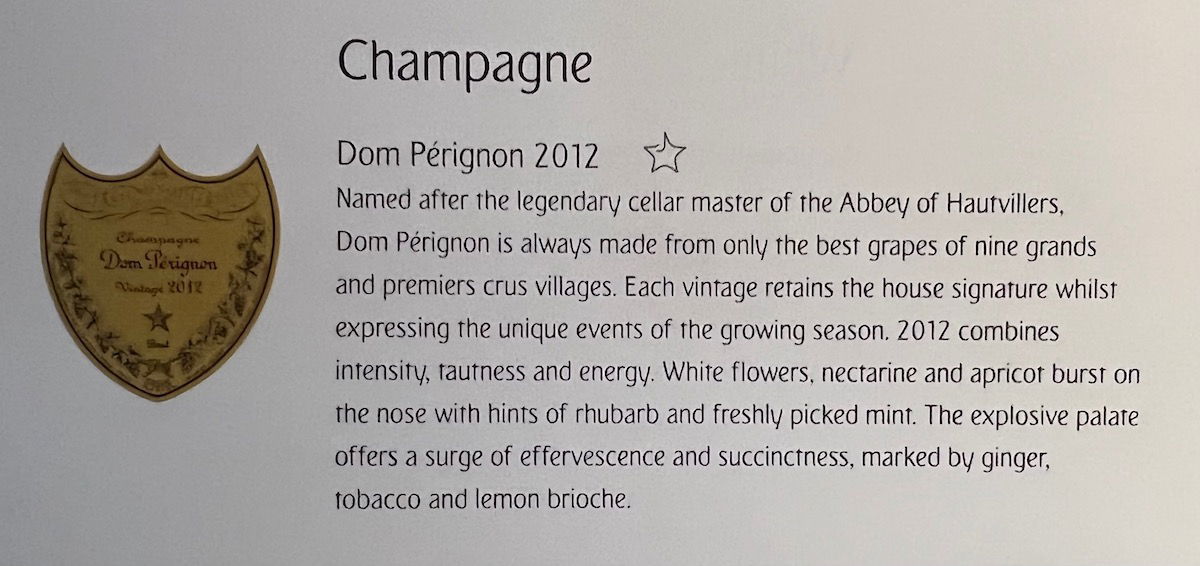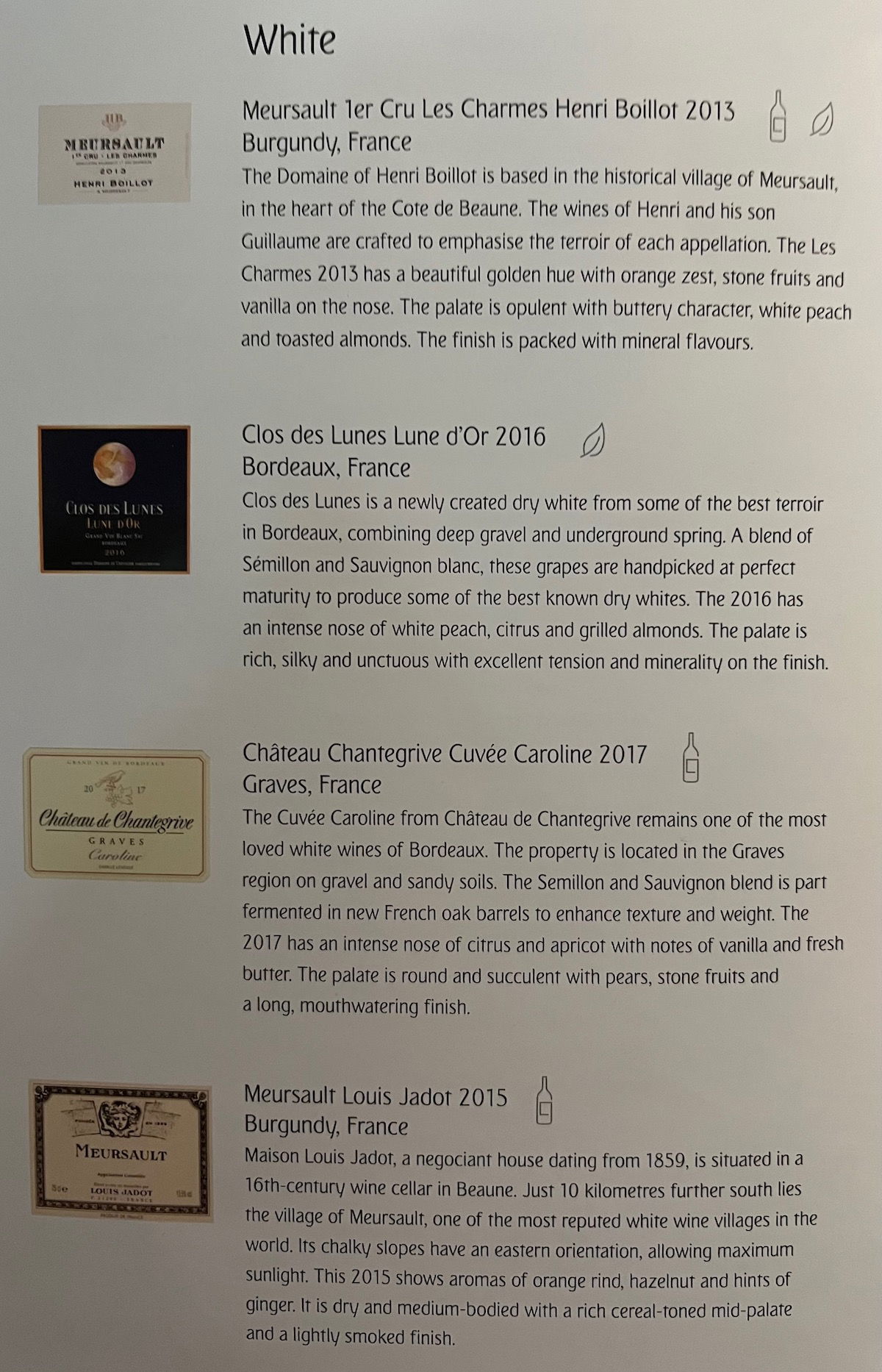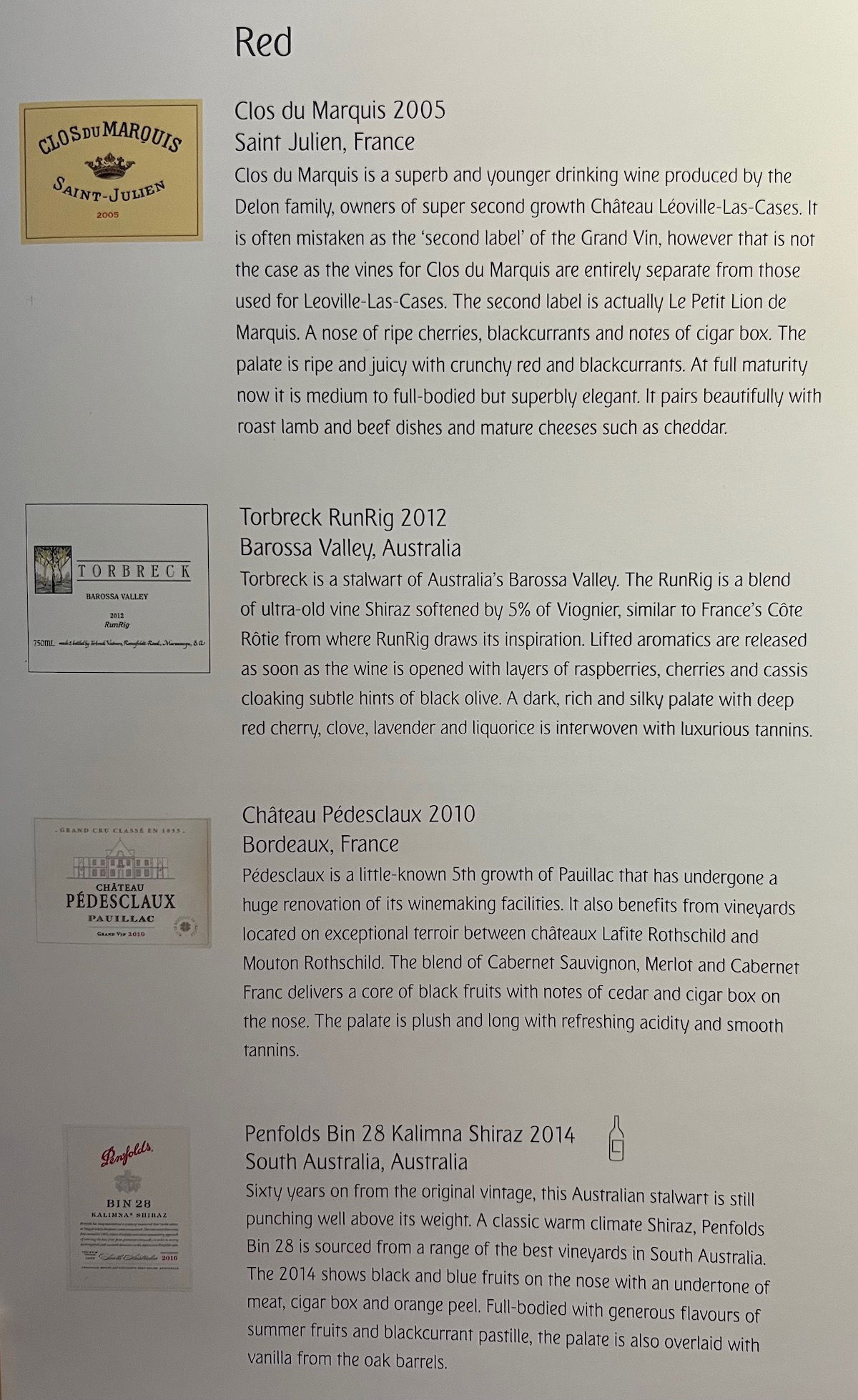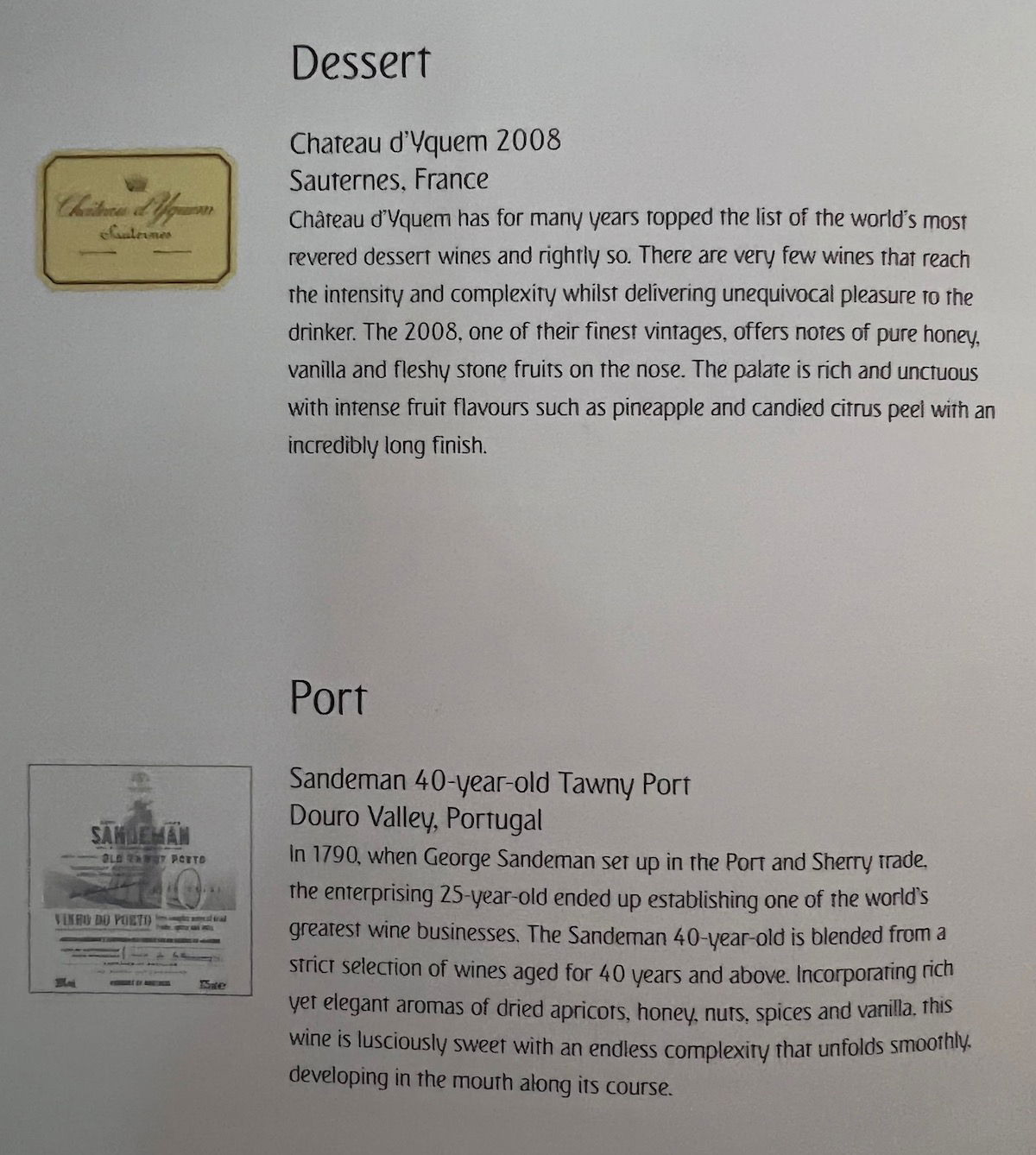 Emirates first class lunch service
About 20 minutes after takeoff we had our first class glass of Dom Perignon, which was served with some warm mixed nuts. Yum.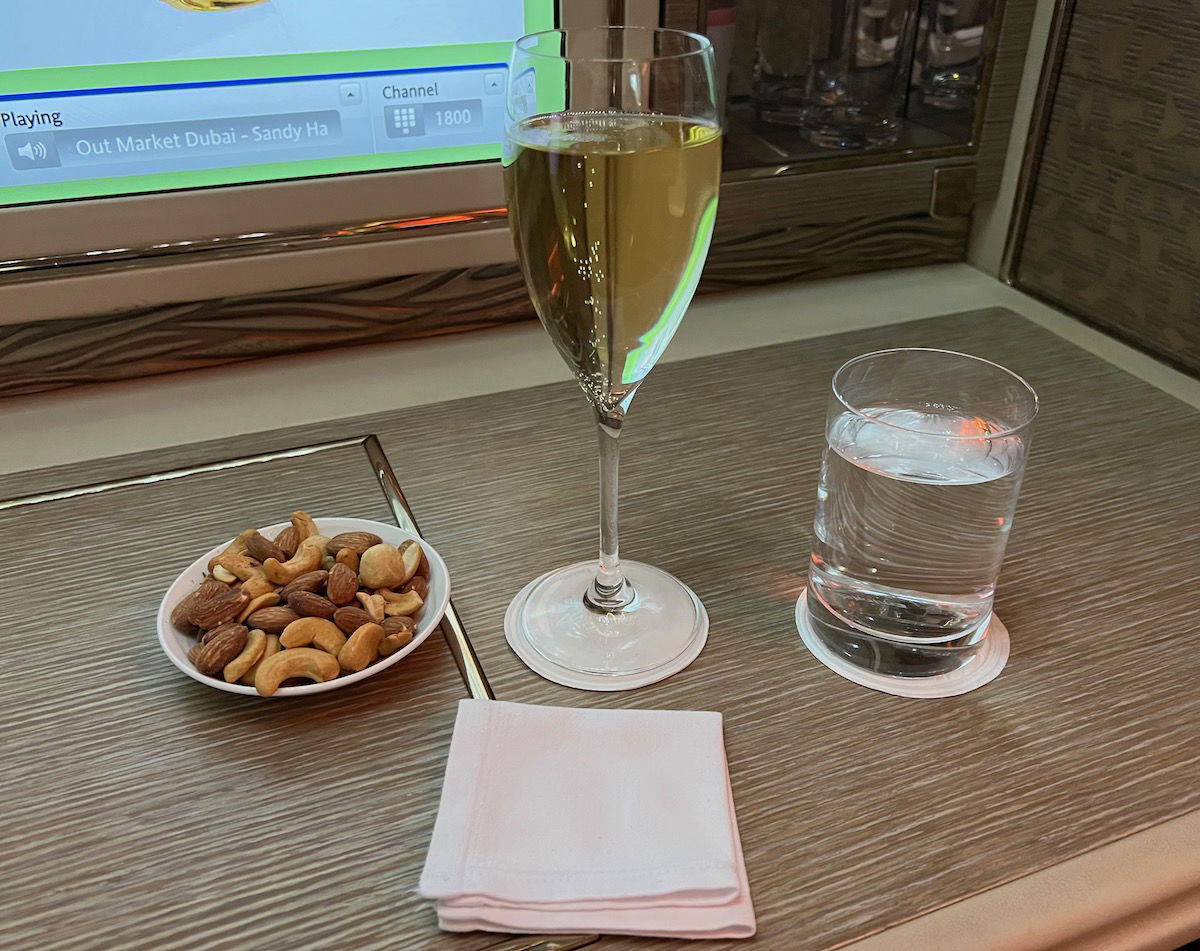 We then had some canapés, in this case developed in partnership with Dom Perignon chef Marco Fadiga. This included buffalo mozzarella with pea cream and smoked olive oil, salmon with panko herb crumble, and bresola with feta and cinnamon poached pear. All were delicious.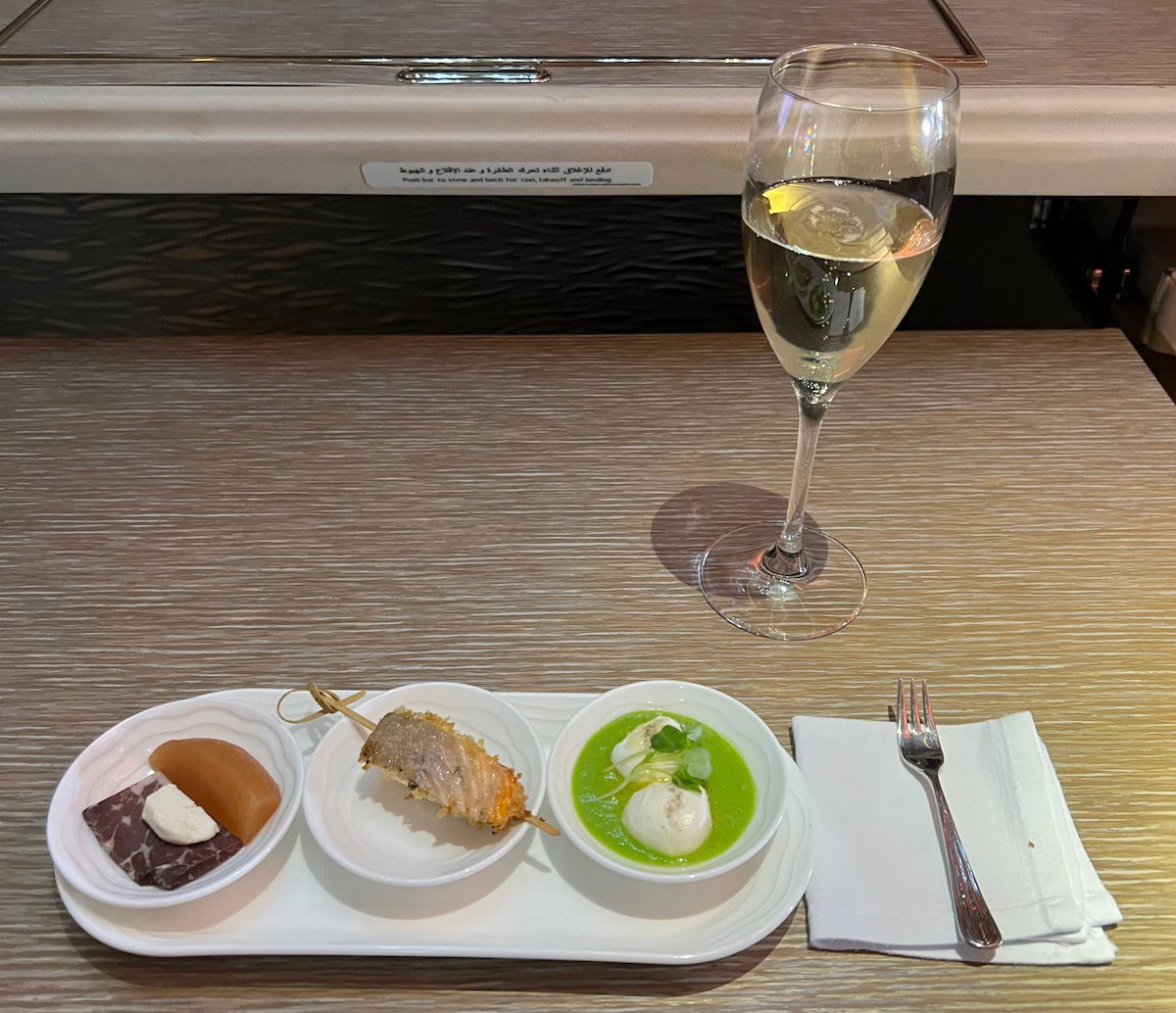 Next up we both had the caviar to start. We were asked if we wanted a double portion, as the cabin was fully catered for six passengers. We declined, since we figured we'd have some more later instead. Emirates has some of the best caviar service of any airline, in my opinion (in terms of the caviar itself and the presentation). We accompanied the caviar with some chilled vodka.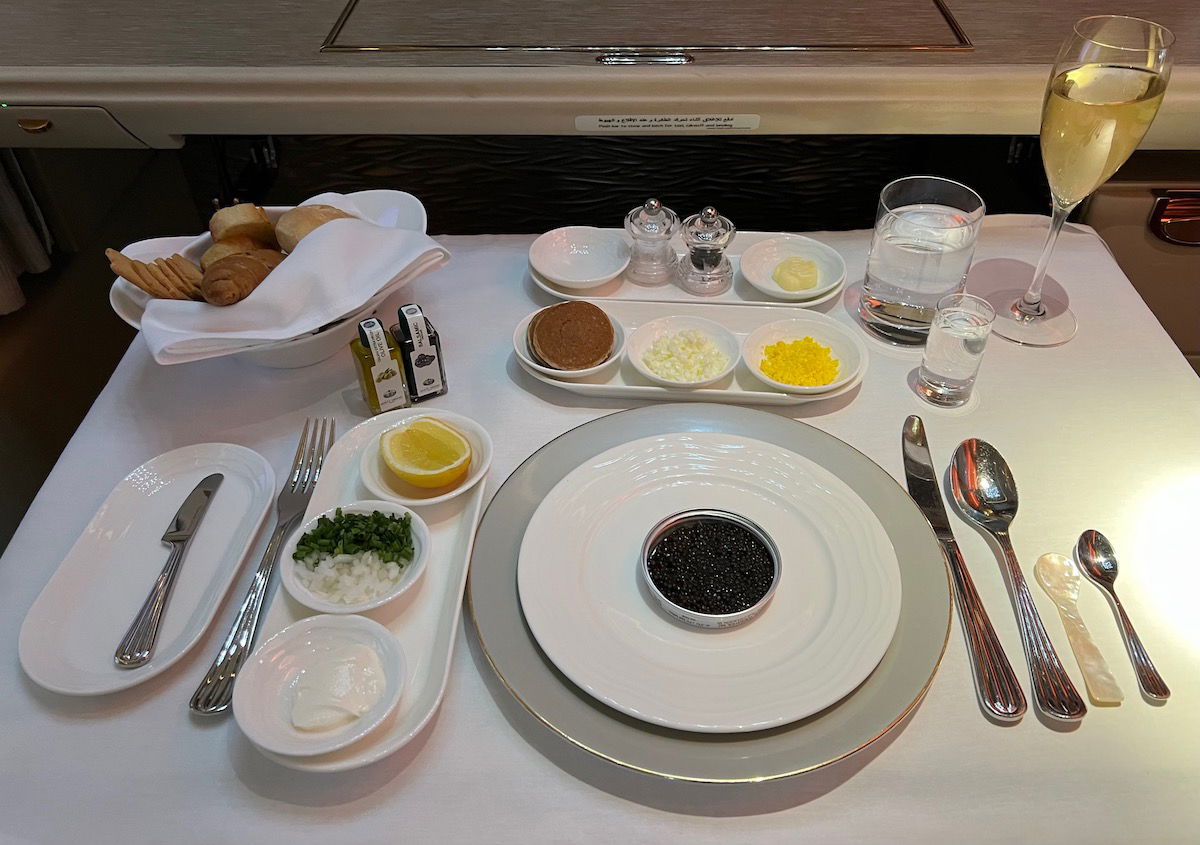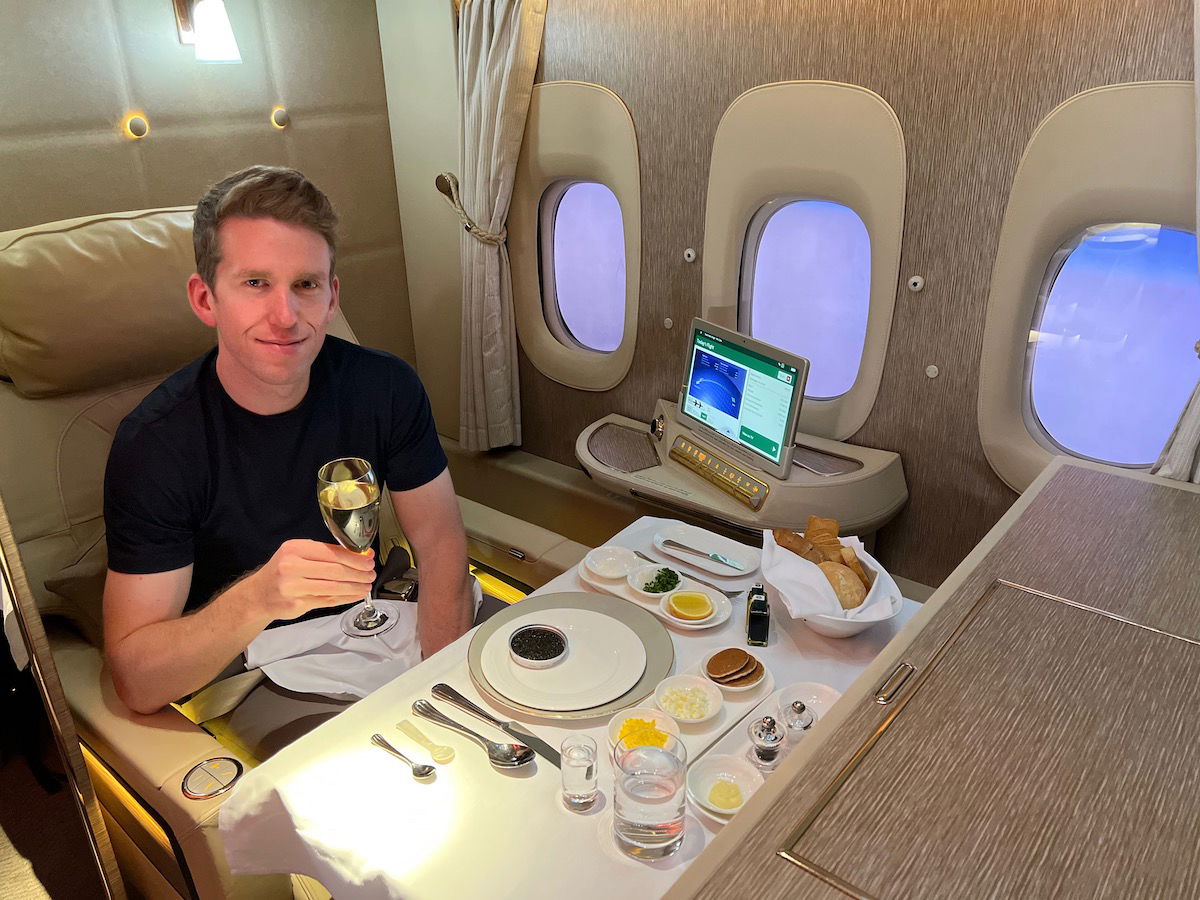 We were also offered a bread basket to go along with the meal, which included toast, garlic bread, rolls, and more.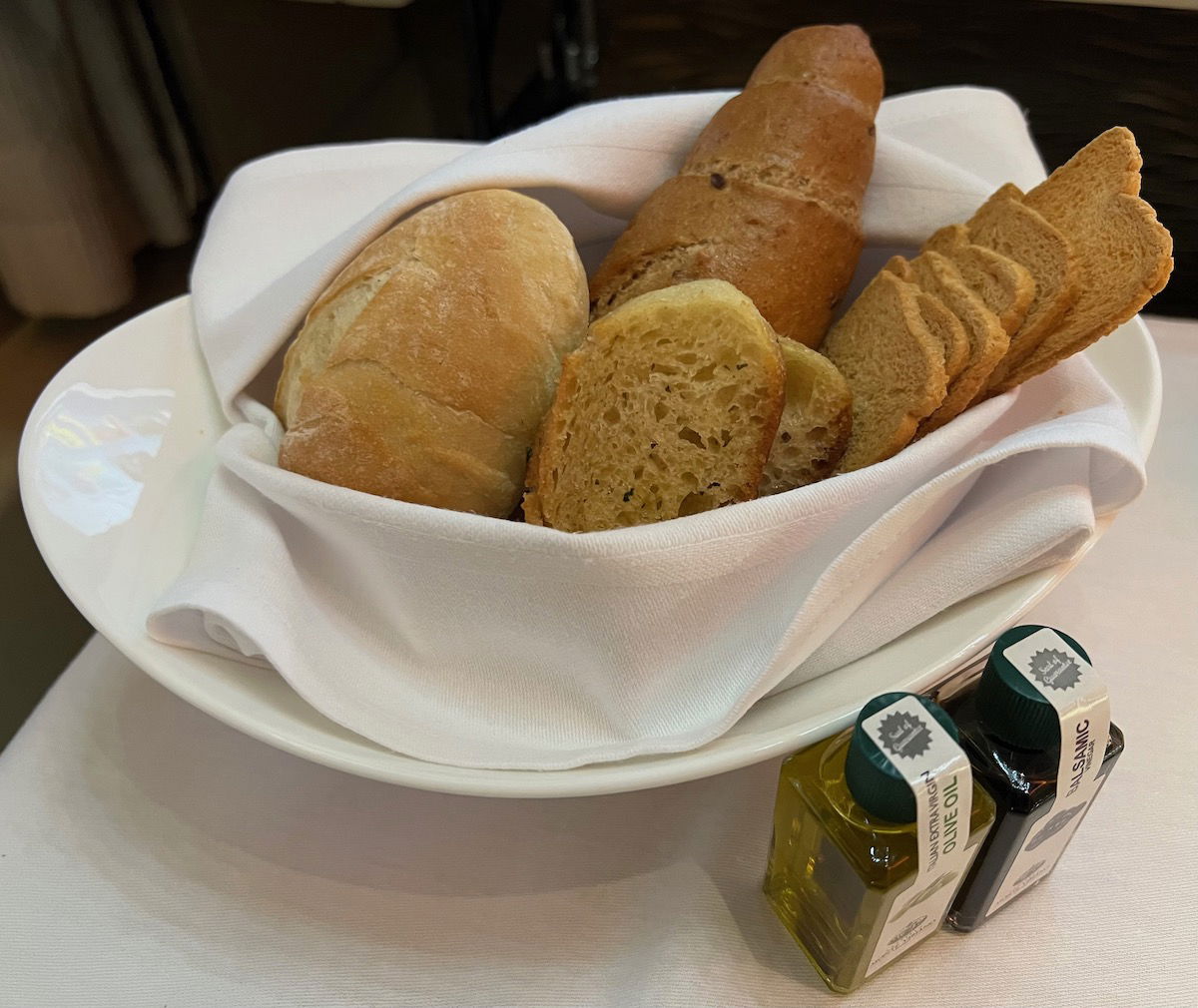 While I almost always order the Arabic mezze after the caviar, I decided to mix it up, and order the pickled lobster with fennel puree and cherry tomato confit.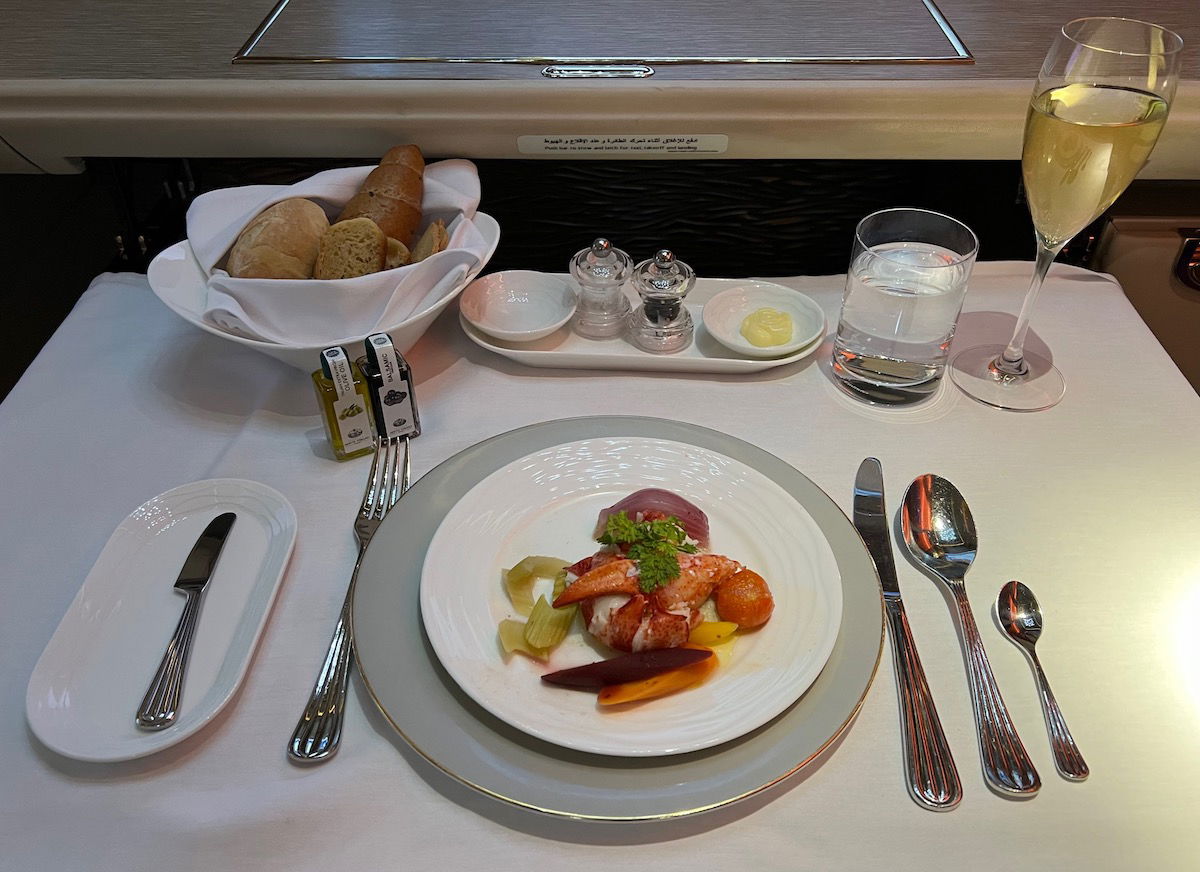 For my main course I ordered the pan-roasted Pacific rockfish. It was perfectly okay, but I can't say that the presentation or food as such was amazing, or was in line with what you'd typically get in a top international first class.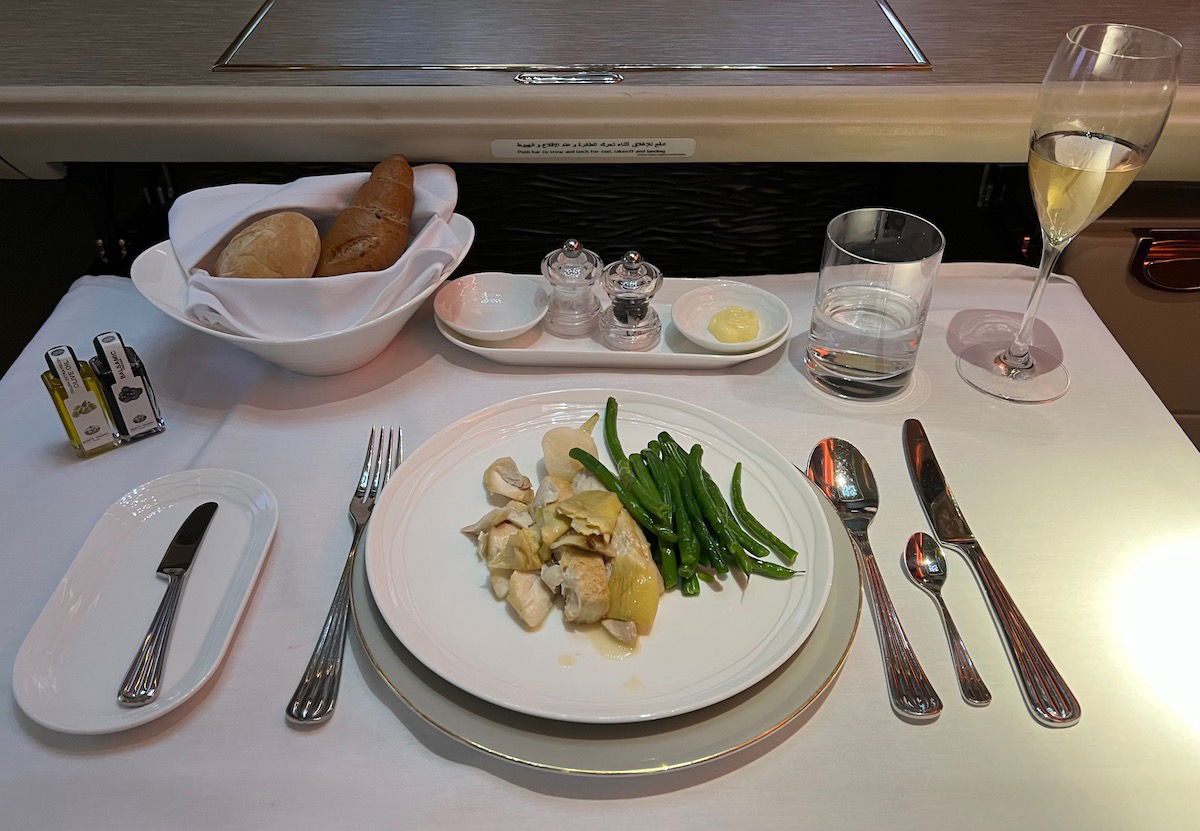 Ford ordered the chicken mandi, which was roasted chicken in an Emirati spice marinade, served on rice with cashew and pine nuts. He said it was tasty, but again, the presentation wasn't exactly amazing.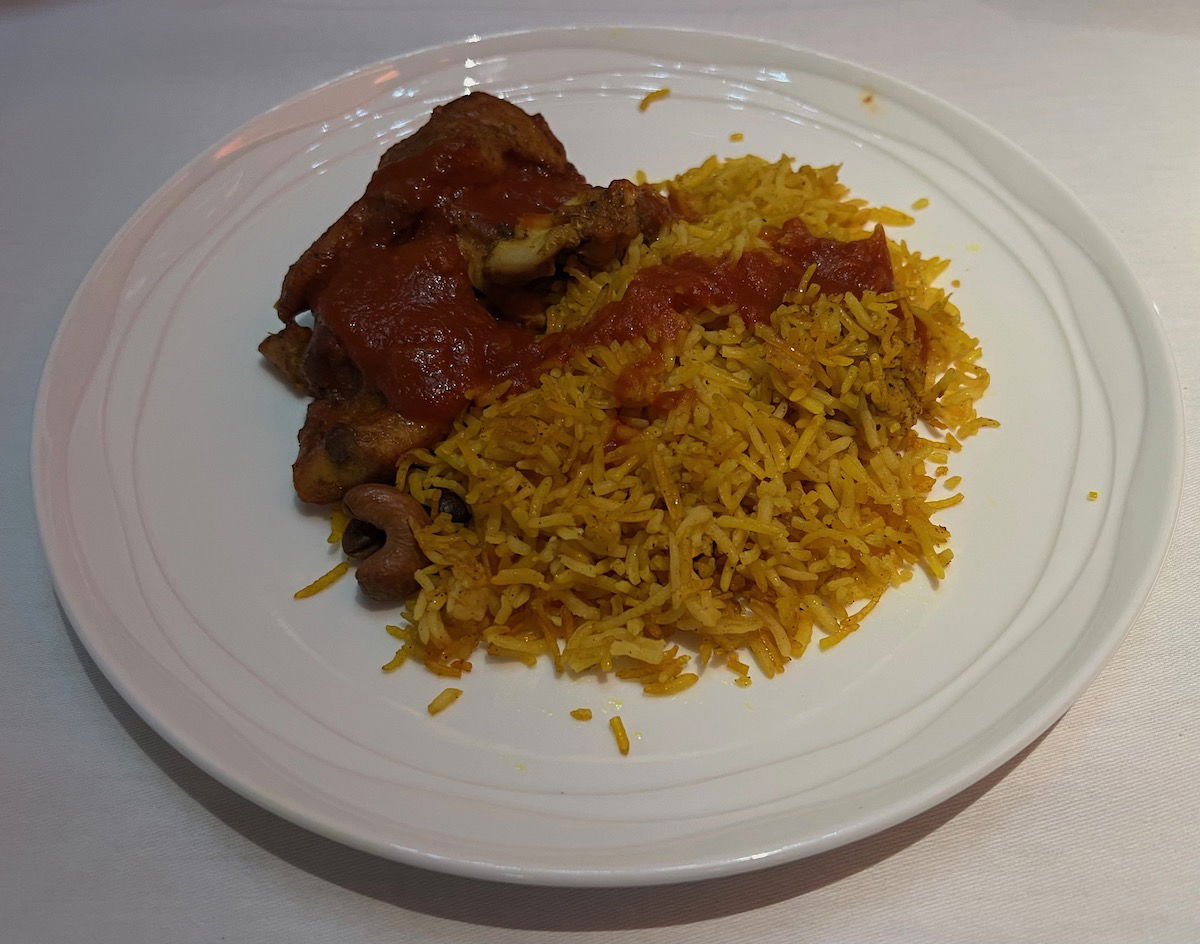 Lastly, for dessert I had the apple pie with custard and mascarpone, which I enjoyed.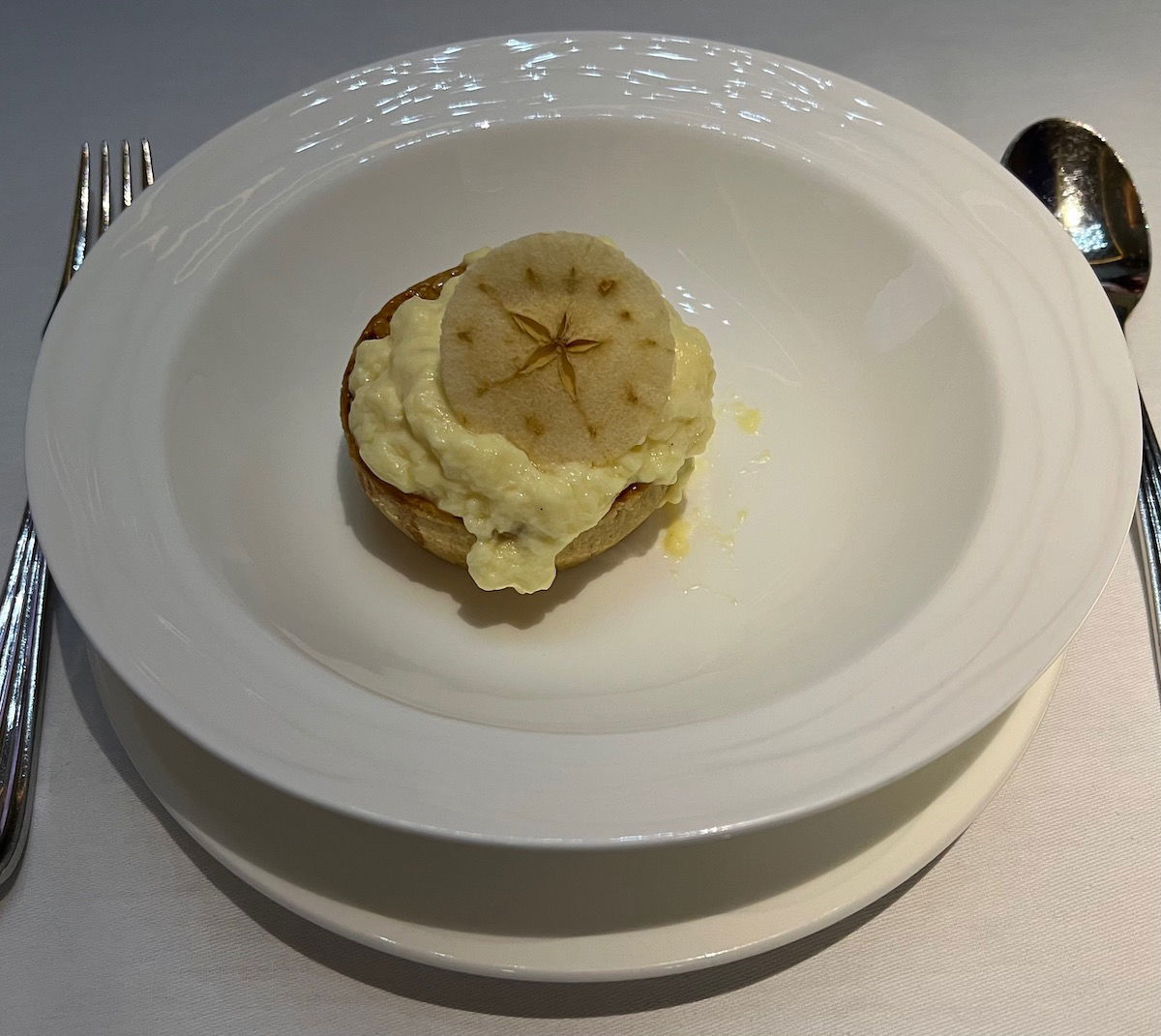 We enjoyed the meal at a leisurely pace, given that it was a long flight and we also weren't tired yet. The caviar and Dom Perignon were excellent, while I'd say the rest of the meal was pretty lackluster, in terms of presentation and taste (don't get me wrong, it was still good for airplane food, but compared to the other best food you'll find in international first class…).
Emirates new 777 first class bed
After lunch it was time for a nap, so we asked to have our beds made. First of all, how gorgeous is the lighting in Emirates cabins?! I particularly love the "stars" on the ceiling.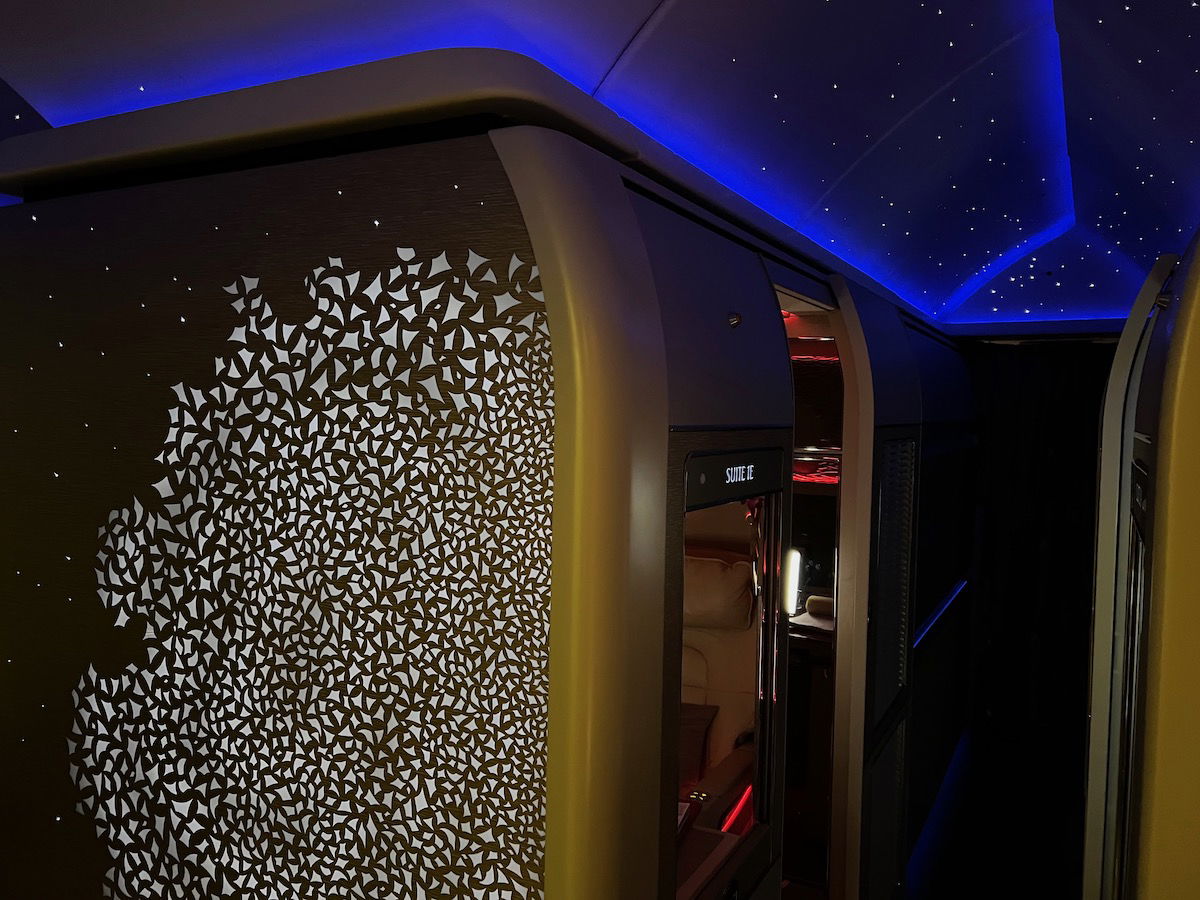 It was the purser who made our beds (since the other crew wasn't in the cabin anymore — I think one flight attendant was resting, and I'm guessing the other was trying to sell duty free in other cabins). On the one hand, this was the sloppiest turn down service I've ever seen on Emirates. On the other hand, how darn cozy and comfortable is this suite?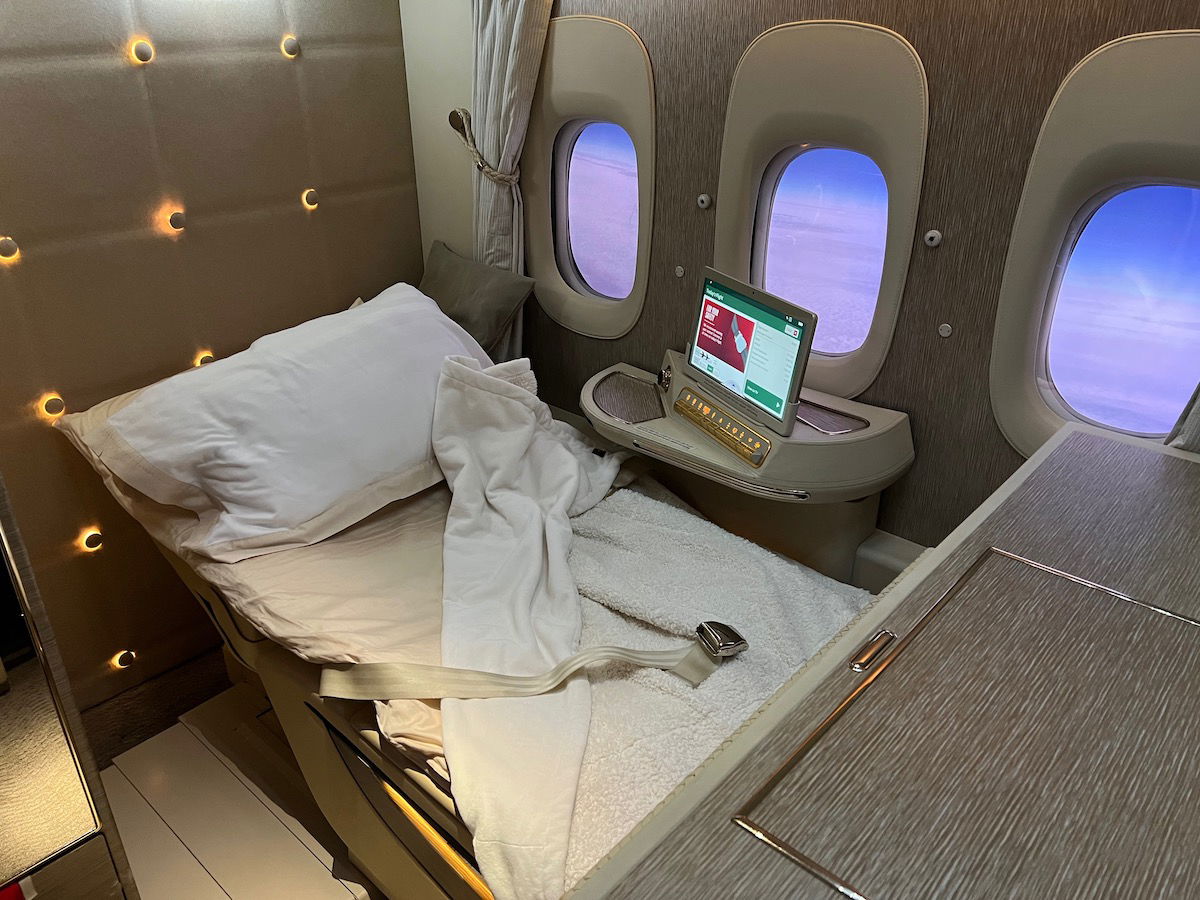 Emirates' new first class suite has incredible padding, and is exceptionally spacious. While Emirates' first class suite isn't as big as Singapore's A380 Suites, the space is utilized more efficiently.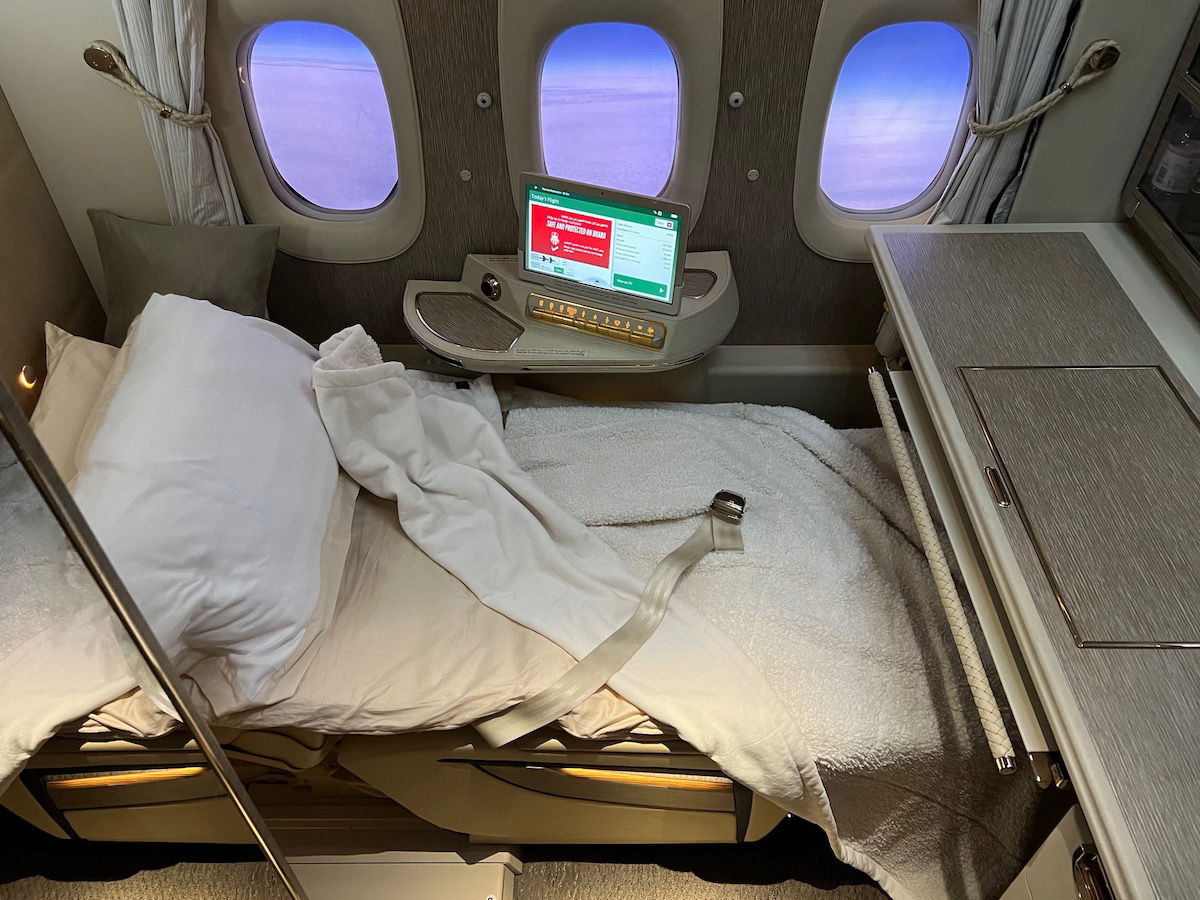 I think what equally contributes to the coziness is that the suite closes fully, so you won't find more privacy than this in any first class product (I suppose Air France La Premiere offers a similar amount of privacy when curtains are drawn).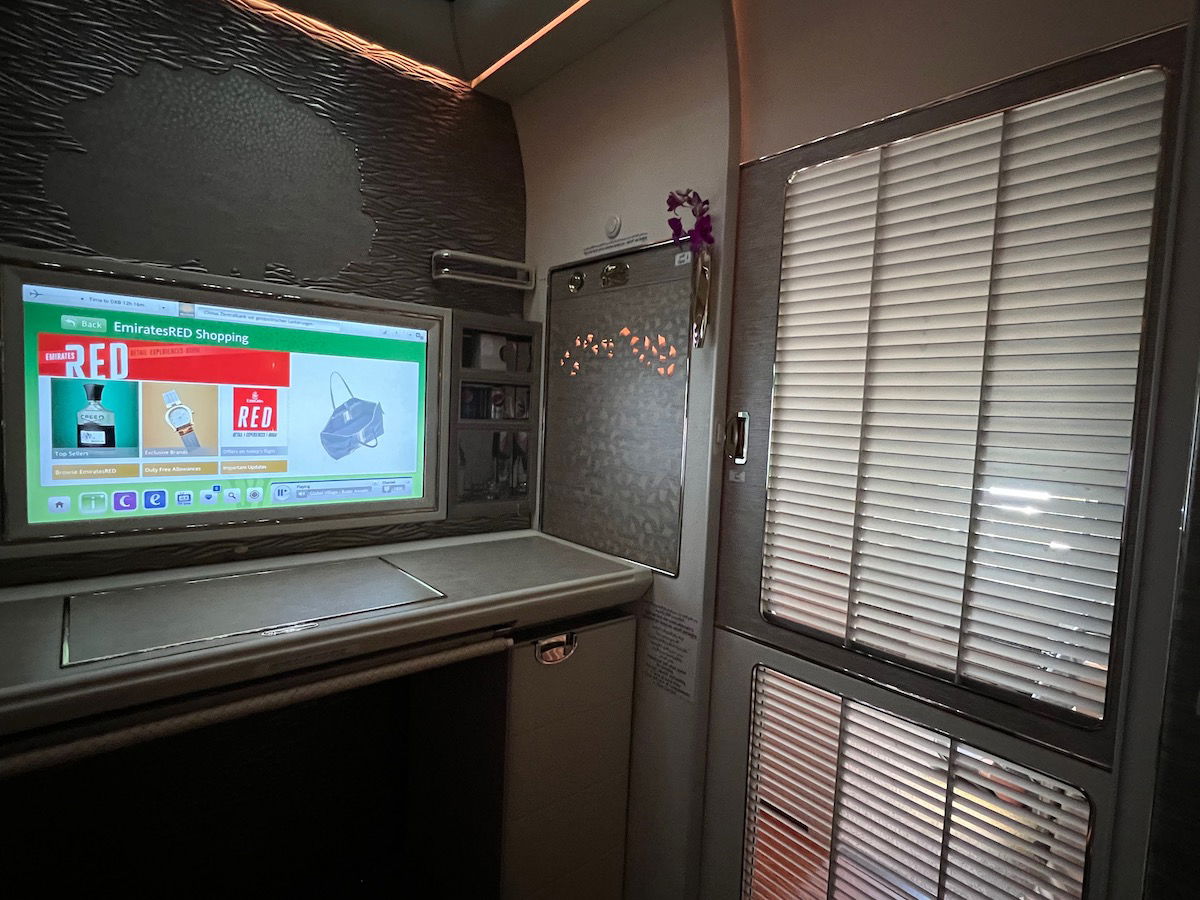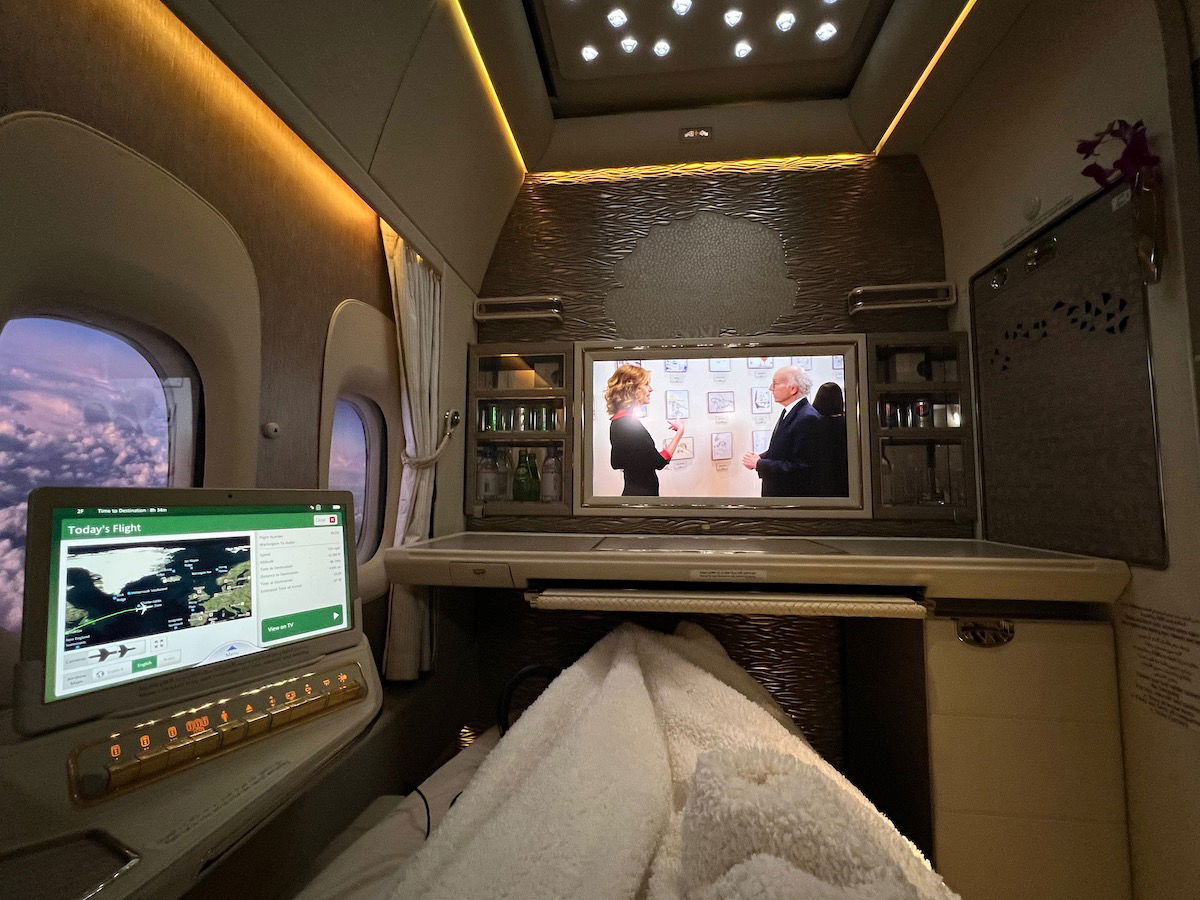 For a while I still enjoyed the full view from the virtual windows.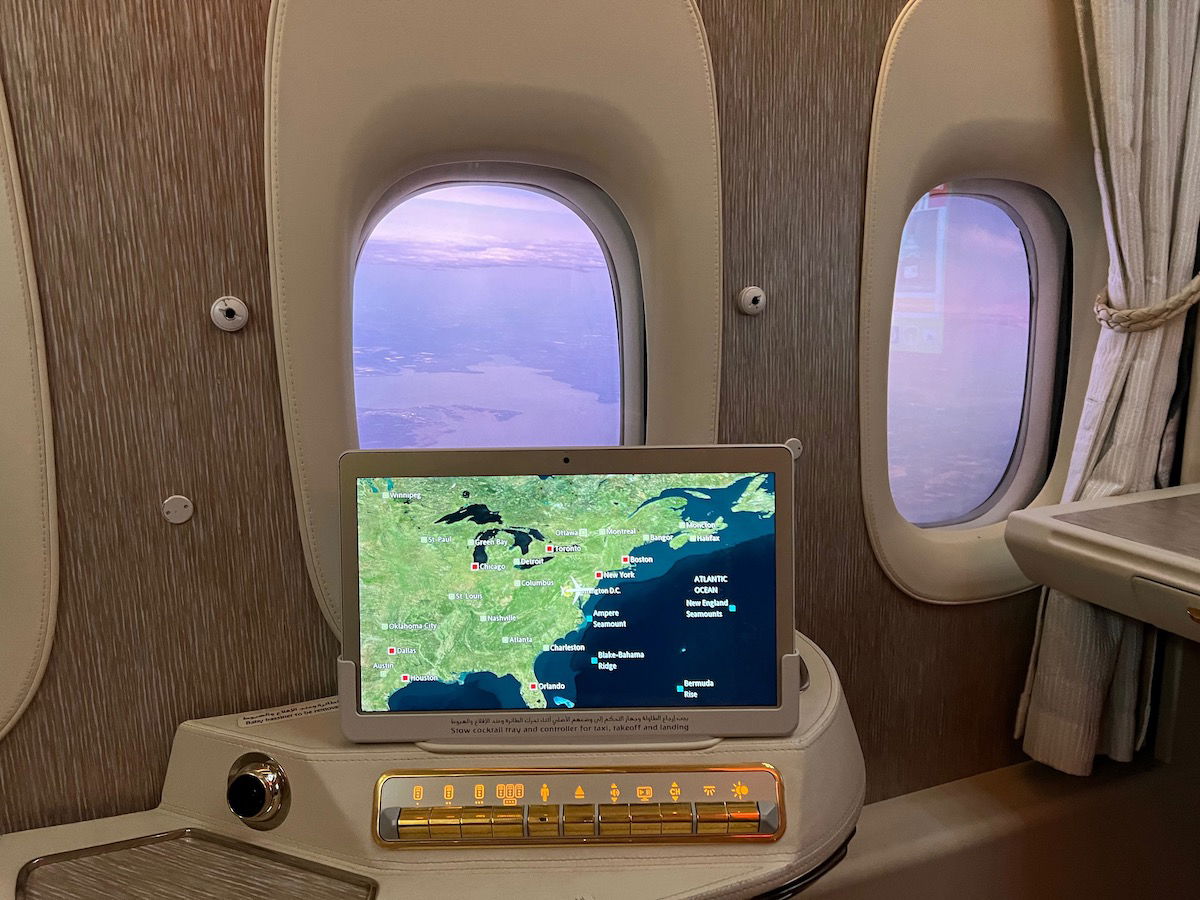 Just like the window seats, you can lower the blinds while still allowing some (fake) light in.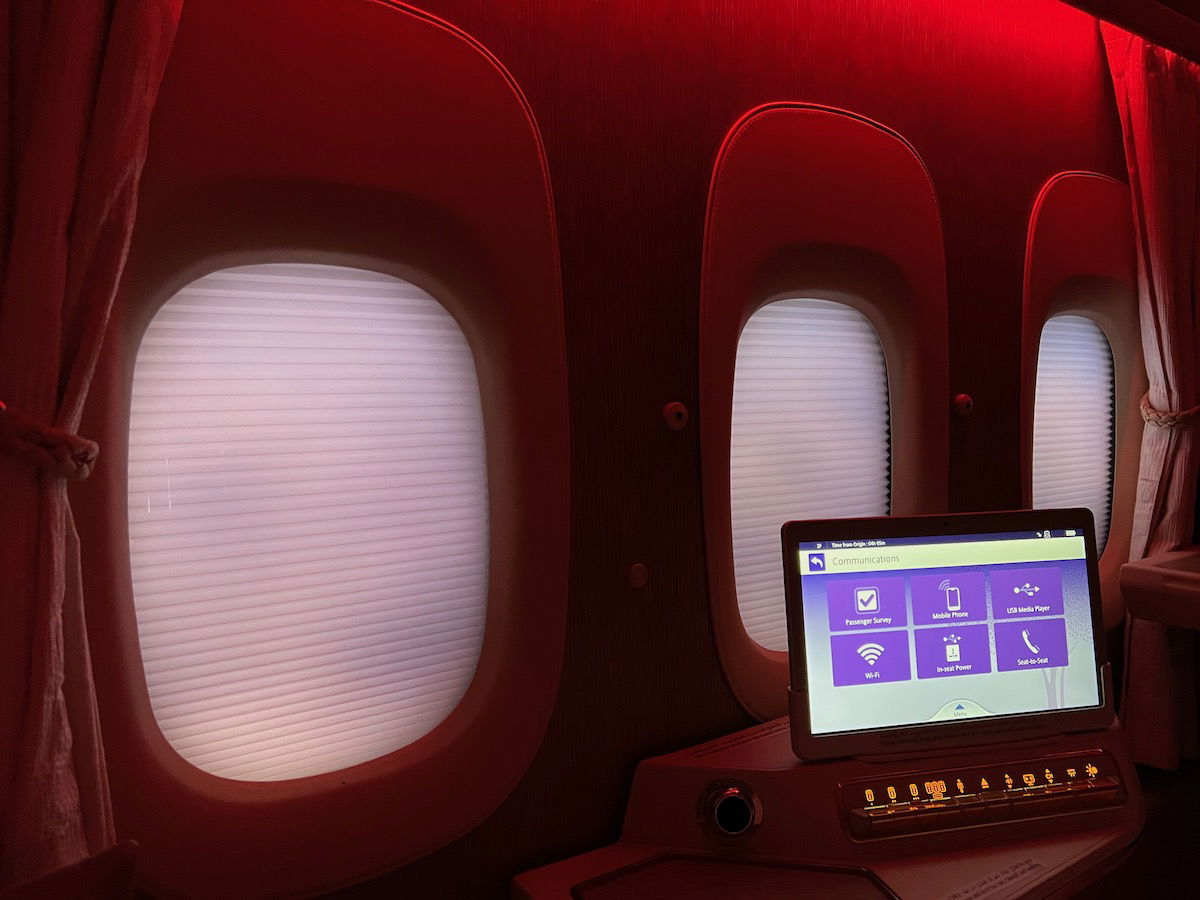 Or you can draw the blackout shades, so that you have true darkness (and since you're facing a wall and these windows are fake, it's actually fully dark).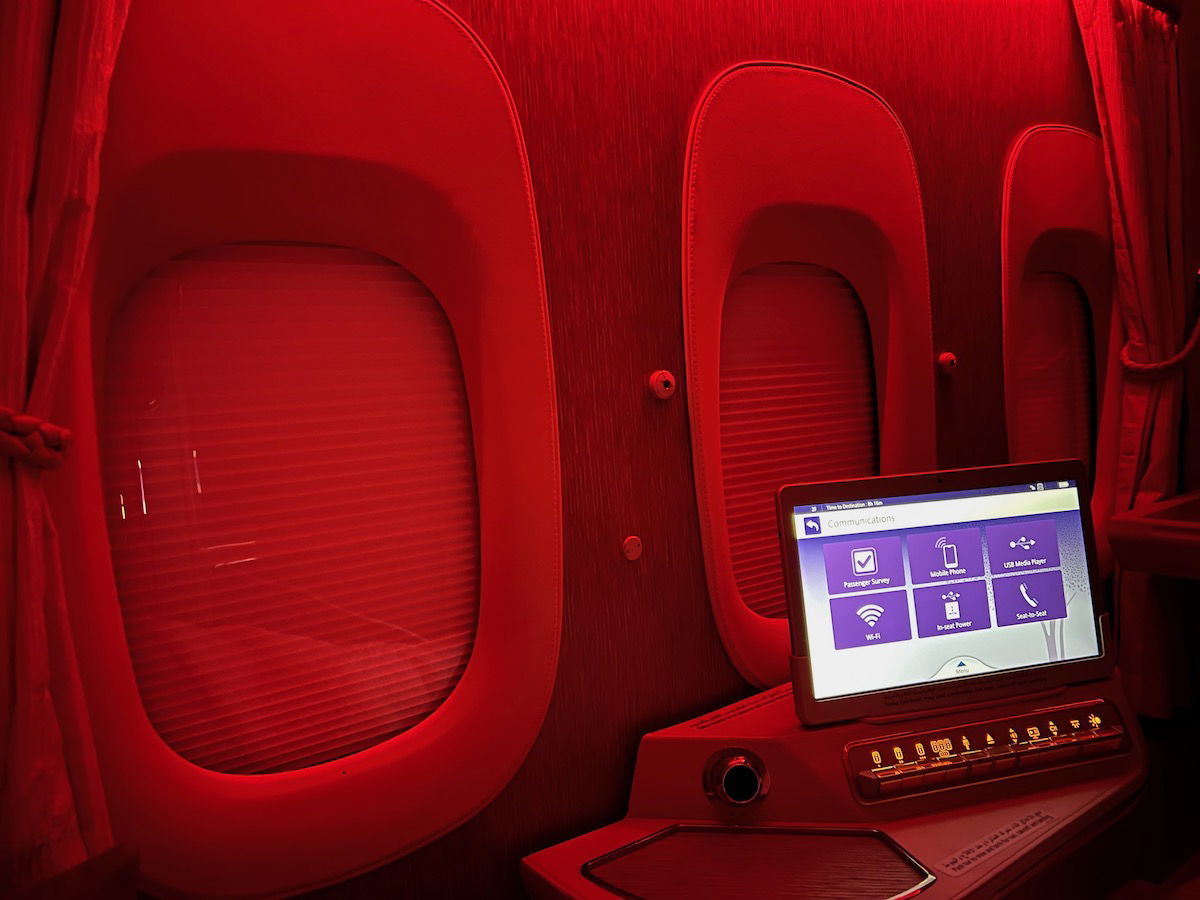 I was surprised to find that I managed to sleep for nearly four hours, and woke up over Germany. Mentally the way I think of the Washington to Dubai flight is that it's like a daytime flight from Washington to London, and then an overnight flight from London to Dubai (and that even roughly matches the routing). So at this point we were over halfway to Dubai.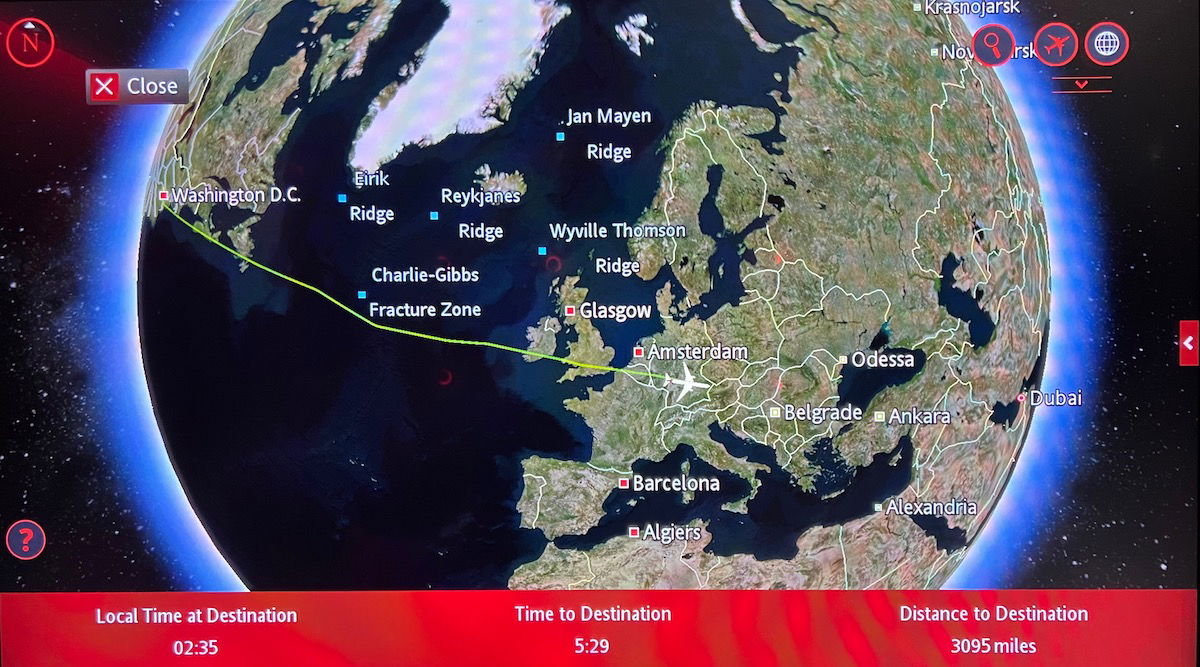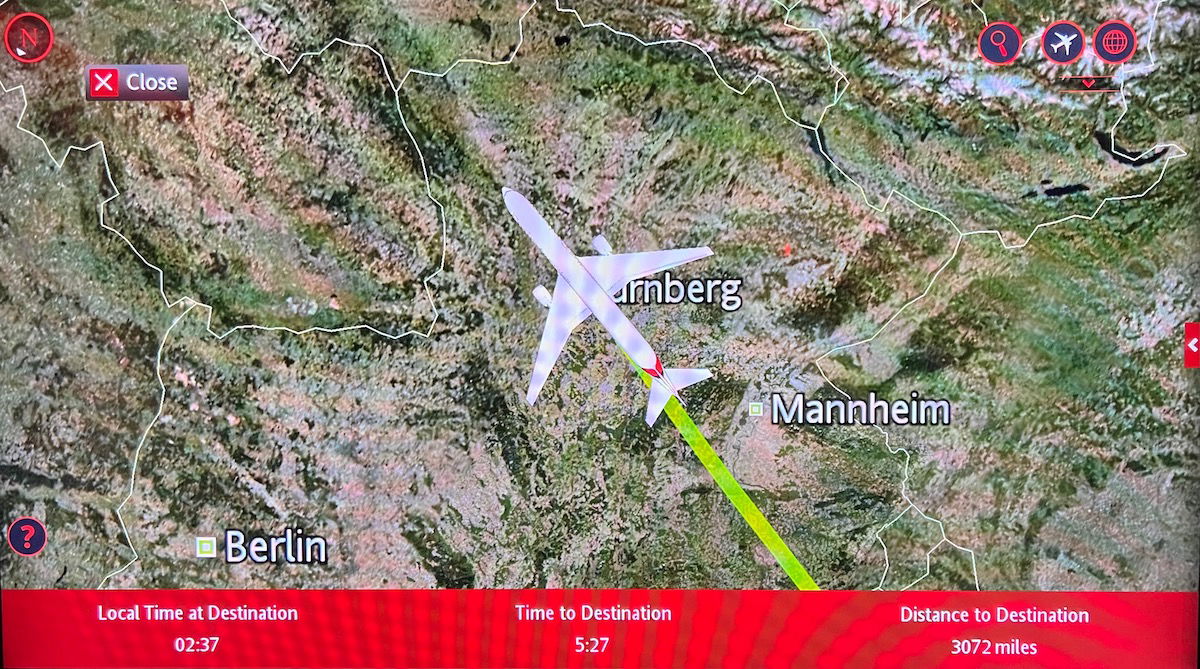 It was already dark outside, as we were starting the "redeye" portion of the flight.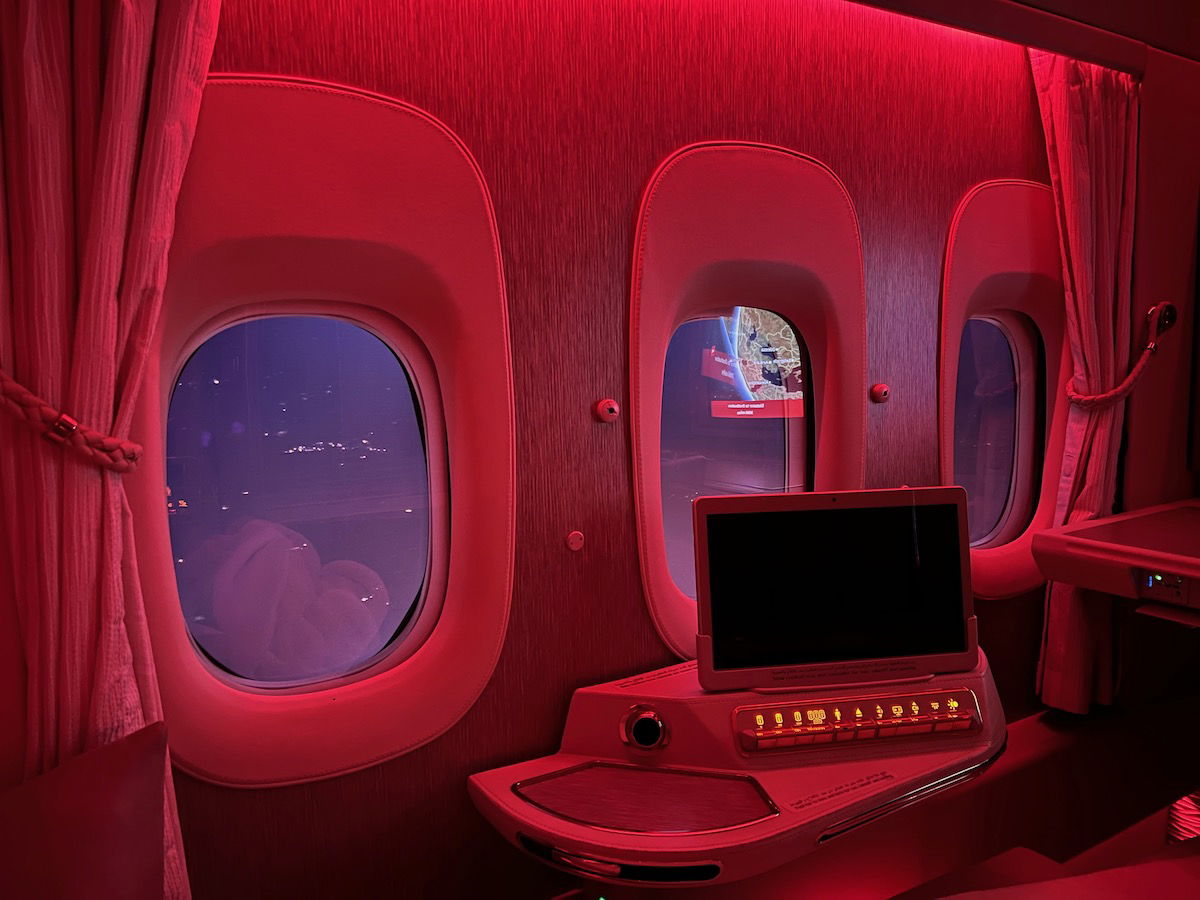 Emirates first class snack
Now that I was wide awake, the first order of business was to hydrate (a lot). I had at least a couple of liters of water, which helped with my ever-so-slight headache. 😉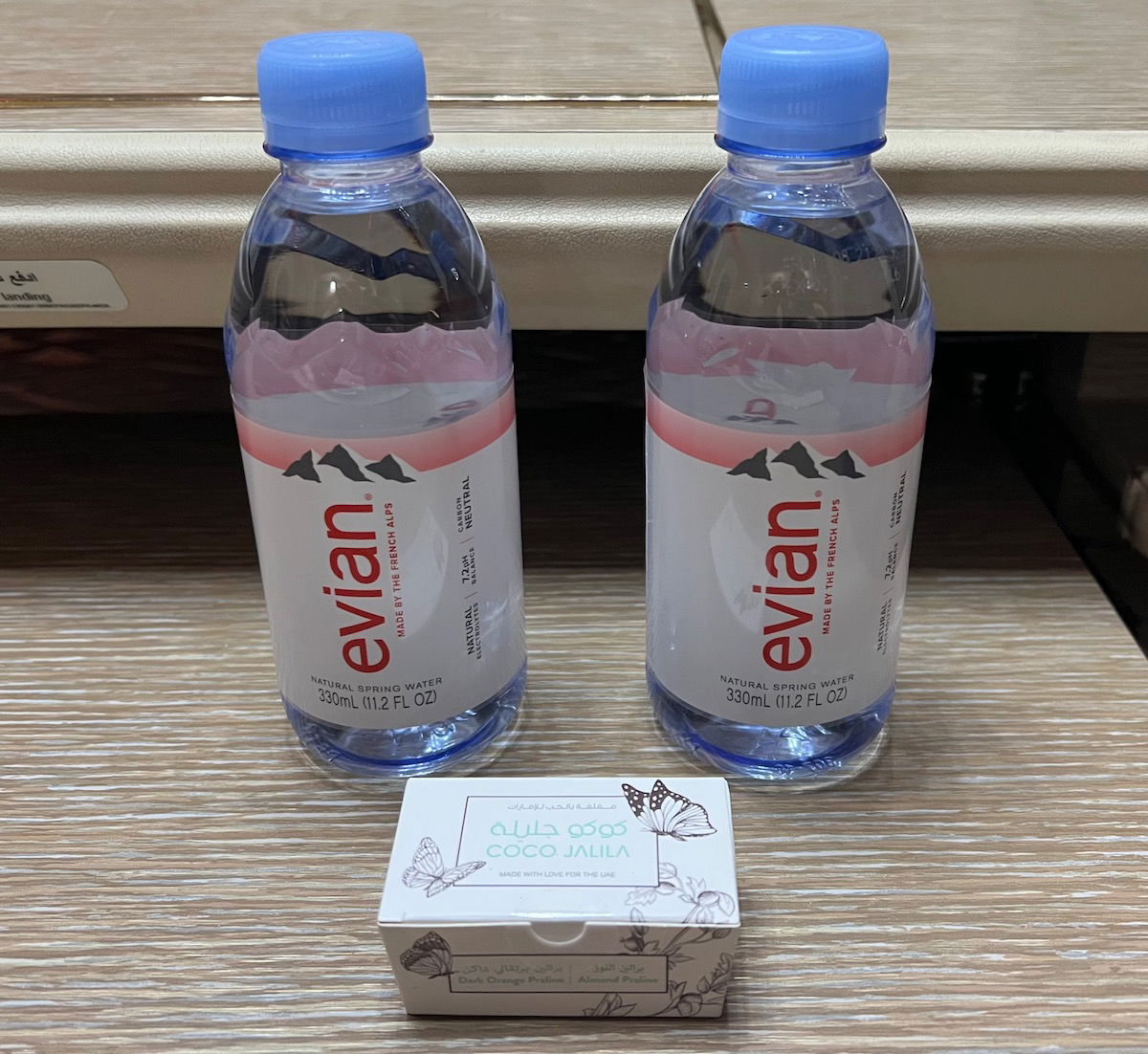 About an hour later I figured it was time for another snack, and Ford was awake as well. So we both ordered more caviar, and we figured we had to accompany that with some more champagne. Chilled vodka was also offered proactively.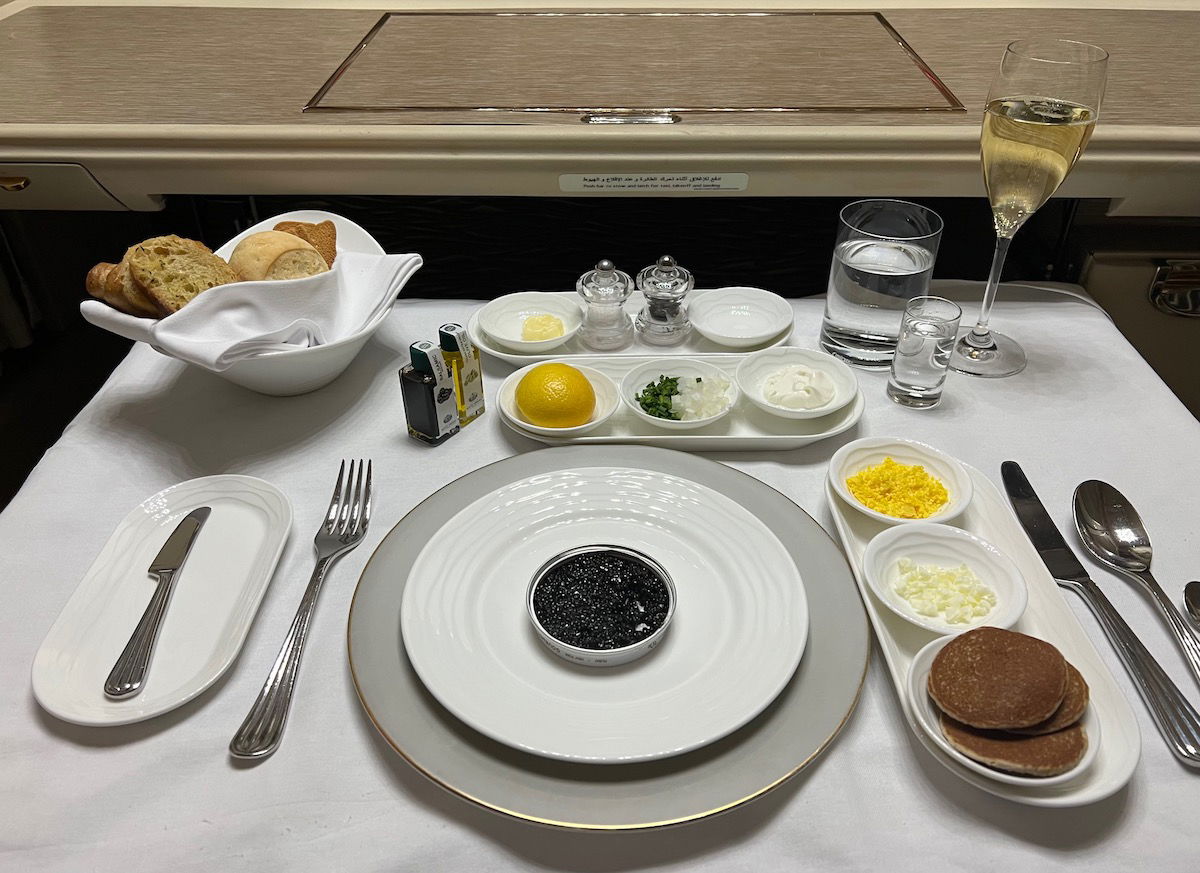 I decided to order the vegetable burrito with refried beans, jalapeños, guacamole, cheese, and sour cream, with tomato salsa.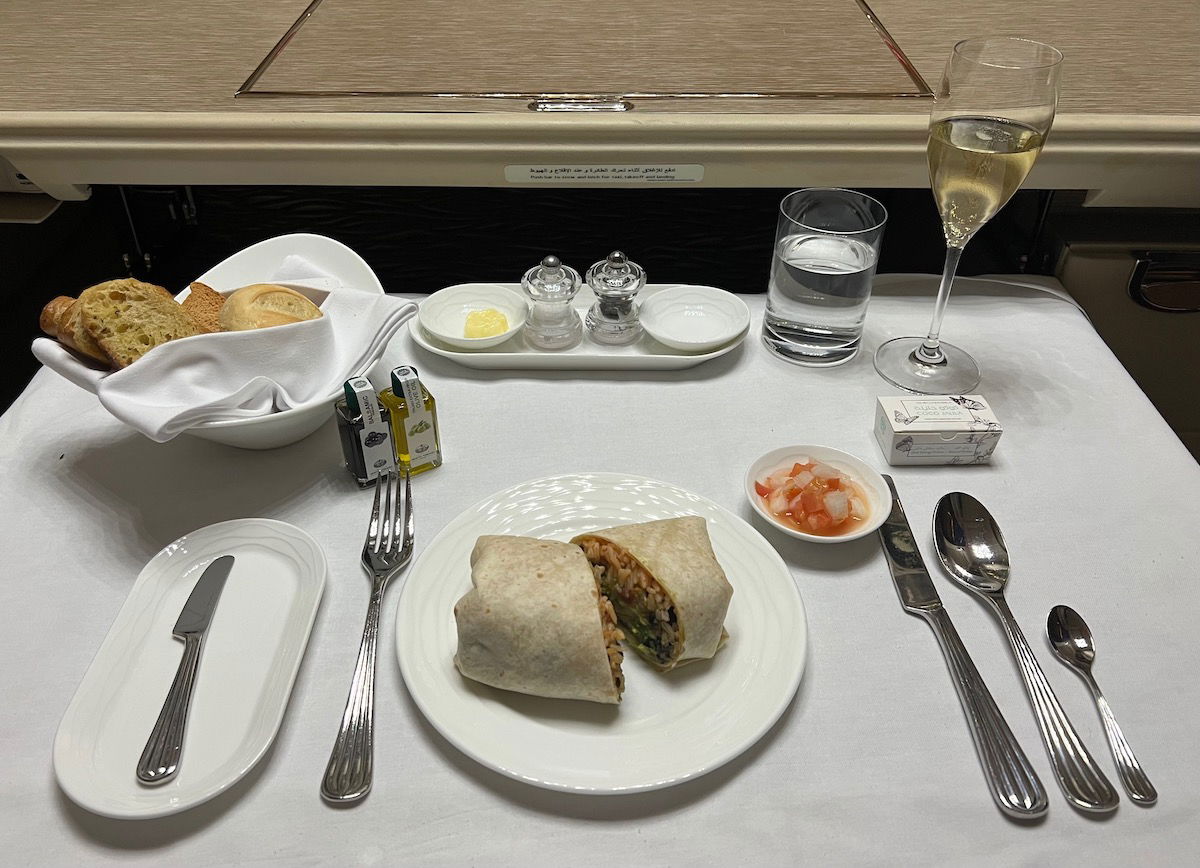 Ford had the sriracha tofu poke bowl.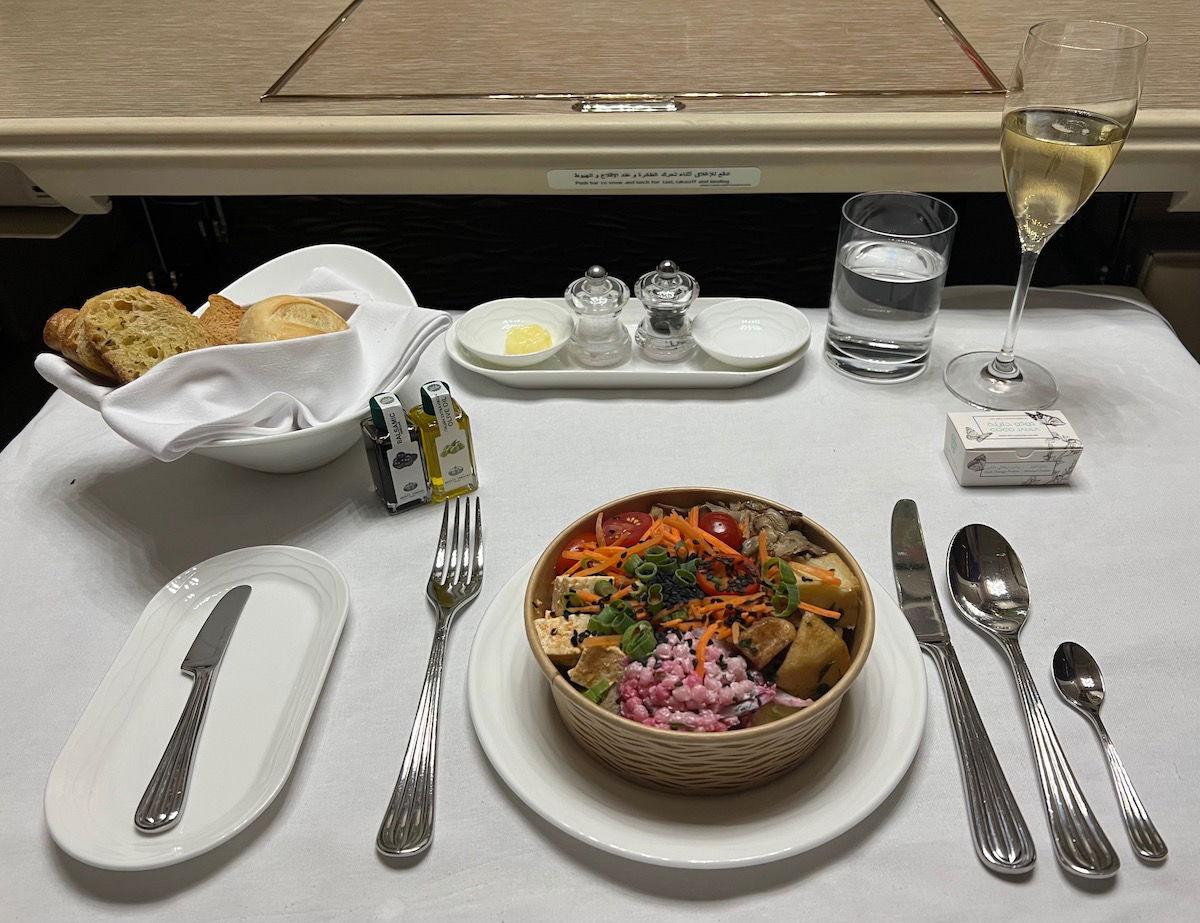 Emirates first class pre-arrival meal
I spent a couple of hours working and watching TV shows, and soon enough we were over Iraq, just over two hours from landing. At this point we made a pretty sharp turn, as is standard in this area.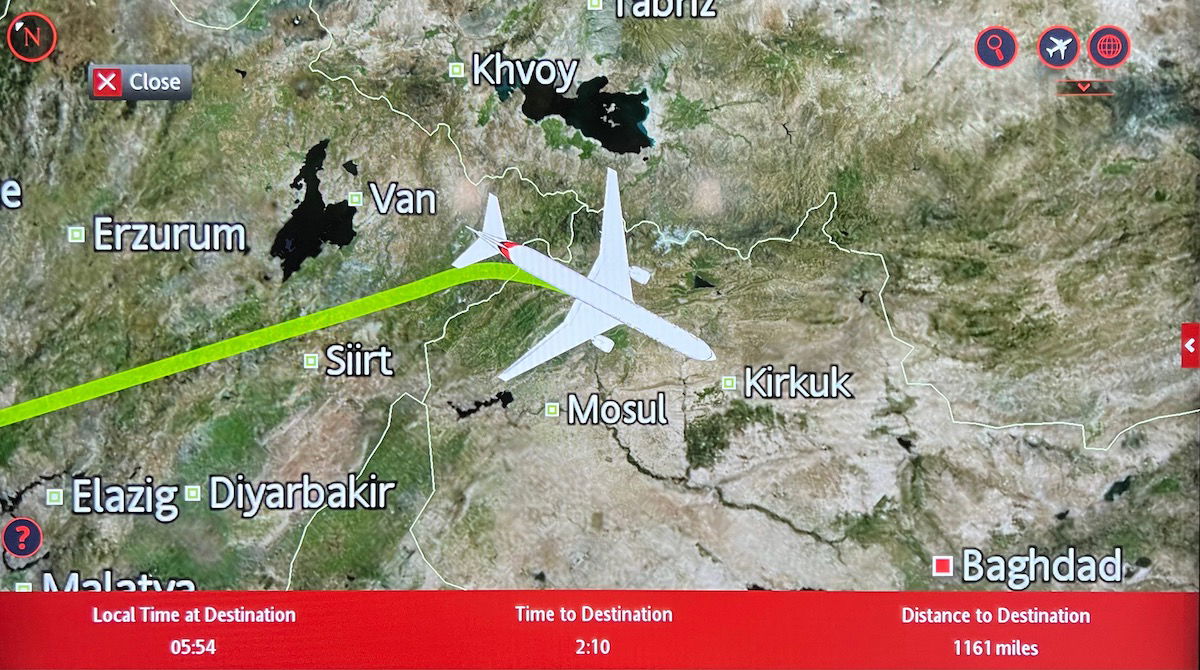 The sun was slowly starting to rise, so I checked out the nose camera. I noticed there was an Airbus A380 we were flying behind. How cool!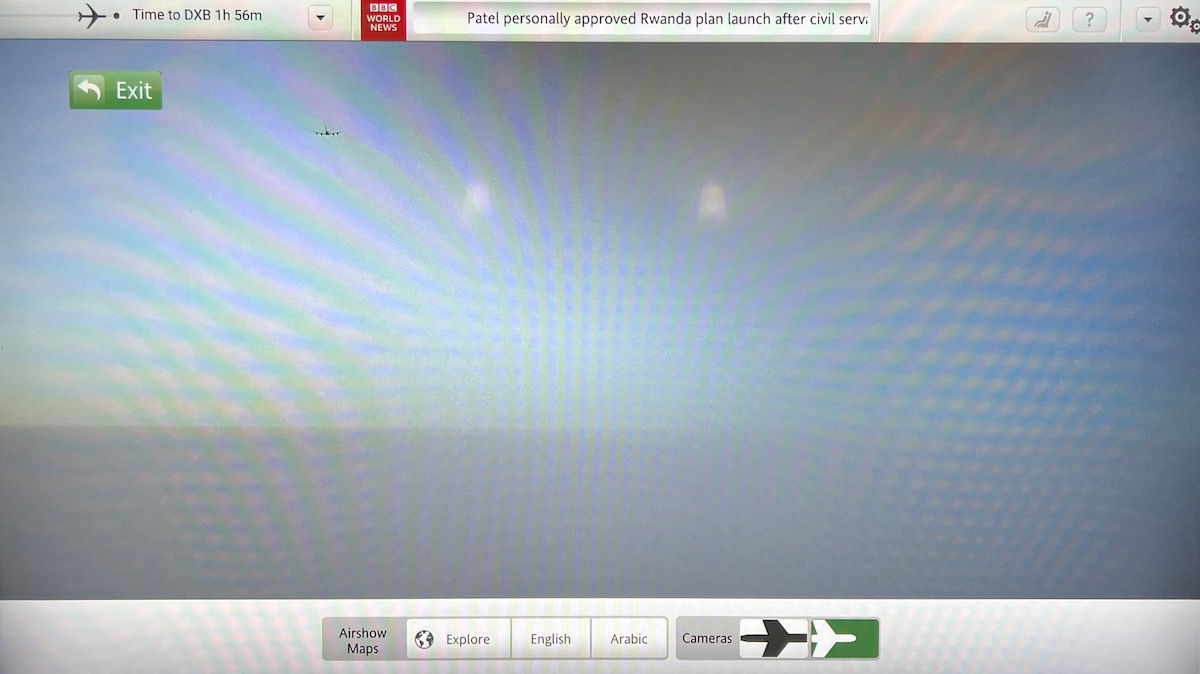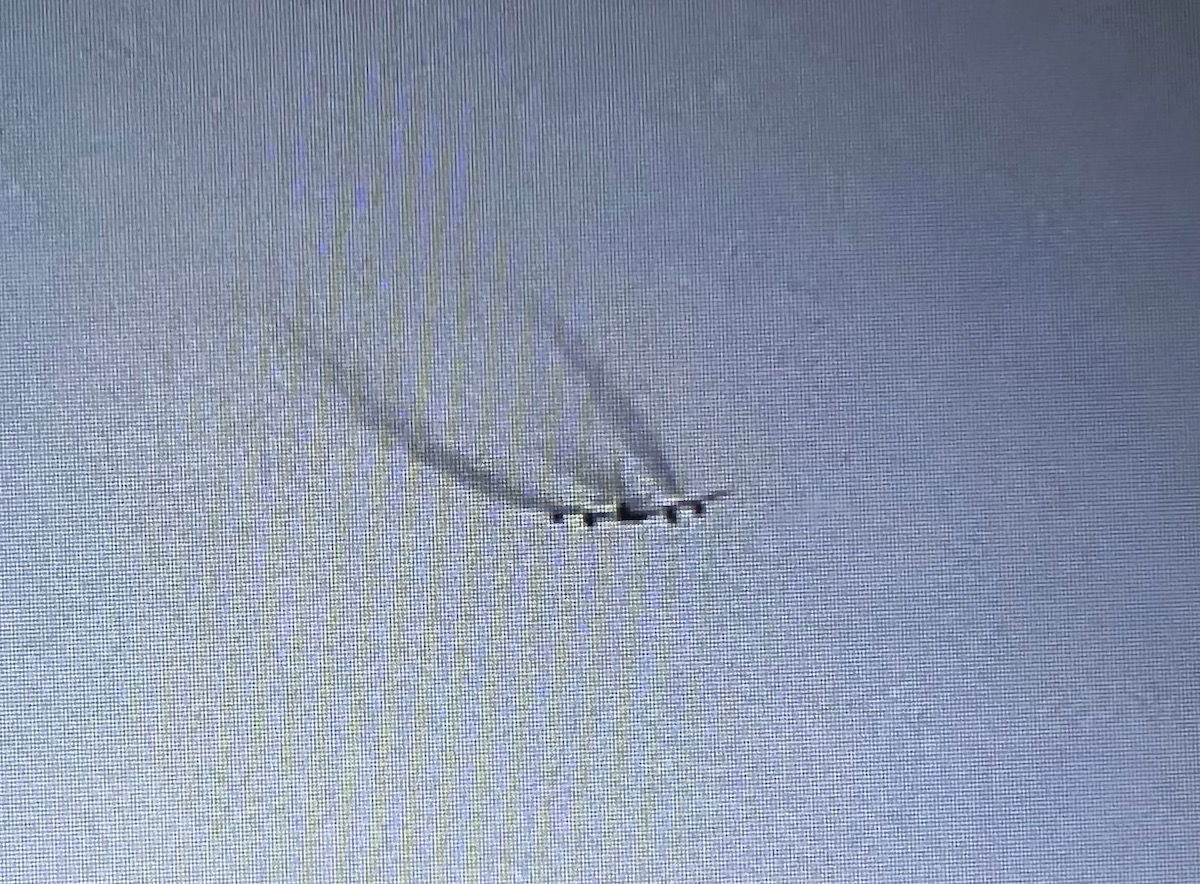 Unfortunately it kept getting further and further away, since the A380 flies a bit faster than the 777. The plane was bound for Dubai as well, though.
I decided to order a cappuccino, which had the Emirates logo stenciled on it — cute! I was offered a couple of biscottis, some chocolates, and a warm towel, to go along with it.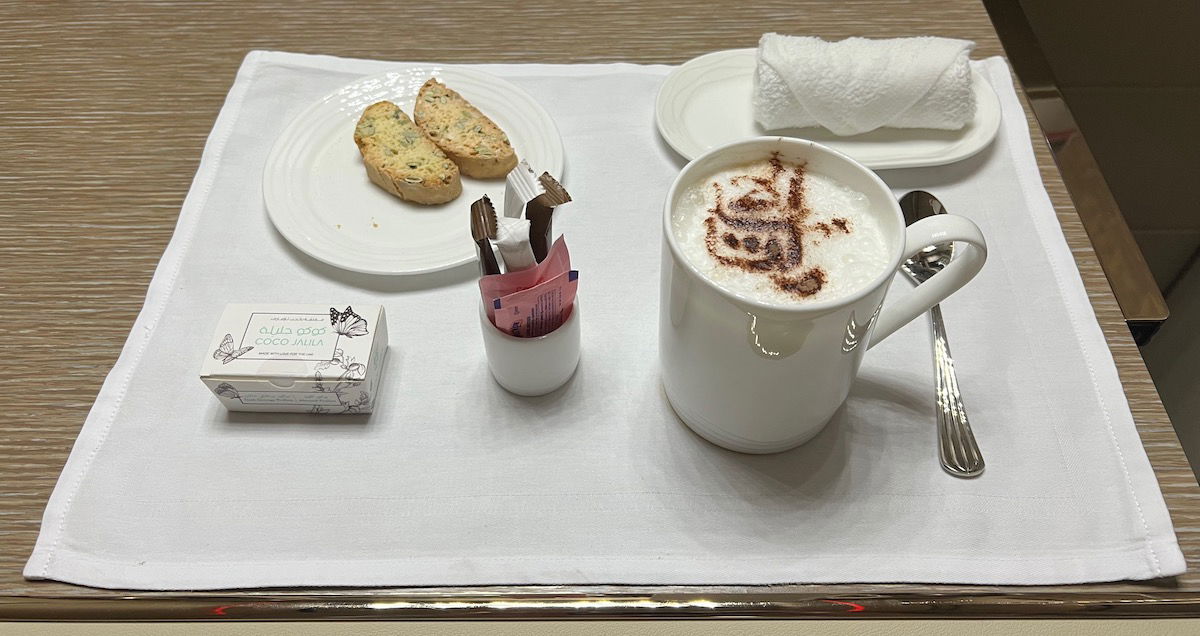 A bit later I ordered a cup of coffee, and was given a couple of pastries as well.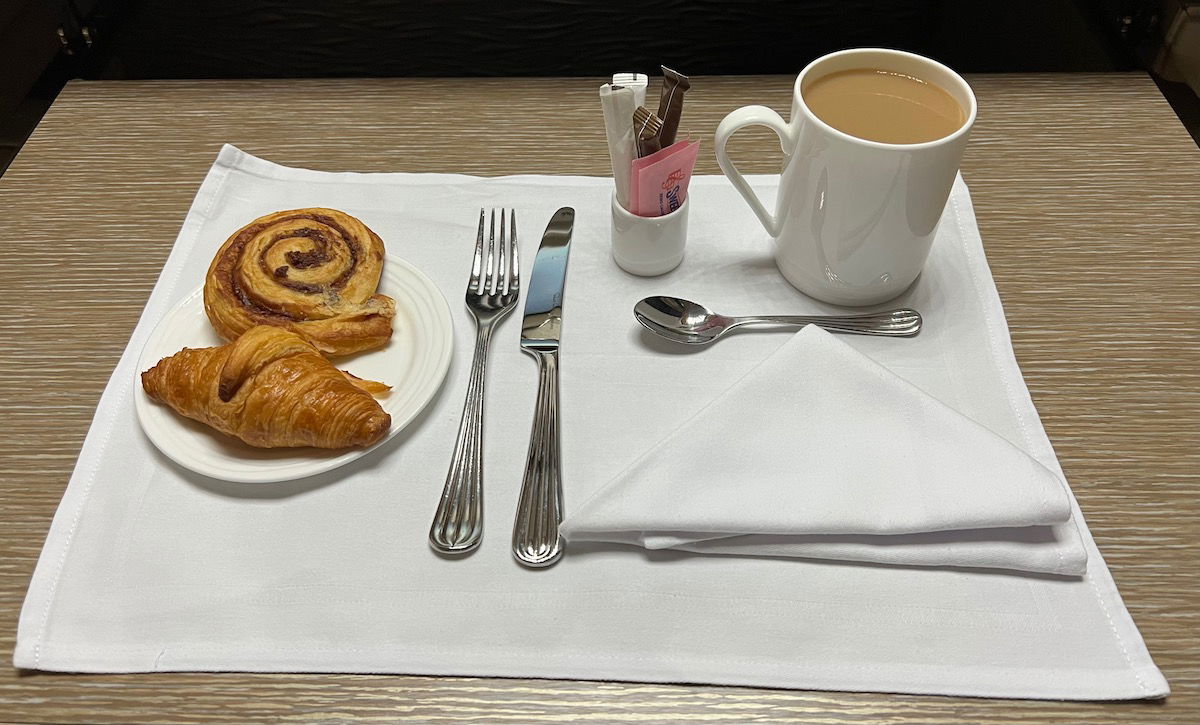 Lastly, about 90 minutes before landing I ordered some breakfast. Specifically, I ordered the oatmeal and chia in coconut milk, and had some fresh fruit to accompany it.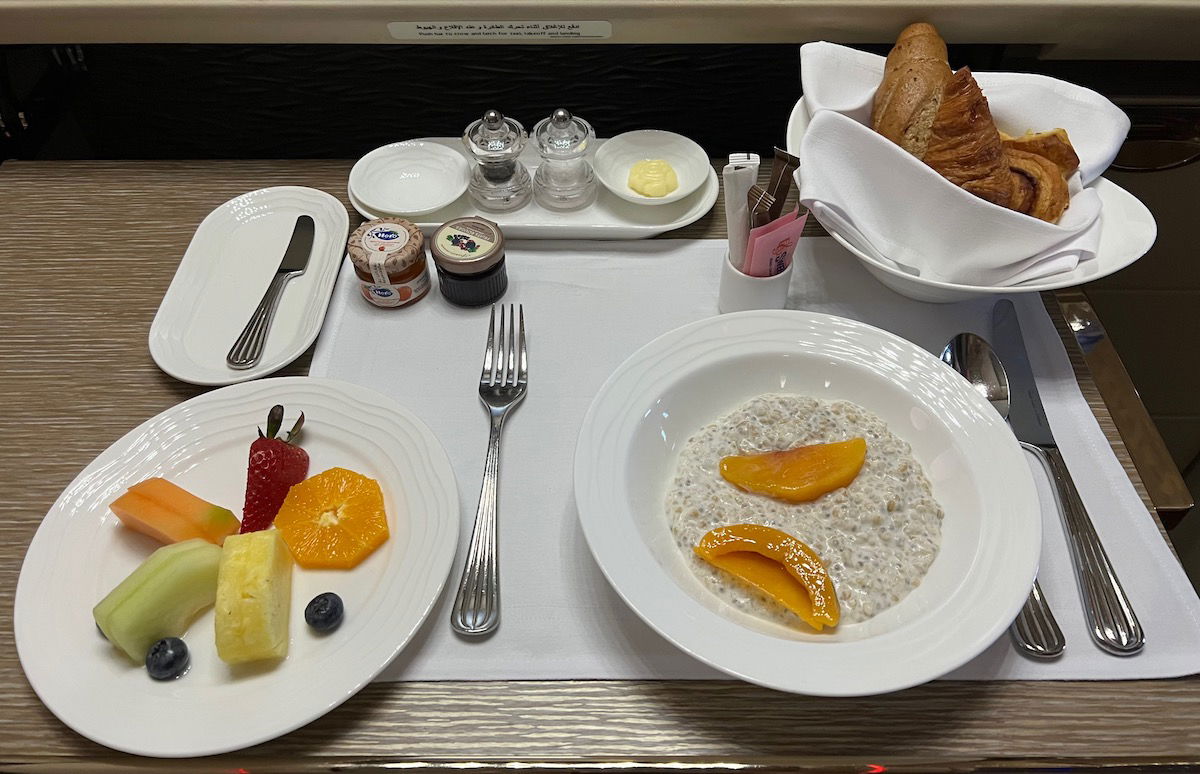 Ford had the poached eggs with hollandaise, turkey, and spinach.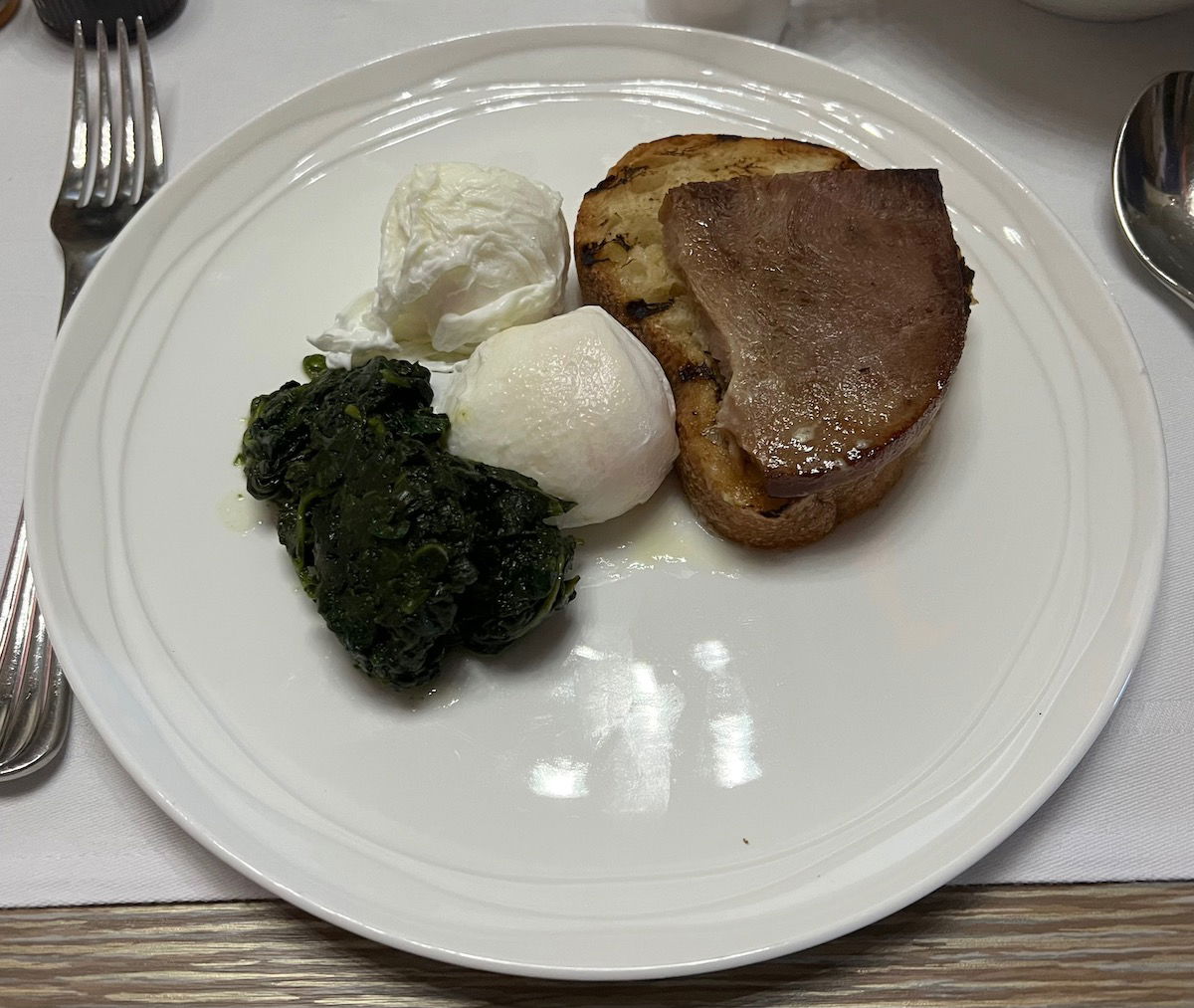 Emirates first class service
I hinted at some aspects of the inflight service above, but let me expand on that a bit. Ultimately we interacted with the purser and the two first class flight attendants. One first class flight attendant was perfectly good — he was by the book, responsive, and followed the standard service procedures.
The rest of the crew was a different story. At Emirates, pursers have quite a bit of responsibility and power, and they very much set the tone for the flight, including the service onboard. The purser on this flight was probably the least hard-working purser I've had on Emirates.
Like I said, she came by once after takeoff to give us the menus, but that was it. It's not even that she was in business class managing things there a whole lot, but rather she spent most of the flight either seated in the jumpseat in first class or even seated in an "office" she set up in one of the other first class suites.
In my experience if a purser is sitting in the jumpseat and you go to the bathroom, they'll be the first to address you by name, ask how the flight is going, ask if there's anything they can get you, etc. There was none of that. She just sat there and came across as incredibly apathetic.
Then there was the other first class flight attendant. She was hilarious and a good time, but I think that's also in part because we were being fun. However, she was also not especially professional, to put it mildly. That tone was set when we boarded the flight, and she already set up all her things in "my" suite and tried to get me to move, rather than apologizing.
It's pretty clear that she was primarily onboard to sell duty free items at any cost, and I suppose that's fair enough, because on each flight there's a dedicated duty free sales person, and Emirates creates quite an incentive to sell. But that also shouldn't come in the form of making up promotions and pressuring people to buy. I'll just leave it at that…
Emirates arrival in Dubai
At 7:20AM Dubai time, the first officer was on the PA to inform us that we'd be landing in around 40 minutes, and would start our descent within 10 minutes.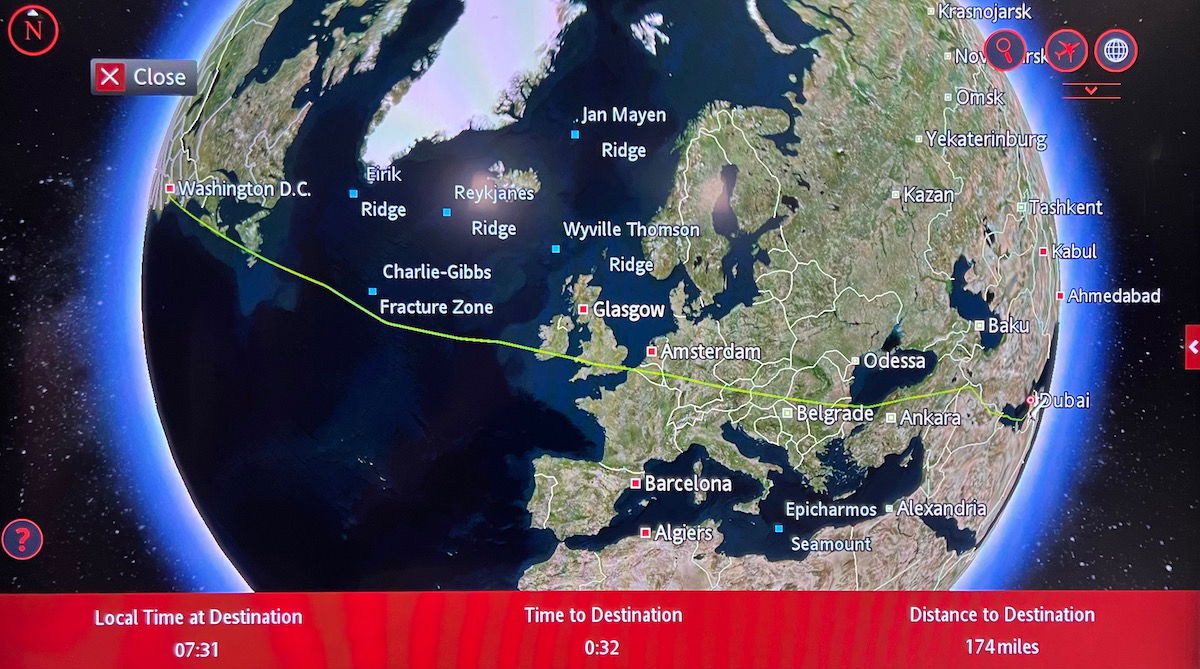 The seatbelt sign was turned on around 20 minutes later, so the cabin was prepared for arrival. I was back to just enjoying the virtual windows nonstop.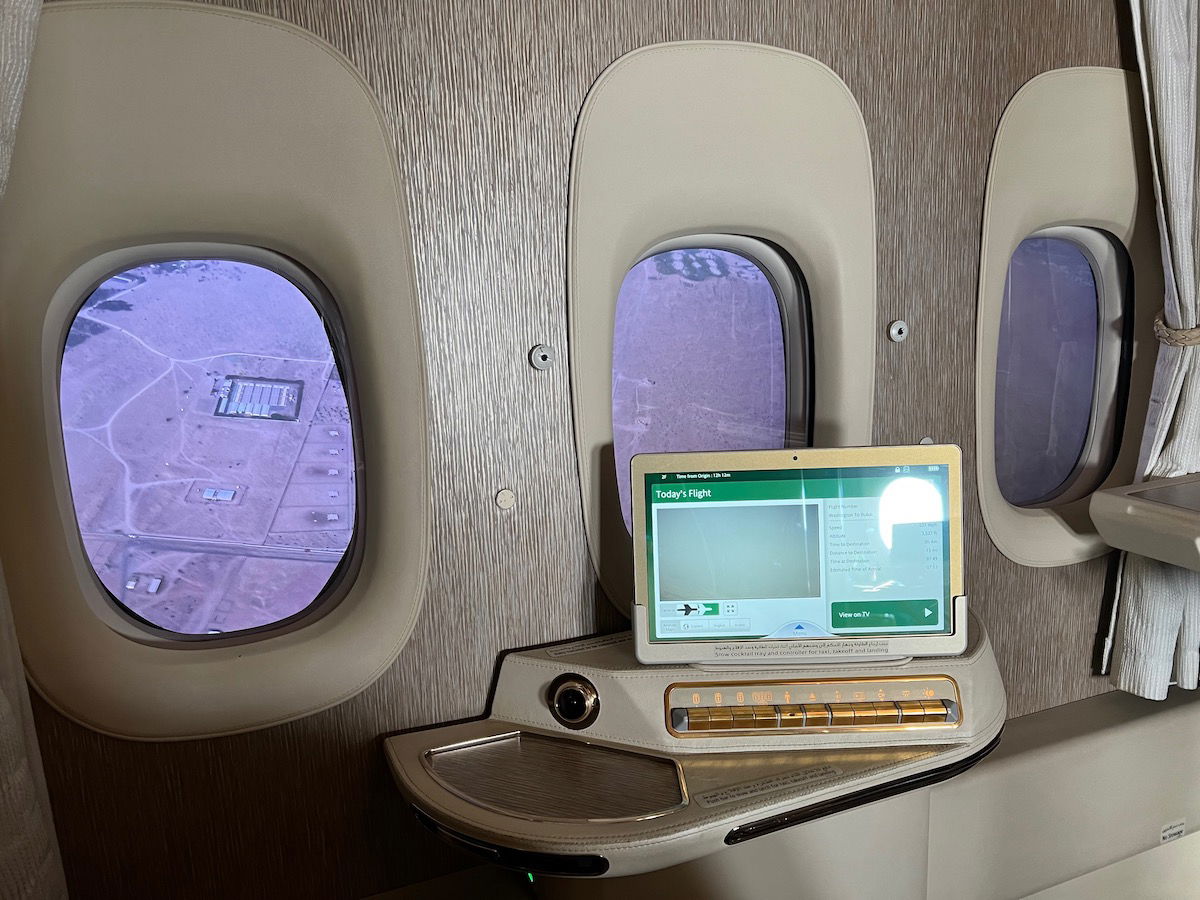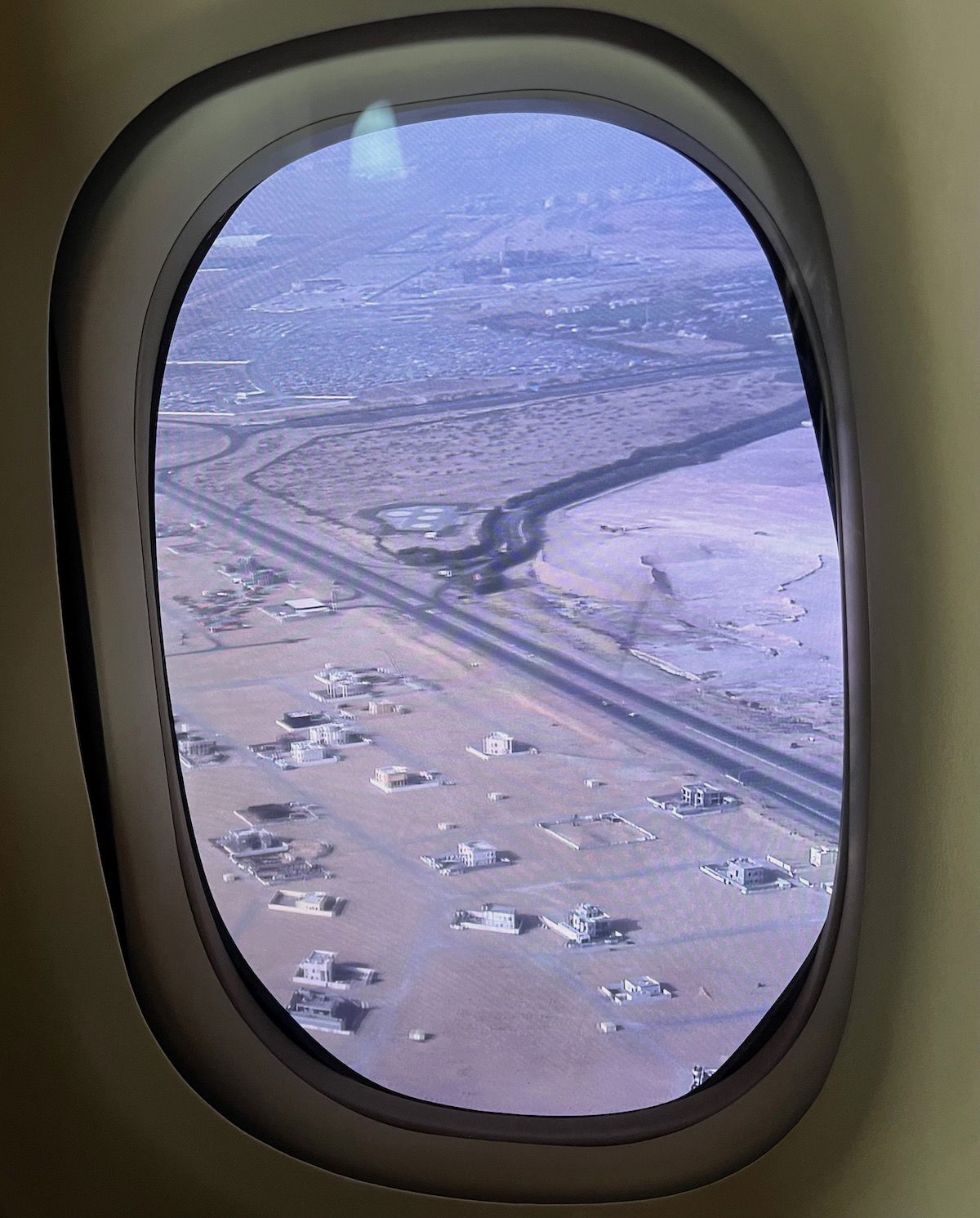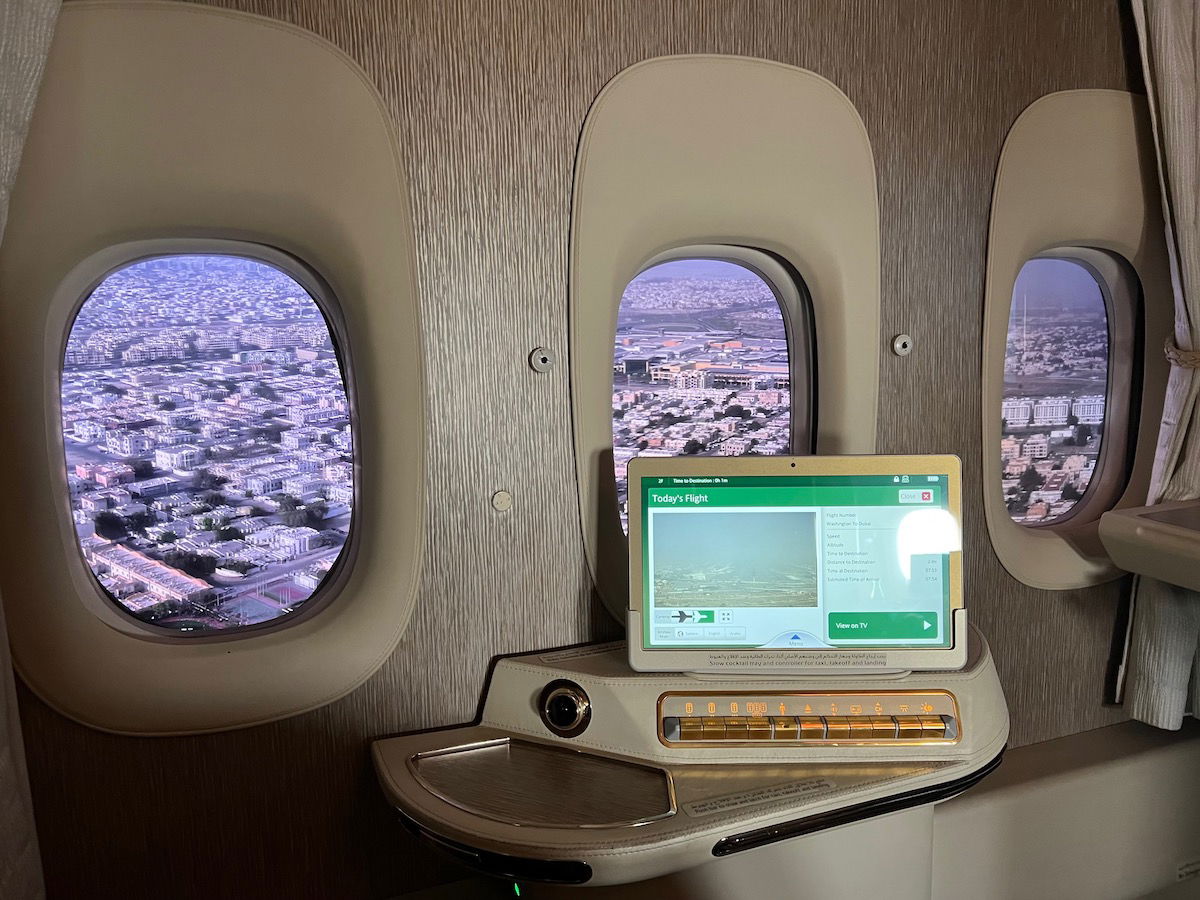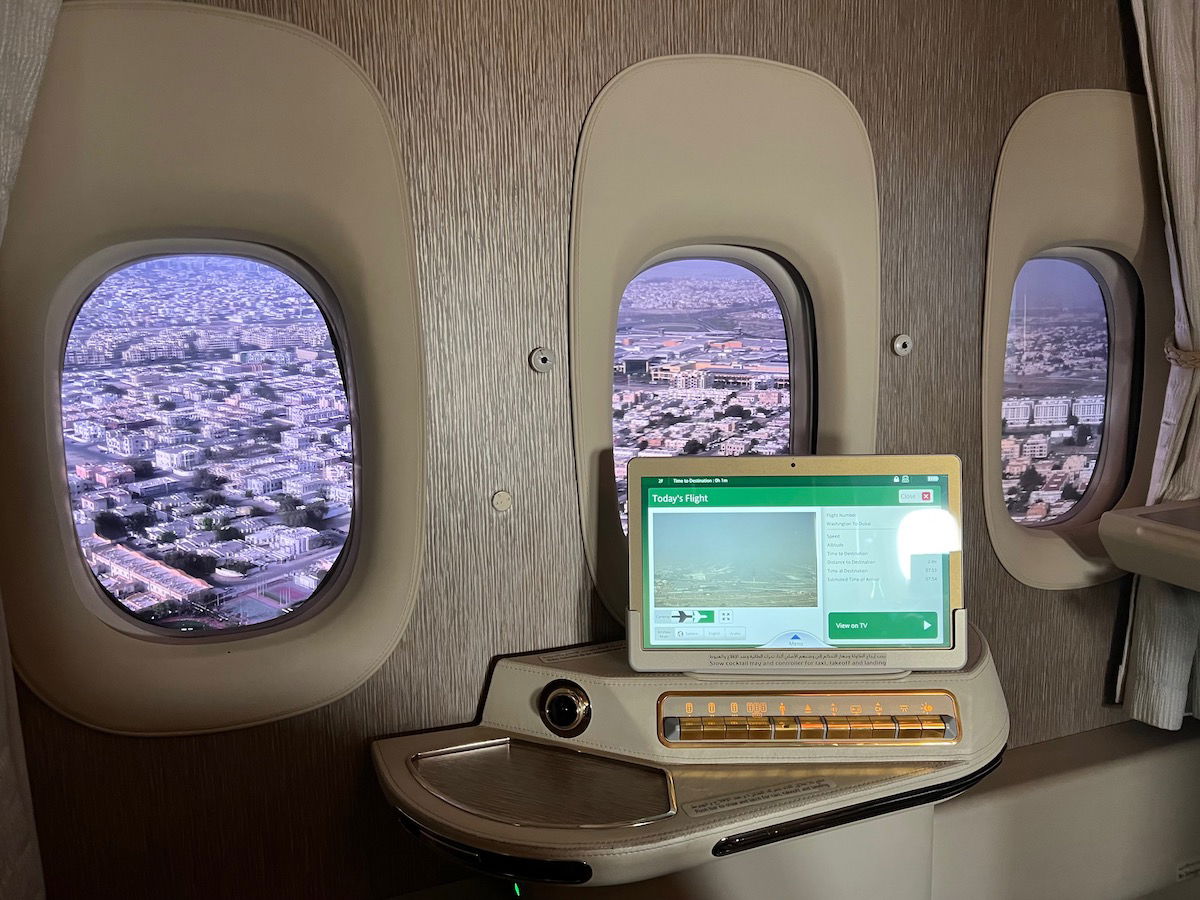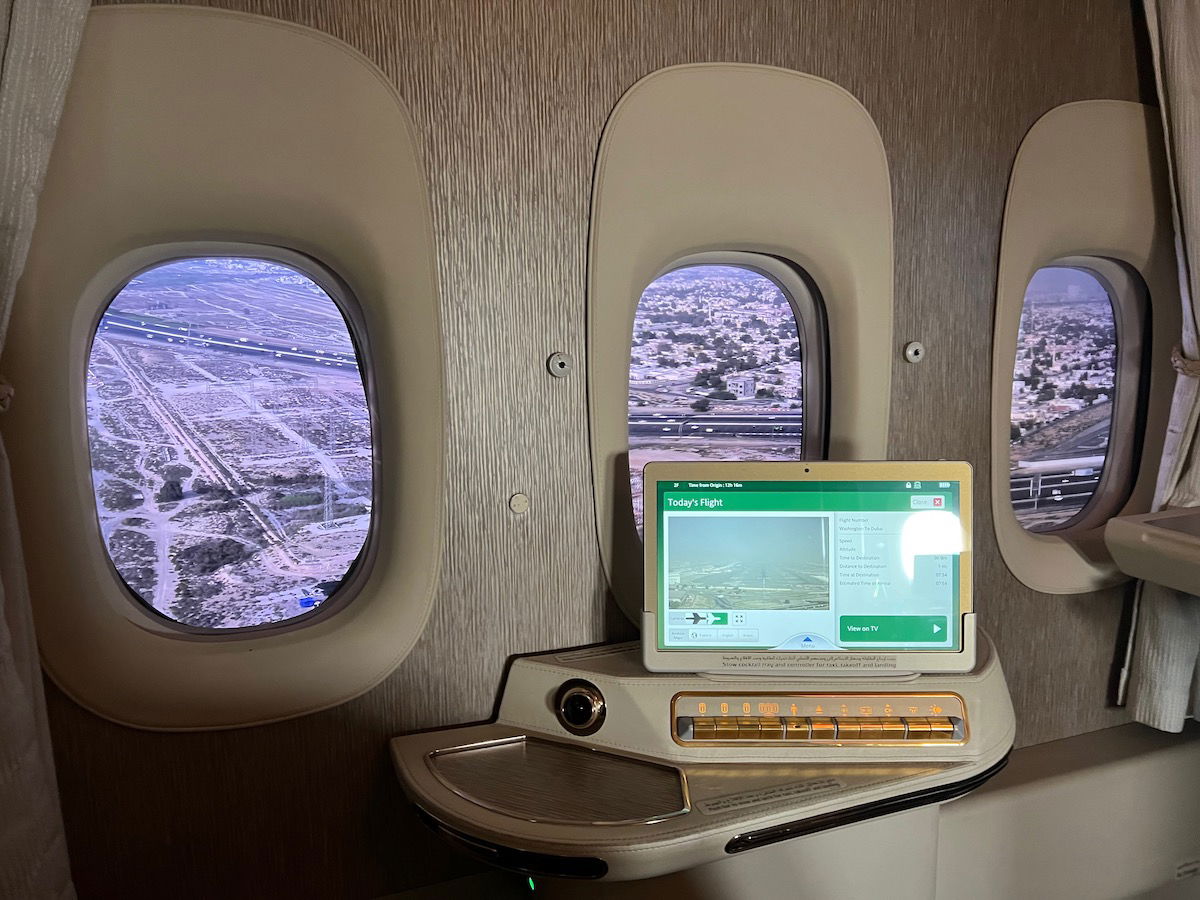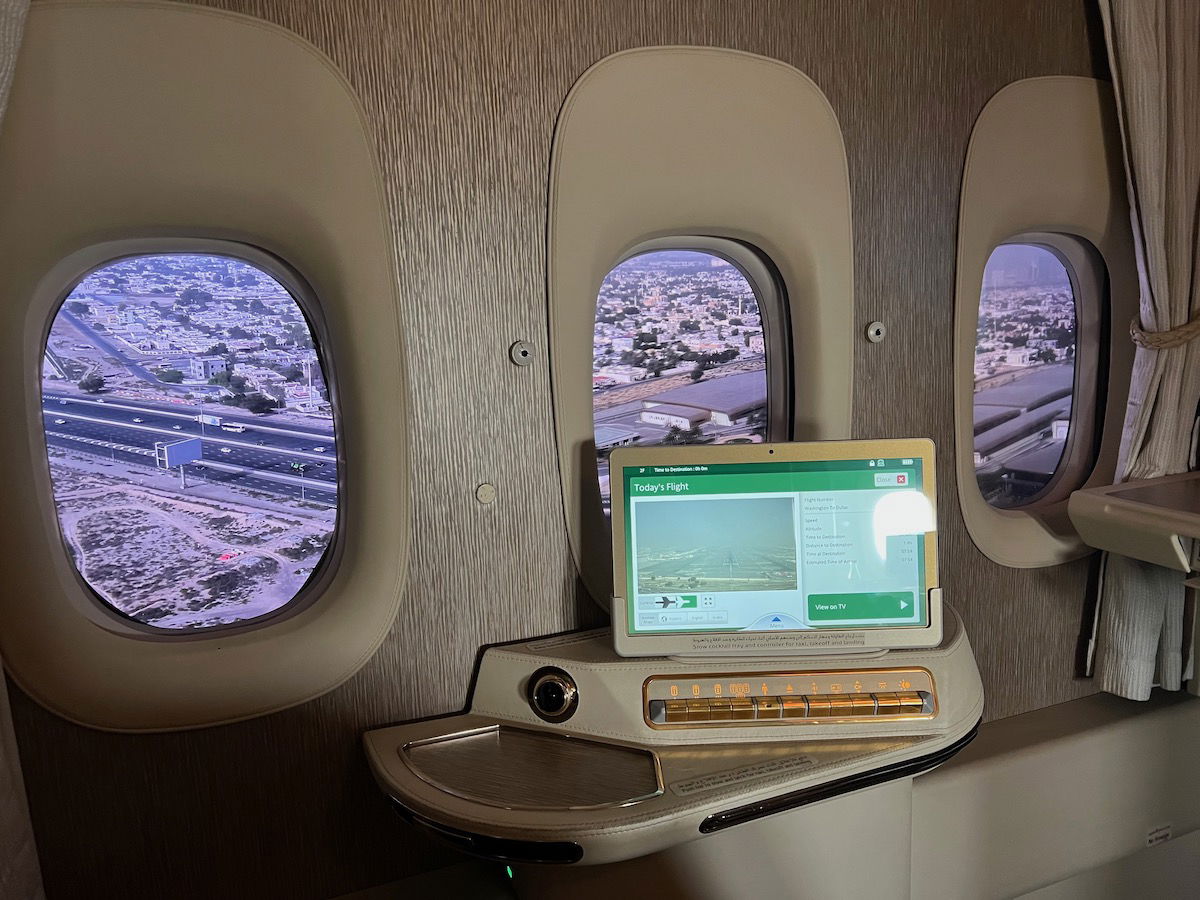 We had a beautifully smooth touchdown at 7:55AM on runway 30L at DXB.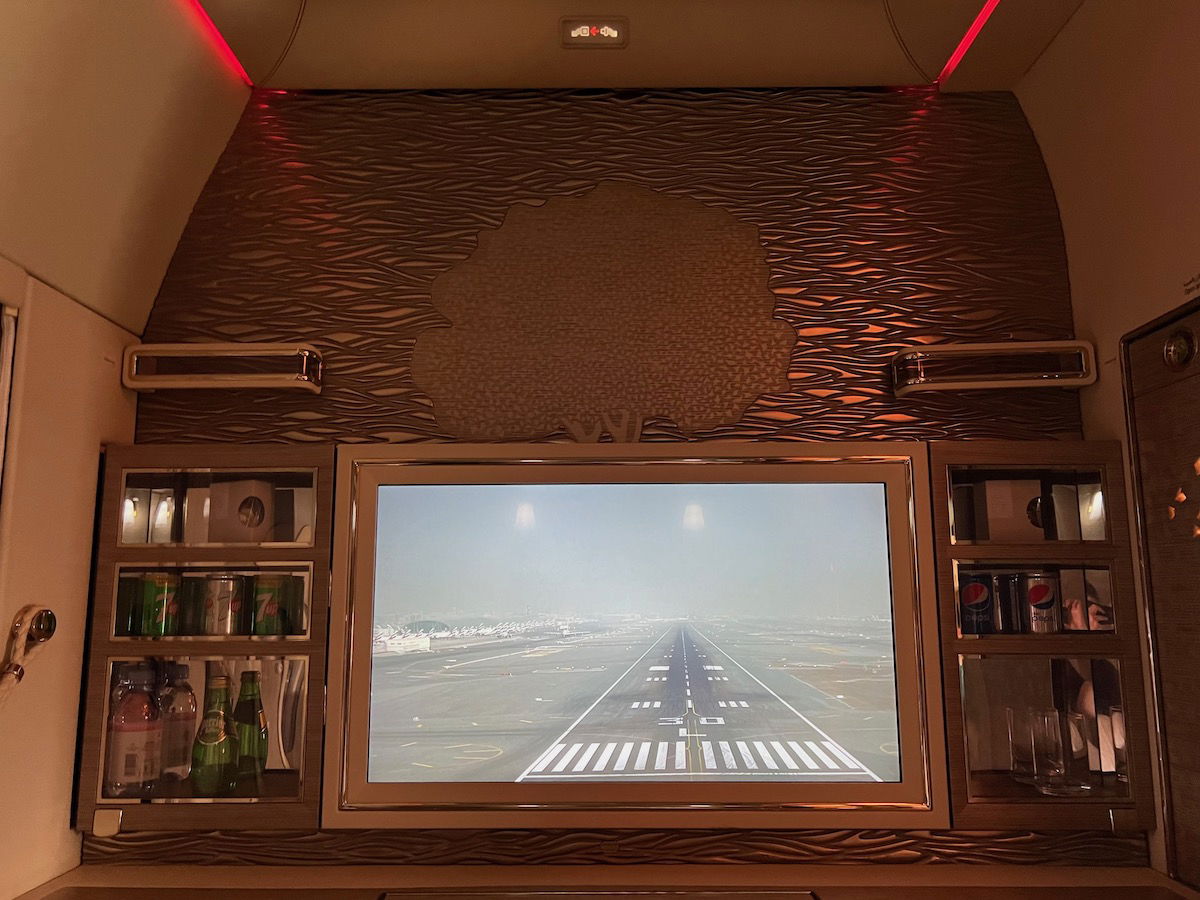 From there we had a roughly 10 minute taxi to our arrival gate, where we pulled in at 8:05AM.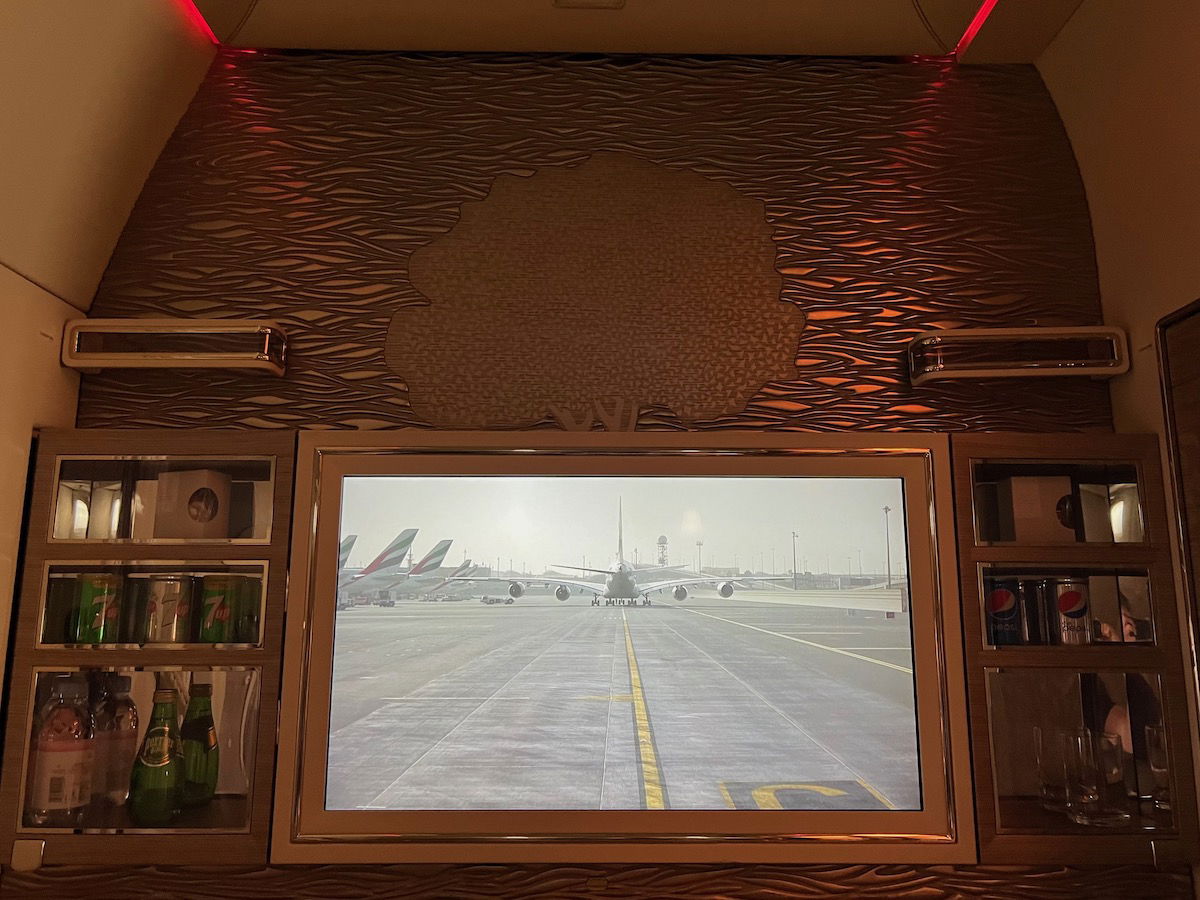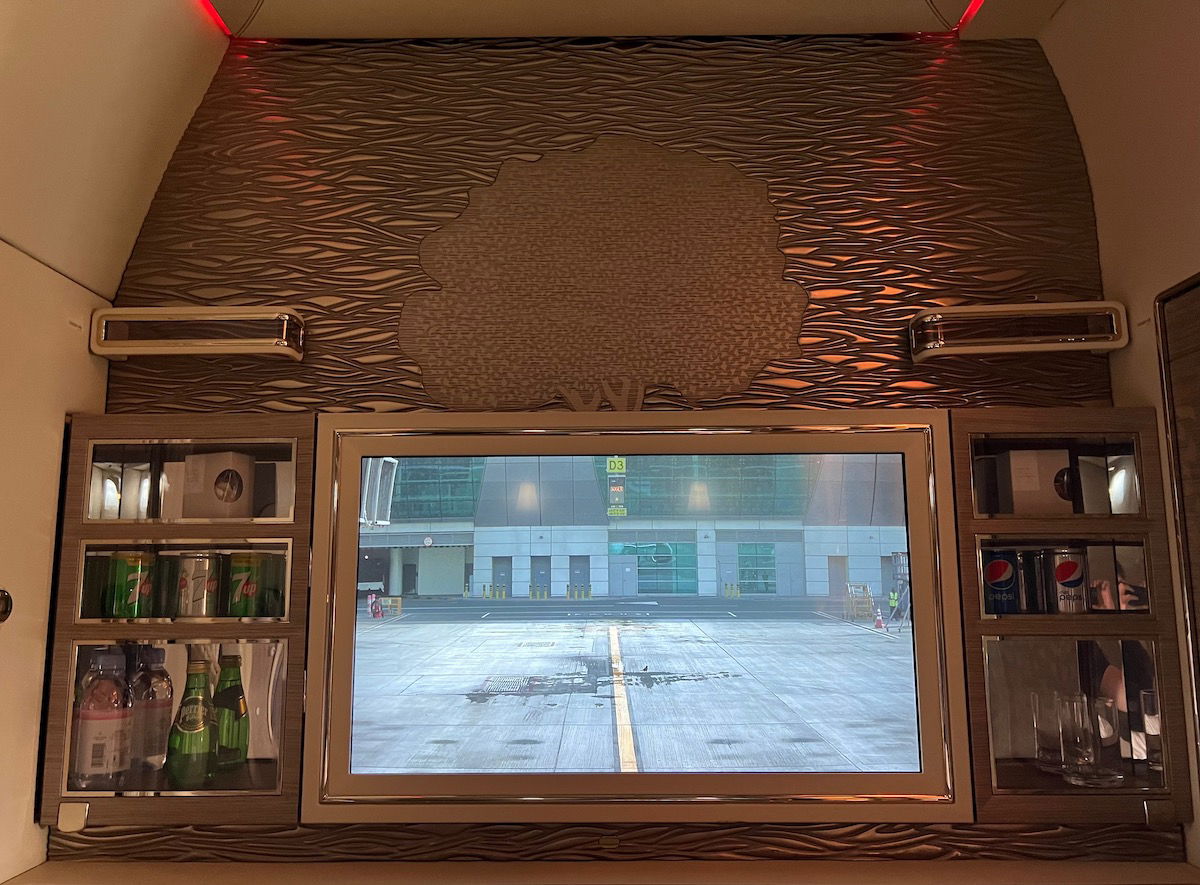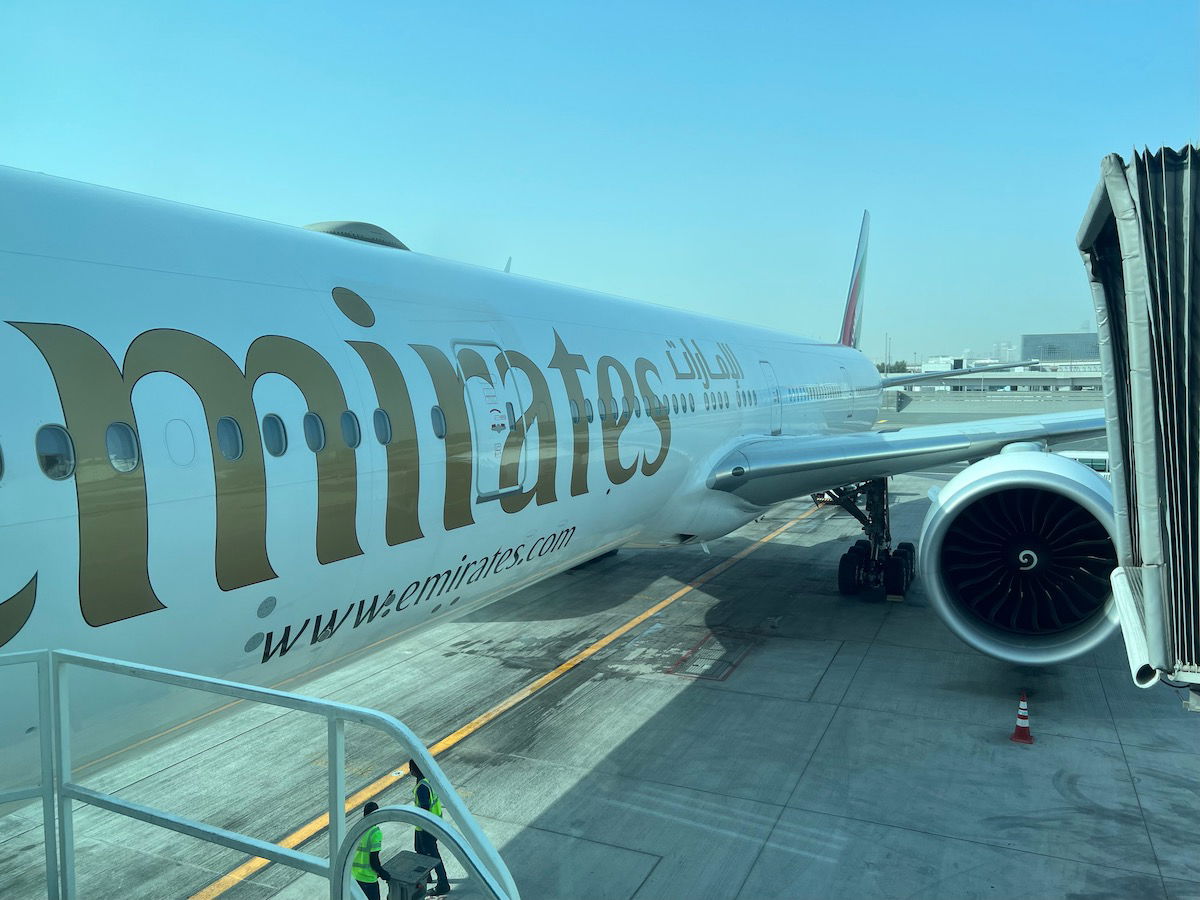 While it was quite a distance to get to the arrivals hall, there was no queue at immigration. Furthermore, I was impressed that our bags were the first two on the belt — it's nice when priority tags actually work!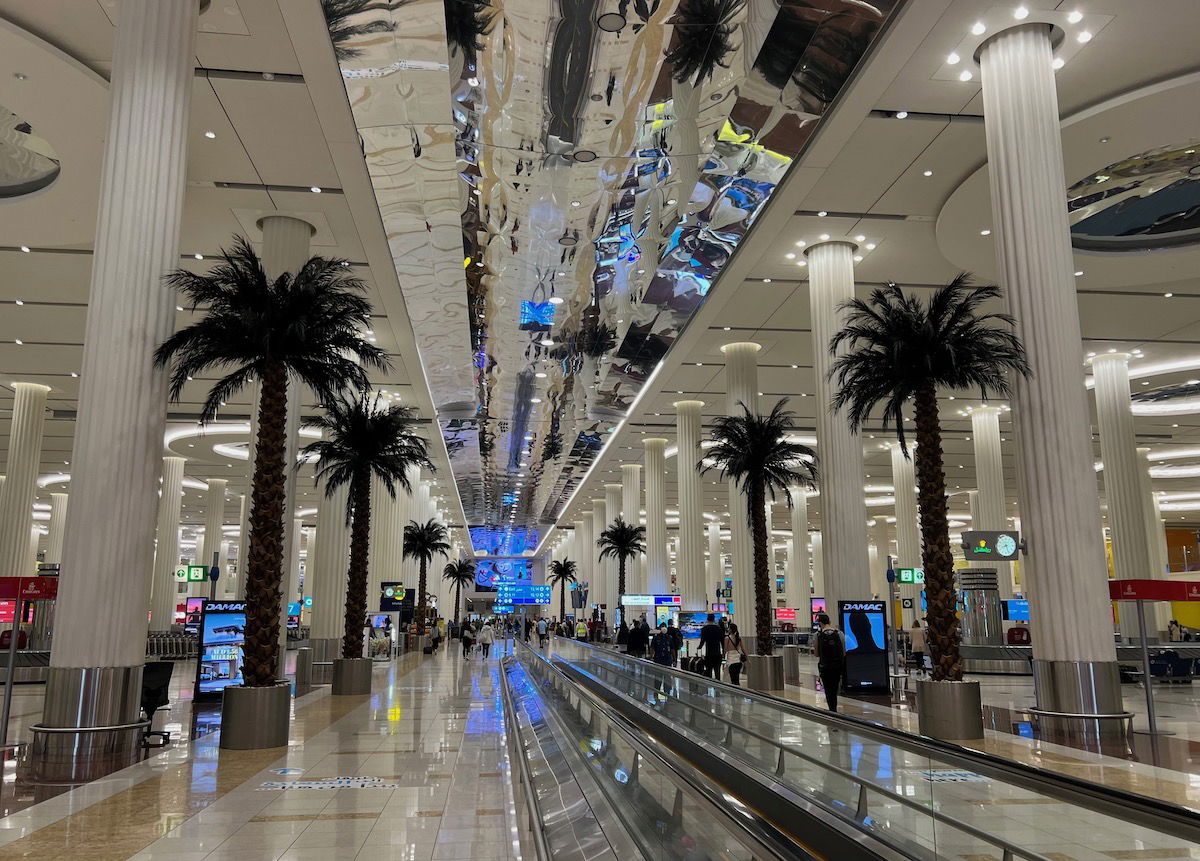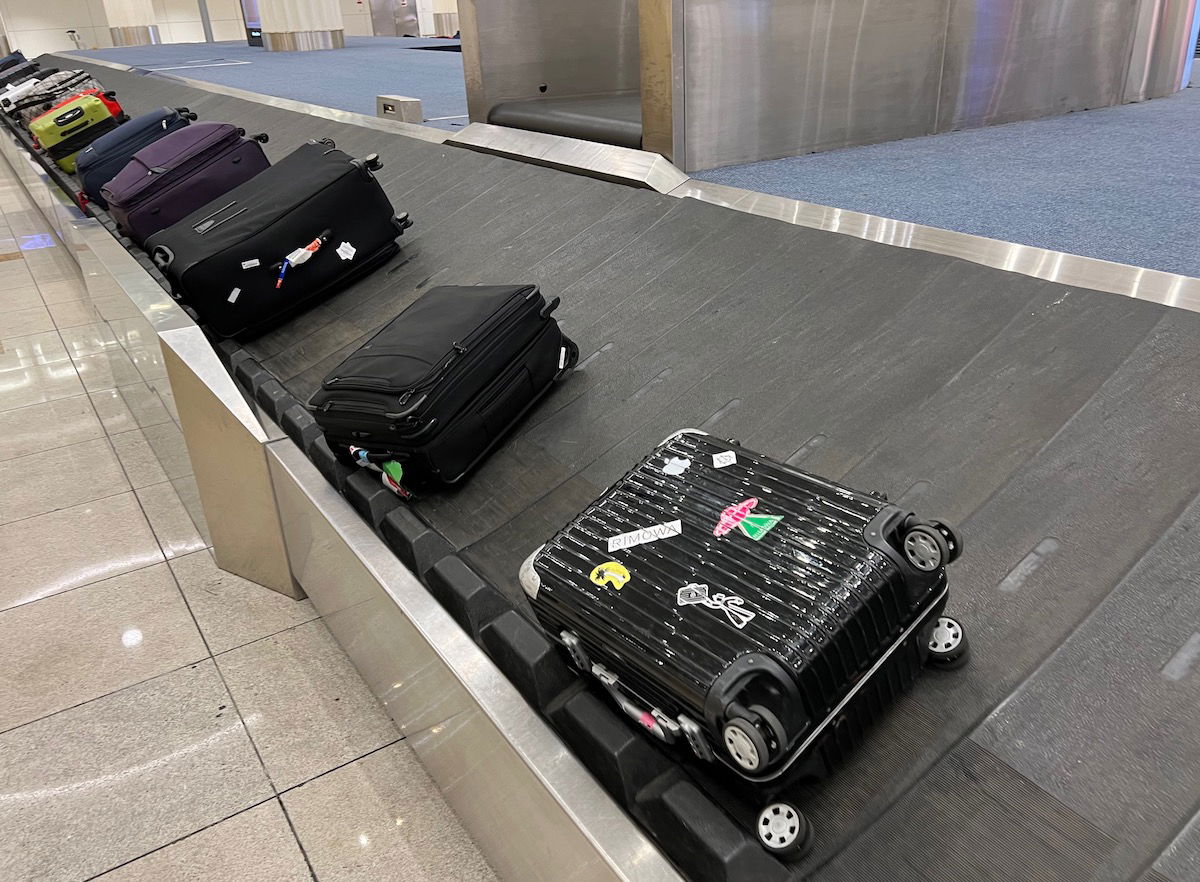 Bottom line
What a memorable flight this was. Emirates' newest Boeing 777 first class is spectacular, with an unbelievable amount of personal space, and endless amenities and gadgets. The icing on the cake was that we had the cabin all to ourselves.
Was everything perfect? No. The food certainly wasn't the best I've had on Emirates (though a double caviar portion didn't hurt), and the service wasn't as polished as I've otherwise had on Emirates. Nonetheless this was a really, really exceptionally fun flight. Emirates' new first class on a long haul flight is very good.
I'm giving this flight five stars not because everything about the service or food was perfect, but rather because I don't think the flight could have been much more enjoyable.
If you've flown Emirates' new first class, what was your experience like?