After spending 11 nights in the Maldives and flying Qatar Airways' 777 first class from Male to Doha, we spent two nights in Doha prior to continuing to the United States. Why? Well, mainly because award availability to the United States hadn't opened up as I had hoped, and that was our first decent option.
I figured there was a silver lining here. The Park Hyatt Doha opened in 2019, making it one of the newest Park Hyatt properties. As a World of Hyatt loyalist and general fan of Park Hyatts, I was really excited about visiting this property. Unfortunately I left disappointed.
I wrote about how the hotel was playing upgrade games, but the hotel's general manager already reached out and apologized, so let's call that water under the bridge.
The thing about the Park Hyatt is that it's priced reasonably right now, so I think it offers pretty good value for money. The issue is that this doesn't feel to me like what I'd expect from a new Park Hyatt in just about every way, from the room decor, to the service, to the pool. To me this feels a lot more like a new (and nice) international Hyatt Regency property.
Given how reasonably priced "true" luxury hotels are in Doha (Four Seasons, Mandarin Oriental, etc.), I'd rather pay the premium to have a great experience.
Booking the Park Hyatt Doha
We paid cash for our stay at the Park Hyatt Doha, as the rate was only $212 per night. Ford booked us through the Hyatt Privé program. Hyatt Privé rates cost the same as standard flexible rates (not member rates, advance purchase rates, AAA rates, etc.), and include the following additional perks:
Daily full breakfast for two in the hotel's restaurant
A $100 property credit per room per stay
A one category room upgrade confirmed within 24 hours of booking (room-to-room or suite-to-suite) — based on availability at the time of booking
Early check-in (as early as 9AM) and late check-out (as late as 4PM), subject to availability
A welcome gift and letter
Admittedly some of these benefits overlap with my World of Hyatt Globalist perks, but getting an extra $100 credit during our stay while paying only $212 per night is a pretty unbeatable deal.
For context, the Park Hyatt Doha is a Category 5 World of Hyatt property, meaning that a standard room free night redemption costs 17,000-23,000 points per night. Based on my valuation of 1.5 cents per World of Hyatt points, paying cash was definitely the better value.
Park Hyatt Doha location
Let's start the review on a positive note. The Park Hyatt is located in the Msheireb Downtown Doha area, which I had never been to before. This is intended to be a "smart city," and it has streetcars, modern but traditional architecture, and some awesome coffee shops. I really liked the idea behind this area.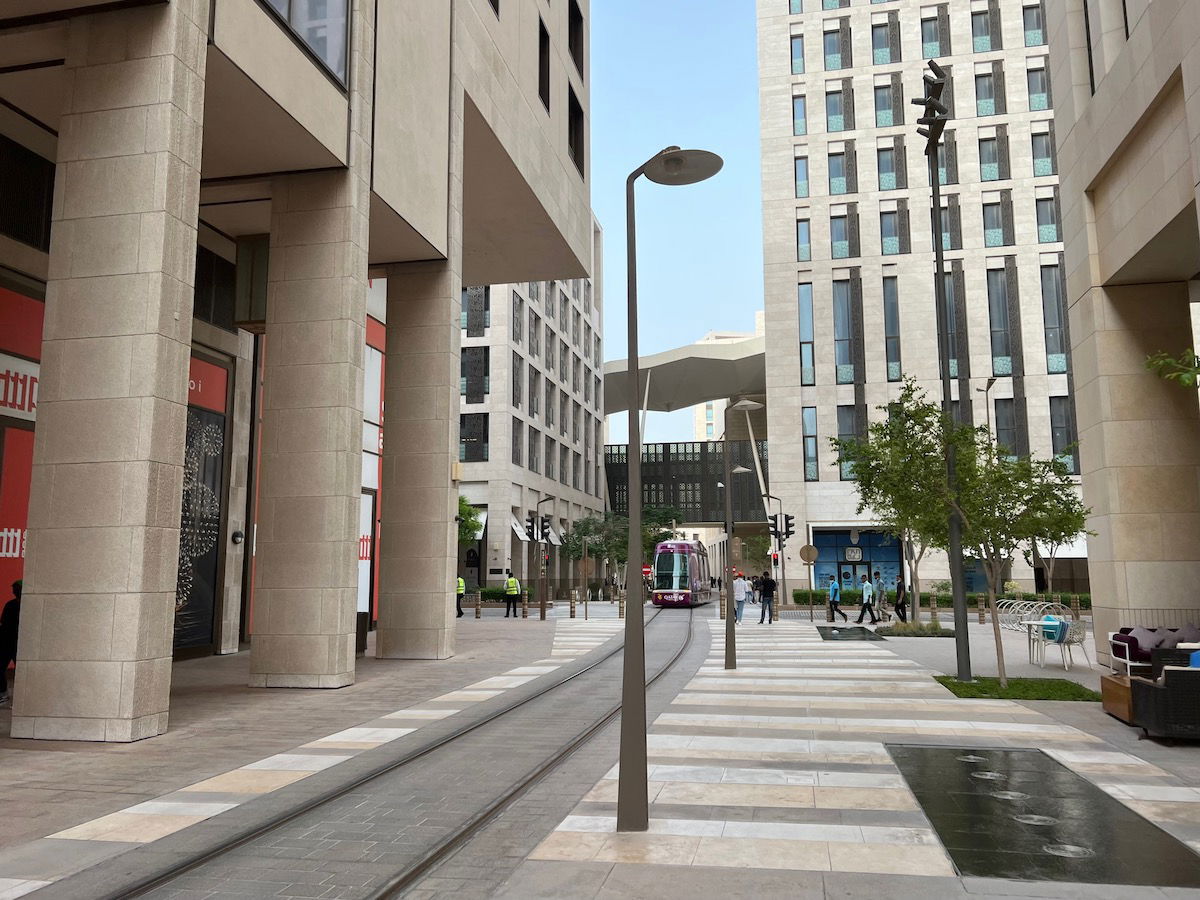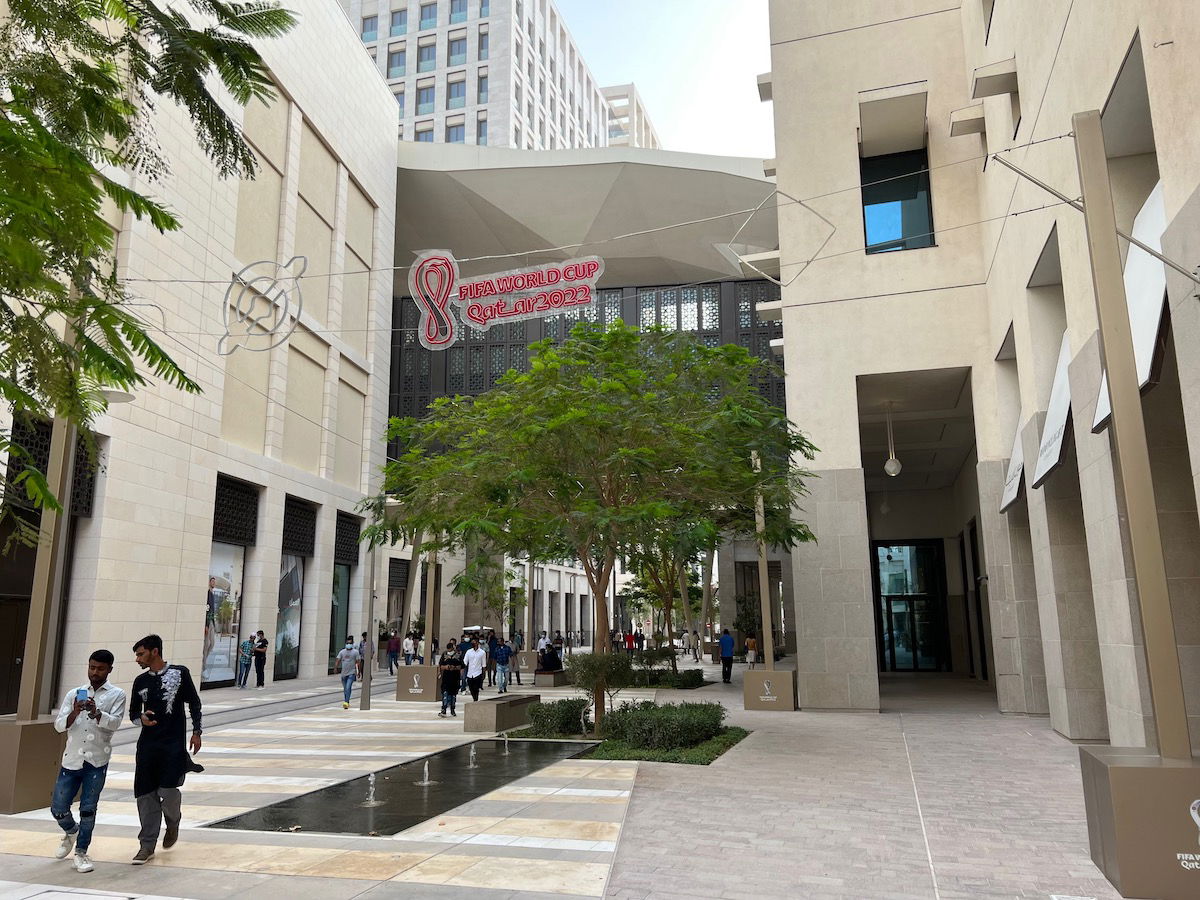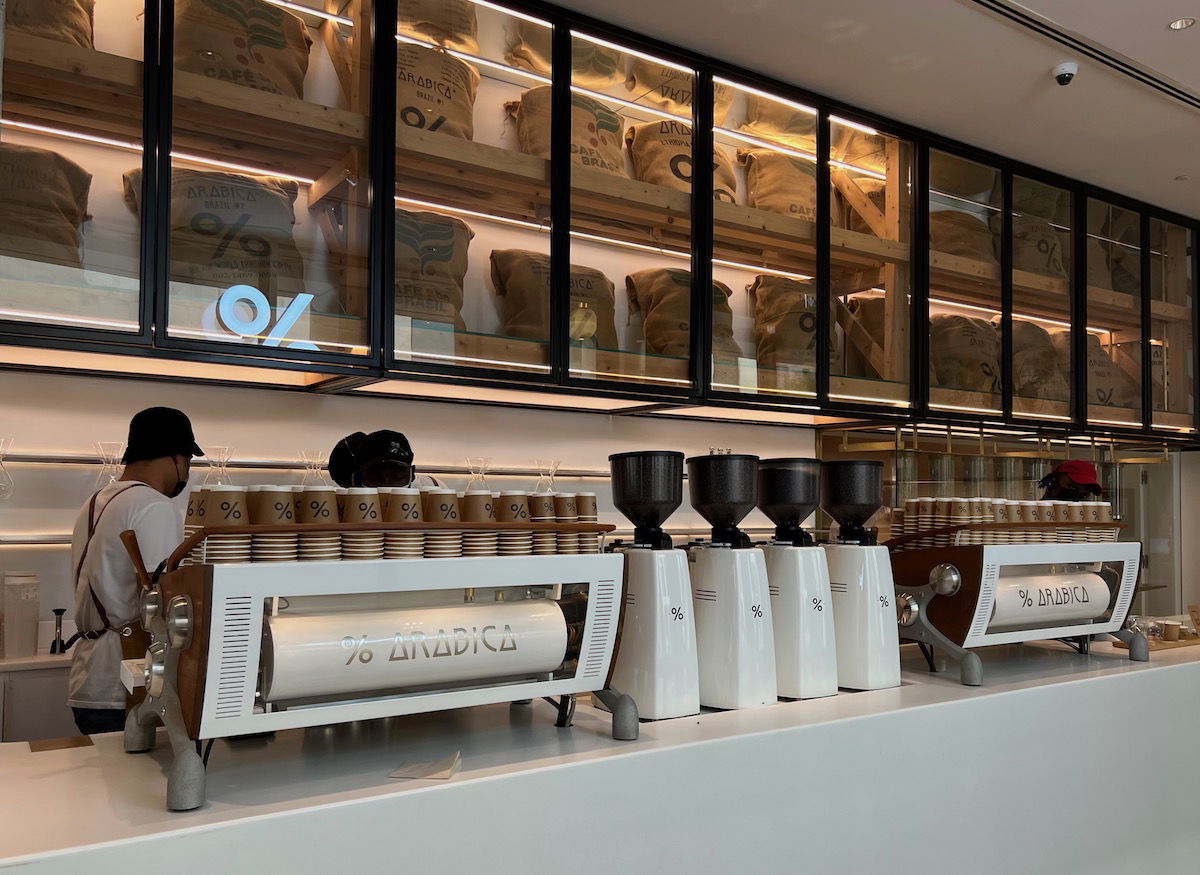 If you're looking for something more traditional, you're just a five minute walk from Doha's Souq Waqif, and it's not much further to the corniche. I had never seen it as busy as this. It was Eid al-Fitr, and it seemed that all the workers had the day off, which was cool to see.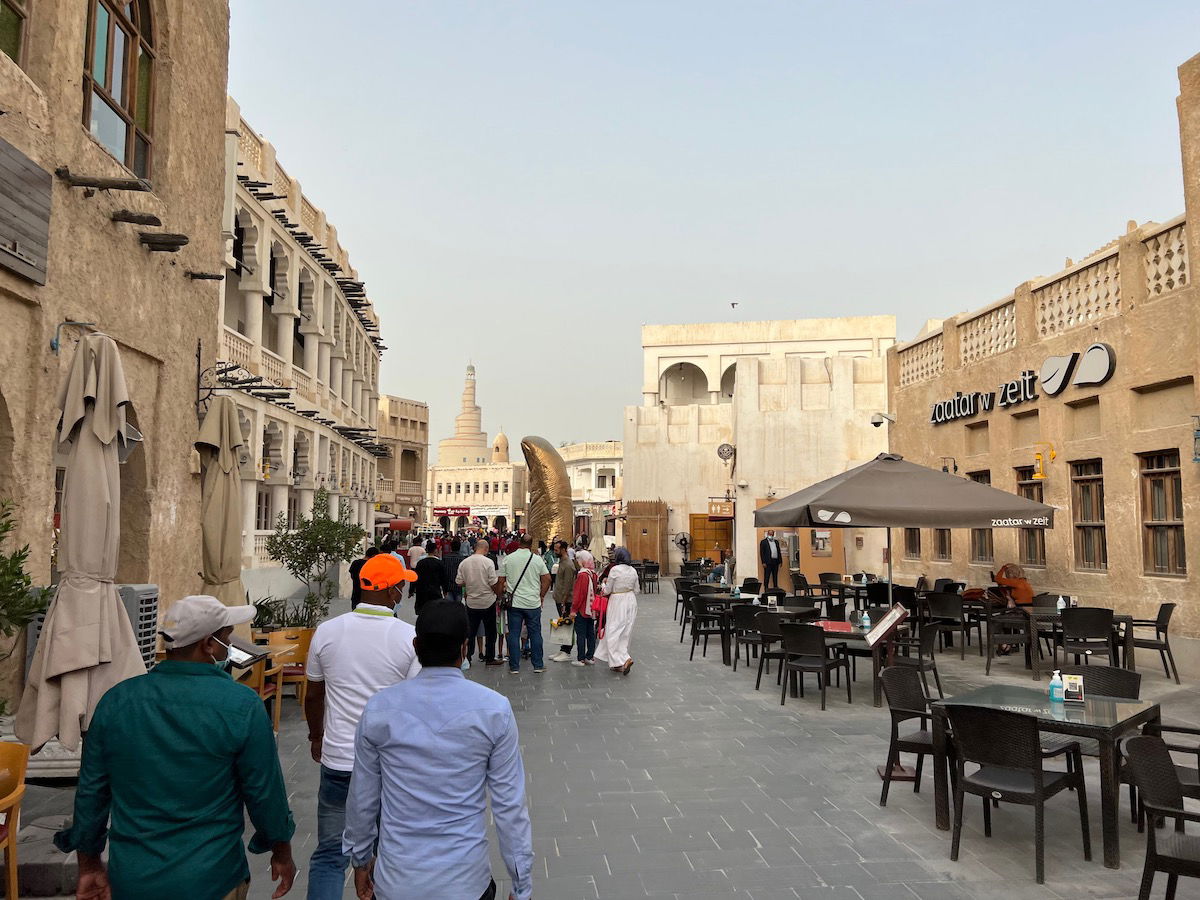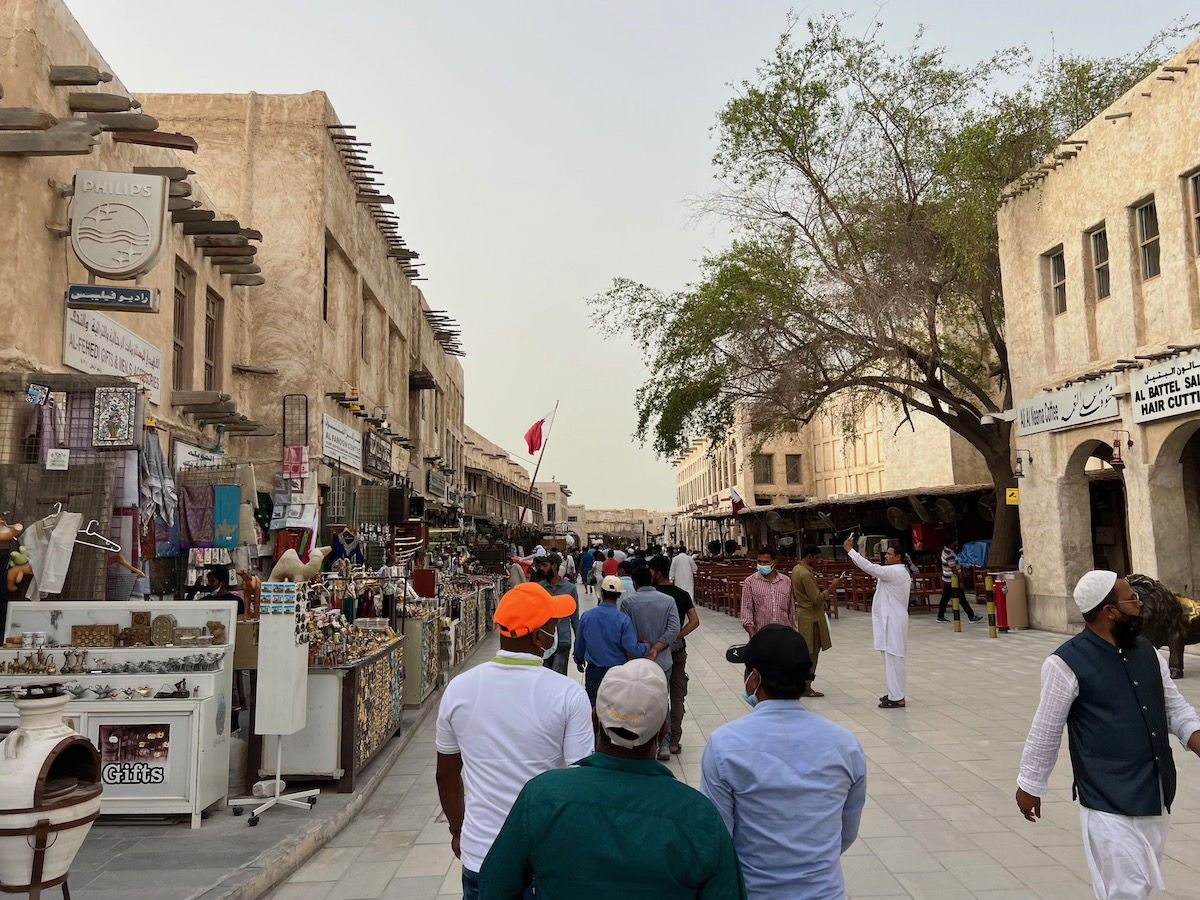 The Park Hyatt Doha is only 15 minutes by taxi from the airport. So I give this hotel good marks when it comes to location.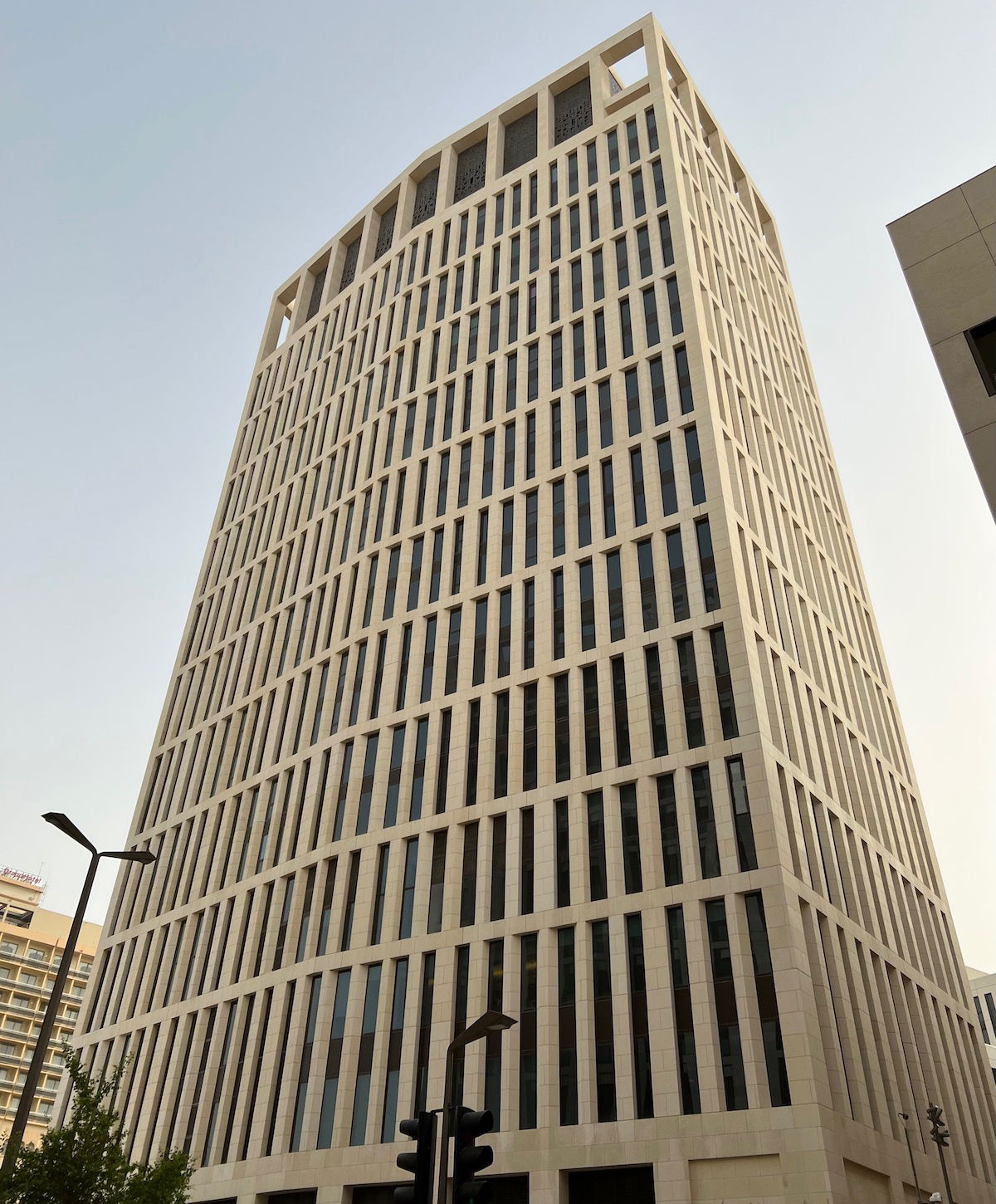 Park Hyatt Doha lobby & check-in
We arrived at the Park Hyatt Doha in the middle of the night. As our taxi pulled up we were helped by a bellman. Then our bags had to go through an x-ray screening, while we had to go through a metal detector.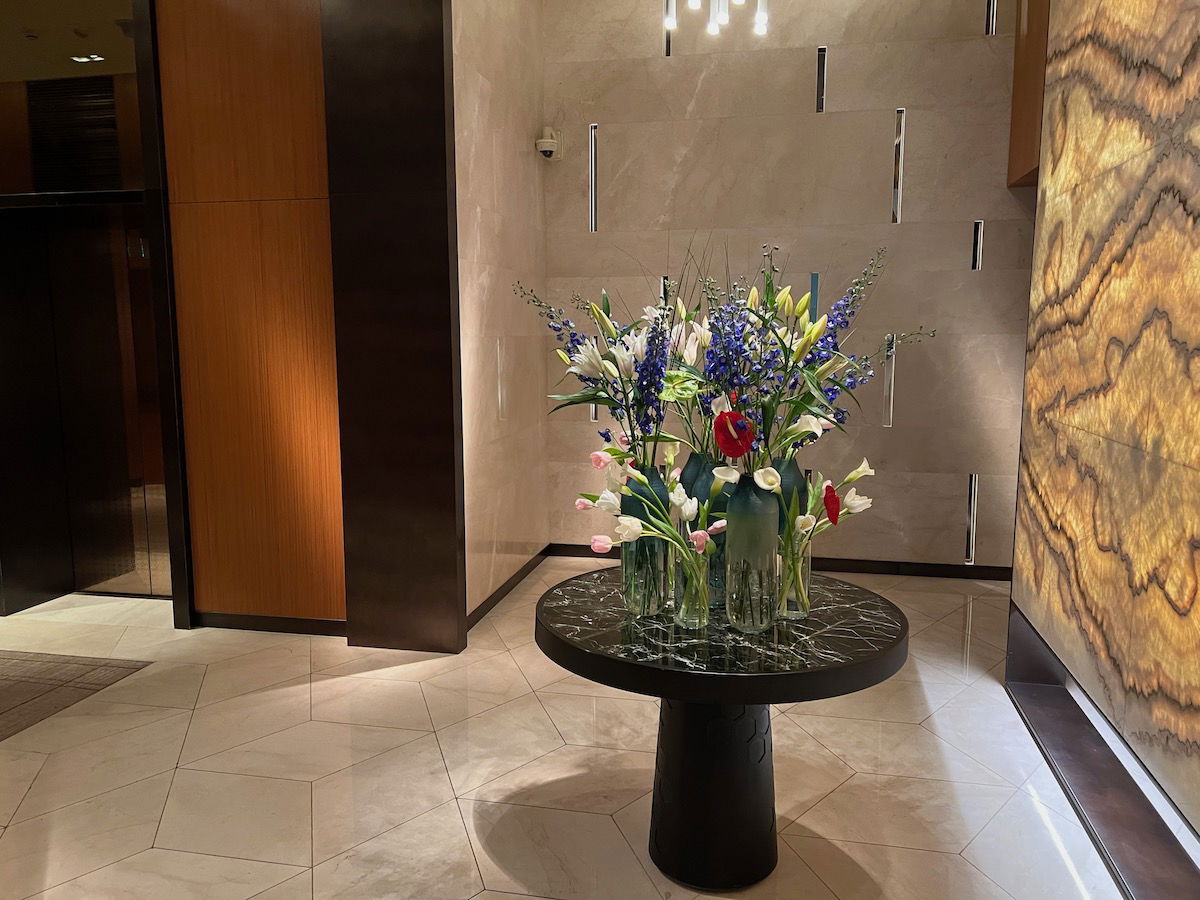 We then took the elevator up to the third floor, where the lobby is located. The reception area is immediately ahead once you enter the lobby.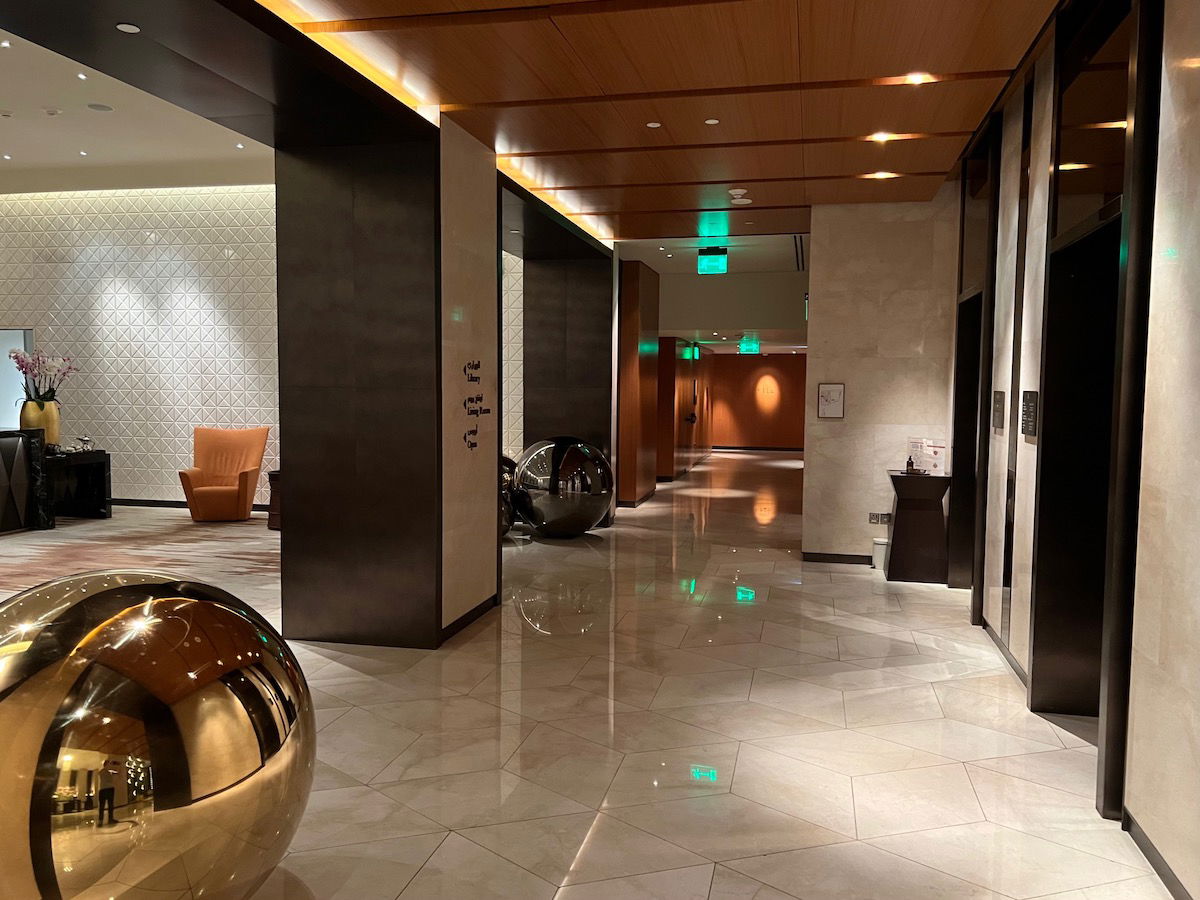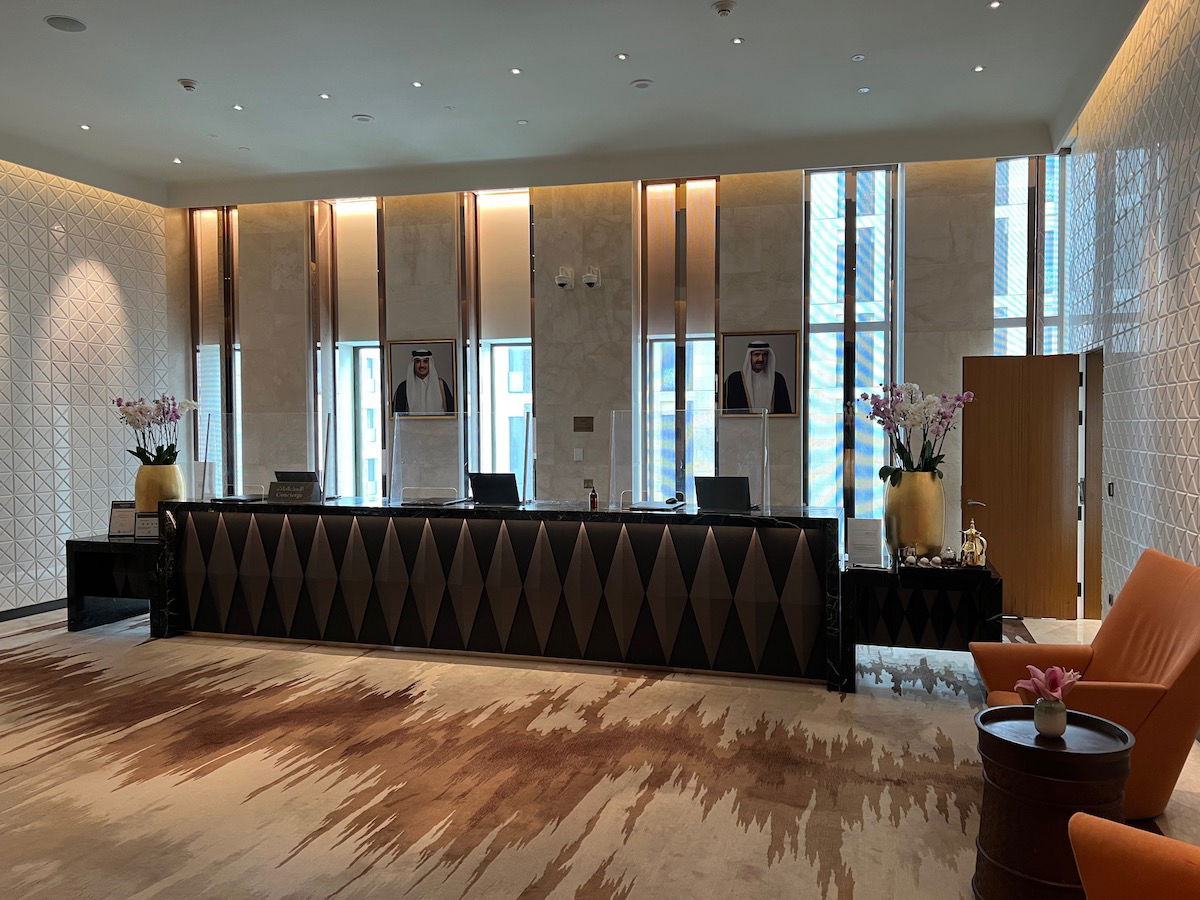 I wrote about the check-in experience in a previous post, but long story short, we were eventually assigned a Park Suite. The hotel has quite a big lobby, though the property was completely dead while we were there. I don't think we saw another guest in the lobby during our entire visit.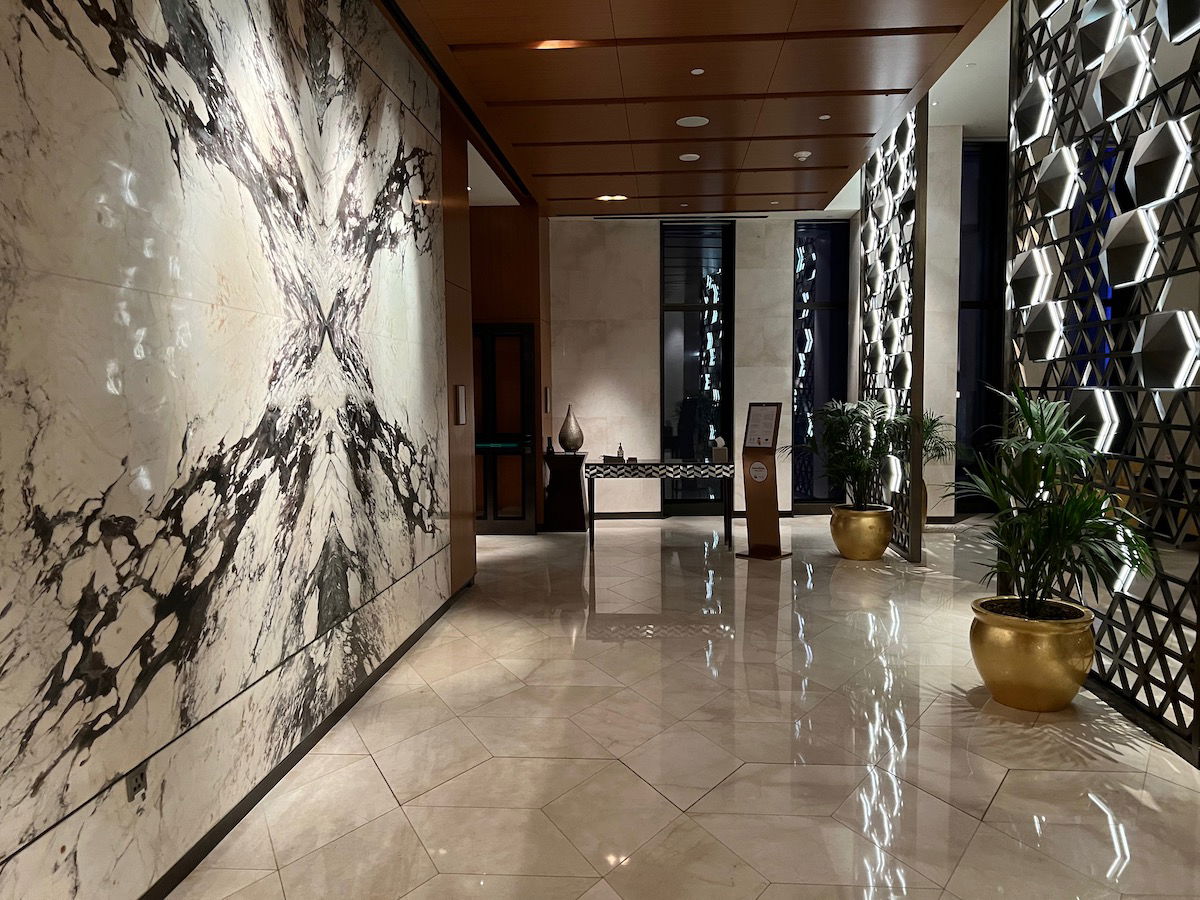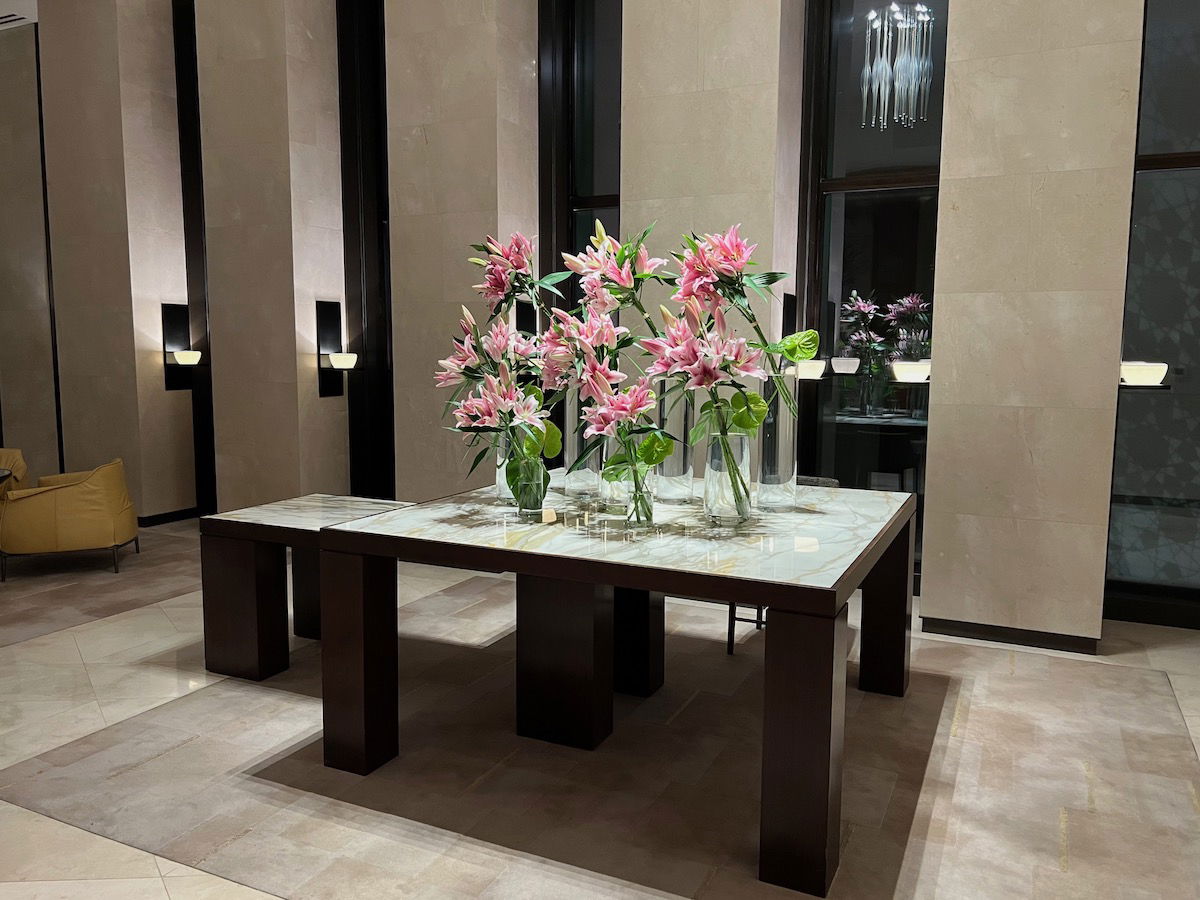 The lobby has plenty of seating, and feels pretty elegant. I especially appreciate the fresh flowers.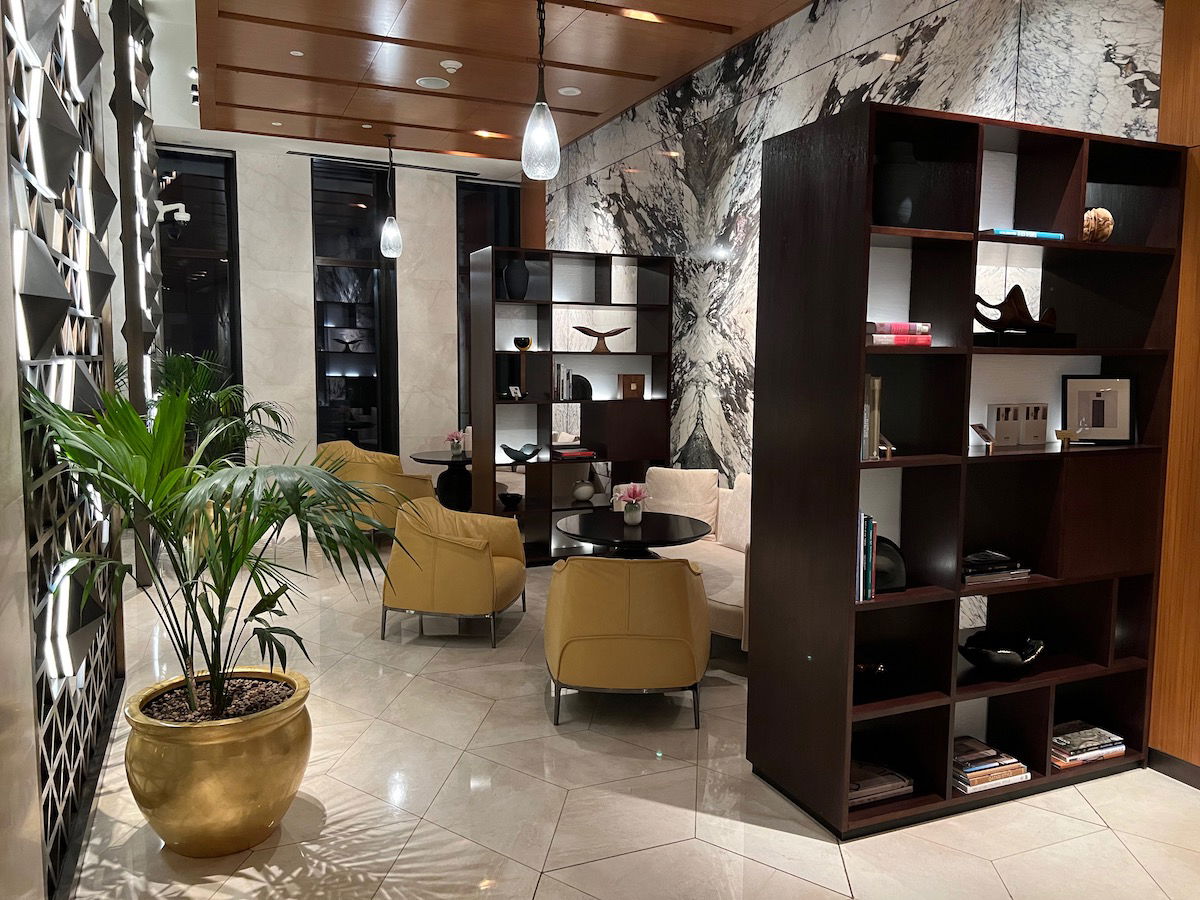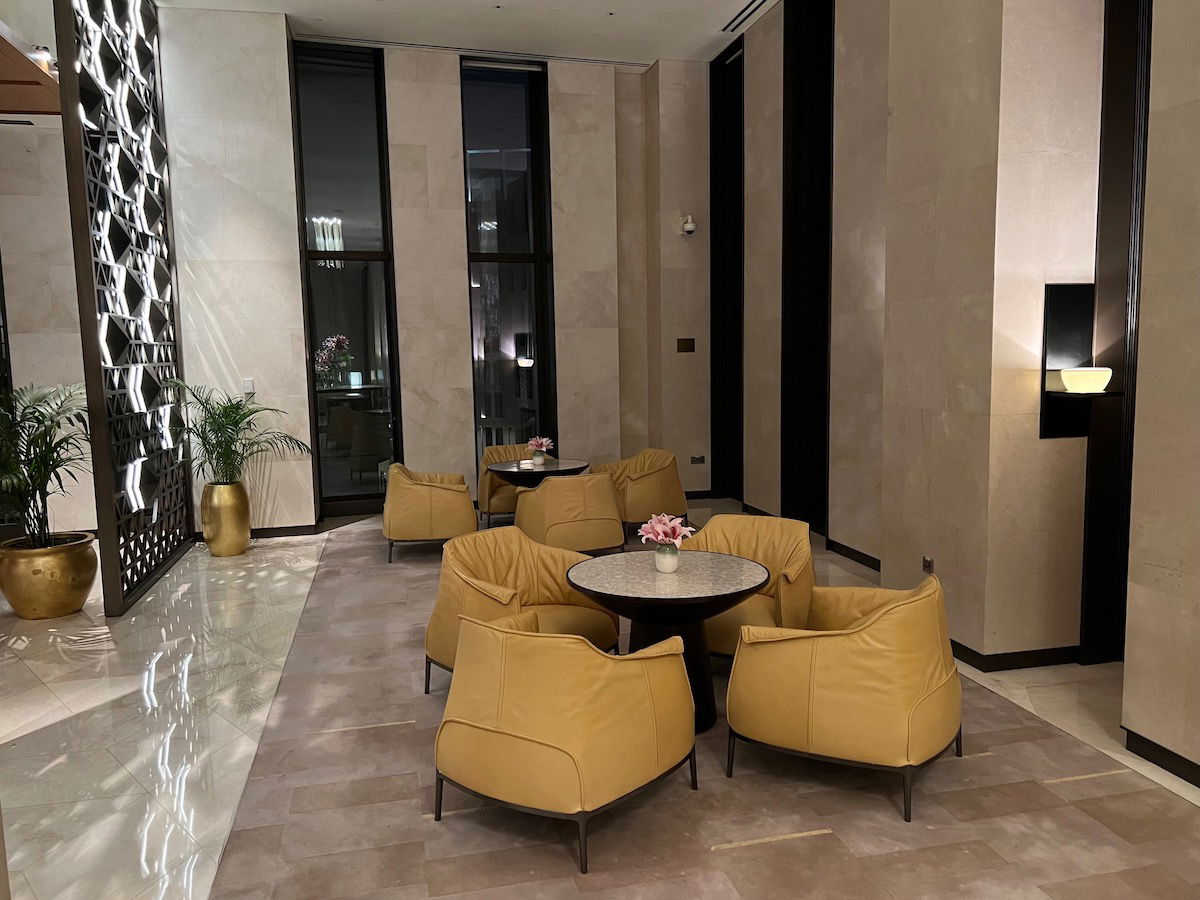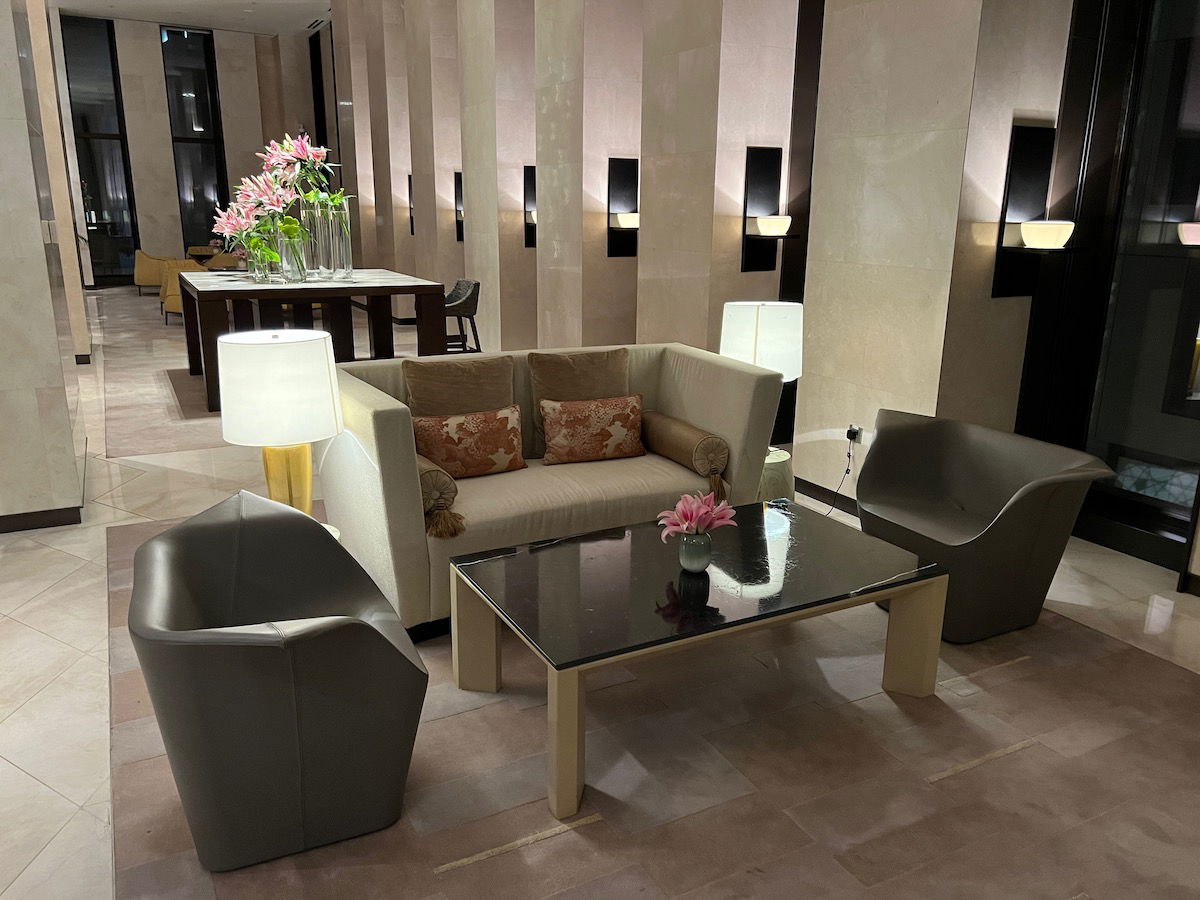 There also seems to be a large area that's a lobby bar of sorts, though the hotel's website doesn't reference there being a lobby bar here, and no one told us about it, so I'm not sure if it isn't currently being used, or what's going on there.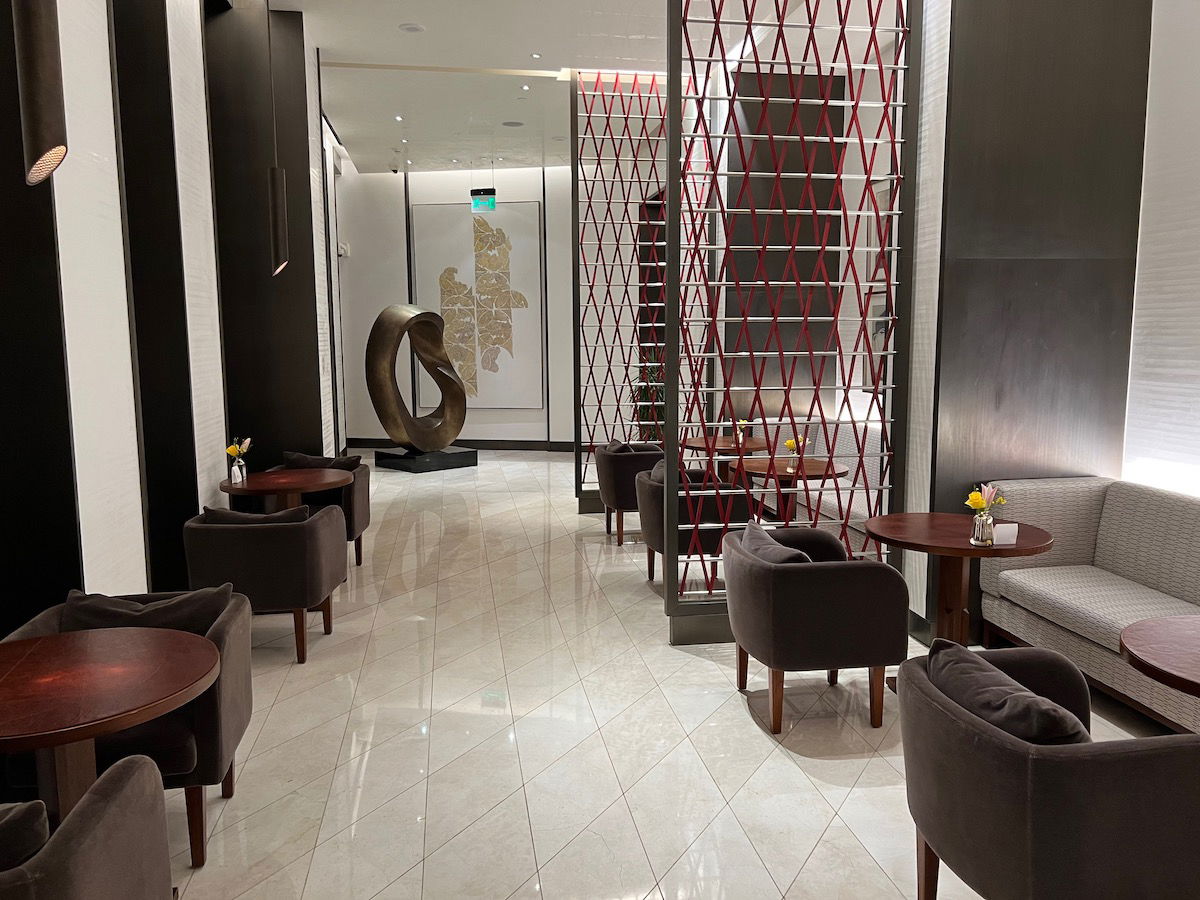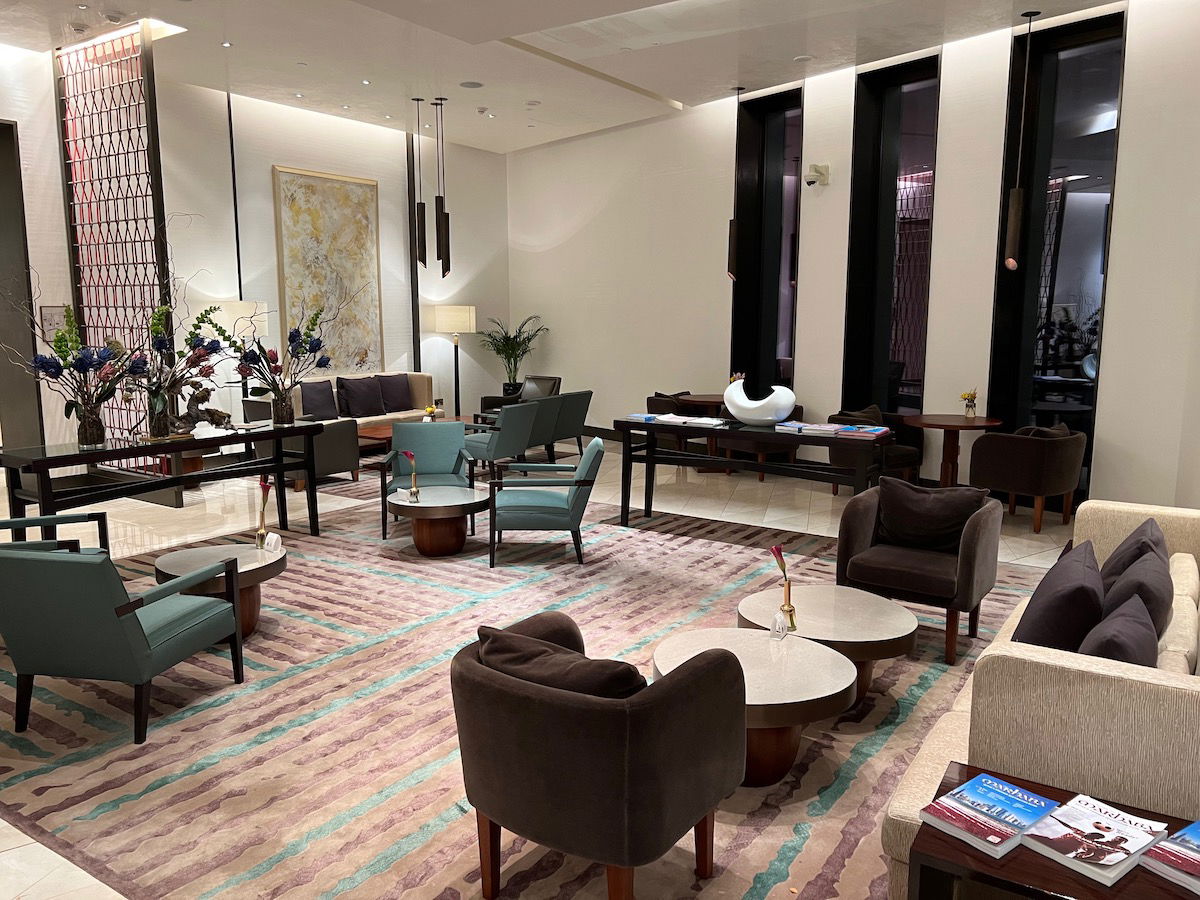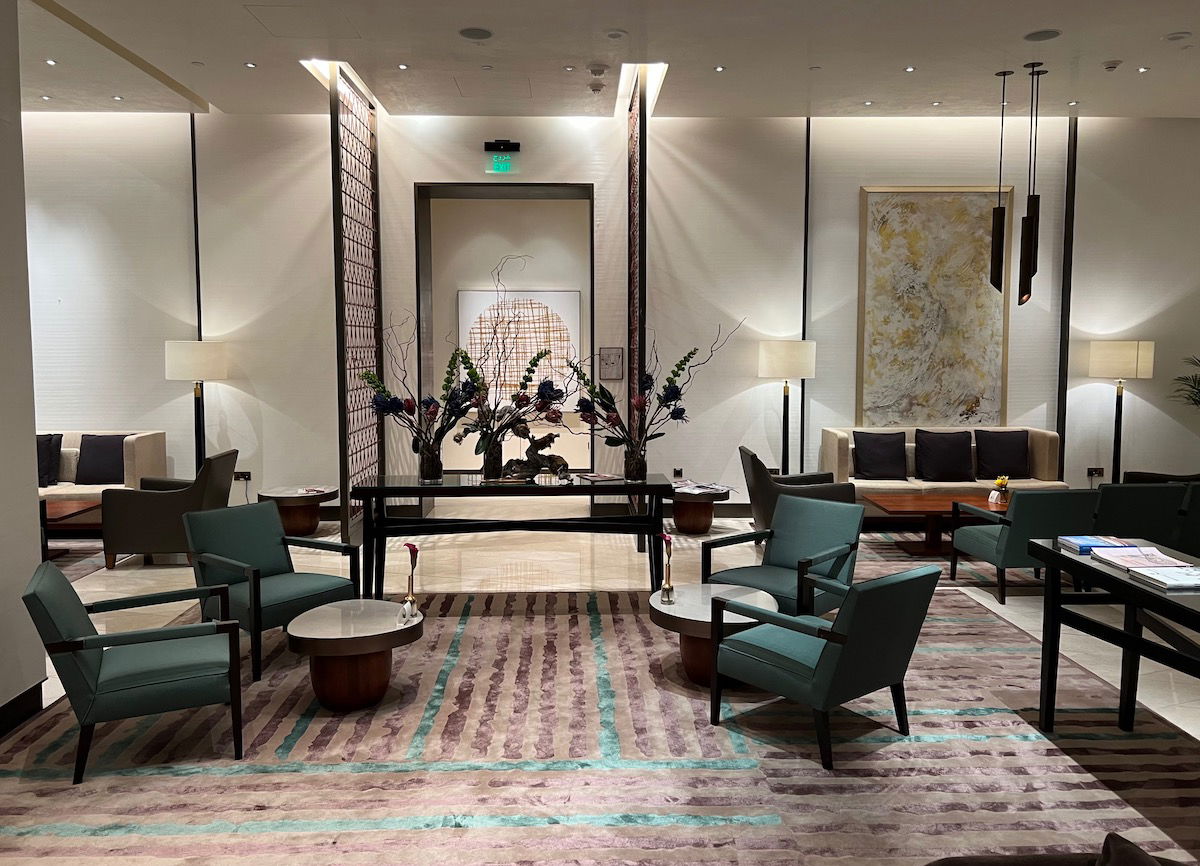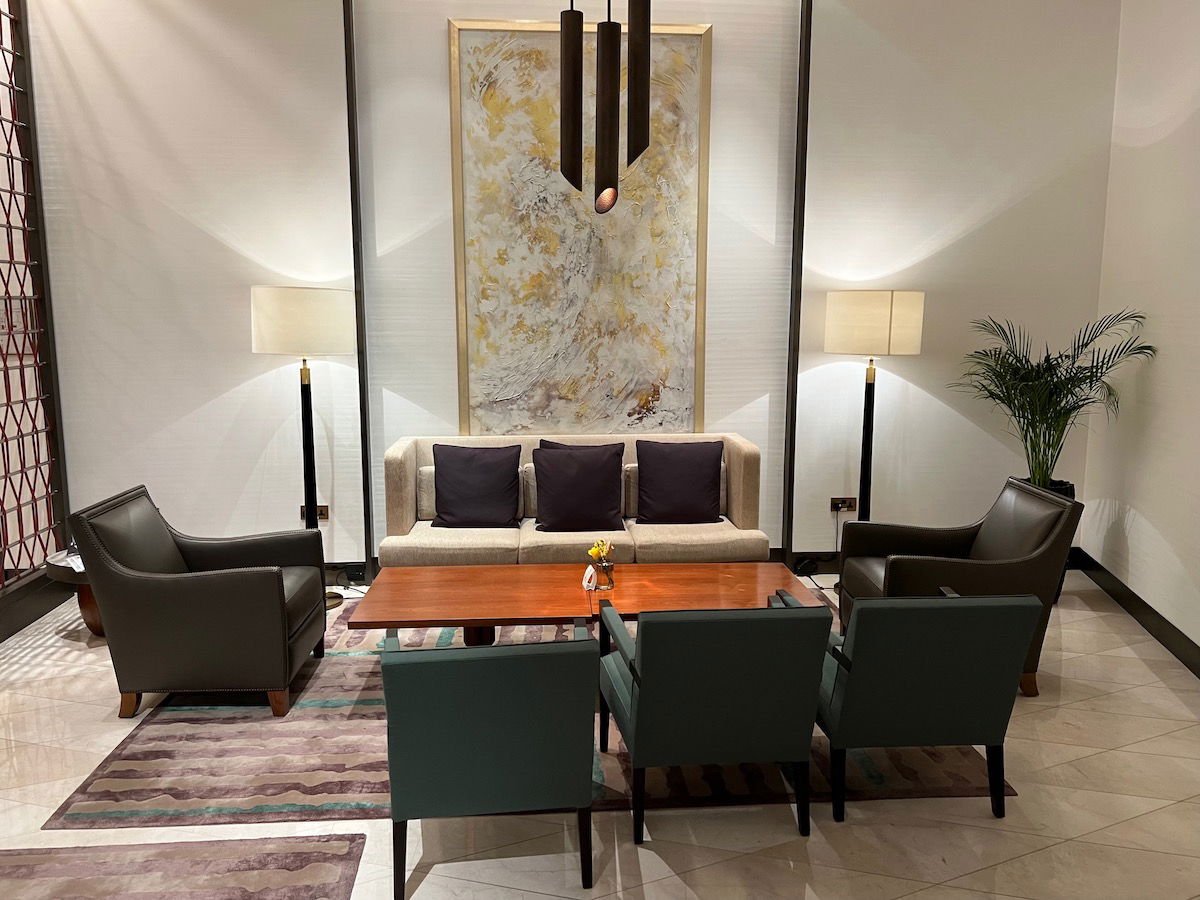 Soon enough we took the elevator up to our room on the 17th floor. For what it's worth, the hotel has two sets of elevators, as there are elevators going between the lobby and guest rooms, and then elevators going between the lobby and ground level.
The elevator buttons here are horribly designed. There are three independent elevator call buttons for the five elevators going between the lobby and guest rooms. So if you push all three, you'll have three elevators coming your way. This worked when the hotel was almost empty, though I don't see this working so well if the hotel eventually gets full.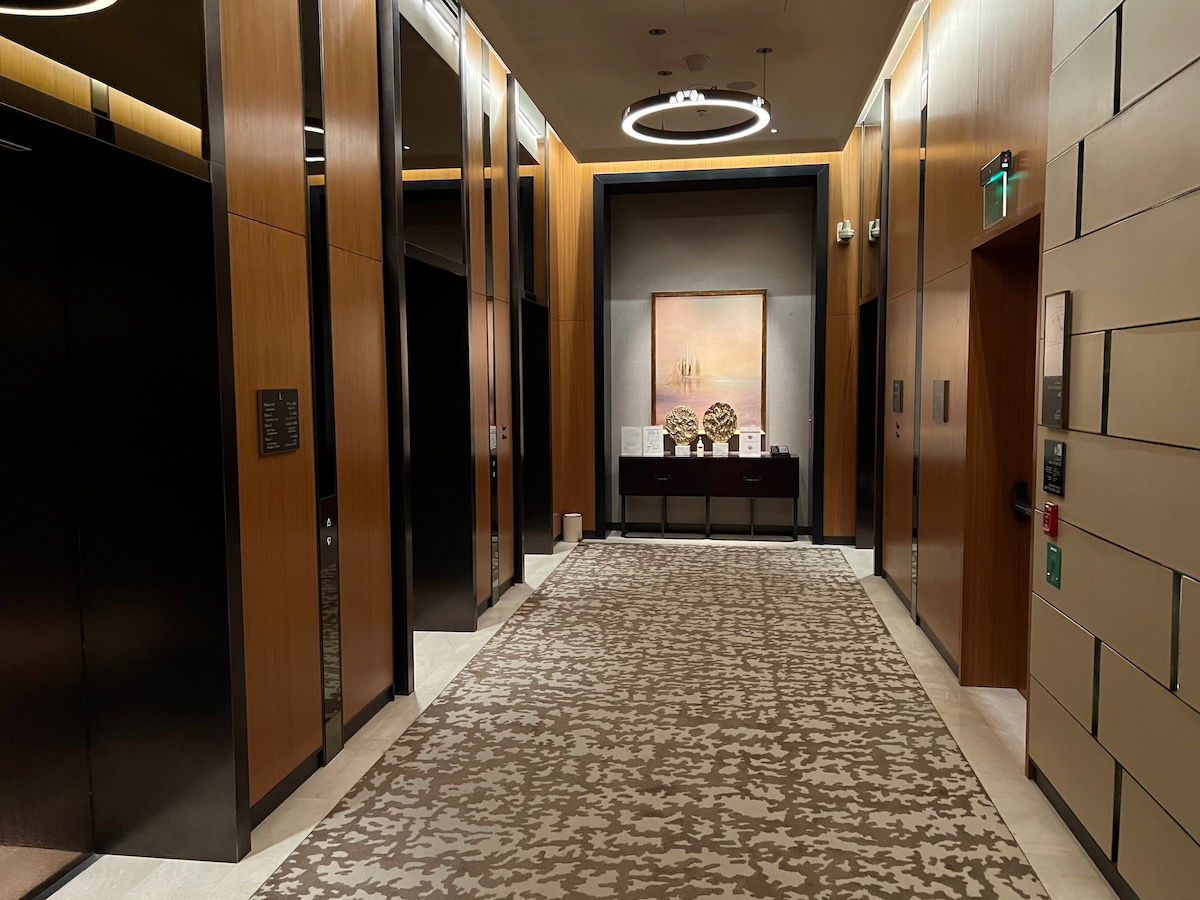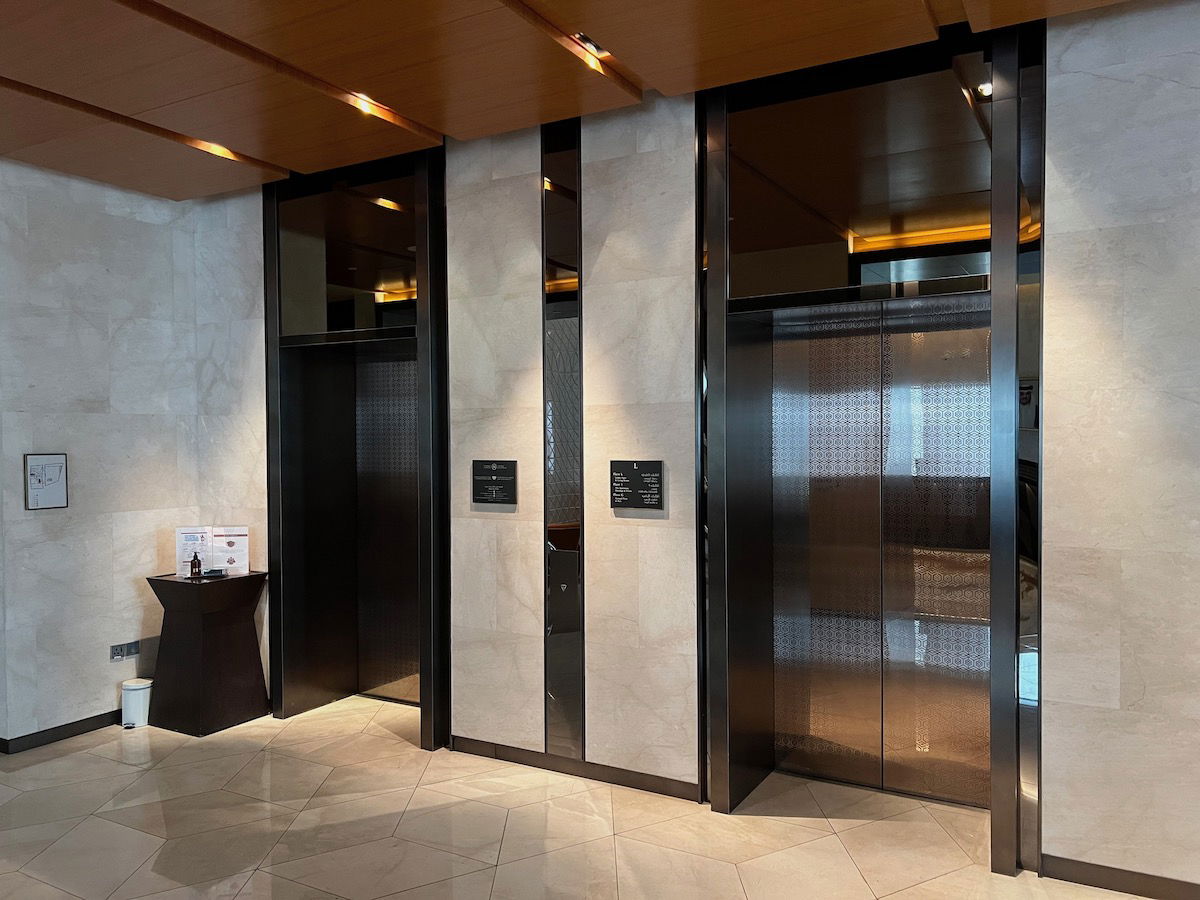 Park Hyatt Doha Park Suite
We were assigned room 1710, a Park Suite on the 17th floor. The Park Hyatt has a total of 187 accommodations, and 28 of those are Park Suites, so the property has a high ratio of suites to guest rooms. Upon exiting the elevator, our room was to the right and then at the very end of the hallway.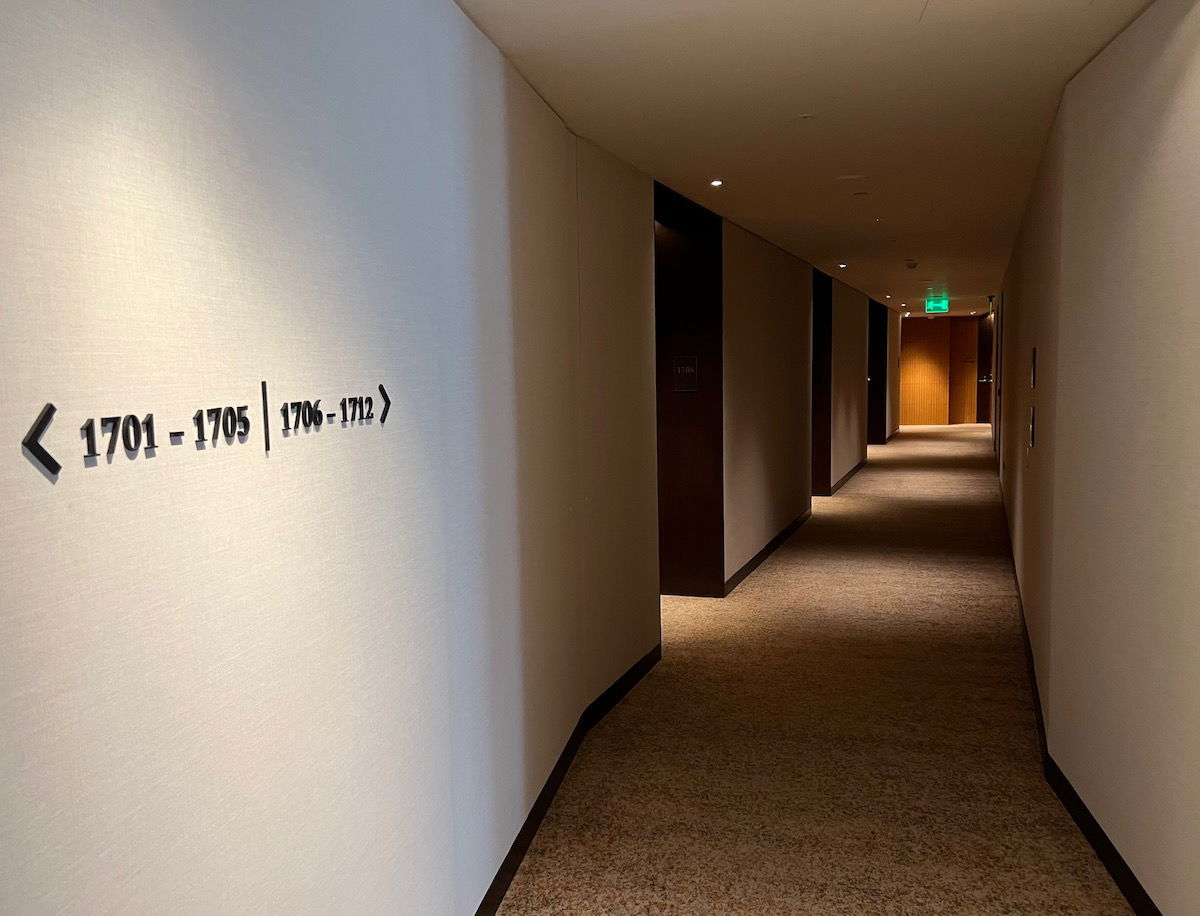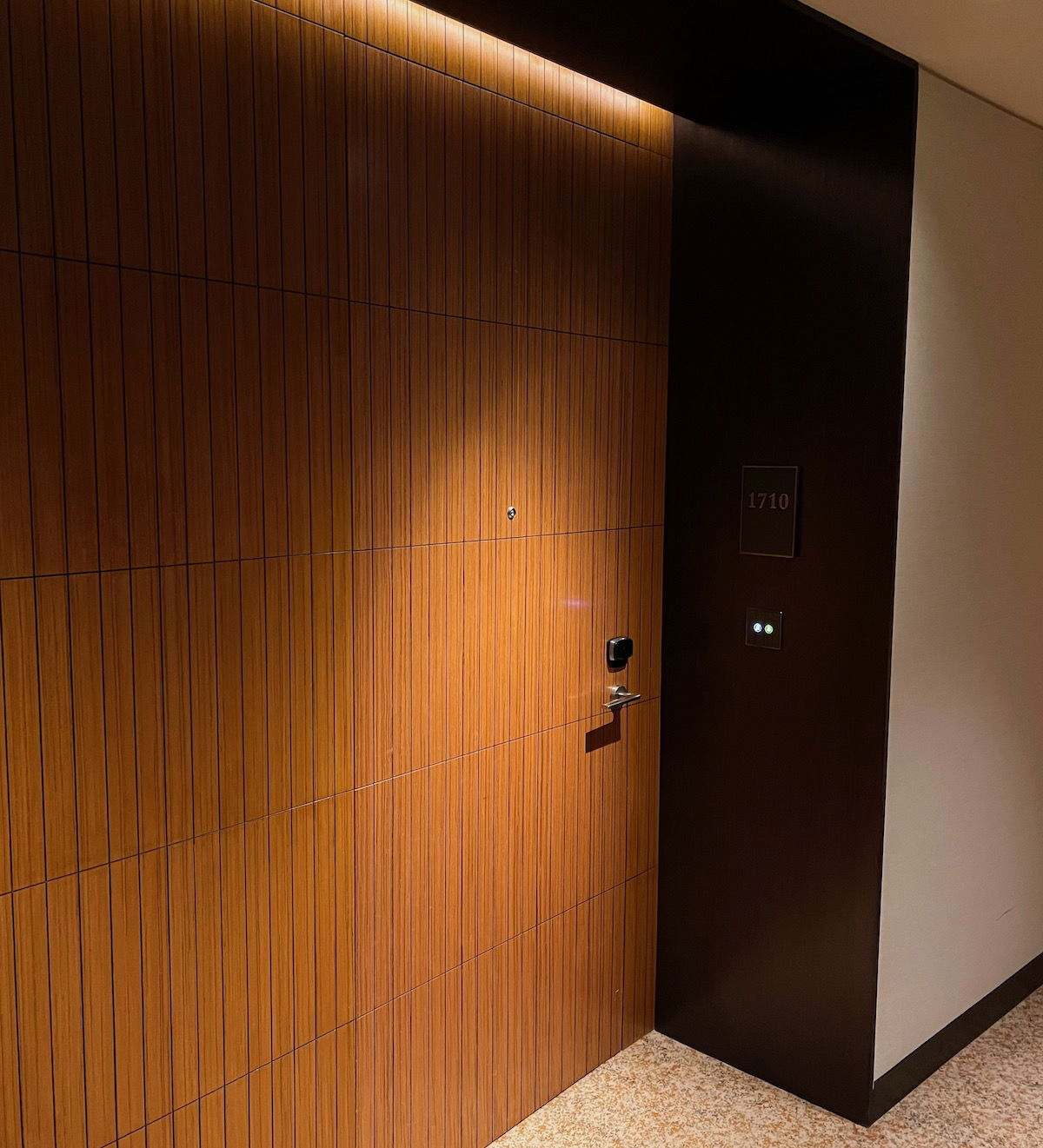 Standard suites at the Park Hyatt Doha are huge, at 969 square feet. Inside the entrance was the living room. The main part of the living room had a couch and then two chairs, along with a console that had a TV.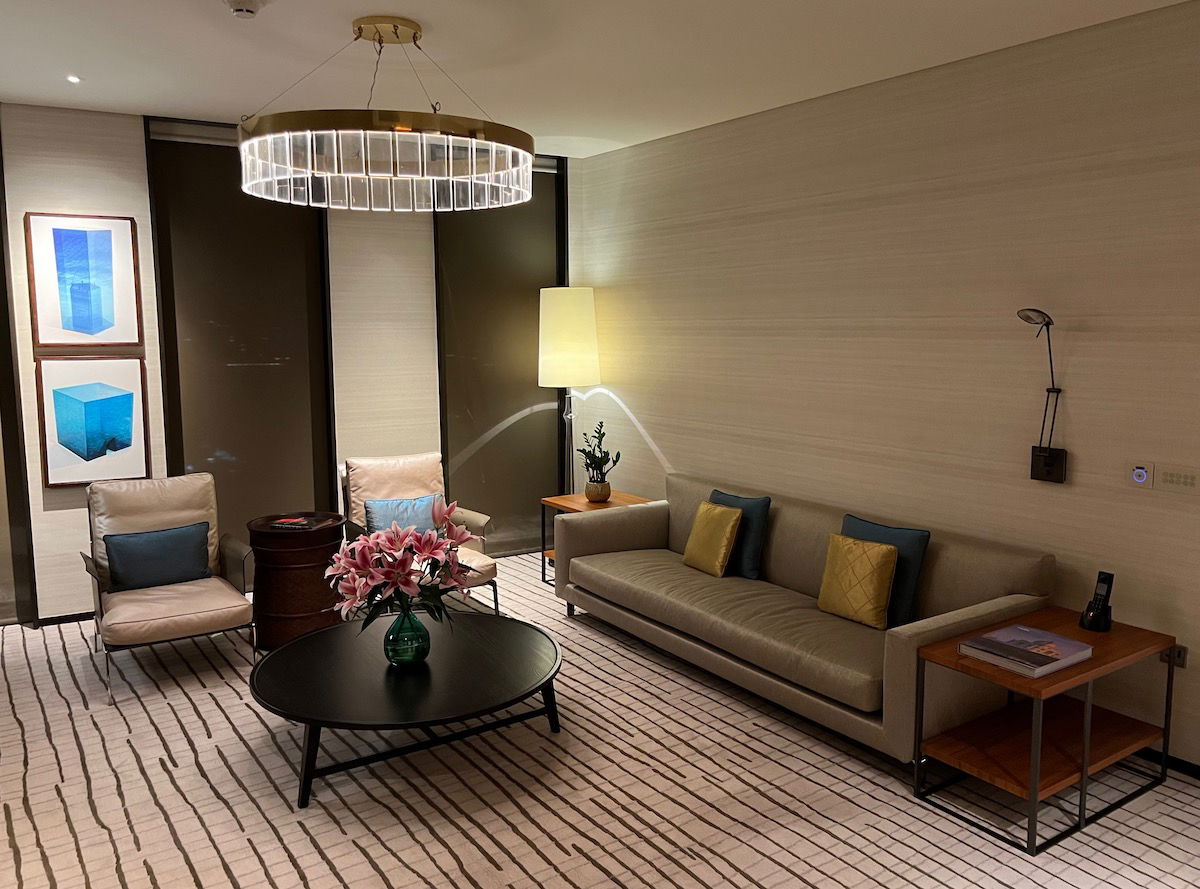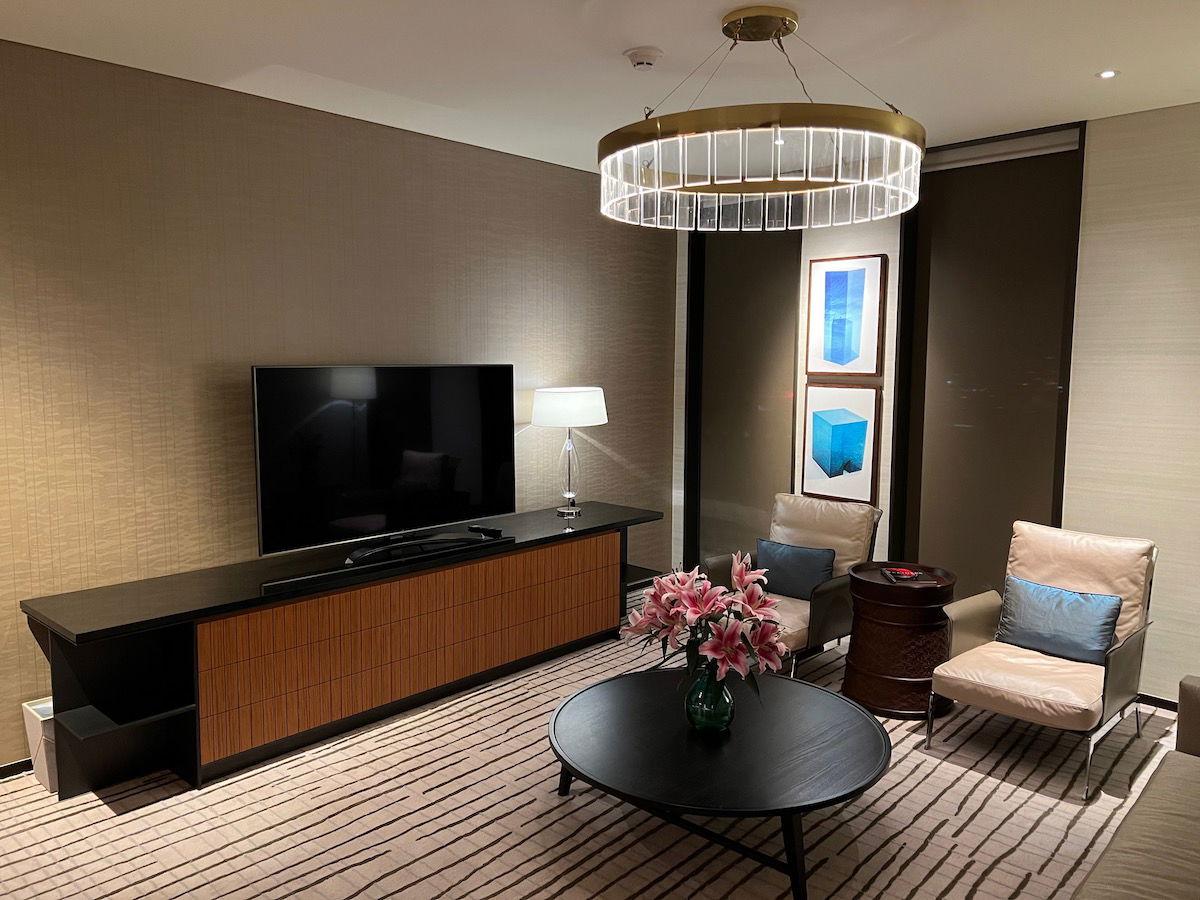 There was also a table with two chairs, which could double as a desk. I appreciated how large the table was, though it almost seemed like it should have had more chairs.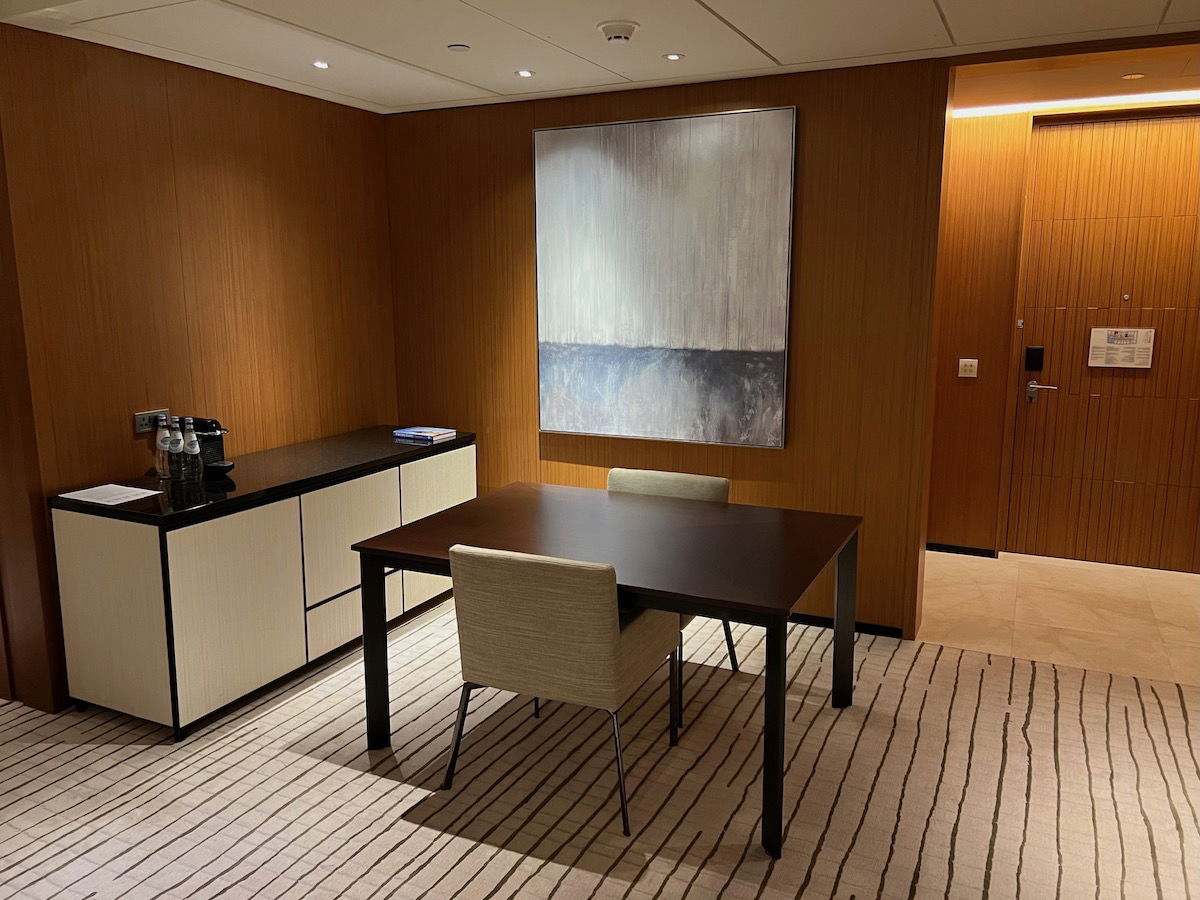 Next to that was the coffee & tea selection. There was also a mini-fridge, but it didn't have anything in it.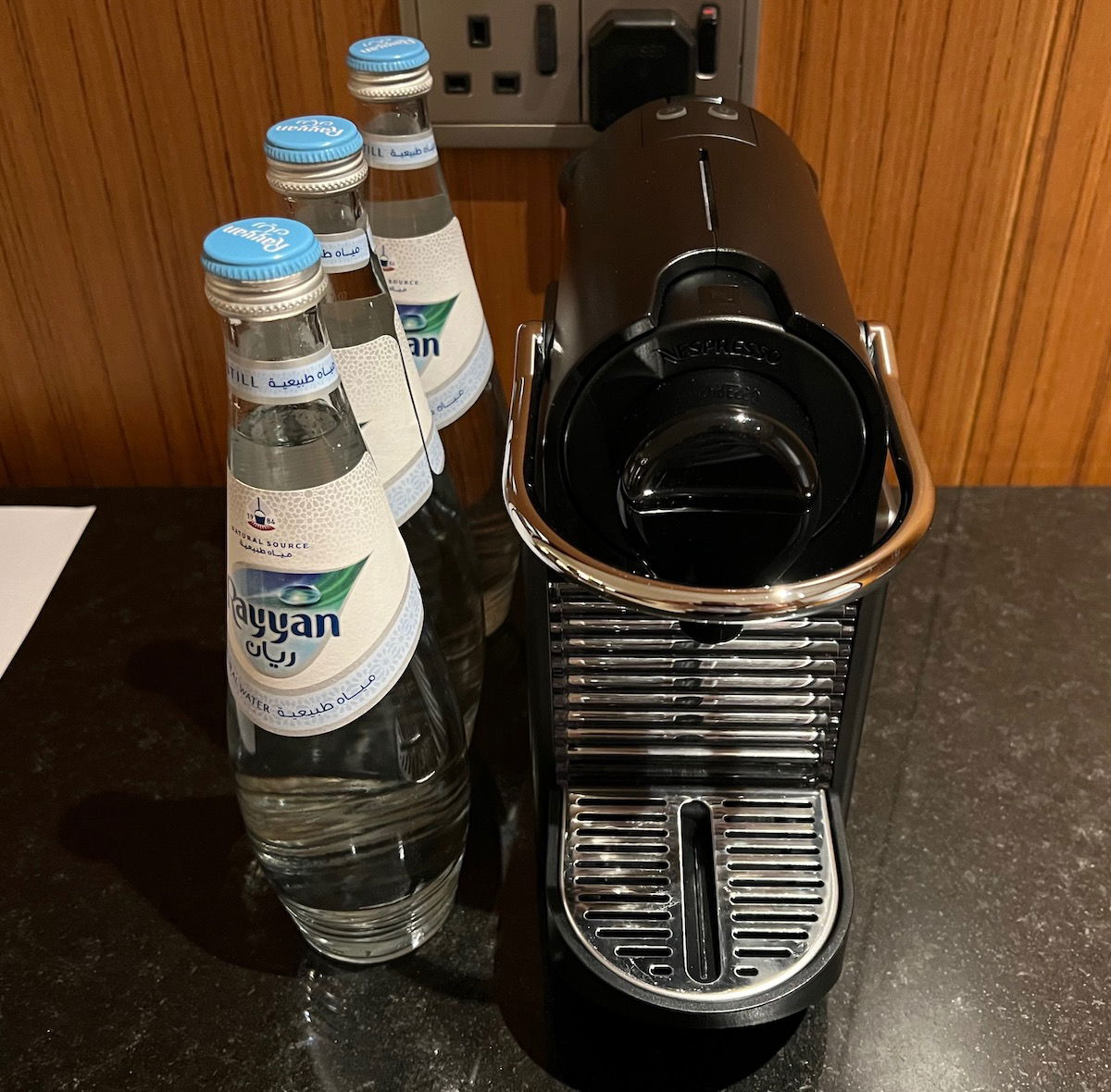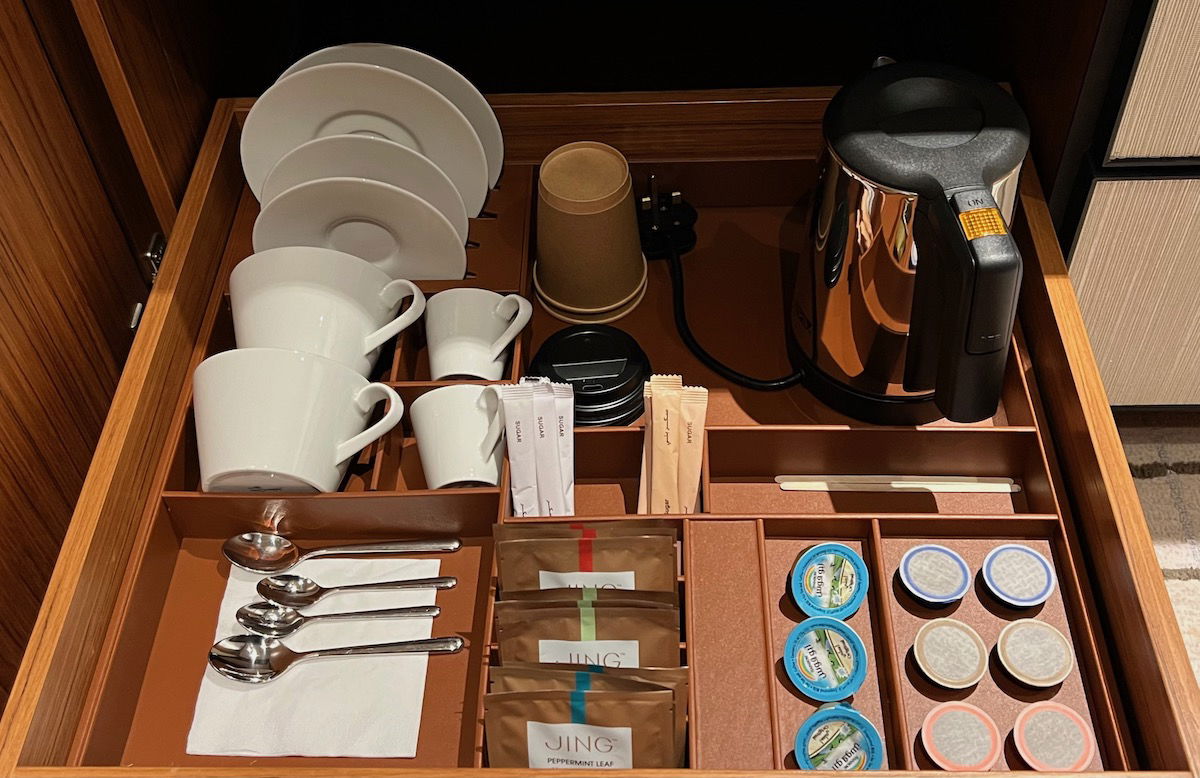 We received a welcome amenity on account of having booked through Hyatt Privé, and that consisted of two bottles of water, fresh fruit, and some nuts and sweets.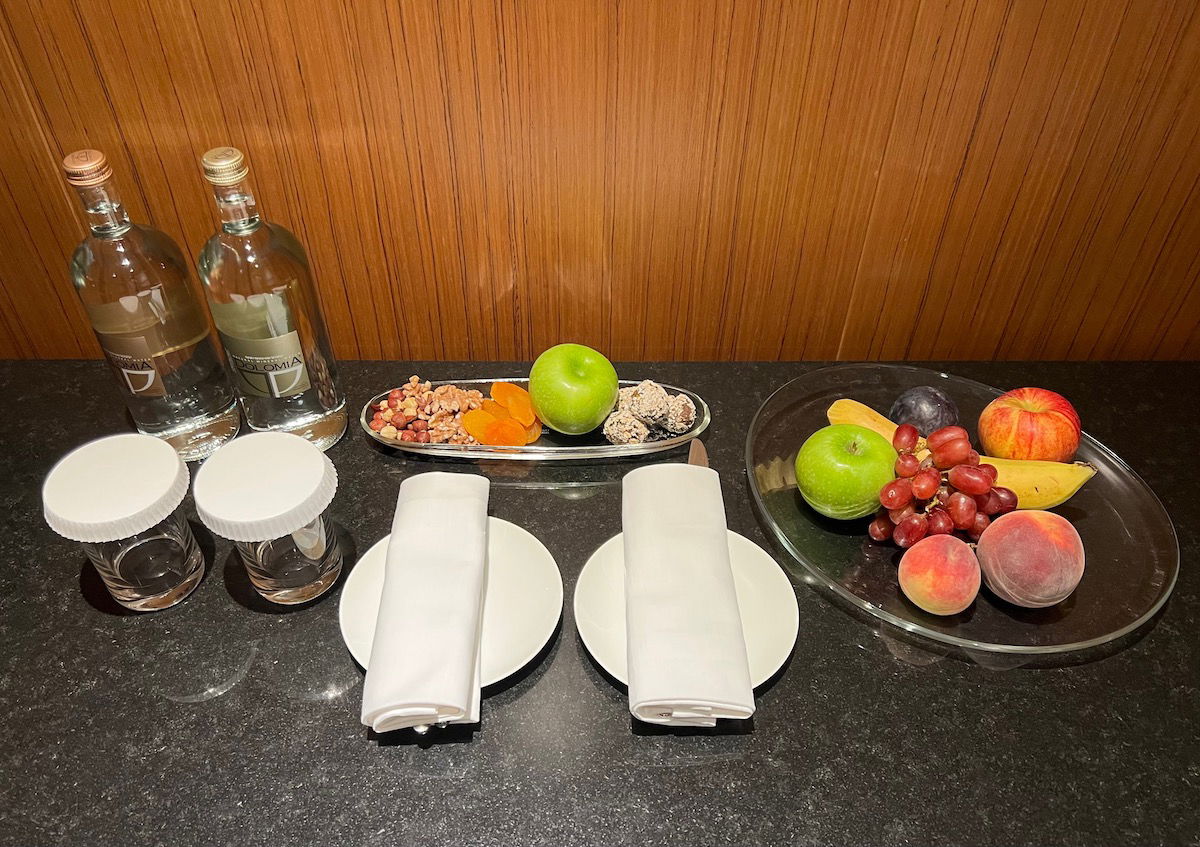 There was also a half bath off the living room, which had a sink and toilet.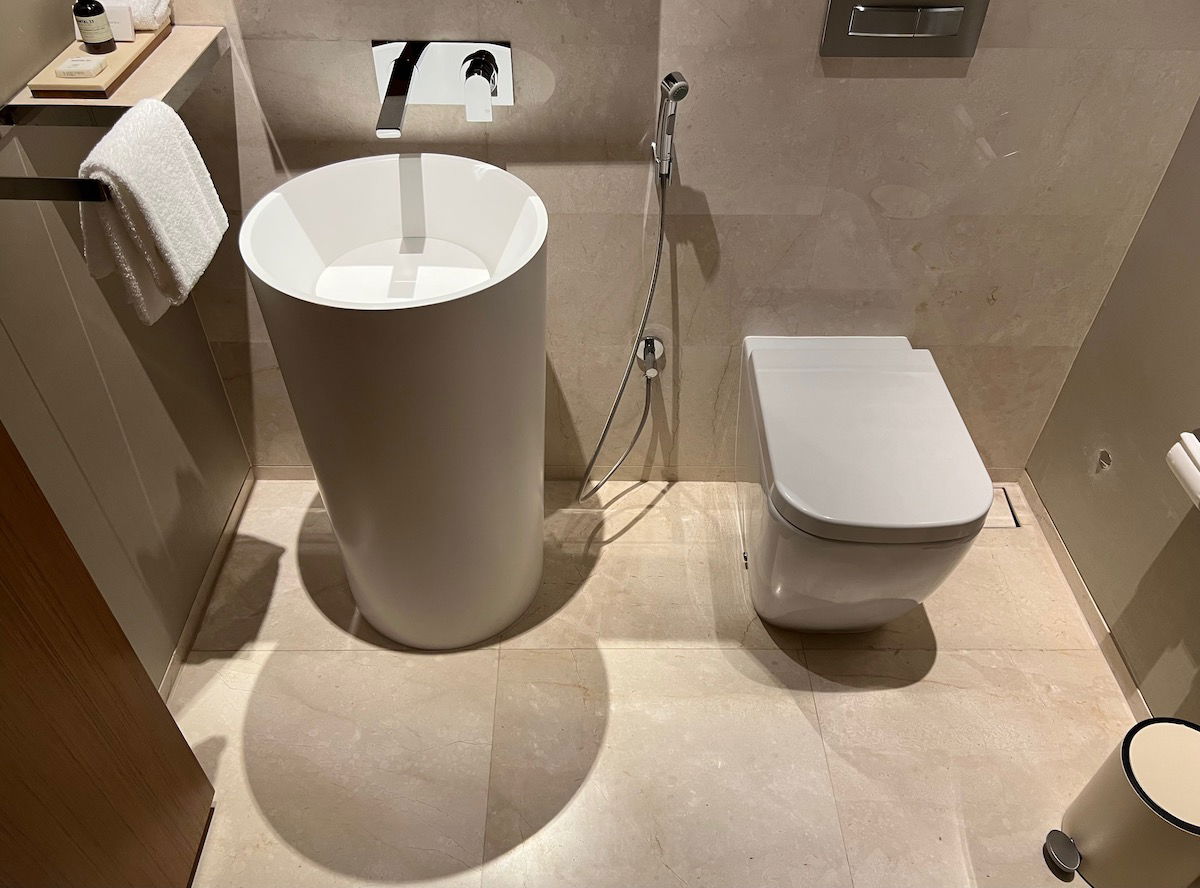 The bedroom was separated from the living room by a door, and was also a good size. The bedroom had a king size bed, a chair with ottoman, and a console that had a TV and vanity.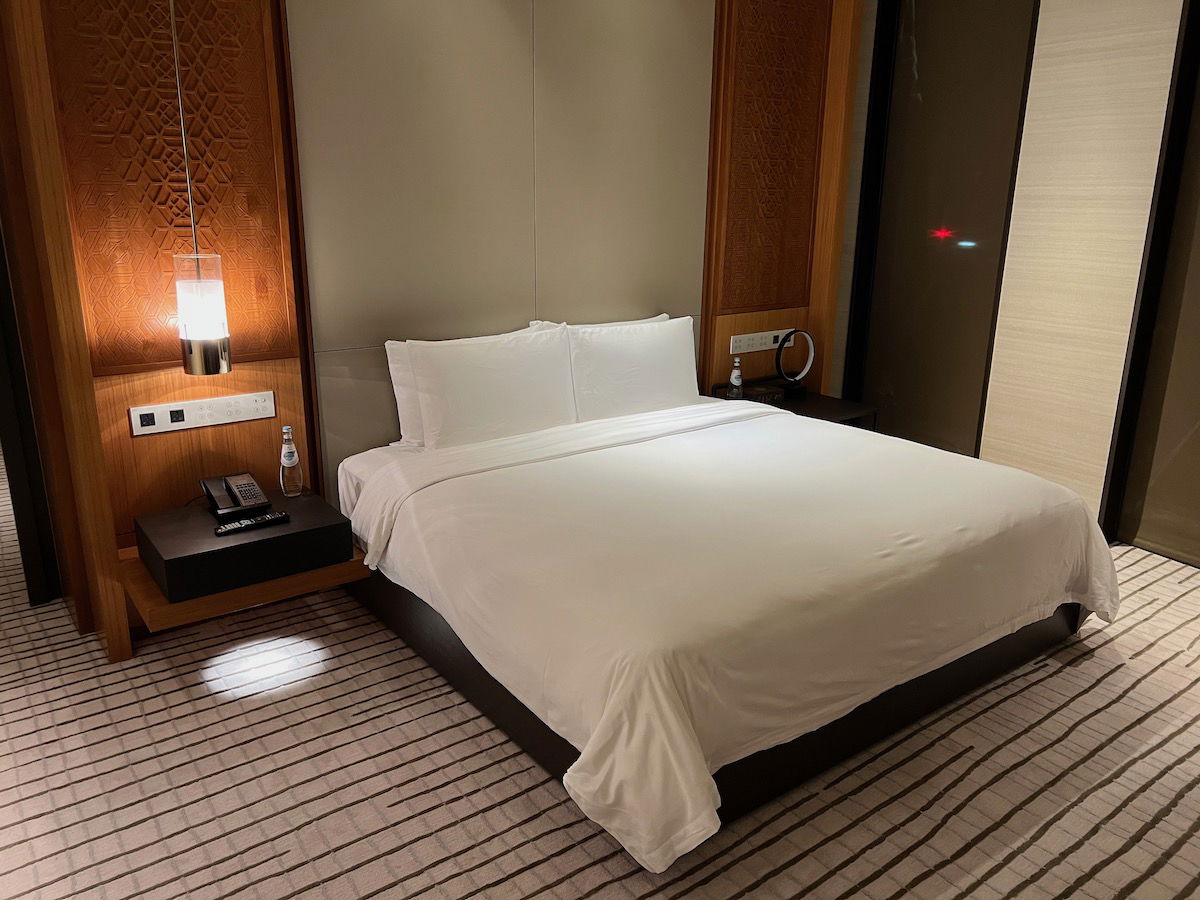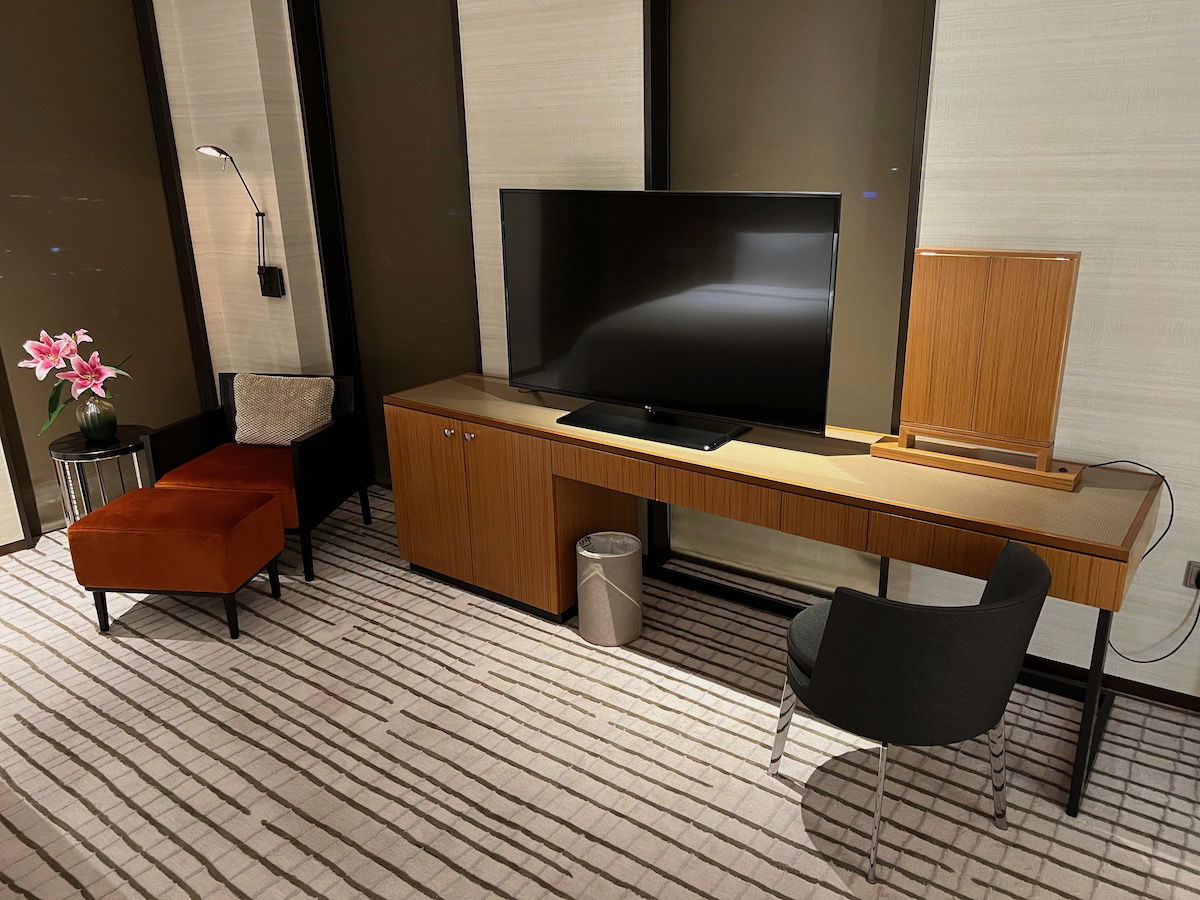 The main bathroom was off the bedroom, and had double sinks, a bathtub, a large walk-in shower, and a toilet and bidet.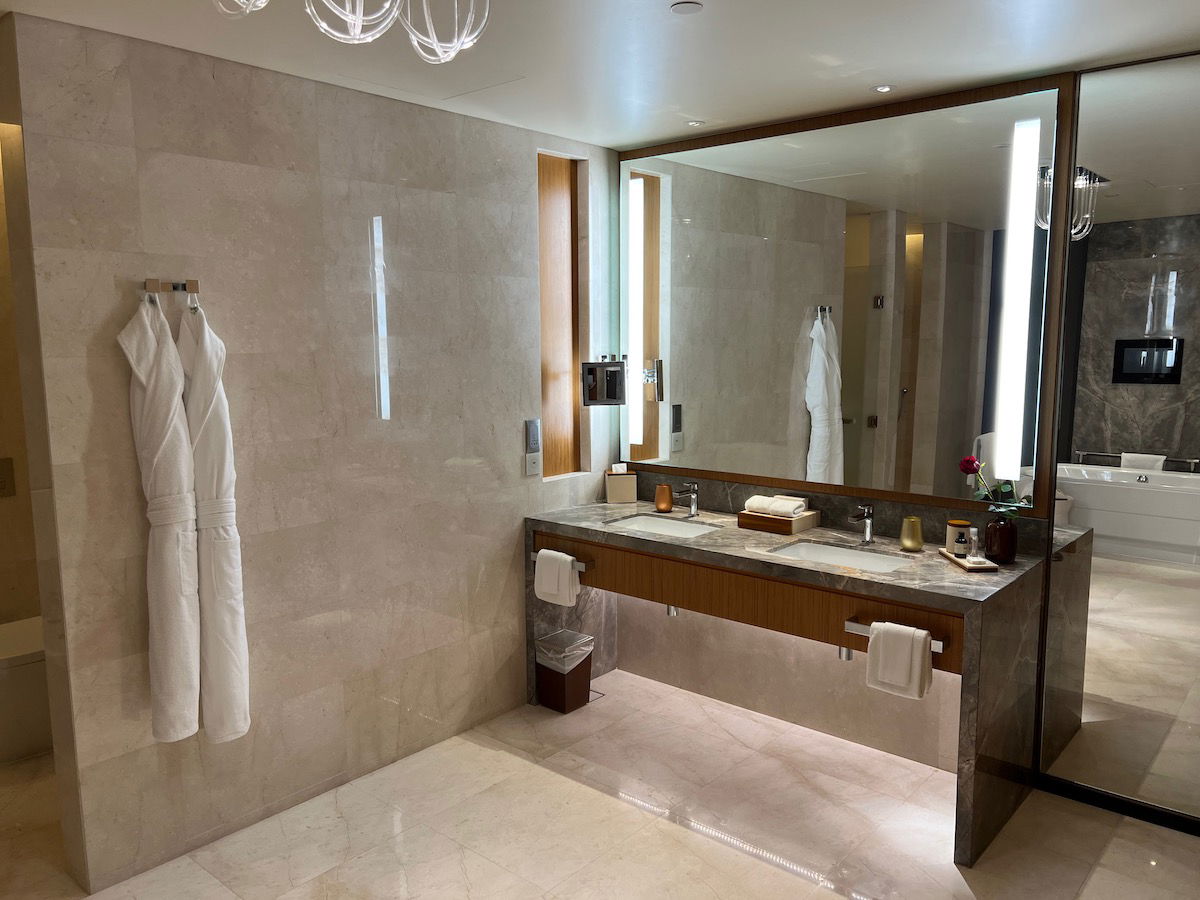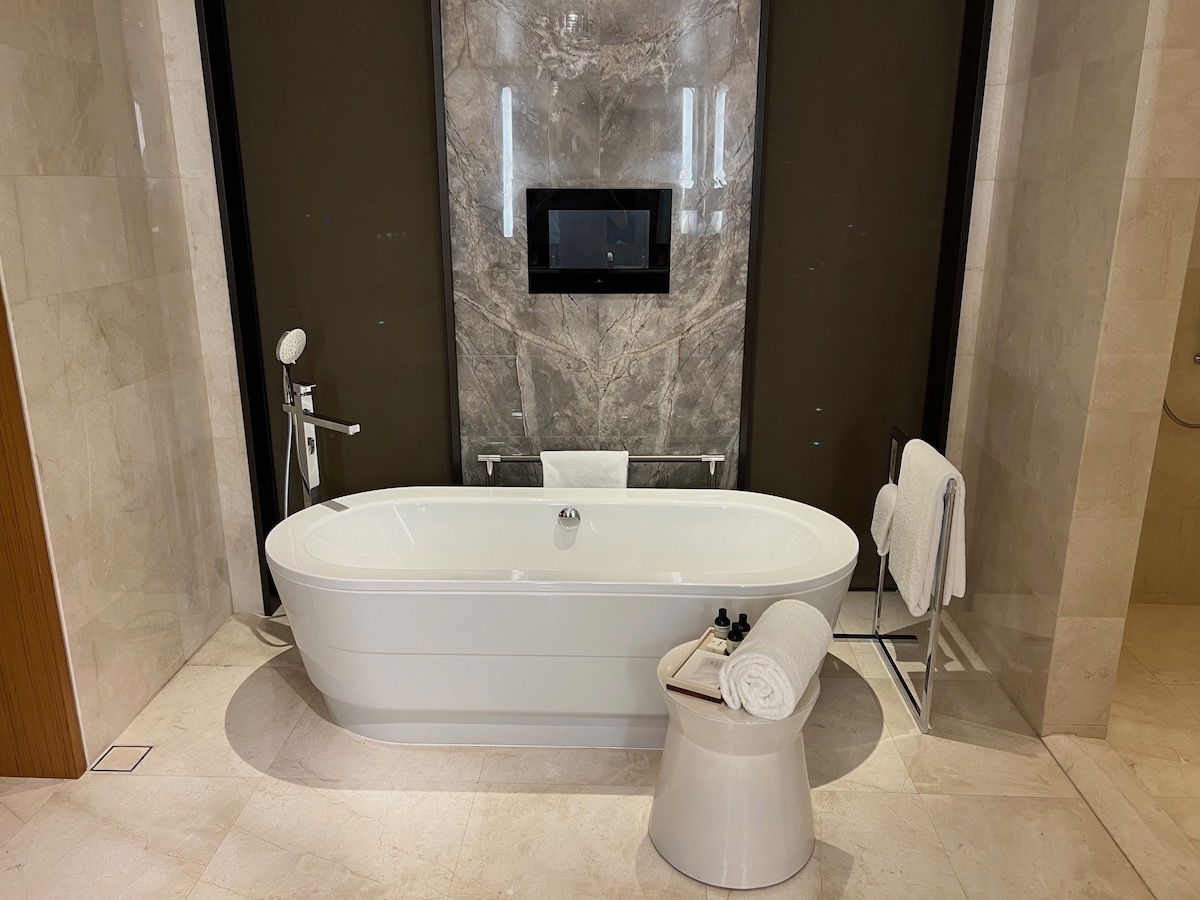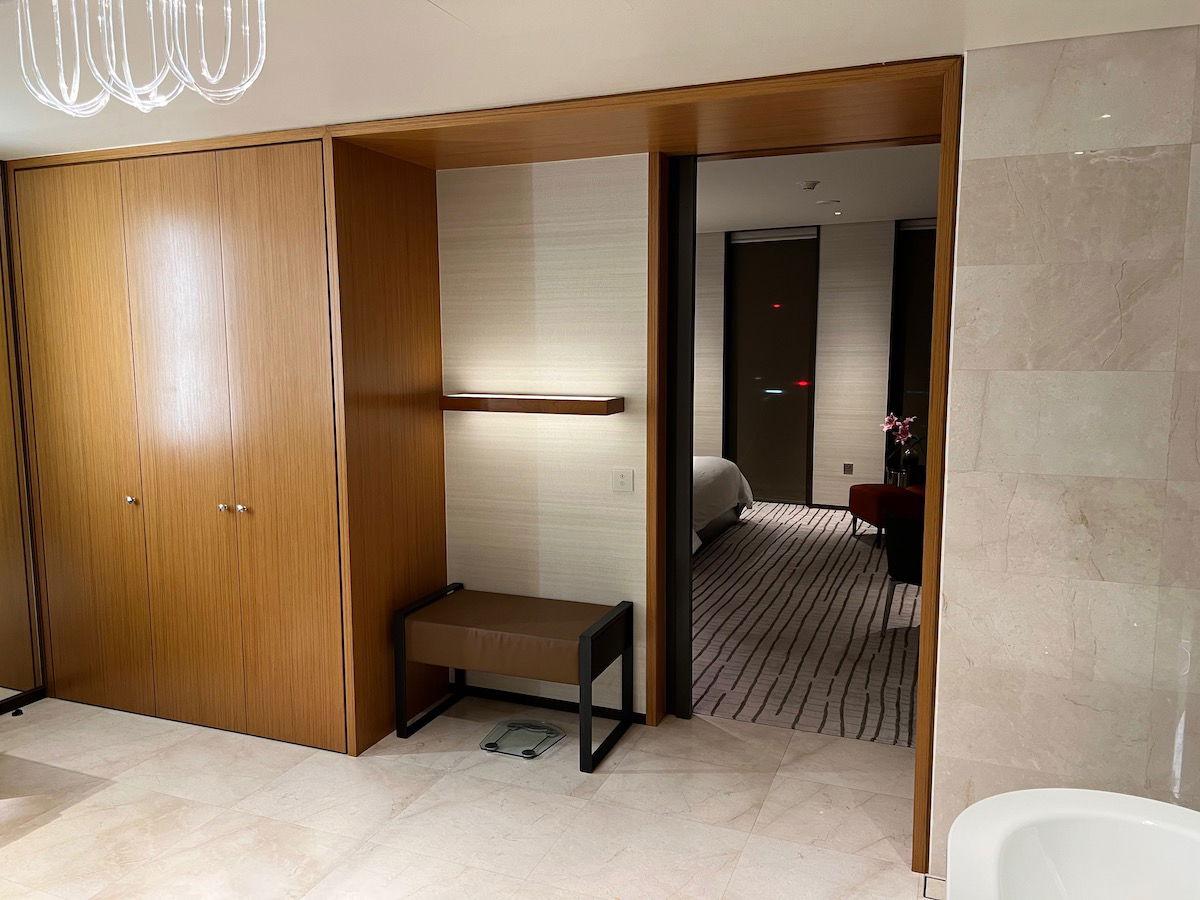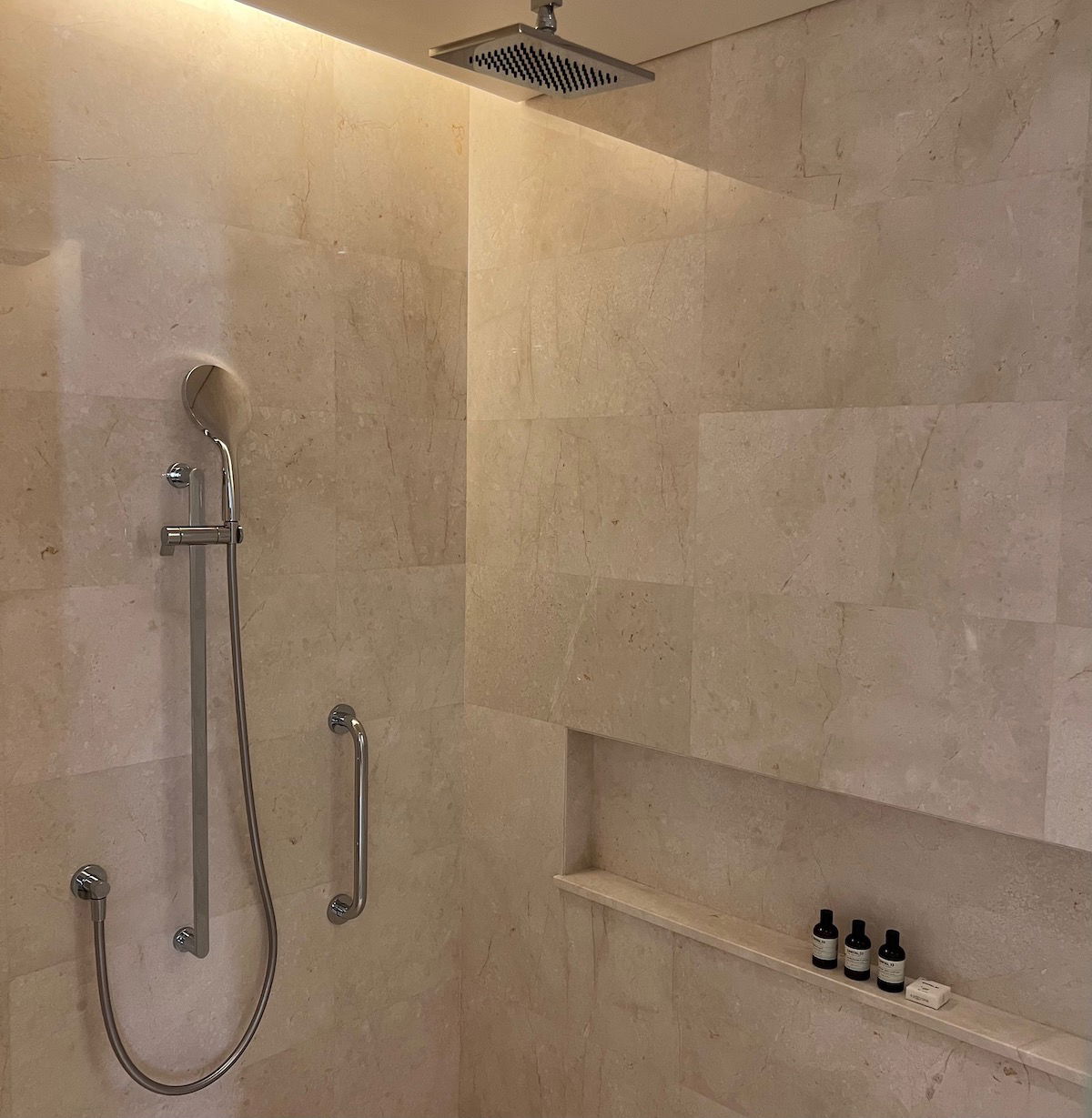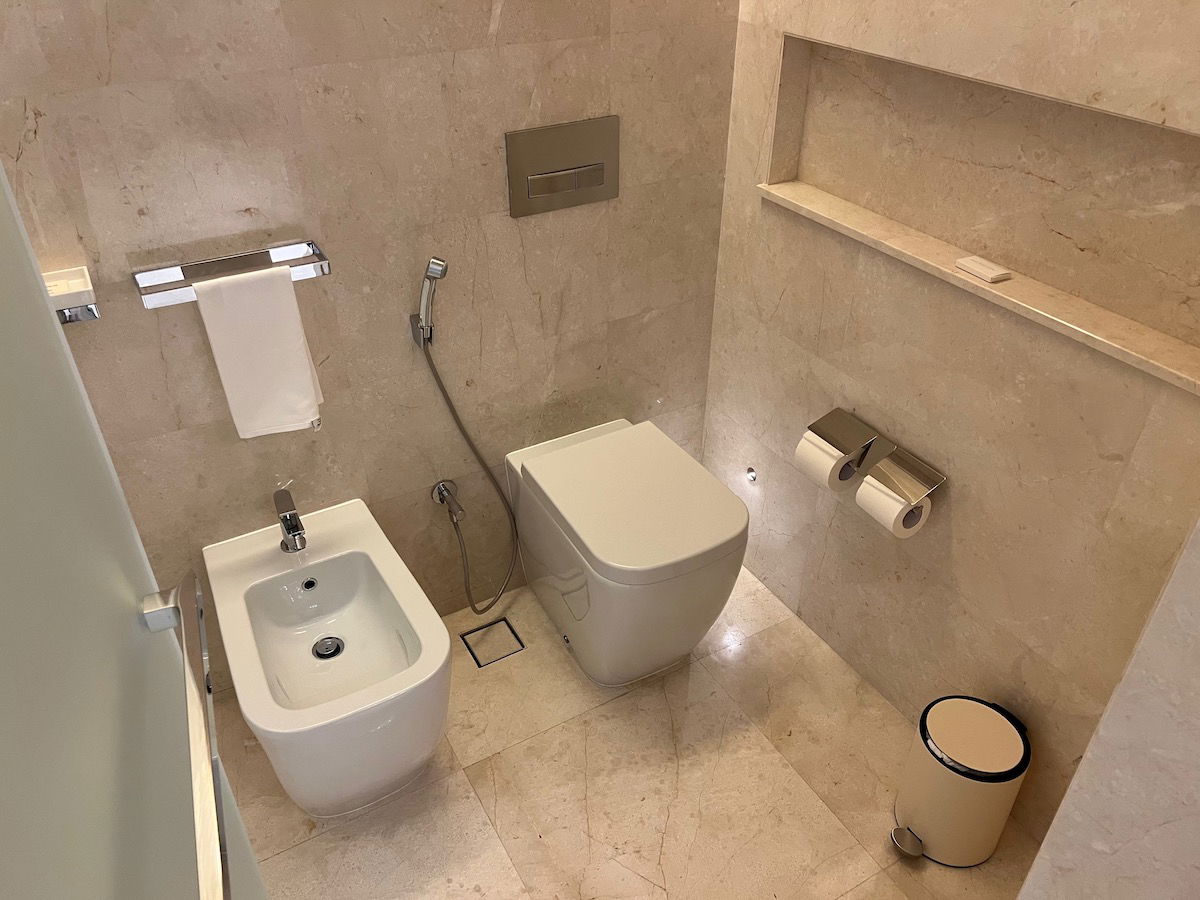 Toiletries were from Le Labo, and specifically were the Santal 33 scent, which I quite like.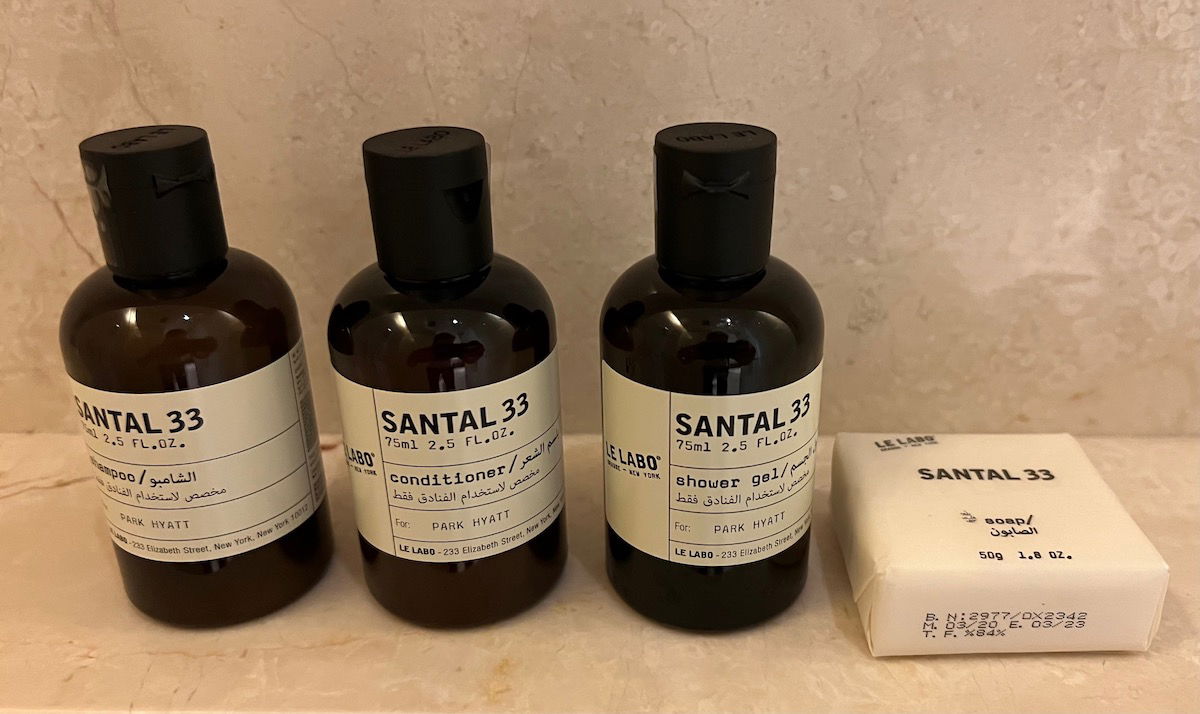 The room had views of the nearby area, which weren't particularly inspiring.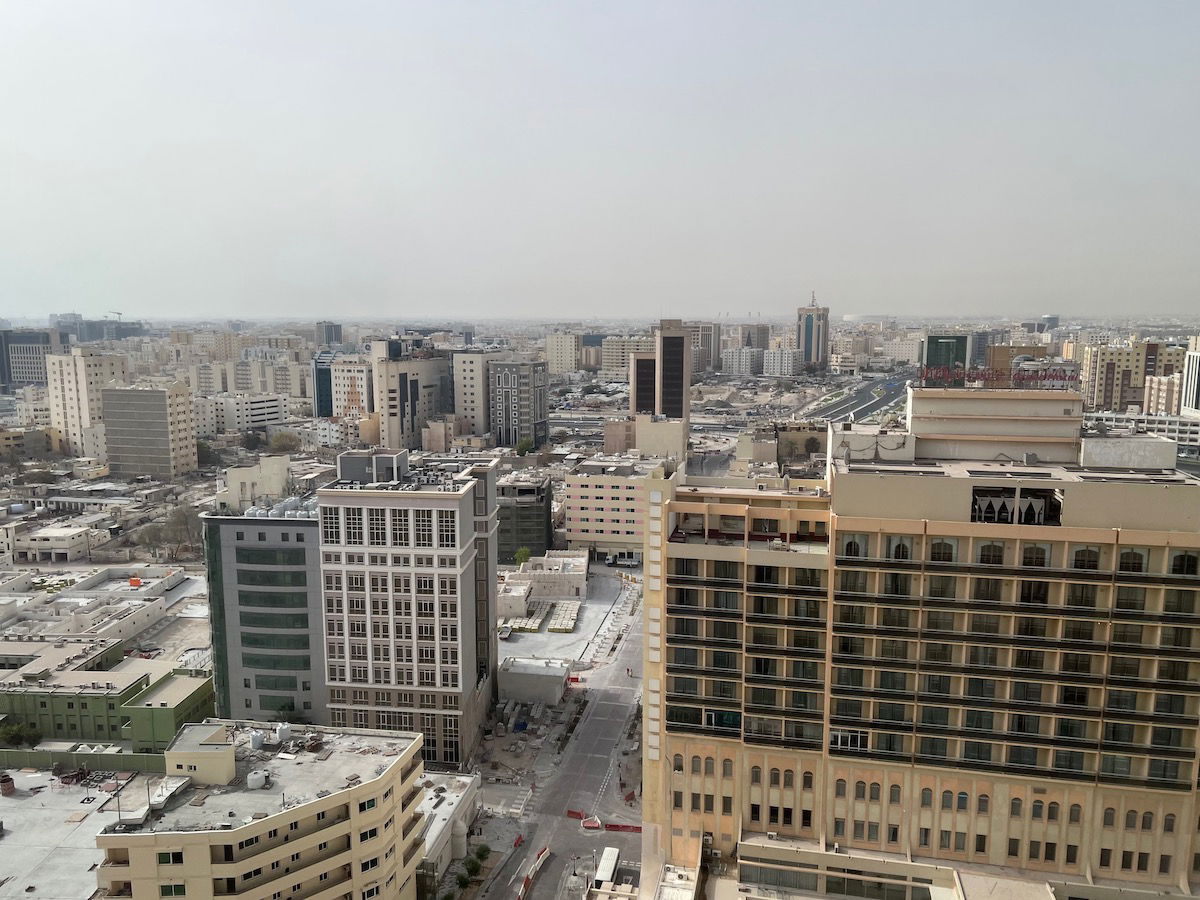 I was impressed by how many fresh flowers there were in the room. That's not an insignificant expense, and I thought that was a nice touch.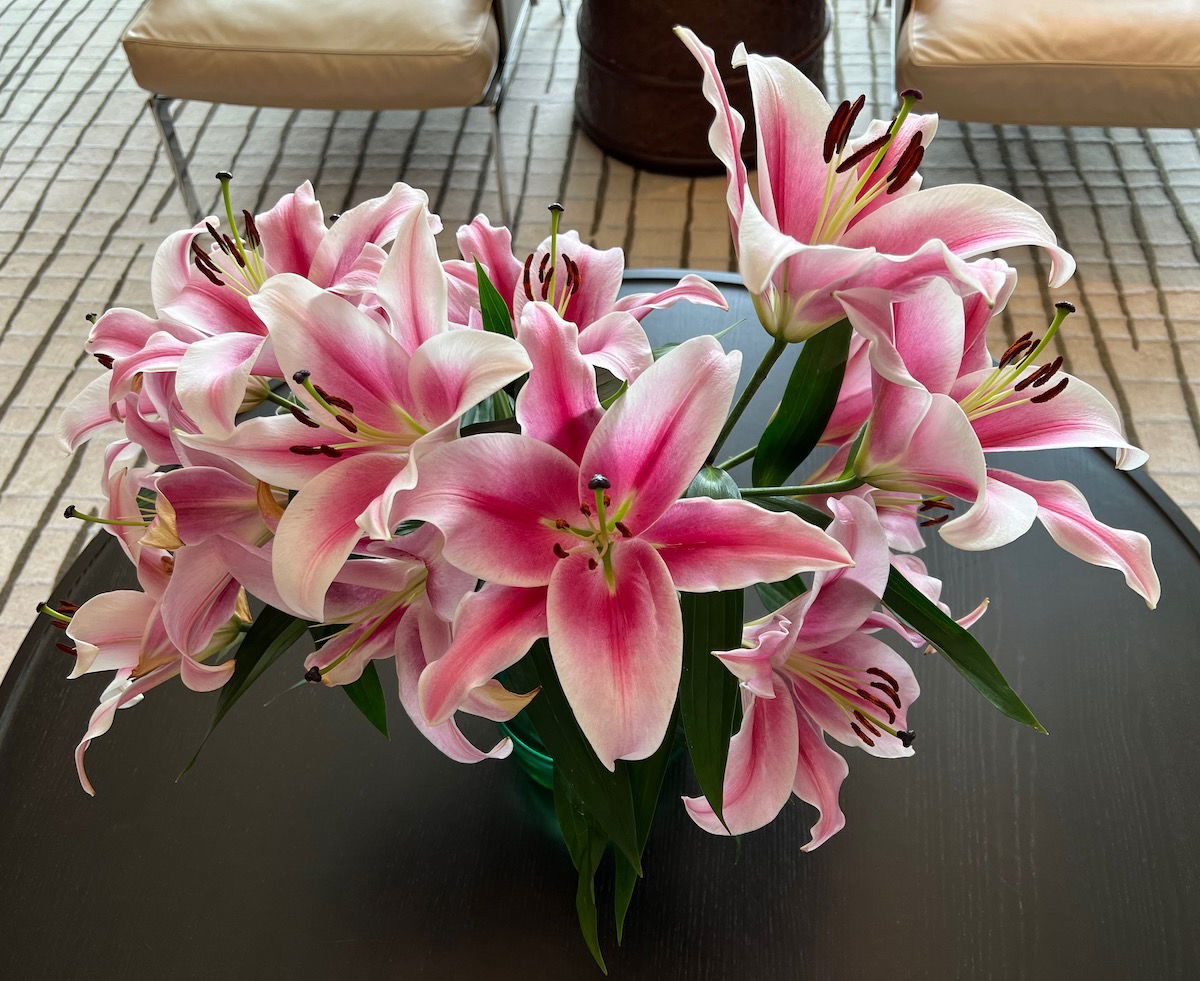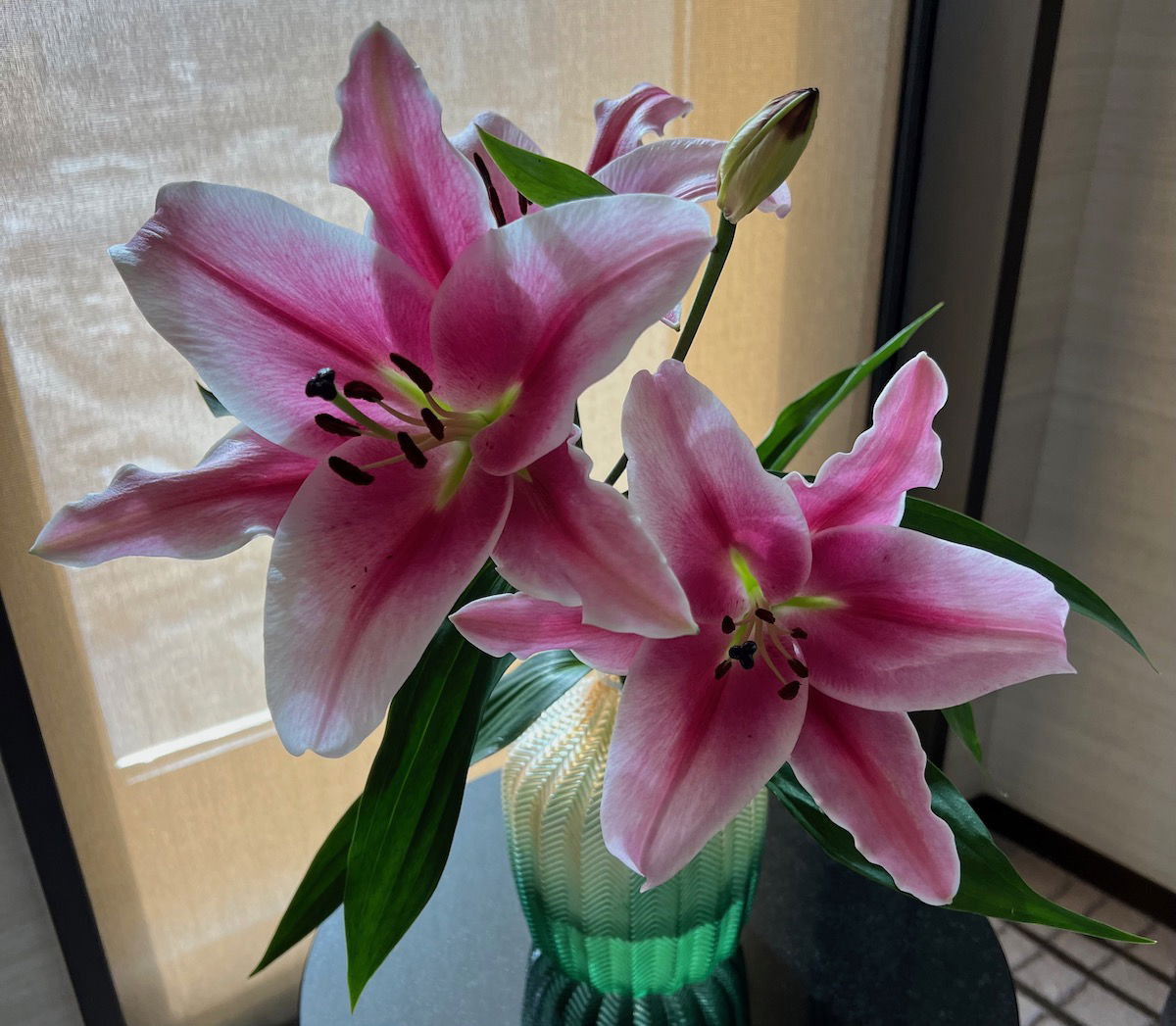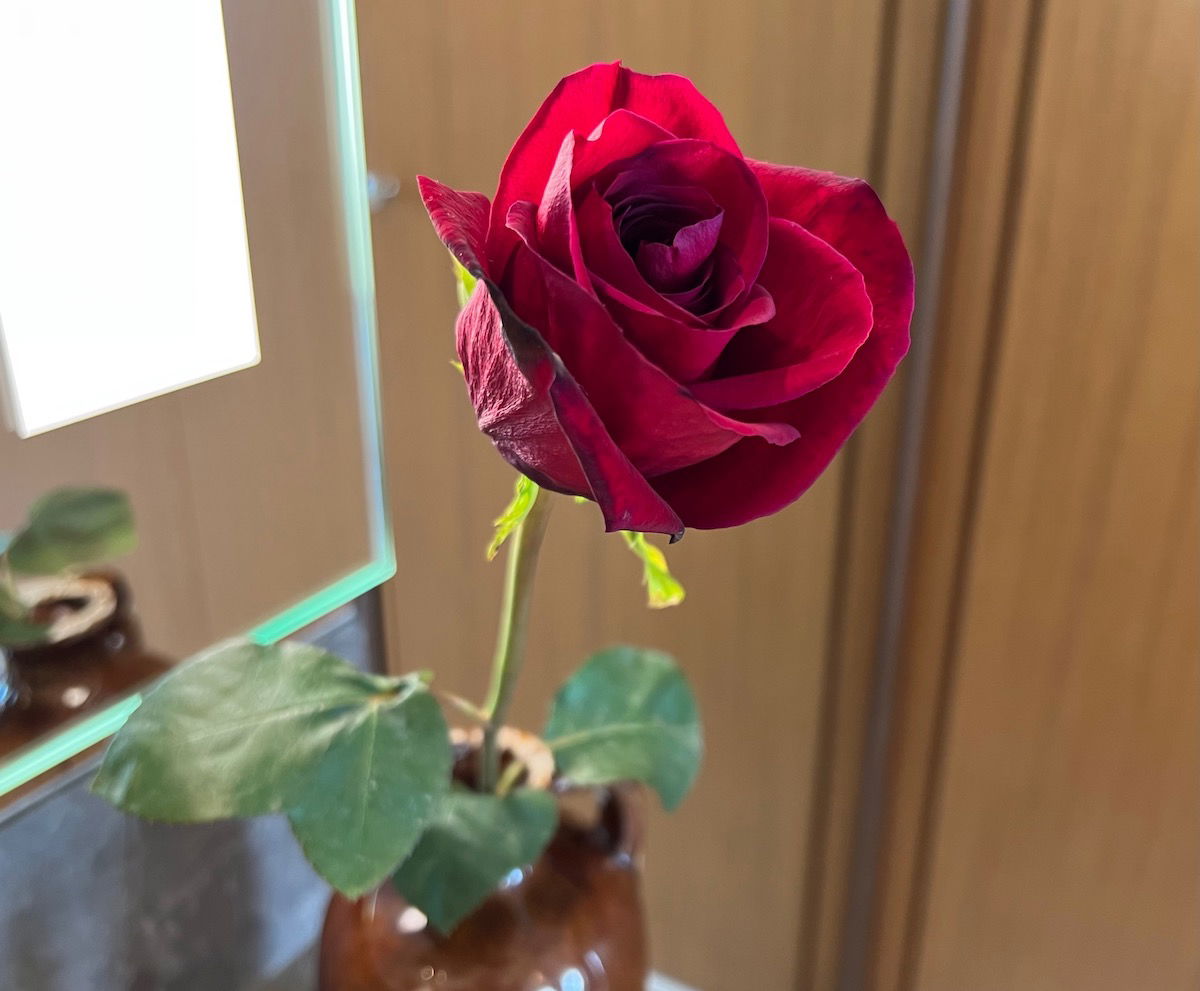 I appreciated how large the suite was. The thing is, to me the suite didn't feel like what I would expect at a new Park Hyatt in terms of the furnishings. Don't get me wrong, the suite was nice, but if you showed me a room picture, I would have guessed it was a suite at a brand new international Hyatt Regency, and not a Park Hyatt.
But the more I think about it, the more I realize that Park Hyatt isn't actually as consistent of a brand as one would hope. Even the pictures of the newly renovated Park Hyatt Toronto don't seem to fit the typical Park Hyatt design. For that matter, one even has to wonder what "typical" Park Hyatt design would be, when you have properties like the Park Hyatt Hamburg.
Park Hyatt Doha Opus Restaurant (breakfast)
Opus is the Park Hyatt Doha's signature restaurant, and it's open for breakfast, lunch, and dinner. Here's how the restaurant's concept is described:
Welcome to Opus, a composition by Michelin Star Chef, Jean-Francois Roquette of Park Hyatt Paris in celebration of French and Qatari cuisines, prepared in an open kitchen, cooked from the heart and served sharing-style, the way food is meant to be enjoyed.

Opus features a magnificent outdoor dining terrace, where you may dine in the first rays of morning or amidst the light of Arabesque lanterns dancing on vaulted walls.
There was nothing wrong with this restaurant, but for a new Park Hyatt property with a restaurant that has a "Michelin star chef" behind it, am I the only one who finds the decor to be a bit bland, and almost outdated-feeling?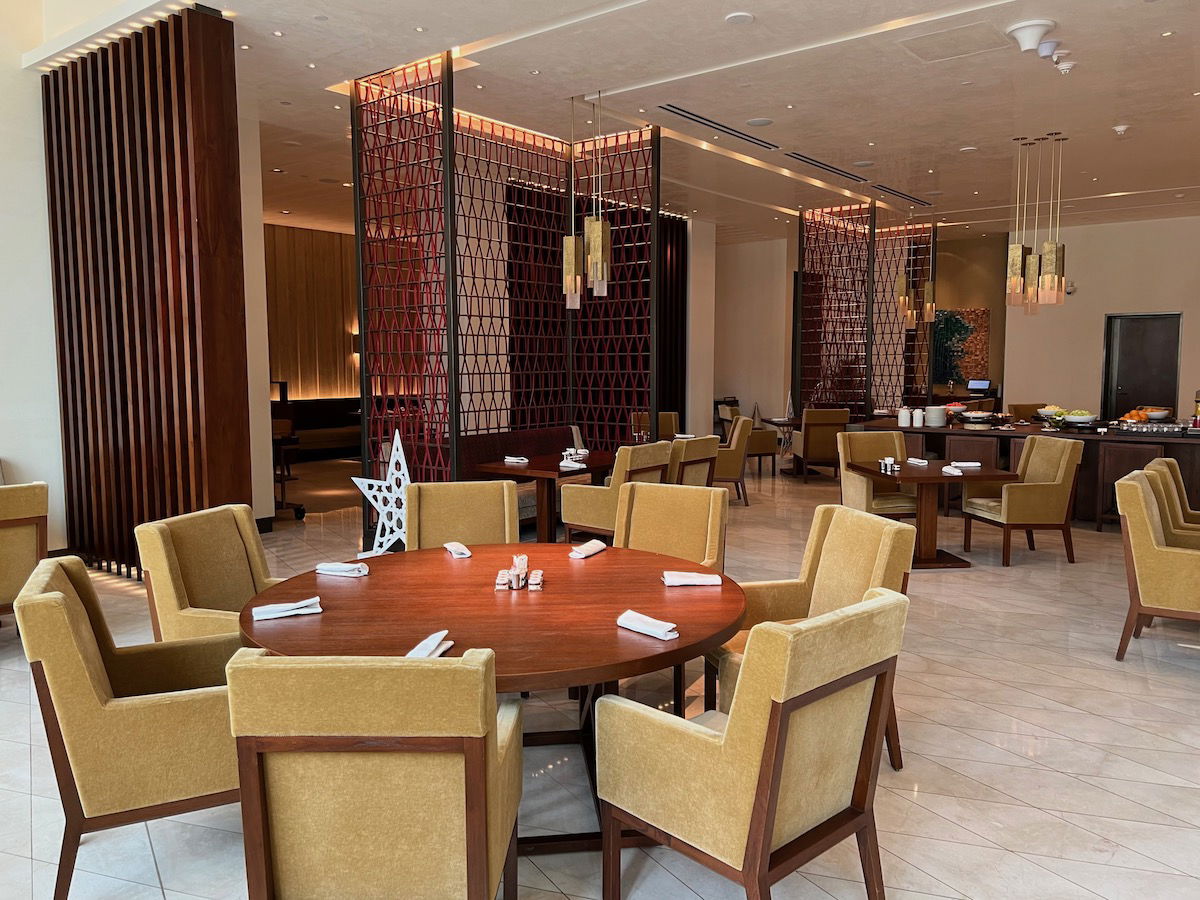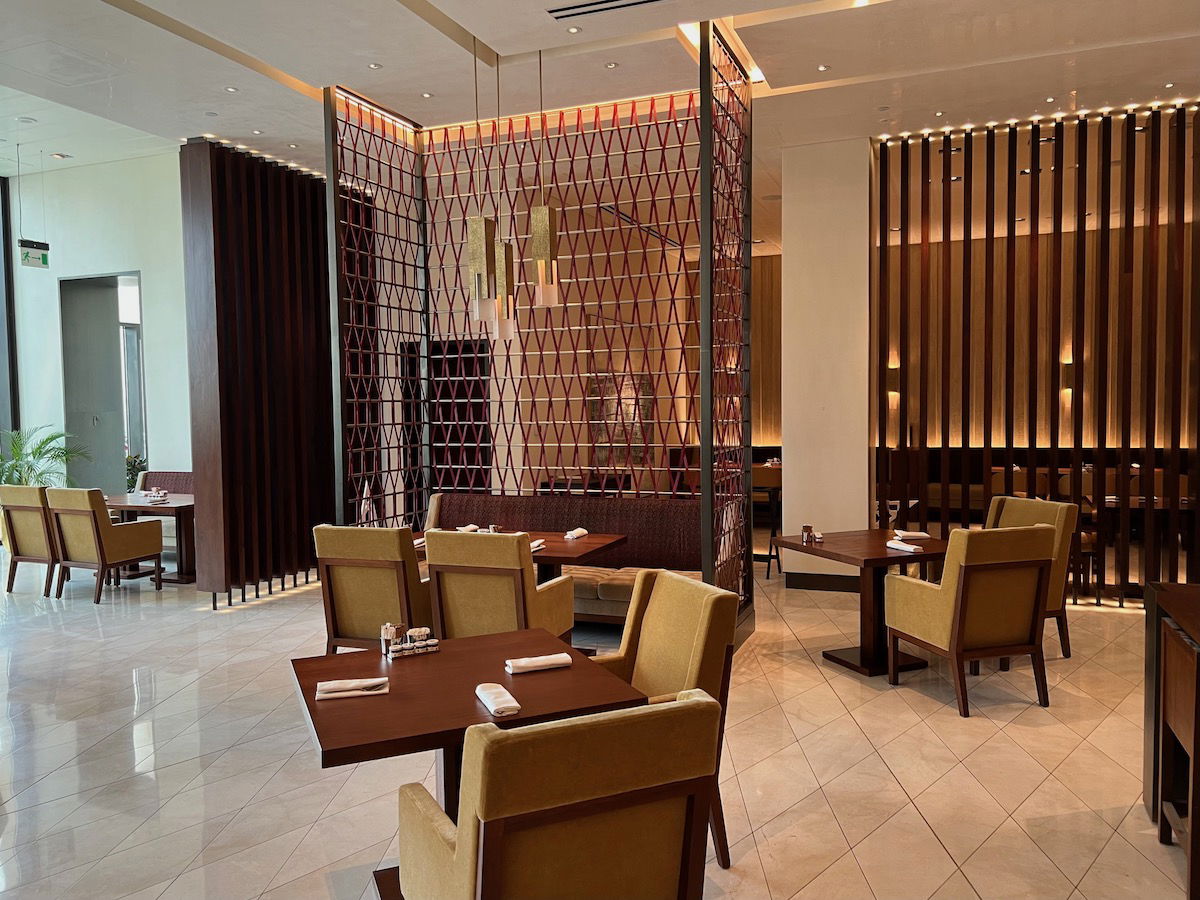 I'm also not sure I'd go so far as the call the outdoor dining terrace "magnificent."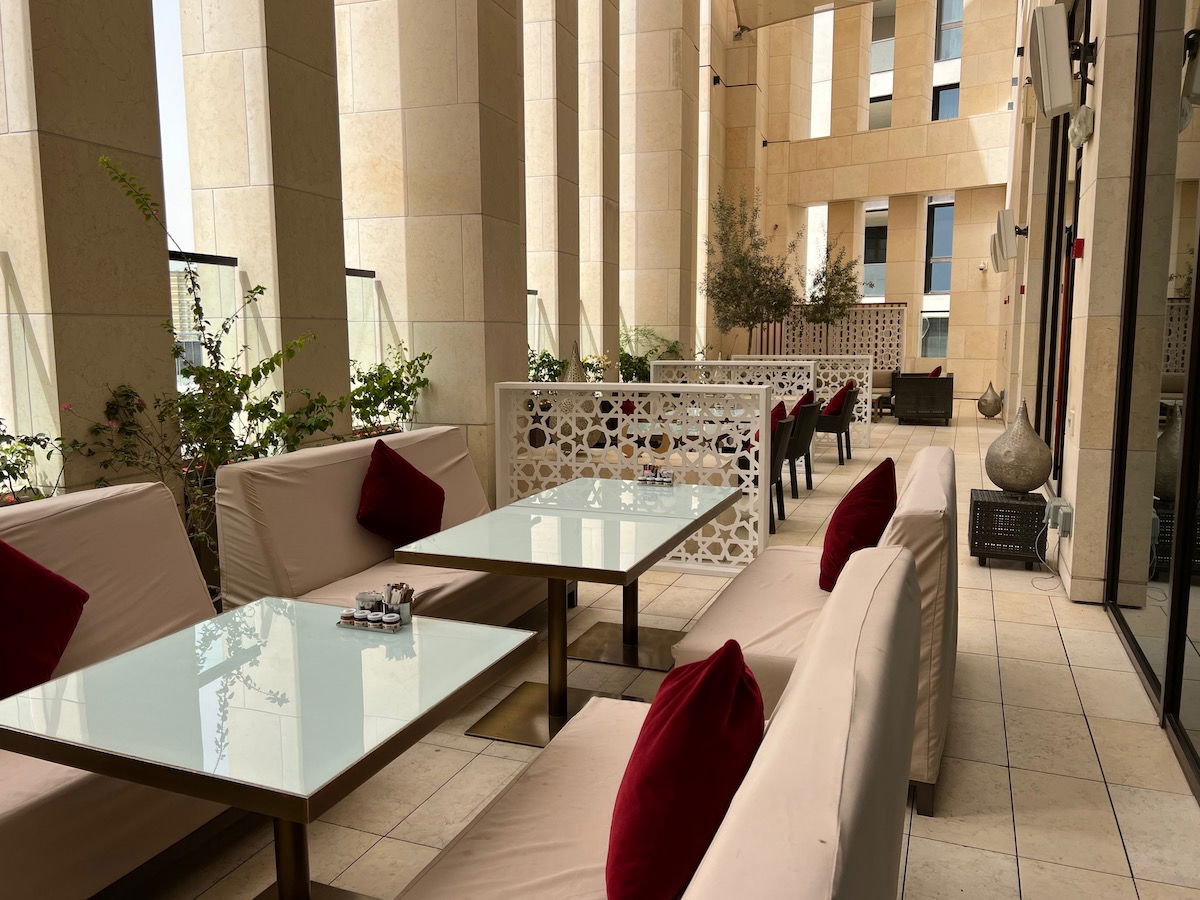 Anyway, breakfast was served daily from 6:30AM until 11AM, and there was a buffet. The buffet itself was large and quite good. with both Western and Middle Eastern options.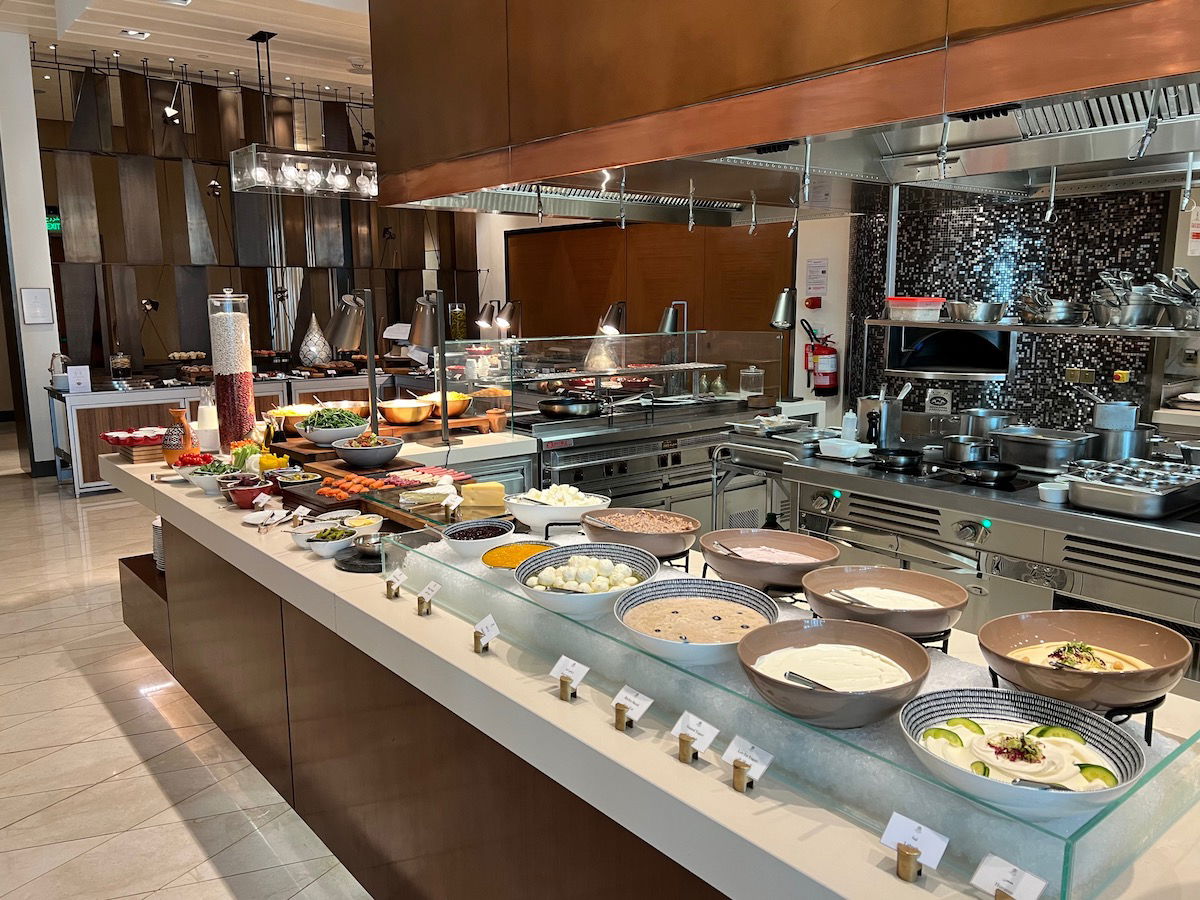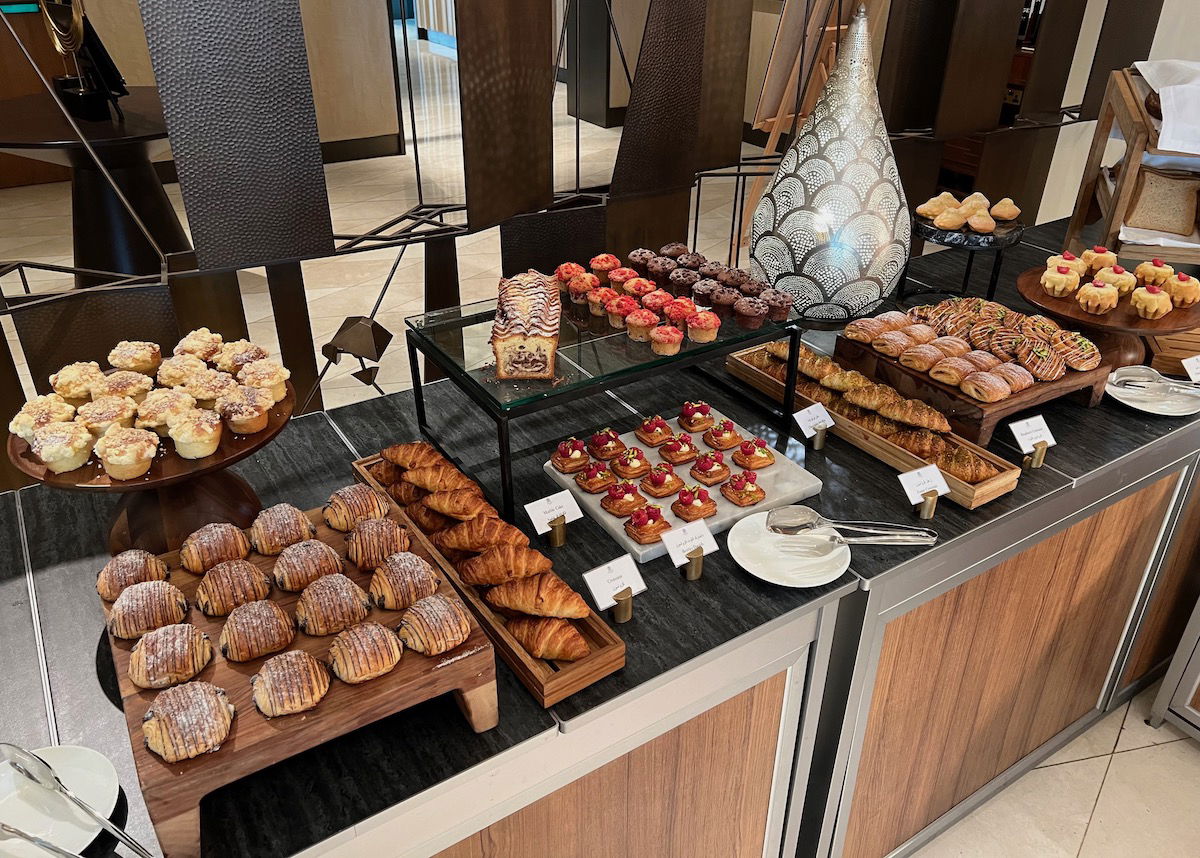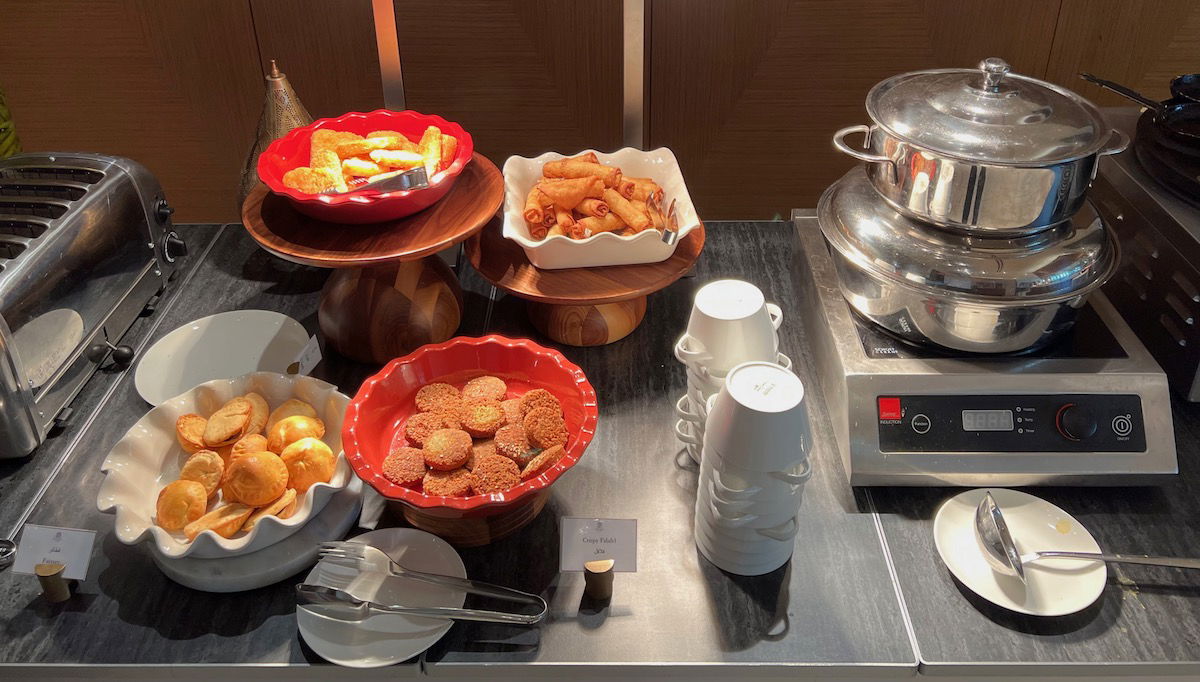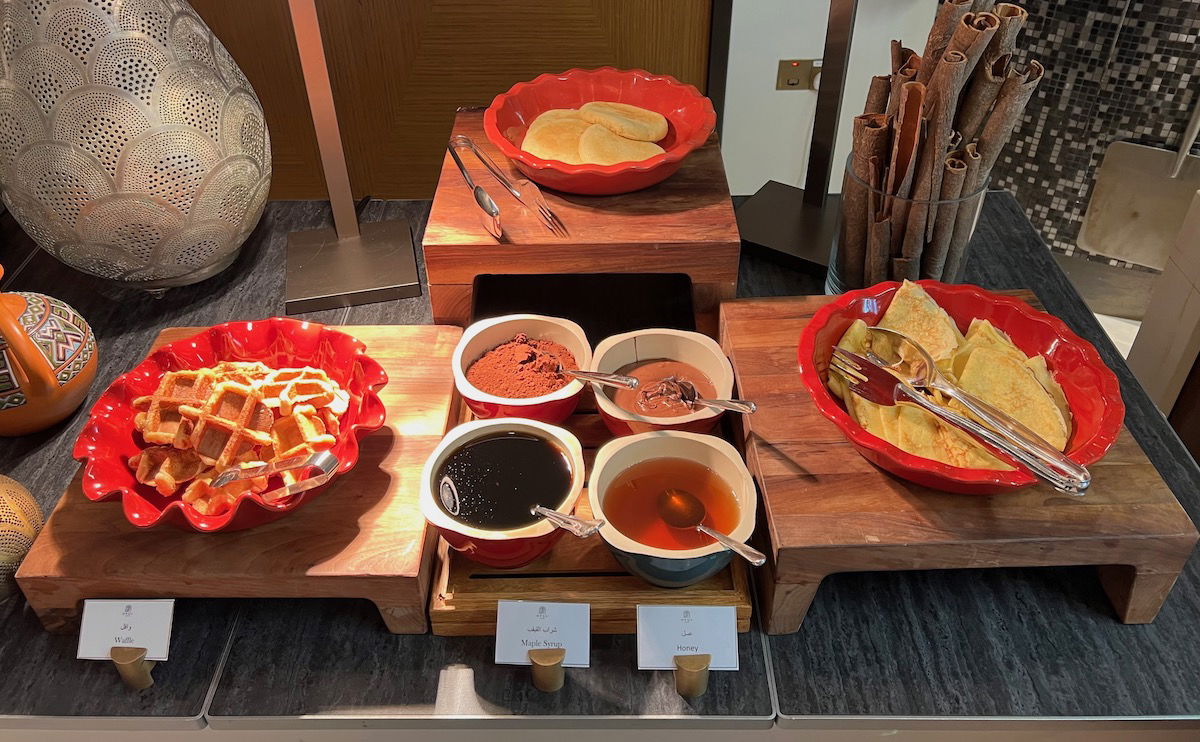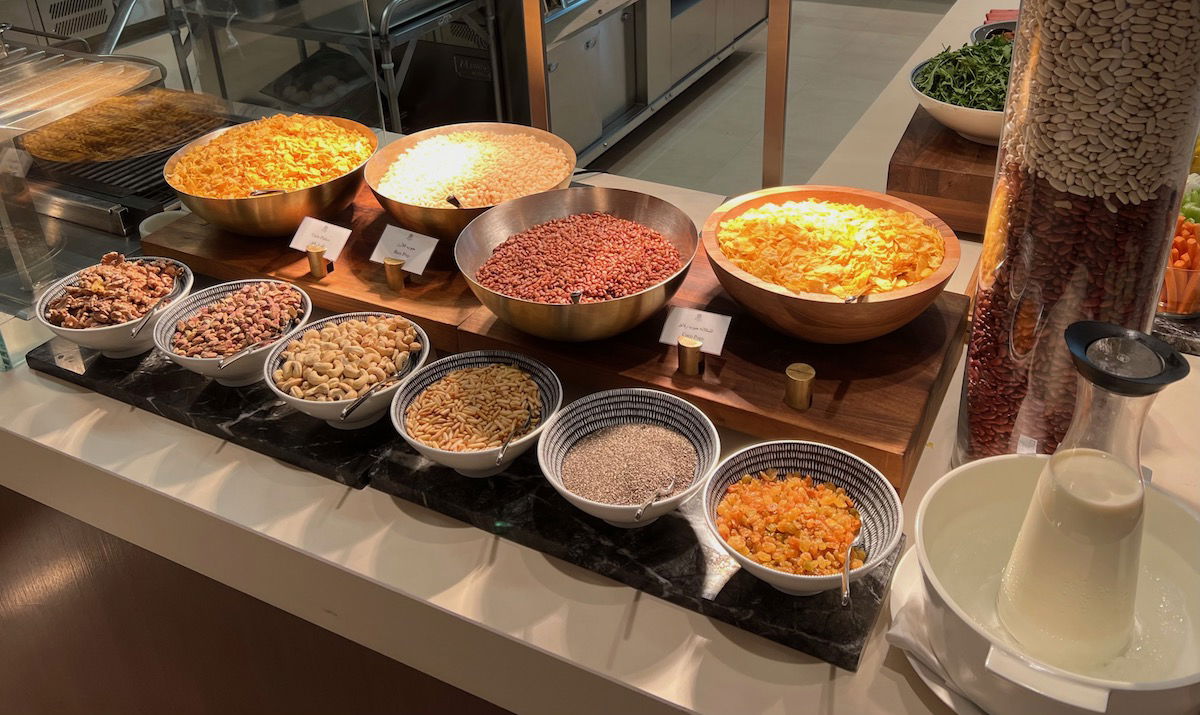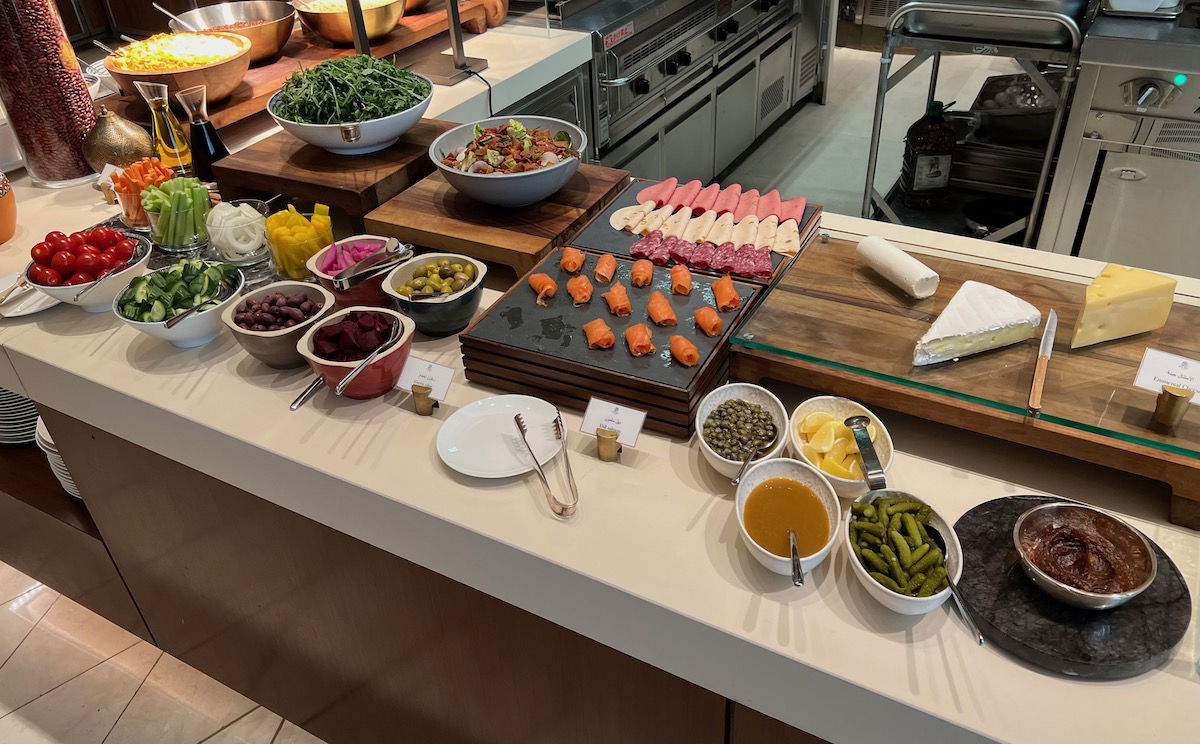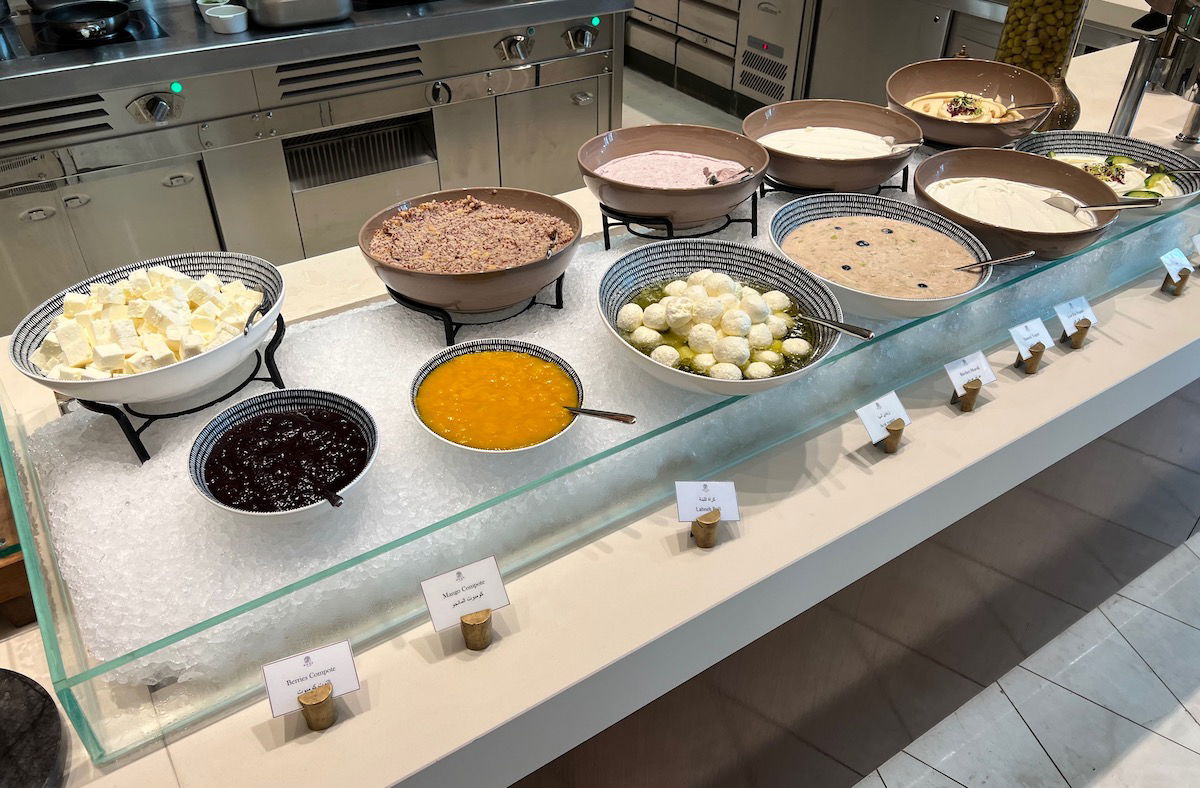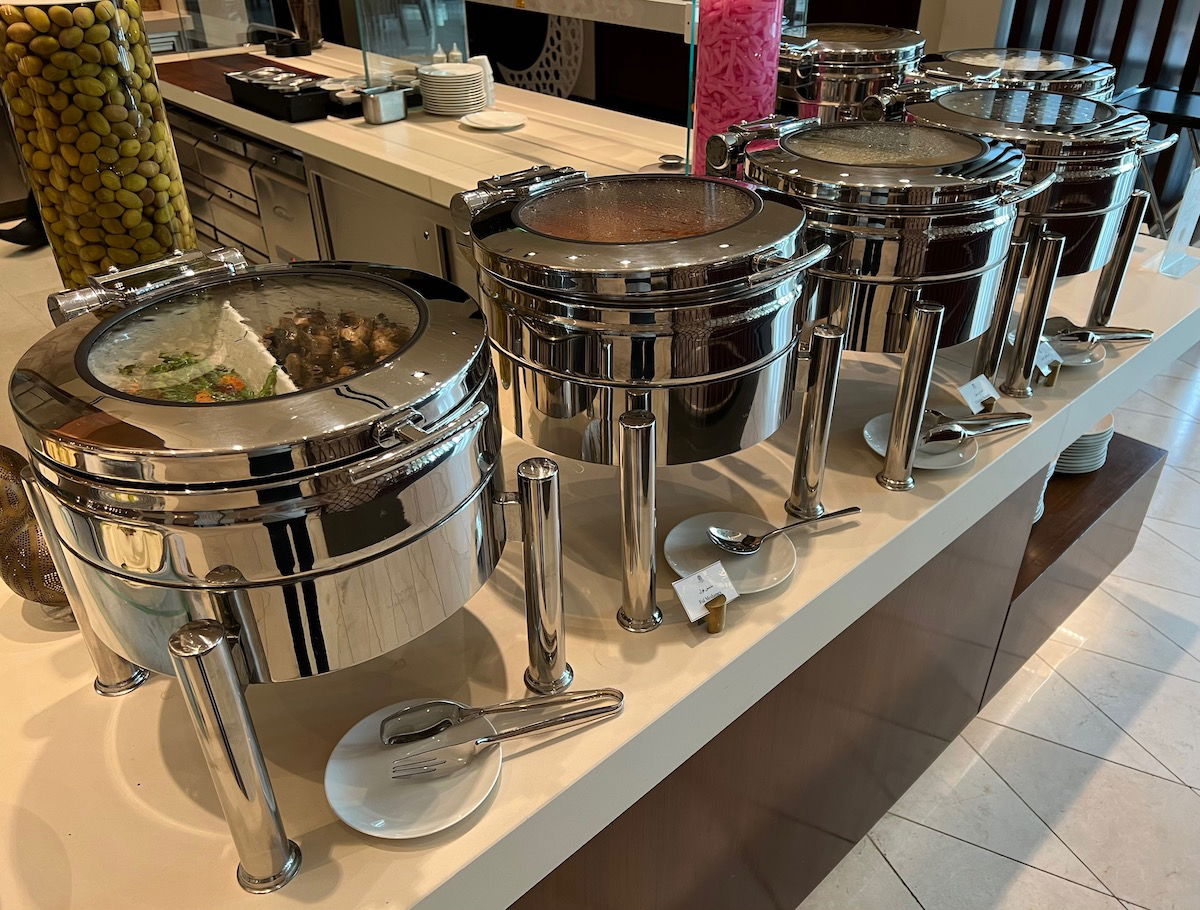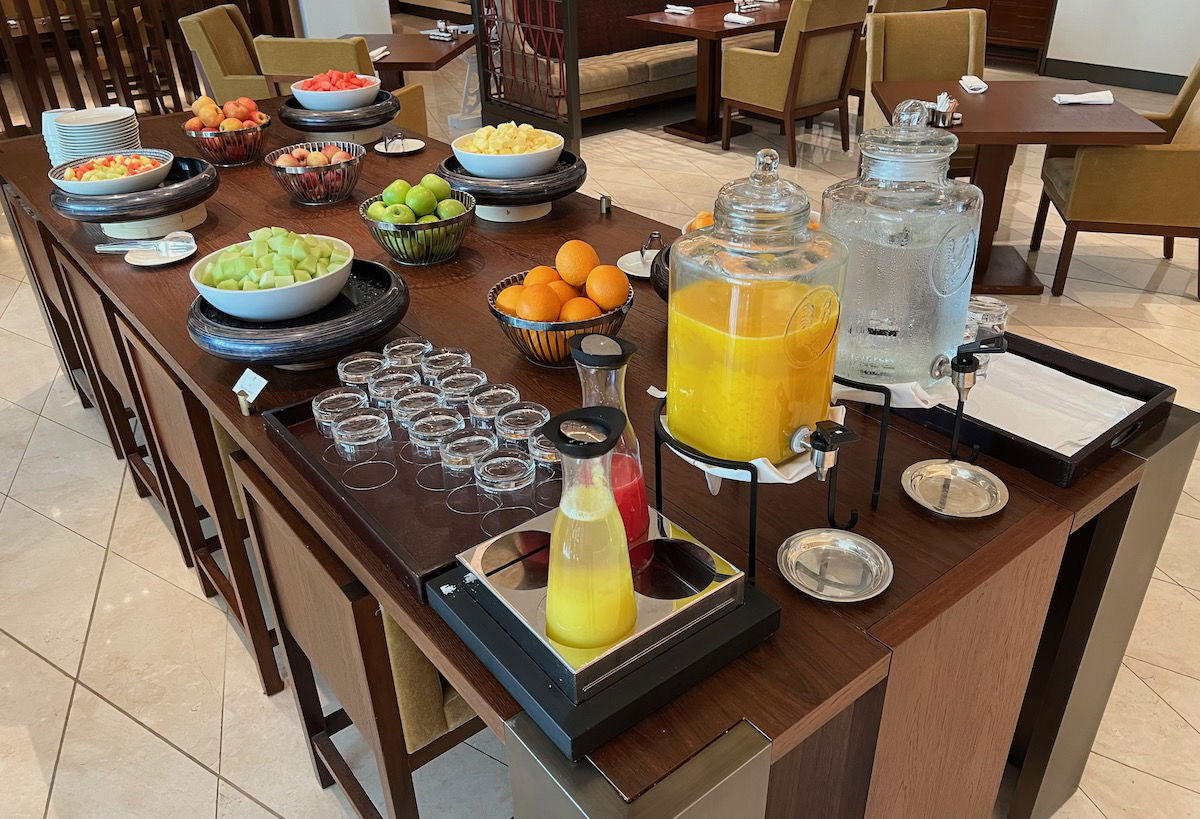 Drinks were served by the staff. Oddly they couldn't do any iced coffee drinks, though the cappuccinos were pretty decent.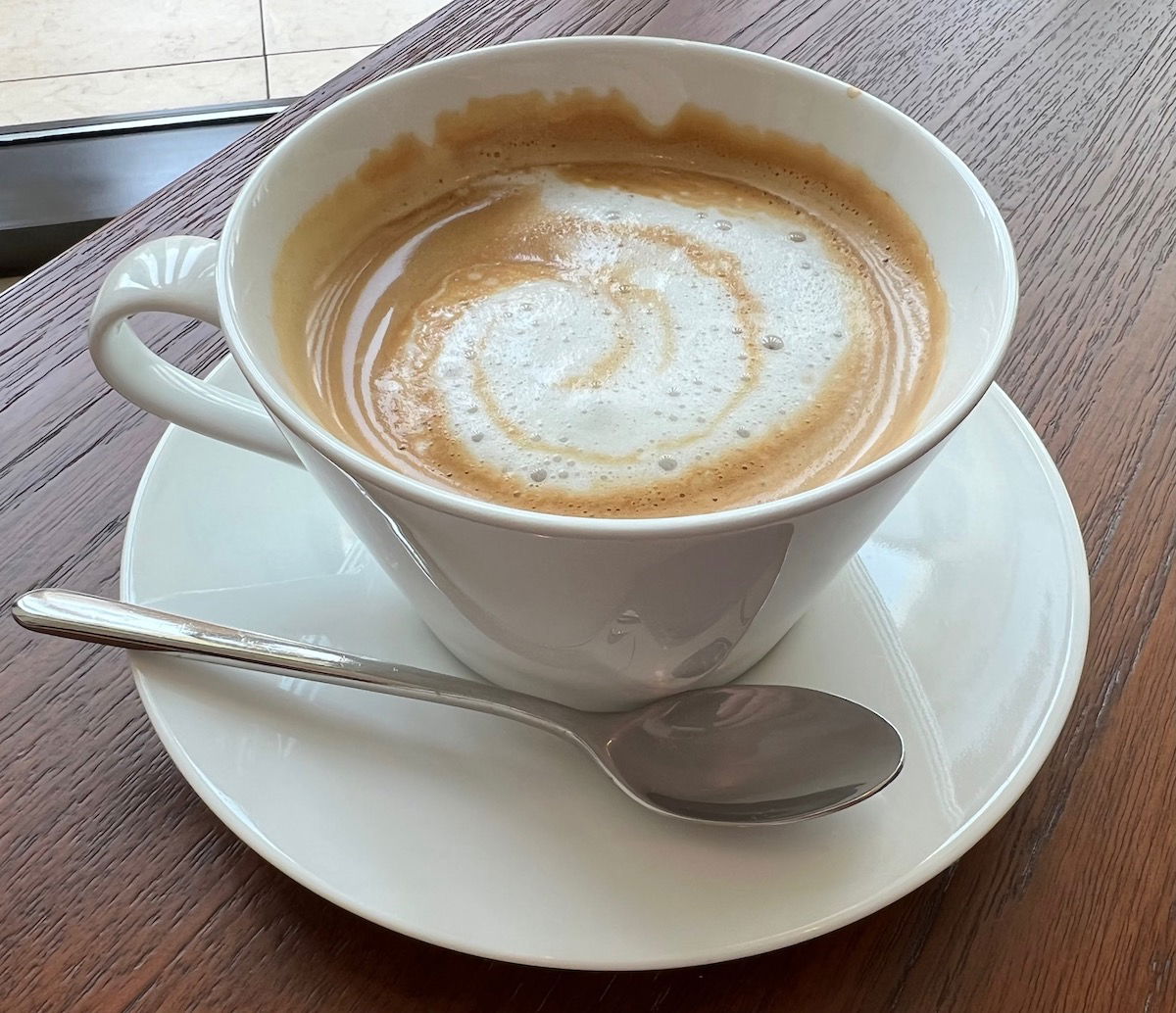 While there wasn't a menu, there were limited options you could order as well, including eggs and avocado toast.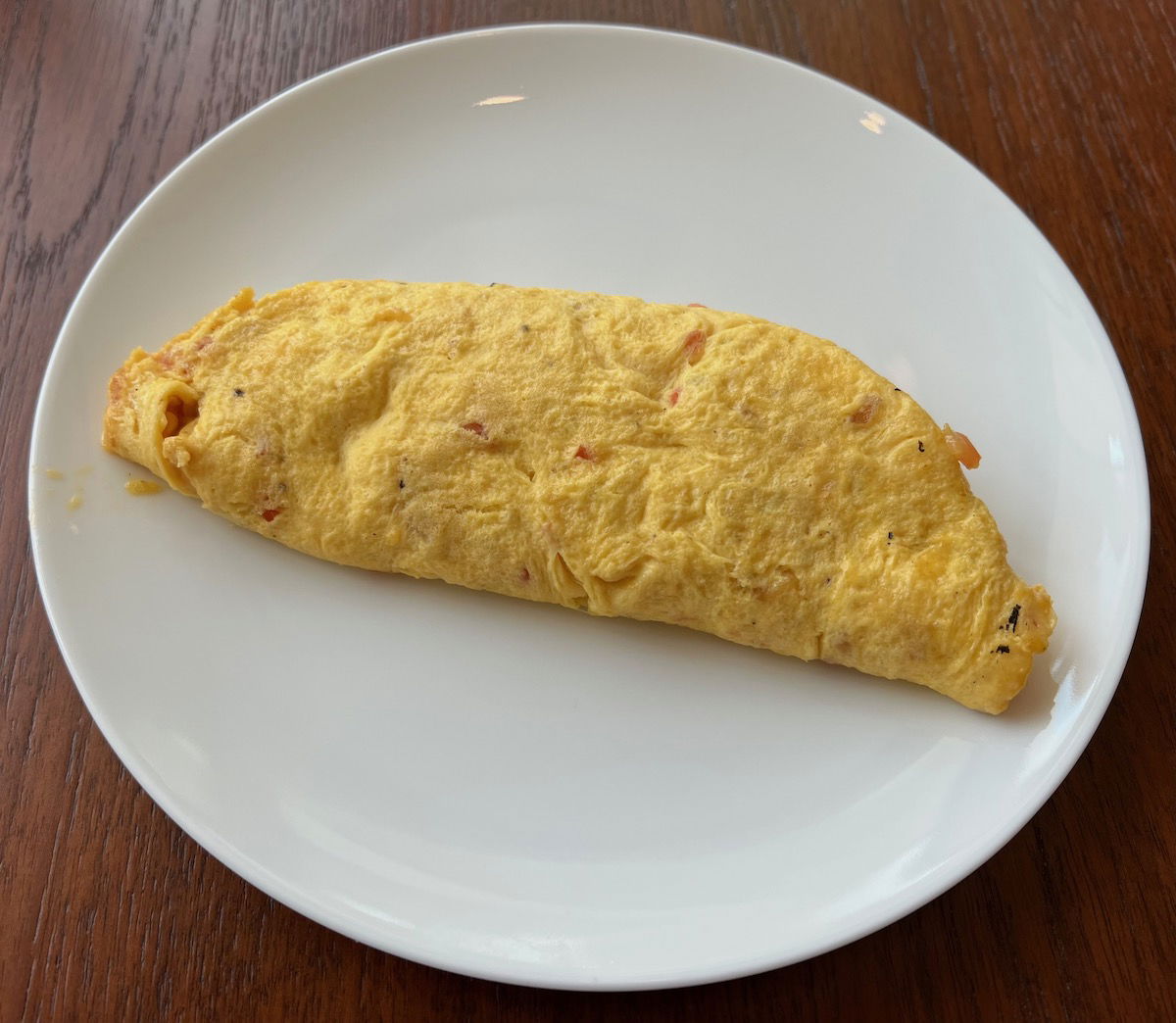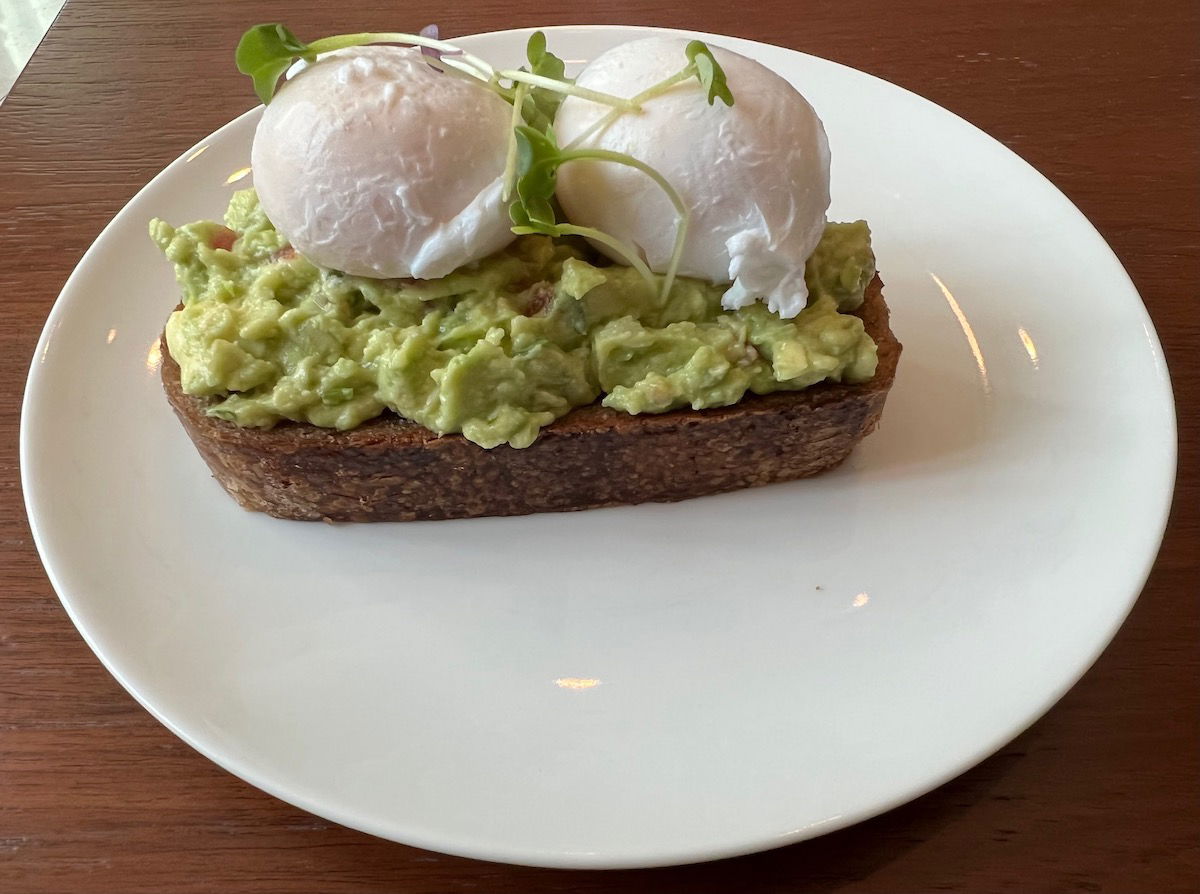 Park Hyatt Doha Sora Restaurant
The Park Hyatt Doha has Sora Restaurant on the 21st floor, which is the hotel's rooftop Japanese restaurant and lounge. We didn't end up eating here, but I did snap some pictures.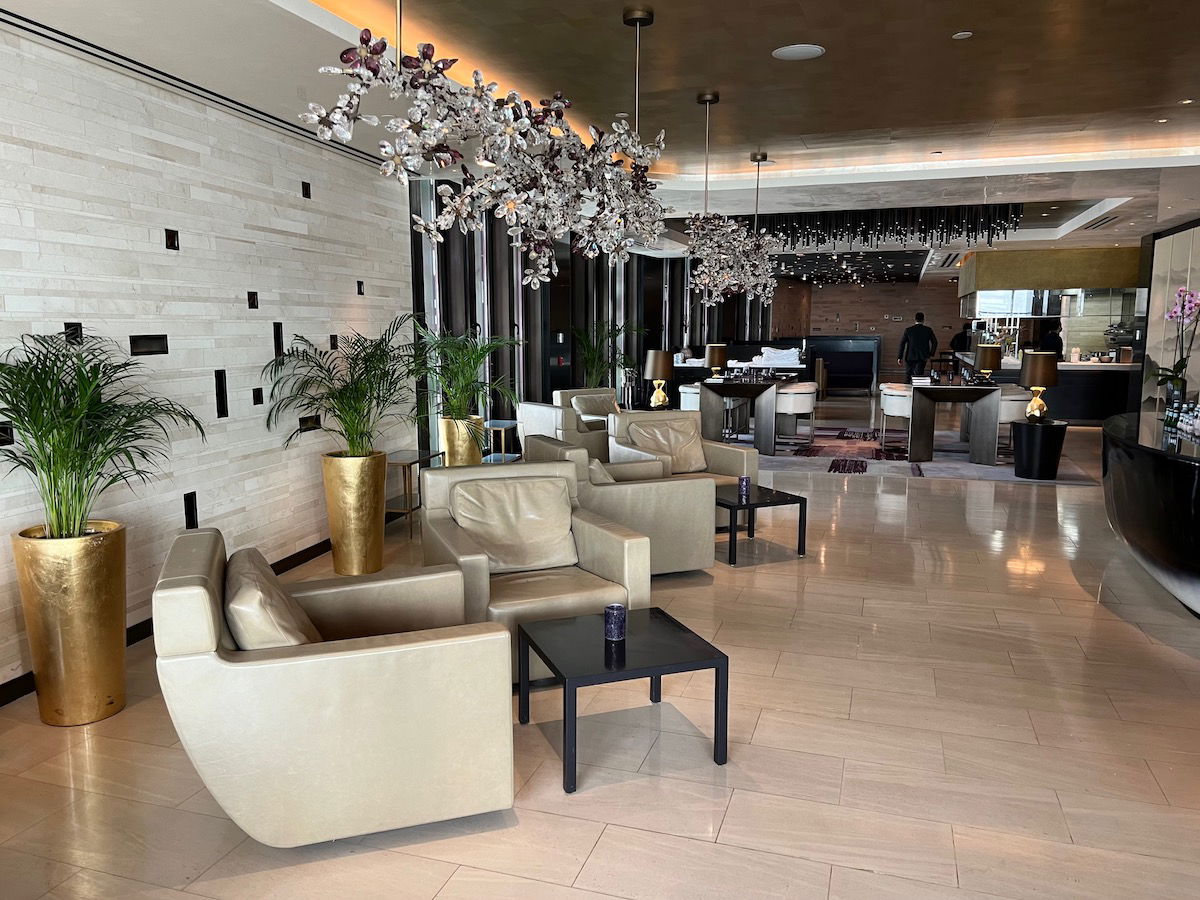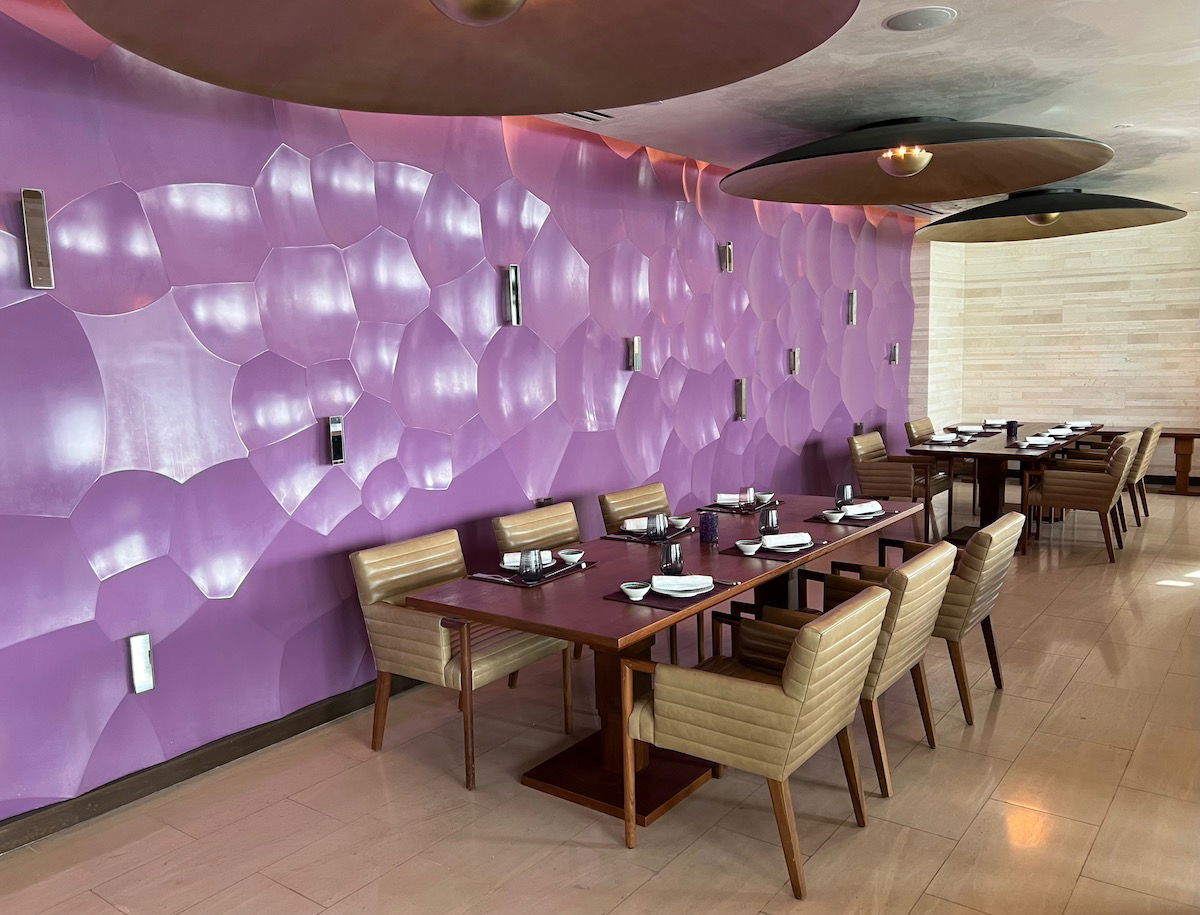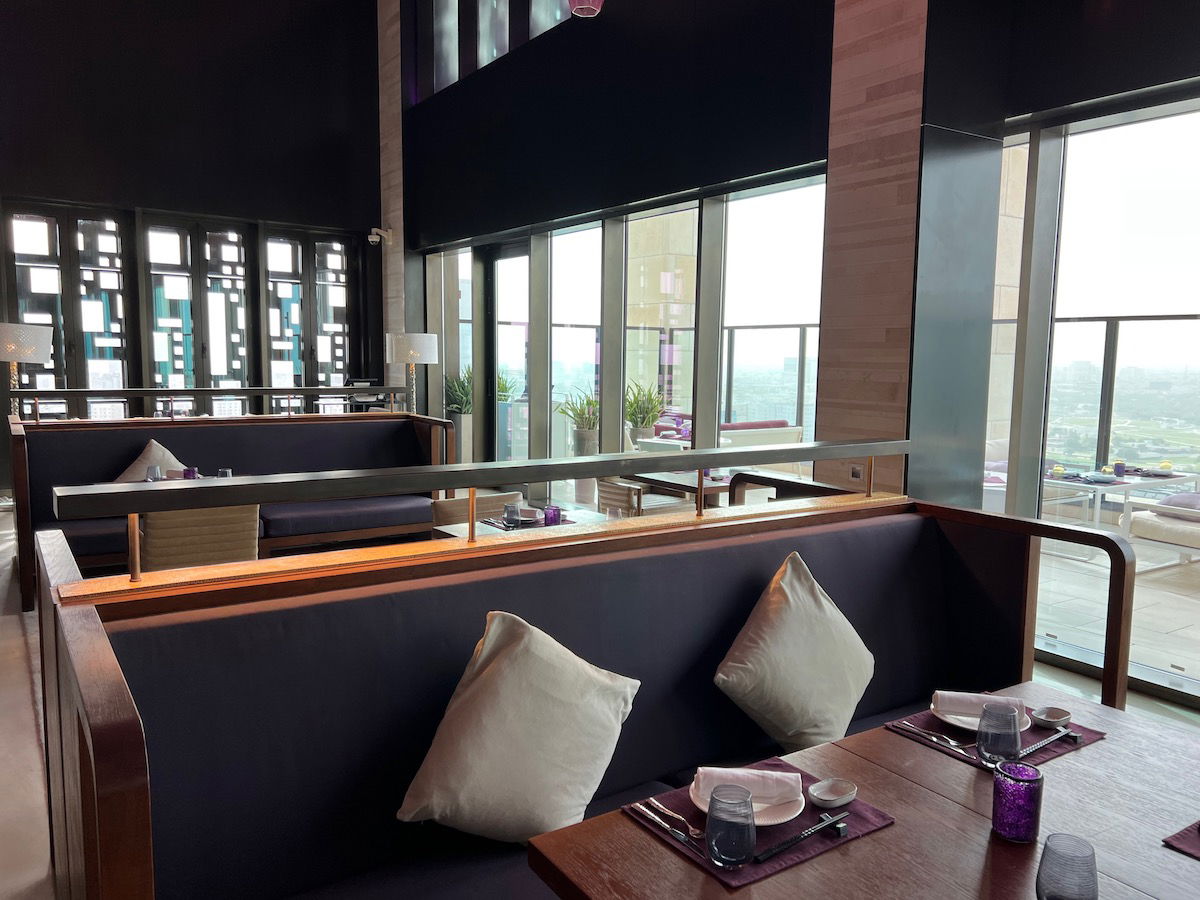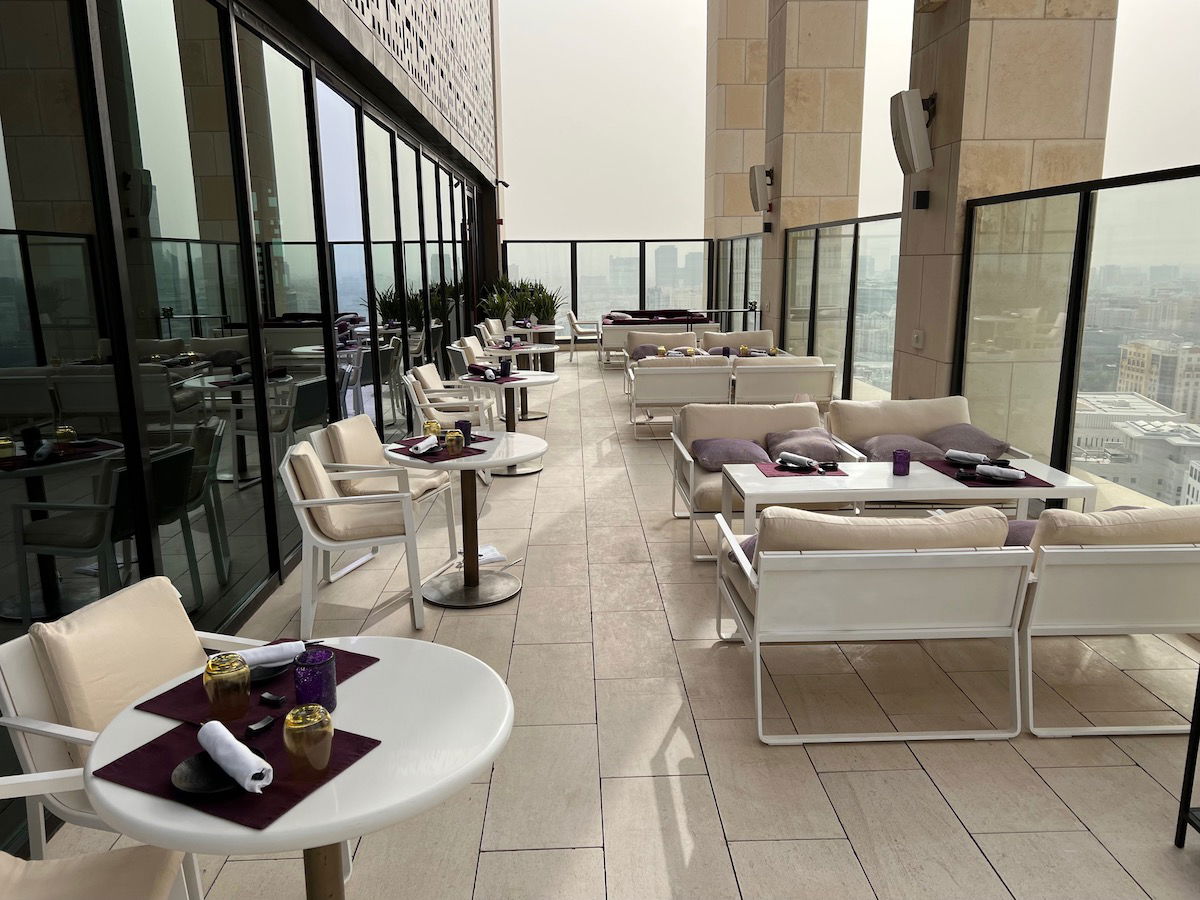 Park Hyatt Doha in-room dining
We were going to go out for dinner on our first full day in Doha, but we ended up being so exhausted that we just ordered room service. We ordered two fattoush salads, shish tawook, and a mushroom pizza.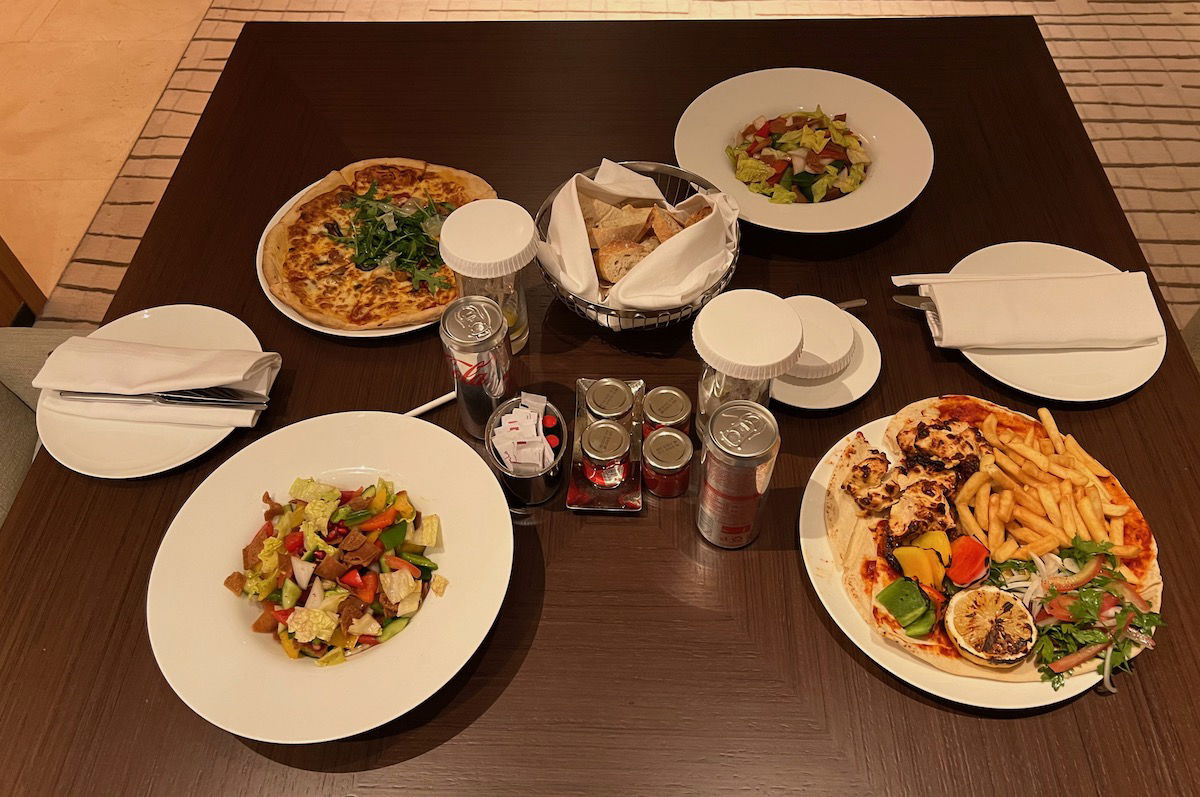 The shish tawook was exceptional, as were the fattoush salads.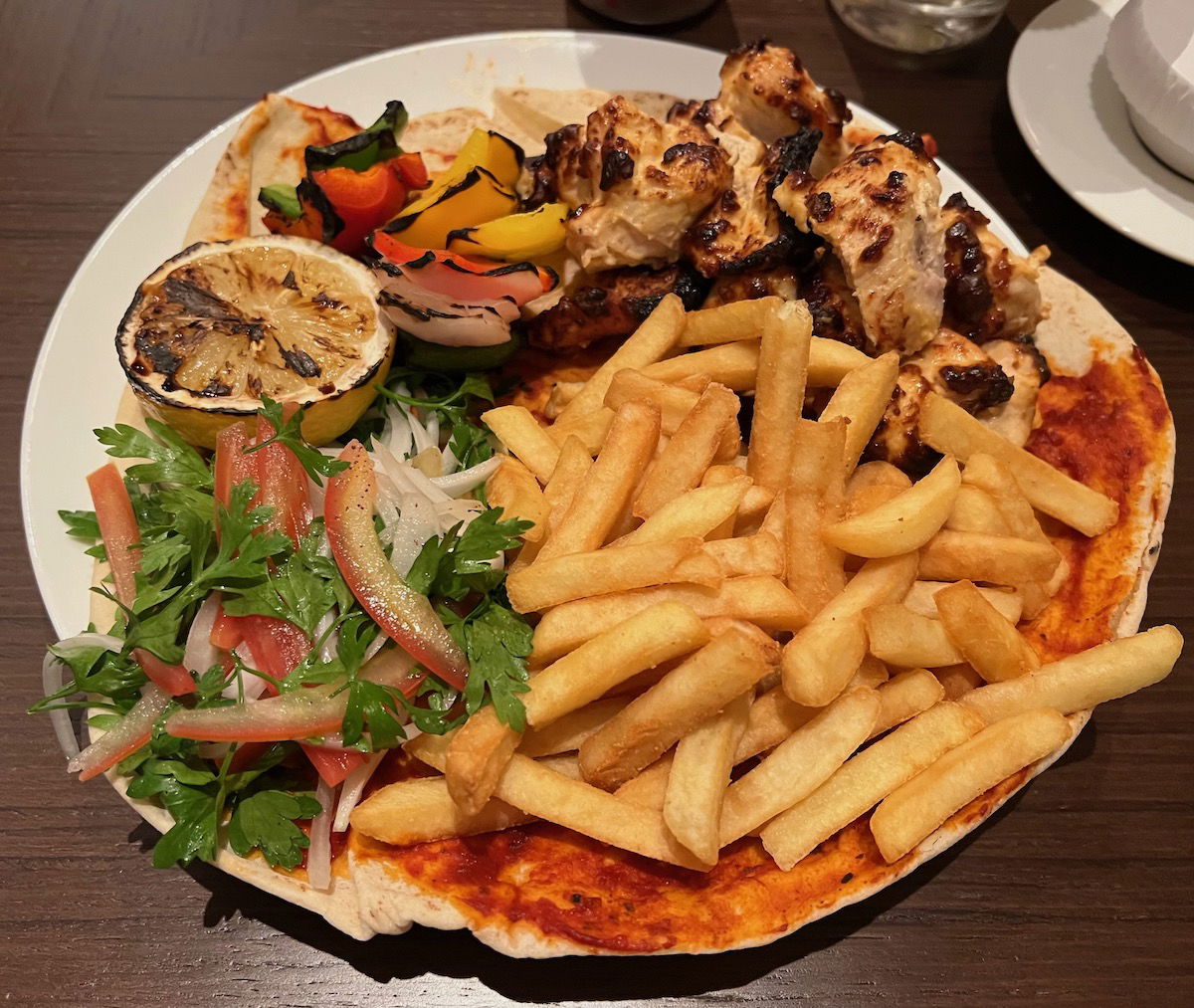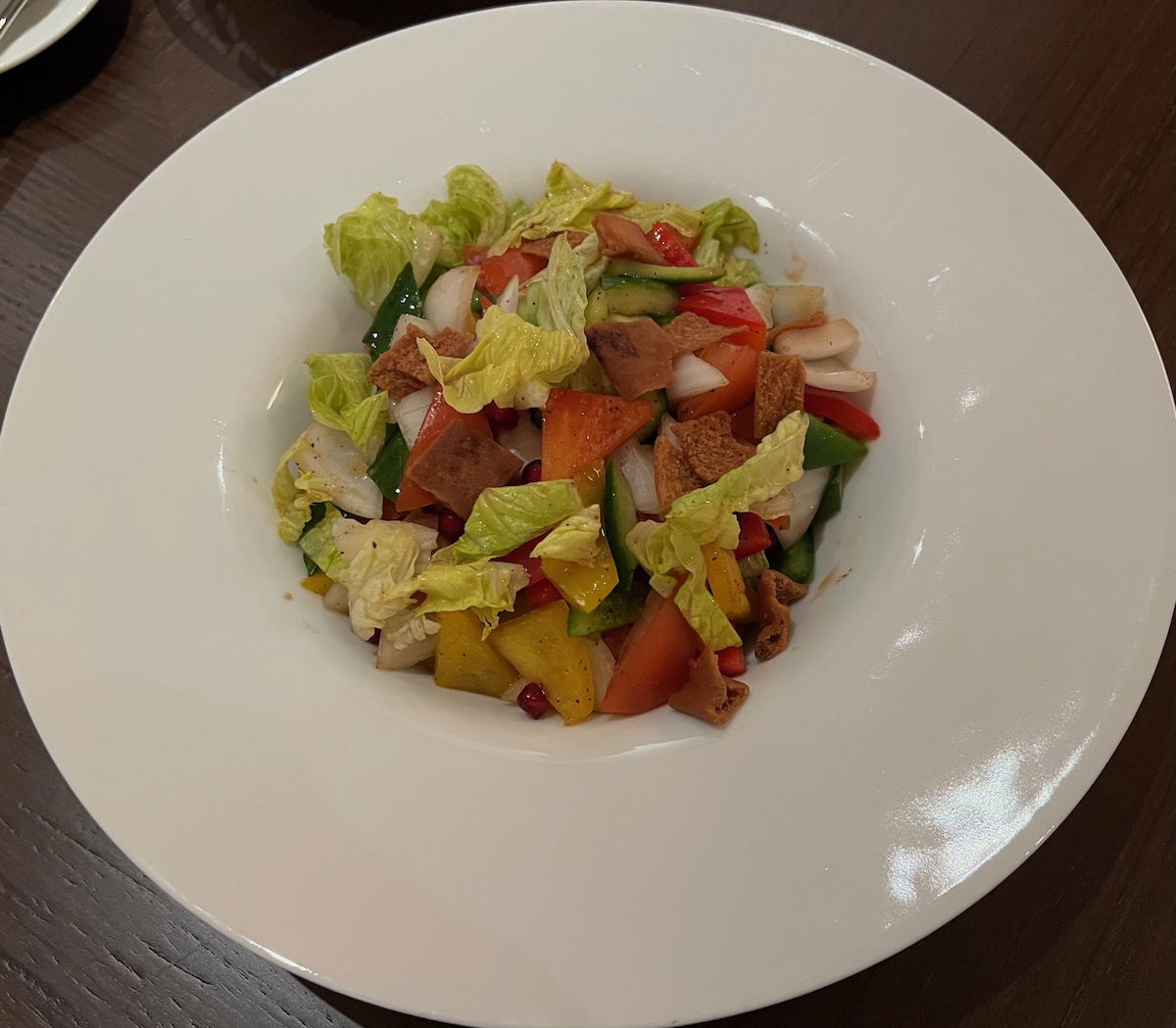 The pizza, on the other hand (that's on me for ordering, but I'm a bit of a pizza addict)…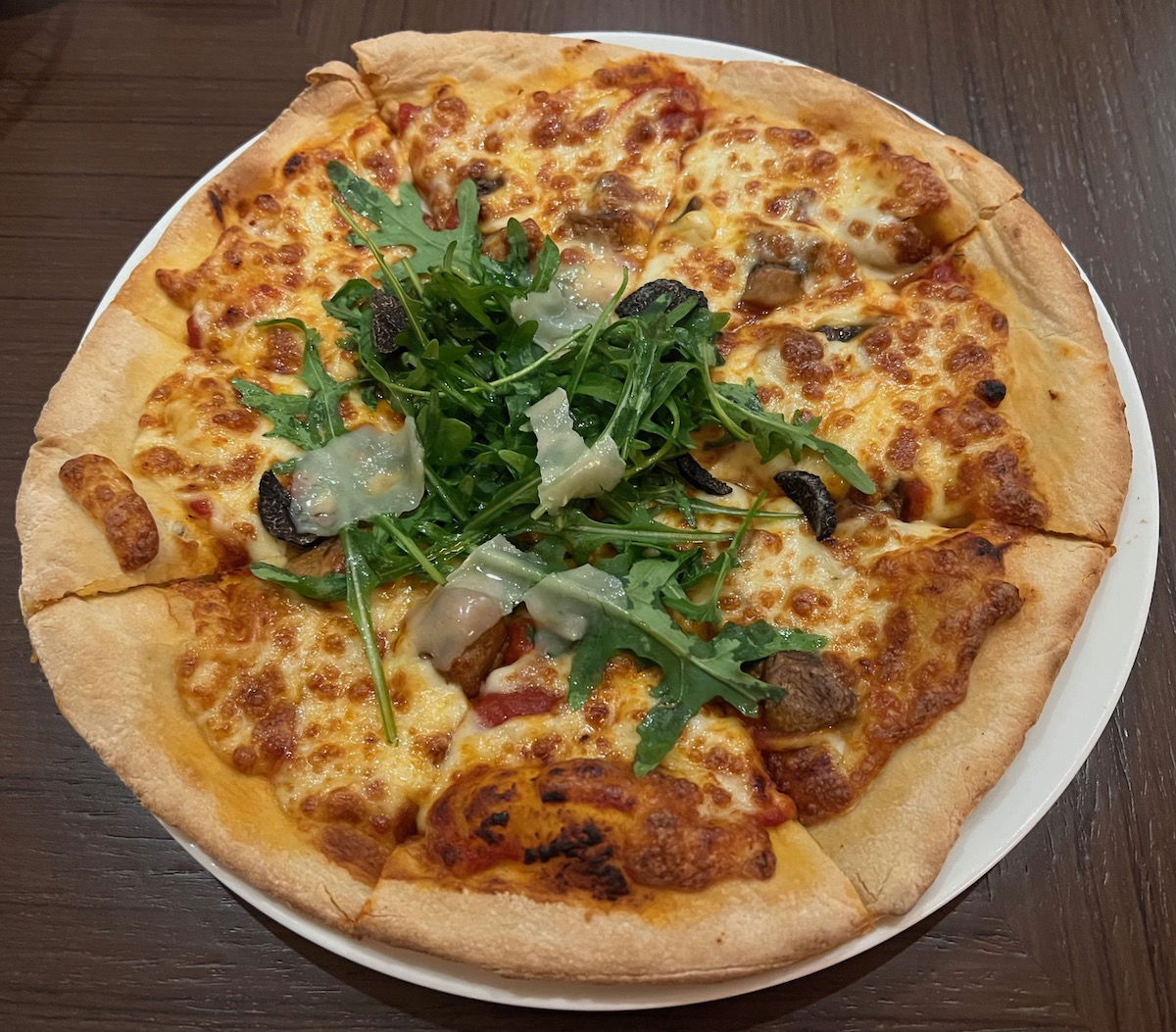 Park Hyatt Doha gym & spa
The Park Hyatt Doha has a separate gym for men and women — the one for women is on the fourth floor, while the one for men is on the fifth floor. The gym was excellent, with lots of cardio and weight equipment.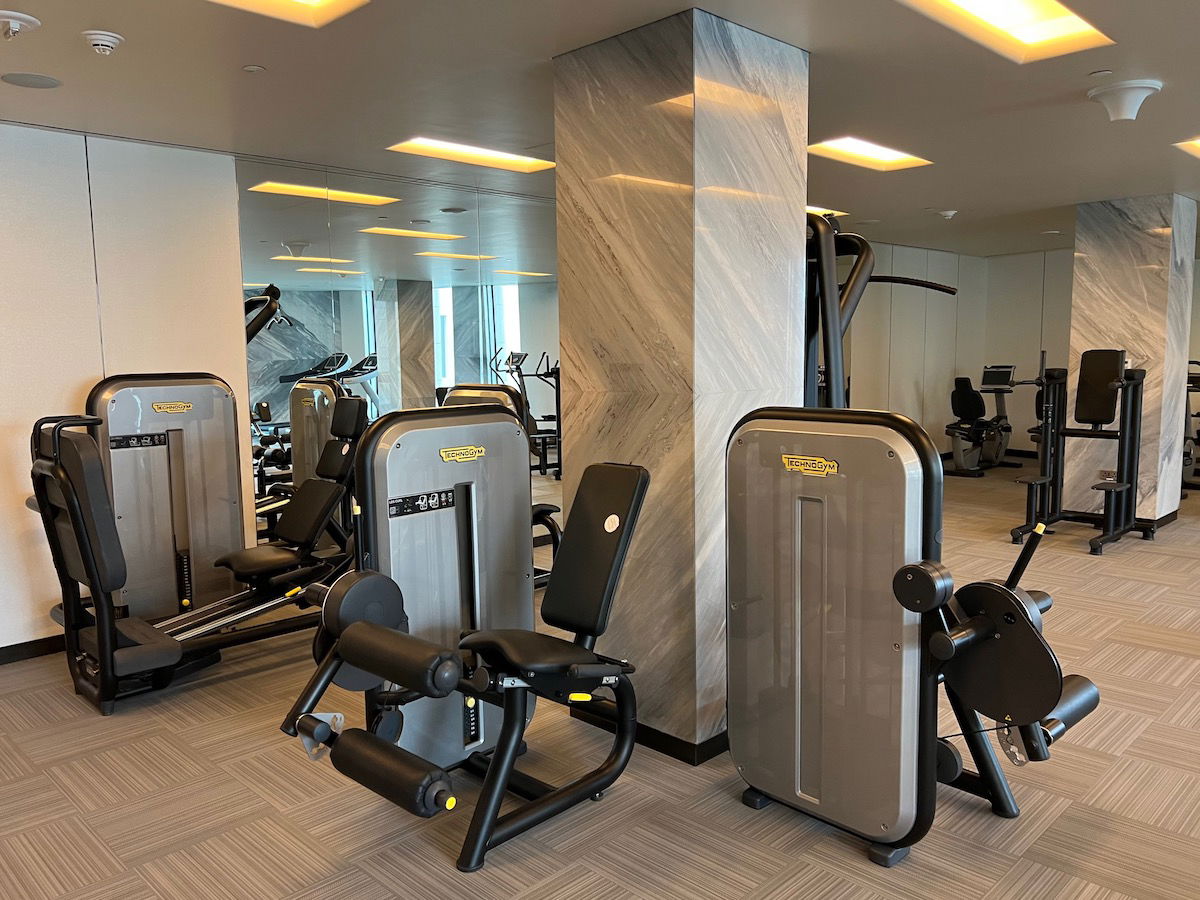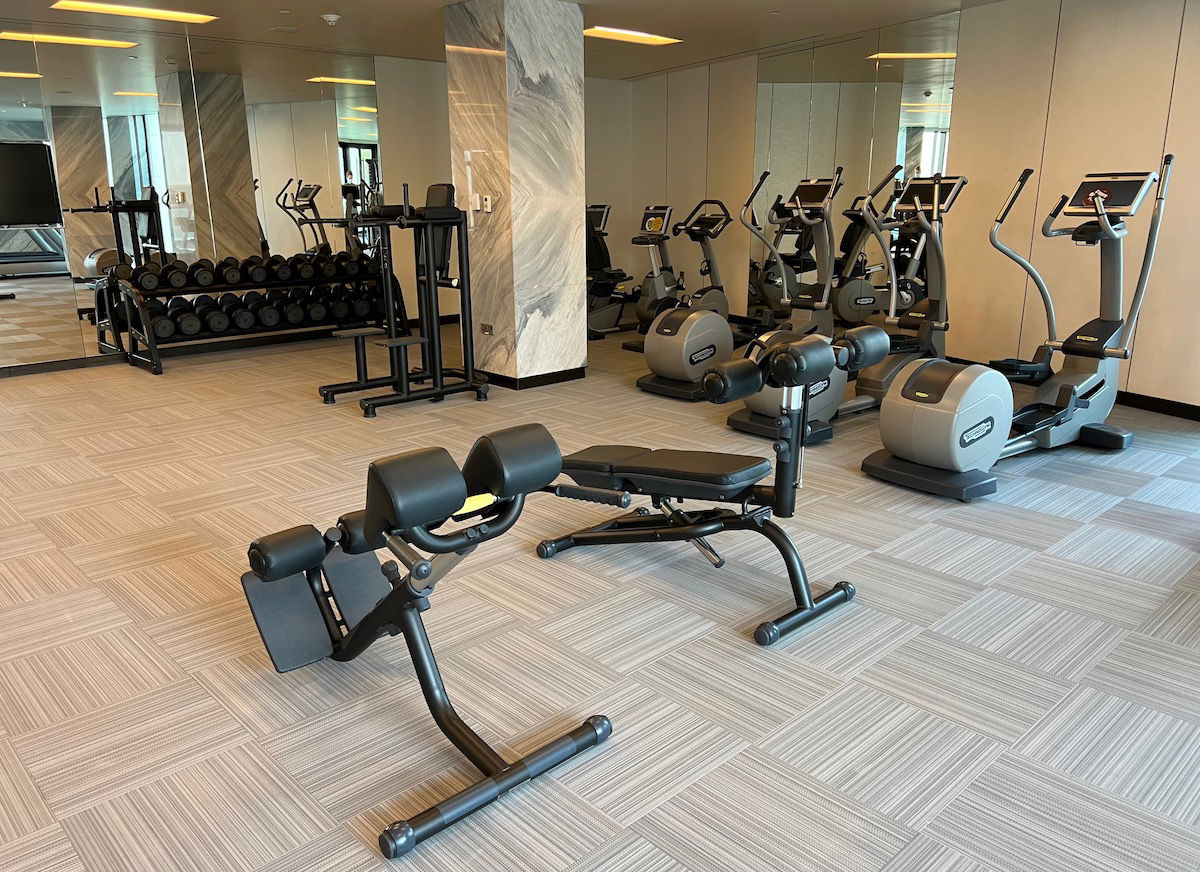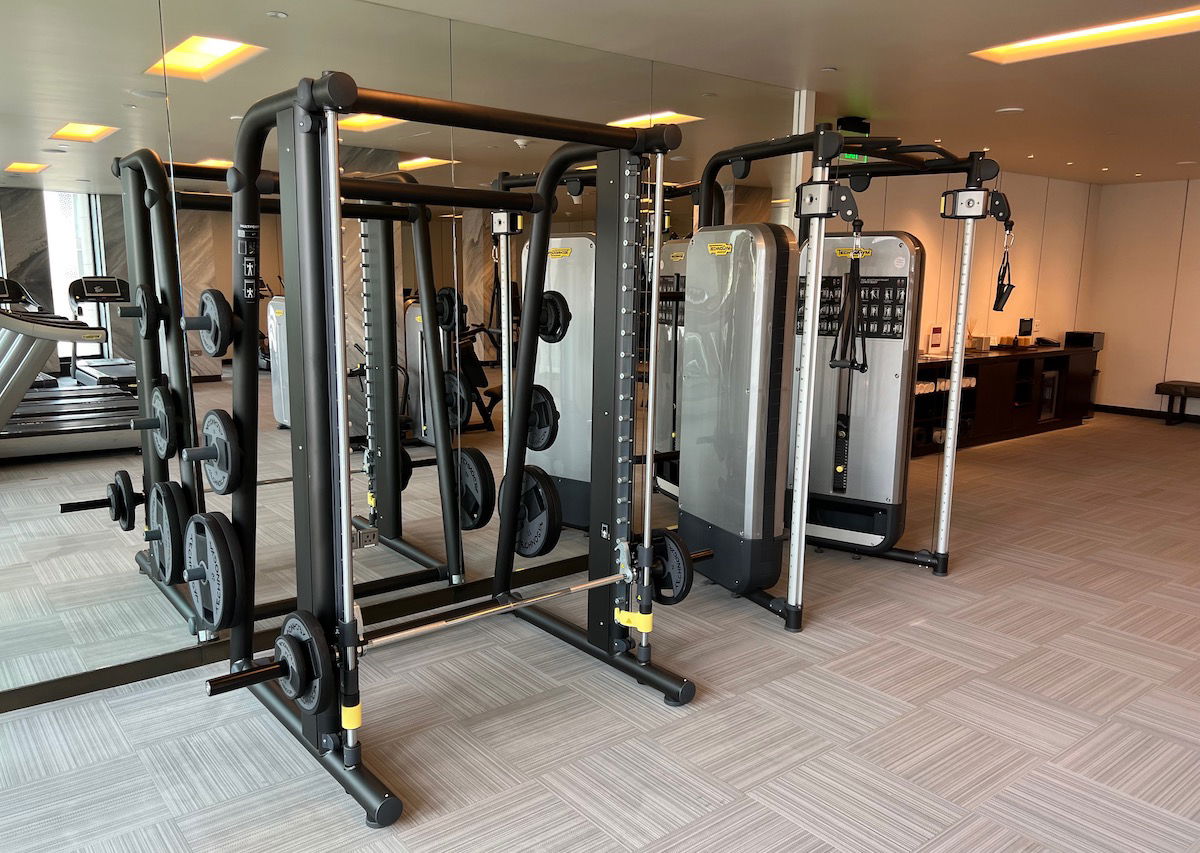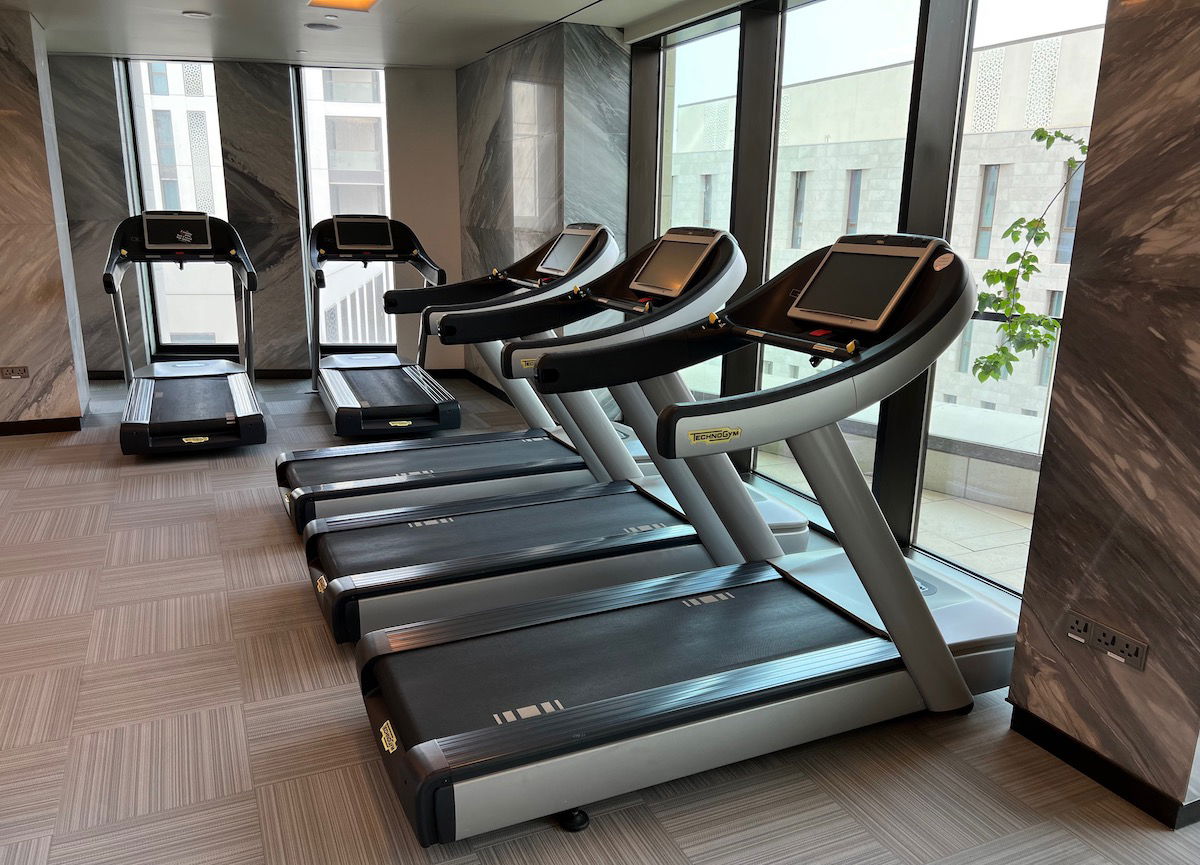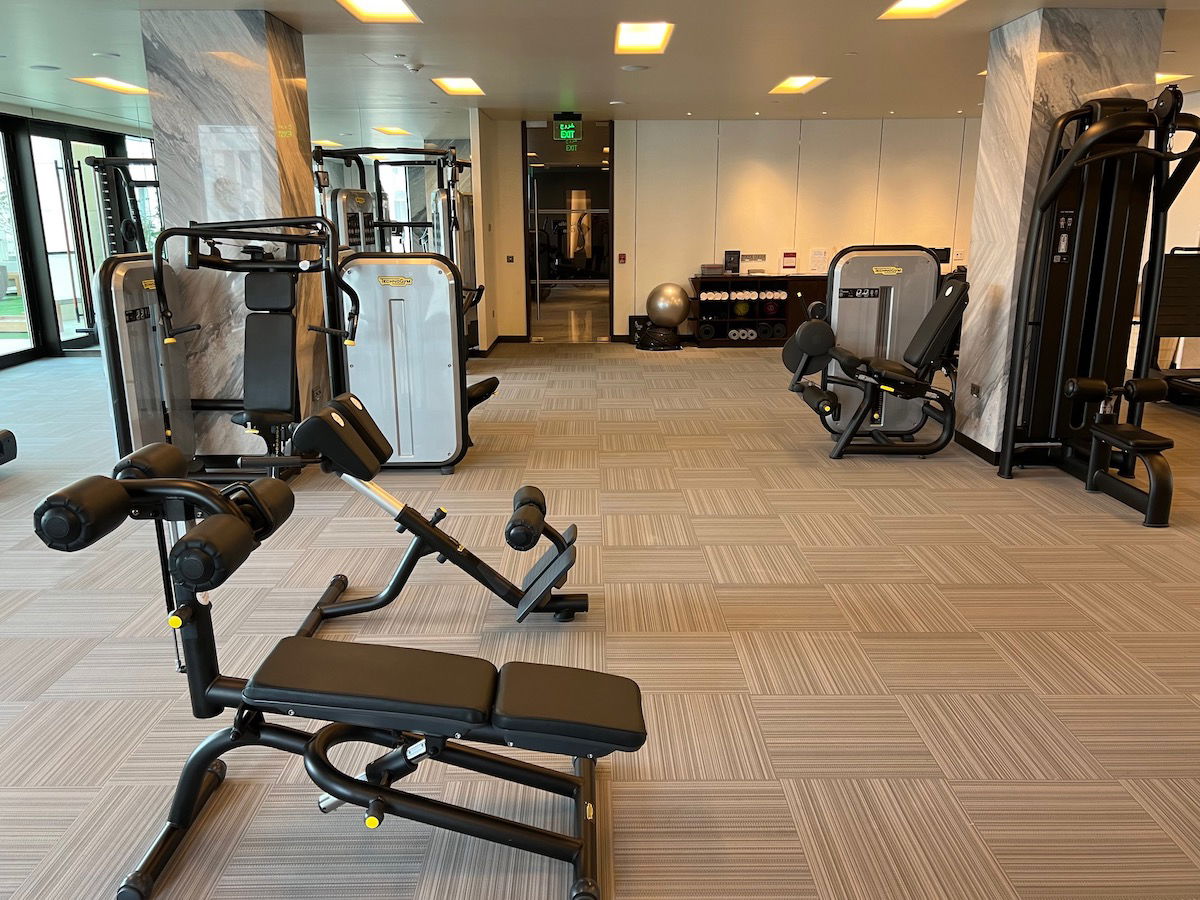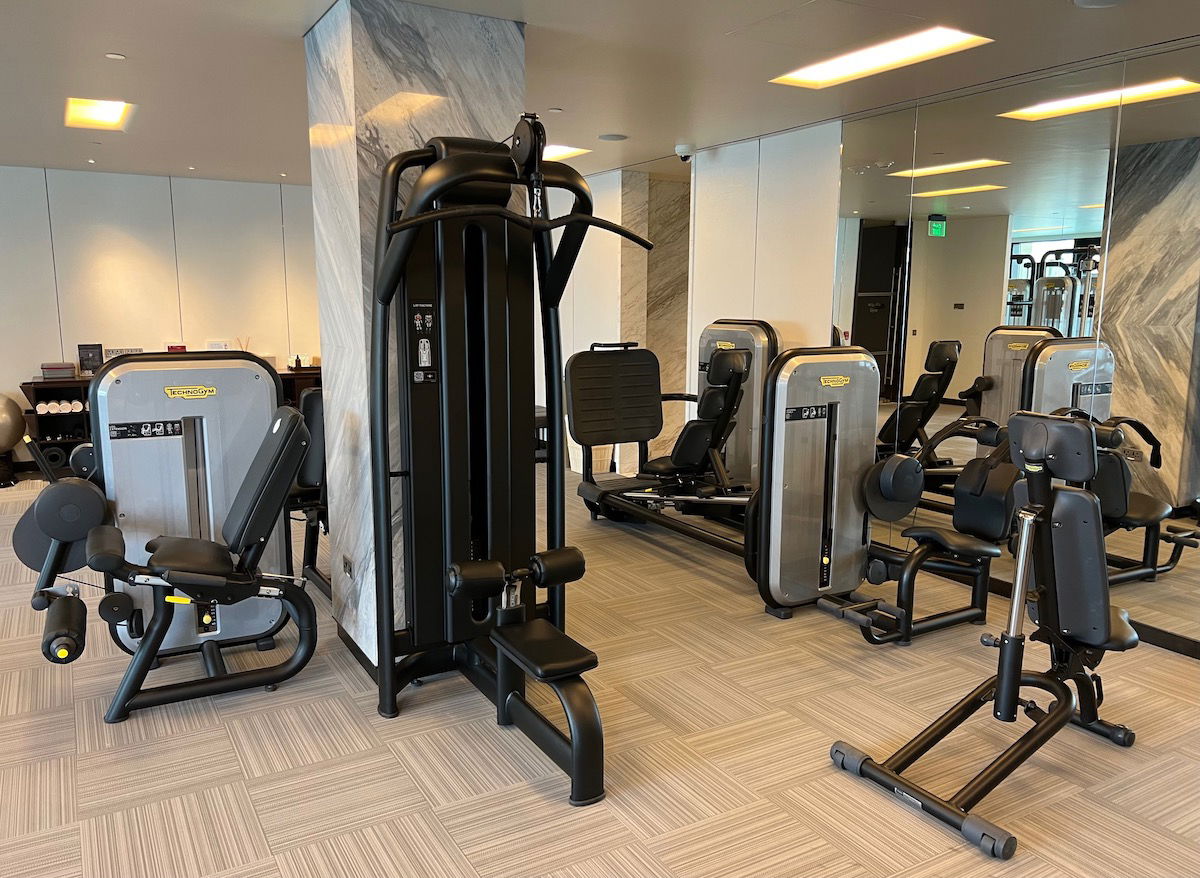 The whole spa setup was odd. Even though the spa was open during our stay, I never saw anyone working at the spa at reception, and never saw any guests. You can find the spa menu here. Between the spa and gym is a large locker room area, with a steam room and sauna. Again, we never saw anyone anywhere.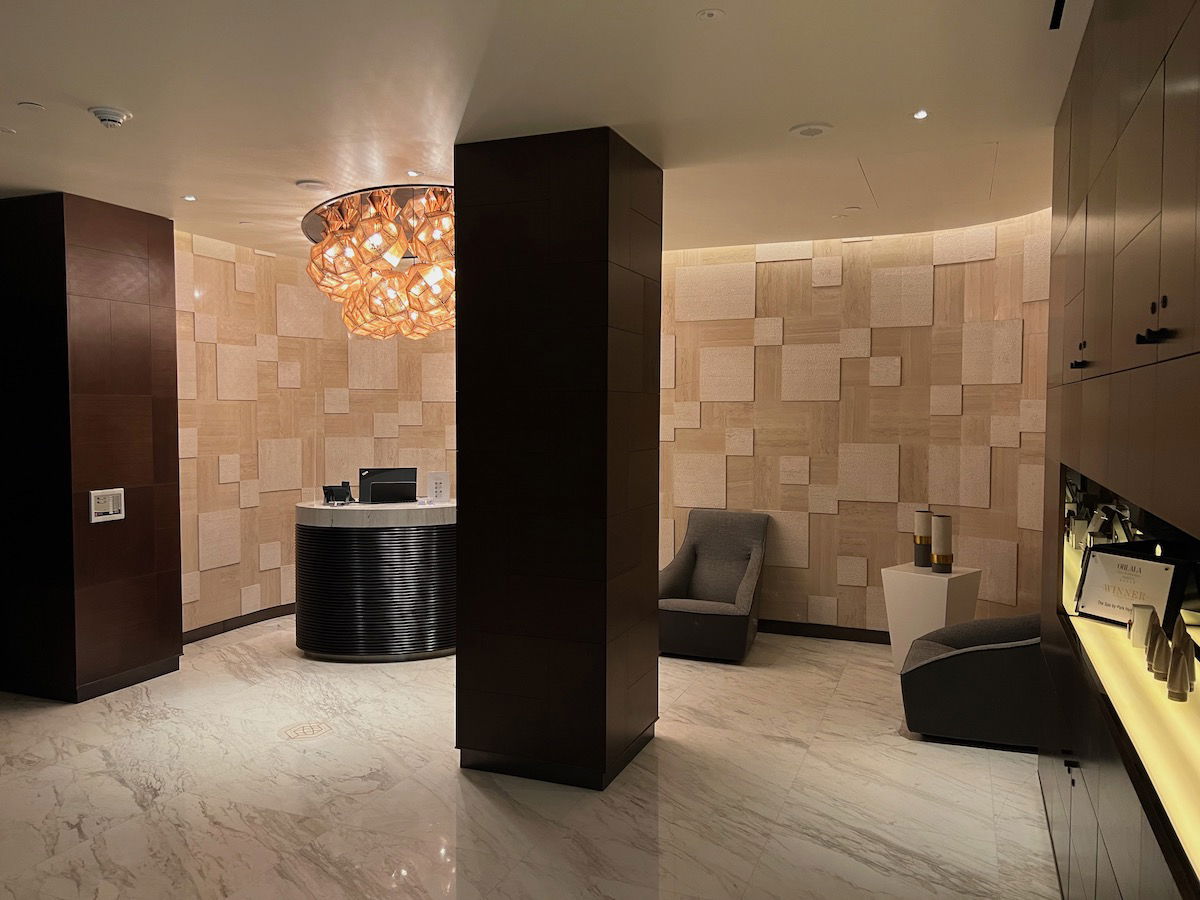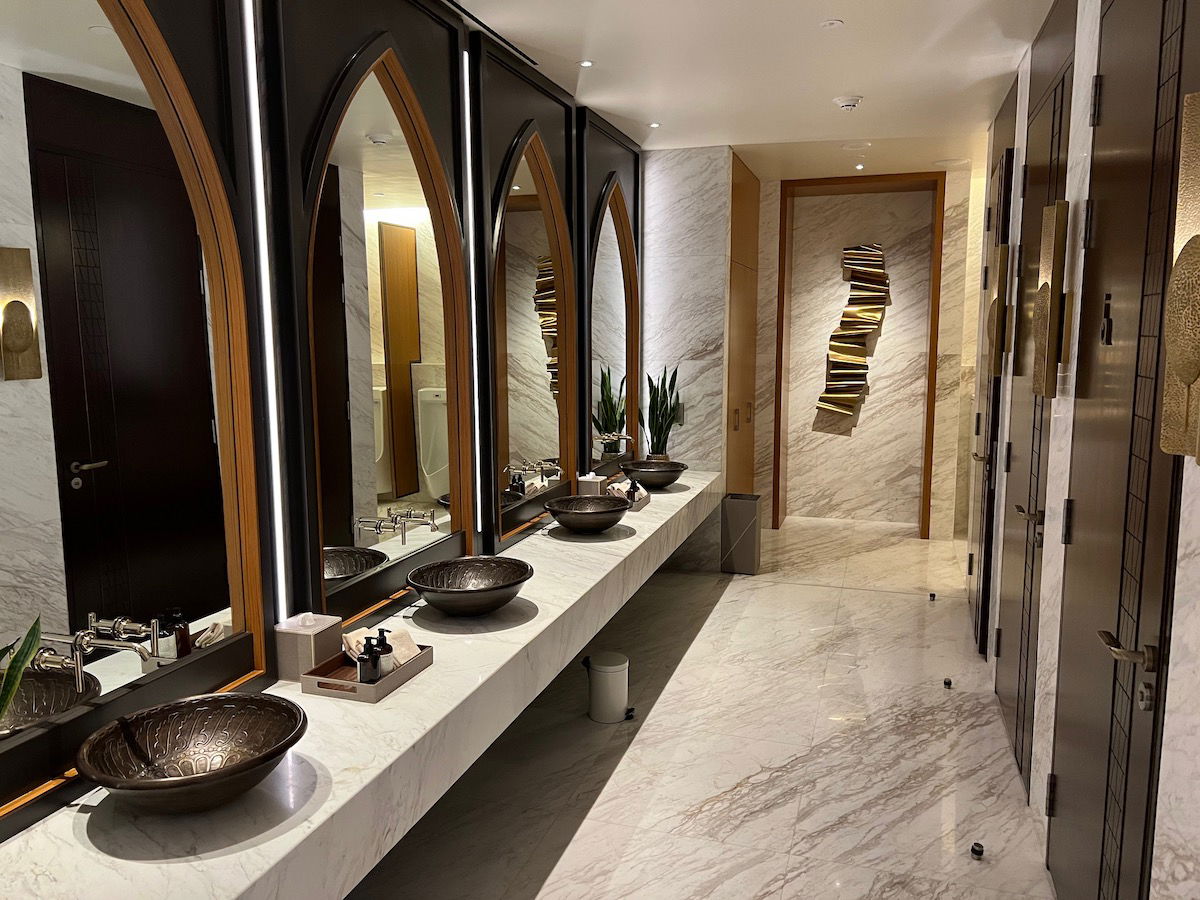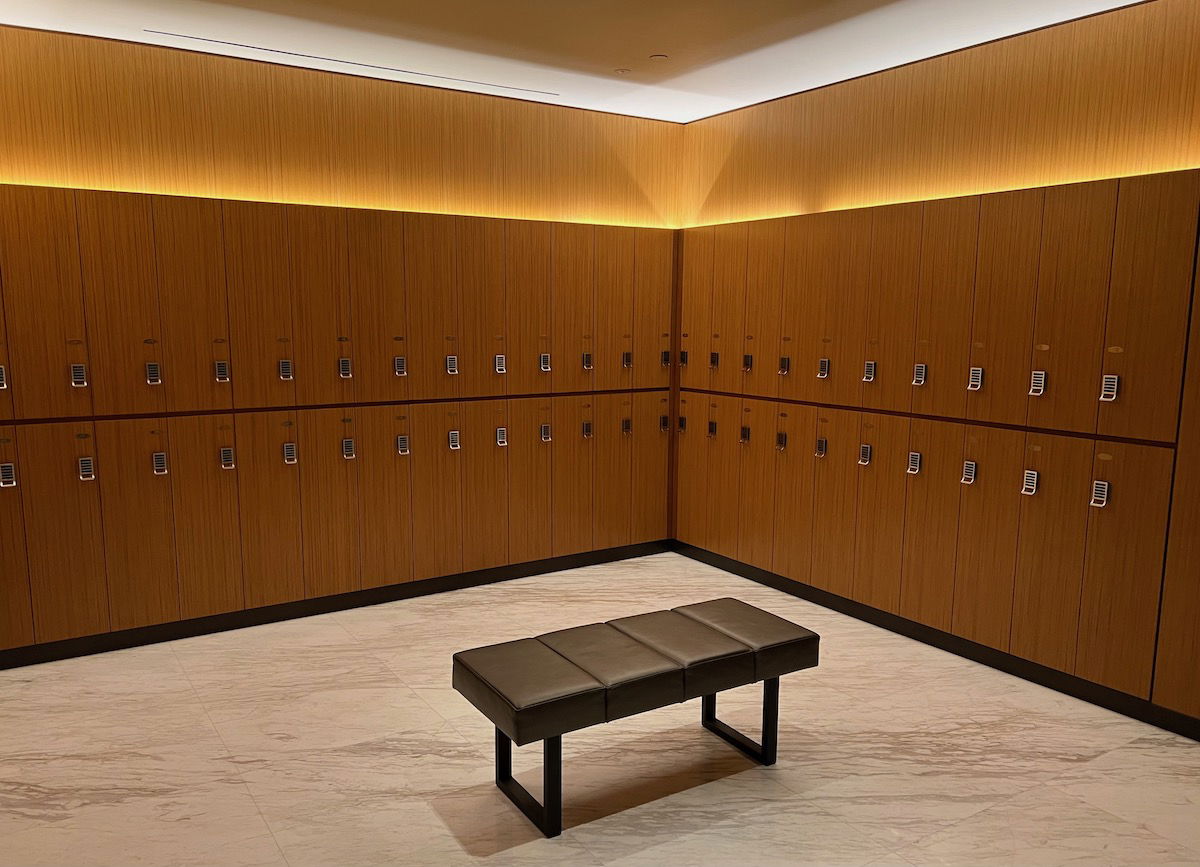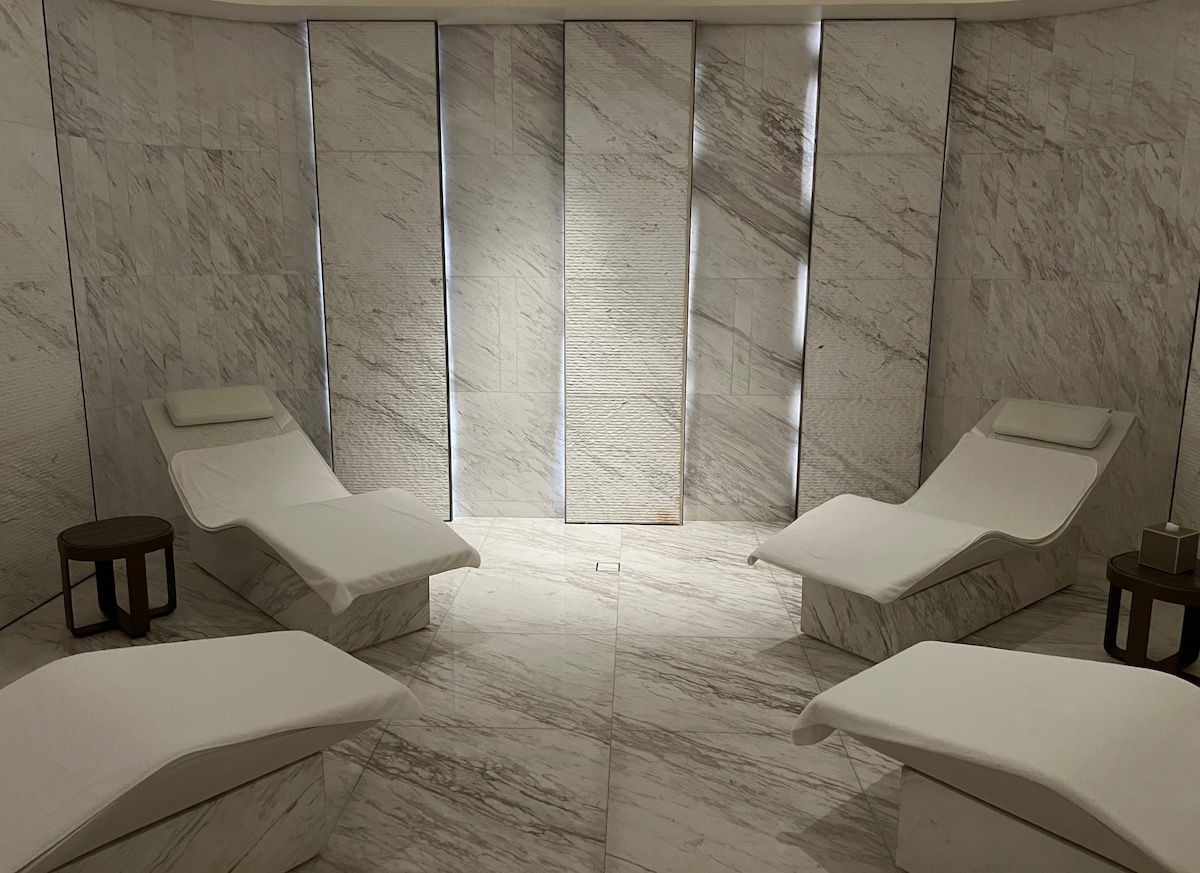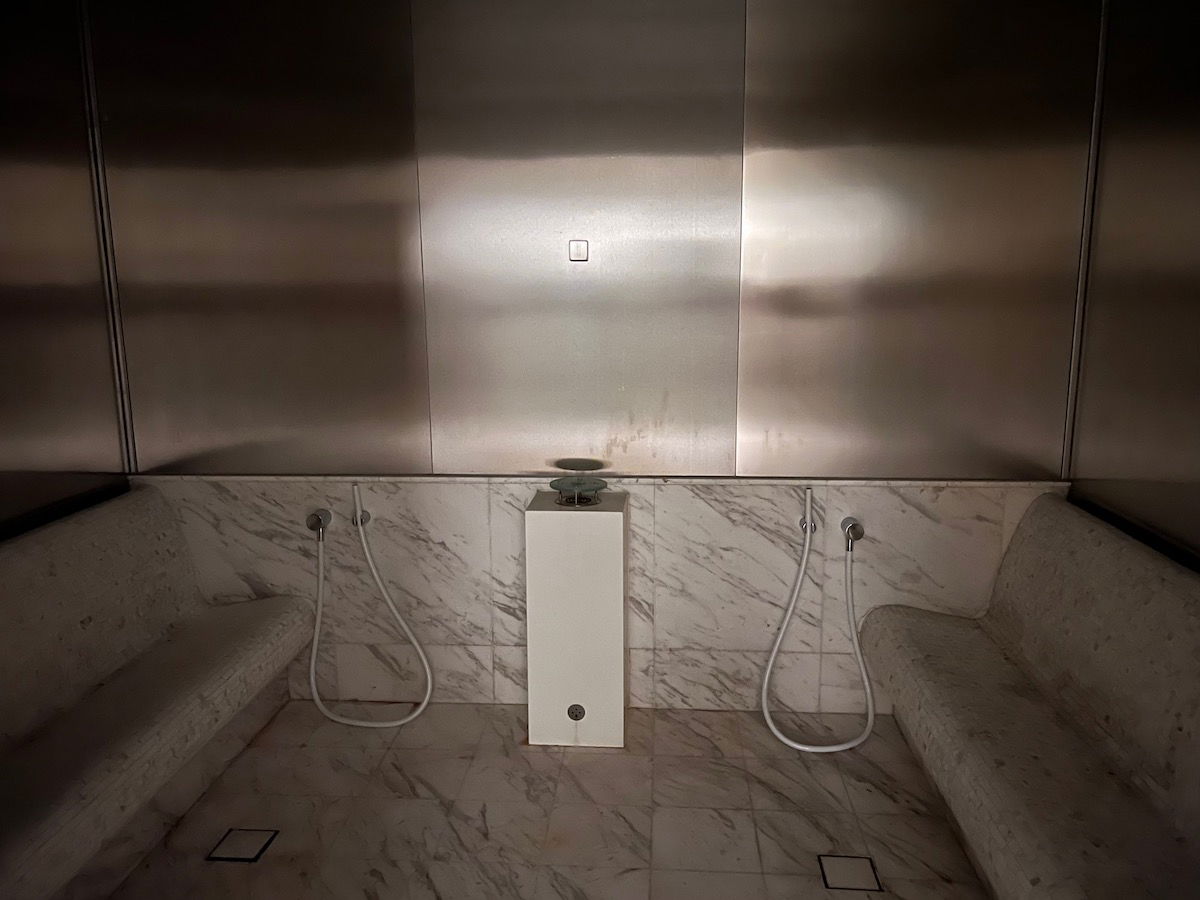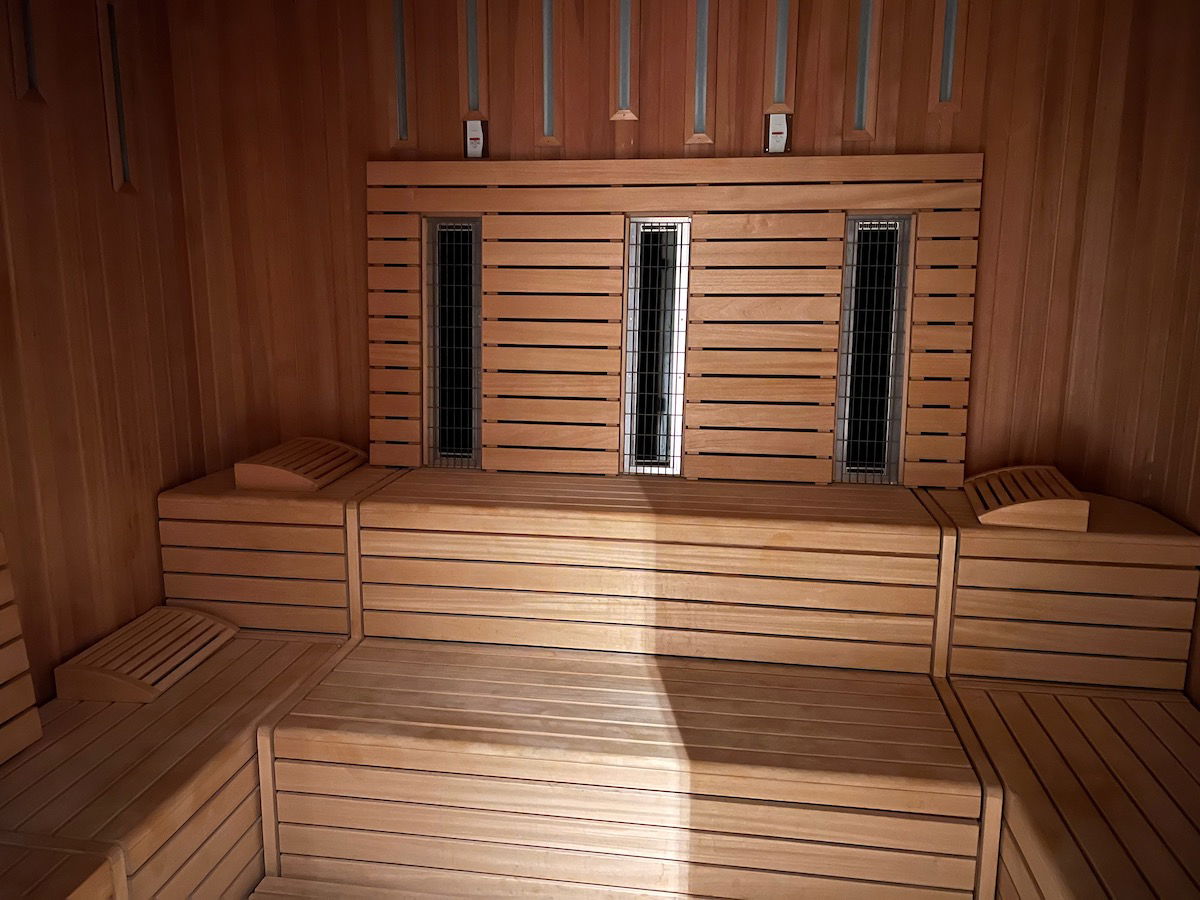 Park Hyatt Doha pool
The Park Hyatt Doha has a pool on the fifth floor. Admittedly I'm not really a city hotel pool swimmer, though this has to be one of the least impressive luxury hotel pools I've seen in a long time. There's almost no deck space, there's no service at the pool, and the faux-grass kind of gives me airport pet relief area vibes.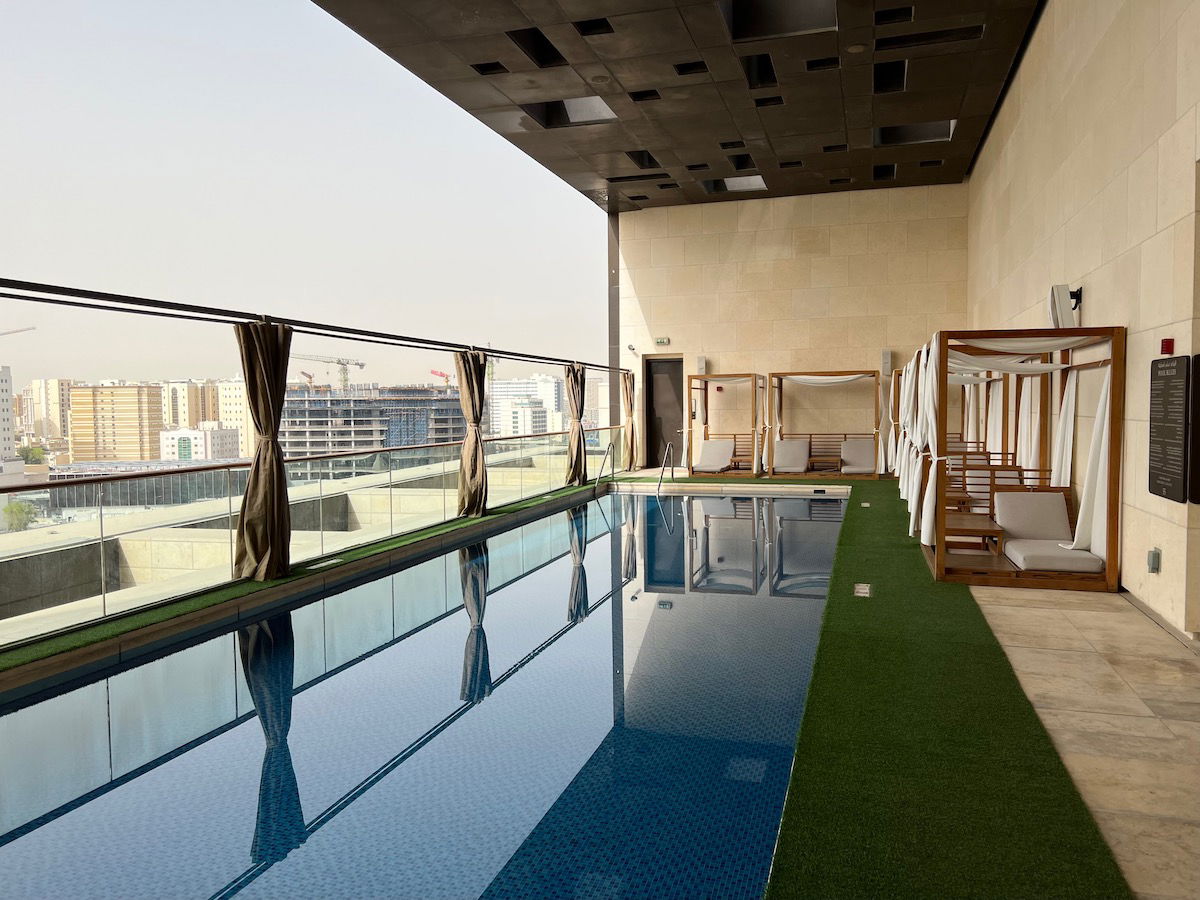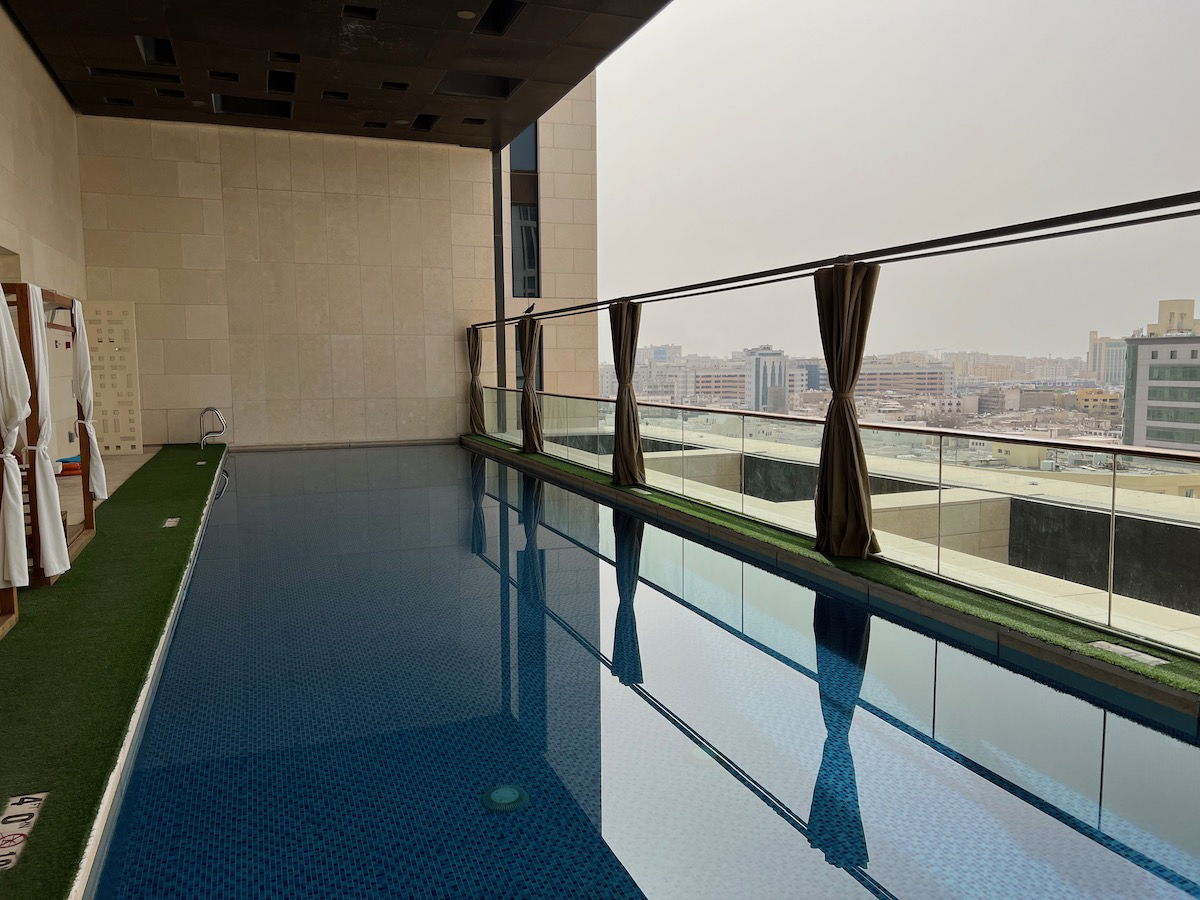 Park Hyatt Doha service
Service at the Park Hyatt Doha was well intentioned but not what I'd expect from a luxury hotel, as there was friction at literally every interaction.
For example, when we ordered room service one evening, the attendant came with a credit card machine and said we couldn't charge it to our room. Huh? At hotels, a credit card authorization is typically taken at check-in for incidentals, but he insisted that wasn't possible. How am I supposed to use my $100 Hyatt Privé credit if I can't charge something to my room?
But there was no problem solving on his part. He just stood there when I asked him why it wasn't possible to make a room charge, as I explained I had a credit I wanted to use. So I ended up having to call the front desk, and then they had to call him. All to be able to charge room service to my room…
Then there was breakfast, where there seemed to be a bit of a language barrier. There was one very friendly woman working there who asked if she could get us anything else, like eggs or avocado toast. I told her that sounded great, and I'd order avocado toast in a bit.
I didn't see that employee again, but maybe 15 minutes later I asked one of her colleagues for an avocado toast. She didn't know what that was, or seemed to think they didn't have it. So then I had to get up and specifically approach the employee who offered the avocado toast in order to be able to order it.
Then there was the issue with arranging a COVID-19 rapid antigen test for travel to the United States. We asked the front office staff about testing options, and were informed the only option was to go to a hospital. I'd much rather pay a premium to have someone come to the hotel (and that has been possible just about everywhere I've traveled), but she insisted that wasn't possible.
I asked again the following morning, and was told it was possible, and the employee promised to contact their providers. We told her we were going to breakfast, and she said she'd call the hospital and get in touch with us. After being at breakfast for maybe 90 minutes we returned to the front desk, and no progress had been made. Fortunately the concierge that arrived at that point was a bit more helpful.
Then there was an issue with the bellmen at check-out, though admittedly this mostly isn't their fault. Long story short, it wasn't possible to order an Uber to the Park Hyatt Doha, because every time the hotel's address was entered, it redirected to the Msheireb district.
The bellmen tried as well, and they had the same issue. It then took almost 30 minutes to get a taxi. Given that Ubers were just a couple of minutes away, I'd consider not being able to order Ubers here to be a major issue (I'm not sure if this was a temporary issue, or what?).
Like I said, everyone was well intentioned, but we had issues with every interaction we had with staff — at check-in, at breakfast, when ordering room service, with trying to arrange a COVID-19 test, and at check-out — so it's hard to consider this to be a great service experience.
Bottom line
Don't get me wrong, the Park Hyatt Doha isn't a bad hotel. On the plus side, the hotel has a good location, an excellent gym, large suites, and it offers good value for money.
At the same time, the hotel doesn't feel as luxurious as what I'd expect from a new Park Hyatt, and service leaves a lot to be desired. To me this felt more like a new (and nice) Hyatt Regency than anything else. And while I'd still consider that to be a good value for what I paid, I'd rather pay a bit more for a proper luxury hotel.
We visited two city hotels on this trip, as on the way out we stayed at the Waldorf Astoria Dubai International Financial Centre. Both are ostensibly luxury hotels, but the difference between the two properties was night and day.
From the big picture to the little details, it was such a contrast. Everyone at the Waldorf Astoria was eager to please and competent, the breakfast was significantly better (beautiful cappuccinos, iced lattes, an extensive menu to complement the buffet, etc.), so much effort was put into design and finishes, etc.
So I'm not saying you shouldn't stay at the Park Hyatt Doha. But what I'm saying is that you shouldn't expect this product to be competitive with the city's top hotels. Maybe I was just unlucky and had a bad experience, but ultimately that's all I can judge the hotel off of.
If you've stayed at the Park Hyatt Doha, what was your experience like?