In the interest of full disclosure, OMAAT earns a referral bonus for anyone that's approved through some of the below links. The information and associated card details on this page for the Hilton Honors American Express Surpass
®
Card, and Hilton Honors American Express Aspire Card have been collected independently by OMAAT and has not been reviewed or provided by the card issuer. These are the best publicly available offers (terms apply) that we have found for each product or service. Opinions expressed here are the author's alone, not those of the bank, credit card issuer, airline, hotel chain, or product manufacturer/service provider, and have not been reviewed, approved or otherwise endorsed by any of these entities. Please check out
our advertiser policy
for further details about our partners, and thanks for your support!
EXTRA PERKS AVAILABLE
Enjoy breakfast, upgrades, & more
Want to take advantage of Hilton Impresario benefits at no extra cost (when paying for your stay with cash), including a room upgrade, free breakfast, a hotel credit, and more? Contact Ford ([email protected]) for more details. He doesn't charge booking fees, and may even be able to help if you already have a stay booked.
Our primary destination in the Maldives was the Waldorf Astoria Maldives Ithaafushi, where we spent five nights. This is arguably the most luxurious points points hotel in the Maldives, and I was curious to check it out and see if it lived up to the hype. While the hotel has some quirks, I'm happy to report that it did, and I'd absolutely recommend staying here!
Waldorf Astoria Maldives basics
Before we get into a detailed review of the property, let me share a few basics about the Waldorf Astoria Maldives Ithaafushi, which opened in 2019:
The property has 122 villas, so it's a bit larger than some of the other uber-luxury properties in the Maldives (for example, Cheval Blanc has just 46 villas)
The property is just a 45 minute speedboat ride from Male Airport, meaning you can arrive or depart any hour of the day or night; this is a huge advantage over properties that require a seaplane, though it also means the resort isn't quite as secluded
The Waldorf Astoria Maldives is probably most known for its variety of food & beverage outlets, as the resort has 10 of them, which is more or less unheard of
Booking Waldorf Astoria Maldives
Whether you're looking to redeem Hilton Honors points or book a cash stay, there are a couple of ways to maximize value at the Waldorf Astoria, so let's go over those details.
Redeeming Hilton Honors points
The Waldorf Astoria Maldives belongs to Hilton Honors, so you can redeem points here. I locked in my stay many months ago, at the rate of 120,000 Hilton Honors points per night. With elite members getting a fifth night free on award redemptions, that meant we were paying an average of just 96,000 Hilton Honors points per night.
I value Hilton Honors points at 0.5 cents each, so to me that's the equivalent of paying $480 per night here. That's incredible when you consider that paid rates for our dates started at $2,500+ per night, after factoring in the room rate and 23.2% taxes and service charges (you don't pay taxes and services charges when redeeming points).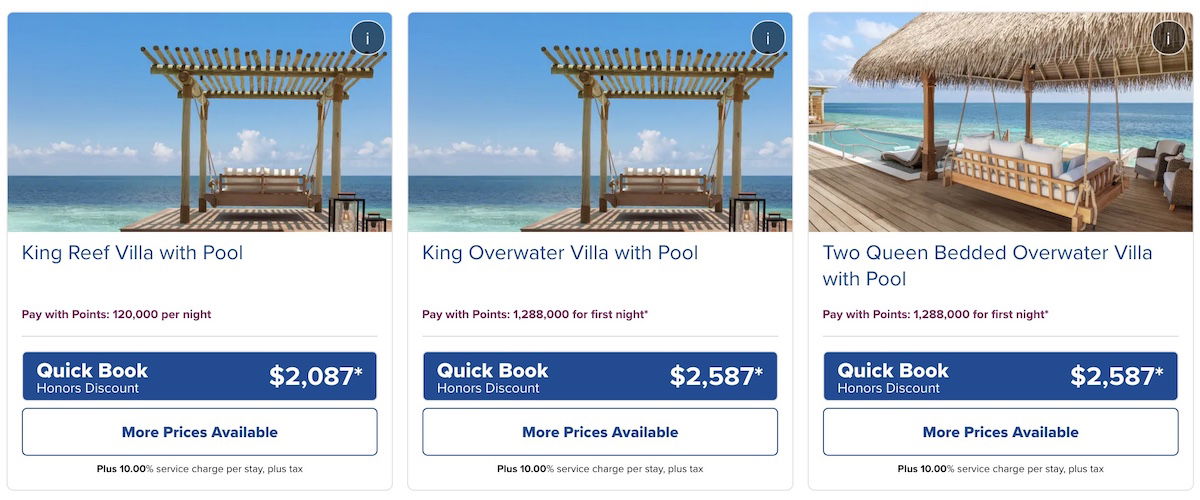 A few things to note if redeeming points at the Waldorf Astoria Maldives:
The information and associated card details on this page for the Hilton Honors American Express Surpass Card has been collected independently by OMAAT and has not been reviewed or provided by the card issuer.
Booking a cash rate with Hilton Impresario
In general luxury hotel rates are through the roof nowadays, given the pent up demand for travel due to the pandemic. Base rooms at the Waldorf Astoria Maldives currently range anywhere from $1,600 to $3,000 per night, depending on the time of year.
If you're booking a cash rate at the Waldorf Astoria Maldives, I'd highly recommend booking through a travel advisor associated with the Hilton Impresario program:
This offers incremental perks that include a $150 food & beverage credit, a room upgrade subject to availability, and double Hilton Honors points; breakfast is usually also a perk of the program, but all rates at this hotel include breakfast
These Hilton Impresario rates can be combined with some offers available directly through the property, like the "Live Unforgettable" promotion, which offers savings of 25-30%, half board (breakfast and dinner), and complimentary transfers on stays of four or more nights
These rates are eligible to earn Hilton Honors points (and the rates even offer double points), and can also be combined with any of Hilton Honors' global promotions
So when you combine Hilton Impresario, the promotions being offered directly by the hotel, and the ability to earn points, the value looks a bit better than the initial rate you may see online.
Waldorf Astoria Maldives Hilton Honors Diamond benefits
For those wondering about elite recognition at the Waldorf Astoria Maldives, here's what's offered to Hilton Honors Diamond members:
A complimentary happy hour at Peacock Alley daily from 4-5PM
50% savings on cocktails at Peacock Alley from 10-11:30PM
Complimentary late check-out and early-check-in, subject to availability
A welcome amenity
An additional 30 minutes added to select 60 minute spa treatments
In reality I'd say the happy hour is the only significant elite perk at this property:
All guests have breakfast included, which would otherwise be a Hilton Honors Diamond benefit
The Waldorf Astoria Maldives doesn't upgrade Diamond members for free (I'm curious how a certain OMAAT reader feels about that)
The 30 minute addition to a 60 minute spa treatment sounds nice in theory, though the spa pricing is a bit odd; for example, a 60 minute massage costs $220, while a 90 minute massage costs $240, so the incremental cost in cash is very low
In reality all hotels in the Maldives are great about granting all guests early check-in and late check-out, subject to availability
If you're a drinker, the value of the happy hour can add up. Cocktails at the hotel will typically cost you $30 each (after the 23.2% tax and service charge), so for a couple that's $60 per round of drinks.
Keep in mind that you can receive Hilton Honors Diamond status just for having the Hilton Honors Aspire Card from American Express (review), and the card is a great value.
The information and associated card details on this page for the Hilton Honors American Express Aspire Card has been collected independently by OMAAT and has not been reviewed or provided by the card issuer.
Waldorf Astoria Maldives speedboat transfer
While getting to many resorts in the Maldives requires taking a seaplane, that's not the case at the Waldorf Astoria Maldives. The resort is only around 25 kilometers from Male's Velena International Airport (MLE), and you can get there via a 45-minute speedboat ride.
This was my first time staying at a resort within boating distance of Male, and I really loved this:
The yacht transfer is actually enjoyable and pleasant, as it's like cruising around the Maldives; flying within the Maldives, on the other hand, can be much less pleasant
While seaplanes can only fly during the day, the yacht transfer is available 24/7, so it works regardless of the time of day you arrive or depart
The yacht is promised within 30-60 minutes of your arrival time at the airport, since the service is operated continuously based on demand; this requires a lot less waiting time than most flights
For what it's worth, the roundtrip yacht transfer costs $730 per adult, plus a 23.2% tax and service charge, so that's $899 per adult. Yes, obviously this is a ton, but this is just how much stuff in the Maldives costs, and it's comparable to standard seaplane transfer costs.
The yacht used for transfers is legitimately nice, and has plenty of indoor and outdoor seating. There are even two bedrooms, but there's not really a need for that for such a short journey.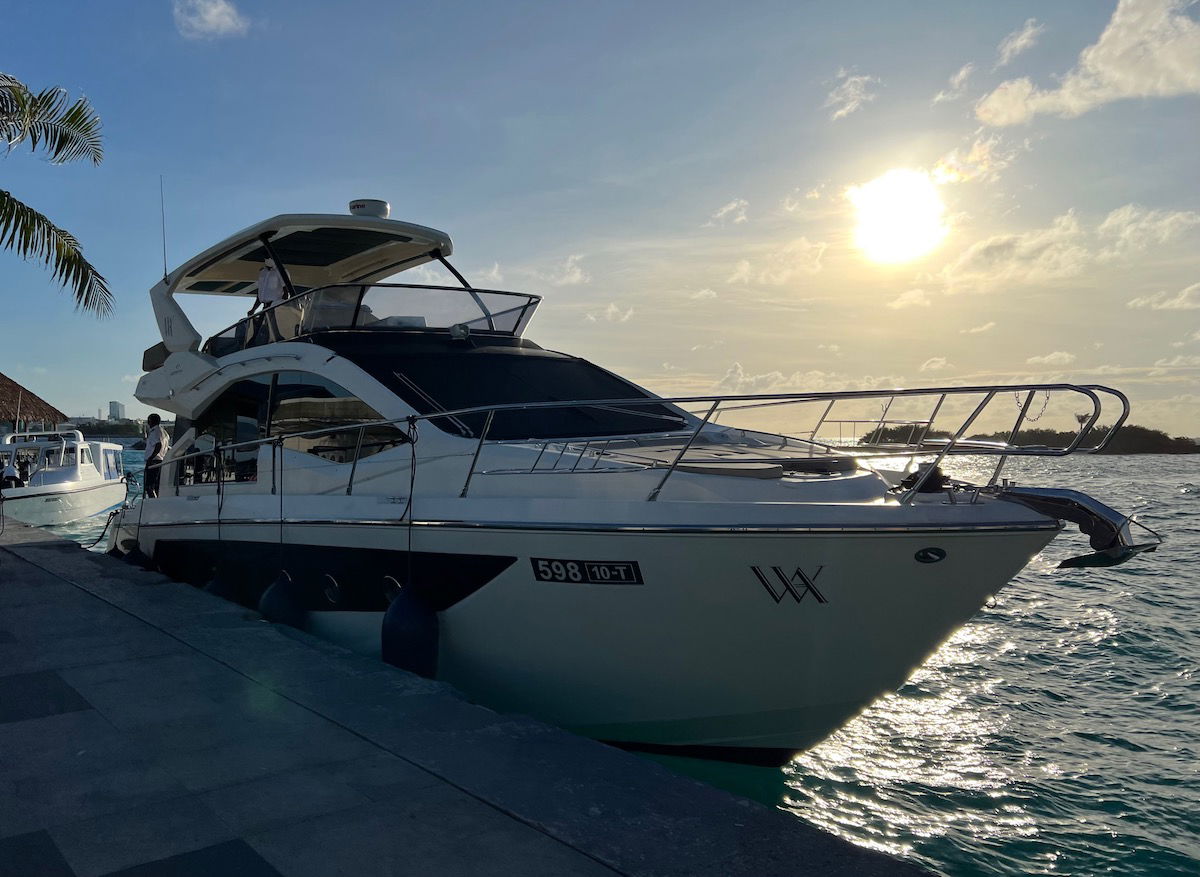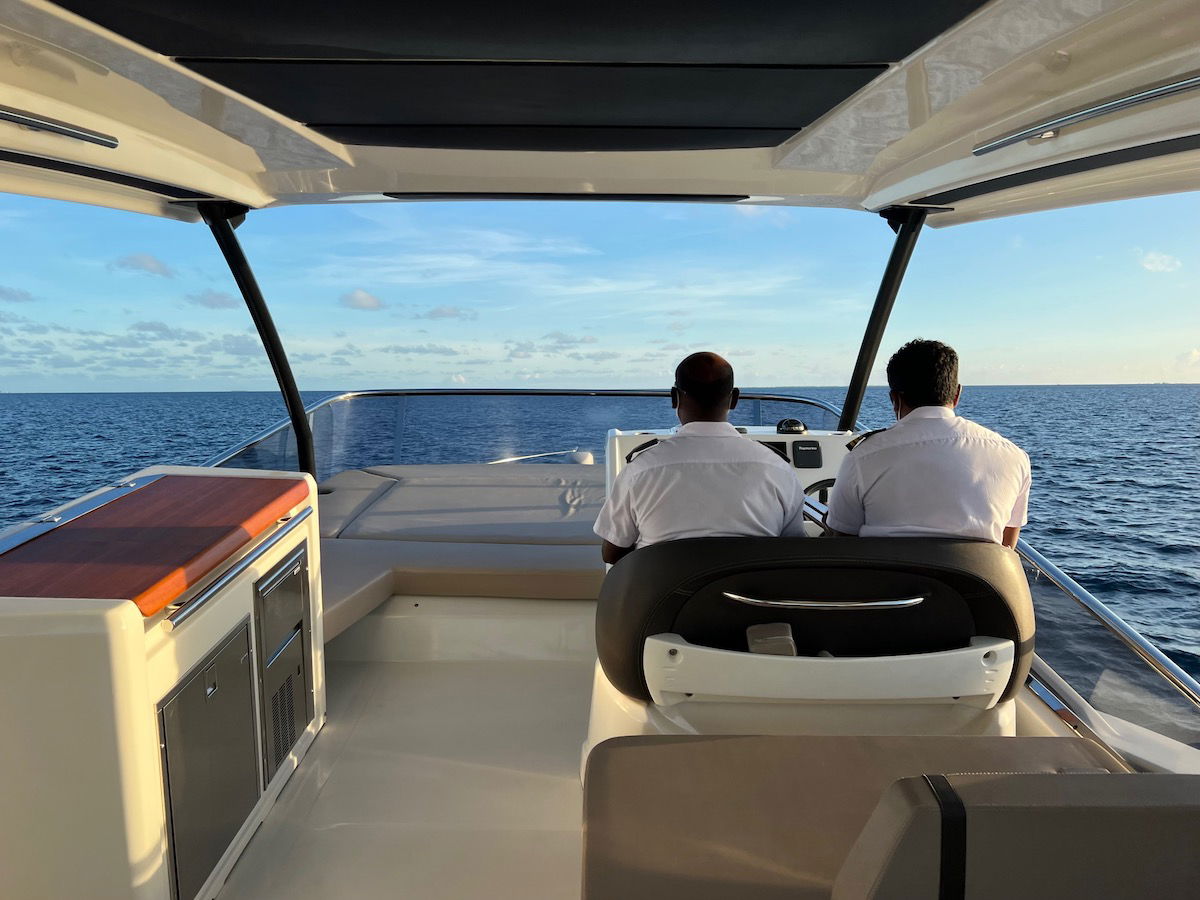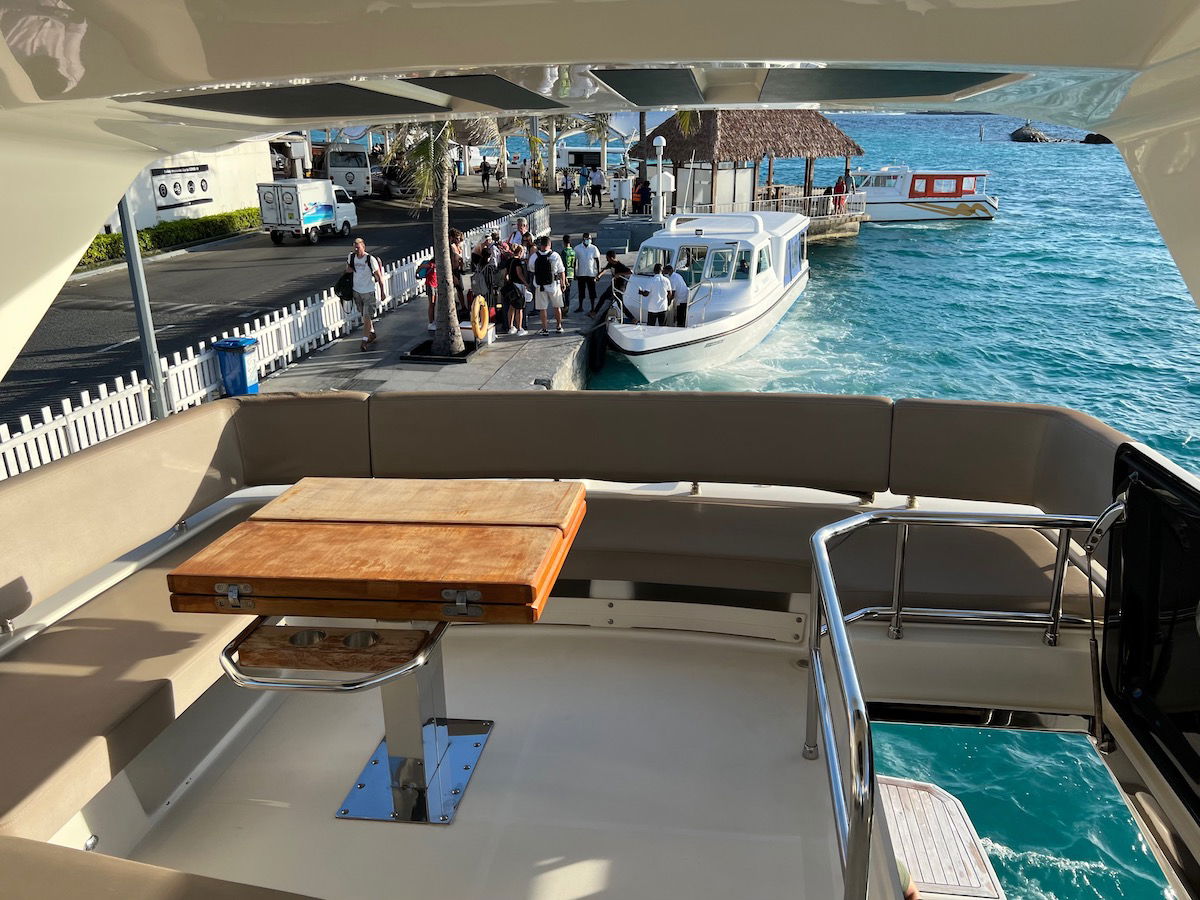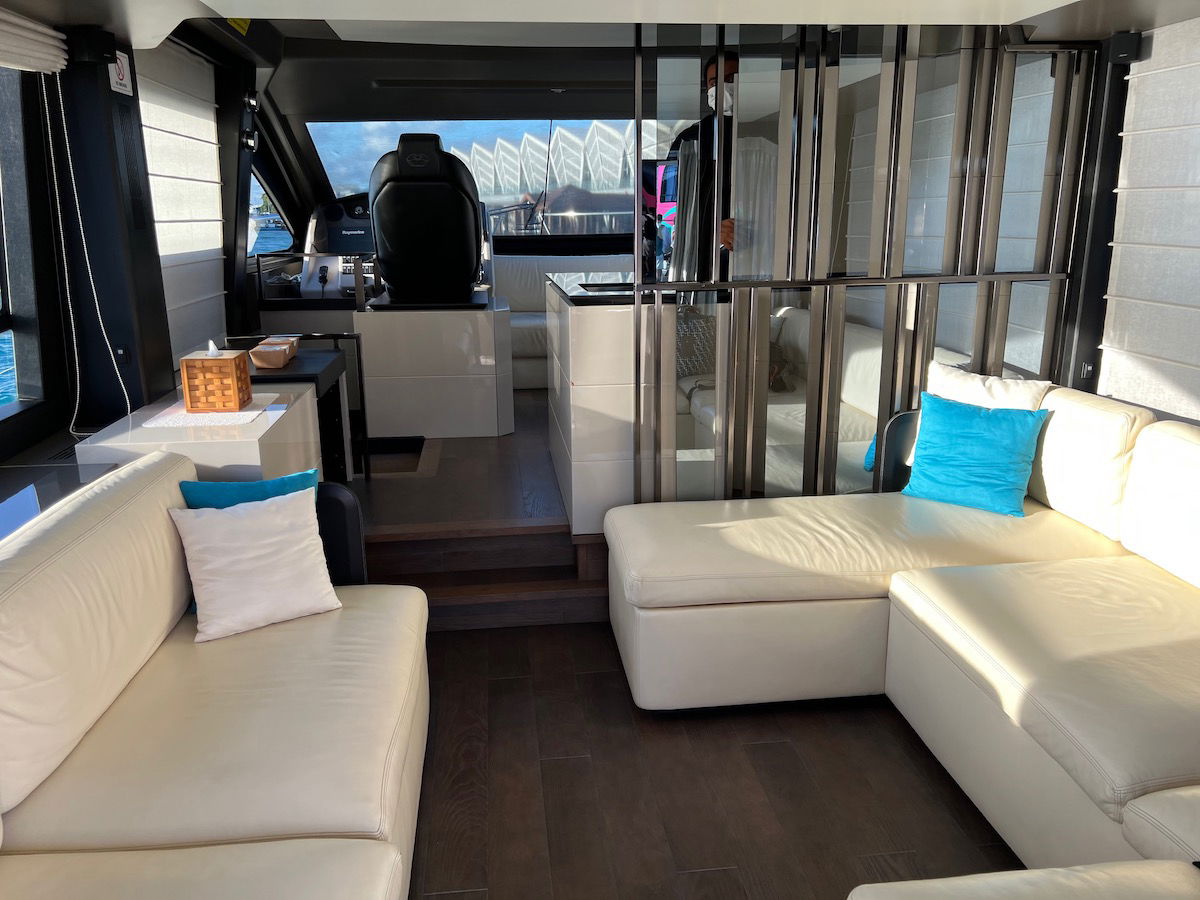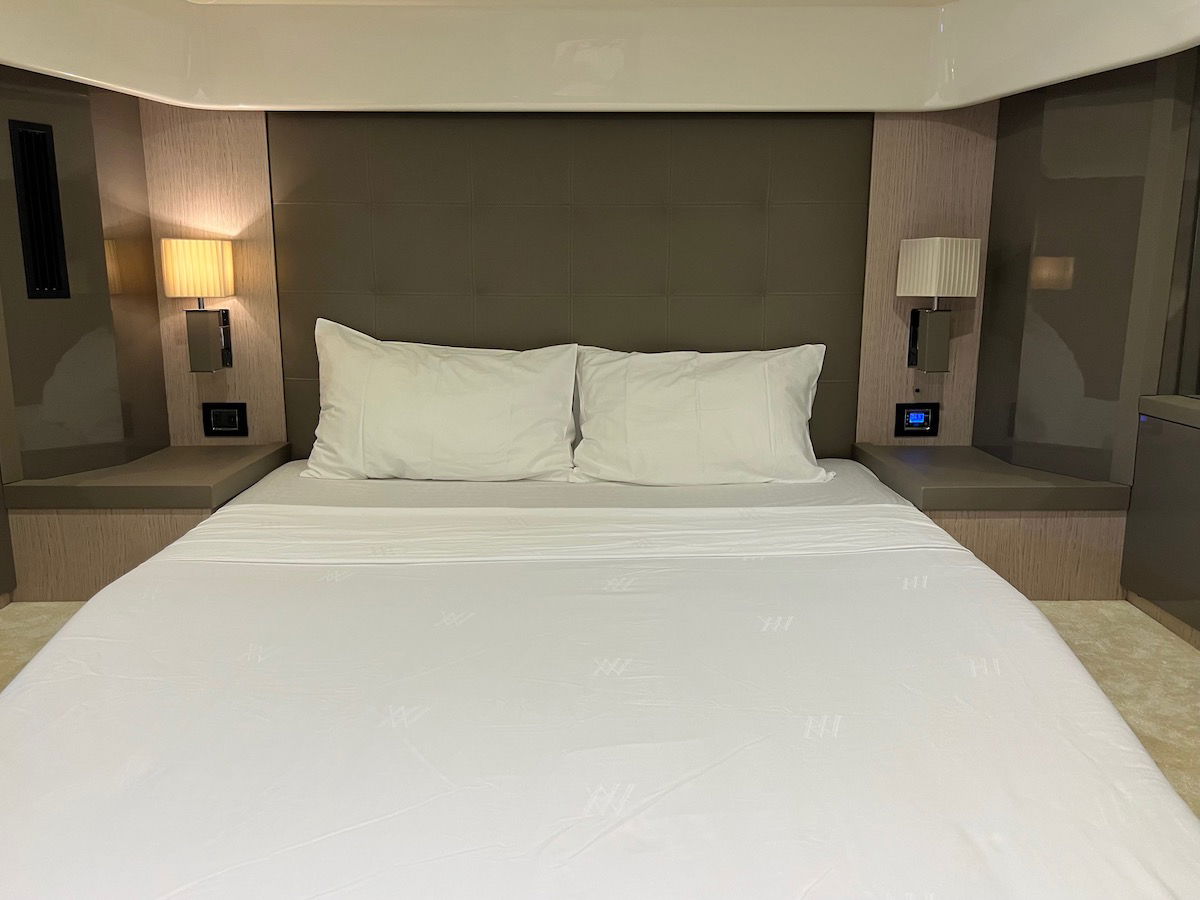 Equally impressive is that they serve free-flowing drinks, including Veuve Clicquot champagne, as well as some snacks. Given the price of alcohol in the Maldives, at least they make it a nice experience.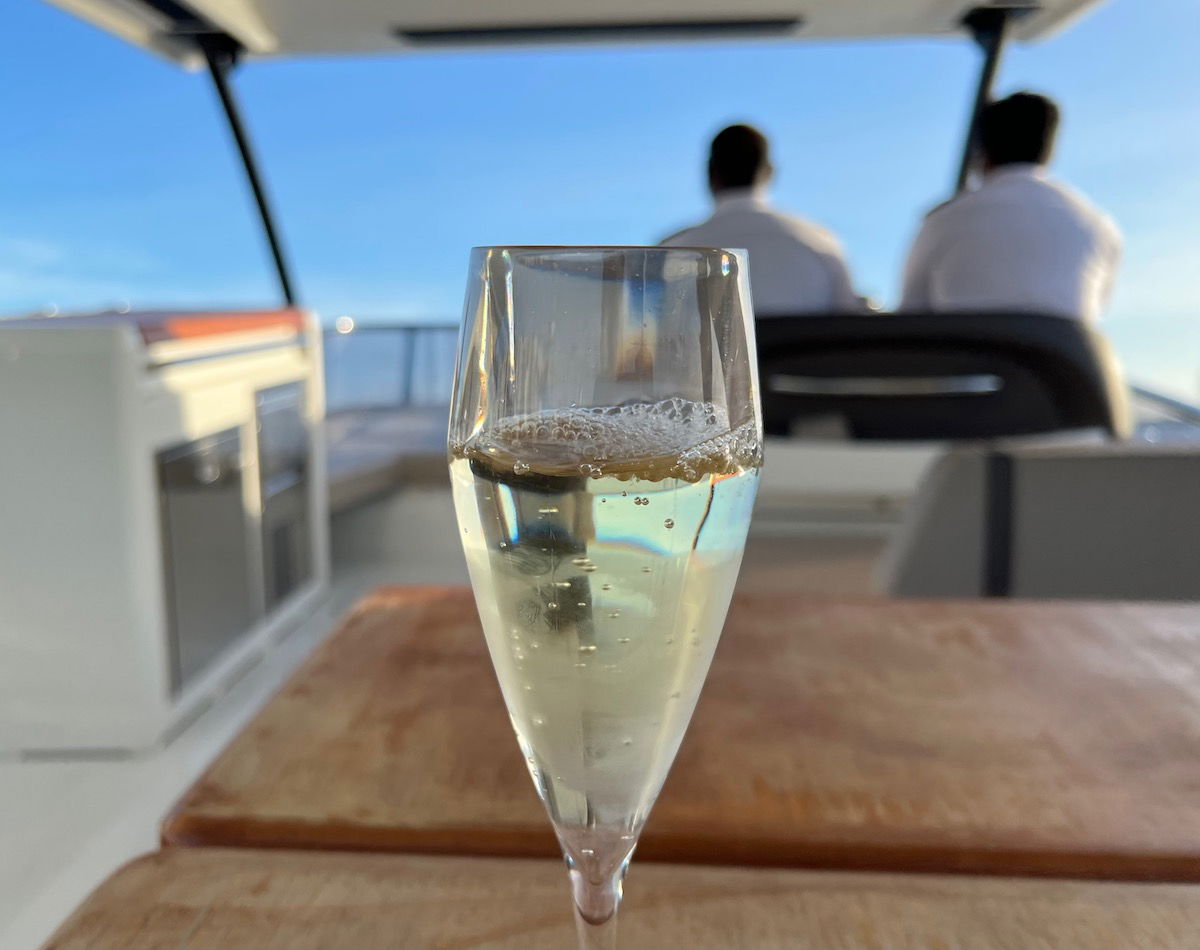 I've always been fascinated by Male, so it was cool to go by it in a boat.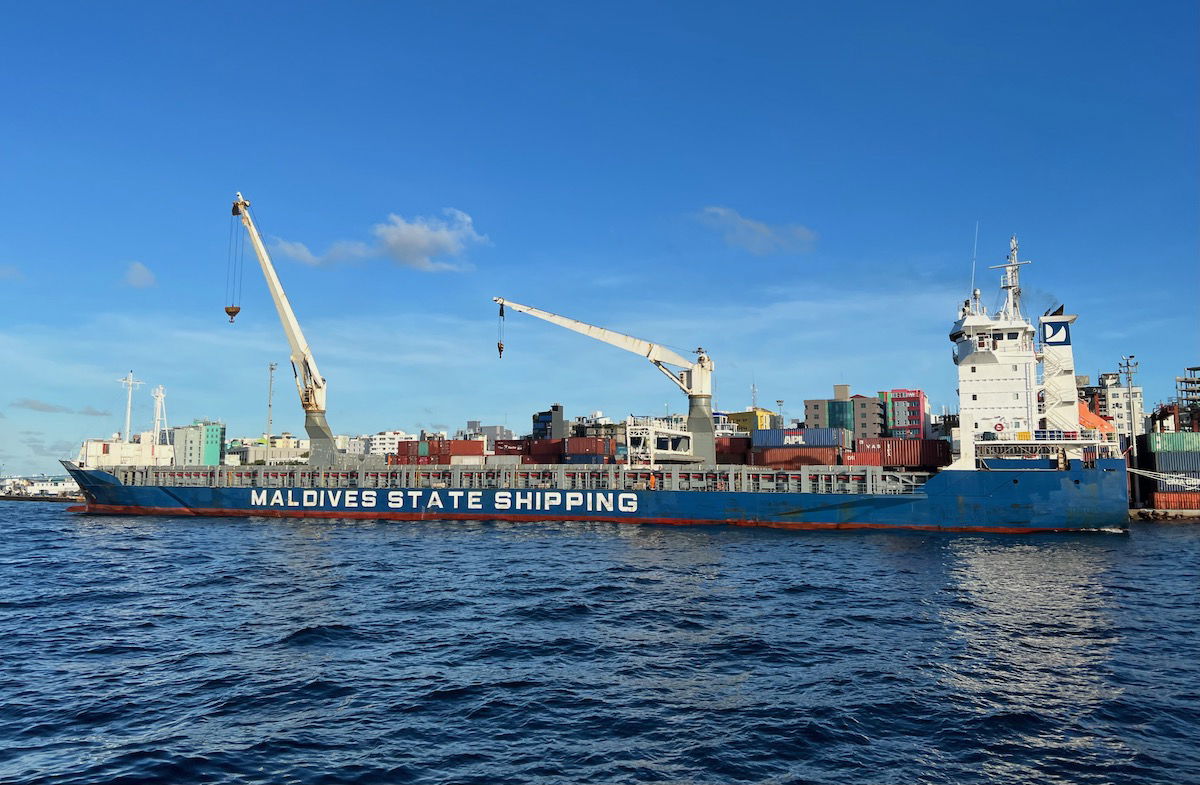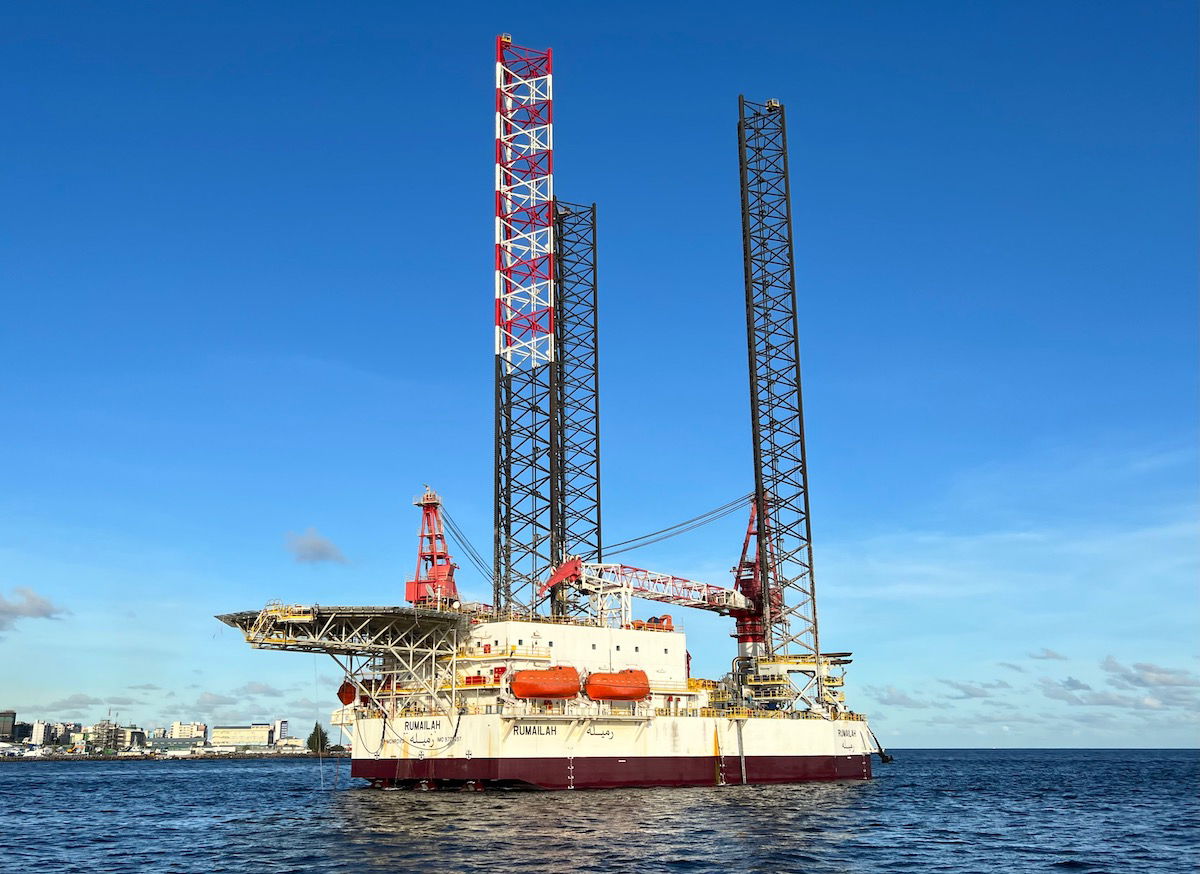 We also lucked out arriving in the evening, as this basically turned into a sunset cruise.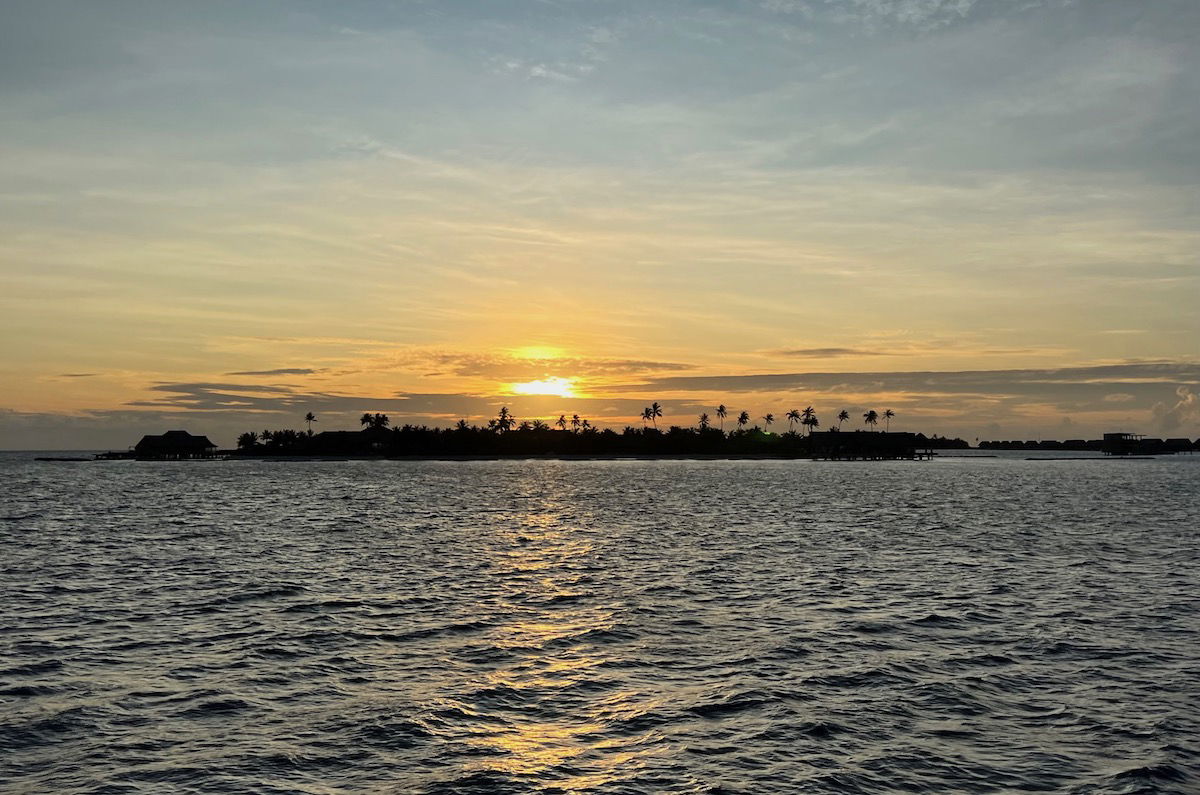 On our journey to the hotel, we had the yacht all to ourselves, while on the return journey we shared the yacht with one other family.
The arrivals experience at the Waldorf Astoria was seamless. We were greeted by several staff, including the resort manager, Marco, as well as our personal concierge, Tiffany, who would be looking after us for the duration of our stay. We were offered a cold towel and welcome drink, and were immediately whisked to our villa in a golf cart.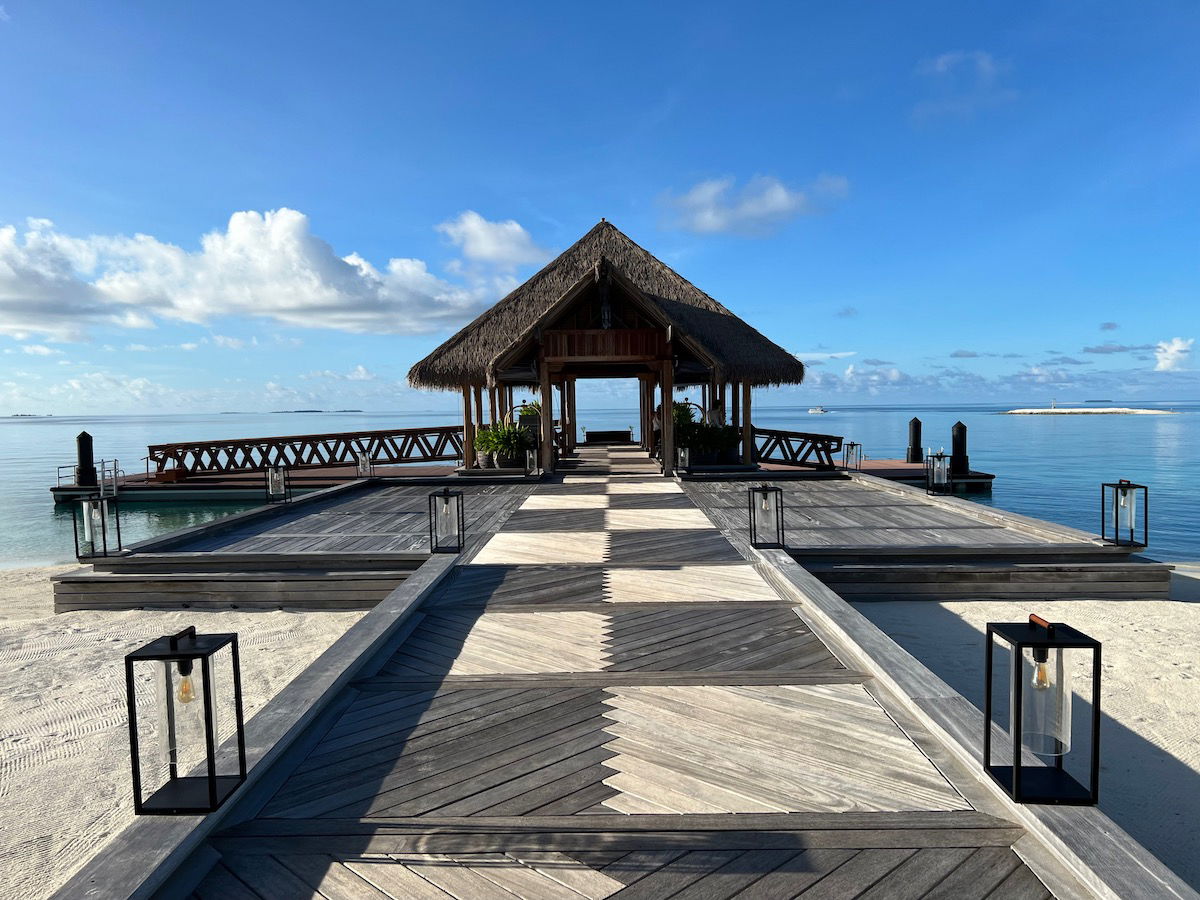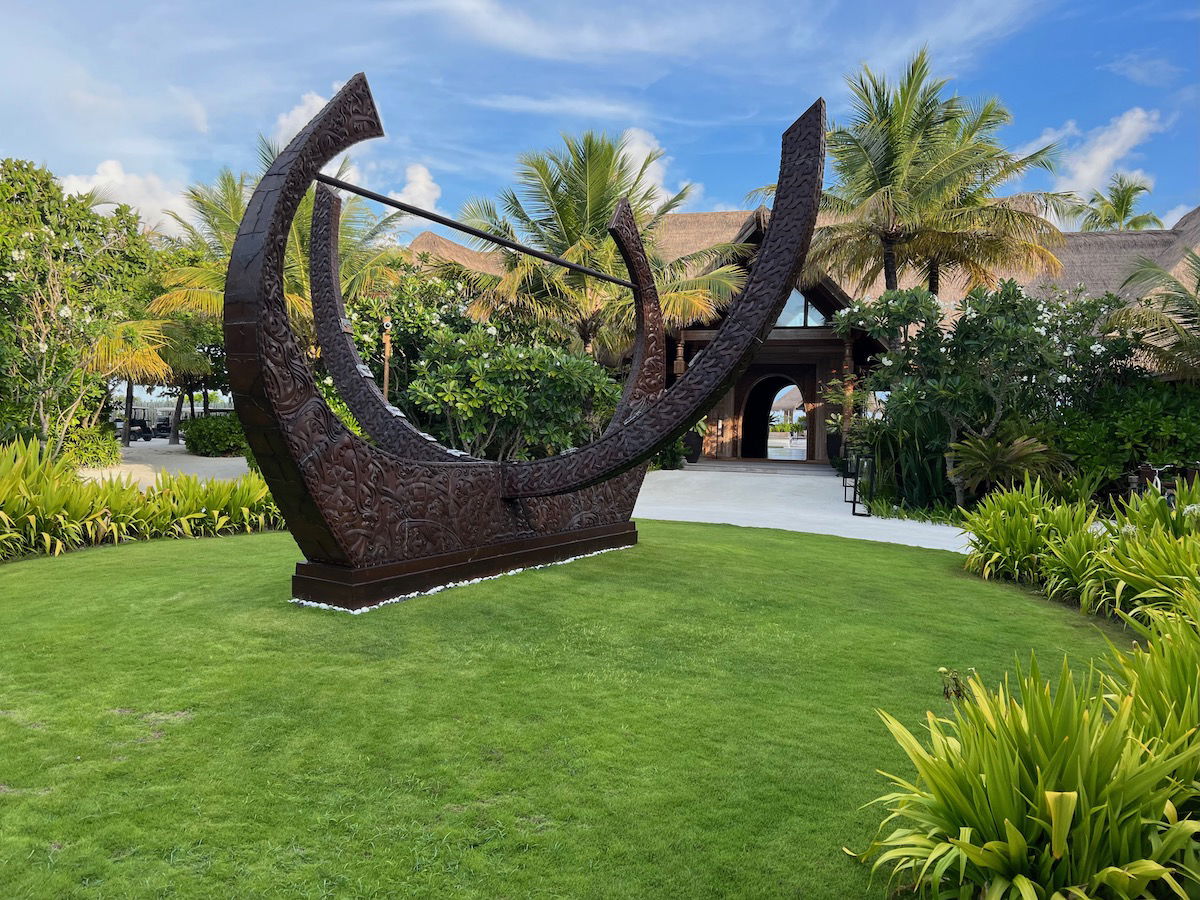 Waldorf Astoria Maldives property layout
The Waldorf Astoria Maldives is on a very long collection of islands. If you walk or bike from one end of the resort to the other, it's around 3.5 kilometers. Below is a map that gives you a sense of the property layout. Since the resort isn't just one circular(ish) island, at most points of the resort you're looking "in" at the resort's lagoon.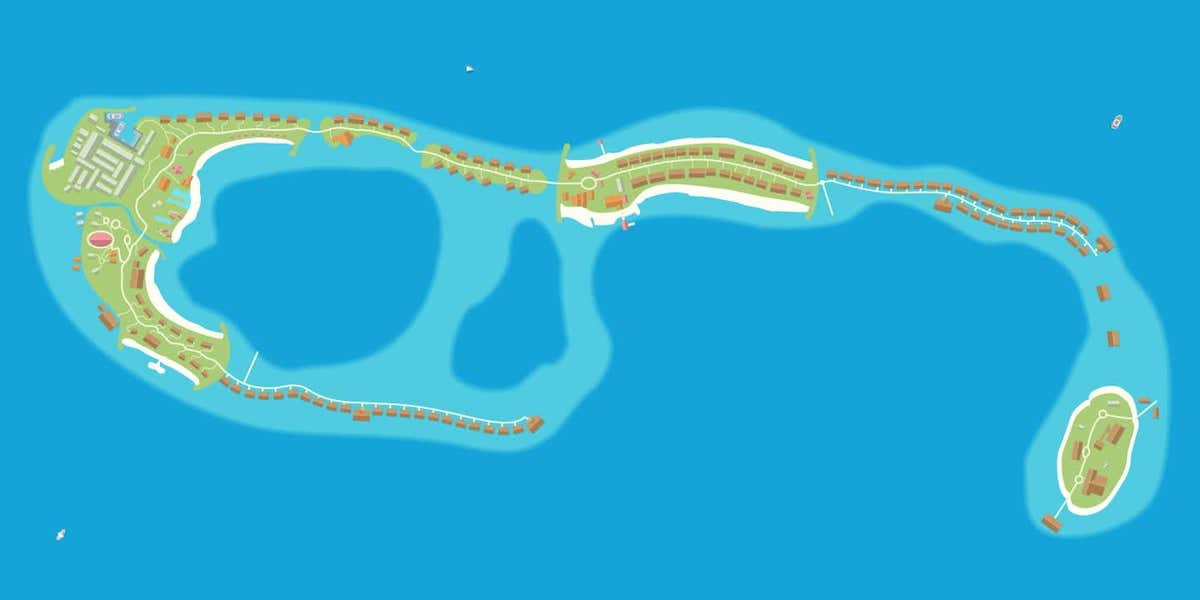 For some context:
At each end of the resort is a jetty with dozens of overwater villas, and between them are the resort's islands; the island at the bottom right of the above map is the private island, which can accommodate up to 24 guests
You have plenty of accommodations not on the jetties, which is also where the standard rooms here are (this includes the rooms that you get if redeeming points at the standard rate)
There are paths connecting the entire property, and they're easy to walk or bike down, or you can always call a golf cart to pick you up. I will say that paths get quite a bit of traffic and are fairly narrow, so it's not a terribly relaxing biking experience, as you're largely just getting out of the way of golf carts.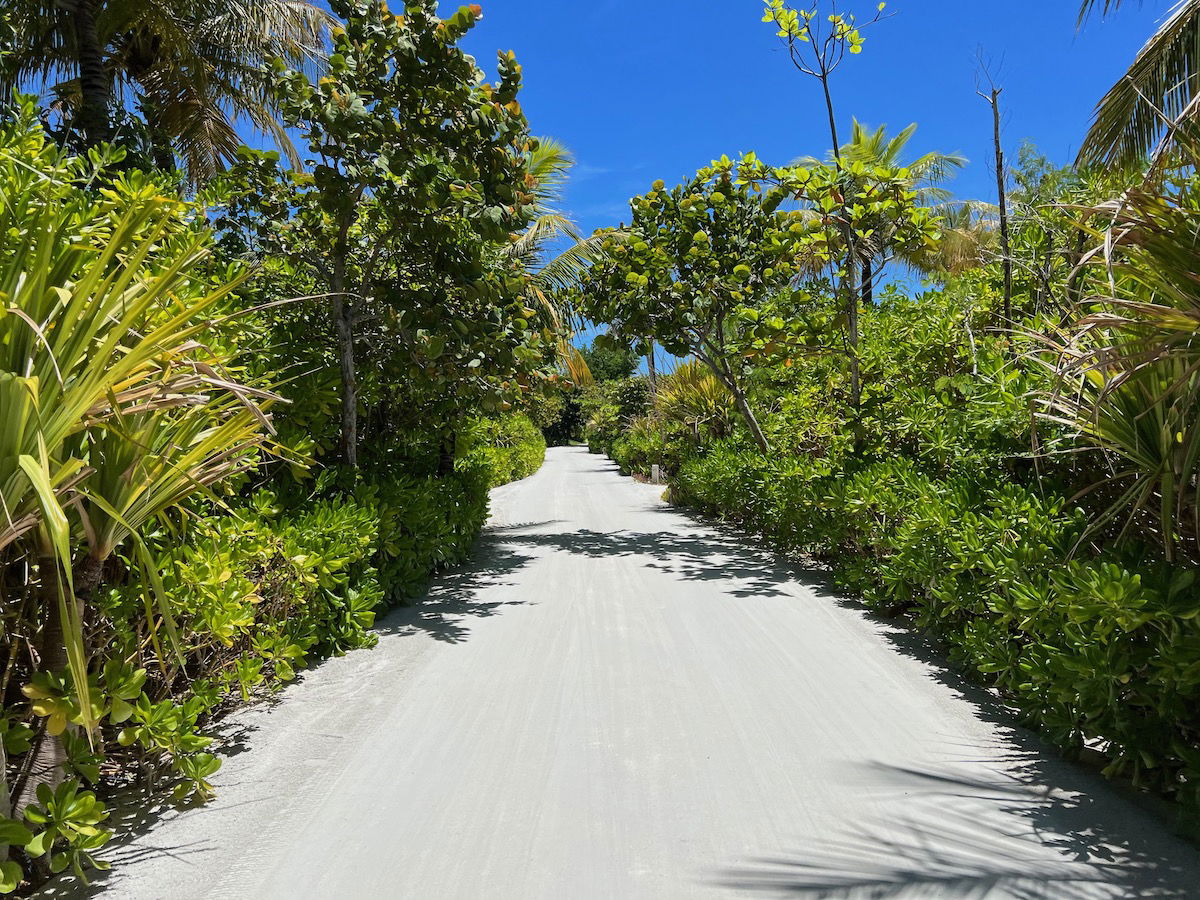 There are bridges connecting the little islands, which are always beautiful to bike down, given the views.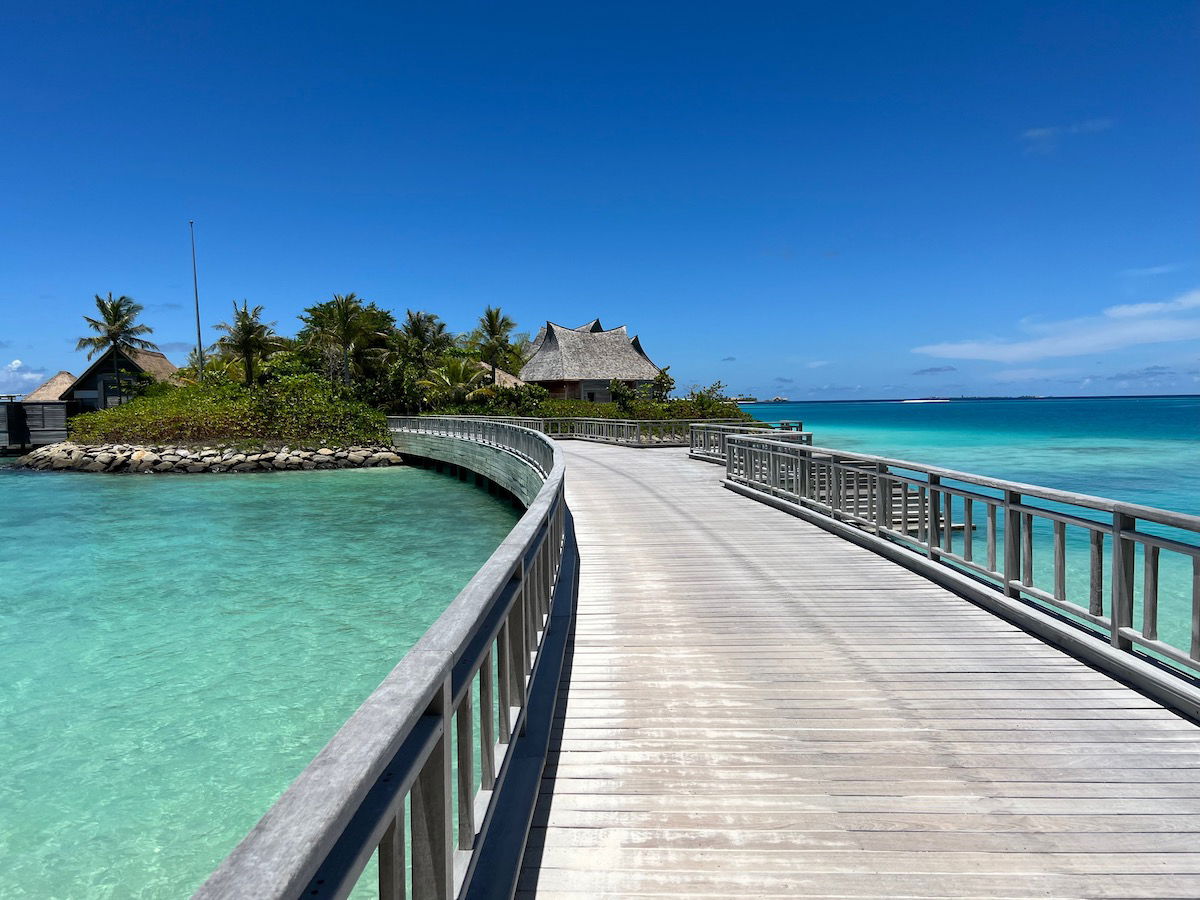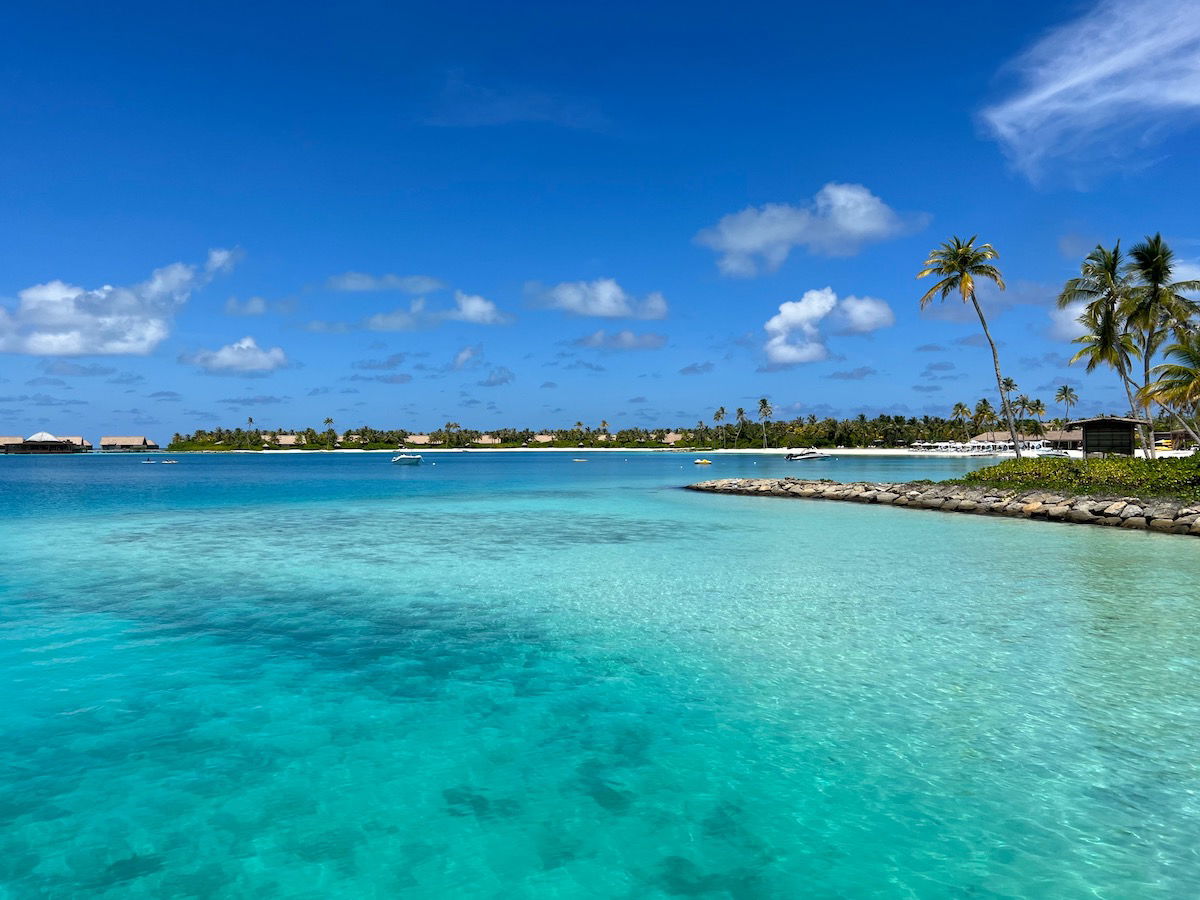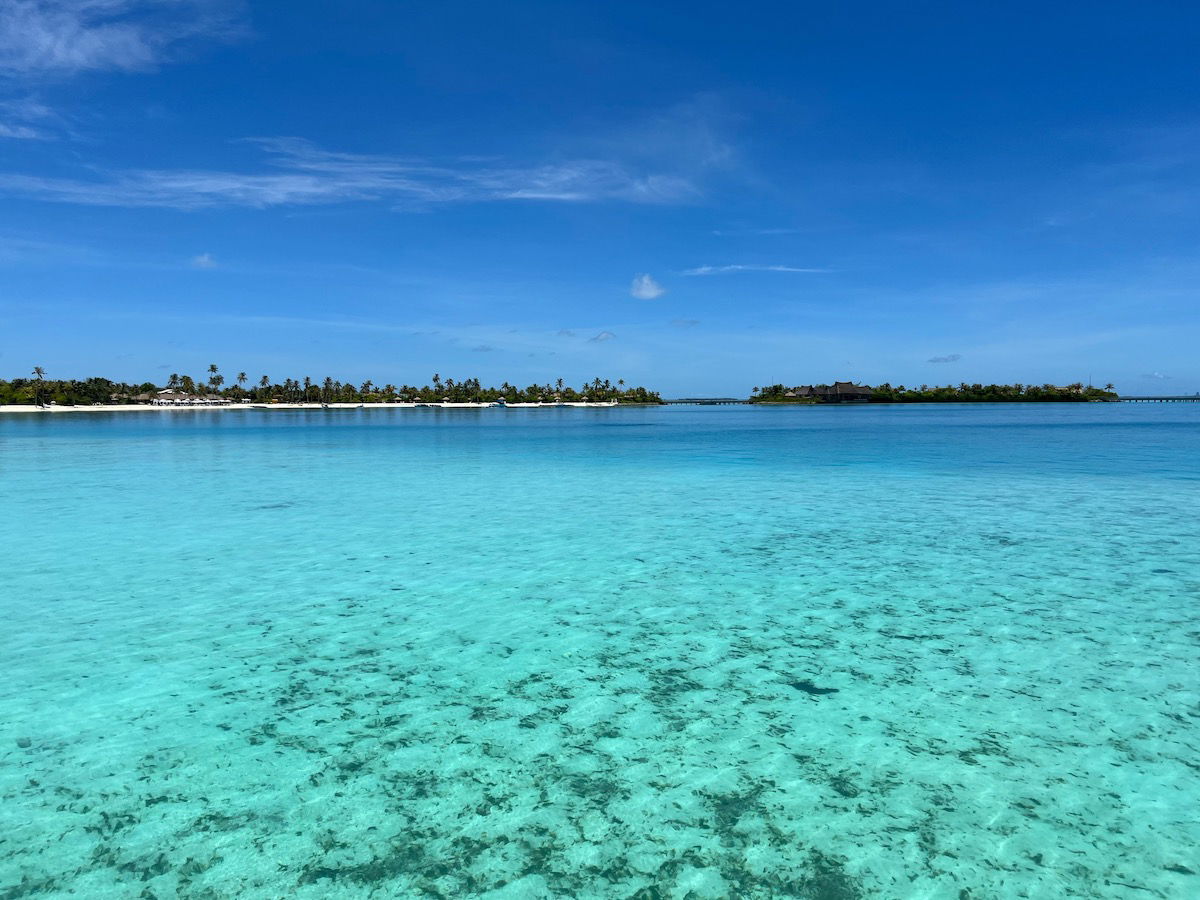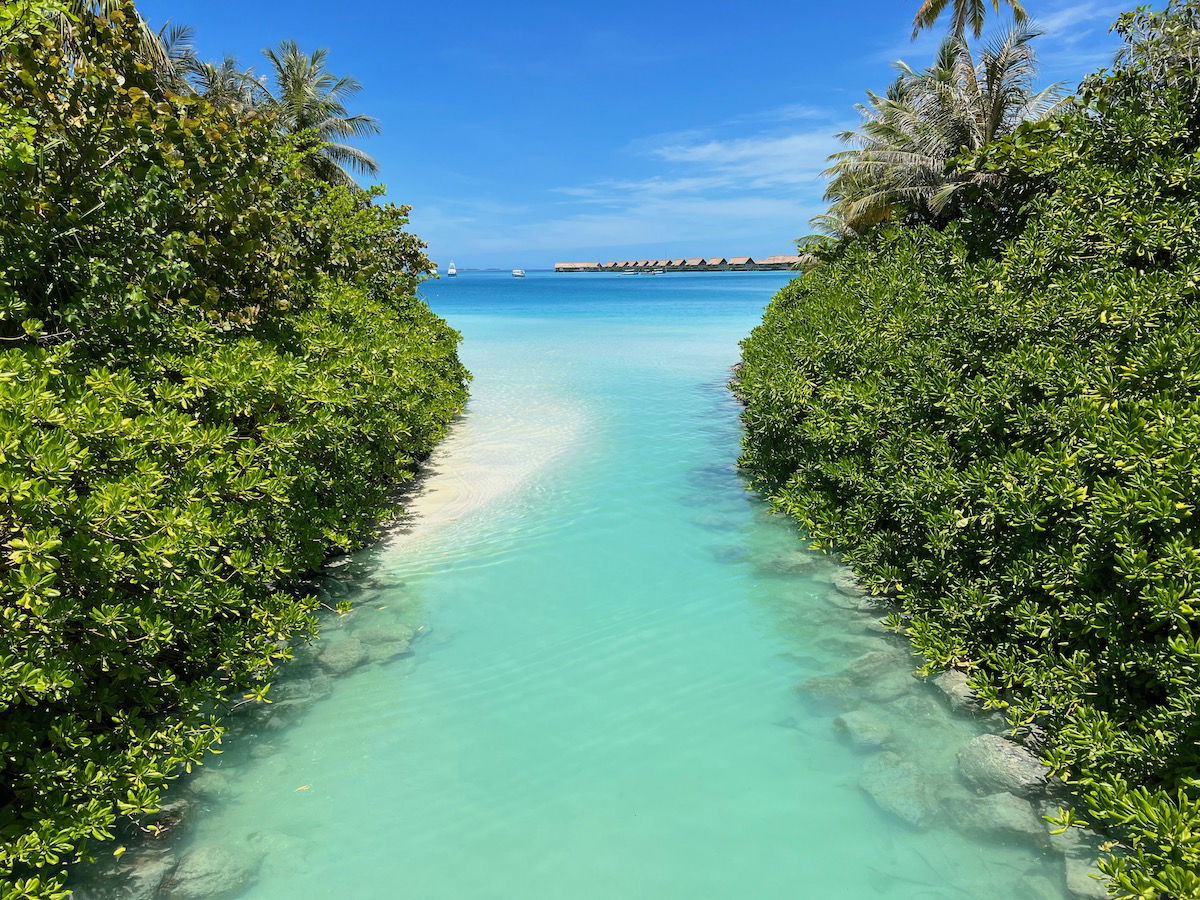 Even if you're not staying at a far end of the resort, it can be enjoyable to bike up and down the jetty.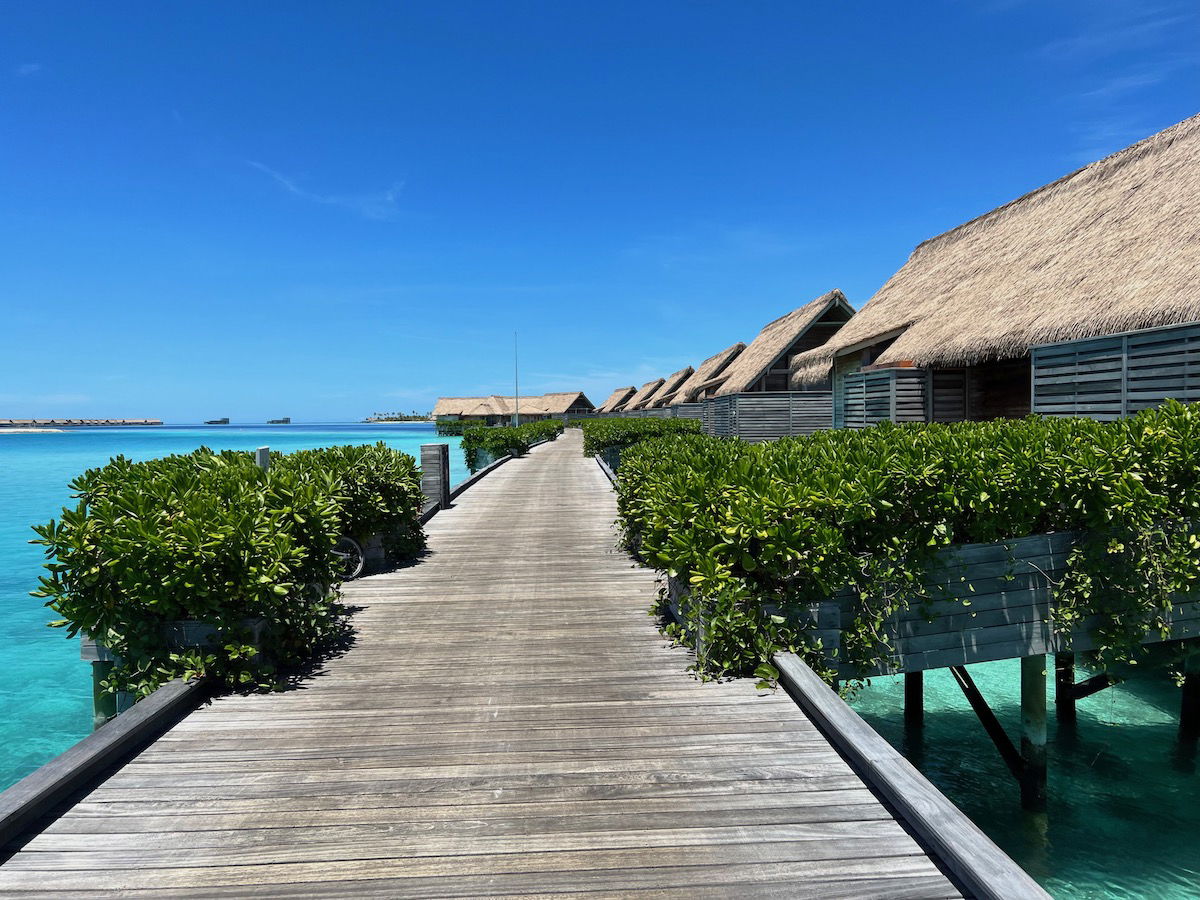 It's especially fun to go down the far end of the one jetty, where you have a great view of the private island, as well as the two Stella Maris villas, which can only be accessed by boat.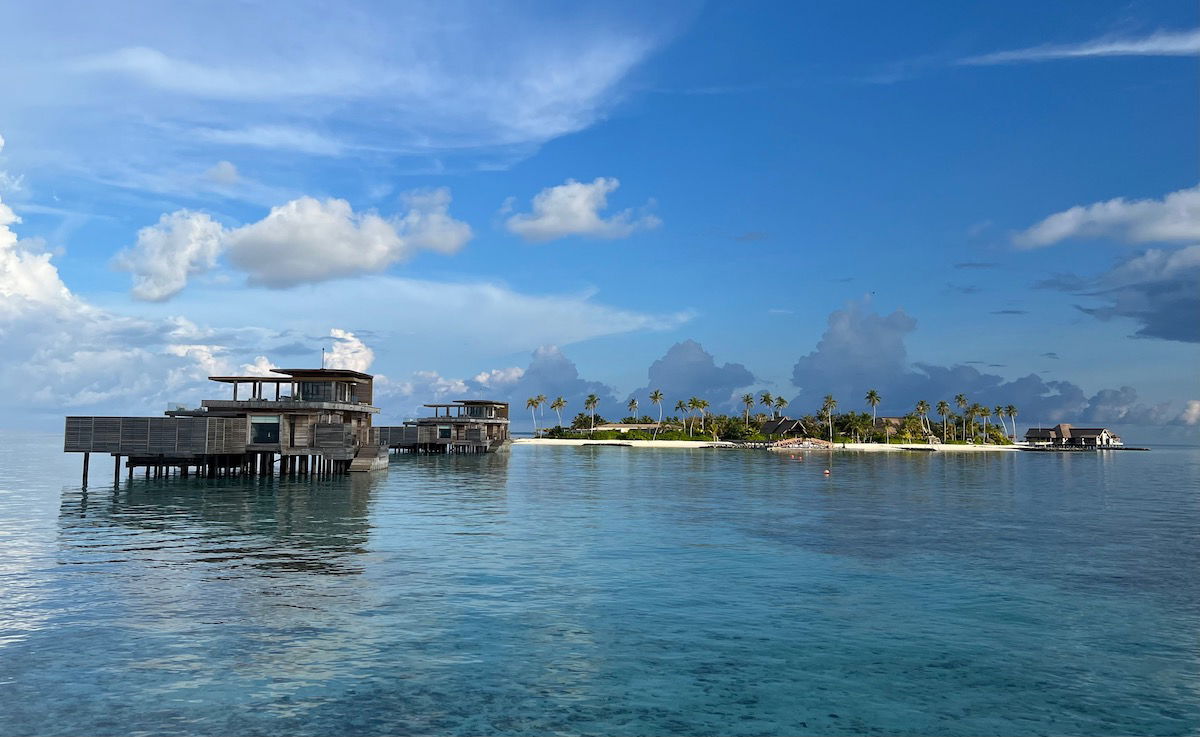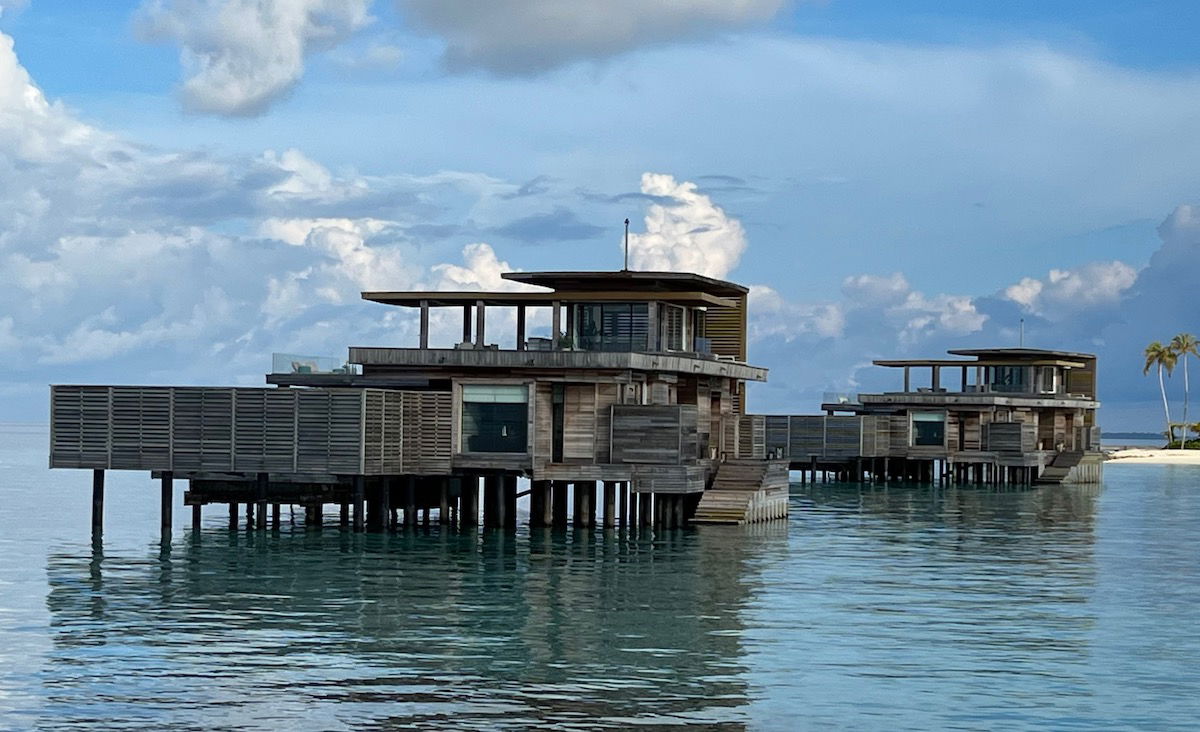 The views across the property are simply stunning all hours of the day, especially at sunrise and sunset.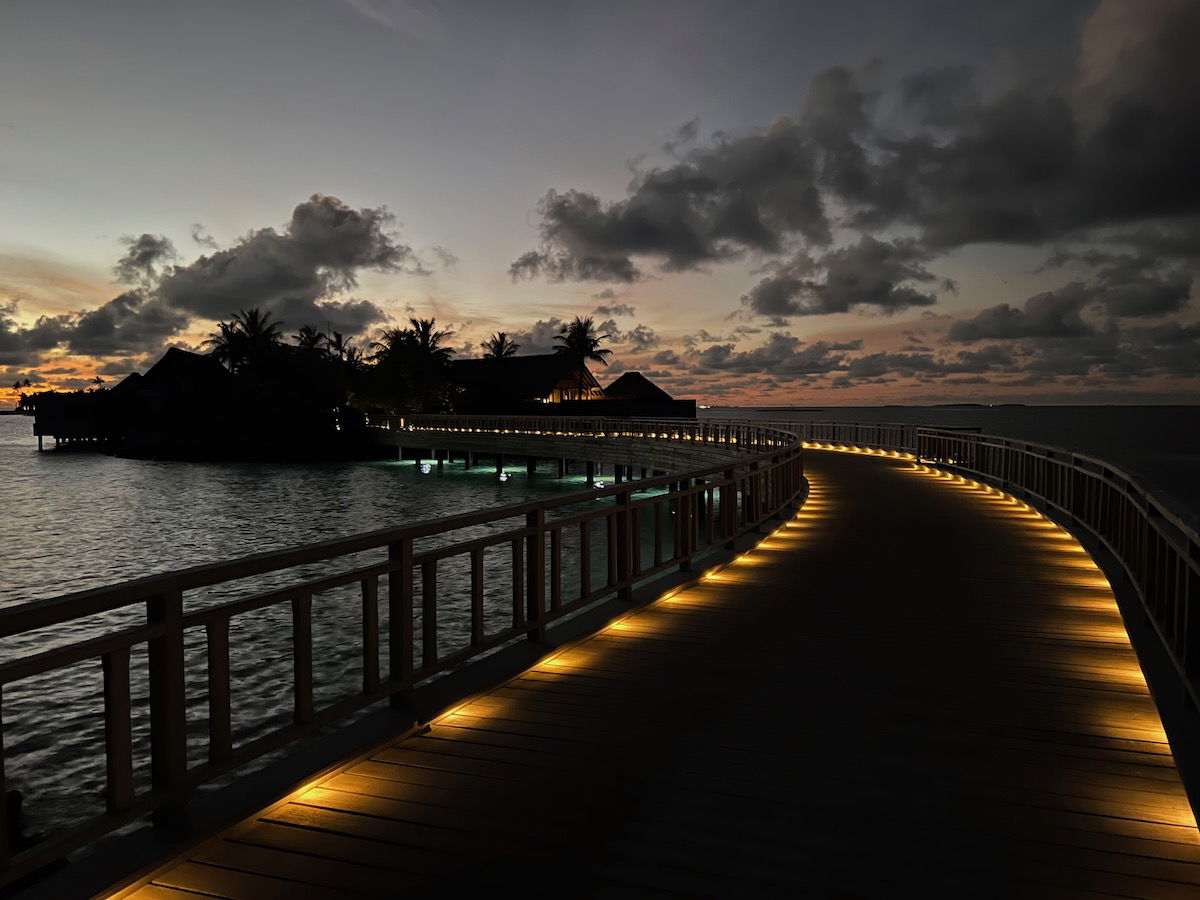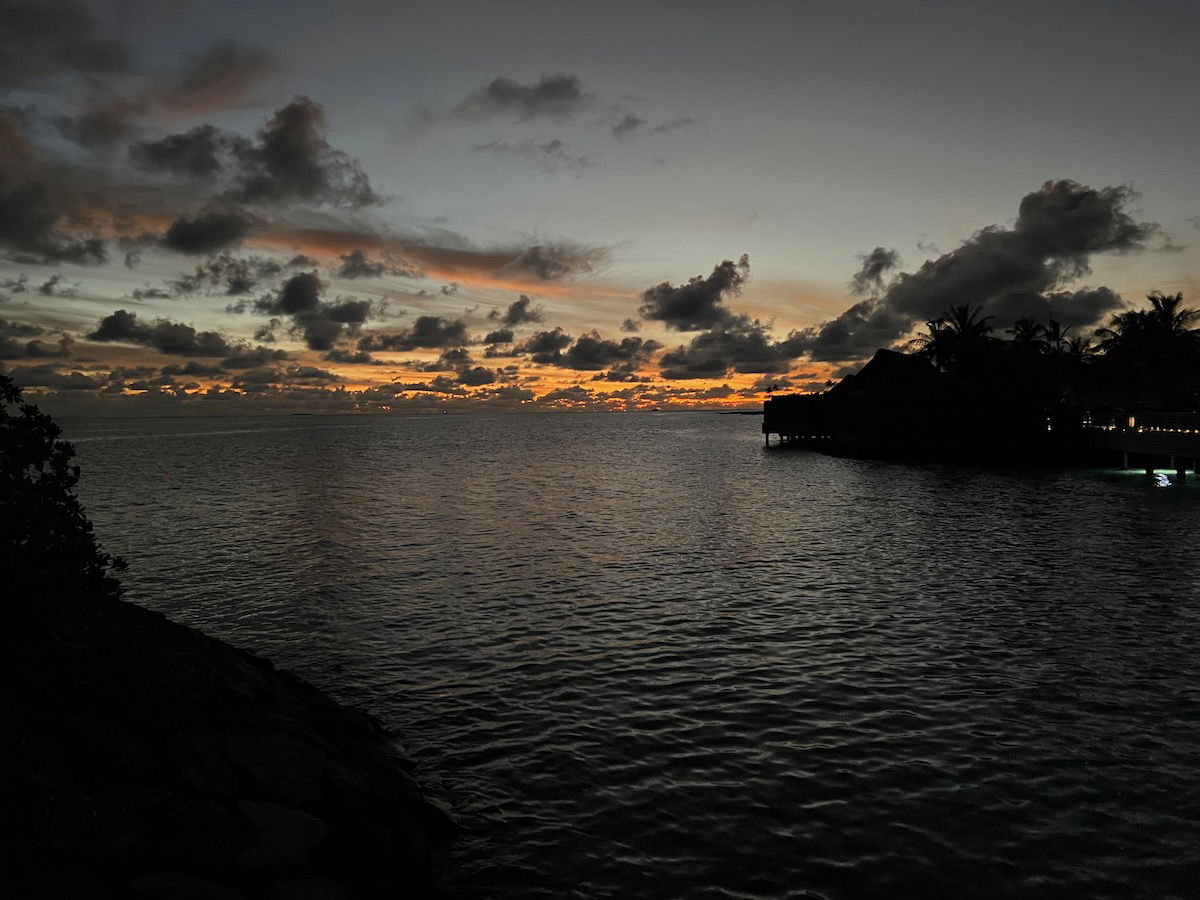 Waldorf Astoria Maldives king reef villa with pool
We stayed in villa 309, which is a king reef villa, the standard accommodation at the hotel. These rooms are located on one of the small islands between the main parts of the resorts, connected by bridges.
This isn't technically an overwater villa, in the sense that the room is on land. However, the terrace is overwater, and for all practical purposes you feel like you're in an overwater villa. You just don't have to go on a jetty. Personally I wouldn't pay the upgrade surcharge for a "true" overwater villa, and if anything I liked the central location of this villa, as it offered easy access to everything.
There were two bikes parked outside of our villa. The entire villa space was enclosed with a wall around it, and the only way to access even the outdoor area was through a double door.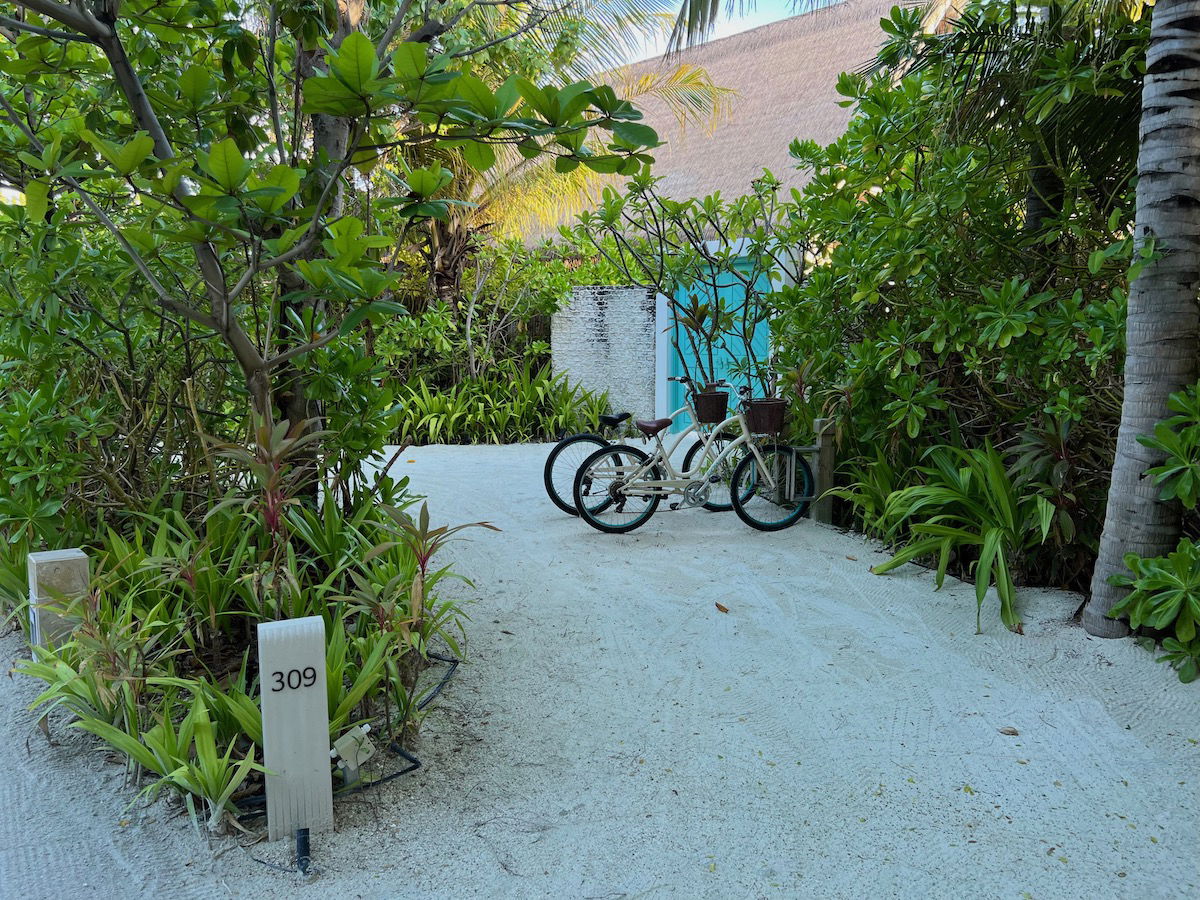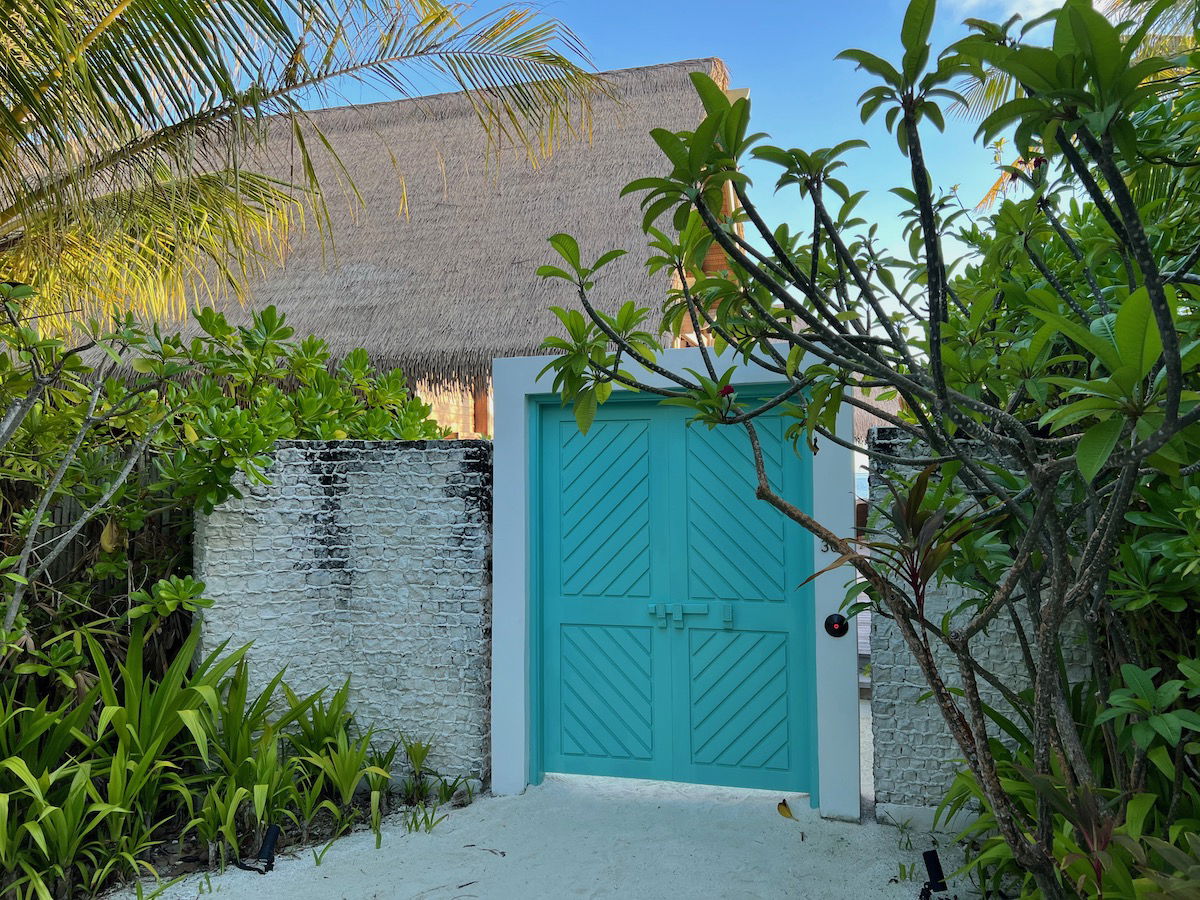 The villa had an incredible outdoor space, but let's start with the inside of the villa.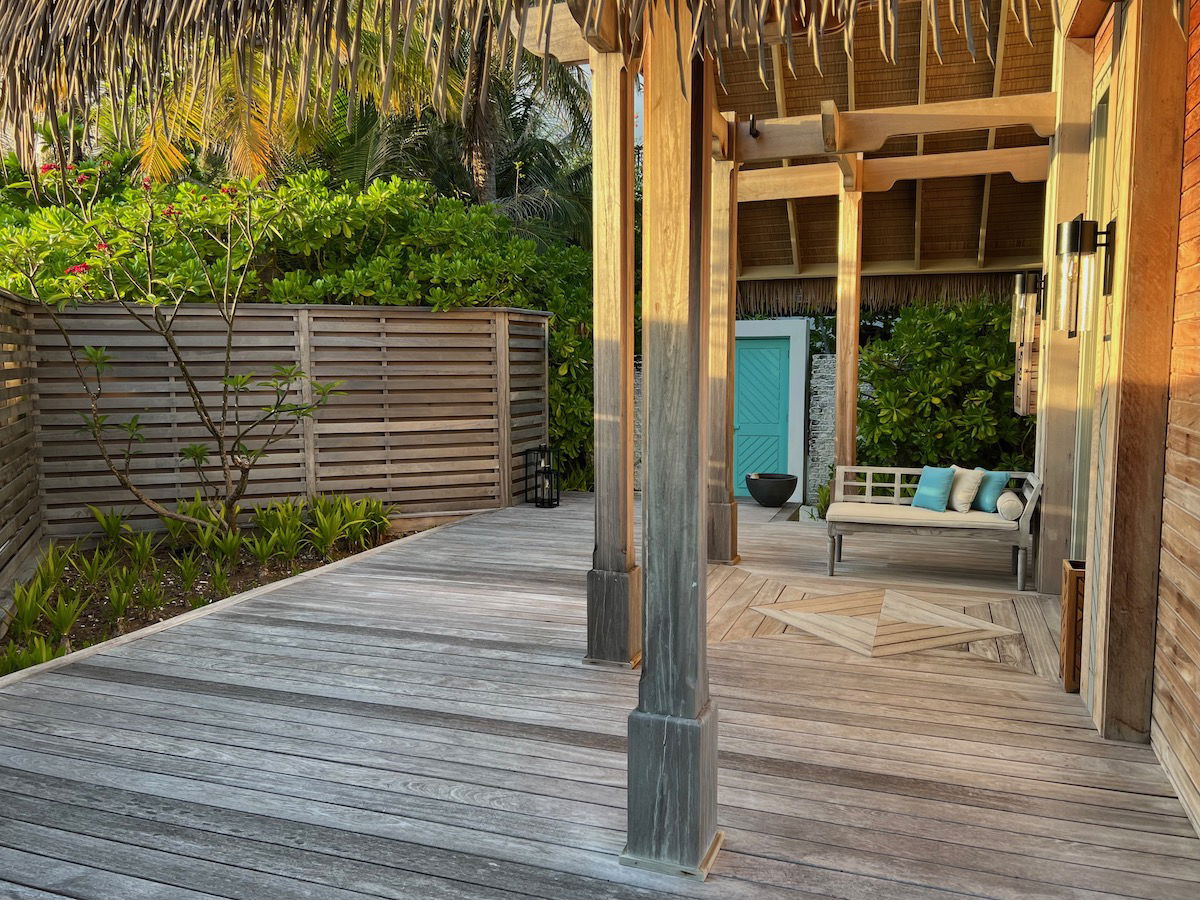 While the villa is marketed as being over 3,000 square feet, that also includes outdoor space, while I'd say the indoor space is maybe one-third that size. Inside the entrance to the villa was the bedroom area, which had a king size bed, two chairs looking out over the terrace, a TV, and a hybrid desk and vanity setup (not ideal for working, but better than nothing).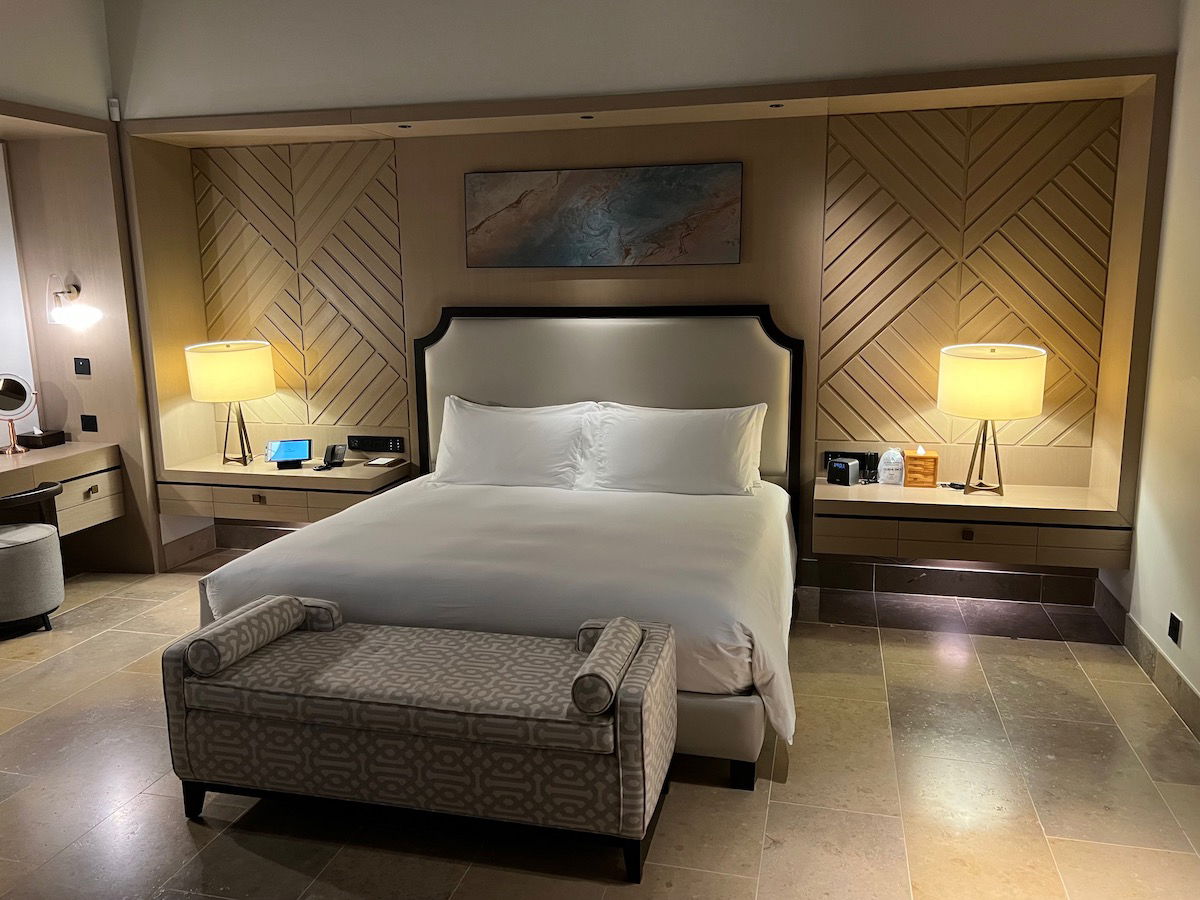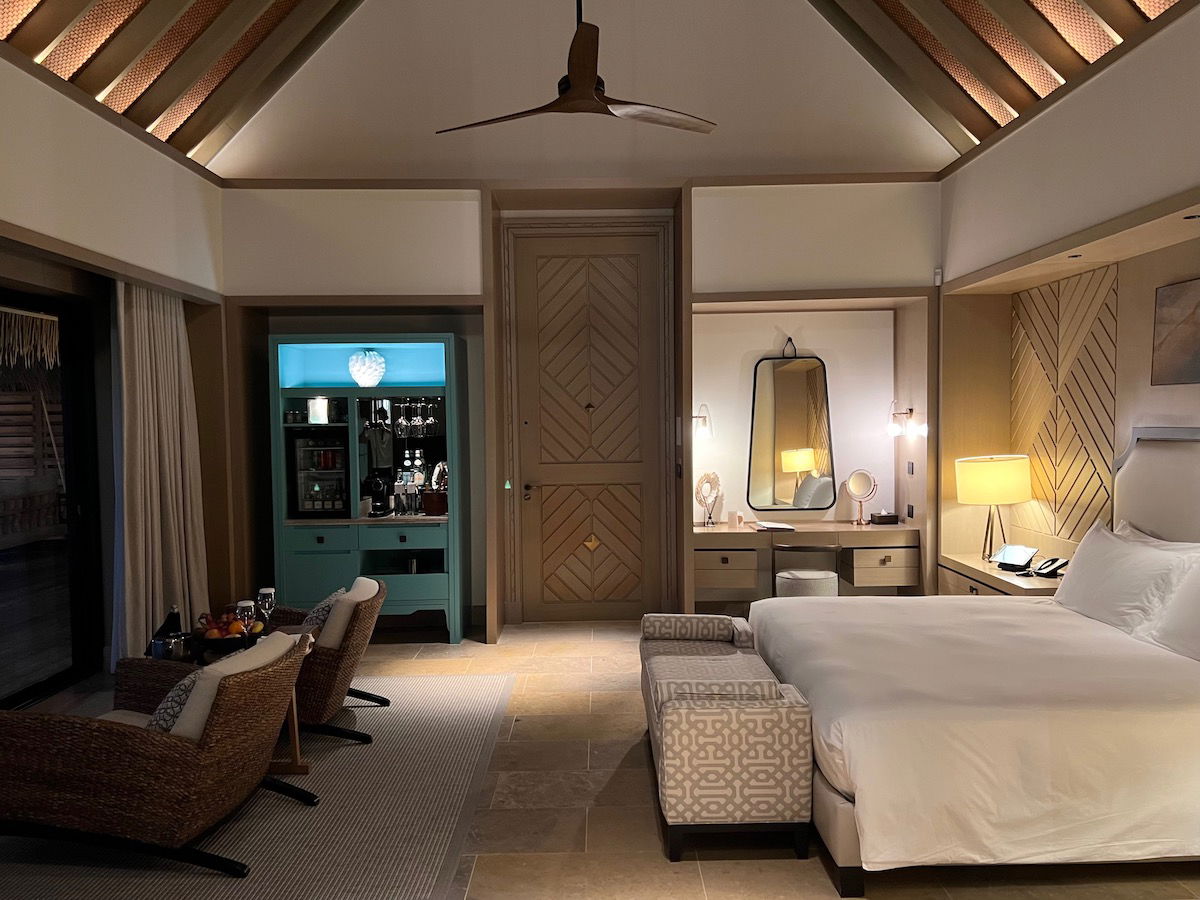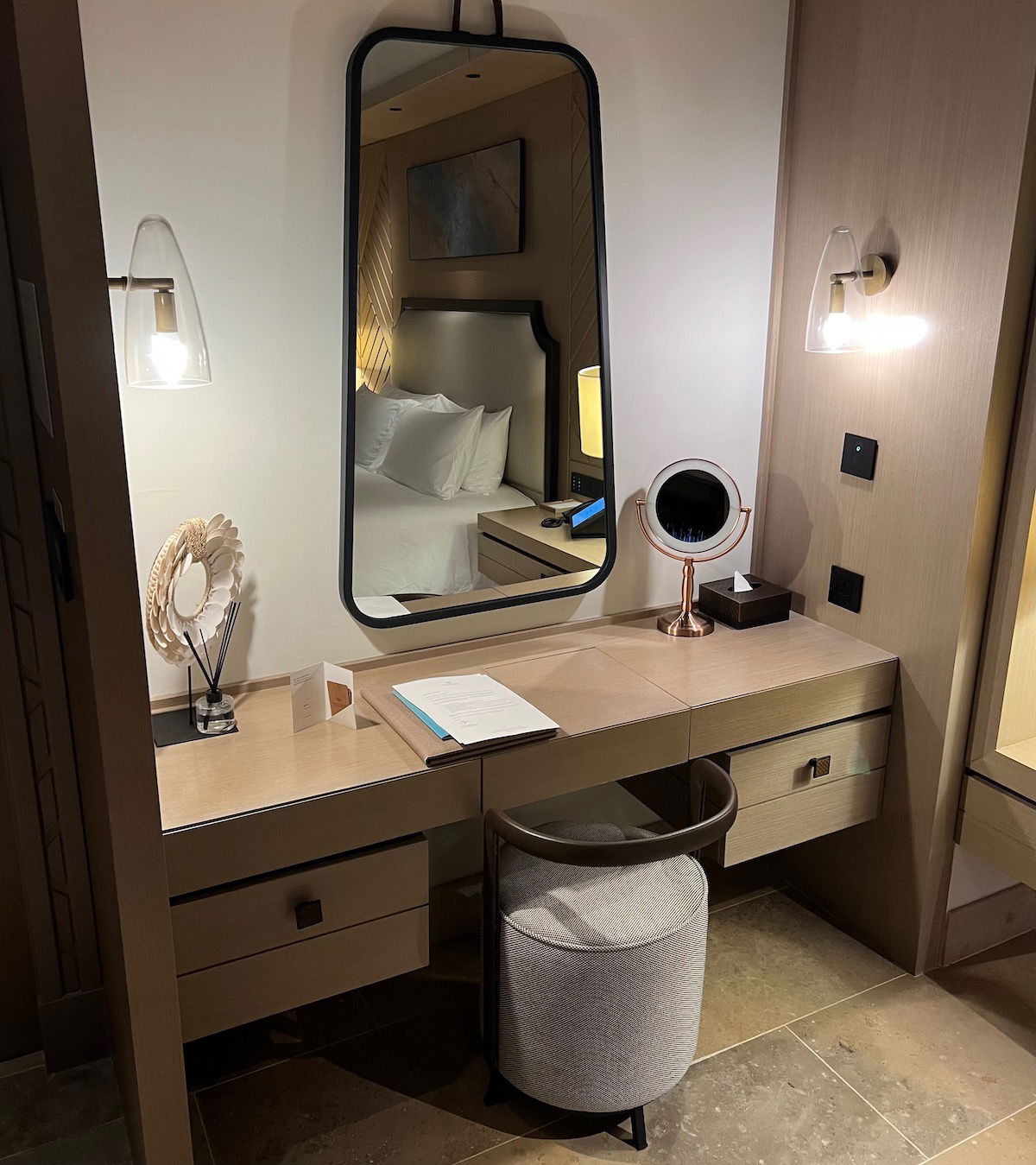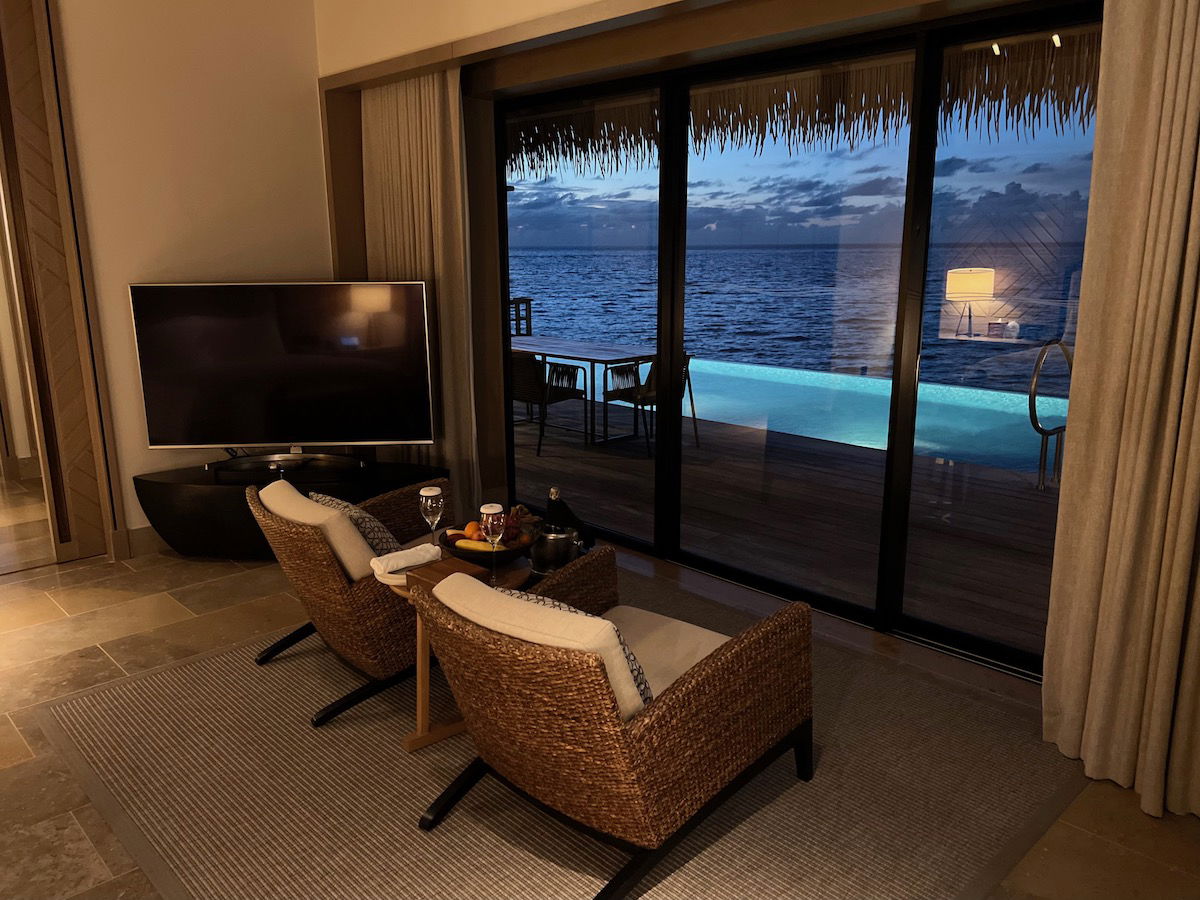 Along the wall closest to the entrance was the well stocked minibar. Everything except coffee and tea was available for purchase.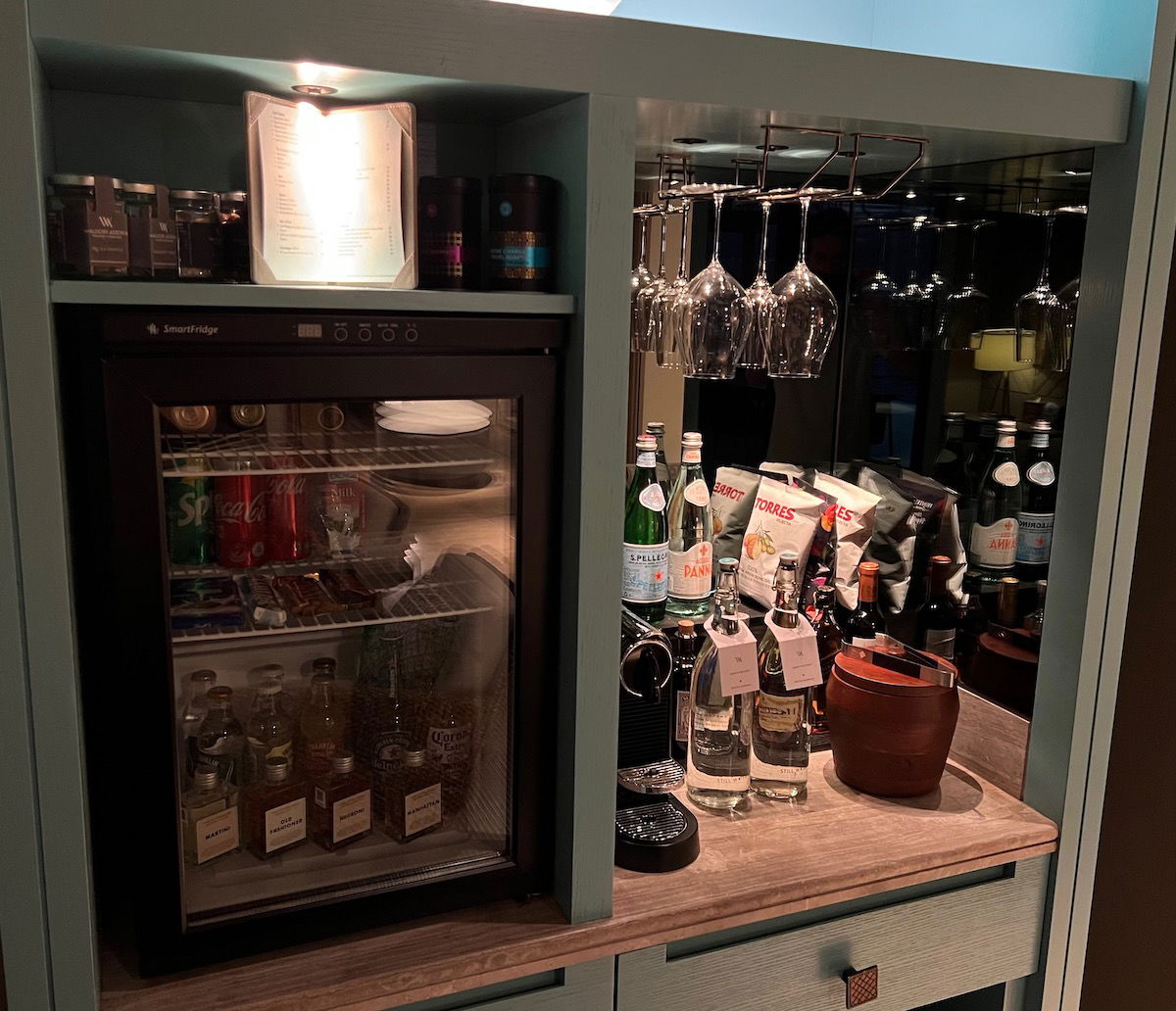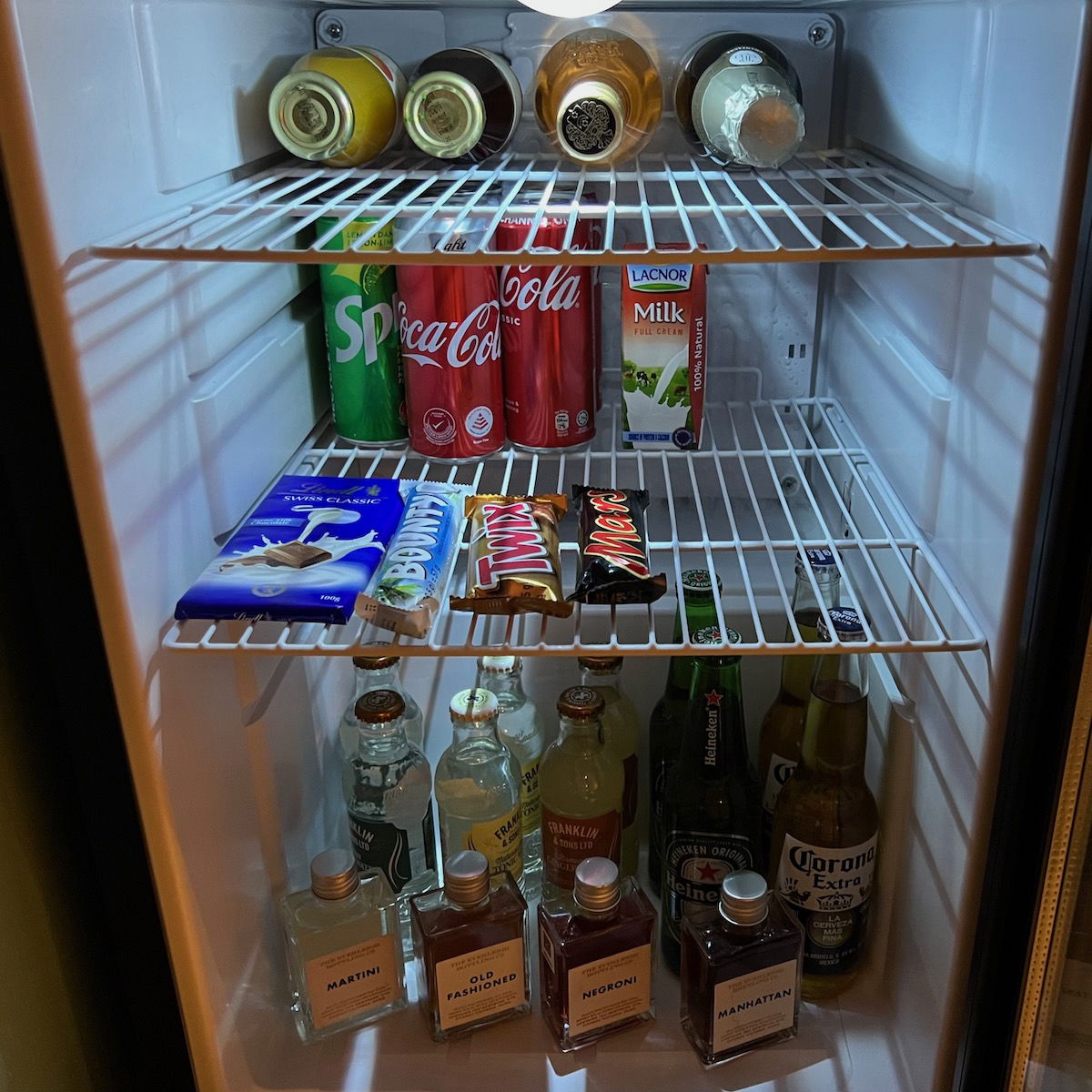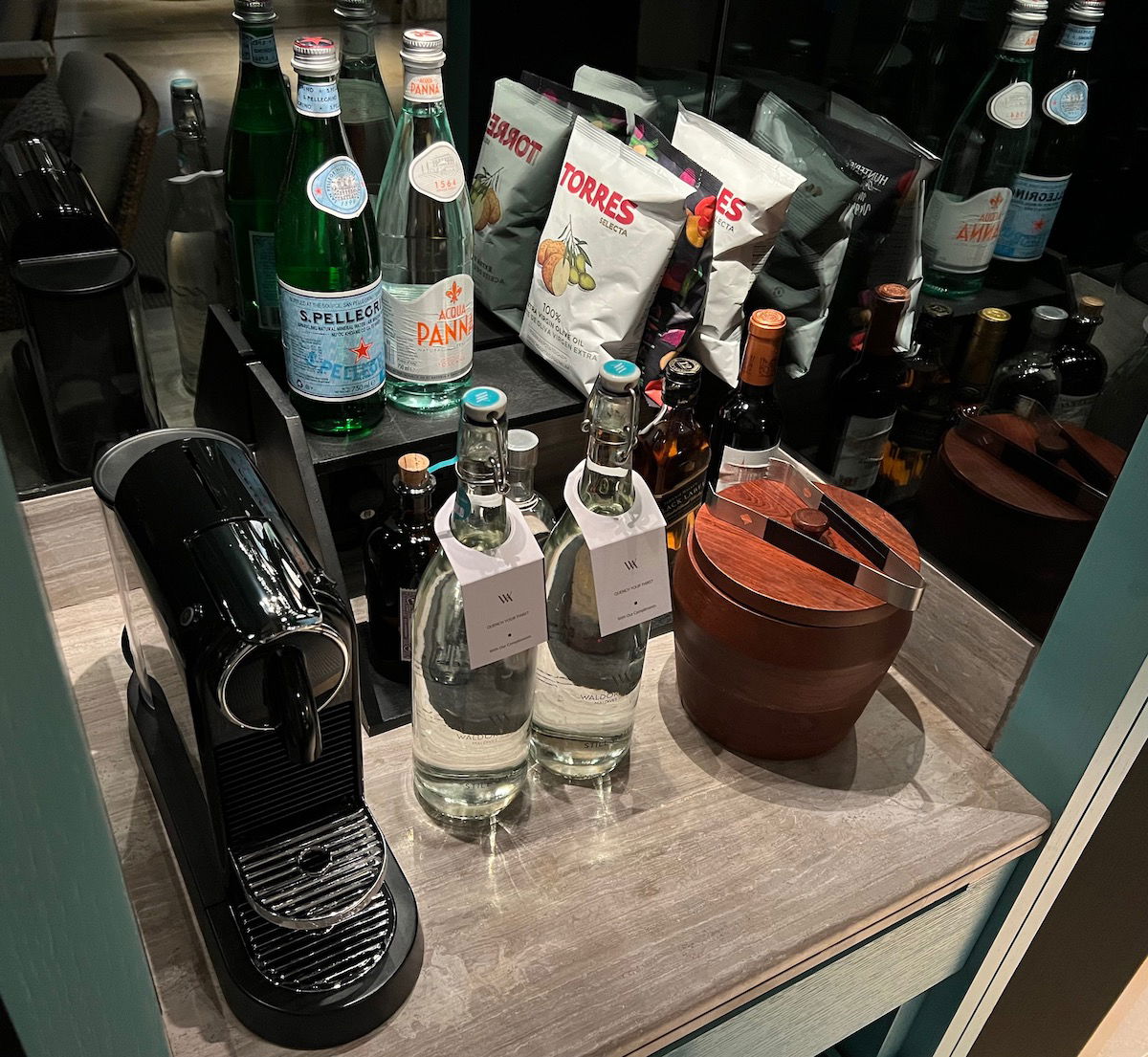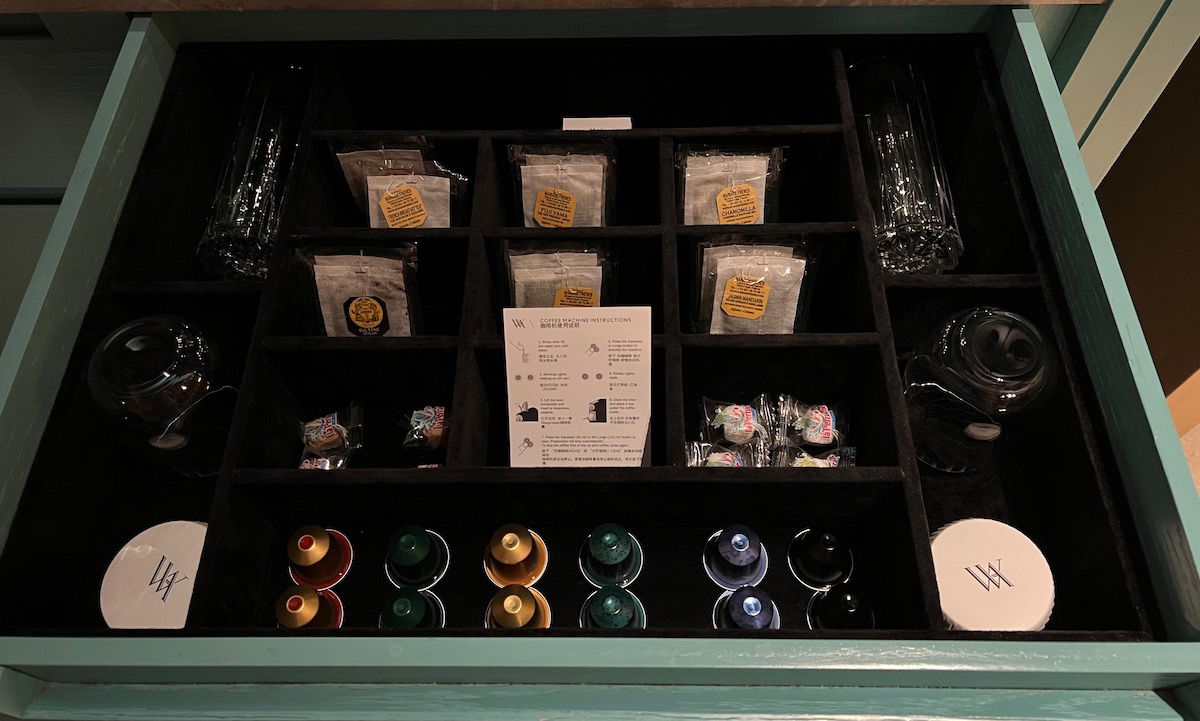 Waiting on the side table between the two chairs was a welcome amenity, consisting of a fruit plate, chocolates, and Louis Roederer Brut (which is generous when you consider the cost of alcohol in the Maldives).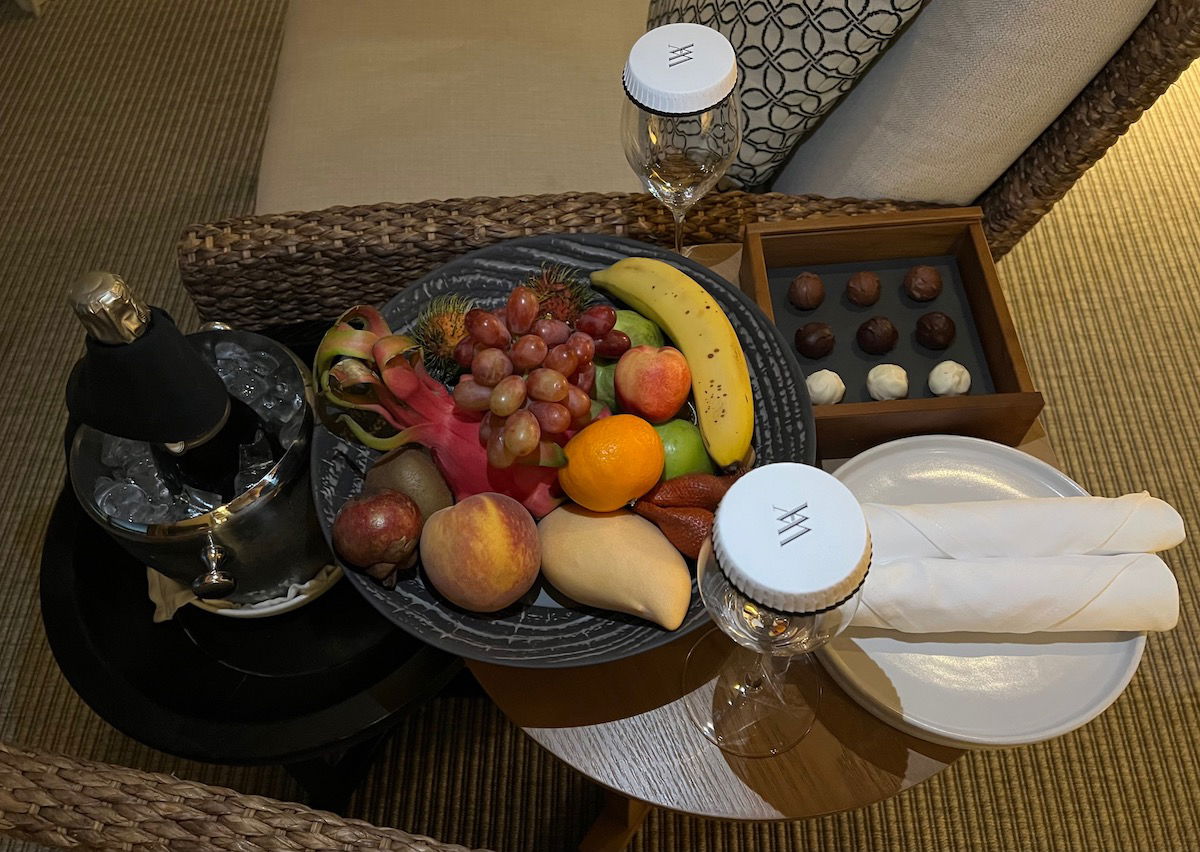 Well over half of the indoor villa space was dedicated to closets and the bathroom. Past the bedroom were two sets of closets on each side. There was a quirk whereby the lights inside the closets would only stay on for a couple of seconds when opening the doors, and would then turn off. I'm not sure if there was just a glitch in our room, or if the closets are for some reason programmed this way, but it didn't make much sense to me.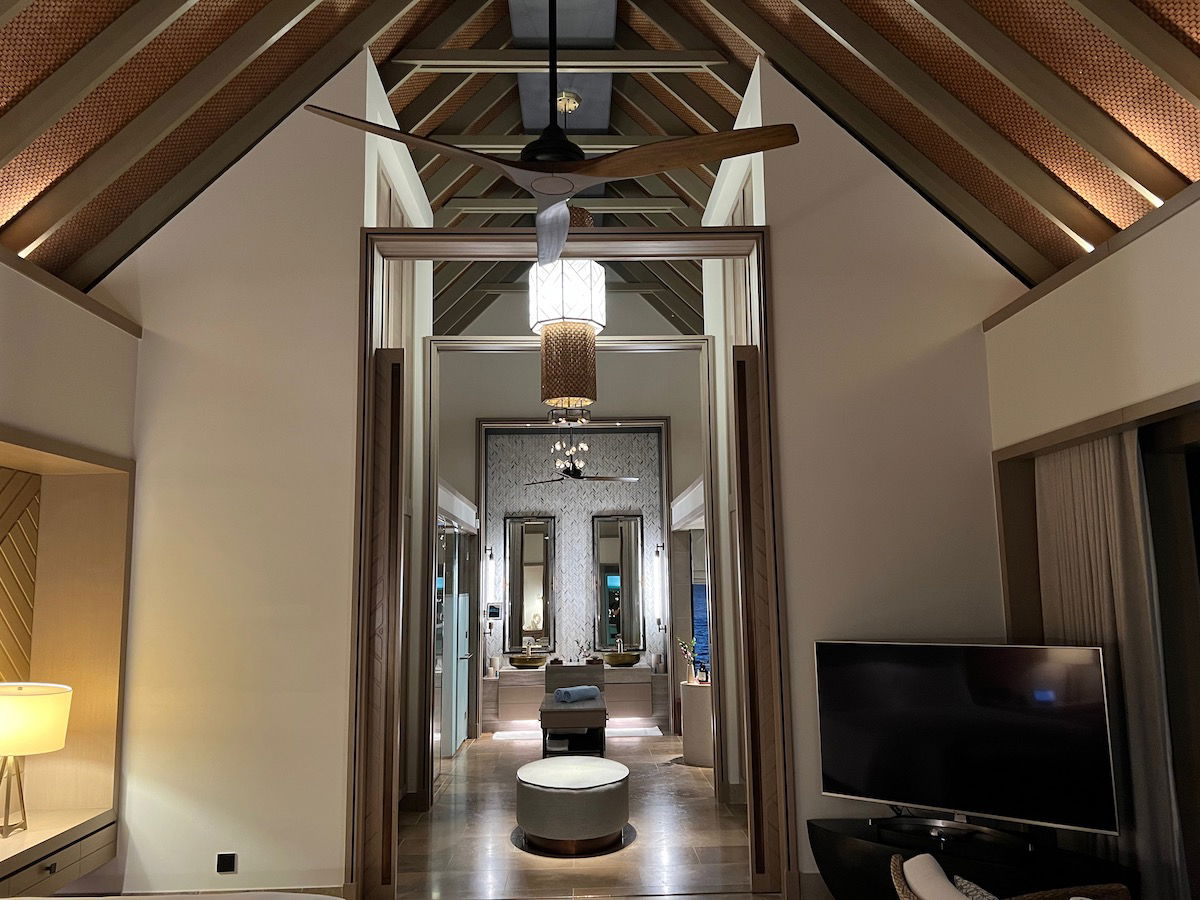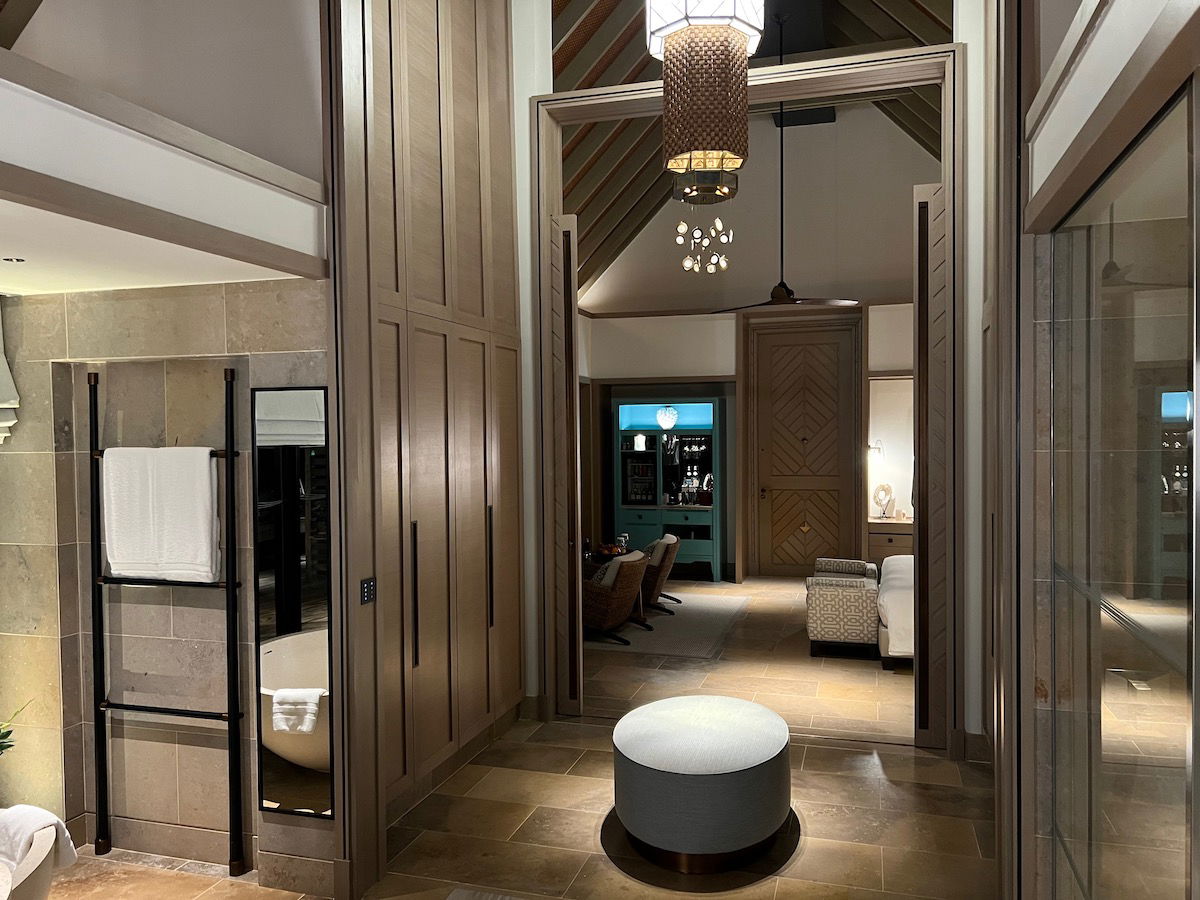 The bathroom included a huge walk-in shower, a bidet toilet, double sinks, and a soaking tub.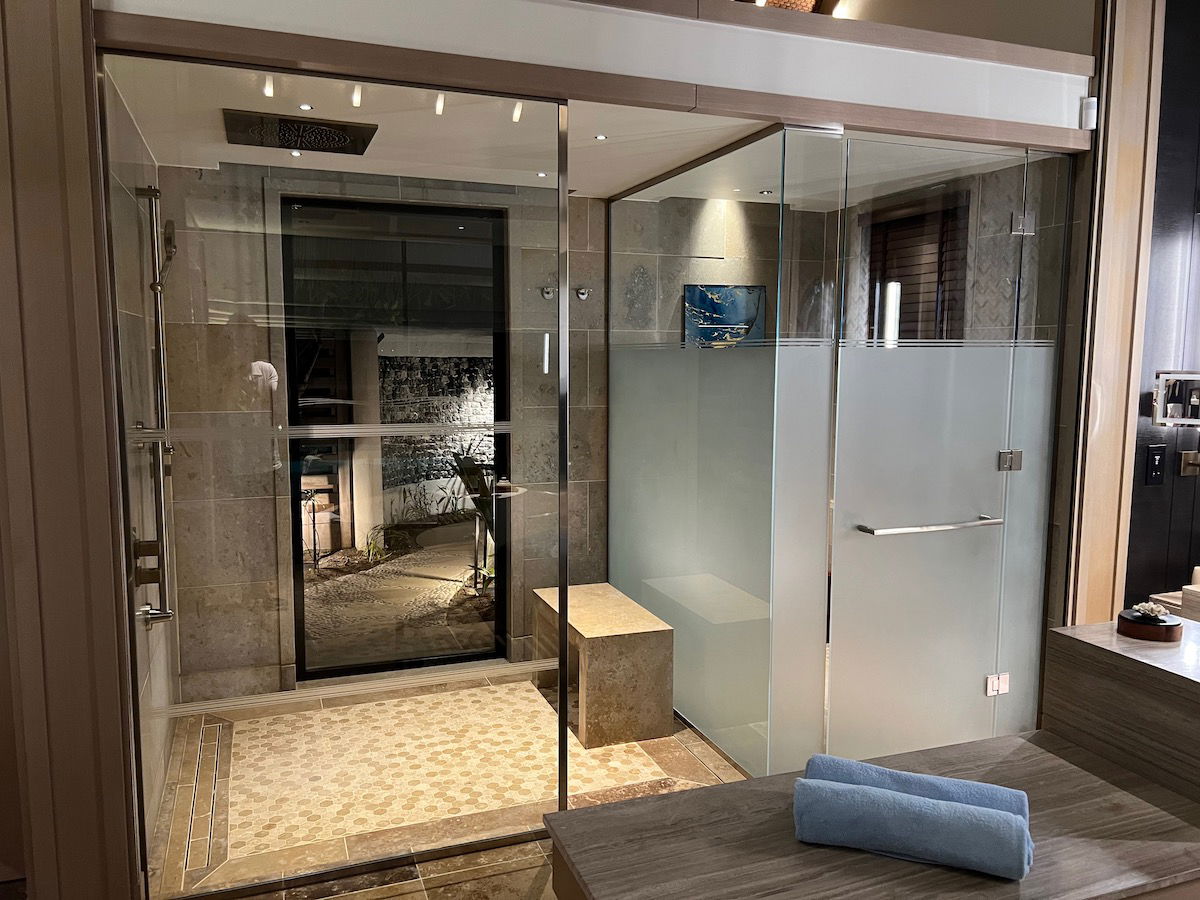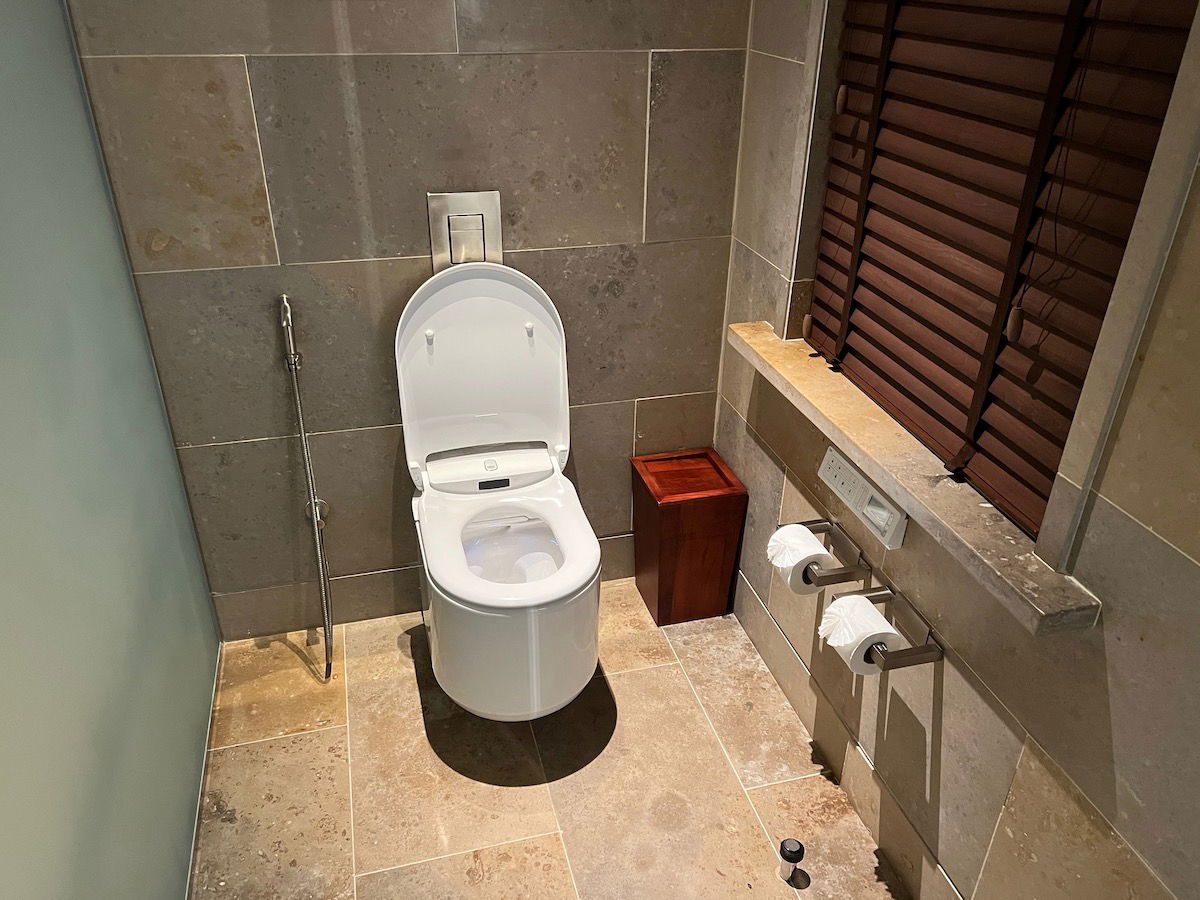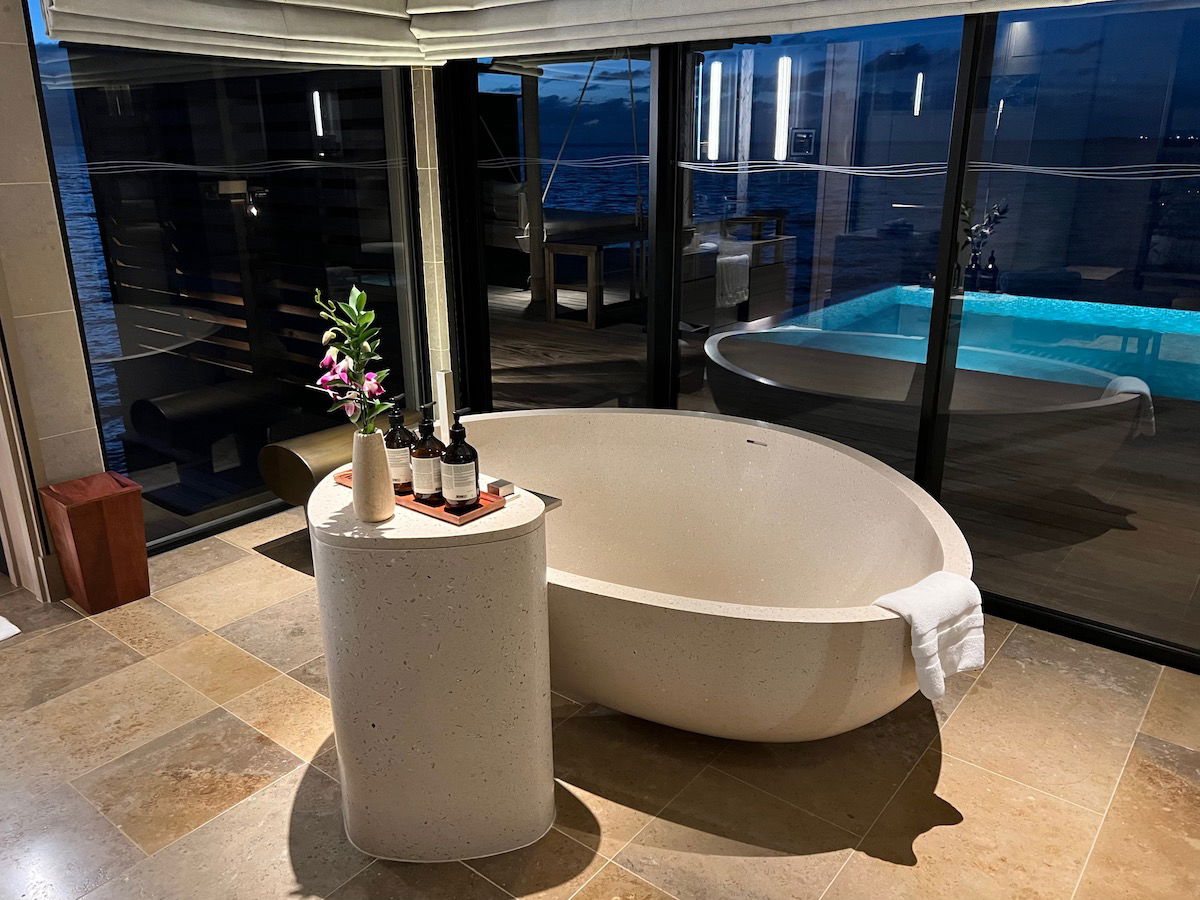 All toiletries were from Aesop (which I love), and were in easy-to-use reusable containers.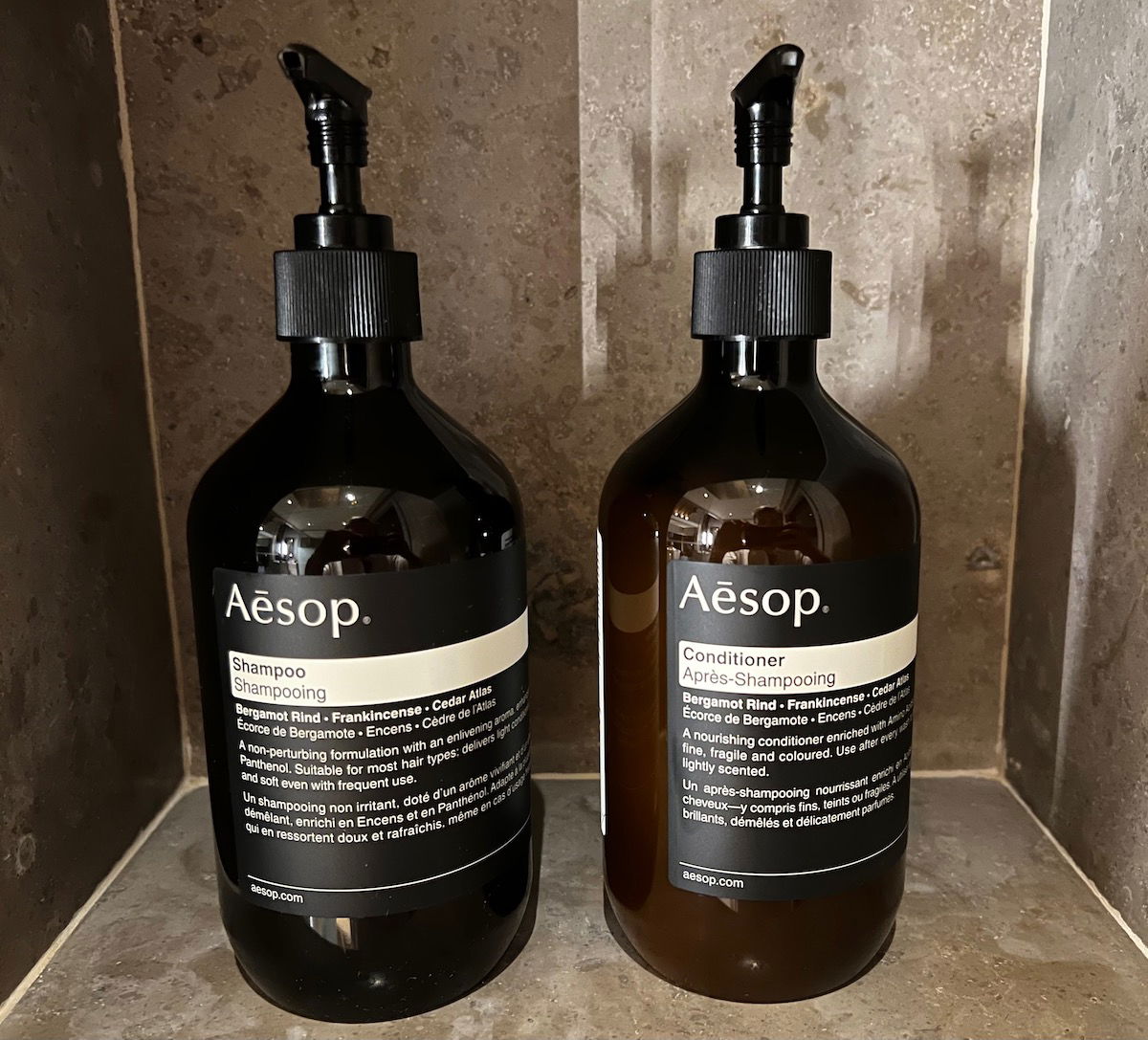 I let the hotel know in advance the name of the second guest, so I was pleased that there were two "his" containers with toiletries. It sounds obvious, but you'd be surprised how often that doesn't happen, and it's definitely noticed and appreciated.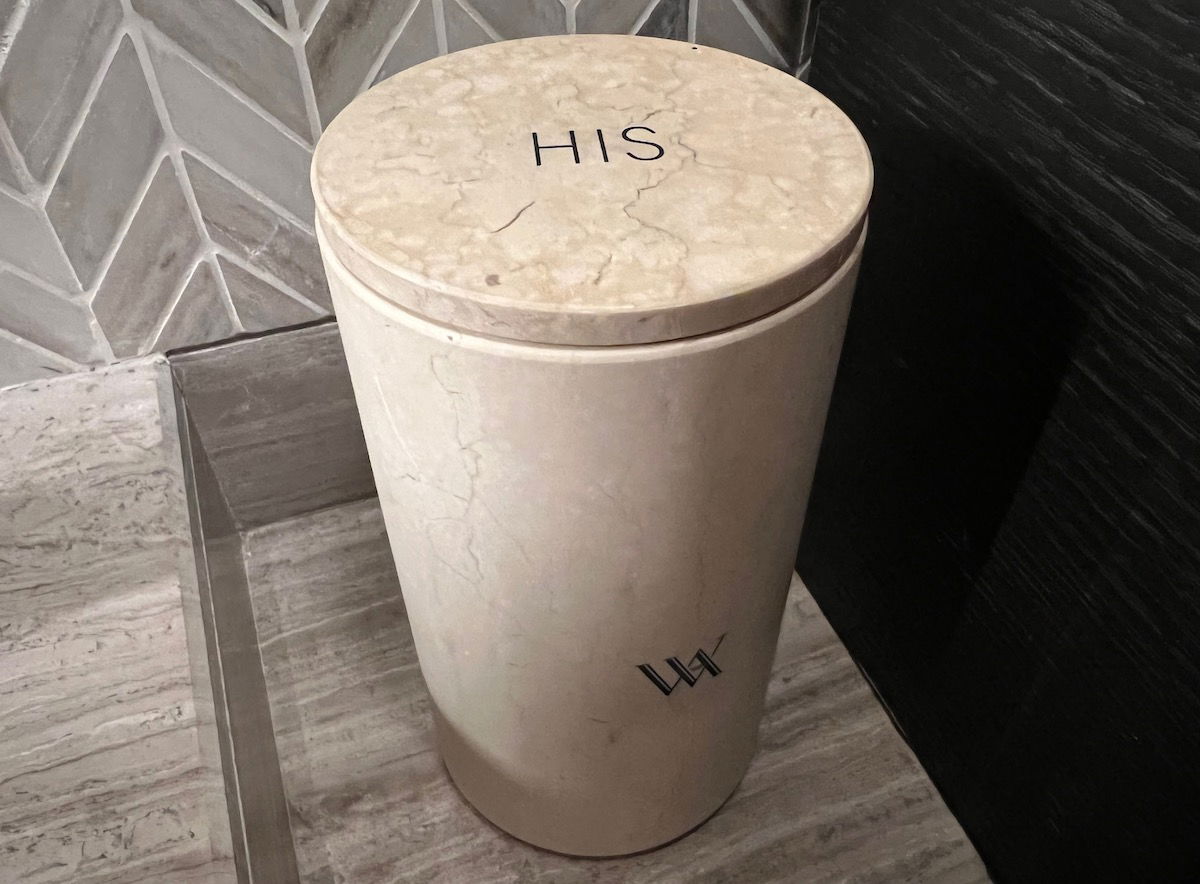 On the garden side of the villa was a large outdoor shower, which could be accessed by walking through the main shower.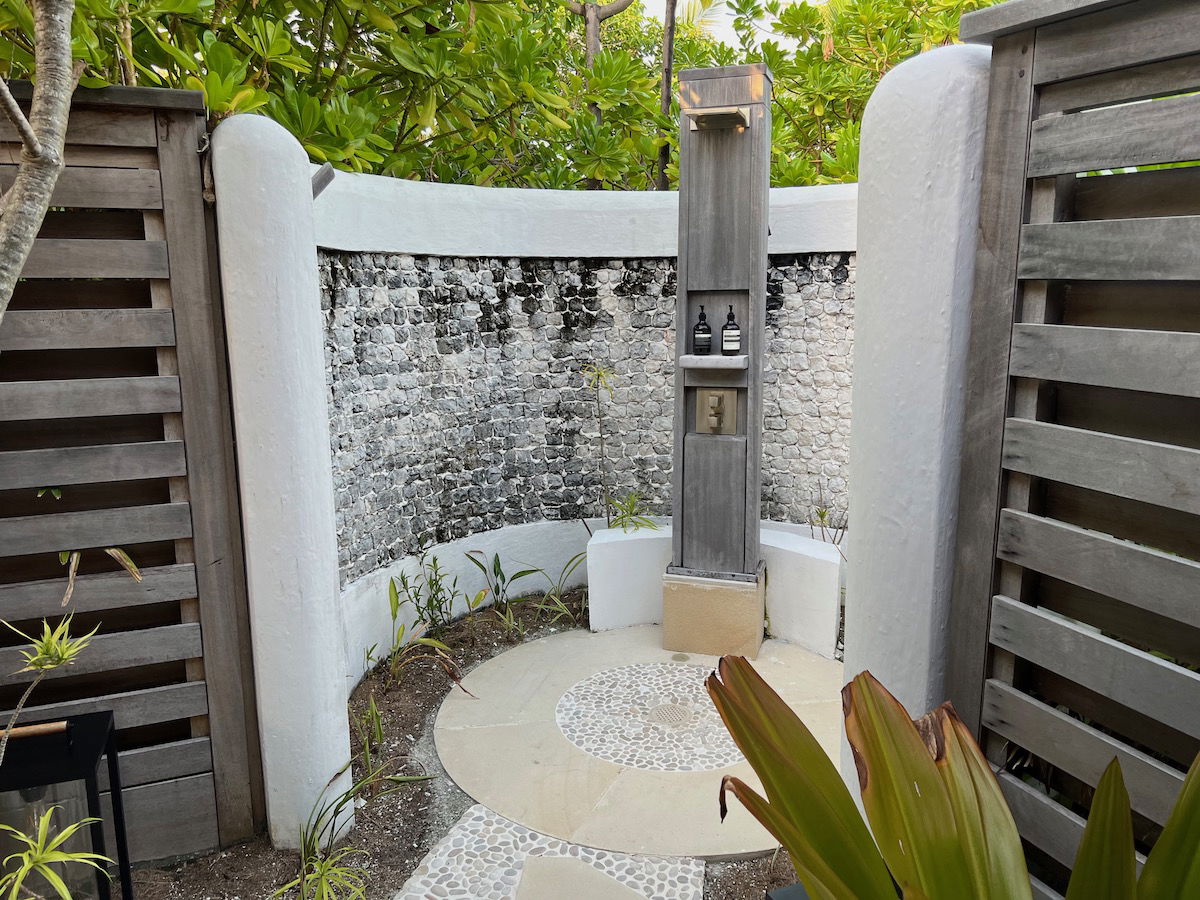 The highlight of the villa was the outdoor space. In addition to there being a sizable private pool, I particularly appreciated the variety of furniture options plus the covered spaces, which made the outdoor space a great place to hang out.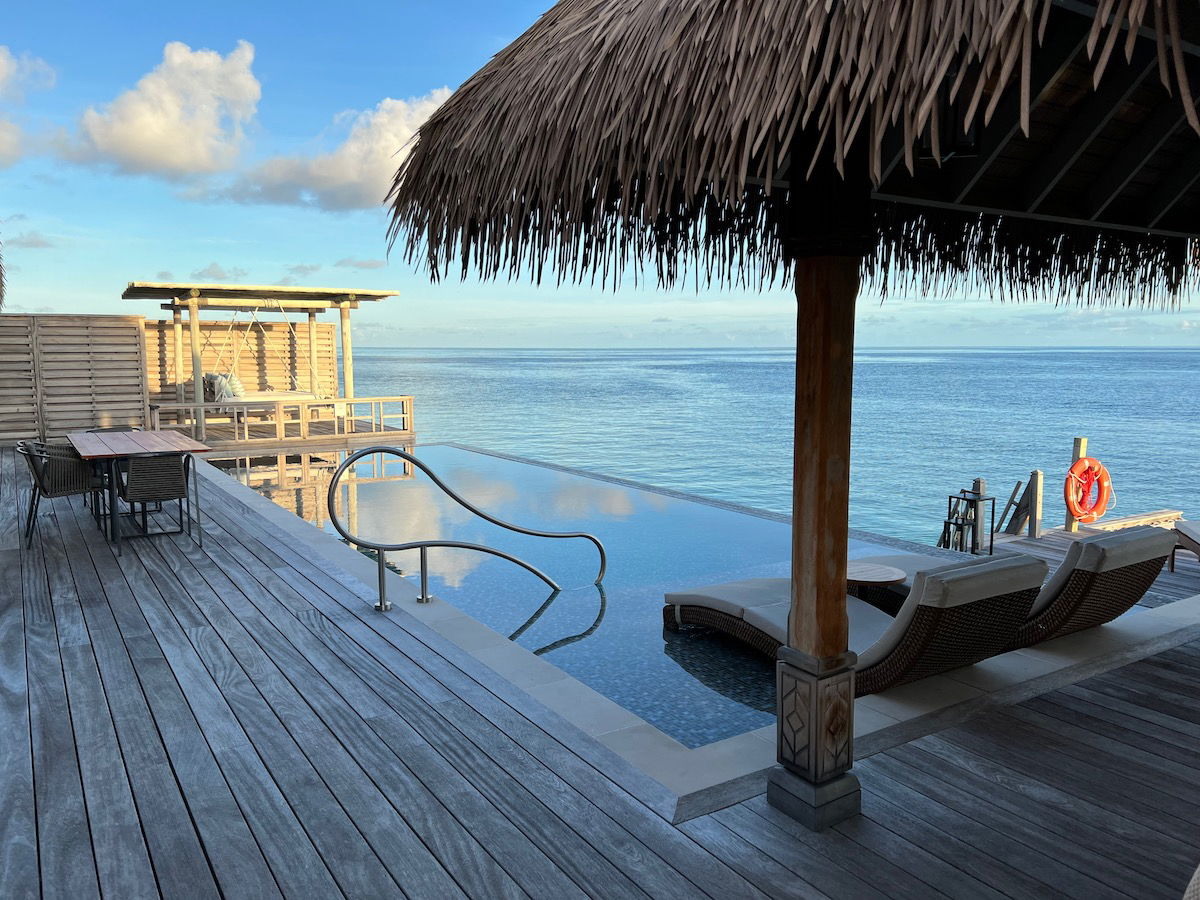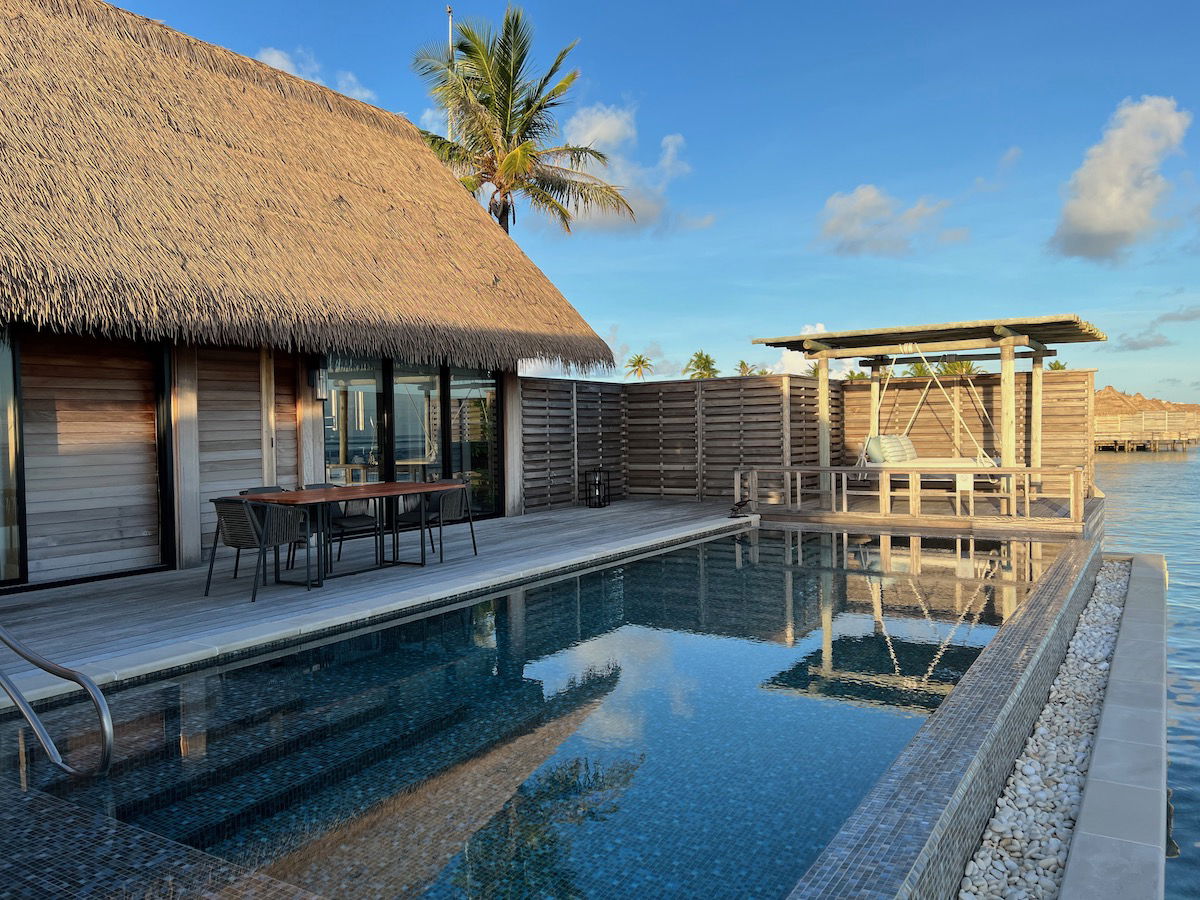 The furniture was truly endless, from two lounge chairs at the end of the pool, to two swinging daybeds, to a dining table that can seat four, to another dining table with two seats, to a sitting area with two seats, to two loungers down on the dock by the ocean, to two "nets" you can relax in.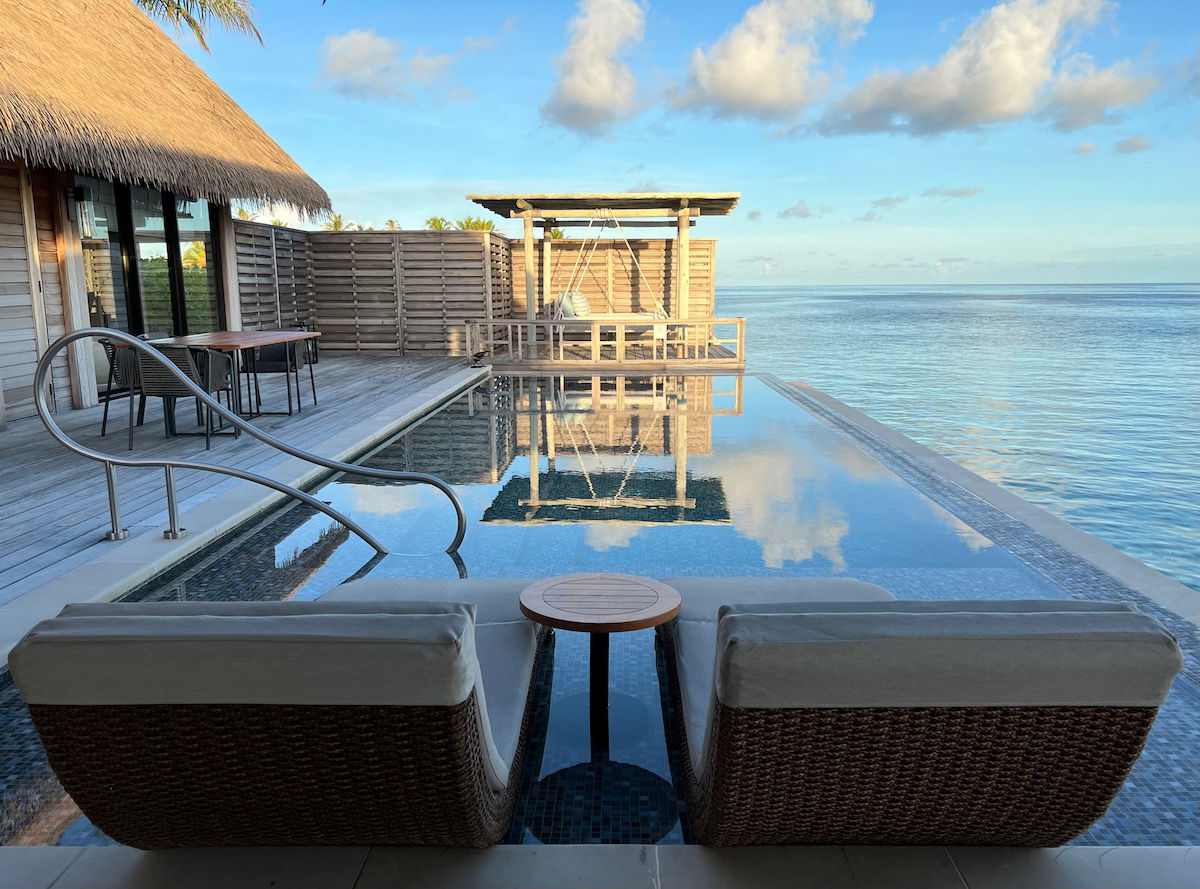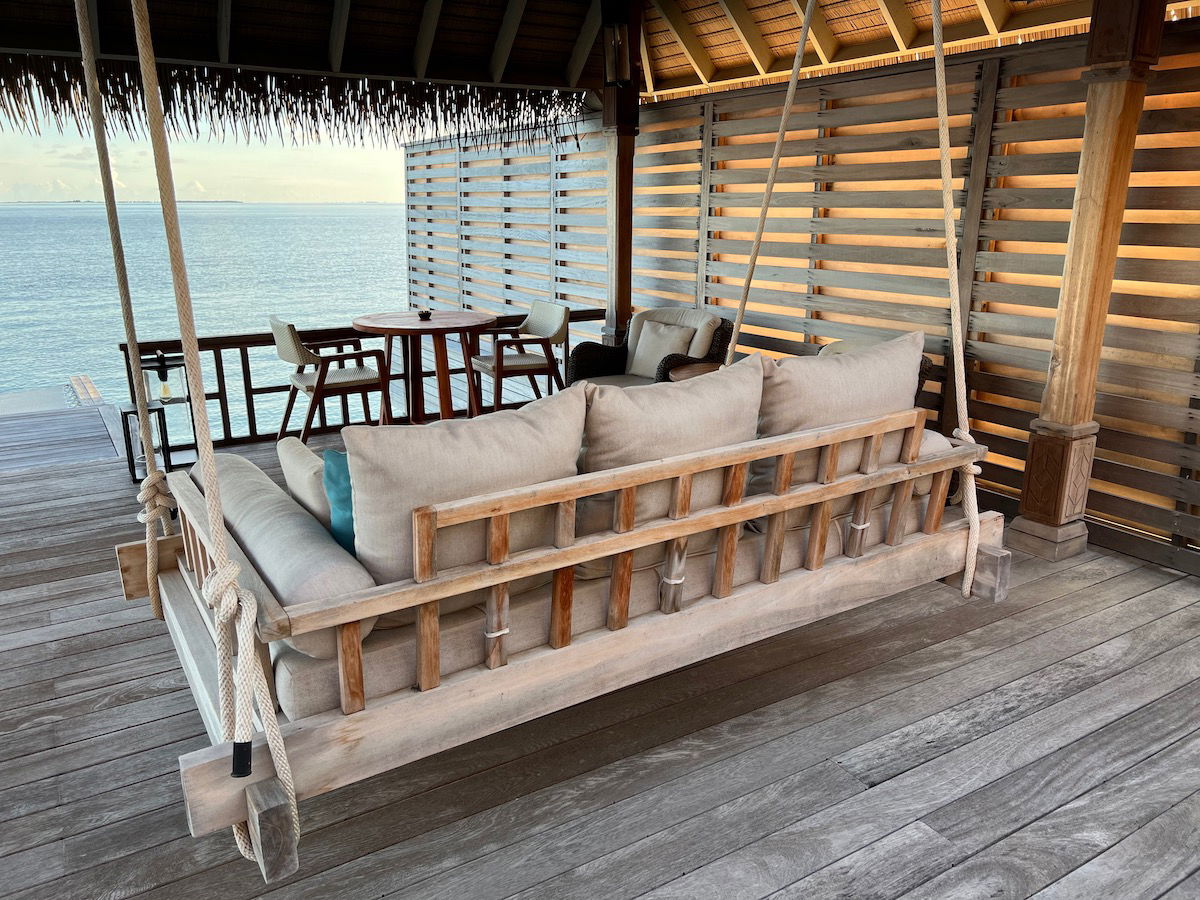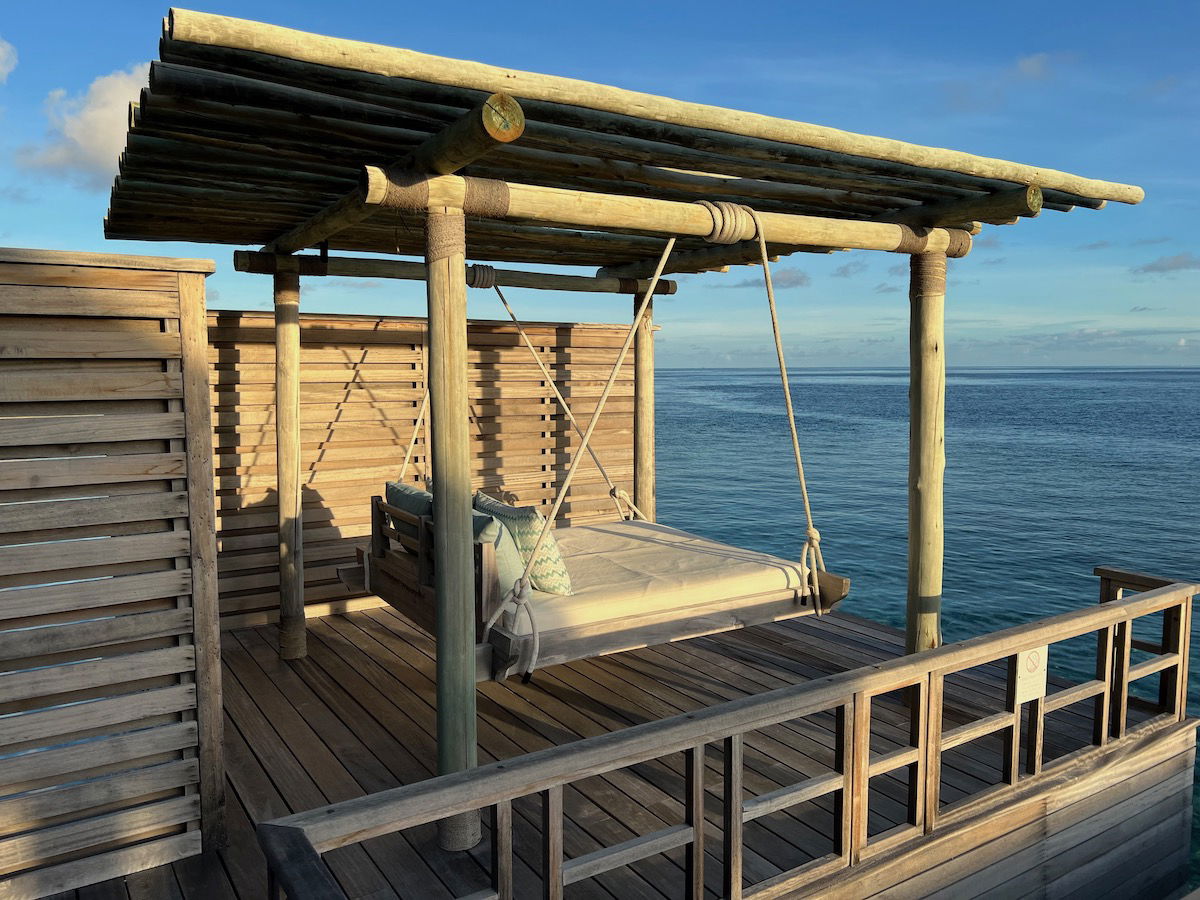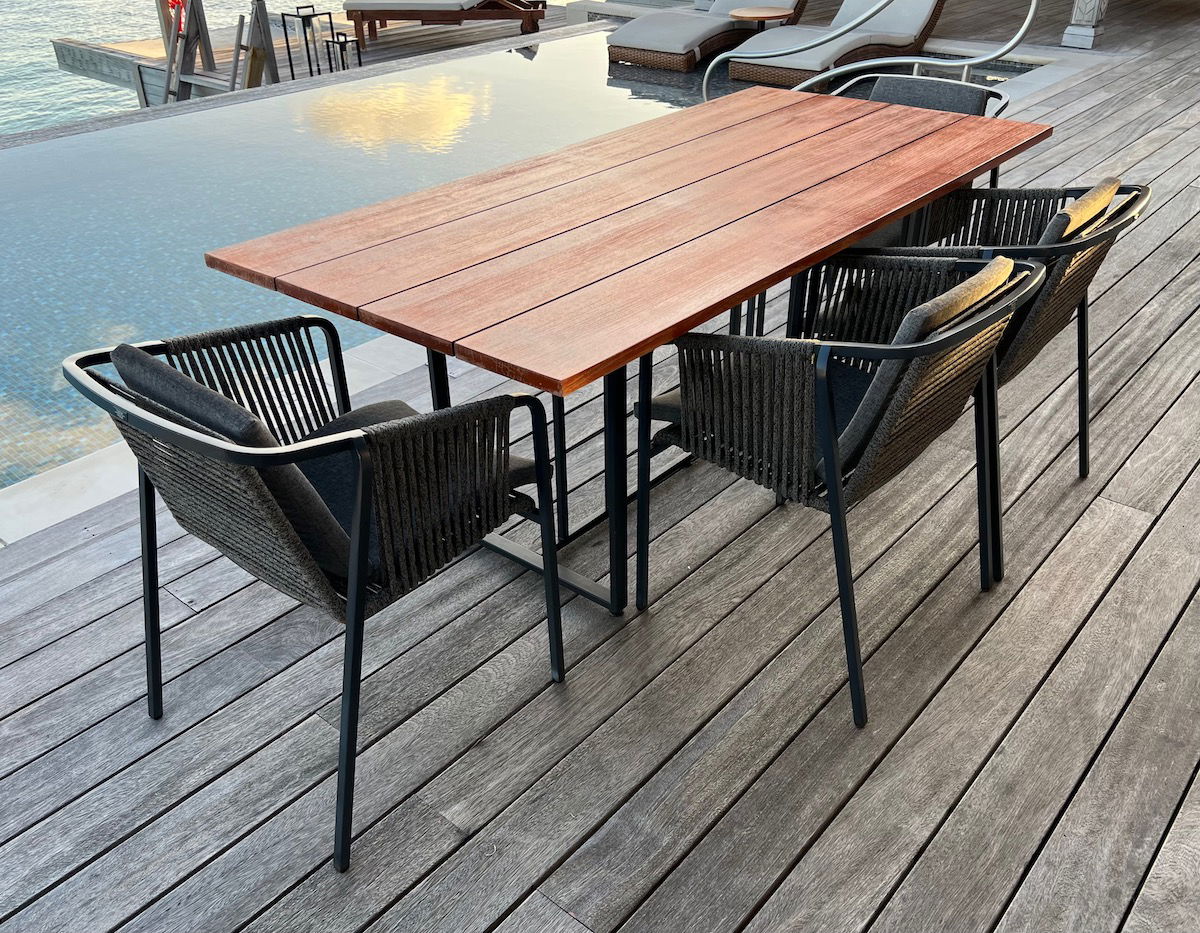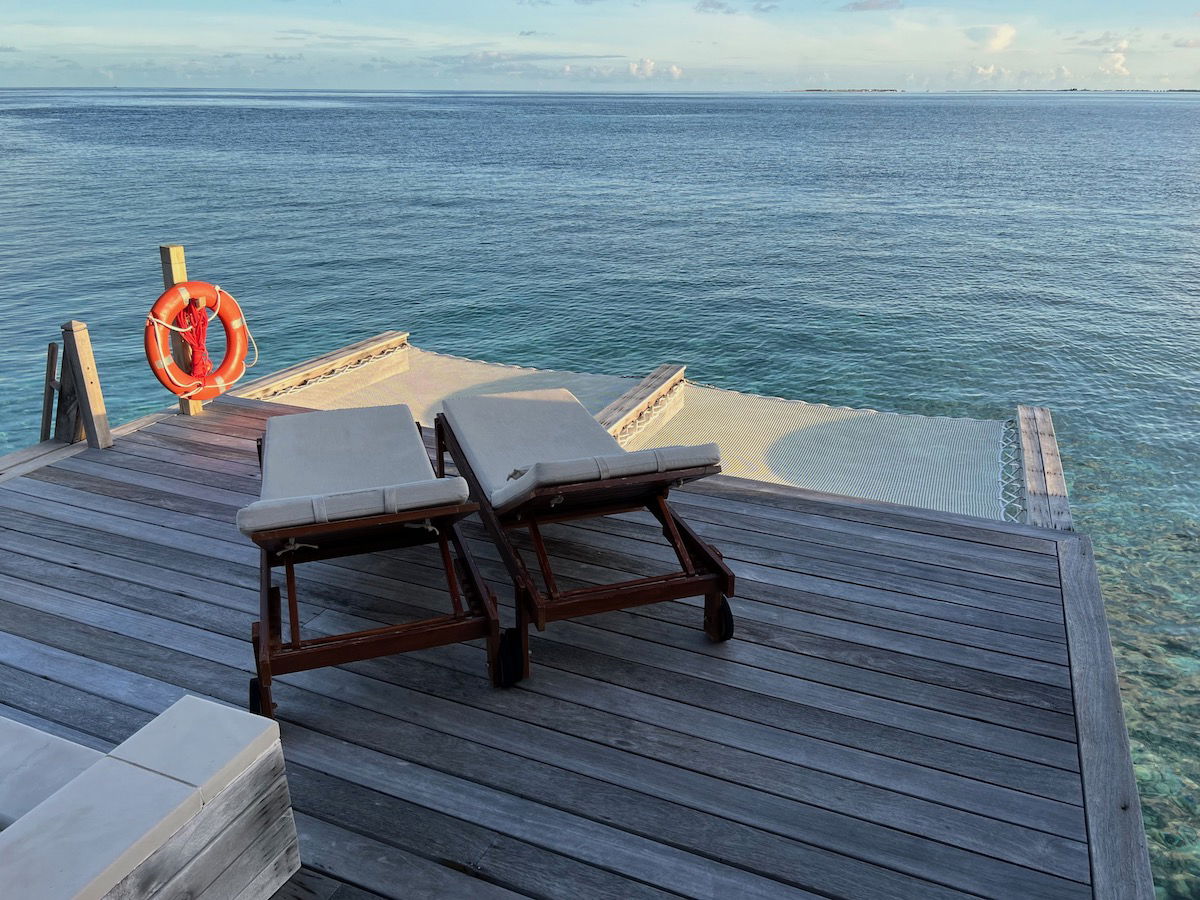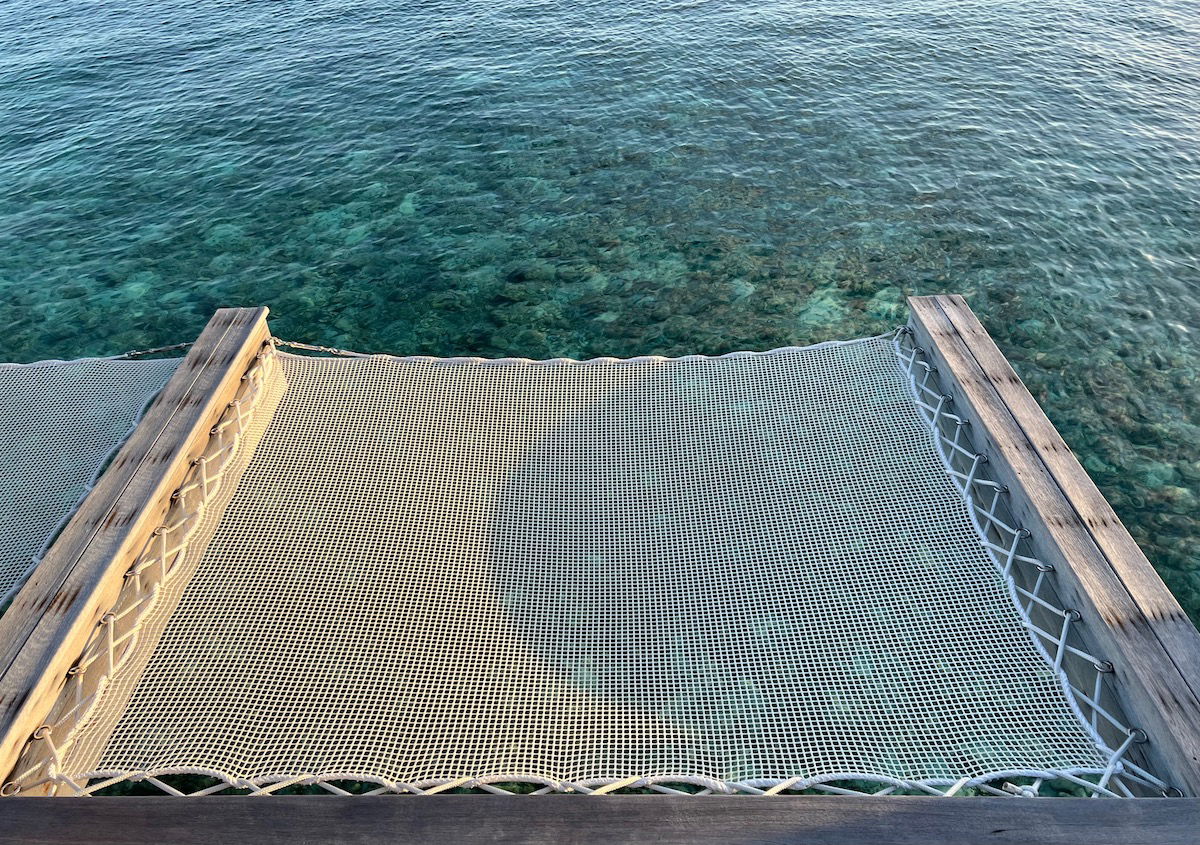 There were also stairs leading directly into the ocean.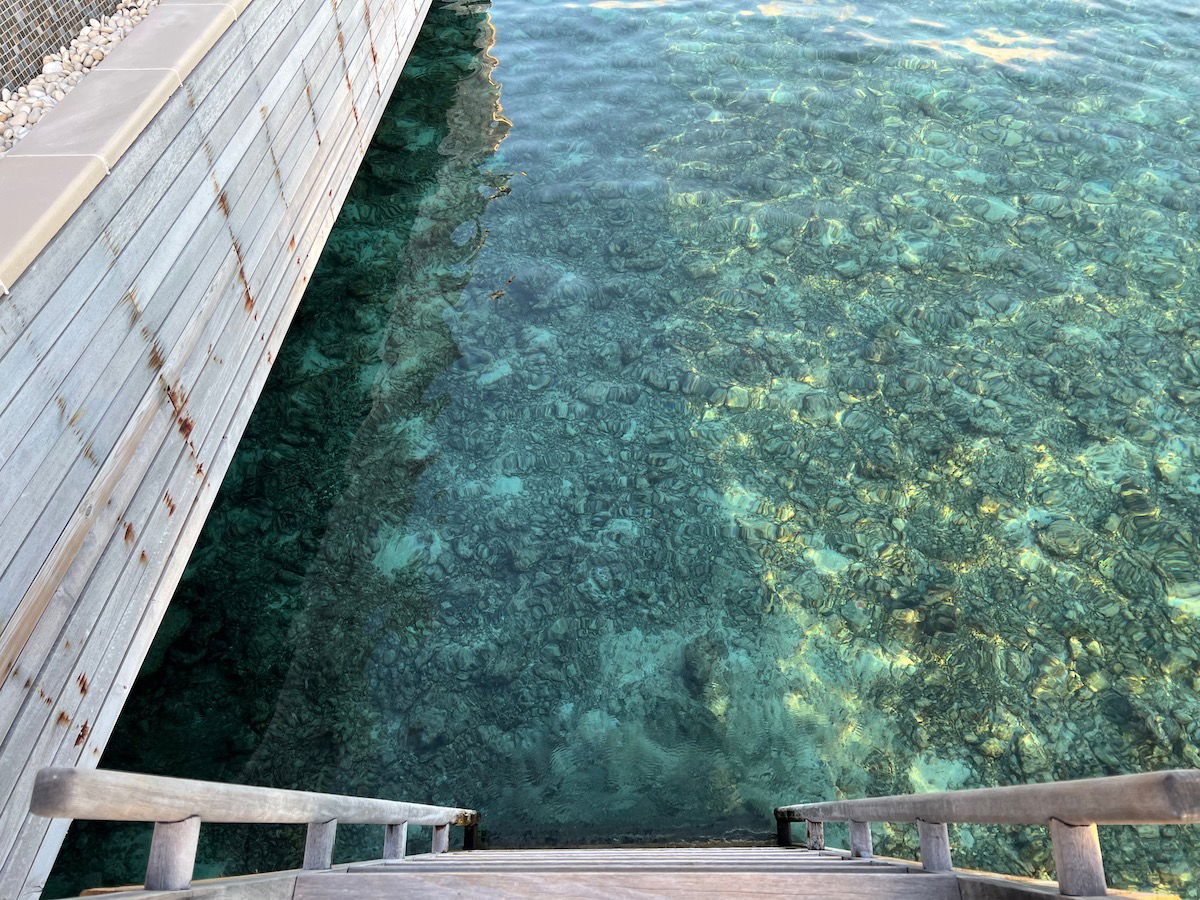 For those wondering if the distance of the resort from Male is noticeable or problematic, I didn't find it to be an issue at all. Below is a picture with Male in the distance from our deck, to give you a sense of the distance. Since I had never stayed so close to Male before, I kind of enjoyed having a view of something, and there were no issues in terms of boat traffic, noise, etc.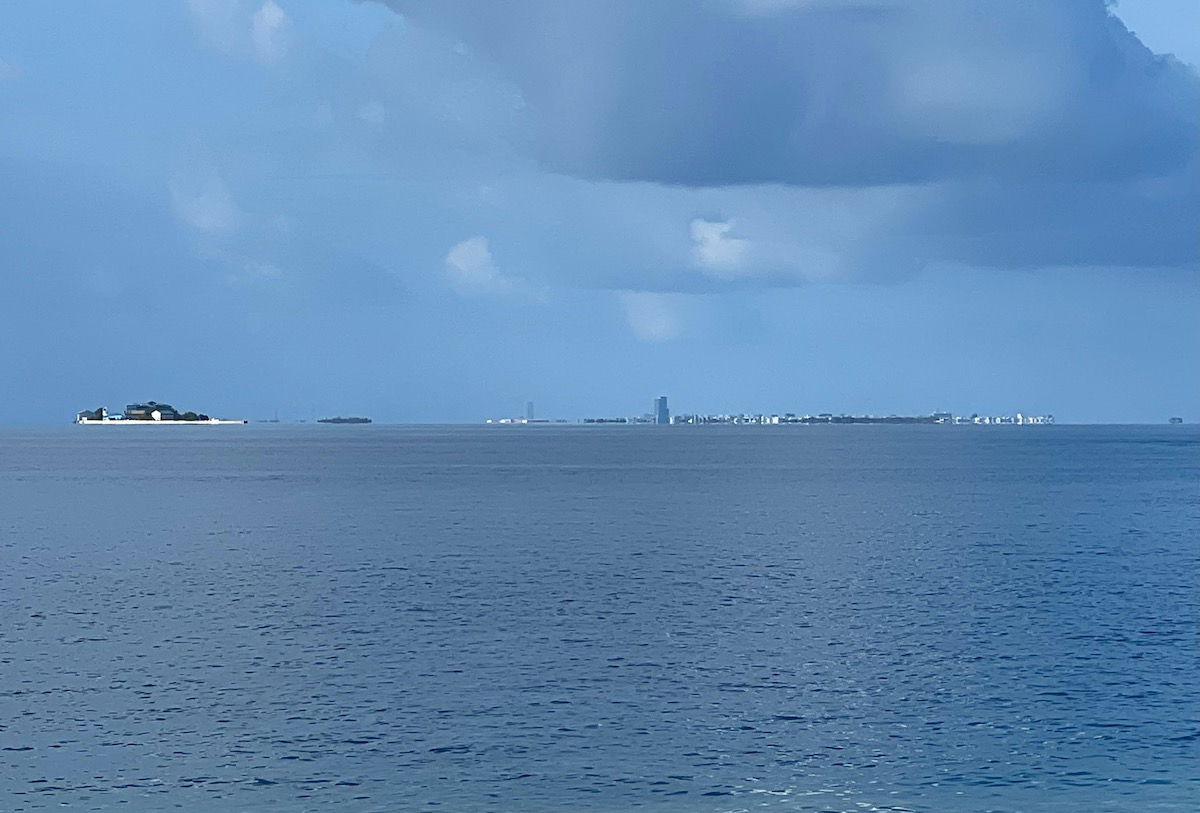 All things considered I thought our room was awesome. This is simply an incredible Hilton Honors redemption. A few notes and thoughts, though:
The entry level rooms here lack a proper separate seating area, though the more premium accommodations (with "grand" in the name) do have these; you can typically pay to upgrade, and I could see the value in that if you're traveling with kids and want a bit more privacy, but we found it unnecessary
I absolutely loved the outdoor space of this villa, and thought it was exceptionally well done
This might sound silly (and admittedly is very subjective), but there was something about the villa's design that made me feel more like I was in Bali than the Maldives
Waldorf Astoria Maldives amenities & facilities
More than in other destinations, the Maldives is a place where guests often spend a disproportionate amount of time in their rooms. After all, villas are often overwater, and are huge, with private pools. Nonetheless the Waldorf Astoria Maldives has a lot to offer when you're not in your room as well. So let's talk about some of the property's facilities.
Waldorf Astoria Maldives pools & beach
The Waldorf Astoria has two shared pools, which I almost never saw anyone using. There was a shared family pool, which was massive, and had a cool design with an infinity-edge.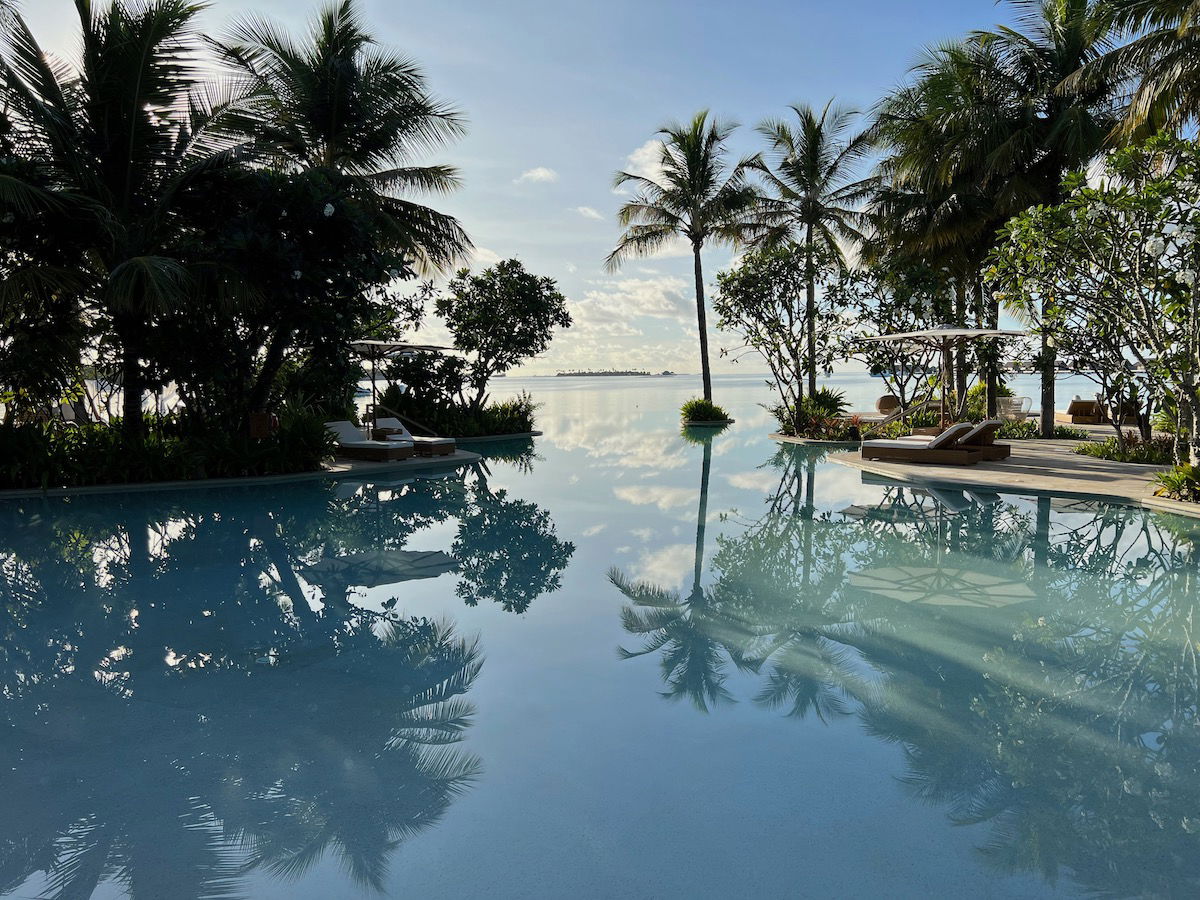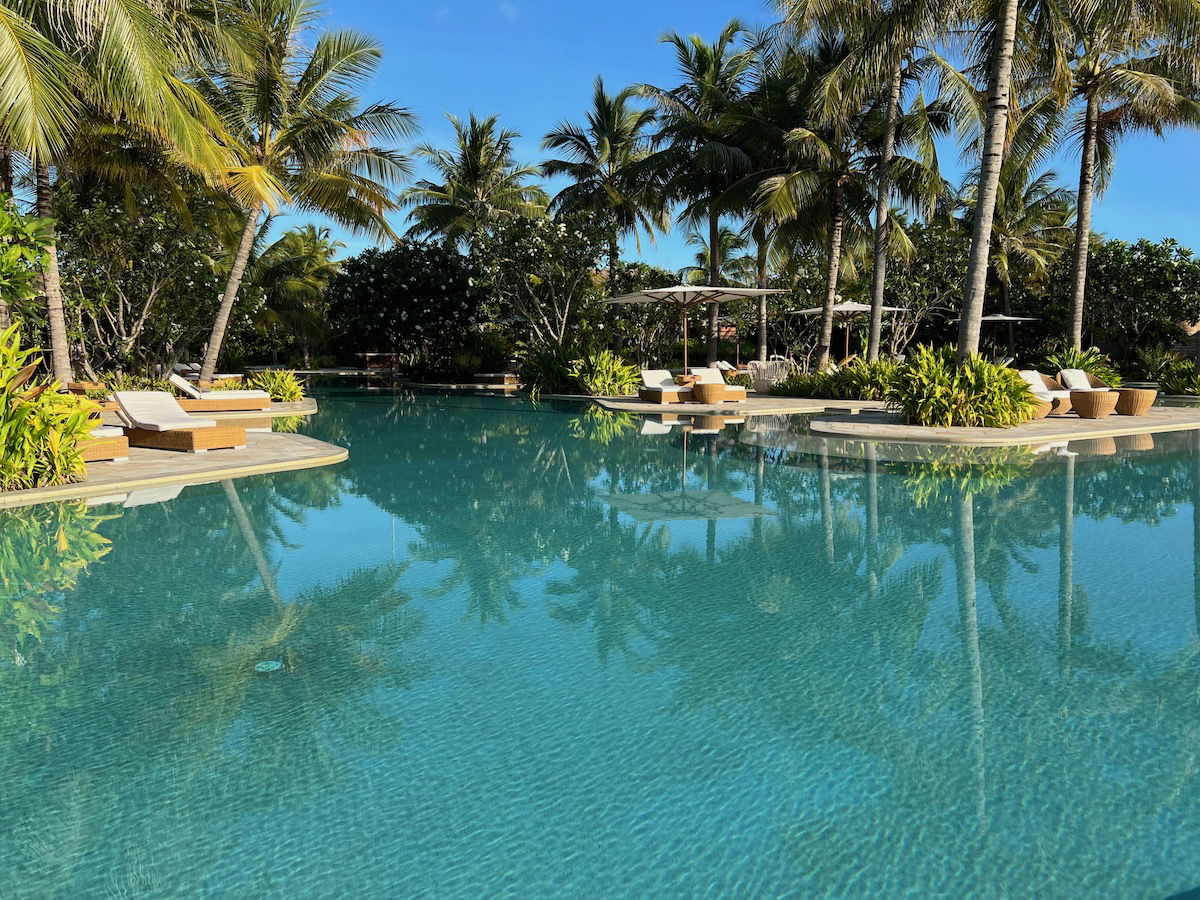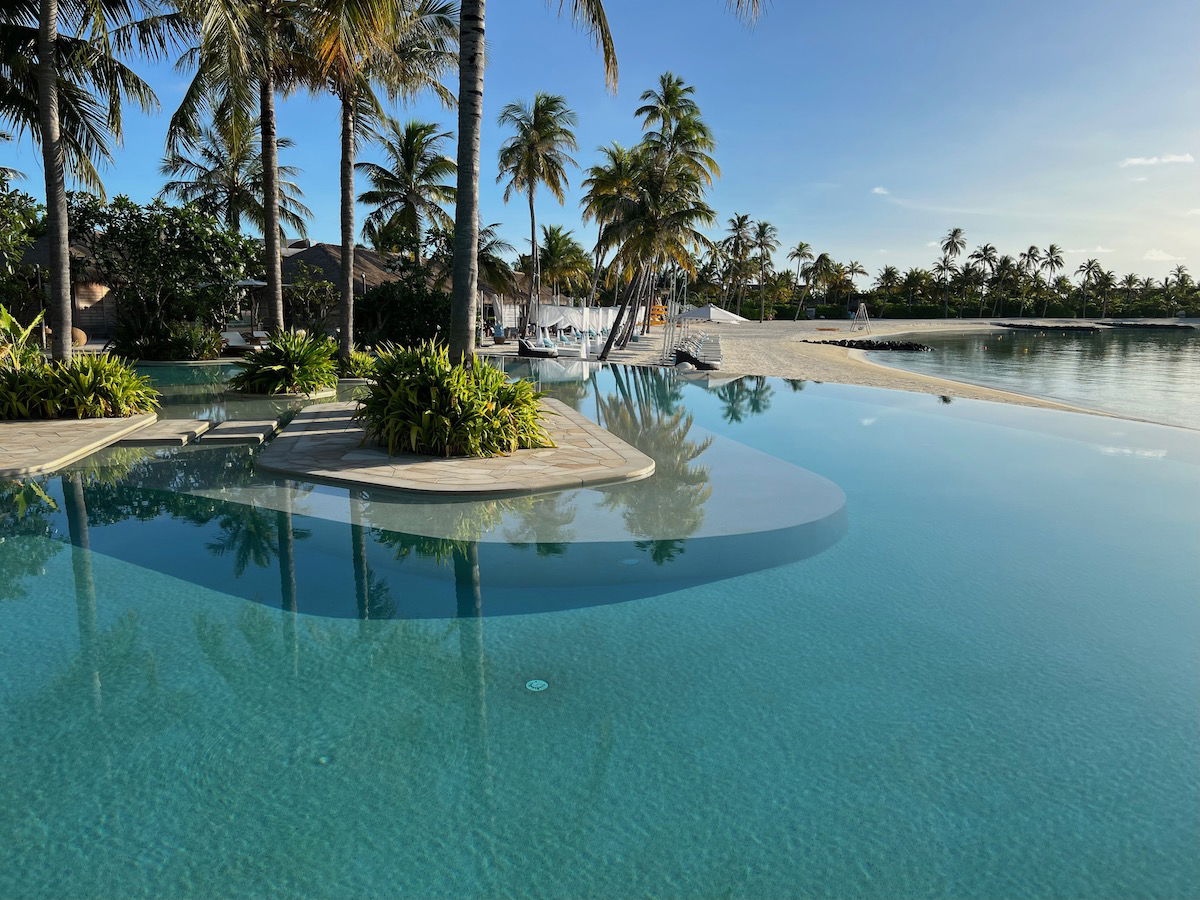 Next to that was a pool exclusively for adults, which had a different but equally cool design.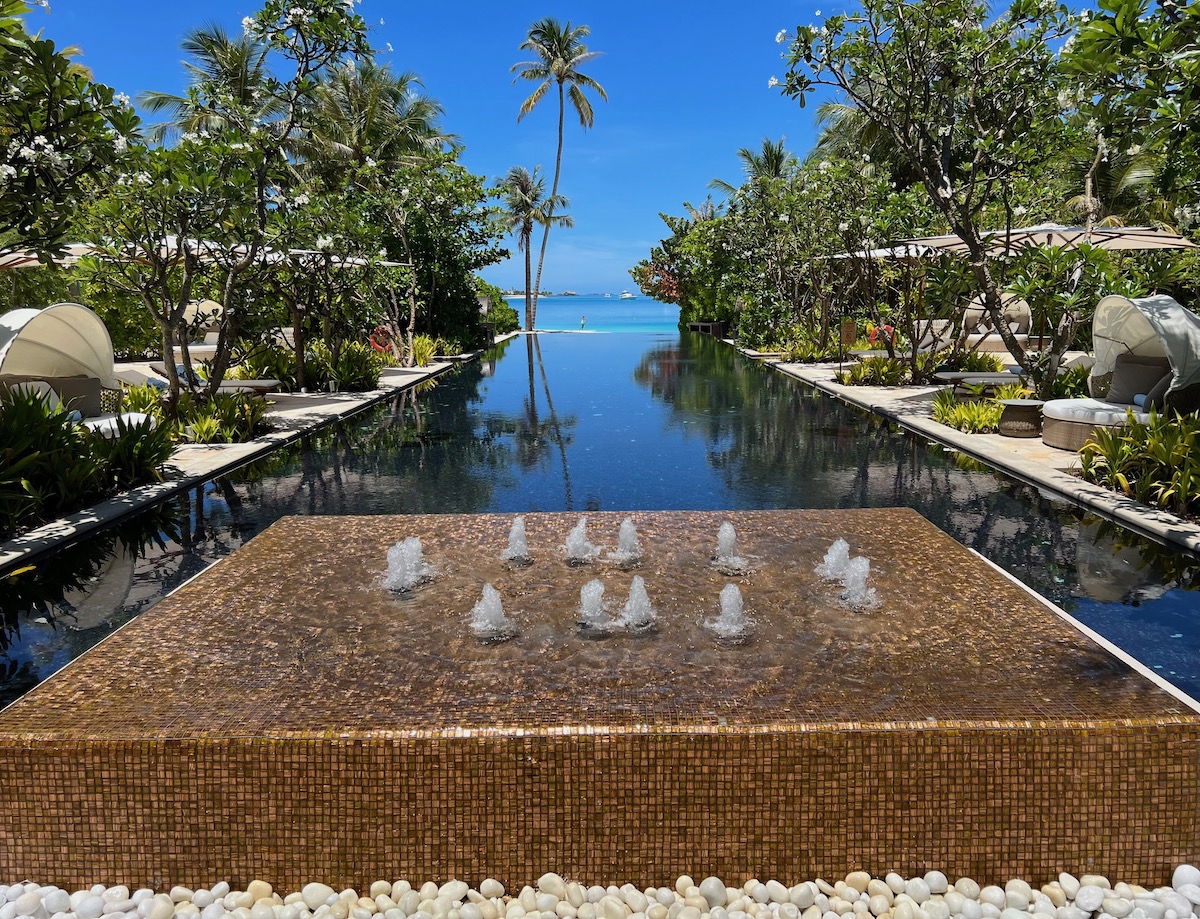 The resort also has one main large beach area. Many resorts in the Maldives don't have a "proper" beach, so it's cool that the Waldorf Astoria offers this. The water was calm and sand was powdery, and there was plenty of seating with service from the nearby restaurant.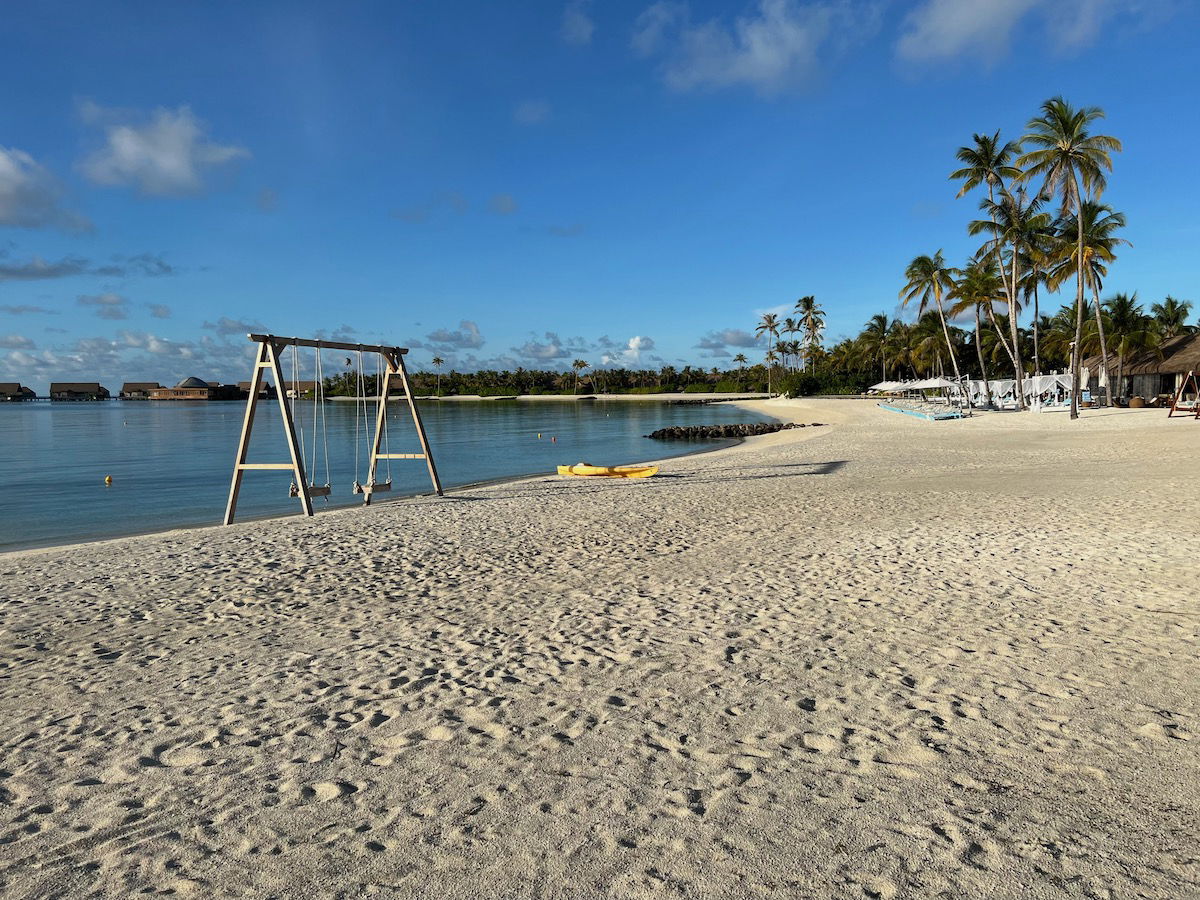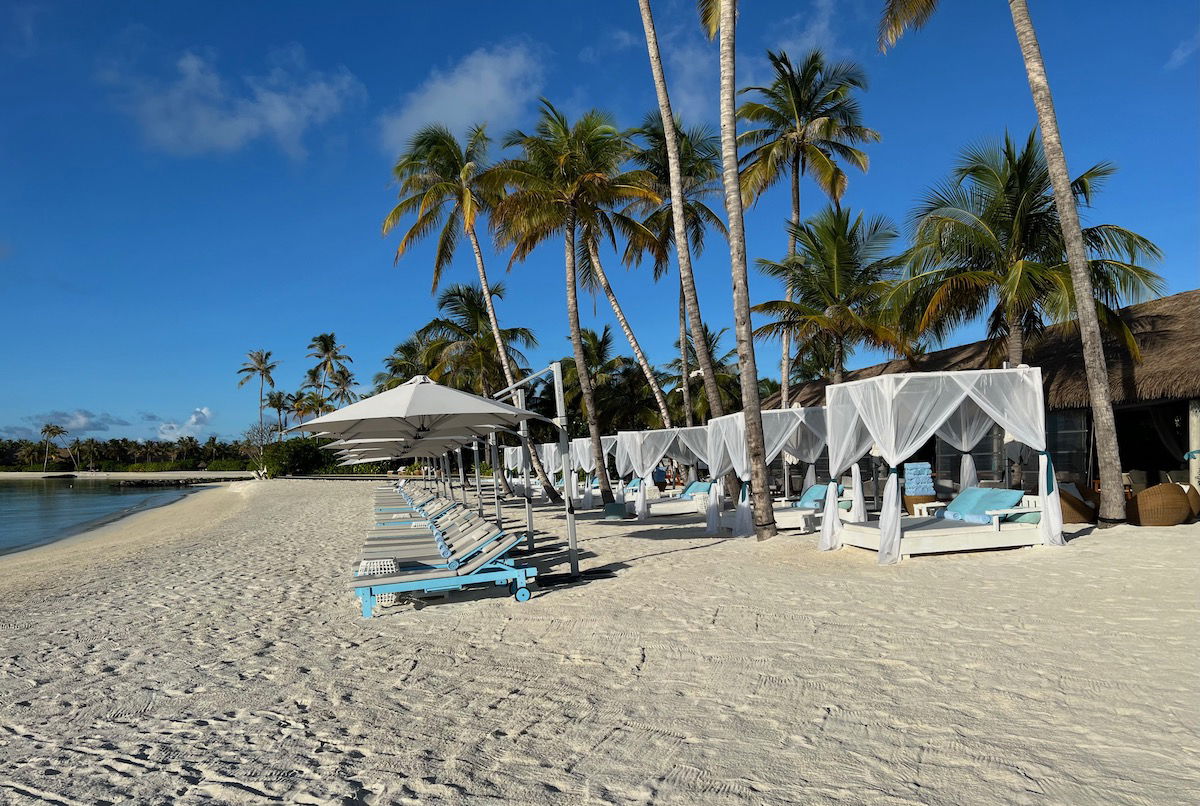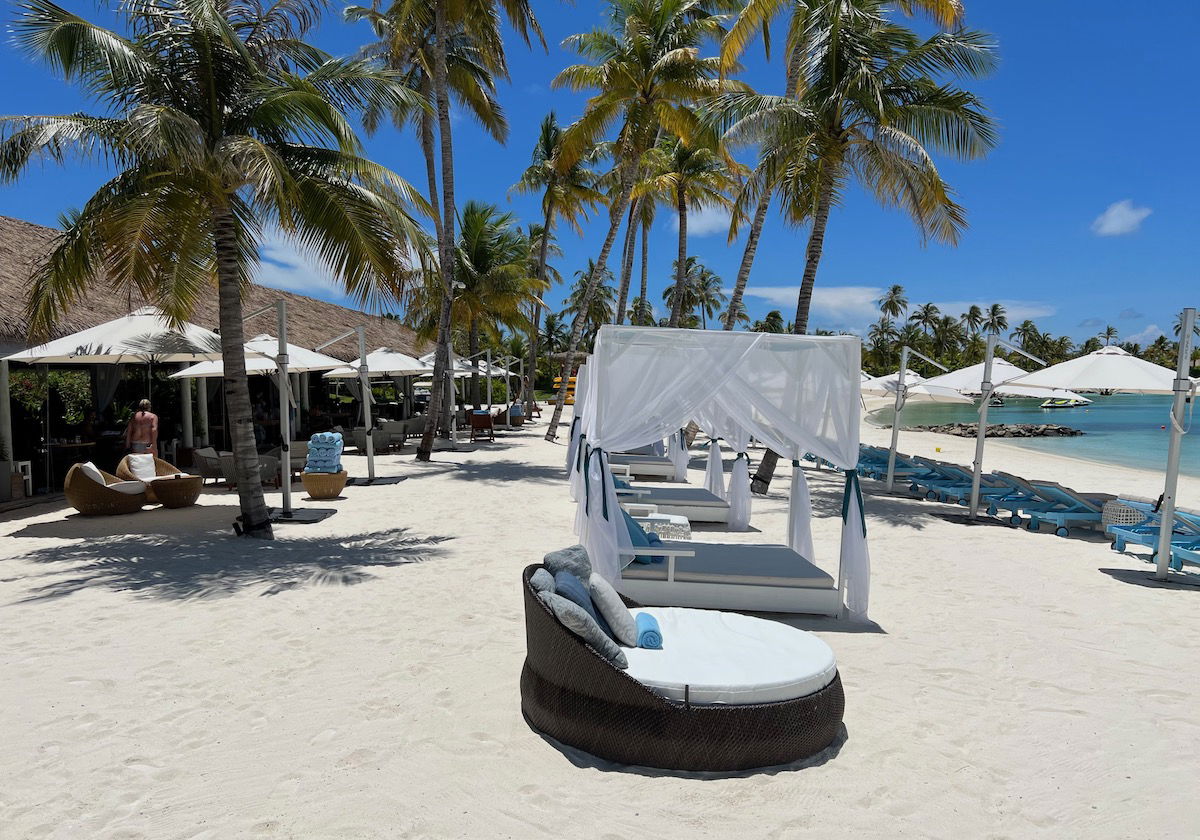 This is also where the water sports were located, and there were lots to choose from. You can find the water sports menu here — as you can see, kayaks, paddle boats, and stand-up paddle boarding, are complimentary, while most other options are chargeable.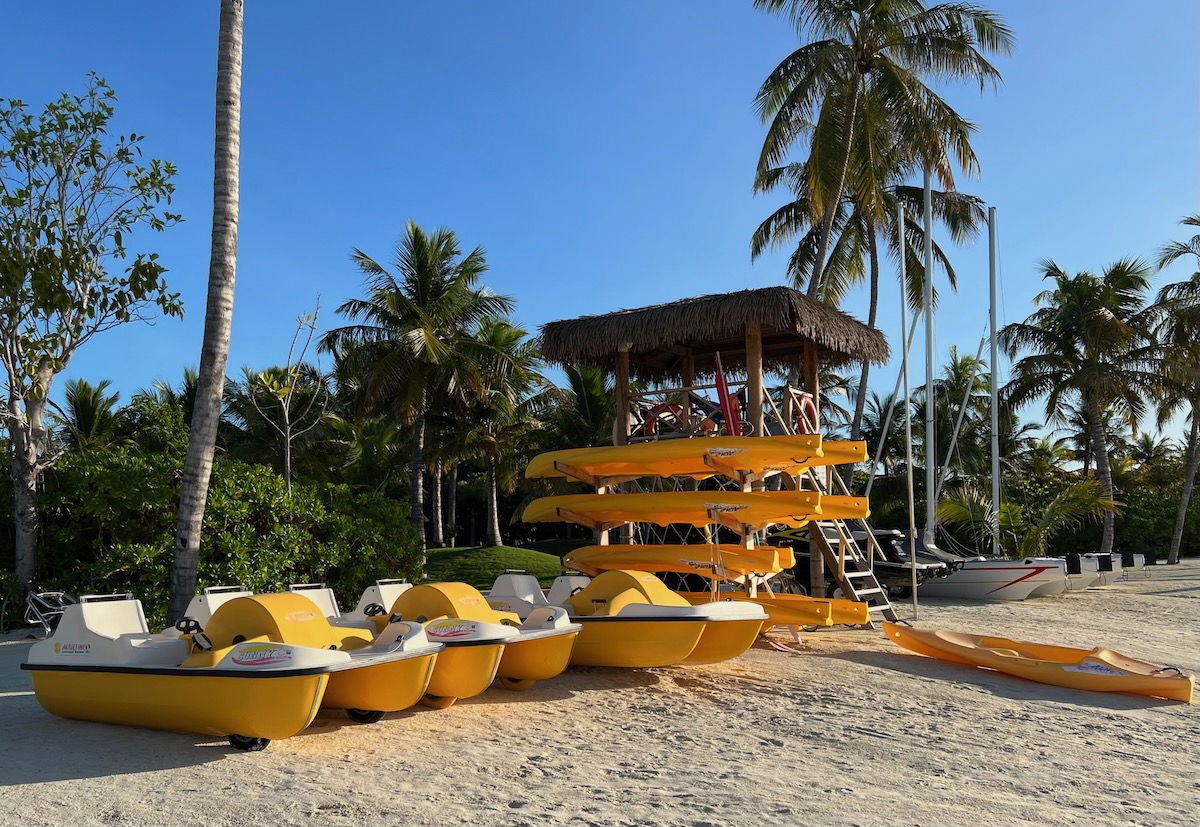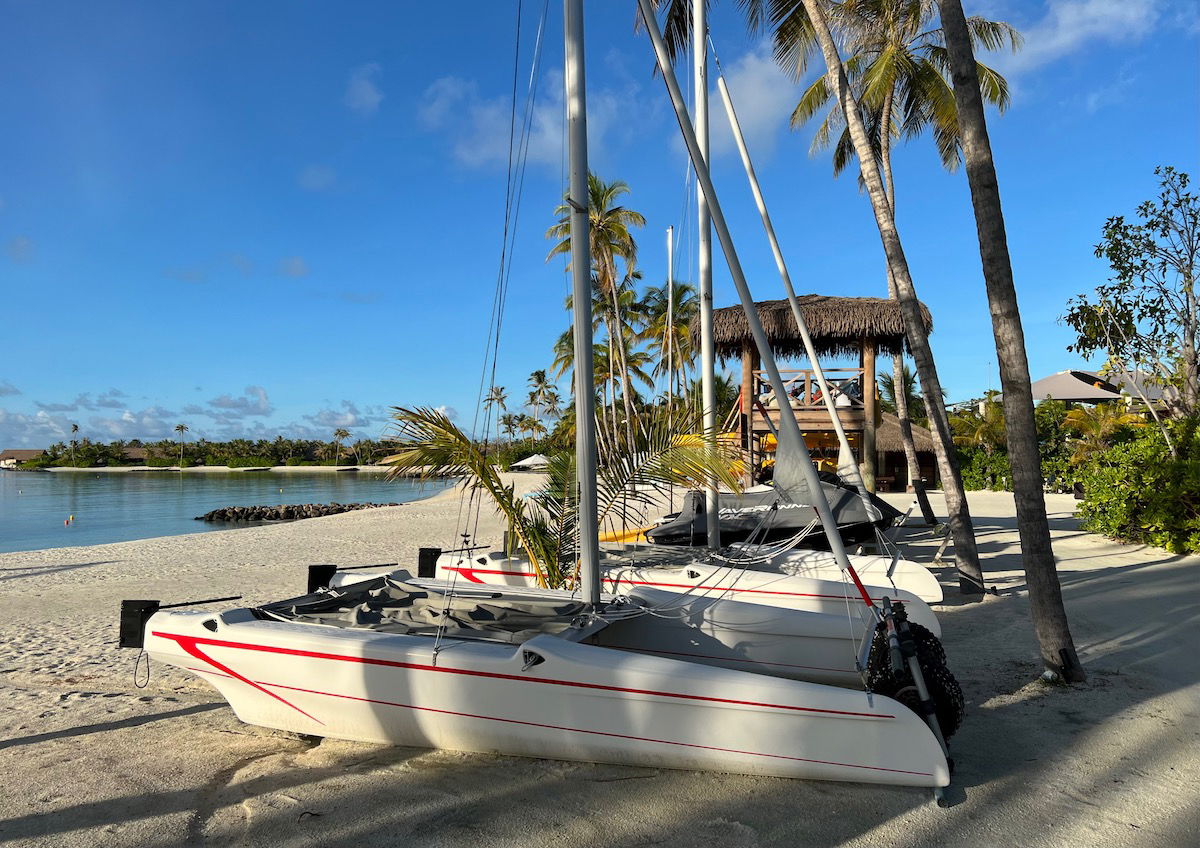 Waldorf Astoria Maldives spa
The Waldorf Astoria Maldives has a spa, and you can find the spa treatment menu here. We had a signature massage here one day, which was "upgraded" from a 60 minute massage to a 90 minute massage on account of my Hilton Honors Diamond status.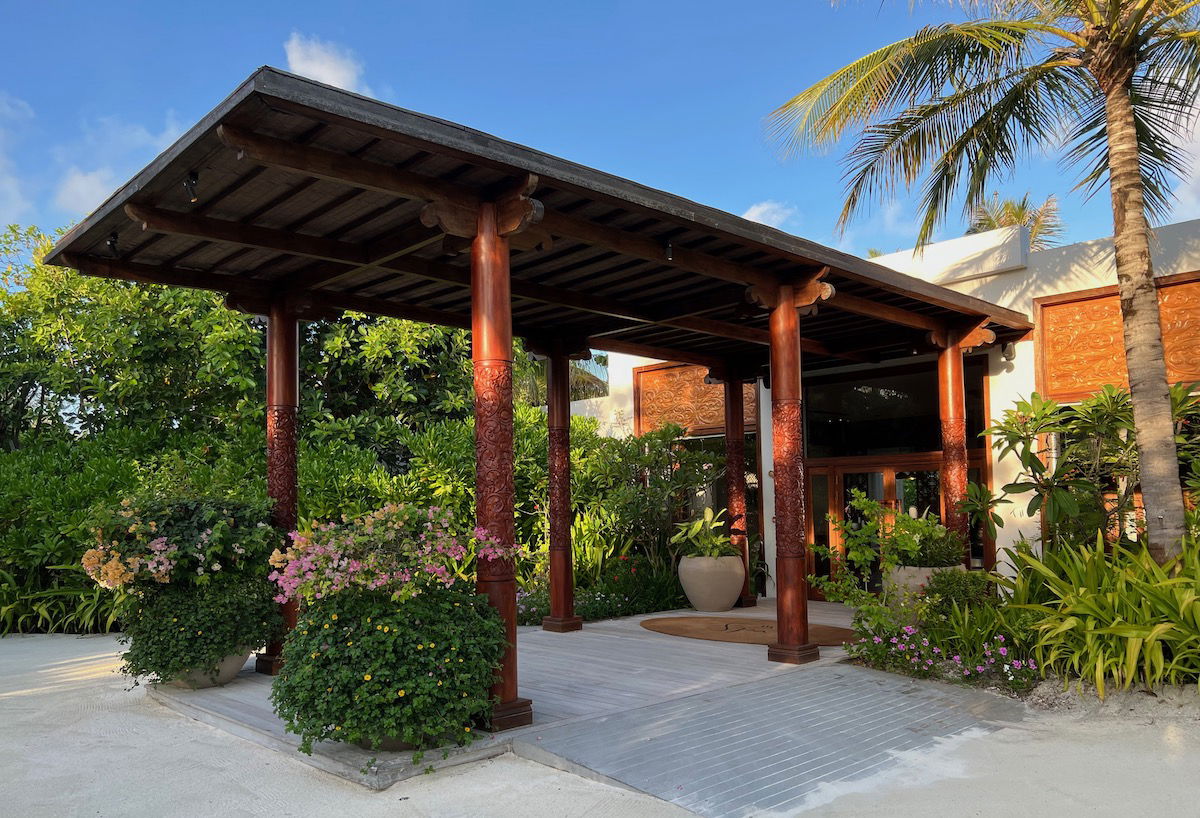 The spa facilities are great. Upon arriving we were greeted by the staff, offered welcome drinks, and asked to choose our preferred oil for the treatment.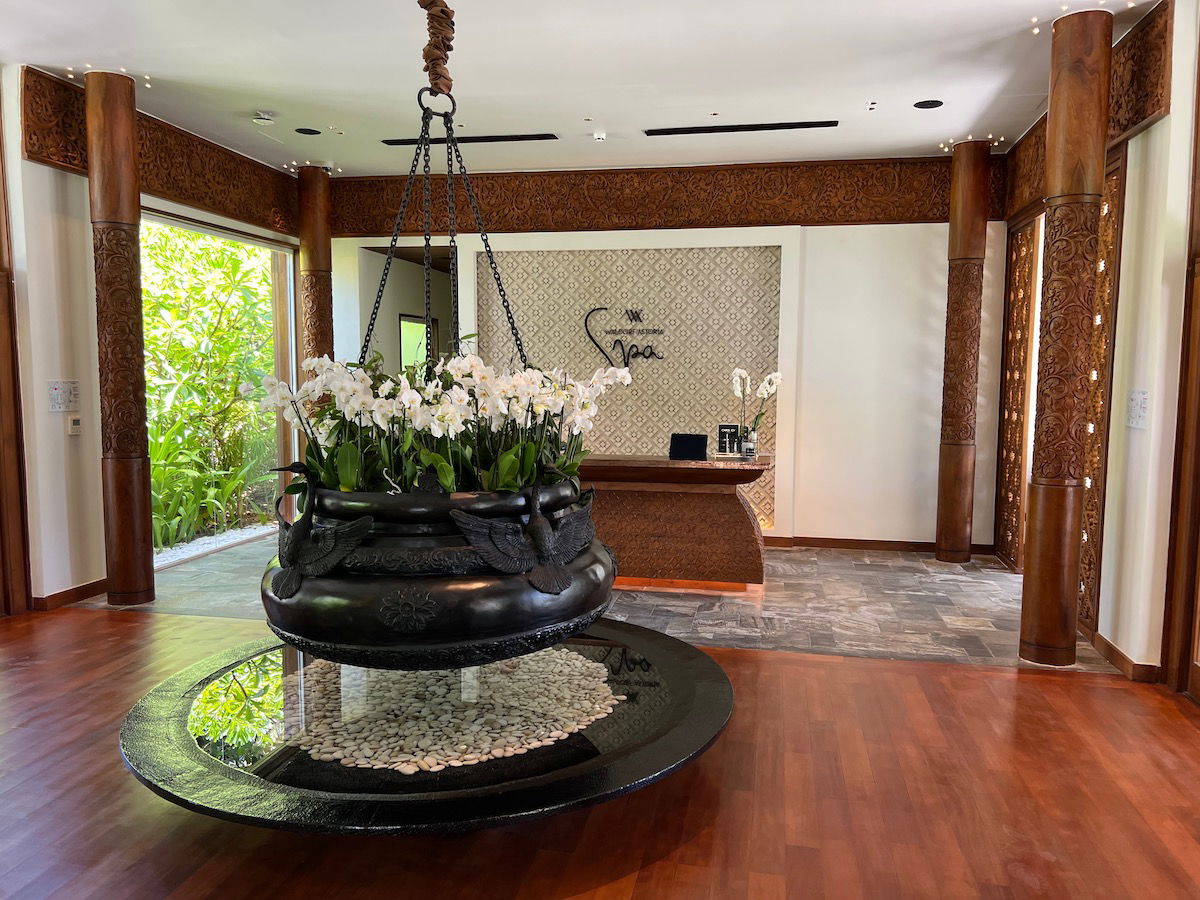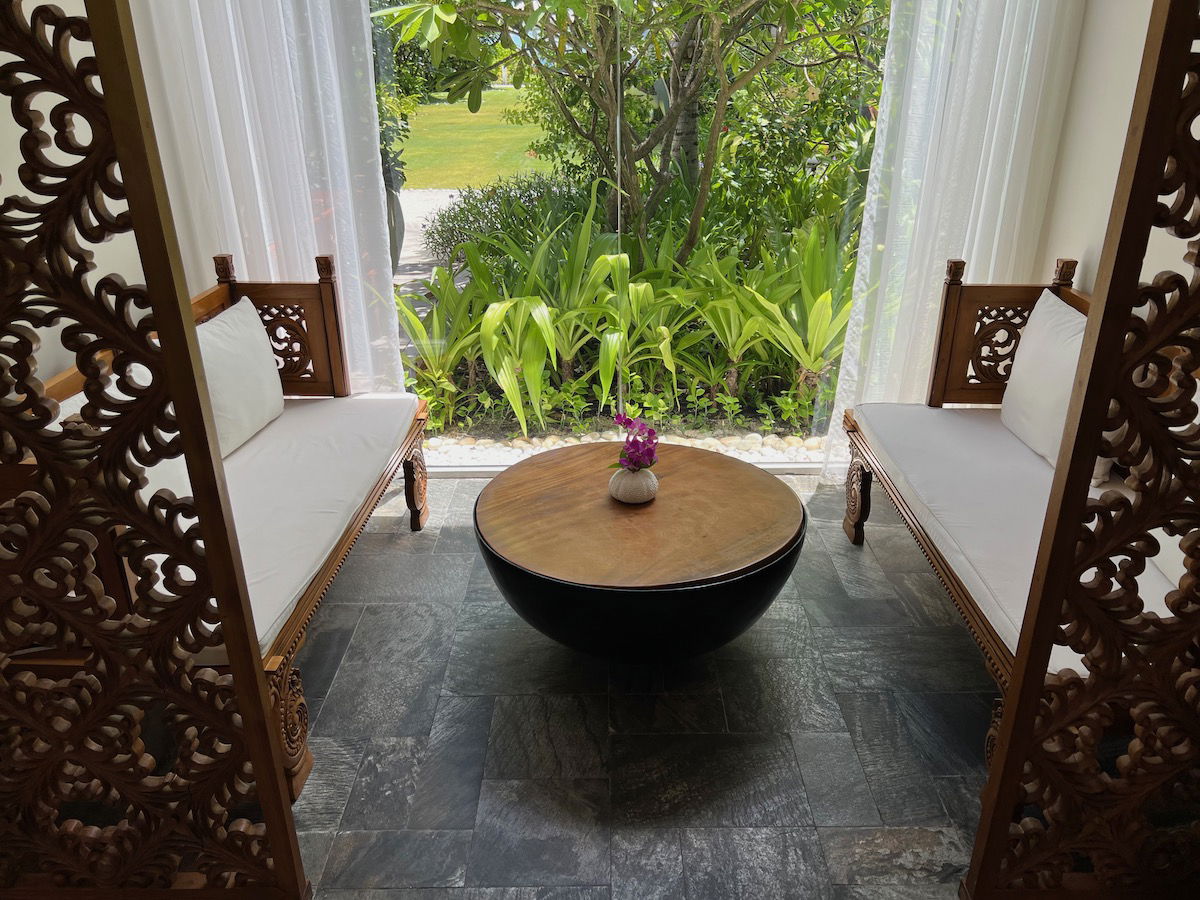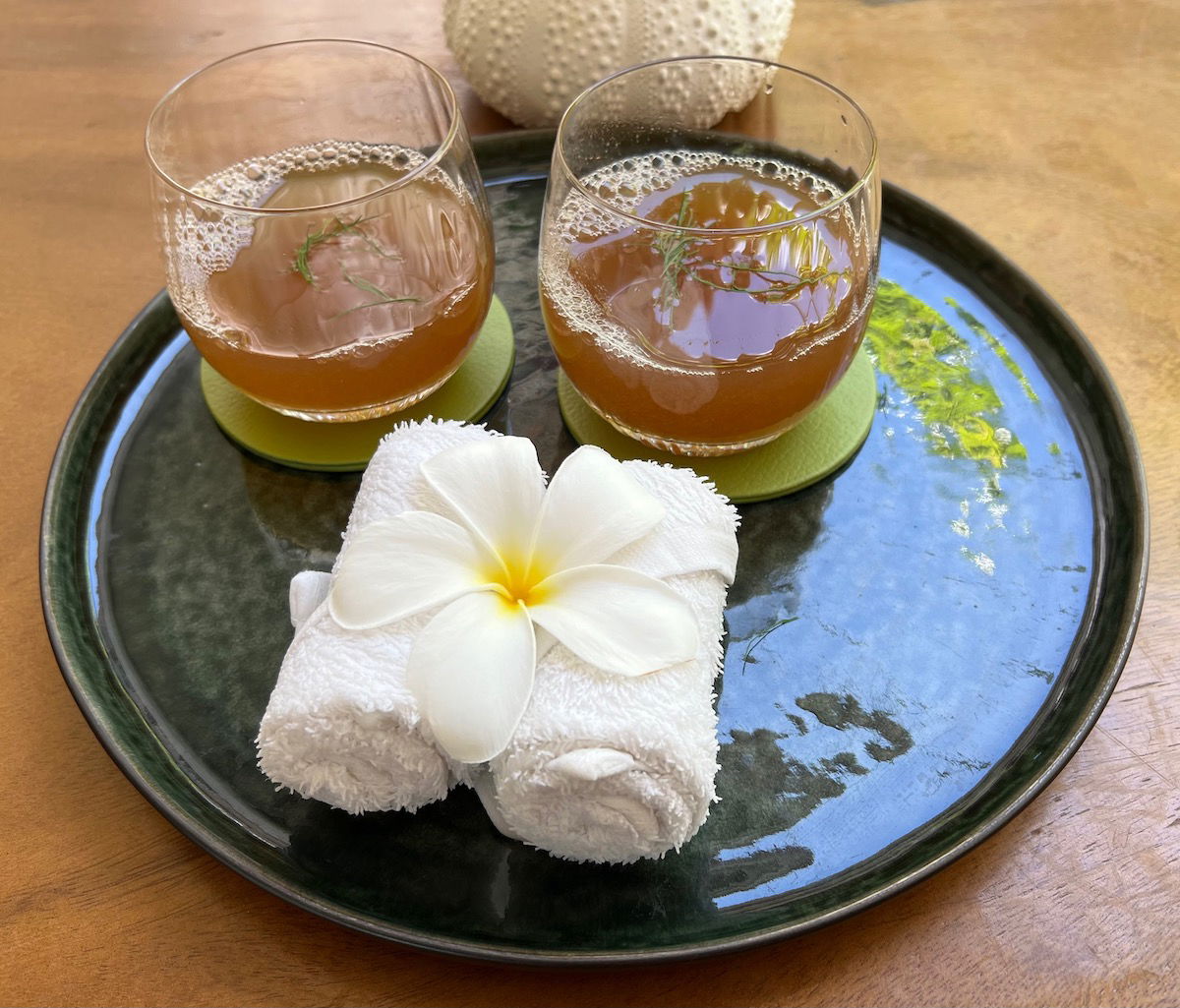 The massages took place in overwater villas, which even partly had glass floors, so that you could look into the ocean during your treatment.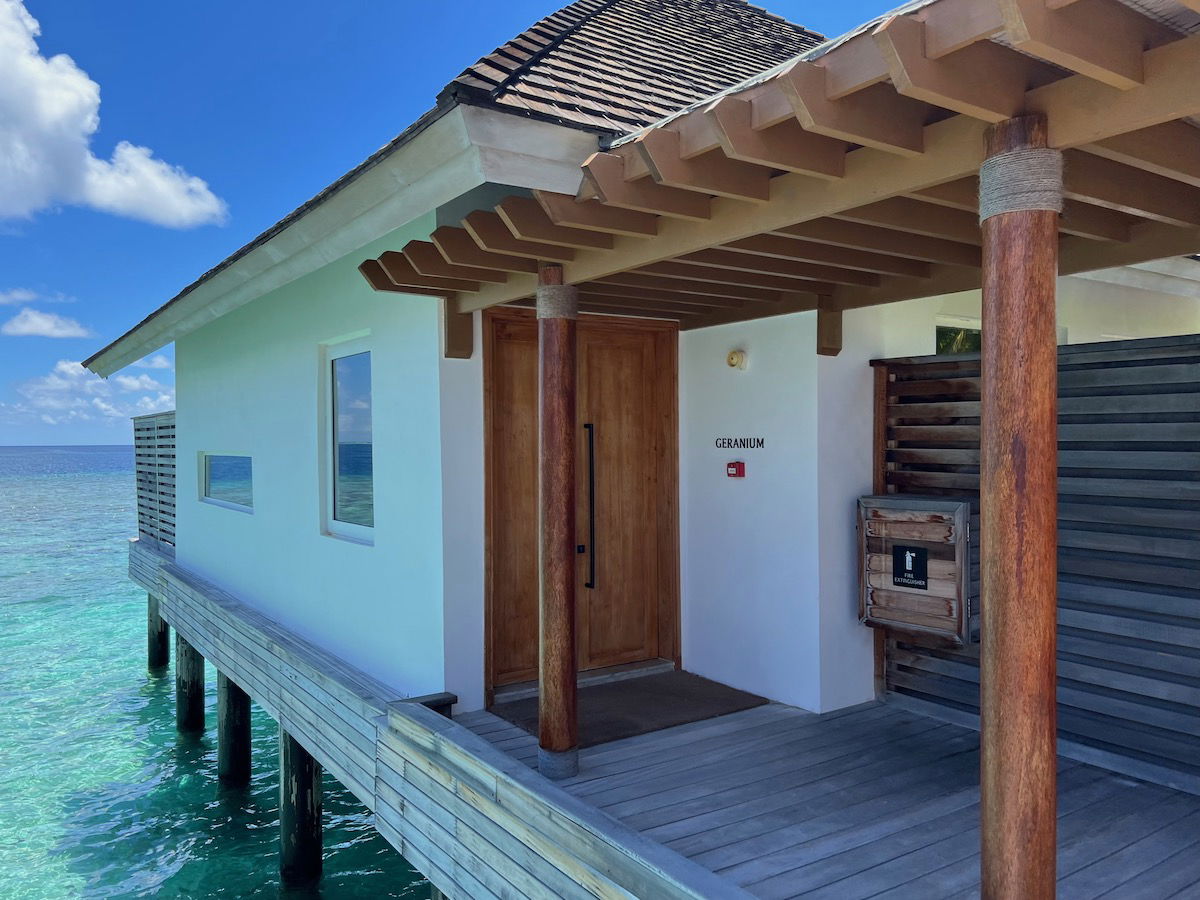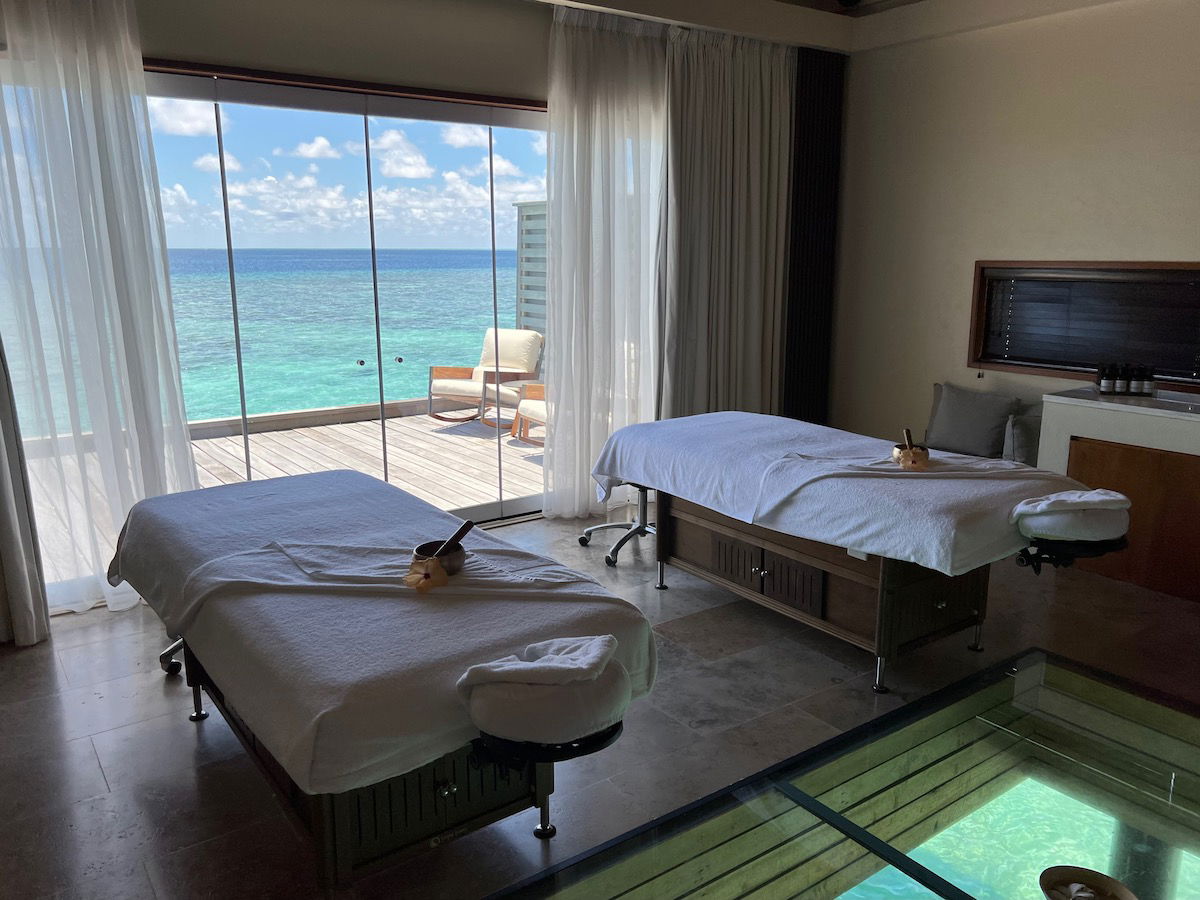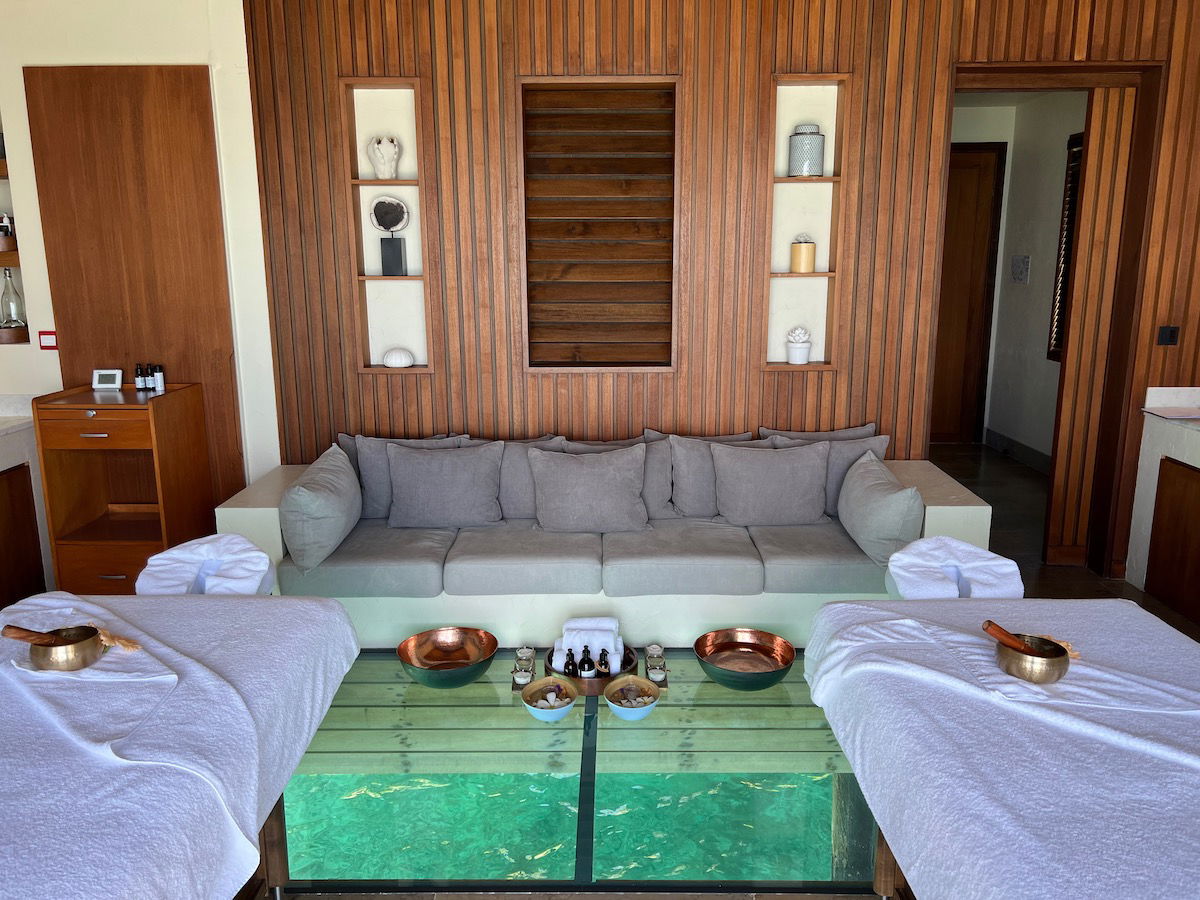 The overwater villas also have great outdoor spaces, and large bathrooms with showers.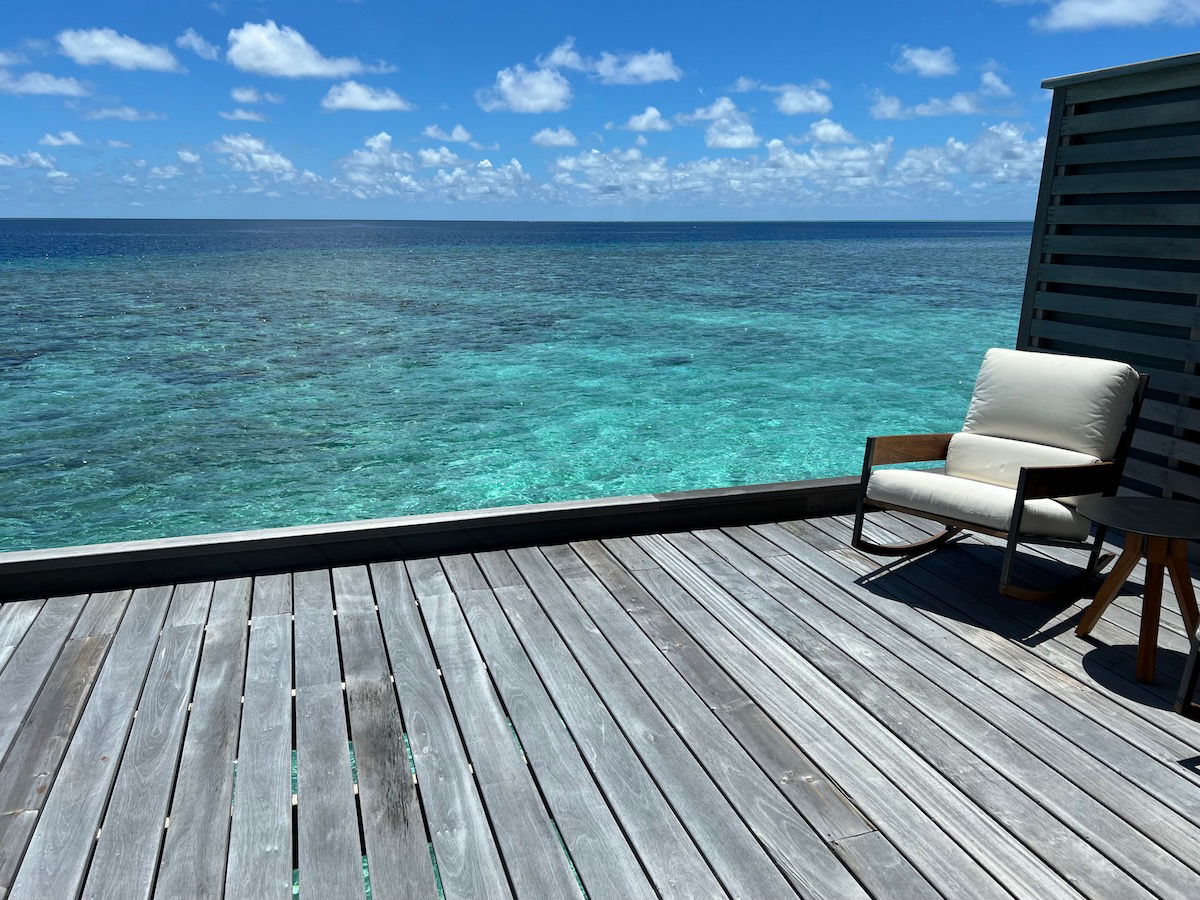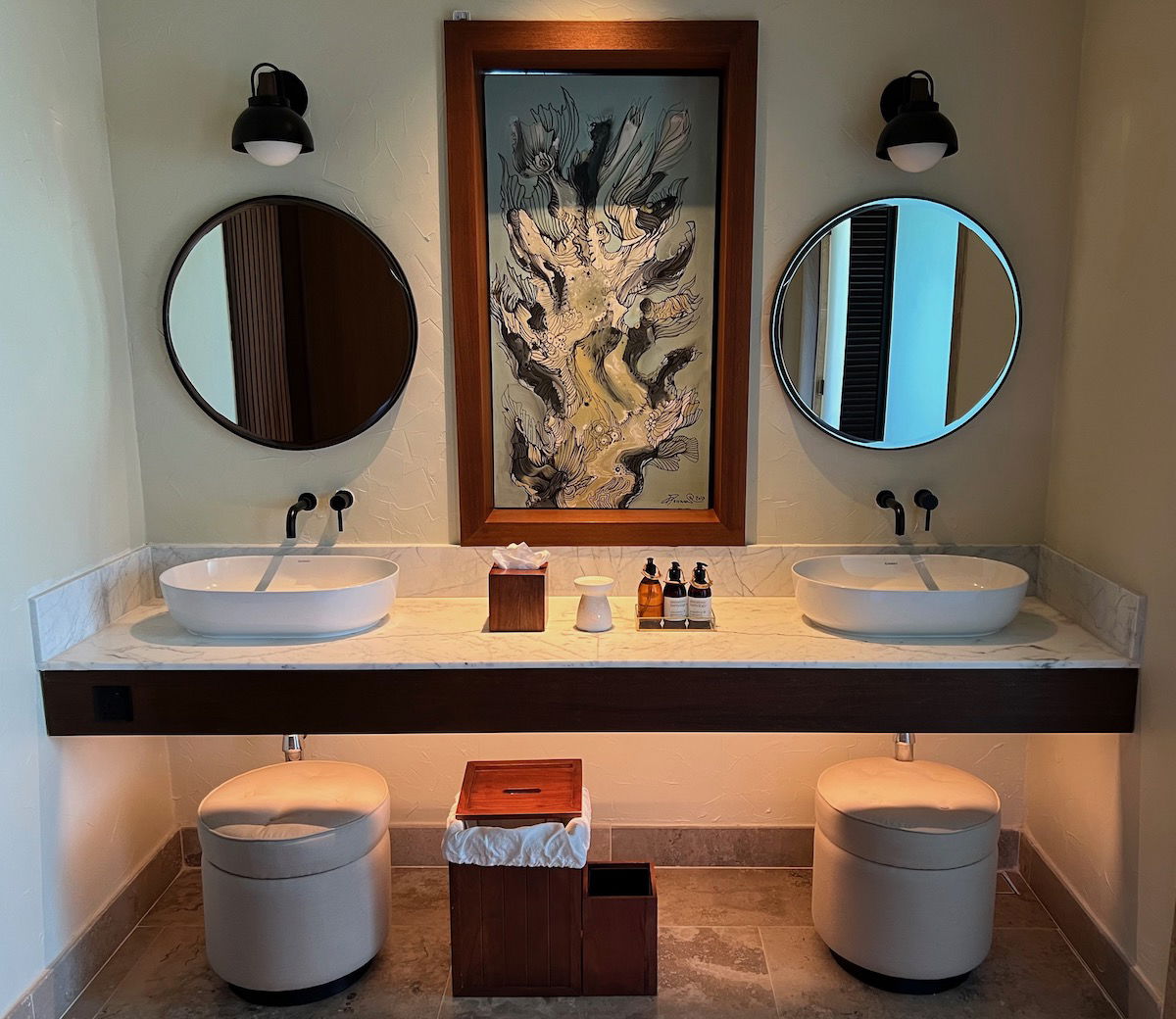 Our treatments were exceptionally good, and it was nice to have an indoor activity one afternoon when it was otherwise very hot.
Waldorf Astoria Maldives gym
The Waldorf Astoria Maldives has a 24/7 gym, located next to the spa area.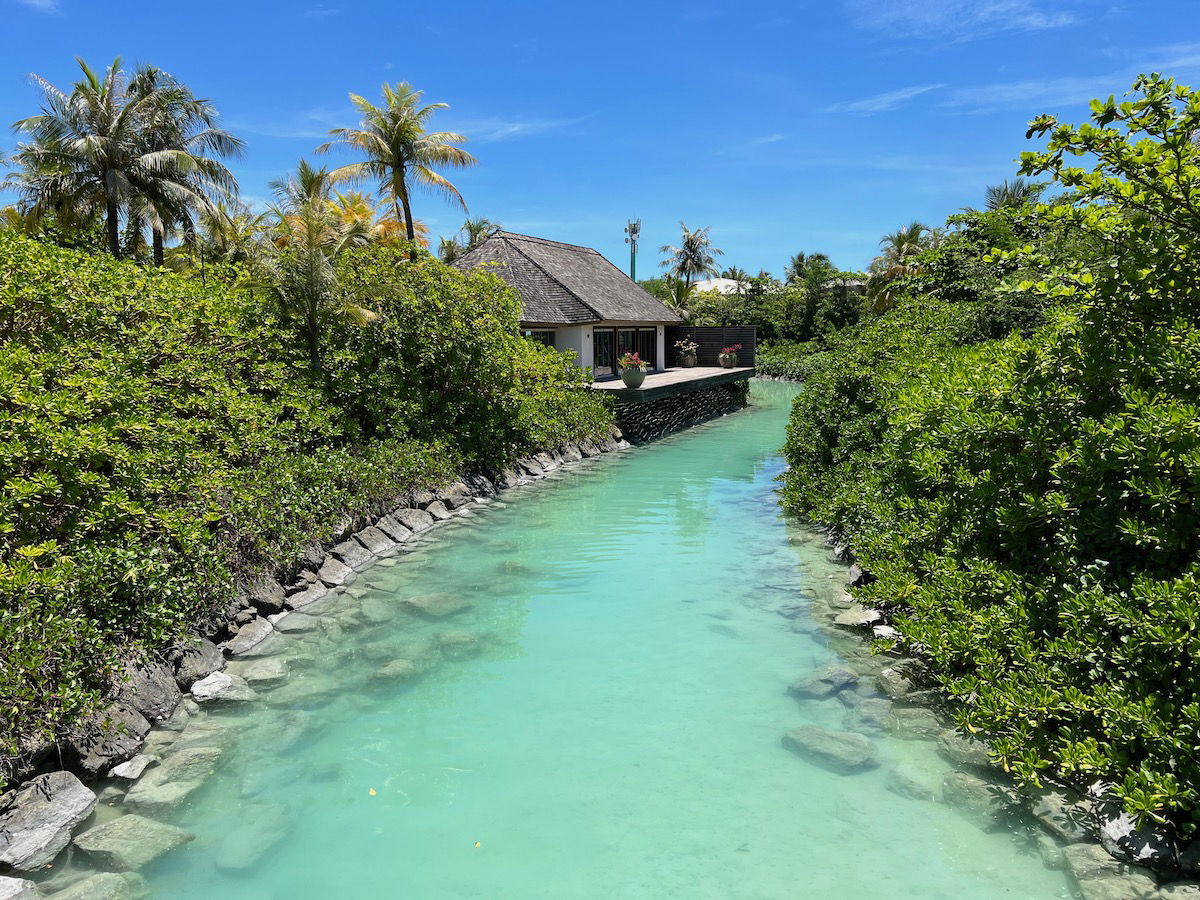 The gym has a good selection of equipment, though it did tend to get pretty busy (and the resort was only roughly half full when we were there). There were two trainers on staff, and they were friendly, and constantly disinfecting machines, and offering to help guests.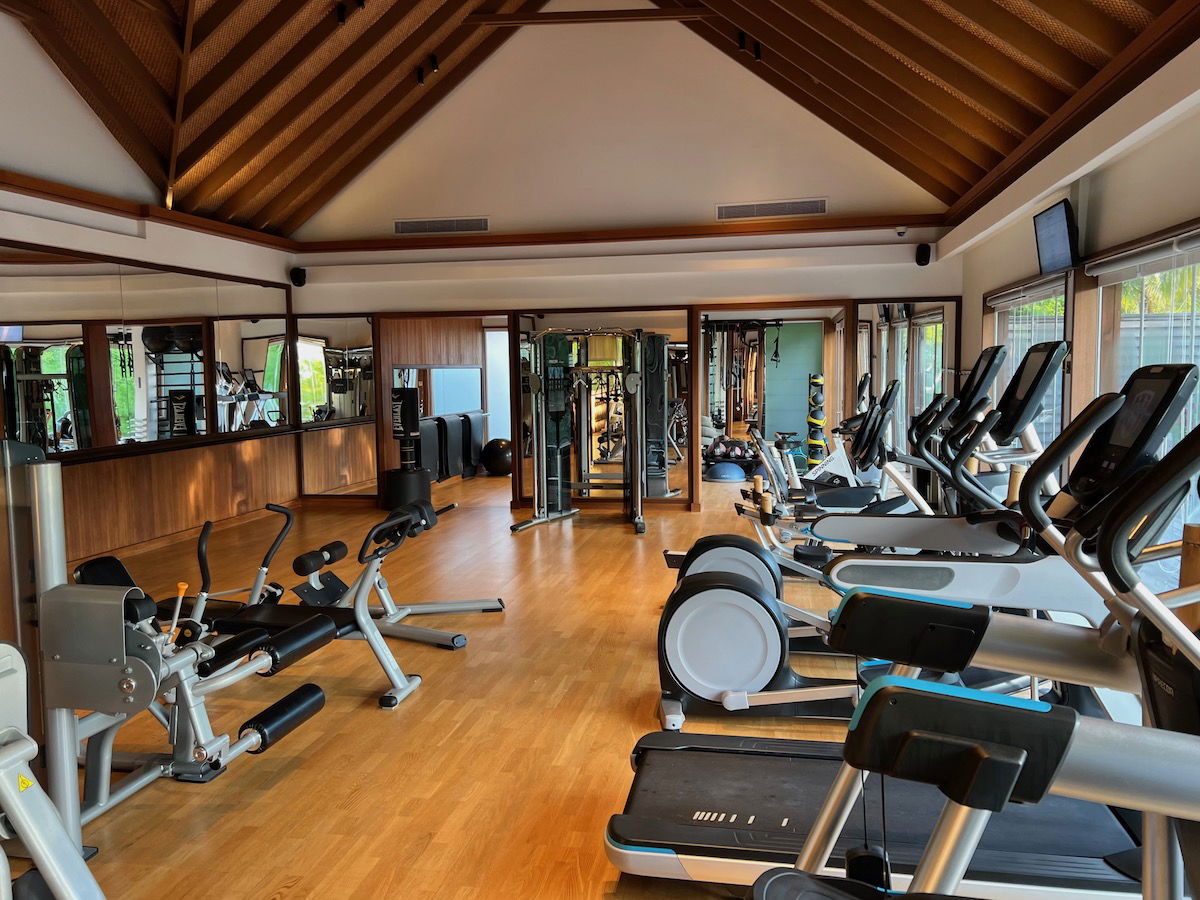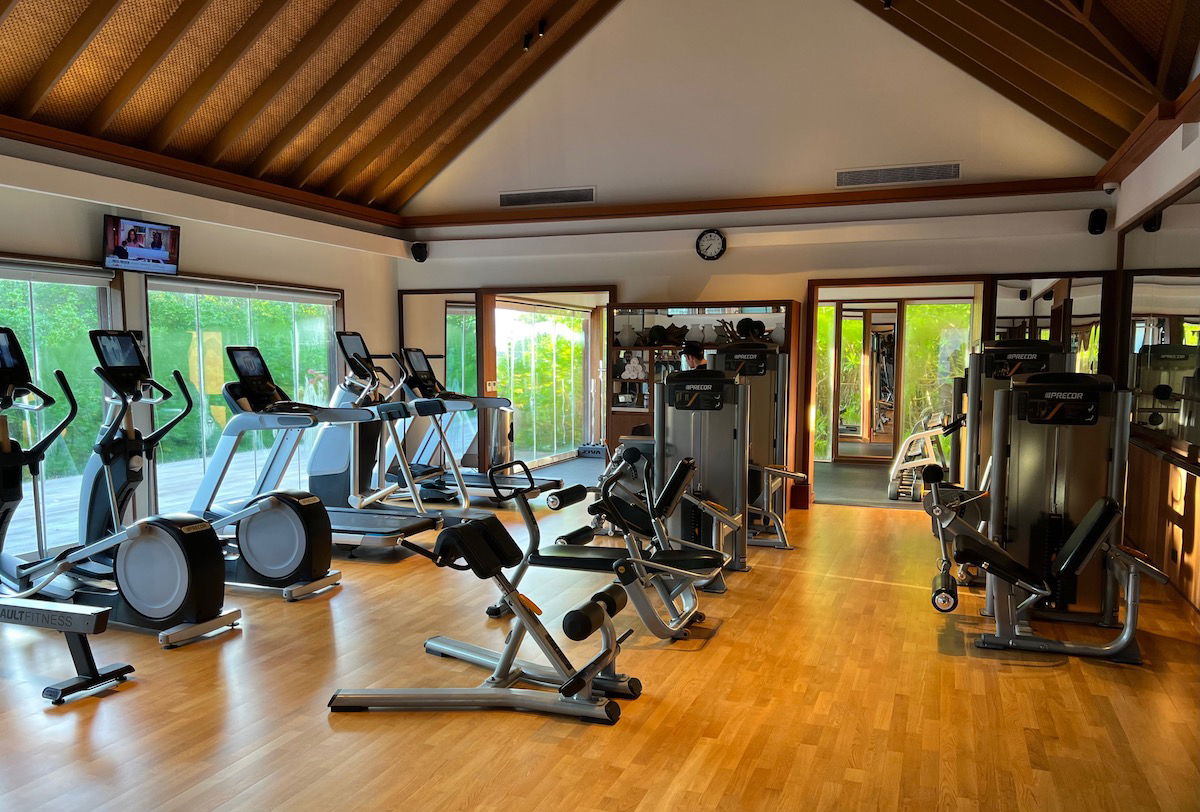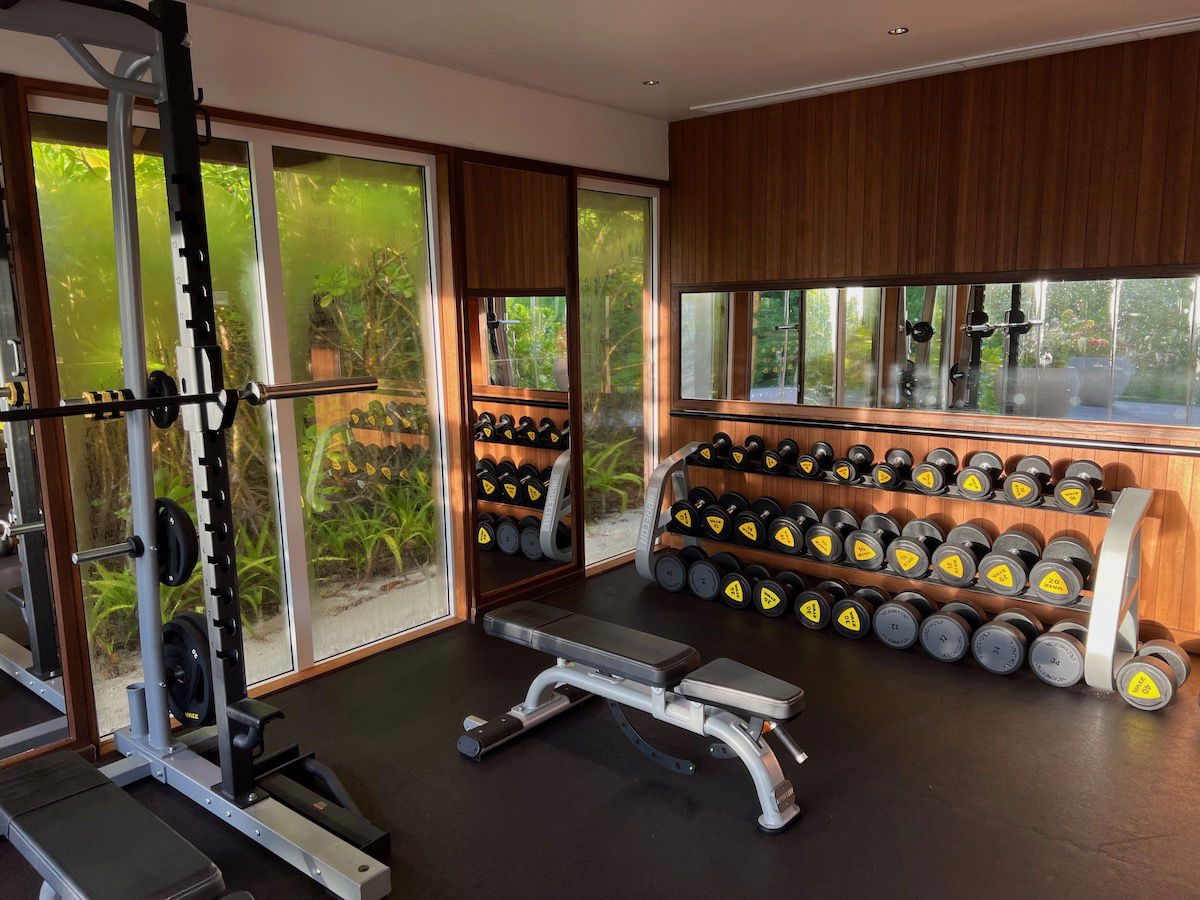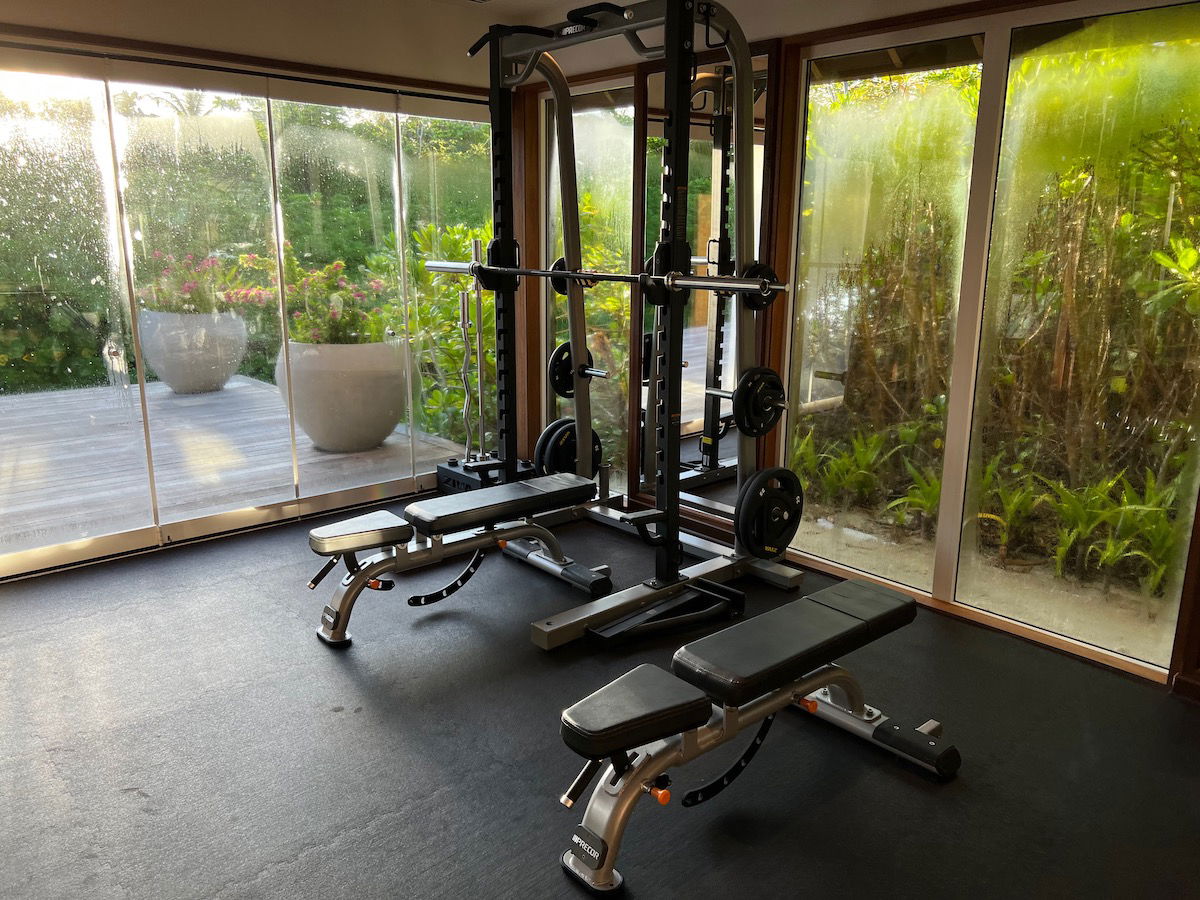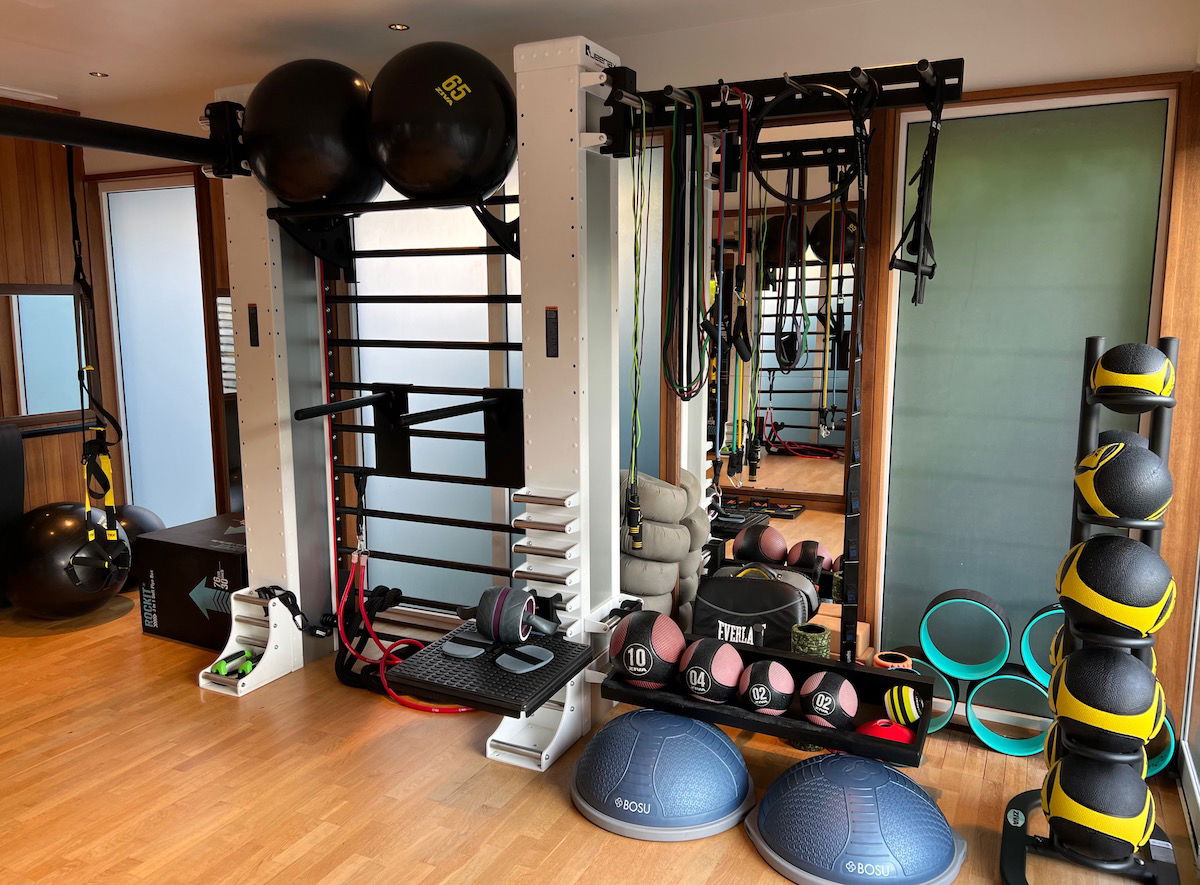 Also, I very much appreciate that the Waldorf Astoria Maldives sells protein shakes. There are so many hotels with amazing gyms, but then actually finding a protein shake isn't easy. This is something I wish more hotels would offer.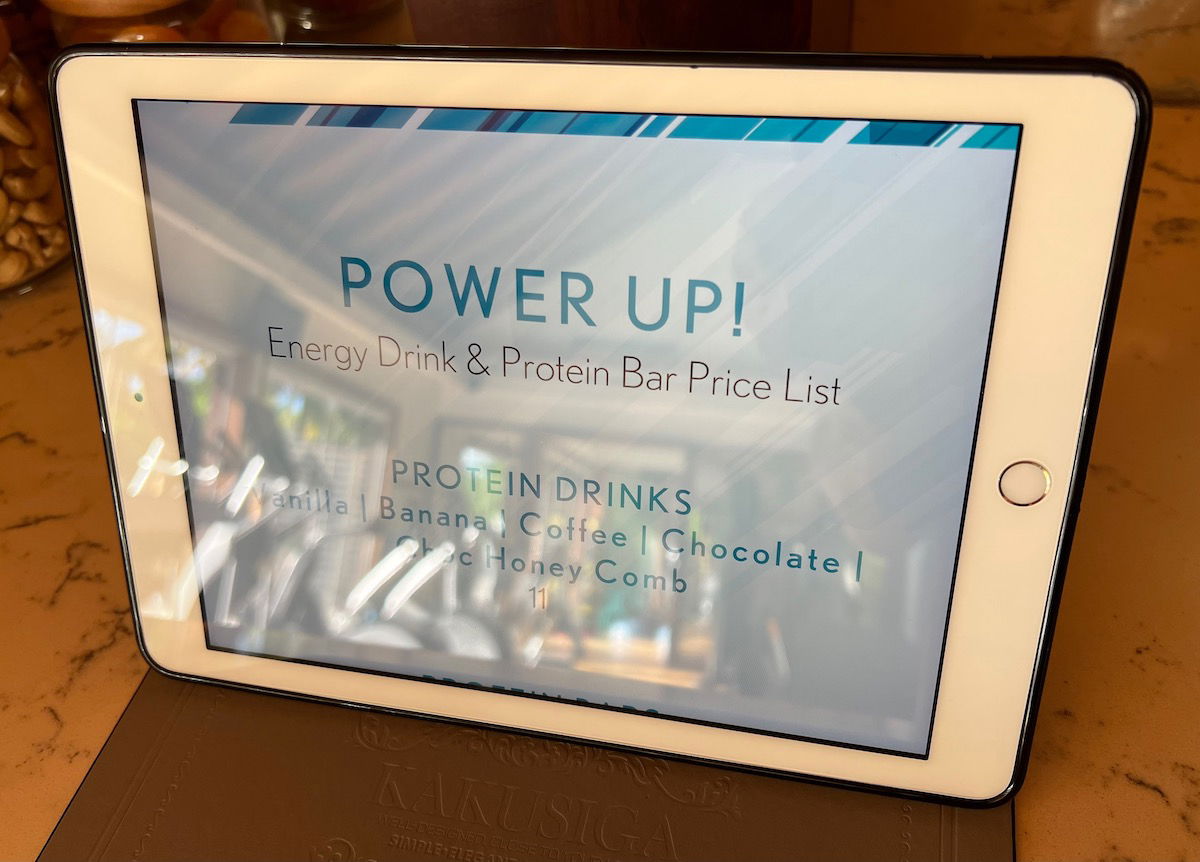 Waldorf Astoria Maldives tennis & paddle tennis courts
The Waldorf Astoria Maldives has both a tennis court and a paddle tennis court. Ford and I played a few times, and it was a fun activity (though I'd recommend doing it very early in the morning or late in the afternoon). There's even a tennis coach on hand should you want to take lessons.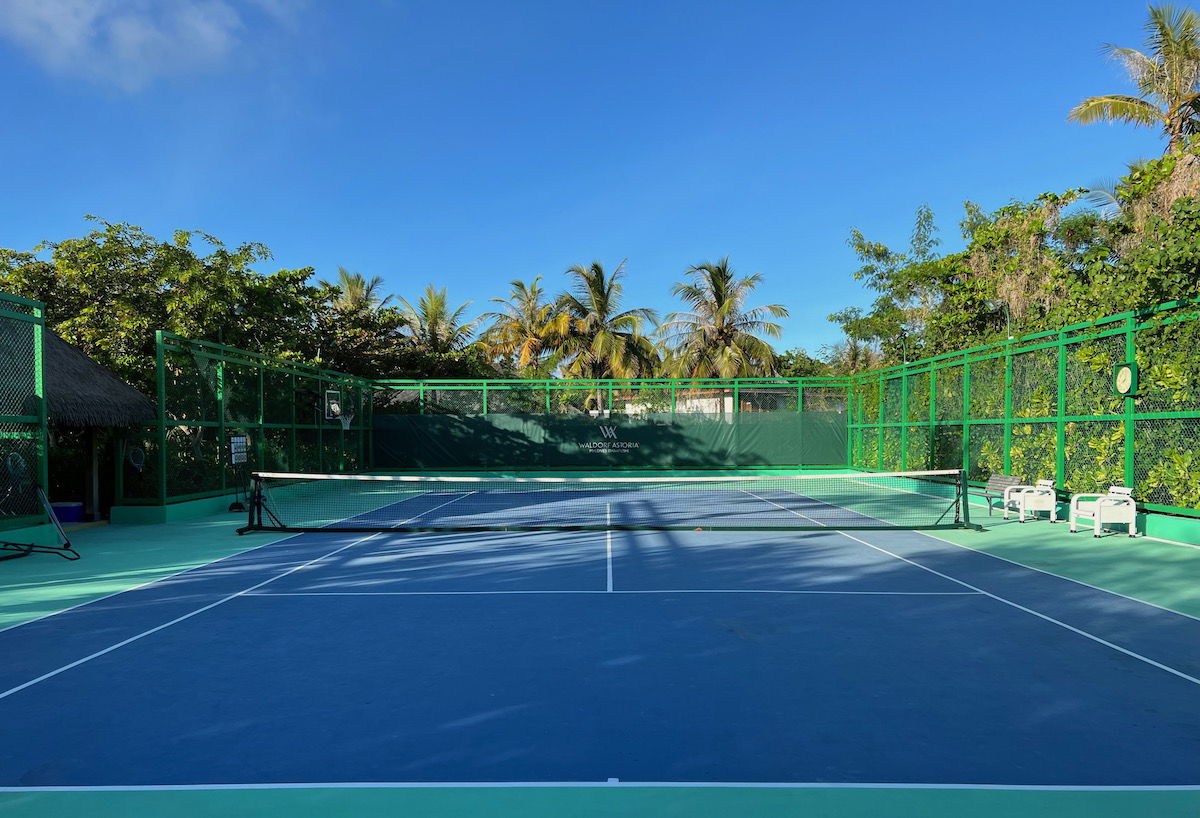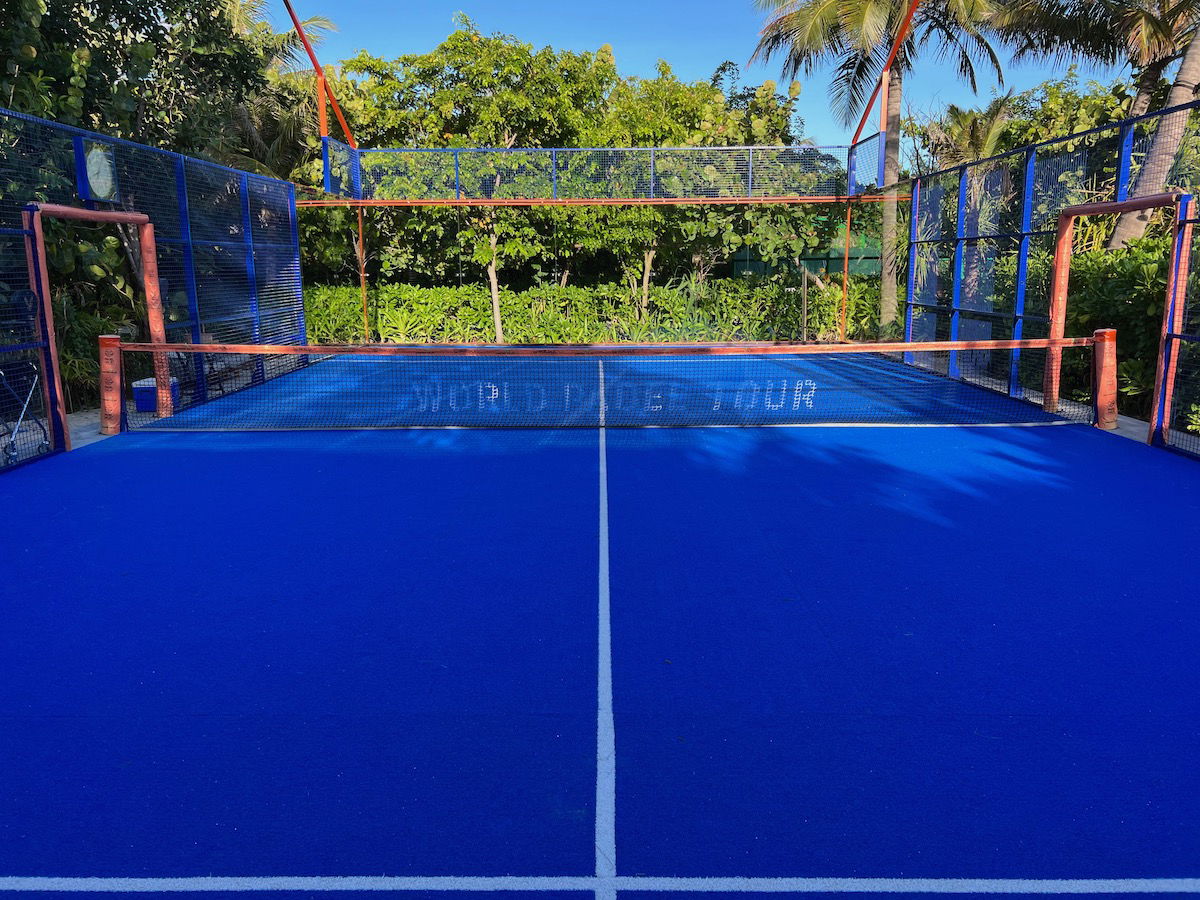 Waldorf Astoria Maldives restaurants & bars
The thing that Waldorf Astoria Maldives is most known for is its food & beverage outlets, as the hotel has 10 of them. That's an incredible number of dining options, though admittedly they're not all restaurants — some are just bars, and most restaurants are only open certain days of the week, so it's not like you have 10 dinner options on a particular evening.
Let me briefly summarize the dining options, and then below I'll cover each outlet in more detail (you can also find all the restaurant menus at this link):
Tasting Table is the resort's all-day dining restaurant, and it's where breakfast is served
Nava is the resort's pool side restaurant, and it's a popular place for lunch
Peacock Alley is the resort's lobby bar with live music, and it's also where the Hilton Honors Diamond happy hour takes place
Amber is the resort's sunset bar, which is supposed to offer the best sunset views at the resort
Terra is the resort's tree house fine dining restaurant, with only seven tables
Yasmeen is the resort's Middle Eastern restaurant, open for dinner
Glow is the resort's garden-to-table restaurant, and it's open for dinner
The Ledge by Dave Pynt is a barbecue-style restaurant, and it's open for dinner
Li Long is the resort's Chinese restaurant, and it's open for dinner
The Rock is a wine cellar restaurant, and it's open for dinner exclusively upon request
There's a Zuma currently under construction, but it's not yet open
A few further things to note:
23.2% is added to the cost of all meals (that includes a 10% service charge), and on top of that there's an option to tip, which I find kind of awkward; for what it's worth, the other two resorts we stayed at in the Maldives had a 10% service charge, but then didn't give guests the opportunity to tip further
You can make reservations for restaurants while on-property with your personal concierge; you can also make them prior to your arrival (except at Terra and The Rock), but unless you're staying at a time when the resort is 100% full, that really shouldn't be necessary
Seating at all restaurants seems to be first come first served, in the sense that tables generally aren't allocated in advance; as a result, if you want a table with a great view, I'd recommend arriving around opening time
For those wondering about pricing, the Maldives is expensive; you can expect that a dinner for two people without alcohol will run you at least $250-350
While I love the variety of dining options, the designs of some restaurants feel kitschy due to how heavily themed they are, and they almost make the property feel less high-end than it actually is, in my opinion
With that out of the way, let's get into more details on the dining outlets, and I'm putting these roughly in the order of the time of day where we visited them (so breakfast first, then lunch, and then dinner).
Waldorf Astoria Maldives Tasting Table
Breakfast is served daily from 6:30AM until 10:30AM at Tasting Table, and it was a feast. The restaurant itself has high ceilings and sliding doors, so you can enjoy a breeze no matter where you sit.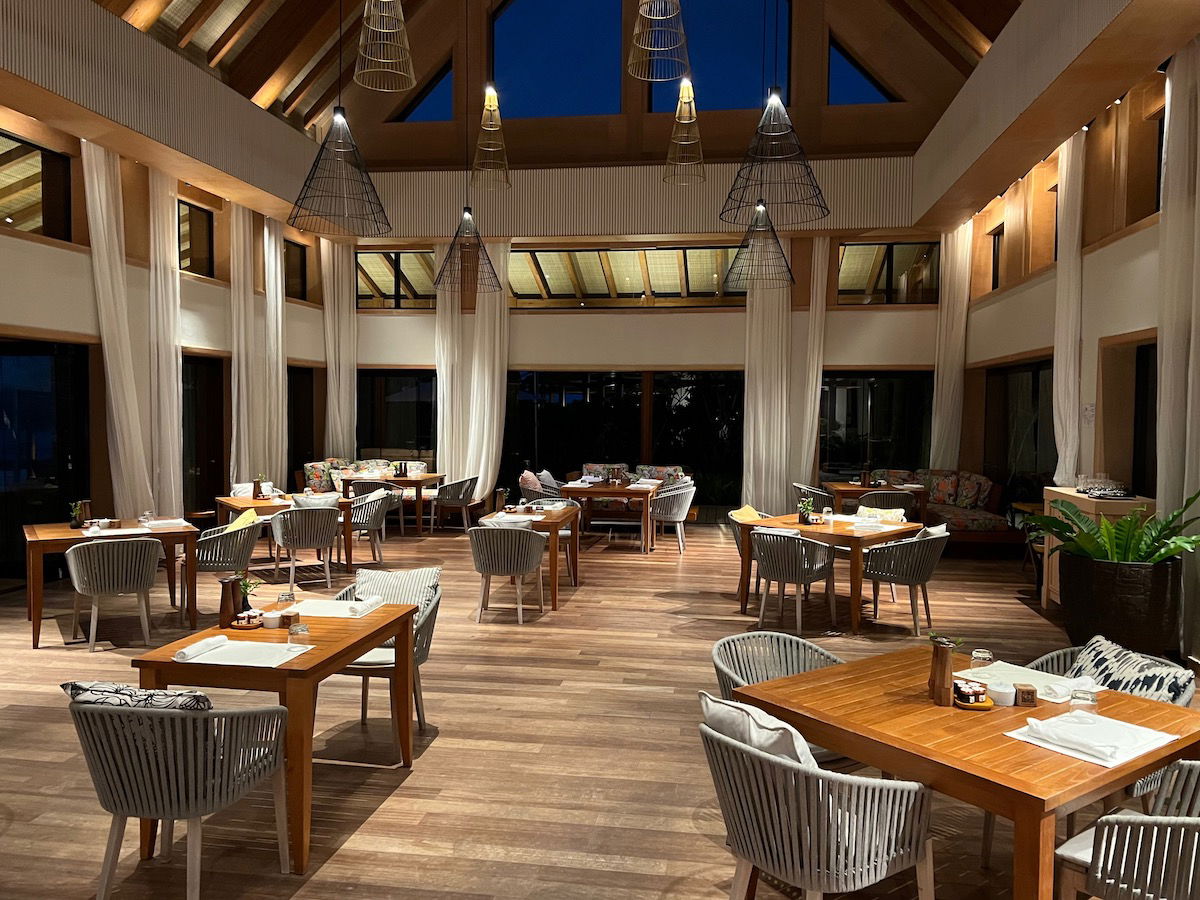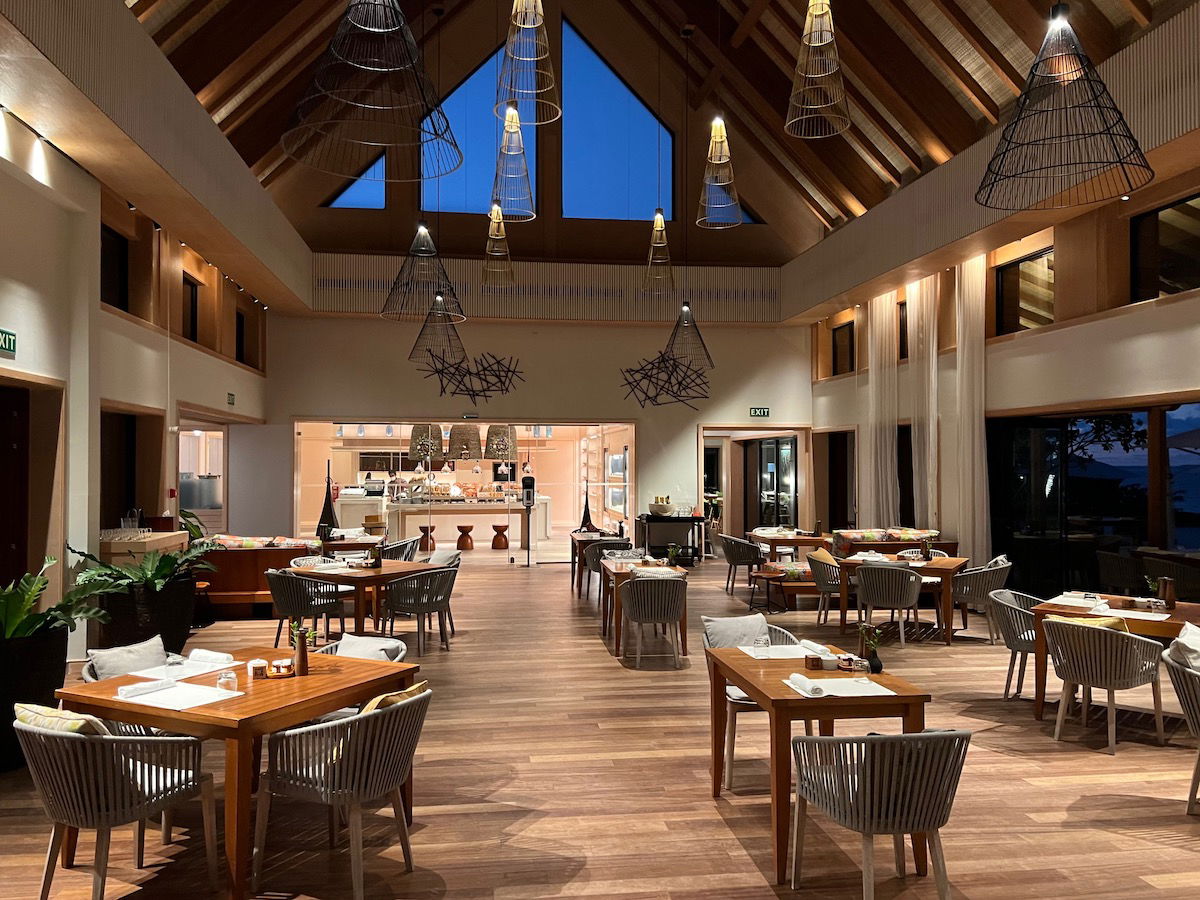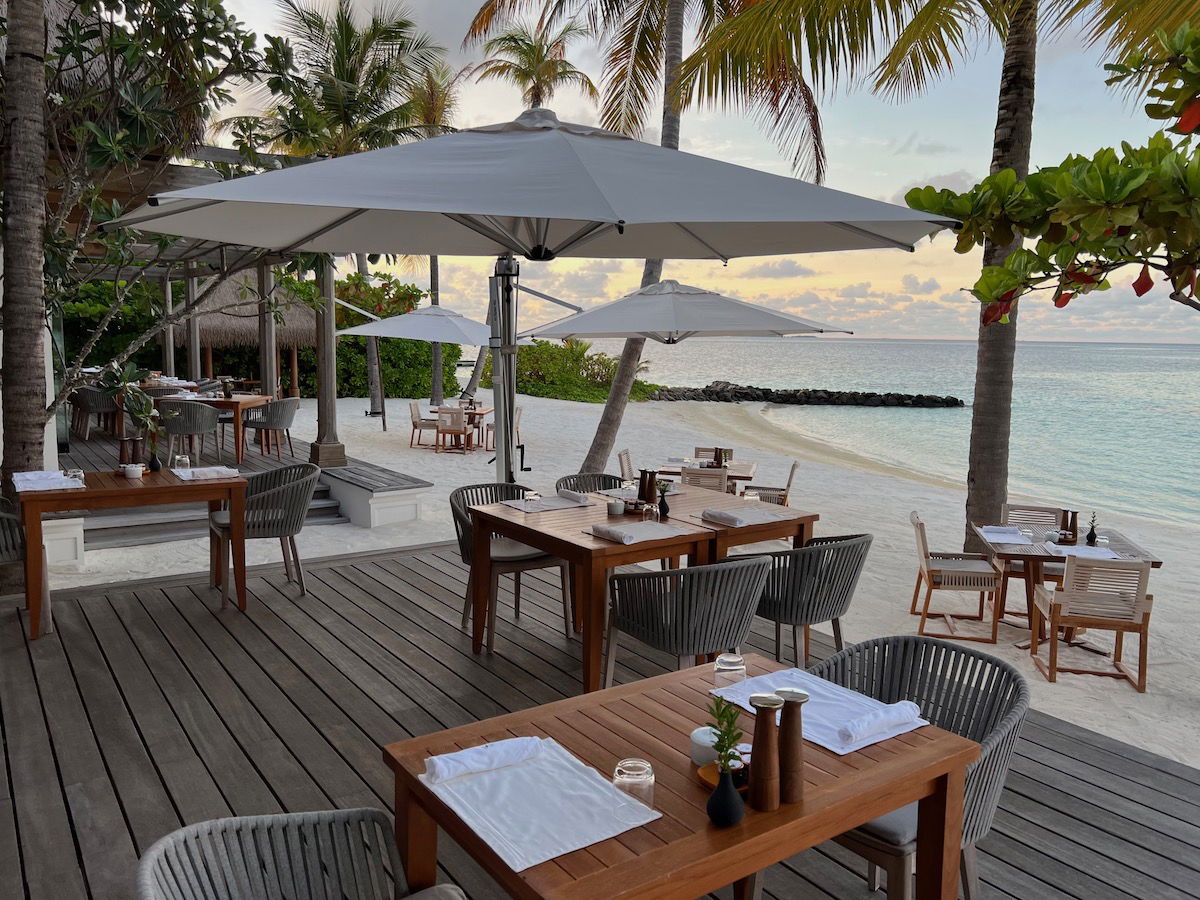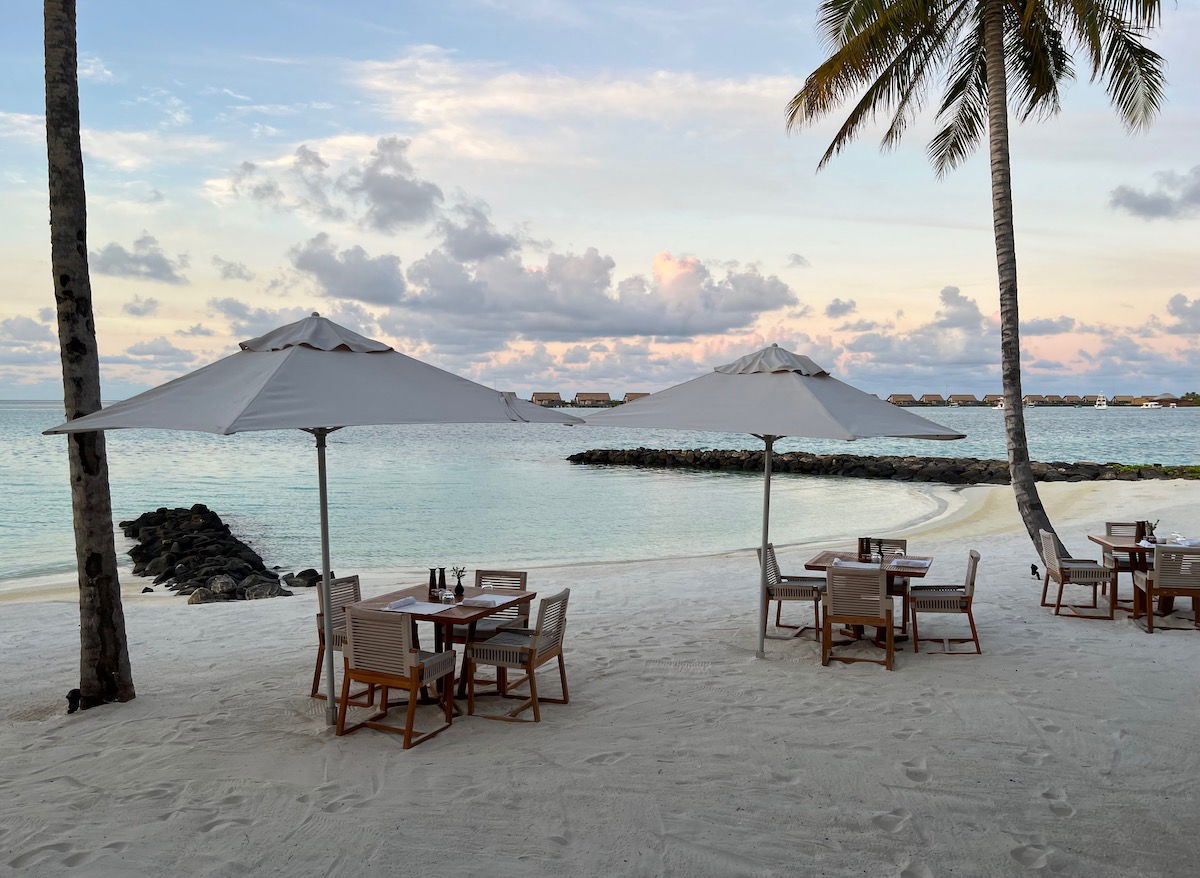 Guests have access to an unbelievable buffet, and on top of that there's a menu one can order off of to supplement the buffet. This truly might just be my favorite buffet I've ever seen, in particular thanks to the number of amazing dishes from the Maldives, the Middle East, India, etc. I'll let the buffet pictures speak mostly for themselves, but the buffet really had everything you could imagine, and then some.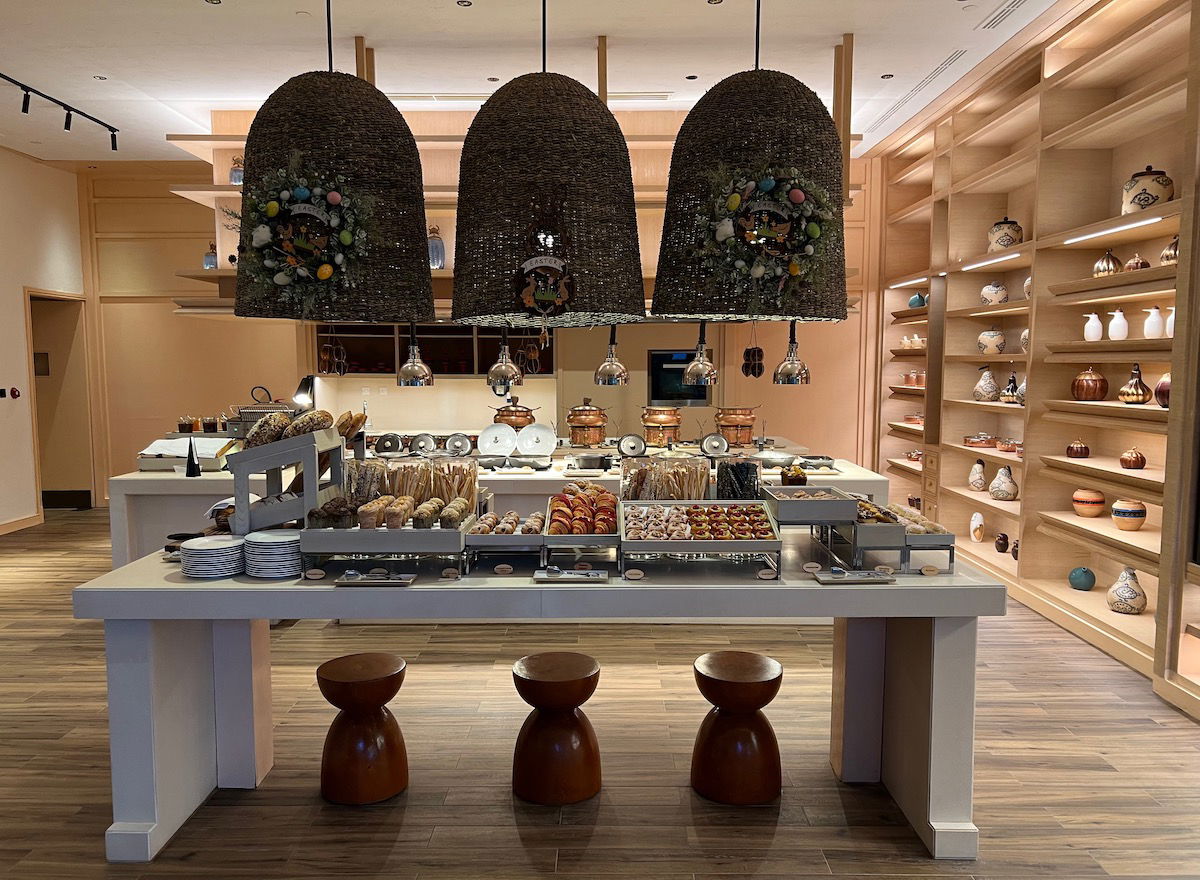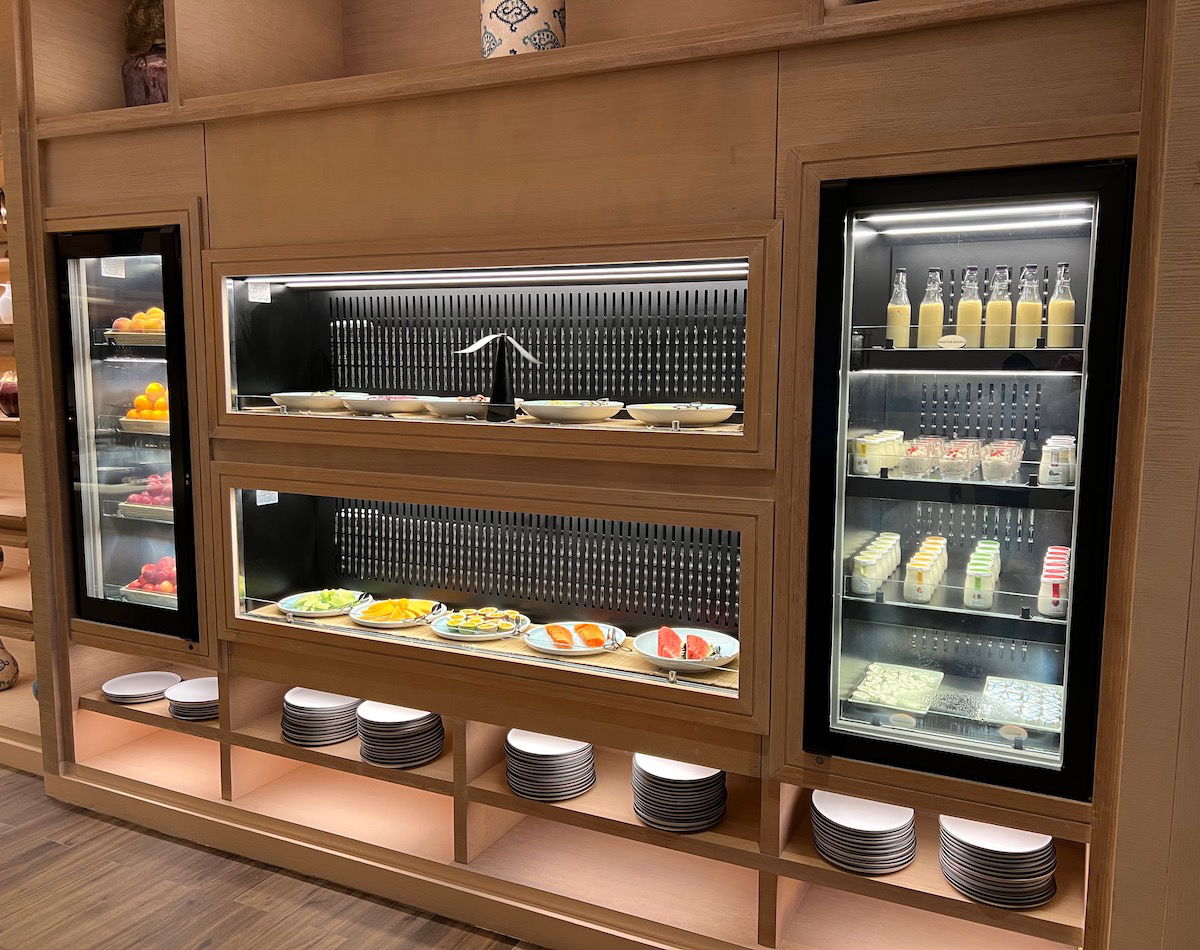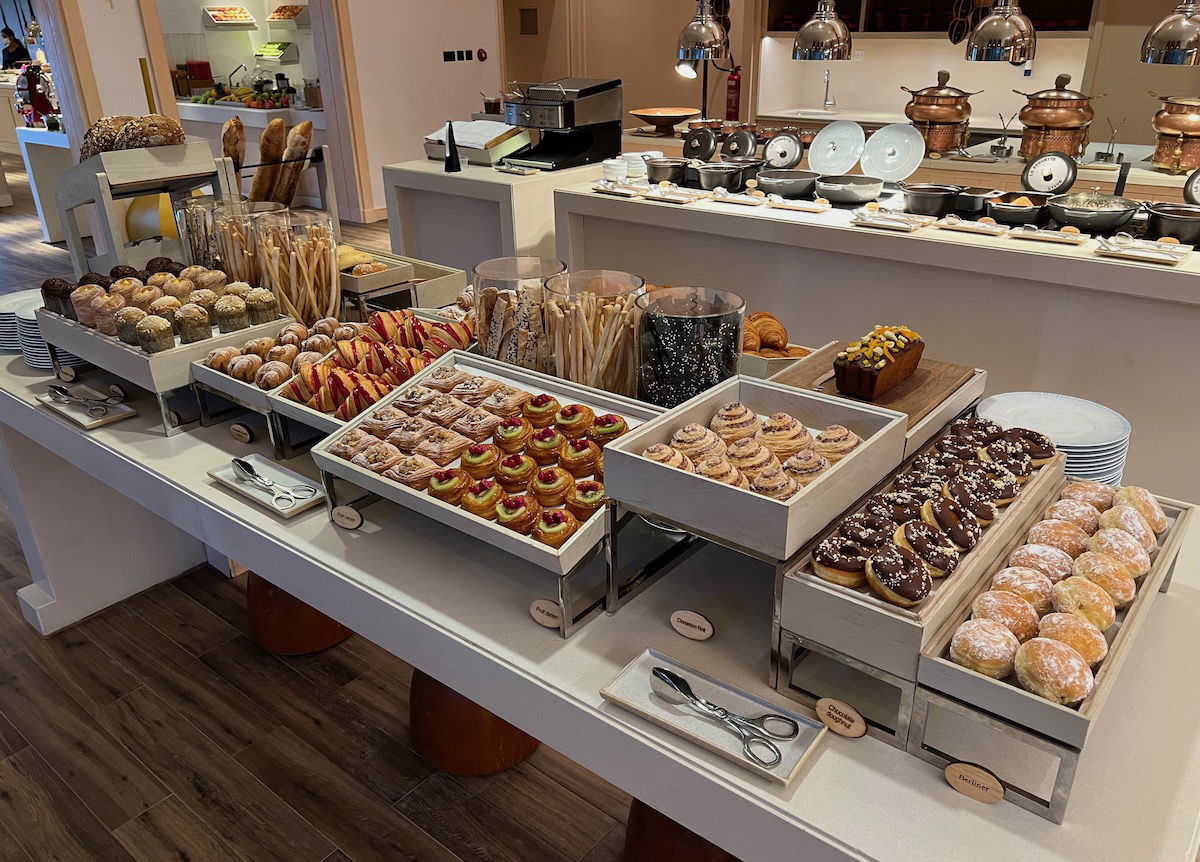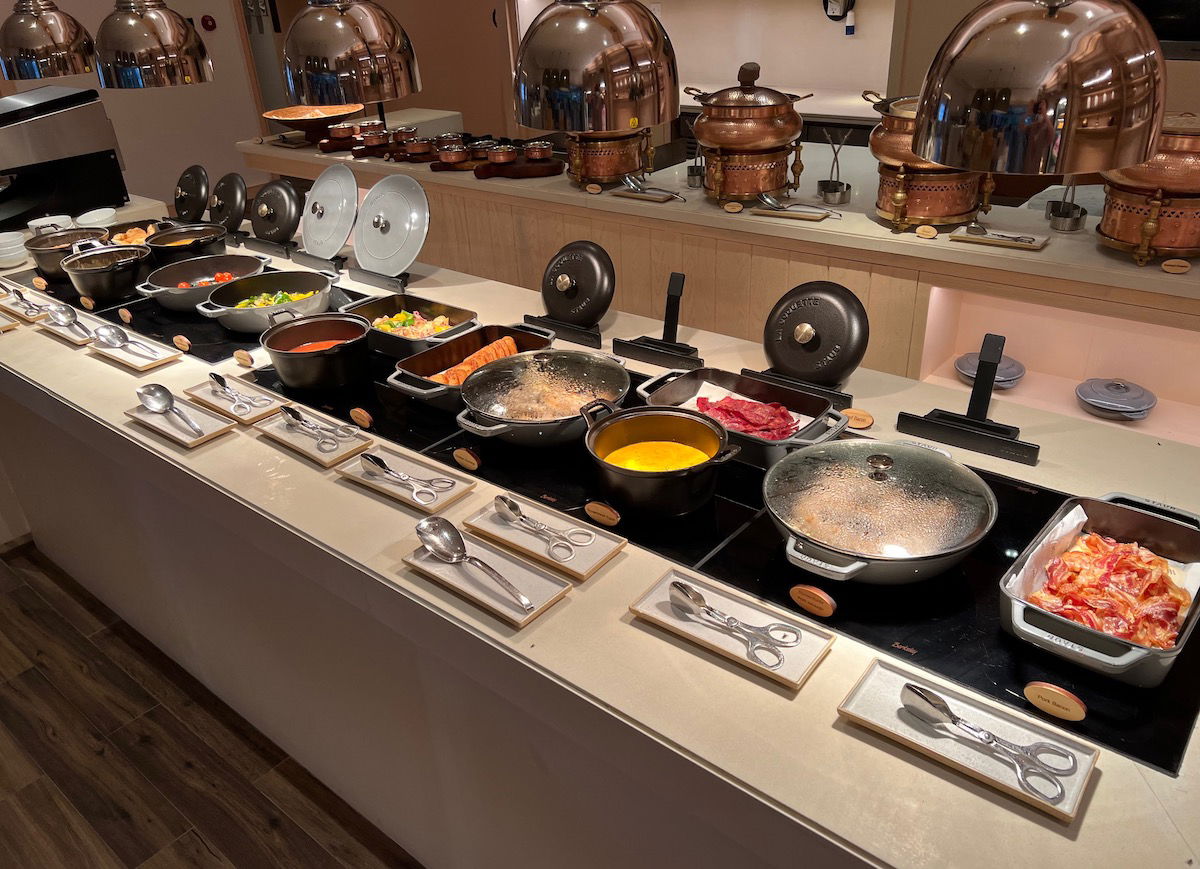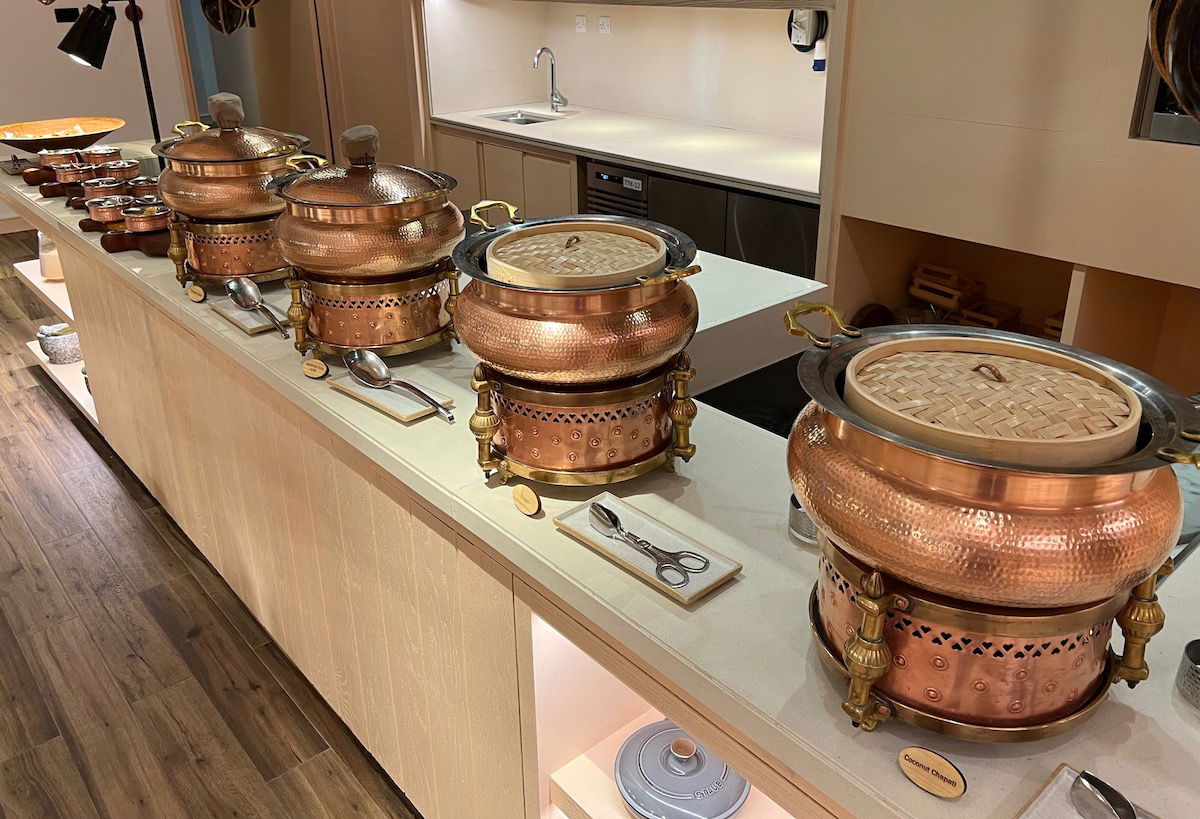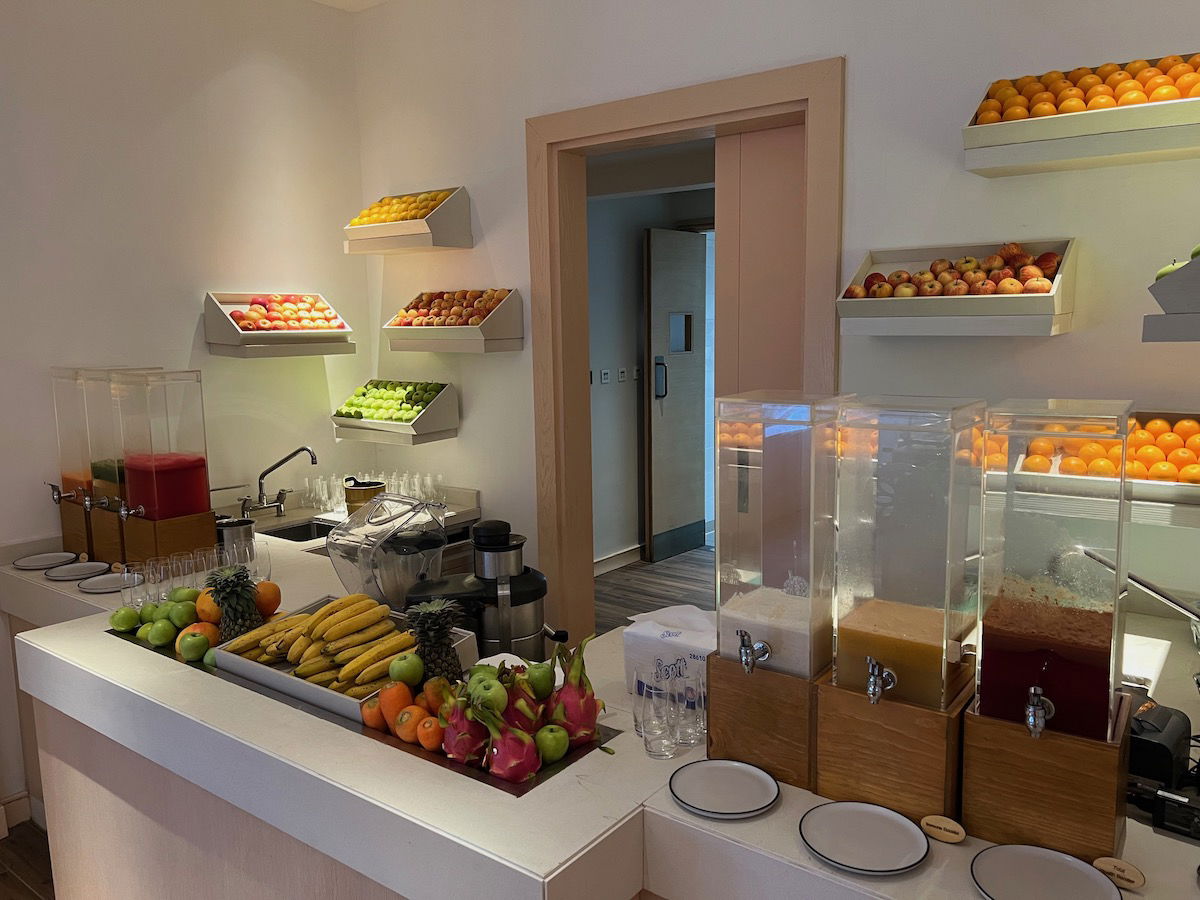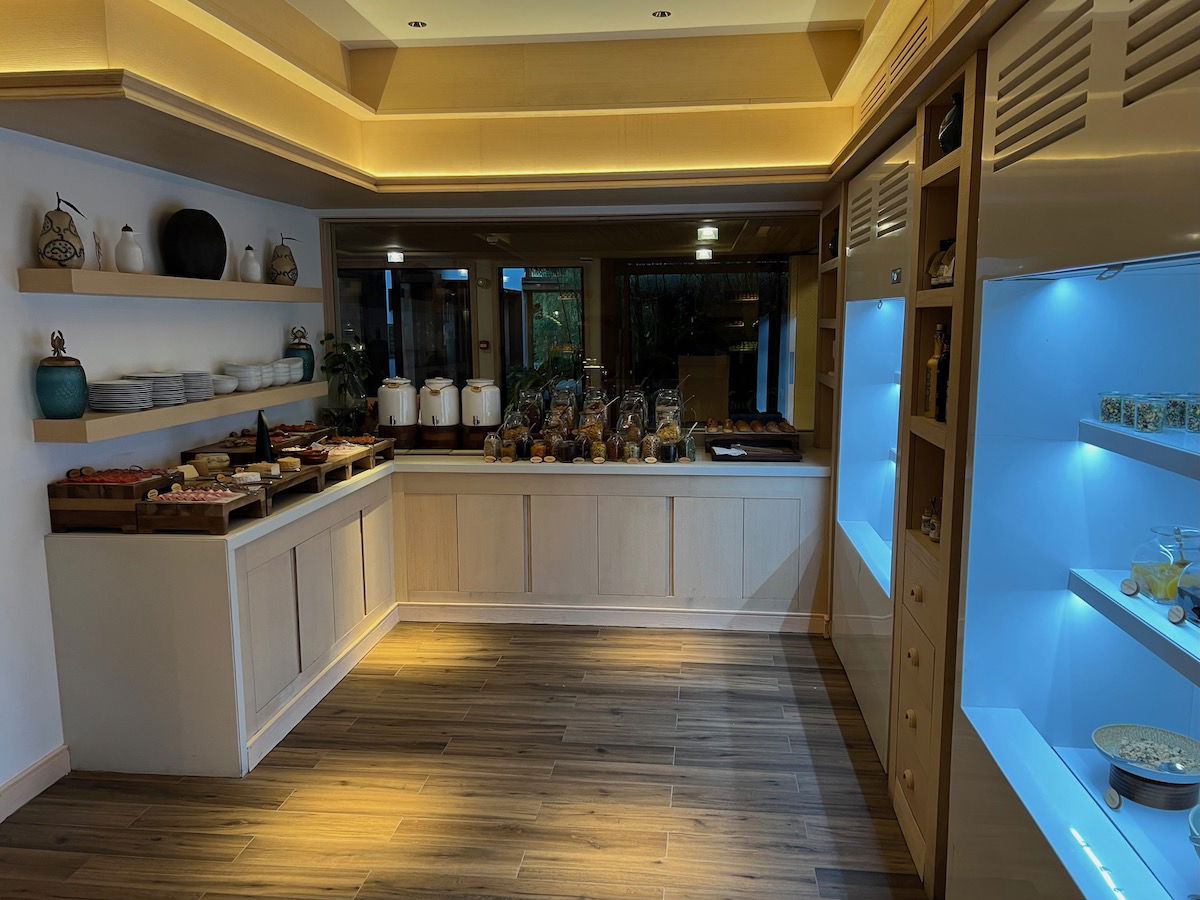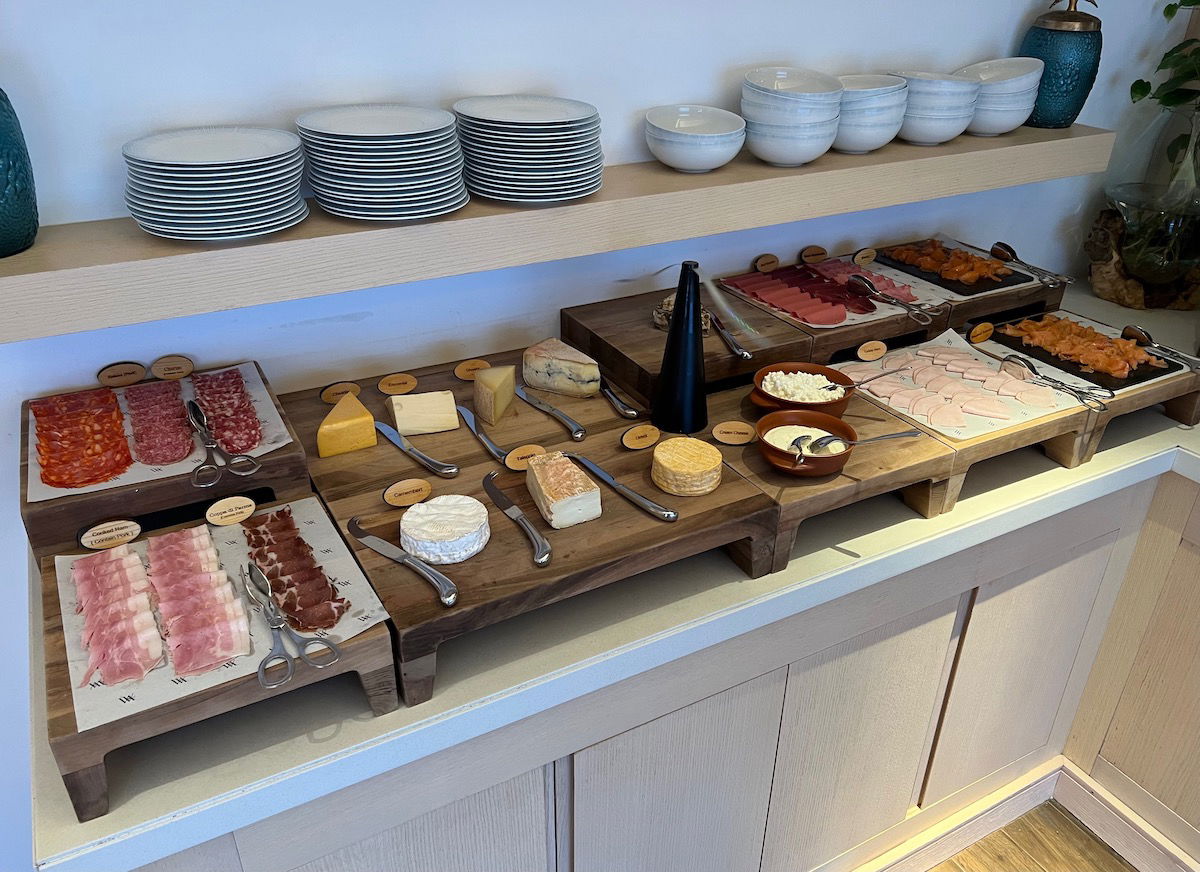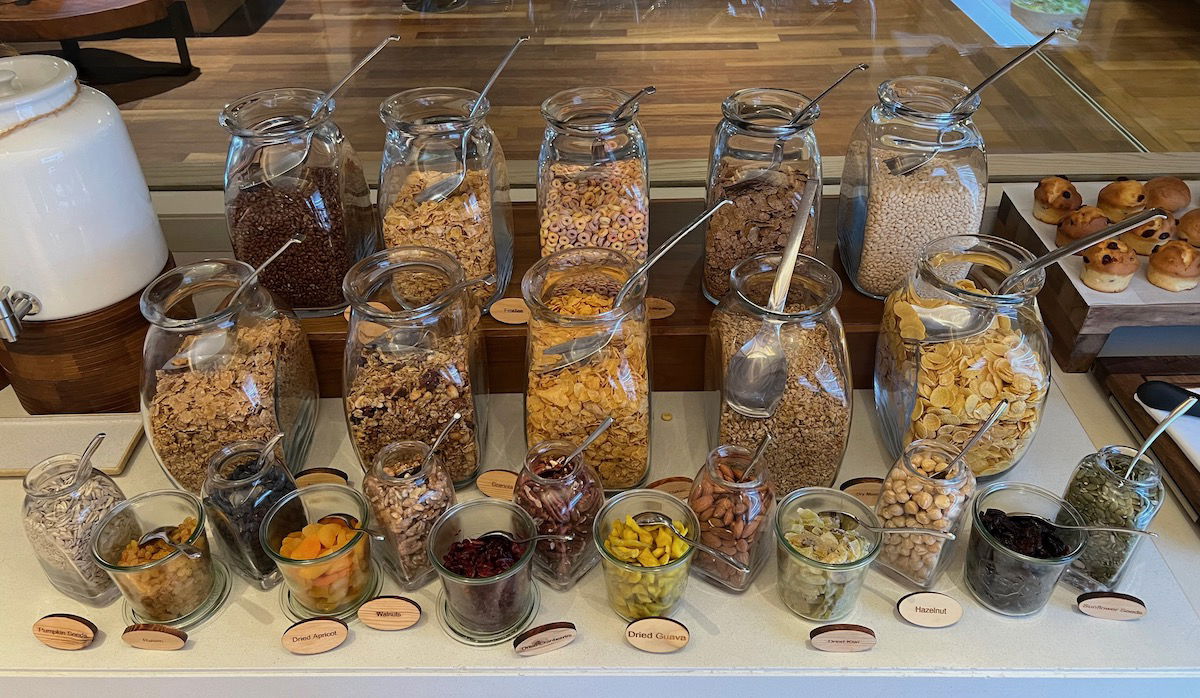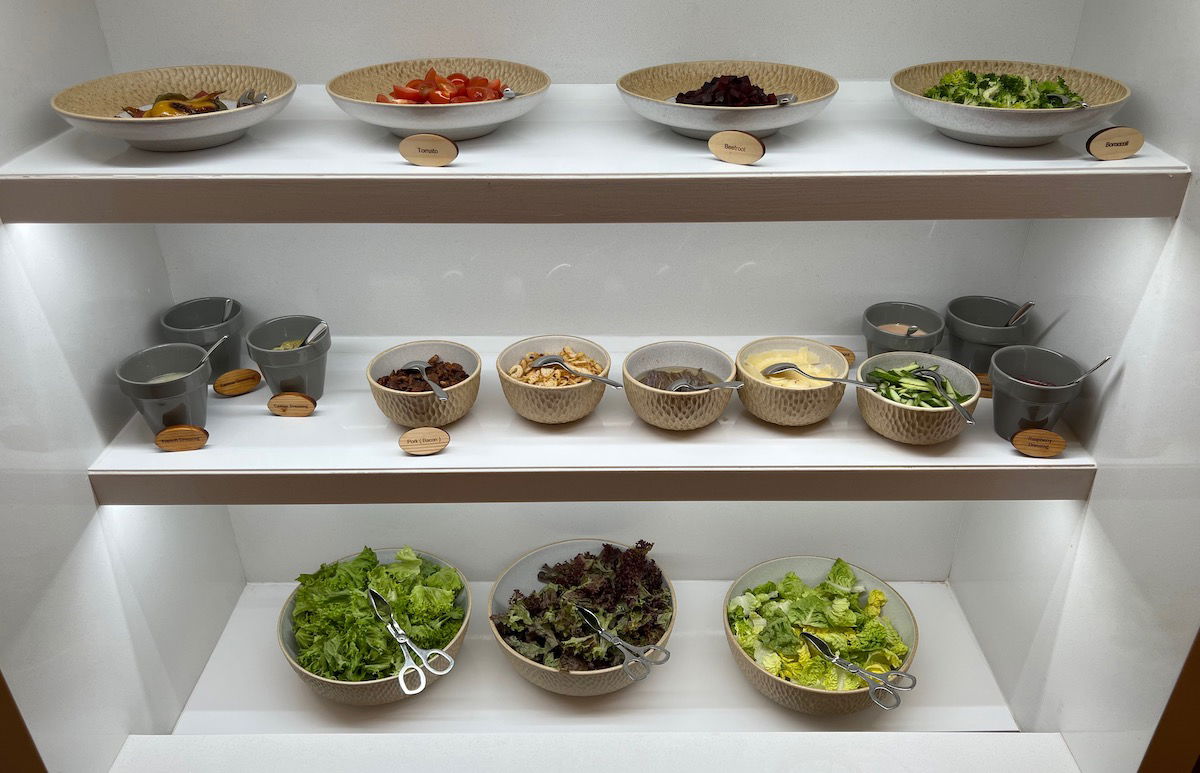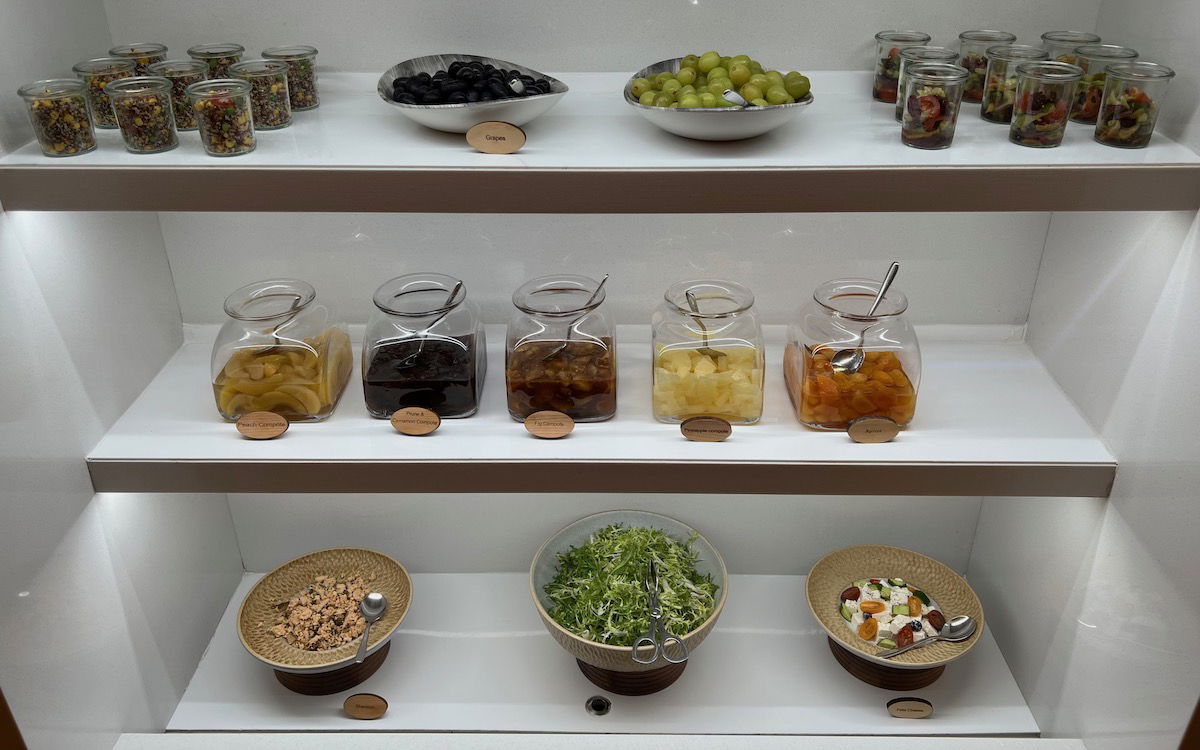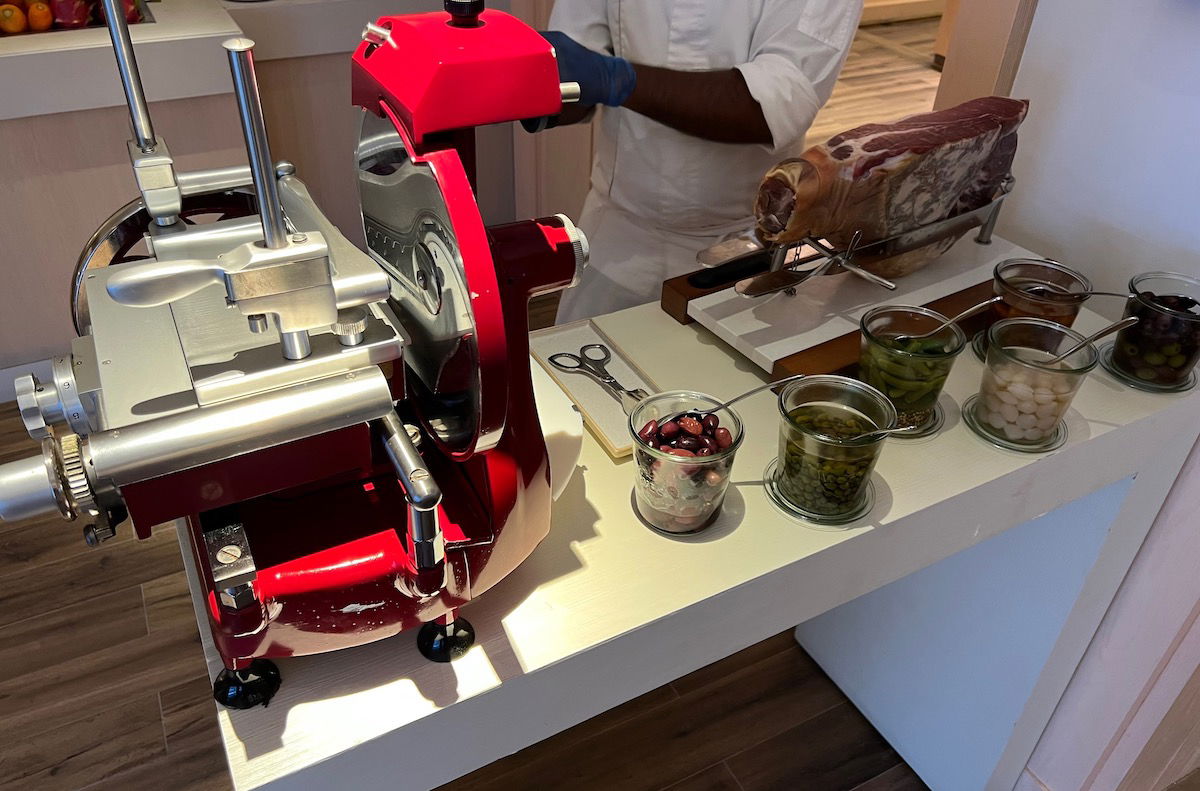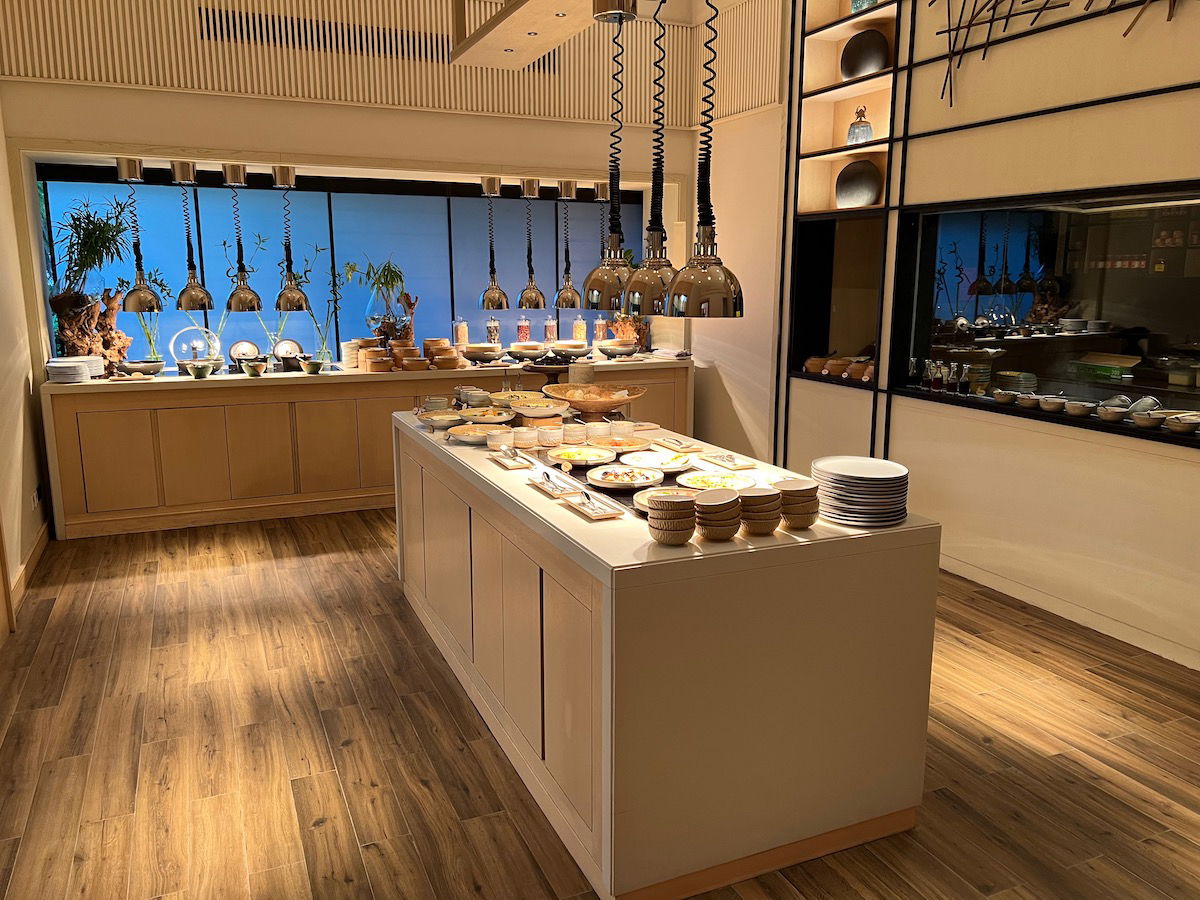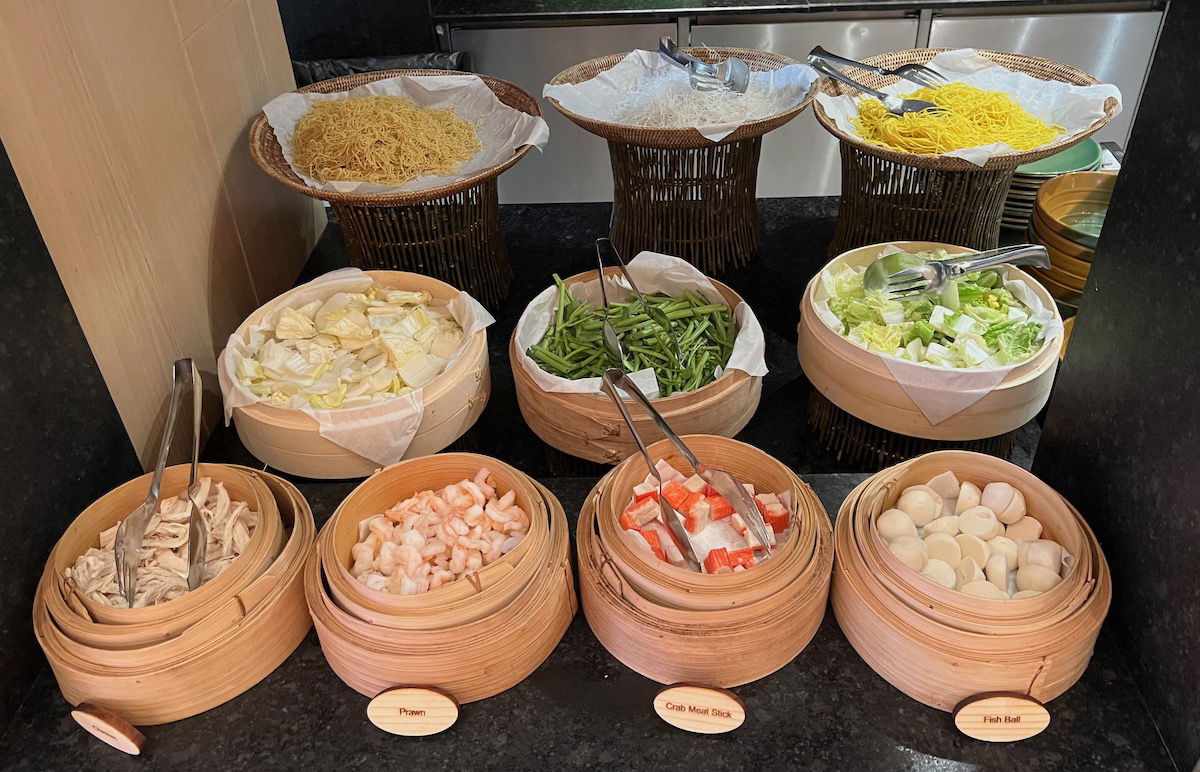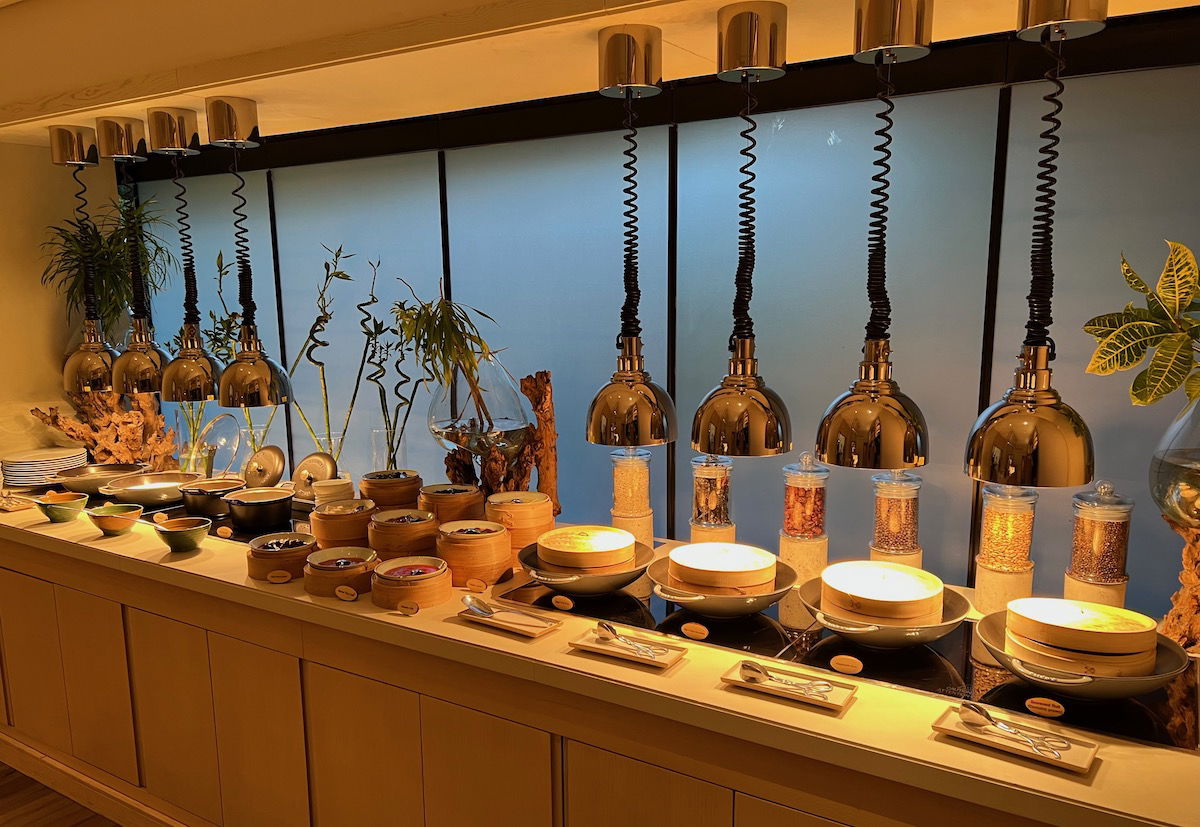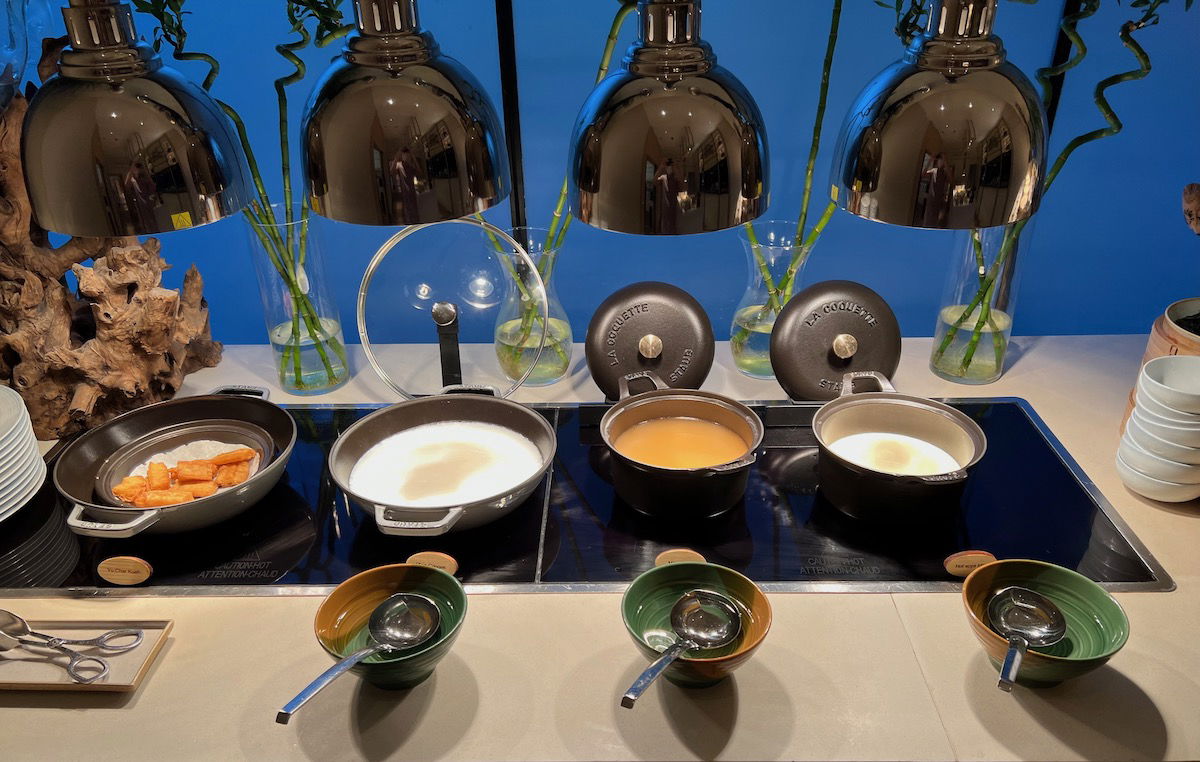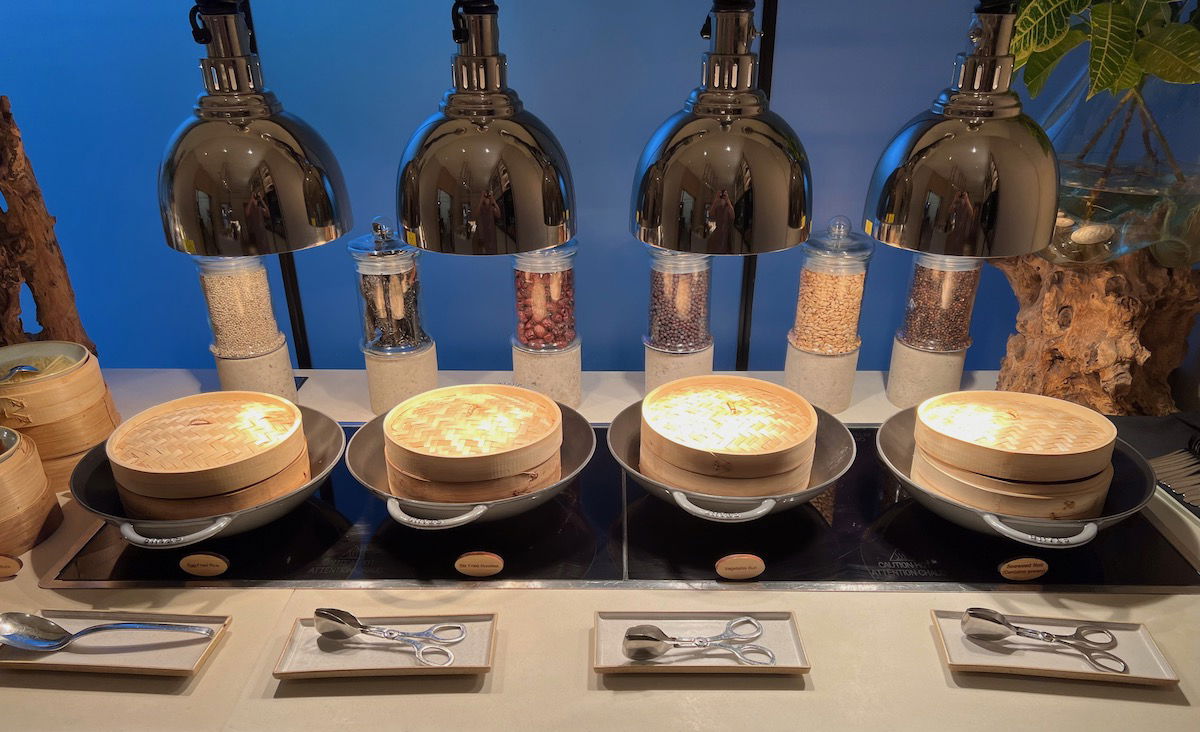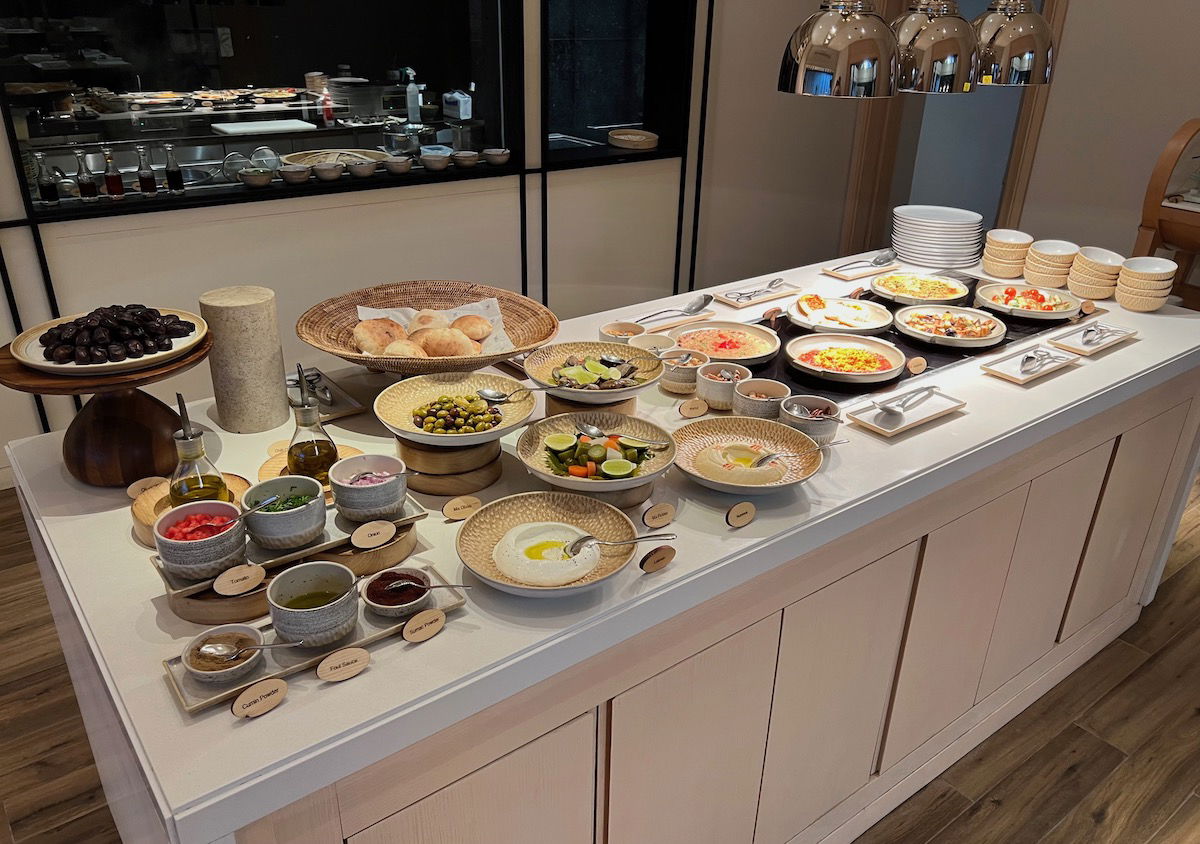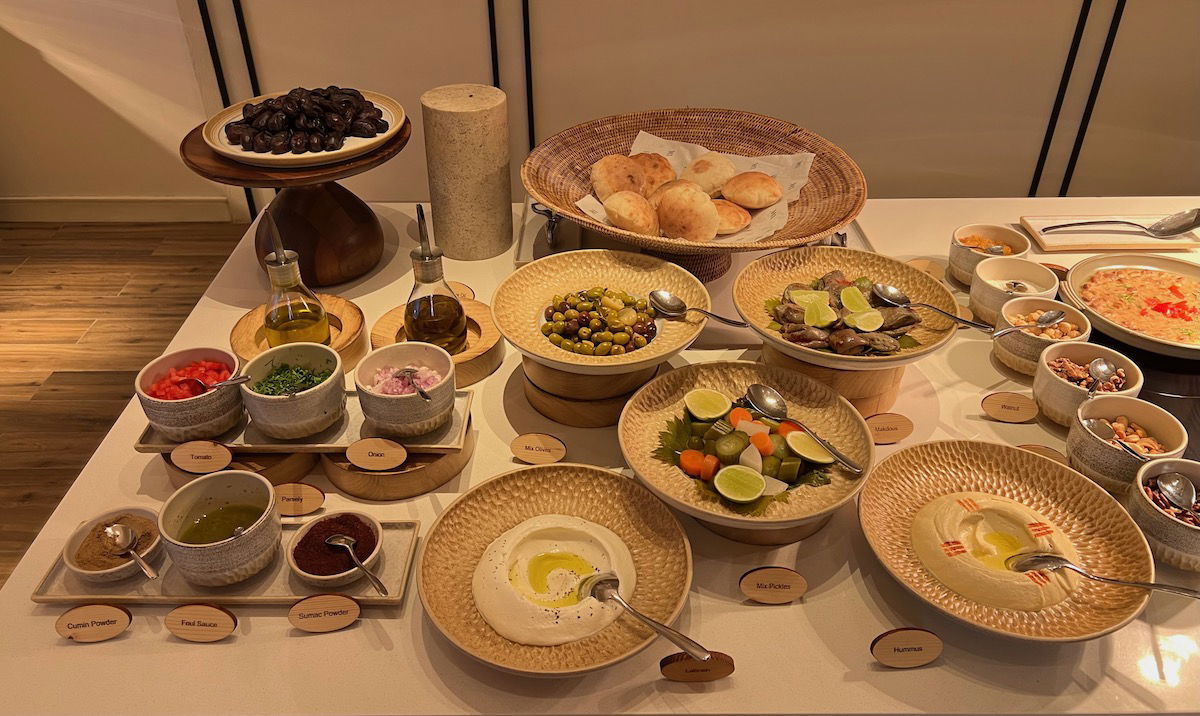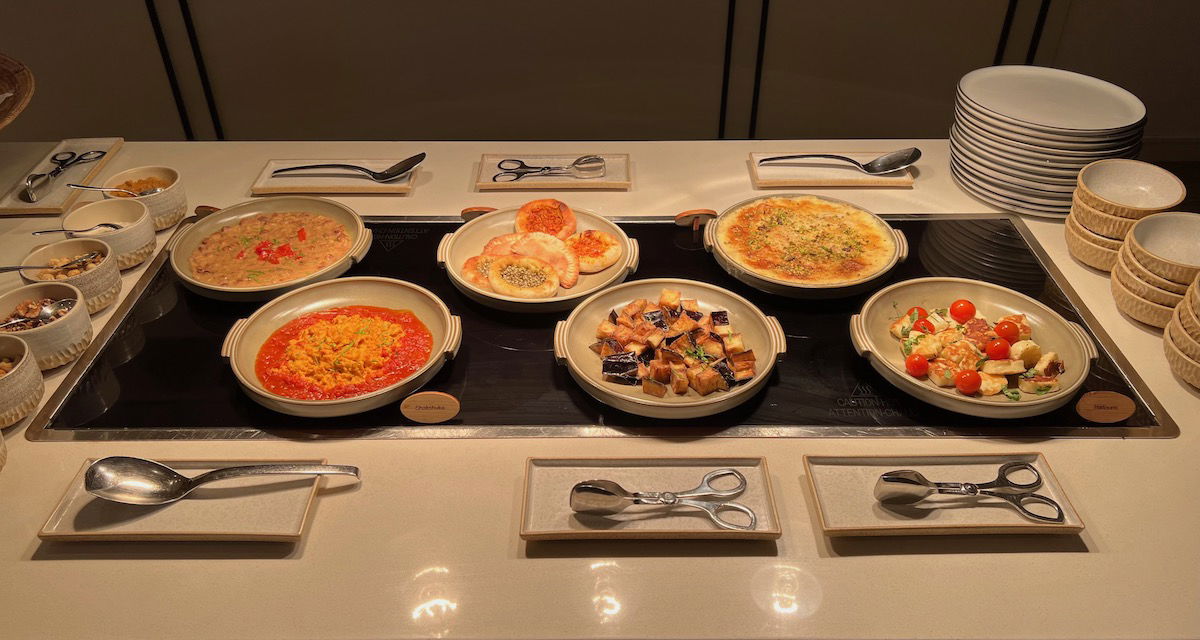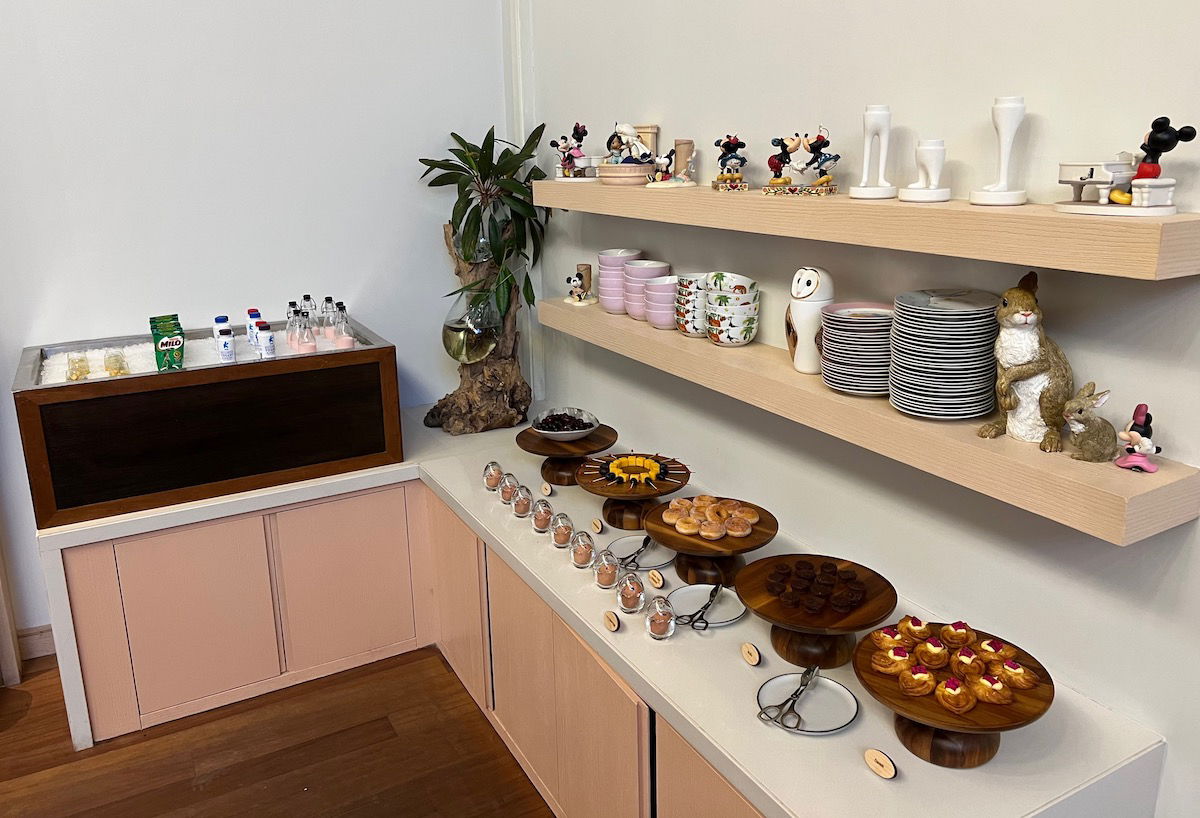 There's even free flowing Taittinger, should you want a glass of champagne or a mimosa.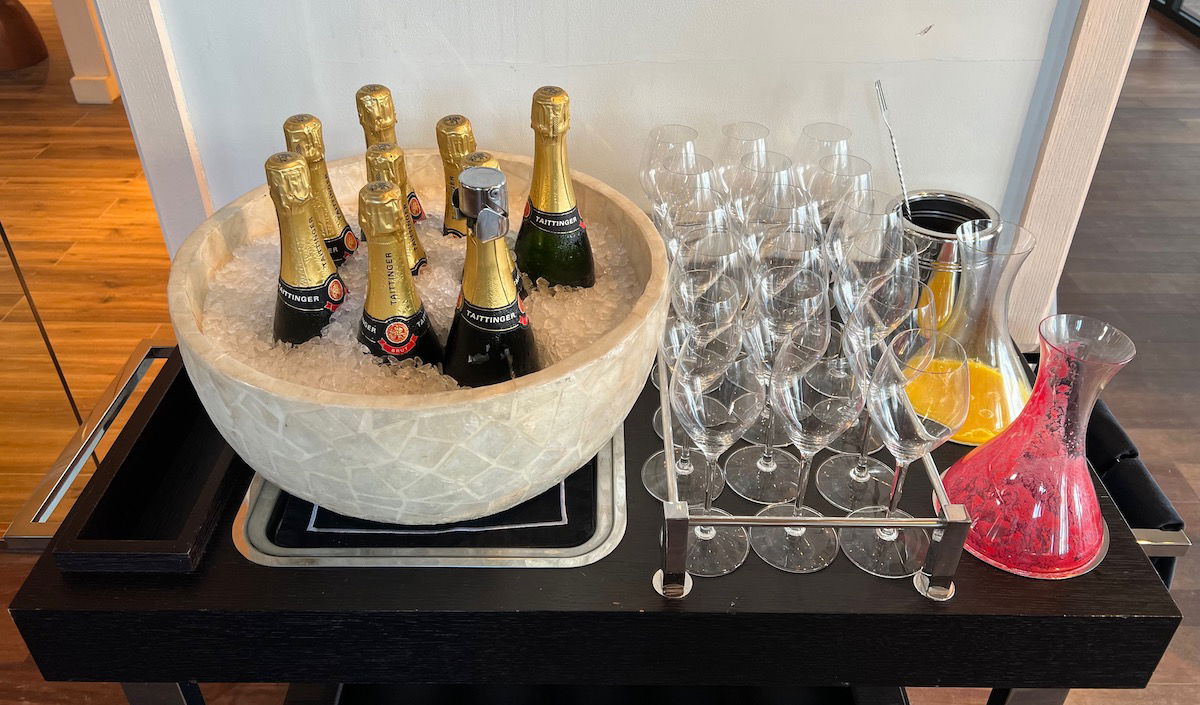 The servers in the restaurant were attentive, and were happy to take any coffee or freshly squeezed juice orders. The cappuccinos here were a 10/10, and I'm a tough coffee critic.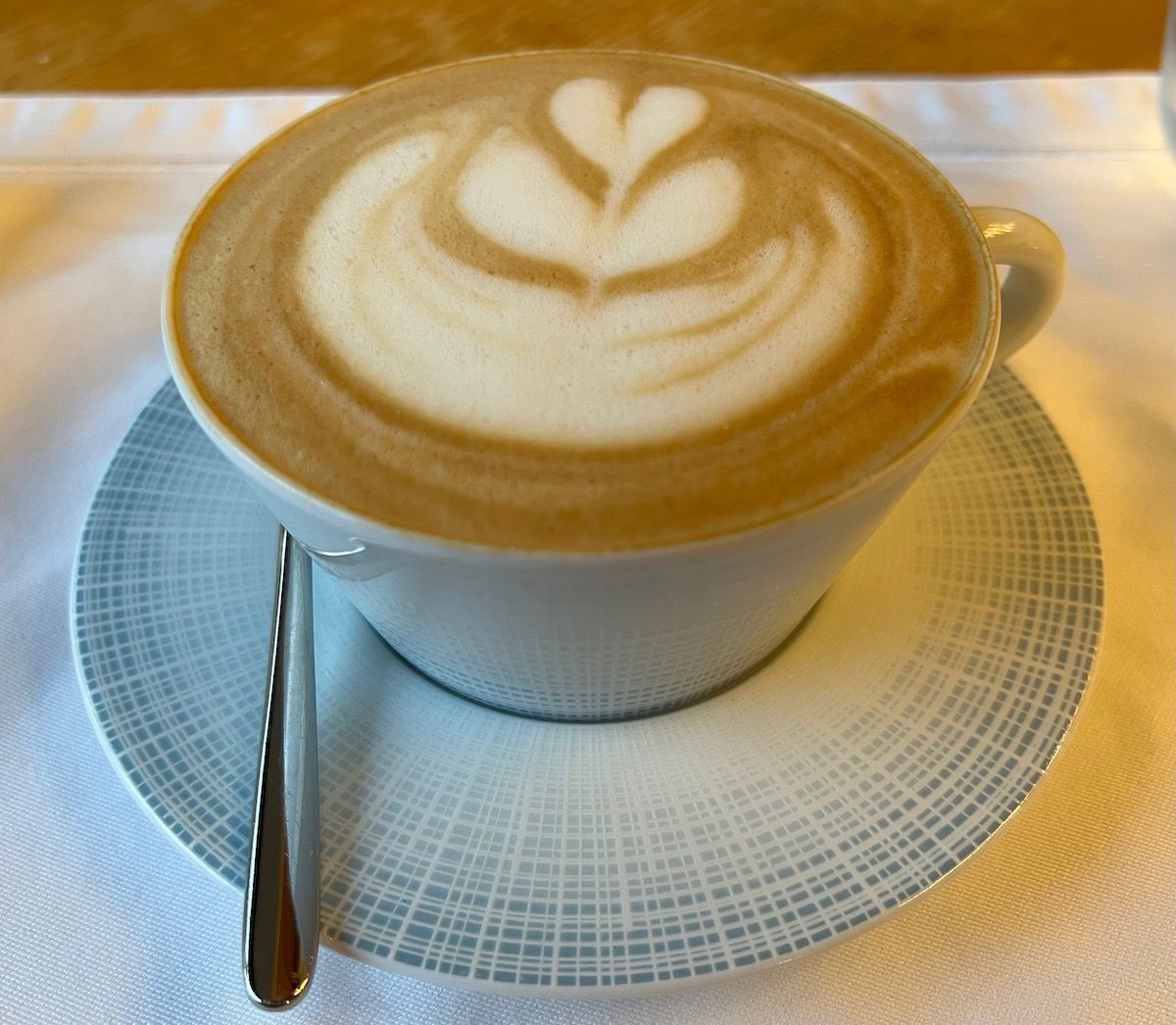 The iced lattes were top notch as well.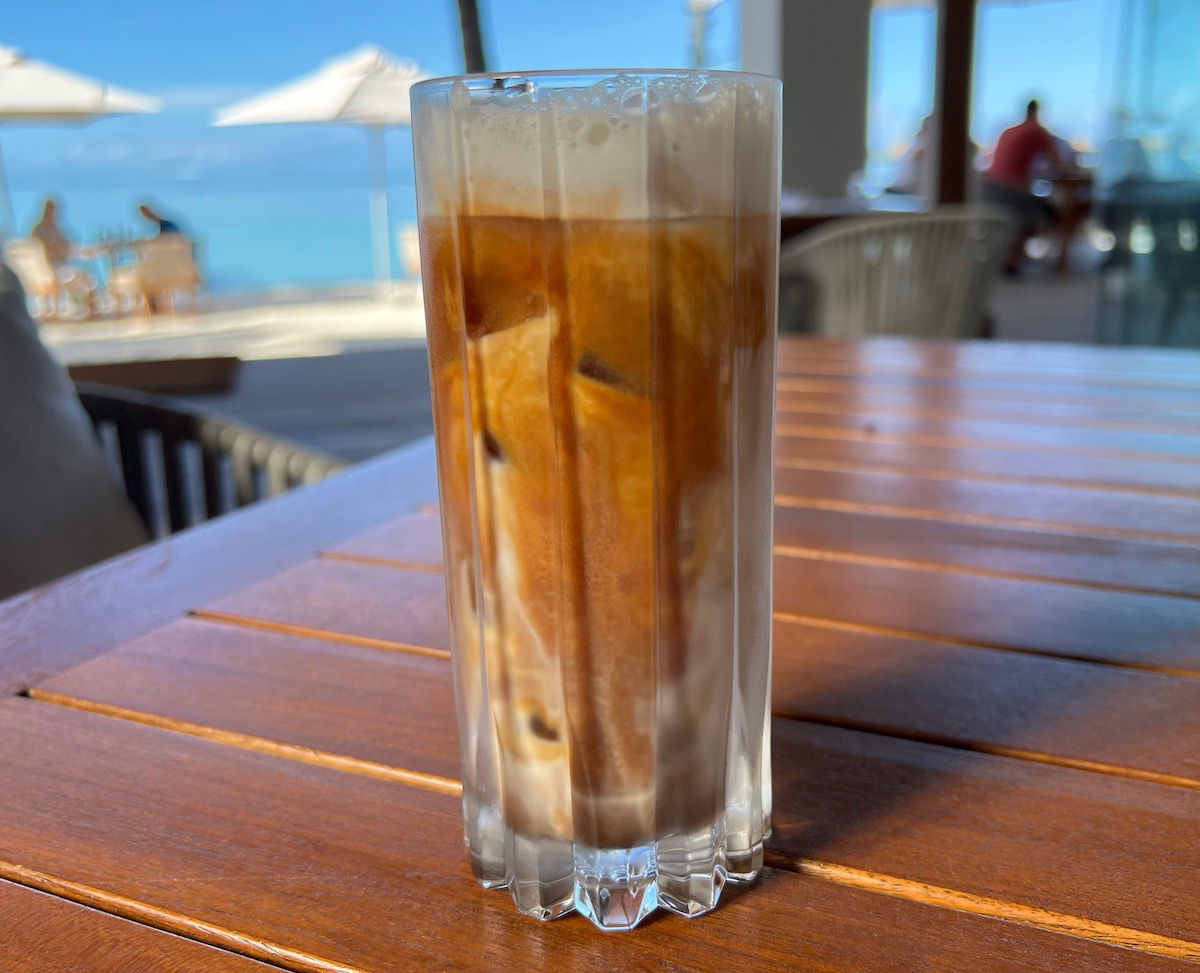 While we mostly just stuck to the buffet, we also tried the avocado toast and Maldivian omelet, both of which we enjoyed.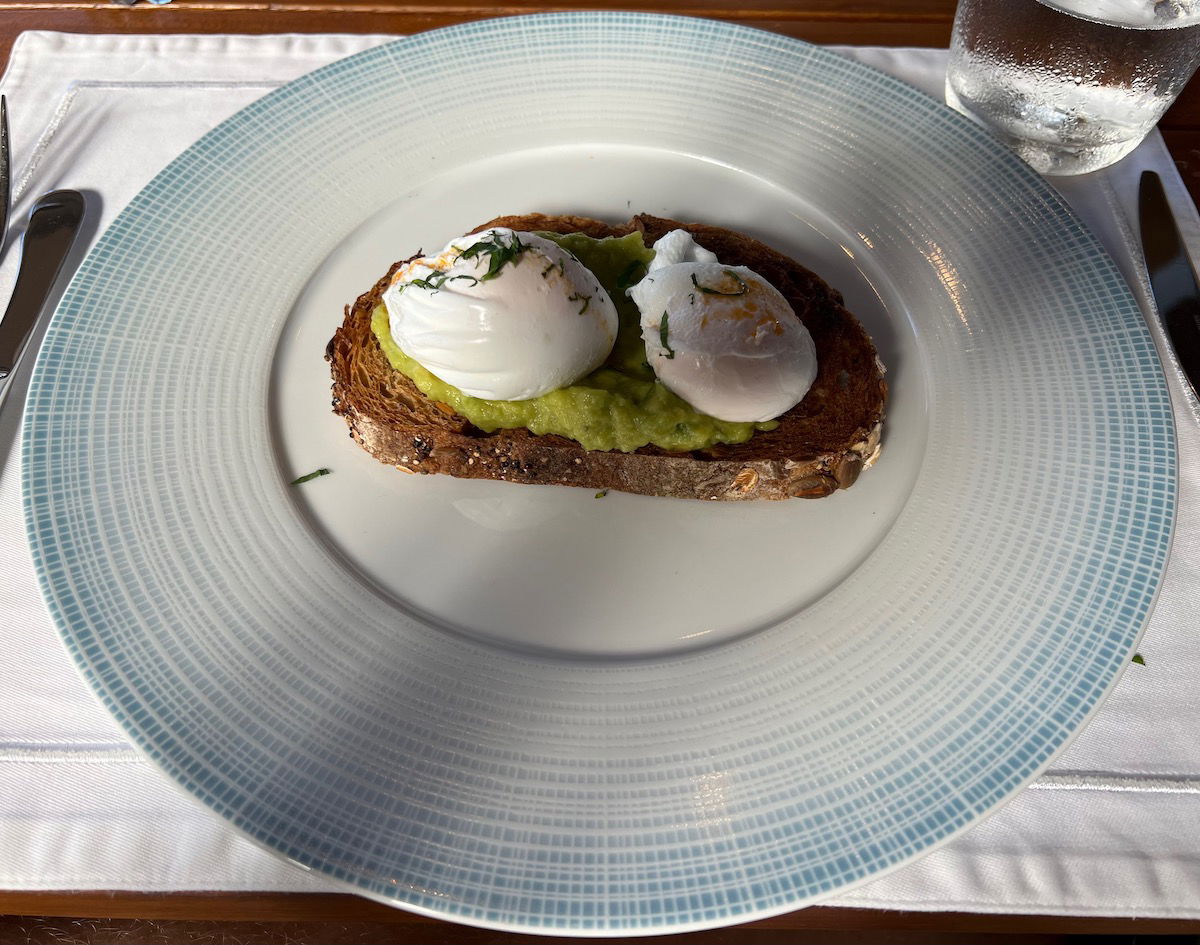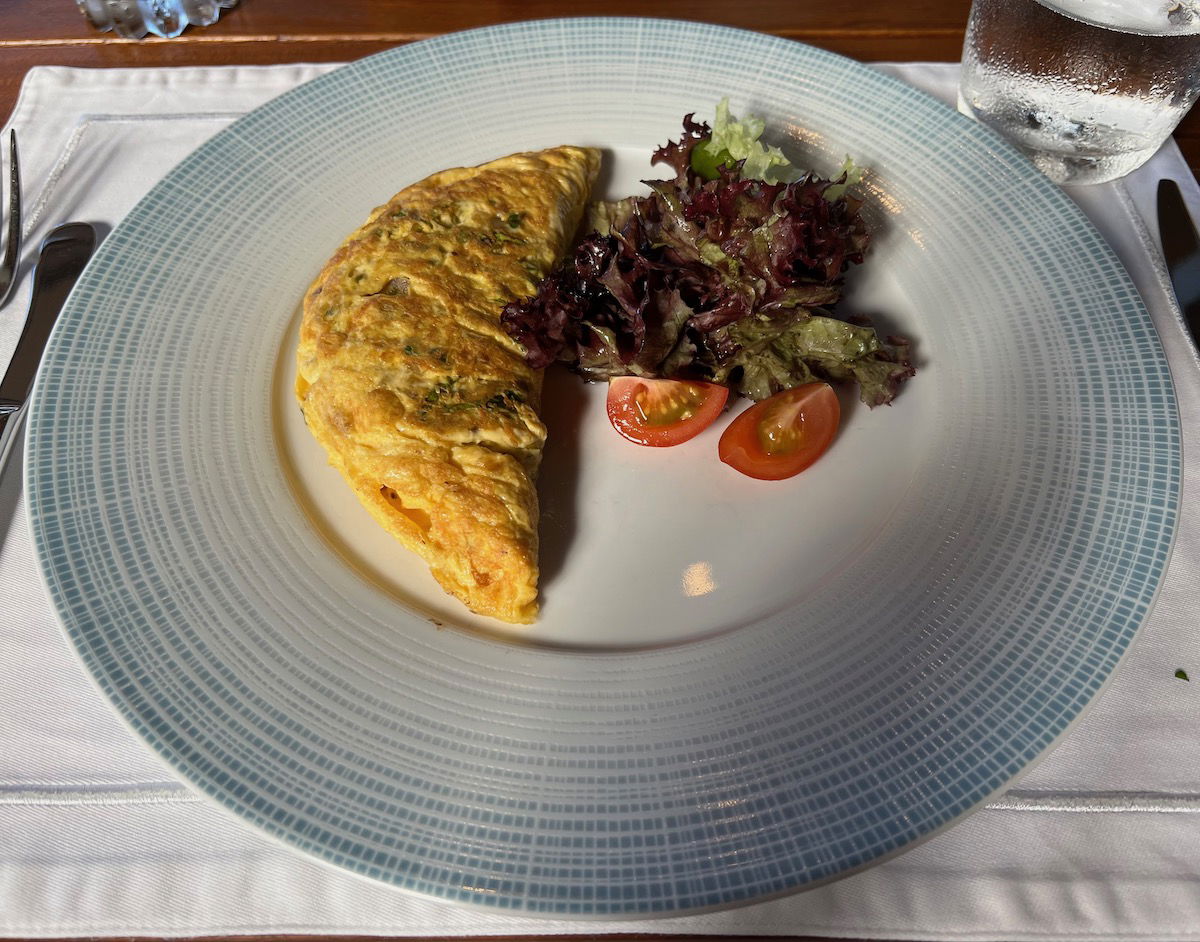 Waldorf Astoria Maldives Nava
Nava is the Waldorf Astoria's beachside restaurant, which is most popular for lunch. The restaurant has everything from salads, to sandwiches, to pizzas, and you can find the menu here.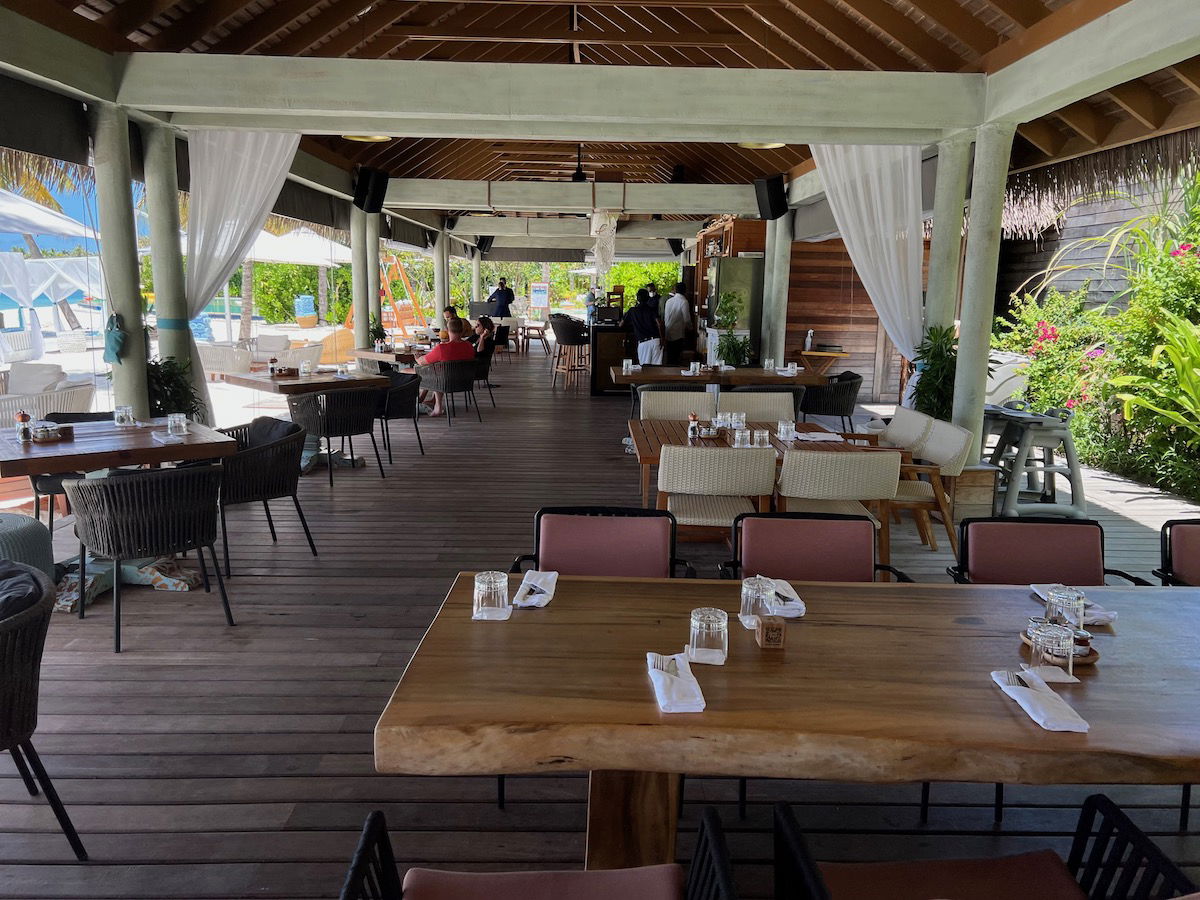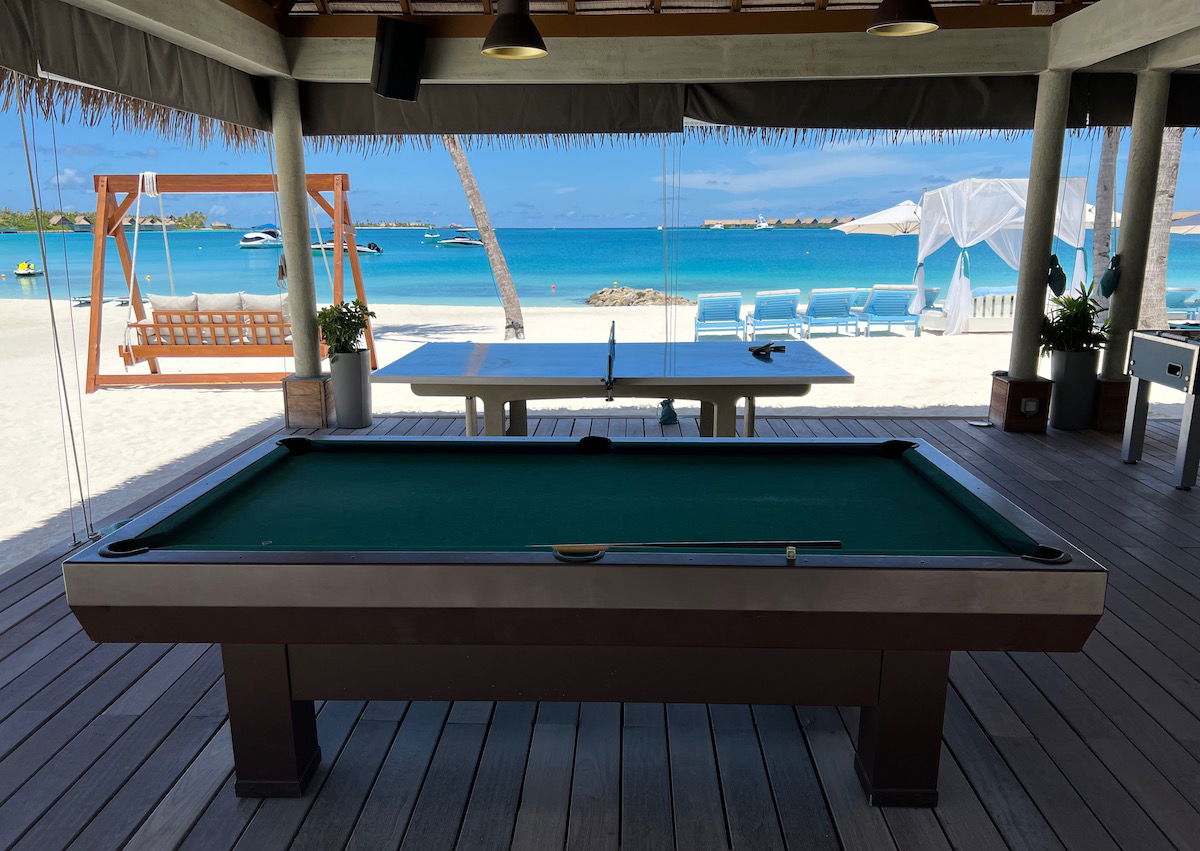 We shared a honey roasted pumpkin salad plus a (beef) pepperoni pizza.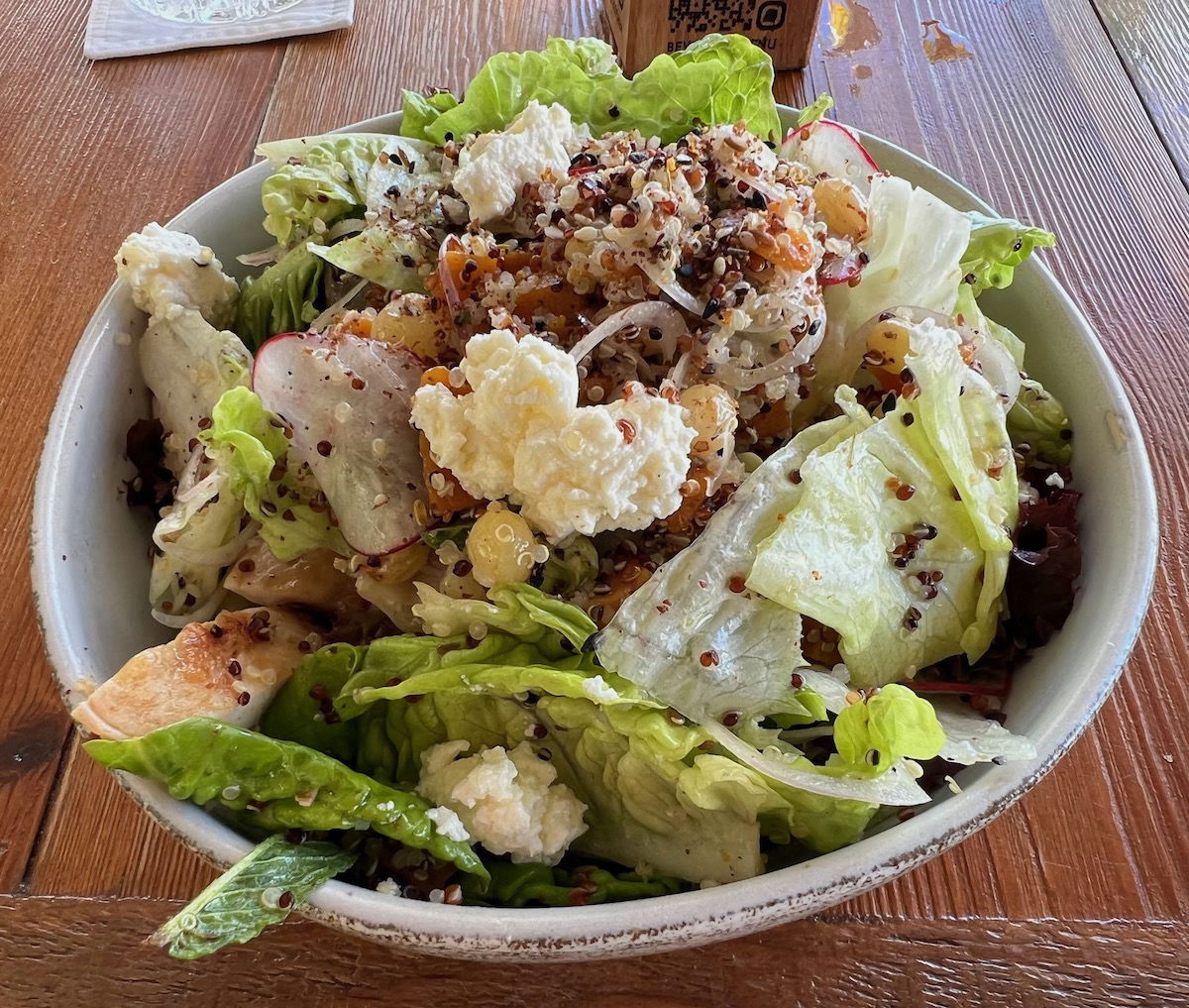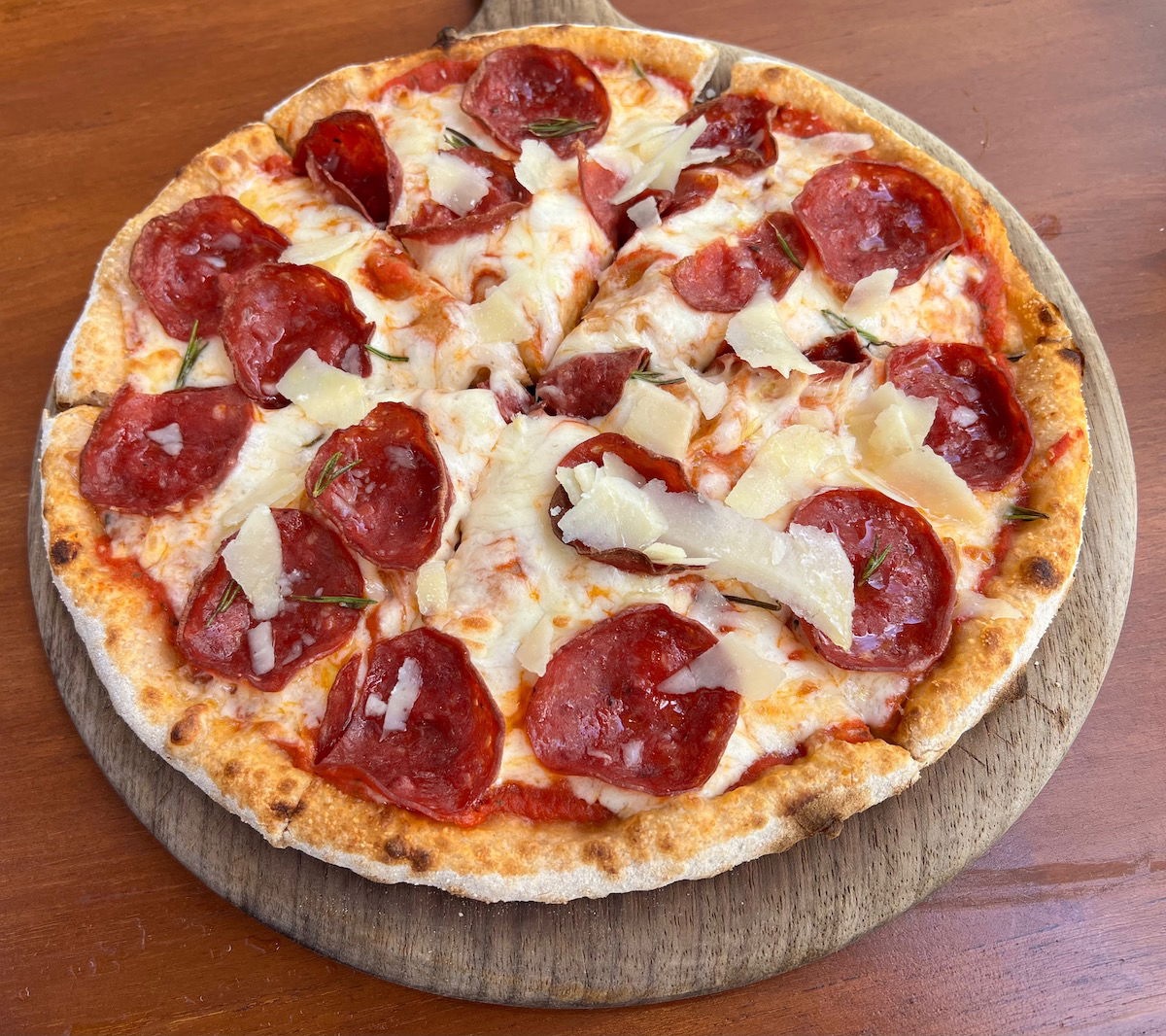 I'd also note that they serve pitchers of drinks. These sounded too good to be true, since cocktails were ~$22, while these pitchers were ~$60, and it was claimed they had the equivalent of five drinks in there. They're definitely weak, and afterwards we wondered if they even had any alcohol in them.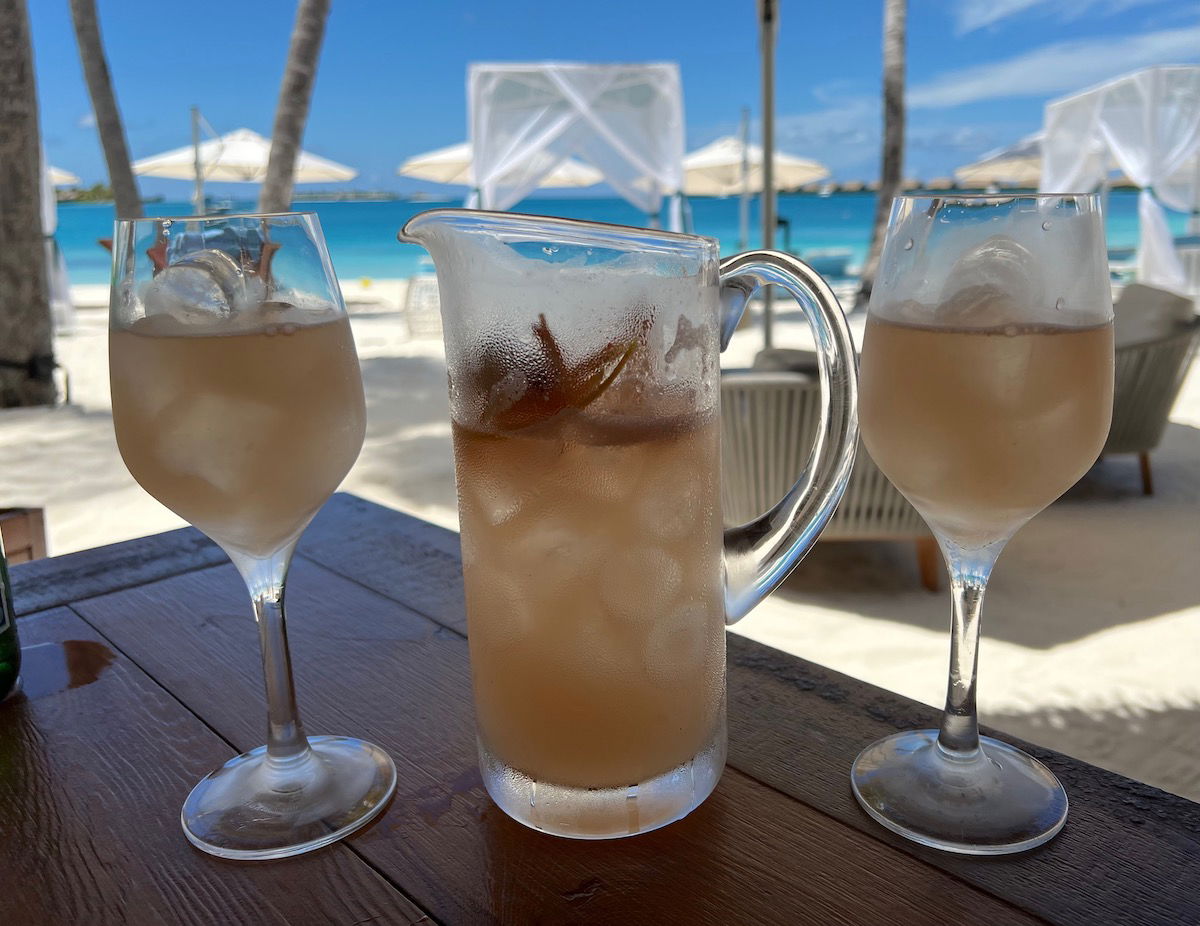 Waldorf Astoria Maldives Peacock Alley
Peacock Alley is a bar that you'll find at most Waldorf Astoria in the world. At the Waldorf Astoria Maldives, Peacock Alley is located near reception. It's a huge bar area, with both indoor and outdoor seating.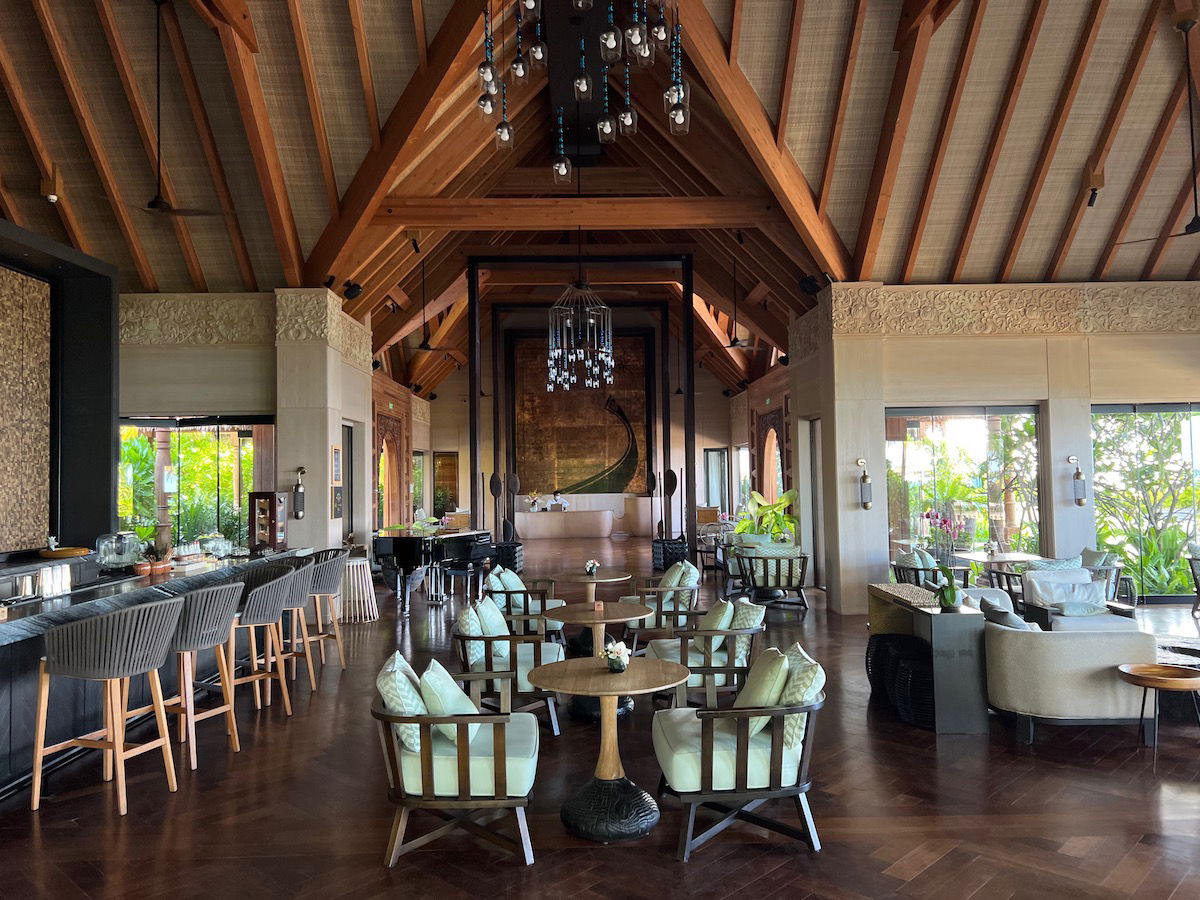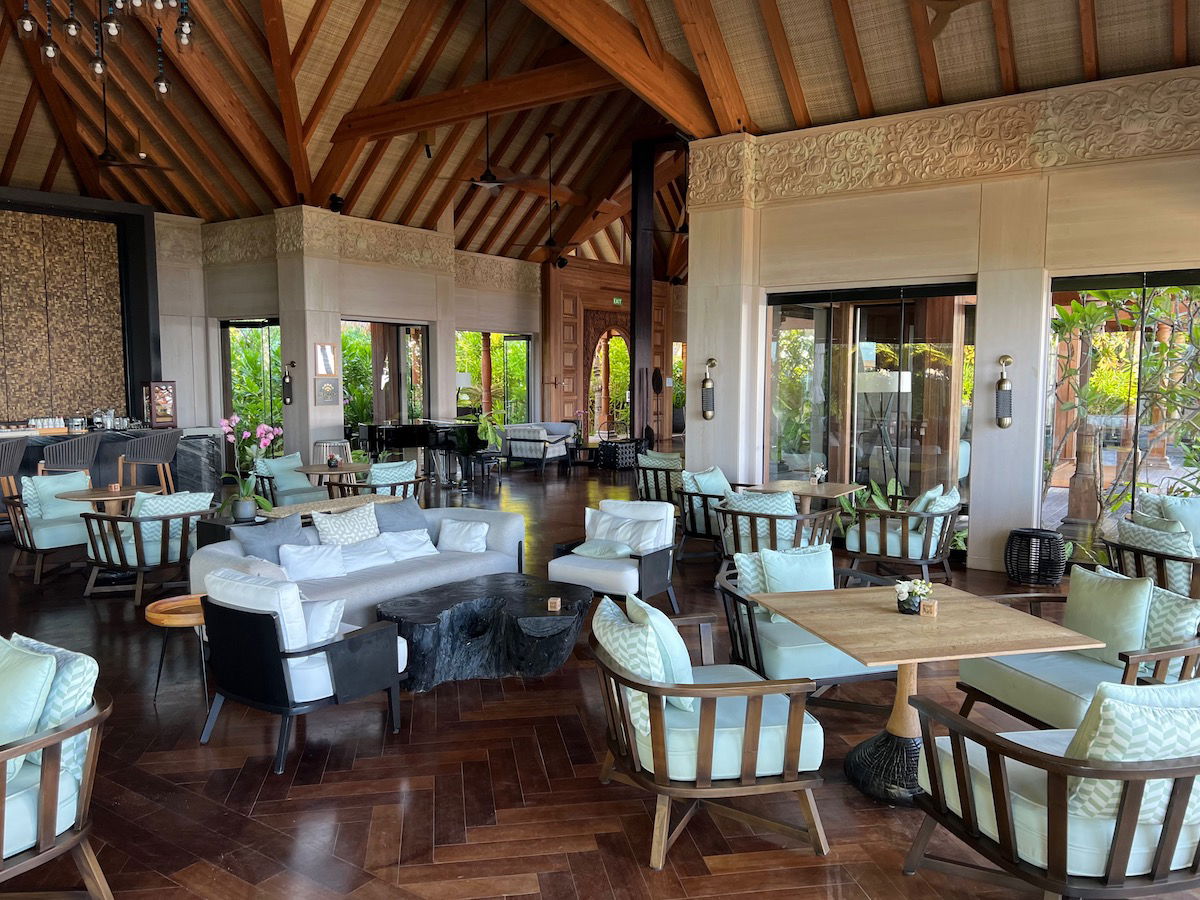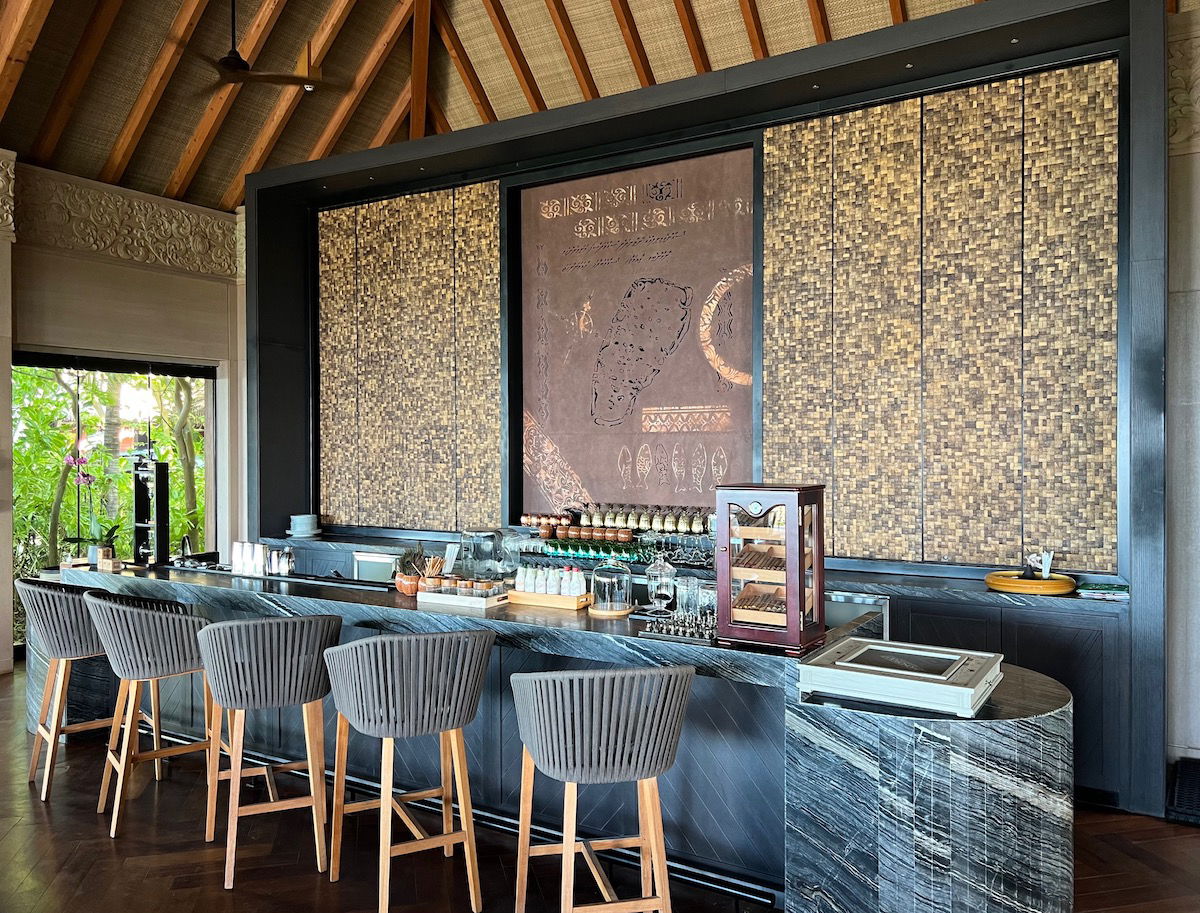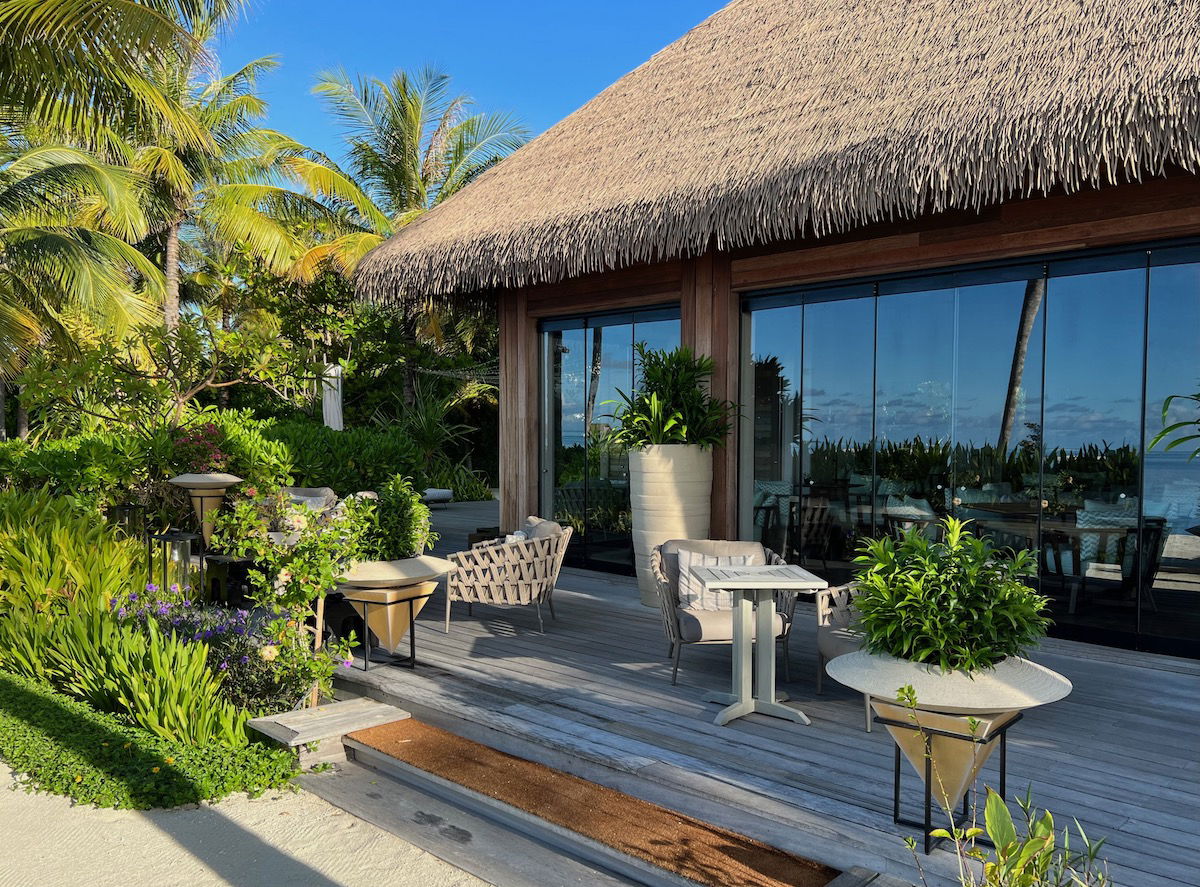 From 4-5PM daily there's a happy hour for Hilton Honors Diamond members, with a selection of cocktails, wine, beer, soft drinks, coffee, and tea, and you can find the menu here. The drinks are served with mixed nuts.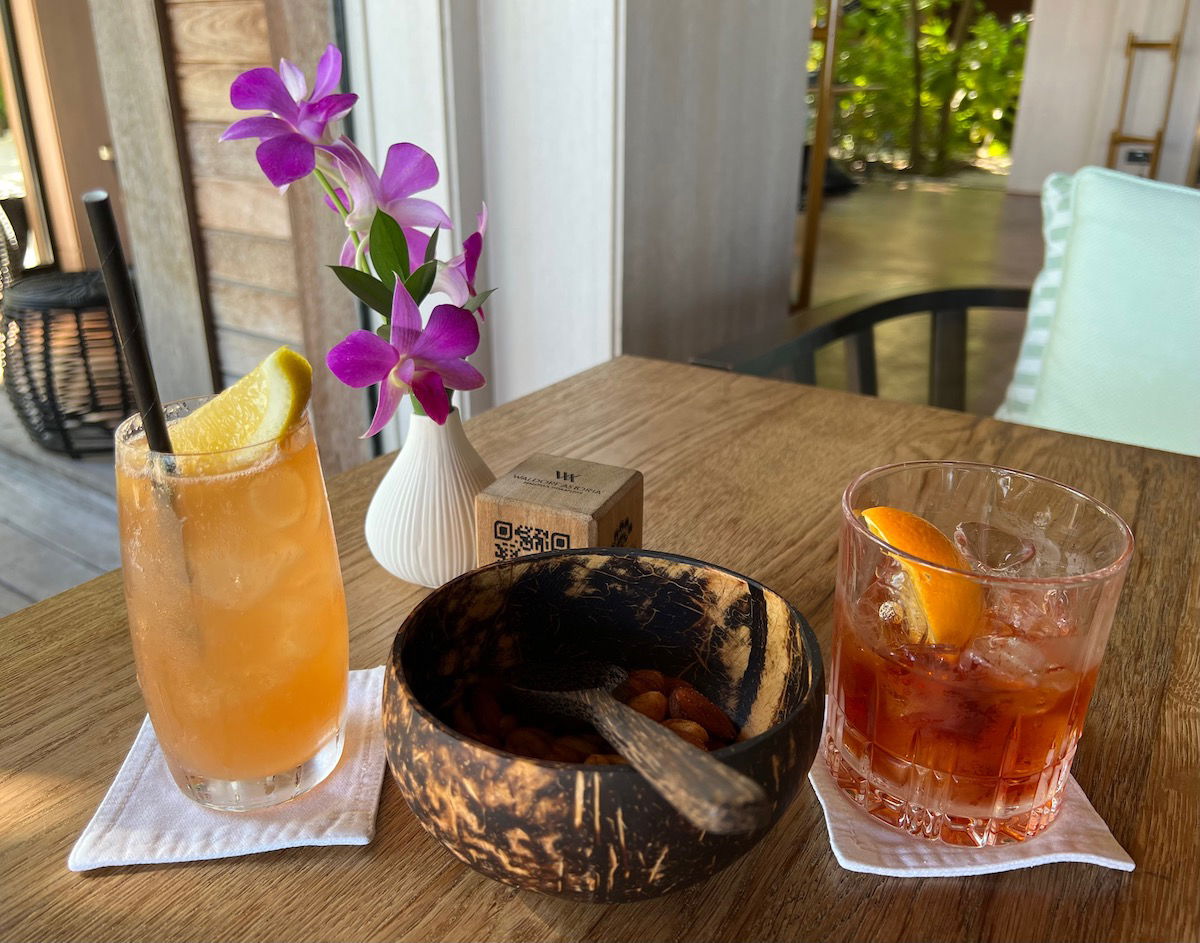 The staff here were lovely, and generous with trying to provide refills. I also loved how there was live music, which is a reason to attend this if nothing else. There seemed to pretty consistently be around five or six couples here (perhaps also the number of points rooms the hotel opens up?).
Waldorf Astoria Maldives Amber
Amber is the resort's sunset bar, and you can find the menu here. It's a small bar area that's on a dock, and there's a selection of cocktails. We came here one evening for drinks, but that was probably silly, because we didn't stay until the sunset.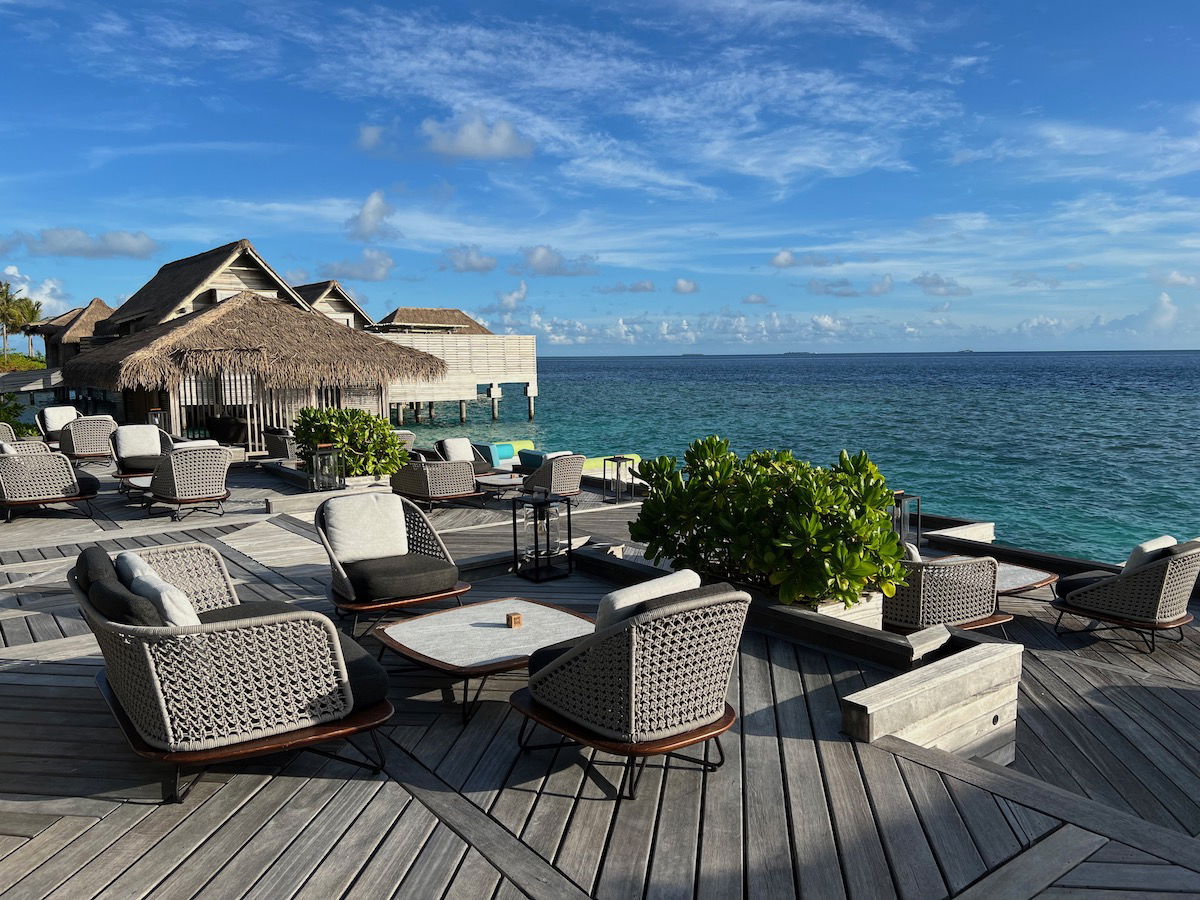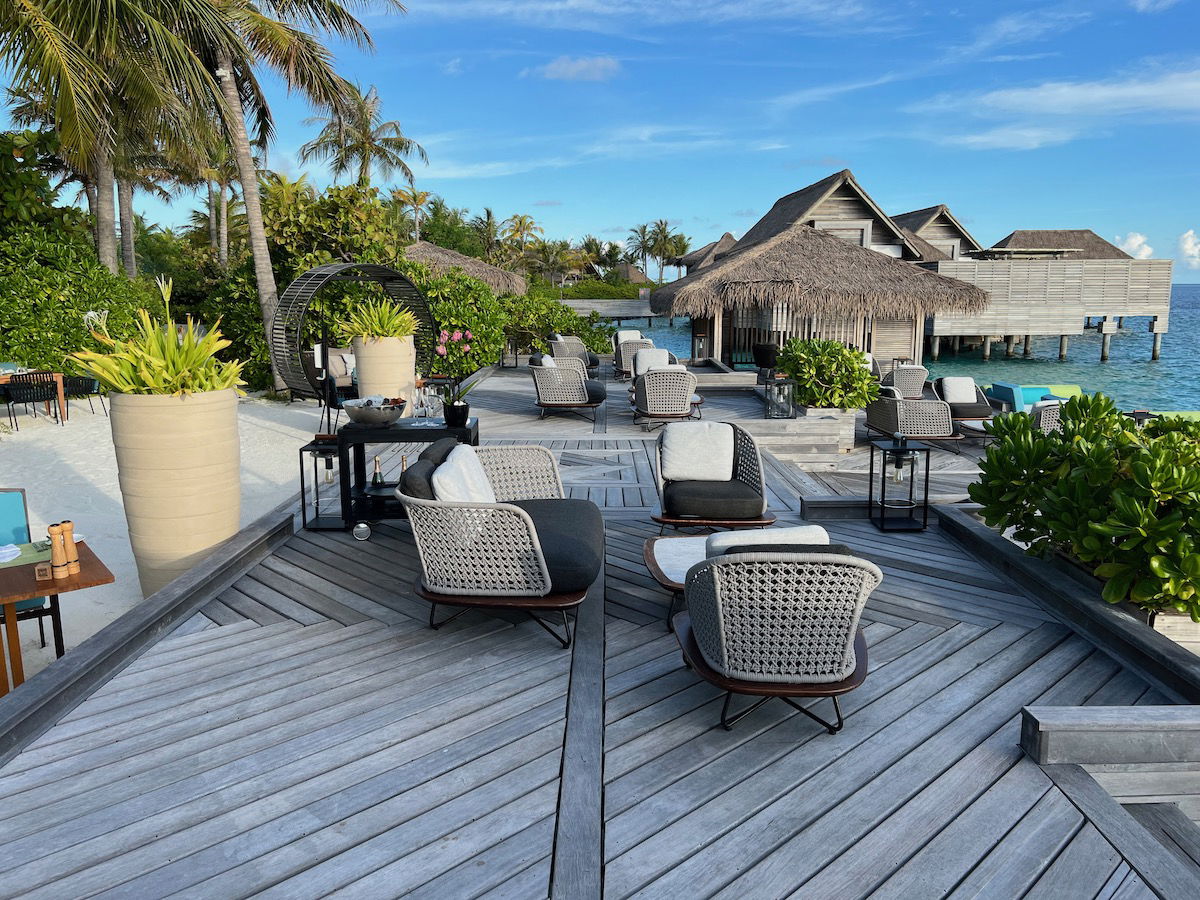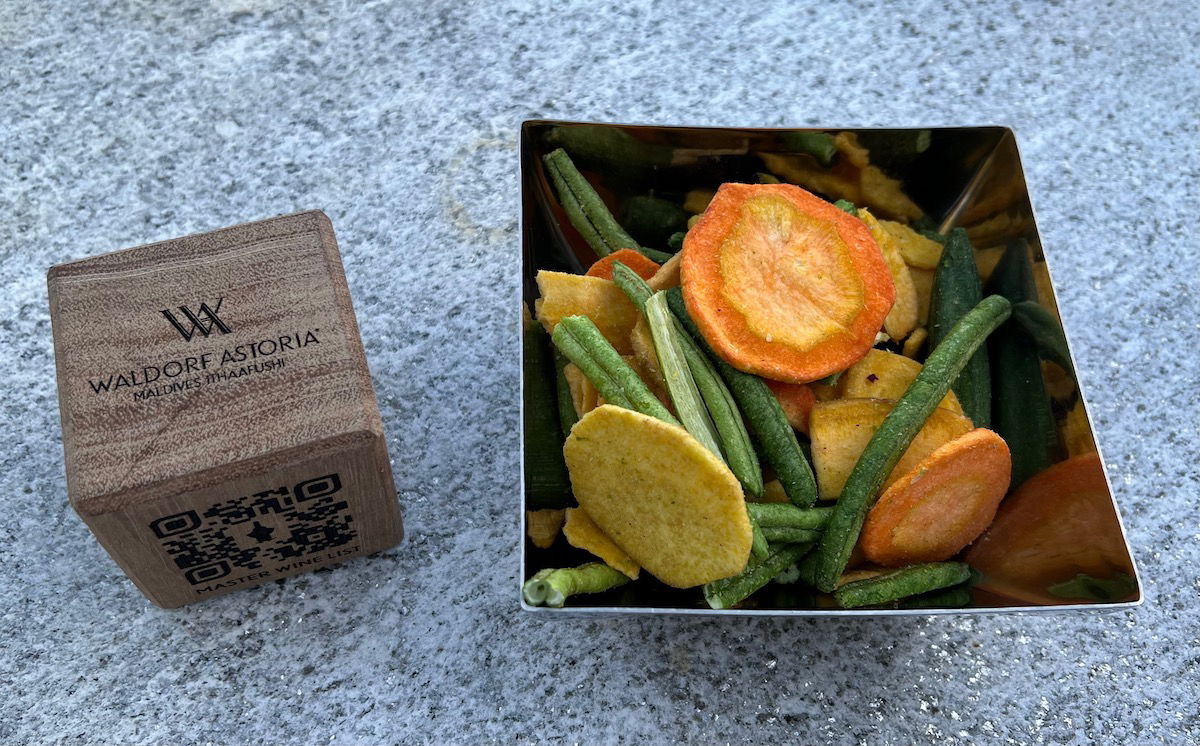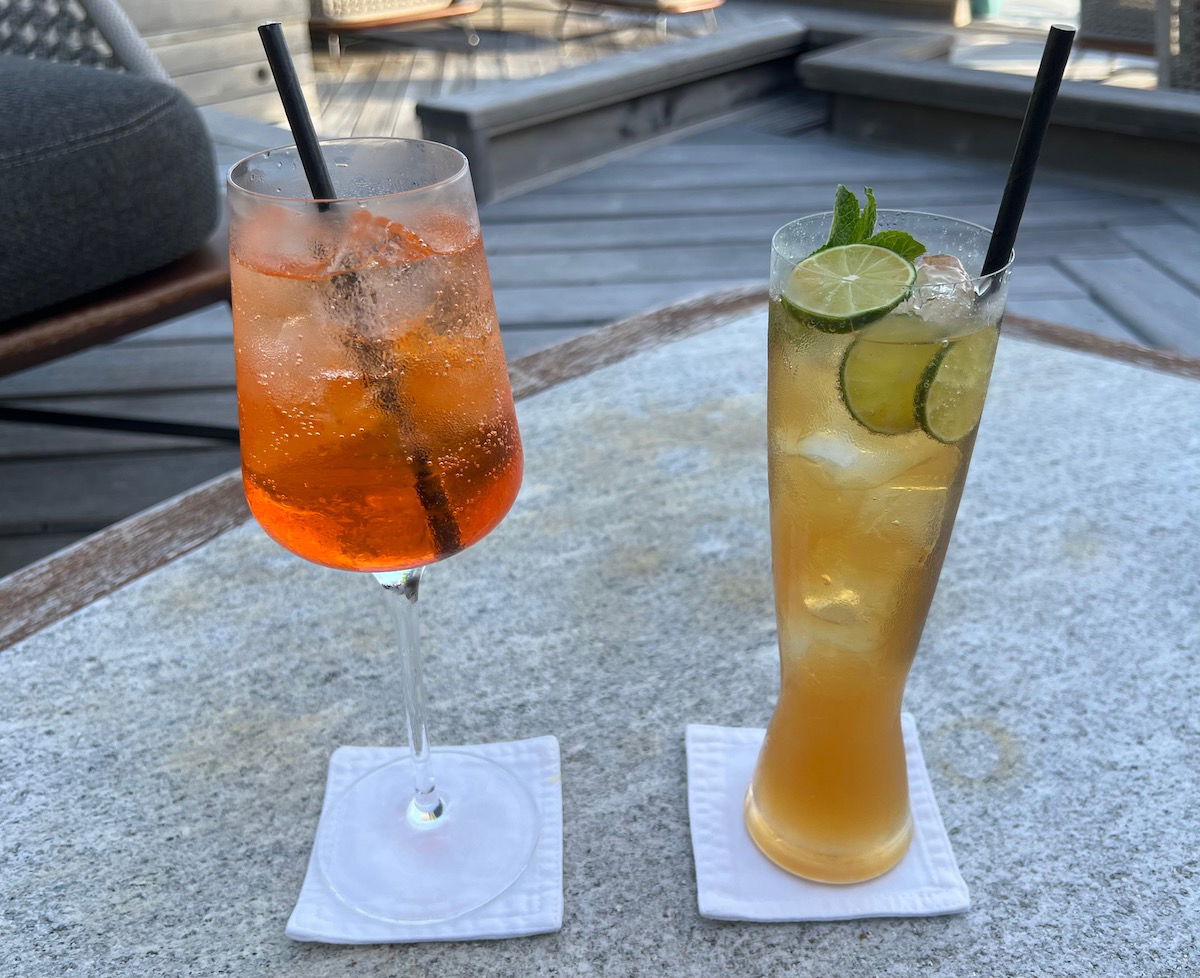 Waldorf Astoria Maldives Terra
Terra is probably the Waldorf Astoria's most famous restaurant, so I figured we had to check it out. You've probably seen pictures of this, as the restaurant consists of seven individual tree houses, and each has a table. This is a unique concept you won't find in many places, so kudos to the hotel for that.
As you arrive you go up a set of stairs, and then there's a circular walkway that you can use to access the individual tree houses.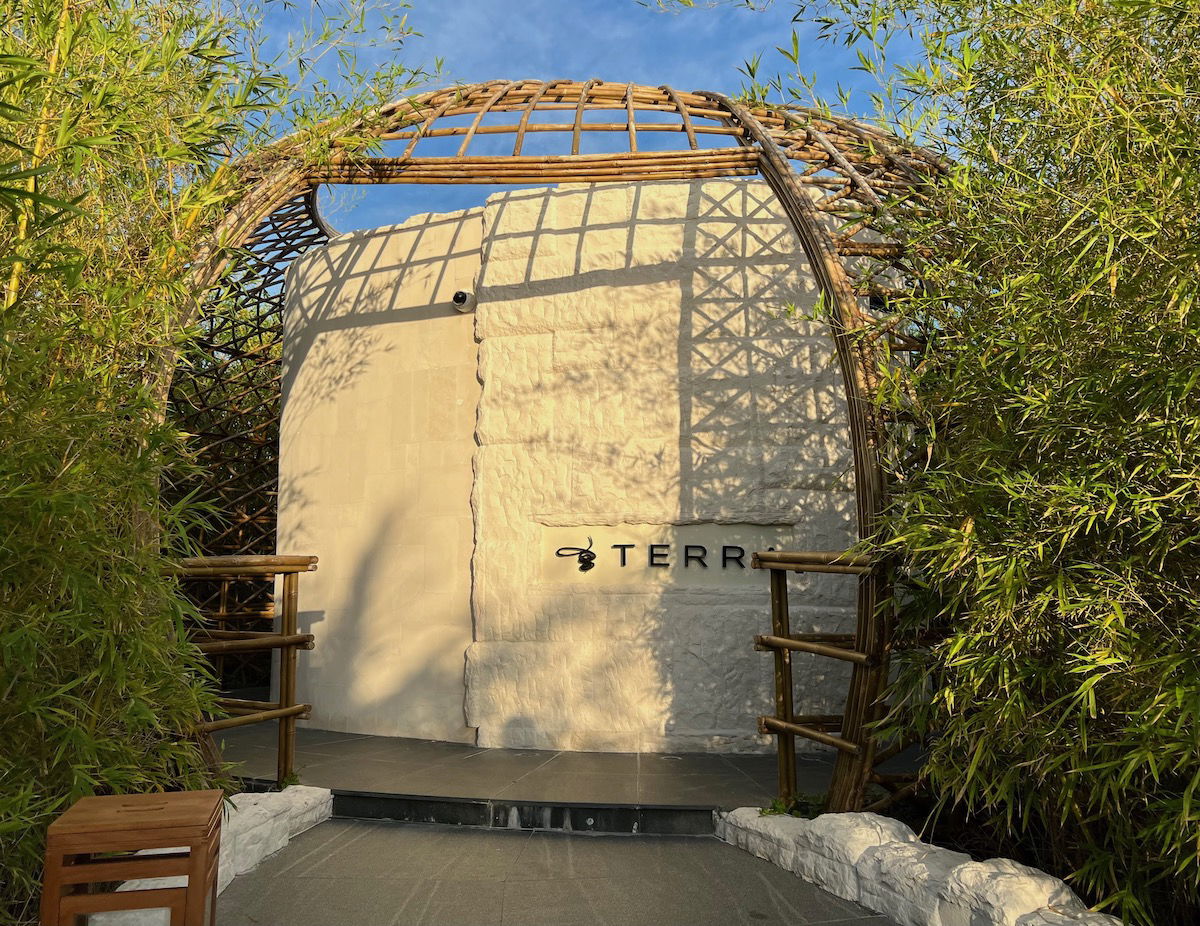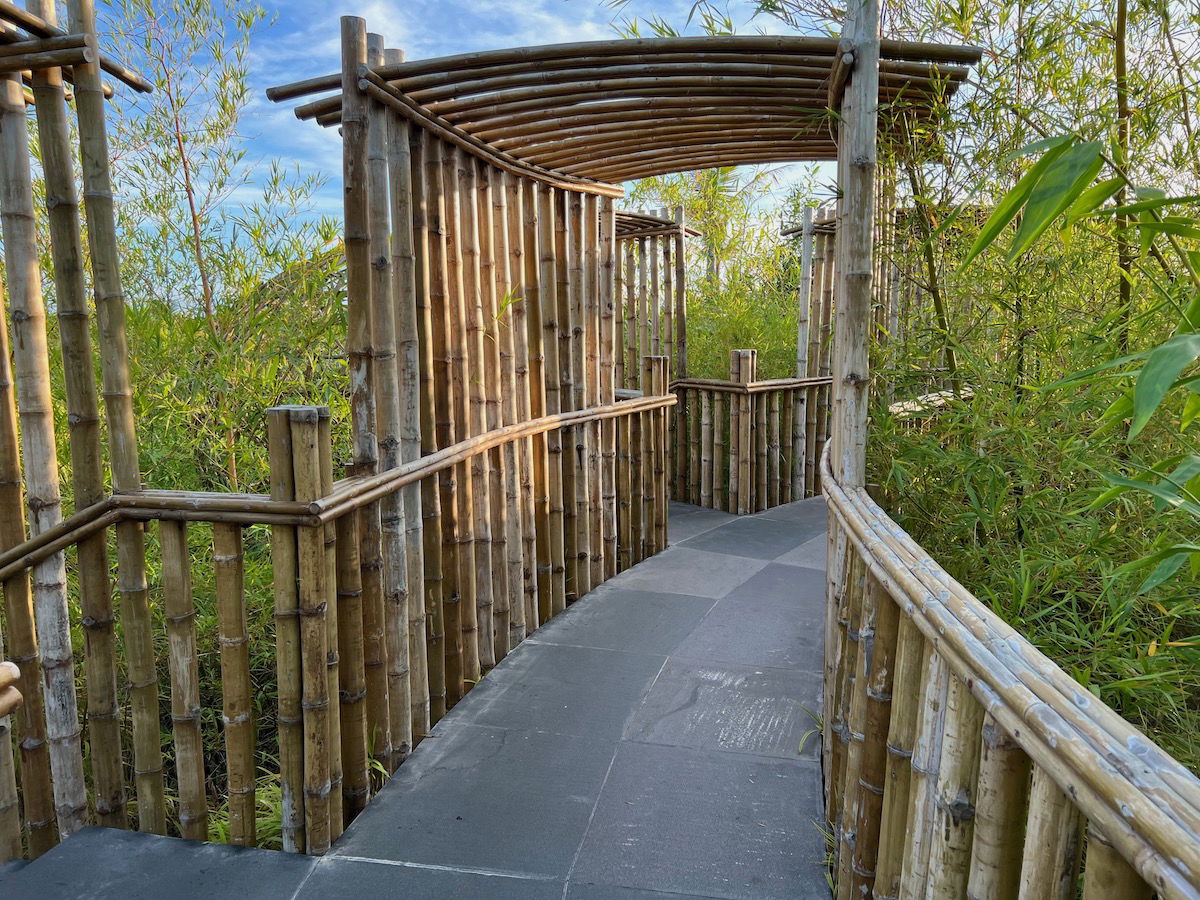 Note that two of the tree houses are a bit higher up than the others, and therefore have better views. Since seating is on a first come first served basis, I'd recommend getting here earlier so you can get one of those. They have views that look out over the ocean and you can see Male in the distance, while from the other tree houses you'll mostly just see trees.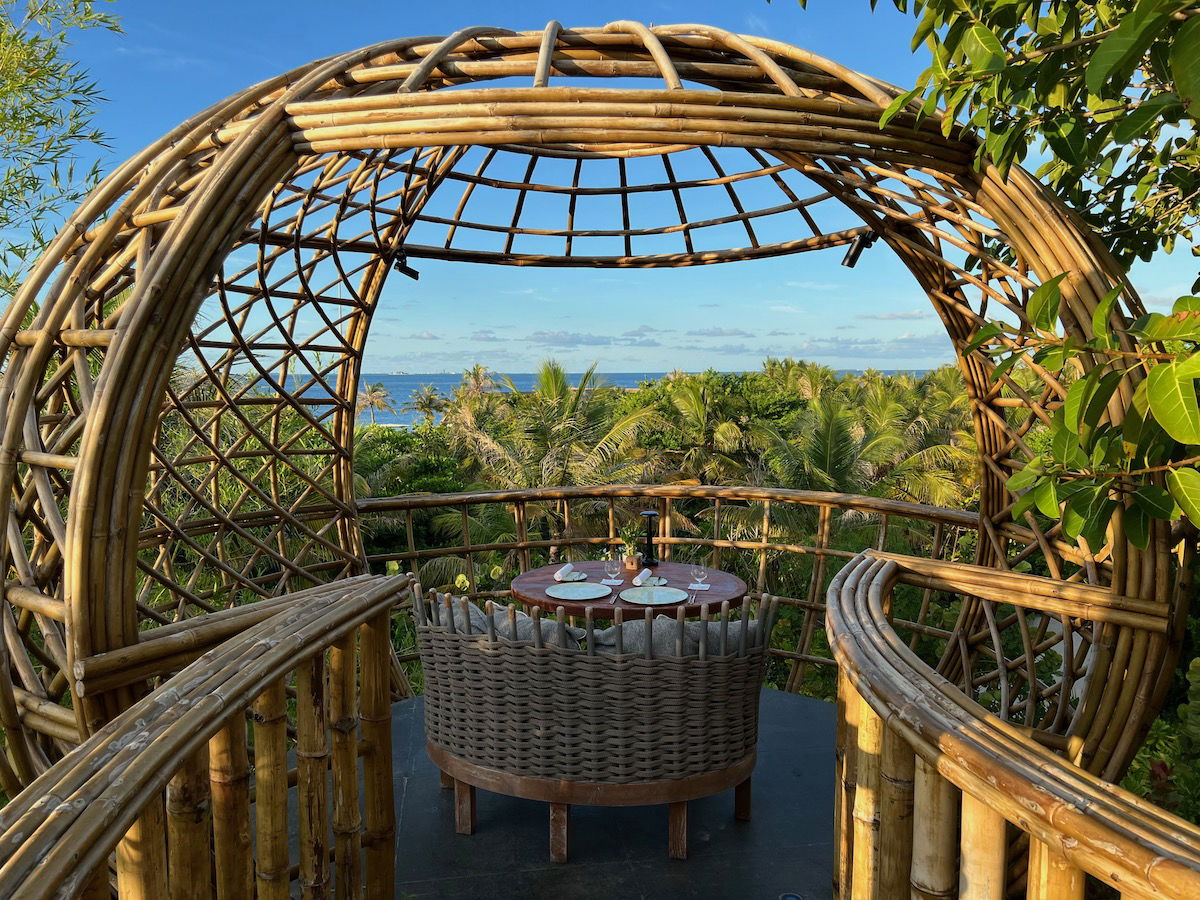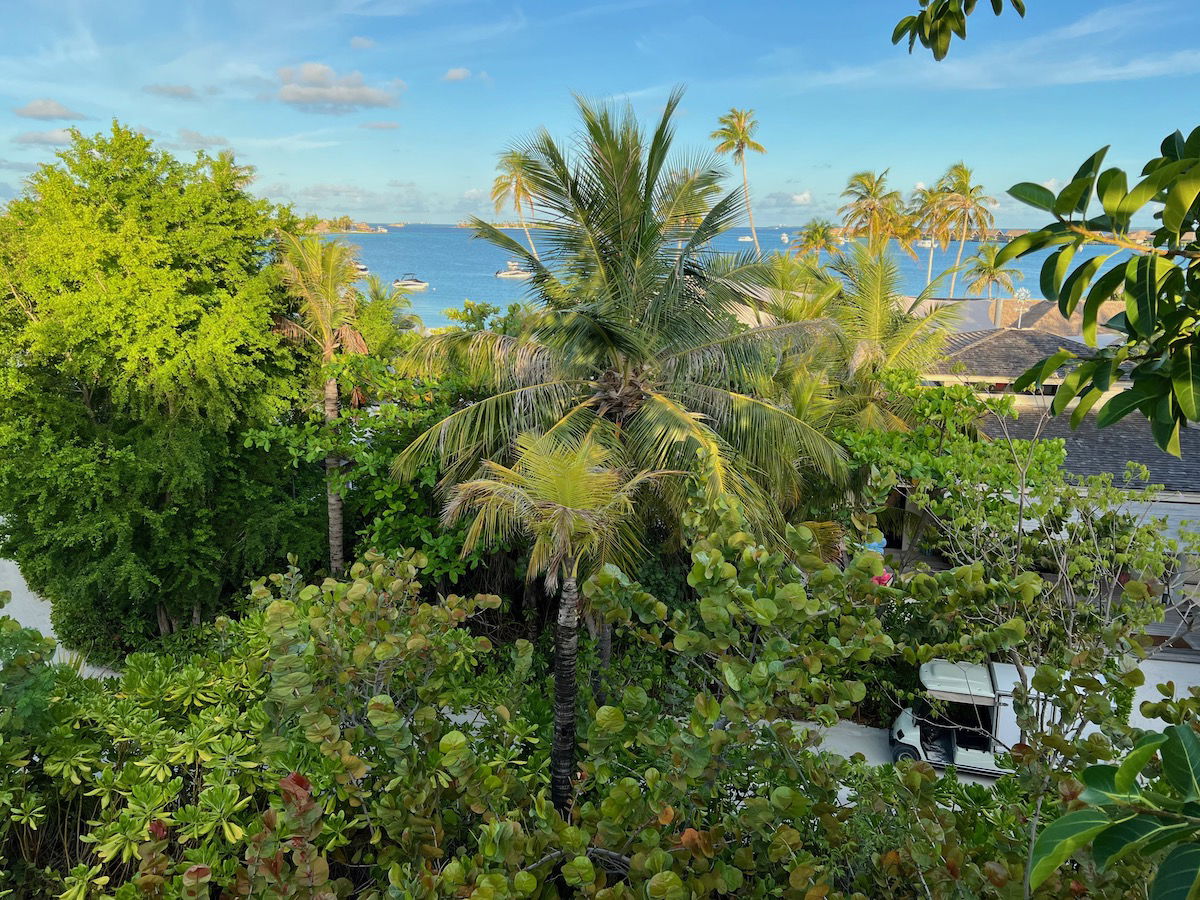 Terra has a set tasting menu, and you can find the menu here. The meal started with an amuse bouche trio, which came artfully presented.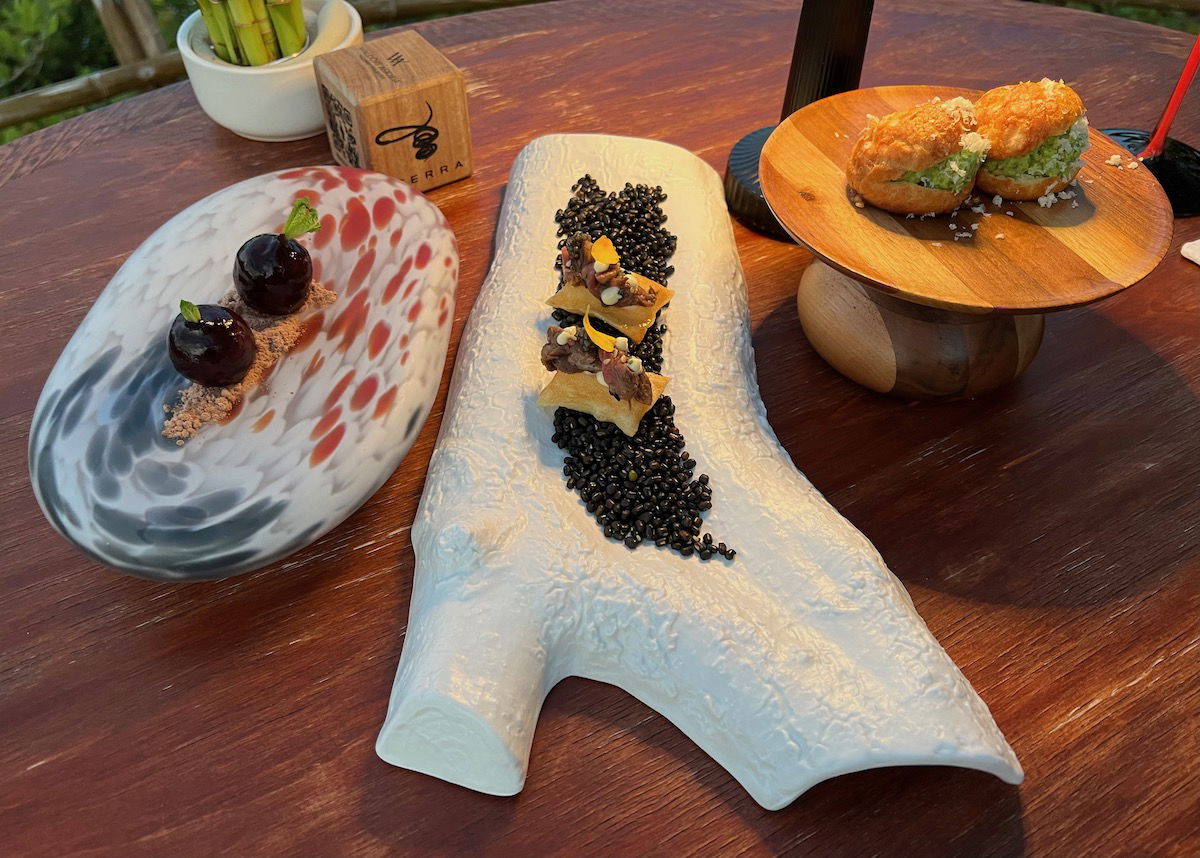 We were also offered a selection of bread.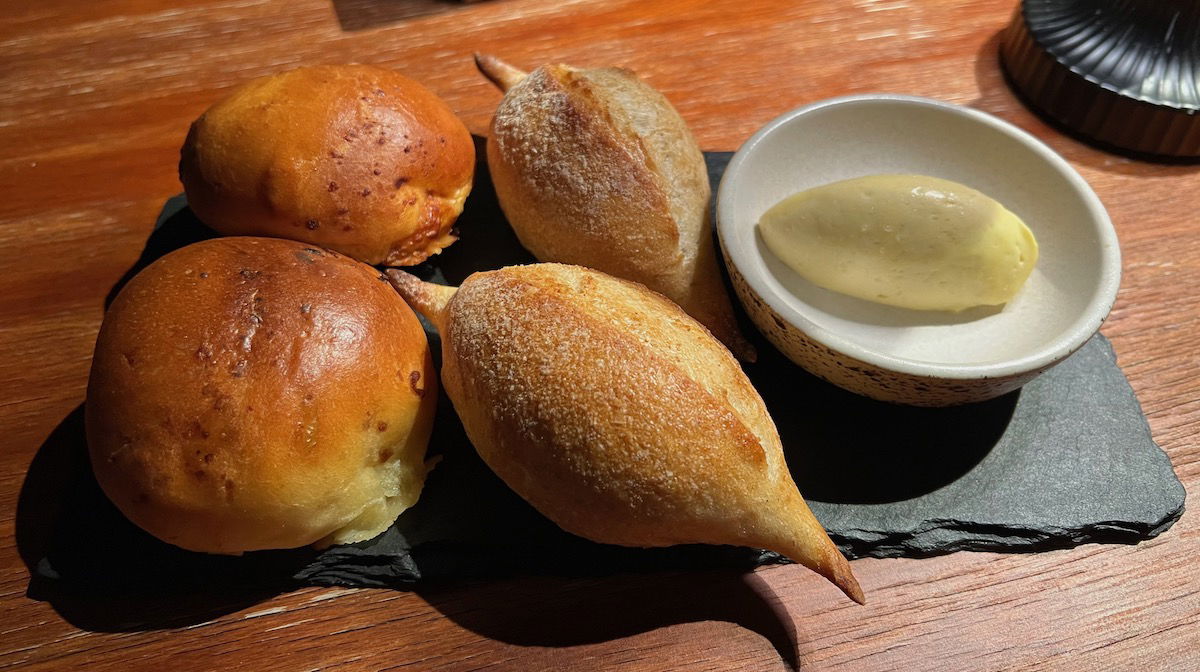 The next course was burrata, with confit tomato, burrata espuma, edible earth soil, tomato emulsion, and balsamic vinegar.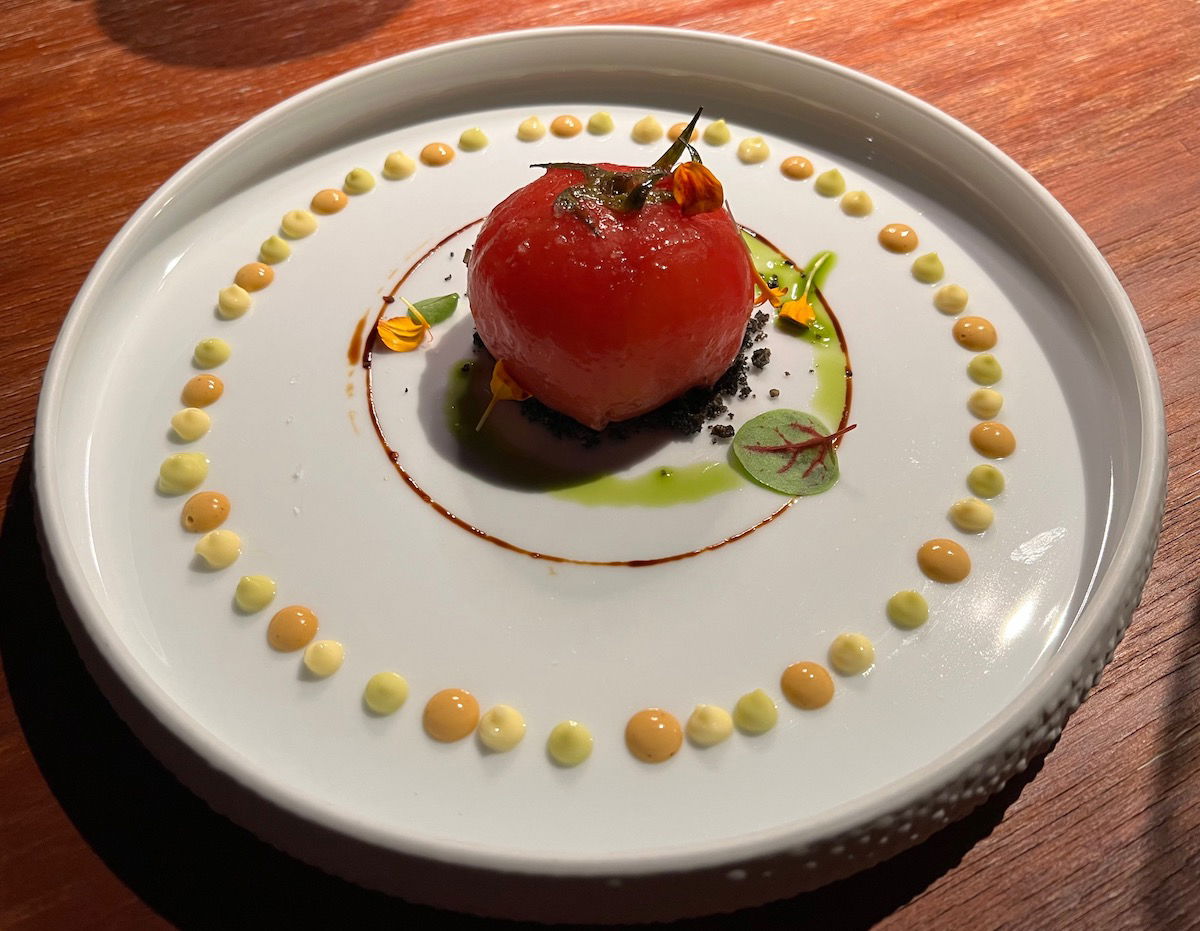 The next course was Norwegian poached salmon with creamy cauliflower velouté, Japanese cucumber sunomono, and parsley oil.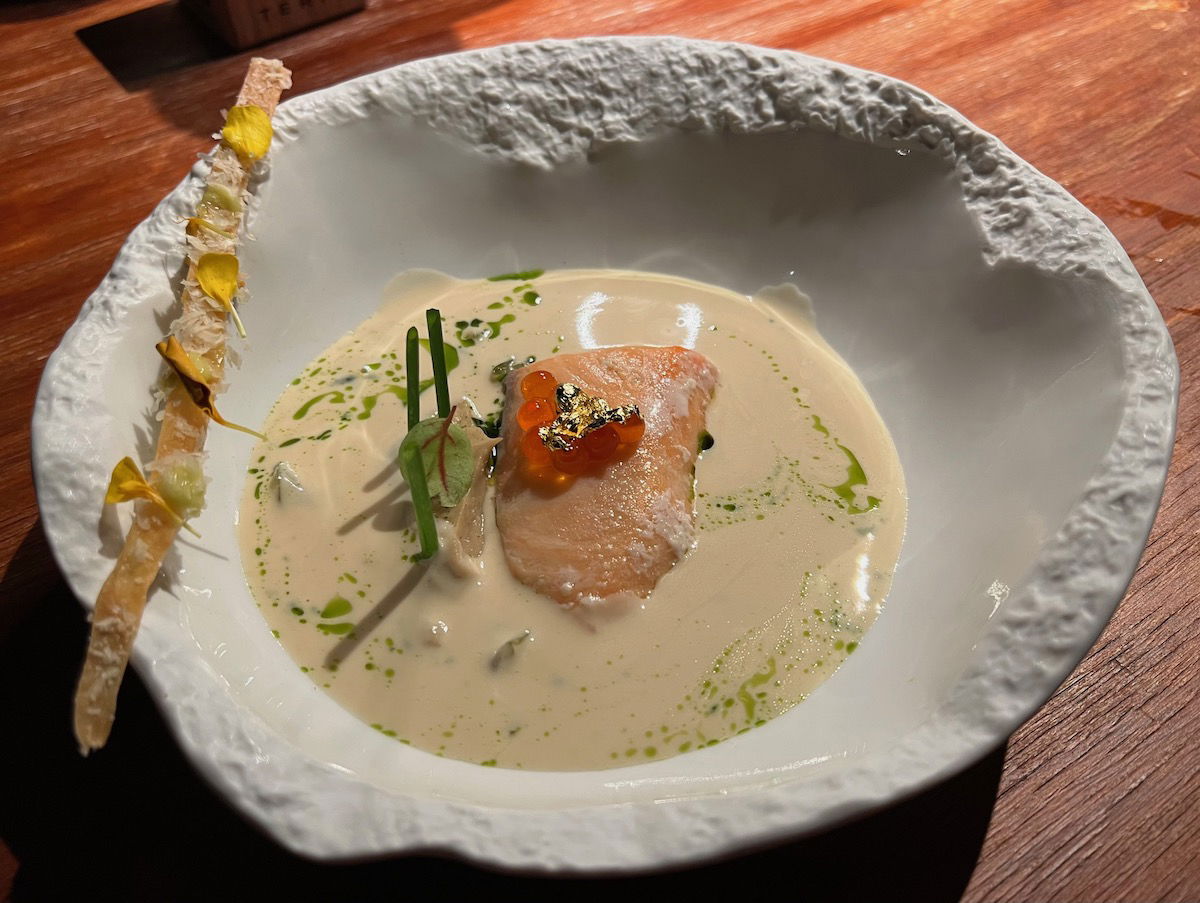 Next up was Maldivian lobster with miso butter, burnt leek, glazed edamame, lobster bisque foam, ponzu gel, and beluga caviar.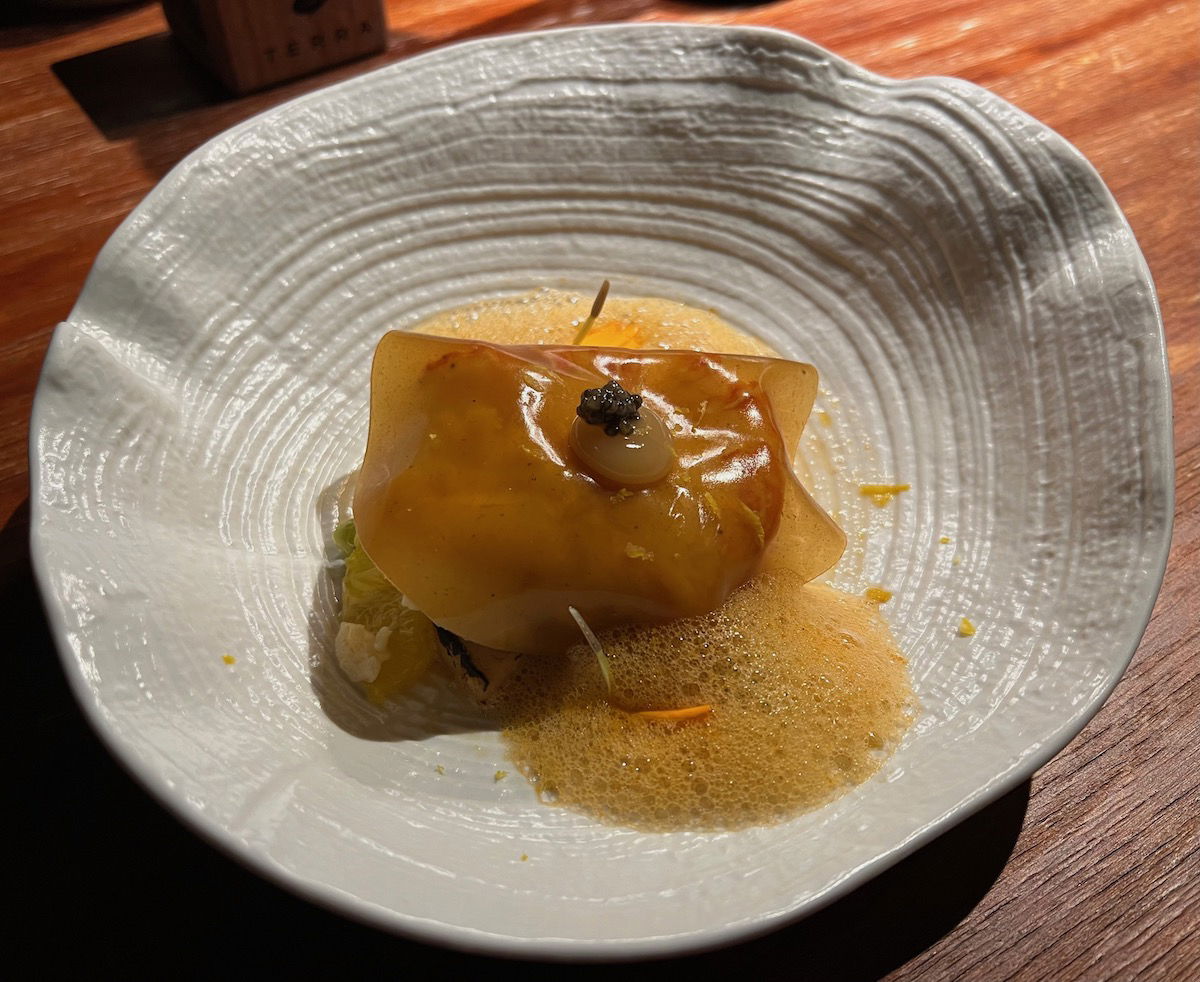 Next up was a basil and bergamot sorbet.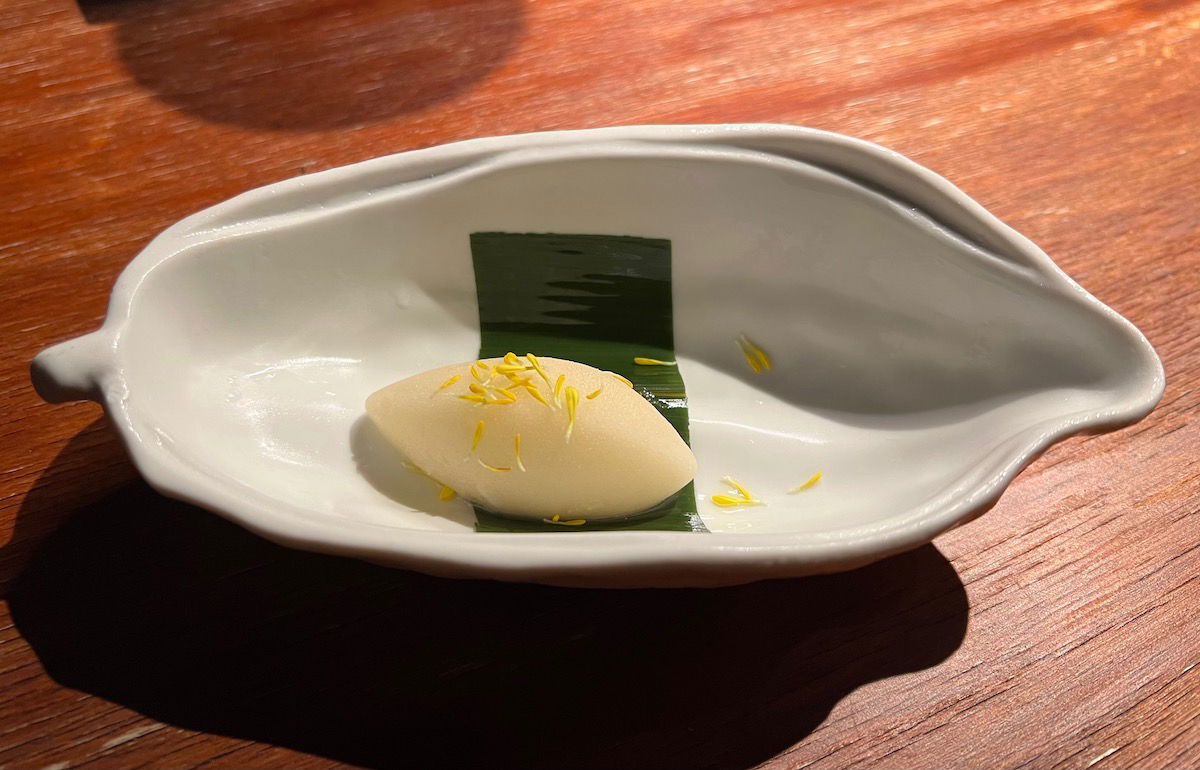 There were two choices for the main course. I ordered the dover sole with charred asparagus, green pea mousseline, chanterelle mushroom, tarragon cream, citron beurre blanc, and beluga caviar.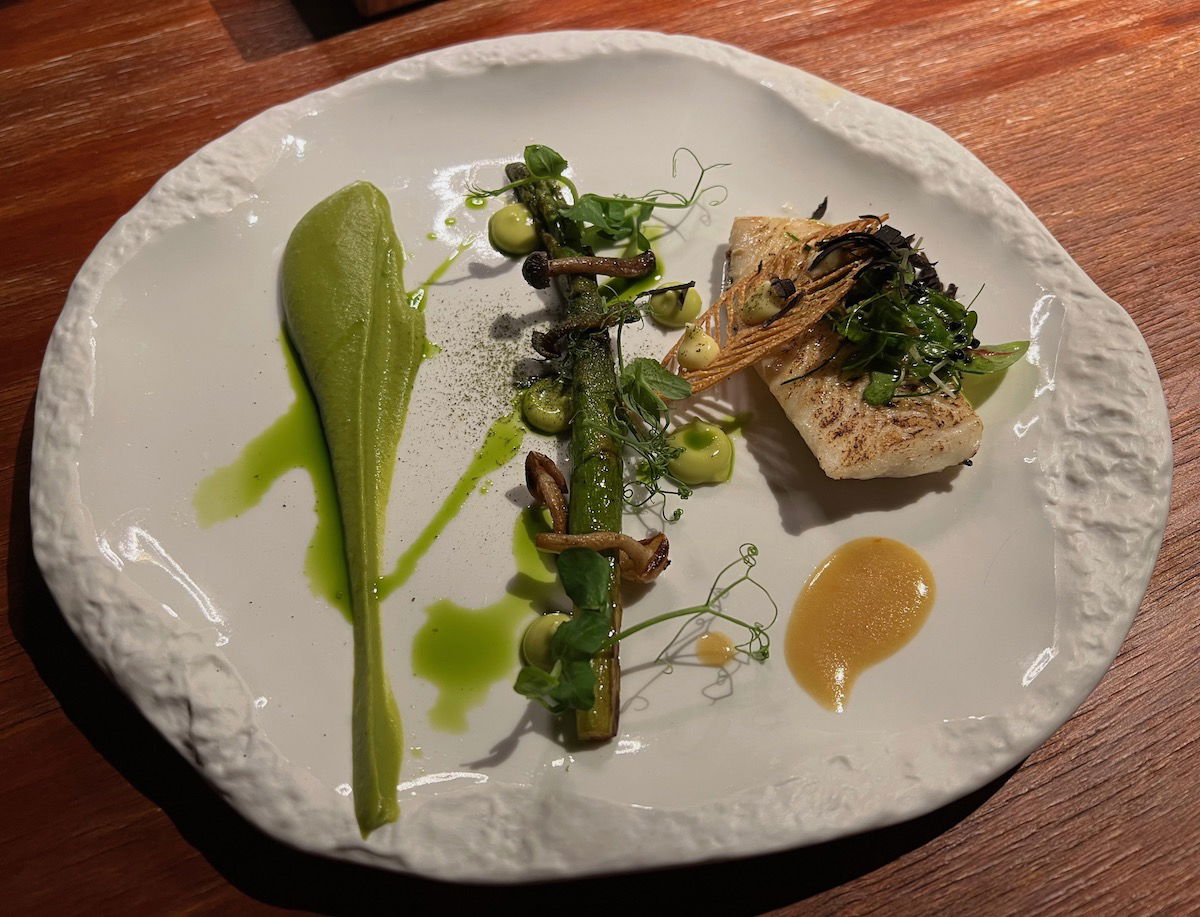 Ford had the miyazaki wagyu beef tenderloin as his main, with truffle mashed potato, cipollini caramelized onion, king eryngii mushroom, seasonal truffle, and polenta chips.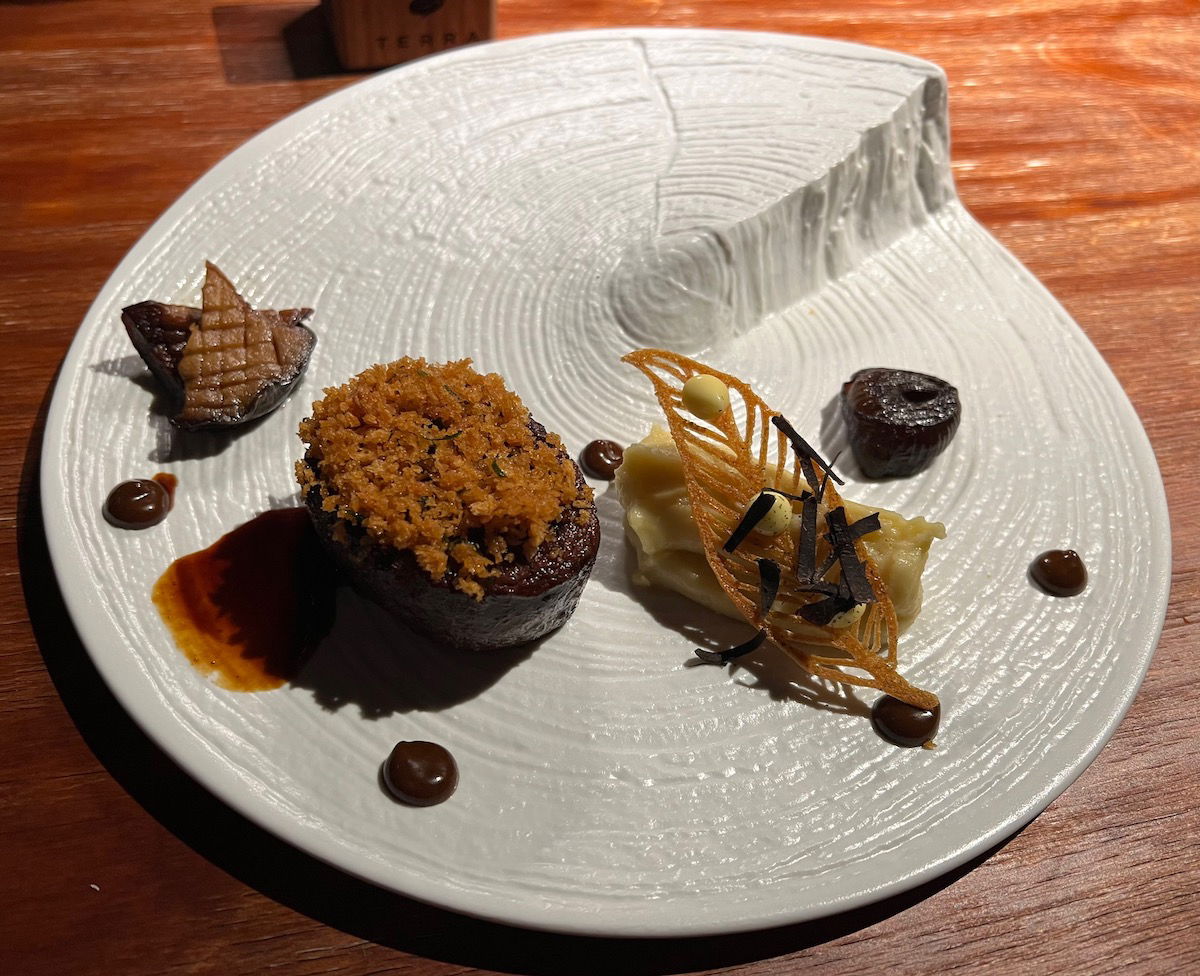 The main dessert course consisted of chocolate and cassis, with 64% dark chocolate, cheese mousse, hazelnut cake, and cassis ice cream.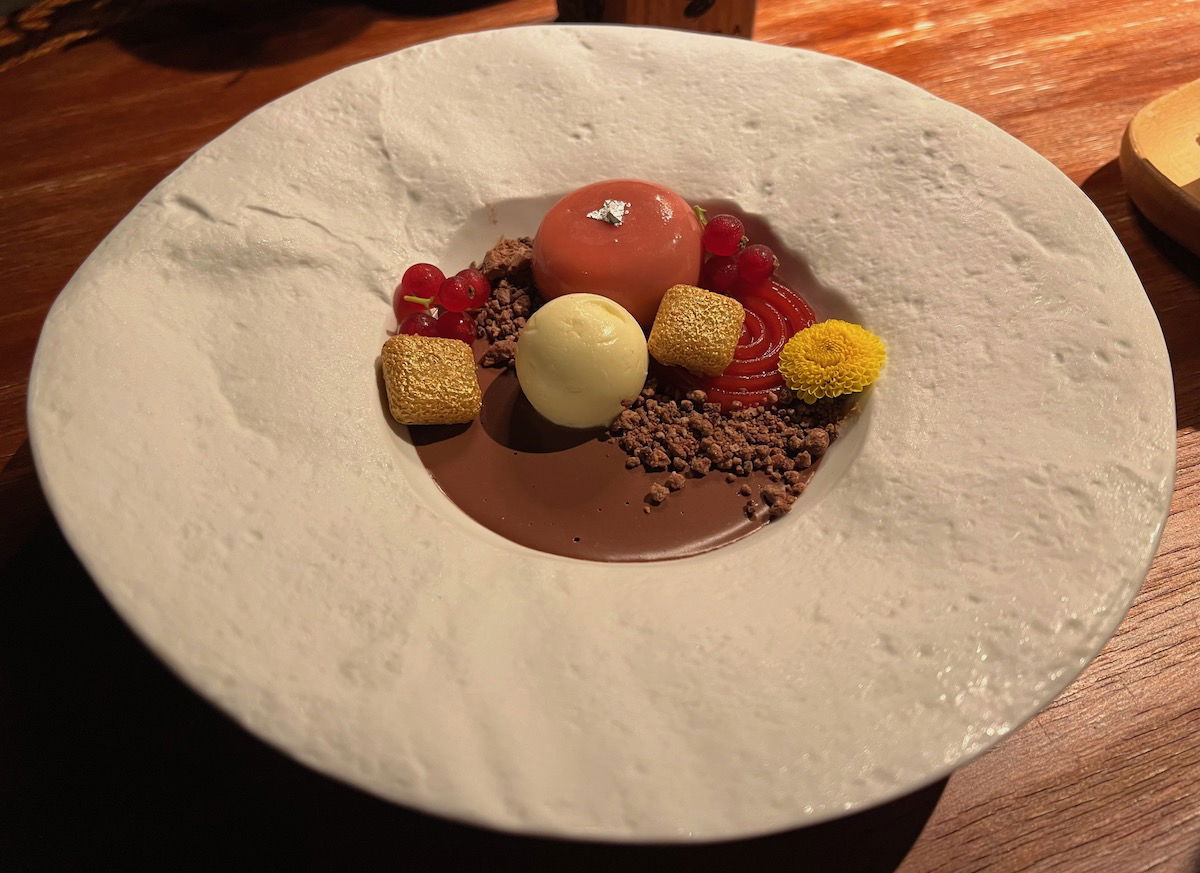 Lastly, at the conclusion of the meal there were some petit fours.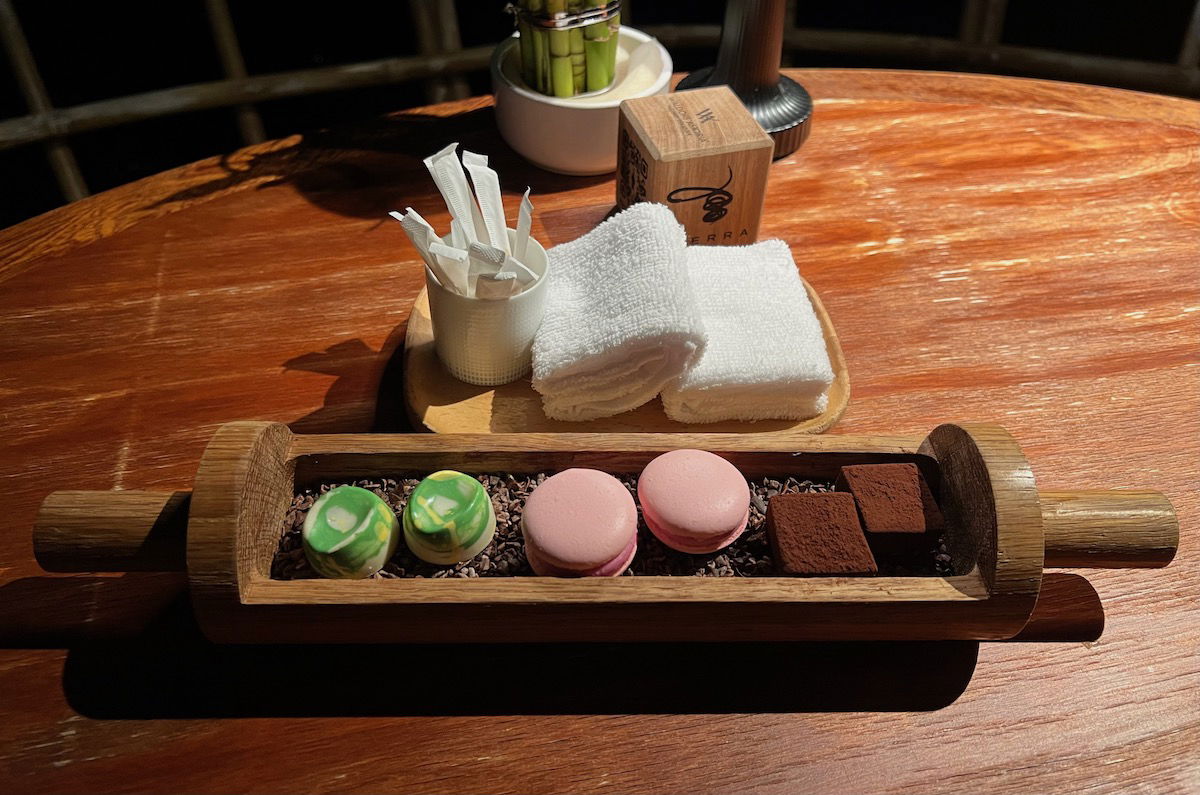 This was a really special experience, and of course that largely comes down to the setting. At $345 per person, it's also probably the most expensive dining experience on property.
The food and overall experience were very good. The food was tasty, I loved the plates, and the service was well intentioned.
At the same time, I have to say that Le 1947 at Cheval Blanc Maldives was in a completely different league in terms of the food and service, and it's even a bit cheaper. Eat at Terra knowing that you'll get a good meal, but don't expect it to be life-changing or an experience you'd expect at a Michelin-starred restaurant. You're definitely paying largely for the view.
Waldorf Astoria Maldives Yasmeen
Yasmeen is the Waldorf Astoria's Middle Eastern restaurant. It's set in a courtyard, while still having views of the ocean and beach. I think this restaurant is the prime example of the hotel maybe taking themes a bit too far to the point of feeling kitschy. Nonetheless I loved the food at this restaurant, and I'd highly recommend a visit.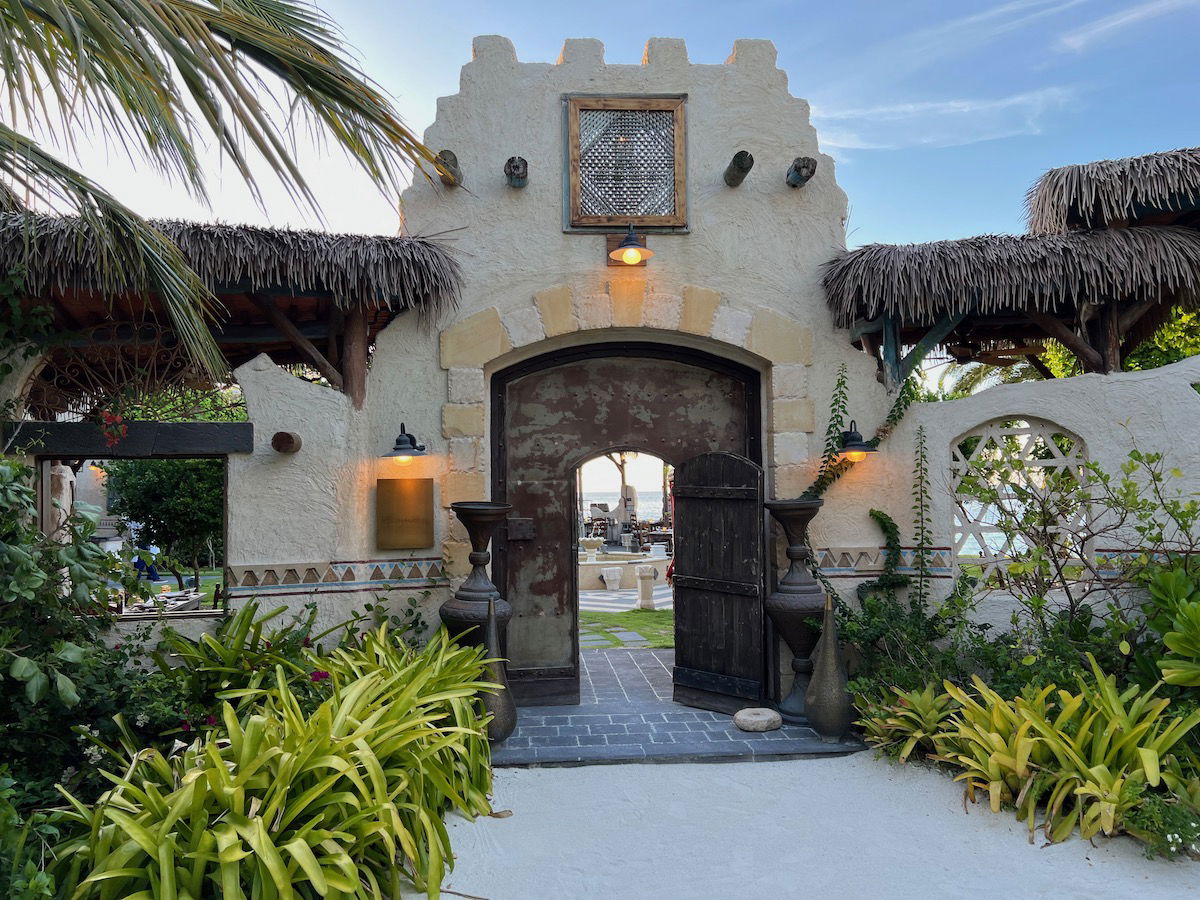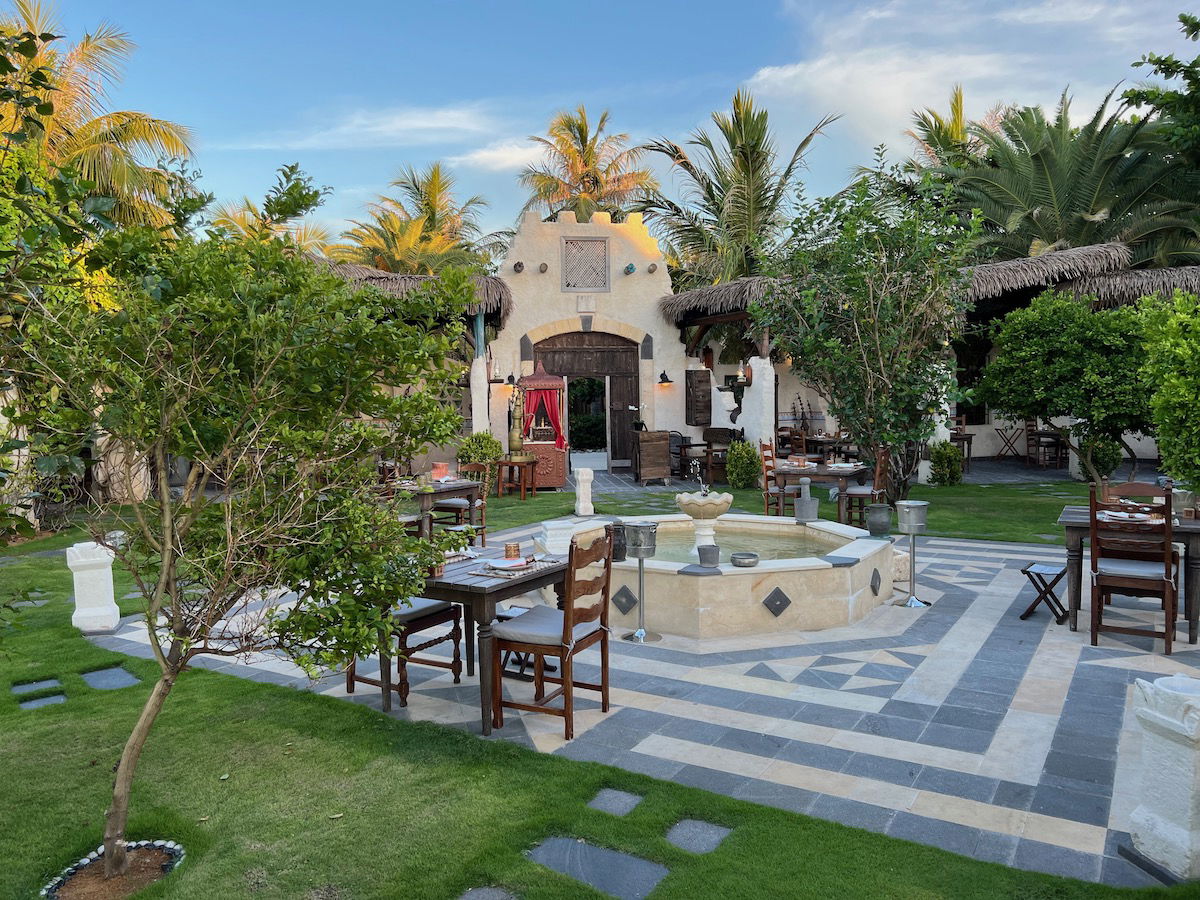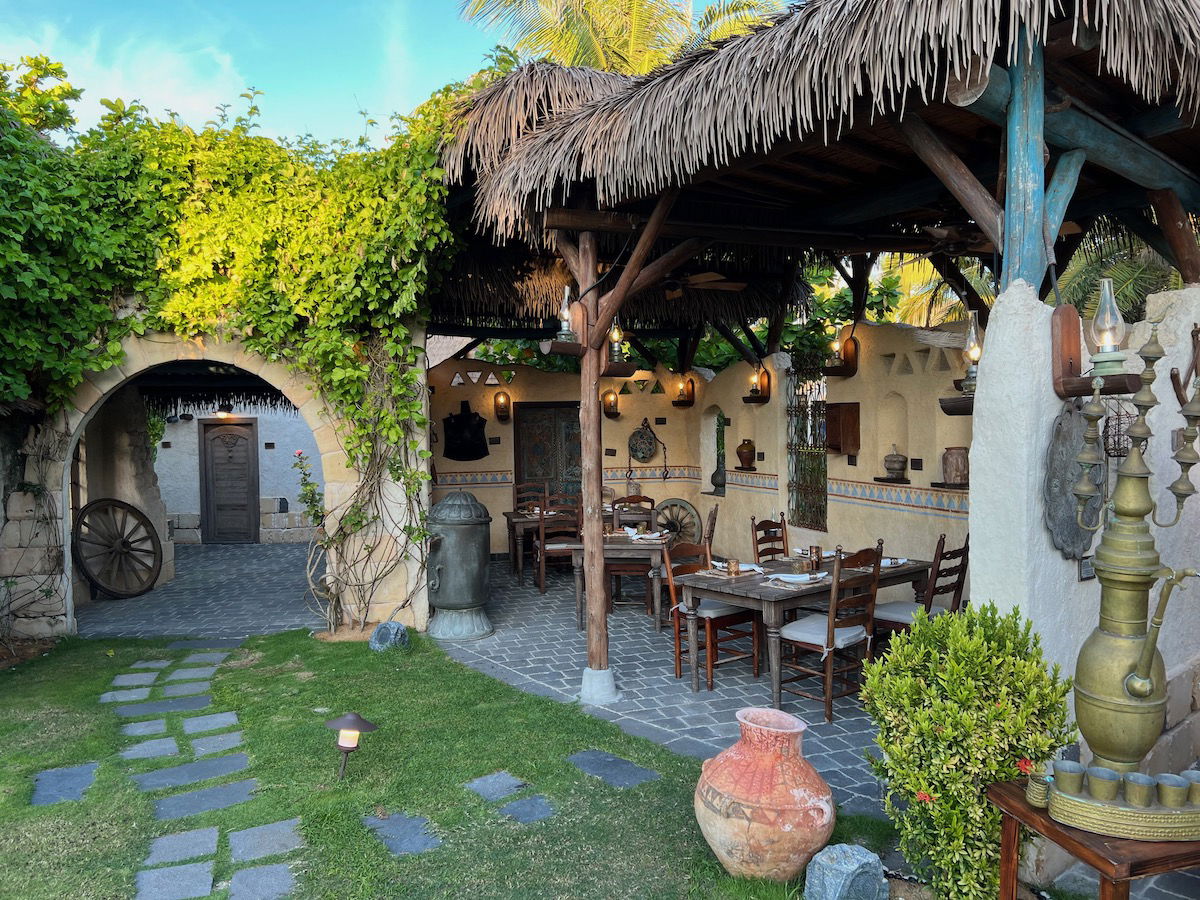 As we arrived at the restaurant we were offered some Arabic coffee.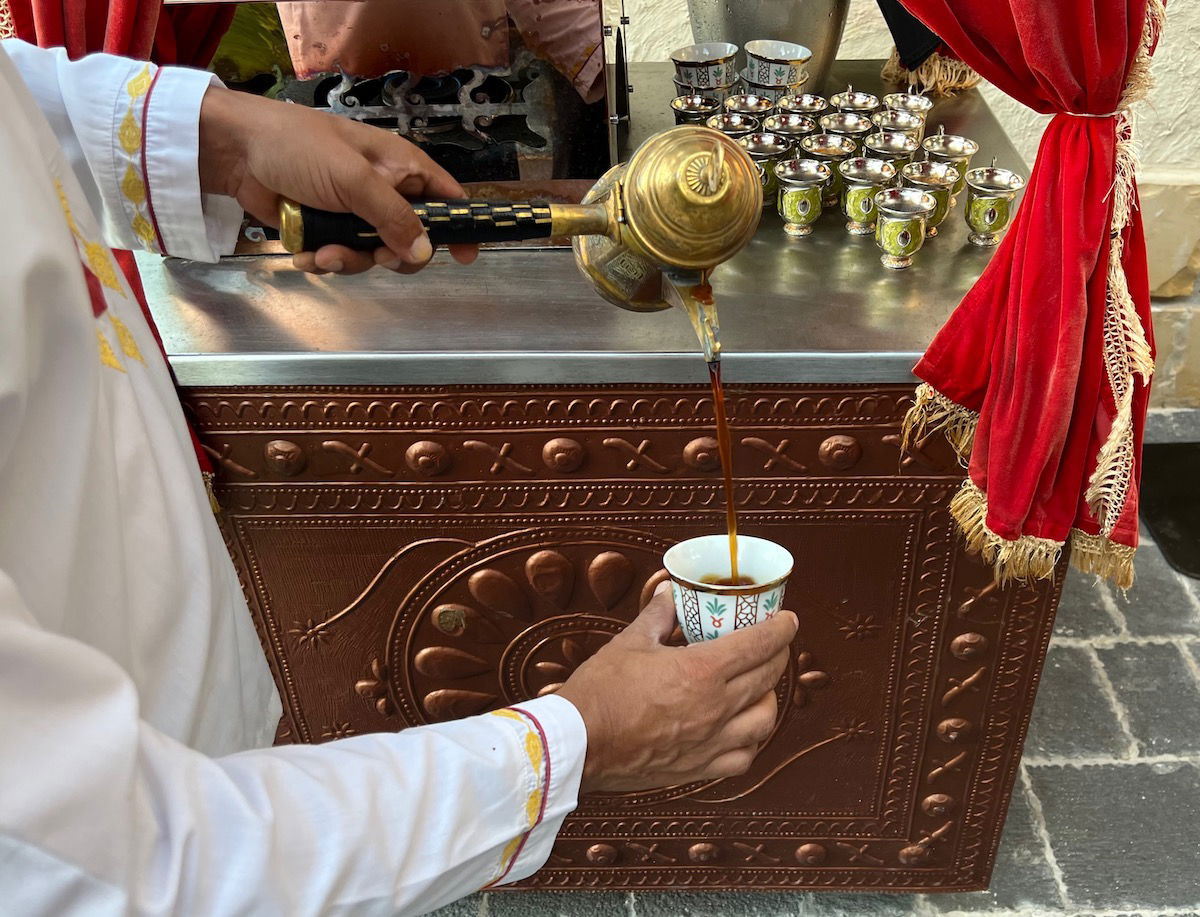 You can find the menu here, and as you can see, there's a set menu, or you can order as you please off the standard menu. We decided to do the set menu.
The meal started with sfiha (meat, cheese, and zaatar), as well as some olives.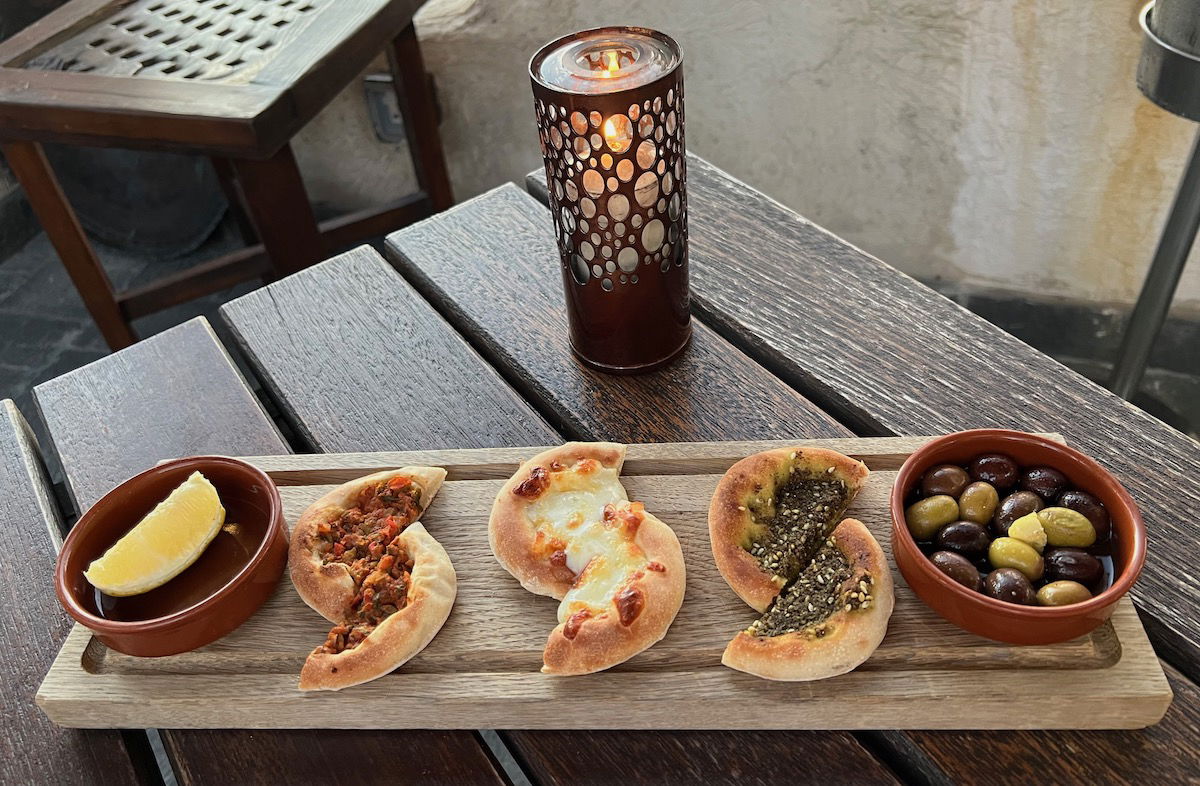 Next up was the cold mezze, which included tabbouleh, fattoush, hummus, baba ghannouj, and labneh.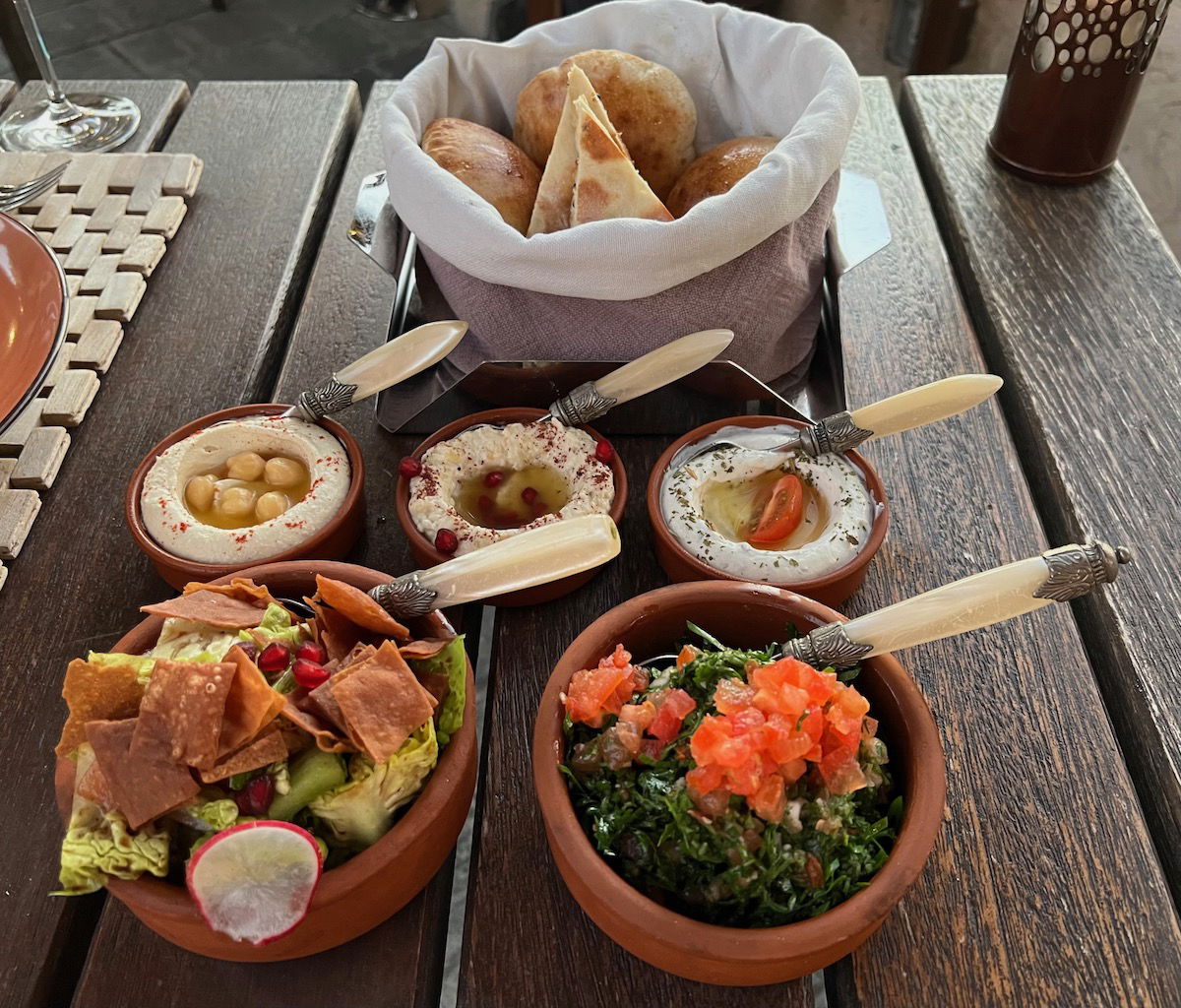 Next up was the hot mezze, with ras asfour, chicken liver with pomegranate molasses, spicy potatoes, and a mouajanat mix with kibbeh, rkakat, sambousik, and soujouk.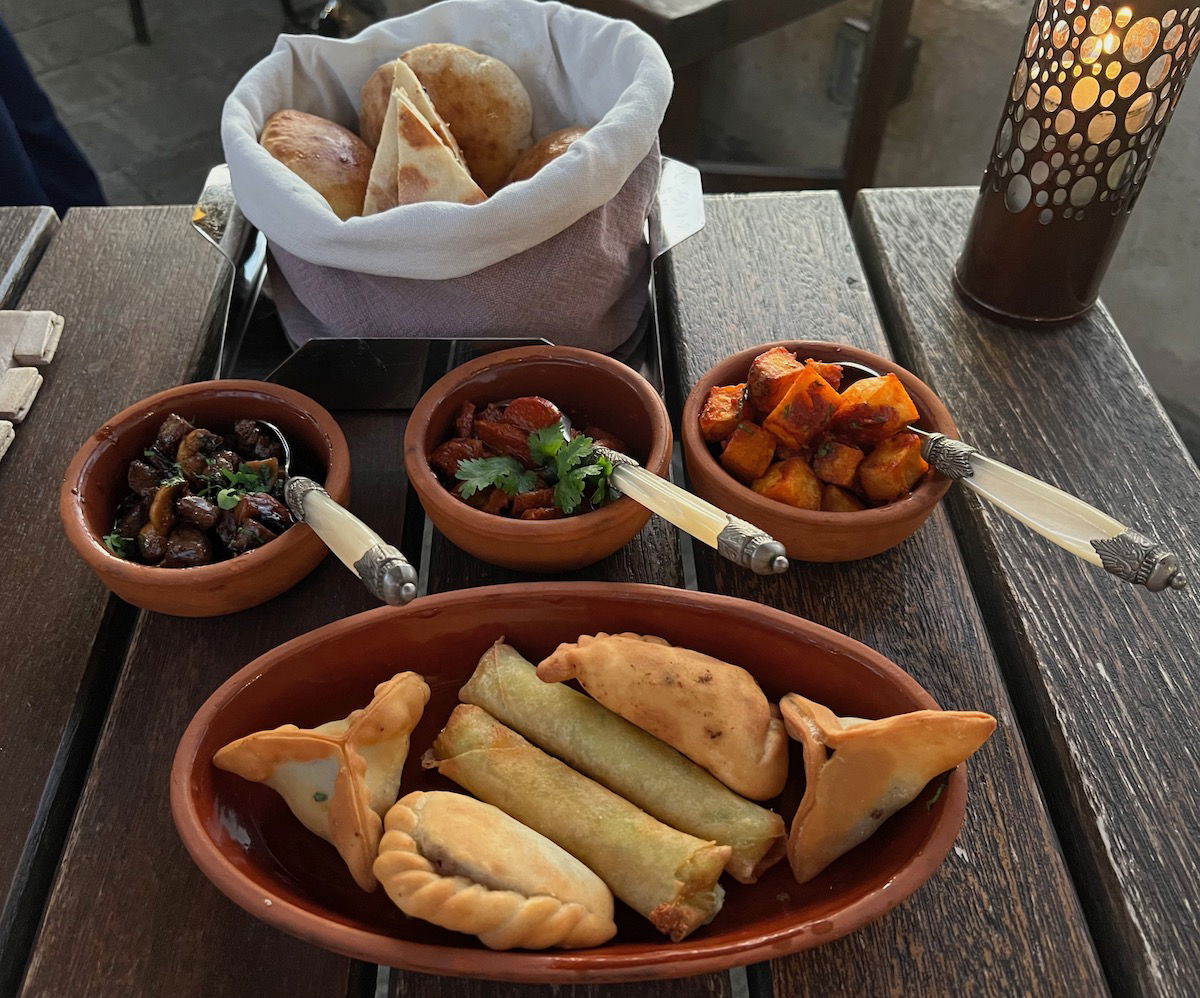 The main course included a mixed grill, which had chicken, beef, lamb, and veggies.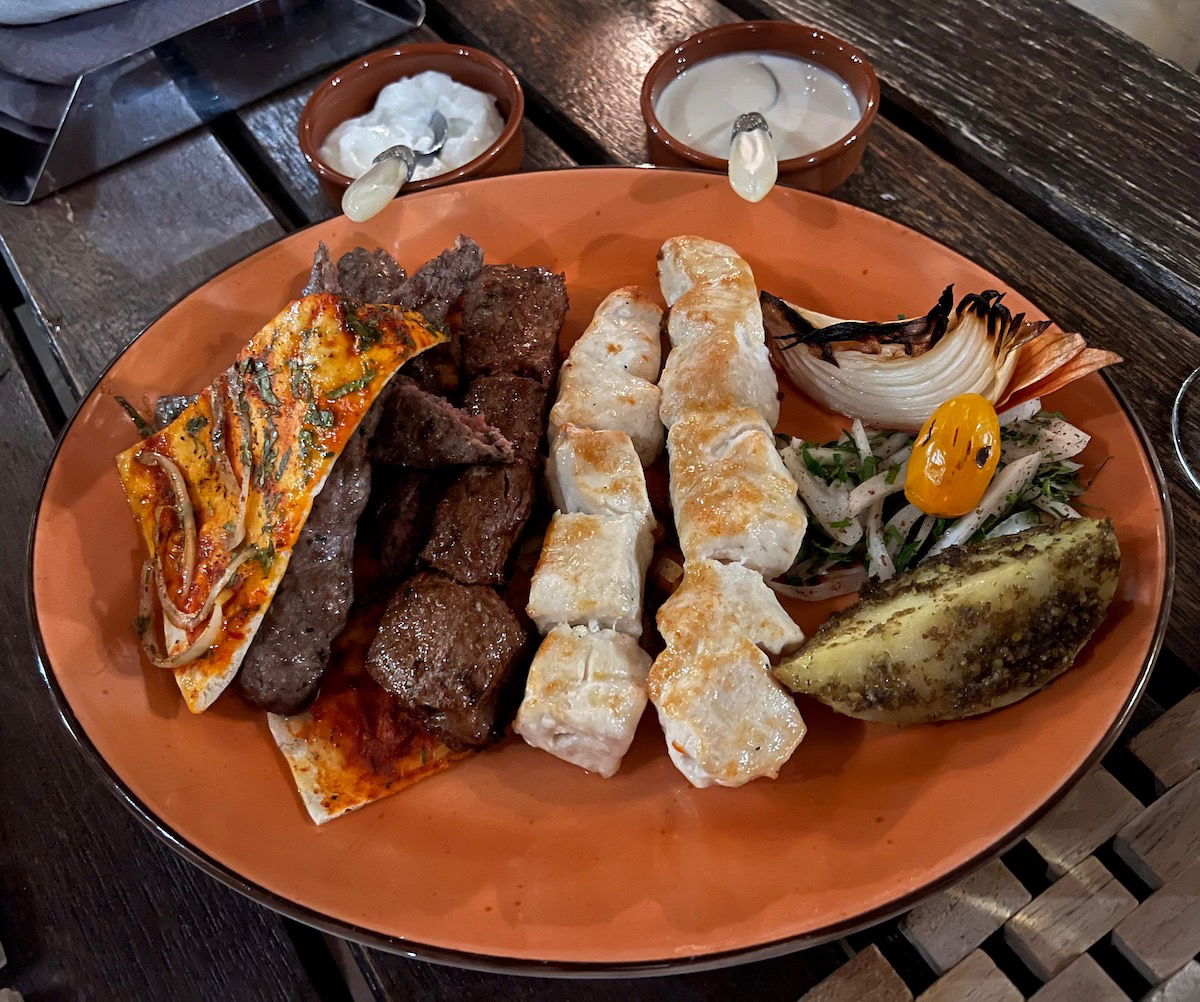 Finally for dessert was a cheesecake with dry apricot puree.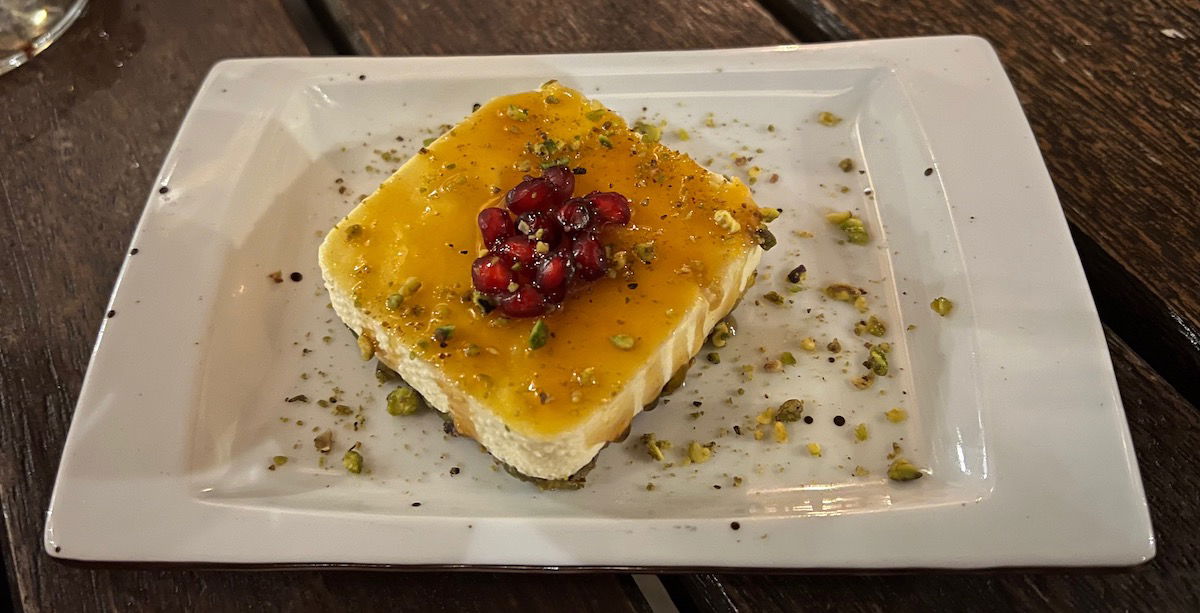 The meal was incredibly tasty (and huge), and we were treated to some gorgeous sunset views as well.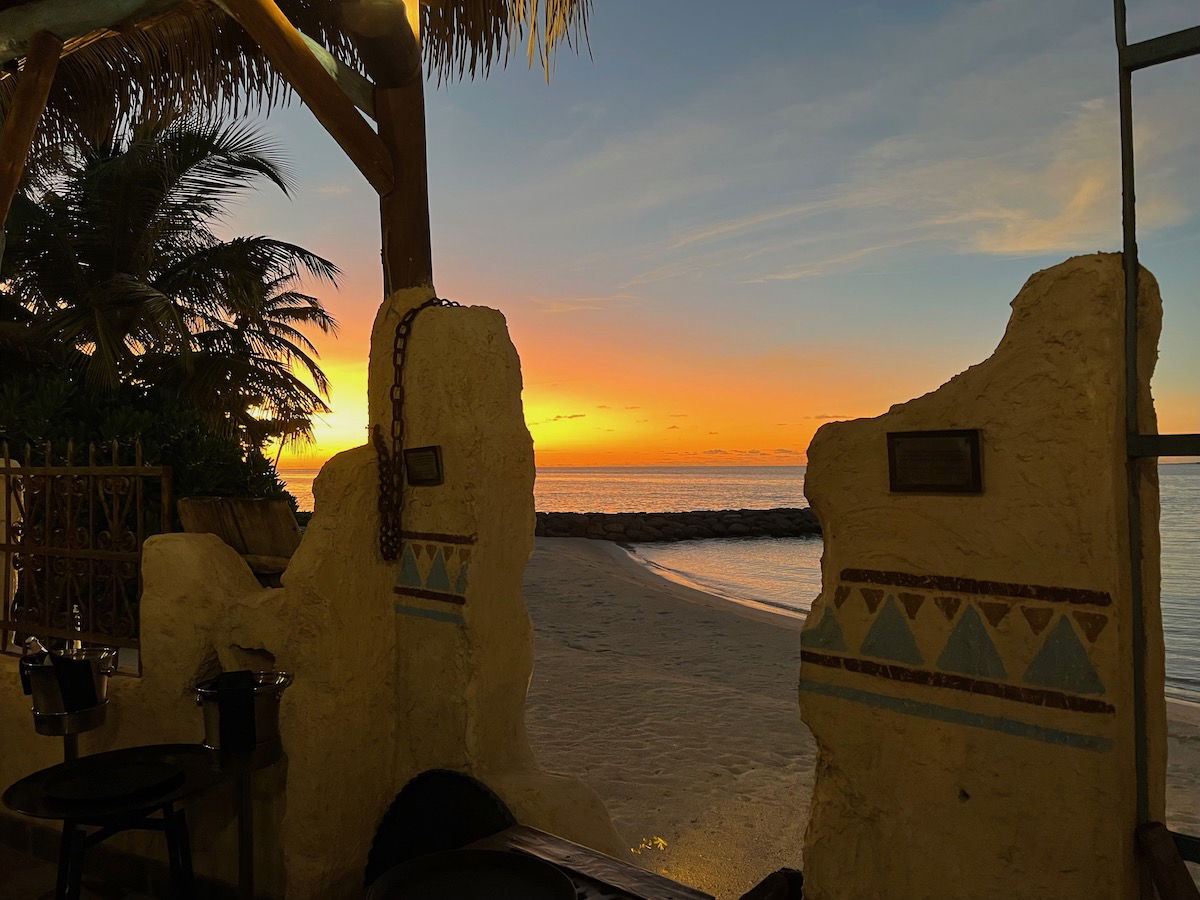 Waldorf Astoria Maldives Glow
Glow is the Waldorf Astoria's farm-to-table restaurant, and it's shockingly good. Many of the ingredients are grown on the island. and you can find the menu here. The restaurant is on the beach near Amber (the sunset bar), and there's both indoor and outdoor seating.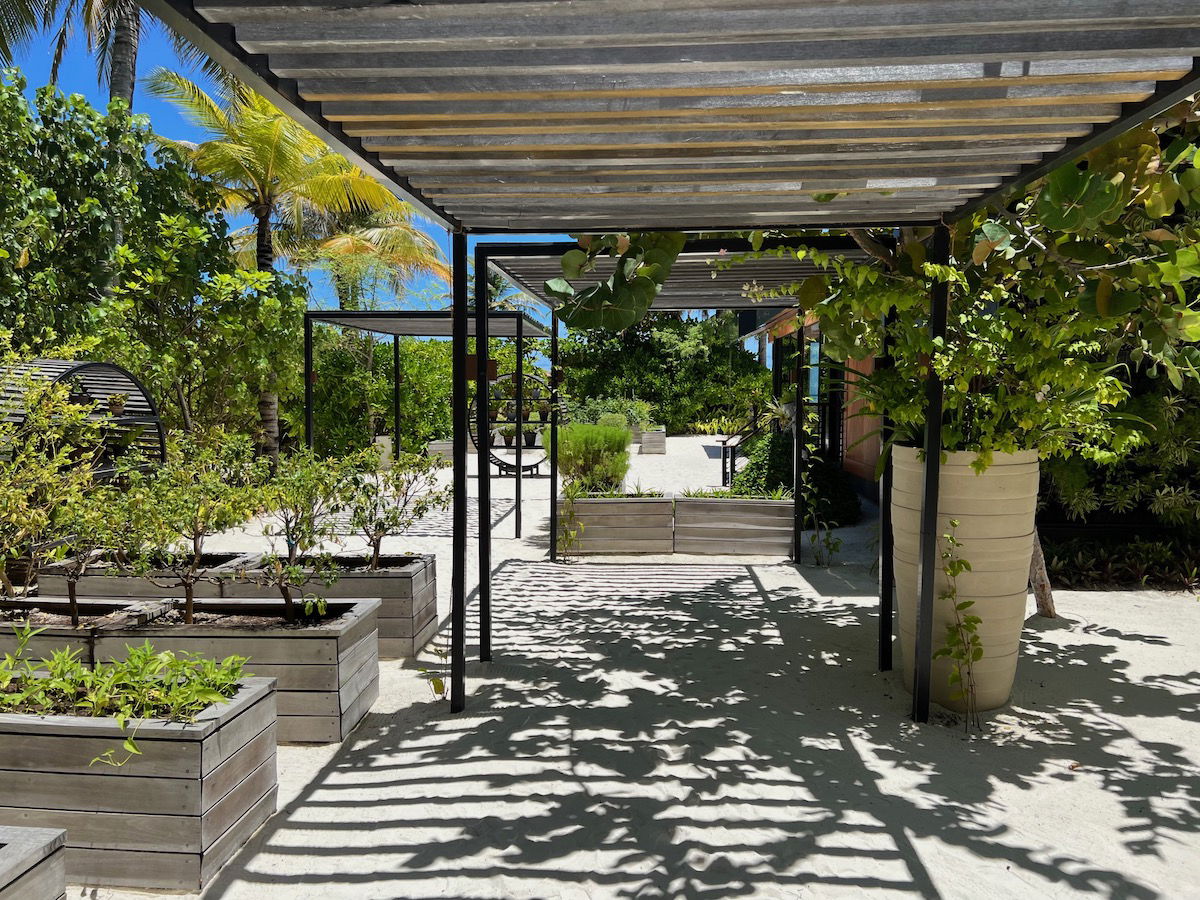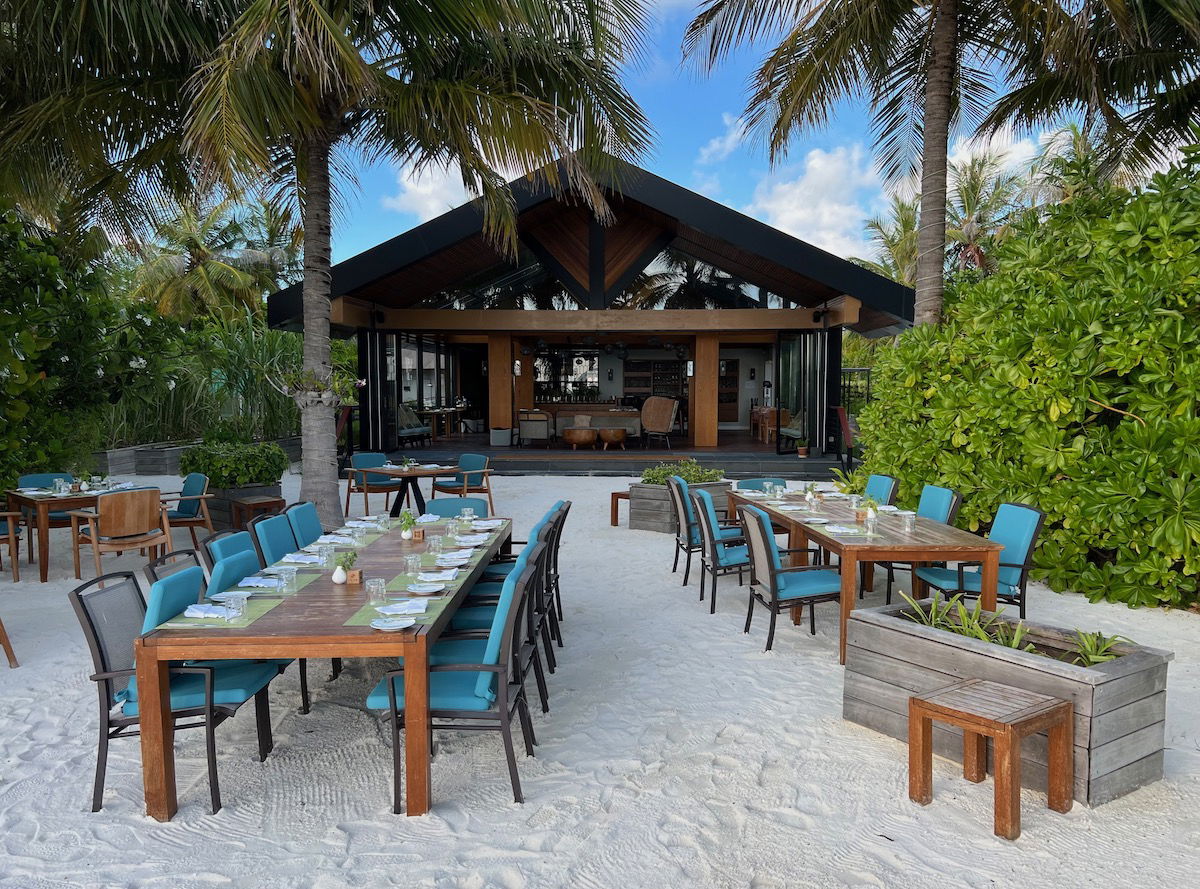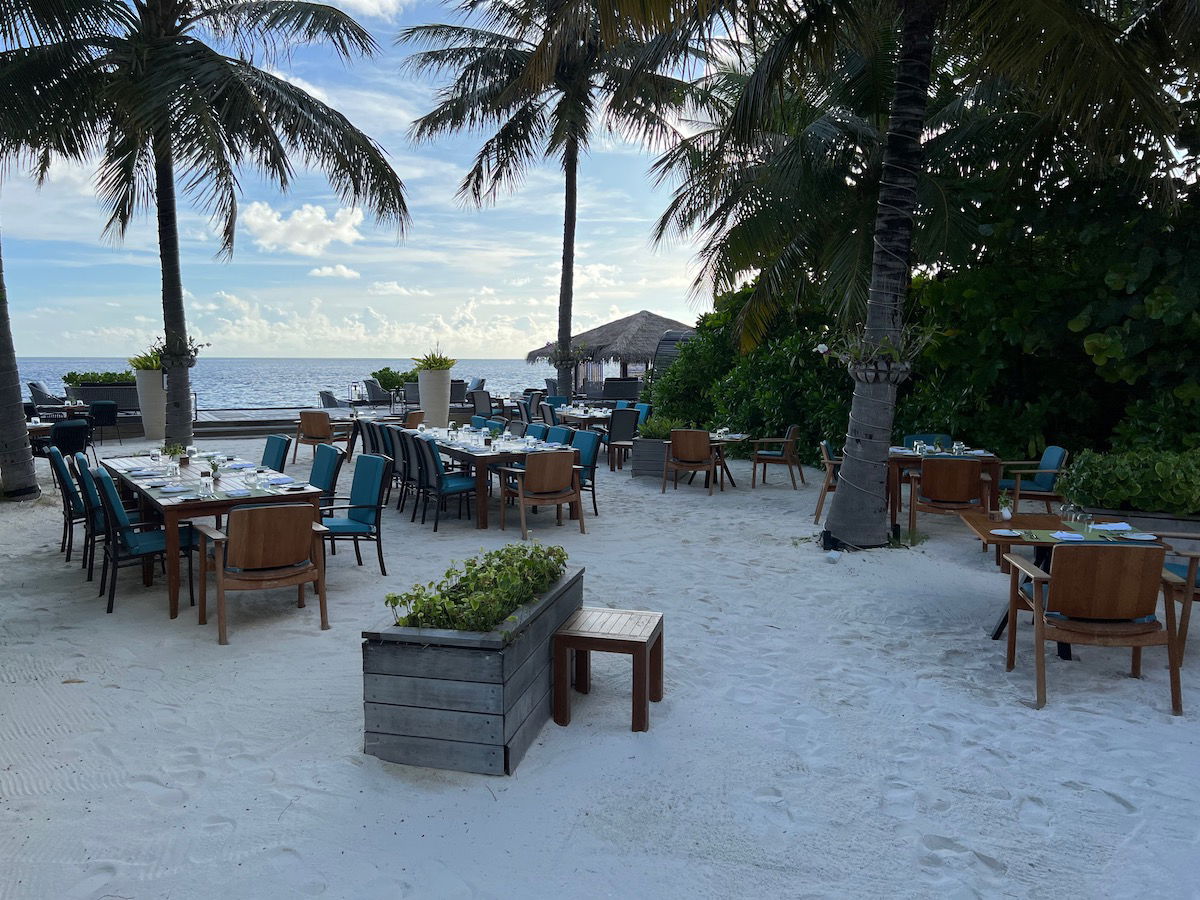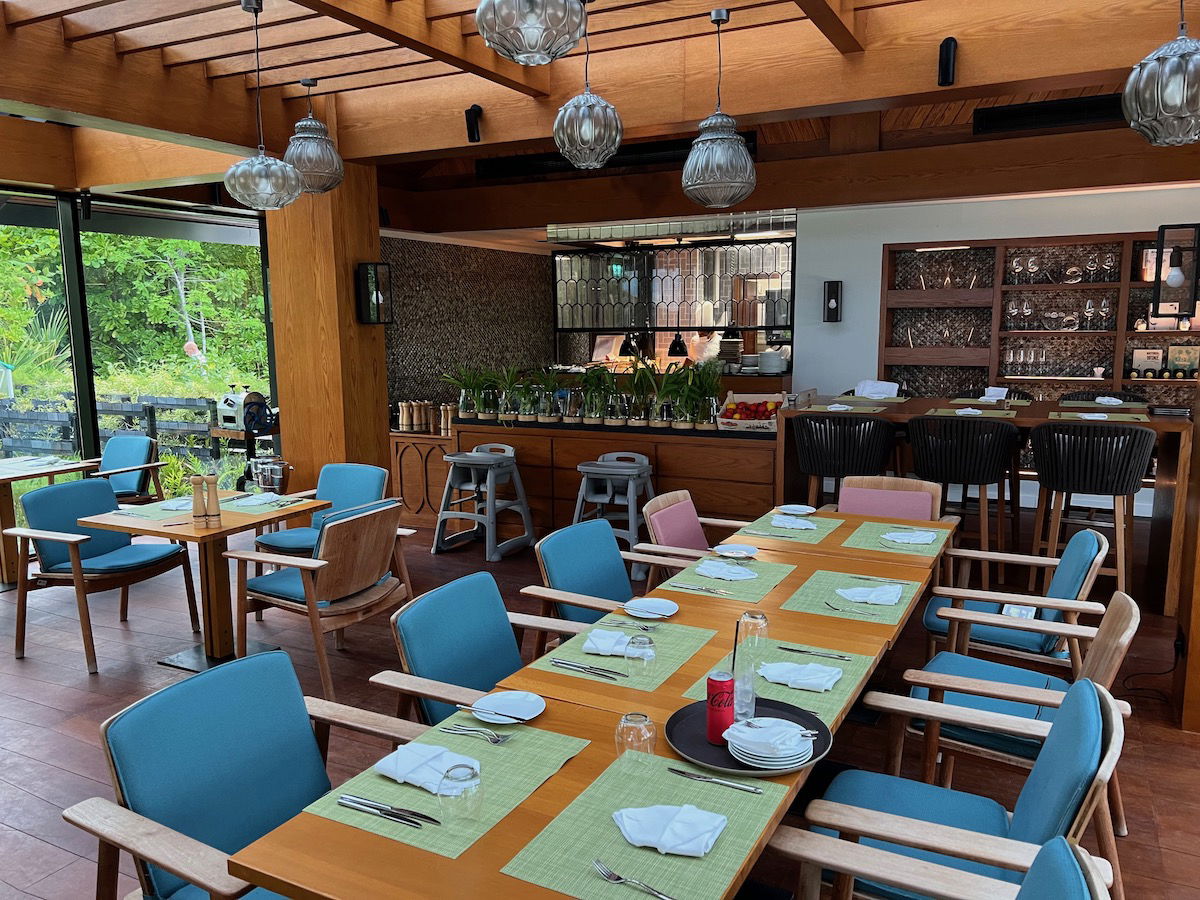 At the start of our meal we were offered some detox juice and bread.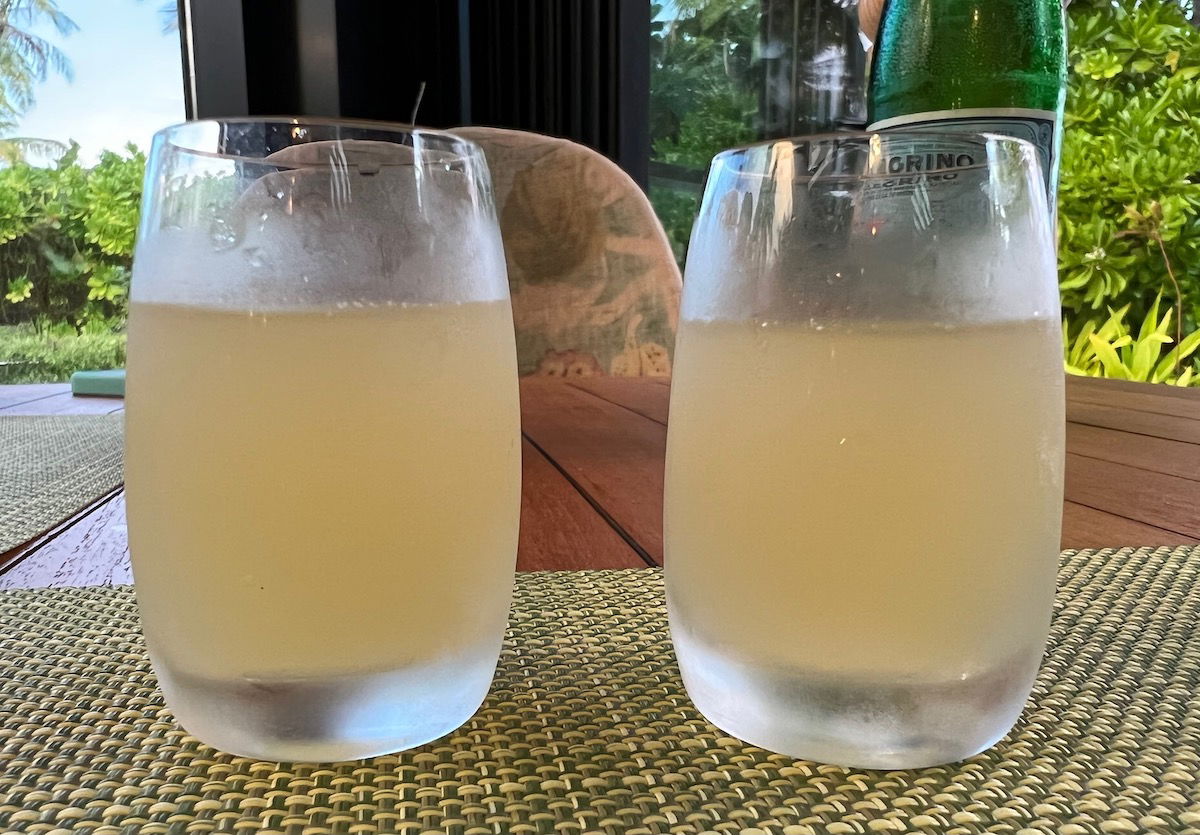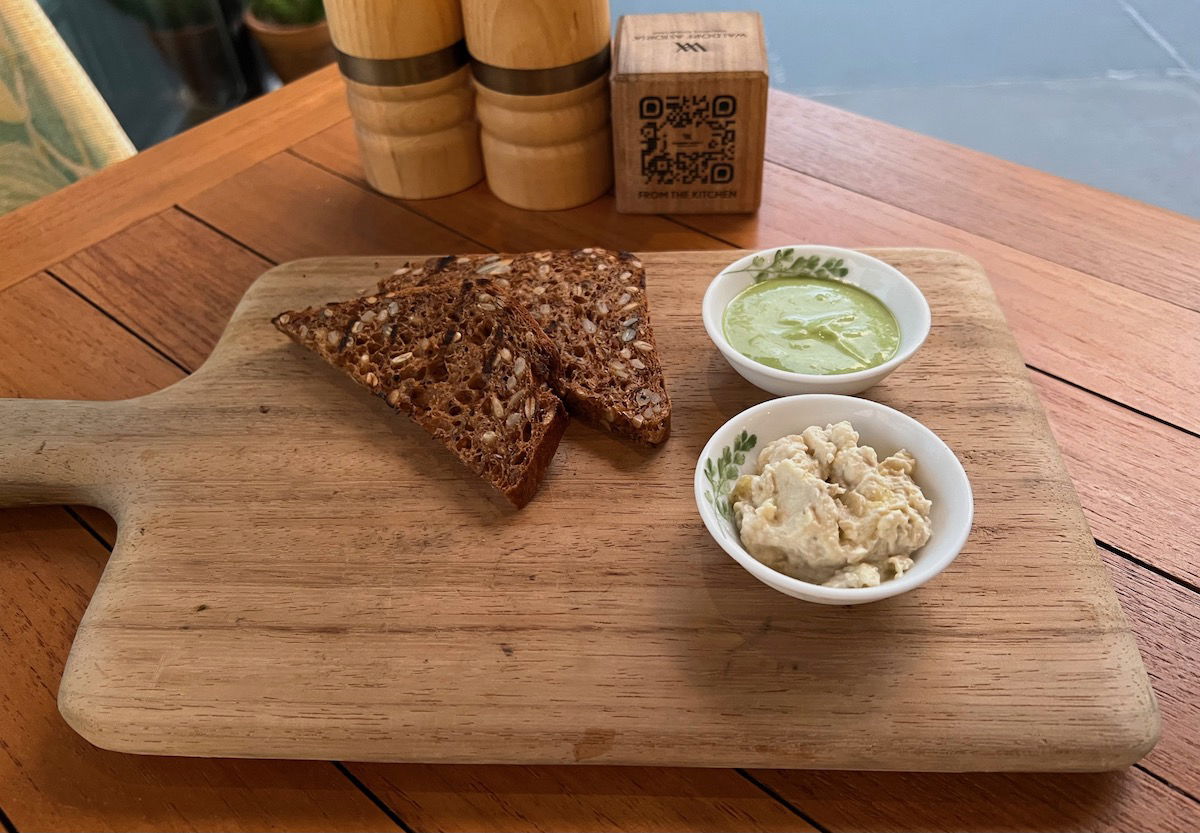 As starters, we ordered the energizing salad and Vietnamese chicken rice paper roll.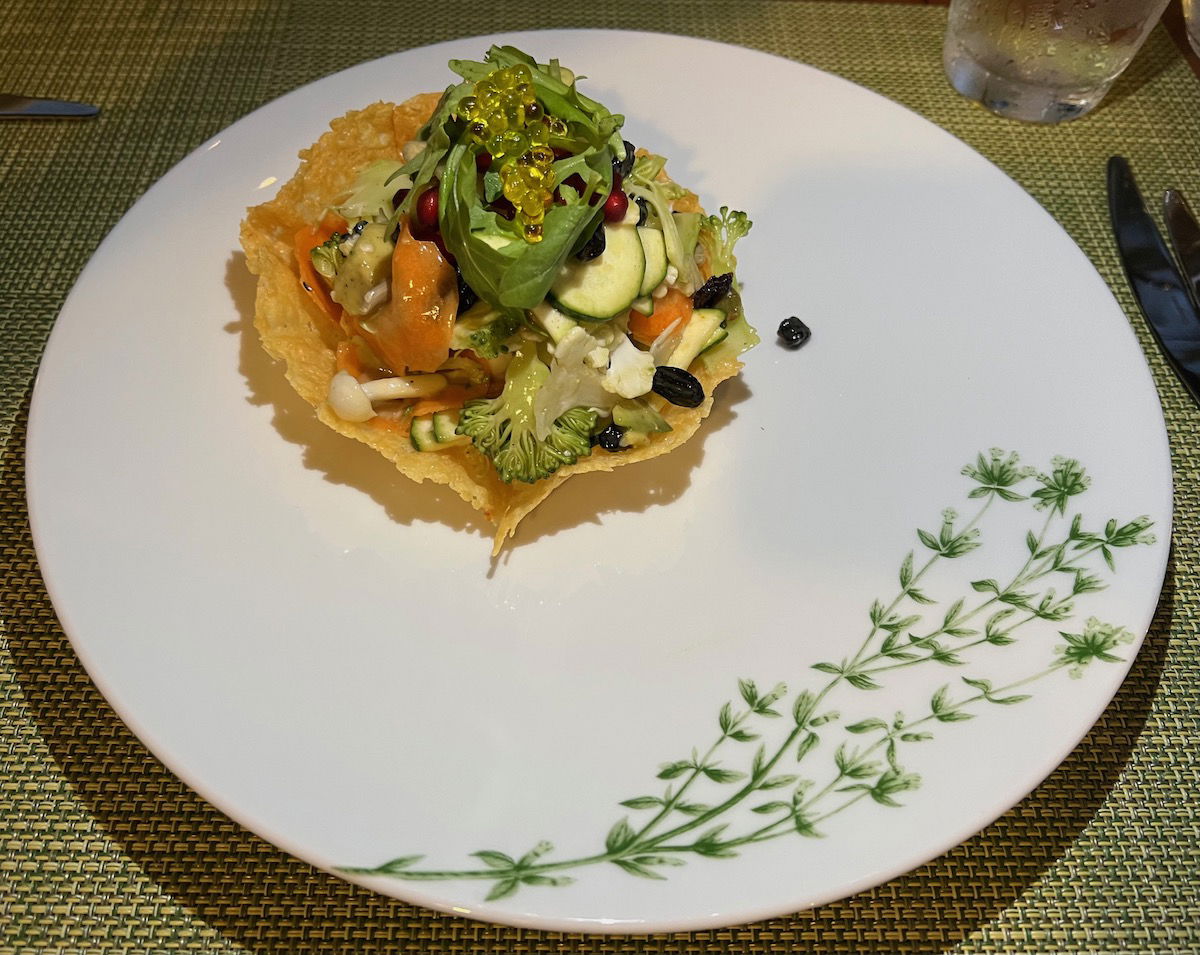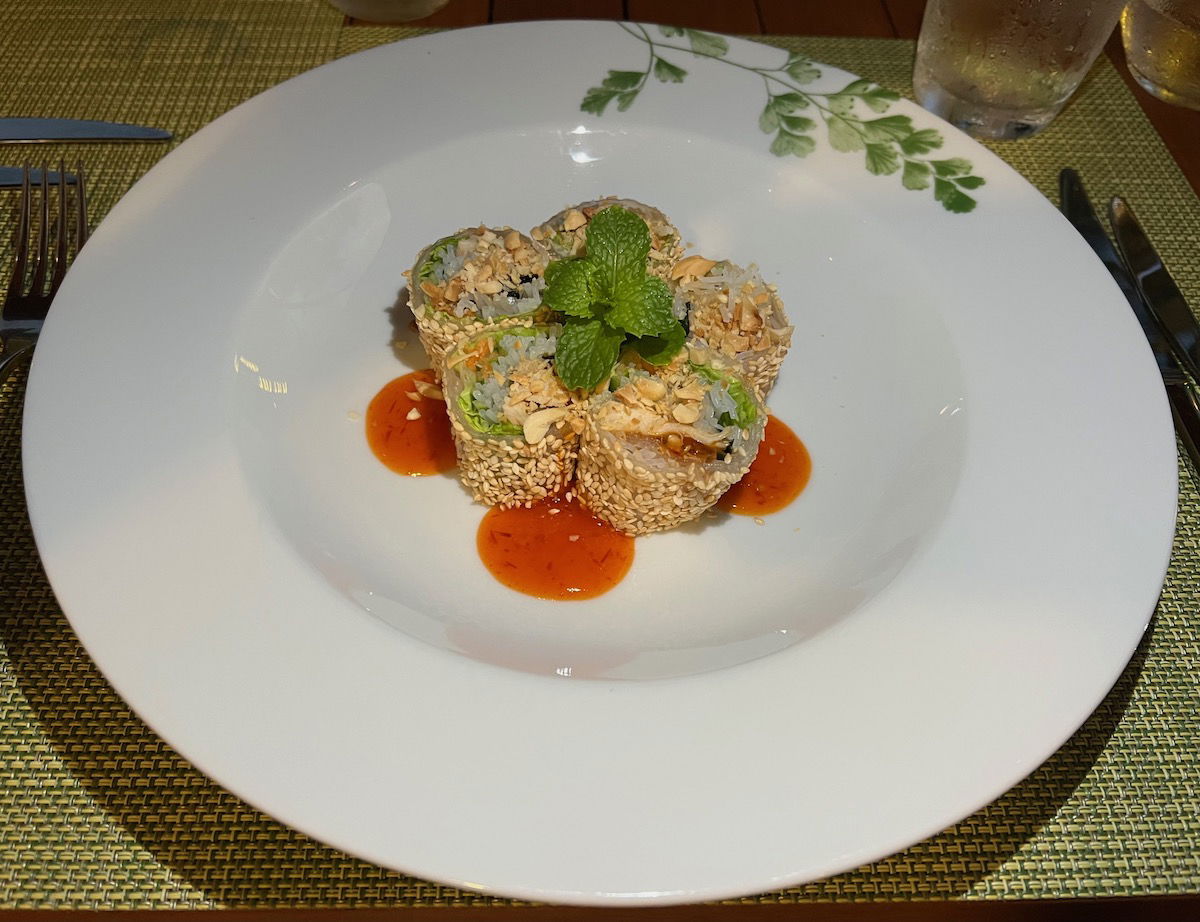 Then as mains we ordered the kimchi fried rice and free range chicken lemongrass curry.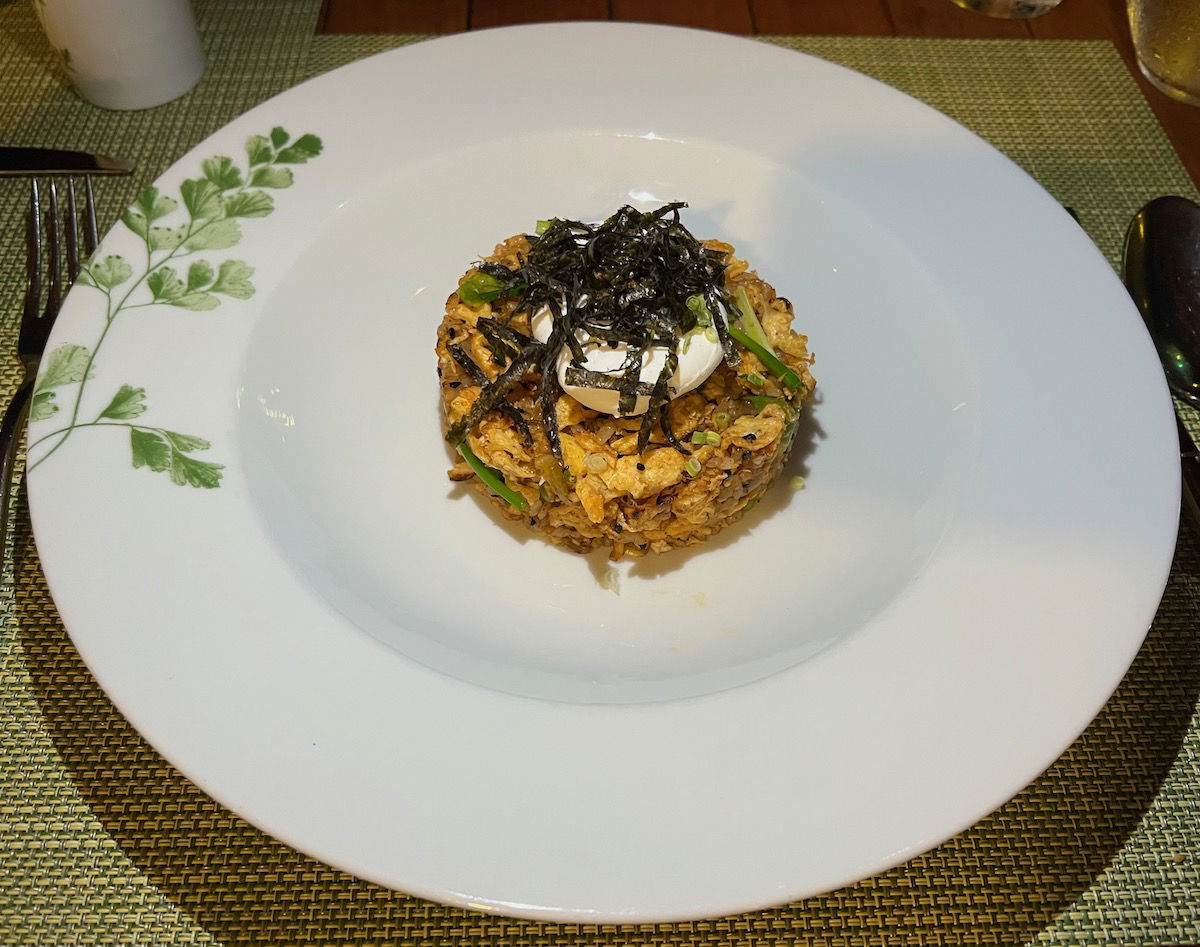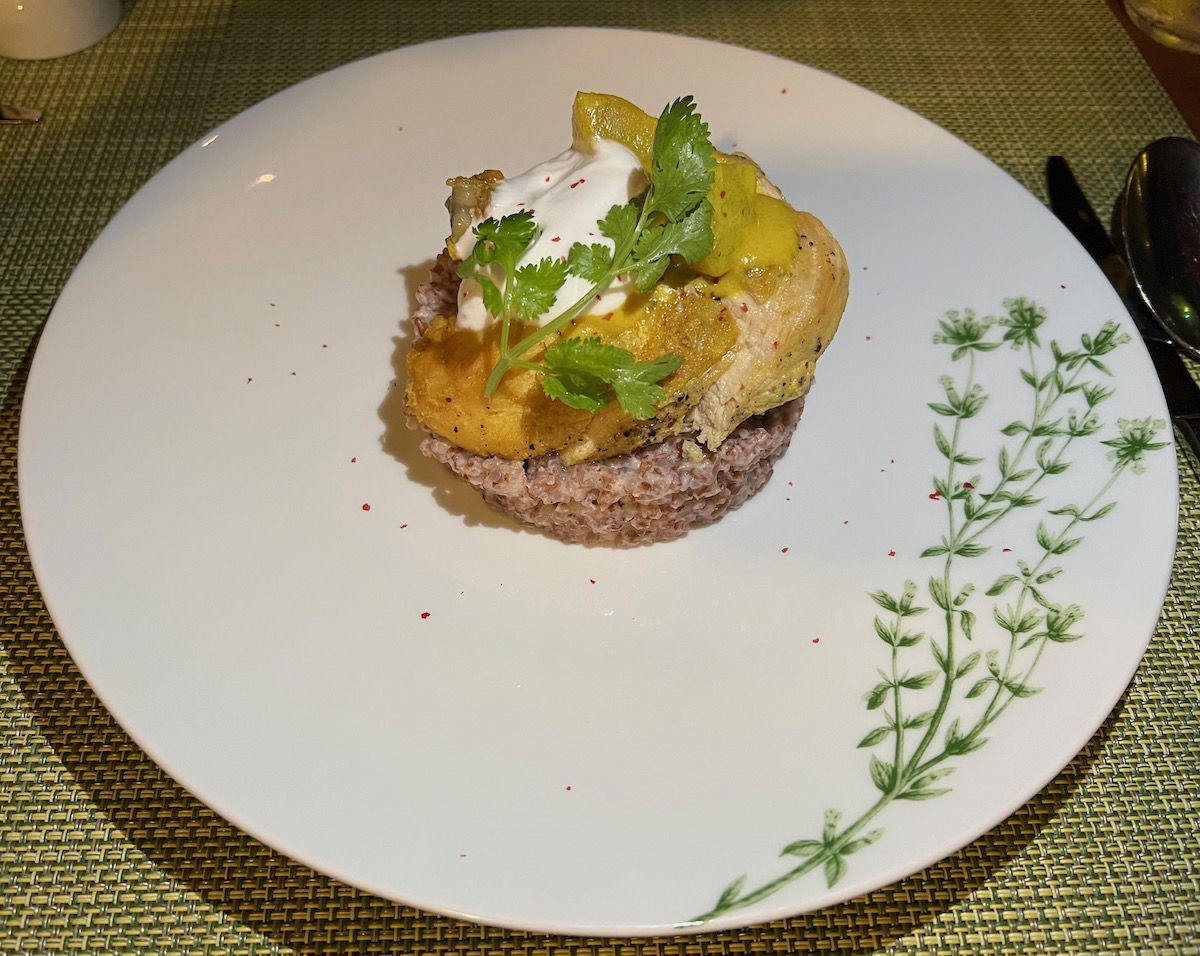 Then for dessert we split the organic flourless chocolate cake with avocado mousse and berries.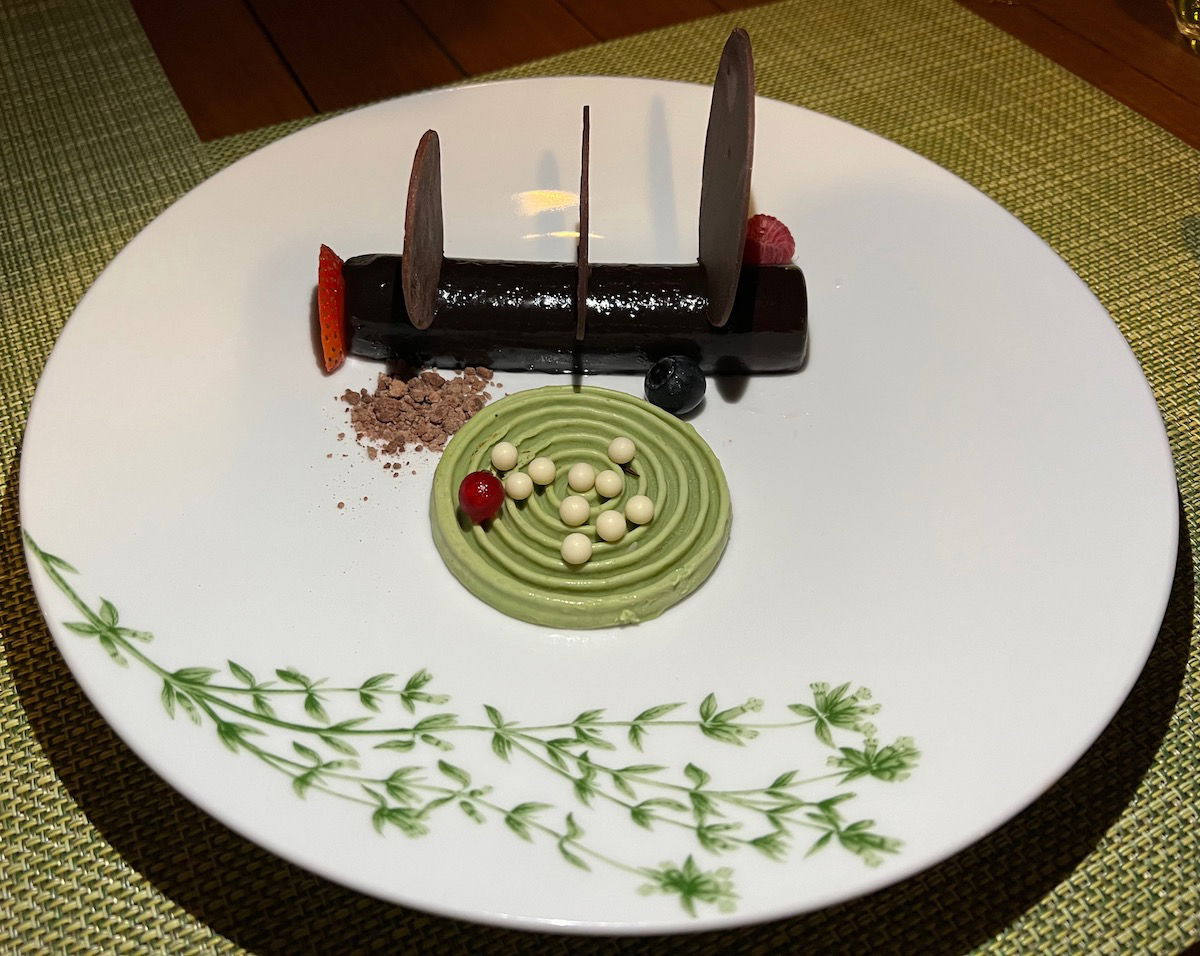 This was a really great meal that exceeded our expectations, and I definitely recommend dining here if you're staying at the resort.
Waldorf Astoria Maldives The Ledge by Dave Pynt
The Ledge by Dave Pynt is open for lunch and dinner, and is located poolside. This is intended to be an Australian barbecue restaurant, and it's based on the Michelin-starred "Burnt Ends" restaurant in Singapore. The restaurant is on the small side, and has an open kitchen, and both indoor and outdoor seating.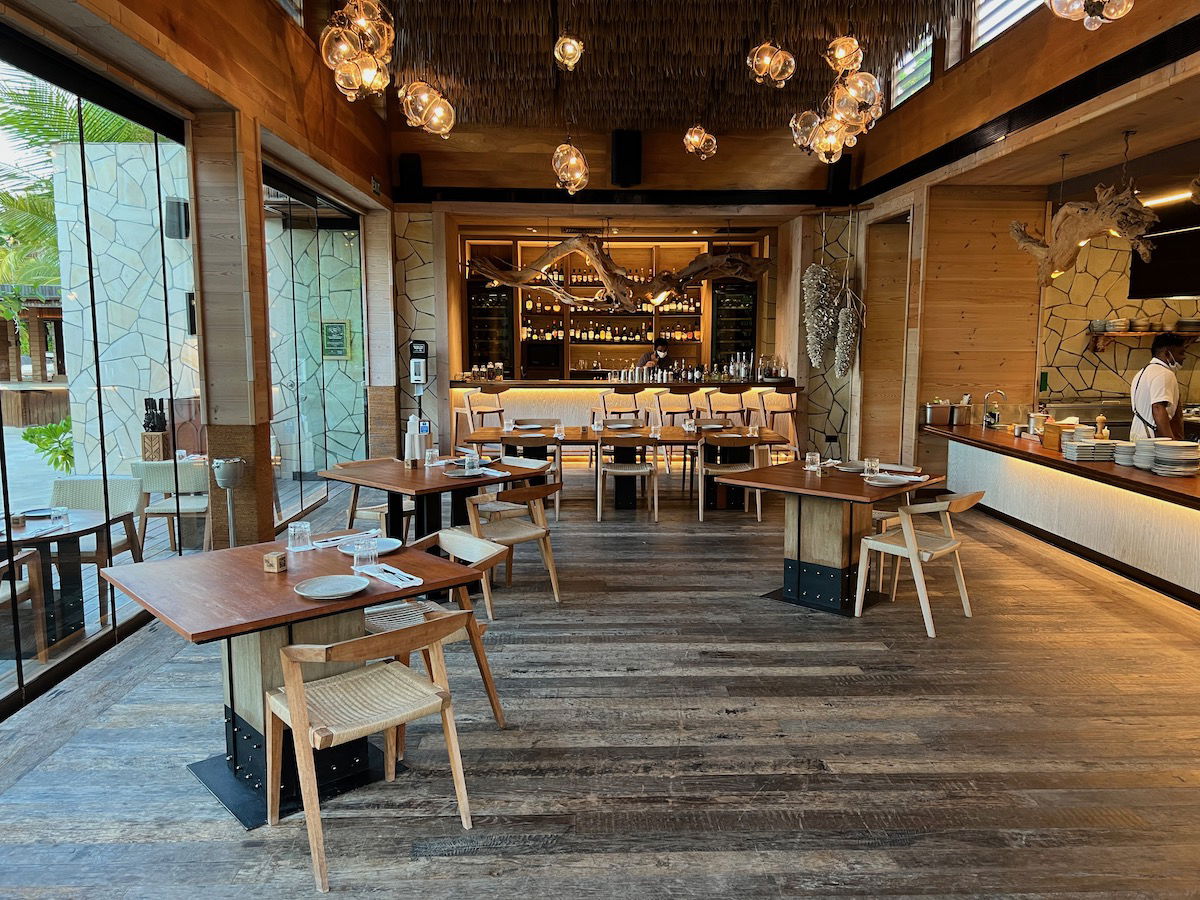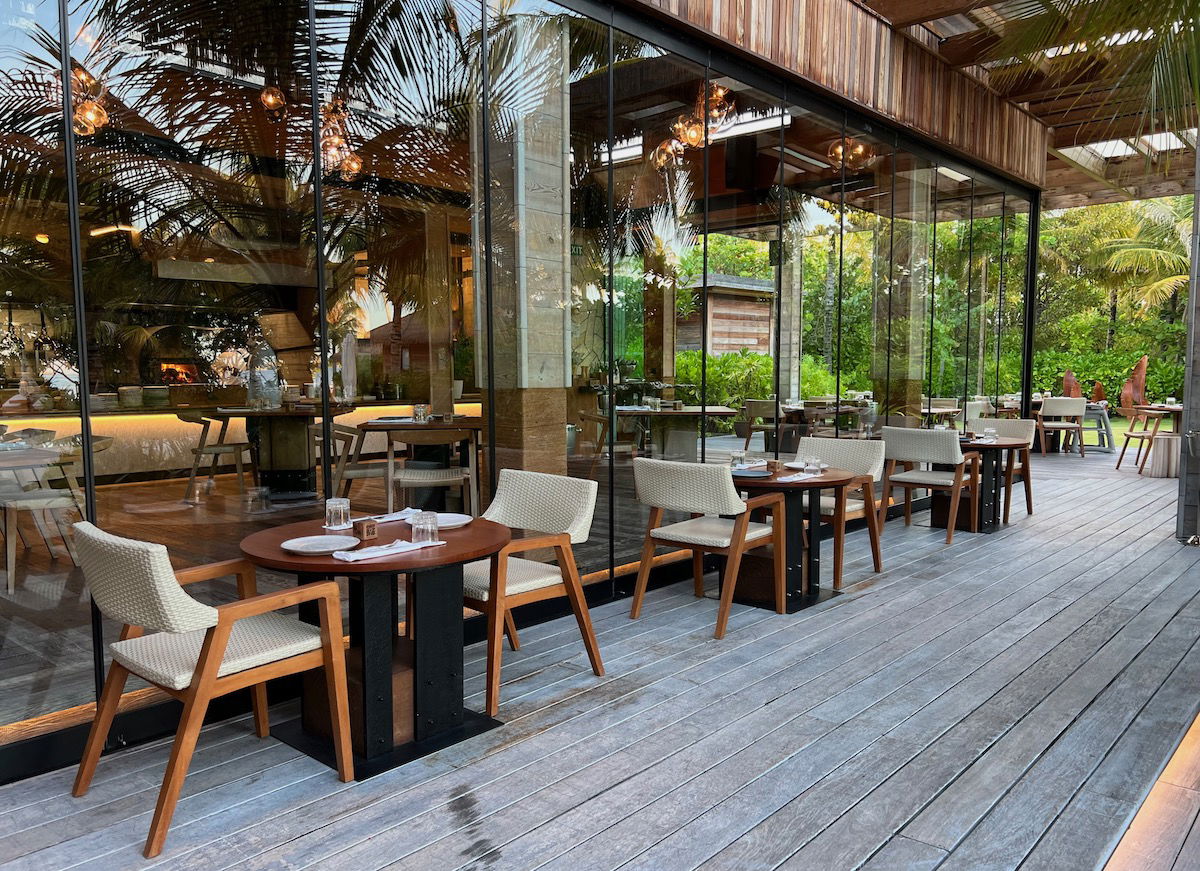 You can find the menu here. To start we had the eggplant with miso. Yum.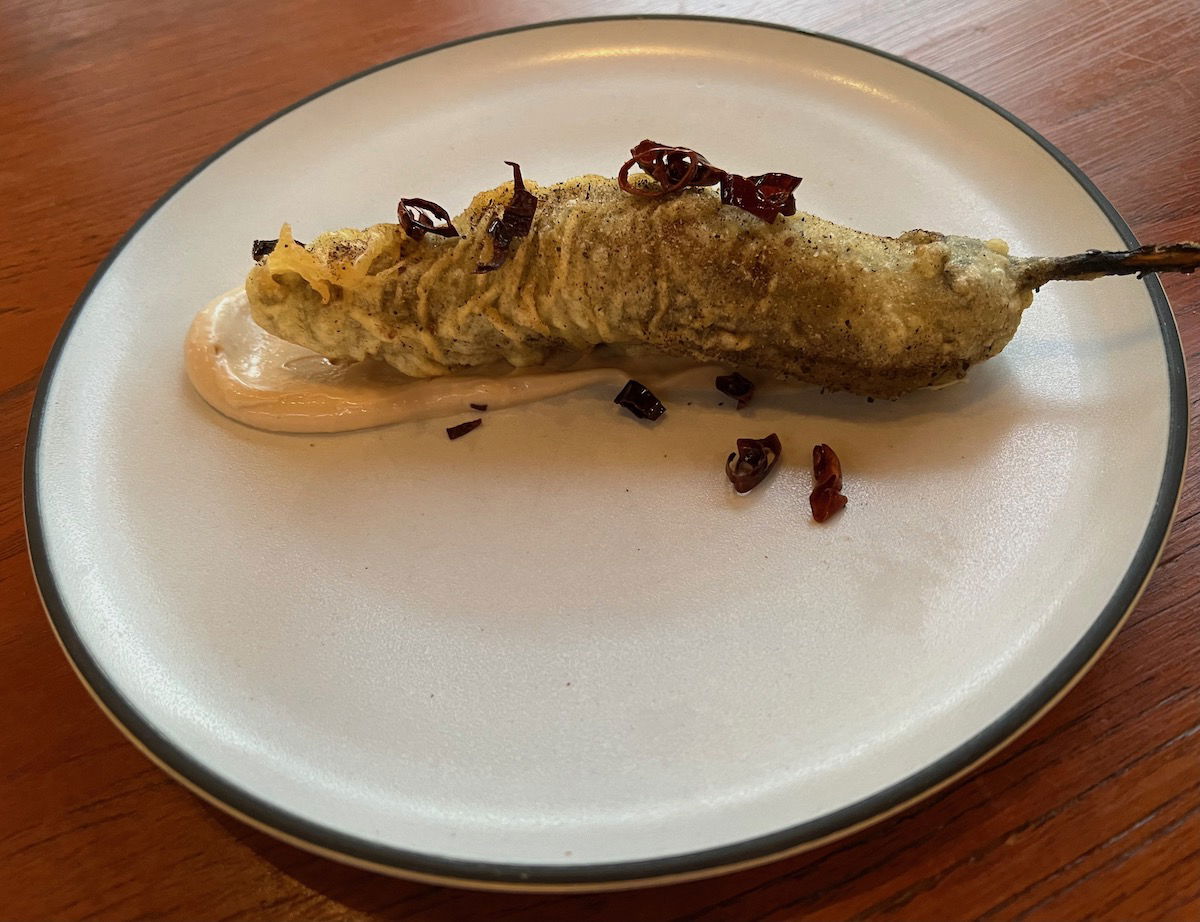 For our mains we had the chicken peri peri and reef fish.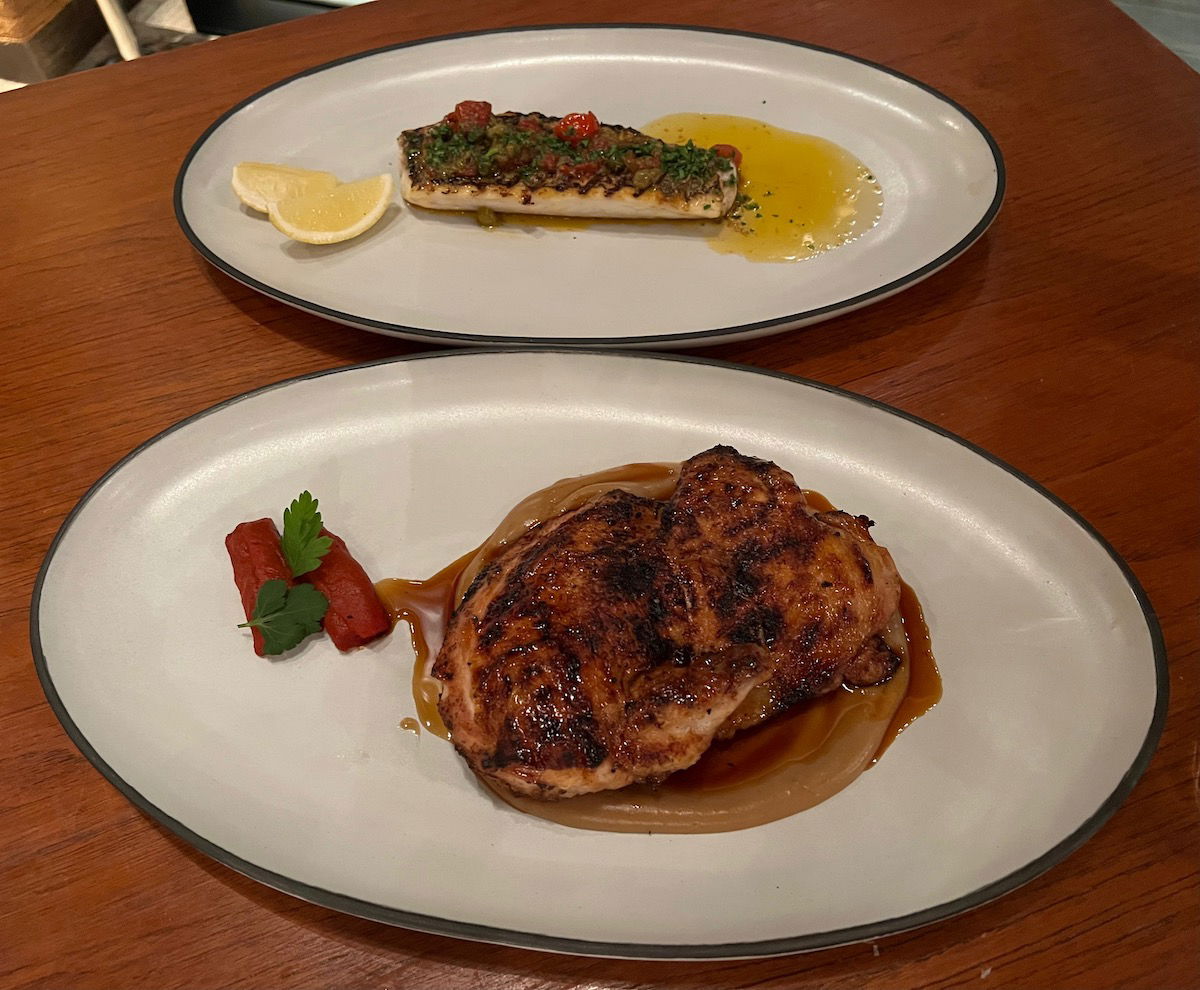 For dessert we had the date tarte tatin with vanilla bean ice cream.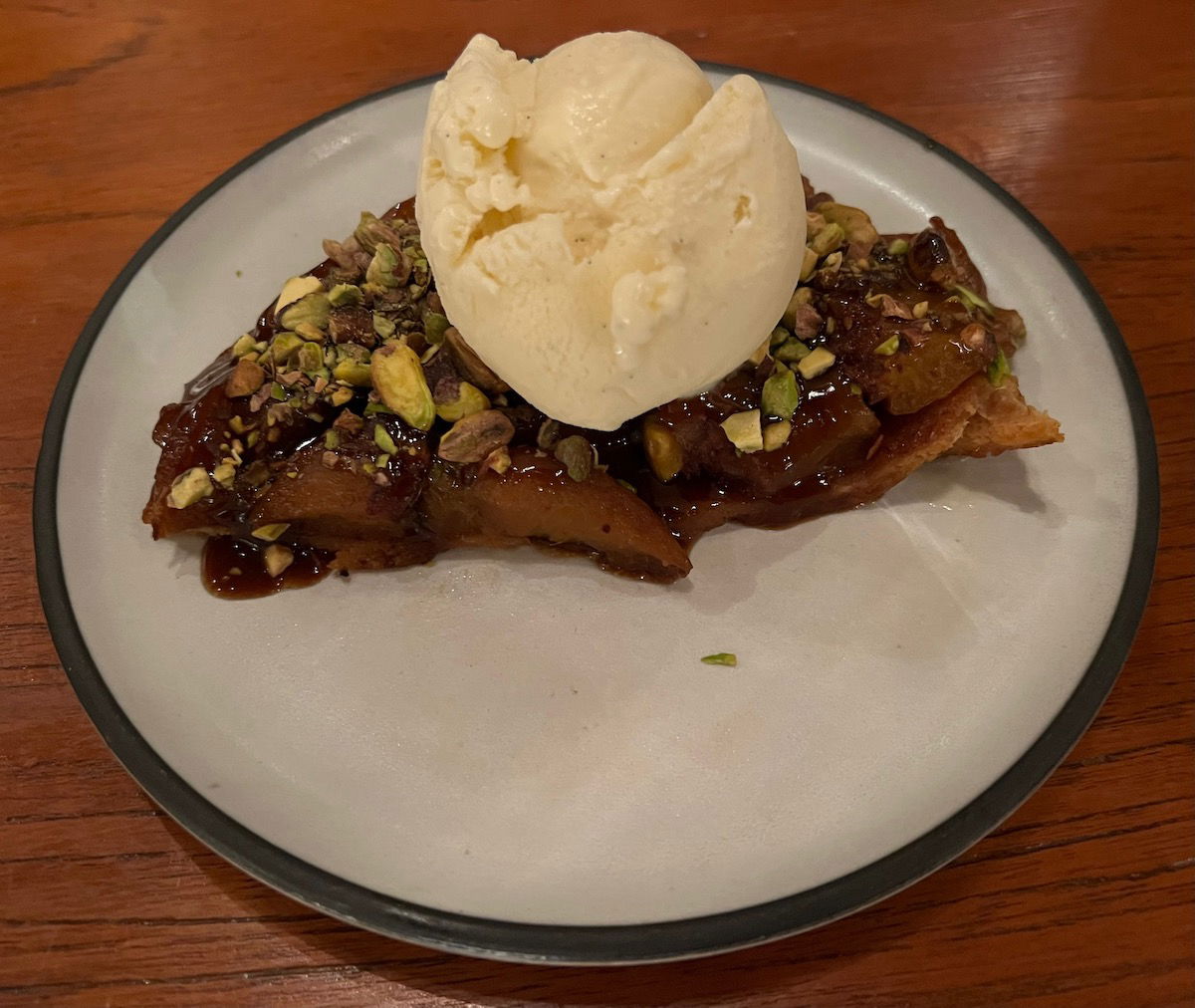 This was once again an enjoyable meal, with excellent food and service. We still slightly preferred Glow and Yasmeen, though.
Waldorf Astoria Maldives Li Long
Li Long is the Waldorf Astoria's Chinese restaurant, and you can find the menu here. The restaurant was located right across the path from our villa, so that was convenient. The restaurant has a heavily themed interior space, and then a nice outdoor space overlooking the water.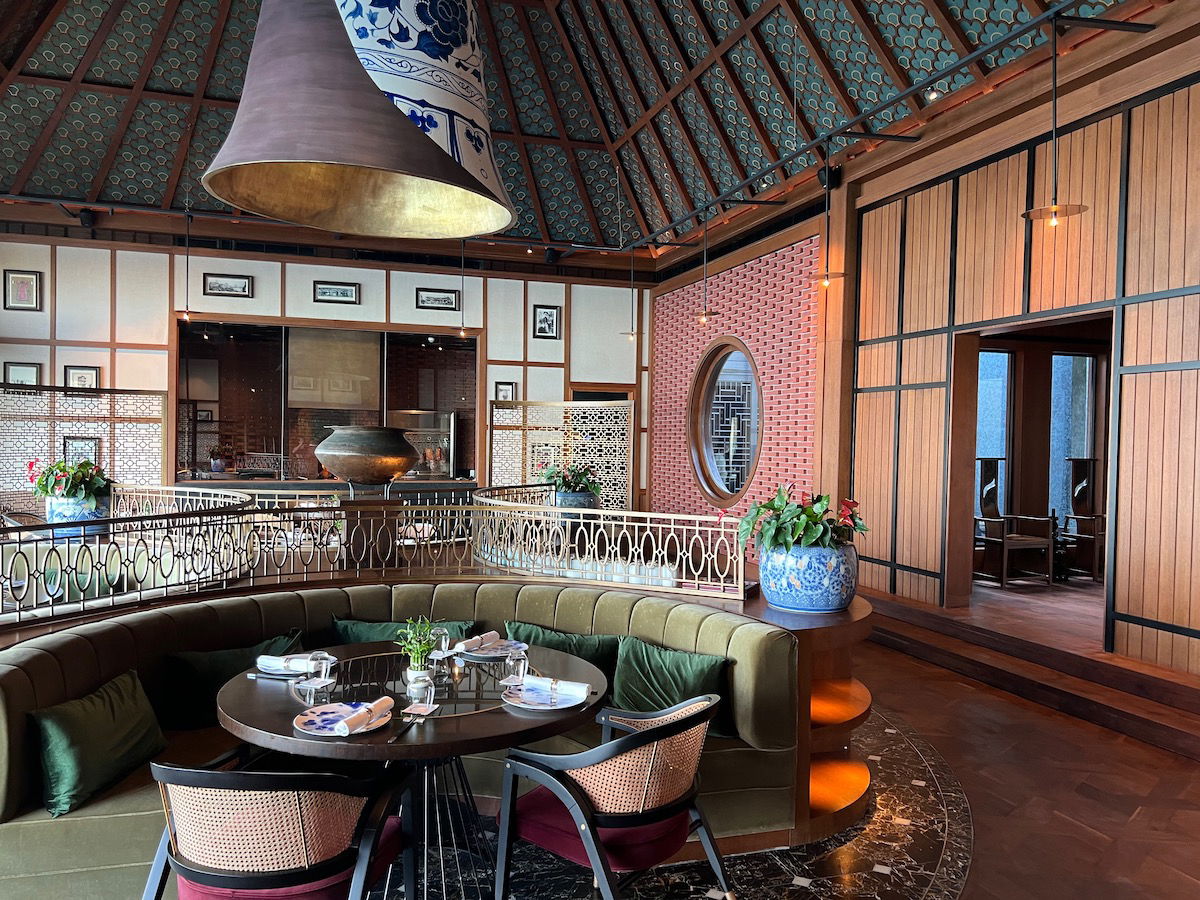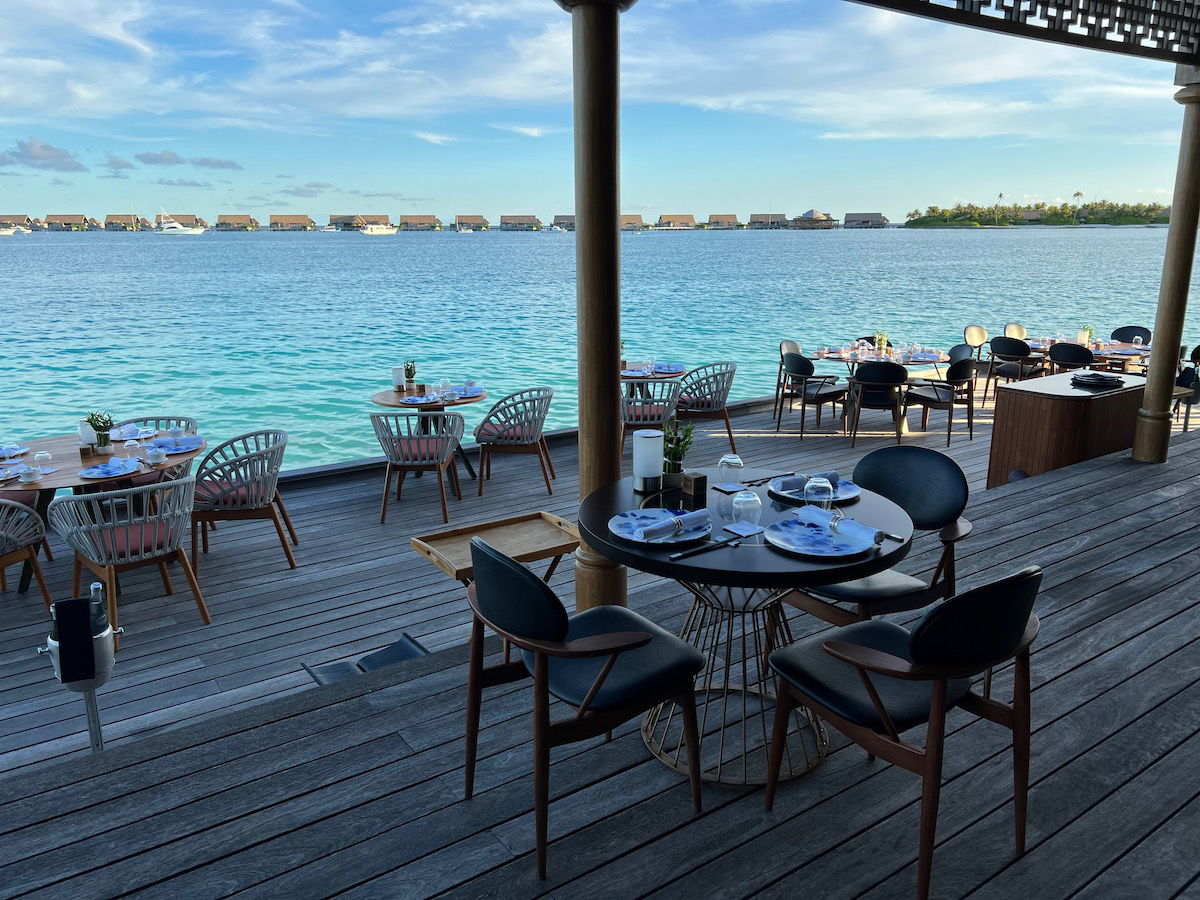 While there's a set menu, you can also just order items individually, and that's what we decided to do. To start, I had the hot and sour soup, while Ford had the chicken dumpling soup.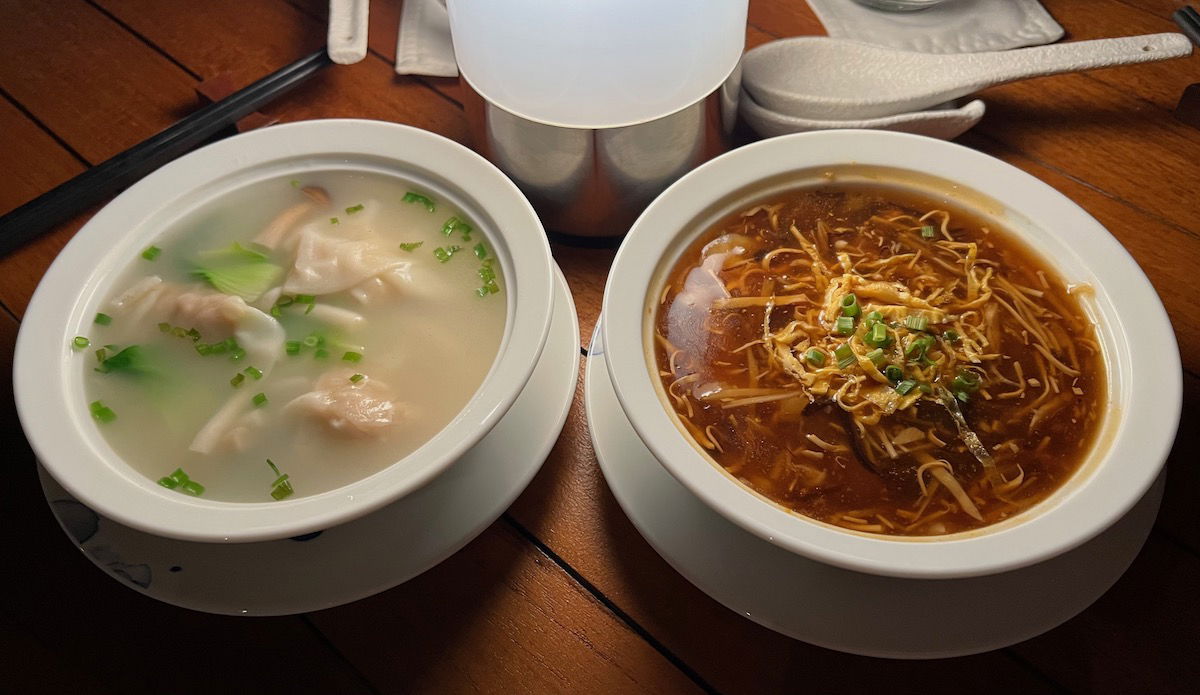 For mains, we had the Sichuan style kung po chicken with cashews and the Sichuan chili green beans.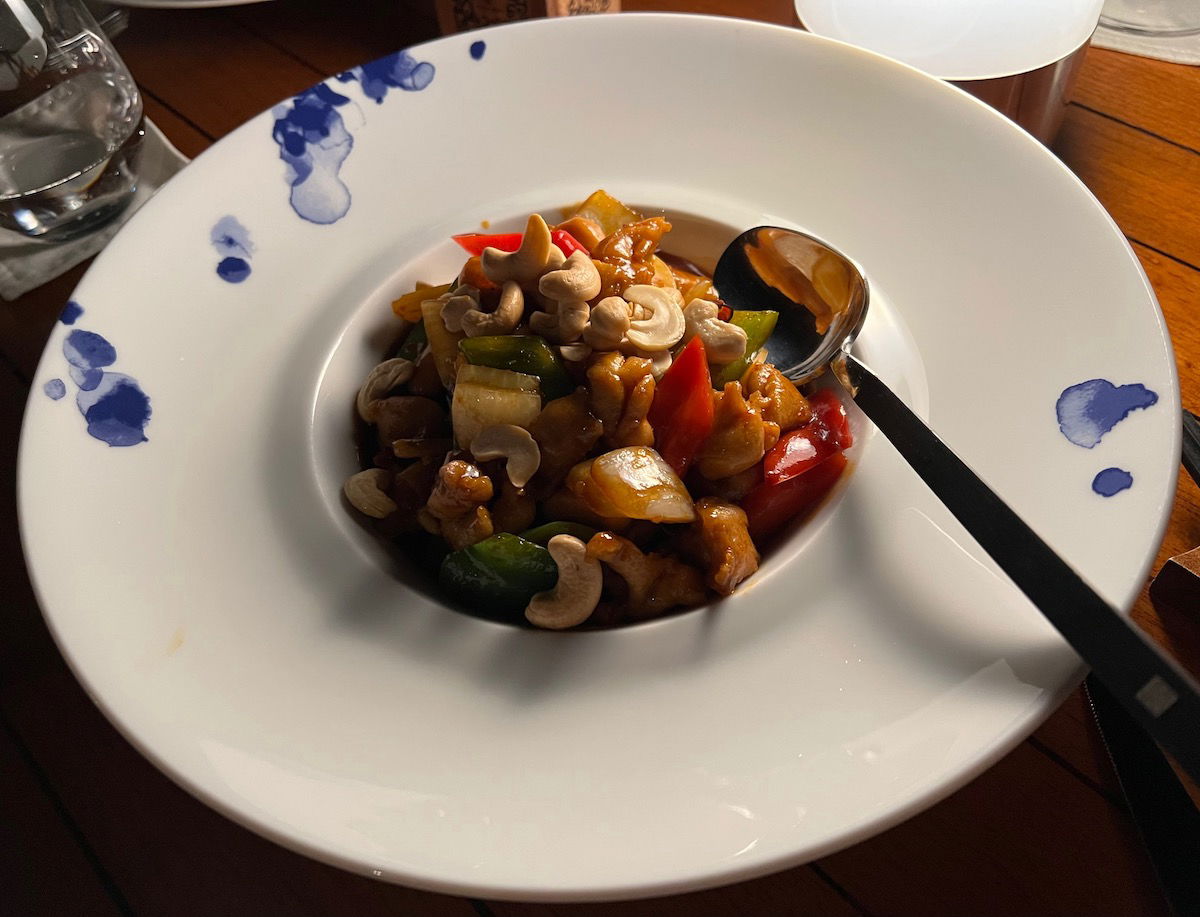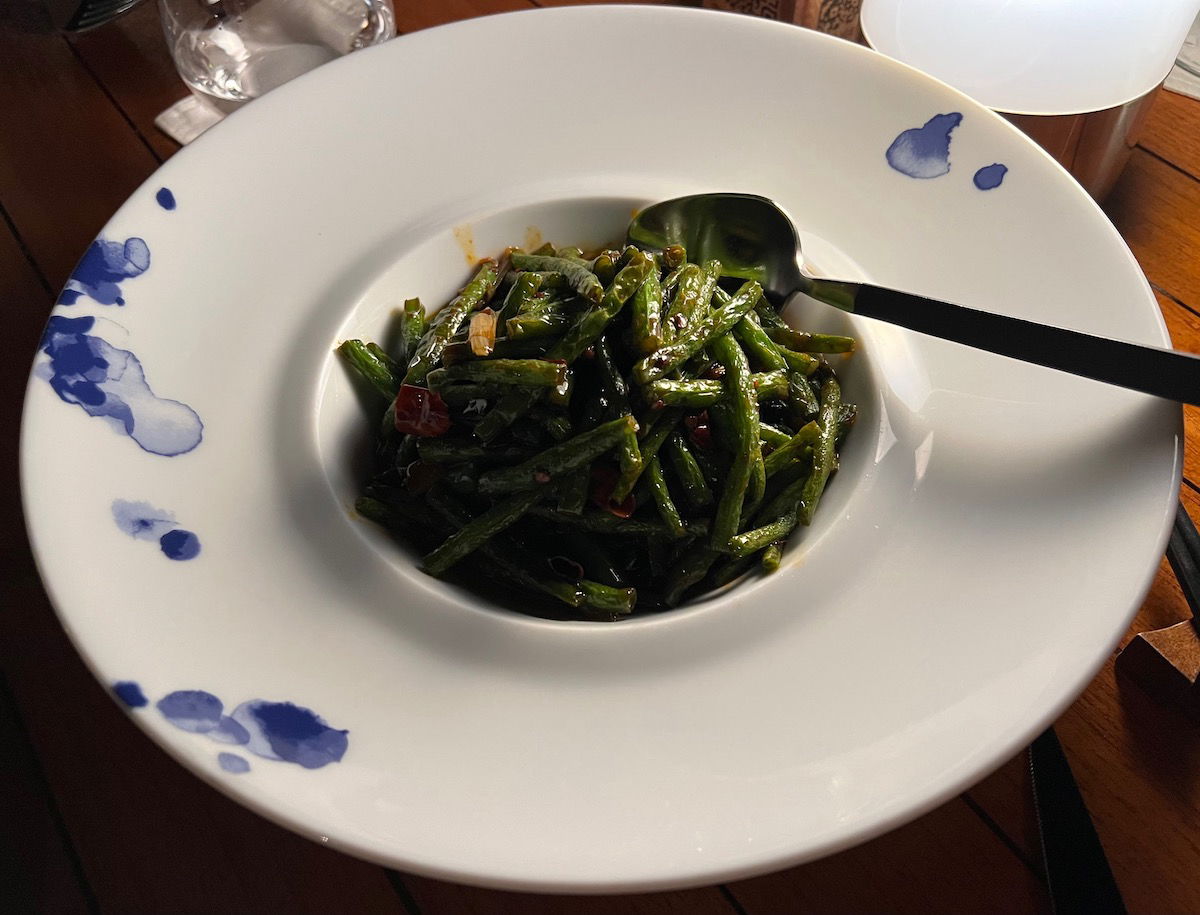 To be honest, this was the only disappointing meal we had on property. The food wasn't bad, it was just completely unremarkable. So I wouldn't recommend dining here, personally.
Waldorf Astoria Maldives The Rock
The Rock is only open upon request, and has a meat-based menu centered around wine, which you can find here. We didn't eat here, but I did snap a few pictures. It's a cool concept, though at the same time I'm not sure most people are coming to the Maldives to eat beef inside a wine cave.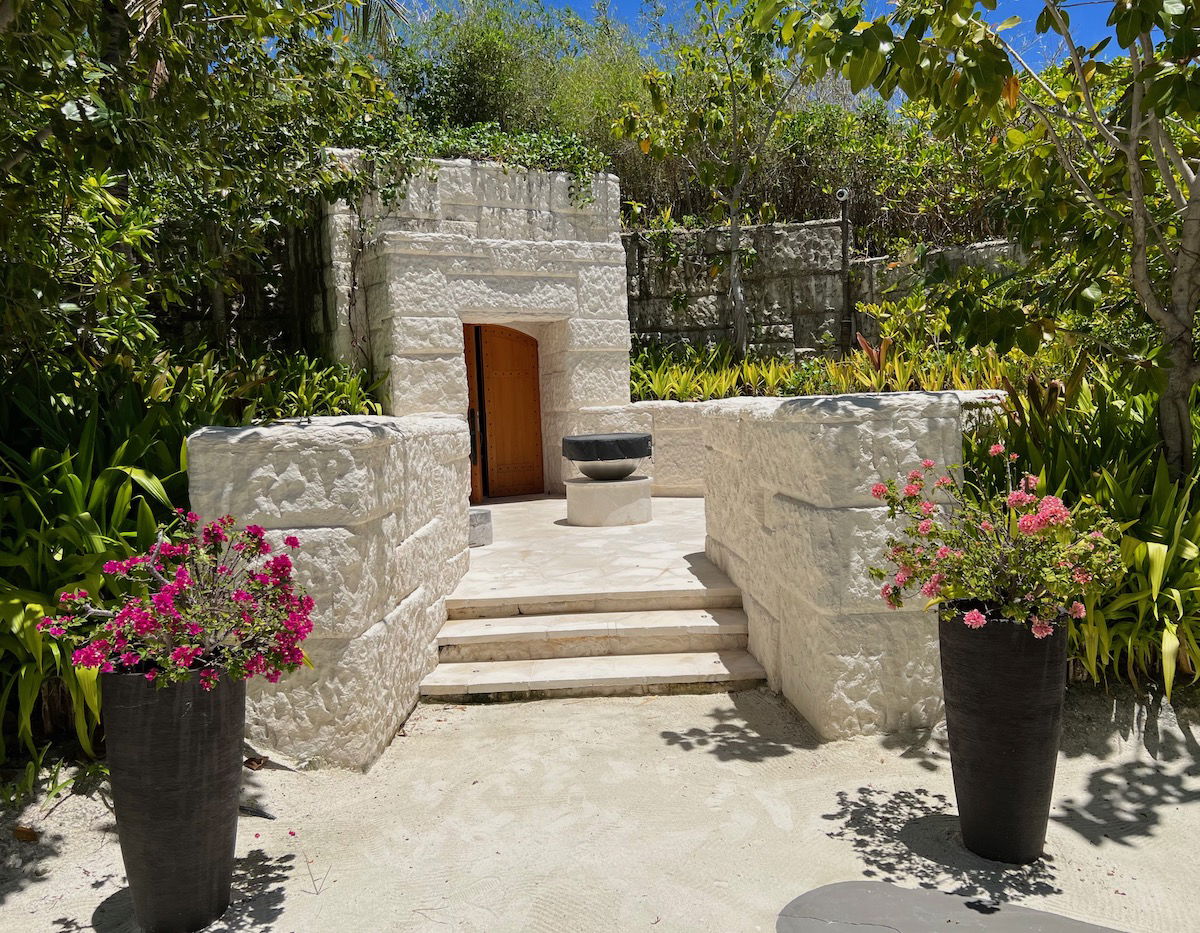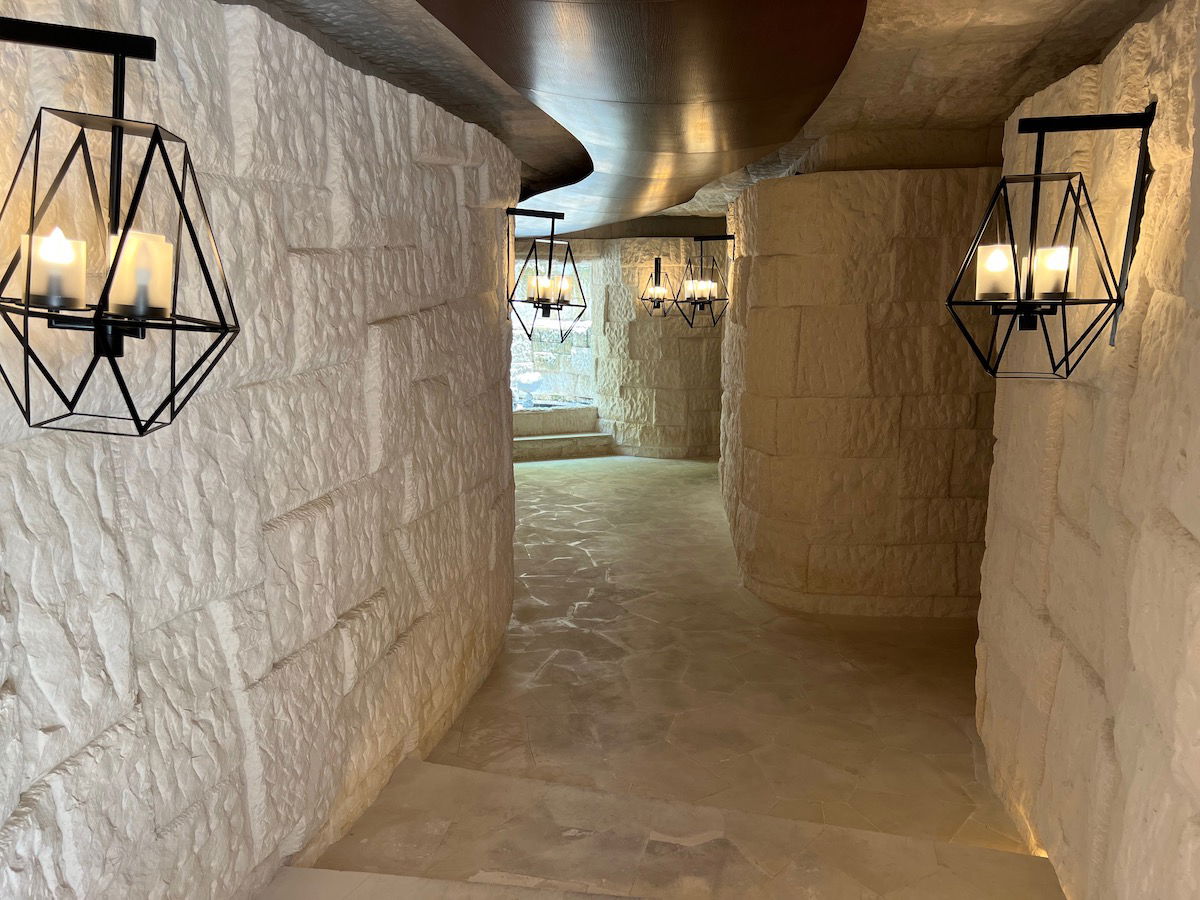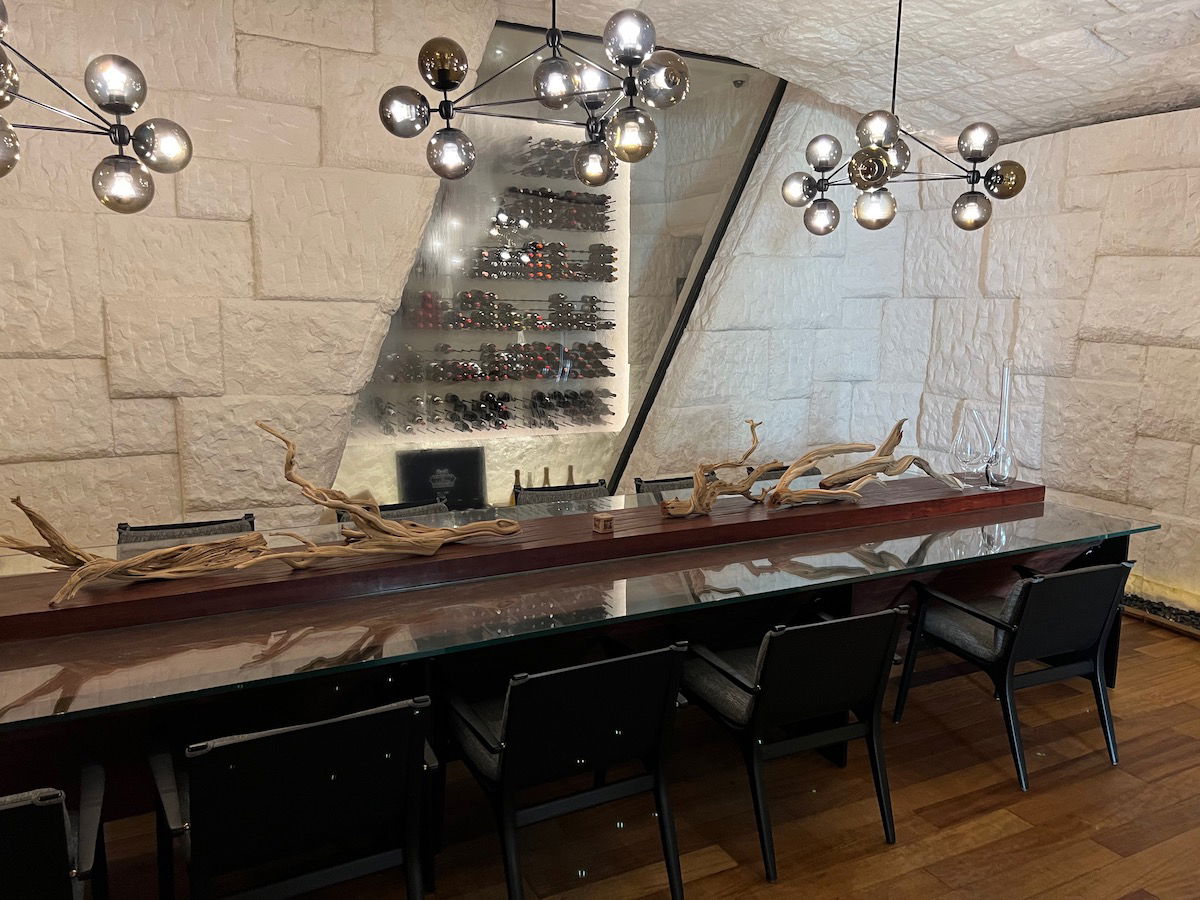 Waldorf Astoria Maldives Zuma
As if the Waldorf Astoria doesn't have enough food & beverage outlets, the resort will soon be opening a Zuma, which will be the brand's first restaurant in the Maldives. I imagine it's still at least a few months from opening. The structure as such is done, but it seems like there's still a lot of interior work that has to be completed. The restaurant is located on one of the piers with overwater villas.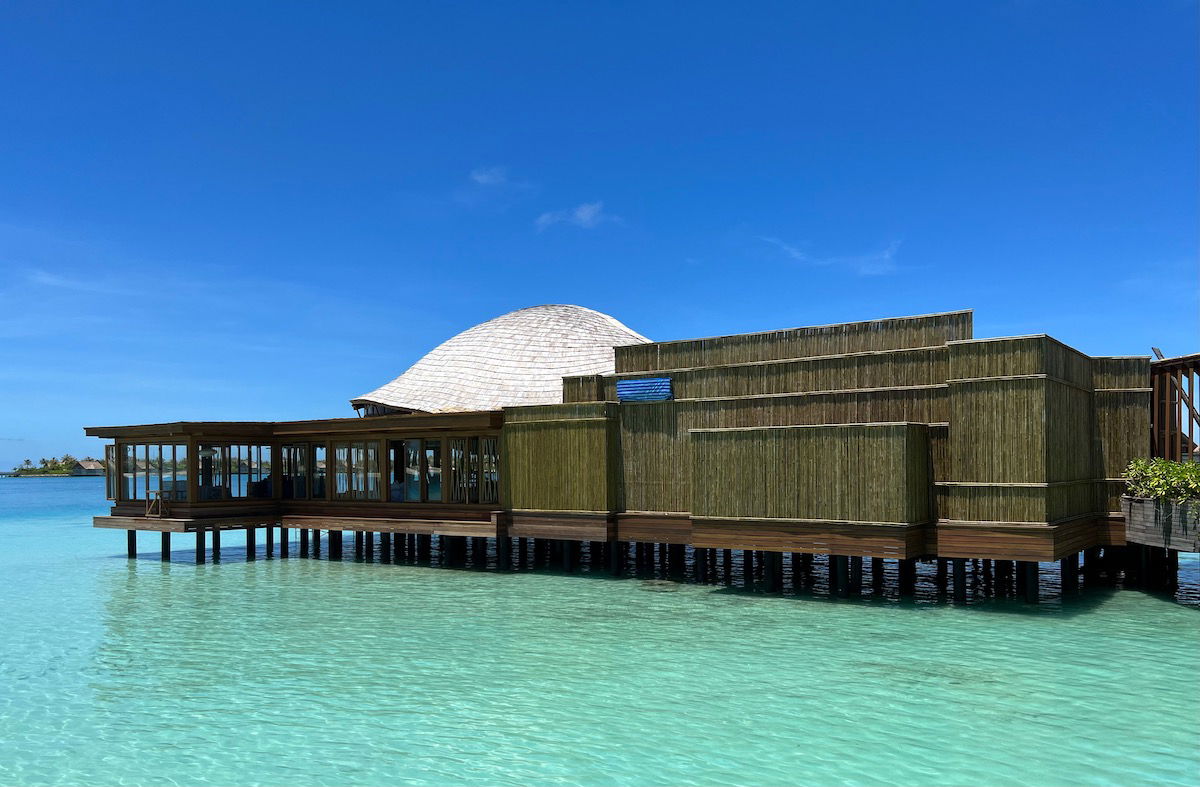 Waldorf Astoria Maldives service
On balance I found service at the Waldorf Astoria Maldives to be excellent, better than I was expecting.
For one, our personal concierge, Tiffany, was awesome. She was always quick to respond, and would take care of any request within minutes. She also proactively provided lots of great tips. For example, she recommended we move around some of our reservations based on the nights that certain restaurants are closed, and she even recommended we arrive at Terra a bit early so we could choose one of the two highest tree houses. It's great that the hotel assigns staff to rooms in this way.
Even beyond that, service was very good. Virtually all employees were friendly and polished. A few notes, though, both positive and negative:
Whenever you pass an employee at the hotel, they move their hand over their heart; if nothing else, I was impressed by the consistency with which this was done, because sometimes on a bike ride you'd pass dozens of employees, and every single one would do it
Simply put, service isn't going to be as personalized here as at Cheval Blanc Maldives, for example, given that the property has 122 villas (nearly three times as many as at Cheval Blanc); paid rates at the two properties are somewhat comparable, so I do think that's noteworthy
The resort manager, Marco, was hands on and constantly around; he was genuinely interested in feedback, and could be seen checking on guests at breakfast, lunch, and dinner
People will likely have mixed feelings about this, but of the three resorts we stayed at in the Maldives, this was the only resort where employees are still wearing masks; I've gotta say, I feel really bad for gardeners working all alone outside in 100 degree heat with a mask on
In general service at the Waldorf Astoria was great, so kudos to the hotel for that.
Bottom line
Waldorf Astoria Maldives is an excellent resort, and an even better use of Hilton Honors points (if you can find award availability).
There's a lot to love about the resort, like its proximity to Male (which makes it easy to get to), its seemingly endless food & beverage outlets, and the great service. At the same time, this is definitely one of the bigger resorts I've stayed at in the Maldives, so it's not going to feel quite as personalized as some other resorts. I guess that goes both ways, because it also means you likely won't get bored here.
If you can redeem Hilton Honors points here, I can't recommend a stay enough. Keep in mind your stay will still be far from "free," between the transfer costs and the food & beverage costs.
If paying cash, I'm a bit more conflicted. Admittedly luxury hotel rates are through the roof in so many places at the moment, so it's kind of hard to judge the value of hotels based on absolute pricing. What I do know is that the Waldorf Astoria is only priced marginally lower than some of the Maldives' best regarded resorts (Cheval Blanc and Velaa), and you can definitely get a more personalized experience elsewhere.
Still, on balance I loved this hotel, and would return in a heartbeat and wholeheartedly recommend it.
If you've stayed at the Waldorf Astoria Maldives, what was your experience like?