I pride myself in being pretty good when it comes to flying. No, not flying planes, but rather booking airline tickets (whether with cash or miles), figuring out the complicated logistics of traveling, never missing a flight, rebooking with ease in the case of irregular operations, etc.
A vast majority of the time I get things right when it comes to this stuff… and then there's what happened to us at Velana International Airport (MLE) in the Maldives. I'm kind of embarrassed, but I'll share it anyway.
I didn't do my homework
After an amazing 11 nights in the Maldives, it was time to slowly return home. We were first flying from Male to Doha in Qatar Airways first class, and then we'd spend a couple of nights in Doha. I was especially looking forward to this flight, as it was operated by a leased Cathay Pacific Boeing 777.
We took the seaplane from the Four Seasons Landaa Giraavaru, and arrived at the Qatar Airways check-in counter at around 4:30PM for our 7:45PM flight to Doha. We had plenty of time to spare, or so we thought.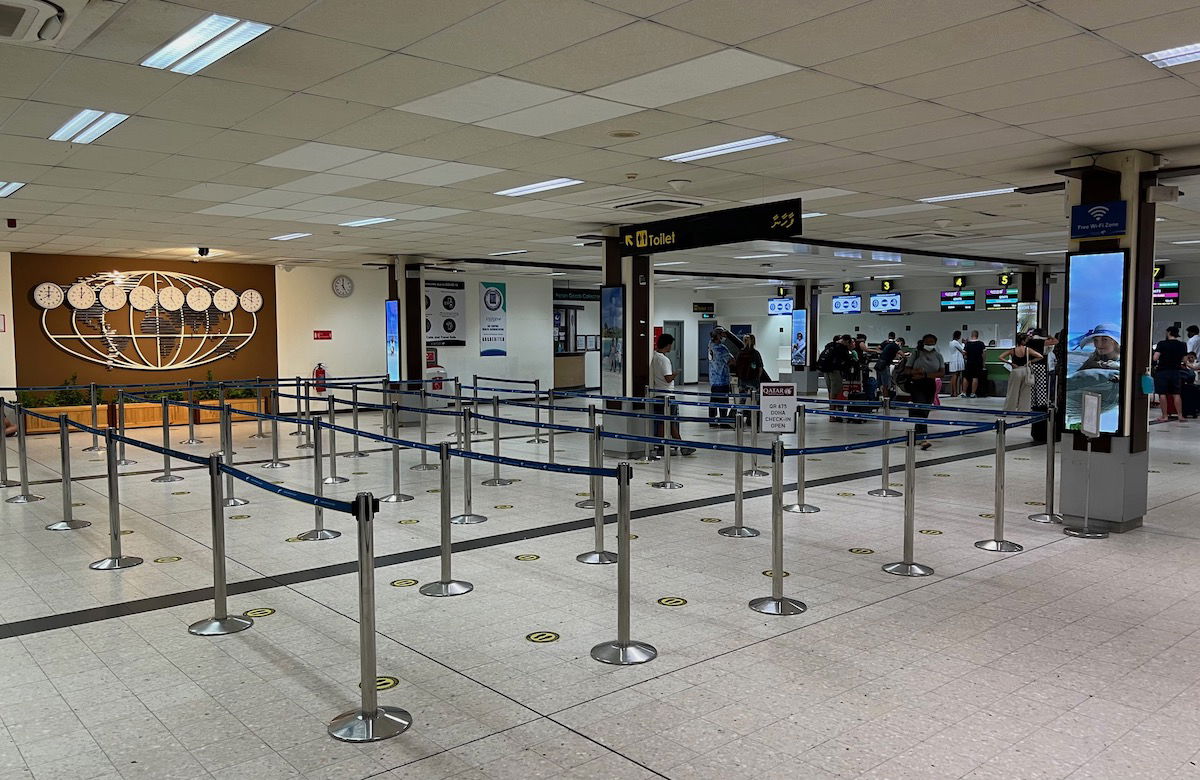 I handed over our passports and our PCR tests (required to enter Qatar) to the representative, and we were asked for our final destination. When I said Doha, the conversation went something like this:
Agent: "Can I see your Ehteraz form?"
Me: "Sorry, what's that?"
Agent: "The authorization needed to travel to Qatar."
Me: "I thought I read that the pre-travel authorization form was optional and was just intended to speed up the arrivals process? We have our PCR tests and proof of vaccination, including booster."
Agent: "No, we can't let you board unless you have been approved."
Me: "Oh… do you know how long that takes?"
Agent: "Sometimes it's fast, and sometimes it's not."
Okay, you're probably wondering how I screwed this up. After all, I've traveled internationally quite a bit during the pandemic, and haven't had a single issue keeping track of travel restrictions and entry requirements, both for me and my family.
Of course I looked at Qatar's Ministry of Public Health website prior to travel, yet somehow I didn't interpret it correctly:
On some level I probably have unnecessary paperwork fatigue, given the number of forms that I've filled out over the past two years; on top of that, with restrictions easing, there aren't as many travel forms as there used to be, so maybe I was just assuming that a global travel hub was now making it easy to visit
I don't think Qatar's website about travel requirements is particularly clear; I scrolled down to the section for "visitors," and nowhere there does it mention needing to complete the pre-travel authorization, but rather it just talks about the testing requirement
I saw other sections that referenced how "your pre-travel online registration will help accelerate your passage and clearance at the port of arrival for a better arrival experience in Qatar," which makes it sound like it's optional rather than required
I've taken some trips lately with optional pre-travel forms, and found them to be a huge waste of time, and that's how I interpreted this as well. I should have erred on the side of caution and filled out the form, though.
Let me be clear, I accept full responsibility here. There are sections that state these pre-travel forms are required, but I do think this could be spelled out more clearly.
Issues with Qatar's pre-travel form
Initially I wasn't really worried. Most countries that require you to fill out some pre-travel form either have an instant approval process, or the applications get processed within minutes. Male Airport isn't exactly a great place to have to do get anything done on your laptop, between the spotty Wi-Fi (and very slow tethering), plus the complete lack of seating in the departures area (there are literally zero seats near check-in).
So I simply sat down on the floor near the check-in desk. Within about 15 minutes I managed to fill out the forms and submit them. Less than 10 minutes later I received an email indicating that our applications had been processed — woot, I figured everything was good. Then I went to the application, and the status was listed as "return for action." There was a comment stating the following:
"Dear passengers, Kindly provide your V-safe screen shot for verification. Thankyou."

Sorry, say what? I asked the check-in agent if she knew what V-Safe is, and she said she had never heard of it. I also looked at Qatar's website, and there was no reference to this. So I did some Googling, and it seems that it's a CDC vaccination health checker program, whatever that is.
I had never heard of this before, and for that matter I haven't needed that once for travel since the start of the pandemic.
Okay, I figured I'd try to sign-up for V-Safe, so I went to the official CDC website, and got an error message on the registration page, saying that they couldn't find what I was looking for. I tried on my smartphone and laptop, I tried with different browsers, and I tried with and without a VPN. No matter which method I tried, the site was down for maintenance (or something), it seems. I guess the timing makes sense, since it was a weekend.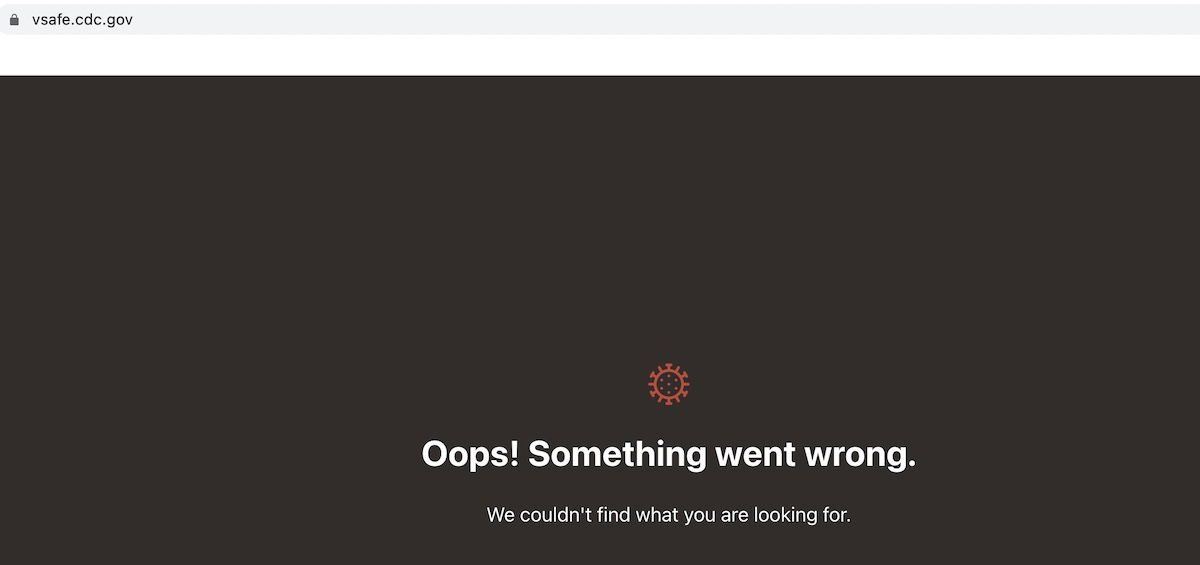 Lovely…
The issue here is that you have no recourse, and no way of communicating with anyone in Qatar. It's not like you can put a note in your profile explaining this.
So I figured my best bet was to try submitting the form again. Think of it as the immigration version of "hang up and call again." Once again our application was processed within 10 minutes. This time there was no request for V-Safe, but rather there was a different problem:
"Dear Passengers, Kindly attach your full dose CDC vaccine certificate for verification. Thank you"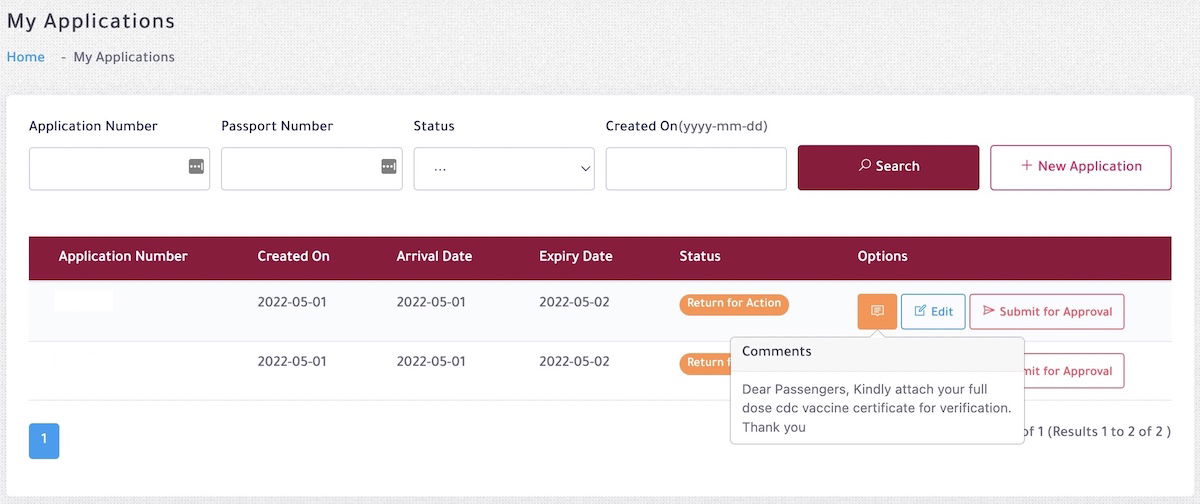 The problem is that we had submitted our full vaccine certificates (including booster) with the application. Admittedly US vaccine cards (especially with boosters) look like an elementary school arts & crafts project, but still…
So I went back into the application and uploaded the pictures again, in hopes that maybe someone hadn't seen it correctly. 10 minutes later there was a response indicating the same problem.
We were at a standstill — the check-in agent was lovely but explained this was something she had no control over, which I can't blame her for.
Now what?!
The station manager kindly got involved in this situation, and tried to do everything he could to help. At this point we were quickly coming to the realization that we probably weren't going to make our flight:
We realized we might be spending the night in Male, which frankly I've been wanting to visit for a long time, so there was a silver lining
Our PCR test would be expired if we traveled the next day, so realistically we would have just rebooked something for the next day connecting in Qatar, rather than staying there (since connections don't require testing)
Check-in started to close for our flight, with the screens switching from the Qatar Airways logo, to just the generic airport messages.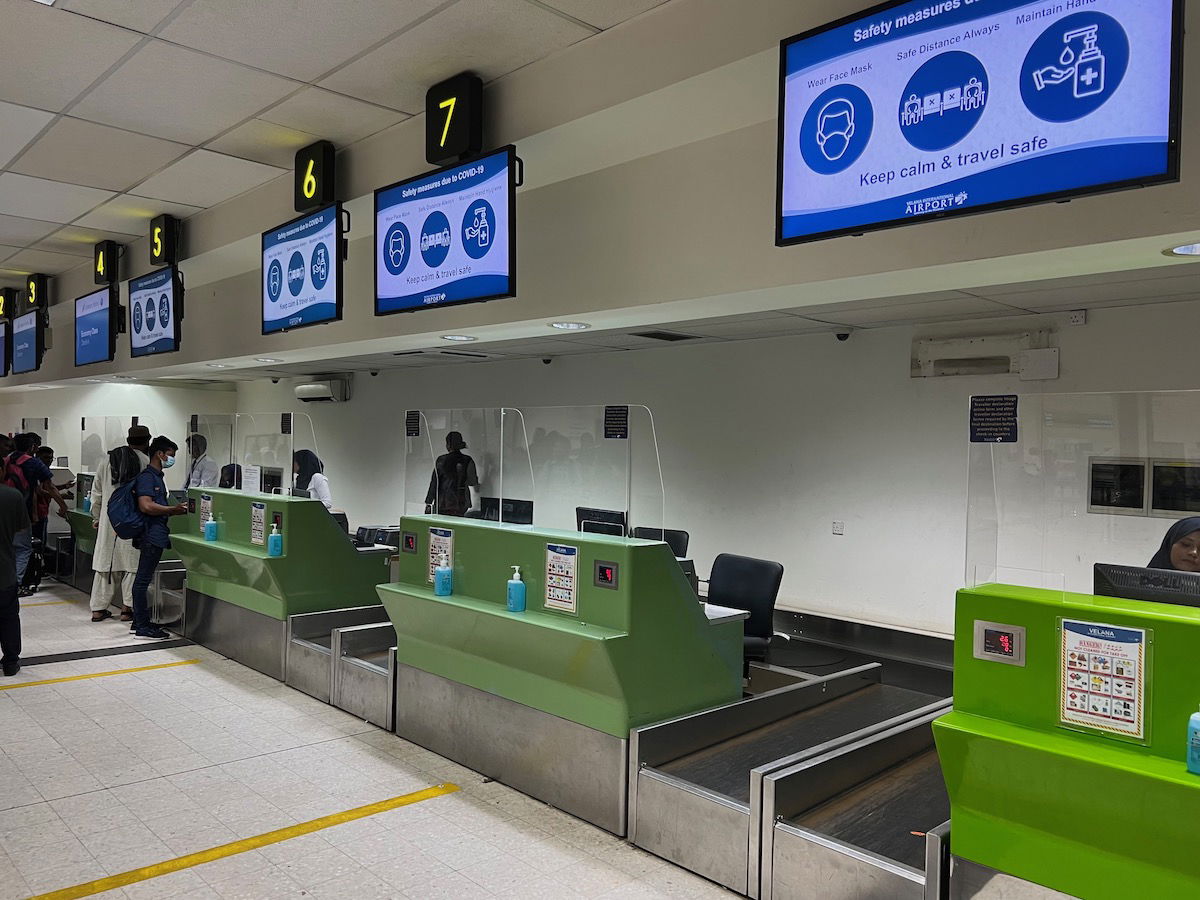 I knew it was bad news when the (rather dirty) Qatar Airways first class check-in carpet was being rolled up.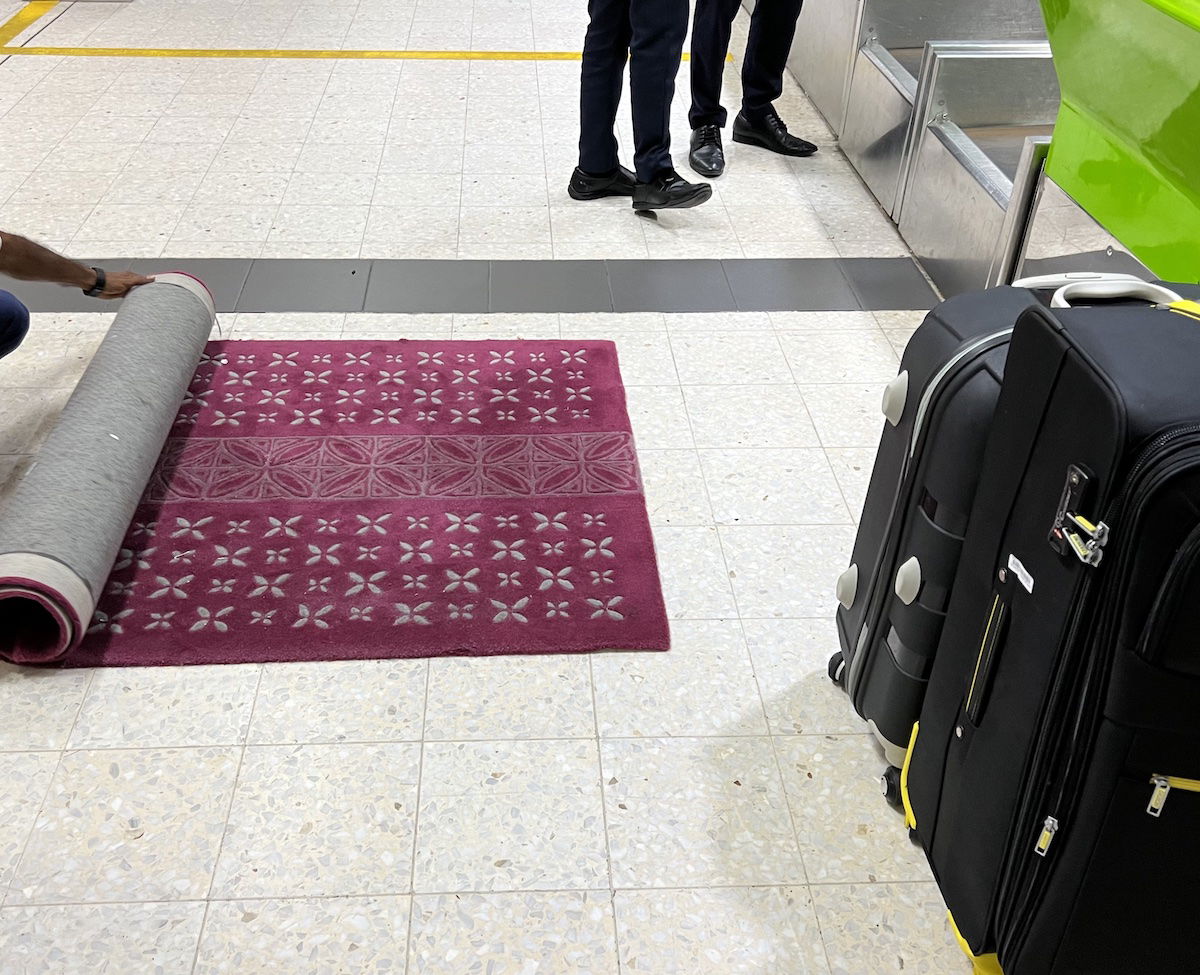 The good news is that Qatar Airways has three back-to-back flights from Male to Doha, all on 777s. One is at 7:45PM, one is at 8:45PM, and one is at 9:05PM. The station manager promised to rebook us on one of these if the situation could be worked out.
But unfortunately all we could do was wait. We were promised that someone was working on the situation in the background, so we waited and waited and waited. Before we knew it, check-in was closing for the 8:45PM flight.
At this point we knew it was only 20 minutes until check-in closed for the 9:05PM flight. Around this time we were informed that one of us had been authorized to take the flight, but they were still waiting for authorization for the second person.
We kept waiting. Eventually check-in also closed for the 9:05PM flight. But a few minutes later we finally got the news that we had both been "cleared," and were told that upon arrival we just had to go to a specific desk.
We ran toward immigration and security, and arrived at our gate about halfway through the boarding process. My goodness were we excited to see this plane!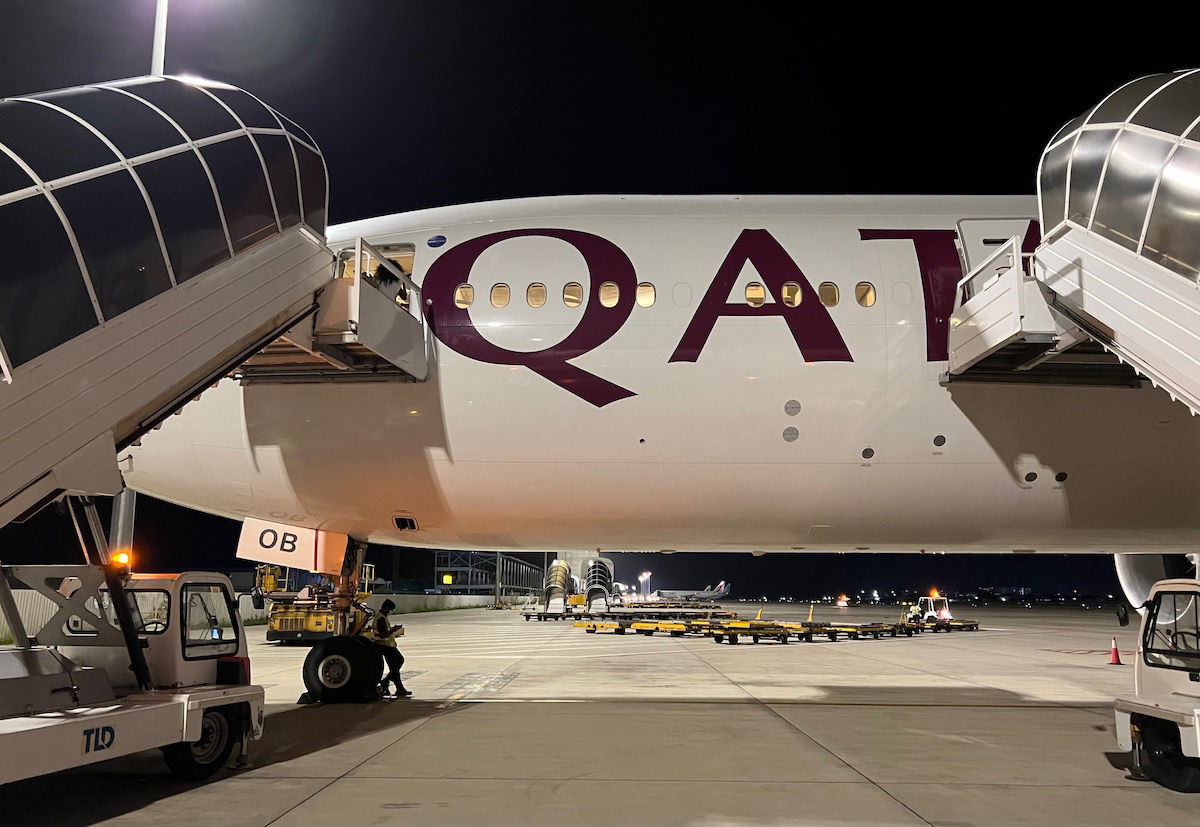 Bottom line
For the first time since the start of the pandemic I had issues with travel restrictions. Go figure this happened as most countries are starting to eliminate barriers to travel, and even eliminate travel forms.
While I think Qatar's entry requirements are a bit confusing, it was ultimately on me for not filling out this form in advance. I figured that even if it needed to be filled out, I'd have no issues doing so at the airport. But this ended up being the one situation where that didn't work.
We lucked out in the sense that there were three back-to-back flights that were wide open in first class, because otherwise this would have been much more complicated. Even with that, we only barely made our flight.
In retrospect I have to wonder how this situation would have played out differently even if I completed the form in advance. I'm not sure if the V-Safe website would have been working, and for that matter I was also told to upload my full dose card, when I was already doing that. With no number or email to try to get this fixed, I feel like it might have been tricky either way.