At the moment Qatar Airways is leasing some Boeing 777s from Cathay Pacific. Cathay Pacific has a surplus of jets (given what's going on in Hong Kong), while Qatar Airways has a shortage of jets (given the carrier's dispute with Airbus over the A350).
One of the destinations currently served by these leased 777s is Male, so flying one of these planes worked out perfectly for our return journey from the Maldives to the United States. I'm not sure I can properly sum up how excited I was for this flight, since this experience would essentially be a hybrid between two of my favorite airlines — Cathay Pacific and Qatar Airways.
How I booked our Qatar Airways first class tickets
Qatar Airways currently offers three daily flights between Male (MLE) and Doha (DOH) with the Boeing 777, and each flight typically has two first class award seats, which is great for those looking to redeem miles.
Our one-way first class award from Male to Doha cost just 40,000 American AAdvantage miles per person, which is quite a bargain. Given that I acquired a not-insignificant number of AAdvantage miles for ~0.42 cents each, that means the flight cost me around $168 per person, or around two glasses of the 2004 Krug we enjoyed on the flight. 😉
In addition to the miles there were $182 per person in taxes, as the Maldives recently increased its departure tax.
For what it's worth, I had initially booked this flight:
05/01 QR675 Male to Doha departing 7:45PM arriving 10:10PM
But due to our issues with entering Qatar, we ended up taking this flight:
05/01 QR673 Male to Doha departing 9:05PM arriving 11:35PM
The time change between Male and Doha is two hours, so these flights are blocked at ~4.5 hours.
Qatar Airways 777 first class cabin & seats
Our Qatar Airways flight to Doha boarded via a remote stand, so we had to take a bus there. The first interesting thing to note about the plane is the livery. While this plane is being leased from Cathay Pacific, it has been repainted in the Qatar Airways livery… sort of.
The plane's exterior had Qatar Airways' logo and branding, but didn't have the full Qatar Airways livery. The base of the plane was white, but it still had "QATAR" written in big letters, plus the logo on the tail.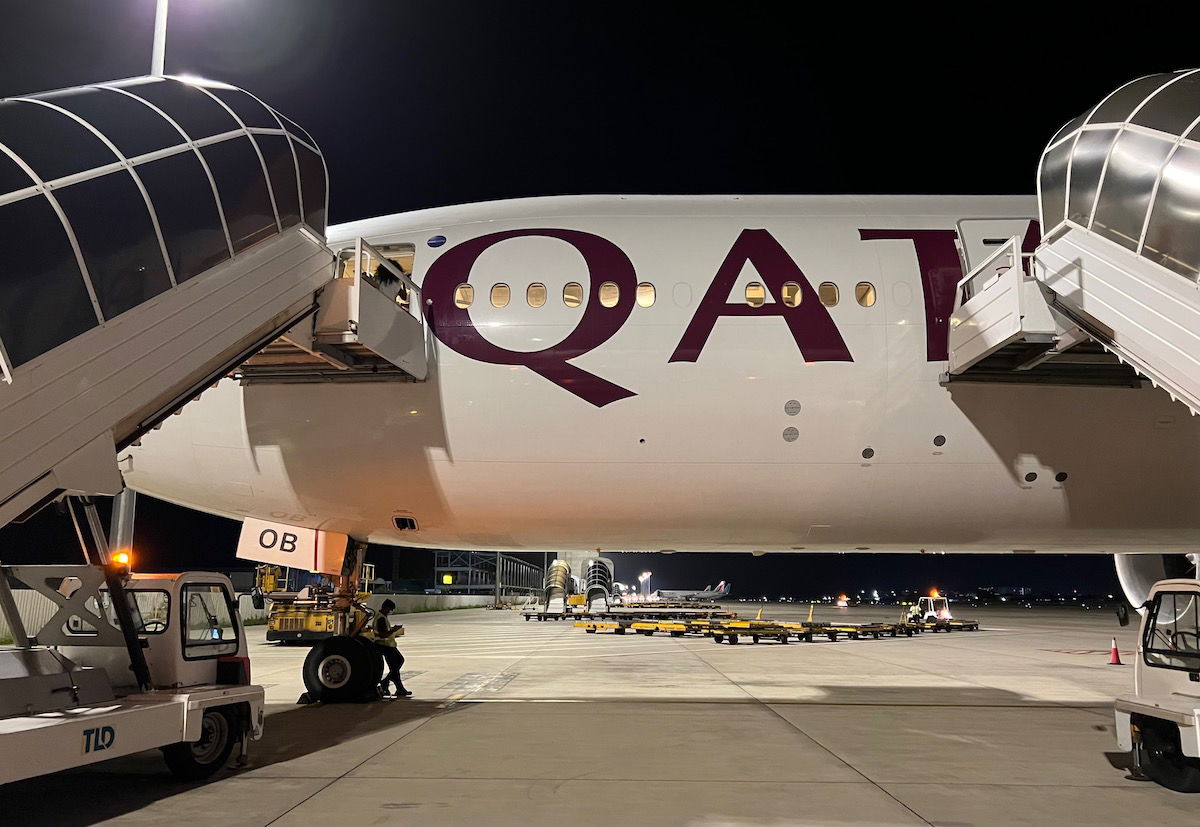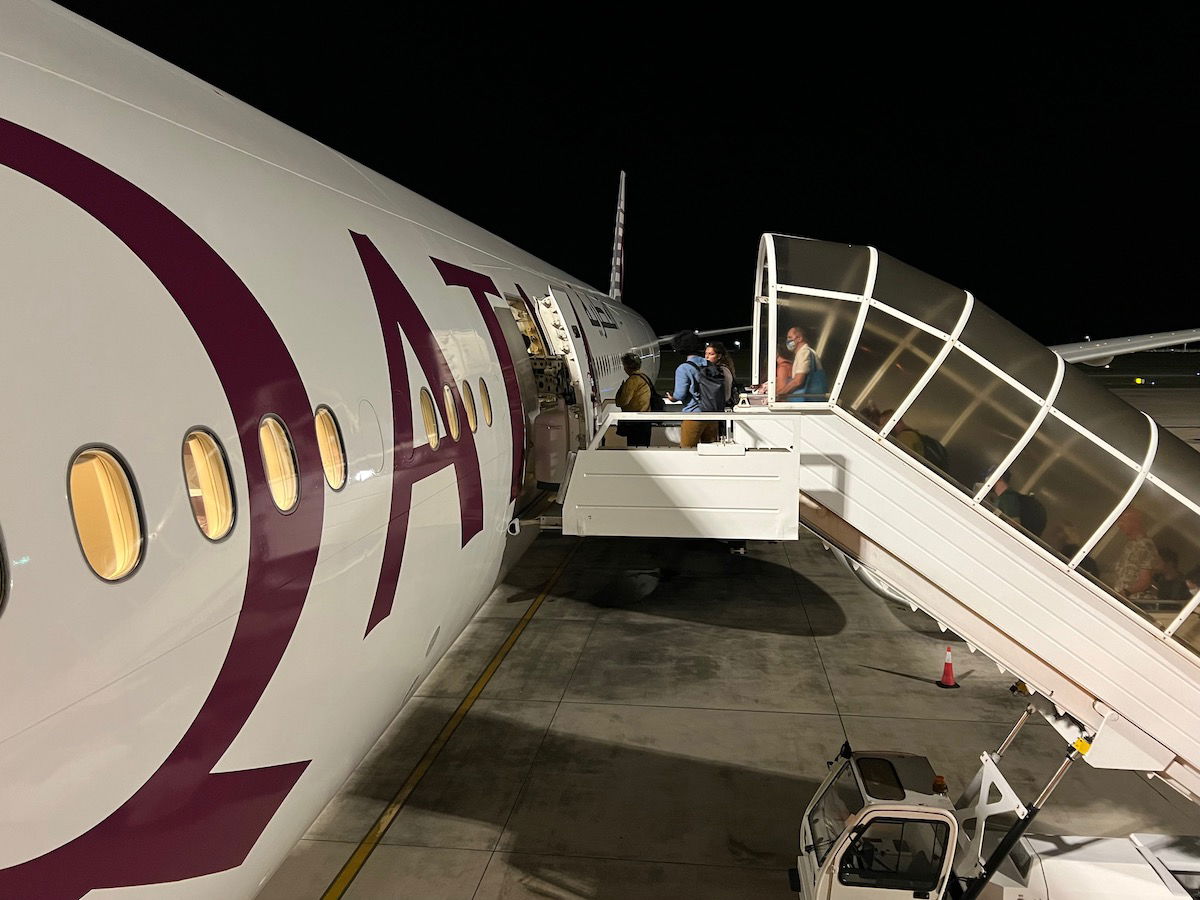 We boarded through the forward left door of the aircraft, where we were welcomed by the cabin manager and escorted to our seats. I was like a kid in a candy shop being back in Cathay Pacific's 777 first class, as it has been too long.
The 777 first class cabin consists of a total of six seats, spread across two rows in a 1-1-1 configuration. While these aren't fully enclosed suites with doors, they're incredibly spacious and comfortable, and this remains one of my favorite first class products in the world.
In many ways not a lot changed since Cathay Pacific flew these jets — even the art on the bulkhead remains unchanged. The only thing that really changed is the seat upholstering, as well as the content of the entertainment.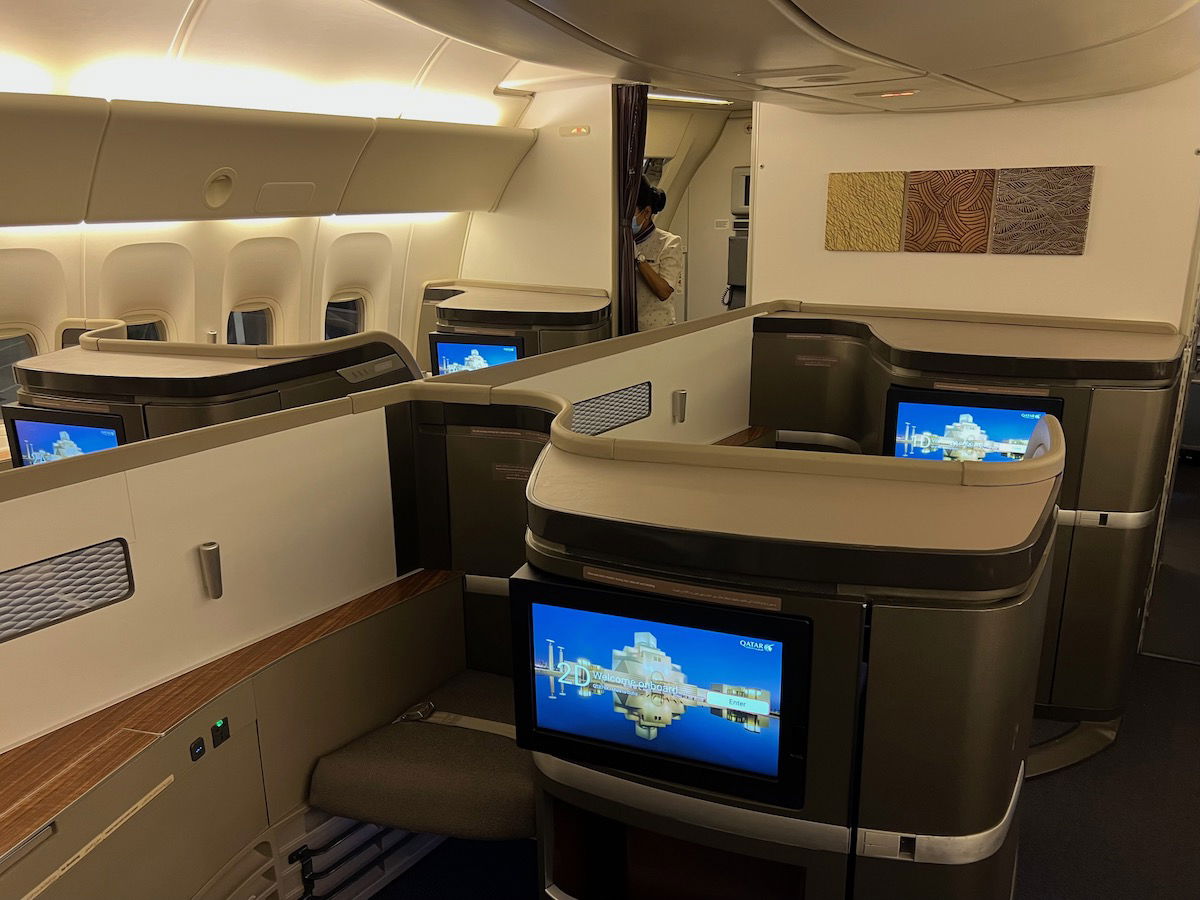 The way the cabin is laid out, the left aisle is for just two seats, while the right aisle is for four seats, as the center seats open to the right aisle. Ordinarily if I were traveling with someone I'd choose seats 1A & 2A, but in this case we had the cabin all to ourselves, so we chose 1K & 2K.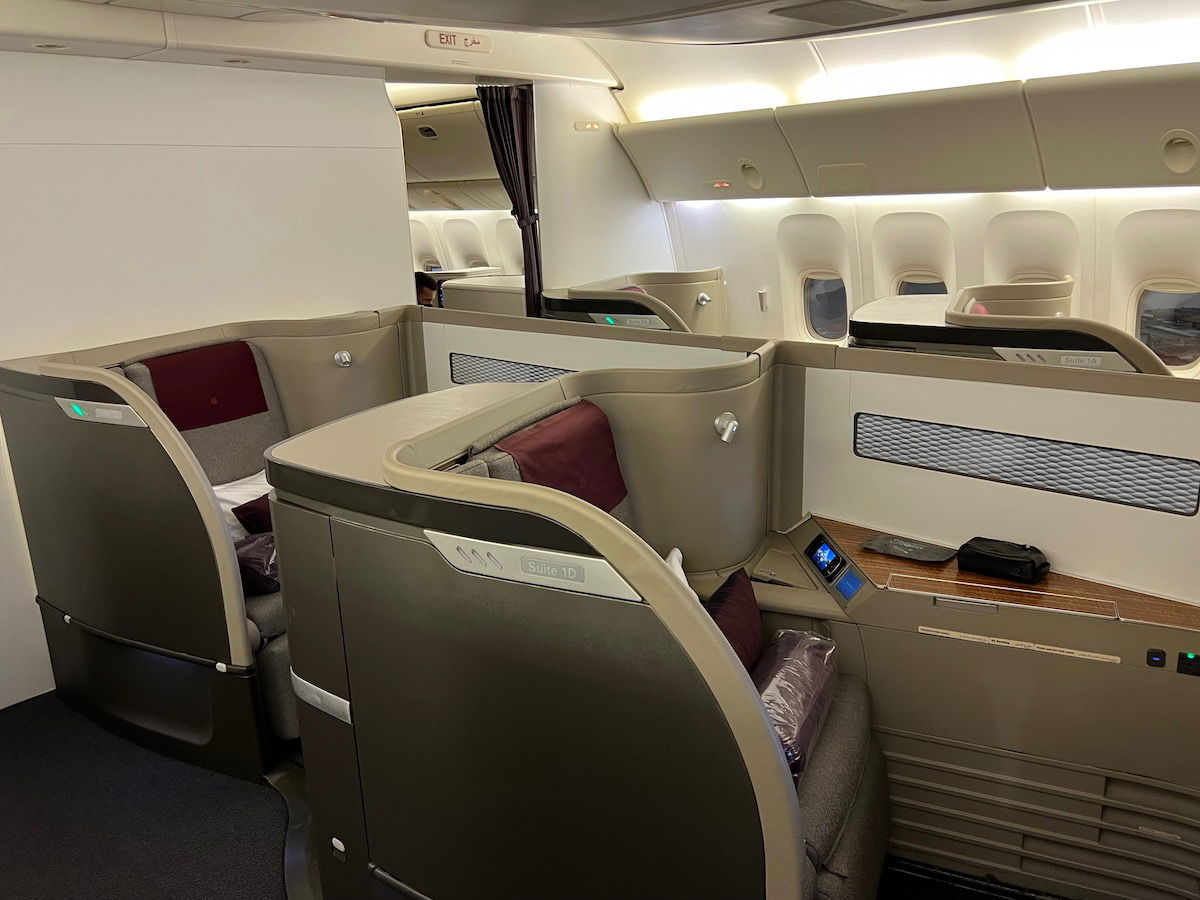 These first class seats are absolutely massive, and you could easily seat two people next to one another in them.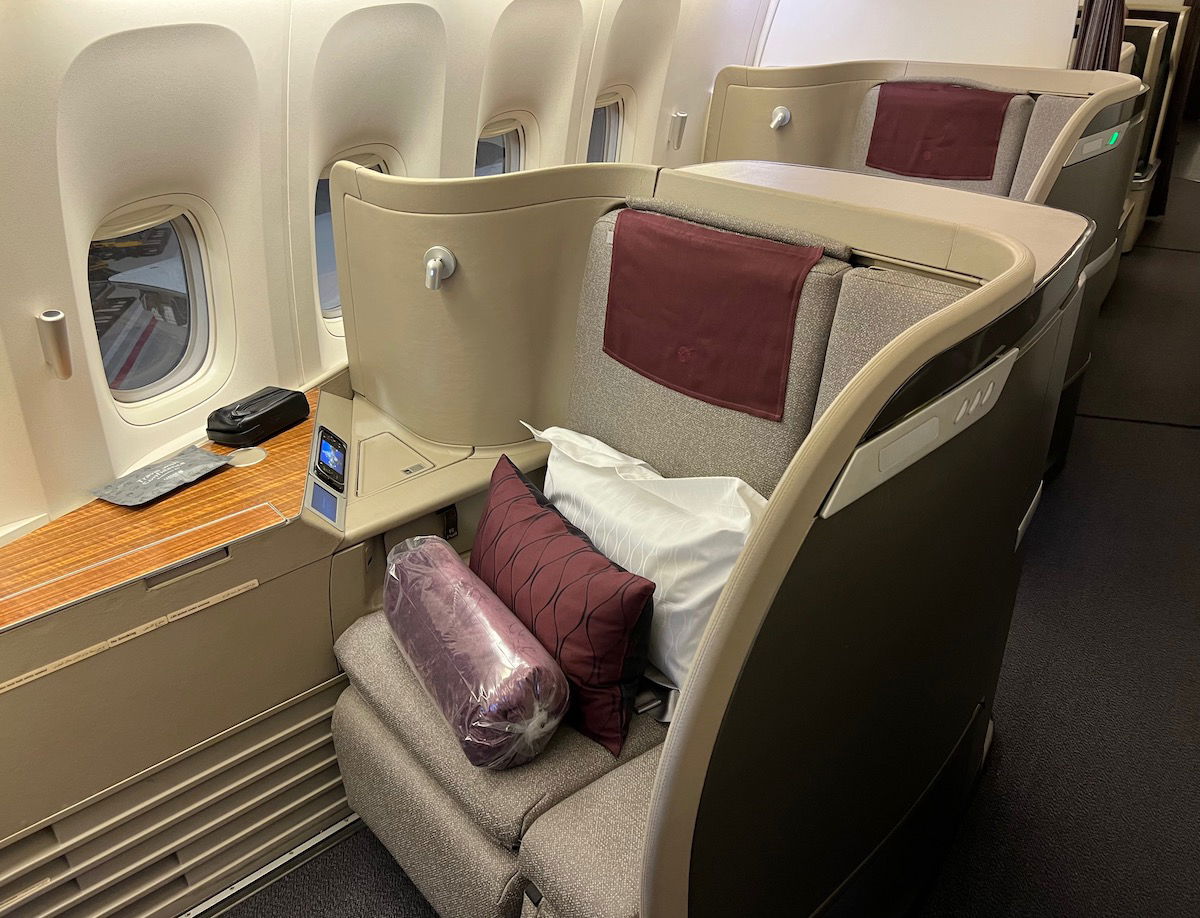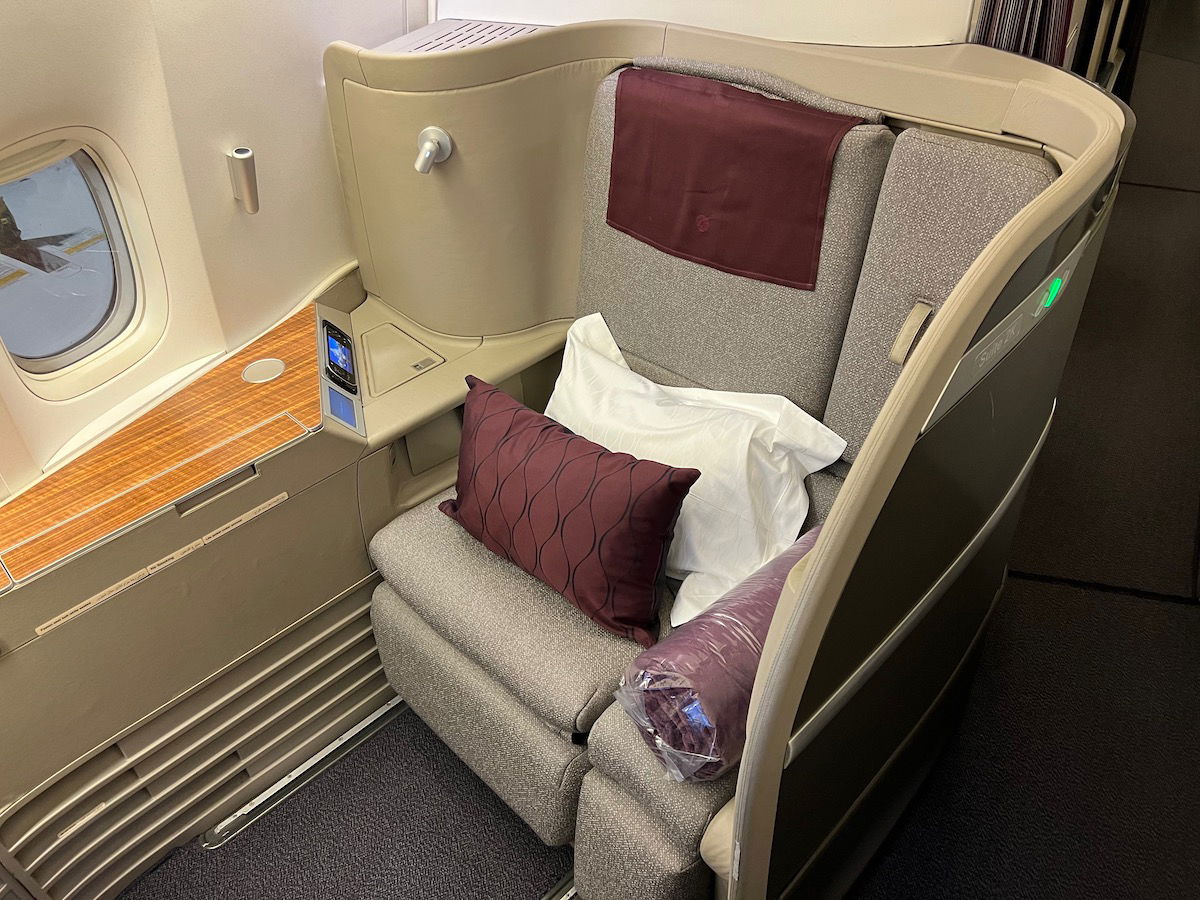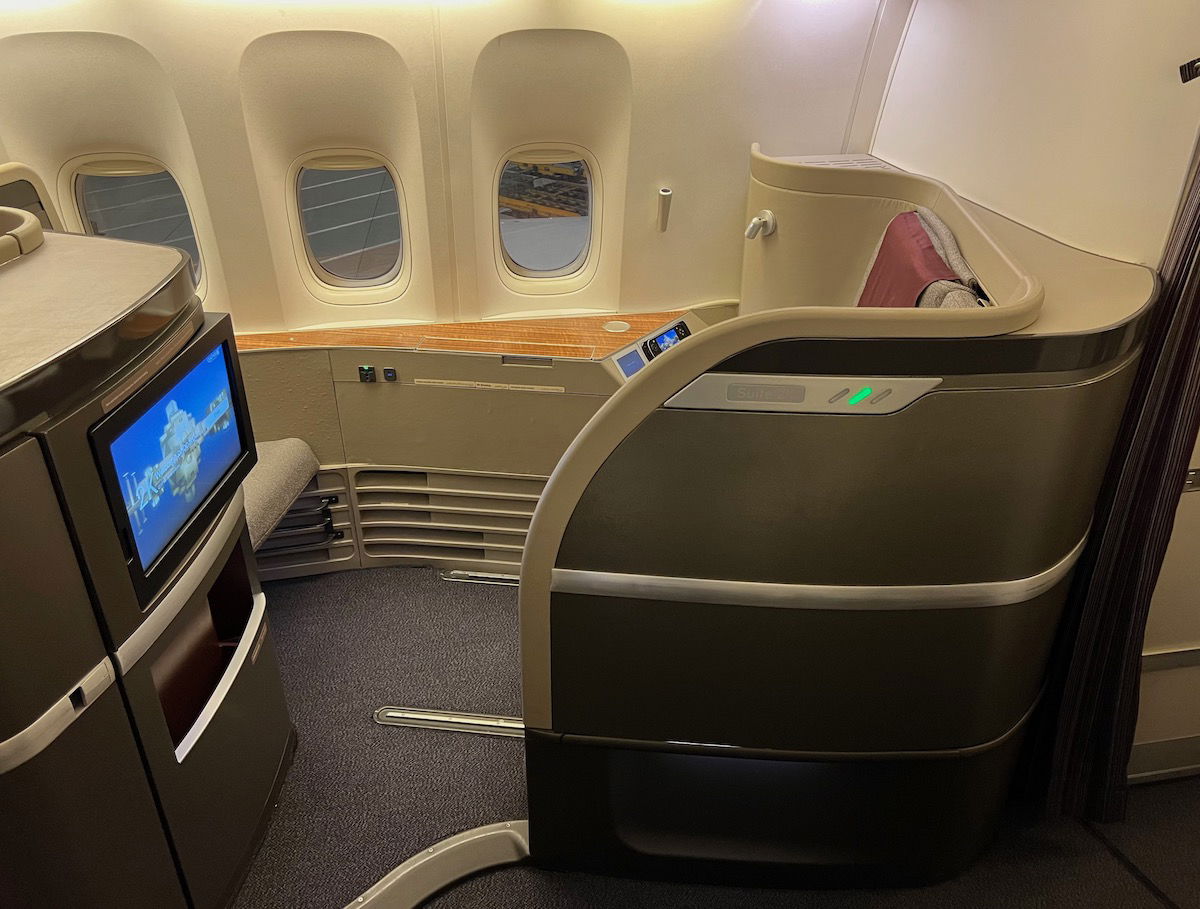 There's also an ottoman at each seat that can double as a buddy seat, so that you can dine face-to-face with someone, if you'd like.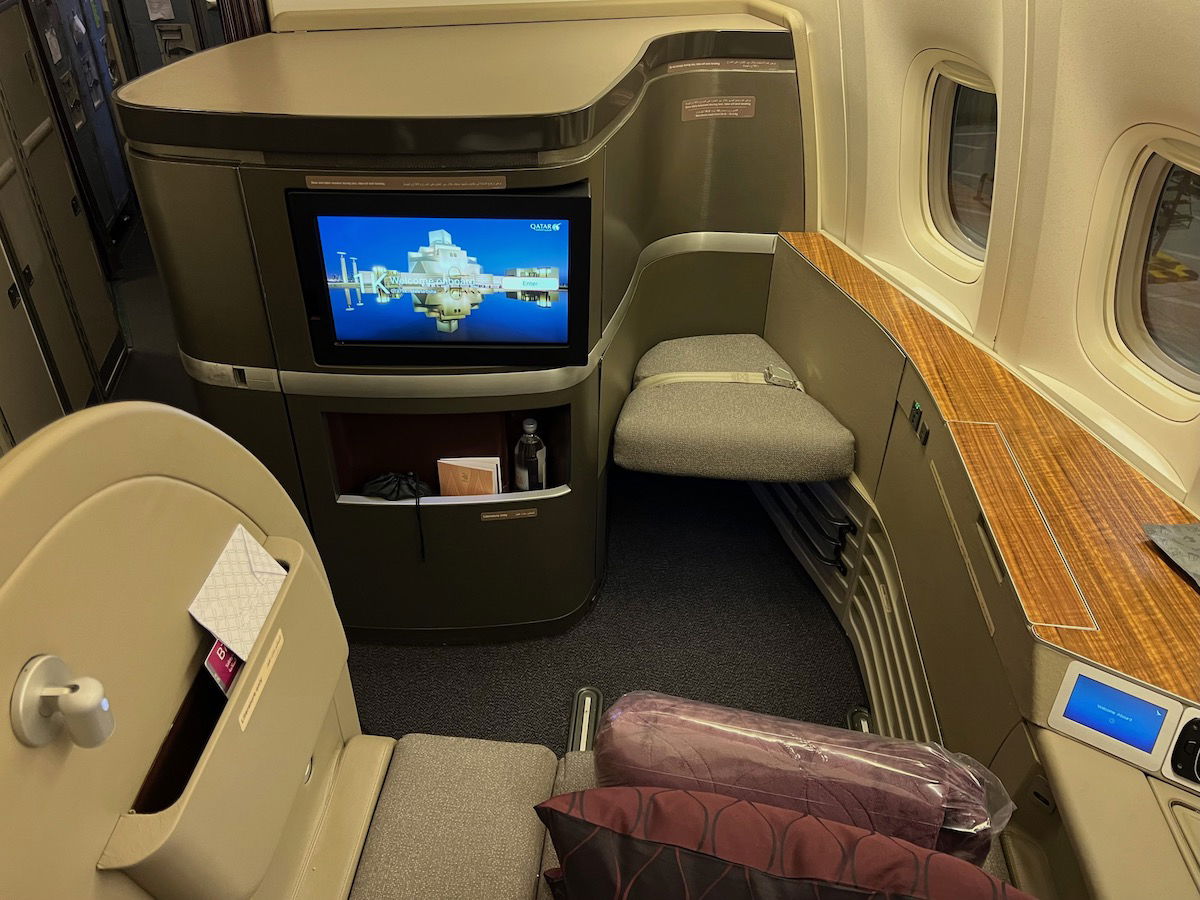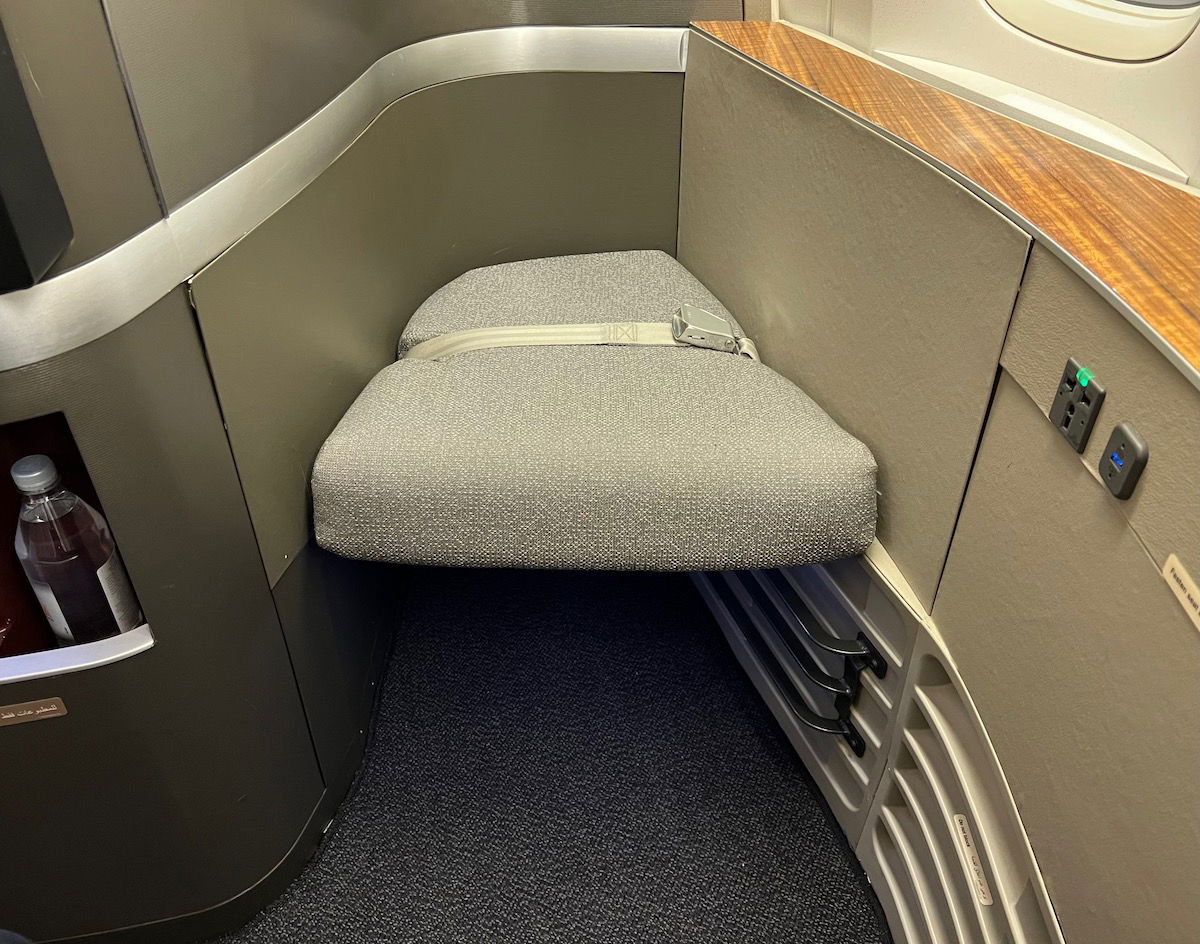 The entertainment monitor is to the front of the seat, and you can push a button so that it slides out sideways, meaning the screen will be directly in front of you (the screen doesn't swivel otherwise).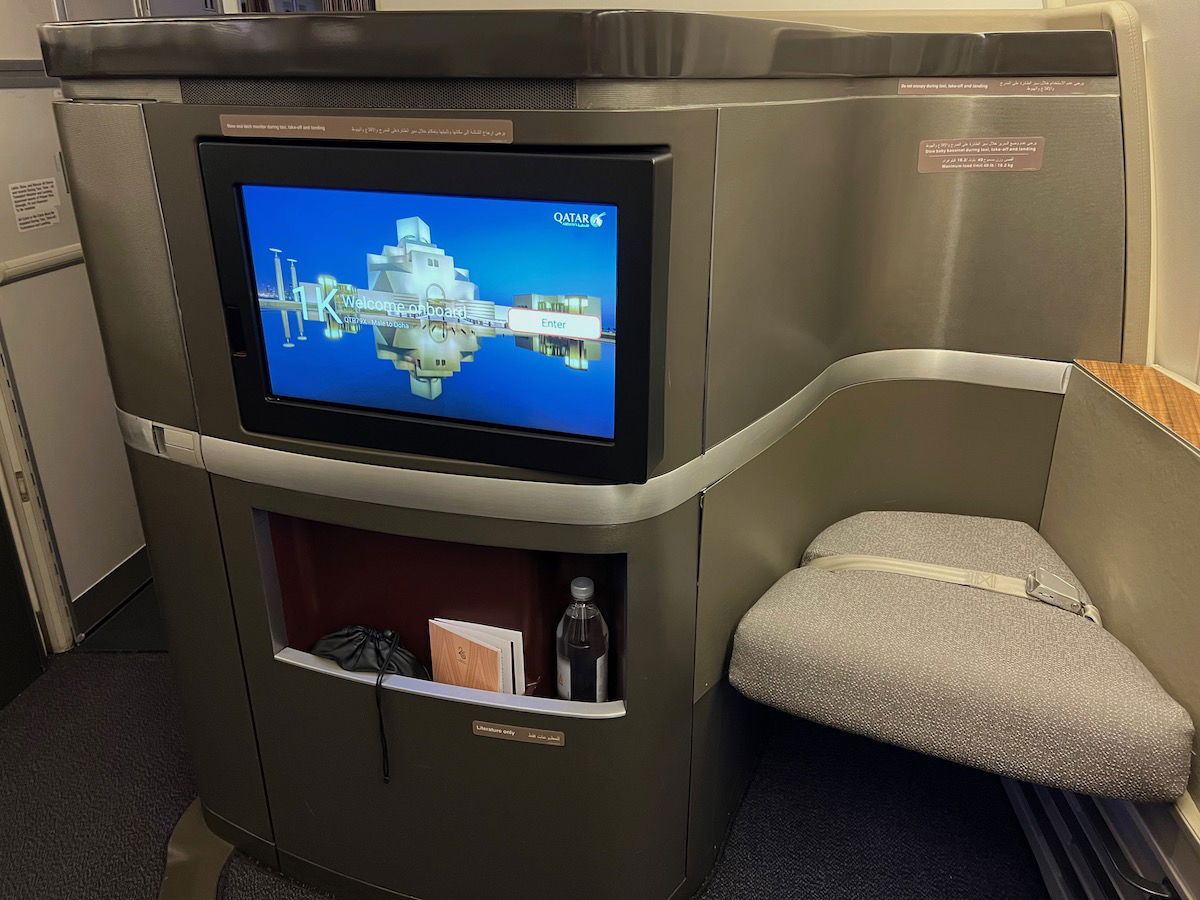 Also at the front of the seat is a closet, which is large enough to store a full size carry-on, or to hang a garment bag (not that there are many of those on flights from the Maldives).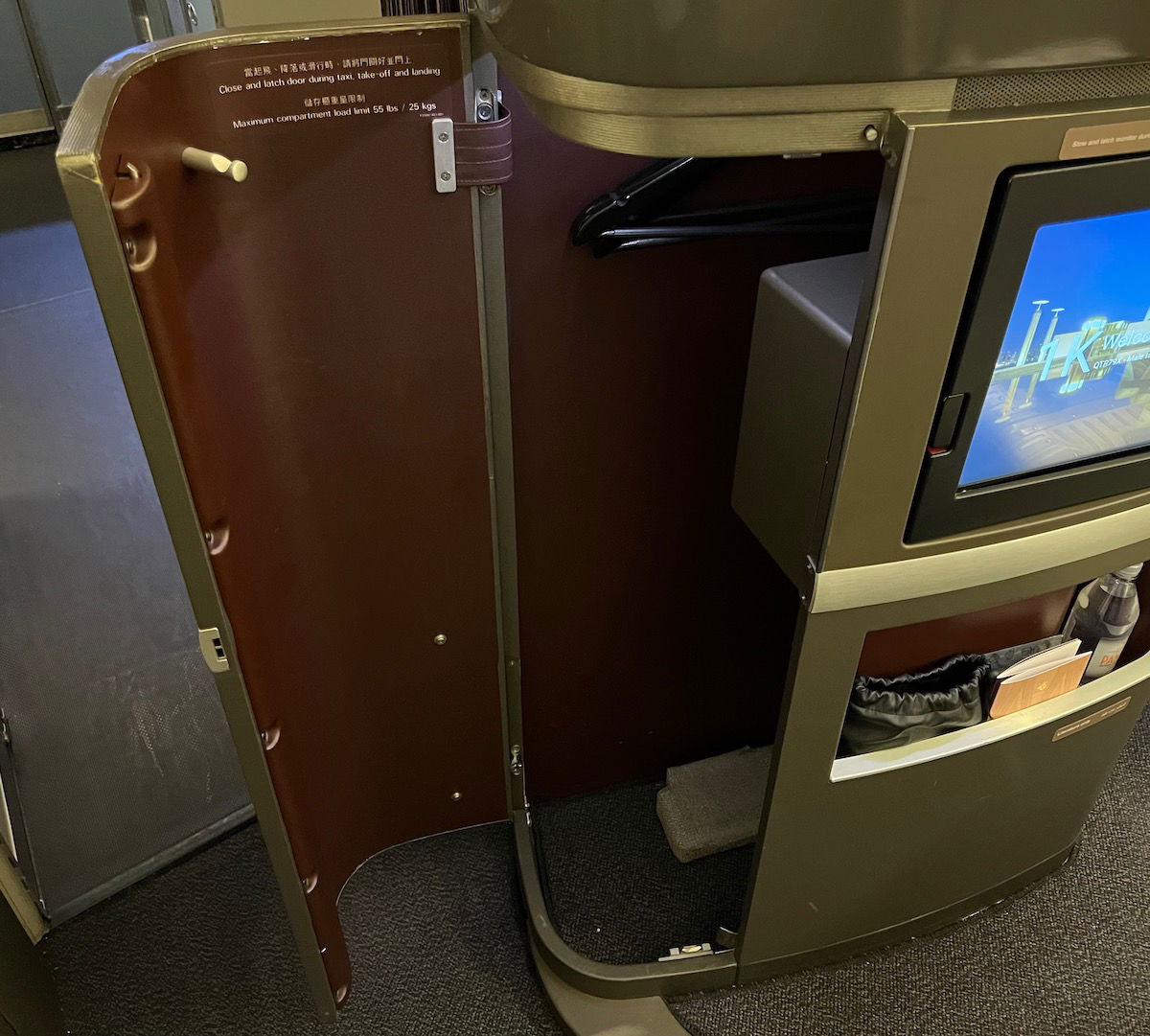 To the front side of the seats are the entertainment and seat controllers. As you can see, there was some conflicting branding here — the entertainment controller had Qatar Airways' branding, while the seat controller had Cathay Pacific's logo.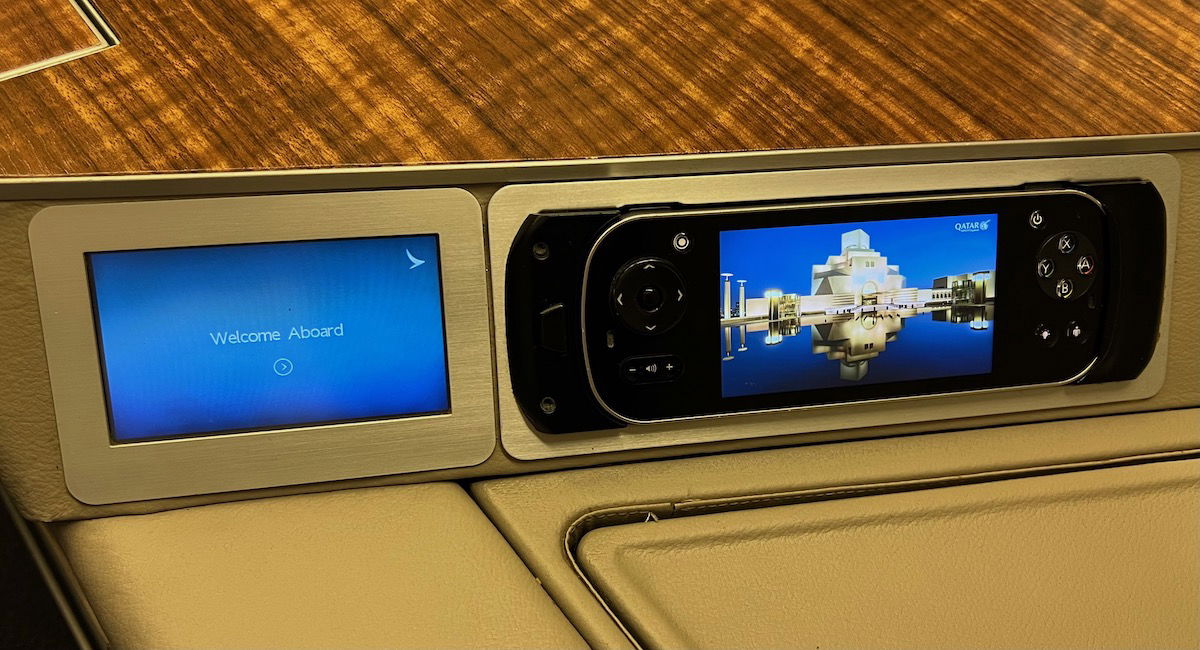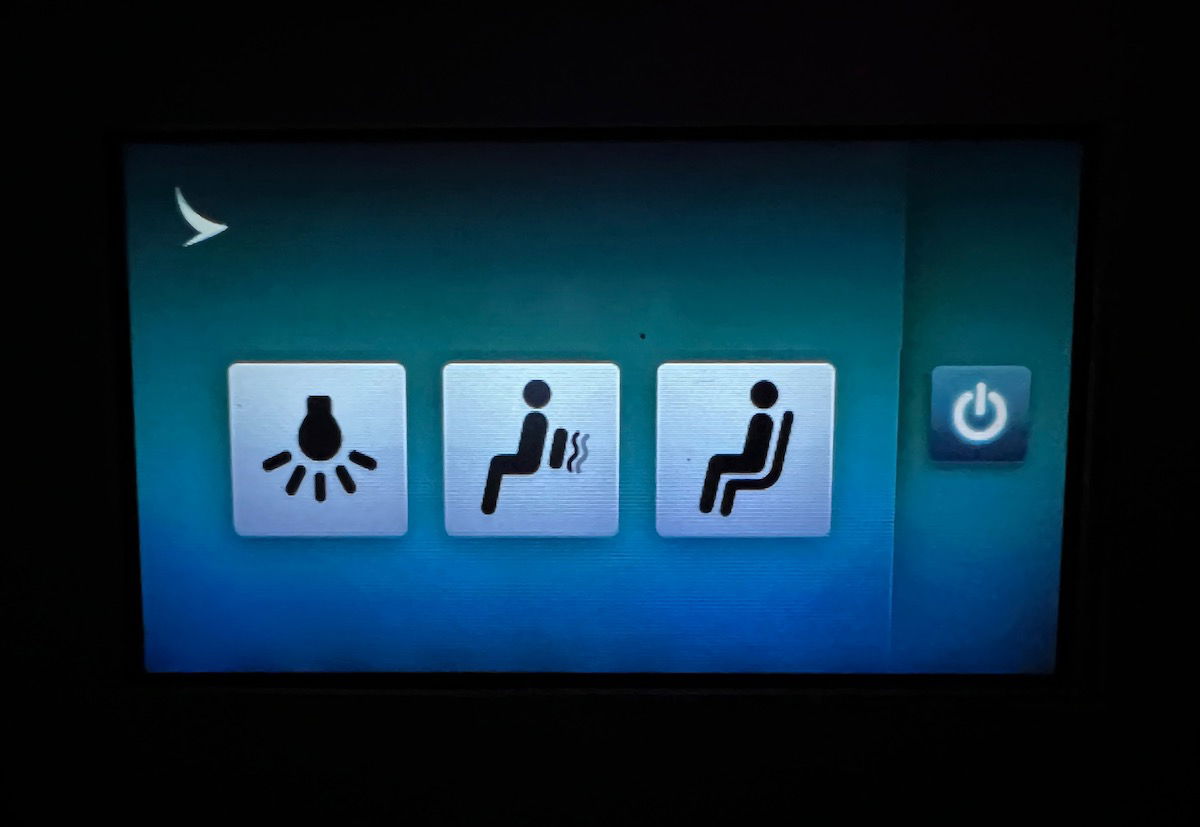 Immediately in front of that was a storage compartment, which is designed to be big enough for headphones to be stored in.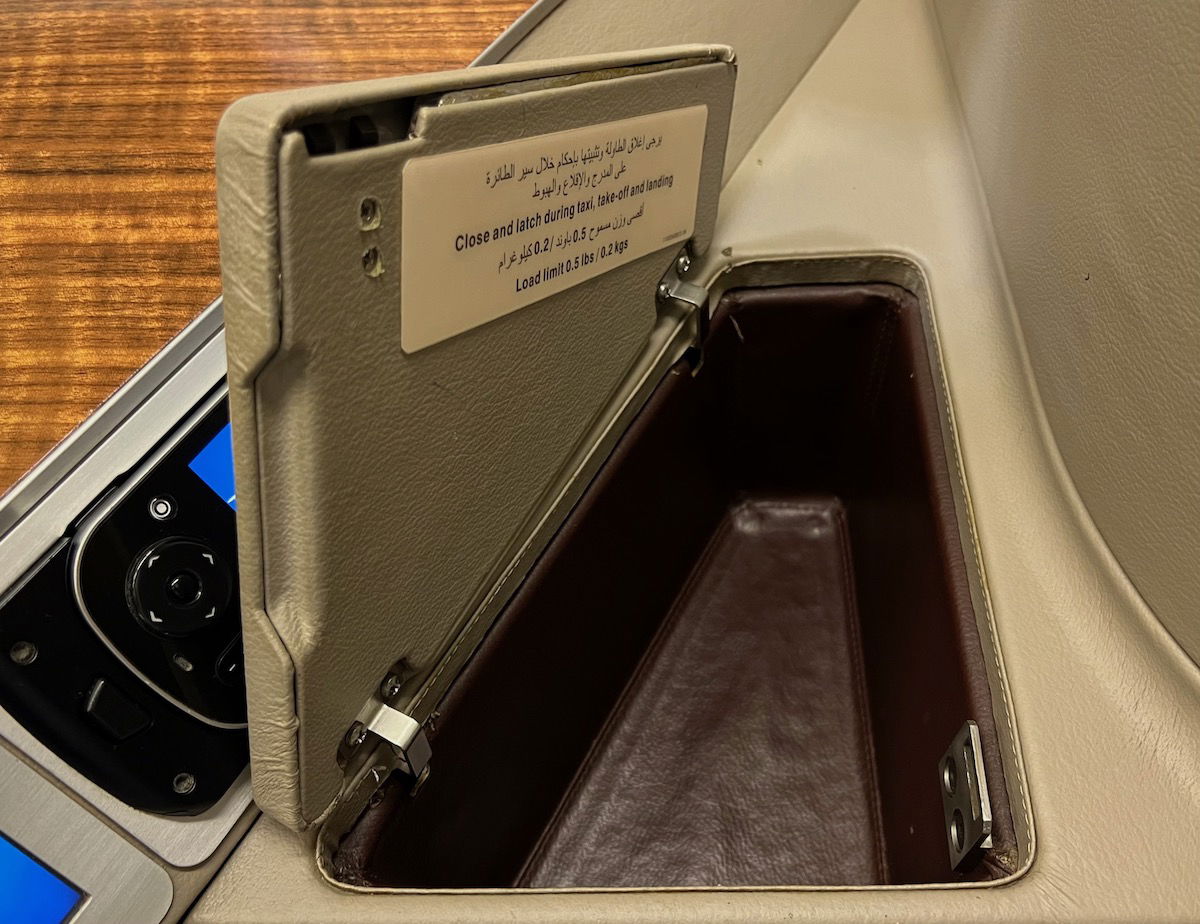 The tray table folded out from the side of the seat, and was massive. Note that if you're dining with someone, there's a further tray table extension that can be used to make the table even bigger.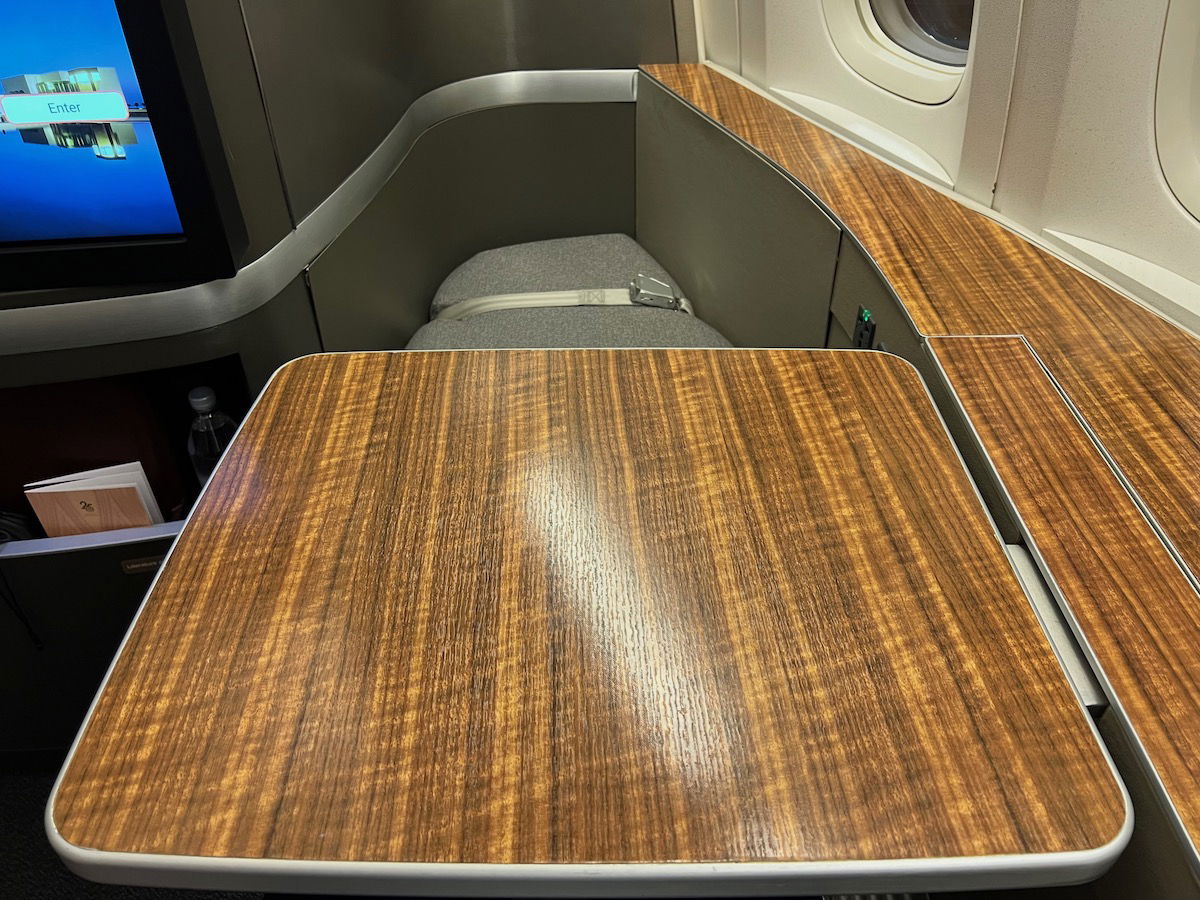 Each seat had AC and USB power outlets, which were easy to access.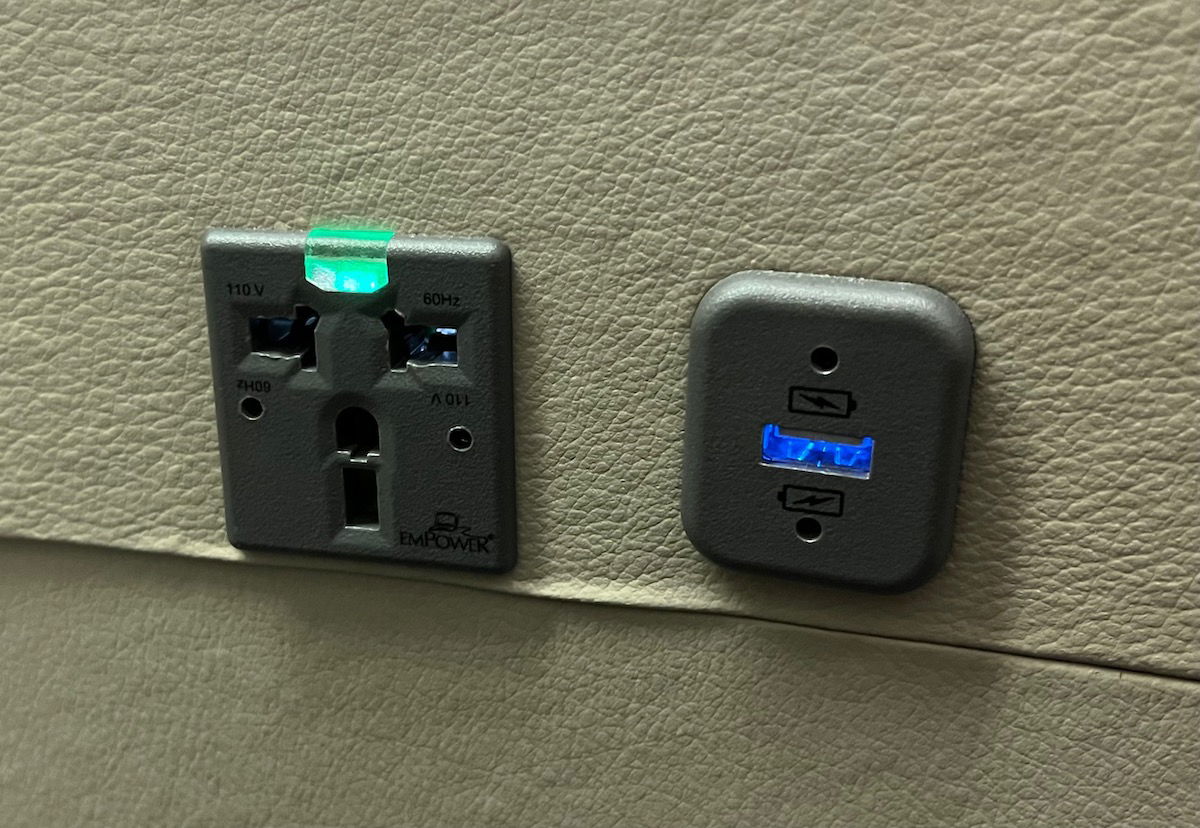 One downside to this product is that there unfortunately aren't individual air nozzles at the seats, but rather there's just a reading light above the seat.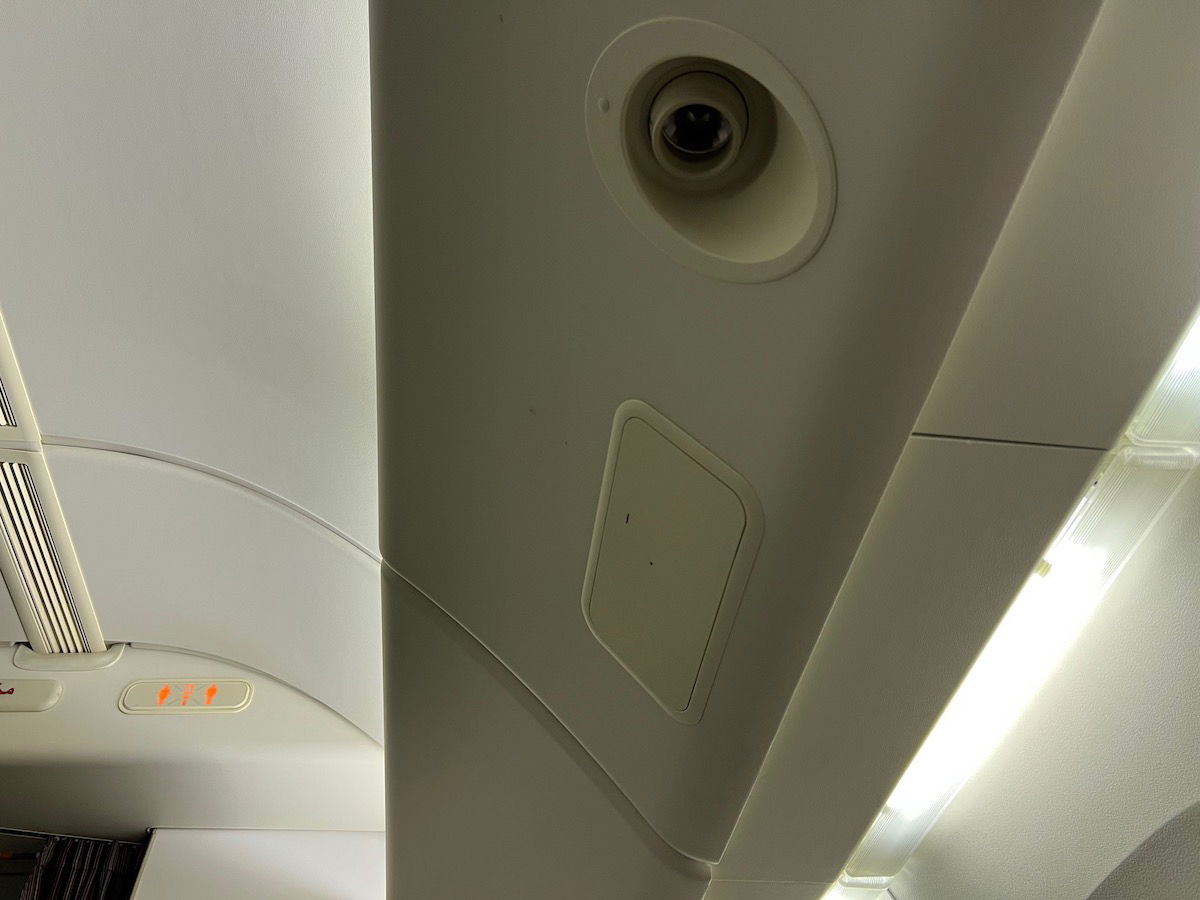 What an absolutely fantastic product, especially for a short four hour flight, and especially when you have the cabin all to yourself.
Qatar Airways 777 first class bathrooms
There are two lavatories in the front of first class on these jets. Both are right by the flight deck, and the lavatory on the left is significantly bigger than the one on the right. Those who have flown Cathay Pacific's 777 first class will no doubt remember the unique sink feature here, as Cathay Pacific has significantly better first class sink water pressure than virtually any other airline.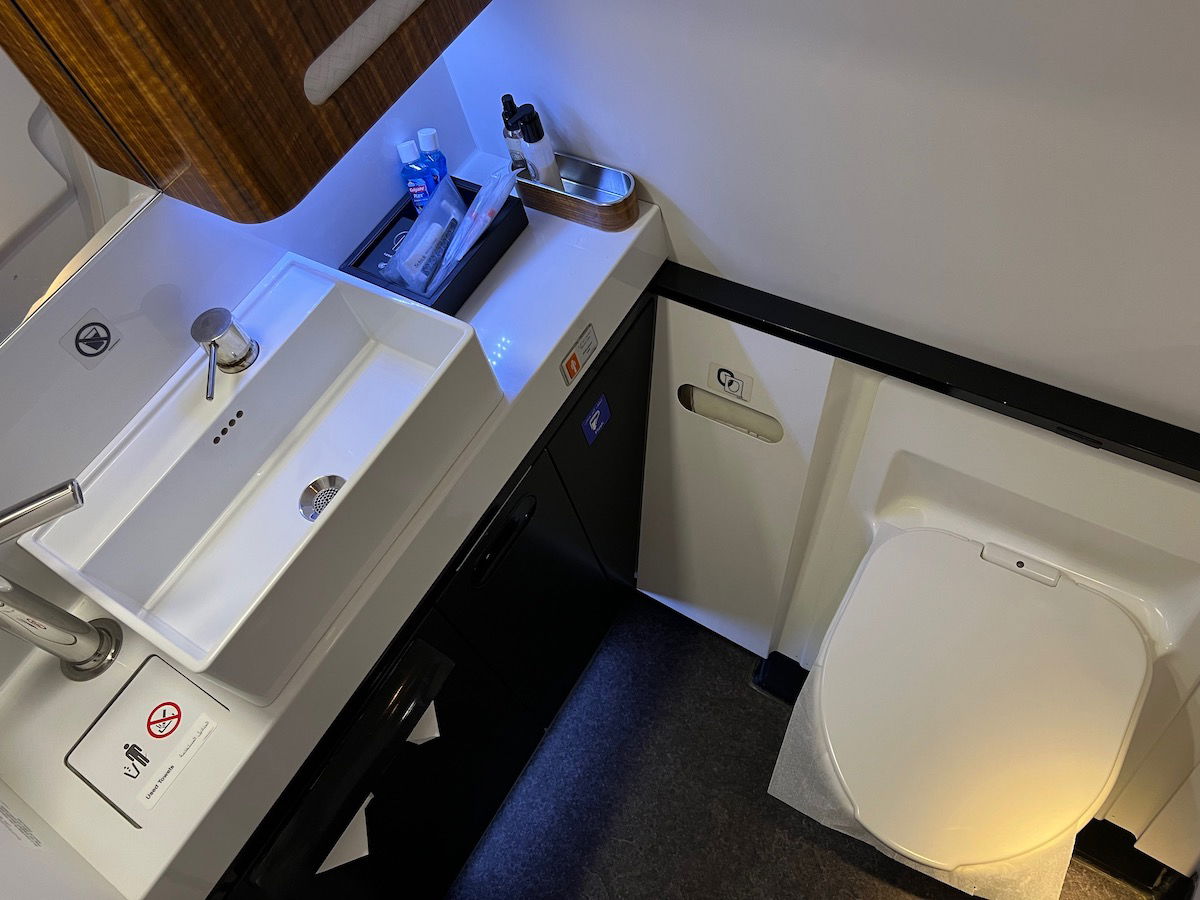 There were some basic amenities in the lavatories, including dental kits, shaving kits, mouthwash, and some products from Diptyque.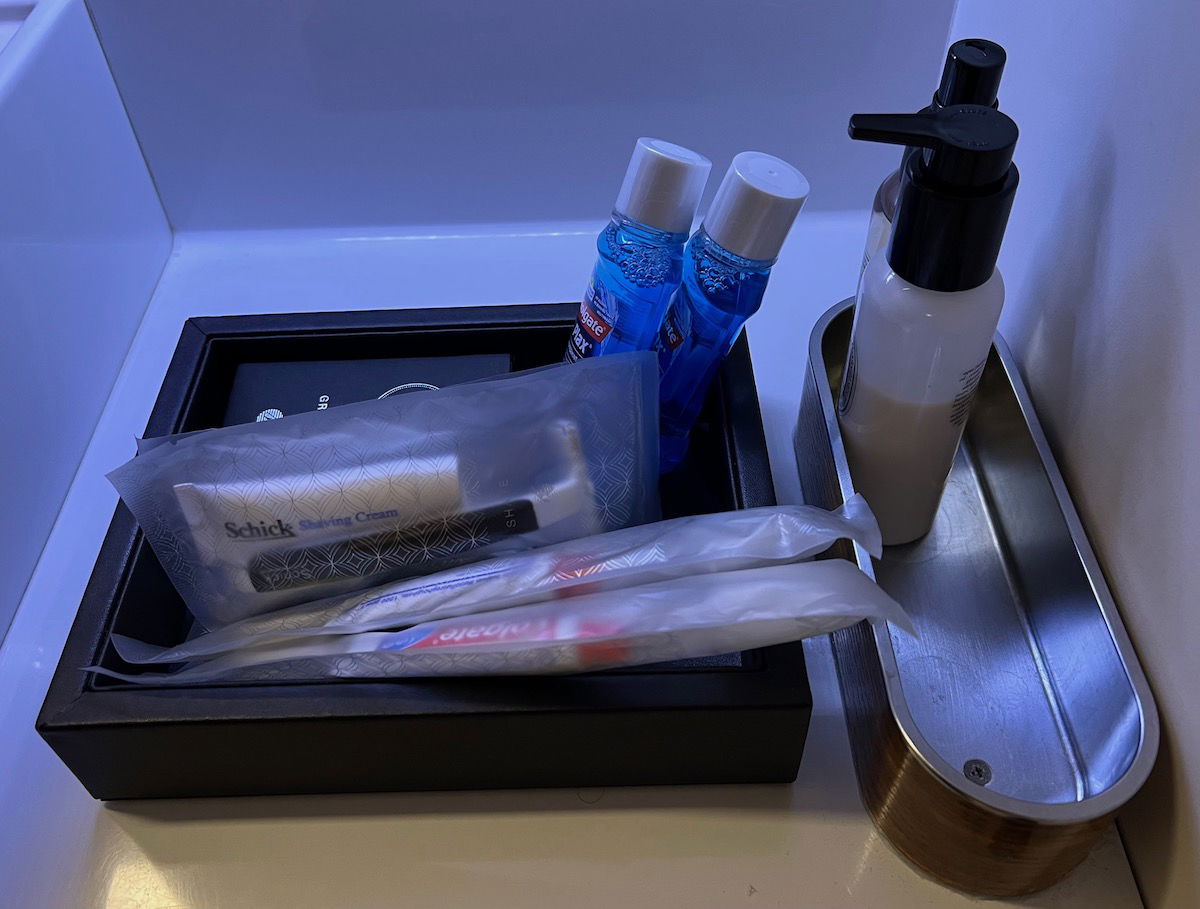 Qatar Airways first class amenities
The number of amenities offered on this short flight in first class was kind of unreal. Perhaps even more impressive is that the amenities are almost identical in business class.
Waiting at each seat upon boarding was Qatar Airways' typical bedding, including two pillows and a plush blanket.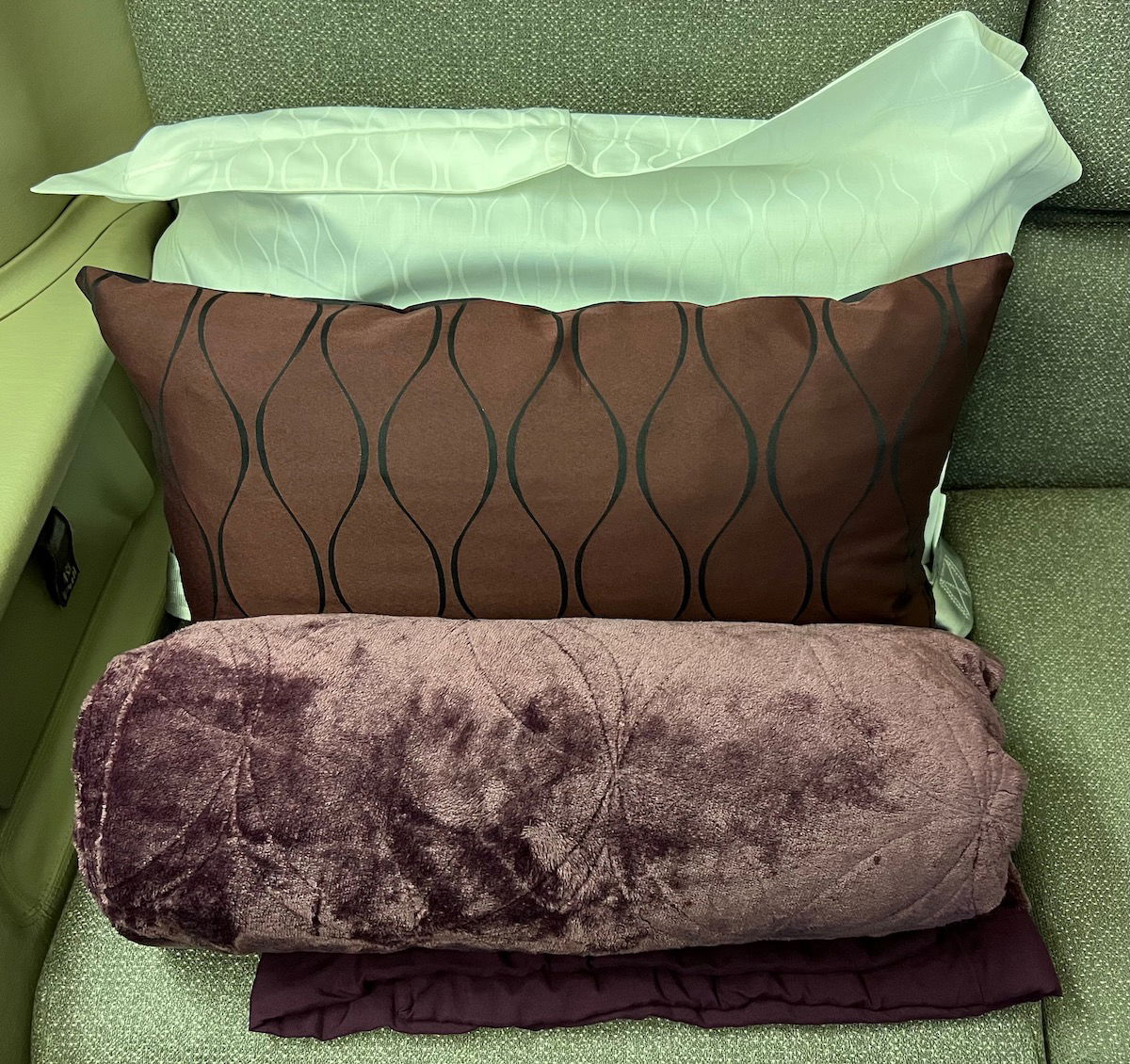 We were also offered Qatar Airways' new Diptyque amenity kits, which had socks, earplugs, eyeshades, lip balm, body lotion, face cream, and even a fragrance.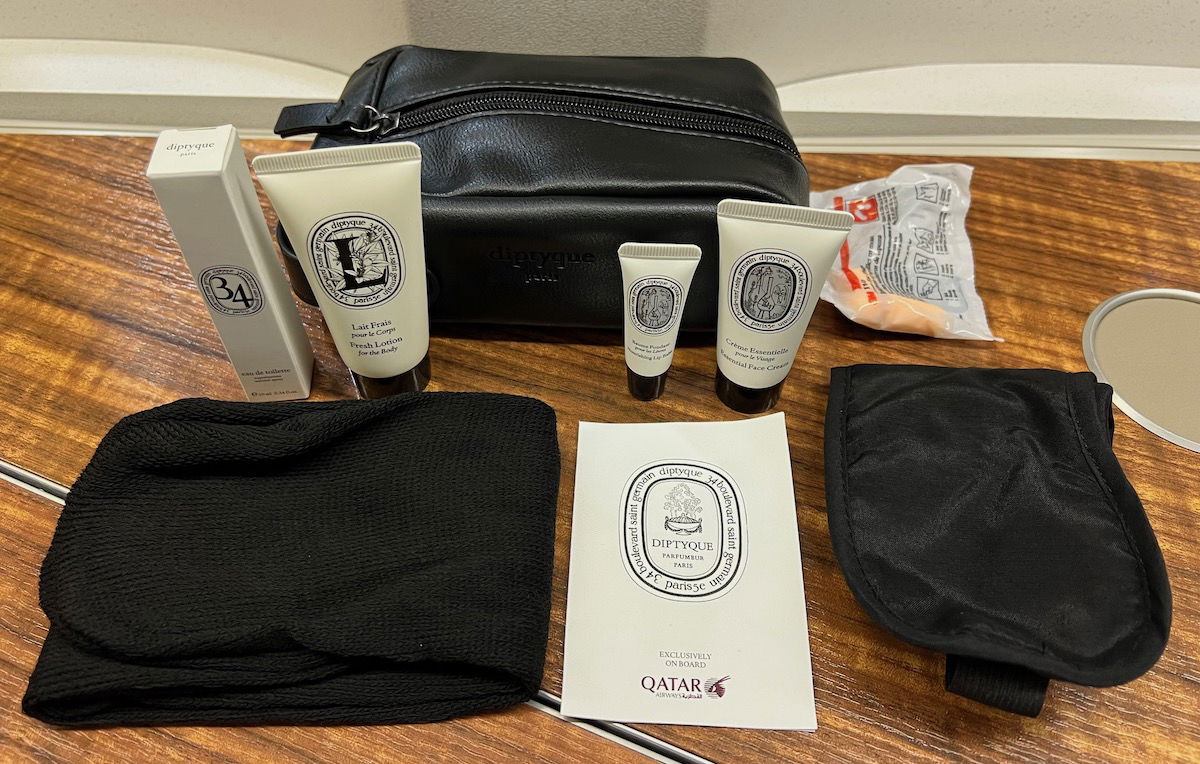 Despite how short this flight was, we were offered pajamas and slippers from The White Company, which are the same you'll find in business class on long haul flights.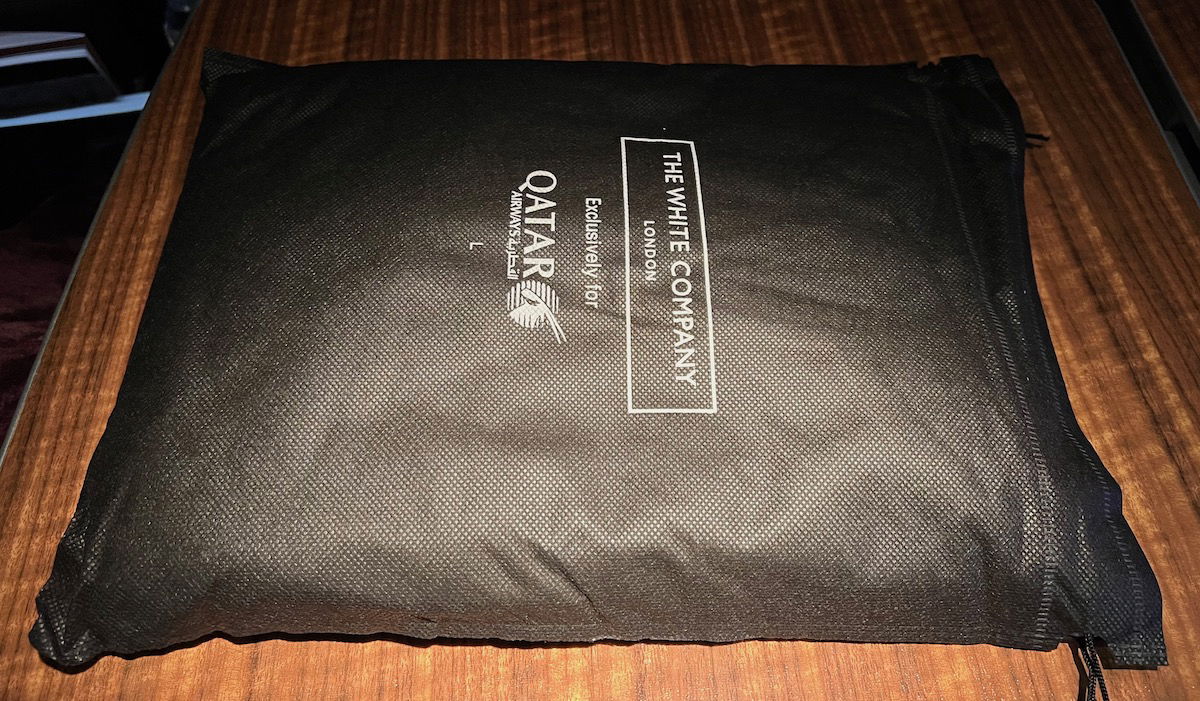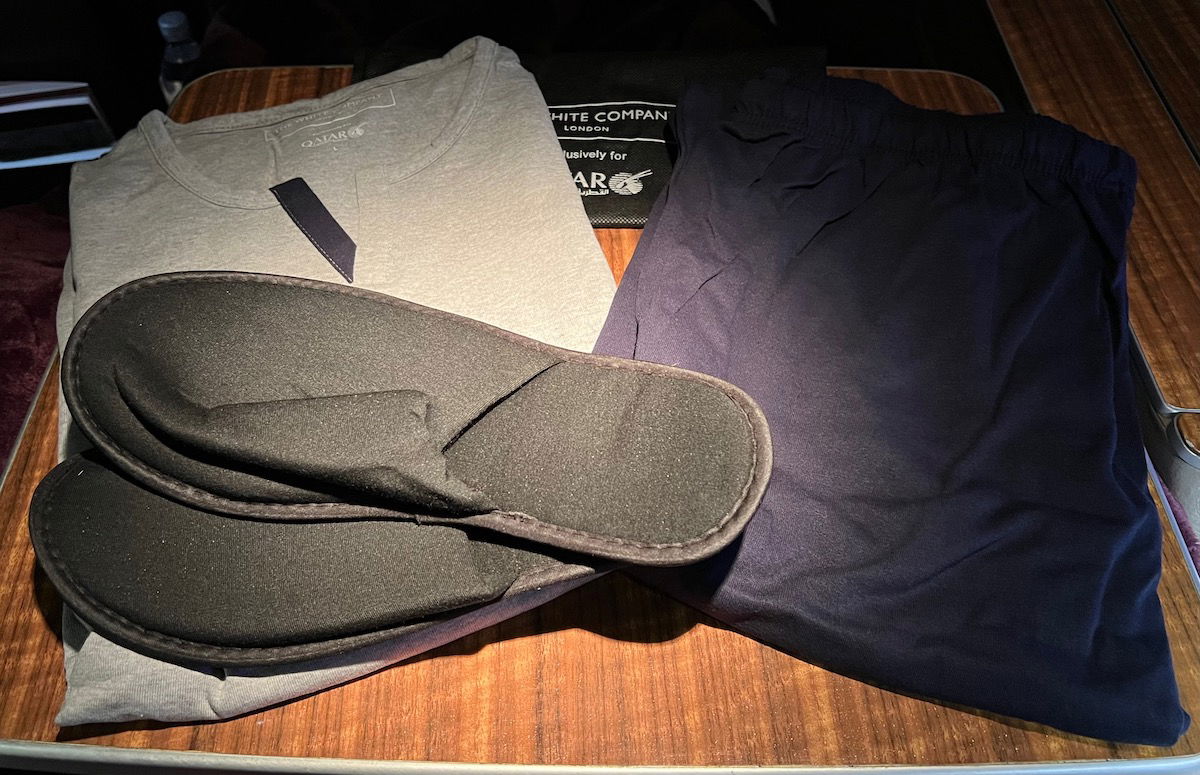 We were also offered a hygiene kit, which included a face mask, gloves, and hand sanitizer. By the way, after takeoff we were informed that we didn't need to wear our masks, as we were properly "social distanced." Qatar Airways seems to have a semi-official policy whereby some premium passengers don't have to wear masks while at their seats, including in first class, as well as in business class when there's also a door.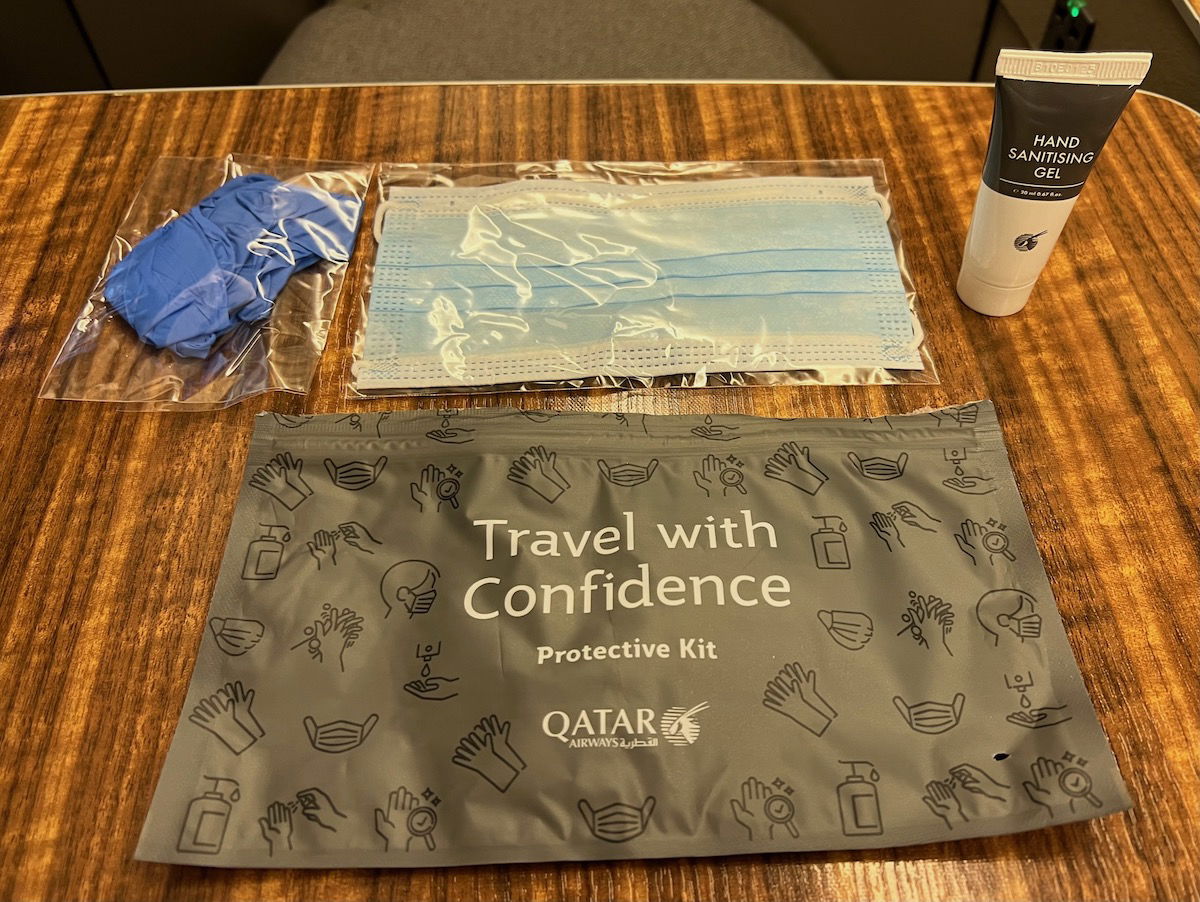 We were also given the standard headphones that Qatar Airways offers premium passengers.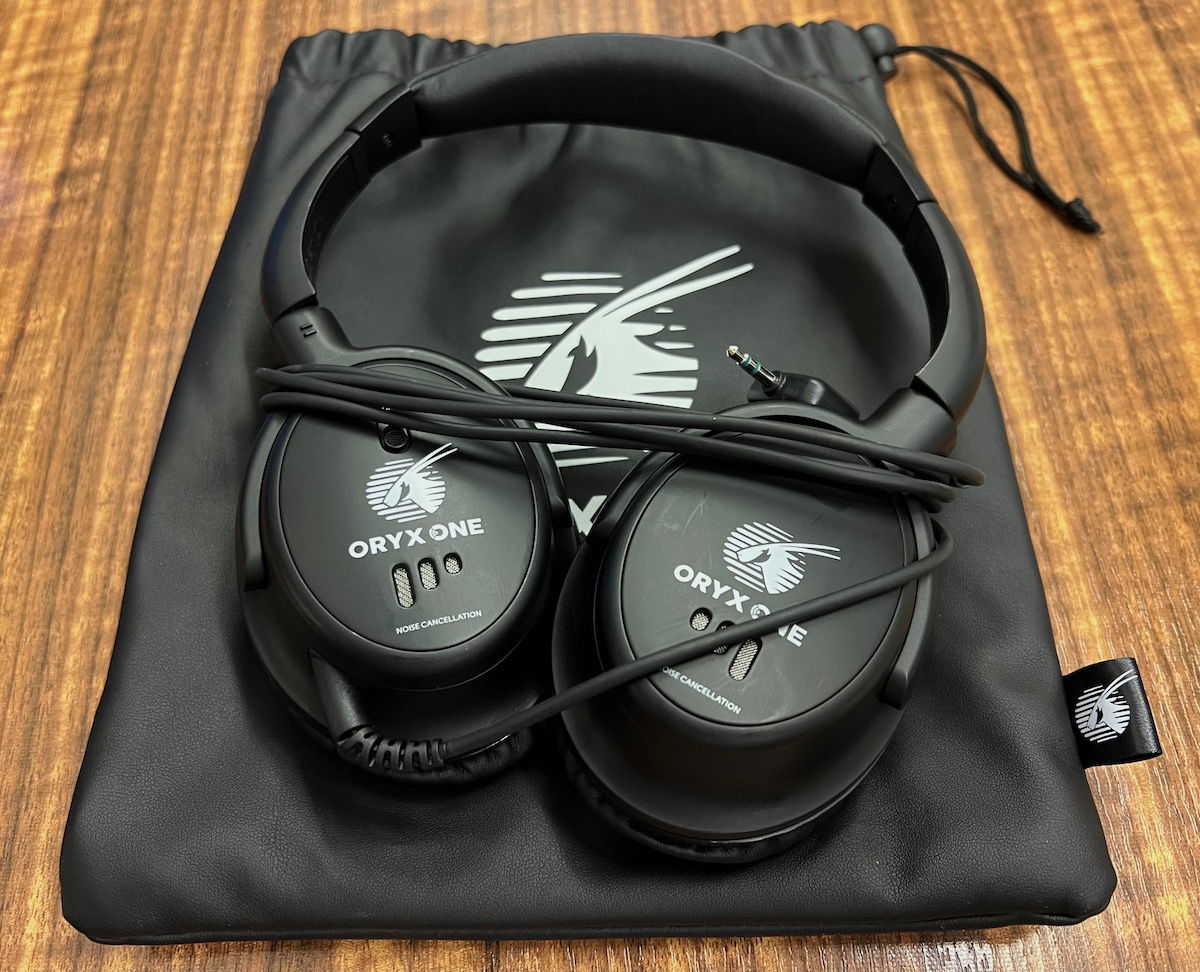 Also waiting at our seats upon boarding were the menu and wine list, as well as a bottle of Acqua Panna still water.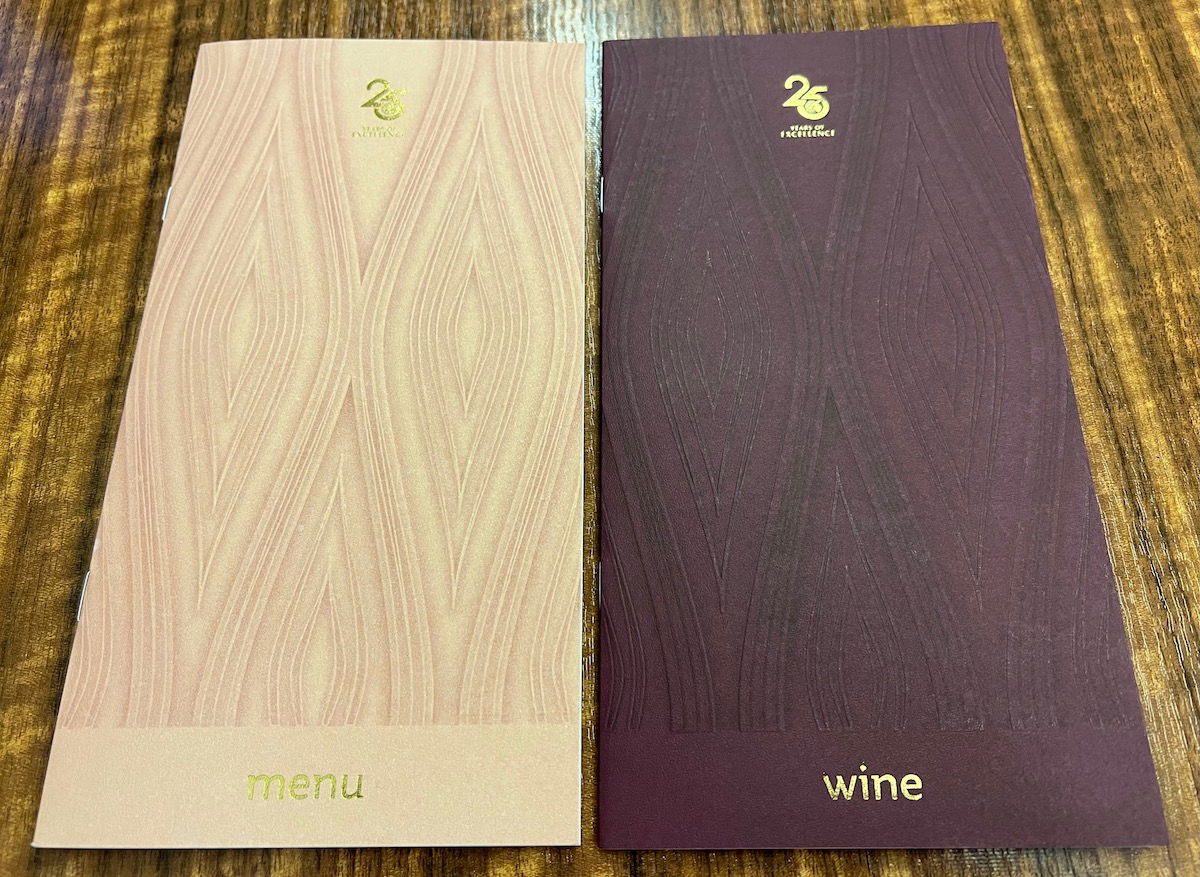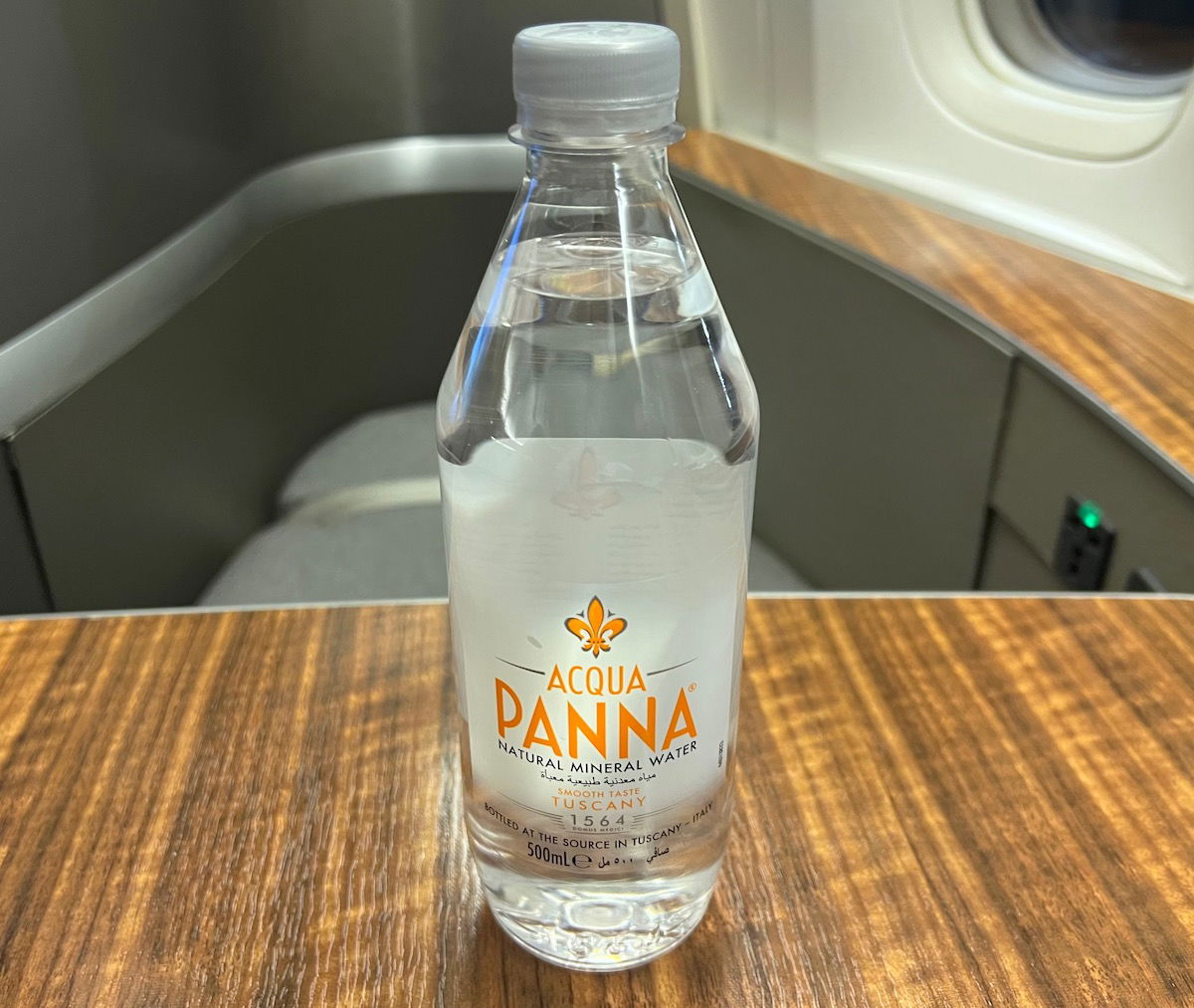 During boarding we were offered our choice of non-alcoholic pre-departure drinks (the Maldives doesn't allow alcohol to be served on the ground). I ordered a glass of the signature lemon-mint juice, and I was offered a cold towel as well as a snack of parmesan and olives. Interestingly Qatar Airways doesn't seem to offer pre-departure Arabic coffee and dates in first class anymore.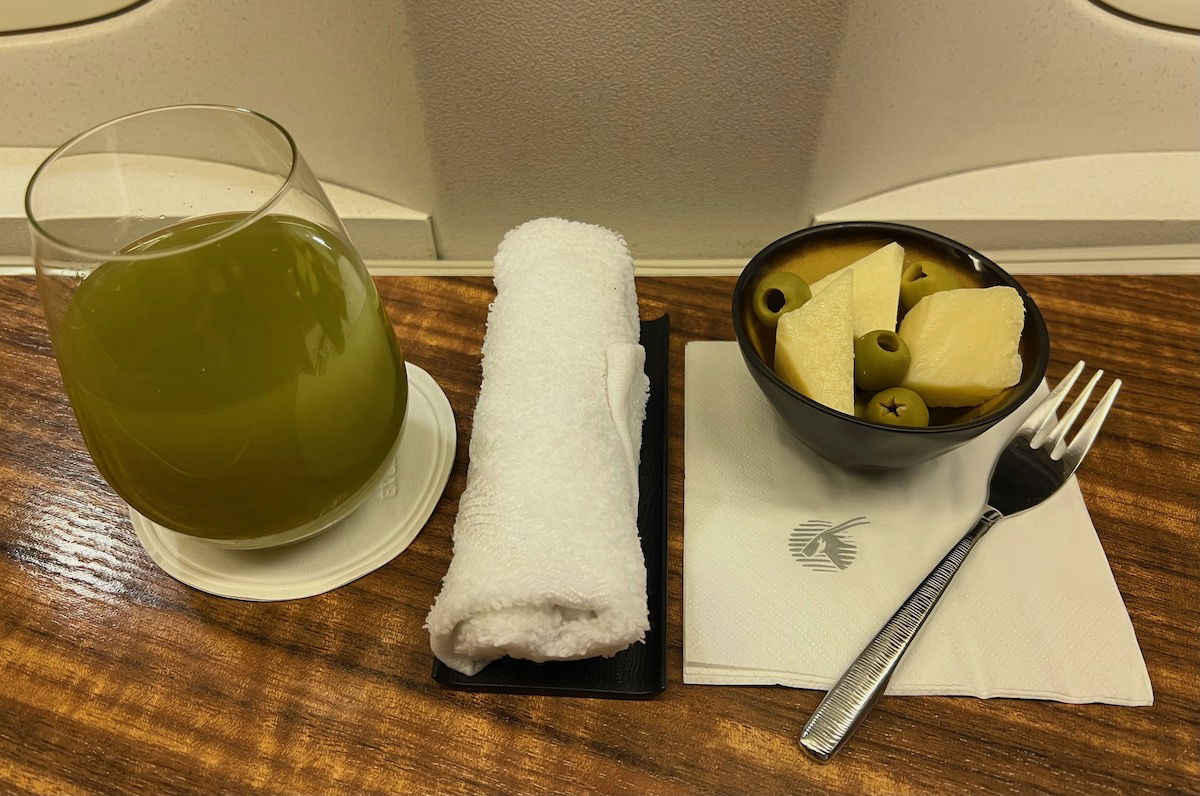 Boarding wrapped up early, and as mentioned above, we were the only ones in first class (meanwhile in business class, 44 of the 53 seats were taken). Around departure time the captain informed us of our flight time of 4hr10min, and our cruising altitude of 38,000 feet.
The cabin door closed ahead of schedule, at which point mood lighting was turned on, which sure was pretty.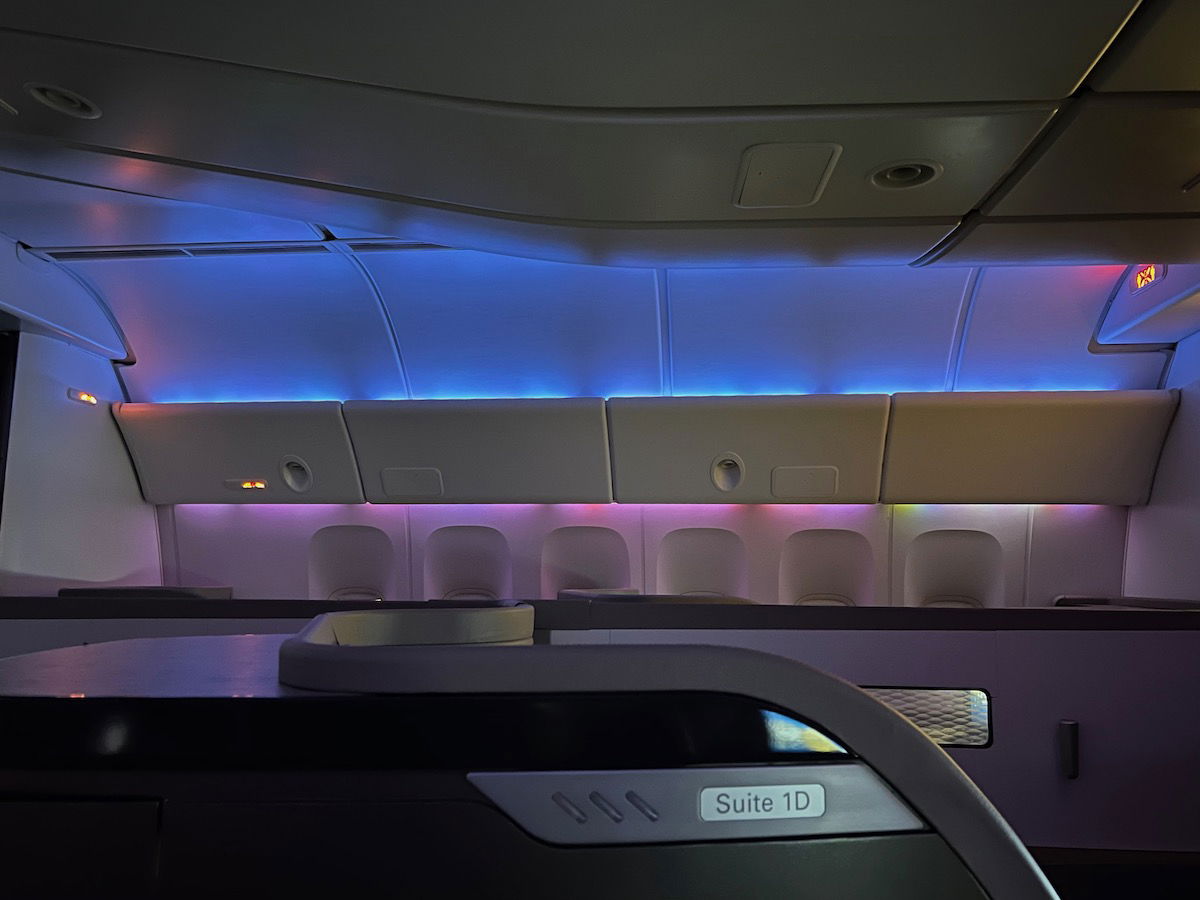 The safety video was screened at this point. I'm a big Qatar Airways fan, but am I the only one who strongly dislikes this sports-themed safety video?
Qatar Airways 777 first class entertainment & Wi-Fi
We took off ahead of schedule, and after takeoff I browsed the entertainment selection. Qatar Airways offers a modified version of its typical Oryx One entertainment system on these leased 777s.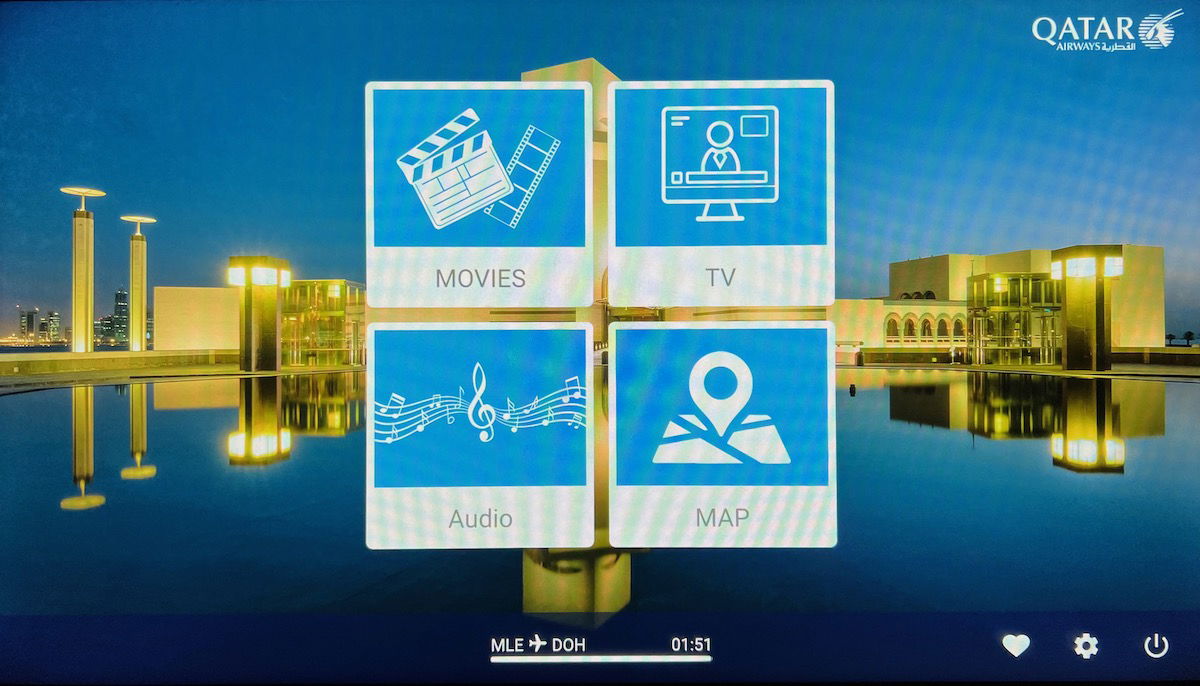 The selection is good, but not quite as good as you'll find on some of Qatar Airways' newer jets. Nonetheless there were dozens and dozens of movies and TV shows to choose from.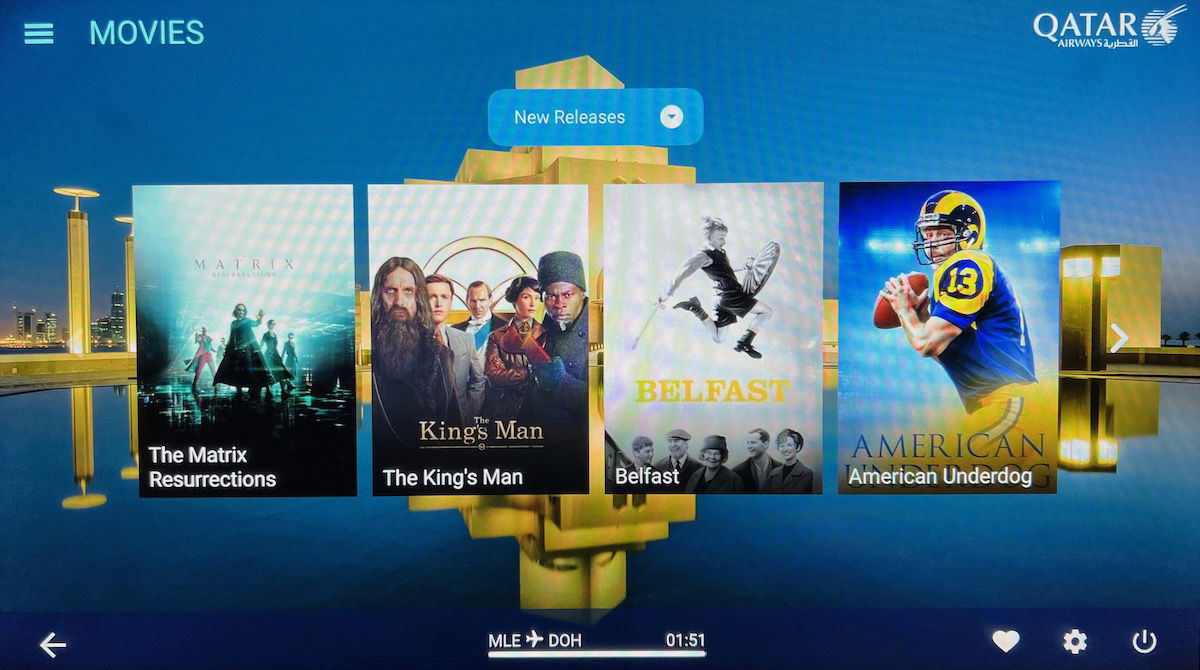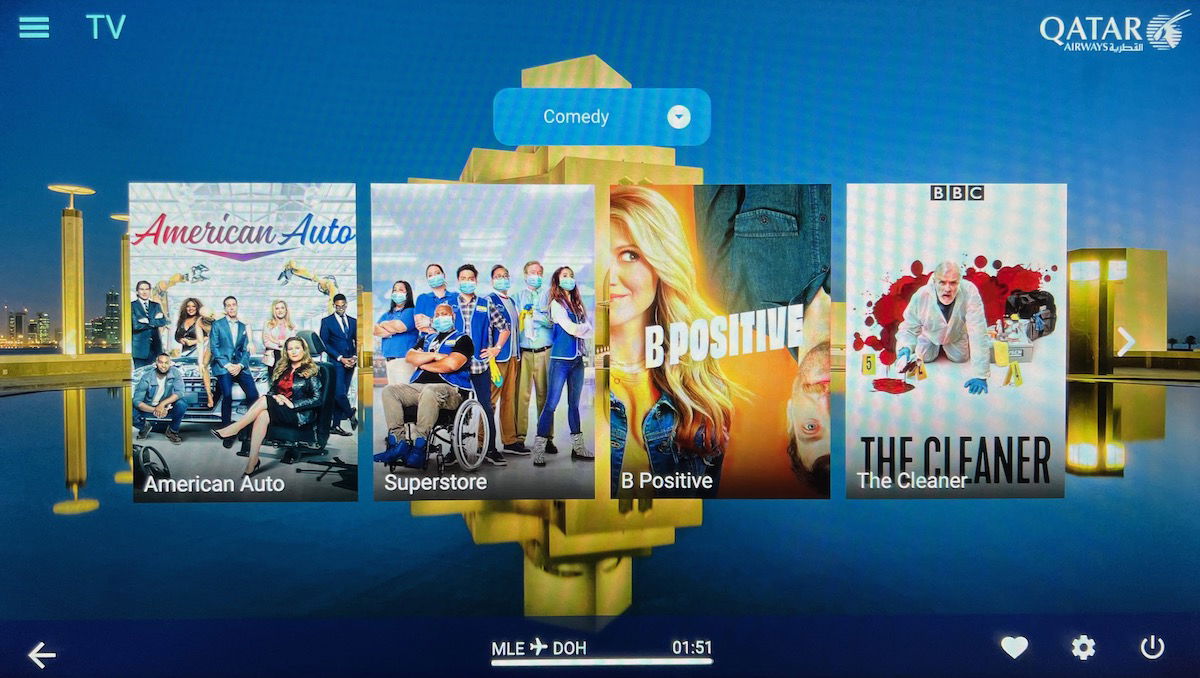 I simply watched the map feature for most of the flight, since I'm boring like that.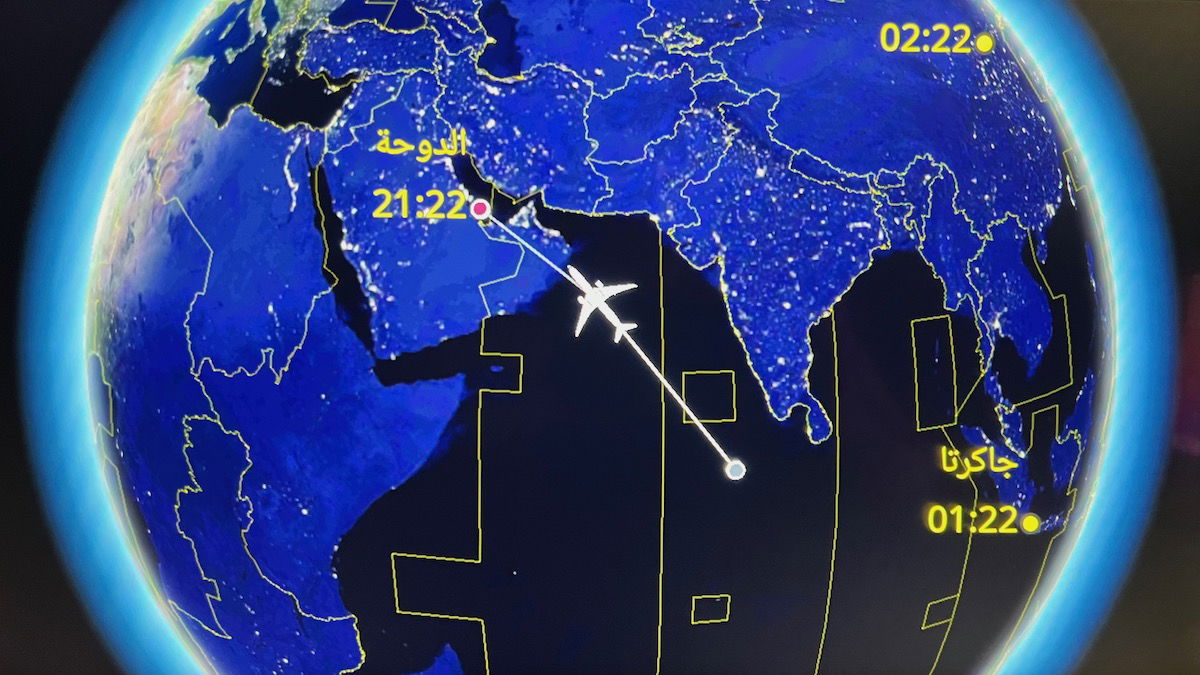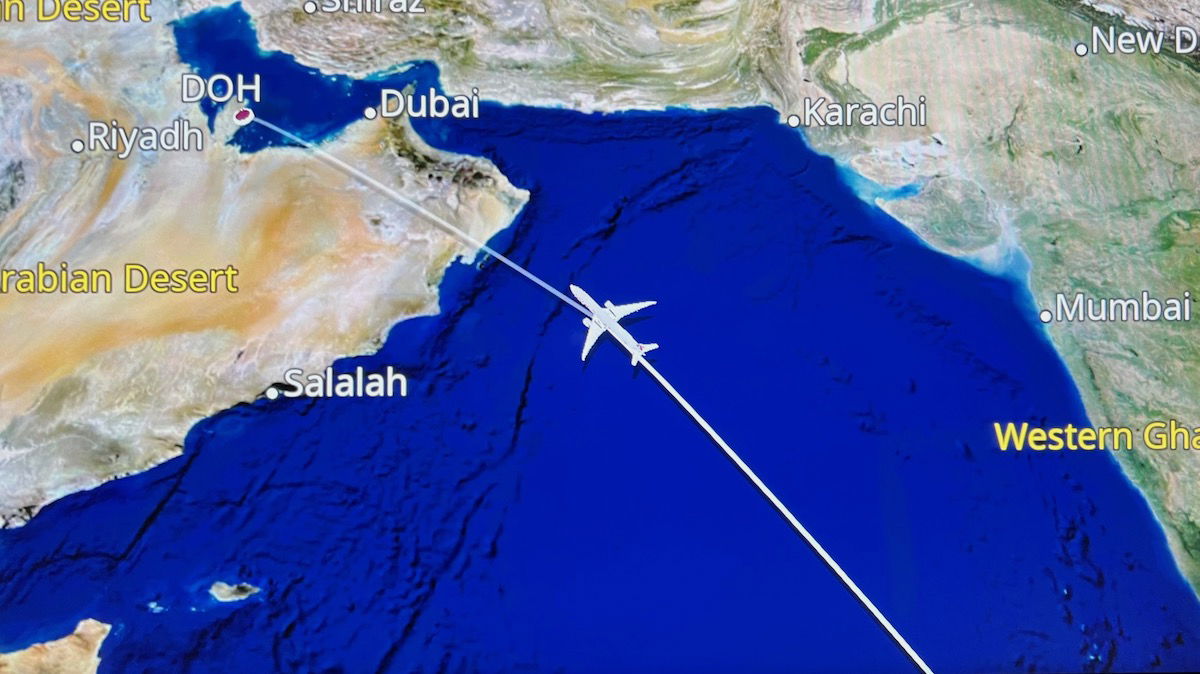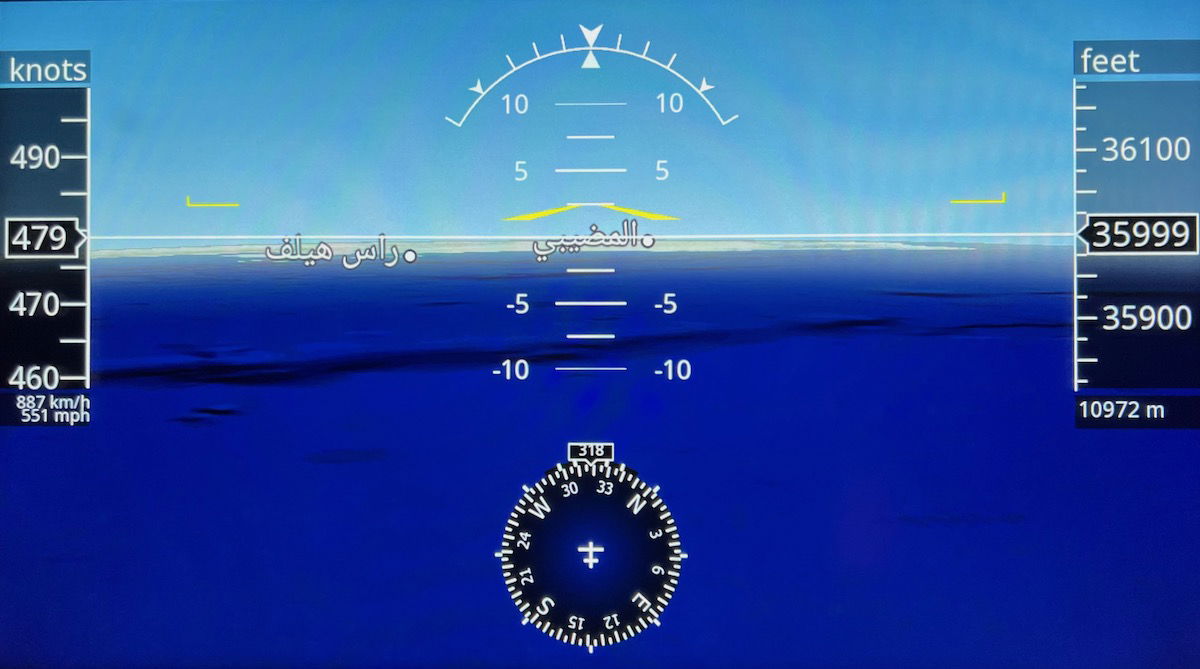 These 777s also feature Wi-Fi (Cathay Pacific was making good progress installing this on 777s pre-pandemic), and Qatar Airways has rebranded the portal a bit. Qatar Airways has its typical "Super Wi-Fi" pricing, which is just $10 for the entire flight with no data caps. That's excellent pricing, especially when you consider that the cost is the same on an ultra long haul flight.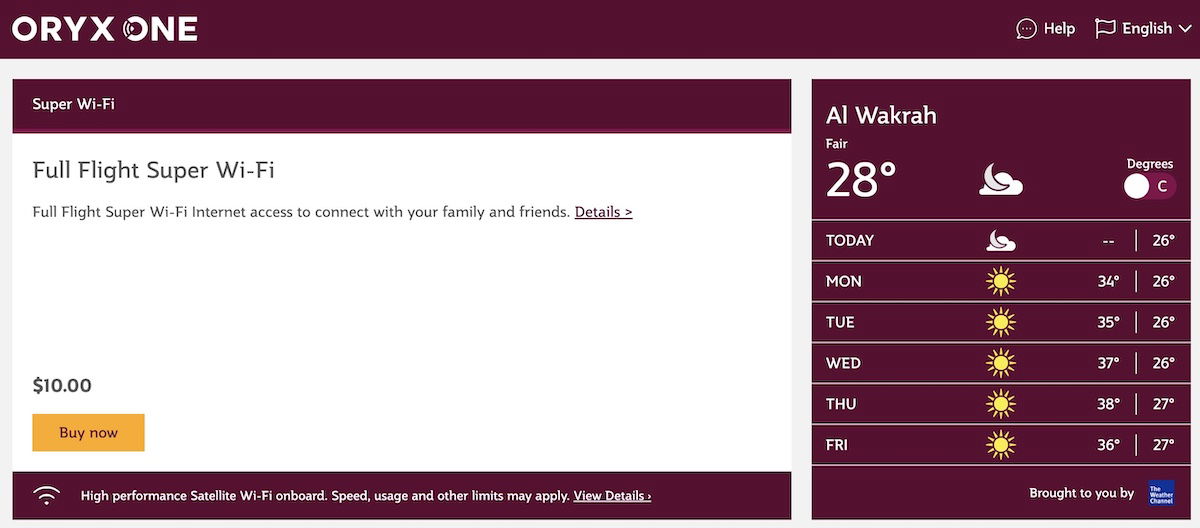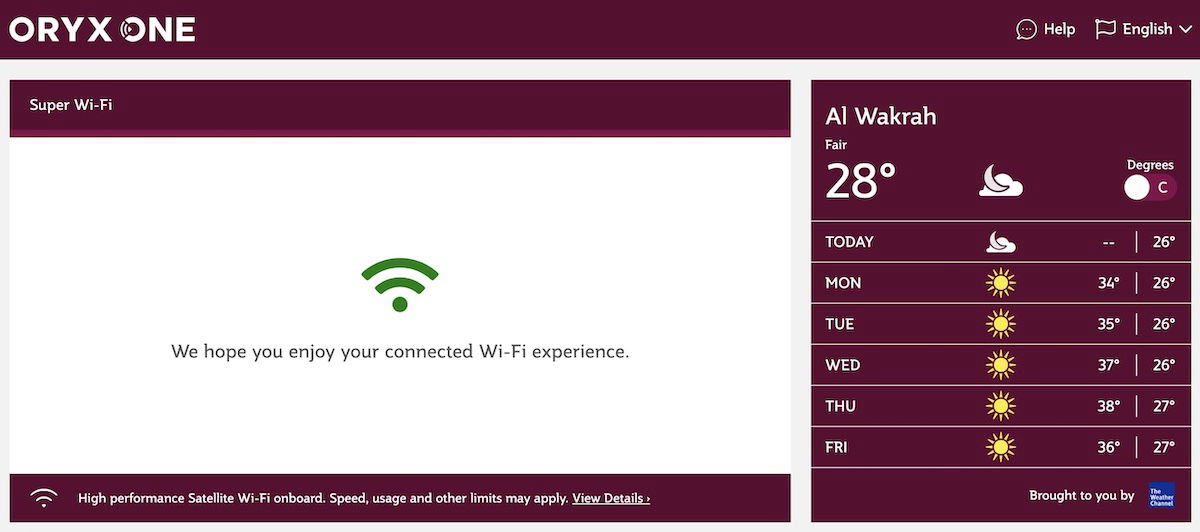 I used the Wi-Fi a bit during the flight, and found the speeds to be good.
Qatar Airways first class food & drinks
As is the case on all flights, Qatar Airways offers a dine on demand concept in first class. The dinner menu read as follows: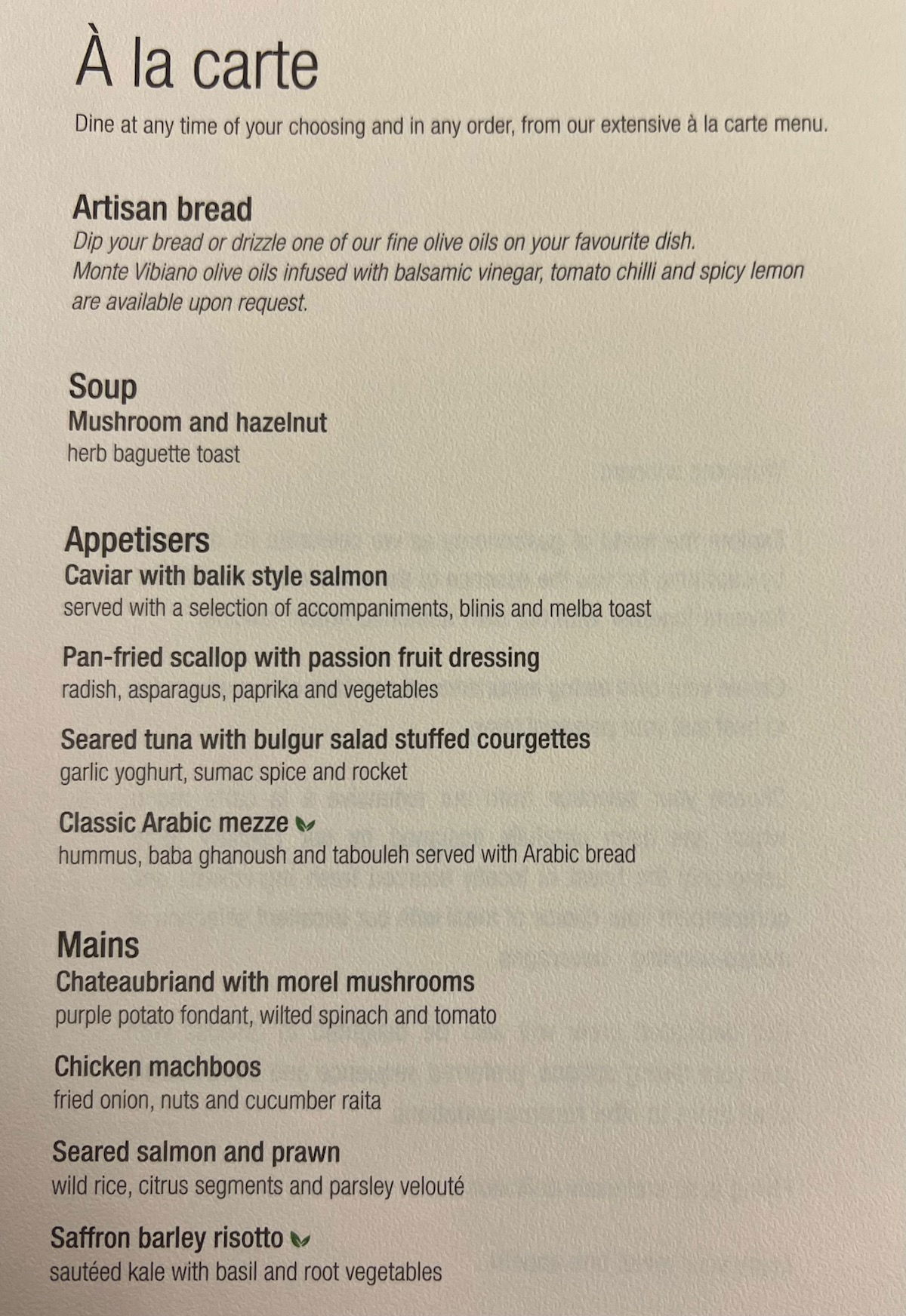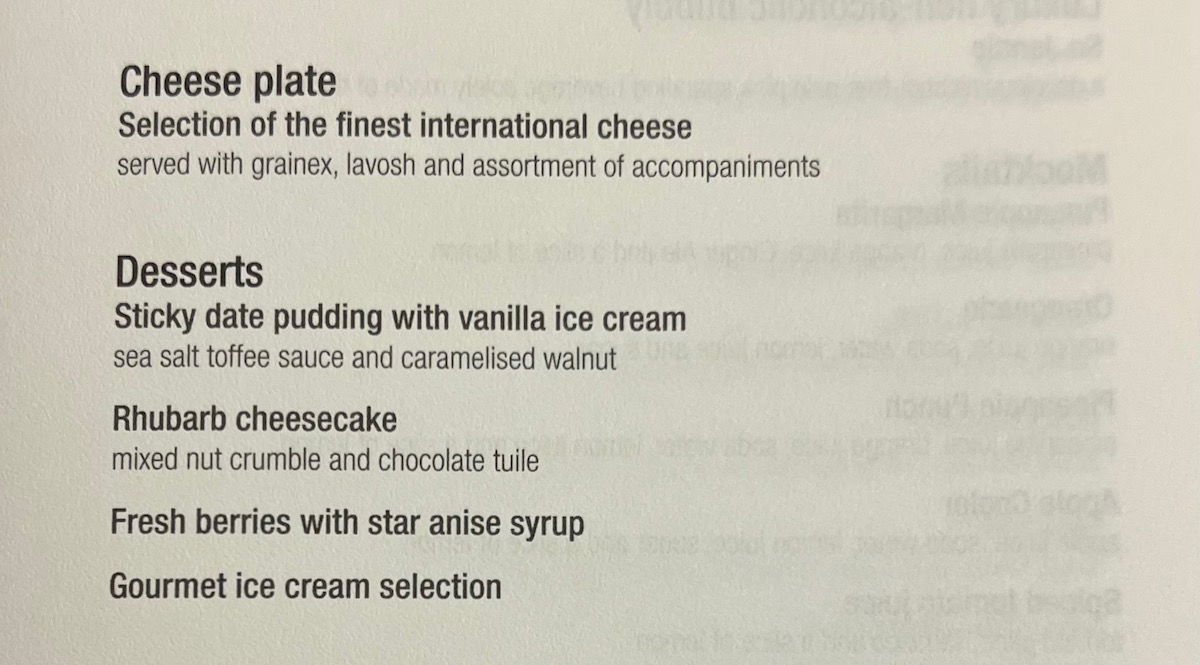 Qatar Airways also has a strong beverage game, and the drink list read as follows: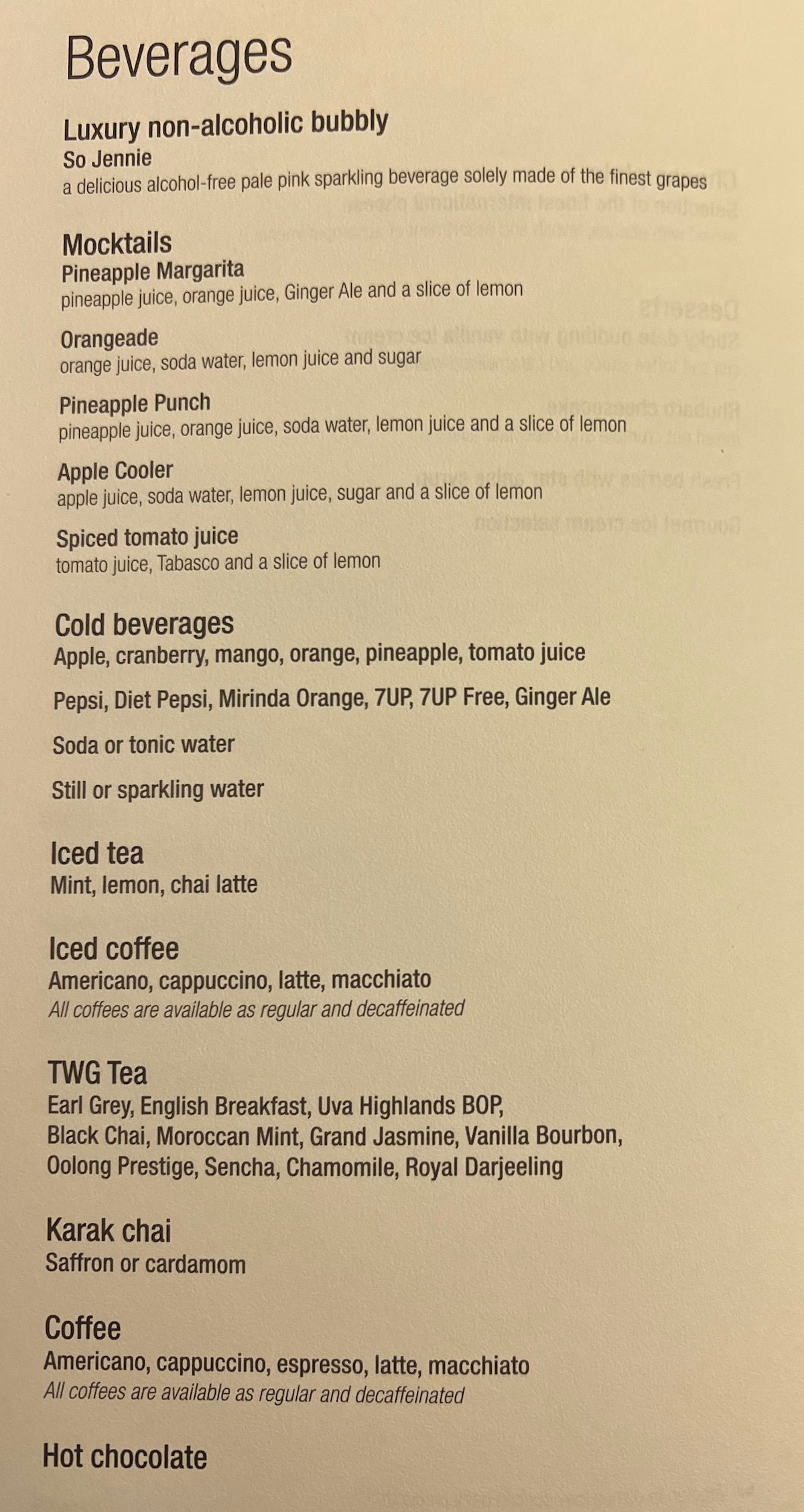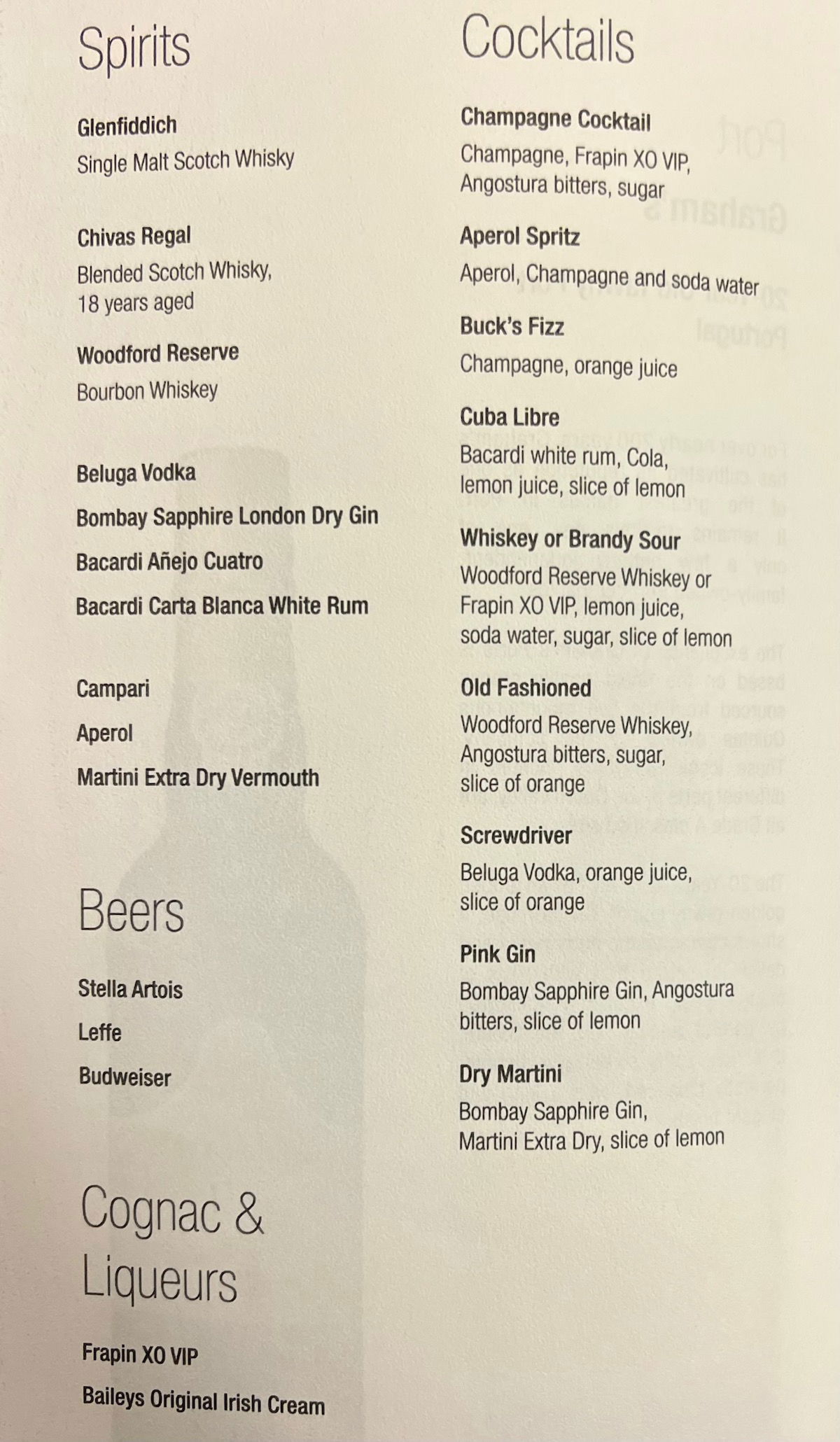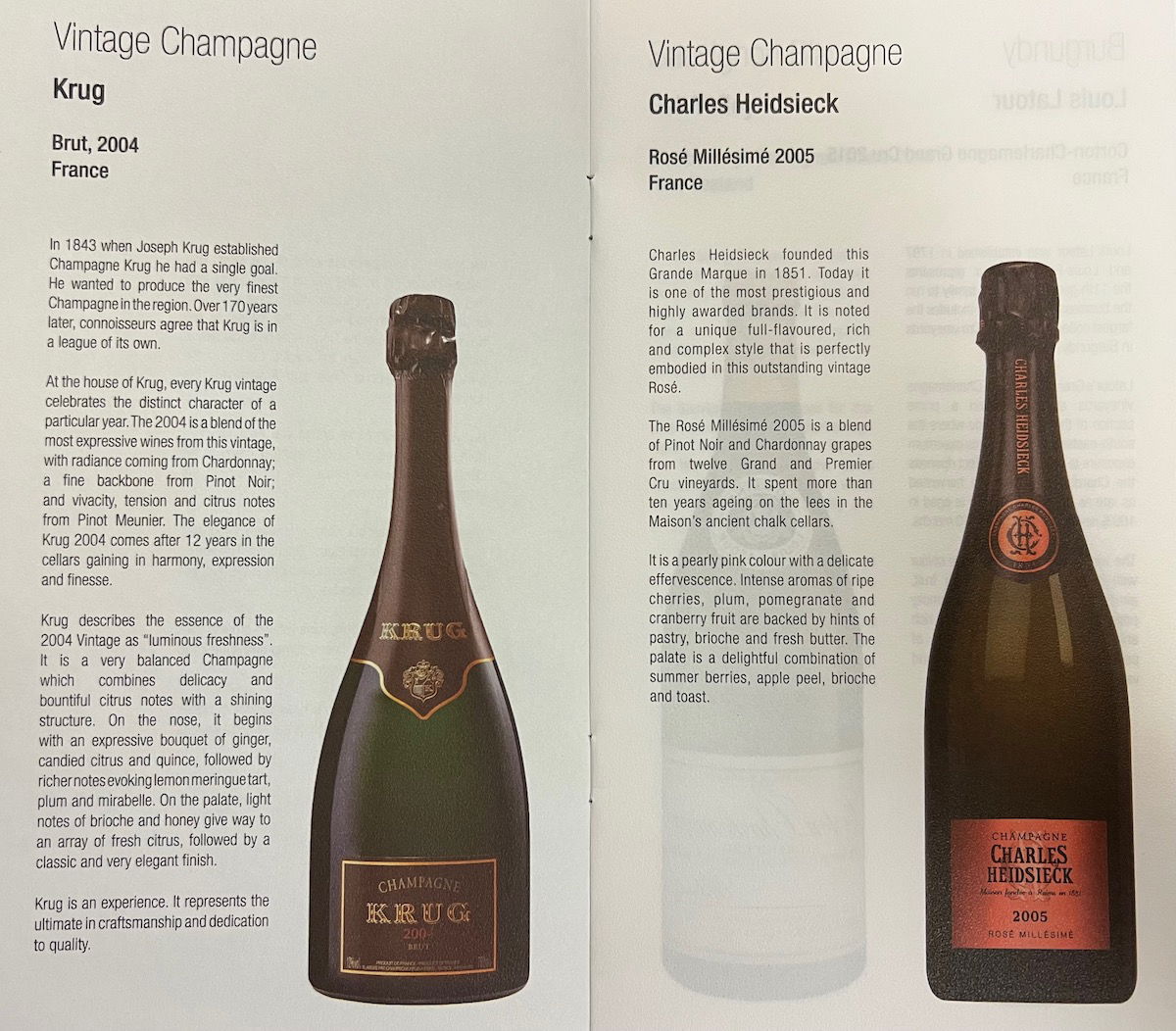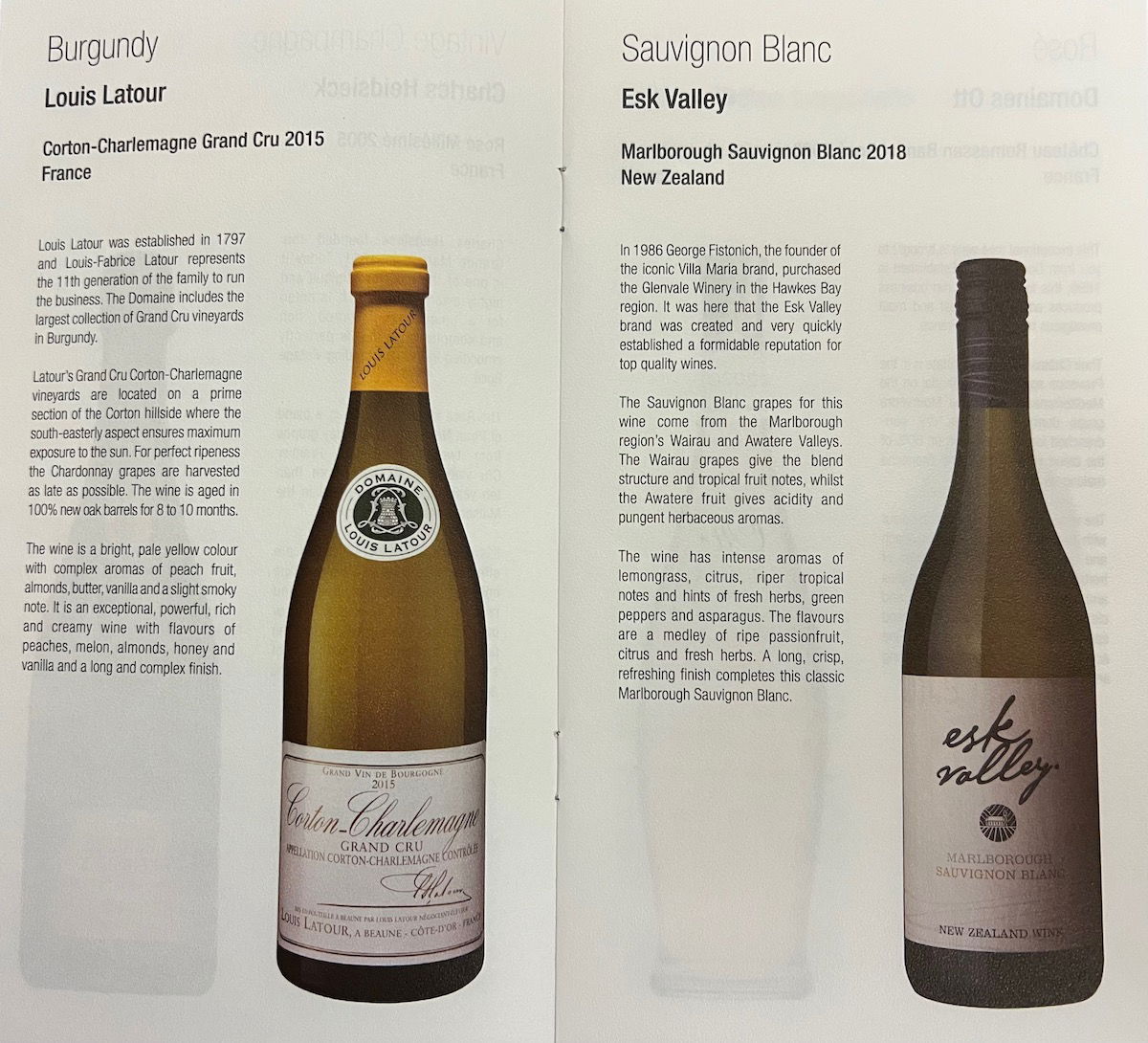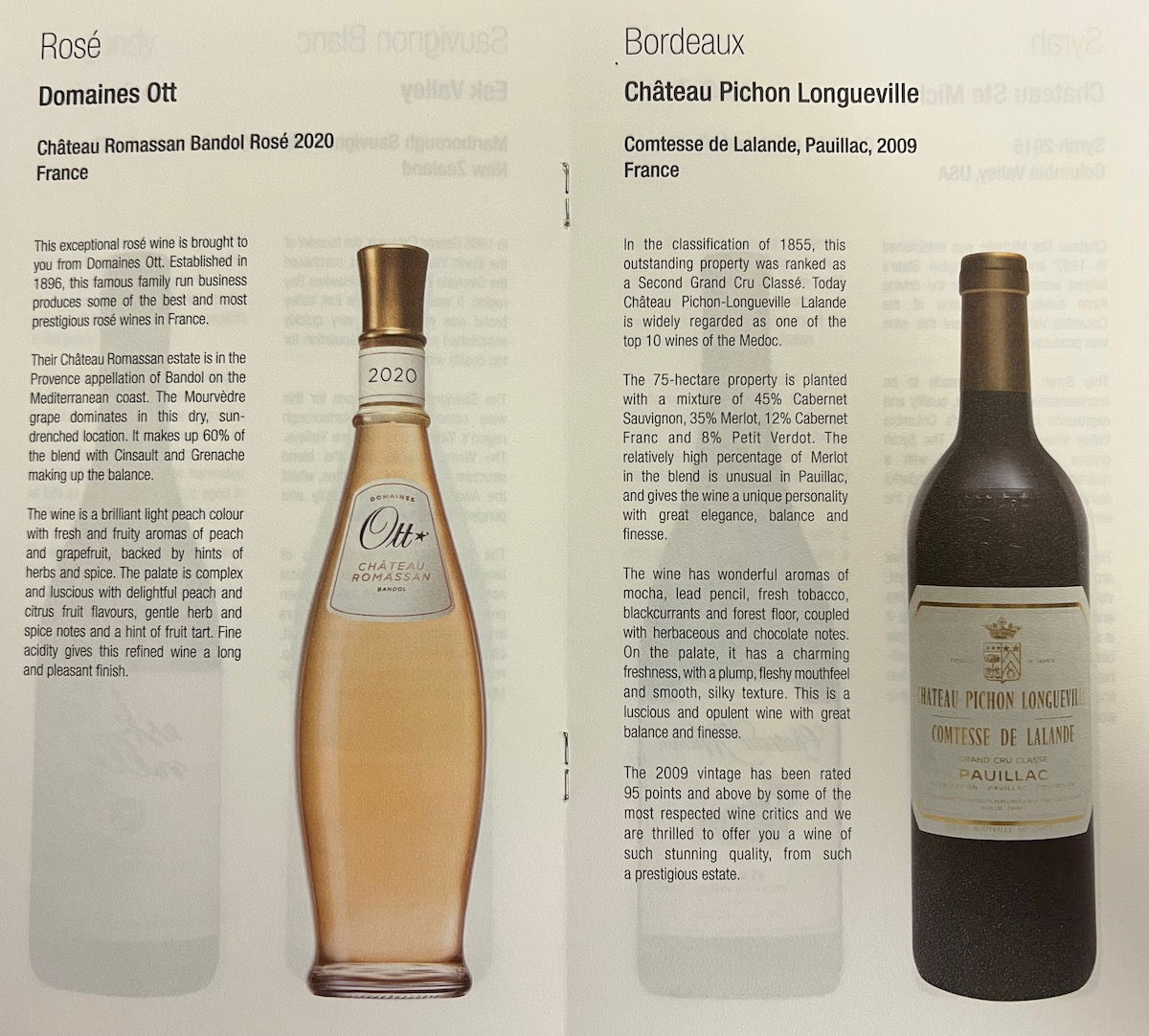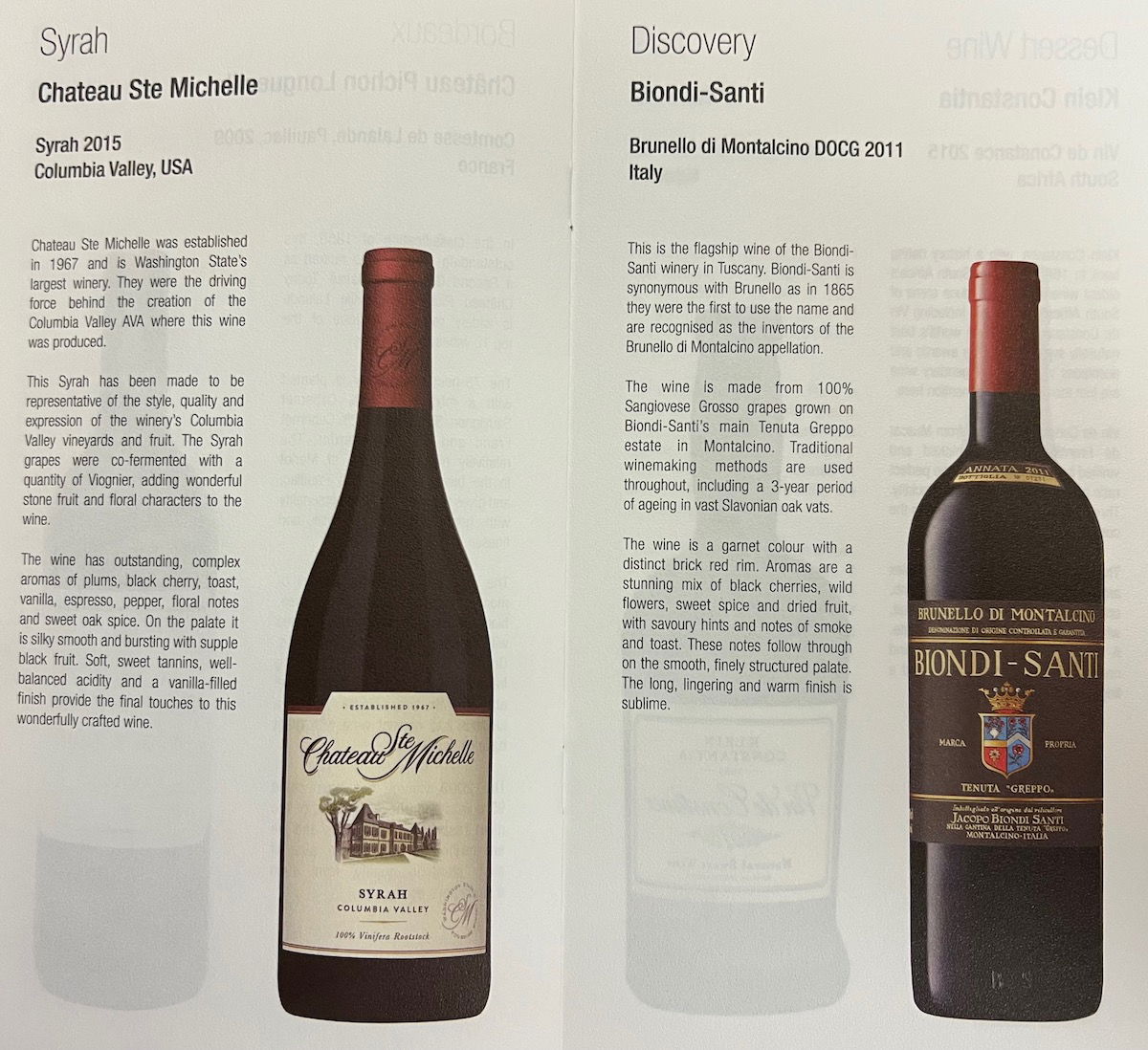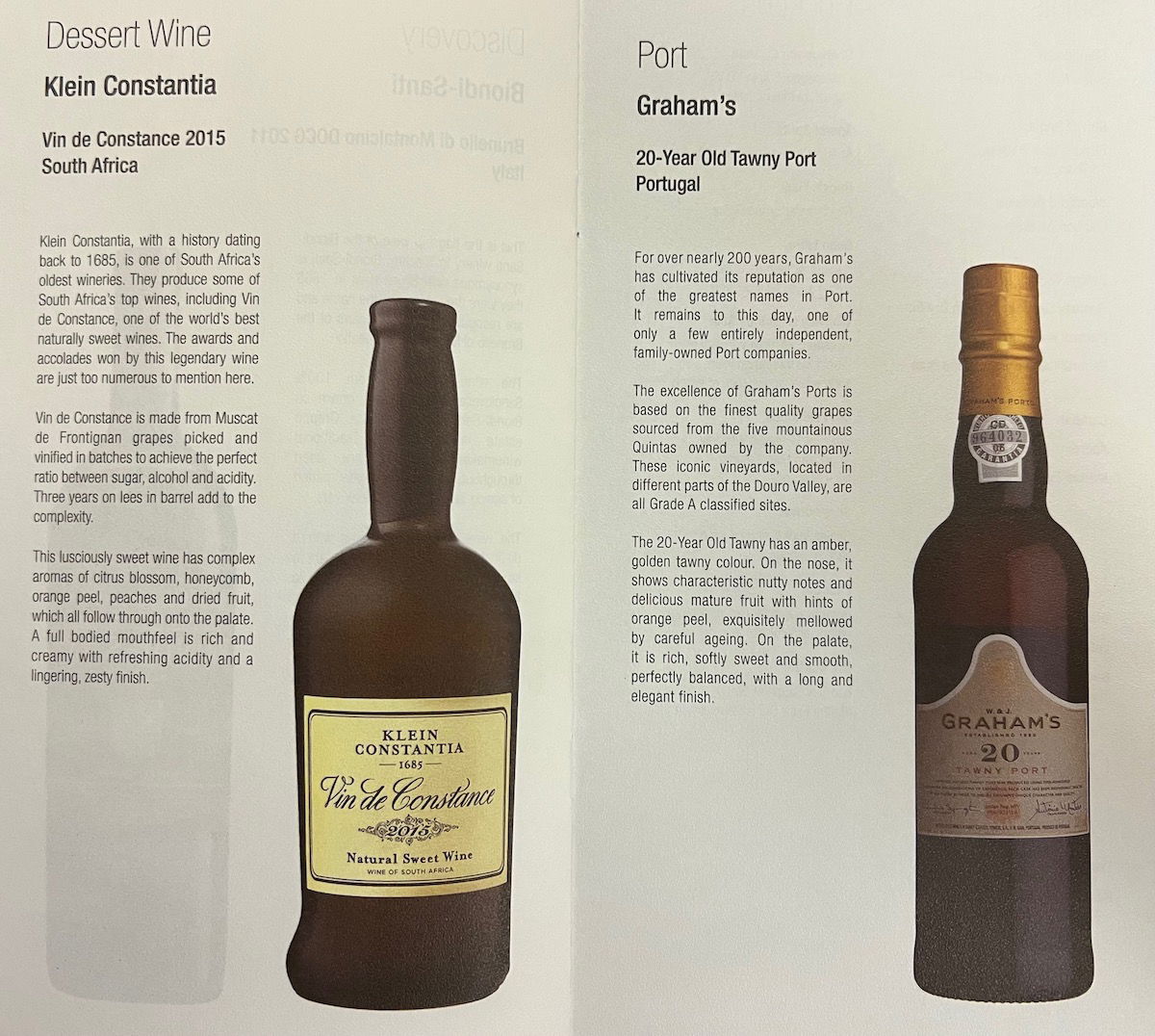 By the time we were airborne we were both hungry and tired, so we decided to eat right away, in hopes of being able to get some rest before landing.
Less than 15 minutes after takeoff, we were served our first drink. We decided to have some champagne, and specifically ordered the Krug. Qatar Airways doesn't just offer your "standard" Krug Grande Cuvee Brut, but rather offers the 2004 vintage, which sells for about twice as much per bottle. We were served some warm mixed nuts to go along with this.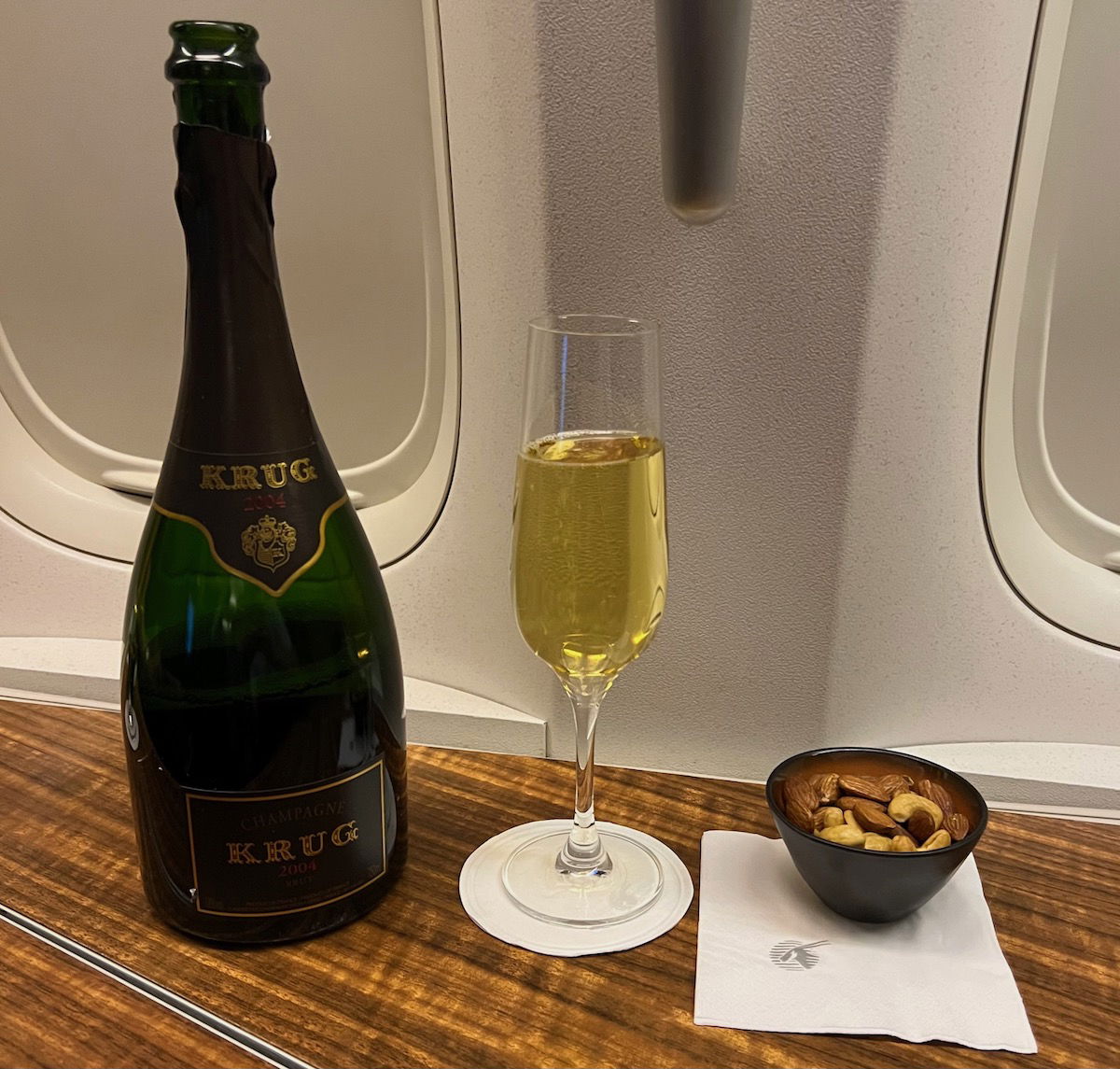 At this point our table was set for dinner. I adore Qatar Airways' presentation, from the fake candle, to the ridiculously cool water glasses, to the textured plates.
To kick off the meal we both ordered the caviar with balik style salmon, which was served with the traditional accompaniments, including blinis and melba toast. Yum!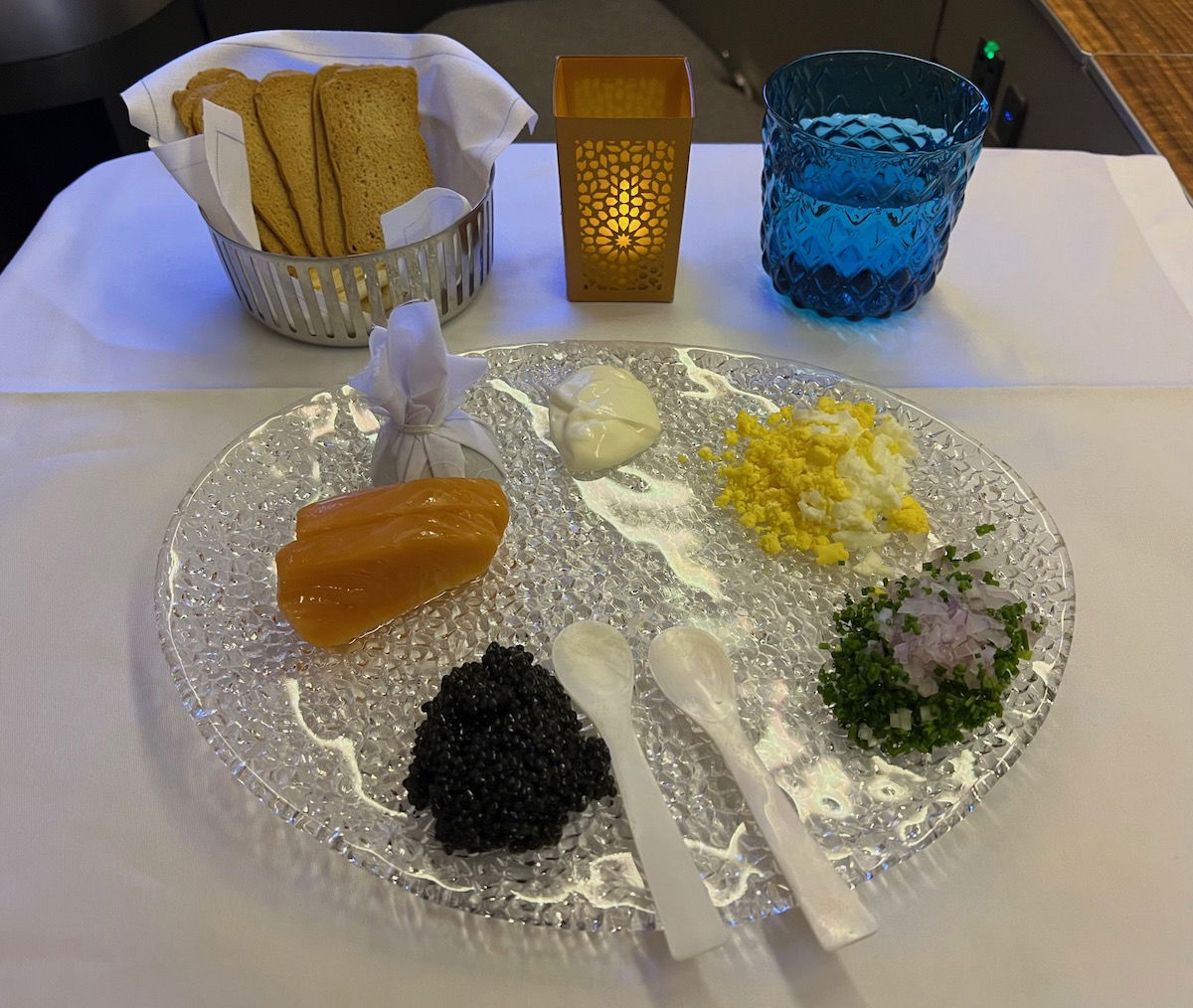 After the caviar course my table was fully set with a new bread basket, olive oil, butter, etc. I was then offered a lobster amuse bouche.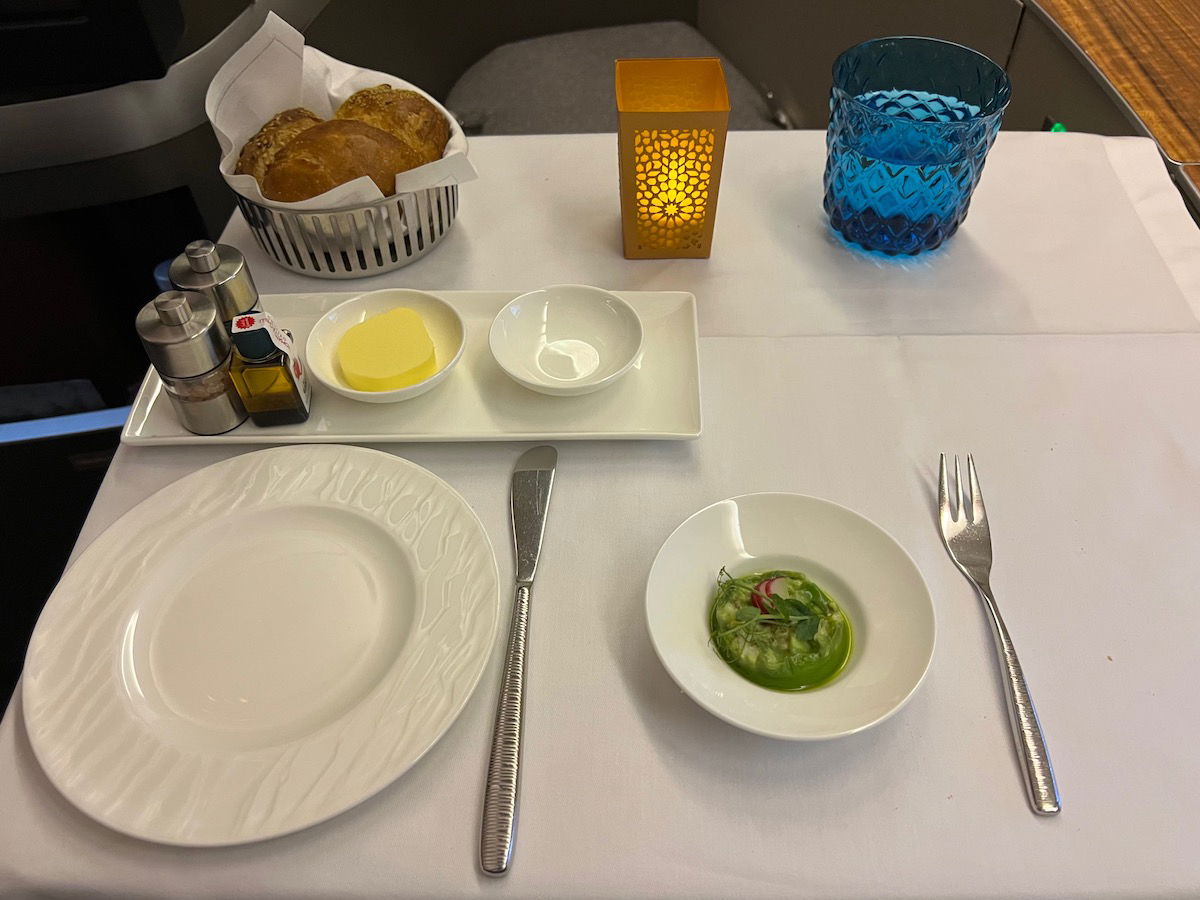 Next up I had the Arabic mezze, which consisted of hummus, baba ghanoush, and tabouleh. It was excellent, as usual.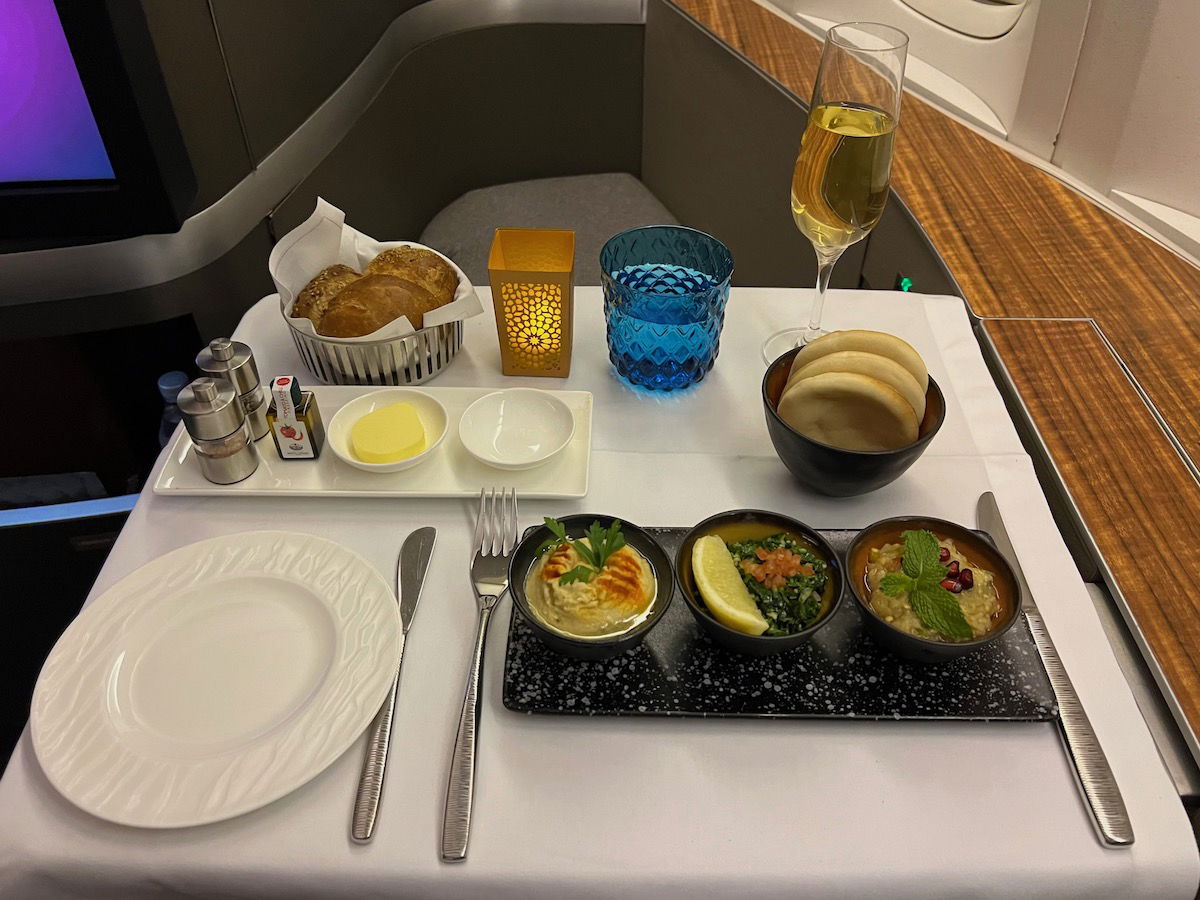 For my main course I selected the seared salmon and prawn with wild rice, citrus segments, and parsley velouté. Yum.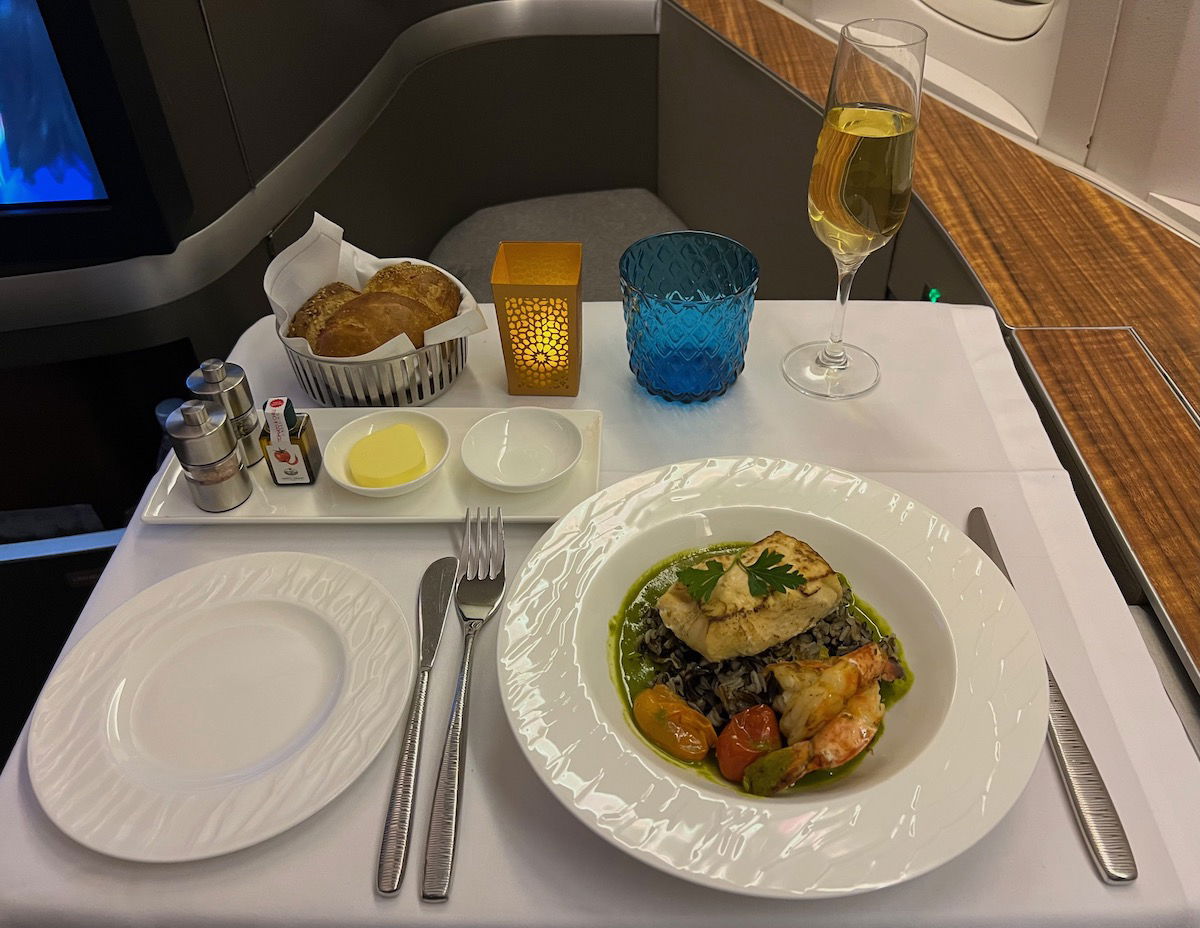 Lastly, for dessert I ordered the sticky date pudding with vanilla ice cream, with sea salt toffee sauce and caramelized walnuts.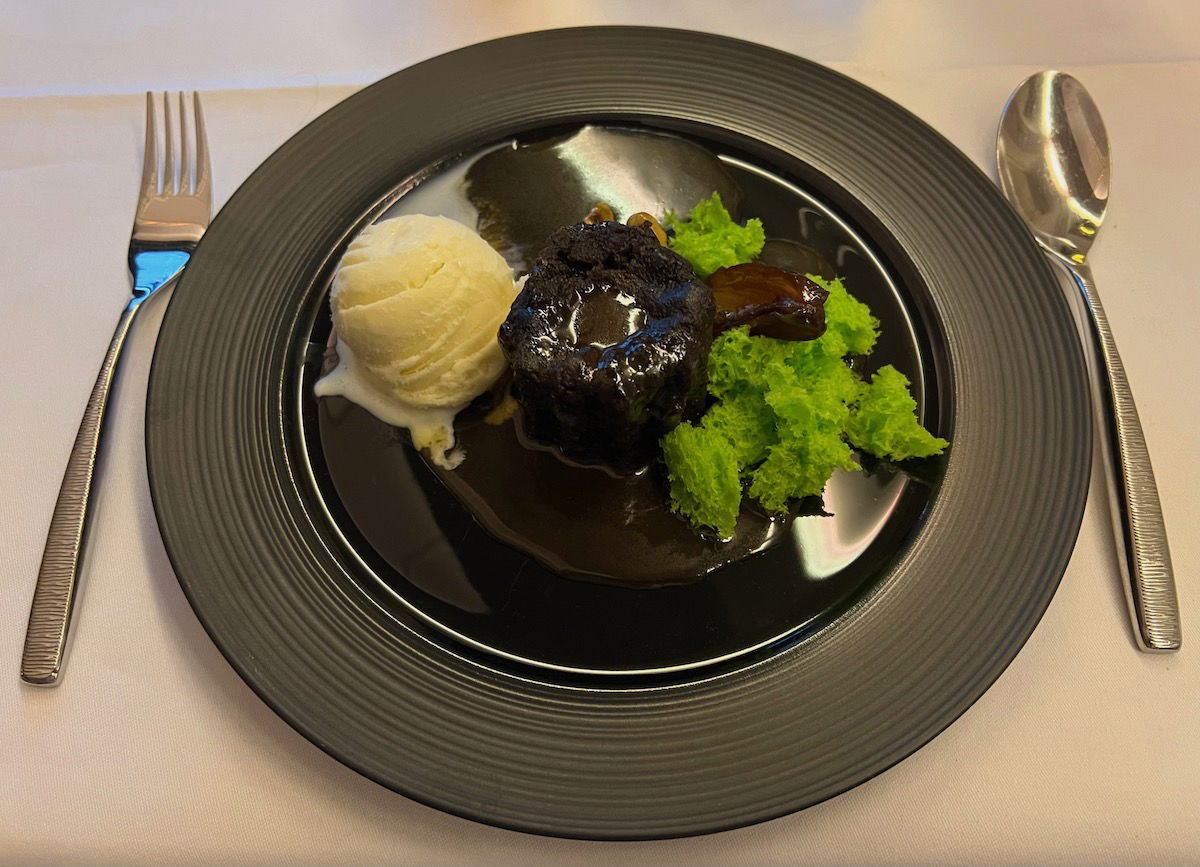 What a phenomenal meal, especially for such a short flight. It's possible I'm missing something, but I can't think of another airline that serves caviar in first class on a flight with such a short block time.
Also, just to share a few more food pictures, Ford ordered the mushroom and hazelnut soup with herb baguette toast, which he enjoyed.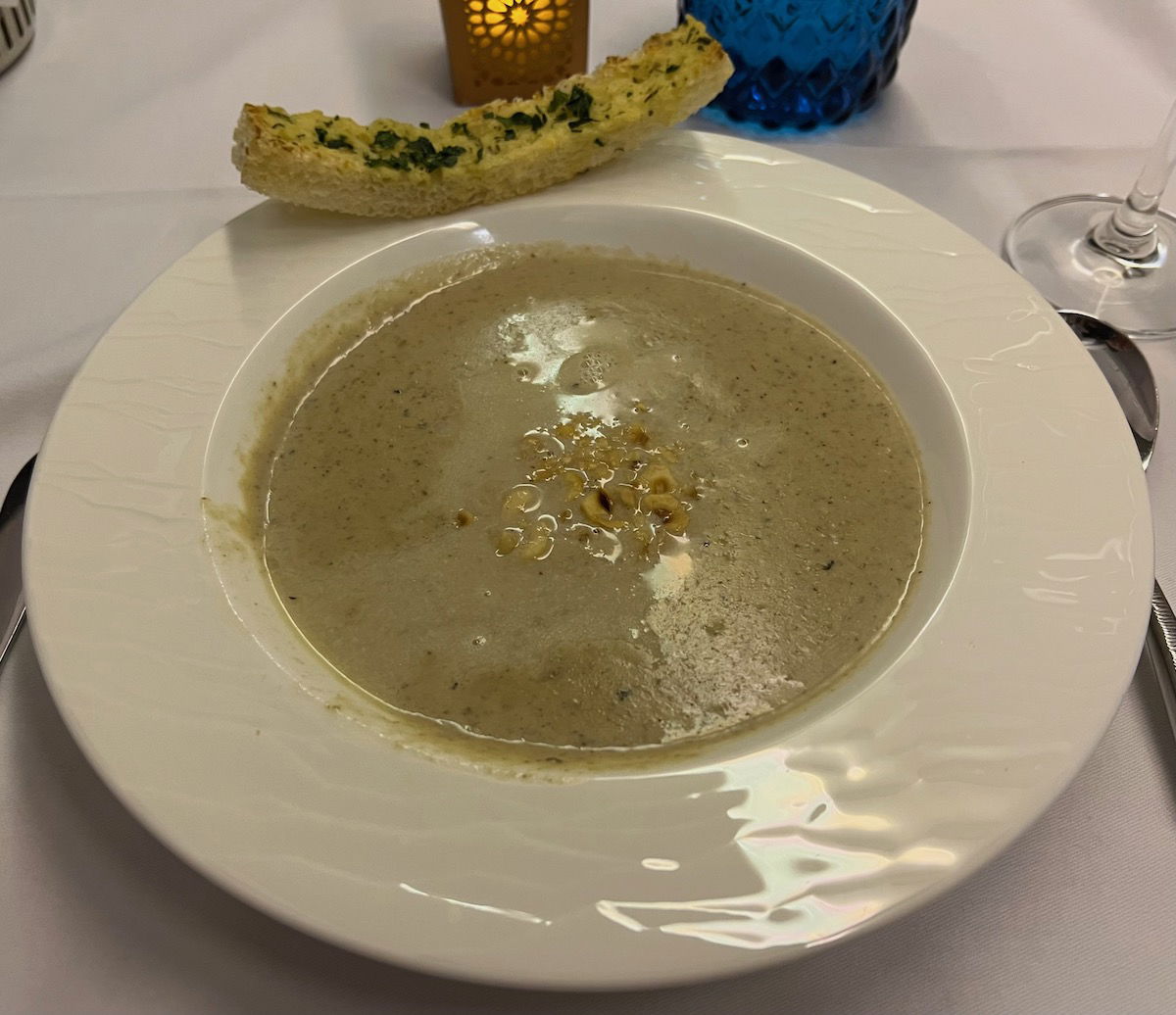 He also ordered the chateaubriand with morel mushrooms, with purple potato fondant, wilted spinach, and tomato.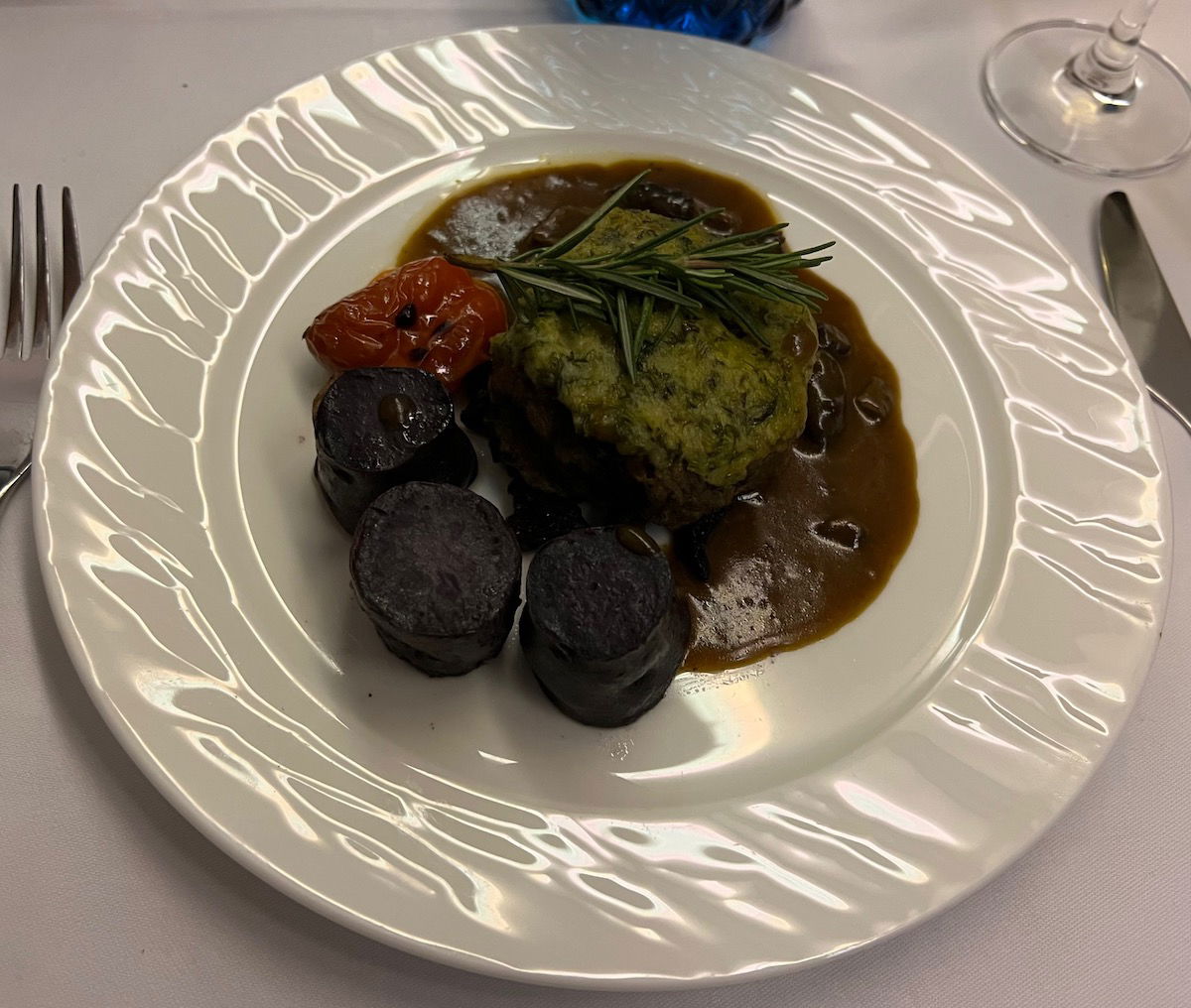 Qatar Airways first class service
There were two crew members taking care of us in first class, including the cabin manager and the first class flight attendant. Both were textbook perfect. As you'd expect, service was highly personalized, given that there were two flight attendants taking care of us just the two of us. What a treat.
Qatar Airways 777 first class bed
We enjoyed our meal at a very leisurely pace, and were done about 90 minutes before landing. At that point the crew asked if we wanted turndown service in order to sleep. Hah… sure, why not! So I headed to the lavatory, and a few minutes later I had my cozy bed ready for a nap.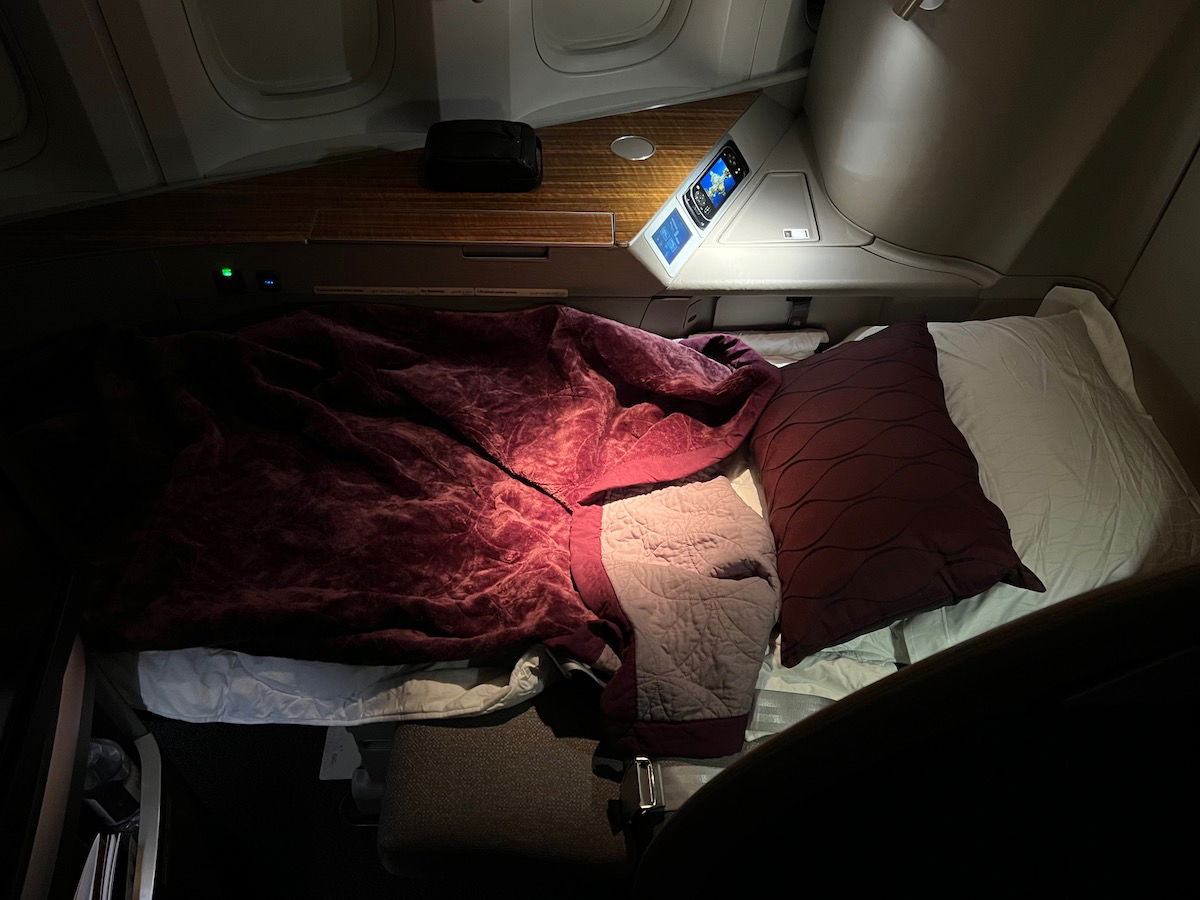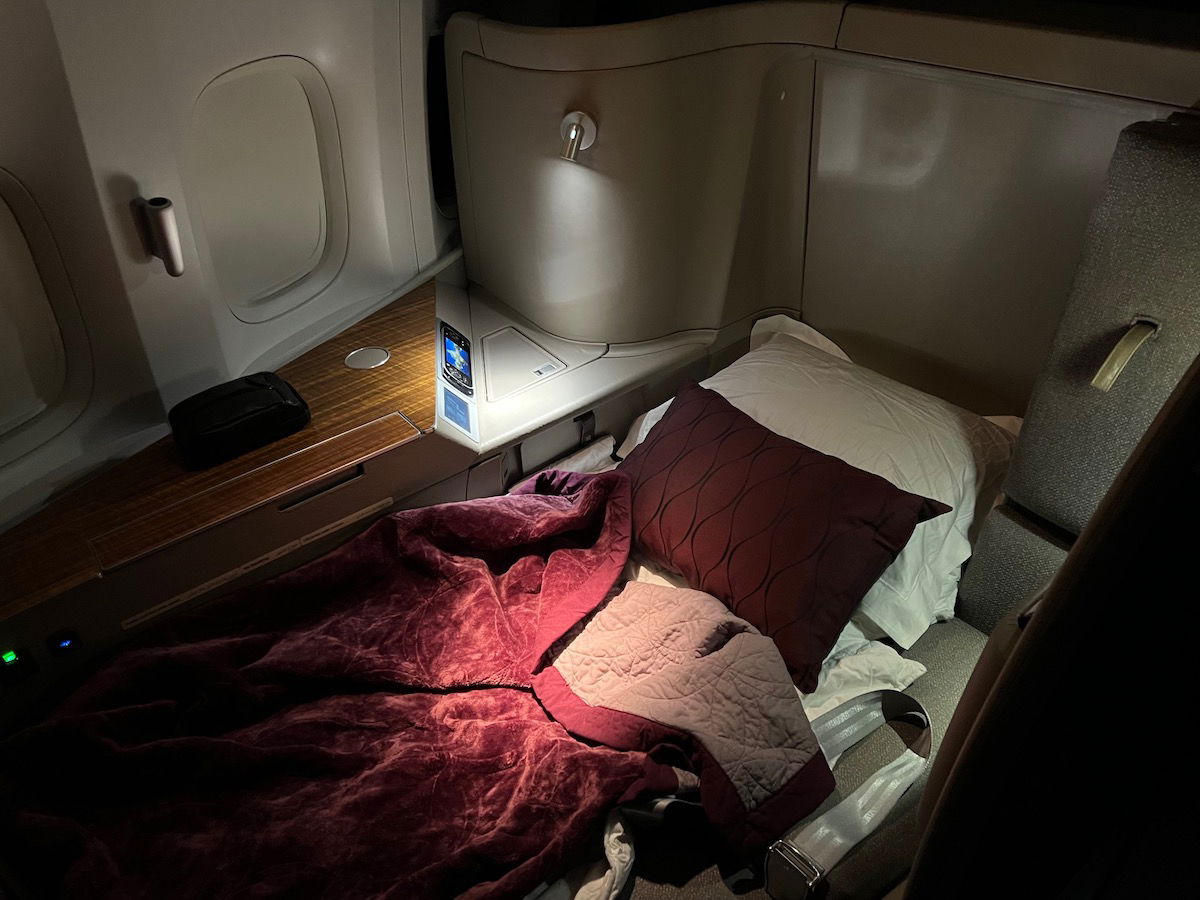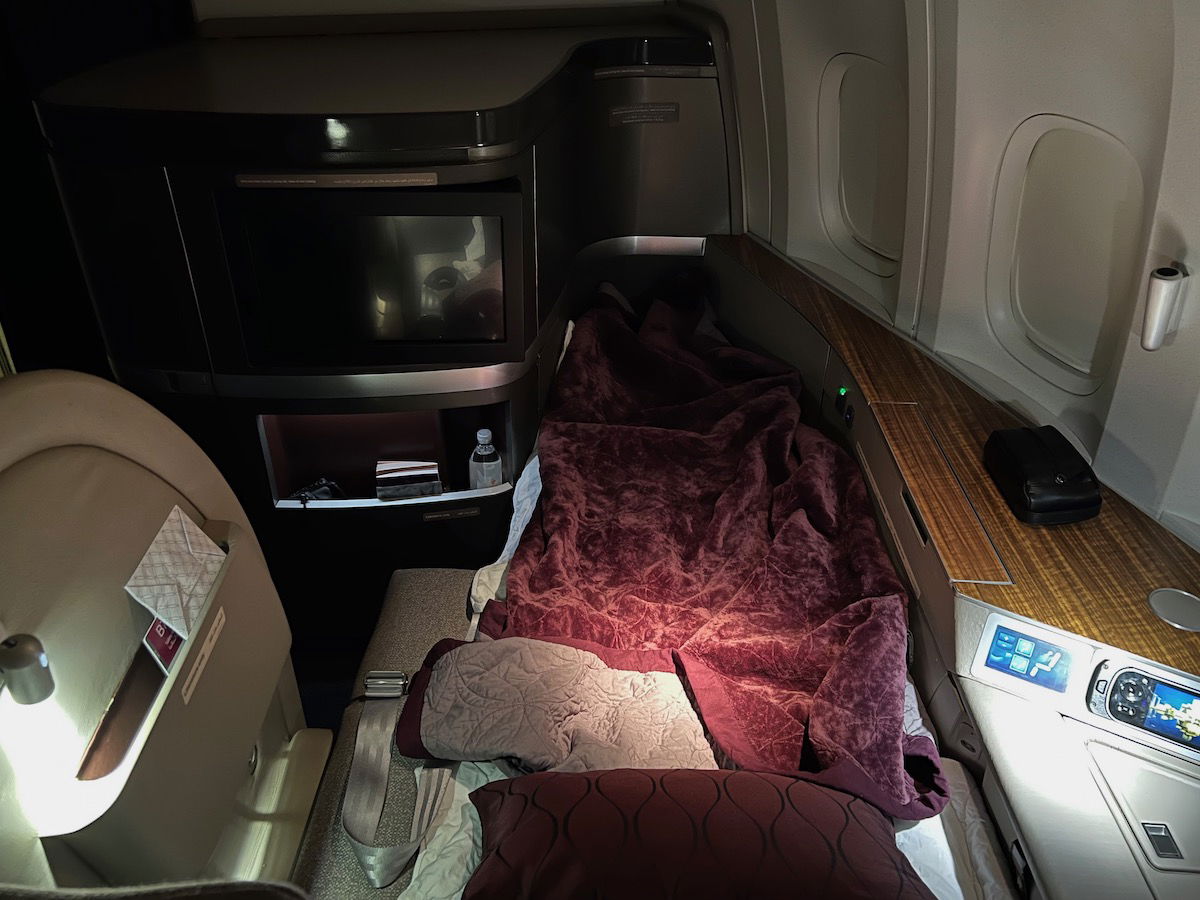 I fell asleep almost right away (thanks, Krug!), but woke up with a nasty hangover around 45 minutes later (thanks, Krug!).
Qatar Airways arrival in Doha
Qatar Airways tends to prepare the cabin for landing really early, and this flight was no exception. Around 45 minutes before arrival we were woken up by an announcement from the captain informing us that we'd soon start our descent, and at that point the crew had everyone put their seats upright, etc.
We were asked if we wanted anything else to drink, and we both ordered a cappuccino. This was served in a to-go cup, so that we could enjoy it throughout the descent, which was much appreciated. We were also given a small box of chocolates.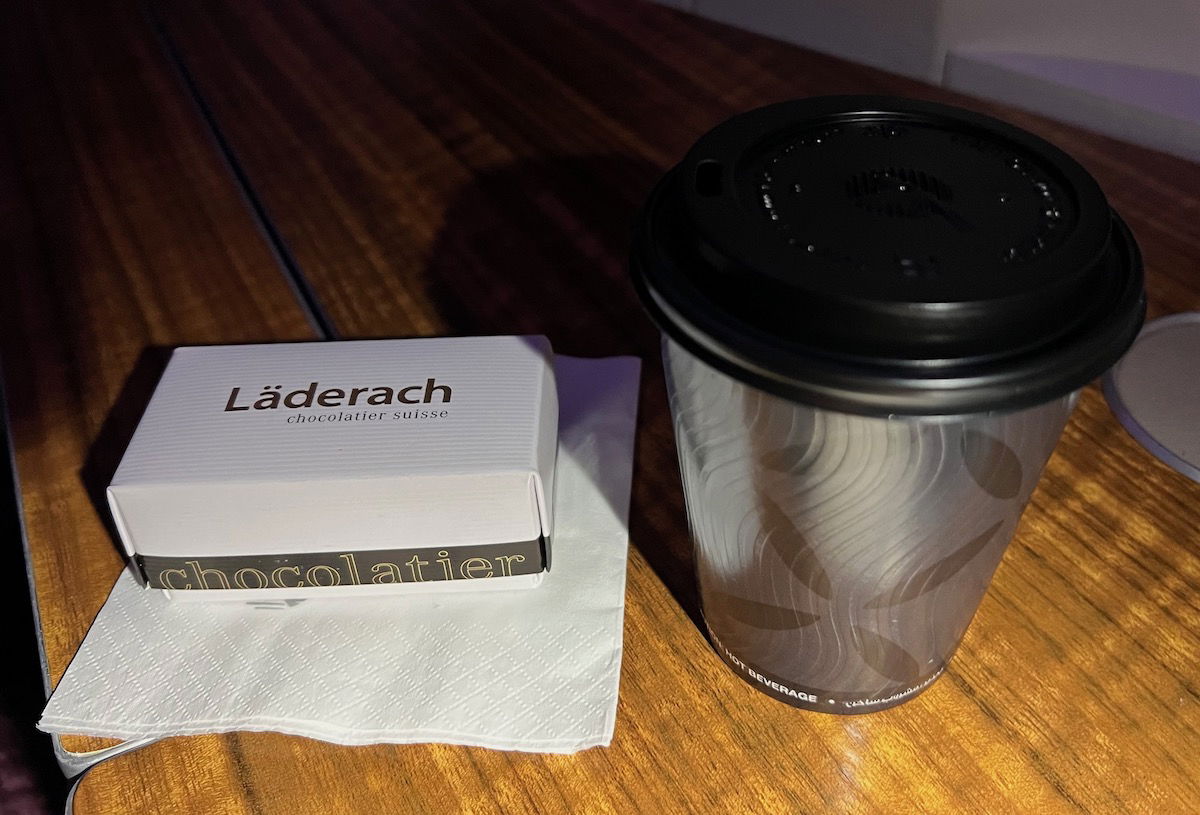 We had some gorgeous views of Doha on the approach, including of The Pearl, as well as the skyline along the corniche.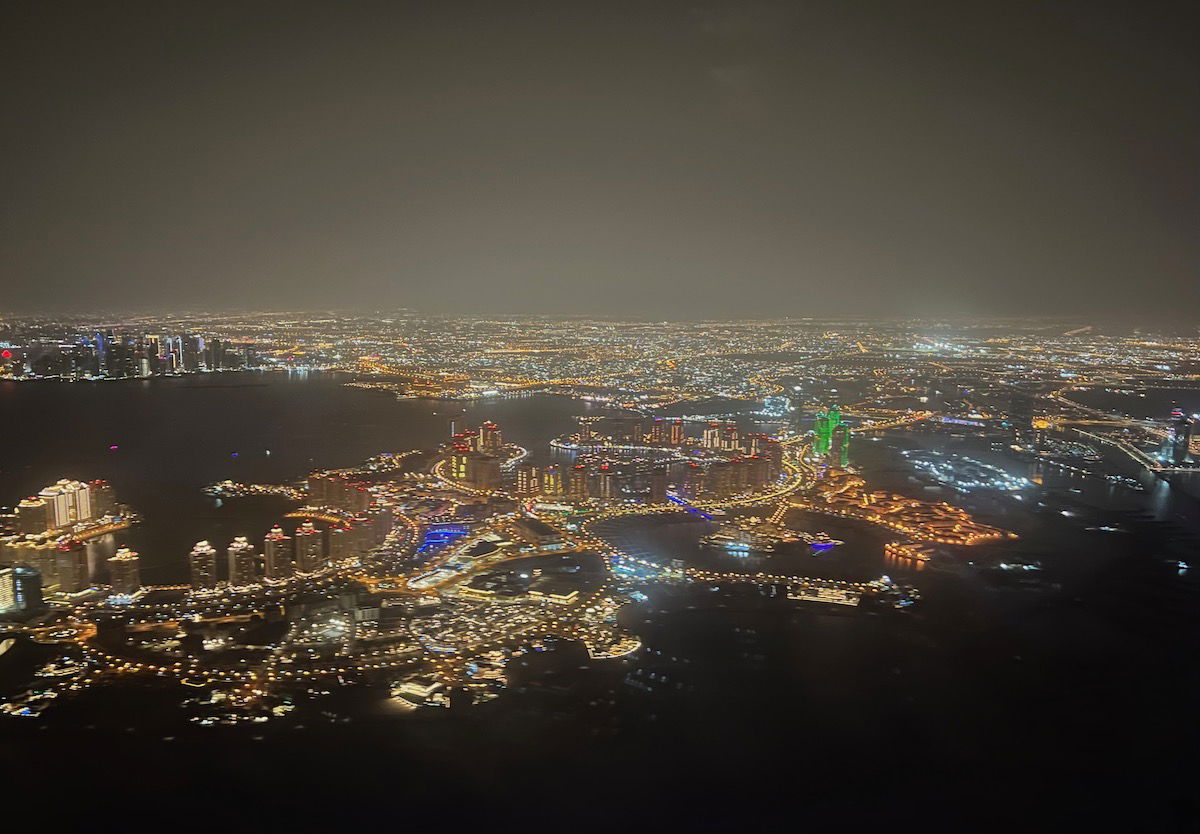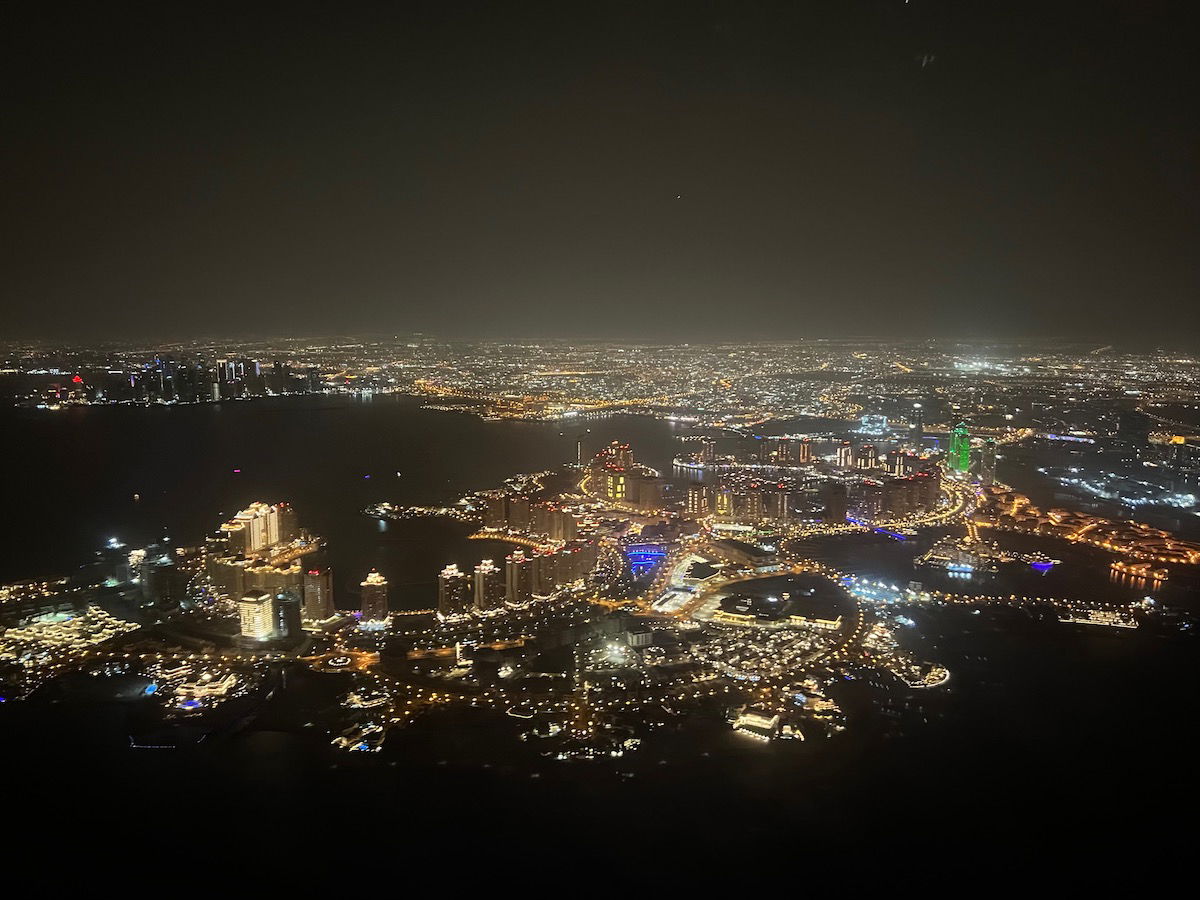 We touched down in Doha at 11:20PM. From there we had a roughly 10 minute taxi to our (remote) arrival stand, where we parked at 11:30PM. Funny enough we parked a few stands down from an Oman Air A330, as Qatar Airways is also leasing some Oman Air A330s at the moment.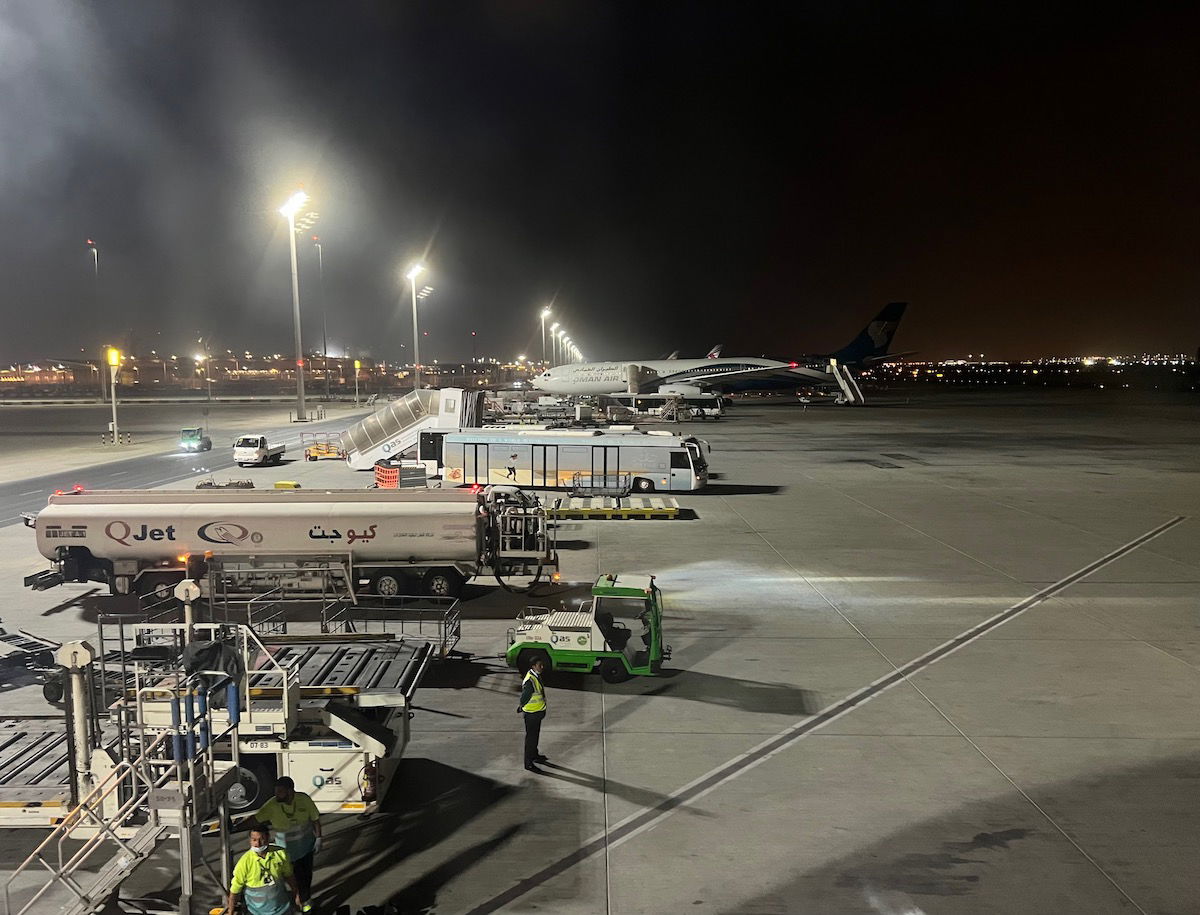 We deplaned through the second set of doors, which allowed me to take a peek into the mini business class cabin behind first class.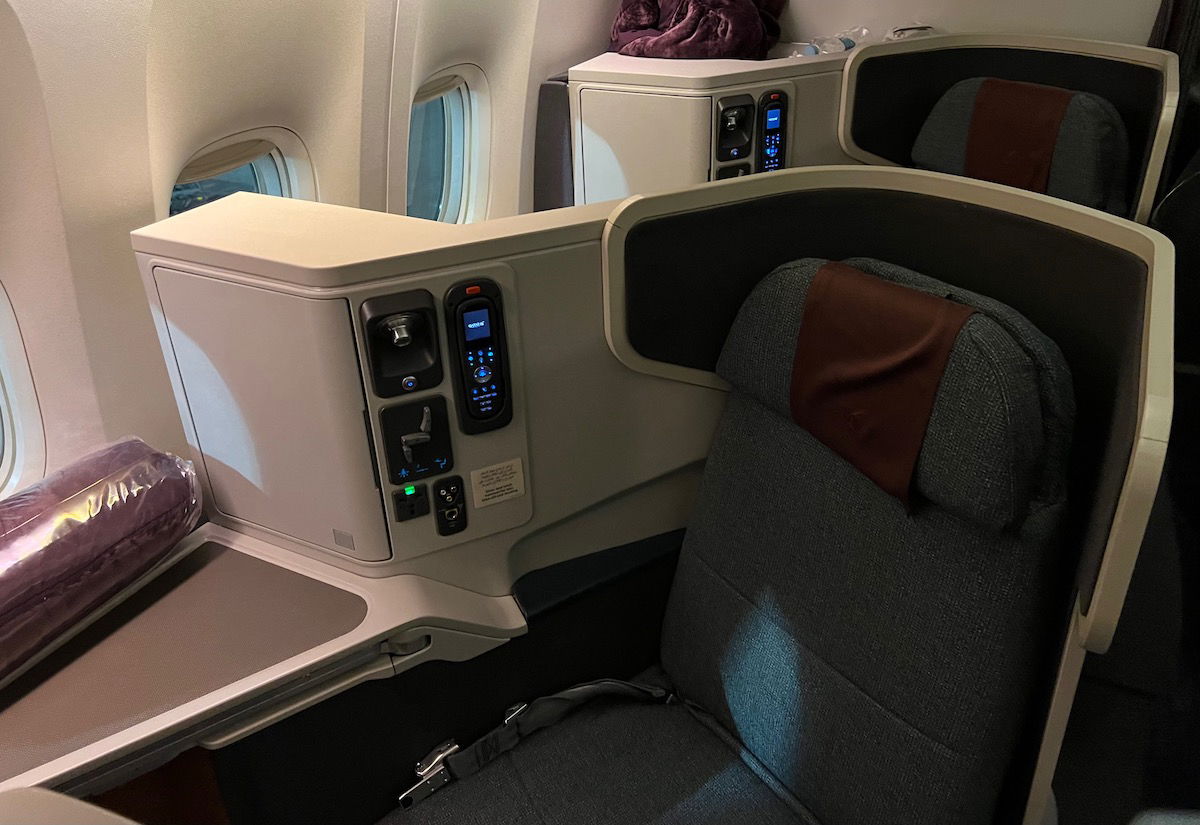 Bye, pretty bird!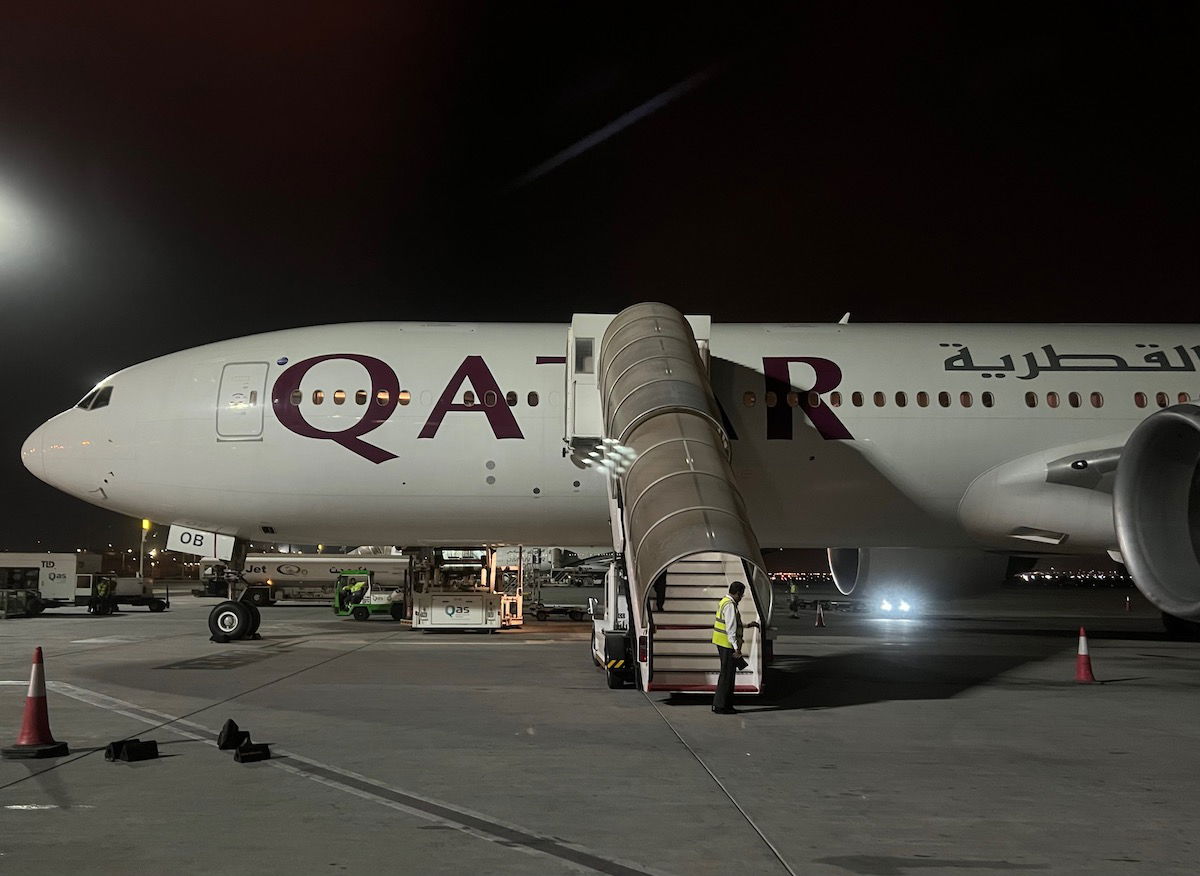 There were two separate premium buses to take passengers to the terminal, which takes the sting out of arriving at a remote stand, since at least you're not packed in like sardines.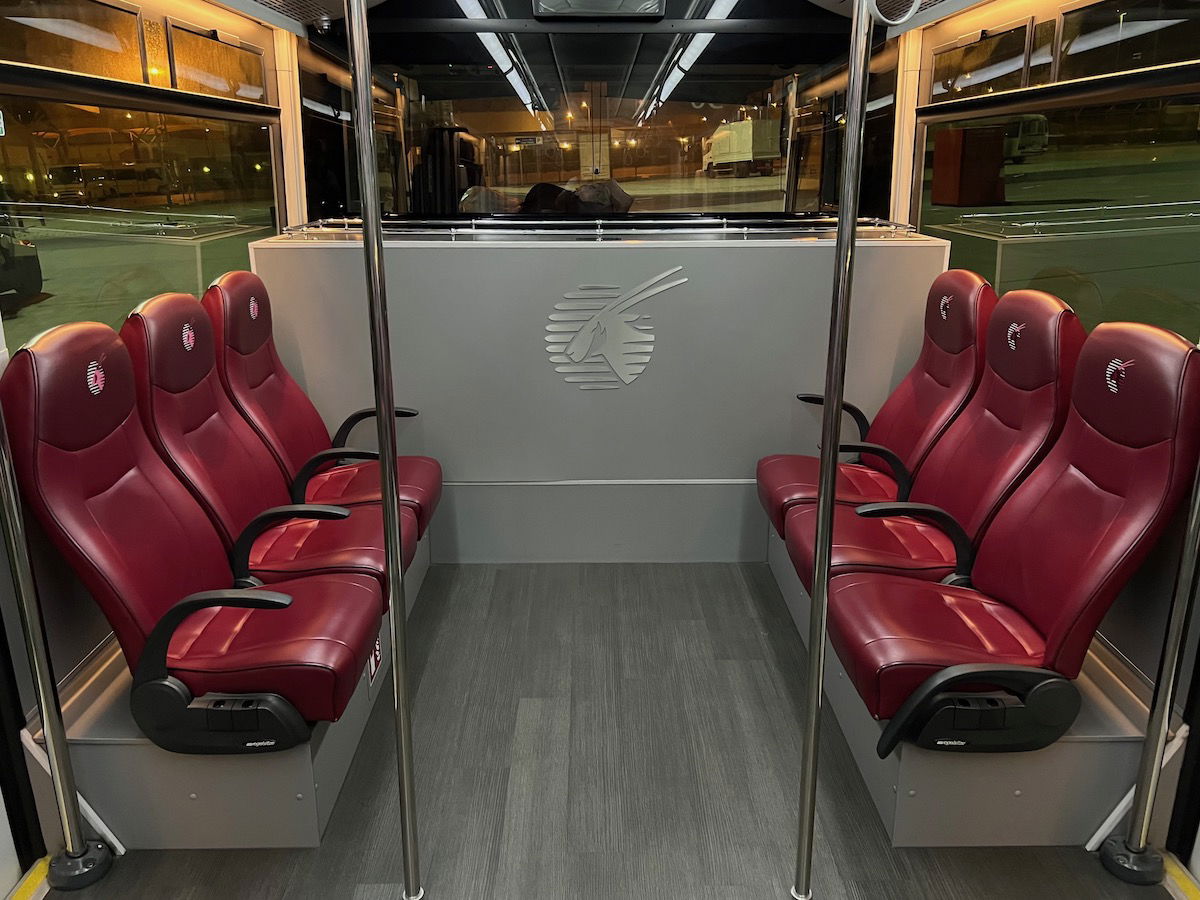 Qatar Airways has an arrivals lounge of sorts for premium passengers. When you get to the immigration hall just go to the very left, and you'll see the first & business class arrivals area. There's plenty of seating here, as well as soft drinks, water, and coffee. Then there are also dedicated immigration facilities here.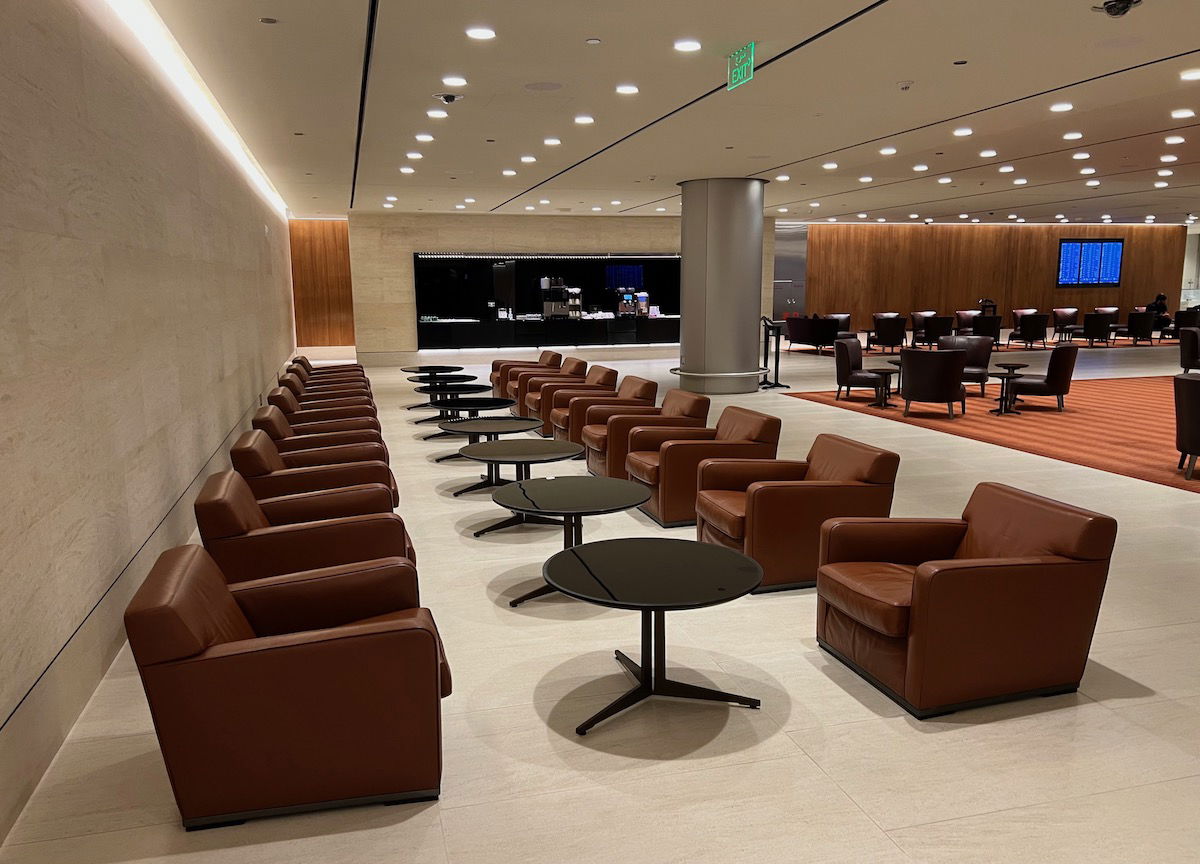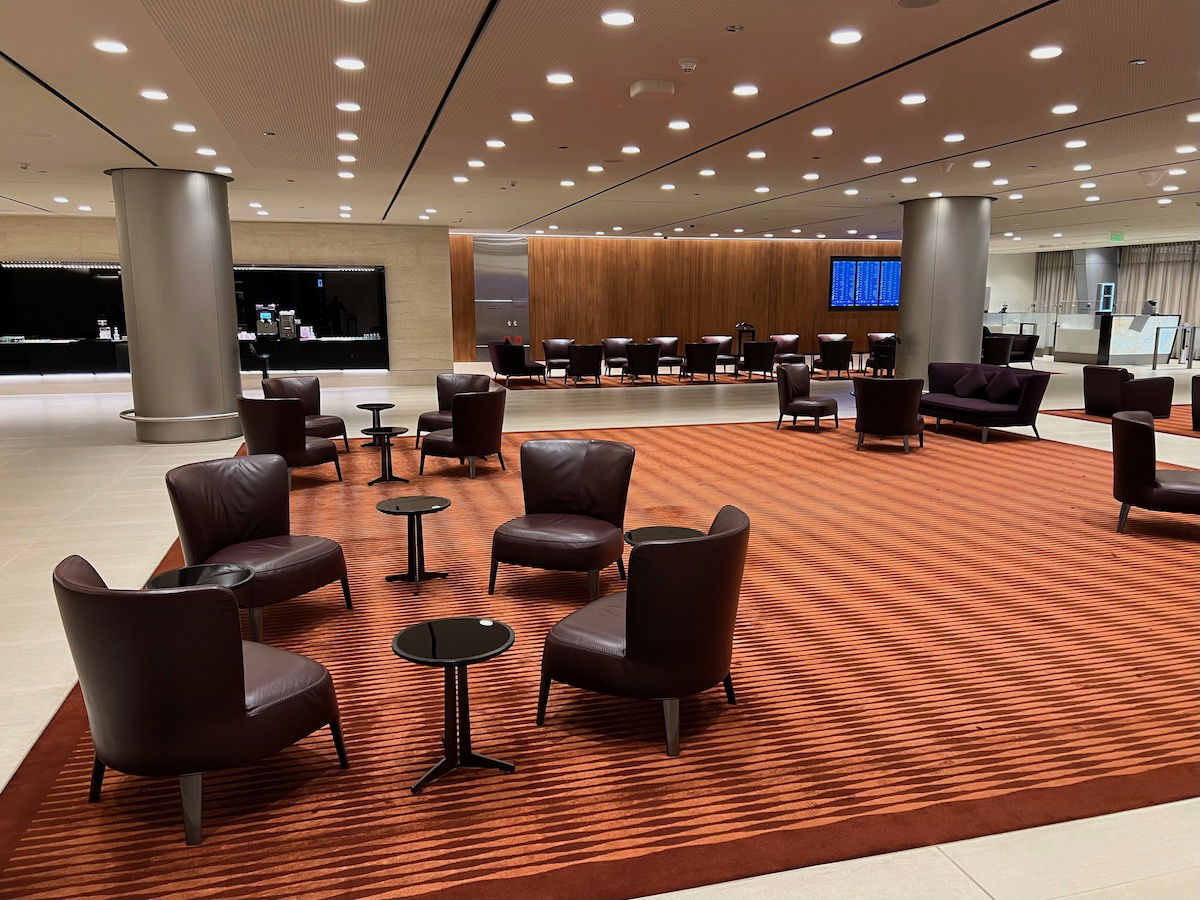 Bottom line
What an incredible flight in Qatar Airways' 777 first class. I was excited about this flight from an AvGeek perspective, if nothing else (flying a Cathay Pacific jet being operated by Qatar Airways), but everything about the Qatar Airways experience was perfection as well.
Dine on demand, 2004 Krug, caviar, pajamas, full turndown service, etc., all on a short haul first class flight? Simply amazing! The bad news is that Qatar Airways' first class footprint is very limited, as it's only otherwise available on A380s. The good news is that Qatar Airways' business class is pretty spectacular as well.
If you've flown Qatar Airways' 777 first class, what was your experience like?