For our trip to Greece, my mom, her partner, and I, crossed the Atlantic on American Airlines, flying from Charlotte to London. Our overall itinerary was Tampa to Charlotte to London to Athens, and I booked that for 57,500 American AAdvantage miles and under $30 in taxes and fees per person.
I won't write a detailed review of the transatlantic flight, since I recently reviewed American's 777-200 business class to Hawaii, so a lot of the details are similar.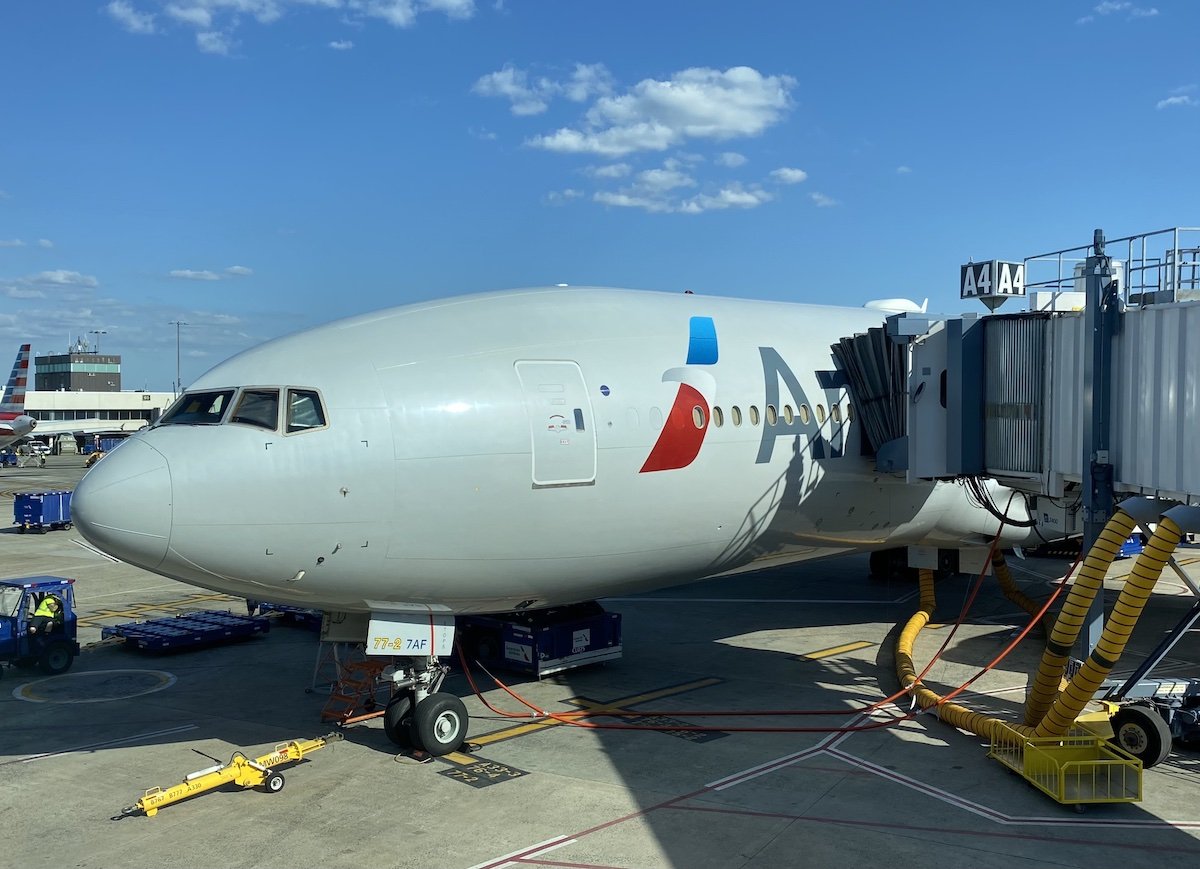 Our plane from Charlotte to London
Rather I just wanted to give American credit for what I'd consider to be a legitimately solid transatlantic business class experience, at least in these times. The way I view it, American nailed all the basics here — a great seat, solid amenities, good food, and friendly service. That last category can often be the toughest to get right, so kudos to the crew for that.
The last time I took a transatlantic flight out of Charlotte was on US Airways in 2013, and I remember the purser on that flight to this day — Miss Peggy. She was something…
Anyway, let me share the highlights of this flight below.
Reverse herringbone seats are great
We were flying an American Airlines 777-200 with Collins Aerospace reverse herringbone seats. These are comfortable seats, so it doesn't get much better than that for a 7hr55min flight. For anyone curious what transatlantic loads are like nowadays, 22 of the 37 business class seats were occupied on this flight.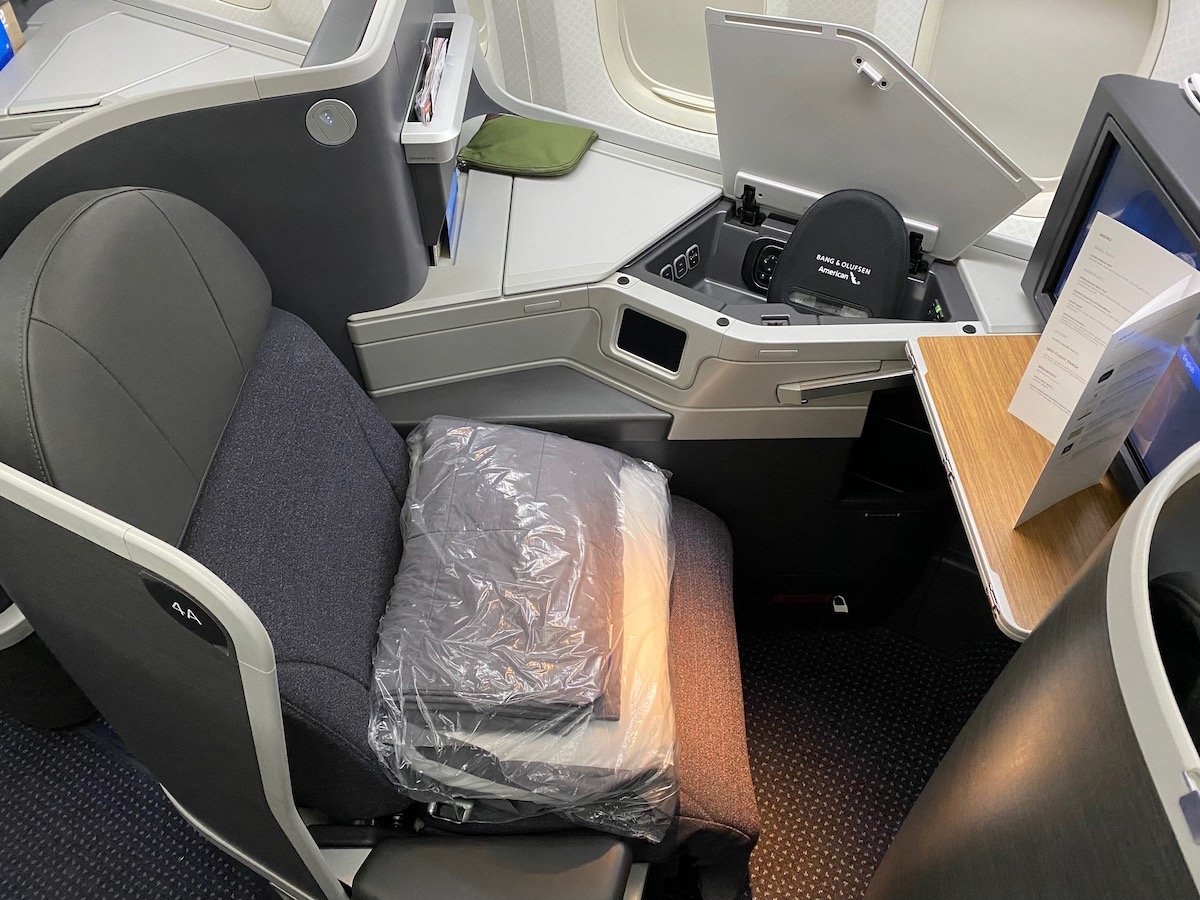 American Airlines 777-200 business class seat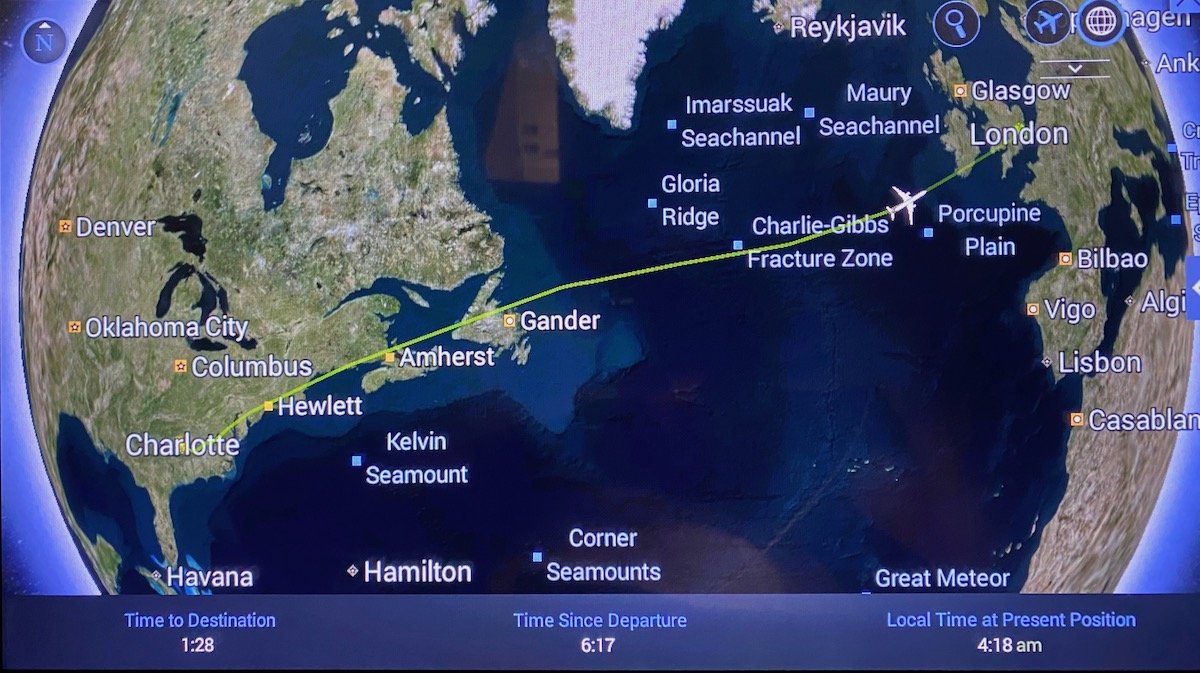 The map for our flight from Charlotte to London
Solid amenities, especially bedding
While not as good as United Polaris long haul bedding, American's Casper bedding is excellent, with a large pillow and cozy blanket.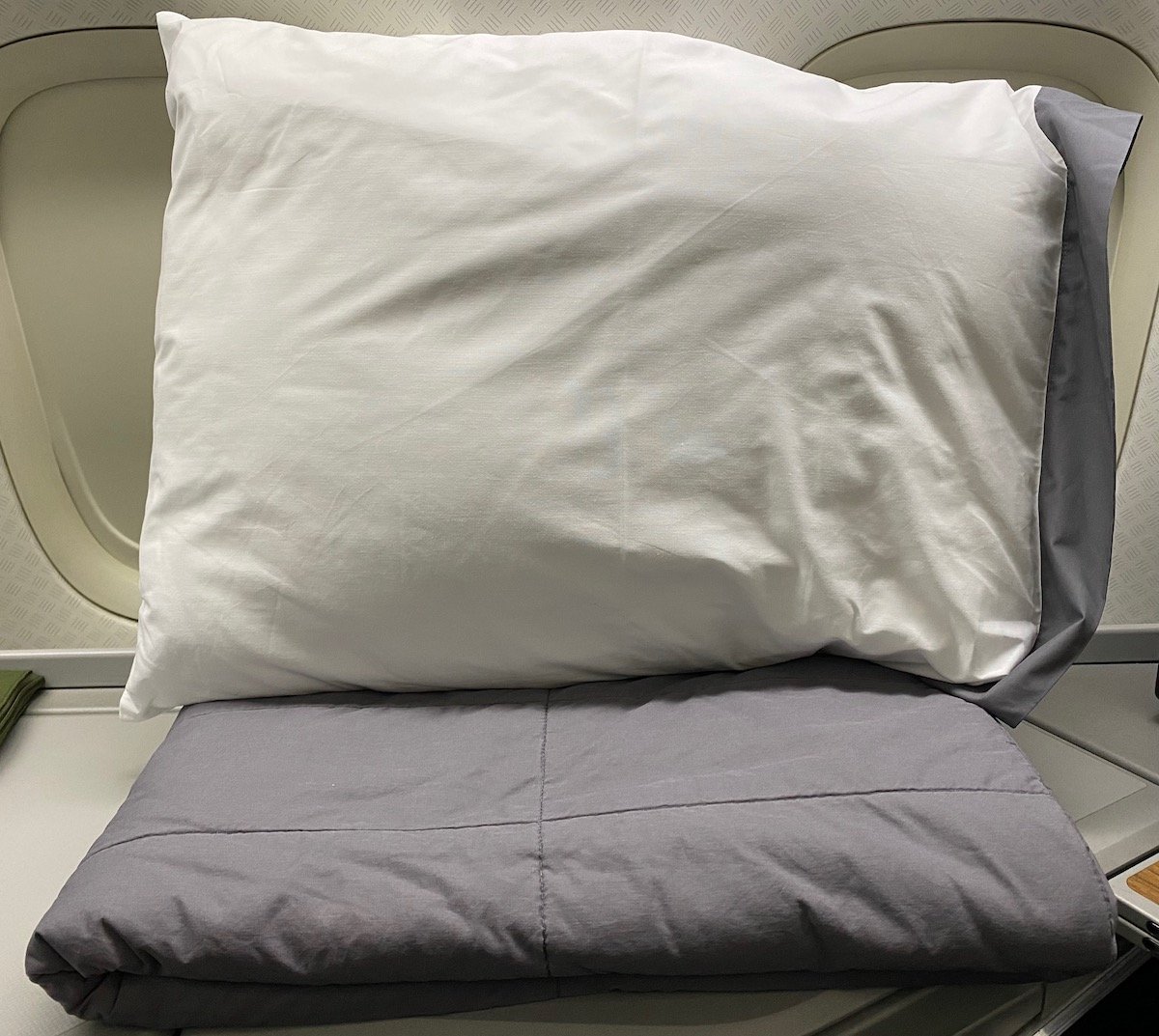 American Airlines business class bedding from Casper
The Bang & Olufsen headphones are also decent, for anyone who likes to use airplane inflight entertainment (which I rarely do, other than to keep an eye on the map).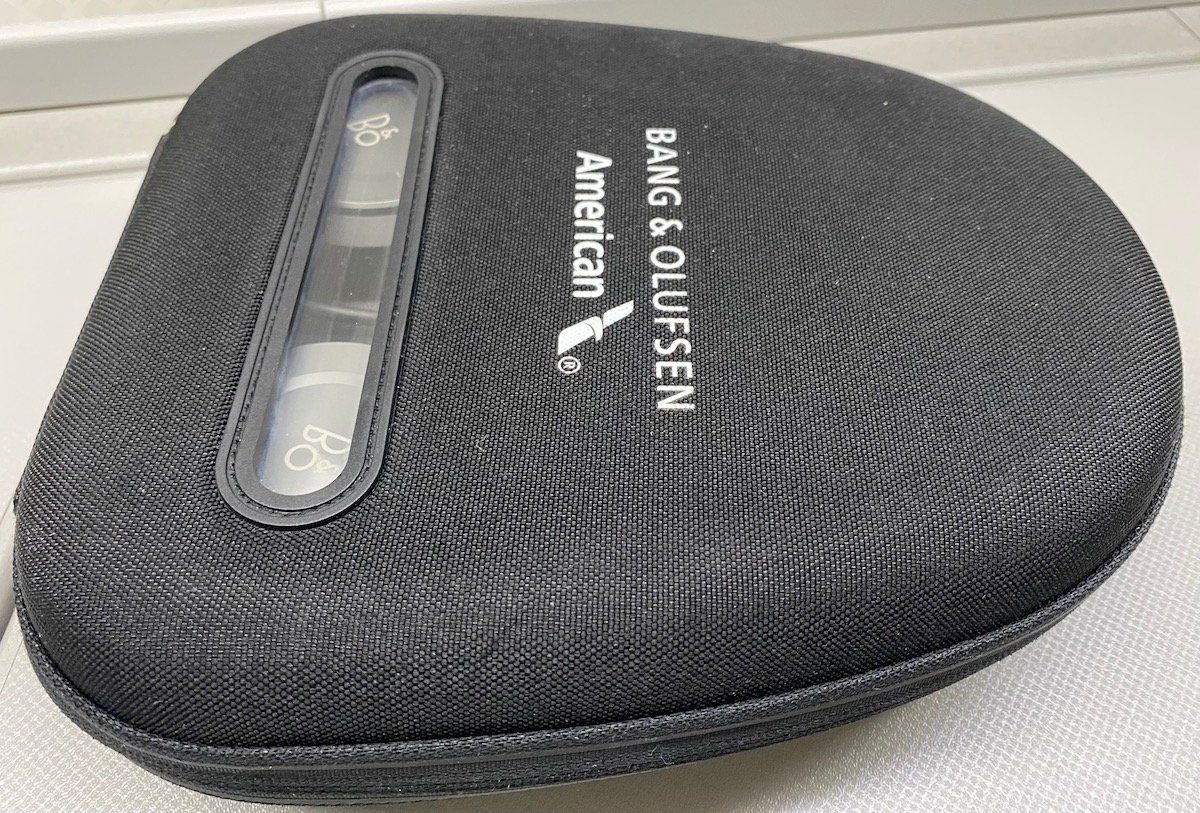 American Airlines business class headphones from Bang & Olufsen
My flight also had American's brand new amenity kits from Shinola, which seemed mighty unremarkable to me.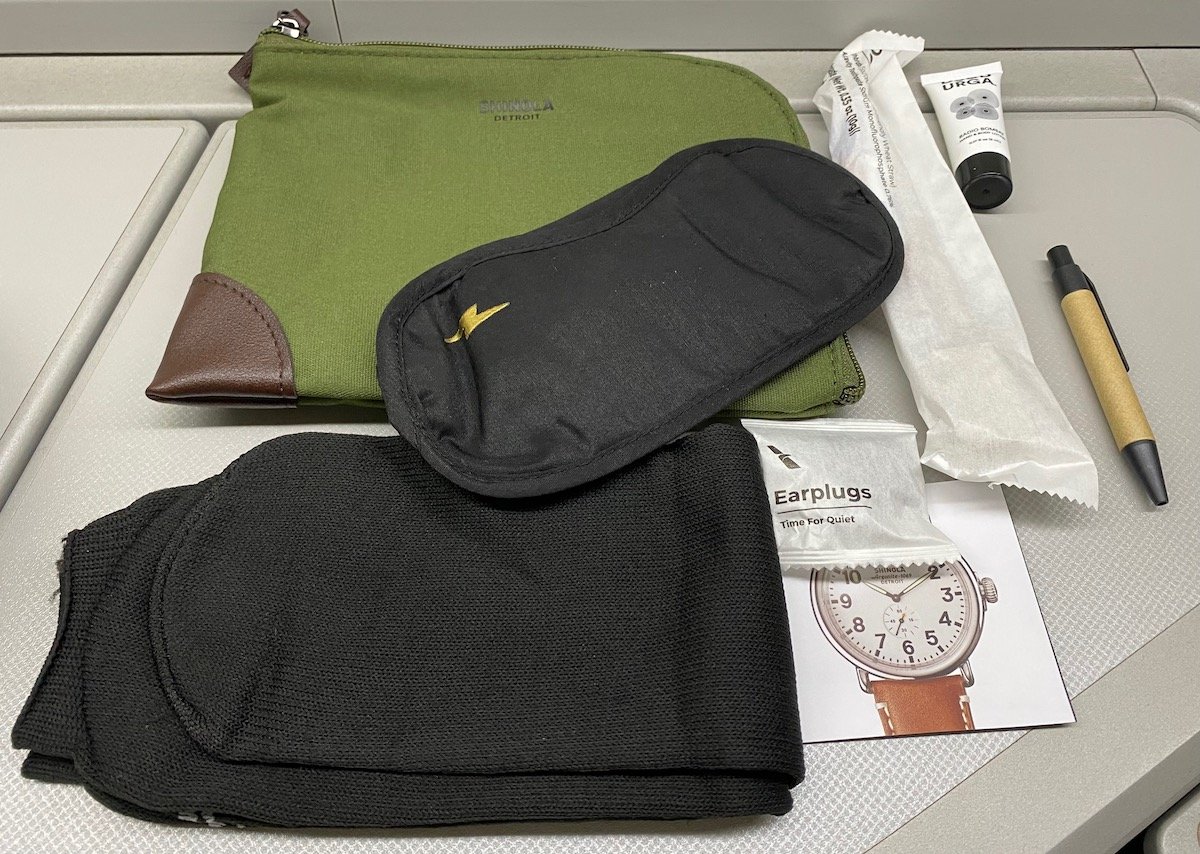 American Airlines business class amenity kit from Shinola
Surprisingly good food
Here was the menu for our flight: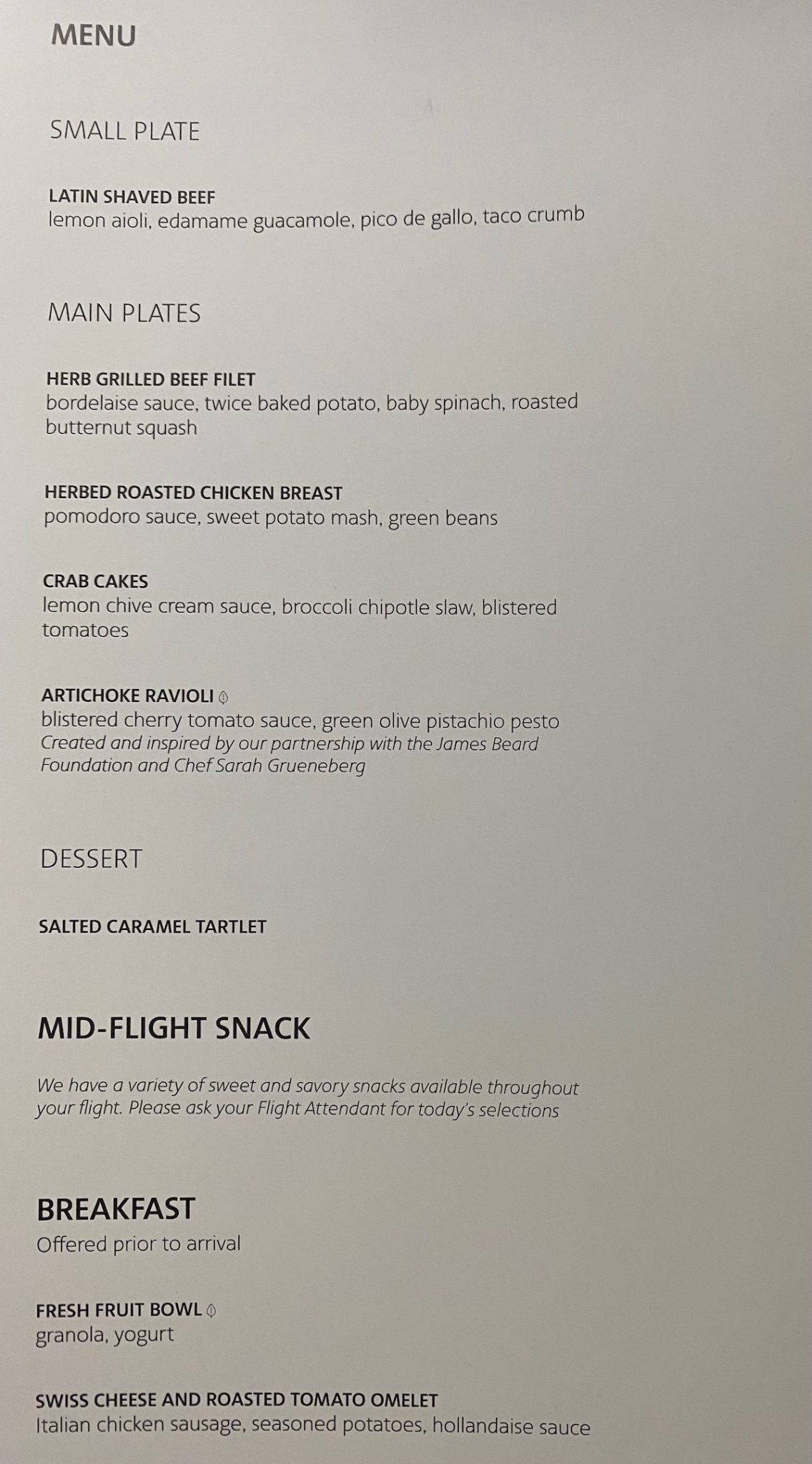 And then here was the drink list: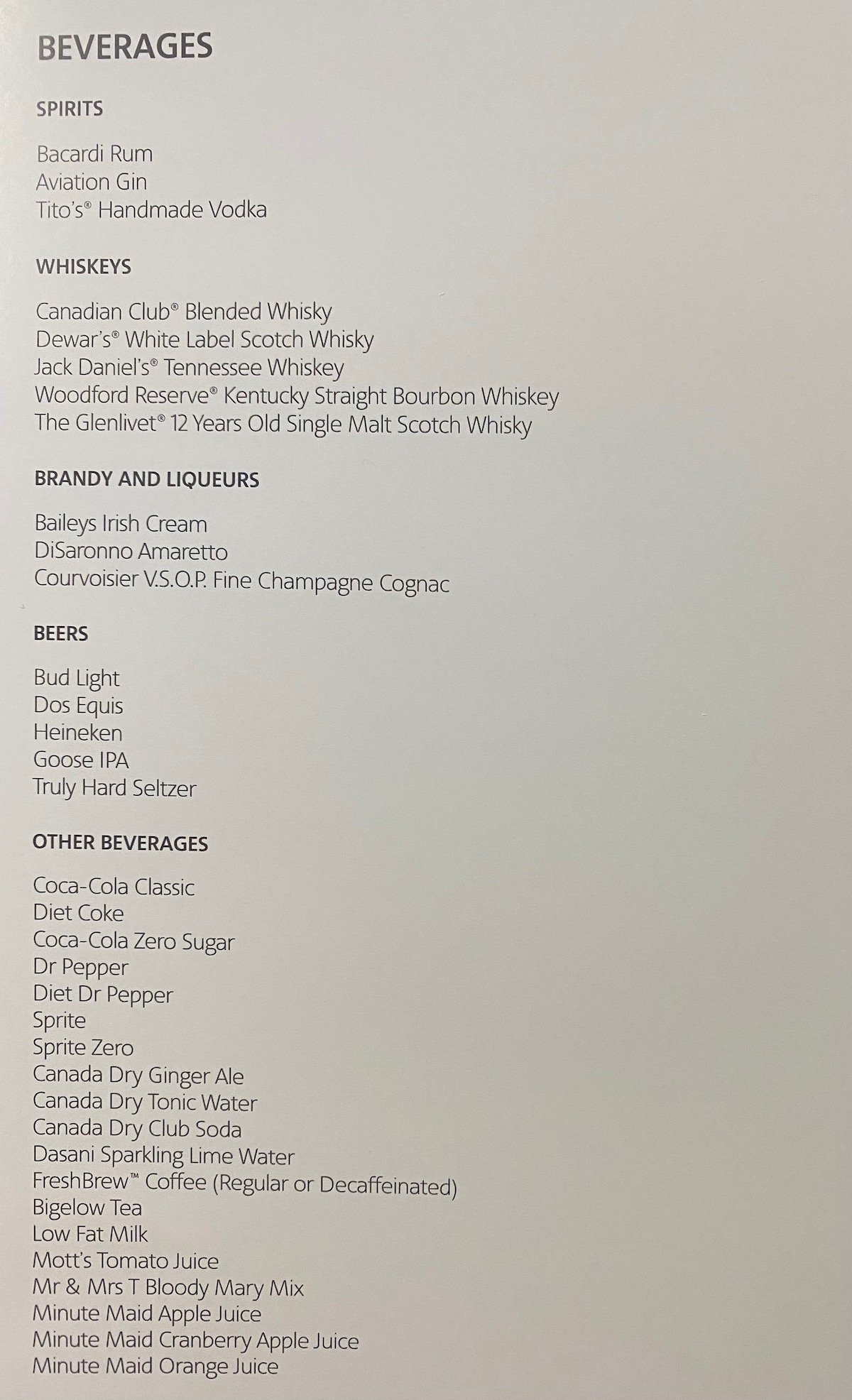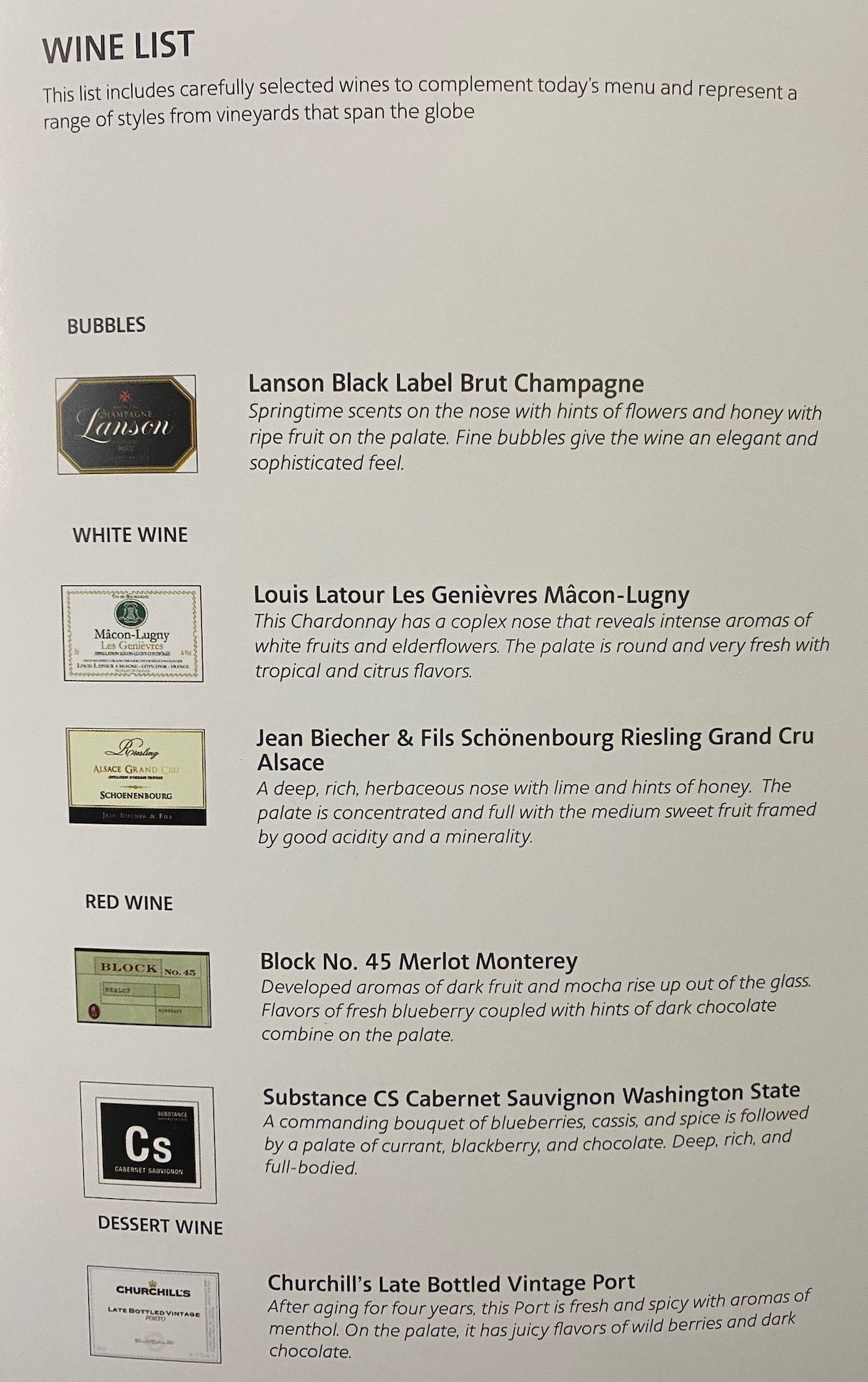 Service began shortly after takeoff with drinks and packaged mixed nuts. I don't usually drink when flying with US airlines, but when I saw Lanson champagne on the menu, I figured I'd order a glass. I mainly just ordered it on principle — I feel like if there's a drinkable wine option on American then you might as well seize the moment, since it's anyone's guess when that will happen again. 😉
American continues to use plastic cups, though at least the pours were generous.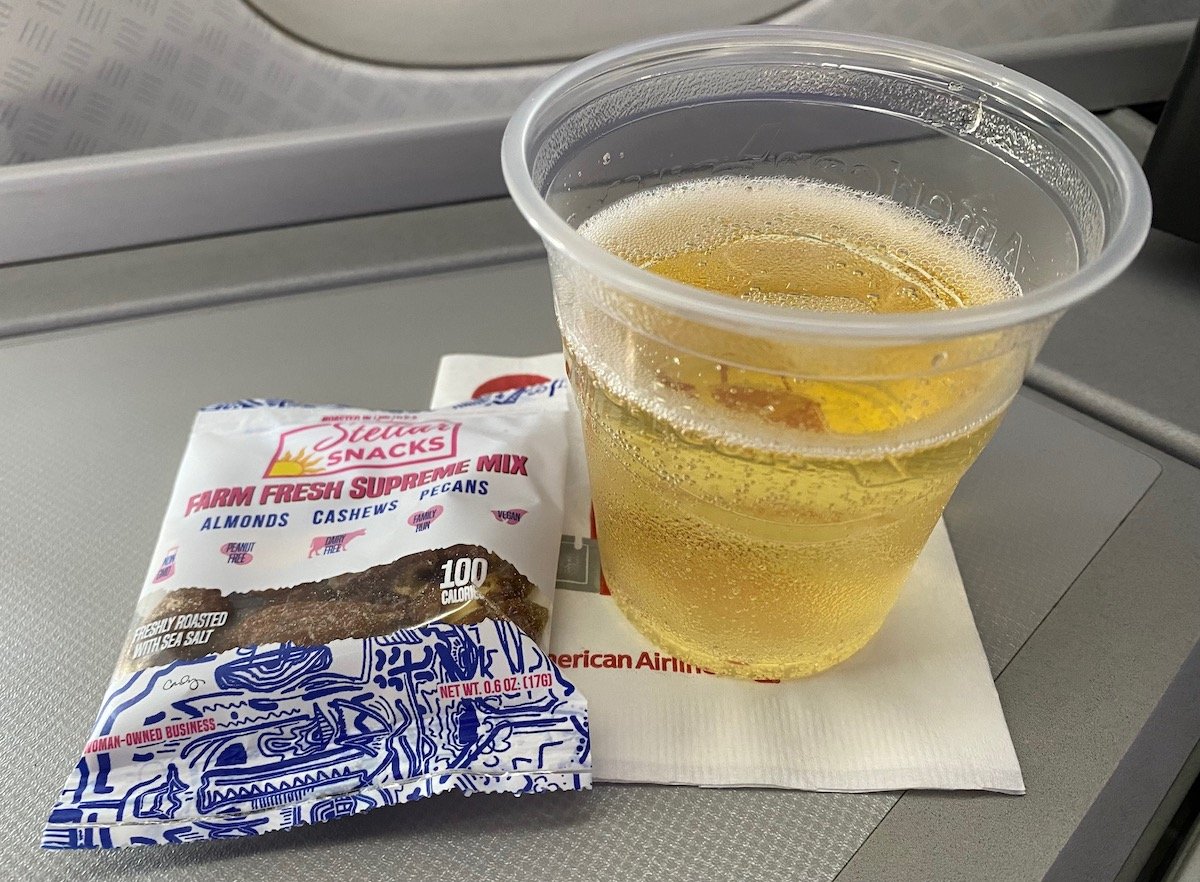 American Airlines business class drinks & nuts
Dinner was served soon after takeoff, and the entire dinner service was on one tray. I appreciate that American lets you pre-order your meals, so you can be guaranteed that you'll get your first choice.
Everything was served wrapped, as is standard nowadays. I think I'm a fan of the one tray service on a short transatlantic flight, and I almost hope it sticks around, as it really expedites service.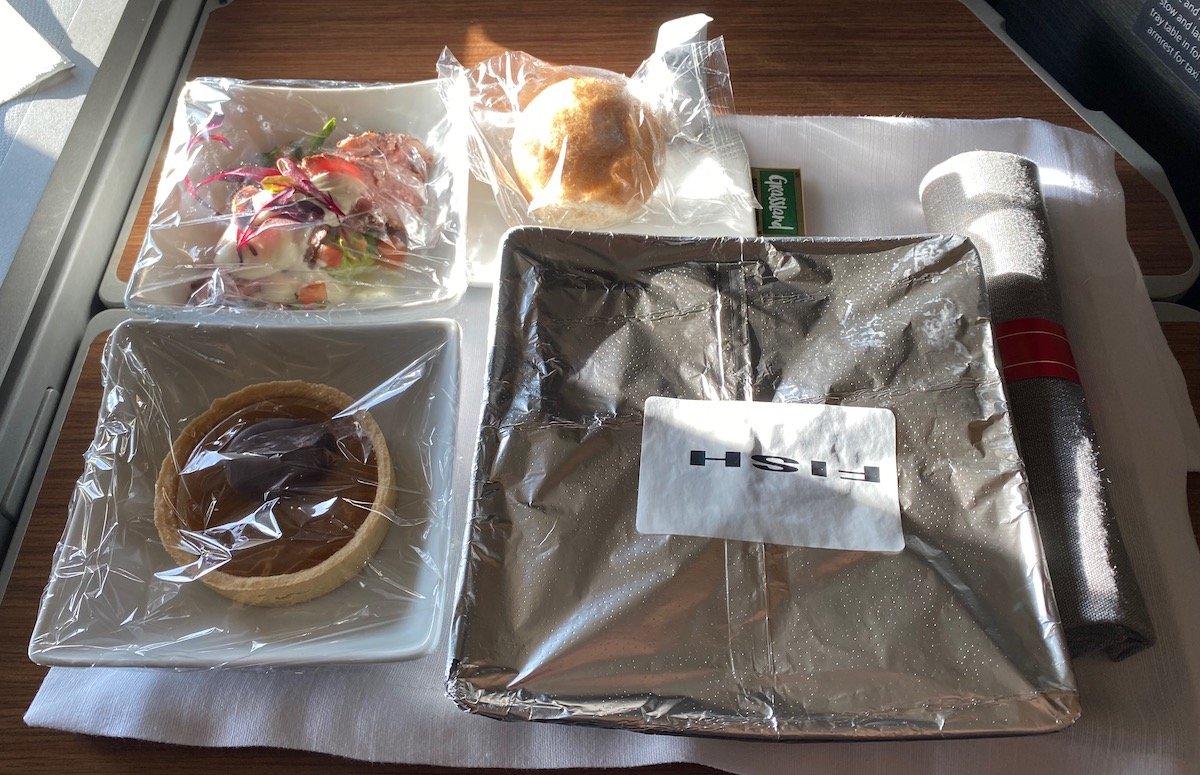 American Airlines business class dinner
I've gotta say, the food was very good.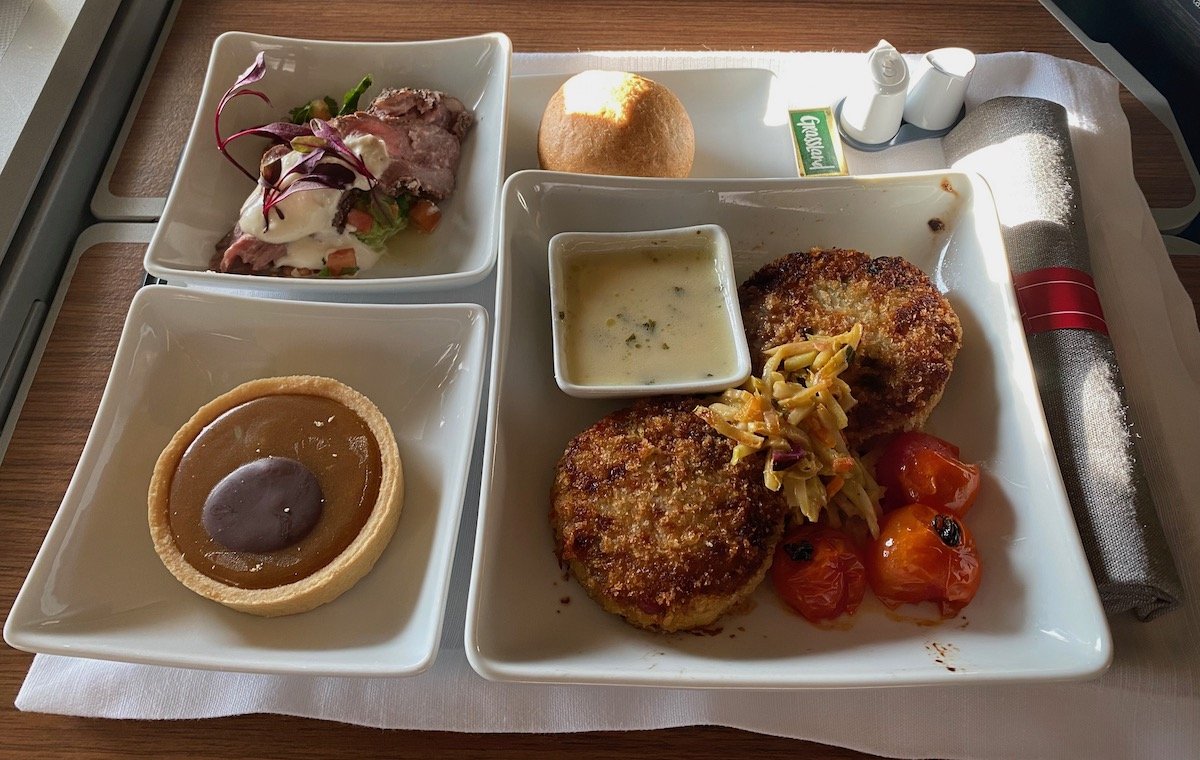 American Airlines business class dinner
The starter consisted of shaved beef with lemon aioli, edamame guacamole, and pico de gallo. There was a packaged bread roll to go along with it, which was warm and surprisingly soft.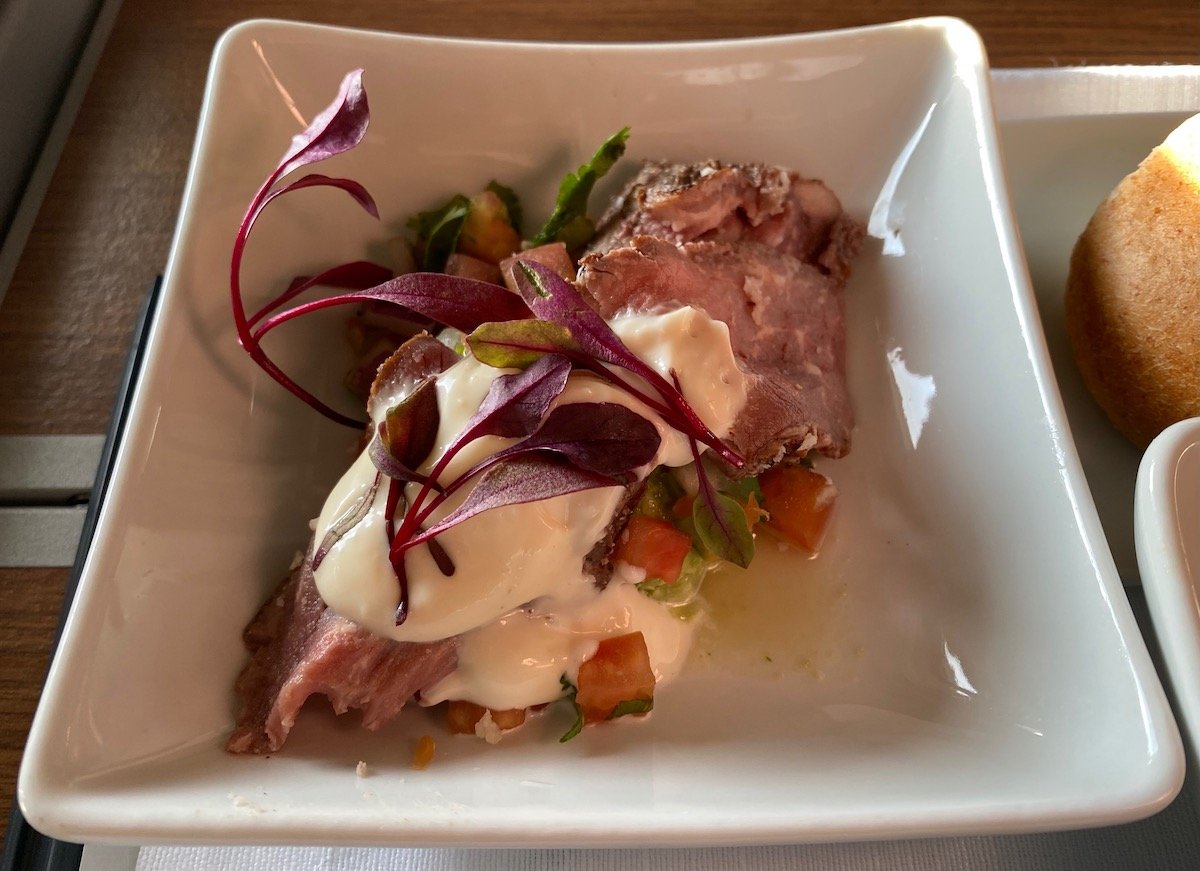 American Airlines business class dinner appetizer
I decided to be ballsy with my main course order, and selected the crab cakes with lemon chive cream sauce, broccoli chipotle slaw, and blistered tomatoes. While I feel like crab cakes could go very wrong on a plane, they were legitimately decent — I'd be happy if I were served these at a mediocre restaurant (that's meant to be a compliment, just to be clear).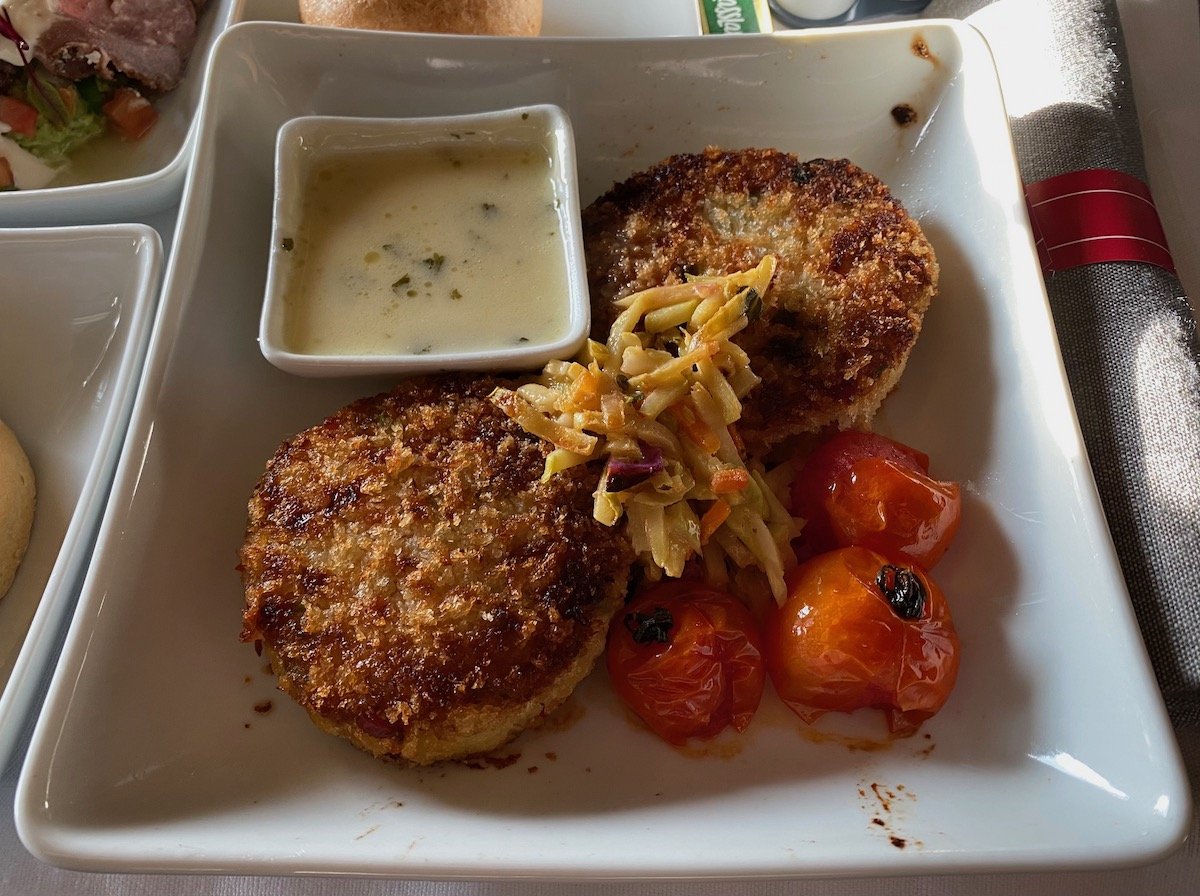 American Airlines business class dinner main course
For dessert there was a salted caramel tartlet, which was also good.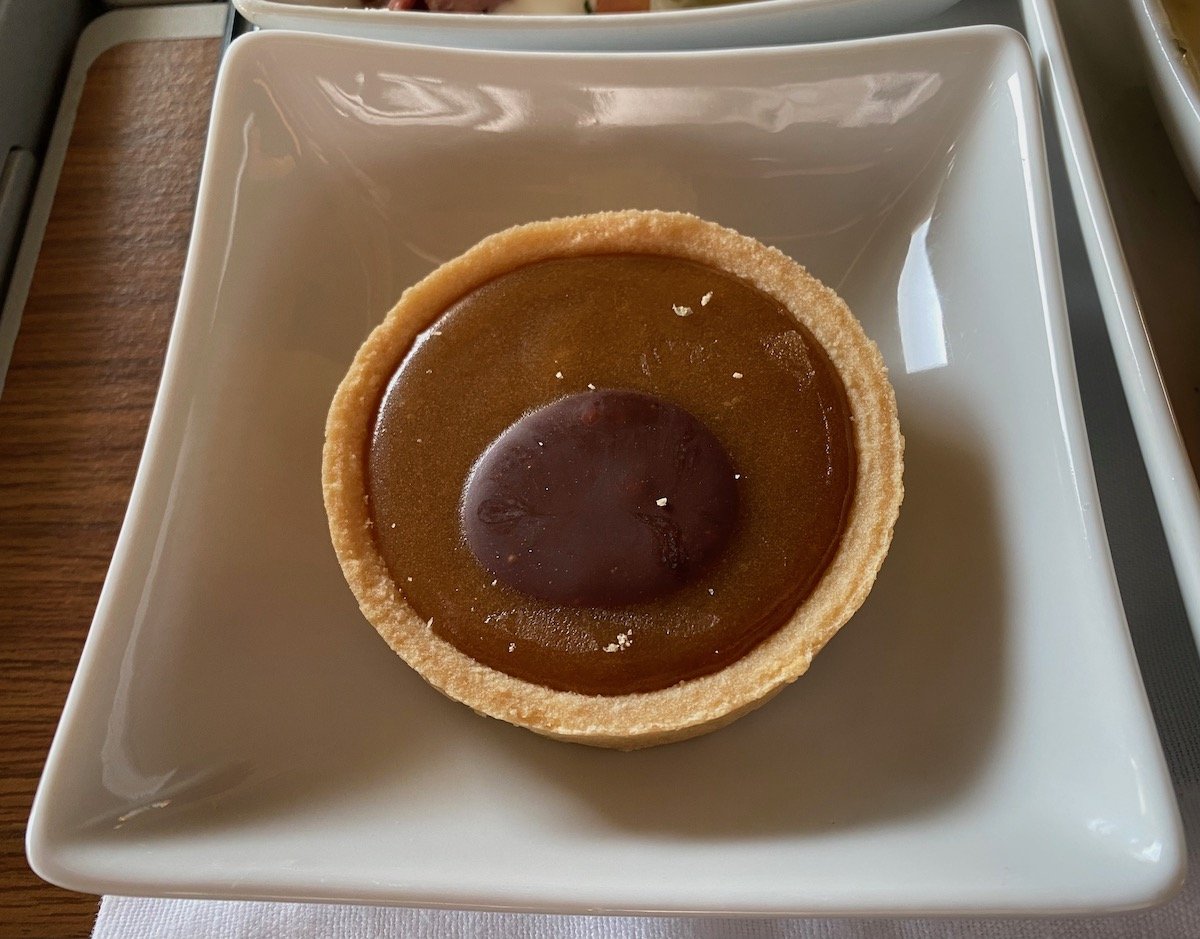 American Airlines business class dinner dessert
About 75 minutes before landing breakfast was served, with the choice of a continental breakfast or an omelet. I selected the continental breakfast, which had a nicely varied fruit plate, granola, and yogurt. I skipped the croissant, which was hard.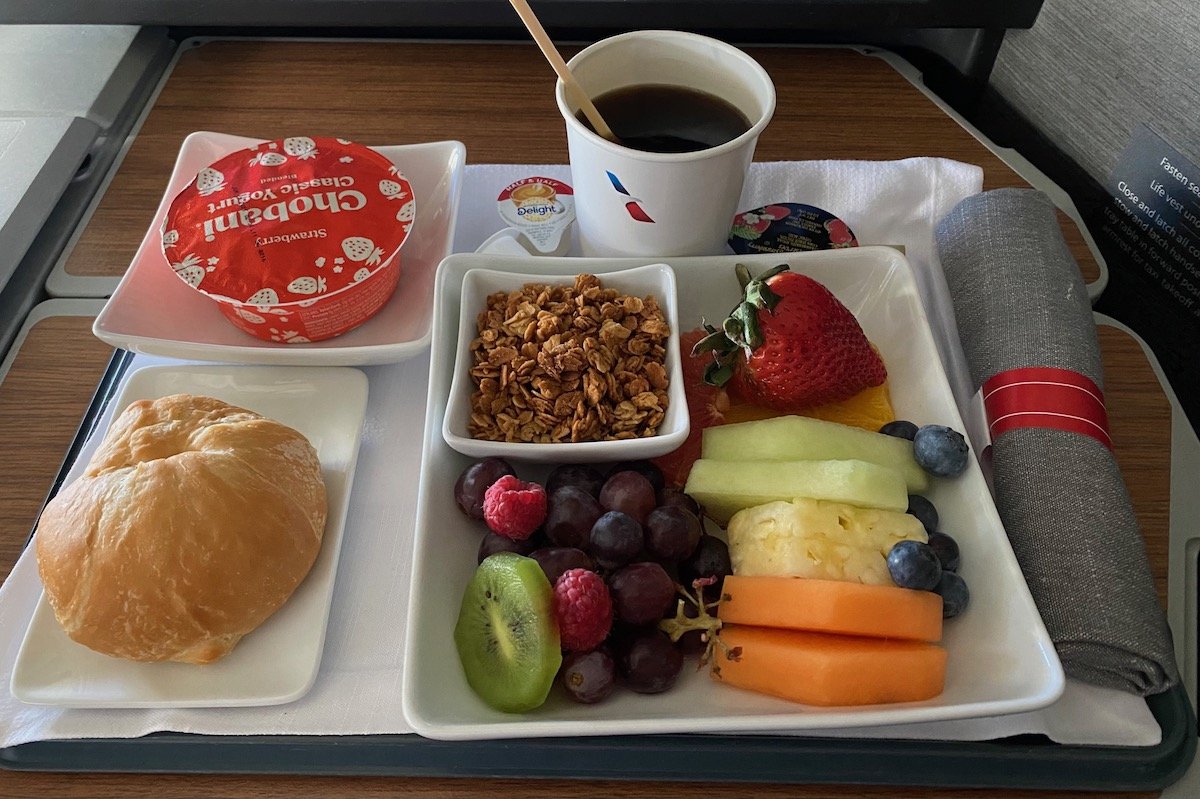 American Airlines business class breakfast
Friendly & professional service
Ultimately a crew can make or break a flight, and this crew couldn't have been lovelier. The ladies working business class were professional, friendly, informal, playful, and really seemed to enjoy their jobs, and that's always so nice to see.
Often it's the smallest things that make a difference. For example, on my United flight from Maui to Chicago a couple of weeks ago, the flight attendant took meal orders as follows, without any sort of greeting:
"For dinner tonight do you want grilled chicken breast, rice, and vegetables, or cheese ravioli?"
On this flight the purser Lisa took meal orders as follows:
"Mr. Schlappig, it's nice to have you flying with us this evening. Have you had a chance to look over the menu? I see that you've pre-ordered the crab cakes, is that still what you'd like to have?"
Airlines in the USA will never be able to compete with Singapore Airlines and Qatar Airways when it comes to consistent and professional service. However, what they can do is strike a great balance between being genuine, fun, and professional, and this crew did exactly that. Kudos.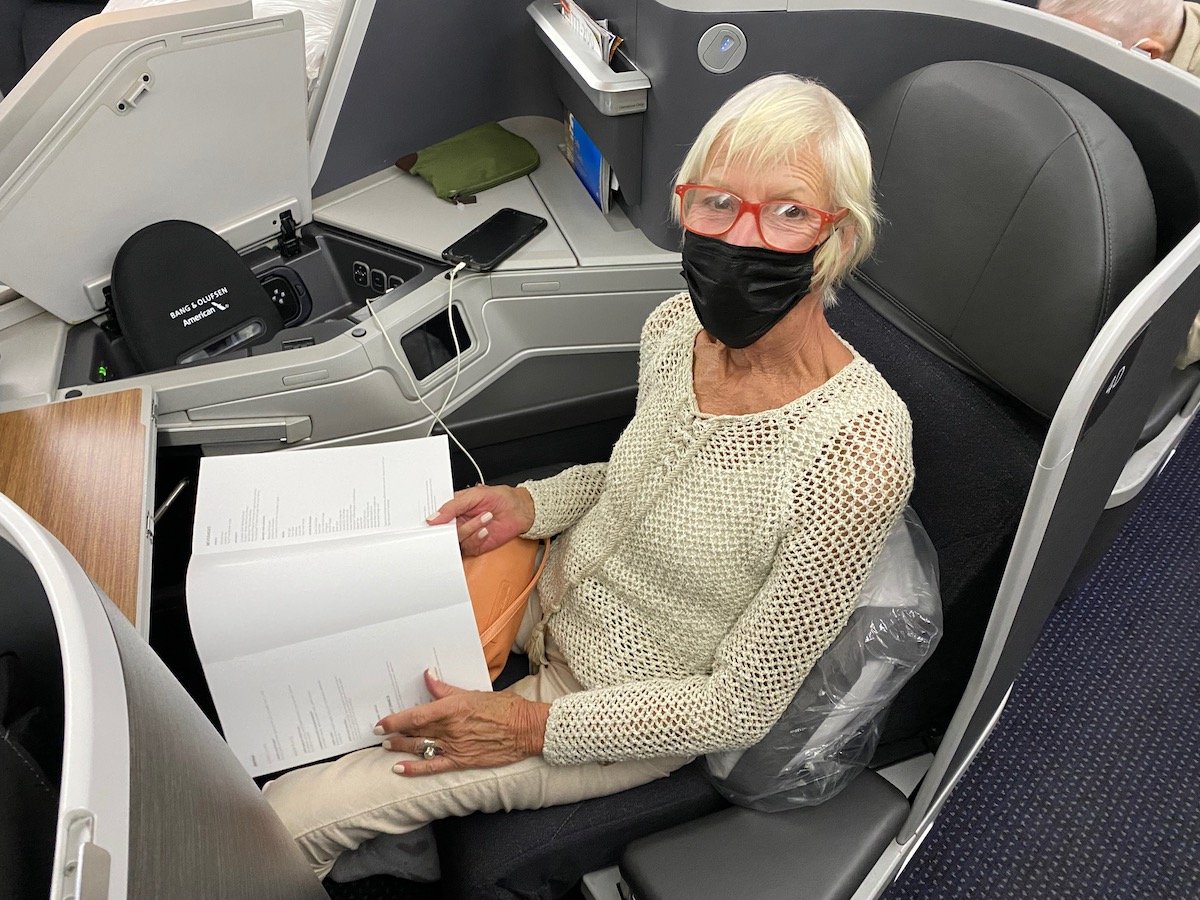 The crew took great care of my mom!
Bottom line
On a good day, American Airlines can be really competitive across the Atlantic. You always get excellent flat bed seats with direct aisle access, along with solid bedding. The rest of the experience is consistently inconsistent.
Fortunately on this flight we lucked out, with great food, excellent champagne, and an absolutely lovely crew. If only American were always this good.
Oh, shoot, I totally forgot to mention the one thing (completely outside of the crew's control) that ended this flight on a sour note. I'll save that for the next post.