We spent our entire week in Crete at two Marriott Luxury Collection properties — we spent our first four nights at Domes Zeen Chania, and we spent our last three nights at Blue Palace Elounda. In this post I wanted to review the latter hotel in detail.
How & why I booked Blue Palace Elounda
For our time in the northeast of Crete (near Heraklion) I tried to decide between two properties — Blue Palace Elounda, a Marriott Luxury Collection property, and Domes of Elounda, a Marriott Autograph Collection property.
I ended up pretty easily deciding on Blue Palace Elounda. Why? As a Starwood Preferred Guest loyalist back in the day, I remember this hotel always being on SPG's homepage (anyone else remember it?), so I figured it was time to finally visit. I also had friends who had stayed at the property, and had good things to say.
Since we were visiting early in the season, paid rates were still quite reasonable (at least relatively). I decided to book two rooms for 280 EUR each. This rate included some extra perks, like complimentary breakfast and a daily 50 EUR credit per room, so I feel like we got a pretty solid deal. In peak season this hotel can be significantly more expensive.
As a point of comparison, Blue Palace Elounda is a Category 8 Marriott Bonvoy property, meaning a free night redemption costs anywhere from 75,000 to 100,000 points per night, depending on whether it's off-peak, standard, or peak. Based on my valuation of 0.7 cents per Bonvoy point, paying cash was a no-brainer in this case.
Blue Palace Elounda location
Blue Palace Elounda is about an hour drive from Heraklion, which is Crete's biggest city. I don't necessarily view that as a key attraction of staying here, but rather you come to this hotel to enjoy the resort, and the beautiful scenery around it.
The hotel is just a five minute walk from the small village of Plaka. This village is right on the water, and has a variety of cute fish restaurants, so it's a convenient dining alternative to the resort.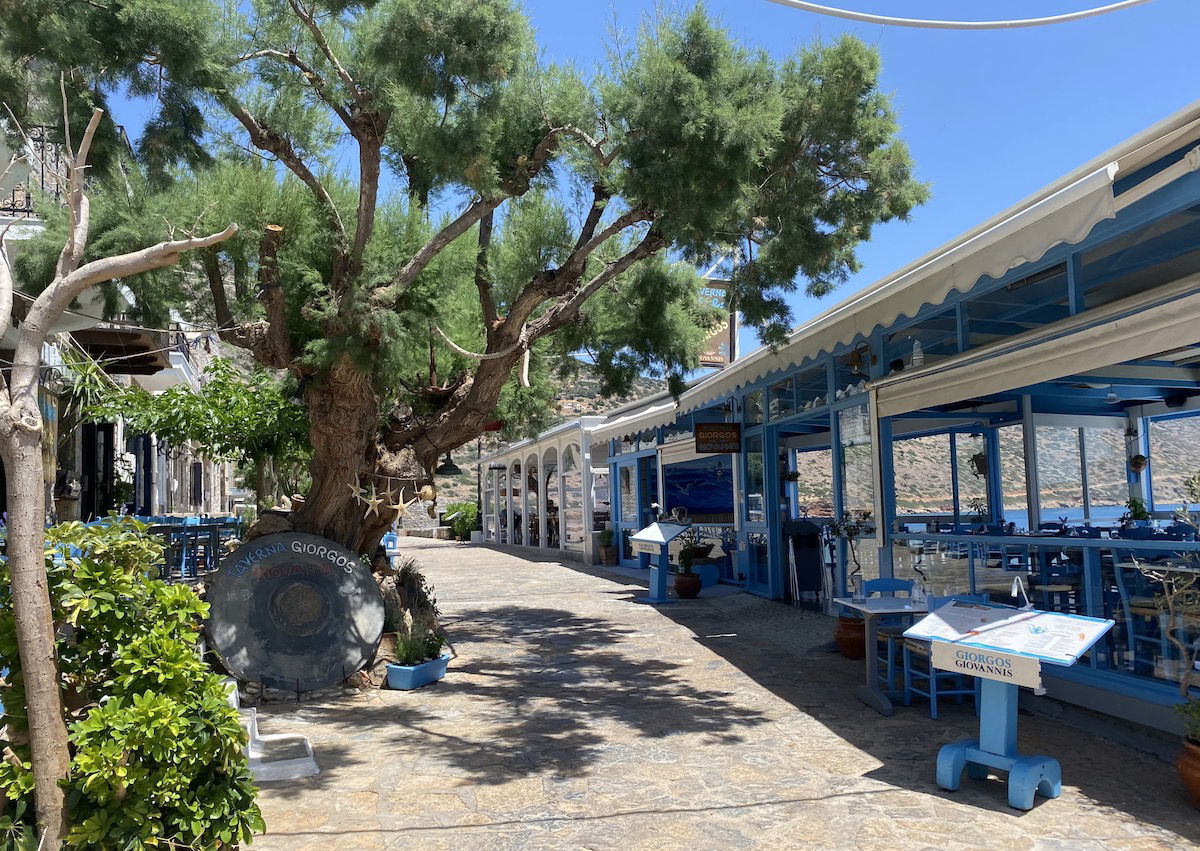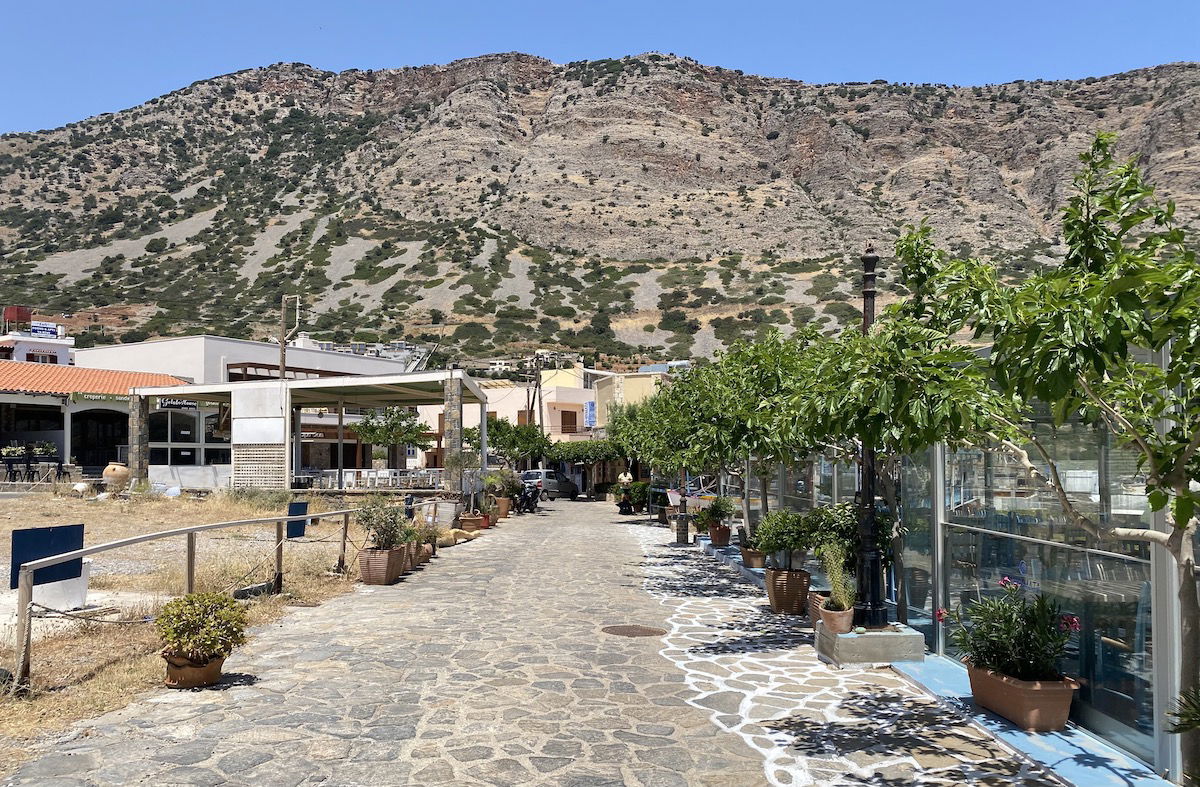 One of the main attractions in the area is Spinalonga, a 20th century leper colony, which can now be visited. You have views of it from all parts of the resort, and a lot of tourists come into town to be able to visit this. It's just a short five minute boat ride from Plaka or the resort, so it's easy to access.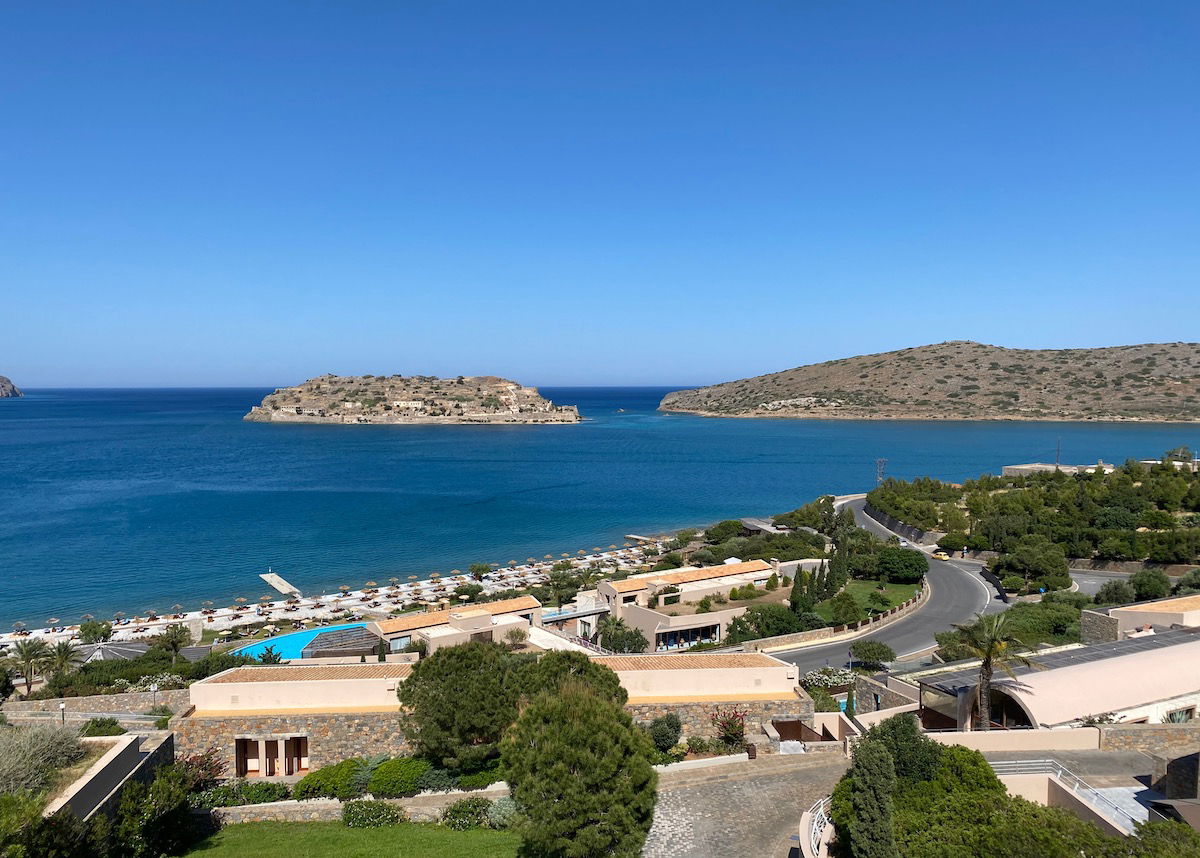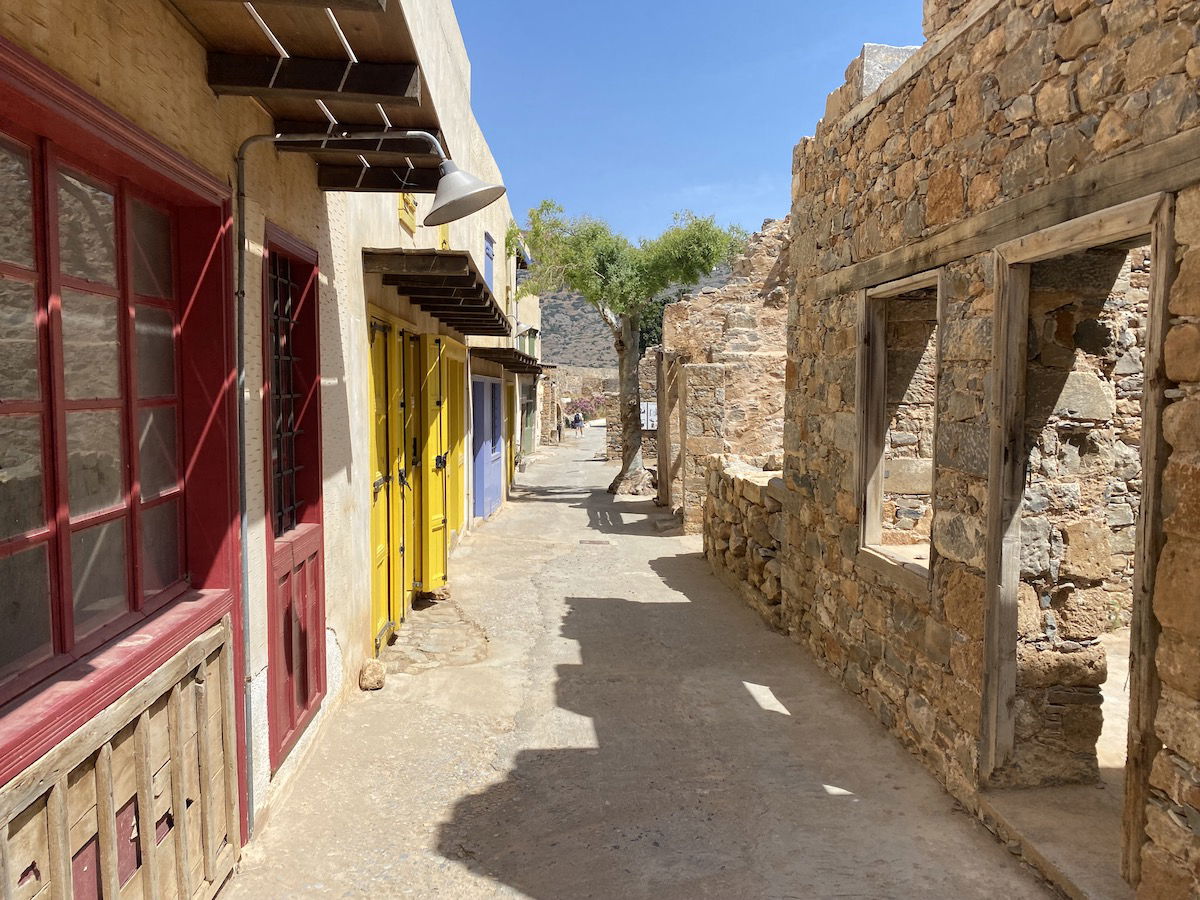 Mainly we just had an incredible time driving around the area. The views are stunning, and we largely just drove aimlessly and saw where the roads took us.
Blue Palace Elounda property layout
The 255-room Blue Palace Elounda is a huge property, at 143 acres. The rooms are spread across over a dozen buildings, so you never feel like you're in a crowded resort, even though there could be 500+ guests staying here at once.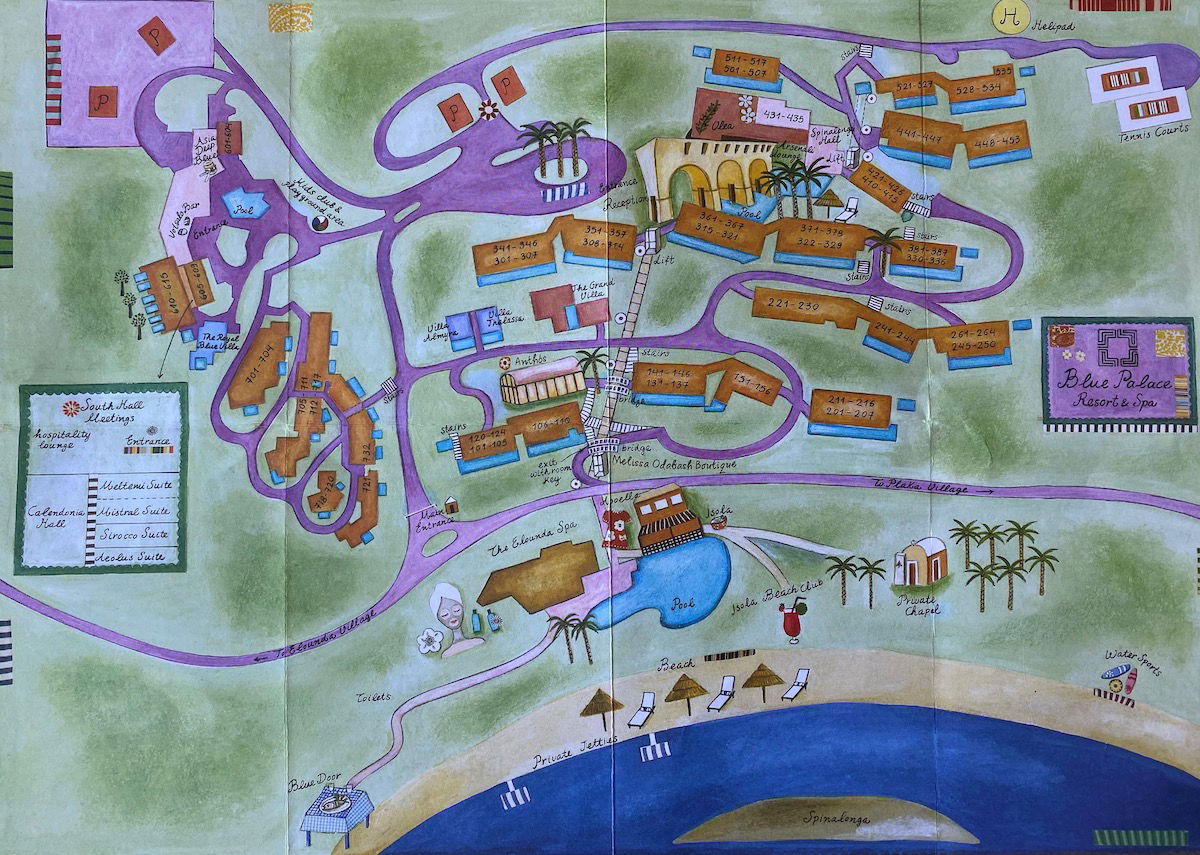 While you can walk between all parts of the property, there's also a funicular between the upper and lower level of the property — the upper level has most of the rooms, the lobby, two of the pools, and some of the restaurants, while the lower level has one another pool, the beach, the spa, and some of the restaurants.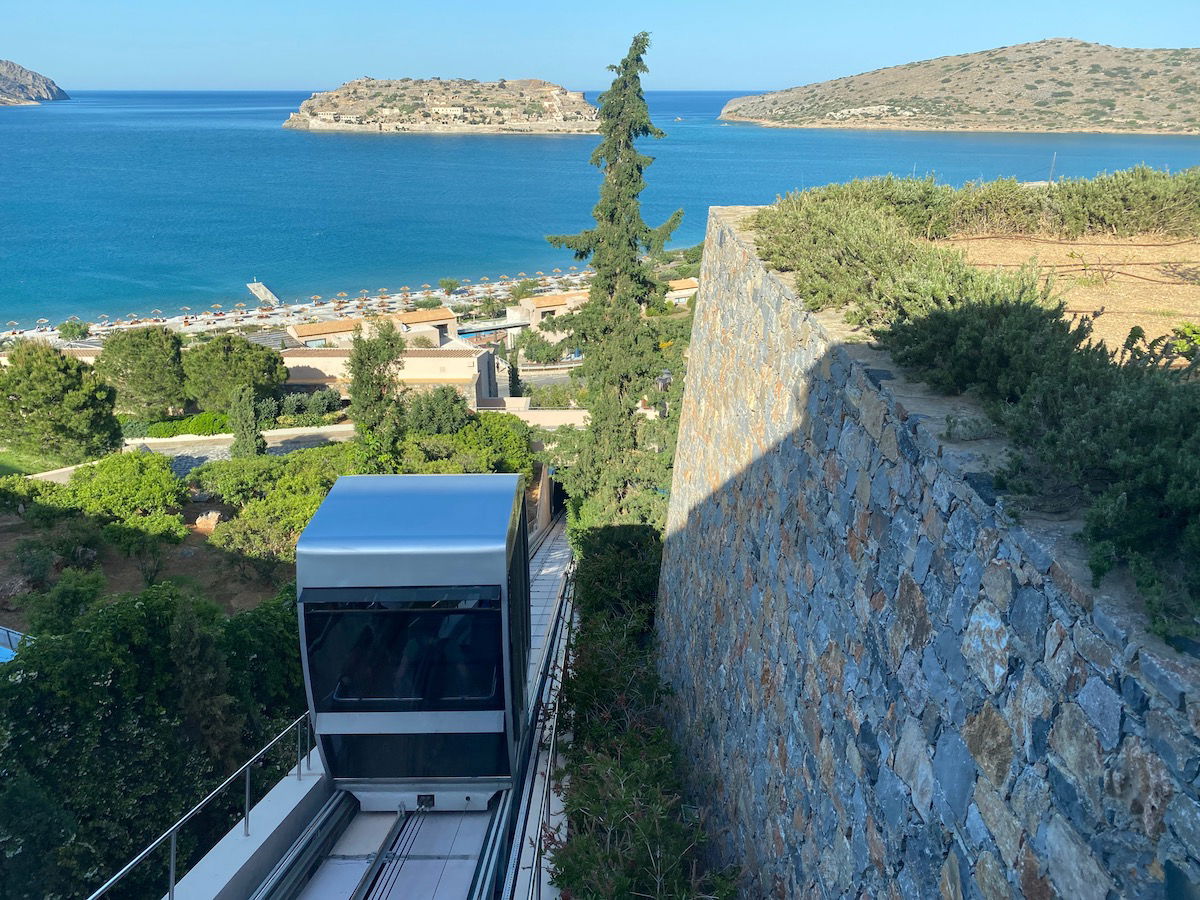 Blue Palace Elounda check-in & lobby
Upon arrival at the hotel we were welcomed by the bellmen, who helped us with our bags and parked our car (parking at the hotel is complimentary, including via valet). We were brought into the lobby, which was much more impressive than your typical Greek hotel lobby.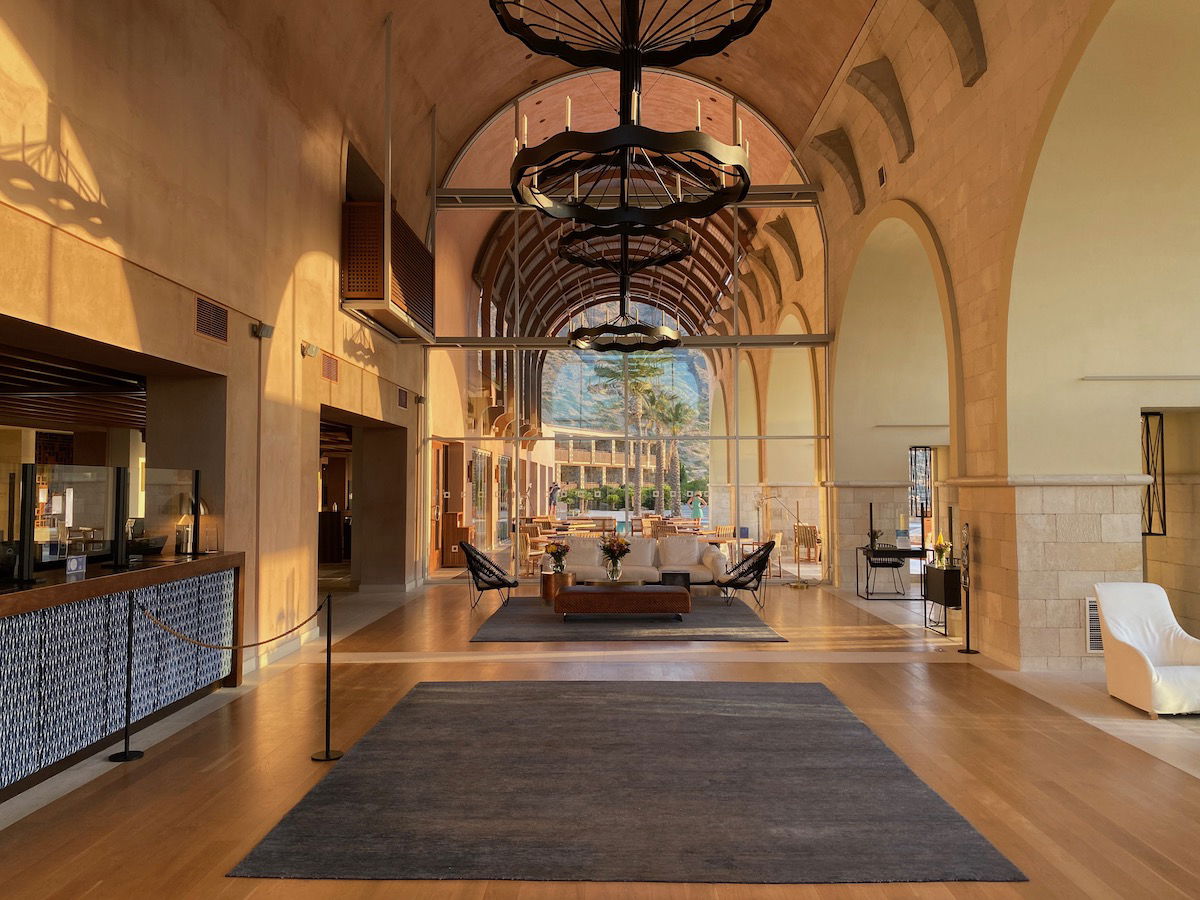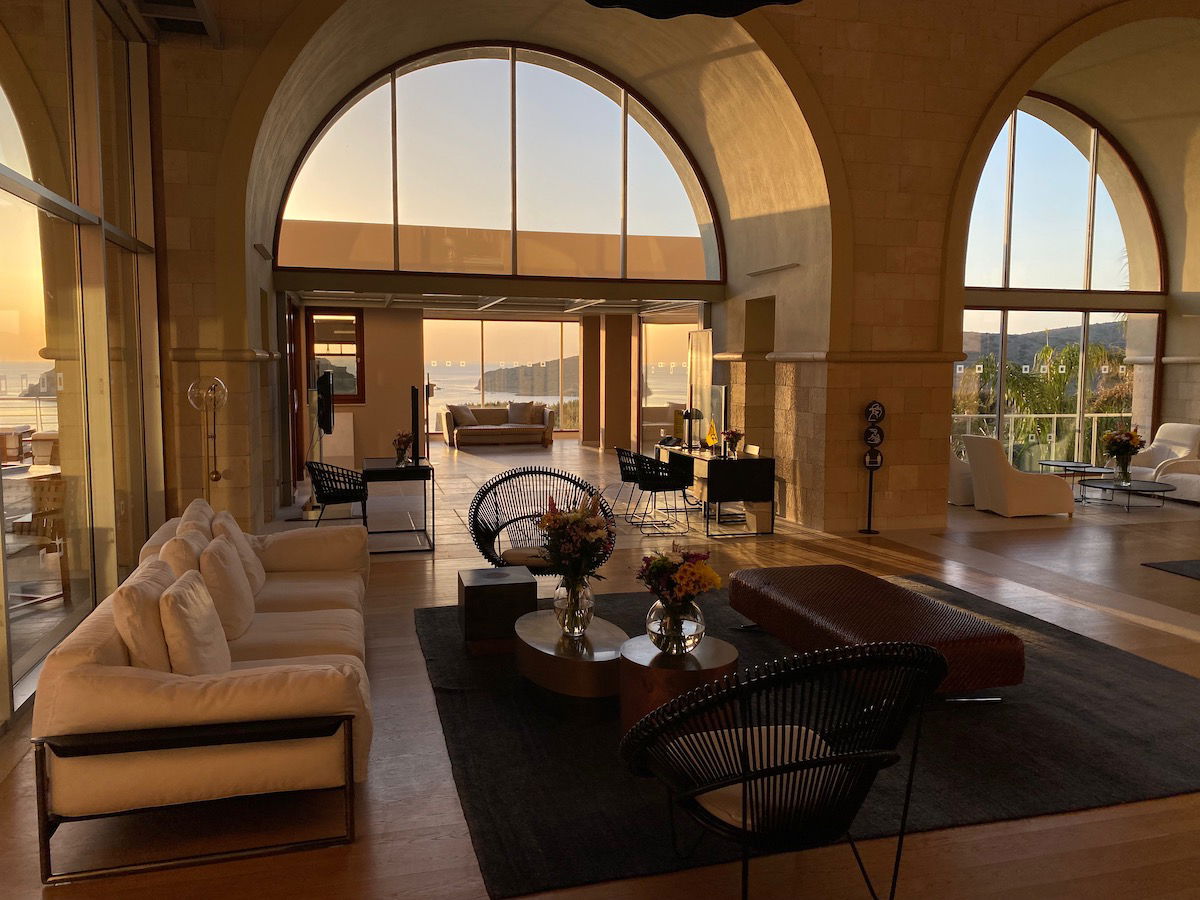 The check-in process ended up taking a ridiculously long time, around 30 minutes. This hotel has the most hilarious implementation of "contactless" check-in I've ever seen. It was explained that in order to make the check-in experience contactless, each guest would have to download a third party app (Exclusivi) and enter all their personal details, including passport information.
That took quite a while, though the bizarre part is that after spending so much time entering personal details through the app, the front desk associate then asked for all of our passports, because apparently they have to verify that the details are correct. That's not how contactless is supposed to work. 😉
Anyway, it was ultimately a small point of frustration, and the hotel generously upgraded both of our rooms. I had used Marriott Bonvoy suite night awards to confirm an upgrade to a Maisonette Suite (which I was going to give to my mom and her partner), but the hotel also upgraded our second room to that, so that we could be near one another. That was very kind, especially since I realized at this point that the hotel is designed so that all of these types of suites are in the same area.
It probably helped that we were staying at a time where the hotel was quite empty — I'd guess it was at most 20% full.
By the way, that Exclusivi app ended up being pretty useful on property after check-in. The app has all the information you could need about the property (including menus at all the restaurants), and you can even instantly make restaurant reservations through it.
Because of this app, unfortunately I won't be able to post menus (as I usually would) when talking about the restaurants, since there was no option to download menus, and I'd be posting dozens and dozens of screenshots to show all the menus.
Blue Palace Elounda Maisonette Suite
As soon as the check-in process was complete, we were escorted to our rooms. The building with our rooms was down the hall past the lobby bar.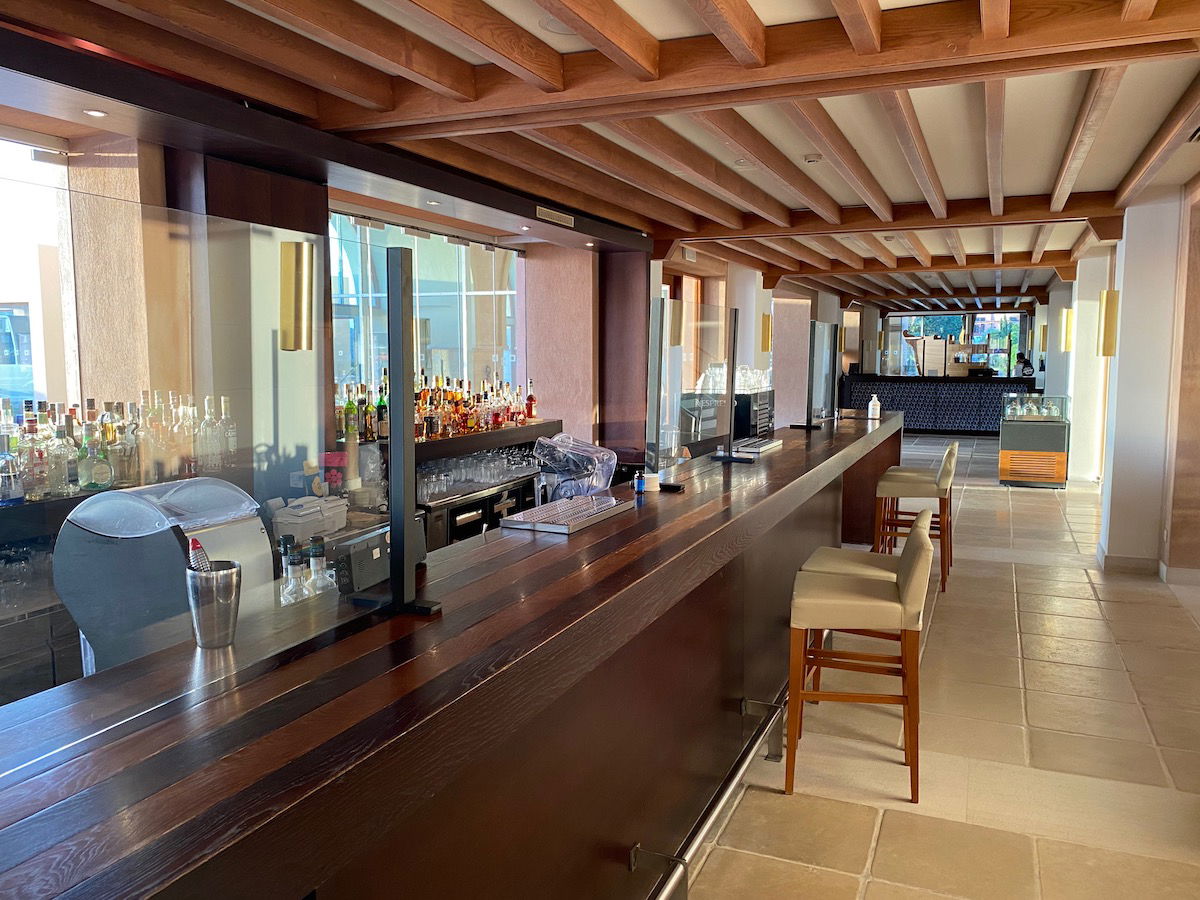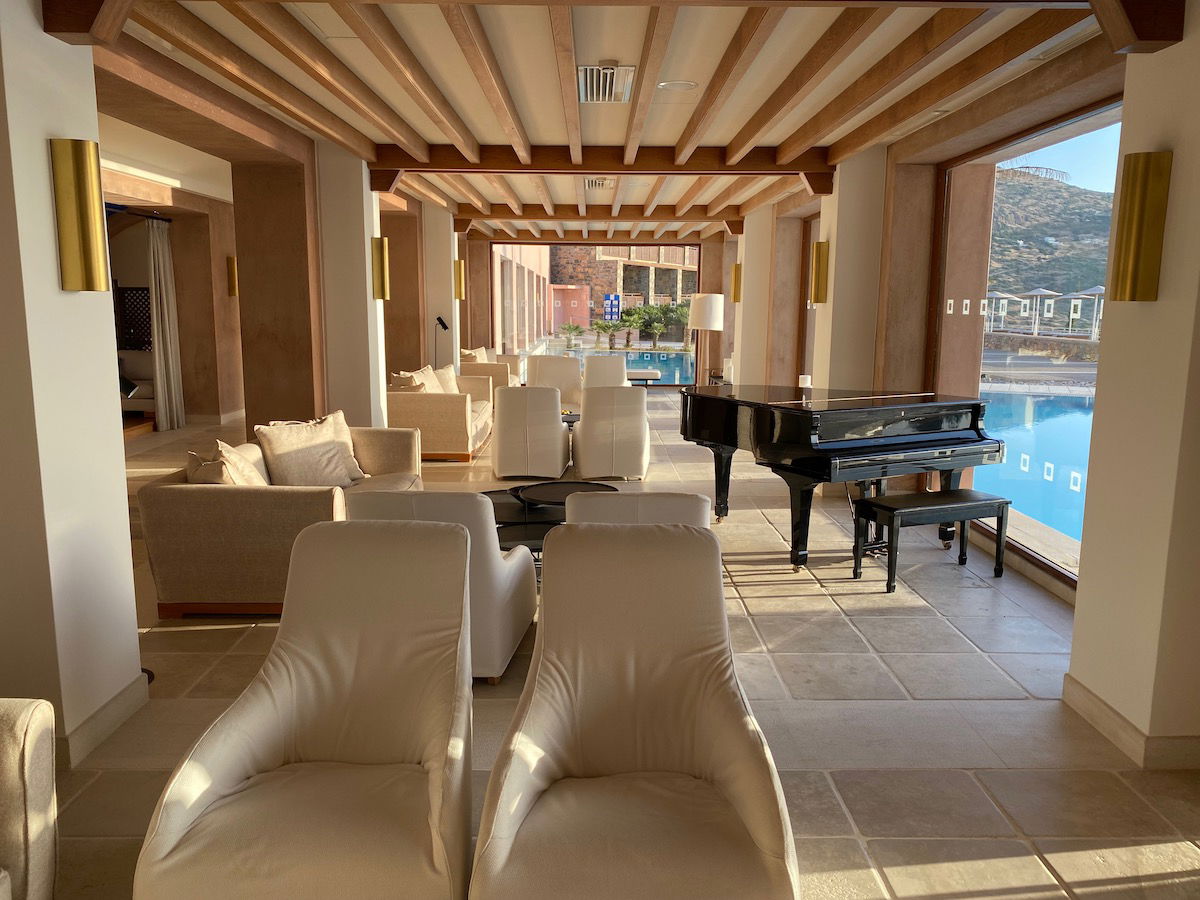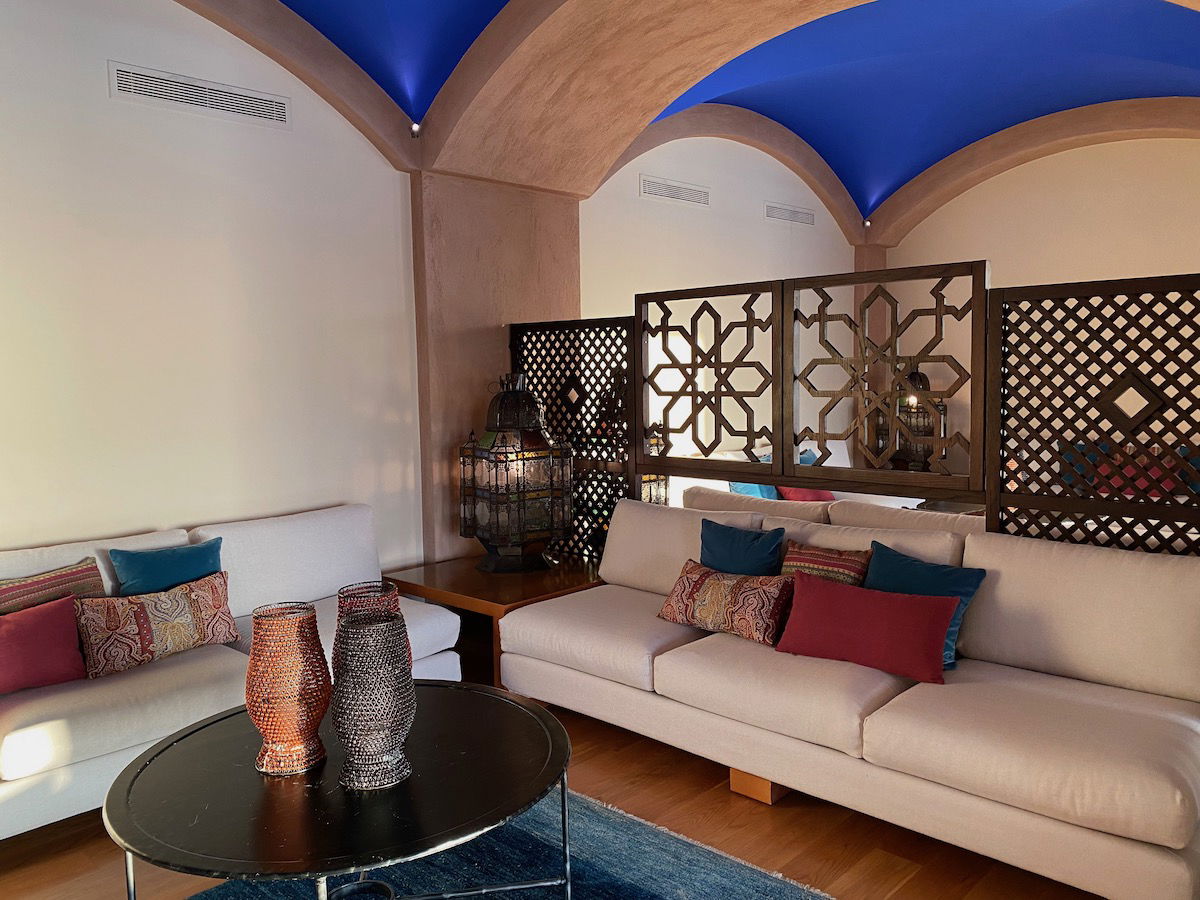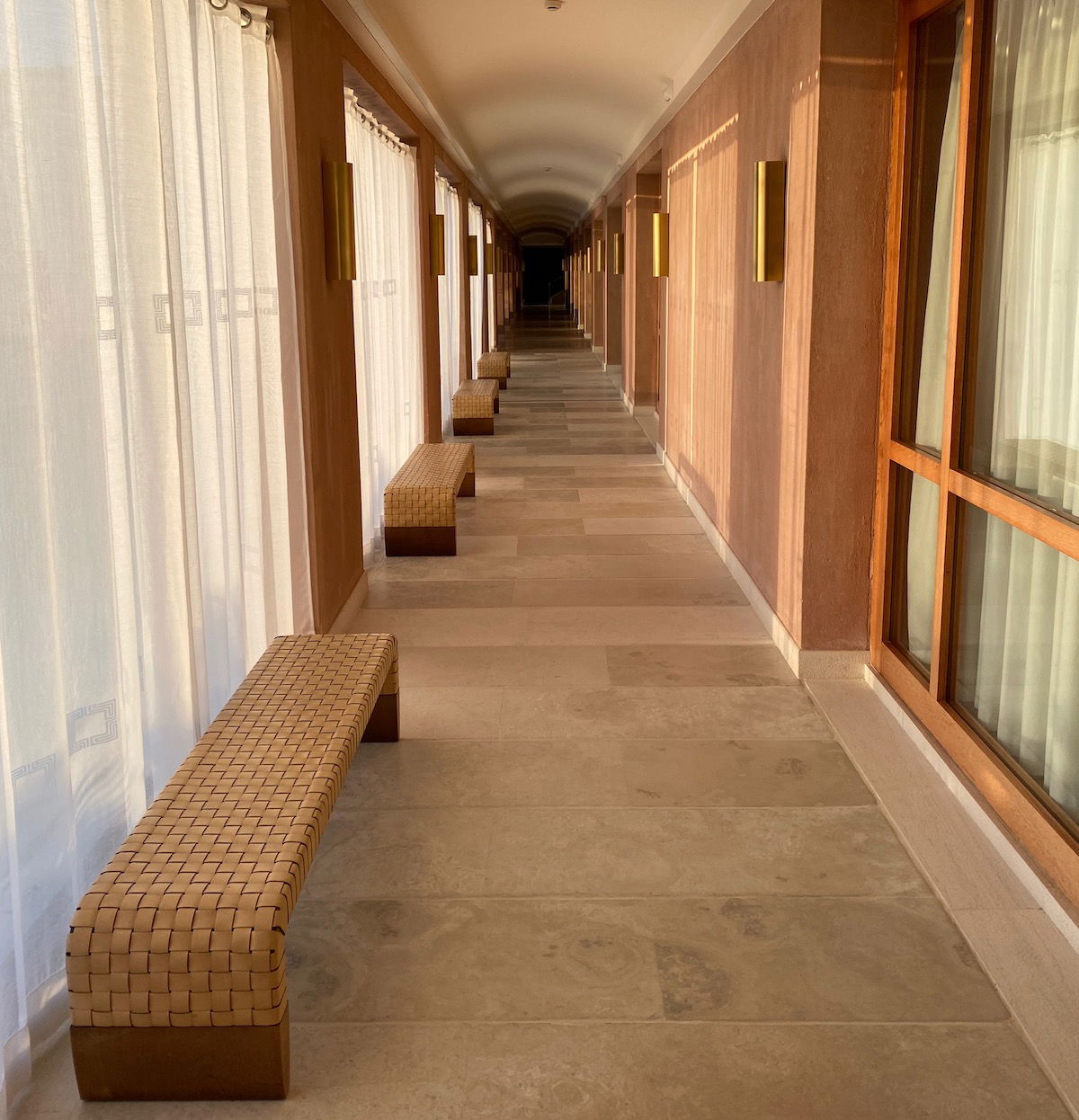 We were assigned rooms 529 and 530, which were Maisonette Suites right next to one another (the building we were staying in exclusively had these rooms types).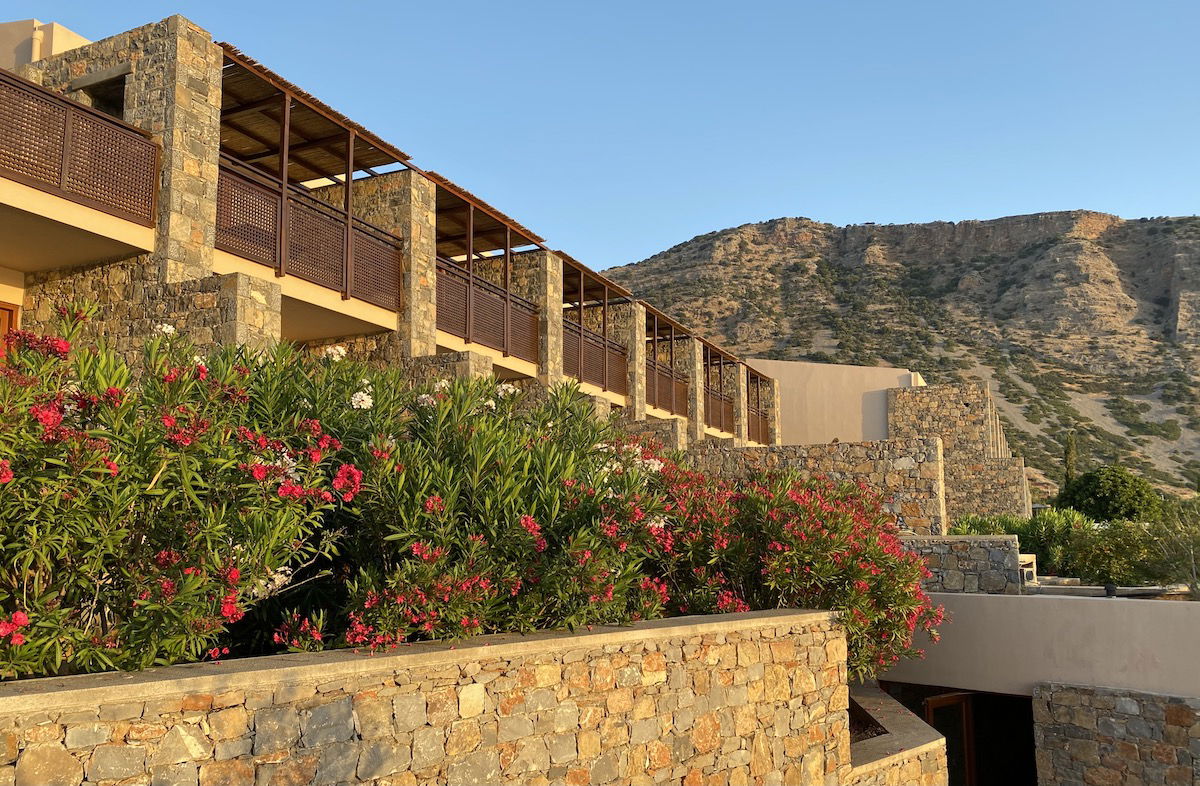 While the hallway felt a bit shabby, the room as such was great.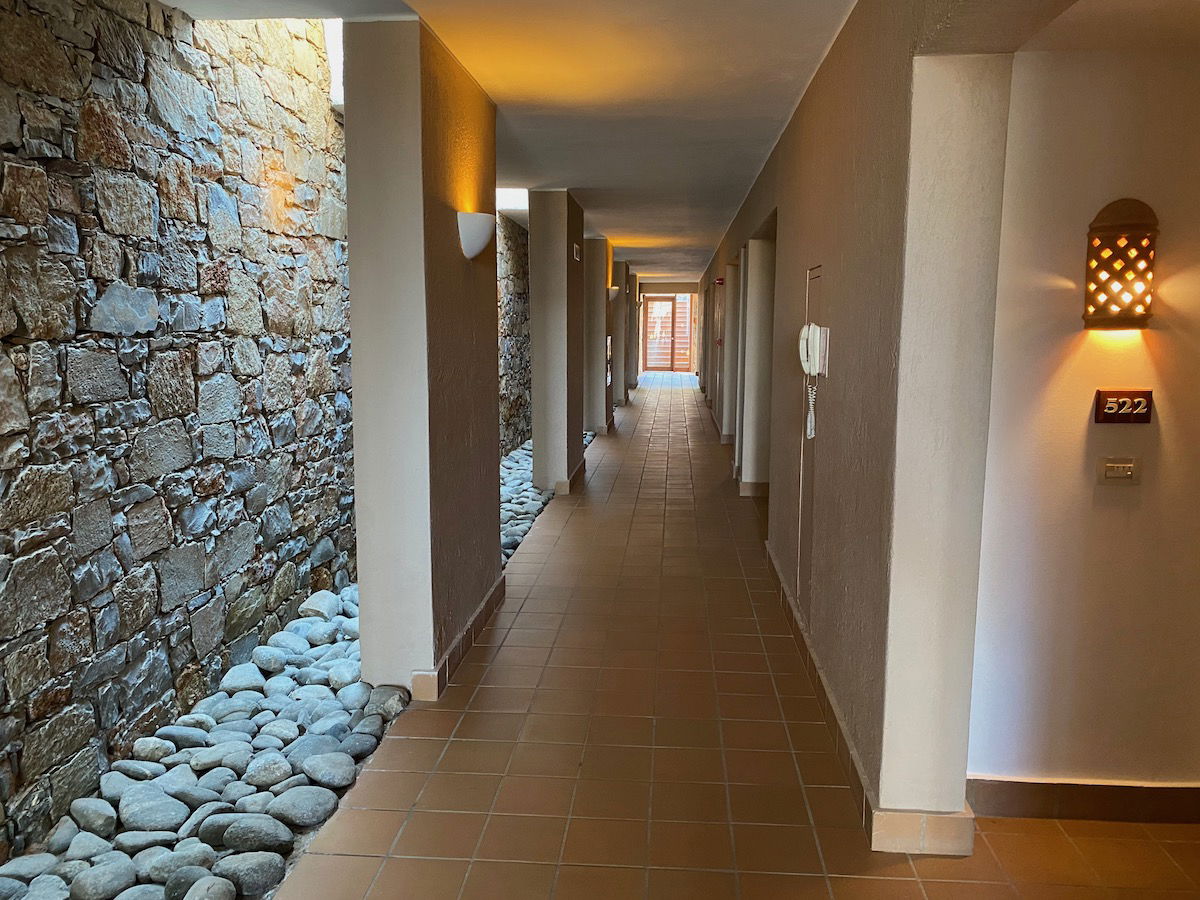 The 750 square foot Maisonette Suite had the living area on the first floor and the bedroom on the second floor. Inside the entrance was the living room, which had a couch, a loveseat, a desk with a chair, and a TV.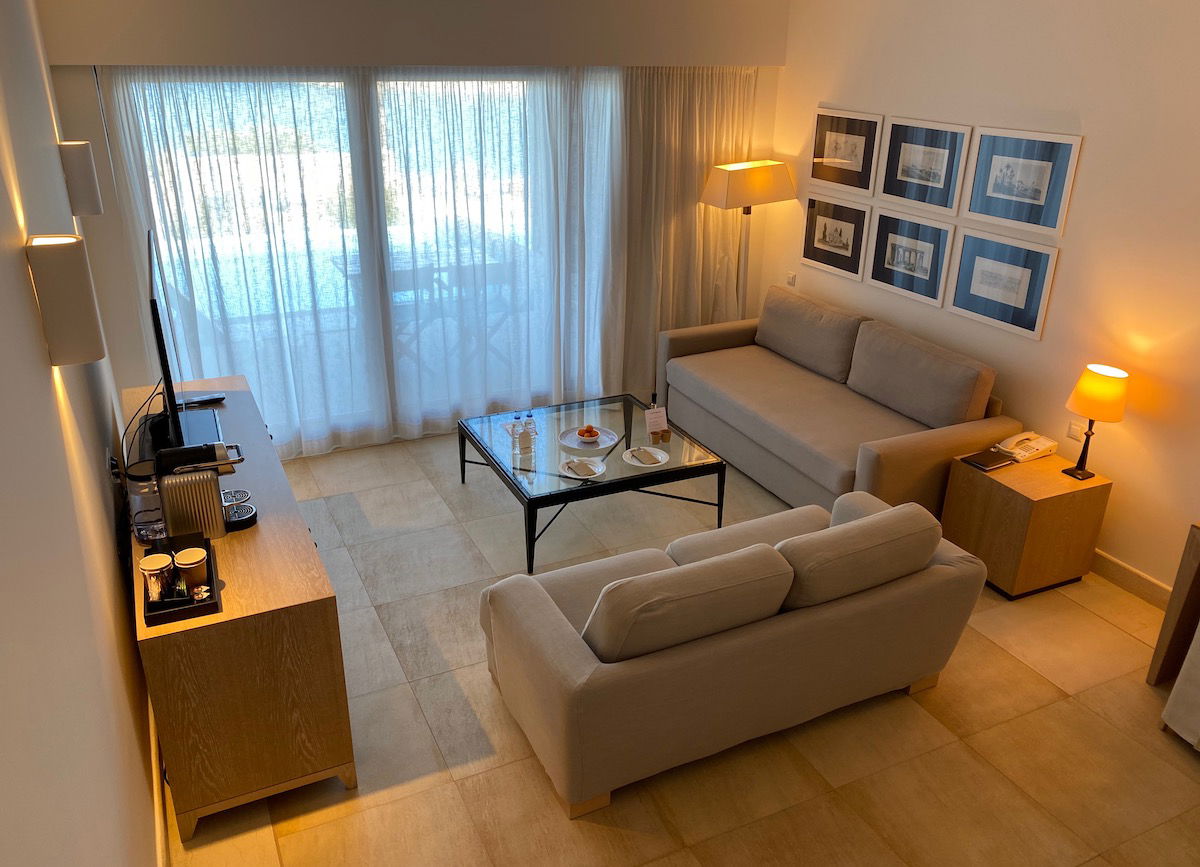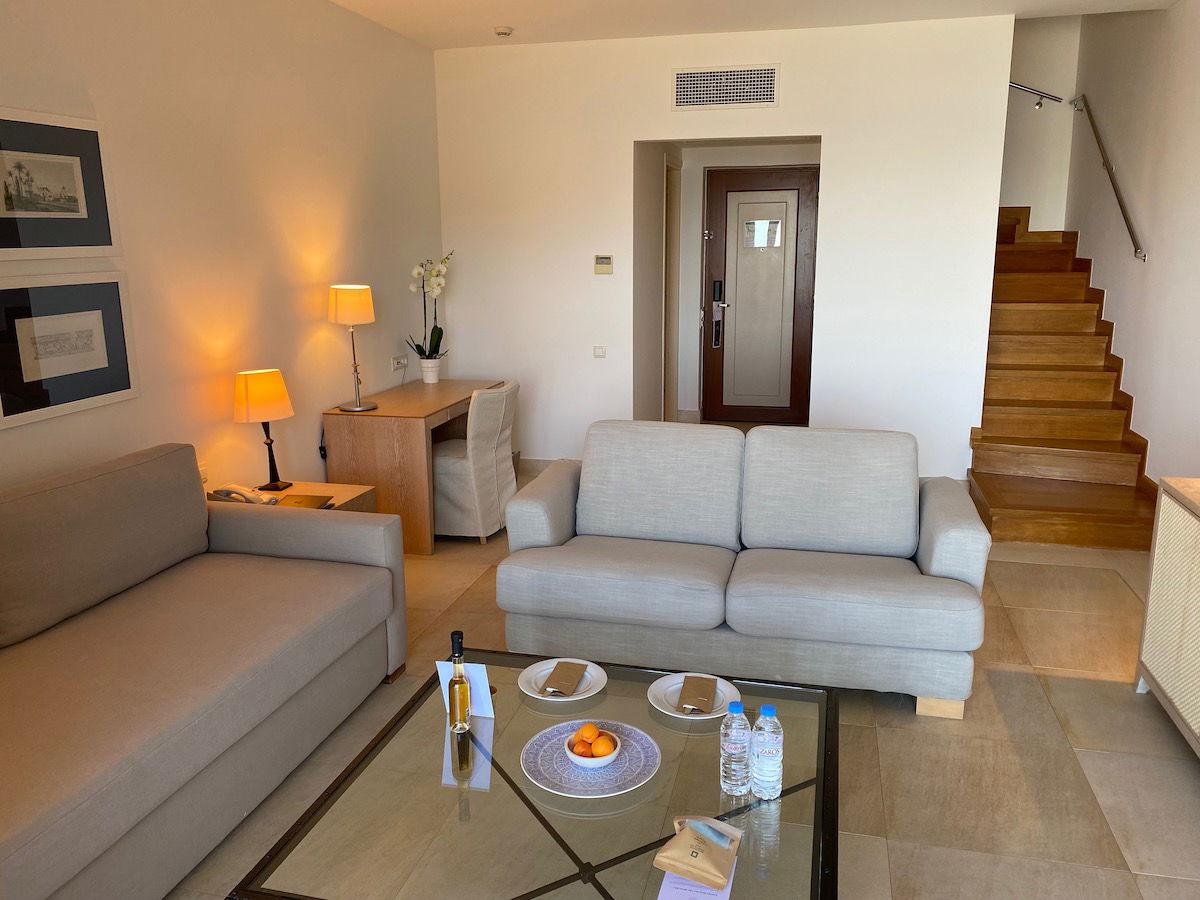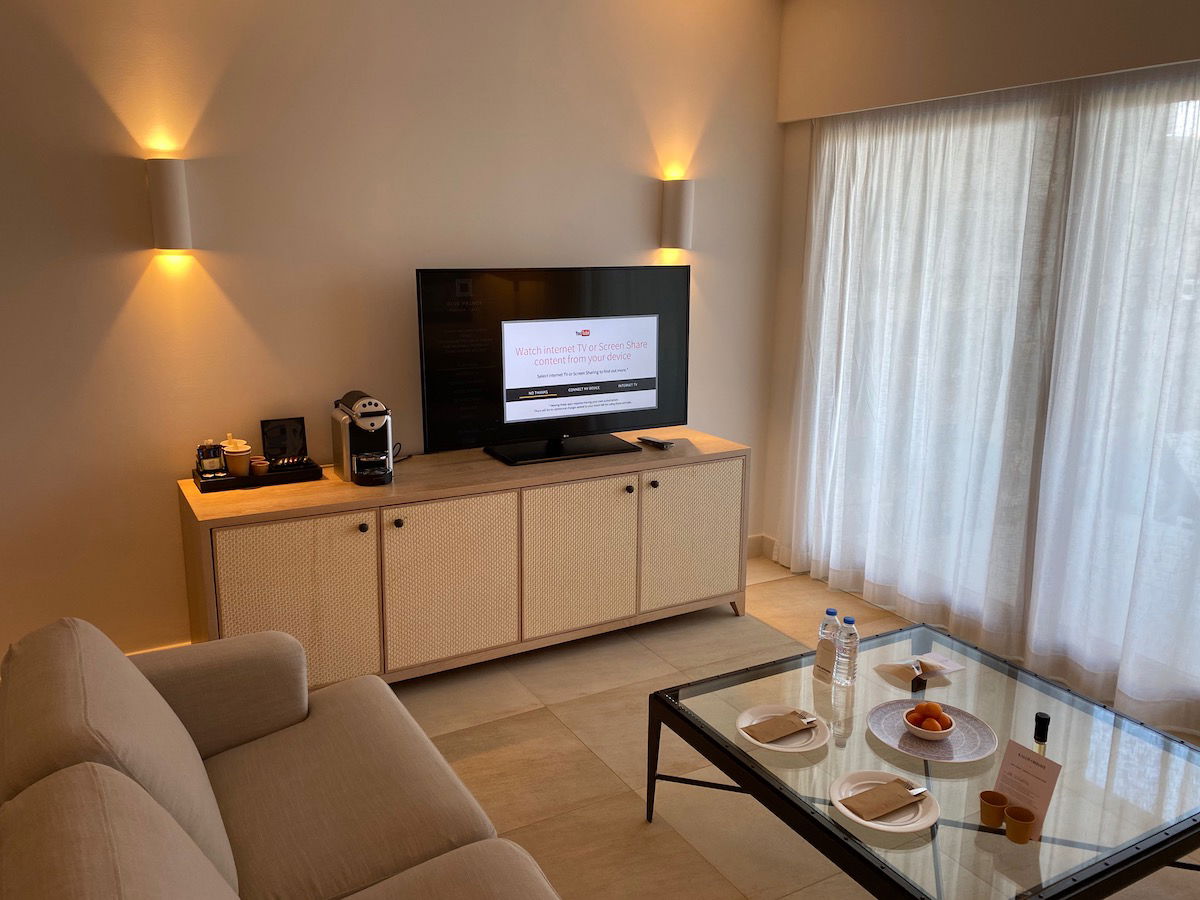 There was a welcome amenity on the living room table, consisting of fresh fruit, some alcohol, and some bottles of water.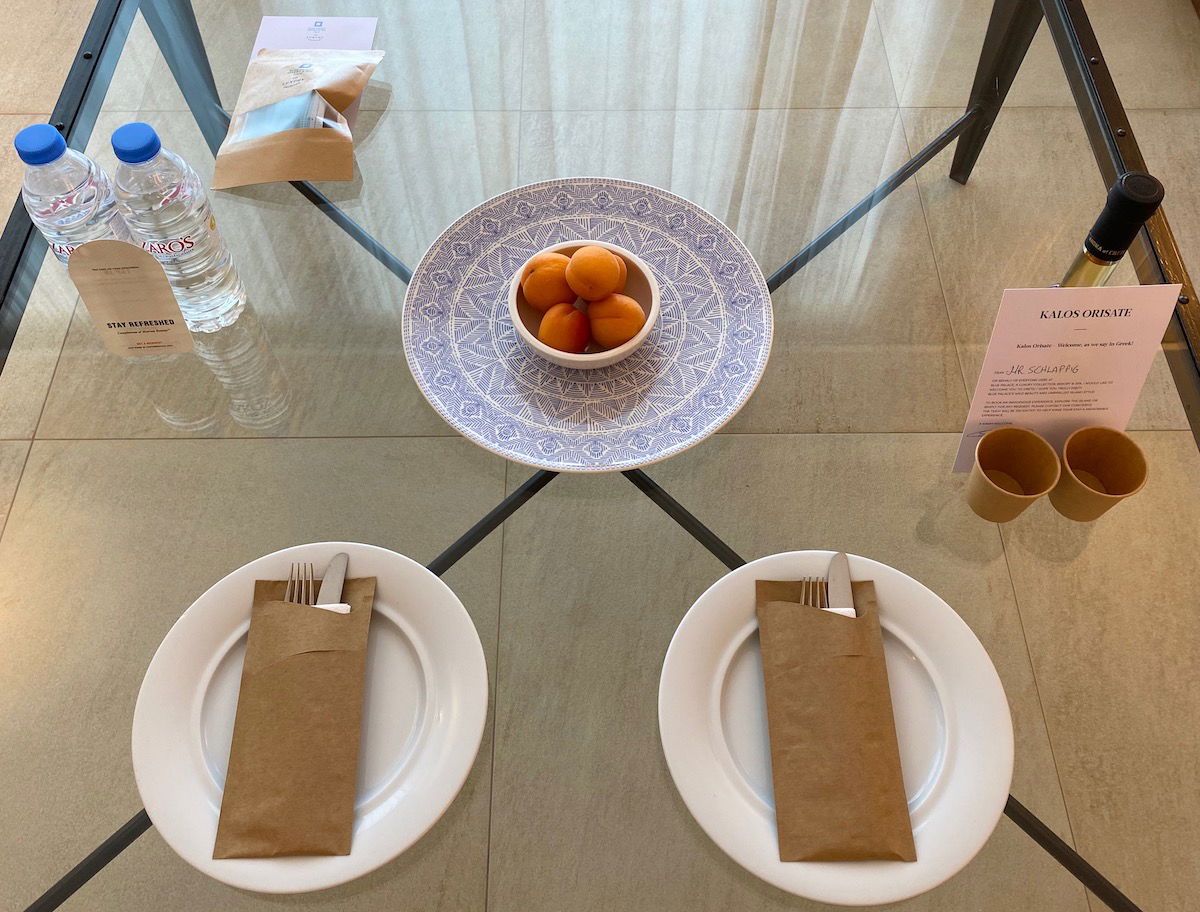 There was a Nespresso coffee machine, which was great for my first cup of coffee every morning.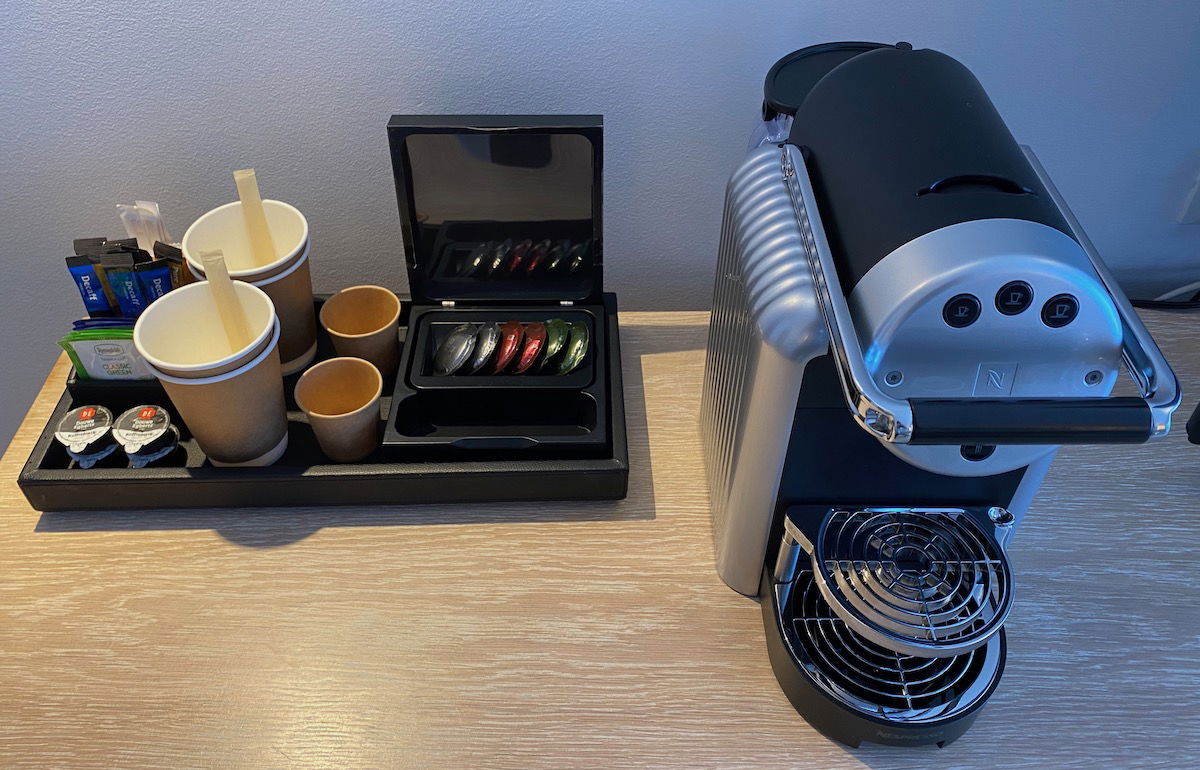 Back near the entrance was the second bathroom, which featured a sink, toilet, and walk-in shower.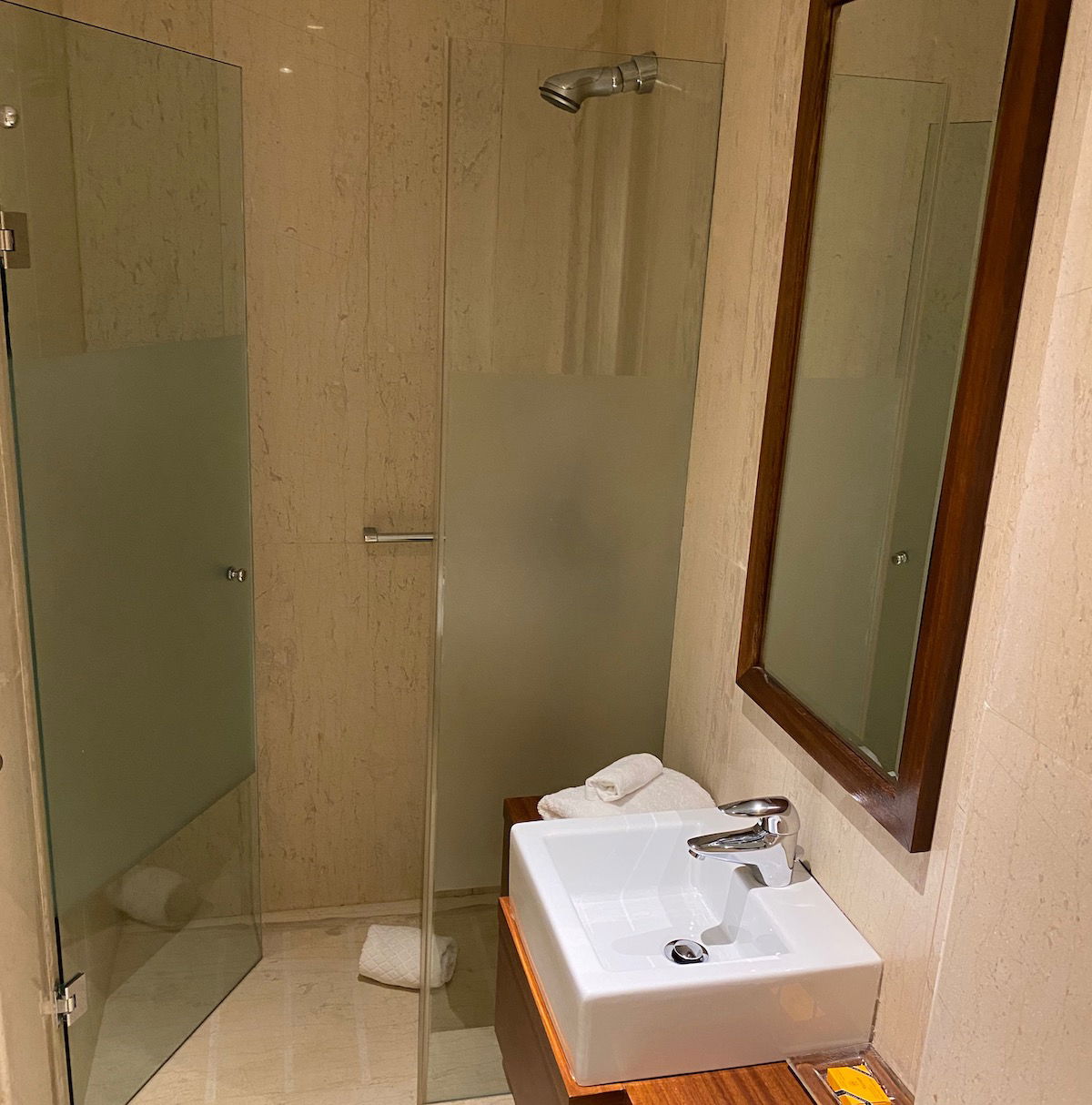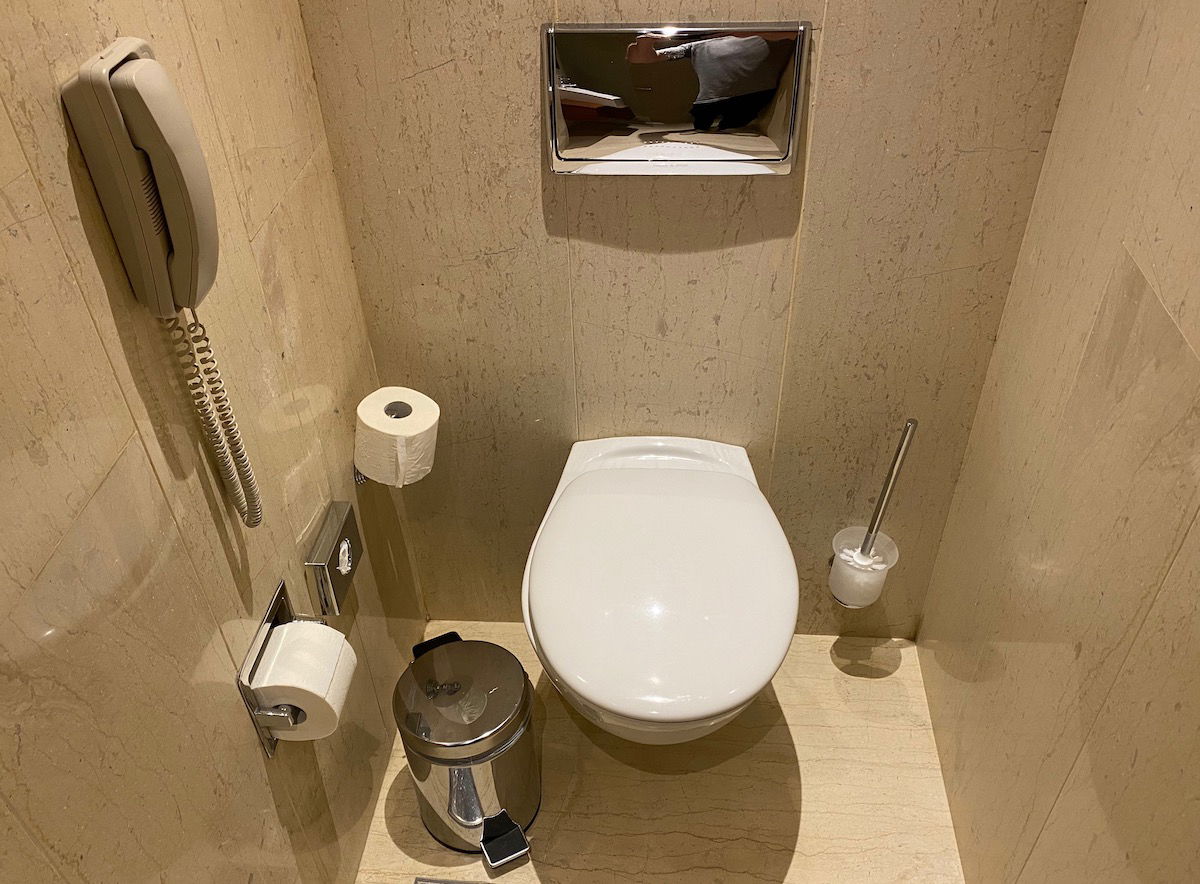 A staircase led up to the second floor, which featured a comfortable king size bed, a chair, and a TV.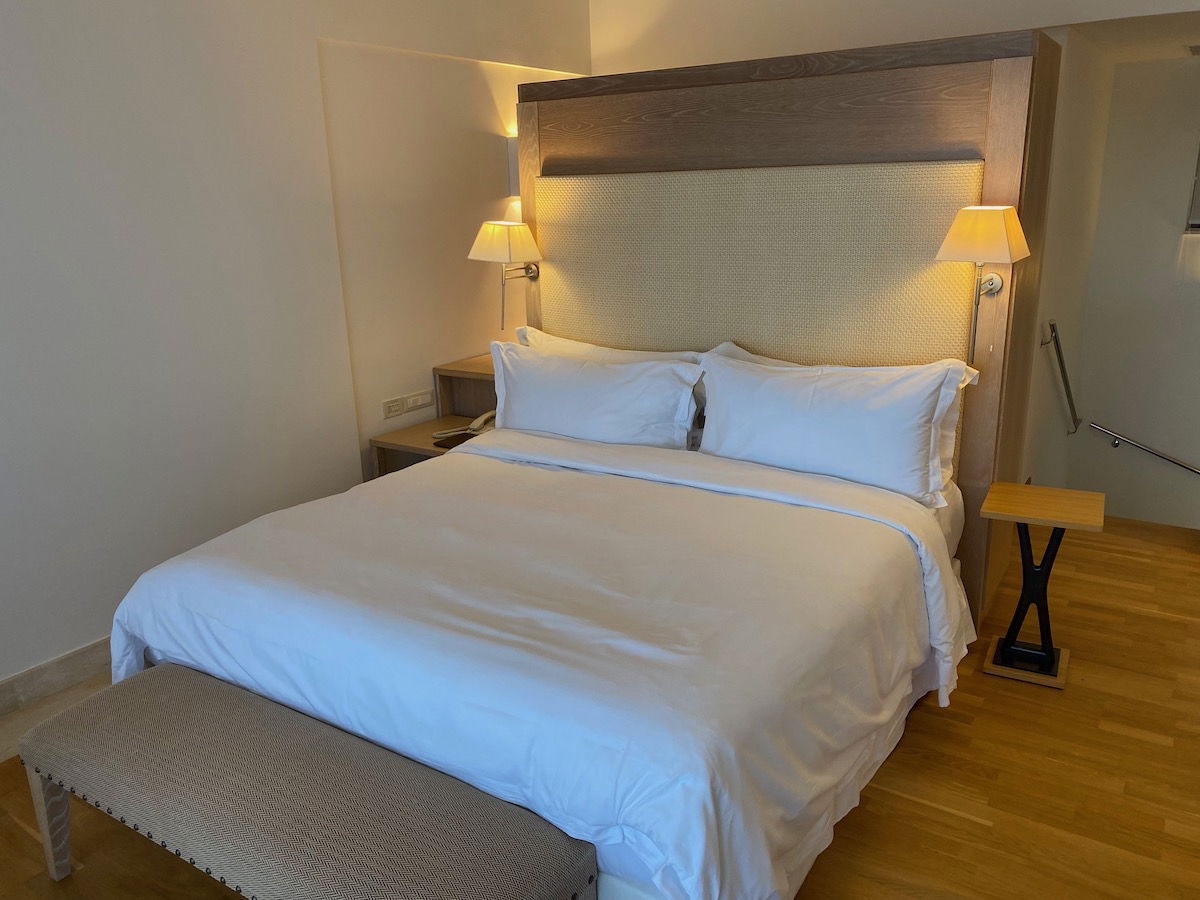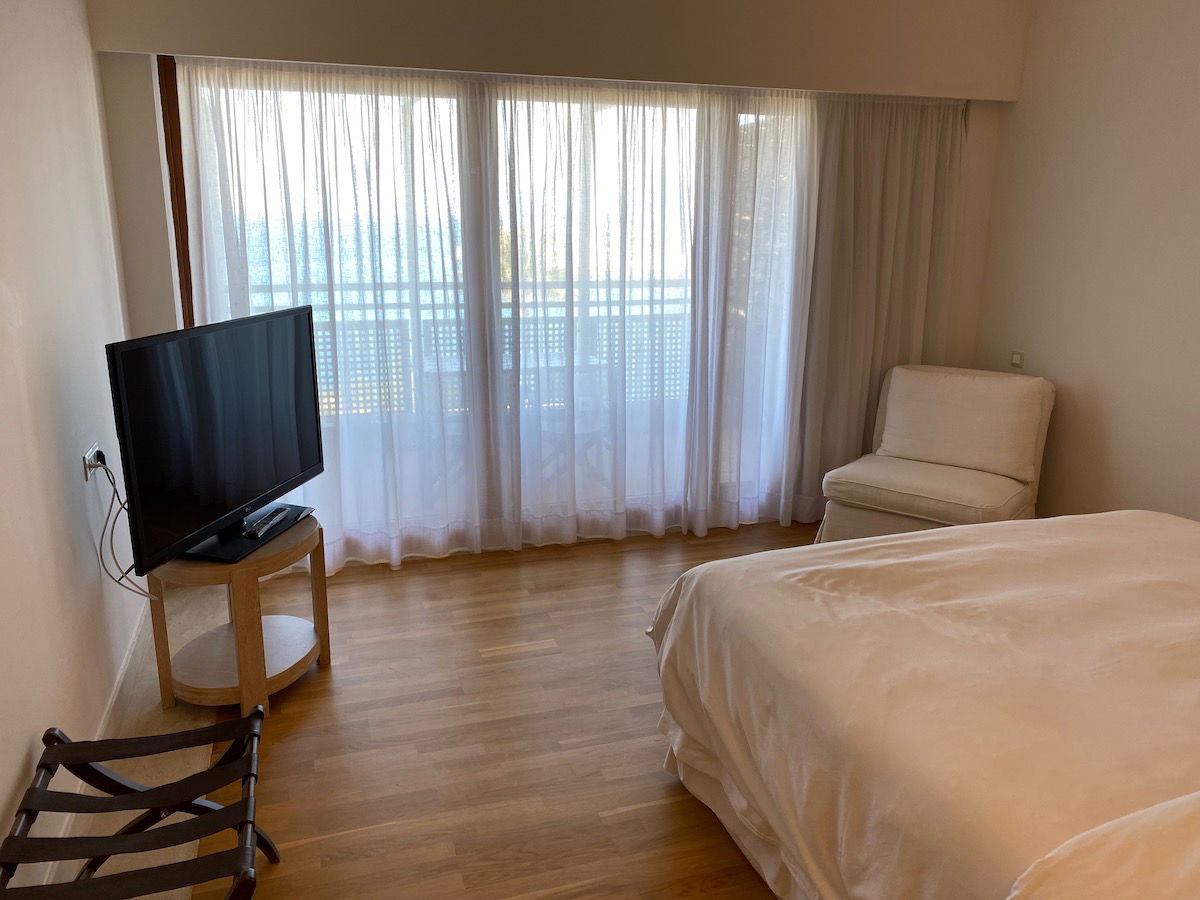 The main bathroom was also on the second floor, and had a sink, a walk-in shower, a tub, and a toilet.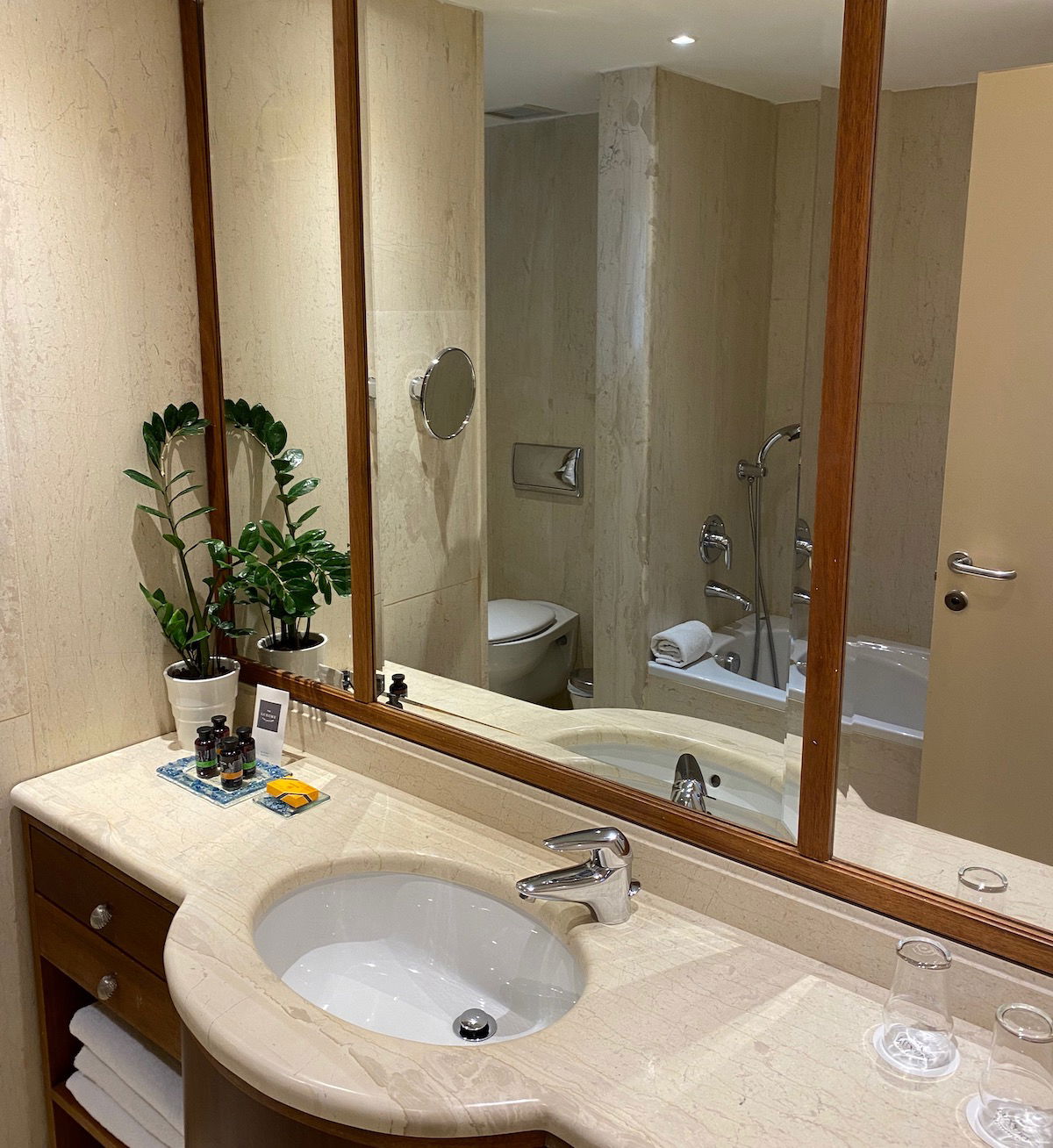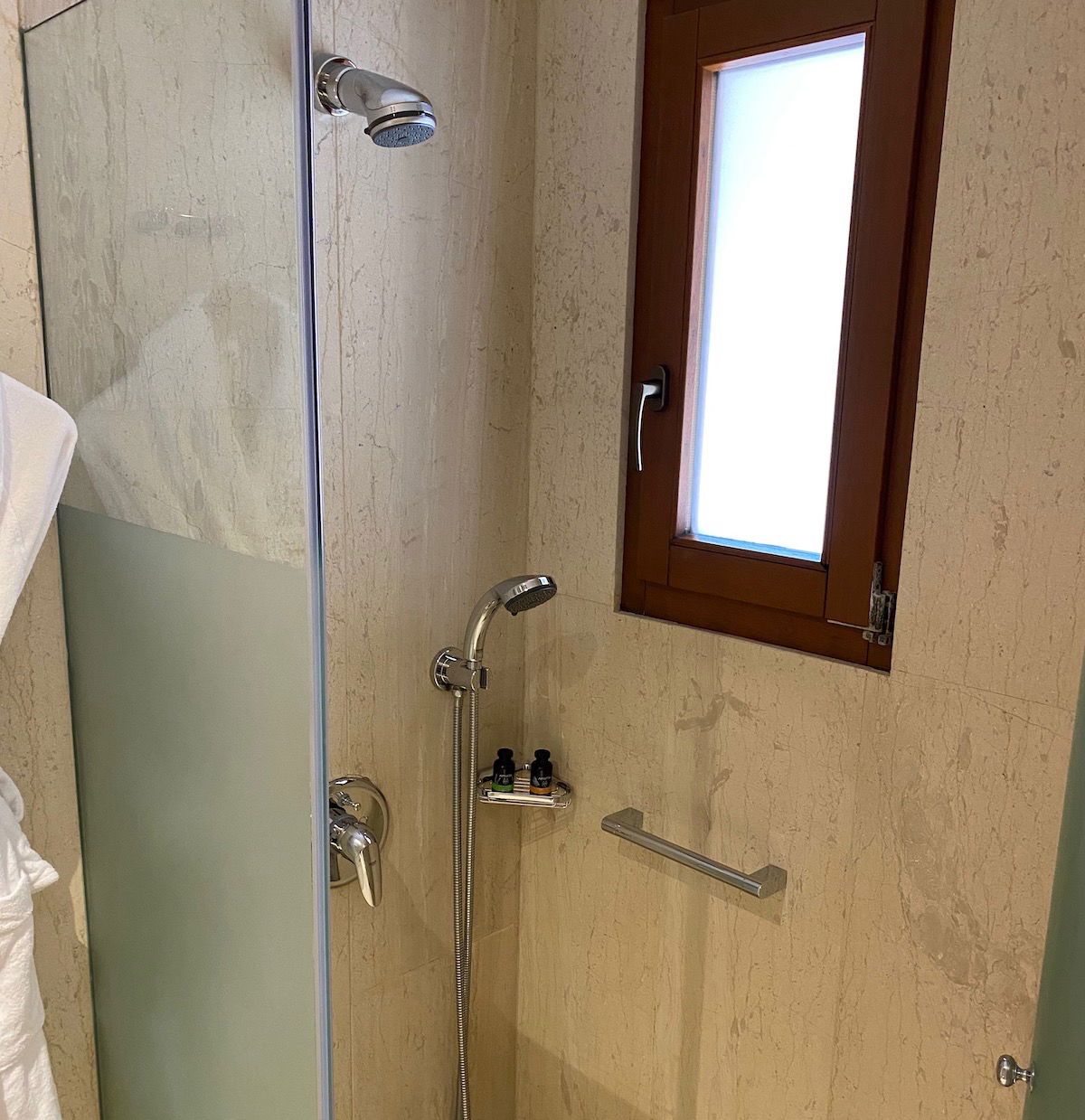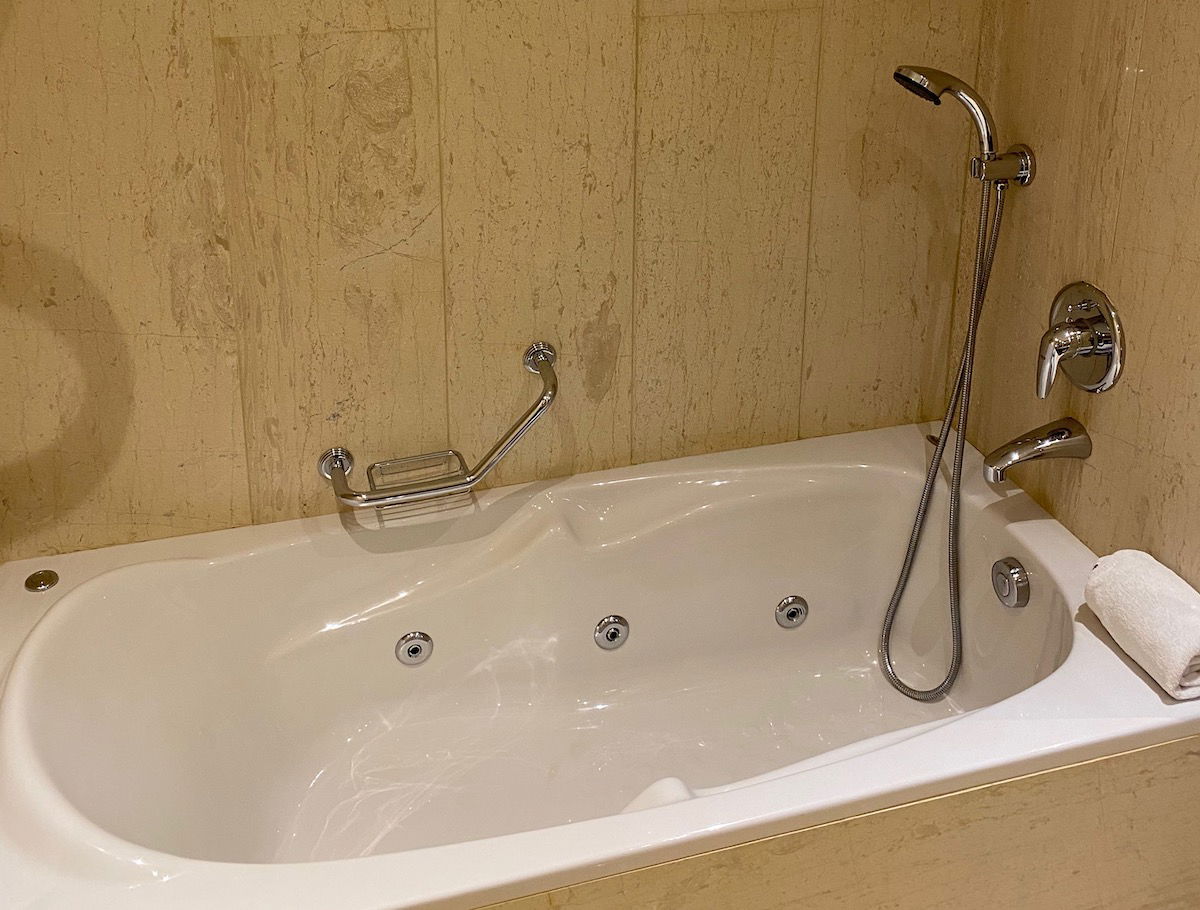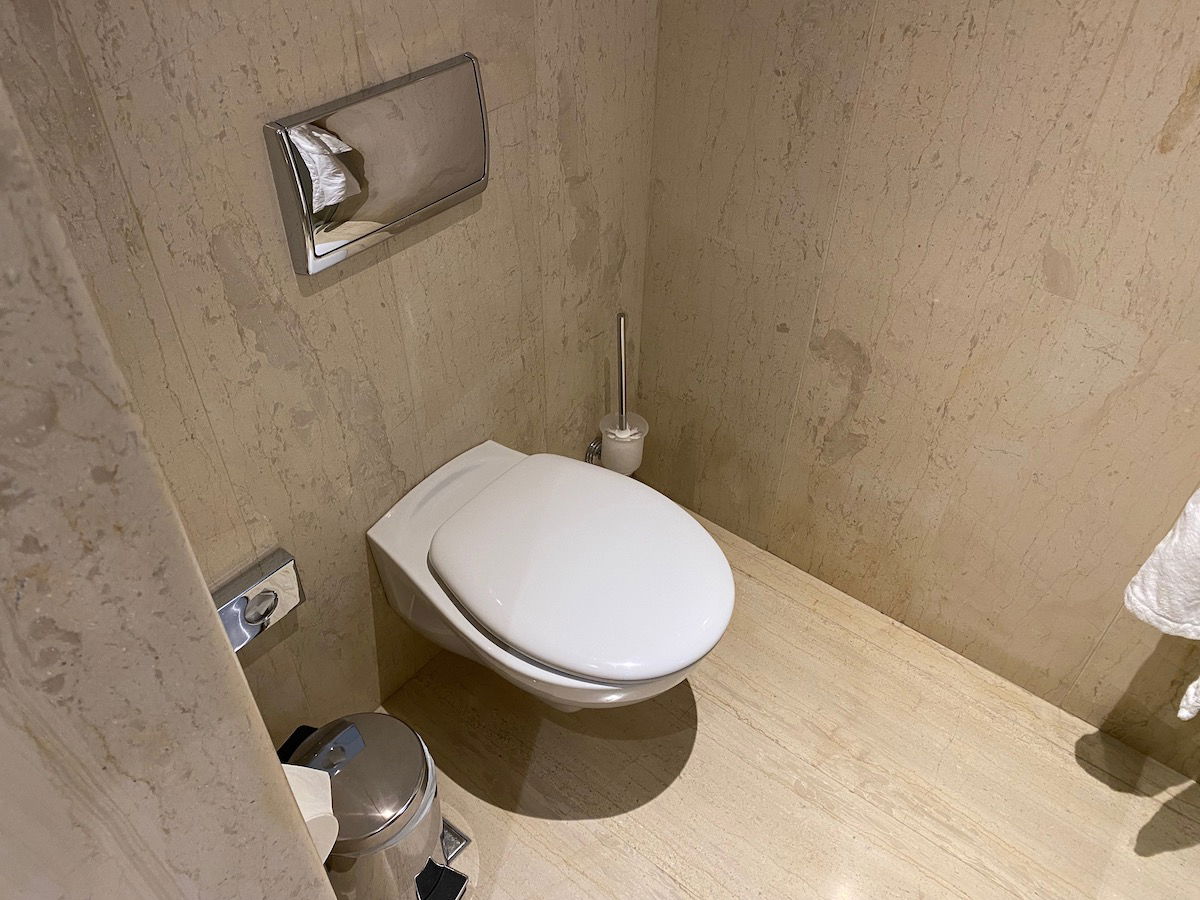 Toiletries were from Apivita, which I hadn't used before.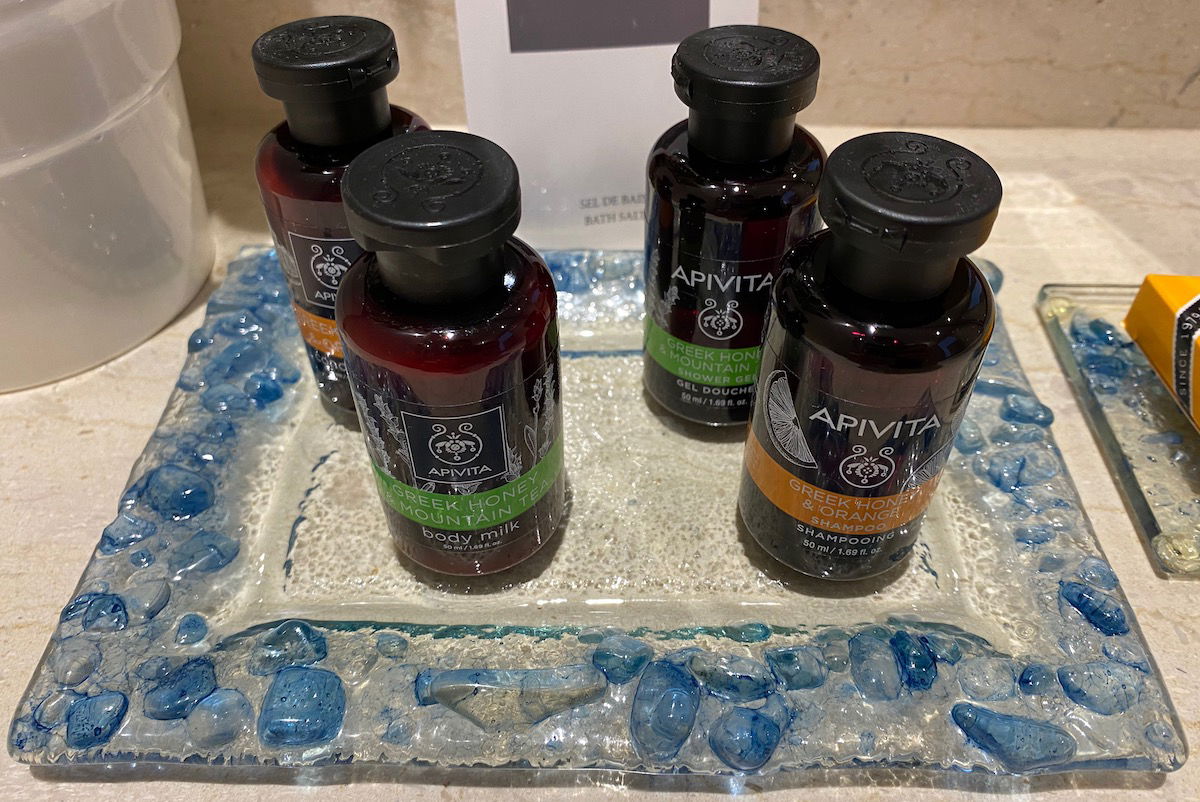 The second floor had an outdoor seating area with a table and two chairs.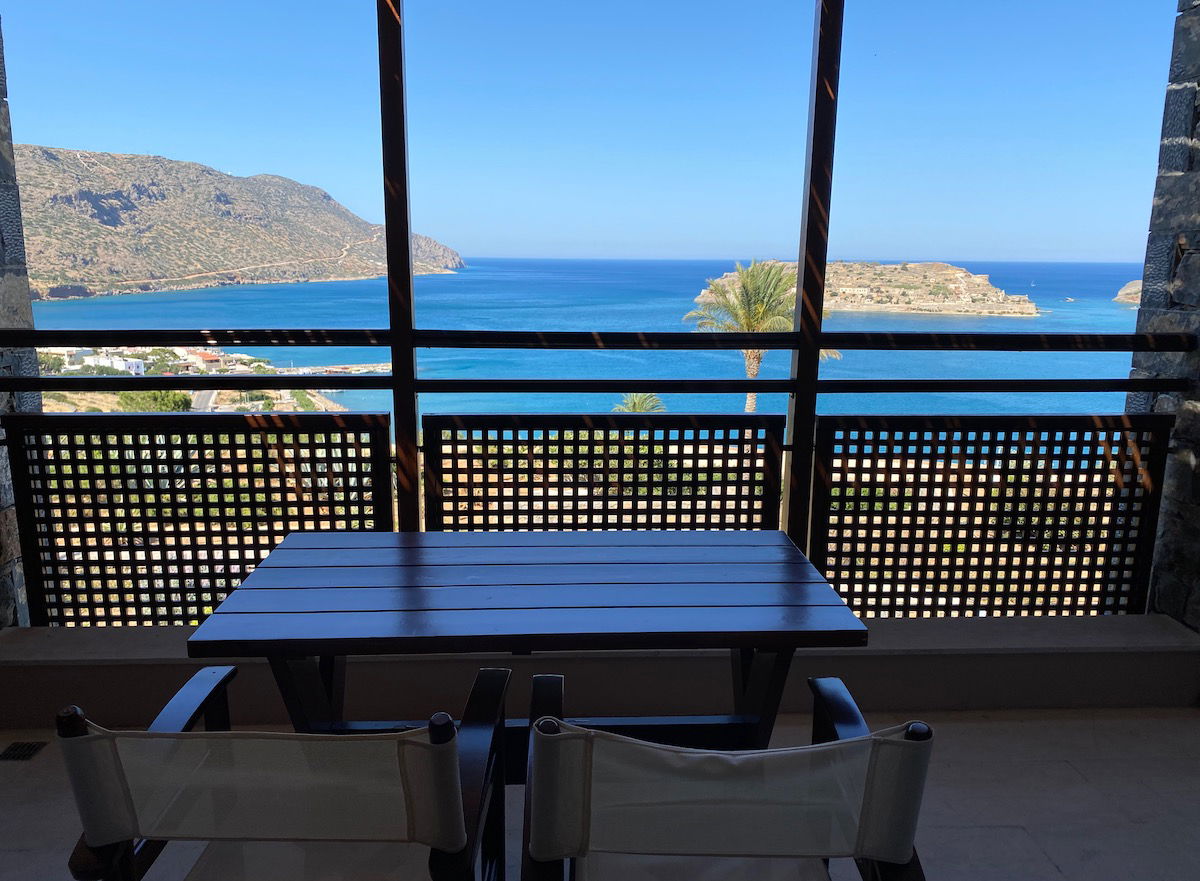 The highlight of the room, however, was the outdoor area on the first floor. This also featured a table with two chairs, as well as two loungers which could float in the pool.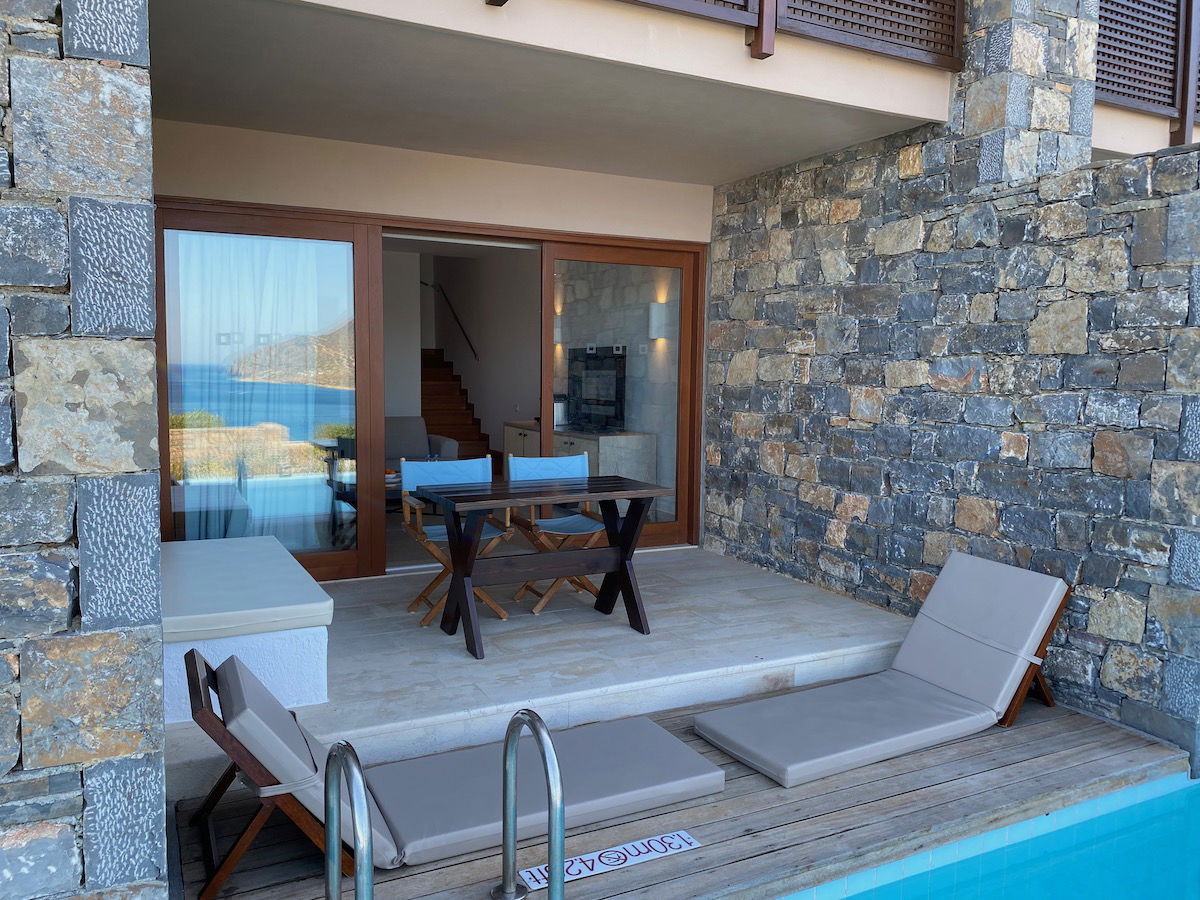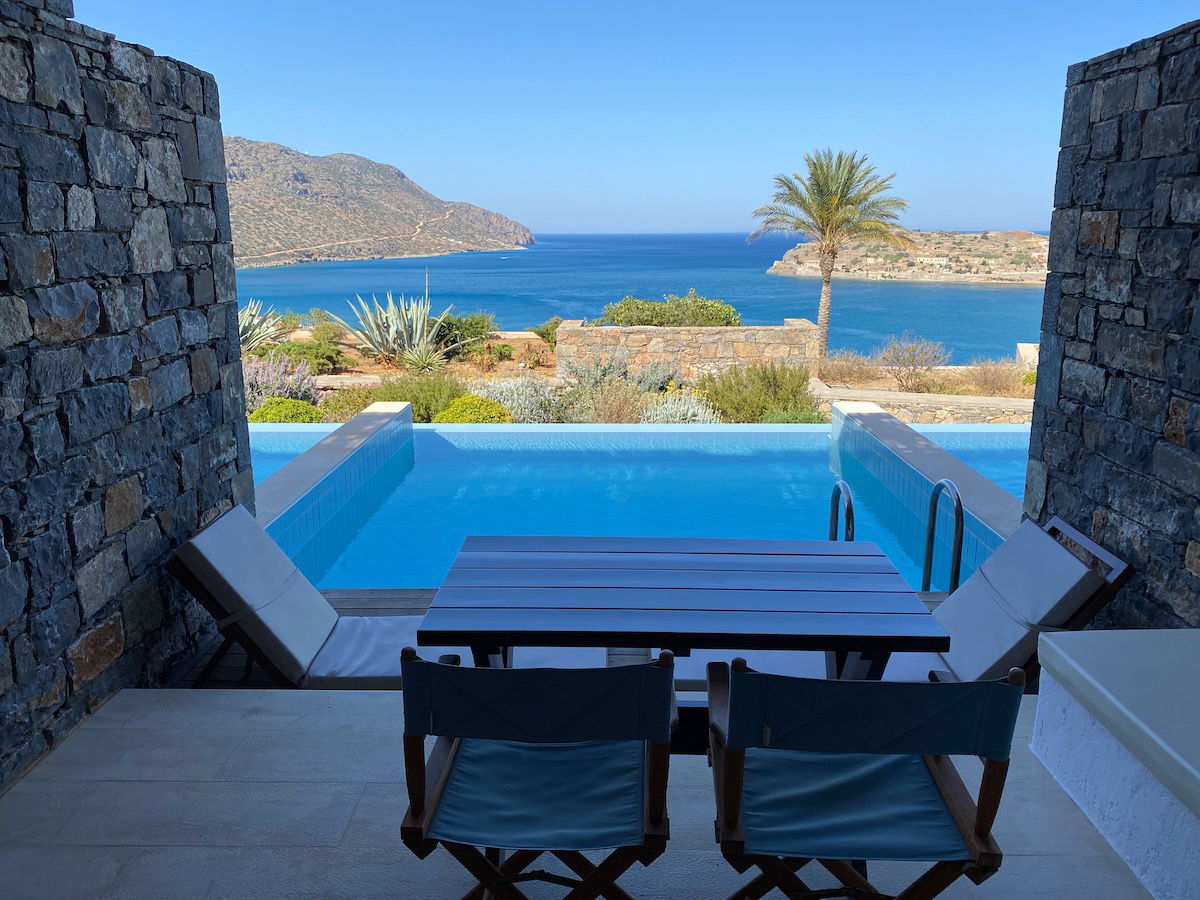 Each Maisonette Suite has a pool — I'd consider these to be semi-private rather than private, since there are several next to one another.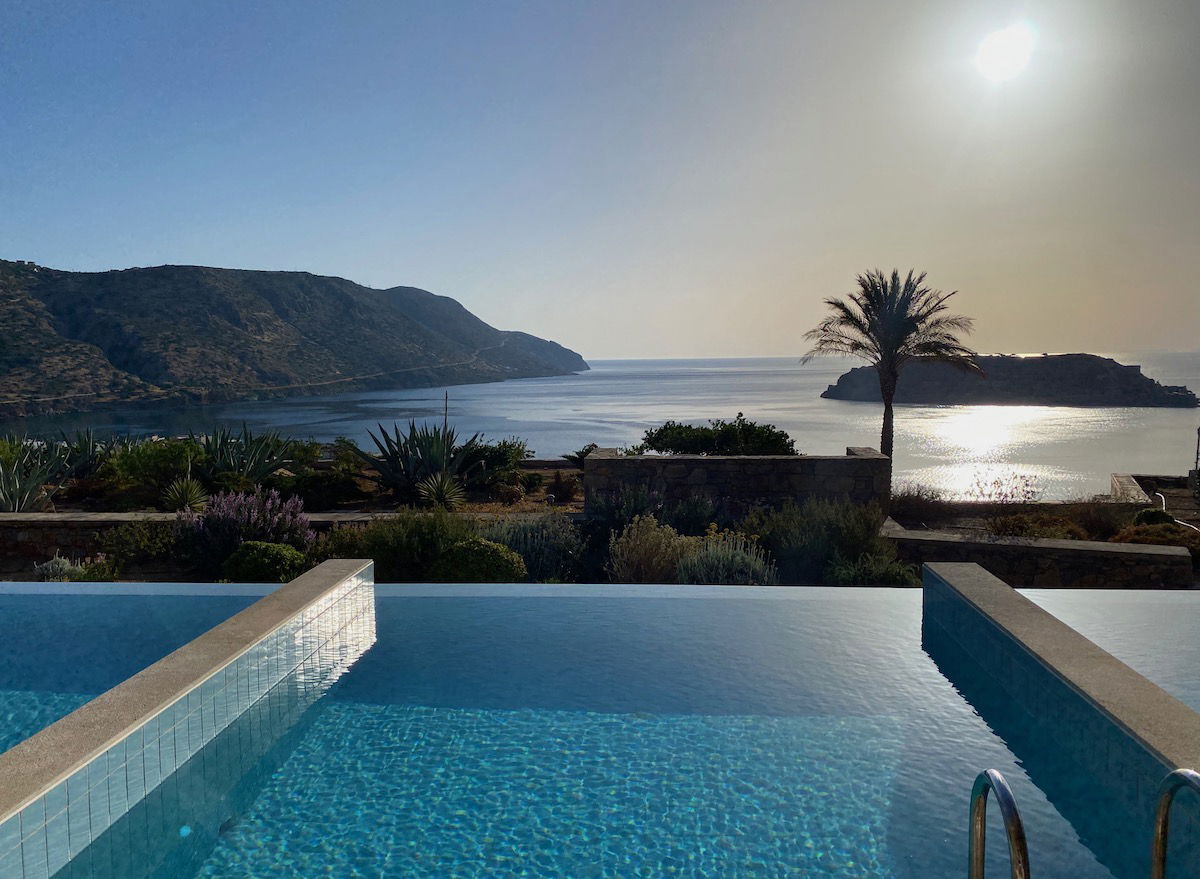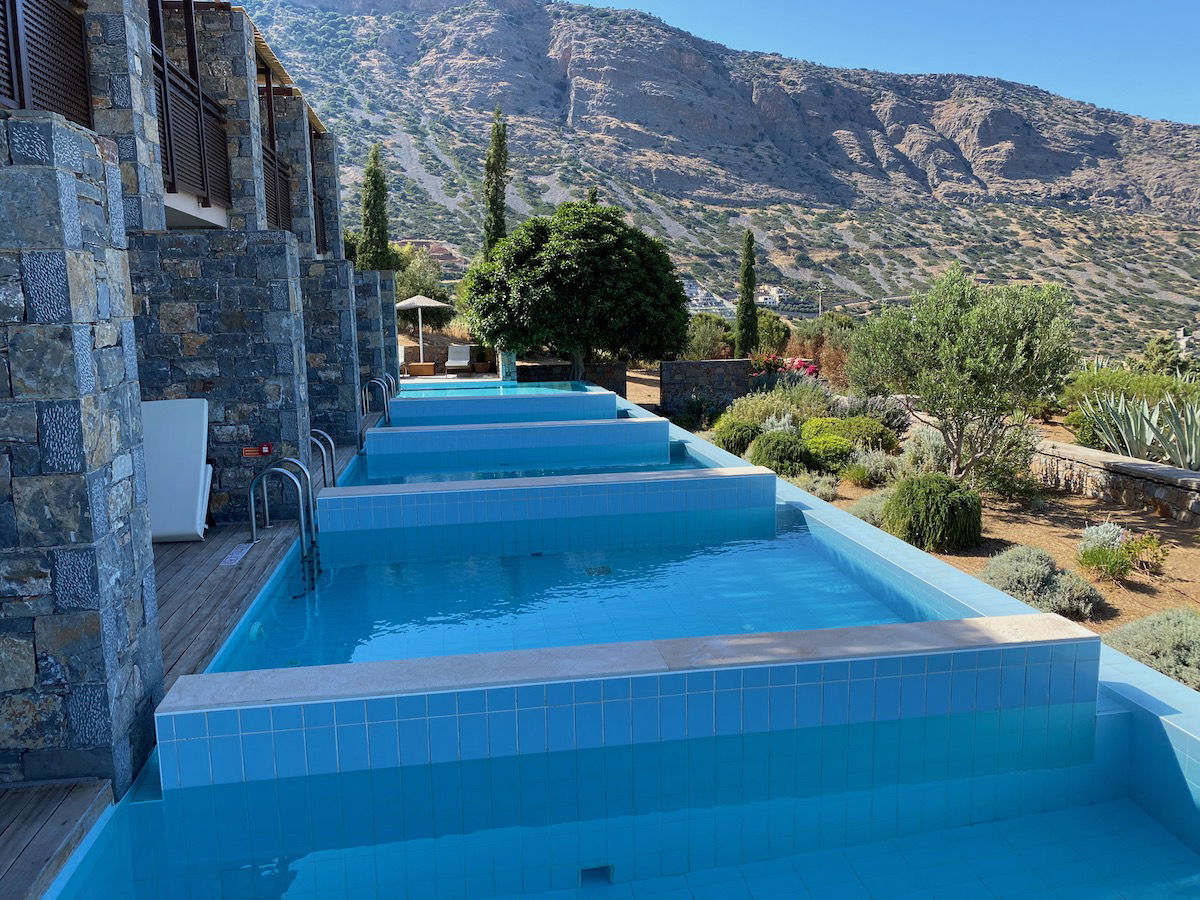 The hotel faces east, so the sunrise views were breathtaking.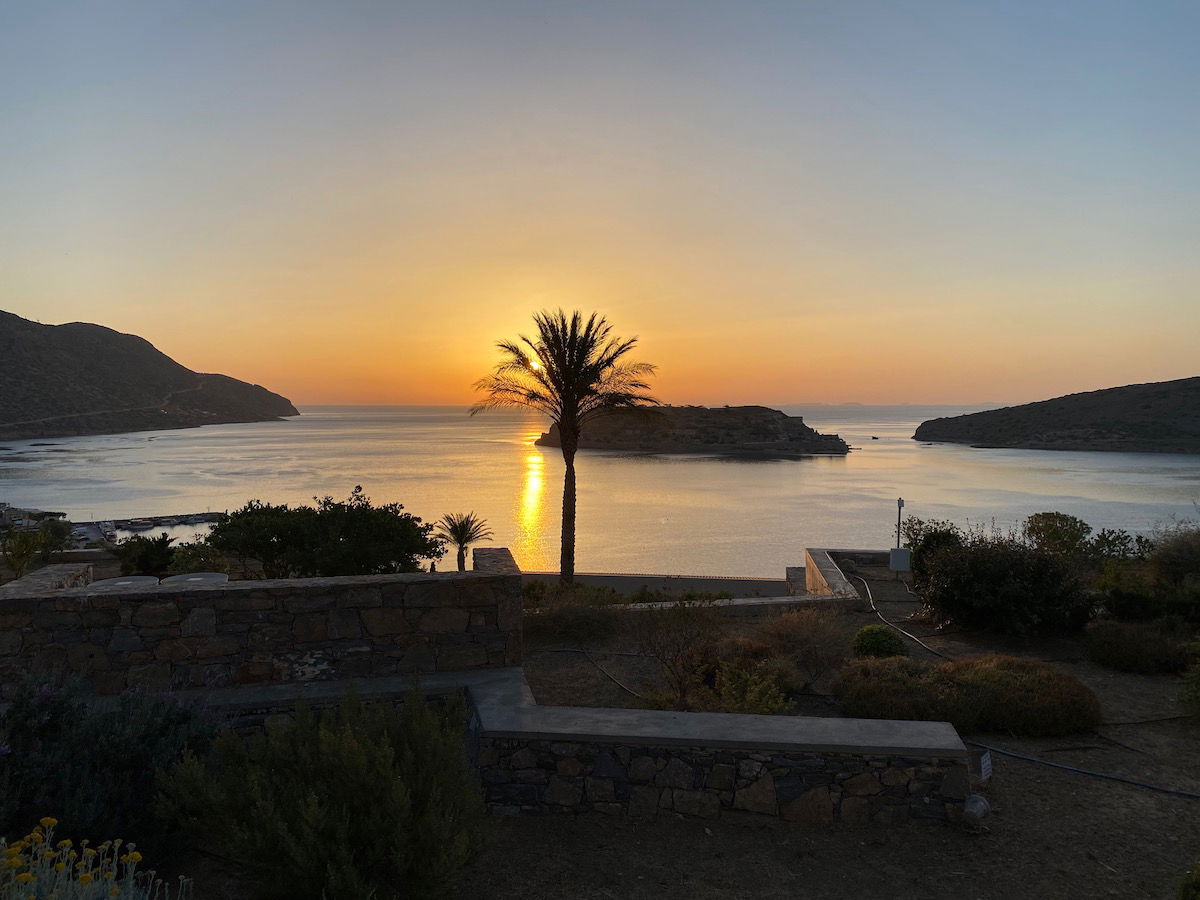 Views of the moon weren't too bad either!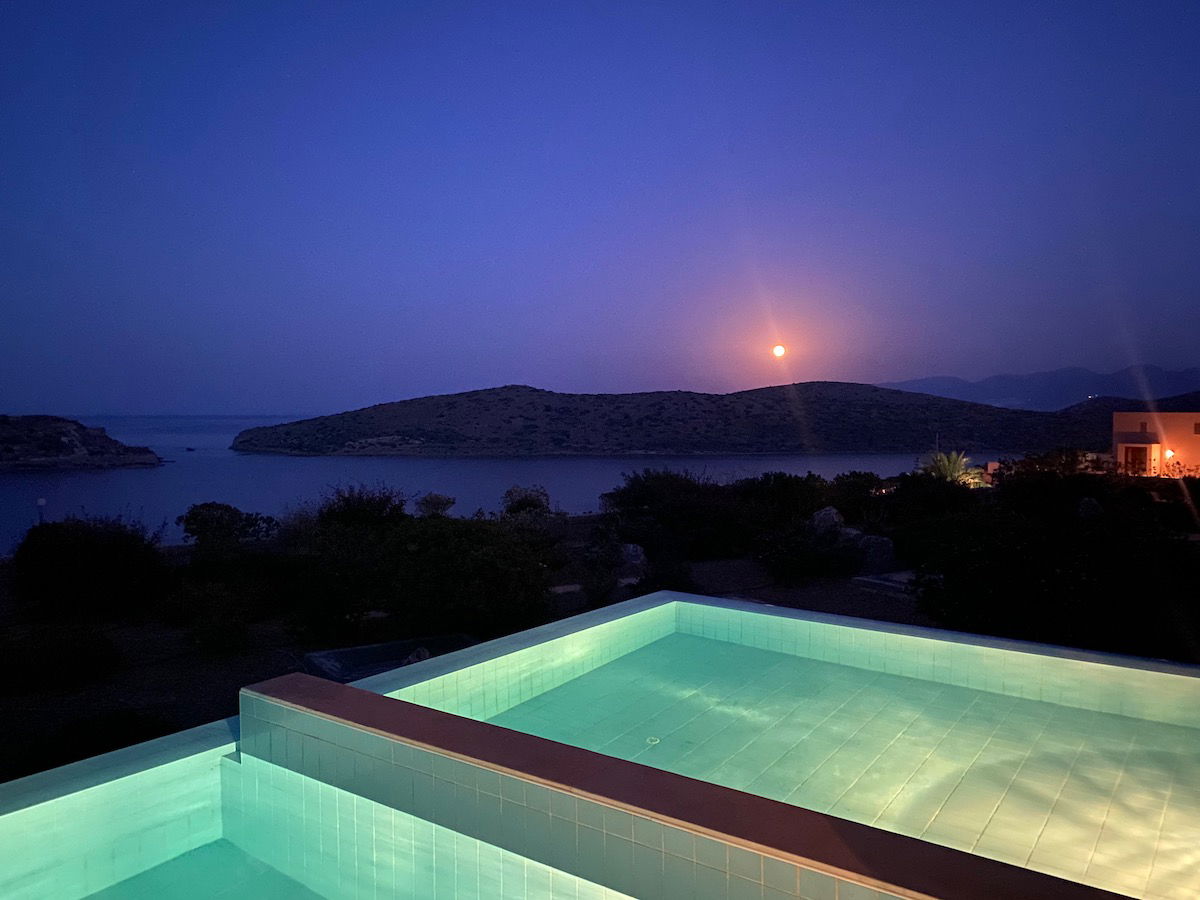 The rooms were solid, and we got great upgrades, but ultimately the rooms aren't the highlights of the hotel. I'd say the room decor is a bit bland and could use a refresh, but the views more than make up for it.
Wi-Fi throughout the hotel was fast and free, and was easy to connect to. I was also impressed that the hotel offered twice daily housekeeping. Meanwhile Domes Zeen Chania only offered housekeeping every other day, and no turndown service, and blamed it on coronavirus.
Blue Palace Elounda pools & beach
Blue Palace Elounda has three different sets of pools, in addition to a beach. This isn't a property where you should ever have to fight for lounge chairs. The first major pool is in the upper part of the hotel, right by the lobby. If you saw pictures of this property on SPG's homepage back in the day, this is probably what you saw.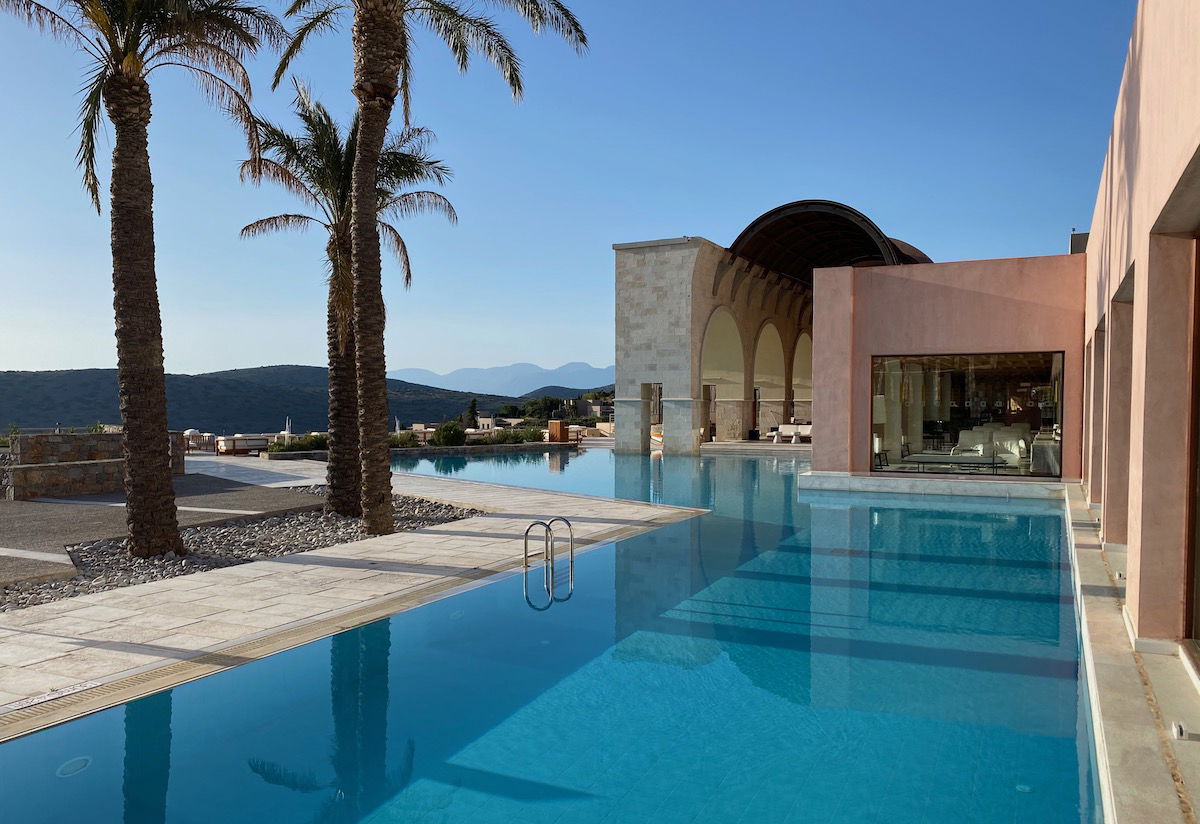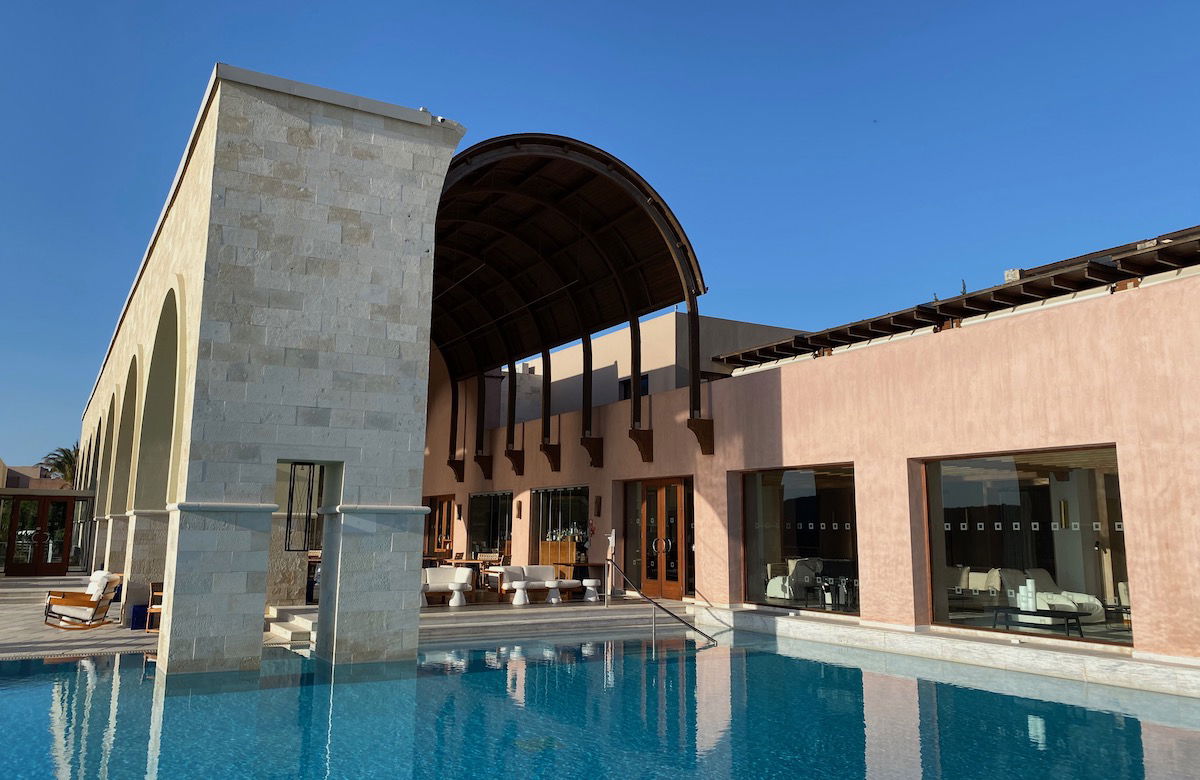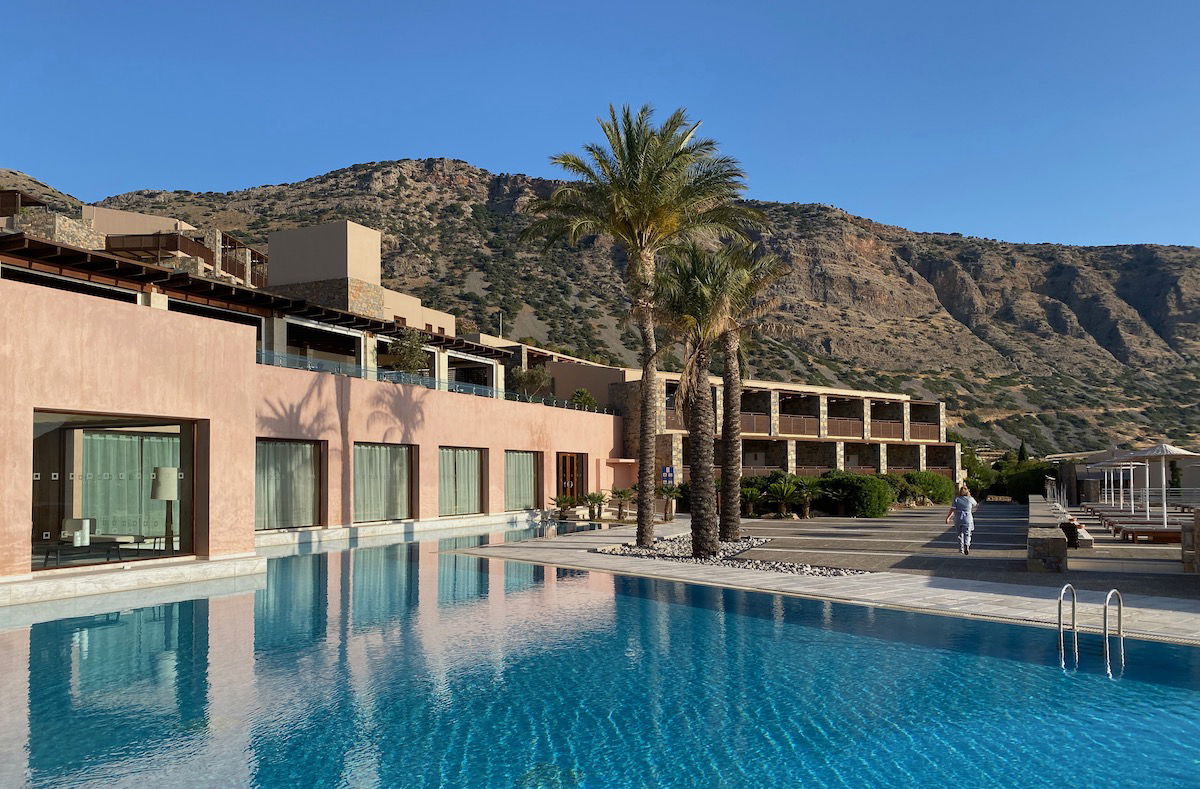 The pool itself is large, and on top of that there are an endless amount of seating options around the pool, from tables to lounge chairs.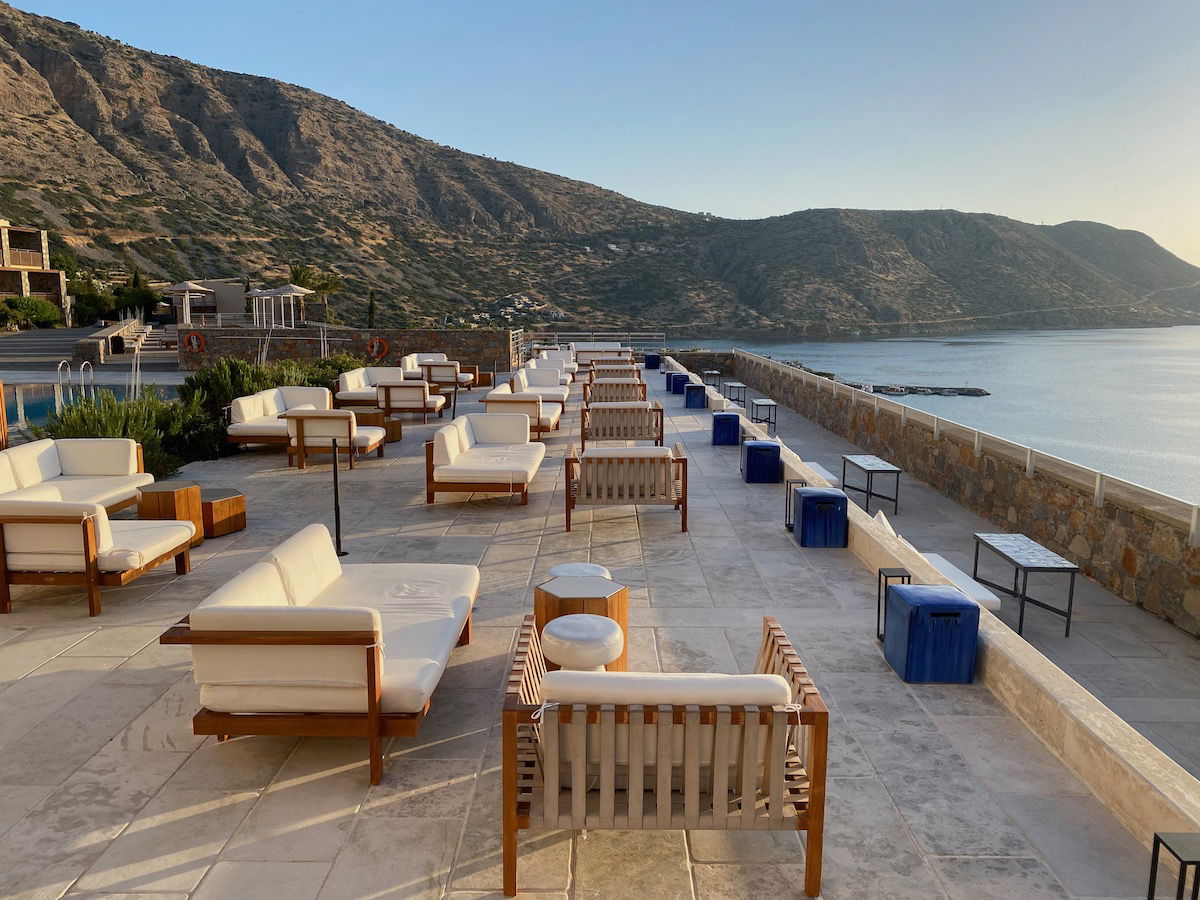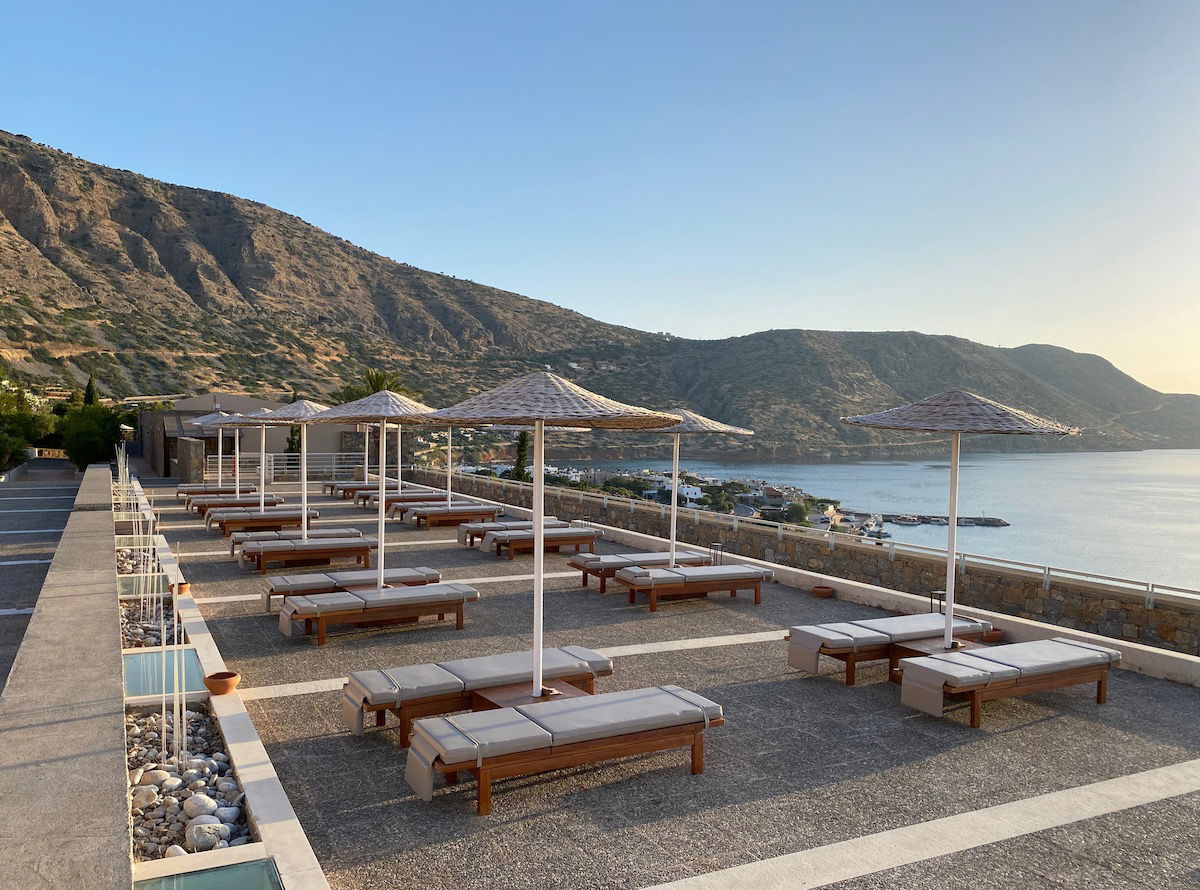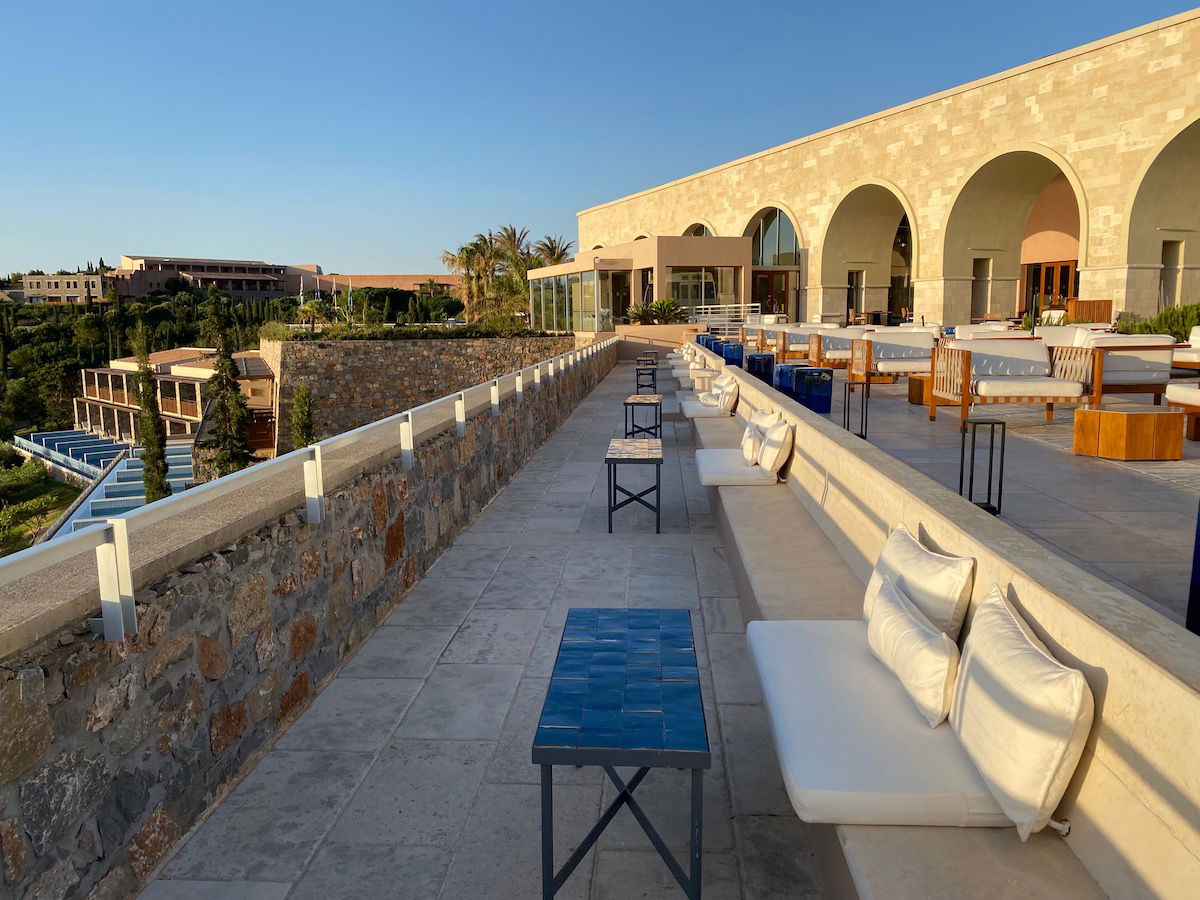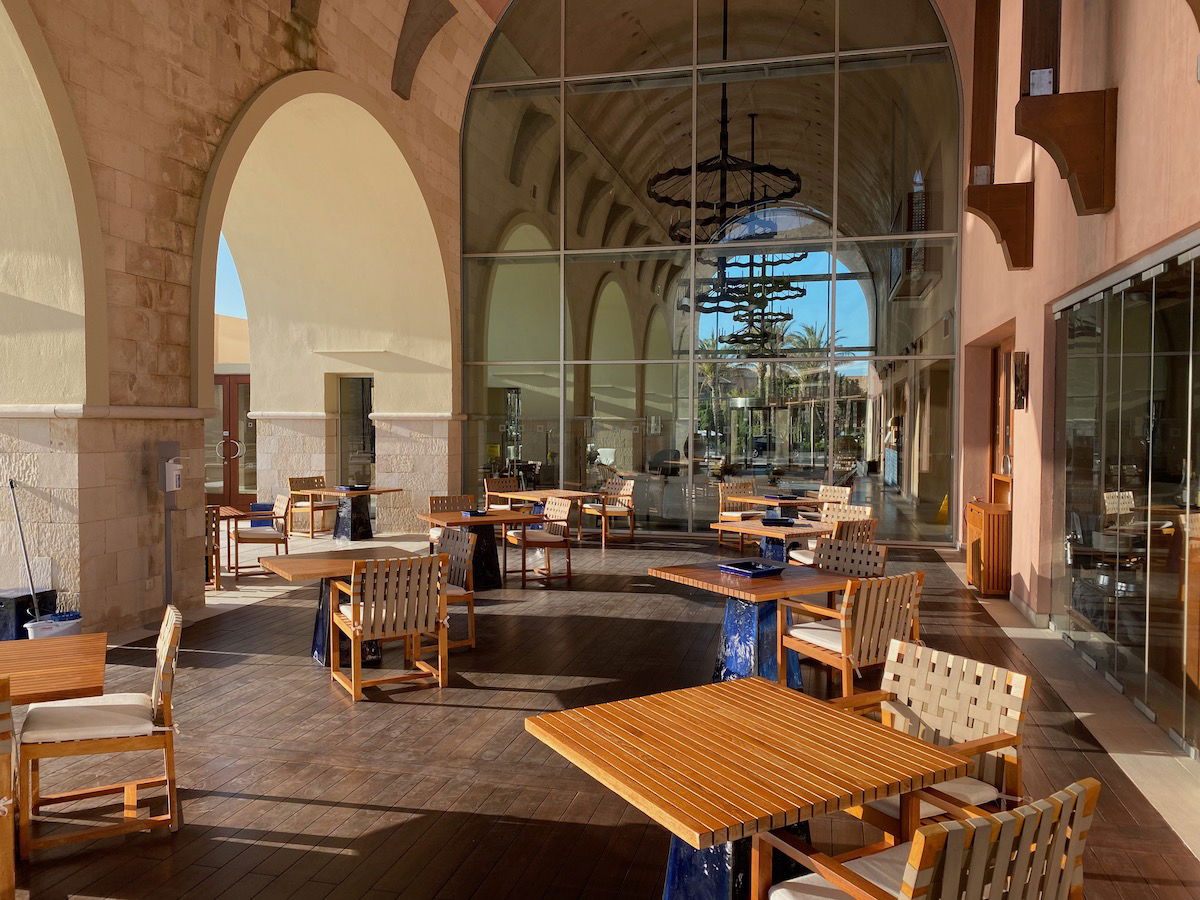 The biggest pool is at the bottom of the resort (which is accessible by funicular), and it's right by the beach. While not architecturally that inspiring, the pool is ginormous.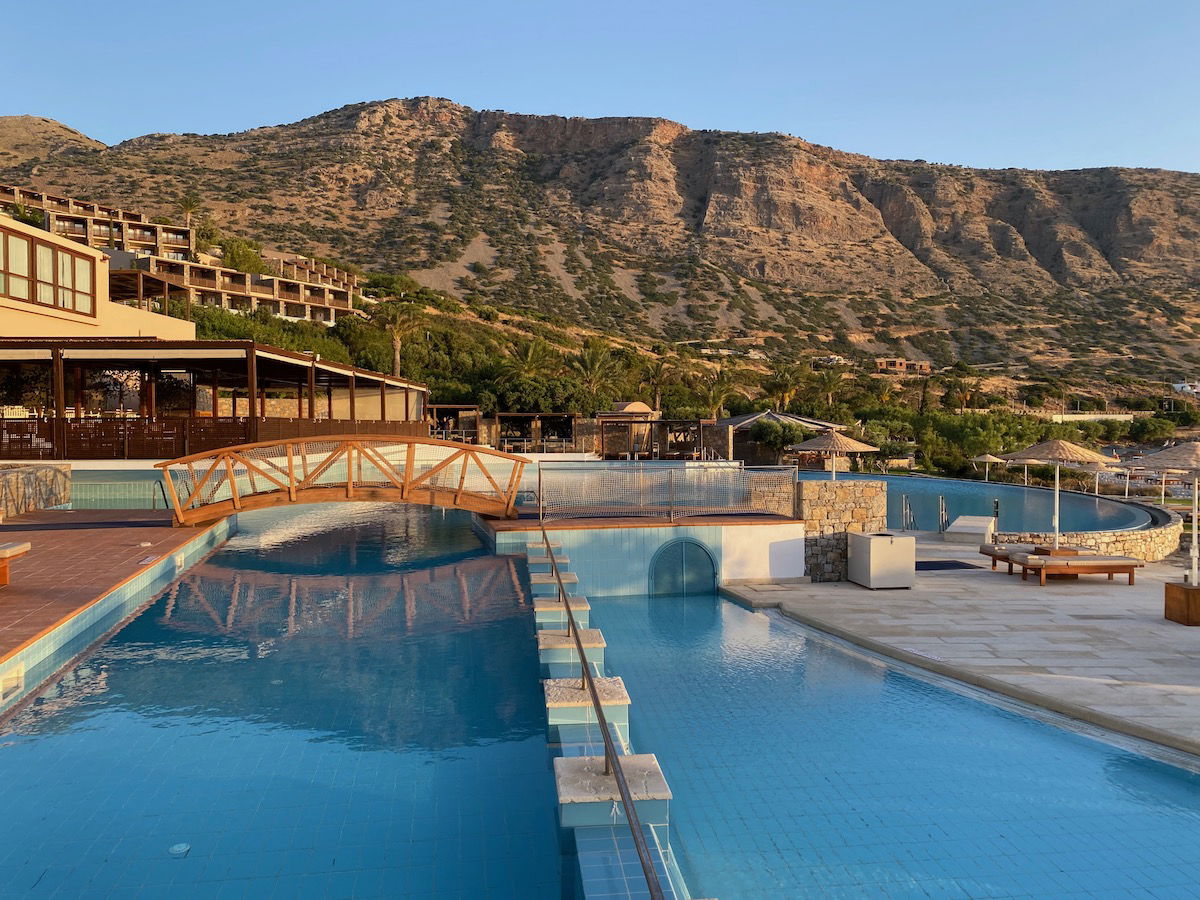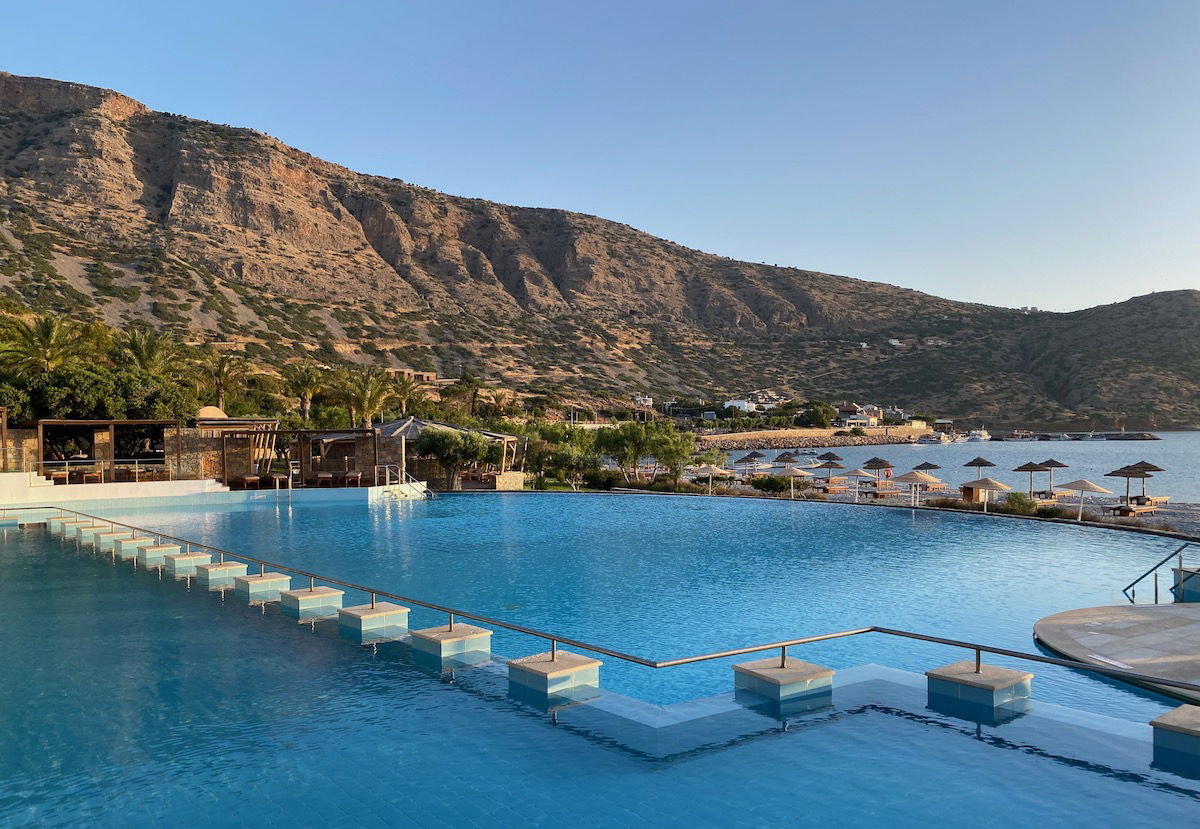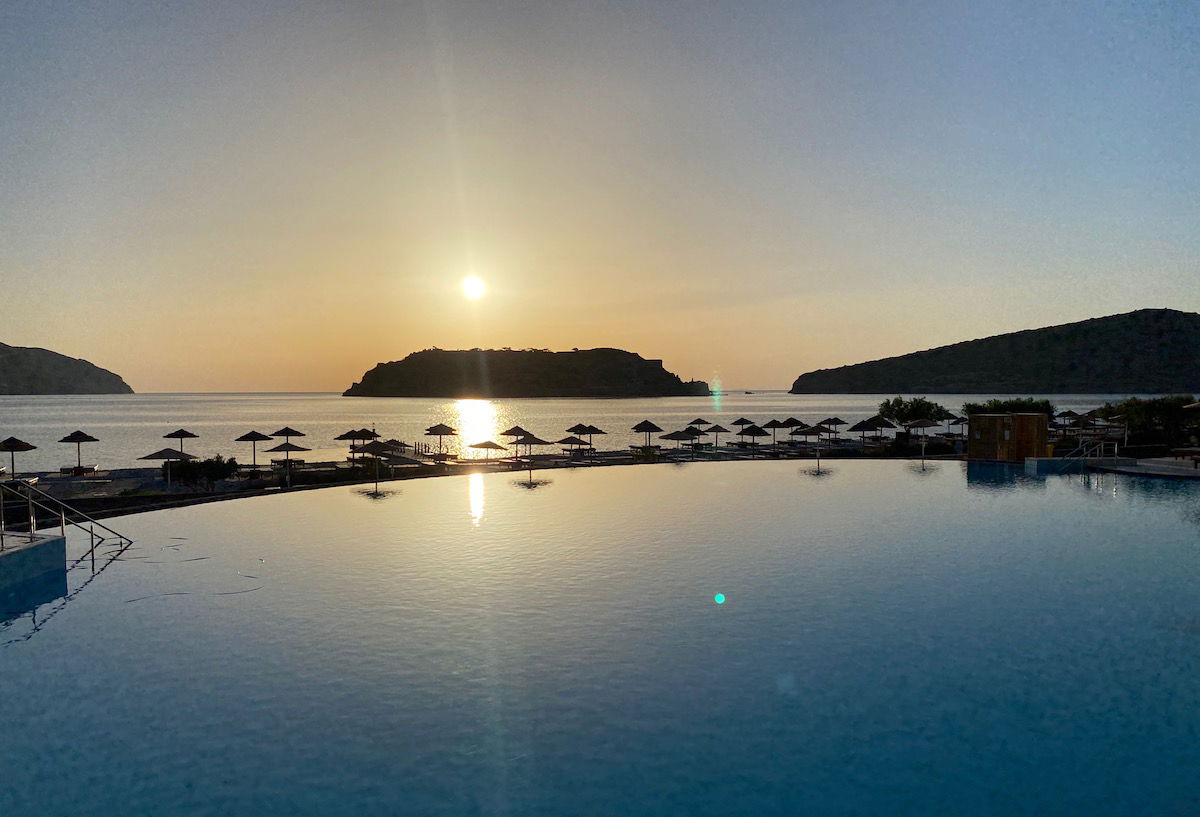 Also in this area is the beach. As I often say, you typically don't come to Greece for the beaches (there are exceptions), and that applies at this property as well. This is a rock beach rather than a sand beach. Given that many sand beaches in Greece are kind of mediocre, I loved this unique alternative. On top of that the water is fairly calm here, so you can actually swim, which isn't the case in many other parts of Greece.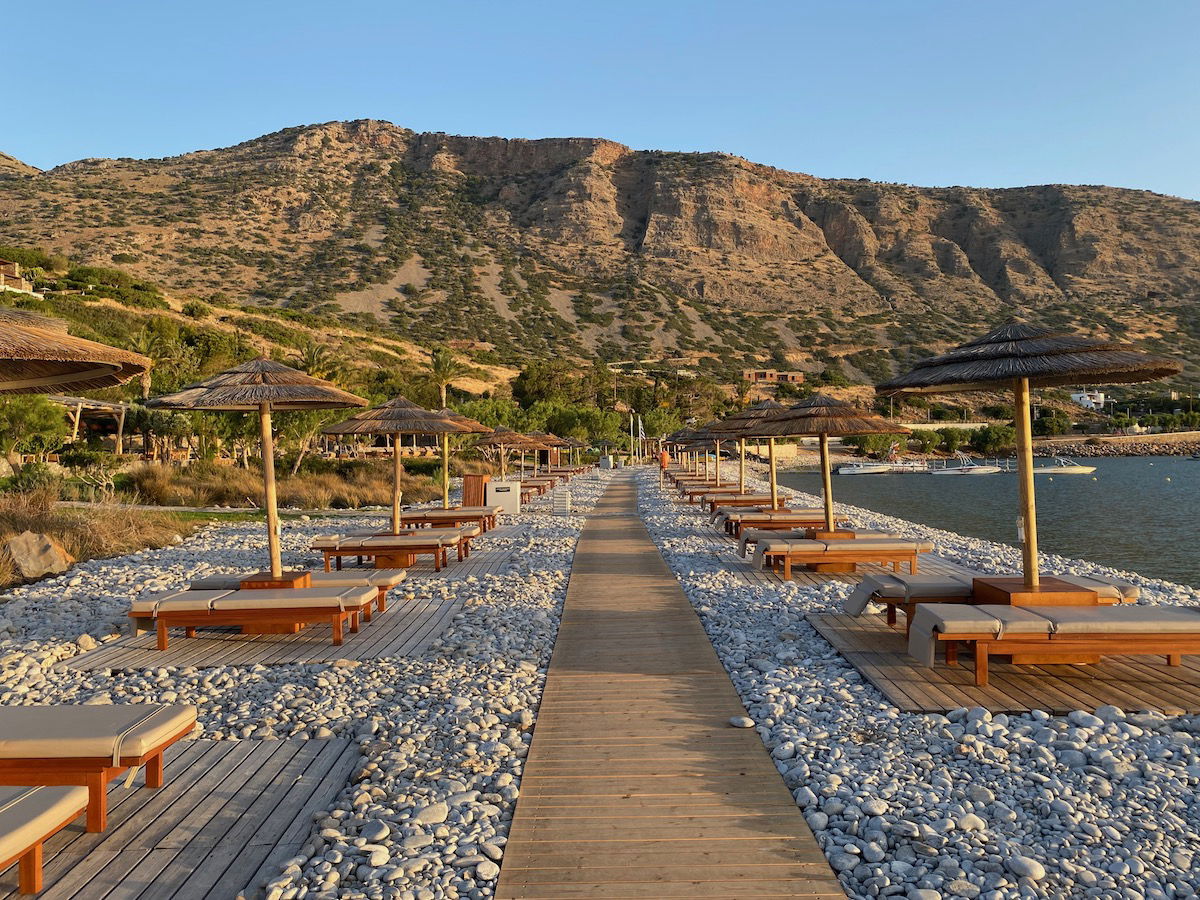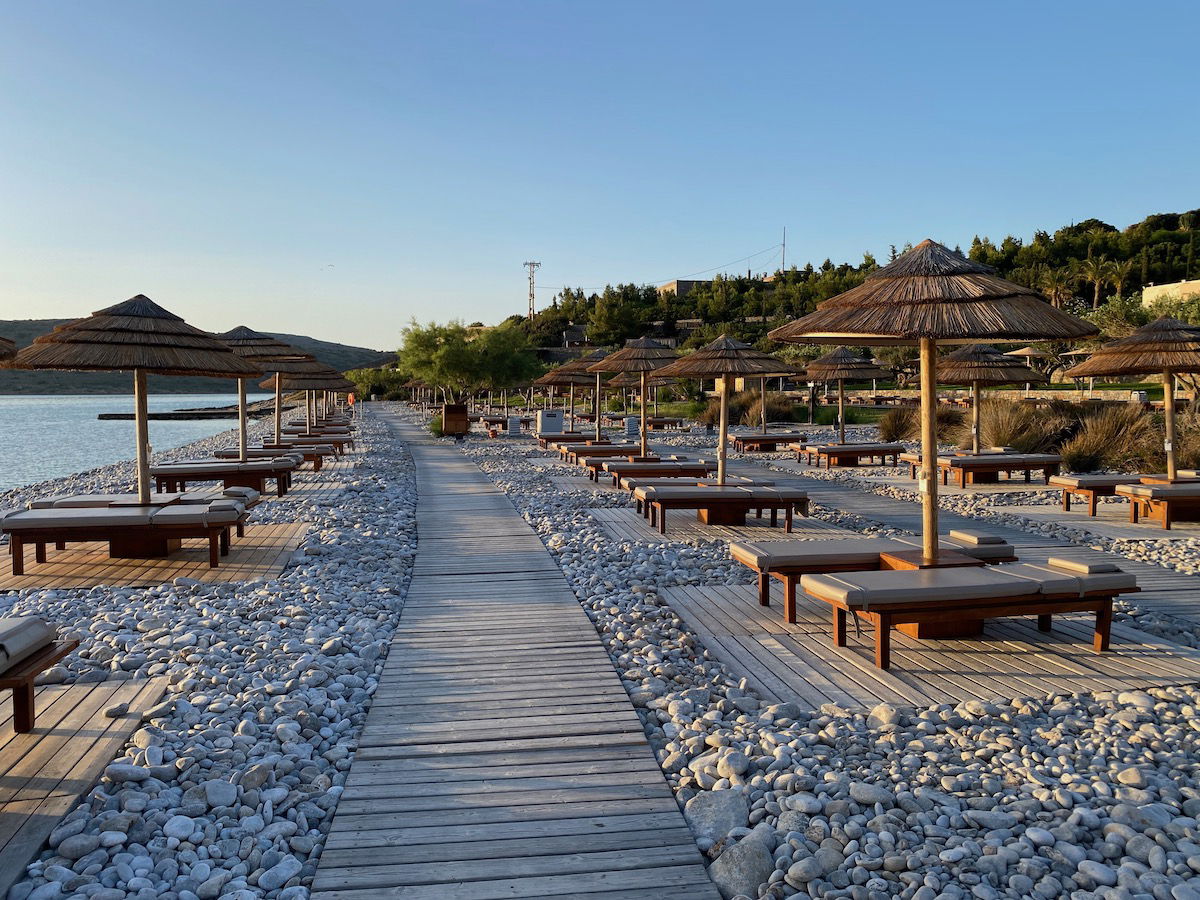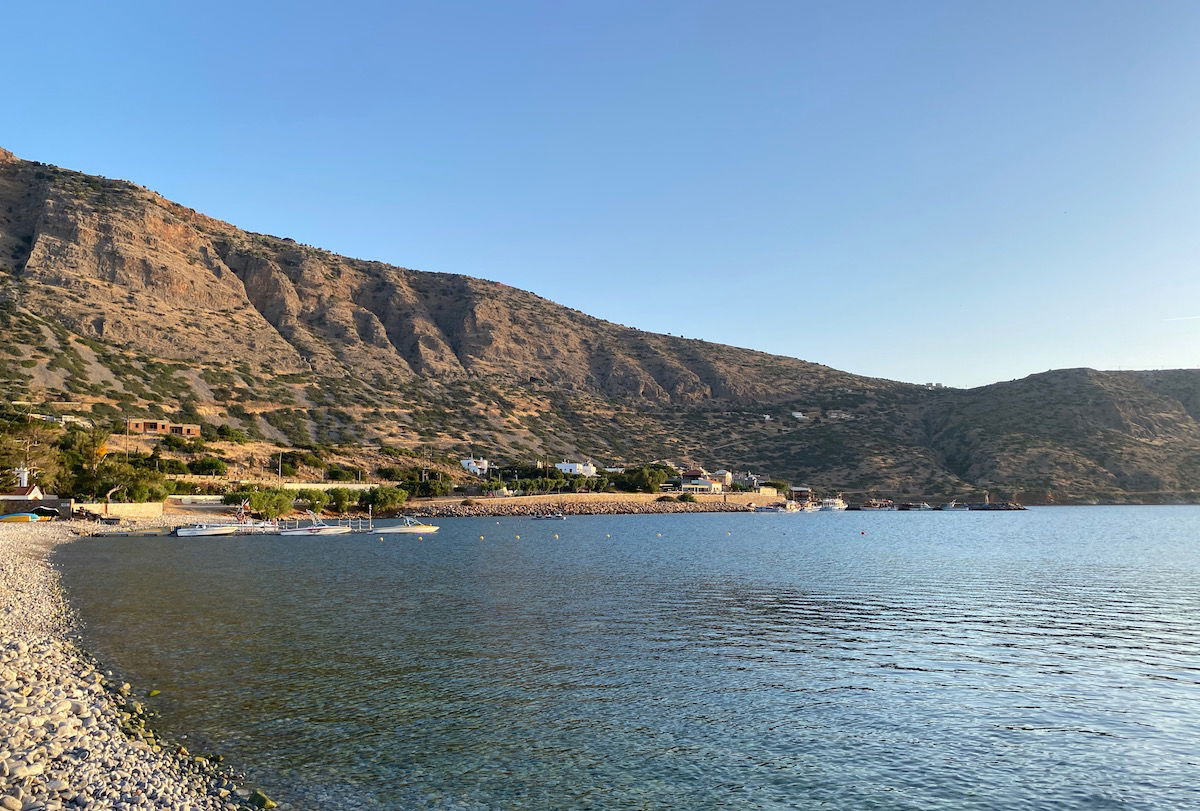 In addition to the two main pools there's a third pool near the hotel's Asian restaurant, though it's much less exciting than the other two.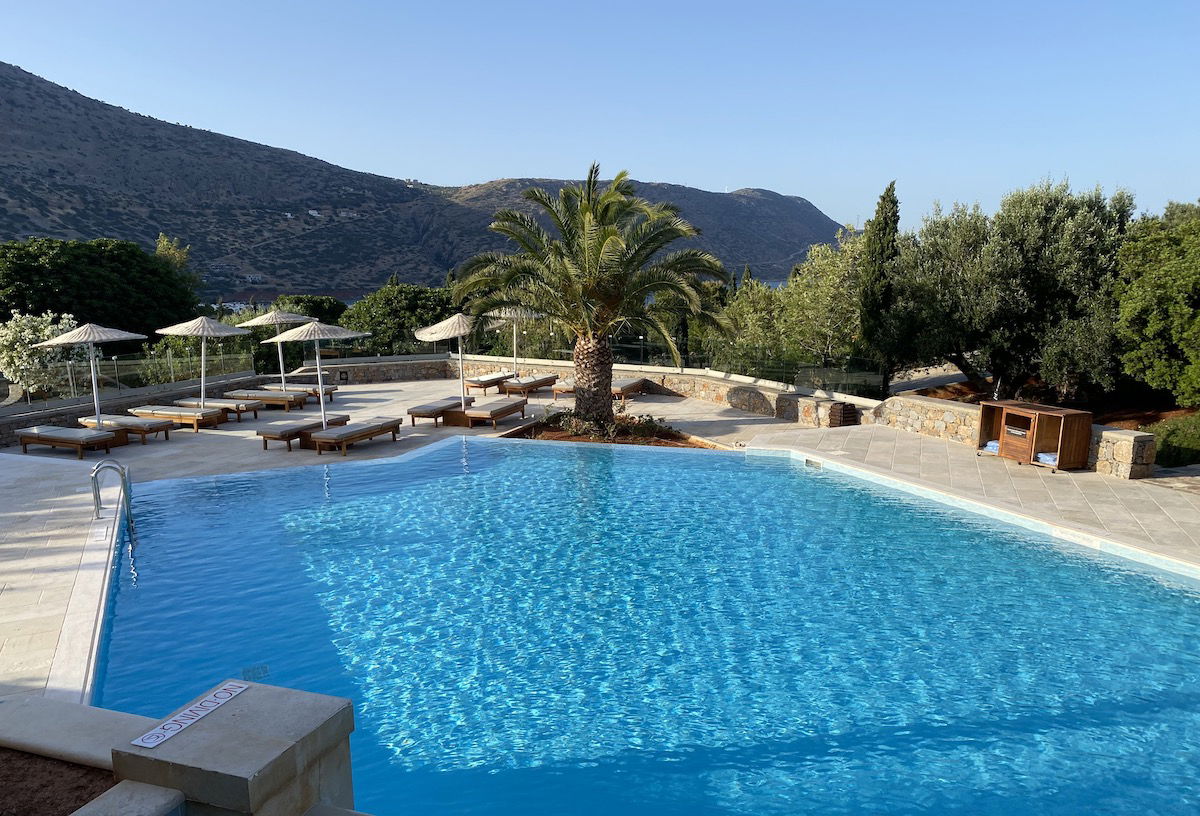 Blue Palace Elounda spa & gym
Blue Palace Elounda has a spa and gym, located in the lower part of the property. The gym was closed during our stay (due to coronavirus, or something), so I wasn't able to get pictures of it. I also didn't get any spa treatments (I was either working or spending time with my mom), but the spa looked lovely, and also had an indoor pool.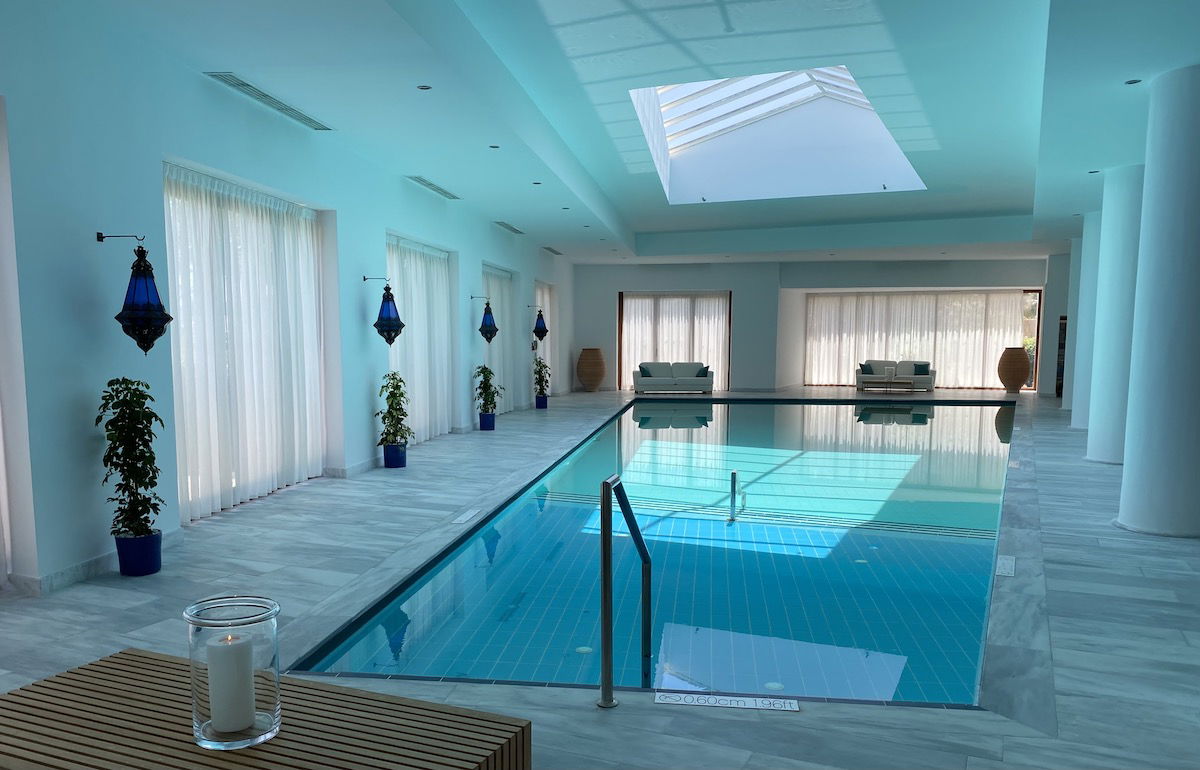 Blue Palace Elounda Anthos Restaurant breakfast
Olea is the name of the hotel's all-day dining restaurant, which is where guests can usually enjoy breakfast (and I believe most rates here include breakfast, so the restaurant can probably get crowded).
However, Marriott Bonvoy Platinum members and above can instead choose to enjoy breakfast at Anthos, the hotel's Cretan restaurant that's primarily open for dinner, but it seems this is also the hotel's "premium" breakfast location.
First of all, the restaurant is ridiculously cute, with plenty of indoor and outdoor seating, all with white tablecloths.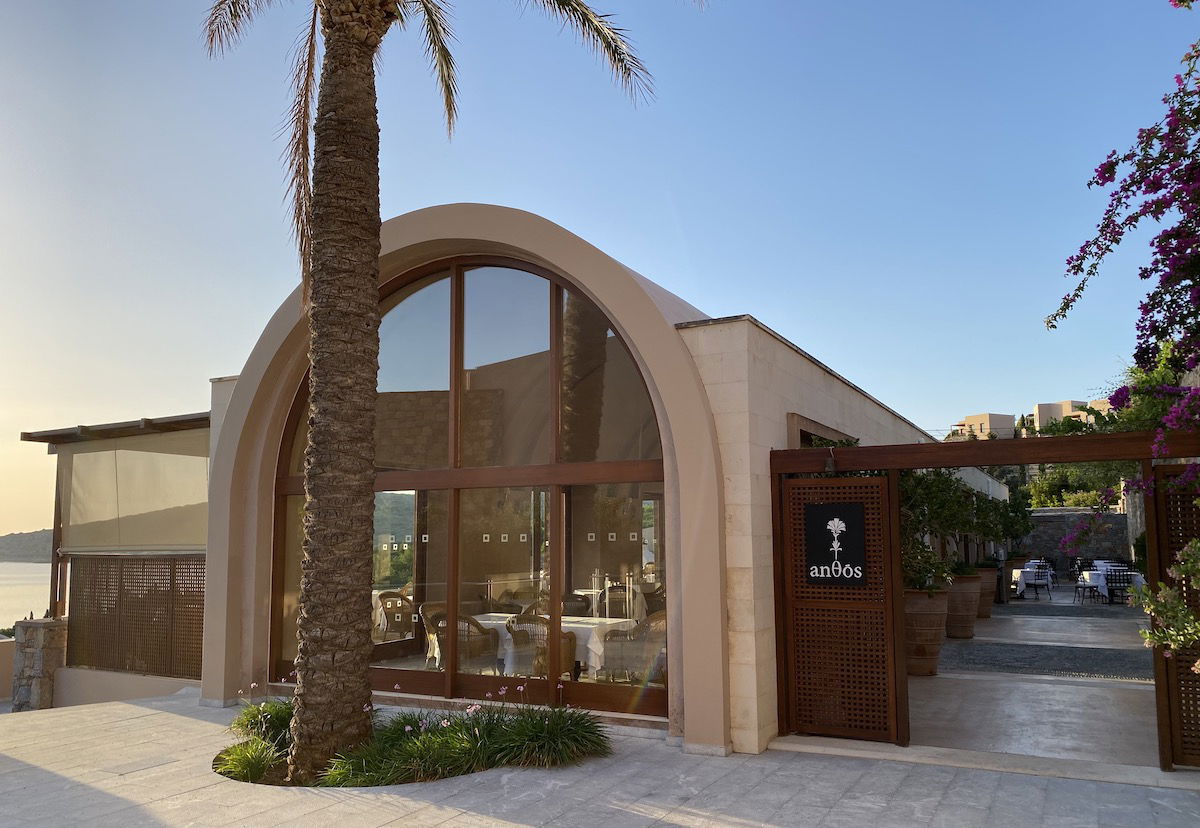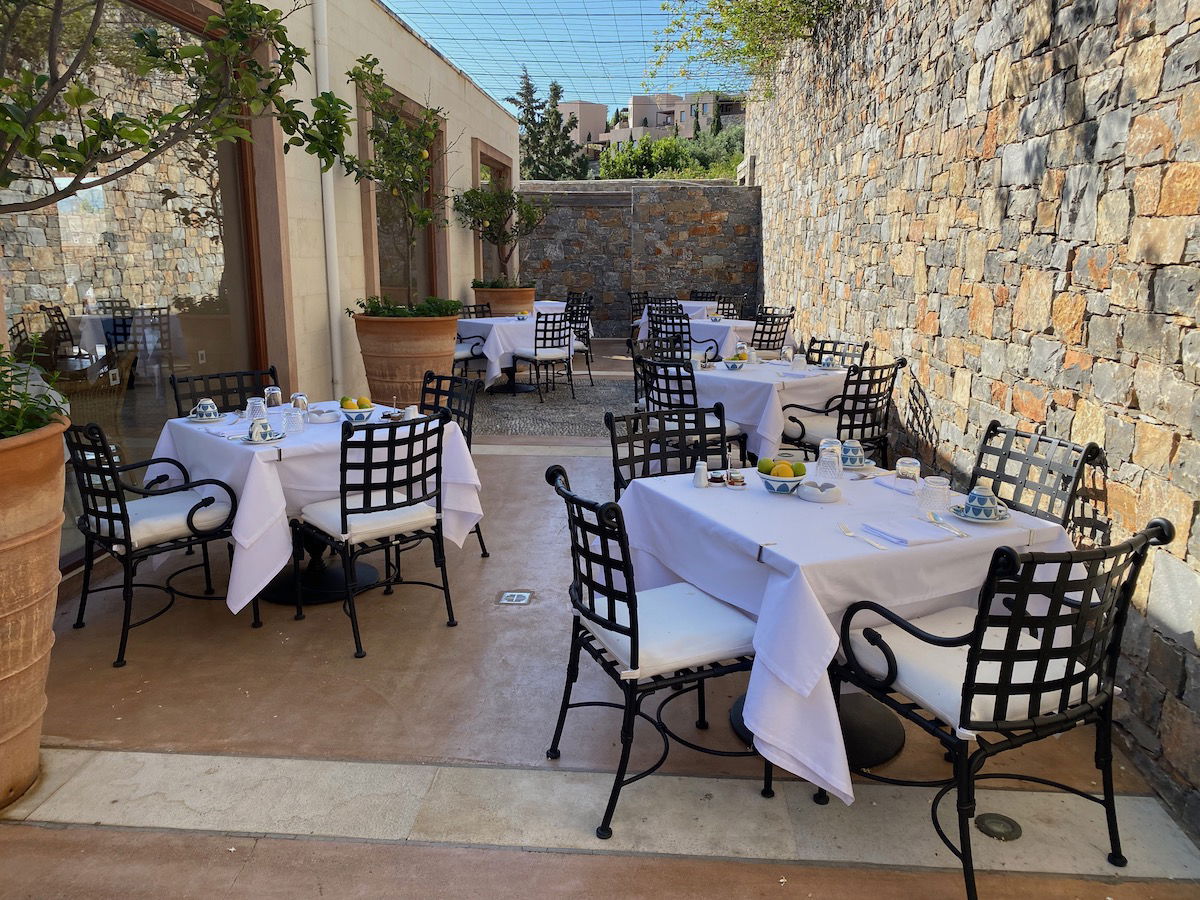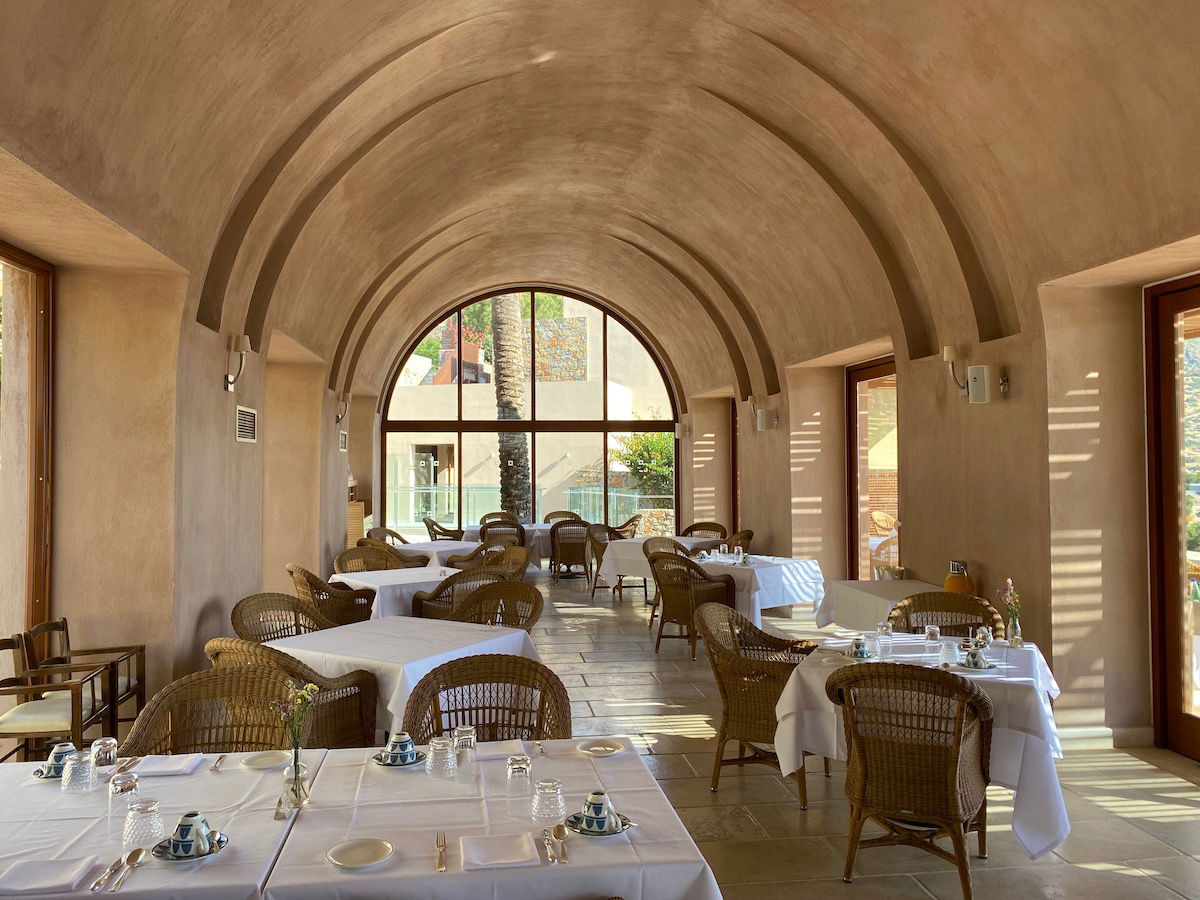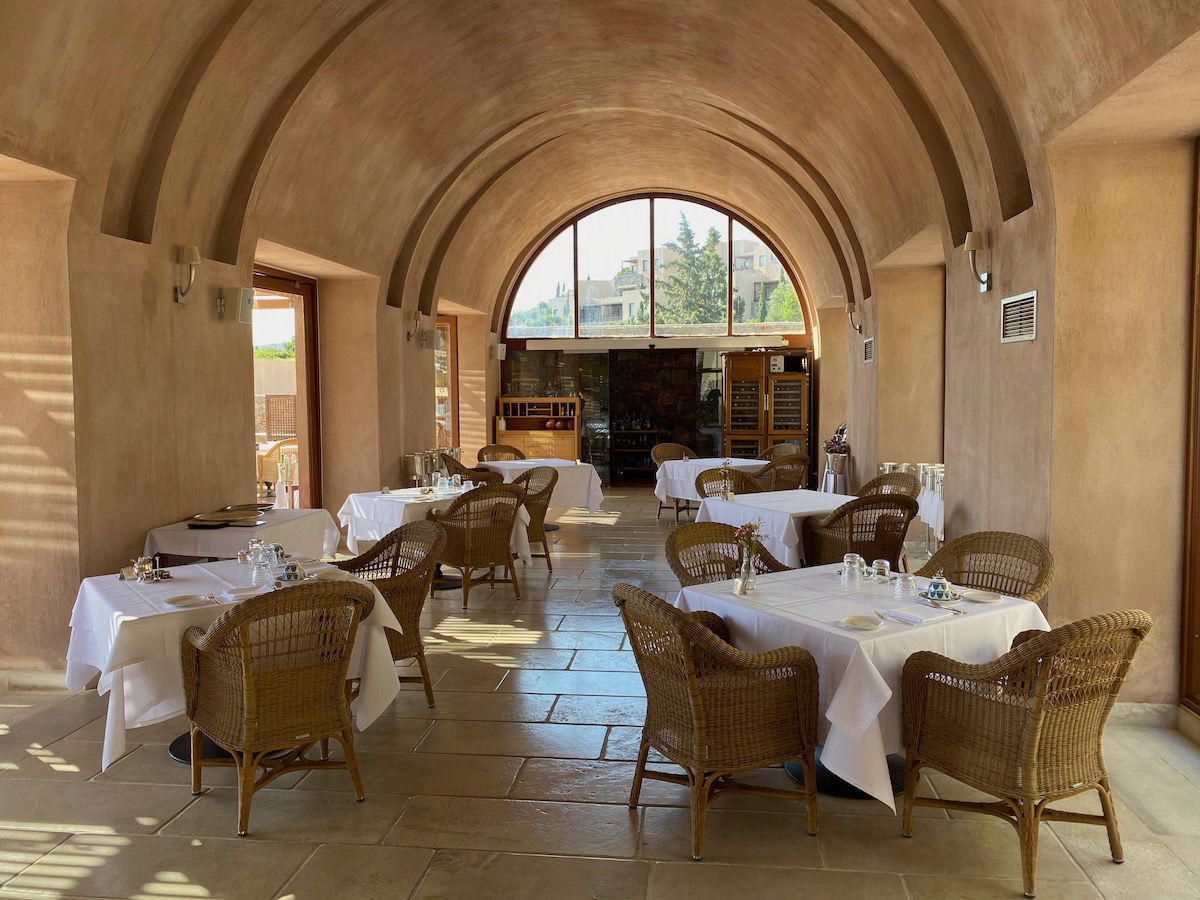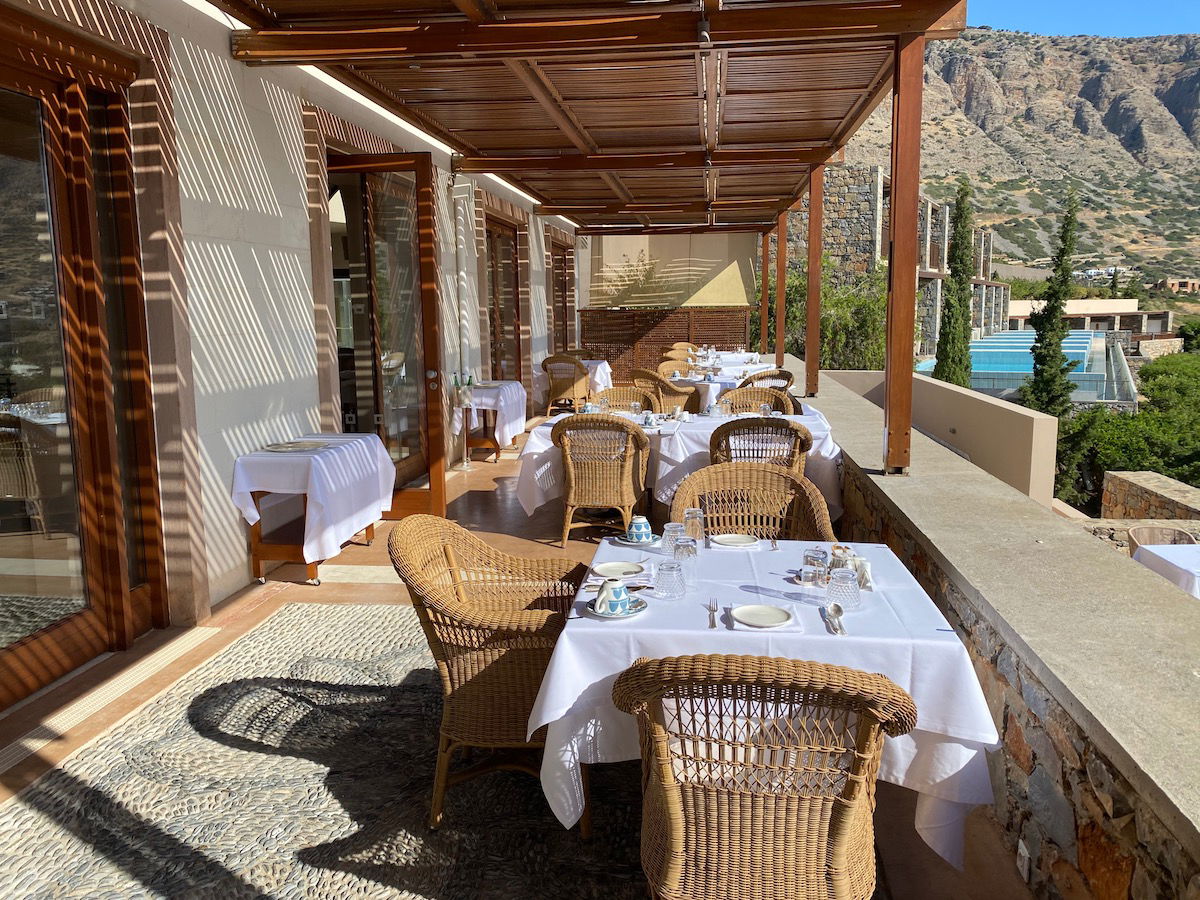 Talk about breakfast with a view!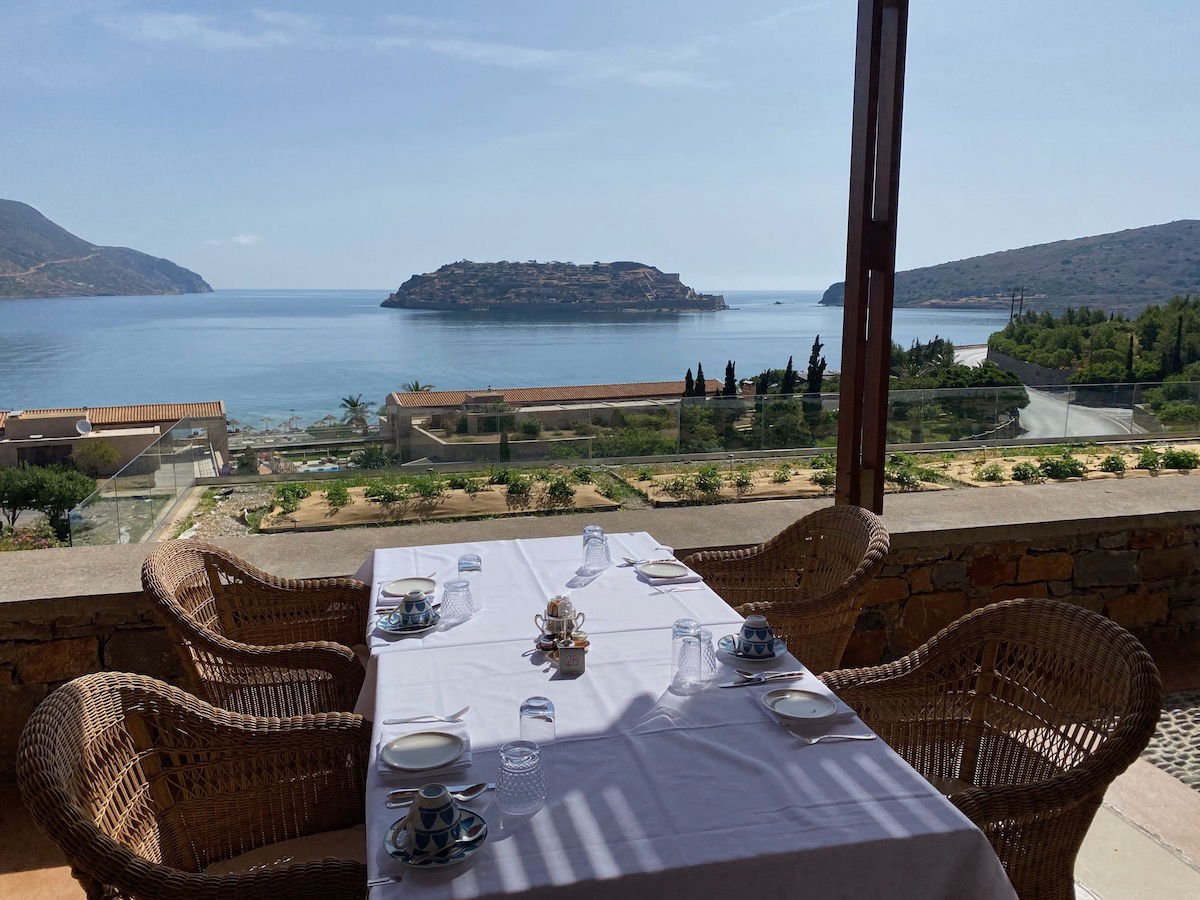 I don't know what I loved more at this restaurant — the food or the service. We had the place to ourselves each morning, and there were at least five servers taking care of us. At the previous hotel it often took 20 minutes to get a cup of coffee, while breakfast at this place was almost a choreographed performance, with one server pouring us coffee, while another service poured us fresh orange juice at the same time. Our drinks never got more than half empty.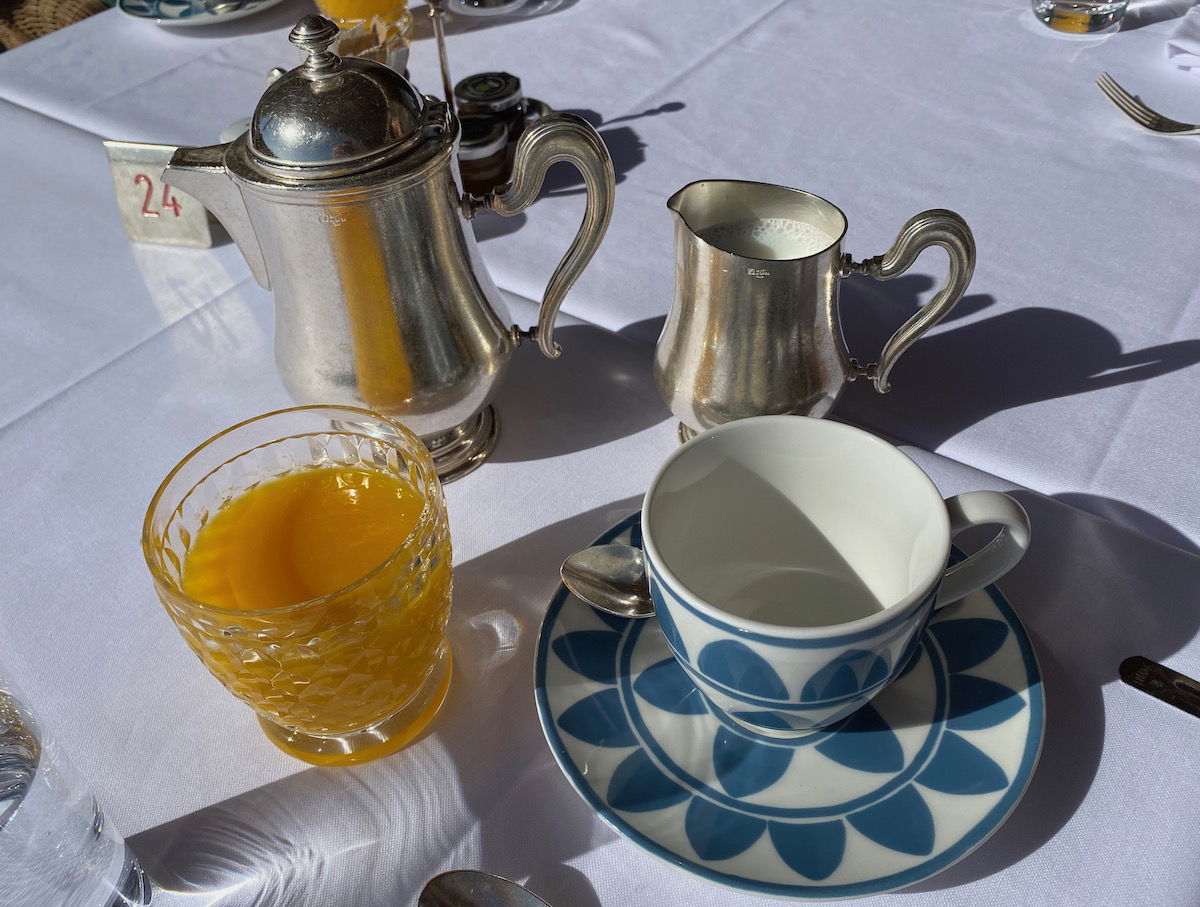 And the drink selection went beyond just coffee and juice — I enjoyed the freddo cappuccinos immensely.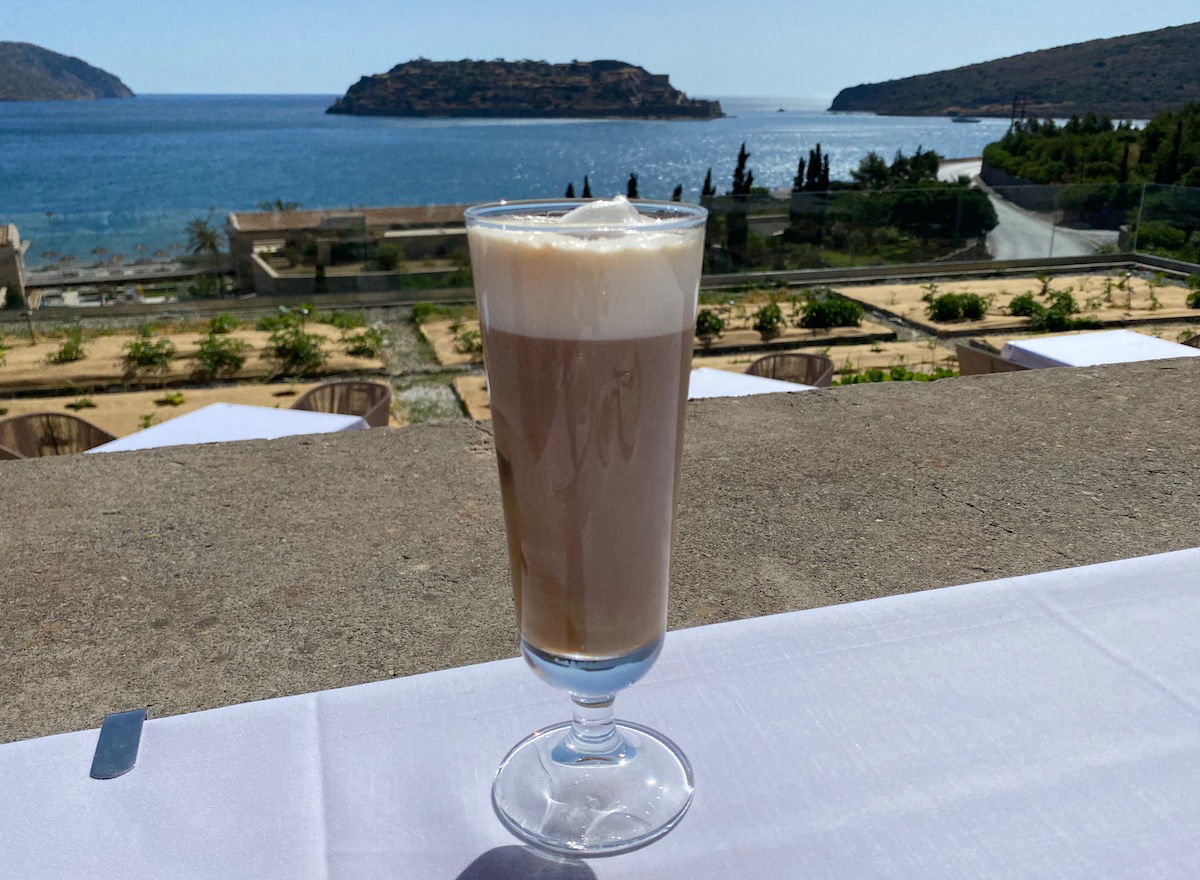 The restaurant had a small breakfast buffet inside with fresh fruit, pastries, bread, cereal, etc.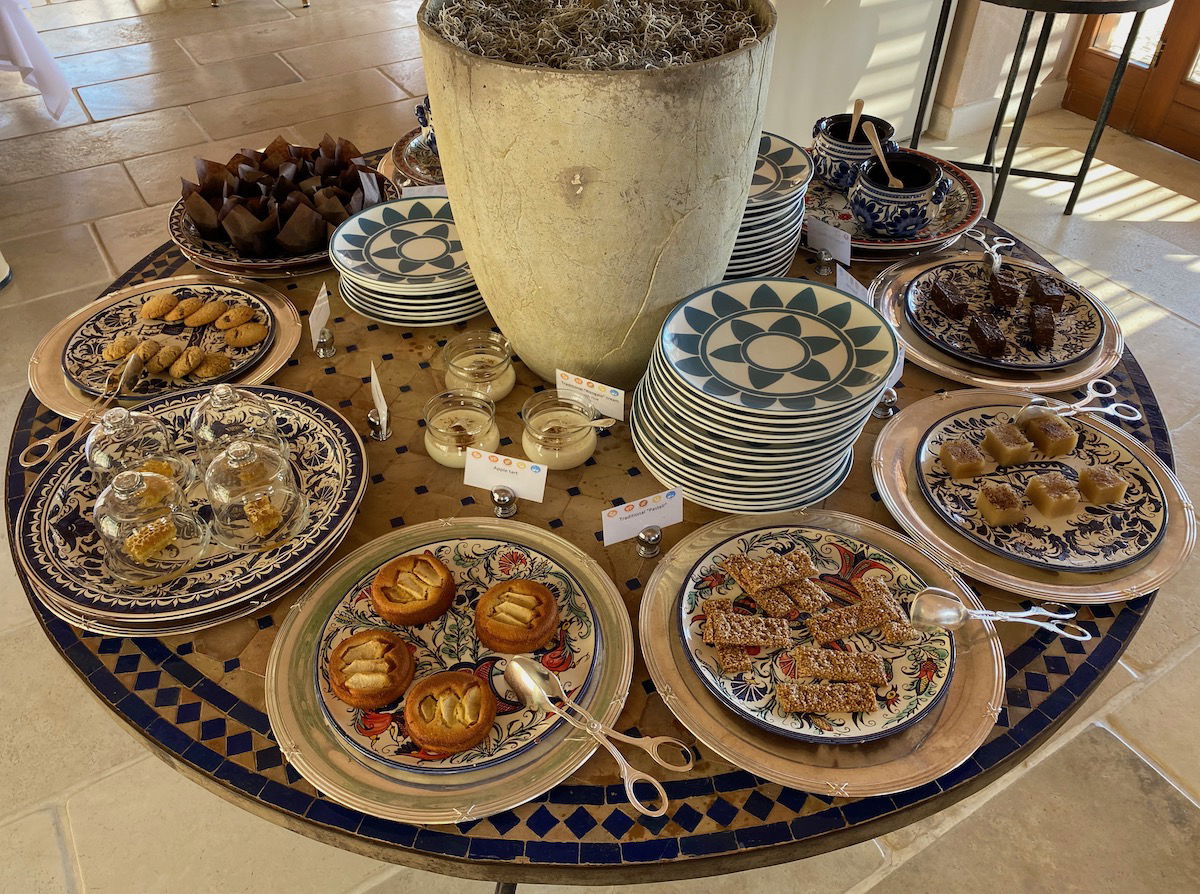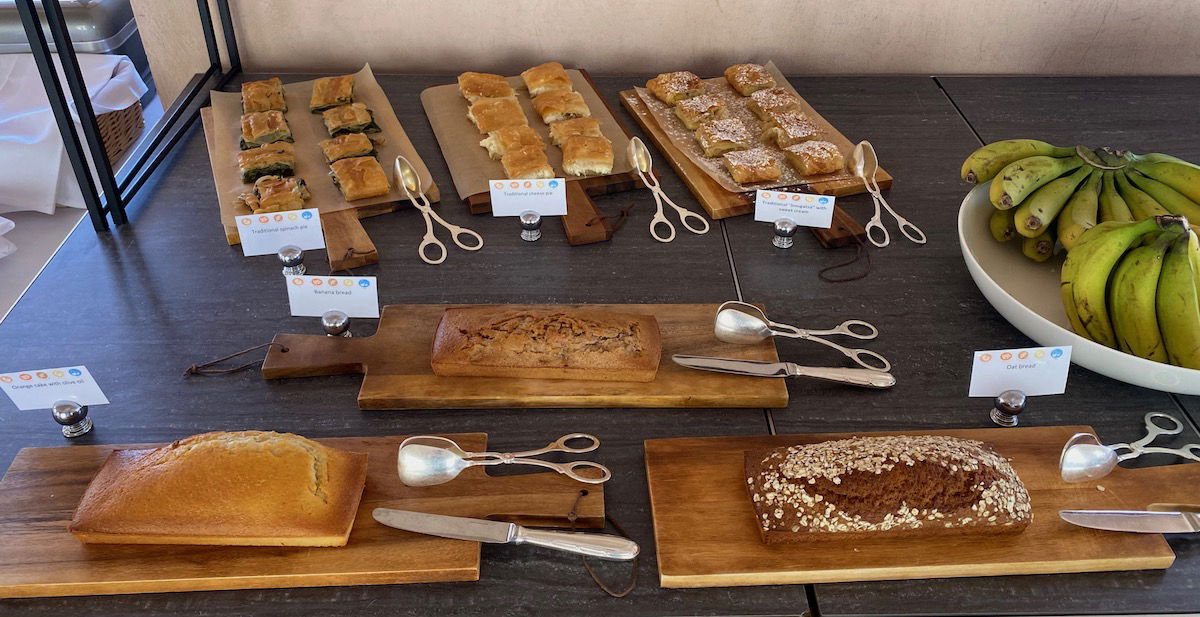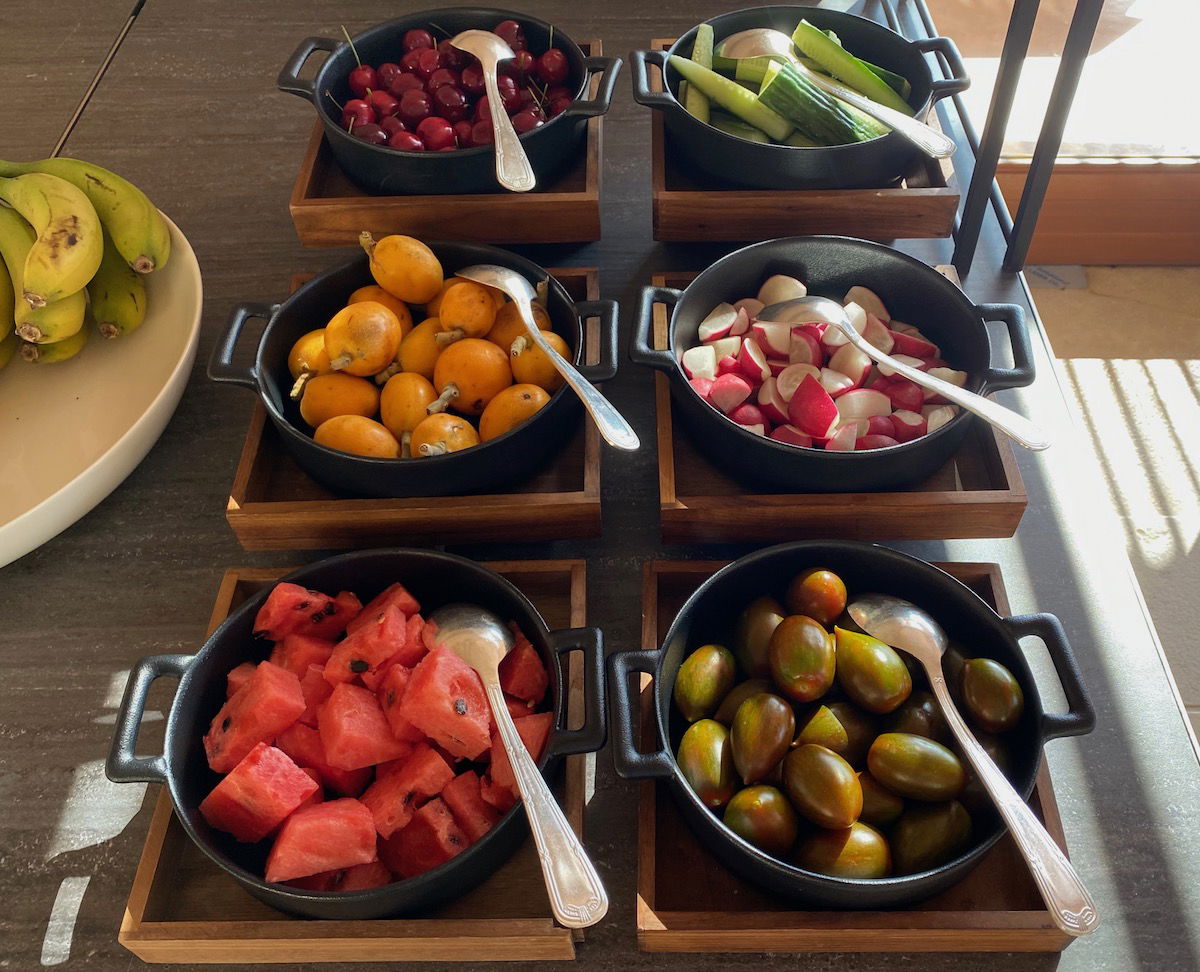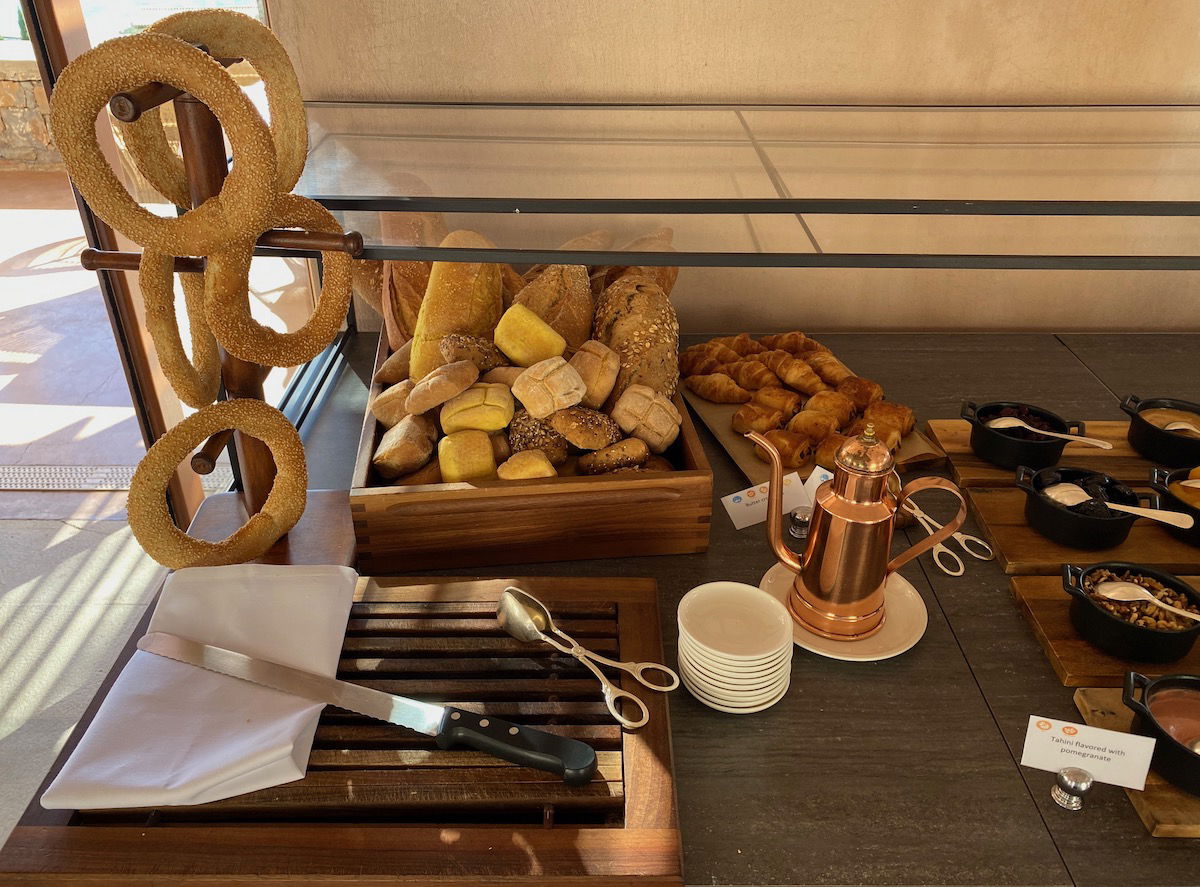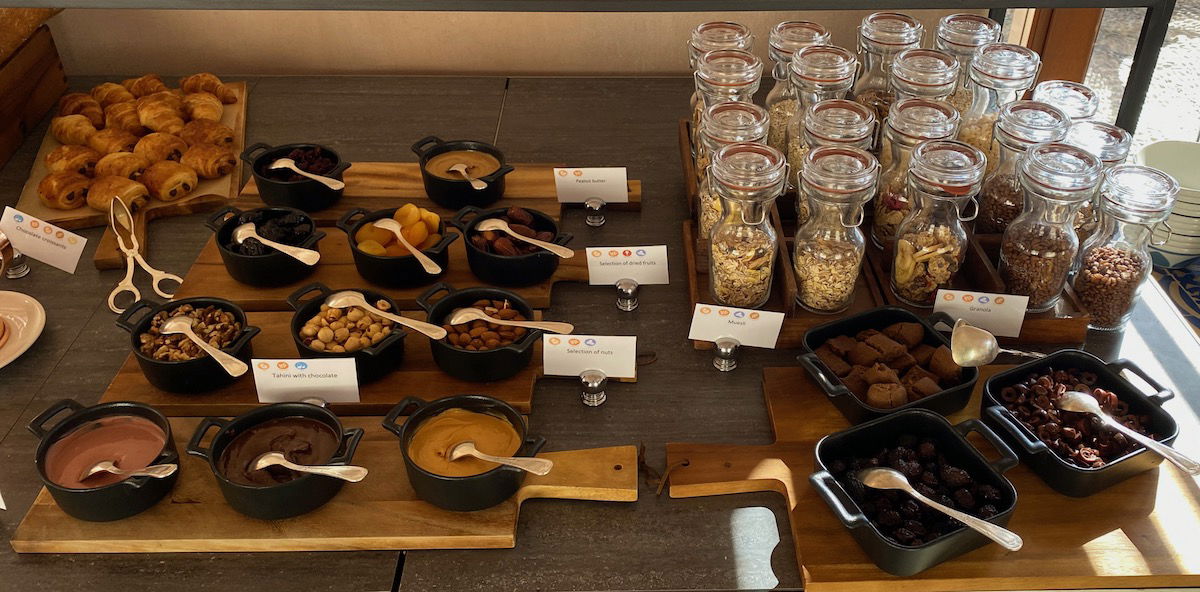 The buffet was only intended to complement the menu. You could order as much as you want, and you'd think they were working on a commission based on how much they could get you to eat, because they kept encouraging us to order more.
The food was exceptional, from the yogurt with granola, to the chia pudding, to fresh avocado, to avocado toast, to a Cretan omelet, to Greek scrambled eggs.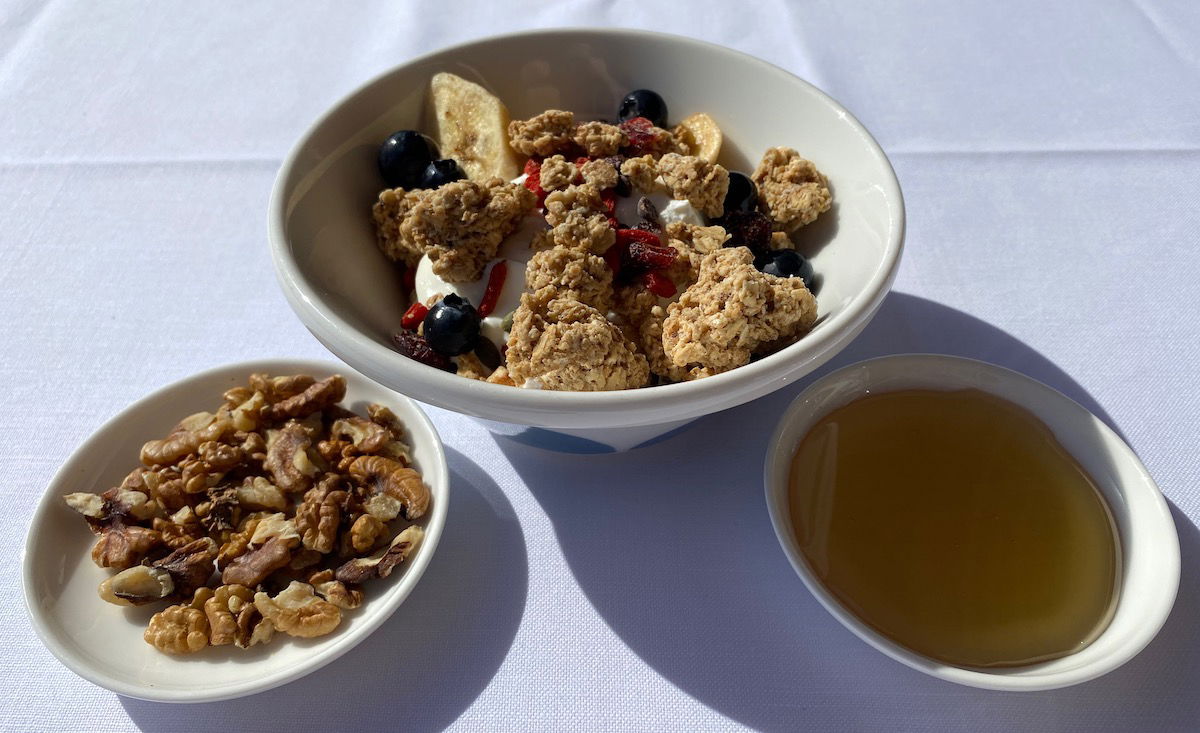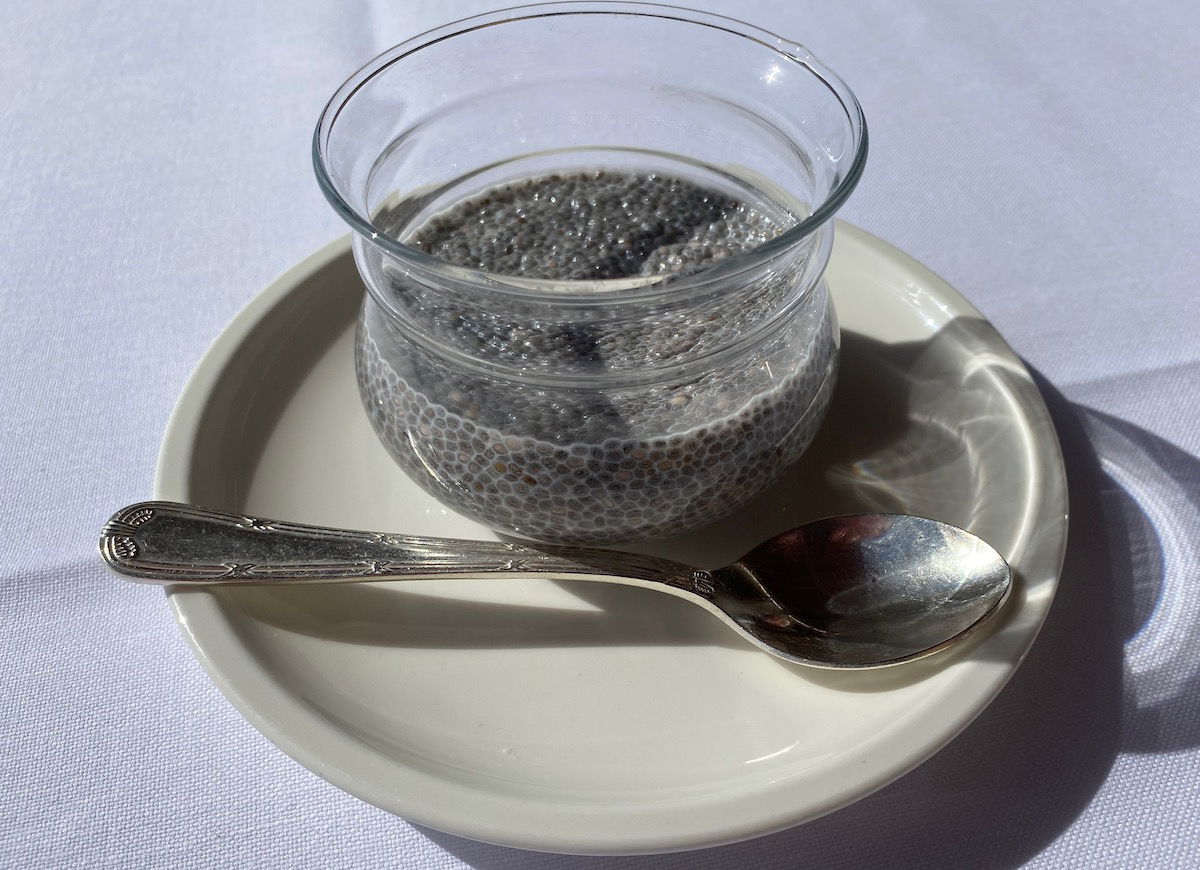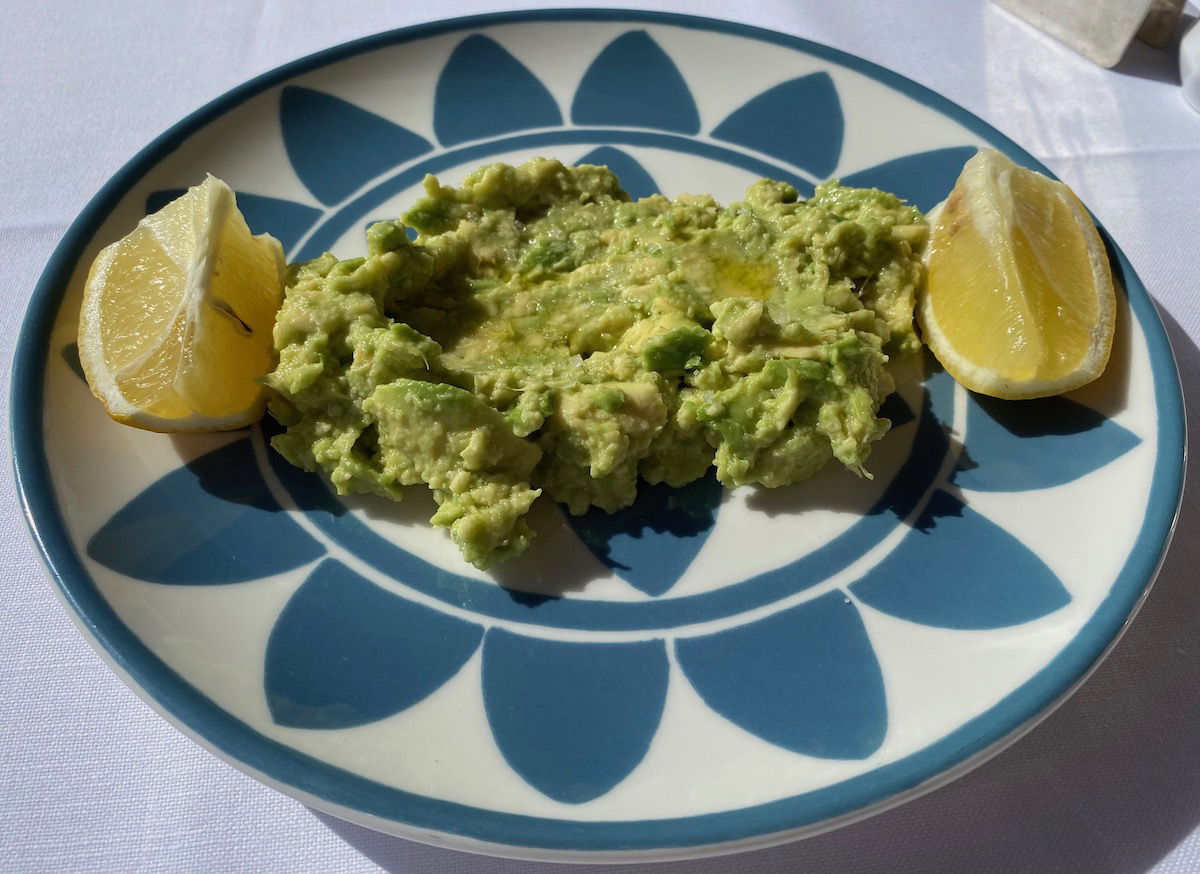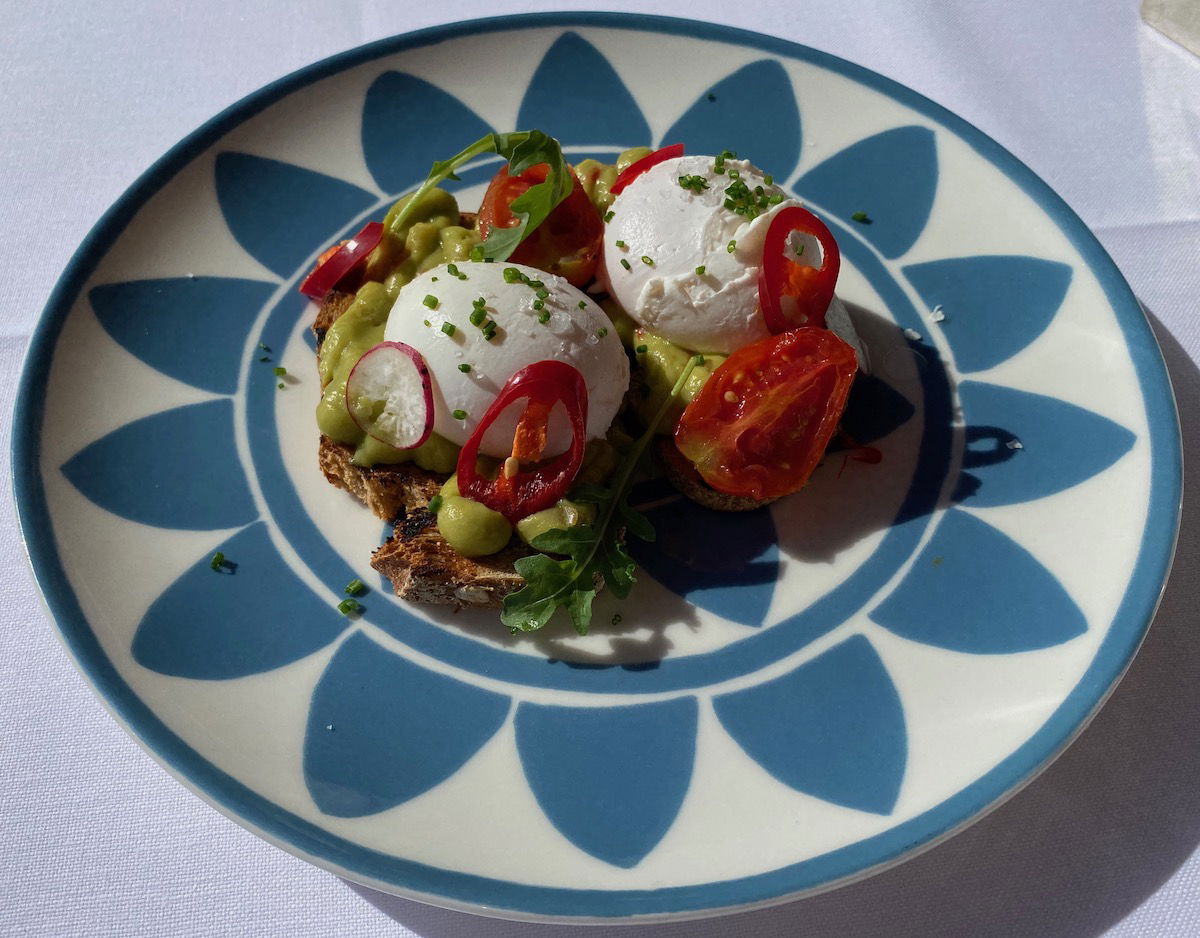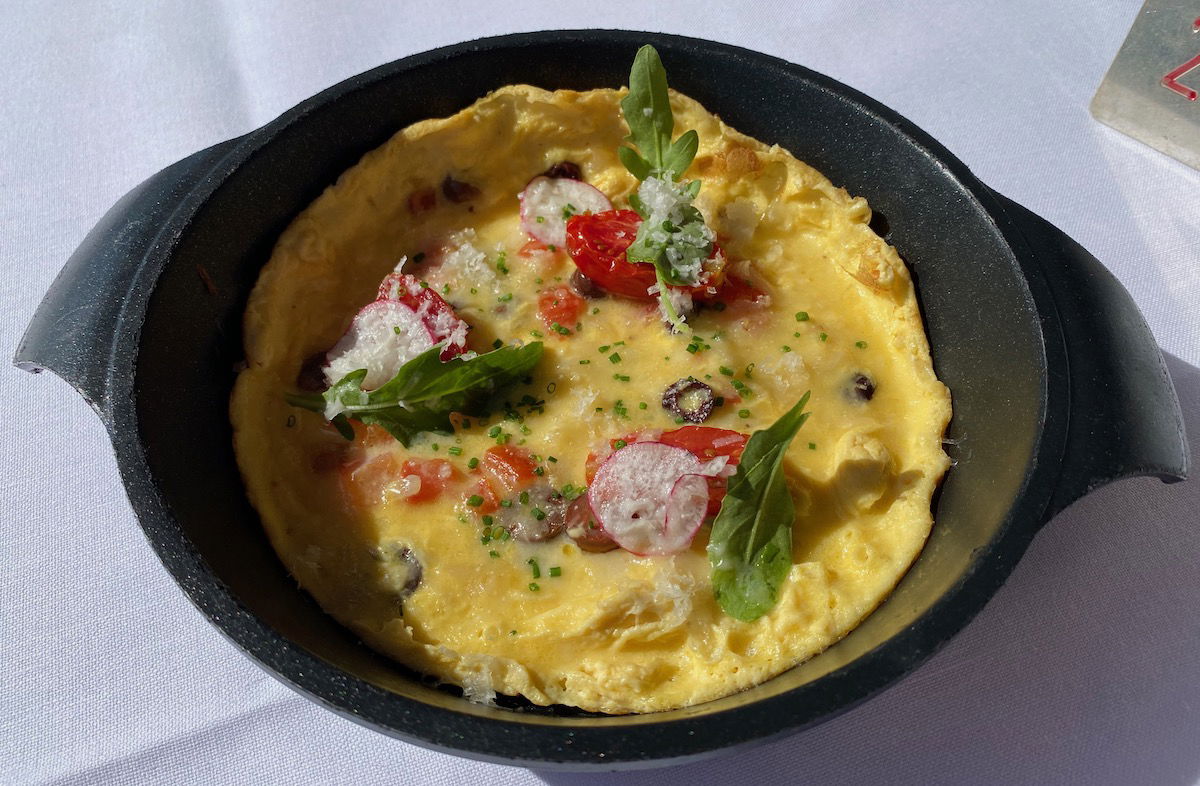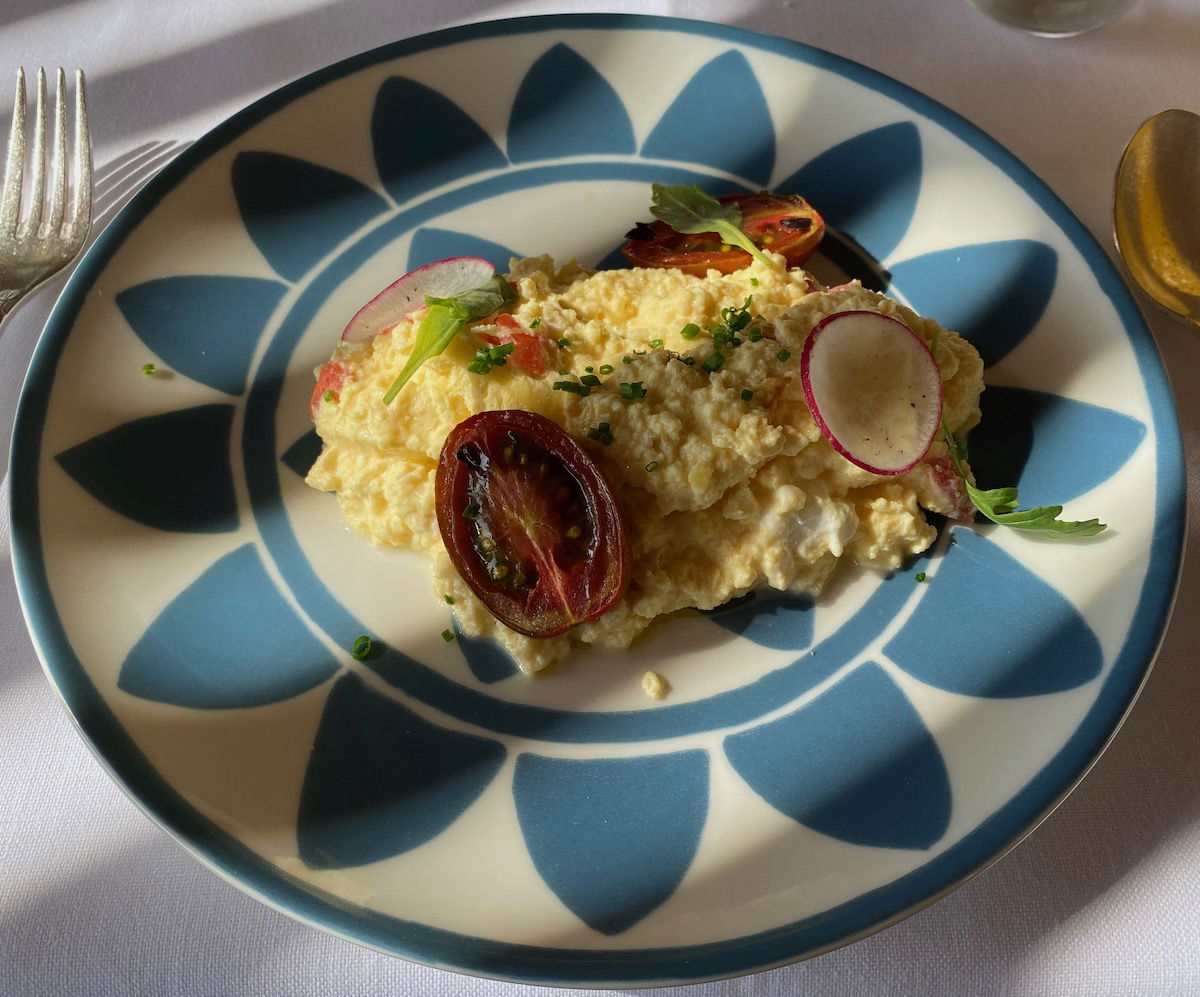 It would be an understatement to say that breakfast was a treat. The fact that this hotel goes above-and-beyond to offer this to elite members is a lovely gesture.
I'm convinced that Blue Palace Elounda has the world's best Marriott Bonvoy Platinum breakfast. I can't think of any hotel that offers such a spectacular upgraded breakfast for Platinum members, which isn't available to other guests. Yes, there are breakfasts as such that can compete with this (like that of the St. Regis Bali), but there the same breakfast is available to all guests.
Blue Palace Elounda Blue Door Restaurant dinner
Blue Palace Elounda has lots of restaurant options, and we weren't able to visit them all during our stay. Our favorite dinner at the hotel was at Blue Door, located down by the beach. It's a restored fisherman's house, and serves Greek cuisine for lunch and dinner, as you'd expect.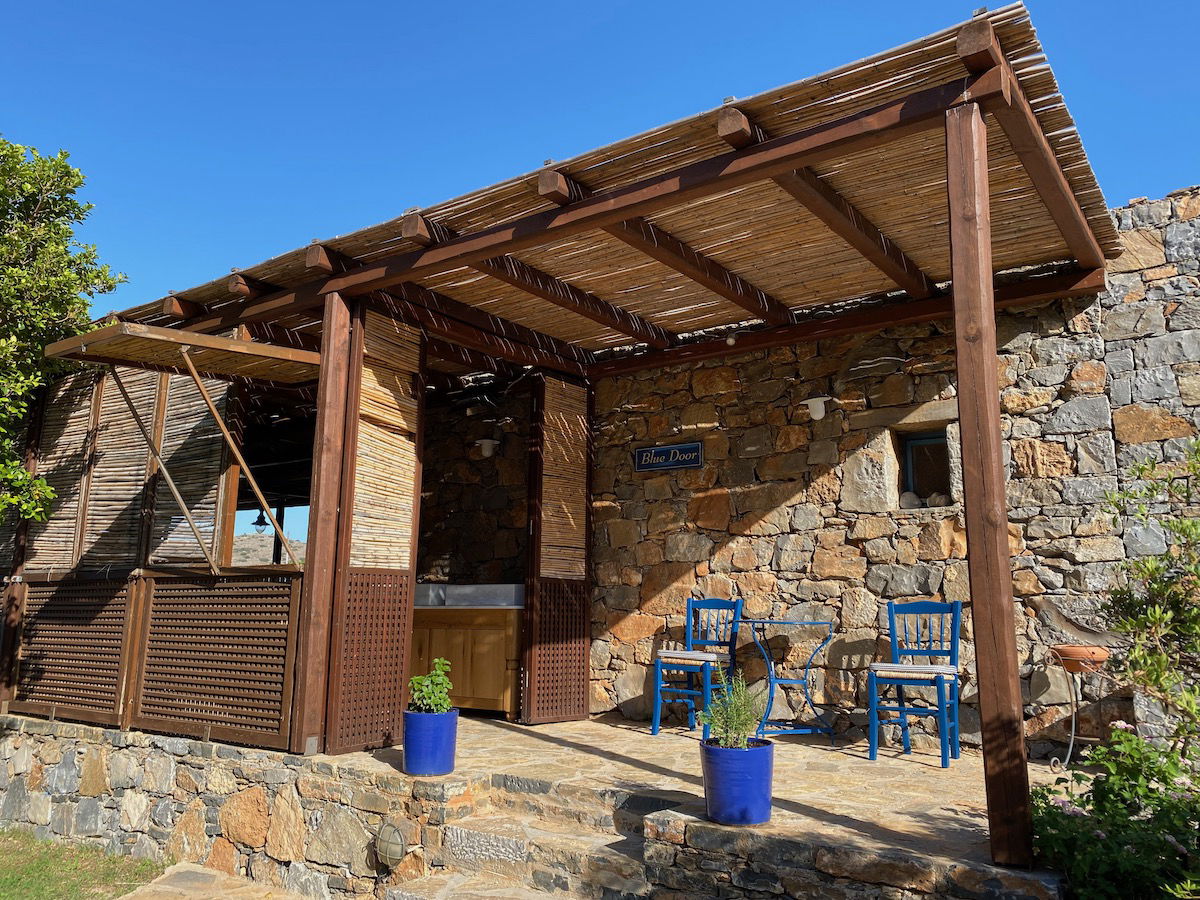 How adorable is this restaurant?!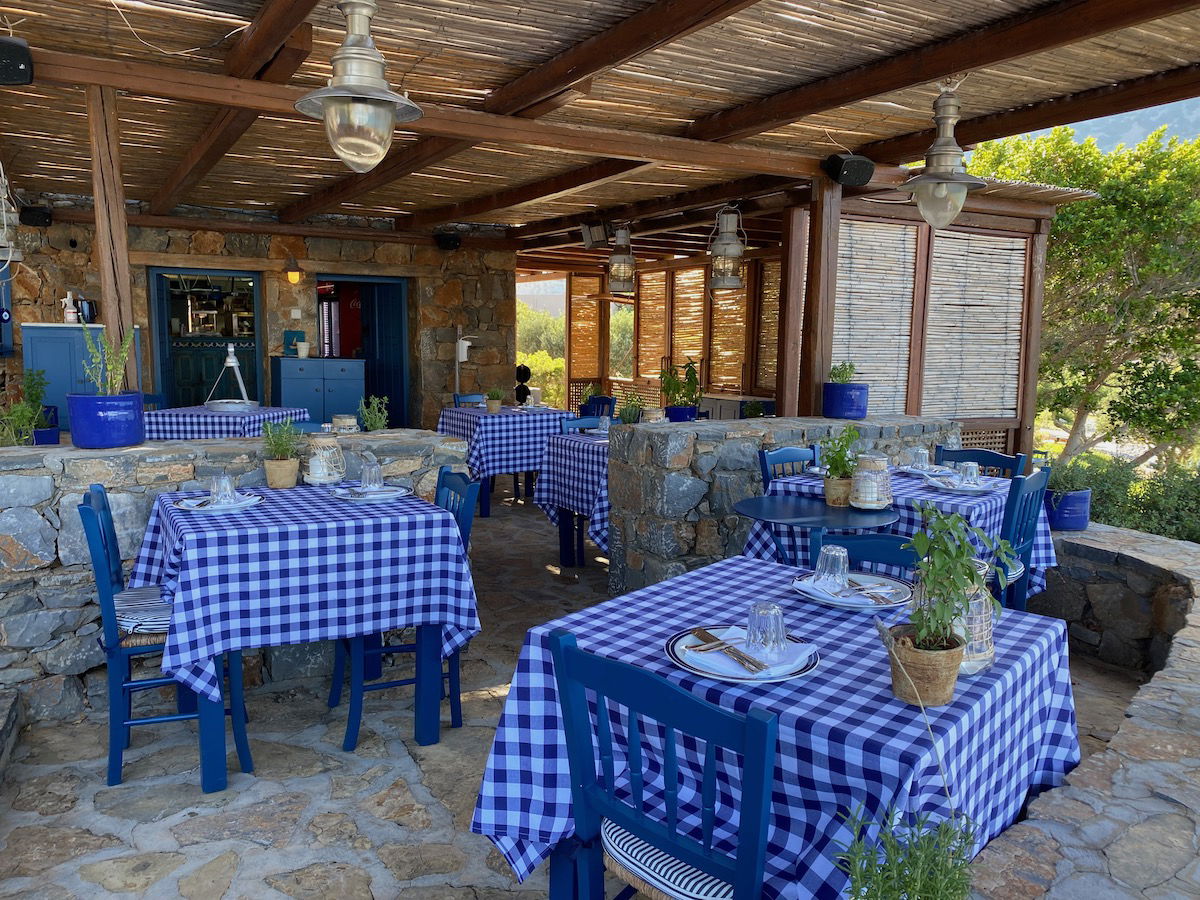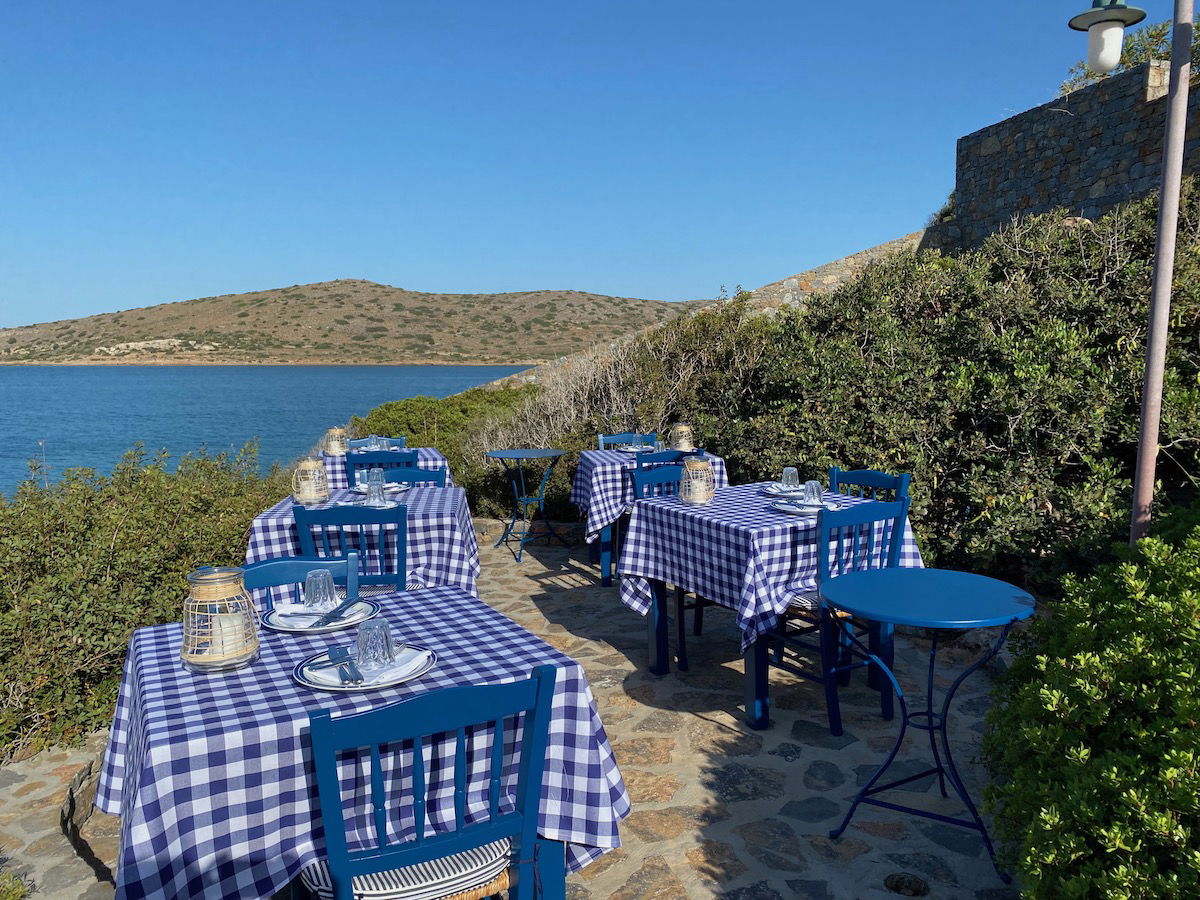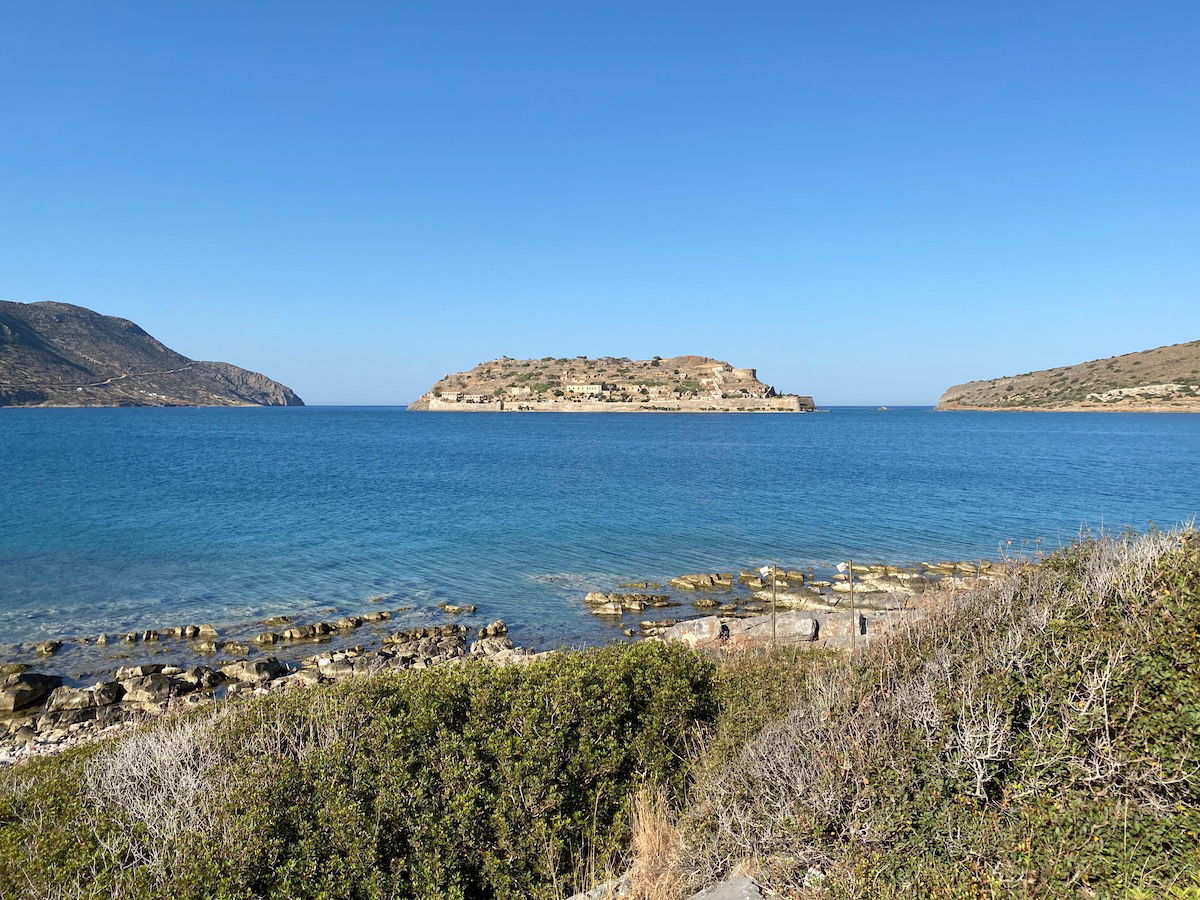 To start we shared some eggplant dip and tzatziki, both of which were great.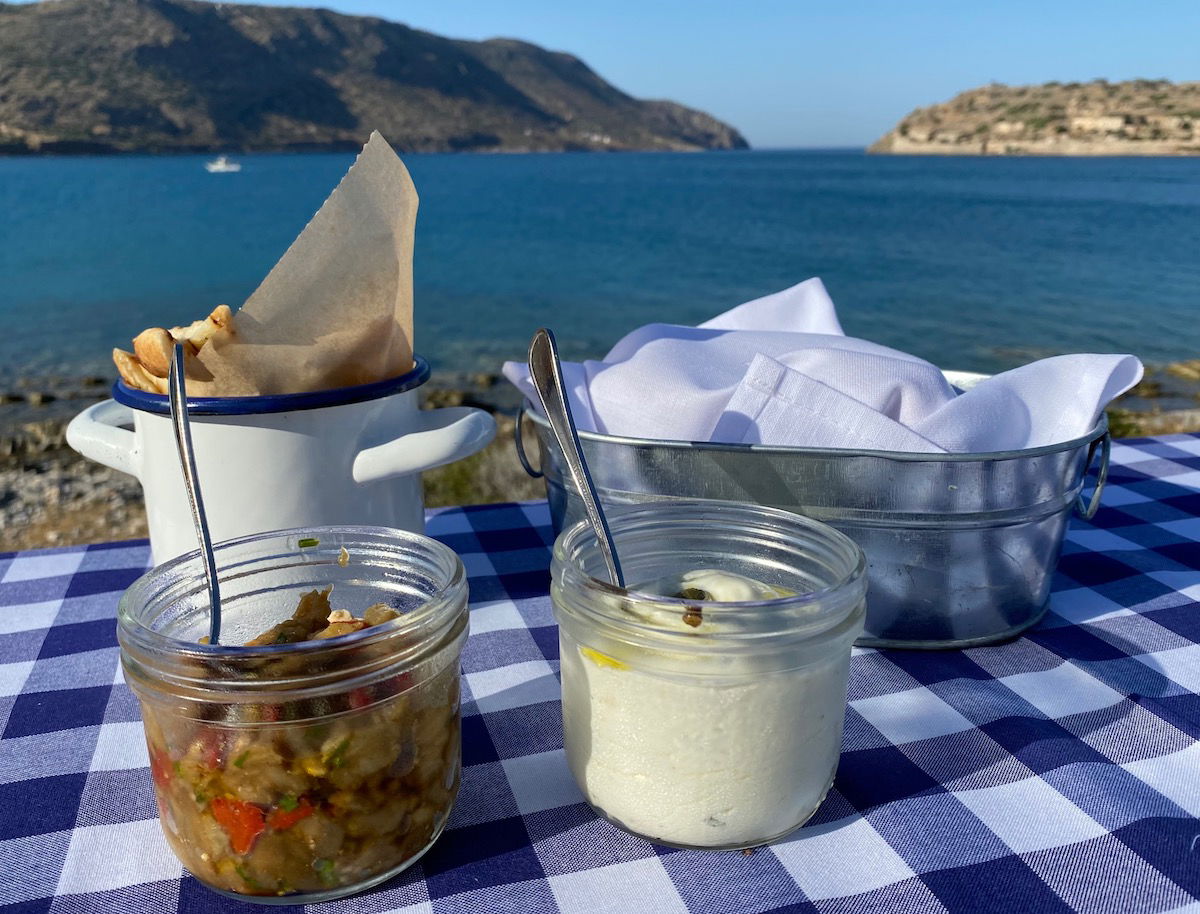 We enjoyed the main courses as well, from the chicken kebab, to the fish, to the shrimp risotto.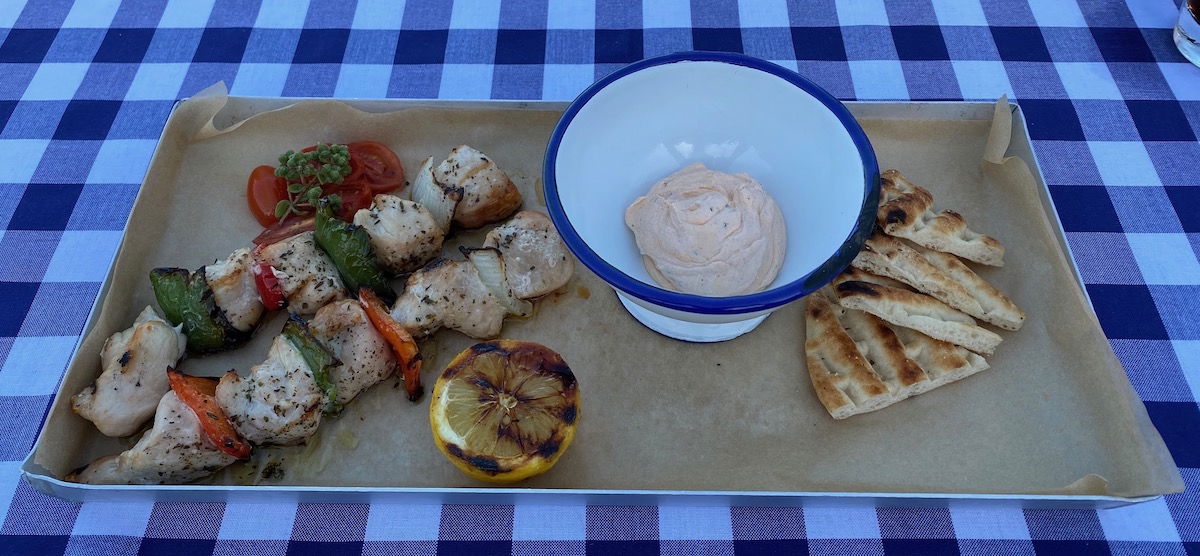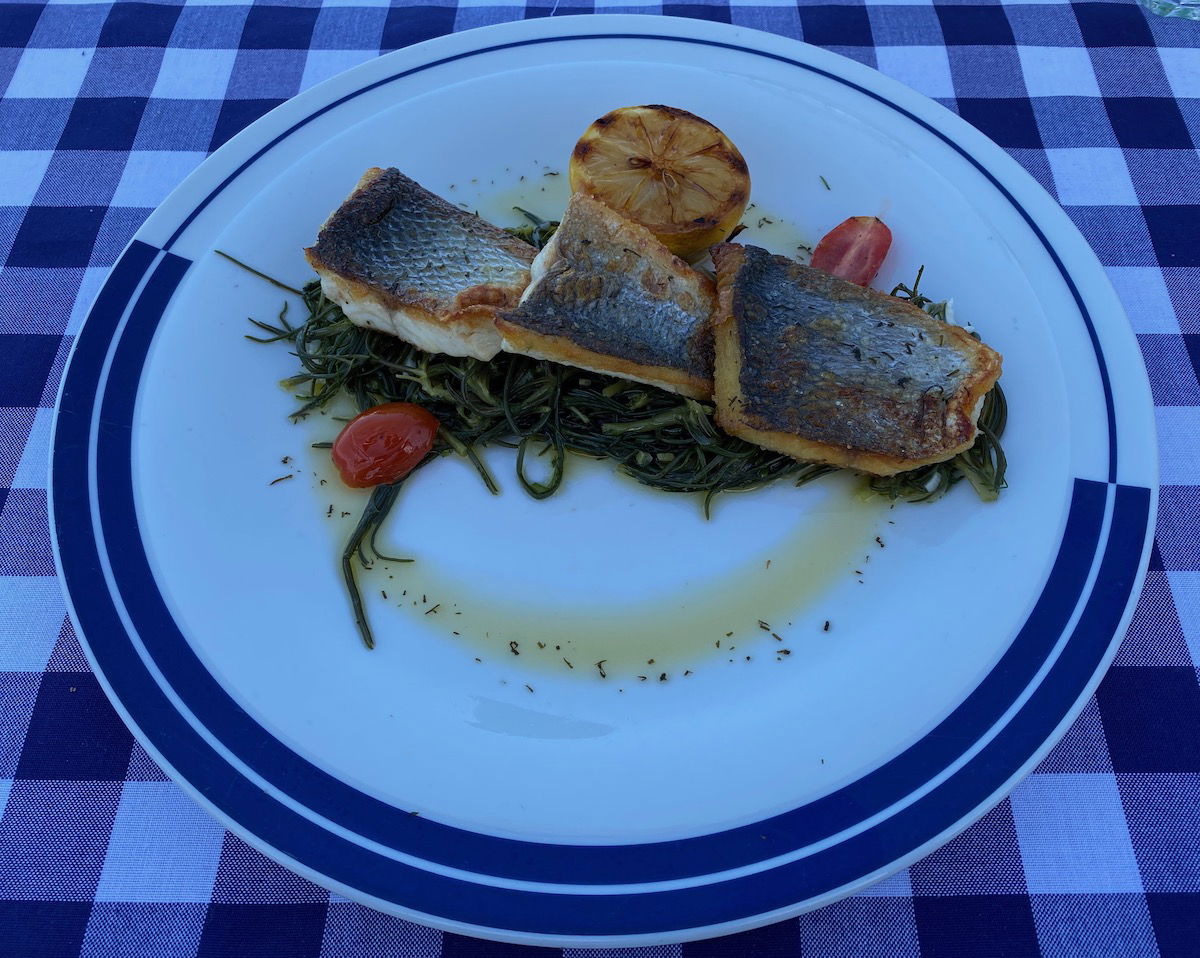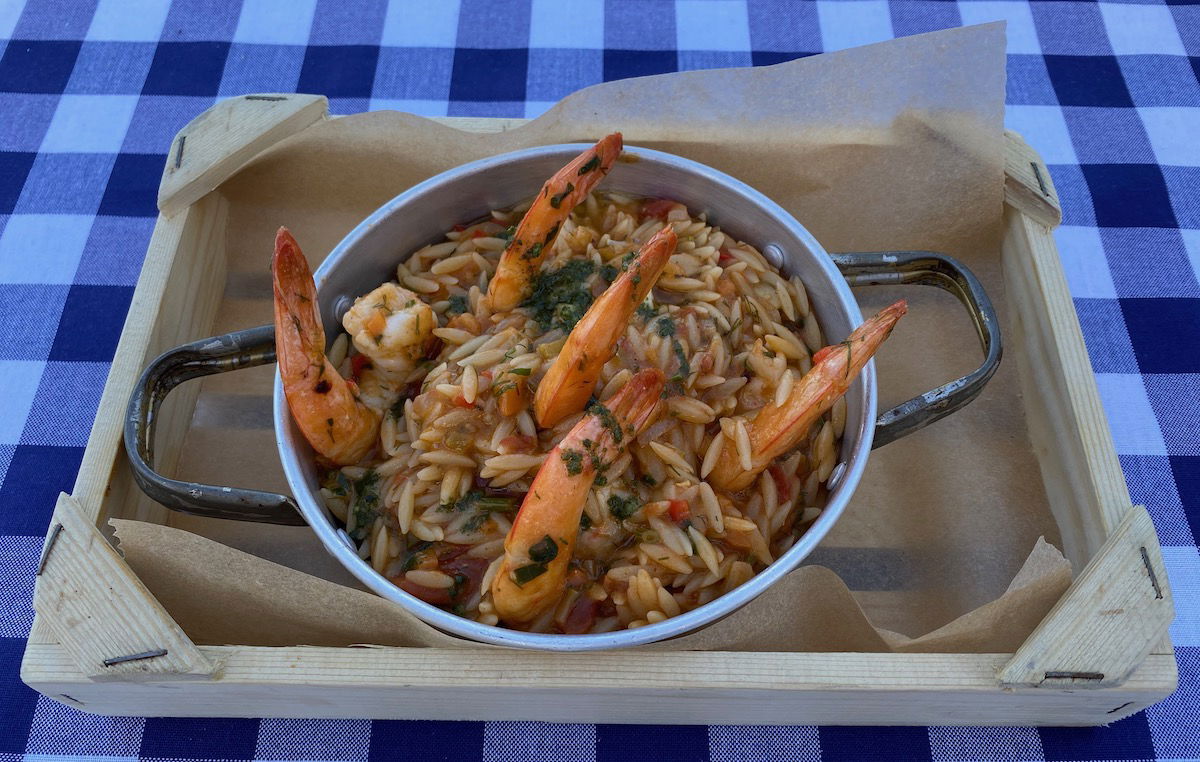 Blue Palace Elounda Asia Deep Blue dinner
One of the nights we ate at Asia Deep Blue, which is Blue Palace Elounda's Asian fusion restaurant. I have a general distrust for Asian fusion restaurants, and for that matter I've never had a great Asian meal in Greece. Then again, by day six in Greece we were wanting to try something new, so I came in with reasonable expectations.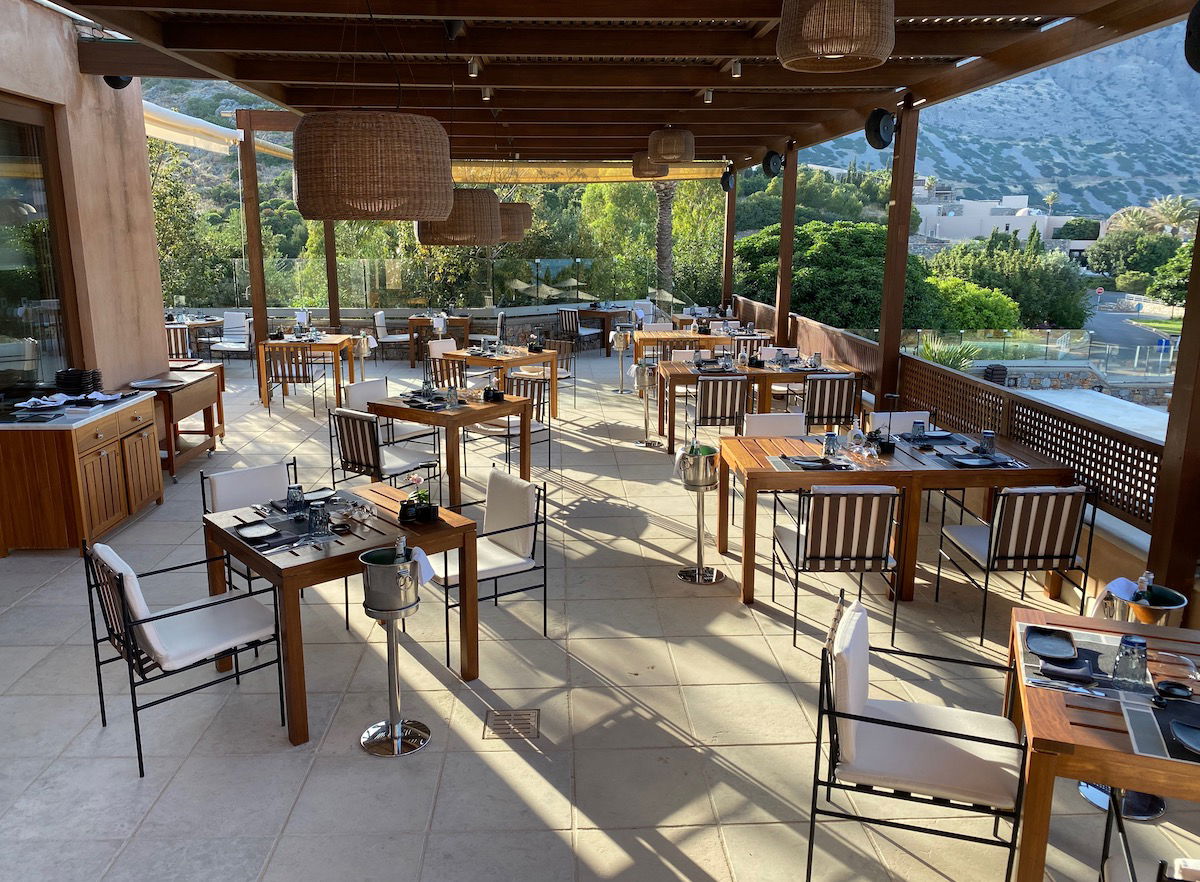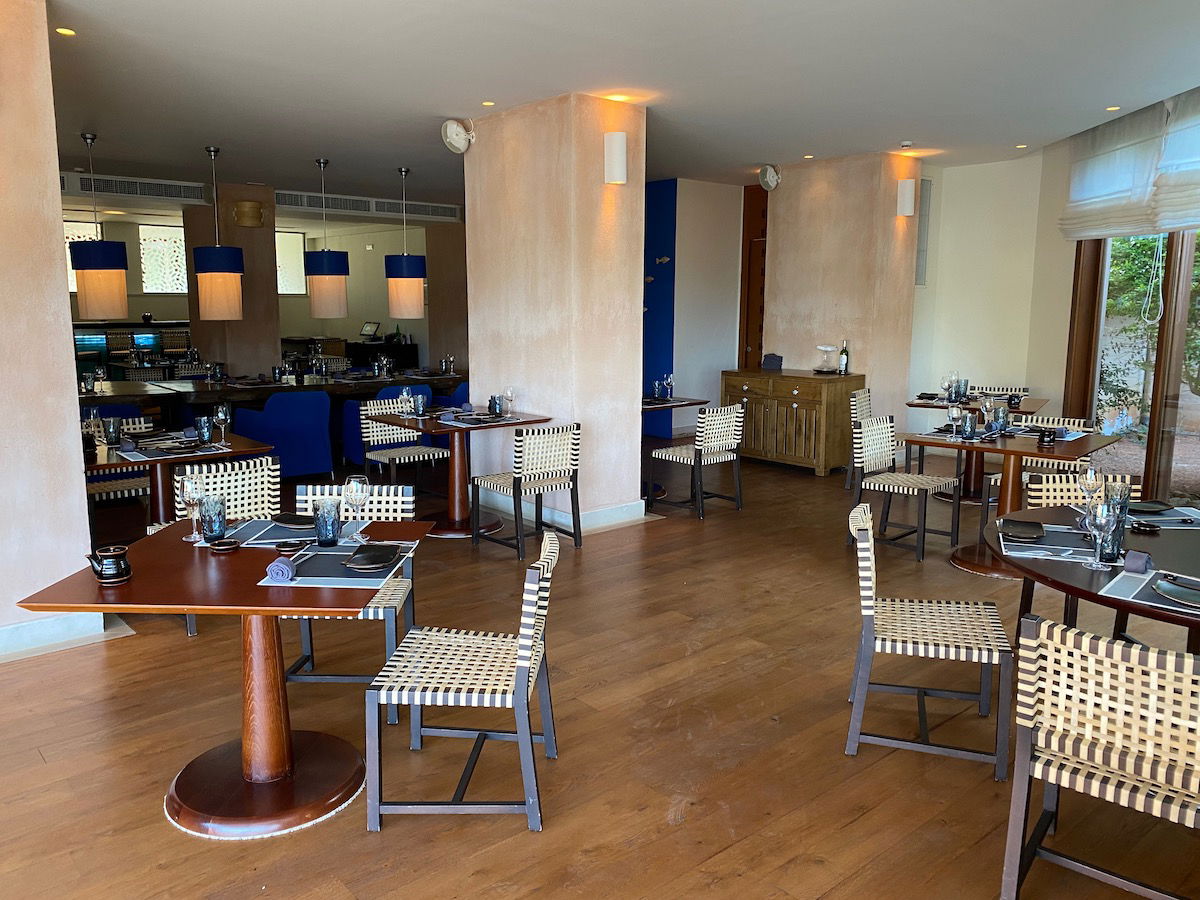 The food wasn't amazing, but was reasonably good, especially for Greece. We had the edamame, some sushi rolls, tuna tartare, a hot and sour soup, and some broccoli.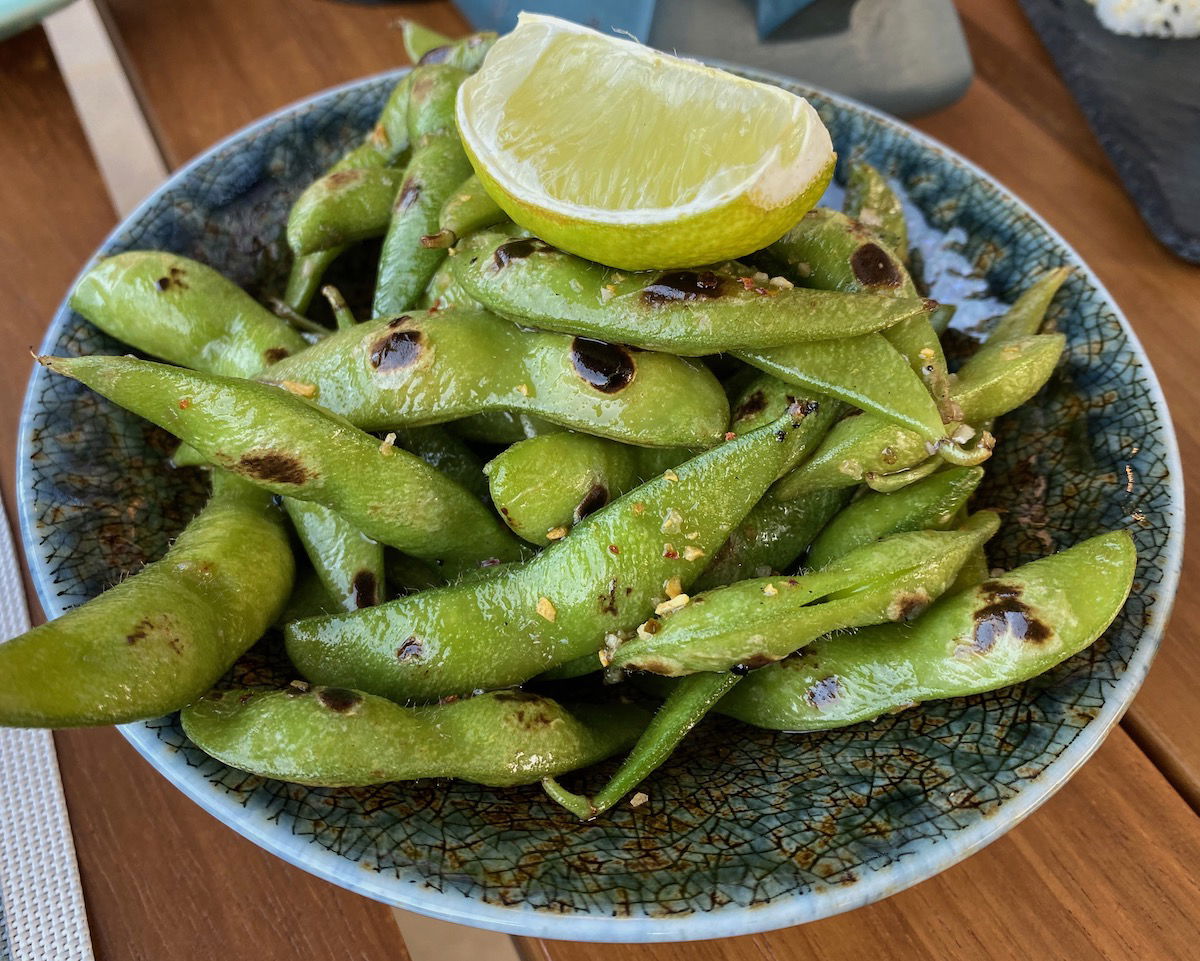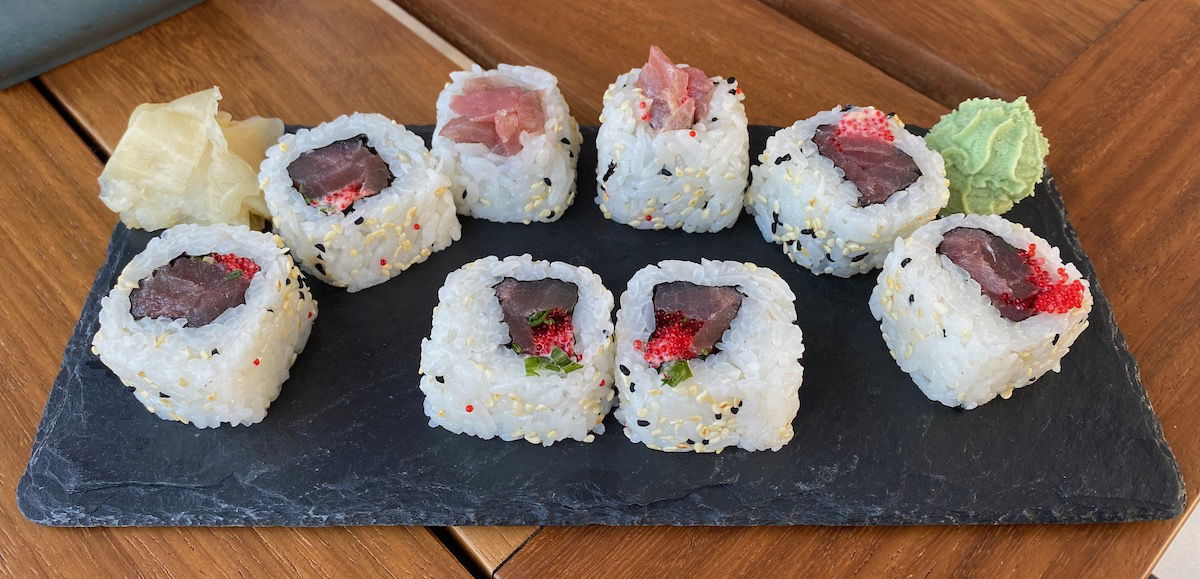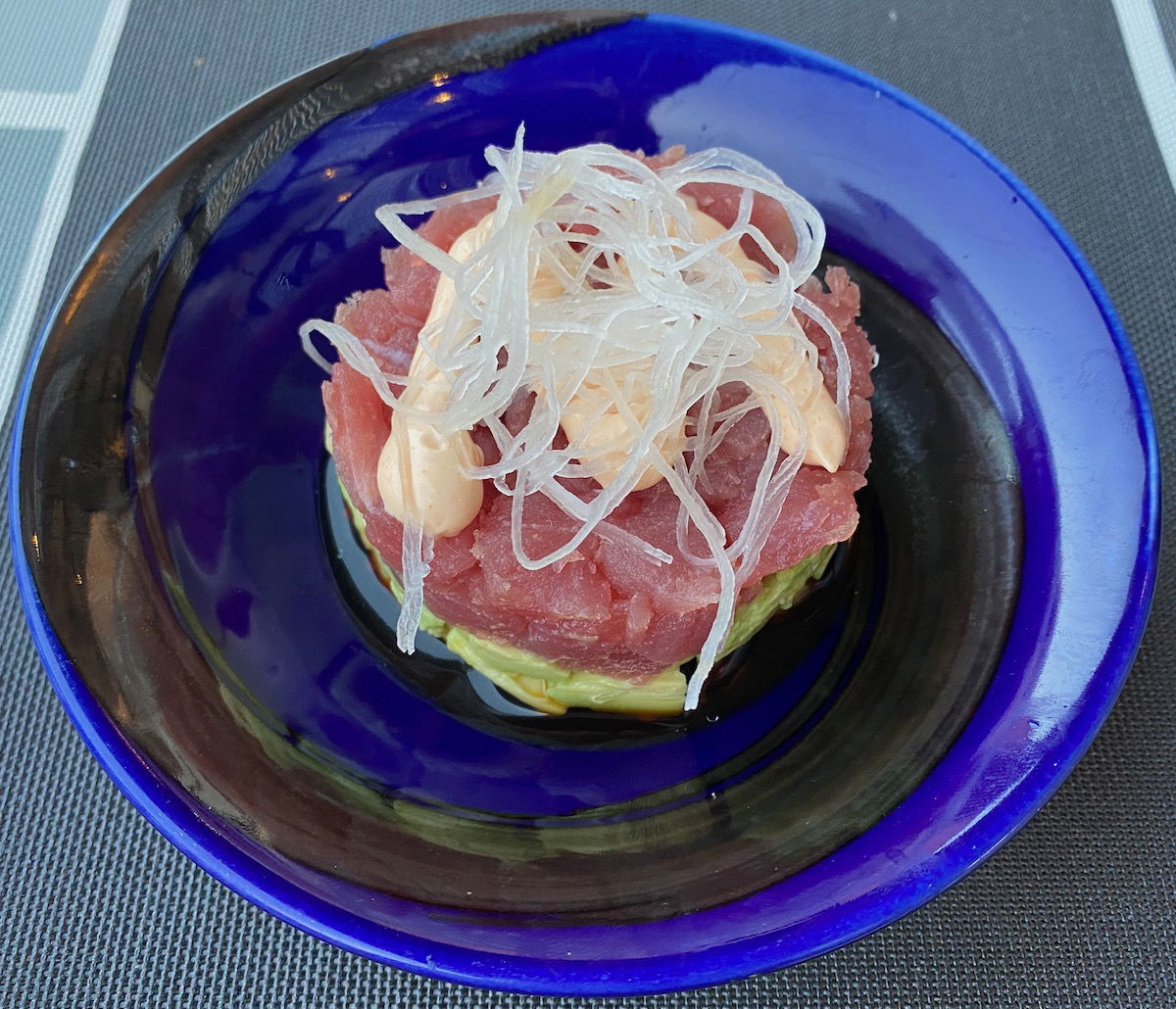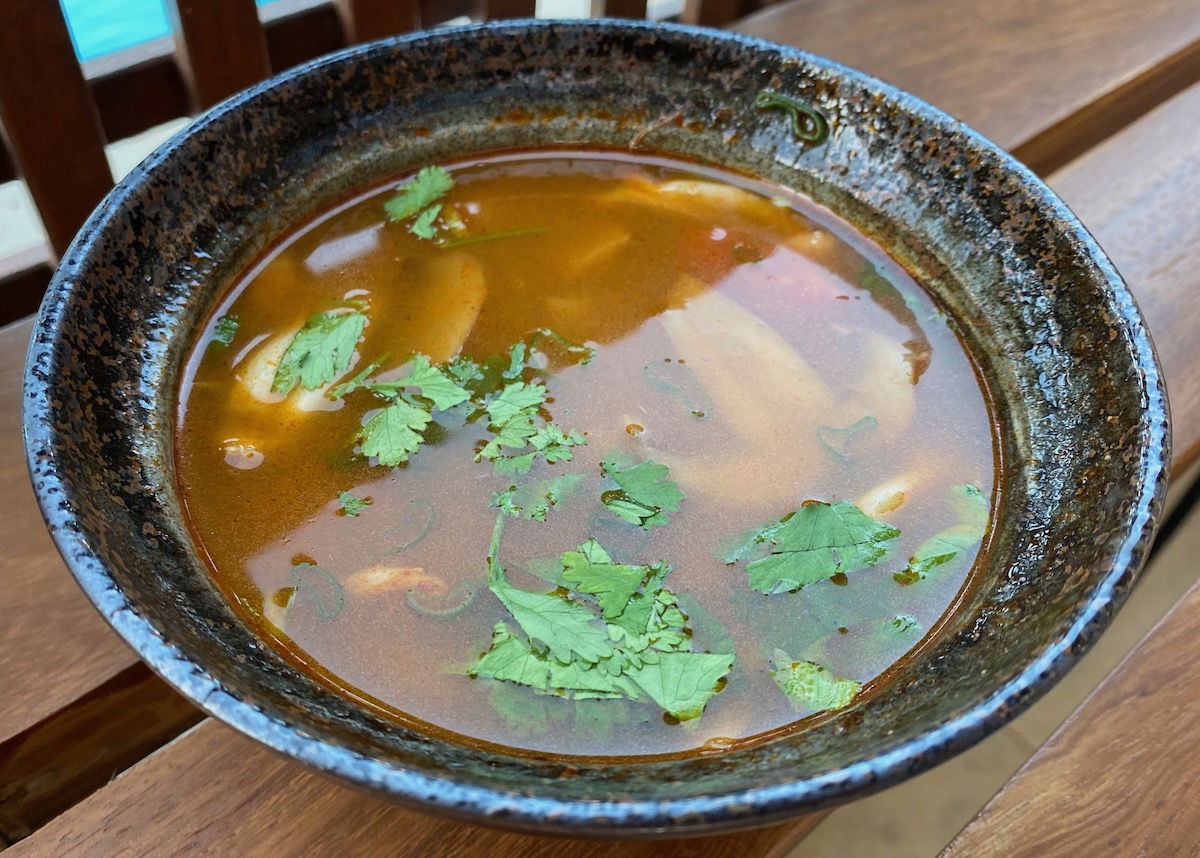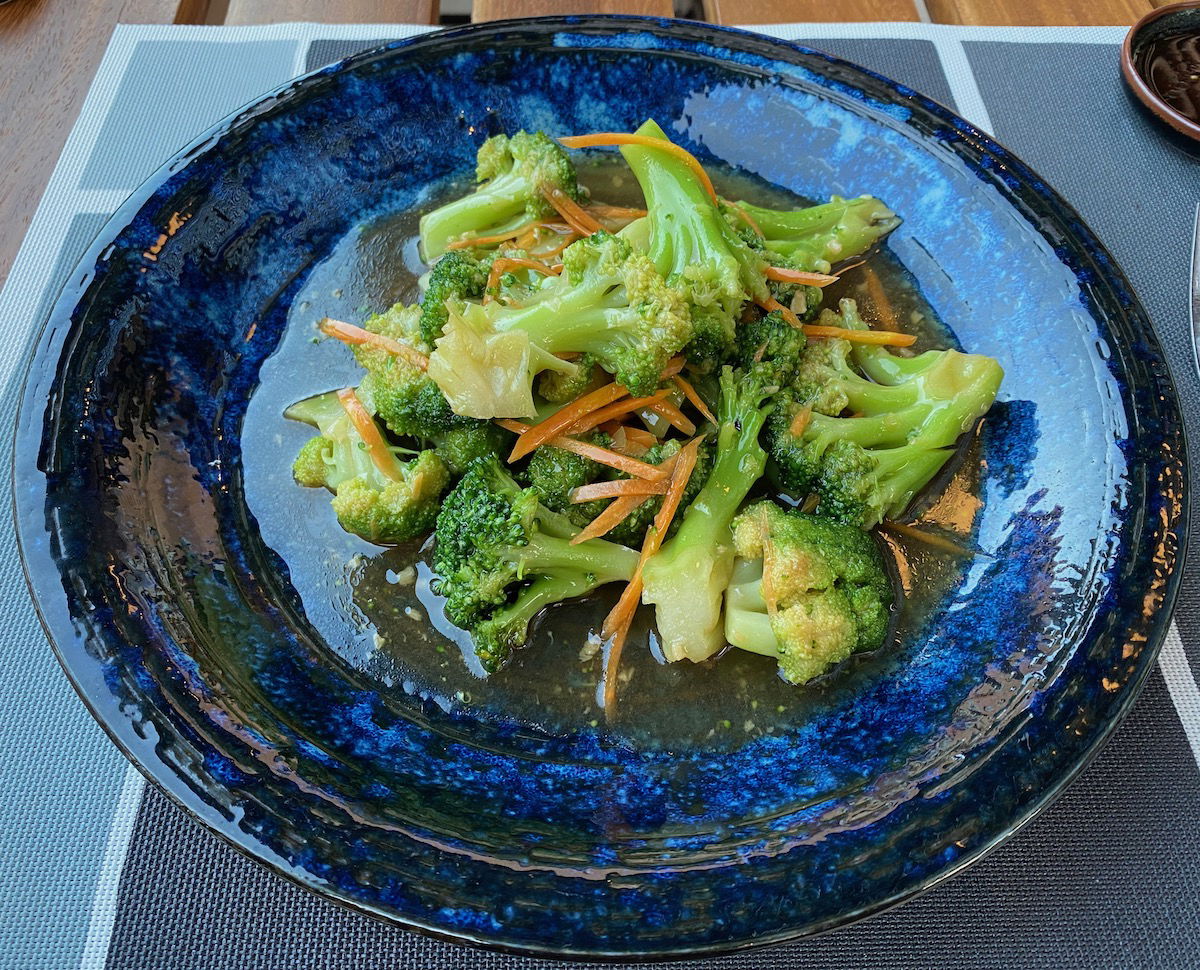 Blue Palace Elounda room service
On our last night we decided to have a room service dinner. We had been out for most of the day and also hadn't spent our credit for the day, so this seemed like the best option, especially since we had a very early departure the next morning.
The food was great, and most significantly, was served with real china and silverware. At the previous hotel they only did room service in to-go containers, so I'm pleased by the extent to which Blue Palace Elounda has restored service.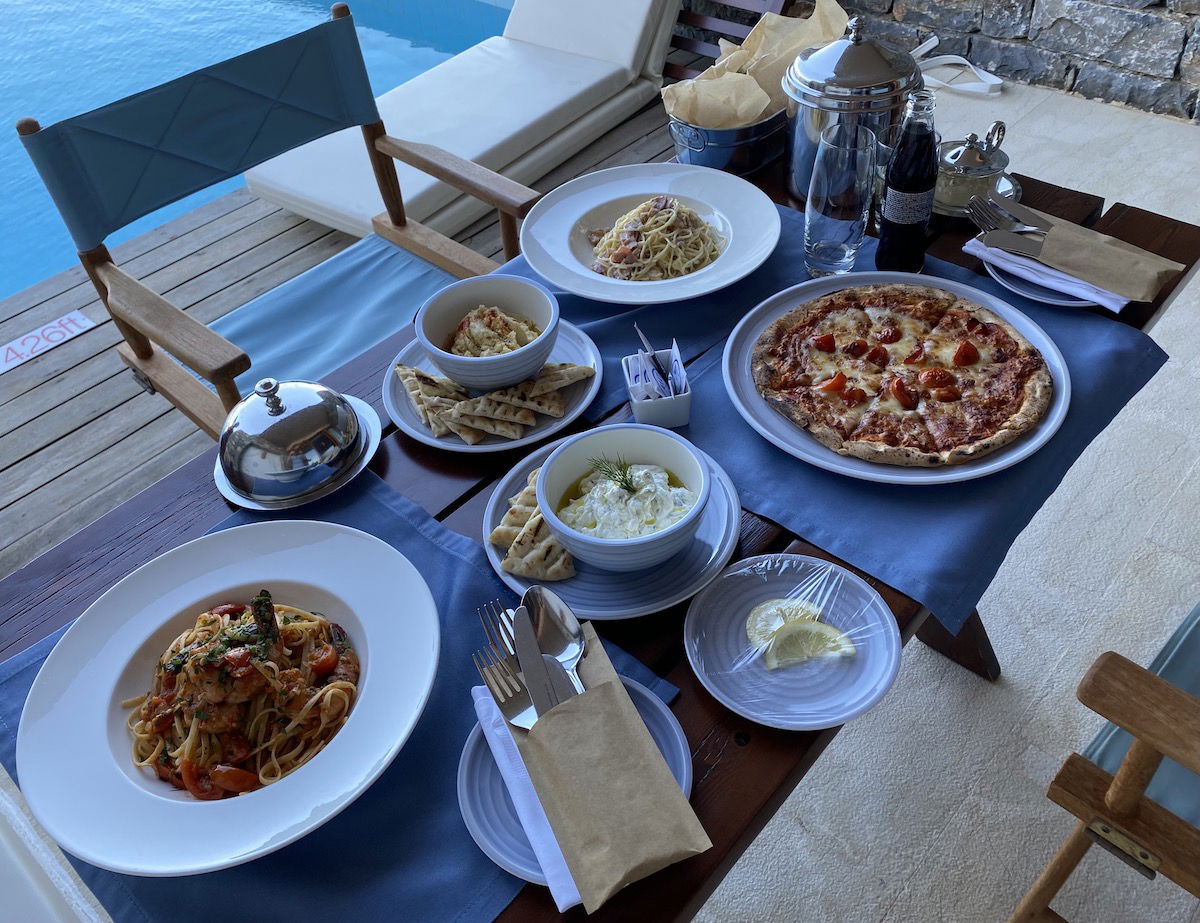 Blue Palace Elounda service
With the exception of the very slow check-in experience, service at Blue Palace was generally very good, from housekeeping, to service in the restaurants, to the front office staff. A special shout out to the breakfast restaurant staff at Anthos, who provided the best service on property.
Bottom line
We enjoyed our time at Blue Palace Elounda, and I'd recommend this hotel in a heartbeat. While this hotel has 250+ rooms, you'd never know it based on how spread out the property is, and how many dining venues and pools there are.
I loved just about everything about this hotel, from the large rooms, to the excellent restaurants, to the views, to the area. We had fun exploring the area for three days, and I can't wait to return.
My only constructive feedback for the hotel would be that the rooms are starting to show their age, and are a bit bland. Fortunately that doesn't extend to the rest of the property.
If you've stayed at Blue Palace Elounda, what was your experience like?