It's never fun to leave a place as beautiful as Greece. Well, unless you're lucky enough to be flying Emirates first class, enjoying what's easily one of the most comfortable and fun ways to cross the Atlantic.
Booking Emirates first class with Skywards miles
Emirates operates an awesome fifth freedom flight between Athens and Newark, which sure is a fun way to travel between the United States and Greece. We took our trip to Greece very early in the season, and as a result return flights to the United States were still wide open.
We had no trouble finding two Emirates first class award seats from Athens to Newark for a date that would be convenient for us. Nowadays the best way to redeem miles for Emirates first class is directly through the Skywards program (Emirates has restricted first class awards to many partner programs). We had sent my mom and her partner home in Emirates first class a couple of days earlier, and Ford and I returned from Athens to Newark in Emirates first class as well.
Our tickets cost 85,000 Skywards miles per person, and taxes and fees were around $100 per ticket. That's an extremely reasonable award cost for such a fantastic product. If there's not any award space on a flight, there's a trick to upgrading Emirates flights on the day of departure, which could prove useful.
Also keep in mind that Emirates Skywards miles are easy to come by, thanks to the program partnering with all major transferable points programs. This includes Amex Membership Rewards, Chase Ultimate Rewards, Citi ThankYou, Capital One, and Brex.
Emirates first class review
I'll keep this review somewhat brief, given that I've reviewed Emirates first class many times before, including A380 first class, new 777 first class, and old 777 first class. Rather I'll primarily focus on what service is like on this transatlantic flight, and also how Emirates first class service is holding up in the coronavirus era.
We got to Athens International Airport at around 3:30PM for our 5:35PM flight to Newark. Emirates' check-in counter was deserted, and within a few minutes we were issued our boarding passes to Newark. Immigration and security was quick, and we easily found the Goldair Lounge, which is Emirates' contract lounge in Athens (it's also accessible by Priority Pass members).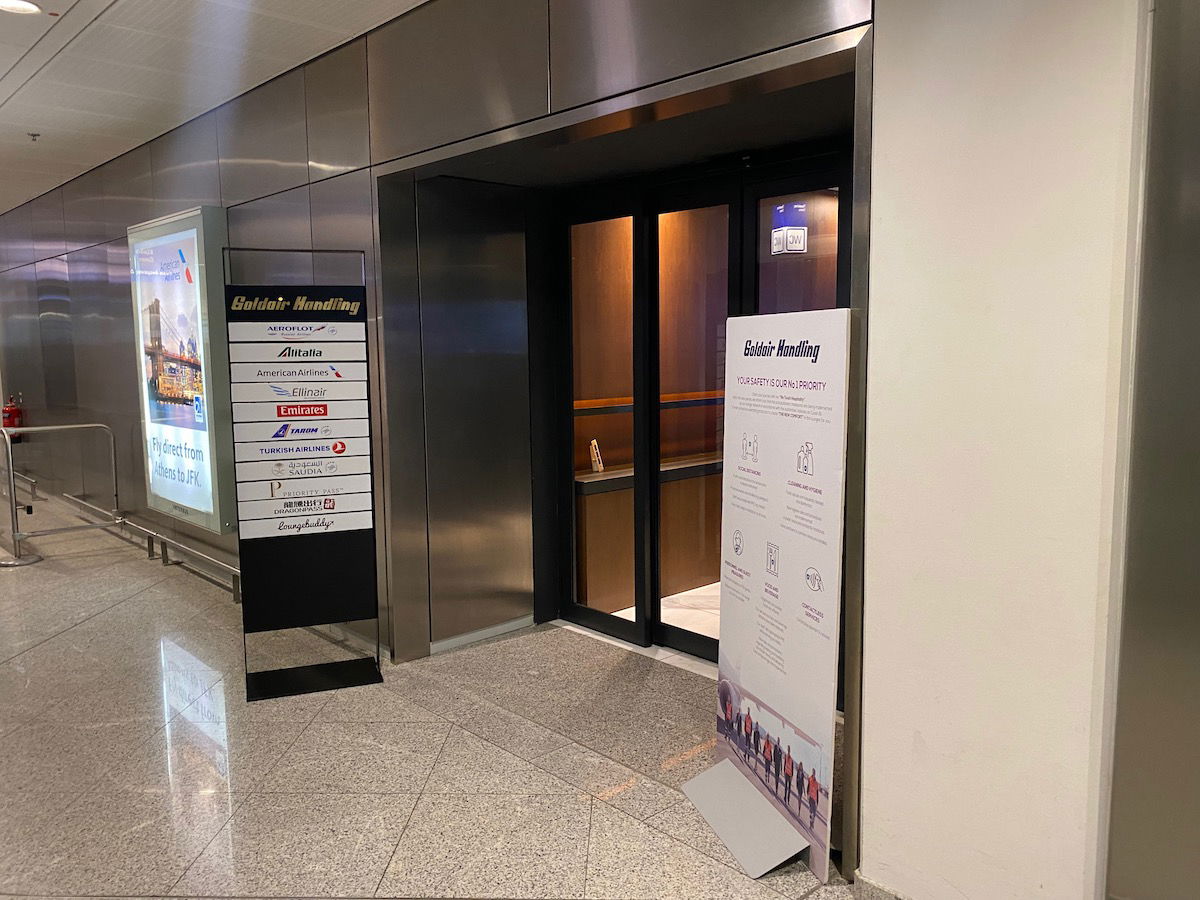 The lounge is okay, but certainly not up to the standard of lounges that Emirates directly operates. Fortunately the lounge was quiet, though I've been in this lounge other times without a single available seat.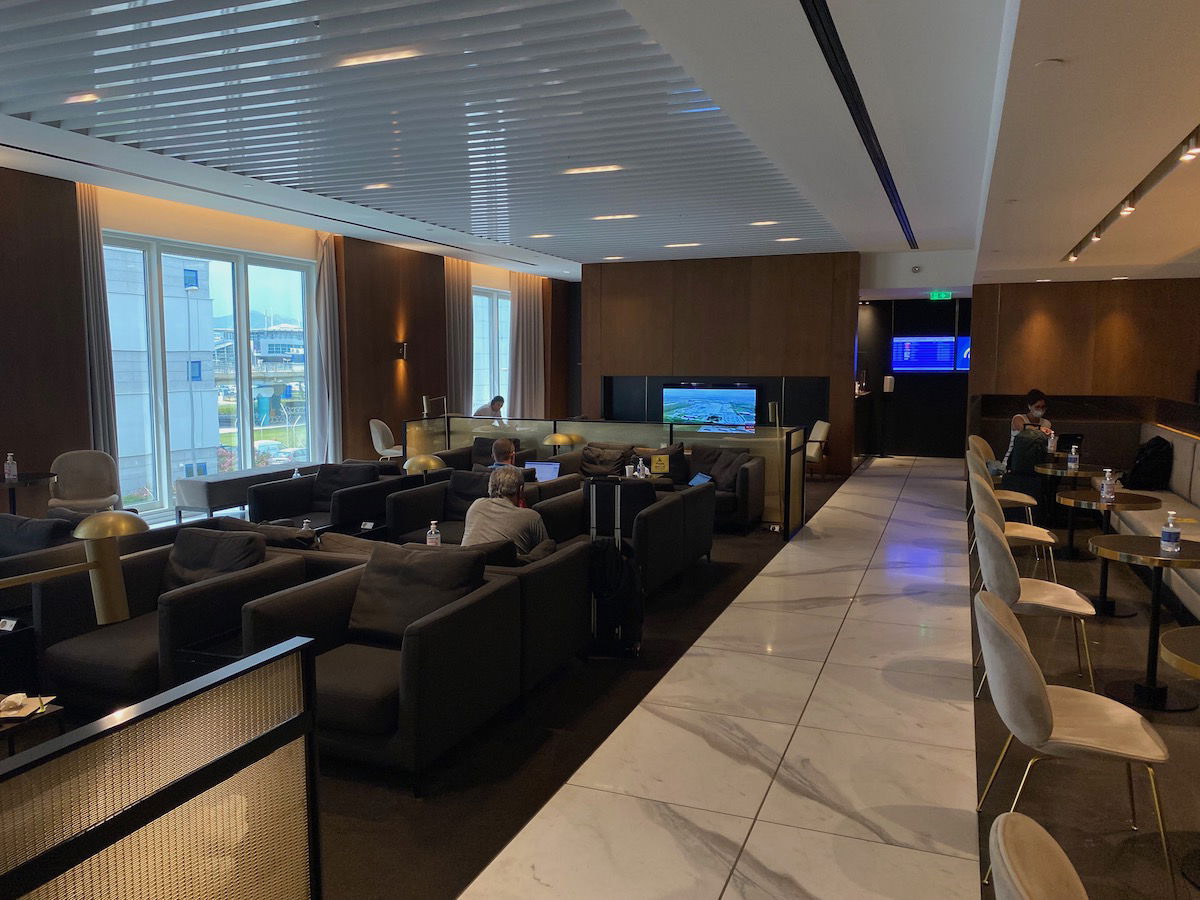 Our flight was scheduled to board at 4:50PM (45 minutes before departure) from gate A12, which was just a short walk from the lounge. Unfortunately both Ford and I got "SSSS" on our boarding passes, so we were subjected to additional security screening at the gate. I was amused to see six security personnel at the gate, given that there were just 18 passengers on the flight (this was my emptiest long haul flight ever).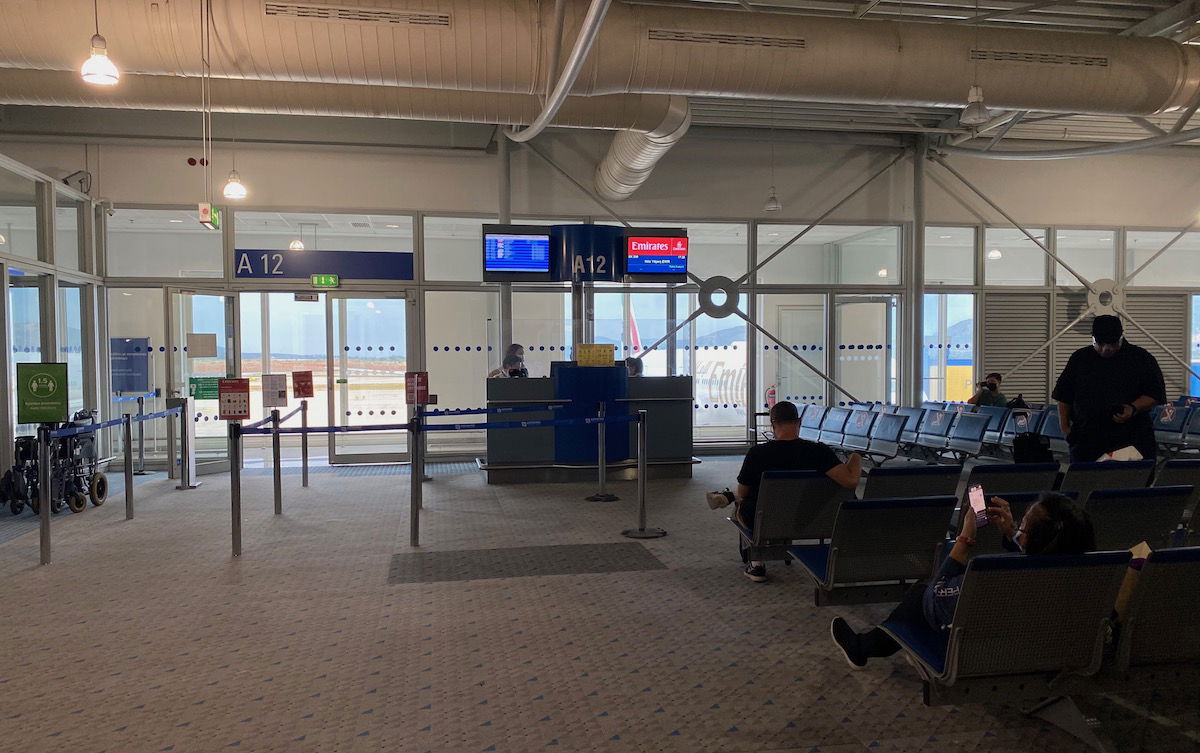 Sure enough, boarding started exactly on-time, and as we boarded we had a fantastic view of the plane. While I love Emirates' livery, unfortunately we were on A6-ECE, one of the older planes in the fleet, at nearly 14 years old. For whatever reason, Emirates seems to love operating older 777s on this route.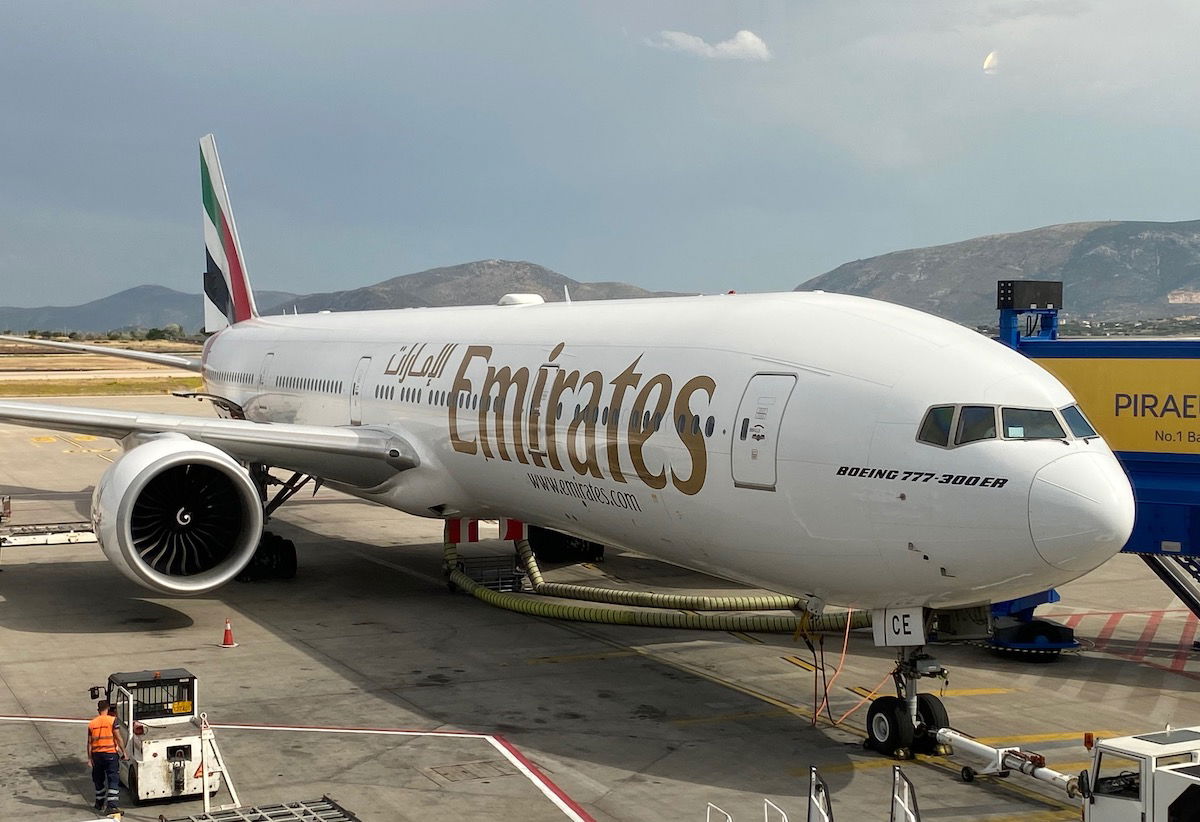 Emirates EK209
Athens (ATH) – Newark (EWR)
Thursday, June 3
Depart: 5:35PM
Arrive: 9:20PM
Duration: 10hr45min
Aircraft: Boeing 777-300ER
Seat: 2F (First Class)
We boarded through the second set of doors, where we were greeted by a crew member and immediately escorted to our seat. Oh Emirates first class, it has been too long! Emirates' 777 first class cabin has just eight suites, spread across two rows in a 1-2-1 configuration.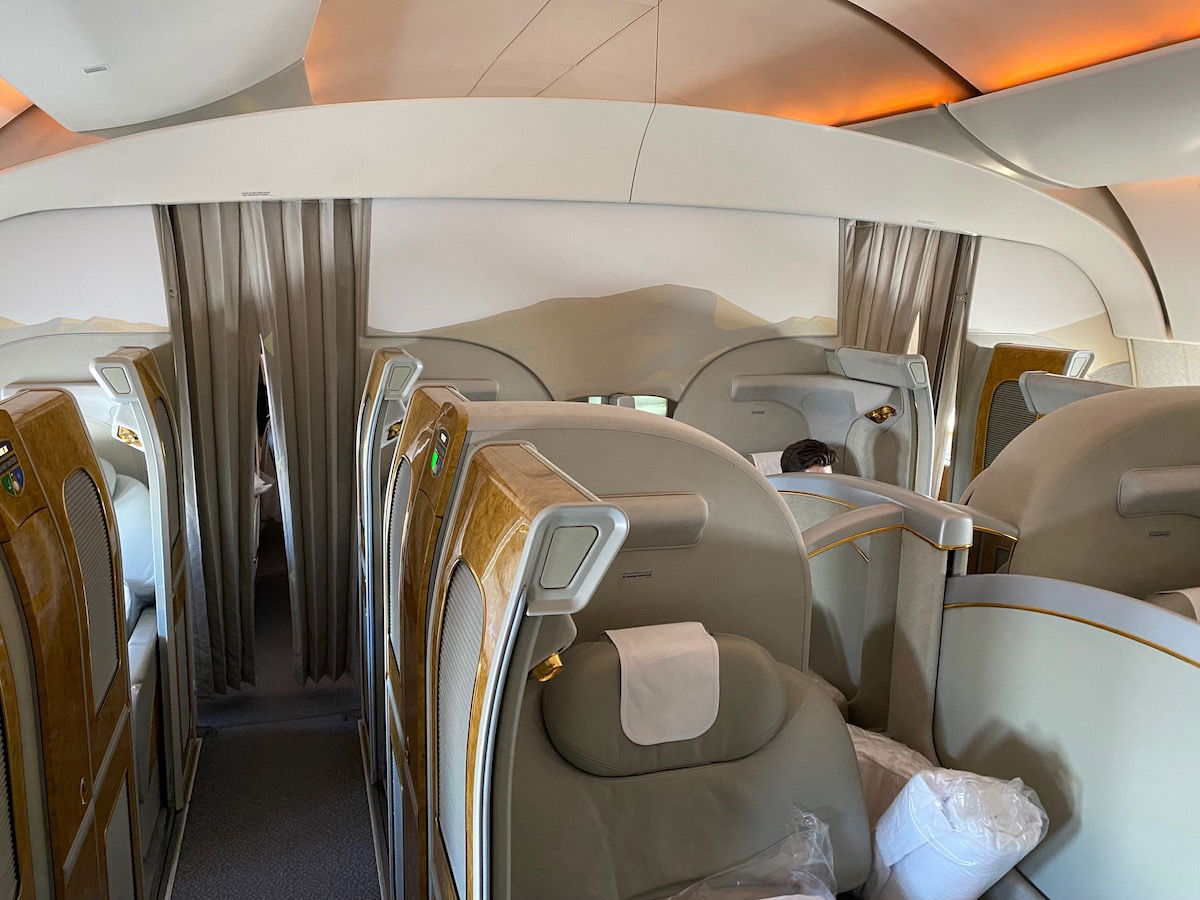 While the window seats are great if traveling alone, Emirates is always more fun with a companion, so we selected the center seats in the second row.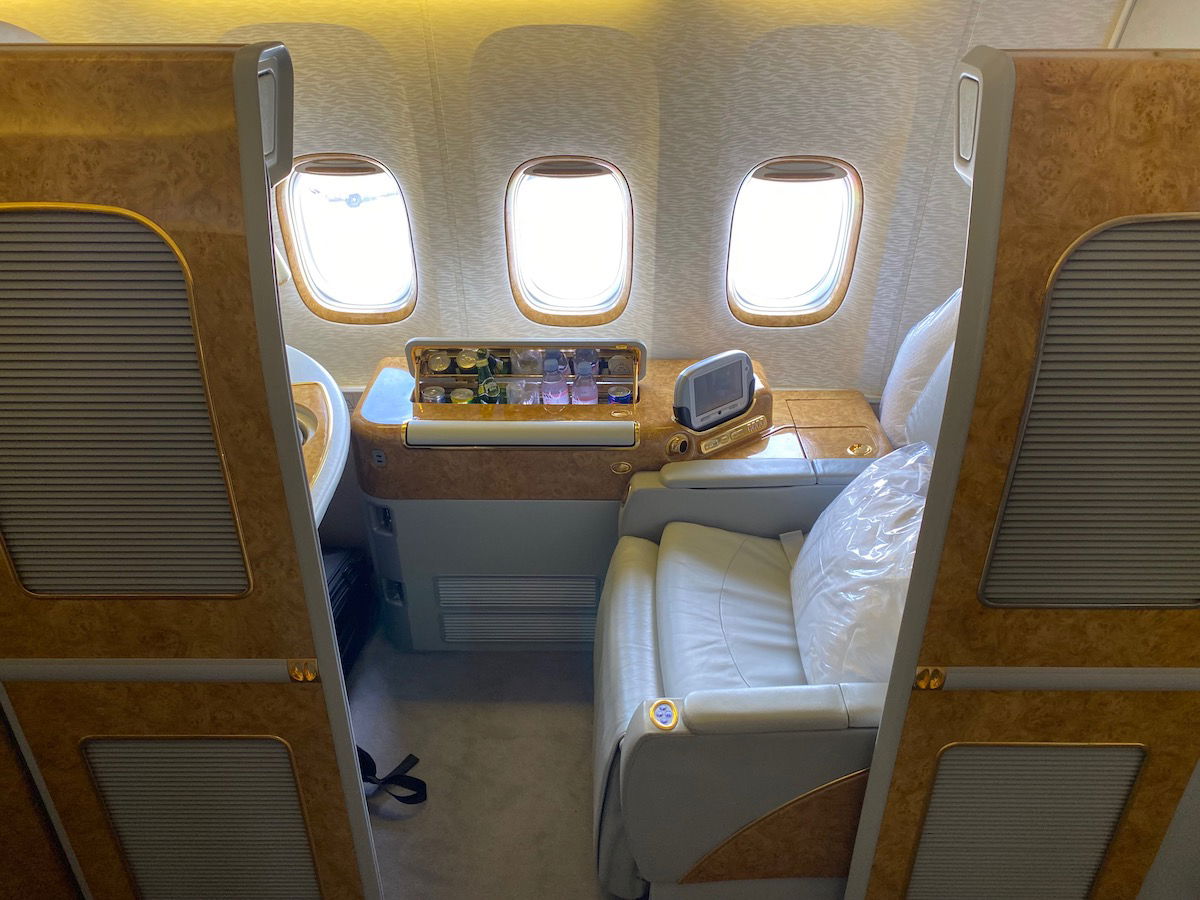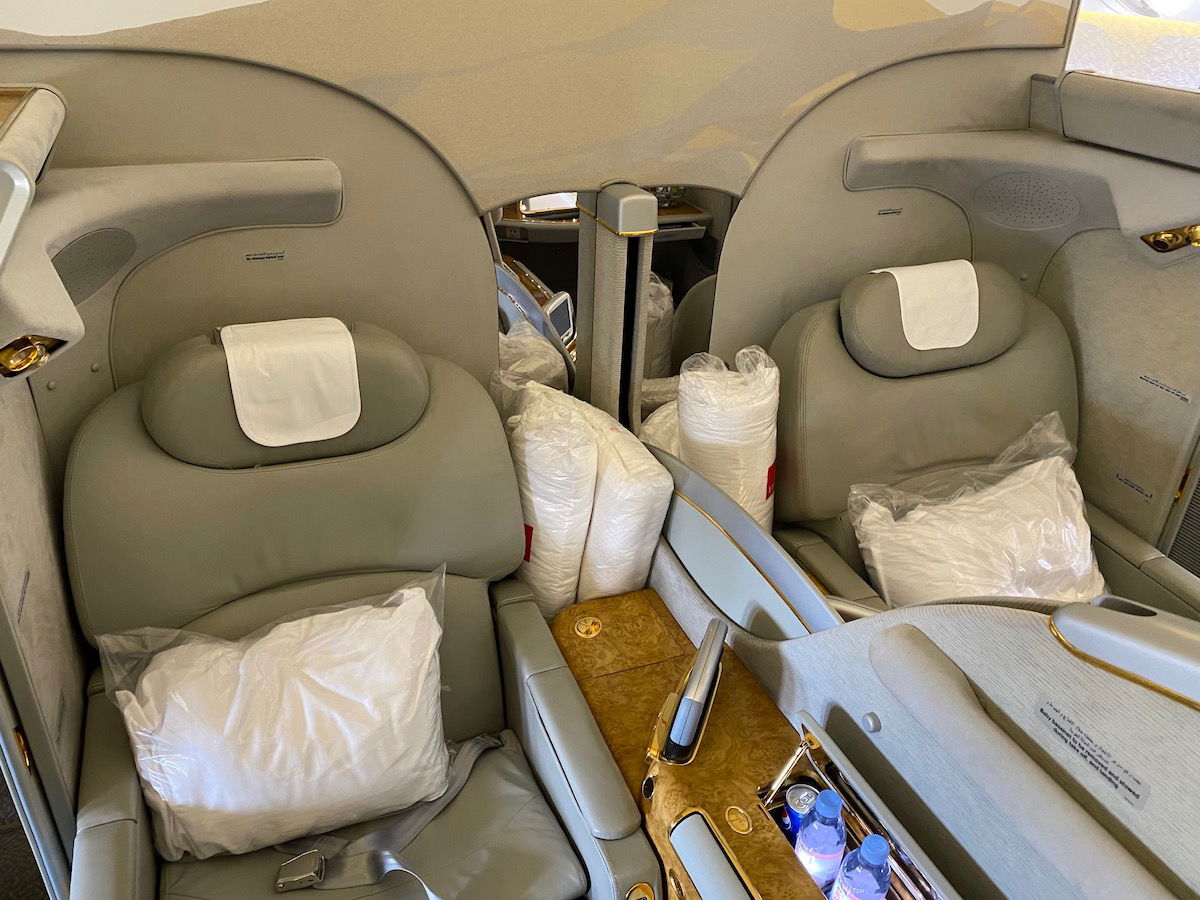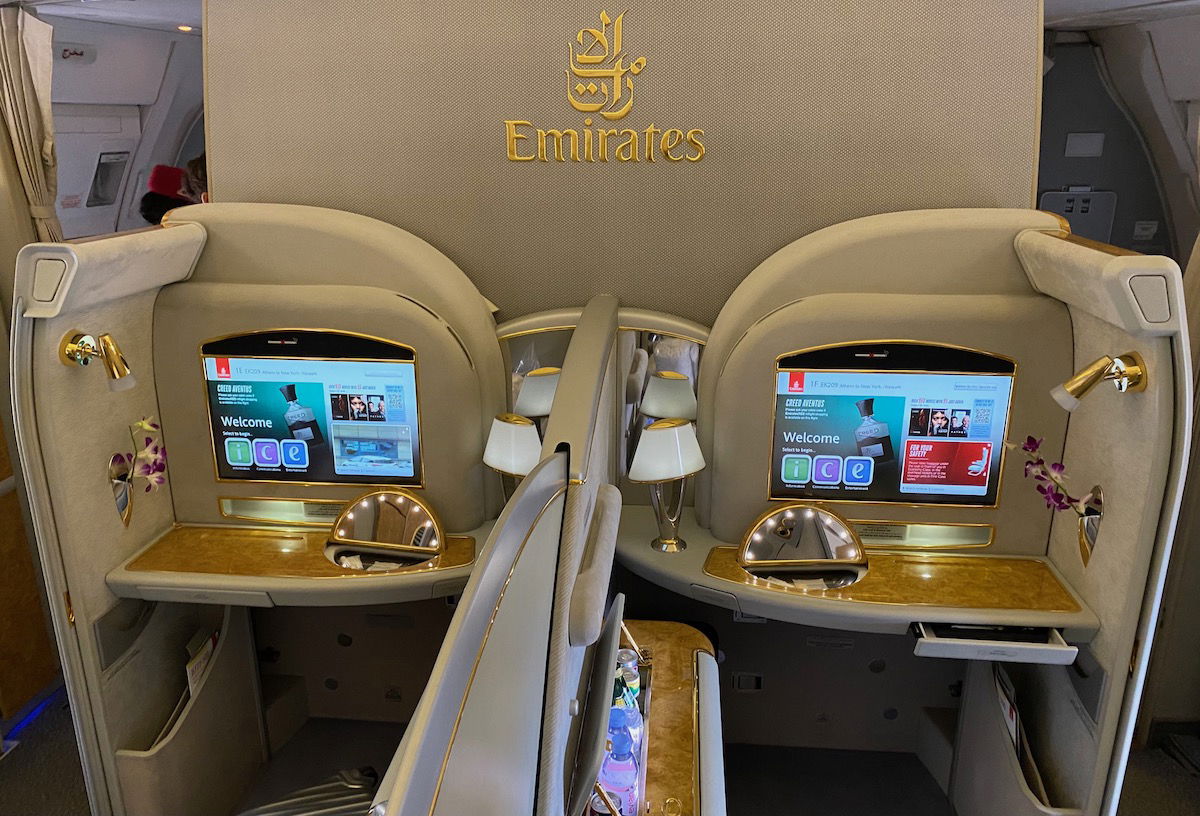 While I prefer flying Emirates' A380 first class to flying Emirates' old 777 first class (because the former has a bar and shower), I do appreciate the more intimate first class cabin on the 777.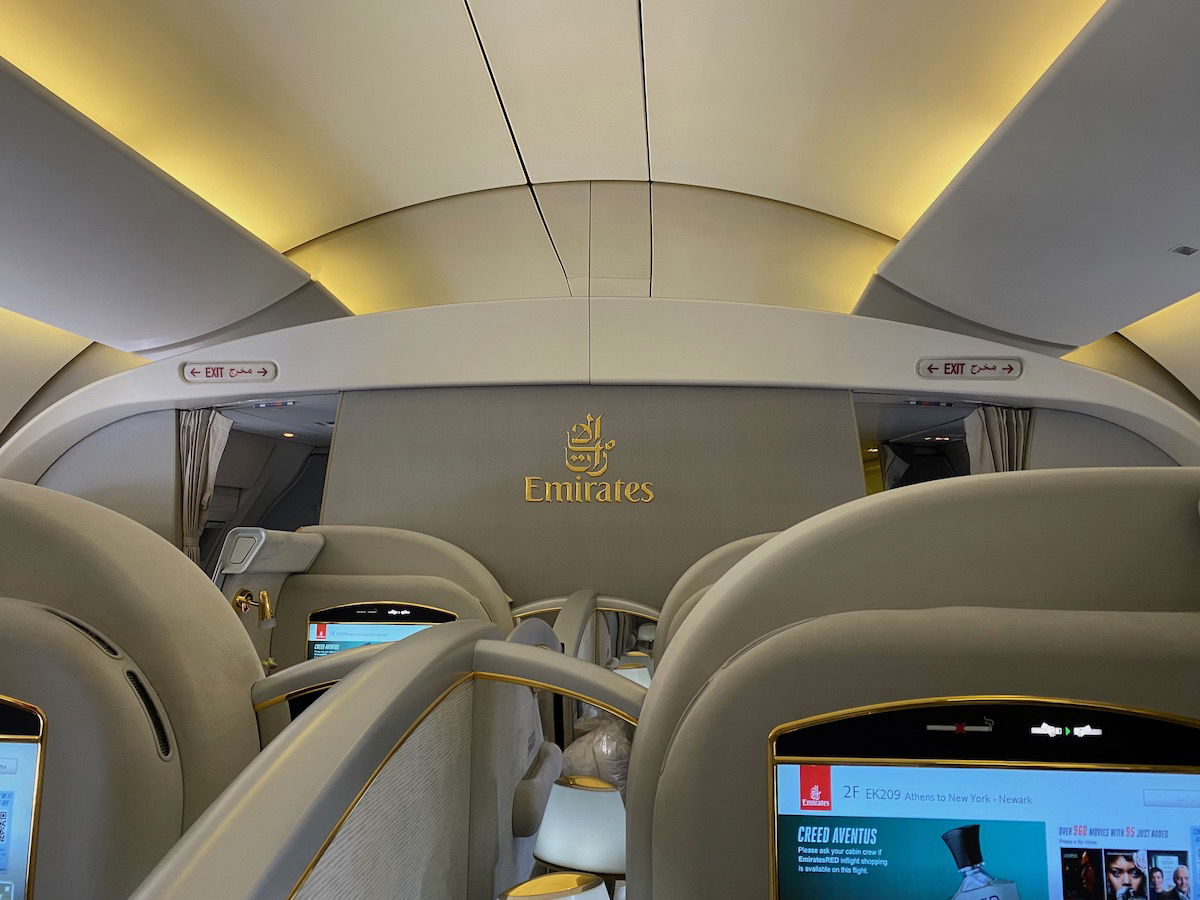 I simply adore Emirates' interiors. Would I ever want my home decorated this way? Heck no. But there's something about the bling that's oh-so-fun in moderation.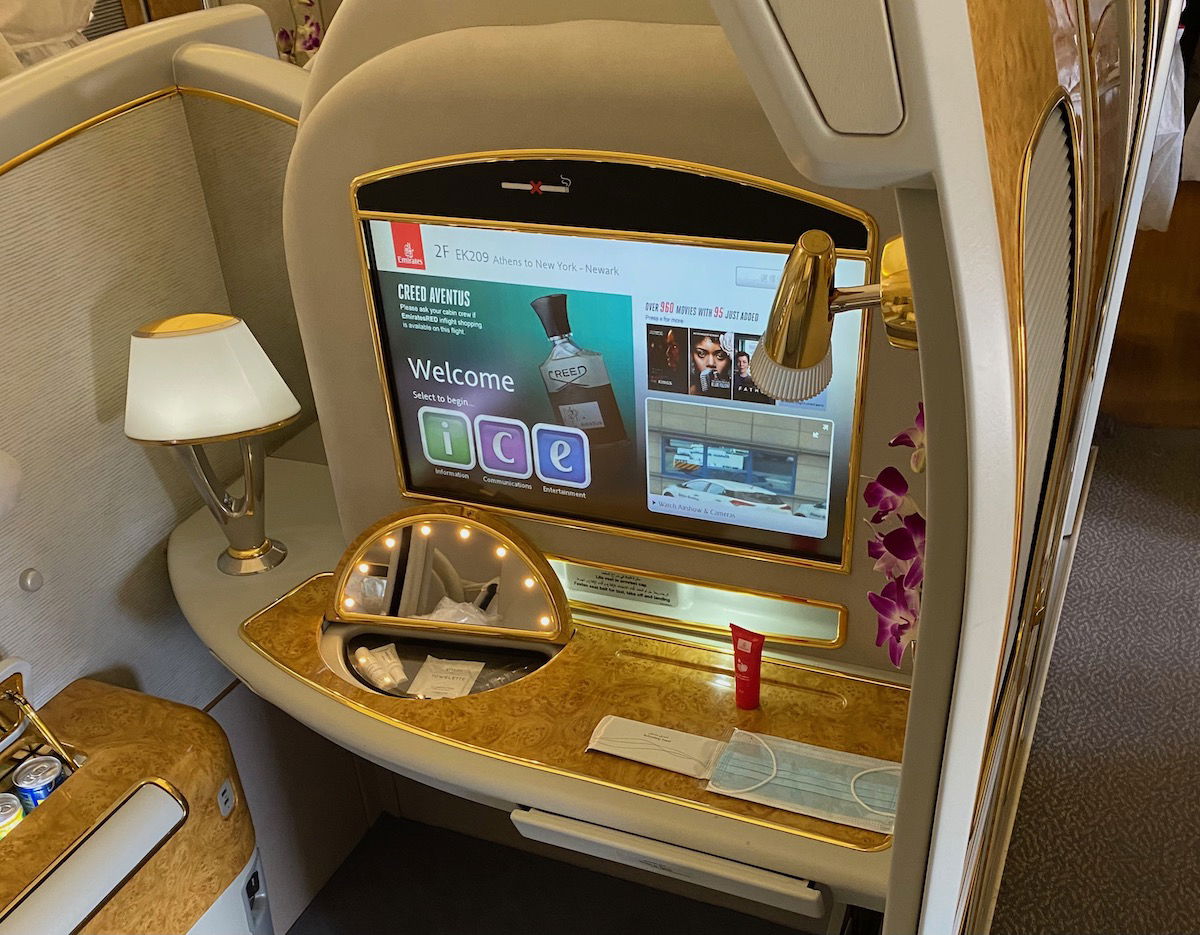 These cabins have endless gadgets, from a tablet for controlling seat and entertainment functions, to a minibar, to a snack basket, to a stationery kit.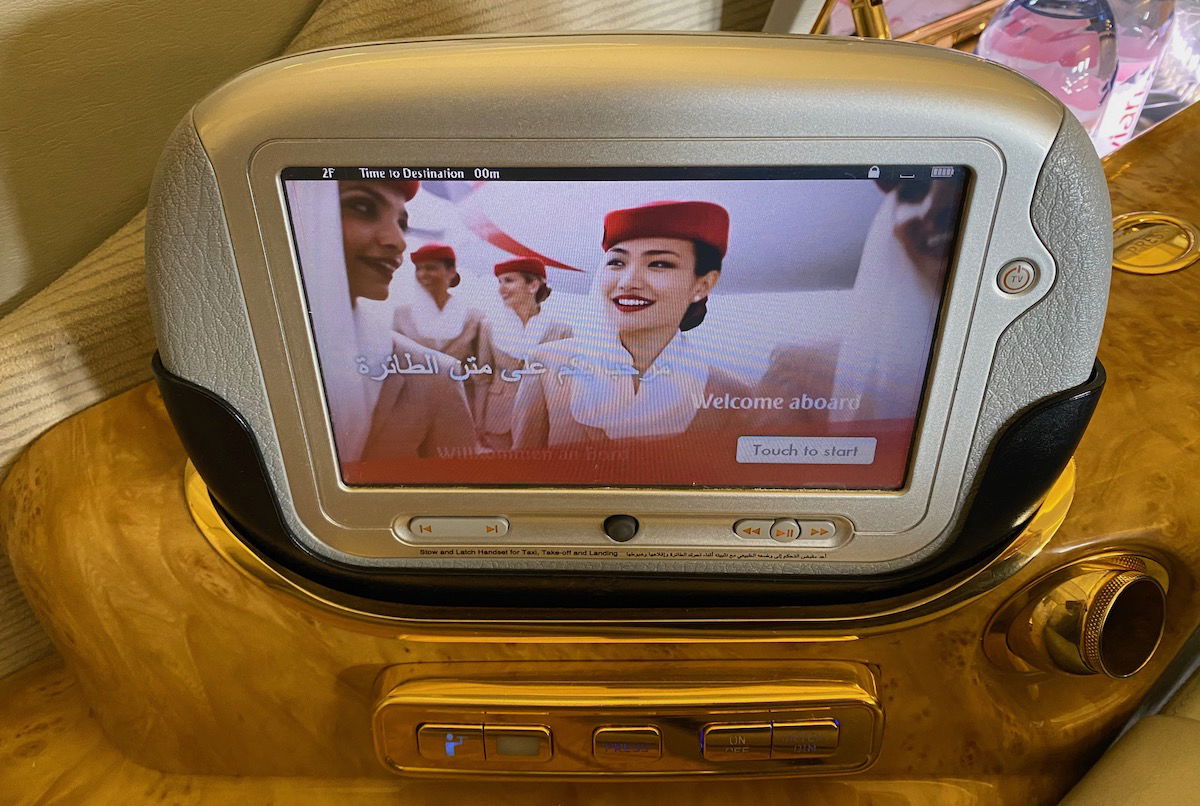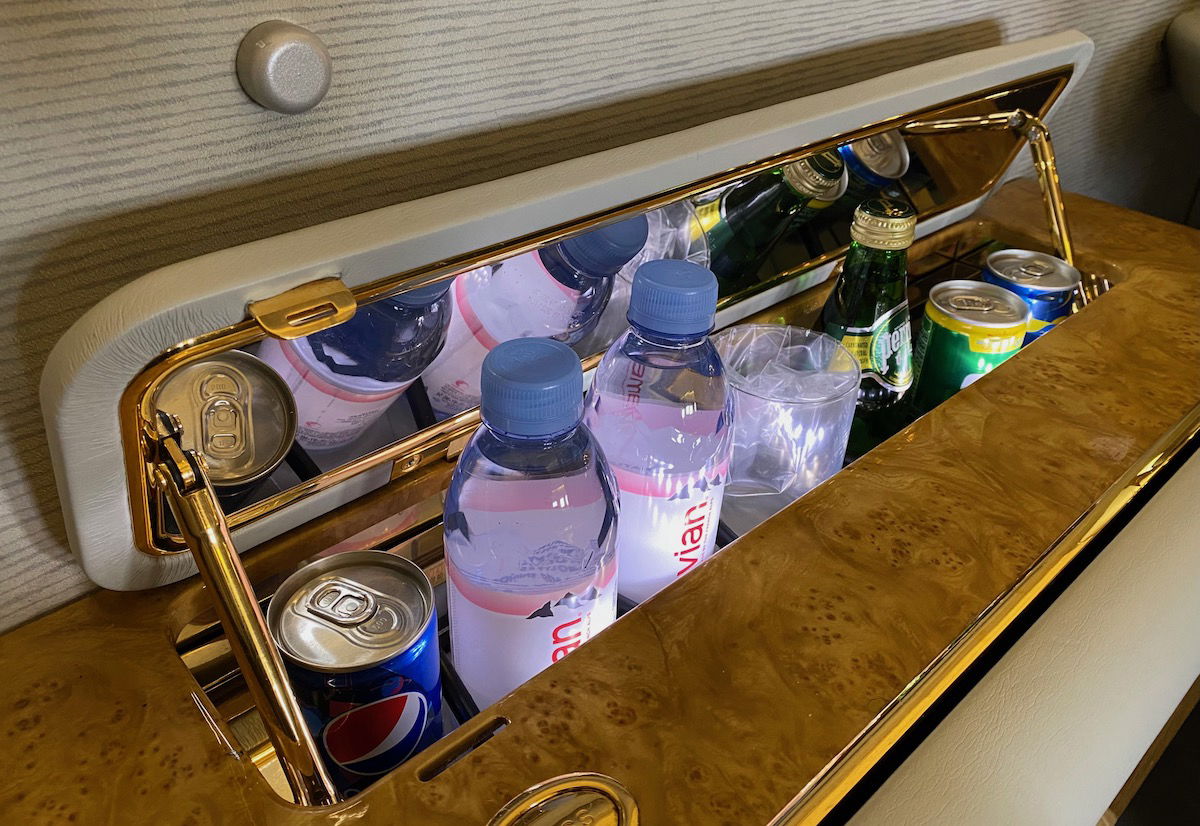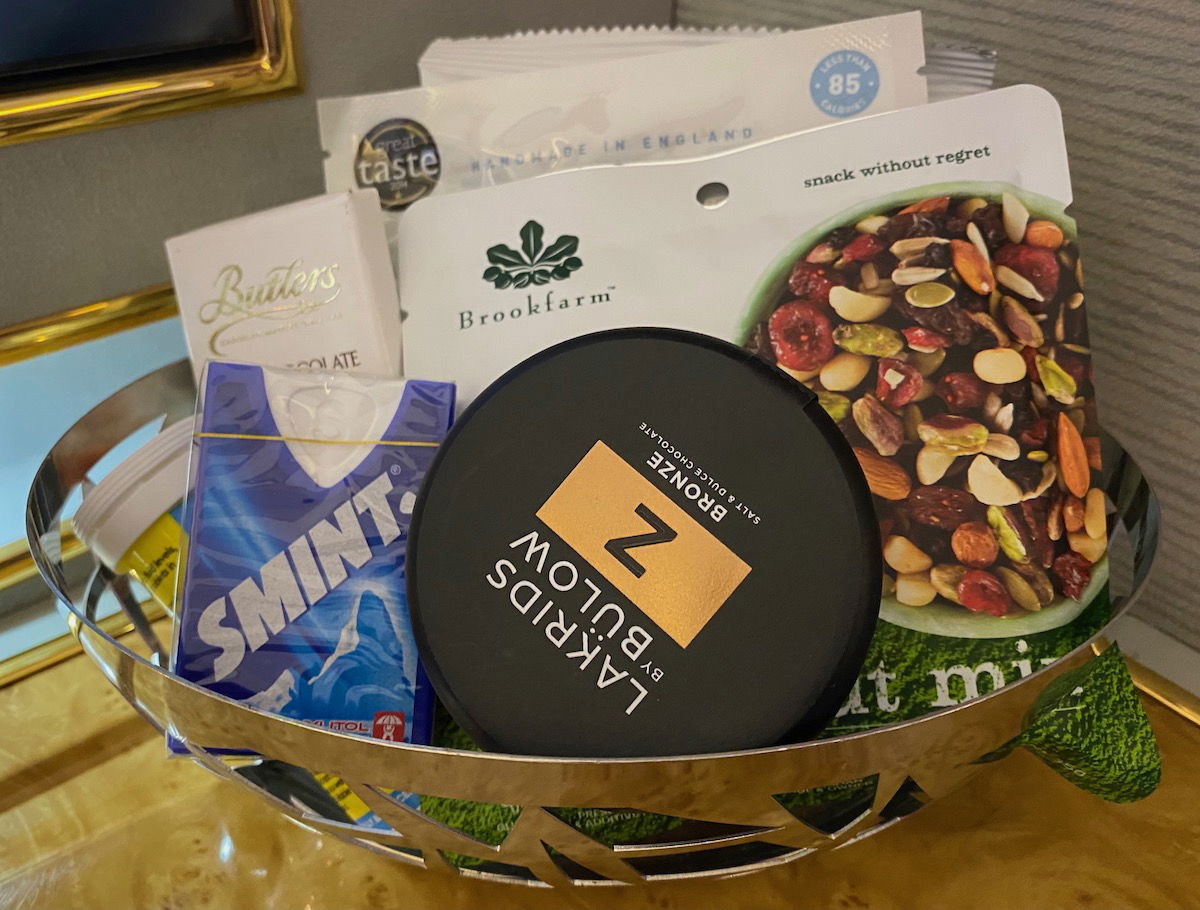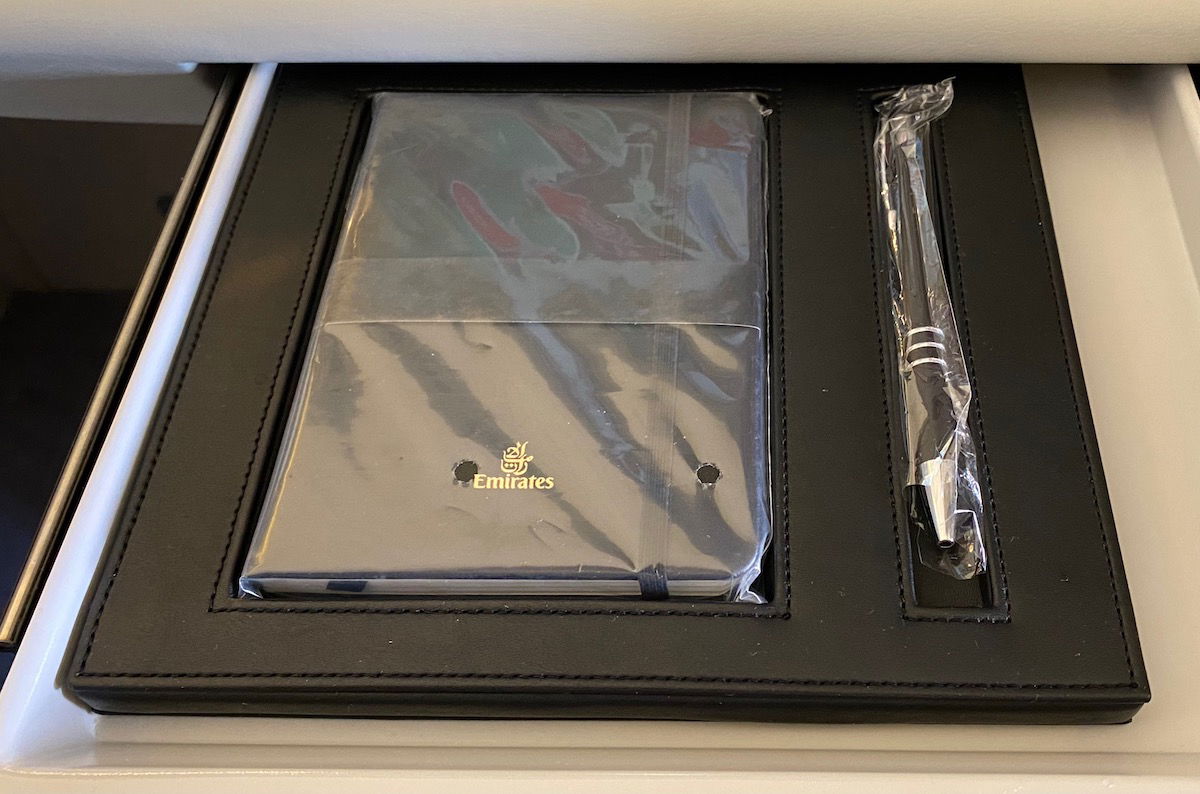 It felt like business as usual on Emirates — one of the only signs of the pandemic was a face mask and hand sanitizer.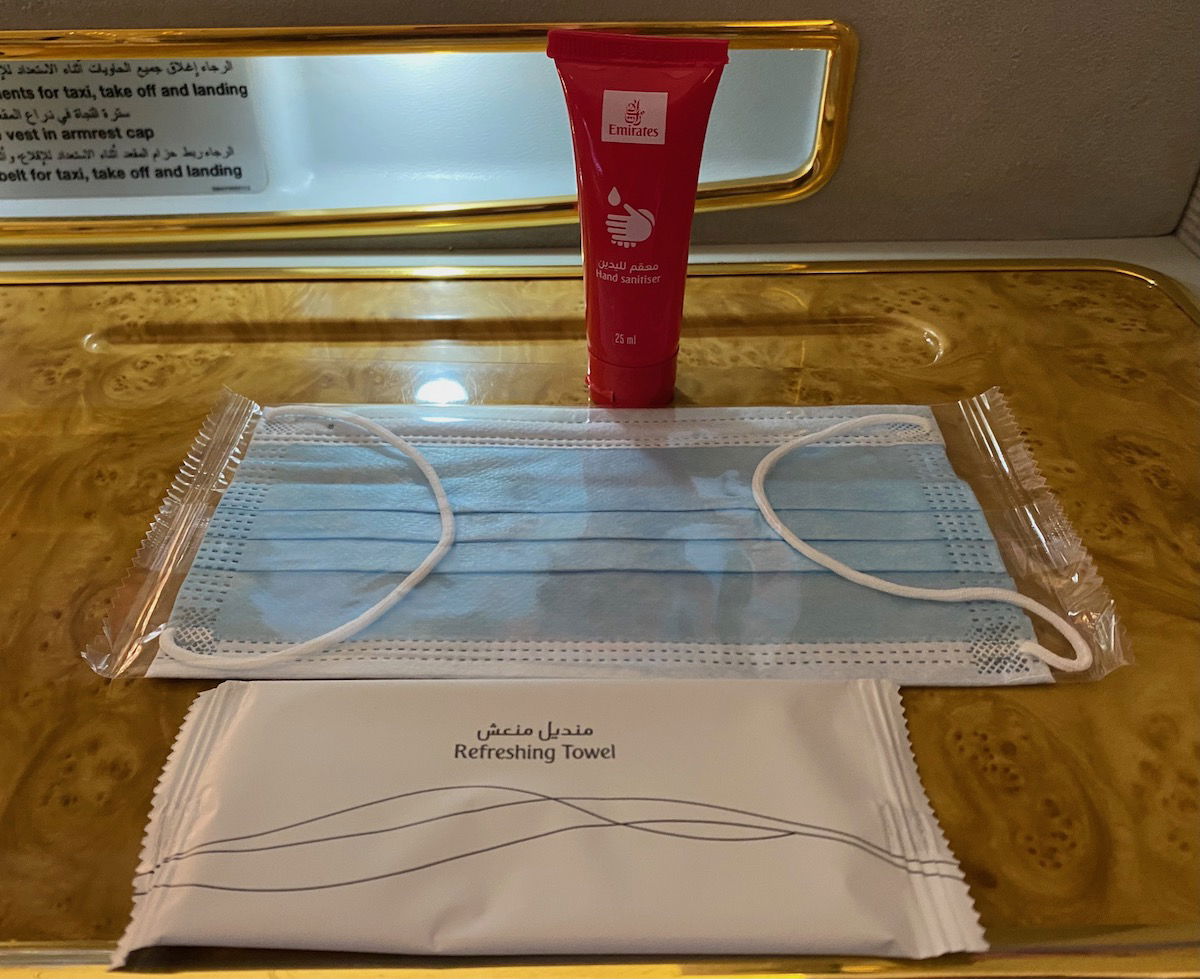 Once we were settled in, the crew introduced themselves to us — working Ford's aisle was the purser, who was Irish-American, and working my aisle was a Korean first class flight attendant. Both of the ladies working the cabin were awesome — the purser was hilarious, while the first class flight attendant was extremely professional.
Once settled in, the typical Emirates first class goodies were distributed.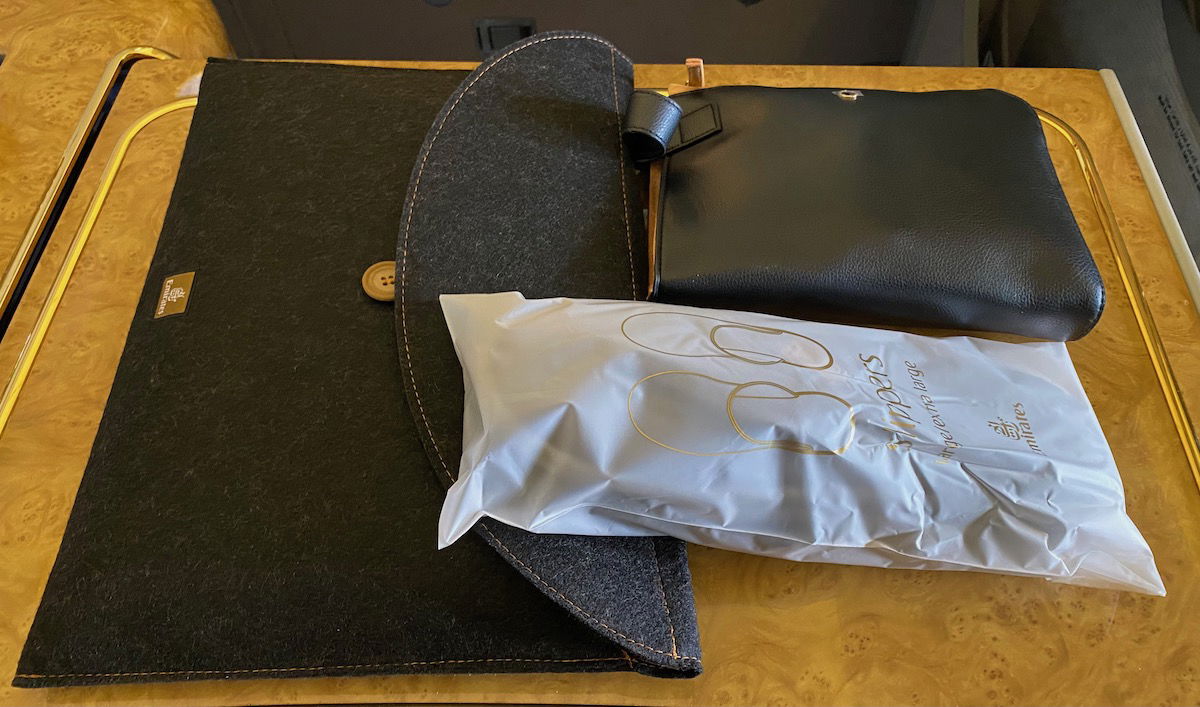 This included a BVLGARI amenity kit…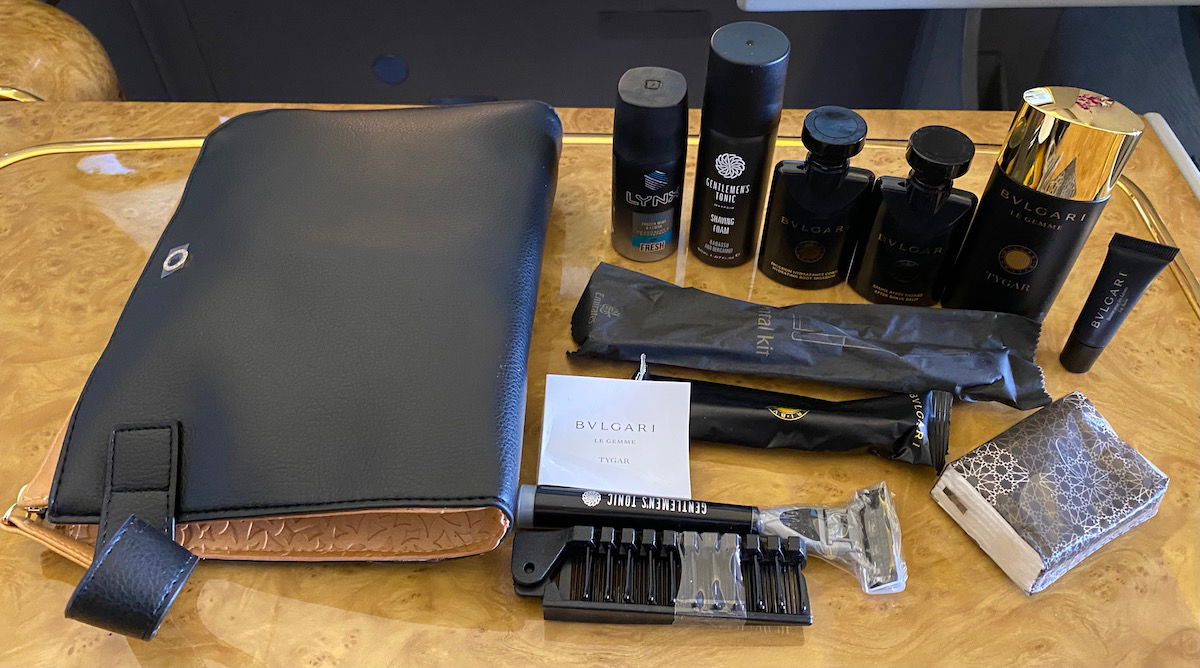 Pajamas, allegedly moisturizing…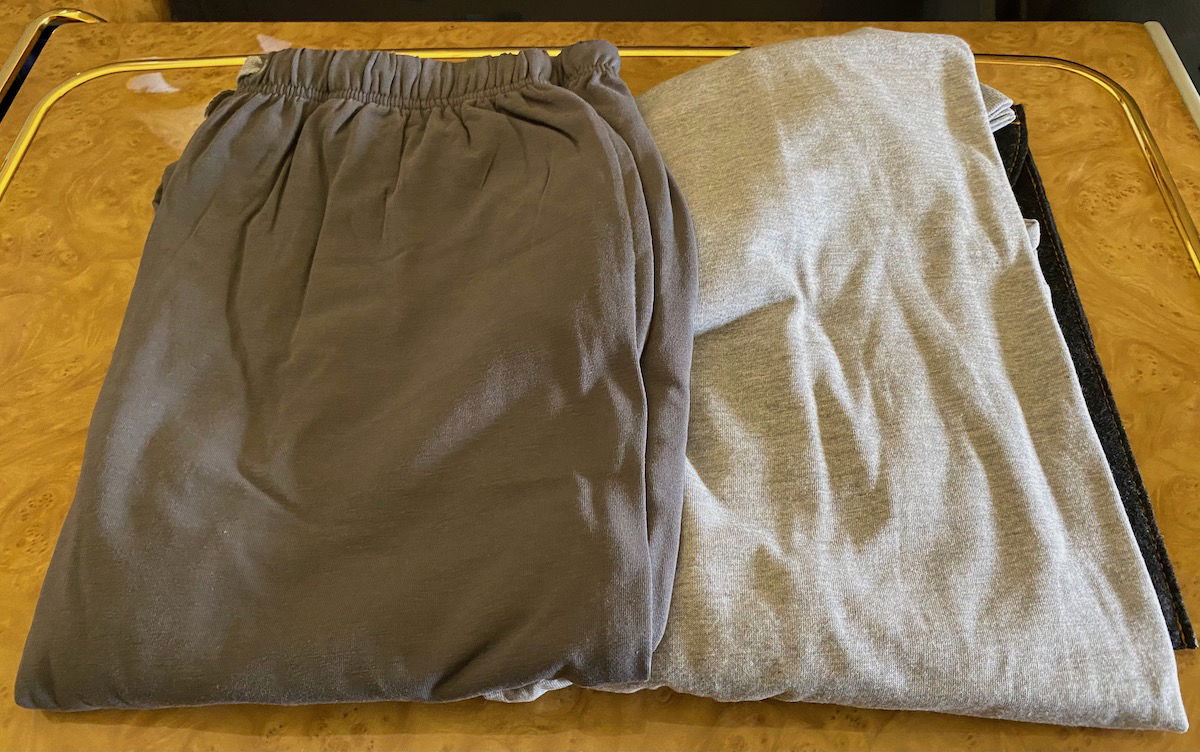 And slippers.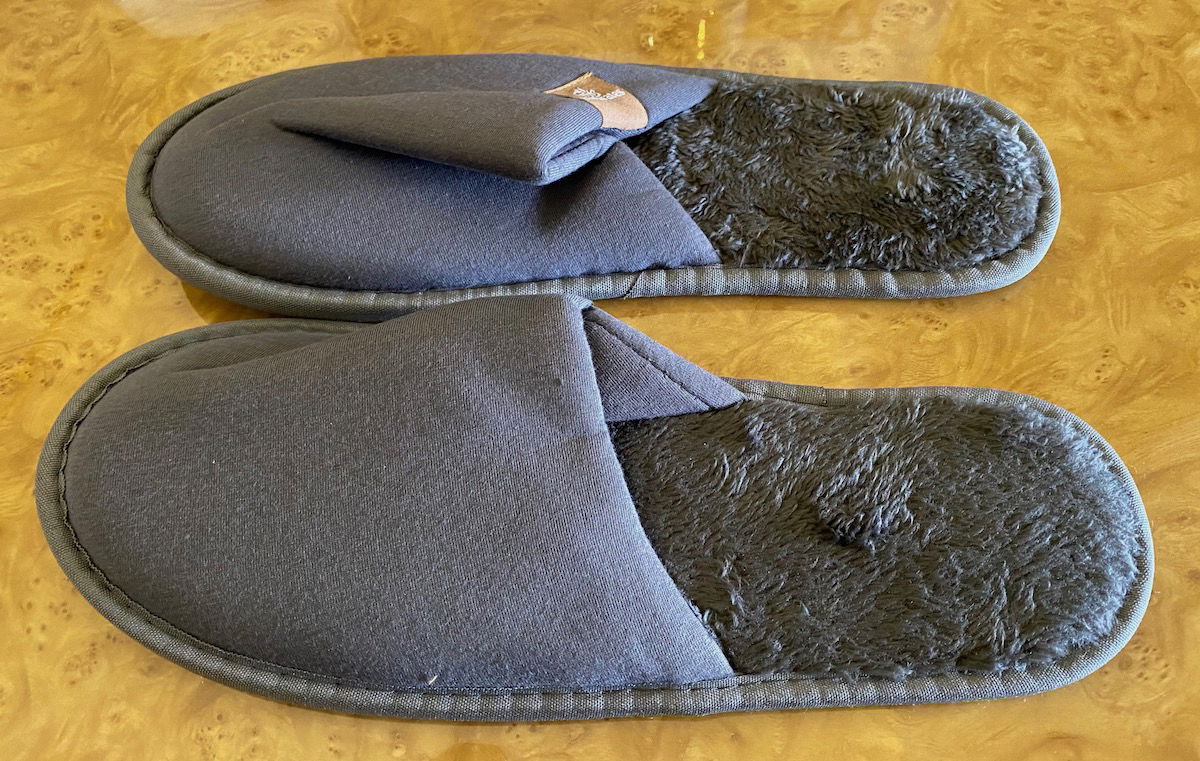 We were also offered pre-departure drinks, and you can guess what we ordered. Refills were plentiful as well.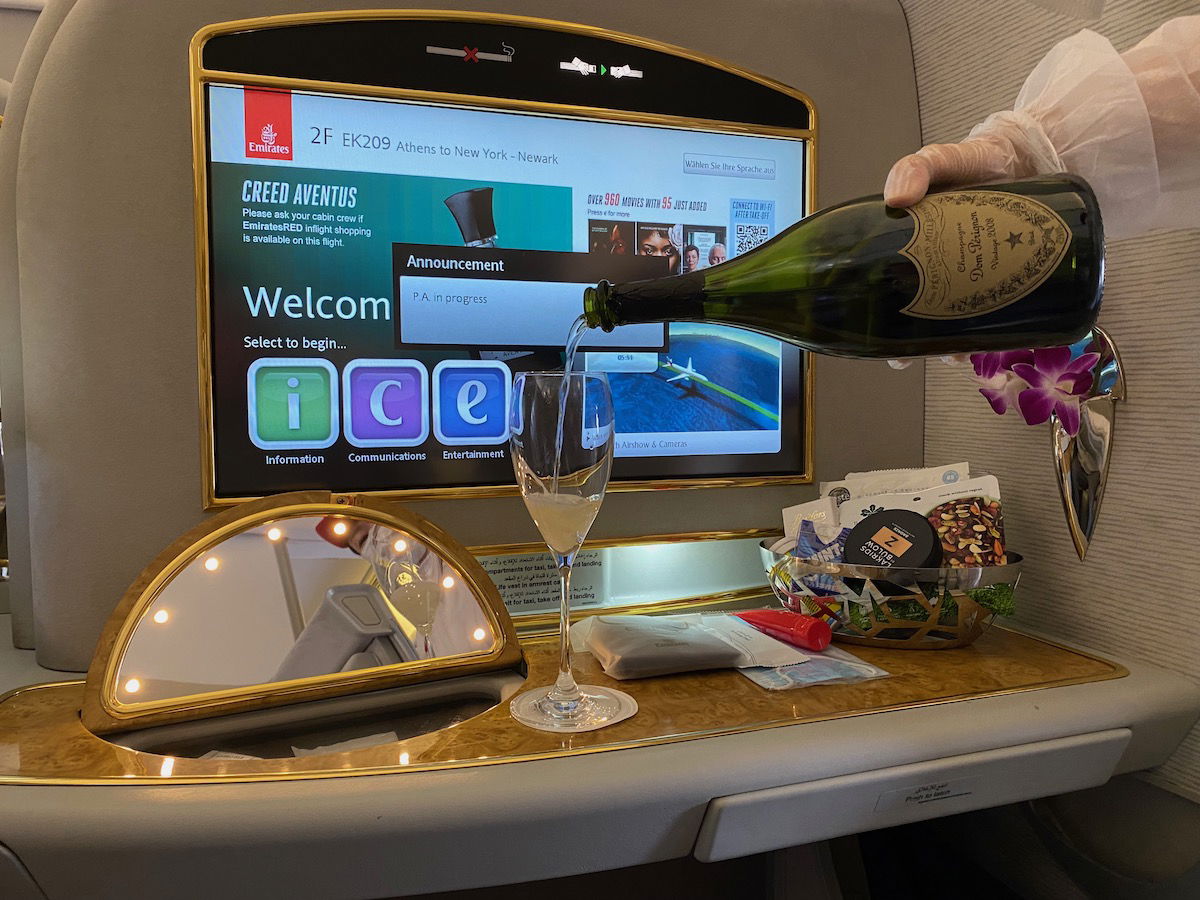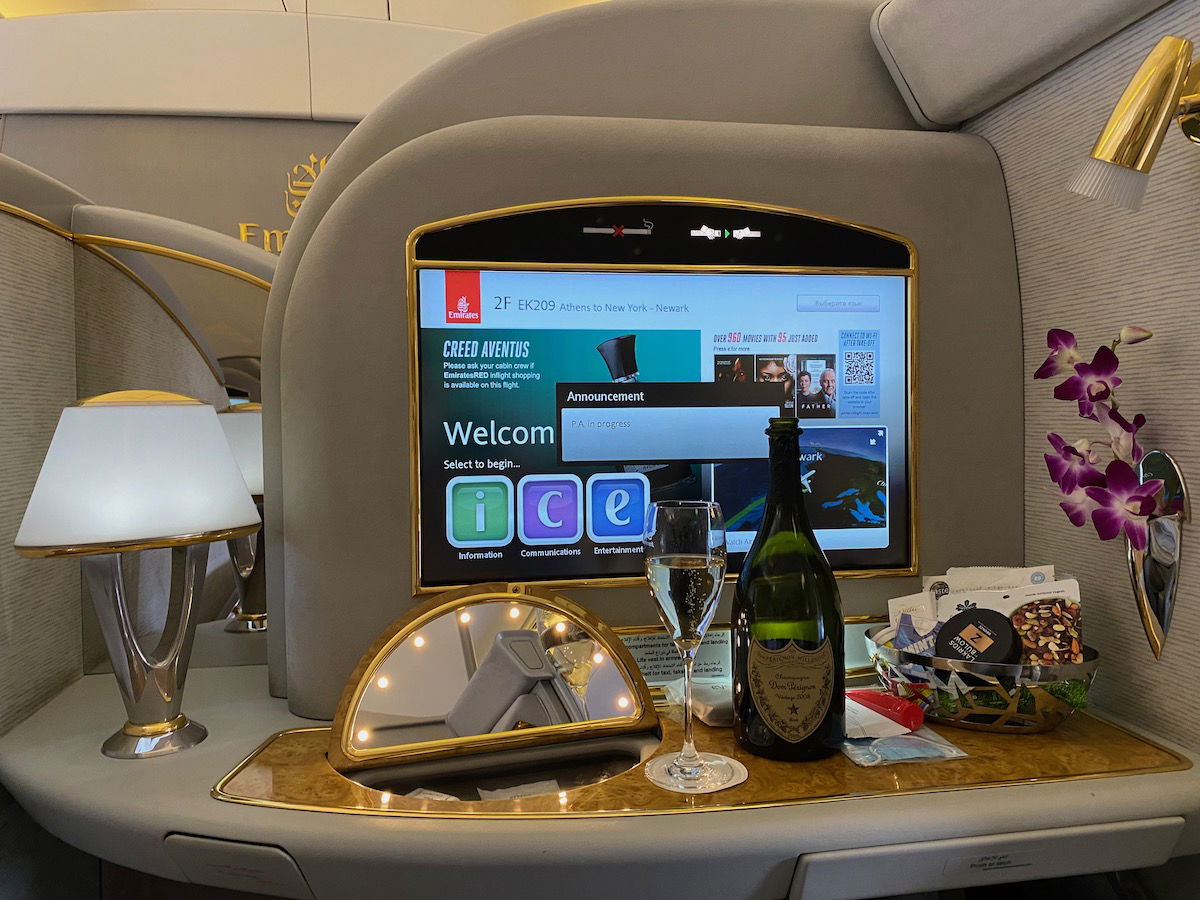 A few minutes before departure, Arabic coffee and dates were served.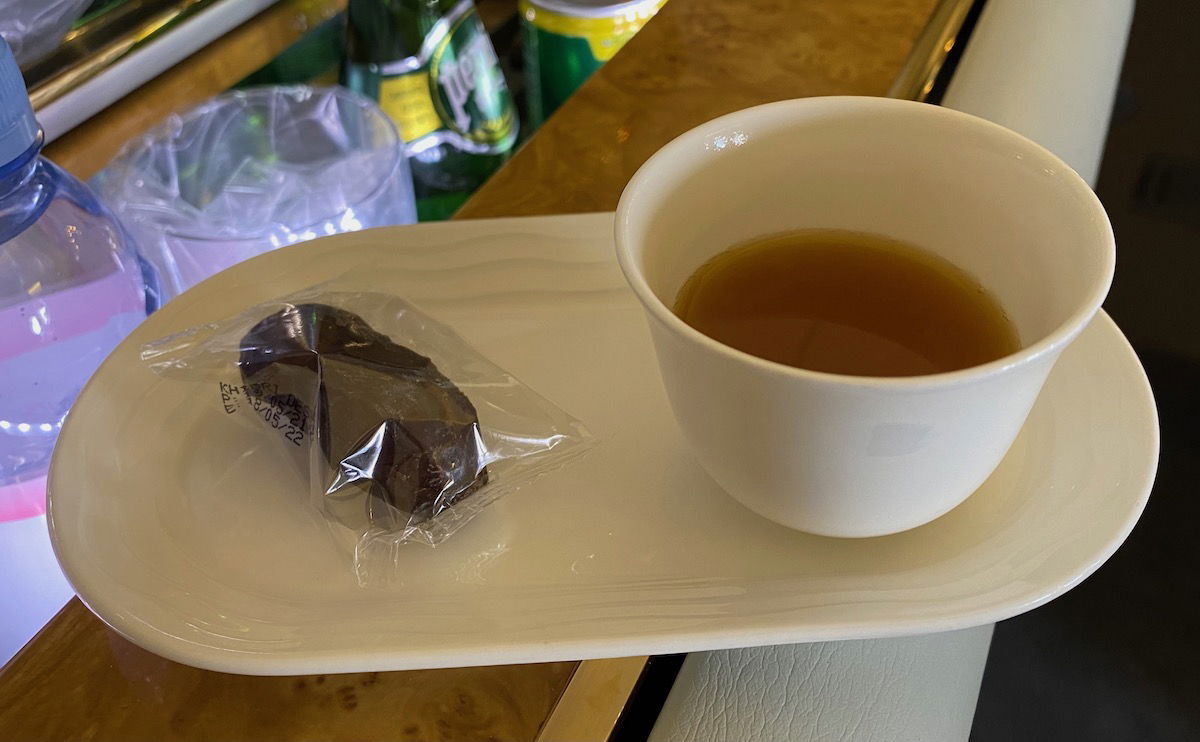 As you'd expect, boarding was extremely fast, given that there were just 18 passengers. However, we didn't depart right away, as the plane still needed to be refueled, and cargo was also still being loaded. About 10 minutes before our scheduled departure time the captain announced our flight time of 10hr17min.
We had a quick taxi to the runway, and were airborne ahead of schedule — while the window seats on both sides of us were open, we chose to stay in the middle seats for takeoff, and just enjoyed the nose camera.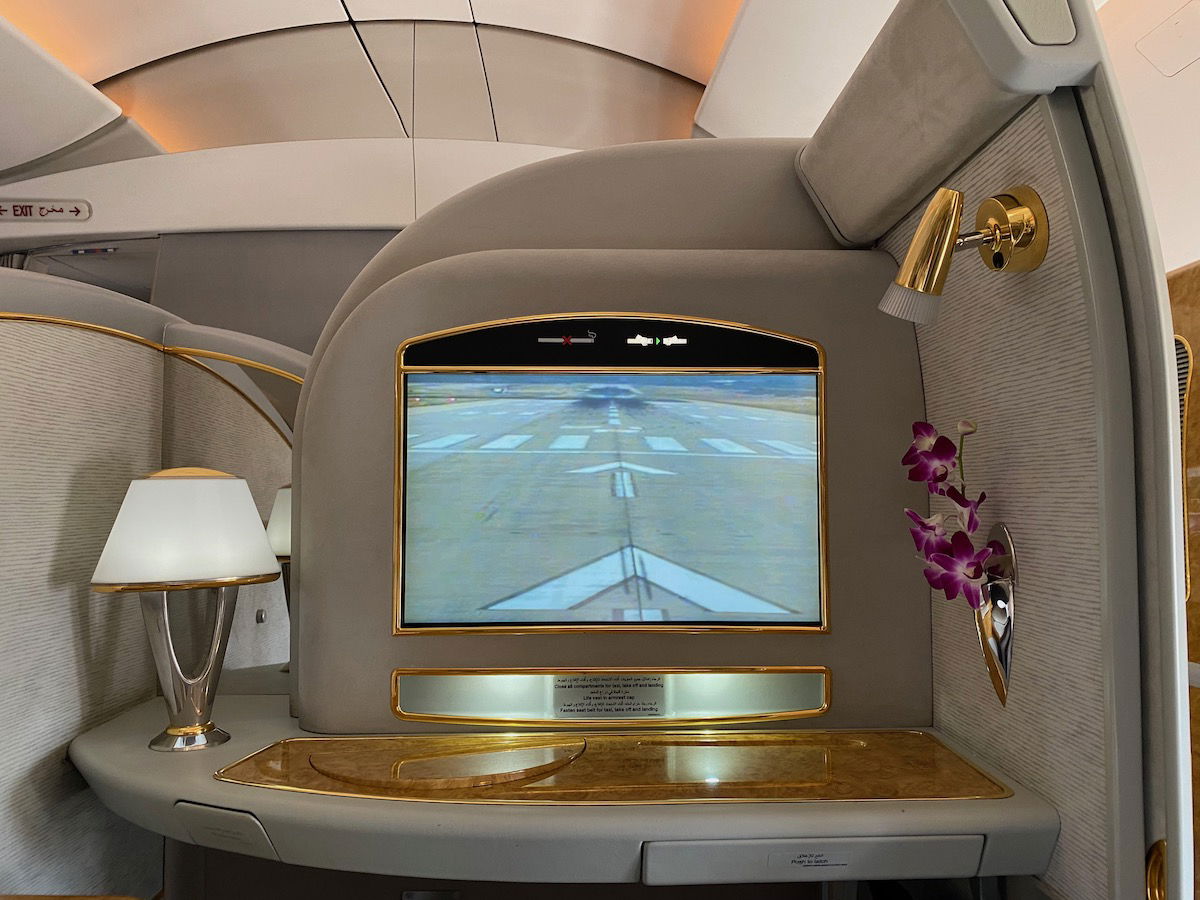 The seatbelt sign was turned off a few minutes after takeoff, and I couldn't help but take a quick walk through the plane. There was one other passenger in first class (in seat 1A). The three business class passengers were all in the forward mini-cabin, leaving the larger rear cabin empty.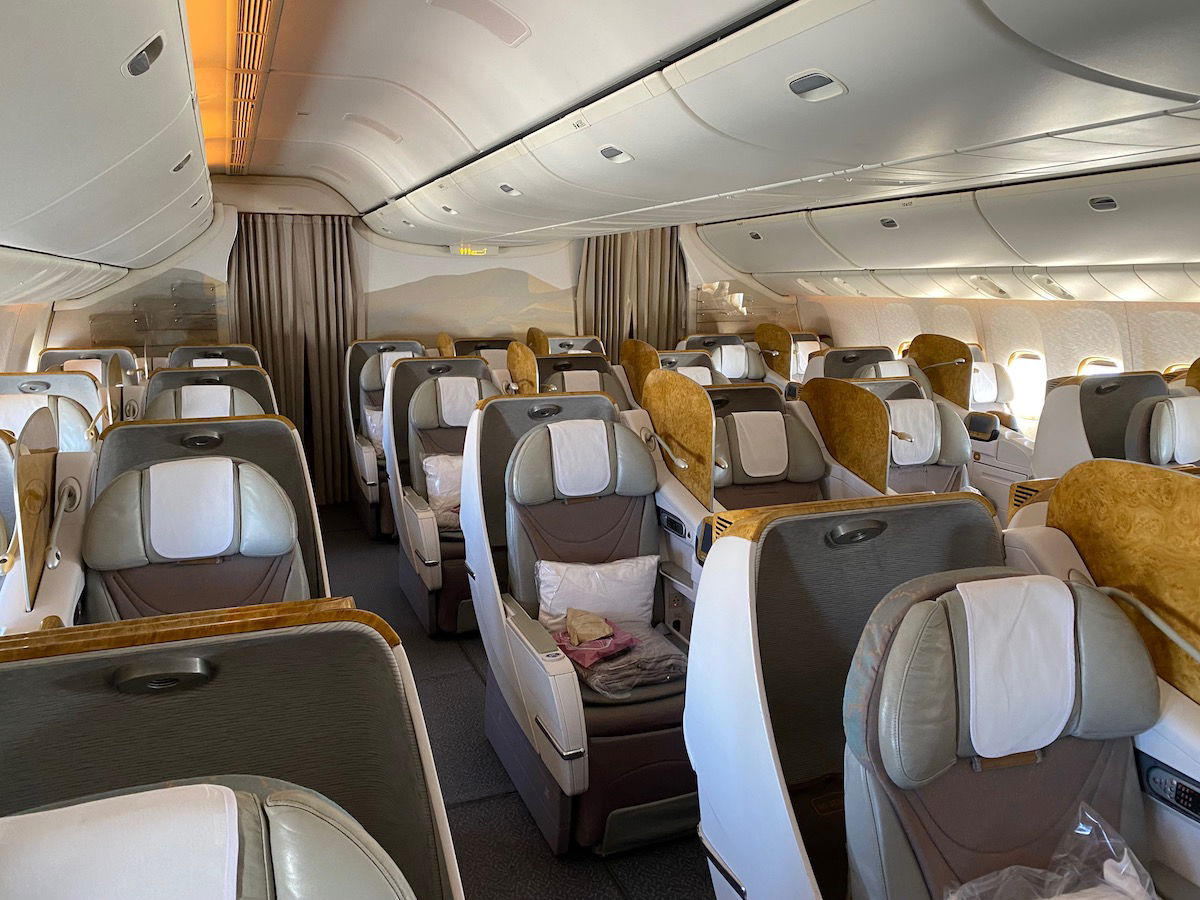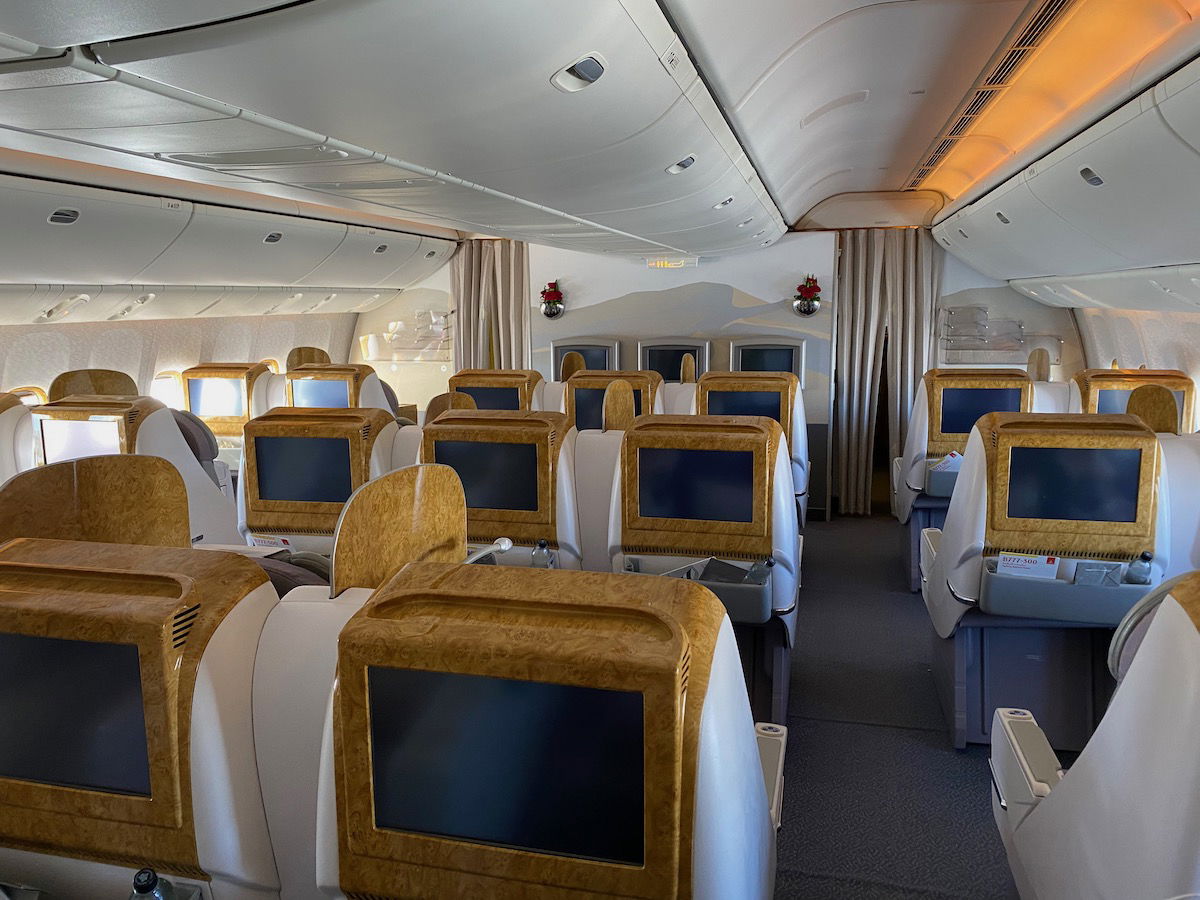 Economy was really where passengers had the most space to spread out, as there were just 12 seats taken.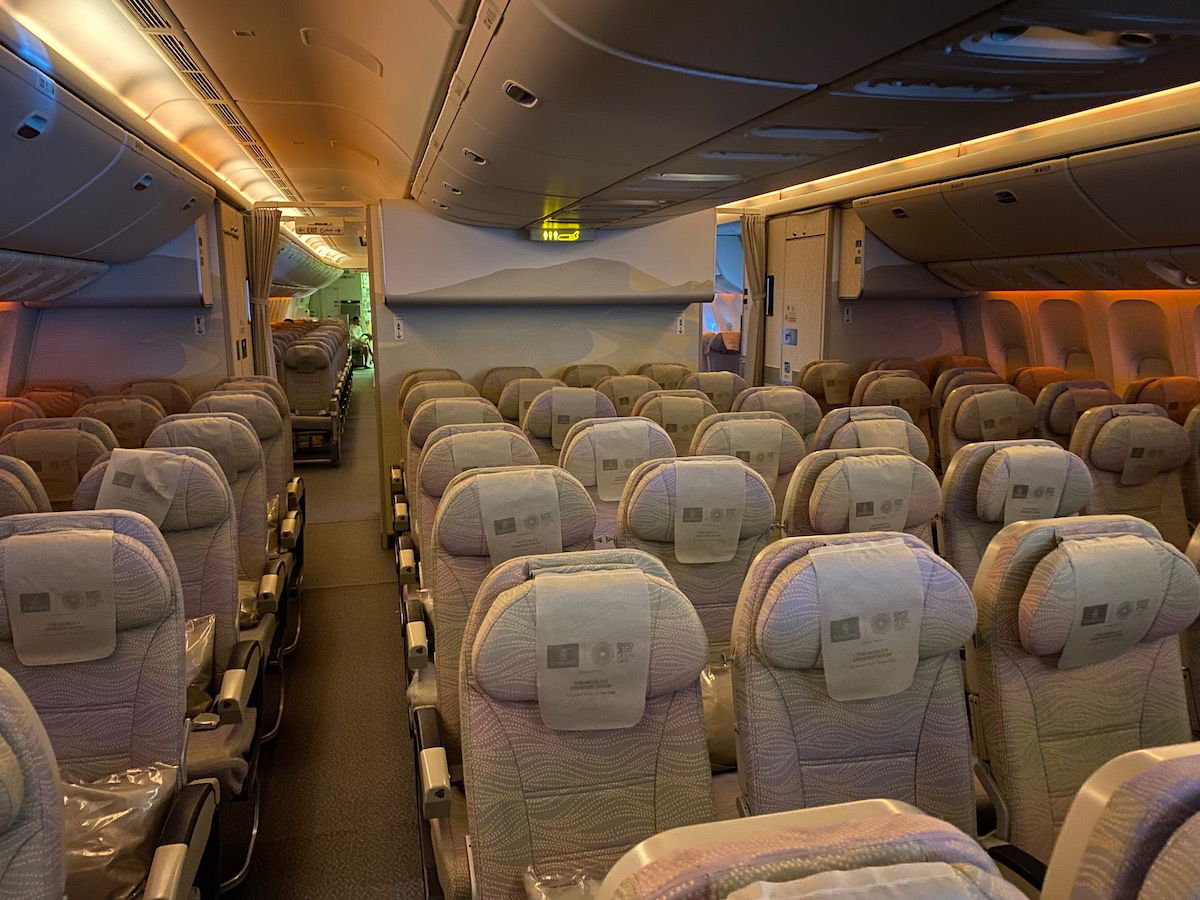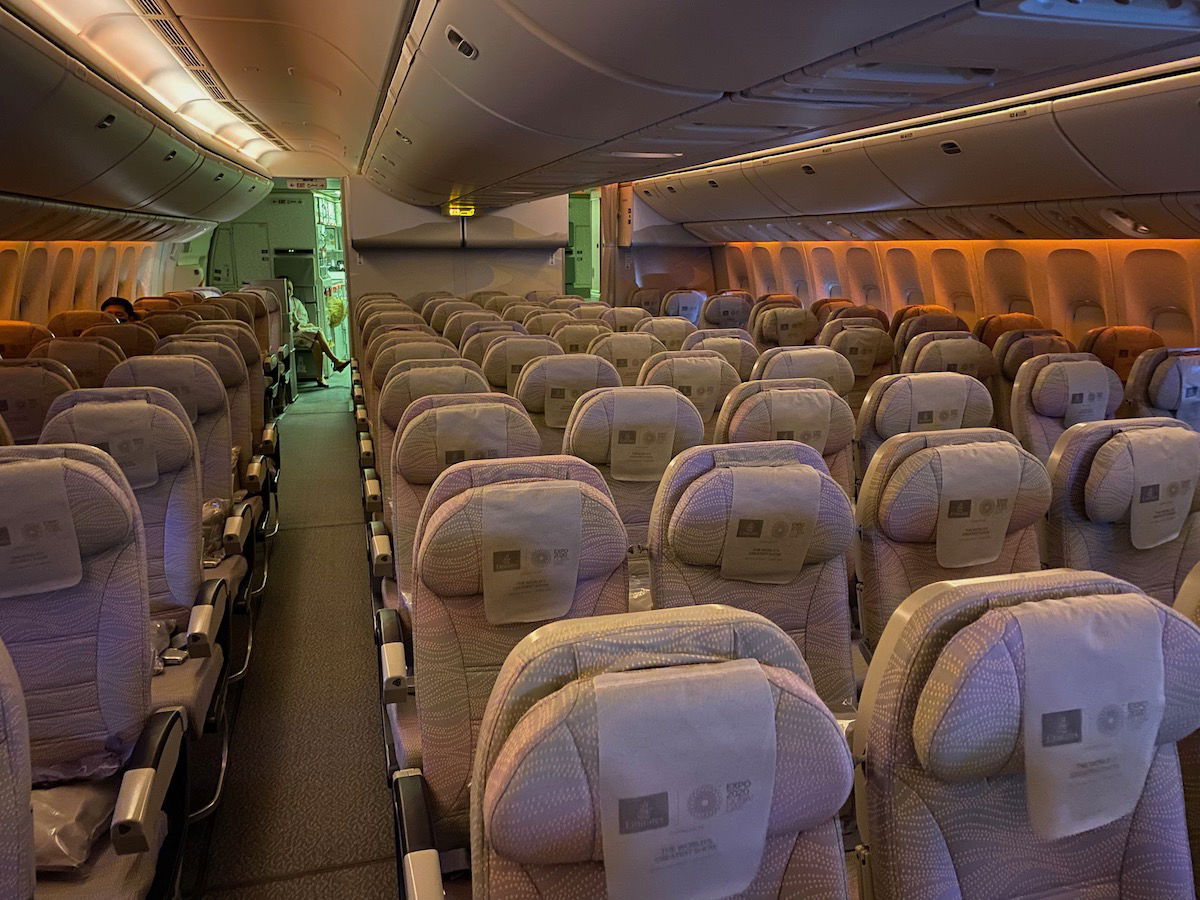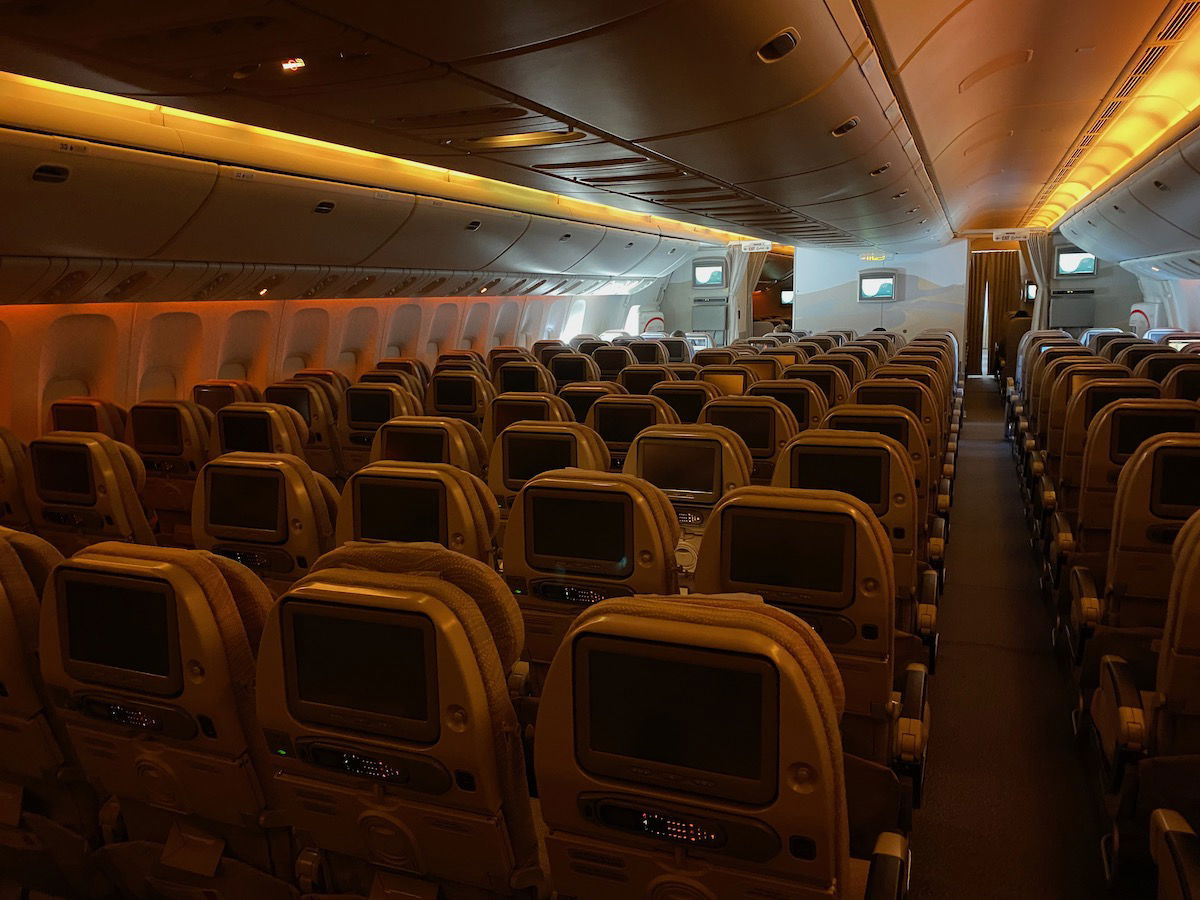 I almost felt sorry for the crew, as they seemed rather bored — when you factor in the pilots (who hopefully weren't bored!), there were roughly as many crew as passengers. Once back at our seats we got ready to enjoy lunch, and we at least made sure the crew in first class wasn't bored for the next few hours.
Emirates has a dine on demand menu, which read as follows: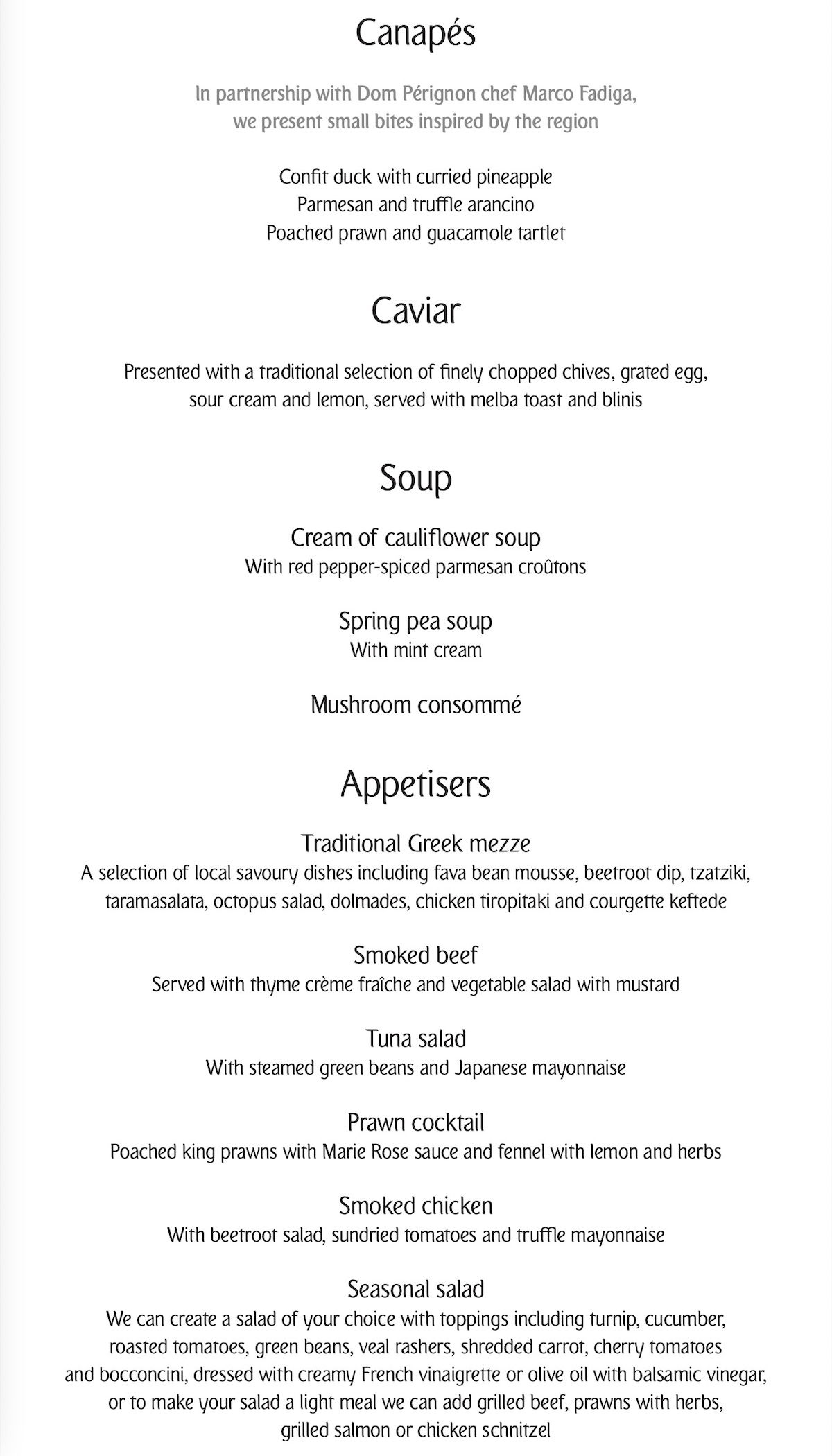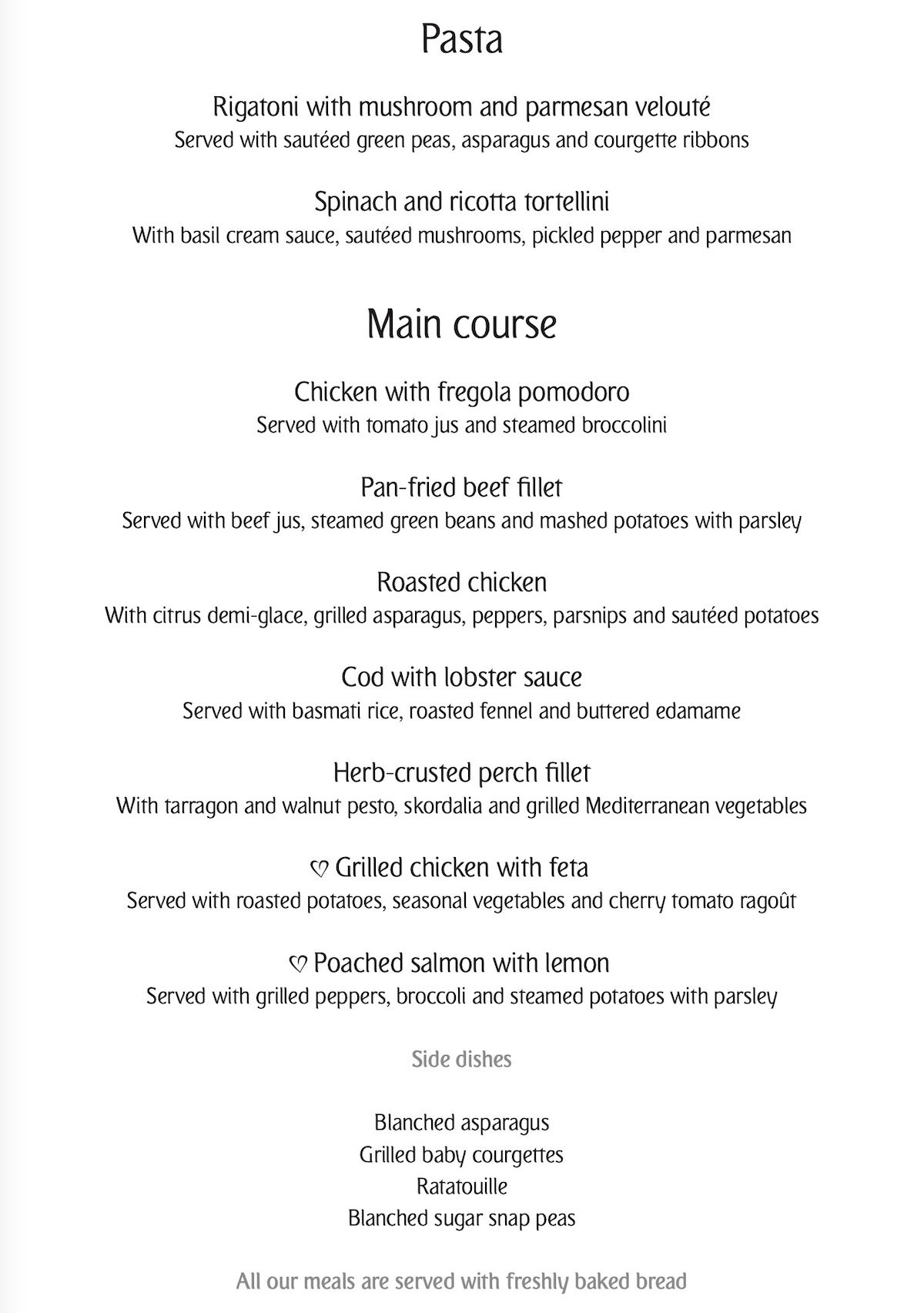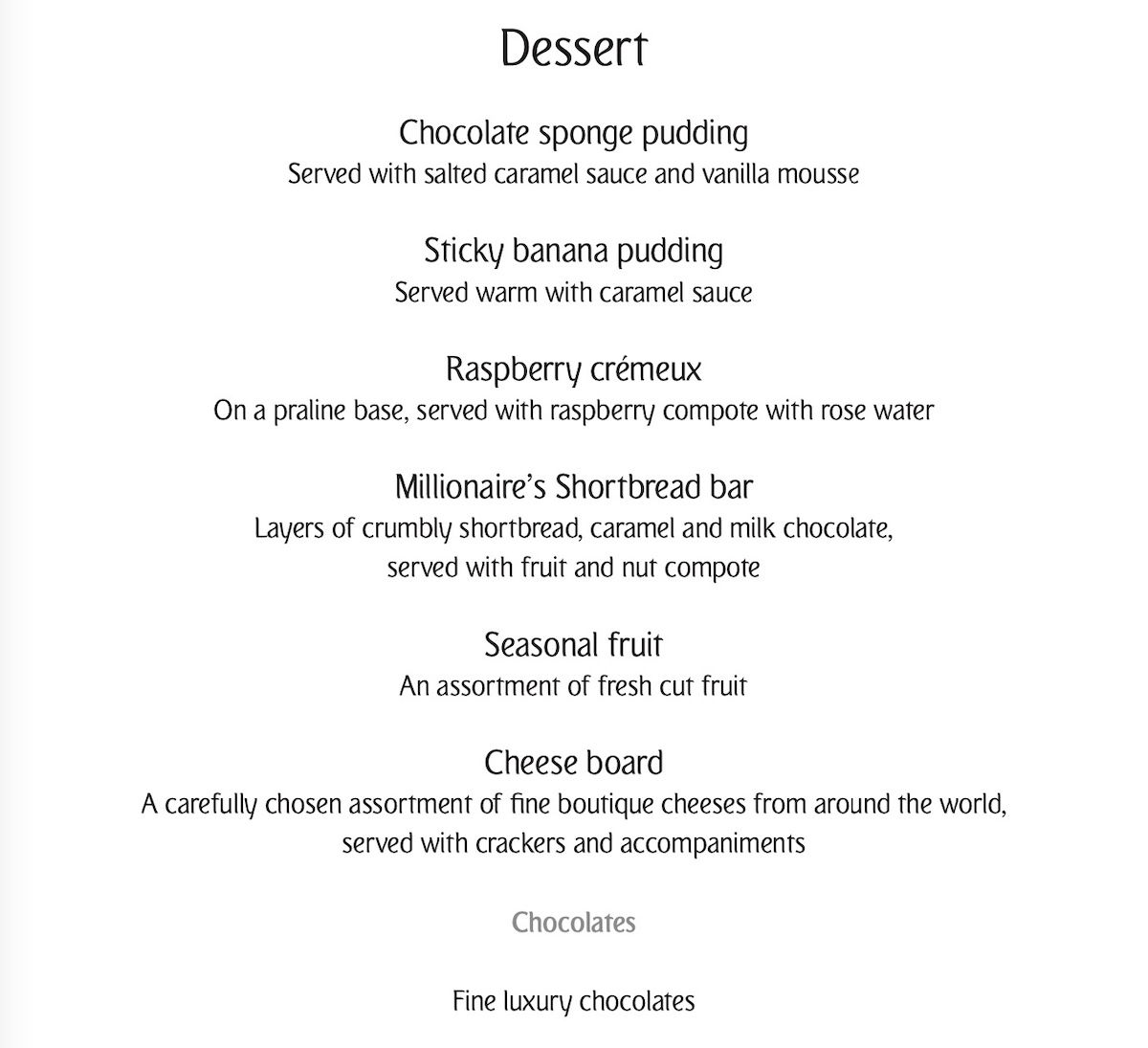 Then the drink list read as follows: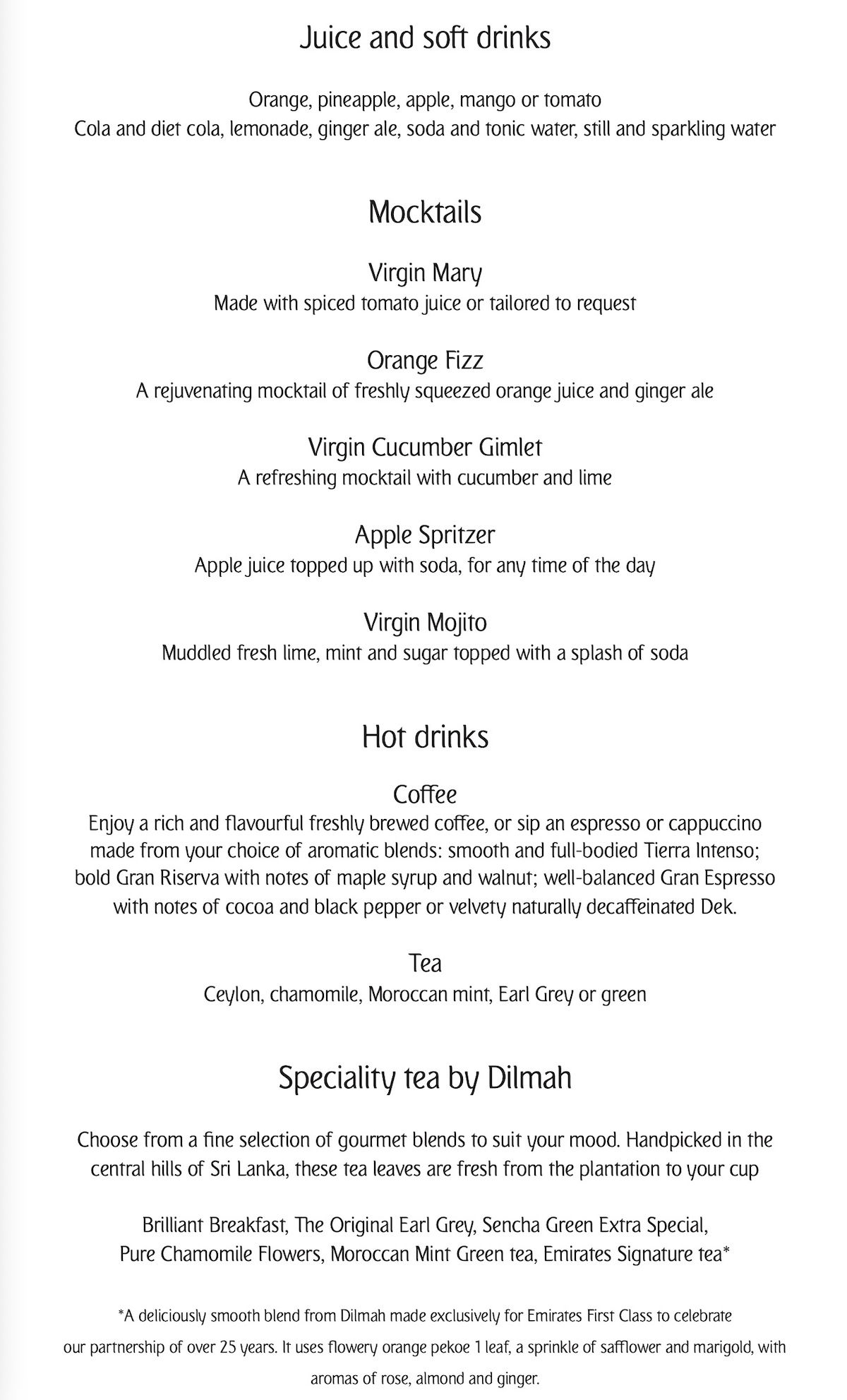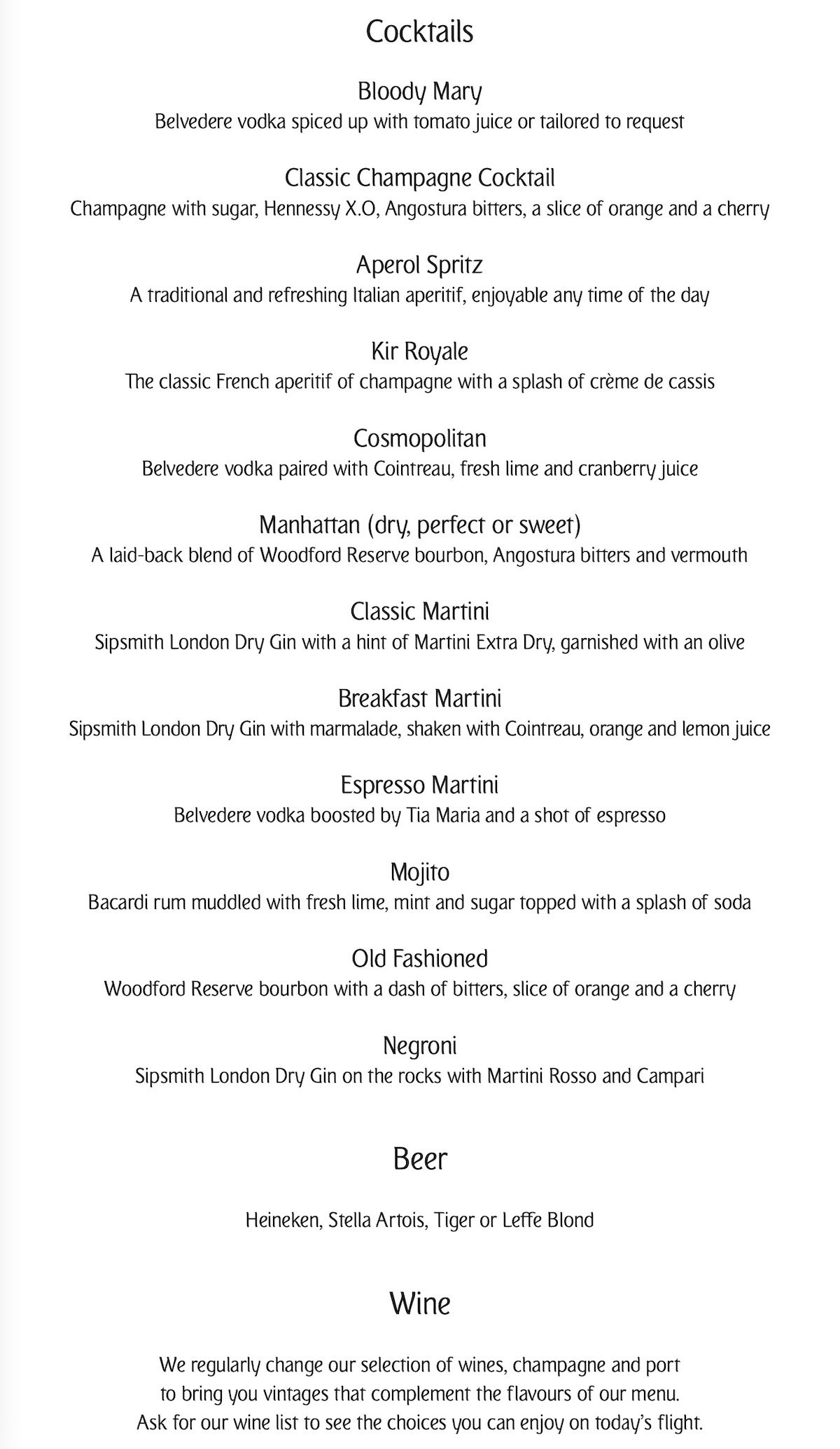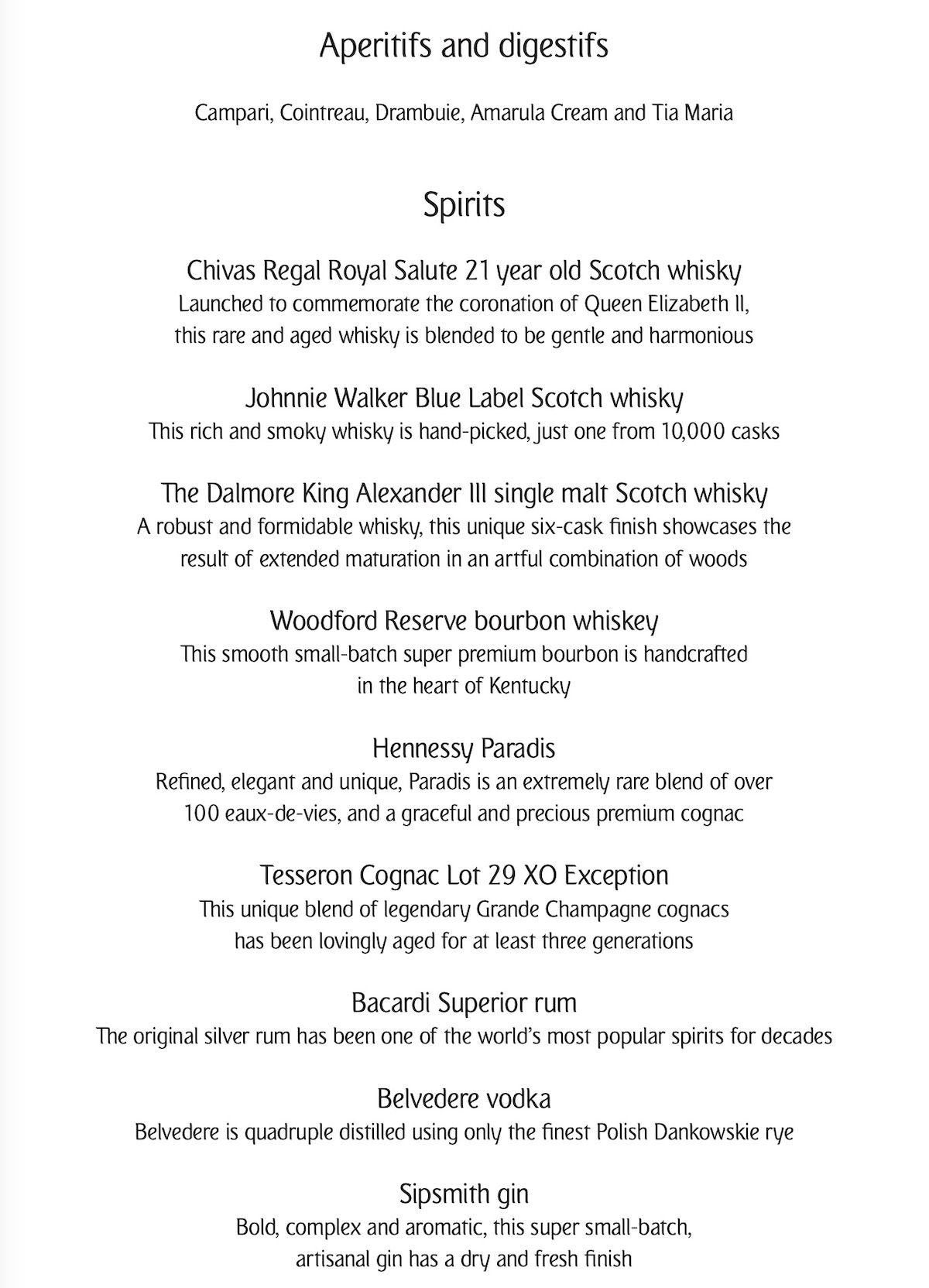 Lastly the wine list read as follows: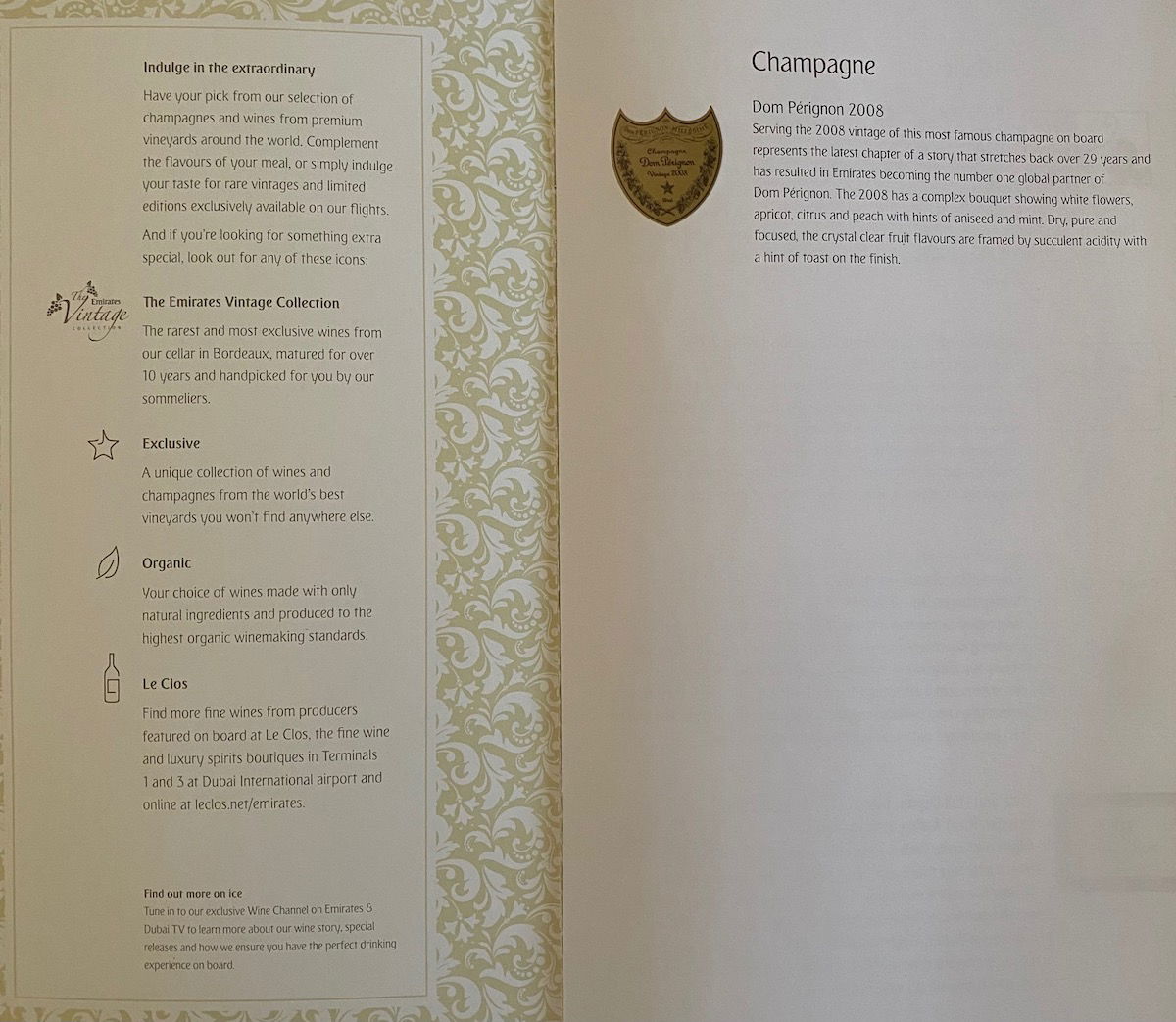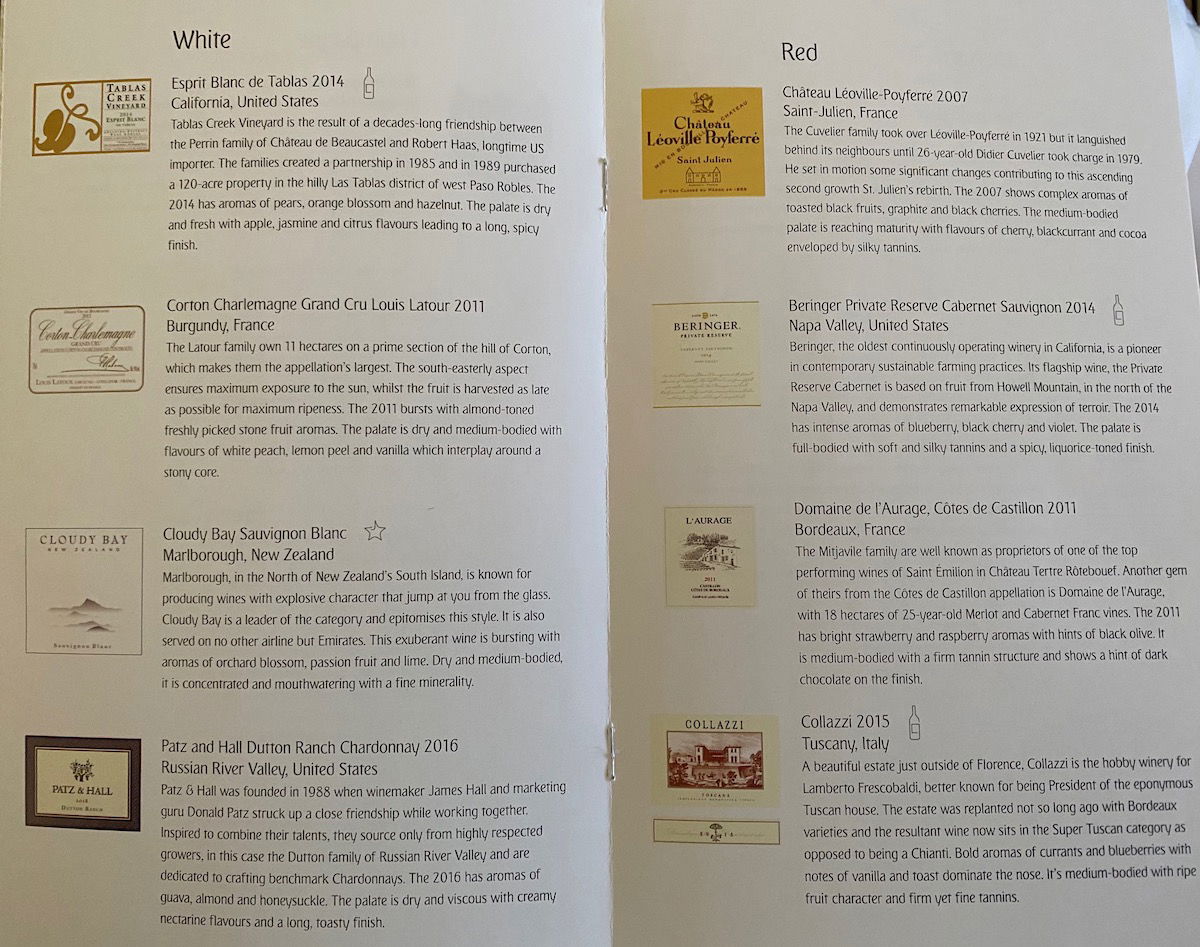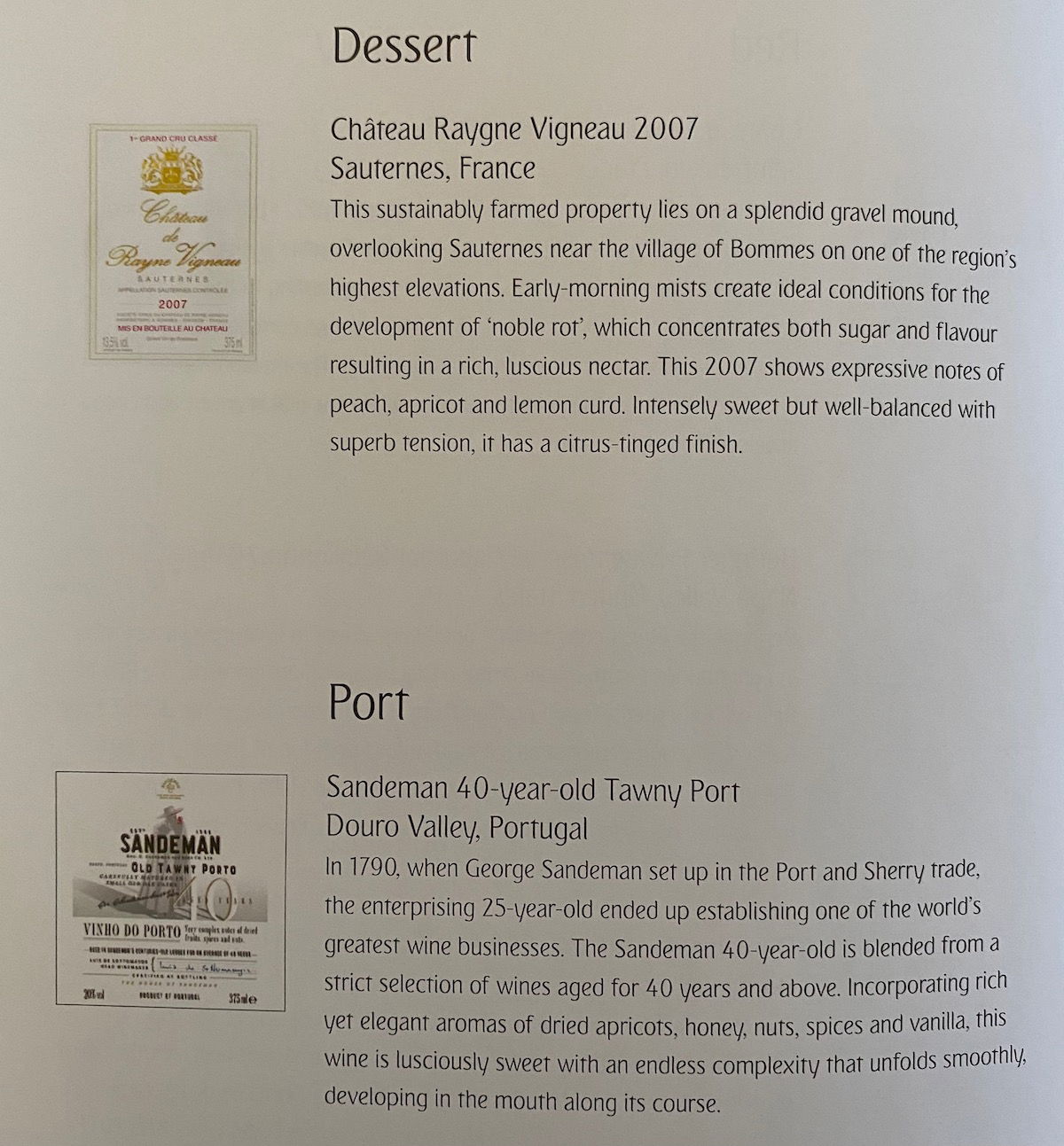 To kick off the meal we had some more Dom Perignon, accompanied by warm mixed nuts.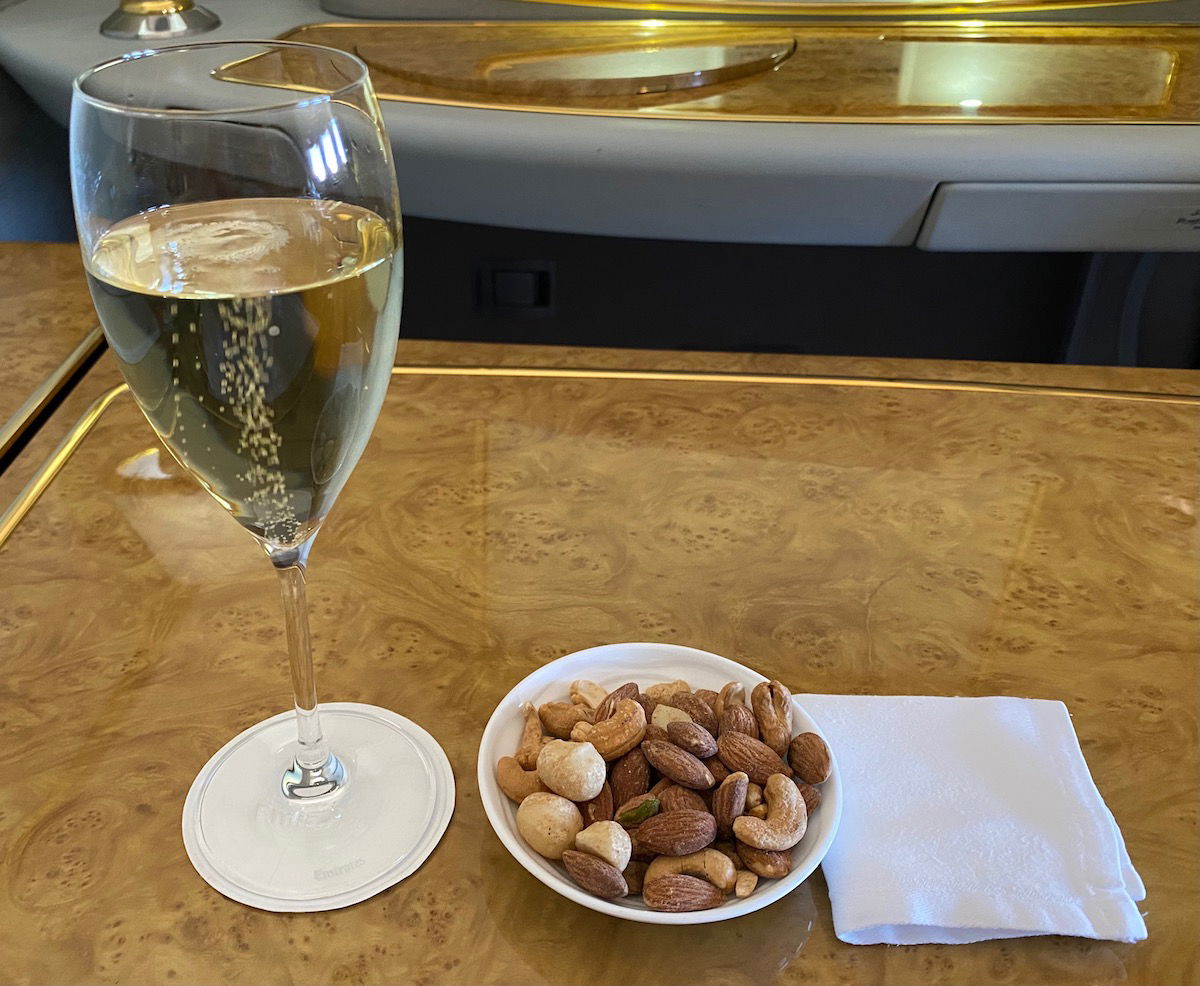 A few minutes later we were offered some canapés, allegedly chosen in partnership with Dom Perignon. This included confit duck with curried pineapple, parmesan and truffle arancino, and a poached prawn and guacamole tartlet.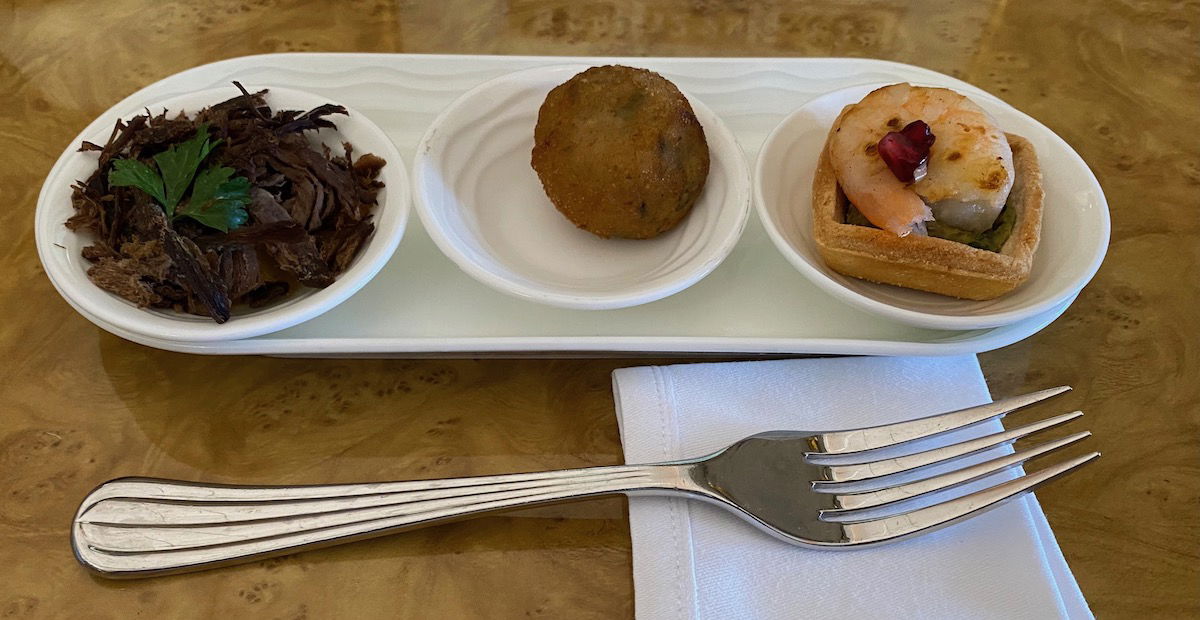 At this point we had enough champagne, so decided to mix up our drinks. I have a bad habit when it comes to ordering my favorite cocktail outside the US, since 90% of the time it doesn't come out how I hope, yet I keep ordering in hopes of it being good.
Specifically, I like dirty and dry martinis. Ideally it would just have vodka and olive juice, yet it's only in the US where ordering a "very dirty martini" gets me the type of drink I'm looking for.
Even when I explain what I'm looking for abroad at nice restaurants, it just never comes out right. I decided to try my luck on Emirates. I asked the purser for a dirty martini, and described what I was hoping for. Much to my surprise, she made the drink perfectly. Well done!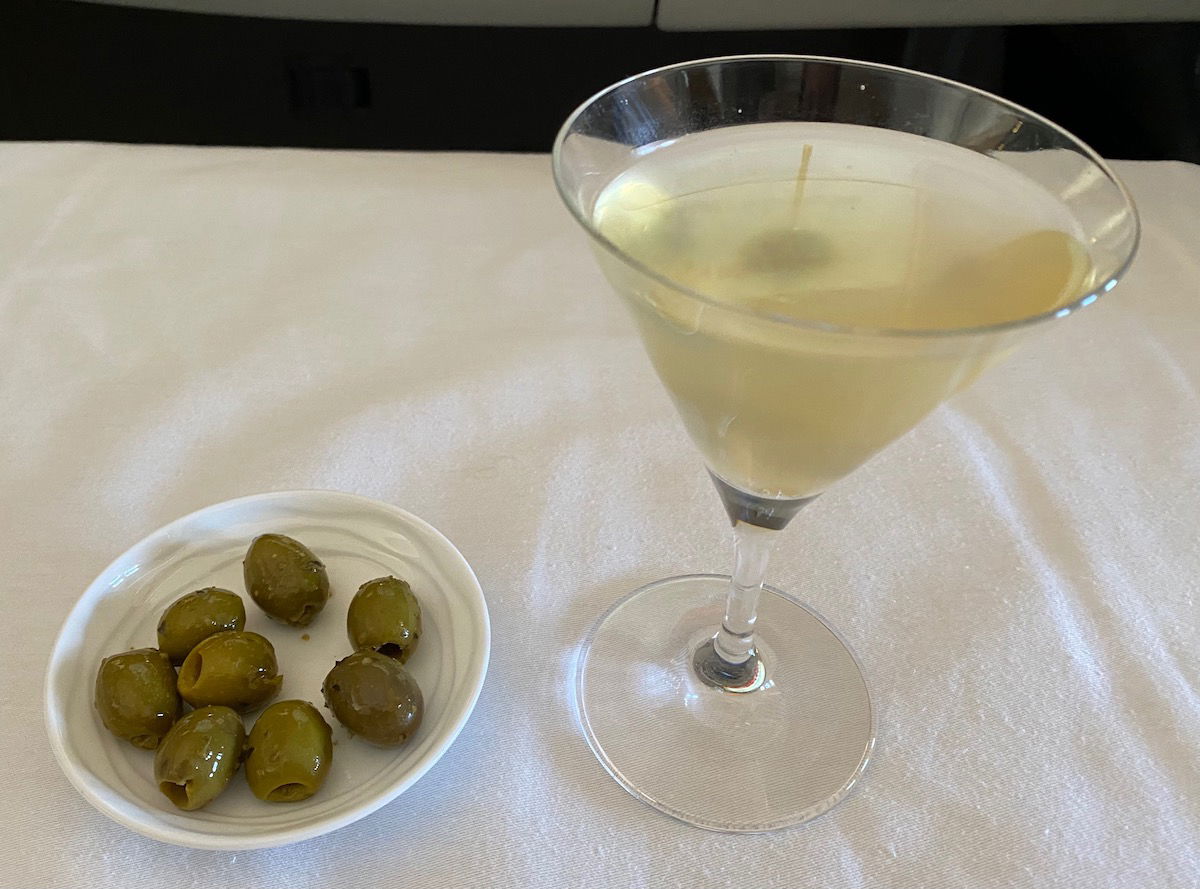 Next up it was time for some more substantial food. Emirates' first class meal service has more or less returned back to normal, though one minor difference was that the bread came wrapped (though I promptly unwrapped it).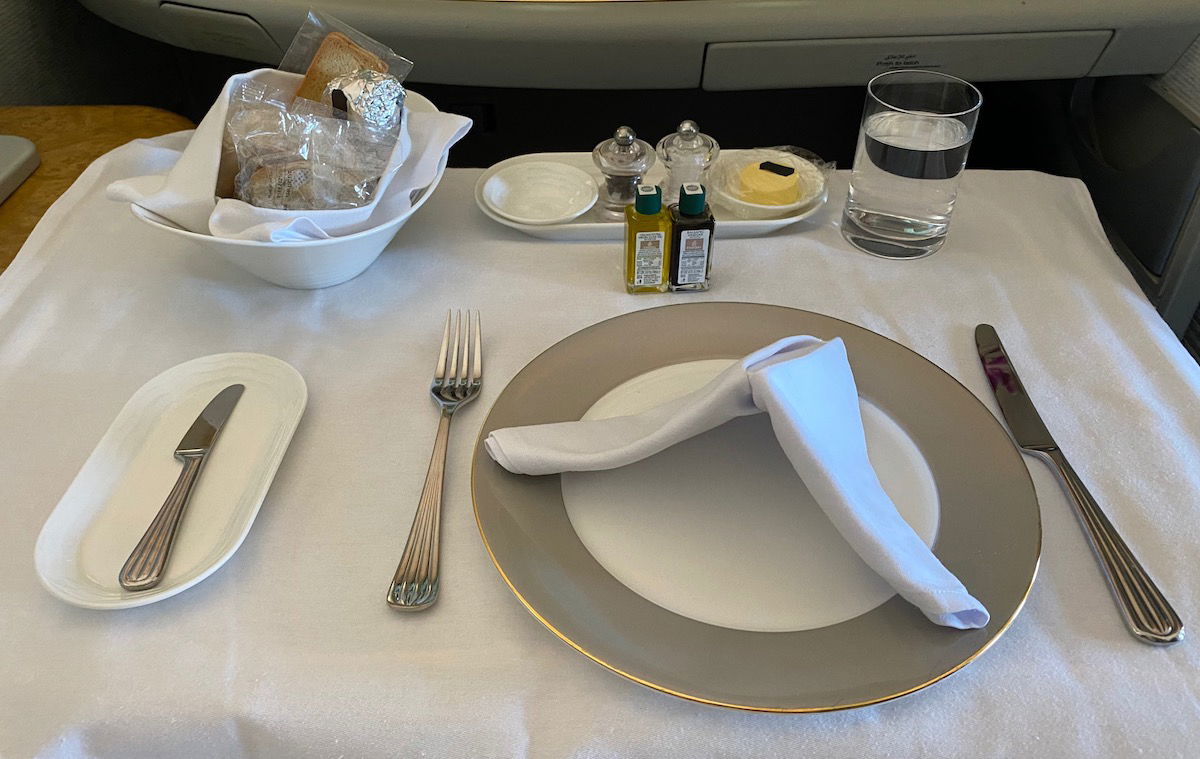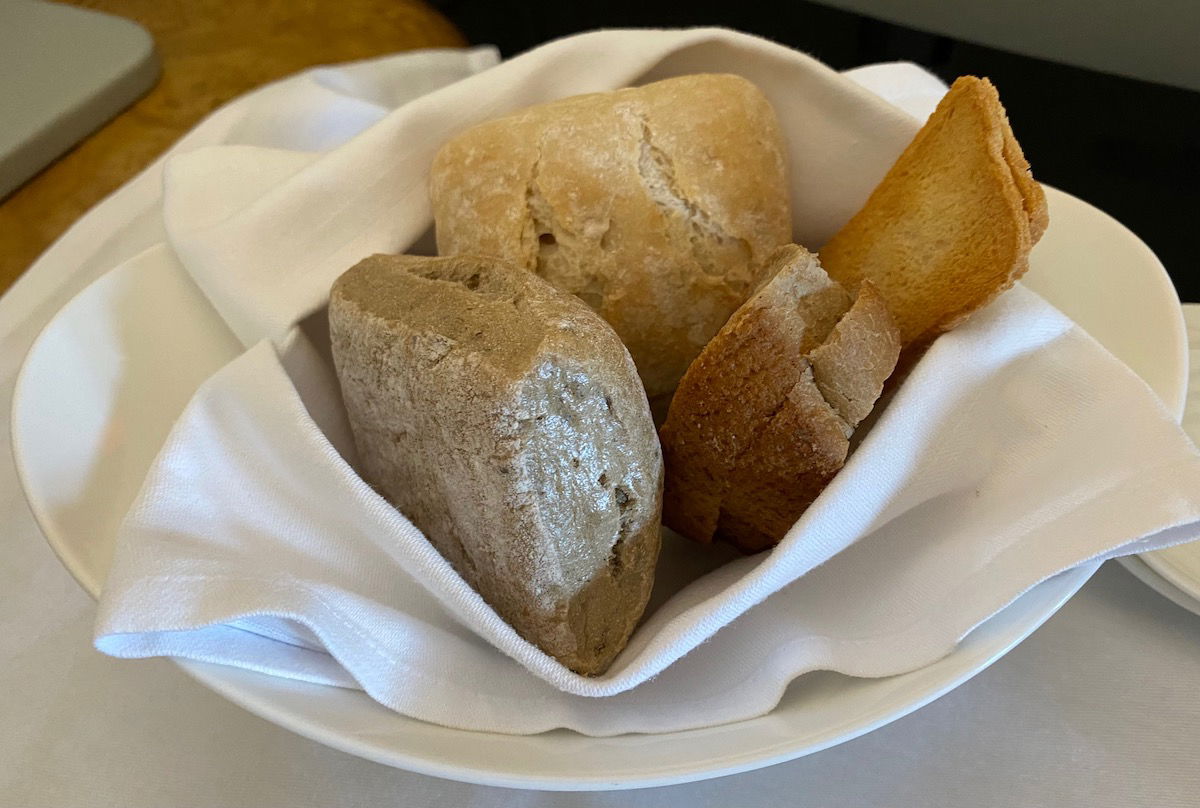 Both Ford and I started with caviar, natch. This came with chives, grated egg, sour cream, lemon, melba toast, and blinis.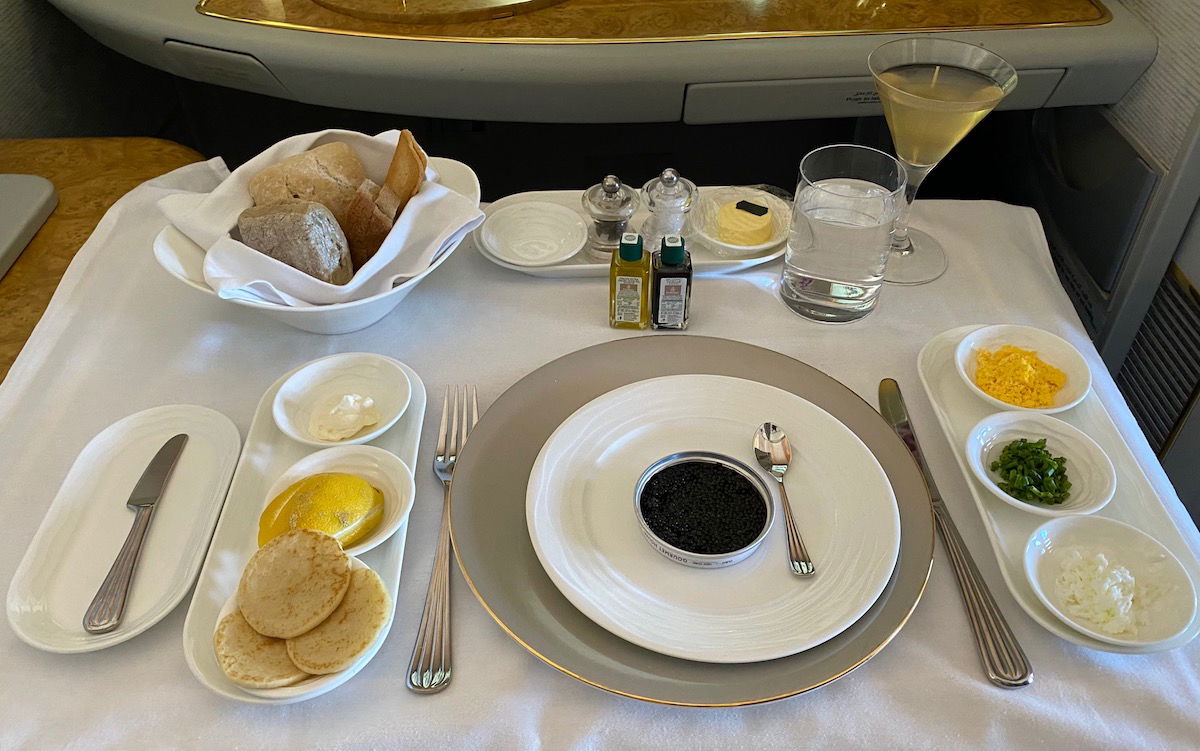 I then ordered the Greek mezze, which was massive. It included fava bean mousse, beetroot dip, tzatziki, taramsalata, octopus salad, dolmades, chicken tiropitaki, and courgette keftede.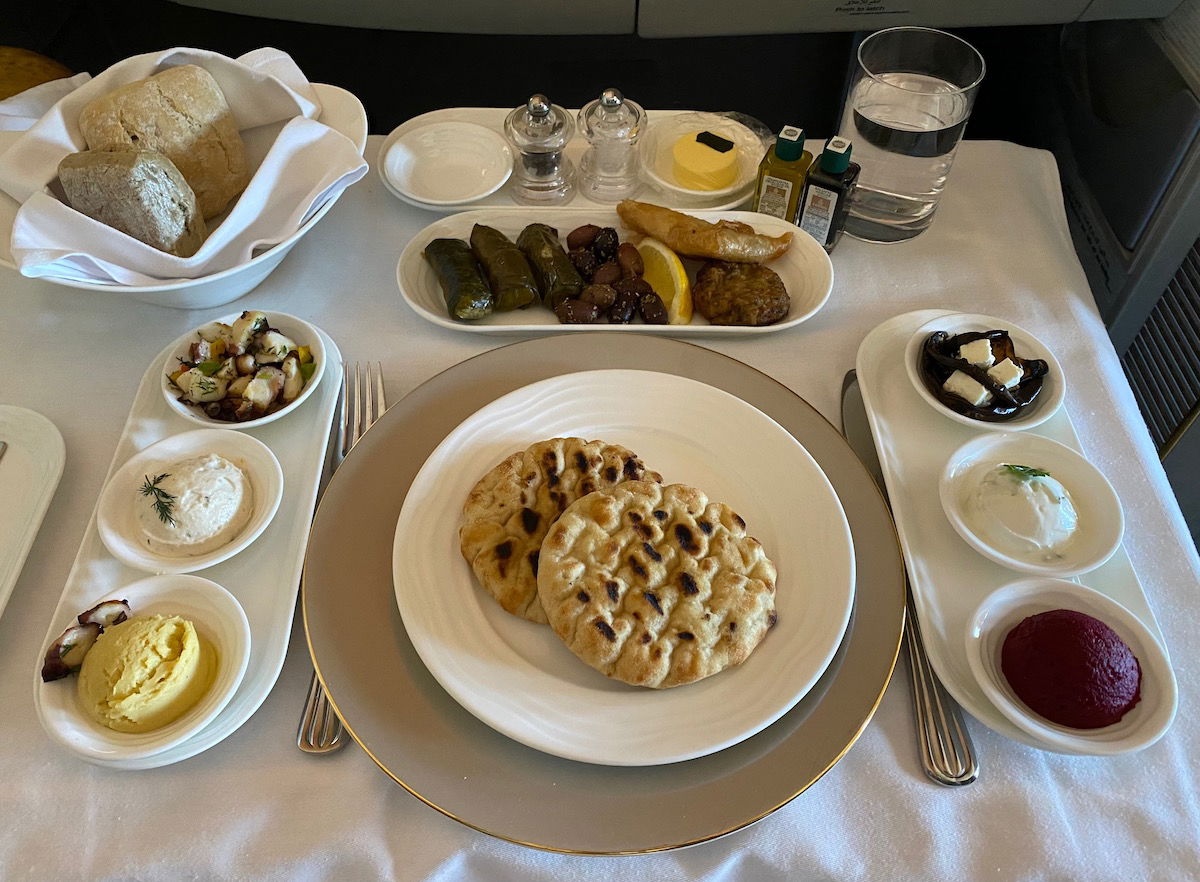 Ford decided to order the spring pea soup with mint cream.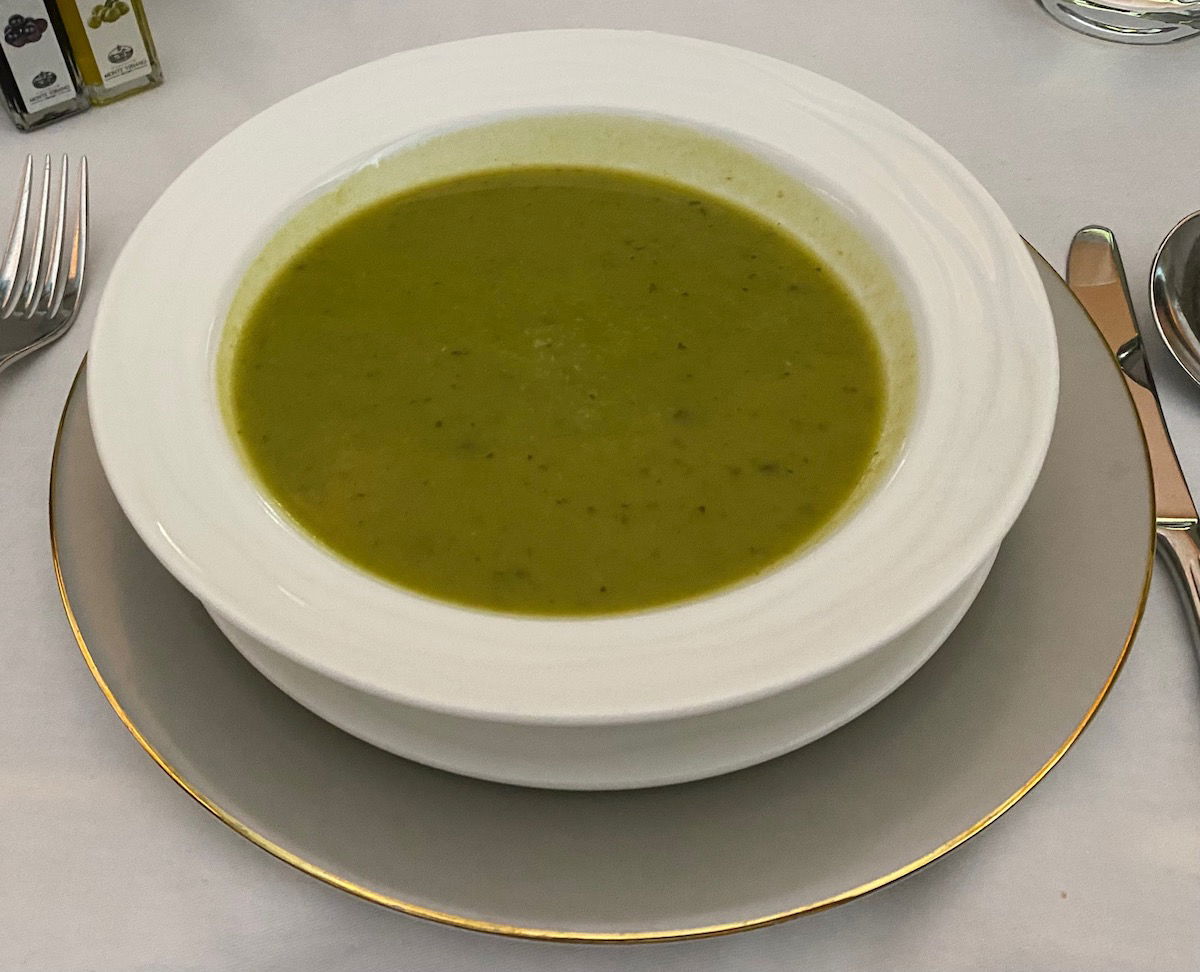 Then he had the smoked beef with thyme creme fraiche and vegetable salad with mustard.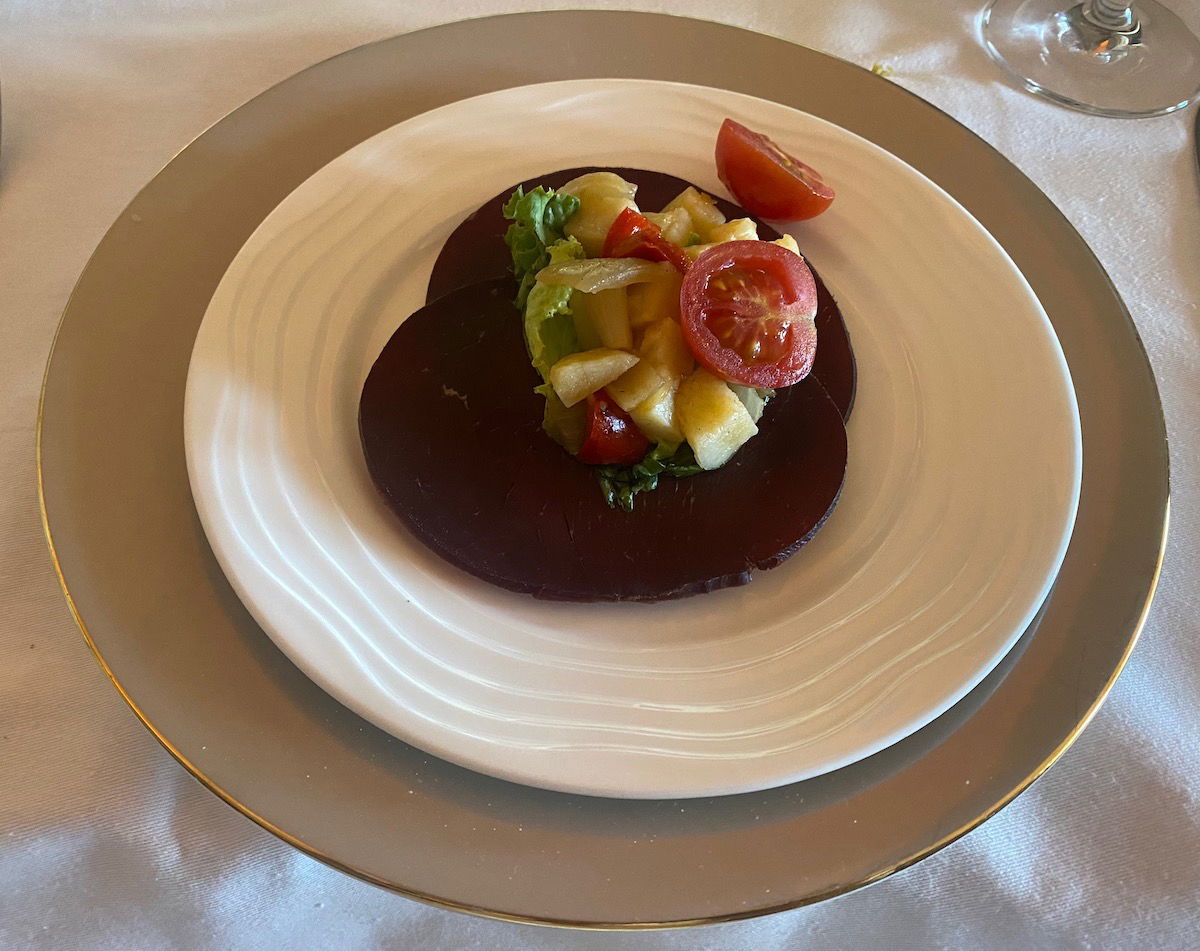 Around this time we decided to switch it up to one of the red wines — I love how Emirates serves red wine with a little carafe.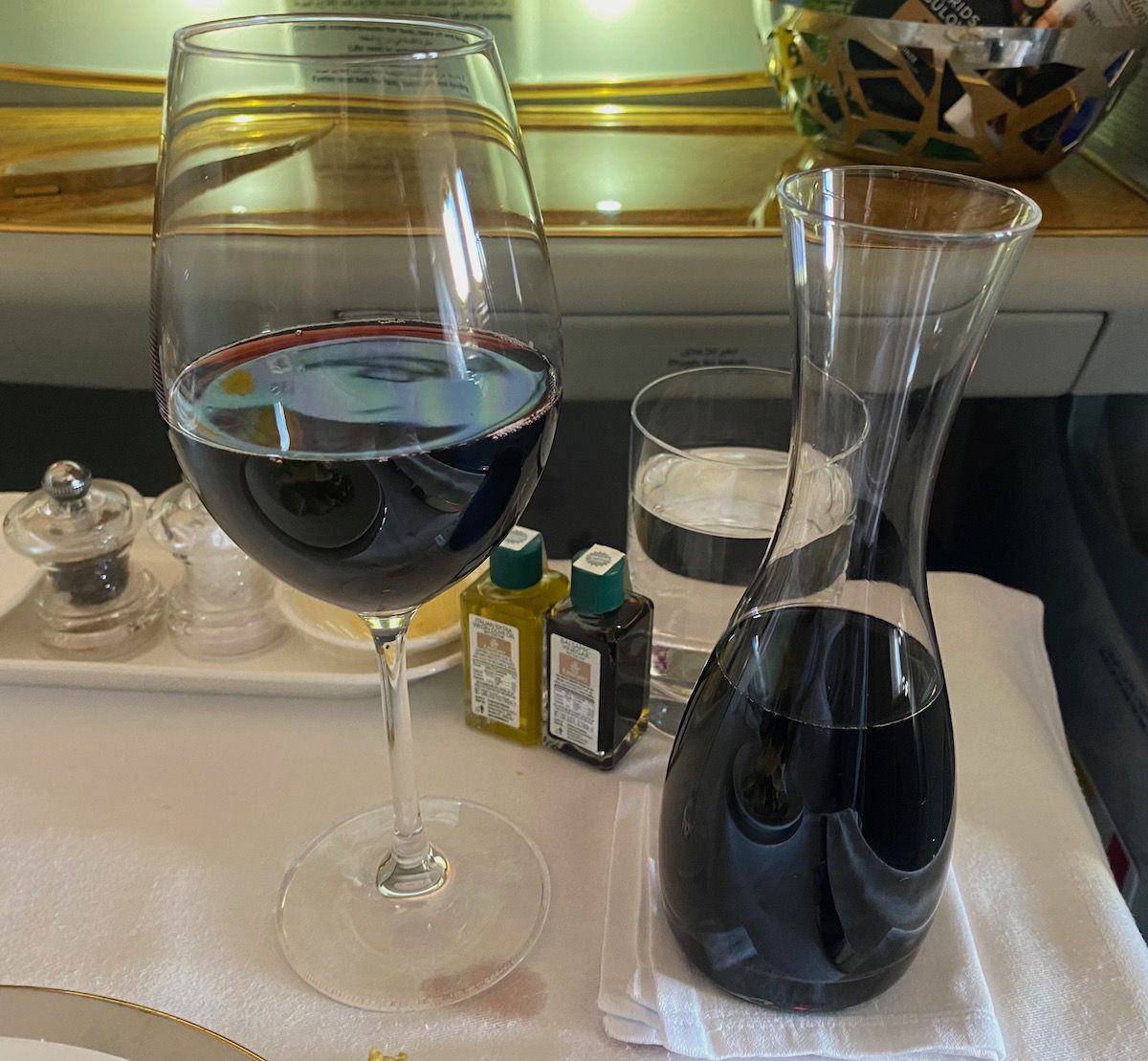 For the main course I had the cod with lobster sauce, served with basmati rice, roasted fennel, and buttered edamame.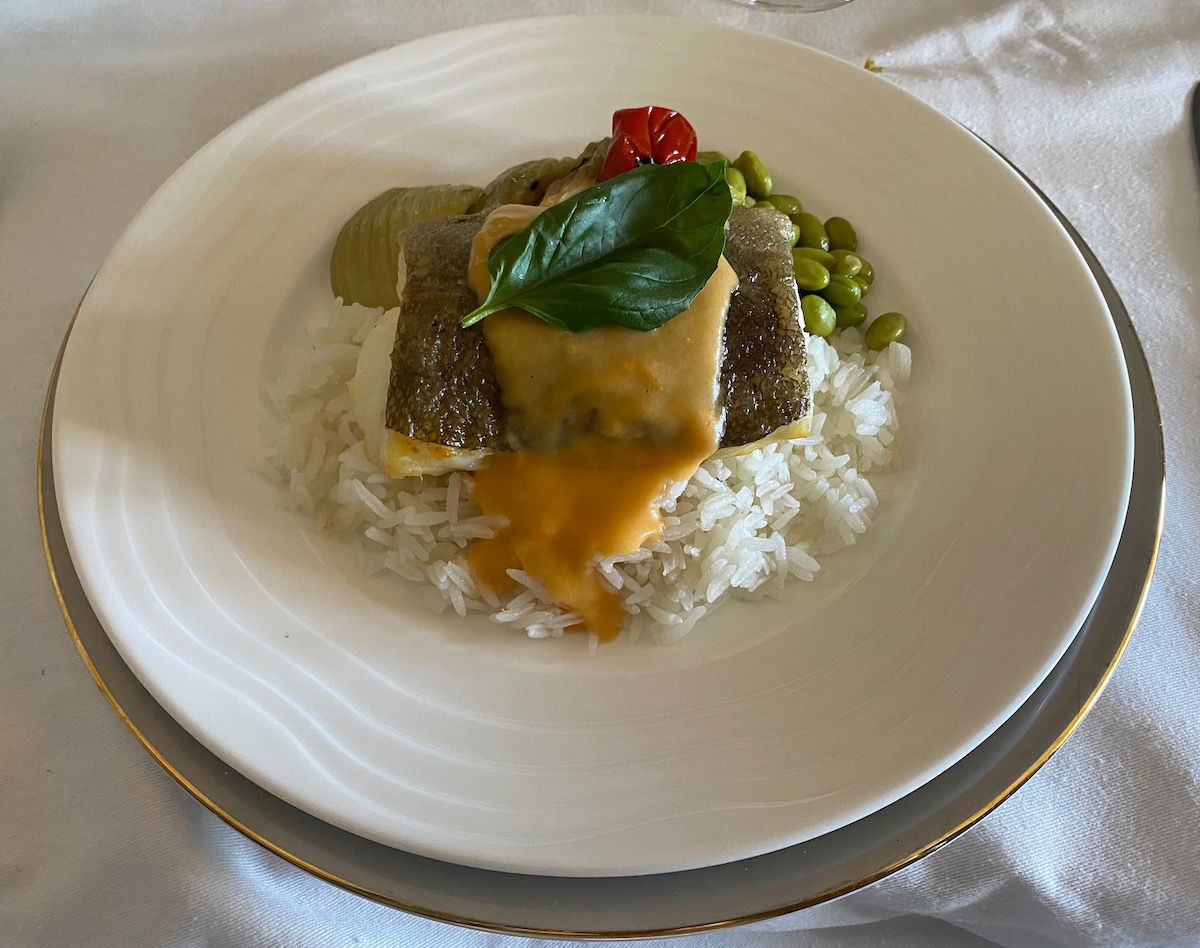 Ford ordered the roasted chicken with grilled citrus demi-glace, grilled asparagus, peppers, parsnips, and sautéed potatoes.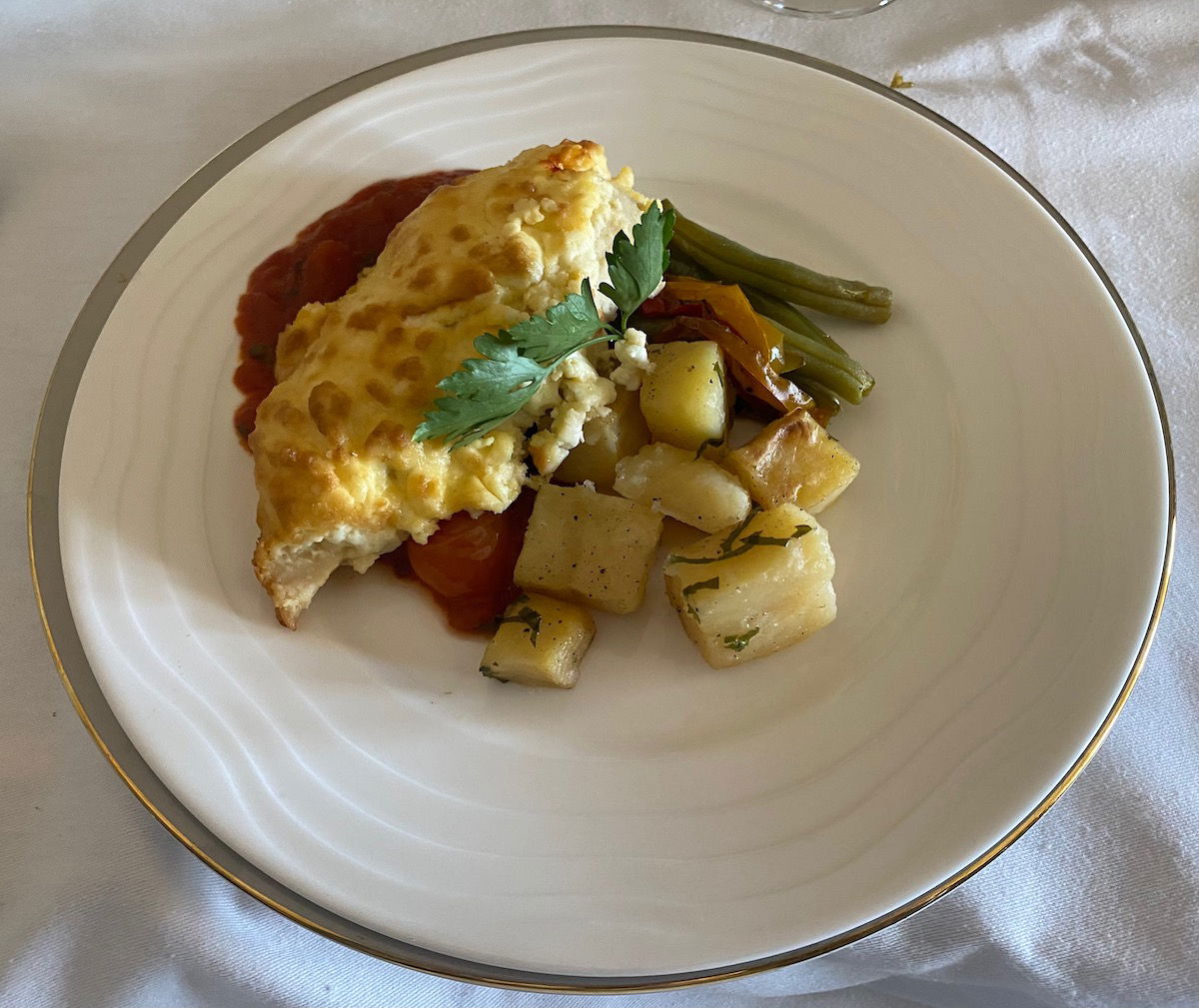 At this point we were absolutely stuffed, and had no room for dessert. The meal was amazing, and we enjoyed every dish. On top of that, the service was flawless, and customized perfectly. We wanted to enjoy a leisurely meal, and they paced each course around us.
By the time the meal was done we were passing the UK, and had around 6hr30min remaining to Newark.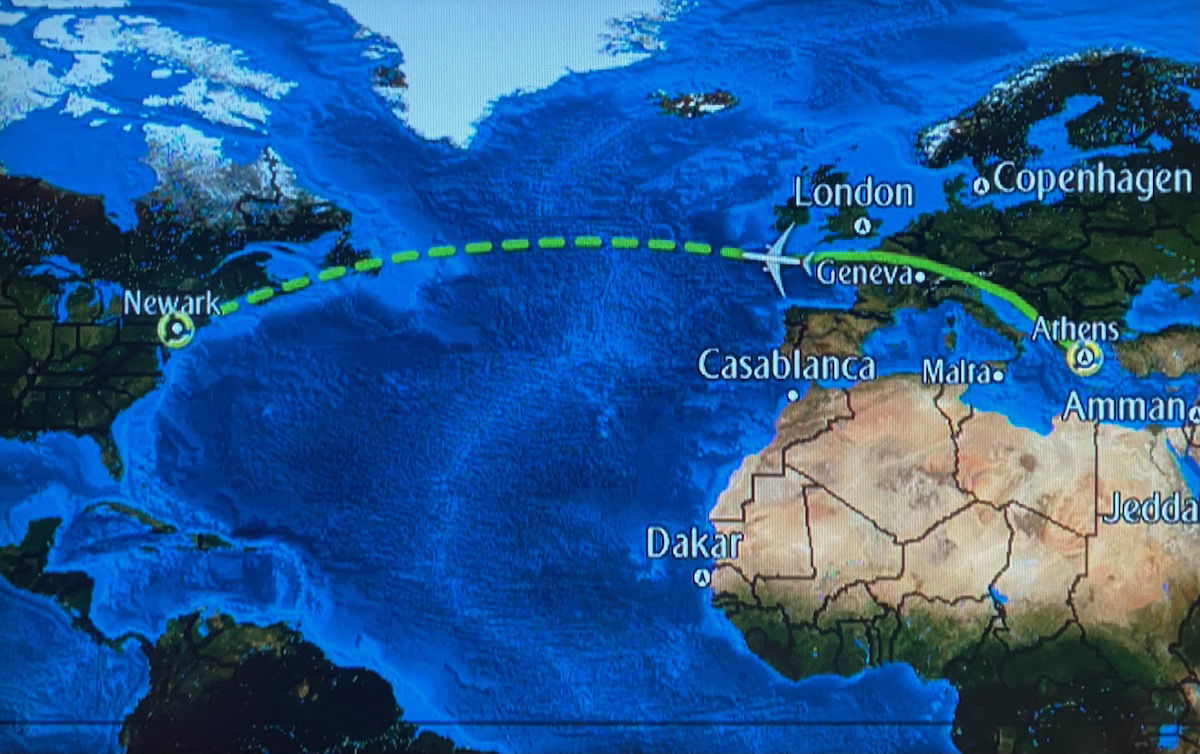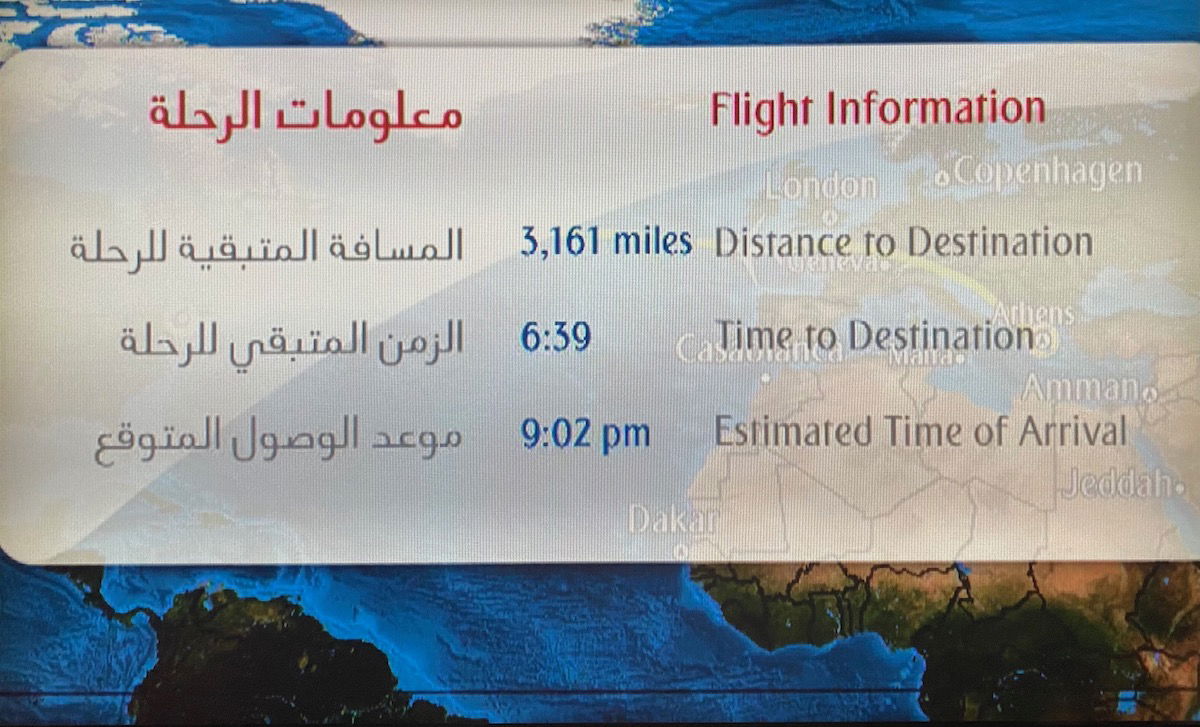 We asked to have our beds made, which the crew promptly took care of. The cabin was also dimmed all the way, and the "stars" were visible on the ceiling.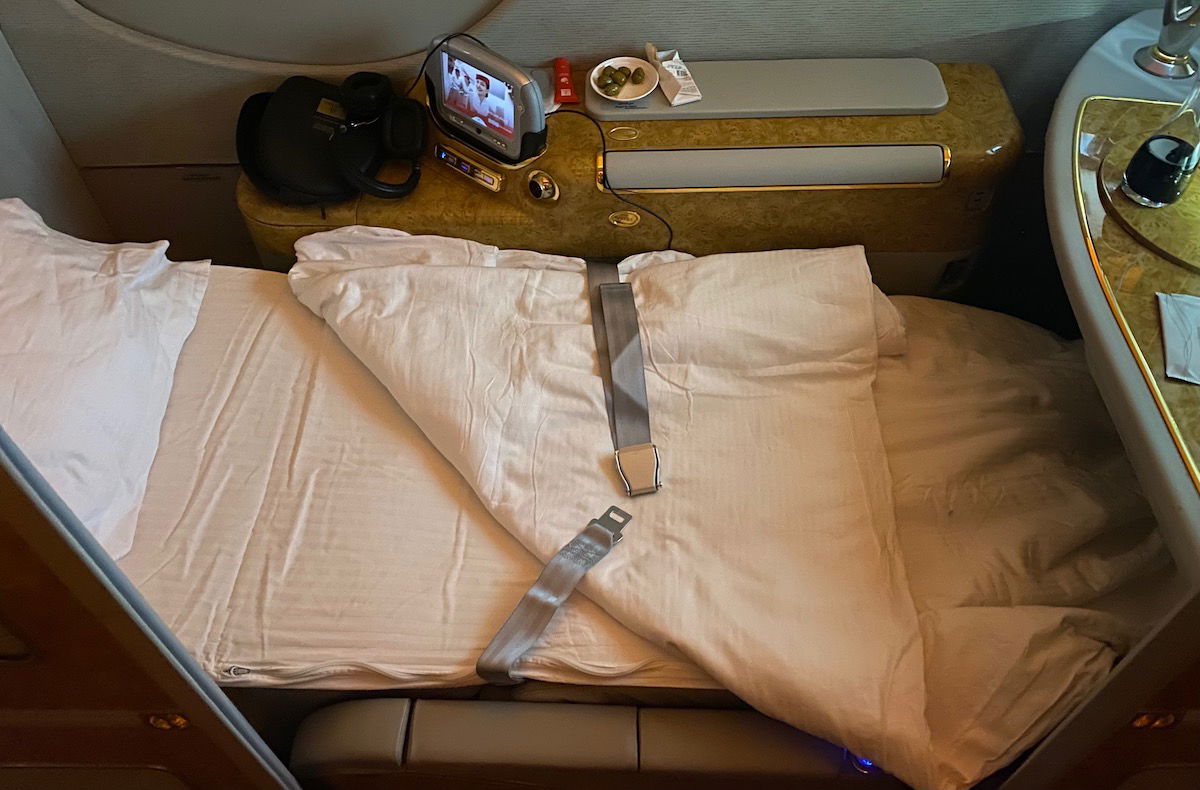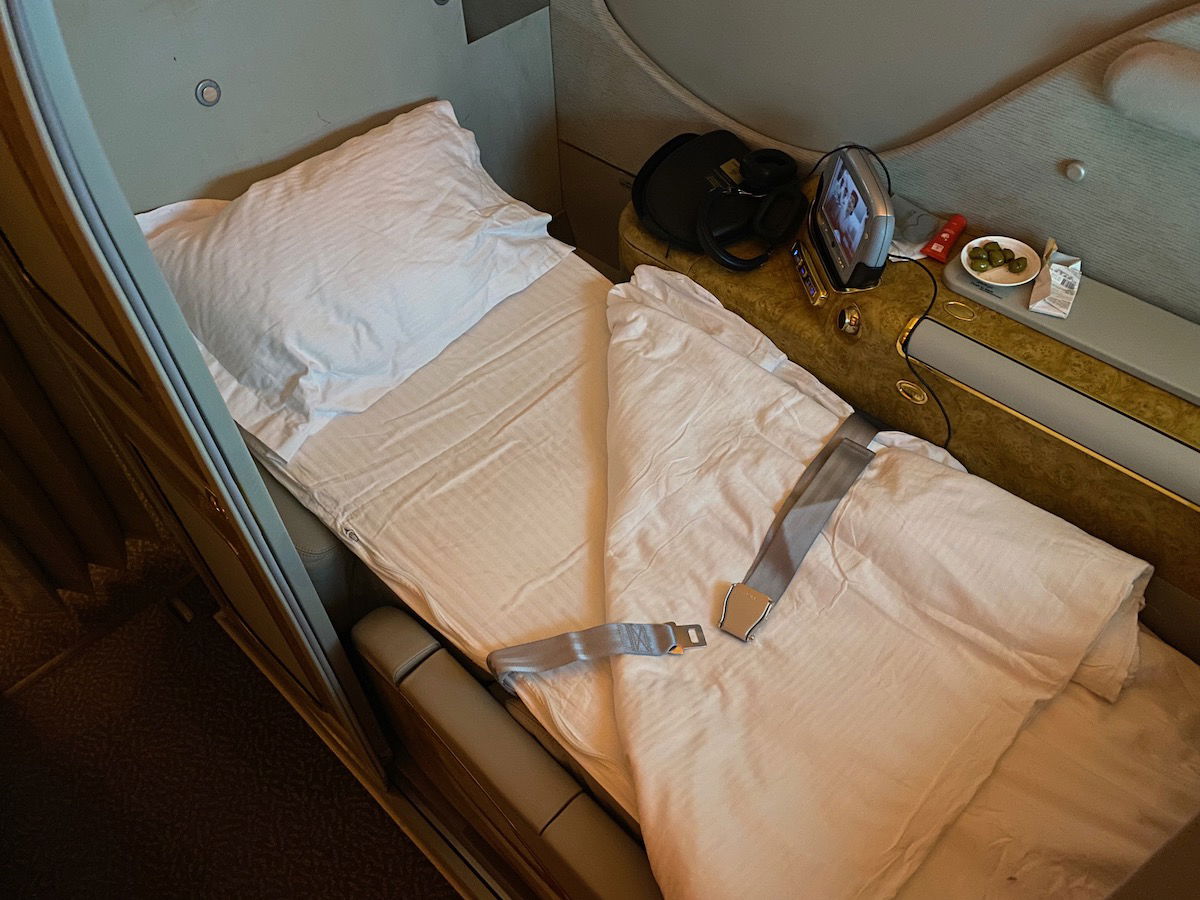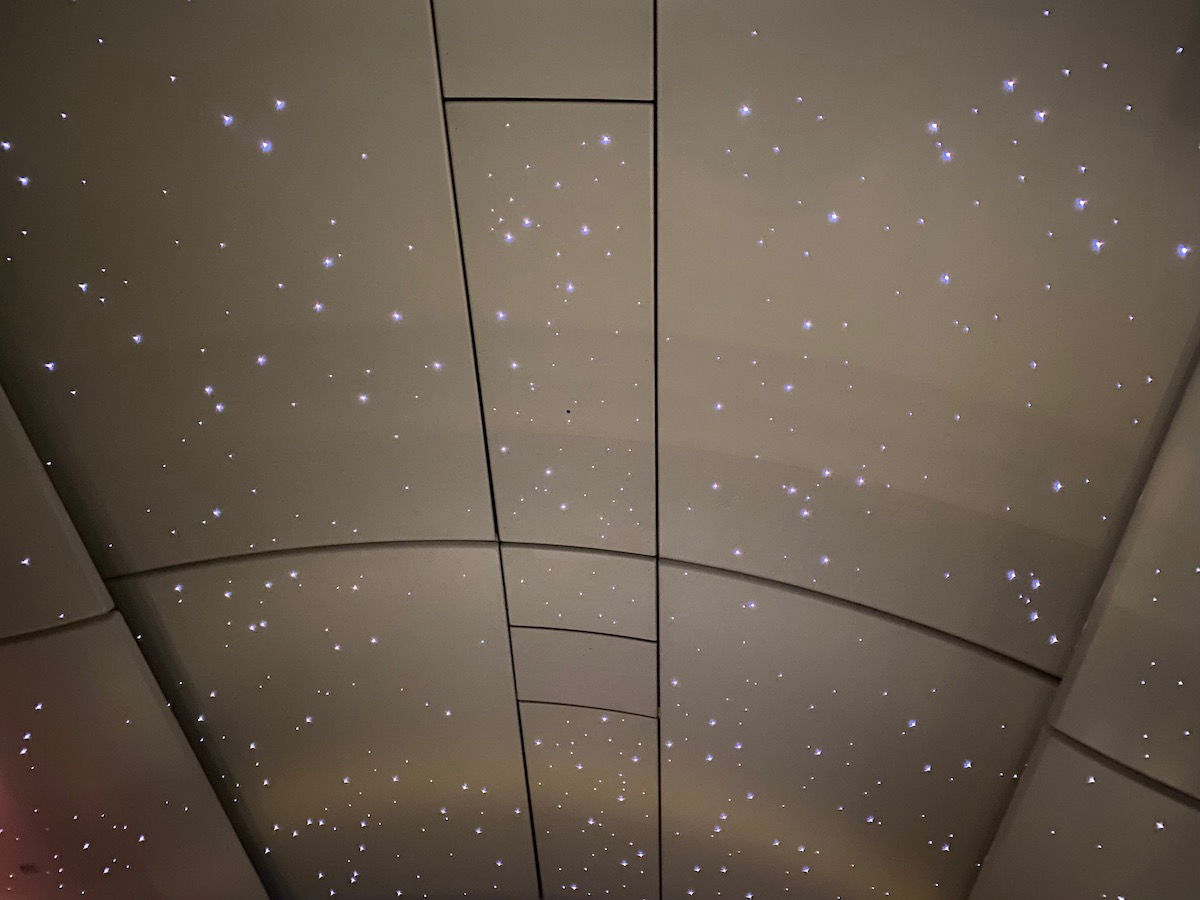 I fell asleep in no time, and woke up about two hours before landing. As you can see, we spent this entire flight just barely escaping darkness.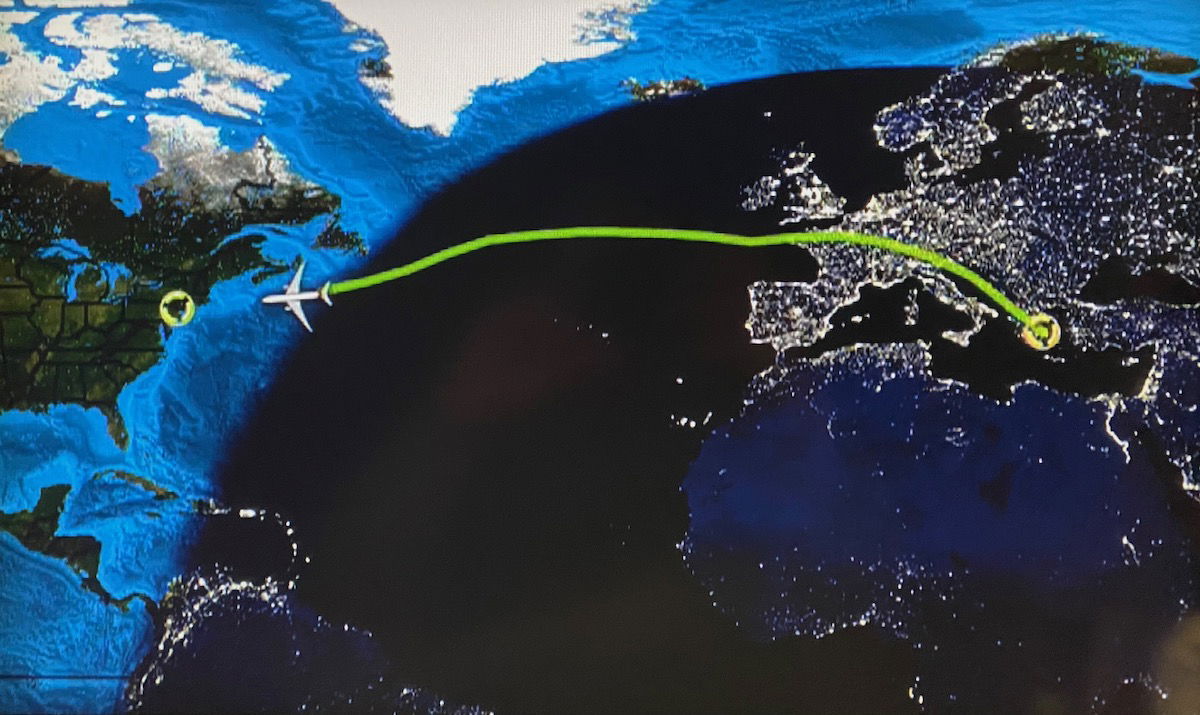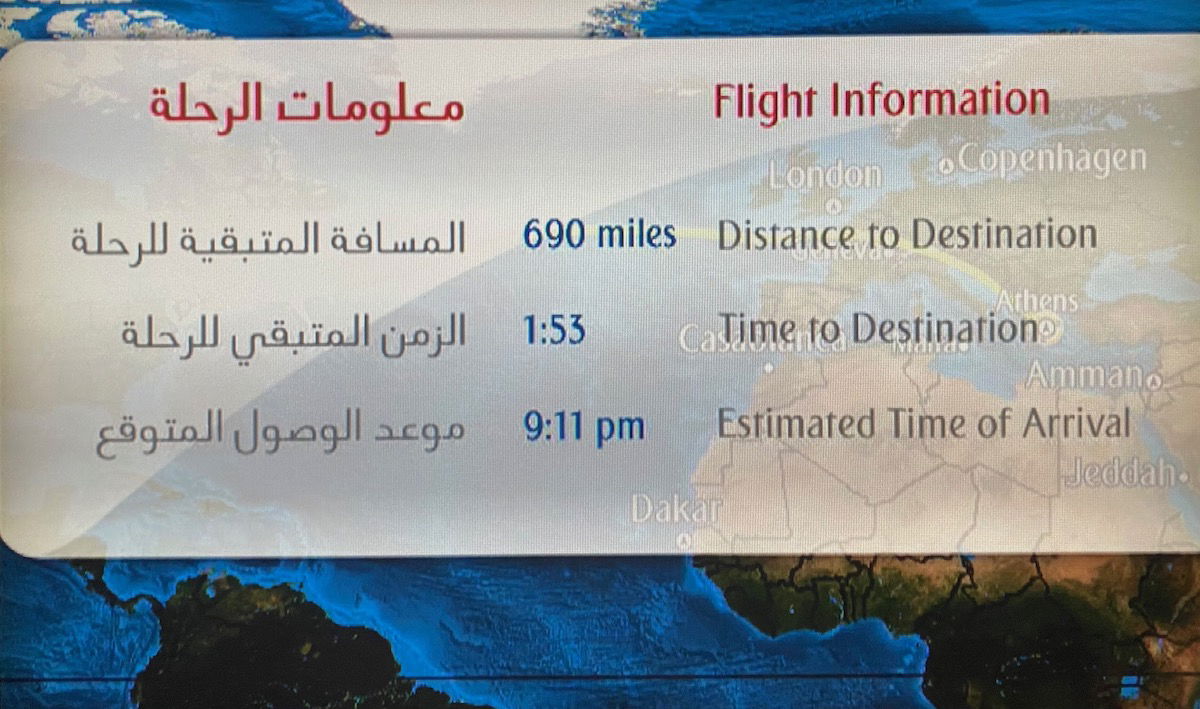 There was a small snack setup in the forward galley, though I wasn't at all hungry, and couldn't bring myself to eat anything (that's probably both due to how much we ate during the first meal, and also that it was the middle of the night in Greece, so we naturally weren't hungry).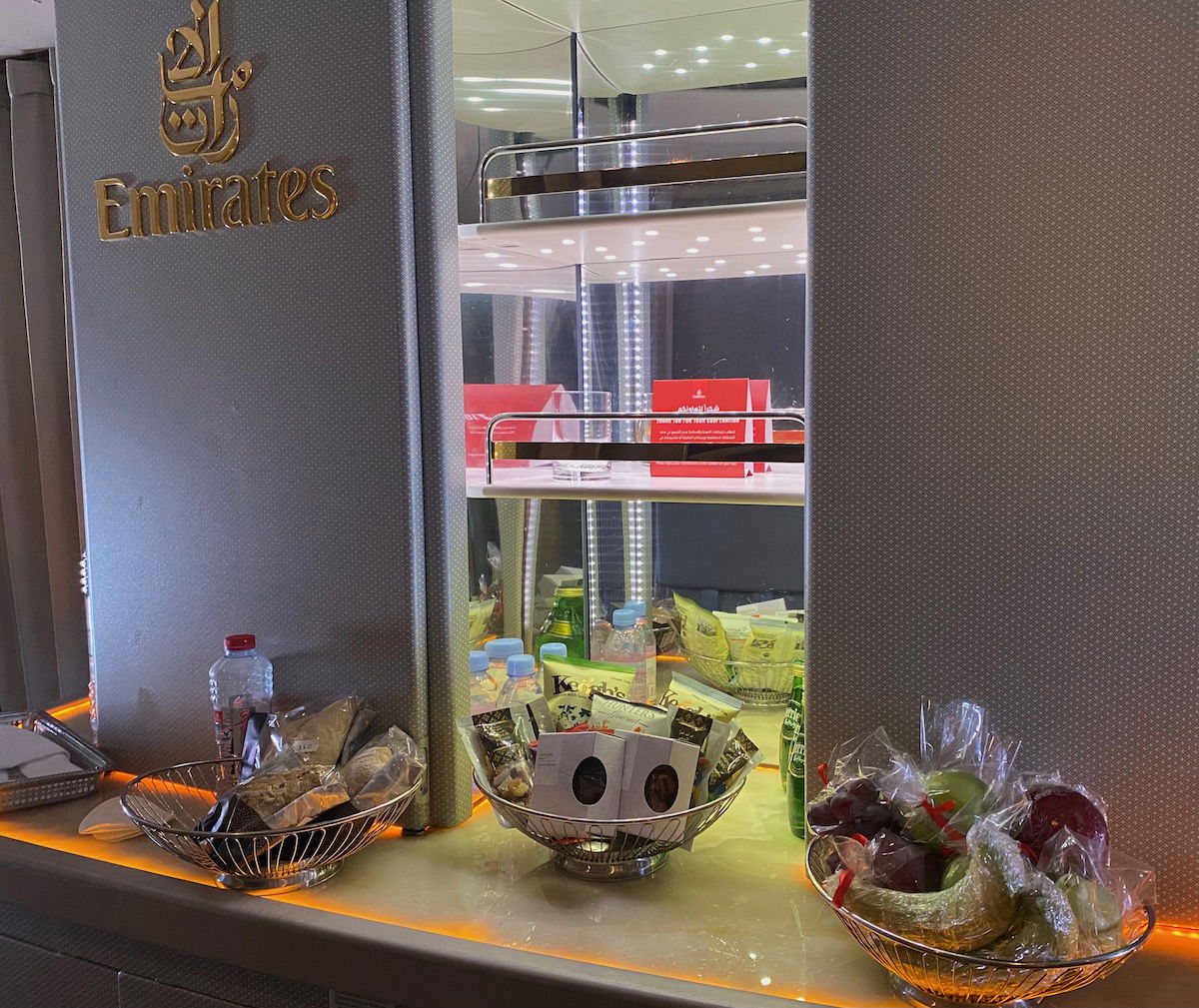 At this point I connected to Emirates' OnAir Wi-Fi, and got some work done. Internet is free for first class passengers, and can be accessed using your Skywards number. While OnAir isn't fast, it's fairly usable on the 777 (I've found it to be much worse on the A380).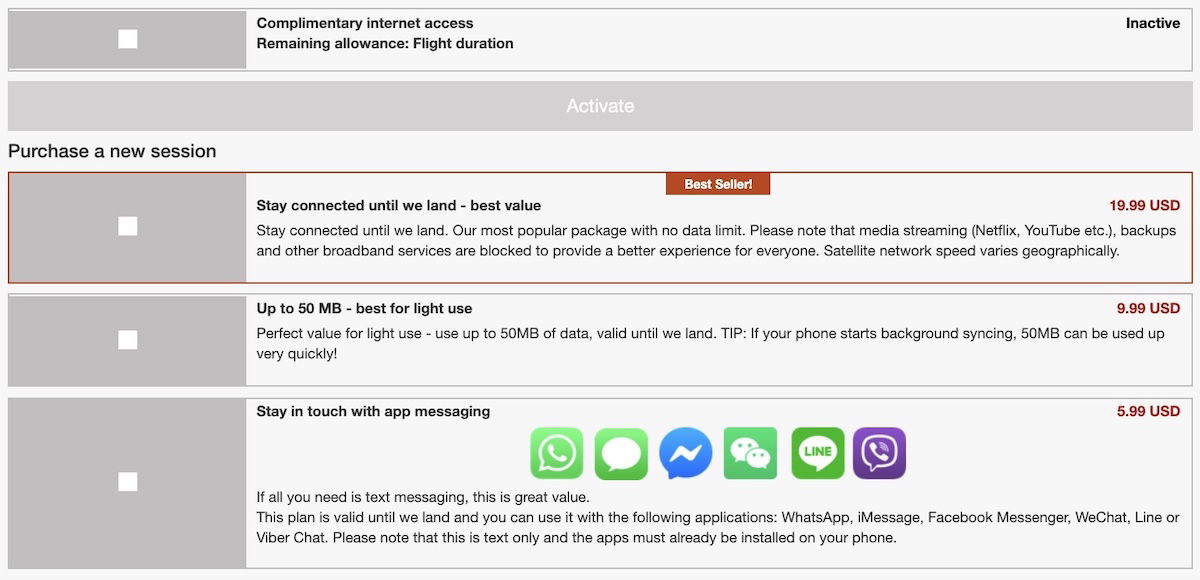 About 30 minutes before landing the captain made his pre-landing announcement, and a few minutes later we began our descent. The sunset views were beautiful as we were approaching, and it finally got dark shortly after we landed (at around 9PM).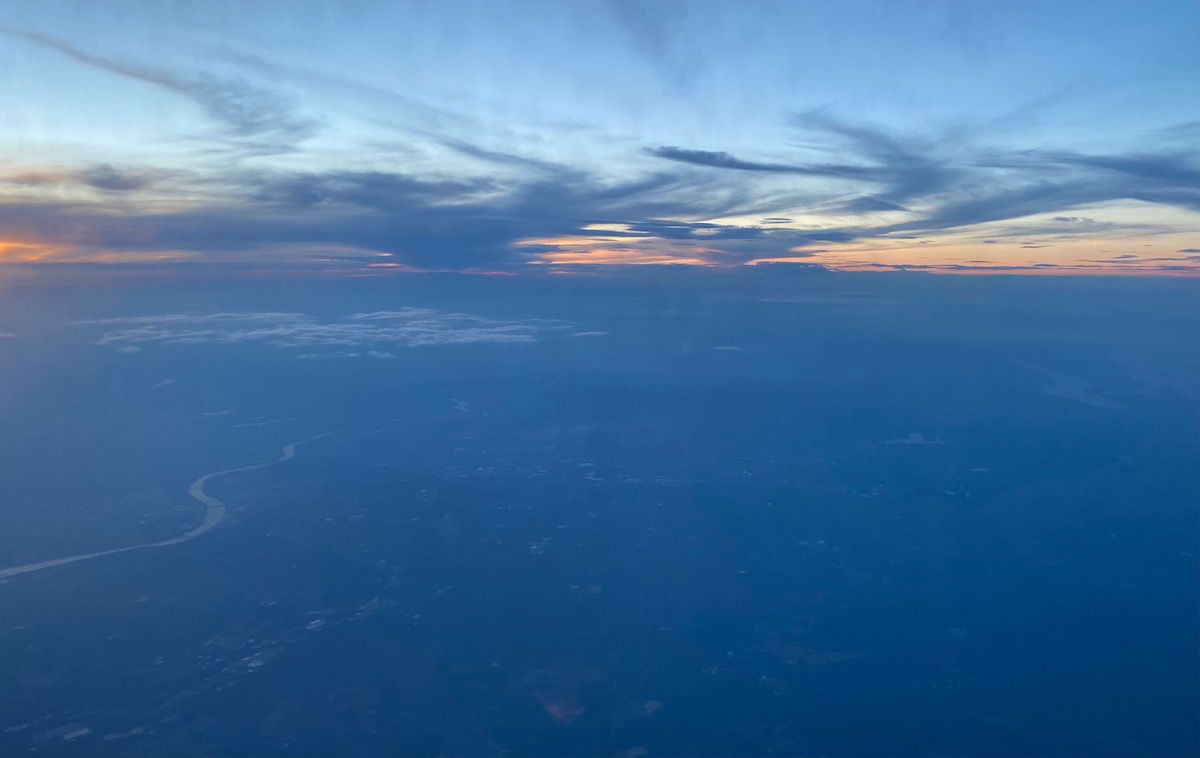 We had one checked bag, which we had to wait about 15 minutes for. From there we walked across the street to the Marriott Newark Airport, where we'd be spending the night (the timing of this flight isn't ideal if you're connecting beyond Newark, but it's a small price to pay for such a great experience).
Bottom line
What a treat that Emirates operates a fifth freedom flight between Athens and Newark, and that we were able to book it in first class with Skywards miles. Emirates' first class product is phenomenal, and easily one of my favorites in the world.
We had a great crew, excellent food and drinks, and a lot of fun. There's no denying that coronavirus has made flying a lot less fun, given how airlines have cut back service. Being able to once again enjoy international first class as it was pre-coronavirus was fun on a totally different level!
Thanks for following along on this trip report, and stay tuned, as I'll shortly be starting my next one.