In the previous post I wrote about our frustrating misconnect at London Heathrow, due to a broken jet bridge. In this post I wanted to cover our connecting experience, including the British Airways Club Lounge at the airport, as well as our Club Europe experience from London to Athens, which was better than I was expecting.
I'll keep this relatively brief, given that I've reviewed British Airways' intra-Europe business class experience many times before.
British Airways' impressive lounge service
While our original rebooking process at Heathrow was time consuming, the rest of the transit process was easy. Transit security took just a few minutes, and there were no further document checks. Terminal 5 at Heathrow was reasonably quiet — not dead, but also less busy than I've otherwise seen before (which is to be expected, since I hadn't passed through the airport since the start of the pandemic).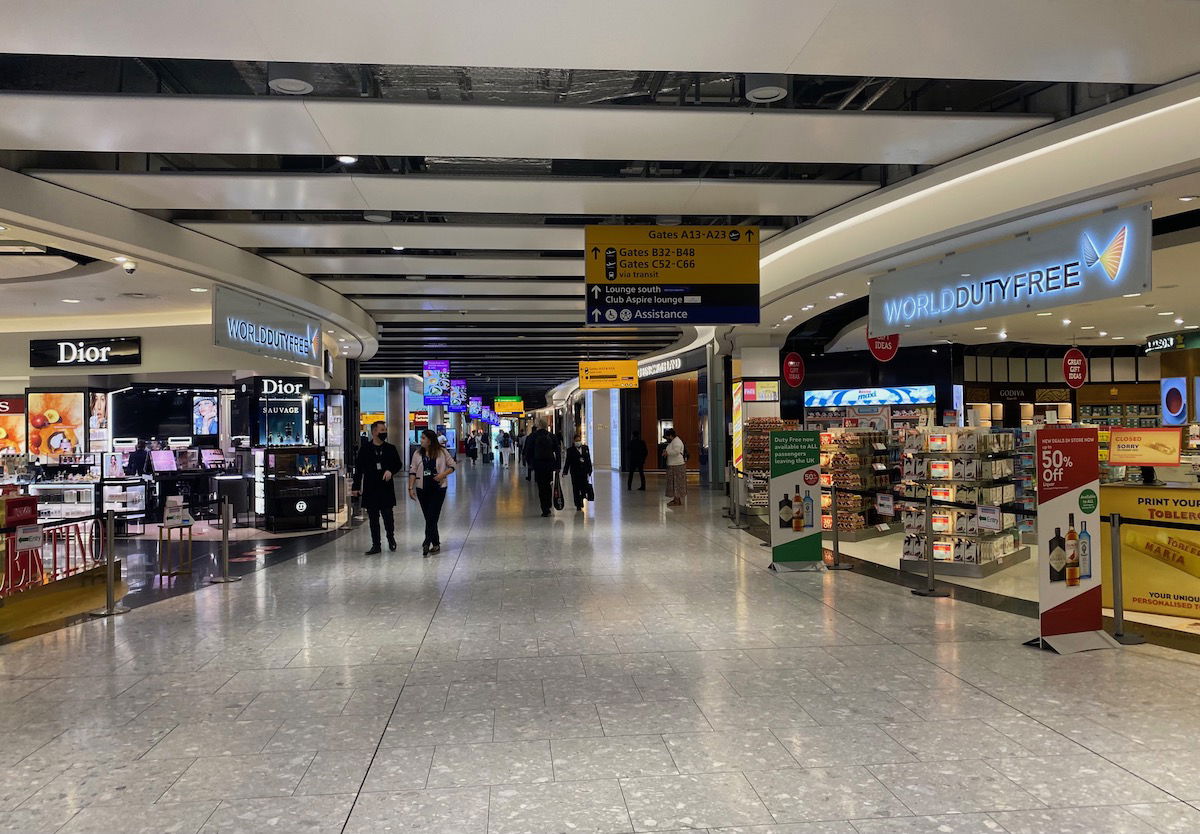 For our layover we had access to the British Airways South Galleries Club Lounge. Usually I'd have access to the British Airways Galleries First Lounge on account of my oneworld Emerald status, but I can only take one guest into that lounge. Since I was traveling with my mom and her partner, we "slummed" it in the business class portion of the lounge. 😉
The lounge had plenty of open seating areas. A lot of the furniture in the lounge had signs to ensure that people were properly spaced out. Rather oddly one portion of the lounge was fairly busy, while there wasn't a single person in the back of the lounge. I'm not sure if people just didn't know about this seating area, or…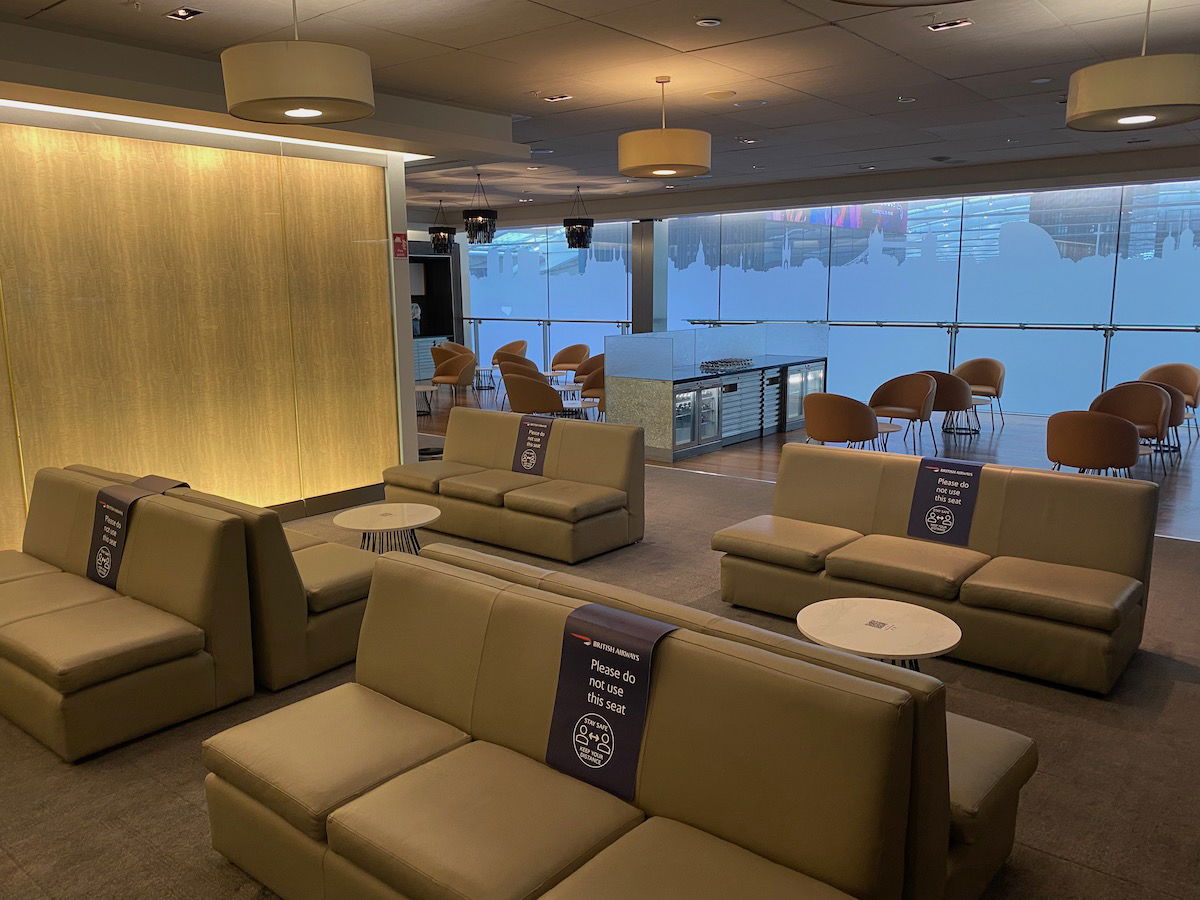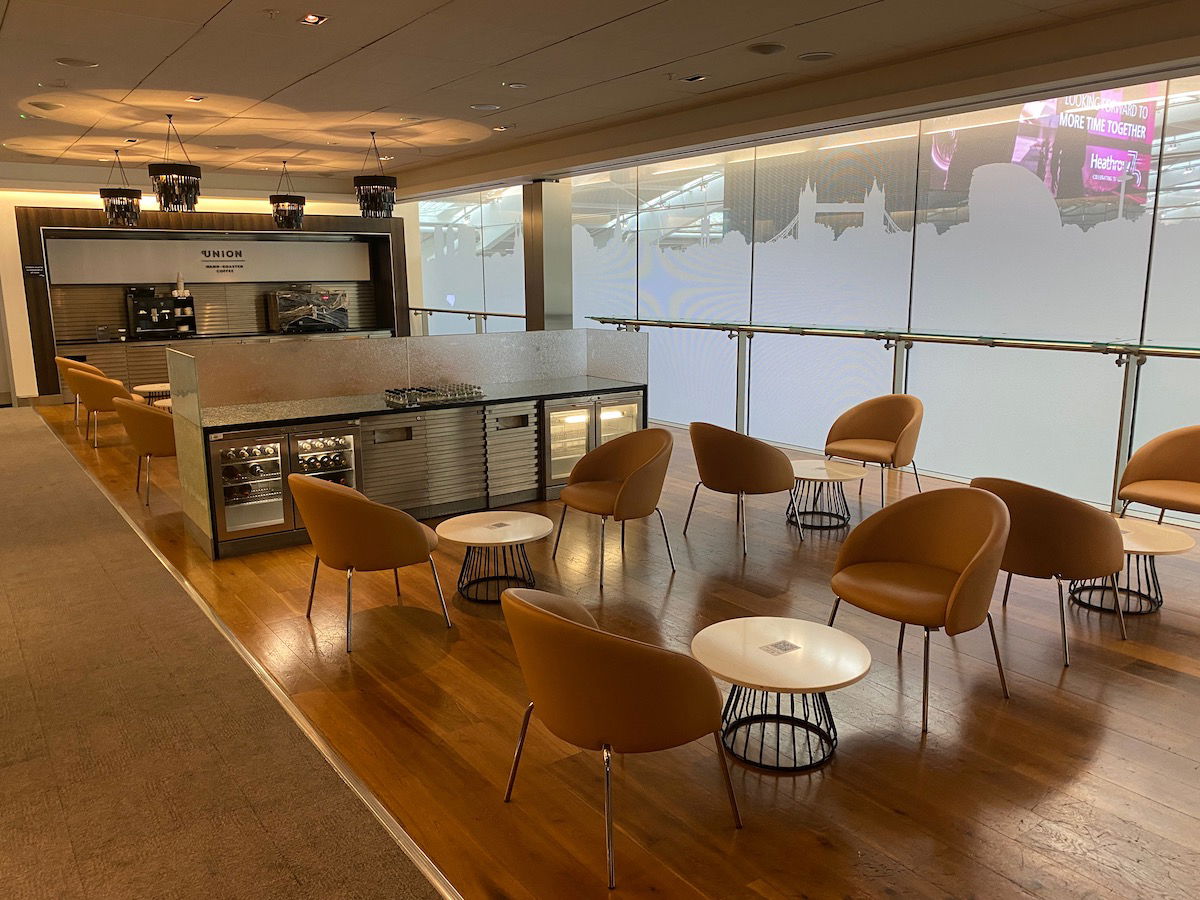 While virtually all airlines have cut back service, British Airways has done a fantastic job with its catering concept at the moment. Everything in the lounge — from a bottle of water to a hot meal — is served by a staff member in the lounge. Each seat has a QR code (which really just links to t5s.yourmenu.cloud), and then it lists your table number as well.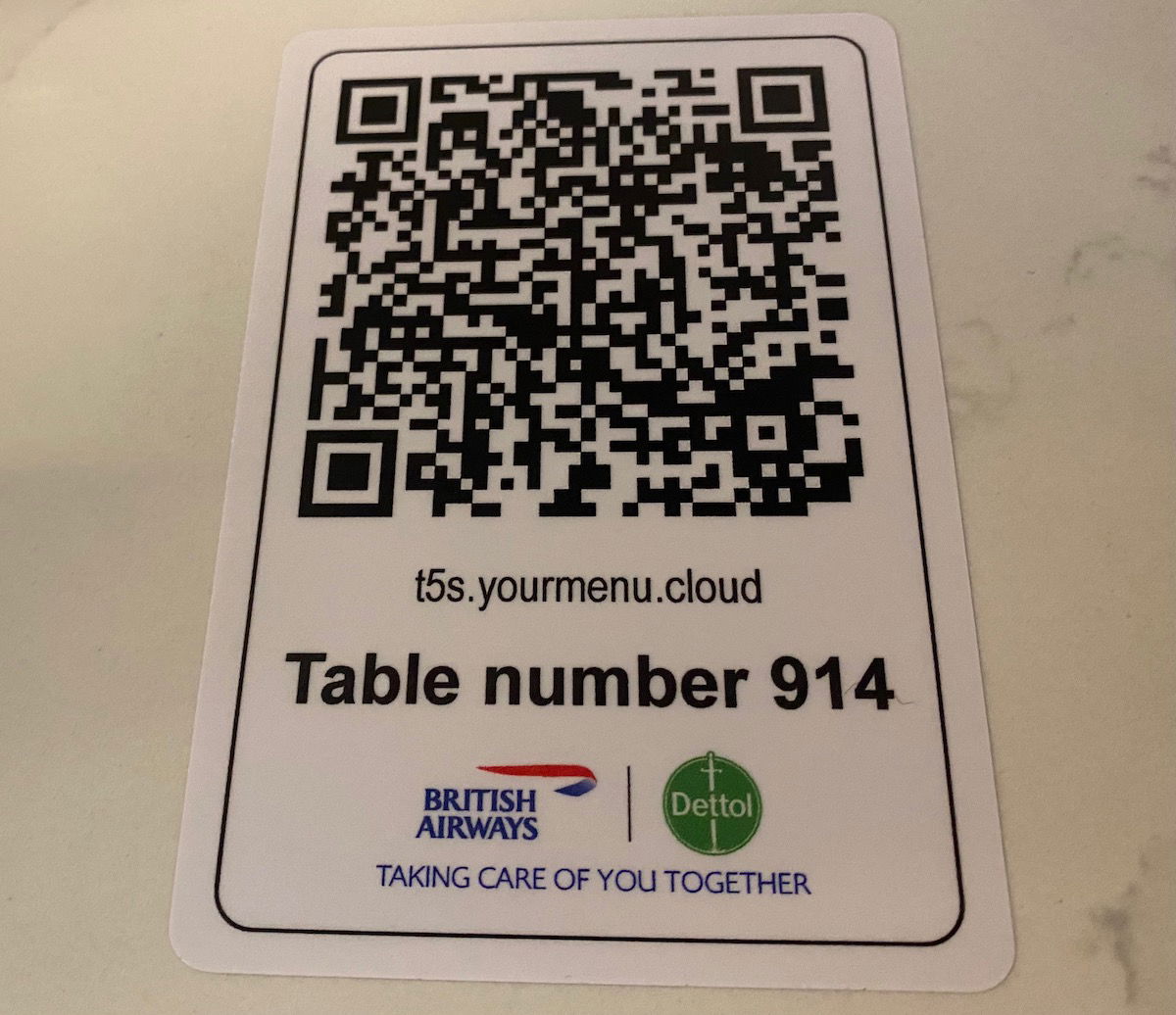 Then you just enter your first name, table number, and the code of the day, to get started. Presumably the code of the day is needed so that no pranksters order a thousand things for someone who isn't actually in the lounge.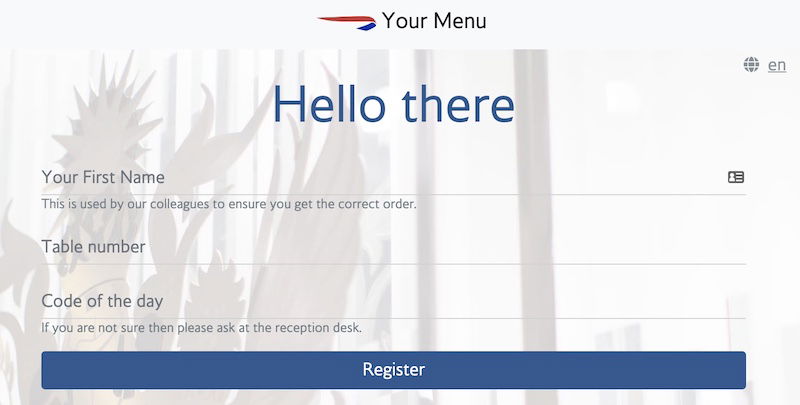 Then there's a huge menu of food and drink options, and a really easy system for placing orders.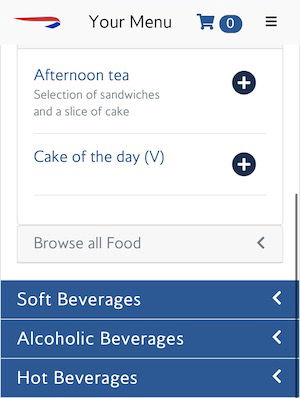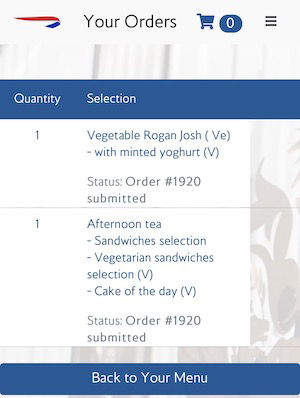 Once an order is placed your food and drinks are brought to you in a matter of minutes. Upon arrival we had some cappuccinos and lattes to drink — a caffeine boost was needed after our issues with the previous flight.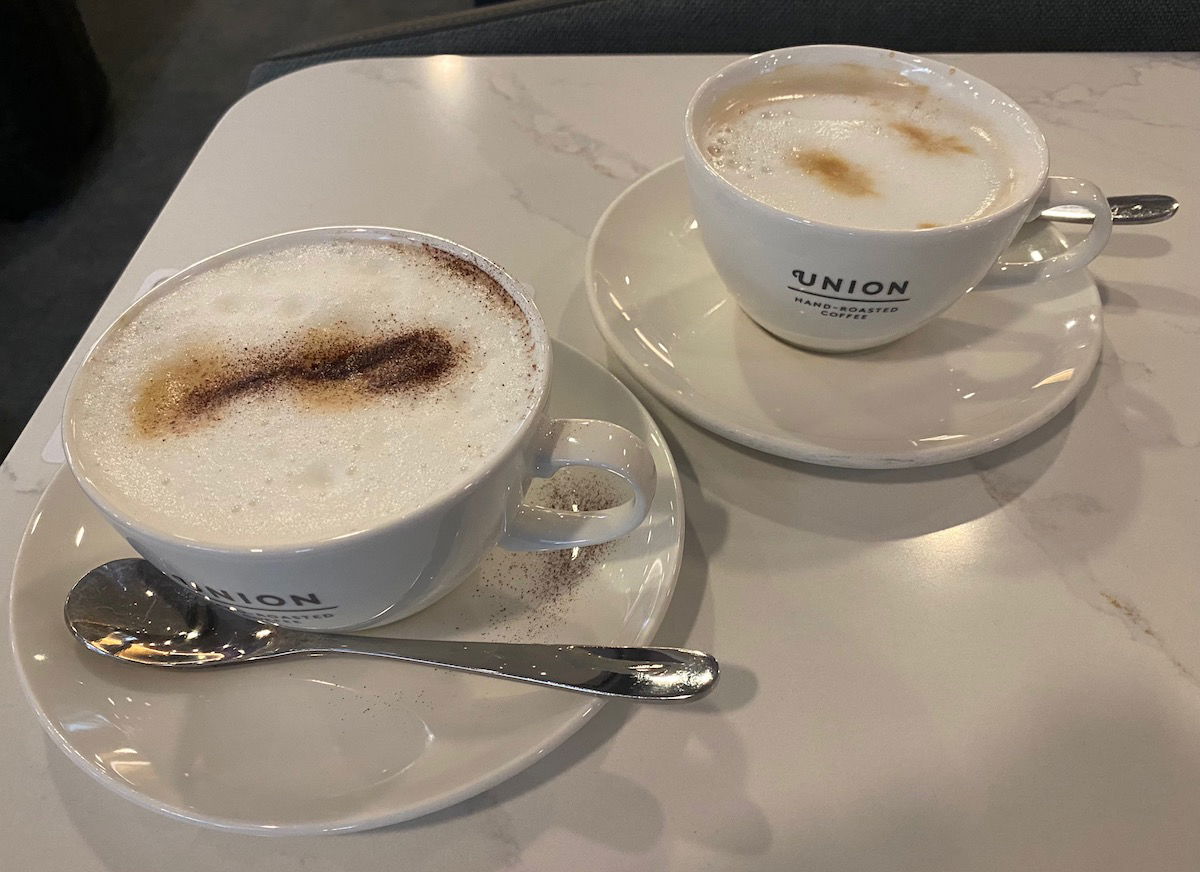 Meanwhile my mom and her partner had champagne and a bloody mary.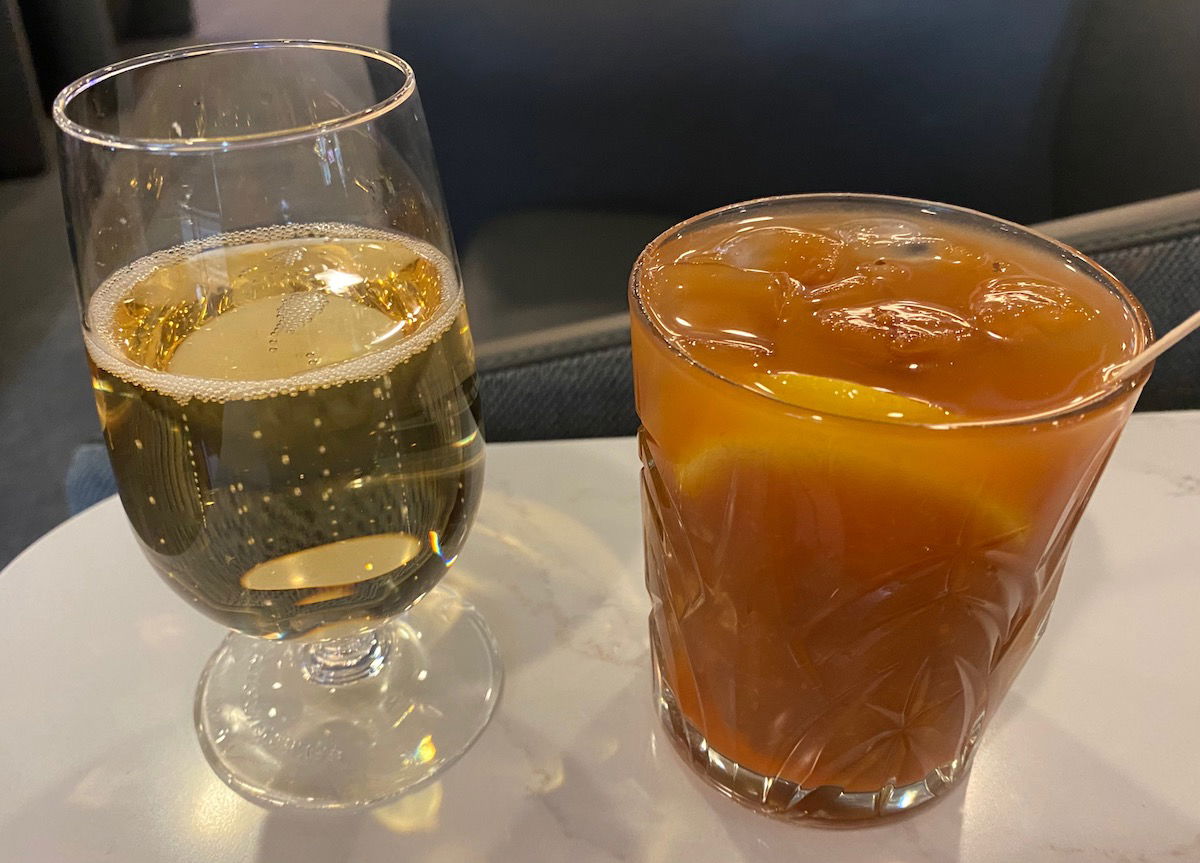 I had yogurt with granola to eat shortly after getting to the lounge.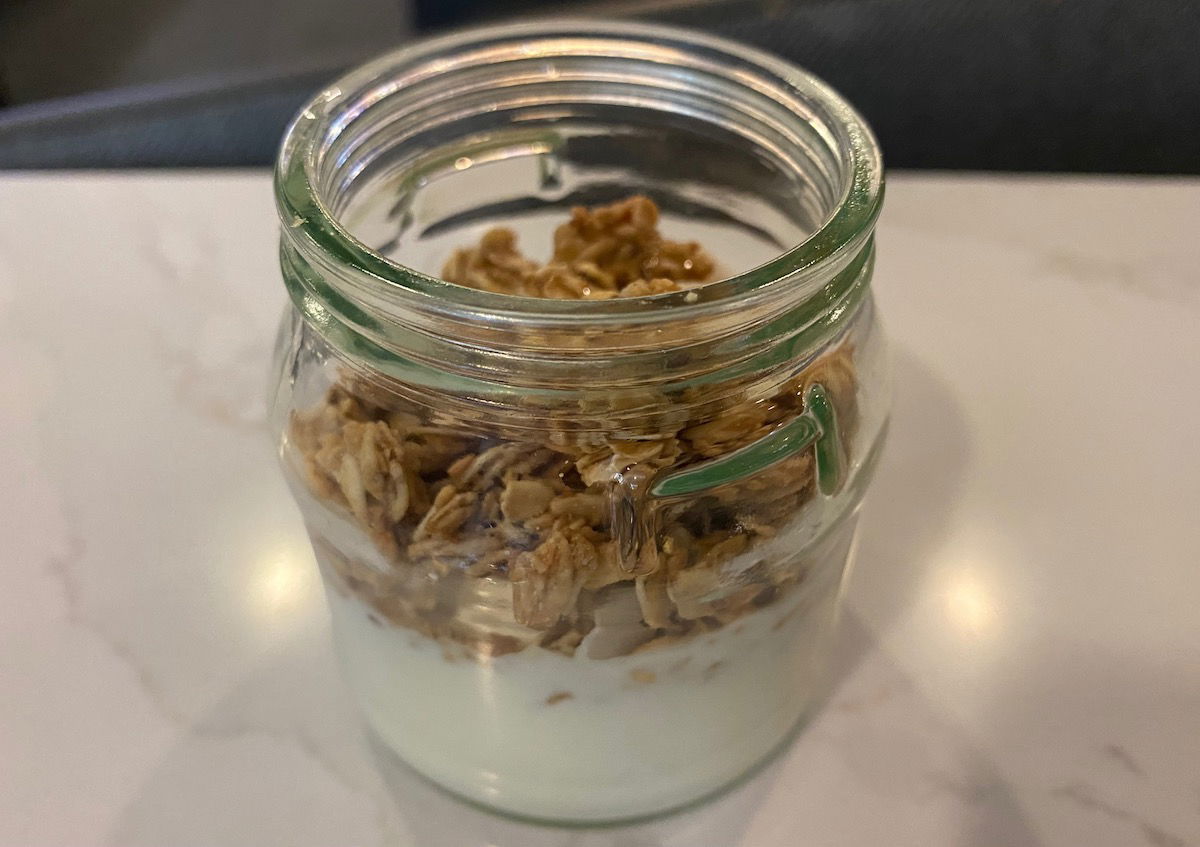 Then later on we ordered an Indian vegetarian dish, along with afternoon tea.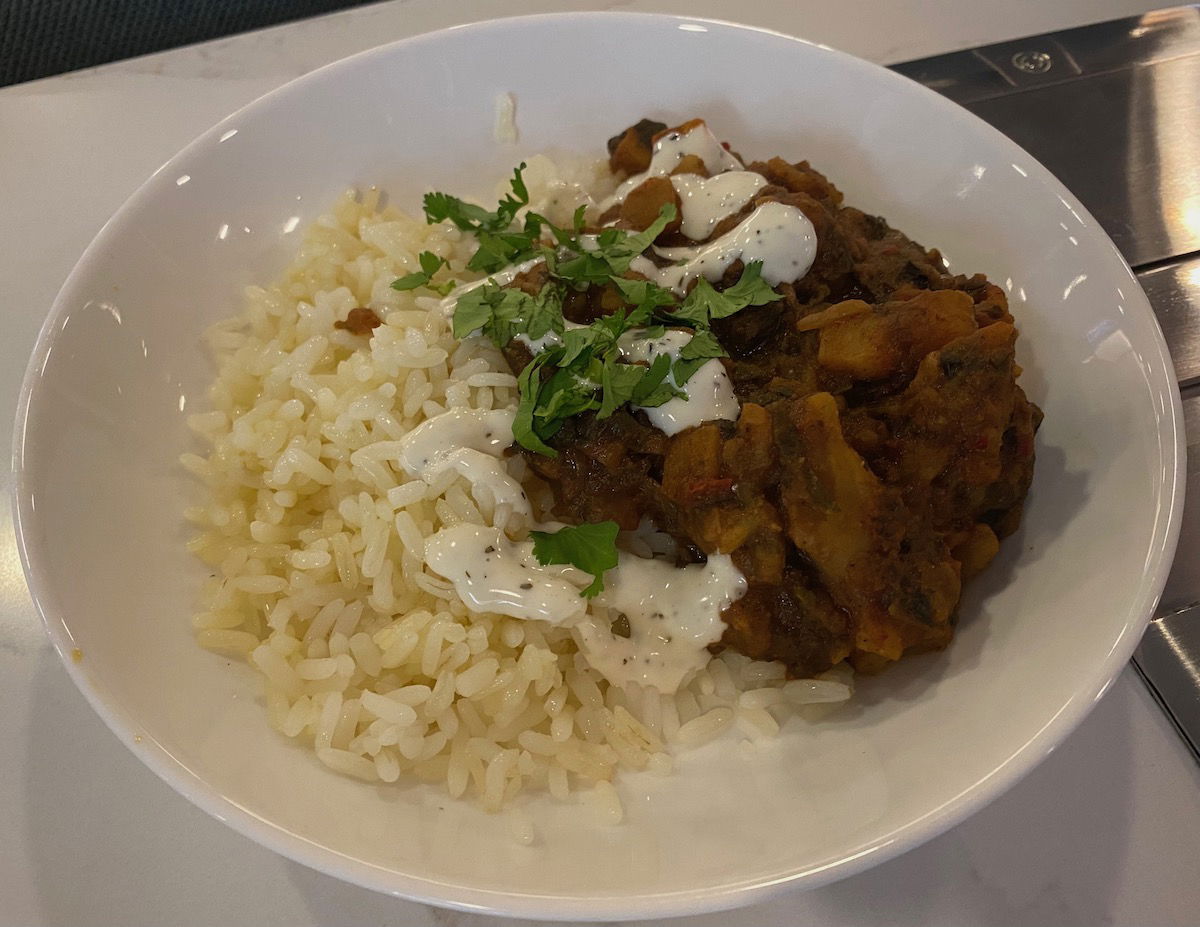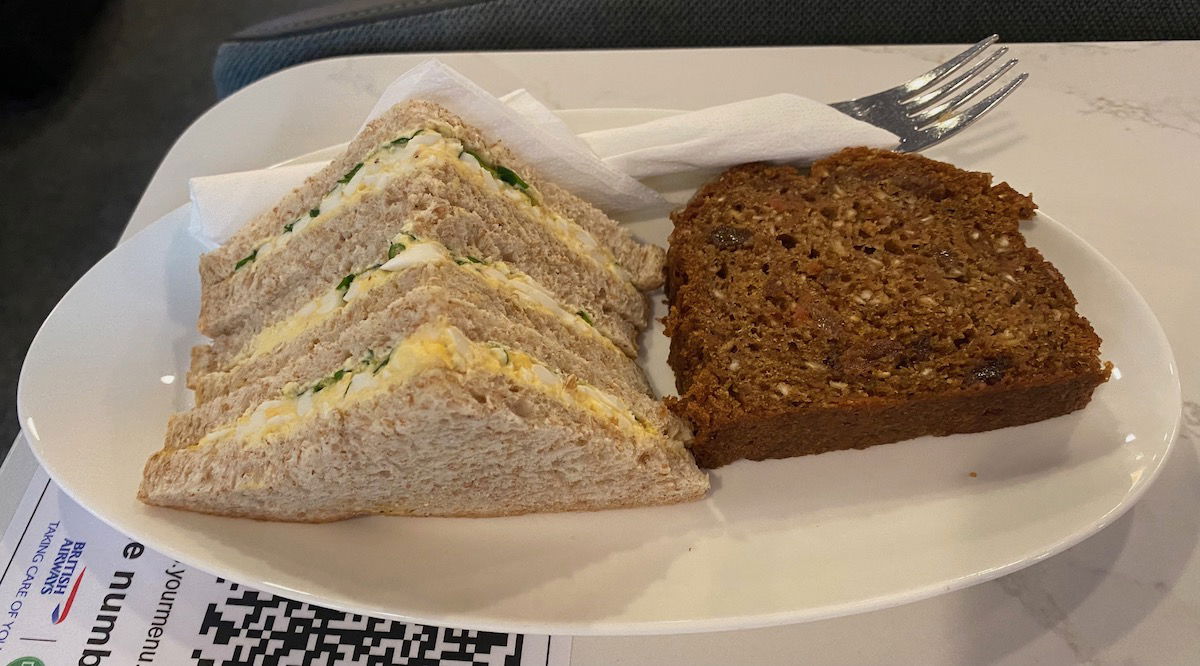 Huge kudos to British Airways for this catering system. I almost hope it sticks around after coronavirus (though it won't). It was incredibly seamless and well executed.
Making the best of a British Airways flight
Let me once again emphasize that our initial London to Athens flight was supposed to be operated by a Boeing 787-9, and we had managed to assign ourselves three of the eight first class seats. So below is what the seats were supposed to look like on our three hour flight.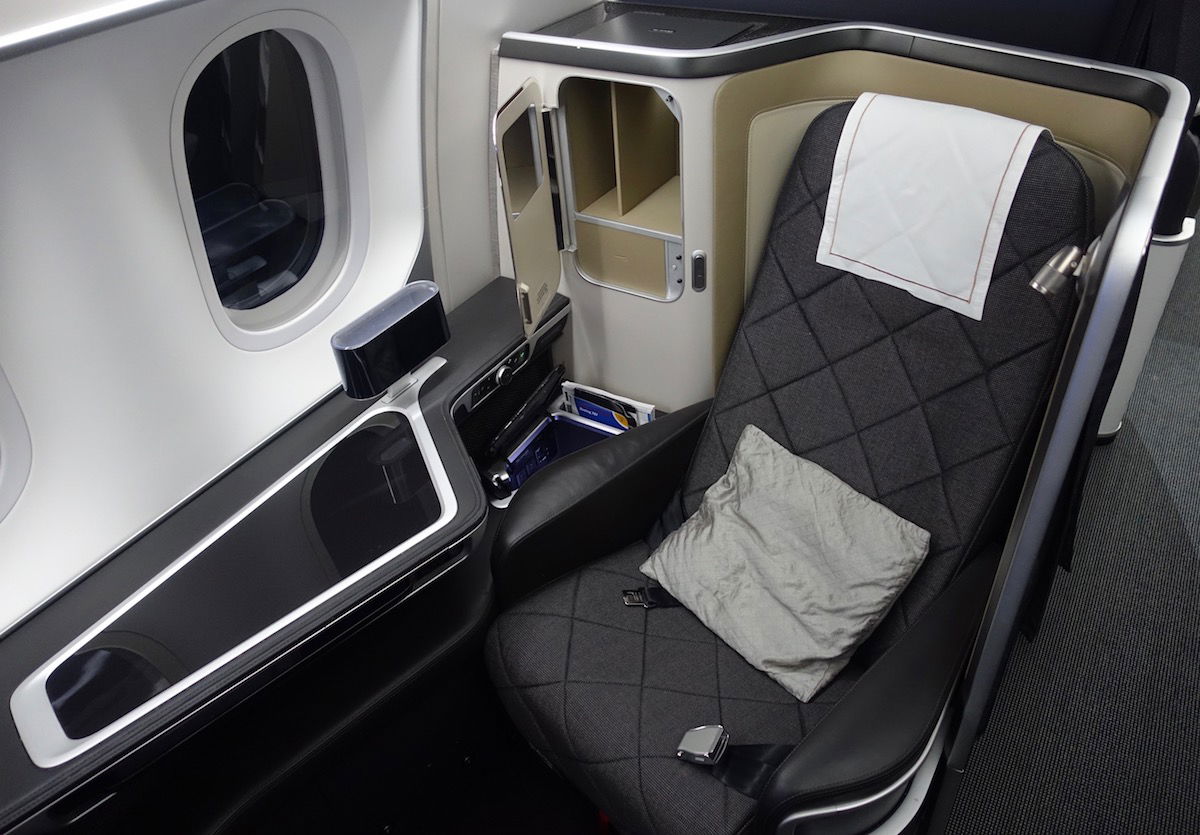 While below are what our seats actually looked like.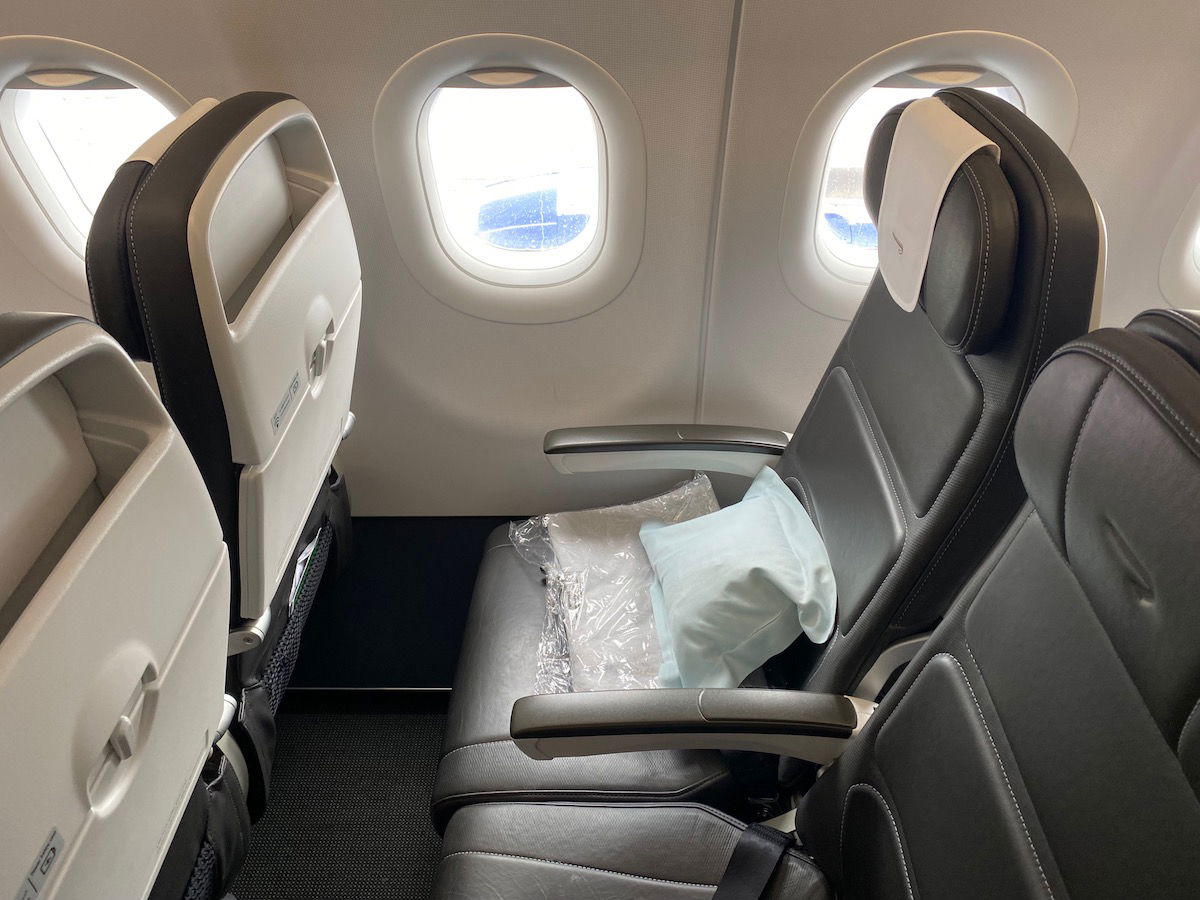 While that was an obvious (massive) downgrade, other than that I have nothing but good things to say about our flight. And that's despite the fact that the business class cabin was huge, as it went all the way back to row 14 (since intra-Europe business class just consists of blocked middle seats, the cabin size can be changed with each flight).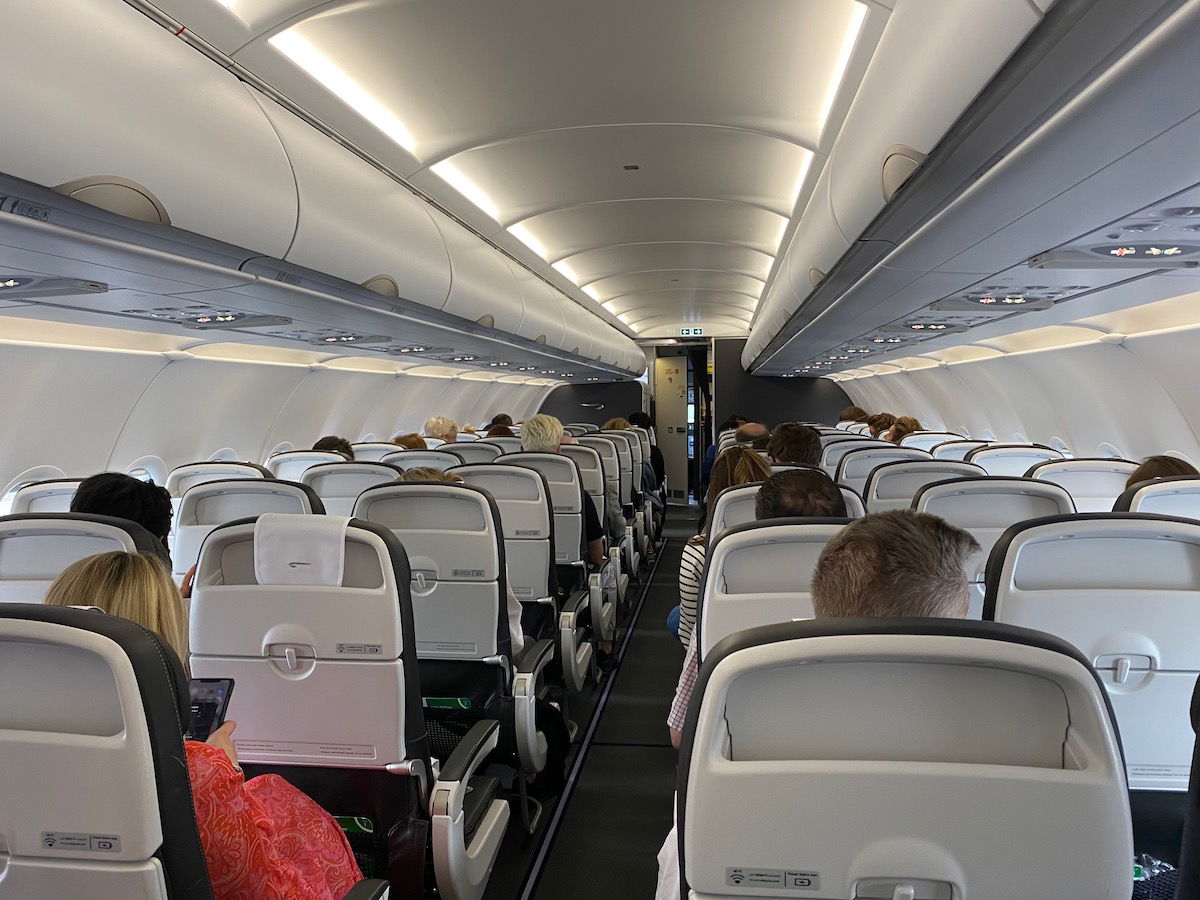 Perhaps the only part of the experience that reminded me there was coronavirus was the strict back-to-front boarding, as well as the antibacterial towels handed out at the door of the aircraft.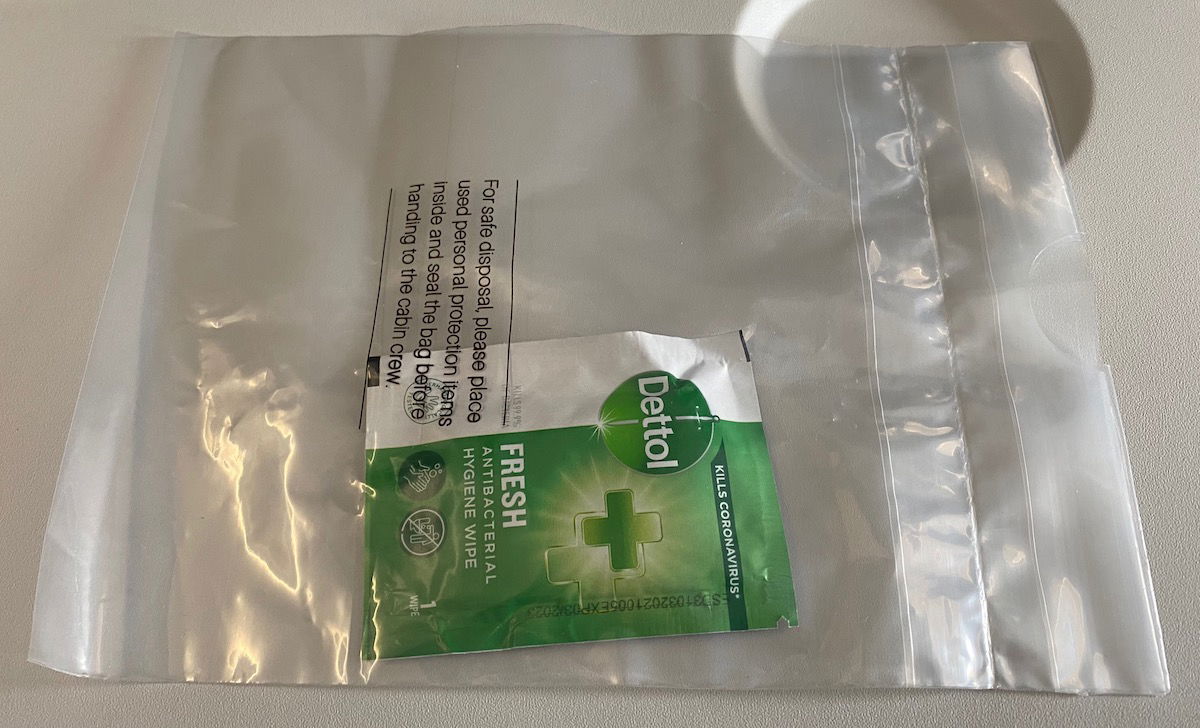 Otherwise it was an excellent A321neo flight. For one, the plane had both power ports and Wi-Fi, which was pretty awesome (as you can tell, I have very low standards for intra-Europe flights).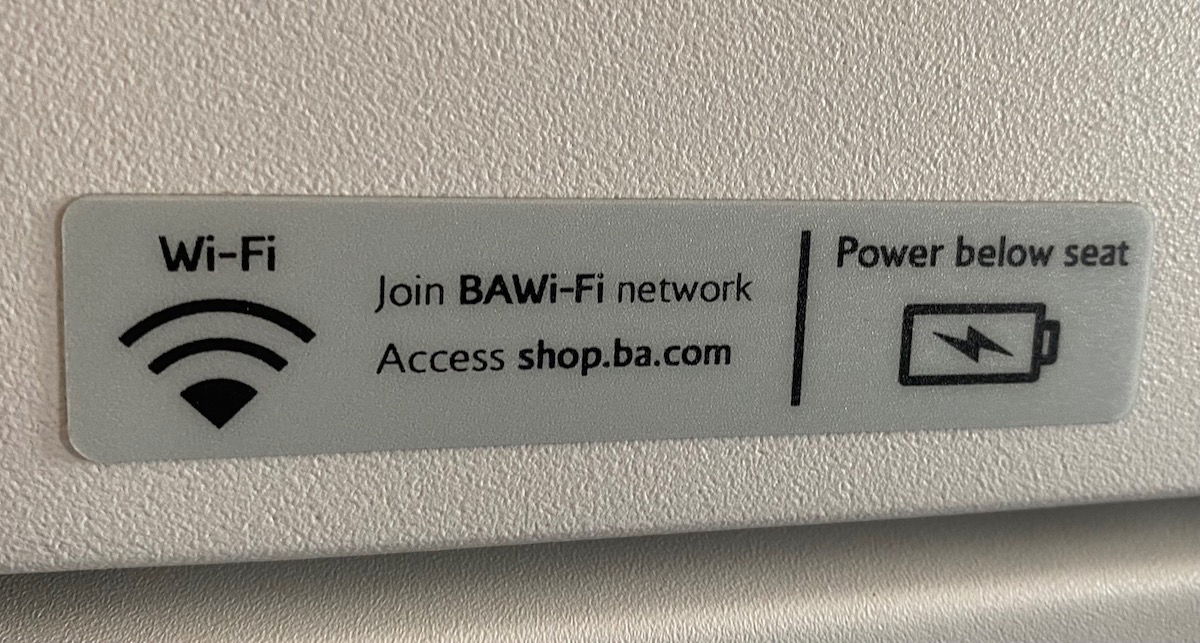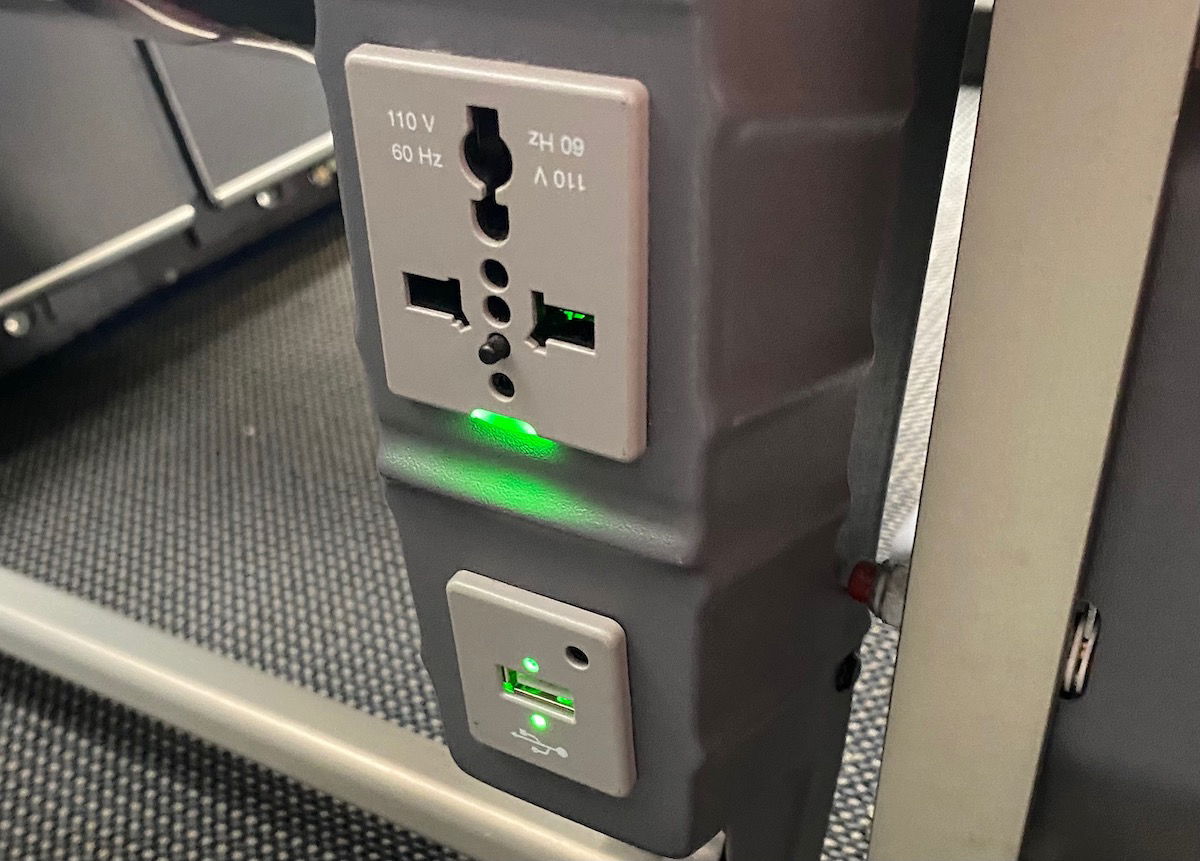 Wi-Fi was fast, and the pricing of 11.99GBP with no data caps seemed reasonable to me.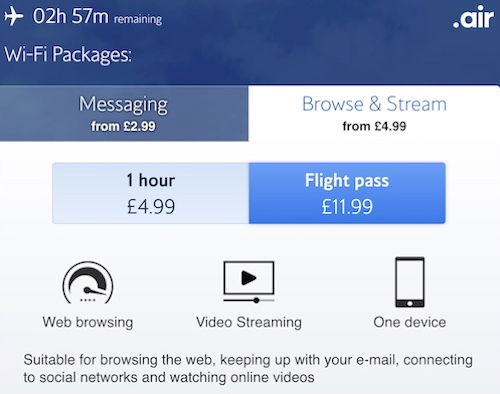 The amenities and food were as usual on this flight — there were pillows and blankets at each seat, and there was a full hot meal.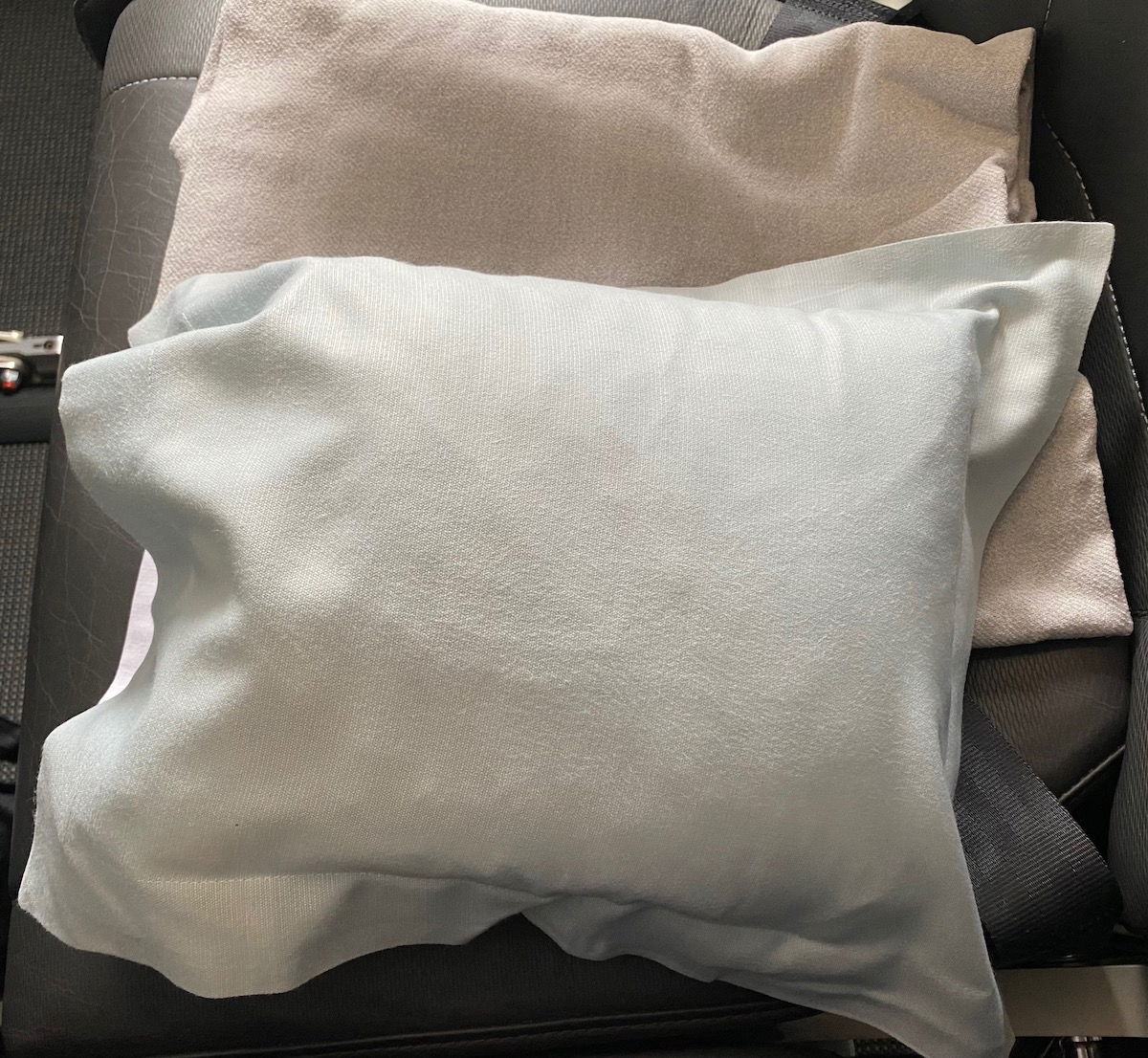 The meal service began with drinks and packaged mixed nuts.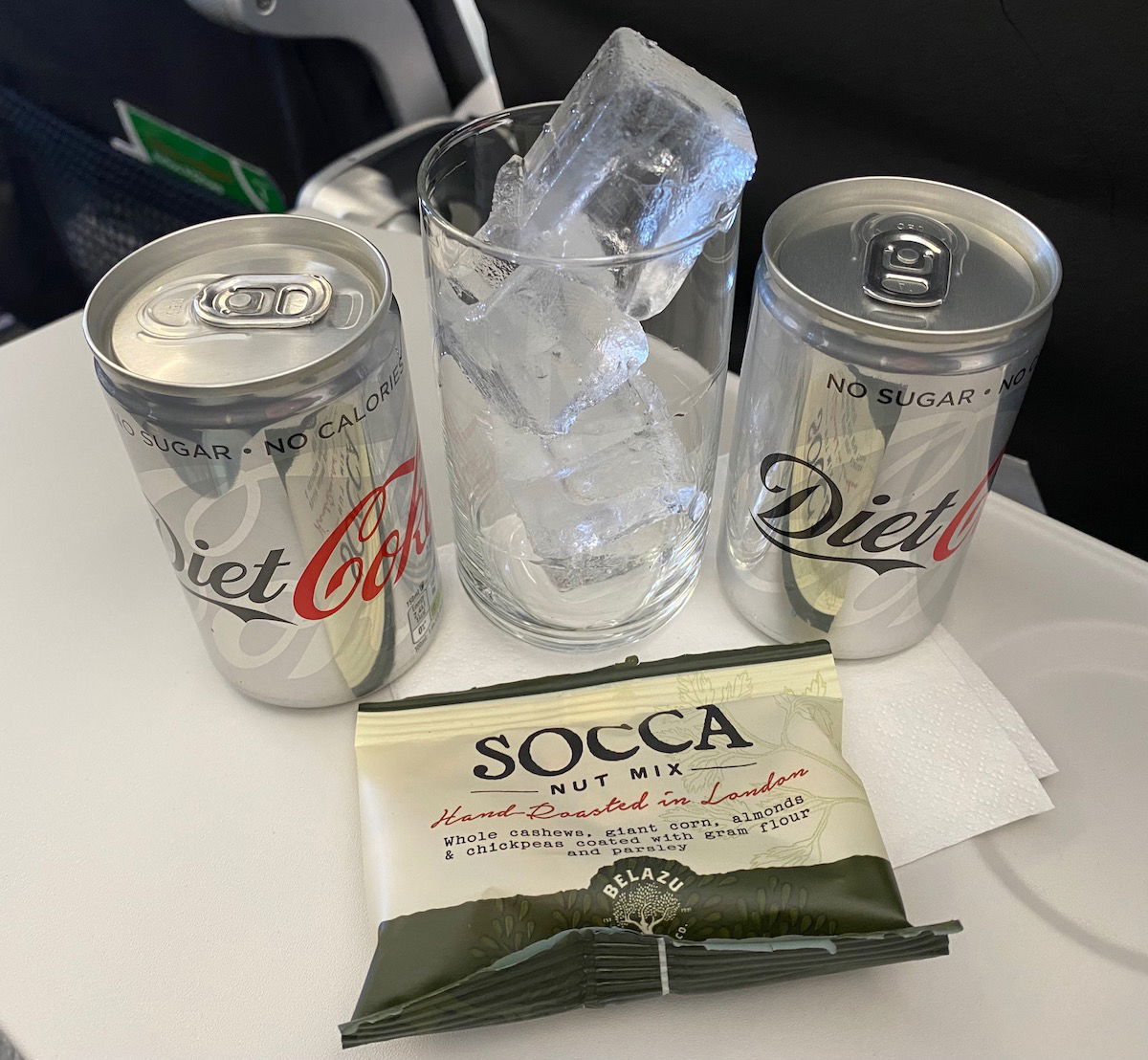 There was a choice of two hot meal options — either a lamb shepherd's pie or spinach gnocchi. I selected the latter. As you'd expect nowadays, everything was served wrapped.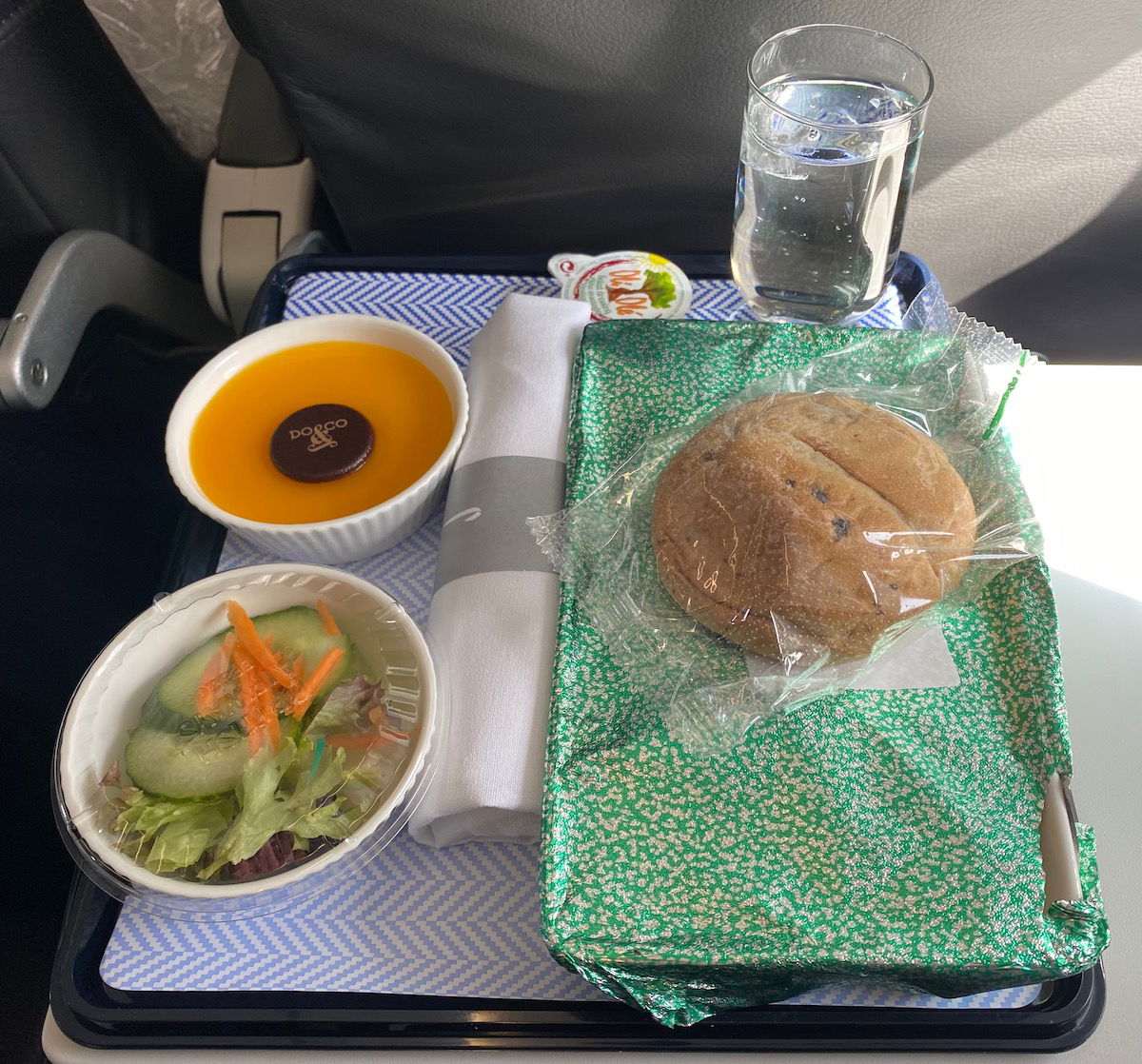 Okay, the gnocchi was ridiculously cheesy, and the salad was comically small, but other than that the meal was quite good.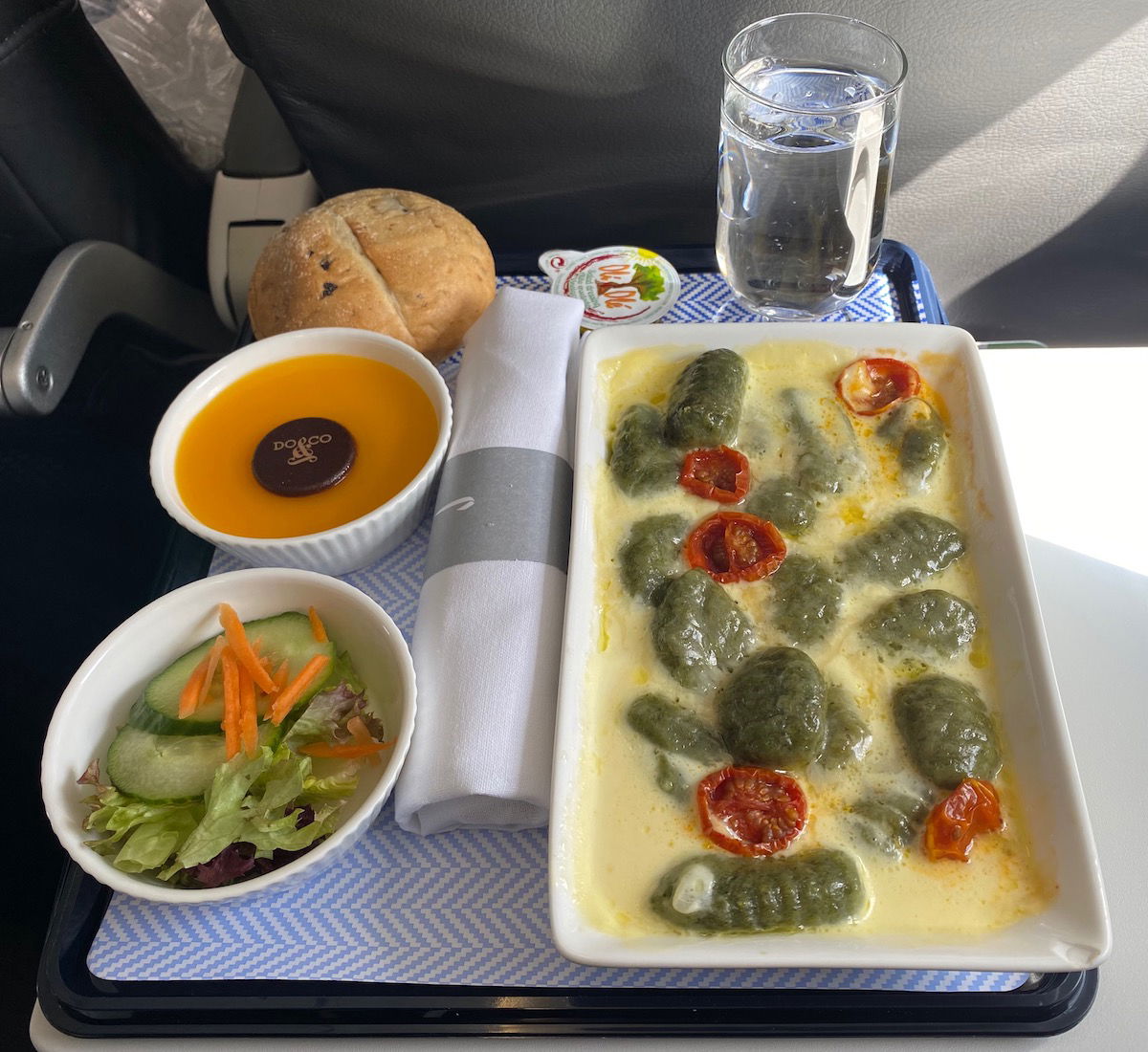 Seriously, what are we assuming the budget for this salad is? Bigger or smaller than United's cabbage salad?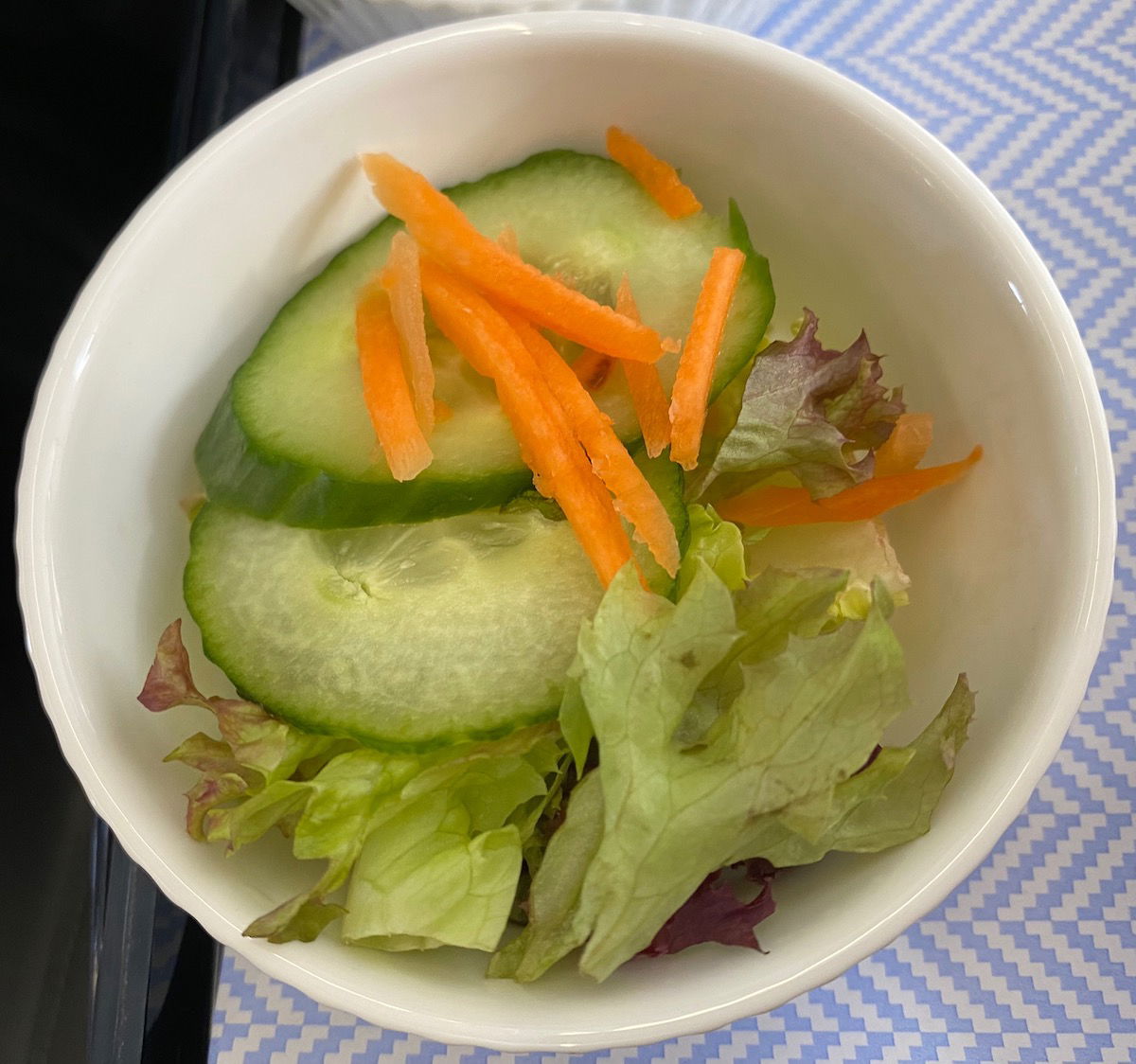 I also had a cup of coffee to accompany the dessert.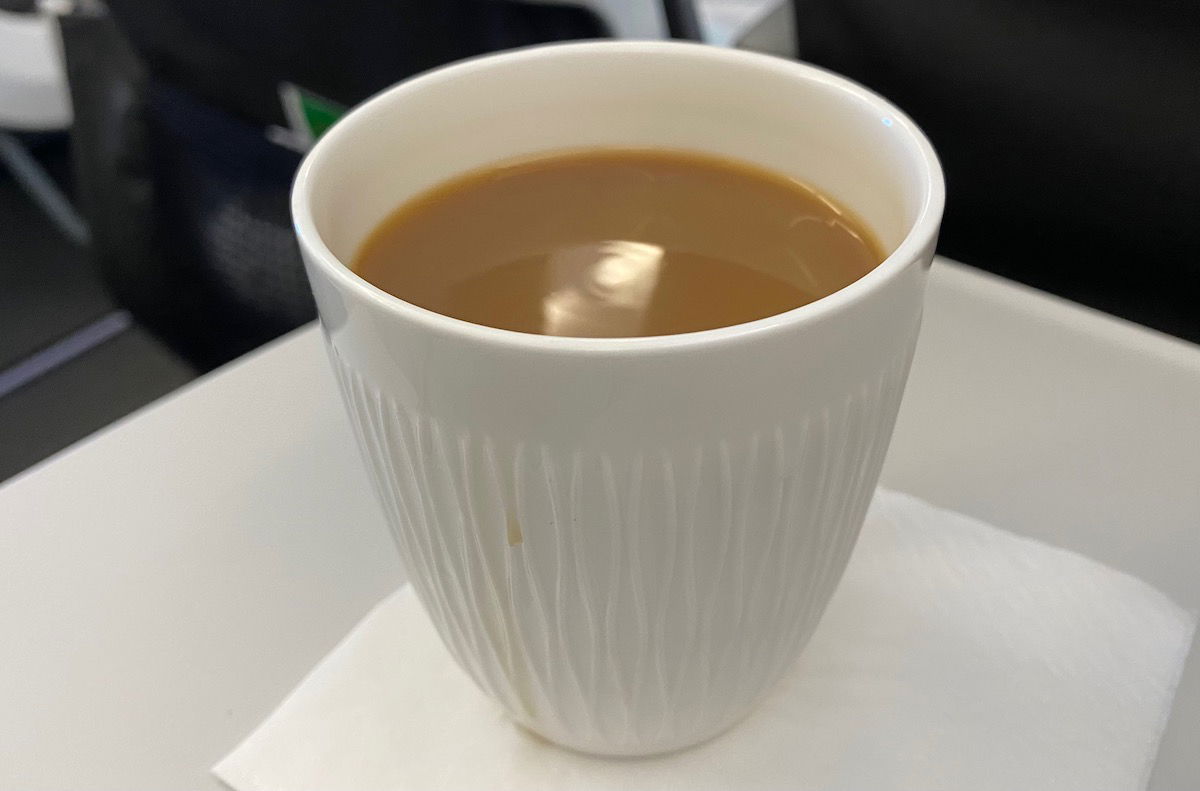 The truth is that what really made this flight great was the crew. I find British Airways crews to be extremely inconsistent — you have some crews that take themselves way too seriously, and you have other crews that are fun, friendly, and attentive, and this crew fit into the latter category.
I've never seen so much service provided on an intra-Europe flight. There were four flight attendants working Club Europe, and I'm not exaggerating when I say that they must have asked each passenger every 10 minutes if they wanted something else to drink. They almost didn't take no for an answer. And even though they were presumably turning around in Greece and weren't going on holiday there, they sure did a great job getting other people into vacation mode.
The flight attendant primarily taking care of my section was kind of hilarious. It was almost like performance art, and the best parallel I can drop is to Pam An, and it was kind of hilarious. It was definitely one of those situations where you "had to be there," because it wouldn't translate here. In addition to just generally engaging with passengers in an adorable way, he kept talking about how glamorous his job was — when he was picking up trash, putting on the life vest, etc.
But truly across the board all the flight attendants couldn't have been lovelier. In general during coronavirus I've found that airline employees seem to have a new appreciation for passengers, and that very much came across in the service.
The highlight of the flight was finally approaching Greece, given our previous misconnect. We were thrilled to land in one of my favorite countries in the world the same day as originally scheduled, despite the irregular operations we dealt with.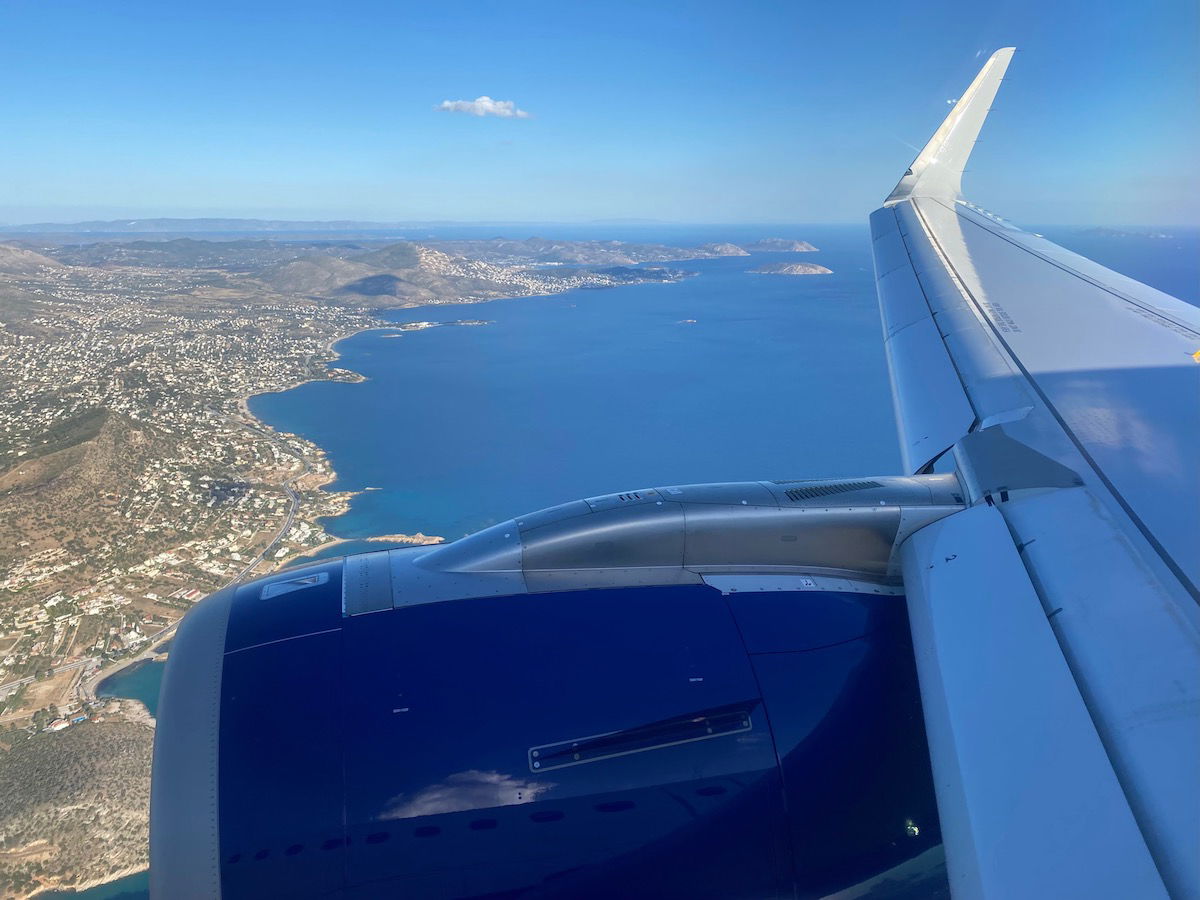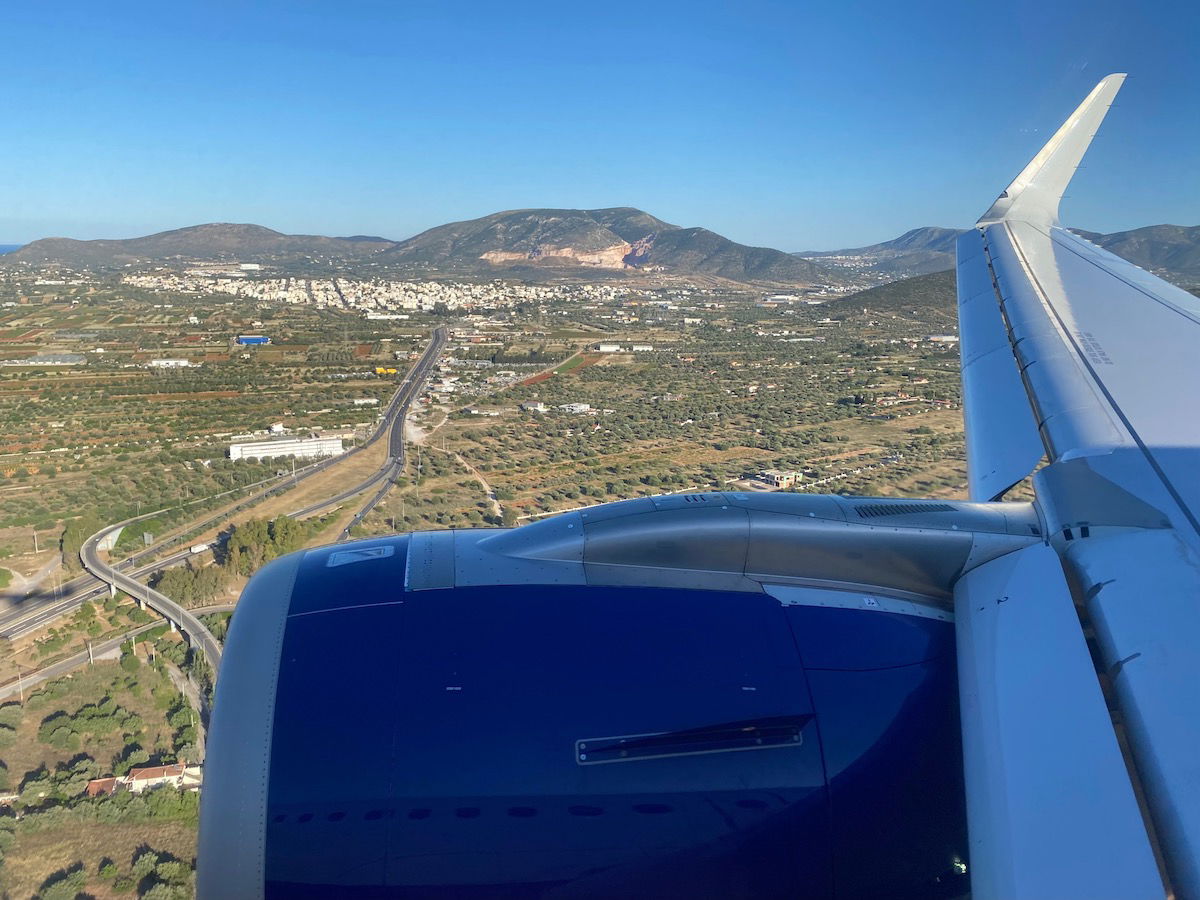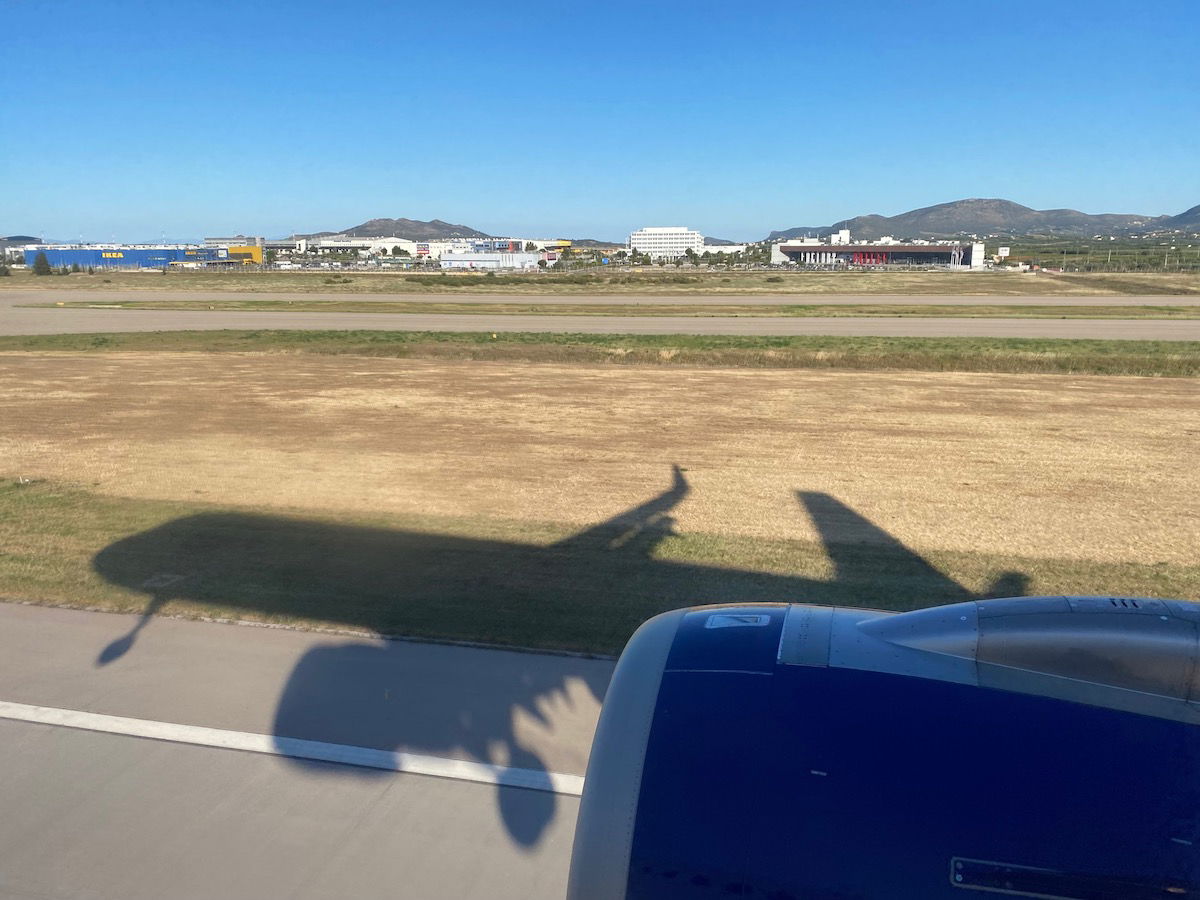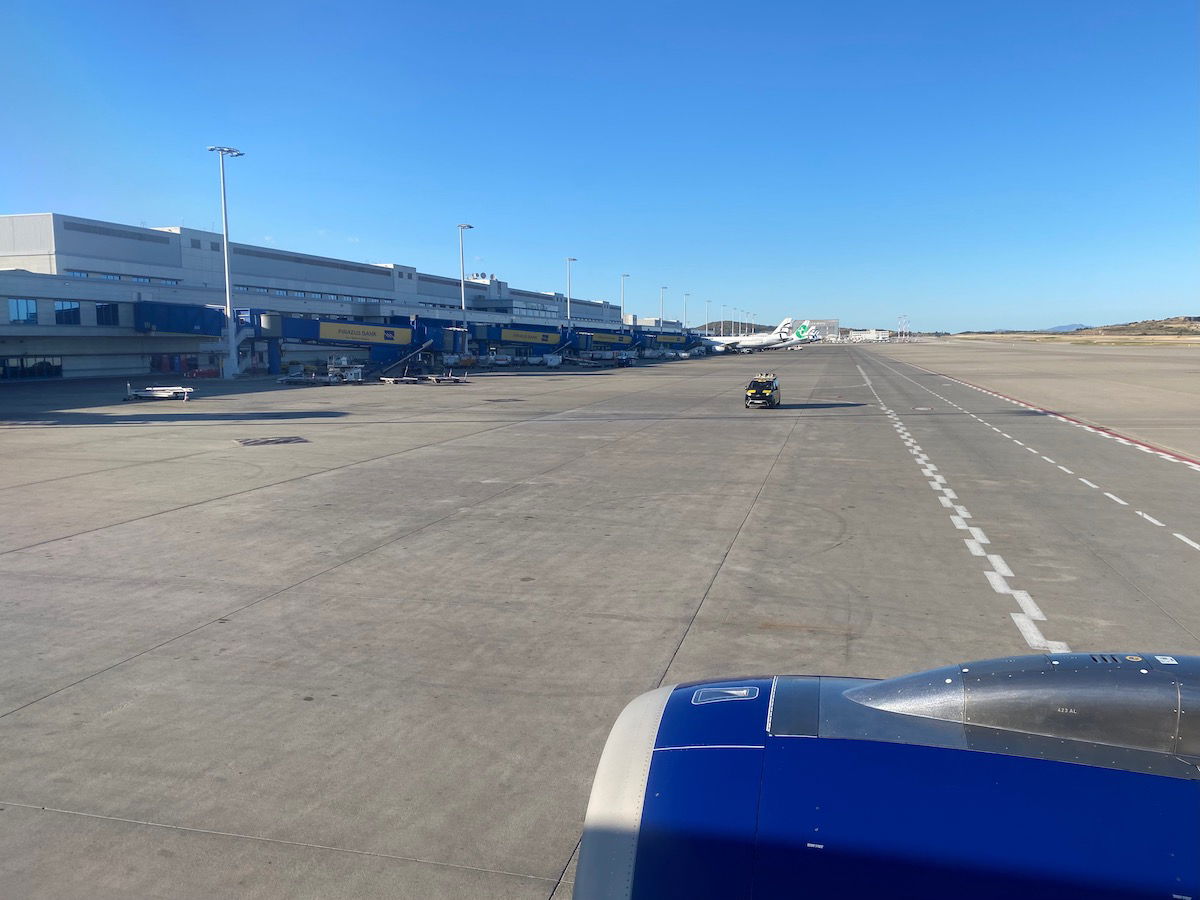 Our arrivals experience in Athens was super easy, and we were through in a matter of minutes.
Bottom line
While a far cry from the 787-9 first class seats we were originally supposed to enjoy, we had an excellent intra-Europe business class experience with British Airways.
British Airways' current a la carte lounge ordering system is brilliant, perhaps the best modified lounge service we've seen in light of coronavirus.
And while intra-Europe business class is objectively kind of sucky, this was as good as it gets — the plane had Wi-Fi that was reasonably priced, power ports, decent food and amenities, and an exceptionally friendly crew that really wanted every passenger to have a great time. Where are the people who call me British Airways haters now? 😉
If you've flown British Airways recently and/or visited a British Airways lounge, what was your experience like?