We ended up getting Bonvoyed in Santorini, but not necessarily in a bad way.
We had an extra night in Santorini
Initially the plan was to spend five nights in Santorini, and we had booked Canaves Oia Epitome for our entire stay (it's a Small Luxury Hotels of the World property that I booked with World of Hyatt points).
However, as I mentioned in my review of SeaJets, our ferry from Crete to Santorini ended up being canceled less than a week prior to departure. There was no other ferry that day, so our option was to take a ferry the day before or the day after. Since we had heard amazing things about Canaves Oia Epitome and the hotel was non-refundable, we made the decision to travel to Santorini a day earlier, giving us six nights.
Why we booked Vedema in Santorini
Canaves Oia Epitome was sold out for our first night, so this seemed like a great opportunity to try a new property. I made the decision to book Vedema, which is a Marriott Luxury Collection property.
Why did I decide to book Vedema?
When Ford and I visited Santorini years ago, we ate at the restaurant at Vedema (Alati), which was spectacular; even stranger was that they insisted we not pay for our meal, and to this day we don't know why, but it's something that has stuck with us
Vedema is on the other side of the island, away from Oia, so I thought it would be a nice change of scenery for one night
Vedema had a two bedroom villa that I could book for 500€, which was quite reasonable compared to the other options; I could book it through Marriott STARS, further offering a $100 property credit, and more
Our Vedema pre-stay experience sure was off to a rough start, though:
I emailed the concierge, and didn't receive a response
I tried to call the hotel's restaurant that we ate at last time to make a reservation, and no one picked up
I tried to call the hotel's front desk, and it redirected to Marriott central reservations
When I spoke with Marriott central reservations, they were confused about why they couldn't get in touch with anyone at the hotel
I'd note that all along the hotel was still selling rooms as usual, including for same day arrivals
When our stay took a turn
The day before we were supposed to check-in, I received a call from a number in Santorini, so I picked up.
"Hi, I'm calling from Mystique in Santorini. I wanted to see if you wanted to book a transfer for your arrival tomorrow?"
"I think there must be some confusion, I'm not booked at Mystique."
"Oh, they haven't contacted you?"
"What do you mean?"
"Vedema isn't open for the season yet, you've been rebooked at Mystique. I'll make sure someone reaches out to you this afternoon."
Several hours later, the evening before arrival, I got an email from Vedema's "operations manager," informing me that the hotel was "in the process of evaluating" its opening dates, and that the hotel had postponed its opening date until June 15 (our stay was May 28-29).
We were offered to either postpone our stay to a later date, or be rebooked in a comparable room at Mystique. Since we needed somewhere to stay in Santorini, we of course selected the latter option.
On the one hand:
It's ridiculously unprofessional to keep selling rooms at a hotel that you know will be closed altogether
If you are going to sell rooms at a hotel that's closed, you should at least give a little more notice than the day before, especially when the hotel is on a completely different part of the island, and for all they know we could have made plans in the area
Furthermore, this should be communicated proactively and with an explanation, rather than as an afterthought while being asked if I want a transfer to a hotel I didn't book
On the other hand:
The two bedroom suite we booked at Vedema cost 500€ per night, while the two bedroom suite at Mystique was selling for 1,200€
From a revenue maximizing standpoint, this probably isn't a terrible idea from the hotel's perspective — they can increase revenue at Mystique without having to lower rates for those booking directly there during a period of lower demand
While I had stayed at Mystique before and didn't necessarily want to stay again, I was happy my mom would have the experience of staying in the iconic cliffs of Oia

Mystique Santorini 2 Senses Suite
I reviewed Mystique in great detail when we stayed a few years back, so I'll just share some basic impressions, and some pictures of our two bedroom suite.
Mystique is a fantastic hotel with exceptionally friendly staff (special shout out to front office manager Rafael), and I think it's a great option for anyone looking to stay in this part of Santorini. That being said, I'd very much put Oia in the "been there, done that" category. I was thrilled to have stayed in this area once, was ultimately happy to stay again (for my mom to experience it), but definitely don't need to stay there again. The views are beautiful, but the area is just oh-so-touristy.
Mystique is built into the iconic cliffs of Oia, so there's quite a bit of walking up and down stairs to get around the property (which was challenging for my mom, but we just planned around that, and we were only staying for one night).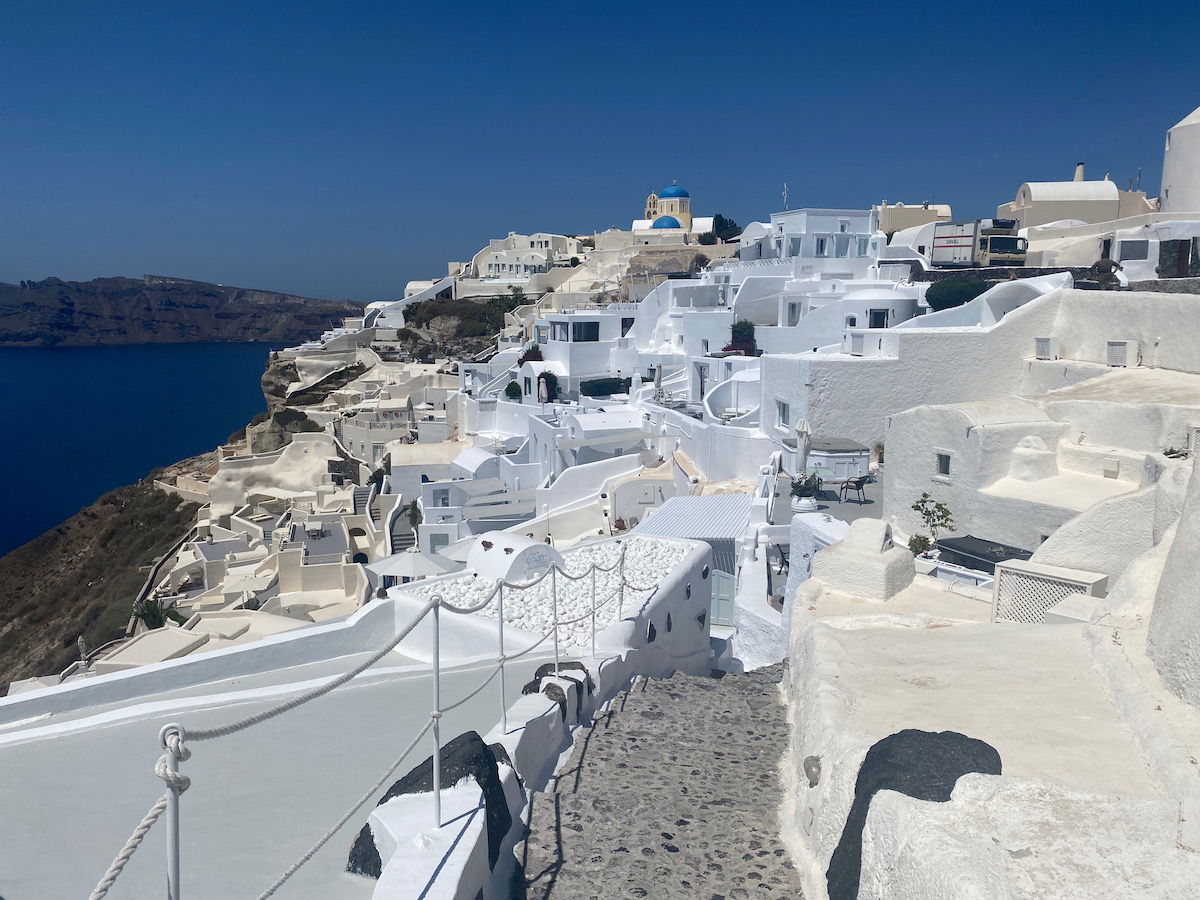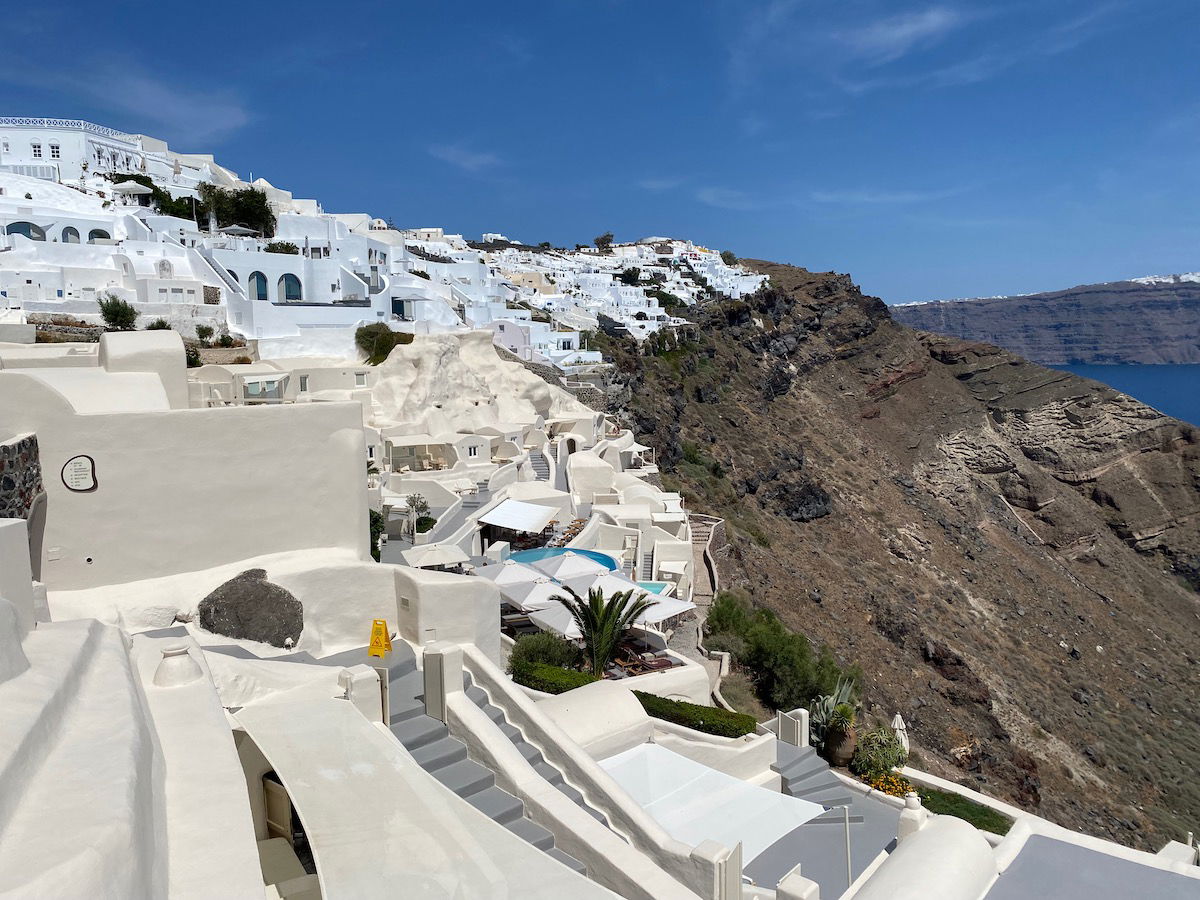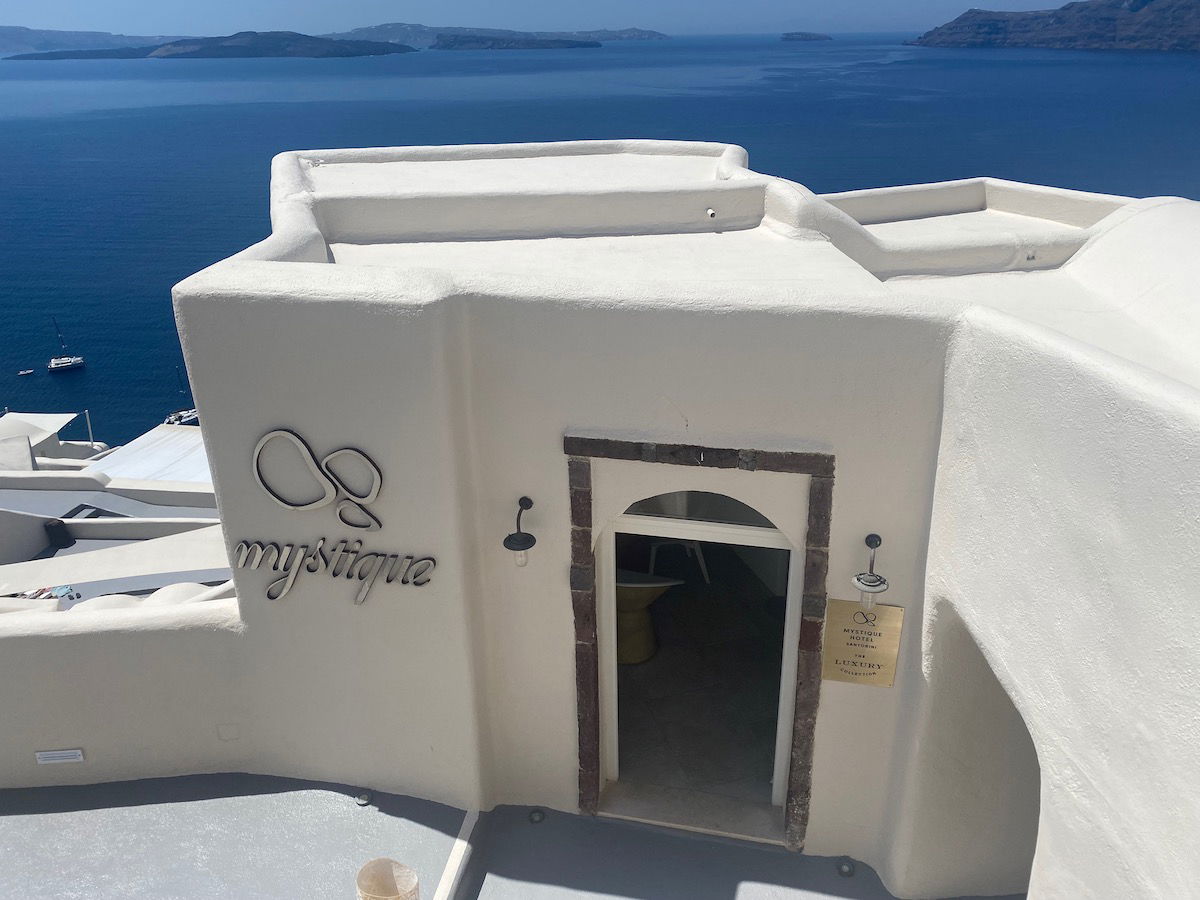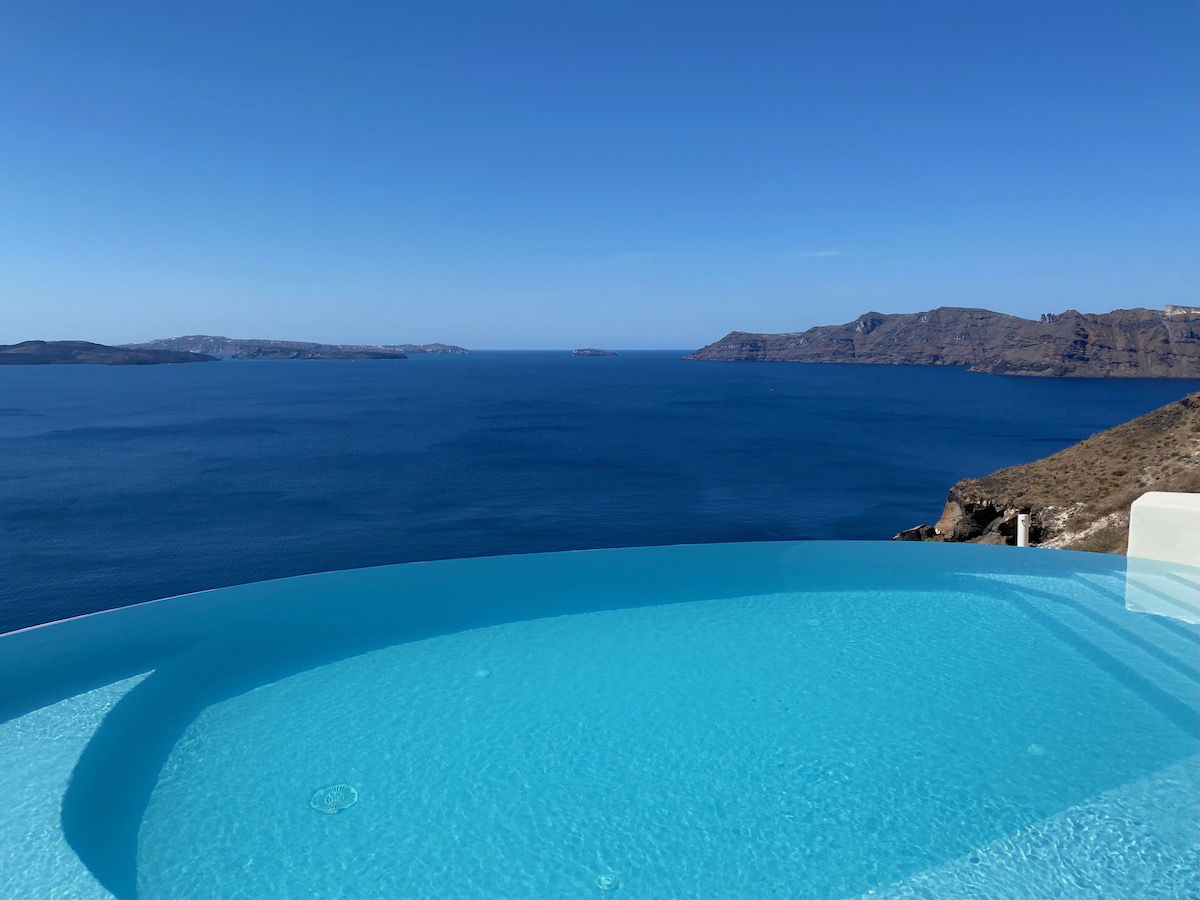 We were assigned one of the "2 Senses Suites," which is one of the hotel's two bedroom suites. These were rooms 31 & 32 — it didn't really feel like a standard two bedroom suite (in the sense that there was no indoor communal space), but rather felt like two side-by-side guest rooms. Of course that's totally fine, and admittedly design in this part of Santorini is complicated, and space comes at a premium, since you're building into the side of a cliff.
The room had a beautiful outdoor area, with four chairs, two tables, two loungers, and a whirlpool. The outdoor design was perhaps a bit awkward, including that there were two separate tables each seating two people, though we could rearrange that.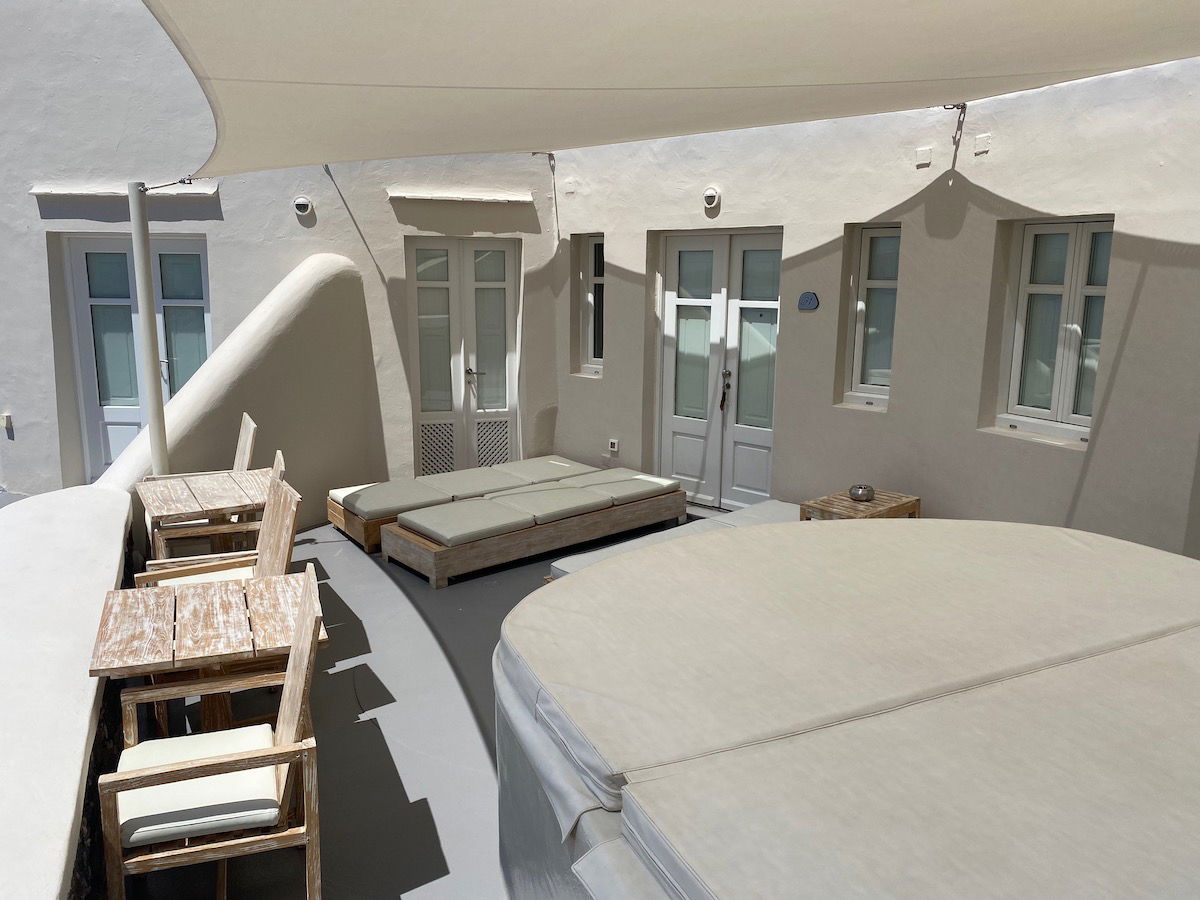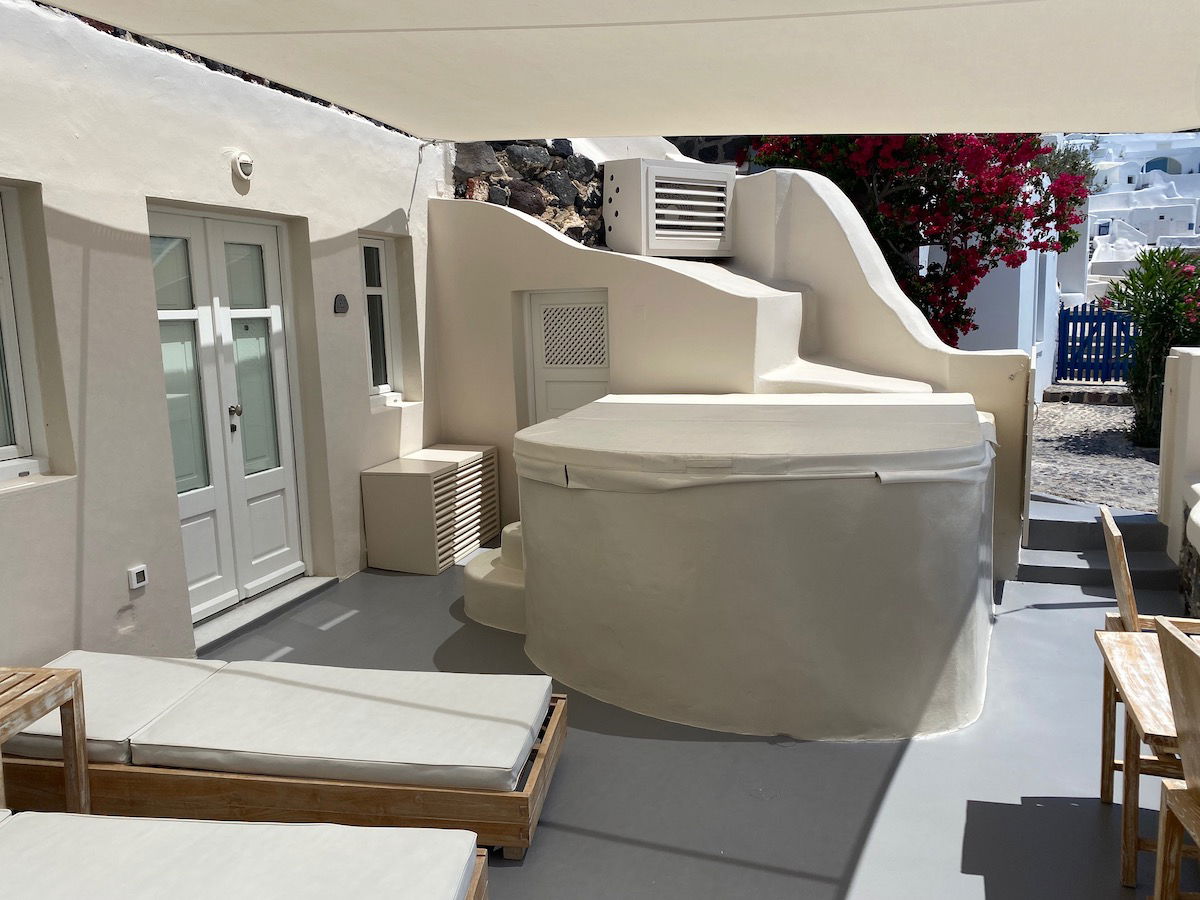 The view from the room was beyond breathtaking, as you'd expect.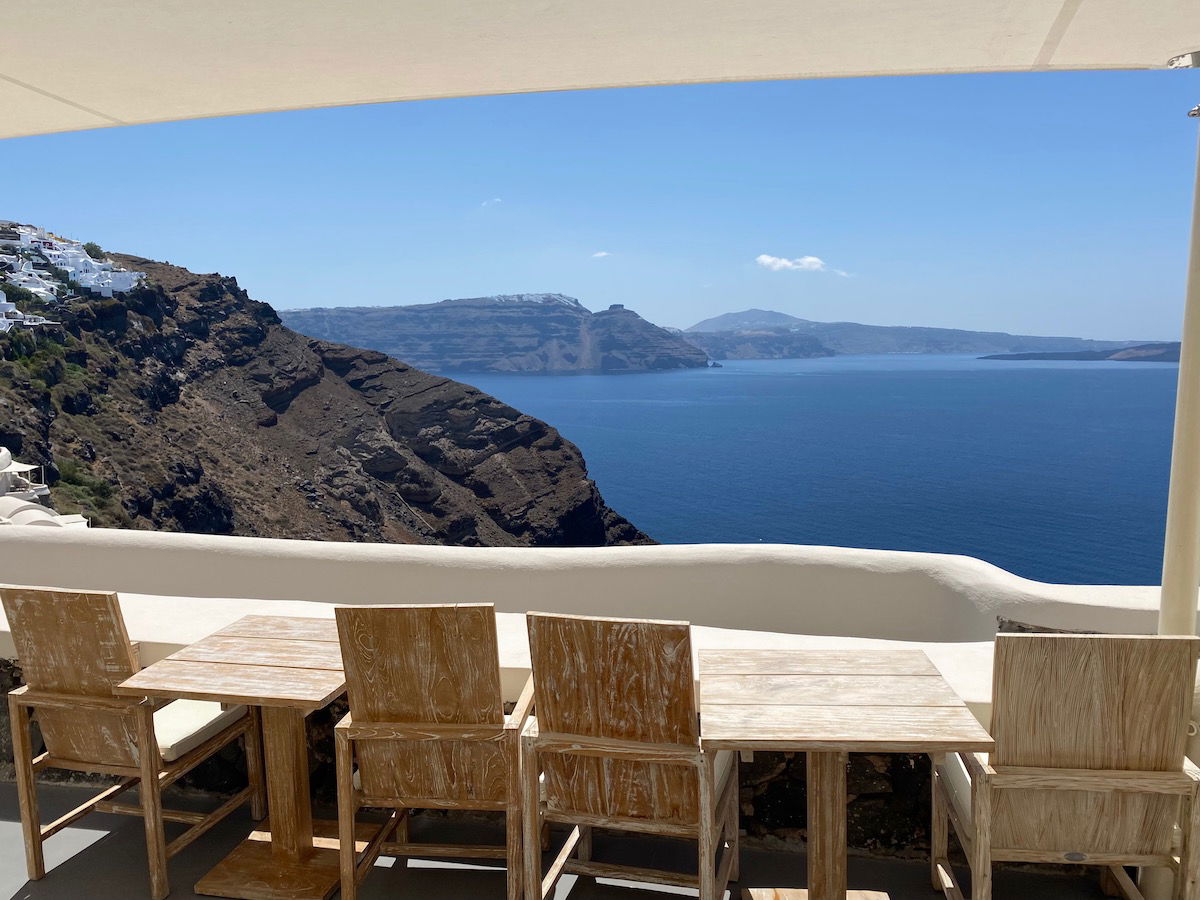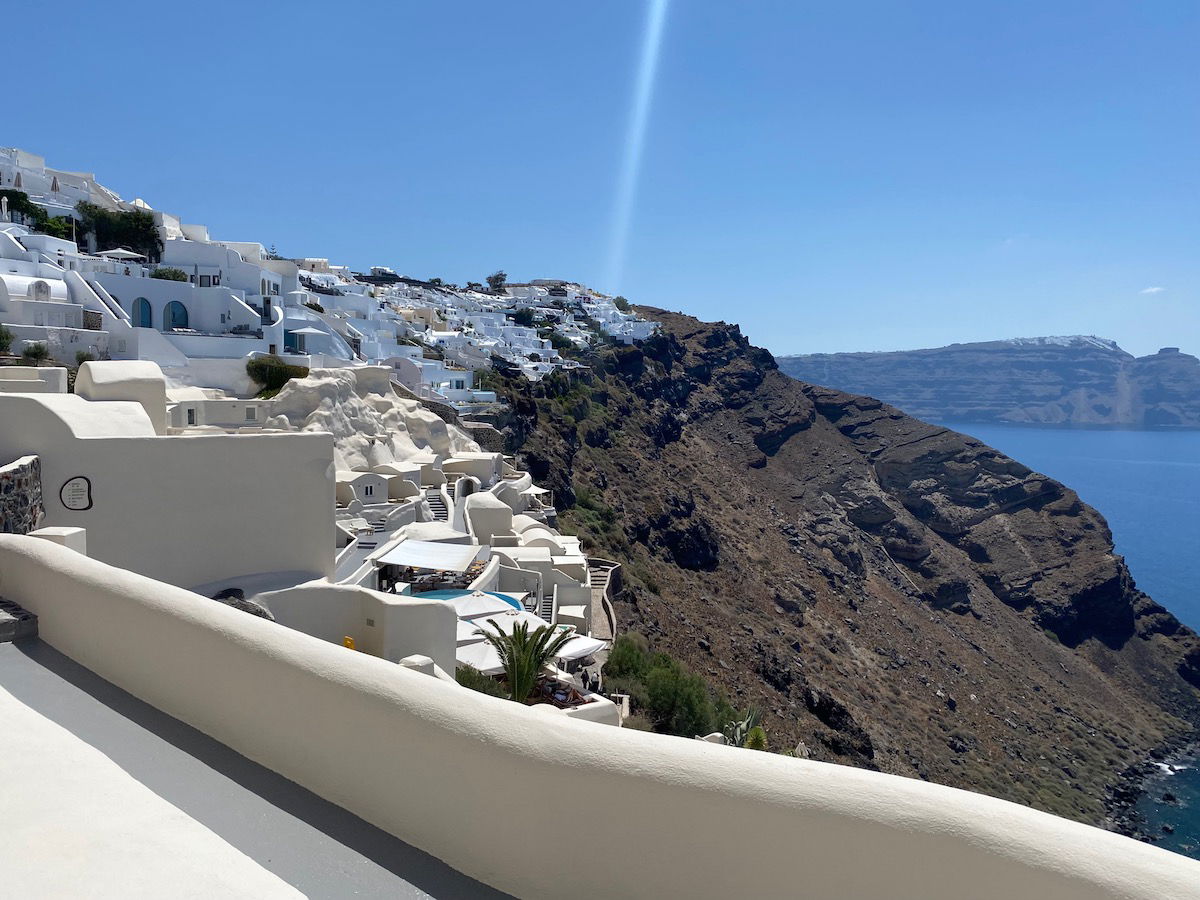 The two bedrooms were fairly similar, and both had a great sense of place. The first bedroom (which my mom and her partner stayed in) had a comfortable bed, and a sitting area with a couch of sorts.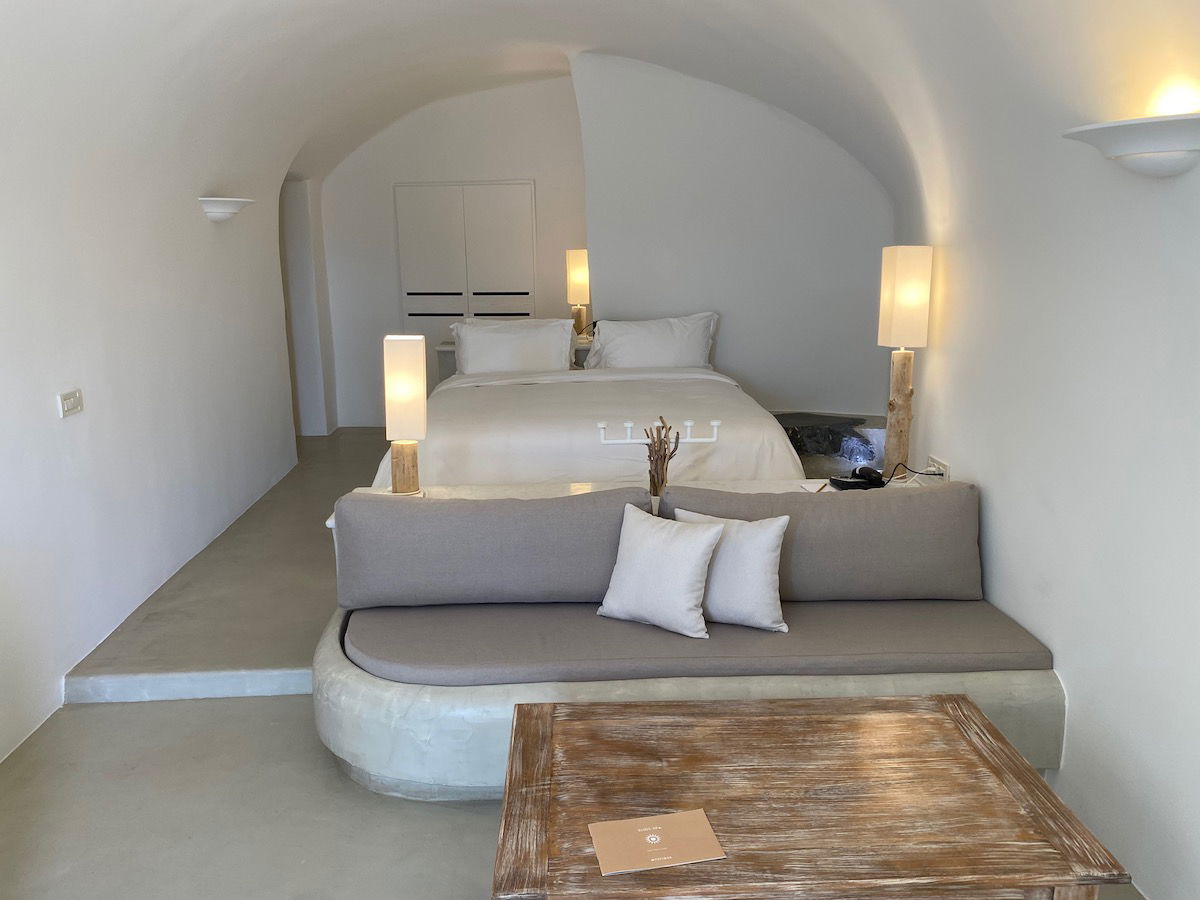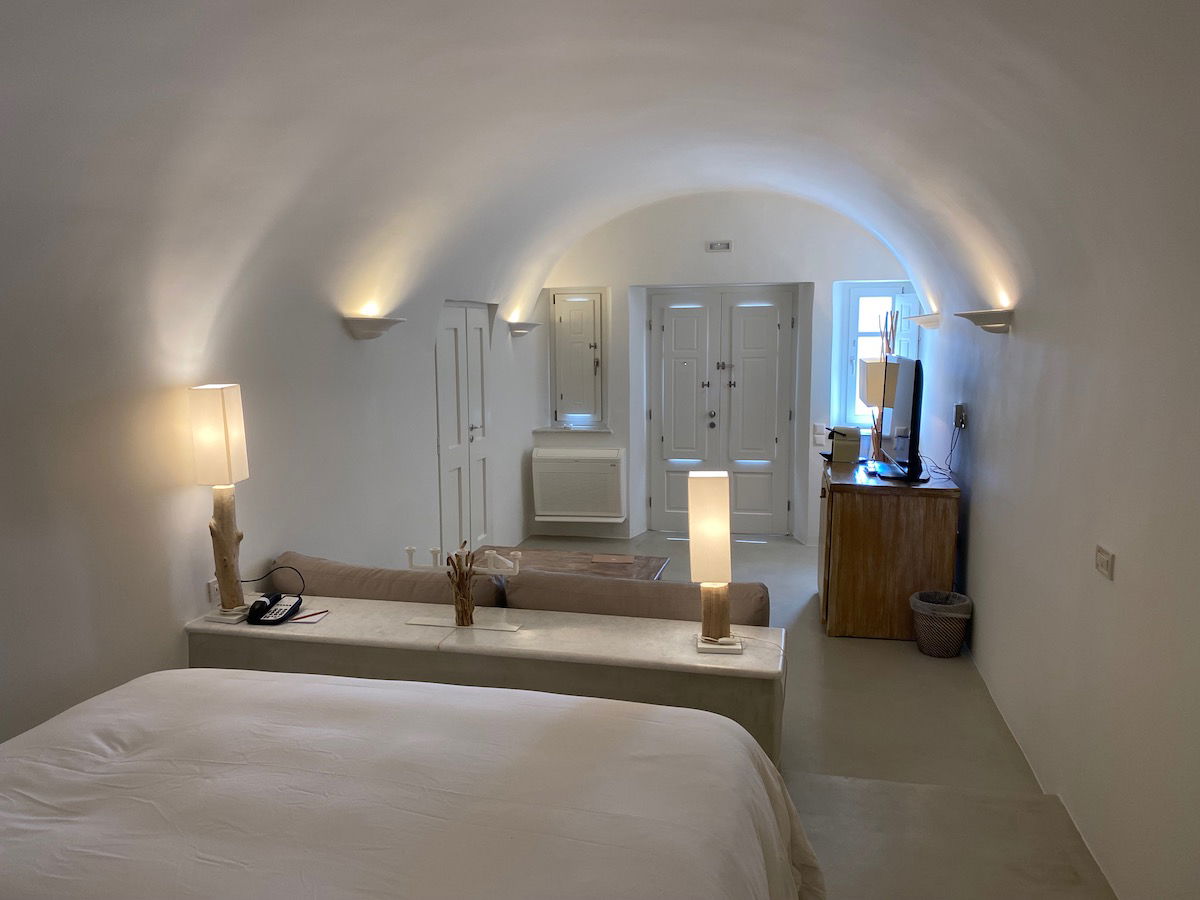 There was also a TV, Nespresso machine, and minibar.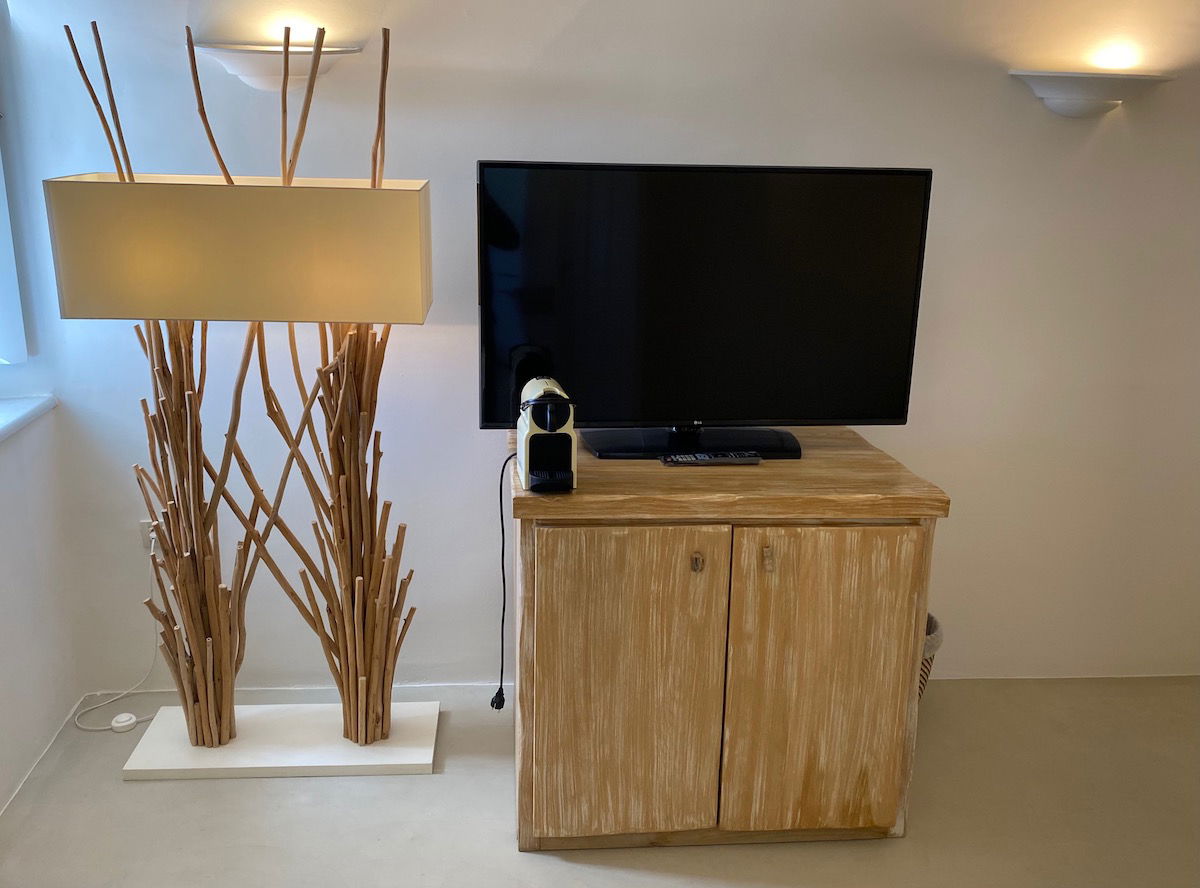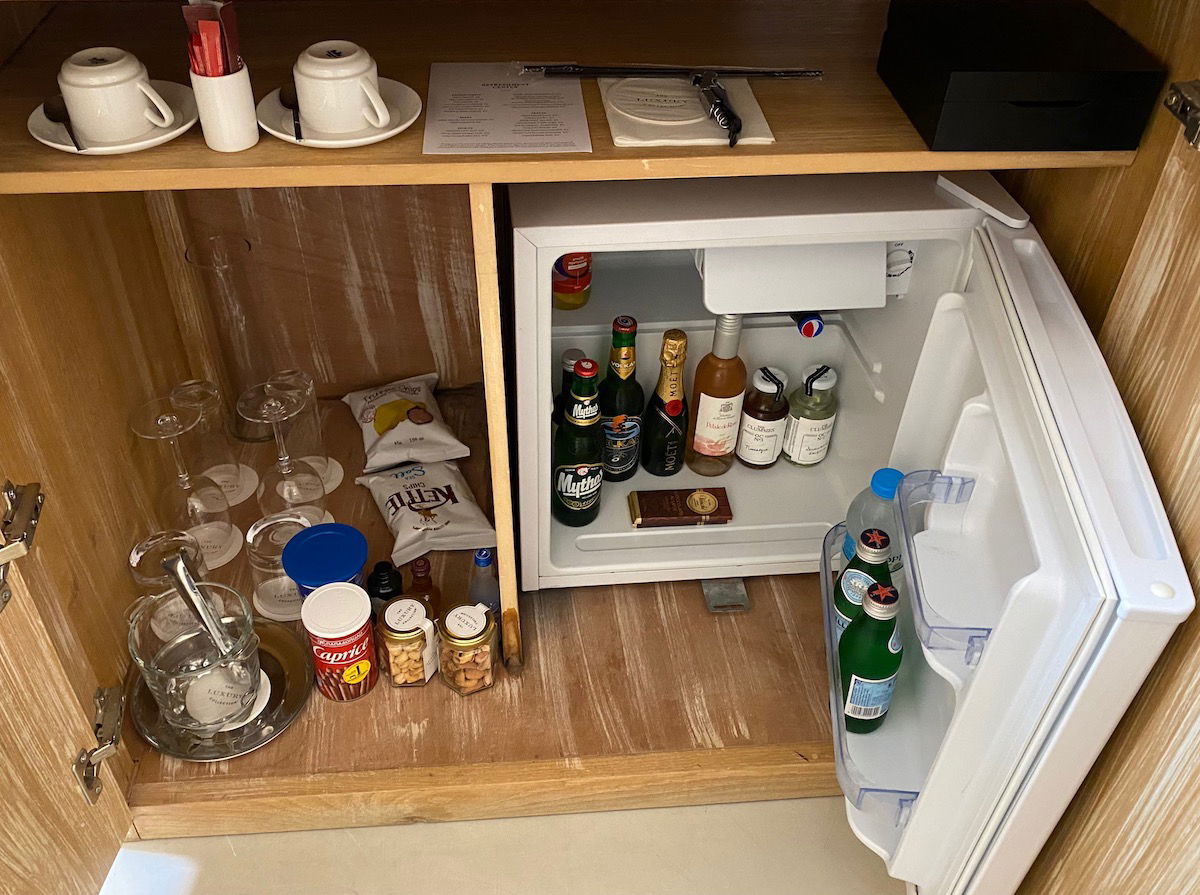 The bathroom was in the very back of the room, and while small, it was well designed, and utilized space well.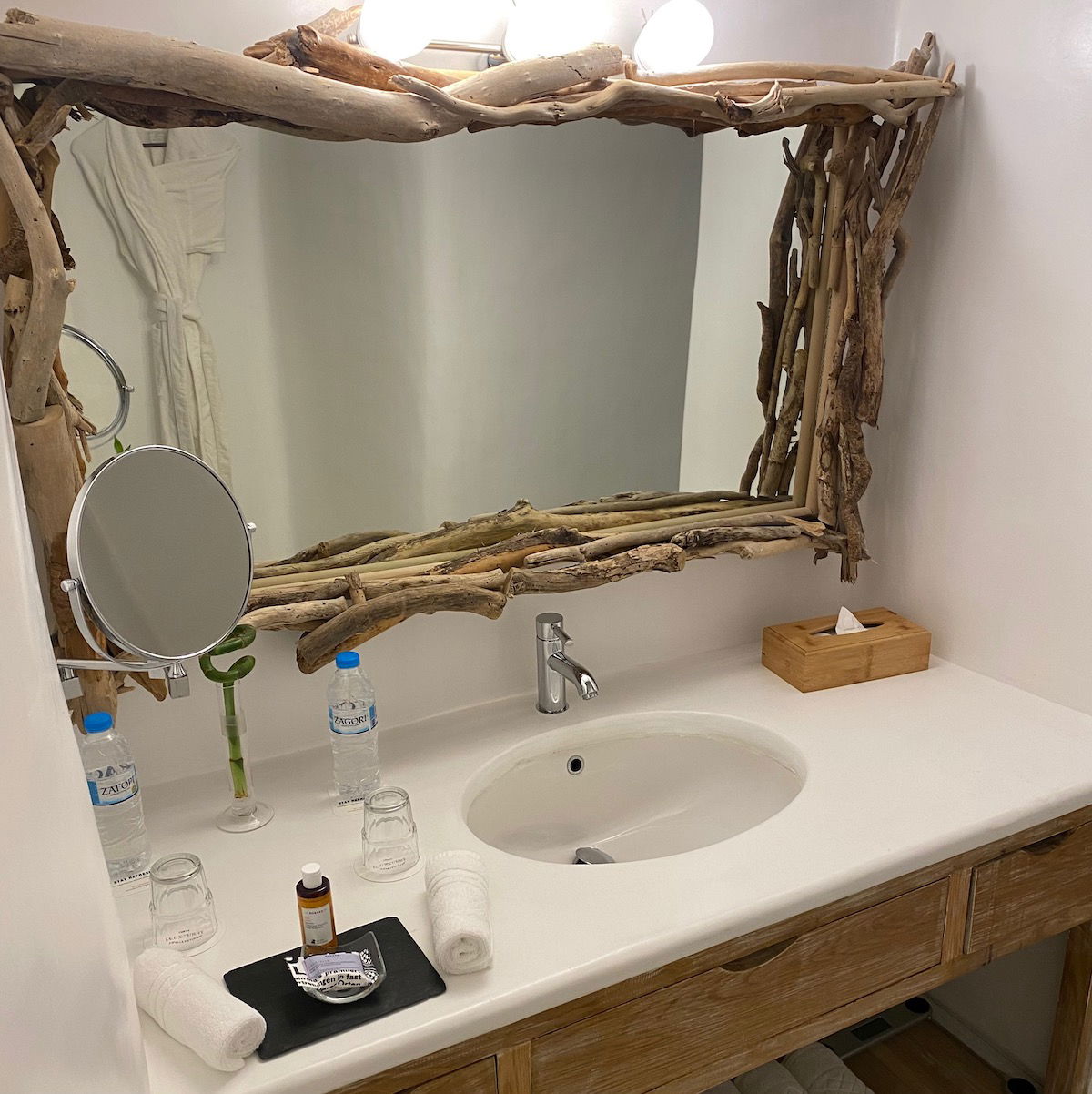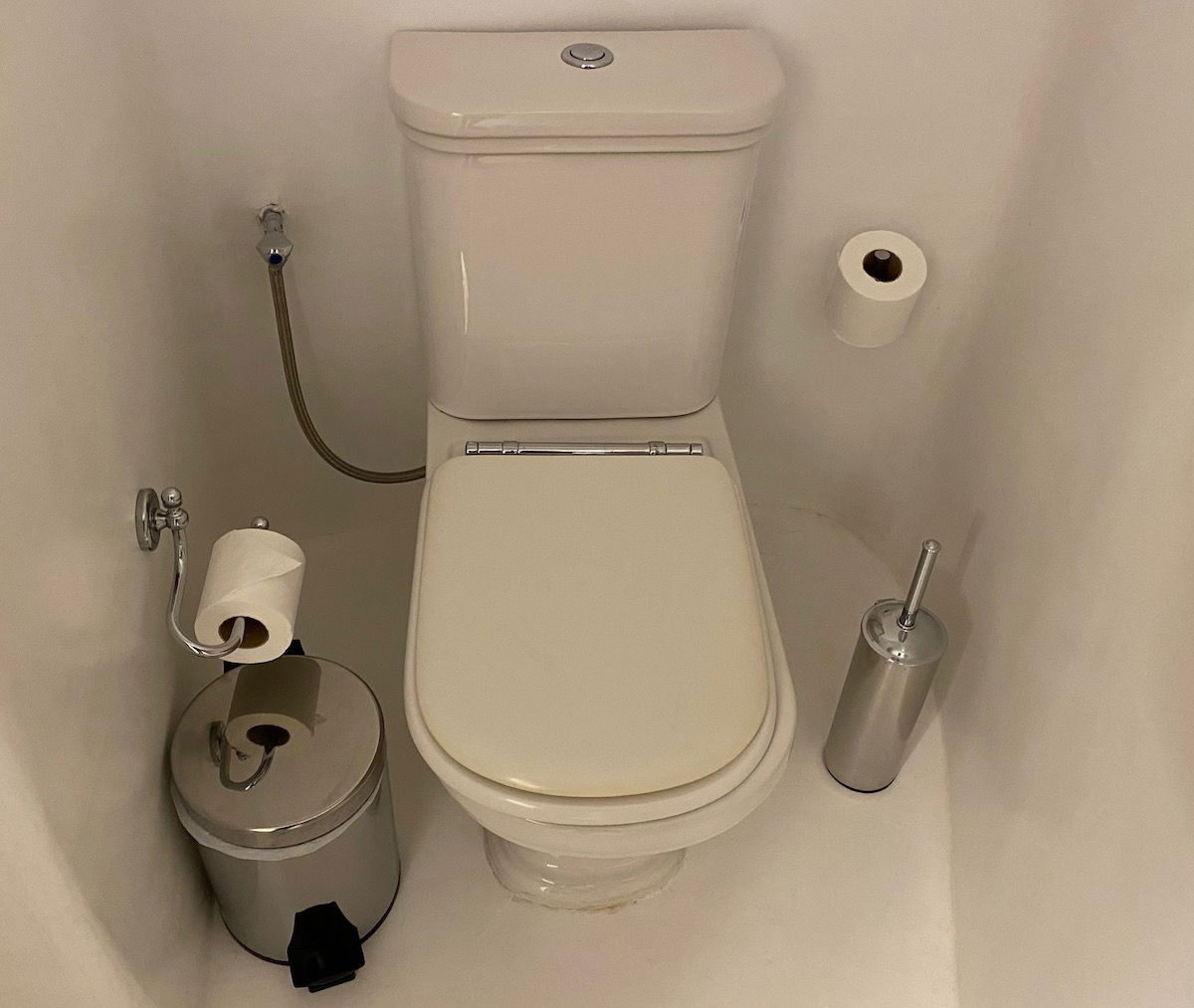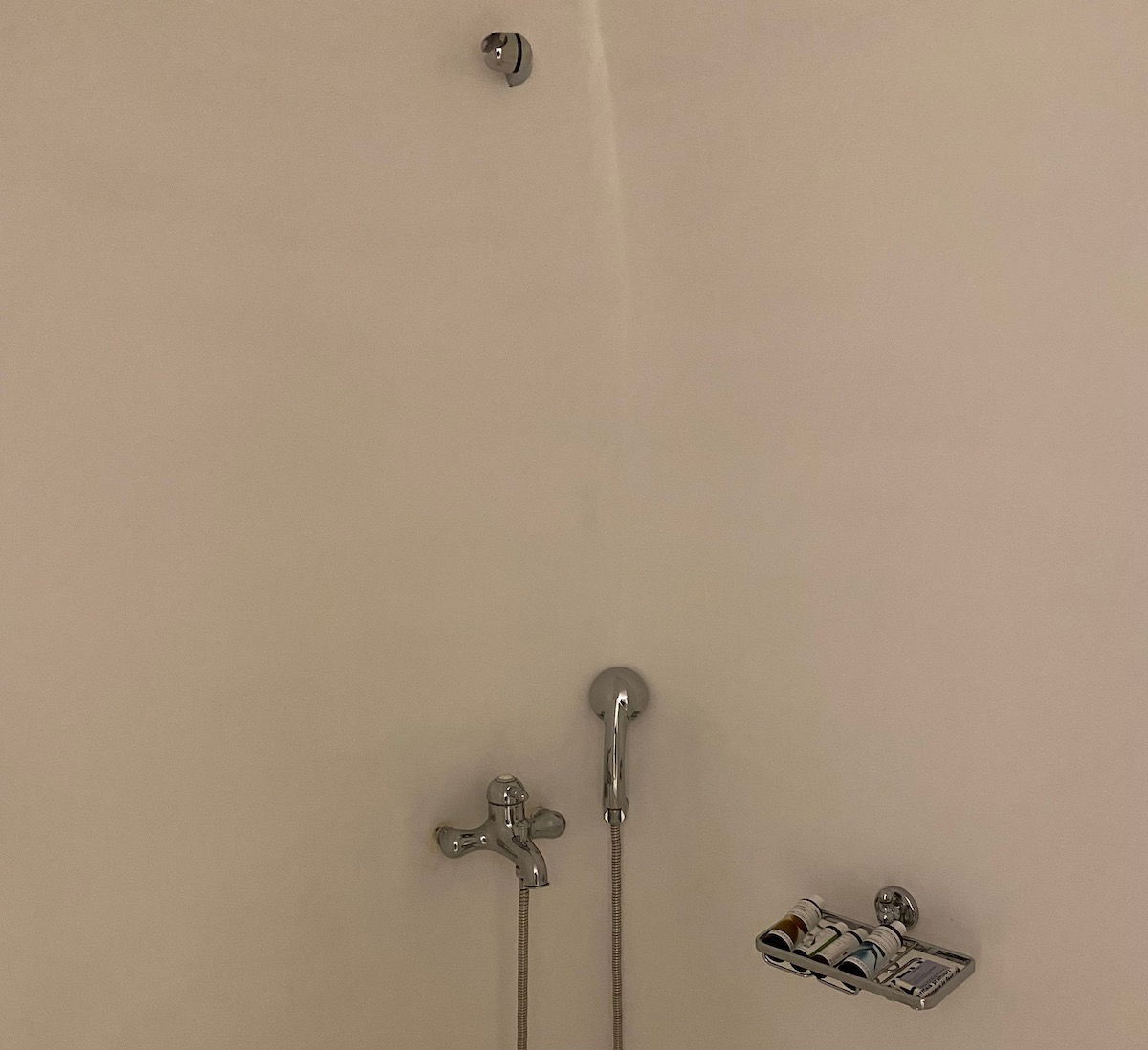 I stayed in the second room (which was connected to the other room by a set of double doors). It was a bit smaller, but otherwise similarly appointed. Near the entrance was a couch and a TV, and then in the back was the bedroom area.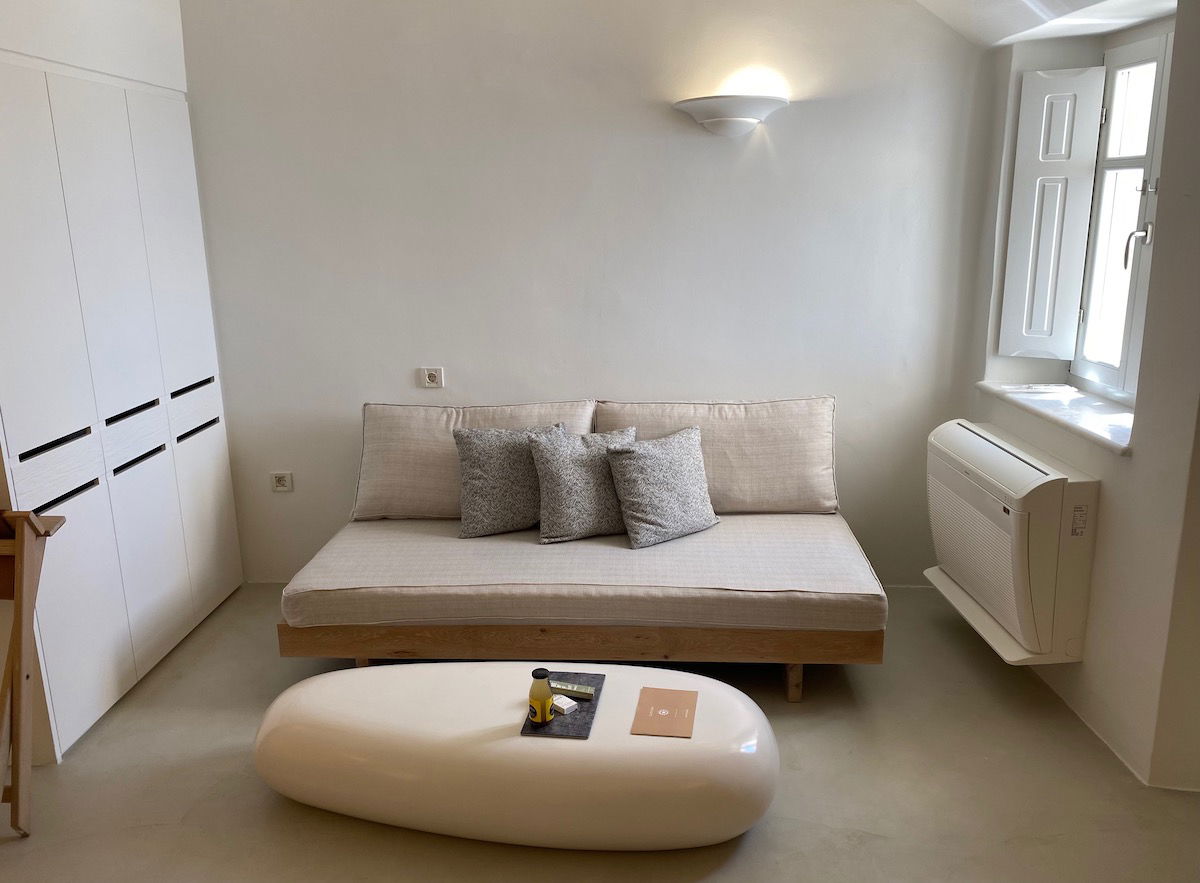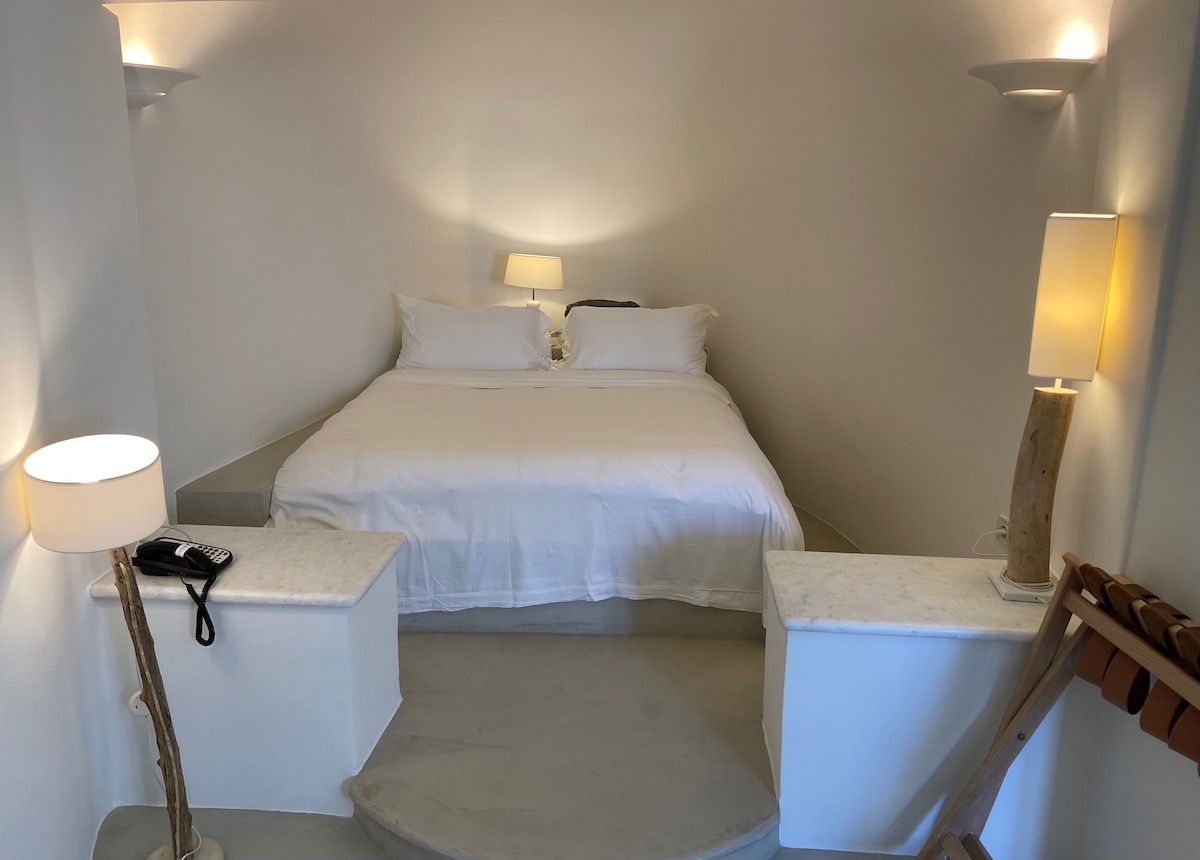 There was another full bathroom in this room, similar to the first.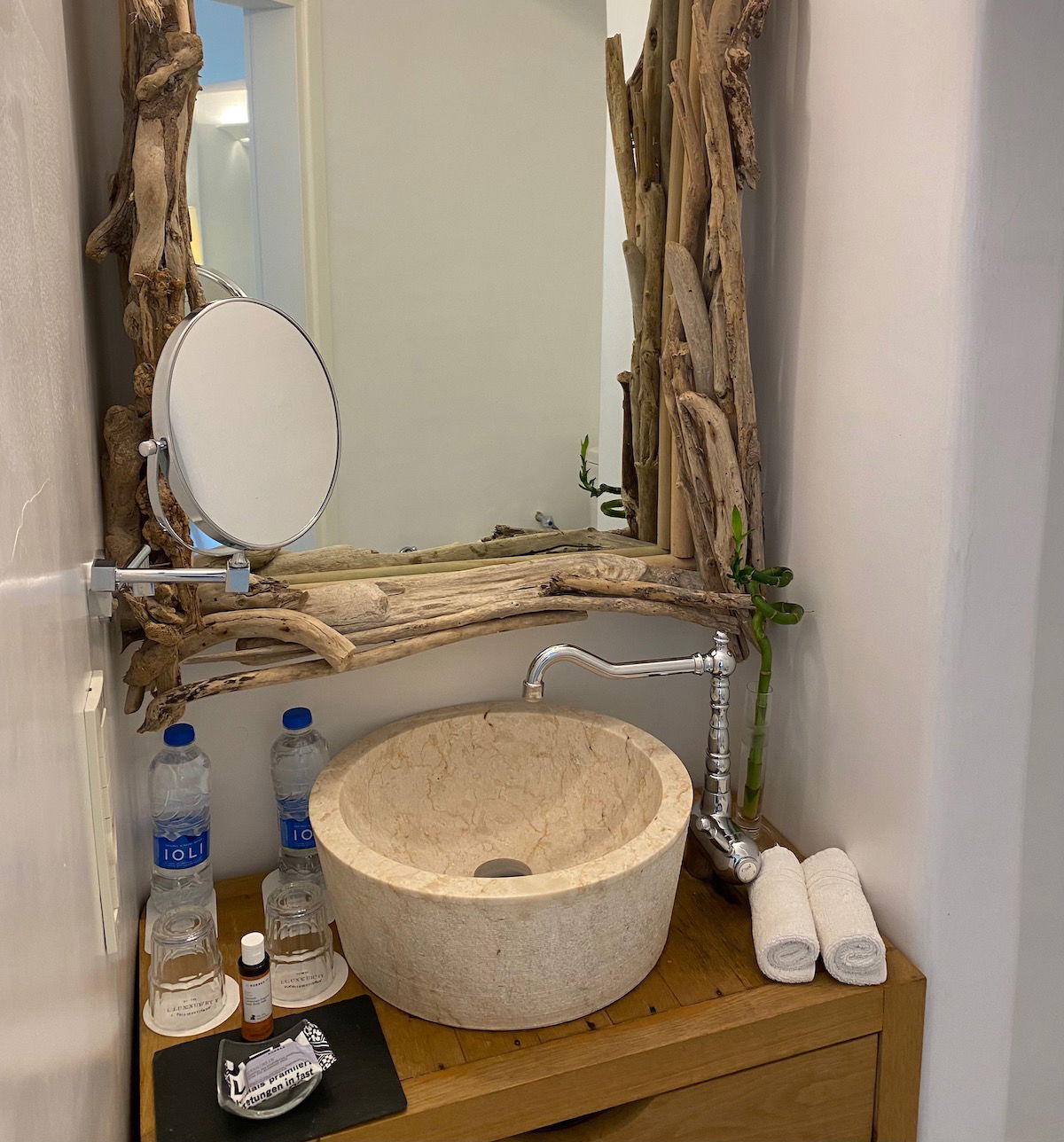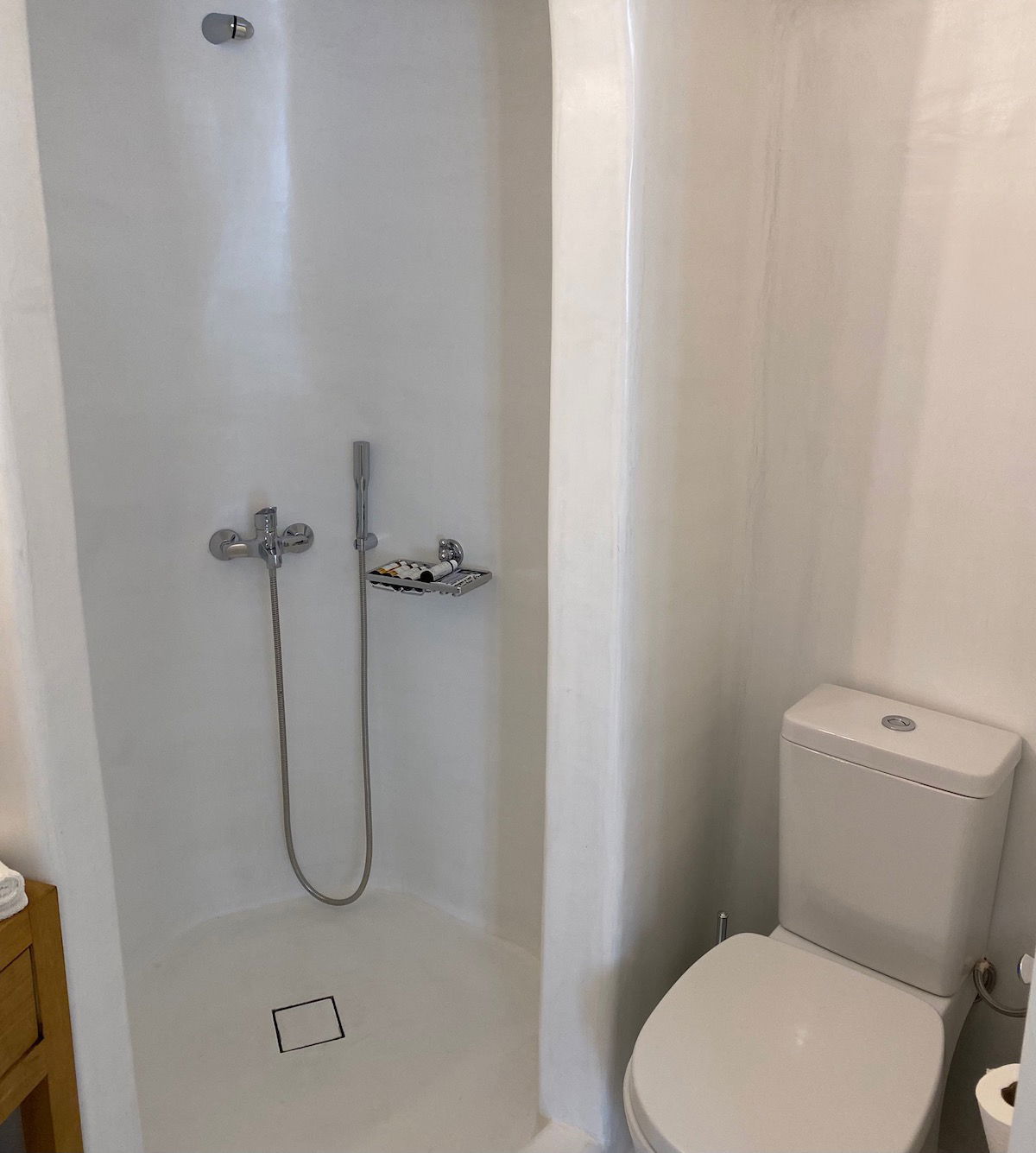 There was a welcome amenity consisting of a couple of snack bars and some juice, as well as a fruit plate (which was included through our Marriott STARS rate).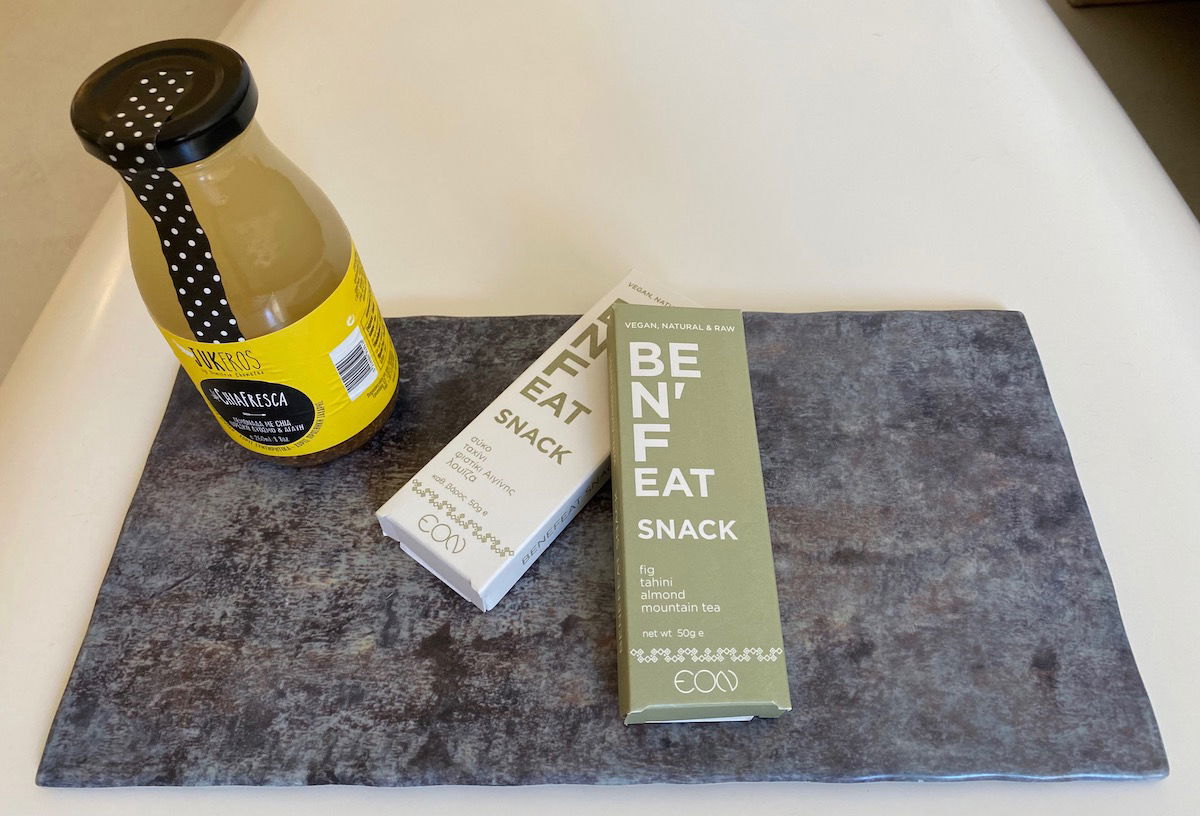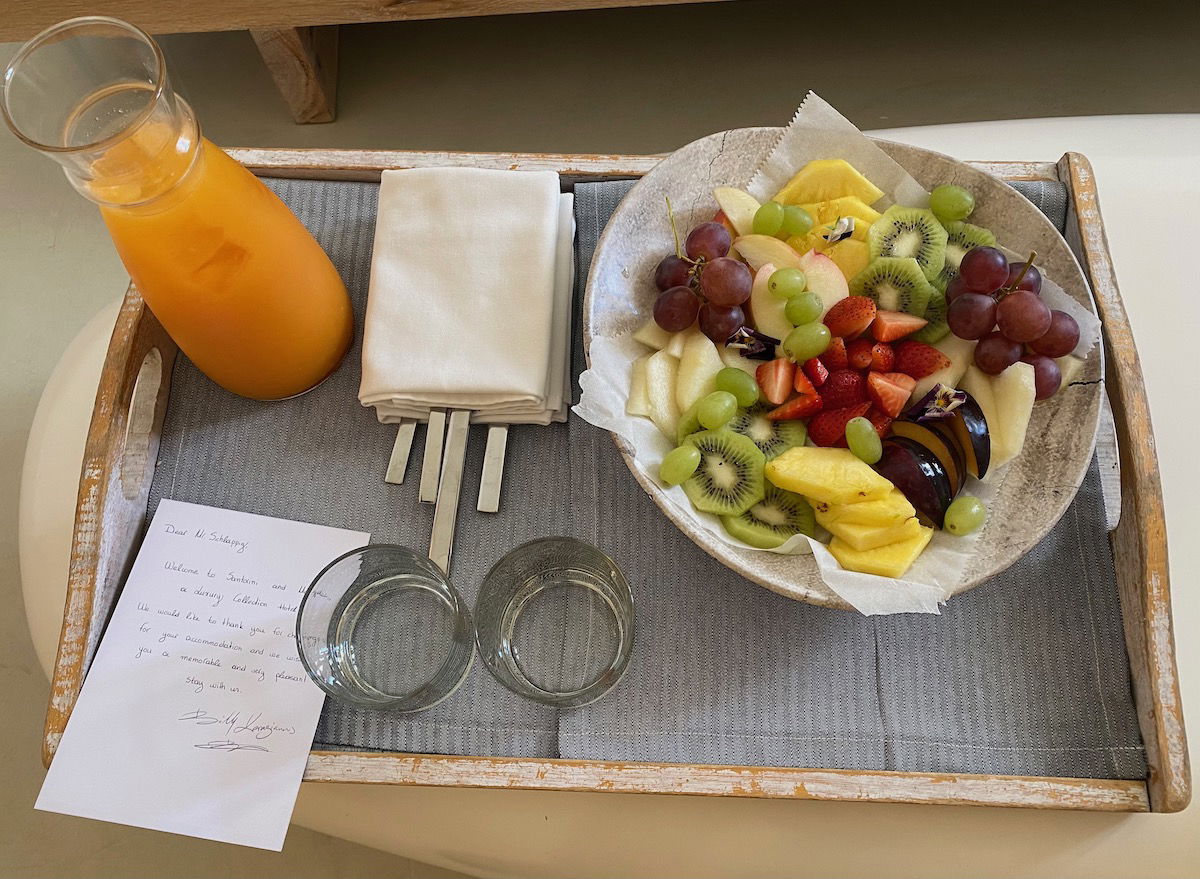 We ended up having room service lunch, since we had an 85€ hotel credit to spend (for booking through Marriott STARS), and we were also exhausted after our ferry ride. What a view from which to enjoy a meal!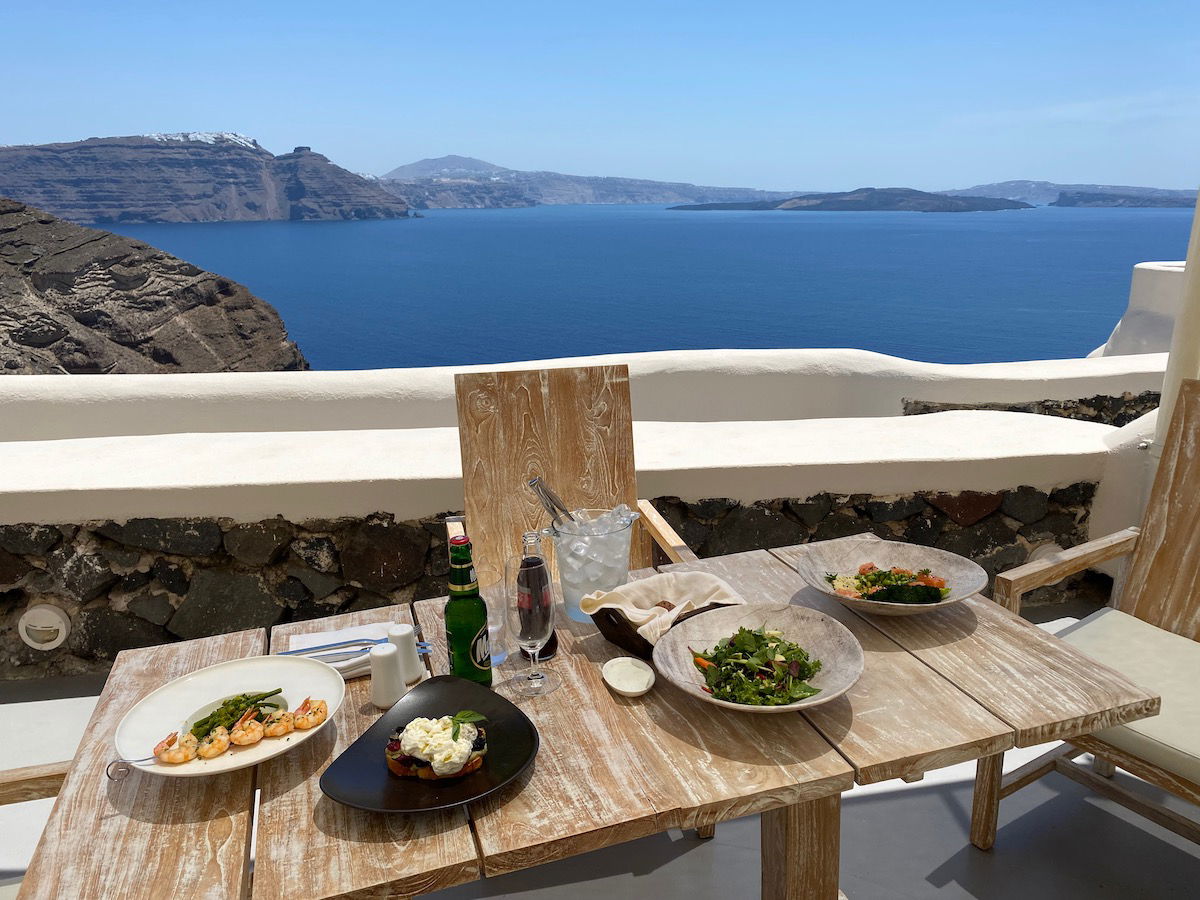 In the morning we had a delicious breakfast. Greece probably has my favorite breakfasts in the world — I love how they often don't have buffets, and I love the variety of food and drinks. We were brought a bread and pastry basket when we got to the table, and could then order as much as we wanted from the menu.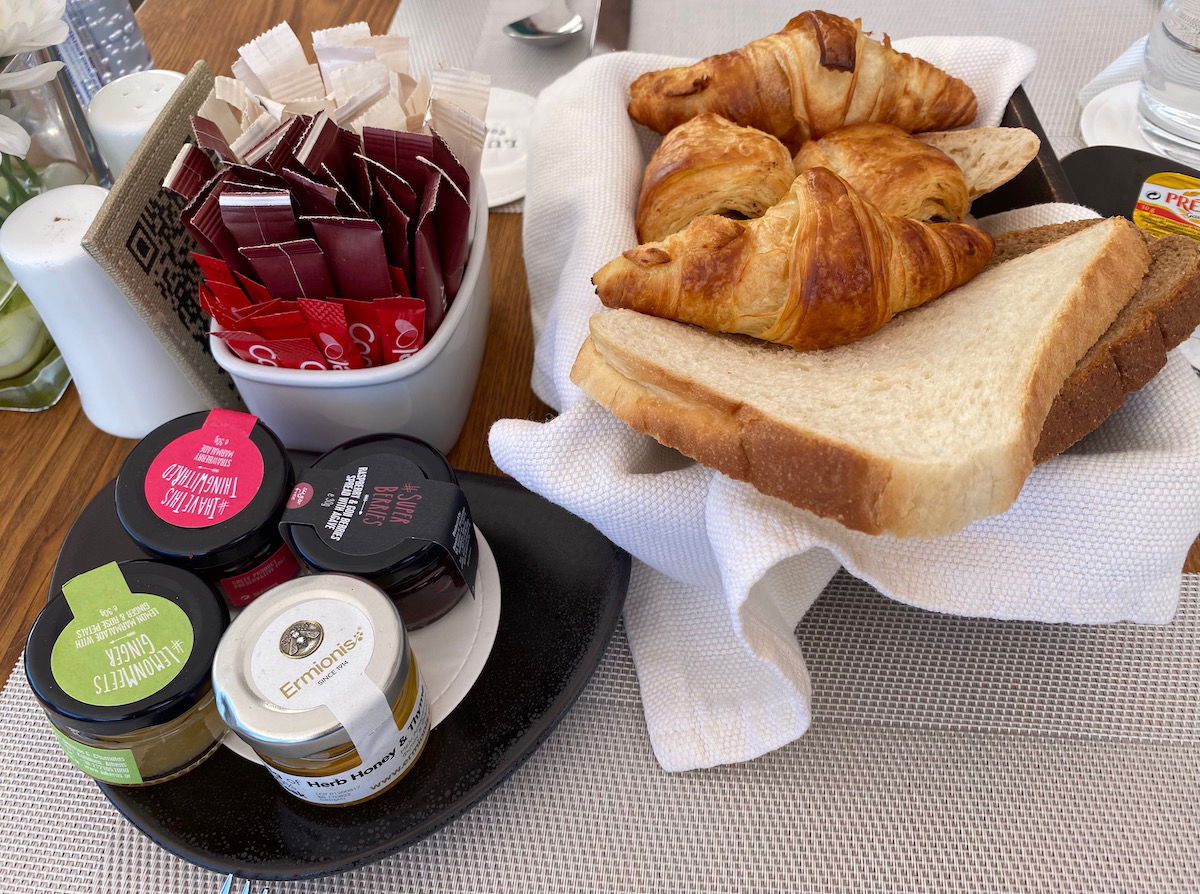 Below are some pictures of what we enjoyed.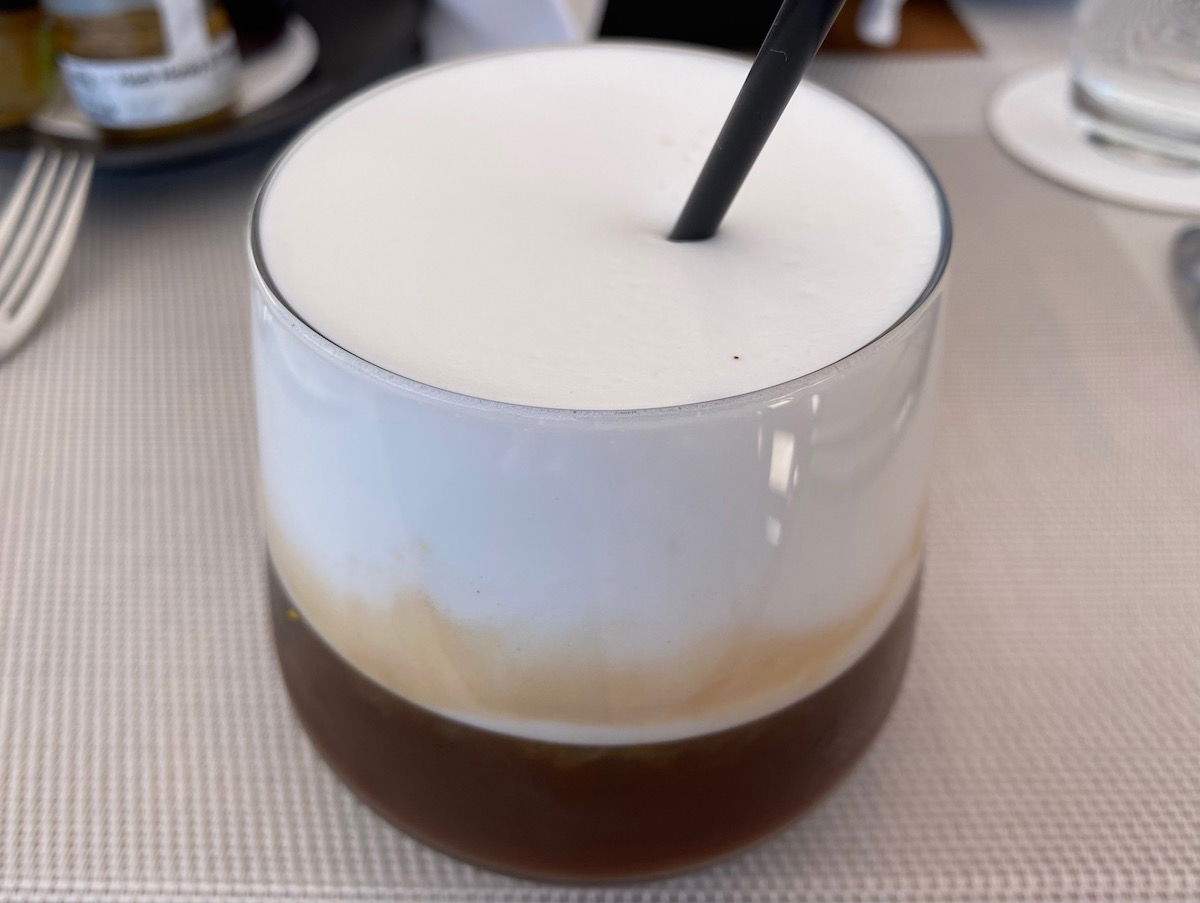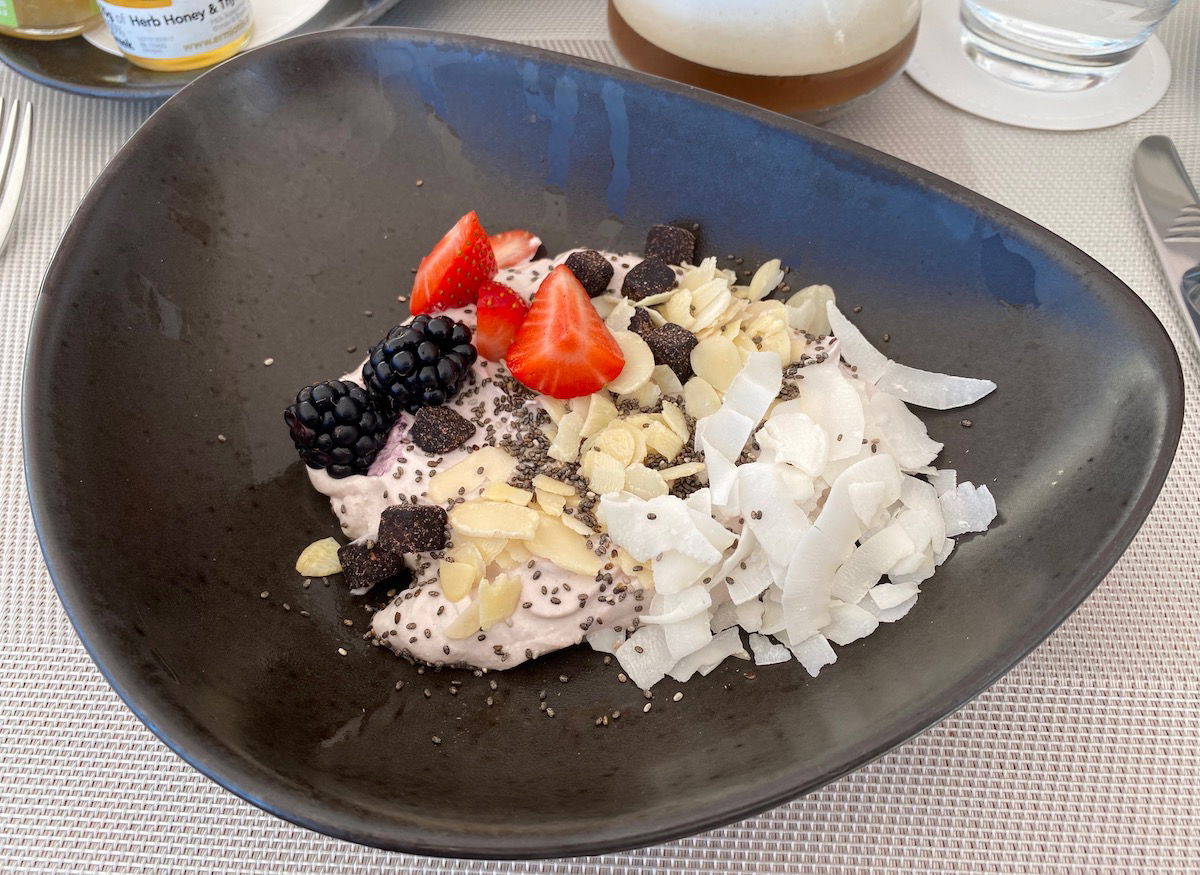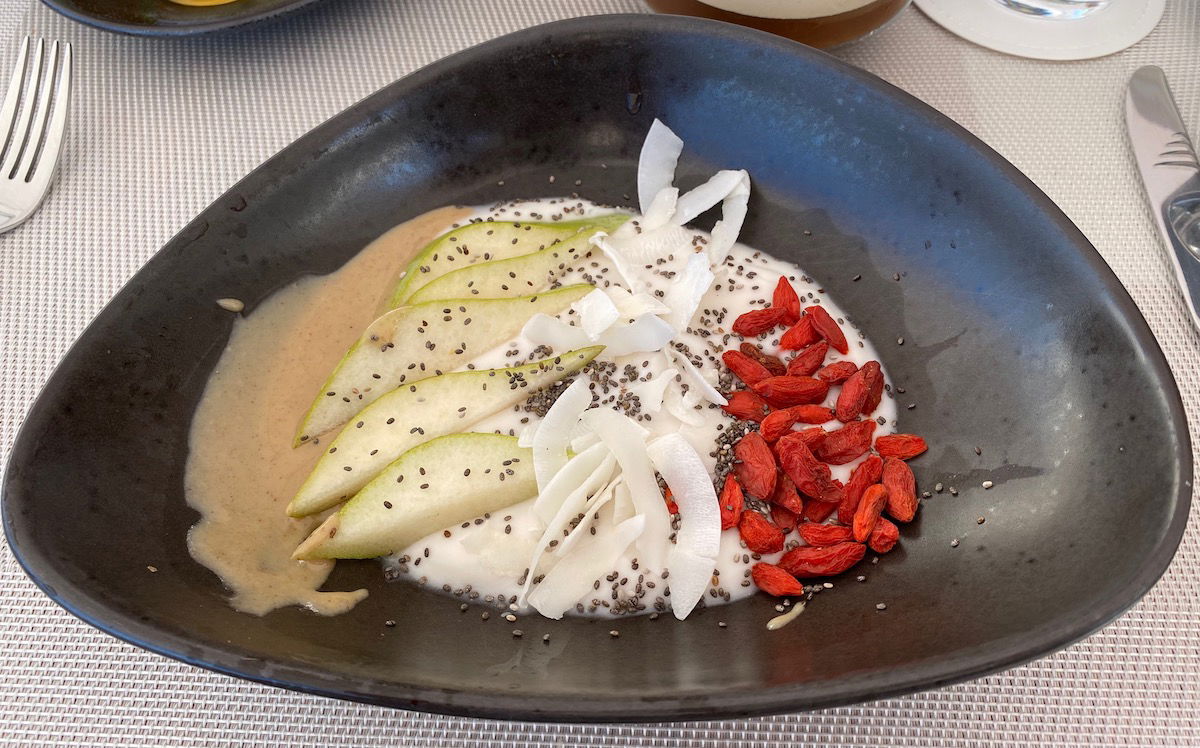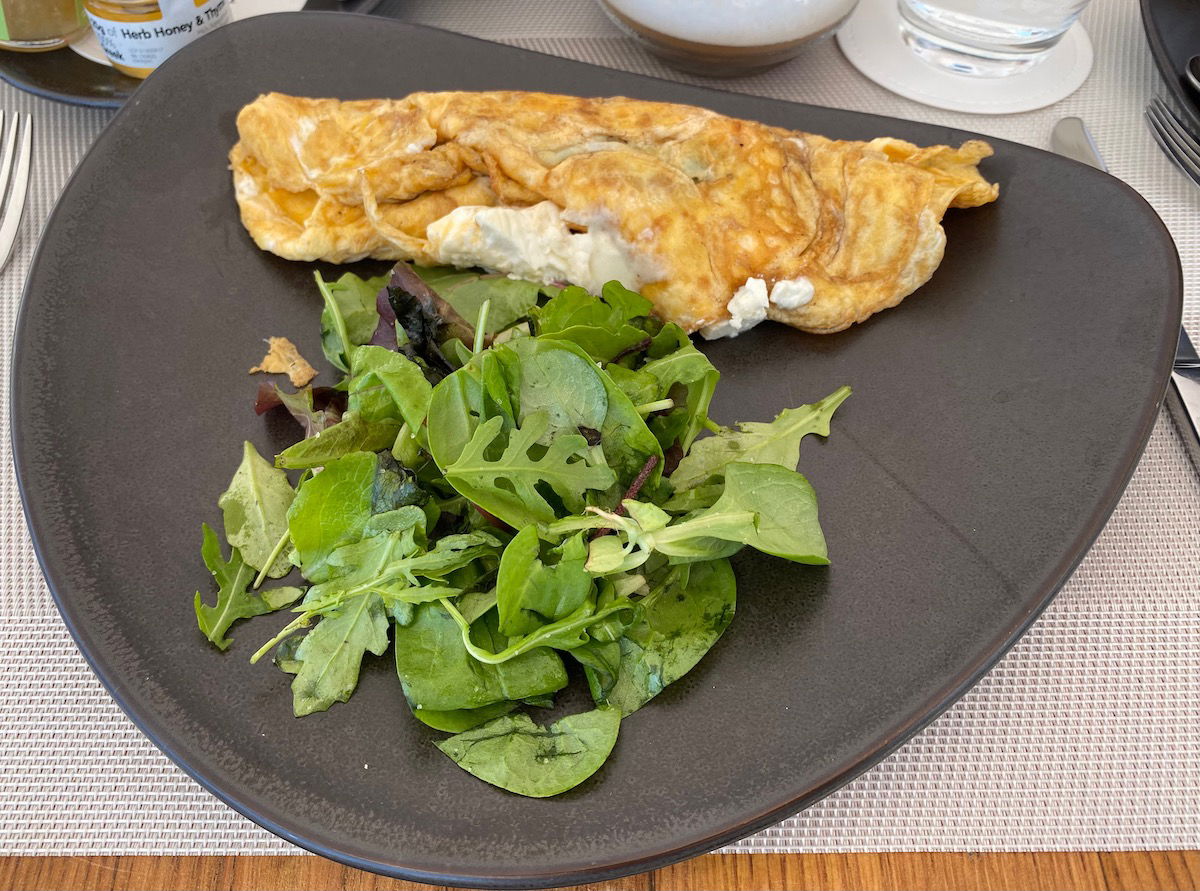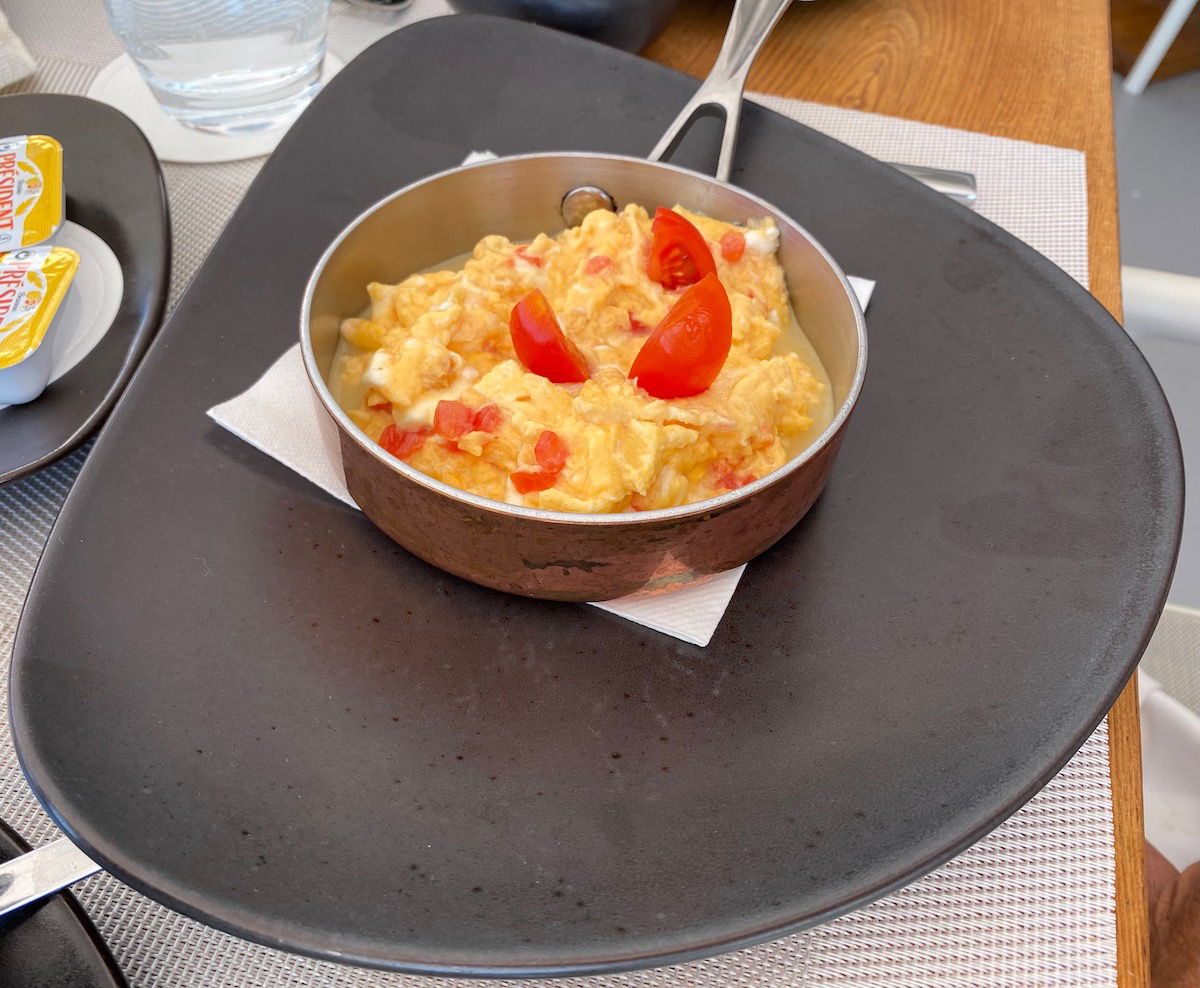 We checked out midday, and headed over to Canaves Oia Epitome… OMG, what a hotel!
Bottom line
We had quite an interesting experience for our first night in Santorini. We had booked Vedema, but the day before arrival were informed that the hotel hadn't yet opened for the season. So we were rebooked at Mystique Santorini, the Marriott Luxury Collection sister property.
While I found the way that Vedema went about this to be quite unprofessional, in the end this worked out well for us. My mom got to enjoy staying in the cliffs of Oia for one night, and we did it at quite a discount as well.
Would you have been happy with the way this was handled?