For our first four nights in Greece we stayed at the 102-room Domes Zeen Chania, a Marriott Luxury Collection property on the island of Crete. In this post I wanted to review the property in detail.
Long story short, despite some hiccups with our stay, I'd recommend staying here. Not because it's individually the greatest hotel in the world, but because it's one of the best hotels in a beautiful area, and the property has a lot of redeeming qualities.
How & why I booked Domes Zeen Chania
We spent a week in Crete, which I adored. Crete is the biggest island in Greece, and we decided that it made the most sense to split our time between two parts of the island. For the first portion of our stay we visited Chania, located in the northwest of Crete), and then we spent the balance of our time in the Heraklion area (in the northeast of Crete).
In Chania there are two best points hotel options, both belonging to Marriott Bonvoy — there's Domes Zeen Chania, a Marriott Luxury Collection property, and then there's Domes Noruz Chania, a Marriott Autograph Collection property. We selected the former, and were ultimately happy with that decision.
When it came to booking our room, I decided to just outright book a two bedroom villa, since I was traveling with my mom and her partner, and we valued being able to have one area to hang out in. For context, base rooms (which I would have had to book two of) cost around $300 each, while the two bedroom villa cost $700.
Realistically the difference wasn't that much (compared to booking two standard rooms), and on top of that the two bedroom villa came with some extra inclusions, like breakfast and dinner each day, access to the Haute Living Room (including food & drinks), 10,000 bonus Bonvoy points, a welcome bottle of wine and fruit plate, and more.
While this wasn't cheap, ultimately I thought it was fair for what we were getting.
As a point of comparison, Domes Zeen Chania is a Category 7 Marriott Bonvoy property, meaning a free night redemption costs anywhere from 50,000 to 70,000 points per night, depending on whether it's off-peak, standard, or peak.
Domes Zeen Chania's interesting history
This hotel first opened back in 2018, and was known as Casa Cook Chania. The hotel was owned by Thomas Cook, the European vacation package company, which owned both hotels and airlines. Thomas Cook went out of business in 2019. At that point the hotel was rebranded as a Marriott Luxury Collection, which is what it opened as for the summer 2020 season.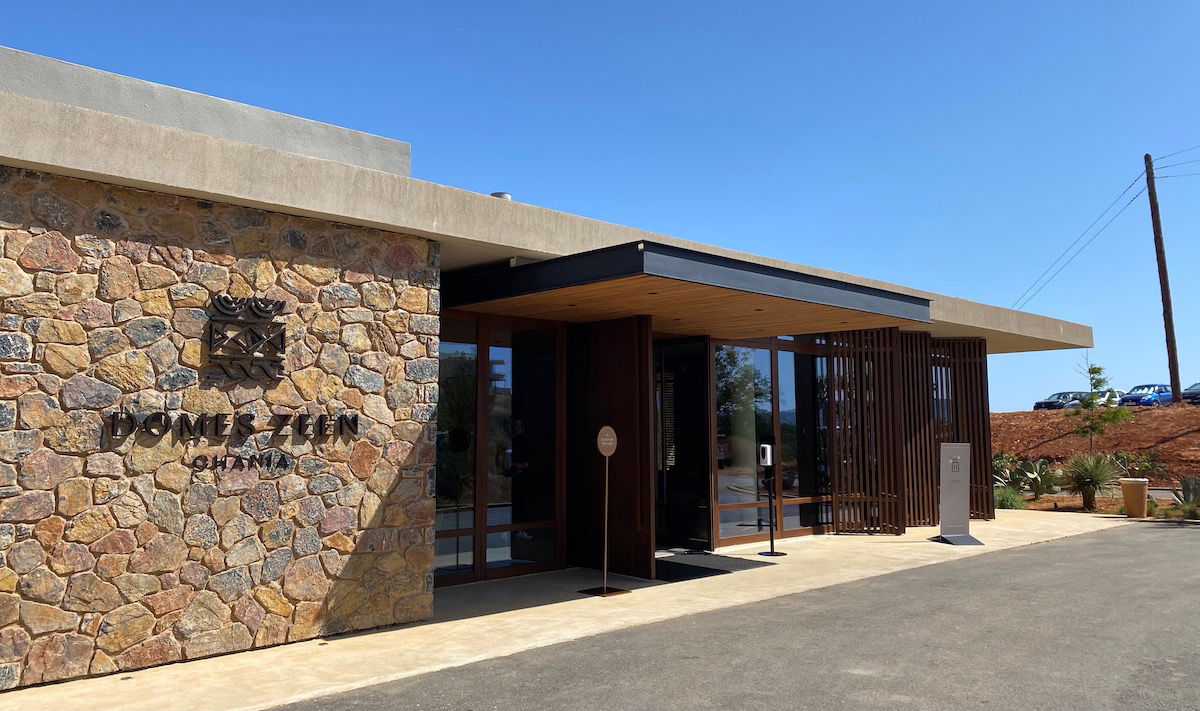 This made me confused and skeptical going into our hotel stay. I was confused because the pictures online made the hotel look very nice. At the same time, I didn't necessarily have very high hopes of a hotel that was built specifically for package vacation holidays. And while this was one of Thomas Cook's higher end properties, Thomas Cook wasn't exactly known for luxury.
Domes Zeen Chania location
Domes Zeen Chania has a fantastic location. It's really close to the city of Chania, and just a short 10-minute drive from the old port and old town, which are popular with visitors.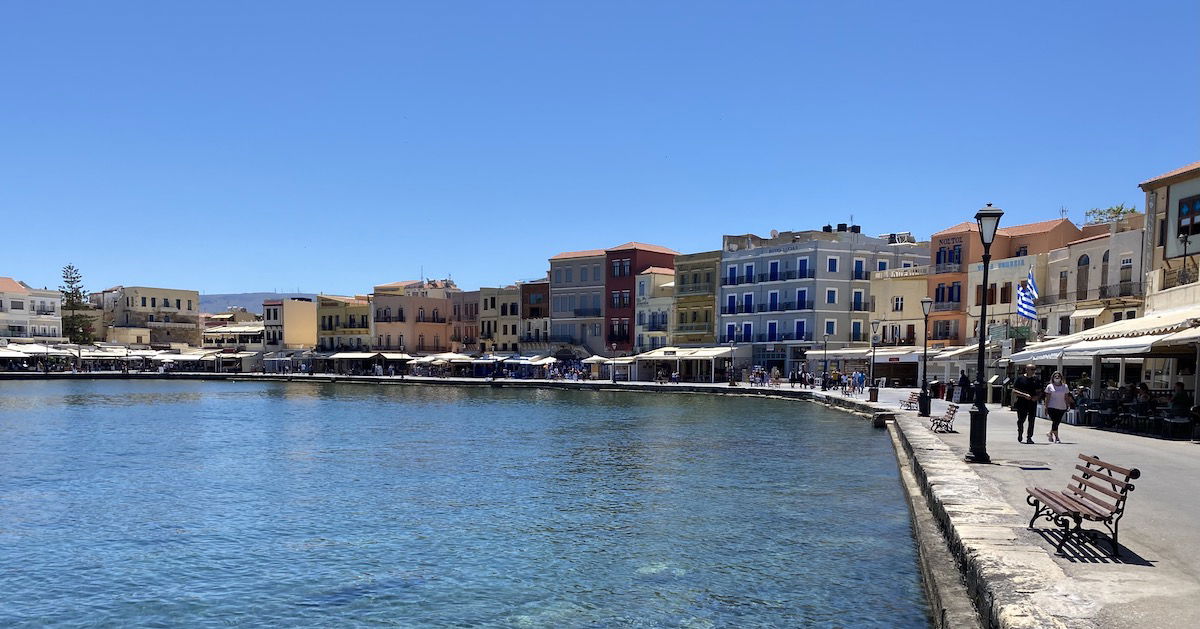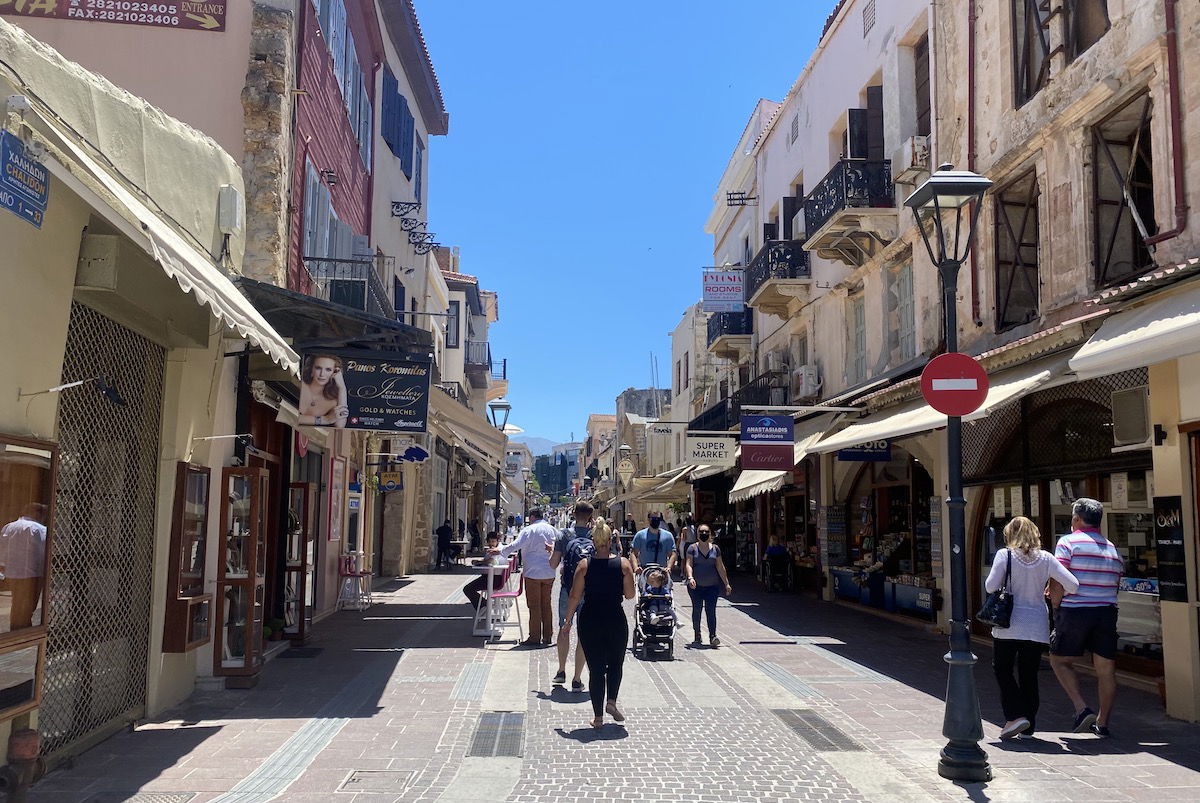 You'll definitely want a car in Crete — driving is easy, and parking at the hotel is free. This gives you the freedom to explore the area, from visiting wineries nearby, to visiting the island's best beaches (like Balos and Elafonissi), to spending a day driving through the mountains.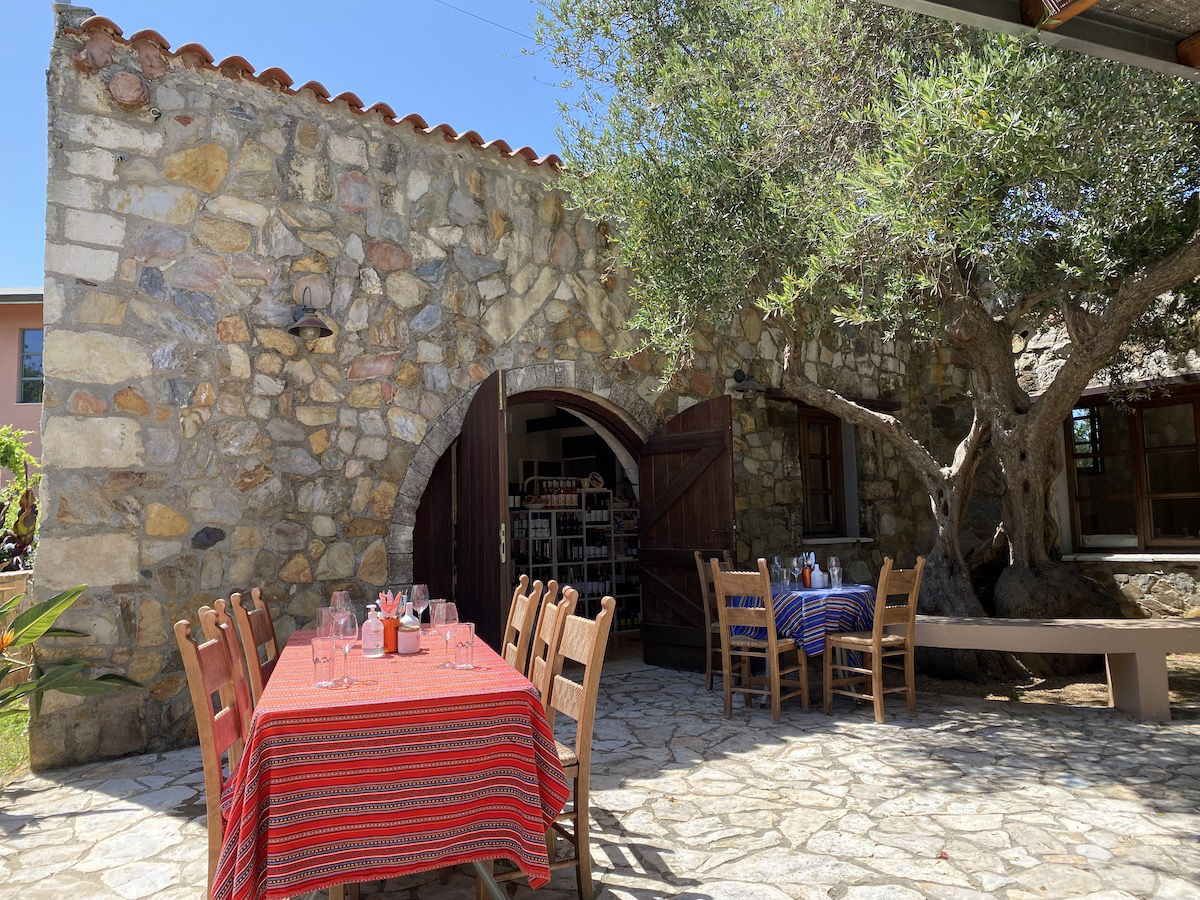 By the way, you might at first be confused when you pull up to the hotel. The one-lane road leading up to the hotel is located behind a gas station, and you might not even realize it's there. No, you're not lost when your GPS basically tells you to turn into a small street behind a gas station.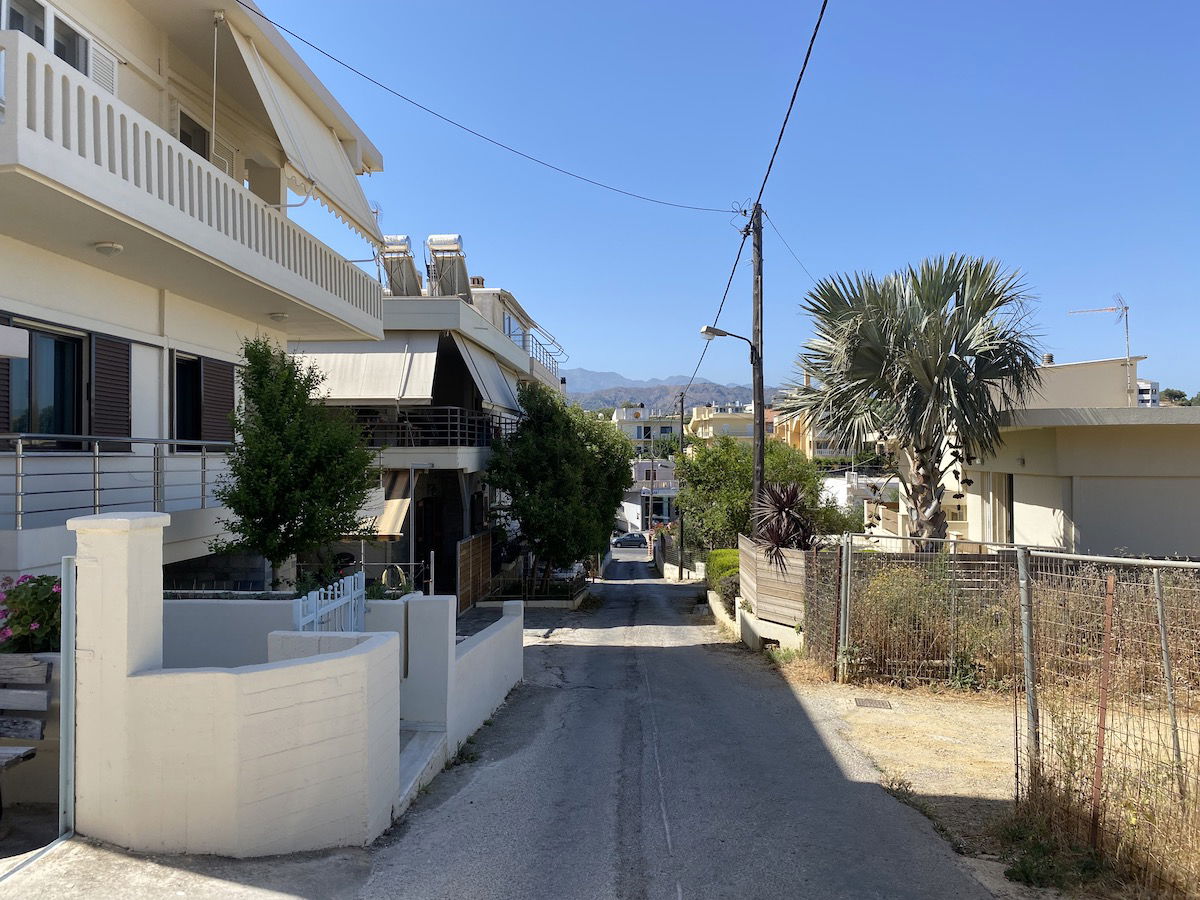 Domes Zeen Chania check-in & lobby
Even though we arrived at the hotel late at night, the check-in process was still smooth. There were several staff working, and one person offered to park our car and take our bags, while another person checked us in, while another person offered us a drink.
The lobby was cute and modern, with plenty of seating, and a generally inviting feel.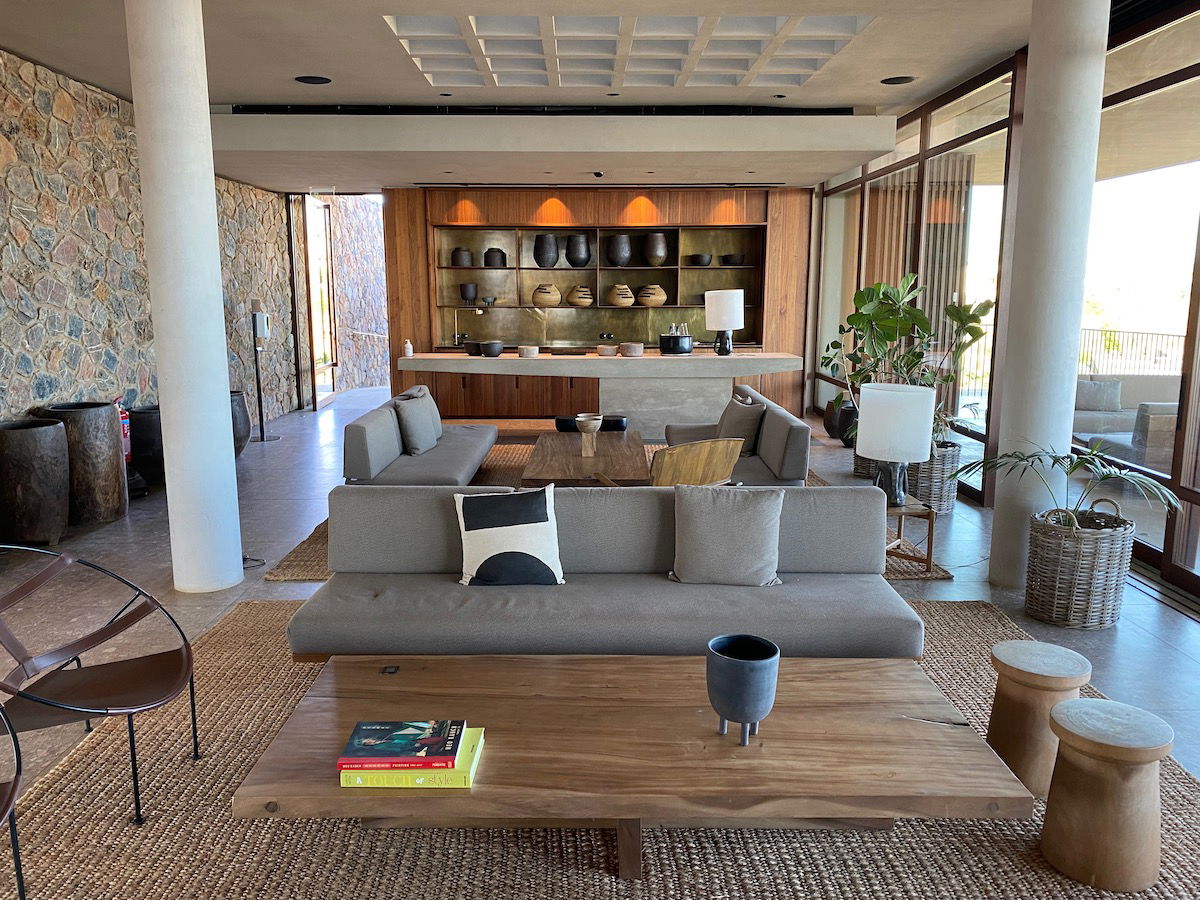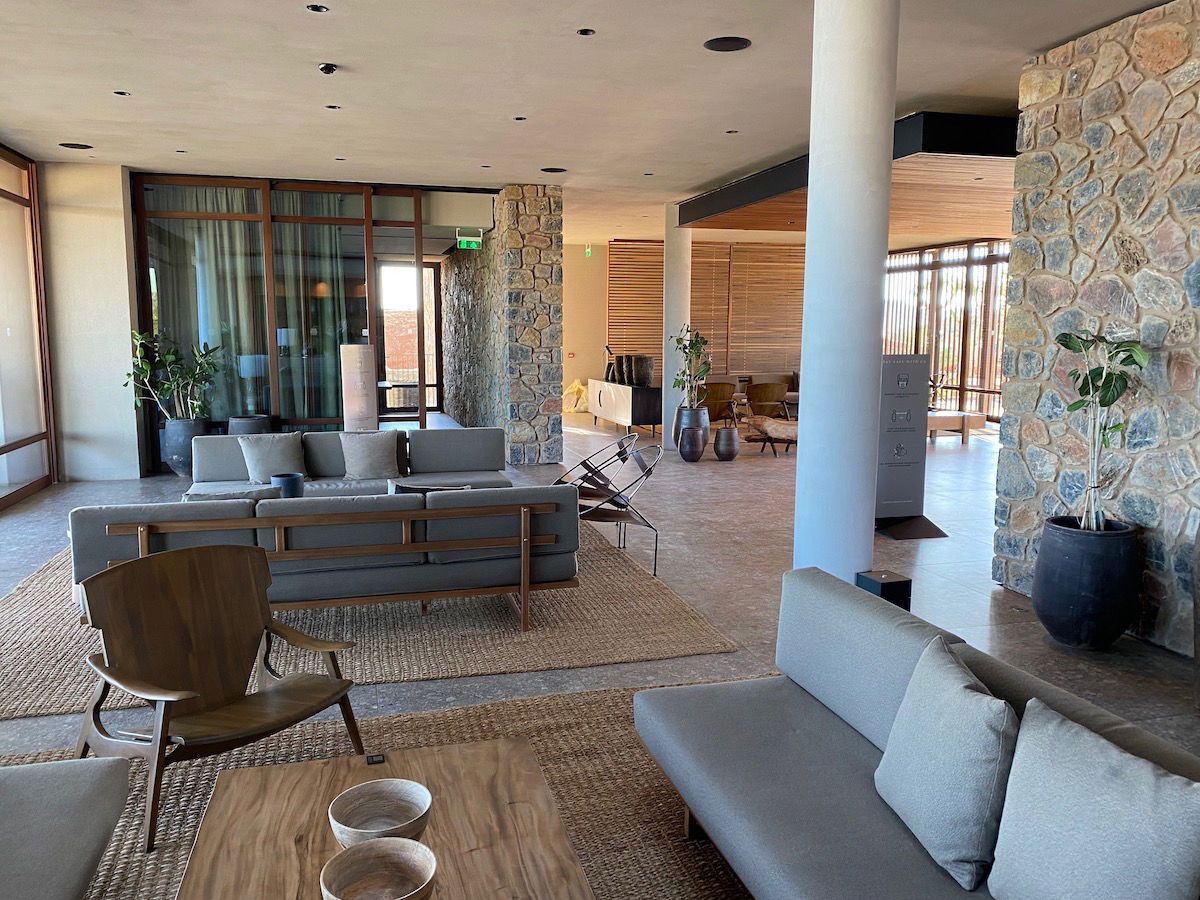 The lobby even has some outdoor seating with views of the property. This gives you a good sense of the layout of the resort — it's built into a hill, with the lobby being the highest point of the property, and the pool and restaurant being the lowest point.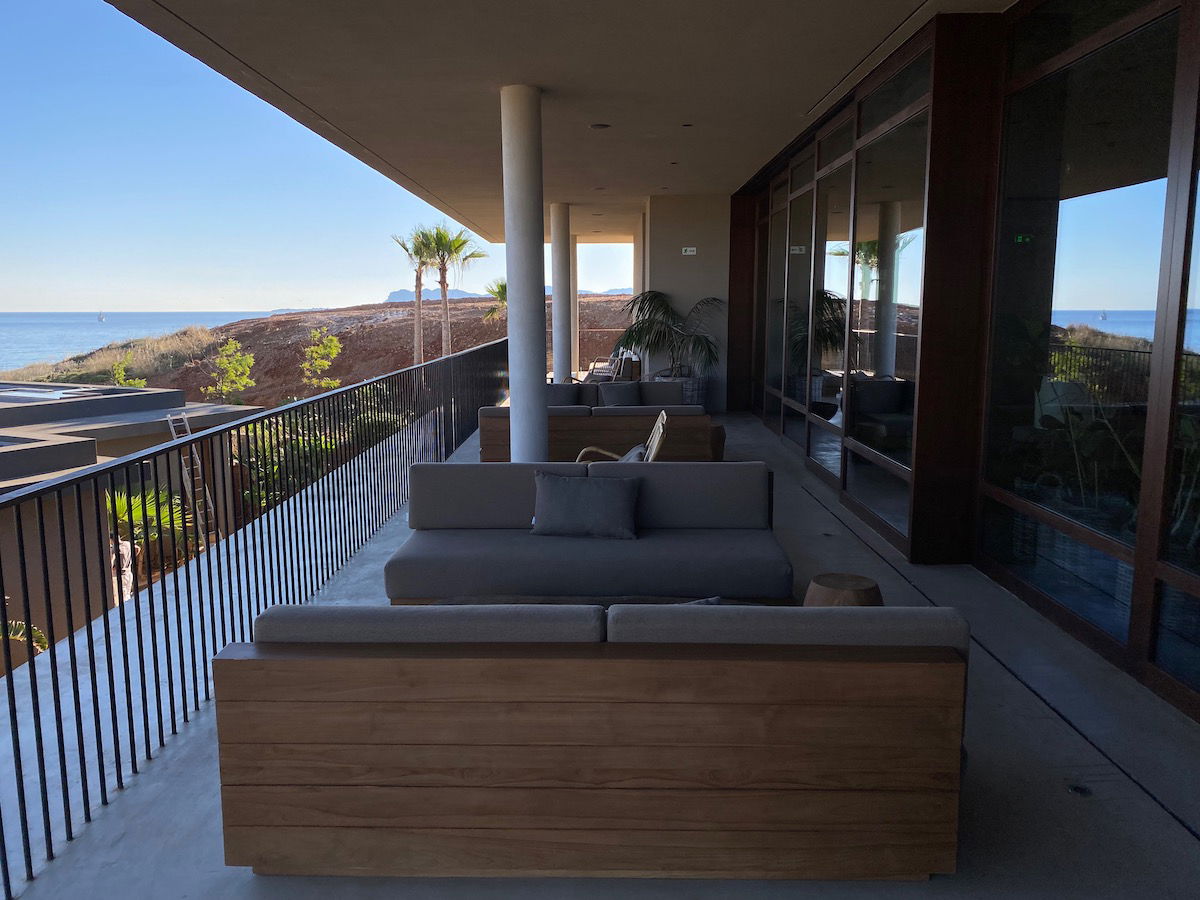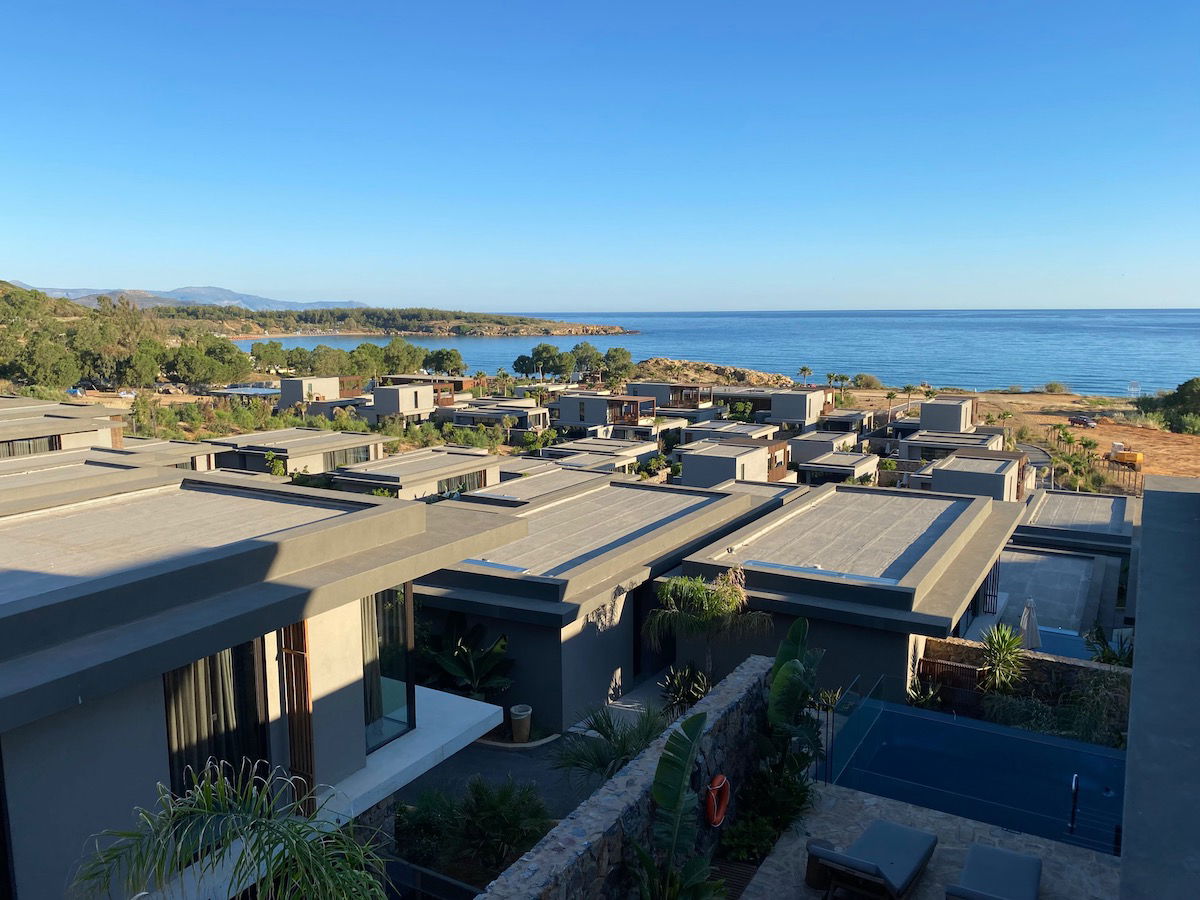 We were assigned room 1002, which was a two bedroom suite located just below the lobby. This meant that we had among the best views (since we were high up), but also meant that it was the longest walk to the pool and restaurant.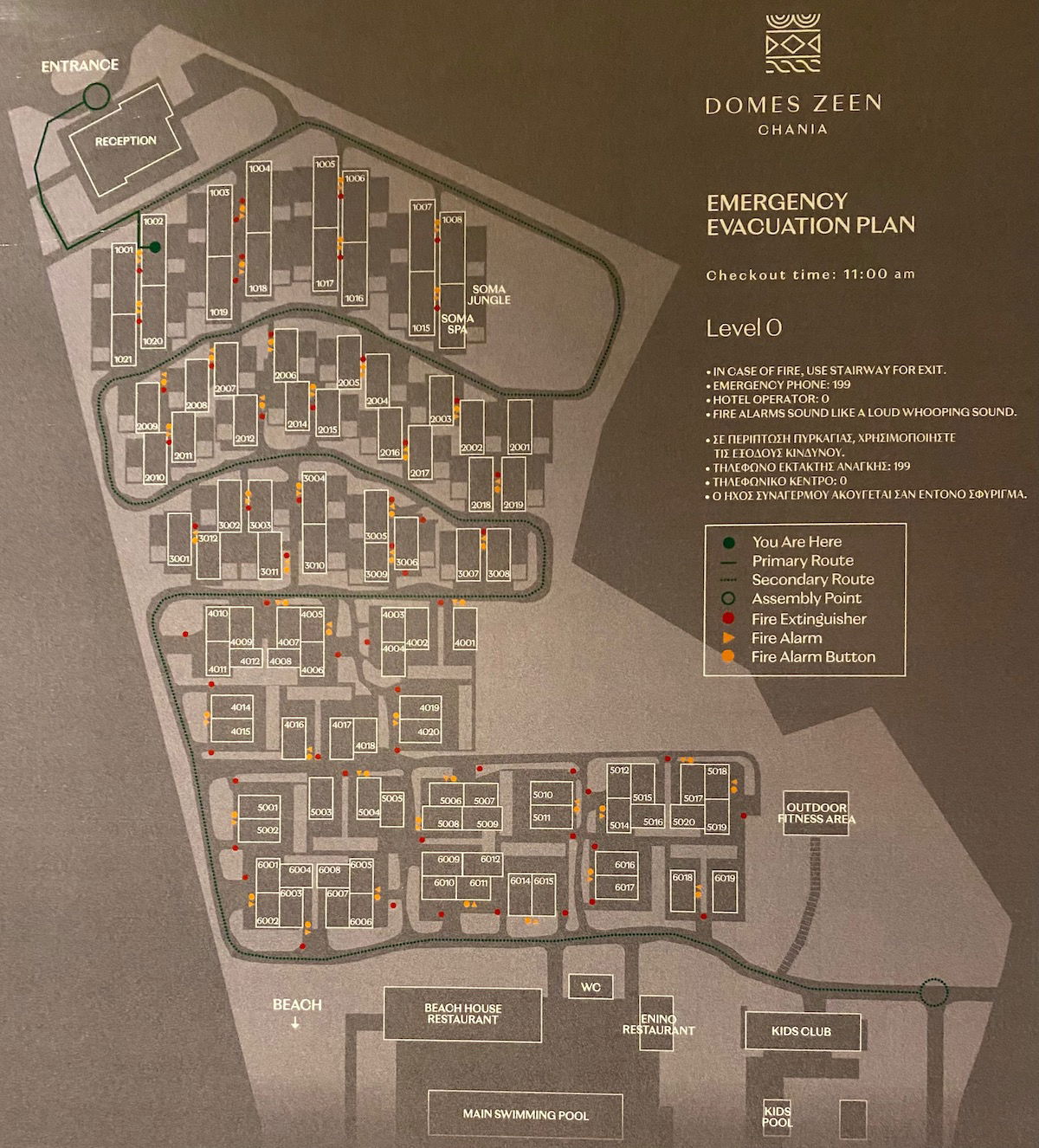 The hotel has a set of stairs from the top to the bottom, or alternatively there are winding paths, and you can be driven in a golf cart.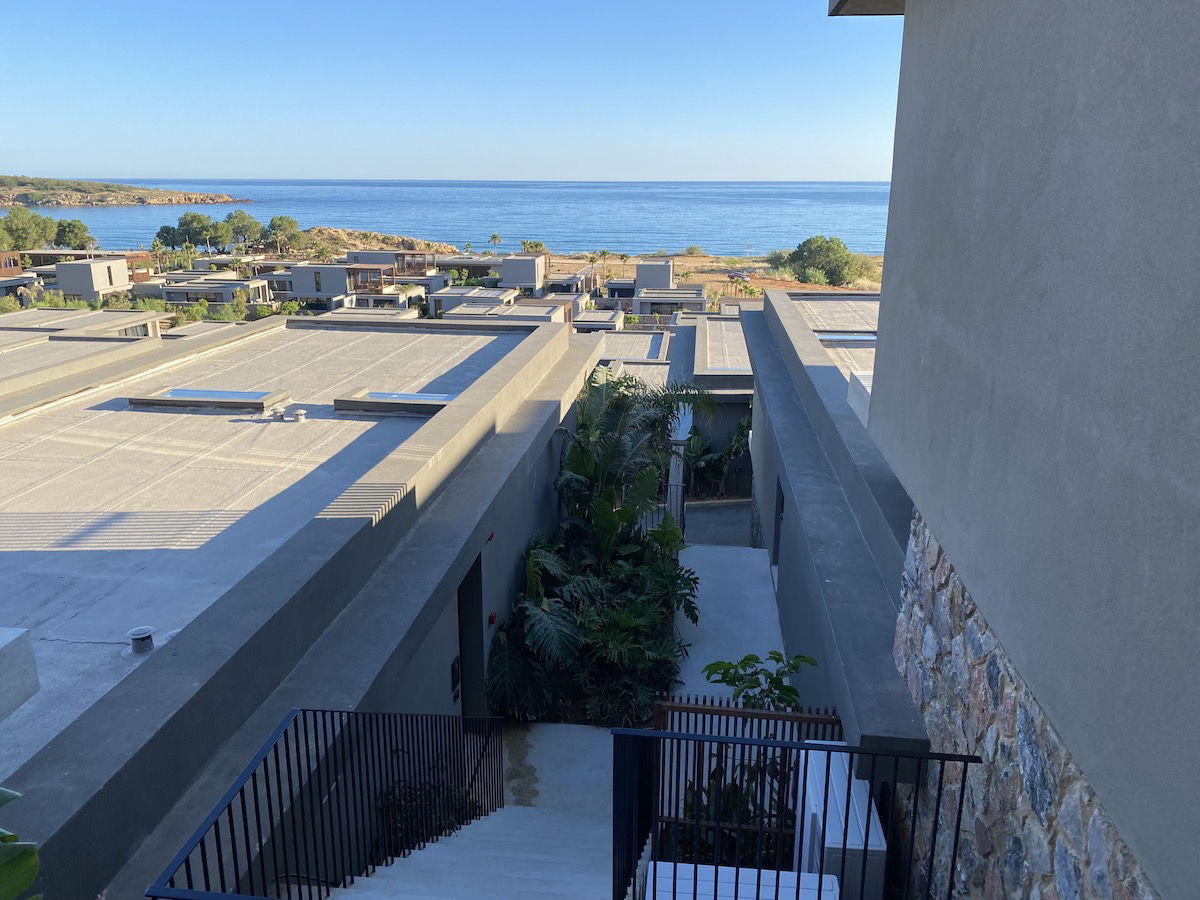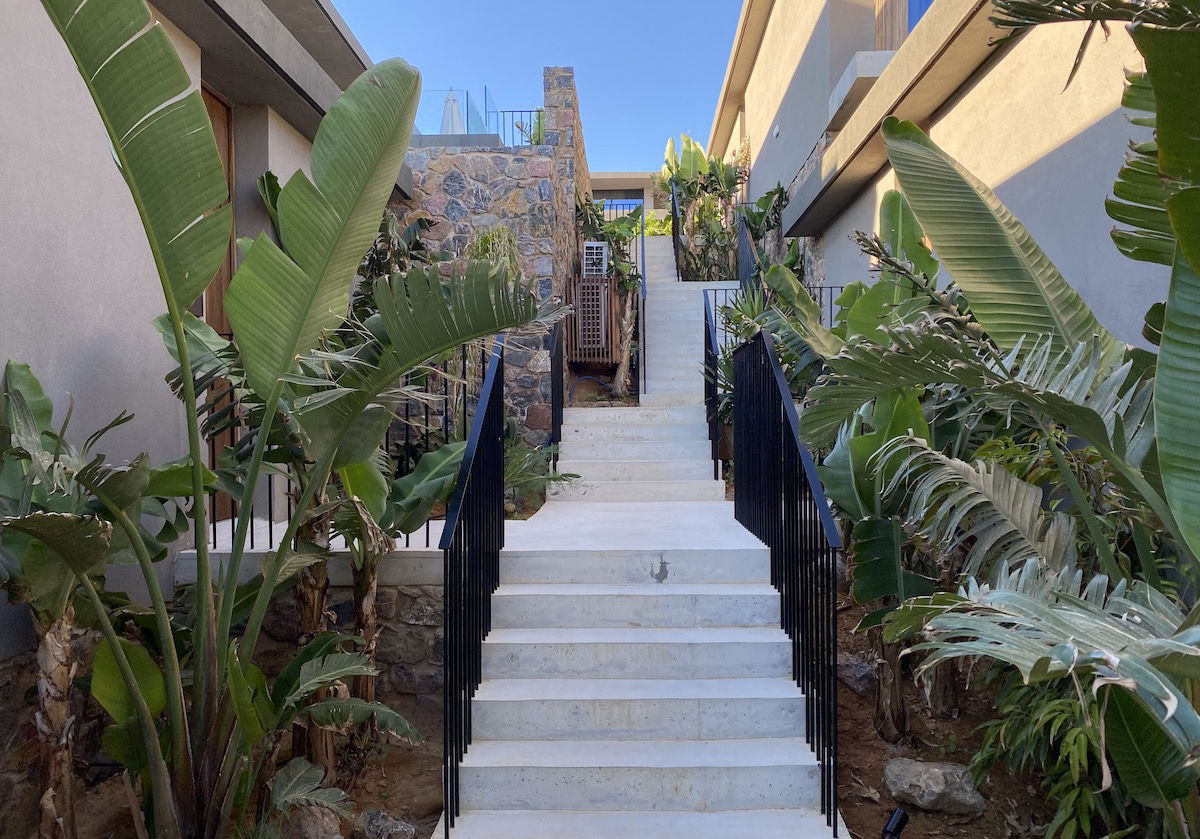 Domes Zeen Chania two bedroom family villa
Our two bedroom villa was marketed as being 699 square feet. I find that most hotels exaggerate the size of their rooms (by including outdoor space in the square footage, for example), but in this case the villa was indeed "only" 699 square feet.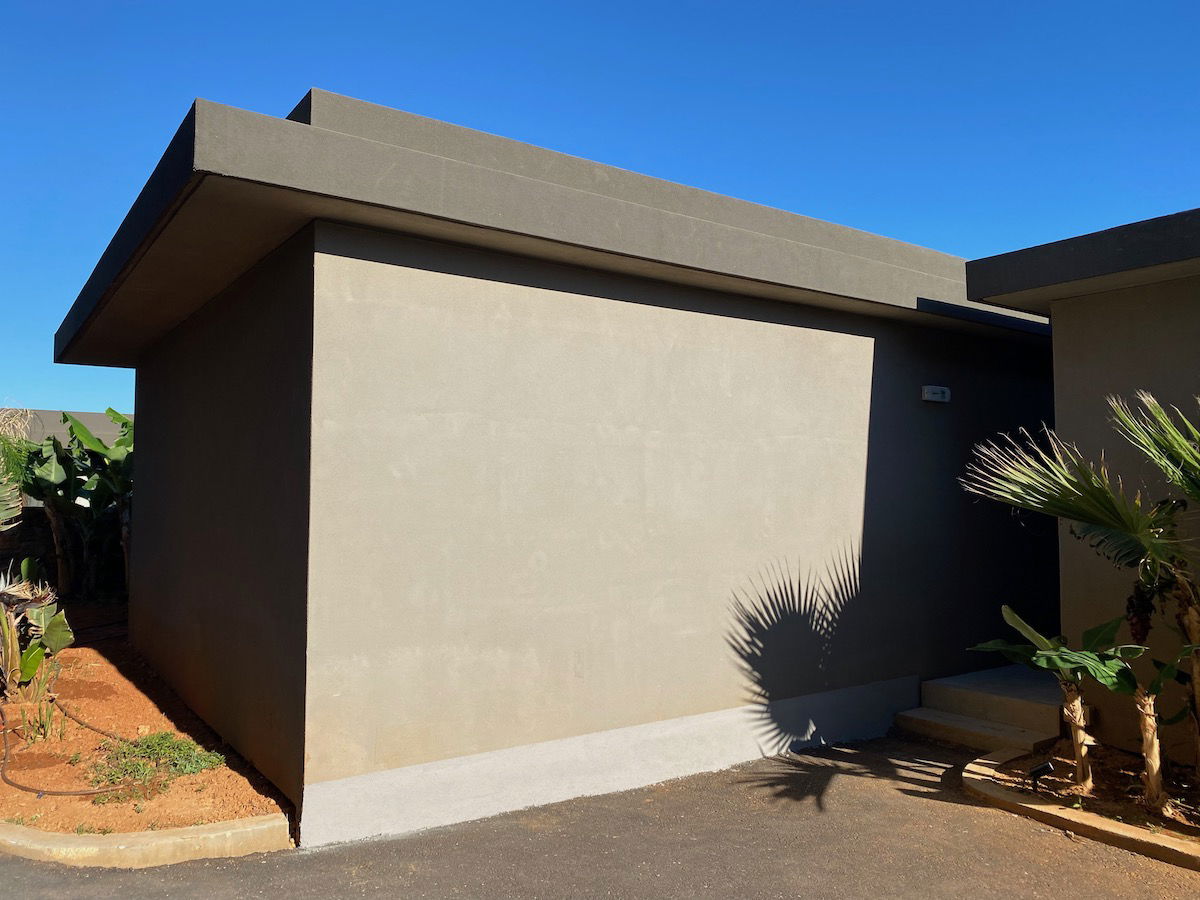 Just inside the entrance to the villa was the living room, which featured a couch and two chairs.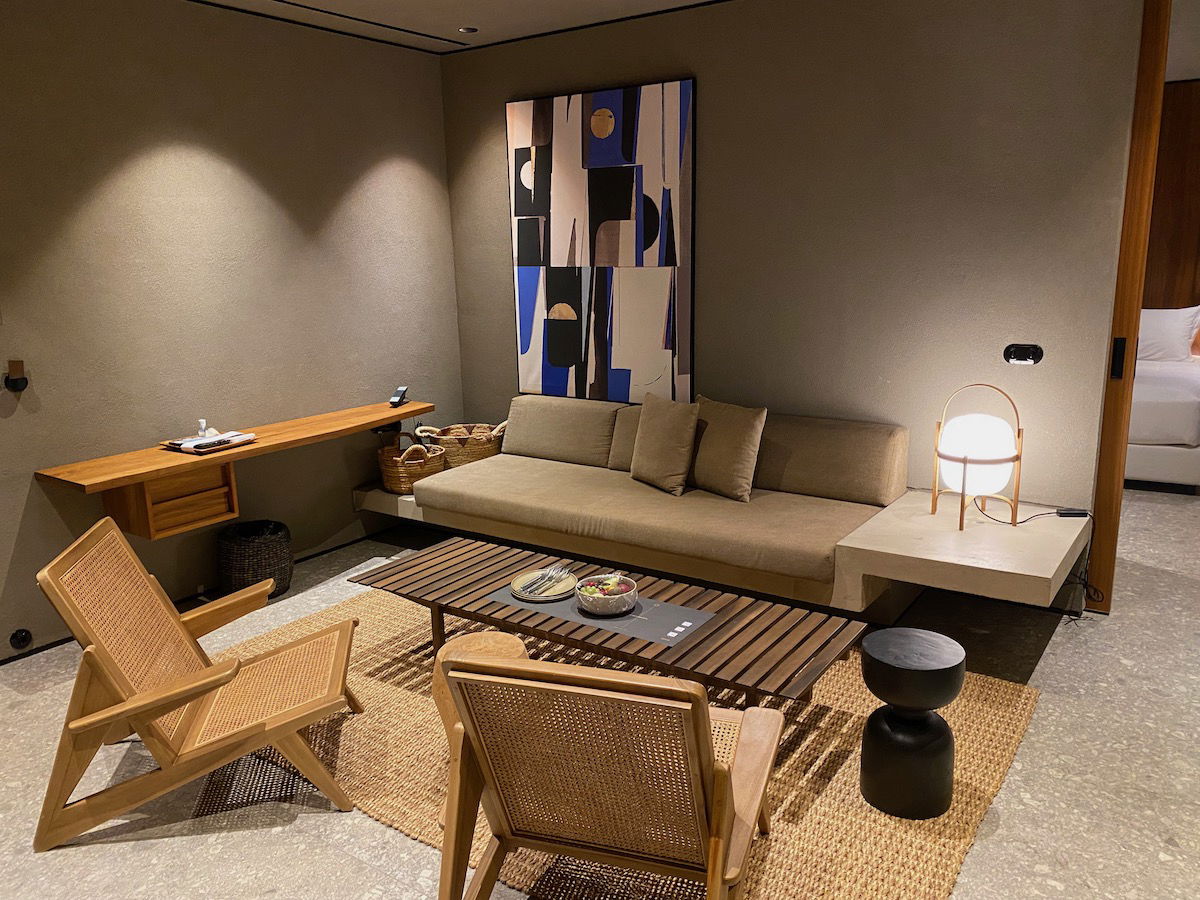 Along one wall was a television, as well as a Nespresso machine and minibar, which had snacks and drinks available for purchase.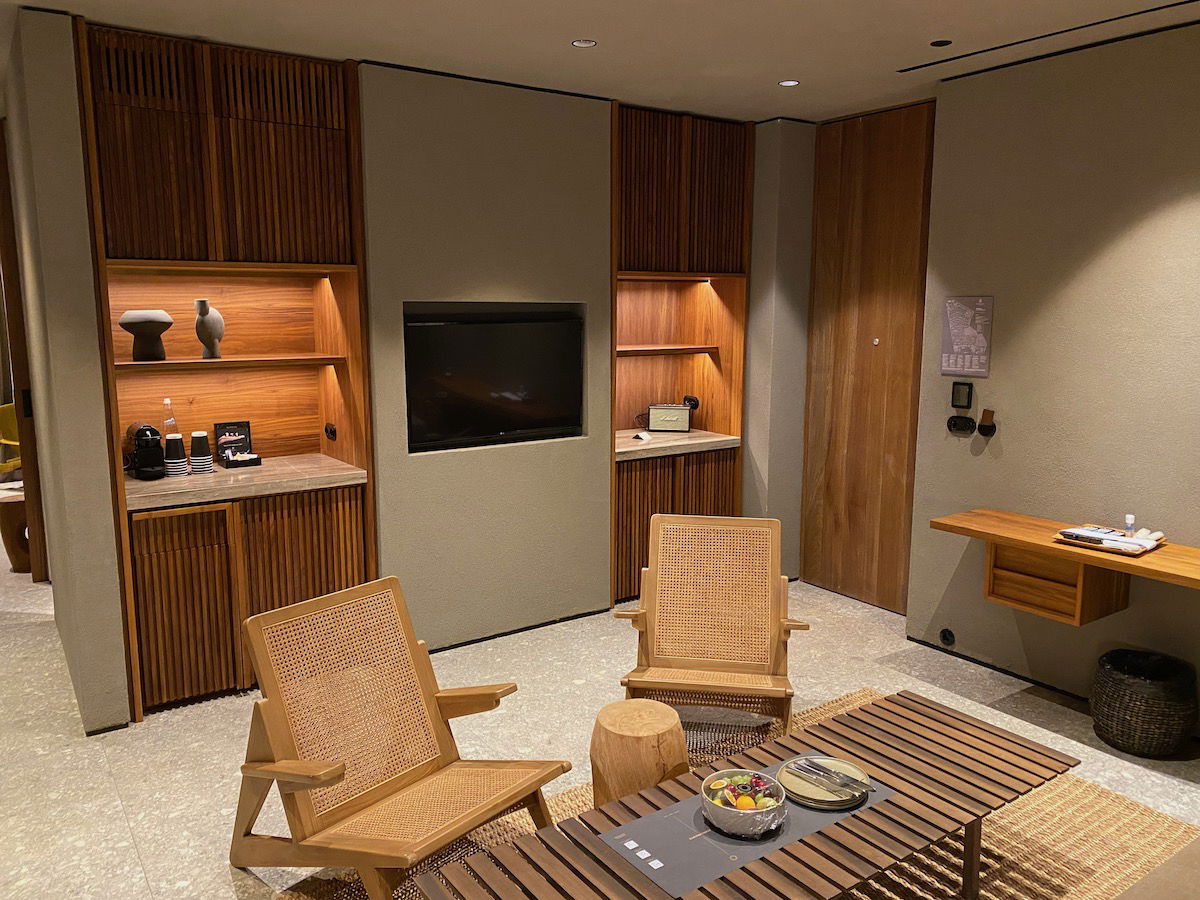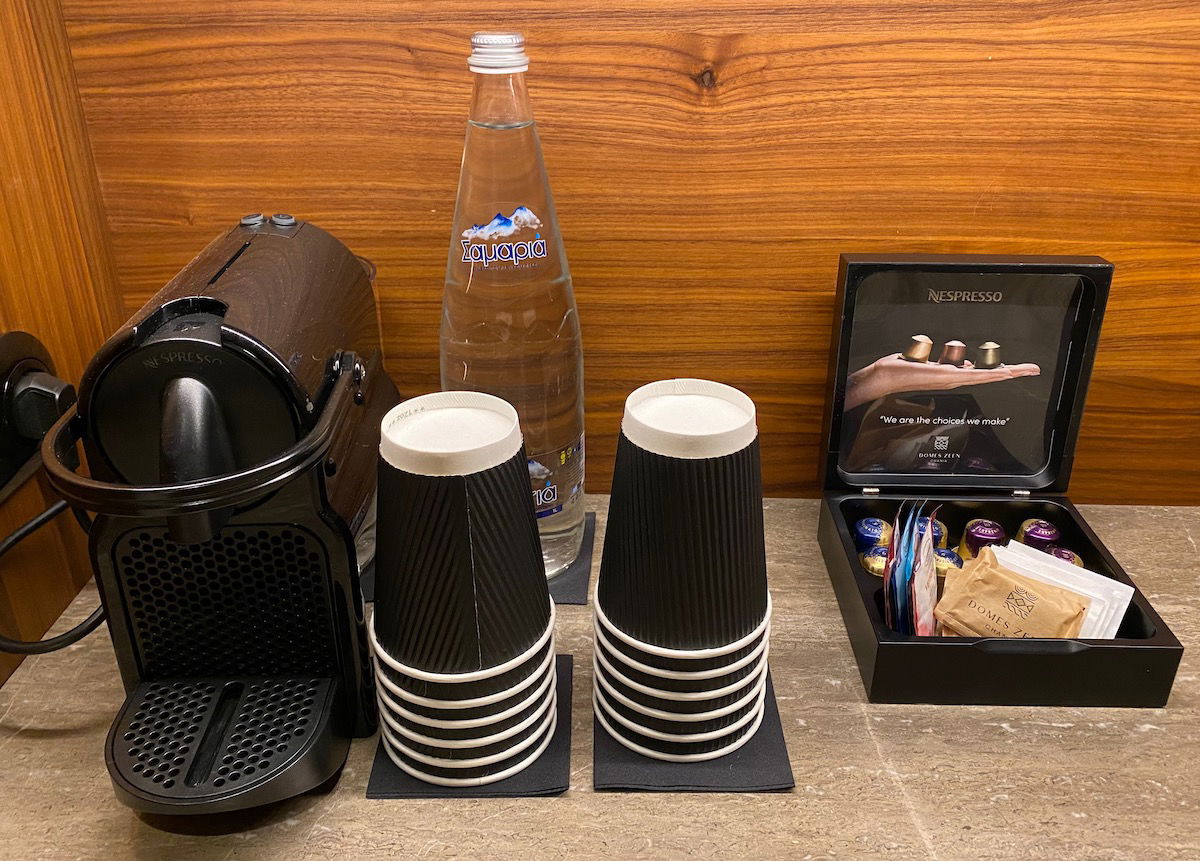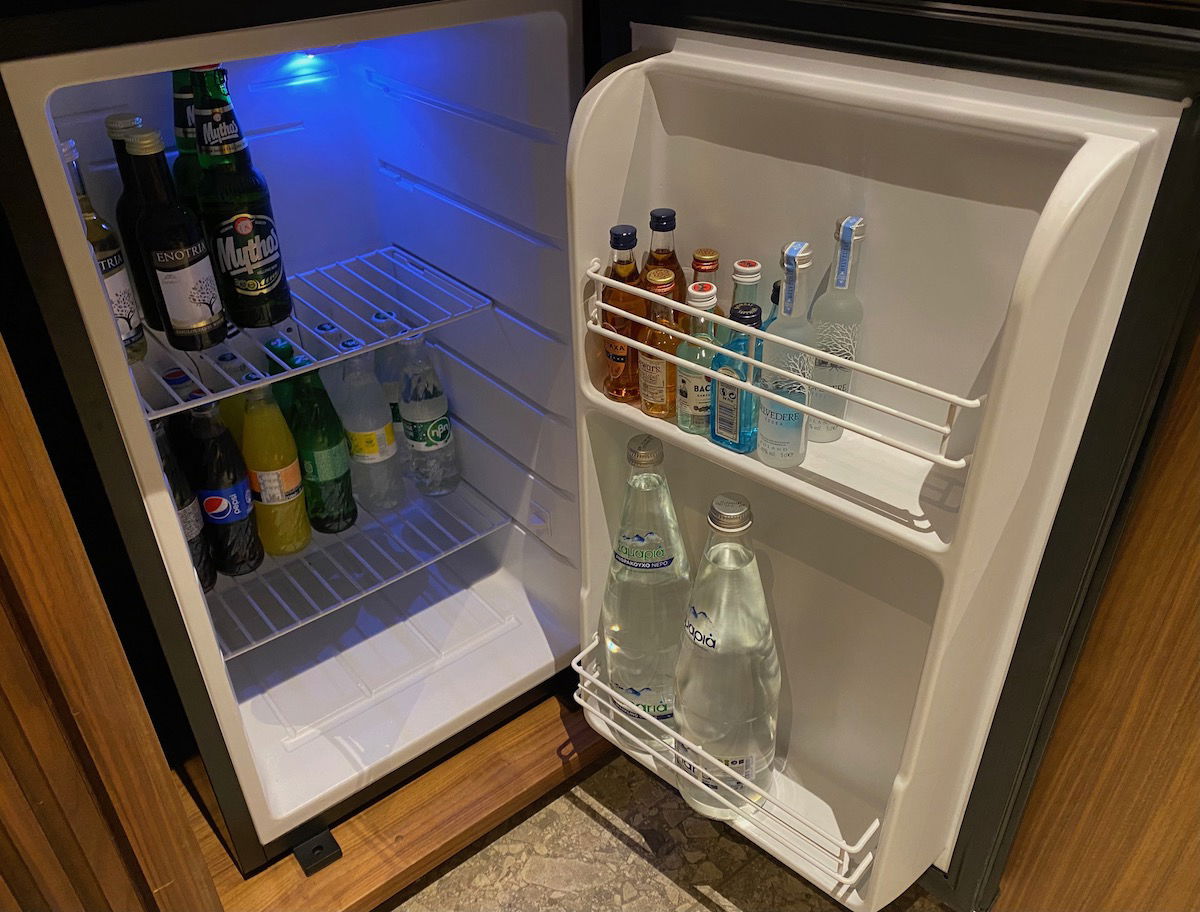 Waiting on our table was a welcome fruit plate. While the description of the rate I booked indicated there would also be a bottle of wine upon arrival, that never did appear.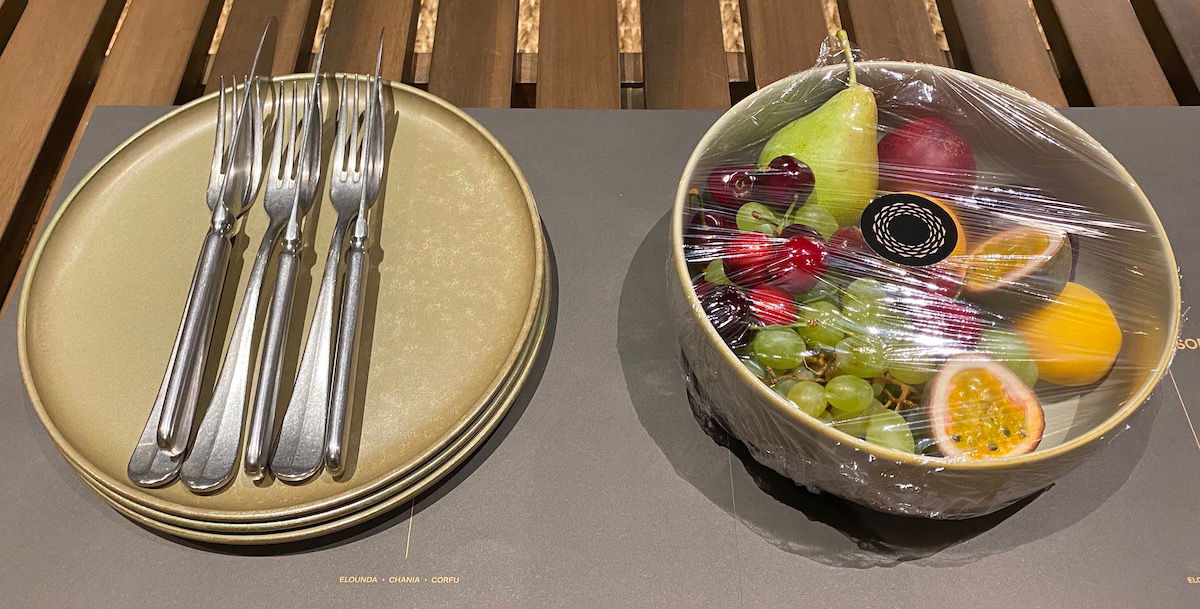 The villa had one bedroom on each side of the living room — rather than having proper doors, there were just flimsy sliding doors, so there's not very good sound insulation between spaces. One bedroom (which I gave to my mom and her partner) featured a king bed.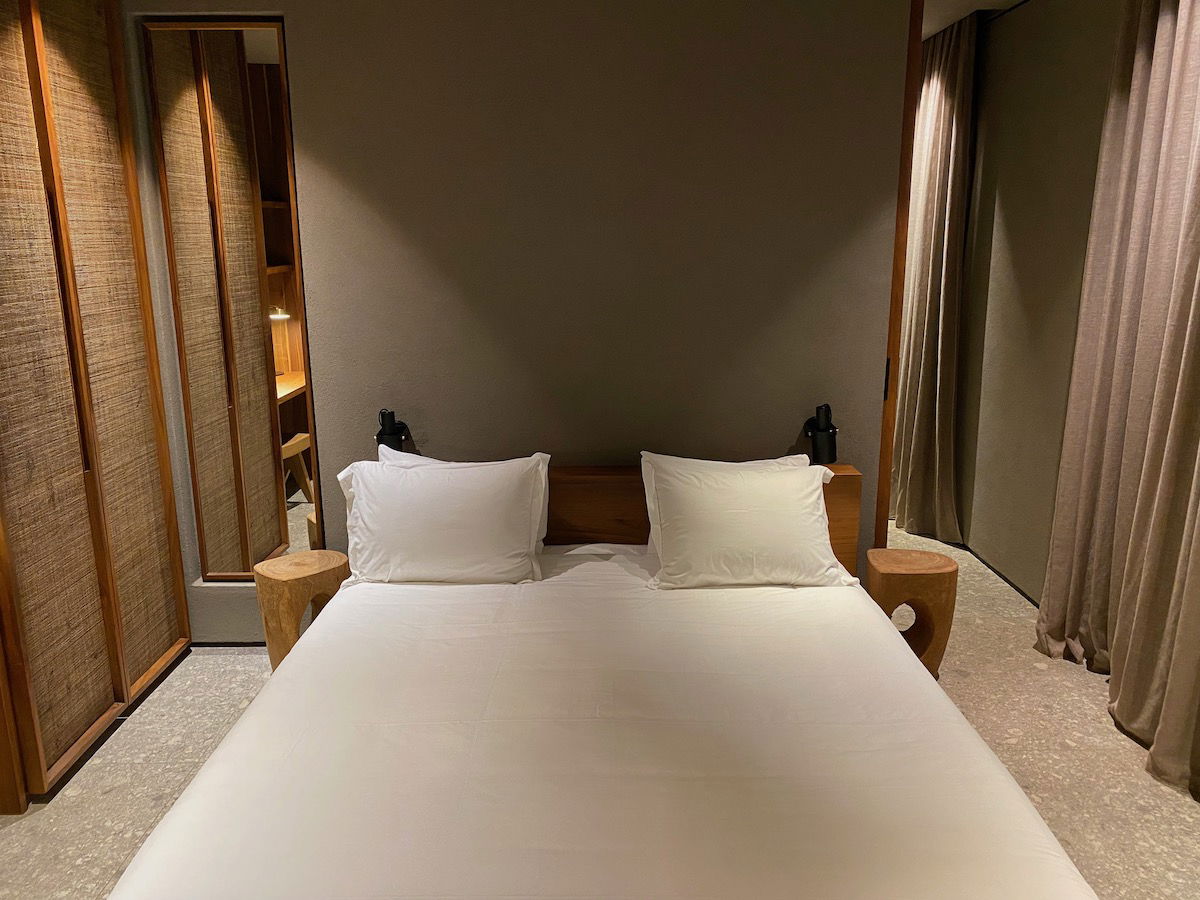 Along the windows was a chair, along one side of the room was a desk with a wooden chair, and along the other side of the room was a TV, which was awkwardly angled.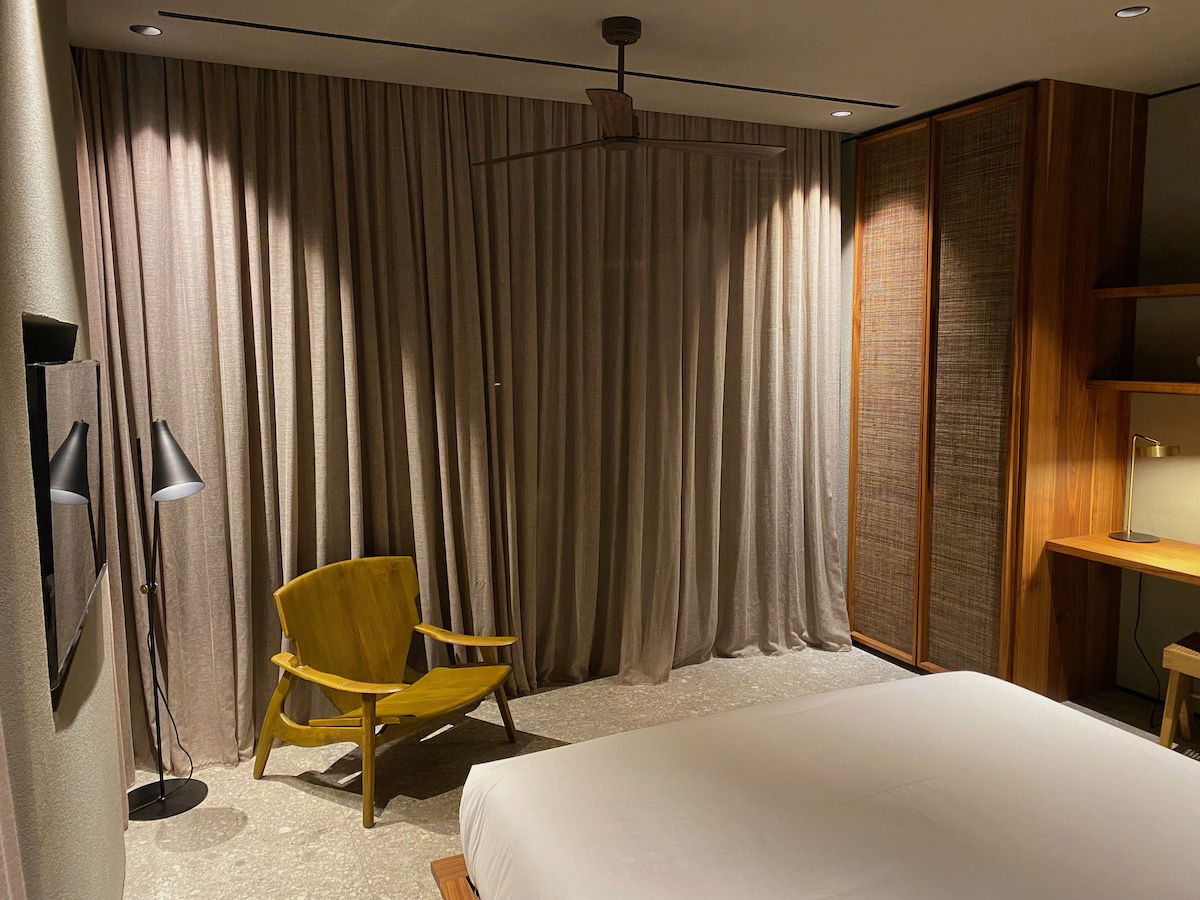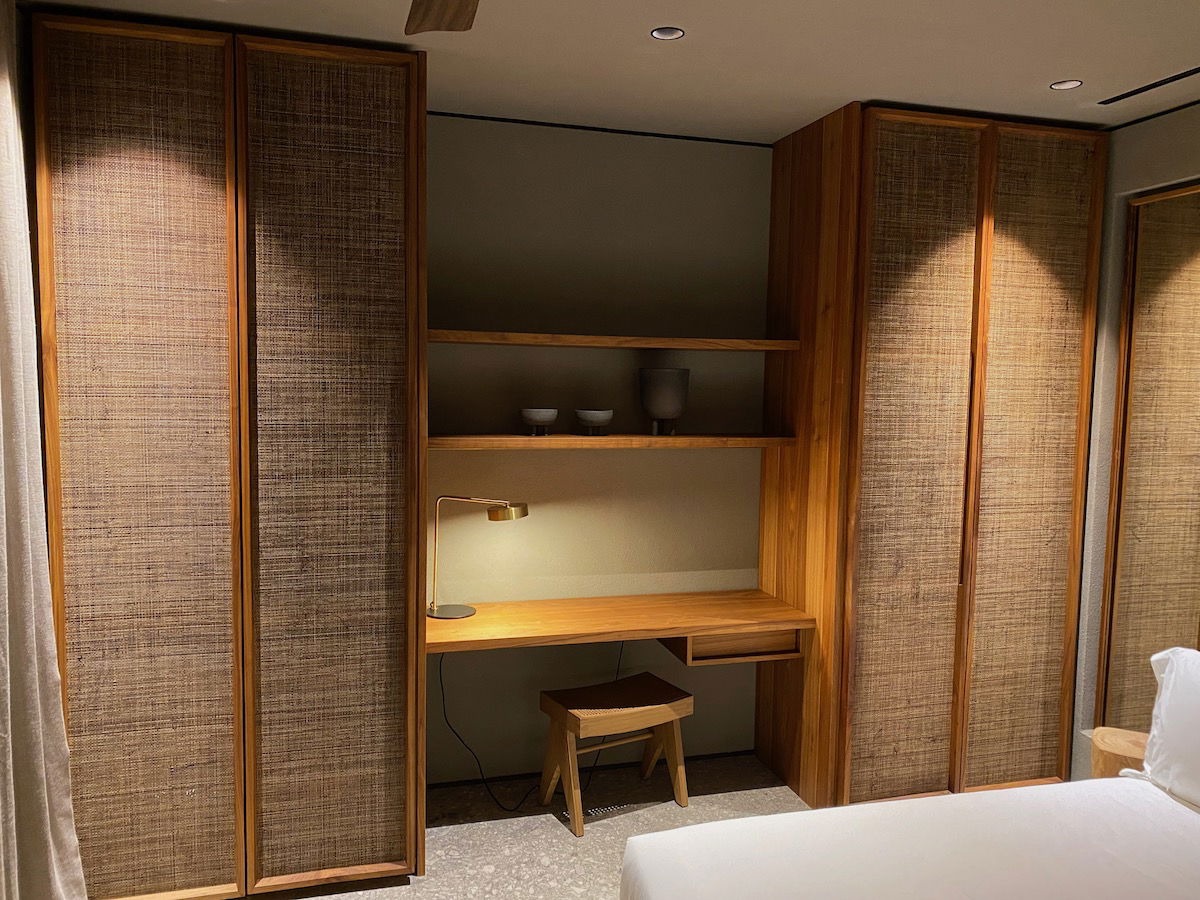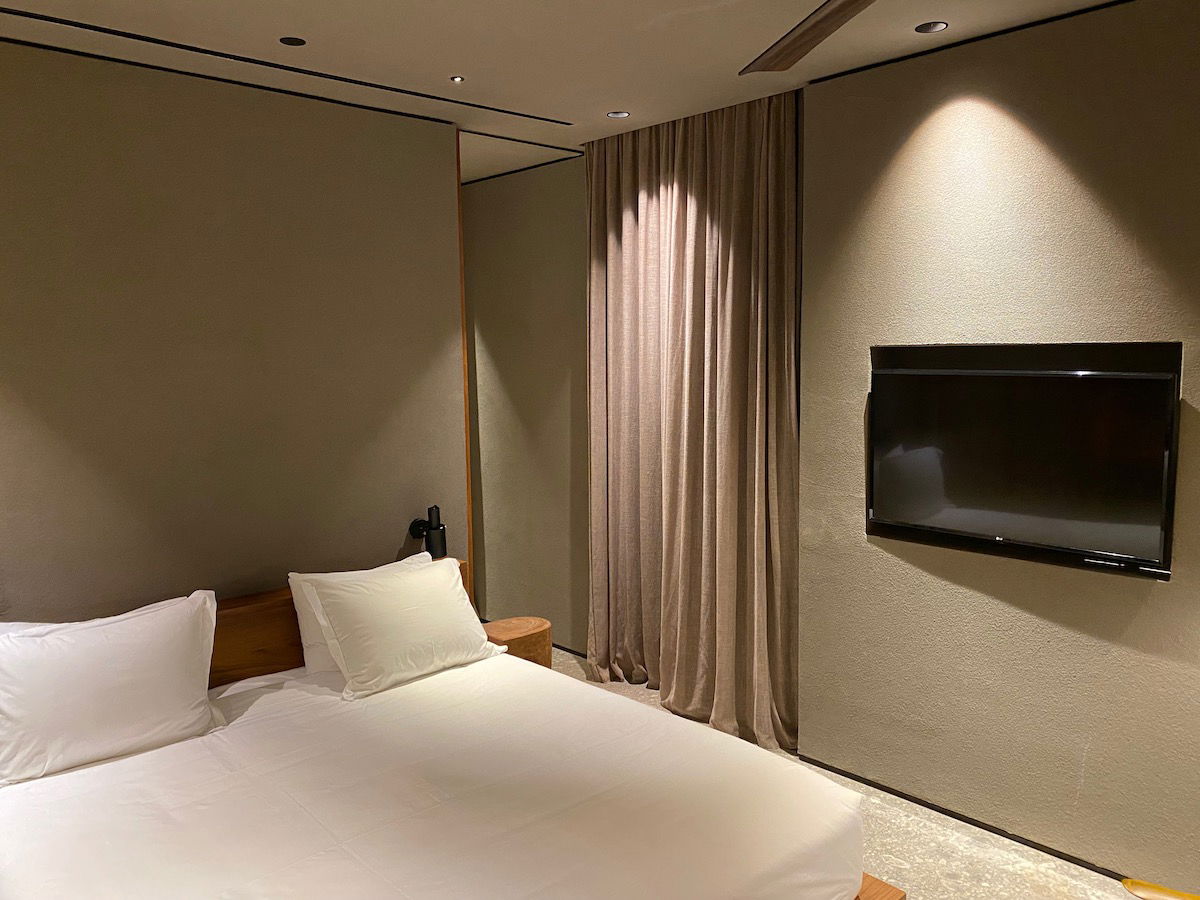 Rather bizarrely, this room's bathroom wasn't actually in the room, but was off the living room. So there was no way to enter this bathroom from the bedroom without going into the living room. The design also didn't seem very functional — there was a sink, then there was another sliding door leading into a single area that had both the shower and toilet.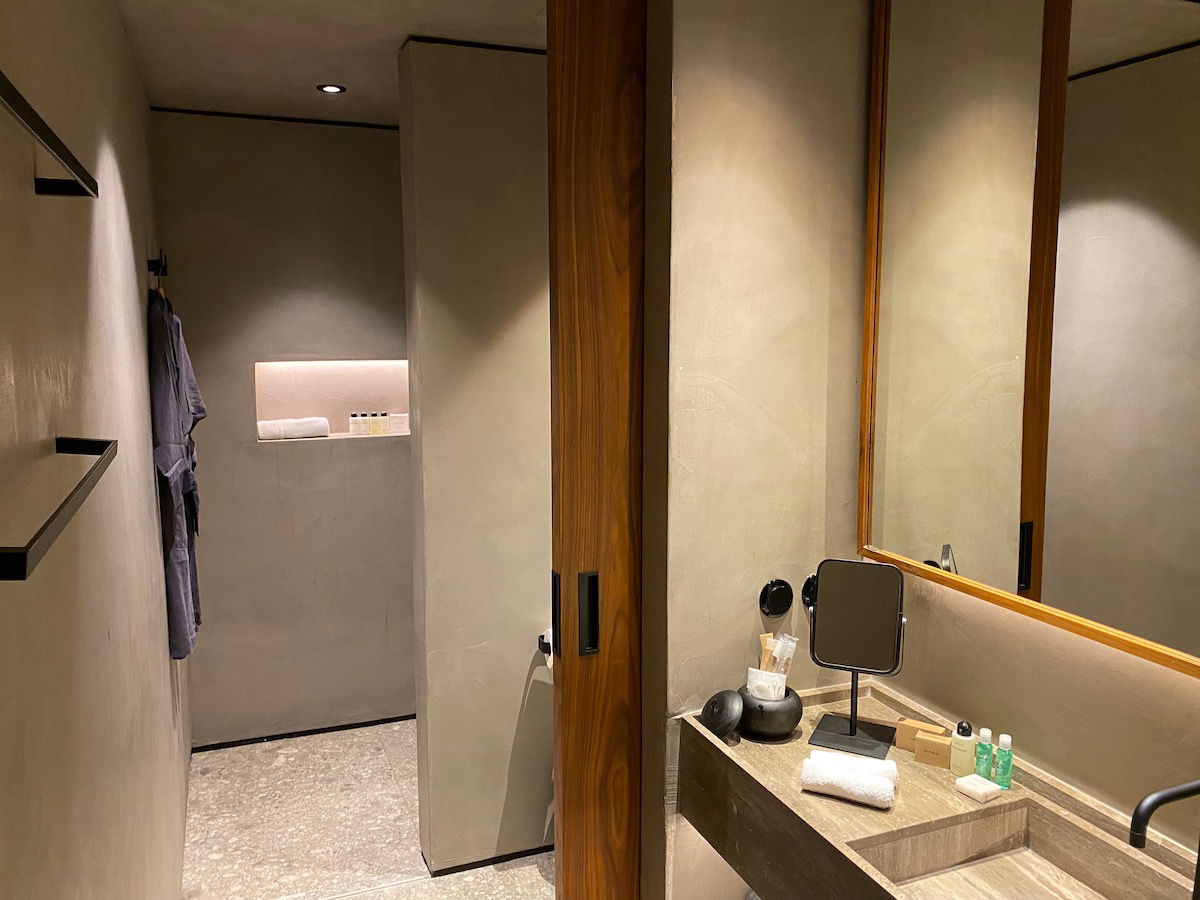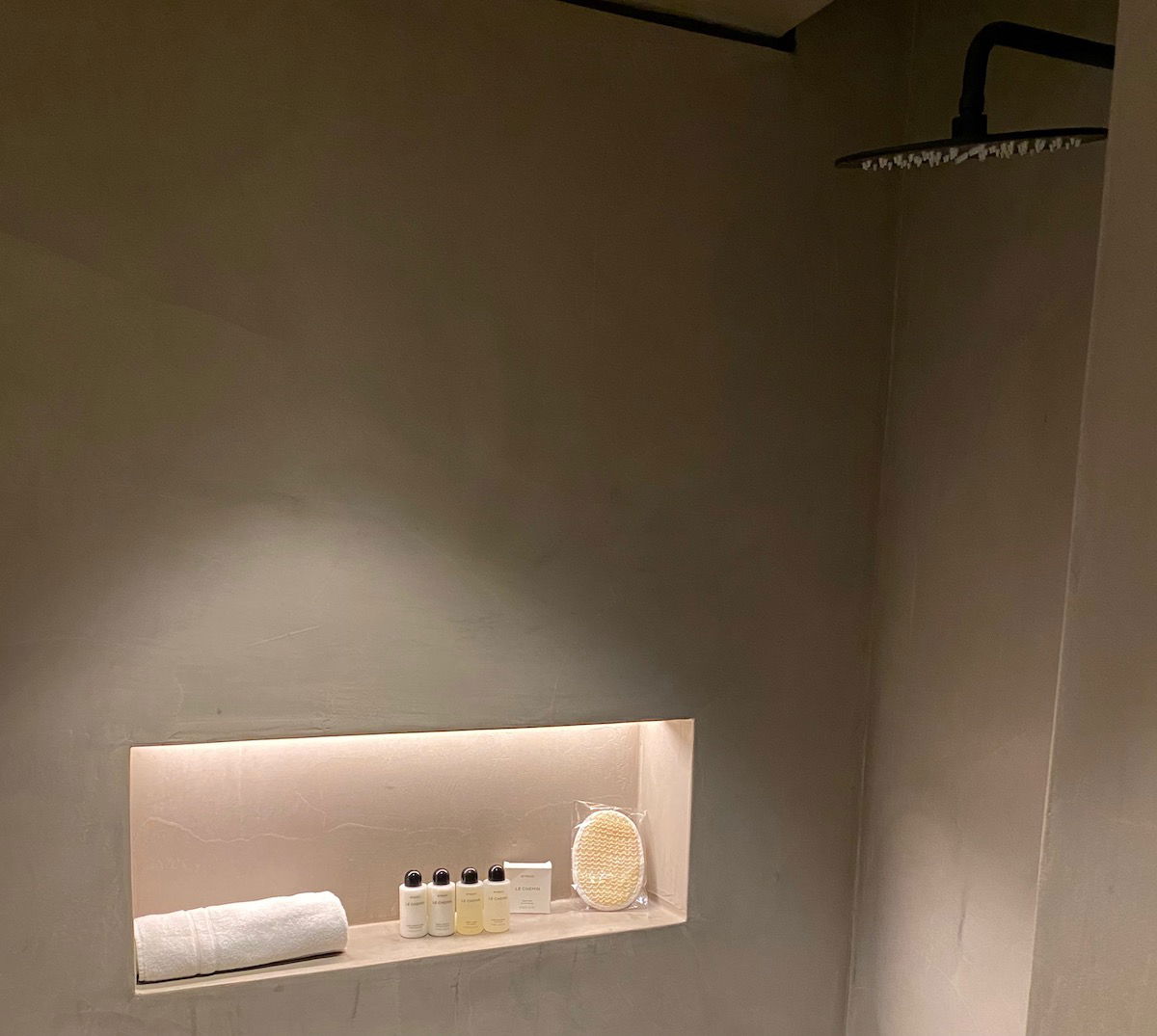 The toilets had a glossy black finish, which seems like a very bad design choice — that's a guaranteed way to make sure every single spot can be seen.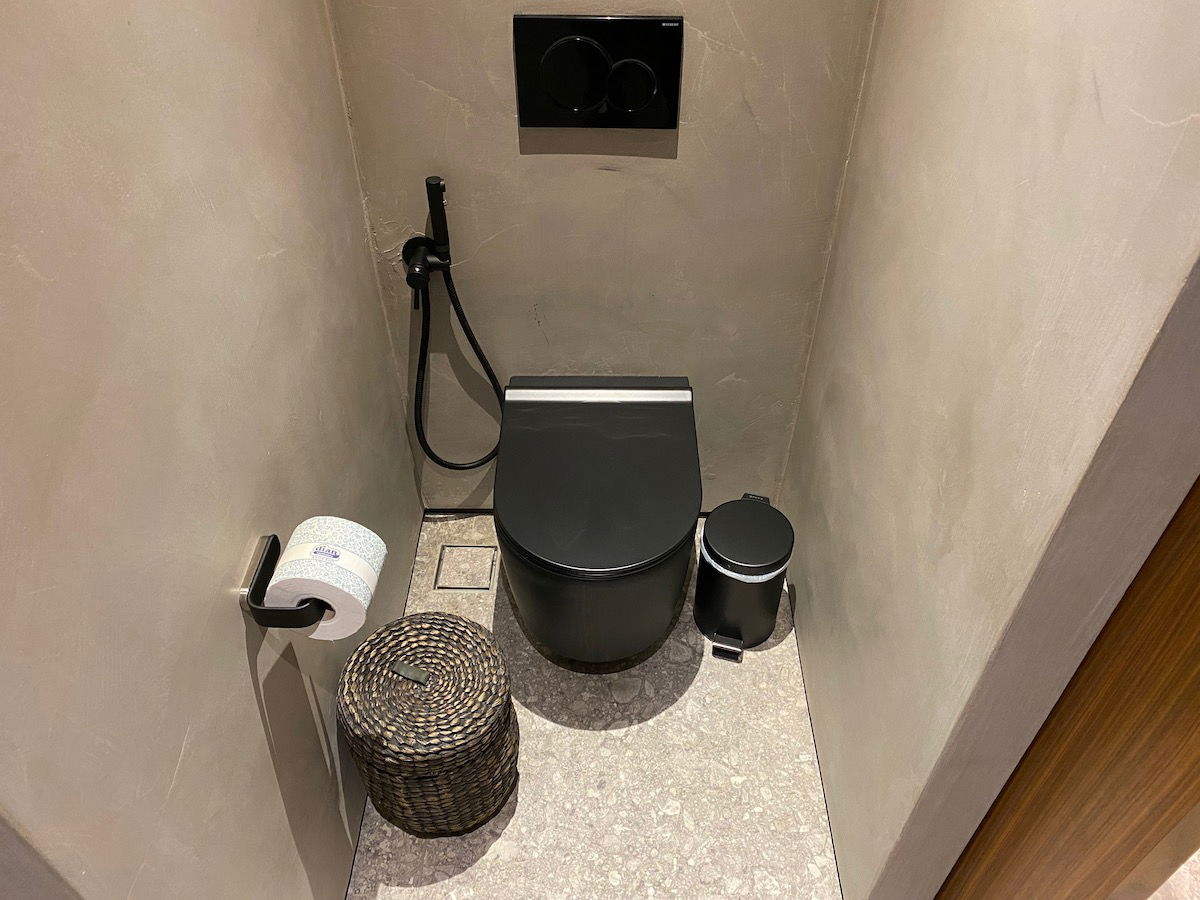 Toiletries were from the Byredo Le Chemin collection, which I quite liked.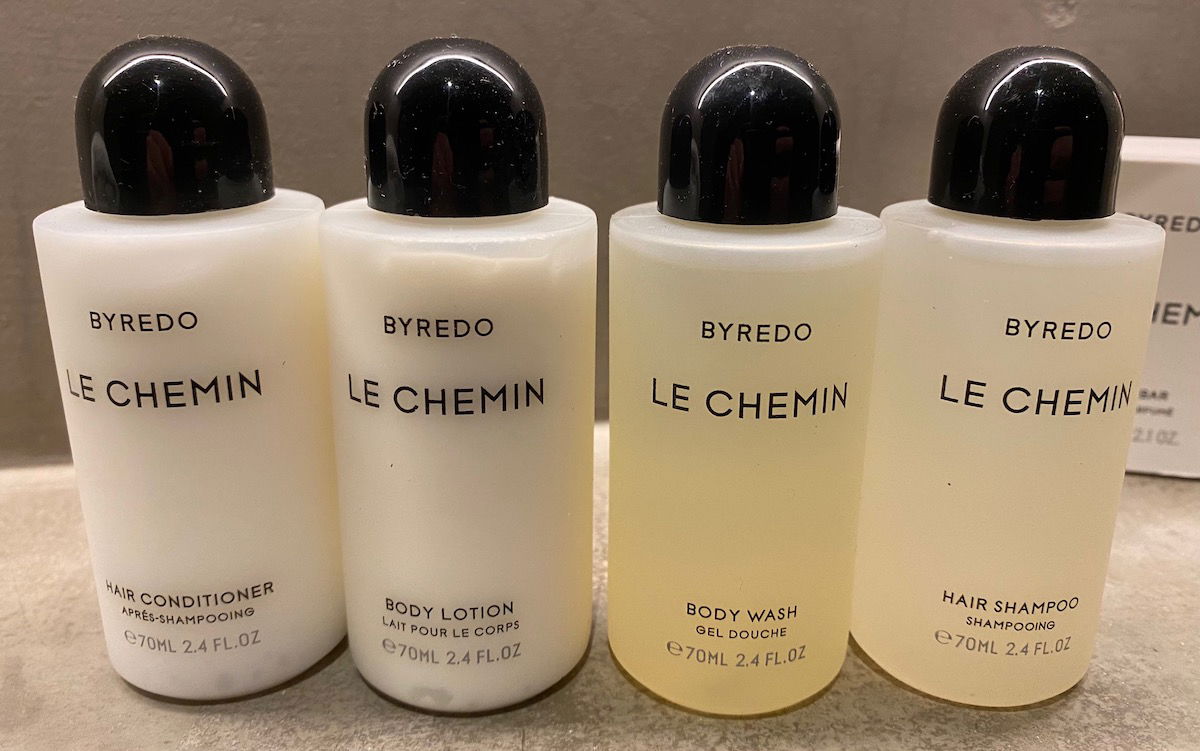 The second bedroom was on the opposite side of the living room, and featured two twin beds that were pushed together. Along one wall was a TV, and then along the other wall was the bathroom, which in this case was actually within the bedroom. Note that this room was otherwise a cave, as there was no natural light, aside from a very small window in the corner.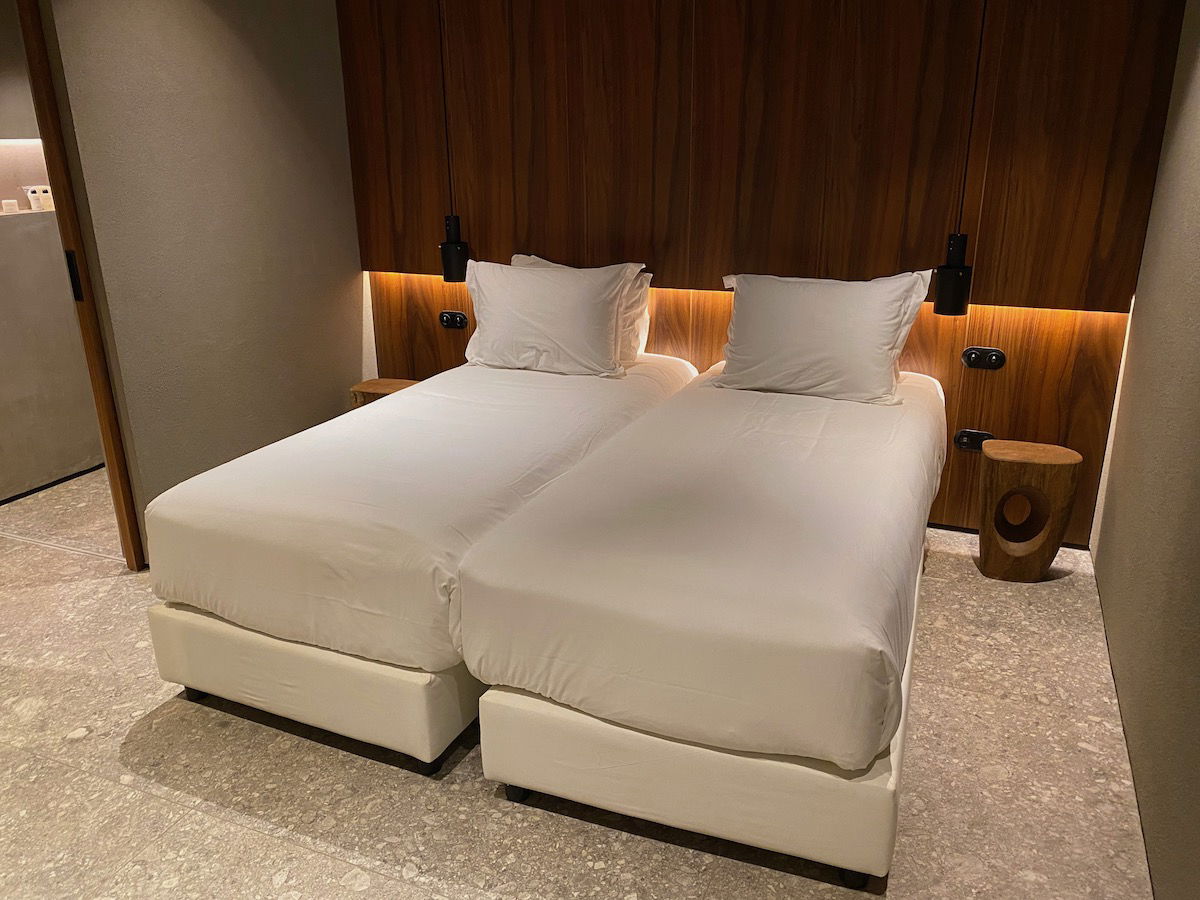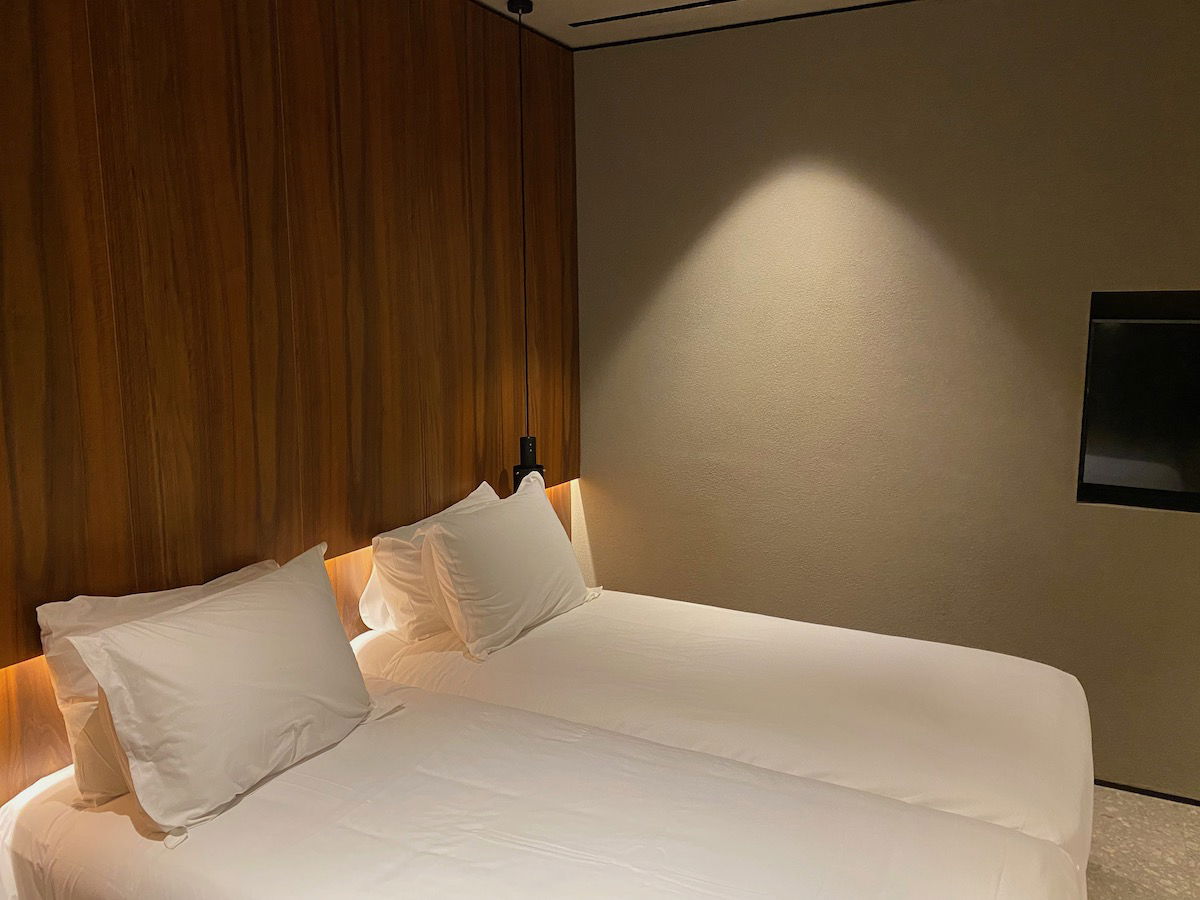 In the case of this room, there was one room with the toilet, and then one room with the sink and shower, which I found to be a bizarre combination. You basically shower right next to the sink, and it also means that the main mirror is all fogged up when you're done showering.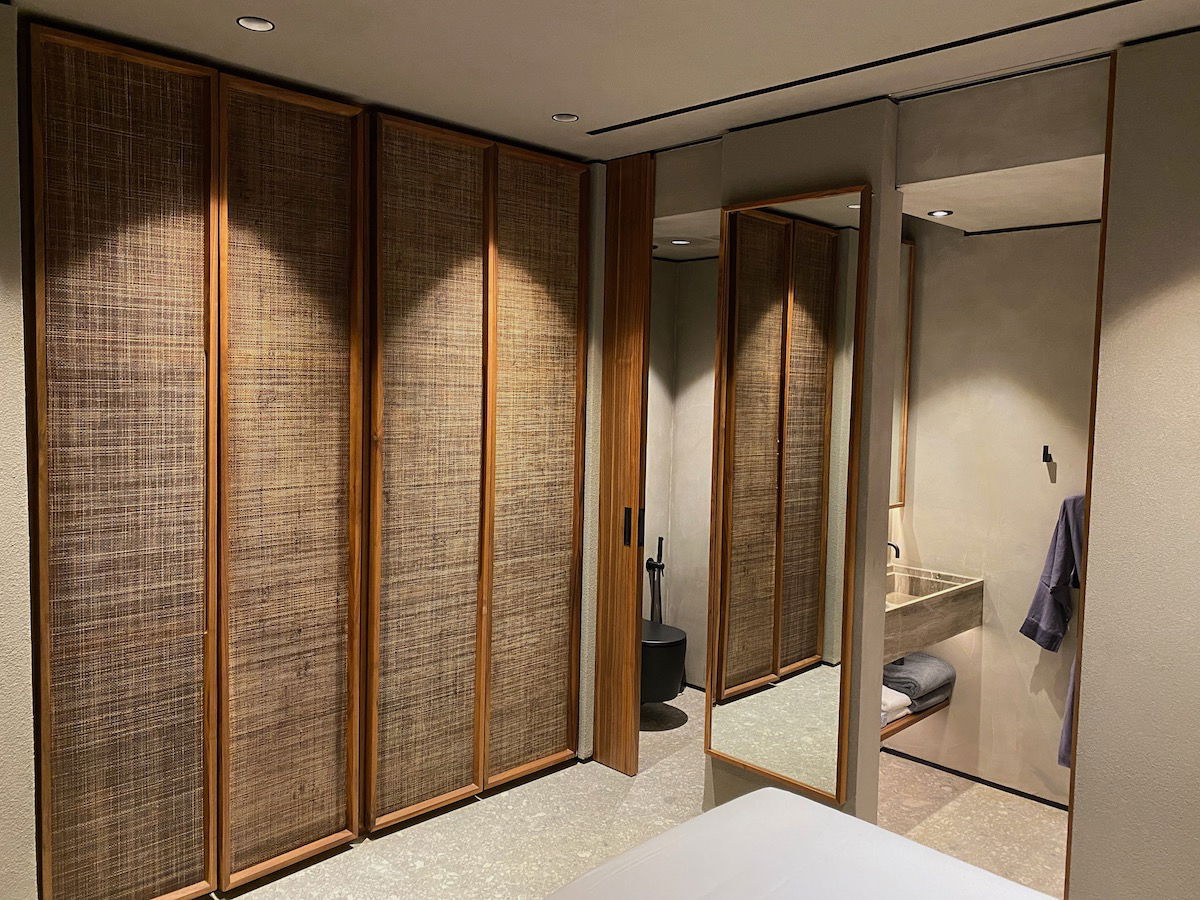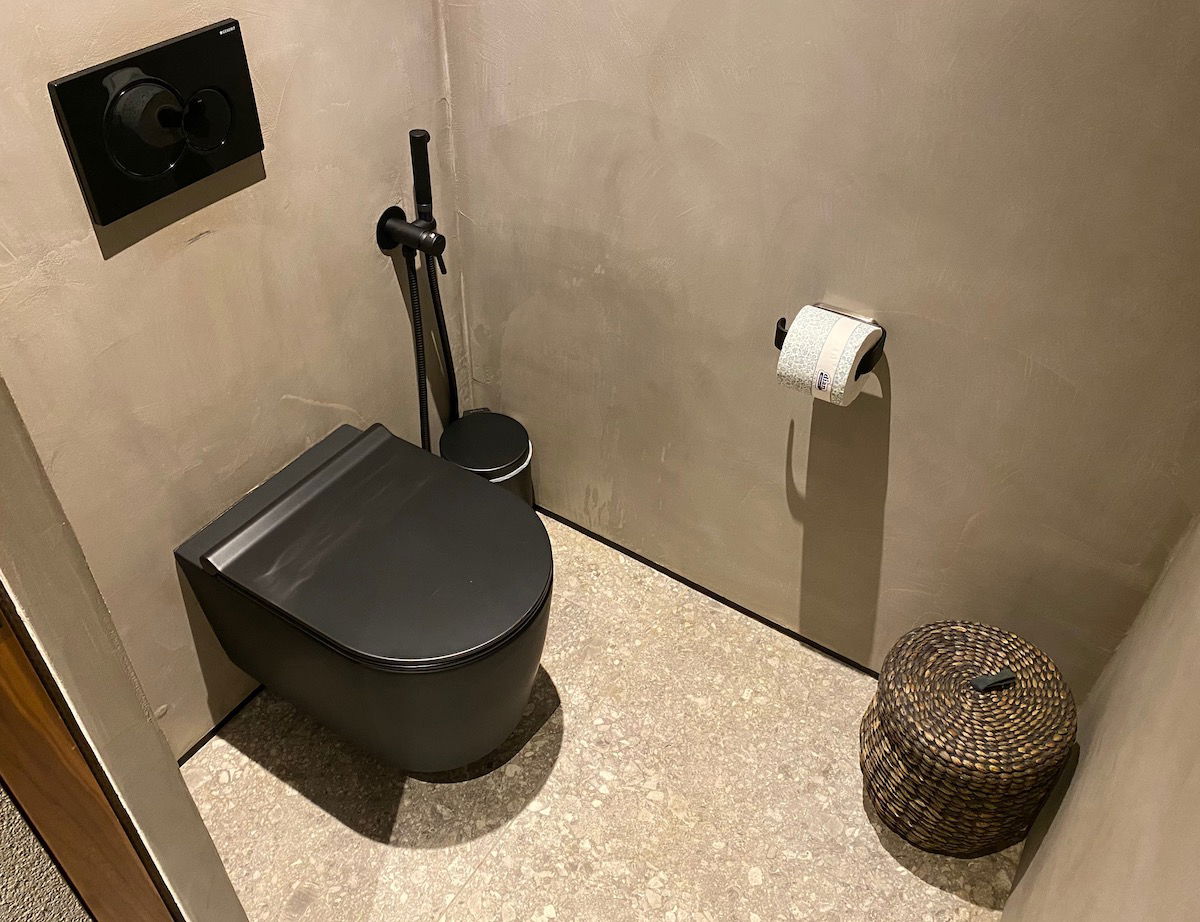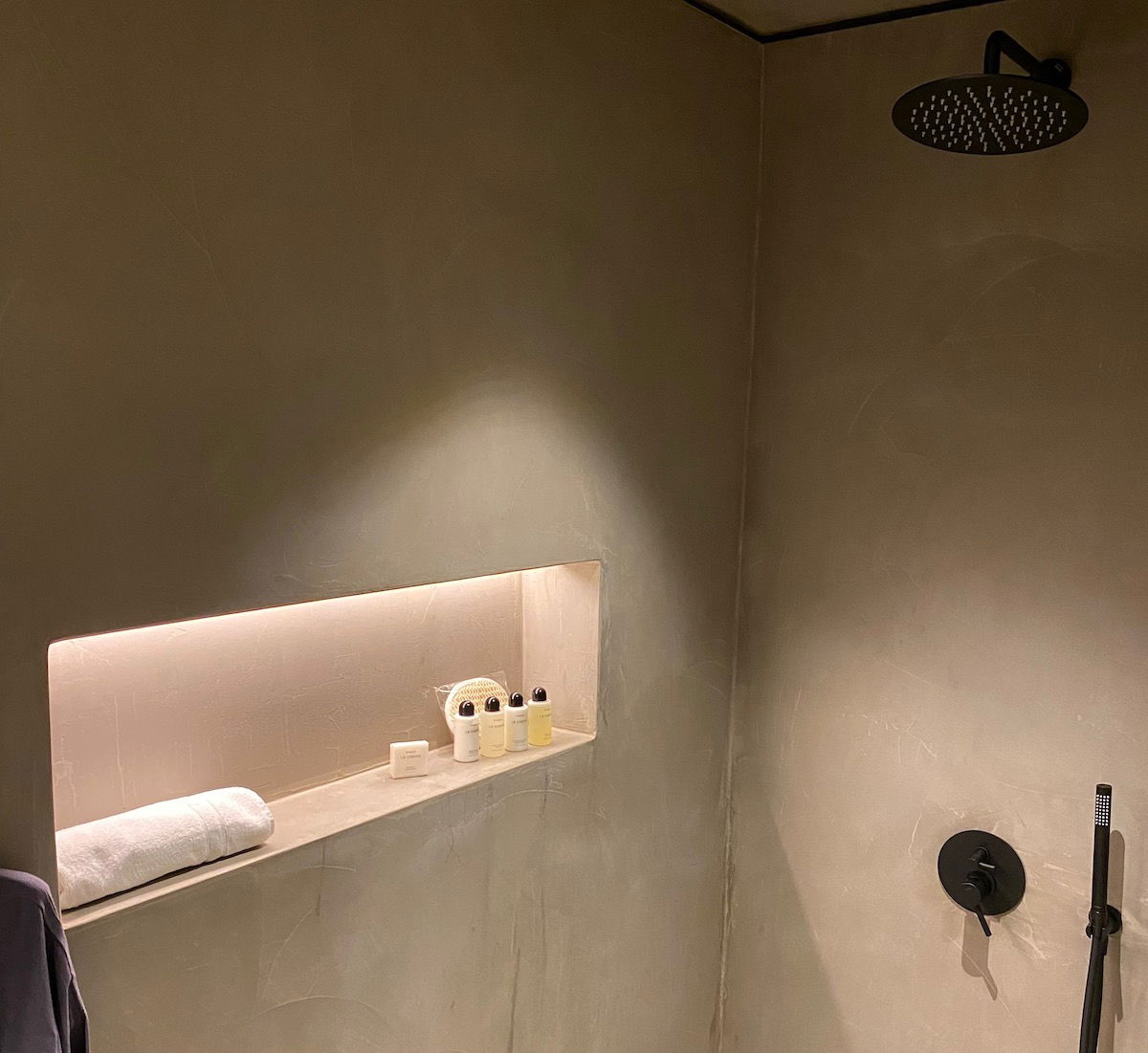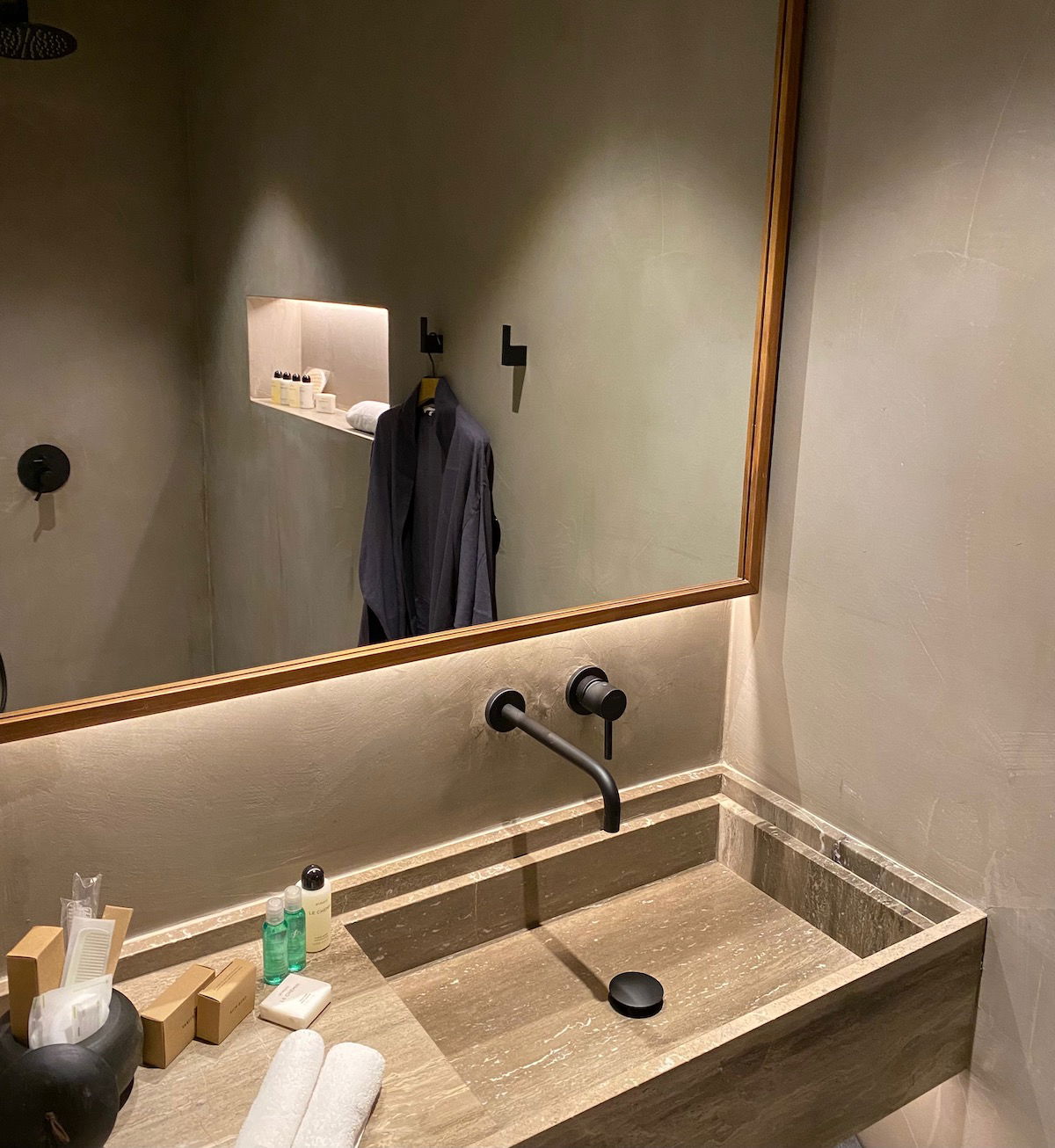 There was a severe trash can shortage in the room as well. For example, in the second bedroom, the only trash can was right next to the toilet — there wasn't one in the bedroom, and wasn't one in the bathroom by the sink.
The highlight of the room was probably the outdoor space, which featured plenty of seating, as well as a plunge pool.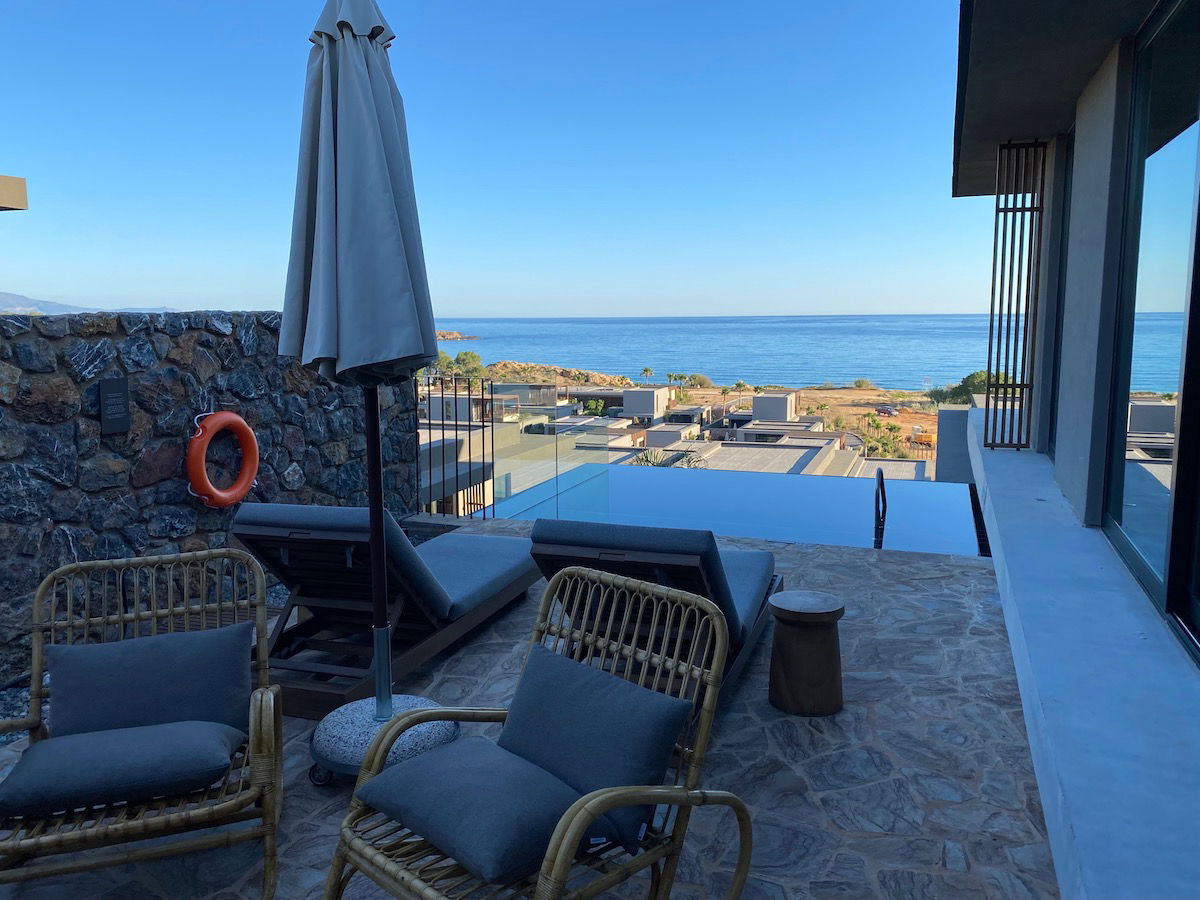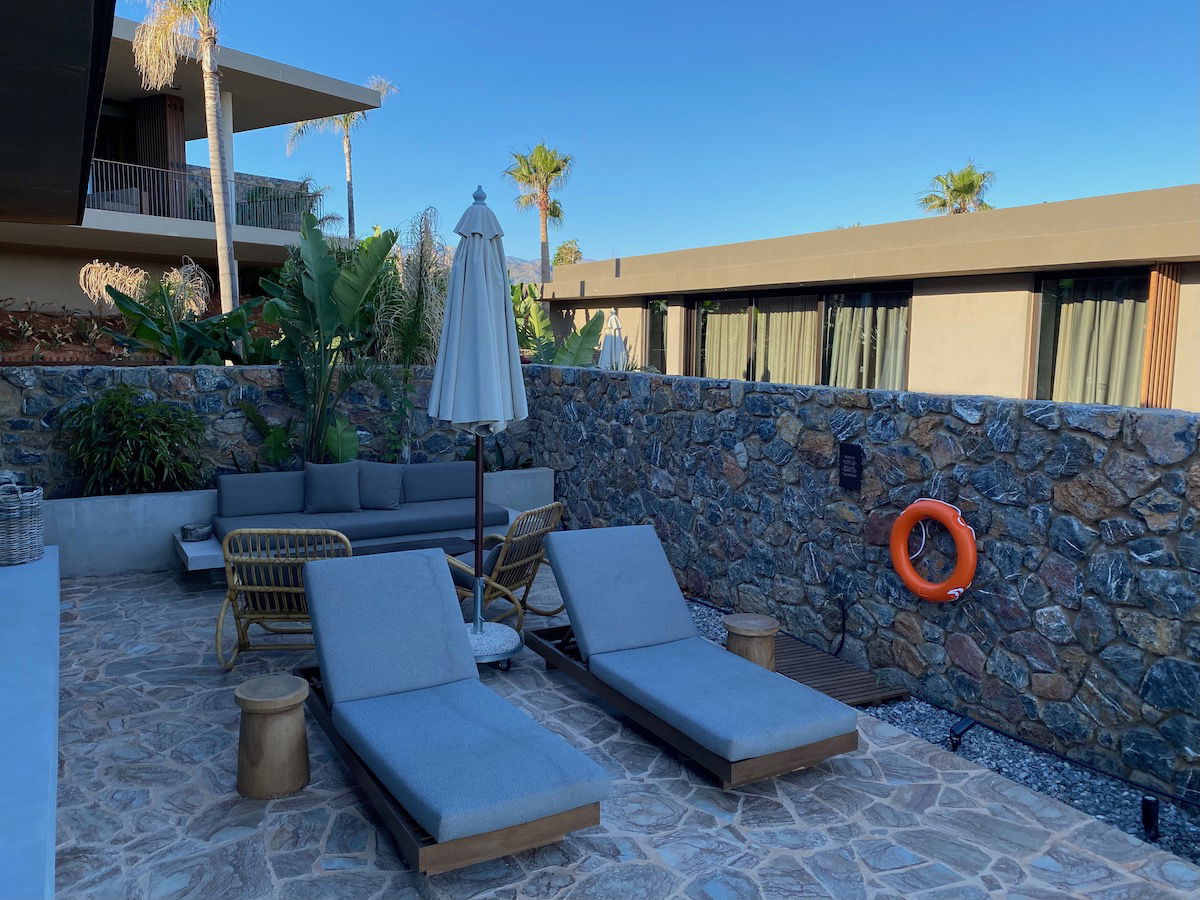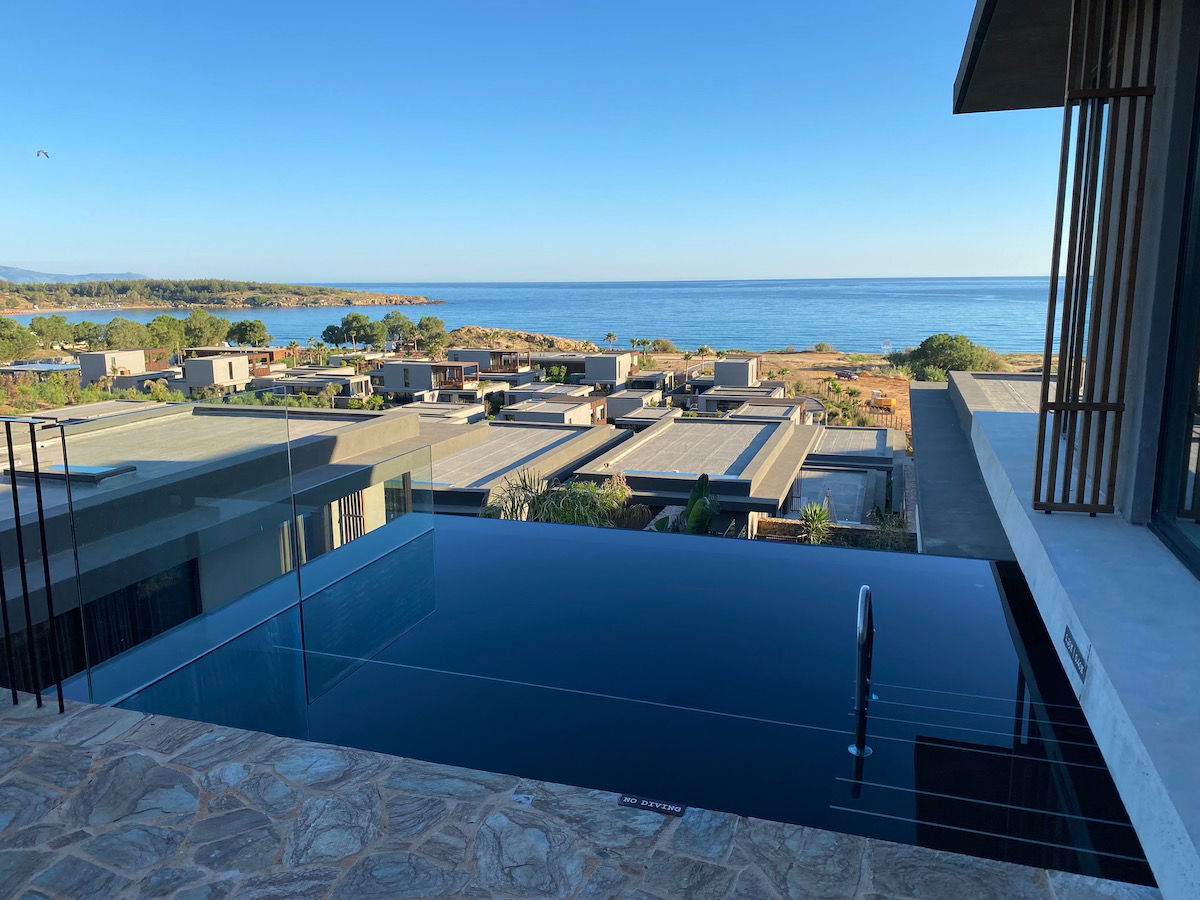 In particular, it was nice to be able to enjoy the sunsets from here.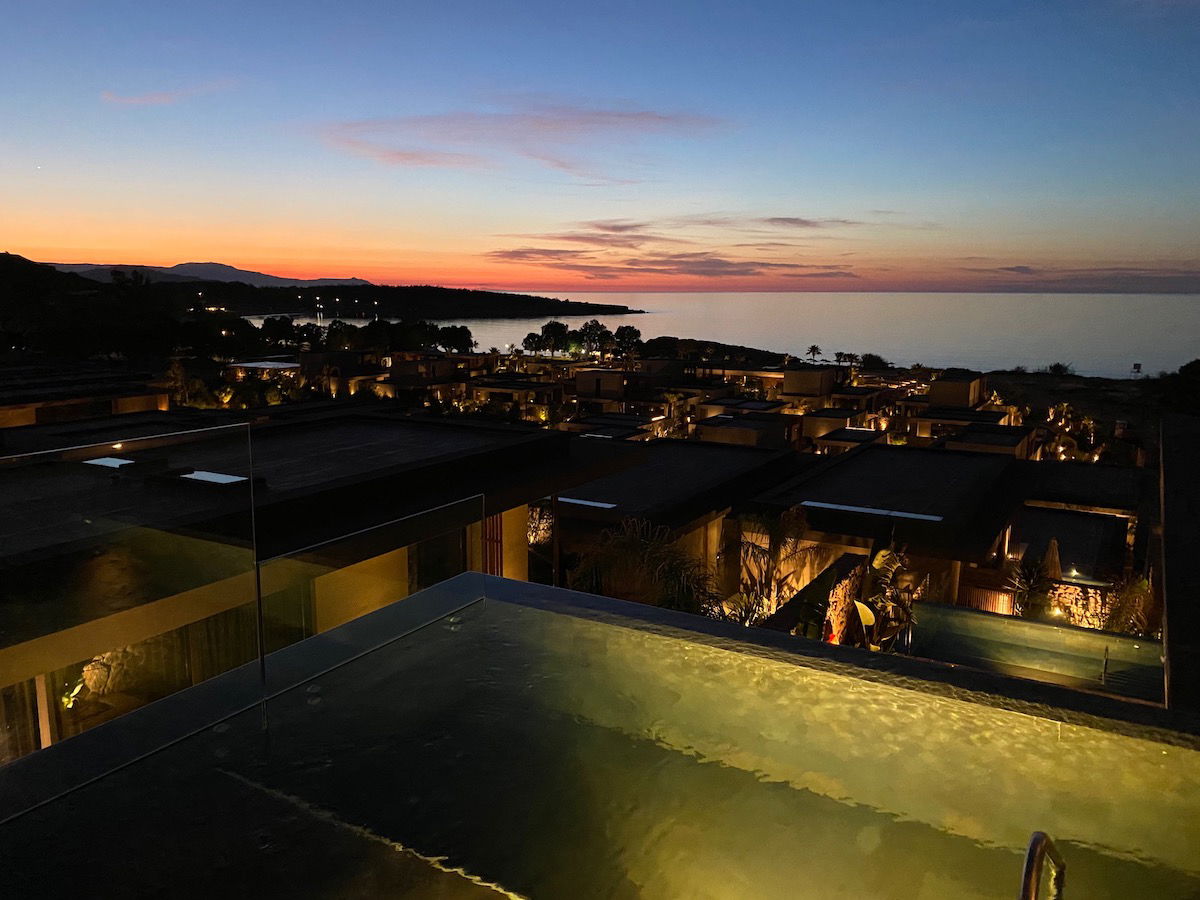 We were grateful to have a shared space at this hotel, though the rooms definitely weren't the highlight of this property. As I mentioned above, this hotel initially opened as a Thomas Cook property in 2018, and the room design gave off that vibe that this wasn't designed as a "real" luxury hotel.
To me the room felt like it was designed to appear high end on the surface, but a lot of corners were cut. Personally I found the design to largely be impractical. For example, all the furniture was ridiculously low to the ground, there was nowhere you could actually sit and eat (or even play a board game), and most of the seating wasn't particularly comfortable.
And then there were just so many other strange design choices beyond that, from the flimsy sliding doors, to the strange bathroom setups, to the lack of natural light. I suspect that the regular rooms probably have less objectionable design choices than the two bedroom villas do.
Domes Zeen Chania Beach House Restaurant breakfast
Beach House Restaurant is Domes Zeen Chania's all-day dining restaurant, and it's located right next to the pool. The restaurant has both indoor and outdoor seating, and we always sat outside — the views were awesome, and there was never a shortage of tables.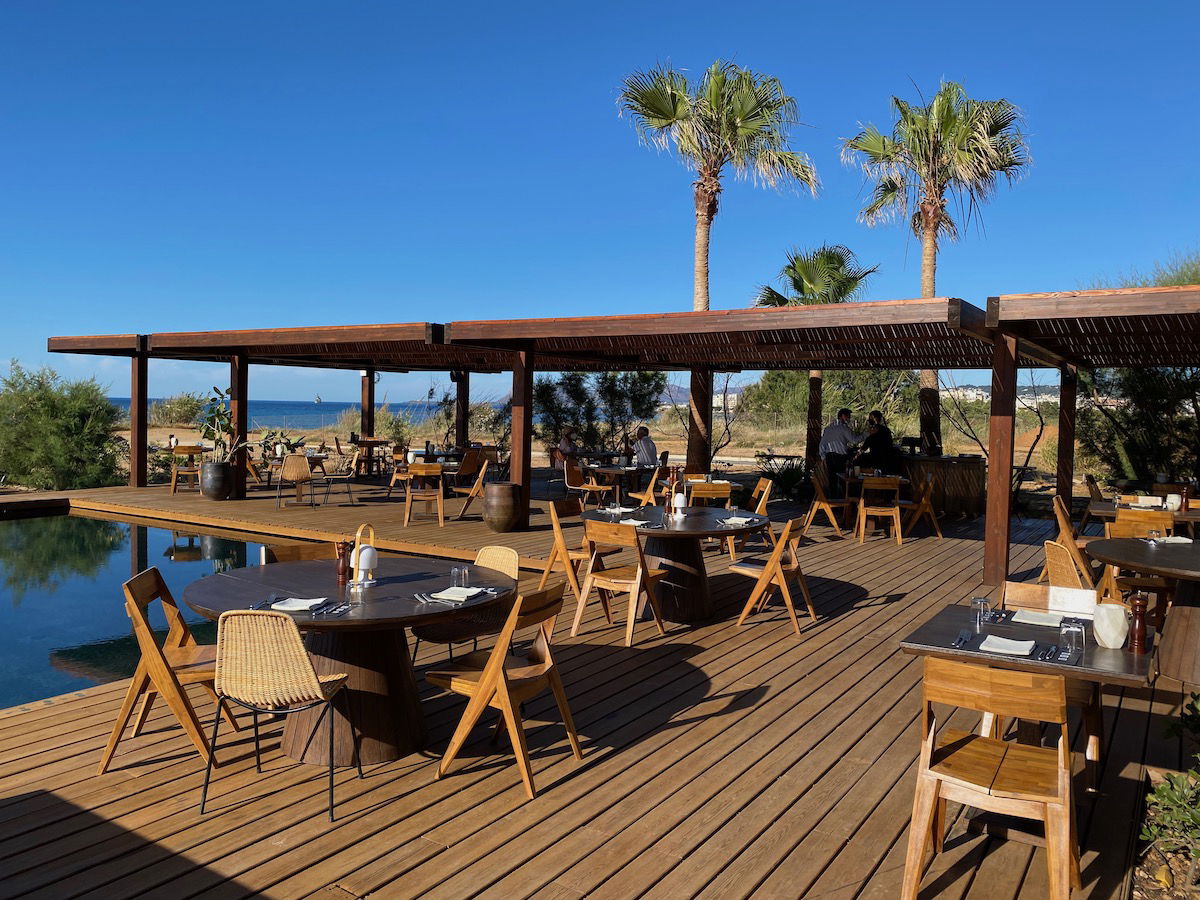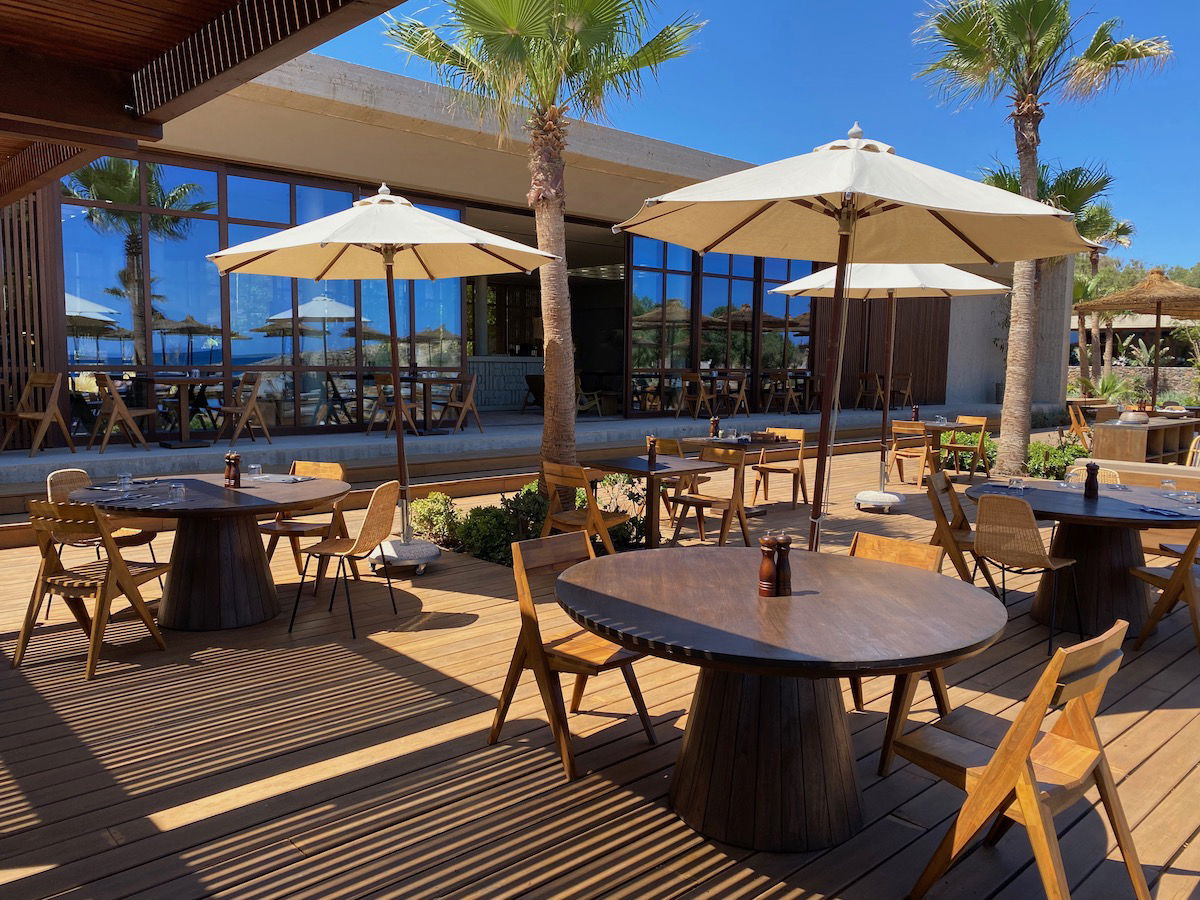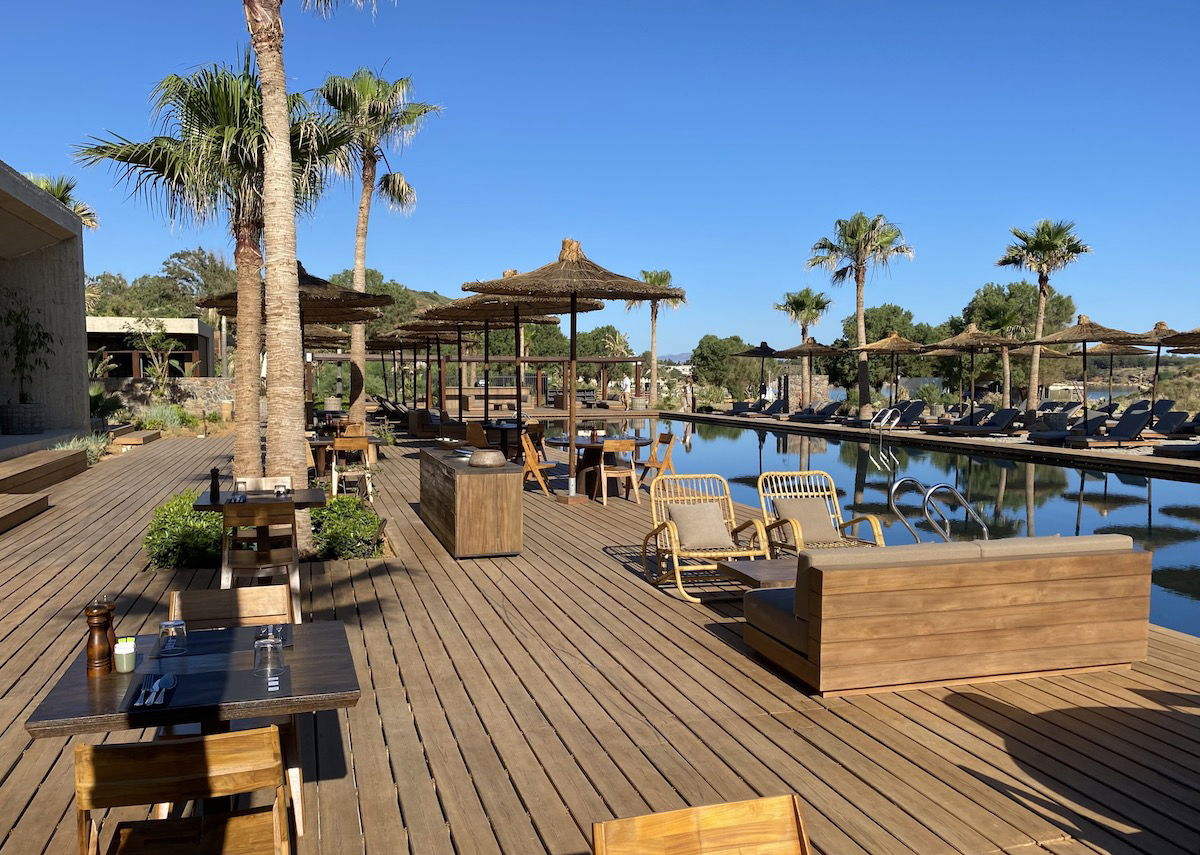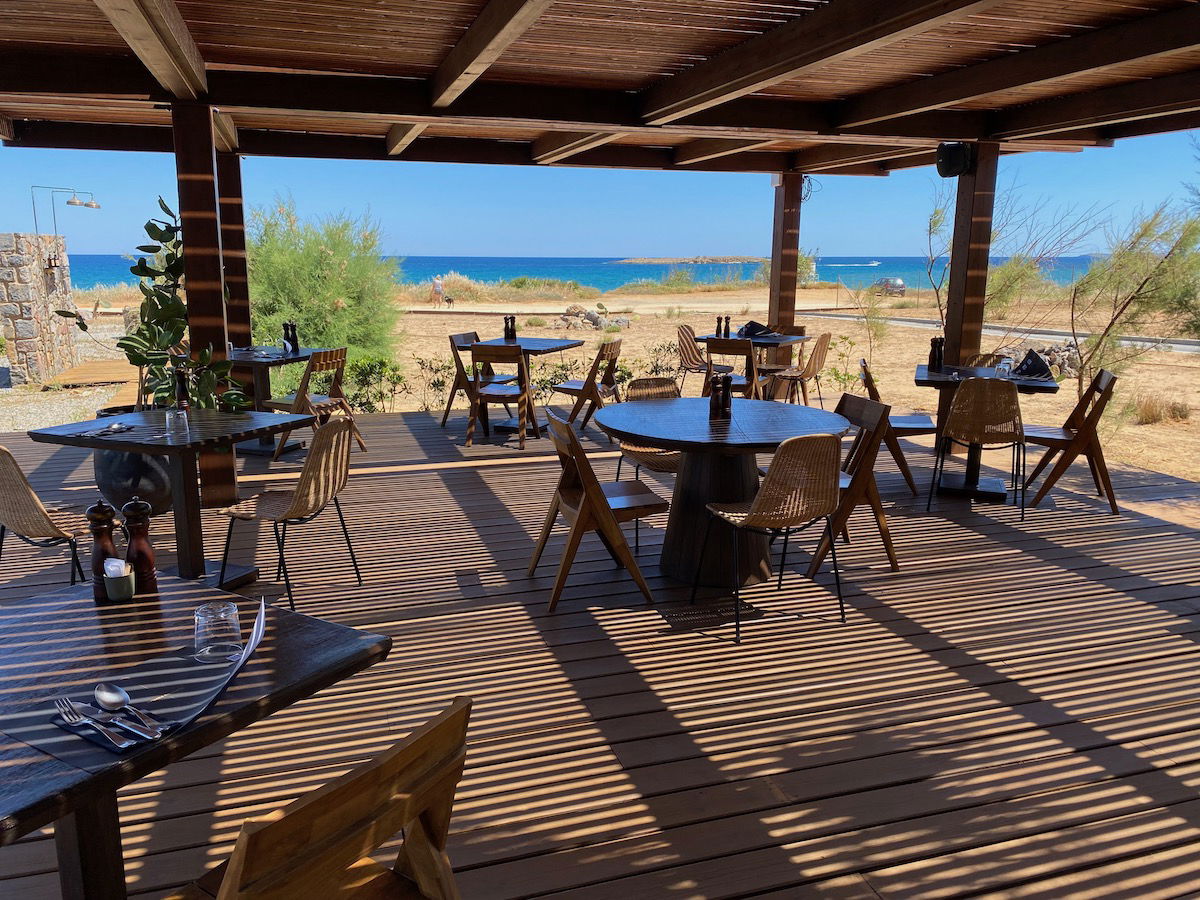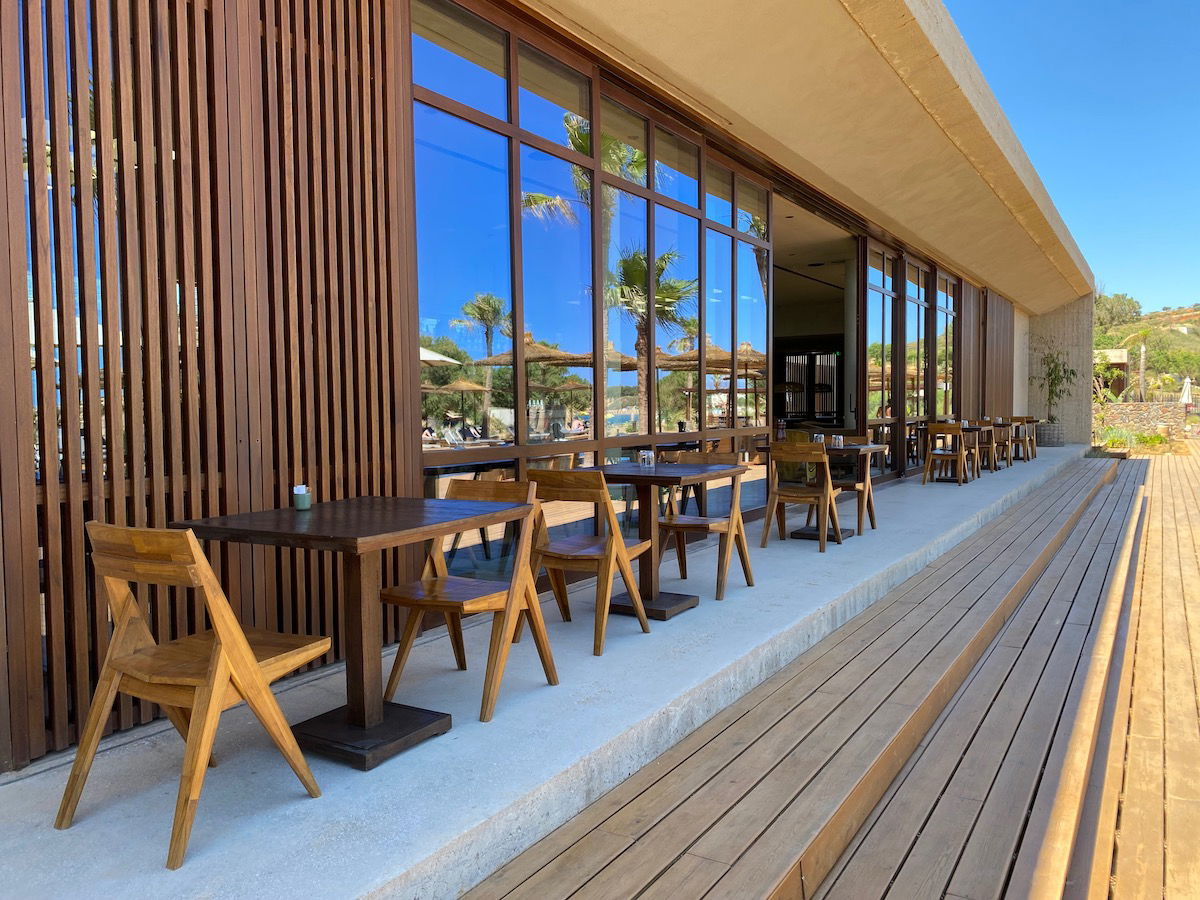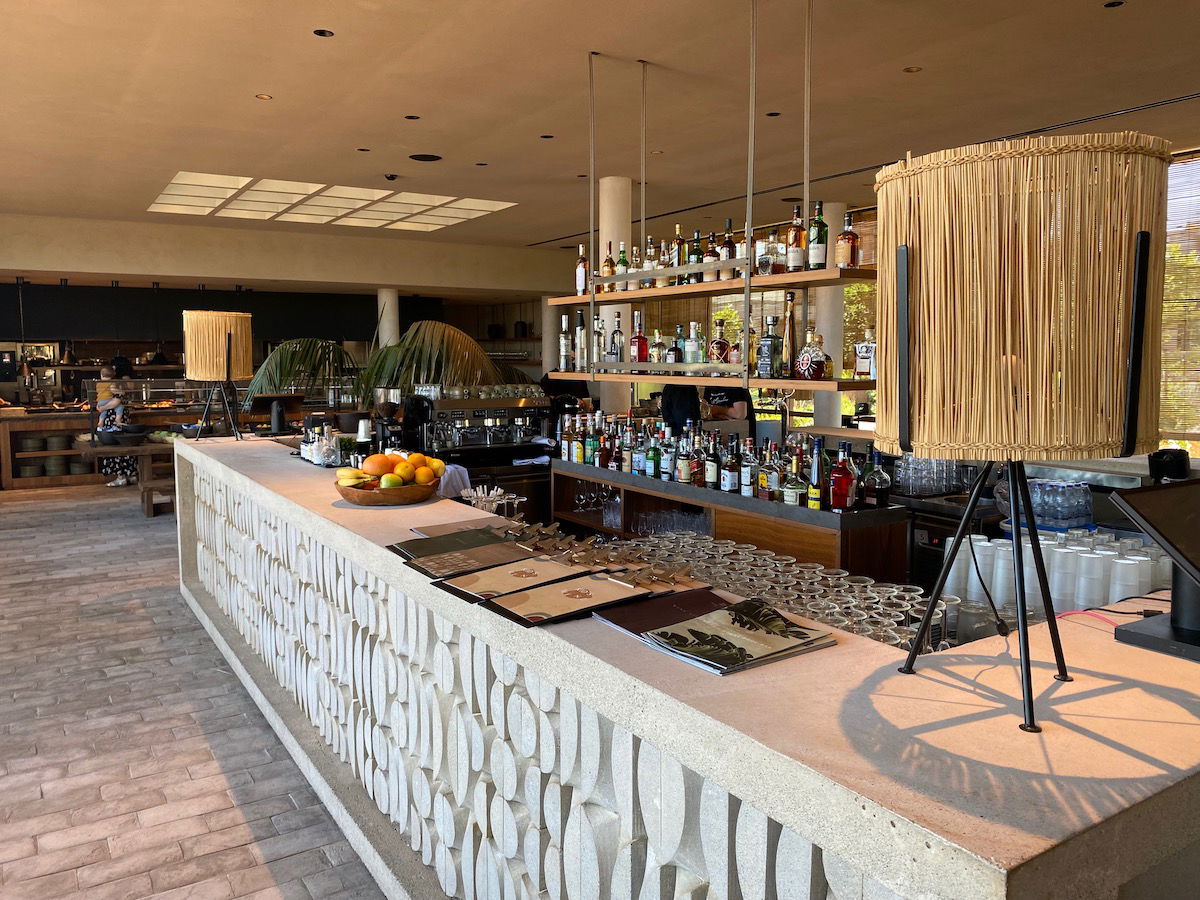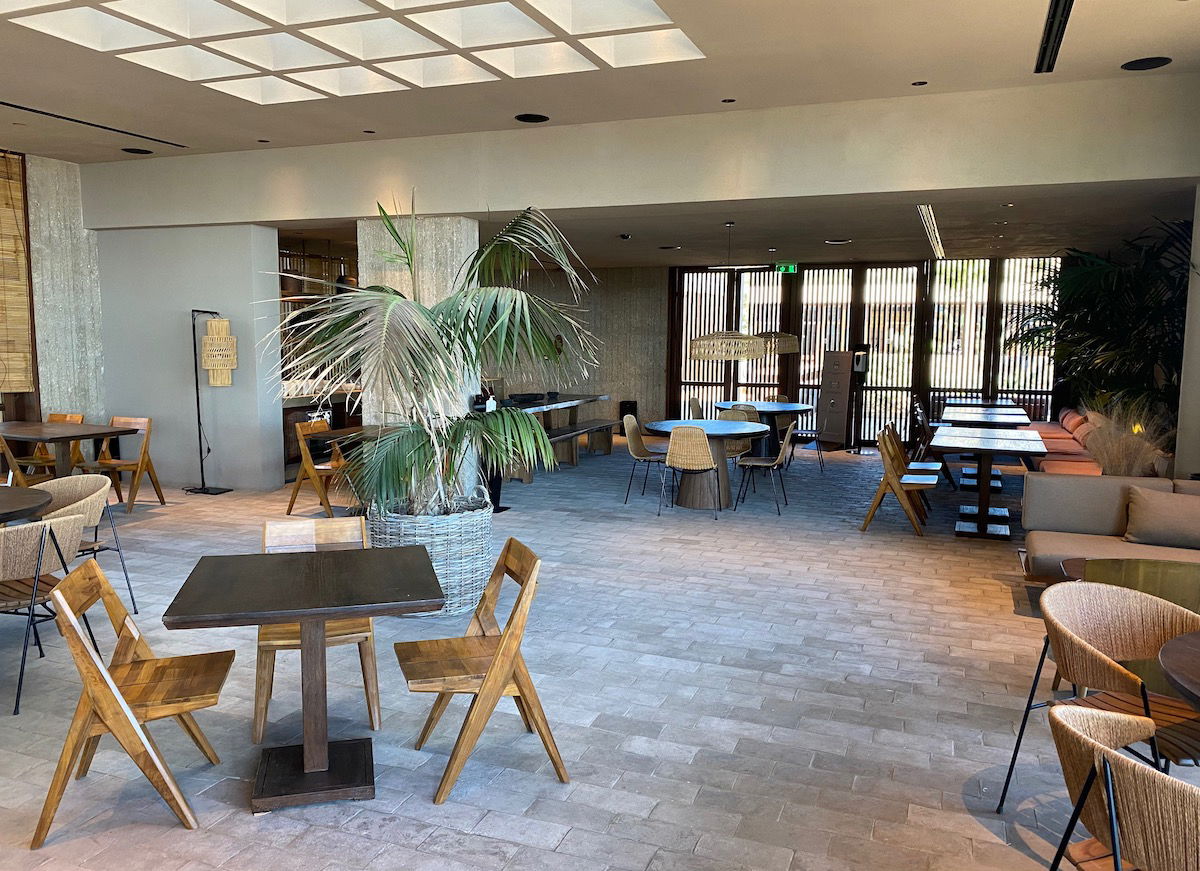 Breakfast was served daily from 7AM until 11:30AM, and primarily consisted of a buffet. The buffet is self serve, though you are required to put on gloves while serving yourself. The buffet consisted of one station along the kitchen, and then another station across from that. Overall I'd say the buffet was excellent.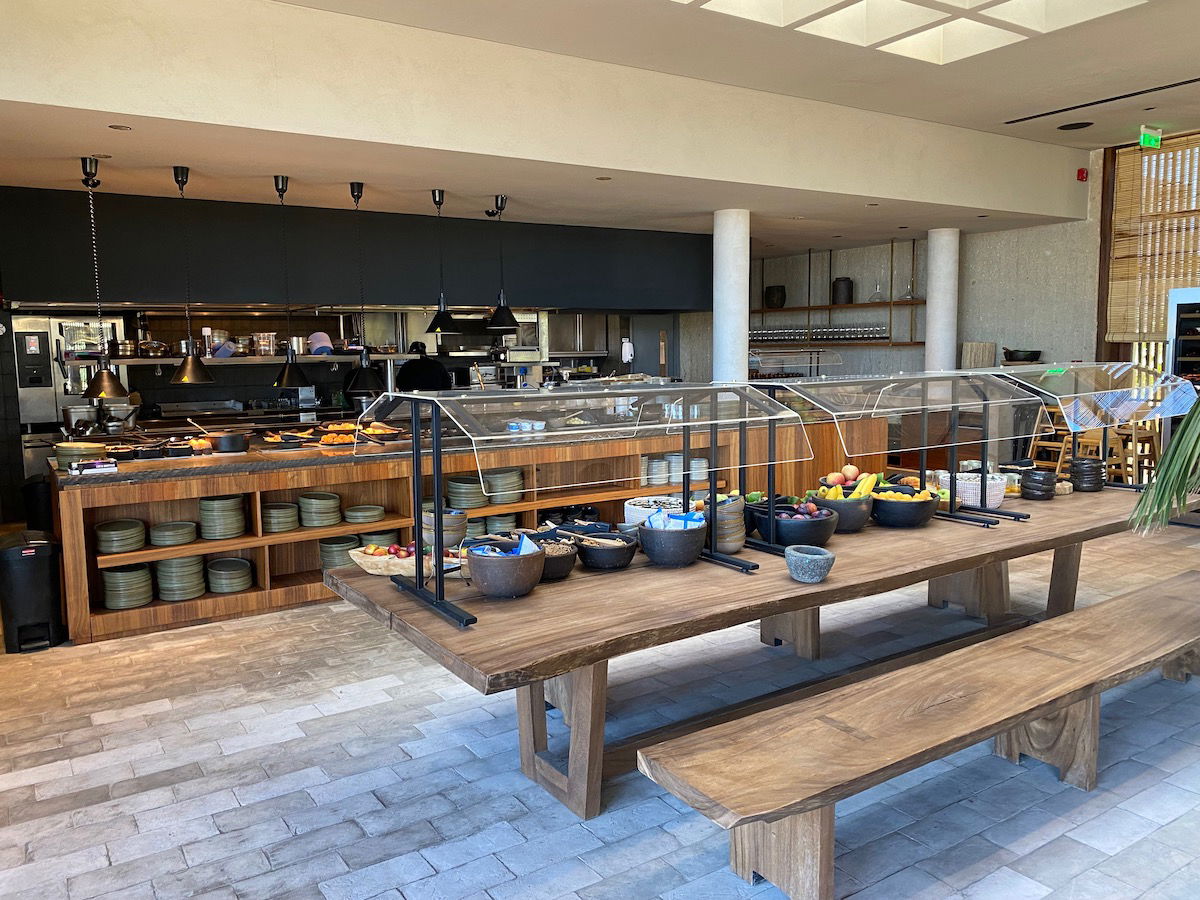 The buffet included cereal, fresh fruit, pastries, salad, salmon, yogurt, cold cuts, cheese, sweets, eggs, and all kinds of Greek dishes.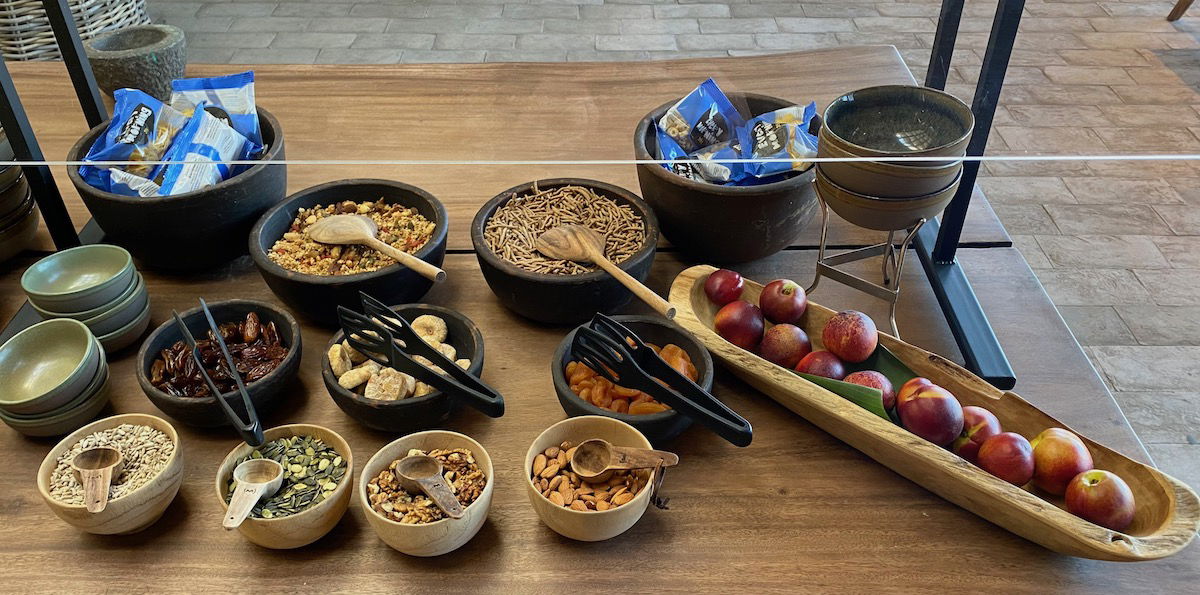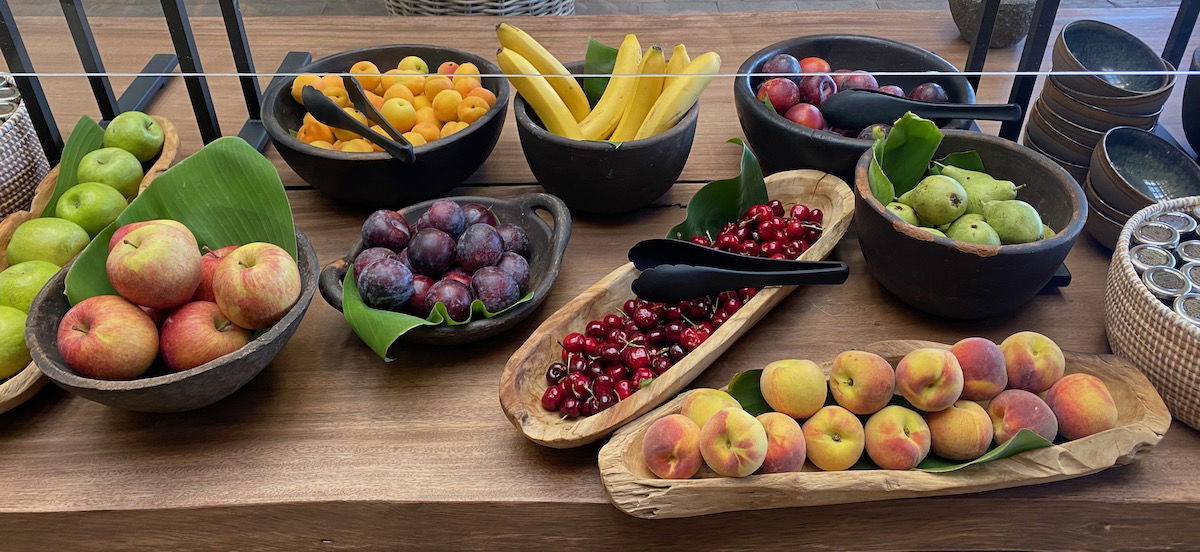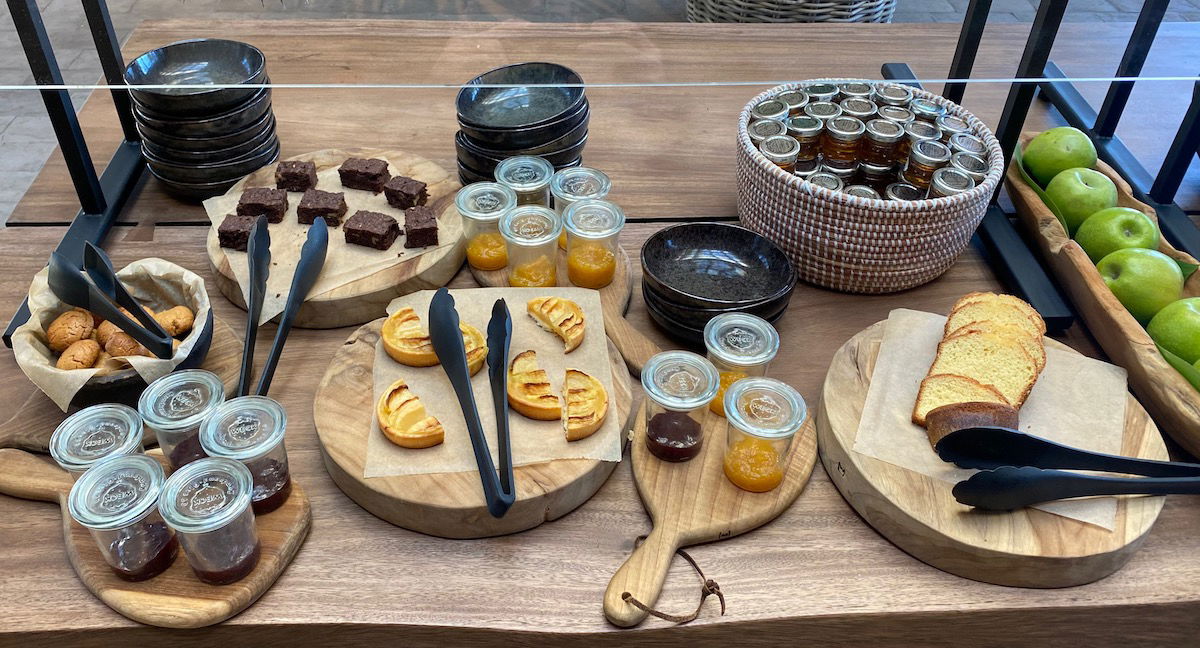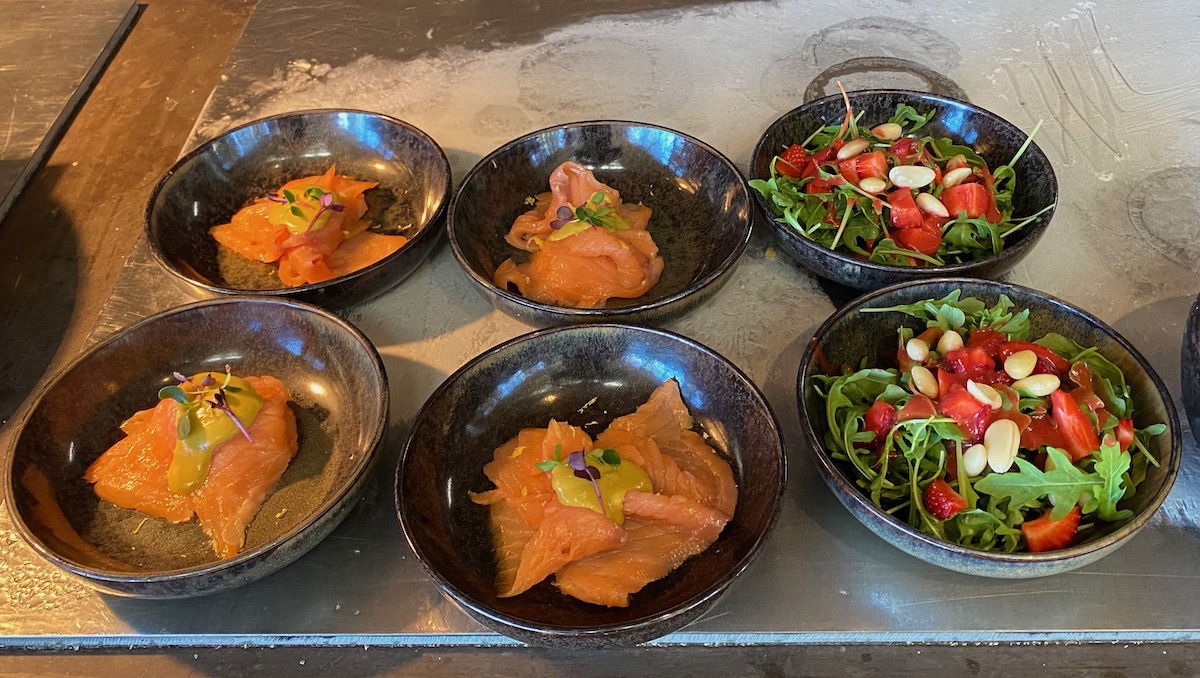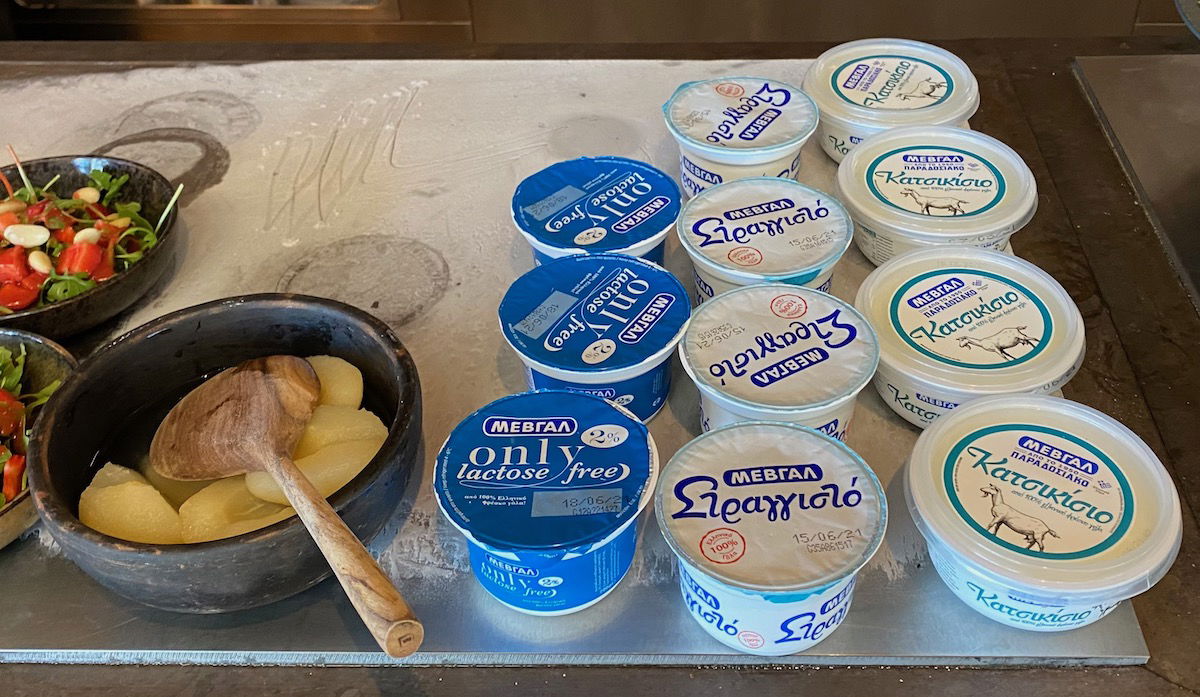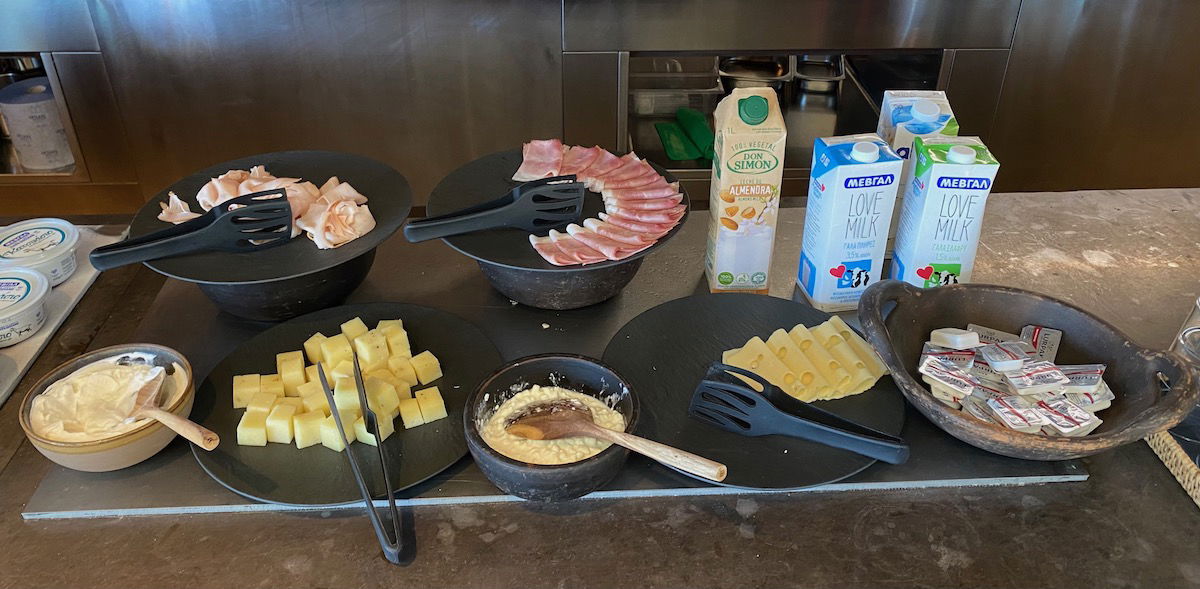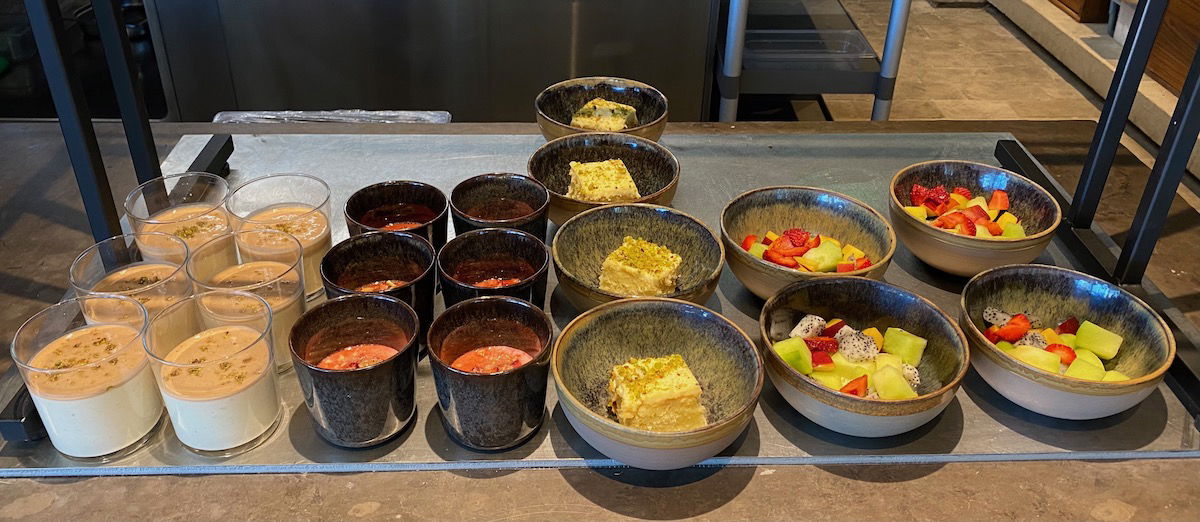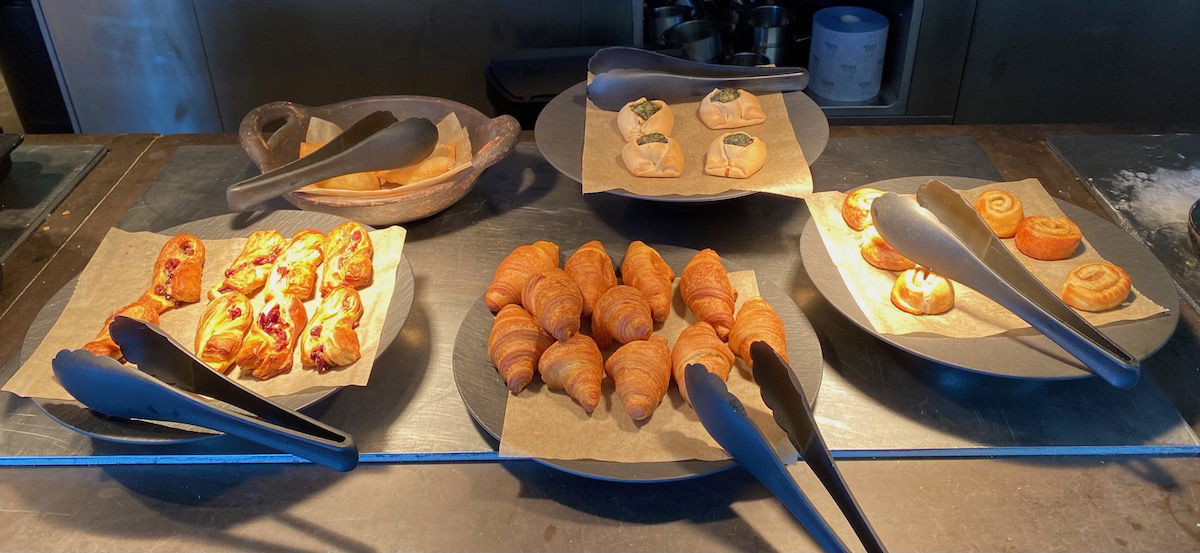 You could also order eggs, and on top of that a basket with bread was placed at each table at the start of the meal.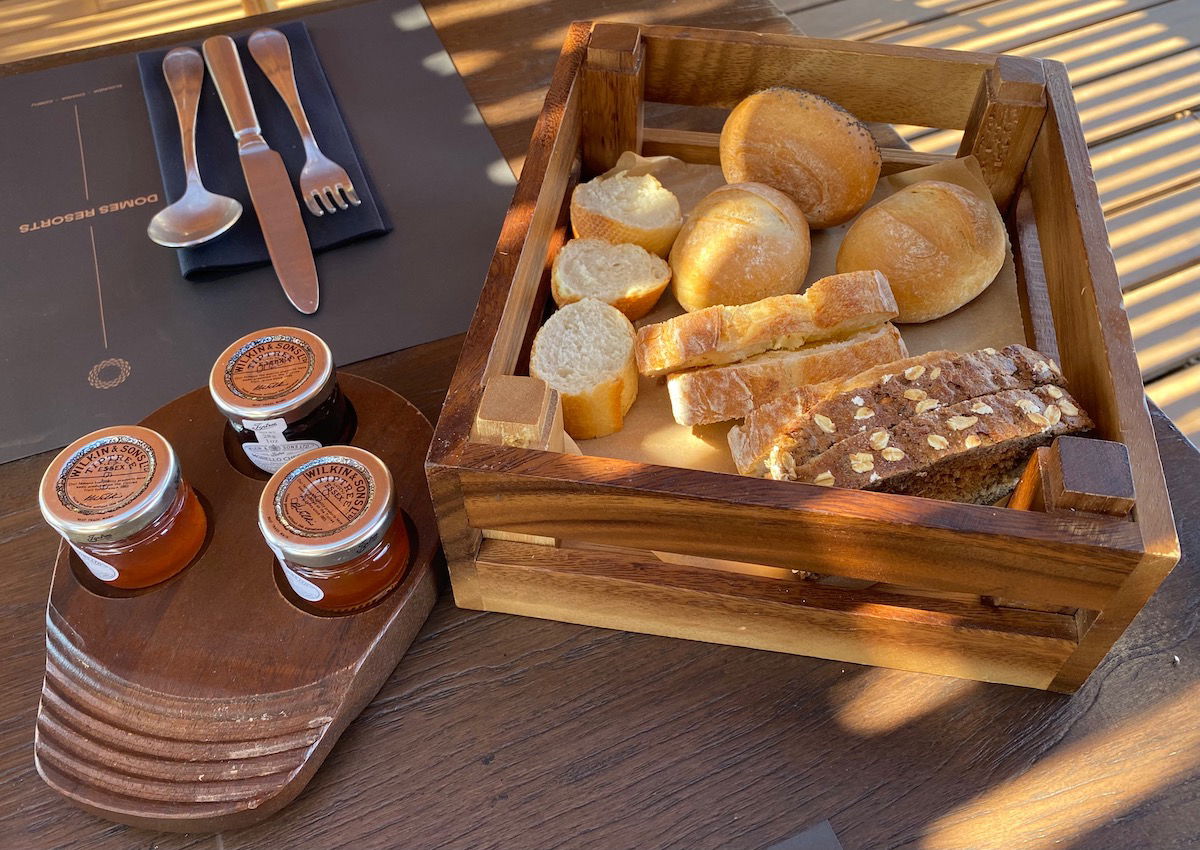 Custom coffee beverages were also available. Service was extremely well intentioned, but my one complaint was the pace of service. Even when the breakfast area was quiet, it took 15-20 minutes to get a cup of coffee. And when the restaurant was full, it regularly took over 20 minutes. We ended up already ordering our second cup of coffee the moment we received our first one.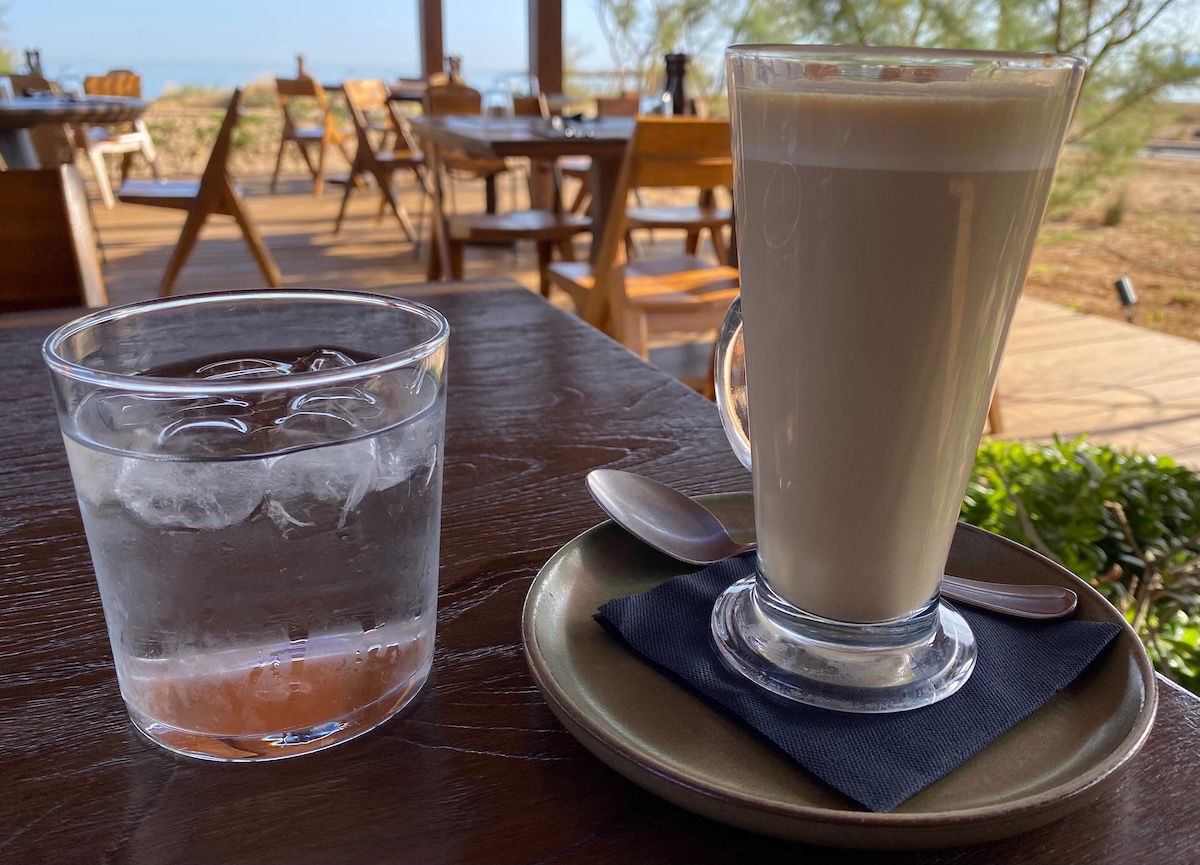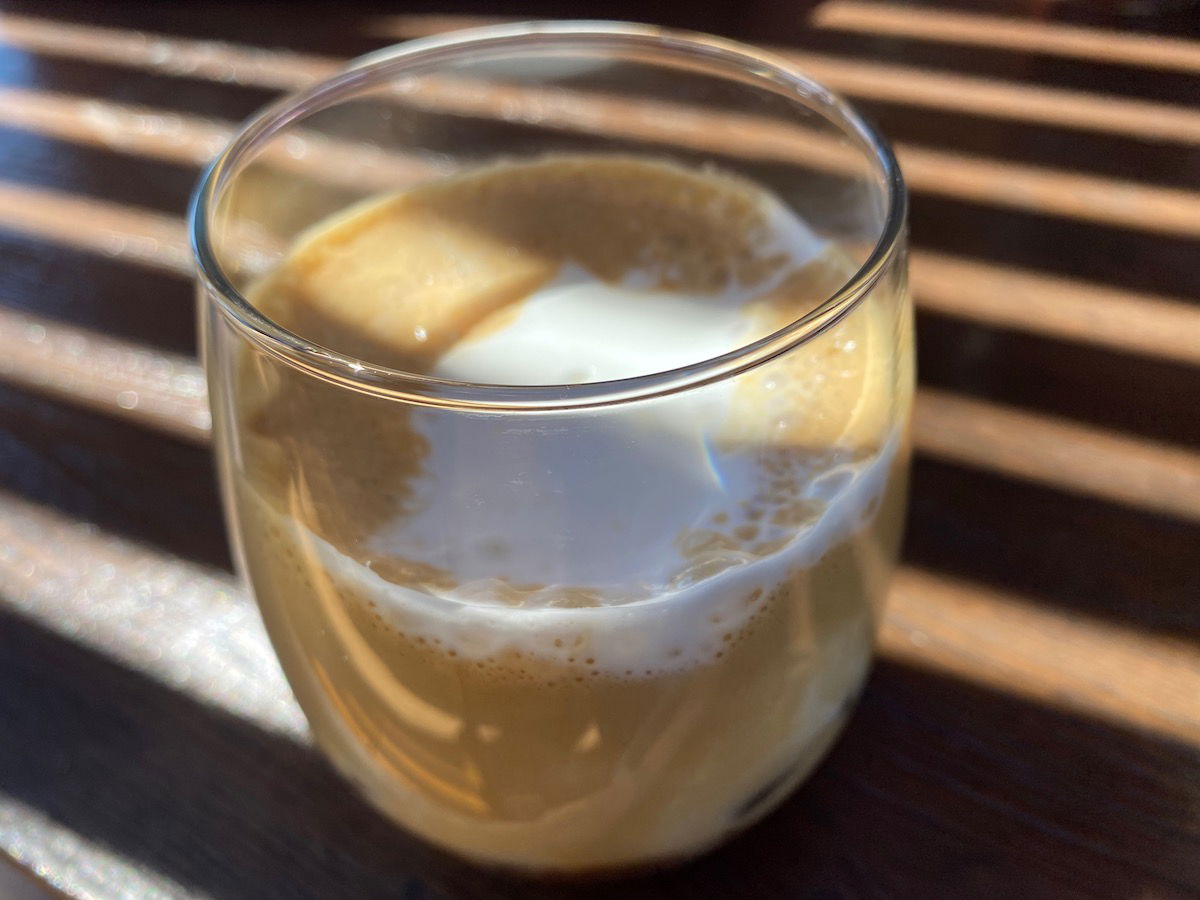 Domes Zeen Chania half-board dinner
Our rate at Domes Zeen Chania included half-board. You could eat either lunch or dinner, and you could select an appetizer, a main course, and a dessert. While I'd usually consider it a shame to eat at the hotel, in this case the cheapest rate for our room included this, so there was no opportunity cost to it.
This greatly exceeded my expectations — the food was excellent, and this also proved really useful, because we were often tired in the evenings, so this was a handy option for dining.
Dinner was served nightly from 6:30PM until 10:30PM, and you can find the menu here.
The meal always began with a basket with bread and olives being placed on our table.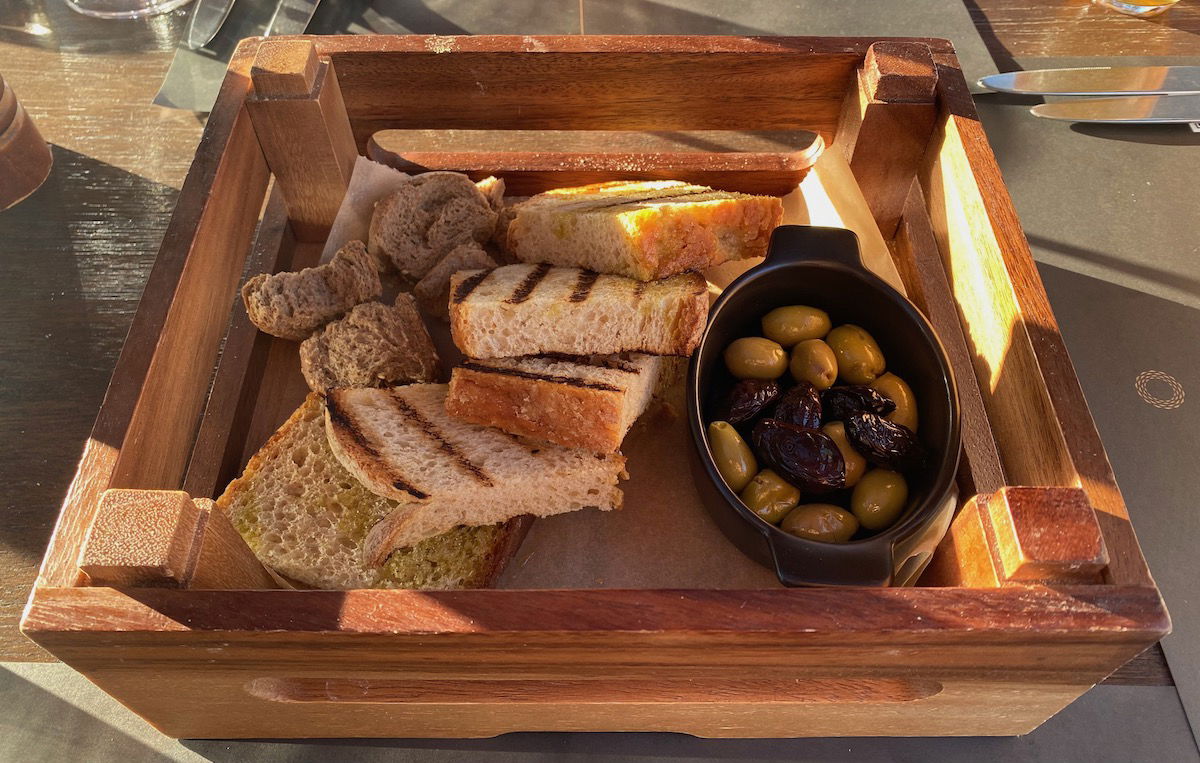 For starters we tried the mezze, the salad, and the calamari.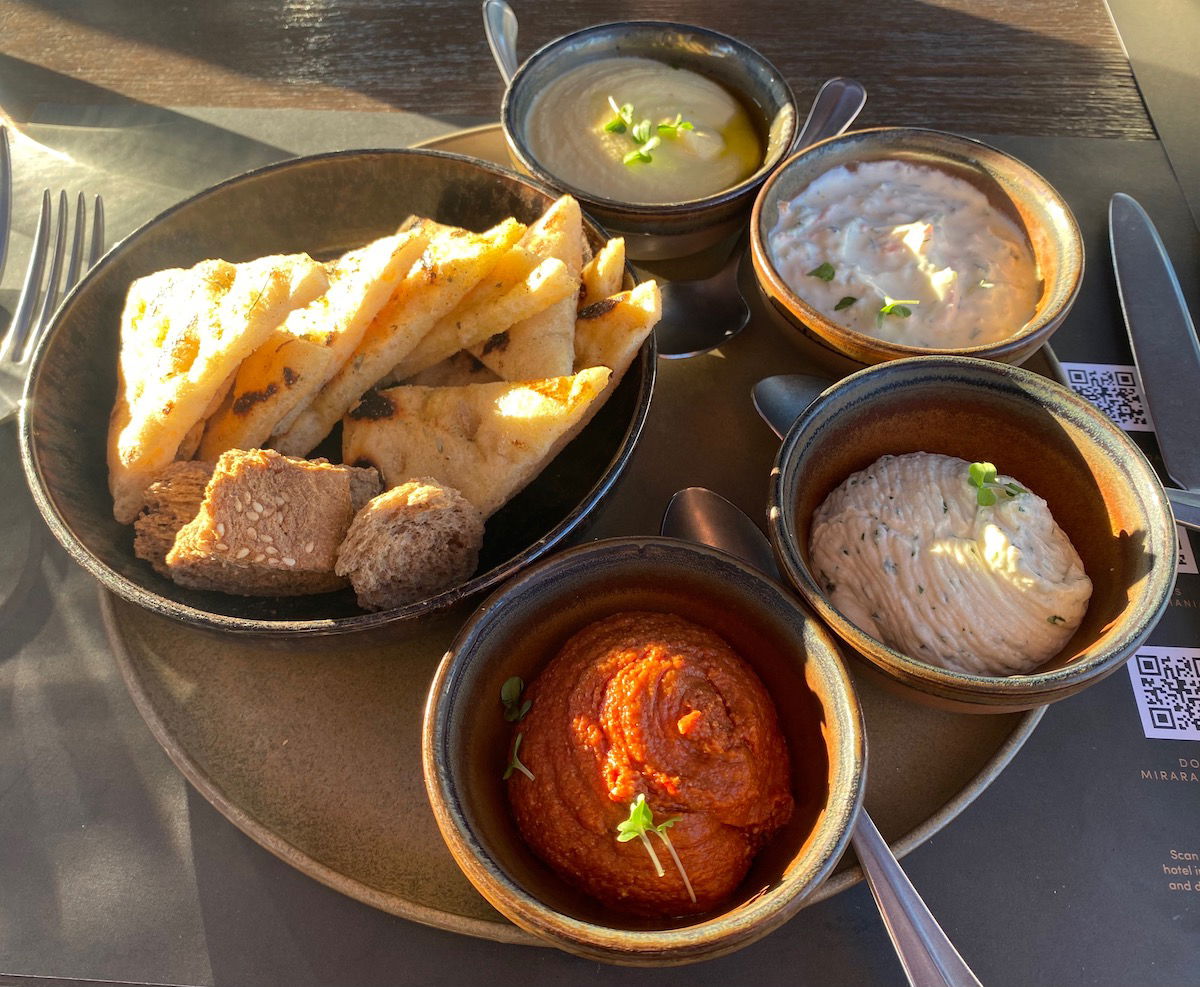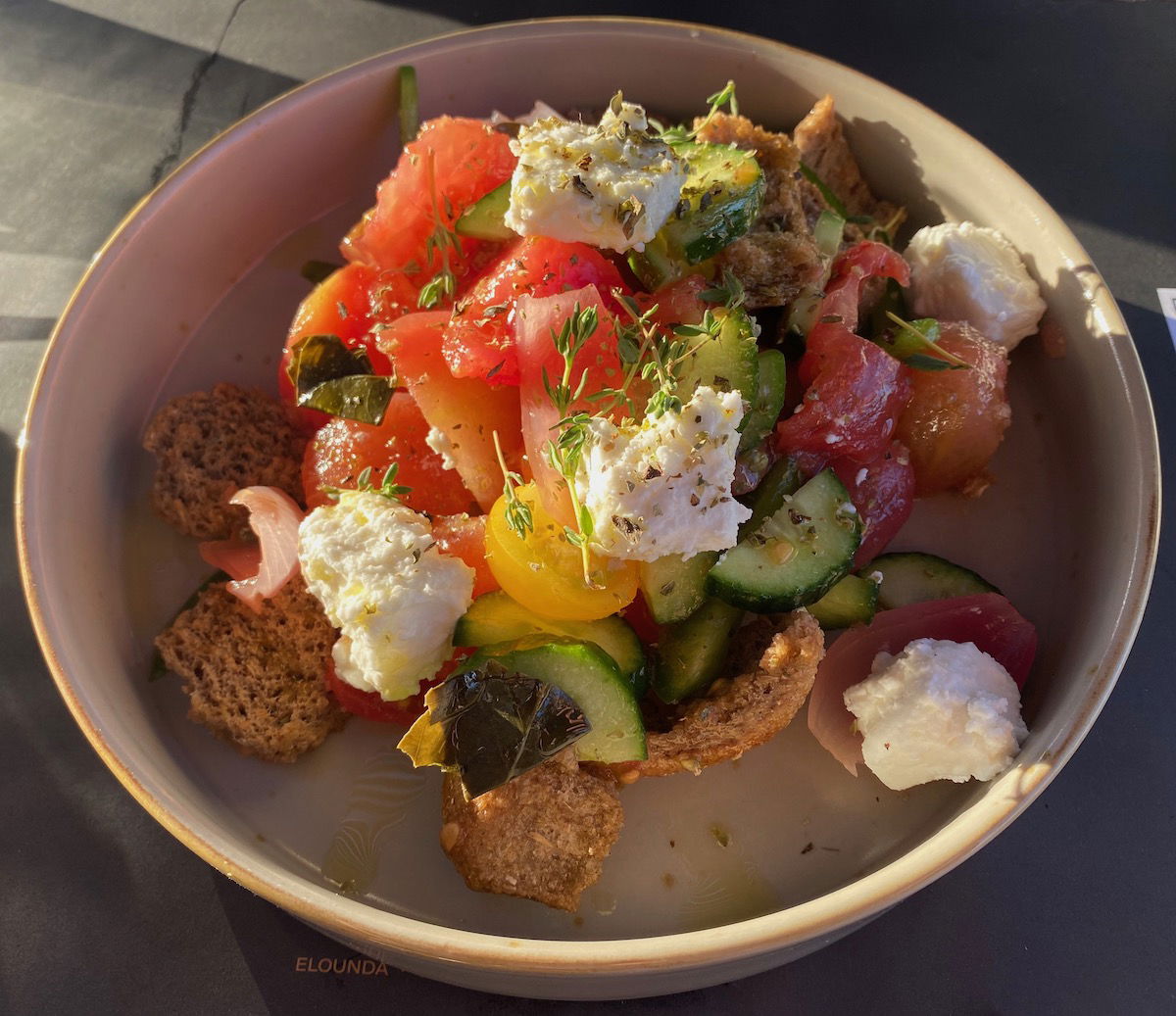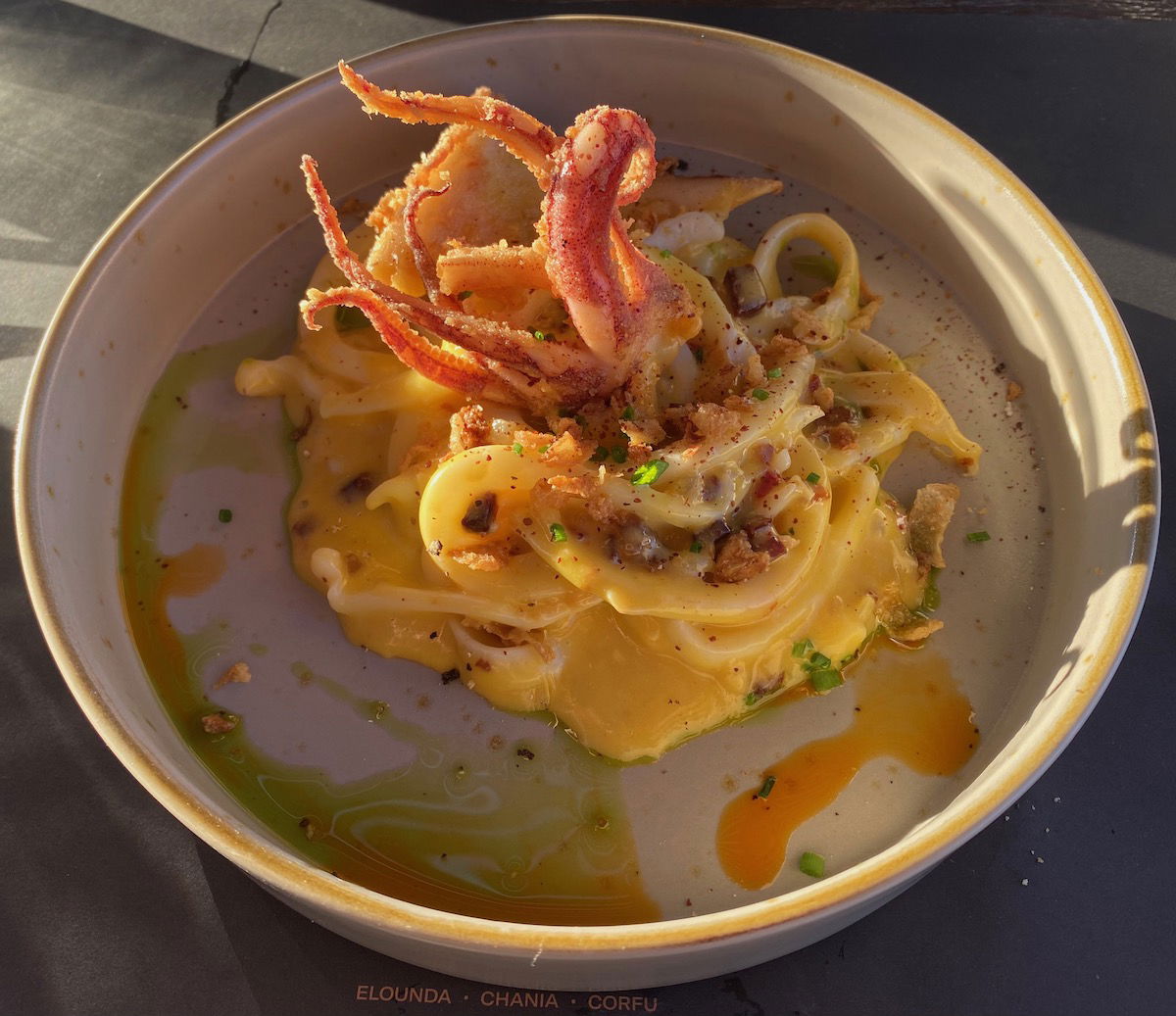 For the main course we had the seabass, chicken, and lamb, which came with some sides, including fries and vegetables.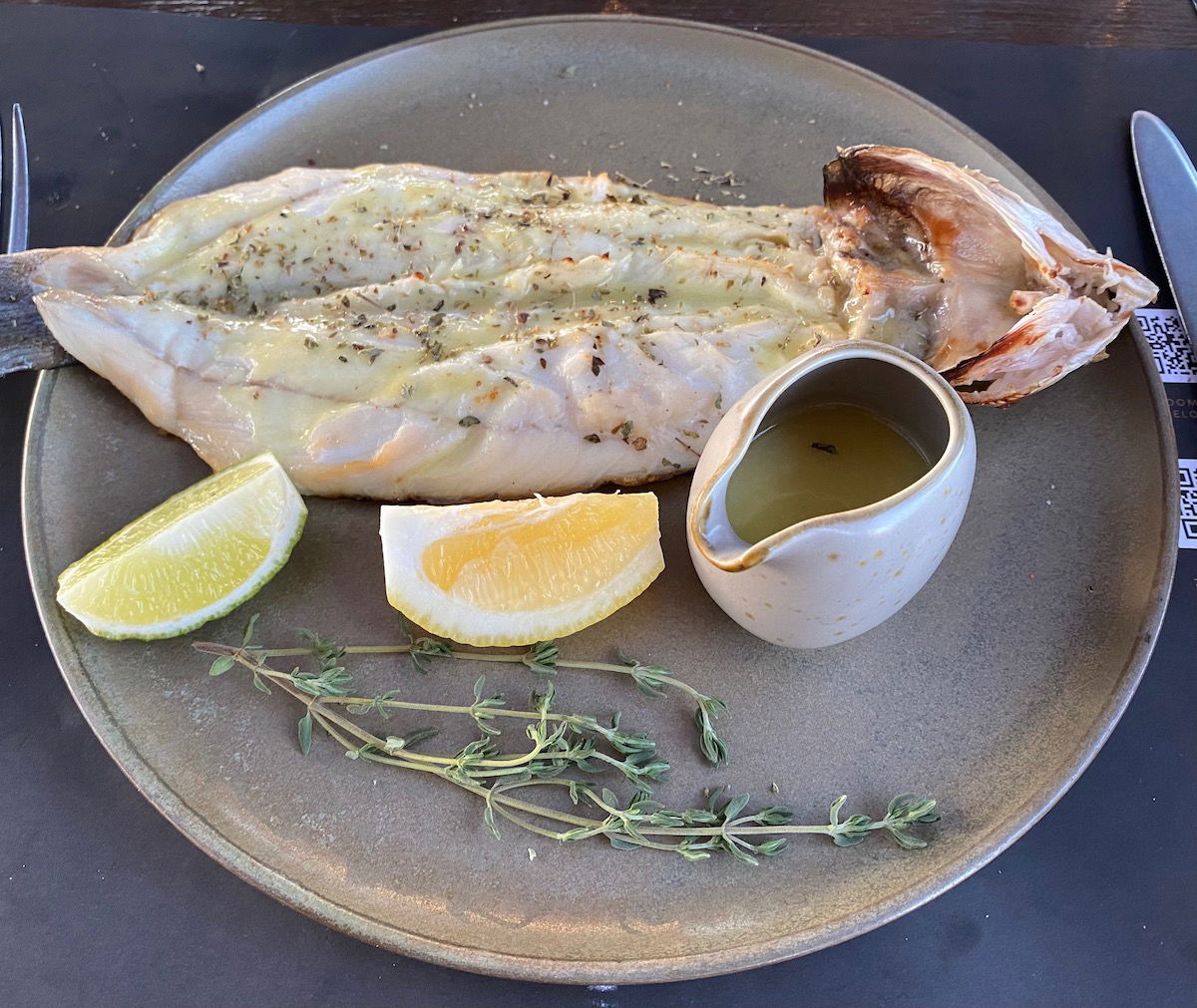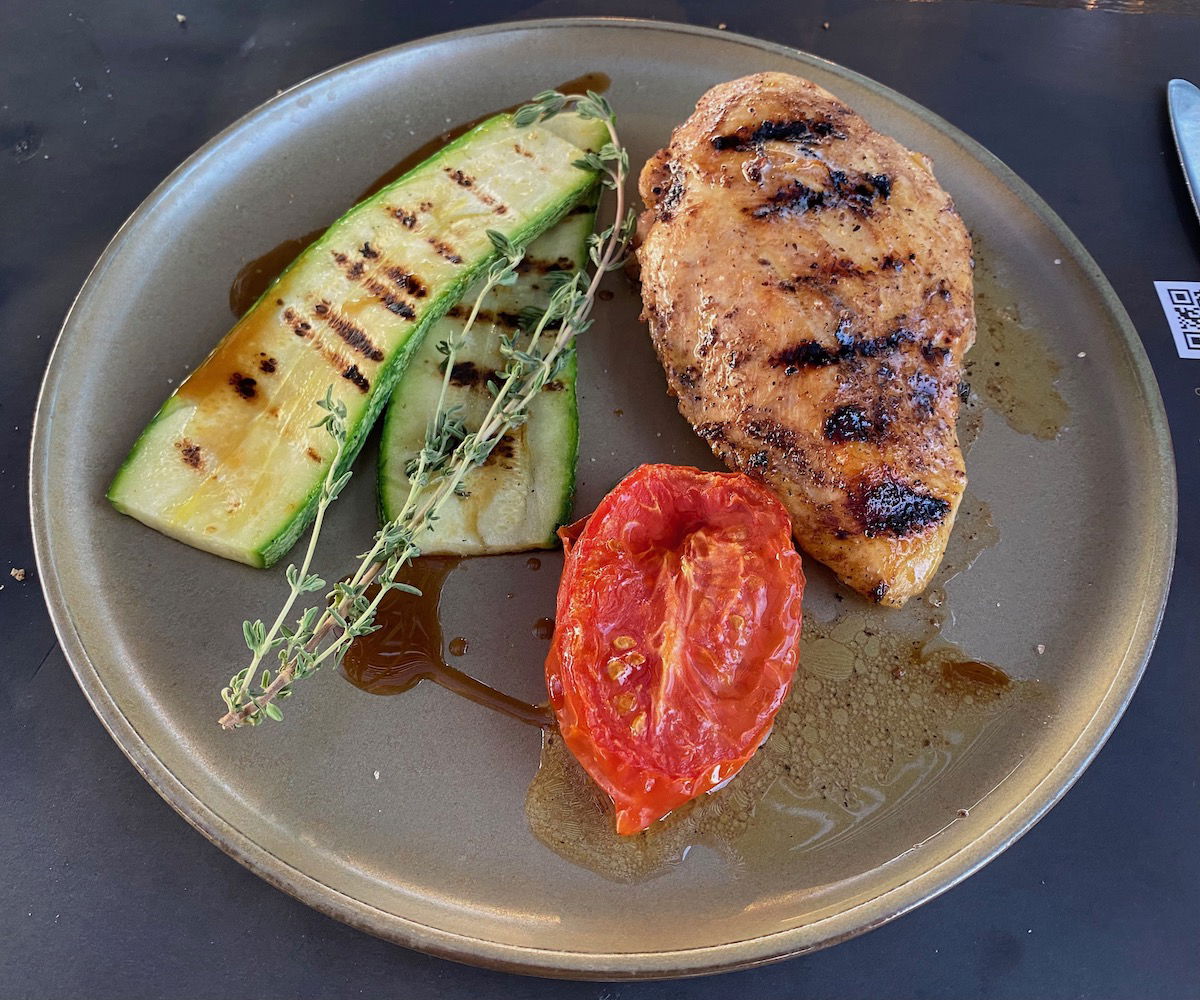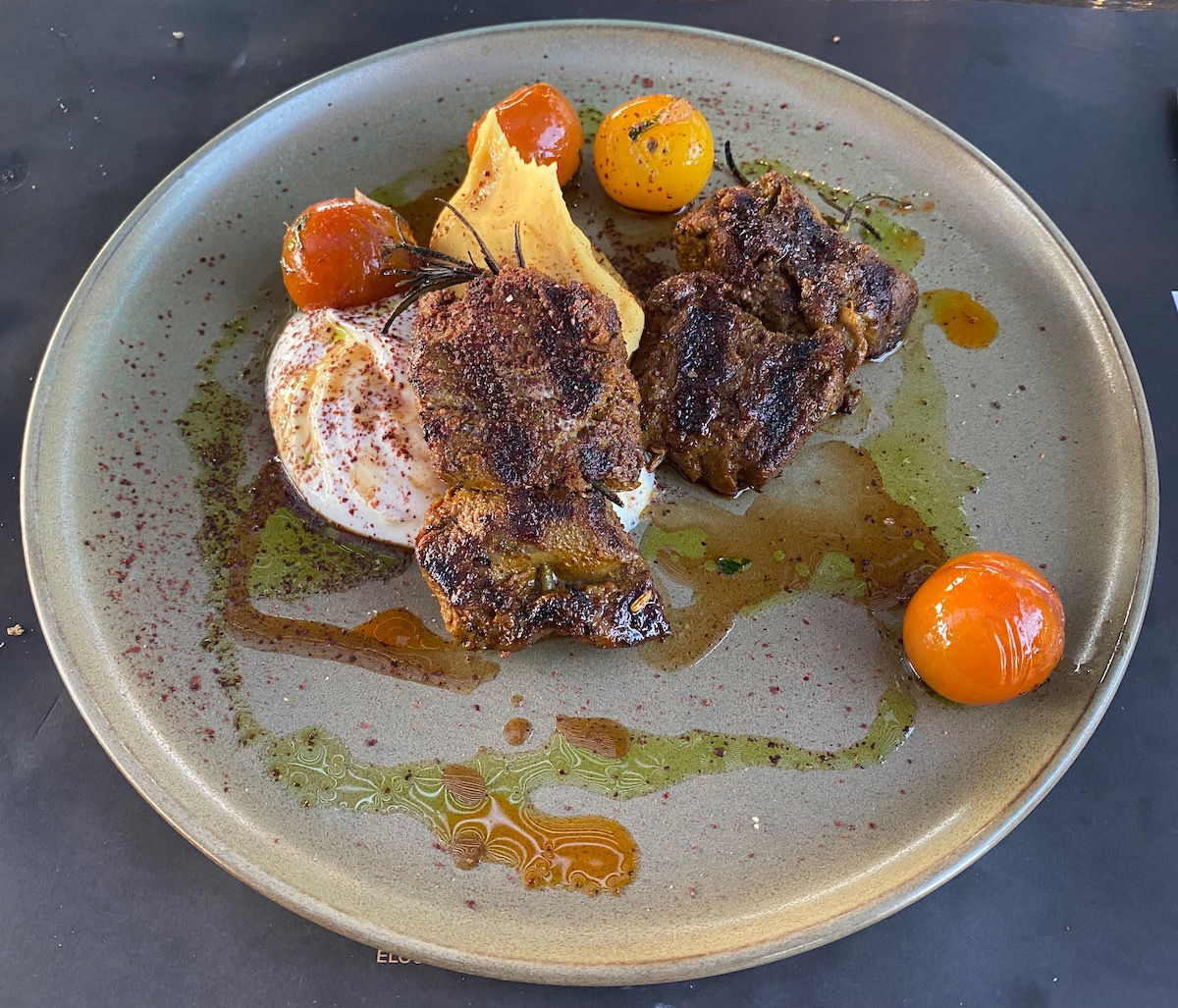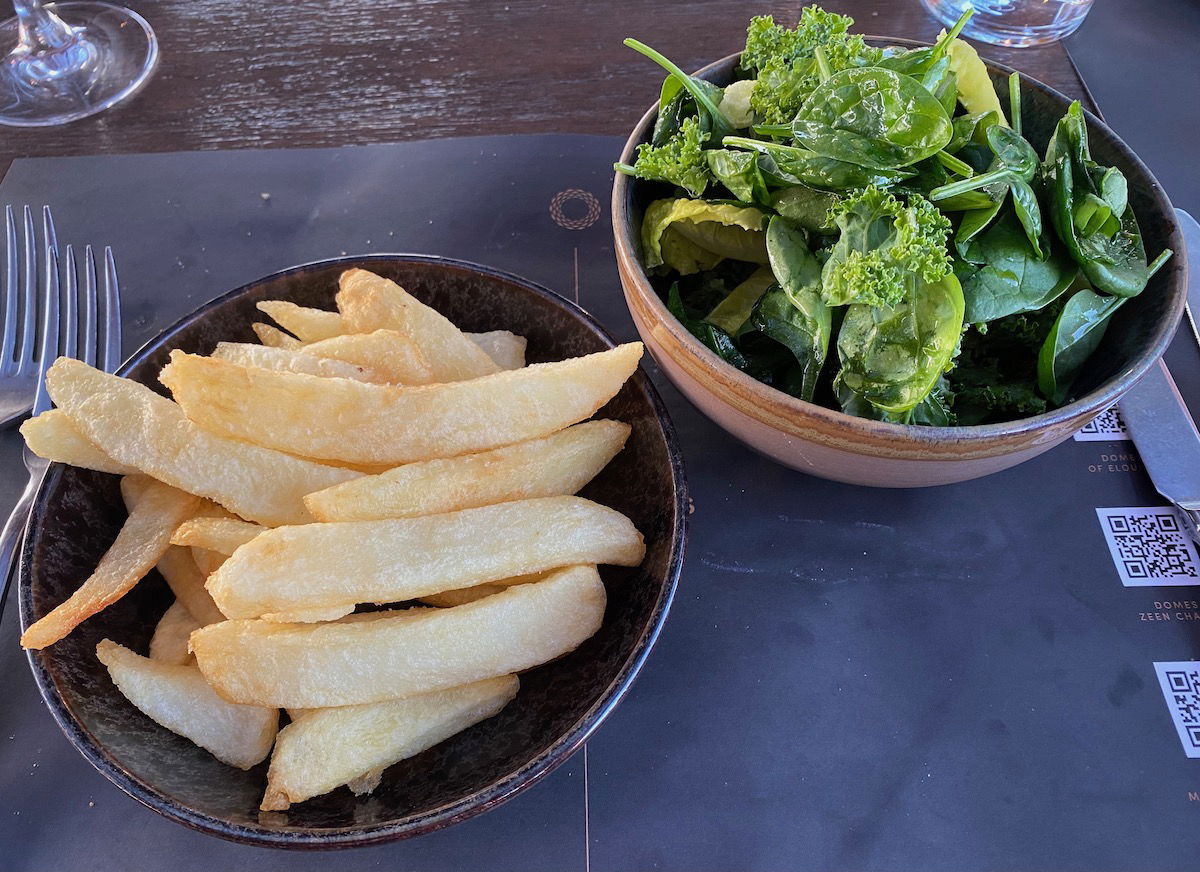 For dessert we had a chocolate mousse dish with ice cream, a vegan dessert, and a cheese plate.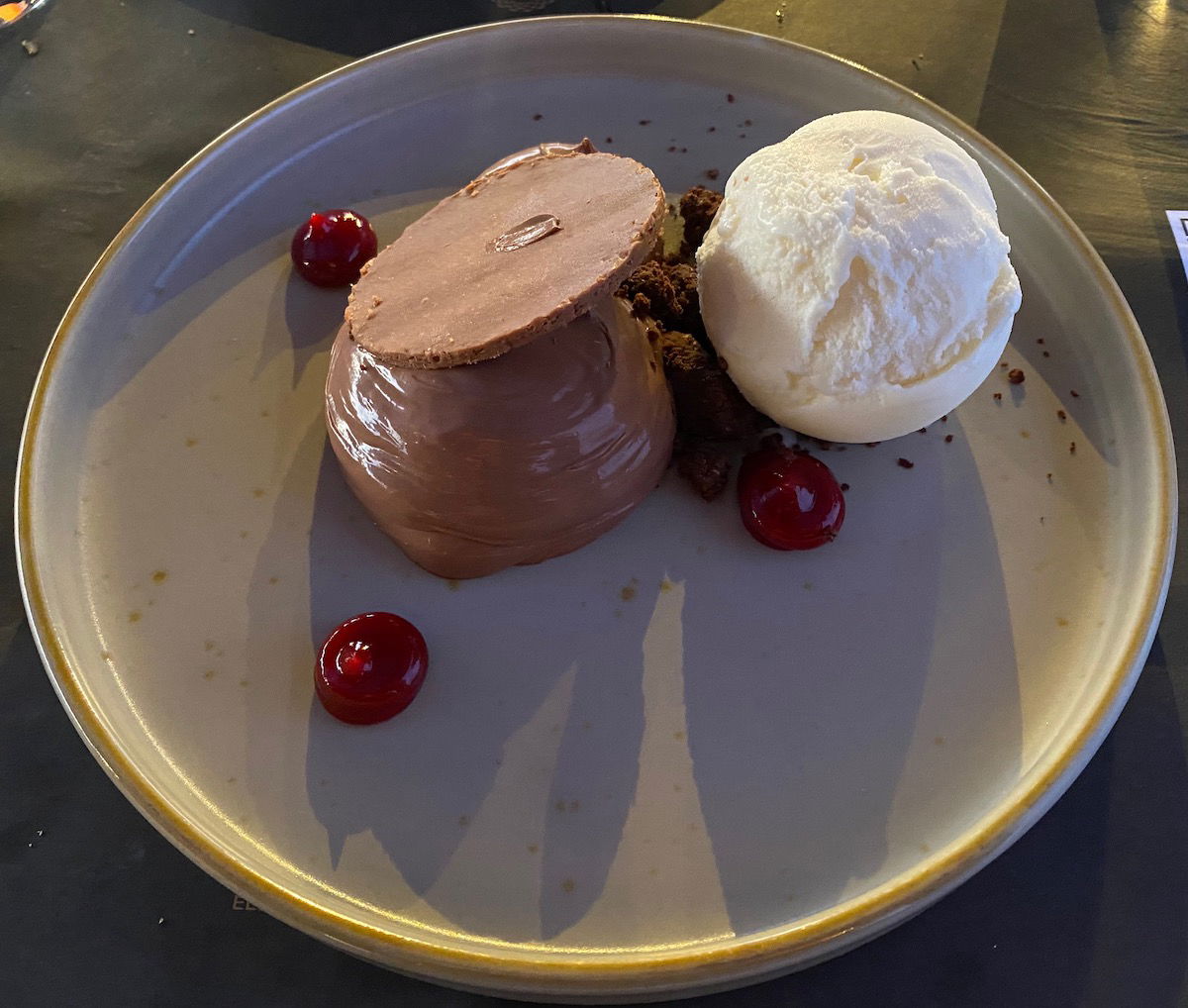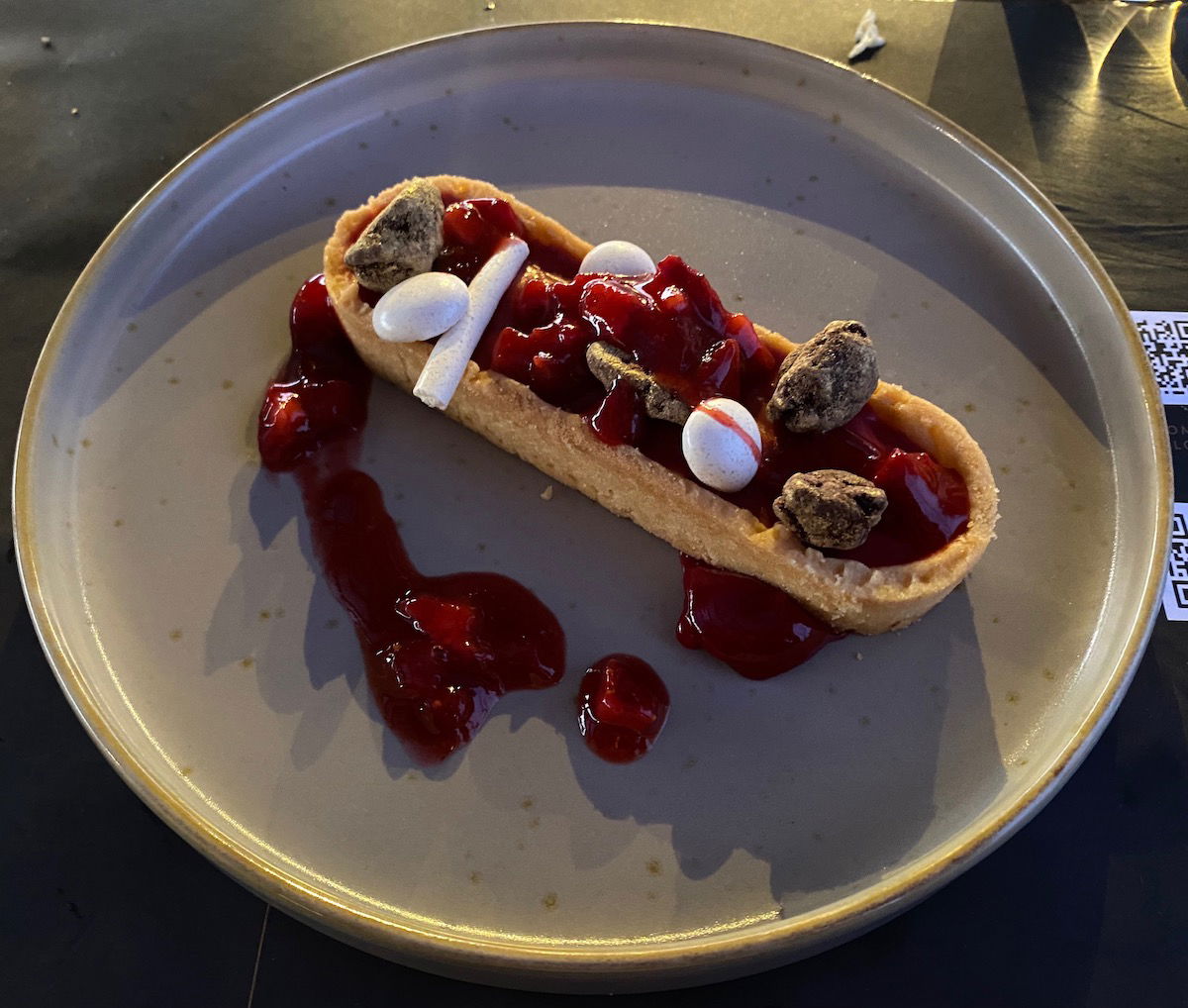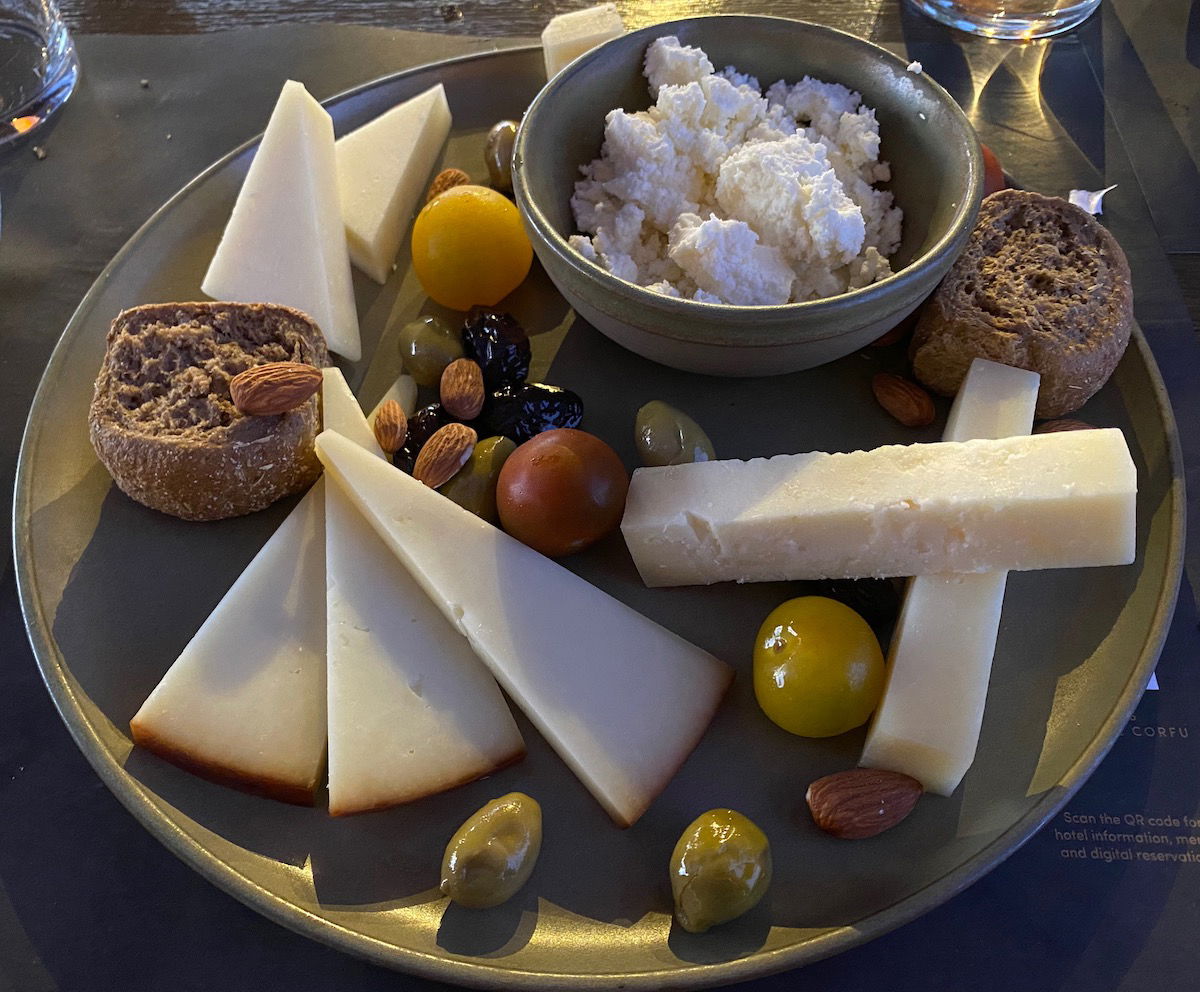 I thought the food was excellent, certainly better than I was expecting for a hotel that includes meals with many rates. And the portions were also huge. Service was also more attentive in the evenings. We also loved watching the sunset from the restaurant.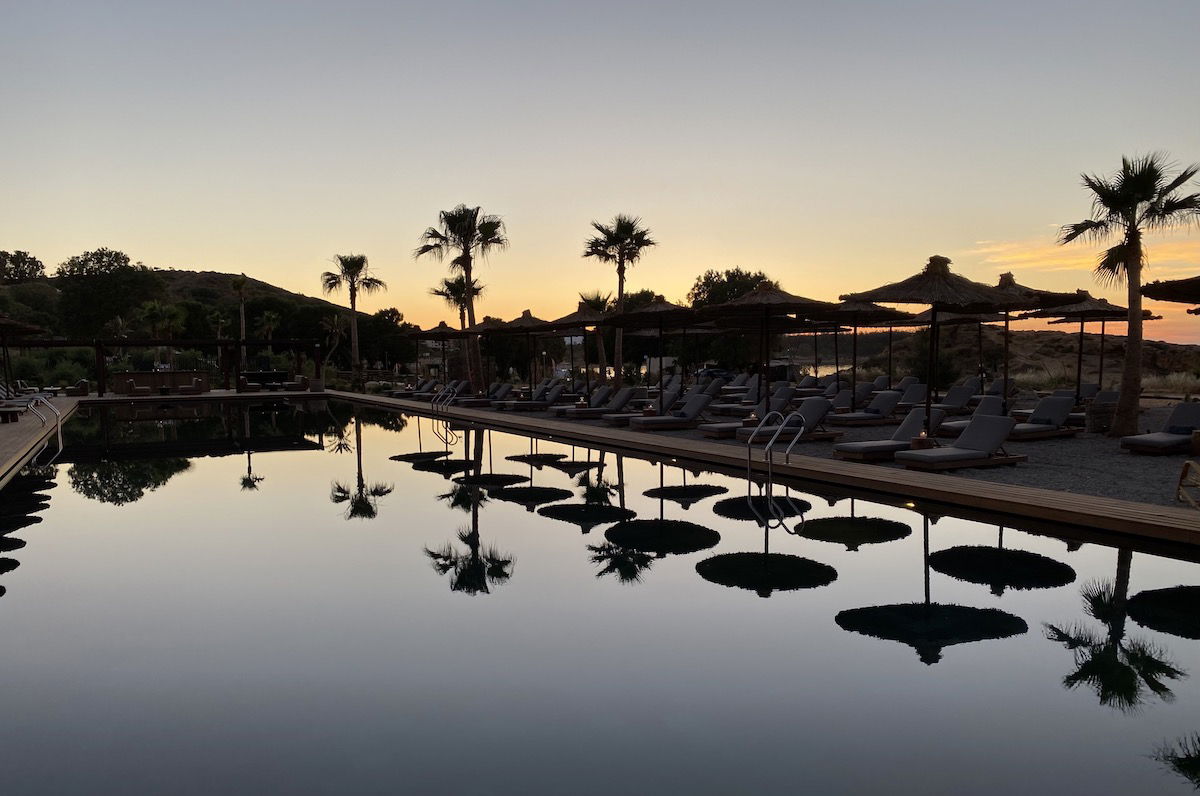 Domes Zeen Chania also has a fine dining restaurant with a tasting menu. This was closed during our stay, but for that matter I didn't feel like we missed out — the restaurant was tiny, and the "regular" food was so good already.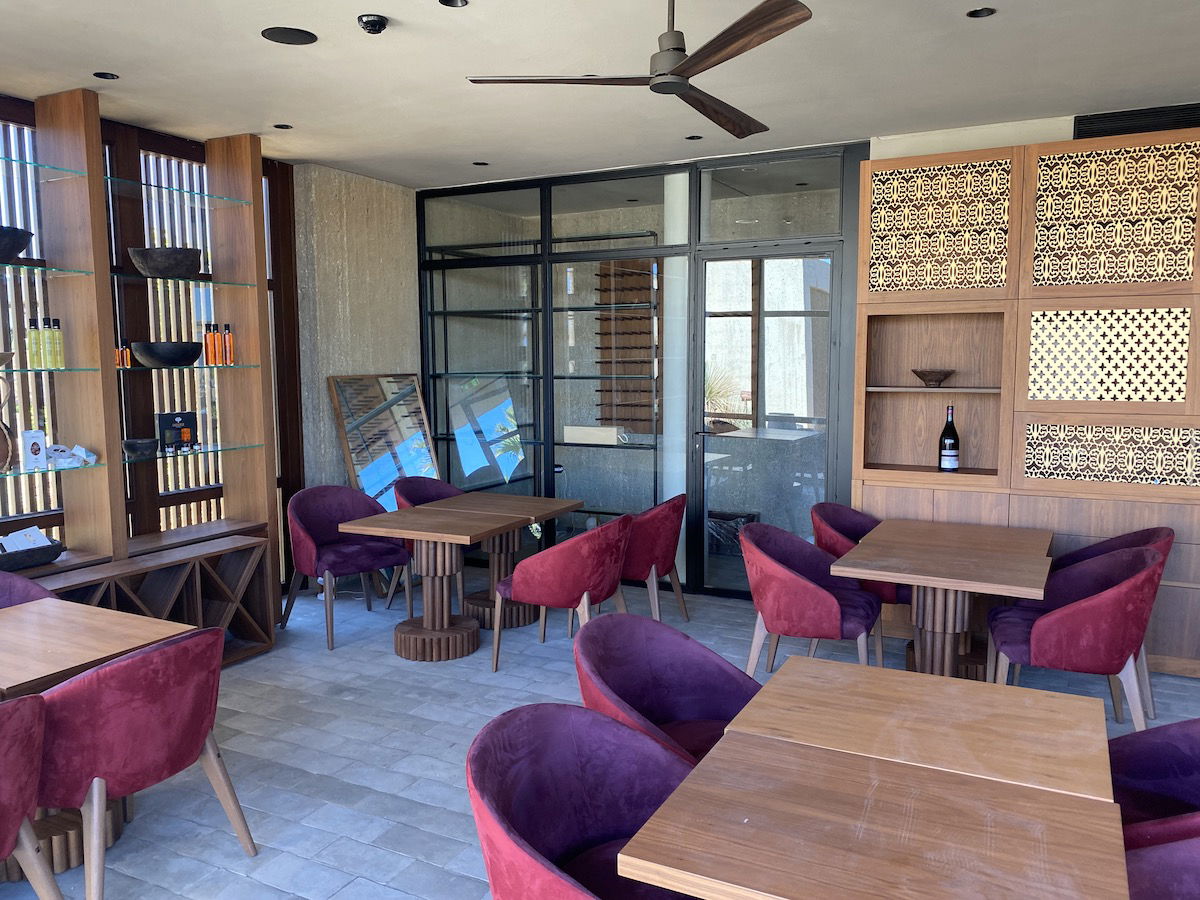 Domes Zeen Chania Haute Living
Domes Zeen Chania has what's called "Haute Living." You get access to this if you book certain room types and rates, though I don't believe you get access to this purely based on status. Here's how this concept is described (my goodness, what puffery):
Found at the intersection of luxury, slow-living simplicity and discreet privacy, our constellation of Haute Living Selection villas and pavilions is an ode to tasteful indulgence.We are no ordinary luxury hotel in Crete. If you want to feel like a veritable VIP, our most privileged options comprise the Haute Living Selection, for families and couples seeking an immersive experience of laid-back, sophisticated hospitality. We want to give you the option to dial up your sun-kissed getaway to the maximum. That's why we've created this exclusive hotel-within-a-hotel concept that allows you to experience unparalleled services and amenities.
The most significant benefit of that is access to the Haute Living Room, which is described as offering all day hot and cold snacks, fruits, salads, traditional delicacies, tea and coffee, branded wines, soft drinks, juices, and more.
This basically sounded to me like an epic club lounge. Well, unfortunately I was disappointed in that sense. The Haute Living Room is in fact just a small room off the lobby, which almost looks like a conference room.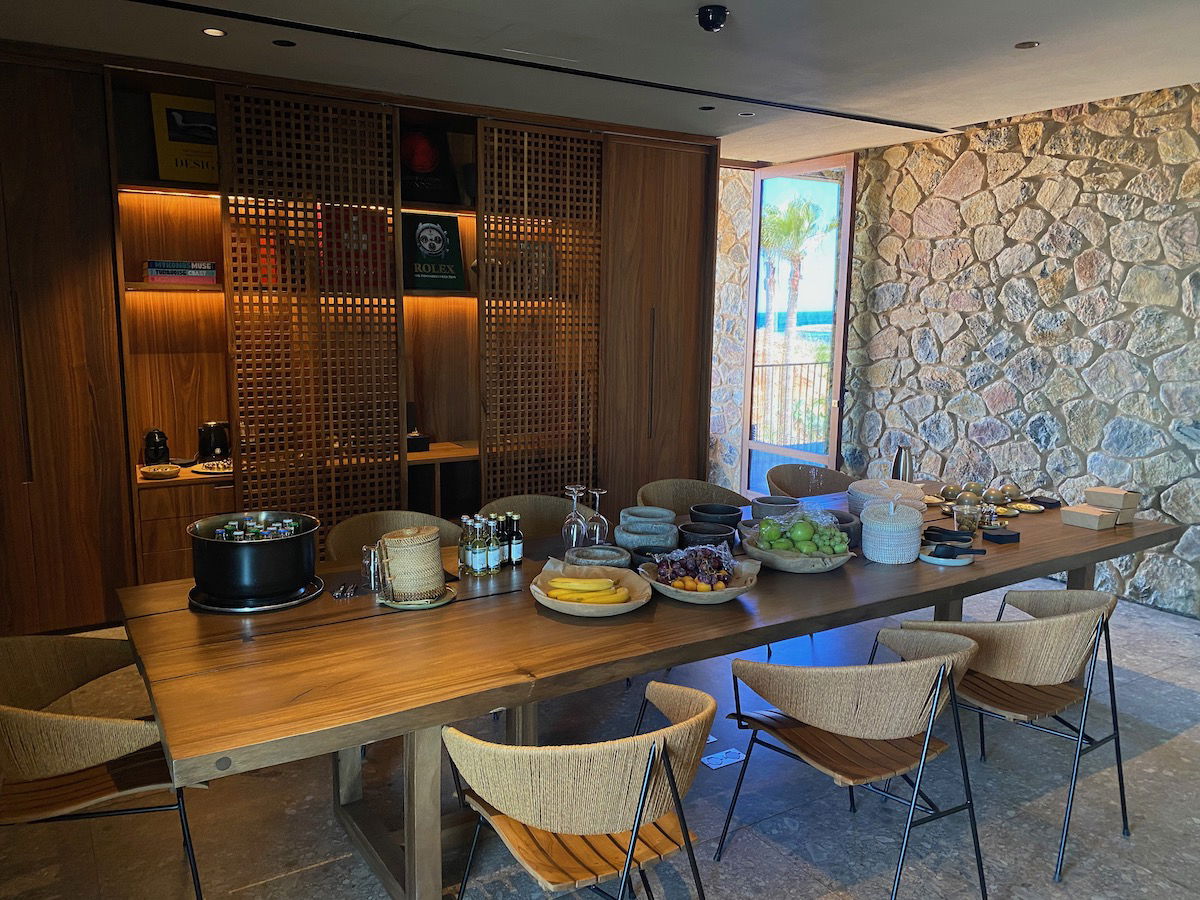 The food selection was limited to a couple of fruit plates, as well as one daily "creation" from the chef.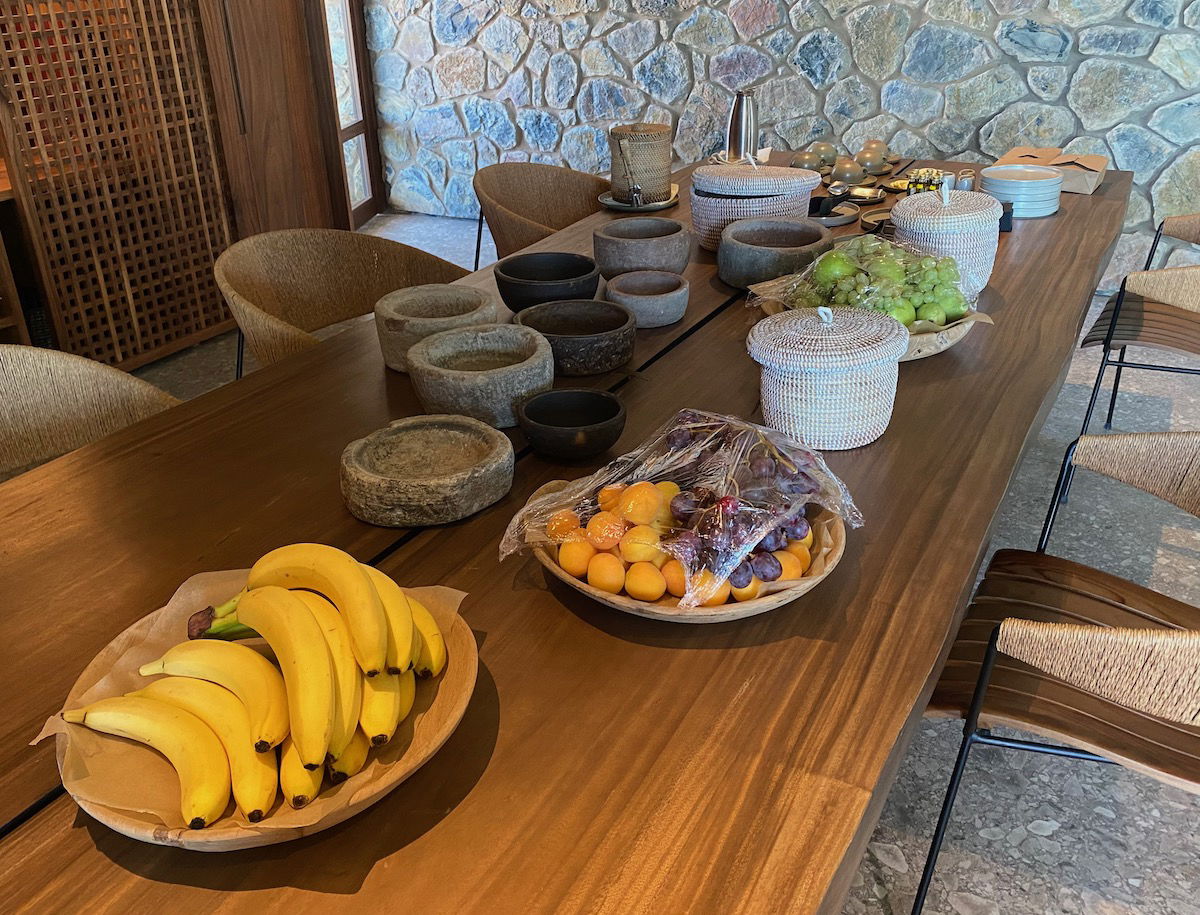 Most days that was a chocolate croissant that didn't taste particularly fresh.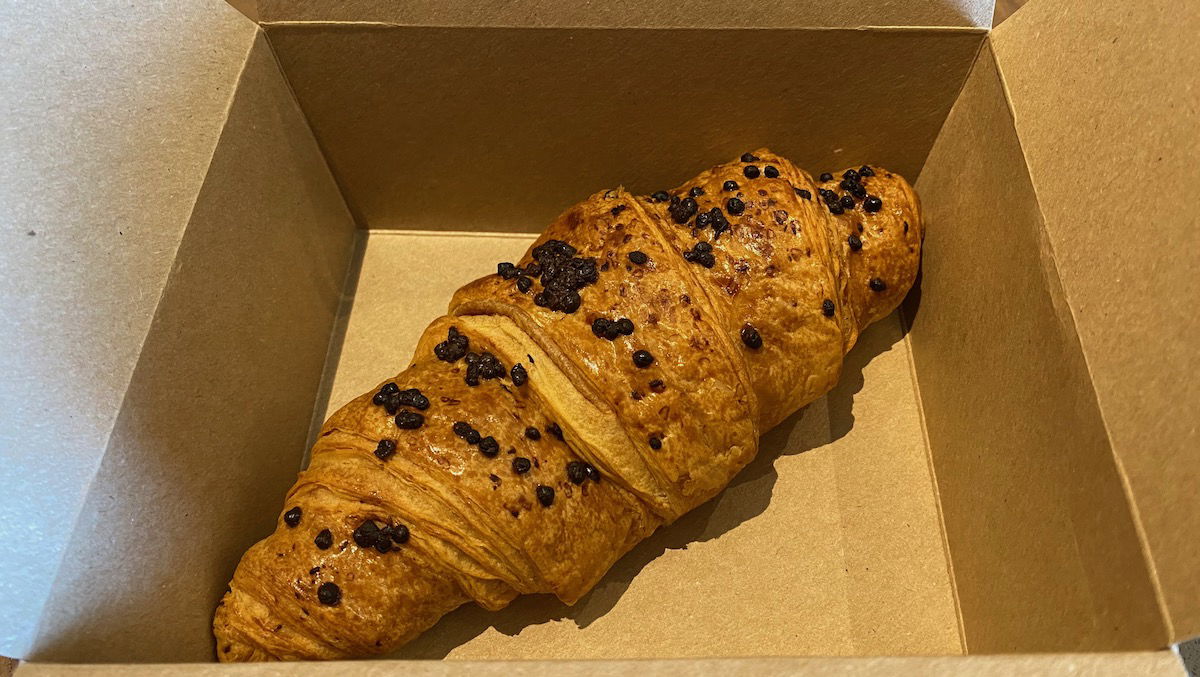 The drink selection included a Nespresso machine, tea, a bucket with soft drinks, and some small bottles of wine.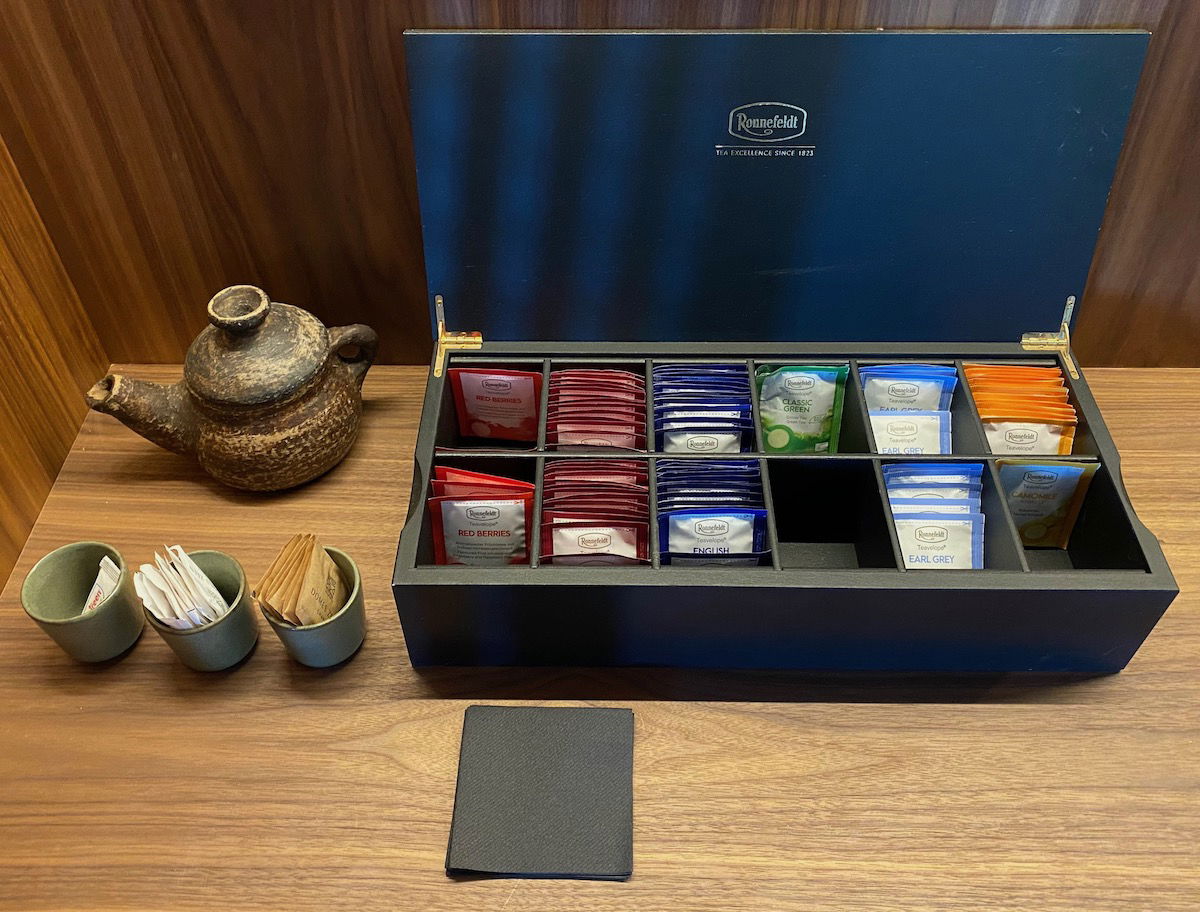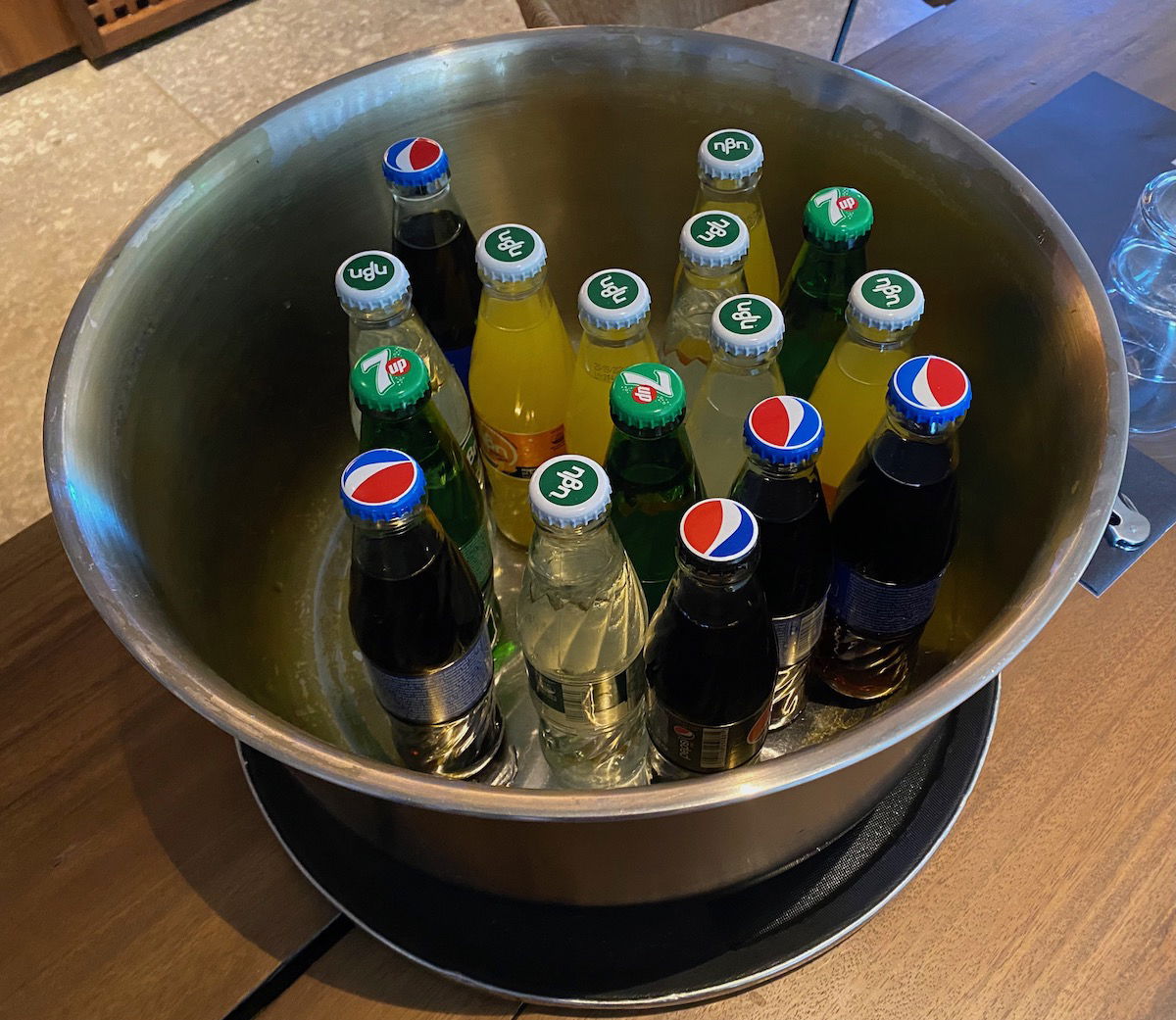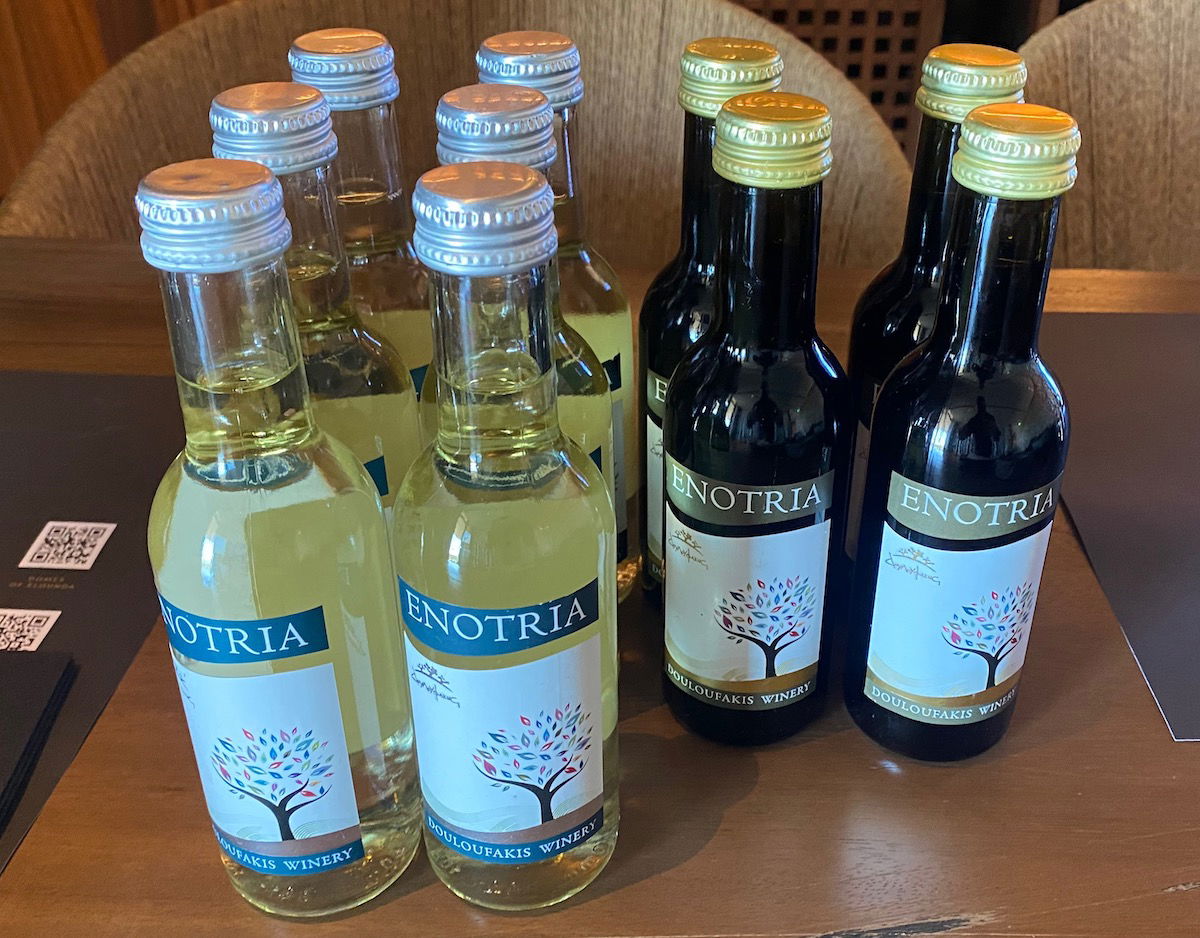 So yeah, lower your expectation of the Haute Living Room. It makes a club lounge at an airport hotel in the United States look good by comparison (which is saying a lot).
Domes Zeen Chania pool & beach
Domes Zeen Chania has one main pool, located next to the restaurant, at the bottom of the resort. There's plenty of seating around the pool, though a lot of the seating is in a rocky area.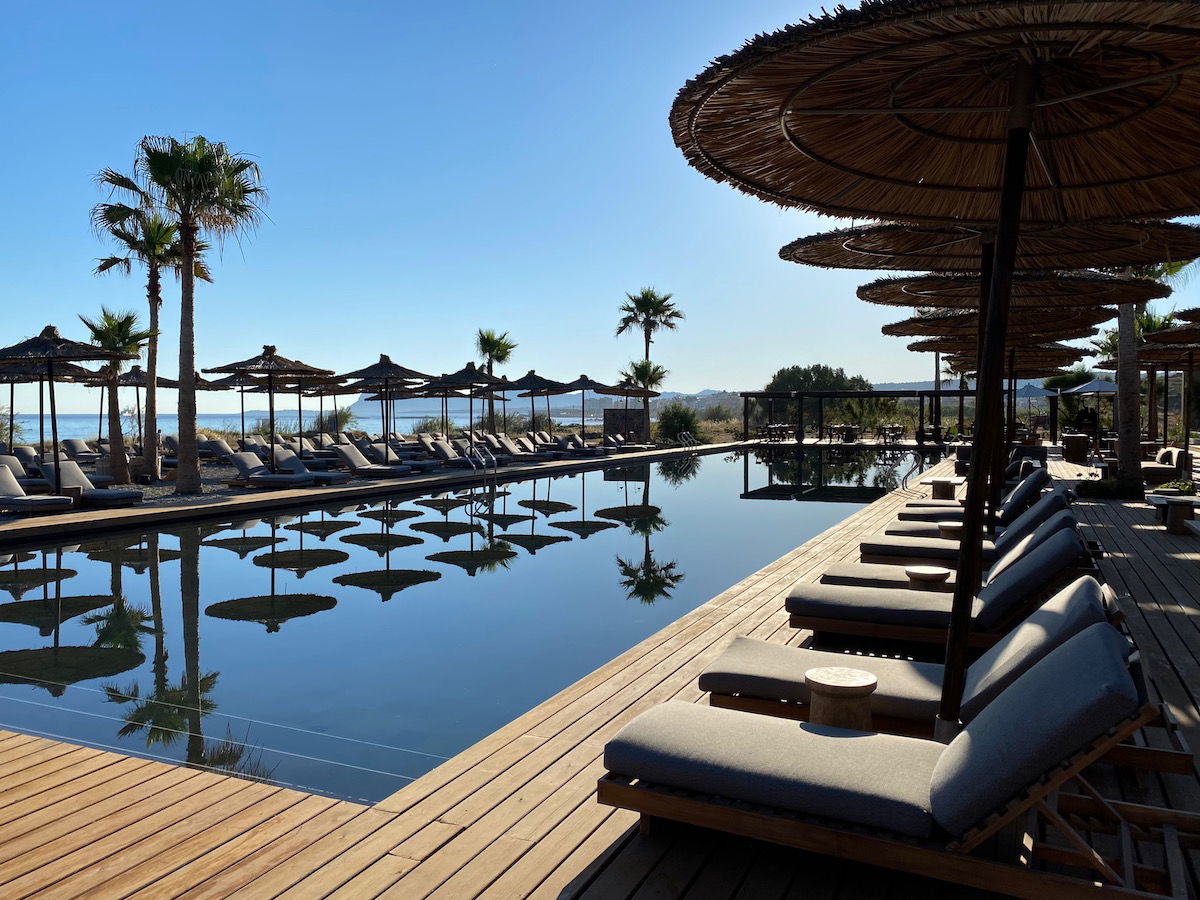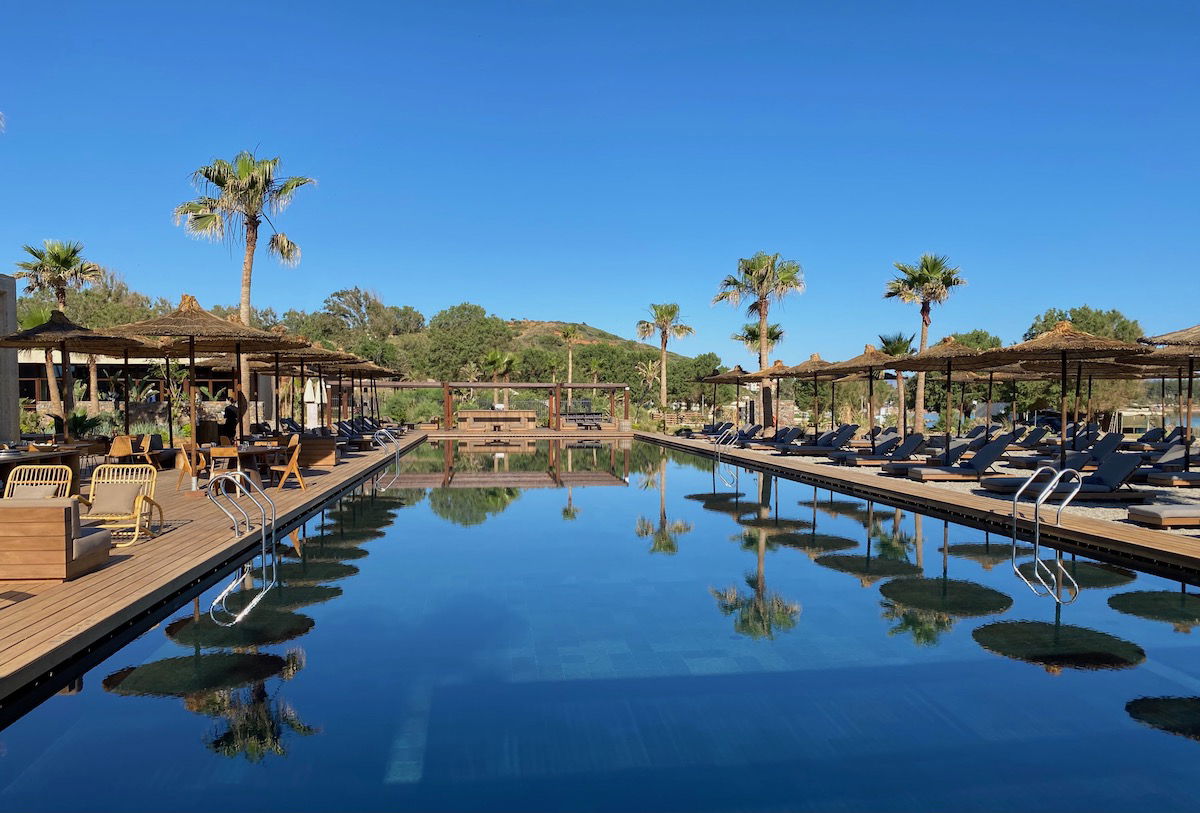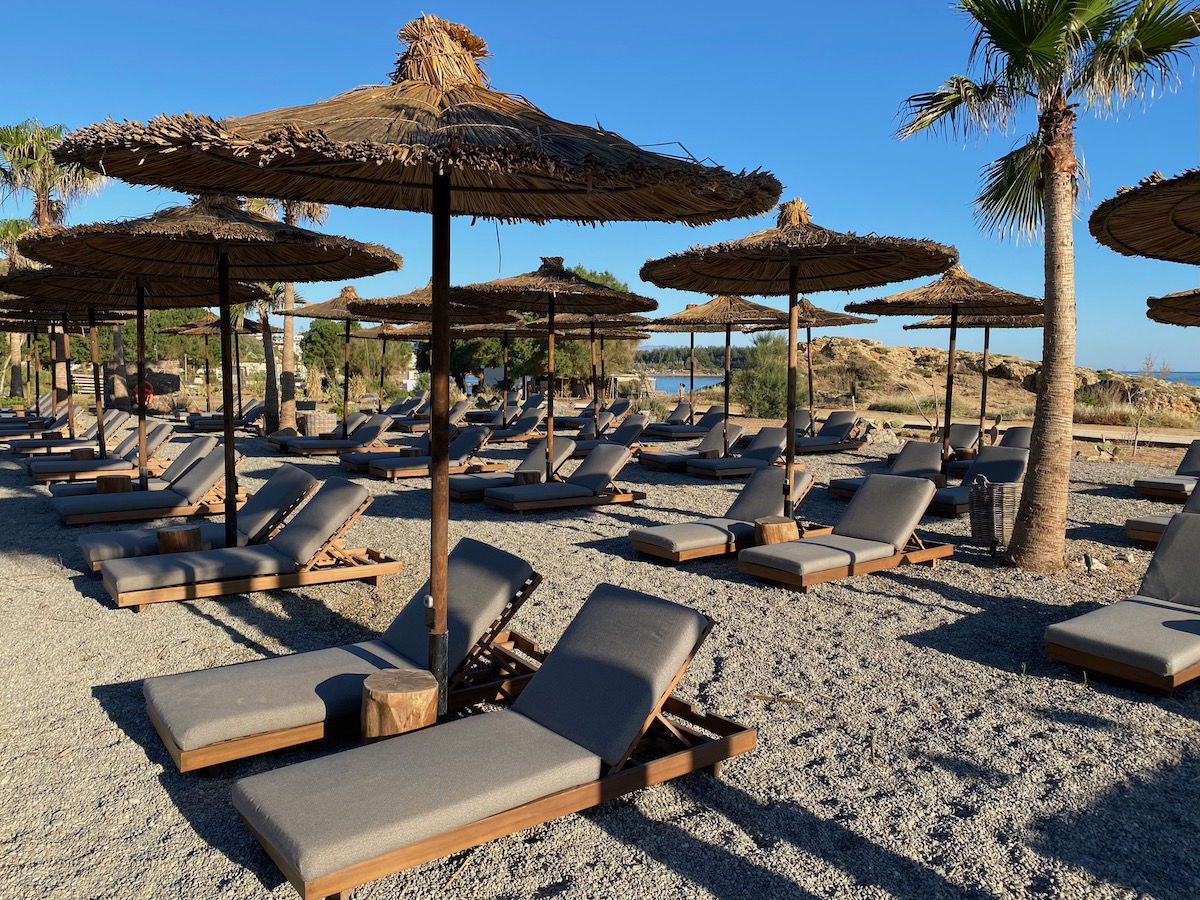 There's also a beach across from the hotel. There's a path leading in that direction, then you have to cross a dirt road, and then you arrive at the beach.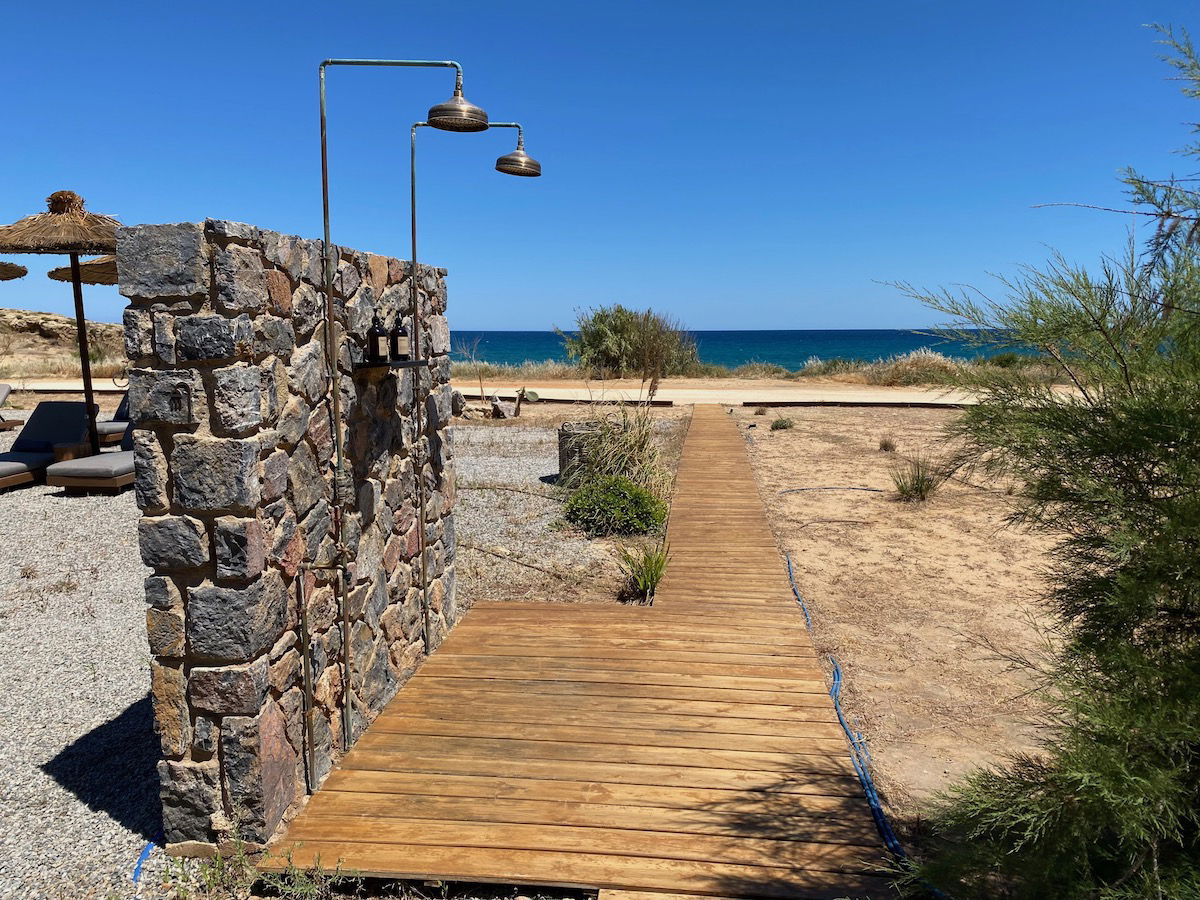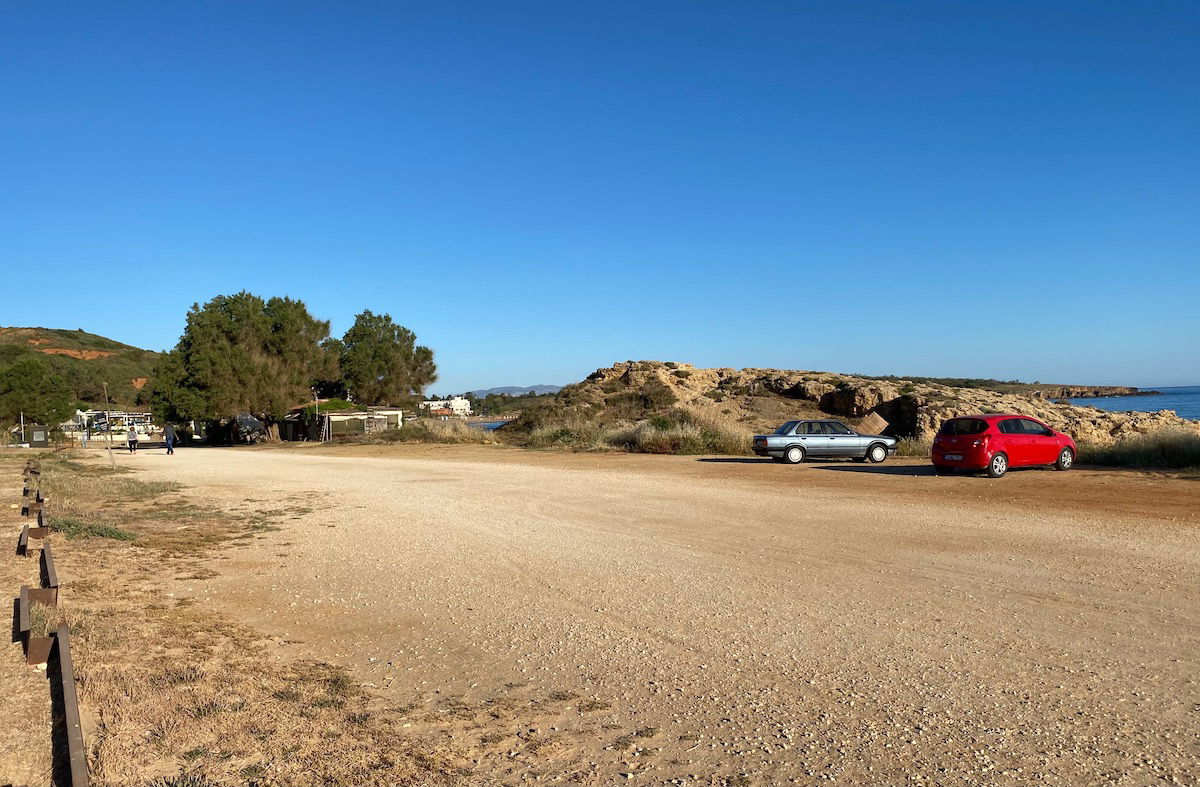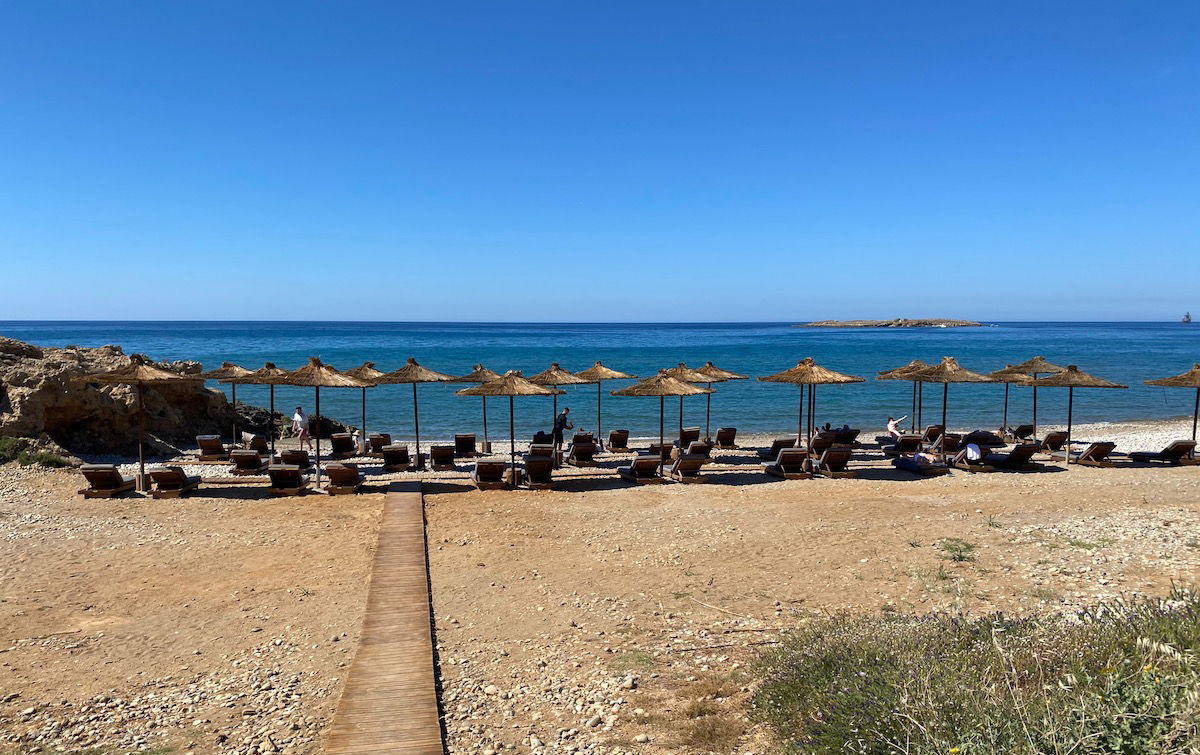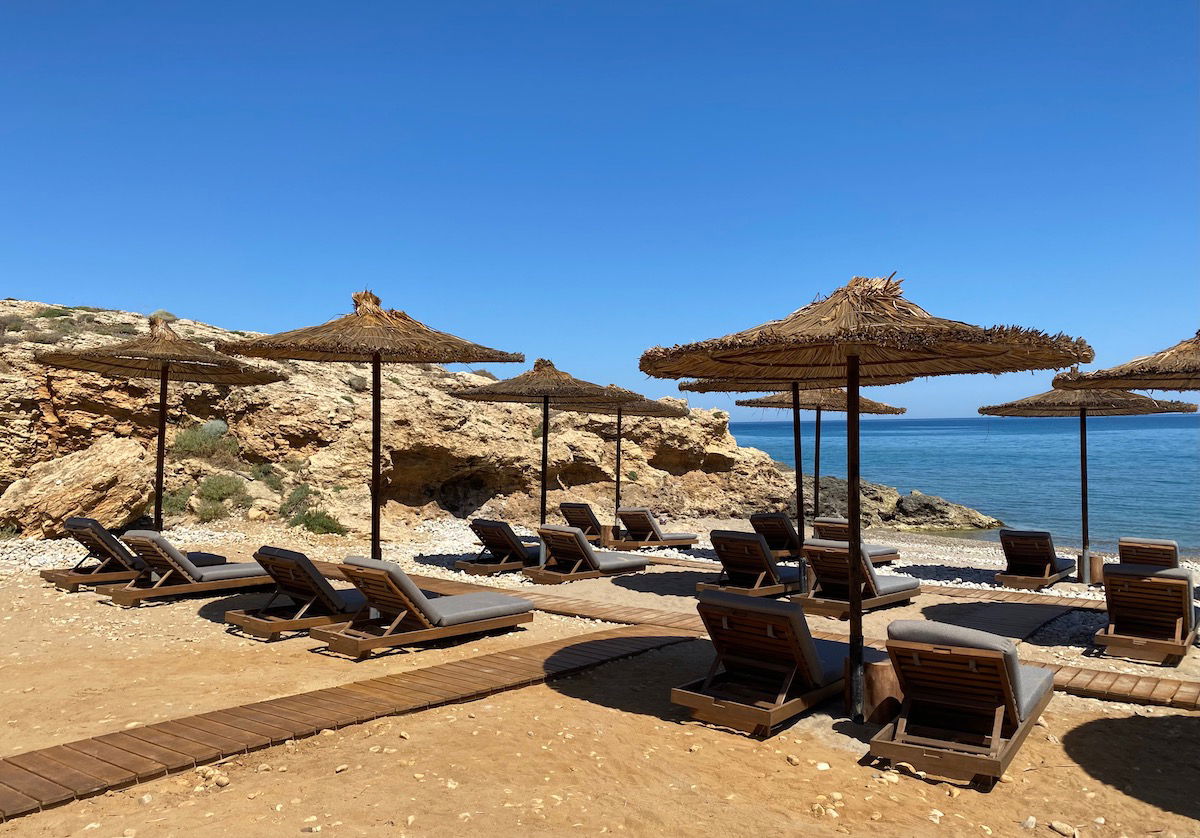 Definitely manage your expectations when it comes to the beach — expect big rocks, rather than powdery white sand. Then again, in general you don't come to Greece for the beaches (though there are exceptions).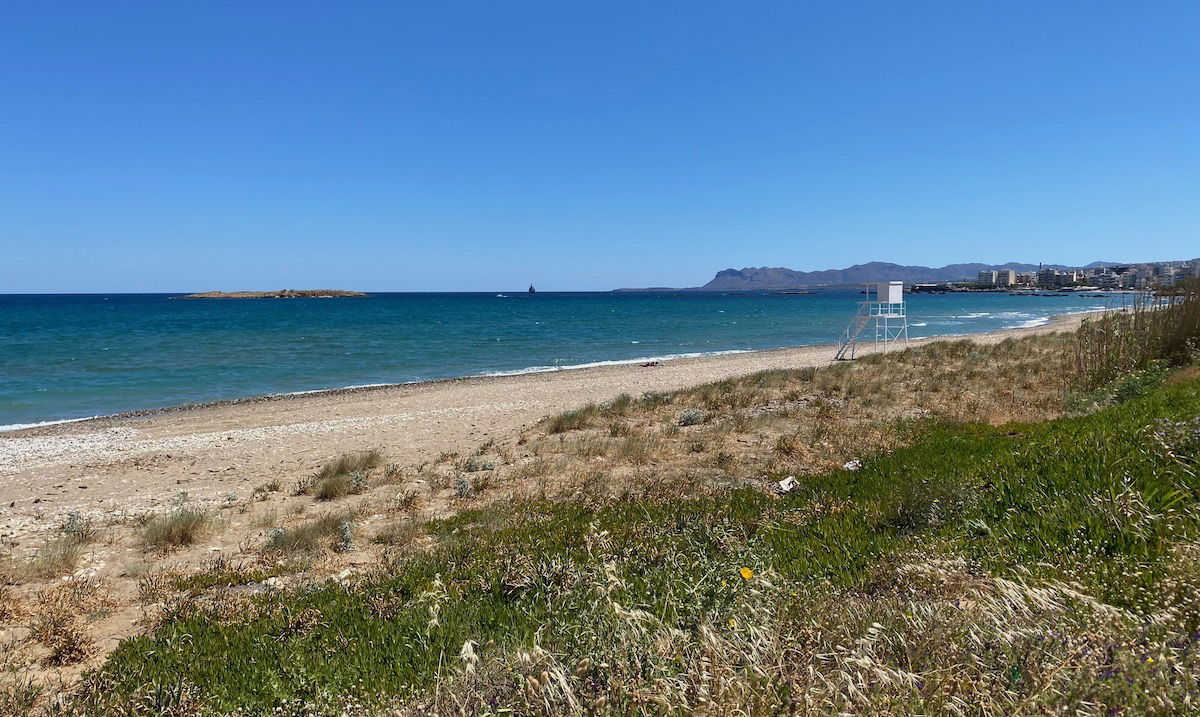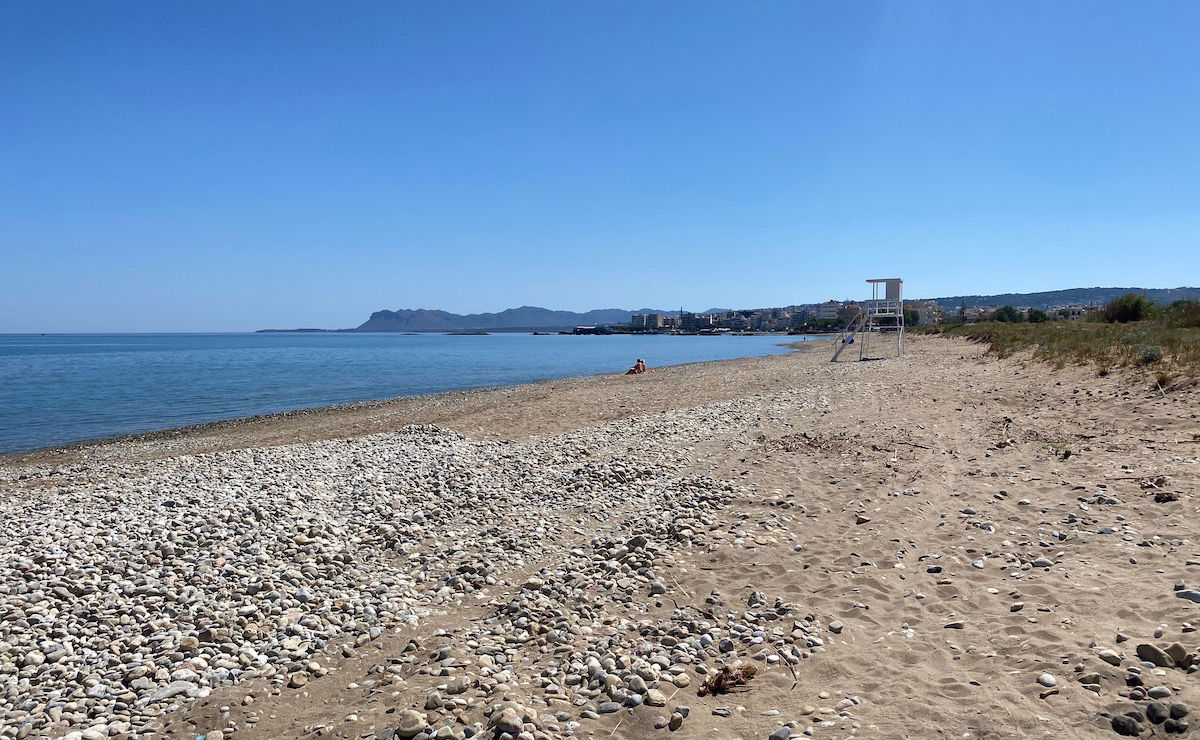 Domes Zeen Chania gym
Domes Zeen Chania has a super cute outdoor gym, located towards the bottom of the resort. I love the concept of an outdoor gym, especially during these times. There was a solid selection of both cardio and weights, so big kudos to the hotel for this.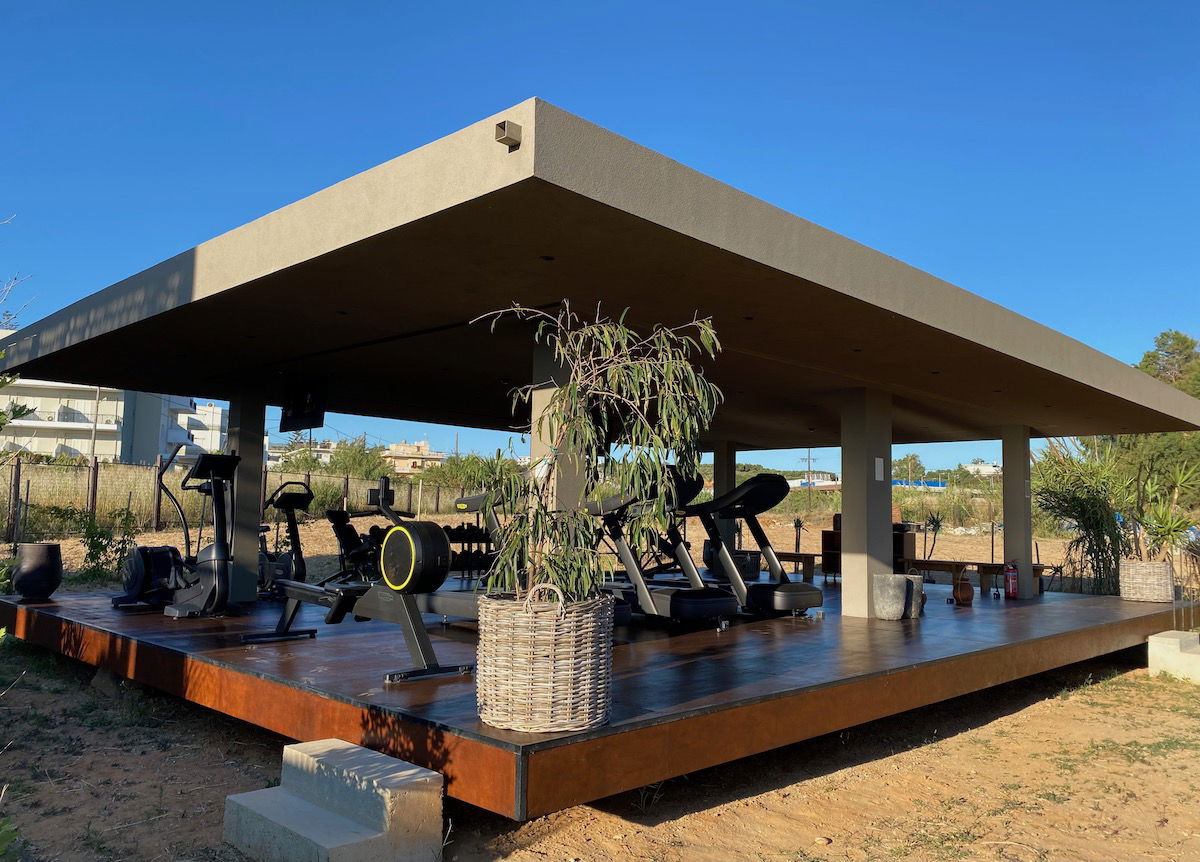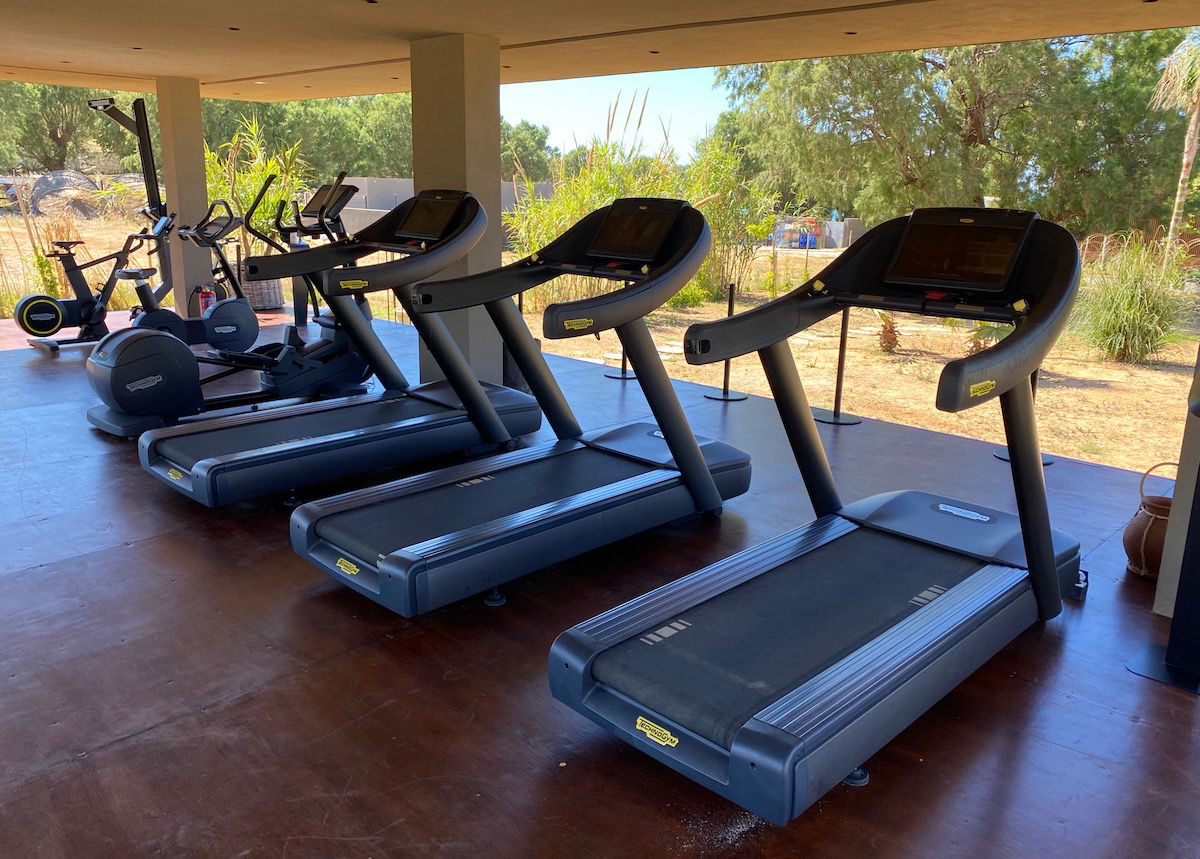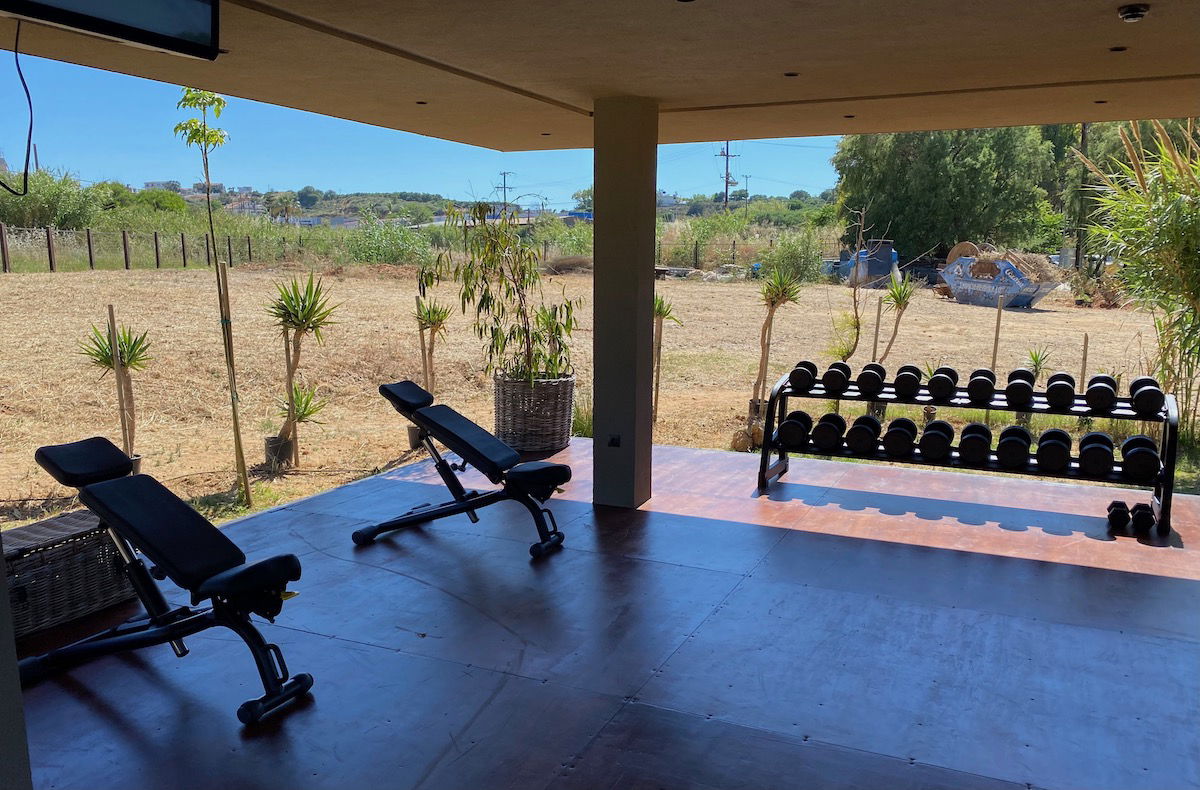 Domes Zeen Chania opening issues
I only realized a day before we arrived that we were actually staying at the hotel for the opening night of the season. That's usually something I'd recommend avoiding, since it's rare that everything is perfectly ready to go on the first day. However, we have no regrets in that regard, since we're so happy with when we visited, since the island was still quiet.
That being said, I think it's only fair to acknowledge that the hotel really didn't have stuff in order until about two days after opening.
On the first full day of our stay I tried to use the outdoor gym. As I was lifting weights, someone came running up to me:
"Can I help you?"
"No thanks, I'm just working out."
"I'm sorry, the gym isn't open."
"Why? It's an open air gym, and it has all the equipment. I can't just lift some weights?"
"It only opens Monday."
Why an open air gym isn't open is beyond me.
Similarly, the hotel's beach setup was being built for the first two days of our stay.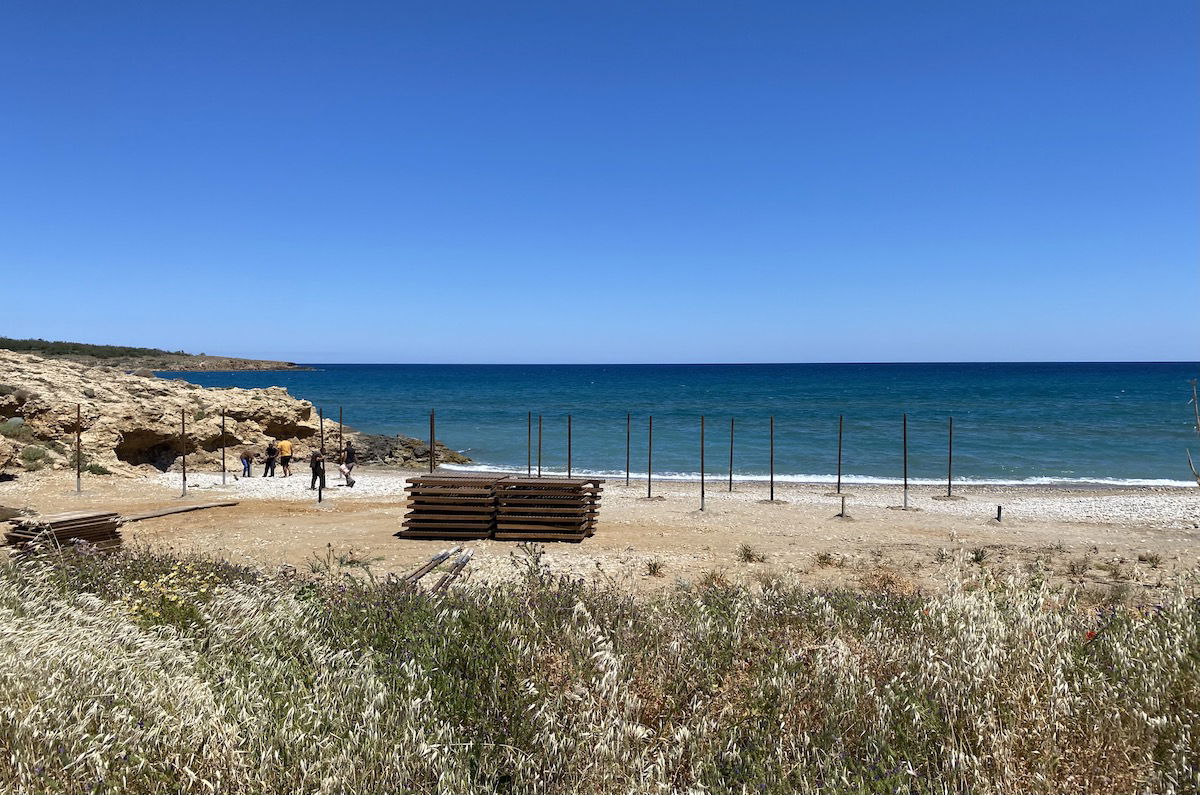 Similarly, for the first two days of our stay, the only drinks in the Haute Living Room were the Nespresso machine and tea selection. I was confused, so I brought this to the attention of the staff, and showed them how the website made it sound like there would be a full drink selection. Sure enough, that also showed up on Monday.
Then there's the spa. I asked no fewer than four employees were the spa was, and everyone pointed me in a different direction. I finally asked the front office manager (since I figured he'd know), and he pointed me in the right direction. But then when I got there, I saw that they were still doing construction on it (as you can see, the doors were still being installed).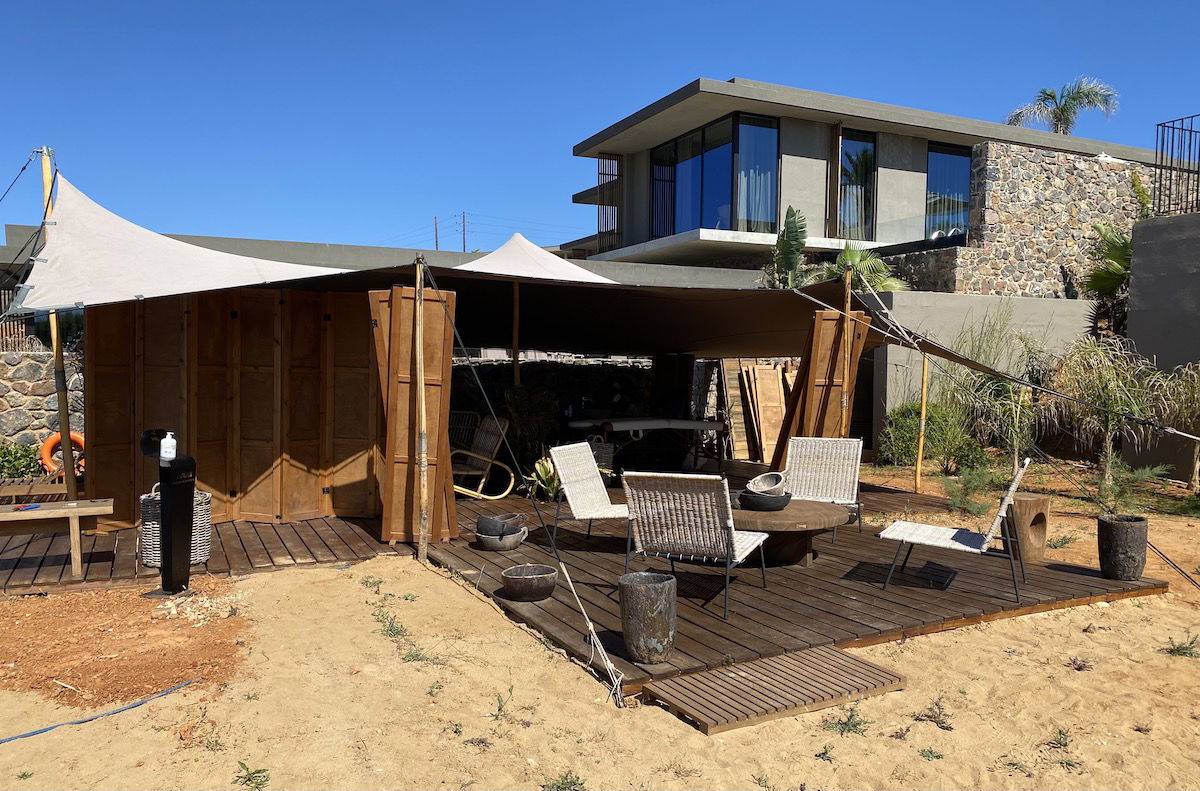 A couple of days into our stay, the front desk staff asked me how our stay was going. I explained it was pretty good, except for the fact that for the first two days of our stay the beach area, gym, and spa, weren't open, and that was a bit disappointing. That was met with silence.
Anyway, I think it's only fair to mention these things in the context of a thorough review, though this is something that others hopefully won't have to deal with.
Domes Zeen Chania service
The staff at Domes Zeen Chania were generally well intentioned and friendly, but not necessarily polished. Service was often quite slow, and employees often lacked knowledge about the menu, hotel facilities, etc.
That's something I'm ultimately quite forgiving of right now, given that coronavirus has caused labor shortages at so many hotels, and also hotels are having to adjust to a new reality.
Domes Zeen Chania guests
Guests at Domes Zeen Chania seemed to almost entirely be young German families with kids. There were lots of kids on property (we're talking dozens of kids under five). The kids were for the most part well behaved, but definitely expect this to be more of a family resort.
In fairness, we were traveling over school holidays in Germany, and coronavirus has also changed the types of guests visiting many properties, so I'm not sure if this is always the case, or just when we were staying.
Since we arrived the day the hotel opened, it was initially very quiet, but filled up more each day. I'd guess that by the time we left, the hotel was probably at 50% occupancy.
Bottom line
I know this might not sound like a glowing review, but we had a nice stay at Domes Zeen Chania. I recommend staying here because the area around Chania is gorgeous, the resort itself is quite nice, and this is an awesome base from which to explore the area.
Domes Zeen Chania is a quirky hotel — it was built as a Thomas Cook vacation package resort a few years ago, and became a Marriott Luxury Collection property as of 2020, after Thomas Cook went out of business.
Despite the rooms feeling like they're style over substance, we liked this resort on balance — we loved sitting for extended periods by the pool in the morning having breakfast (and it has to be an extended breakfast based on how long it takes to get coffee), it was nice to lounge by the main pool and on our deck, I liked the outdoor gym (when I was allowed to use it), and the dinner was very good.
I think the Haute Living Room concept could use some refinement, or at least the hotel should do a better job managing expectations. A stale croissant does not "all day hot and cold snacks" make.
But still, all things considered, I'd recommend this hotel if visiting Chania. I'd consider returning, though I think next time I might try Domes Noruz Chania, just to see how it compares.
If you've stayed at Domes Zeen Chania, what was your experience like? If not, would you consider staying at this property?