Want to receive extra benefits for your stay at Canaves Oia Santorini through Virtuoso, including complimentary breakfast, a hotel credit, a room upgrade, and more? Contact [email protected] for more details. He may even be able to help if you already have a stay booked.
We spent five nights in Santorini at Canaves Oia Epitome. This is a spectacular property — I'd guess that this is easily one of the best hotels on the Greek islands, and one of my 10 favorite hotels I've ever stayed at. This hotel is so intimate, has incredible service, and it felt like an Aman, only better.
I think my mom summed it up best when she sat outside at the hotel watching the sunset while crying out of happiness — "I didn't know places this nice existed."
How & why I booked Canaves Oia Epitome
The 24-room Canaves Oia Epitome belongs to Small Luxury Hotels of the World, which has a loyalty partnership with World of Hyatt. This means that World of Hyatt members can earn and redeem points for stays, but only when booking directly through Hyatt.
Canaves Oia Epitome is a Category 8 World of Hyatt property, meaning a free night costs 40,000 points. This is Hyatt's highest award category, but it was oh-so-worth-it. Award availability can be tough to come by at this property due to how small it is, so I was thrilled to be able to lock in two rooms — one for Ford and me, and one for my mom and her partner.
Our five night stay for two rooms ended up costing 400,000 World of Hyatt points. Yes, that's a lot of points, but it was a great deal compared to the paid rate of 1,000+ Euros per room per night. The beauty of World of Hyatt points is that they can be earned through Chase Ultimate Rewards points transfers, so this stay put a nice dent in my Chase Ultimate Rewards points balance.
If you're looking to pay cash for this hotel and don't care about earning World of Hyatt points, I'd recommend booking through a Virtuoso agent, so you can receive perks like a room upgrade, a property credit, and more.
For some context on Canaves Oia Epitome, the property initially opened in 2018. It's part of the "Canaves Oia" group, which includes a few properties in and around Oia, Santorini (most are part of the Hyatt & SLH collaboration). This is the most famous part of Santorini, and where the picturesque cliffs are.
Canaves Oia Epitome location
Canves Oia Epitome has a special location — rather than being right in the heart of the touristy area of Oia, it's instead just a short distance away. It's perched above the fishing town of Ammoudi, and feels incredibly private.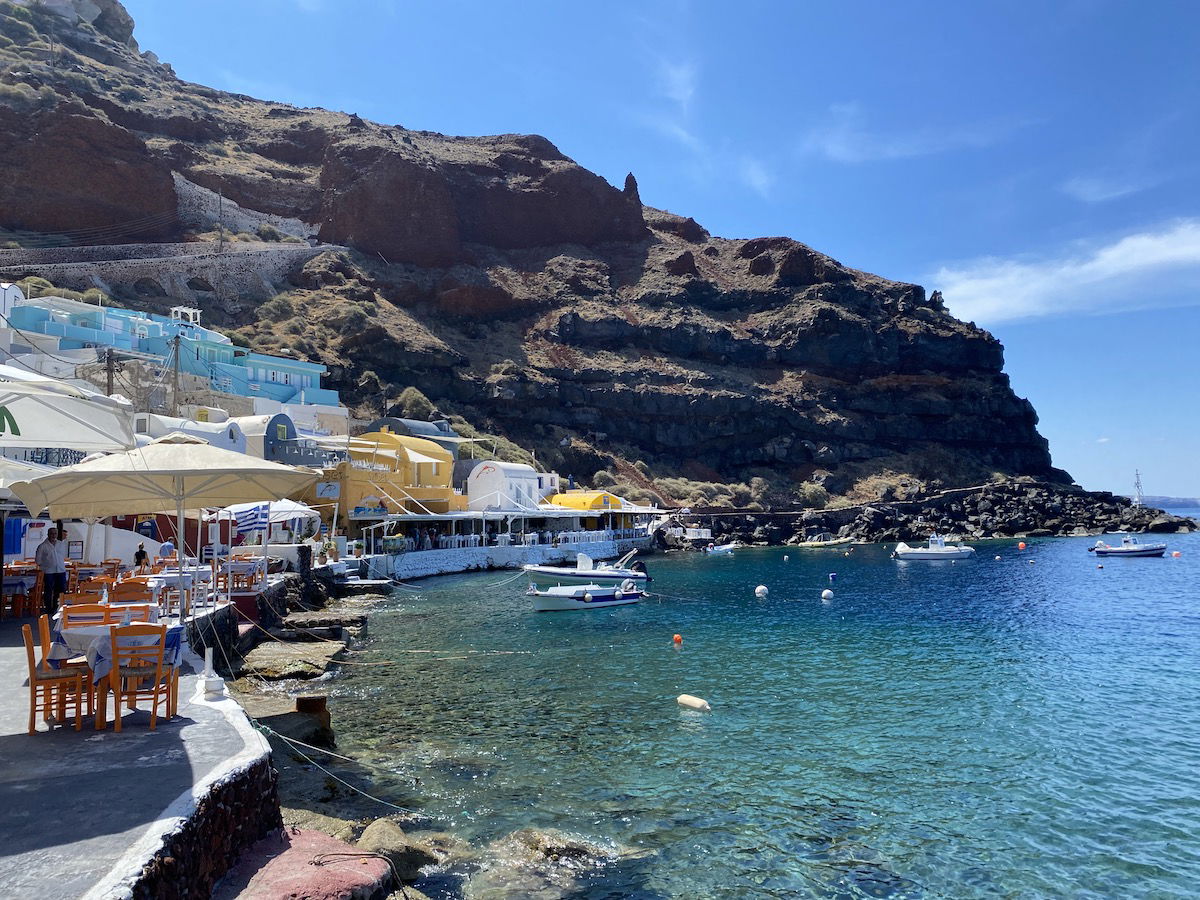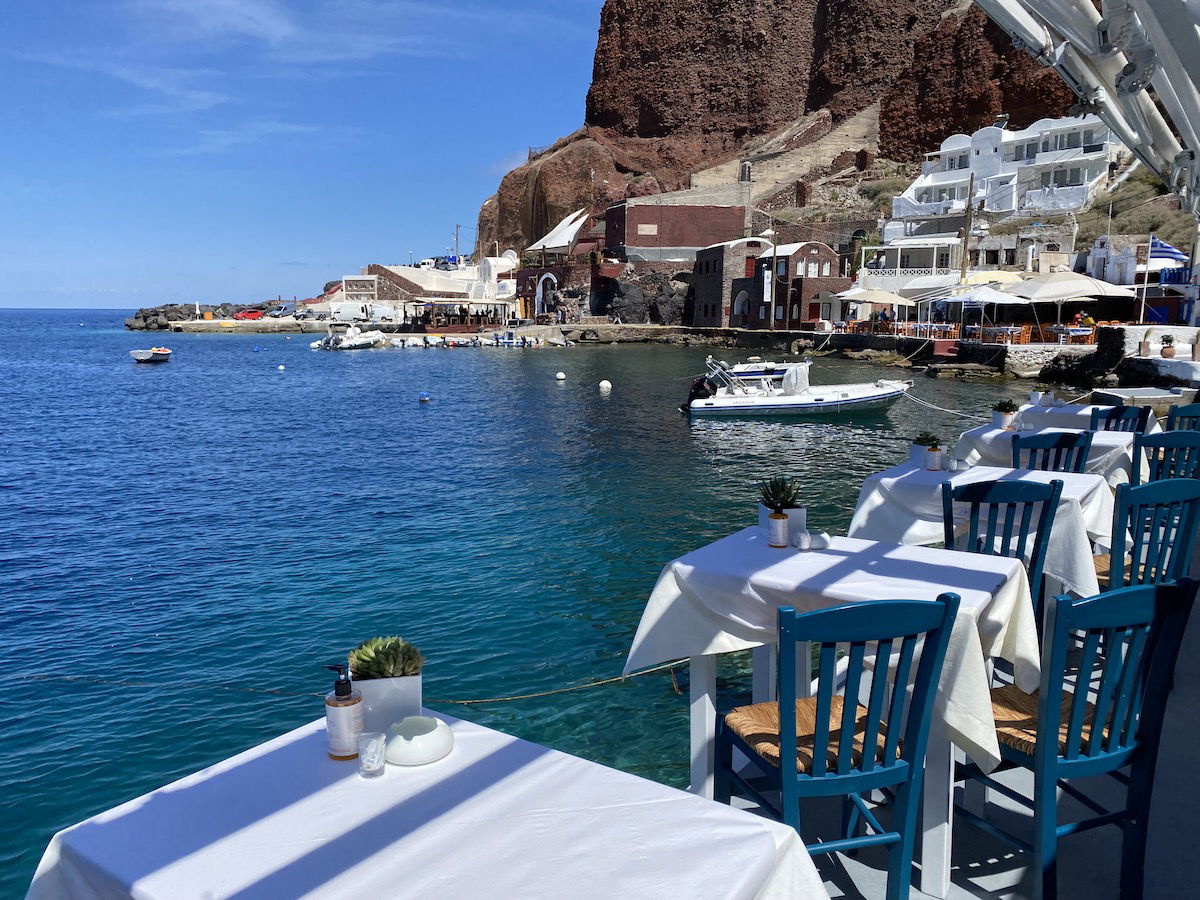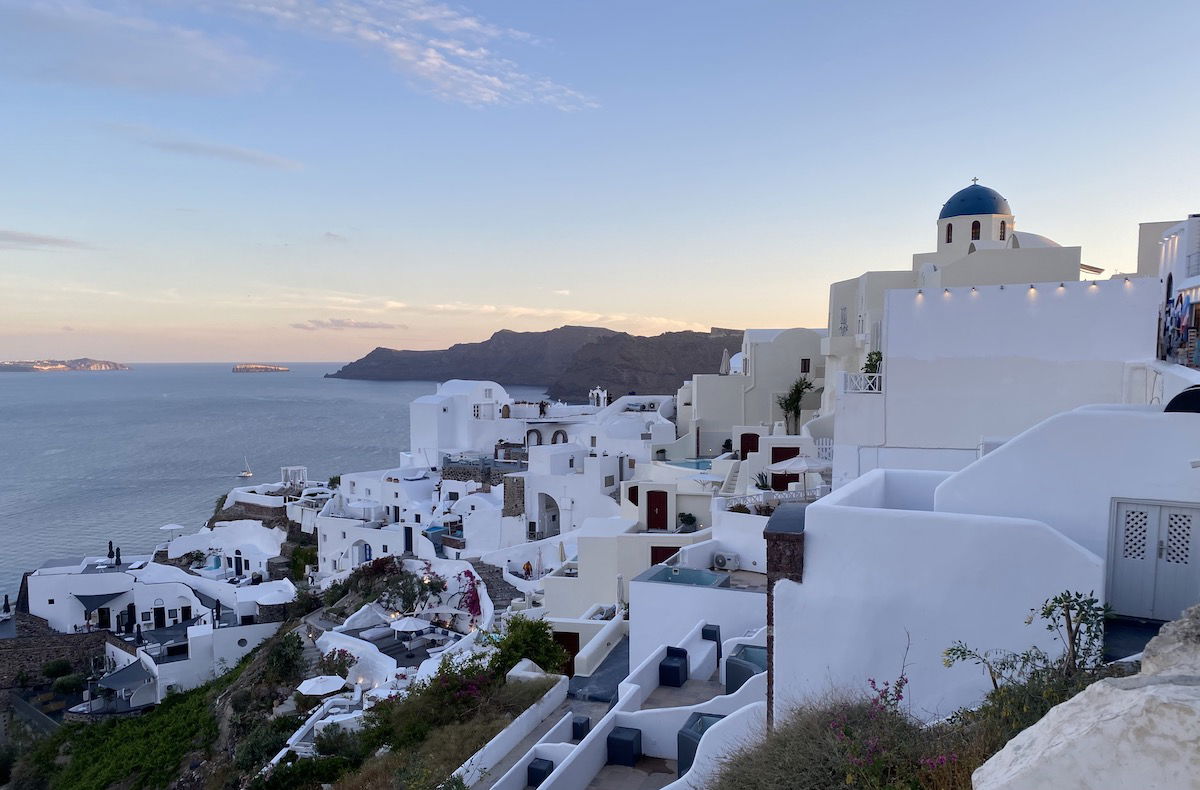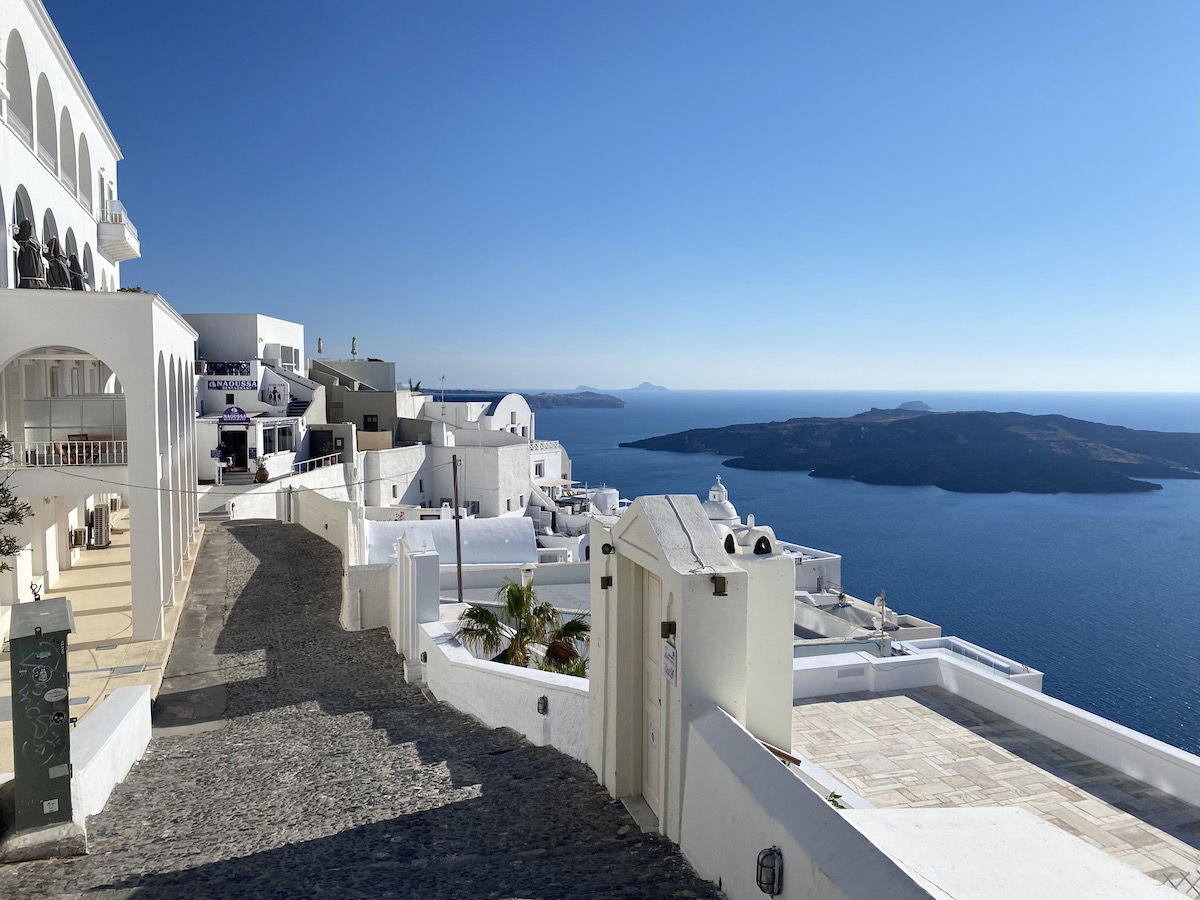 The hotel offers a complimentary shuttle service to nearby attractions, though in reality it's a pleasant 10 minute walk from the hotel to either Oia or Ammoudi, so Ford and I never took the shuttle.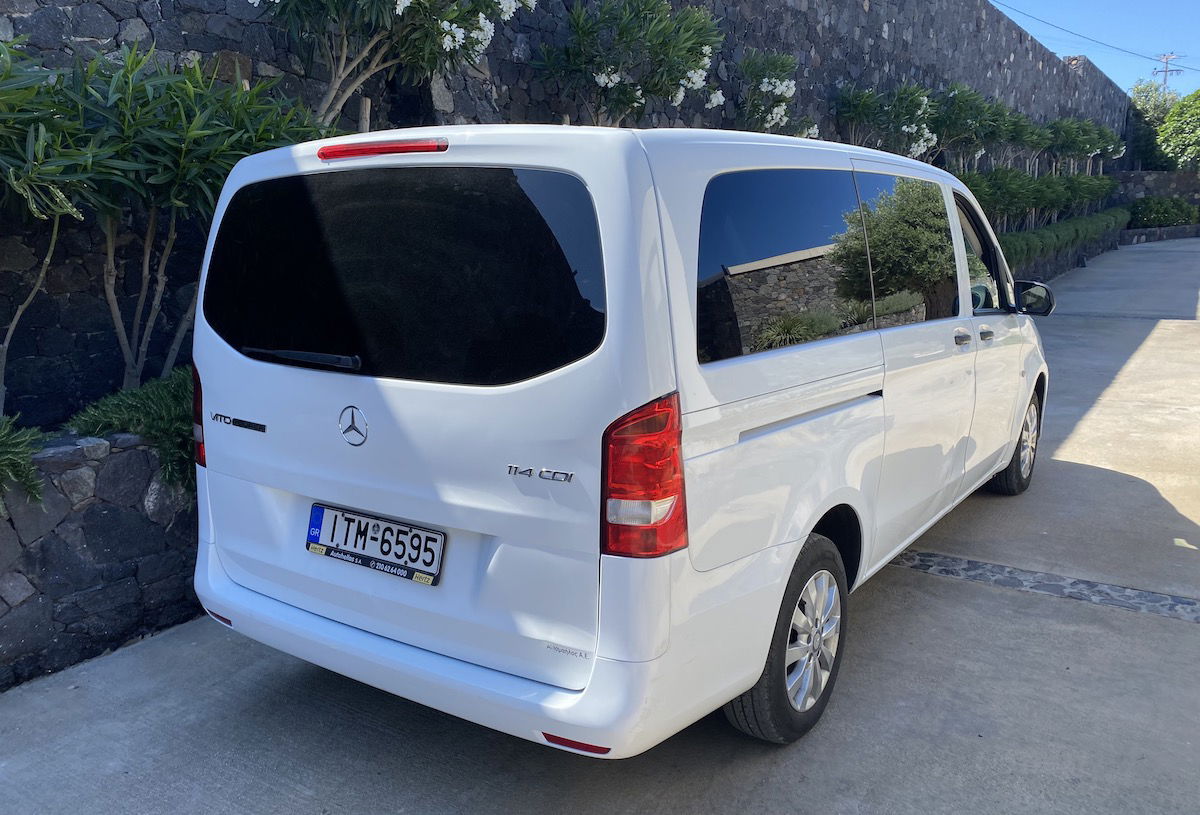 Another awesome aspect of the hotel is that it faces west, so you have the best unobstructed sunset view in all of Santorini (you don't get this kind of a view from the main part of Oia). I can't put the sunsets here into words, they were beyond gorgeous.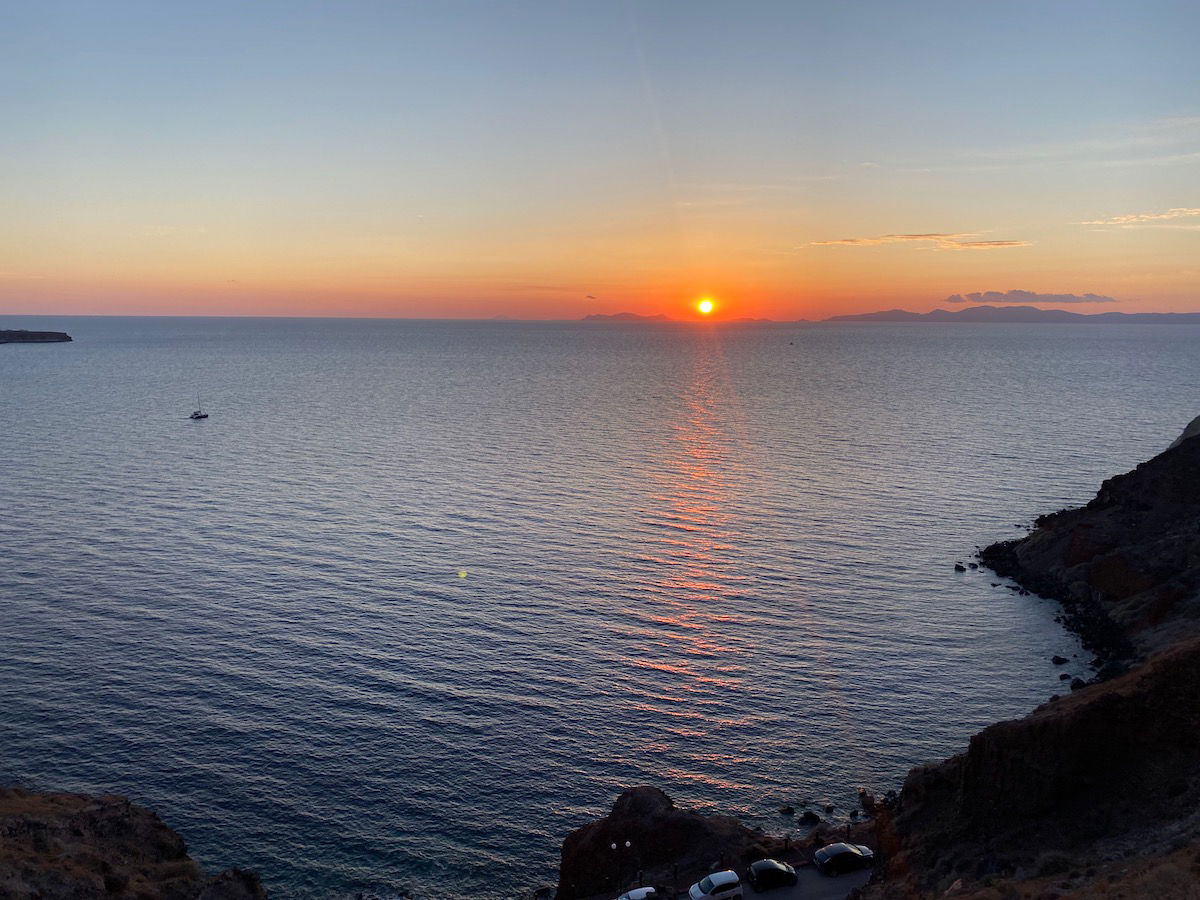 Canaves Oia Epitome check-in & lobby
The hotel picked us up from Mystique Santorini at around 12PM, which was just a five minute drive away. The hotel feels like it's a world away from Oia in terms of how private and calm it is, which I loved.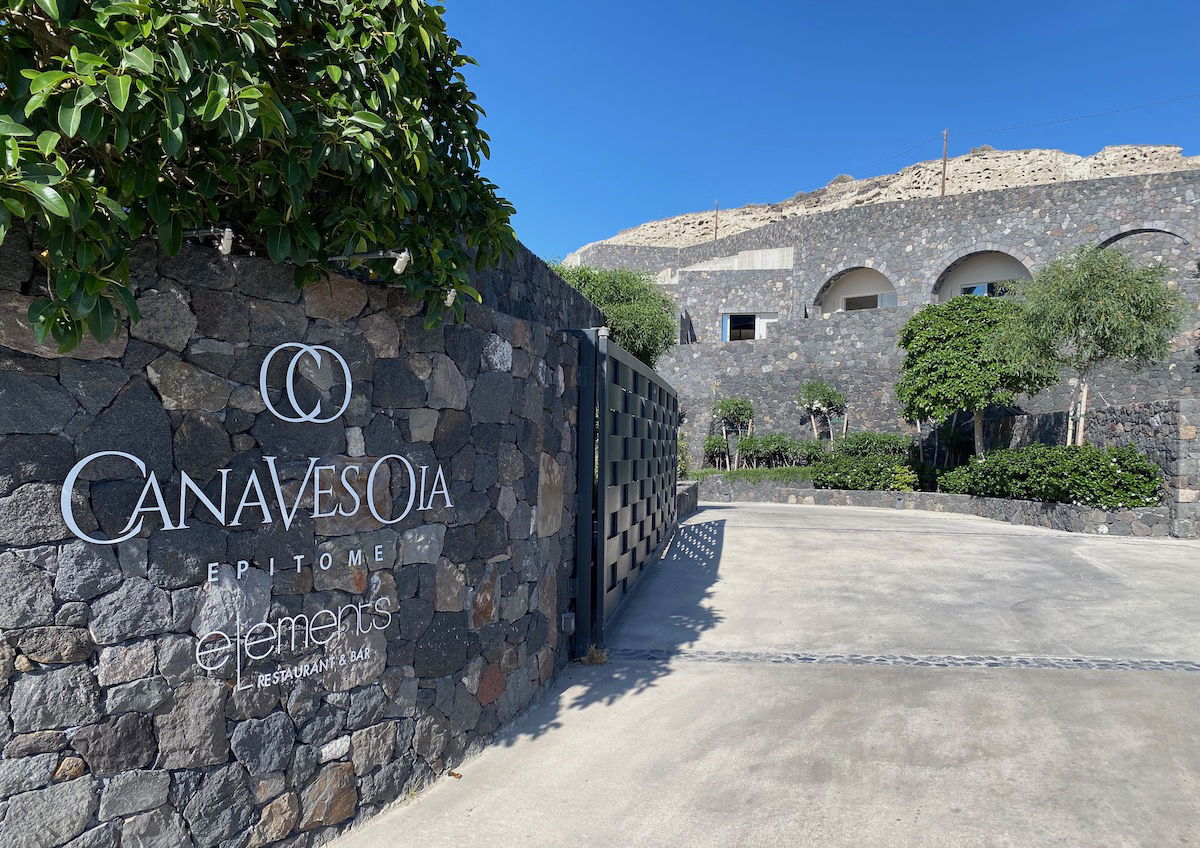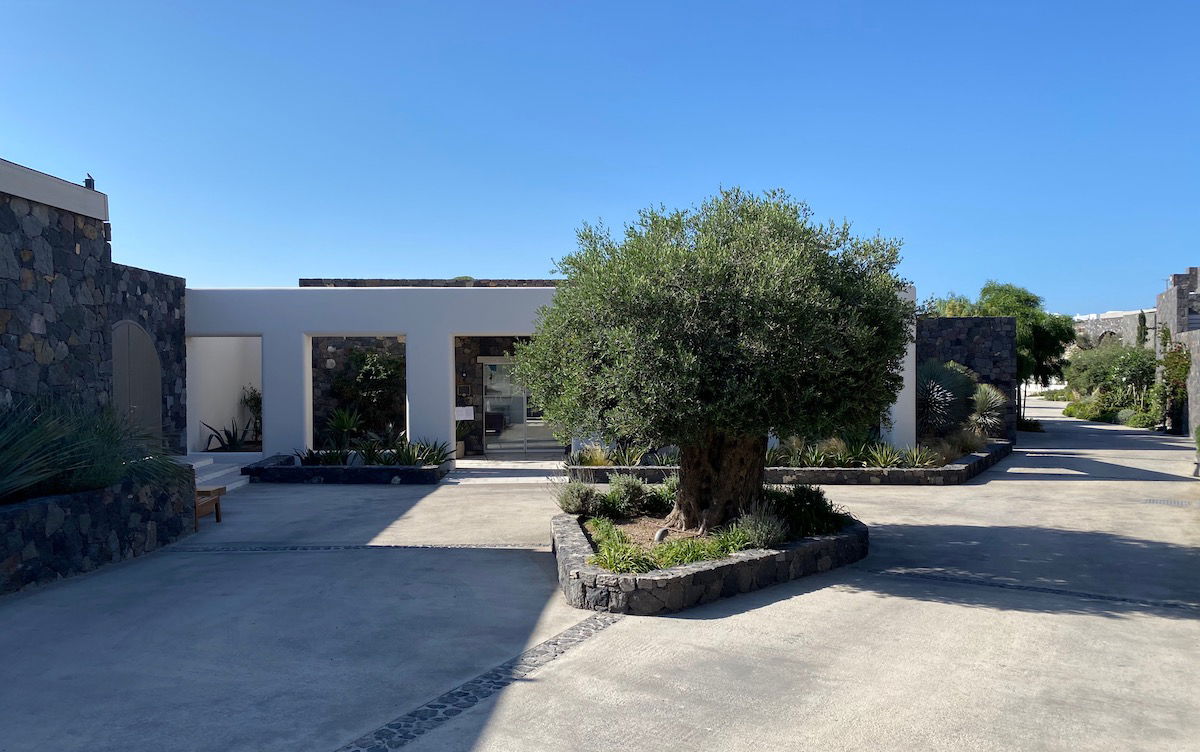 Our check-in experience was great — Canaves Oia Epitome has a small lobby, and our information was processed in no time.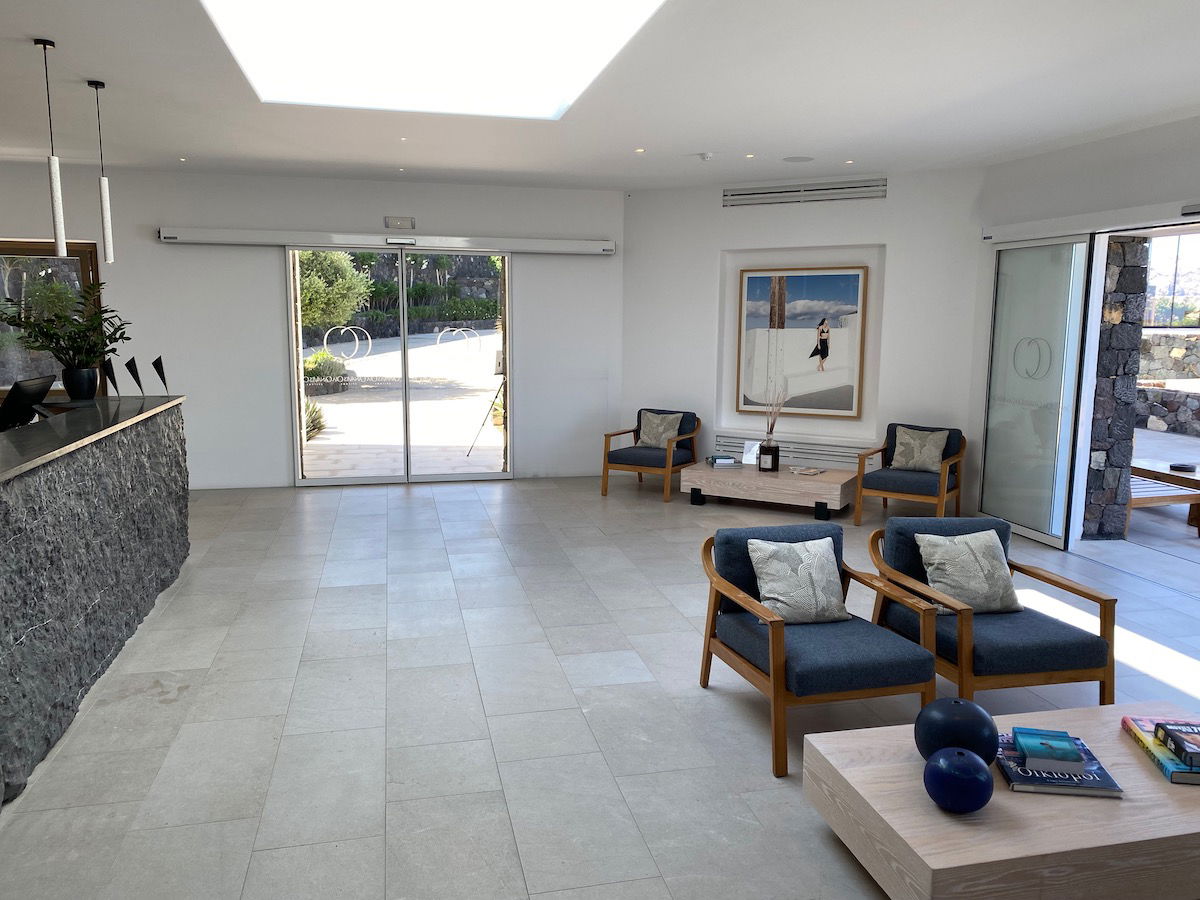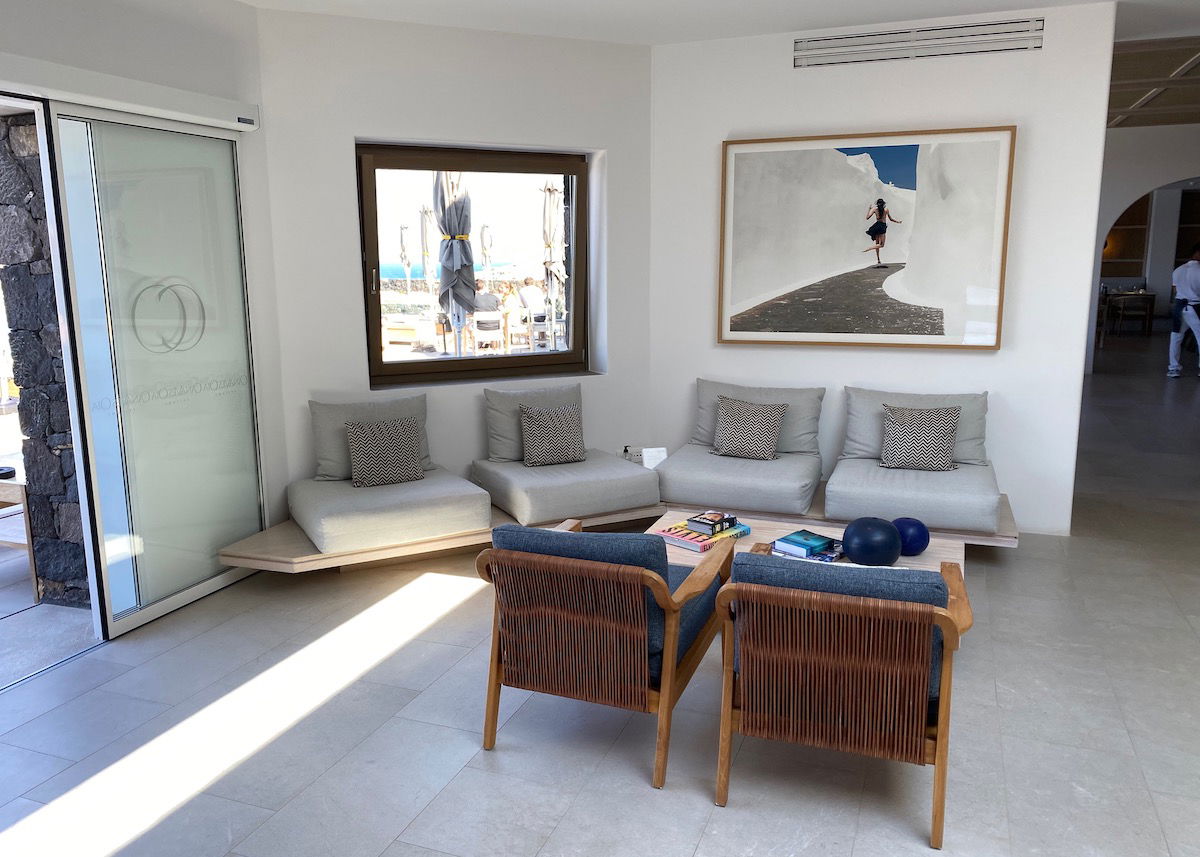 We were told that they were just putting the finishing touches on our rooms, and that they should both be ready within about 10 minutes. While we were waiting we were offered some welcome drinks.
Sure enough, within a few minutes we were escorted to our rooms. As we were walked to our rooms one of the hotel employees said "I think you'll really like your rooms, they're some of the best here."
Sure enough, both of our rooms had been upgraded to two bedroom villas. Suffice to say that our jaws dropped. For what it's worth, this hotel seems to be really good with upgrades, as I've seen other reports of people getting similar types of upgrades. The property has just 24 accommodations, and nine of those are suites and 15 are villas. When booking through the Hyatt & SLH partnership you do receive a space available upgrade.
I suspect we really lucked out here — the hotel was sold out, and I'm guessing they mostly had the lower level accommodations booked. We were assigned rooms 104 and 105, which were right next to one another.
Rooms at Canaves Oia Epitome are on two levels — the lower level has some of the larger villas, while the higher level has the other rooms.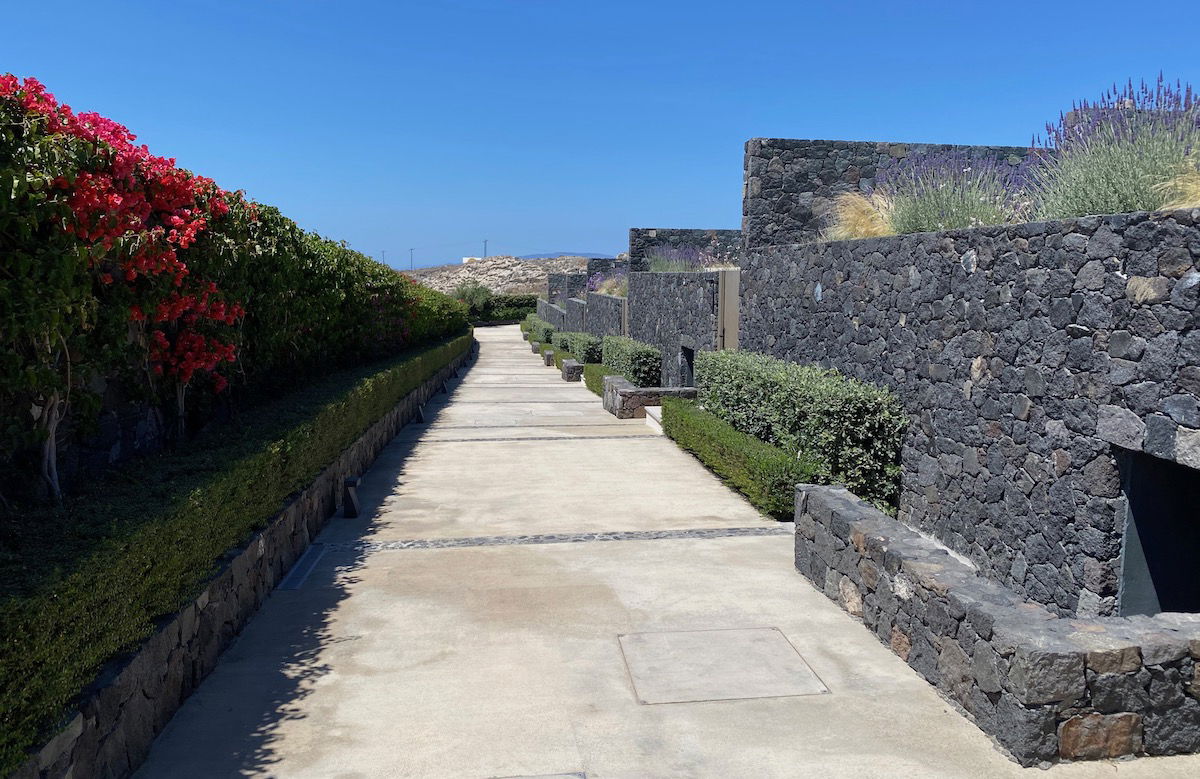 Many will appreciate how flat this property is. While there are some stairs between the main part of the hotel and lower level of rooms, the property is otherwise flat, making it easy to get around.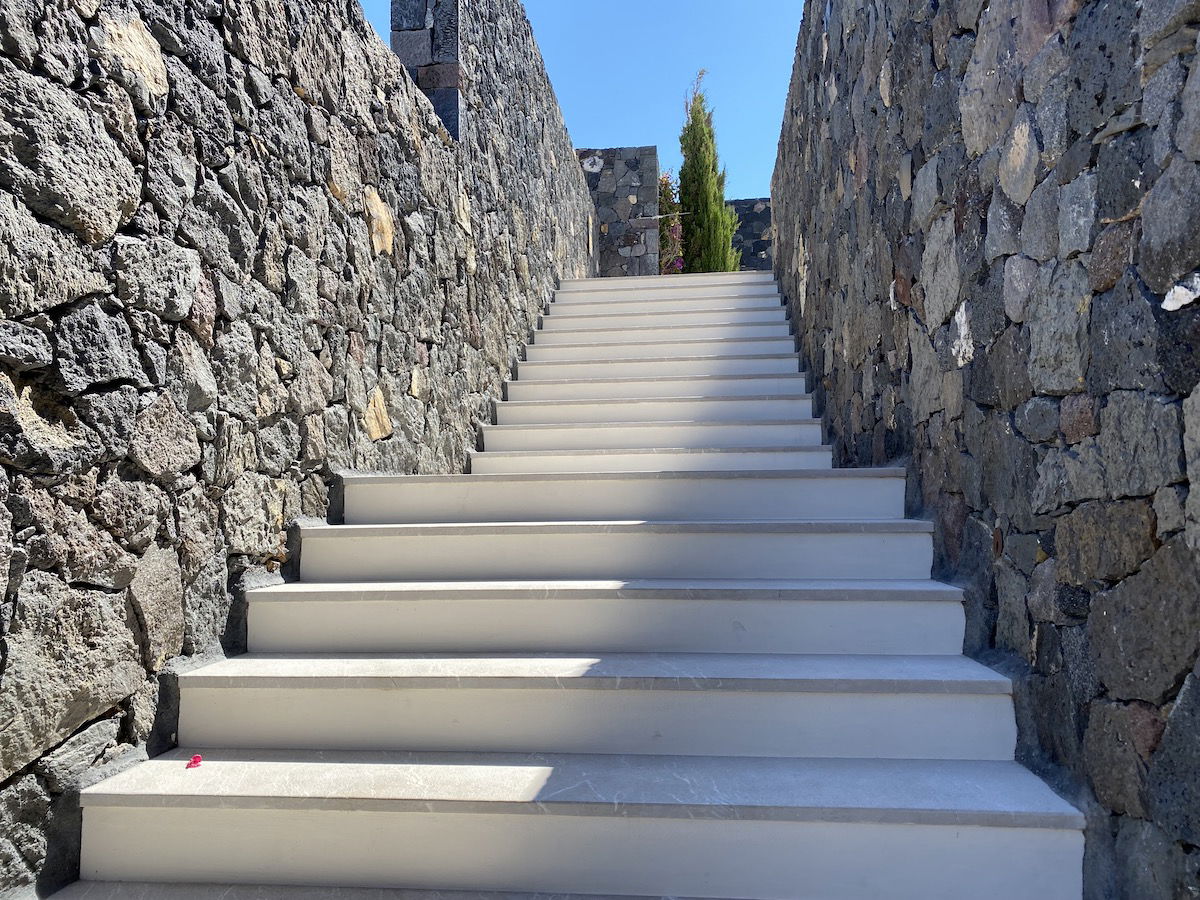 Canaves Oia Epitome two bedroom villa
Ford and I were staying in room 105, which was one of the last rooms in the lower row. I love how each villa has a stone wall around it, which contributes to a good sense of place.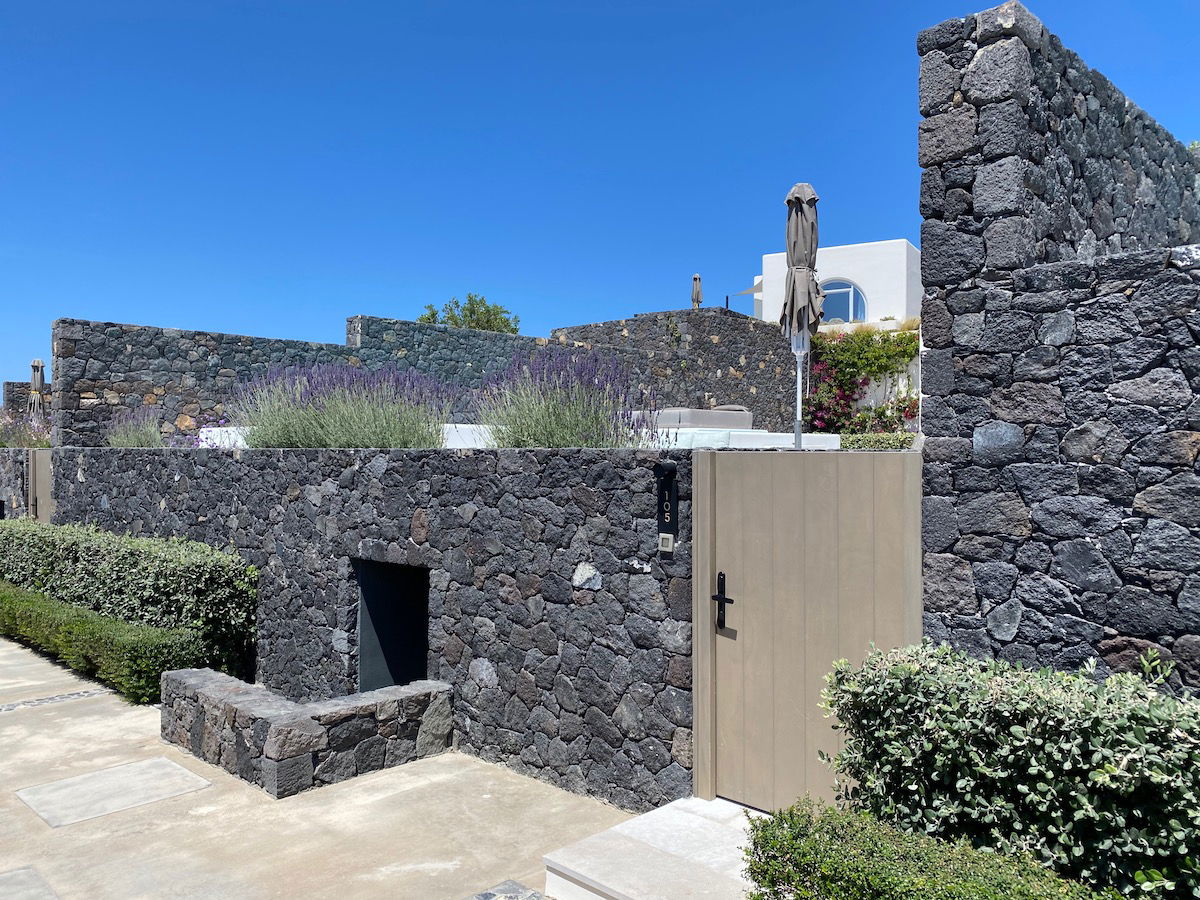 The second we walked through our "gate" we were blown away — look at this outdoor space!! We had a couch, a sitting area, a dining area, a large pool, and an outdoor shower. There almost wasn't a need for the interior of the villa, since the outdoor space was so nice that I didn't even want to go inside.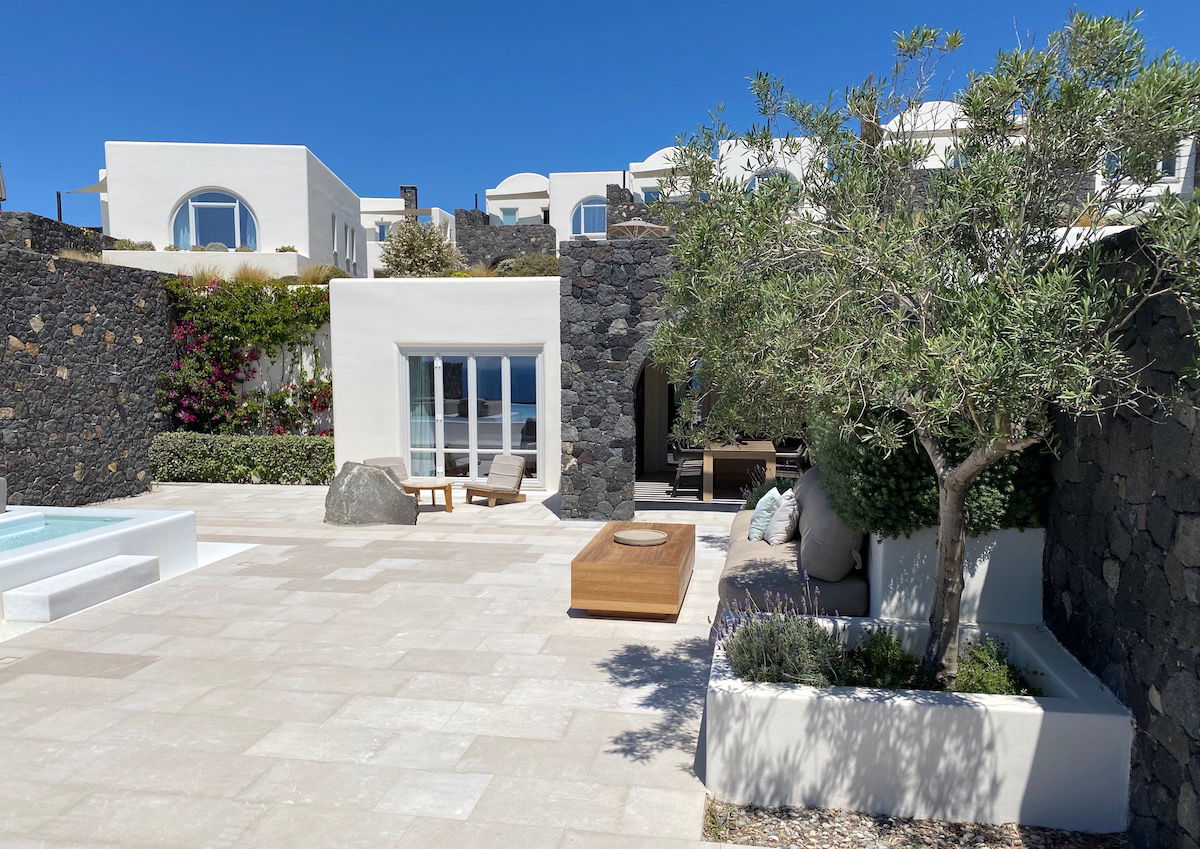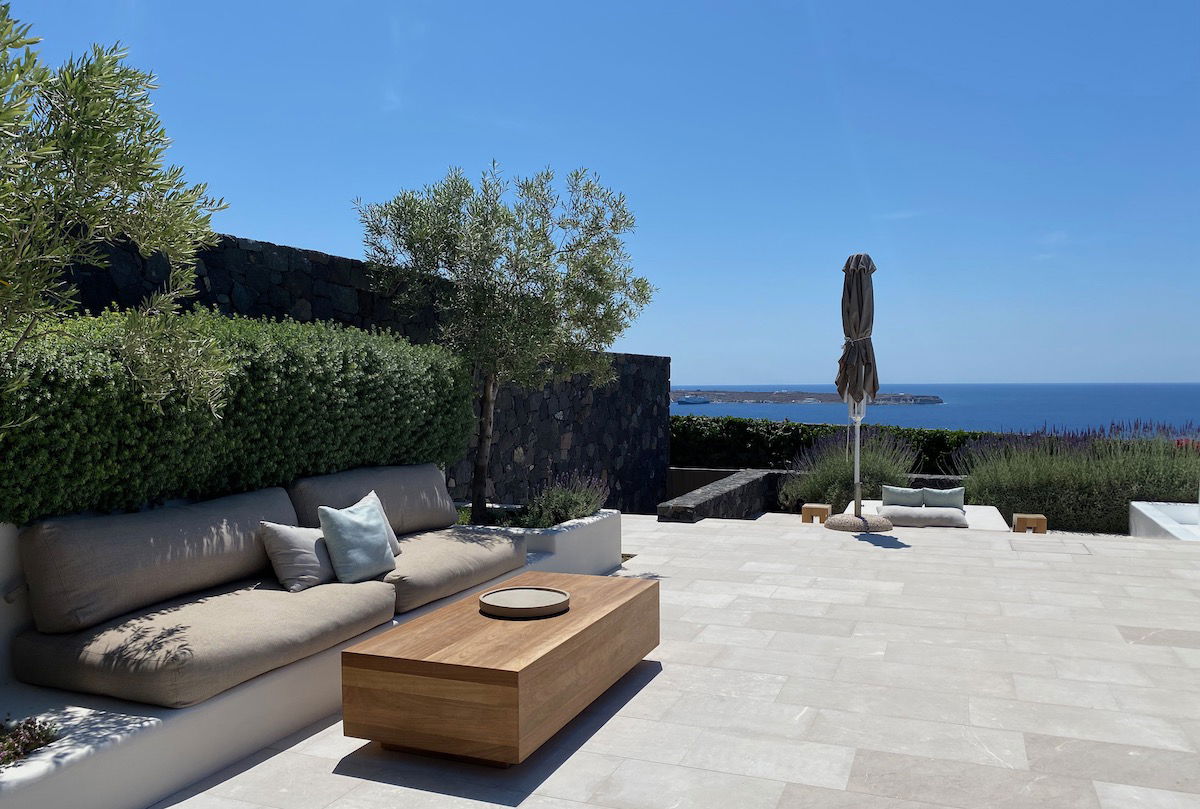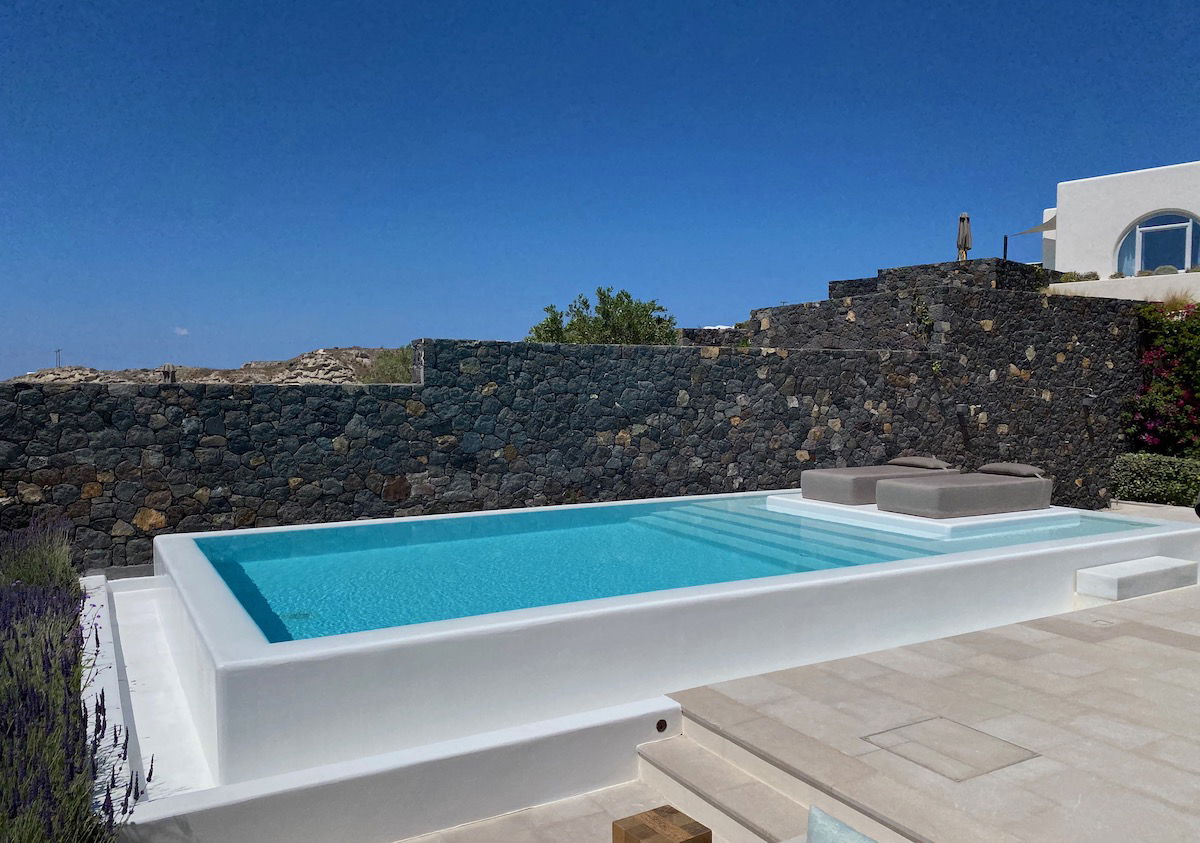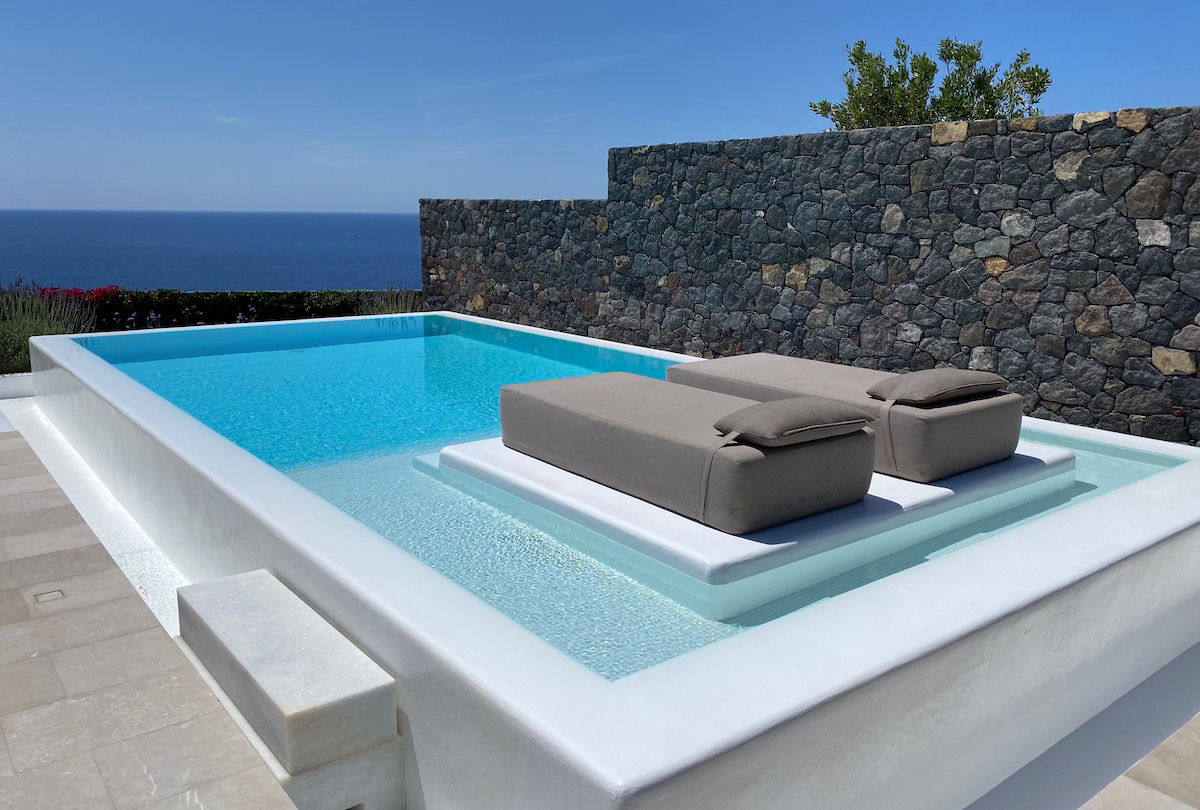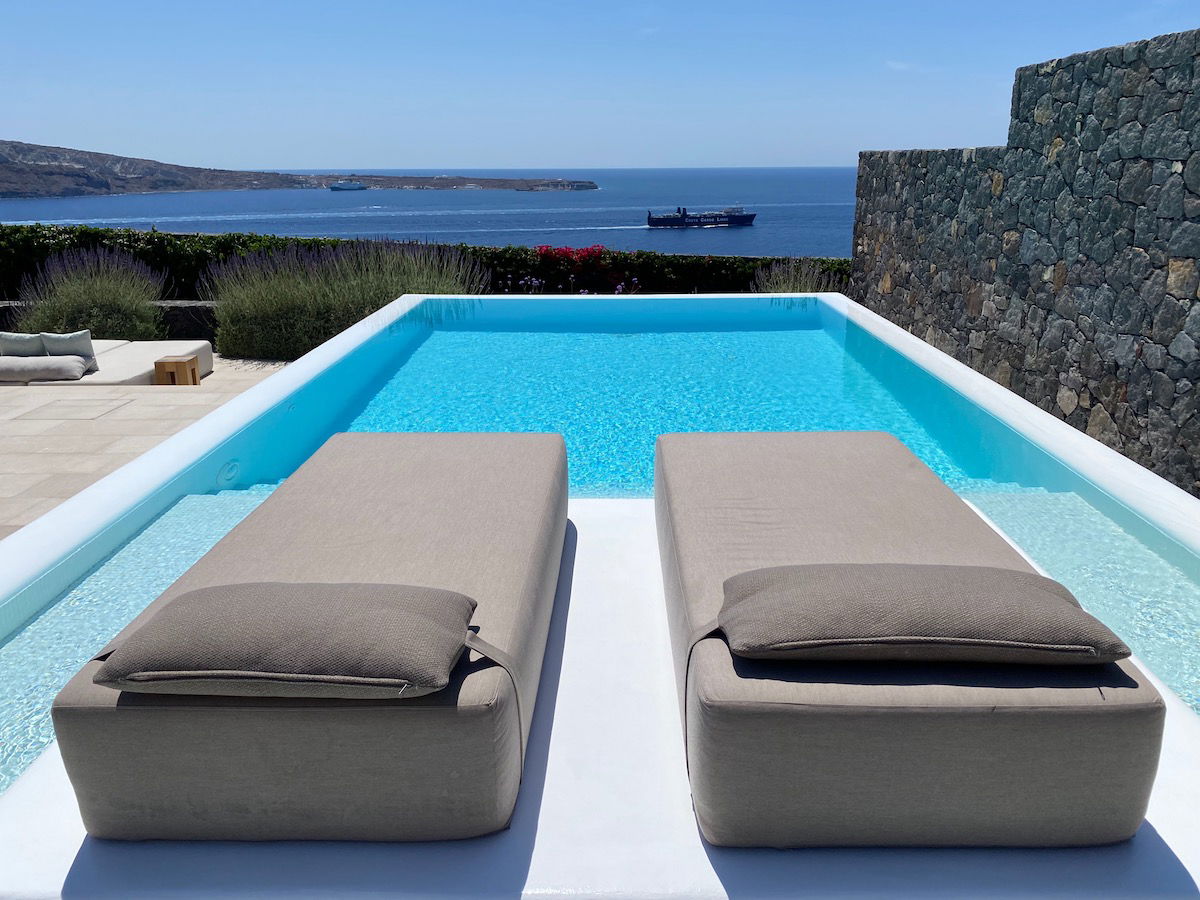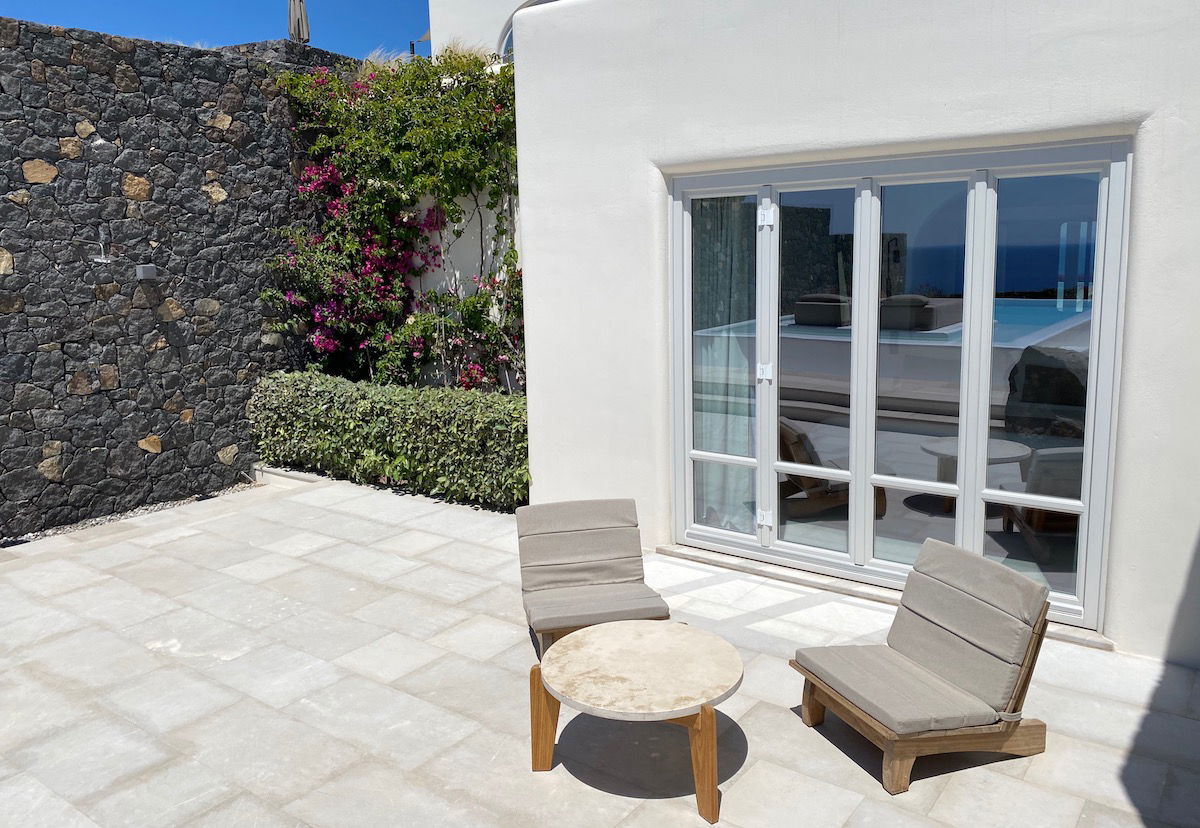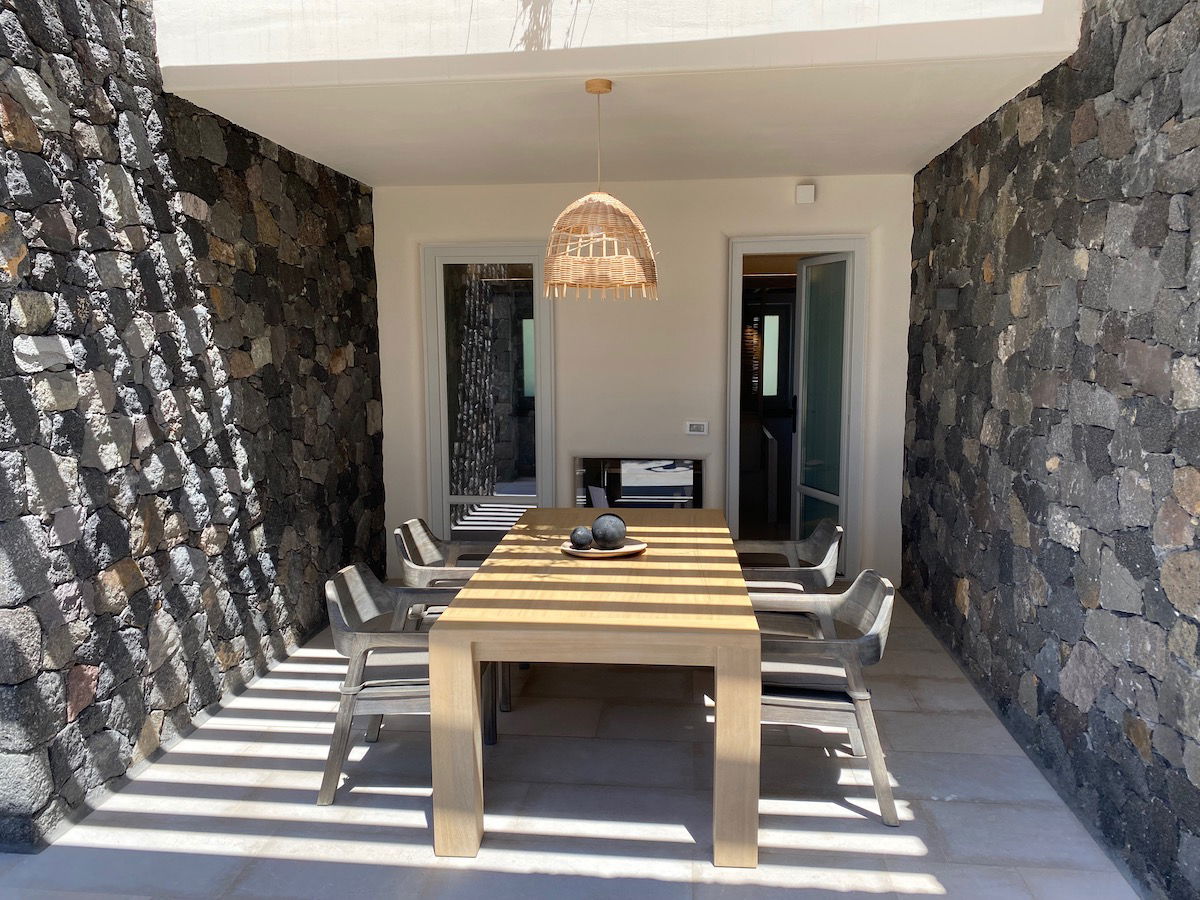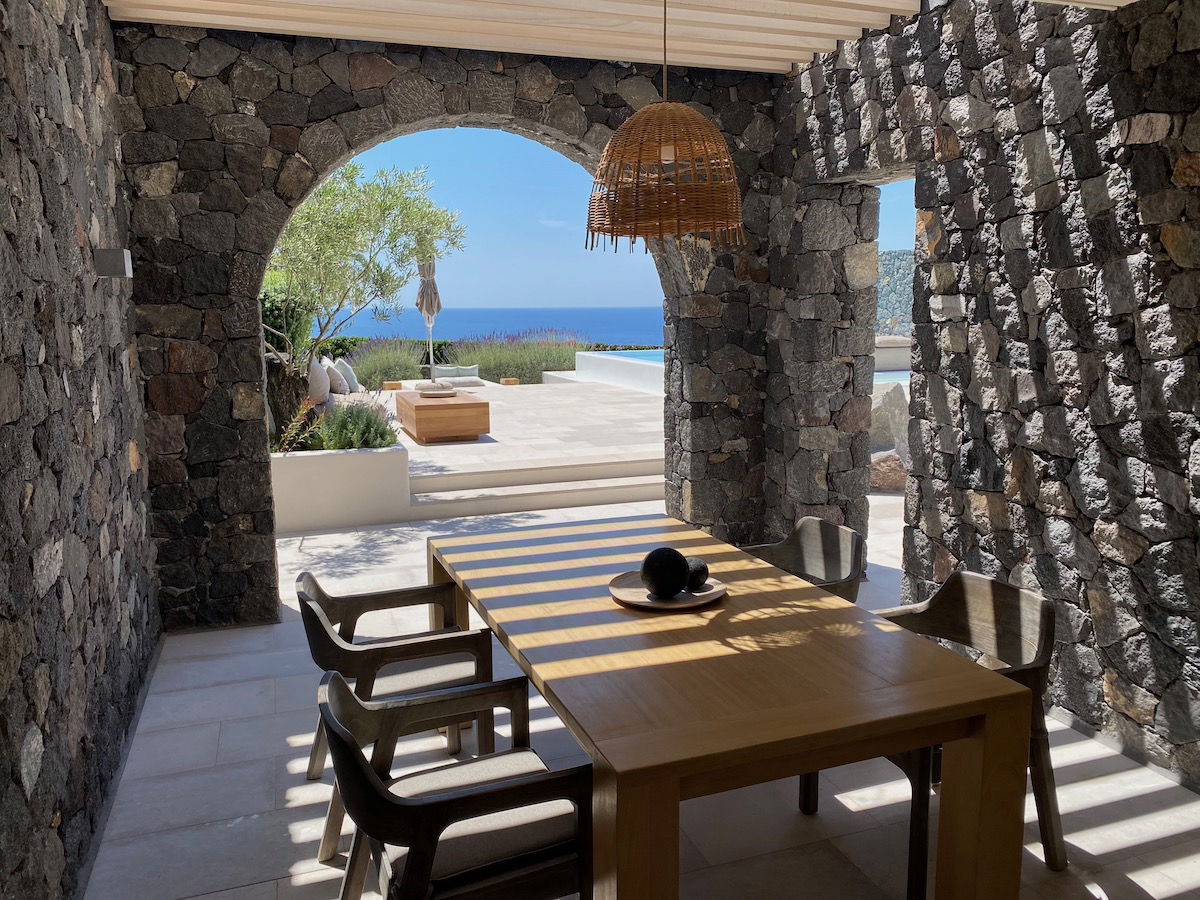 Nonetheless the indoor space was beautiful as well. It consisted of two floors, with one bedroom on the main floor, and then another bedroom on the "basement" level. Just inside the entrance was a small sitting area with a couch facing the TV and the two doors.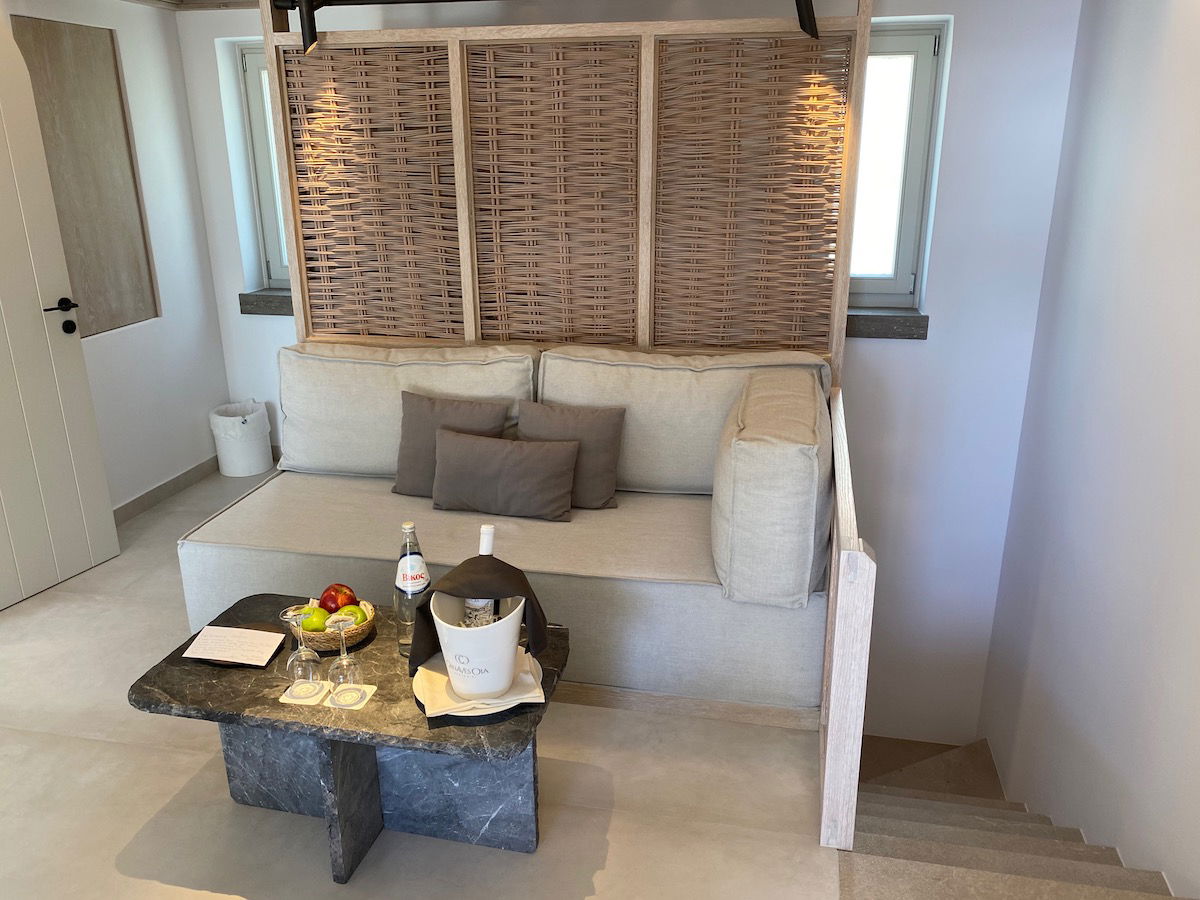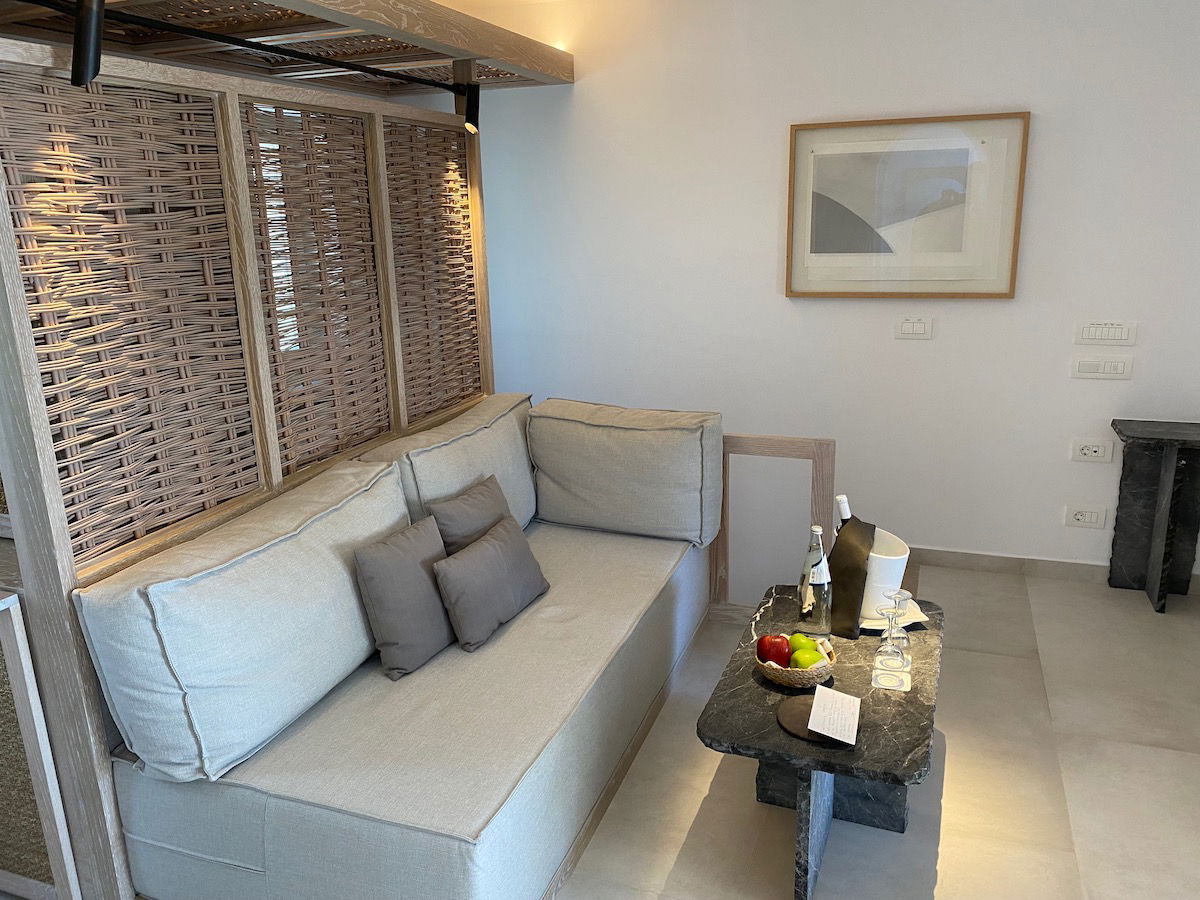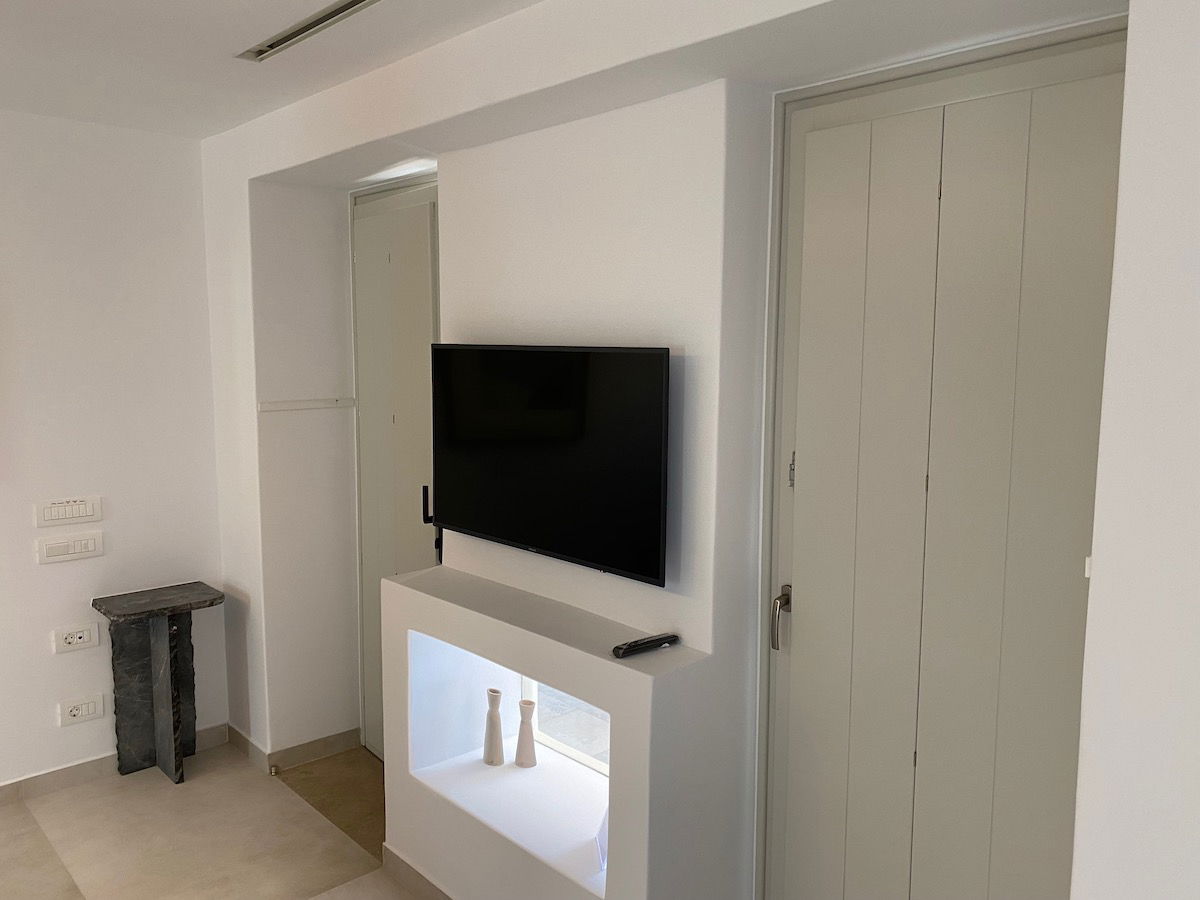 There was a lovely welcome amenity consisting of a bottle of local white wine, a bottle of water, and some whole fruit.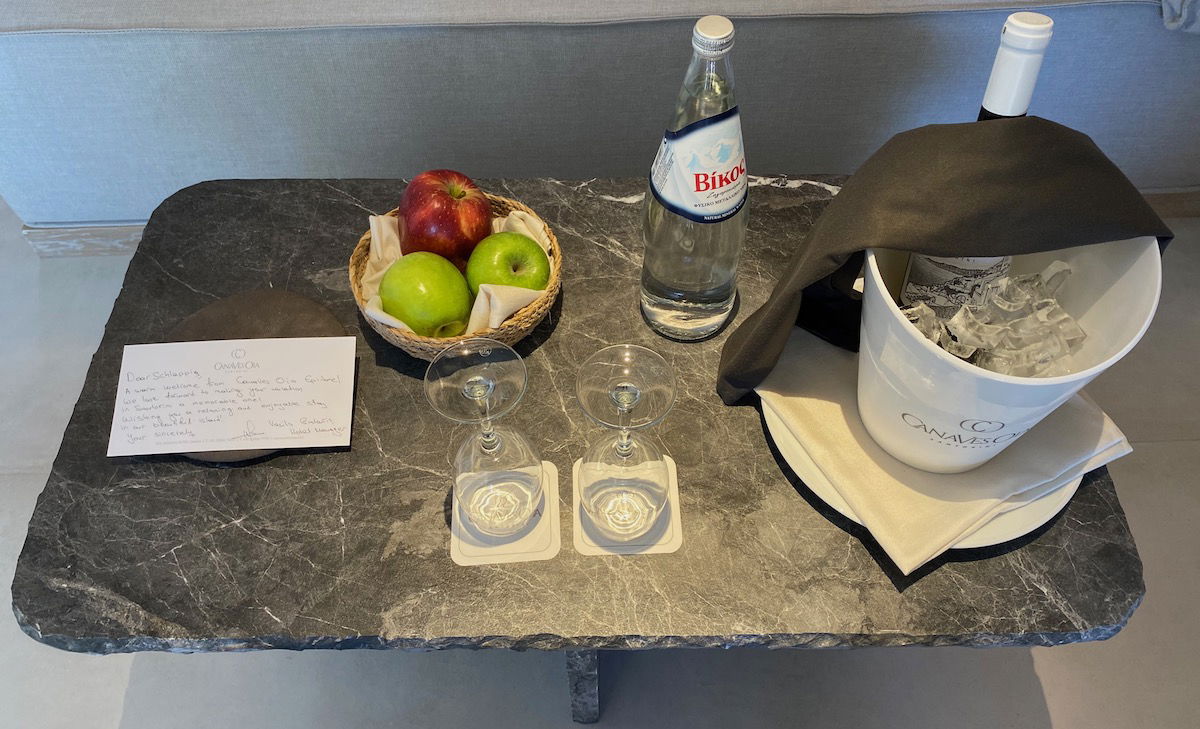 Also in this area were the minibar and in-room coffee machine.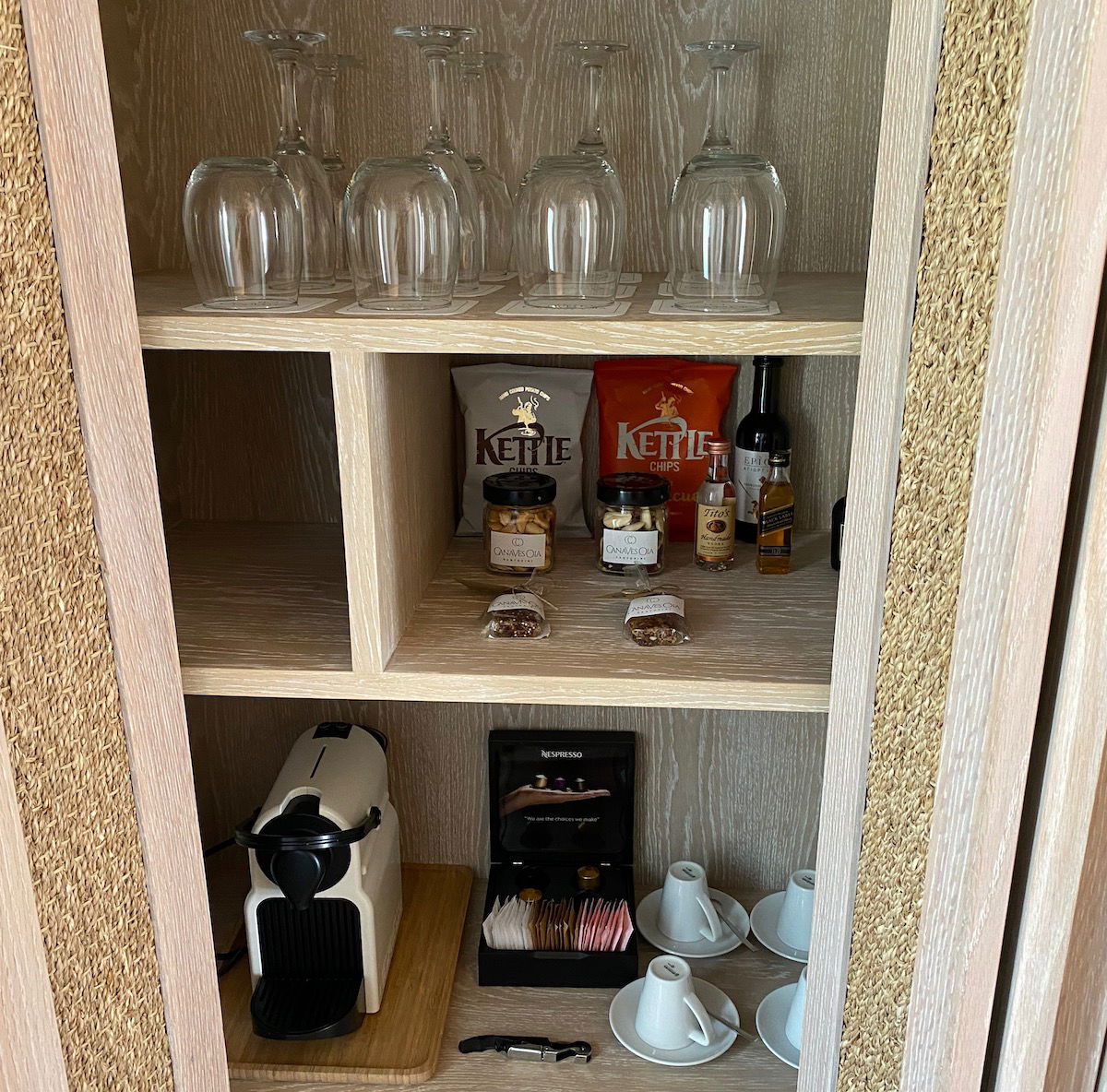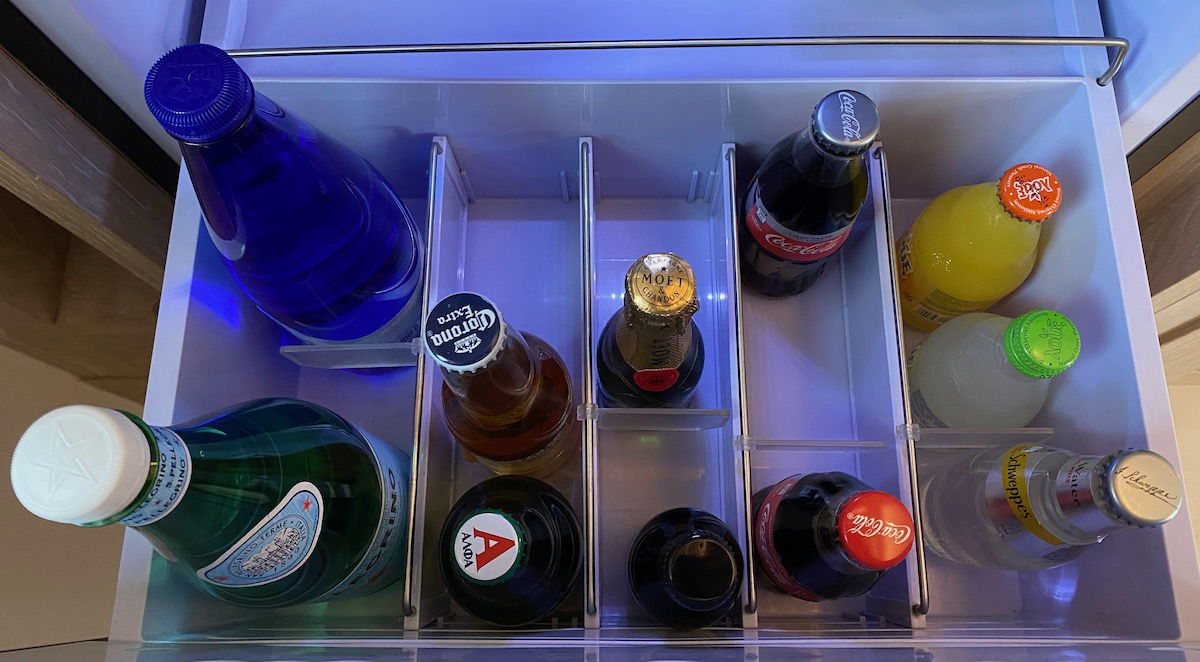 Further down the hall was the first bedroom, which had a comfortable king size bed. This bedroom looked out directly over the terrace, and faced towards the sea.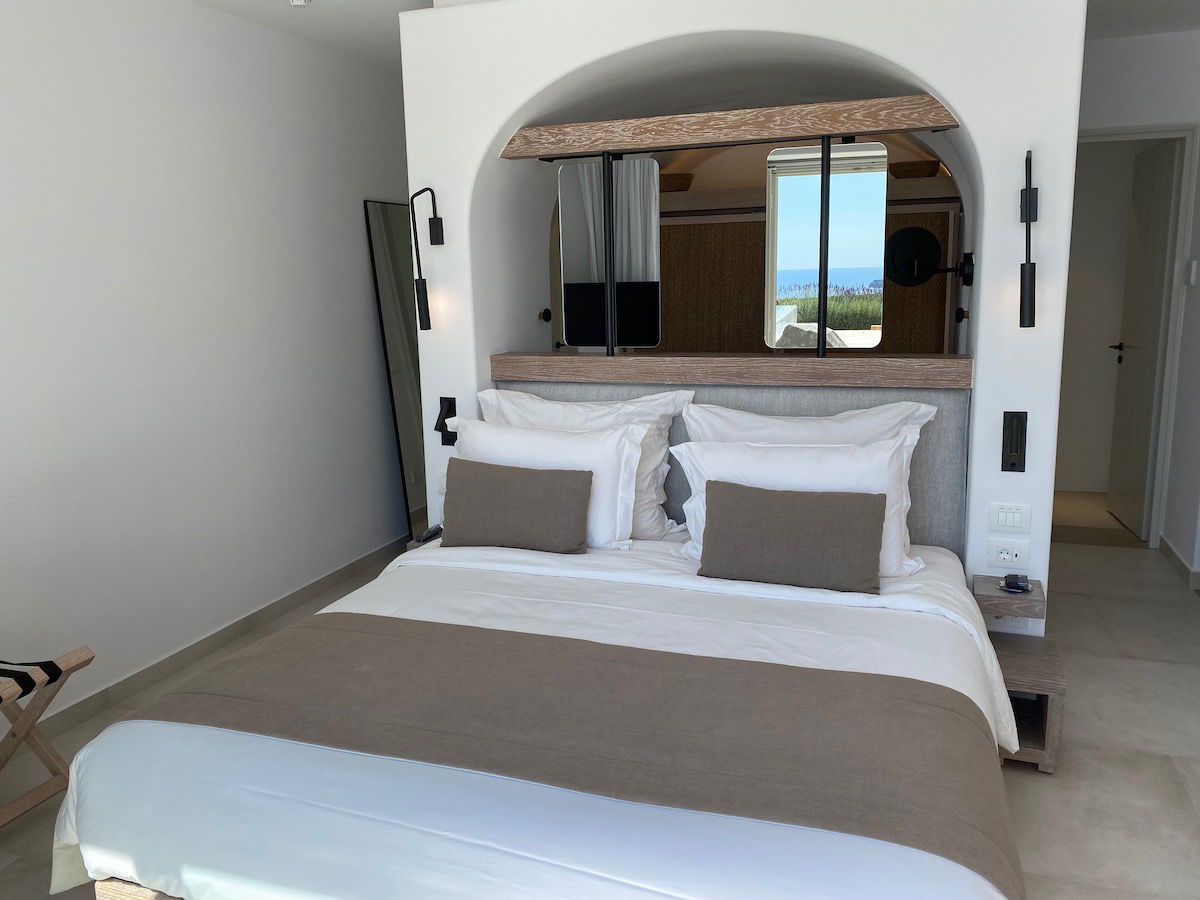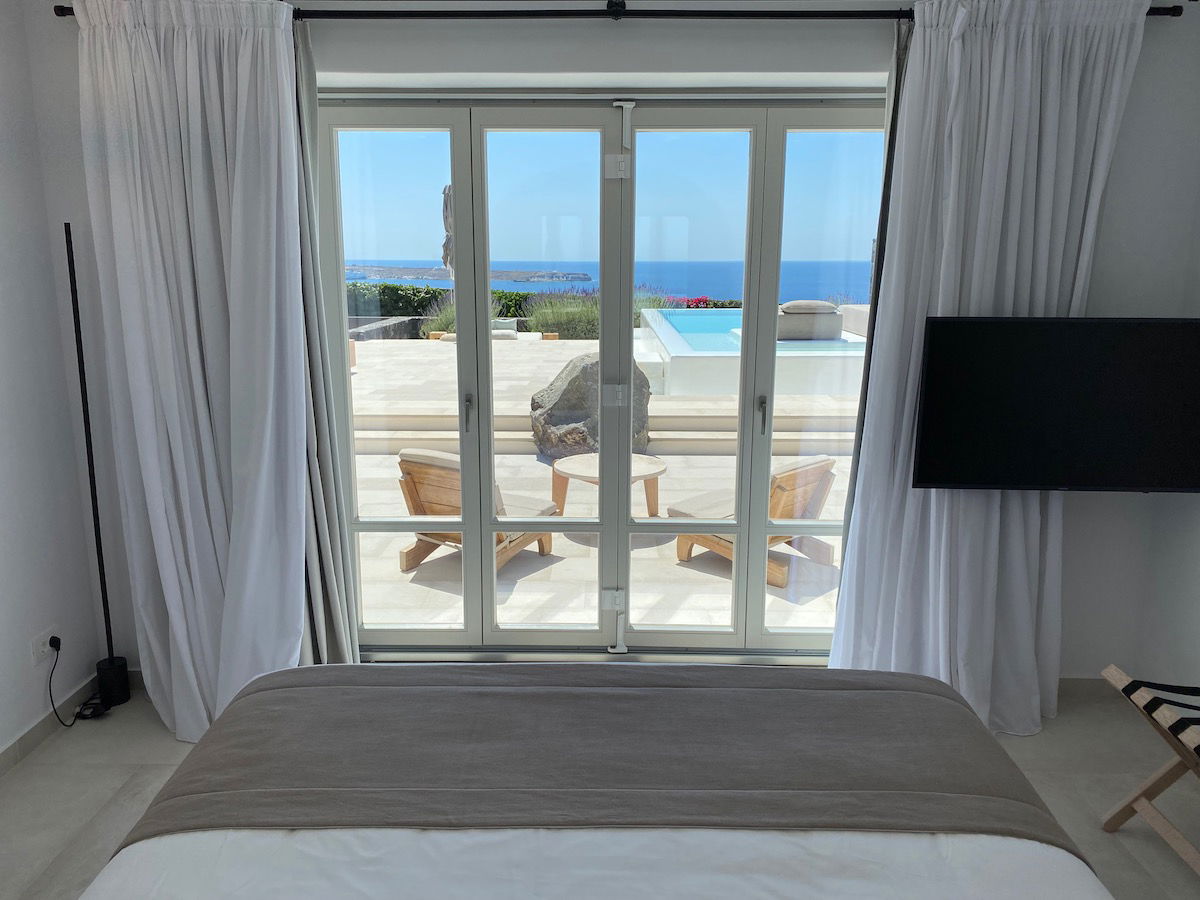 Behind the bedroom was one of the bathrooms, with double sinks, and then a toilet and walk-in shower each in a separate room.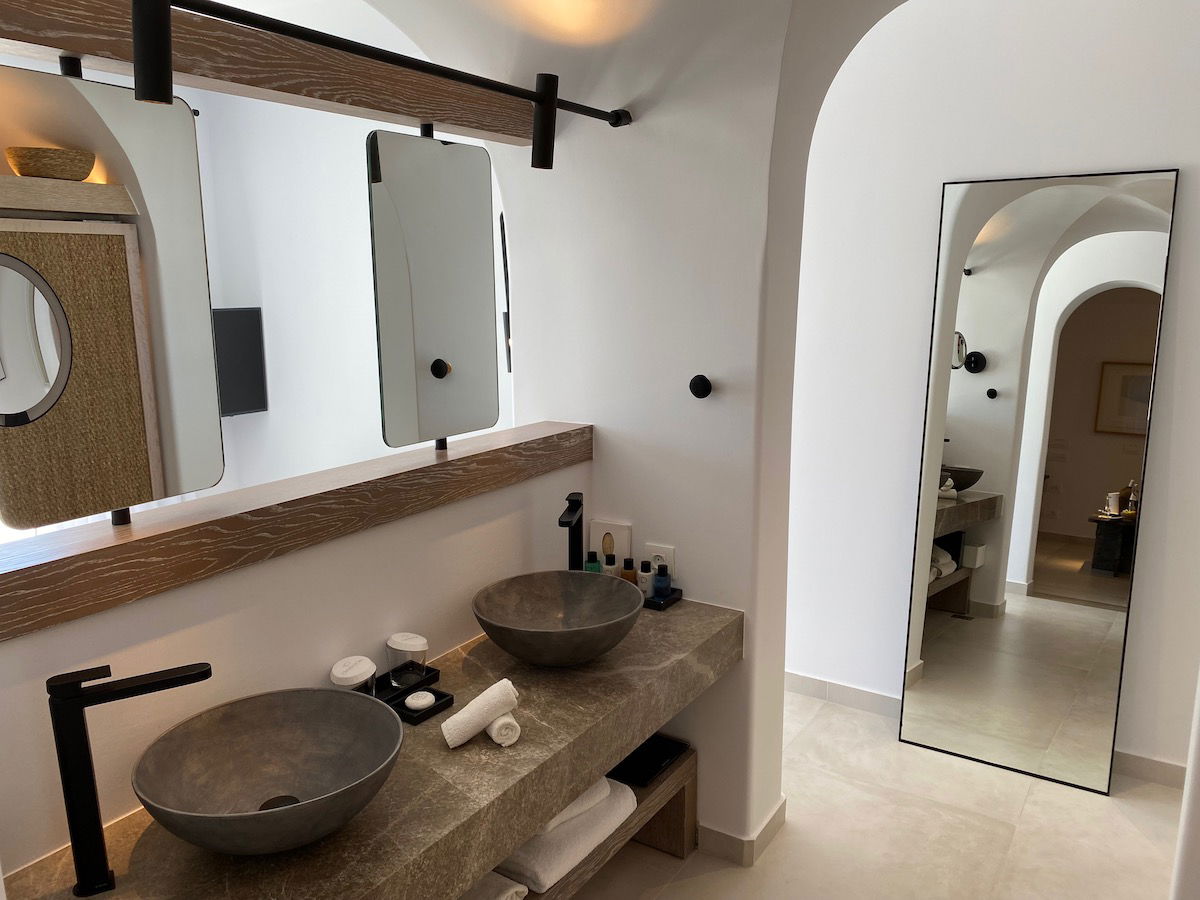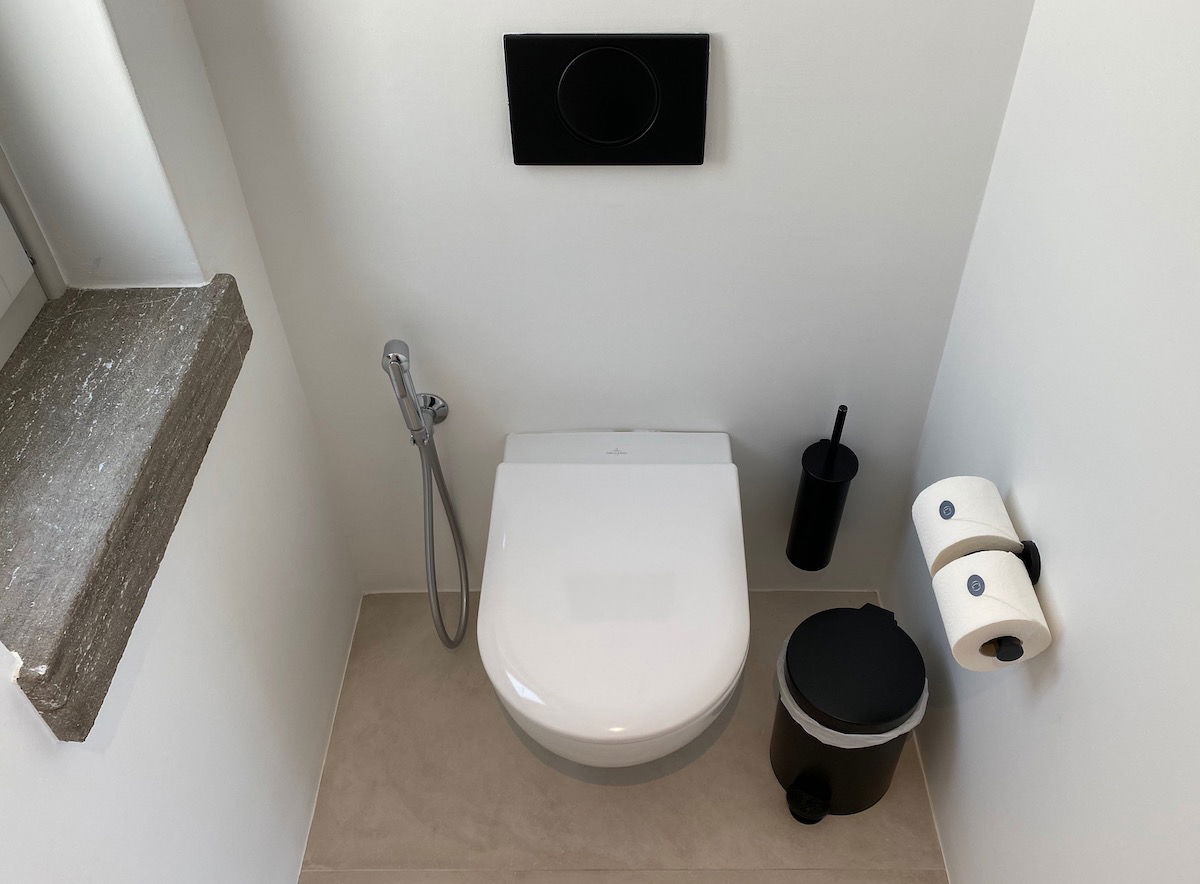 The shower had excellent temperature control and water pressure, and had both a rainforest shower head and a handheld nozzle.
Toiletries were in Canaves Oia branded bottles, and I loved them, in particular the body scrub.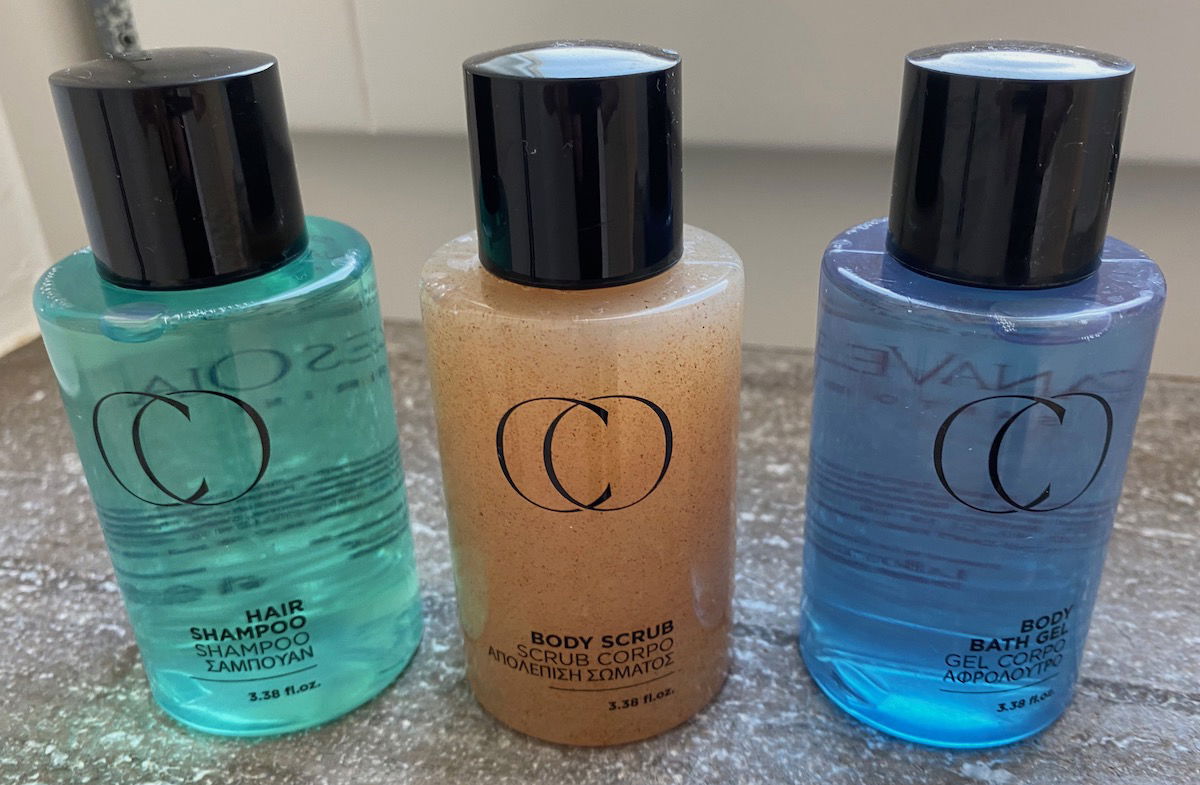 Down the stairs was the second bedroom, which almost felt like an entirely different residence. At the bottom of the stairs and to the left was a sitting area.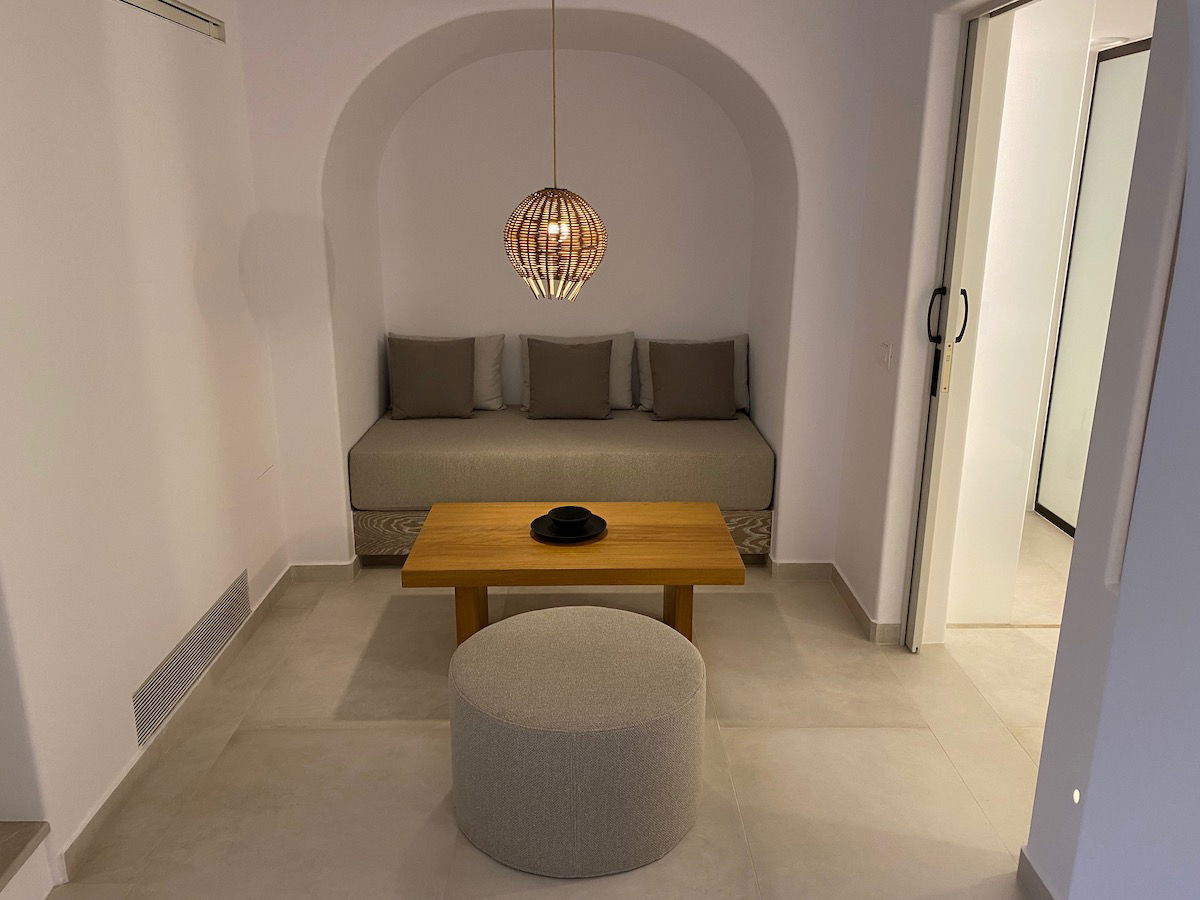 Then there was another king size bed. The lower level felt like a cozy cave — it had little natural light, and instead faced a stone wall and some plants. While we slept the first night upstairs, we ended up sleeping downstairs for the rest of our stay, as we loved how dark the room got.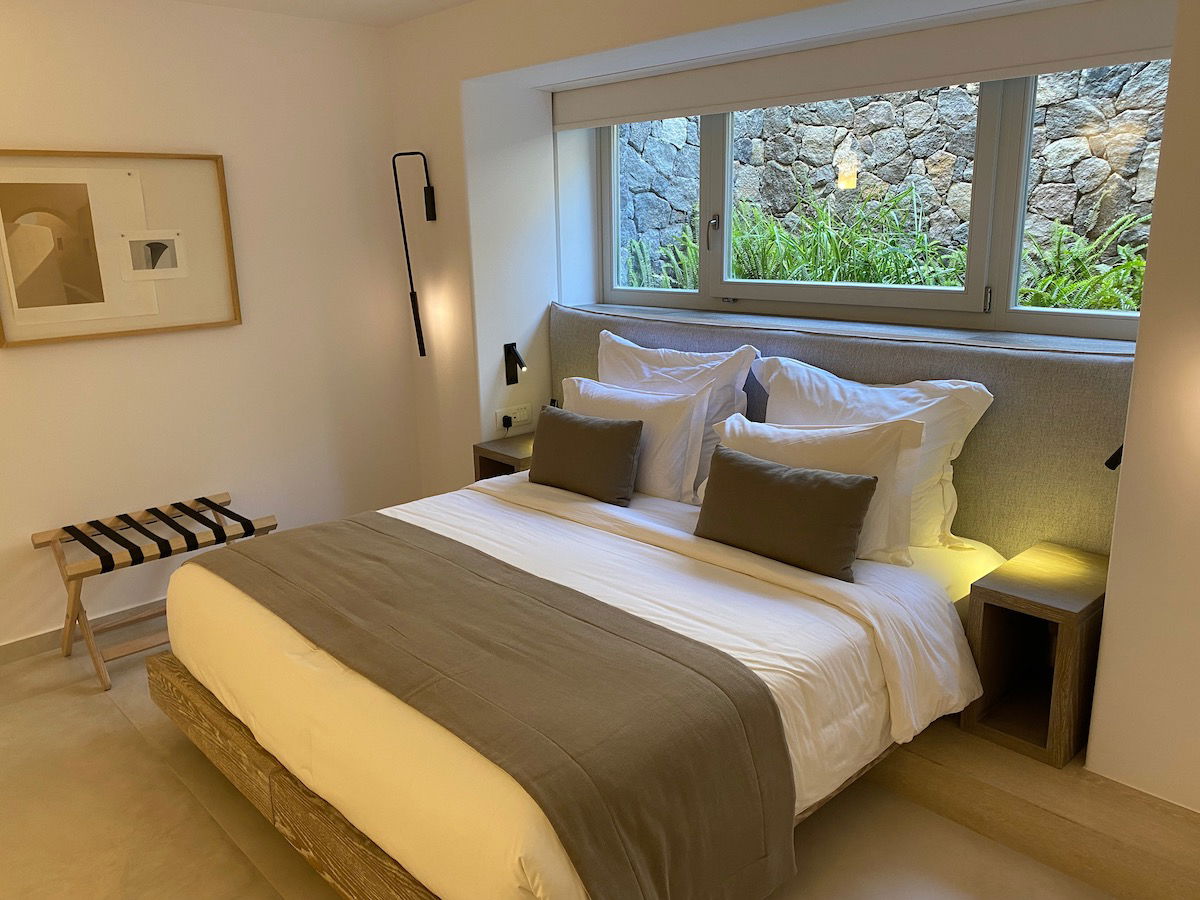 The lower level of the villa also had a soaking tub and plenty of closet space in one area.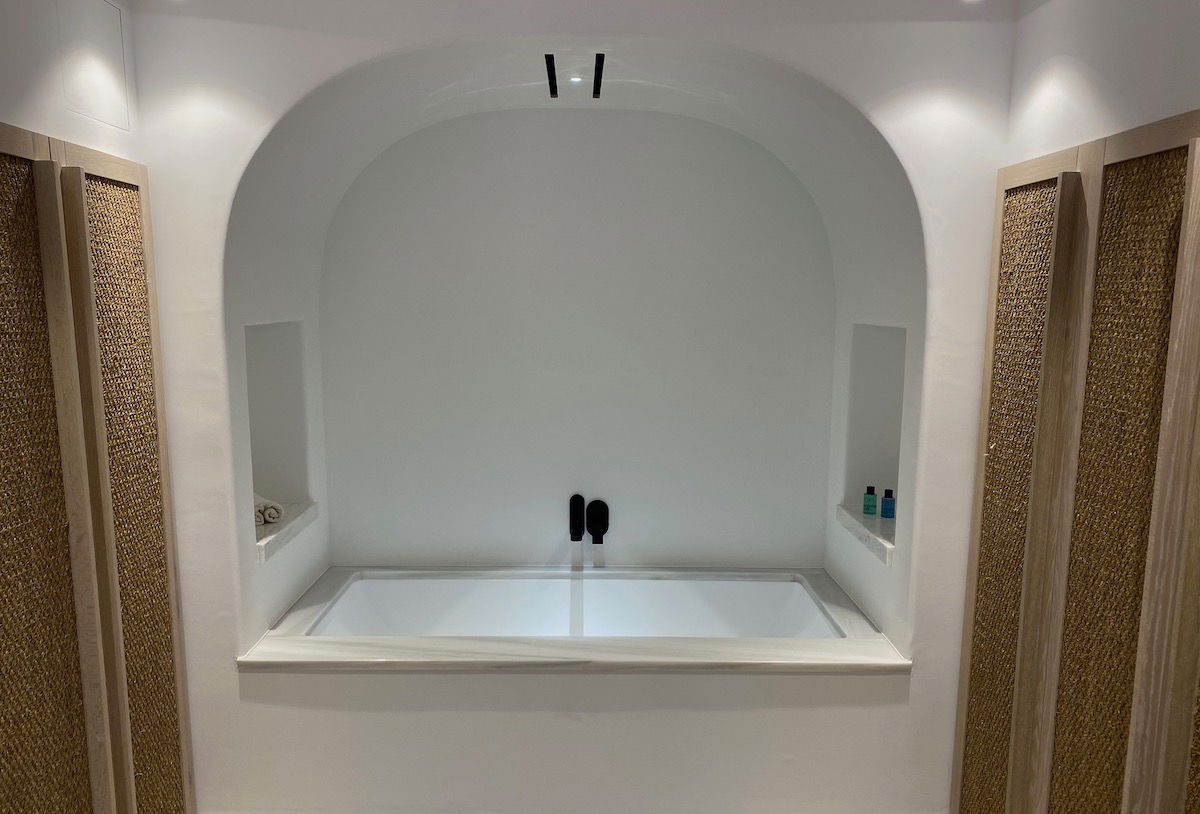 Then back near the entrance on this level was a sink, along with a toilet and walk-in shower.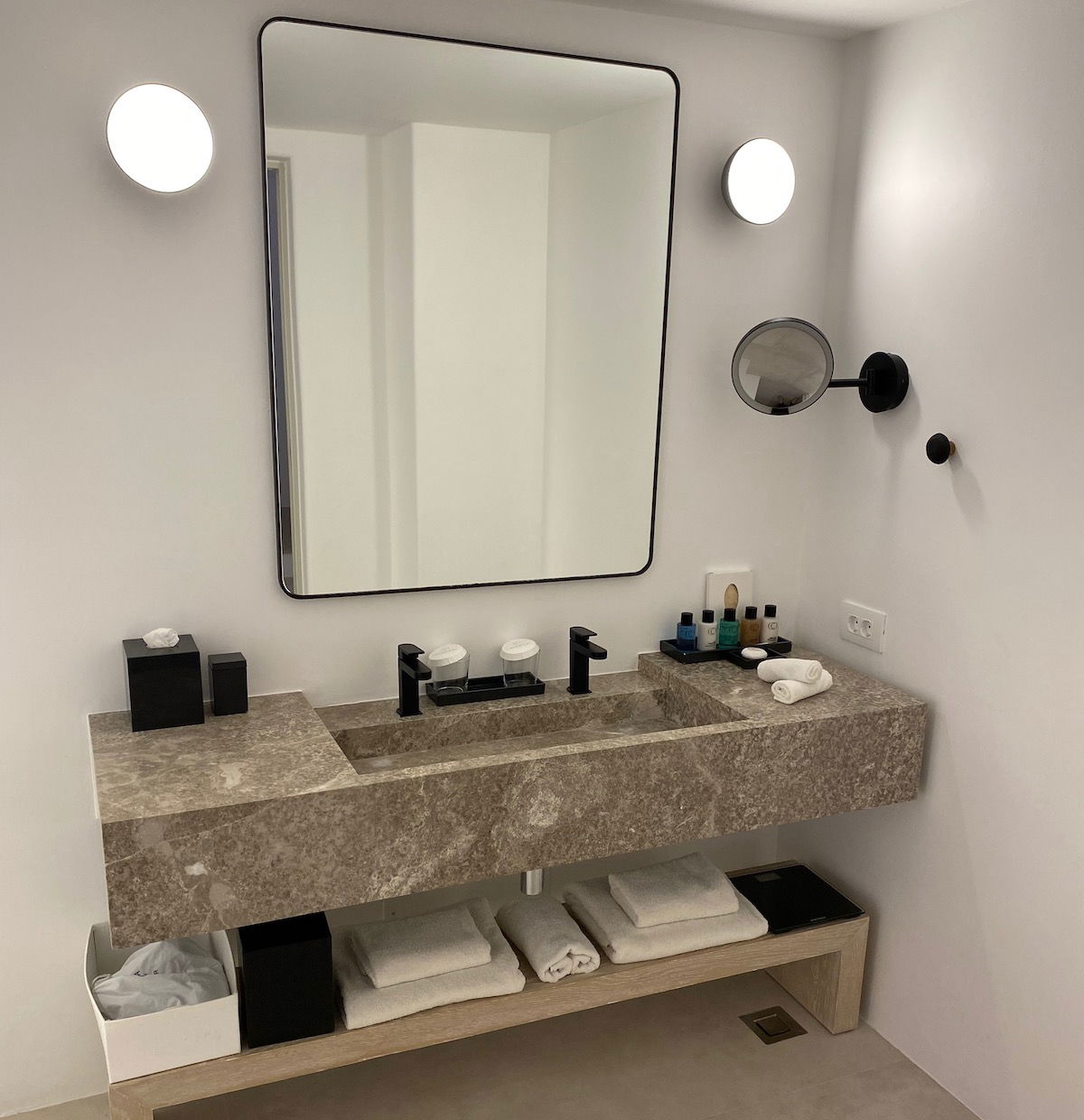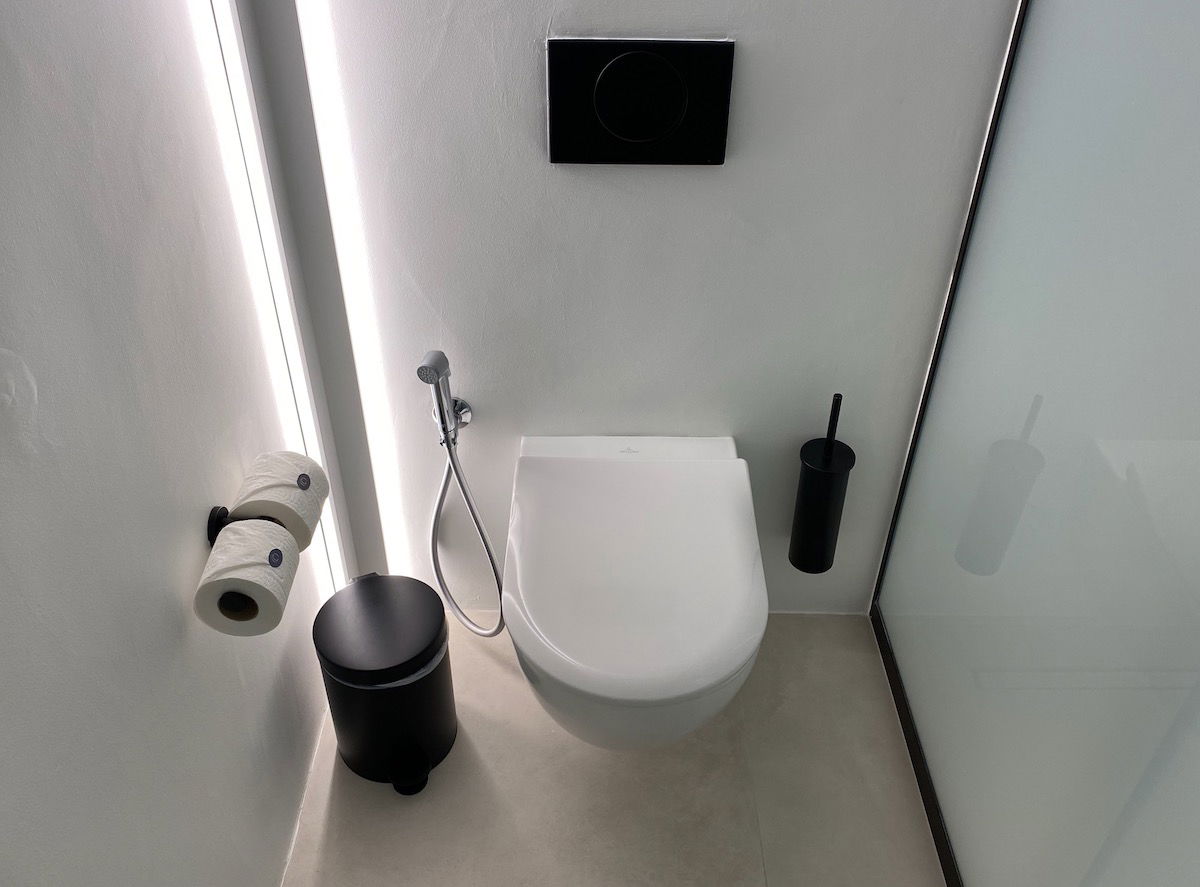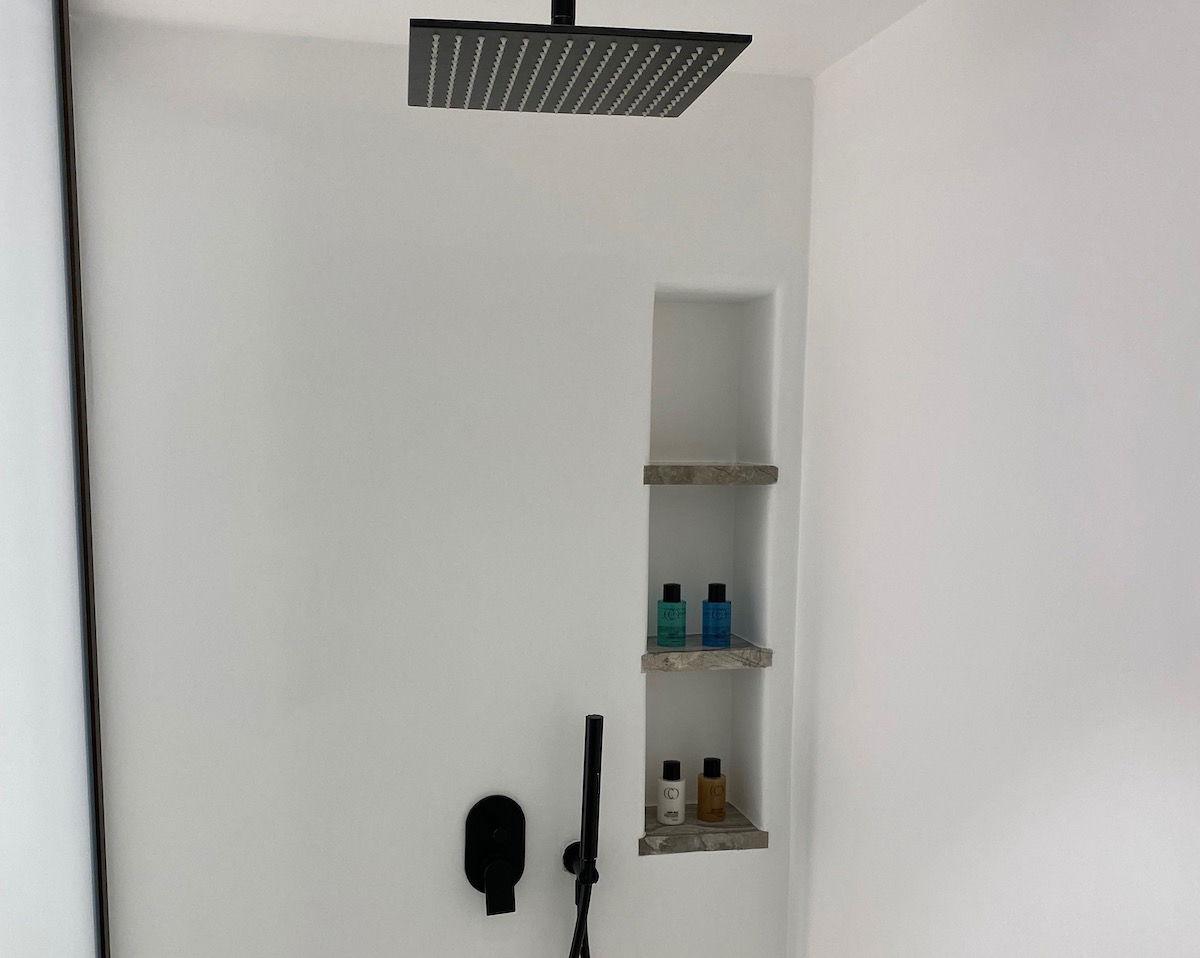 Wi-Fi in the room (and throughout the property) was fast and free, and housekeeping was excellent as well, and came twice a day. I have nothing but good things to say about this villa — this is easily the most luxurious accommodation we've had in Greece.
In particular I also loved the sunset views from here.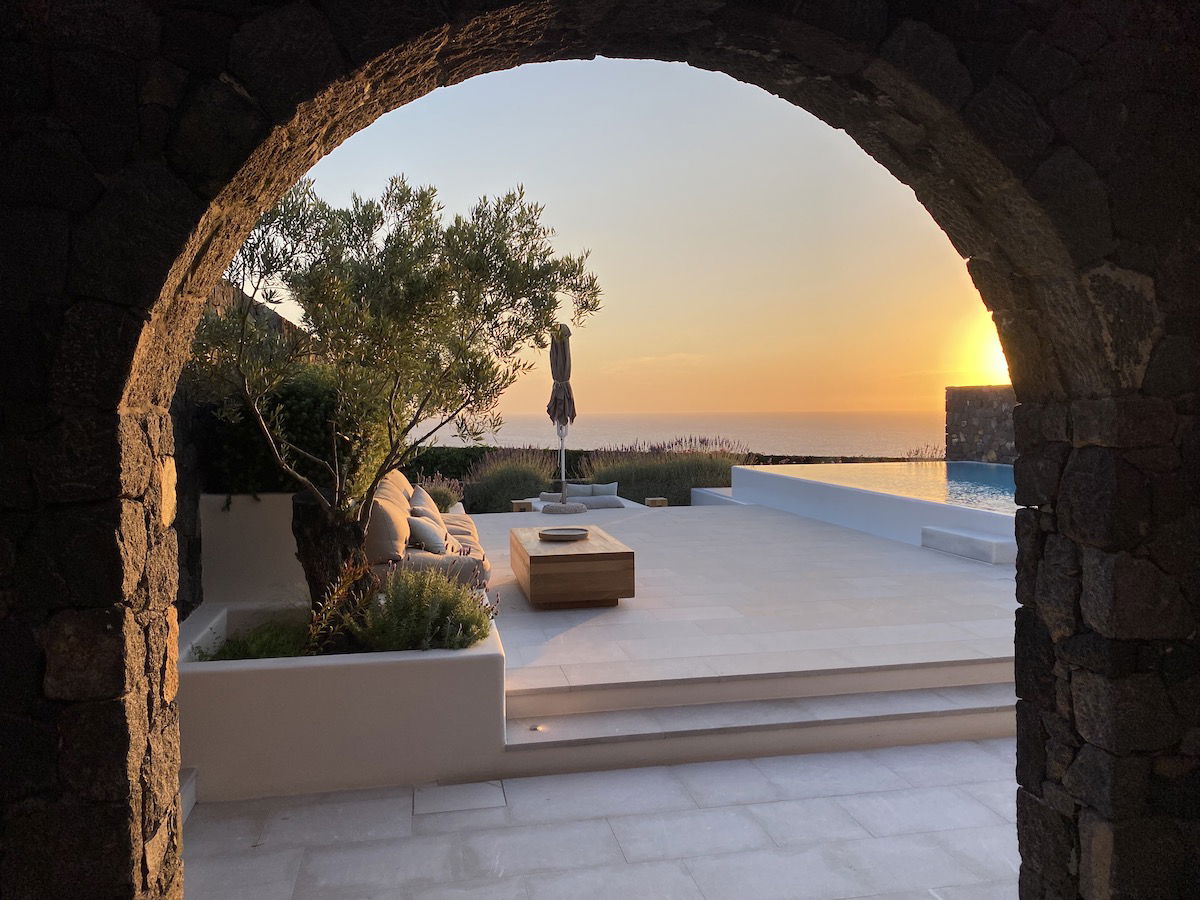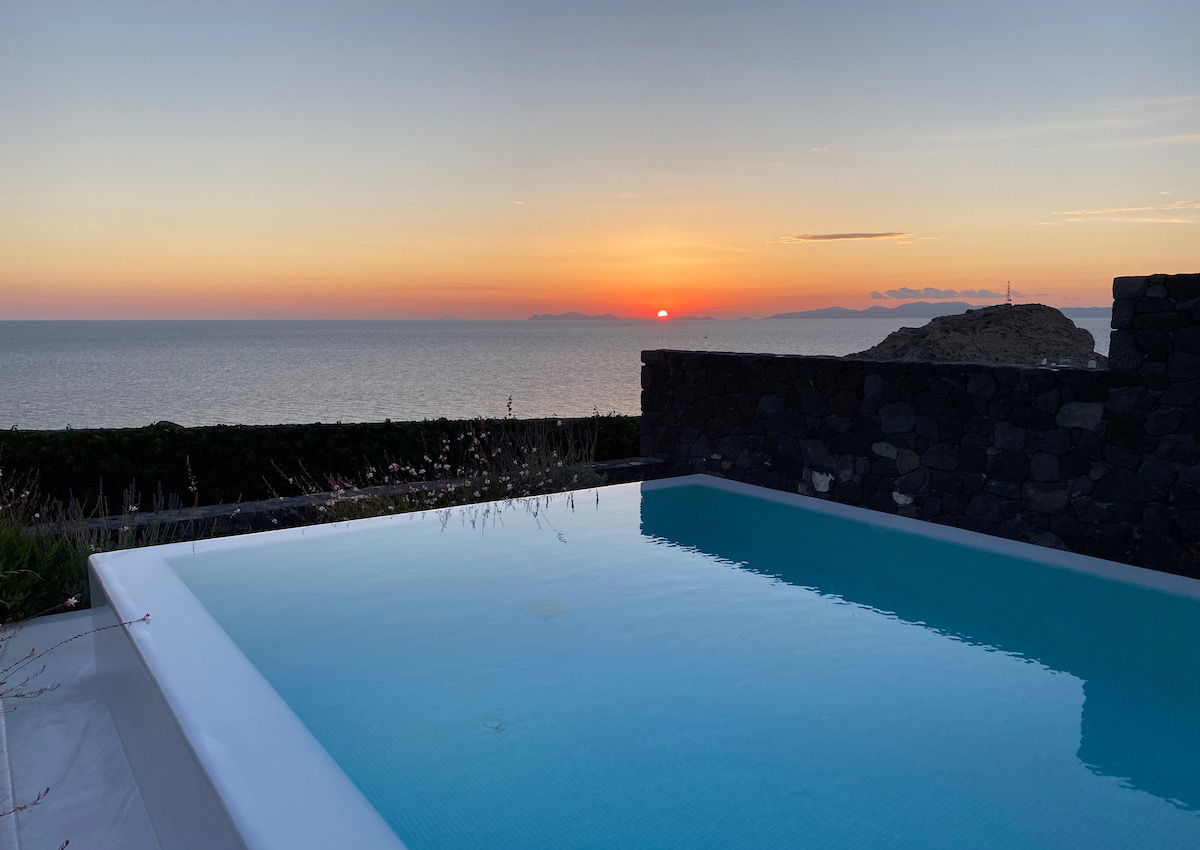 Canaves Oia Epitome pool
The focal point of Canaves Oia Epitome is the west-facing infinity pool. All the restaurants and public areas of the hotel surround it, and it's picturesque.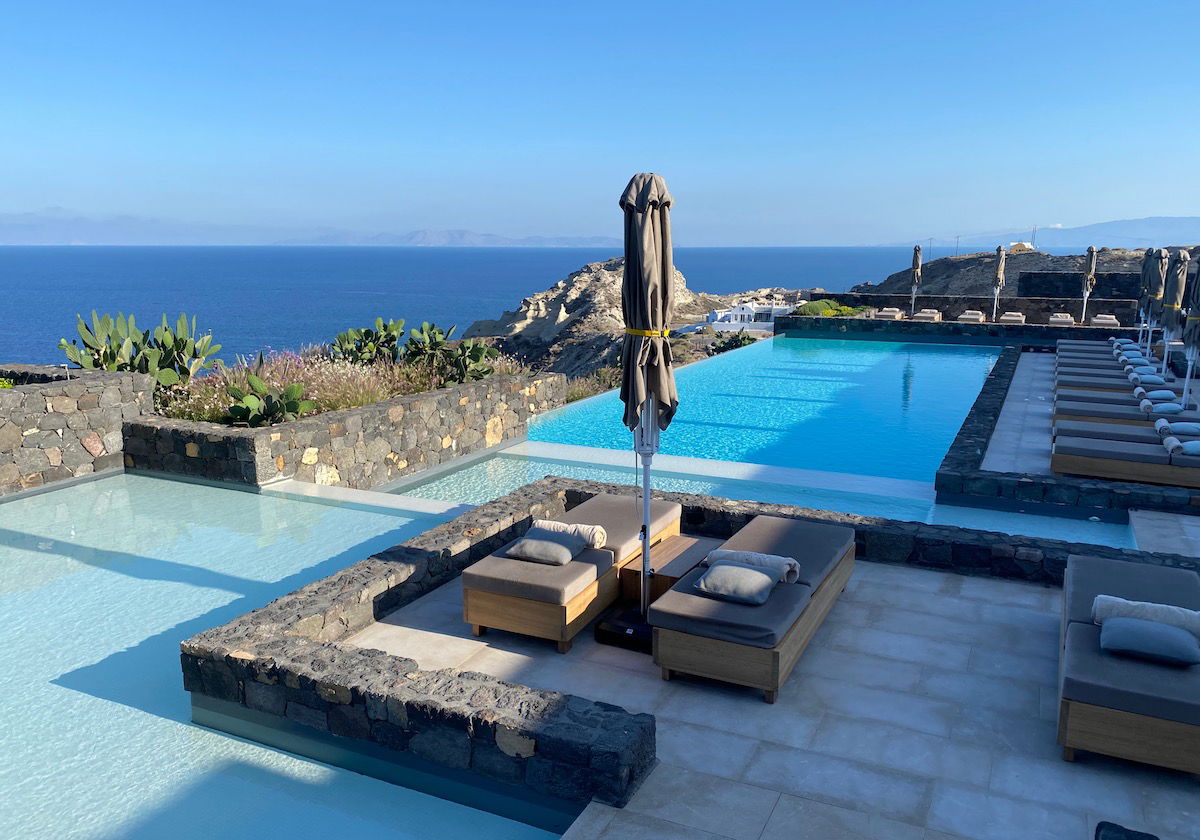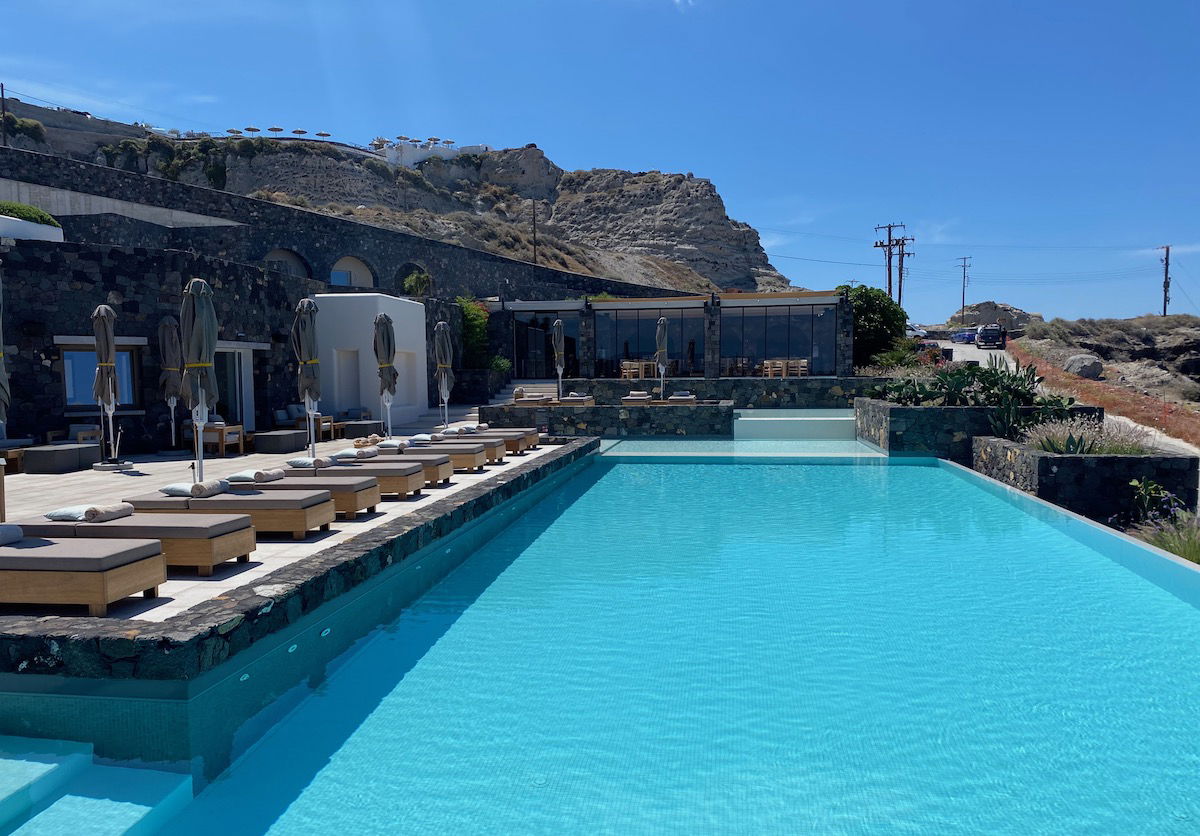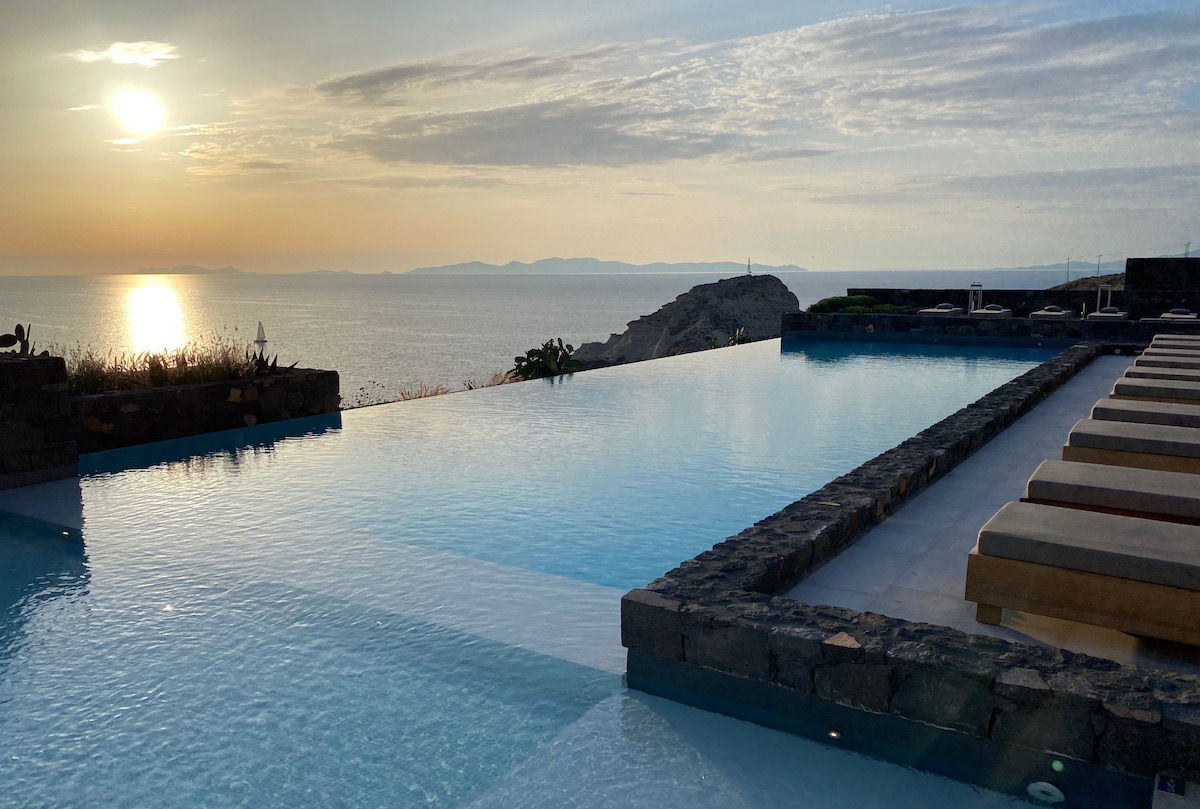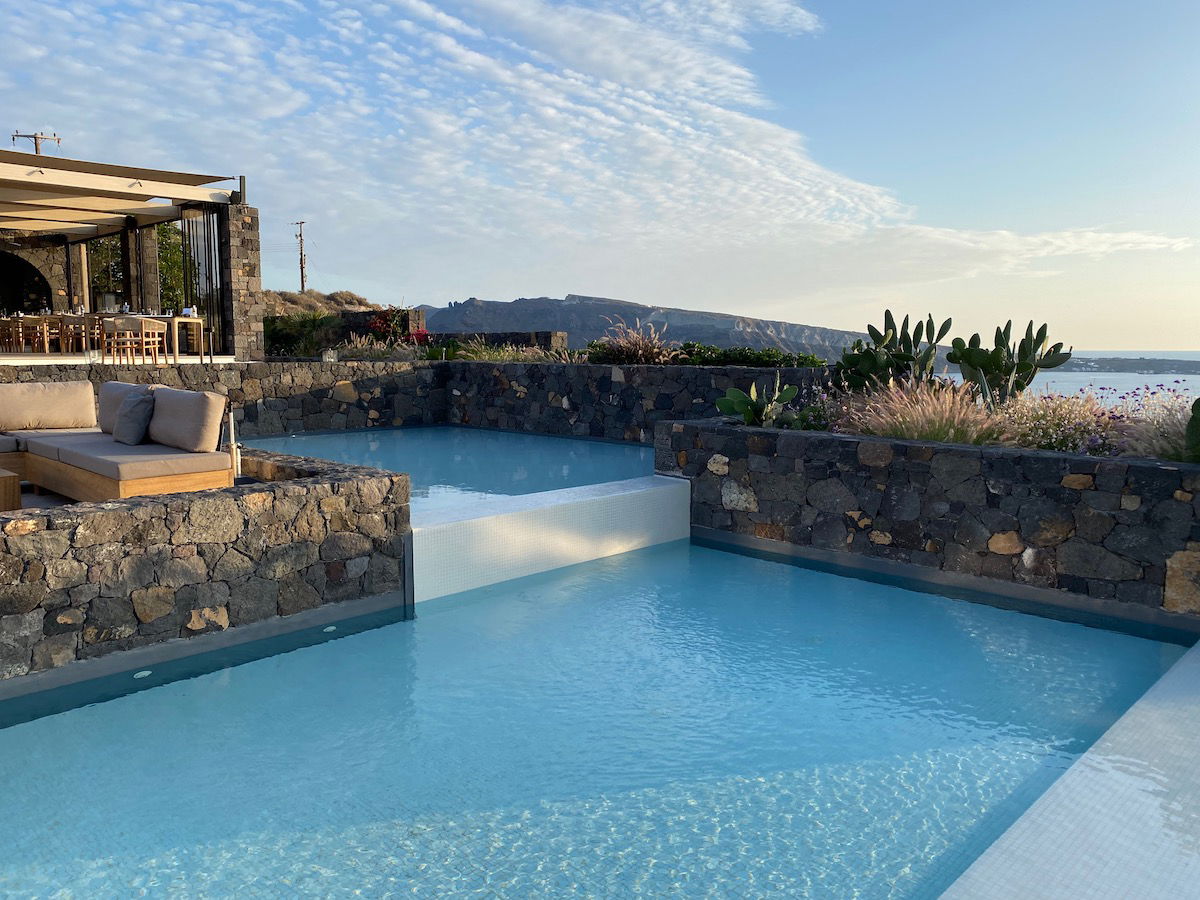 Since the hotel is so intimate, there were always plenty of seats available around the pool, so there was no need to play games to reserve seats. Service at the pool was also incredibly attentive — we were always brought water, and then could also order drinks, food, or anything else.
It was nice to be able to work from the pool, and equally nice to sit here in the evenings and enjoy the sunset.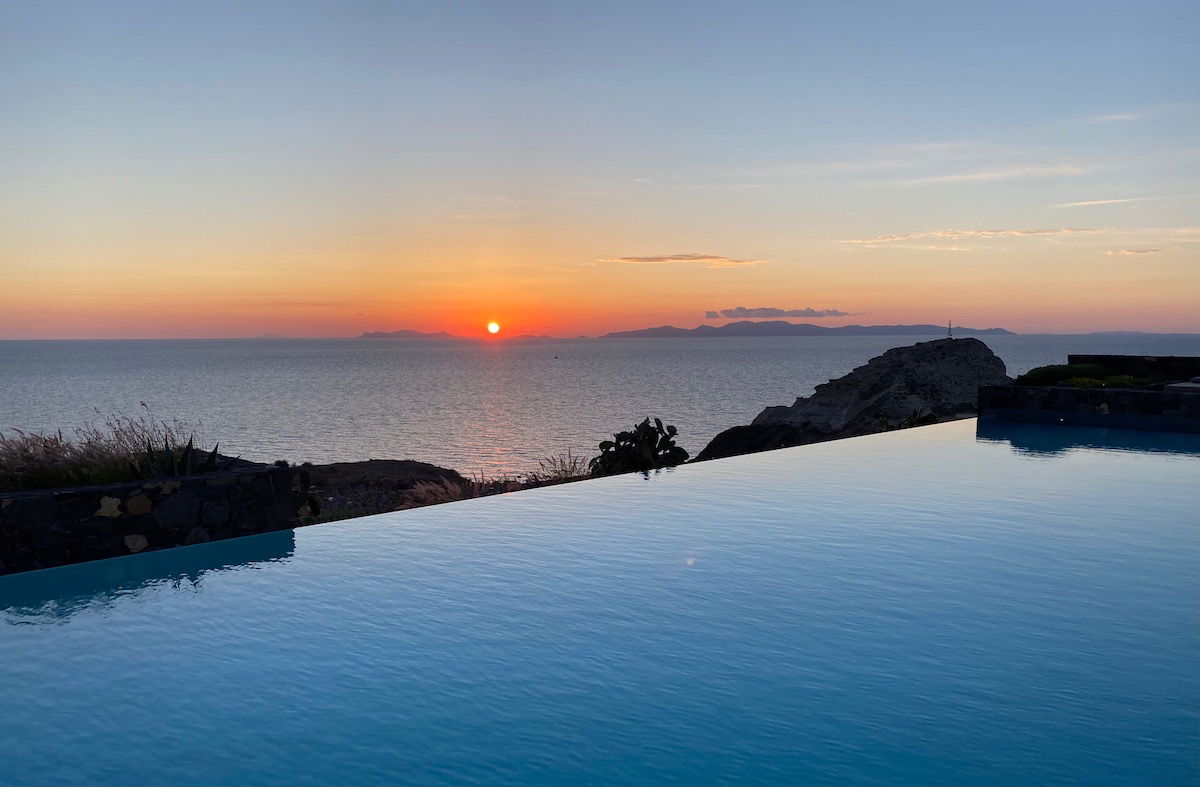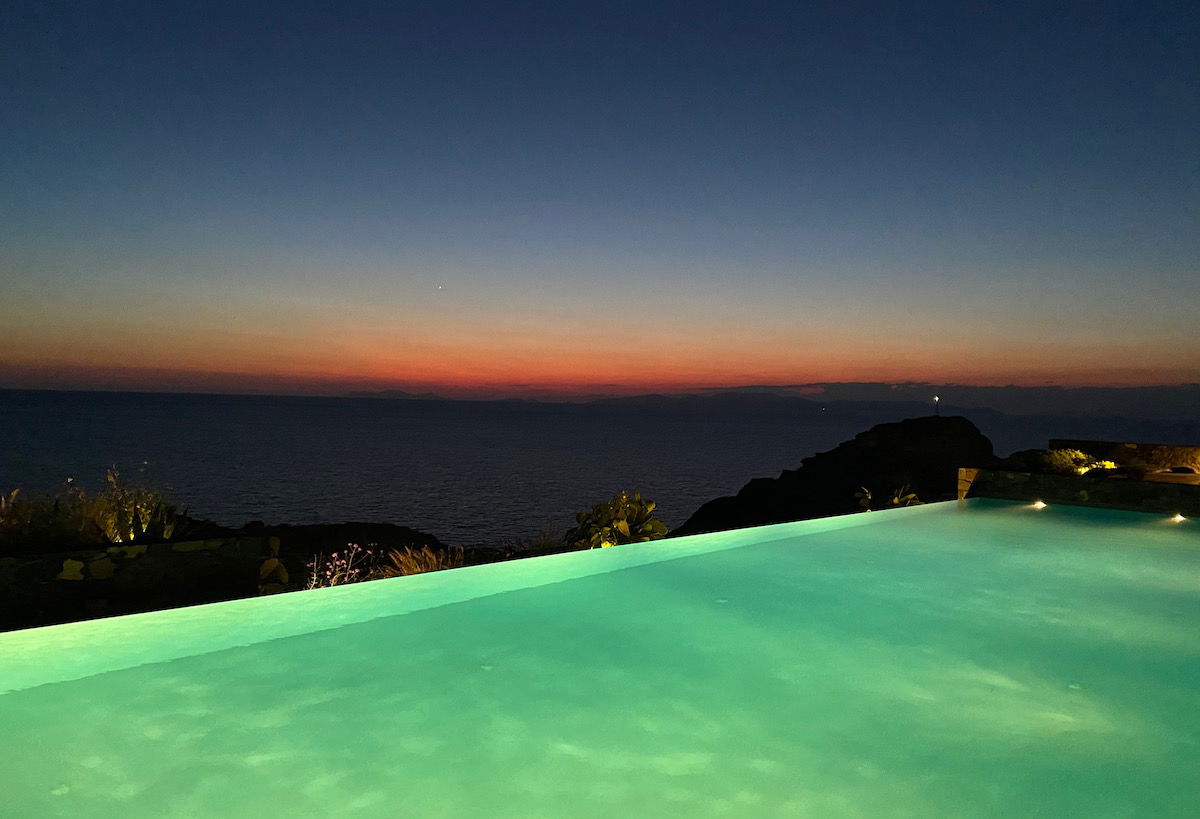 Canaves Oia Epitome breakfast
Breakfast at Canaves Oia Epitome was served daily from 8AM until 11AM, and was a feast. All rates include breakfast, and you can either dine in the restaurant, or for a tray charge of 10 Euros, you can instead dine in your suite or villa.
The main restaurant is lovely, and has a bar, and plenty of indoor and outdoor seating. Of course we always ate outside, given the perfect weather.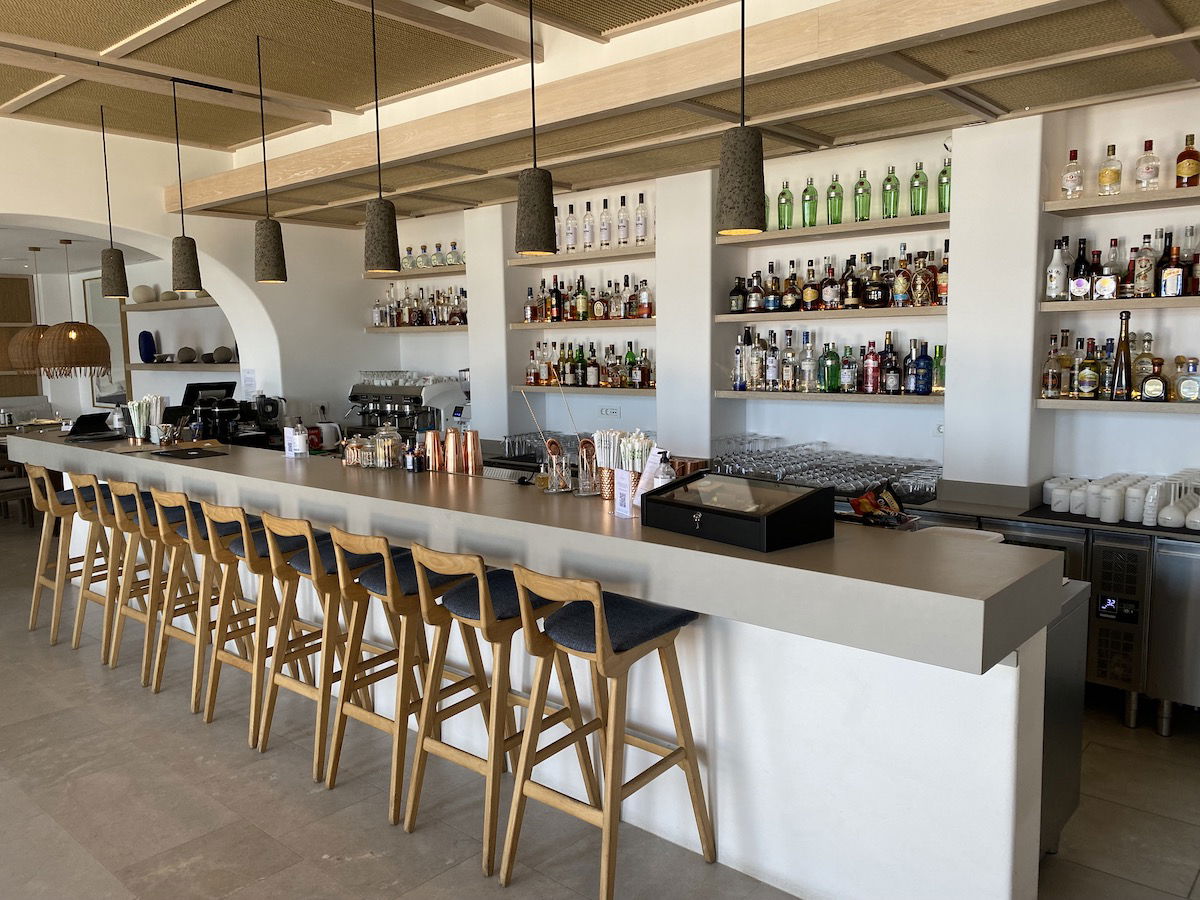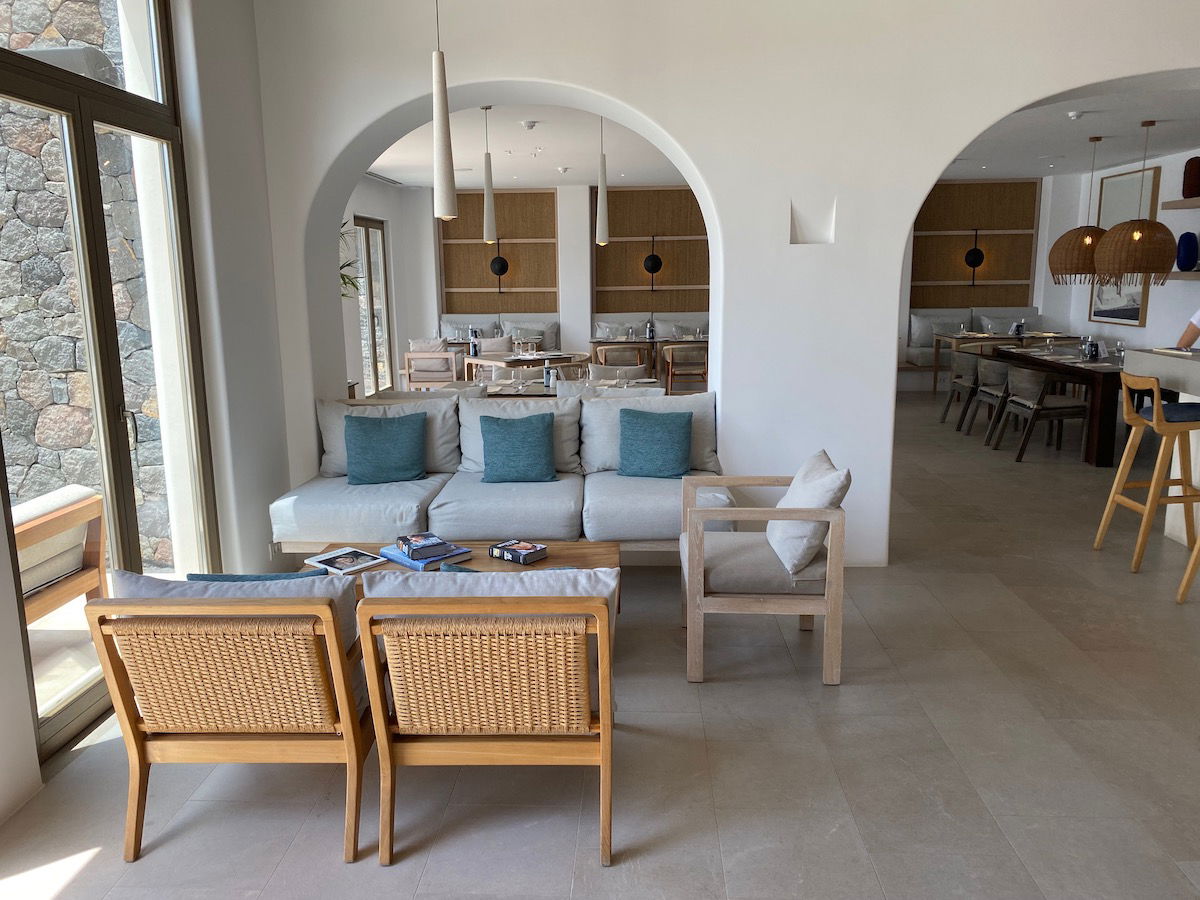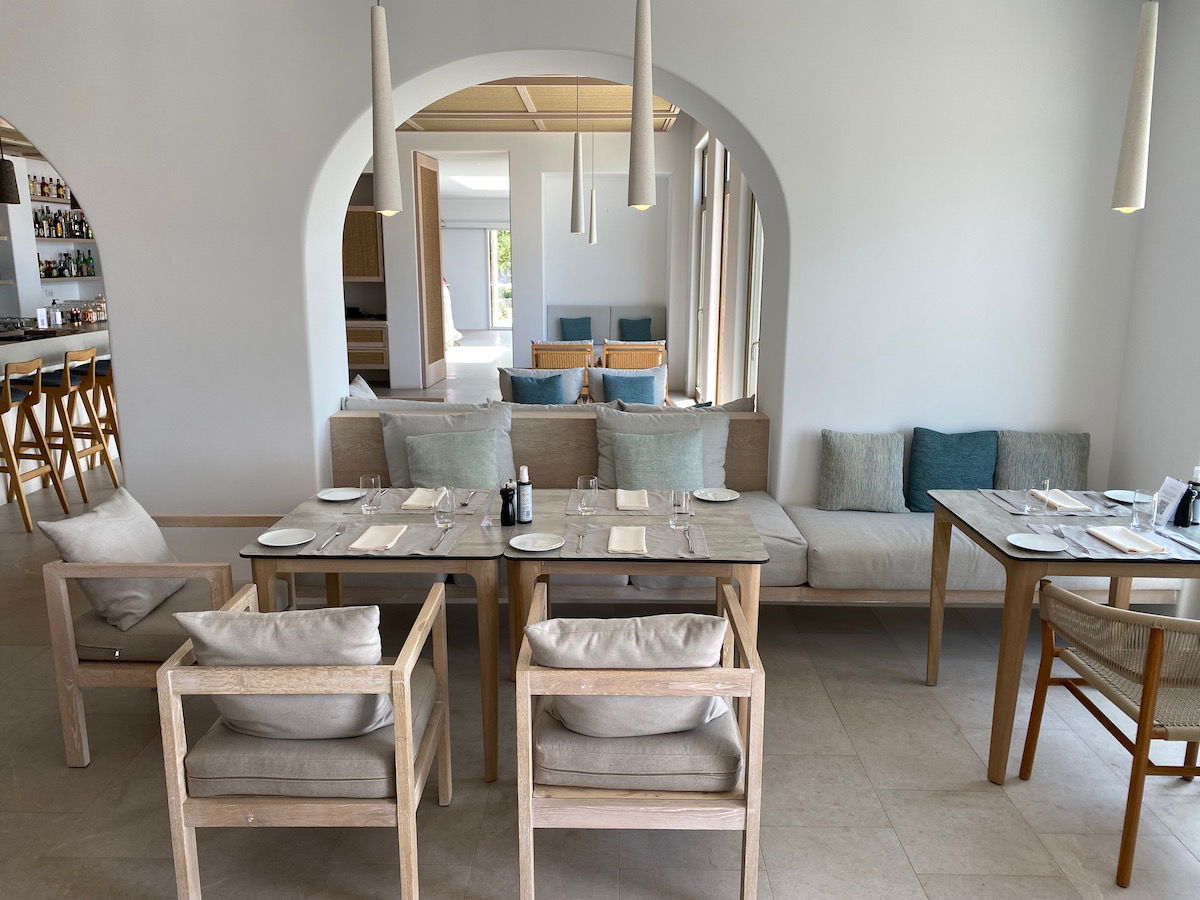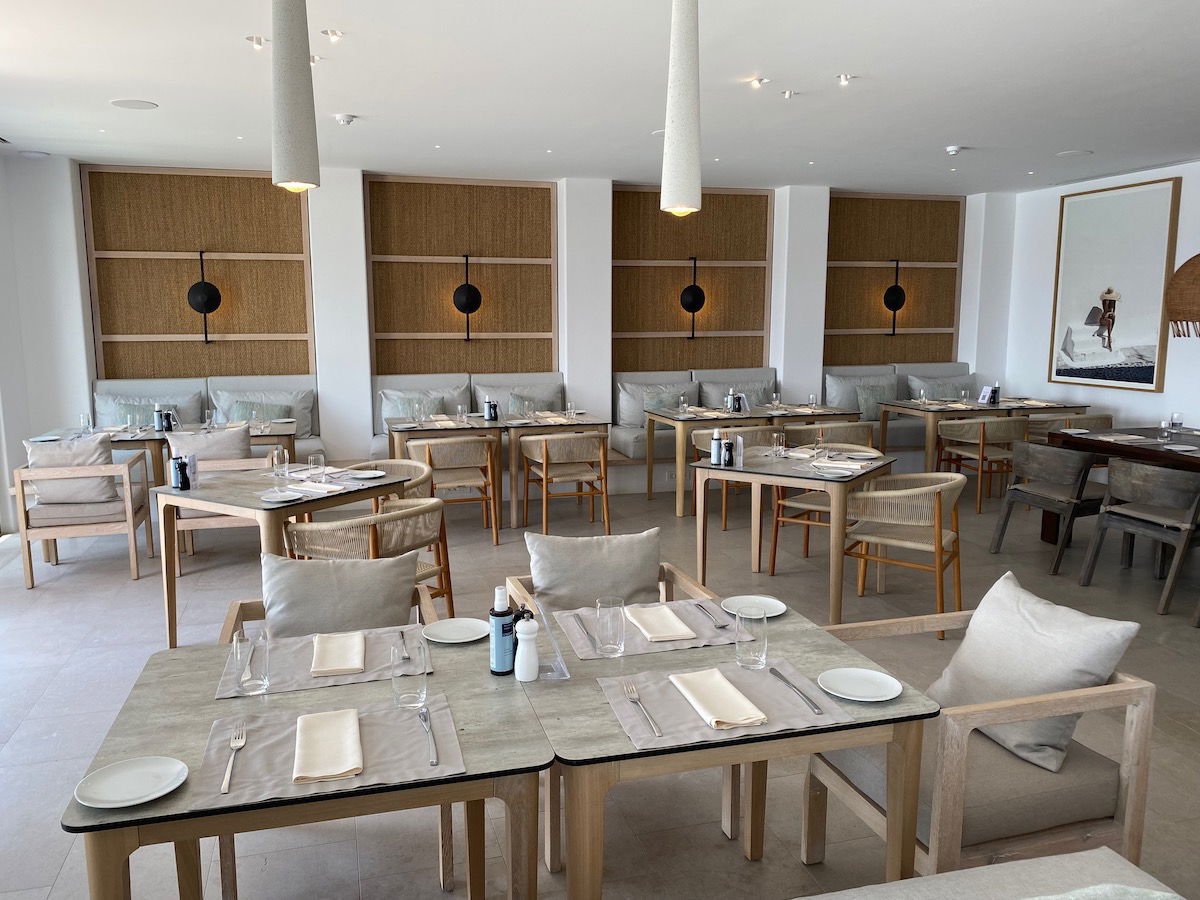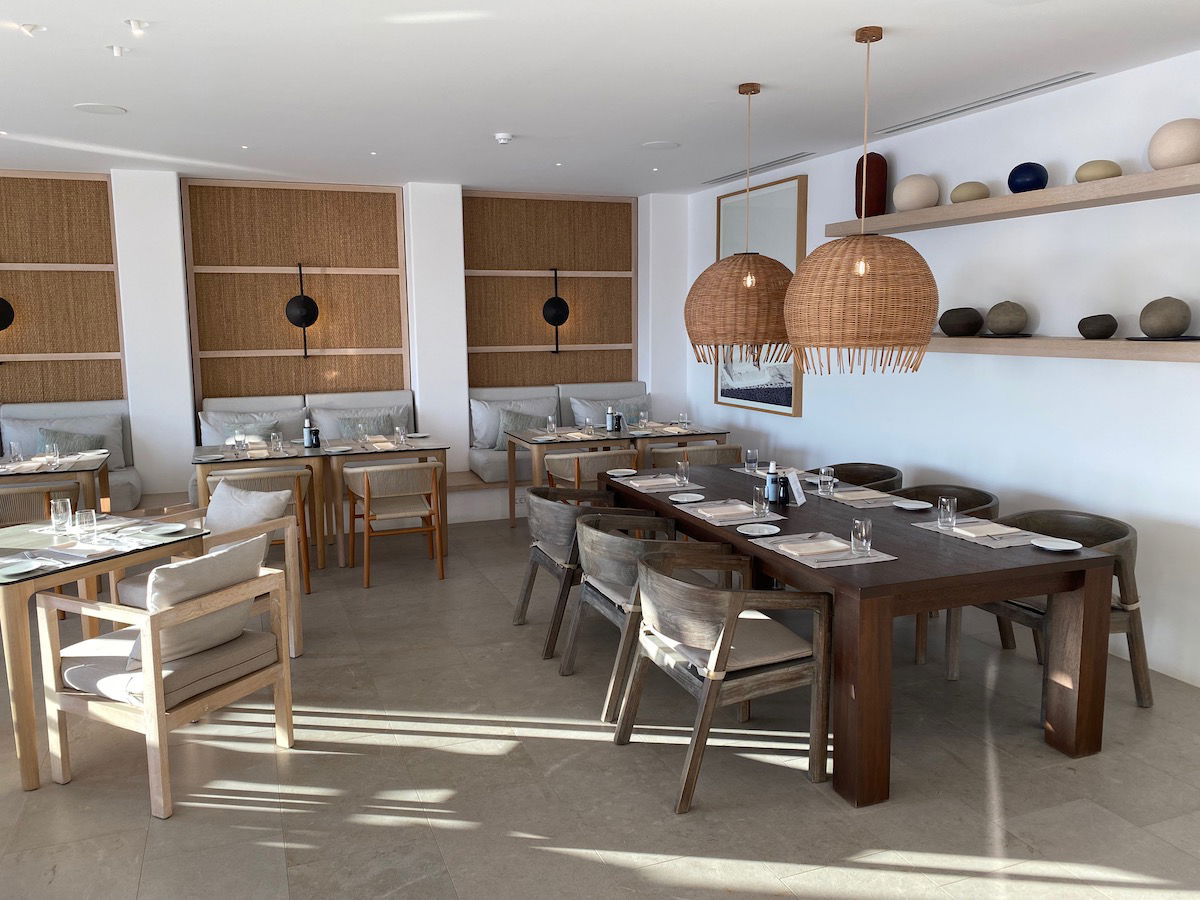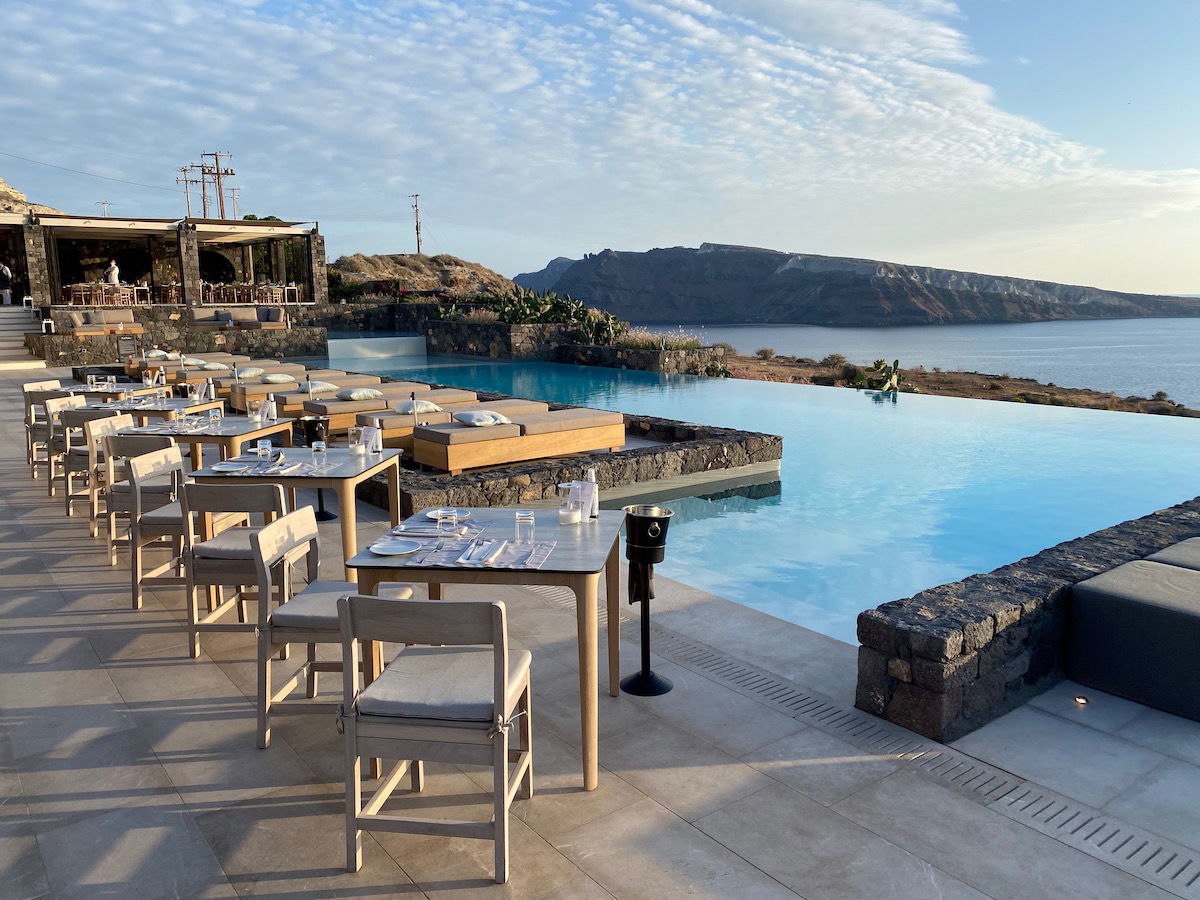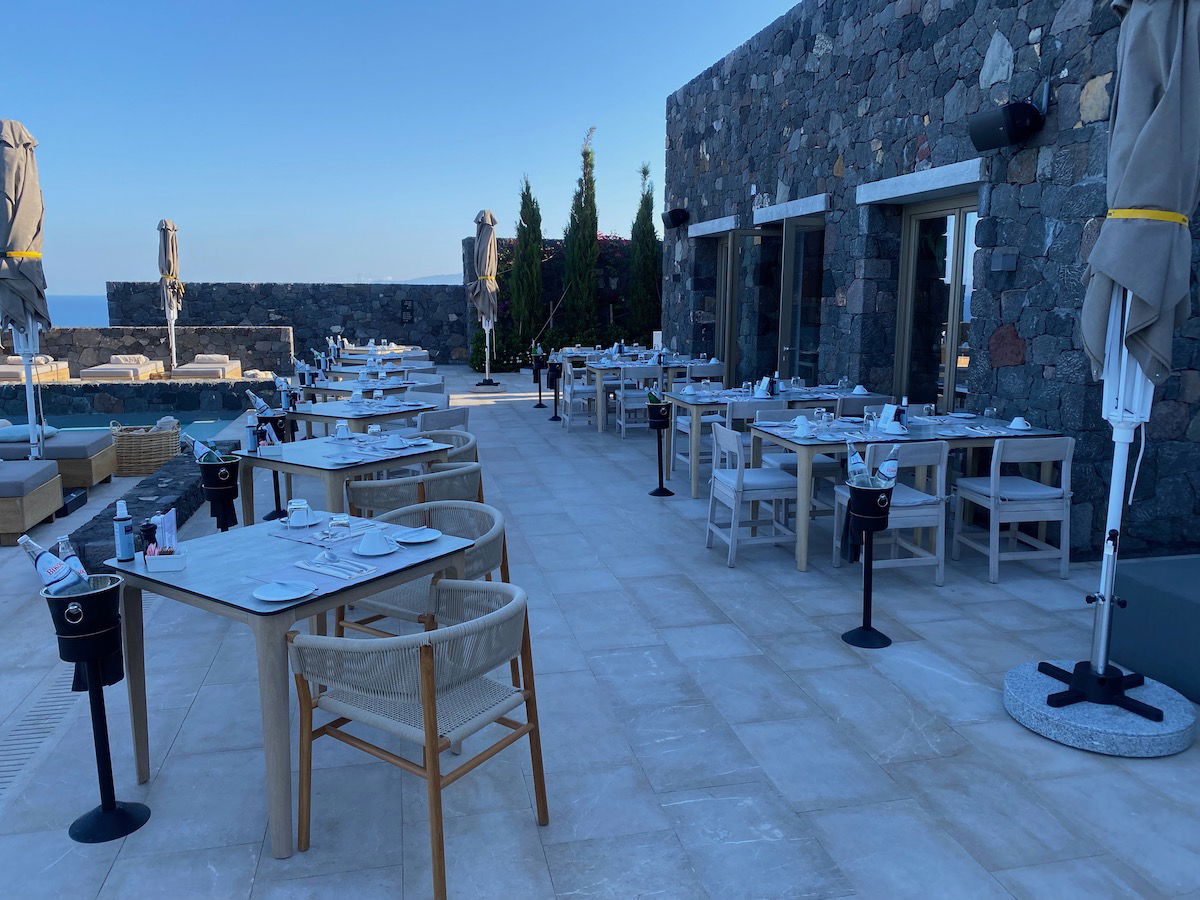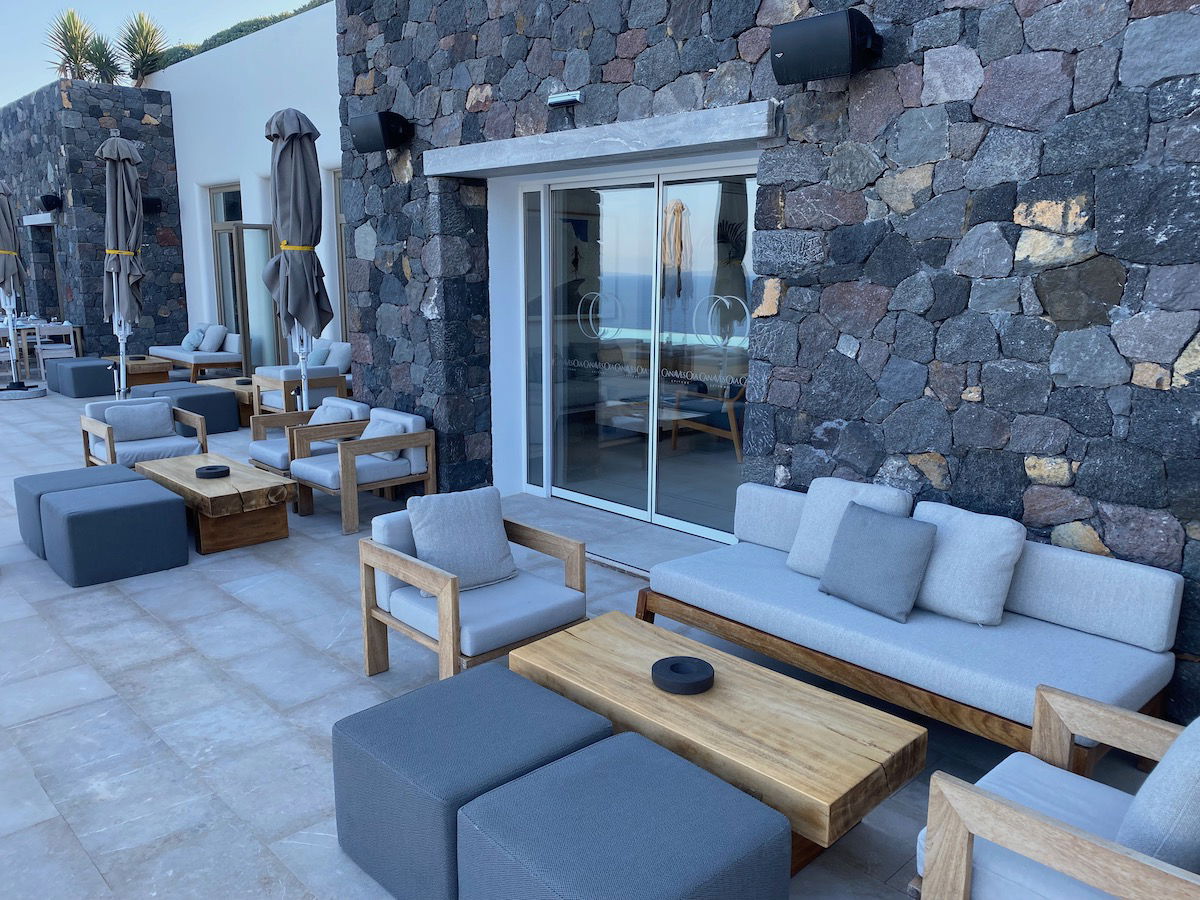 Breakfast was a la carte (you can find the breakfast menu here), and was out of this world — not only could you order as much as you wanted, but they more or less pushed you to order more food and drinks, and try everything on the menu. The quality and variety was extraordinary. Personally I think breakfast in Greece is the best in the world, and this might just be the best breakfast I've ever had in Greece, which is saying a lot.
Breakfast always began with a fresh basket with bread and pastries being brought out each morning, along with homemade jam. The selection rotated, and each item was meticulously explained.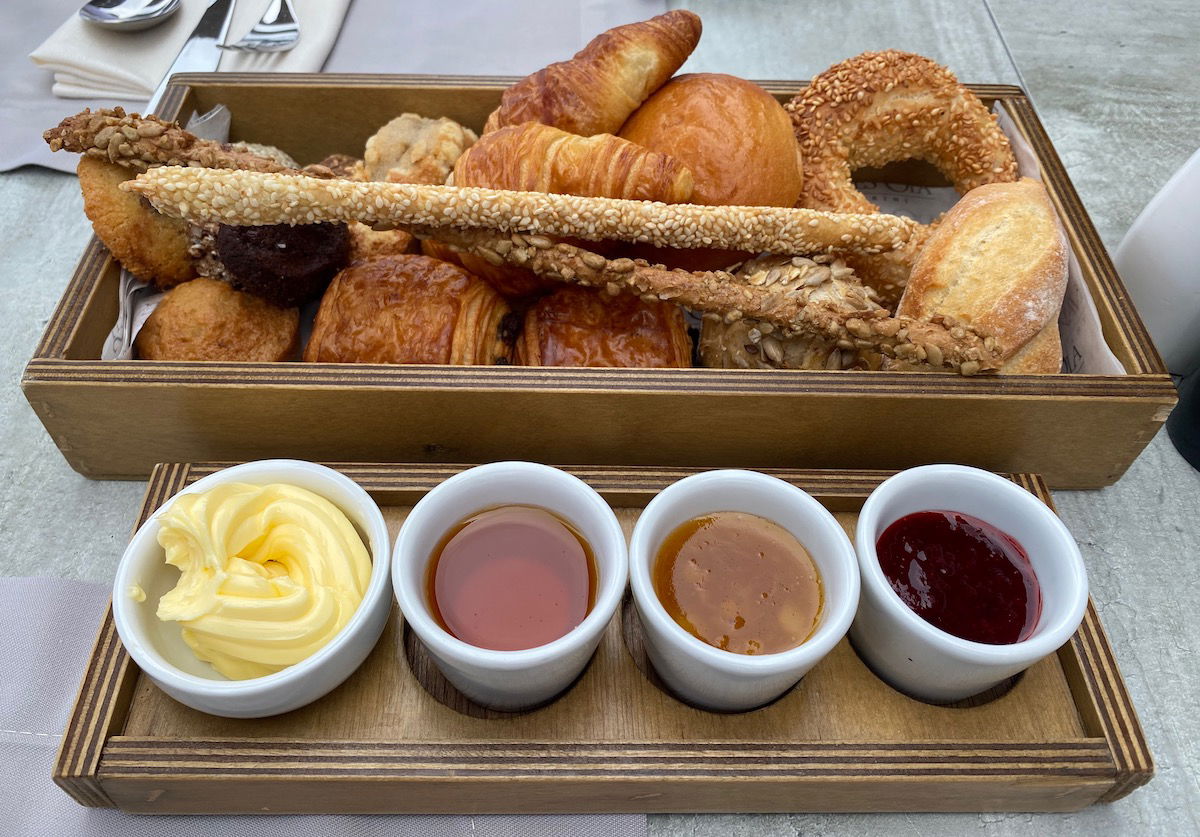 Then there were a variety of drink options, ranging from the fresh juice of the day, to freddo cappuccinos, to Greek coffee, to hot cappuccinos.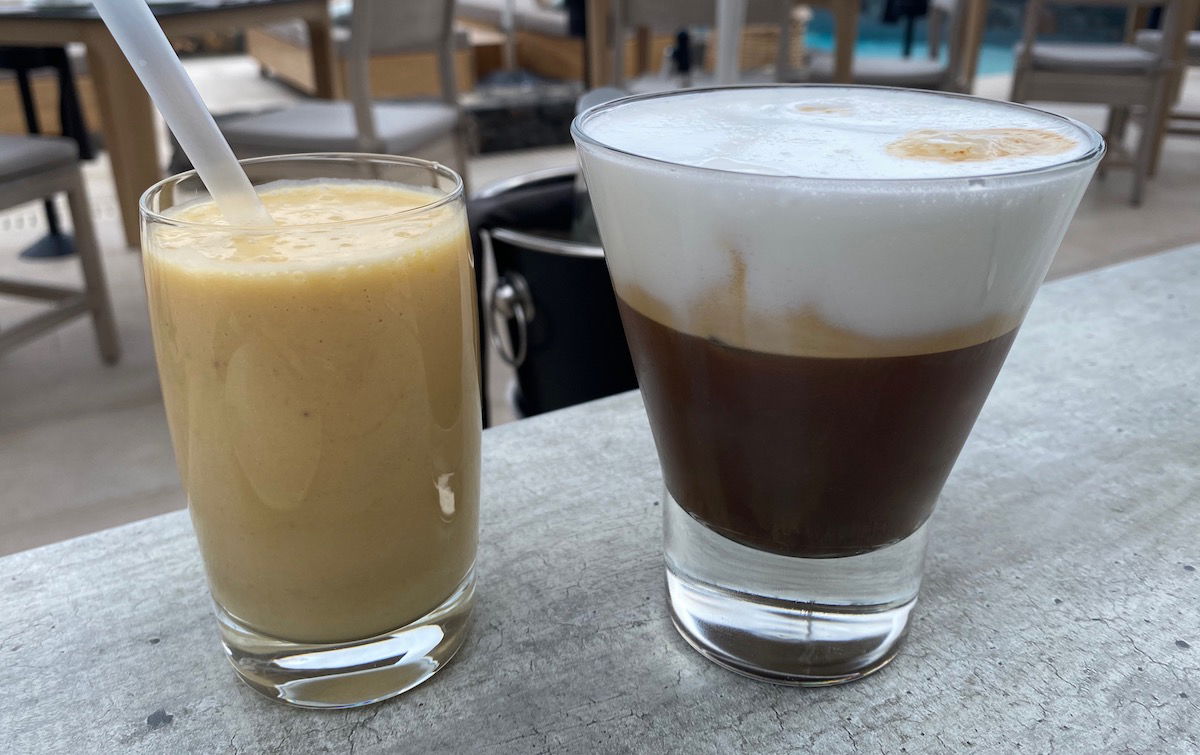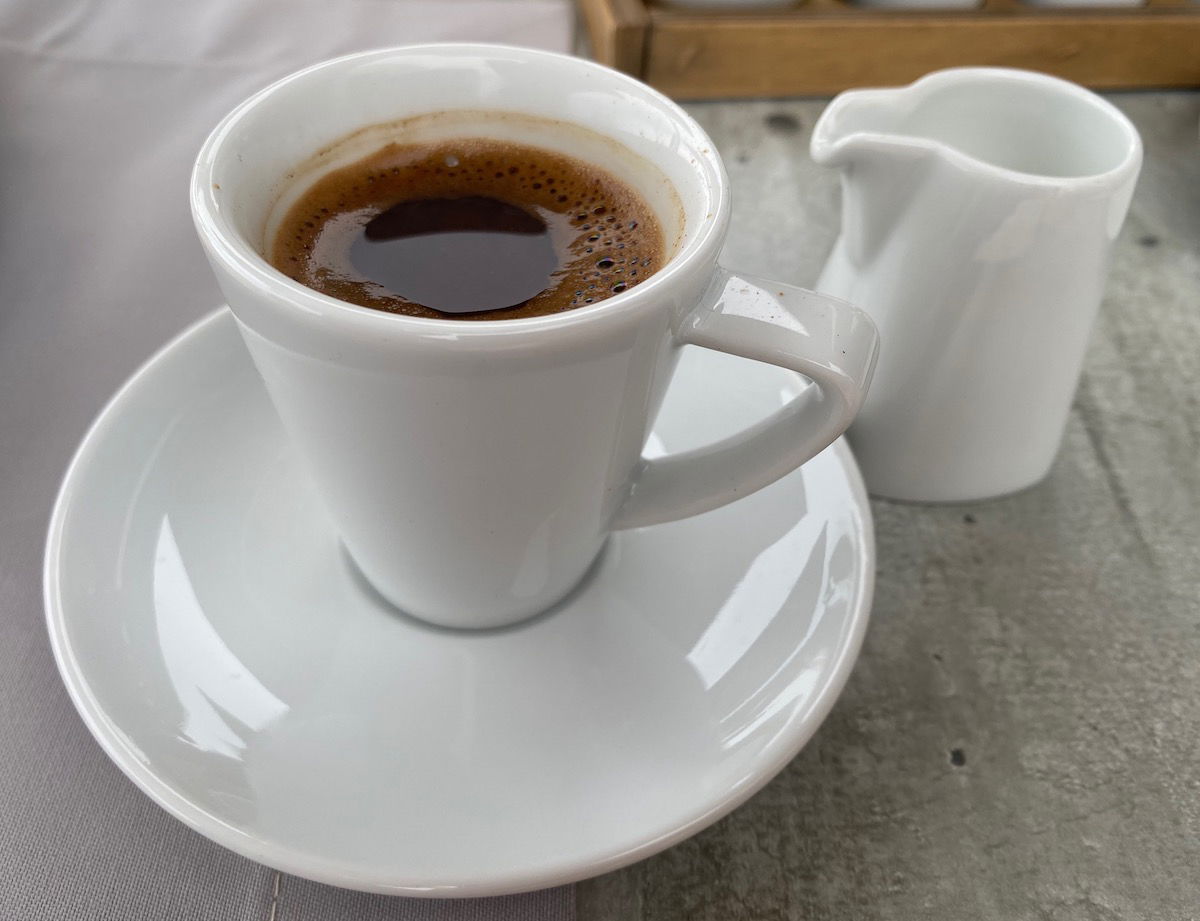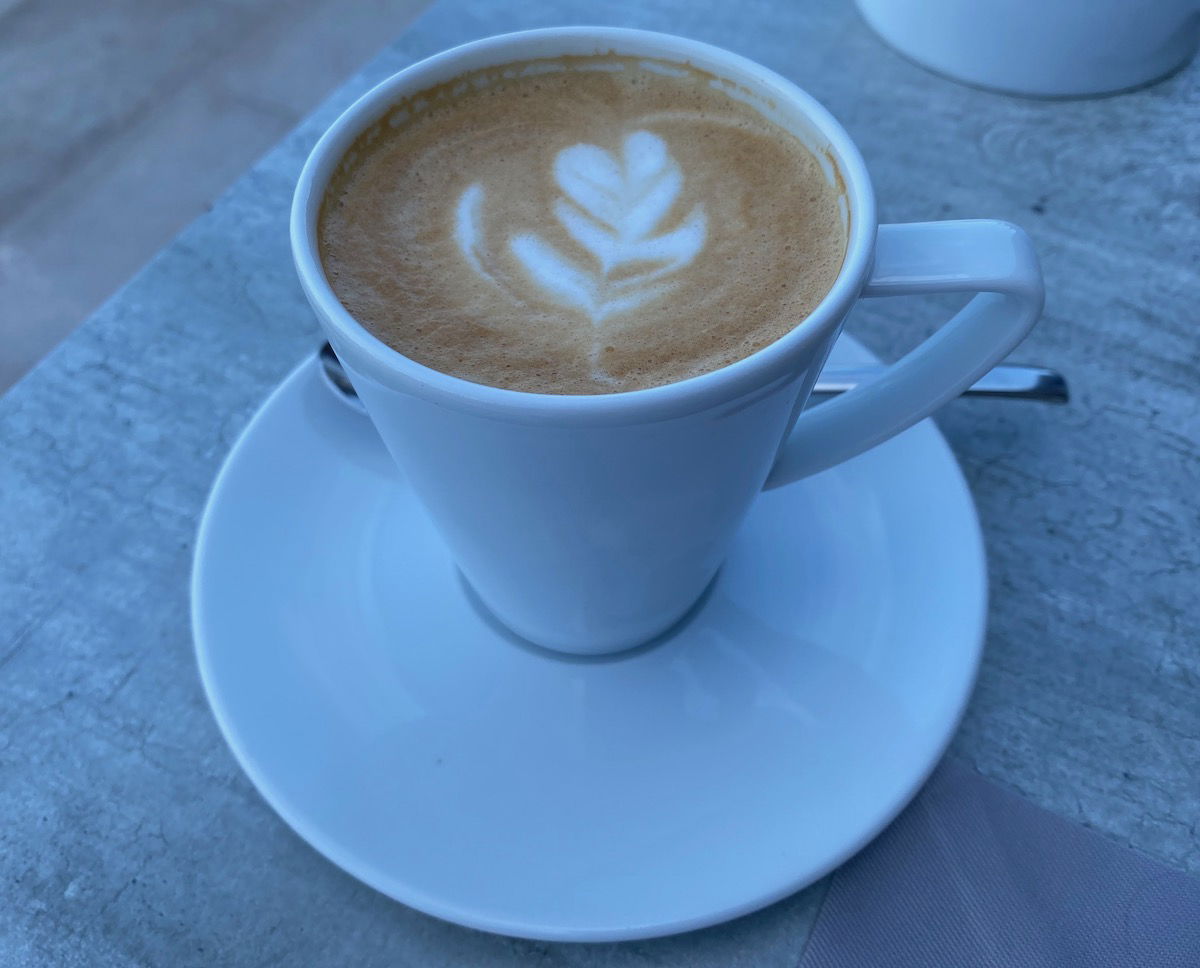 The food was simply incredible, from acai bowls, to yogurt parfaits, to fresh fruit, to cheese plates, to the tart of the day, to Greek scrambled eggs, to egg white frittatas with avocado, to Greek omelets, to avocado toast.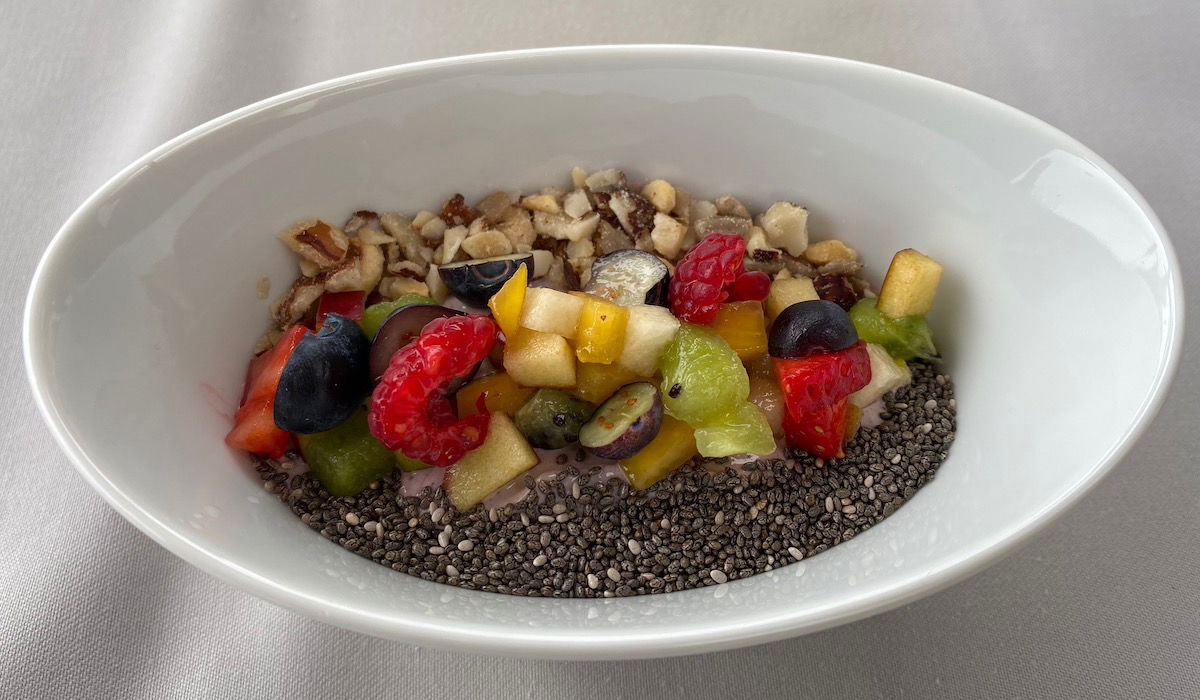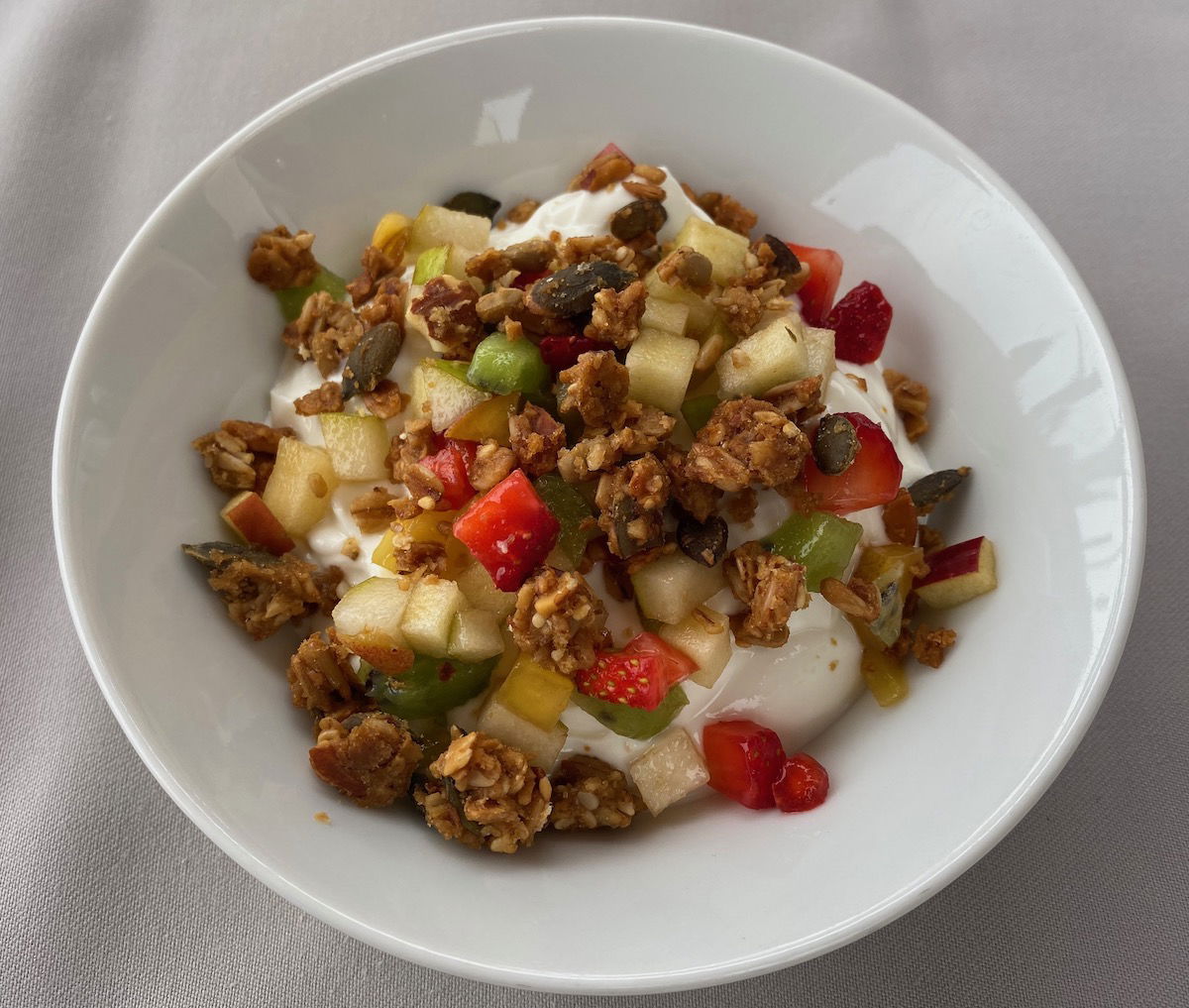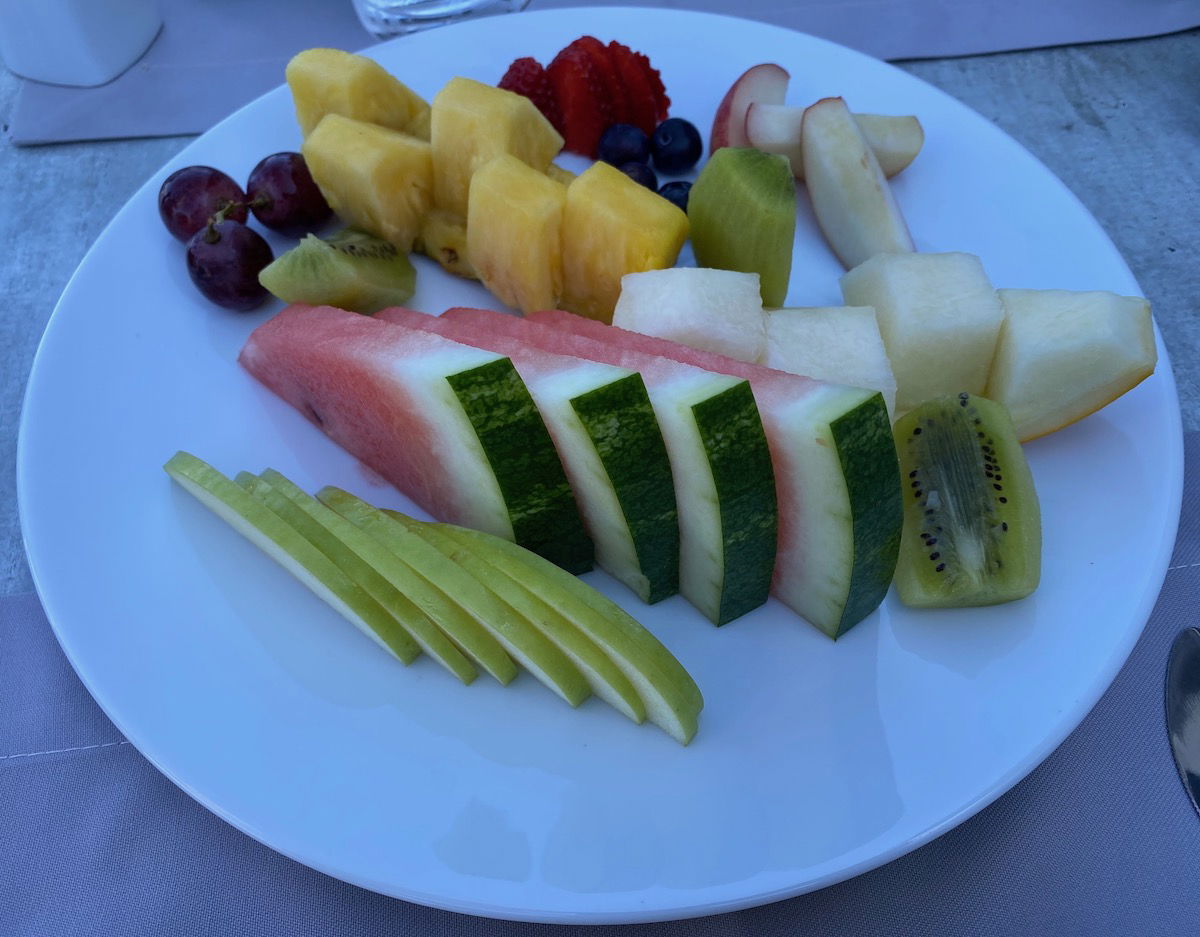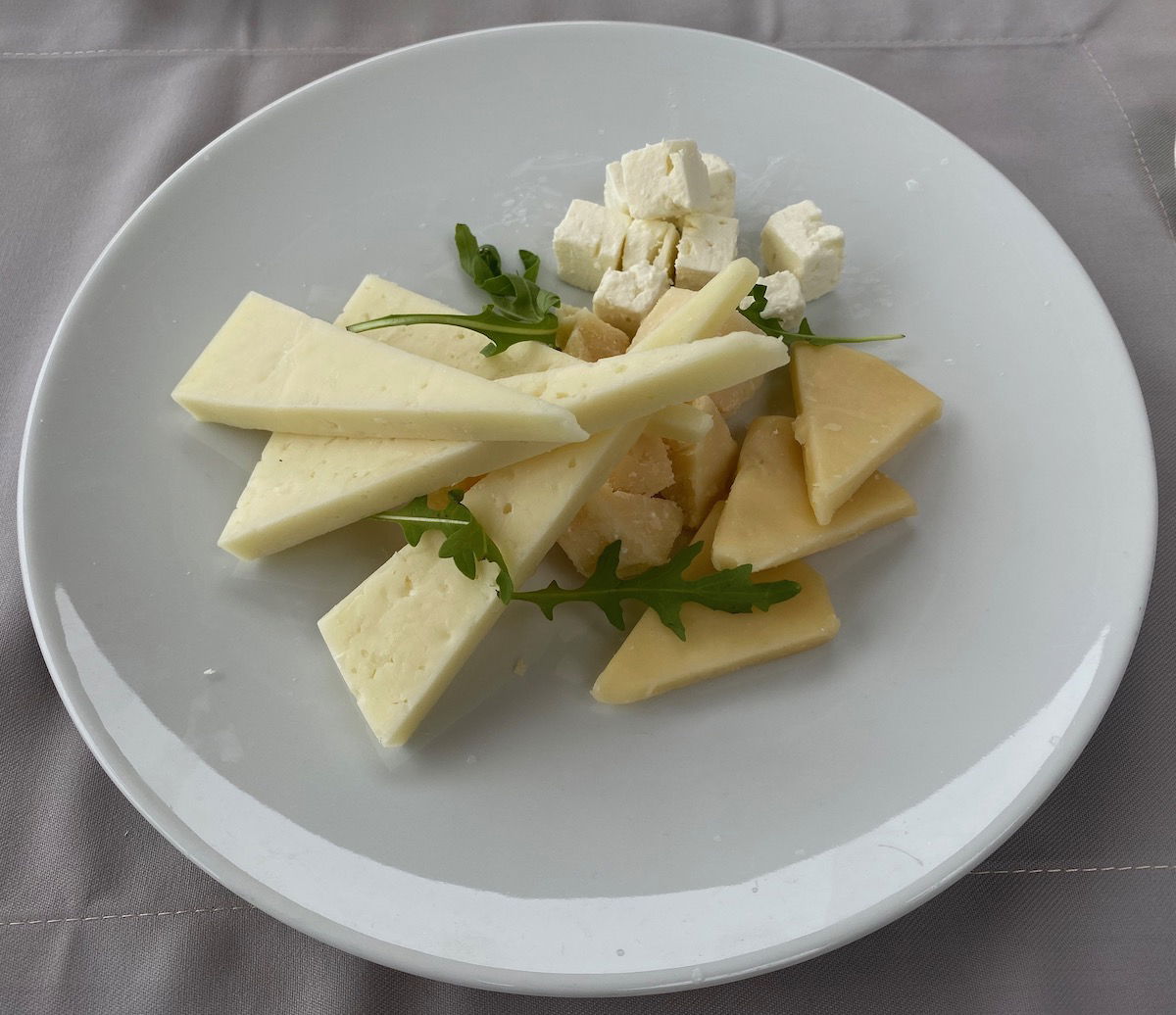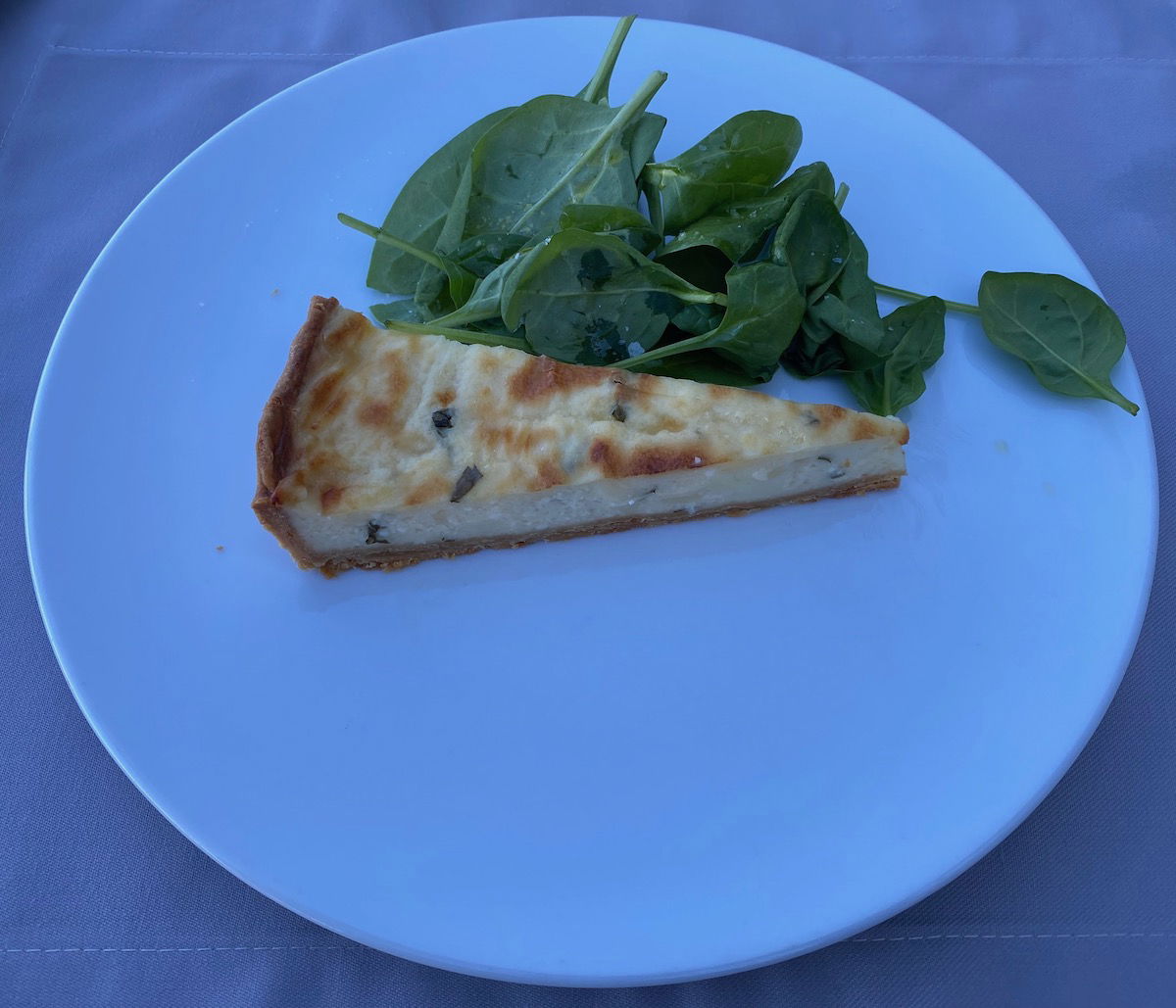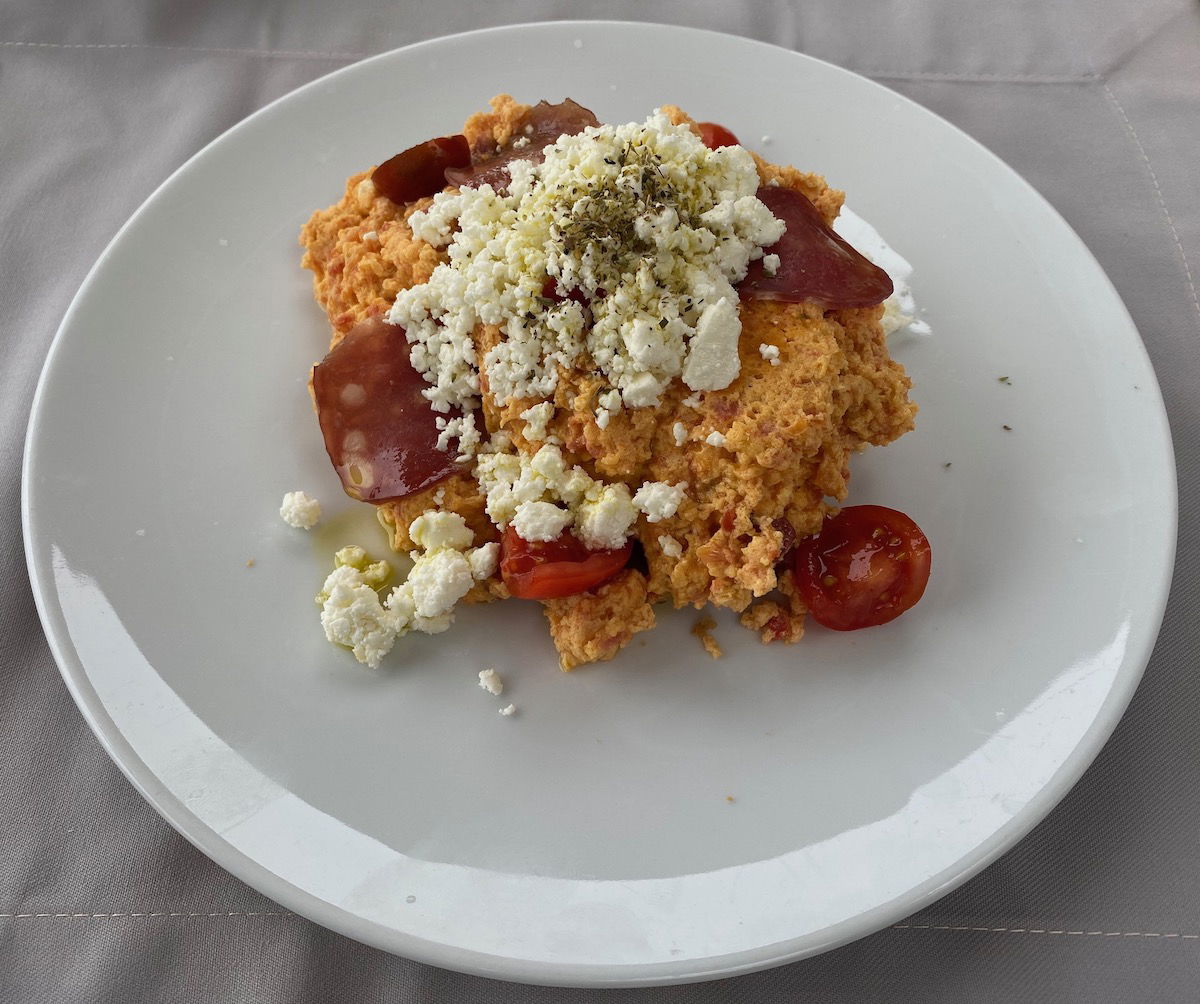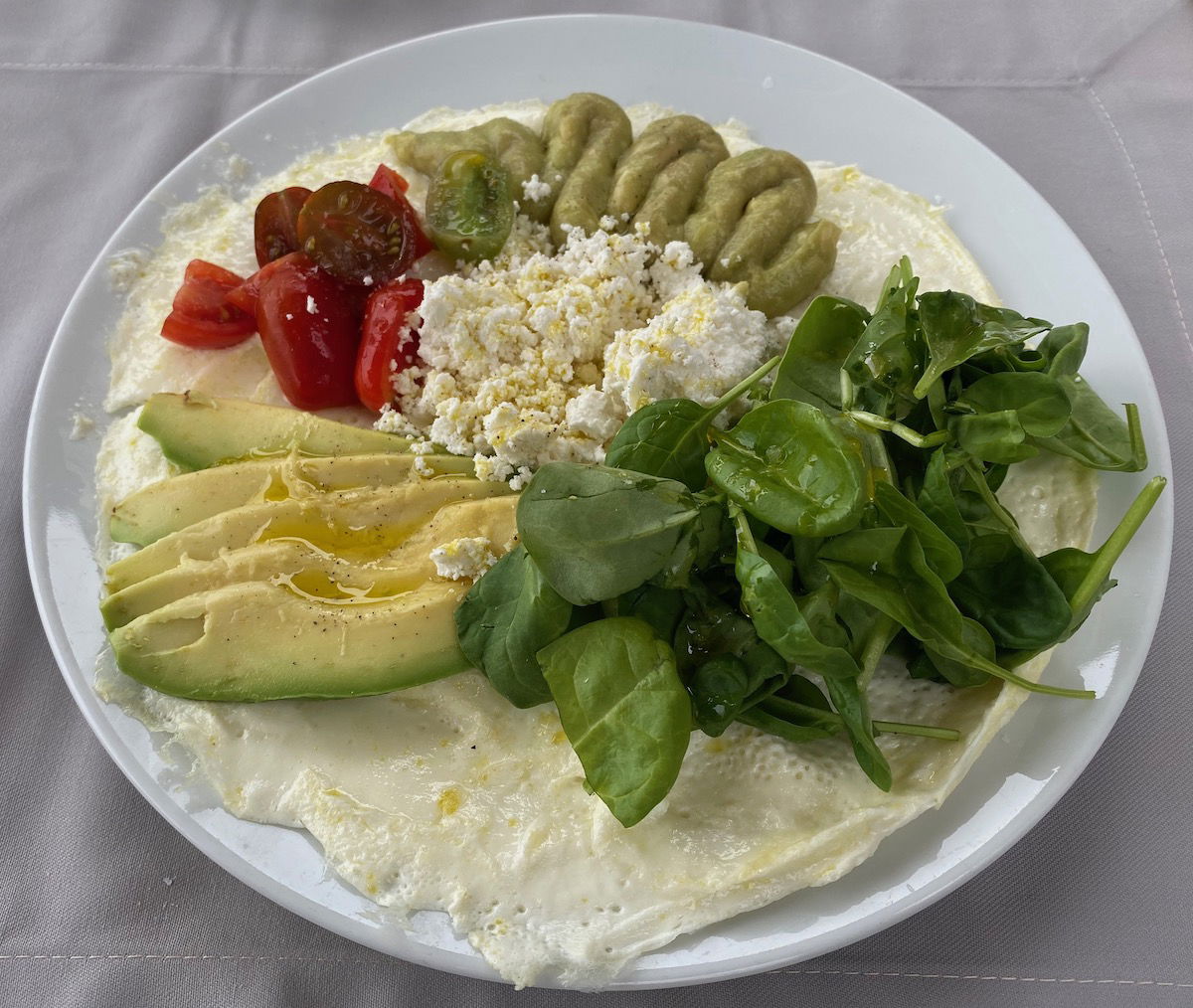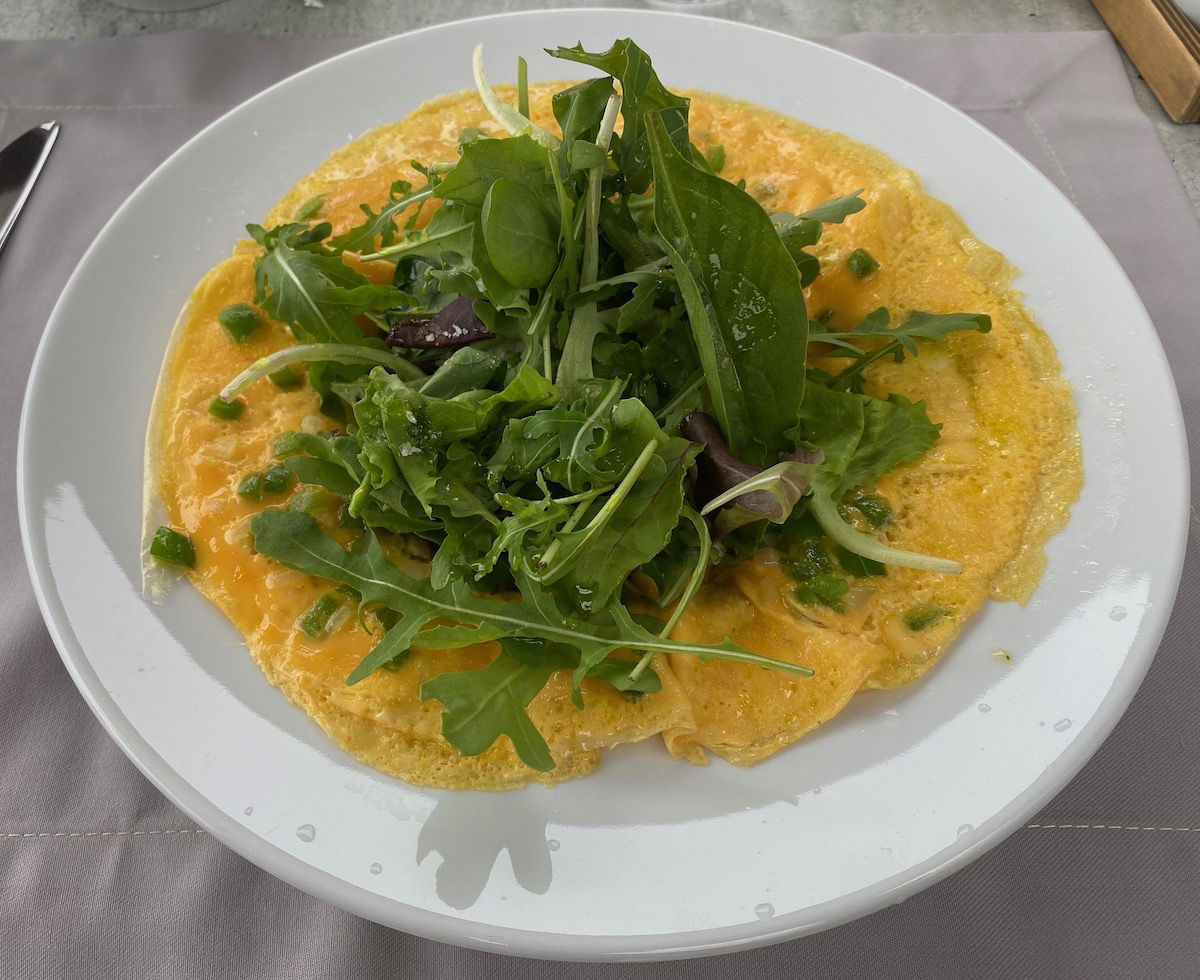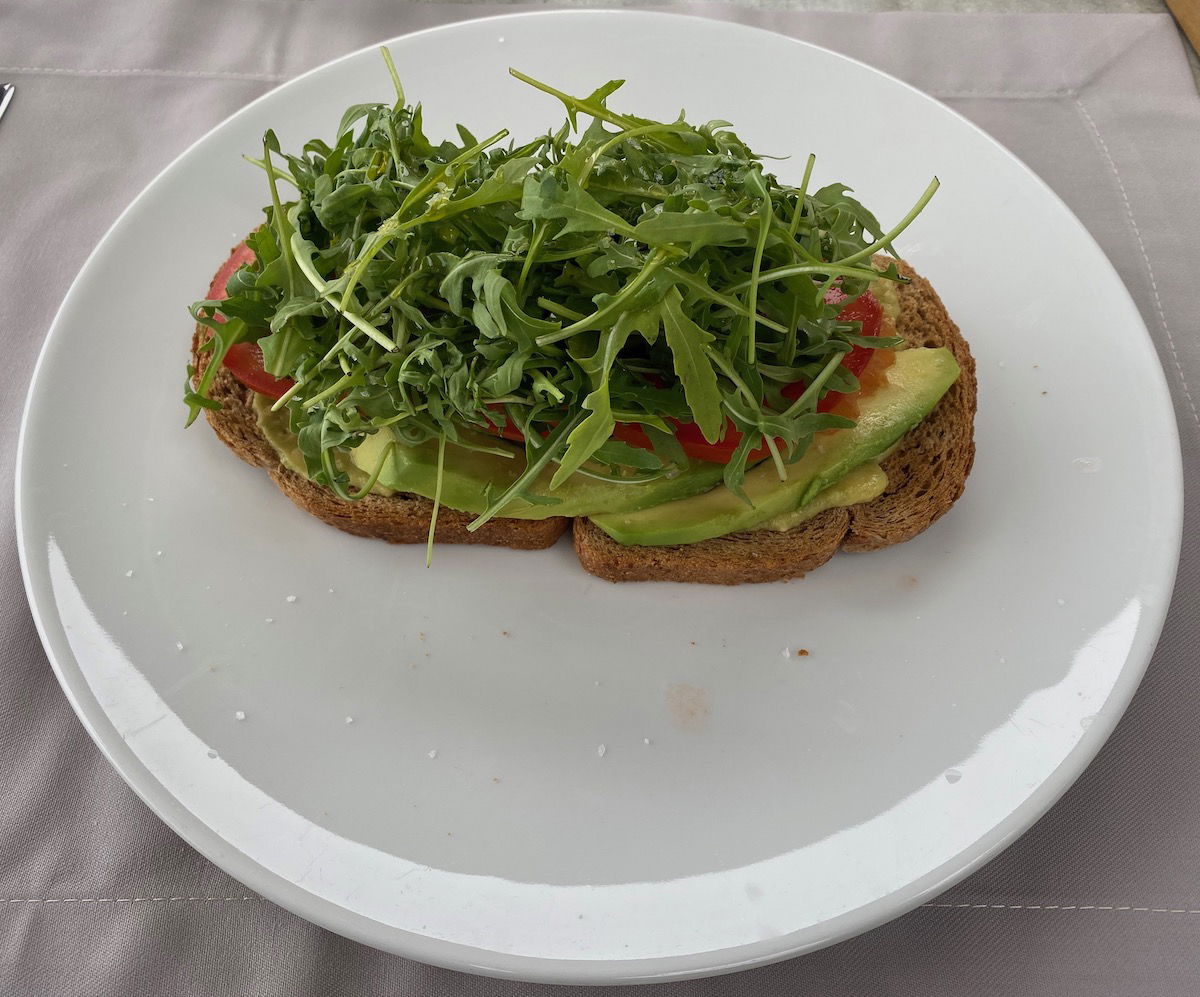 Mmmm…
Canaves Oia Epitome dinner & in-room dining
We never ate at Canaves Oia Epitome's signature Elements Restaurant, but we did have a dinner at the casual restaurant, room service lunch, and drinks at the hotel.
While not cheap (you can find the drink menu here), the cocktails at Canaves Oia Epitome were exceptional, and the attention to detail was amazing, down to the ice cubes having the hotel's logo on them.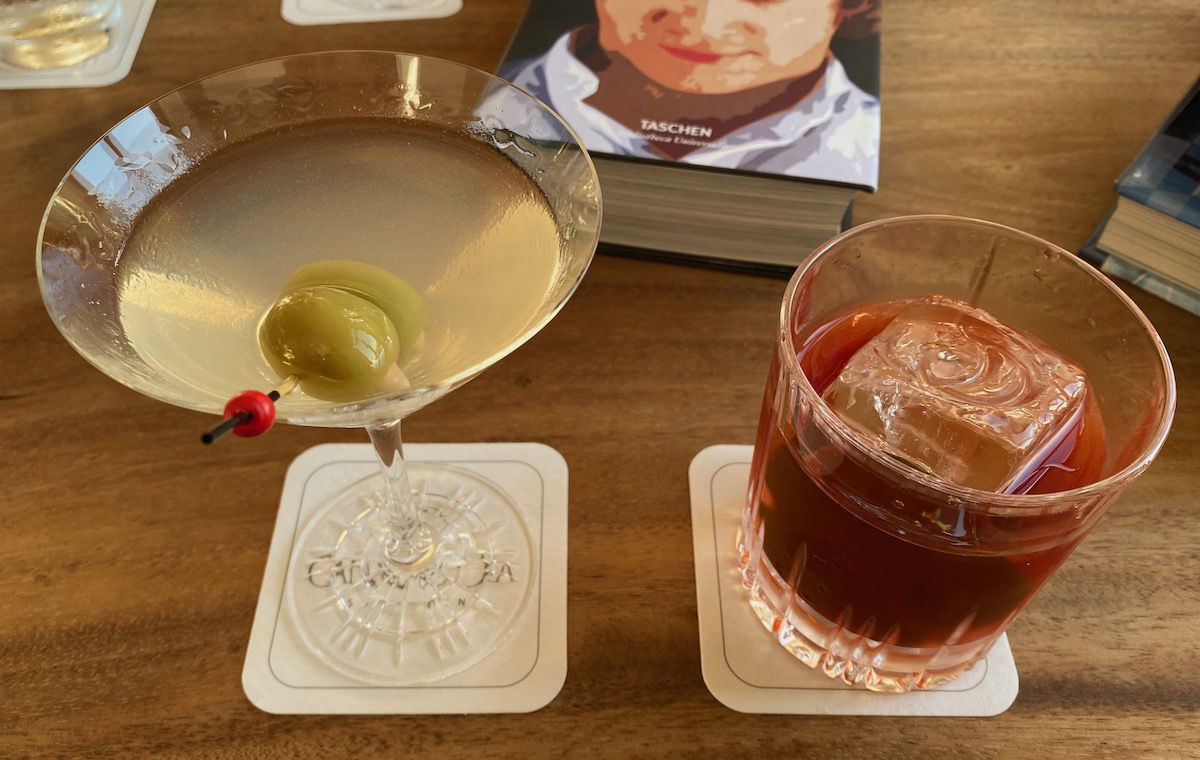 Our first night we decided to eat at the hotel's main (more casual) restaurant, since Ford had just landed from the United States, and was a bit tired. Furthermore, it's kind of hard to even want to leave the hotel in the evenings given the sunset views you have from here. You can find the all day dining menu here.
We had a Greek salad, Greek spreads, the open falafel sandwich, and the rigatoni, and all were tasty.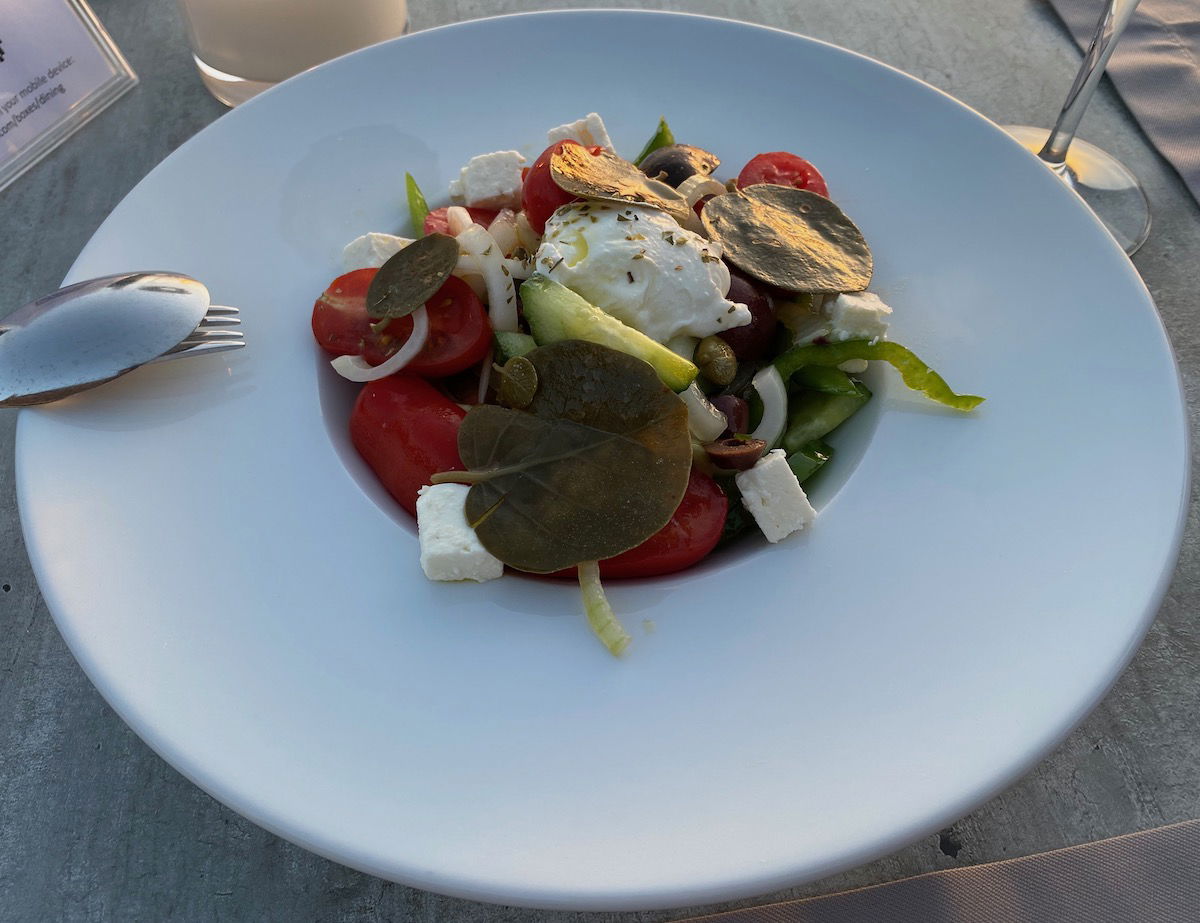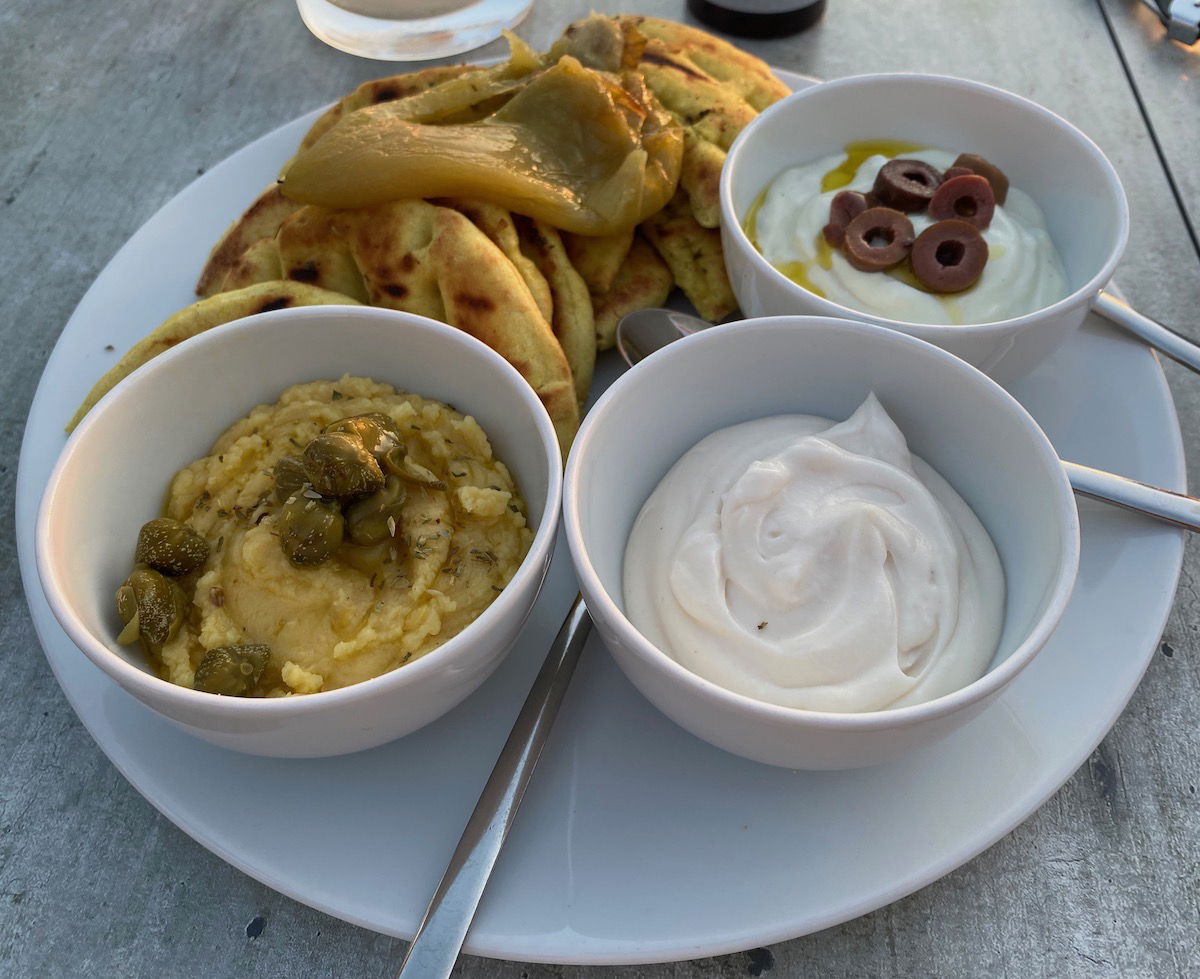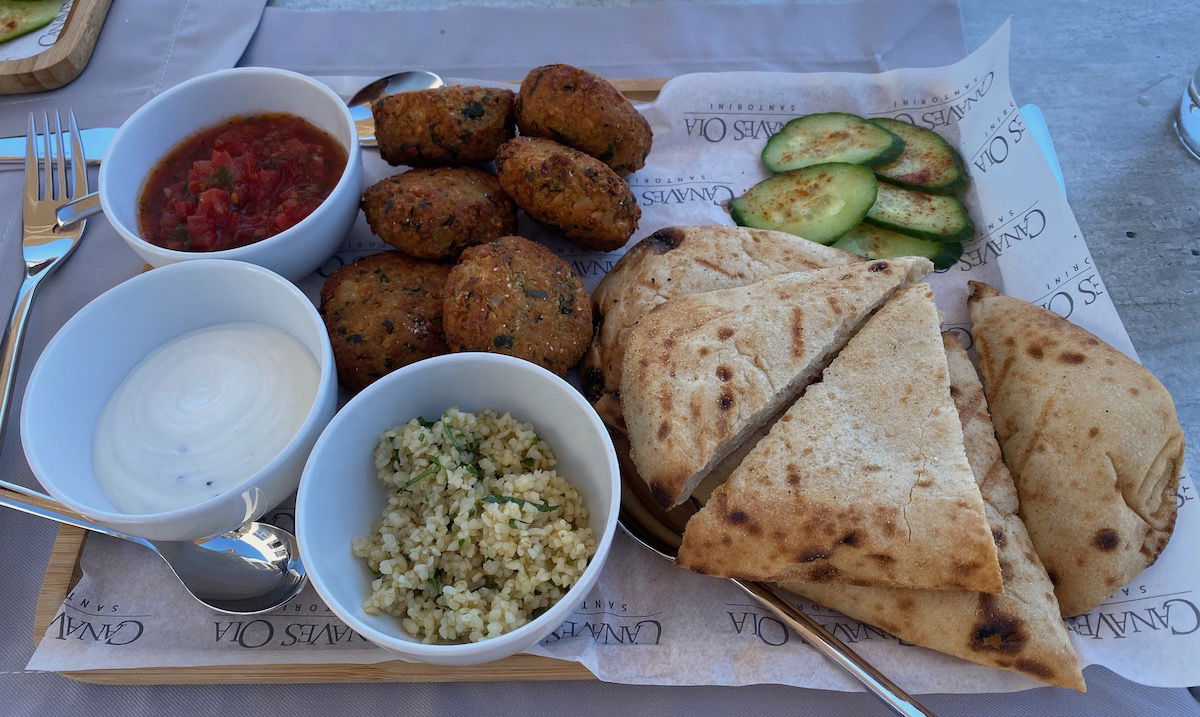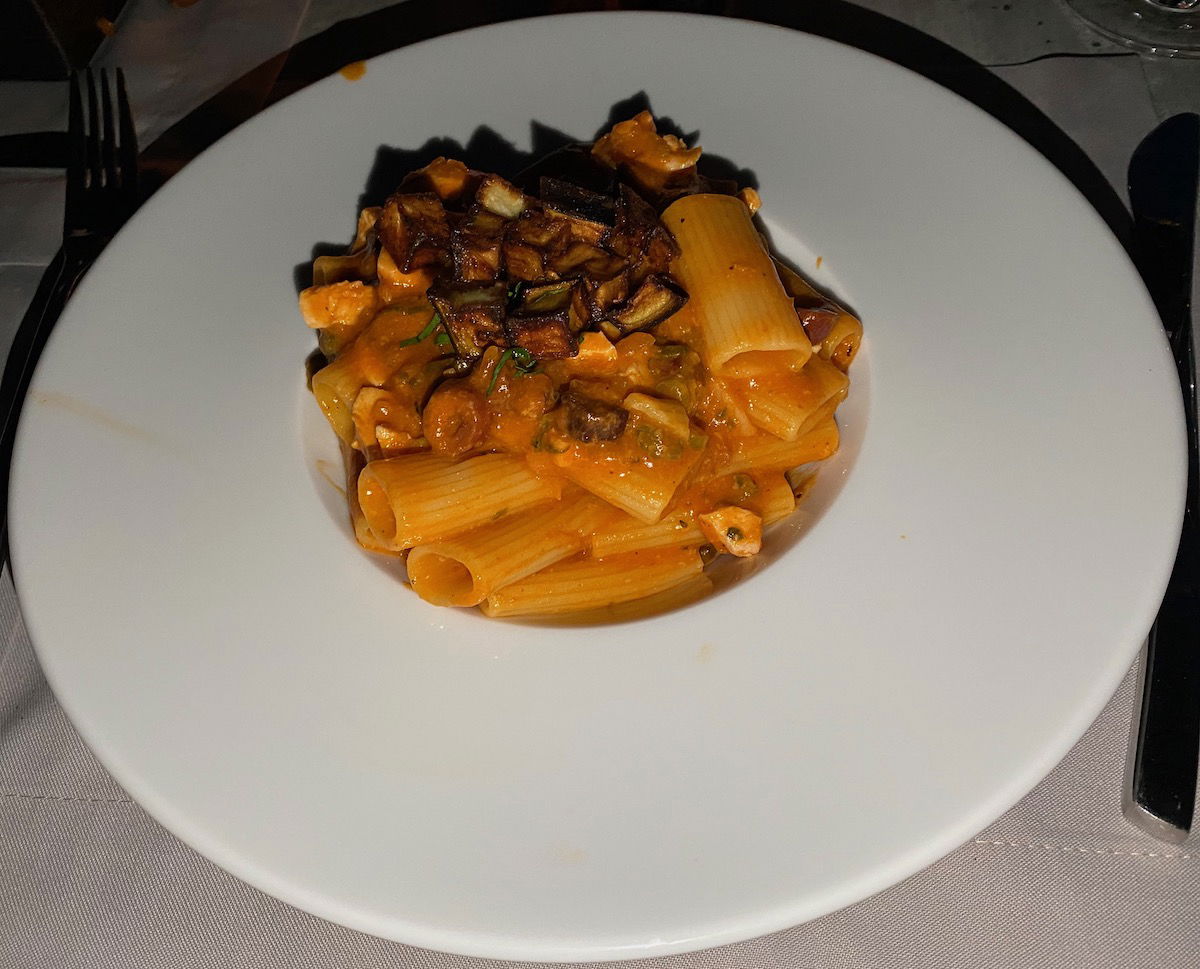 We also had room service lunch one day while we were hanging out by our private pool — what a nice setup!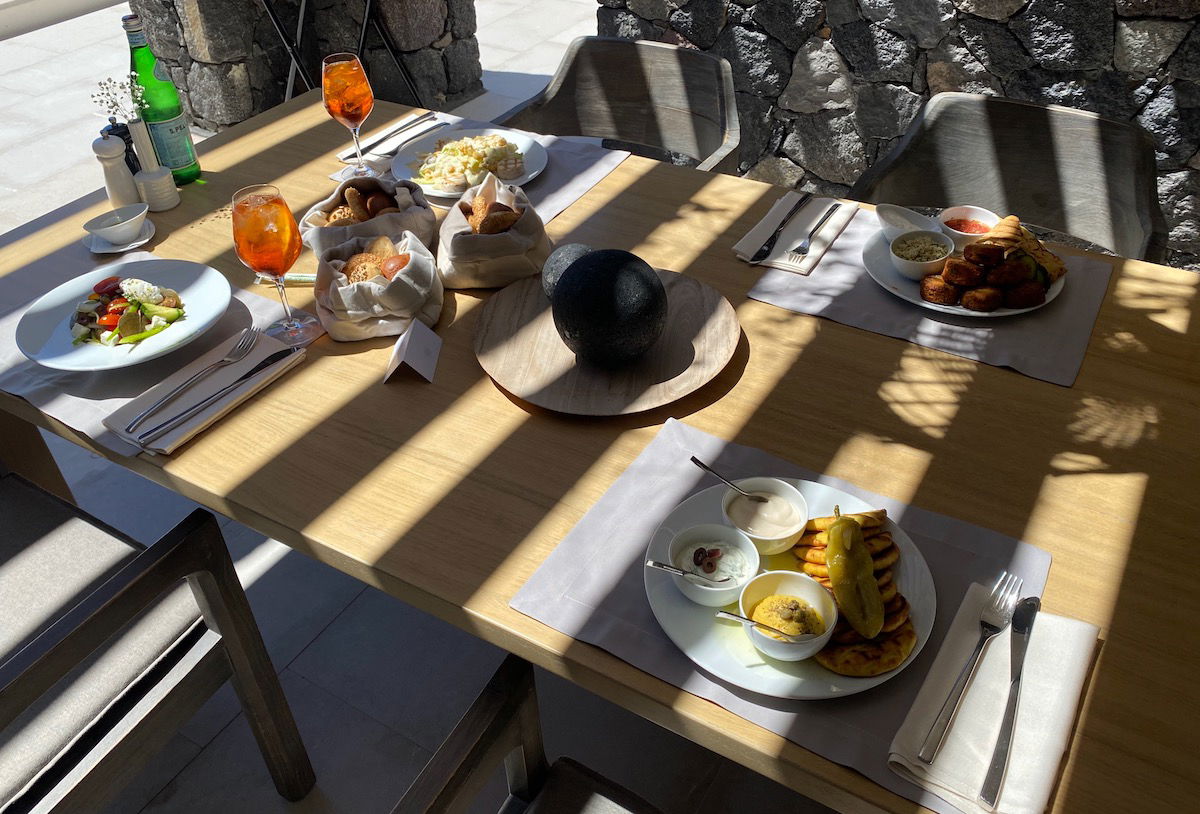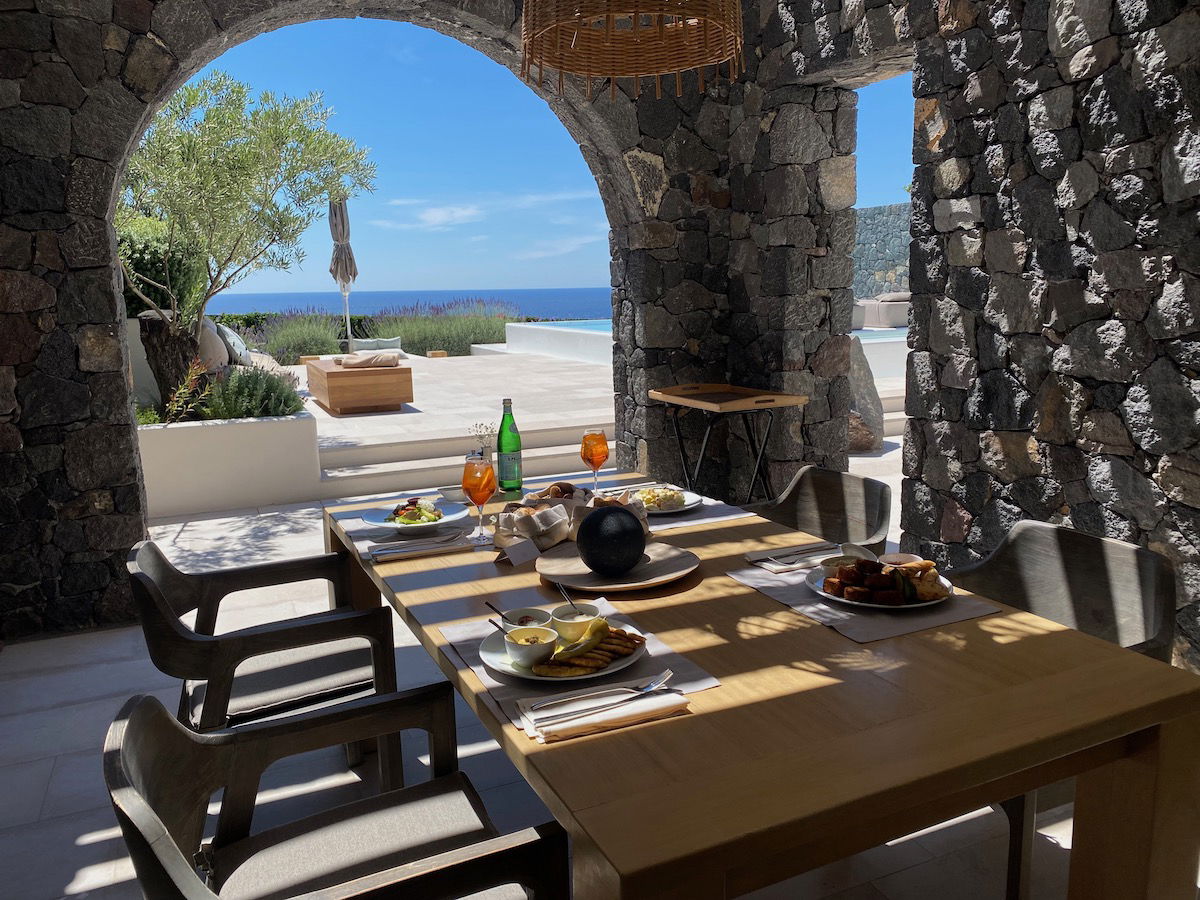 Canaves Oia Epitome Elements Restaurant
Elements Restaurant is Canaves Oia Epitome's fine dining restaurant, and it's open most nights for dinner. You can find the dinner menu here. The restaurant is located to the side of the pool, though we never ended up eating there (we had a reservation for the last night, but ended up being too tired, and decided just to stay in).
Suffice to say the restaurant is a gorgeous setting, especially with the sunset views.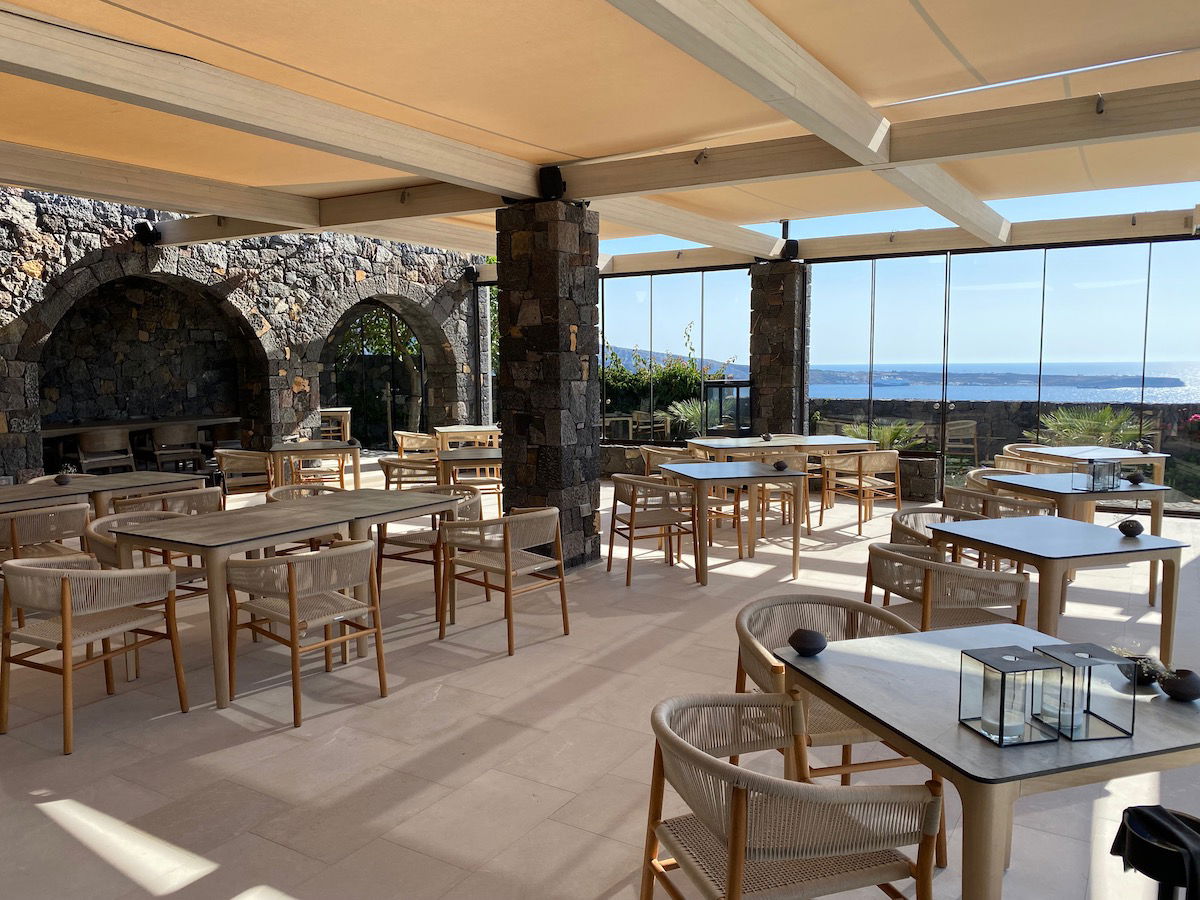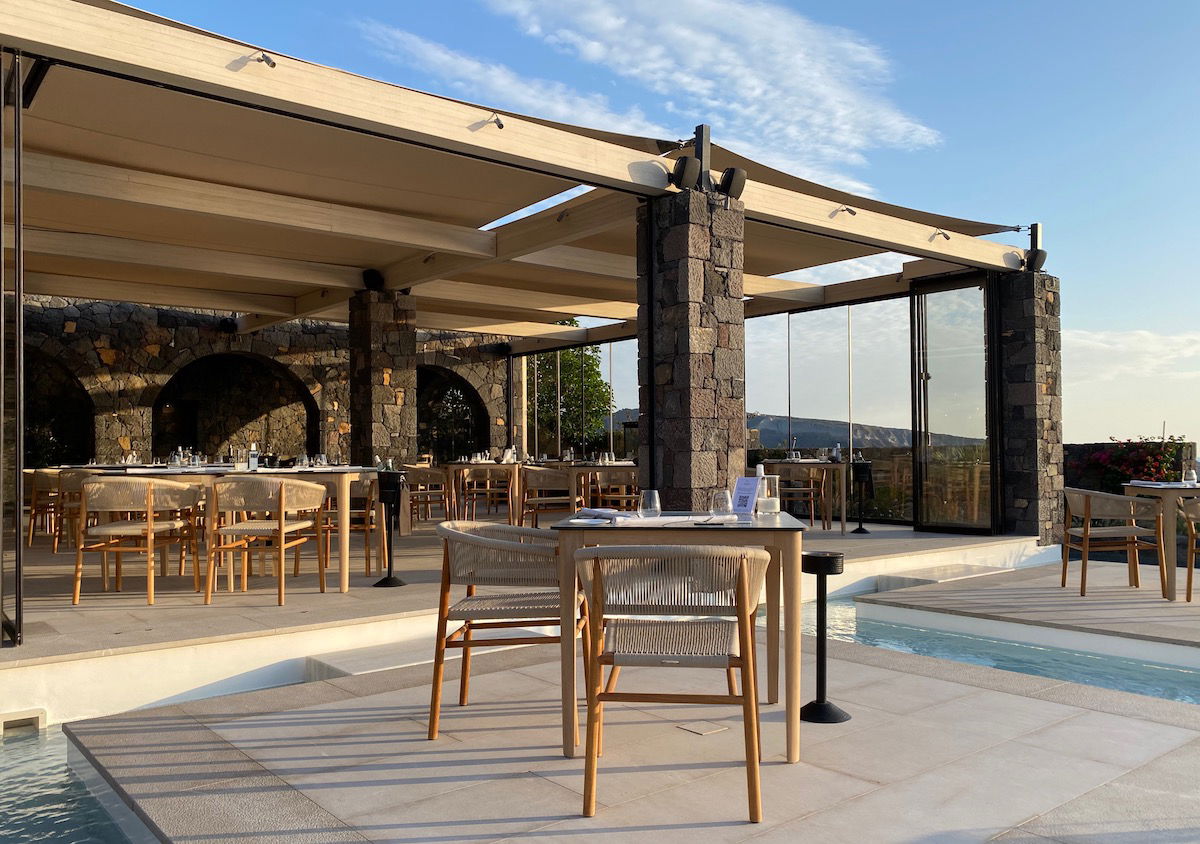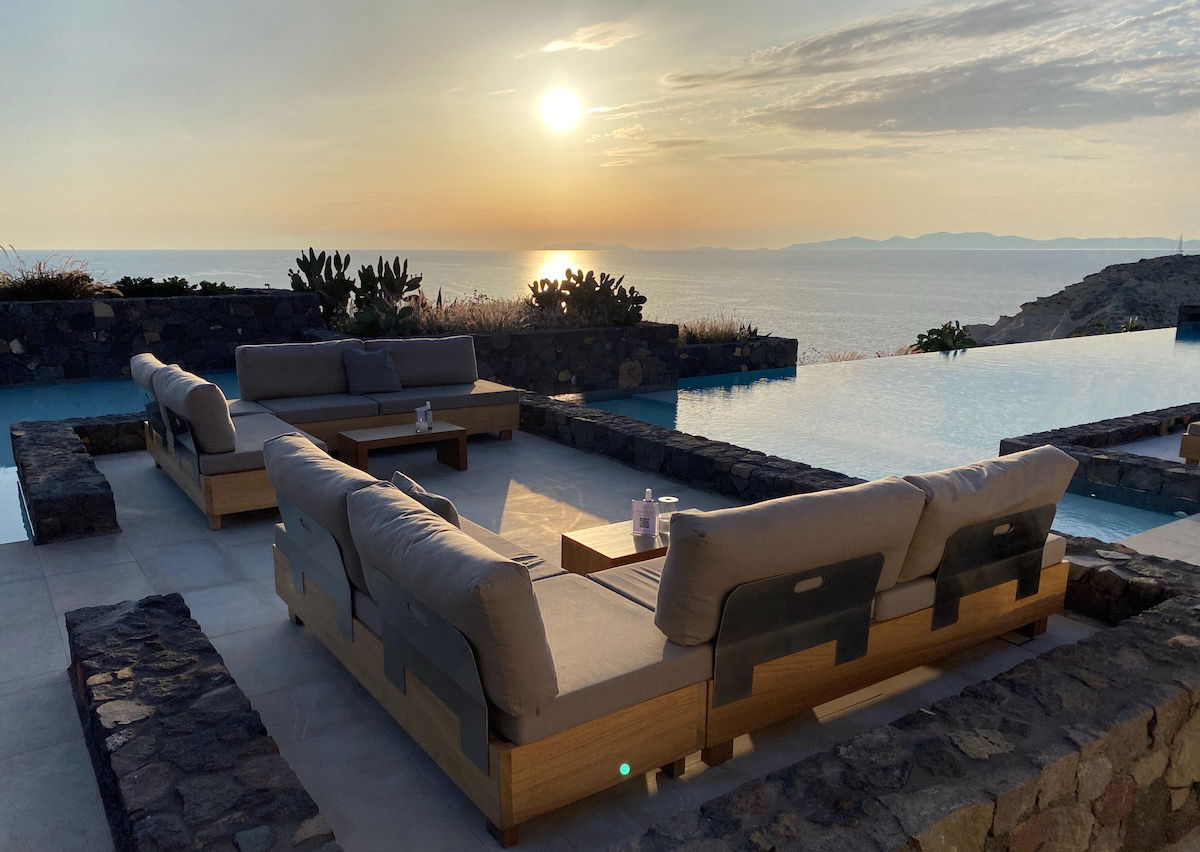 Canaves Oia Epitome gym & spa
Canaves Oia Epitome has a gym and spa setup. The gym is small but functional, with a treadmill, bike, and free weights. It's located immediately below reception, and can be accessed 24/7.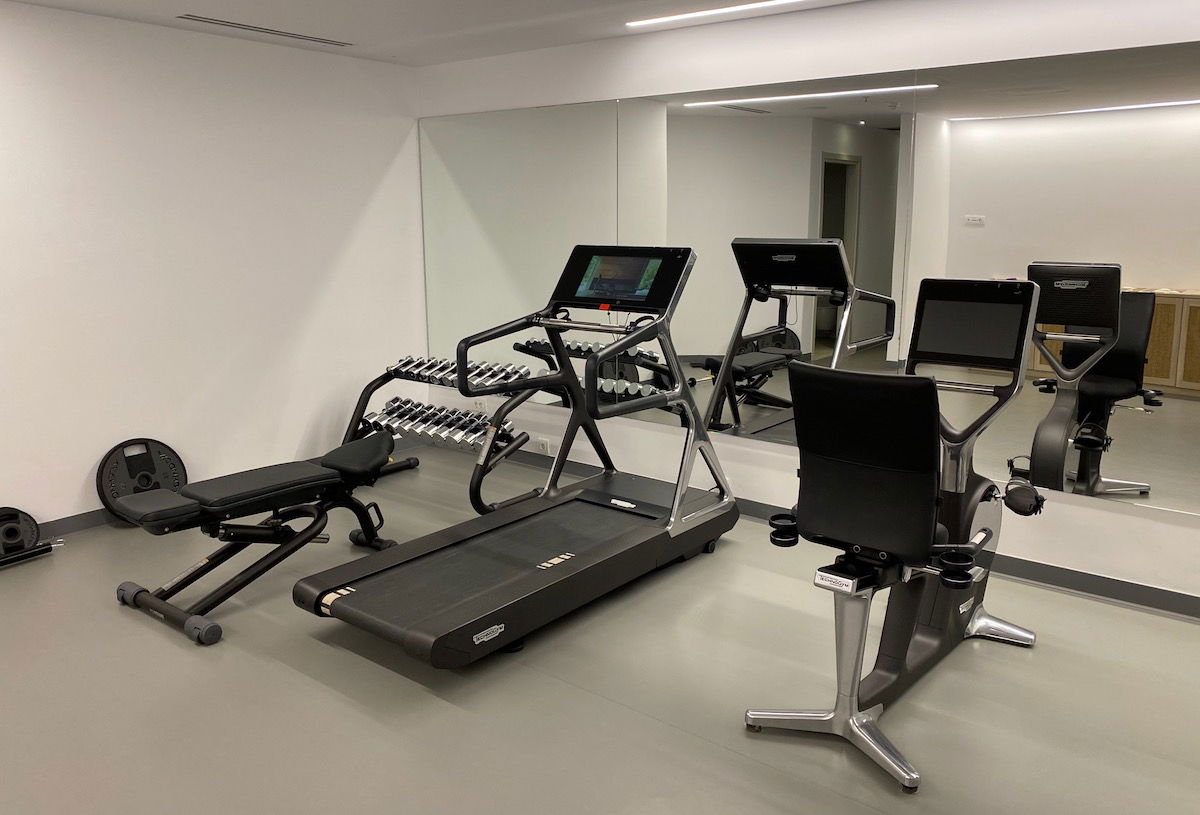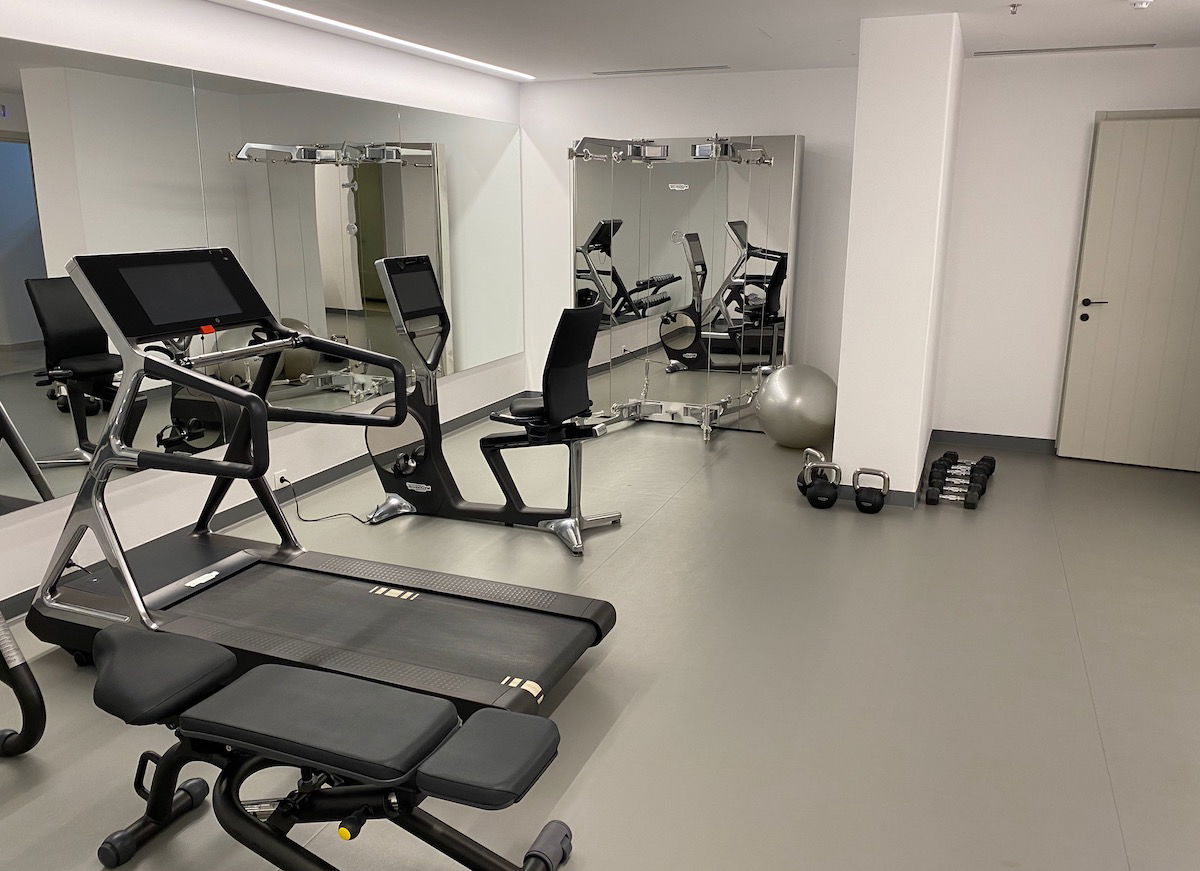 Then there was a single spa treatment room there. If I had one constructive criticism of the hotel, it's that the spa could be more impressive. That being said, I don't typically get spa treatments in Greece anyway (there's other stuff I'd rather do), so that didn't impact me one way or another.
This isn't a hotel to visit if you're looking for an amazing spa experience, but then again I'd say that's true of most boutique hotels on Greek islands.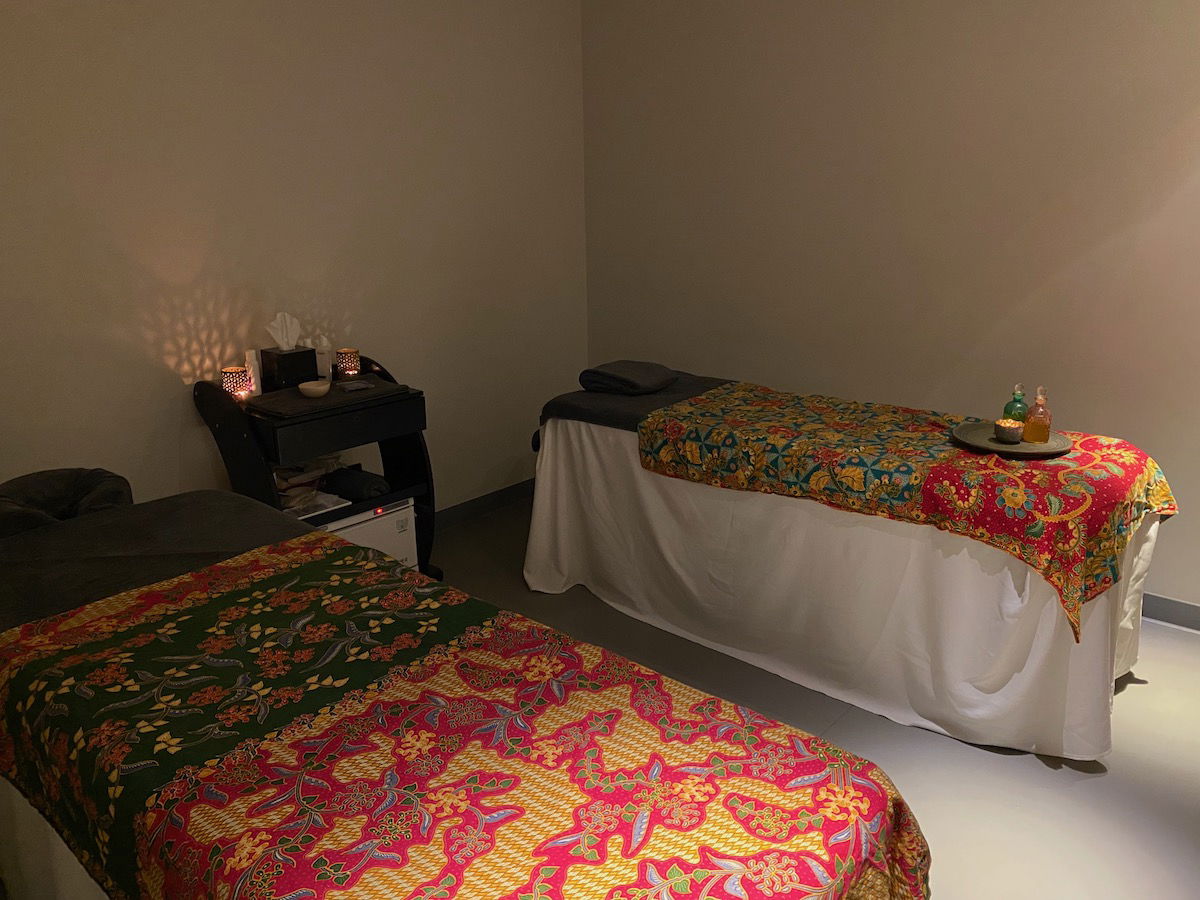 Canaves Oia Epitome service
Physically Canaves Oia Epitome is stunning, but what really elevates this hotel to the next level is the people. I've written in the past about how polarizing Greek service can be — when it's bad, it's pretty bad, while when it's good, it can be among the best in the world. This hotel definitely fits in the latter category.
For one, the hotel gets all of the basics right. There wasn't a single service lapse, which is to say that servers were always prompt and attentive, when we requested something to be brought to the room it was always done quickly, when we arranged a transfer it was always available as booked, etc.
Then there's the genuine warmth and attention to detail of the staff at this property, which simply can't be understated.
The real superstars of the hotel were Evi and Konstantina, two of the ladies who consistently served us at breakfast. Their positive attitudes and smiles were infectious. Not only did they always remember our preferences, but they had such a genuine passion for hospitality. They treated us like guests in their home, and when we checked out of the hotel it was hard to say bye to them, because they were so kind.
Even beyond them, though, service at the hotel was flawless, and felt a lot like what you'd expect at an Aman — we were never asked for our room numbers, housekeeping was timed around when we had breakfast or other activities, etc.
Just to give a further example of the attention to detail, it became chilly after sunset the night we ate outside at the pool. Not only did they offer us blankets to keep us warm, but they color-coded blankets to each of our outfits.
There was literally no room for improvement when it comes to service at this hotel, and it's not often I say that.
Bottom line
Canaves Oia Epitome is an exceptional hotel. The hotel manages to be a relaxing oasis in otherwise bustling Oia, offering access to the popular sights while still giving you somewhere to retreat to. Not only is this a physically stunning property, but it has unbeatable service, food, and drinks, to match, plus Santorini's best sunsets. I'd highly recommend staying at this property if you can swing it.
Gosh, I really do love World of Hyatt's partnership with Small Luxury Hotels of the World. I've had some amazing hotel stays thanks to it.
Has anyone else stayed at Canaves Oia Epitome? If so, what was your experience like? Or anyone planning a stay there in the future?