Want to receive extra benefits for your stay at Katikies Mykonos through Virtuoso, including complimentary breakfast, a hotel credit, a room upgrade, and more? Contact [email protected] for more details. He may even be able to help if you already have a stay booked.
I've never booked a hotel as last minute and with as little research as I booked Katikies Mykonos. Despite that, we ended up being very happy about our decision.
What are Katikies Hotels?
For those of you not familiar with Katikies, it's a Greek hotel group that belongs to Leading Hotels of the World (a boutique hotel alliance that doesn't partner with any of the major hotel groups, but does have a niche loyalty program).
Katikies has a total of five properties in Santorini, plus two properties in Mykonos. On Mykonos this consists of the main Katikies Mykonos hotel (where we stayed), plus a compound with several villas. Katikies Mykonos opened in the summer of 2018, so the property is just three years old.
How & why we booked Katikies Mykonos
Our plan was never to stay at Katikies Mykonos. Rather we had booked Aegon Mykonos, a Marriott Autograph Collection property on the island.
As frequent OMAAT readers know, a "situation" unfolded there, and a few hours after check-in we decided we didn't feel comfortable staying there. The owner's wife confronted me in the hotel's driveway and told me I had bad energy, accused me of "illegally" stealing the hotel's pictures (to point out they were photoshopping the pictures on their website), and almost certainly left a nasty comment on the blog, telling me to get a life (so much for the hotel being about good energy!).
If you're interested, you can read the entire saga here:
We simply didn't feel comfortable or safe staying there, so we decided to book ourselves somewhere else. I had already reviewed the excellent Santa Marina, a Marriott Luxury Collection property, and it also didn't have points availability for the nights we needed to book.
So we looked at Virtuoso's website, and decided to book one of the luxury hotels there. After briefly browsing the options, we decided on Katikies Mykonos. The hotel looked nice, was only about a 10 minute drive from Mykonos town, it seemed to get good reviews online, and the rate was comparatively reasonable for a luxury hotel.
Our rate was just under 500 Euros per night — while not cheap, the reality is that decent hotels in Mykonos are expensive, and that was roughly the same as the paid rate at Aegon Mykonos. The fact that Katikies and Aegon have roughly comparable cash rates is just… sad.
For booking through Virtuoso, we also received a room upgrade subject to availability, plus a $100 hotel credit (breakfast would usually also be a perk, but is already included with all rates at the hotel). If you do book this hotel I'd recommend booking through a Virtuoso travel advisor.
Katikies Mykonos service
Let me start with what impressed me most about the hotel, and what we valued most — the service. Katikies Mykonos has exceptionally good service, among the best you'll find in Greece. When we checked in we were told by the front office manager "we try to treat our guests like royalty," and that was truly reflected throughout our stay. I don't even know where to begin:
The hotel has a full time team of butlers on staff who will not only arrange anything you ask for, but who are also incredibly proactive in seeing if there's anything they can do; Dominic primarily took care of us, and couldn't have been nicer
The breakfast staff were lovely, and remembered drink and meal preferences
While on property we were never asked for our room numbers — since the hotel only has 35 rooms, the staff really get to know each guest
Even beyond the assigned butler, the property is intimate, and the butler team is constantly standing around outside in view of guests, so you really don't have to try hard to ask for anything
The staff showed a genuine interest in how we were enjoying ourselves; for example, one of the butlers would make a reservation for us, and then someone in the hotel restaurant the next morning would ask how we enjoyed dinner at the restaurant we ate at
When we checked out we were asked a question that not many hotels have the confidence to ask, but which I really respect — "what didn't you like, and what can we do to improve?"
Service in Greece can be polarizing, and this hotel was an example of one that had exceptional service.
Katikies Mykonos check-in & lobby
We arrived at Katikies Mykonos late at night, and even though we only booked minutes in advance, the staff seemed ready to greet us — registration forms were already prepared, and a welcome amenity had already been placed in our room.
Upon pulling up to the hotel's driveway, there were stairs leading up to reception, which a couple of nice outdoor seating areas surrounding the path.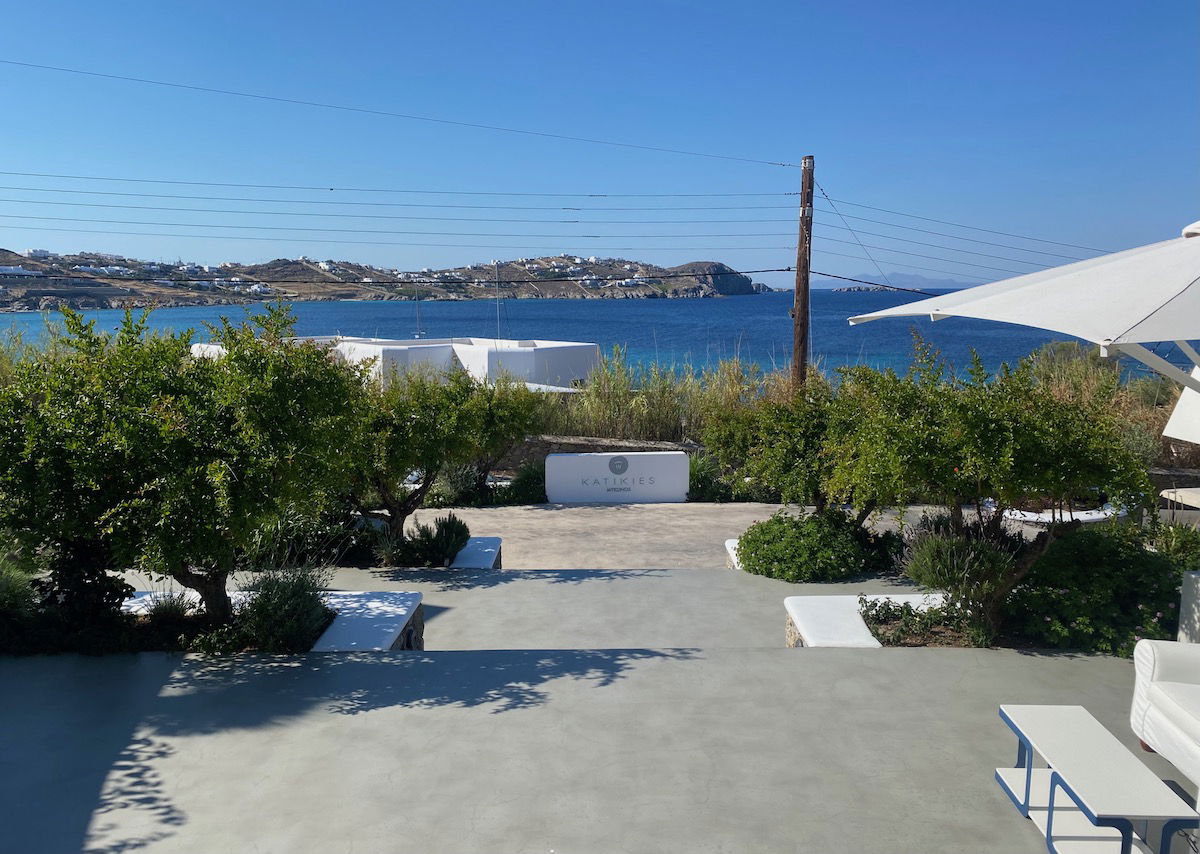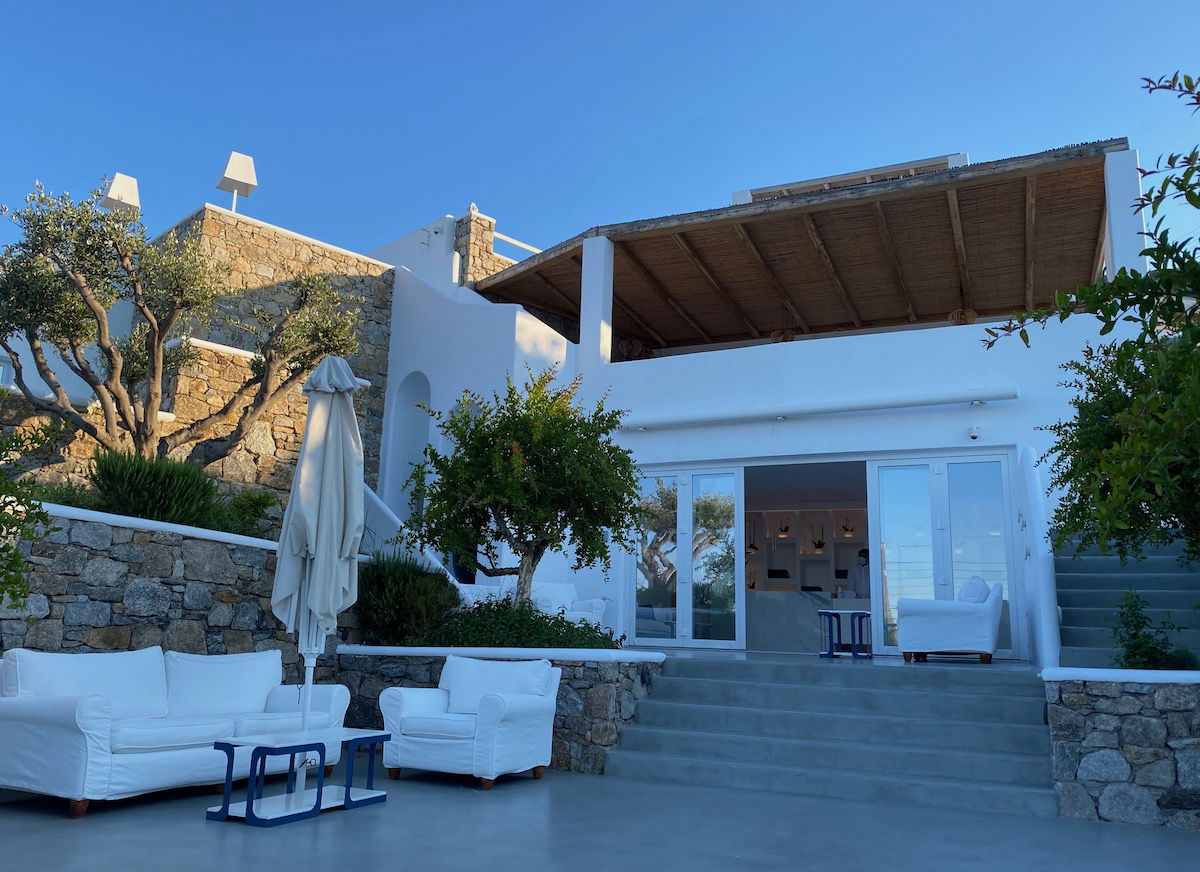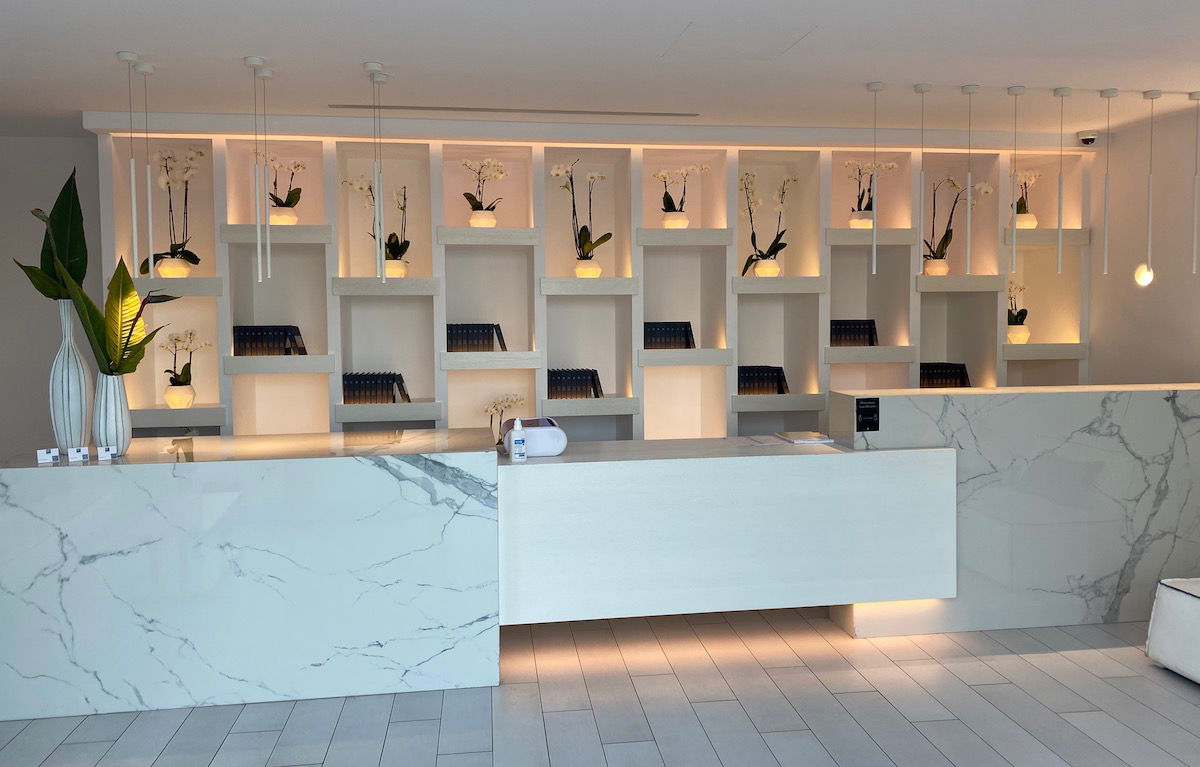 The check-in process was efficient. We had asked if any dining options were still available at the hotel (we had a dinner reservation, but had canceled it due to moving hotels). Even though the restaurant was supposed to close within five minutes, they immediately helped us place orders to ensure we could still eat something.
Within a few minutes we were escorted to our room, which was right next to reception.
Katikies Mykonos Honeymoon Suite
For booking through Virtuoso we were upgraded to one of the hotel's honeymoon suites with a private pool and sea view. Specifically, we were assigned room number 23, and the entrance was up a set of stairs immediately to the left of reception.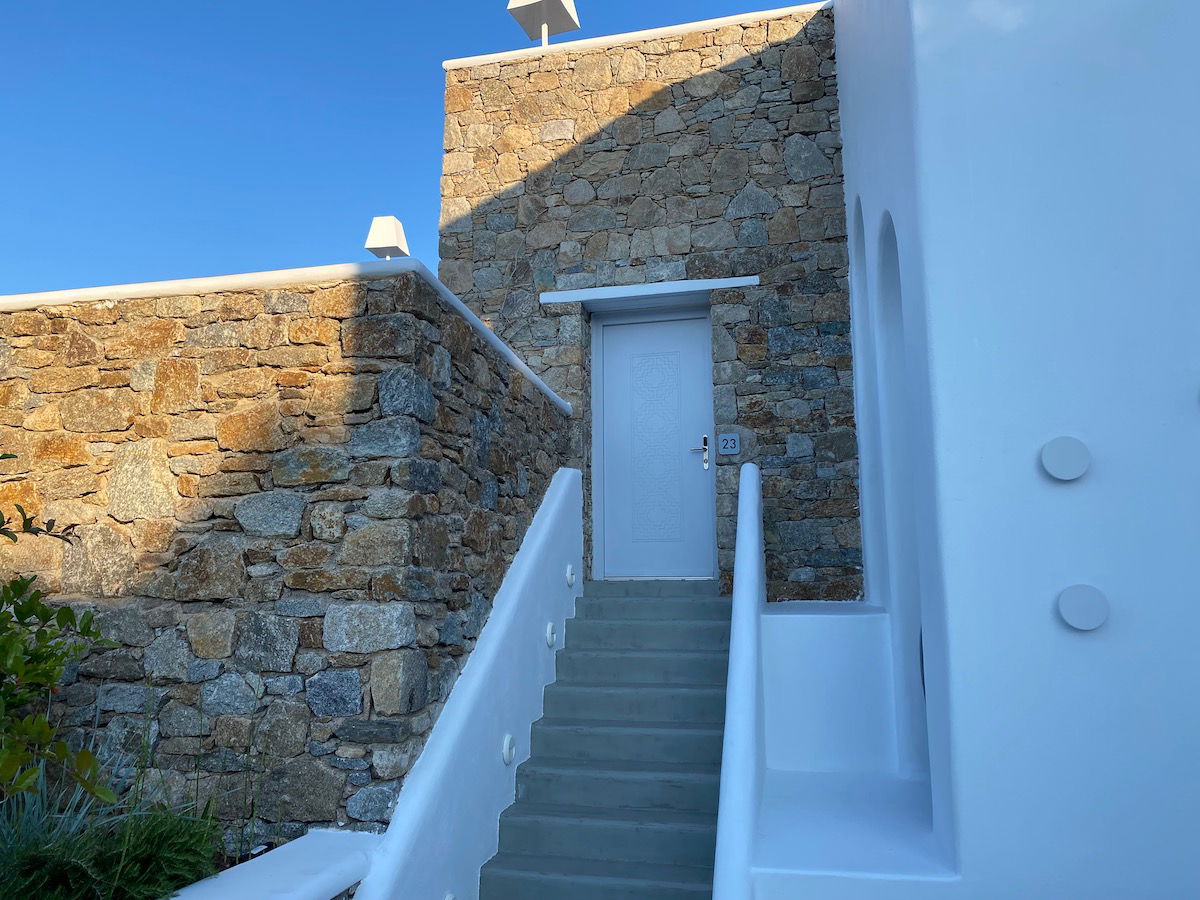 The room was gorgeous and spacious — I loved the modern Greek design, and in particular all the small design elements that really made this room special. The centerpiece of the room was a comfortable king size bed.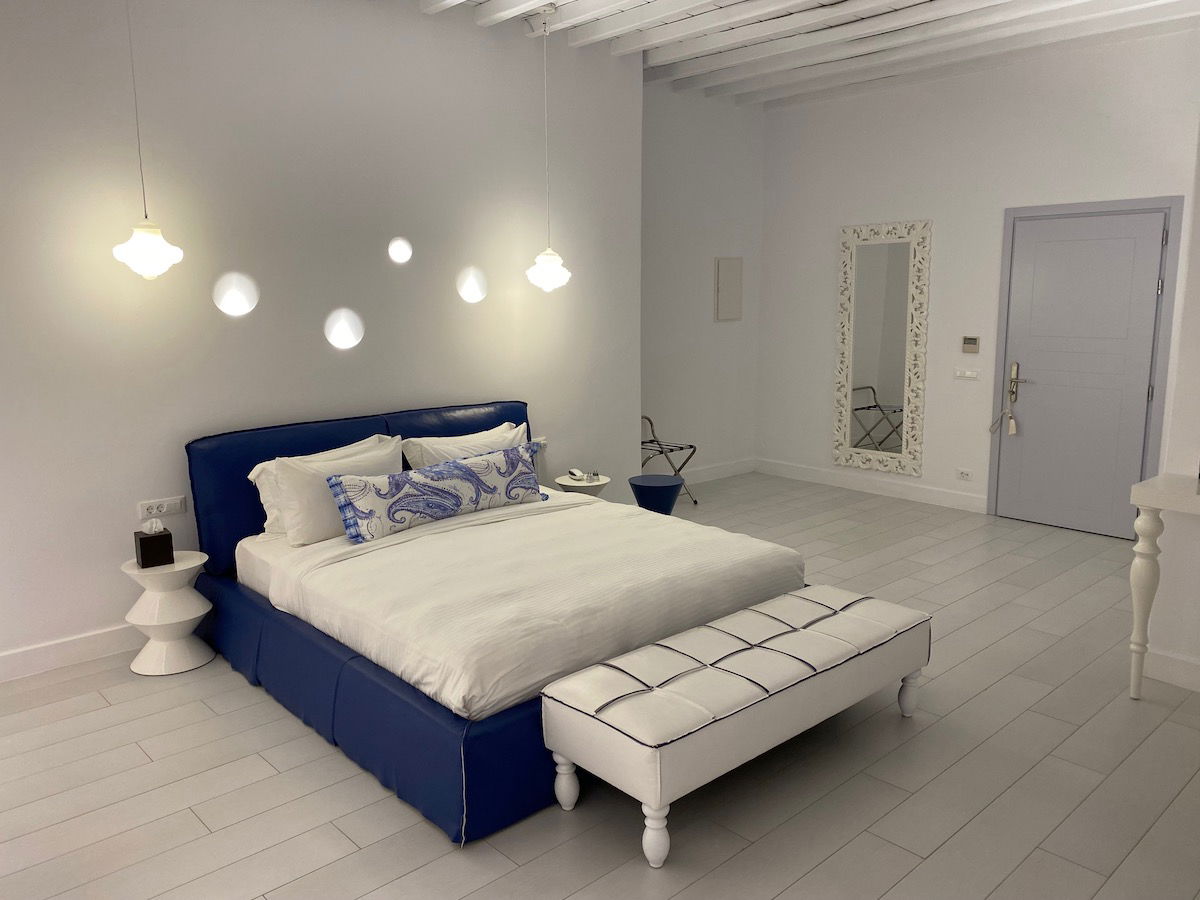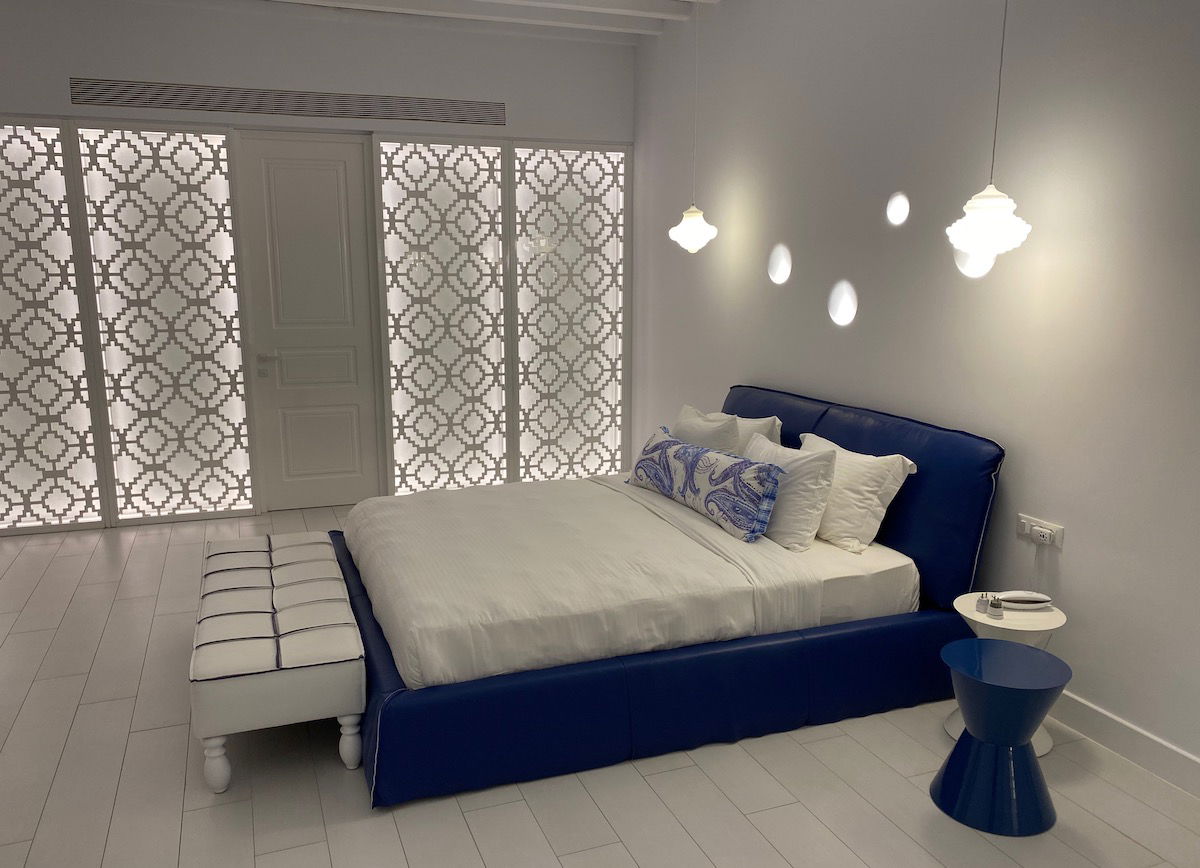 At the foot of the bed was a bench, and then deeper into the room was a sitting area with two chairs.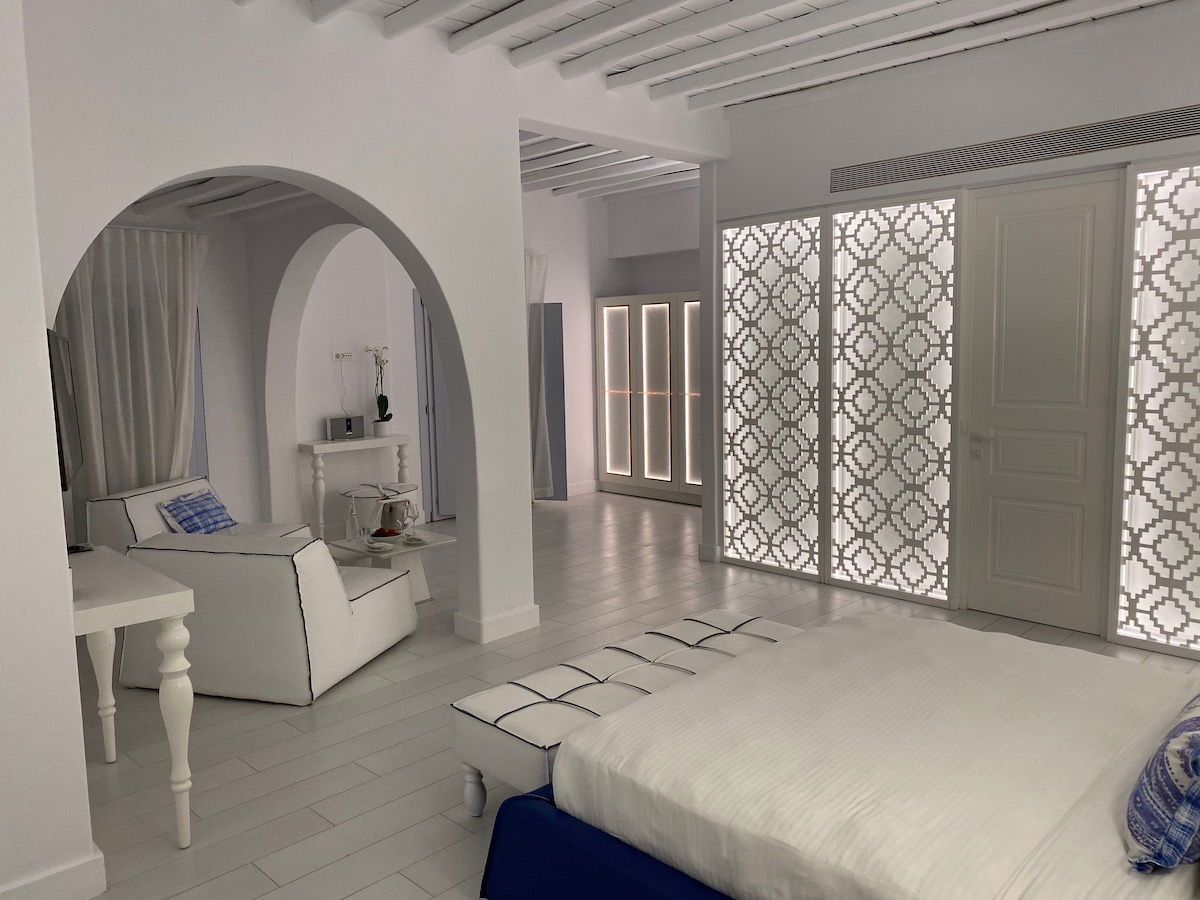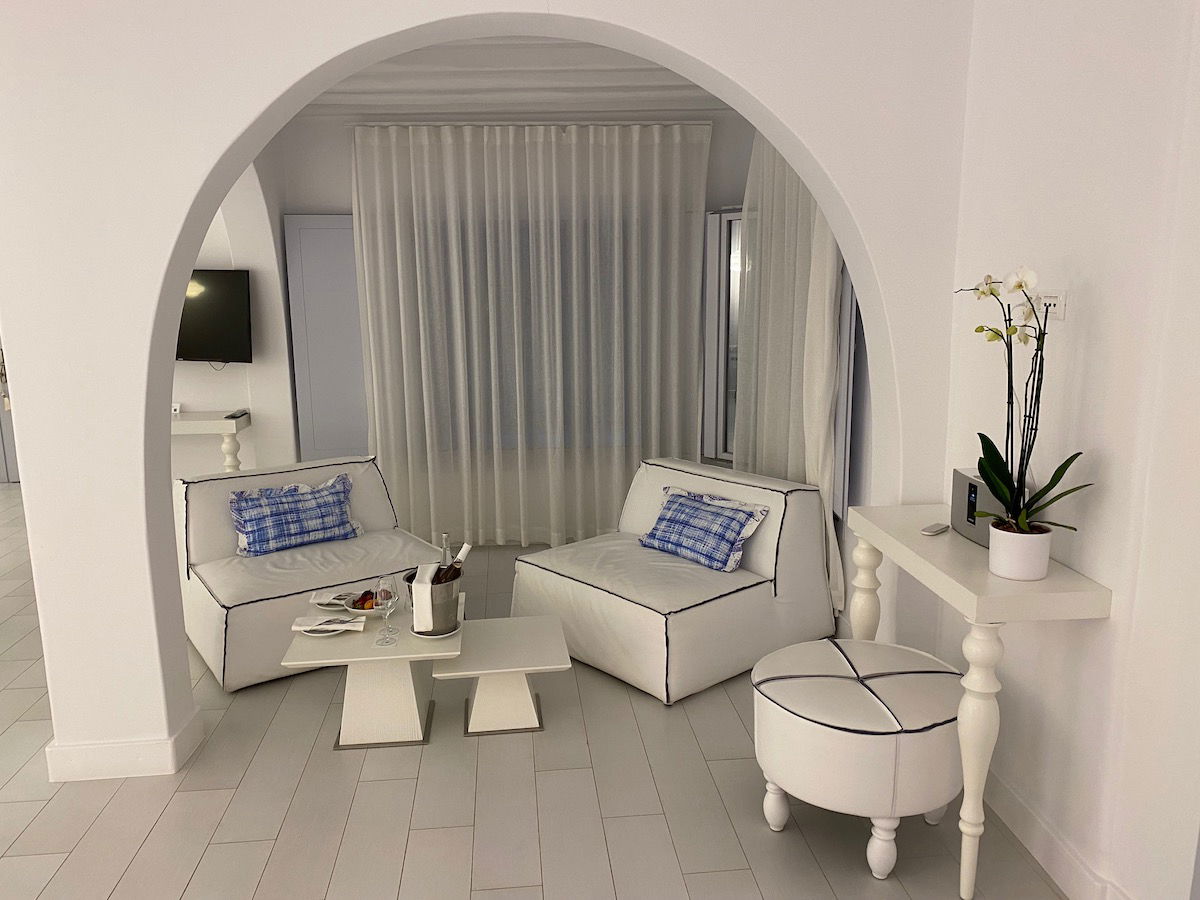 There was a welcome amenity there consisting of a bottle of rose, a bottle of water, and a fresh fruit plate.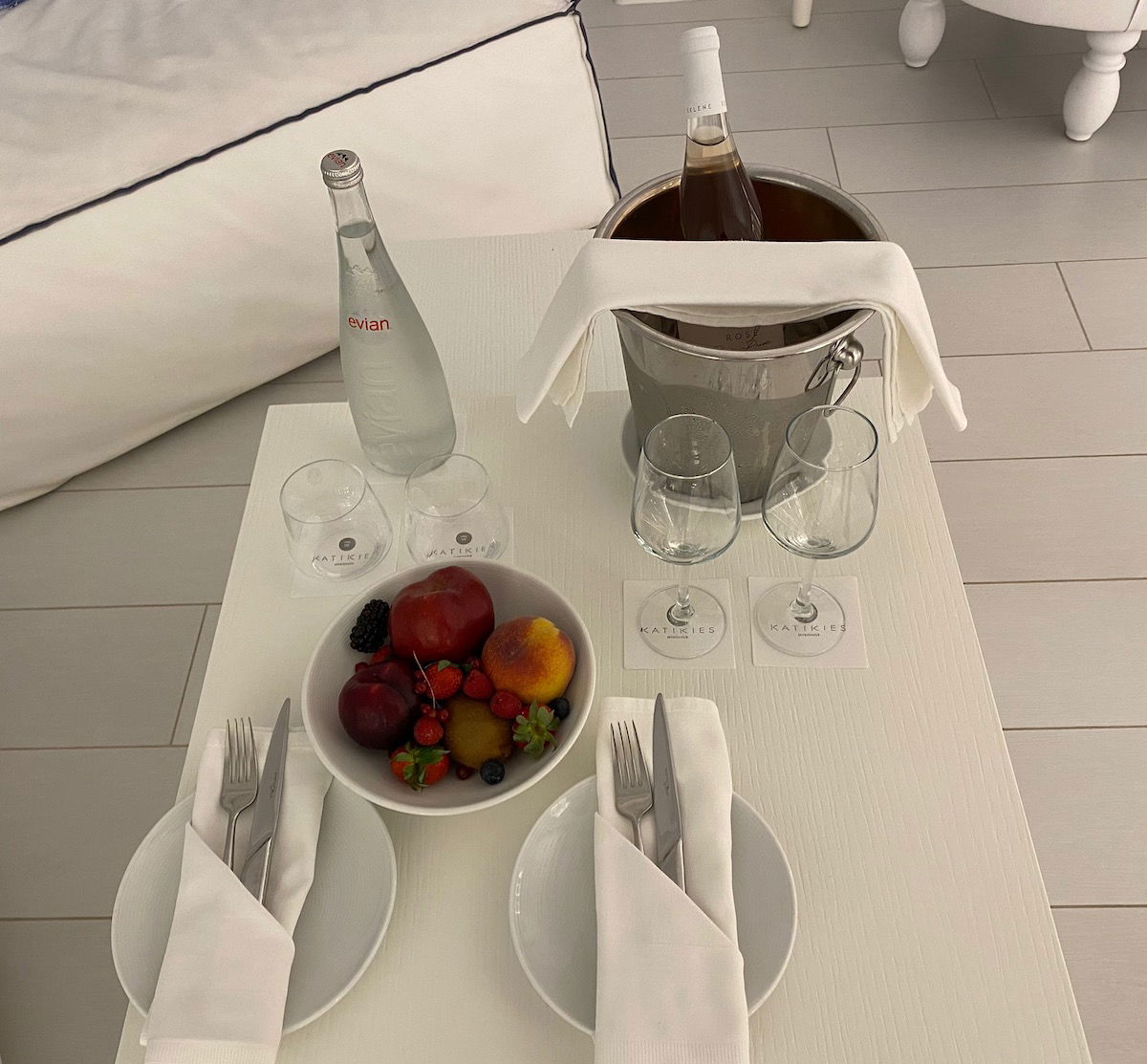 Then in the far corner of the room near the door to the terrace was a closet along with the minibar.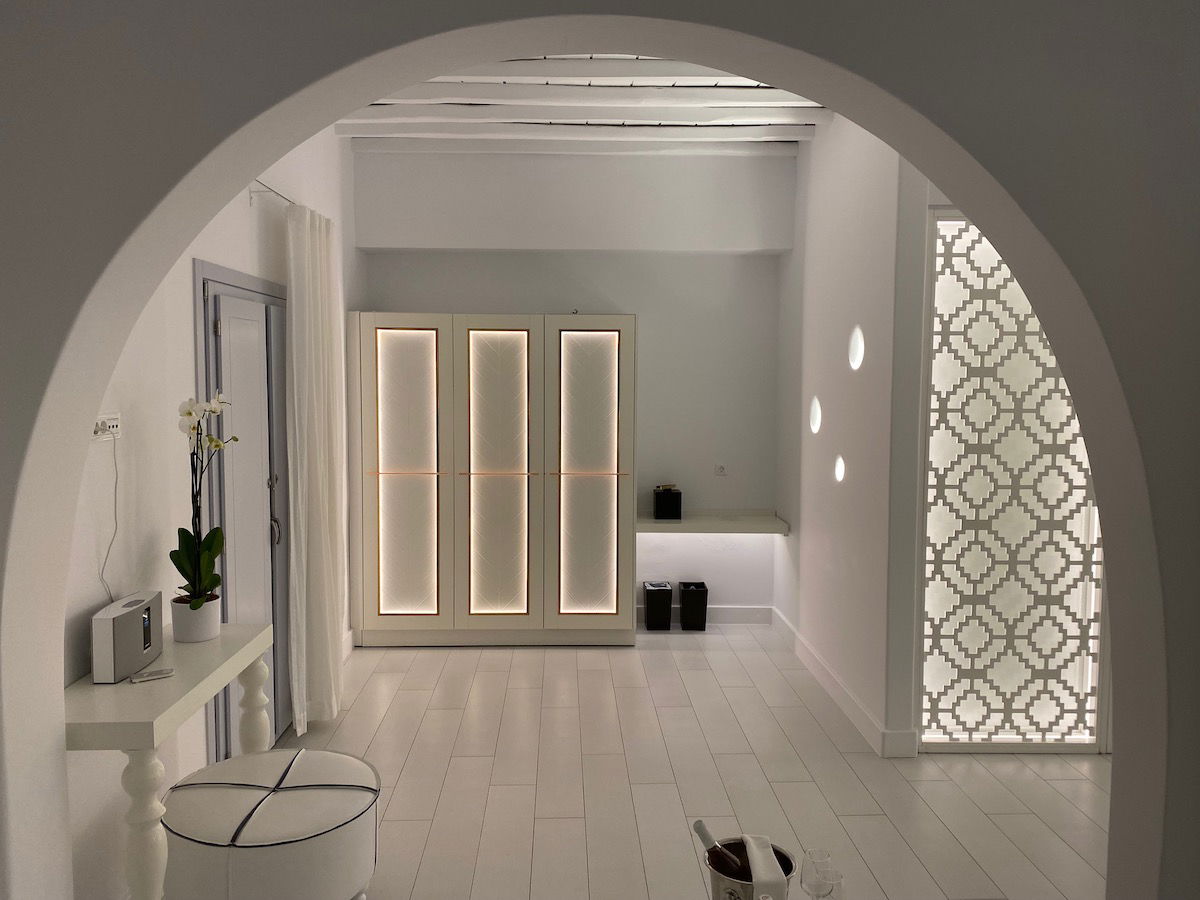 The minibar featured a Nespresso machine, plus a variety of snacks and drinks.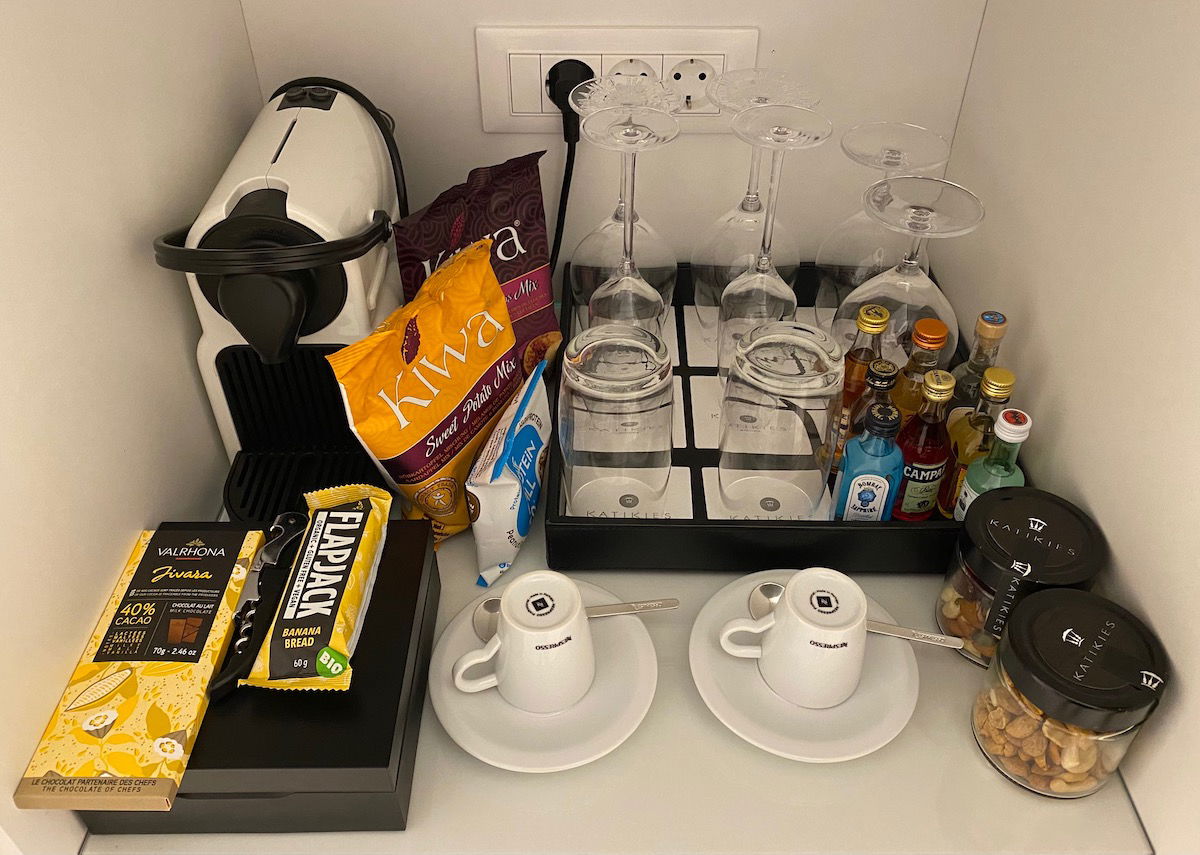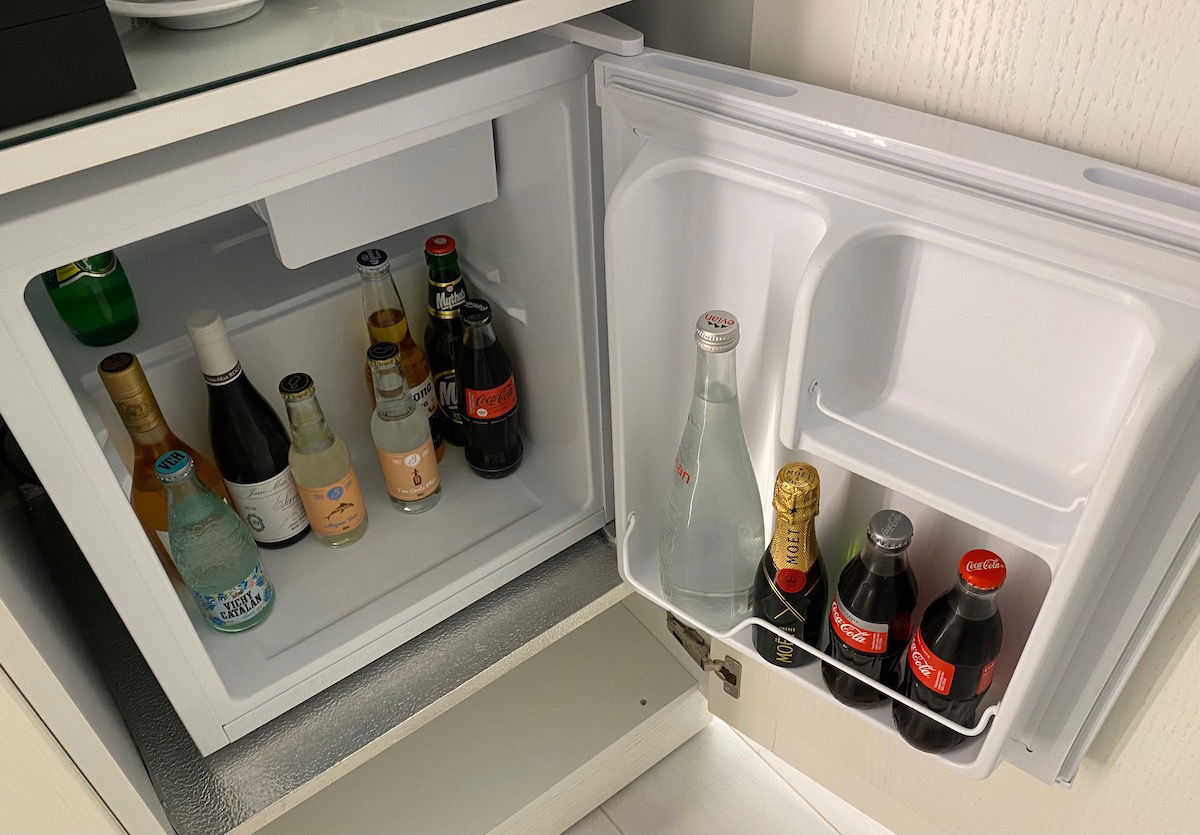 The bathroom was across from the bed, and was large. It featured a sink, a toilet, and then a walk-in shower and bathtub "compound" of sorts. I do wish that the shower was fully enclosed, because I find that the half glass shield concept doesn't keep in the heat, and also causes water to splash out beyond the shower.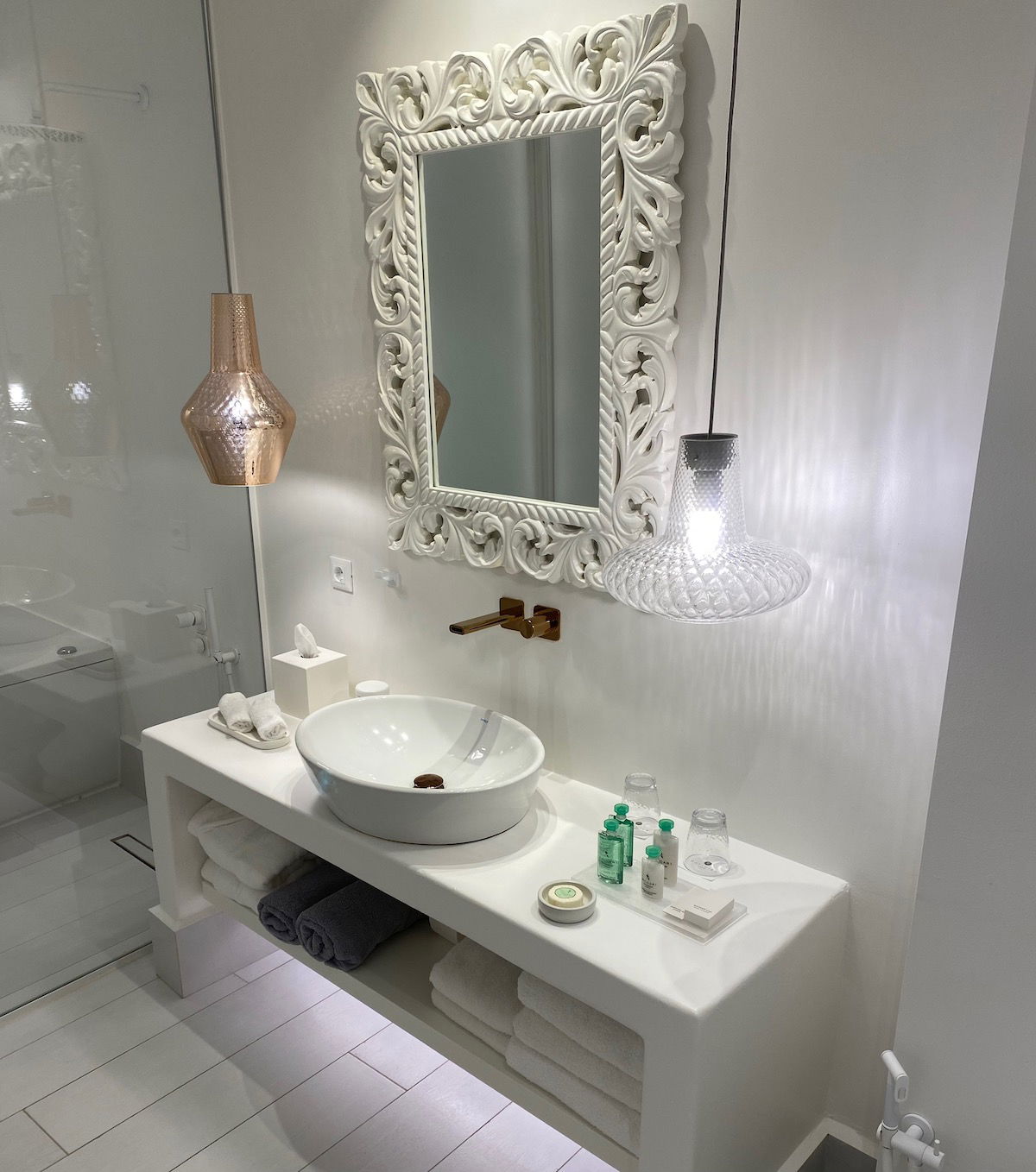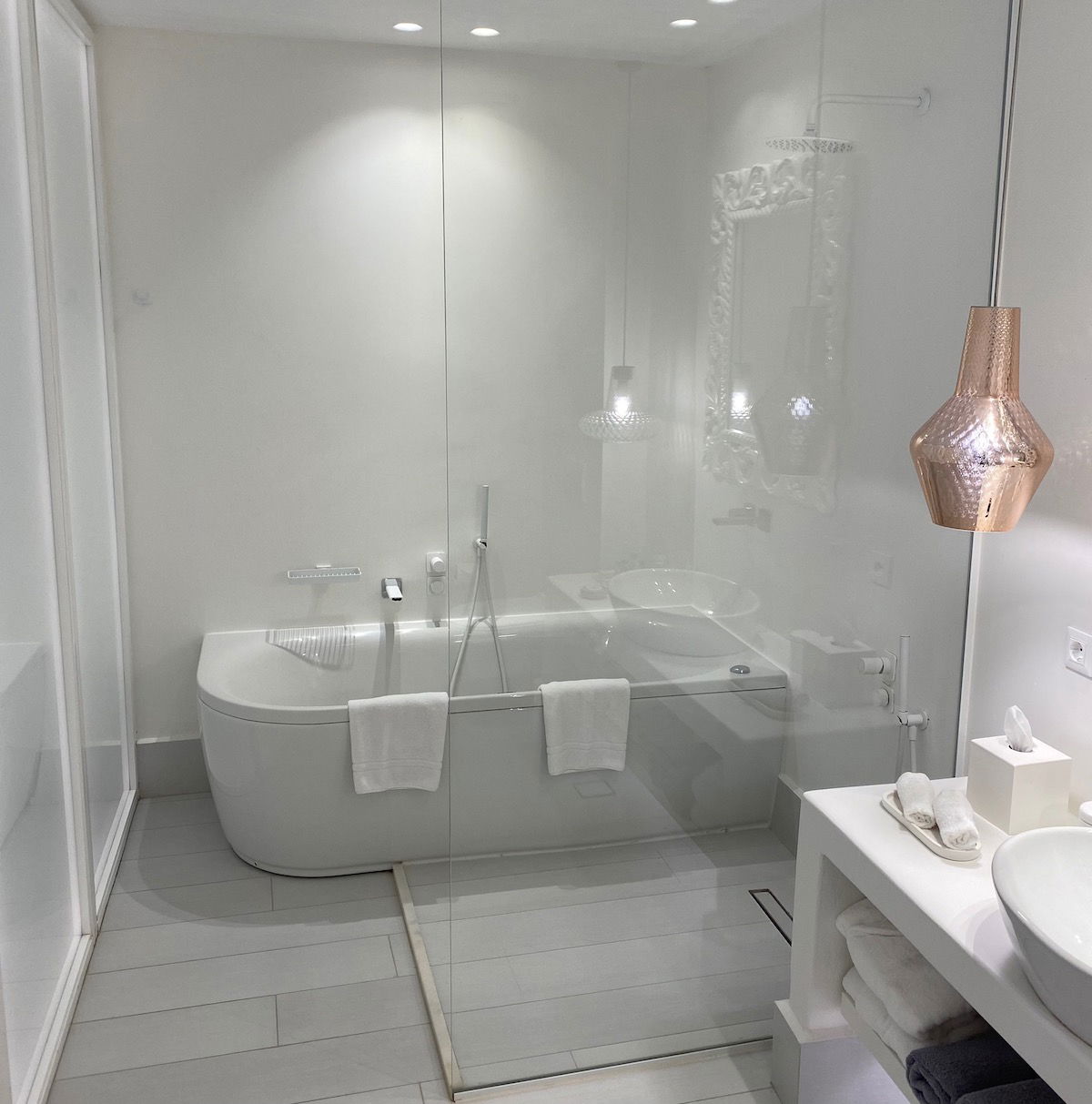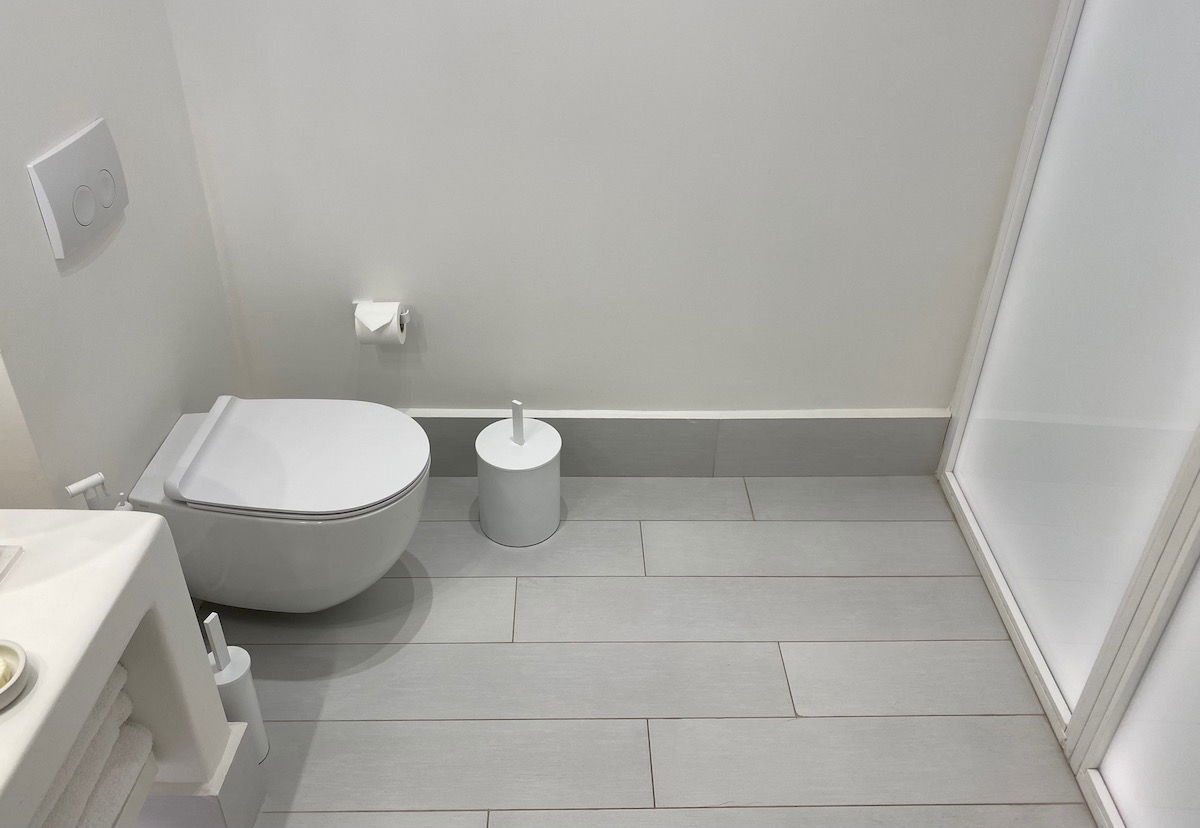 Toiletries were from BVLGARI, which I love.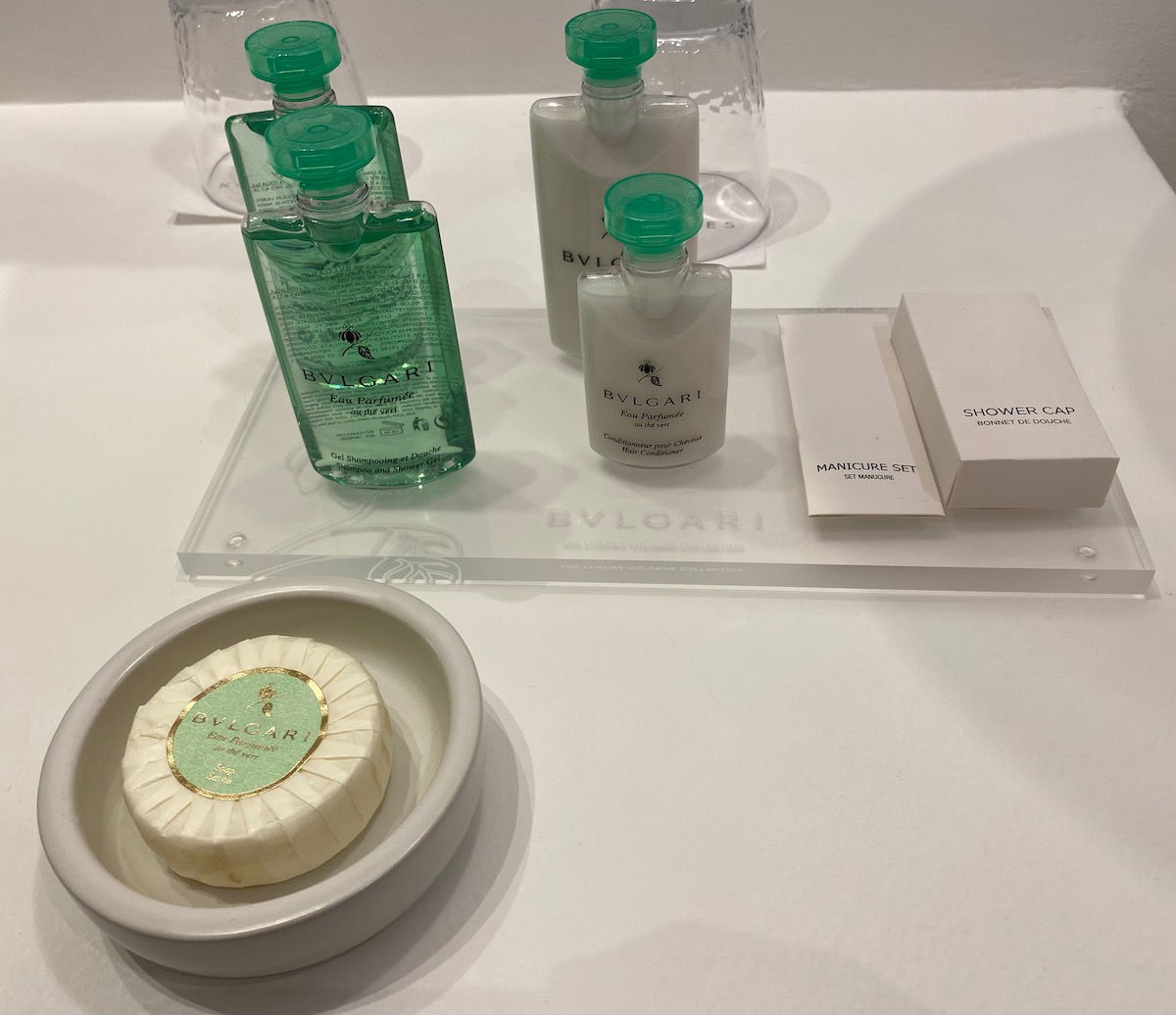 Arguably the highlight of the room was the outdoor space, which had a dining table with four chairs, along with two lounge chairs.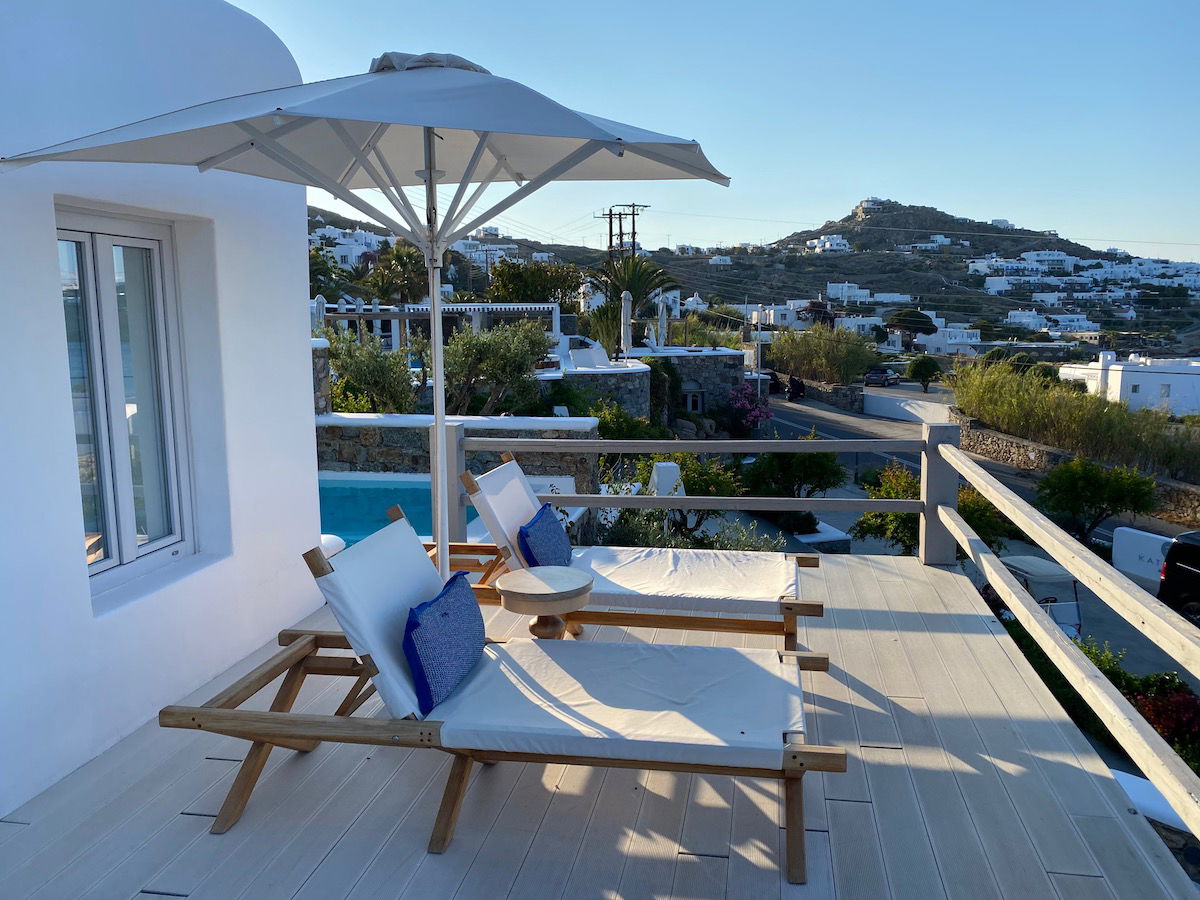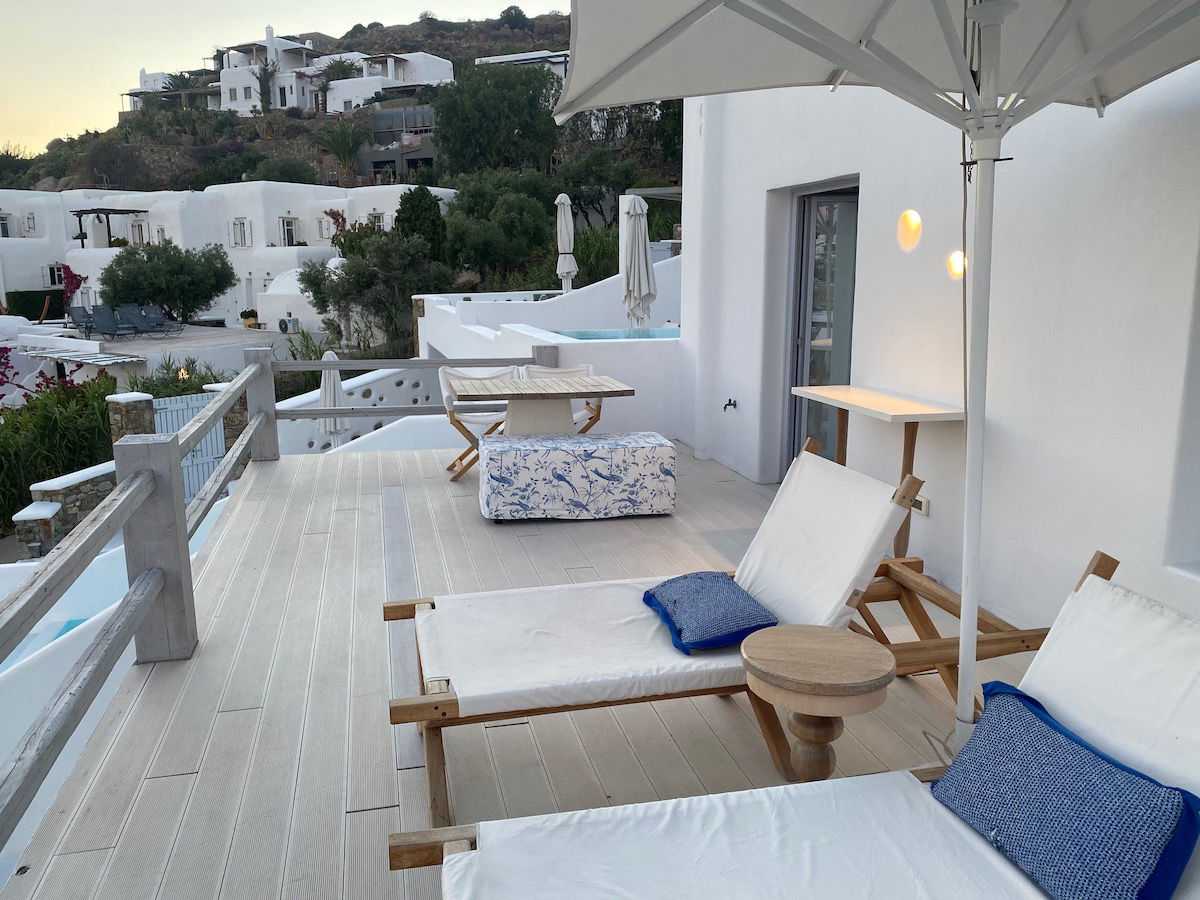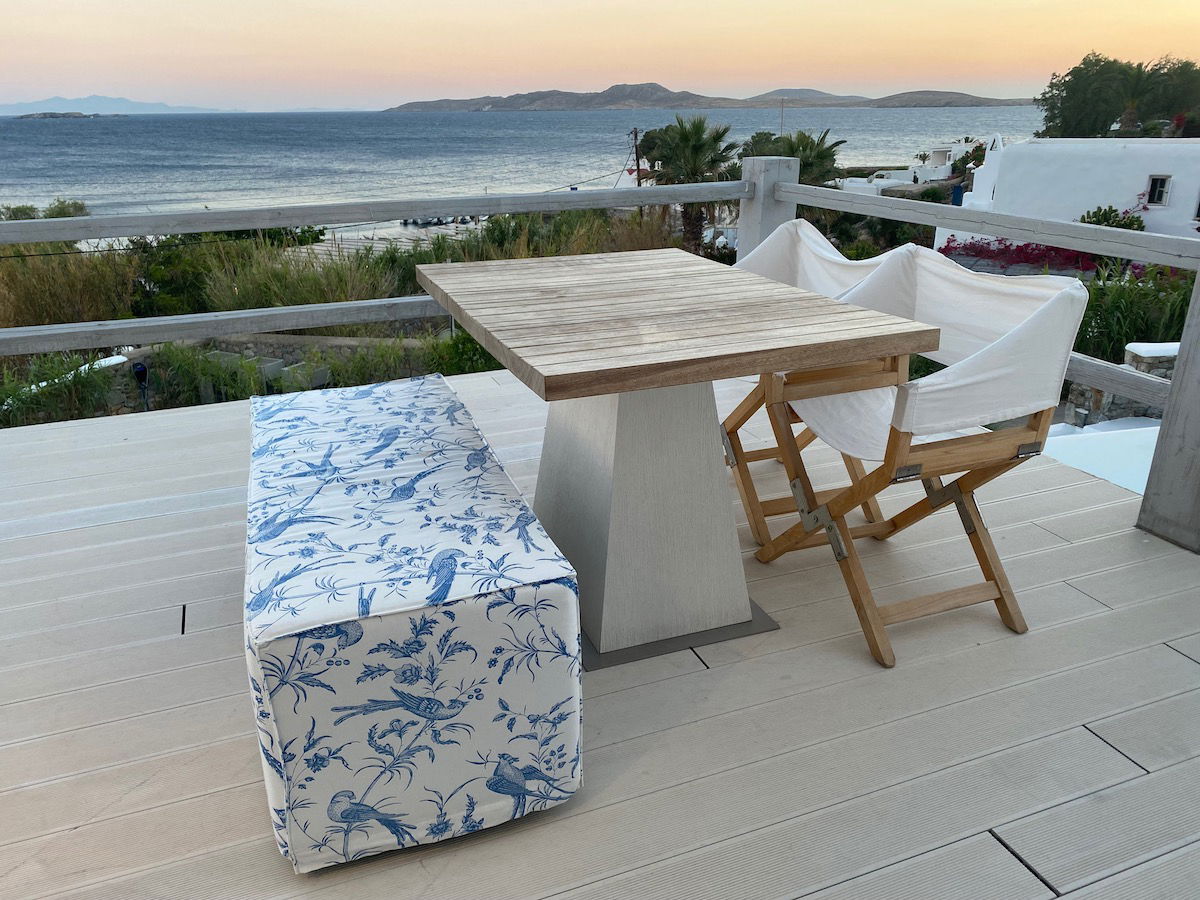 There was also a private pool.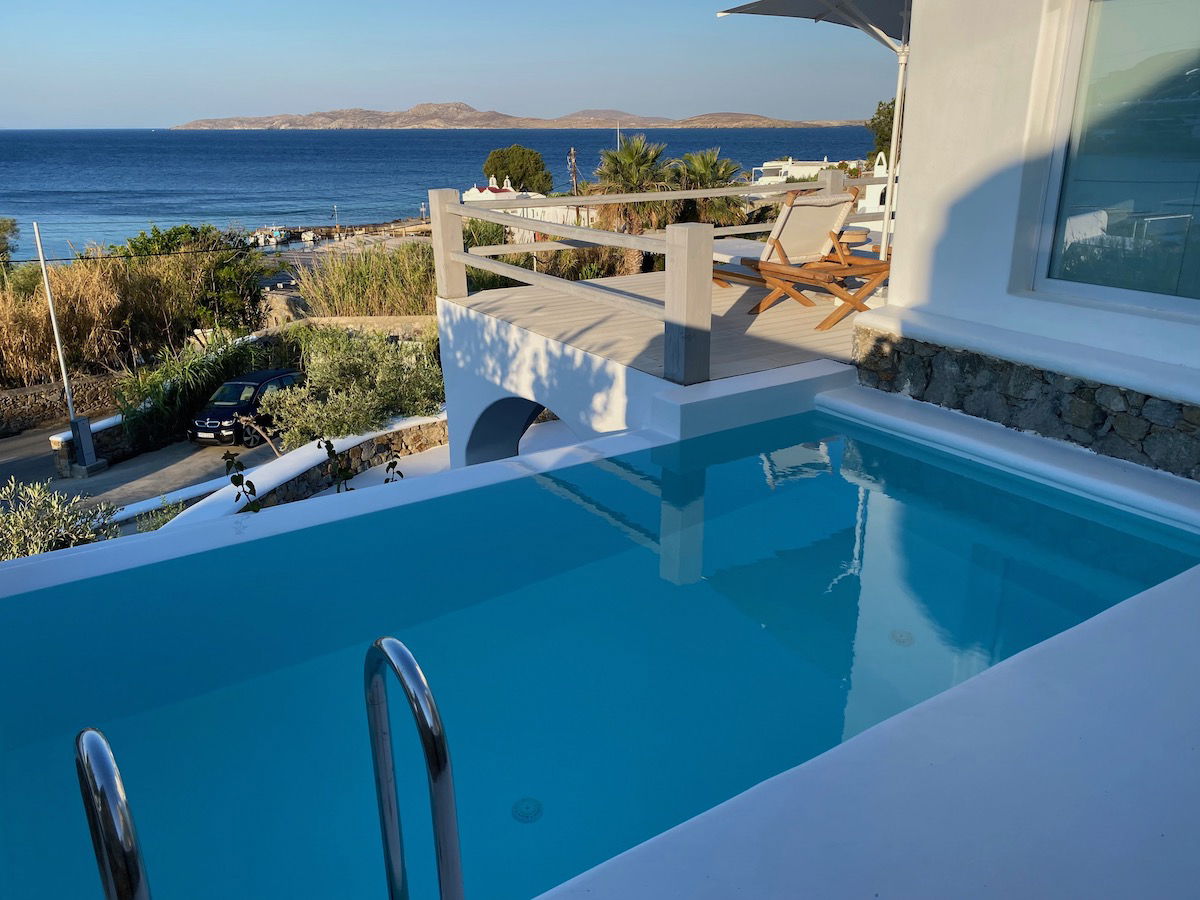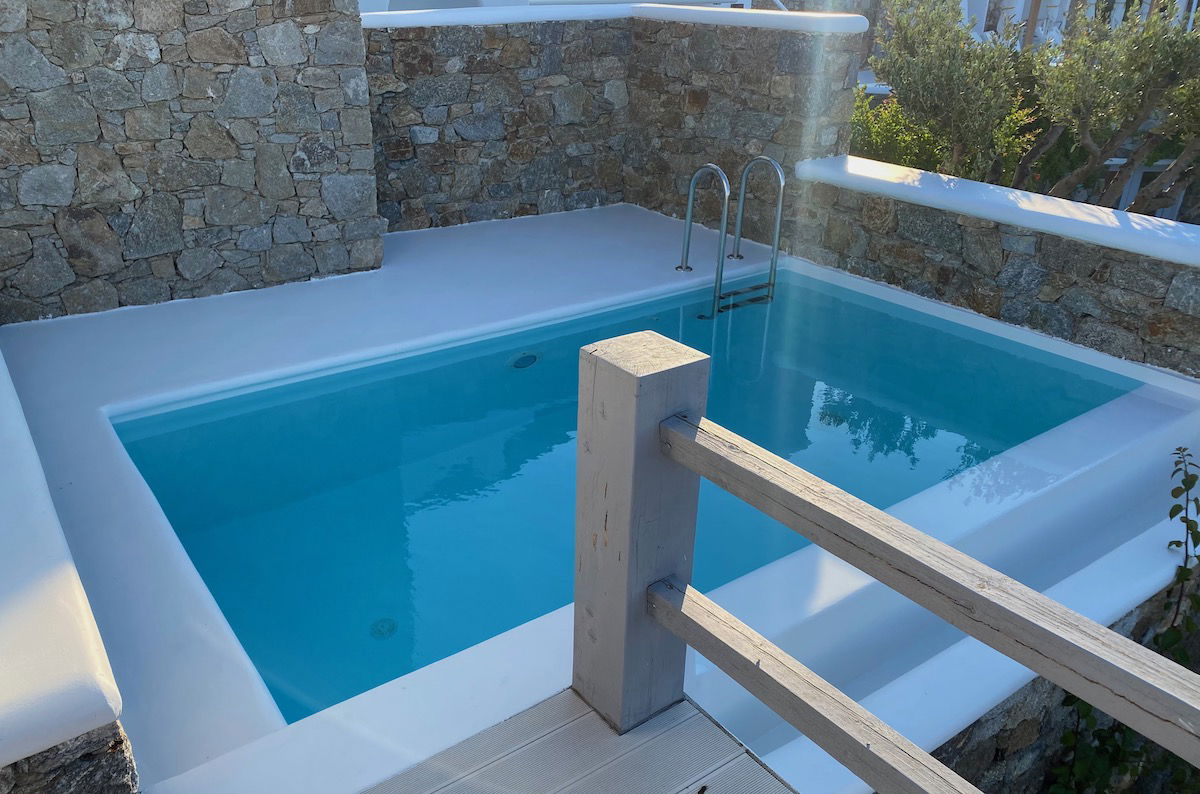 The view from the room was gorgeous, especially at sunset and sunrise. We had a direct sea view, and the surrounding area was also charming, as Katikies Mykonos is nicely integrated into the neighborhood.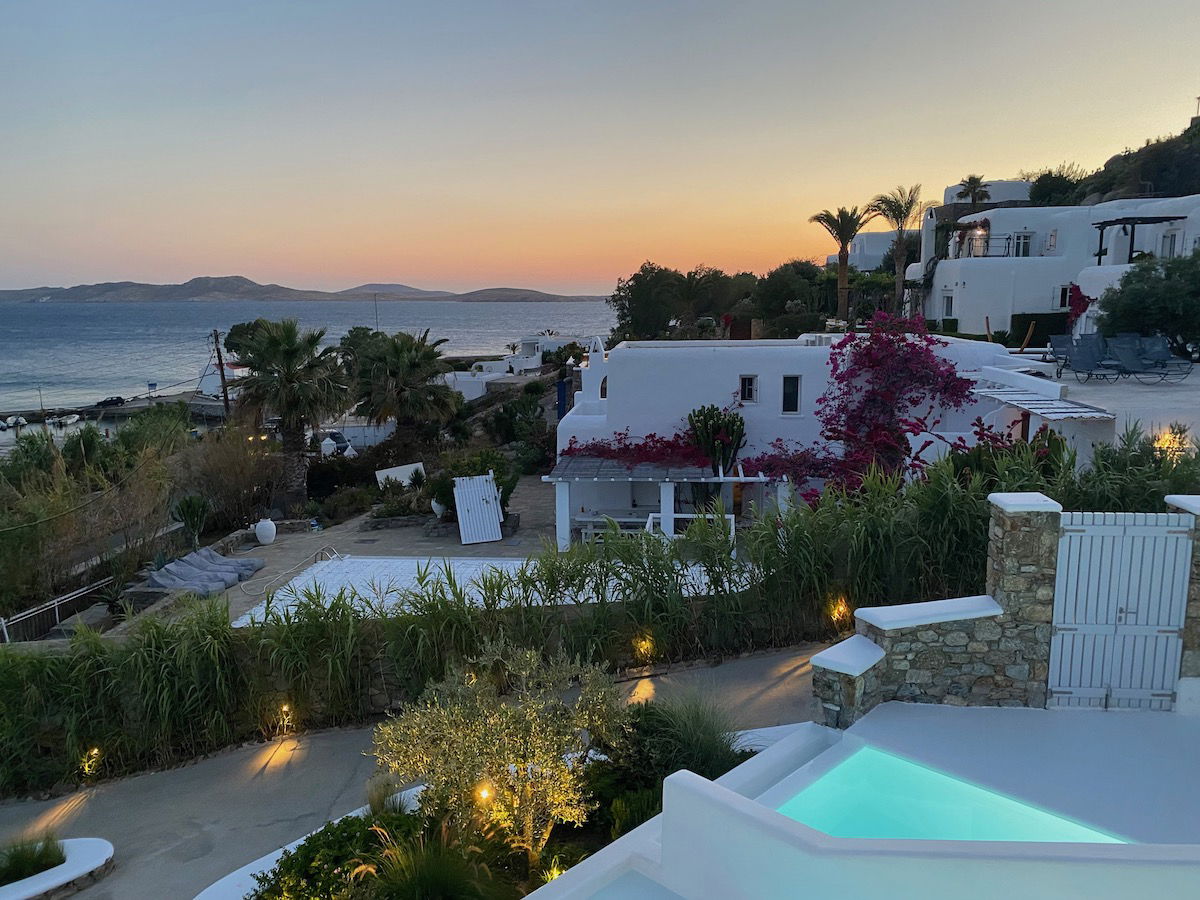 One thing that surprised me about Katikies Mykonos is how there was virtually no wind. It can get really windy in Mykonos (to the point that it's unpleasant to eat outside), yet that was never an issue at Katikies. I'm not sure if we just lucked out, or if the hotel's geography is just favorable in that way.
Wi-Fi in the room and throughout the property was fast and free, and there was twice daily housekeeping. We would always call when we wanted our room made, and they were extremely prompt with sending a housekeeper.
Katikies Mykonos pool
Katikies Mykonos has a beautiful pool (though note that none of the pools at the hotel are heated). Thanks to how small the hotel is, plus people often going out during the day in Mykonos, it really felt like a private pool for the time we spent there. Not only was the pool a good size, but it also had plenty of seating. There was also a pool bar setup, so you could order food and drinks from there.
The hotel only accepts guests 13 years old and above, so you won't find any small kids at the pool here (for better or worse).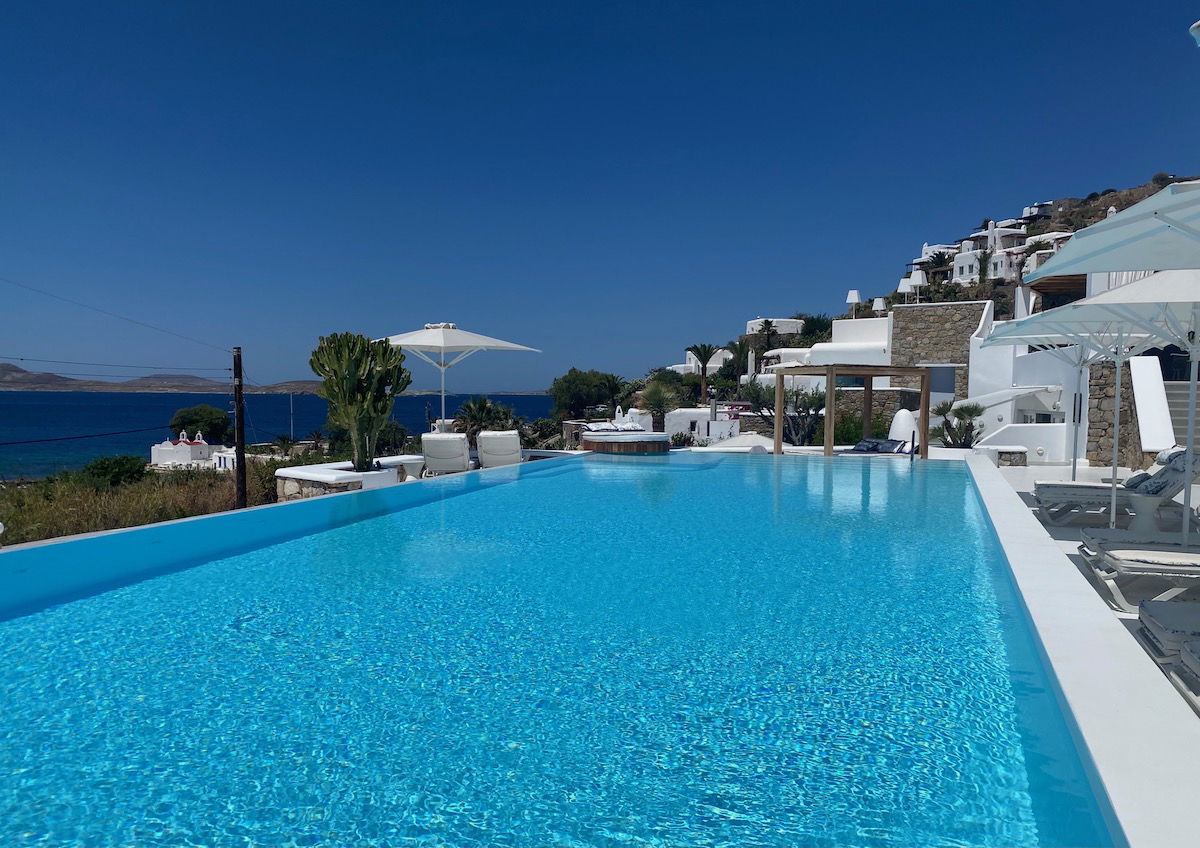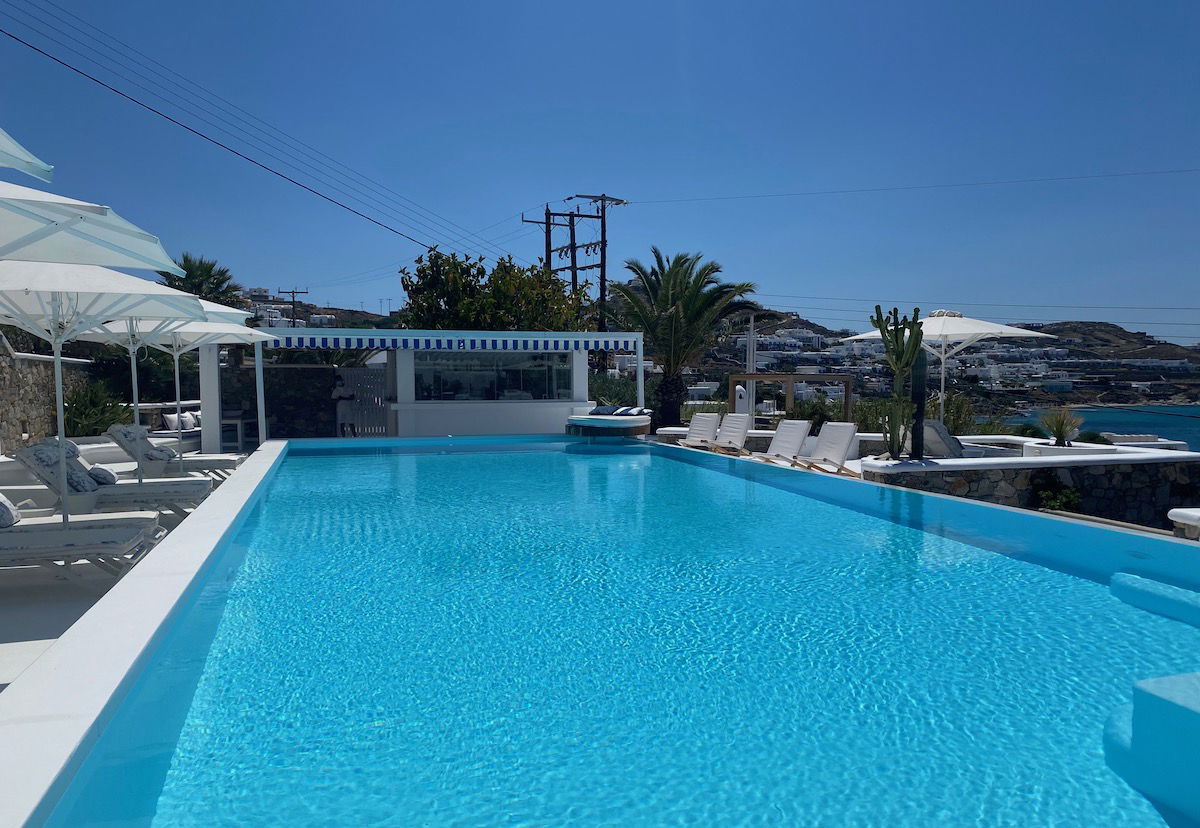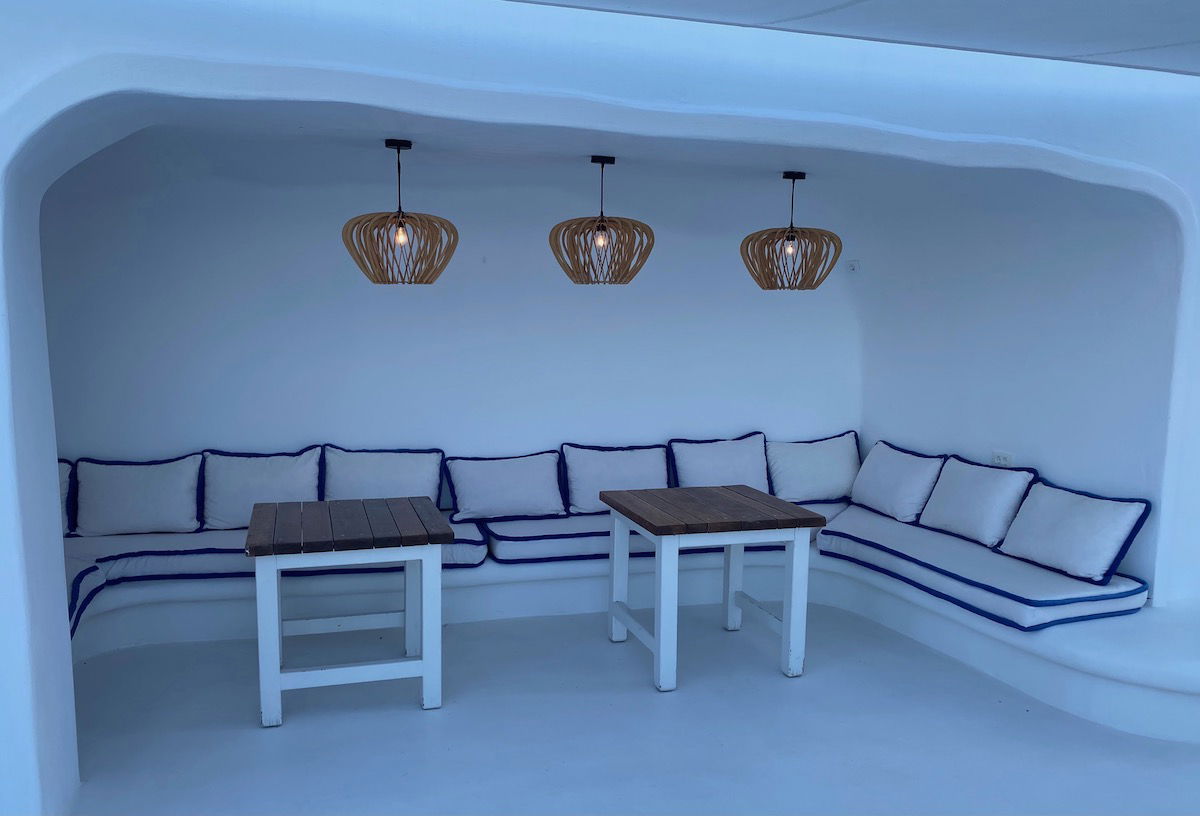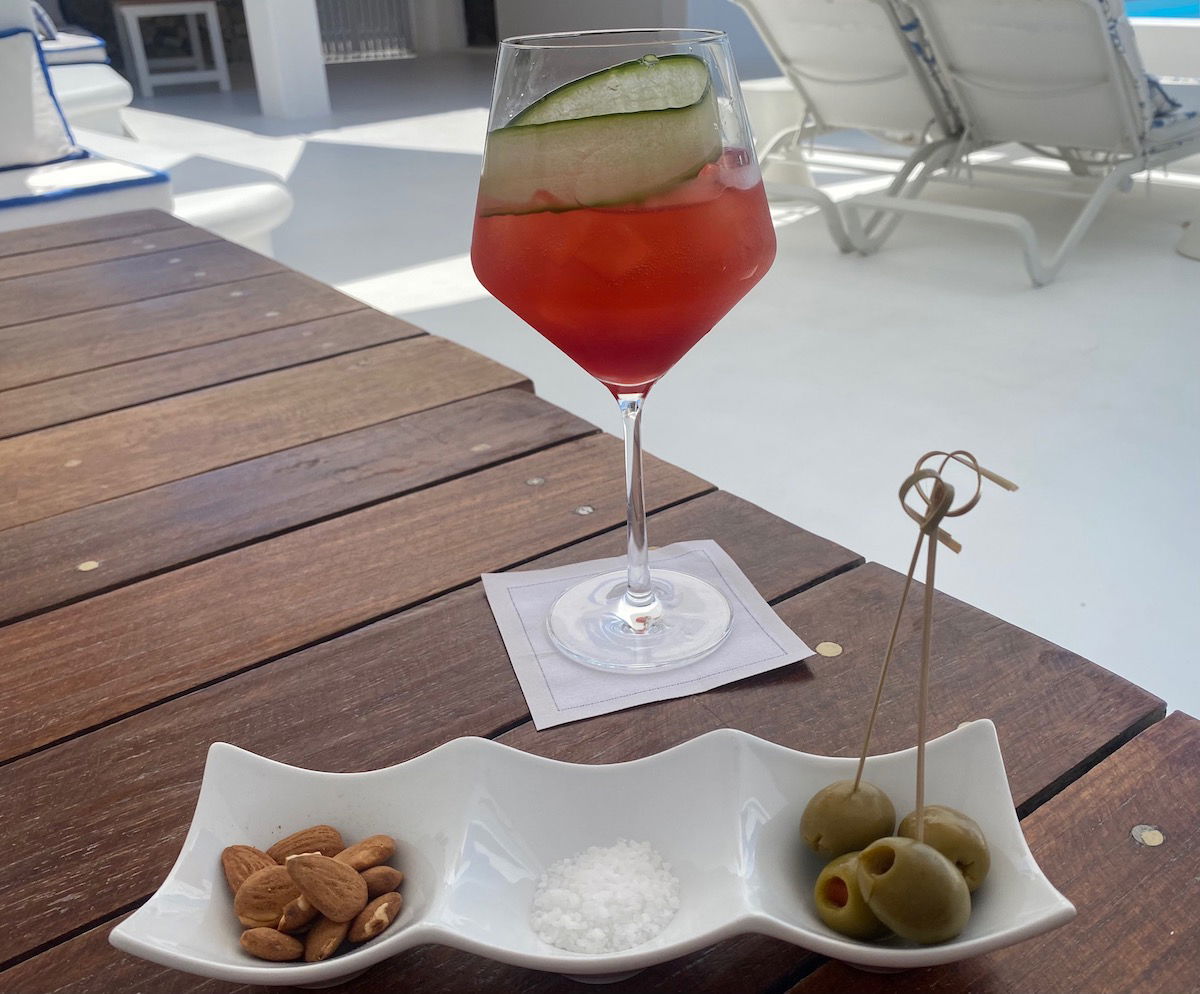 One consideration is that Katikies Mykonos doesn't have direct beach access. There's a beach a short walk away, but it's not integrated into the hotel, so you won't receive hotel services there.
Katikies Mykonos gym
Katikies Mykonos has a decent gym — it's on the small side, but has a couple of treadmills, a couple of bikes, some free weights, and a couple of weight machines.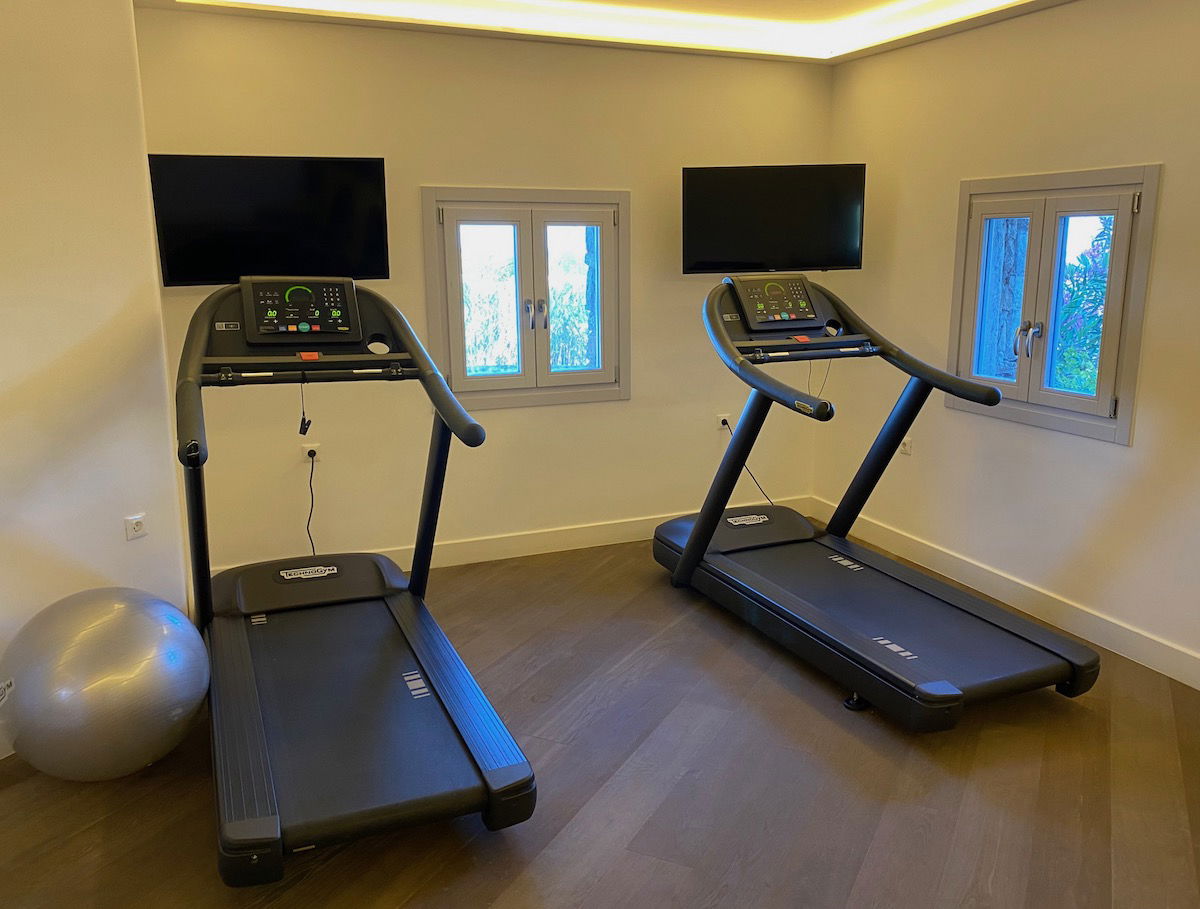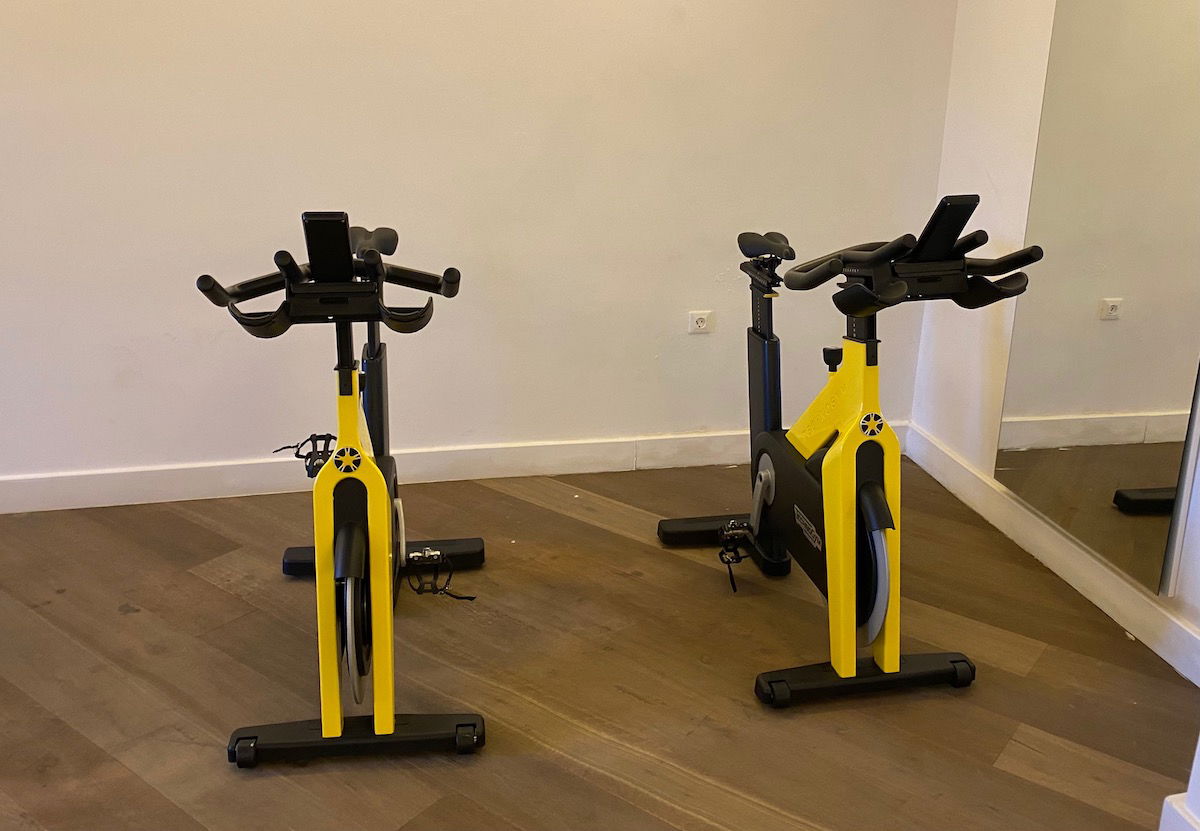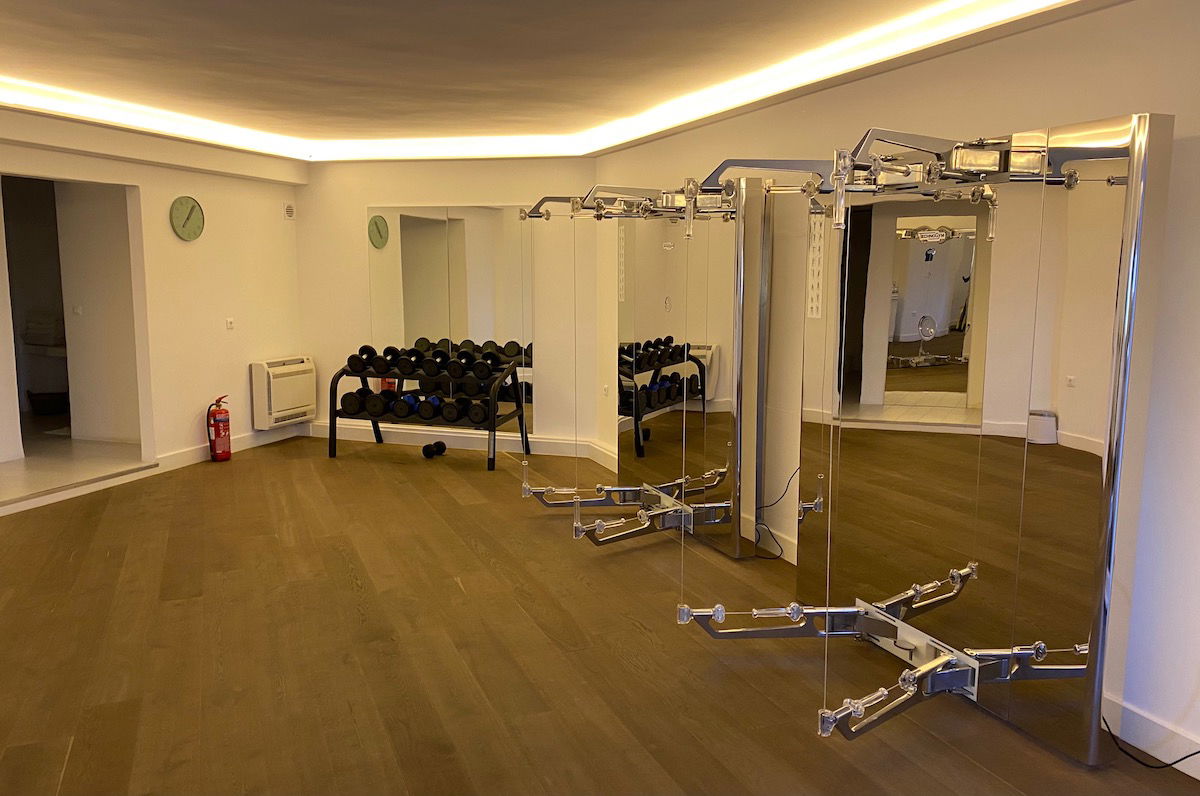 Katikies Mykonos restaurant
Seltz Champagne Bar & Restaurant is Katikies' all-day dining restaurant. It's where breakfast, lunch, and dinner are served, and it's located one level above the main pool. The restaurant is fully outdoors, but still has a couple of different seating options, depending on the vibe you're looking for, and also how much exposure you want to the sun.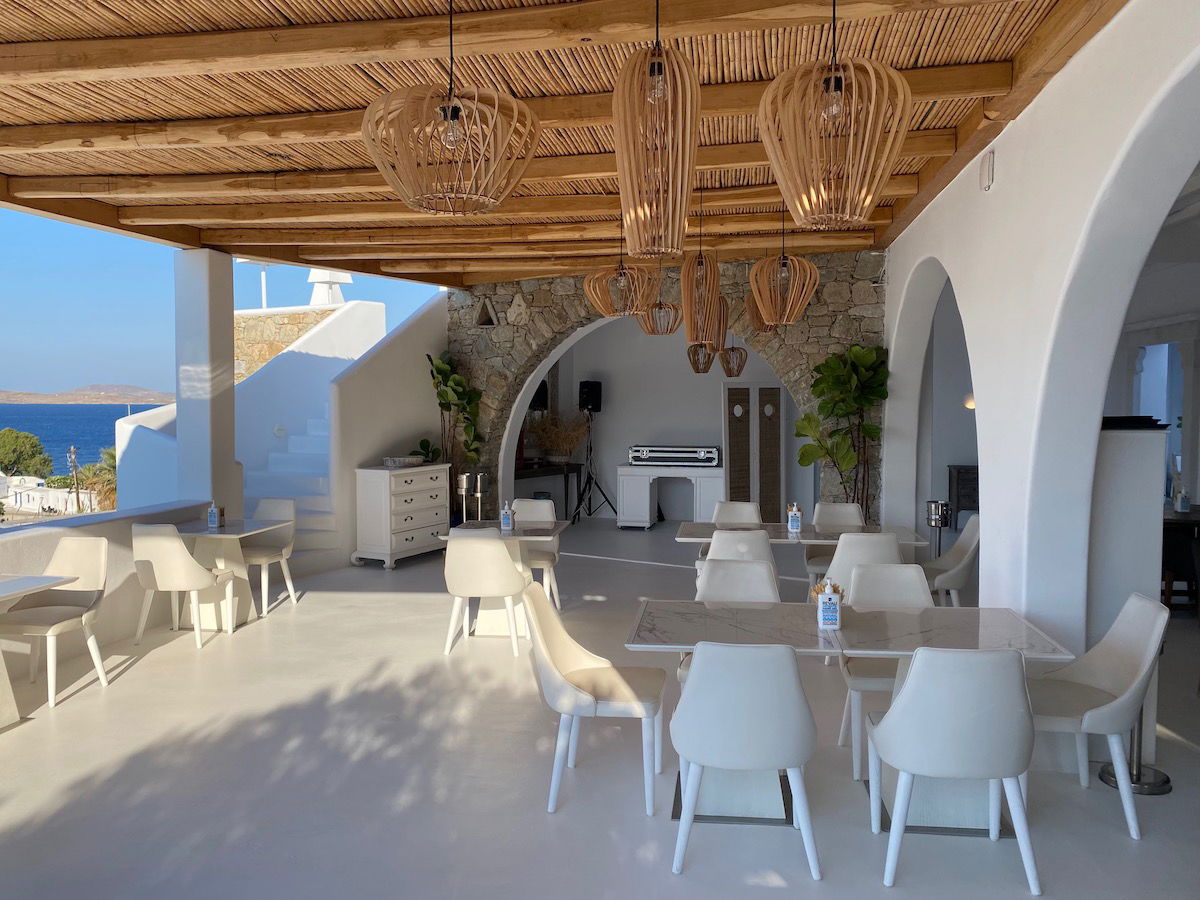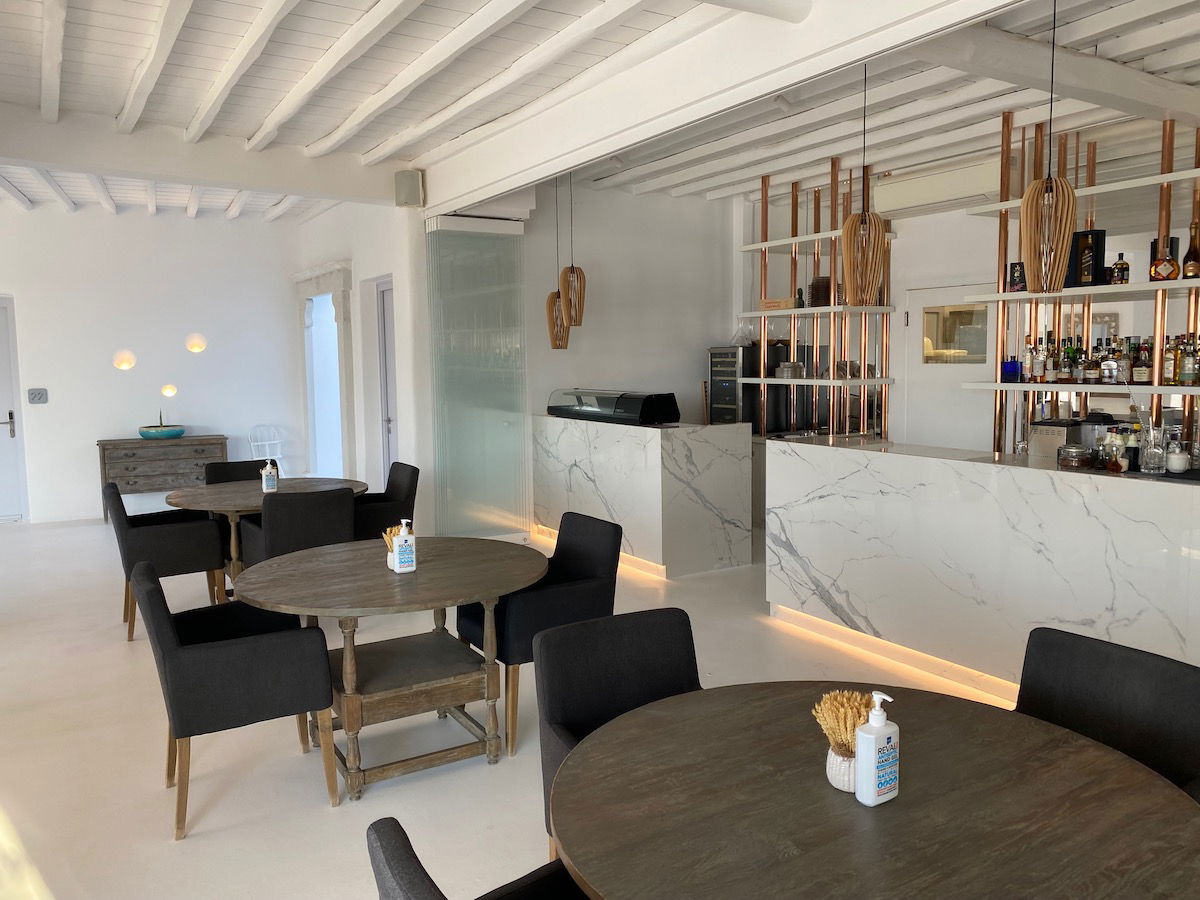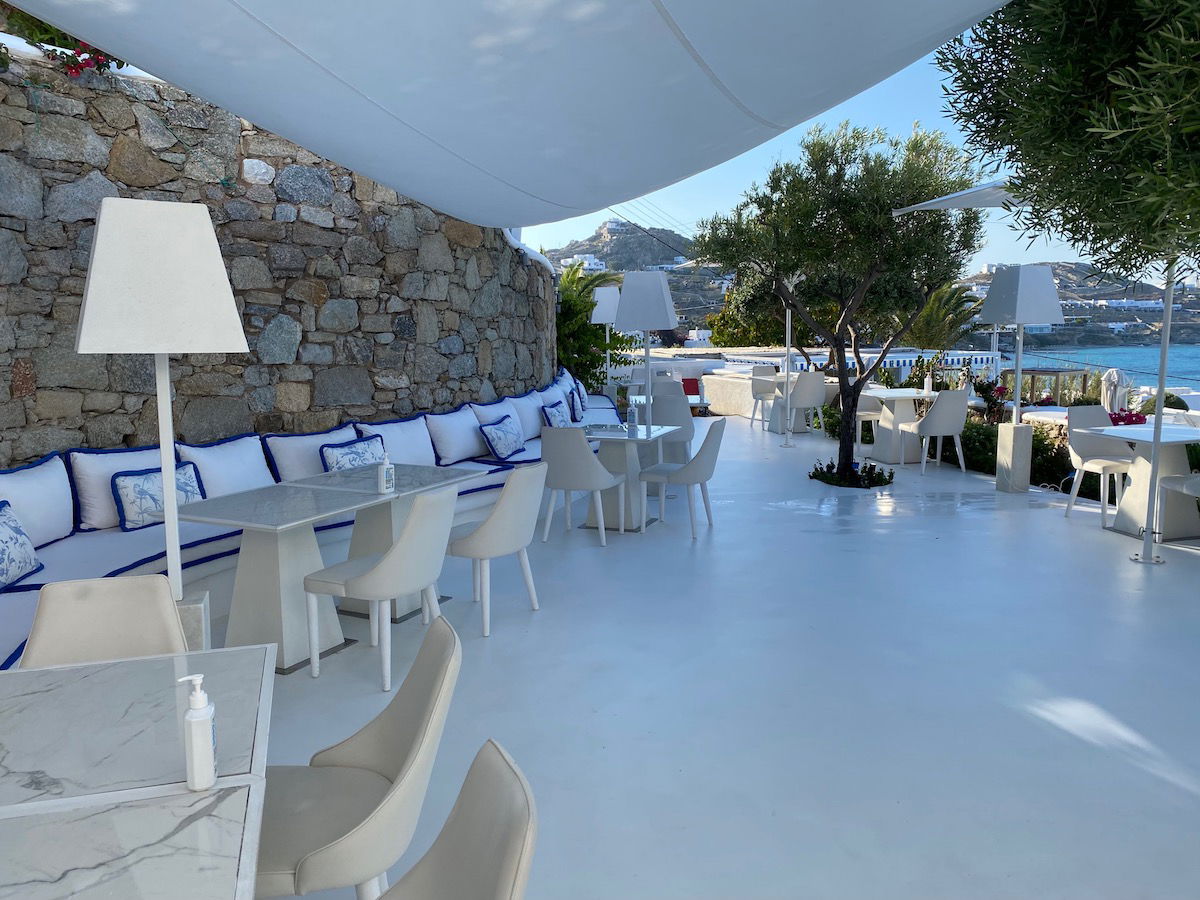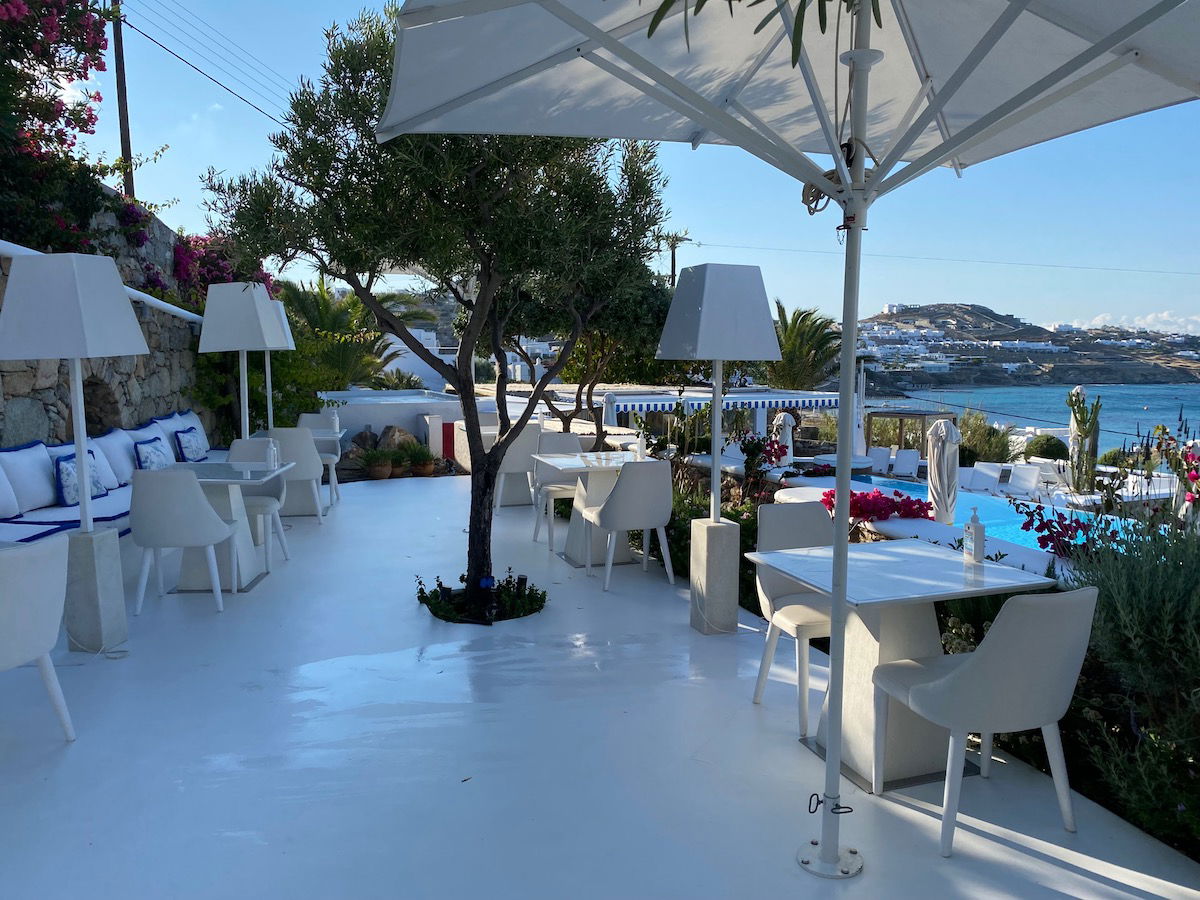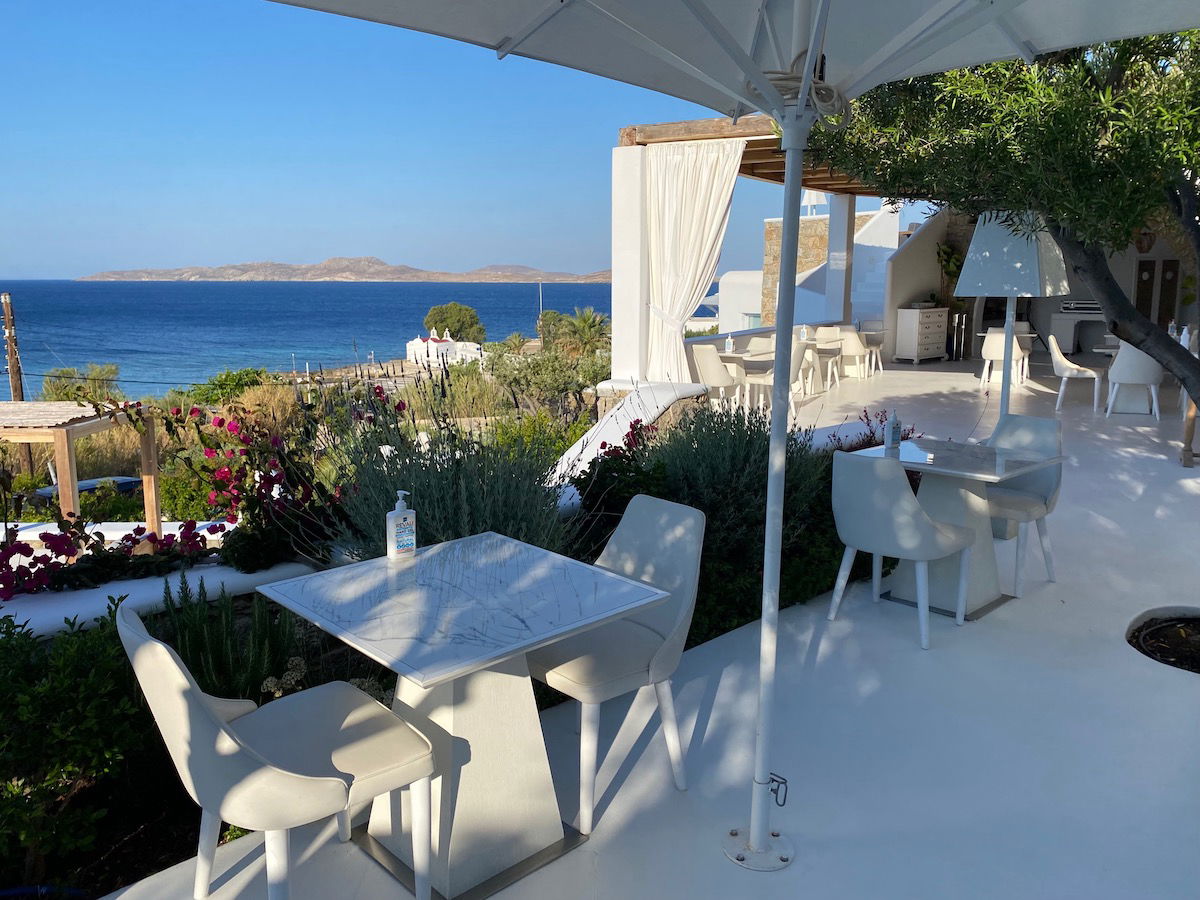 In the evenings the hotel had sushi on the menu, which was surprisingly good for Greece. We had this the first night, given we were placing a last minute order.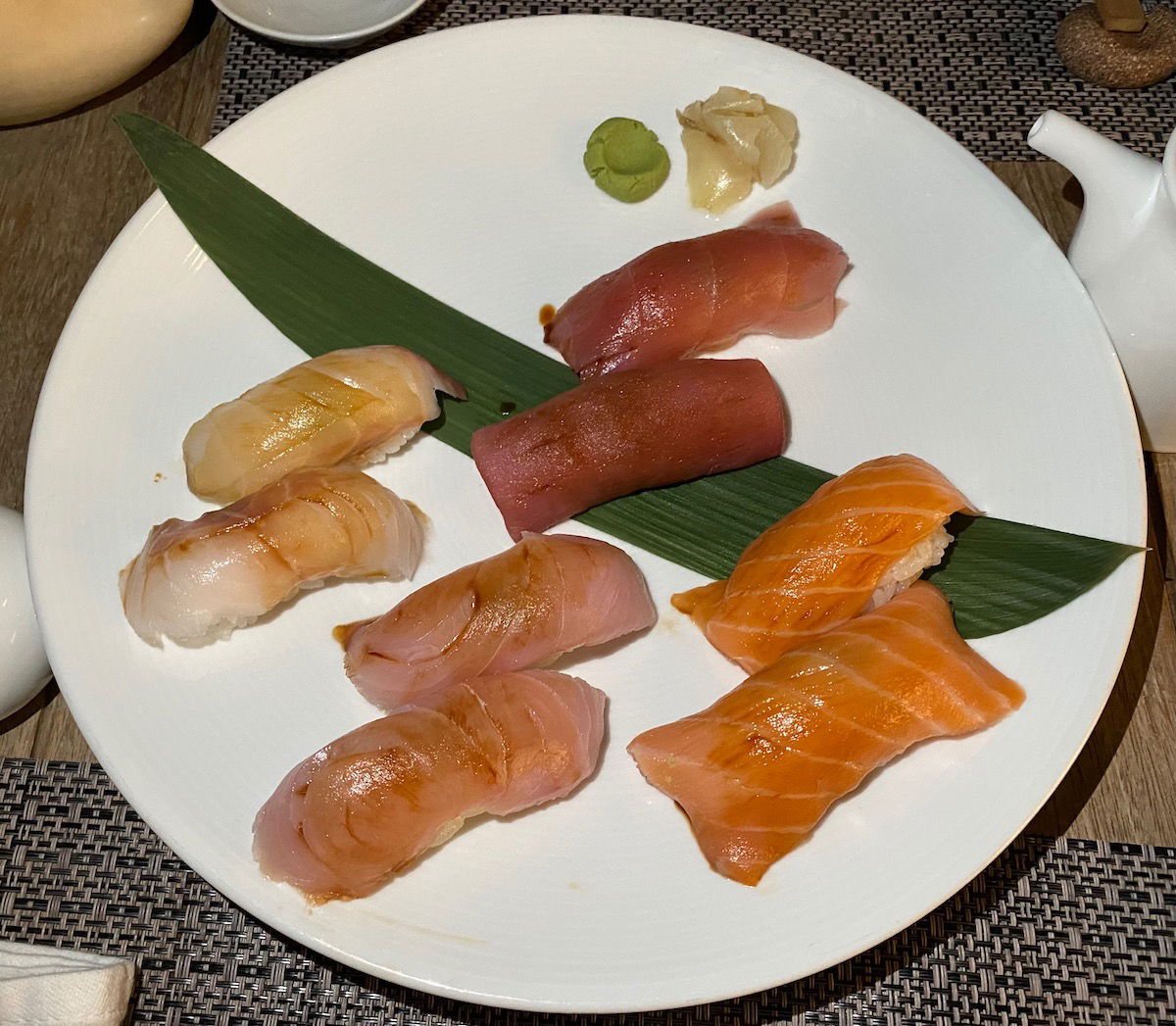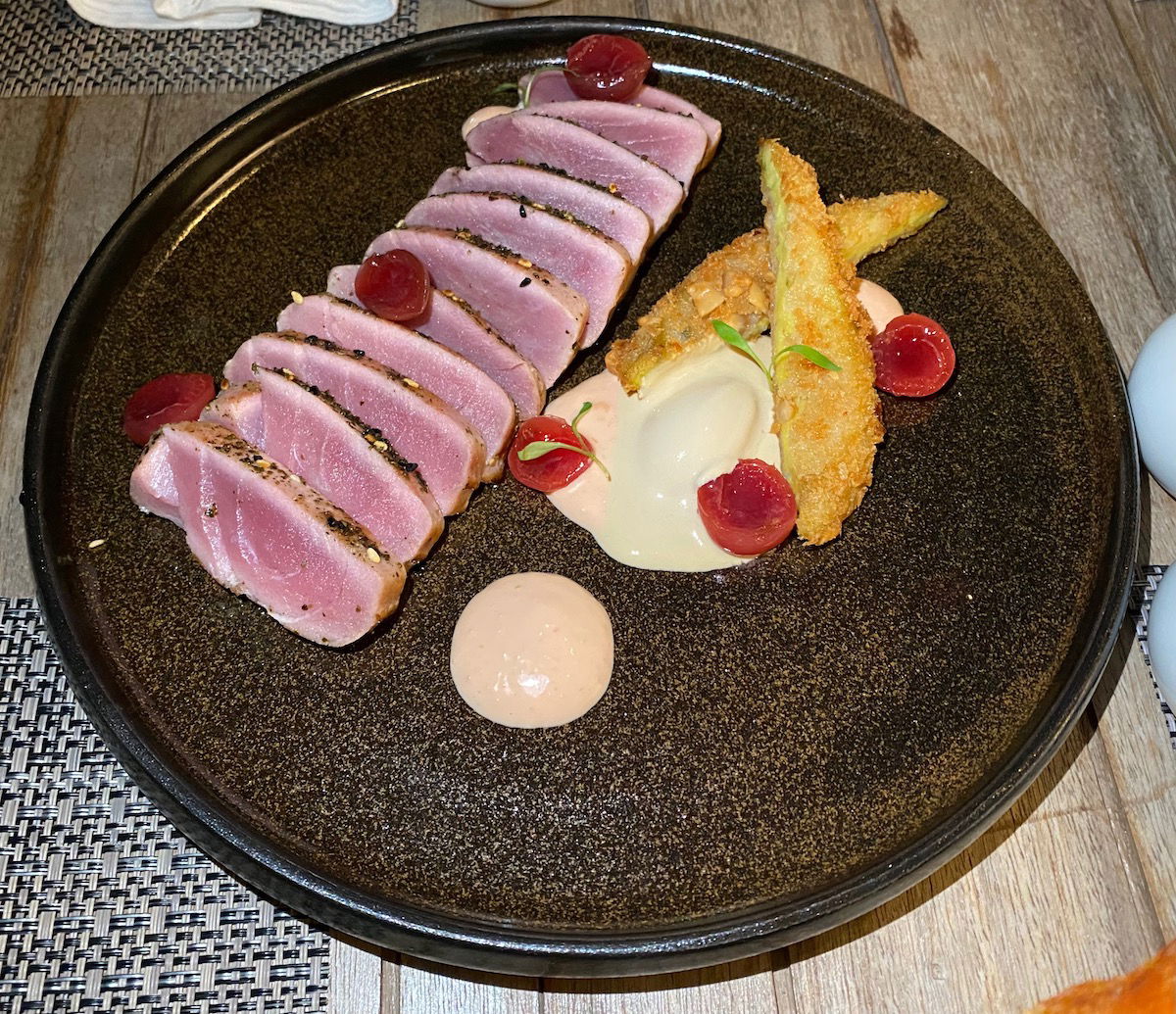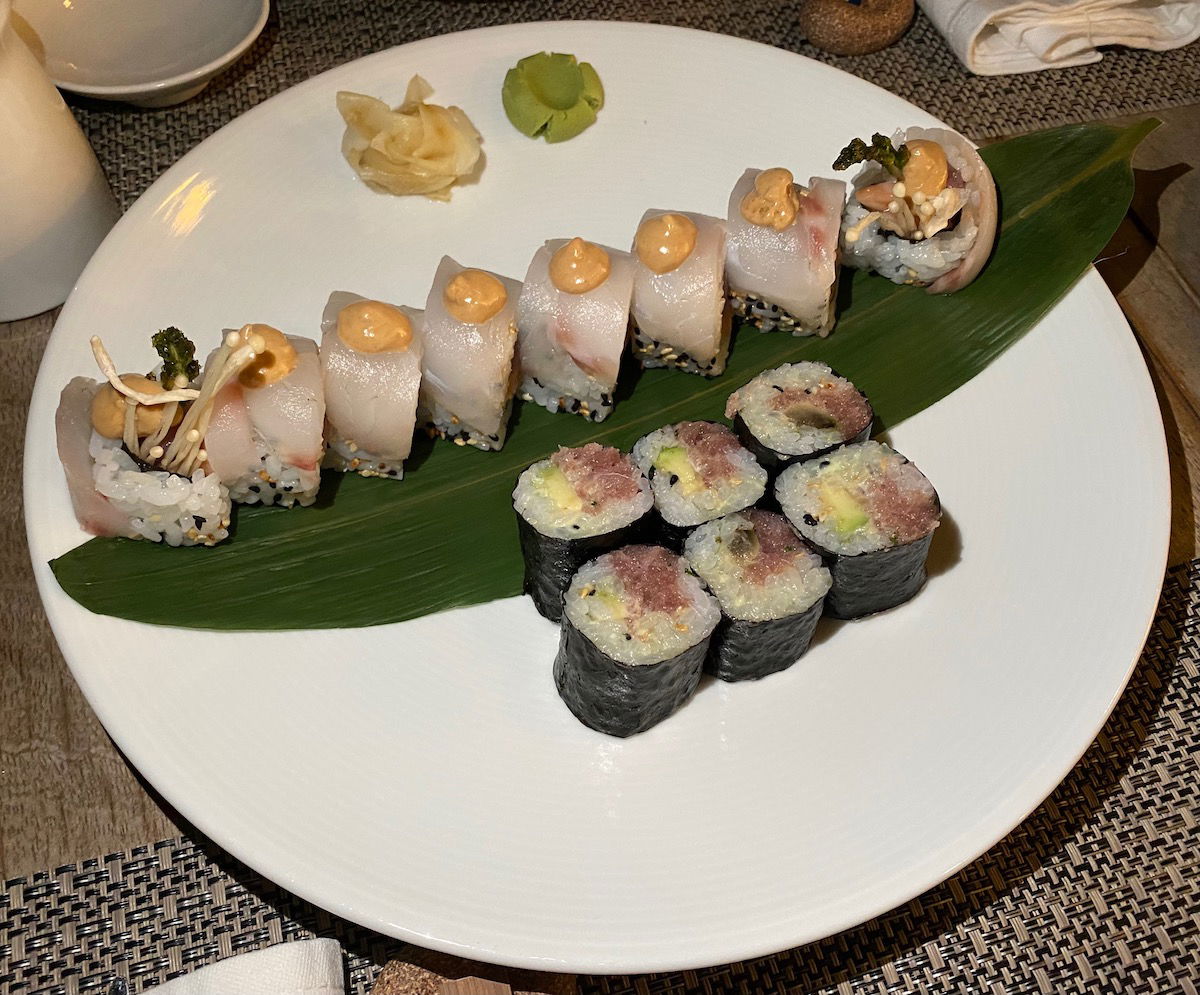 Katikies Mykonos breakfast
Breakfast at Katikies Mykonos was served daily from 8AM until 11AM, and is included with all rates. You can enjoy it either in the restaurant or via in-room dining, and you could order as much as you wanted. The menu read as follows: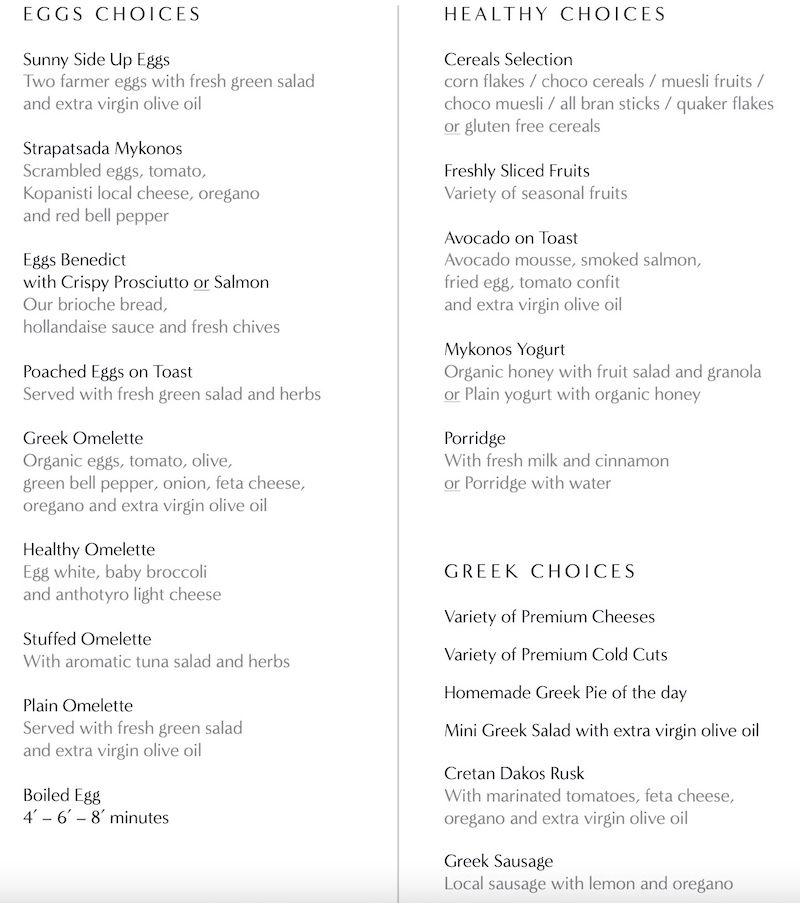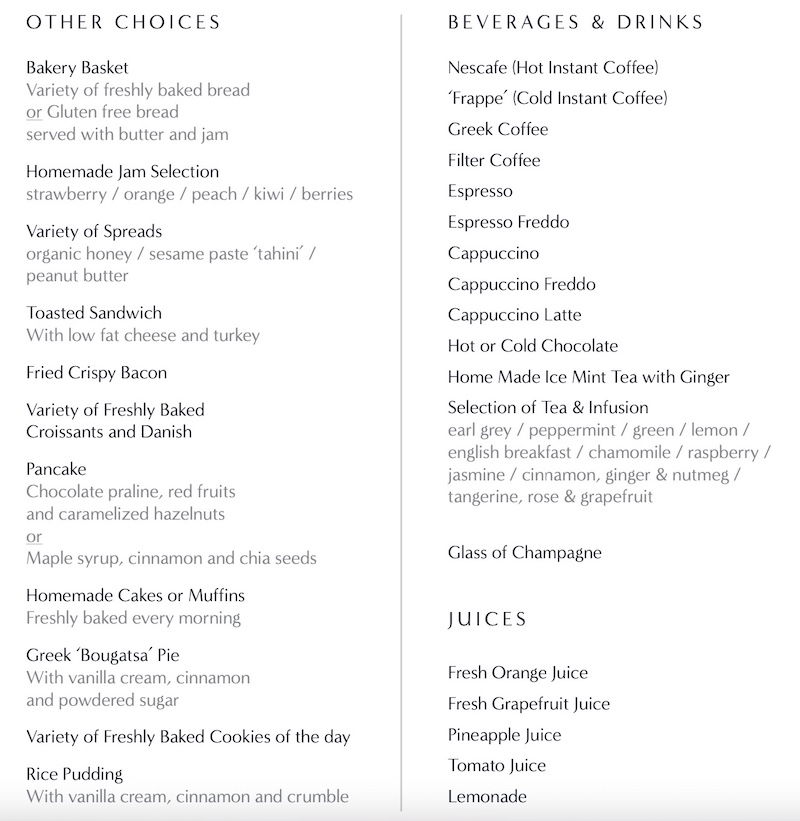 The coffee drinks were excellent, from the French press to the freddo cappuccino. In Greece I sometimes get up earlier than Ford, and the breakfast staff were accommodating in letting me sit at the restaurant for an hour or so drinking coffee, until Ford arrived.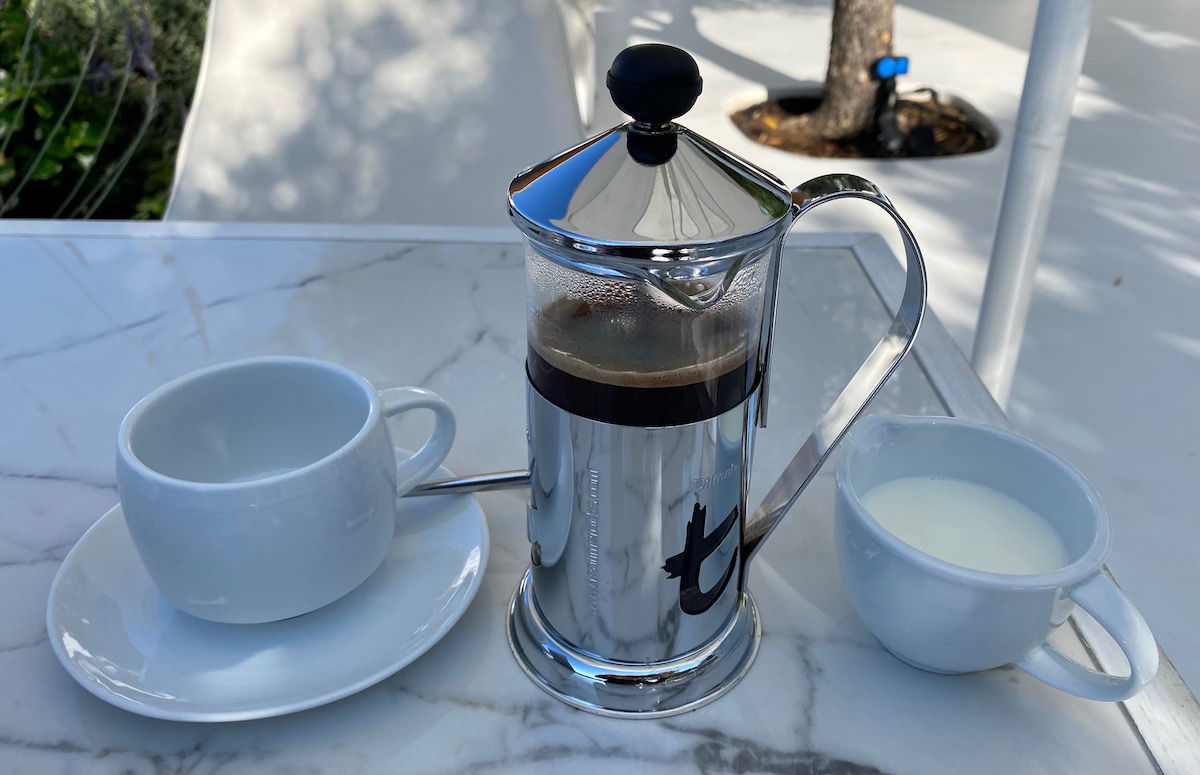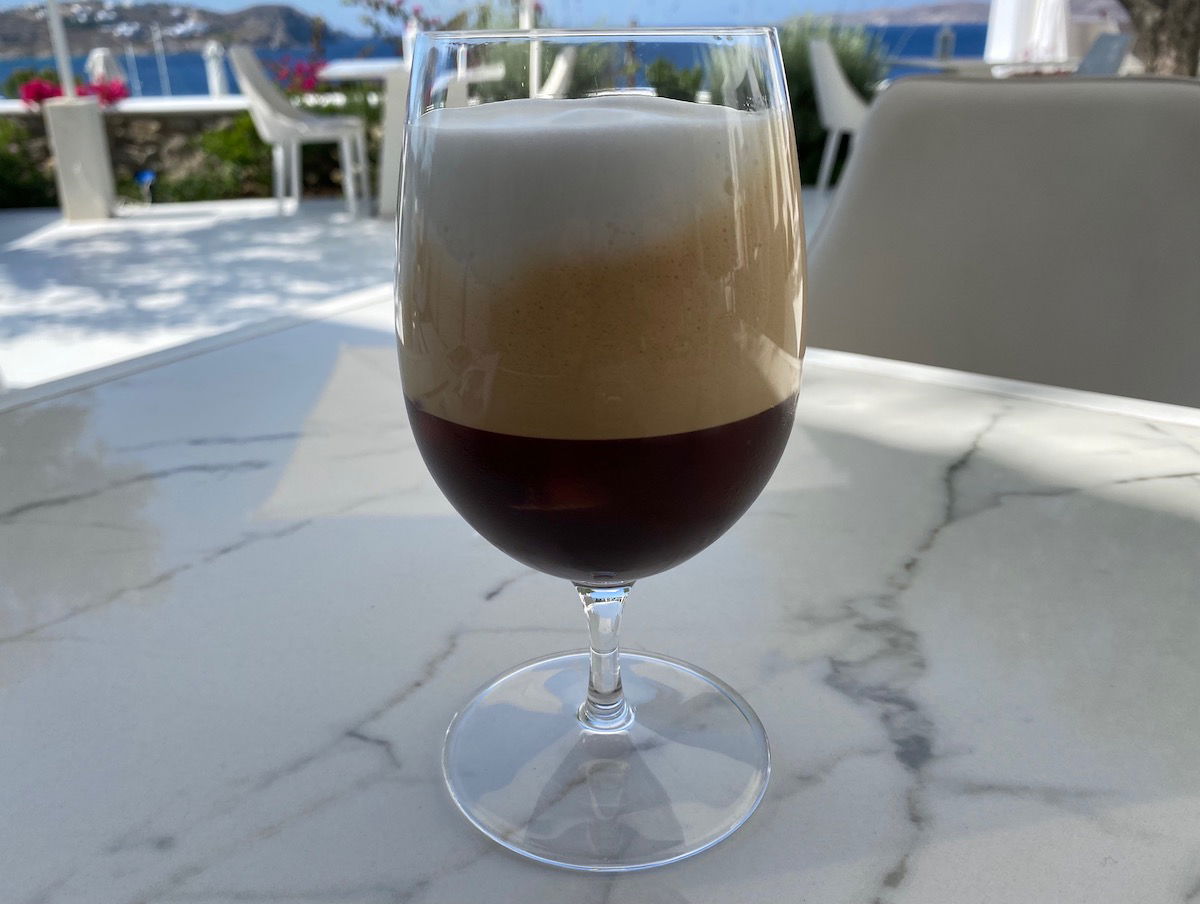 The breakfast menu was extensive. Over the course of our stay we had the yogurt with granola, fresh fruit, an omelet, Greek scrambled eggs, pancakes, and more.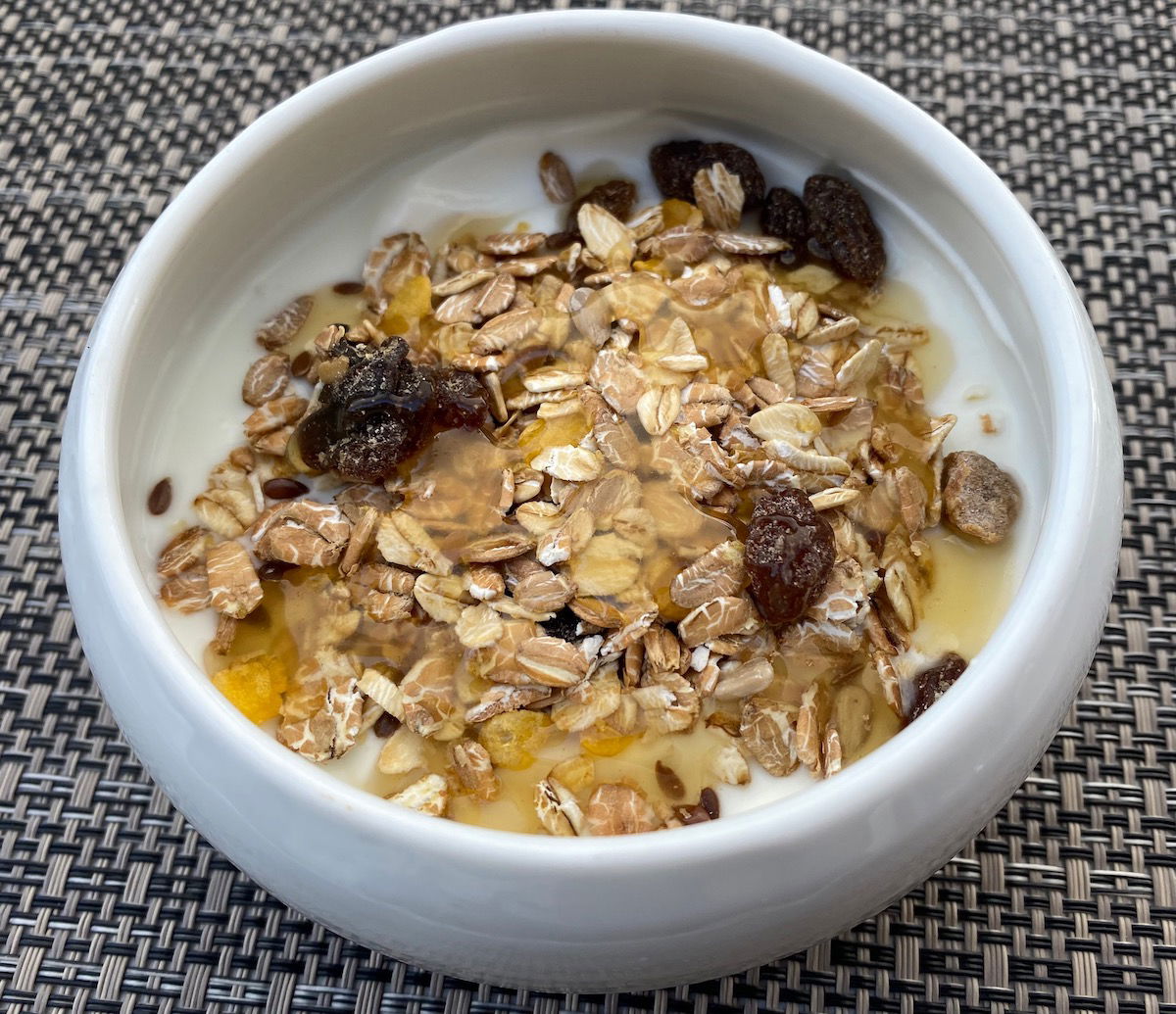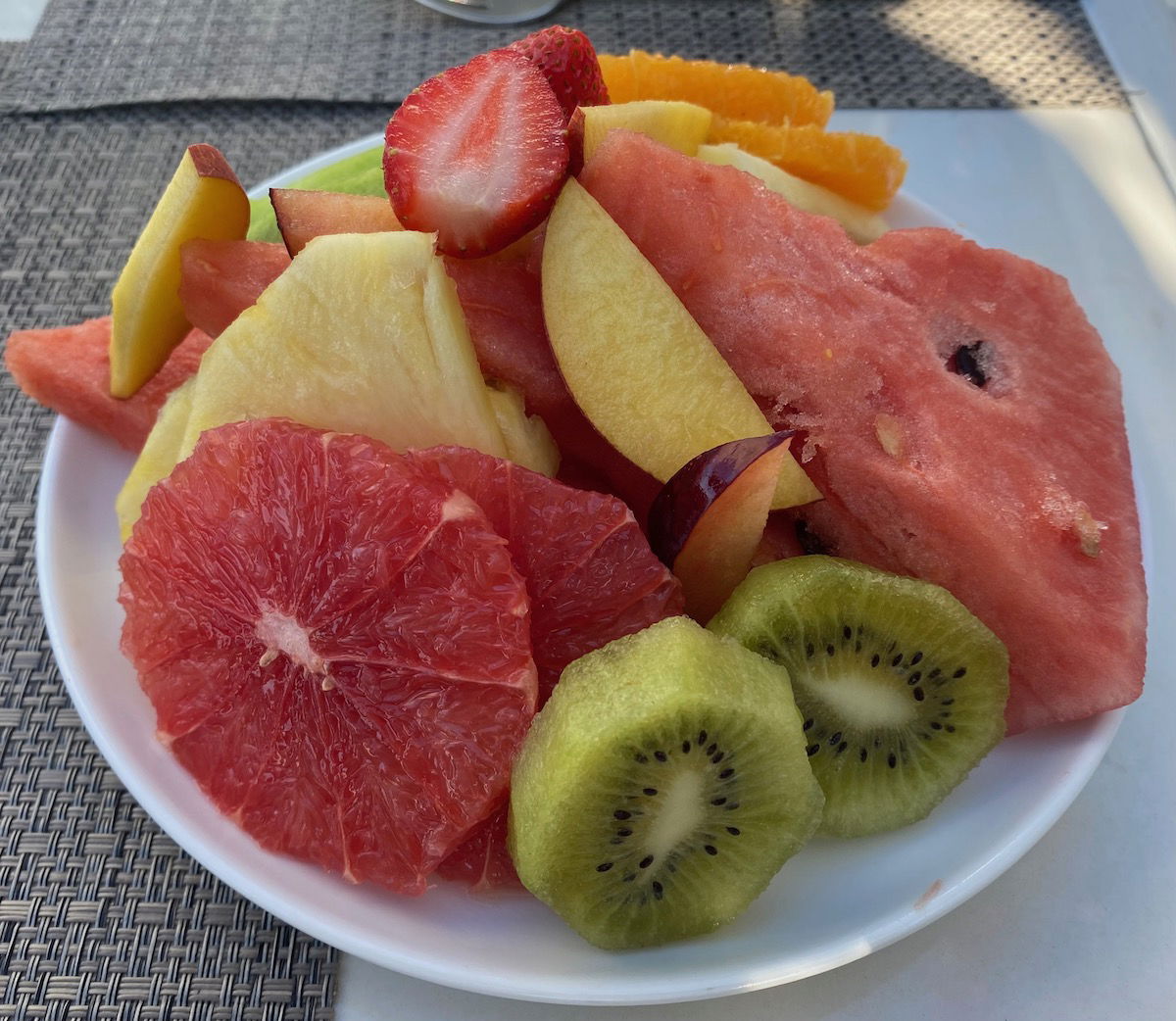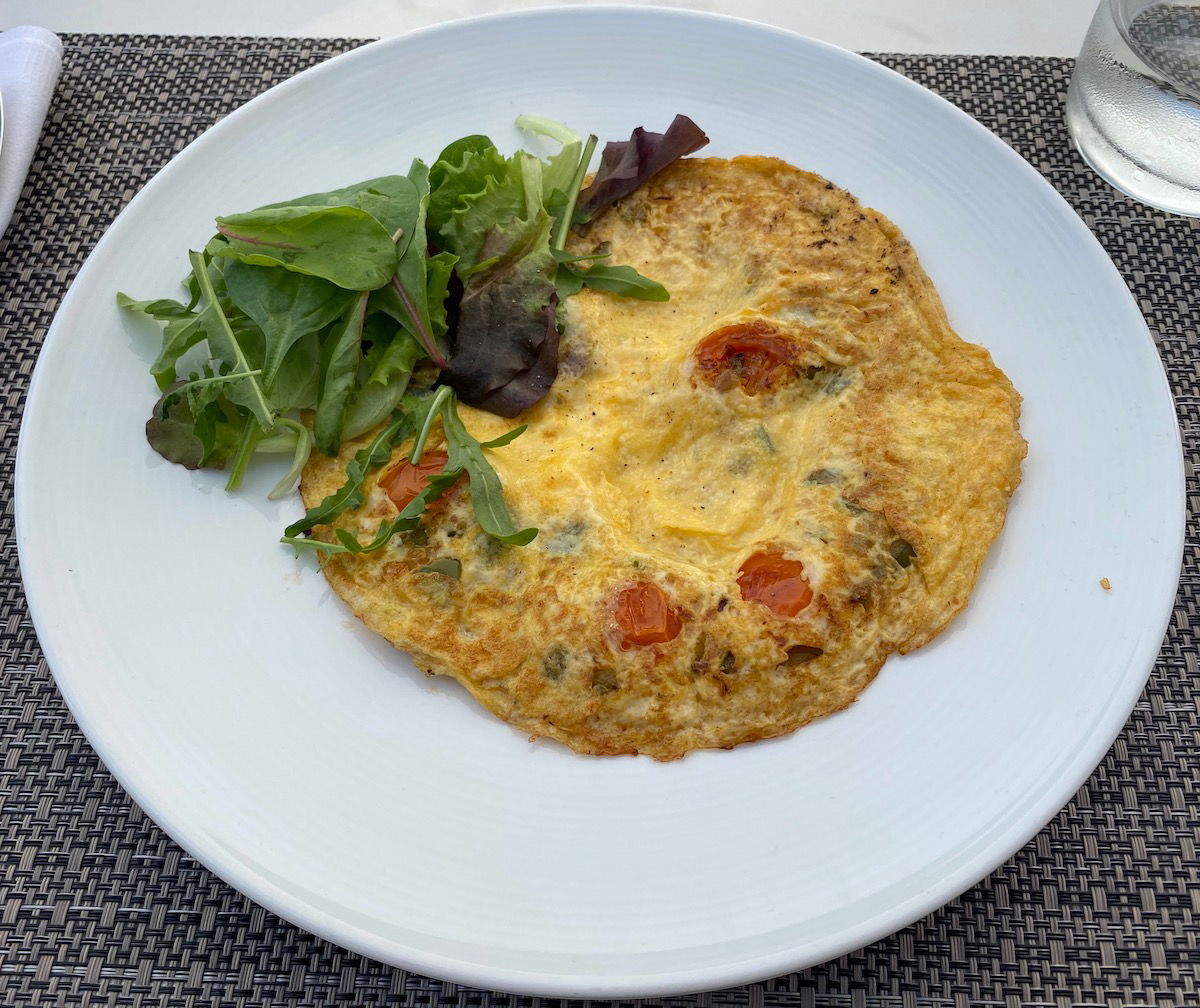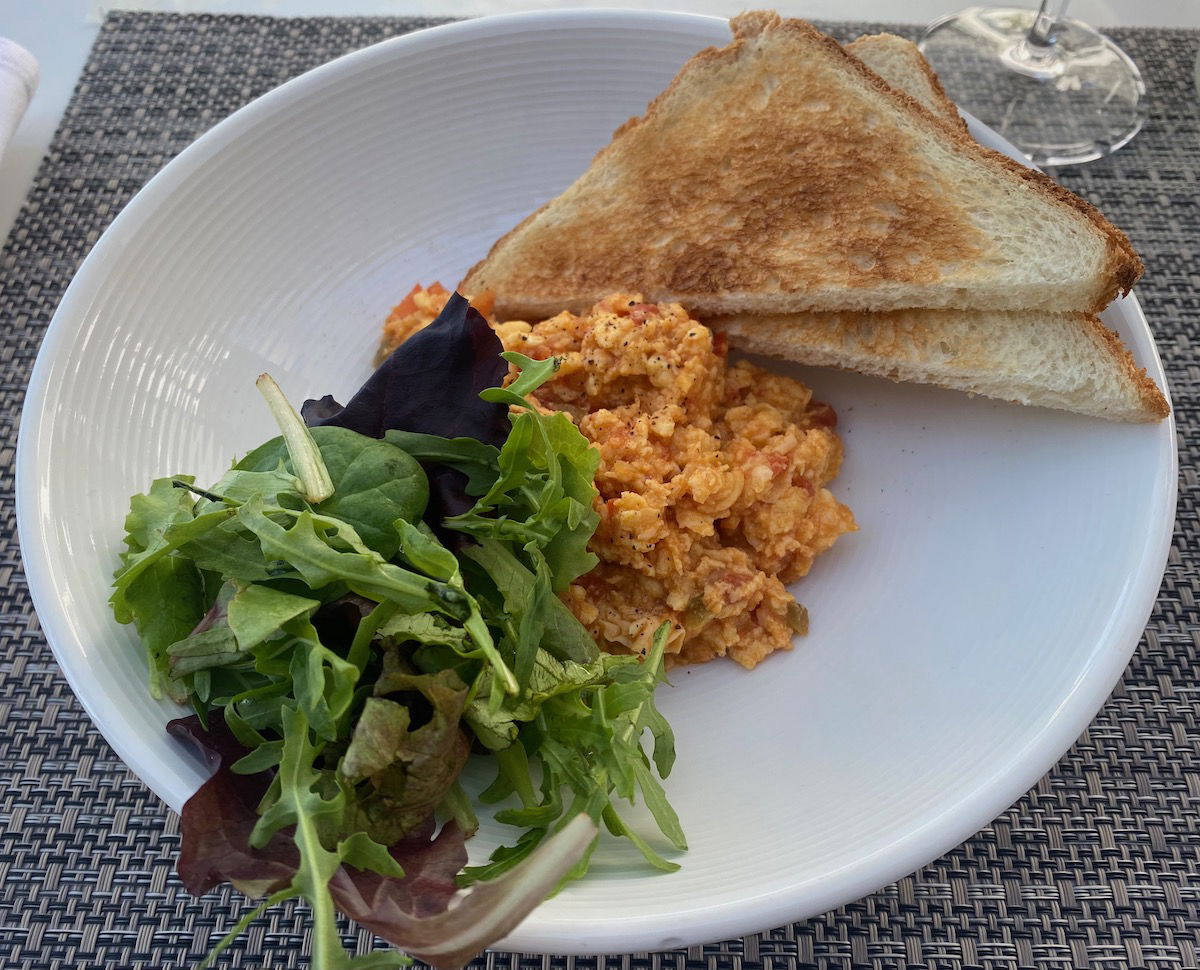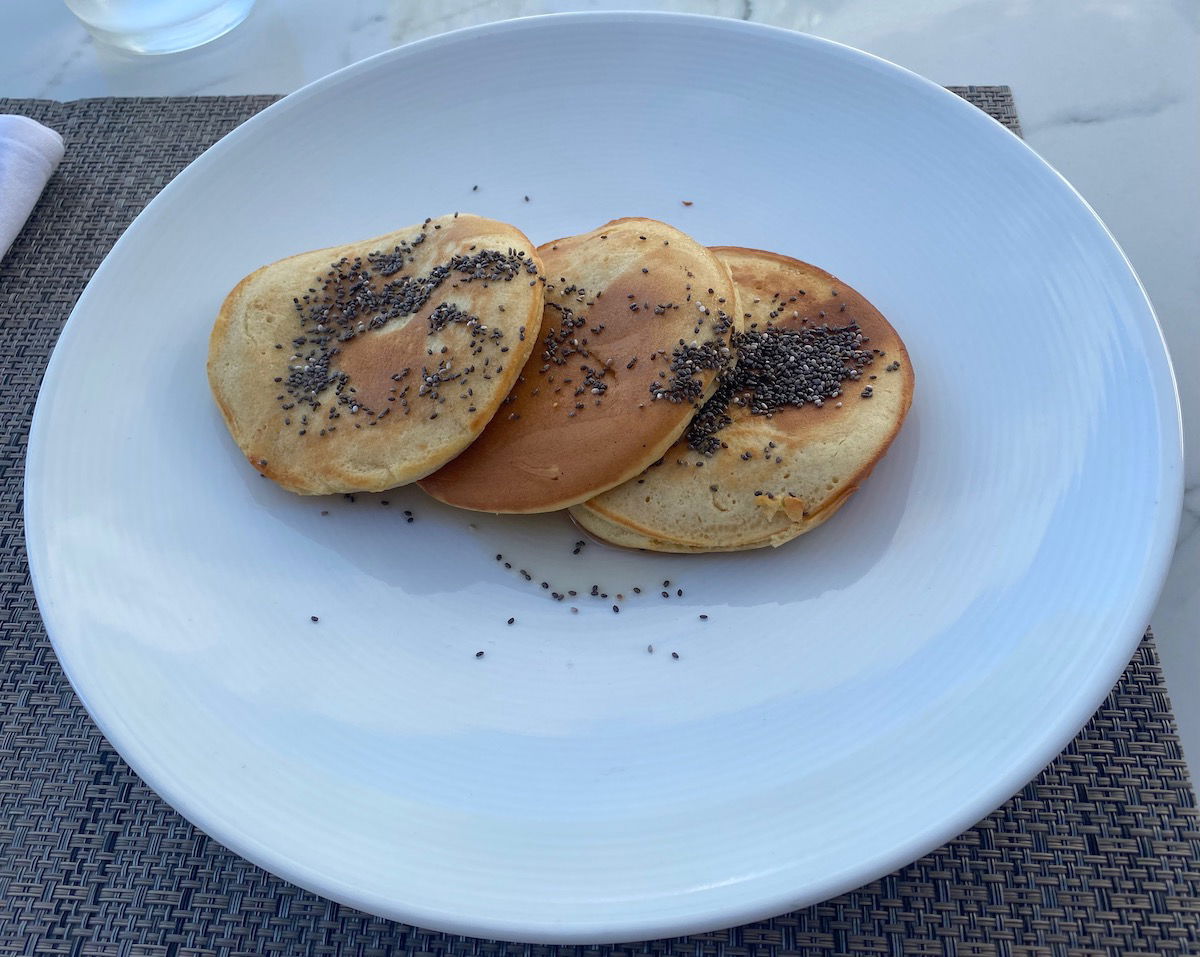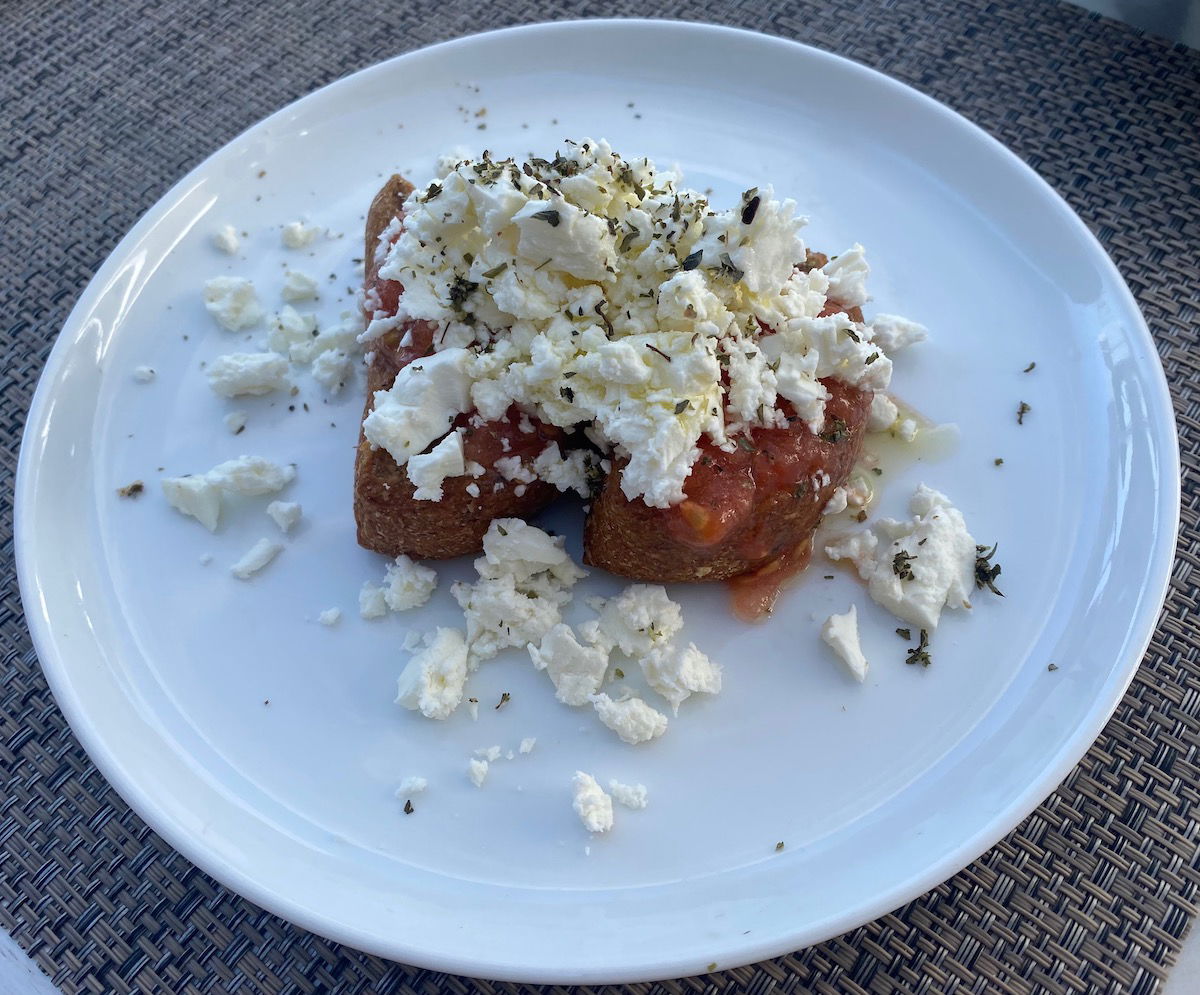 I'd say the breakfast was very good, though not quite to the level of Canaves Oia Epitome (which was out of this world).
Bottom line
While we only booked Katikies Mykonos very last minute and with little research, we ended up being really happy with our choice. The thing that stood out to me most at Katikies was the phenomenal service, which couldn't have been better.
I also loved the design and layout of the hotel, which made it feel to me more like a beautiful private villa than a hotel.
If I were to have any constructive criticism, it's that I'd say the food at breakfast wasn't that amazing, and that the hotel doesn't have a beach club (then again, not that many hotels in Mykonos do).
I'd highly recommend Katikies Mykonos if you're looking for a solid independent luxury hotel on the island.
If you've stayed at a Katikies property, what was your experience like?