In a previous post I reviewed our excellent American Airlines business class flight from Charlotte to London, as we were enroute to Greece. In that installment I hinted at how our flight ended on a sour note, so in this post I wanted to talk about what happened.
Specifically, we misconnected. Let me note upfront that this wasn't specifically anyone's fault — if you're a frequent traveler you just have to go with the flow and make the best of every situation, and there's no reason to get bent out of shape. For the most part it's a miracle how smoothly airline operations run, especially when you consider the complexity of it all.
Sometimes things go wrong. I think we just hope that it doesn't happen when we're taking a very special trip with our mothers on what's already a very long travel day. But we're blessed to even be able to take this trip, so in the end it was no big deal. I still wanted to share what happened, though, because it was almost comical how many things went wrong at once.
Our itinerary was probably too good to be true
We were flying from Tampa to Charlotte to London to Athens on a single American Airlines award ticket (with the last segment on British Airways), and then we had a separate ticket from Athens to Chania on Aegean Airlines.
It was a long travel day — about 27 hours door-to-door — but it seemed like the best option:
We could have spent a night at Heathrow (quarantining in our room) to split up the journey a bit, but there had been so many stories of horrible immigration lines (up to seven hours), and I didn't want to risk it with my mom
We were lucky in that our London to Athens flight was supposed to be operated by a British Airways 787-9, and I had managed to assign all of us first class seats, which would have been the swankiest intra-Europe flight ever
Our connection at Heathrow was scheduled to be 2hr10min, which I'd consider to be reasonable; ultimately I didn't want to plan a longer layover, since our journey was long enough as is
Unfortunately things didn't go quite as planned…
First our jet bridge broke…
The winds weren't working in our favor across the Atlantic, and despite an on-time departure, we ended up landing about 20 minutes late. We still had 1hr50min, which should have been more than enough time. After all, we were already at Terminal 5, and I could even see our connecting plane in the distance!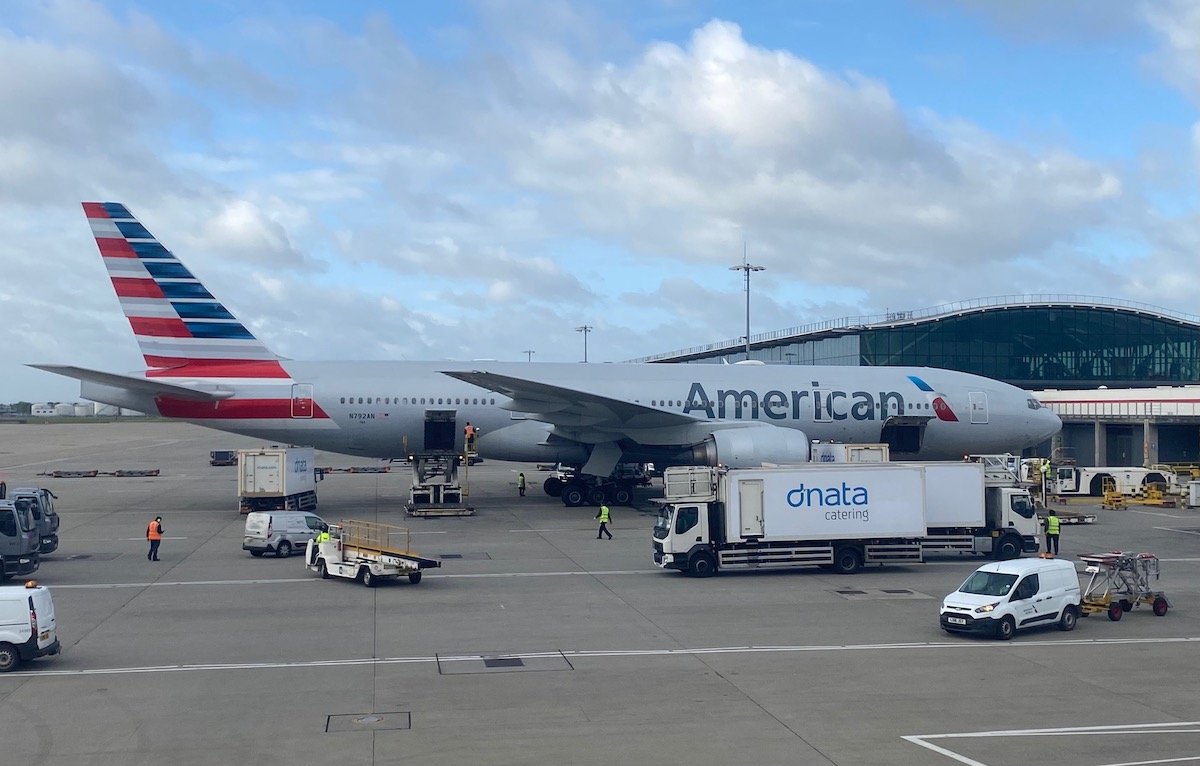 View as we pulled into our gate at London Heathrow
The seatbelt sign turned off and we waited for the jet bridge to approach the plane, but… it didn't. For about 10 minutes the jet bridge just didn't move, at which point the captain announced there was a problem with the jet bridge, and that they're working on fixing it. He said it should hopefully be no more than 15 minutes.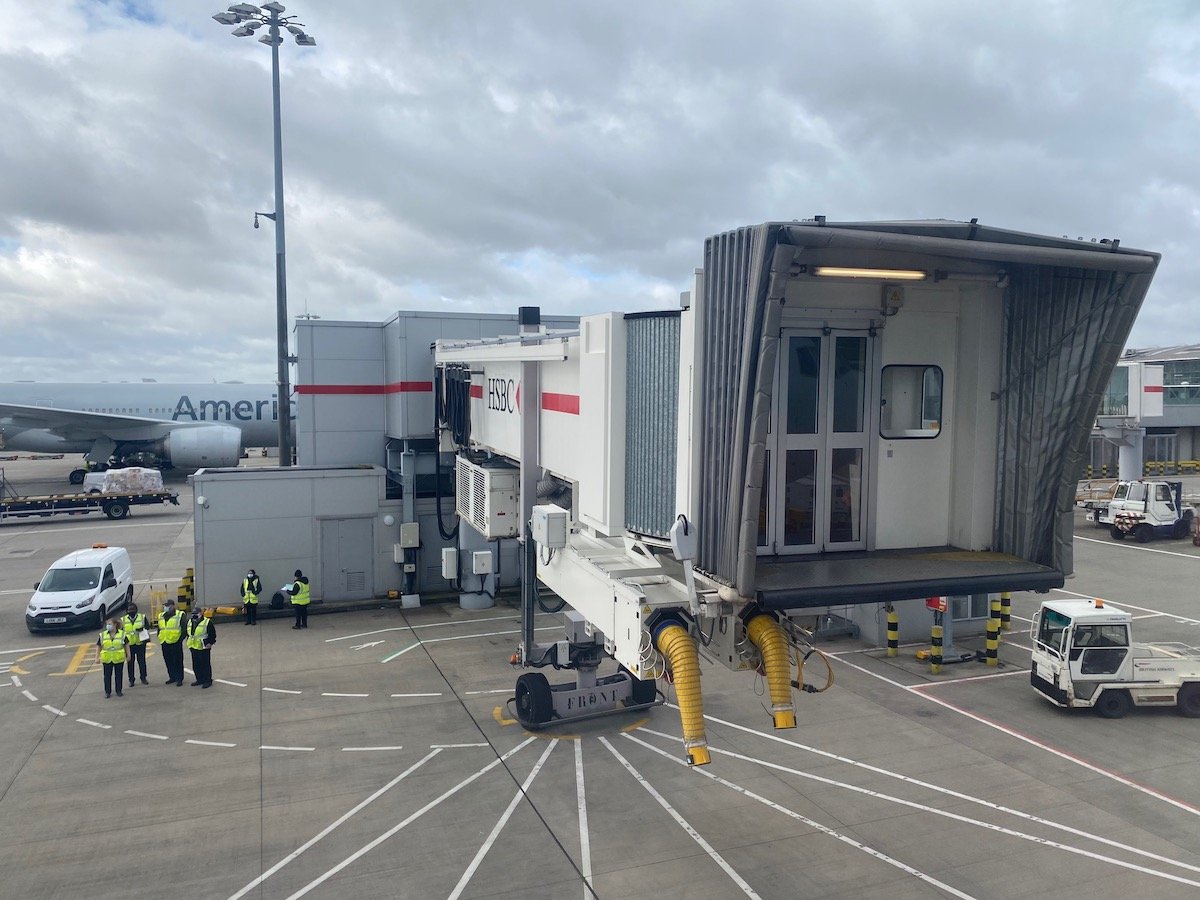 Our uncooperative jet bridge
At that point the captain updated us that it was determined that the jet bridge was actually broken. He explained that they'd get stairs and buses, and would be deplaning us via the rear of the plane. I'm not sure I get how that's more efficient than just pushing back and going to a different gate (presumably they have some spares right now, and that would also solve the issue of boarding the plane when it departs again), but whatever.
Suffice to say that it was a total cluster. About 20 minutes later some buses showed up, though there were still no stairs.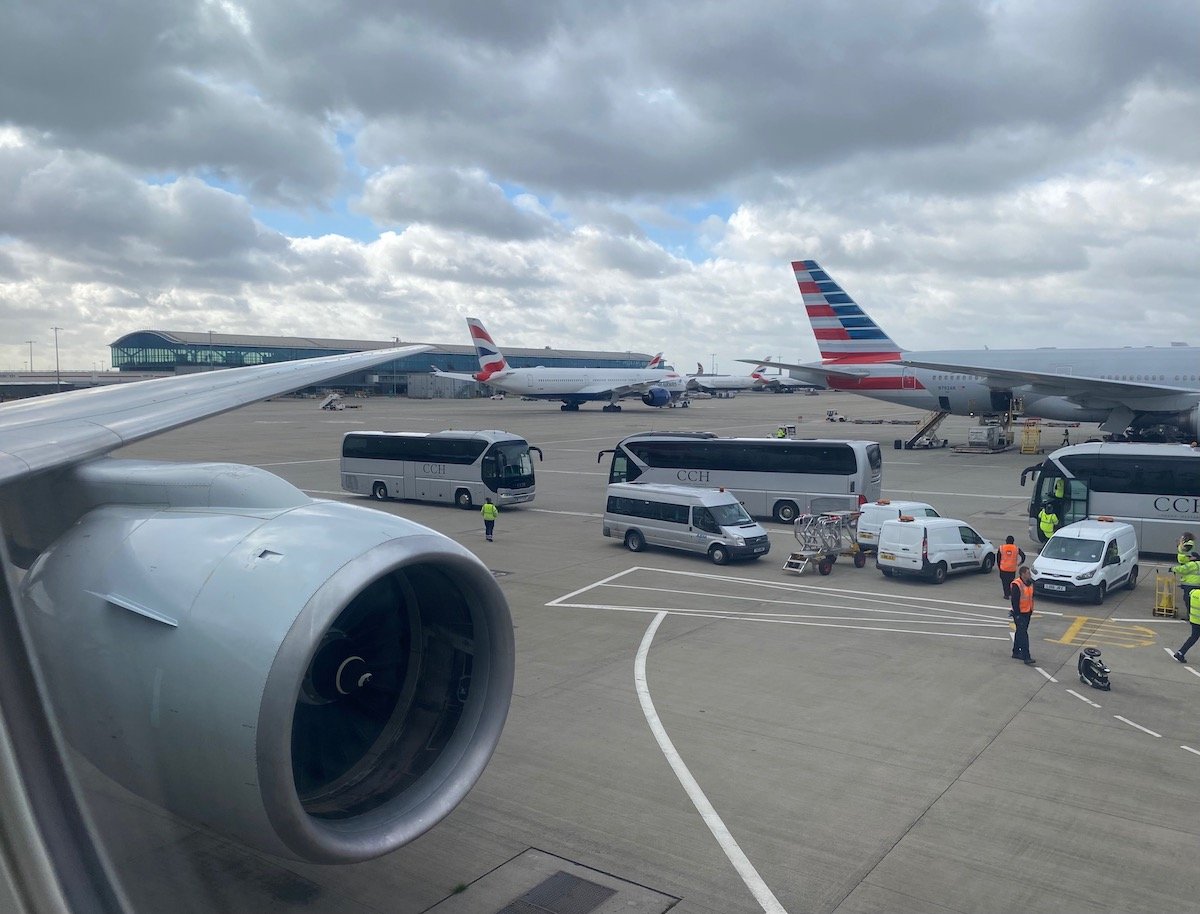 We see you, buses!
Then it was another 20 minutes until they brought out stairs. At this point we had been sitting at the gate for about an hour.
Finally they started putting people in buses to the terminal, but they were limited to roughly 20 people per bus to allow for distancing. Since the stairs were at the rear of the plane, we were on the very last bus. That took another 40 minutes.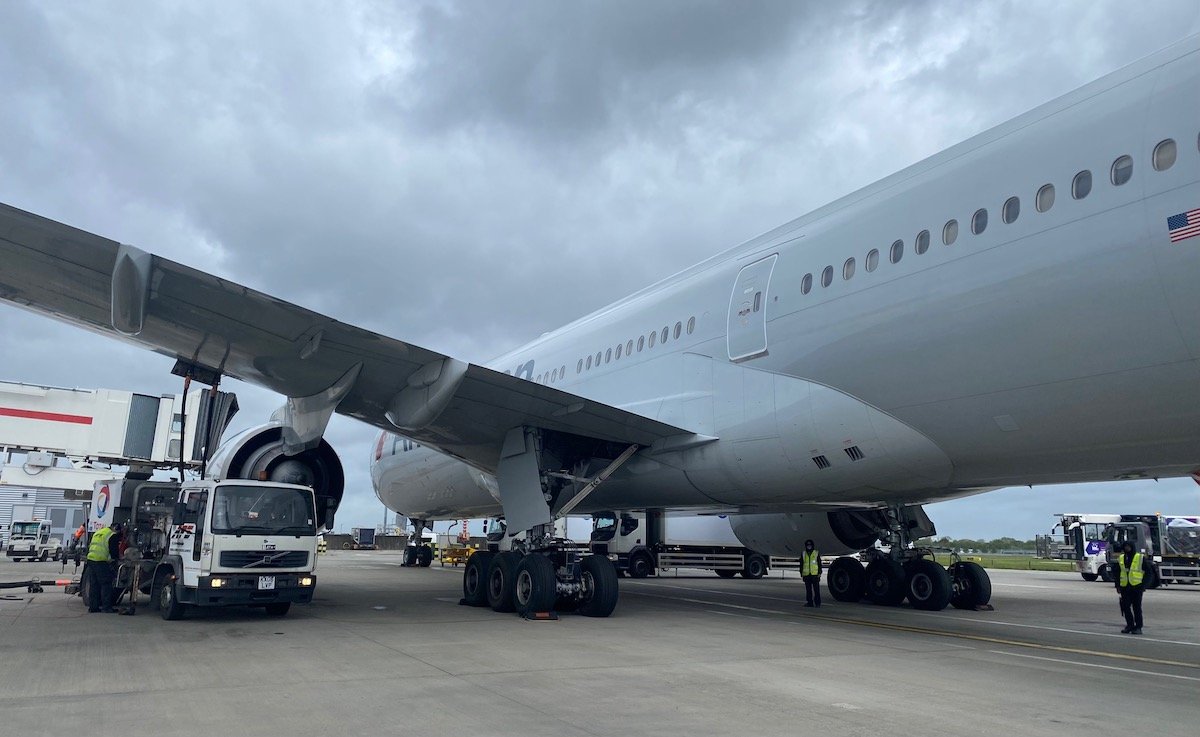 Usually I'd think this is a pretty cool view
Individually everyone was doing what they could, but the collective incompetence and lack of coordination among the ground crew was kind of incredible (and there's no point in even detailing that).
We ended up getting to the terminal around our scheduled departure time to Athens, so unfortunately we had misconnected. We headed to the transit desk, where the next round of fun started…
Then American Airlines' systems were down…
We headed to the British Airways transit desk at Heathrow Terminal 5, and explained we had misconnected and needed to be rebooked. The agent was friendly and tried to be helpful.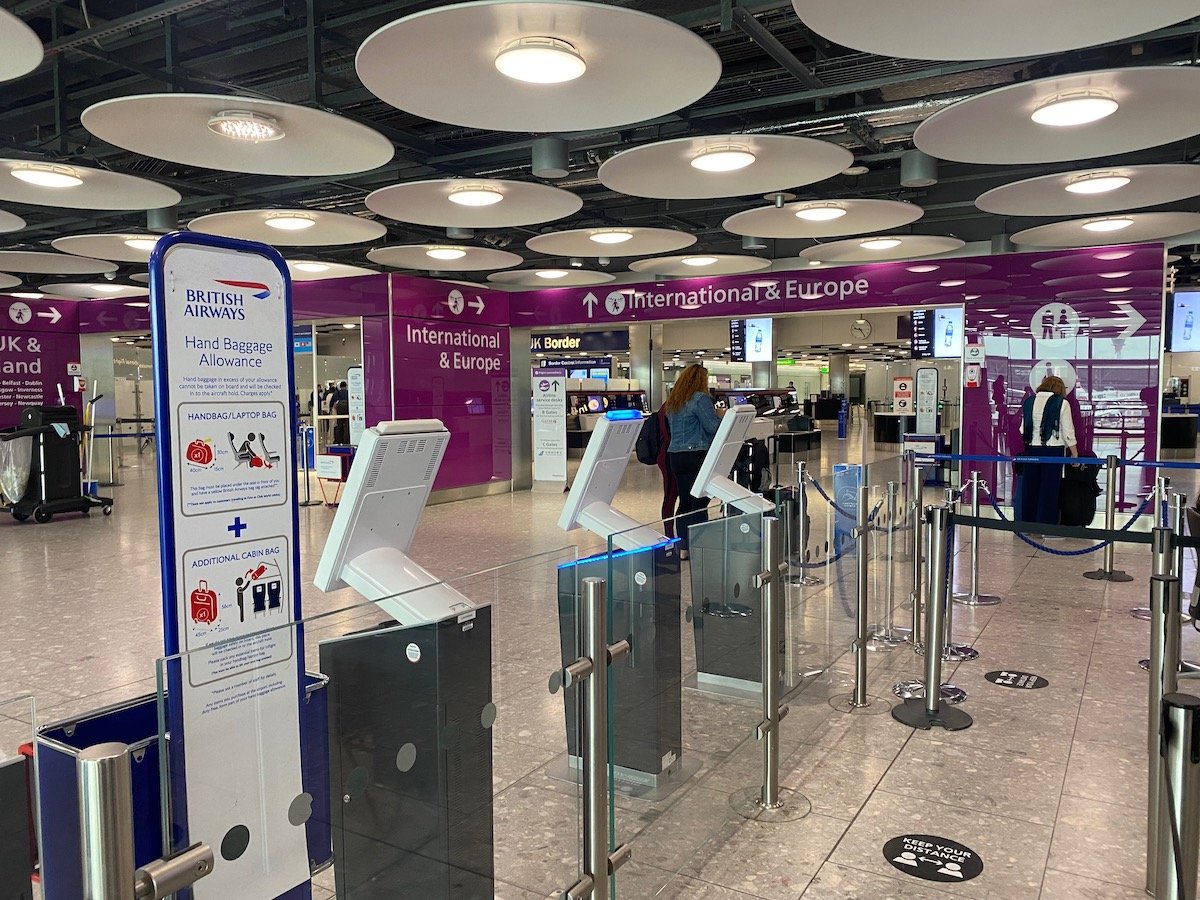 Heathrow Terminal 5 transfer desk
After he typed for a few minutes, the conversation went something like this:
British Airways agent: "Oh, you're on an American Airlines ticket? Well you'll have to go and see them. But their systems have been down for over an hour, so you may have to wait a bit."
Me: "Do you know when their systems will be working again?"
British Airways agent: "We don't know. But you can have a seat and they can come and get you."
Me: "But couldn't you help rebook us since this segment is on British Airways, and you also have a joint venture with American? I know it's not your fault, but I thought the whole point of the joint venture was to create a seamless experience for customers, and this… isn't."
British Airways agent: "I wish there was something I could do, but you'll just have to wait."
Me: Is there any chance you could at least try to protect us on the next flight until American can reissue the ticket, so that we can be sure we can get to Greece today? We have a connecting flight from there on a separate ticket, and I'd like to rebook that as well."
British Airways agent: "Let me see what I can do. Just have a seat over there."
Me: "I really appreciate that you're trying, again, I know it's not your fault. Thanks for your help."
Great, we misconnected, and American's systems had been down for an hour and they didn't know when they'd be back up. At least the agent was nice, compared to one of the other agents who was dealing with a passenger who was on our flight, who dared to book a British Airways connection on a separate ticket.
The British Airways agent literally laughed in the customer's face when he asked about being rebooked on the next British Airways flight:
"Ha, you think we're going to reimburse you because you decided to book two tickets? No, I'm going to tell you what's going to happen, you're going to be paying us for a new ticket!"
Anyway, we sat down on the floor in the transit area (since there's barely any seating), and about 30 minutes later the British Airways agent found us and told us he was able to get us rebooked since American's systems were still down. I thanked him for his help, because he could have just taken the "not my problem" approach, but he didn't. It pays to be nice to frontline workers.
Then there was an Aegean rebooking adventure…
I had intentionally booked us flexible tickets on Aegean Airlines from Athens to Chania, in the event of a misconnect. Suffice to say that came in handy. While sitting on the floor at the Heathrow transit desk I started trying to rebook our flight on Aegean, since I saw the last flight of the evening had just three seats left for sale.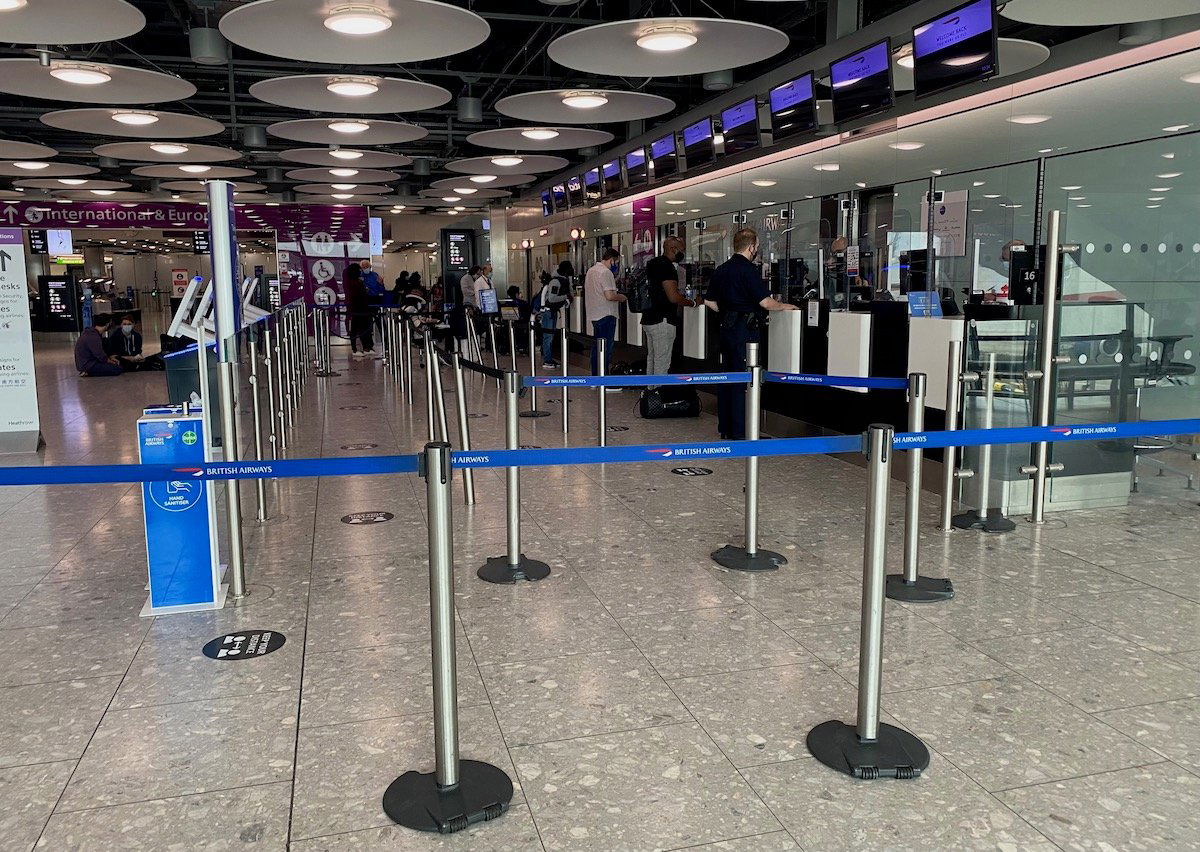 Our transit desk view while waiting
Aegean's website claims you can easily make changes online, and I was pleasantly surprised when with just a few clicks I was able to rebook us on that flight and even issue boarding passes. Well, at least I was impressed until I saw "standby" written on the boarding passes, which isn't what we were hoping for. The previous page made it seem like it would be a confirmed change.
I phoned up Aegean in hopes of an agent being able to help. After being on hold for over 30 minutes, the (friendly) agent claimed there was a "technical error." She said she was on the other line with the "technical department," and asked if she could call me back in a few minutes. Wow, a call back? That's awesome service, and something I wish more airlines would do!
Unfortunately over two hours later I hadn't received a call back (despite being told it would be minutes), and our reservation still didn't reflect the change. I called again, spoke to someone else, and explained the situation. Again, he promised to call me back after speaking to the "technical department."
Since we were about to board our flight, I was almost ready to just book a new itinerary altogether, because the risk was too great. Three new tickets cost less than the night we'd forfeit at our hotel if we wouldn't make it to Chania that night. He assured me the tickets would be reissued, and sure enough, when I went to check-in at Athens Airport, we were confirmed on the flight, even though the reservation wasn't updated online. Whew.
I'm happy it was confirmed, because the flight ended up being oversold, and they were begging for volunteers.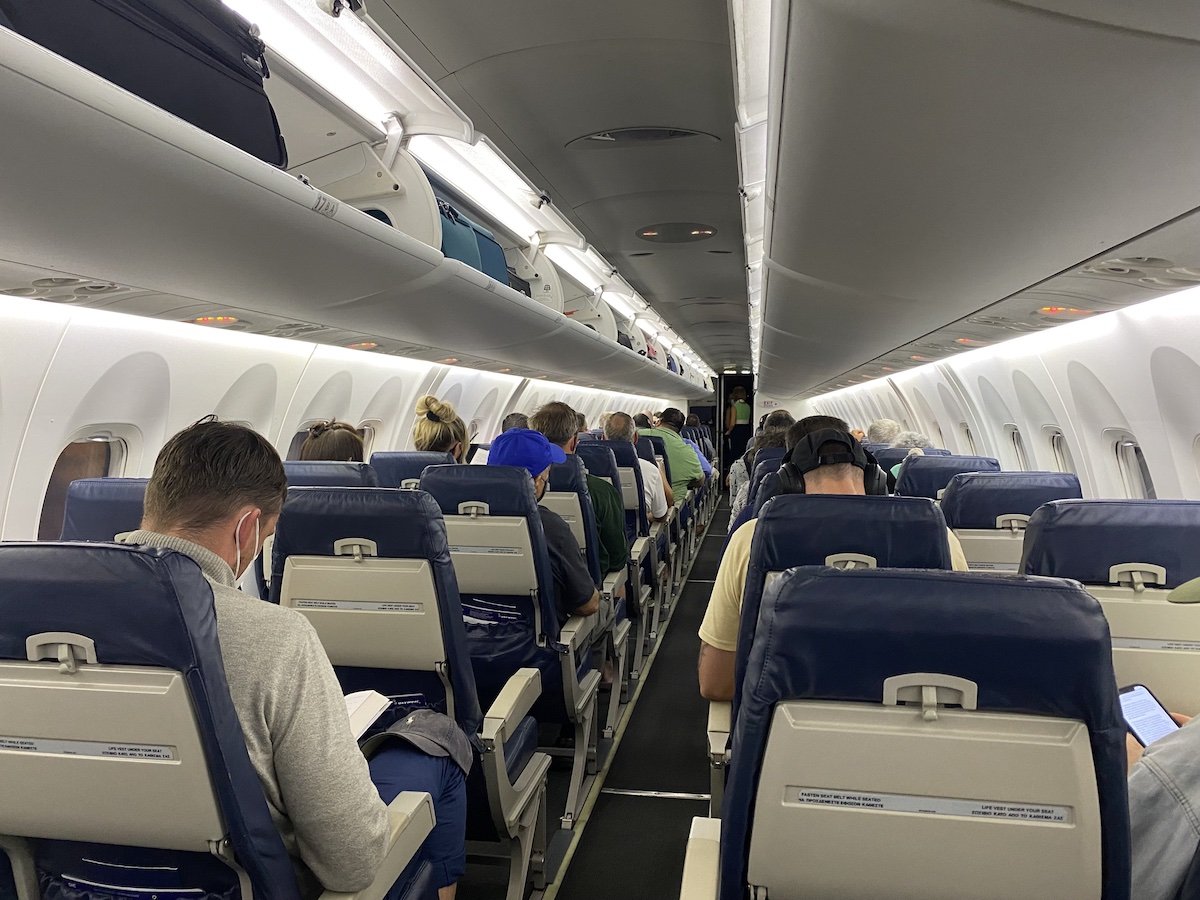 Flying within Greece isn't particularly fun!
Bottom line
If you travel enough you'll no doubt run into some operational issues, which is to be expected. I think we all hope that our "special" trips aren't the ones that have these issues, but sometimes that's just how stuff works out.
In this case we misconnected at Heathrow due to a broken jet bridge, and it took about two hours for everyone to be deplaned. Stuff didn't get much better once we were off the plane, from American's systems being down, to Aegean being terrible about rebooking.
Fortunately my mom was a great sport, and we're lucky that we still made it all the way to Chania the same day, even if it was a very long journey. There are a lot of logistical risks and challenges to traveling nowadays, and in this case a three-stop routing was our best bet, so we can't be too upset about this.
Now we're in paradise, so all's well that ends well!