First of all, happy new year to everyone! I'm not usually big into new years, because the whole "show affection thing at midnight" is kind of lost on me. Not because I don't think it's cute (I suppose), but more because there are 20+ timezones where it happens. If anything it's hogwash because if you fly strategically you can have two new years (maybe more?), and that's just cheating!
And let's be honest, the only real things that change in the new year are some fake resolutions that people end up keeping for only a few hours/days/weeks/months (at most).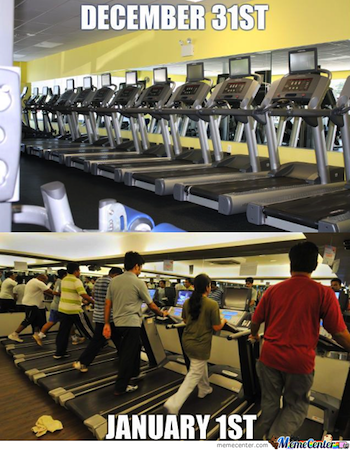 At any rate, I usually spend the new year reflecting on the past year rather than making lofty resolutions I know I won't keep. And 2013 was an amazing, amazing year for me, on the whole. Yes, every year has its ups and downs, and I certainly had my share, but 2013 was incredible for me overall, and I owe it to you guys. I consider myself to be insanely lucky in that I get to spend every day doing what I love, and it wouldn't be possible without the support I get from each of you. I'm truly thankful.
In reflecting on my 2013 travels I realized that even though I'm a total airplane nerd, I don't typically record the amount of flying I do. So yesterday I sat down and got to work recording all my flights from last year, and put together this map: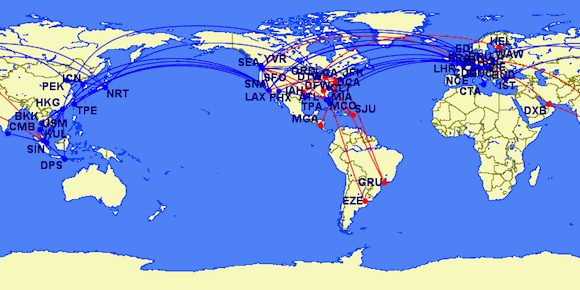 In total I flew 406,038 miles in 2013. I've been averaging 300,000+ miles per year for the past few years, but this is the most I've ever flown in a single year. In the above map I've marked the flights I flew using miles in blue, while I marked the flights I flew on revenue tickets in red (which I'll explain in more detail below).
The first thing that springs to mind about 2013 is that it was a great year to redeem airlines miles for premium cabin travel. Often you don't realize how good you have it till it's too late, and I think we're kind of seeing that right now with the slew of devaluations that have been announced. 2013 was just an amazing year for redeeming airline miles, especially when you look at the current award charts of American, United, and US Airways.
The other interesting thing for me about this past year is that roughly half of my flying was on award tickets. It would have been a lot higher than that, but I booked several reasonably priced paid premium cabin tickets, including from Colombo to Seattle in January, to Buenos Aires in April, to Managua a few times throughout the year, and to Brazil in November. All of my revenue flying was credited to either American AAdvantage or Alaska Mileage Plan, and I qualified for top tier status in both programs (Executive Platinum and MVP Gold 75K, respectively).
I know the above map makes it look like I took a lot more award flights than revenue flights, but that's simply because a lot of my revenue flights are on repetitive domestic routes, so whether I flew a route once or a dozen times, it shows up the same on the map.
In total I only flew four segments in economy class in 2013, all of which were short-haul domestic flights. I'd say that's some pretty damn amazing upgrade luck I've had, which I absolutely don't take for granted, and don't expect will necessarily continue next year, as airlines look to more and more ways to generate revenue (like selling upgrades to non-elite members when elite members are on the upgrade list).
I figured I'd also briefly recap the major trips I took in 2013:
This was my first time flying Suites Class on Singapore Airlines, after they made saver redemptions possible about a year ago. Suffice to say that after sleeping in a double bed for over 10 hours it's hard to go back to any other type of travel. I also flew Emirates A380 first class on the return from both Singapore to Dubai and Dubai to London, connecting to British Airways first class back home to Seattle.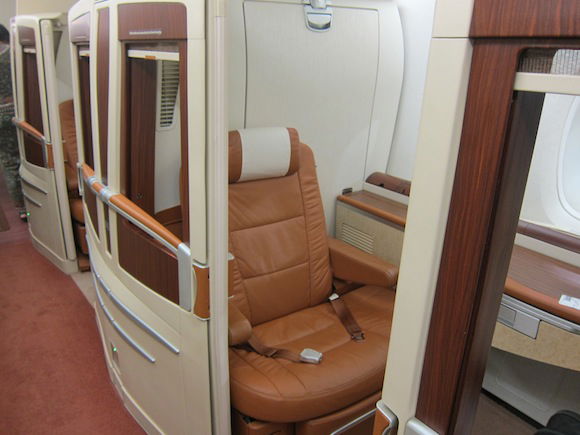 January: Vienna to Istanbul via Tokyo
This trip was booked using 90,000 US Airways miles on one of their well known US to North Asia business class awards, and I flew almost continuously. I took this trip to sample Brussels, Austrian, Turkish, and LOT business class for the first time.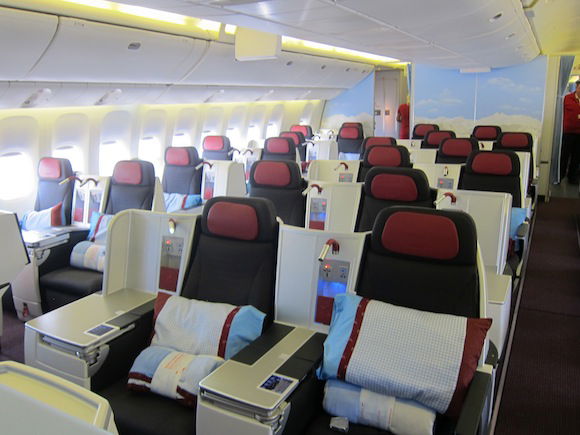 Malaysia Airlines joined OneWorld back in February, and at the time they released a ton of first class award space between London and Kuala Lumpur. This trip was solely to try their first class product, given that they were the newest OneWorld member airline.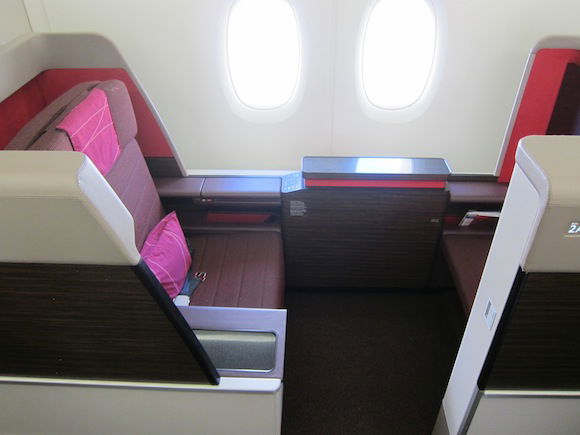 March: The "New" American to Europe
This was a sponsored trip I took on American to London to try out their brand new 777-300ER. Their new reverse herringbone business class seats are a hell of a hard product upgrade, and make it one of the most comfortable transatlantic business class products, in my opinion.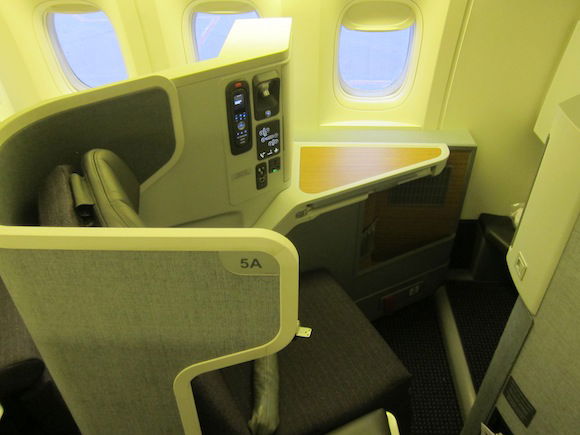 This was a spring break trip I took with a friend to the Conrad Koh Samui in order to redeem Hilton Honors points before the devaluation. While we flew Cathay Pacific for the transpacific flights, the most eventful flight was the Royal Jordanian flight from Bangkok to Hong Kong, which was the scariest flight of my life.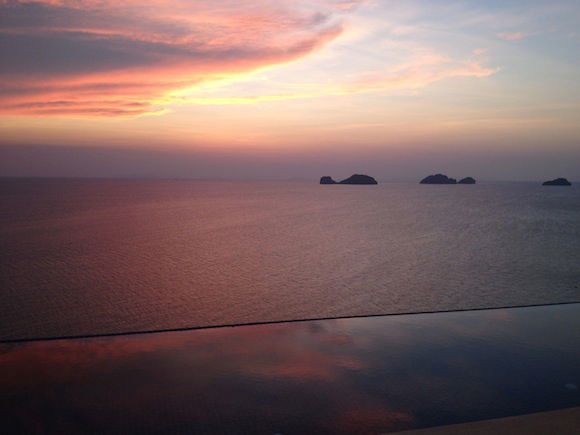 April: Buenos Aires for the Weekend
Earlier in the year there were some cheap business class fares available on LAN to South America, so along with a few friends I went down to Buenos Aires for a weekend and stayed at the gorgeous Park Hyatt.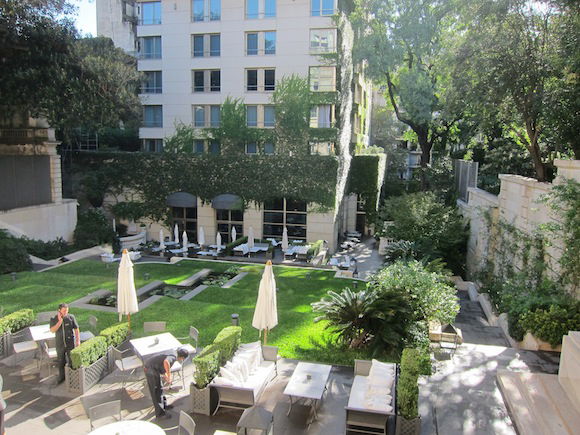 May: To Sicily for the Weekend
Friends of mine were spending a few months in Sicily, so I decided to visit them. I booked an award ticket in Lufthansa first class, and stopped in Budapest for a couple of nights on the way out, a city I hadn't visited before.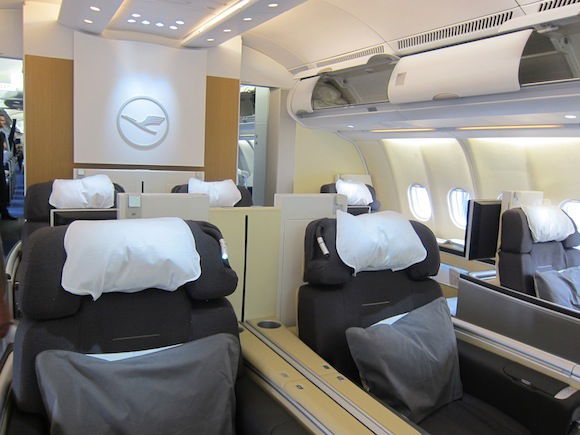 June: Mom's Bali Birthday Bonanza
My mom had a "round" birthday in June, so I wanted to take her on an extra special trip. I decided on two of the Aman properties in Bali – Amandari and Amankila – and we flew Cathay Pacific first class to get there. It was one of the most special trips for me, since I was able to share the experience with my mom. And my mom even shared her impressions of the trip!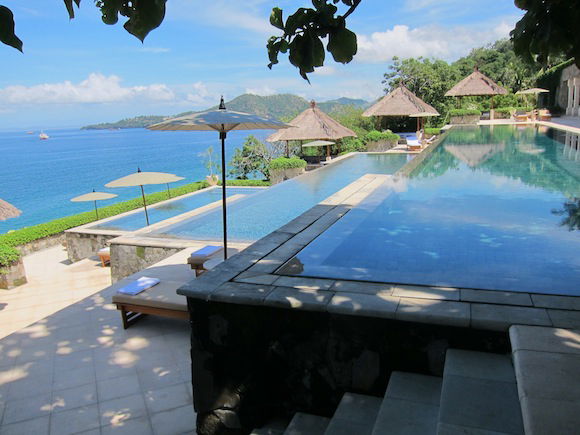 July: Going to HEL with American
On this trip I had the opportunity to take a blog reader with me to Helsinki. I booked a revenue ticket and held a contest (sponsored by American) to see who would join me. I don't think I could have asked for a better travel companion than Andrew!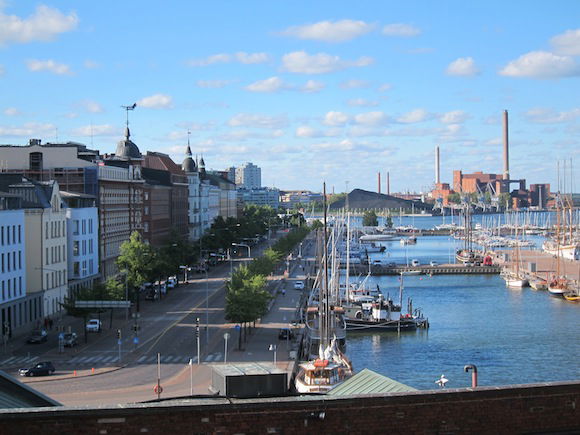 July: Another Round the World for 90K
You can't beat redeeming US Airways miles to North Asia, so in summer I decided to visit France and check out their new Hyatt properties there, in Cannes and Nice. From there I continued to Taipei to stay at the W Hotel and fly EVA Air Royal Laurel Class on the return, Star Alliance's newest member airline.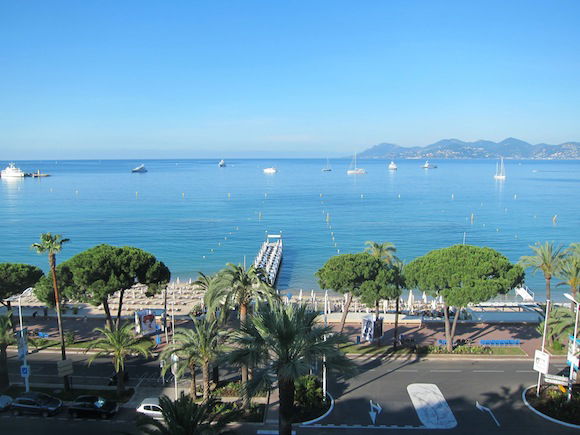 This trip was motivated somewhat by my obsession with Rimowa amenity kits. ANA and Thai had "perfect" award availability, whereby I could connect from ANA's new 777-300ER first class to Thai's new A380 first class with just a short connection. The fact that both airlines give out Rimowa amenity kits made it even awesomer. In Singapore I checked out the W Sentosa Cove, and on the return flew Singapore Airlines first class on a flight my friend Janesis was operating.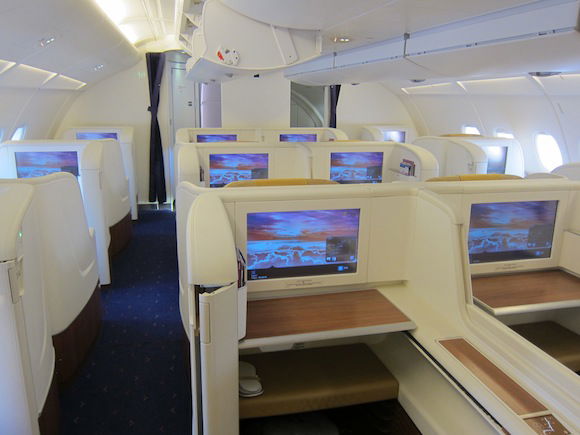 September: To the Vaterland with my Vater
This was another special trip for me, since I was able to take my dad to Europe for a week in Lufthansa first class, which he loved. We visited one of my favorite cities, Berchtesgaden, and also visited Salzburg and Brussels, neither of which I had previously explored in depth. Much like my mom, my dad also shared his thoughts on the trip.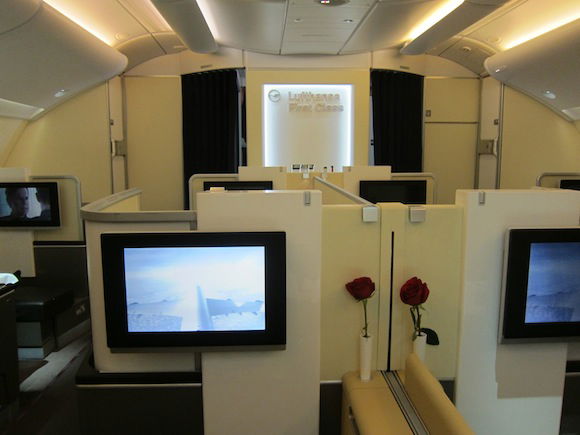 October: Around the World in 80 Hours
This was another trip intended to sample new products, again using a US Airways award to North Asia. I was able to book an award that included travel on US Airways' new Envoy Suite, Air China business class, ANA's 787 (my first 787 flight ever), and two flights on EVA Air's Hello Kitty service.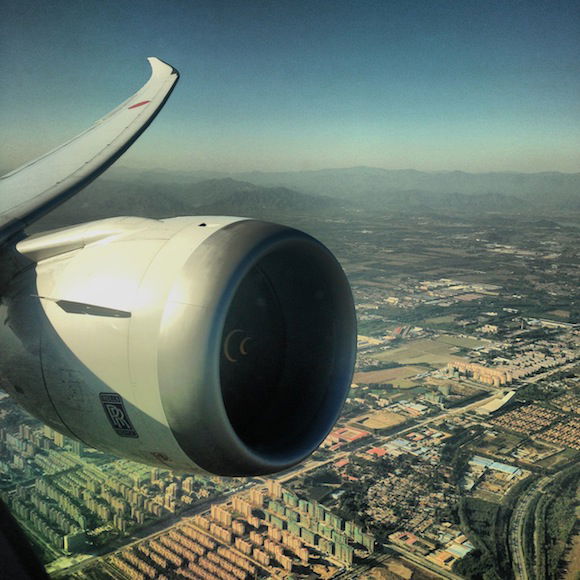 December: Air France vs. British Airways A380
I'm making a point to try first class on every airline that operates the A380, and Air France and British Airways were both missing from my list. So I figured I'd take a quick trip to Germany's Christmas Markets to sample Air France first class on the way out and British Airways first class on the return – I was pleasantly surprised by both products.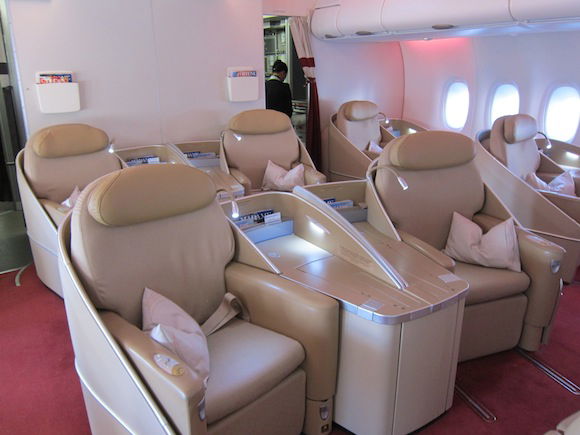 In a follow up post I'll share my best and worst travel experiences of 2013, but overall it's been an incredible year.
I sincerely hope you all have a phenomenal 2014, and really appreciate the company you keep this introvert here on this blog. It has been a pleasure meeting some of you all around the world this past year, and I hope to meet many more of you in the coming year(s). I also hope everyone has enjoyable — and most importantly safe — travels!
What did your 2013 look like? How many miles did you fly, and what were your highlights? 🙂