---
If you haven't read it already, be sure to check out my Emirates first class trip report from London Heathrow to Dubai from last December, which is a bit more thorough than this review will be (in part because much of this flight was a blur, so I can't say I remember the entire thing). 😉
Emirates 355
Singapore (SIN) – Dubai (DXB)
Saturday, January 19
Depart: 9:35PM
Arrive: 1:00AM (+1 day)
Duration: 7hr25min
Aircraft: Airbus A380
Seat: 4K (First Class)
Upon boarding we were welcomed by one of the first class flight attendants and escorted to our seats. My friend was in 3K while I was in 4K, which feels pretty cramped since it's in the back corner of the cabin. There are no center seats in row four and it's close to the galley, not to mention there's quite a bit more foot traffic because the flight attendants provide all their service from the galley behind the cabin.
My impression of the suite was similar to last time — the suite was blingy as could be, with a similar ratio of style to substance as Jersey Shore.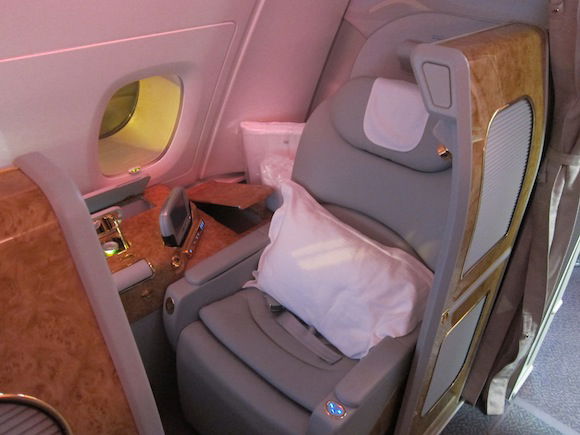 My seat, 4K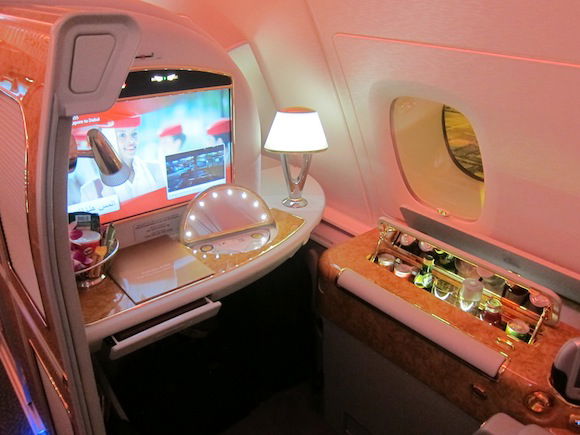 My seat, 4K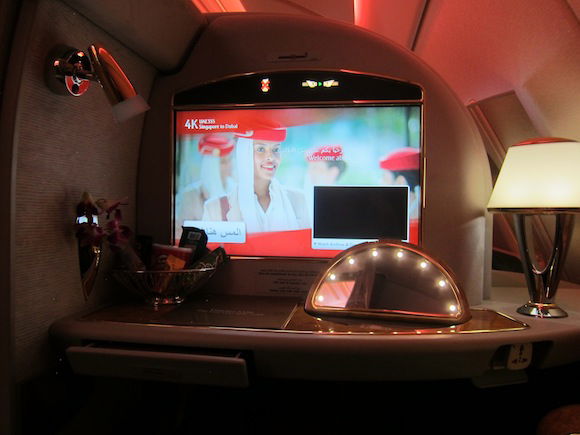 Entertainment console
I still can't get over the snack basket, which has to be removed twice during the fight for takeoff and landing.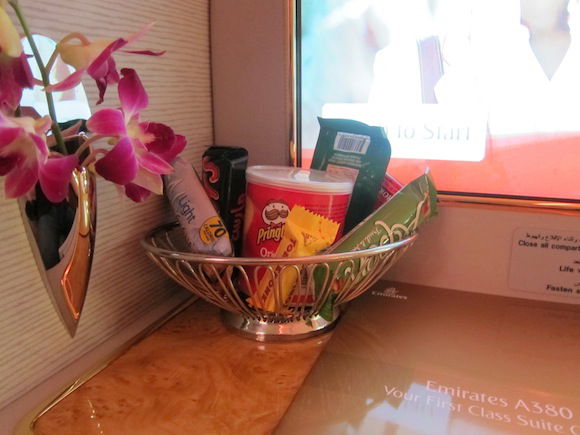 Snack basket
Or for that matter the minibar, since you can order anything to drink on demand and it won't be room temperature…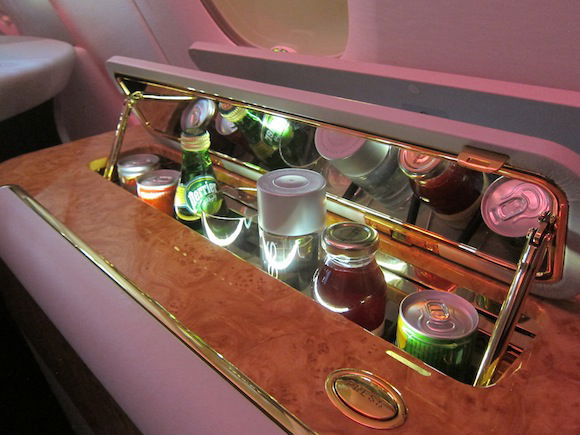 Minibar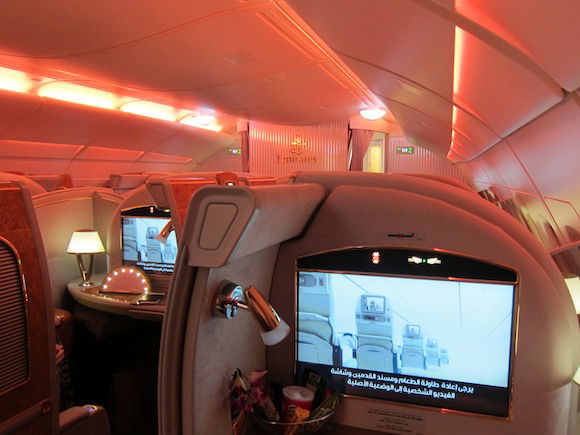 View from 4K
Once settled in I was first offered a beverage, and I ordered a glass of Dom, which quickly turned into three. At this point I was having a great flight, and we hadn't even left the ground yet (though in my head it felt as if we had).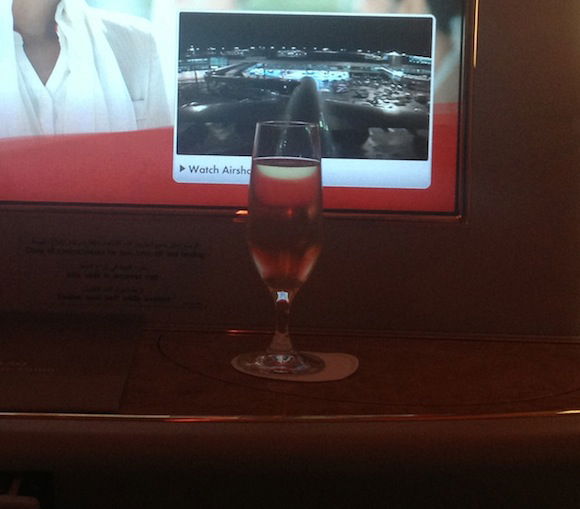 Pre-departure champagne
Speaking of alcohol, using the onboard telephone gets exponentially more enjoyable with each drink. I must have talked to half the cabin.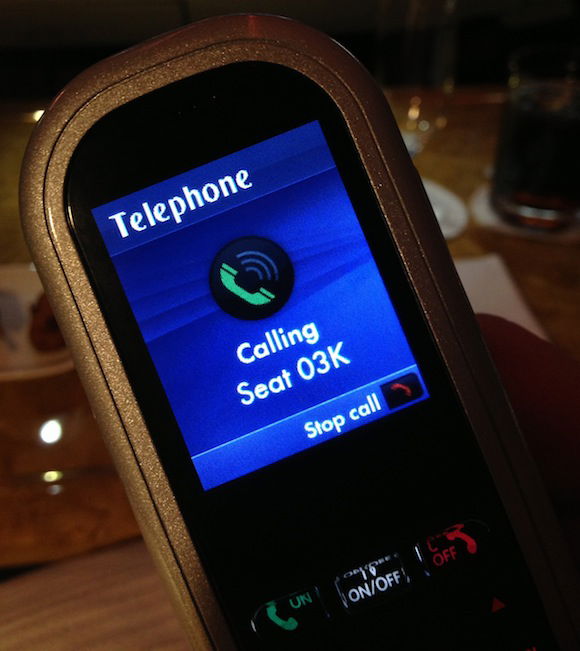 In-flight phone
In addition to a drink I was offered a hot towel, the menu for the flight, an Emirates beach bag of sorts, large pajamas, slippers, and an amenity kit.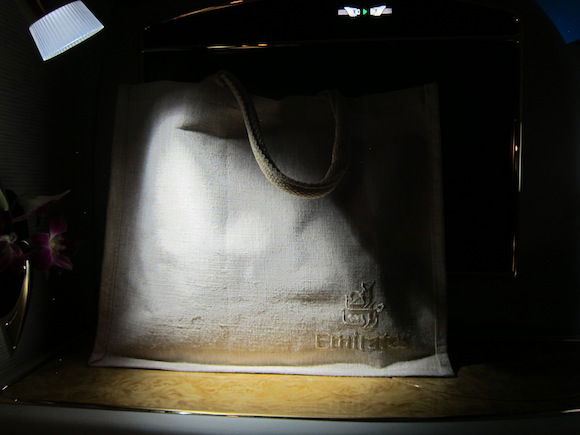 Emirates goodie bag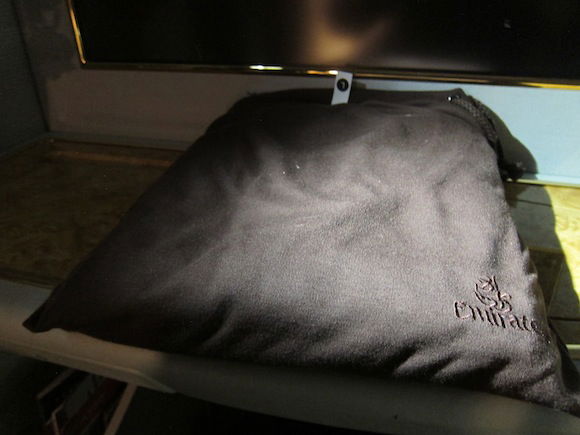 Pajamas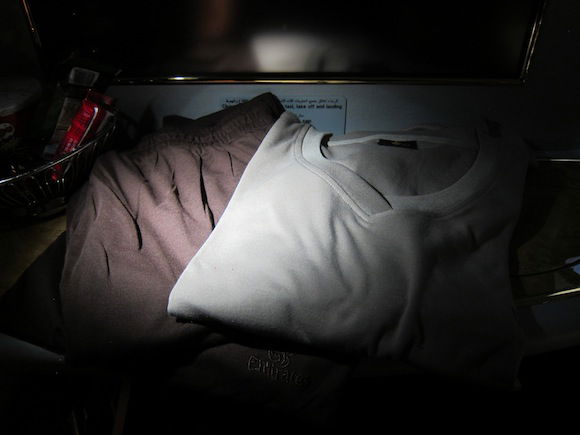 Pajamas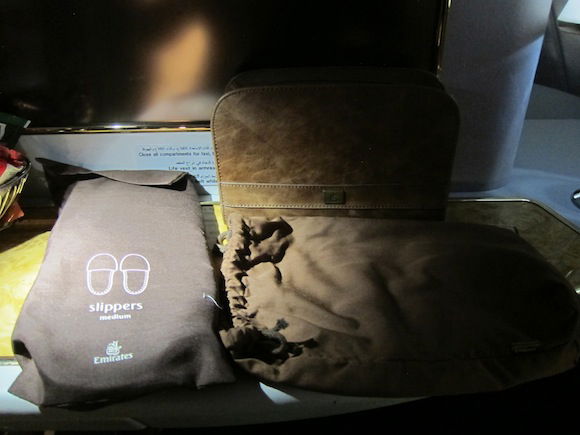 Amenity kit and slippers
Interestingly I hadn't gotten an amenity kit on my Emirates flight from London to Dubai, and didn't get one on my flight from Dubai to London either, despite the fact that the flight is marginally longer than Singapore to Dubai. I'm curious what criteria Emirates uses for deciding whether or not to hand out amenity kits.
The amenity kit must have been one of my favorites, though. The bag it came in was awesome, and it even featured a box with some Bulgari amenities.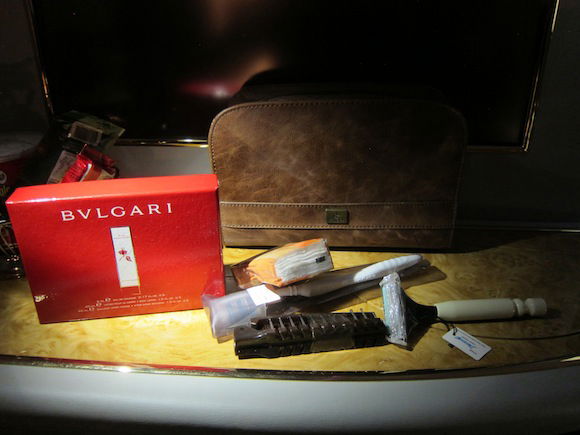 Amenity kit contents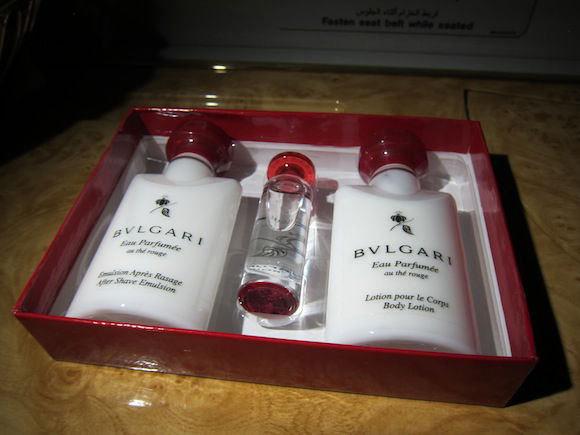 Bulgari kit contents
Just before pushback I was offered Arabic coffee and a date. Around that time the captain came on the PA and informed us of our flight time of 7hr20min.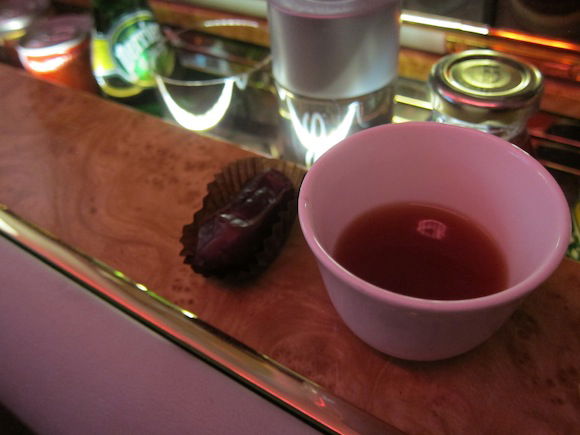 Arabic coffee and date
We pushed back and began a fairly long taxi to runway 2C, though I quite enjoy the evening traffic in Singapore, especially all the British Airways and Qantas aircraft headed to both Europe and Australia.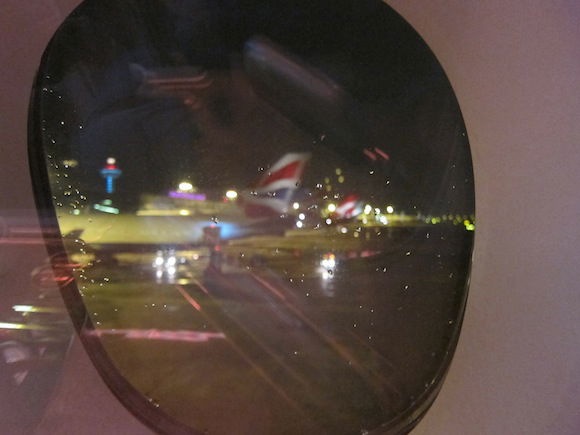 View on pusback
After a roughly 15 minute taxi we began our long takeoff roll, followed by a smooth climb out.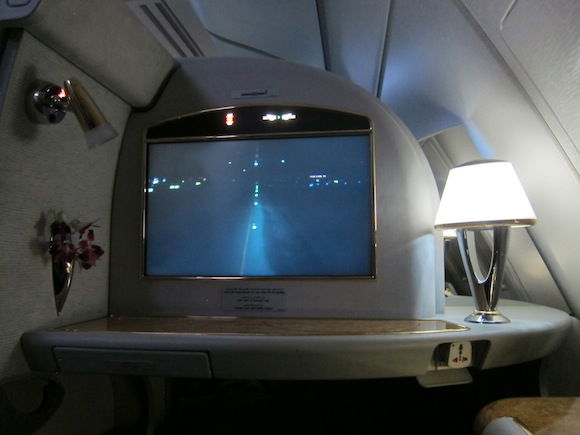 Nose camera
During our climb out I took the opportunity to browse the ICE entertainment system, and settled on a couple of sitcoms. Truth be told I forgot what they were, though.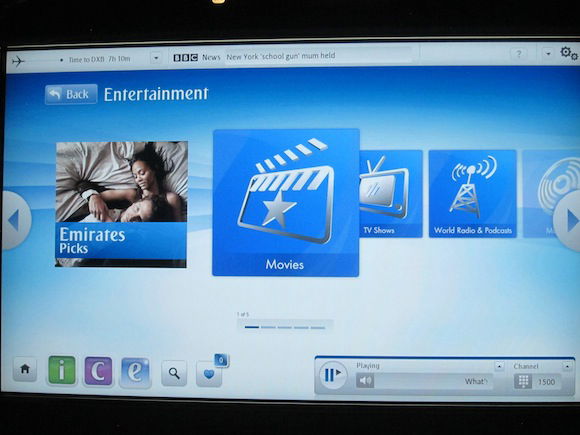 ICE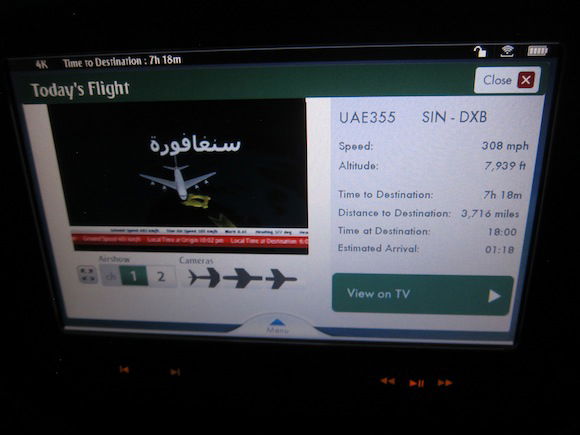 Airshow
Passing through about 20,000 feet the seatbelt sign was turned off and service began. The purser, Jacques, made his rounds to welcome aboard each first class passenger. The spa attendant also came around to take shower spa appointments, though she said as long as I wasn't planning on showering right before landing I didn't have to make an appointment, so that worked for me.
At this point dinner service began, and the menu read as follows: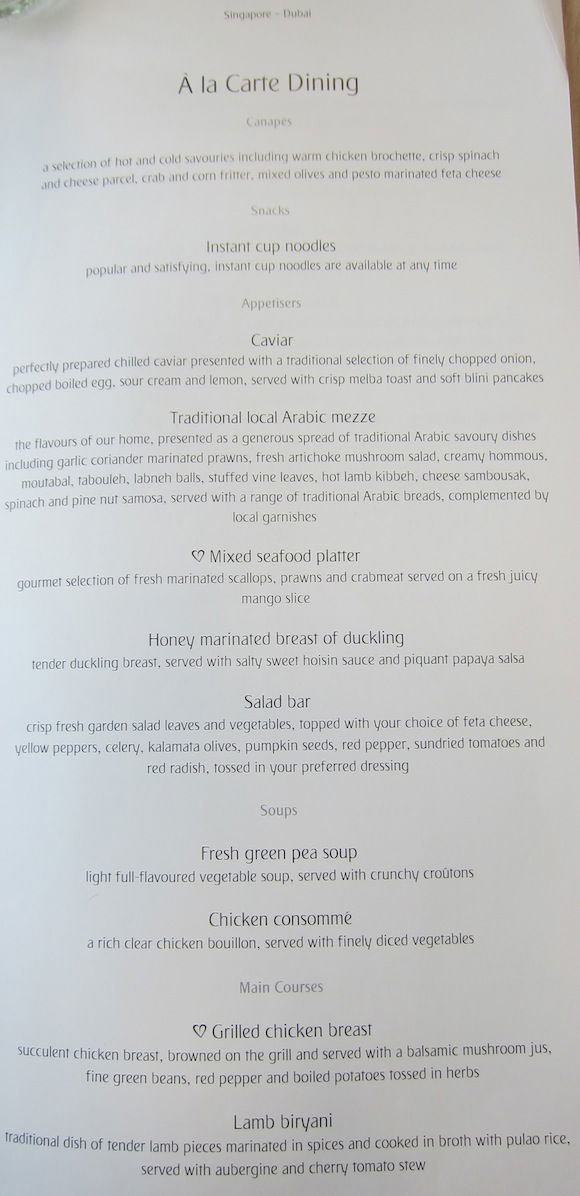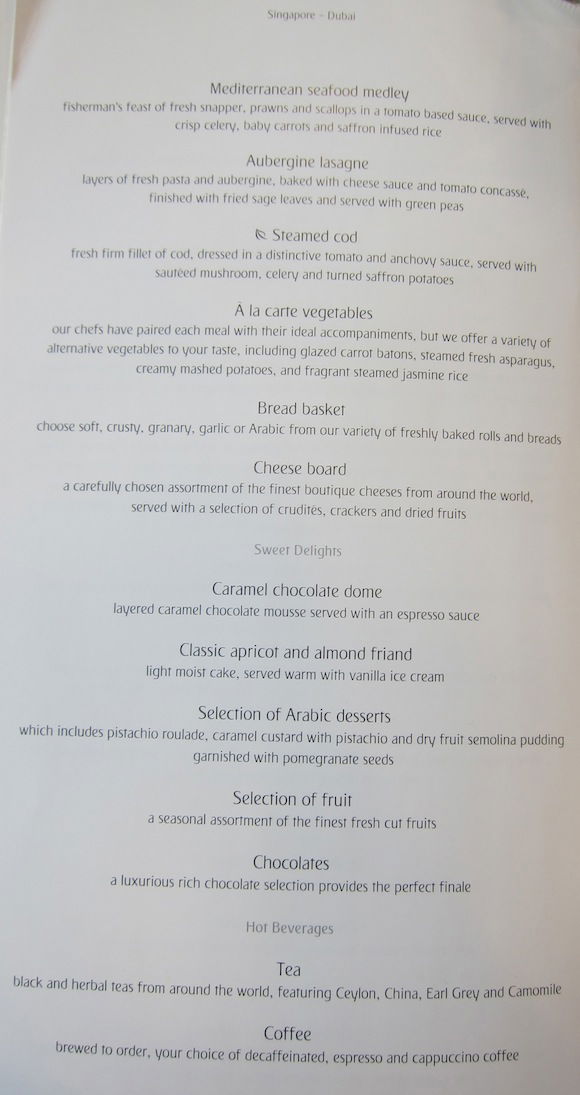 And the wine list read as follows: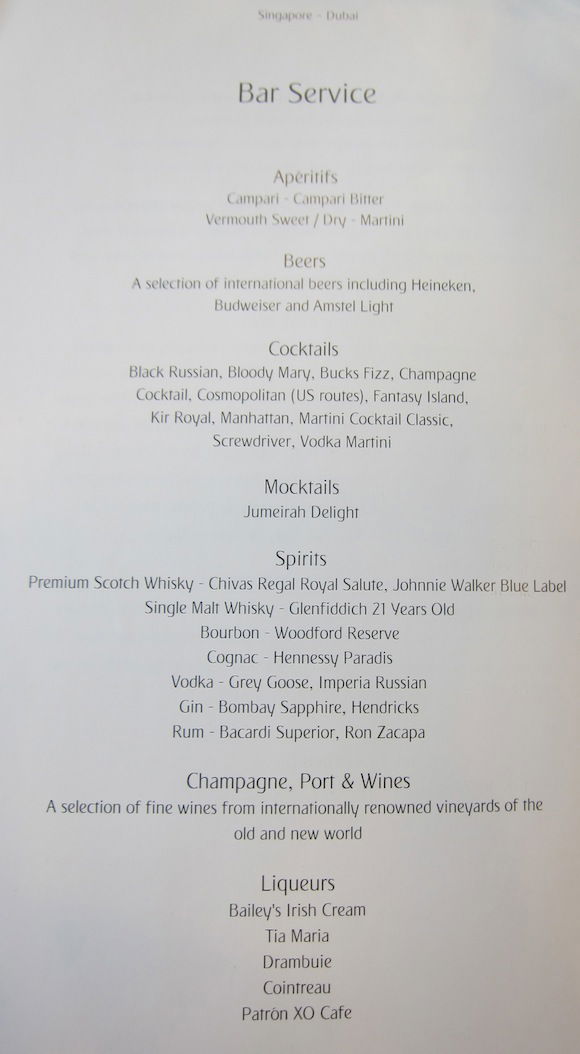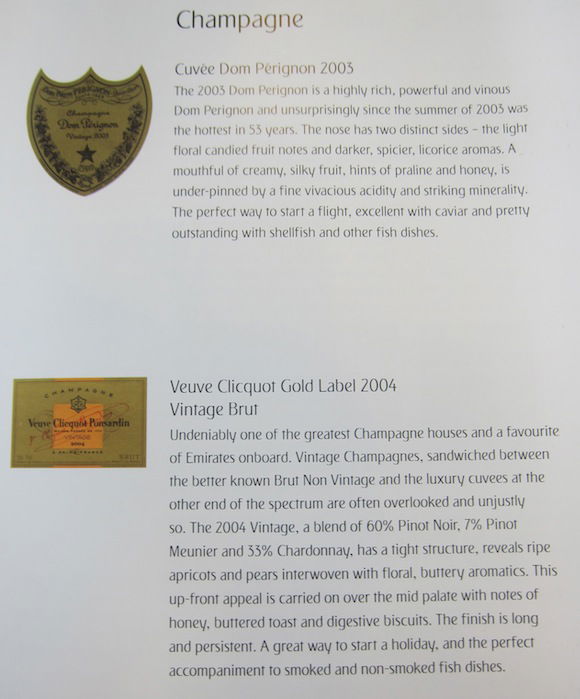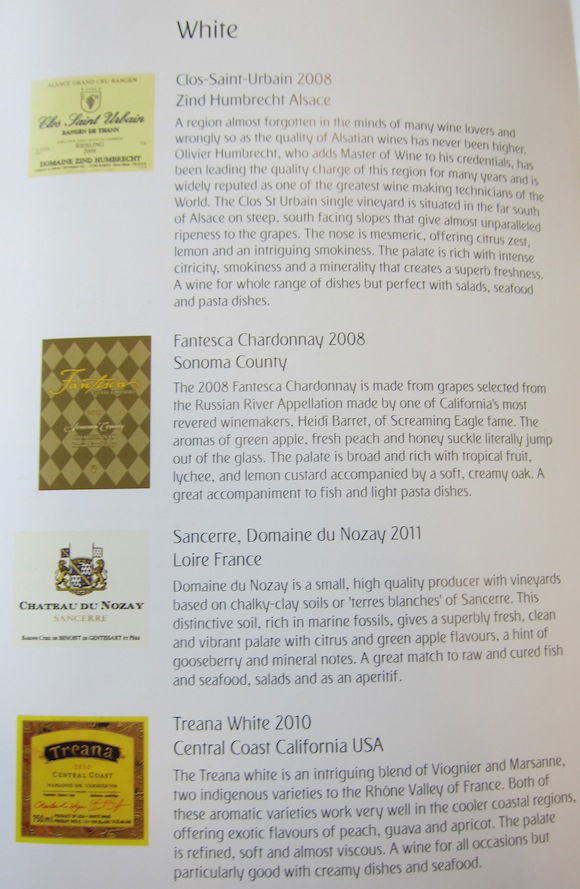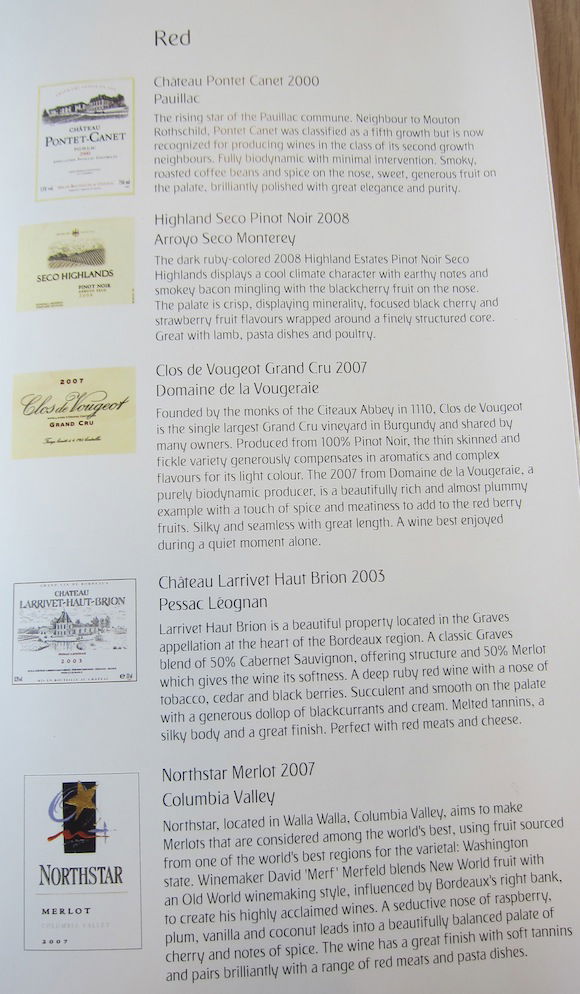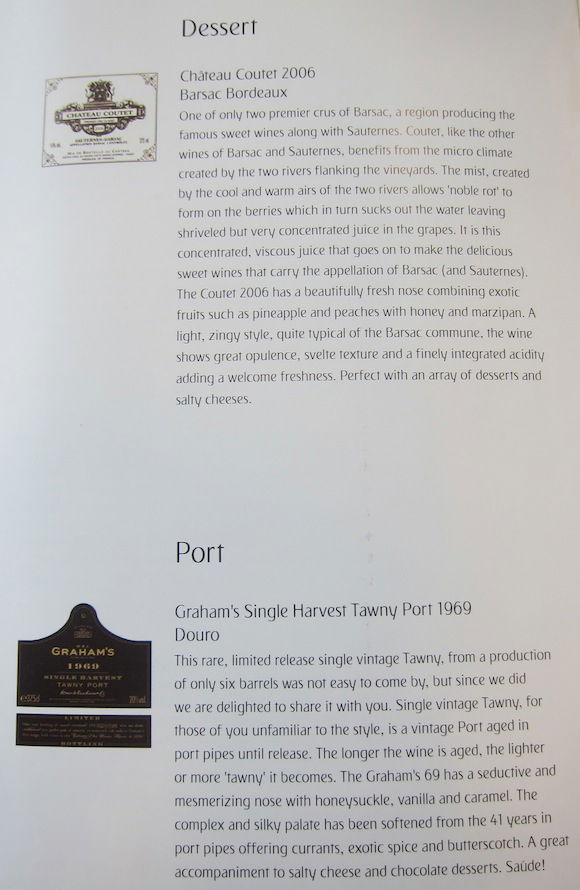 I love the flexibility of Emirates' a la carte menu, and if I had a criticism it would actually be that there are too many options, and it's a bit like trying to decide what to have at the Cheesecake Factory. So as I did on my last Emirates flight, I started ordering appetizers and said I'd have my entree and dessert later in the flight.
To start I had some hot and cold canapes and mixed nuts.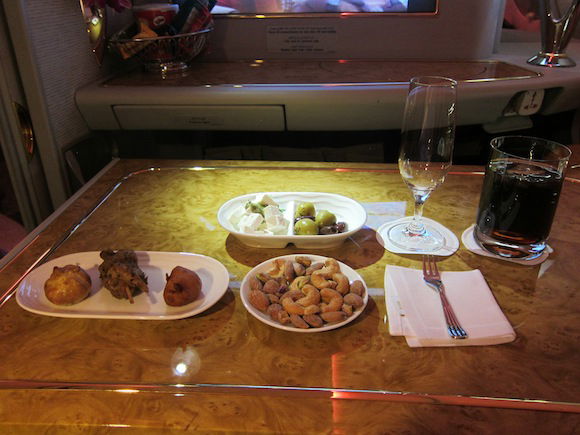 Mixed nuts and canapes
Then I had caviar.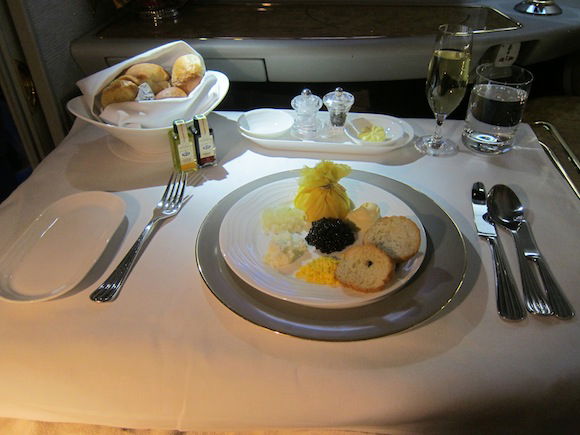 Caviar
Then the Arabic mezze, which was decent, though I still prefer the one served on Etihad.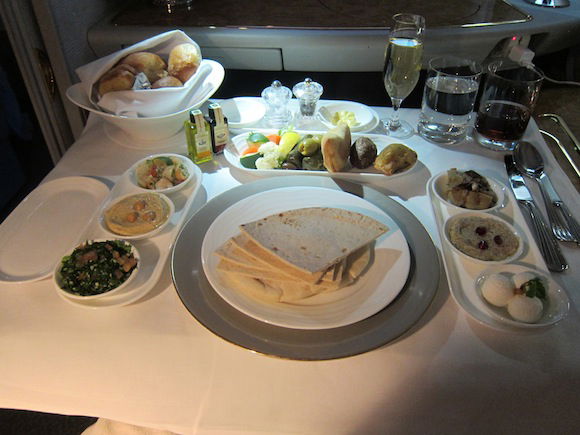 Traditional local Arabic mezze
Then I had a salad, which was one of the better salads I've had on a plane.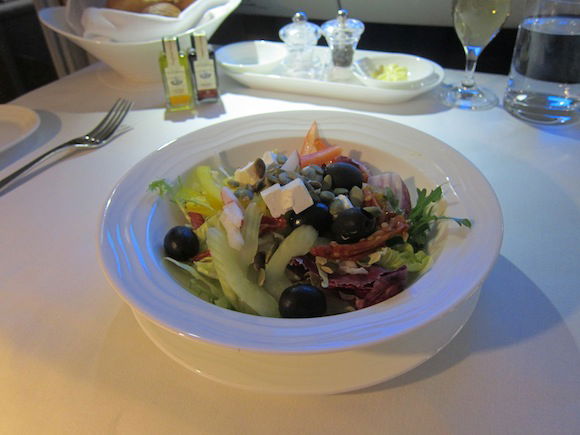 Salad
And then I had green pea soup, which was also delicious.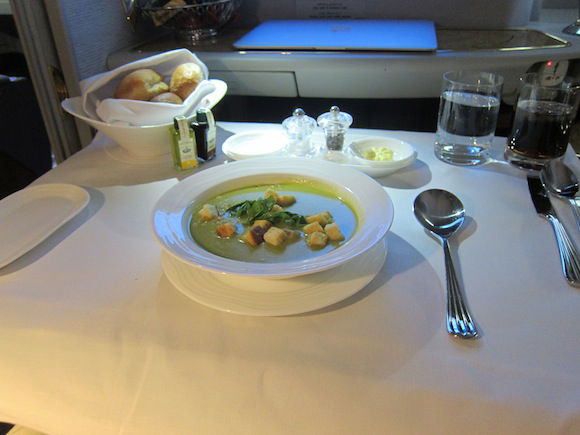 Fresh green pea soup
At this point I had a five course meal without even having gotten to the entree, so I decided to call it quits and said I'd finish the meal prior to landing in Dubai.
As far as the service throughout the meal goes, in typical Emirates fashion I found it to be fine. Sincerity and attentiveness were lacking somewhat, though I didn't at any point feel like I was offending the crew by asking for anything. On my Emirates flights so far I've found the crews to be overly friendly during boarding with smiles that make you feel like there's no place they'd rather be, but that friendliness seems to wear off almost by the minute.
At this point we had about five hours to go to Dubai, so I decided to walk to the bar and see what was going on there.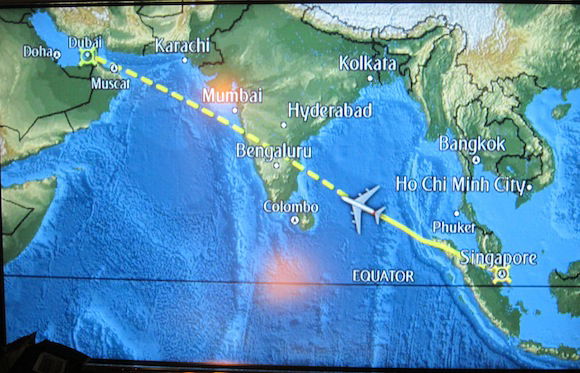 Airshow after dinner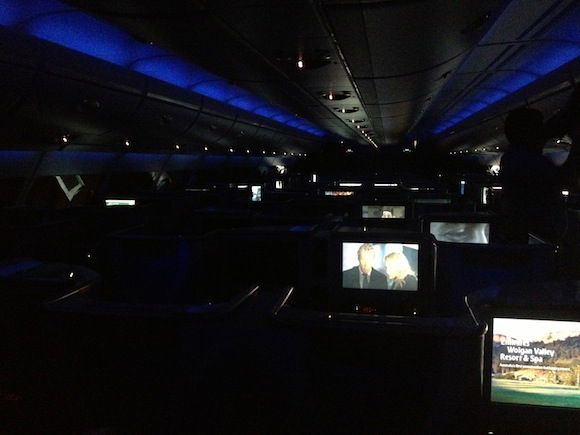 Business class
While it wasn't especially lively, the purser did make an appearance, and we talked for about an hour. Emirates serves Hennessy Paradis in both business and first class, which retails for $600+ per bottle, so I had a few doubles of that, along with some Patron XO Cafe.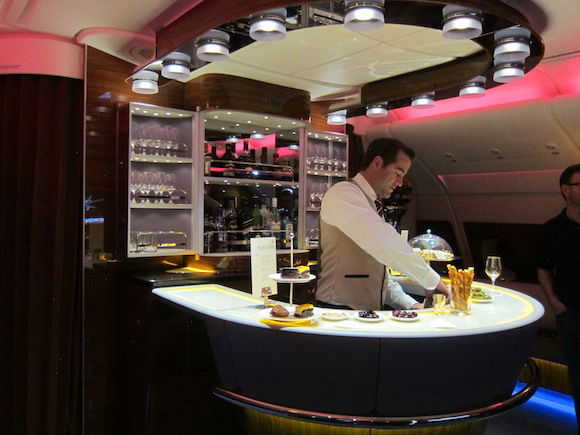 Bar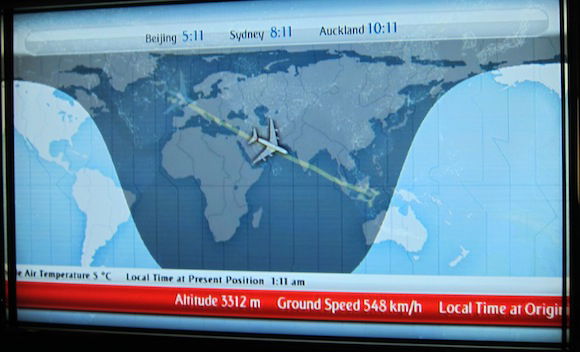 Airshow after the bar
With about four hours to go to Dubai I was feeling a bit tipsy and I decided to take a little nap. I figured I'd nap for 90 minutes, then shower, and then finish my dinner. I requested turndown service, which the awesome purser quickly took care of.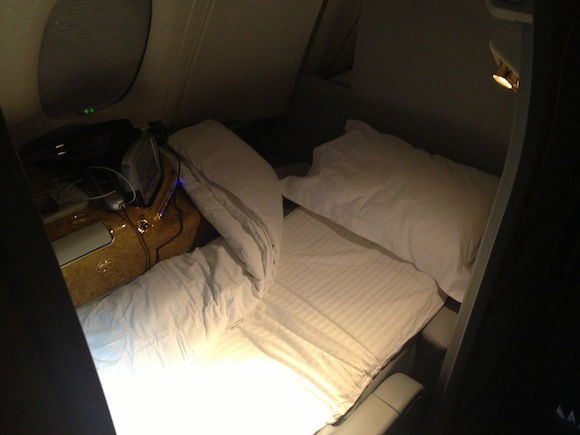 Turndown service
Unfortunately I woke up less than 20 minutes out of Dubai as we were on our final descent. Crap! I think I accurately summed up my disappointment in this post. One of my main reasons for flying Emirates first class was for the onboard shower, and I was too stupid/drunk to be awake for it. Though on the plus side I can't say I had all that bad of a flight.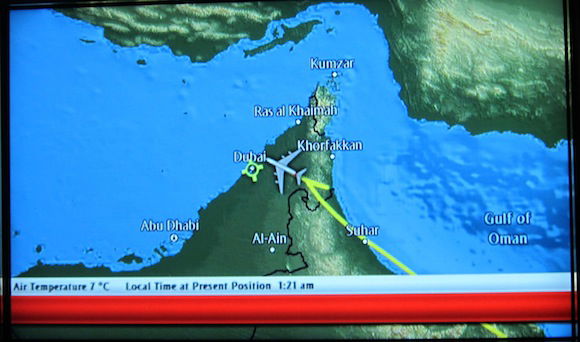 Airshow when I woke up
As the crew prepared the cabin for landing Fast Track immigration cards were handed out.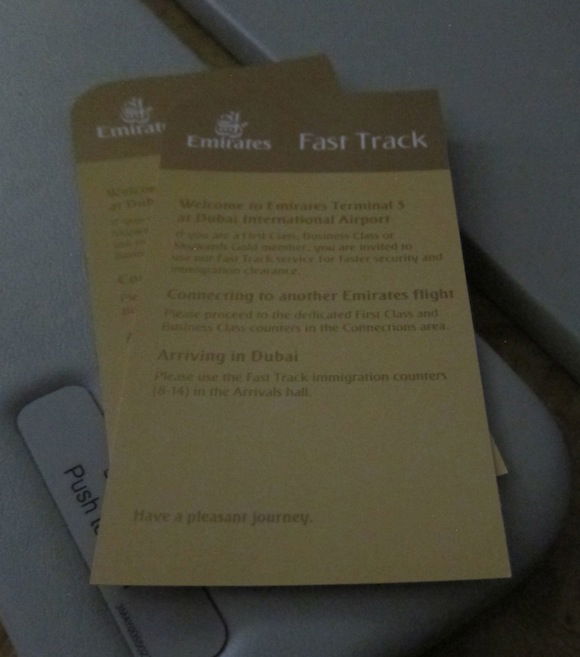 Fast track card
We touched down on time and had a quick taxi to the gate. Immigration queues were quite long given that a lot of flights arrive in Dubai in the middle of the night, and even the Fast Track queue took about 20 minutes.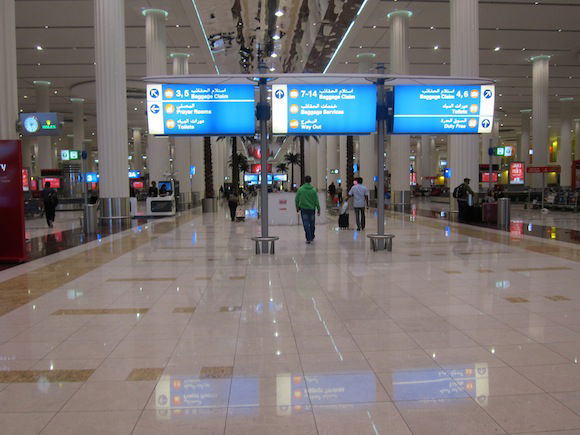 Arrivals hall
Once through customs and immigration we headed to the Emirates chauffeur counter, where we were directed outside for our ride to the Park Hyatt.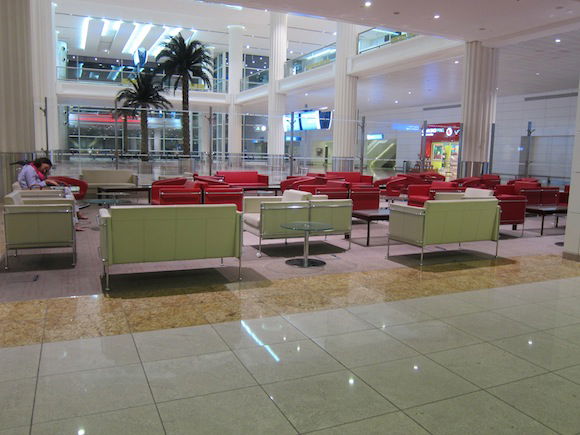 Chauffeur waiting area
While Emirates offers chauffeur service for both first and business class passengers, the first class cars have "Emirates first" written on the side of them. I find this a bit odd since the cars are often in worse condition than the business class cars. This particular Mercedes had nearly 200,000 kilometers on it.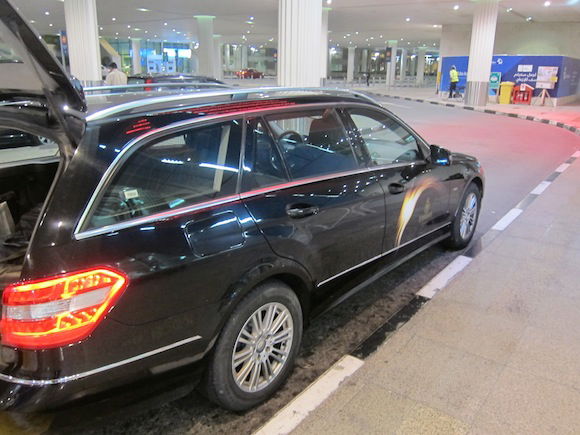 First class transfer
Anyway, the drive to the Park Hyatt took only about 10 minutes, though I was wide awake upon arrival due to the amount of sleep I got aboard.
On the whole the flight was pleasant. I thought the purser was awesome, though the rest of the crew was quite mediocre. The food was excellent, and the suite was blingy as usual. I'm miffed I didn't get to use the shower, but I guess there are certain costs to consuming your ticket price in alcohol.