---
Emirates 5
Dubai (DXB) – London (LHR)
Sunday, January 20
Depart: 4:30PM
Arrive: 8:15PM
Duration: 7hr45min
Aircraft: Airbus A380
Seat: 4A (First Class)
At the door we were greeted by the purser and pointed towards our seats, 3A and 4A. I quickly settled into 4A.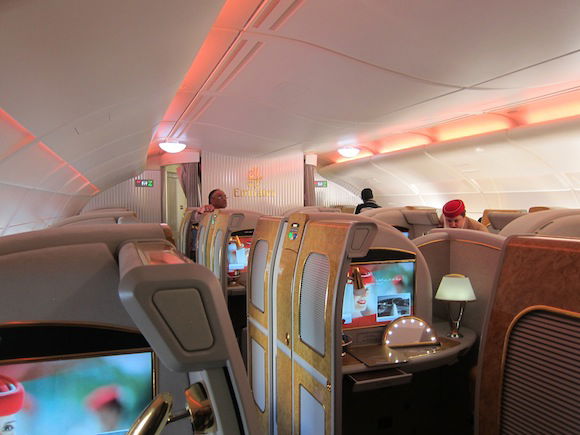 First class cabin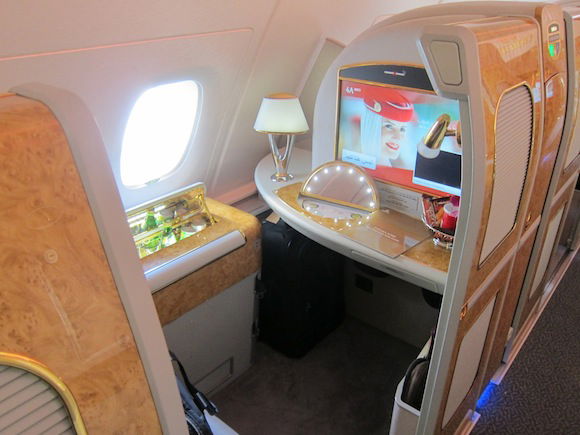 My seat, 4A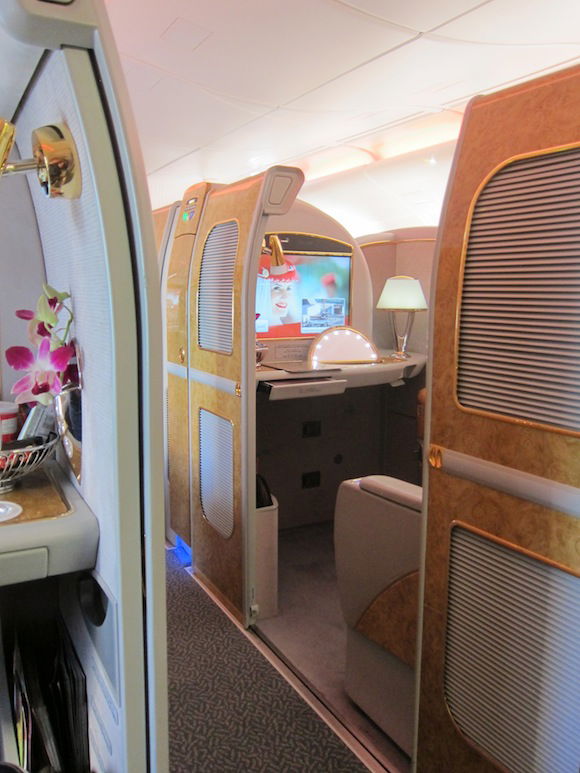 View from my seat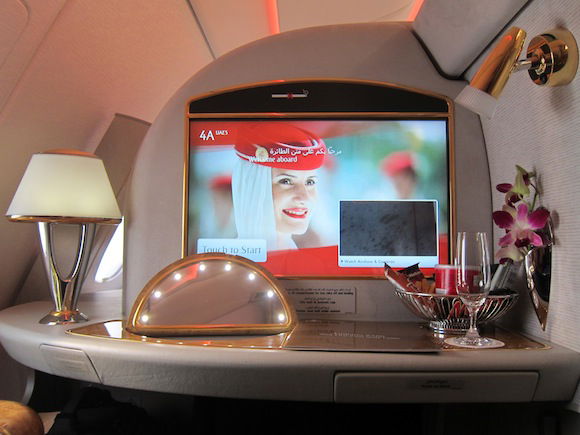 Seat console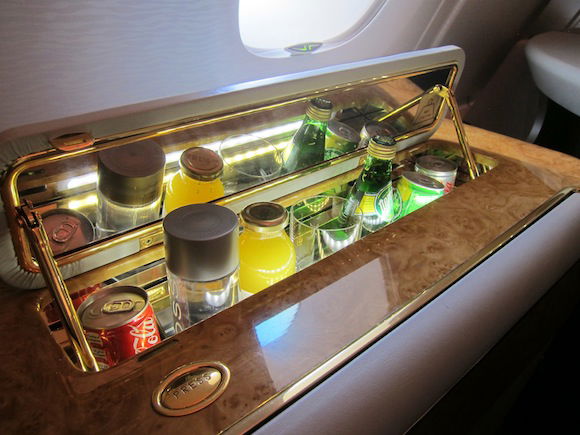 Minibar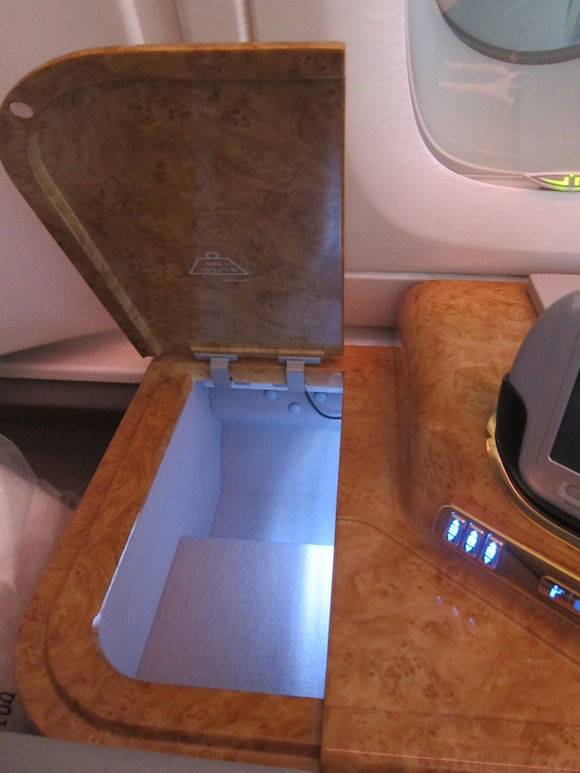 Storage compartment
A charming flight attendant, Julie, quickly offered me a pre-departure beverage along with a pair of slippers, though unfortunately that was the last I saw of her, as she was working the other aisle on today's flight. My pre-departure glass of Dom was actually served by the purser, Mark.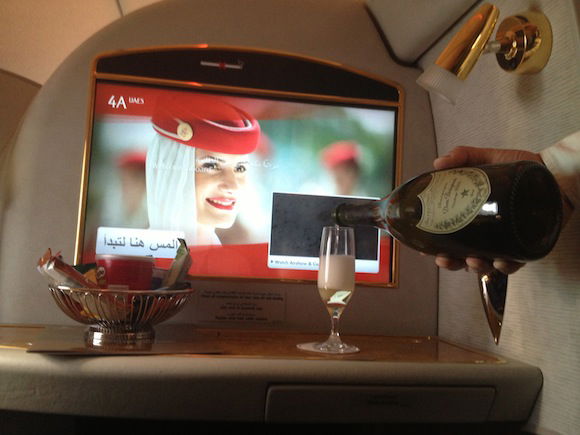 Pre-departure Dom
Interestingly I was offered slippers on this segment, though no pajamas or amenity kits. I asked the purser about this, and he indicated that pajamas are only offered on this sector on demand, so he got me a pair. He said that for whatever reason this flight didn't have amenity kits, even though it's just about the same distance as Singapore to Dubai, where I did get a kit. Apparently it has to do with the time of day the flight departs.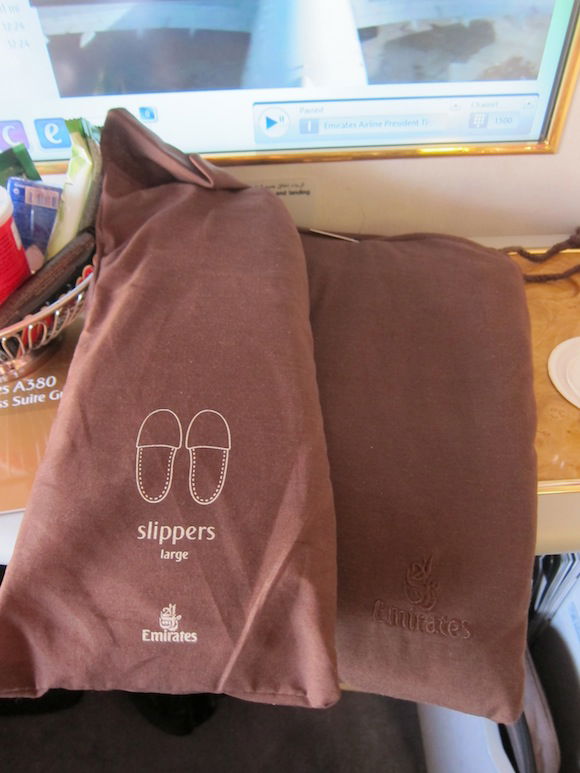 Slippers and pajamas
As boarding continued I turned on the tail camera to watch the action on the ground in Dubai, as cargo was still being loaded on the plane.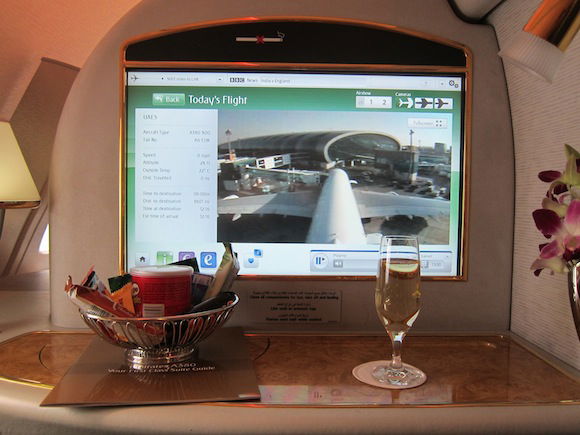 Tail camera
At departure time the captain came on the PA to advise us of our flight time of 7hr15min, and shortly thereafter the safety video began to play as we pushed back.
We taxied to runway 30R following two other Emirates Airbus 380s, which made for a pretty fun show on the tail camera.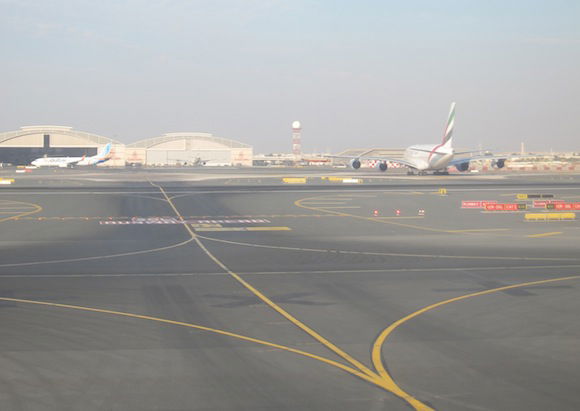 Taxiing to the runway
When we got to the runway we were number two for takeoff behind an Emirates 777.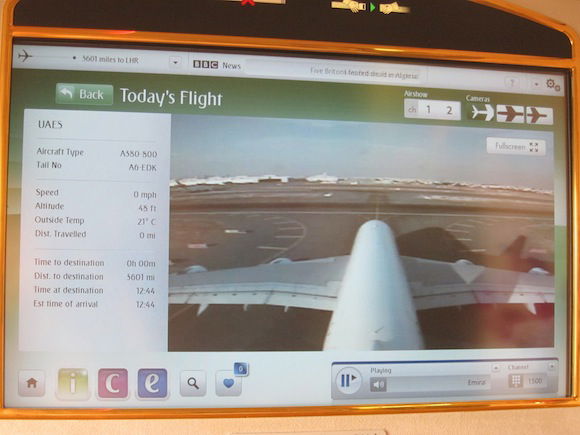 Tail camera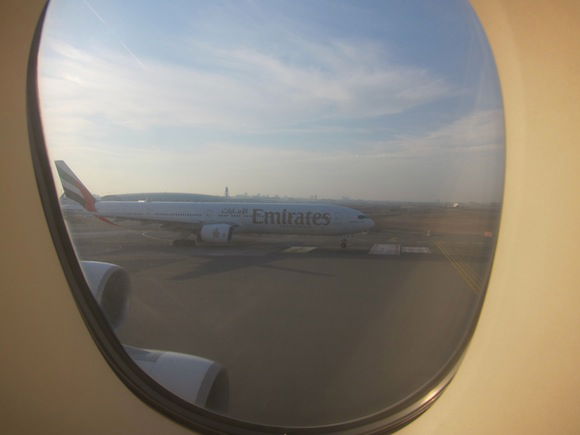 Emirates 777
Our takeoff roll was rather long, and the views of downtown Dubai (including the Burj Khalifa) on the climb out were stunning.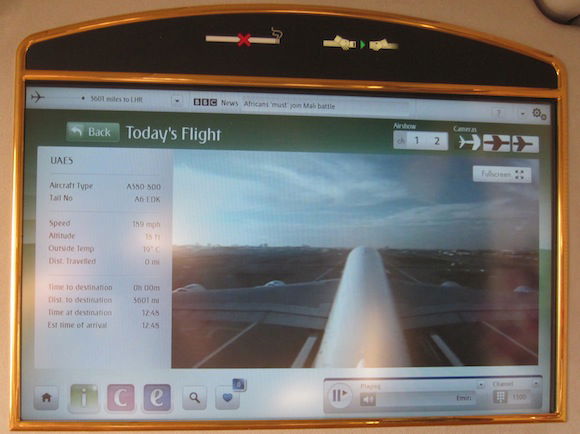 Tail camera shortly after takeoff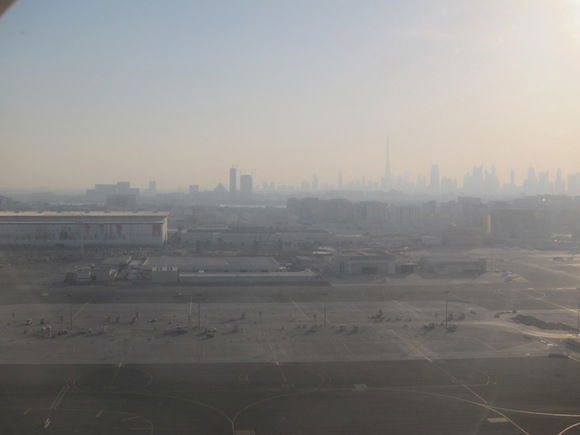 View after takeoff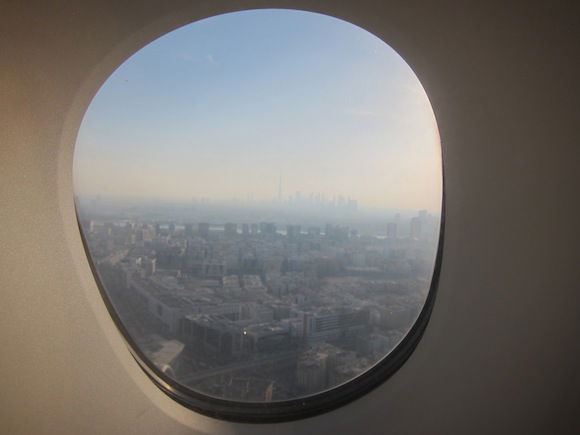 View after takeoff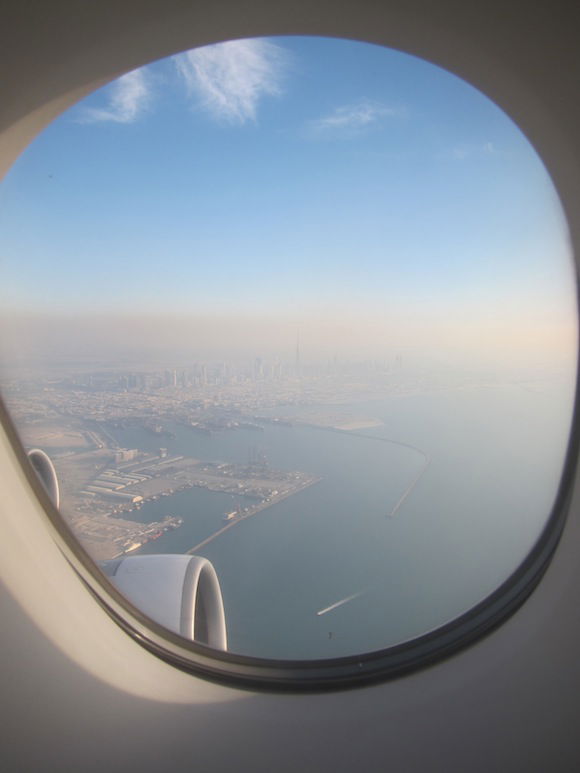 View after takeoff
Once the views got old I switched to the entertainment system, and eventually settled on watching three episodes of Extreme Couponing. I had never actually seen the show despite having heart a lot about it, and it was quite entertaining.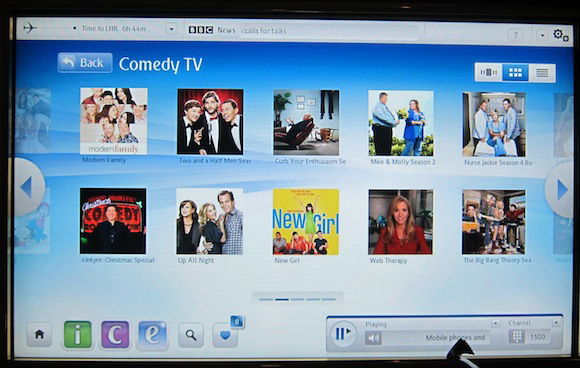 ICE entertainment system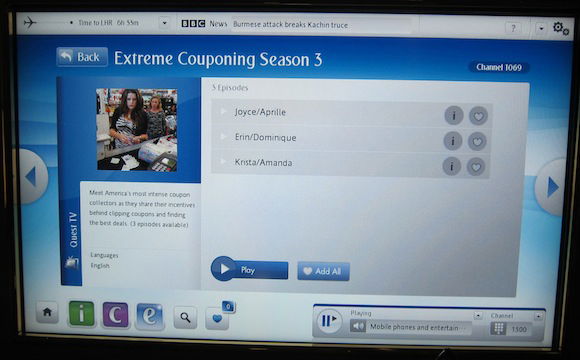 My selection
Once we leveled off menus were distributed and shower spa appointments were taken. I learned my lesson from the previous flight, so made an appointment for the shower spa for right after lunch.
As on previous flights the menu was a la carte, and read as follows: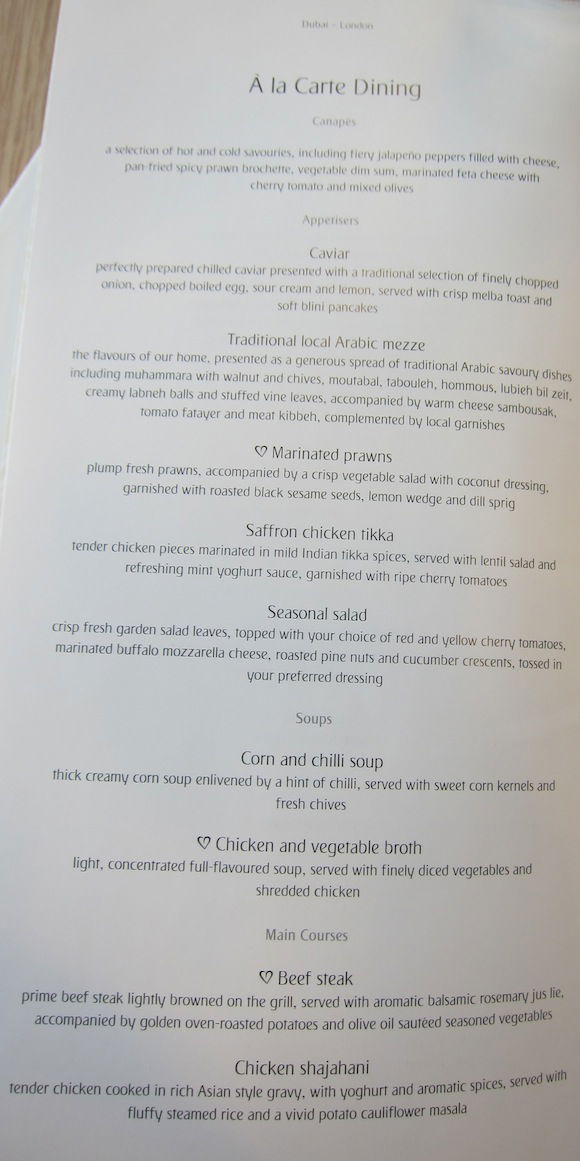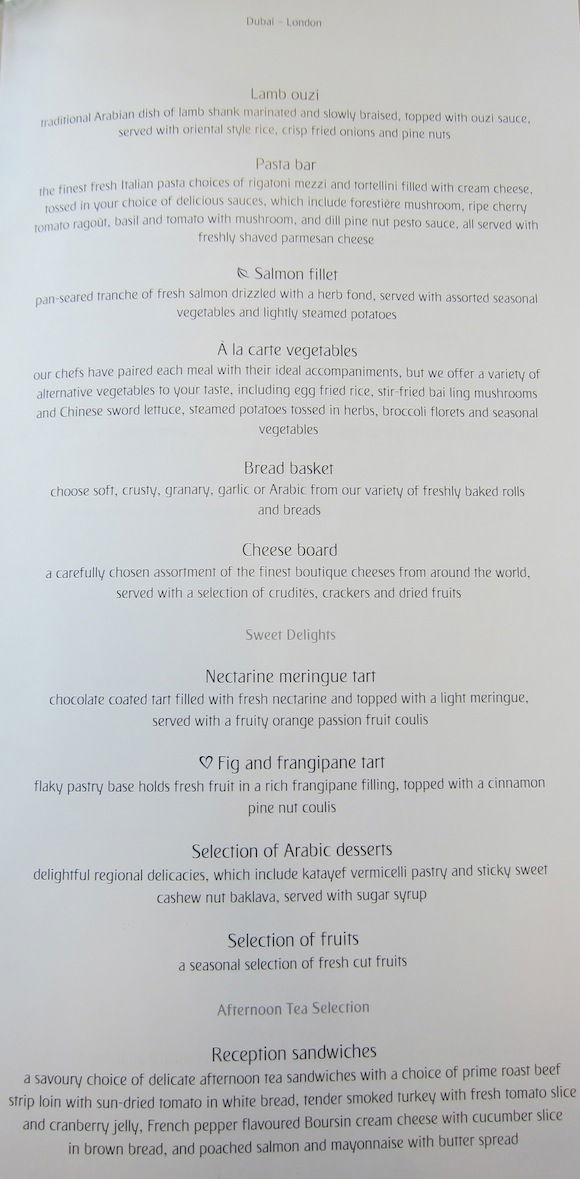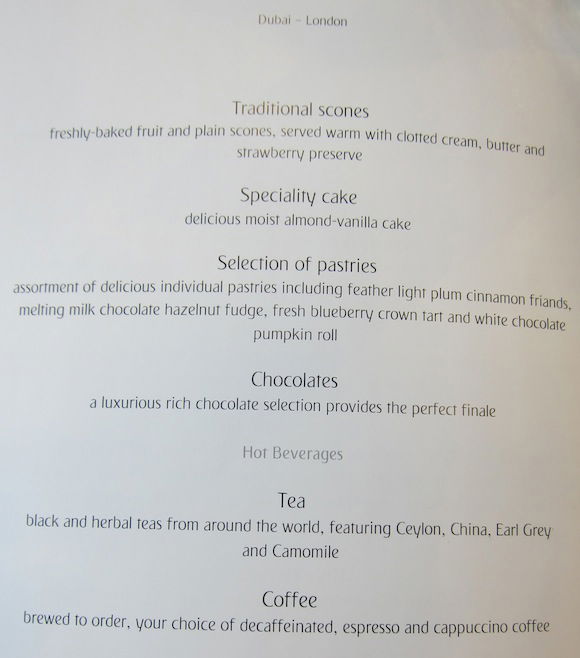 And the wine list read as follows: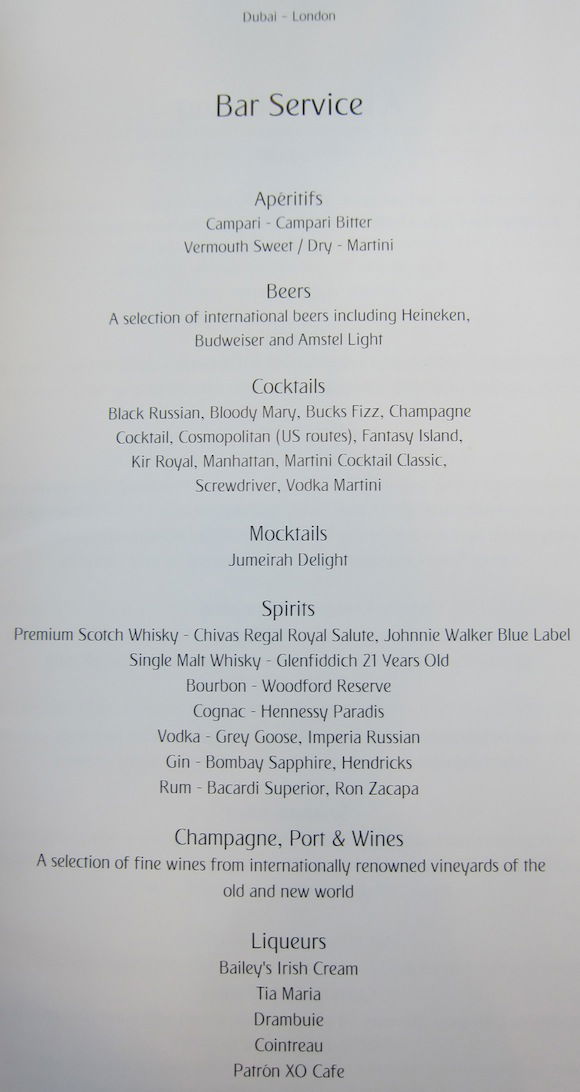 Let me say up front the service on this sector sucked (and I don't remember the last time I said that about a crew). It's not that the crew was actively rude, but they were probably the most indifferent premium cabin crew I've ever had.
After perusing the menu and planning out my evening I decided to have afternoon tea after takeoff, given that I had just eaten in the lounge, and then figured I'd have dinner before landing in London.
So when the flight attendant came by to take meal orders I told him I'd just like some breakfast tea and scones. His response was simply "we don't have those." I asked what exactly he didn't have, and he said the scones. I showed him the scones on the menu, as he didn't seem to believe they were on there, and he walked away. Five minutes later he returned with the table setting, not acknowledging that he was wrong or apologizing, and set up my tray for the service.
The scones and tea were very good, though having the flight attendants clear the tray proved to be the biggest challenge. They must have walked by at least a handful of times, seen my empty plate, and continued walking. After having the empty plate in front of me for at least 20 minutes I asked if they could please remove it, which they did.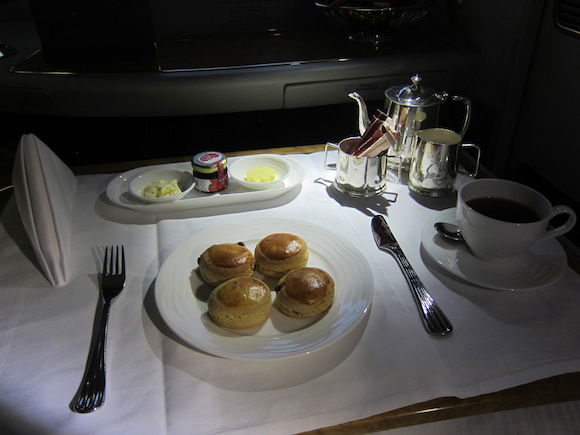 Afternoon tea
After finishing my three episodes of Extreme Couponing I headed back to the business class bar, which was surprisingly empty on today's flight, so I instead decided to have my shower at that point.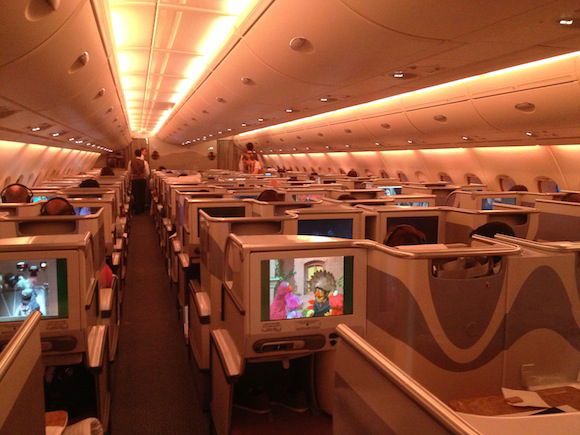 Forward business class cabin enroute to the bar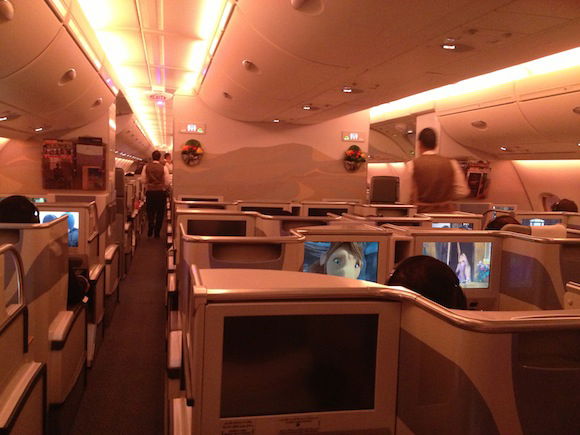 Rear business class cabin enroute to the bar
Once in the shower area one of the attendants was standing by and directed me into the left shower spa. As usual this was the highlight of my Emirates experience. It really is a damn miracle that this thing is in the sky.
The shower spa is spacious with heated floors and far too much space to justify on an airplane.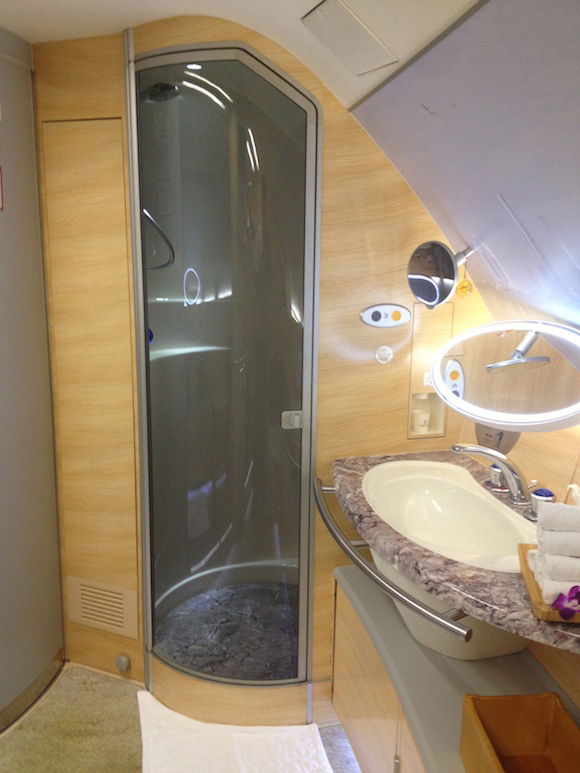 Shower spa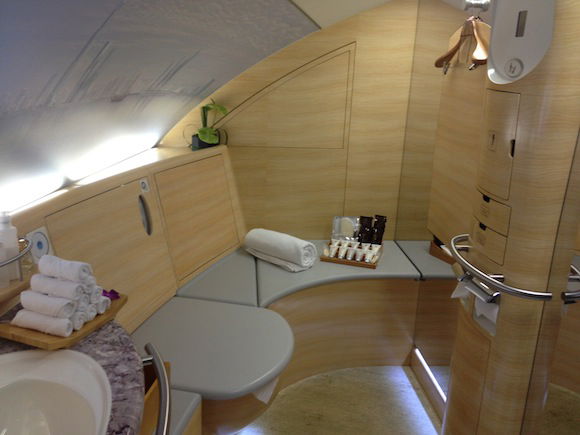 Shower spa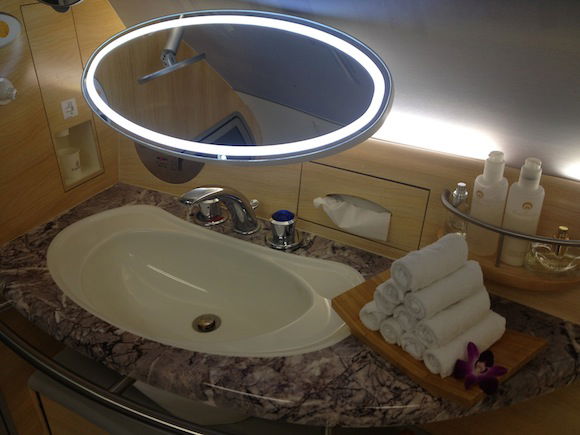 Shower spa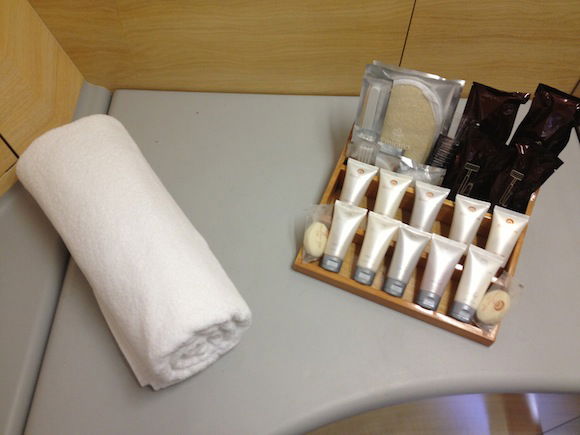 Shower spa
The shower itself is rather spacious with a bench in the event of turbulence. You get up to five minutes of water per shower, but can extend the life of that by turning the water on and off. So it's plenty of water, and the pressure is surprisingly good for a plane as well.

Shower spa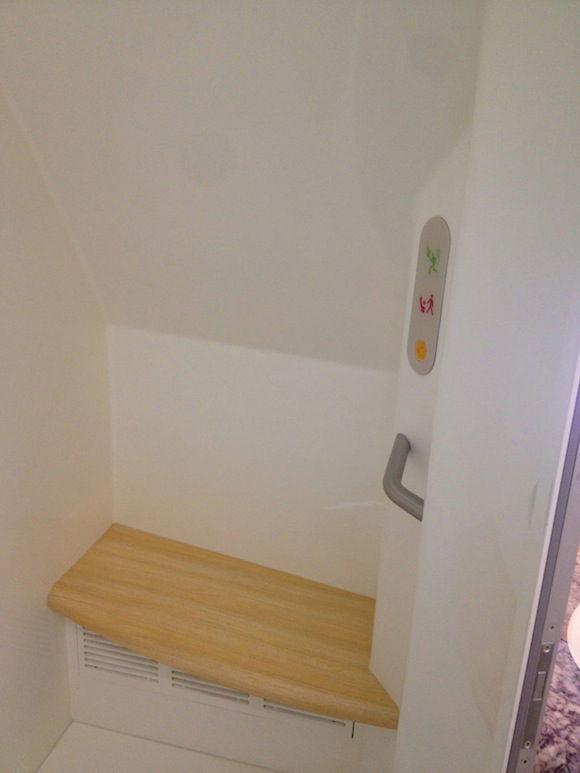 Shower spa
Here's a quick tip — you'll notice that just outside the shower area is the first class bar, stocked with a bottle of Dom, etc. So if you're thirsty before a shower and the area isn't too heavily guarded…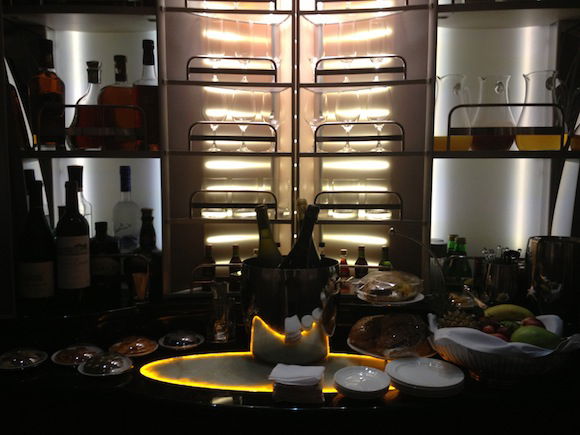 First class bar
When I returned to my seat there was a fruit plate waiting at my seat, which seems to be a standard post-shower offering.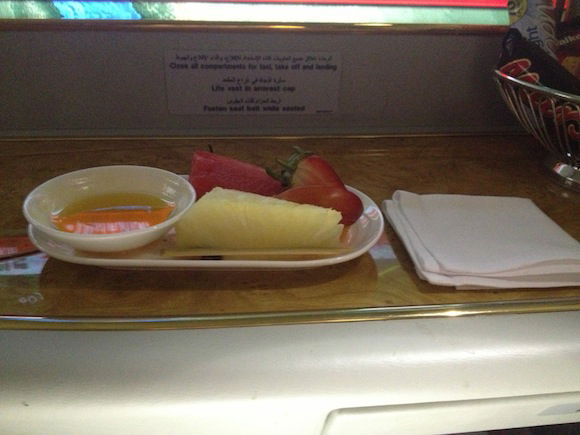 Fruit
After the shower we had about five hours to do to London, and I requested turndown service so that I could nap for a few hours before dinner.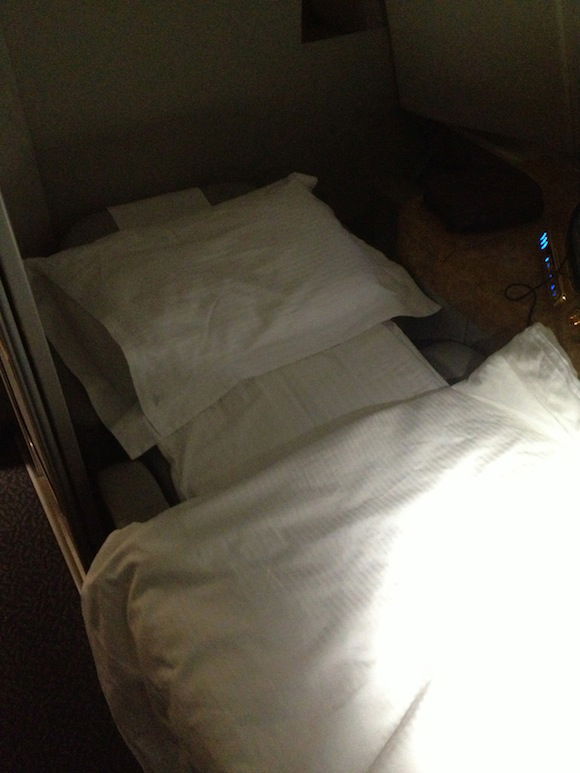 Turndown service
I slept well for about three hours and woke up two hours out of London feeling refreshed and ready for dinner. There were no flight attendants in sight so I pushed the flight attendant call button. After two pushes a crew member appeared at my seat.
On this flight I skipped the Arabic mezze and caviar since consuming them had prevented me from ever making it as far as the entree on previous flights, and I didn't want that to happen again. So instead I ordered marinated prawns to start, which were quite good.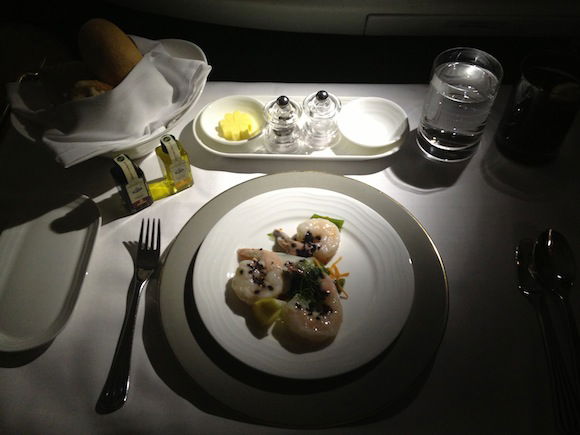 Marinated prawns
Then I had the corn chilli soup, which was flavorful and perfectly spiced.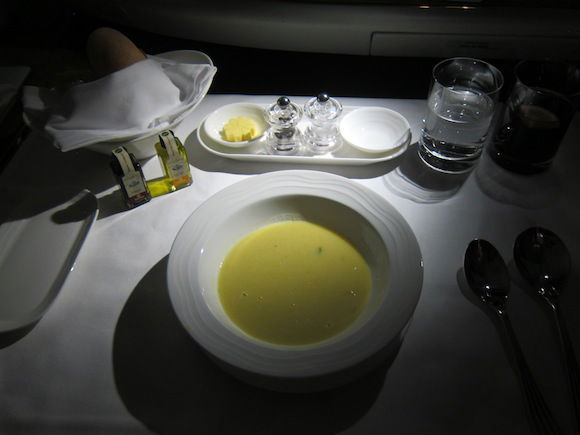 Corn and chilli soup
Then for the main course I ordered the salmon fillet, which was probably the highlight of the meal.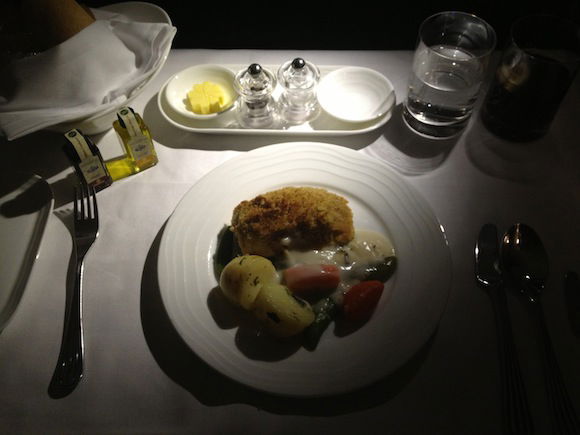 Salmon fillet
During the meal I told the flight attendant I'd like the nectarine meringue tart for dessert, which he brought out right away and placed right next to my entree while I was still working on it. That was the first time I've ever had that happen in international first class.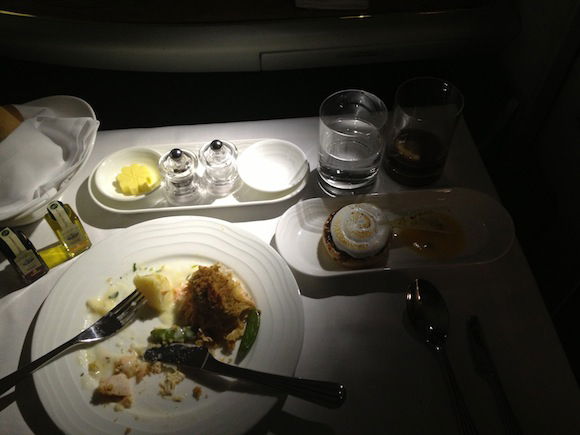 Entree and dessert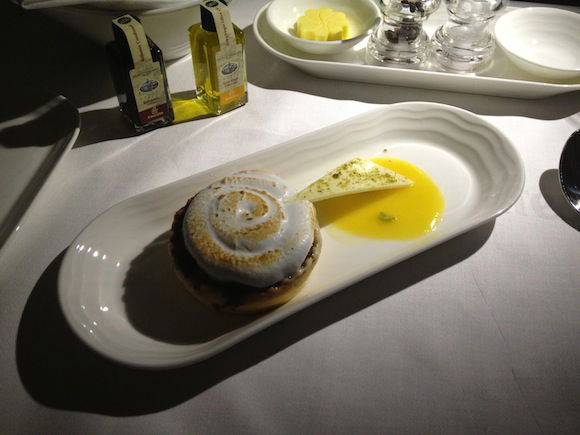 Nectarine meringue tart
On the whole the service throughout the meal was really bad. Not a single plate was cleared or refill was offered without it specifically being requested, most of the time via the call button.
Fortunately Emirates has in-flight phones, so my friend and I were able to share our frustrations "live" from the comfort of our own suites. 😉
About 30 minutes prior to landing we began our descent and landing forms and Fast Track passes were distributed.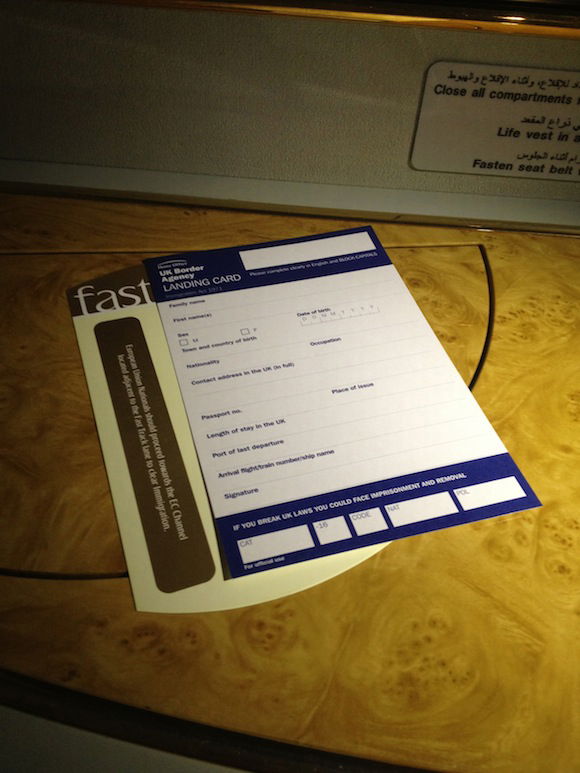 Landing form and Fast Track card
We had a fairly smooth approach into London and touched down right on-time. Our taxi to the gate took about 10 minutes, and we parked next to another Emirates A380.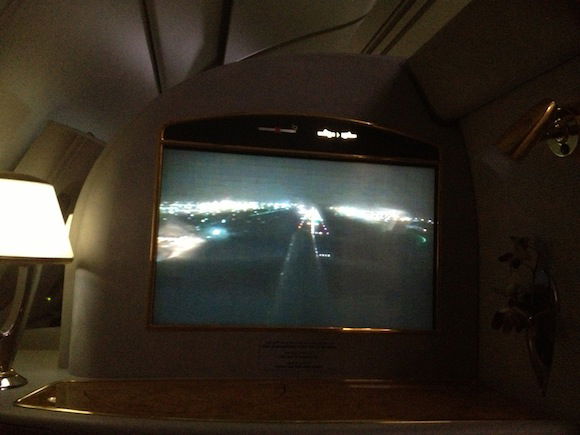 Tail camera on final approach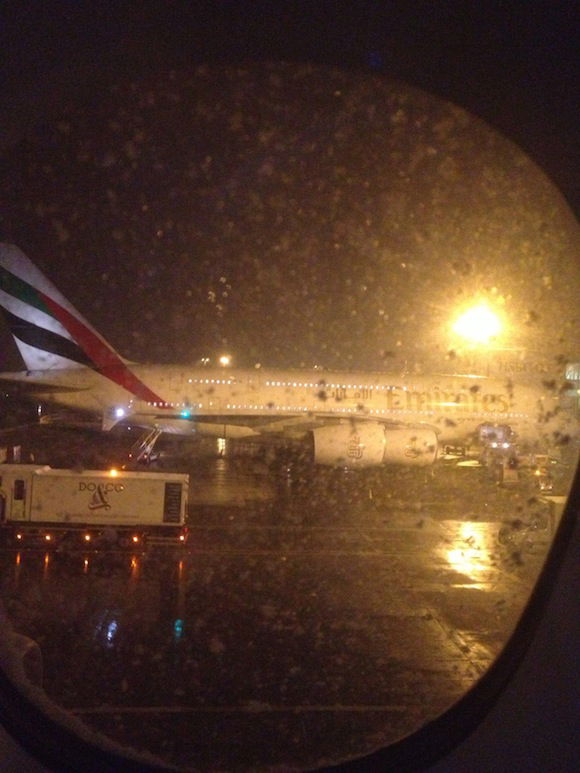 At the gate
The immigration queues was quite long, even for those with Fast Track passes, so we had to wait for about 20 minutes. The immigration officer asked what brought me to the UK, I explained I was in transit, and he asked for my ticket. I'm not sure if I usually just don't look suspicious or what, but I've just about never been asked for anything at any immigration checkpoint.
Once through immigration we followed the signs towards Emirates chauffeur.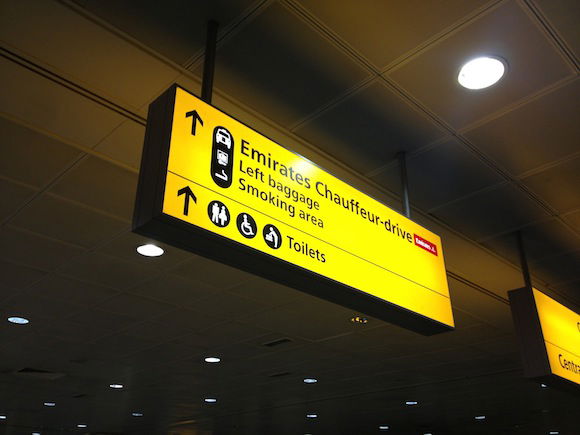 Signage for Emirates chauffeur
At the end of the arrivals hall was the Emirates chauffeur lounge.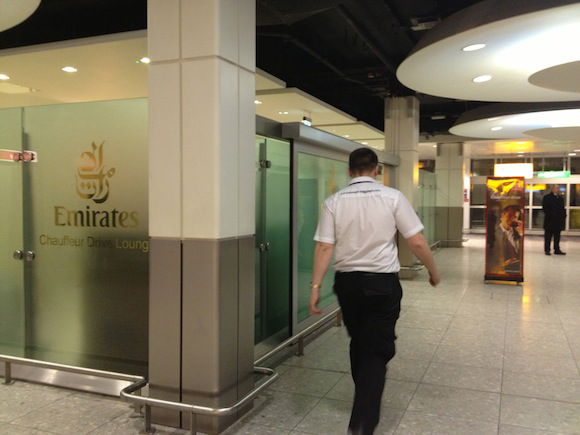 Emirates chauffeur lounge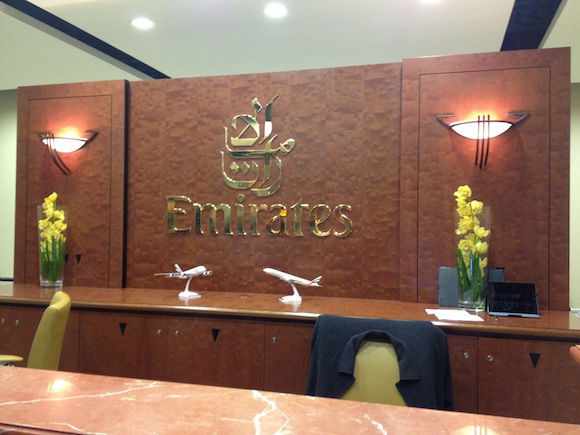 Emirates chauffeur lounge
Once we presented our boarding passes the host called for a first class driver, as all the drivers were lined up just outside, and there must have been dozens of them. Quite a spectacle.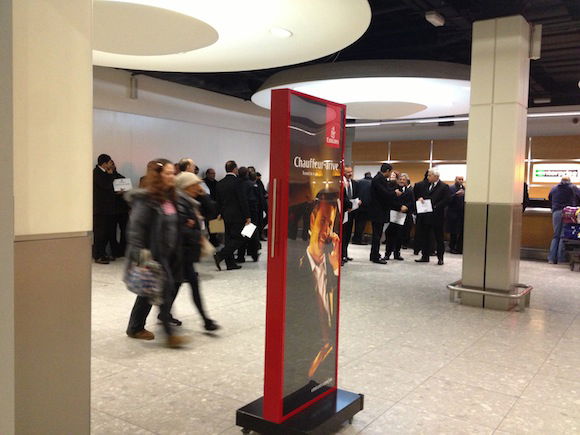 Drivers
Our driver walked us over to the car park and loaded us into his brand new S-class Mercedes. I was curious about how the service works, and he explained that they all work for contract companies and that first class passengers get S-class vehicles, while business class passengers usually get E-class or equivalent.
It was snowy as could be outside, and at that point I asked myself why we decided to overnight in London instead of just connecting, given that I didn't have a single article of warm clothing. Our driver drove had us at Coworth Park within about 15 minutes, where we'd be spending the night.