---
Back on February 1, 2013, Malaysia Airlines joined the OneWorld alliance, a move I was quite excited about. Malaysia Airlines opens up several new routes and destinations that aren't currently served by OneWorld, and most exciting for me was that they operate Airbus A380s, as I am hoping to try at least one A380 from every airline that operates them this year.
While they now also fly A380s to Paris, at the time they only flew them twice daily between Kuala Lumpur and London. Their A380 first class product looked quite nice with only eight seats, so I decided to plan a weekend trip around it, and managed to drag a friend along with me.
Being based in the US, London to Kuala Lumpur isn't an especially practical routes on which to fly Malaysia Airlines, given that American doesn't let you route from the US to Asia via Europe on a single partner award. So instead we booked separate positioning flights from the US to London on American, which cost about $900 all-in roundtrip. A generous reader gifted us their expiring systemwide upgrades, and while they were waitlisted initially, both directions cleared within a few days of departure.
Then we used British Airways Avios for travel between London and Kuala Lumpur. British Airways charges 105,000 Avios one-way for first class, while American charges 70,000 AAdvantage miles one-way for first class. There are also fuel surcharges when booking through British Airways, though they were quite mild compared to what they charge for their own flights.
Award availability on Malaysia in first class is generally excellent, as they typically release 2-4 first class seats per flight.

In the end our itinerary looked as follows:
02/14 AA268 Seattle to New York departing 7:10AM arriving 3:29PM
02/14 AA100 New York to London departing 6:15PM arriving 6:20AM (+1 day)
02/15 MH3 London to Kuala Lumpur departing 10:50AM arriving 7:10AM (+1 day)
02/18 MH4 Kuala Lumpur to London departing 10:45AM arriving 4:15PM
02/19 AA139 London to New York departing 12:35PM arriving 3:40PM
02/19 AA269 New York to Seattle departing 6:30PM arriving 10:05PM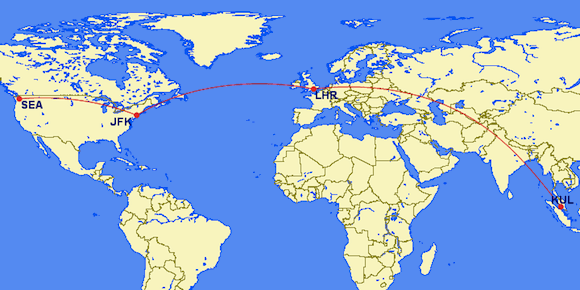 In Kuala Lumpur we decided to book the brand new Grand Hyatt, which was about $200USD per night. I was able to apply an expiring Diamond confirmed suite upgrade to the reservation, confirming us into one of their Grand Suites.
In London on the way back we stayed at the Hilton Heathrow Terminal 4. Our flight from Kuala Lumpur was arriving at Terminal 4 while our flight the following morning was leaving from Terminal 3, so this was by far the most convenient option. I booked this using a Hilton cash & points award, which cost 25,000 Honors points plus £53 for the night.
It was a fun but whirlwind trip, so stay tuned!