---
As I discussed in the introduction post, while the initial plan for this trip was to go to Bali, Hilton's decision to more or less castrate their Honors program caused us to change our plans and go to Koh Samui instead. The Conrad was available for four nights on an AXON award (available to those with a co-branded Hilton American Express card) for 145,000 points. The hotel went from ordinarily costing 50,000 points per night to 95,000 points per night. Meanwhile category 10 AXON awards will cost 300,000 points starting in a few weeks, meaning the cost of this stay has more than doubled.
The Conrad is an all villa property located on the southern tip of Koh Samui, almost exactly on the opposite side of the island as the airport. We had arranged transport with the hotel in advance, and it cost about $50USD for the hotel's Toyota SUV (which was comfortable). The ride to the hotel took just a bit under an hour, and the last part of the drive was especially interesting, as we drove up a series of extremely steep hills to the top of the resort.
At the top of the hill was the resort's reception area, which was open air. The views were stunning.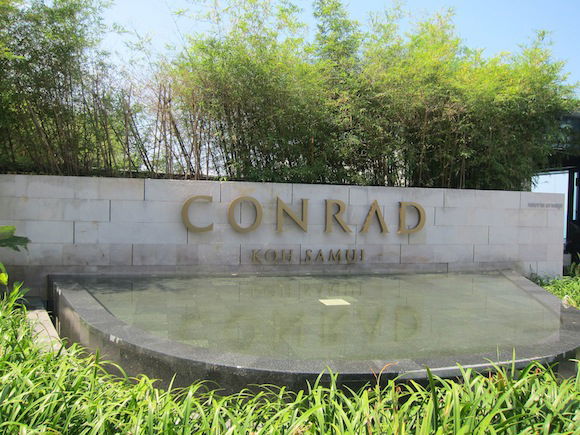 Resort entrance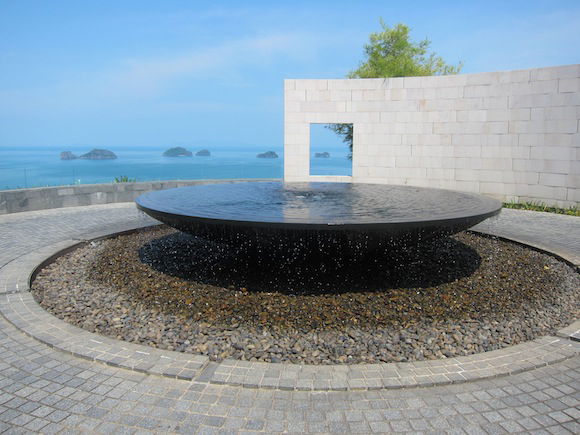 View from the resort's driveway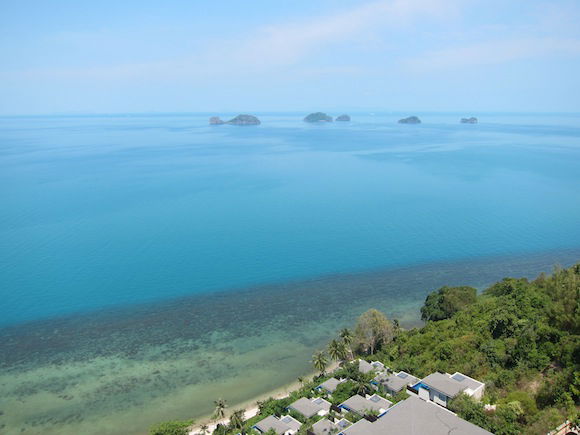 View from the lobby
It was early, still before 11AM, so they asked us to take a seat while they processed our check-in. They also offered us cold towels and some tea.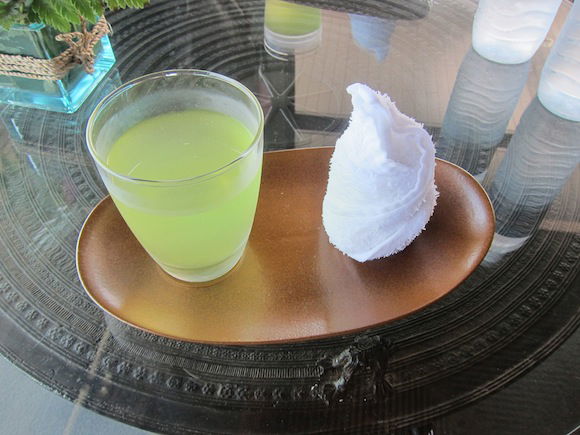 Cold towels and tea
Within about 15 minutes they found us a villa and explained some of the features of the resort before driving us down to our room. As Honors Gold members we were offered complimentary daily breakfast, two drink vouchers, and certificates for bonus points at both the spa and restaurant for reaching certain spending thresholds.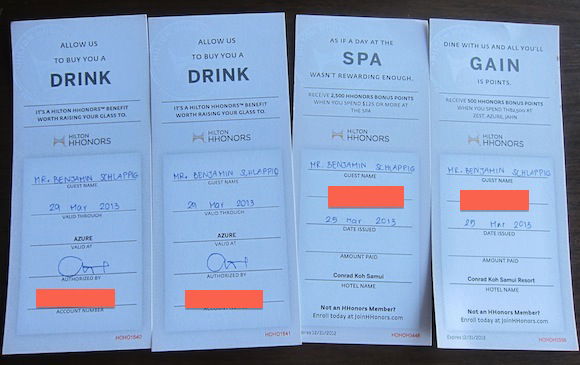 Drink certificates and bonus certificates for reaching spending thresholds
The resort has a fleet of golf carts, and when I say fleet I mean it. The setting of the resort can't be stressed enough, as it's both a blessing and a curse. It's literally set on the side of a super-steep hill, and there are several "rows" of villas of varying levels. Here's a picture and map which hopefully illustrate it well: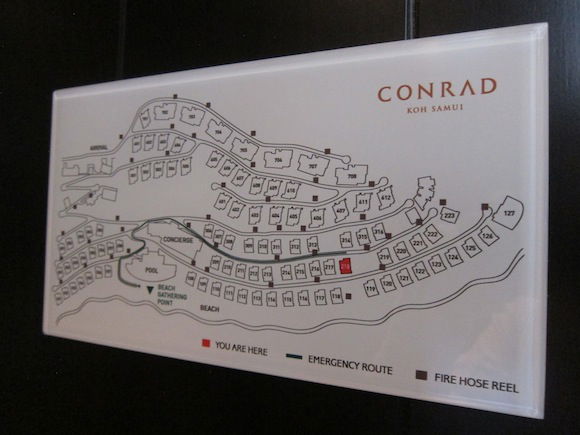 Map of resort
Each villa is on individual stilts, and at times they're 30 or 40 feet high. So as you can see above, there's basically one main road which winds up and down the resort. These roads are extremely steep, and at times feel so steep that they're hardly walkable. Interestingly there aren't any stairs connecting the various levels, so in a way the resort is really designed such that you have to take a golf cart if you want to move up or down in the resort. More on that later.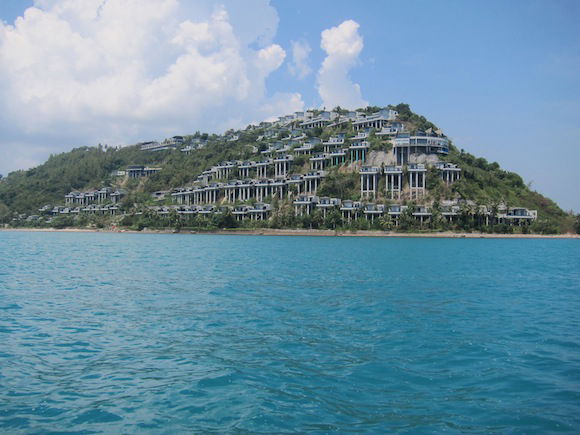 View of resort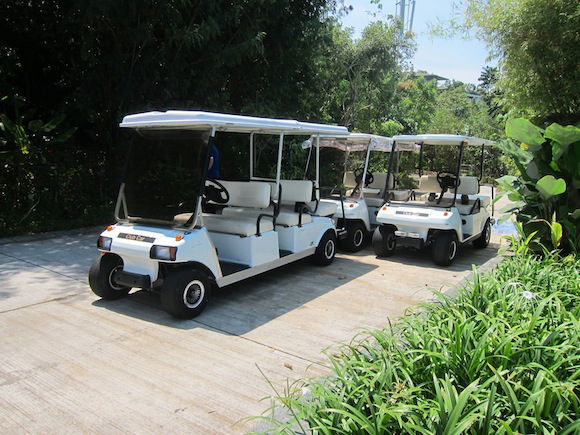 Golf carts
Anyway, our villa was 218, and the drive there took a few minutes. I'd say the second level is pretty ideal — it feels high enough so that you can still appreciate the unobstructed views of the water, but low enough so that you don't feel like you're in a skyscraper.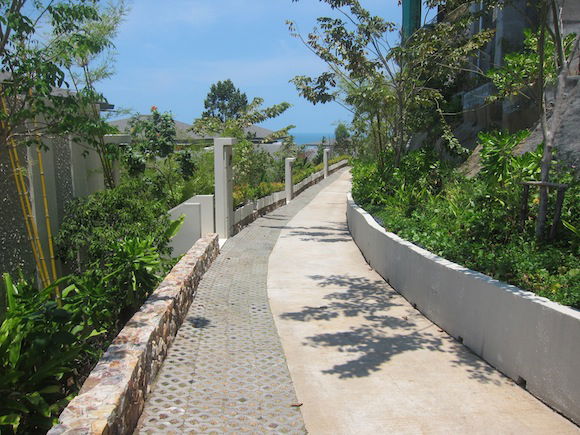 Road to our villa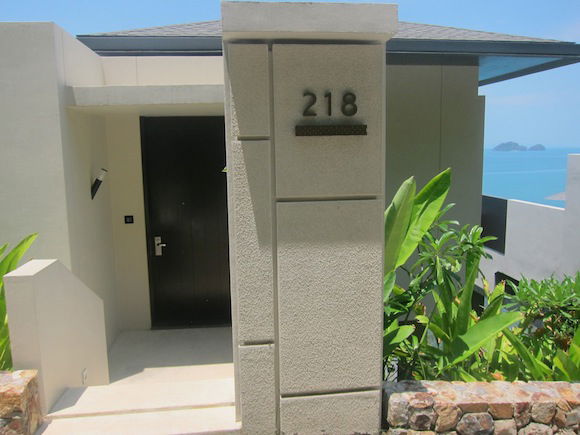 Villa 218
The villa consisted of a main room with a comfortable king size bed, a desk, a couch with seating for two, and a table overlooking the flat screen TV.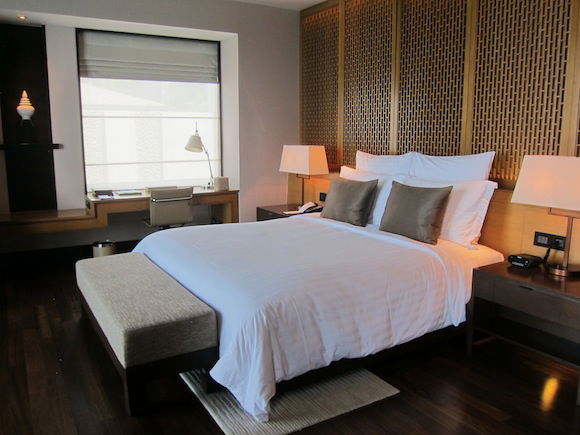 Villa bedroom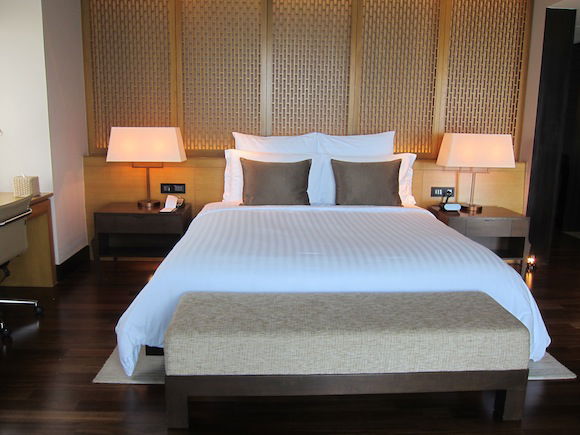 Villa bedroom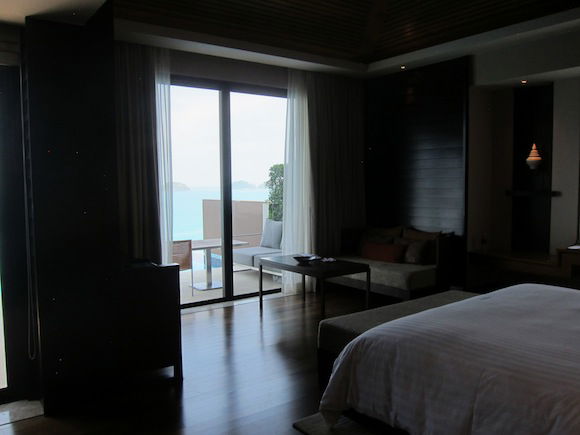 Villa bedroom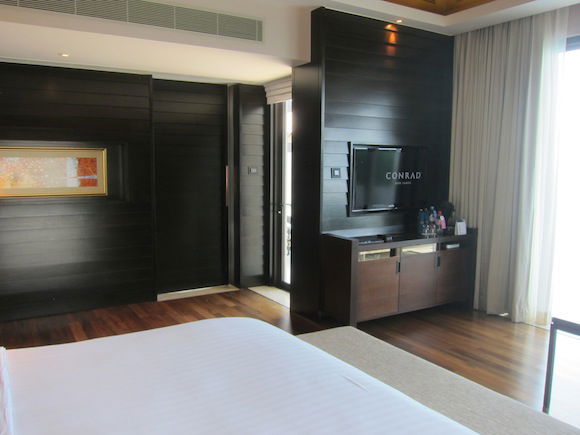 TV facing towards bathroom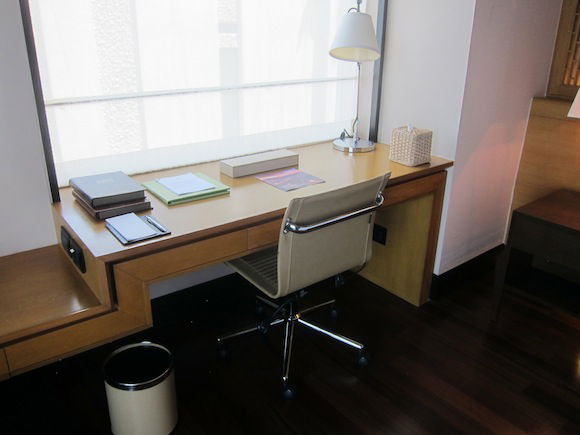 Desk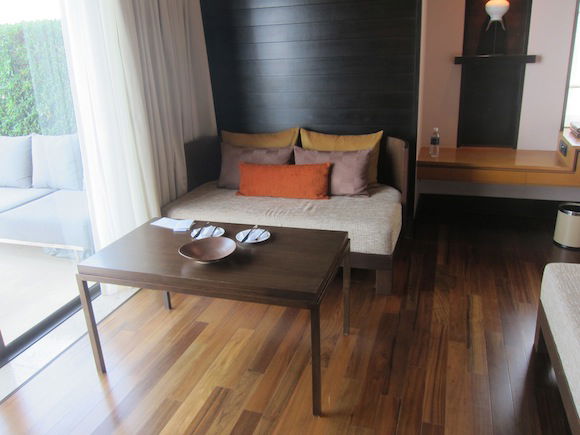 Seating area
Shortly after arriving we were brought a fruit plate and some cookies, which were placed on the table.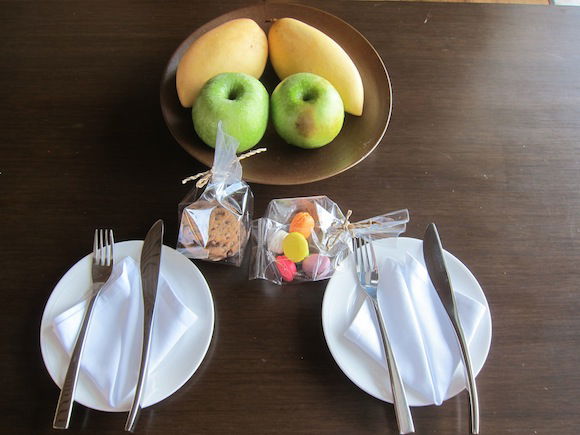 Welcome amenity
The bathroom was connected to the bedroom via two doors, and featured one heckuva massive bathtub.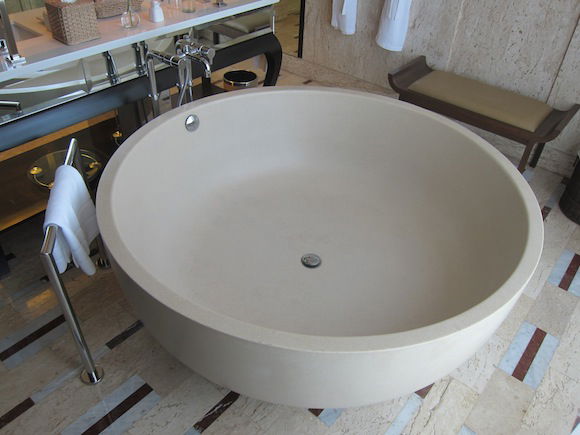 Bathtub
There were also double sinks.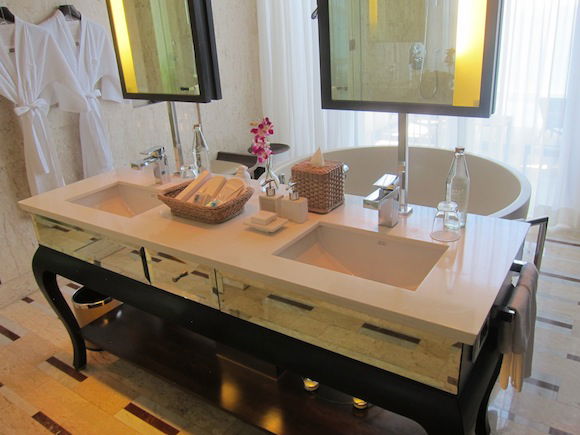 Double sinks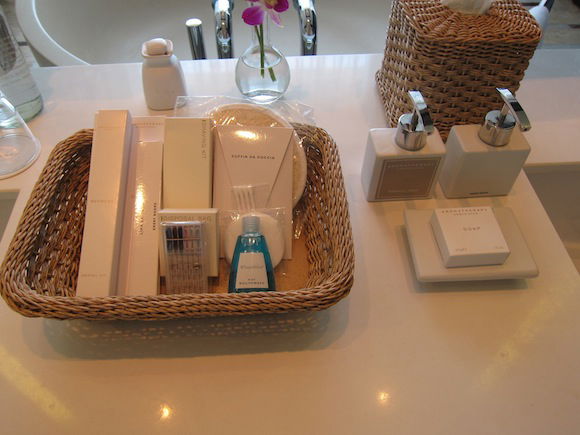 Amenities
Then there was a large walk-in shower. It's worth noting that all the toiletries in the villa came in reusable dispensers which I don't usually mind, but I found them a pain in the ass to use given that they didn't "dispense" properly.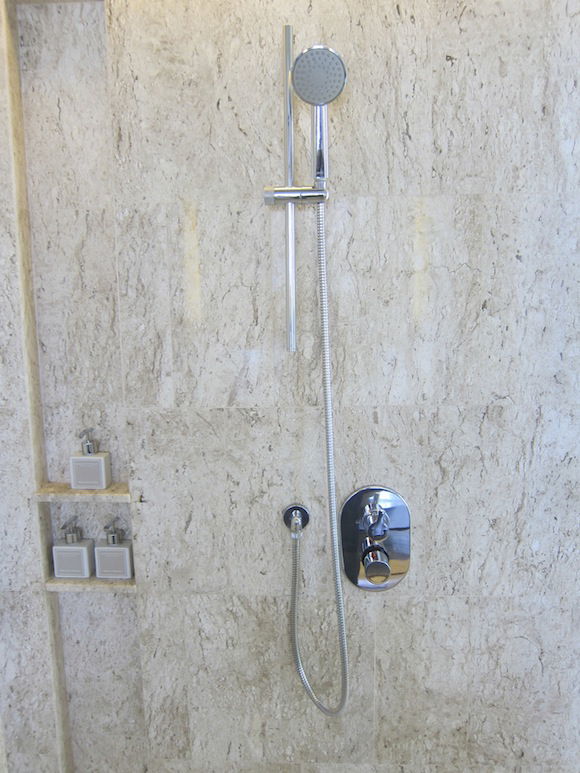 Shower
Then there was a separate room with a toilet.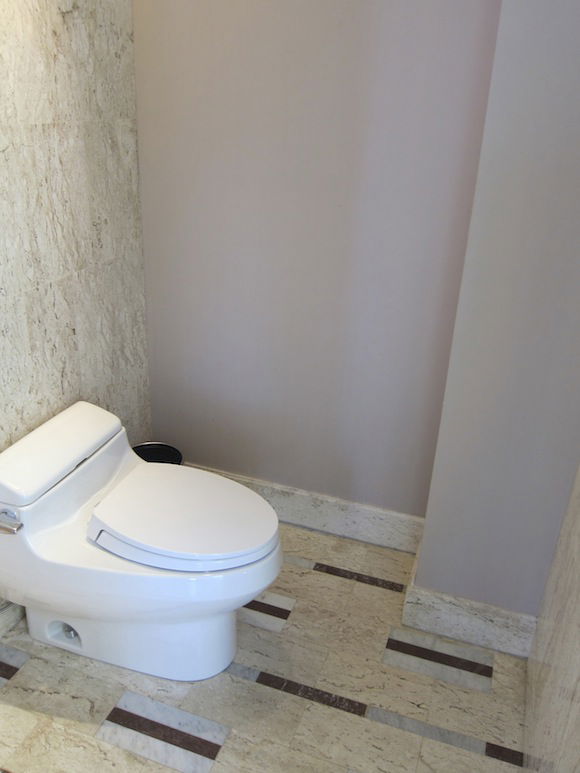 Toilet
On the back side of the bathroom was a large closet.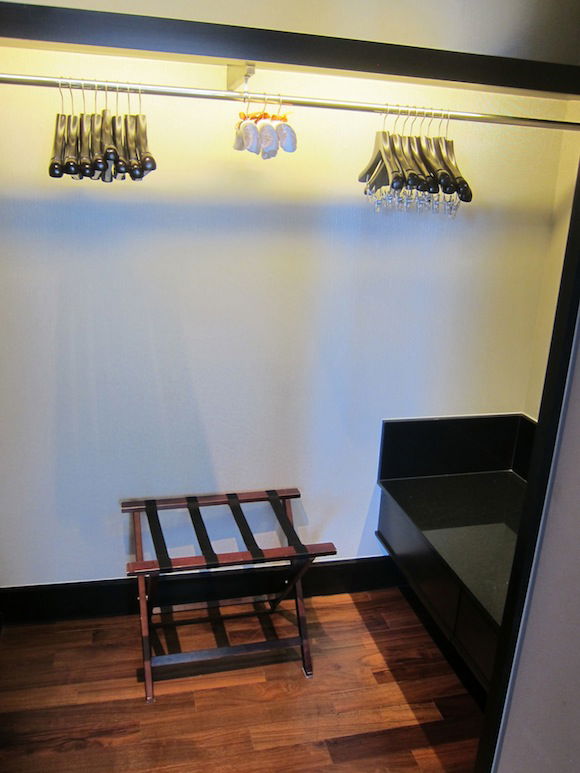 Closet
The highlight of the villa, not surprisingly, was the outdoor space. There was a table with plenty of seating, two lounge chairs with an umbrella, a huge (~30 foot long) infinity pool, and amazing views.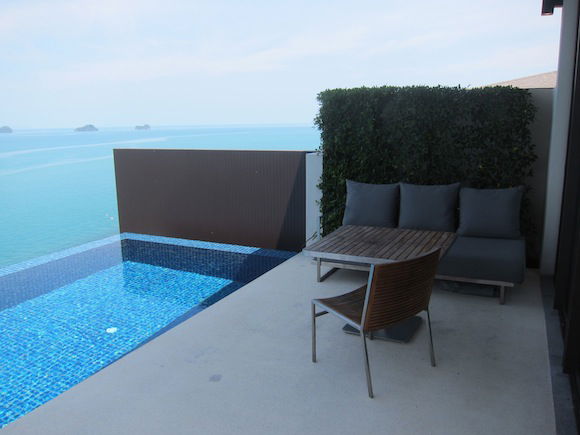 Villa outdoor area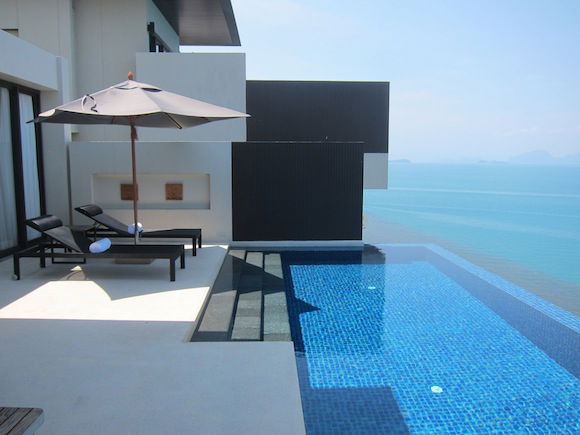 Villa outdoor area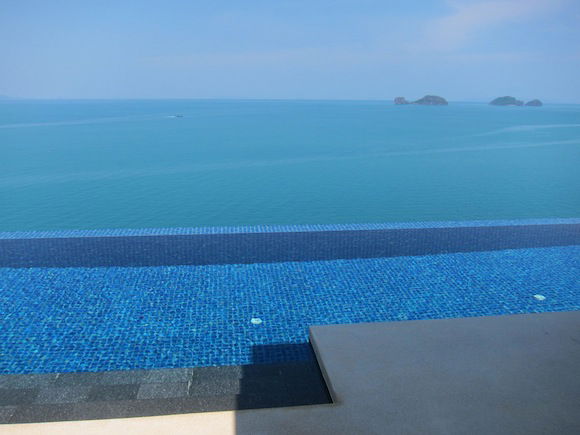 Views from villa
The villas were for the most part pretty private, though if you looked over the edge of the wall you could see the other villas on the same level, or for that matter if you looked up you could see the villas on higher levels than you.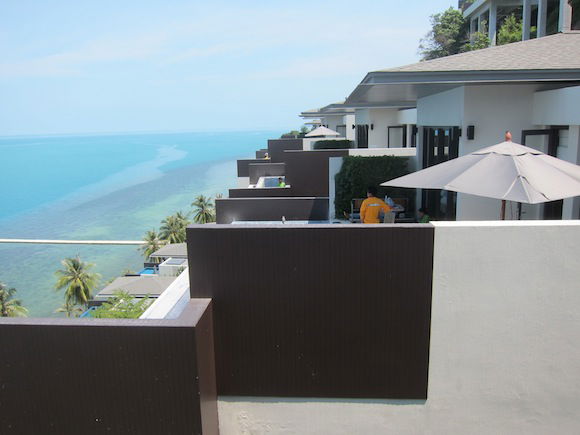 View of other villas
I mean, everything about the villa was awesome, and the Wi-Fi was even probably the fastest I've experienced in Asia — and free for everyone — which is kind of surprising given the setting of the resort. But the highlight had to be the sunset views, which were among the nicest I've seen anywhere.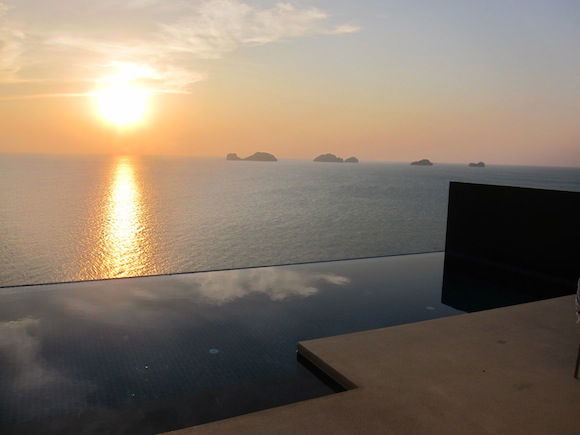 Sunset view from villa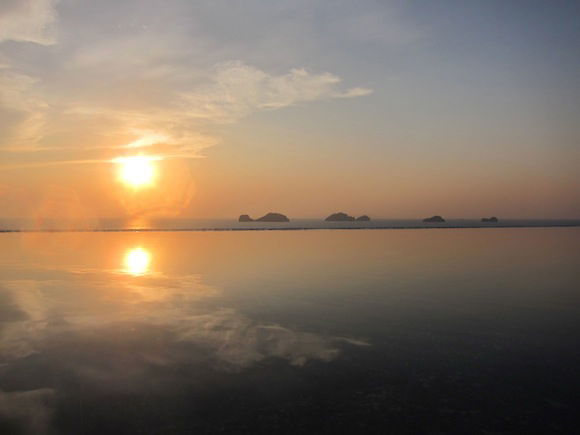 Sunset view from villa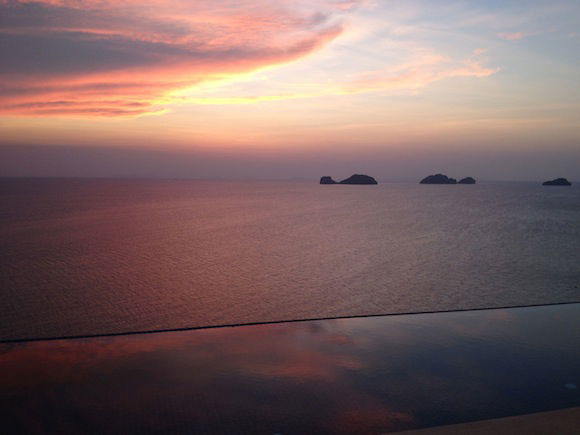 Sunset view from villa
So, about the public facilities of the hotel. On the same "level" of the resort as our villa was the restaurant and concierge.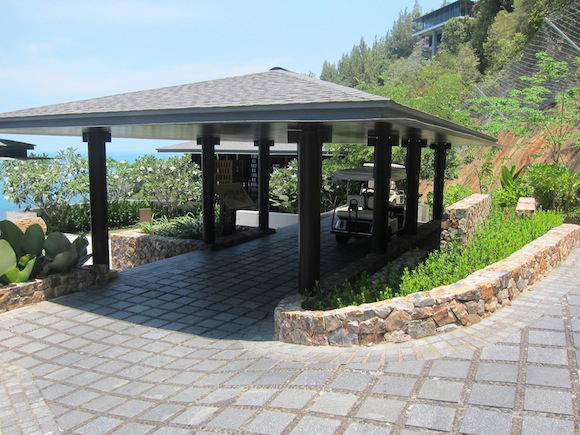 Restaurant and concierge "driveway"
Then one level further down was the resort's pool and fitness center.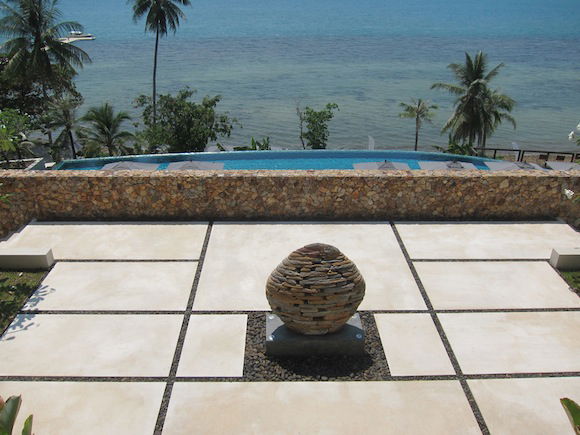 Walkway to pool
The pool was fairly nice, though in my opinion not incrementally nice enough to be used over the individual villa pools.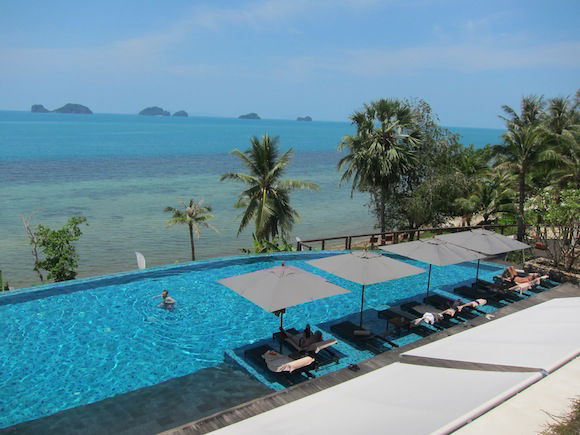 Pool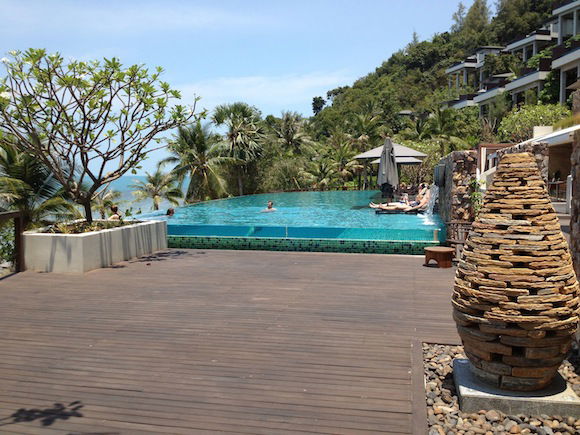 Pool
There were some nice day beds and even lounge chairs in shallow water, but I still didn't think they were incrementally nice enough compared to the privacy/comfort of the outdoor area of the villa.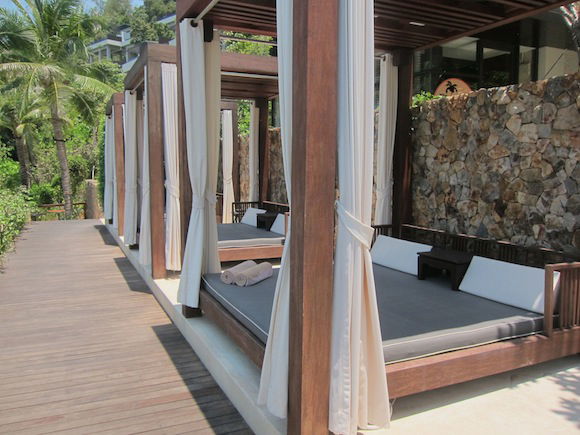 Daybeds at pool
This is also were the pool bar was, where we had our complimentary drinks.
The fitness center was next to the pool and located at the bottom of a spiral staircase.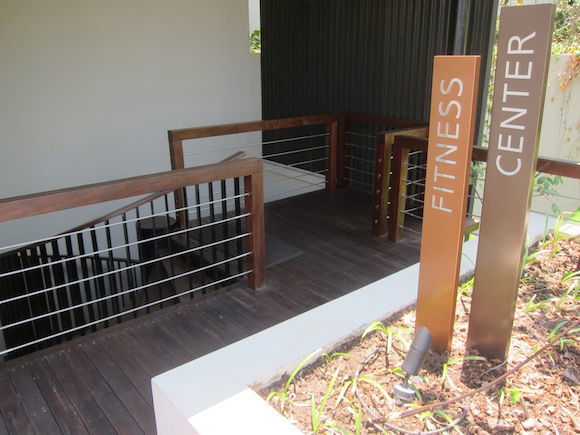 Fitness center entrance
The fitness center equipment was nice enough, but limited.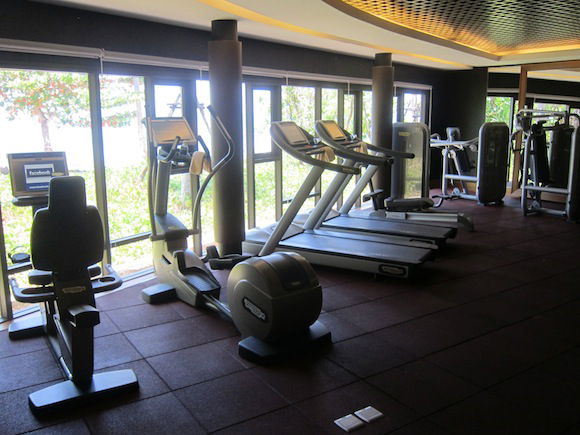 Fitness center entrance
Also one level below the pool was an artificial beach.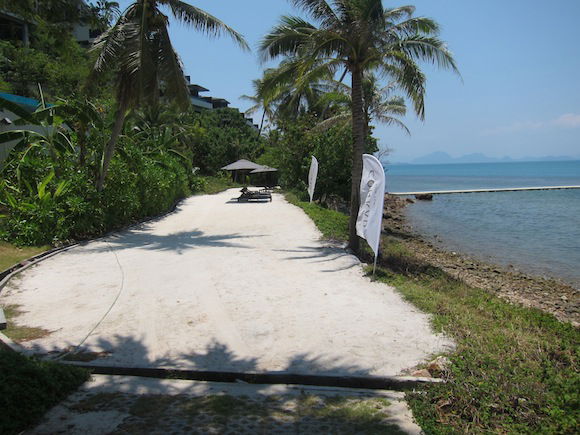 "Beach"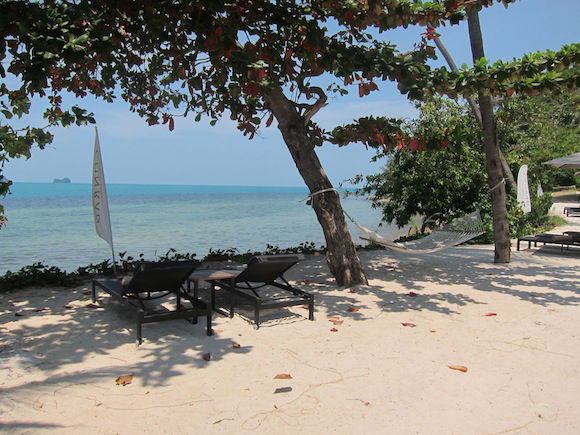 "Beach"
That led to the dock, the very end of which featured some awesome views of the resort.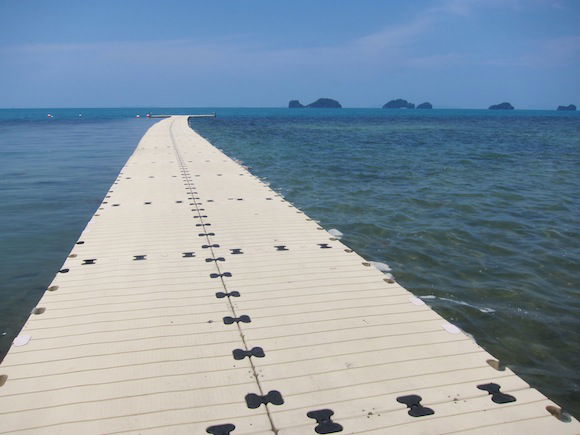 Dock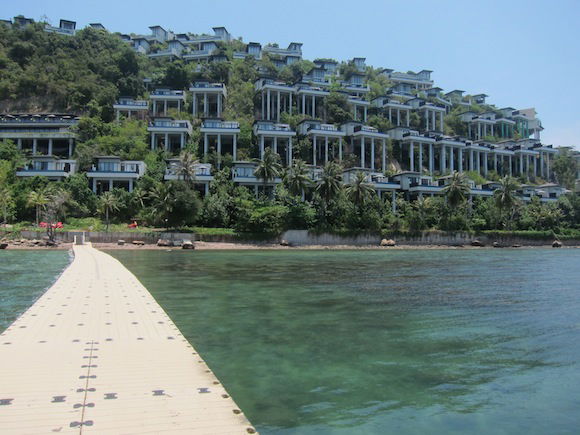 Resort view from end of dock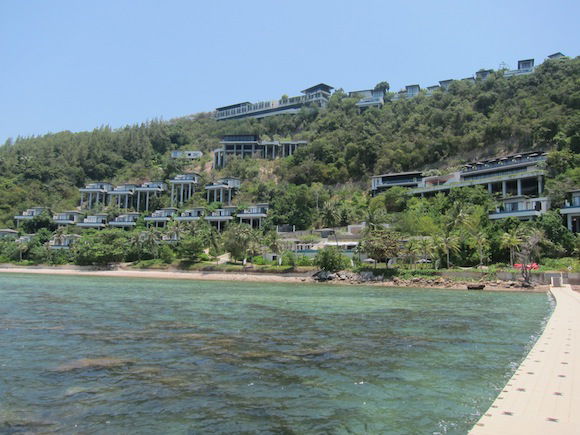 Resort view from end of dock
The resort also has a killer spa. Prices are higher than most hotels in Thailand, around $100USD for an hour-long massage, so I just had one massage. But I have to say the treatment was excellent, so I can't say it was a total ripoff. I paid the same at the Westin Siray Bay for a massage that was mediocre at best.
And the spa itself is beautiful as well, with a very nice waiting room and a balcony overlooking the water.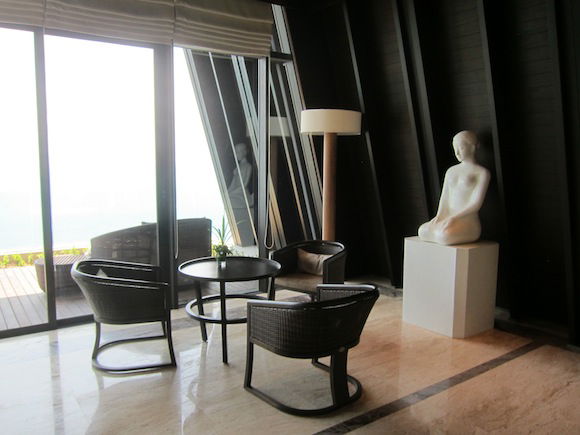 Spa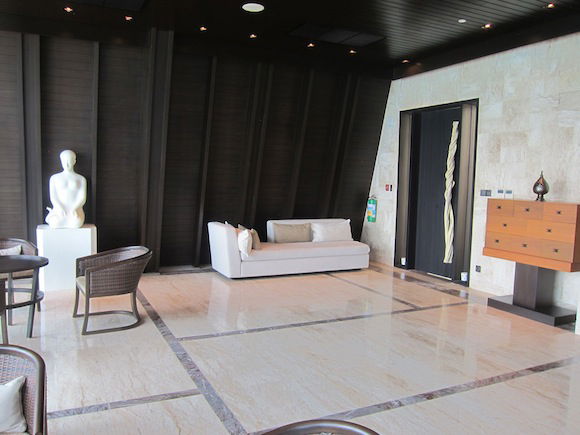 Spa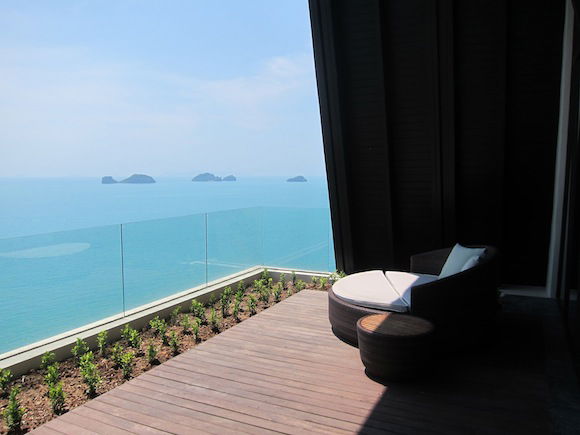 Spa
One cool thing the resort offers is a complimentary boat transfer to a nearby island with a "real" beach. The transfer is available three times a day (10AM, 12PM, and 2PM), with returns 75 minutes after departure (11:15AM, 1:15PM, and 3:15PM). The boat ride there is pretty cool and takes about 15 minutes (though they go really fast), and while the island itself is quite nice, it's otherwise pretty secluded, so you probably won't want to do more than the hour or so there (which is how long you're there before the next boat returns).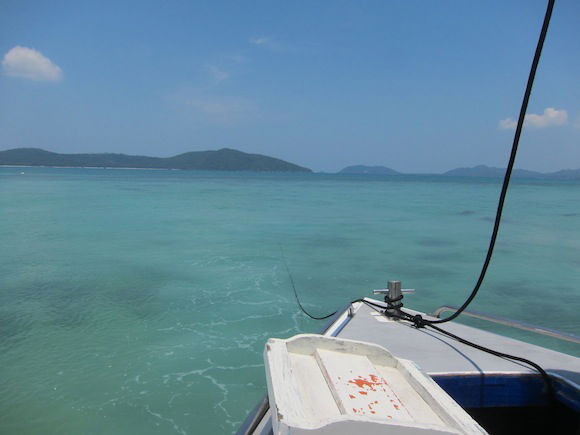 Boat ride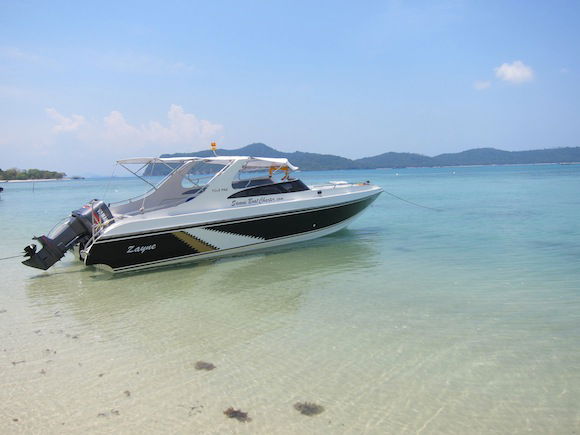 Boat on secluded beach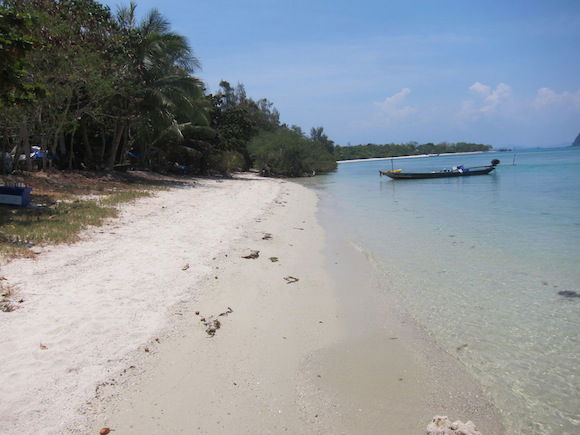 The beach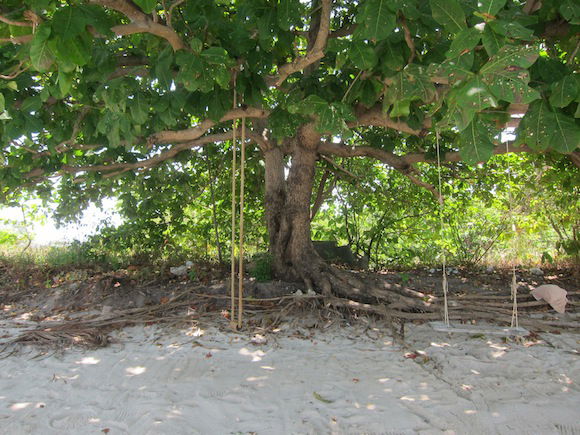 The beach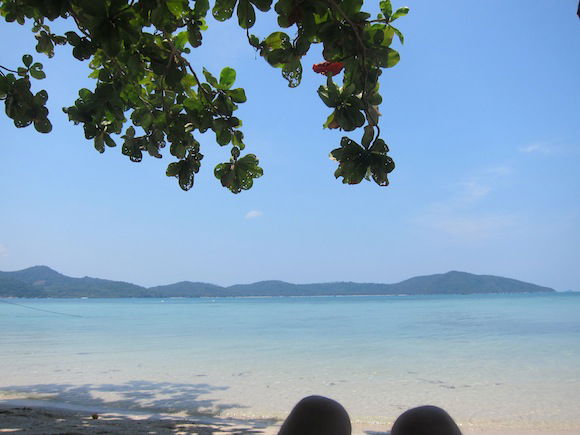 The beach
I'd say the one aspect of the resort that's truly underwhelming is the food. Breakfast was served daily at ZEST, the resort's more casual restaurant. There was both indoor and outdoor seating, so we sat outside for two mornings and inside for the other two mornings.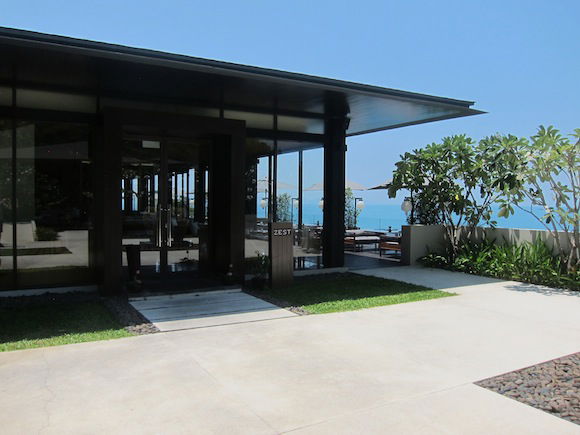 ZEST entrance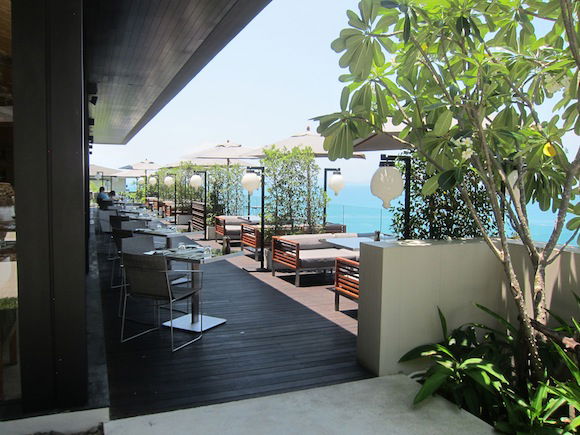 ZEST outdoor seating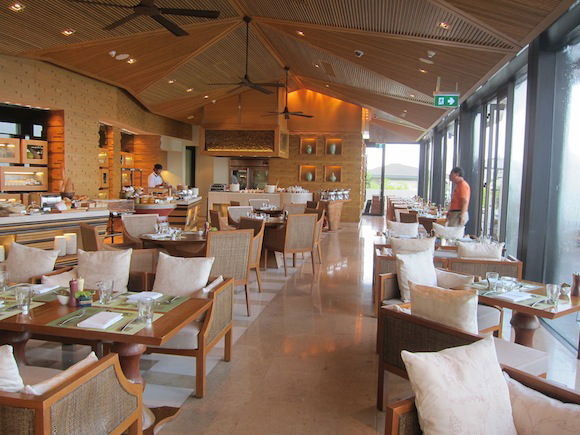 ZEST indoor seating
The breakfast spread was underwhelming. Don't get me wrong, it was by no means horrible, but as far as resorts in Thailand that I've been to go, I found the quality of the food to be the worst, which isn't really something you'd expect at a property that charges over $1,000 per night.
There was a cooked to order menu, off of which you could order as much as you wanted, and then a buffet.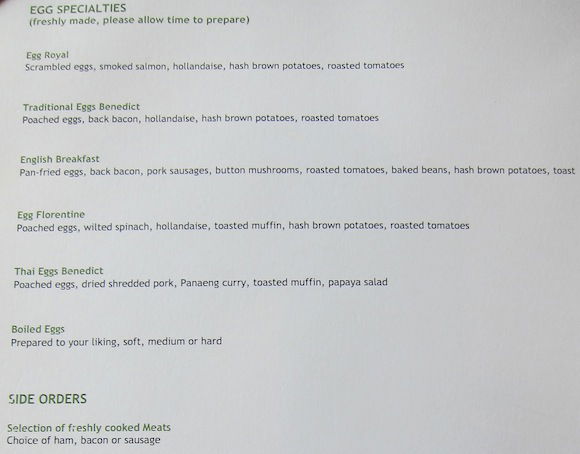 The highlight of the breakfast had to be the smoothies, which were delicious. Unfortunately they were all gone by about 9:30AM or so each morning.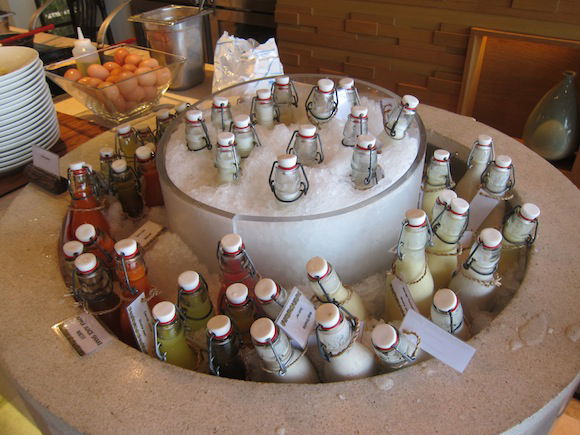 Smoothies
While they had a good selection of pastries, muffins, croissants, danishes, etc., none of them tasted especially fresh, or for that matter tasted like much of anything. They only seemed to make them (or buy them) every two days, because they were fairly stale every other day.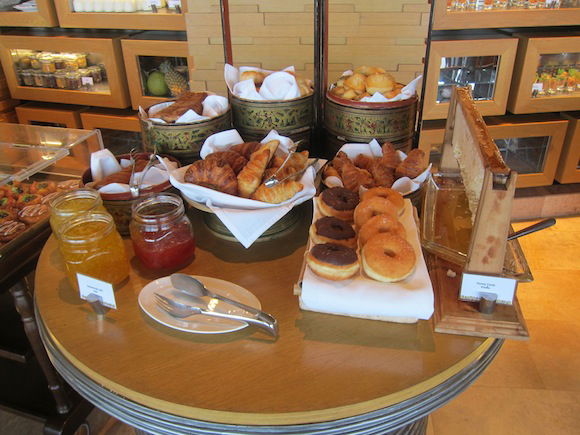 Croissants/muffins/donuts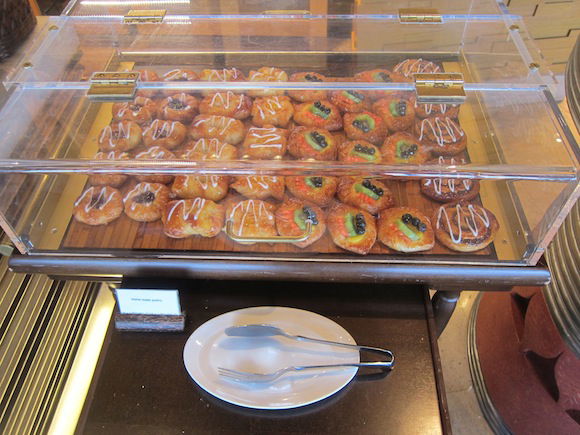 Pastries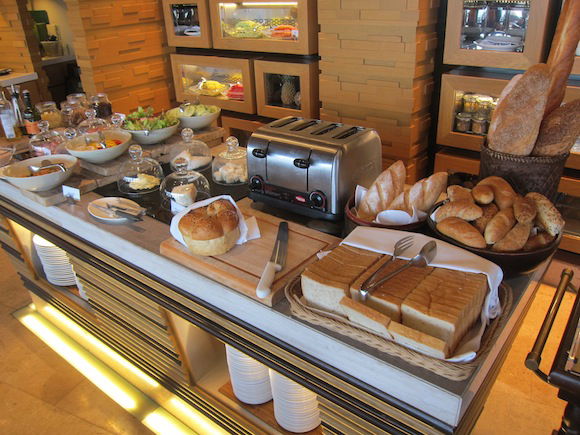 Bread/cheese/salad
There was also a limited selection of fruit.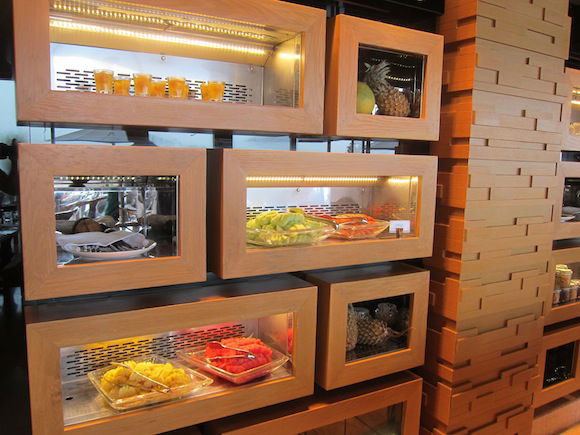 Fruit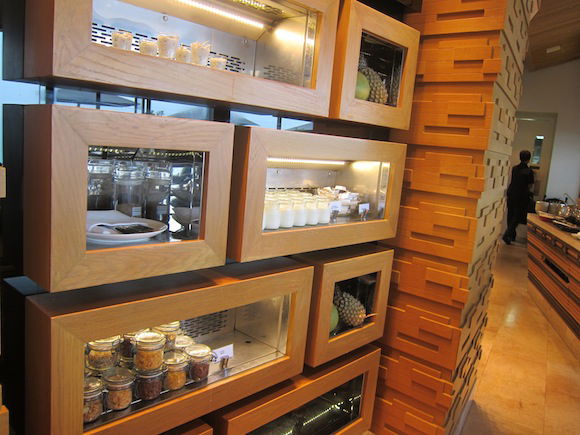 Yogurt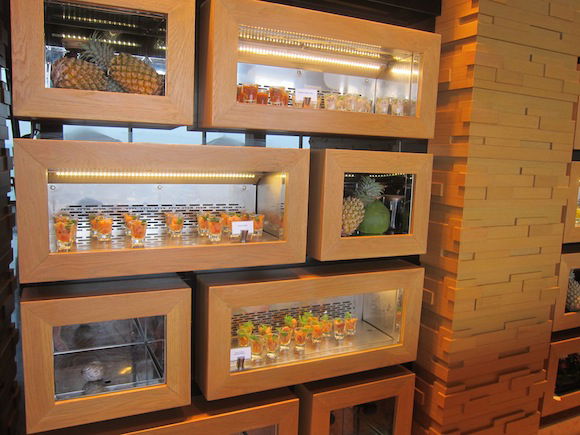 Fruit
Then there were a few warm dishes. They were lukewarm, and I found the Thai dishes to be especially disappointing.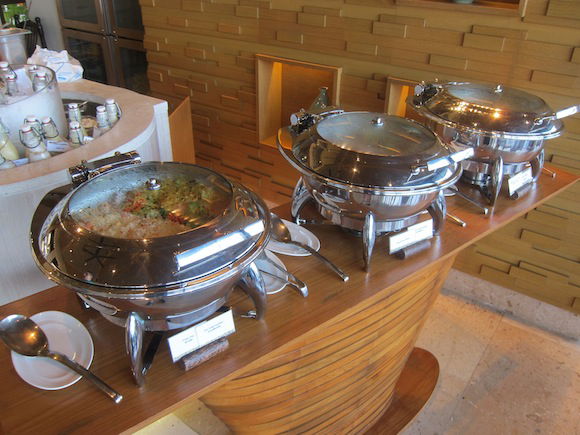 Hot dishes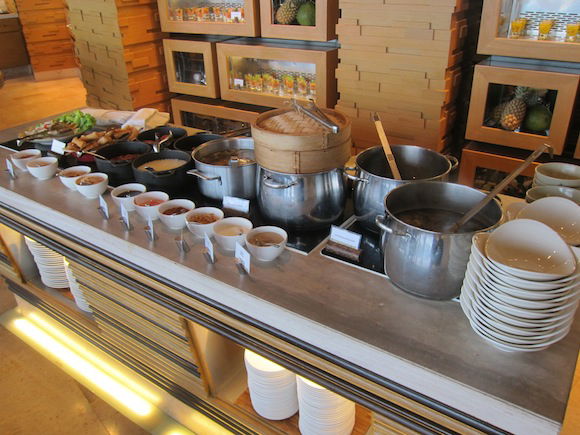 Hot dishes
Lastly there was a cooked to order station with omelets and pancakes. They were actually quite good in most cases.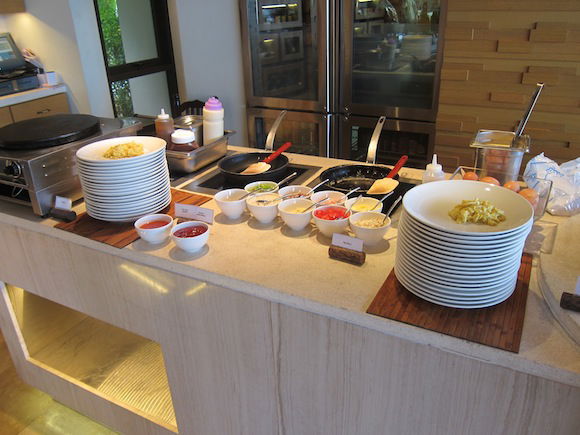 Omelet and pancake station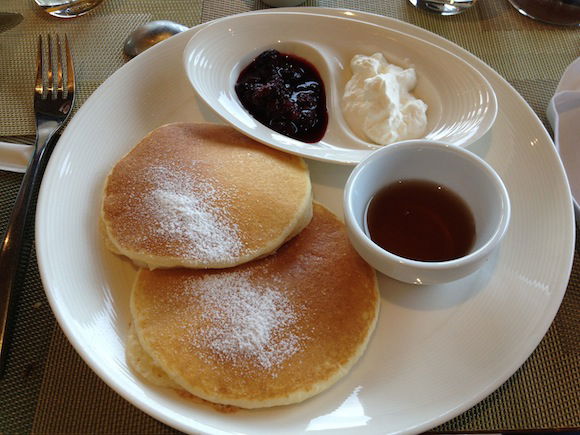 Pancakes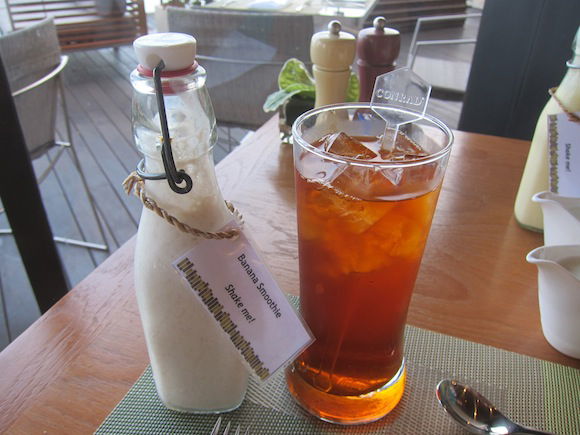 Thai iced tea and smoothie
I just want to be sure I'm framing the breakfast spread correctly here so nobody misunderstands me. It was still leaps and bounds better than what you'll find at at the average Hyatt or Sheraton breakfast spread in the US, and it was all perfectly edible. But this hotel was literally charging over $1,000 per night for a base room on my dates, so with that in mind it was disappointing. Like I said, of the Thai hotels I've stayed at (all of which were otherwise under $300 per night), this was the most underwhelming spread.
Unfortunately the food didn't get much better for lunch or dinner. One day we had lunch at ZEST, including tomato and mozzarella as well as a club sandwich. The tomatoes and mozzarella just looked weird, bread was borderline stale, and the club sandwich was just "bleh."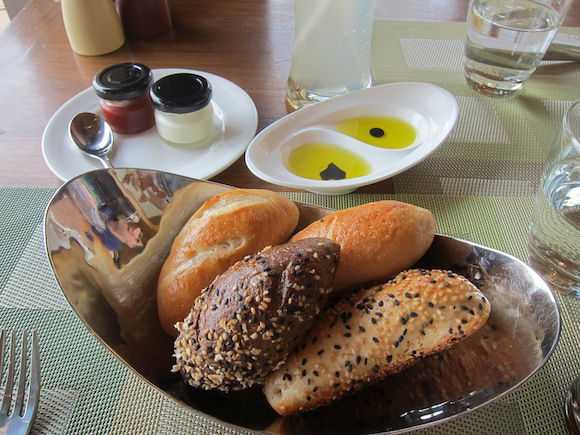 Bread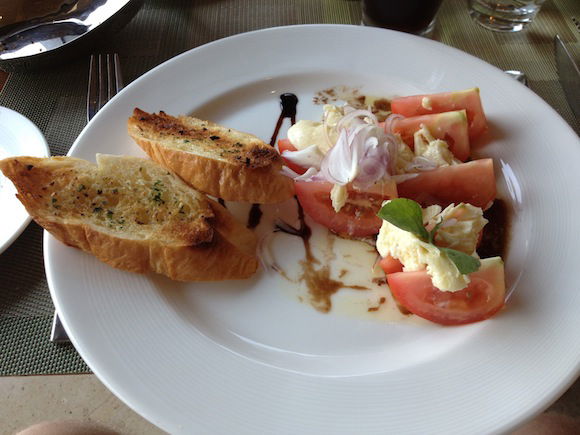 Tomato and mozzarella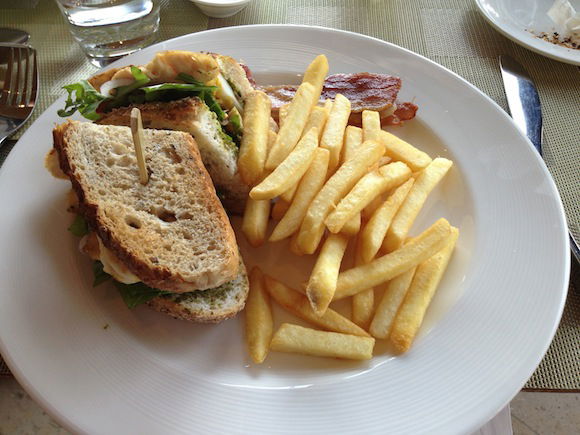 Club sandwich
Aside from the "fine dining" restaurant, ZEST is the only real option for eating dinner at the resort, so we had Thai food there one night. I love Thai food (and authentic Thai food, not the watered down stuff in the US), but it just wasn't good. I had the prawn pad thai, and it had that "ketchupy" taste you find at cheap Thai take out places in the US.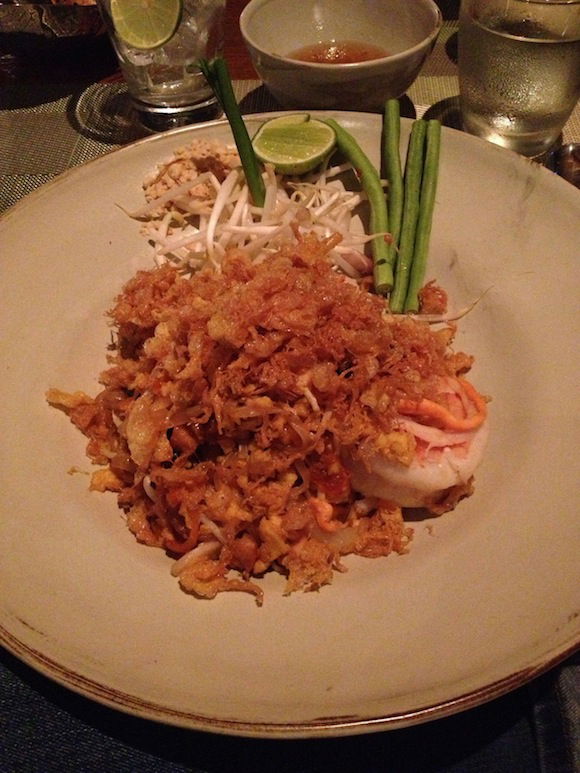 Prawn pad thai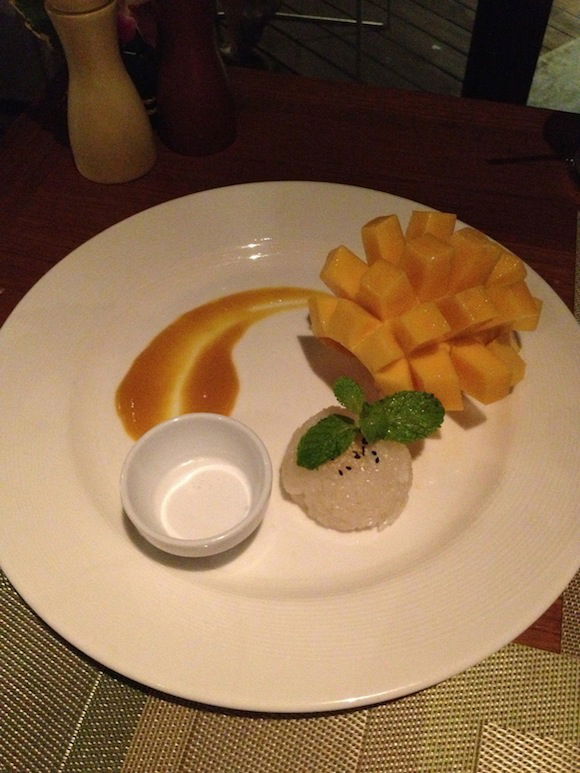 Sticky rice with mango
I hate to say this, but the best non "fine dining" option at the resort were their pizzas, which were actually quite good. And with the views available from our terrace, why not dine in room?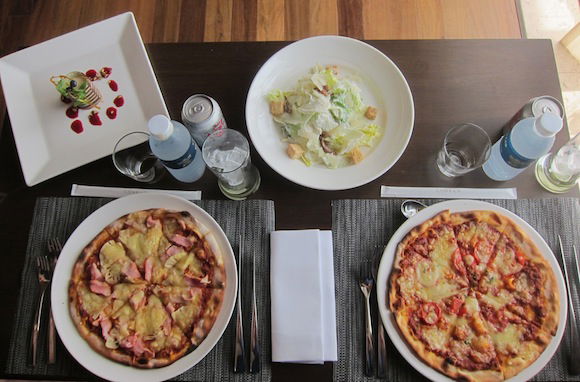 Room service
Fortunately there were a couple of decent restaurants only a short drive from the resort so we had dinner there two nights, which was a smart decision.
As far as the service goes, I found it to be okay for the most part. By Western standards it was no doubt phenomenal, but compared to other places I've stayed in Thailand I couldn't help but feel like the employees were all a bit disengaged. Some were friendly, but there was a bit of a lack of sincerity, I found.
Conclusion
This resort is relaxing, possibly one of the most "disconnected" getaways I've been able to have in a long time. The villas are stunning, the private pools are much more than plunge pools and are actually "swimmable," and the views from the resort are among the most gorgeous I've ever seen. Spending four nights here was perfect, though I wouldn't really want to do more than that. I wouldn't want to spend a week here, given that I don't like to disconnect for that long. All of those are things that speak for the hotel.
At the same time, the resort itself is boring. But if you're looking for a disconnected getaway that can be a good thing. Because the rooms were actually nice enough so that you wanted to spend time in them. The food was also disappointing. They have a lot of work to do in that regard, and you are fairly "captive" when you're staying here given there aren't all that many alternatives to dining at the resort. Don't get me wrong, the food wasn't horrible for a maybe 3.5-4 star property, but for a five star property they really need to do better.
At 145,000 Hilton Honors for four nights this was a steal. An absolute steal, possibly my greatest use of hotel points ever. But I also like to look at things in terms of the revenue rate, which is in the high season about $1,000 per night. Going back a few years I figured it was a moot point to even judge that, since I couldn't imagine ever paying that much for a hotel. But a couple of years ago I stayed at some Amans in India (Aman New Delhi, Aman-i-Khas, and Amanbagh), and finally realized "hey, if you have the money, there are actually hotels in the world that are worth north of $1,000 per night." But it has to be a truly all around perfect experience for that to be the case, in my opinion.
Even if I could afford it, this isn't a property I'd spend over $1,000 per night at.
But if you're planning on staying here soon (which I assume a lot of you are, in anticipation of Hilton's devaluation), you'll have a great time. Bring some books, don't have high expectations of the food, and be ready to unwind and relax, and you'll almost definitely leave satisfied.
Anyone else stay here, and if so, what did you think?