Here's the problem with writing a review of an Aman — there's something so indescribably special about the experience that it simply can't be conveyed in a blog or in 580 pixel pictures. The word "Aman" means "peace," and it couldn't more accurately describe how you feel at Amans.
The entire experience really just transforms the hospitality industry into just plain old hospitality, unlike what I've experienced anywhere else. I'll do my best to convey that in this review, though I'll note that I was at the Amans in India about two years ago, and when I started planning this trip to Bali with my mom I said to myself "hmm, was the Aman experience really that special, or was I exaggerating things in my memory?" And the answer was simple — yes, the experience is that amazing.
Anyway, upon arrival at the airport we were met by an Aman representative that escorted us through customs and immigration and helped us with our bags. He brought us to the car that was waiting to drive us to Amandari, which was included in our package. We were offered a selection of drinks as well as cold towels, and the driver couldn't have been nicer.
Amandari is located in Ubud, a bit over an hour from Denpasar Airport. Ubud is inland, so doesn't have the Bali "beach vibe", but it is one of my favorite parts of the island because I find the town itself to be really vibrant/special, and there's lots to do as well.
As you enter the hotel there's a security checkpoint, and then a long, lush driveway leading to the lobby.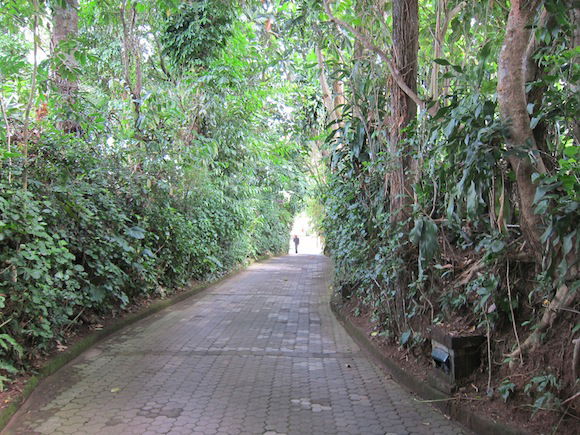 Driveway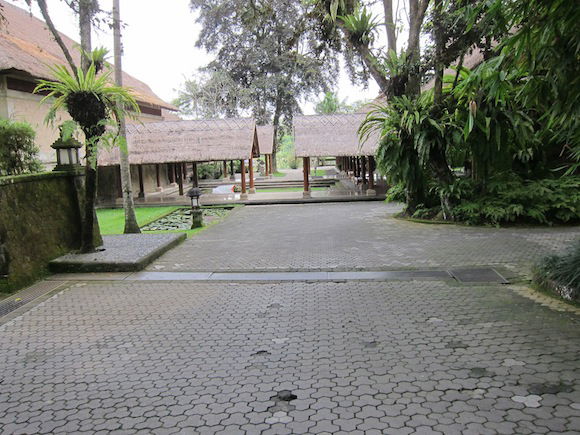 Entrance
The welcome itself was much more understated than at Amanbagh in India, where we were greeted by the GM and four women started singing for us while we had a "ribbon ceremony."
Instead, here we were welcomed by one of the extremely friendly associates. And what's perhaps counter-intuitive for a luxury property but actually pretty awesome is that you're never addressed by your name, but rather as "Ibu" (female) and "Bapak" (male).
And that's not due to laziness or because the employees don't know who you are — oh no, it couldn't be further from the truth. The thing that's simultaneously creepy and most impressive about Amans is that everyone knows everything about you during your stay. And perhaps that's also the Aman "secret." More on that later.
Anyway, the associate showed us around the public facilities of the hotel, which I'll cover in more detail a bit later.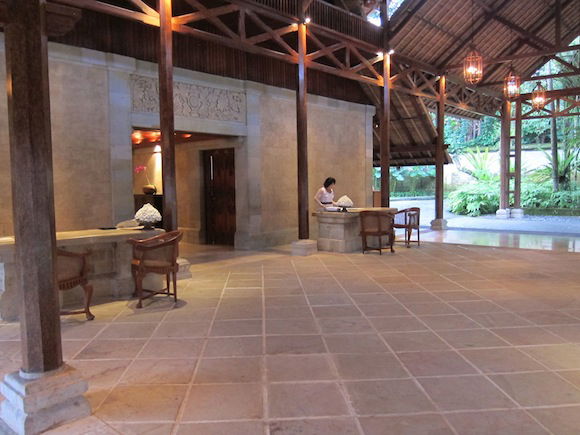 Lobby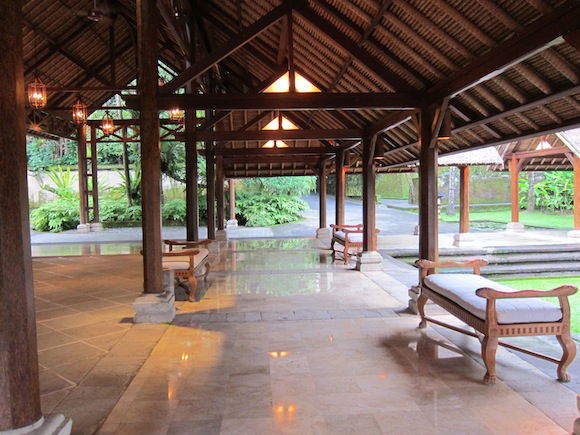 Lobby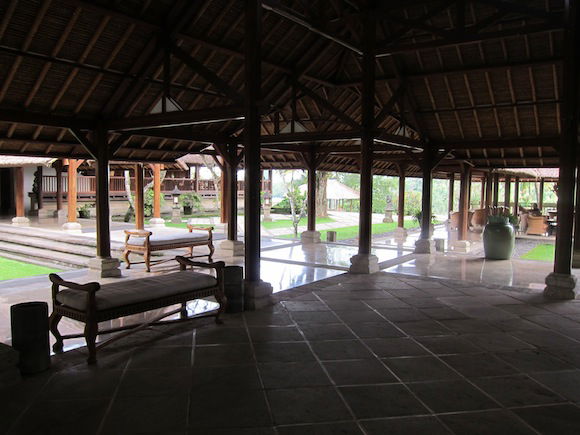 Lobby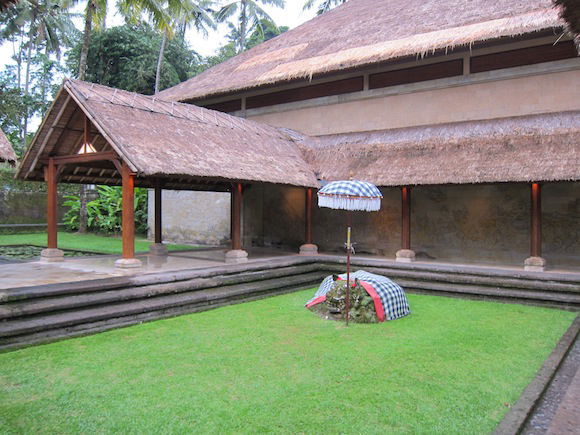 Lawn
Amandari has just 30 villas, and we were assigned villa 11. From the lobby we turned left, and from there it was about 100 meters.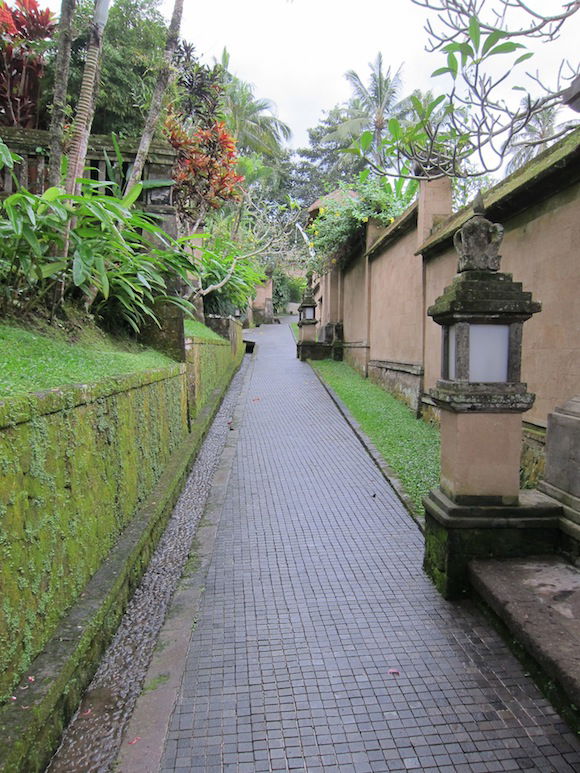 Walking to villa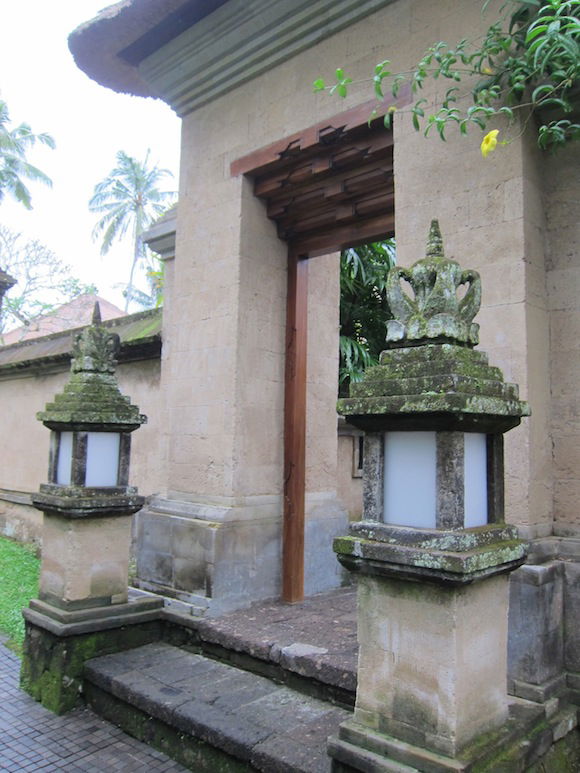 Villa entrance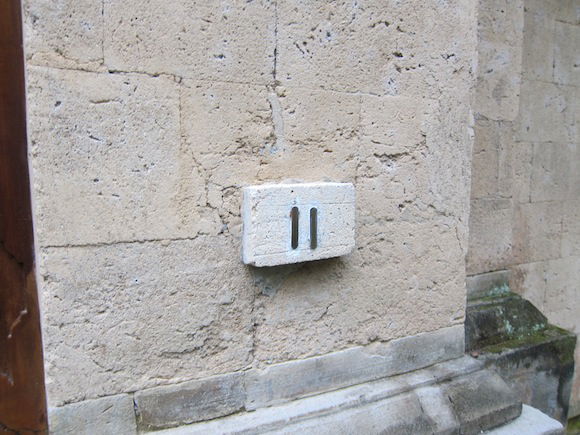 Villa signage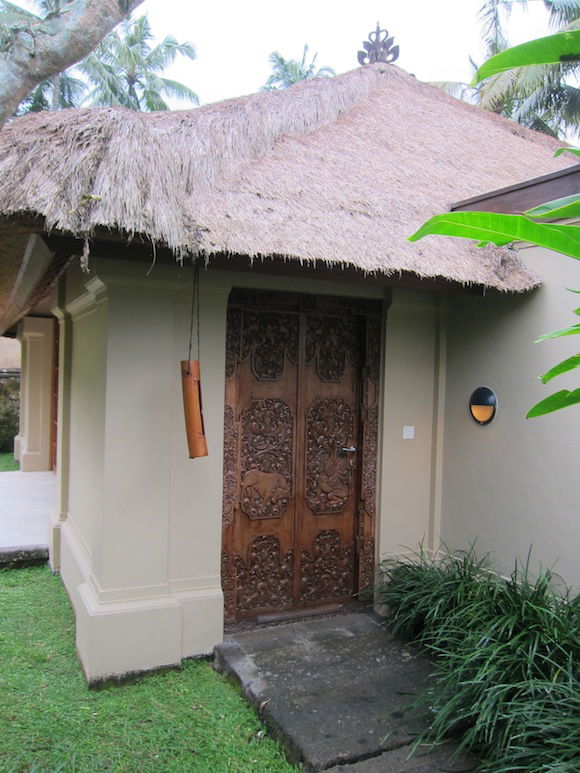 Villa entrance
The villa was, well, stunning. It was one large room with a king bed, circular table, chair with ottoman, and two sets of desks.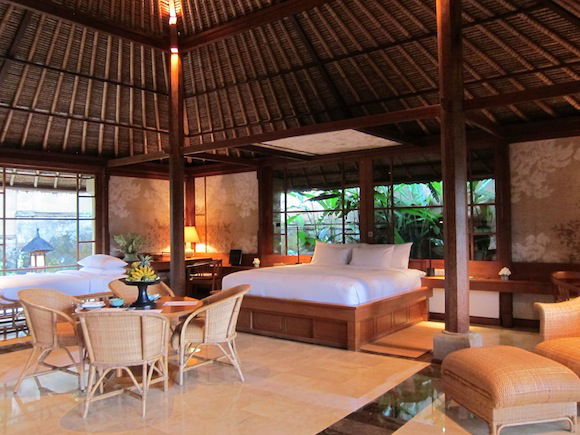 Main room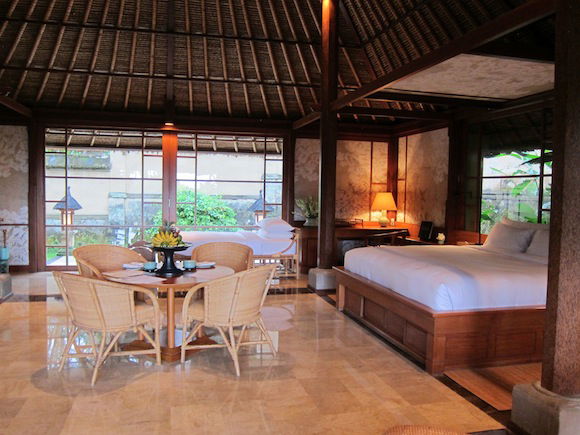 Main room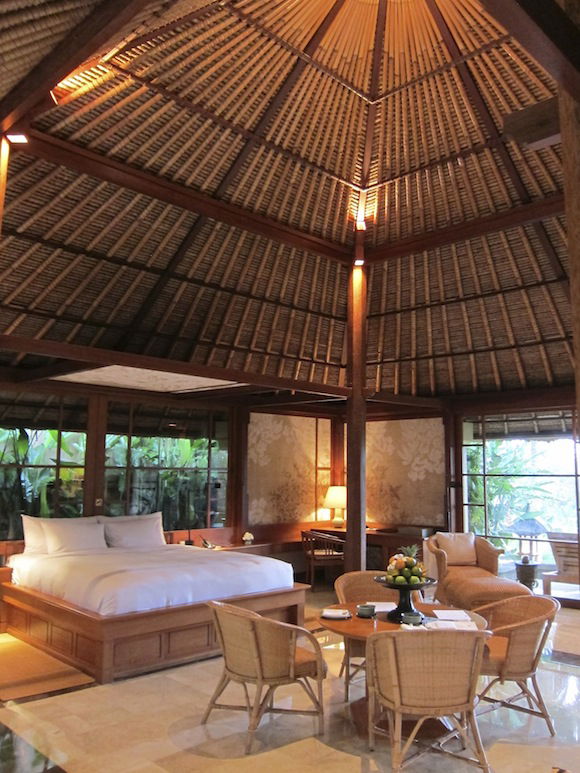 Main room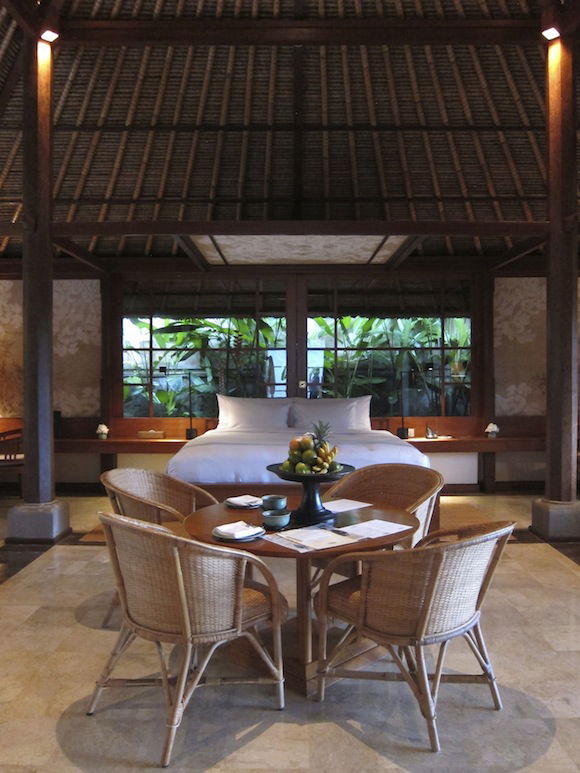 Main room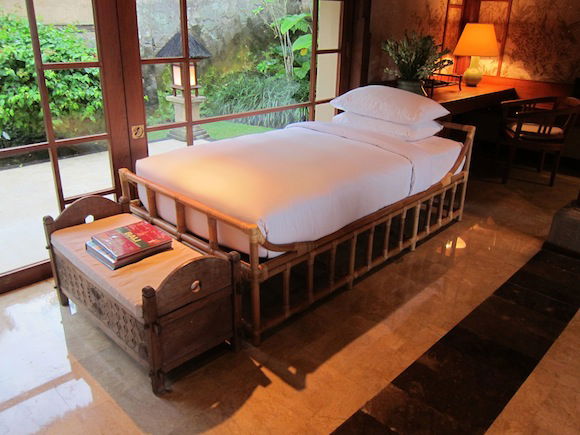 Extra bed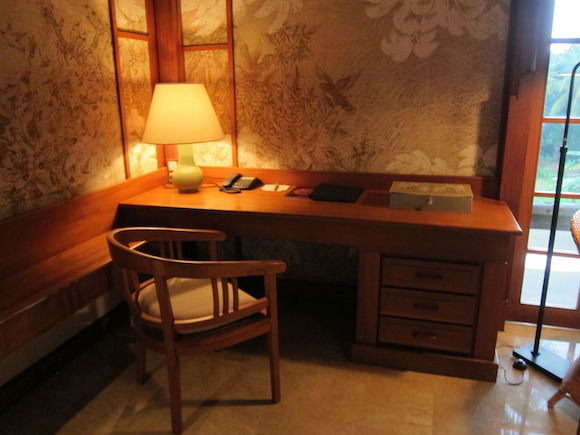 Desk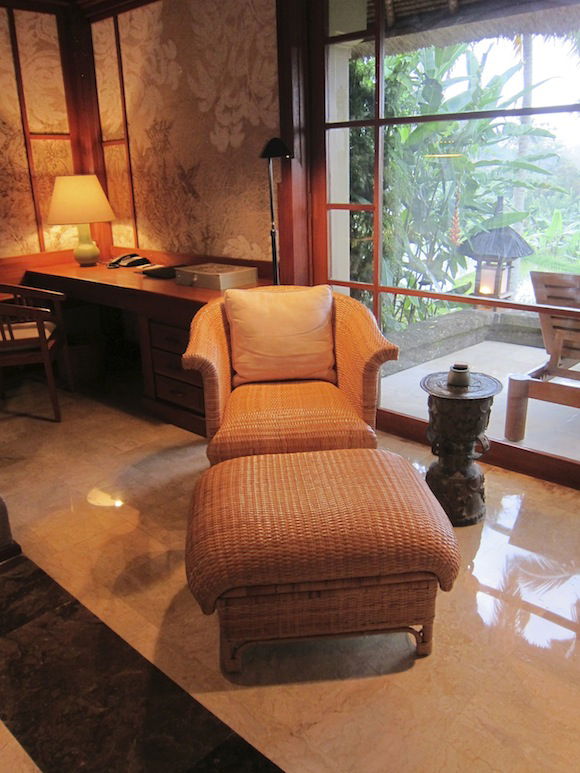 Chair with ottoman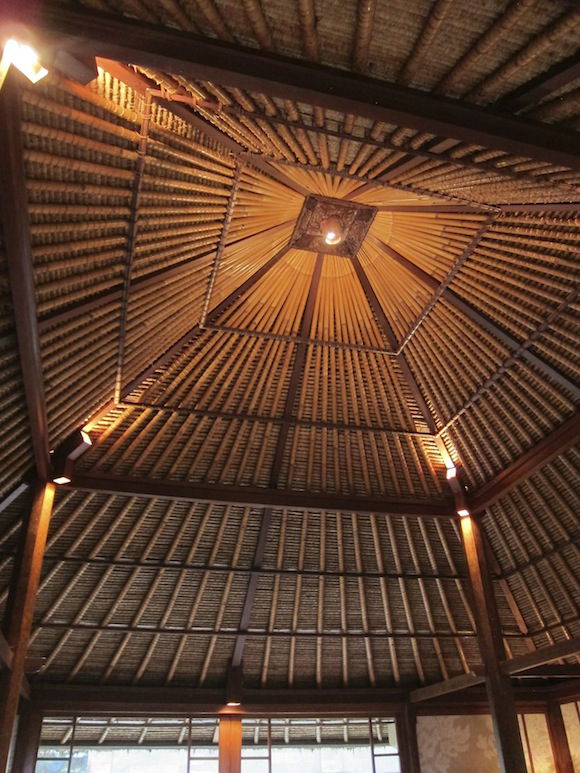 Roof
On the table was a plate of fresh fruit which was refreshed daily.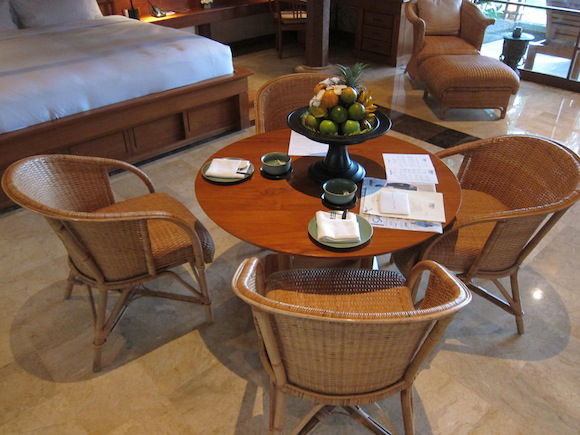 Fresh fruit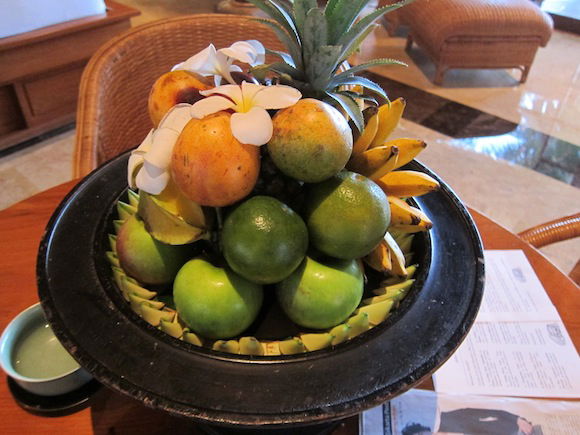 Fresh fruit
Then over towards the bathroom was the minibar along with an iPod with traditional Balinese music.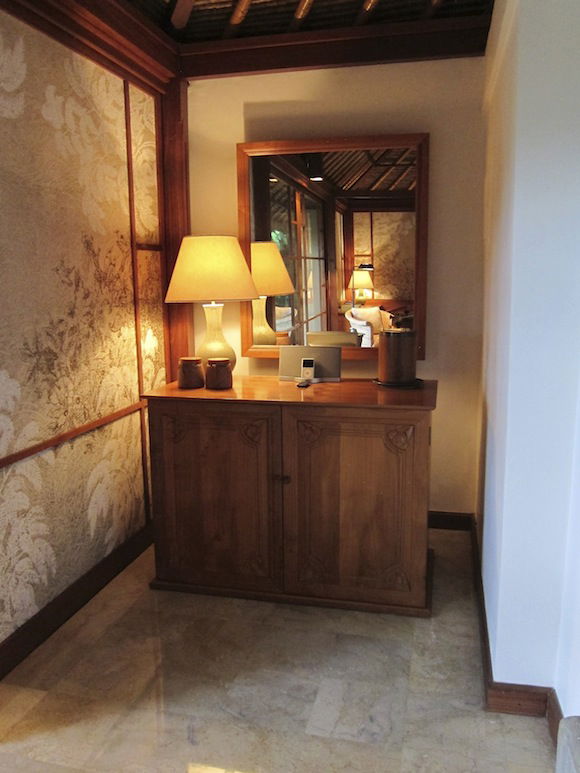 Minibar area
There were also some jars with cookies and crisps, which were refreshed daily.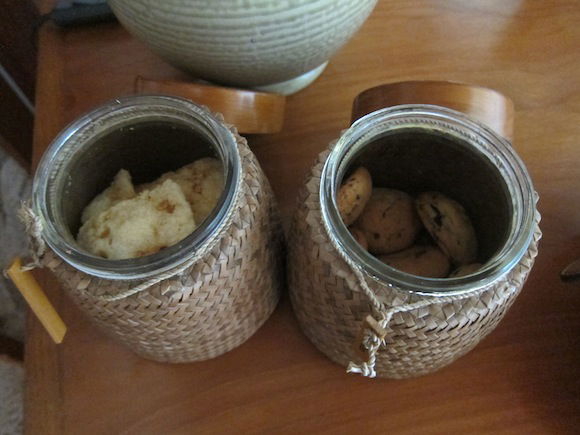 Cookies and crisps
Water is of course free throughout the property, and there was plenty in our room.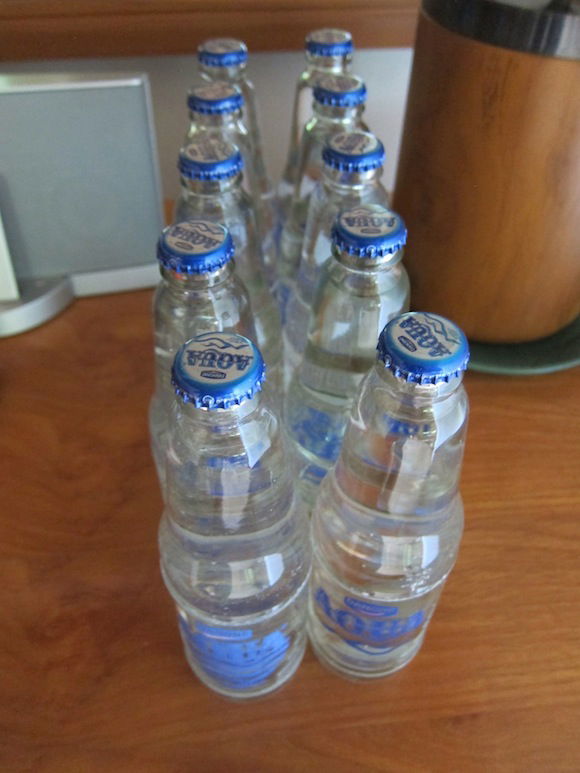 Bottled water
Across from the bed was the bathroom area, which featured sinks on both sides.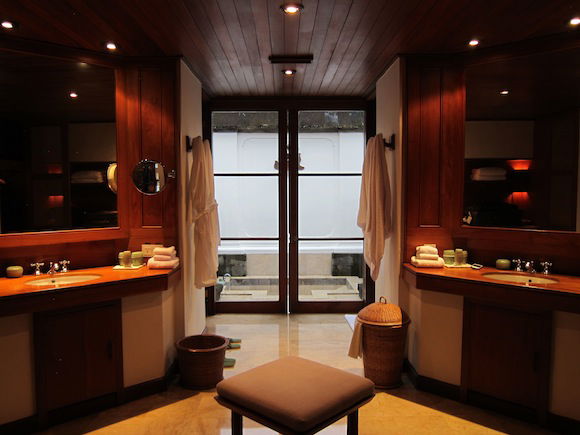 Bathroom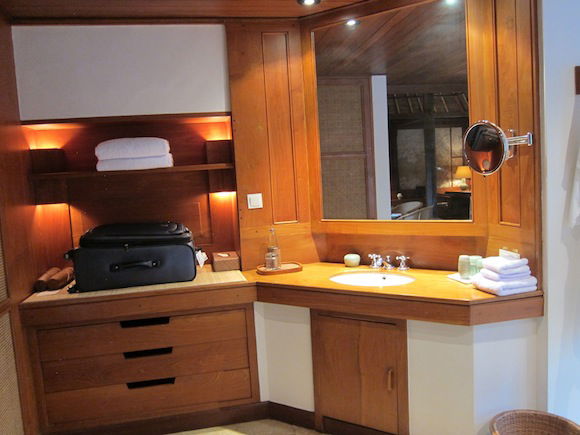 Bathroom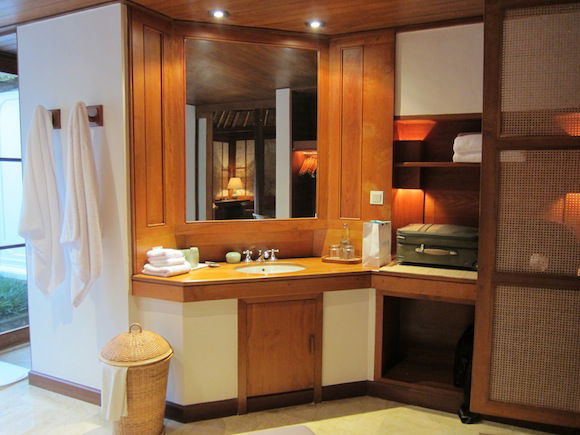 Bathroom
To the right was the shower, which featured both a rainforest head as well as a handheld one.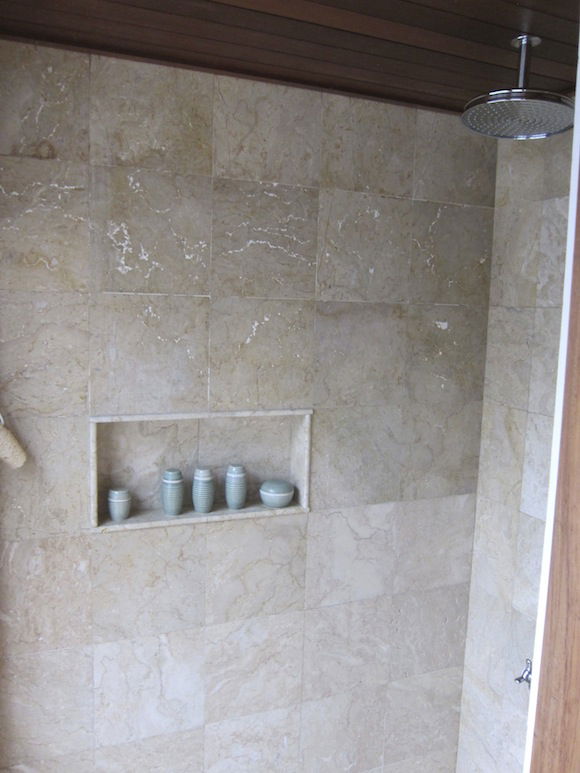 Shower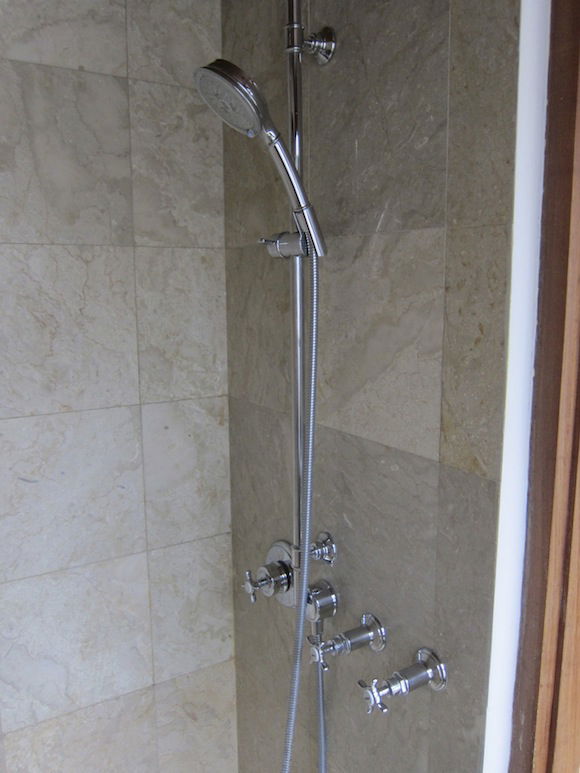 Shower
The toiletries were high quality though in unbranded "jars."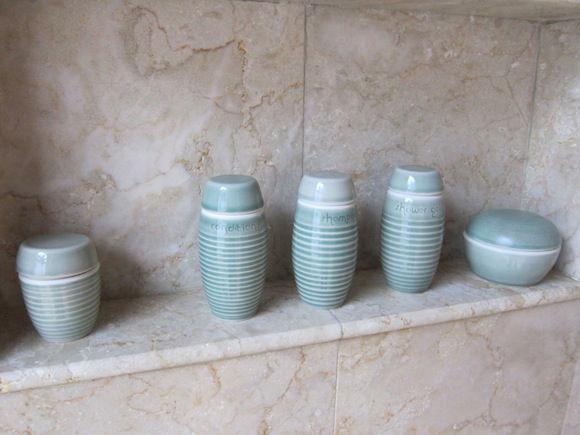 Toiletries
Then across from the shower was the toilet.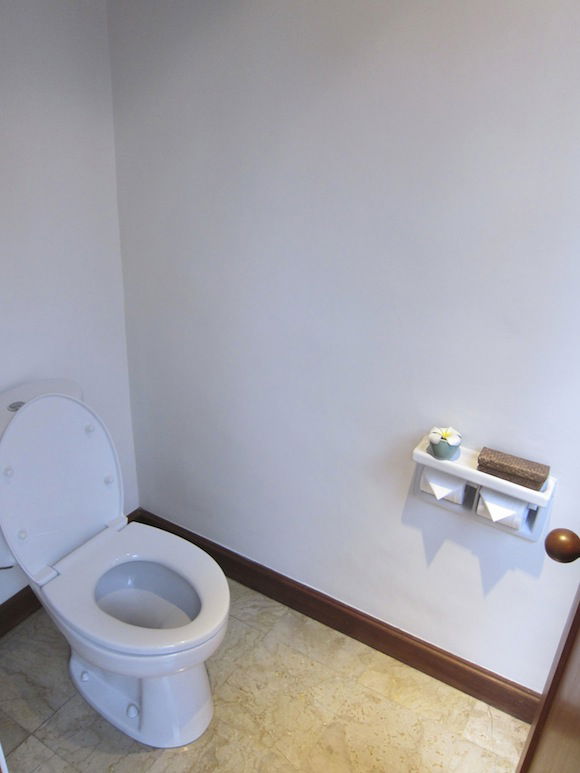 Toilet
Outside a set of sliding glass doors was an outdoor bathtub.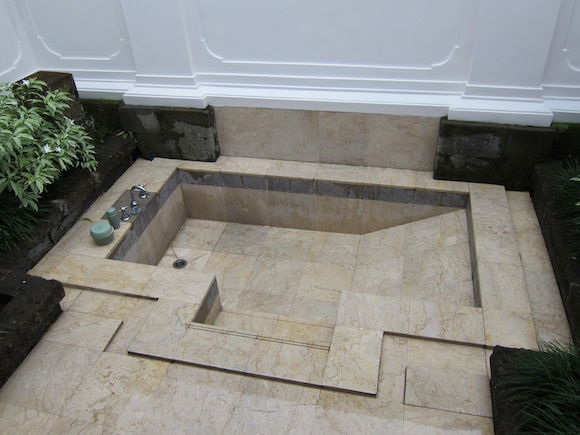 Outdoor bathtub
The room had two patios. One was near the entrance and pretty bare.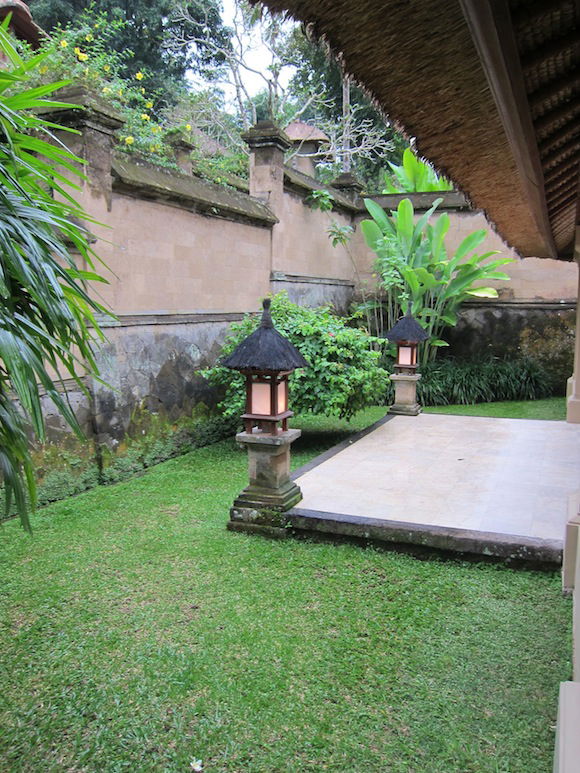 Garden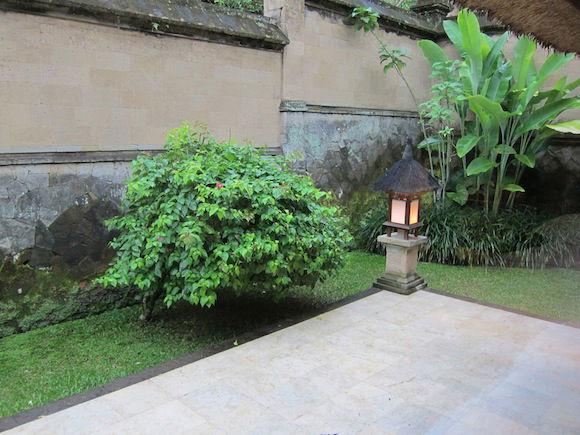 Garden
Then the real patio was overlooking the rice fields. It was simply the most relaxing place in the world, not just because of the views, but because of all of the nature sounds you hear, from crickets to roosters to the flow of the Ayung River, which is located just beyond the rice fields.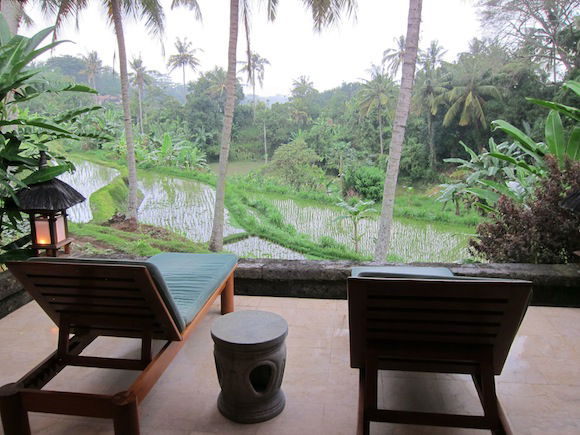 Patio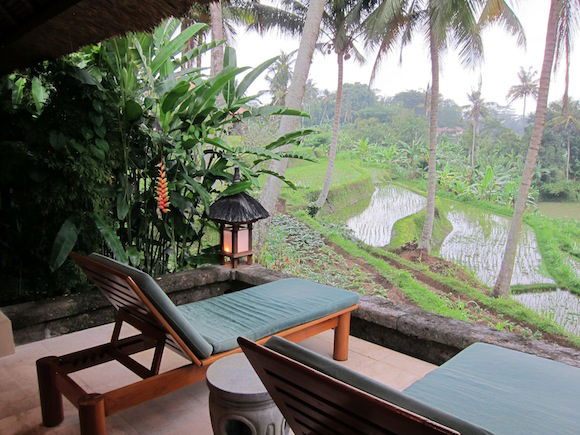 Patio furniture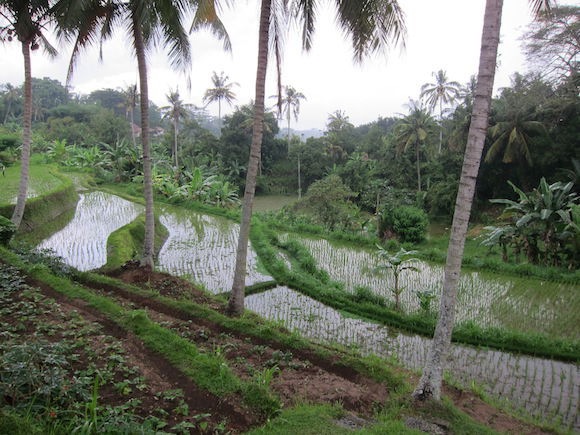 View from patio
Within a few minutes of settling into our room we were brought curry chicken "pies" of some sort along with tea.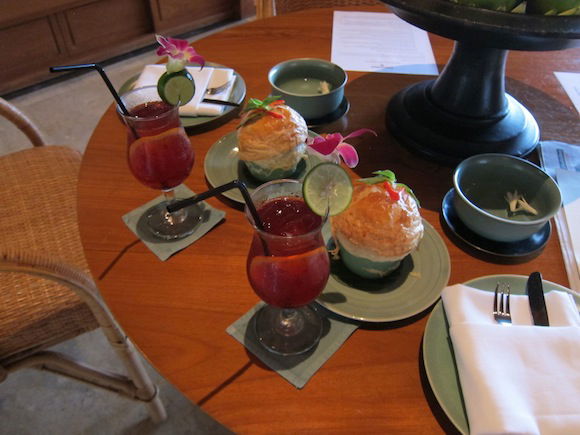 Refreshments
The room also had other nice touches. For example, there was incense burning in our room for the entirety of our stay, which my mom loved.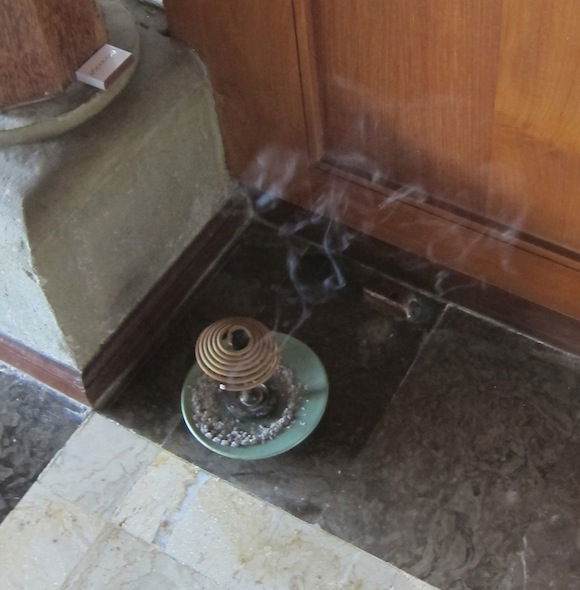 Incense
Then with turndown service they'd place roosters on the bed with notes apologizing for the noise they'll make in the morning.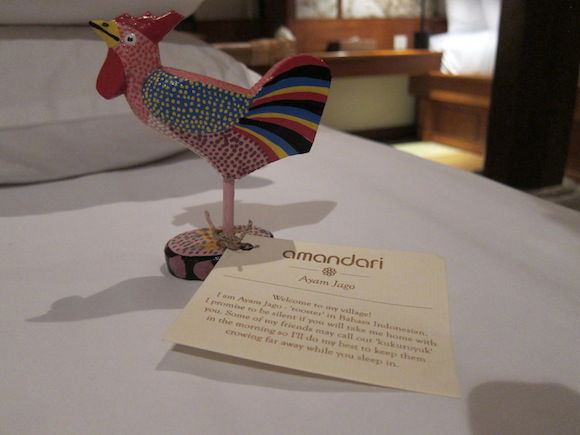 Rooster

There were also a couple of pages with resort activities.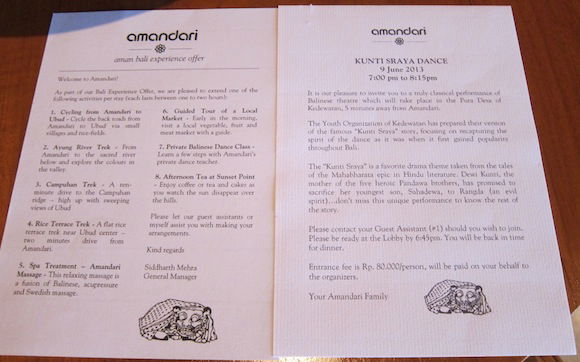 Resort activities
And a welcome note from the GM.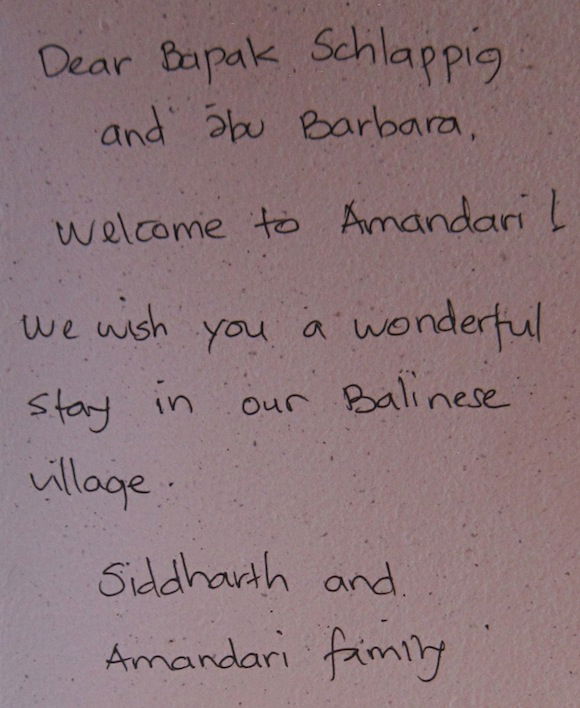 Welcome letter
Our room was located at the far end of the resort, though it was just a few minutes walk to the main part of the resort, where the pool is located.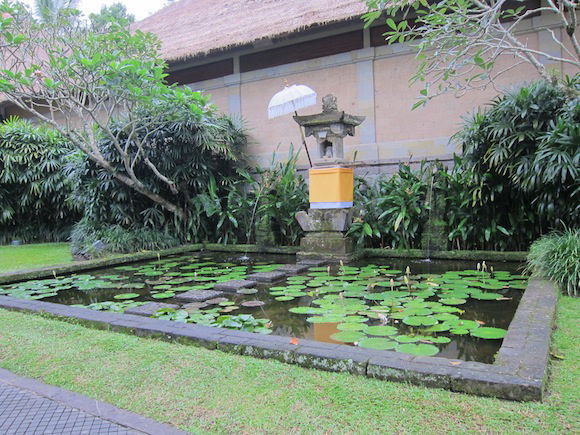 Pond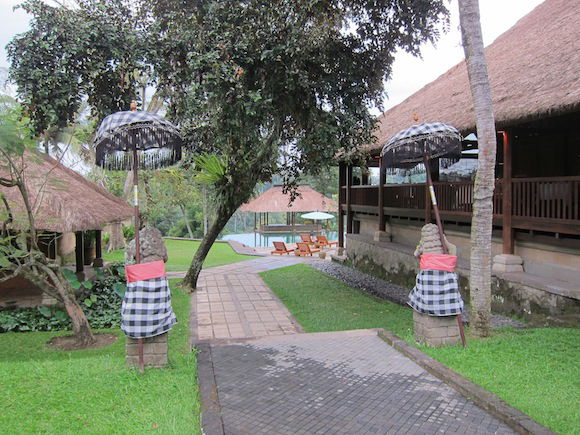 Pathway to pool
The infinity pool is stunning, with incredible views of the rice terraces.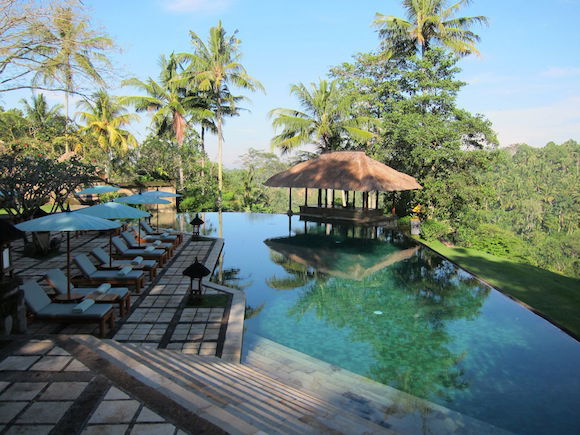 Pool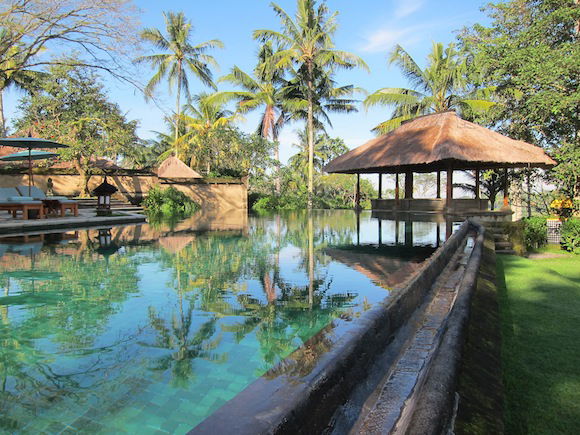 Pool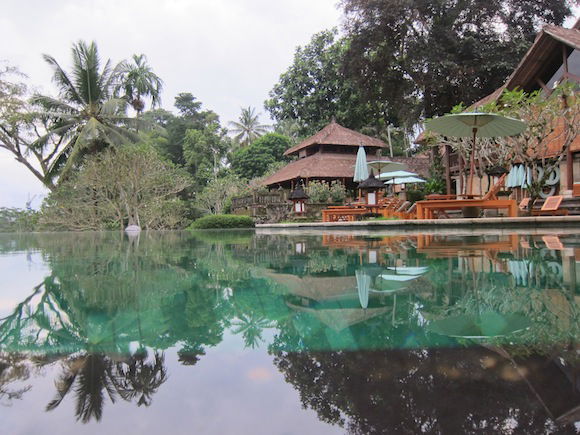 Pool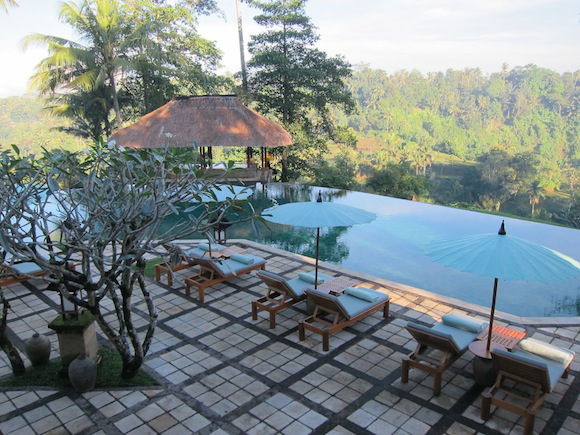 Pool area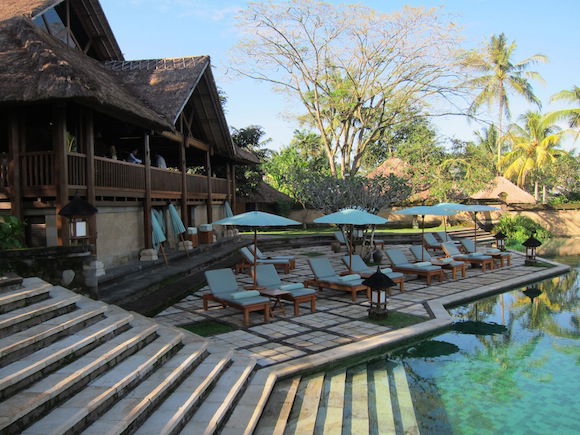 Pool area
Off both ends of the pool are some gazebos where you can arrange to have a private meal.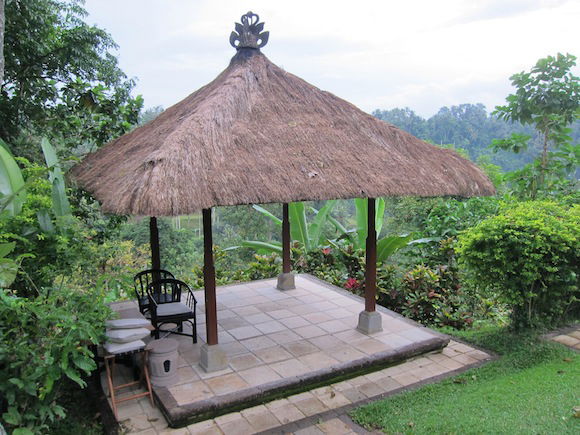 Gazebo
There were also some relaxation areas with day beds.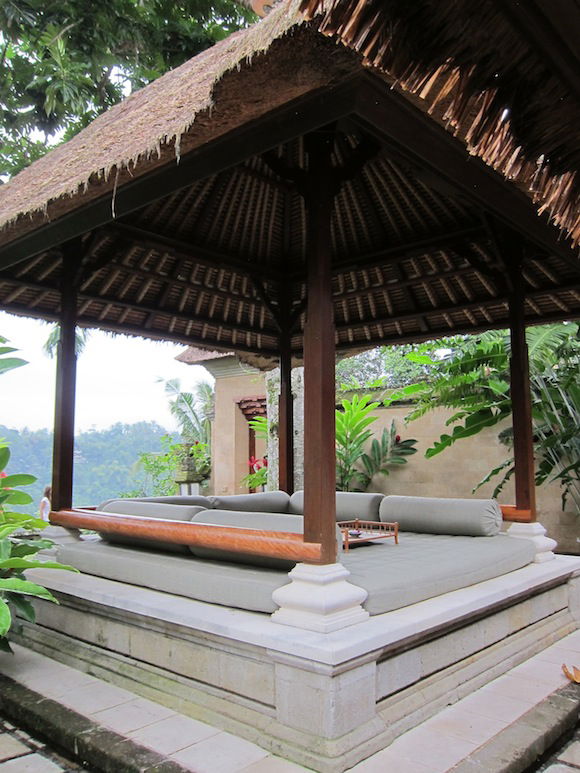 Seating area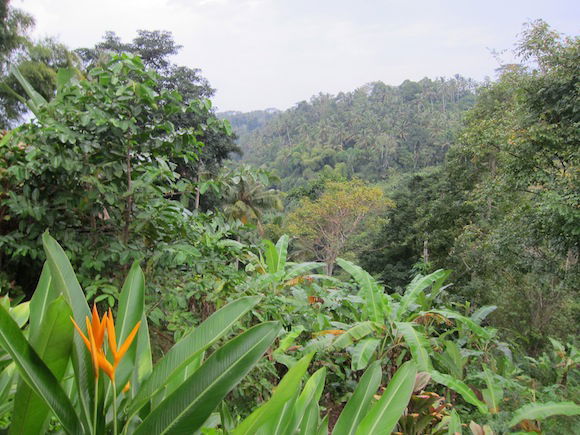 View from pool

Up the path from the pool is the restaurant to the right and bar/lounge to the left.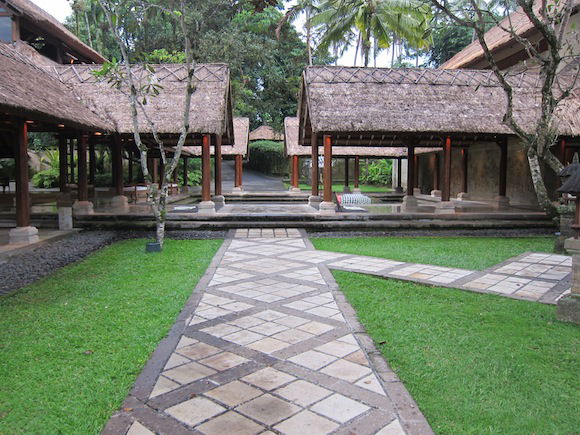 Resort grounds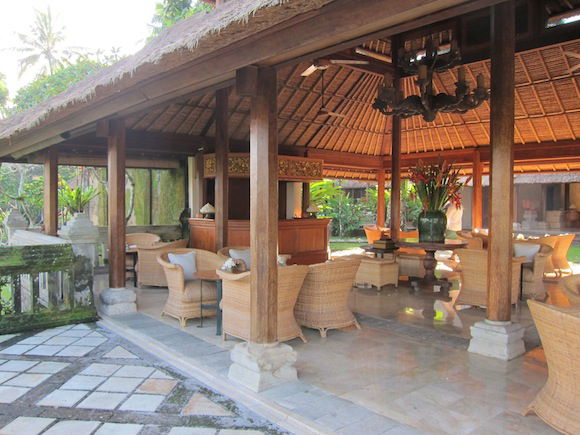 Lounge seating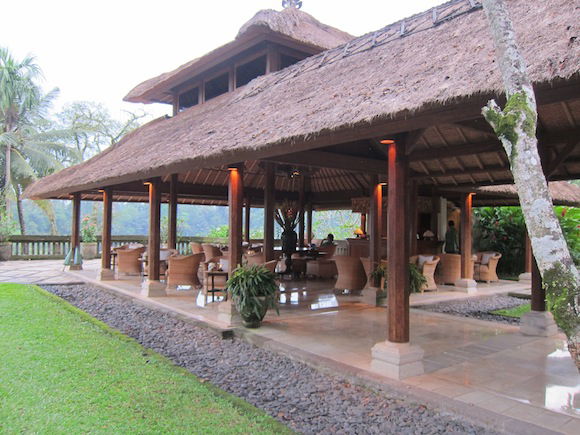 Lounge seating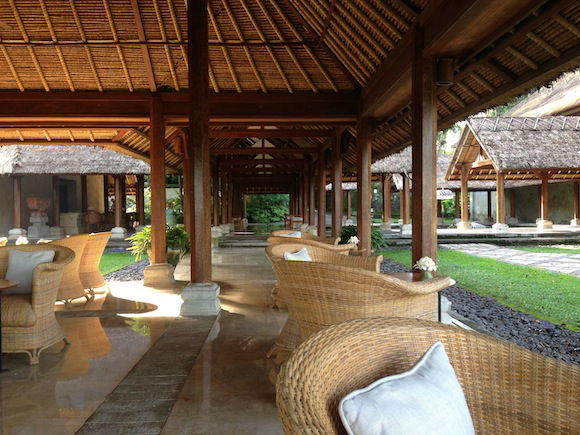 Lounge seating
There was also an indoor relaxation room for reading, etc.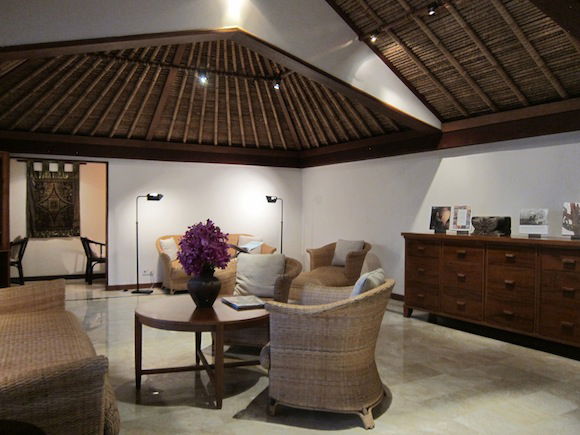 Relaxation room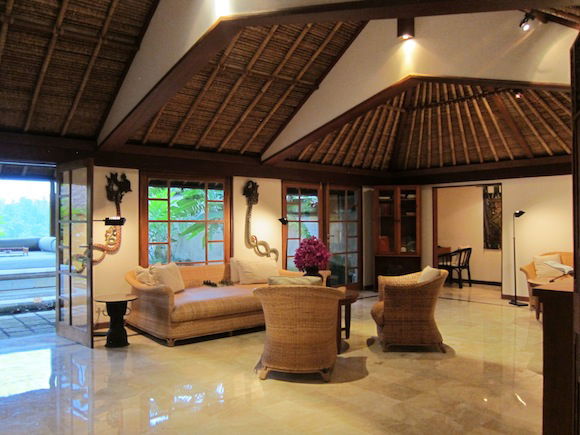 Relaxation room
Then the spa and gym are located on the opposite end of the resort.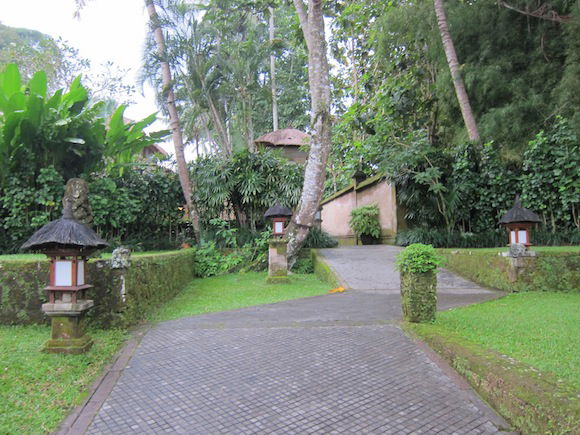 Walkway to spa/gym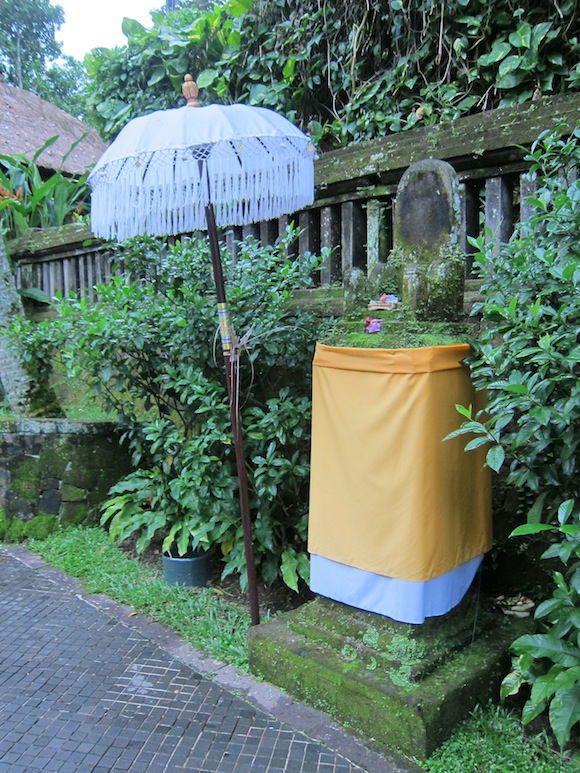 Walkway to spa/gym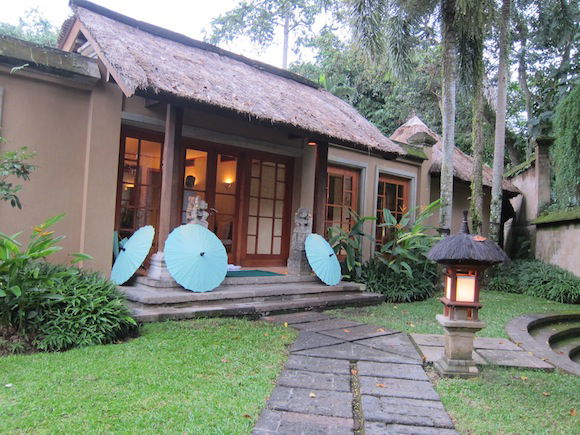 Spa/gym
The spa has both indoor and outdoor treatment rooms, and spa prices were very reasonable for the type of property this is.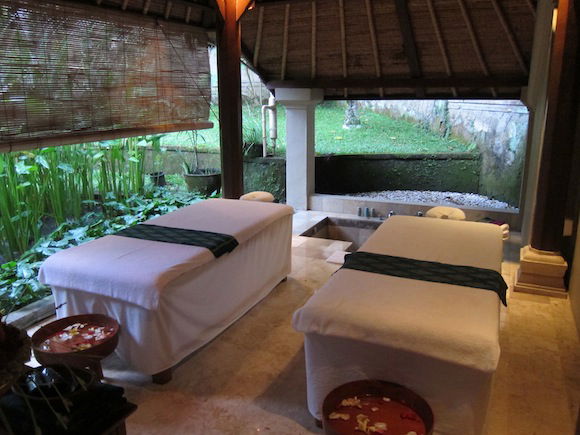 Spa
The gym was small though had modern equipment.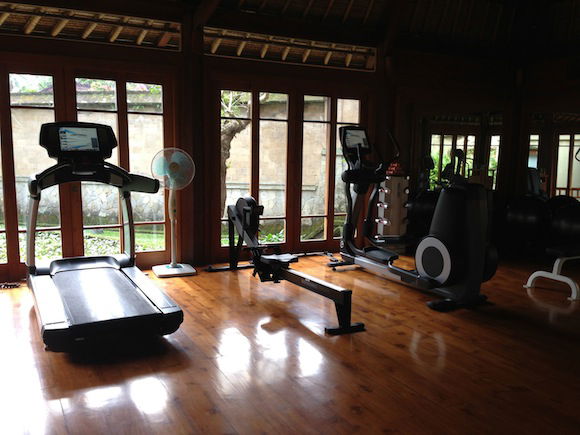 Gym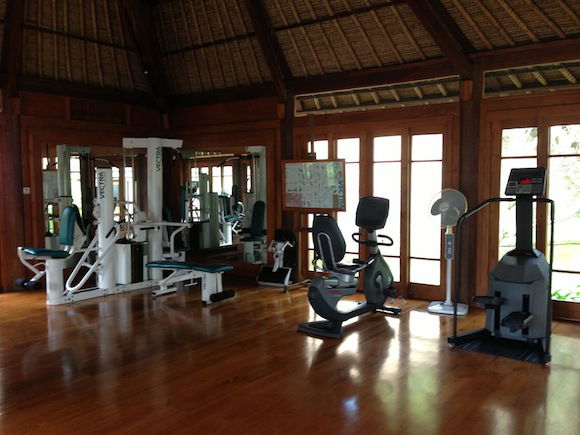 Gym
There was also a tennis court.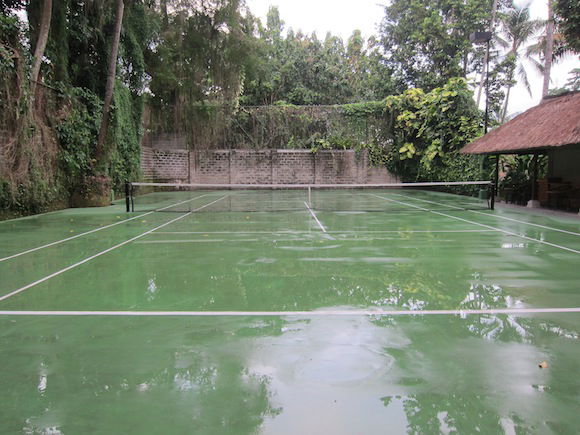 Tennis courts
Back near the center of the resort was the restaurant, which consisted of outdoor seating overlooking the rice terraces and pool.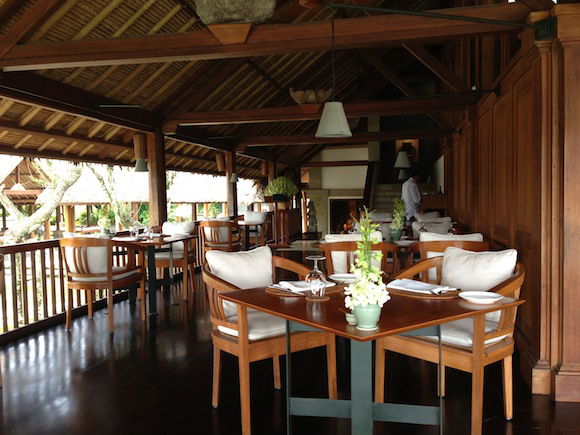 Restaurant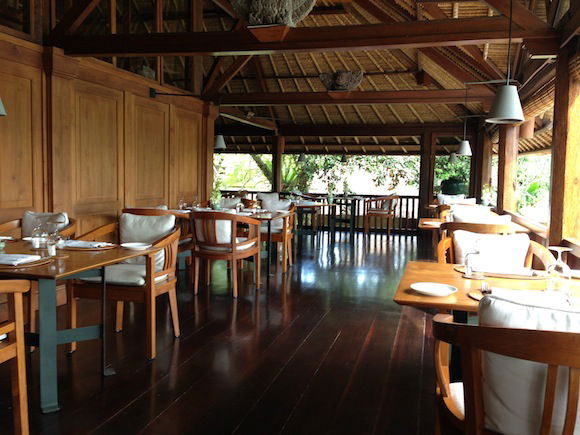 Restaurant
Our package included breakfast, which was served daily from 6AM till 11AM. It was all a la carte and you could more or less order whatever you wanted. Here's the breakfast menu: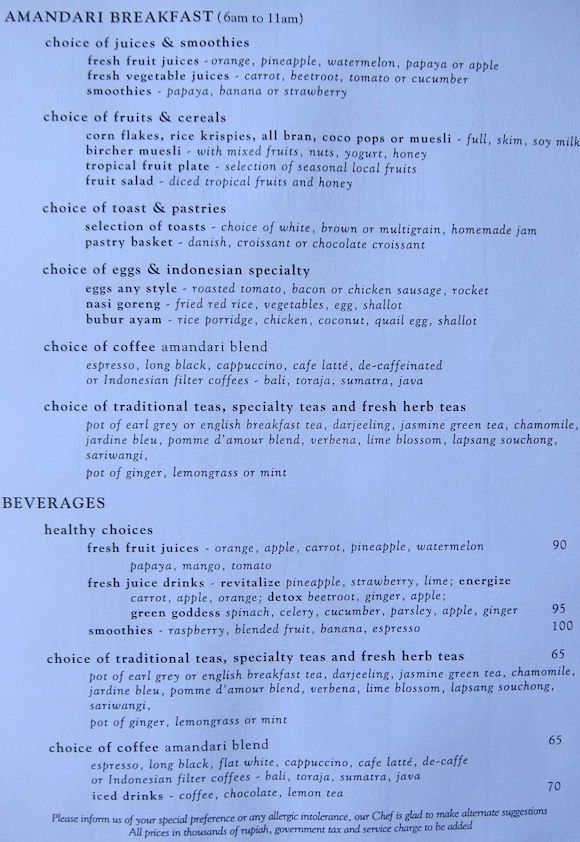 Breakfast menu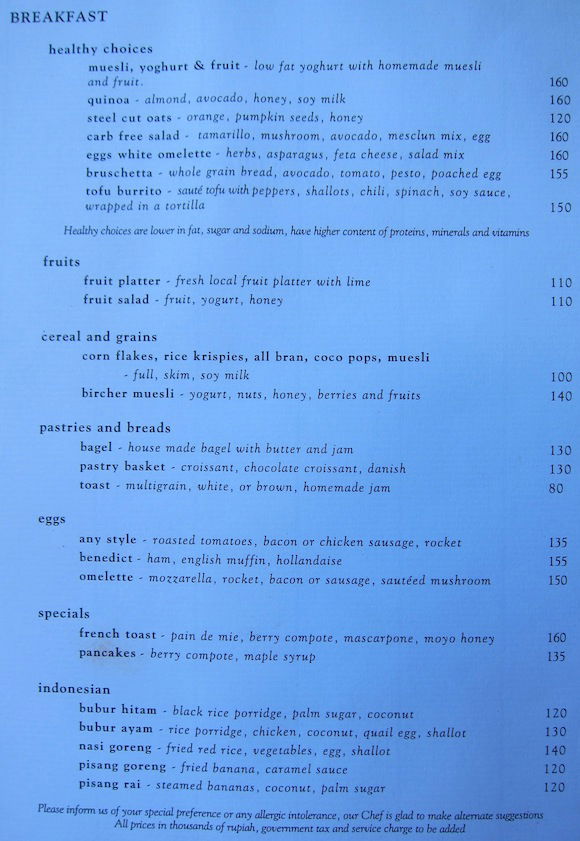 Breakfast menu
Here's a selection of what we ate during our time at the resort: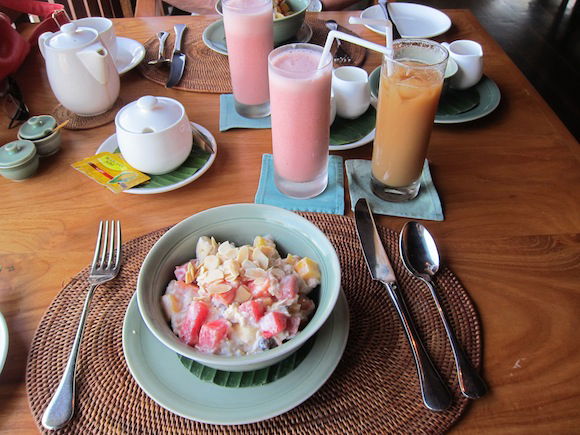 Muesli, yoghurt, and fruit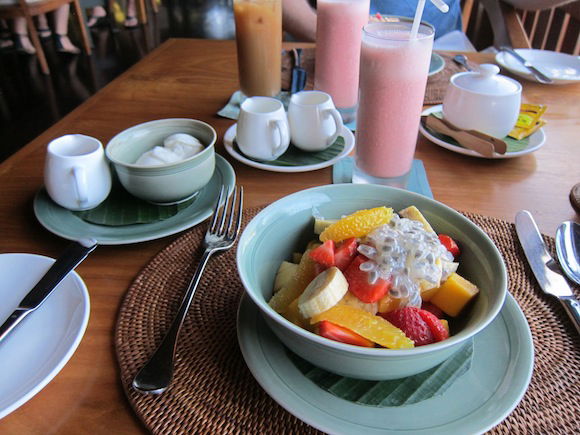 Fresh fruit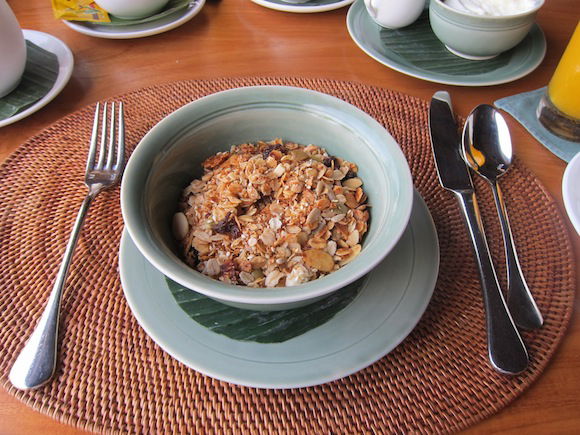 Muesli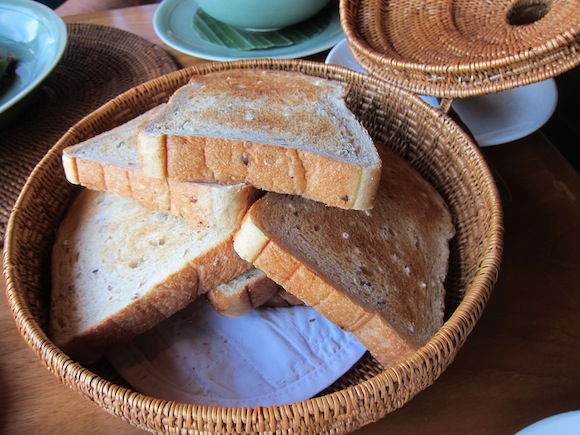 Toast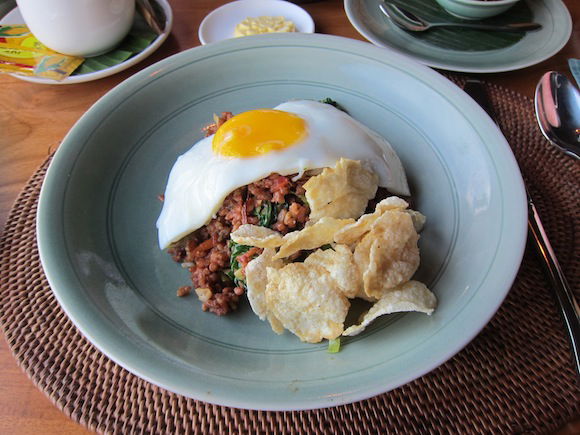 Nasi goreng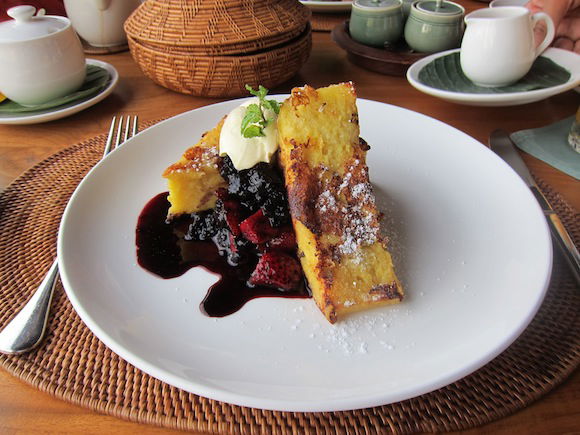 French toast
Breakfast, lunch, and dinner were served at the restaurant, and there was a variety of both Western and Asian options, all of which were top notch. On the first day of our stay the head chef approached us to ask about our general preferences, like how spicy we like our food, if we have any allergies, etc.
Aside from breakfast we actually only had a meal at the resort one day for lunch. Two nights we went into town for dinner, and one day we weren't really hungry at night so just had some drinks and appetizers at the bar.
For those of you that are interested, here's the all day dining menu: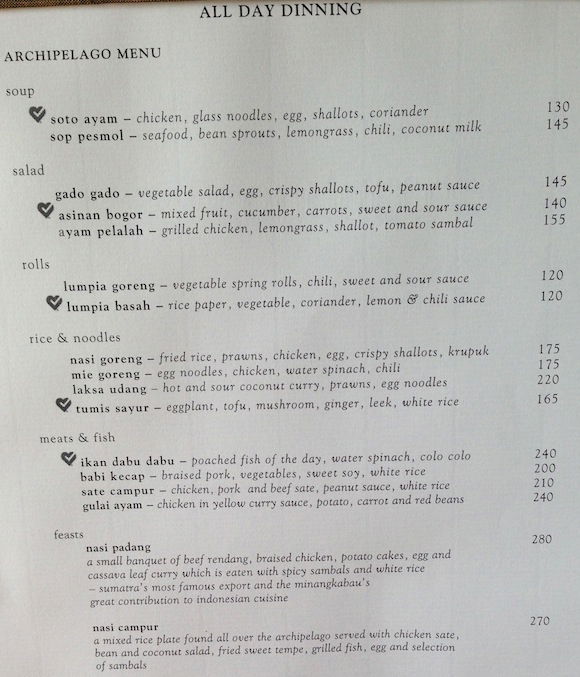 Menu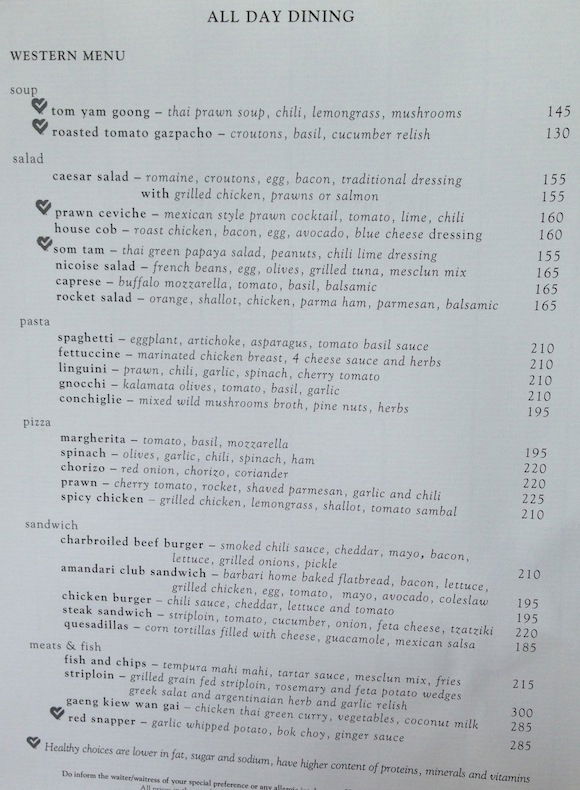 Menu
For my mom's birthday the resort sent a bottle of champagne and some cake to our room, which was a nice touch.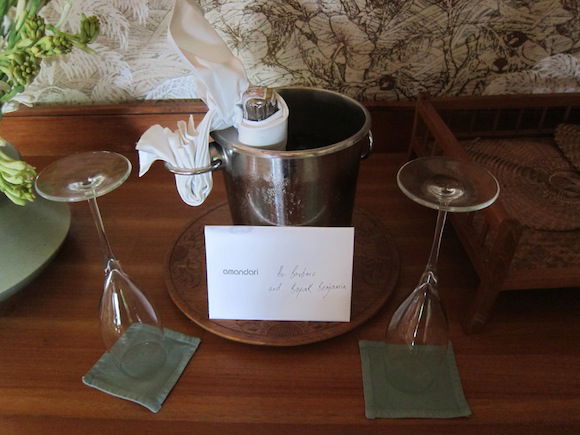 Champagne service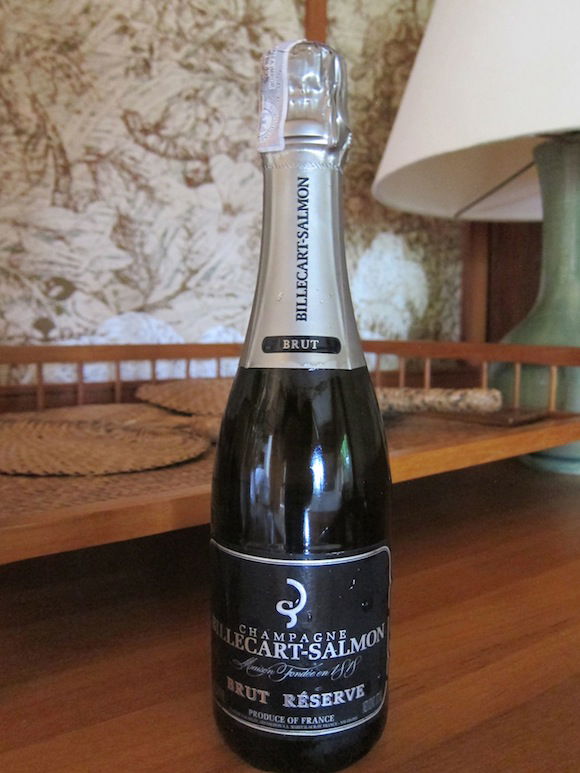 Champagne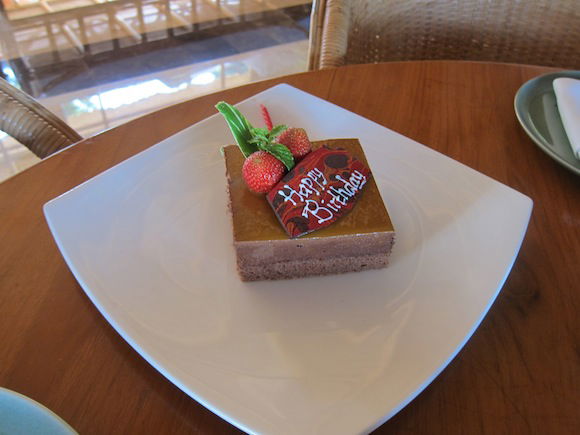 Happy Birthday
So those are the "facts" about the property. As you can probably see, it's a gorgeous small resort, but it probably doesn't look that ridiculously amazing. But I find Amans aren't about the physical properties (as stunning as they might be), but rather about the people.
I think I've stayed at just about every luxury hotel brand, and nothing — and I mean nothing — can compete with the level of service at Amans. And in a way I feel bad even calling it "service," because it really doesn't feel like that.
The hotel had maybe 150 co-workers for the 30 room property (which was about half full when we were there), so the number of people around to help is ridiculous. But in a way the funny thing is that Aman simultaneously makes the experience less personal and more personal. There are some luxury hotels where the employees try to impress you by knowing your name and schmooze you with ridiculous terms like "what may I have the privilege of assisting you with?"
Aman kind of decomposes the whole service "experience," and you really go from feeling like a transaction to feeling like a legitimate guest. For one, you're addressed as "Ibu" (female) and "Bapak" (male) throughout your stay. I don't know if any of the employees actually knew my name, but they know who I was. And when I say "who I was," I mean they knew exactly which room I was staying in and everything I did during my stay.
For example, we went white water rafting, and upon returning we were asked by at least a handful of employees how the white water rafting was. And I'm not talking about the front desk associate that booked the excursion, but rather the people in the restaurant, the housekeeper, etc.
Speaking of housekeeping, it's ridiculous how often they service rooms. I counted them servicing the room at least five times a day, always just to do little "touch ups." And they manage to do it in such a non-intrusive way. They're never knocking on your door, but rather they just know when you're in your room and when you're not, and act accordingly.
When you stay at hotels you're used to getting "checks" at dinner, the bar, etc. That doesn't happen at Amans. You don't give your room number or anything. You just order what you want and leave when you want, because they know exactly who you are.
My mom really struggled with this, because at the end of drinks or a meal she'd always ask for the check or give them our room number. With a smirk on their face the associates would always respond "don't worry Ibu, we know who you are."
Like I said earlier, my last Aman stays prior to this were in India a couple of years ago, and prior to my stay here I asked myself "hmmm, can it really be as good as I remembered?" And the simple answer is yes, yes, yes. But it's really difficult to describe what makes it so great, because if there were a "formula" for great service or it would be easy to describe then it would be easily replicable.
On our third day we were driven to Amankila, and our driver was especially awesome. I asked him "so seriously, how do you guys do it? How do you know everything about everyone and consistently provide such great service?" He looked in the rearview mirror, smirked, and said "that's the Aman secret, Bapak."
Maybe other Amanjunkies can chime in and share their experiences as well, to (hopefully) prove I'm not crazy. 😉
Lastly, as far as the location of the resort goes, it really is in the heart of Ubud. I love Ubud, because it's one of the more active parts of Bali, with amazing white water rafting, a monkey forest, and a vibrant town that's actually a lot of fun to hang out in. While I love the South of Bali for relaxing, you can't beat Ubud if you're wanting to be active.