Below are my dad's thoughts on our trip to Europe (I took the liberty of adding some pictures). He doesn't know how to use a computer, so he faxed me his report and I typed them out. In case you don't believe me…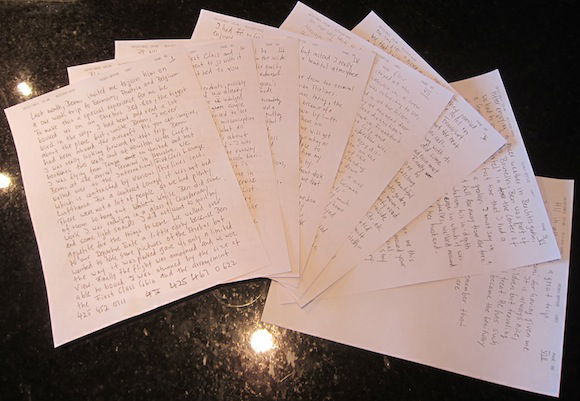 Cue your German accents, folks…
Last month, Benni invited me to join him on a one week trip to Germany, Austria, and Belgium. To make this a special experience for me he booked us on an Airbus A380-800, the biggest bird in the sky. I had heard and read a lot about the plane, but unlike Benni, I never had been aboard the aircraft. As you can imagine, I was really looking forward to this trip. Benni booked us two seats out of Houston with Lufty. I was flying from Tampa and met Benni at the arrival gate in Houston. We walked over to the lounge, which is contracted by various airlines including Lufthansa. For a contract lounge it was not bad. There were not a lot of people so we had plenty of room to hang out.
While Ben did some work I was indulging in a glass of chardonnay and some light snacks. I did not want to spoil my appetite for the things to come. We walked over to our departure gate a little early because Ben wanted to take some pictures of the Airbus, but the way it was parked gave us only a limited view. Finally the flight was announced and we were able to board.
I was stunned by the size of the first class cabin and the arrangement. There were only eight seats in the first class cabin and of course the high tech equipment to go with it. The seats turn into flat beds so you can get a good night's sleep.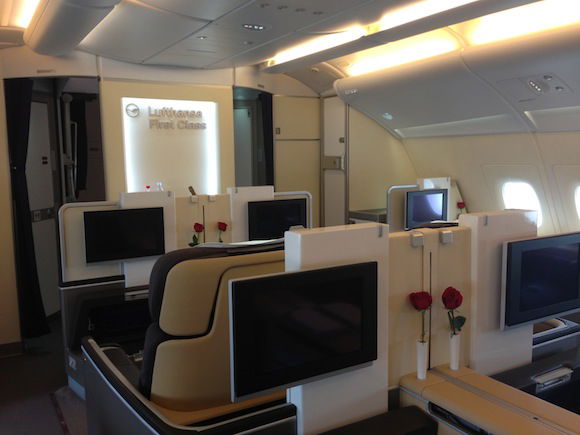 Lufthansa A380 first class
We had two young male flight attendants, possibly in their mid-20s, and they exceeded our already high expectations by a longshot. Before indulging in the pleasures of the table I had a couple of glasses of champagne and I was surprised to see that Benni had the same. I was under the misconception that he does not like alcohol, but then what do parents really know about the do's and don'ts of their kids?
Then it was time for takeoff. I was surprised by how smooth we were going over the runway and how quiet the take-off was. My Lincoln Navigator makes more noise than the aircraft — it is however not the latest model. We were airborne in no time.
The service continued inflight with more champagne and a very exclusive wine list. I tried the French chardonnay, which was very dry and fruity. Delicious. Then they brought the caviar with all the trimmings. I had a second helping. It was great. After that Ben and I took a time out. We talked to the flight attendants and I mentioned that this is my first flight on the Airbus A380-800. They offered to show us the entire plane and walked us through the cabins. It was very impressive and I was grateful to have the chance to see the whole bird from the inside.
We continued our dinner. I must say that the quality of the food and service was comparable to a four star restaurant.
As a night cap I had a couple of French cognacs and then I was ready to hit the sack. They made the bed for me and I slept very well.
Approximately two hours prior to landing I woke up. I stretched a little bit and walked around while they were putting up the seat and soon thereafter they offered breakfast.
When we landed in Frankfurt in the morning the weather was okay. We walked over to the First Class Terminal for our connection to Salzburg. We had a three hour layover, or so we thought! The First Class Terminal is one of a kind. It's beautiful, spacious, modern, high-tech, and has shower facilities and a super restaurant and bar filled with the finest wines and spirits. And then, to top it all, a very nice, clubby cigar bar.
As a cigar smoker you can imagine where I went first. They even had a humidor, filled with Cuban cigars, but it was locked. I wonder why?!!! I asked the attendant for a cigar and she gladly opened the humidor for me and I picked one Cuban Montecristo. I know trading with the enemy is not allowed in the US but since we were on German soil I had no feeling of guilt. Instead I really enjoyed the great Cuban cigar in a beautiful atmosphere. Thank you, Lufty.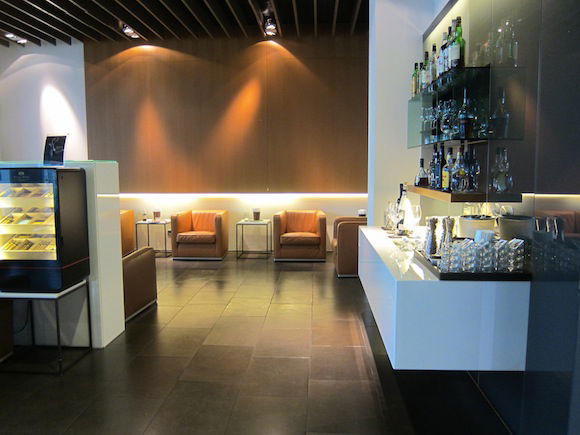 Lufthansa First Class Terminal cigar bar
Two hours later we were driven by car from the First Class Terminal to our Salzburg connection on Austrian Airlines. Boarding went smooth and as we were taxiing, the pilot announced that we have to return because of a mechanical problem. We were picked up again by Lufty and returned to the First Class Lounge. There we learned that the flight had been cancelled but we will get on a later flight.
As disappointing as it was, the Lufty lounge was a great place to overcome it all. I enjoyed another cigar, this time my own, and had some drinks and watched the time go by. Shortly before we were called I checked at the front desk about the status of my luggage. They told me that it is in the system but they had not completed loading it all. We were driven back to our connection and the new crew told us that they were already on overtime and it showed.
The captain really put the pedal to the metal and it took him less than 40 minutes to get us to Salzburg. We had to walk over from the airplane to the arrival area.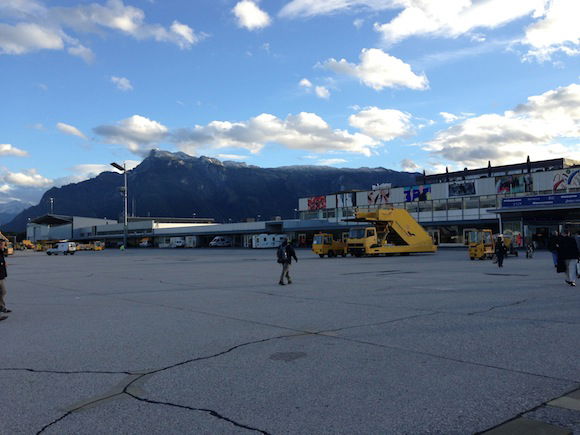 Salzburg Airport arrival
After waiting for about half an hour we found out that my luggage (and that of at least 30 other passengers) did not make it. Somebody was sleeping on the job. I filled out the forms and they promised me that I will have my luggage at the hotel in a few hours with the last flight from Frankfurt.
Of course, nothing happened and I found out the next morning that the flight had been canceled as well. So we went to the "Old Town" of Salzburg with its medieval houses, small cobblestone streets, and did some sightseeing. The weather was not good — we had rain most of the time so we could not do very much. Finally my luggage arrived, Ben rented a car, and we drove to Berchtesgaden, Germany, just about 30 minutes from Salzburg.
We took the country roads which led us through beautiful small villages surrounded by mountains. In Berchtesgaden we stayed at the InterContinental, located in the mountains, accessible only via a rather steep country road. The hotel is one of a kind with a beautiful spa, indoor and outdoor pool (heated of course), sauna, fitness center, etc. Our room had a view towards the "Eagle's Nest," which is located on the very top of the mountain. This place was built by the Nazi Party as a gift to Hitler's 50th birthday. It is now a restaurant and the furniture in there looks unchanged. Quite impressive.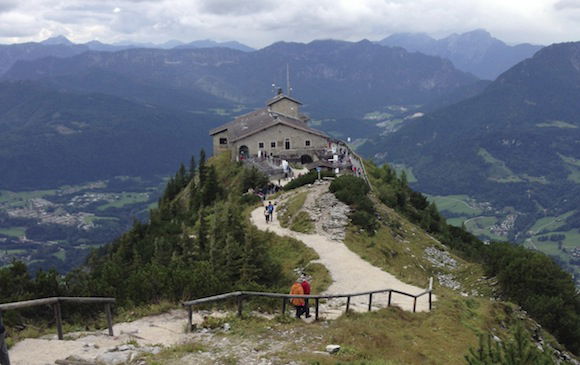 Eagle's Nest
Berchtesgaden is a beautiful small town. Tourism is their main industry and it shows. The old town is for pedestrians only with nice restaurants, beer gardens, cafes, etc. A great area for skiing as well.
After enjoying nicer weather in Berchtesgaden, we had to continue to Brussels. Ben was part of a seminar at "The Hotel" in the center of the city. This was the first time that I had a chance to watch Ben as a speaker. I was very proud of his presentation, his in-depth know how of the topics, and the ease in which it was presented. We had two days in Brussels, walked around a lot, and were joined by some friends.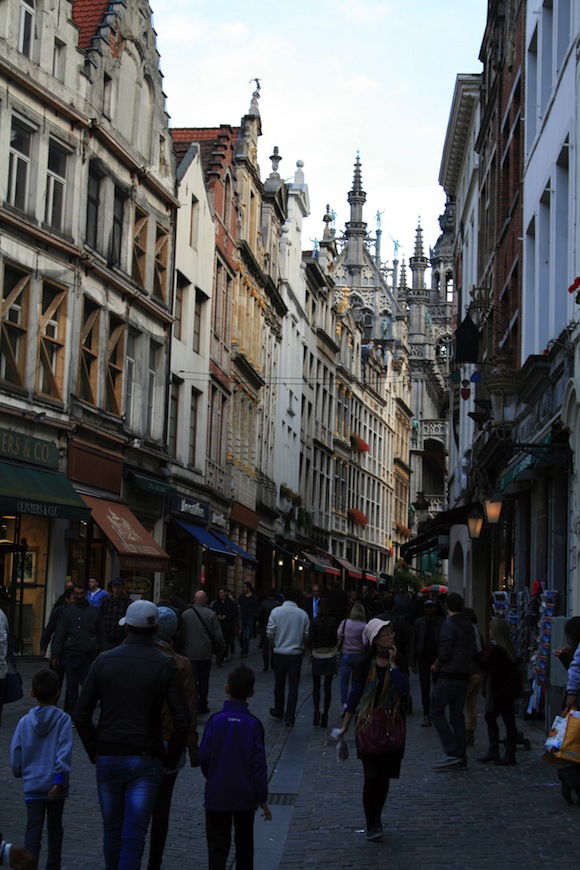 Brussels
On our way back to the US we flew through Frankfurt where we stayed at the Airport Hilton. As we were checking in, a crew from the Middle East arrived. It was interesting to see that the cockpit crew checked in at the Hilton whereas the cabin crew had to stay next door at the Hilton Garden Inn — interesting class distinction.
We only had a few hours to spend in Frankfurt. We took the train into the city and walked around for a few hours. The weather was nice and we were able to cover a lot. Very disappointing for me was "Old Sachsenhausen" on the other side of the Main River. Only one of the old pubs — Dauth Schneider — was still standing. The rest were rock pubs, some very run down. There was also a "Hooters" there. It was not a nice scene.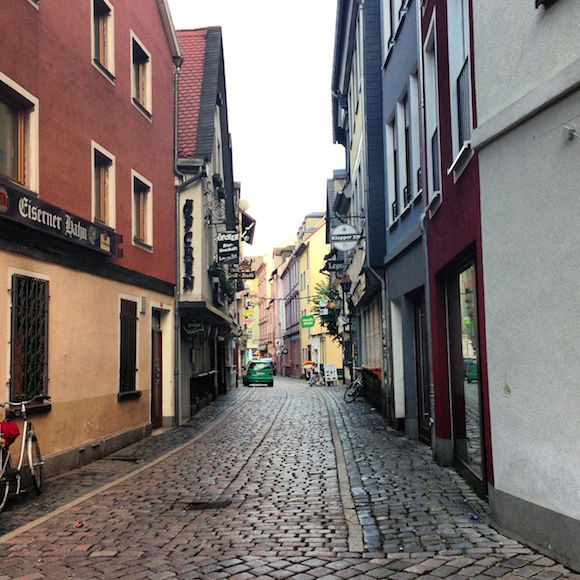 Sachsenhausen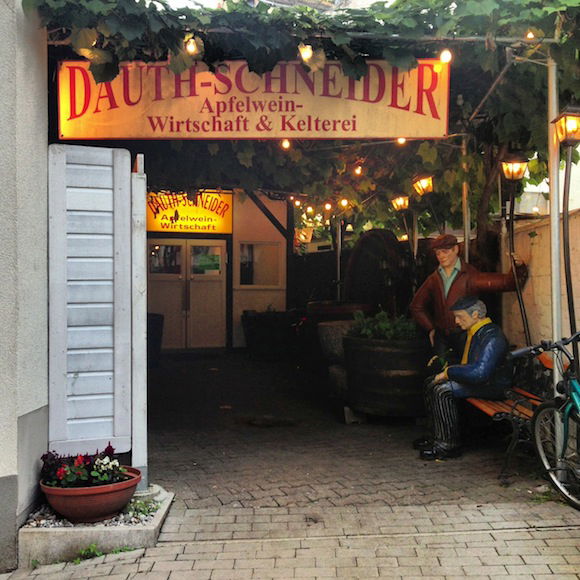 Dauth Schneider in Sachsenhausen
Ben and I had dinner at a nice German restaurant and beer garden at the Römerplatz in another section of town. I enjoyed it very much.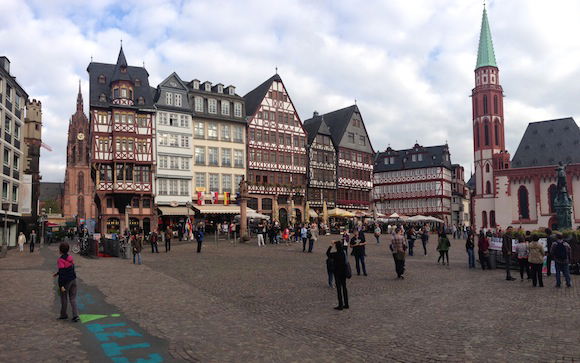 Römerplatz in Frankfurt
We took the airport train again on our way home and met a couple from the Midwest. They stayed at the Sheraton Airport Hotel and he was also a cigar smoker. He told me about the cigar bar called Havana at the Sheraton and I could not resist to go there for a night cap and a final cigar. It is nice to enjoy a cigar in a dignified surrounding.
All in all, it was a great trip.
I'd like to thank Benni for having given me this great experience. It is always nice being around your children but traveling with Benni is a special treat. He has such a simple taste — and I became the beneficiary of all this luxury.
Thanks a lot Ben, and remember that I am ready again when you are!