I got to O'Hare roughly an hour before departure. I had spent the previous night at the Hyatt Regency O'Hare and figured there was no reason to show up early.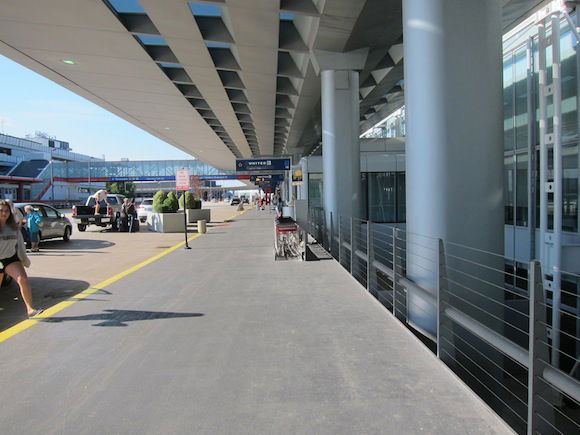 Chicago O'Hare terminal one
Check-in is located at the far end of terminal one, and just about everyone else was checked in, so there were no queues. I was quickly issued my boarding passes all the way to Bangkok.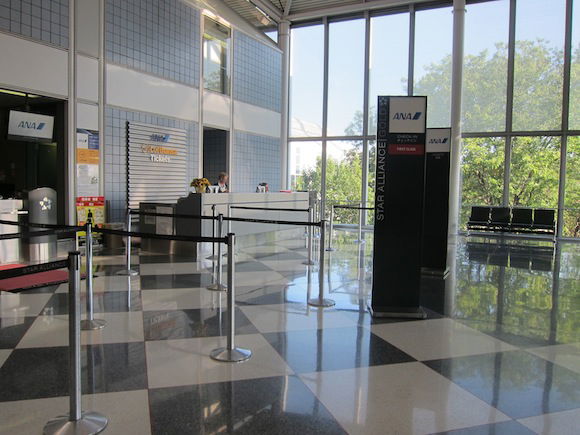 ANA check-in counter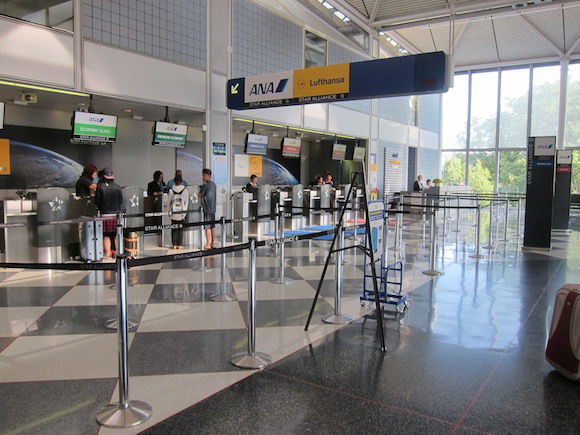 ANA check-in counter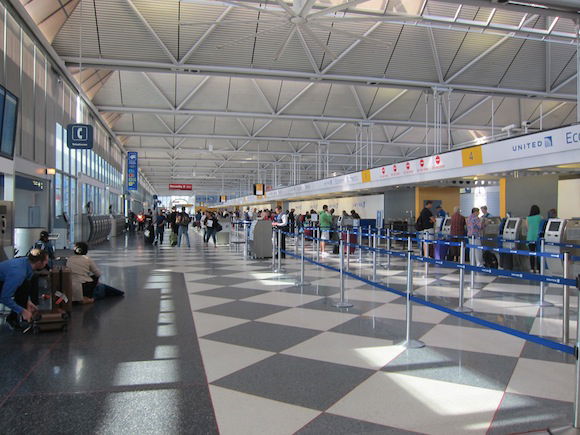 Terminal one
I headed to the elite security line, where the queue was fairly short, and from there took the underground tunnel to the "C" concourse. By the time I got to the gate it was 10:20AM, and boarding was scheduled to start at 10:25AM, so I just stuck around the gate.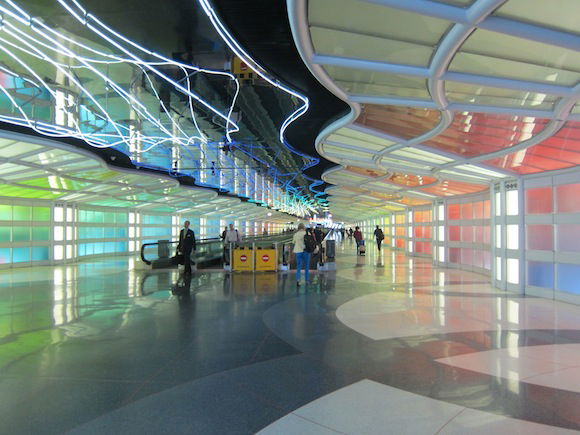 Tunnel to concourse C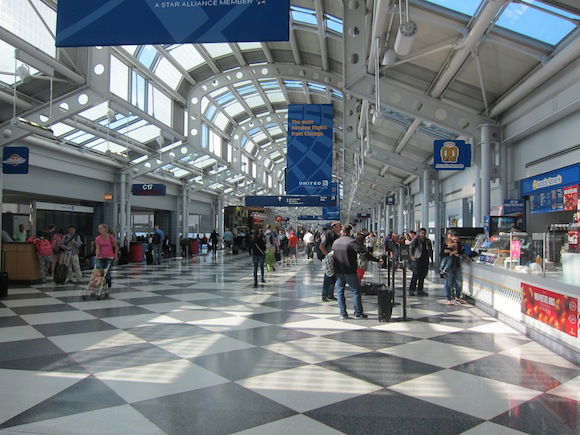 Concourse C
Gate C10 is fairly well set up for the ANA flight, as they have separate queues for business and coach class at one jet bridge, and then another queue for first class at the far left of the gate at another jet bridge.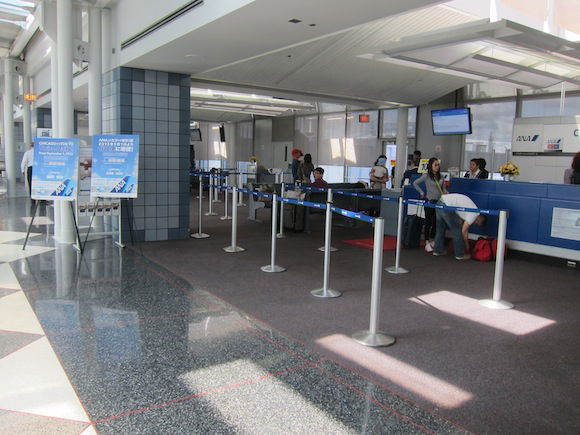 Gate C10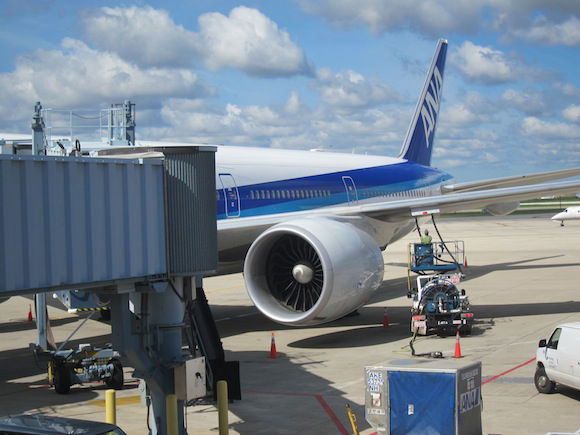 My plane to Narita
There were only four first class passengers, and our documents were checked while we waited in line. At 10:25AM, when boarding was scheduled to begin, one of the agents got on the PA to announce a two minute boarding delay – "Ladies and gentlemen, we regret to inform you that boarding will be delayed by two minutes today. We sincerely apologize for any inconvenience this may cause. Thank you for flying ANA, a member of Star Alliance."
Only at a Japanese airline!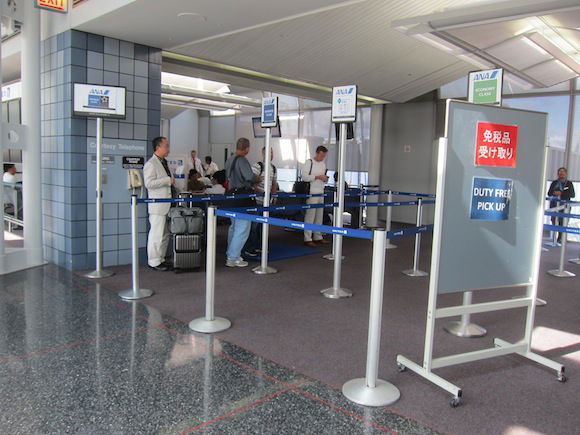 Boarding queue
Sure enough boarding began at 10:27AM sharp, and I proceeded to board through door 1L.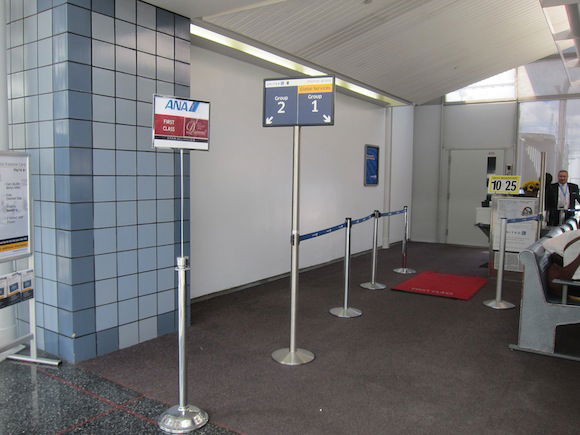 First class boarding area
ANA 11
Chicago (ORD) – Tokyo Narita (NRT)
Tuesday, August 13
Depart: 10:50AM
Arrive: 1:45PM (+1 day)
Duration: 12hr55min
Aircraft: Boeing 777-300ER
Seat: 2K (First Class)
At the door I was welcomed aboard by one of the first class flight attendants, who escorted me to my seat, 2K. This flight was operated by one of ANA's reconfigured 777-300ERs, featuring their new "Square" first class and fully flat business class.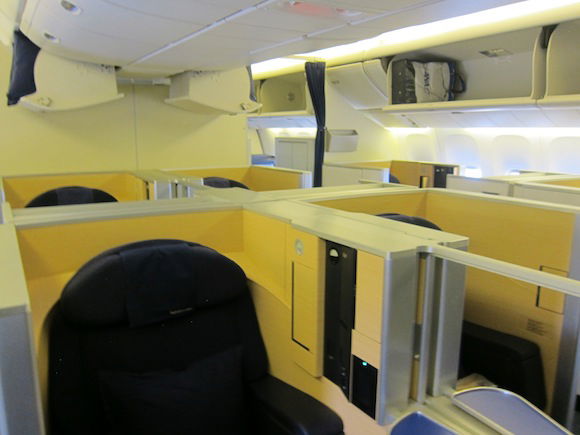 First Class cabin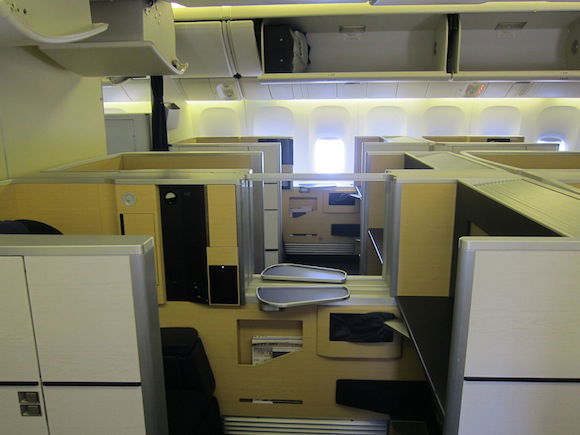 First Class cabin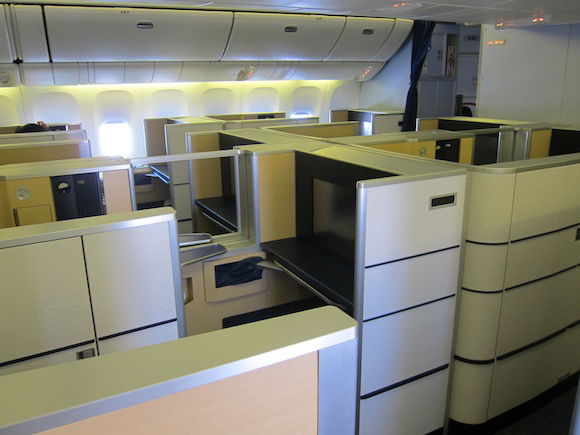 First Class cabin
The first class cabin is in a 1-2-1 configuration, spread across two rows, for a total of eight seats. While the seats are super private they don't have doors, though I can't help but think that they feel a bit like office cubicles (which actually isn't a bad thing, in my opinion). One thing worth noting is that it's really tough to look out the windows with the "Square" product, since you have to lean forward at least two or so feet to have a direct view out of the window.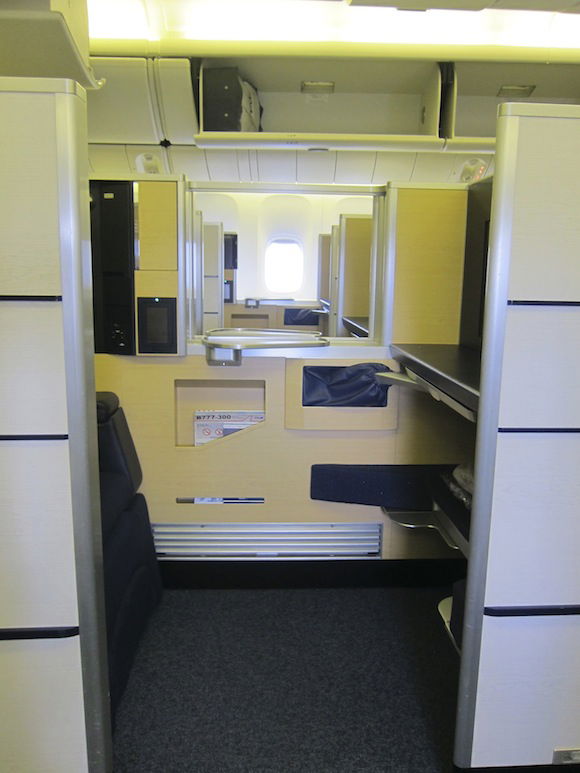 View across cabin
When the flight attendant saw me taking pictures she immediately asked if I wanted my picture taken, and she was probably the first of about five flight attendants to ask me that. Gotta love their attention to detail and desire to anticipate needs.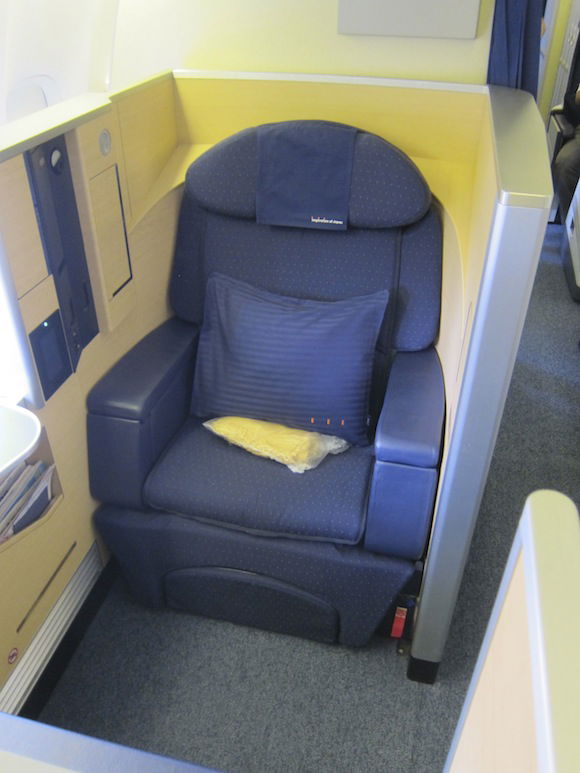 My seat, 2K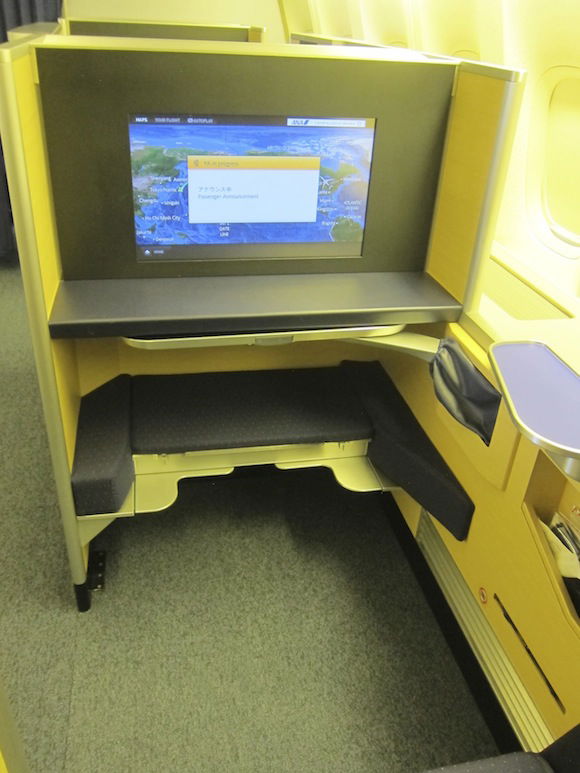 My seat, 2K
As far as the seat goes, I don't think I've ever had a seat with as many different compartments as this one.
To the left of the seat was a storage container for reading glasses or a phone.
To the right of the seat was the monitor for seat controls.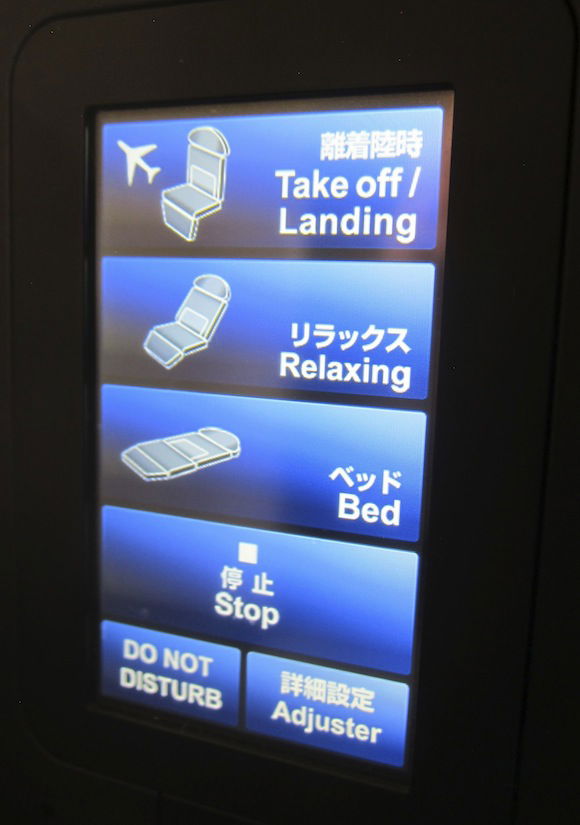 Seat controls
Immediately above that was another storage container with a mirror.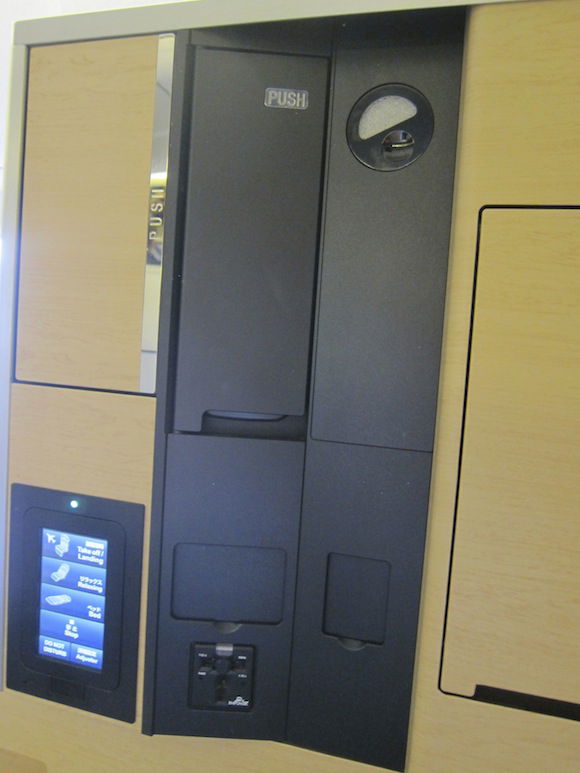 Seat controls and storage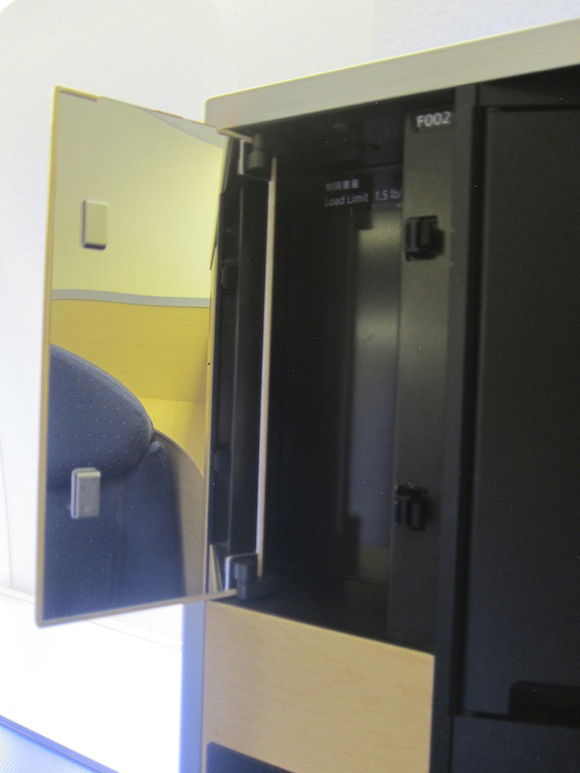 Mirror and storage
To the right of that was the entertainment controller, the door of which had yet another mirror. Below that were the iPod and USB connectors, and below that was a 110v power outlet.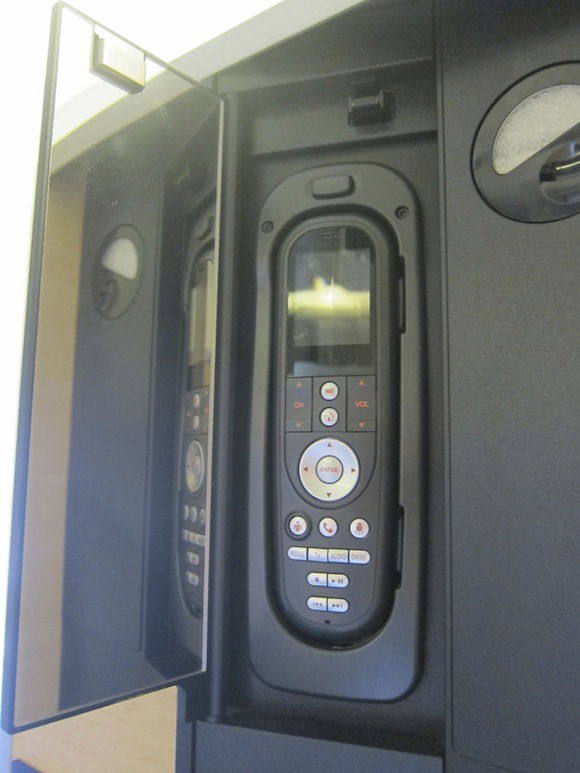 Entertainment controller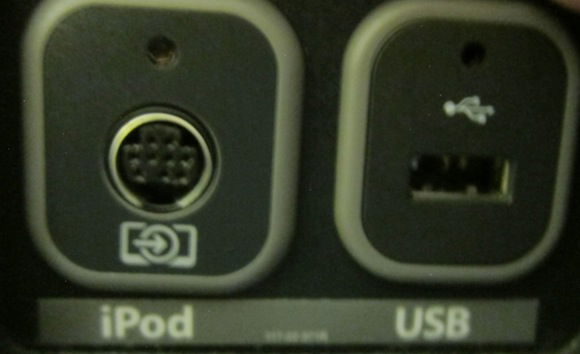 USB and iPod connectors
To the right of that was yet another storage container, which is also where you can place the headphones.
Waiting on the seat was a pillow and light blanket.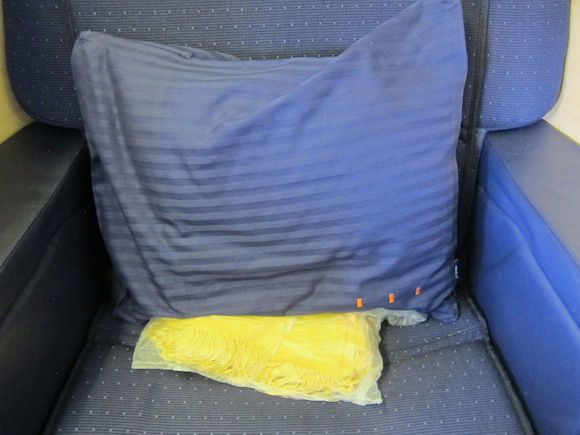 Pillow and day blanket
My one major frustration about ANA used to be that due to Japanese Aviation Regulations they couldn't serve pre-departure beverages and the use of electronic devices wasn't permitted on the ground. That has changed in the meantime, and now the service has to be one of the most involved out there.
The service began with pre-departure beverages, and I was given the choice between champagne (Krug, to be specific) and orange juice. I went with the former.
The glass was poured at my seat after the flight attendant presented the label to me.
I was then offered Sony noise canceling headphones.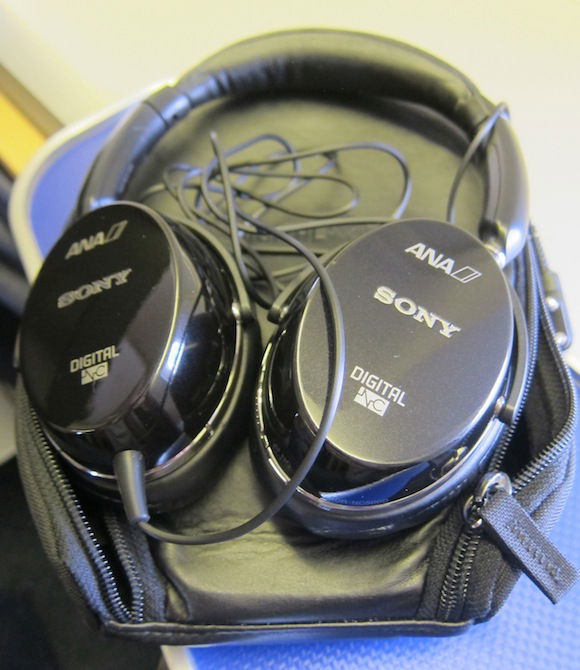 Headphones
After that I was offered both a cardigan and pajamas, though I have to say the pajamas felt more like a hazmat suit than pajamas.
I was then offered a Rimowa amenity kit, which the flight attendant was very proud to offer me, since she placed much emphasis on it being Rimowa (and the excitement wasn't lost on me, because picking up this kit was half of the reason I wanted to fly ANA again).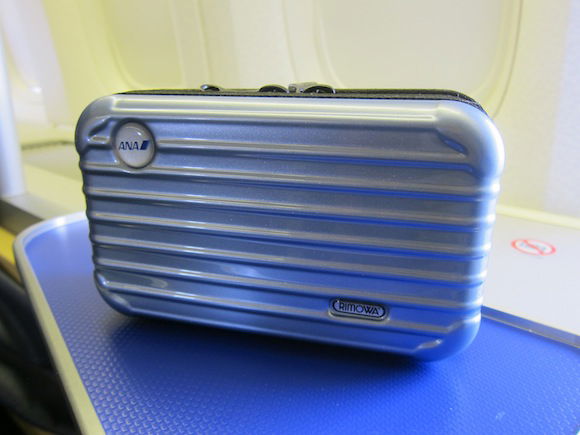 Rimowa amenity kit
The Rimowa kit consisted of ear plugs, an eye mask, a toothbrush and toothpaste, and some Ginza toiletries.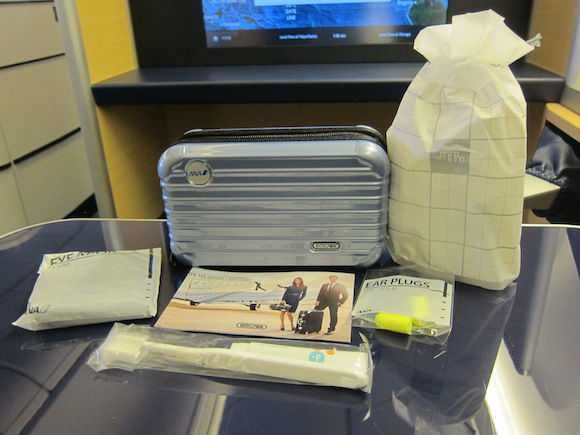 Amenities
I was then offered a selection of amenities from a basket, including a mask, socks, a comb, a toothbrush and toothpaste, and a "leg refreshing sheet." I asked the flight attendant what that was, and she said "it's for refreshing your legs, Mr. Lucky." Well thanks, that clarifies it!

Amenities
Lastly, I was offered a menu and wine list, which was presented in a beautiful menu holder.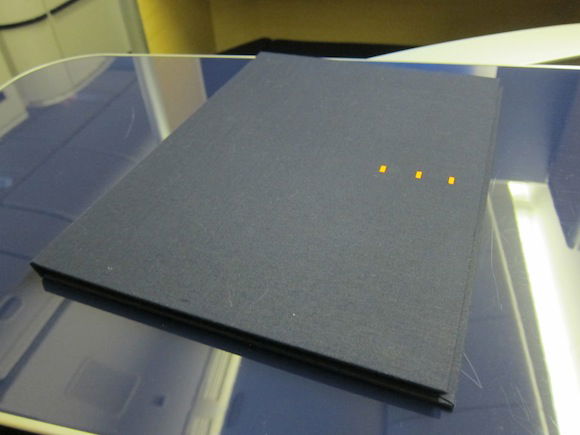 Menu folder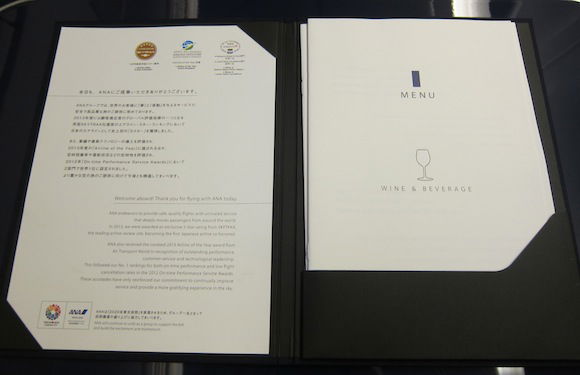 Menu and wine list
What was impressive about the parade of gifts is the great care with which they were offered to me. The flight attendant would bring everything to my seat wrapped (to show that it's new/clean), and then unwrap it in front of me and take the wrapping with her. When I was presented the slippers the flight attendant removed them from the bag and placed them in front of my feet.
She insisted I change into the pajamas to be more comfortable, though apologized profusely that it would be a few minutes till the bigger lavatory was empty. Sure enough a couple of minutes later she came to my seat to escort me to the lavatory.
The first class lavatory on the refurbished 777-300ERs are pretty awesome, since they feature a bidet-style toilet.. The bathroom is also stocked with all kinds of amenities, and even has a "platform" you can stand on when changing so you don't have to stand on the floor.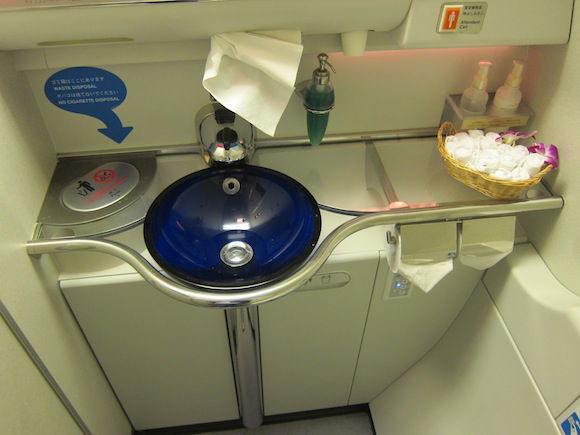 Lavatory sink
When I emerged from the lavatory the flight attendant insisted on hanging my clothes, and neatly placed them in the closet on the outside of the seat.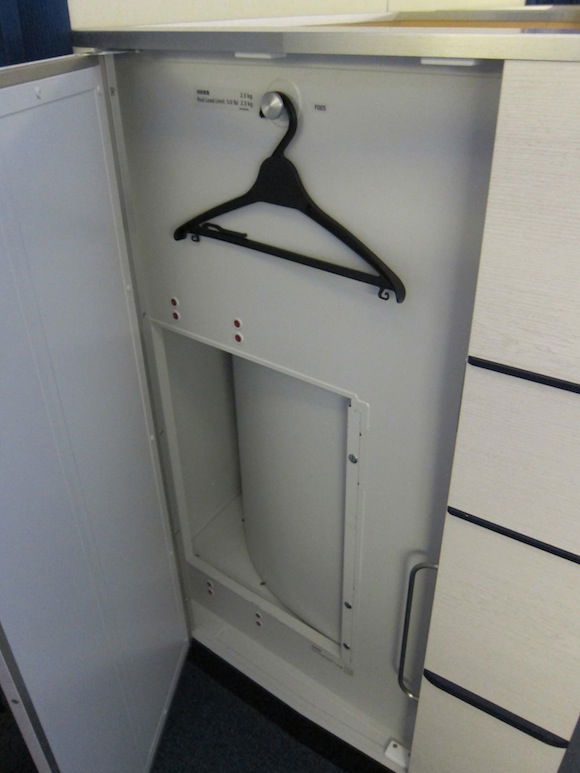 Closet for hanging clothes
During the boarding process no fewer than three flight attendants came by, introduced themselves as "purser," and welcomed me aboard. Okies!
We pushed back right on schedule and taxied to runway 32R, which took about 10 minutes. During that time the safety video played, and the flight attendants did their pre-takeoff safety checks. Unlike US airlines that doesn't just involve seeing if everyone's seatbelts are fastened, but rather checking to see if the overhead bins are closed, which involved three flight attendants checking each bin to be sure they were properly closed. That always cracks me up.
Once at the runway we were first in line for takeoff.
Unfortunately there were a series of about 10 planes landing, so we had to hold short of the runway for about 15 minutes. Other airlines probably wouldn't make an announcement in such a situation, or if they did the pilot would probably make it.
Not at ANA! About five minutes after we got to the runway the flight attendant got on the PA to announce "Ladies and gentlemen, we are waiting at the end of the runway and will take off as soon as the runway clear. Thank you for waiting." Then maybe three minutes later she got back on the PA to announce "Ladies and gentlemen, there are four aircraft ahead of us waiting to use the runway for the landing. Would you please wait for a moment."
Sure enough, four planes later we were cleared for takeoff for our 11hr28min flight, at roughly 11:30AM.
The views on the climb out were beautiful, including of Lake Michigan. Despite some thick clouds the climb out was smooth, and about 15 minutes after takeoff the seatbelt sign was turned off.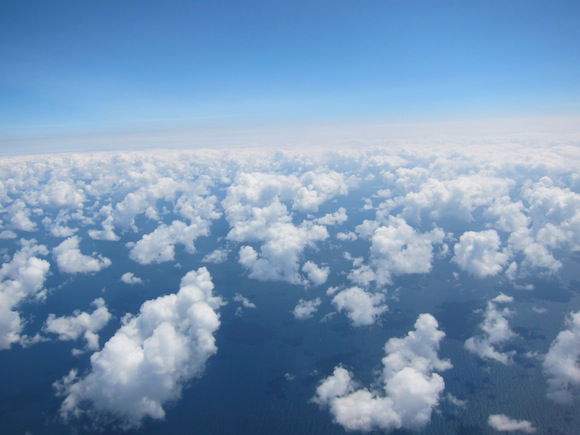 Views over Lake Michigan
It's worth noting that the entertainment system started working at the gate already, so I was able to browse the selection throughout the taxi and climb out.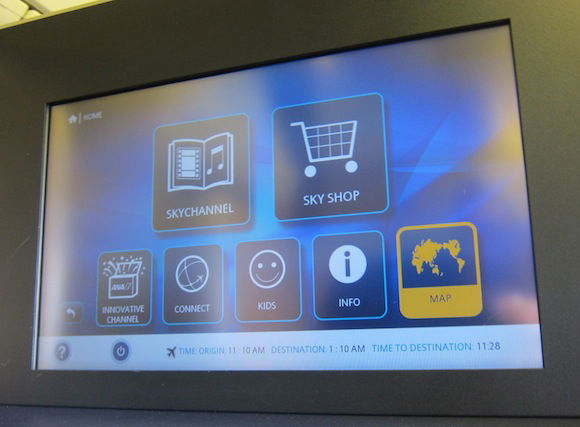 Entertainment menu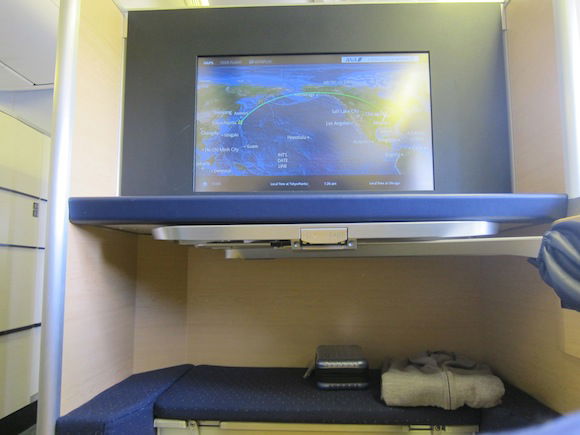 Map and seat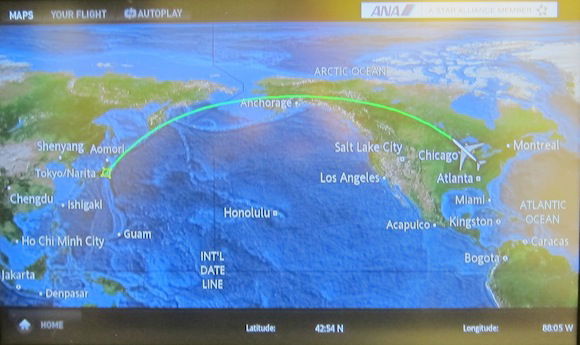 Airshow upon departure
While the selection is somewhat extensive, the quality of the movies and TV shows leaves a bit to be desired. Eventually I decided to watch "The Big Wedding," which was an airplane movie, alright…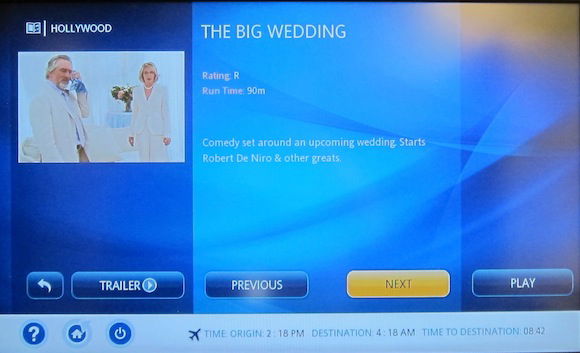 Quality cinema
As soon as the seatbelt sign was turned off drink orders were taken. I ordered a Coke Zero and glass of Krug, which was promptly served with a starter of breadsticks, salmon, some sort of mushroom, and pate.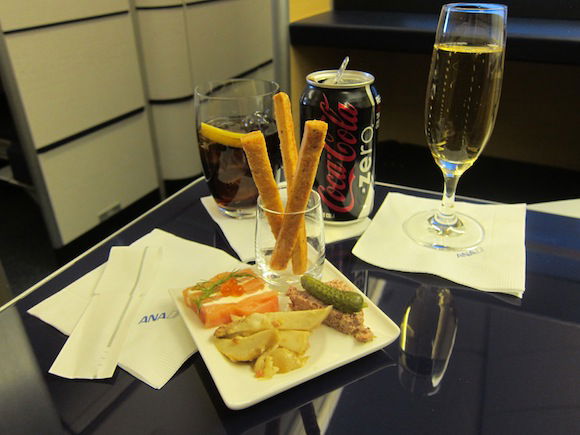 Beverages and canapés
Along with that I was offered a hot towel.
Once that was complete the meal service began. The menu read as follows: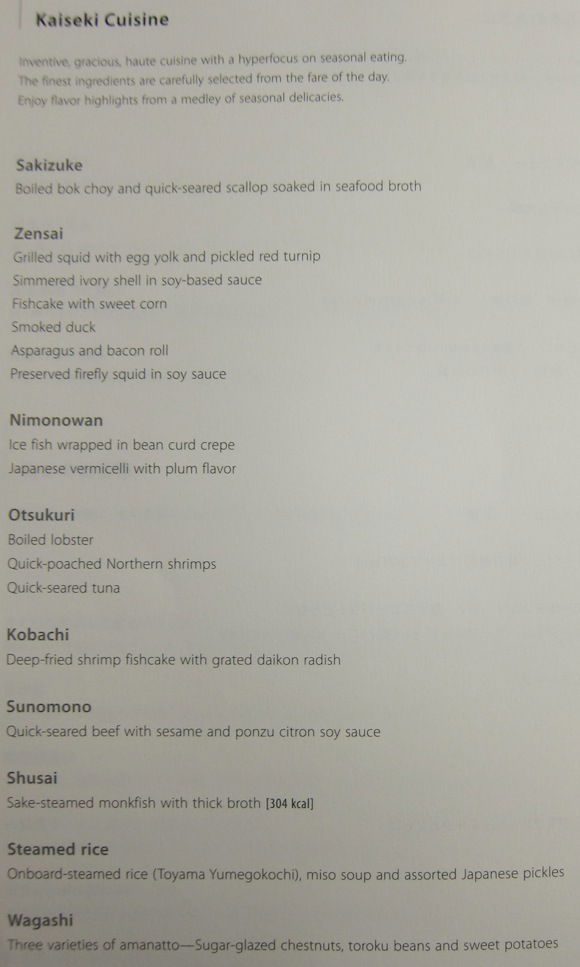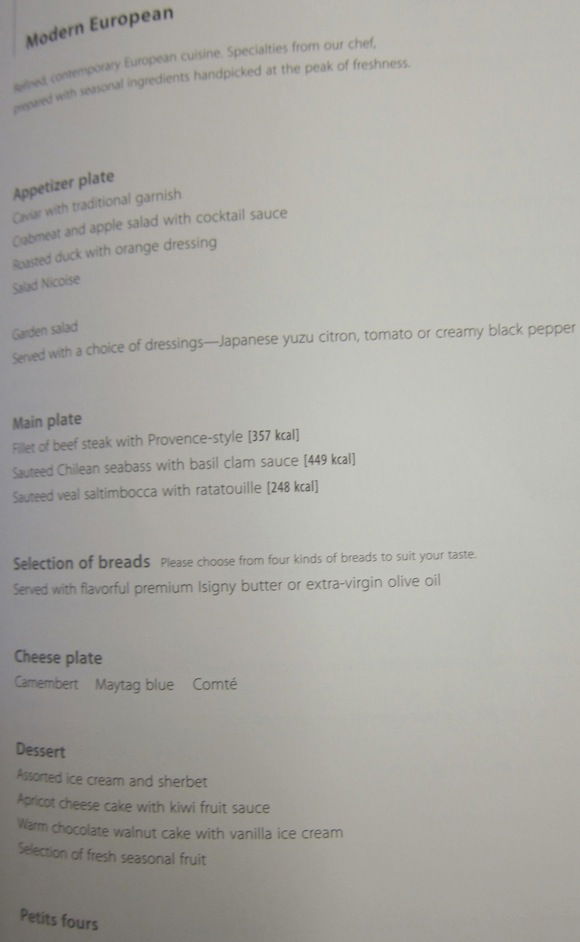 And the wine list read as follows: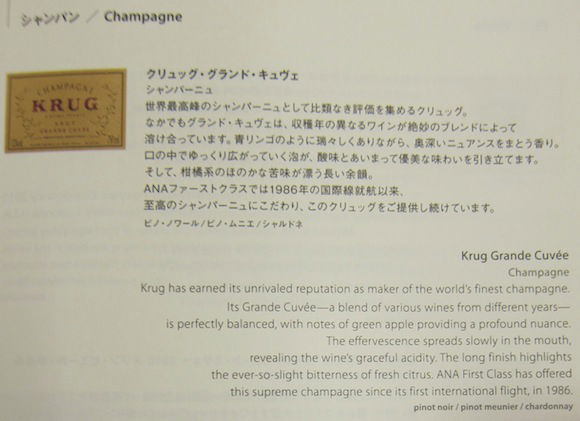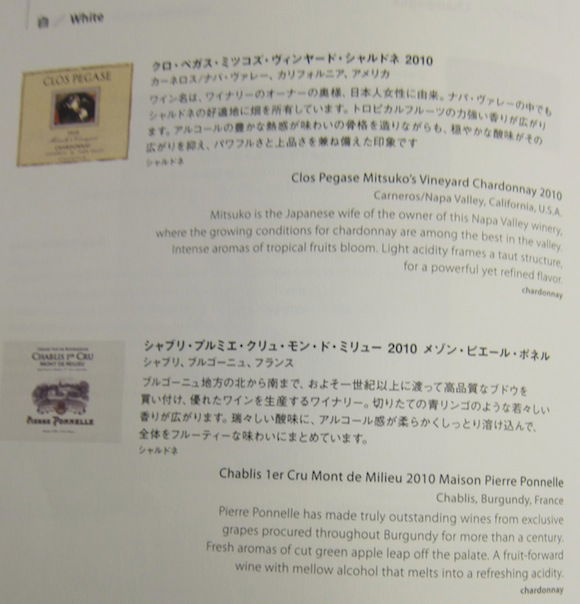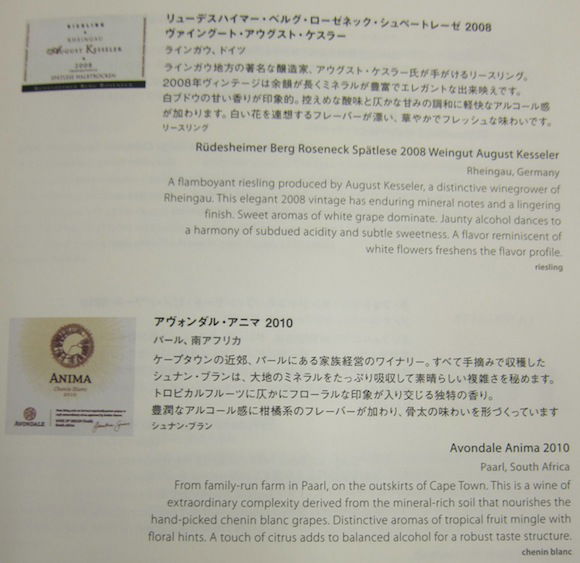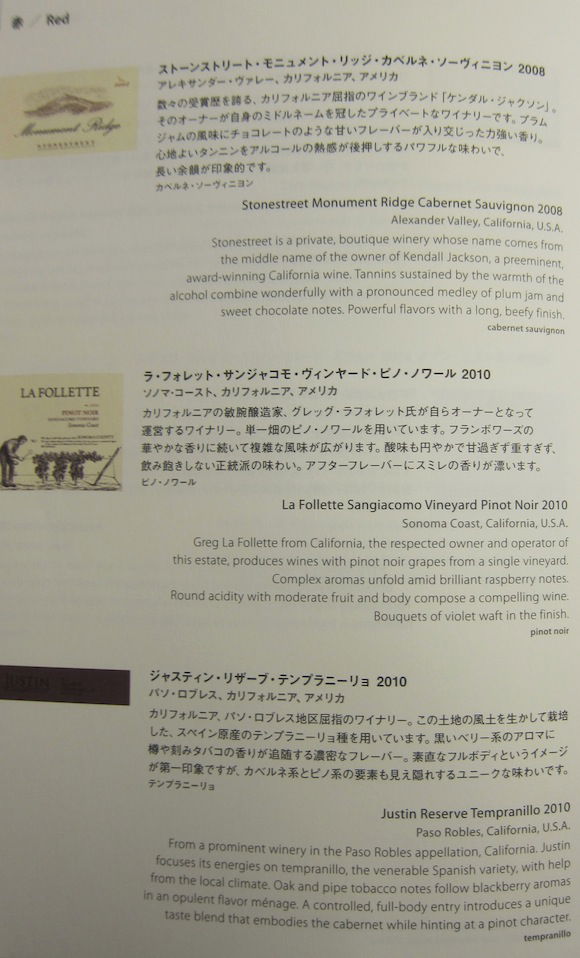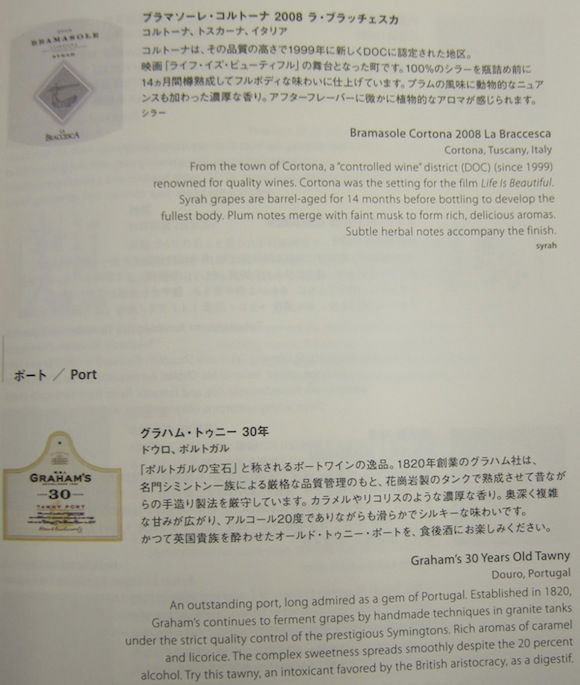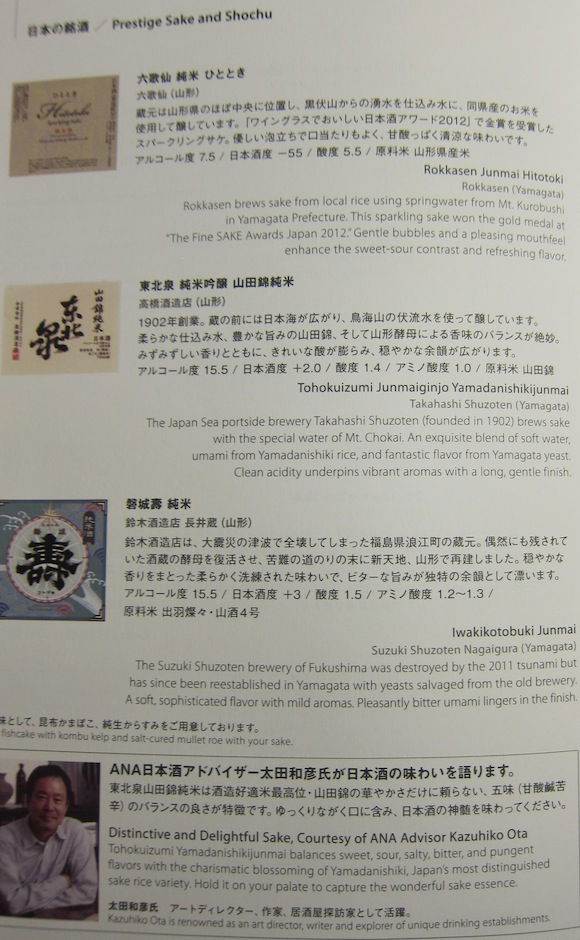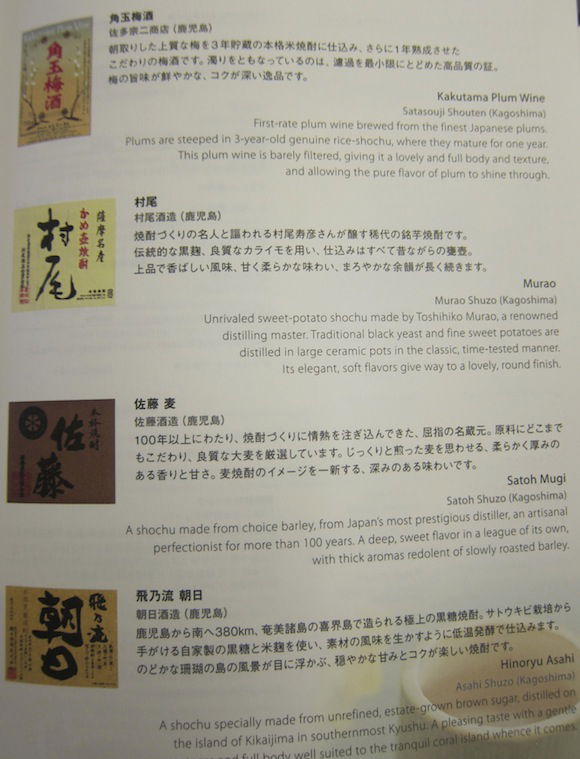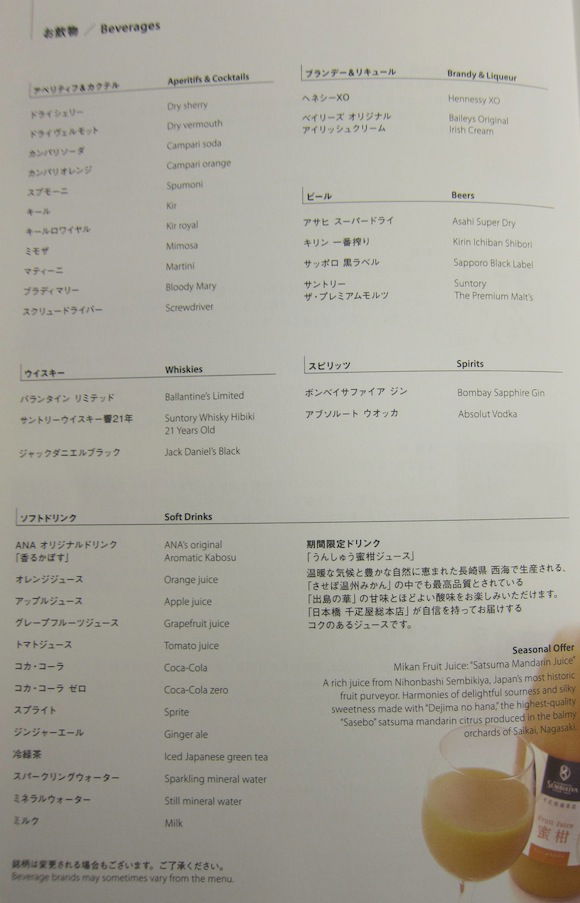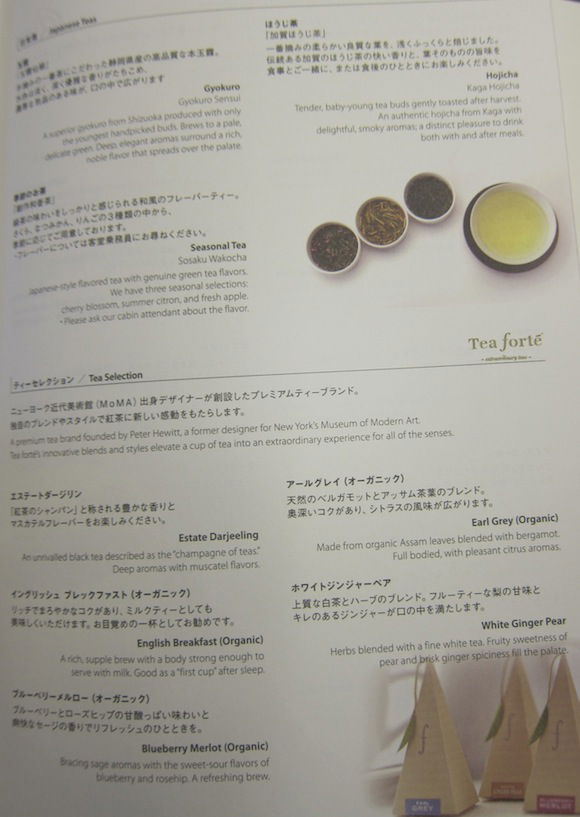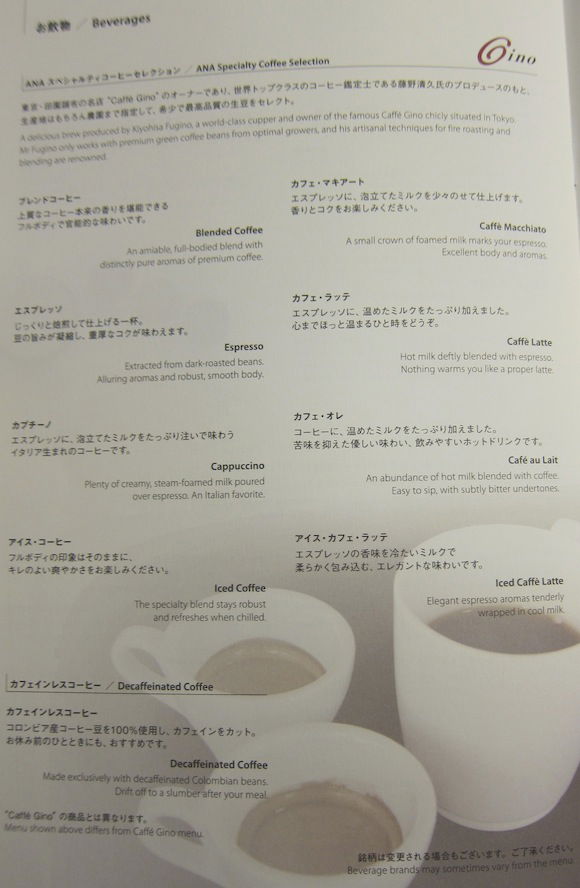 To start I had the caviar, which was artfully presented. I love the blinis they serve it with, and snobs will surely love that they actually have caviar spoons.
After that I was served the avocado and crabmeat starter, which was really great.
Next was the salad. While it was simple with just feta cheese, cherry tomatoes, and cucumbers, everything tasted fresh and I really liked the tomato dressing.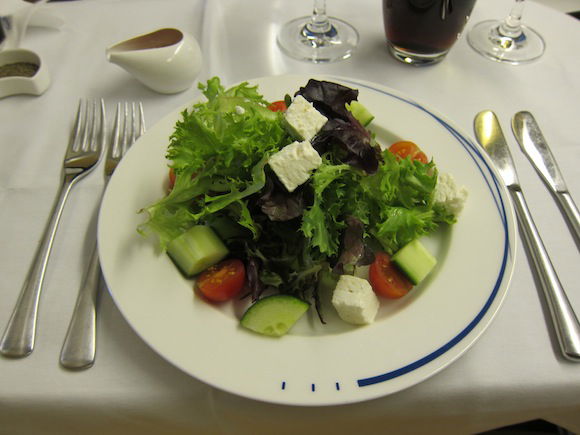 Salad
For the main course I had the fillet of beef, which was served with gnocchi.
The flight attendant also came around with a condiment tray consisting of mustard, horseradish sauce, etc. I took her up on some horseradish.
Next was the cheese course.
Lastly for dessert was a warm chocolate walnut cake with vanilla ice cream, which was spectacular.
To finish off the meal I ordered an iced coffee, which was served with petit fours.
The entire meal service took maybe two hours, and was flawless. I have to say ANA crews simply can't be beat. On one hand as someone that doesn't speak Japanese I find that the crews aren't nearly as confident as you'd get on Singapore, Cathay Pacific, etc., where their English skills are excellent.
ANA crews I find are intimidated and reserved, but so obsessed with being attentive and on top of things that I really have nothing but great things to say about them. They must have been through the cabin literally every two minutes to offer me drink refills and see if I wanted anything, and were apologetic about looking after me at every turn.
Since there were only four passengers and we were in the four window seats, the flight attendant suggested that I have my bed made in seat 2G, the center seat, so I could use my seat as an office/relaxation seat. That sounded like a great idea, so I agreed.
After lunch I decided to try and snooze a bit, so headed over to seat 2G. The bedding on ANA is quite comfortable, not quite to the level of Cathay Pacific or Qantas, but still very good. There's a "bare" mattress pad (which I found a bit odd), two pillows, and then a comfortable blanket. I slept like a baby for a few hours, thanks in no small part to the temperature the cabin was kept at.
I woke up with about six hours to go to Tokyo Narita, just over the west coast of Alaska.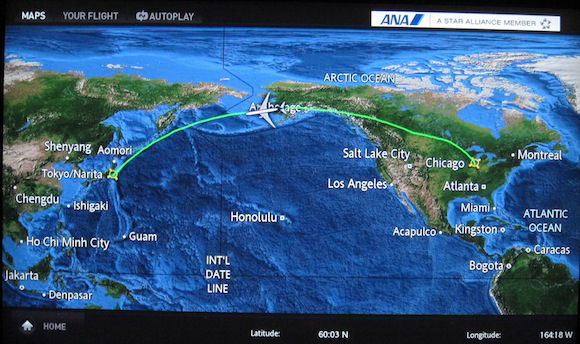 Location upon waking up
The small touches of the crew really show, as the light blanket I had on the other seat was folded, and the slippers that I had carelessly thrown on the floor were precisely positioned to point away from me so that I could slip right into them if I wanted to.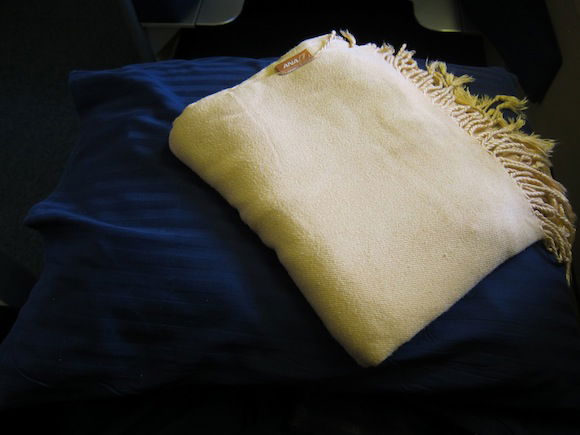 Pillow and day blanket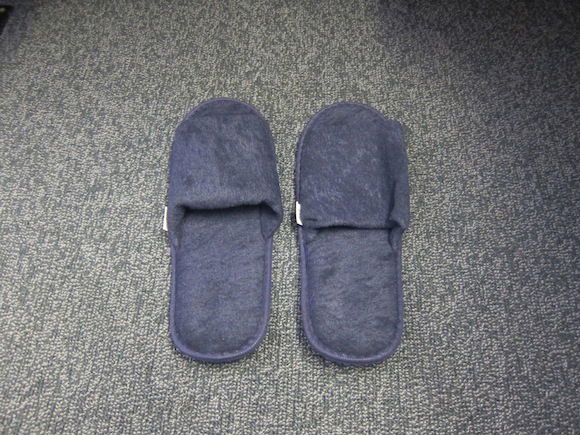 Slippers
In terms of attentiveness ANA flight attendants seem to take a bit of a hybrid approach between Cathay Pacific and Singapore. At Cathay Pacific you won't see the crew members in the cabin once between meals unless you ring the call button, and that's designed to maximize your privacy. But as soon as you push the call button a flight attendant is there in less than 10 seconds. Meanwhile Singapore flight attendants seem to be through the cabin at least once every 10-15 minutes, even on a longhaul flight, and I feel like they think they're failing you if you have to push the call button.
ANA is a combination between the two, as flight attendants naturally came through the cabin maybe every 30 minutes or so, but as soon as you pushed the call button they were there in a heartbeat smiling.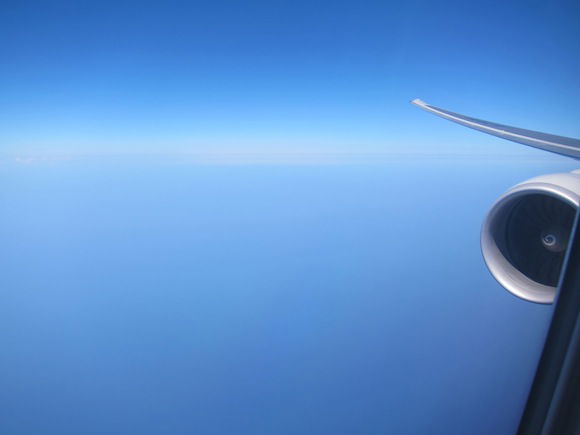 View upon waking up
I decided to have a midflight snack at this point. The midflight snack menu read as follows: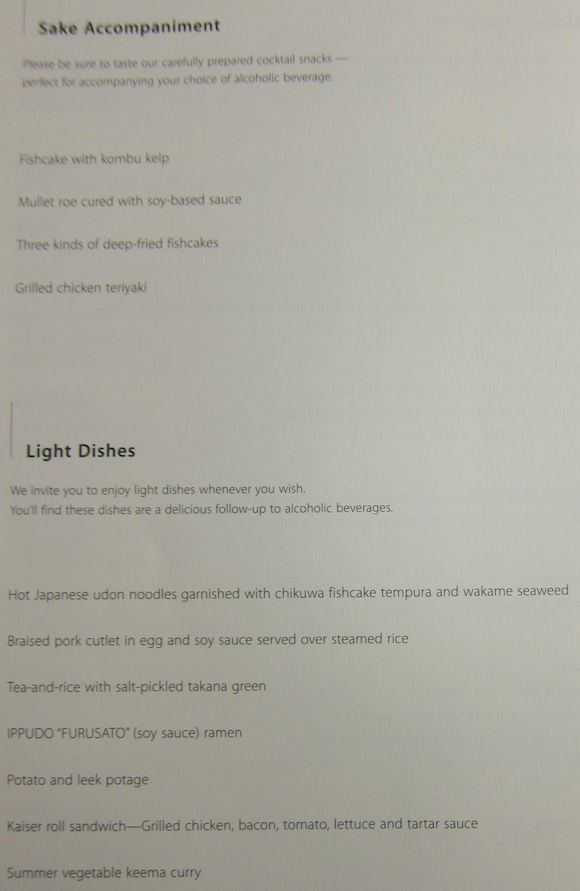 I ordered the udon noodles with chikuwa fishcake, which was great.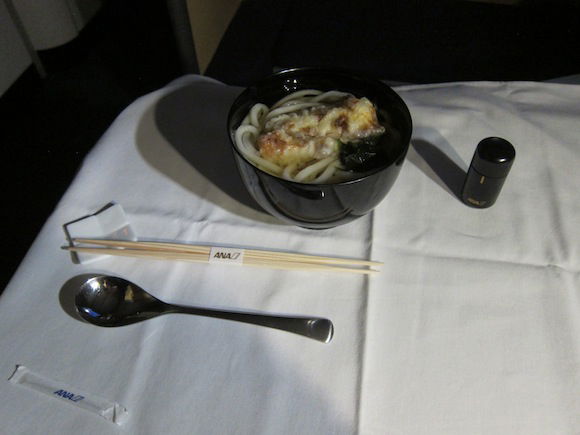 Midflight snack
I then decided to have some of the apricot cheesecake for dessert, and ordered a café macchiato to go along with it.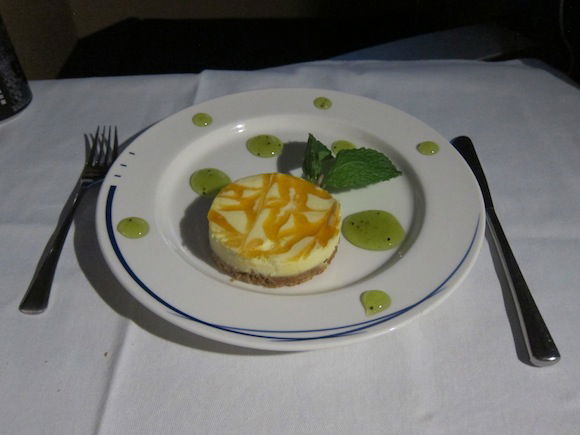 Cheesecake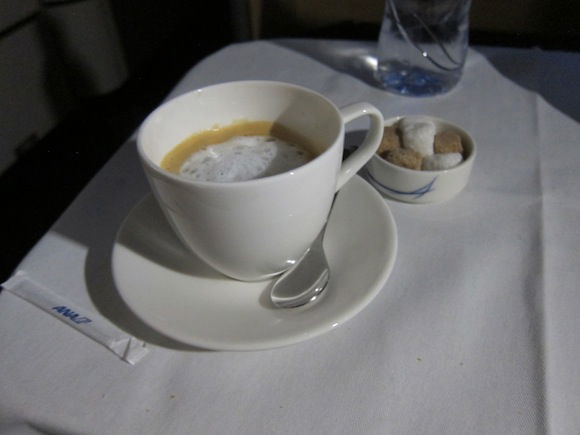 Coffee
After having a snack I decided to walk back to the business class cabin and see how it looked, given that it featured ANA's new business class product.
While the cabin was fairly full, I did have a chance to take a quick look at the seats, and I have to say they looked pretty comfortable.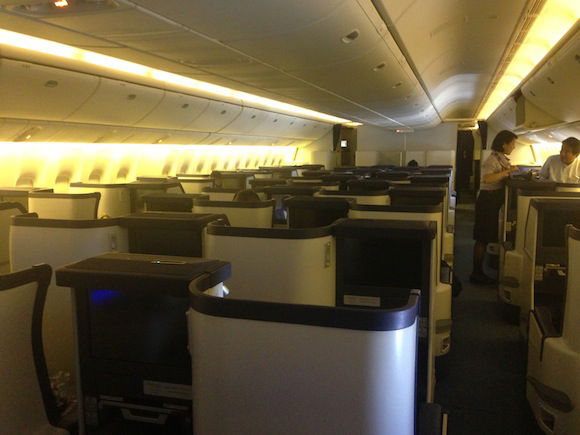 Business Class cabin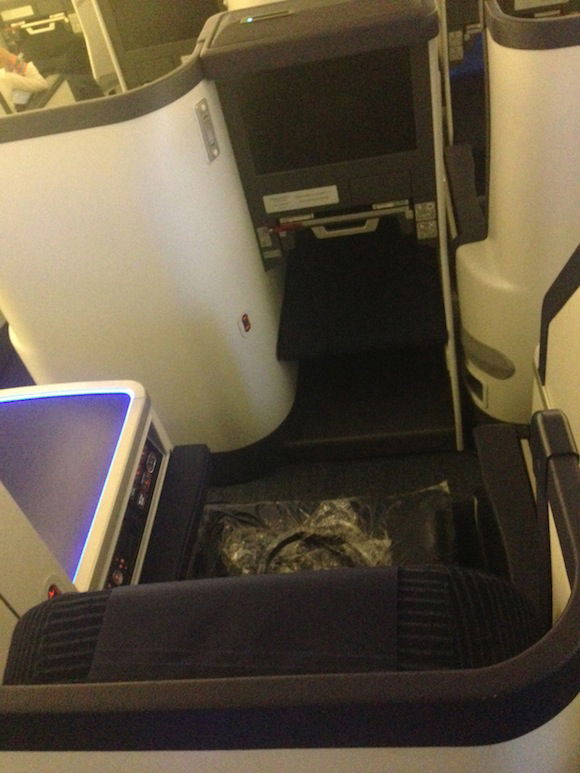 Business Class seat
There was also a bar set up in the business class galley.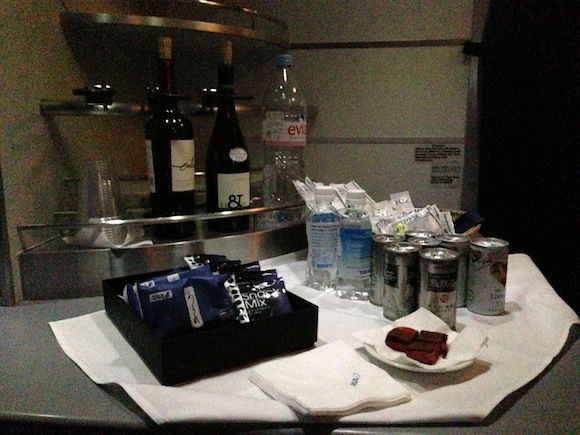 Business Class snack bar
Upon returning to my seat I decided to watch a few TV shows on my iPad, and before I knew it we were 90 minutes out of Tokyo Narita, right when the pre-landing meal was being served.
The menu read as follows: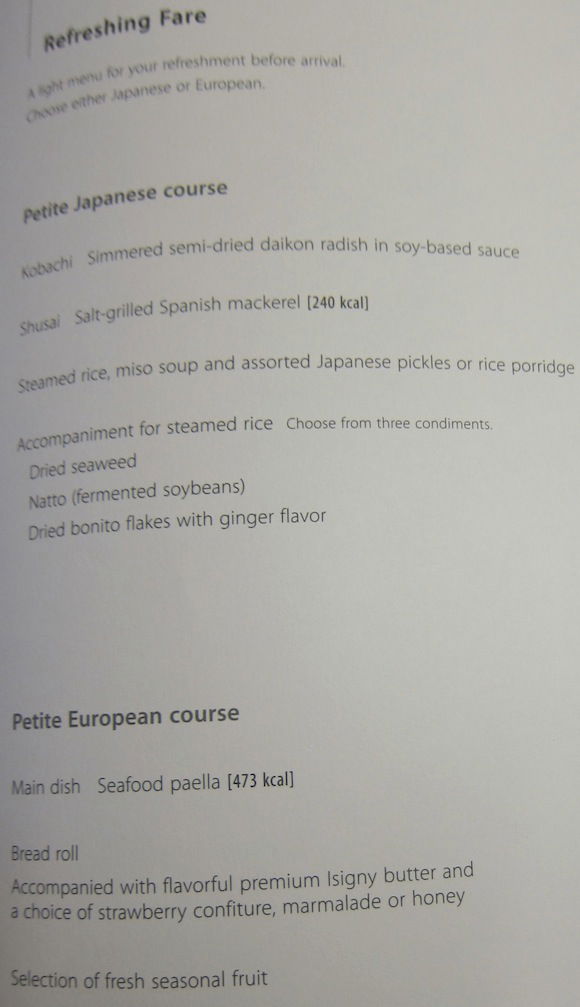 The service once again began with a hot towel, and rather than ordering something from the light meal menu, I decided to order something from the earlier snack menu, specifically the summer vegetable keema curry.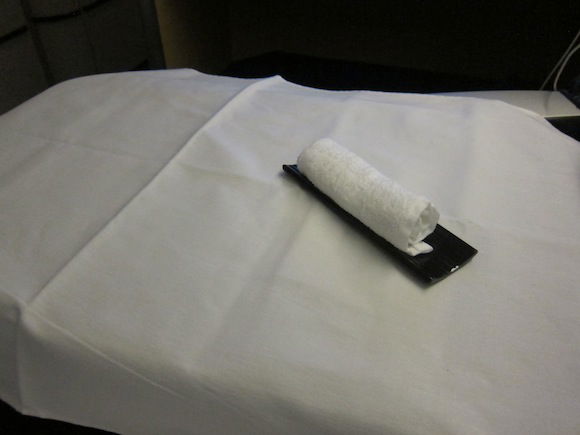 Hot towel
It was spectacular, possibly one of the best dishes I've ever had on a plane.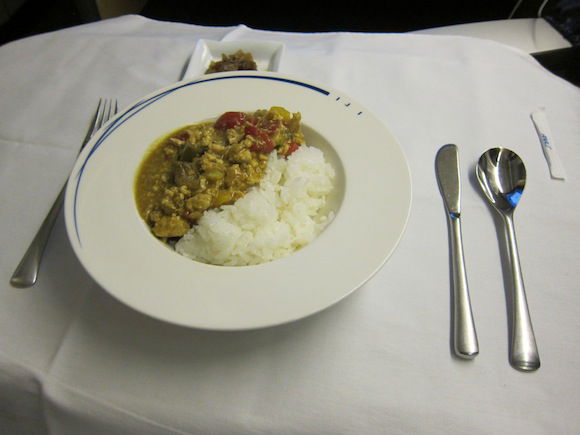 Pre-arrival meal
For dessert I had some fruit, which for whatever reason was served with ice cream.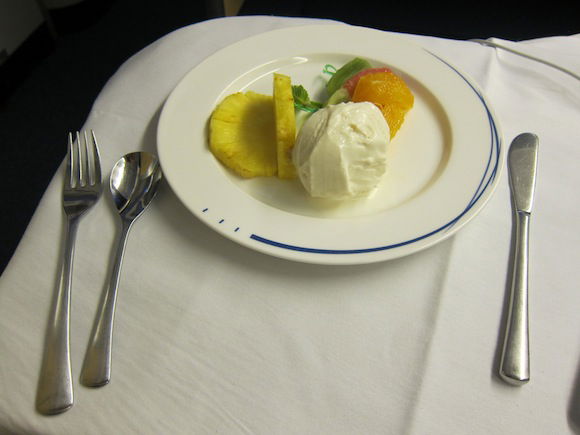 Fruit plate
About 80 minutes prior to landing the captain came on the PA to inform us that the seatbelt sign would be going on in about 20 minutes due to anticipated turbulence on the descent, which was the only announcement from him the entire flight.
About 60 minutes prior to landing I wanted to go to the lavatory to change, and as I walked up there the flight attendant apologized profusely that it was currently being used, and said she would call me when it's ready.
Sure enough a couple of minutes later she came up to my seat, said "thank you for waiting, the bathroom is now ready." She insisted on carrying my clothes hanger to the lavatory, opened the lavatory door for me, and even locked the door for me from the outside.
When I emerged from the lavatory she was standing there and said "I'm so sorry, would it be alright with you if I took your pair of pajamas and gave you a new pair to take home with you?" Now, admittedly there's a bit of a language barrier, so I assumed I misunderstood her. Did she ask if she could get me a new pair of pajamas, and apologize for it? Okay, this is Japan, you apologize for everything, so I assumed I did in fact understand her correctly, and of course happily agreed. A few minutes later she came by my seat with a new set of pajamas in a nice pouch. Simply unbelievable service. It's also interesting because the last time I flew ANA the pajamas were for onboard use only, while now you seem to get one for onboard use and then a fresh pair to take with you.
Our descent into Narita was smooth, and we touched down right on schedule on runway 16R..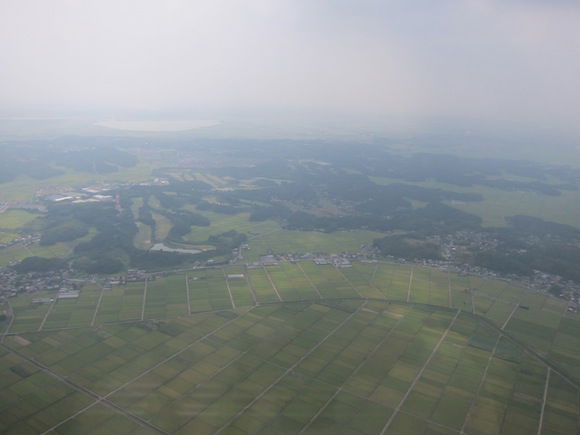 Descent into Narita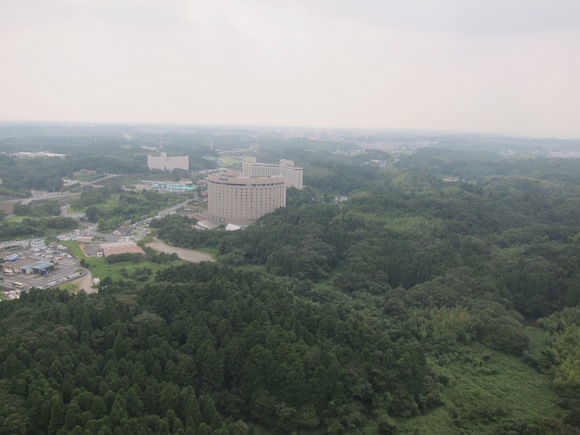 Views on descent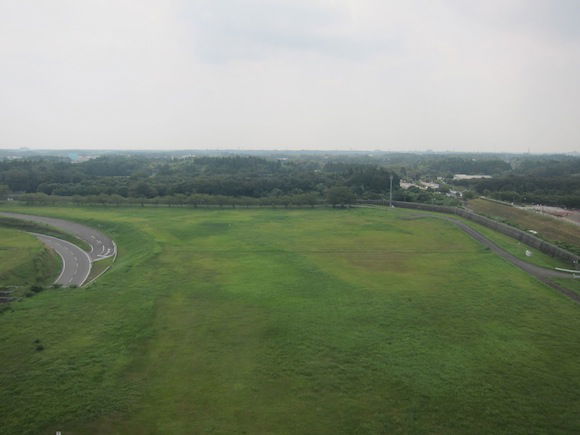 Views on arrival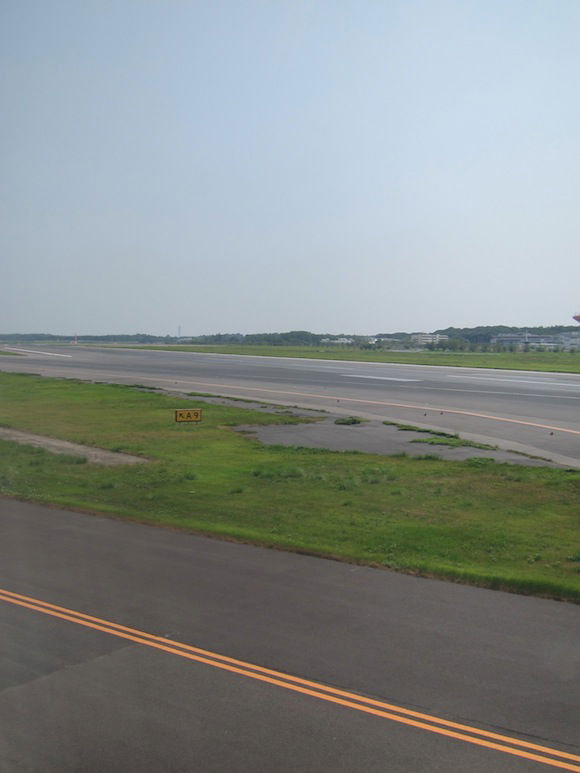 Runway views
From there we had a quick taxi to gate 43.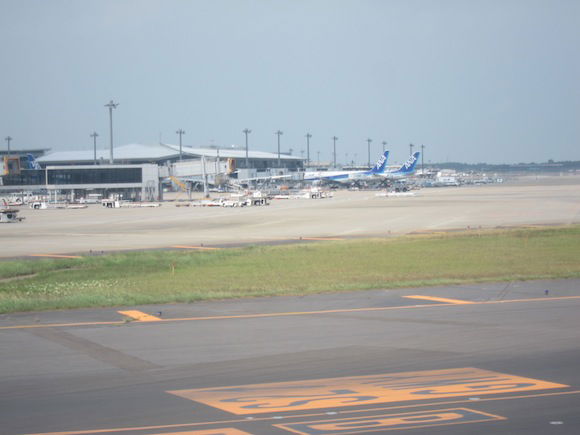 Taxiing to runway
There are no two ways about it, ANA is spectacular. 'Nuff said.