---
Malaysia Airlines 3
London (LHR) – Kuala Lumpur (KUL)
Friday, February 15
Depart: 10:50AM
Arrive: 7:10AM (+1 day)
Duration: 12hr20min
Aircraft: Airbus A380
Seat: 2D (First Class)
Upon boarding through door 1L I was greeted by one of the chief stewardesses, who directed me to my seat, 2D.
The cabin had only eight seats in a 1-2-1 configuration, so is pretty intimate. The cabin isn't nearly as "sophisticated" looking as those of Emirates or Singapore, though I still found it nice. While the seats weren't fully enclosed they had enough partitions so that each seat felt private. What I noticed with the curtains open was just how close coach felt to first class, in that the galley between cabins was tiny.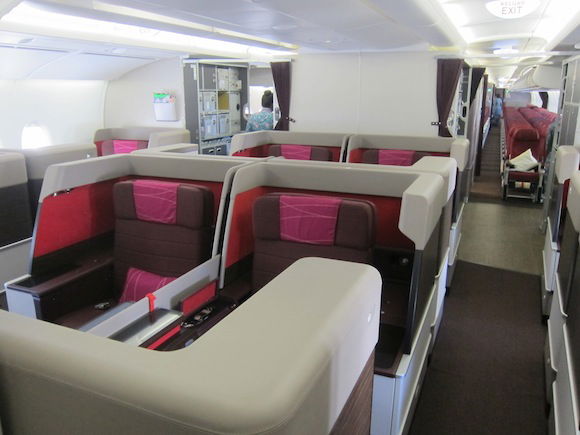 First class cabin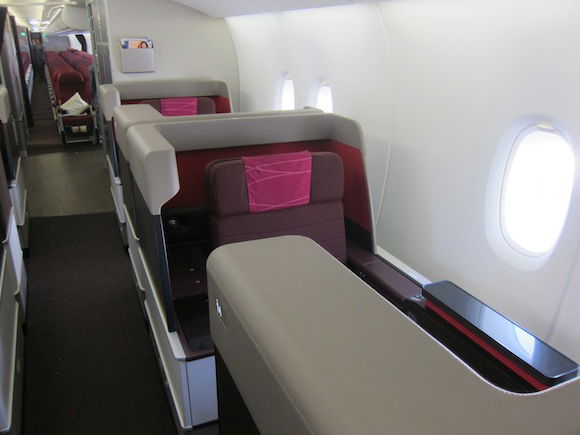 Seat 1A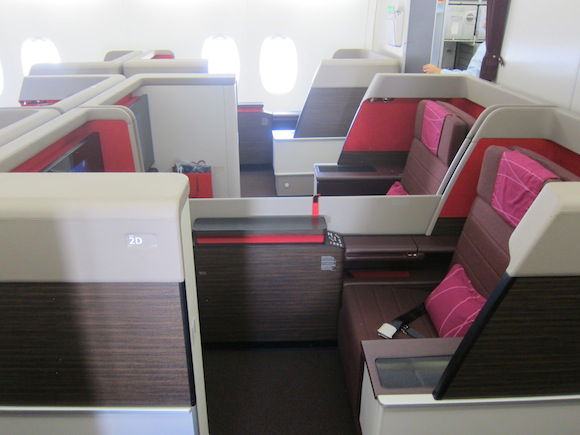 Our seats, 2D & 2G

Seat 2A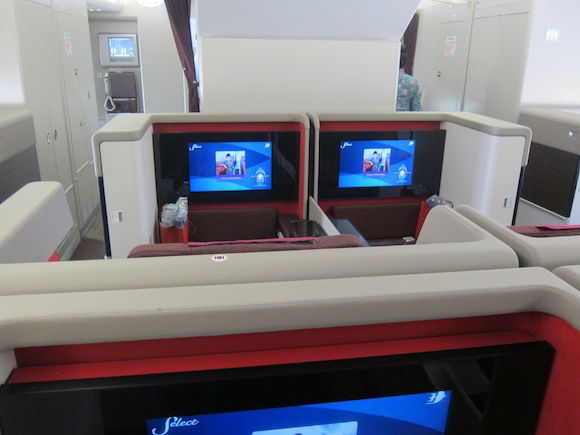 View from 2D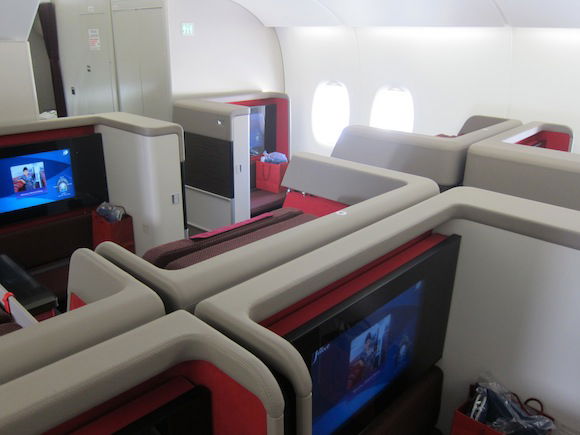 View from 2D
The seat colors reminded me a bit of Thai.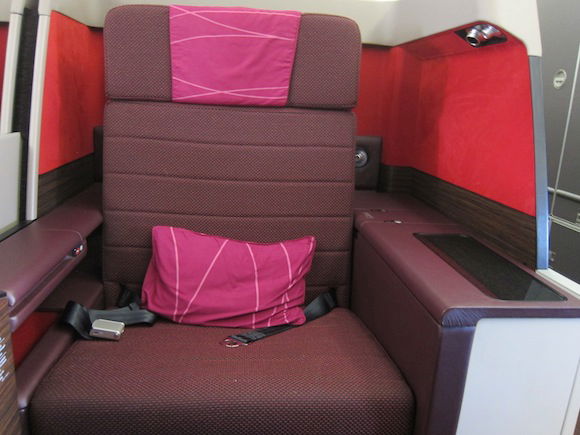 My seat, 2D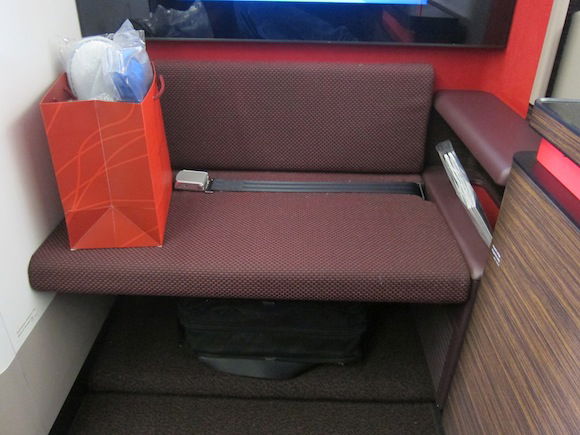 Ottoman at my seat
One of the most impressive aspects of the seat had to be the amount of storage. To the left of my seat were two huge storage compartments.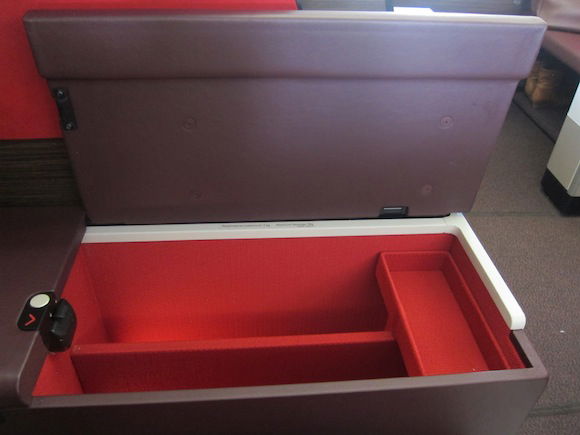 Storage
Then to the right of the seat was another deep storage compartment.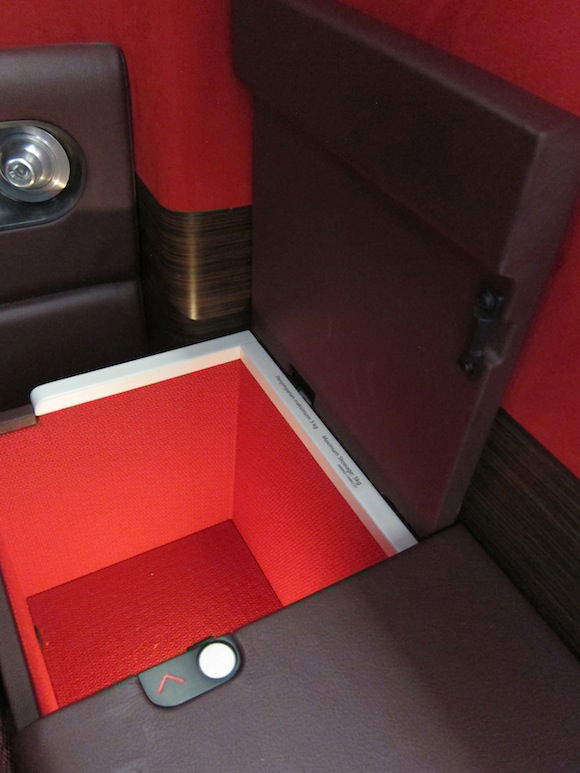 More storage
Also to the right of the seat were the seat controls, which were pretty intuitive.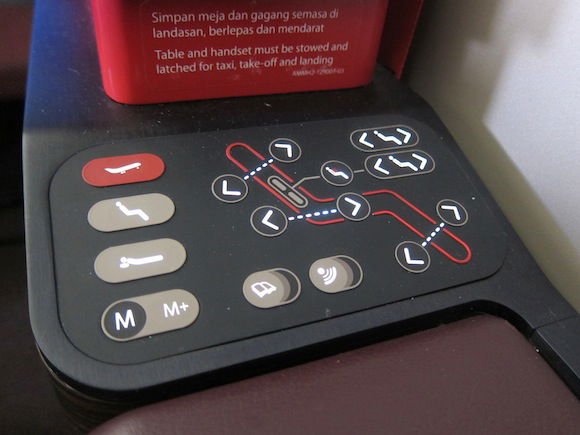 Seat controls
That's also where the entertainment controls were, which were similar to those found on several other airlines.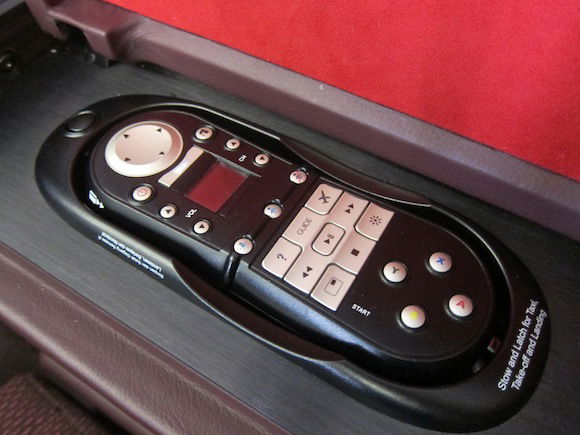 Entertainment controls
On the ottoman was a red "Malaysia Airlines First" bag with pajamas, an amenity kit, and slippers. The presentation is easily the classiest I've seen from any airline. I love the bag, since I usually don't have enough space to otherwise stash the amenity kit and pajamas into my carry-on after a flight.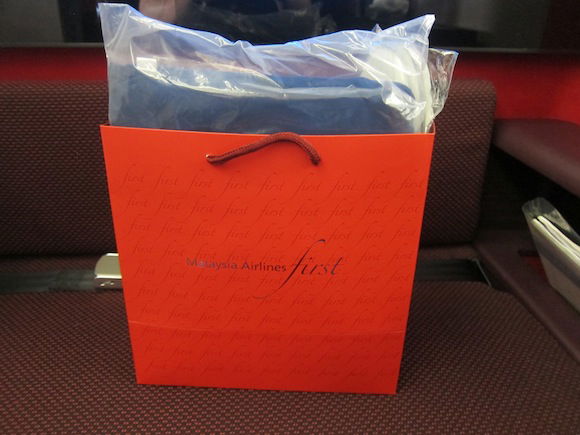 Amenity kit, slippers, and pajamas

Amenity kit, slippers, and pajamas
The pajamas was reasonably comfortable, much better than those offered by Singapore and Emirates, in my opinion, though not quite as good as those offered by British Airways and Lufthansa.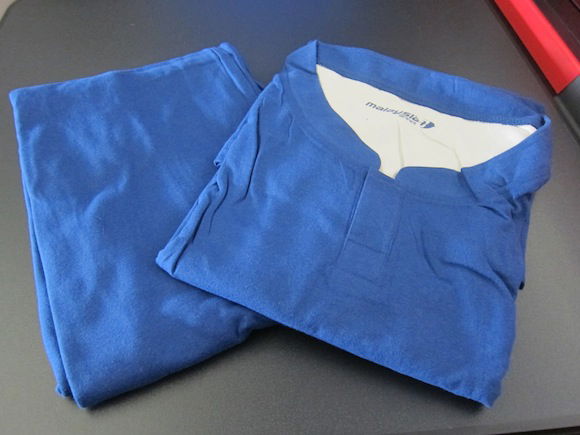 Pajamas
The amenity kit was Bulgari branded, and featured a toothbrush and toothpaste, mouthwash, a comb, eye shades, socks, and a few creams.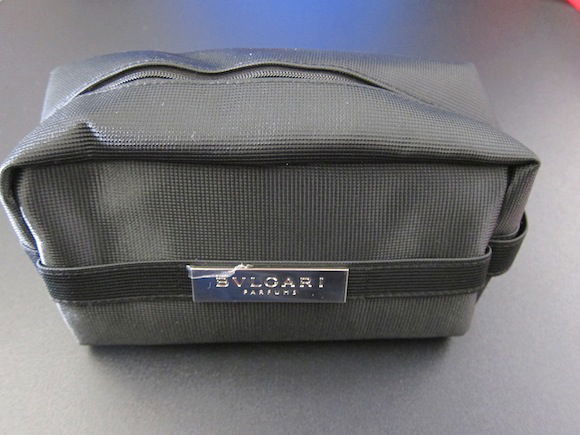 Bulgari amenity kit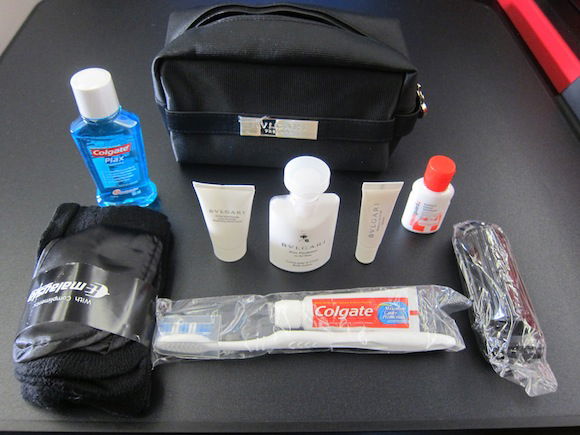 Bulgari amenity kit contents
Also waiting at my seat were a pair of noise canceling headphones.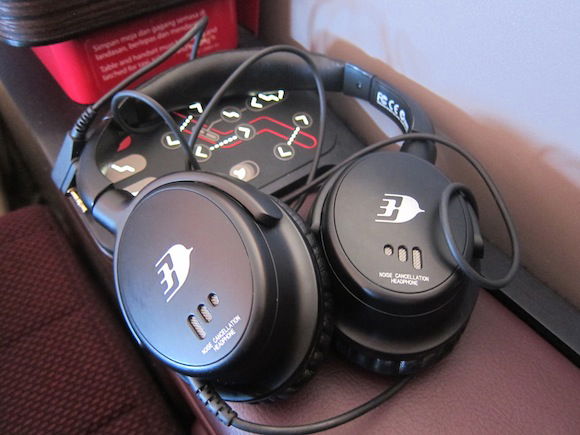 Headphones
Once settled in the two chief stewardesses came over to introduce themselves. Their names were Sissy and Mary — Sissy would be working my aisle, while Mary would be working the other aisle. They offered me something to drink, and while I requested champagne, they informed me only non-alcoholic beverages could be served on the ground. So I went with apple juice instead, which was promptly served.
I'm not sure if there's a cultural significance to alcohol not being served on the ground or if they're just too cheap to pay the taxes associated with it, but I found it a bit strange.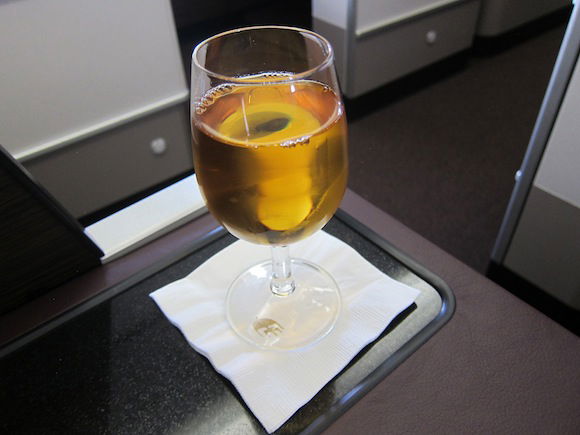 Pre-departure apple juice
I was also offered a hot towel, which had an awesome scent.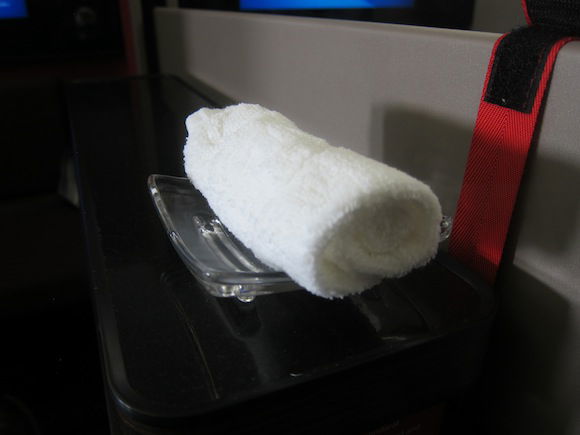 Hot towel
As boarding continued every seat was eventually occupied in first class. When we checked in we were the only passengers booked in first class, while business class seemed to be oversold, so I believe all six of the other passengers were operational upgrades from business class.
Around departure time the inflight supervisor, Karen, came around to each first class passenger to introduce herself and wish us a pleasant flight. She also distributed the menus and wine list at this point.
Shortly thereafter the captain came on the PA to inform us of our flight time of 12 hours. He also said there was a delay with cargo being loaded, so we were running around 40 minutes late, unfortunately. Given our fairly long flight time, he anticipated we'd be arriving in Kuala Lumpur about 45 minutes late. That worked great for me given our early morning arrival, and my fear that our hotel room wouldn't be ready given how early we were arriving.
The safety video began playing around 30 minutes after our scheduled departure, and I found it pretty comical how bad the lip synching in it was. I tried to find the safety video online, but could only find the one below. I'm not sure if it's apparent from the video below, but it gave me a few chuckles.
Sure enough we began our pushback about 40 minutes late, and taxied to runway 27L. By the time we made it to the runway we were number two for takeoff, so by Heathrow standards it was a speedy taxi and takeoff.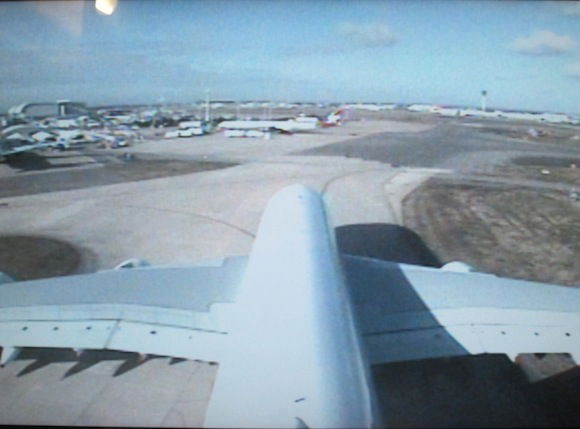 Taxi to the runway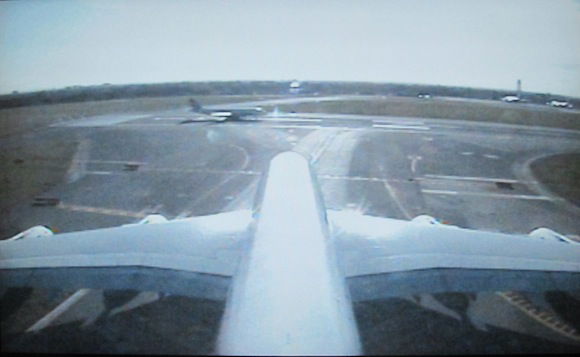 Holding short of the runway
The takeoff roll was extremely long, and our climb out was smooth but gradual.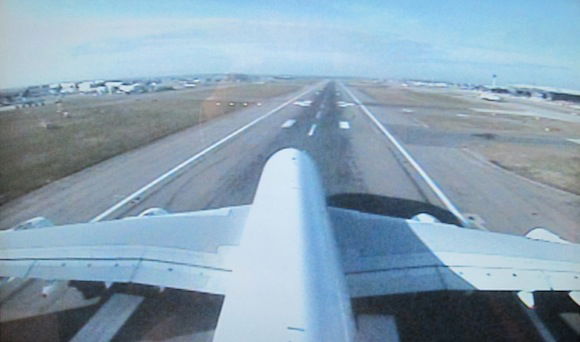 Taking off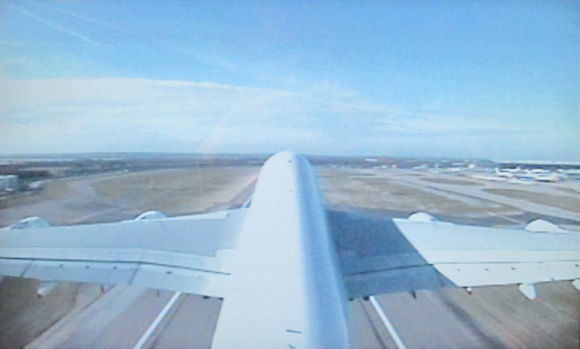 Airborne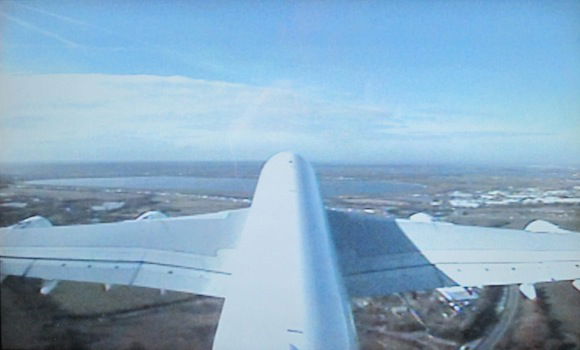 Climbing out
About 10 minutes after takeoff the seatbelt sign was turned off and cabin crew began their service. The lunch menu read as follows: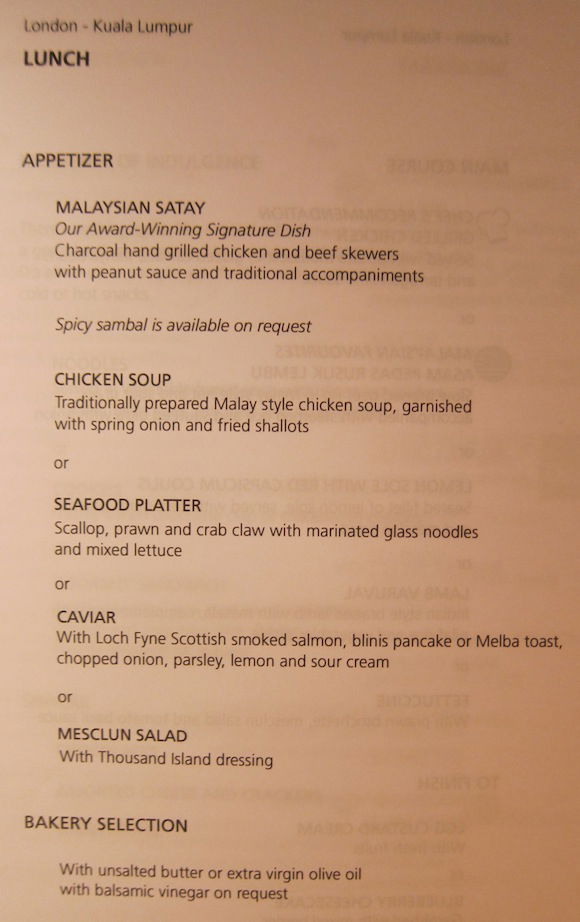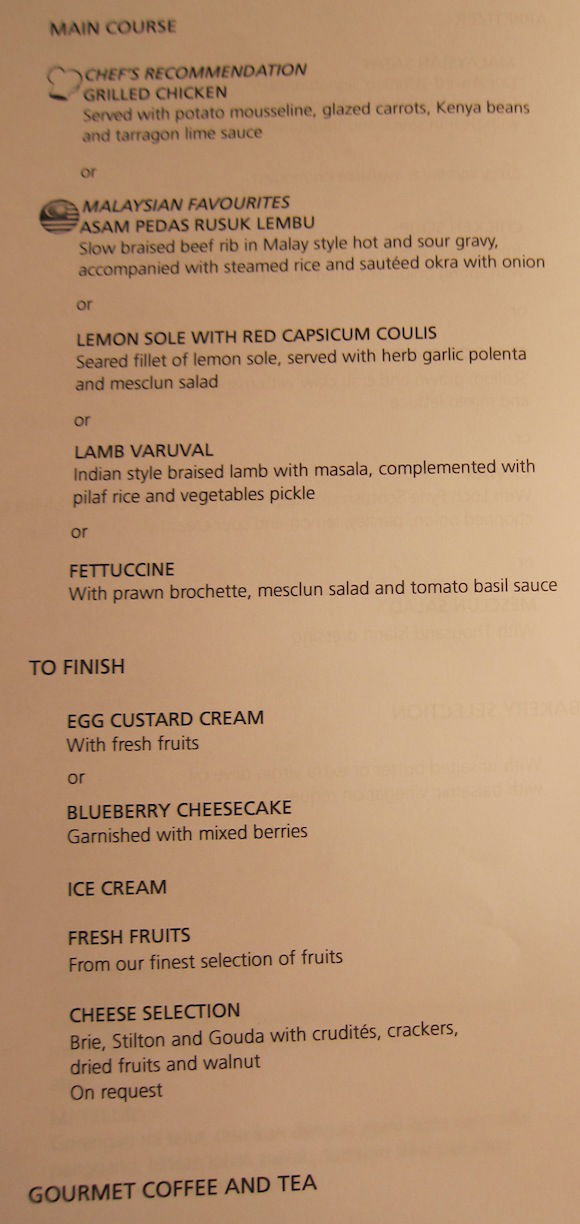 And the drinks list read as follows: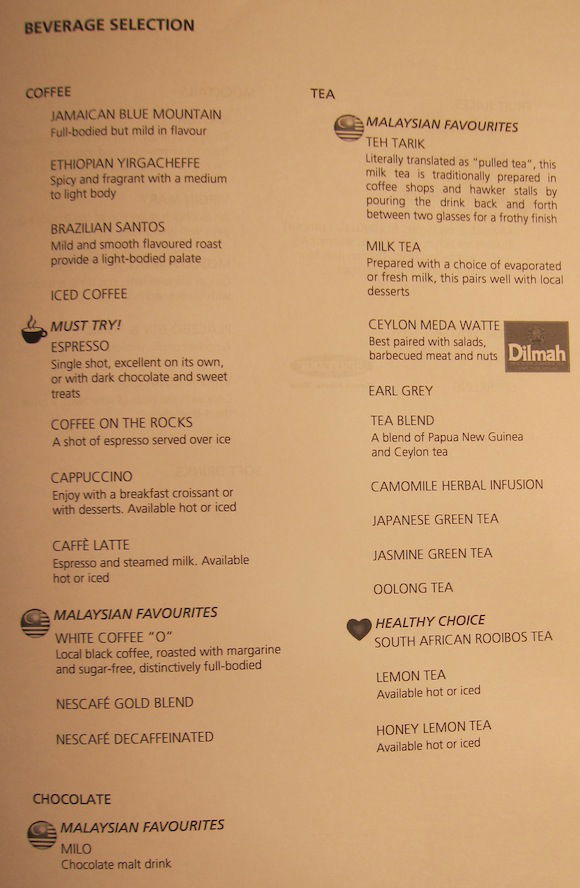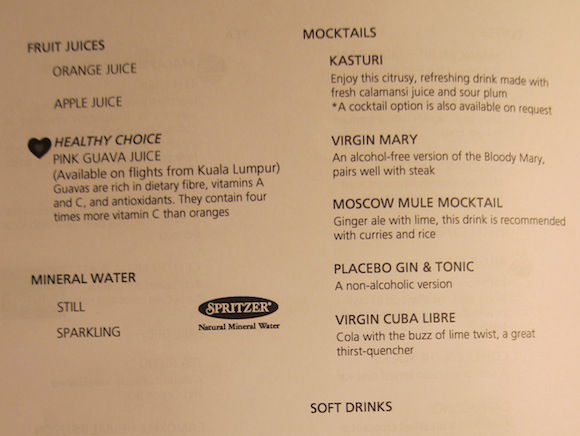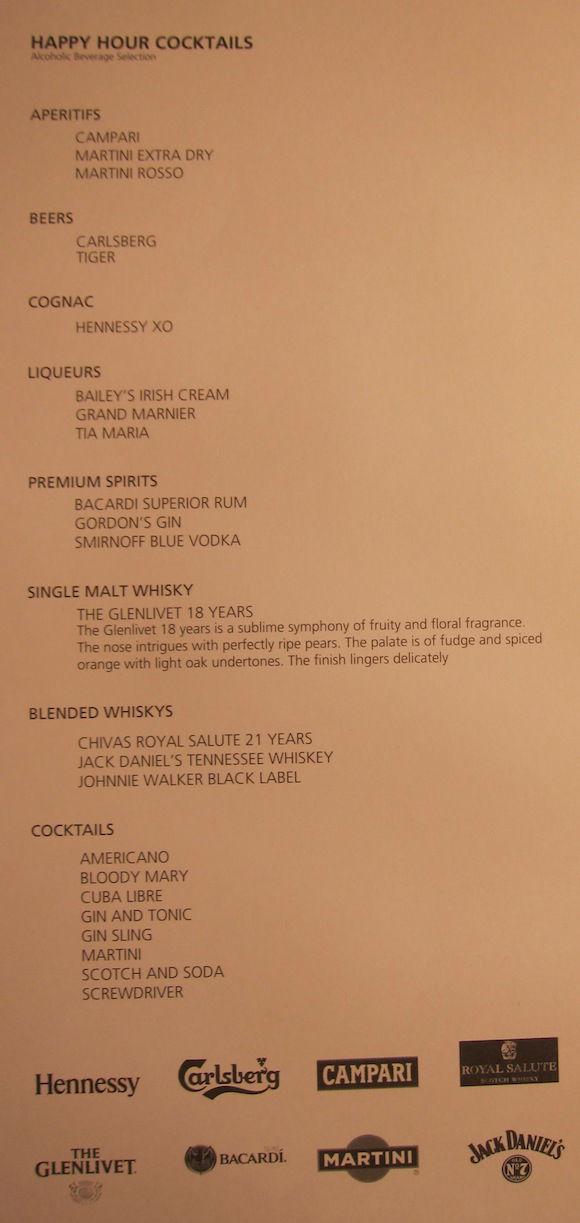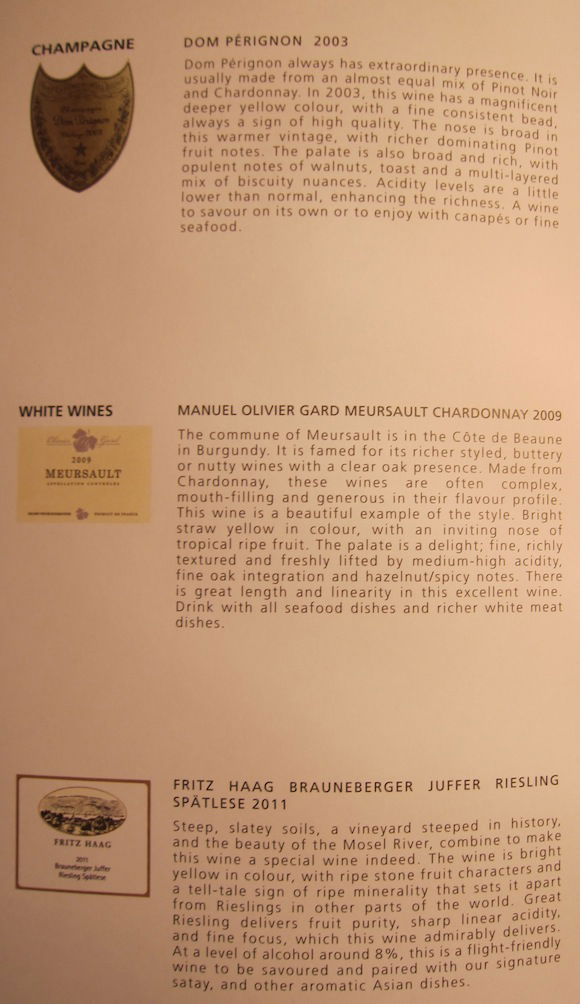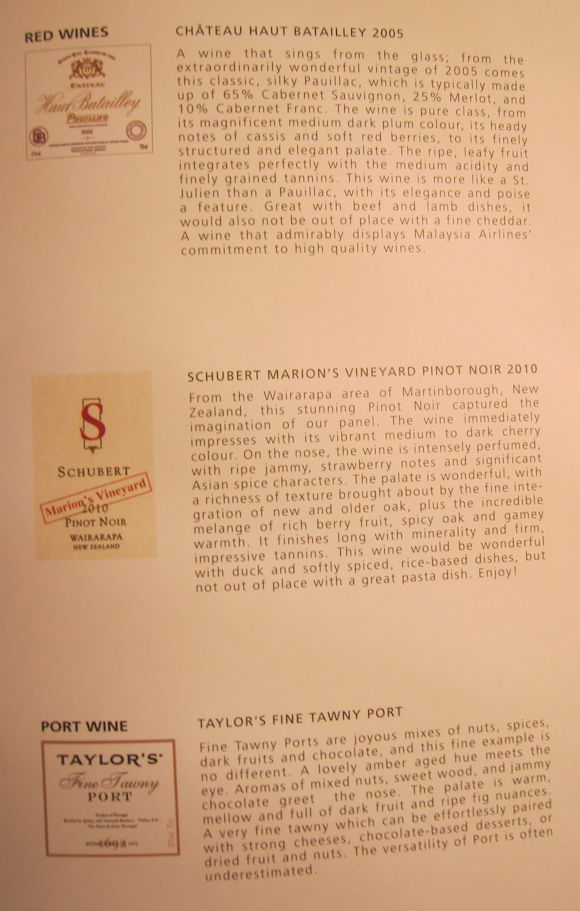 Service began with drinks. Since I was deprived of champagne on the ground, I decided to have a glass of it along with my standard Diet Coke. I have to say I like Malaysia's champagne flutes. I guess I'm too used to Lufthansa, where they pour champagne in a wine glass. The drinks were served with mixed warm nuts.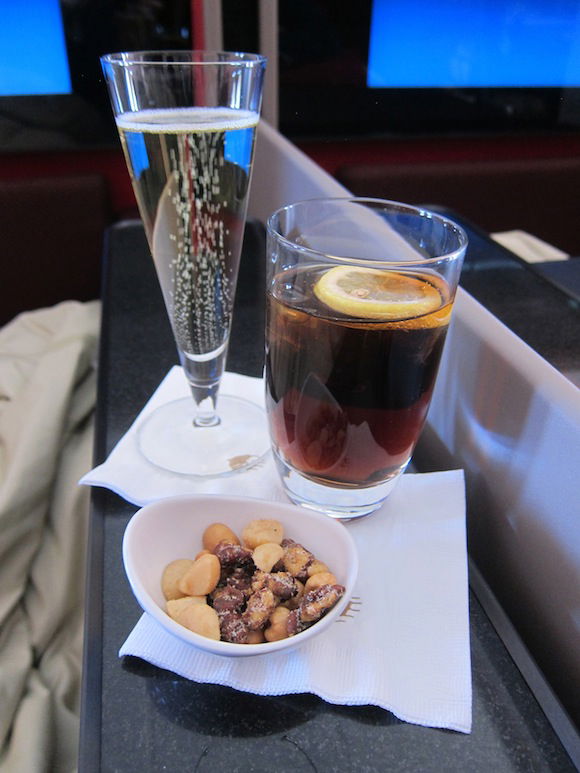 Drinks and nuts
Next the tables were set, which included a decorative upside down glass with a flower in it. Once tables were set the first course was served, which consisted of satay. This is probably what I was most looking forward to, and it didn't disappoint. The serving of peanut sauce was downright excessive, though fortunately there was a spoon so none of it went to waste. Who doesn't like some peanut sauce soup? 😉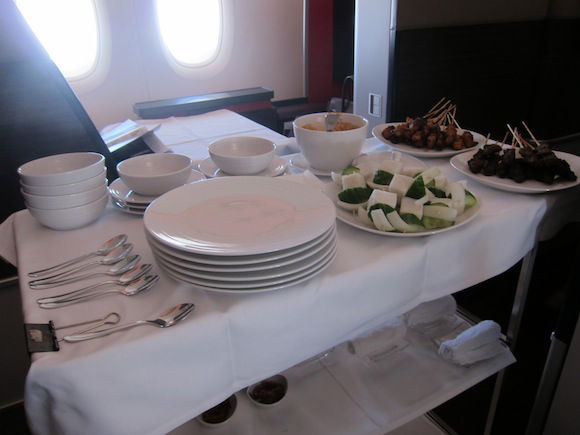 Satay cart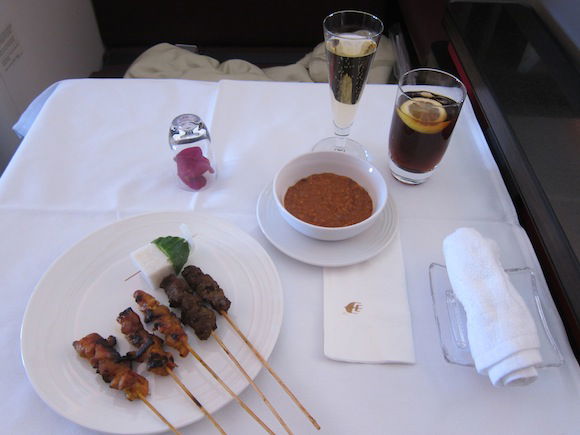 Malaysian satay
After the satay course bread was offered from the bread basket.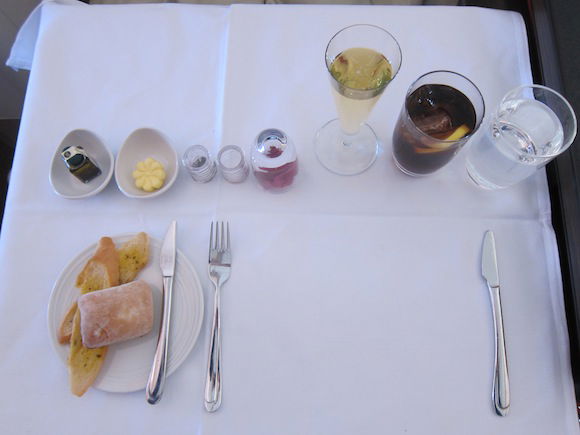 Table setup
For the appetizer I decided on the caviar, which was served in a sealed Malaysia branded container. Both the caviar and salmon were delicious.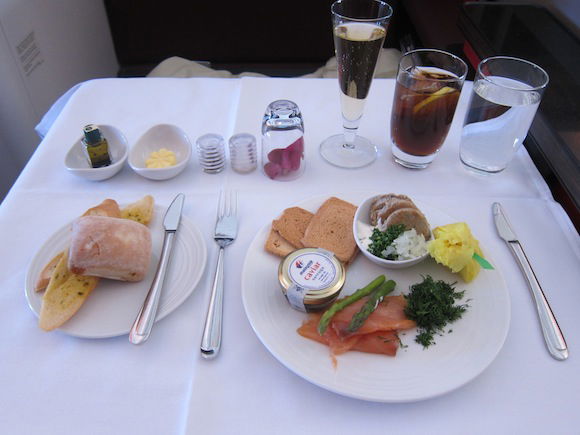 Caviar
For the main course I ordered the Malaysian option, which consisted of slow braised beef rib with rice. It was fairly good.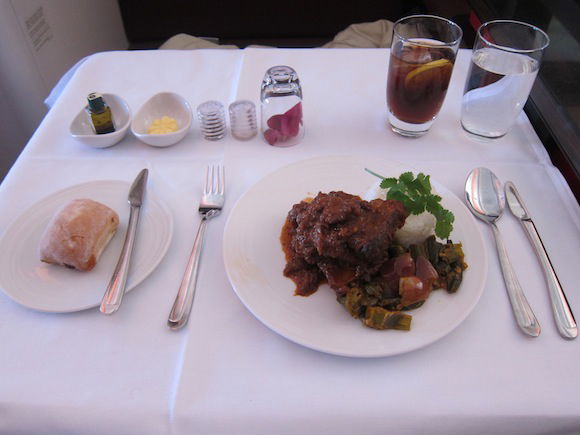 Asam Pedas Rusuk Lembu
Then for dessert I had the egg custard with fresh fruit and ice cream.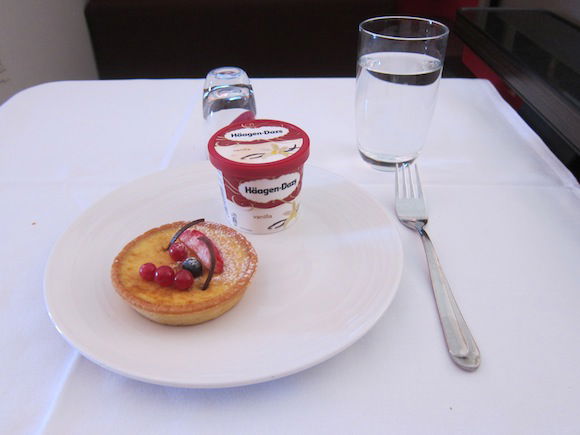 Egg custard with fresh fruit and ice cream
To drink I had the pulled tea. I used to think that Cathay Pacific's Hong Kong style milk tea was the best onboard beverage, though I think Malaysia one upped them with this. It was delicious, and I had a few cups throughout the flight.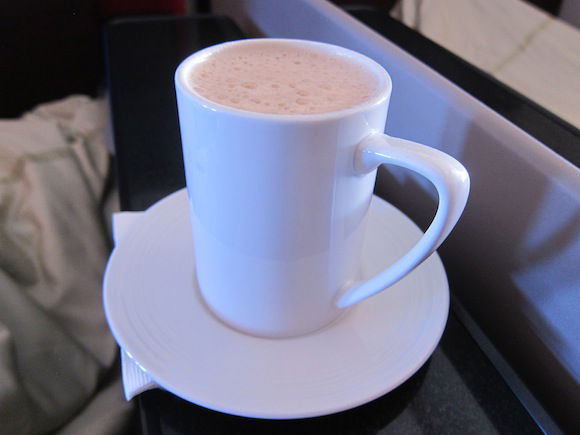 Teh Tarik
The meal service finished once again with their scented hot towels, bottled water, and fast track immigration cards for Kuala Lumpur.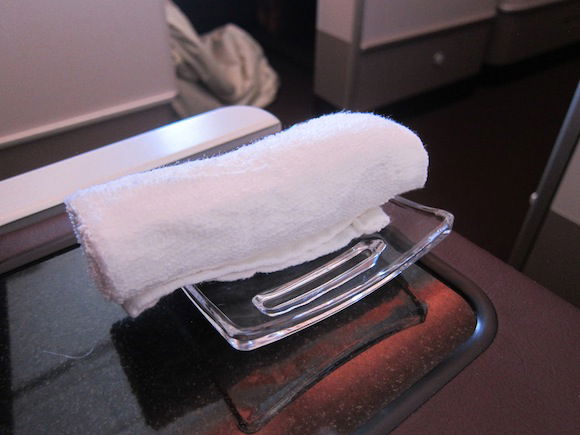 Hot towels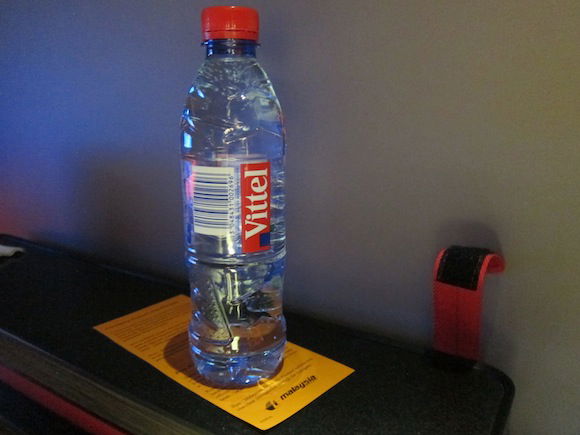 Bottled water
So, about the service — it was interesting. I think Malaysia Airlines' most direct competition is Singapore Airlines, so I was curious to see how the service compared. Well, on this particular sector I couldn't help but feel that the two flight attendants working first class were like "Singapore Girls" before they started their first day of training. The service was fine. Mary was actually quite friendly, though she wasn't working my aisle. Sissy seemed mostly indifferent, and while she wasn't actively rude, I couldn't get a smile out of her either.
While they were somewhat attentive (given that there were only two flight attendants serving eight passengers) they weren't especially polished, and certainly lacked some of the "refined" touches of the world's leading airlines. For example, they would remove plating from the tables without a tray, while also carrying dirty dishes from other passengers. While it didn't really bother me, that would never happen on Singapore Airlines, for example.
So I wasn't blown away by the service, in contrast to the return, where I found the service to be excellent. One other interesting note — on both the outbound and return flights our meal orders were always taken first. I'm not sure if this is because the other passengers were op-ups, if it's because we're OneWorld Emeralds, or if it was a coincidence, though I'd be curious to hear if anyone knows why that might be.
After lunch I headed to the area in front of first class, where the staircase led up to business class.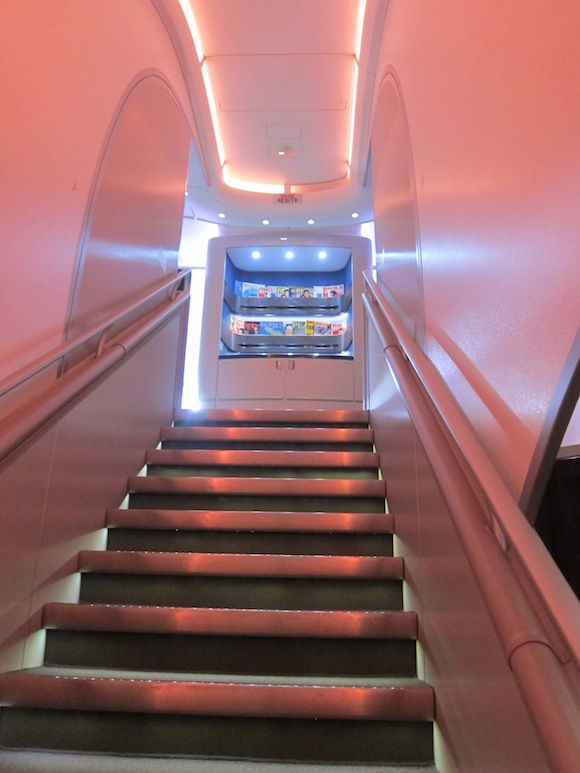 Staircase to business class
There was a snack station set up right at the top of the staircase, which even included (legitimately) fresh baked cookies. While I wasn't hungry at that point, I was sure to take a mental note of that for later. 😉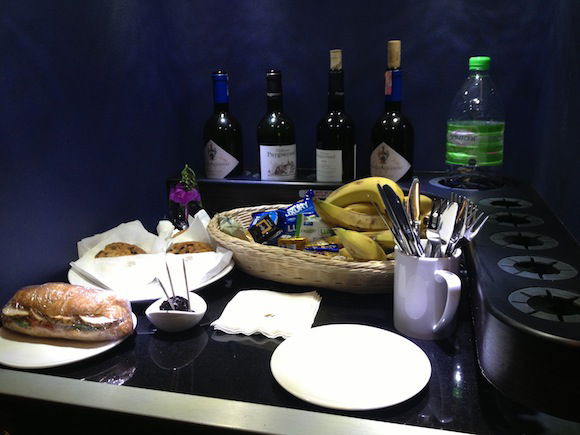 Snack bar
Since this was an overnight flight and every business class seat was taken I only briefly walked around the business class cabin. The return was much emptier, so I can share my thoughts on business class in the review of my return sector.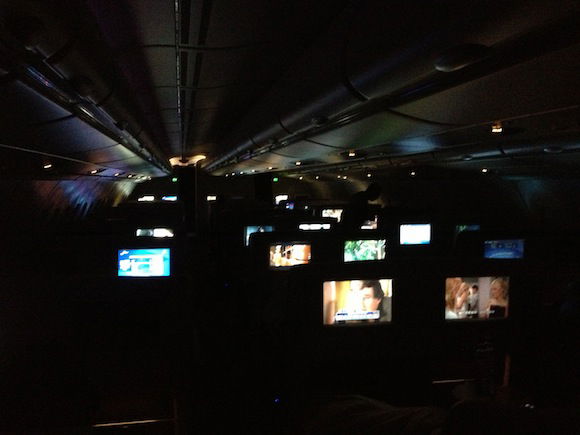 Business class cabin
Once back at my seat I was rather tired and requested turndown service, given that we had taken the redeye from the US the night prior. I found the bedding to be simple though comfortable. Certainly nothing like the bedding offered by Cathay Pacific or Qantas, though still good.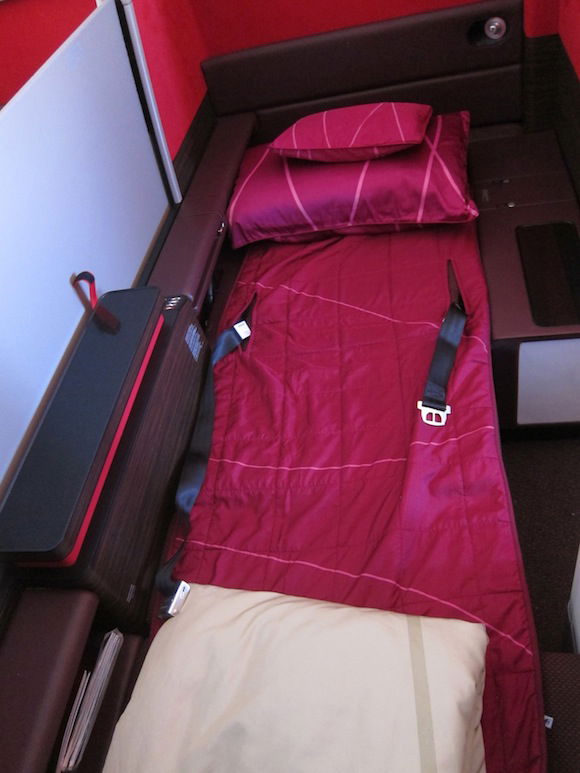 Turndown service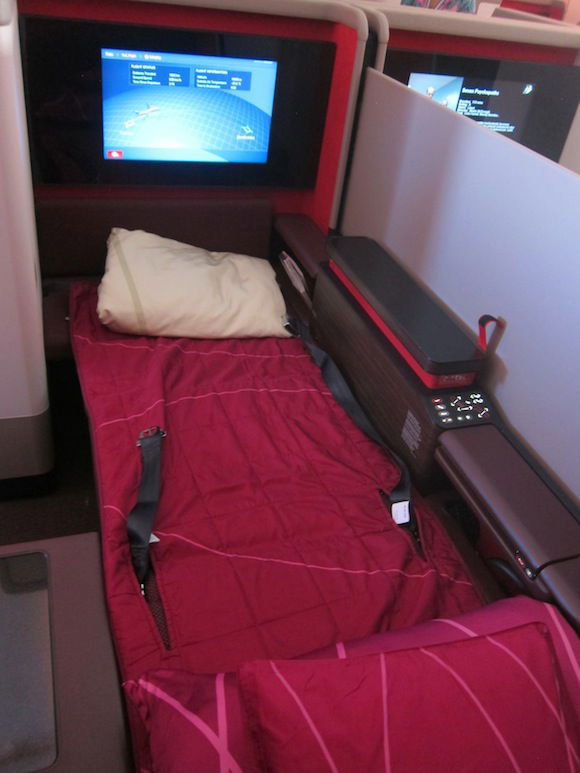 Turndown service
Now, Malaysia claims to have the widest first class beds in the sky on their A380s, and I'm not sure I follow. Yes, the seat is fairly wide, and yes, the console on the side of the seat being the same level as the bed helps in making the sleeping area feel more spacious, but I'm still not sure how they can claim it's the widest bed in the sky, when I can think of several that are wider. Can anyone fill me in on what I'm missing?
Since I was tired I slept well for about six hours, and woke up over eastern India with about four hours to go to Kuala Lumpur.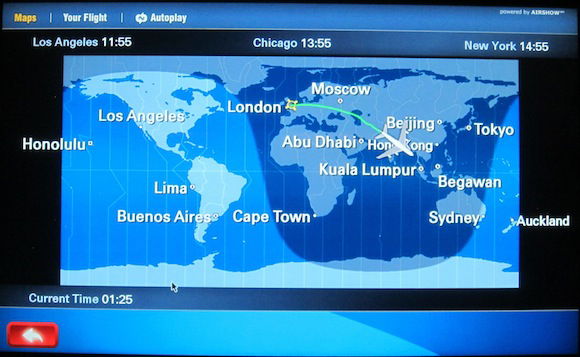 Airshow upon waking up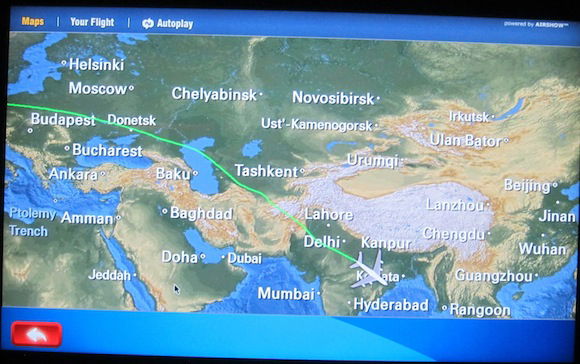 Airshow upon waking up
At that point I was pretty wide awake and decided to browse the extensive entertainment selection.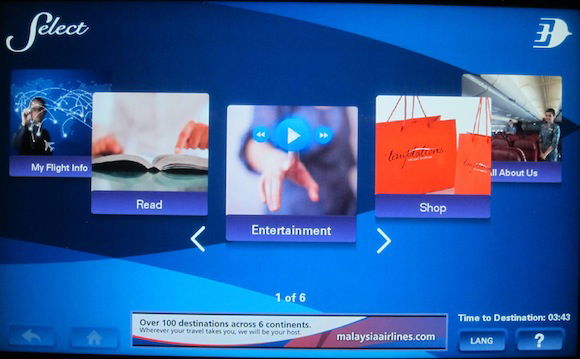 Entertainment selection
I decided to watch "Here Comes The Boom," which was entertaining enough for an airplane movie.

Movie selection
My one complaint about the selection has to be the ads played before each program. My issue isn't actually that they play ads, but that the ad they play is the single most annoying one I've ever seen. And that includes the commercial for "Head On." Below is a screenshot, and I'm sure you can imagine the rest. I'd be simultaneously delighted and horrified if someone could find the ad online.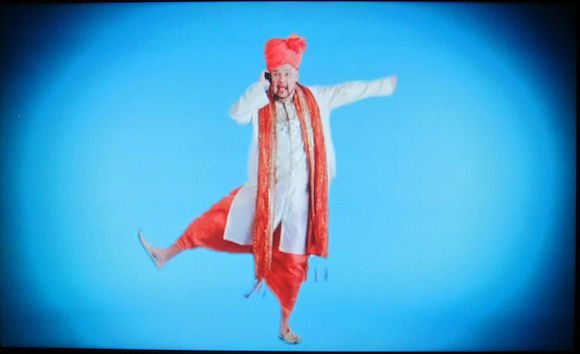 Most. Annoying. Ad. Ever.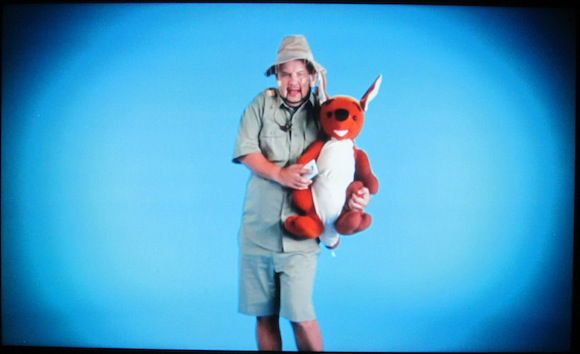 Most. Annoying. Ad. Ever.
And, as you'll see below, my entertainment selection only went downhill from there…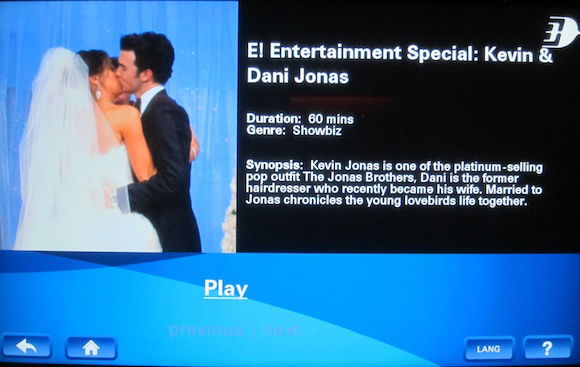 No comment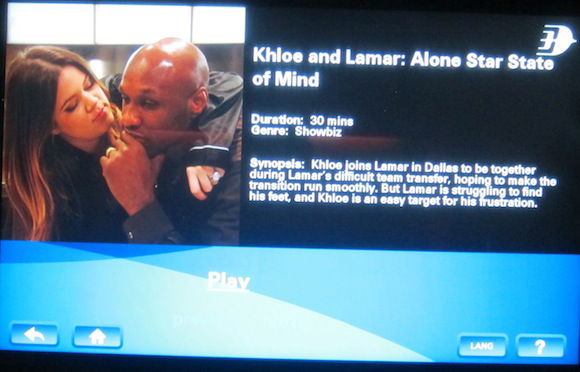 No comment
During the movie I ordered an iced coffee, which Mary made without blinking twice. I also grabbed a cookie from the bar upstairs. For what it's worth, the snack menu read as follows: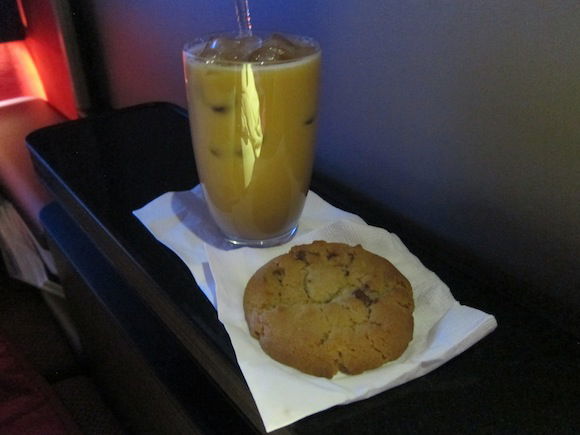 Iced coffee and cookie
About 90 minutes out of Kuala Lumpur the breakfast service began. The menu read as follows: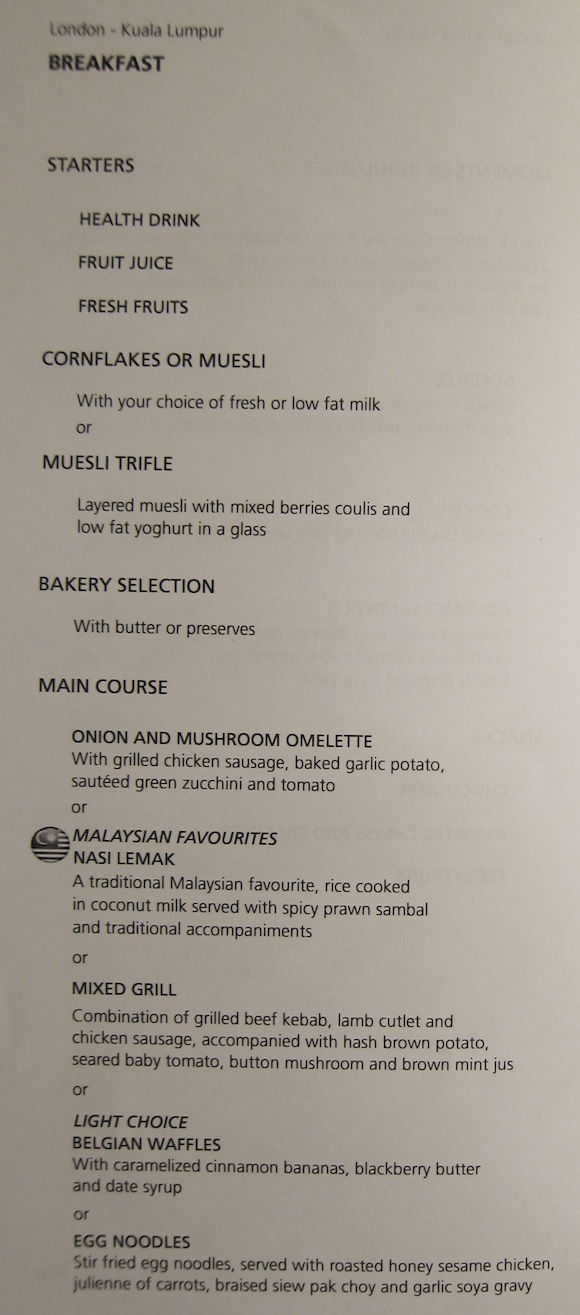 To start I had some more pulled tea and guava juice.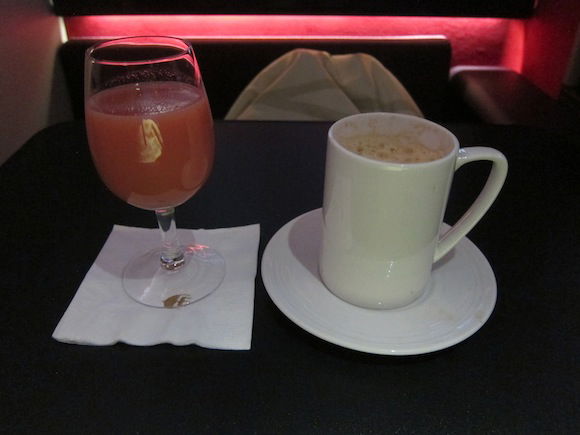 Pulled tea and guava juice
Once the table was set I was served fresh fruit.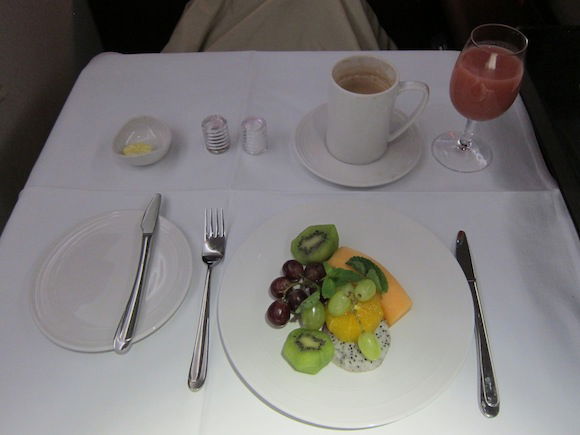 Fresh fruit
I was also offered a breadbasket with a croissant, pastry, and two types of rolls. I was offered a selection of jams along with it.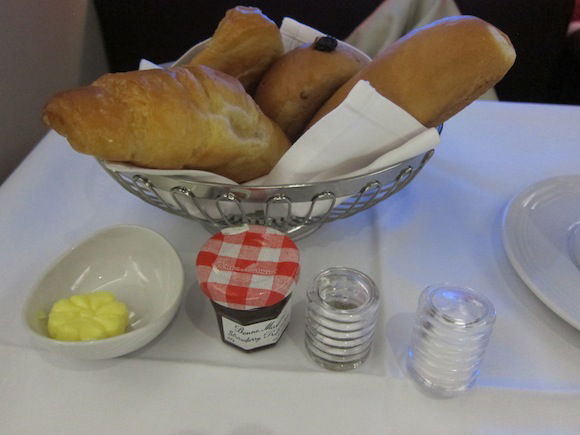 Breadbasket
Next I was offered a muesli parfait, which was also delicious.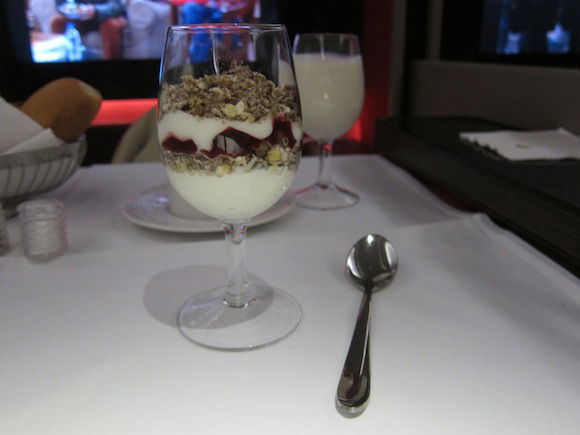 Muesli parfait
For the main course I went once again with the Malaysian option, nasi lemak, which was phenomenal.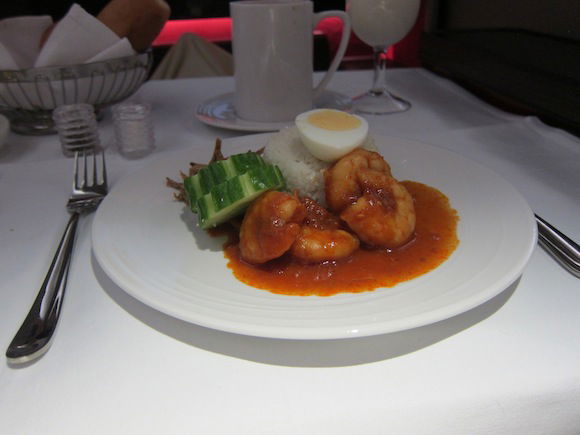 Nasi Lemak
About 30 minutes out we began our descent into Kuala Lumpur and I changed out of my pajamas.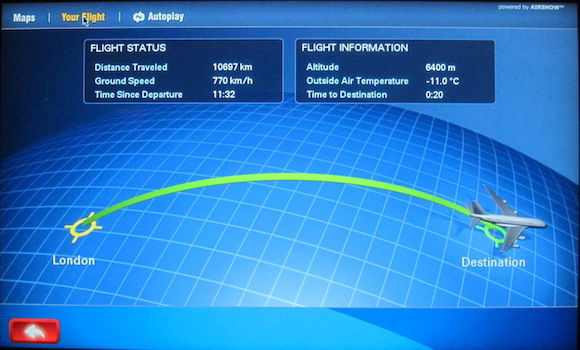 Airshow descending into Kuala Lumpur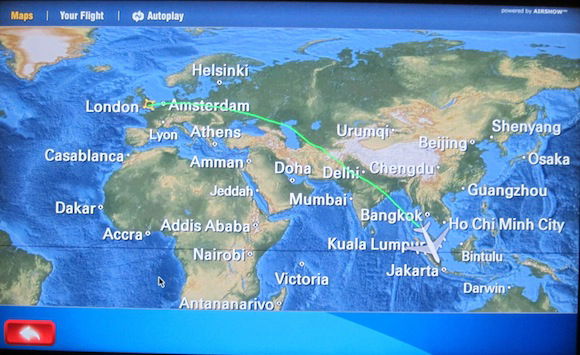 Airshow descending into Kuala Lumpur
As we descended Karen once again came through the cabin to thank each passenger for flying Malaysia Airlines, and wished us a nice time in Kuala Lumpur.
The seatbelt sign was turned on only 10 minutes before landing, which has to be a new record for me on a longhaul international flight. As we began our final descent I switched to the tail camera view again. We had a smooth touchdown in Kuala Lumpur about 40 minutes behind schedule.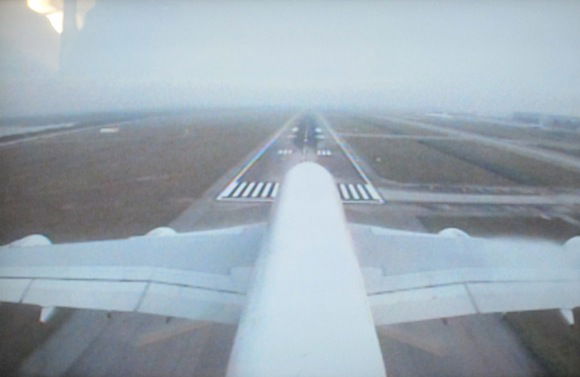 View on short final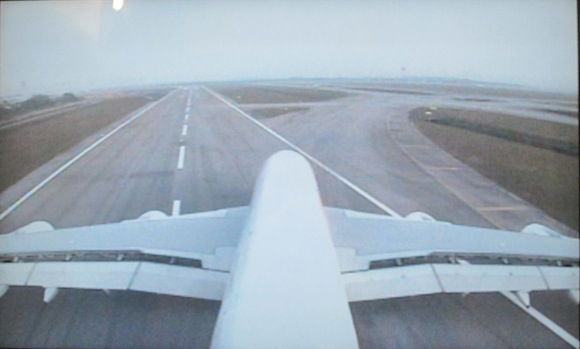 View after touchdown
Our taxi to the gate took only a few minutes, so in the end we were about 45 minutes late.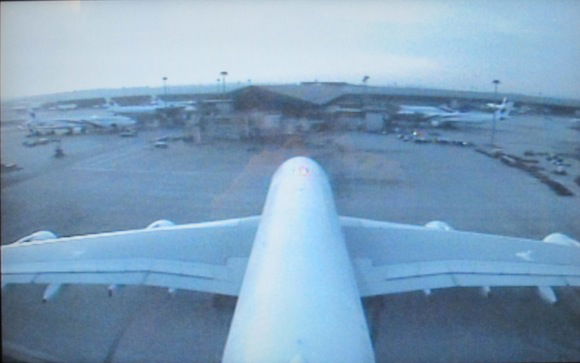 View approaching the gate
After landing we walked through the airy international terminal towards the tram, which took us to the customs and immigration hall.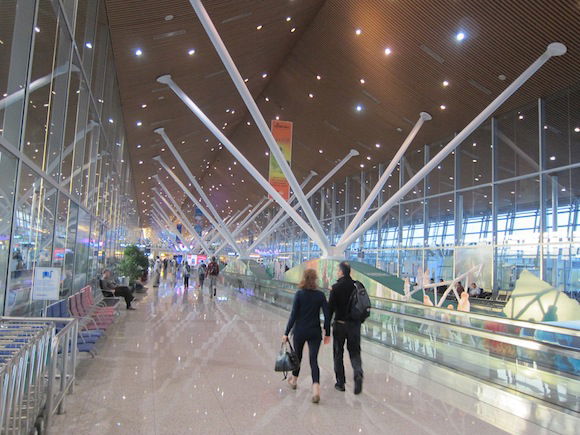 International terminal upon arrival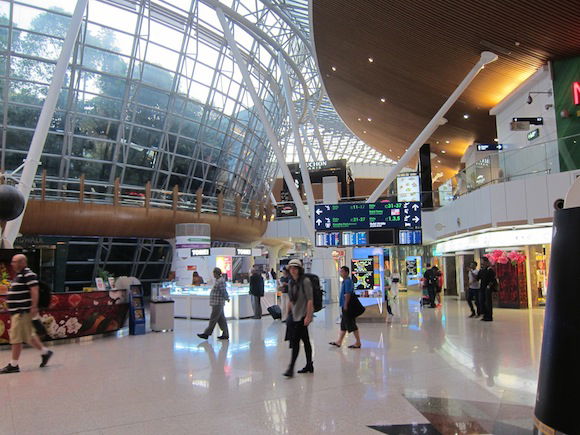 Main terminal upon arrival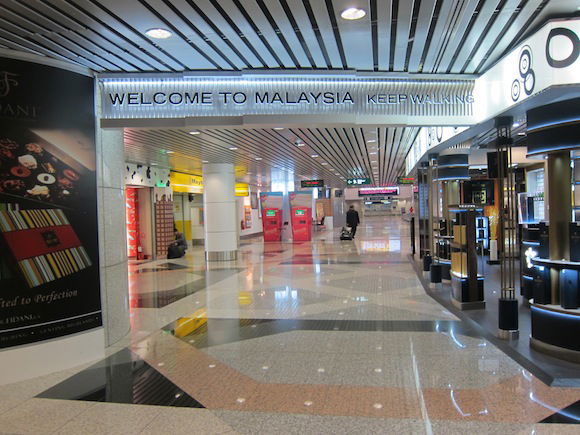 Keep walking!
There were no queues at immigration, so we were through in no time. We took a taxi to the Grand Hyatt, which took about 45 minutes, and were refreshed and ready to do some exploring.
On the whole I found the flight to be extremely pleasant. The food was excellent, possibly among the best I've had on any airline (though I still think Swiss and Asiana have them beat). The service left a bit to be desired, though it's hit or miss with just about any airline, as I had a great crew on the return. And while the seats were among the least private of any airline on the A380, they were extremely comfortable for both lounging and sleeping. As of now Malaysia only flies their A380s to London and Paris, which is a shame, since you can't route from the US to Asia via Europe on an AAdvantage all partner award. Unfortunately the US seems to be a dying market for Malaysia Airlines, or else I'd hope they eventually put it on their Los Angeles route.