---
LOT 1
Warsaw (WAW) – Chicago (ORD)
Sunday, February 3
Depart: 12:15PM
Arrive: 3:15PM
Duration: 10hr
Aircraft: Boeing 767-300
Seat: 1E (Business Class)
Oh man, oh, man. When I first booked the trip this was actually the segment I was most looking forward to. The flight was supposed to be operated by LOT's brand spanking new 787 featuring their brand spanking new business class product. Here's a picture: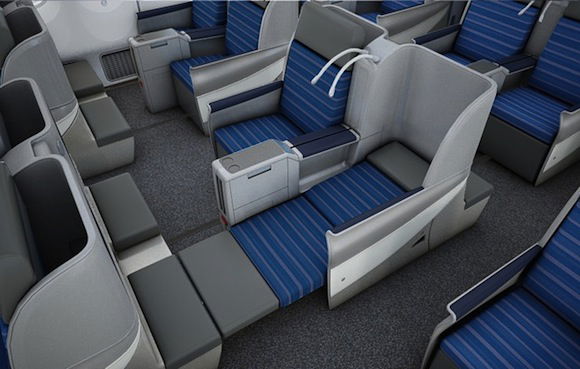 LOT's new 787 business class
Of course due to the 787 groundings my flight was swapped to a 767. That's completely out of LOT's control and I wasn't angry at any party (other than Boeing, perhaps), and in a twisted way I was actually looking forward to the flight a bit more for the adventure factor.
I was greeted at the door of the plane by two friendly and fairly junior male flight attendants that directed me to the right aisle, where my seat was located. Business class consists of three rows, each with three sets of two seats, for a total of 18 seats. Two of those are pilot crew rest seats, for a total of 16 "revenue" seats.
My first impression of the cabin? Oy, LOT, 1997 called and they want their airplane back. The plane just felt like it was in really shabby condition.
I was in a bulkhead aisle seat, which at least got me a ton of extra legroom.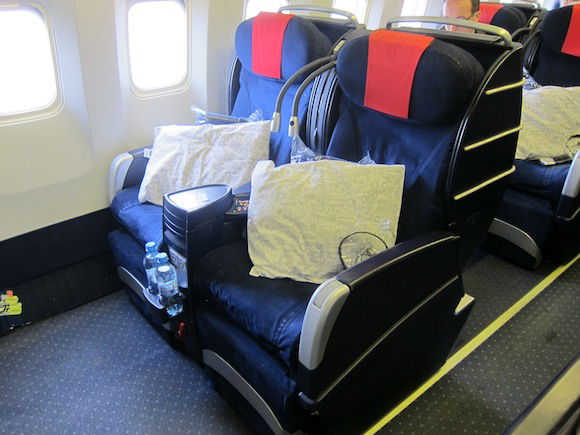 My seat, 1E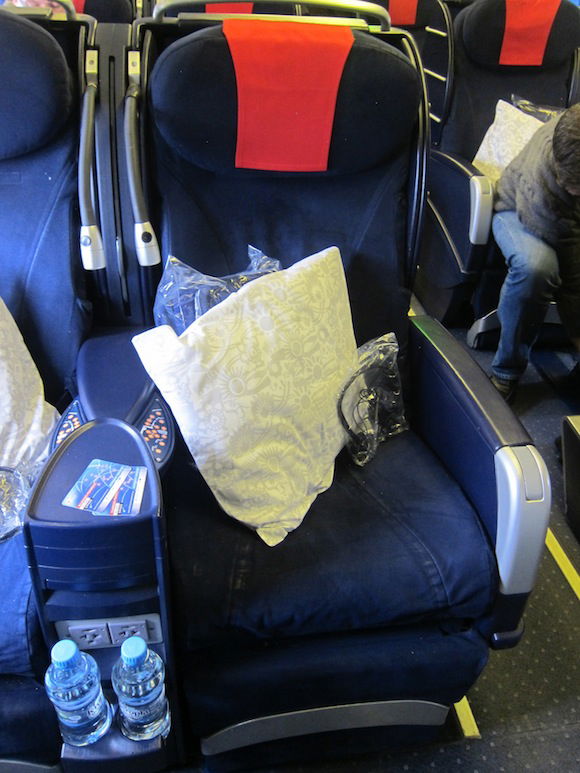 My seat, 1E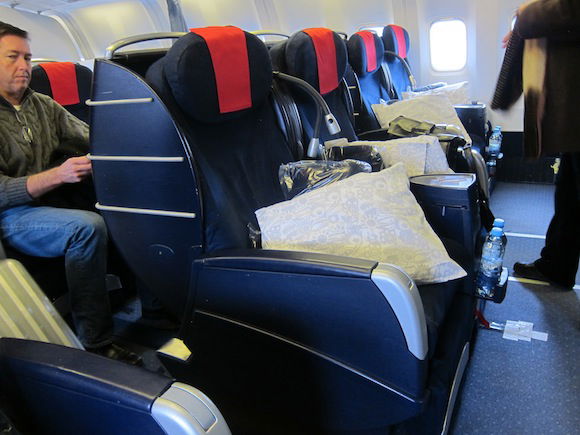 View of row one from my seat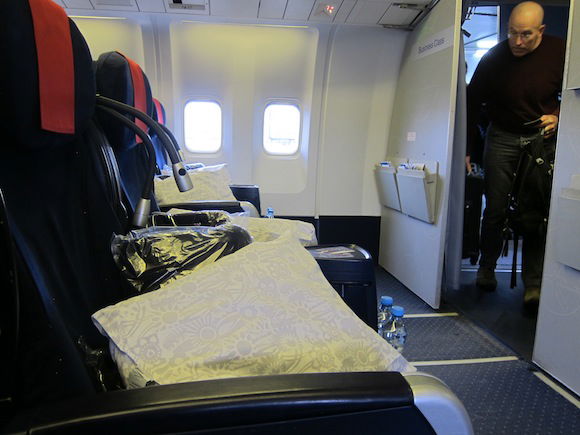 View of row one from my seat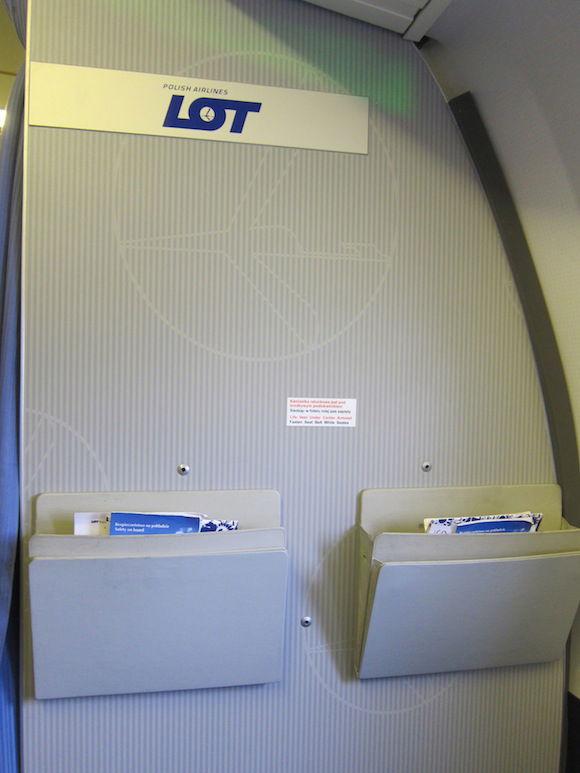 Bulkhead view from my seat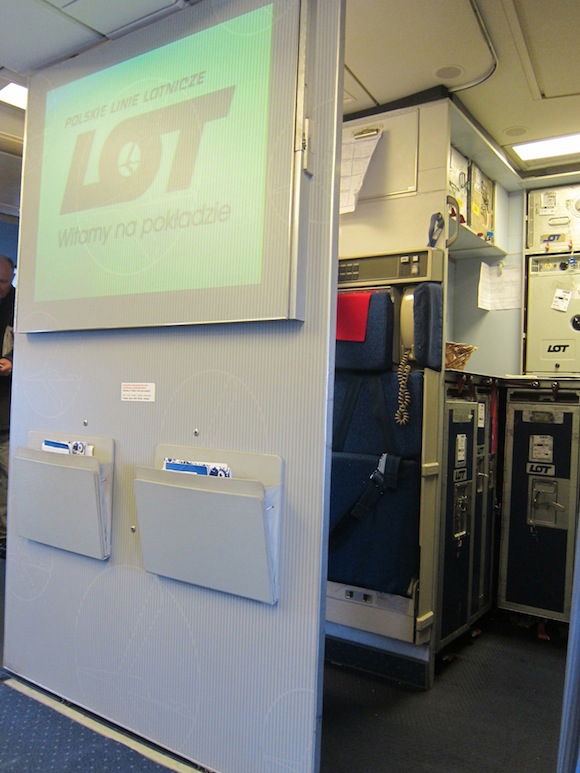 Galley view from my seat
At my seat were a pillow and blanket, neither of which were especially durable or comfortable.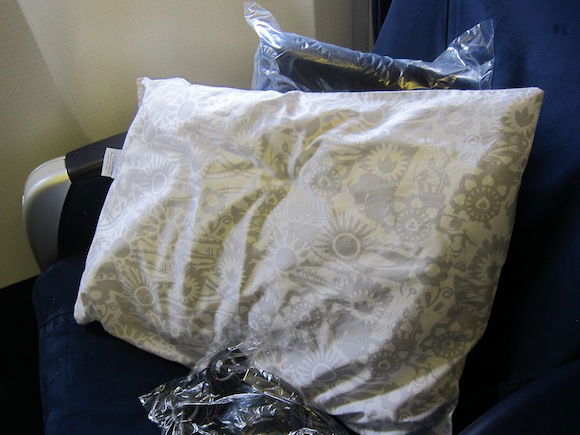 Pillow and blanket
Also at the seat were a pair of (what I assume are) standard coach headphones, given that business class doesn't have personal televisions built into the seats.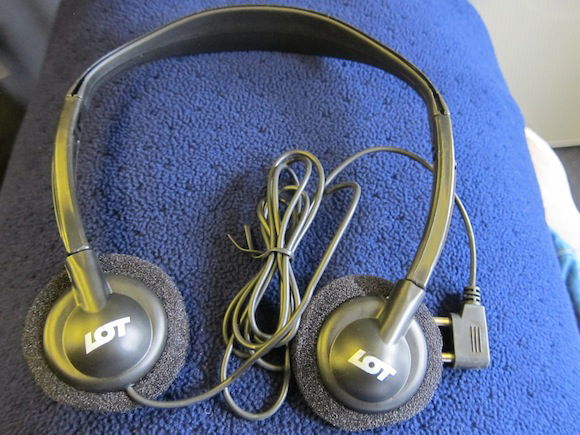 Headphones
To the right of my seat were the seat controls, ranging from upright to vertical torture. 😉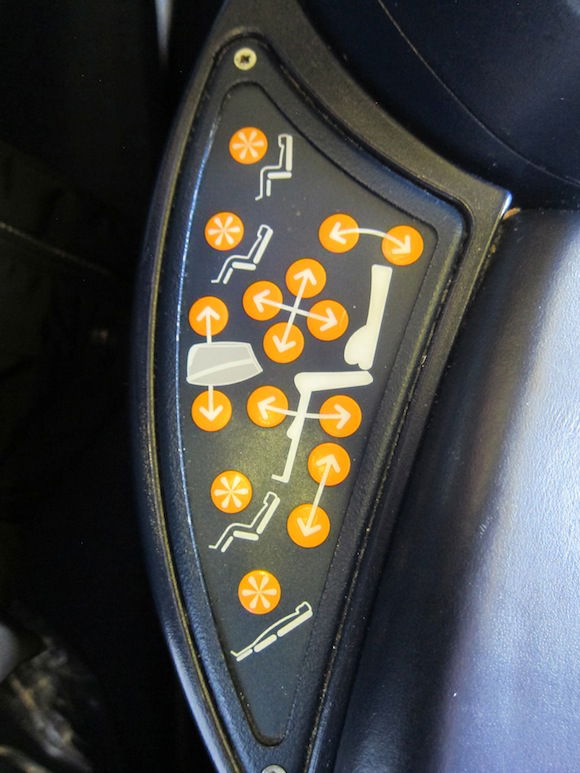 Seat controls
Meanwhile in each center console were bottles of water for business class passenger, which is also where the power ports are located.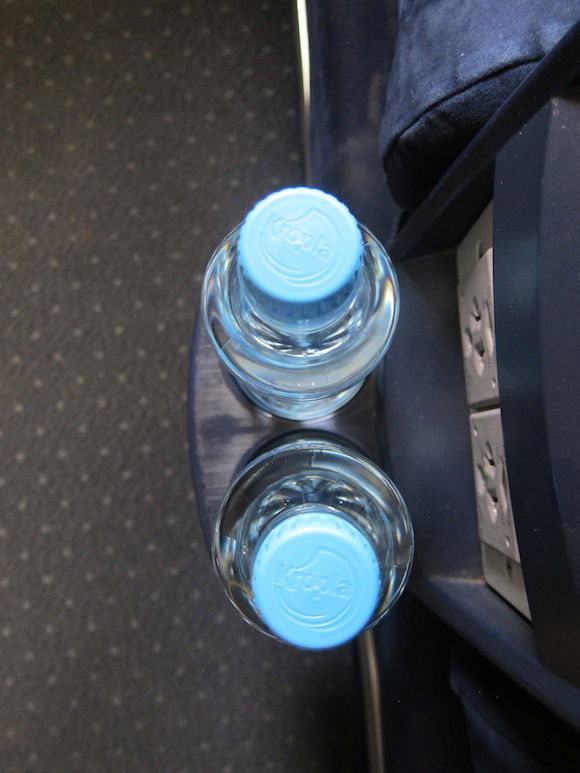 Bottled water
Boarding was as much a mess on the plane as it was off, so there wasn't much pre-departure service as everyone tried to find their seats. I couldn't help but notice just how shabby the condition of the cabin was, all the way down to the handful of torn security stickers on the side of the aircraft.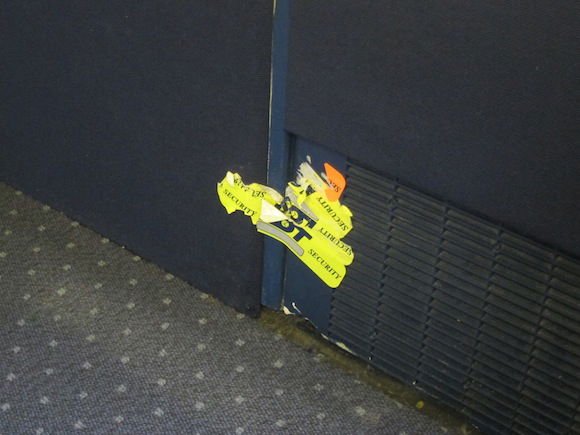 Makes me feel real secure!
I also have to assume the onboard signage isn't designed in Seattle when the airlines take delivery of their Boeing aircraft?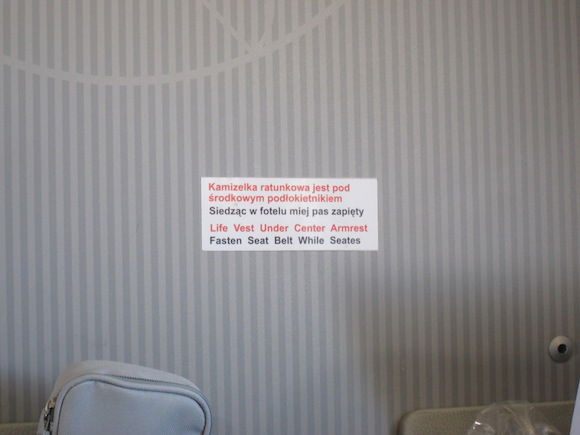 Remain Seates!
As boarding slowed down newspapers and magazines were offered, along with pre-departure beverages. I had a glass of orange juice.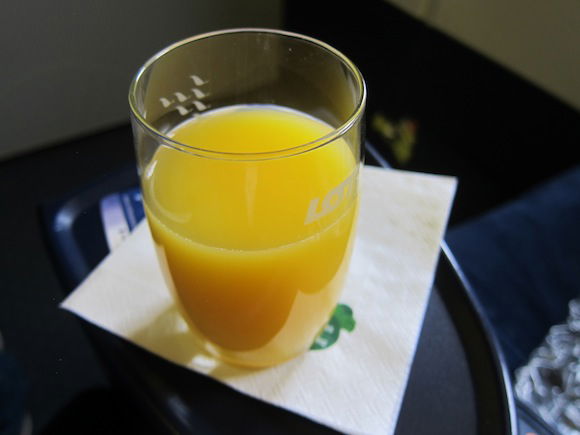 Pre-departure orange juice
That was followed quickly by amenity kits being distributed.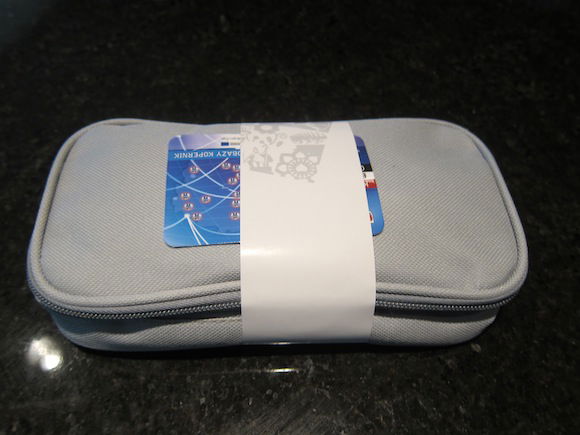 Amenity kit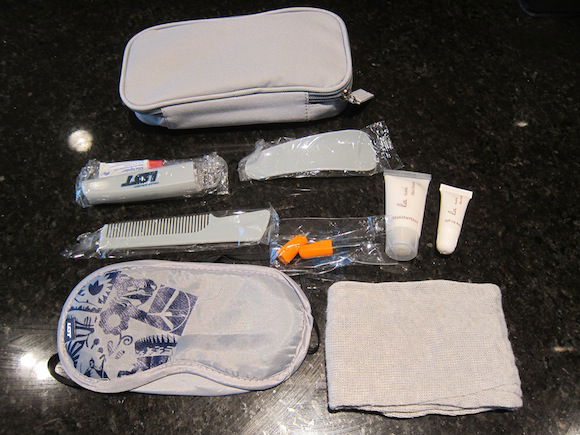 Amenity kit
As boarding finished up menus were distributed as well. At this point the business class cabin was full. Best I could tell two passengers were American and the rest were Polish.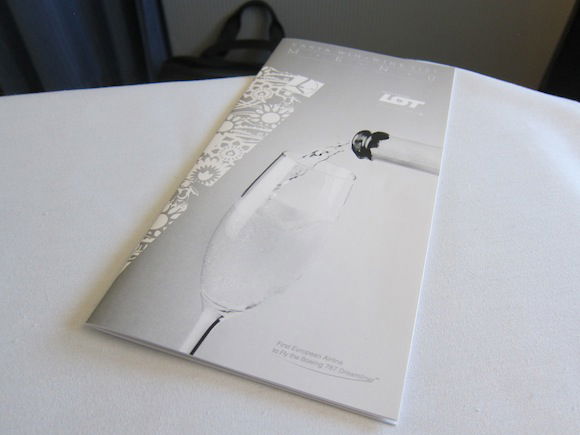 Menu for flight
As the door closed the captain came on the PA to advise us of our flight time of 10 hours, which would put us into Chicago quite a bit behind schedule since that's how long our entire block time was scheduled for. Go figure this would be the flight with strong headwinds!
As we taxied the safety video began, though we made it to runway 33 within about 15 minutes, at which point we were airborne. The seatbelt sign was turned off about 30 minutes after takeoff due to some chop on the climb out.
Once we leveled off and the seatbelt sign was turned off the service began.
The lunch (though they claim it's dinner) menu read as follows: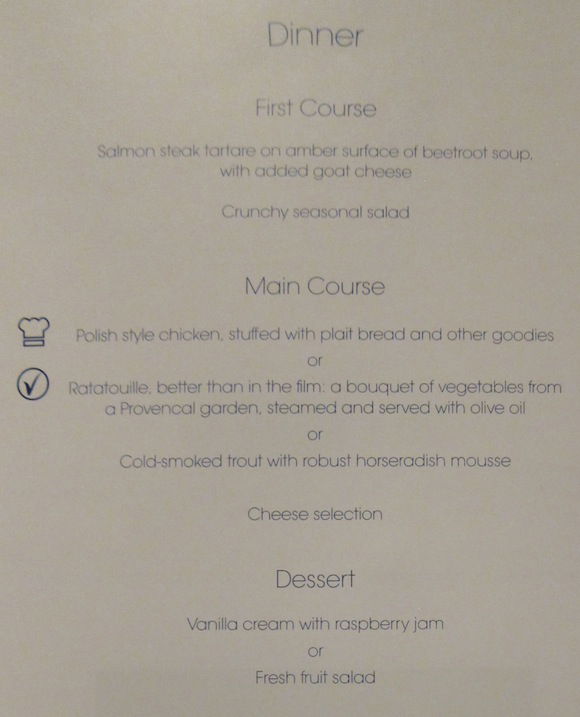 And the wine list read as follows: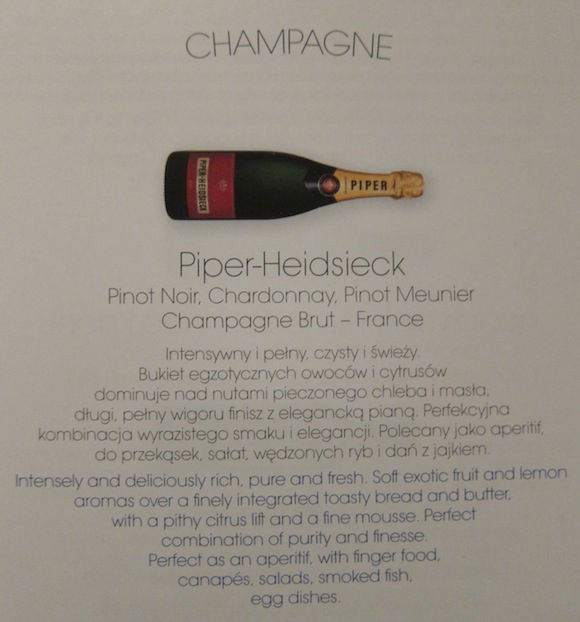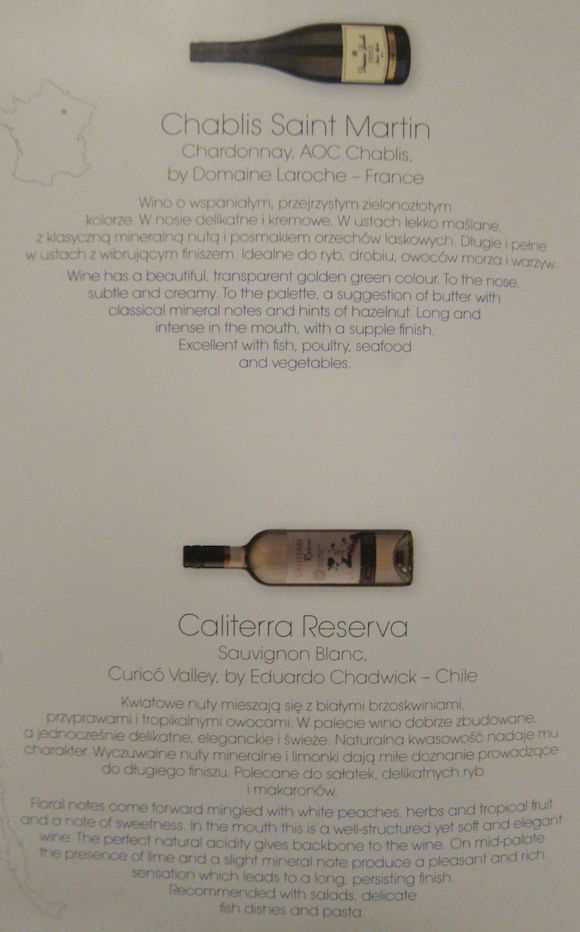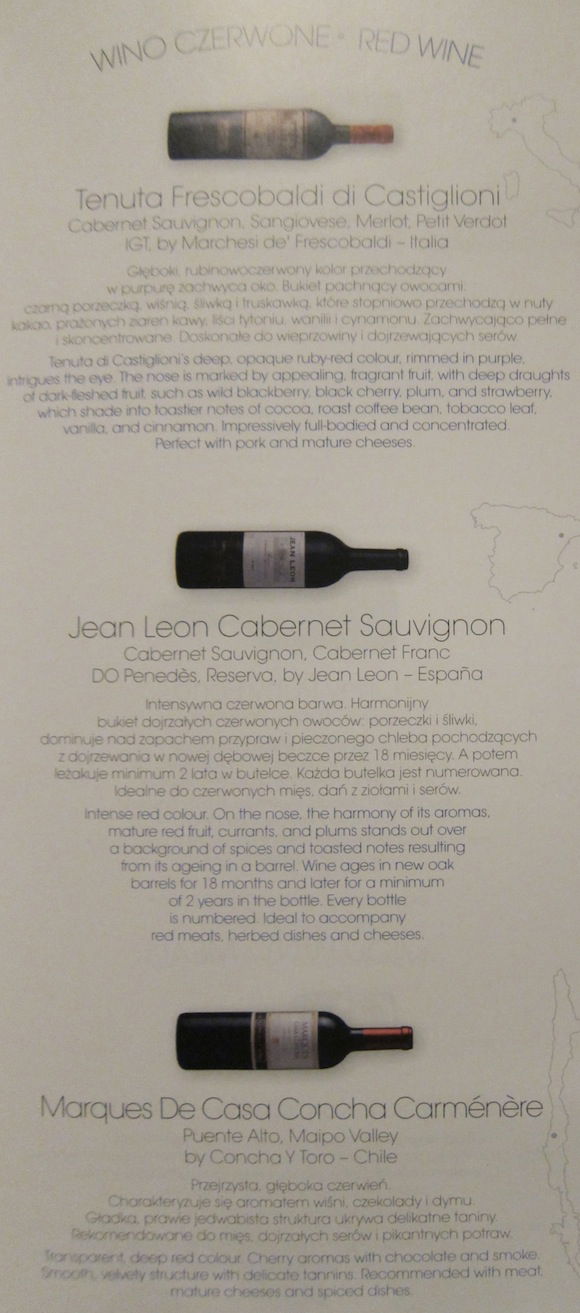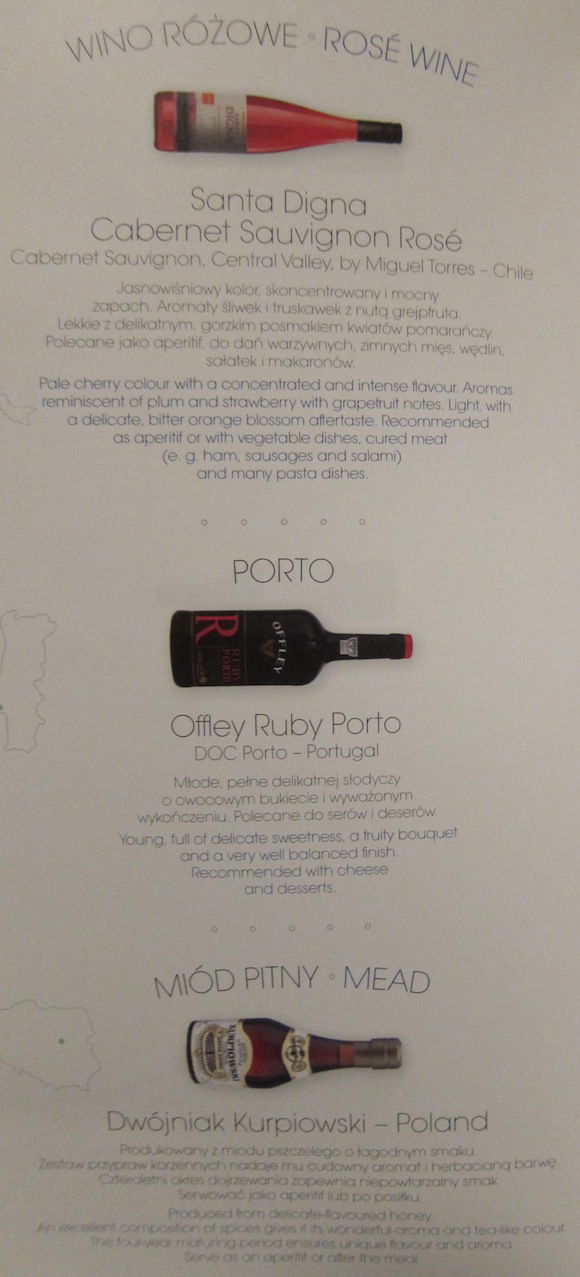 Service began with hot towels and tablecloths being distributed, followed by drinks. I ordered a Diet Coke, which was served with a ramekin of nuts and raisins. In reality there were maybe a handful of nuts and several dozen raisins. Not sure if I just got a really bad "scoop" of the stuff or if LOT has a really different sense than I do of what goes well with pre-meal drinks. 😉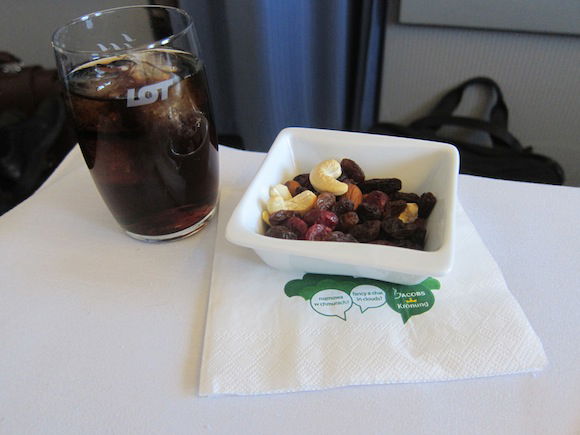 Diet Coke and nuts/raisins
The starter consisted of salmon tartare and beetroot. I'll be the first to admit I'm no foodie, but something just didn't "work" about the combination.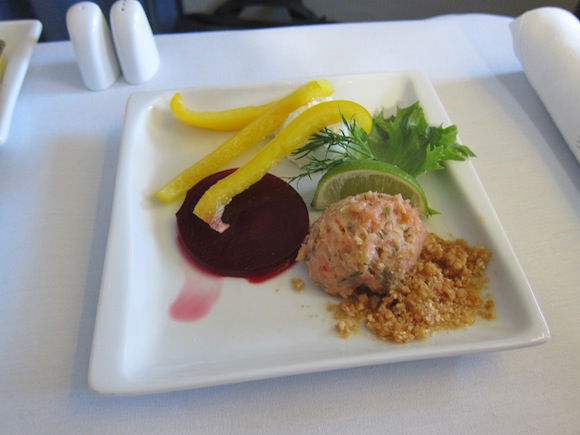 Salmon steak tartare on amber surface of beetroot soup, with added goat cheese
The salad accompanying it was perhaps a bit too true to its name — "crunchy seasonal salad." Yes, I assume that is what's in "season" in Warsaw in January.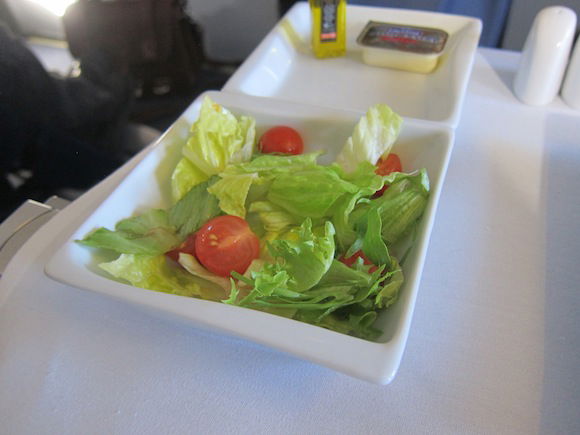 Crunchy seasonal salad
Along with the starter and salad I was also offered some bread, and a choice between butter and olive oil.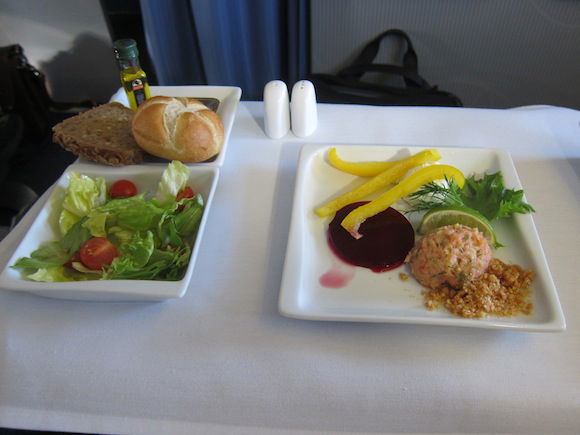 Appetizer and salad
For the main course I decided to go with the ratatouille, having seen first hand what "Polish style chicken" looks like on my previous flight from Istanbul to Warsaw. The ratatouille was bland though perfectly edible.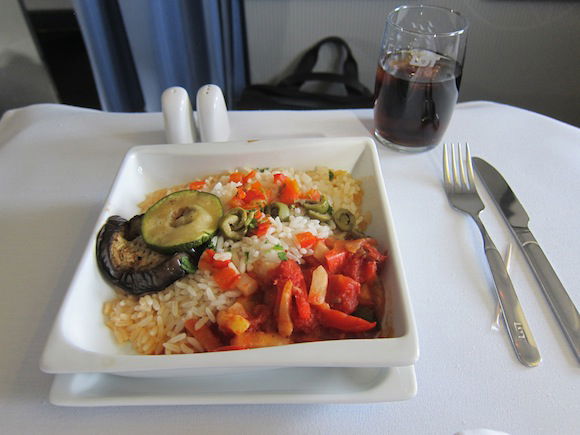 Ratatouille
After that I was offered a cheese course. The cheese tasted a whole lot more like chicken breast than cheese…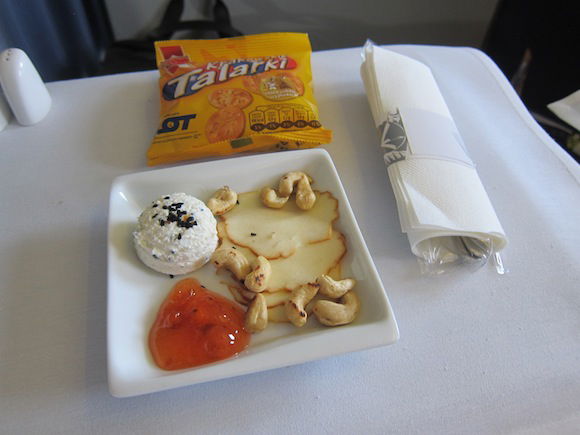 "Cheese" selection
To finish off the meal I had the vanilla cream with raspberry jam dessert, as well as tea, which were tasty.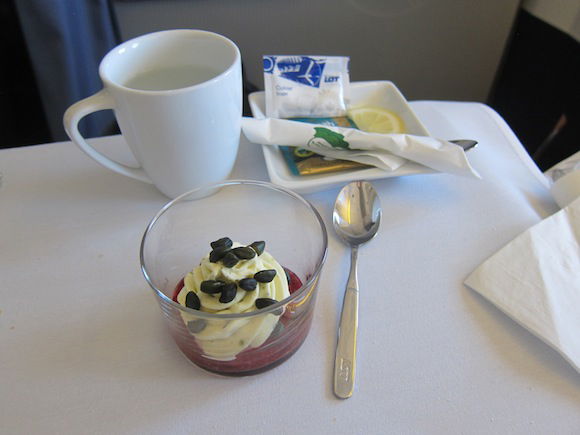 Vanilla cream with raspberry jam
On the whole the service throughout the meal was very good. There were two younger male flight attendants and one senior flight attendant working the cabin, and they all seemed genuinely happy to be doing their jobs. They weren't overly polished in the sense that I was never addressed by name and service levels weren't up to those of Singapore, but they were extremely friendly nonetheless.
It's also worth noting that the meal service was really fast. Once the service started it was completed within about 40 minutes or so. It's not that it felt rushed or anything, it was just a pretty basic meal service, and the flight attendants were like hawks when it came to clearing courses and bringing out the next one.
As the meal finished personal entertainment systems were distributed. I browsed the selection but quickly realized that the selection was extremely limited and I had seen just about everything on there I was interested in seeing.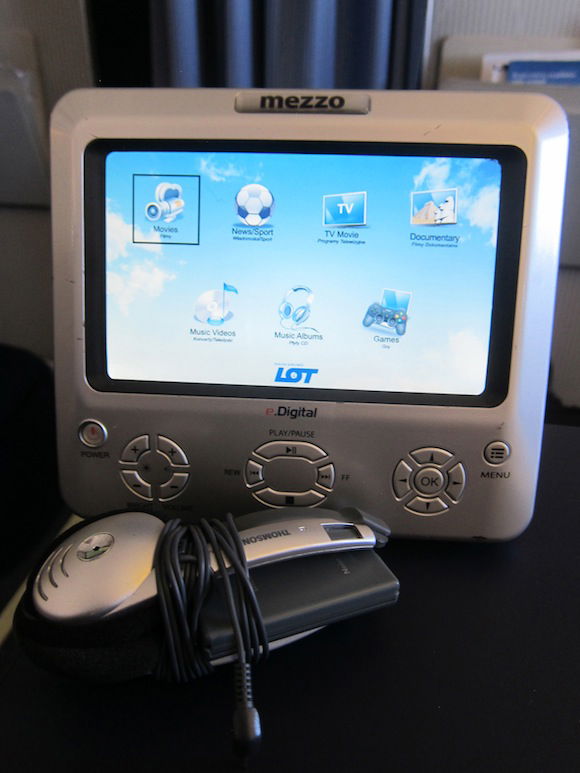 Personal entertainment system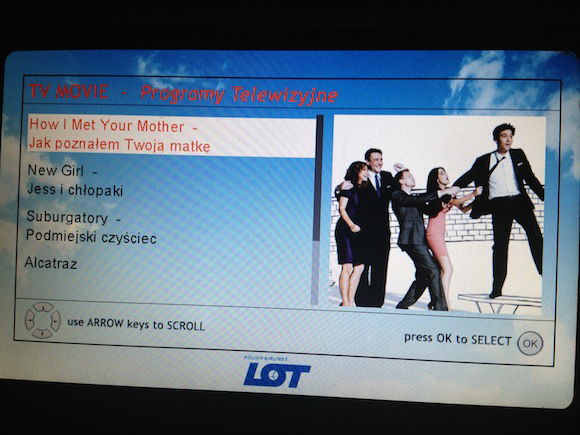 Personal entertainment system
So what the hell am I supposed to do for nine hours on a daytime flight with no decent entertainment and a seat I could probably only sleep in if I had been up for 48 hours in a row?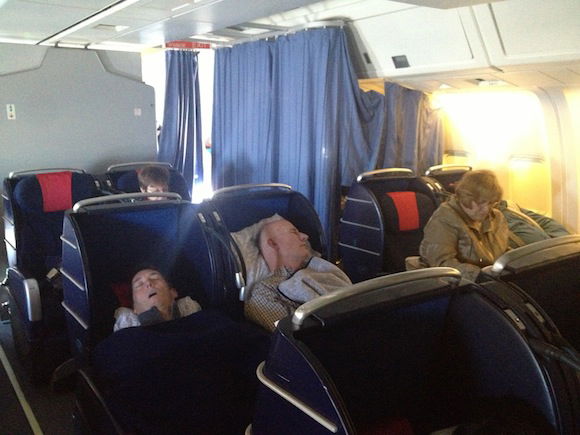 Cabin after lunch
Suddenly the flight attendant emerged from the galley with a tray full of port in shot glasses. I almost forgot just how much fun drinking can be.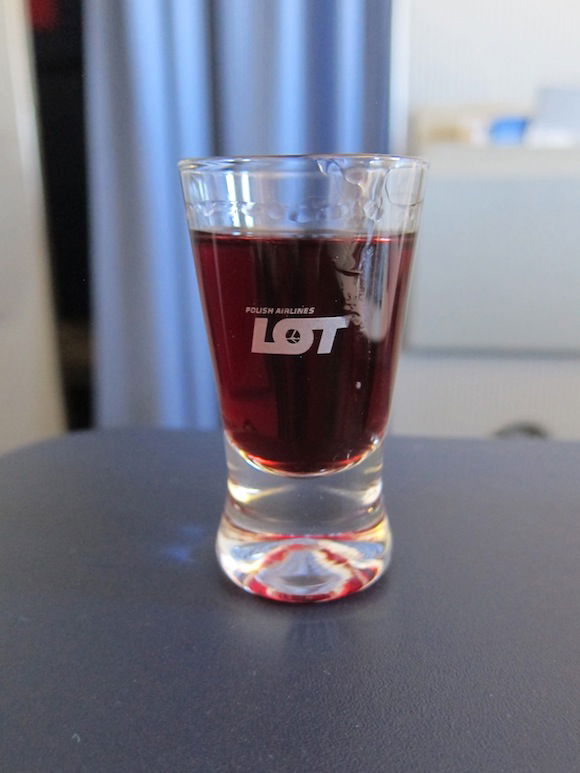 Port
So after he served that one I asked what other shots he had that he could recommend. He suggested a Polish vodka, though suggested it with apple juice. So I had that.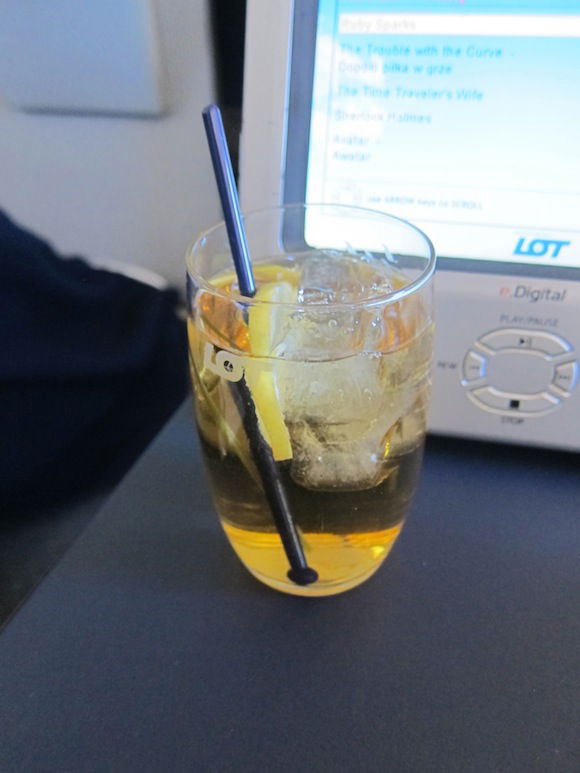 Polish vodka with apple juice
I asked for another minus the apple juice, though he accidentally served me another one with apple juice, and then realized I had asked for it without. He insisted on bringing me a new one, and rather than having him take away the current one, I quickly downed it too. After all, I wouldn't want to be wasteful. And then another one. And another one.
Next thing I knew we were four hours out of Chicago. Woohoo!
At that point I checked out the snack cart set up by the forward left door, which had the same delicious chocolate bars as my previous LOT flight and in the lounge.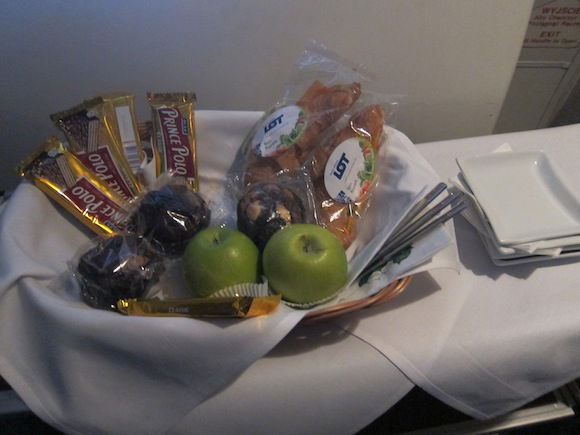 Snack bar
I spent a couple of hours getting caught up on my trip report, and before I knew it supper was being served. The menu read as follows: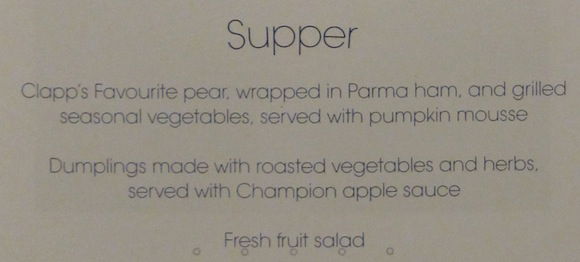 The supper was a single tray affair, with ham, "seasonal" vegetables, dumplings, and a couple of Lindt truffles. The dumplings were actually really good, while the rest of the food tasted dry and bland.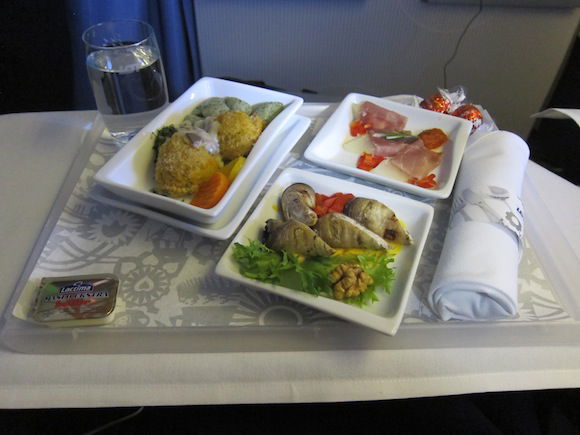 Supper
To finish off the meal a small bowl of fruit was served.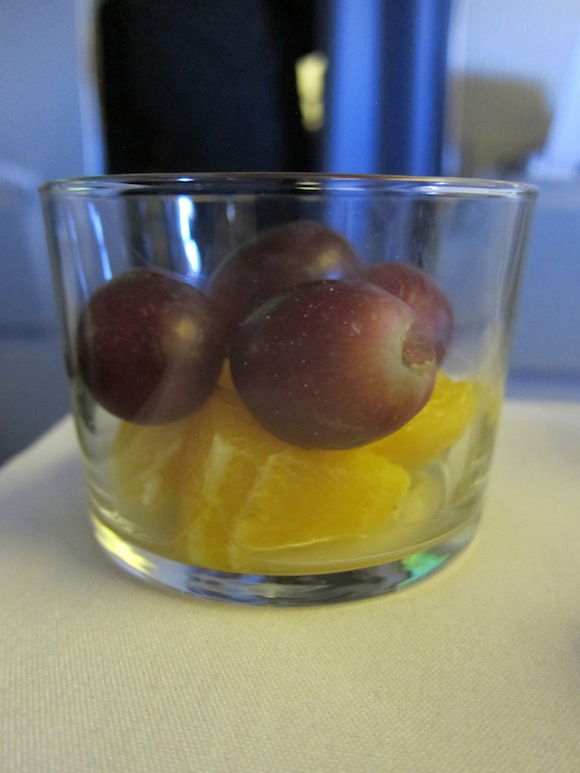 Fruit salad
As we began our descent into Chicago one of the flight attendants came around distributing packaged cards, each consisting of four "prints." Definitely a nice touch, though most of the other passengers seemed unimpressed and handed the cards right back to the flight attendant without even looking at them.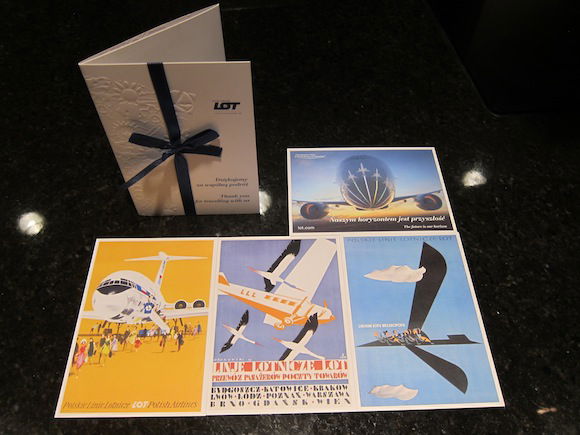 "Thank you" gift
We landed in Chicago about 30 minutes behind schedule and after about a 15 minute taxi made it to the international terminal. I cleared immigration in a matter of minutes thanks to Global Entry, and with that my 90,000 mile US Airways award came to an end.
Look, the LOT flight was a bit underwhelming, though at the same time exactly what I would have expected if I had booked one of their 767s. The hard product is horrible and the food wasn't very good, though the service was friendly. I'd love to give LOT another shot when they have their new 787s with what looks to be a very good fully flat business class product.
How you can use miles/points for LOT Business Class

I suspect not many of you are looking to redeem miles on a LOT 767 anytime soon, though once their 787s are back in service I think they'll be an attractive option. The two best ways to redeem for LOT business class are through United and US Airways. LOT's long haul destinations include Beijing, Chicago, New York, and Toronto.
One of the best programs through which to book is United. You can book LOT business class roundtrip between the US and Europe starting at 140,000 United miles, or 154,000 miles if you continue onwards to another LOT destination in Europe. You're allowed a stopover and an open jaw, so you could stop in Warsaw while en route to any of those destinations if you wanted to. The best way to rack up United miles is through Ultimate Rewards, which is their 1:1 transfer partner.