---
Update: Read a review of Brussels Airlines' new business class here.
Brussels Airlines 502
New York (JFK) – Brussels (BRU)
Tuesday, January 29
Depart: 5:15PM
Arrive: 6:40AM (+1 day)
Duration: 7hr25min
Aircraft: Airbus A330-300
Seat: 5K (Business Class)
At the door I was welcomed by the assistant purser, who pointed me left towards the business class cabin.
I was especially excited about this flight given that it was my first flight in staggered business class seats, which many airlines are installing nowadays.
My initial reaction of the cabin was positive. It felt reasonably spacious and was in great condition, and I liked the colors and design.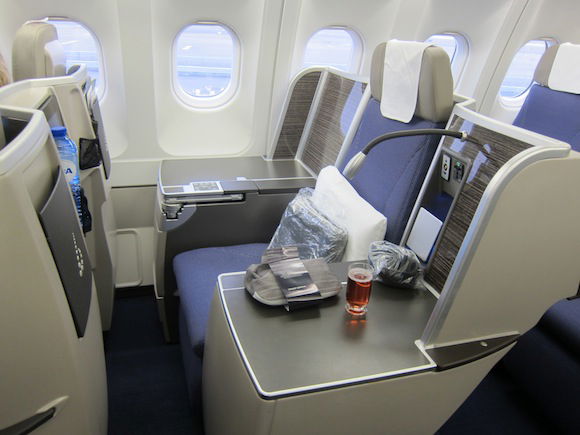 My seat, 5K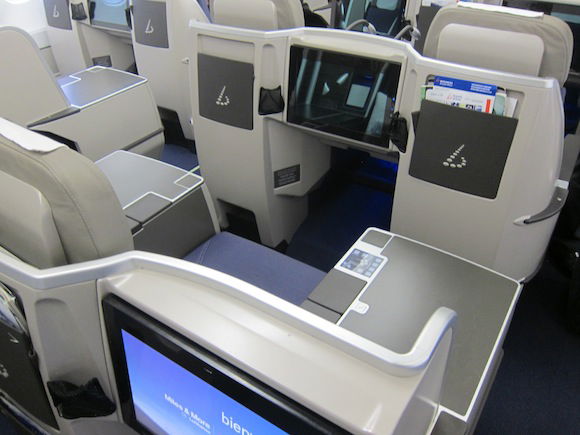 Center "throne" seat, 4E

Seats 5D & 5F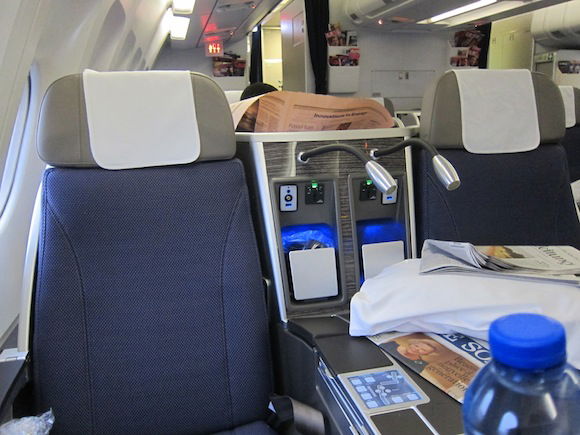 Seats 6H & 6K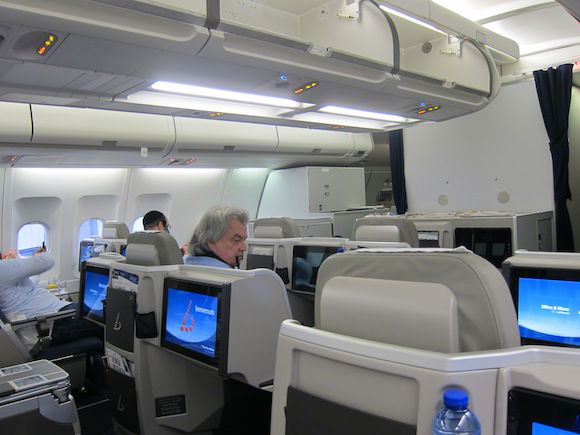 Cabin view
I quickly found my seat, 5K, which is one of the "throne" seats. To efficiently use up space this plane alternates between sets of two seats and single seats, both in the center section and by the windows. To put as many seats behind one another as possible the foot "cubbies" for the sets of two seats are under the armrests of the single seats, while the foot "cubbies" for the single seats are under the center armrest of the sets of two seats. To help you guys visualize it better, here's the business class seatmap via SeatGuru: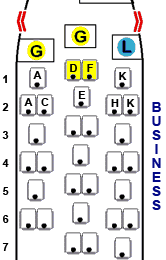 In front of the seat were two pouches and bottle holders, one of which had a bottle of water in it.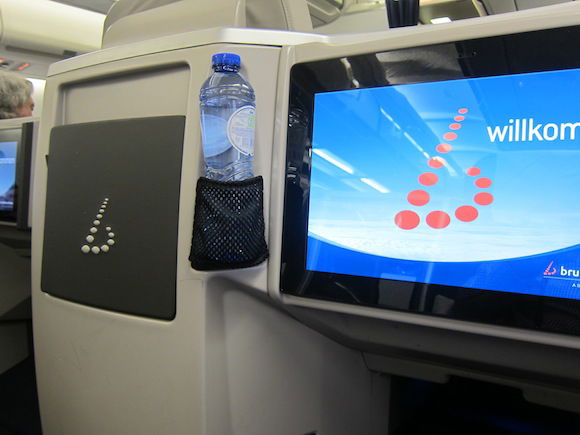 Seat pouch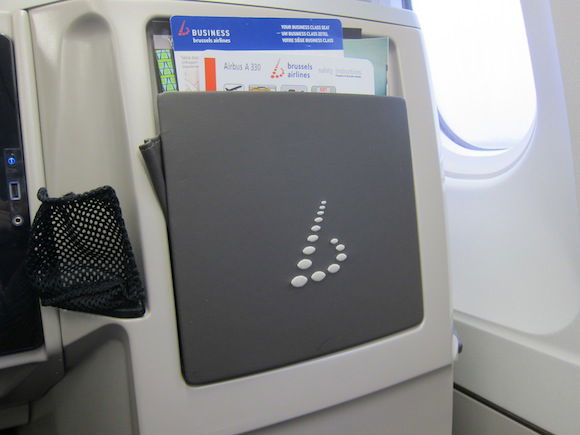 Seat pouch
On my seat were a pillow and blanket.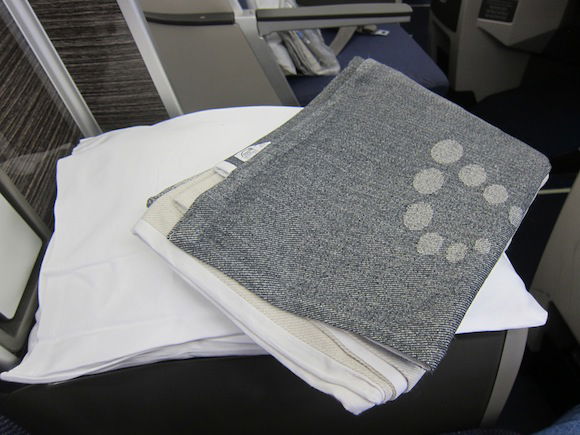 Pillow and blanket
To the right of the seat were the seat controls, which were intuitive.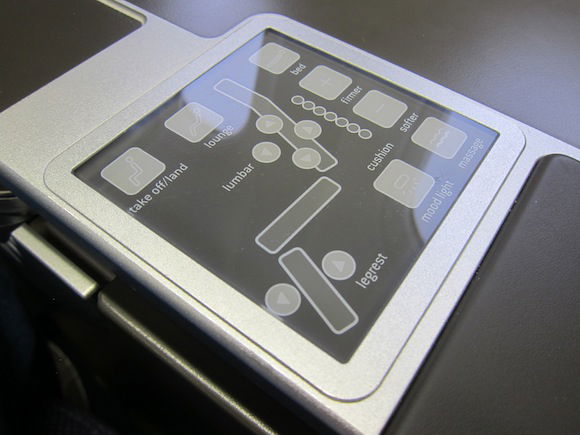 Seat controls
To the left of the seat were the controls for the reading light, the flight attendant call button, and the entertainment controls, in addition to a storage compartment and power port.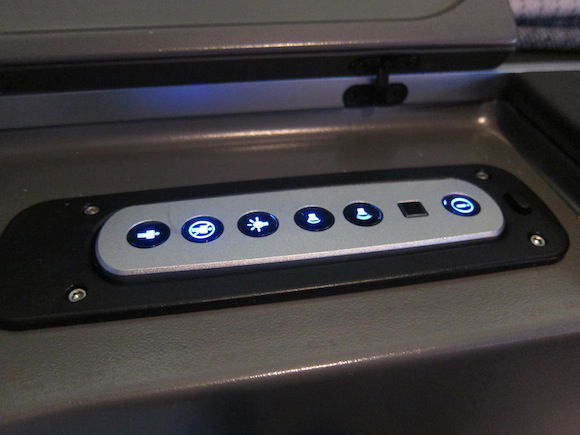 Entertainment controls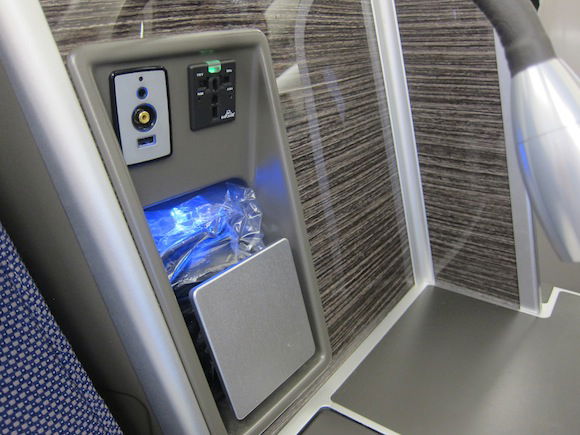 Storage compartment and power port
I was quickly offered a pre-departure beverage from a tray.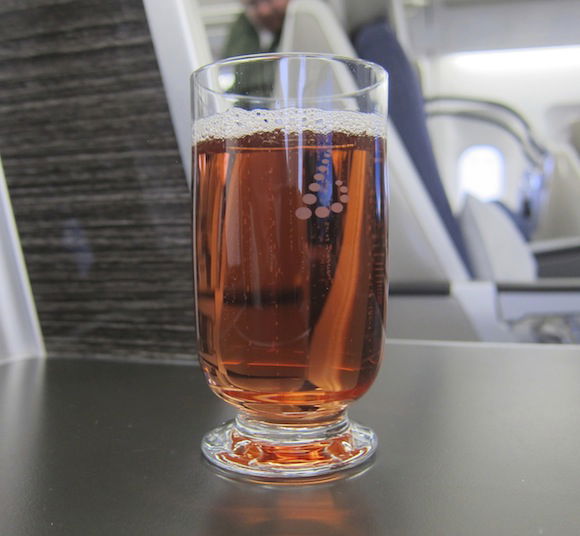 Pre-departure beverage
I was offered a refill several times, though never took them up on it. I could tell the crew was friendly and efficient, which is especially welcome on such a quick overnight flight. I was also offered a hot towel and the menu for the flight.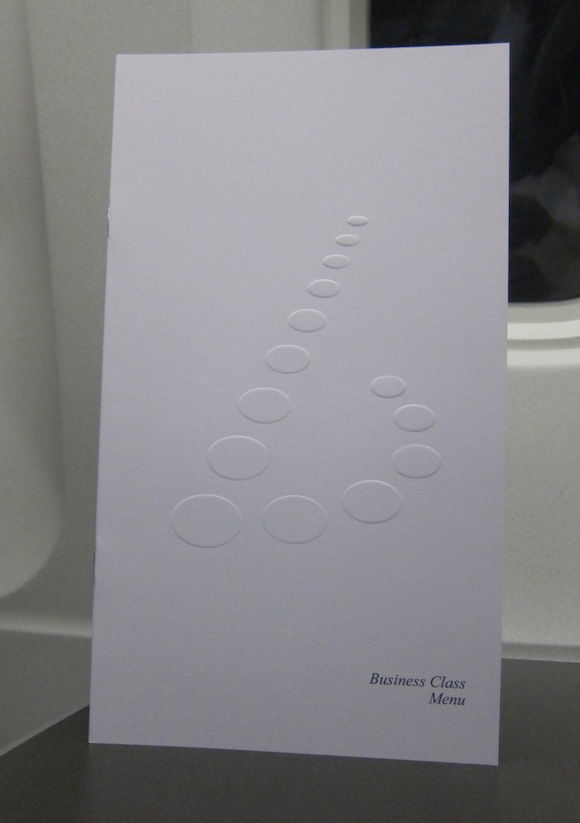 Menu
I was also offered an amenity kit and headphones.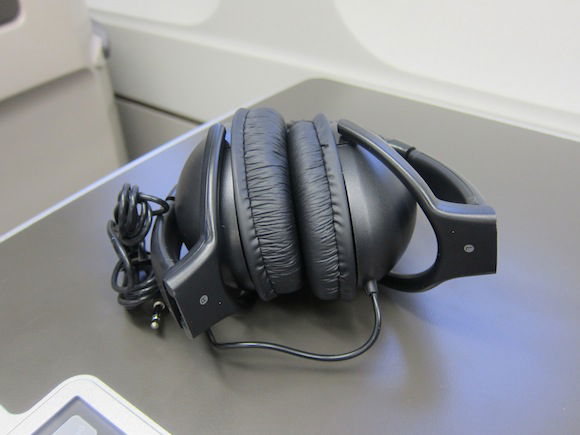 Headphones
The amenity kit was perfectly sufficient though nothing fancy.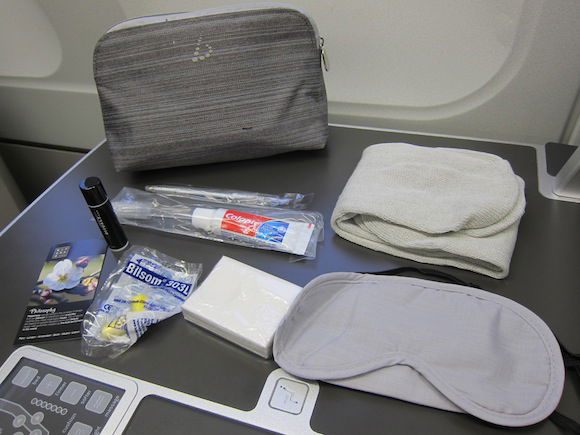 Amenity kit
About 20 minutes before our scheduled departure time the captain came on the PA to advise us of our flight time of 6hr30min, though the announcement was so quiet that I really didn't catch much else that he said. As we pushed back the business class cabin was a little over half full.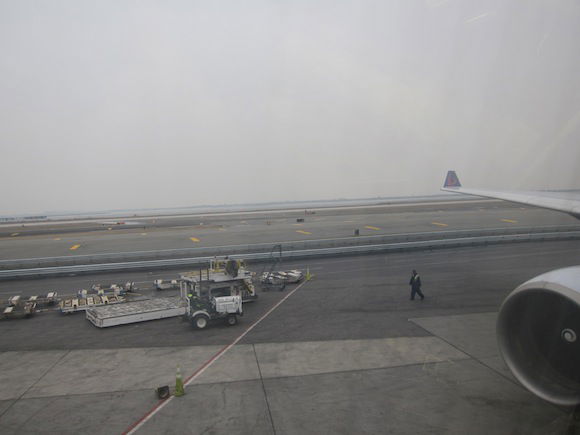 Window view from my seat
Within moments we began our taxi to the runway right behind an Air France Airbus A330.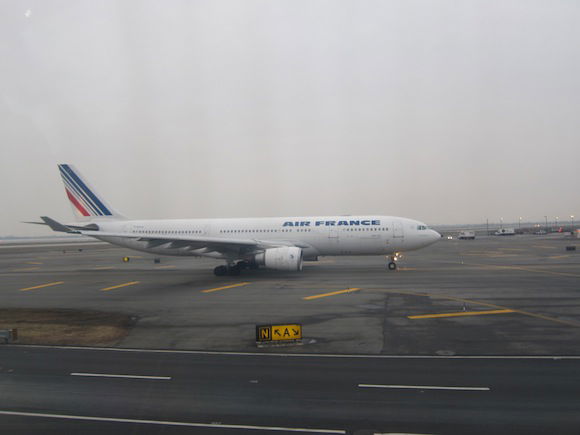 Air France A330 we followed to runway
We were departing from runway 22R so had a fairly long taxi past several terminals, including terminal seven, where it was peak rush hour for British Airways.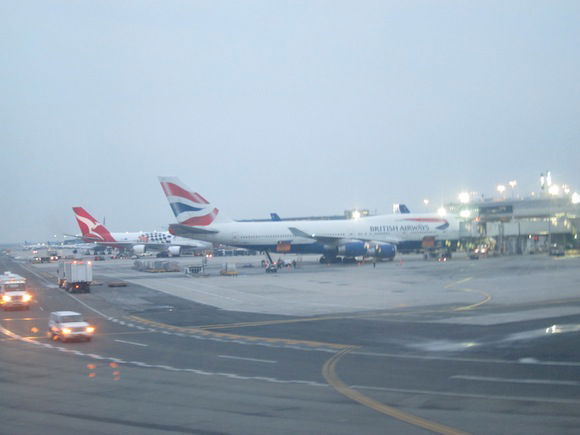 Terminal seven traffic
As we taxied out the cabin chief came around the cabin to advise everyone that the entertainment system had been turned on.
While the taxi was long there were only a few planes ahead of us in the queue once we reached the runway, so we were airborne only a couple of minutes after our originally scheduled pusback time.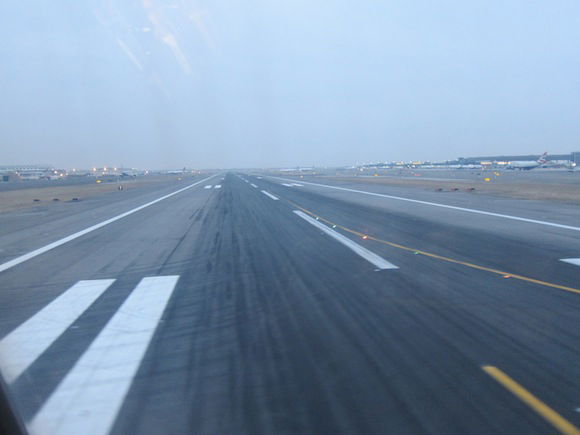 Crossing runway during taxi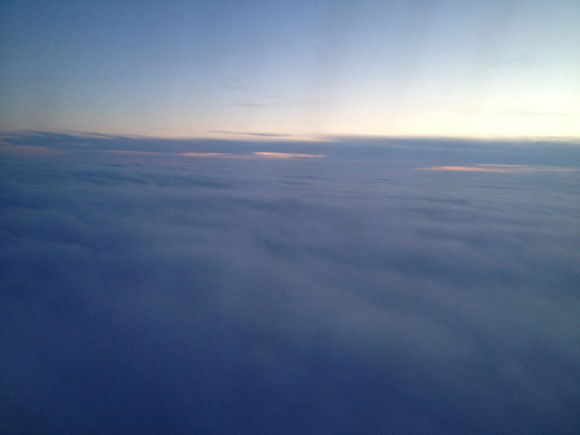 View after takeoff
Service didn't start for about 30 minutes due to turbulence. I took this time to browse the entertainment selection, though didn't find the way they sorted the selection to be especially intuitive.
I was hoping to sleep right after dinner so decided to stick to sitcoms, and started with an episode of Mike & Molly.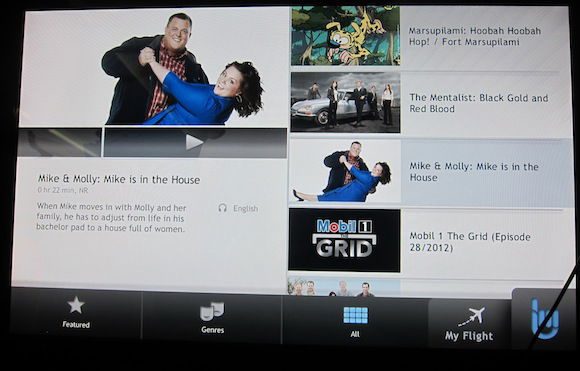 Entertainment system
All the service was done via cart, and began with drinks, served with olives and some sort of salmon.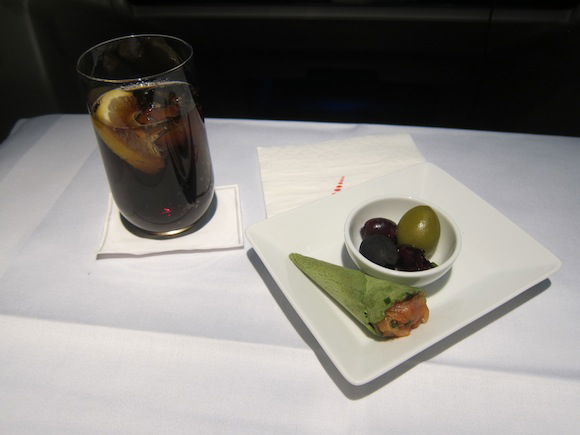 Diet Coke, olives, and salmon

As I pulled out the tray table I realized that it's probably the most impractical one I've ever seen. Both pulling it out and putting it back in was damn near rocket science.
The dinner menu read as follows: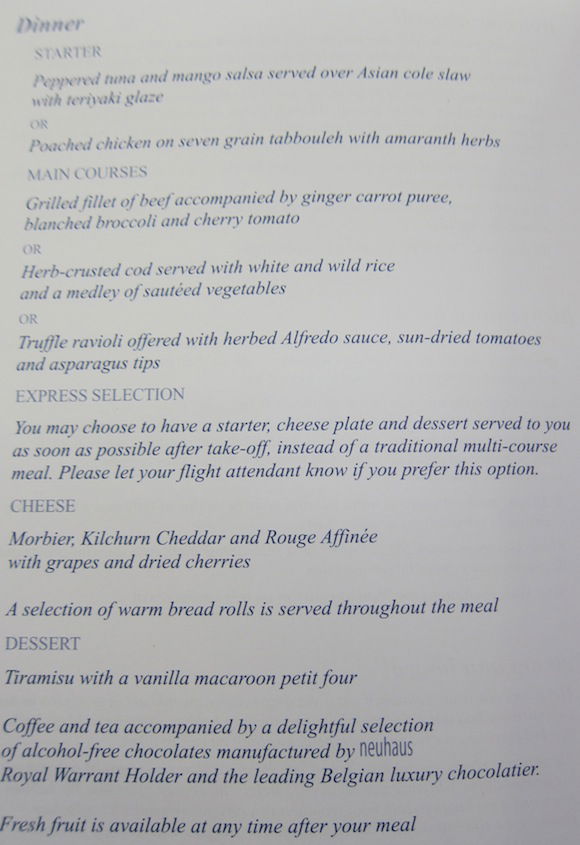 And the drink list read as follows: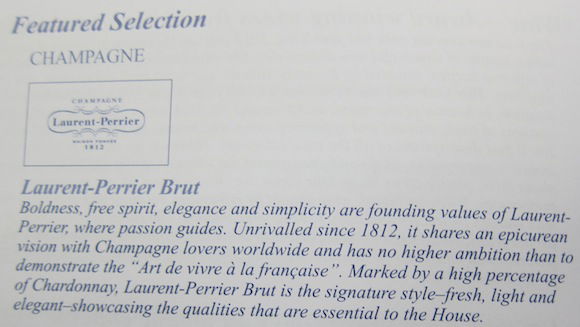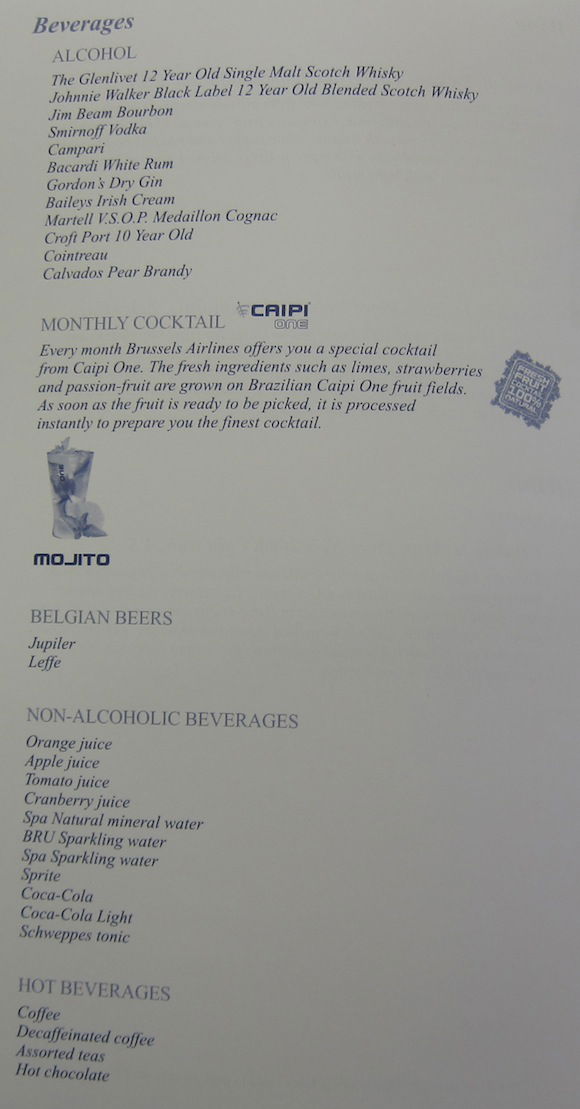 The tuna starter and salad were served on a single tray, both of which were very good. There were a variety of breads offered out of a bread basket as well.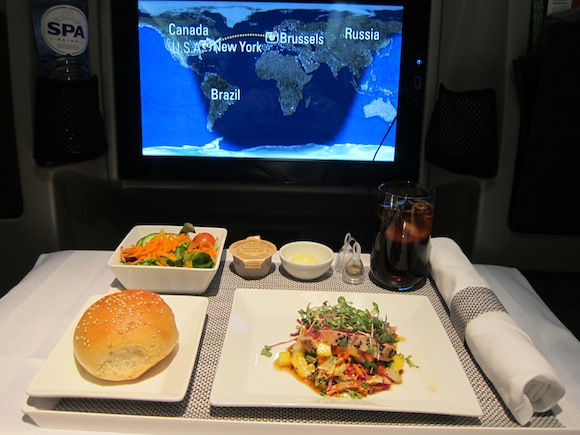 Appetizer and salad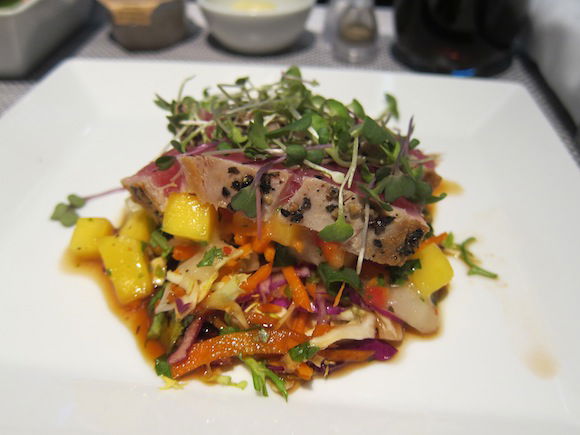 Peppered tuna and mango salsa served over Asian cole slaw with teriyaki glaze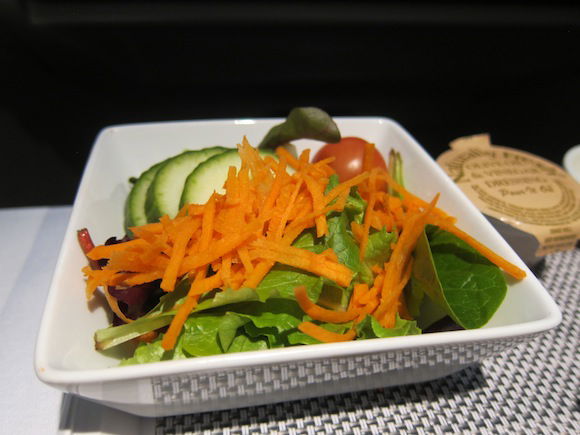 Salad
As I opened the napkin I was surprised by the amount cutlery in there. Holy hell!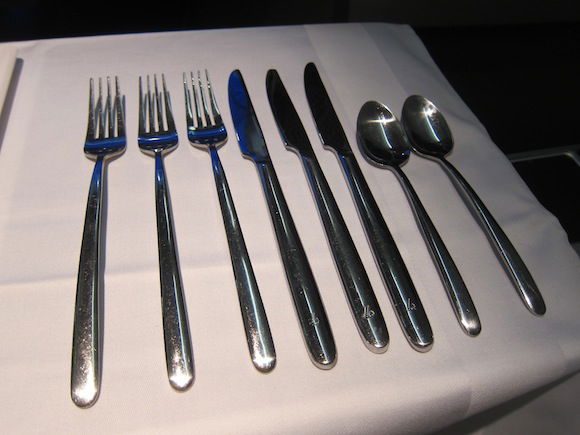 Impressive amounts of silverware
Usually I'd prefer they serve entrees by tray instead of cart, though I appreciated the fact that they displayed all three entrees on the cart, which I found useful in making a selection.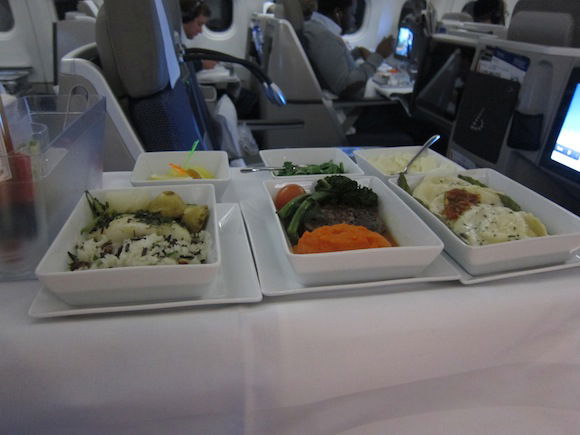 Entree choices
I decided on the ravioli, which was actually very good.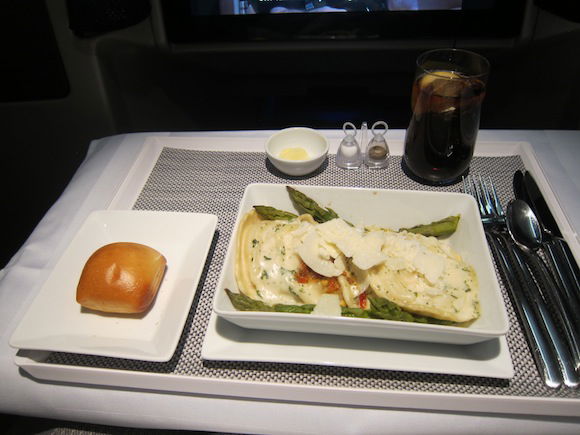 Truffle ravioli offered with herbed Alfredo sauce, sun-dried tomatoes and asparagus tips
There was a cheese course next, served with some raisins and grapes.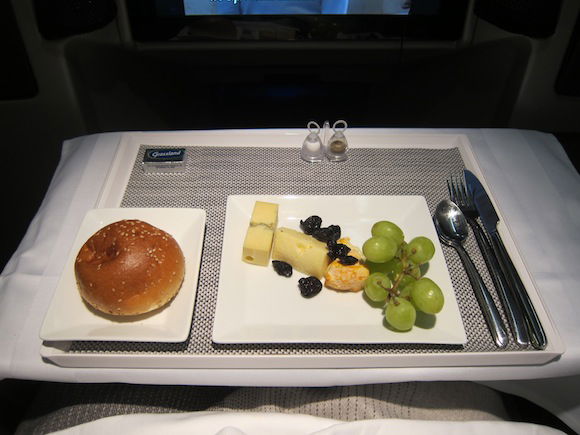 Cheese selection
Lastly a tiramisu and macaroon dessert was served, which was probably the highlight of the meal. I had a cup of tea to go along with it.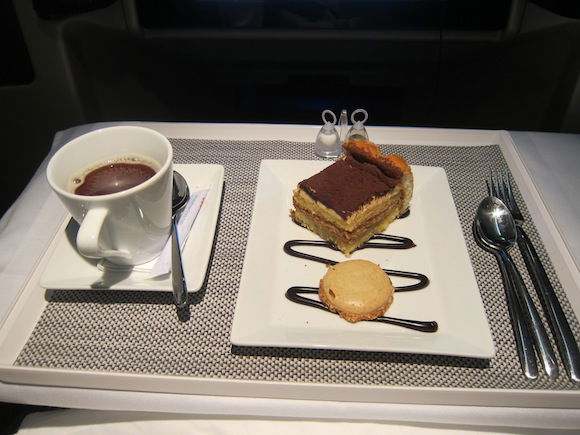 Tiramisu with a vanilla macaroon petit four
By the time dinner service was complete we were approaching St. John's (which I hope to visit eventually, as I'd love to take Air Canada's St. John's to London flight, which is operated by an Airbus 319), with just over 4hr30min to go to Brussels.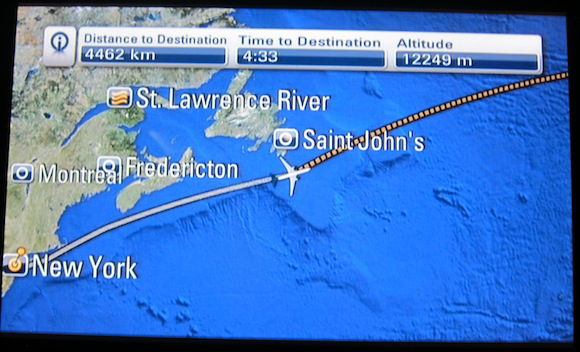 Location after dinner
I reclined my seat into the fully flat position, only to realize that this has to be the most uncomfortable business class seat in the sky for sleeping. There was virtually no room for my feet in the reclined position, given that the foot cubby was tiny.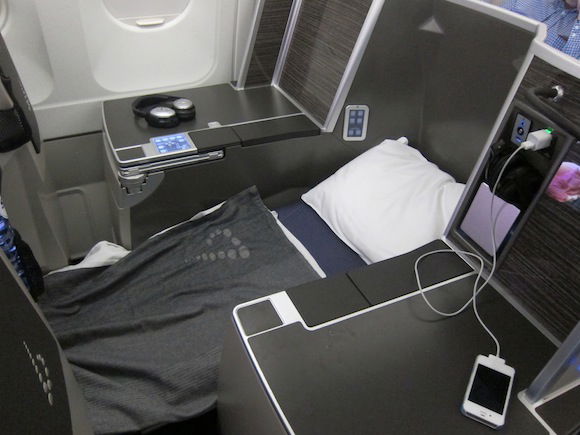 Seat in bed position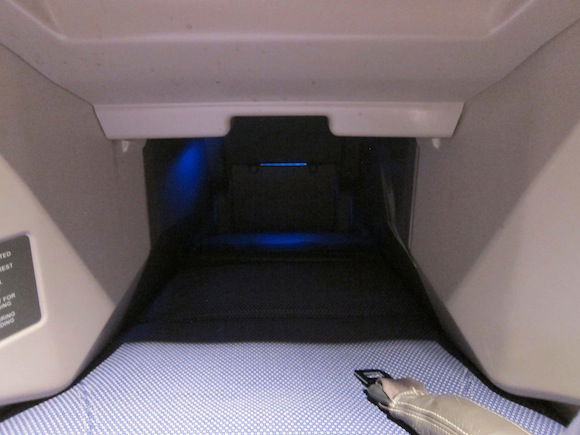 Tiny foot cubby
Later I realized my mistake. While it's tempting to pick one of the single seats, the pairs of seats have substantially more legroom. After all, the legroom for the single seat is limited to the space under the armrest for the pair of seats. So in the future I'd definitely select a set of two seats, even if I'm traveling alone.
Fortunately I did manage to get some shut eye, and was awoken about an hour out of Brussels when the cabin lights were turned on and continental breakfast service began.

Breakfast consisted of some fruit, a bowl of plain yogurt with berries, and three types of bread (which were placed on the tray without asking). I had some orange juice to drink, which tasted freshly squeezed.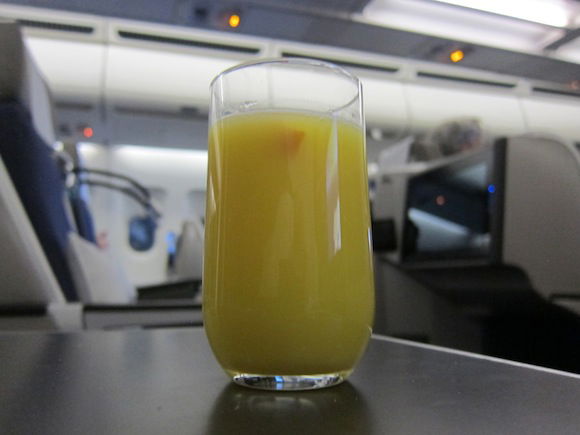 Orange juice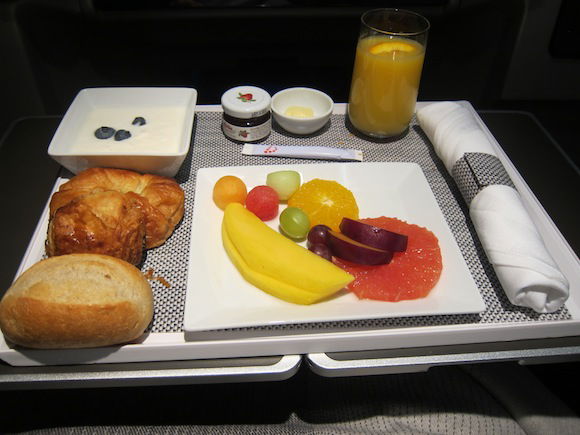 Continental breakfast
About 30 minutes out of Brussels the crew prepared the cabin for landing, and the cabin chief distributed some chocolate biscuits as a "thank you gift."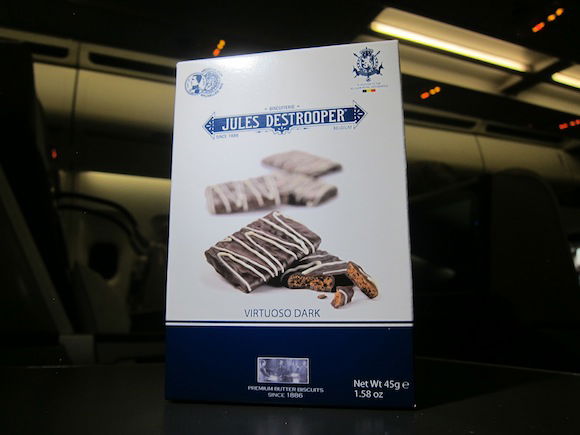 Box of chocolate biscuits
We hit some pretty serious chop on the descent into Brussels, and there were clearly some pretty strong crosswinds based on the degree to which the pilots were "crabbing" the plane.
The winds were strong and visibility was extremely limited, though despite that our landing was smooth as could be.
Our taxi to the gate took about 15 minutes, and we parked right next to a British Airways Airbus A319.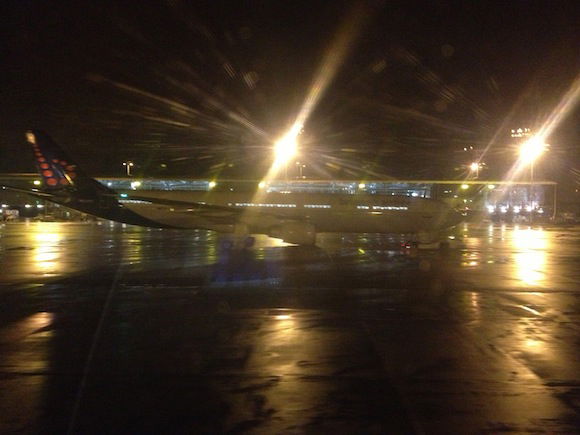 Brussels A330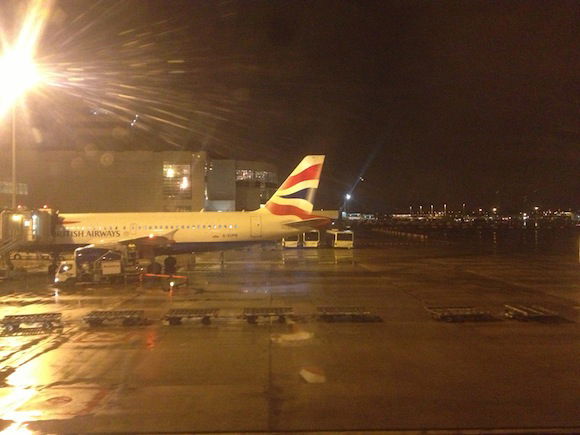 British Airways A319
On the whole this was an extremely pleasant flight. I thought the food and service were both top notch. The crew couldn't have been more polite and attentive, even though I imagine this is a pretty stressful sector for them to work. While I prefer the business class "suites" that Cathay Pacific and US Airways offer, the staggered business class product isn't half bad either. The key is that in the future I'd select one of the pairs of two seats over a single seat so that I have more room for my feet when sleeping, even if it means having a "stranger" as a seatmate. Though these seats really are ideal for two people traveling together.
How you can use miles/points for Brussels Airlines Business Class

The three best ways to redeem for Brussels Airlines business class between New York and Brussels is through Aeroplan, United, and US Airways.
Aeroplan charges just 90,000 miles for roundtrip business class between the US and most of Europe, and allows two stopovers or one stopover and one open jaw. While they impose massive fuel surcharges for travel on most of their partner airlines, they don't for travel on Brussels, which is great news. Aeroplan is transfer partners with American Express Membership Rewards and Starwood Preferred Guest (which frequently offers transfer bonuses to Aeroplan), so the best cards for earning Aeroplan miles include the American Express Mercedes Benz Platinum Card, the American Express Premier Rewards Gold Card, the Starwood American Express Personal Card, and the Starwood American Express Business Card,
United charges 100,000 miles for roundtrip business class with no fuel surcharges and some of the most reasonable change policies and fees of any airline. The best way to rack up United miles is through Ultimate Rewards, which is their 1:1 transfer partner:
US Airways charges 100,000 miles for roundtrip business class with no fuel surcharges as well, though has some of the highest change fees. The best ways to rack up US Airways miles is through the US Airways Premier World Mastercard or by taking advantage of one of their 100% bonus buy miles promotions, like the one they're offering right now on a targeted basis.
(In the interest of full disclosure, some of the above links earn me a referral bonus, and all are for the best available offers for each card — thanks for your support!)