---
In late December I first shared my plans for this trip on the blog. There were a couple of things that motivated this trip:
Singapore Airlines started opening up saver award space in Suites Class on the Airbus 380, which is probably the most coveted product in the sky, so I was desperate to try it.
I flew Emirates first class from London to Dubai a couple of weeks prior due to a rebooking from British Airways, and was just blown away by the shower… and the amount of faux-gold in the cabin… and the room service phone. I had to do it again.
There are some cheap premium cabin fares out of Colombo, Sri Lanka that allow you to travel on Emirates (or a number of other airlines), so I decided I could combine an outbound in Singapore Suites with a return on Emirates and British Airways in first class. This would not only allow me to experience Singapore Suites for the first time, but also experience the ground services offered by Emirates in Dubai and British Airways in London, both of which I've yet to experience (along with more firsthand experiences of their in-flight products).
In addition to the flight from Seattle to San Francisco (which I booked using 7,500 British Airways Avios and won't cover with this report given that flying with Alaska is little more than a "nice" bus ride), I booked the trip in three parts:
Part 1:
01/15 Singapore 1 San Francisco to Hong Kong departing at 10:50PM and arriving at 5:50AM (+2 days) [Suites Class]
01/17 Singapore 1 Hong Kong to Singapore departing at 8:00AM and arriving at 12:00PM [Suites Class]
Cost: 91,375 Singapore Airlines KrisFlyer miles + $ 325.50 taxes/fees/fuel surcharges
Part 2:
01/18 Cathay Pacific 711 Singapore to Colombo departing at 9:00PM and arriving at 10:15PM [Business Class]
Cost: 20,000 British Airways Avios + $53.63 taxes/fees/fuel surcharges
Part 3:
01/19 Cathay Pacific 710 Colombo to Singapore departing at 12:45AM and arriving at 7:00AM [Business Class]
01/19 Emirates 355 Singapore to Dubai departing at 9:35PM and arriving at 1:00AM (+1 day) [First Class]
01/20 Emirates 5 Dubai to London departing at 4:30PM and arriving at 8:15PM [First Class]
01/21 British Airways 49 London to Seattle departing at 2:30PM and arriving at 4:05PM [First Class]
Cost: Premium cabin fares between Colombo and most destinations in North America are very reasonable, so I'd suggest doing some Googling or reading comments section of this post for details. I wish I could spell it out though I'd get a) yelled at by a bunch of people and b) sometimes it's better not to make things too obvious.
Here's the itinerary on a map: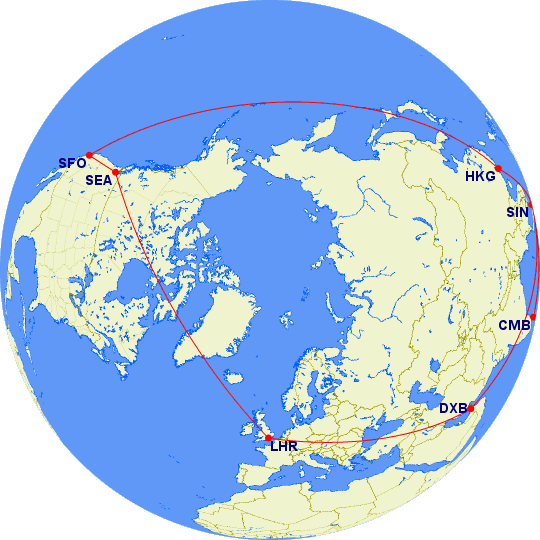 Picking the actual flights was very much a process. Originally I had wanted to take SQ11 from Los Angeles to Singapore via Tokyo instead of SQ1 from San Francisco to Singapore via Hong Kong, given that the former has a far superior meal service and I like the fact that it's two longhaul flights vs. one ultra-longhaul and one short-haul flight. That being said I far prefer the 12PM arrival time in Singapore of SQ1 compared to the 3AM arrival time of SQ11. Though most importantly a friend of mine was working the Hong Kong to Singapore portion of SQ1, so it would be a great opportunity to catch up with her.
As far as the Emirates flights go, initially I had planned on routing through Hong Kong and flying Hong Kong to Bangkok to Dubai to London on Emirates, though after reading some reviews online it occurred to me that the Hong Kong to Bangkok flight had a pretty crappy meal service, while the Bangkok to Dubai flight only served breakfast, which is something I try to avoid on planes whenever possible. Instead I decided to book Singapore to Dubai to London, as both flights were dinner flights with a "proper" meal service (and I care about that simply because I'd rather report back on a decent in-flight meal than eggs and cereal).
I'll cover my hotel decision making process in the each individual post, but that's roughly the "shell" of the trip.
As it turned out the trip had some ups, downs, and dizziness due to excessive drinking. As a matter of fact I think I'm still getting over the hangover from my Singapore to Dubai flight…
And as much as I'd like to call that the worst flight ever due to how much I drank, I'd be lying if I said I didn't want to repeat it, especially if I had the same crew.
Anyway, sit back, relax, and enjoy the report, and if you have any questions please let me know. I'll try to post an installment a day (+/- one per day). 😉
As always, all comments/questions are welcome!