---
US Airways 786
Charlotte (CLT) – Paris (CDG)
Sunday, October 13
Depart: 4:50PM
Arrive: 6:55AM (+1 day)
Duration: 8hr5min
Aircraft: Airbus A330-200
Seat: 5H (Envoy Class)
I was really excited to fly US Airways Envoy Class. Actually, it's probably the segment on this trip I was most looking forward to. US Airways sure is an "innovative" airline — they were the first in the US to try charging for soft drinks in coach and they've managed to cut their first class service on domestic flights down to what you'd expect to be offered at a frat party. But there's one area in which they've had more positive innovation, and that's with the international business class on their Airbus A330, the "Envoy Suite". They were the first airline to introduce a reverse herringbone seat, the same I've now enjoyed on American, Cathay Pacific, and EVA.
Anyway, boarding was through door 2L, and we turned left into the business class cabin. The business class cabin consists of five rows in a 1-2-1 configuration, for a total of 20 seats. That's actually a pretty small business class cabin (I mean, American has 16 first class seats on their 777), so I figured it would translate into pretty personalized service.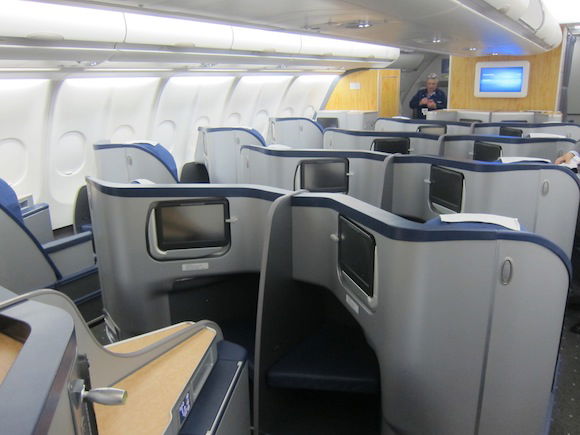 US Airways Envoy Suite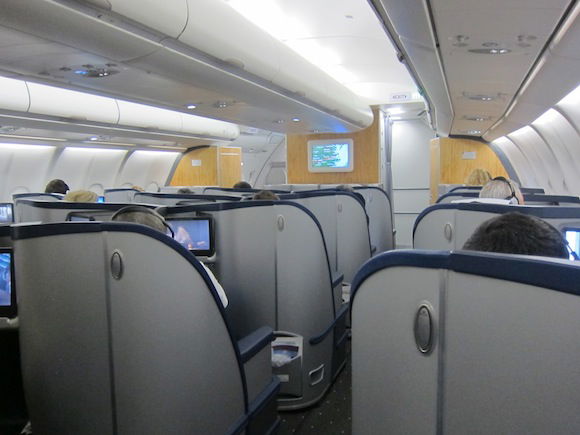 US Airways Envoy Suite
I quickly settled into 5H, my window seat in the last row.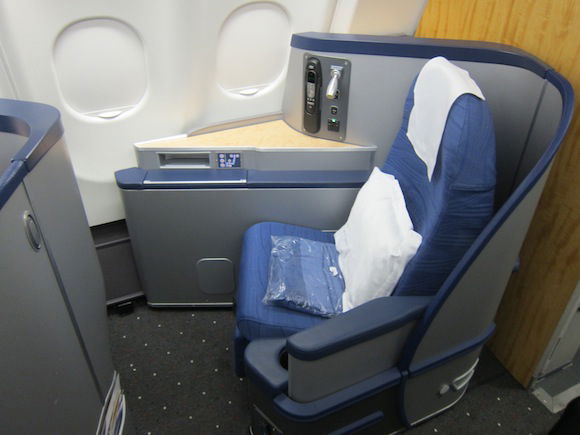 US Airways Envoy Suite, 5H
I could tell right away that the seat was a more "primitive" version of the reverse herringbone seat than what other airlines have. For example, below is a picture of the Cathay Pacific reverse herringbone seat. As you'll see, it's quite a bit more private due to the "shield" on the side. Also, the "shell" around the seat seems to go quite a bit higher. So don't get me wrong, US Airways still has an excellent business class hard product, especially for a quick transatlantic flight, but not all reverse herringbone seats are created equal.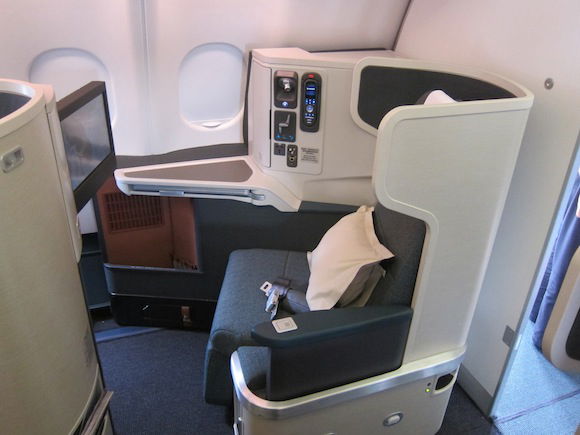 Cathay Pacific business class
Waiting at my seat were a small pillow and basic blanket.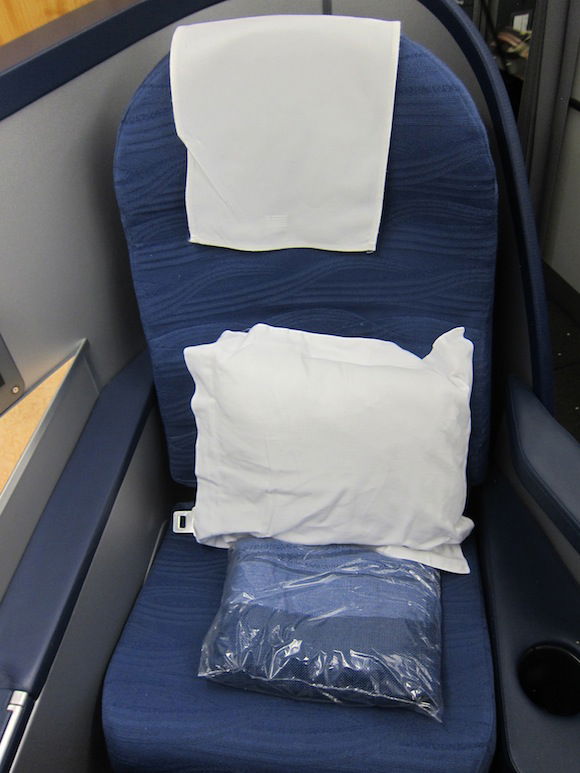 US Airways Envoy Suite, 5H
There was an ottoman below the fold out TV screen.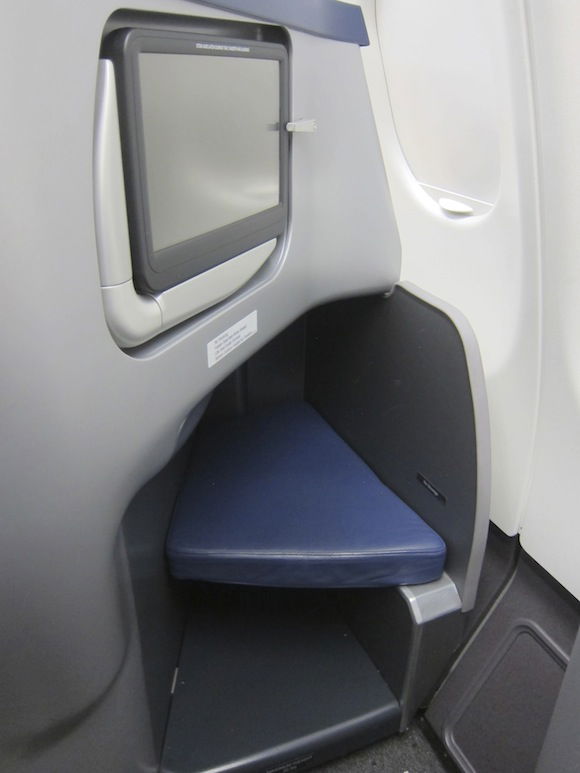 US Airways Envoy Suite, 5H
To the right of the seat were the seat controls as well as a small storage compartment, which wasn't especially practical since it didn't close and opened sideways, meaning stuff could fall out pretty easily.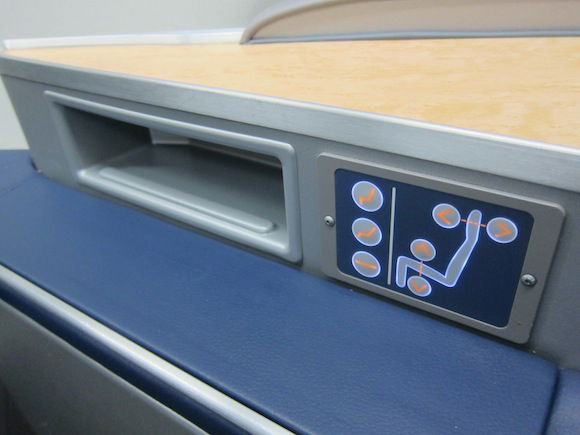 US Airways Envoy Suite seat controls
Above that were the entertainment controls, headphone jack, USB/110v outlets, and a reading light.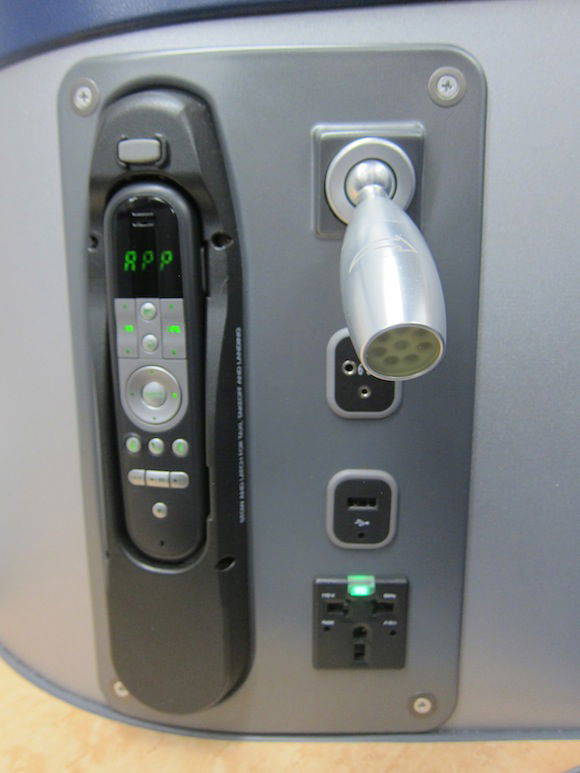 US Airways Envoy Suite entertainment controls and reading light
Since the service hadn't yet started and the cabin was still filling up I took the opportunity to go to the forward restroom and change into a pair of British Airways pajamas. The lavatory was small and no frills (meaning there were no special "premium" toiletries or anything).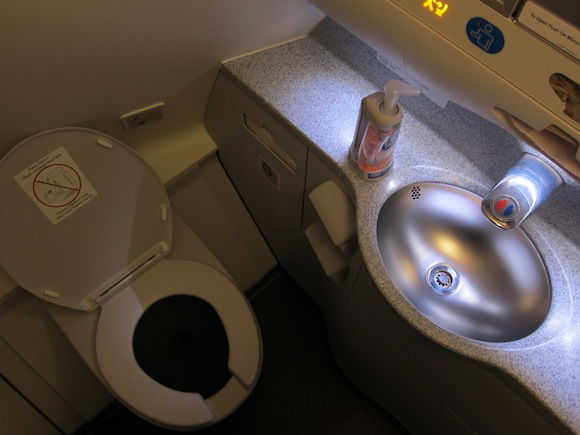 US Airways Envoy Class lavatory
I got back to my seat as cabin service was starting. The flight attendants working the business class cabin were Carolyn and Ms. Peggy… at least that's what every crew member called her. Carolyn was maybe in her low 60s, while Ms. Peggy was a few years her (and the rest of the crew's) senior. The first thing I couldn't help but notice were their uniforms. They look like track suits. Now on one hand I assume that would be comfortable for a transatlantic flight, but I also can't help but feel like it's tough to take pride in your job when you're serving a premium cabin in what more or less looks like something you'd wear to the laundromat.
Anyway, Ms. Peggy came down my aisle to offer pre-departure beverage drinks. "Drinks? Drinks? Drinks? Drinks?" is what she said to everyone.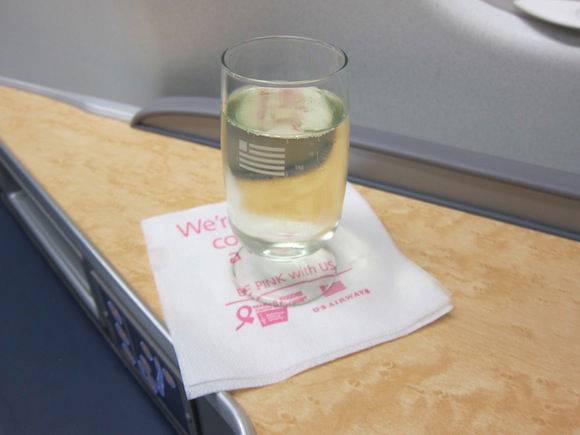 US Airways Envoy Class pre-departure beverages
Shortly thereafter dinner menus were distributed by Carolyn. She didn't say "here's our dinner menu, please look it over at your convenience," but rather "look it over now because I'm taking orders shortly."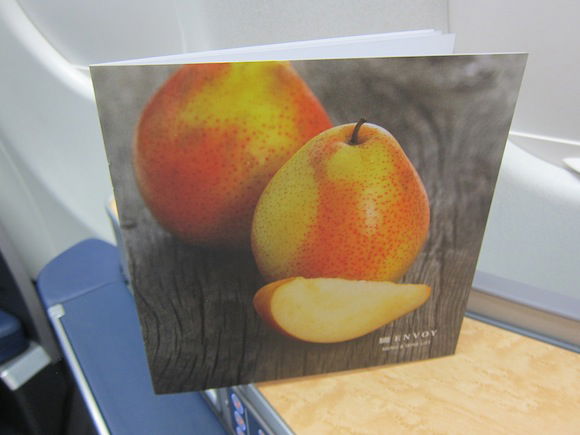 US Airways Envoy Class menu
In the meantime a male flight attendant that was working the galley came around with a cart consisting of headphones and amenity kits.
The headphones were fine — not as good as American's Bose headphones, but not bad either.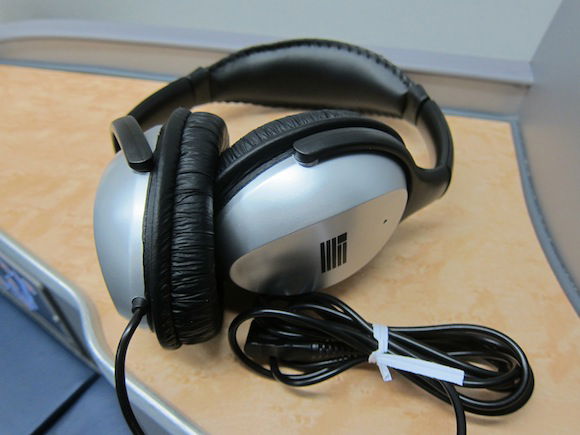 US Airways Envoy Class headphones
The amenity kit and its contents were fairly basic.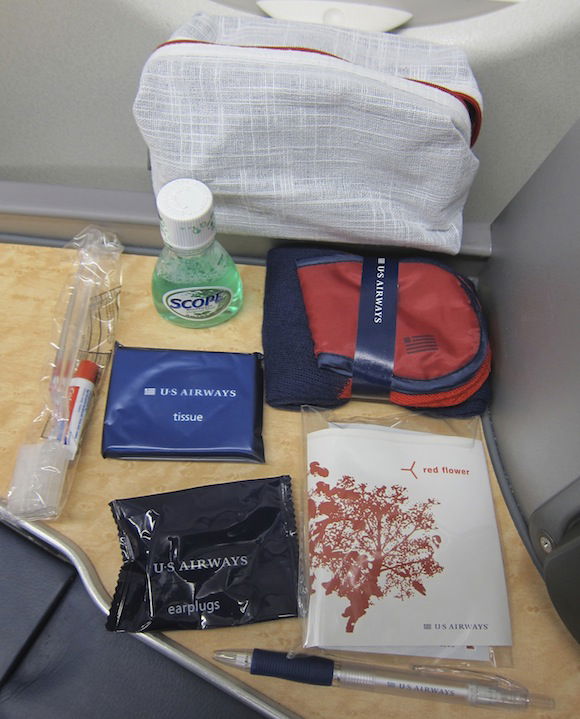 US Airways Envoy Class amenity kit
A full 15 minutes before the scheduled departure time Carolyn stomped through the aisles barking at each passenger "drink up, I need yer glasses back."
After she successfully collected all glasses — and still before pushback — she came around the cabin to take meal orders. There was no "Mr. Schlappig, what would you like for dinner tonight?" Instead she simply said "what for dinner?" which is the same thing she said to each passenger. I replied "the tilapia, please." She responded in a loud voice with "WHAT?!" I repeated, "the tilapia, please." She snarled "oh, you mean the fish."
The Envoy Cabin eventually filled up completely with at least a handful of employees seated up front, and plenty more in coach — I think they may have been Ms. Peggy's family members. Several of these family members from coach came up for a cockpit visit during boarding.
We pushed back on schedule, with some awesome views of the Lufthansa A340-600 parked next to us.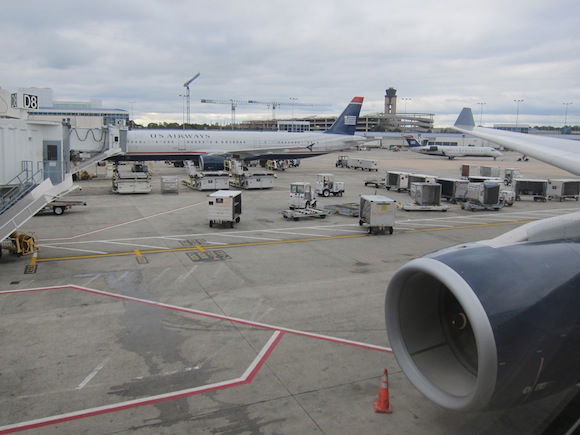 Views on pushback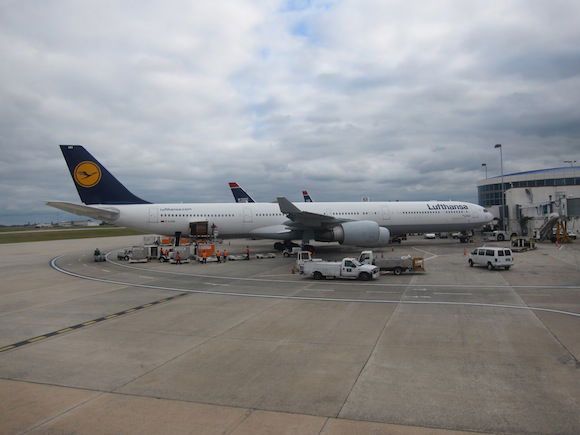 Lufthansa A340-600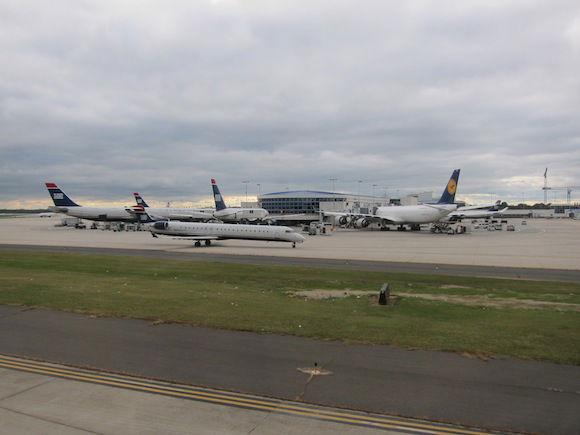 Charlotte Airport traffic
We taxied out to runway 36R, which took about 10 minutes.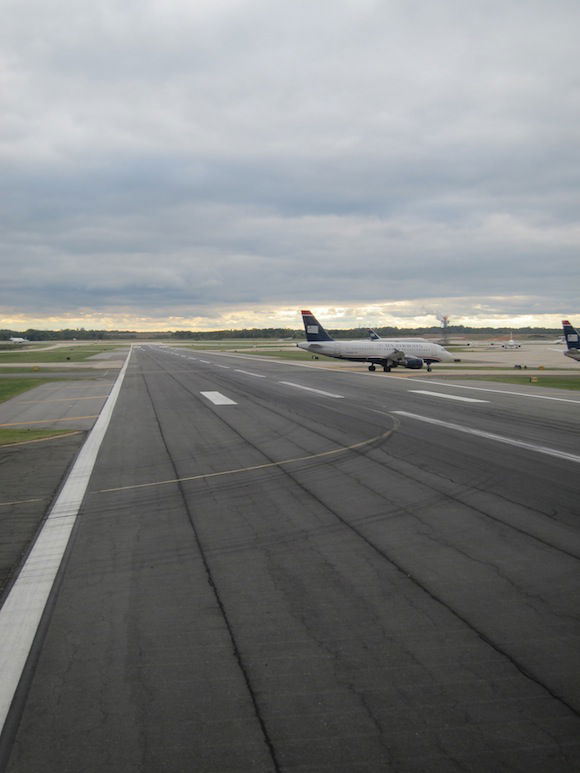 Crossing runway
Once there we were number two for takeoff, and within a few minutes were airborne for our 7hr38min flight to Paris.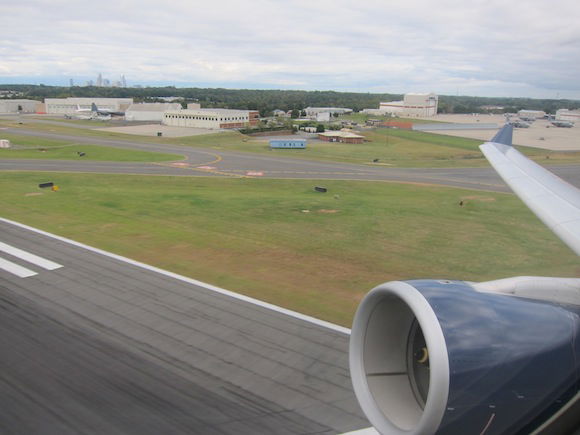 View after takeoff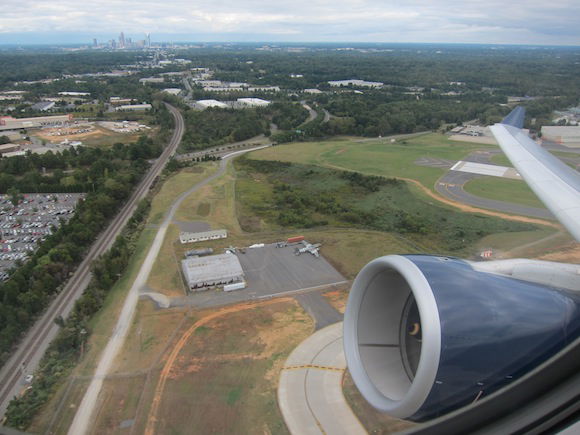 View after takeoff
Our climb out was smooth, though it was about 30 minutes after takeoff before the seatbelt sign was turned off, and of course for "safety reasons" there was no service up until that point. The captain came on the PA and gave an extremely brief announcement, basically just informing us to keep our seatbelts fastened while seated, with no further information about the flight.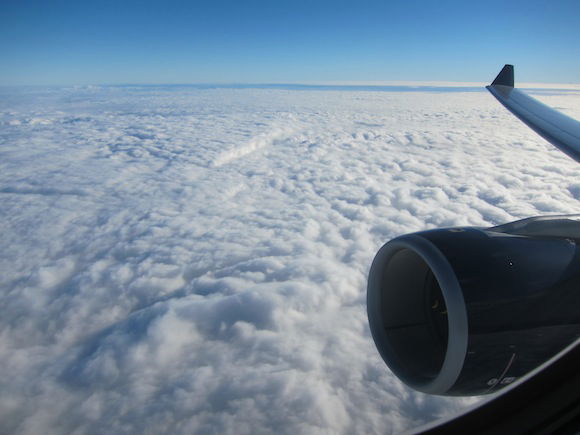 View on climb out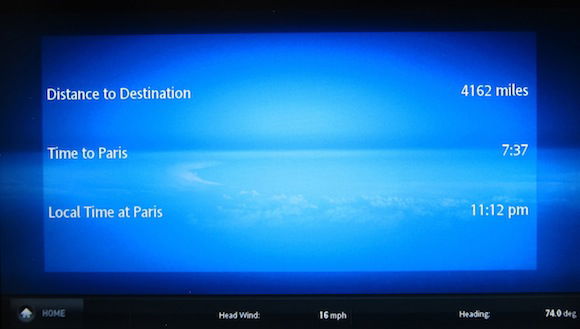 Airshow after takeoff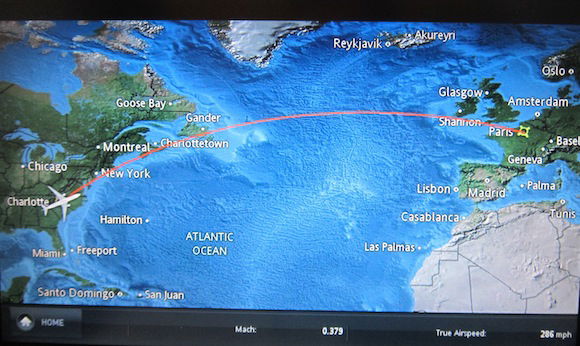 Airshow after takeoff

I browsed the on-demand entertainment selection, which was fairly impressive.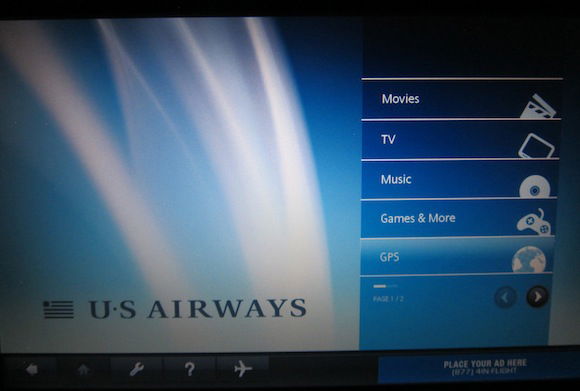 Entertainment system
I decided to watch an episode of "2 Broke Girls."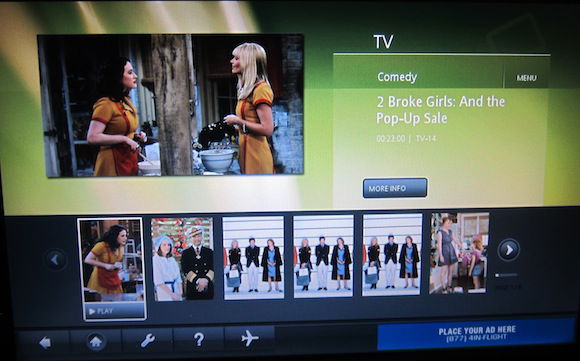 Entertainment choice
The service began with hot towels.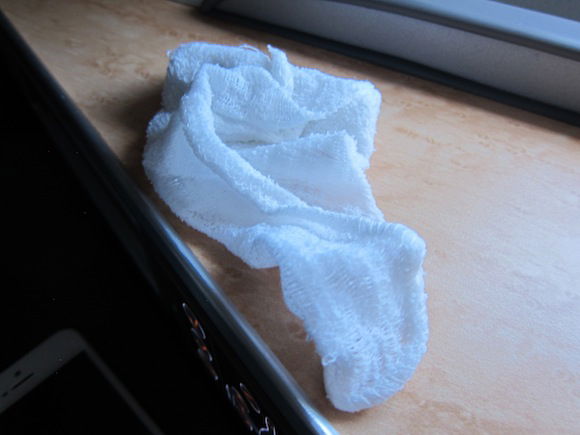 Hot towel
The dinner menu read as follows: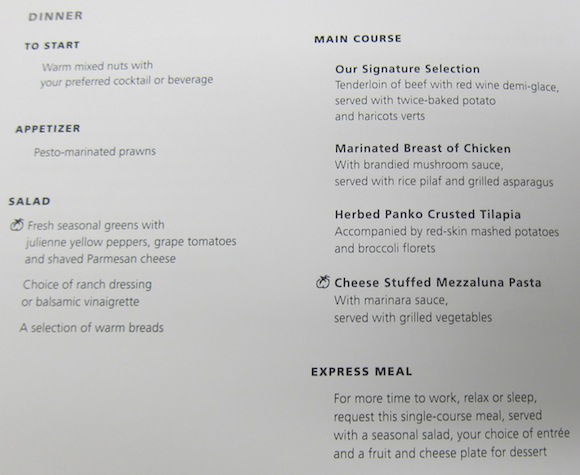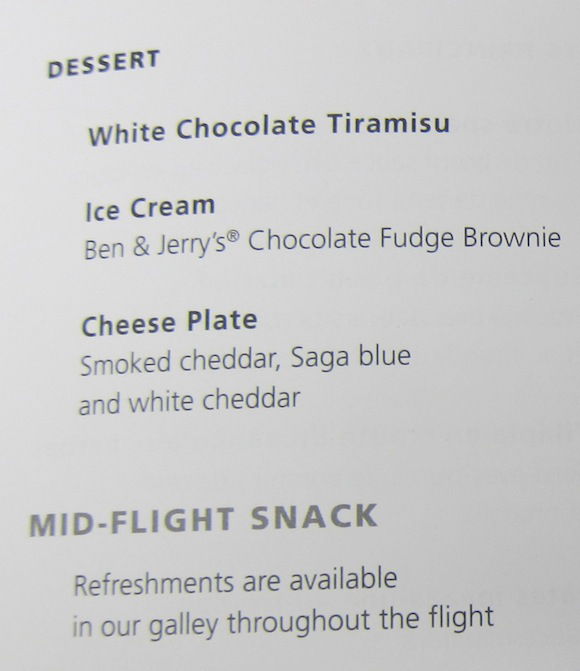 And the wine list read as follows: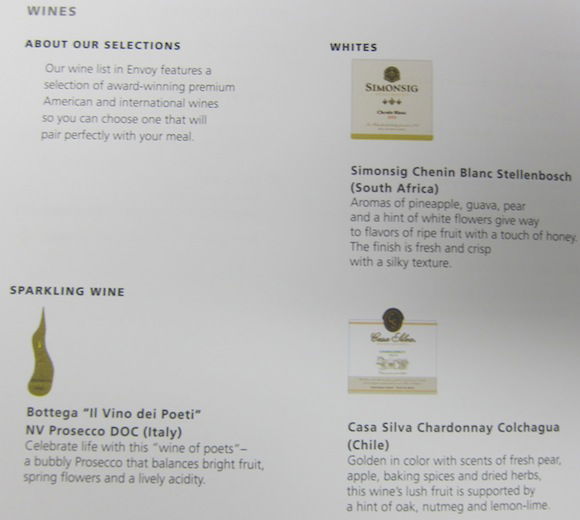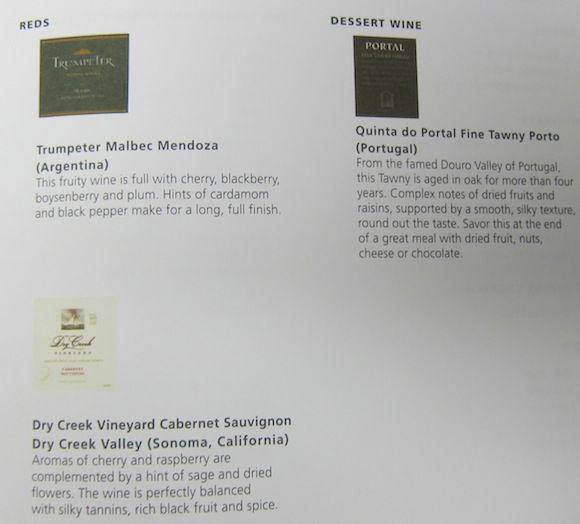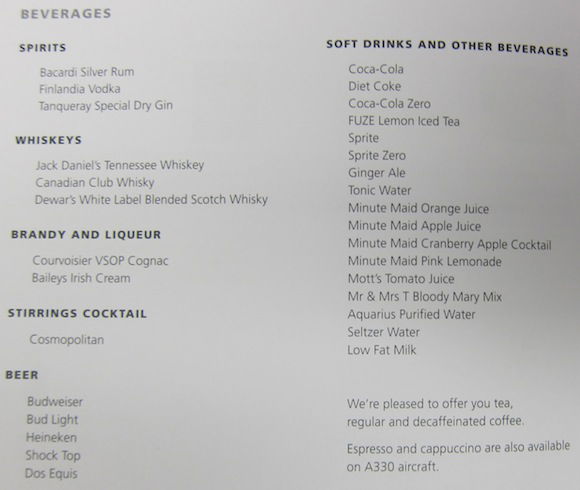 First I was offered drinks and hot nuts. I ordered a Diet Coke with lime. Instead of serving items, Carolyn seemed to subscribe to more of a "self service" model. She would lift the drink and nuts from the tray and hold them till I grabbed them and placed them down myself. Odd.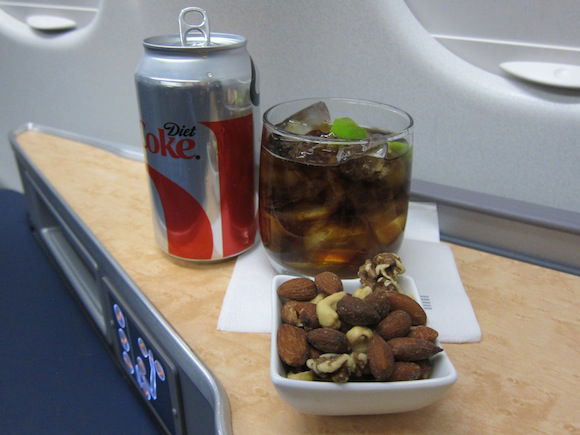 Diet Coke with lime and hot nuts
After that Carolyn came around with tablecloths. She noticed my iPhone was sitting close to the side of the seat, so she said "don't put it there, it can fall through the crack and if it's gone it's gone." I appreciate the warning in theory, but surely there's another way to communicate that, no?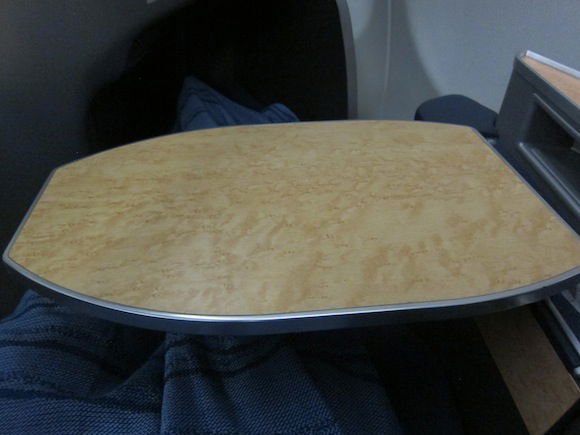 Tray table
The appetizer and salad were served on one tray. The pesto-marinated prawns were fine, and the salad was definitely on the simple side with just yellow peppers.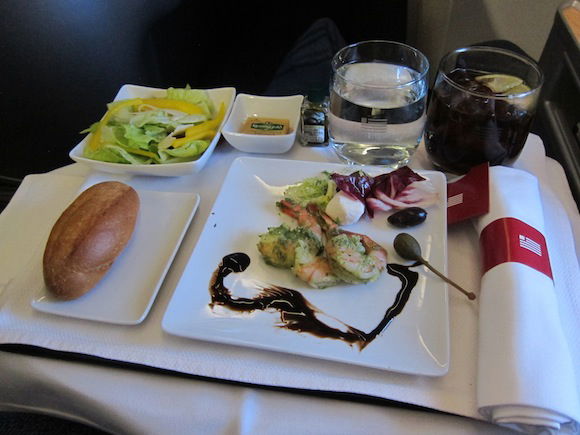 US Airways Envoy Class salad and appetizer
For the main course I ordered the tilapia, which was chewy and extremely dry.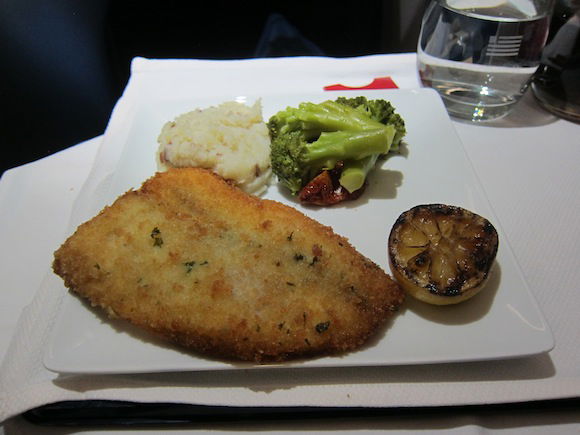 US Airways Envoy Class main course — herbed panko crusted tilapia
My main course sat on my tray for about 30 minutes after I'd finished, and I didn't once see a flight attendant. I went to the business class galley (located behind the cabin) and found it odd that there weren't any flight attendants there. So I headed to the lavatory located forward of the cabin and saw Carolyn and Ms. Peggy having a conversation there, where they must have been for 20+ minutes. It's one thing if they were preparing stuff in the galley, but all the service is done from the rear galley and not the forward galley…
Then the crew came around with the dessert cart.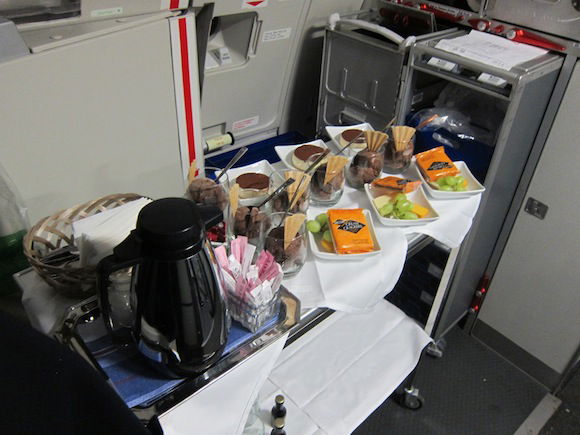 Dessert cart
I selected the white chocolate tiramisu, which was really good.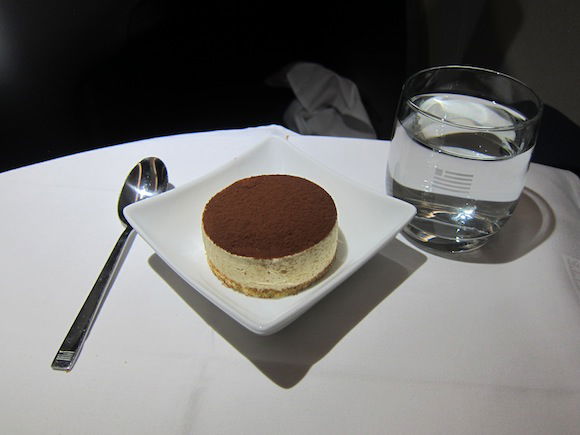 US Airways Envoy Class dessert — white chocolate tiramisu
US Airways has a cappuccino machine aboard, so I ordered one of those. There was coffee on the dessert cart, so when I requested a cappuccino the flight attendant let out a loud sigh and yelled to the galley for a cappuccino.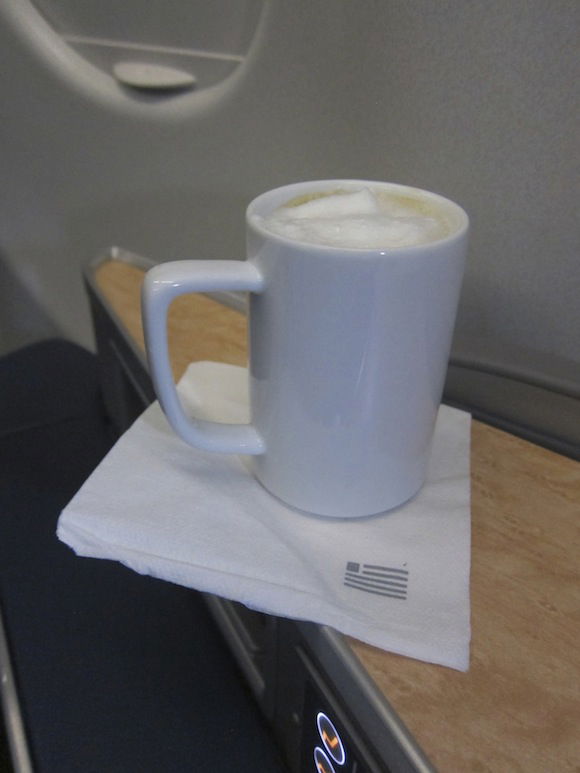 Cappuccino
The meal service was complete maybe 2.5 hours into the flight. At that point, as if we were eight year olds in summer camp, the flight attendant made a PA just to the business class cabin, along the lines of "this is now your allocated rest period, so you can sleep. If you want something to eat or drink you can help yourself in the galley."
While the food was okay — certainly not gourmet but definitely edible for the most part — the service was abysmal. Neither Carolyn or Ms. Peggy once cracked a smile, and getting a drink refill was more work than filling out a Russian visa application.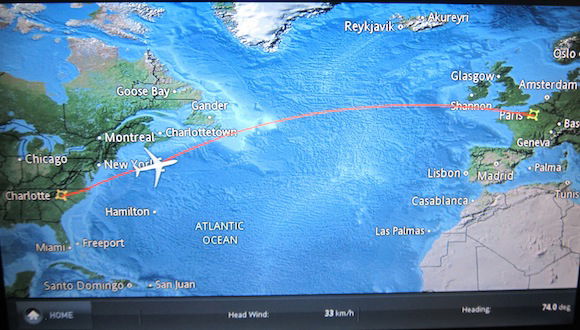 Airshow during dinner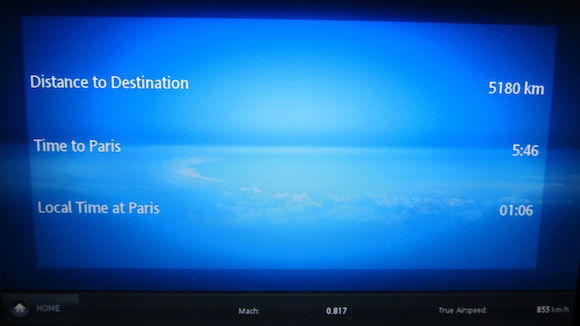 Airshow during dinner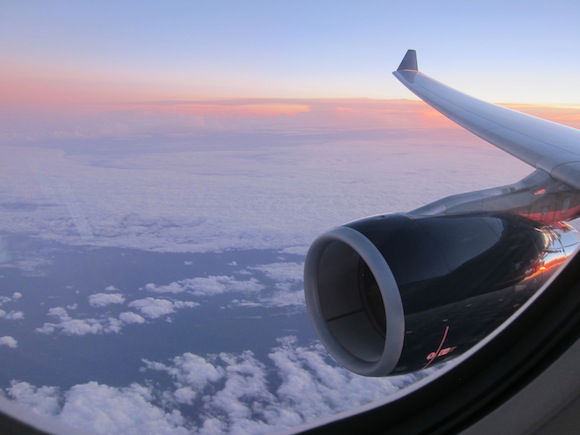 Sunset view over the Atlantic
After dinner I reclined my seat into the fully flat position. The reverse herringbone is certainly one of the more comfortable business class seats out there, though the padding isn't amazing and pillow and blanket could be better.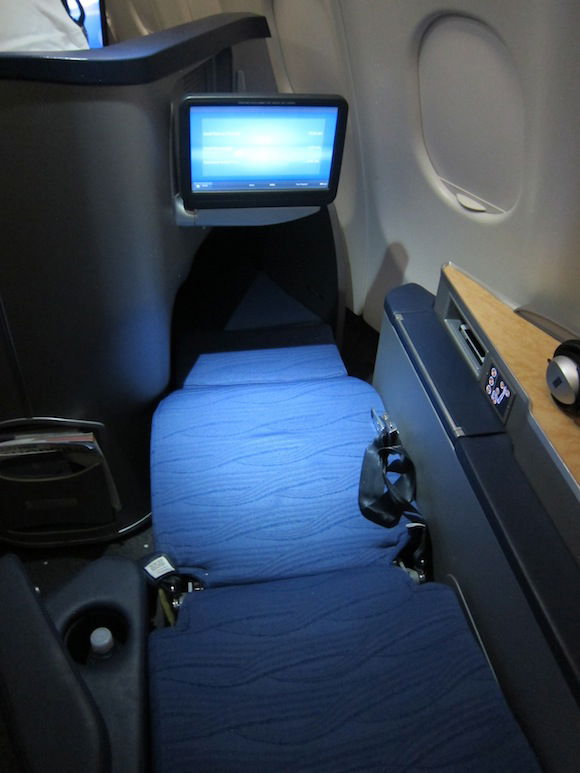 US Airways Envoy Suite bed
While it was fairly dark in row five, the crew had a hard time keeping the noise level in the galley down, at least until some of them went on break. Meanwhile my friend was in row one, and it's worth noting there's a bright light they keep on above that row which makes it almost impossible to sleep there.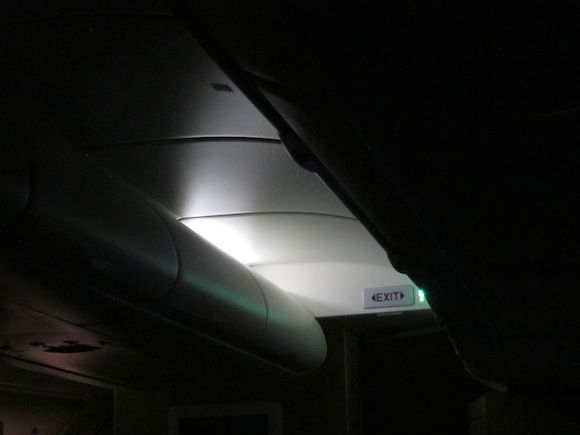 Light above row one
I did manage to get a bit of sleep, and woke up just under two hours out of Paris.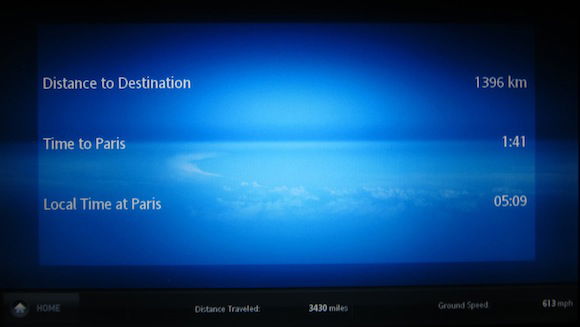 Airshow upon waking up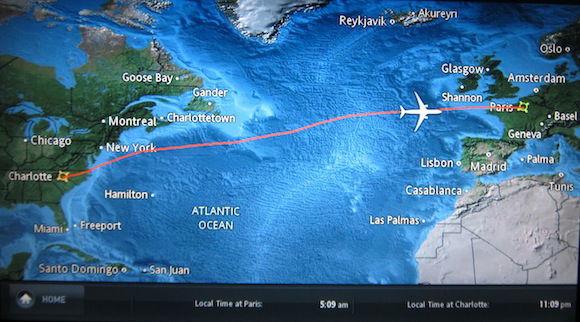 Airshow upon waking up
I decided to browse the entertainment selection, and watched an episode of "Veep," which I found entertaining.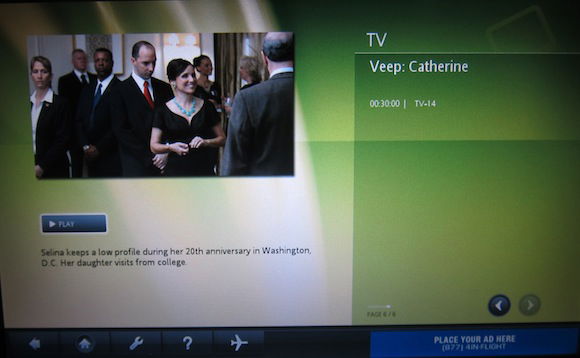 Entertainment choice
I then decided to watch a real estate TV show — "Secret Lives of the Super Rich."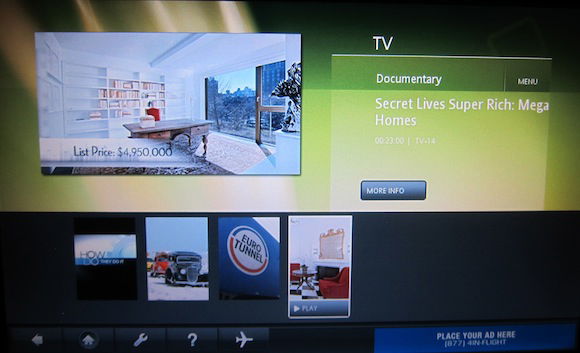 Entertainment choice
Breakfast was served an hour out of Paris, which seemed awfully close to arrival (though I can appreciate that since it allowed people to maximize sleep, though my guess is that it was intended to maximize Ms. Peggy's sleep as well).
The breakfast menu read as follows: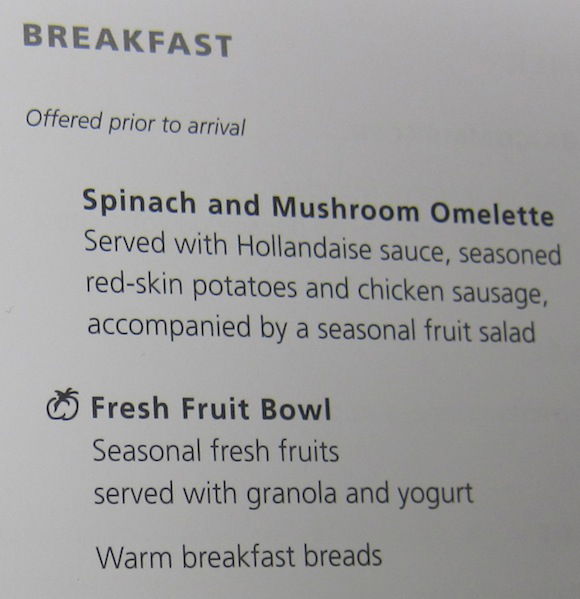 I selected the spinach and mushroom omelette. It was served with a bowl of fruit and a pastry from the breadbasket. I had a cappuccino to go along with it, which was once again good.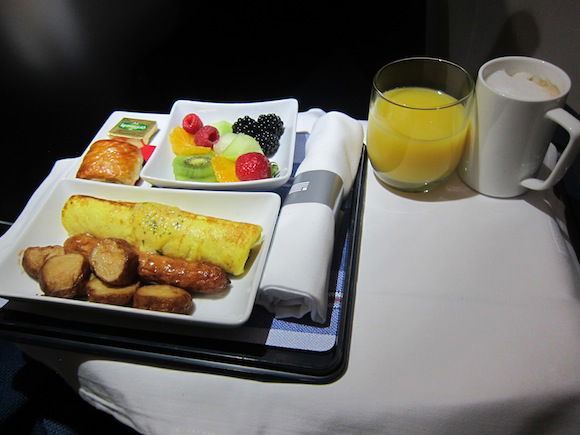 US Airways Envoy Class breakfast
Our descent was smooth, and for the crew, much of it was spent conversing with their friends/family seated in Envoy Class, and explaining where they were going to meet upon landing. "But make sure you bring a Euro to tip the shuttle bus driver." Hmmm, I think they're forgetting this isn't the US.
We touched down on runway 27R at Charles de Gaulle at 6:55AM and had a roughly 10 minute taxi to our arrival gate, making it there at 7:05AM.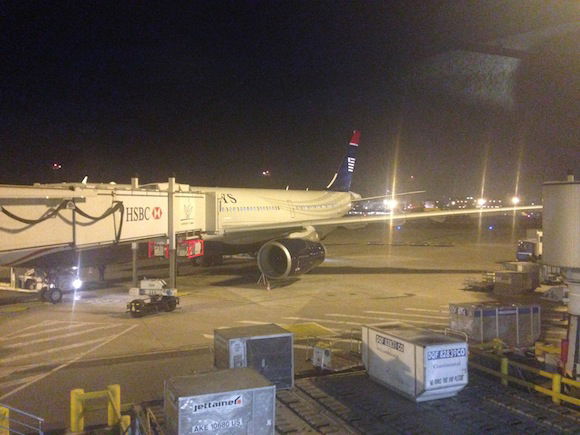 Our A330 on arrival
On the whole US Airways has a really solid hard product with their Envoy Suite. The food wasn't great, though certainly edible, but it's really the crew that left a sour taste in my mouth. And based on the way they were acting it didn't seem like they thought they were having an off day, but rather that they were doing us a favor by showing up to work to begin with. And we wonder why US airlines often can't compete with foreign carriers…