---
Back in February American and LAN published some amazing business class fares (perhaps a mistake?) between the US and South America, including to Buenos Aires, Santiago, and Easter Island. They were about $900 all-in, and a great opportunity to rack up some American miles on my constant quest to requalify for Executive Platinum status.
I've been to Santiago and while Easter Island interested me, I couldn't get the dates to work. Instead several friends agreed we should go to Buenos Aires, so we booked roundtrip tickets between Dallas and Buenos Aires for just $900 each. We were able to route it via New York and then Miami in both directions, with flights on LAN between Miami and Buenos Aires. I had never flown LAN before so was quite looking forward to experiencing their onboard product, especially since they have fully flat beds on their longhaul aircraft, while American has angled flat seats on their aircraft to Buenos Aires.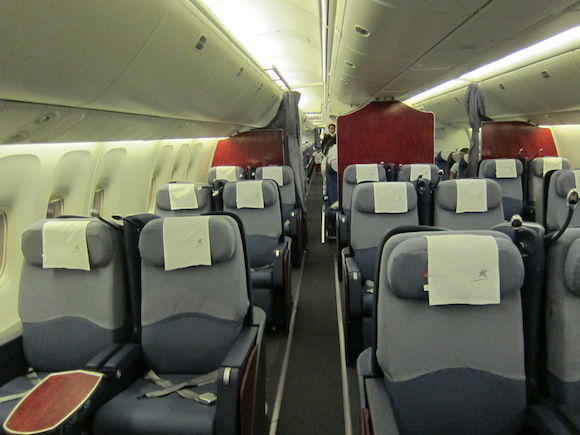 I then booked positioning flights on American between Seattle and Dallas, which I was able to route via Chicago — gotta love those generous routing rules. That ticket cost $250 roundtrip, which seemed like a good deal.
In the end my itinerary looked as follows:
4/10 AA1014 Seattle to Chicago departing 2:10PM arriving 8:10PM
4/10 AA2359 Chicago to Dallas departing 10:10PM arriving 12:30AM (+1 day)
4/11 AA712 Dallas to New York departing 9:40AM arriving 2:10PM
4/11 AA1925 New York to Miami departing 2:45PM arriving at 6:05PM
4/11 4M4521 Miami to Buenos Aires departing 8:45PM arriving 6:45AM (+1 day)
4/14 4M4520 Buenos Aires to Miami departing 10:45PM arriving 7:10AM (+1 day)
4/15 AA1132 Miami to New York departing 10:00AM arriving 12:59PM
4/15 AA759 New York to Dallas departing 2:55PM arriving 6:05PM
4/16 AA2320 Dallas to Chicago departing 5:45AM arriving 8:00AM
4/16 AA1633 Chicago to Seattle departing 8:35AM arriving 10:55AM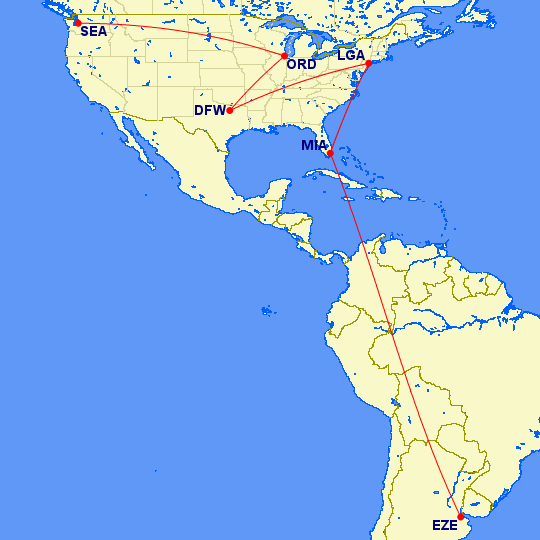 That's nearly 19,000 flown miles and 12 segments in six days, so was a bit of a whirlwind trip. As far as hotels in Buenos Aires go, we all booked the Park Hyatt, which is a category five property, making it 18,000 Gold Passport points per night, which is quite a bargain compared to the paid rates of $550USD per night.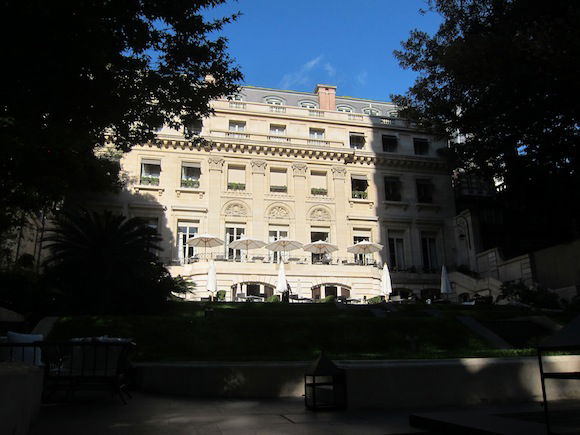 As usual I'll limit the trip report to what I consider to be the interesting parts. I'll leave out the domestic segments on American, since they were pretty run of the mill, but will instead focus on LAN, the Park Hyatt Buenos Aires, Grand Hyatt DFW, and our time in Buenos Aires.
As always, any questions/comments are welcome, and thanks for reading!